Mikkel Paige Photography is a brand I've built on superior customer service and talent. I provide my couples, families and people I photograph with so much value, which is a result of 12 years doing what I love and refining my craft.
I want to share with you all the ways I go above and beyond any other photography service, or photographer, I know.
My hope is to shed some light on the value of what I offer. It's not simply photographs I offer but a high-end luxury experience and service that I provide.
Here's a few things you get with Mikkel Paige Photography you're unlikely to get with other photographers…
Detailed photography timeline for your wedding day
I can't tell you how many times a couple tells me the custom photography timeline I created for them was invaluable to the success of their day. Or all the times wedding planners have told me what a perk they are and they don't know any other photographer who creates such detailed timelines. I've even had my peers, my fellow photographers, tell me they're impressed with them. (Fun fact: I explored being a schedule coordinator for theme park design + build at one point in my life before I found photography, my true love. So I really like figuring out wedding logistics too!)
This is something I include with every couple's day whether an elopement with two hours of coverage or a day with nine plus hours of coverage. If you have a wedding planner for your day I build it off their general outlined times and work with them to assure your wedding team is working together. I also create it using a wedding photography questionnaire I send your way four to six weeks before your event, if not sooner if necessary. It asks for the key players in your wedding – your family members' names, wedding party, and the like – and if there are any special situations I need to be sensitive to amongst many other details I'm curious to be informed of. This is to give you the best service possible!
It includes things like what time the bride's hair and makeup should be complete by, what time family photos are and even when speeches happen and who's giving them. (That being said I use it as a wonderful outline to keep things on schedule and photography on task, but I go with the flow if things change day-of (like the weather) and we need to adjust.)
What office hours? I'm available all the time.
I live and breathe this company. I have built it over the past decade and it remains my passion and my heart. I reply to my couples, whether it's an initial inquiry, wedding planning question, or even to say hi after the big day, nearly immediately whenever possible.
Then there's my lack of confined "office hours." I once sat at our lodge on vacation in Belize, trying my hardest to get on spotty wifi even though my out-of-office auto reply was on, so a bride who inquired wouldn't have to wait for a response more than a few hours. And I was on a personal vacation with my out-of-office on! But it gave me more peace of mind and was more authentic to who I am and my brand to sit there and get my reply out than other options at the time.
Or the time I stayed up way past my bedtime on a trip to Paris, with a time change and all, to answer a non-urgent question from one of my couples. It was more important to me to answer her quickly than to go to bed at whatever time it was there.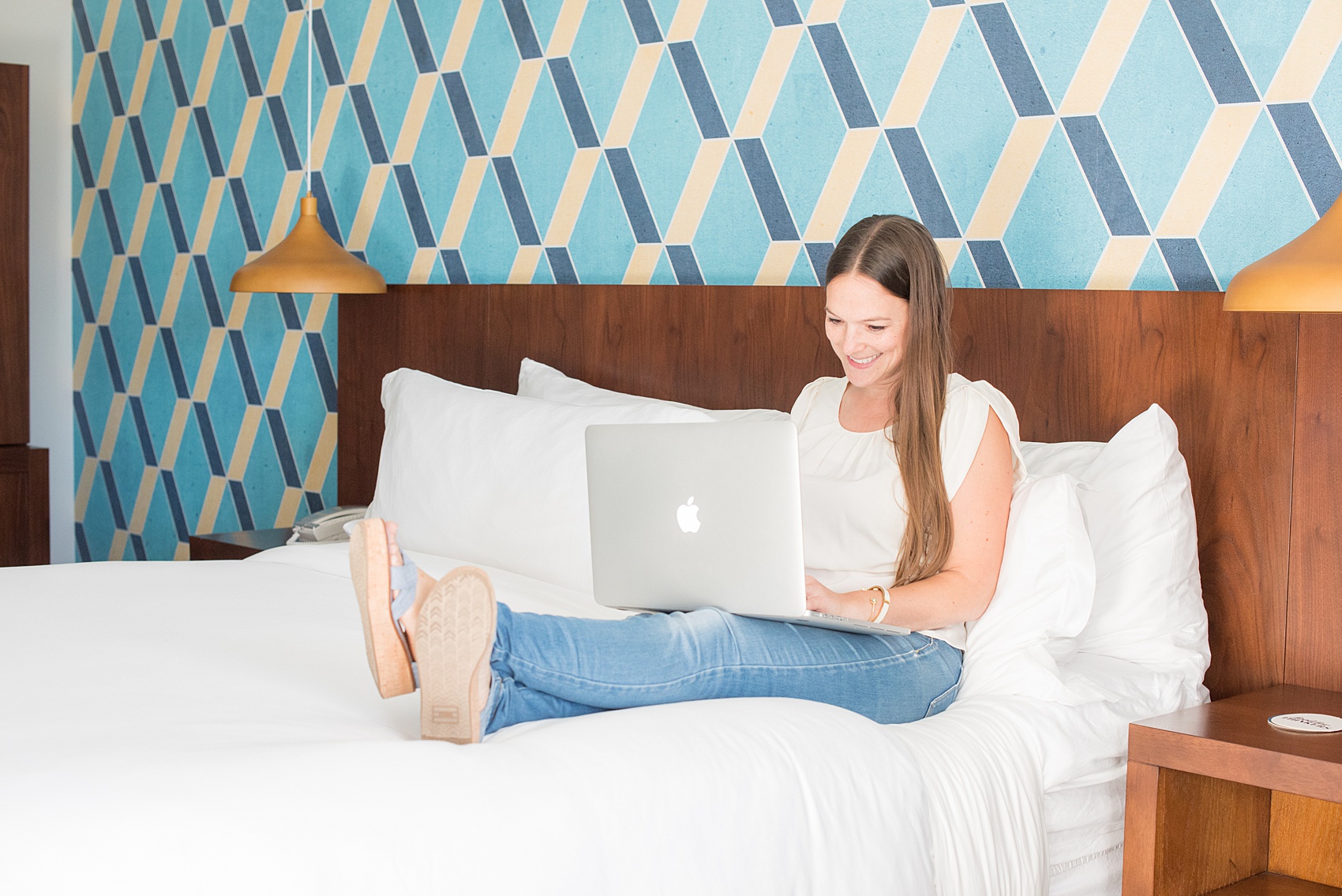 I reply as quickly as possible if I'm at a computer or my phone with access to email. Note that I do not fault vendors for having boundaries and putting office hours in their email signature. Everyone has to do what works best for them. I've thought about doing this but it just ain't me. If I can reply I will no matter the time. You do you…I do me. 🙂 And "me" is replying asap. (I do this because I believe in the Golden Rule. I do unto others as I would have them do unto me. And I like quick replies when I send people emails especially with questions pertaining to a pretty important life event and celebration!)
Contact throughout your experience because I care about you
A lot of couples book me a year or more before their wedding day. This means I often won't hear from them for months after they've sent a signed contract and retainer to secure their wedding date. But I miss them!
I periodically check in to say hi – to help develop a comfy relationship so you trust me immensely with one of the most important days of your life come time for it all but also because I genuinely want to know how you're doing. I offer to recommend vendors if needed, to see how planning is going and am simply curious to say "Hi, how's life?"
I book a pre-wedding call with every one of my couples about a week or two before the big day. We review and finalize your photography timeline during this call and make sure all our ducks are in a row. If you are concerned about anything on your wedding day it's for sure not going to be photography if you hired Mikkel Paige. (And I hope you aren't, especially if you have hired amazing vendors!)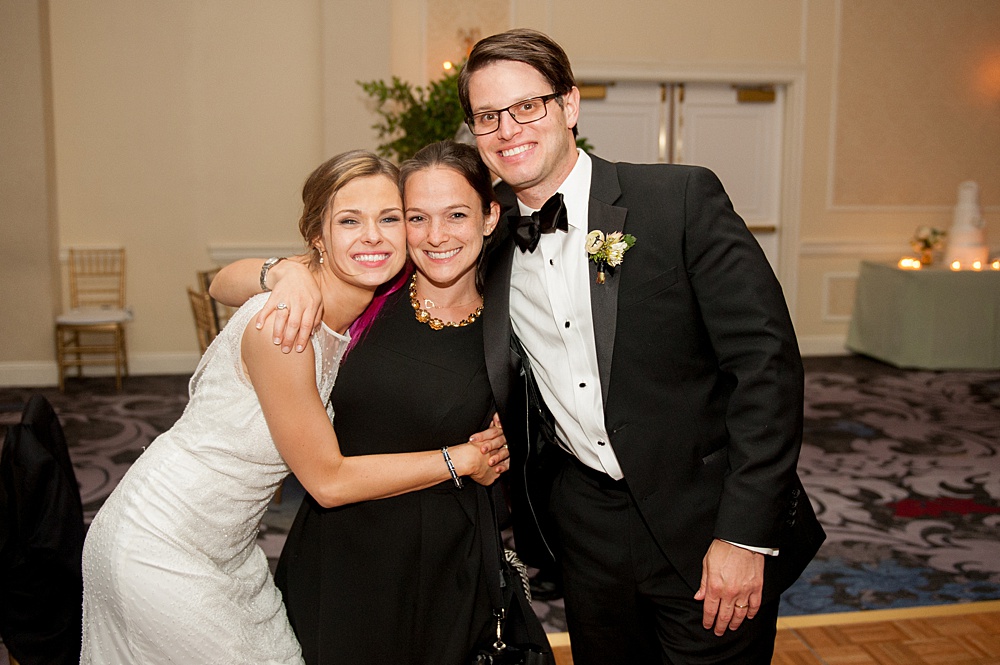 I travel as often as possible (and always safely)
I'm a seasoned pro when it comes to travel. I want to mention this because about 20% of my weddings each year are destination, either for me or the couple. I get contacted for destination weddings a fair amount. (And I love them.)
I am a photographer who can legitimately say I'm also a Destination Wedding Photographer, not just a wannabe hopeful Destination Wedding Photographer who throws the term towards the clouds on a dream! I actually travel so much I have a travel website.
(I also want to mention what a time it's been with the pandemic. Am I right? I'm very conscientious of this and abide by all regulations, tests, and recommended safety.)
I've photographed weddings in the Dominican Republic. Norway (twice). Mexico. Jamaica. California. Near or far – take me away! I want to go with you! (And trust me, there's much more to being a traveling photographer than simply hopping on a plane and showing up.)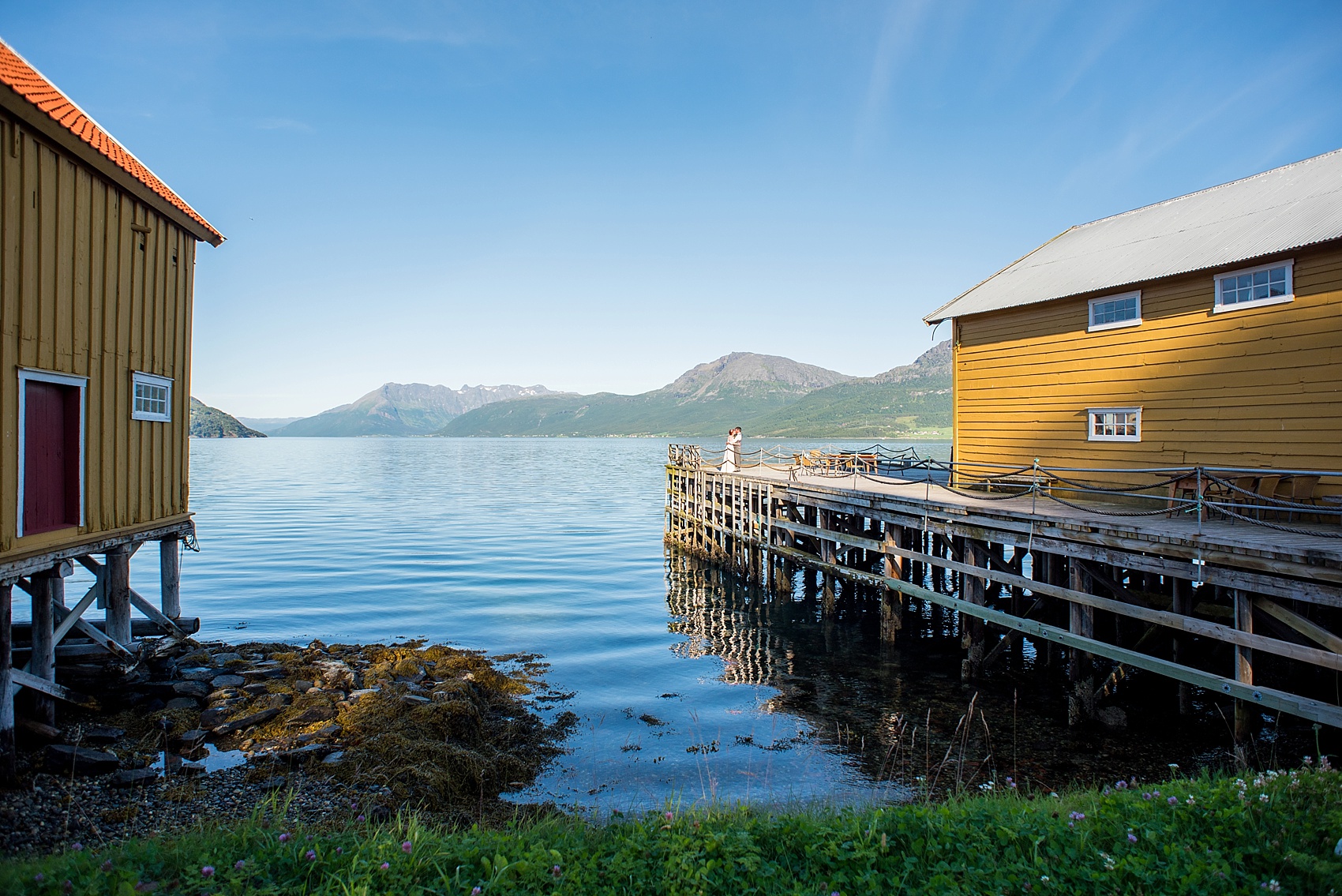 Photo delivery is as important to me as planning and photographing your wedding
I cannot, for the life of me, understand why some photographers take more than eight weeks to deliver photos to clients. Or MORE. This is beyond my comprehension.
A friend of mine got married in Australia (to be fair, she's Australian) and 8 weeks later I asked her to see her photos. I was so excited for her! I was shocked to hear she hadn't received them yet. That even though she had followed up with her photographer for an update on when they'd be ready, nada.
Even if her photographer photographed some of her wedding with film and had to wait for it to get developed and scans sent back to him this was unfathomable to me. It does not take that long. My heart broke for her. This is a story I hear all too often. It hurts my heart for the industry as a whole but especially for couples who hired photographers who do this. I do NOT do this.
I book a limited number of weddings a year to give each couple the attention they deserve and also ensure their photos are delivered in a reasonable time they, and I, would be proud of. I've delivered galleries as early as a week after a wedding day and as much as four weeks later…which is not much later at all. Some couples haven't even gone on their honeymoon within four weeks of their wedding.
My contract says six to eight weeks but that's the maximum you'd ever wait. (Because I like to under-promise and over-deliver!) And, truthfully, no one has ever waited eight weeks. That's unheard of for me. My average is more like two to four weeks.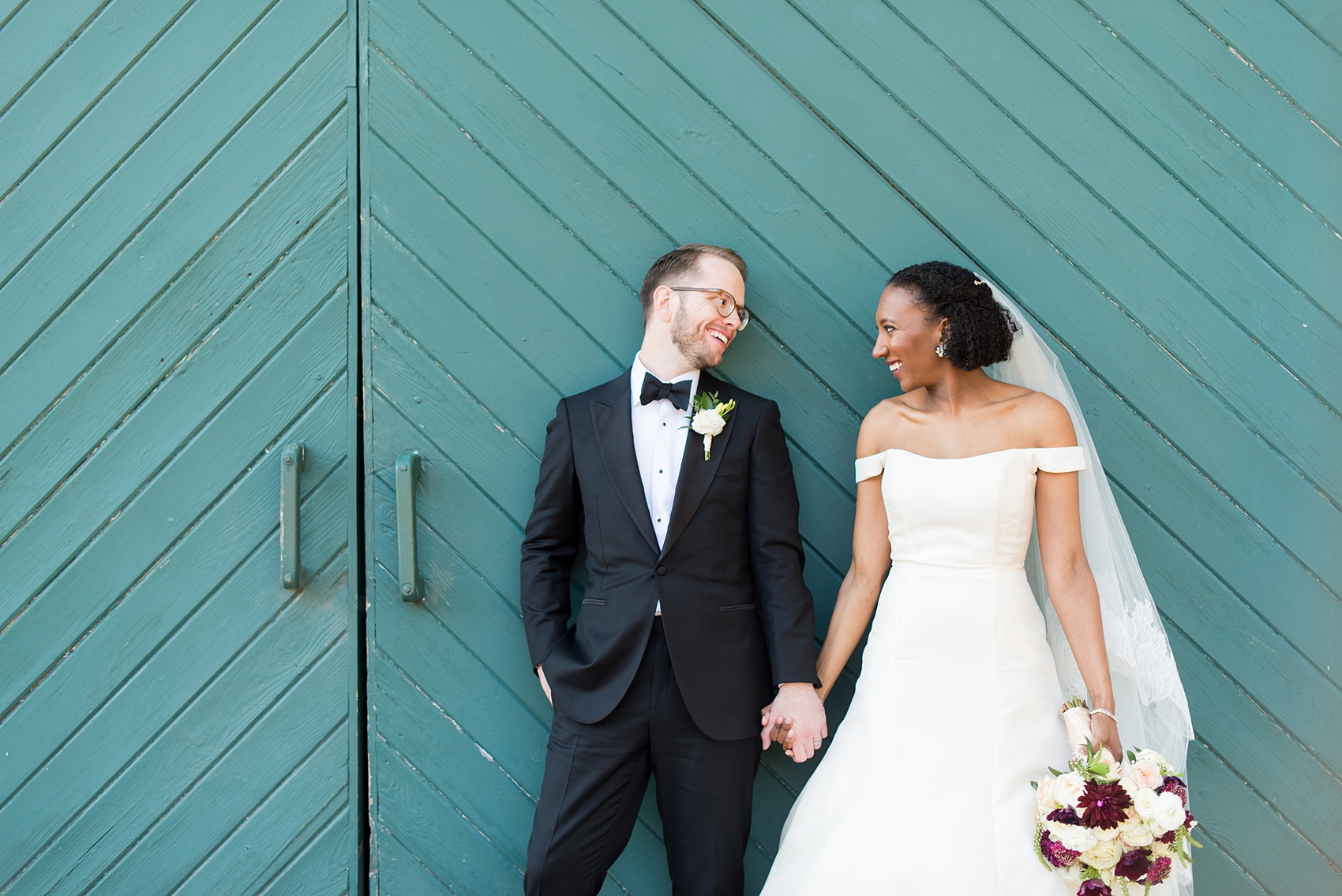 I'm incredibly organized
Call it OCD, call it a Type A personality – either way you benefit from my personality being the way it is. I am very hard and efficient worker who is meticulous and organized. That pertains to file delivery to my clients as much as it does with my behind-the-scenes client management software.
Another pet peeve of mine is when a friend shows me their wedding photos gallery another photographer put together. And it's all in one gallery labeled zero through 1,000. (That's if they're lucky enough to have their photos properly renamed at all.)
The difference you get with Mikkel Paige Photography is organization. I rename all my files to make sense so if you only look at a file name you know it was 1) your wedding, 2) and whether it was from the ceremony or your reception, for instance. Galleries I deliver to my clients are broken down into sub-categories so a general gallery for a couple contains the following sub-galleries:
Details
Getting Ready
First look (if you have one) and portraits of the bride and groom (or bride and bride, or groom and groom – I love ALL love equally)
Wedding party photos (if you have a wedding/bridal party)
Family portraits
Ceremony
Reception
I love this because if you go back to your password protected gallery looking for a photo with your uncles and cousins you know it's in the family portraits folder. Easy.
I have superior retouching skills
File this under taking care of any unexpected skin blemishes that may appear on your wedding day! A pimple greets you the morning of your wedding as soon as you go to the bathroom and look in the mirror. Your fiance accidentally bruised a knuckle four days before the big day when he was moving stuff around your new home. A bridesmaid slipped when it rained two weeks before your event and her bruise hasn't heeled. No worries. I got you!
I do not charge for things other photographers do. Or for retouching they don't even offer, let alone charge for. I have a soul. I want to do for you what I would want done for me. And you know what? If I woke up with a pimple on my face the day of my wedding I would want someone to automatically edit that sucker out of my photos. So I do. At no cost to you. Did I mention I was a full time photo retoucher at Rent the Runway for two and a half years?
You will probably never even remember any skin blemishes that may have been there when you receive your photo gallery. Because it's been a few weeks and your bruise has gone away. And it's not in your photos. It's magically disappeared! (You're welcome!)
Also note I've gone ahead and spent extra time in many couples' wedding galleries to retouch things like chipped paint on venue walls, or patchy grass, or oil stains on concrete or asphalt. These are all things that aren't my fault and are out of my control yet I retouch it out, automatically, because I want your photos to be spectacular.
(You may wonder why I wouldn't just move to another area doesn't have an oil stain! Alas, the truth is a lot of venues are gorgeous yet a lot of the good photos spots are on oil-stained hardscapes. This is just the nature of the beast.)
Again, this is part of the level of service of Mikkel Paige Photography I hold the business accountable for, for my clients. Superior….service.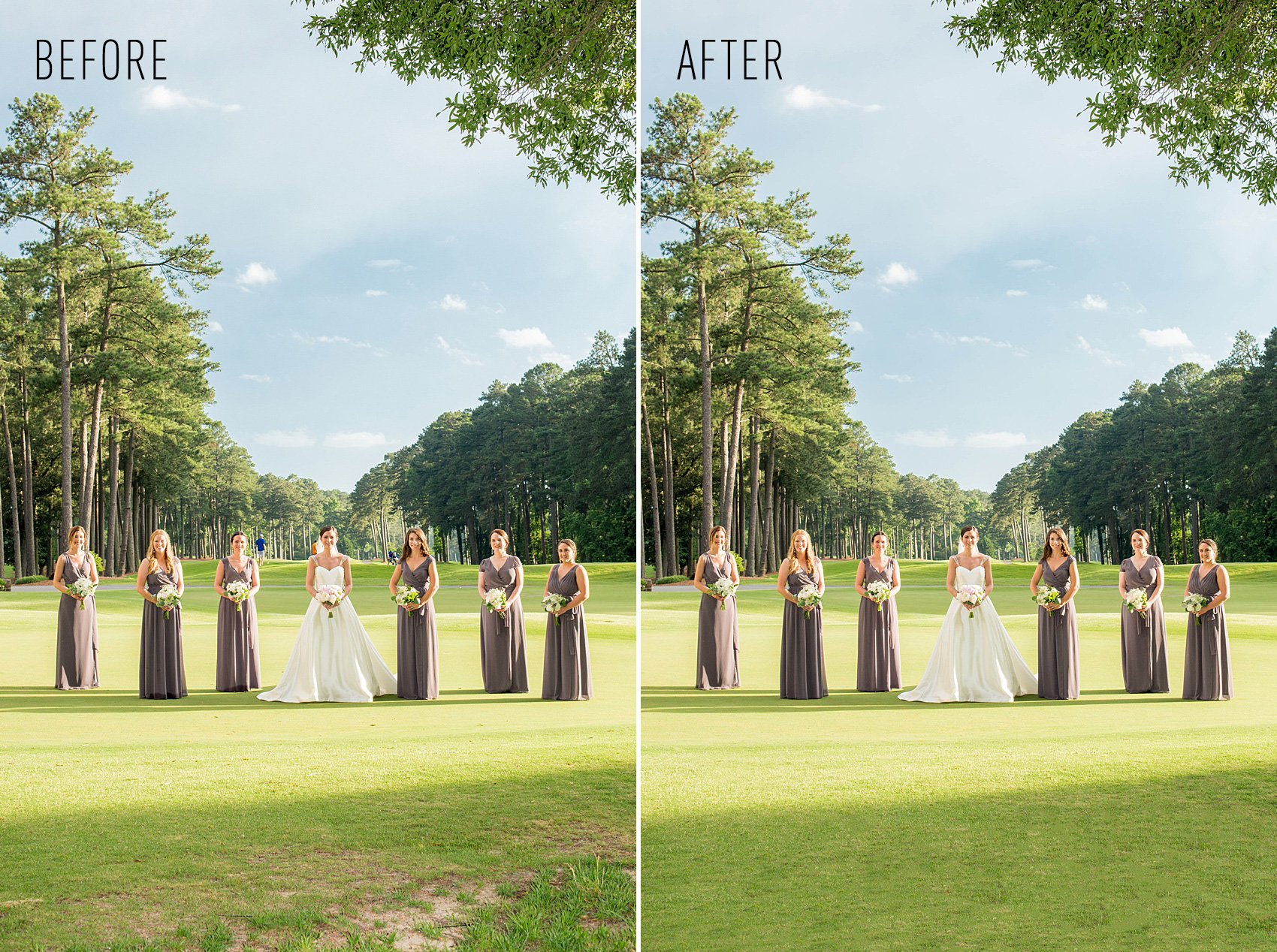 I'm your point of contact and I am the one editing your photos. Always.
I communicate with you beforehand, I photograph your wedding and I edit your images, and I'm the one following up with you afterwards. This is how I've decided to manage my business. It's a boutique wedding photography service where you don't have to wonder if an assistant is communicating your messages to me. Because I get them all! There's no middle person.
Some people outsource photo editing but I don't for two reasons:
I believe it's an important part of photography. It'd be like Picasso stretching his canvas, then painting a foundation of a masterpiece and leaving someone else to complete the final touches. I'm not comfortable with that. I see my images through. And I personally really like editing!
I keep things consistent and when it's always me editing all my images things are consistent.  I have a bright and colorful style I adore that is evident when you look at the style of one wedding to the next. One of the reasons I love looking at the Mikkel Paige Photography Instagram feed is because my style is abundantly clear.
My heart is so happy when I'm contacted by a couple who LOVES my style of photography and know there isn't anyone else photographing weddings or editing quite the same way. My style isn't in line with Magnolia Rouge magazine (even though I admire it and think it's beautiful) and that's a-okay with me. But it is in line with the Bespoke Bride publication and I LOVE how vivacious and colorful they are! There's so much personality in their site and I like to think in my photography too.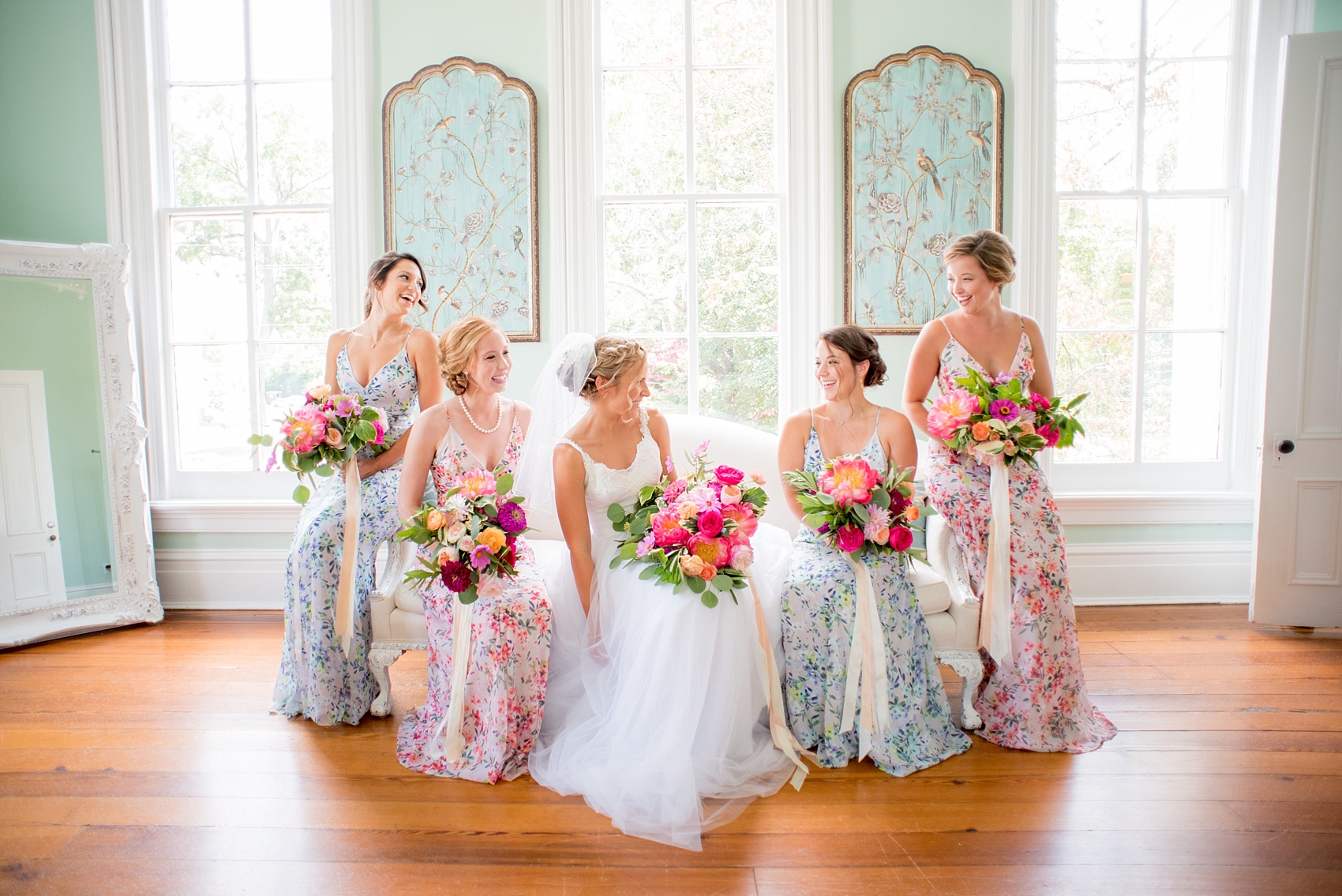 My attention to detail in unsurpassed
I have more than one friendor (that's a friend, who is a wedding vendor) who has poured his or her heart and soul into a wedding just to find out the photographer hired for the event didn't get any detail photos. (And if you noticed that "in" isn't "is," now I know you are detail oriented too.) This is not only disappointing to the vendor but should be disappointing to the couple as well.
Remember that wedding lounge you cared so greatly for, you sat on each chair before adding it to your order form? Or the type of calligraphy you specifically chose for your wedding invitation because you loved how the capital letters swirled around? You want someone who's going to capture the nuances of your day!
I truly believe that for as many millions of weddings there are in the world each year – or as many dozens of couple who will get married at the same venue you do – the details are what make it unique to you as a couple. And I capture them.

Not only am I detail-oriented when I photograph weddings but I am before I click the camera too. I notice if the clasp on a necklace is turned around to the front and needs to be moved backwards. Or if a bridesmaid isn't holding her bouquet with the "good side" in the front (because yes, bouquets have a "good side" or "front" 99% of the time!).
I also can't tell you how many times it's come in handy I actually know how to tie a bow tie or pin a boutonniere on a groomsmen correctly so the pins aren't showing. Or tie a very pretty bow on a flower girl's dress. All part of the Mikkel Paige Photography difference!
(People used to think I'd be the next Martha Stewart when I was in high school. I actually explored being a wedding planner at one point too because I wanted to be Frank in Disney's "Father of the Bride" when I was little!)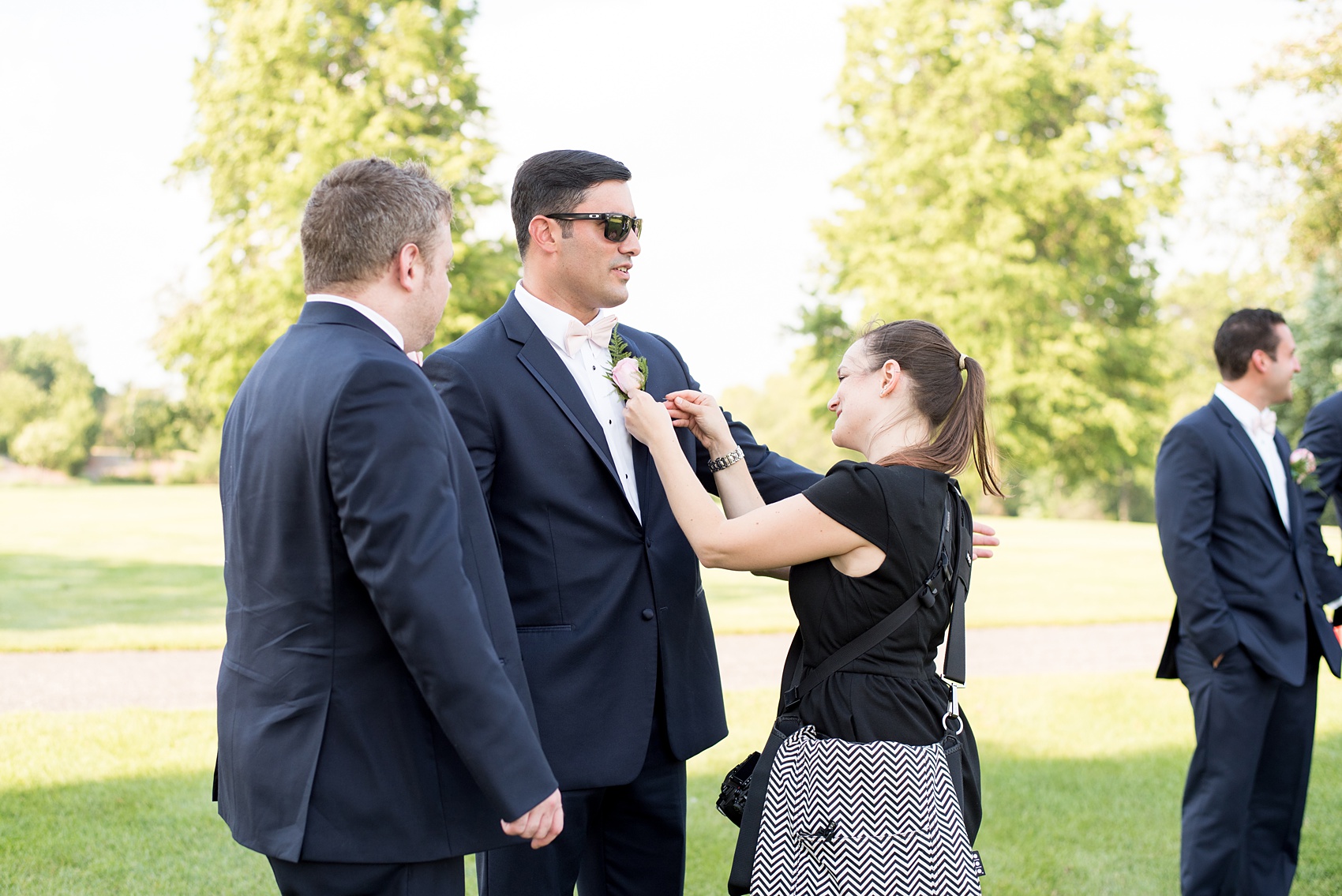 You don't realize it, but I work overtime for you
I'm obsessed with paper. Yeah…I said it. PAPER! I've had couples create some amazing stationery for their weddings. And it's important to me to capture that for you. So you don't know it but I spend hours (and I mean h-o-u-r-s extra over the course of many weddings a year…) photographing paper details the day after weddings. You may think you hired me for "eight hours" on your wedding day (nevermind the hours I spend and enjoy communicating with couples before and after the big day) but I'm still photographing things for you after your wedding ends.
Why do I do this the day after? I want to do things like stationery justice and there just isn't time on the wedding day for me to properly lay it all out, be meticulous about it by getting everything lined up properly, and ensuring each detail is captured. This includes your invitation, escort cards and often a wedding program. On average, this takes me between two to three hours to do. But it's worth it! I don't know any other photography who spends so much personal time doing this on a day other than the wedding.
The below is just some of the additional lay flat images I took of Lucy and Van's amazing stationery and paper for their Charlottesville destination wedding, the day after the event. All the vendors had left the vendor house we all stayed at overnight and there I was, all alone, photographing these details for nearly three hours the day after. But I loved it and couldn't stop! There were so many yummy details to capture.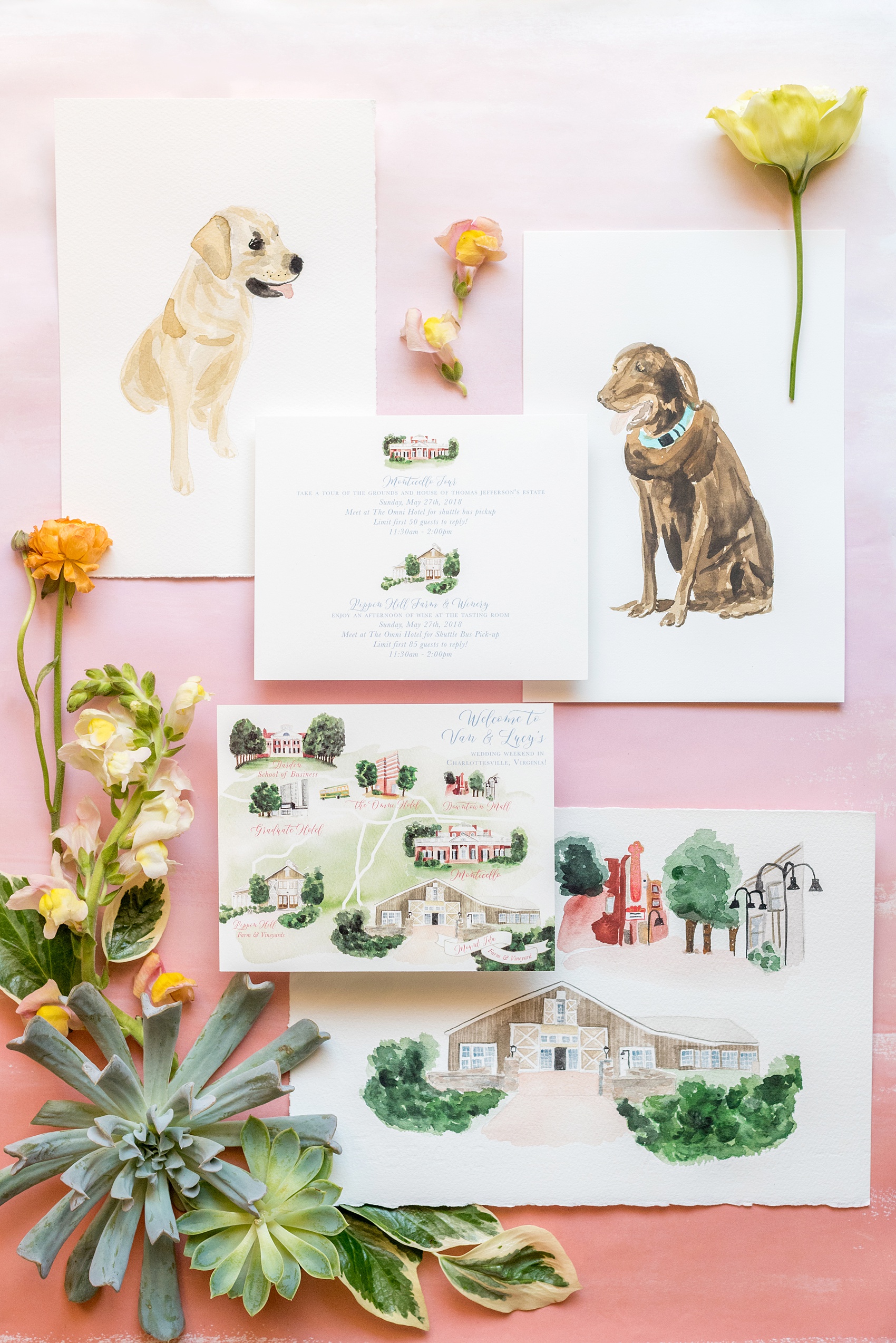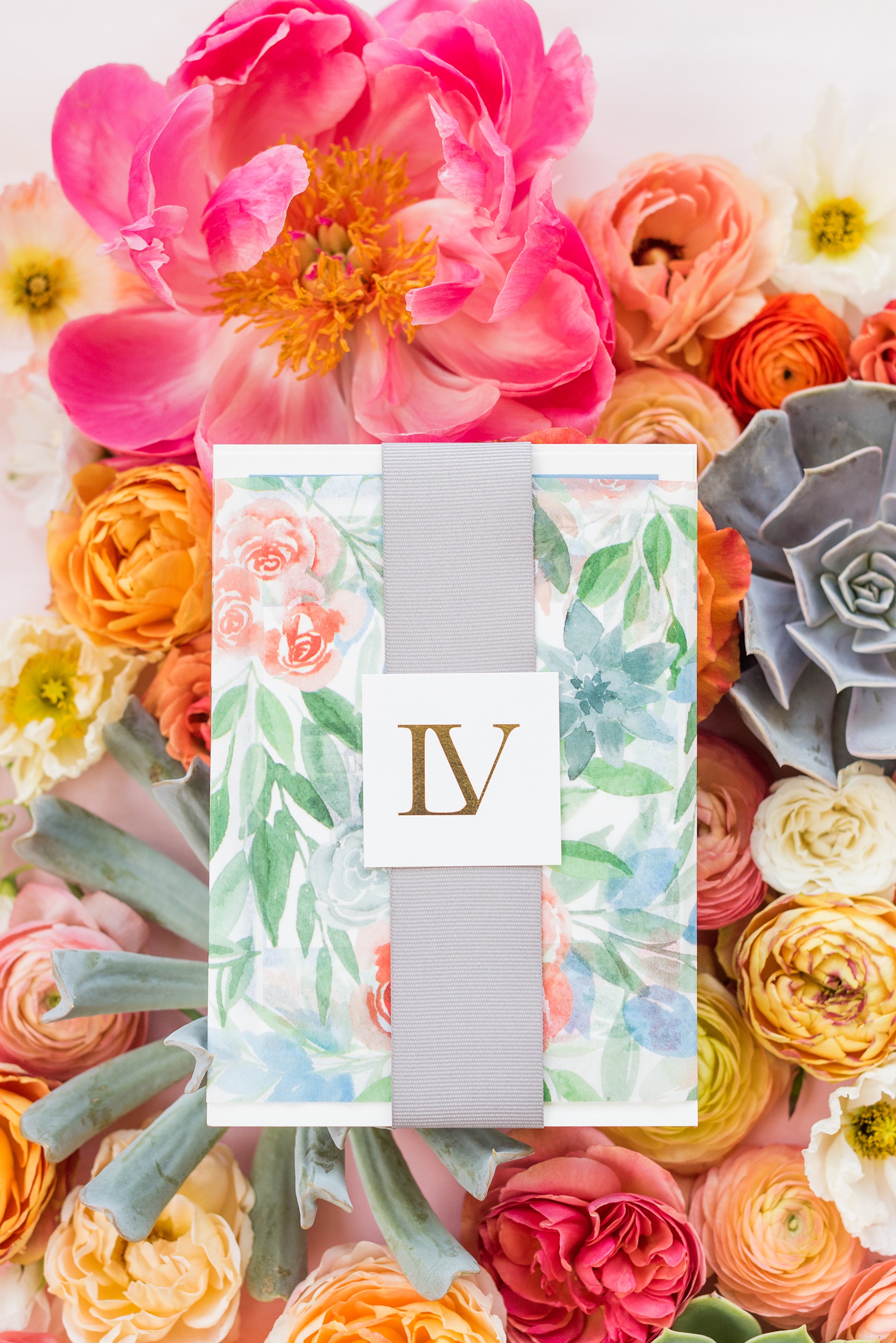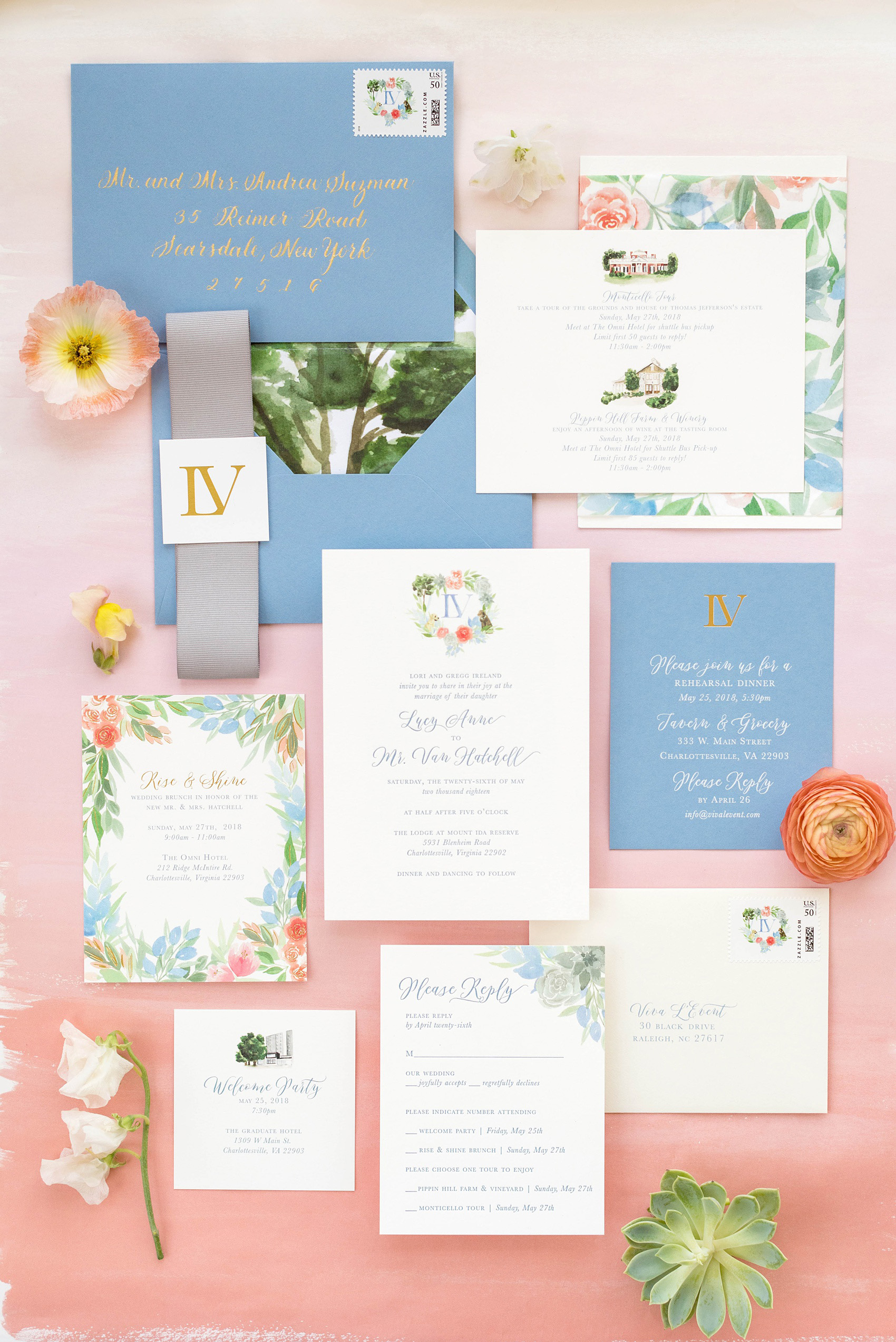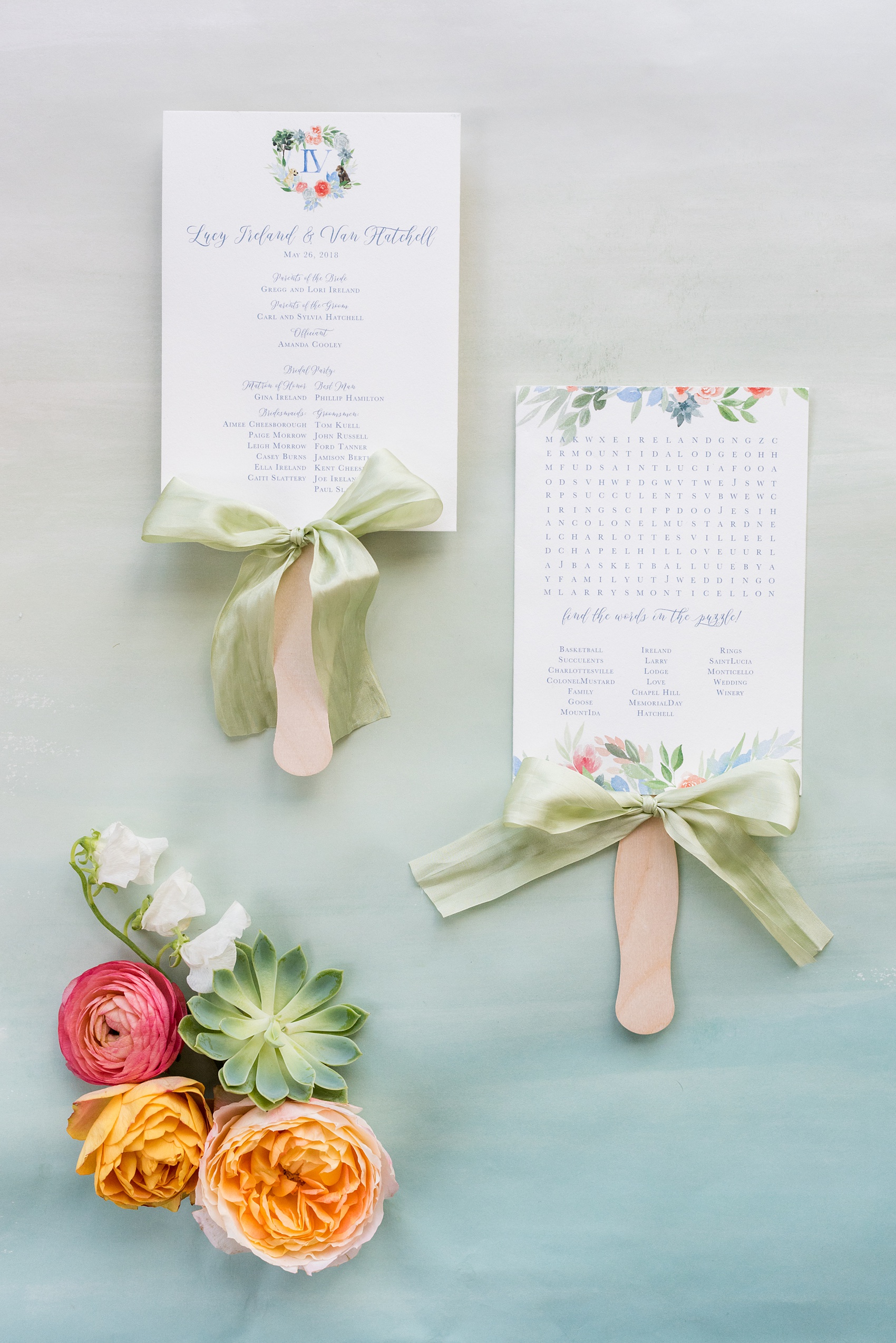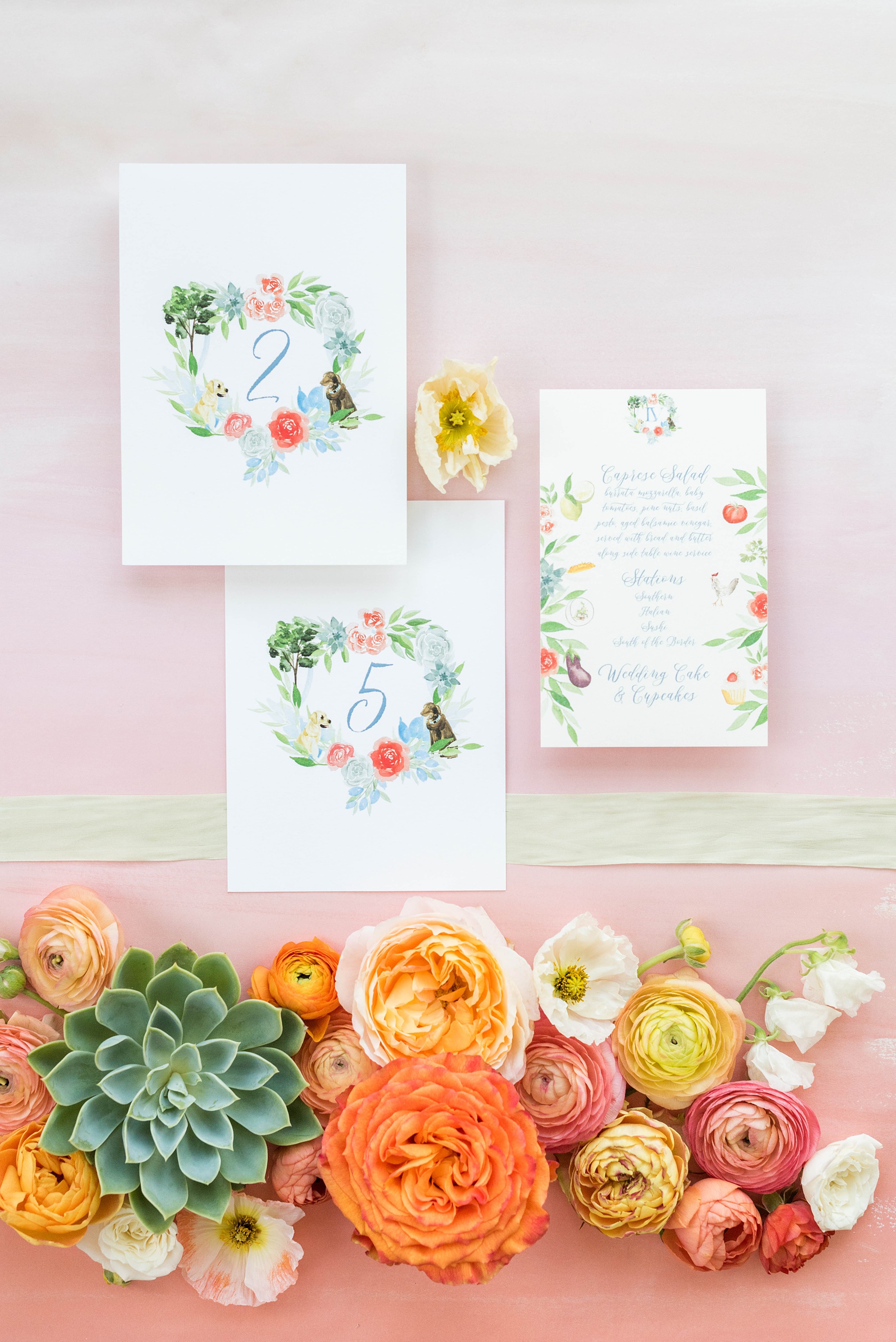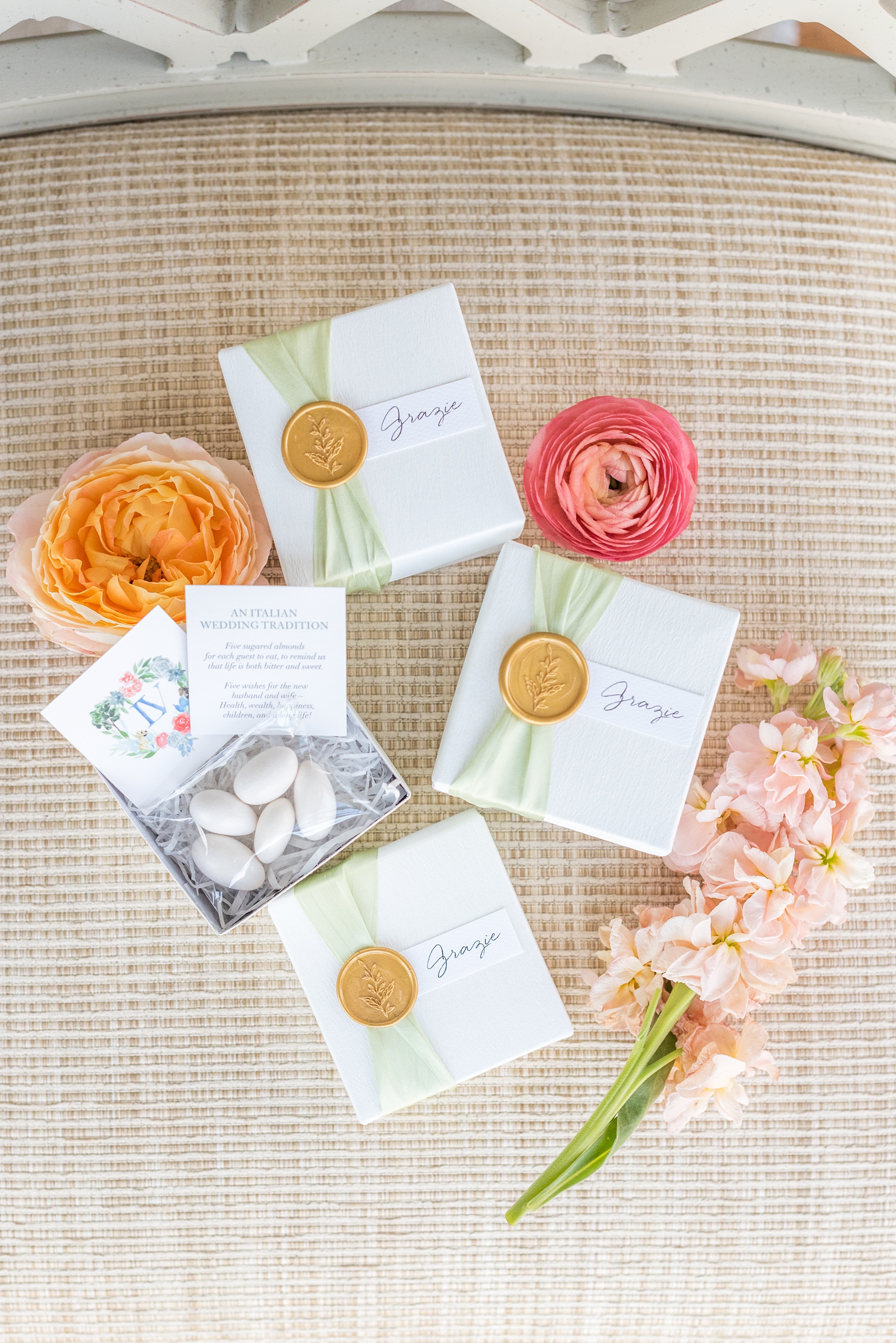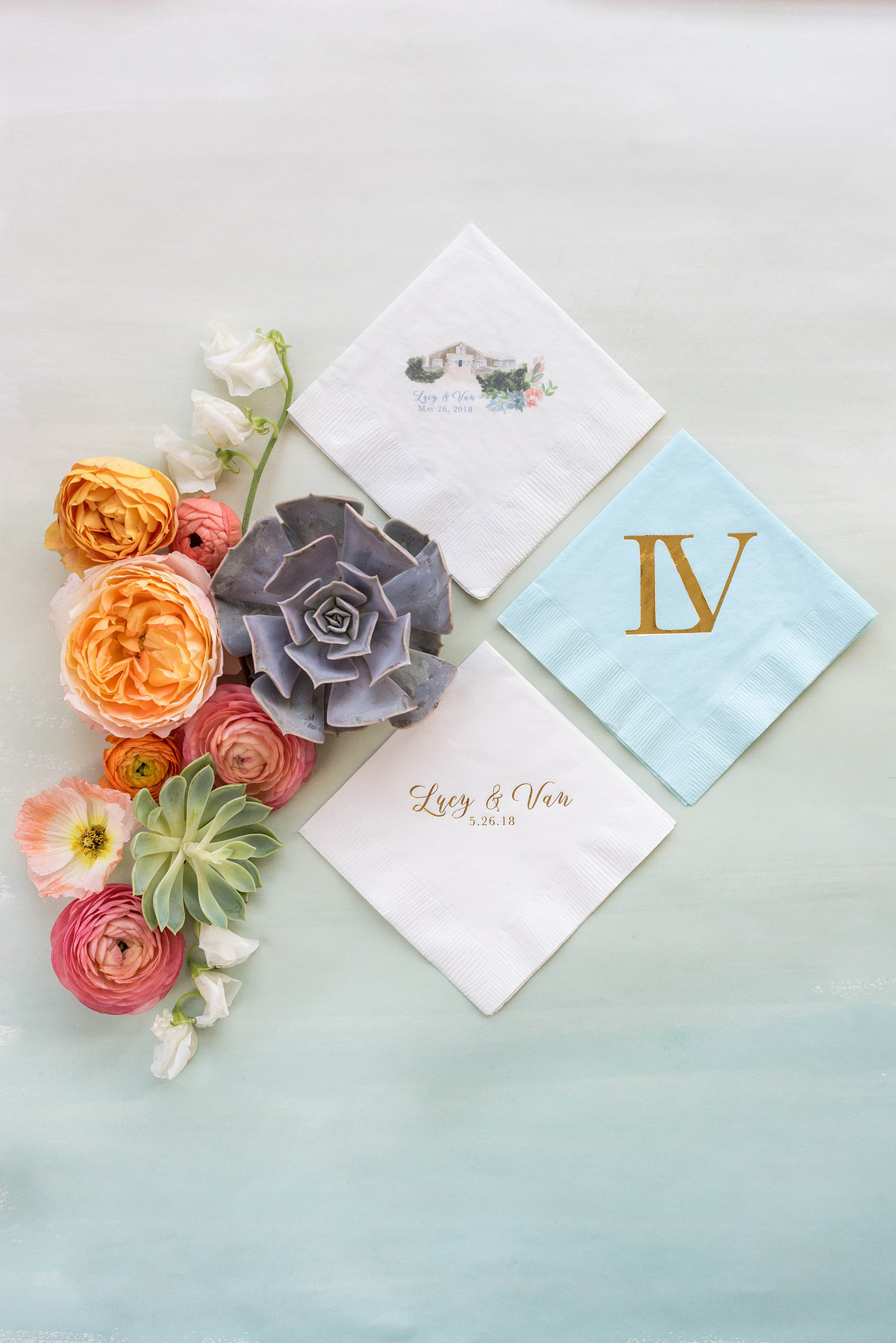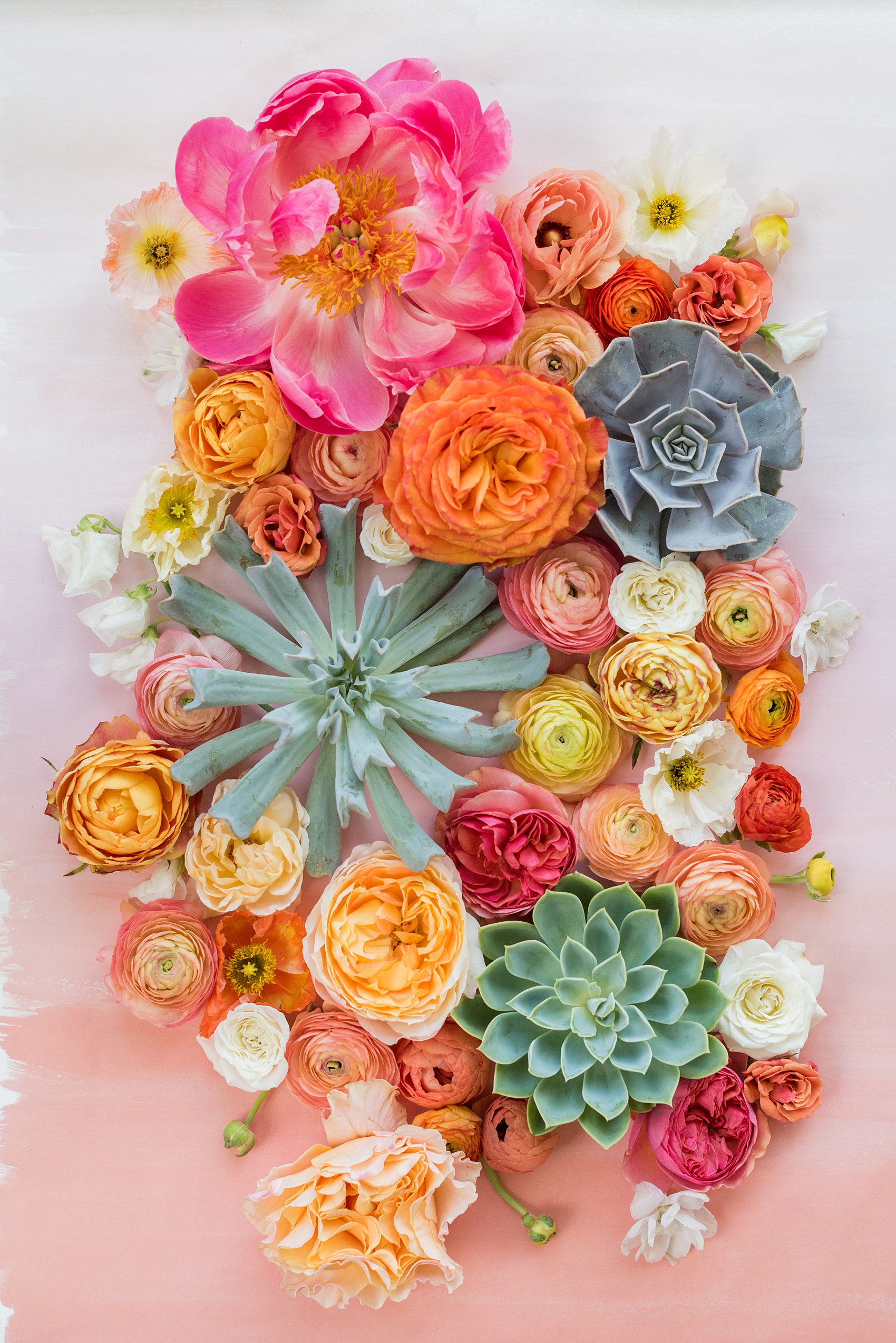 I'm also a storyteller. (Did I mention I spent some time in the past working for Walt Disney Imagineering and Universal Creative?) This is reflected in how I photograph your day but the really amazing thing I love to point out is the wedding blog post I create before your complete galleries are ready
I blog for three reasons:
I love seeing your day come together in a story of about 75-100 images from your day. Everything from details like your invitation and rings, to moments like your first look, to wedding party pictures and your reception are in the post. It excites me.
For the couple, their family and friends. Whether they were there or couldn't attend the wedding. I love a couple's reaction when they get to relive the day through their post. It's like having a Cliffs Notes – the highlights of the day – at the touch of a button. (Might I add this is one reason I think a wedding album is important?)
For couples, like you, to find me. I can't tell you how many times a couple reaches out because they found me through a Google Image or Pinterest search. This is not an accident – they were able to find me due to my extensive blogging and keywords I label images with behind the scenes. It's likely how you found me too if not through word of mouth or Instagram.
No hidden fees
You know what's awful? Hidden fees. I think they're slimy and dishonest which is why I pride myself on not having any. I know of venues that book you after they lead you to believe everything is included then you find out you'll be "venue poor," as they say, because the bar is extra, cleaning is extra, etc, etc.
I recently found out some photographers charge for things like adding more than two people to a gallery for access to digital file downloads. My jaw dropped. Am I missing something? An opportunity to make money, perhaps? Maybe…but hey, guess what? I don't charge for that!
When you hire Mikkel Paige Photography all your wedding guests – from parents to best friends and cousins – can access it all if you send the gallery information their way (including the password). I'm not going to charge you if uncle Mike wants access to a photo of you and his family. Let uncle Mike have the image he wants!
Album magic
Let's talk about your wedding album. There's nothing like your photos living in indefinite purgatory on a computer "cloud" to forget the details of your day. Please print them.
I truly, sincerely believe a wedding album – something you can hold in your hands and touch and show to family and friends, or glance at alone when you're home feeling nostalgic – is so important. That's why I have two amazing album for two different price points. I want every couple who hires me for photography to be able to afford a beautiful album.
I will be candid in saying wedding albums are a little costly and that's not unique to Mikkel Paige Photography. It's the norm for a high quality, professional photography album. I'm not offering Shutterfly coffee table books, people (but even those are a bit pricey when you start to add pages nevermind the time you may spend designing them!). These are gorgeous, weighty, buttery albums.
Yes, they're like buttah!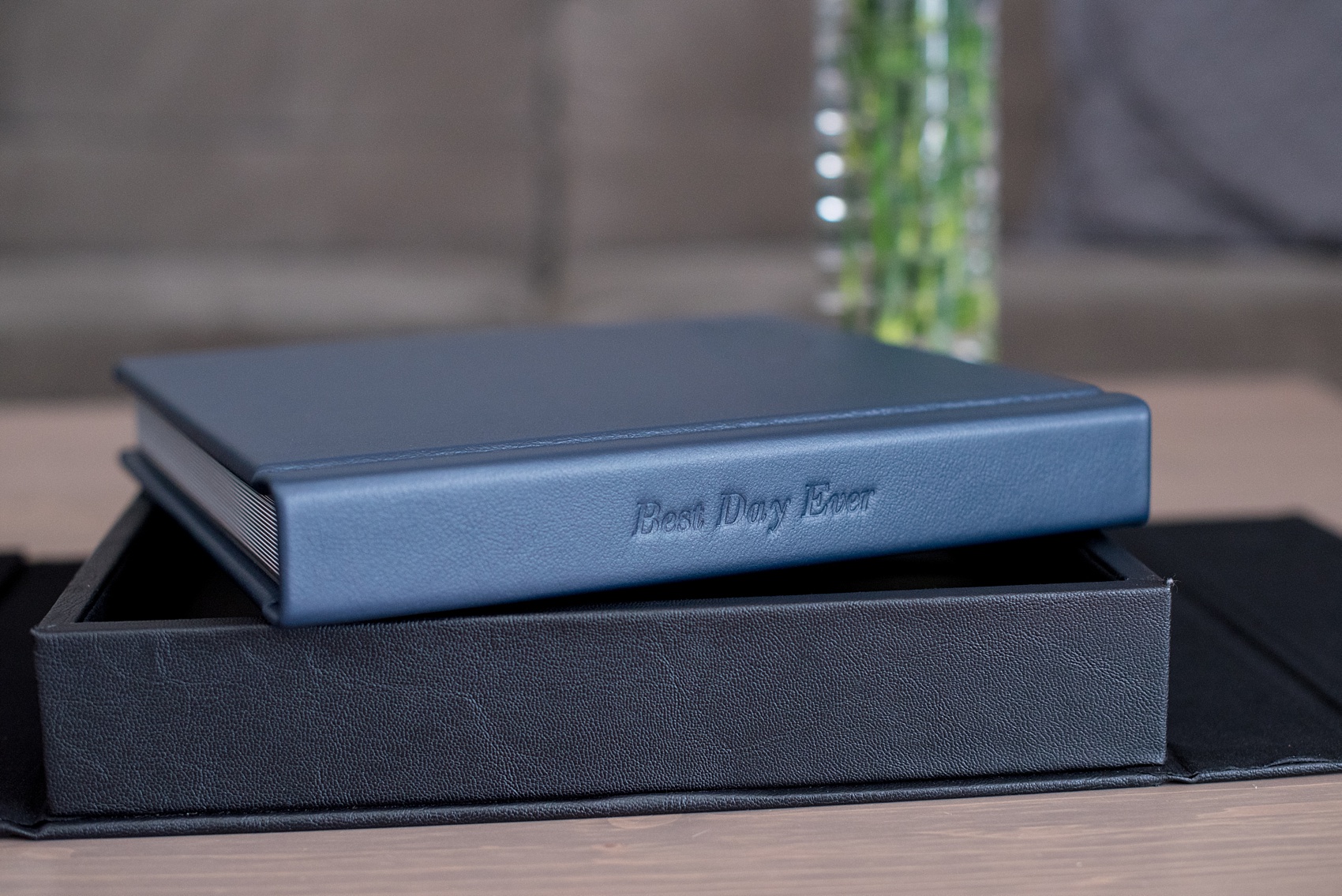 If you order an album ahead of time I offer a little discount incentive. Then I automatically start to design your album after your images are complete and delivered to you. You could potentially have your album in your hands within six to eight weeks after your wedding. No joke. (The album takes two weeks alone for the manufacturer to produce so that's worked into the stated time.)
The biggest hold up for albums, in my experience, is actually the couple! I've often found I have to wait for a couple's design comments (such as what photos to swap for another, since the design process is online and collaborative with Mikkel Paige Photography and nothing's printed until you hit "approve" on the design) for a few weeks because #lifehappens and they forget until I remind them.
My advice to you, if you're reading this and desire an album, is don't procrastinate! The sooner I can get your album in your hands the happier we all are.
I want you to have your album as soon as possible! It's important to me because it's important to you and I value speed and efficiency in album delivery.
When I say your family and friends matter to me, I mean it
I can't tell you how many times a couple tells me I made their family and guests feel so special on the wedding day simply by doing something like remembering their names. Granted, some people aren't great with recalling names just after they meet a person. But luckily for me…I am. And I think a huge reason for that is because I care so much to address your family and friends by name so I listen when they tell me. And I ensure it registers. I can still look at weddings from years ago and recall some of the names of parents and wedding party members. And it makes me smile!
This has been stated as a "Mikkel Paige Photography" difference many times in couples' reviews of me on Wedding Wire and The Knot. And I'm damn proud of it!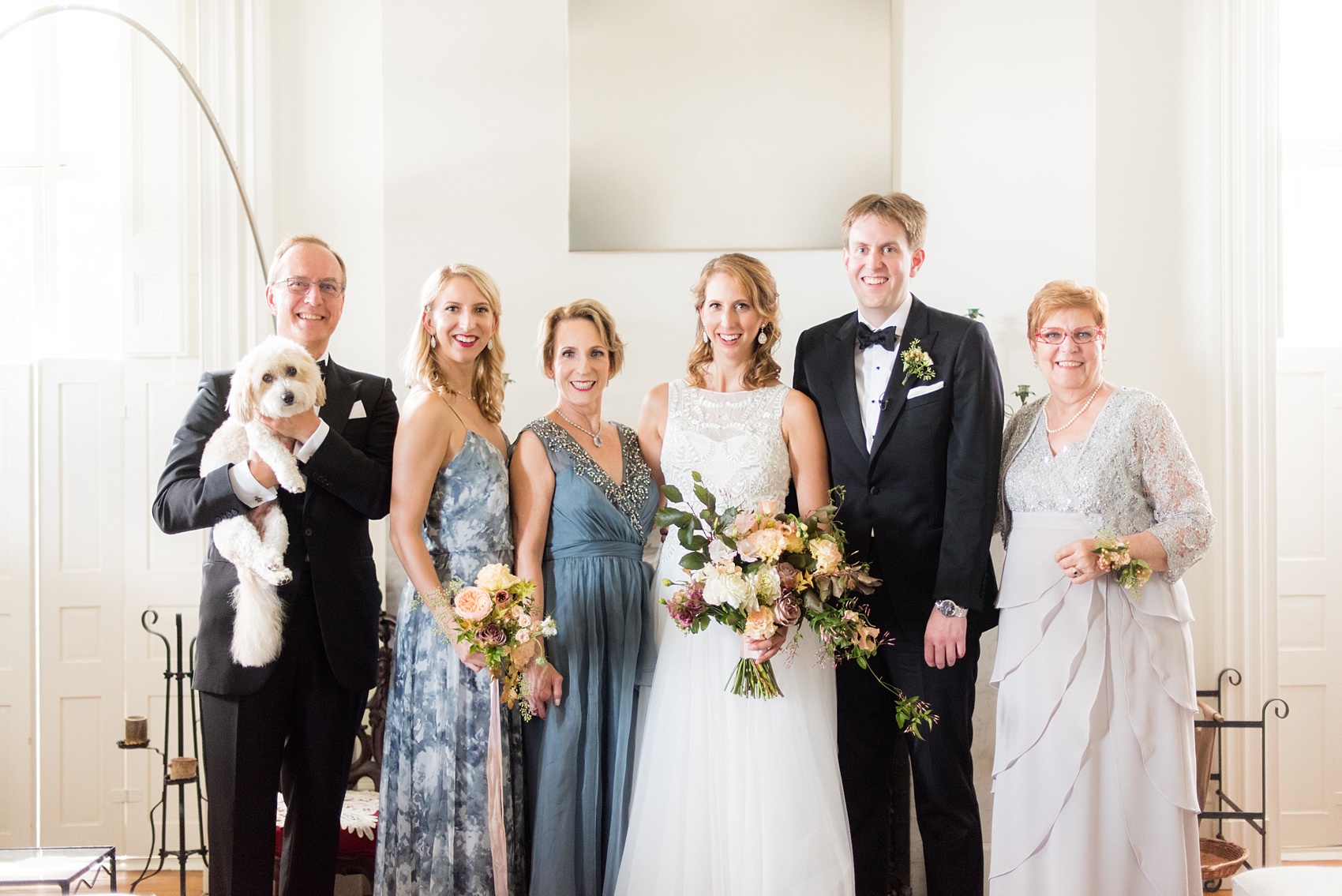 One final request…
On a final note – I have a favor to ask. If for some reason you choose to go in another direction with photography, and we're not a good fit for whatever reason, just let me know. There won't be hard feelings!
And if you do want to work together – and experience the Mikkel Paige Photography difference you won't find elsewhere – let me know ASAP. Because there's a good chance I want to work with you too and I want you to secure your date as soon as possible so it is Y-O-U-R-S!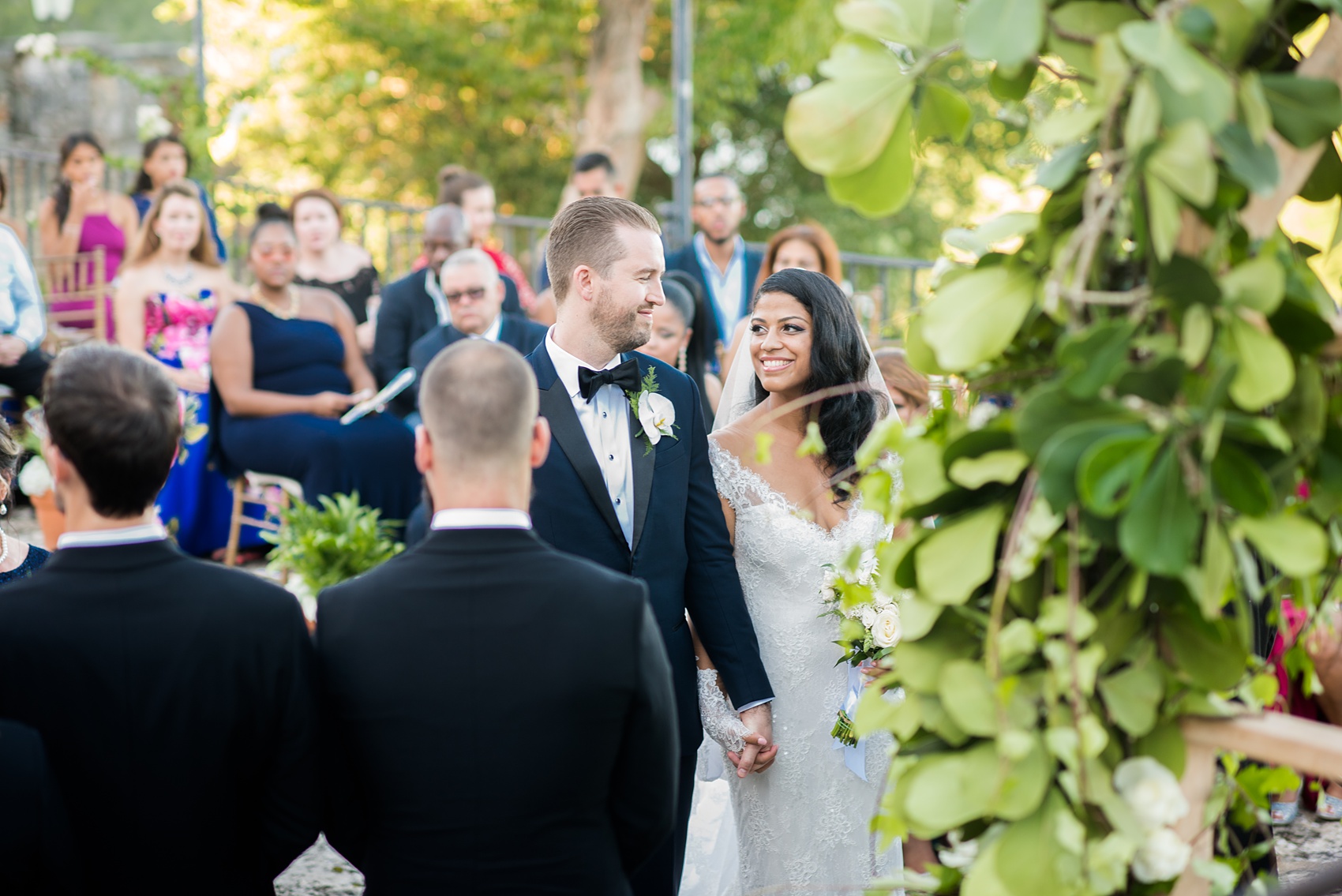 Have questions? Be sure to check out the FAQ page and Working with Mikkel for more.