On a beautiful spring day, this couple tied the knot near the bride's hometown, at her childhood church, then celebrated with a Basking Ridge Country Club wedding reception nearby in New Jersey.
One of the things I most admired about Alexa and Justin, however, was they are anything-but hometown; they are avid travelers with their latest venture Antigua, for their relaxing honeymoon!
An artistic girl herself, their wedding was filled with special touches from their custom designed pink and navy blue wedding invitation suite, to special pieces of jewelry Alexa wore; for a photographer who loves capturing those unique items, I was in heaven!
They prepared for their wedding day separately and opted not to see each other until their late afternoon church service. Alexa prepared with her girls at the Dolce Hotel and Justin not too far away at their house. Alexa was beautifully dressed from head to toe – her Amsale gown was complete with a ruffle halter and I just loved her baby blue chiffon fabric shoes! It was the perfect "something blue."
Alexa wore a family heirloom vintage diamond ring in her right hand (isn't it stunning?) along with a bracelet made from her grandfather's handwriting, with the message, "I love you, peacock," which is what he's called her for years. Peacock motifs were seen throughout their wedding from the bracelet, to her headpiece, to the brooch on her wedding bouquet stems.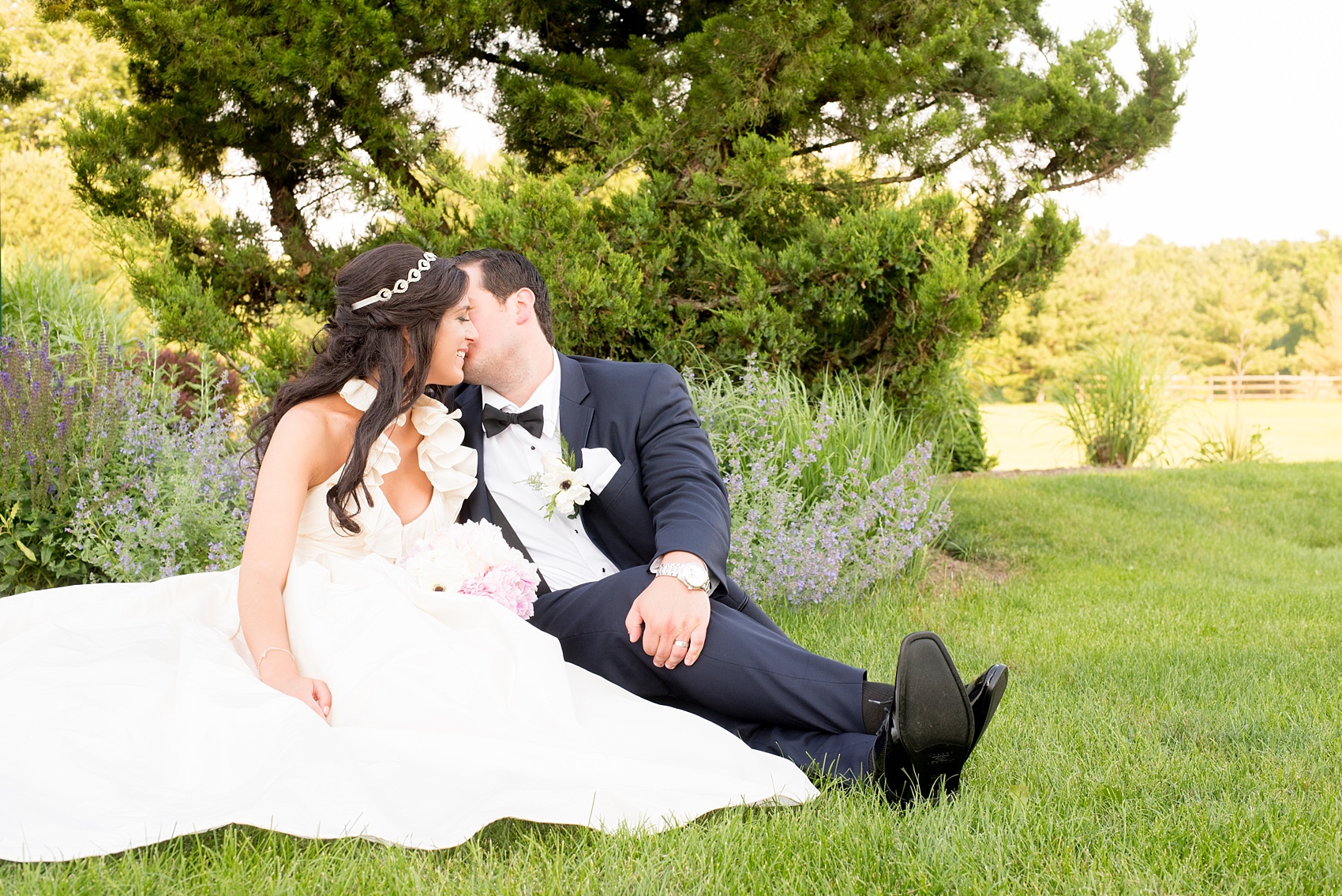 The bride had her grandmother's "A" monogram handkerchief as "something old" and "something borrowed" for her day. Both of their names start with "A" so it was perfect! And matched Alexa's shoes quite nicely.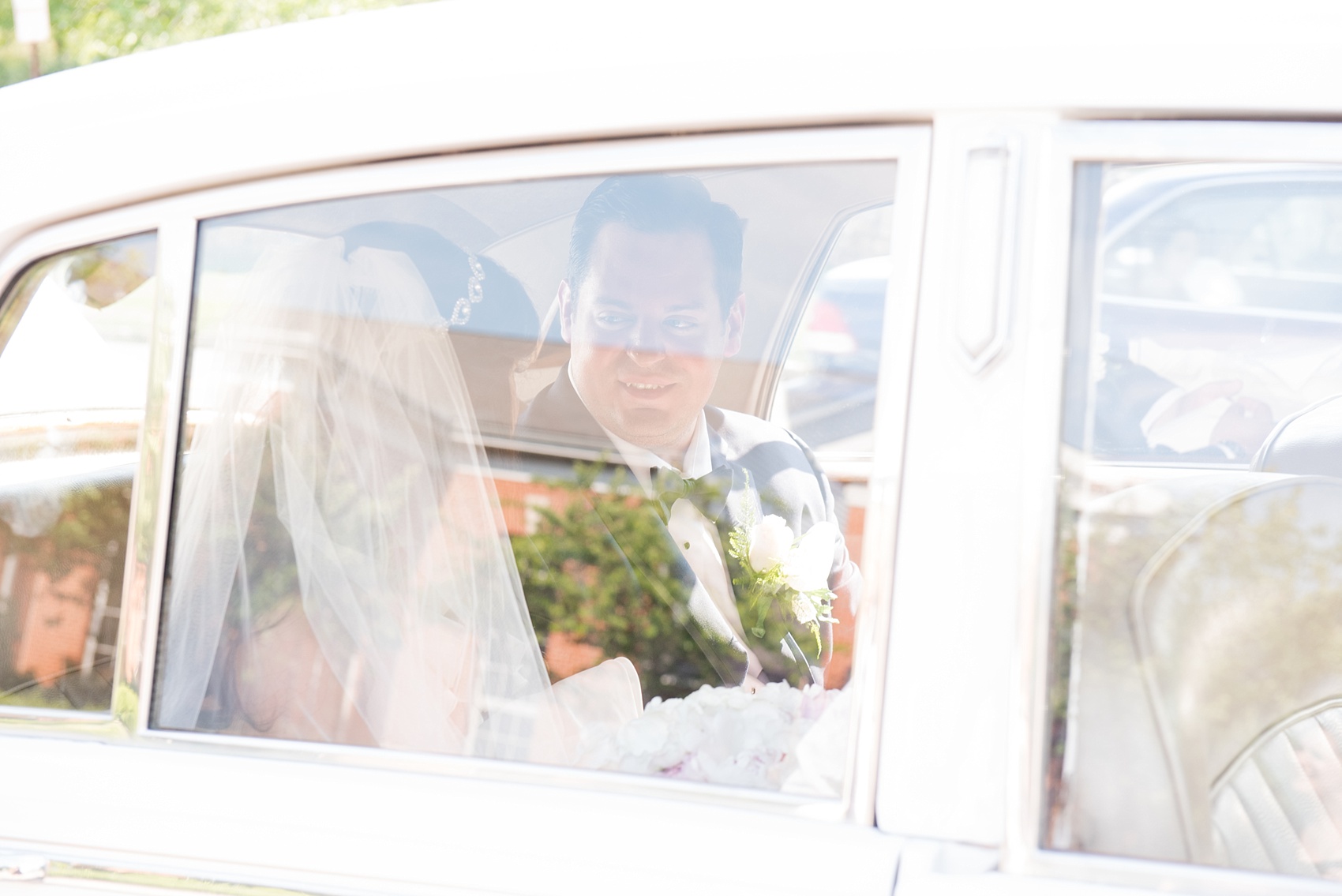 They traveled to their reception at Basking Ridge Country Club in style: a 1964 Rolls Royce. When we arrived the wedding party and the bride and groom were excited to unwind a bit and take some epic photos around the country's club's golf course!
I loved Alexa's sweet moment with her flower girl, Sarah, caught on camera. I even loved the flower crown the flower girl, Sarah wore with butterfly short-sleeve leotard and blush tulle skirt for this Basking Ridge Country Club wedding. I also loved how all their outfits looked together – her maid of honors, her sisters, in special pink gowns with her bridesmaids in shorter pink options. The pop of pink in their bouquets of hydrangea, roses and peonies really brought it all together.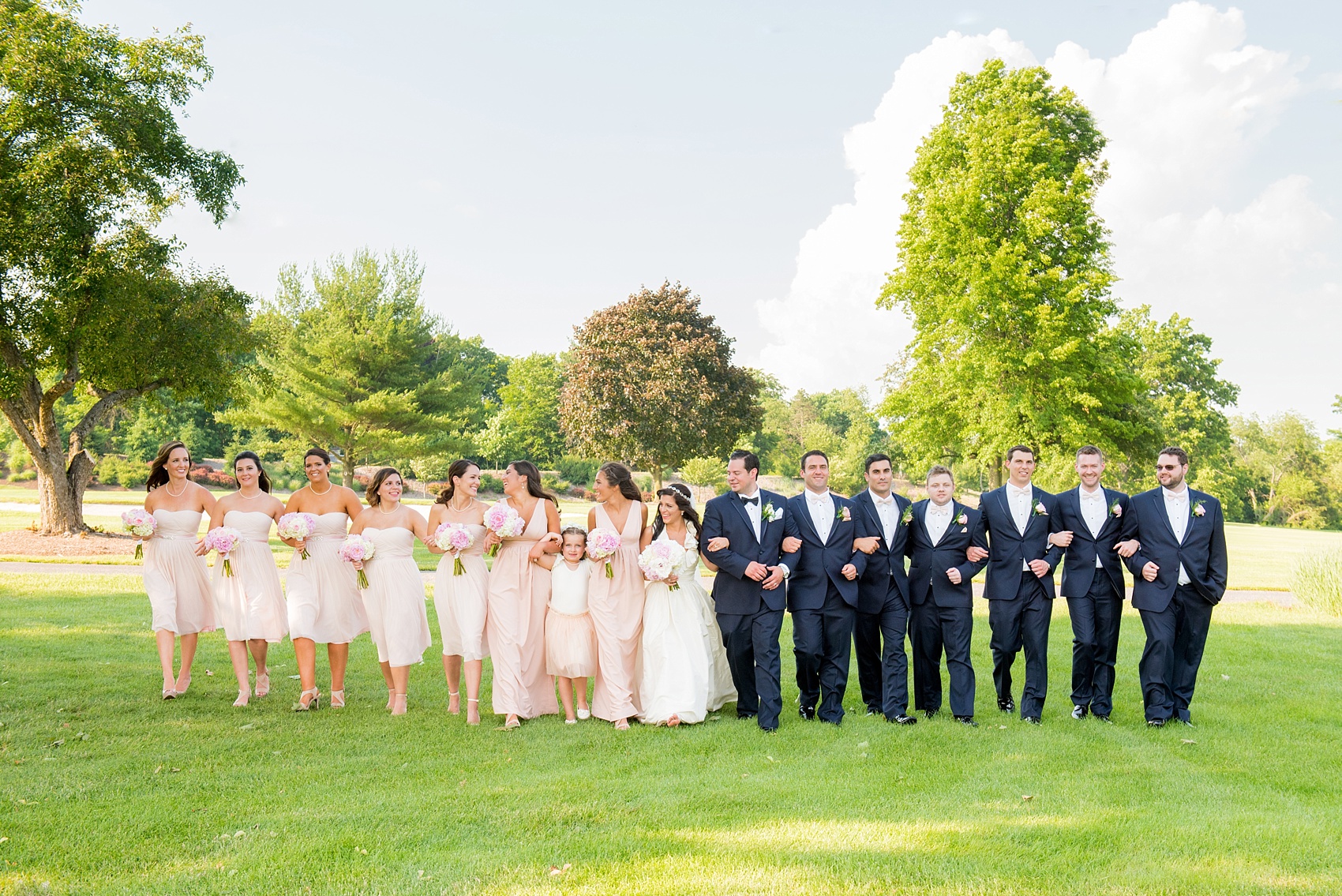 They had some really sweet moments together when it was just them, enjoying the first hours of being Mr. and Mrs. Higgins. The below image, of Justin softly touching Alexa's chin to bring her in for a kiss, is one of my favorites from their wedding.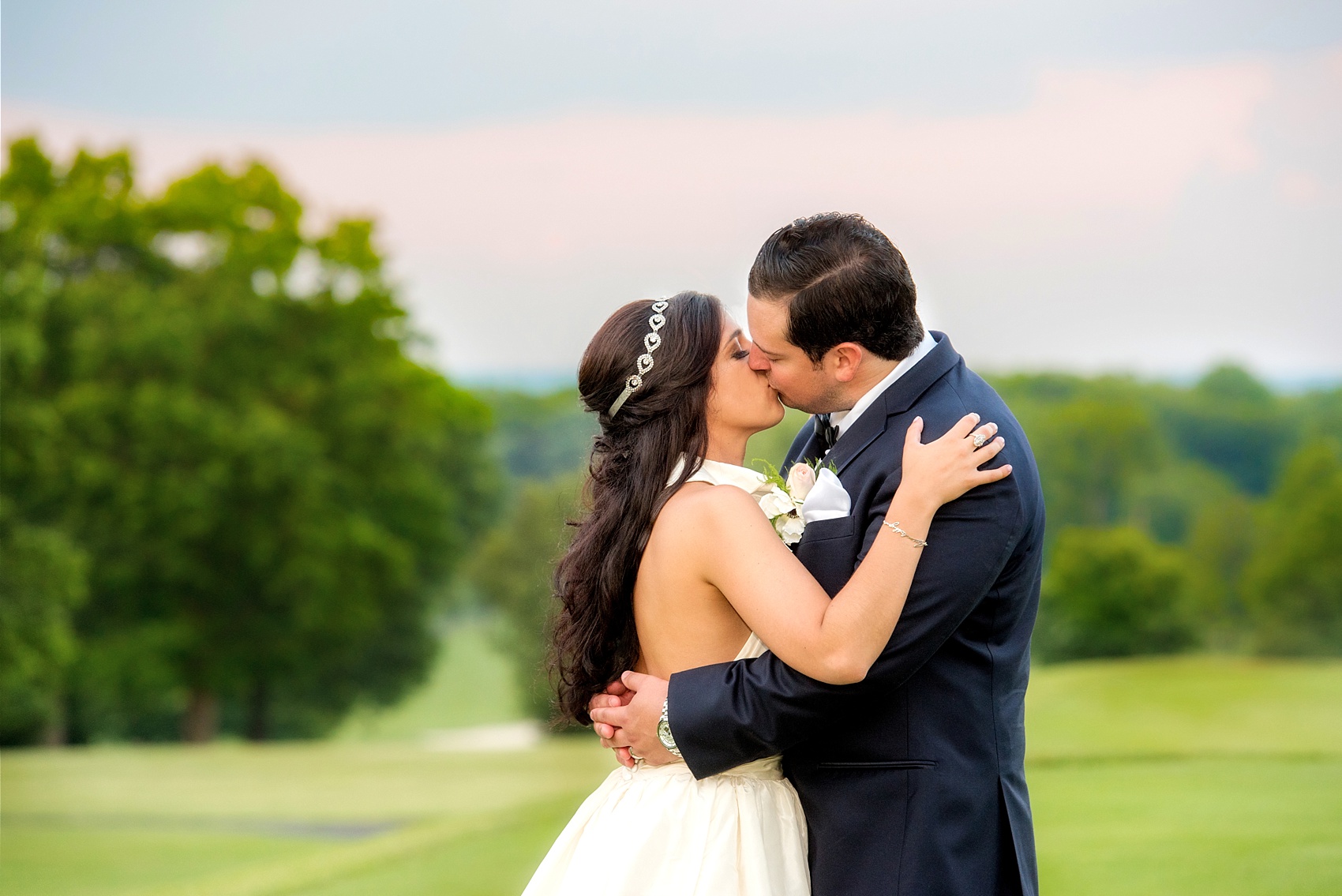 The clouds were fluffy and shades of pink (like cotton candy) for the sunset at their Basking Ridge Country Club wedding that summer day. The sky showed beautiful shades of blue and periwinkle too. It nearly matched their wedding palette.
Cocktail hour was enjoyed under a tent complete with white lanterns, which would be repeated in colors of navy blue, pink and white in the reception room. Their sweetheart table was a highlight with a blue sequin tablecloth and their initials in silver metal letters. The groom's a guy with my own favorite drink in mind (a dirty martini!) and they had his and hers specialty cocktails with custom signage to match their stationery suite.
Something I'd never seen before that they did was an "In Loving Memory" tower. Their florist, Warren Country Events, covered a wire frame Eiffel Tower structure in flowers and clipped on old photos of loved ones who had passed over the years. It was right when you walked it and caught everyone's eyes. They also opted for vintage postcards for guests to fill out. Her grandmother held this card out to show me and explain Alexa once dressed up as Audrey Hepburn and looked just like her!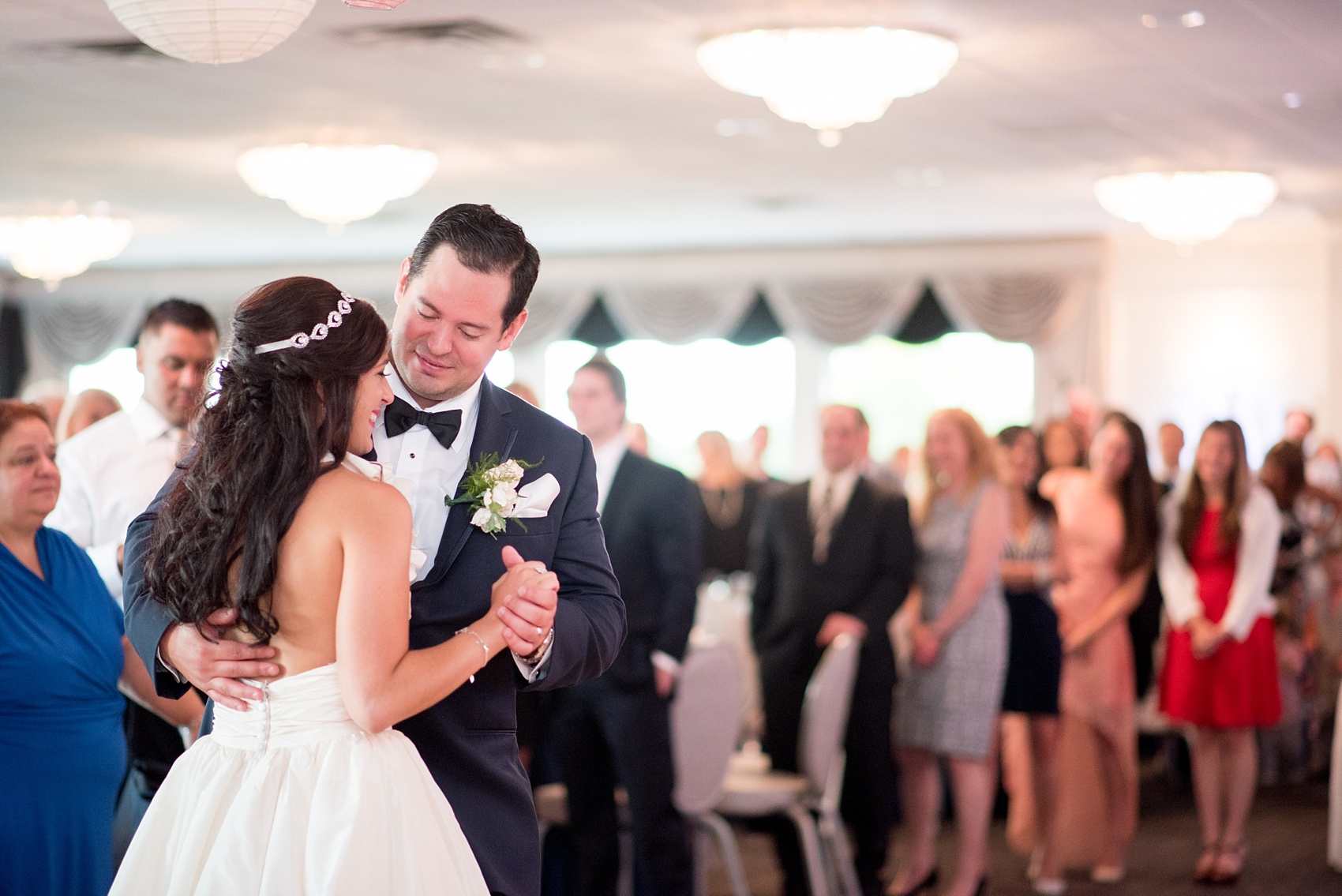 They danced their first dance to Dave Matthew's Band's, "Steady as We Go" while their first course was served and the clouds kept on looking as gorgeous as ever outside the windows of their reception room. Alexa's father gave one of the best speeches I've heard from a dad, yet, and her sisters and Justin's brother also spoke as their guests listened and laughed…
Lots of dancing to Naked Soul Band ensued, and the cake cutting was not to be outdone by a crepe station outside and slices of chocolate cake plated with a French macaron, a favorite of the bride.
Basking Ridge Wedding Vendors
Venue: Basking Ridge Country Club / Church: St. James / Band: Naked Soul Band / Hair and Makeup: Jessica Walker and Christina Tranquilli, J Walker Salon / Florist: Warren Country Florist and Events / Wedding dress shop: White / Wedding gown designer: Amsale / Cake topper: HomePrint3DToppers, Etsy / Cake: Gourmet Touch Bakery / Stationery: designed by the bride (@thesocialpeacock) and Marisa Gago / Bridesmaids dresses: BHLDN / Belts for bridesmaids dresses: EYMbellish Designs, Etsy / Monogrammed shirts for getting ready: Sassy Gator Monograms, Etsy / Bridesmaids pearl necklaces: Handpicked / Suits: Joseph Abboud, Men's Warehouse / Getting ready location: Dolce Hotel / Cocktail hour pianist: Jerry Vezza / Bridal headband: BrassLotus, Etsy
If you like what you see please follow Mikkel Paige on Facebook and Instagram!
Getting married in New Jersey? Also check out: