Crystal and Steven's wedding photos at Iberostar Grand Paraiso wedding in Mexico looks like something out of the pages of Destination Weddings Magazine. It's gorgeous! The pictures of them on the beach particularly make my heart skip a beat. We had an amazing week leading up to their wedding, visiting the west Yucatan Peninsula and Tulum. And their wedding in Riviera Maya was the icing on the cake.
Looking at their images makes me so vividly recall even the slightest details, like the pattern of Crystal's wedding dress lace or the feel of the air after it cooled off from a storm just hours before their outdoor ceremony.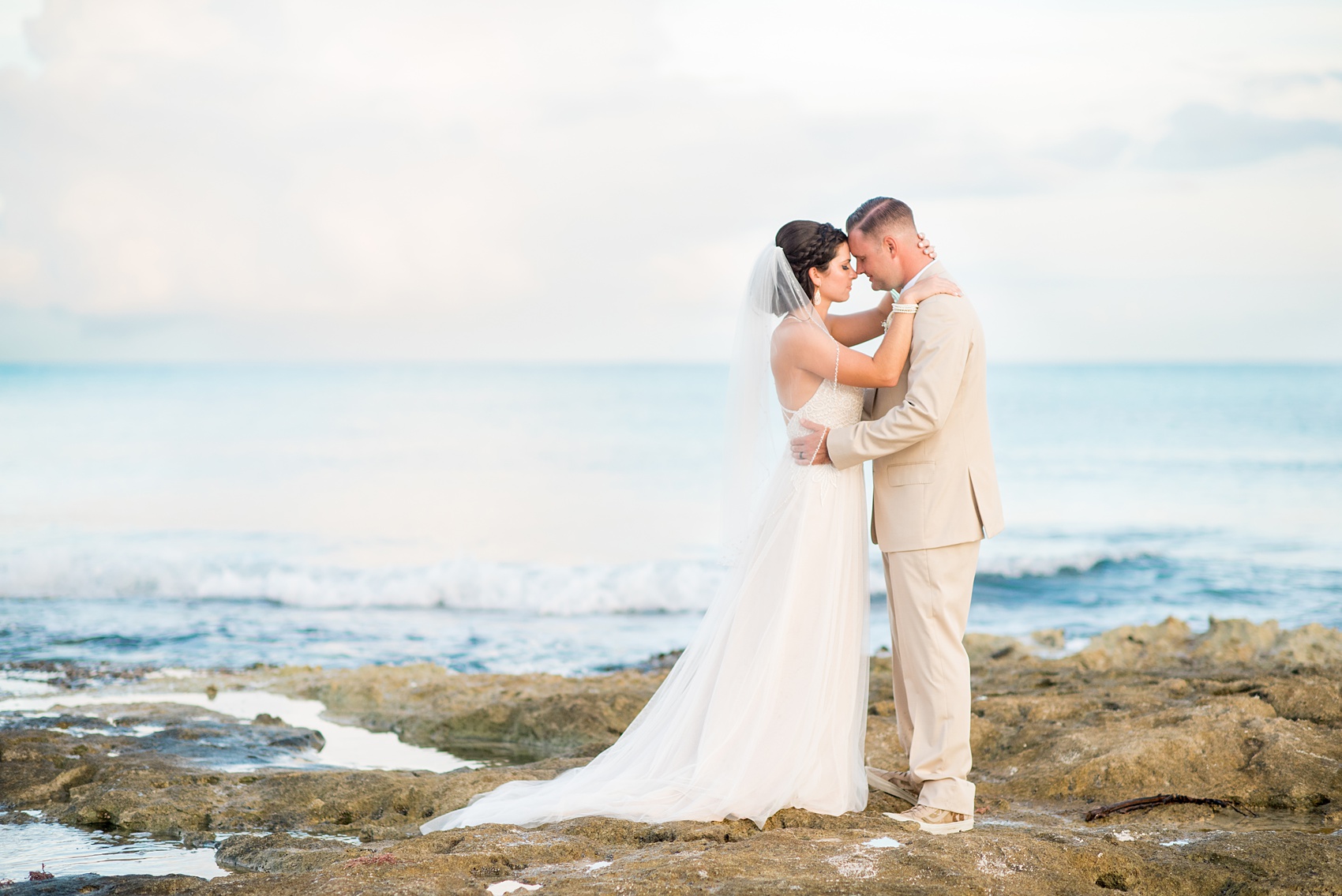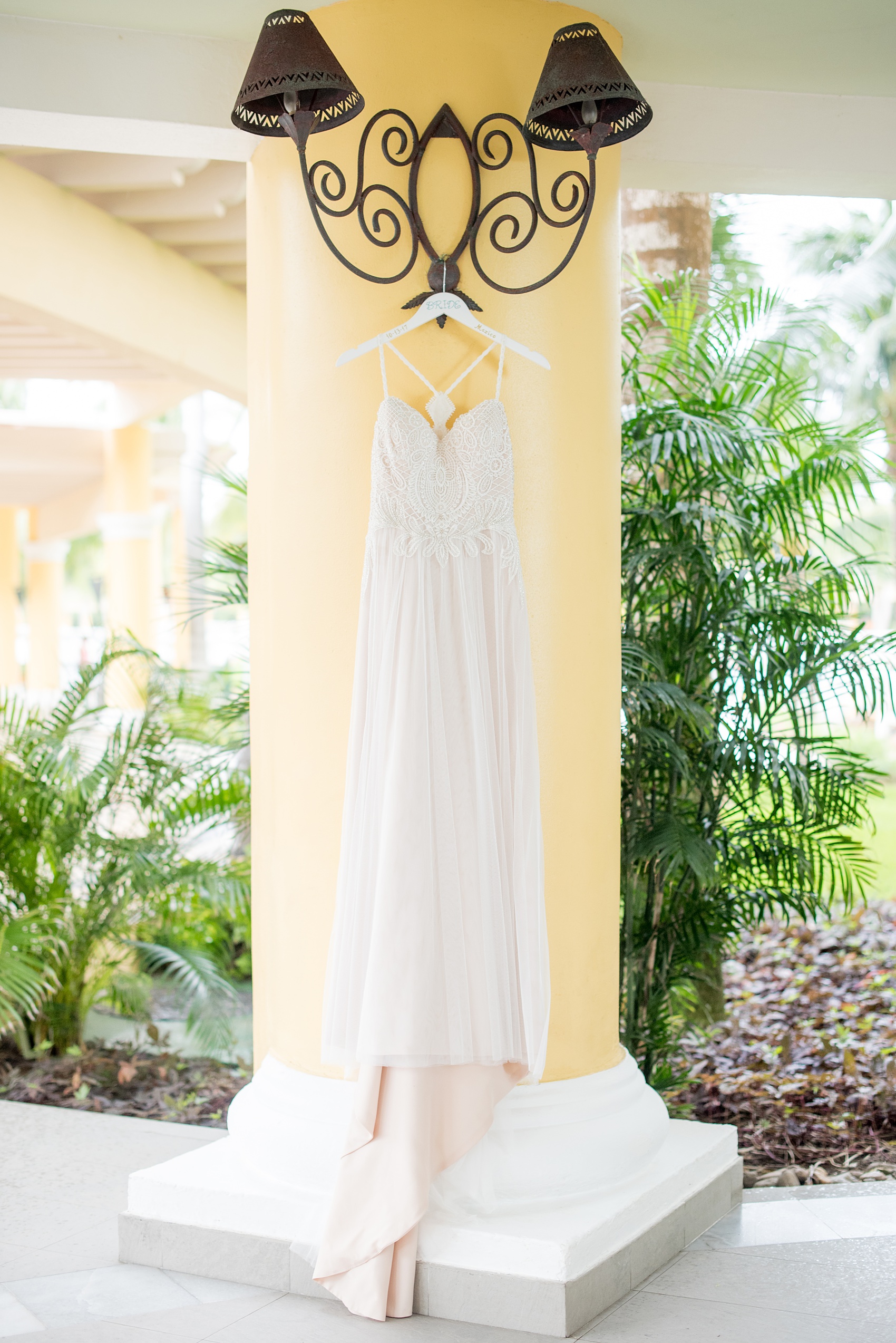 I love a reasonable bride and Crystal was such a shining example of one in everything she chose, down to her lightweight tulle Ti Adora wedding gown. It was no fuss to bring to their Iberostar Grand Paraiso wedding in Mexico and it was no fuss to put it on that afternoon as her bridesmaids surrounded her during the final preparations.
They all wore silky robes to get dressed, a gift from the bride, in shades of mint and teal that matched their wedding colors. The best part of their getting ready location was that Crystal and Steven's room overlooked the aqua ocean! Even the water matched their day!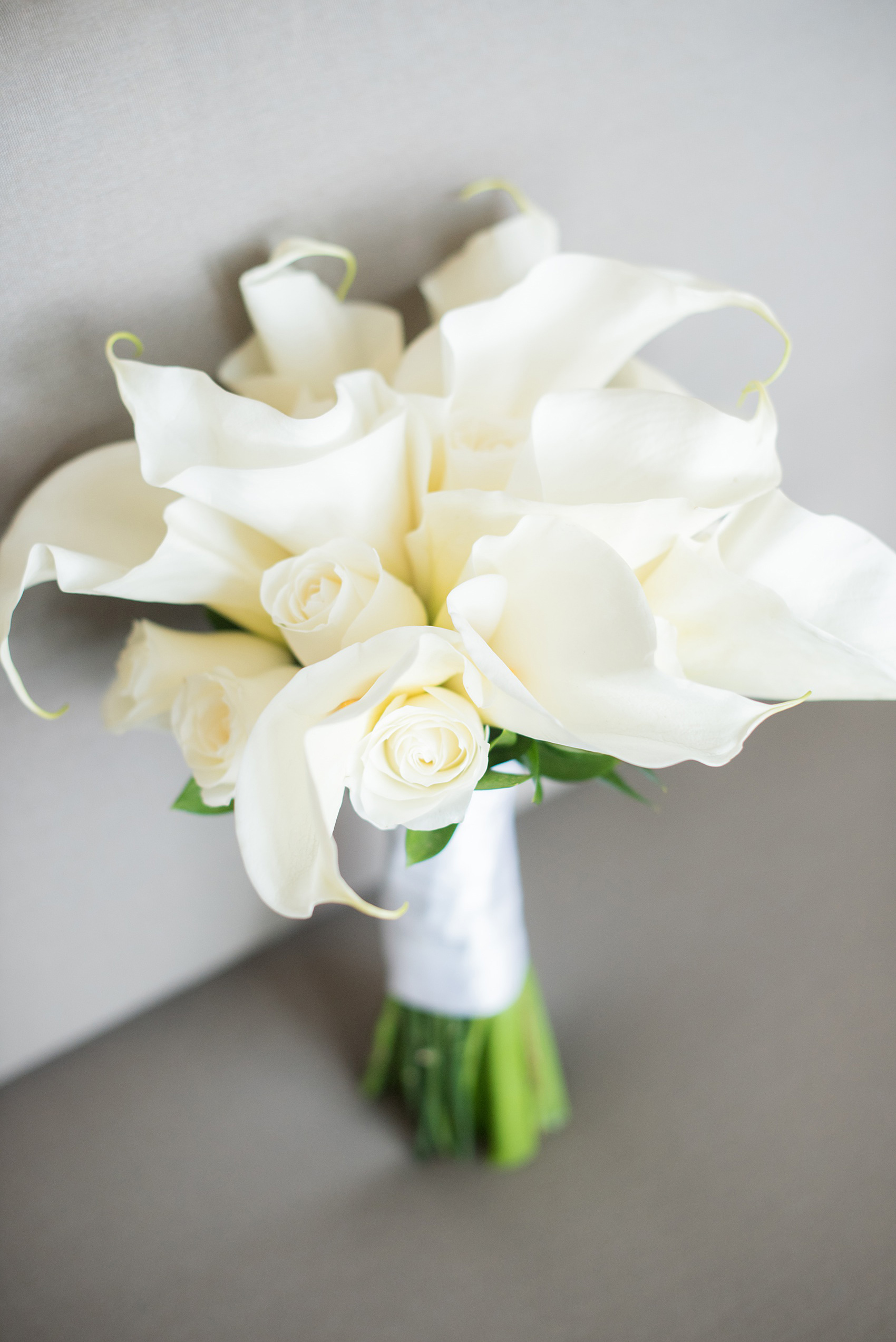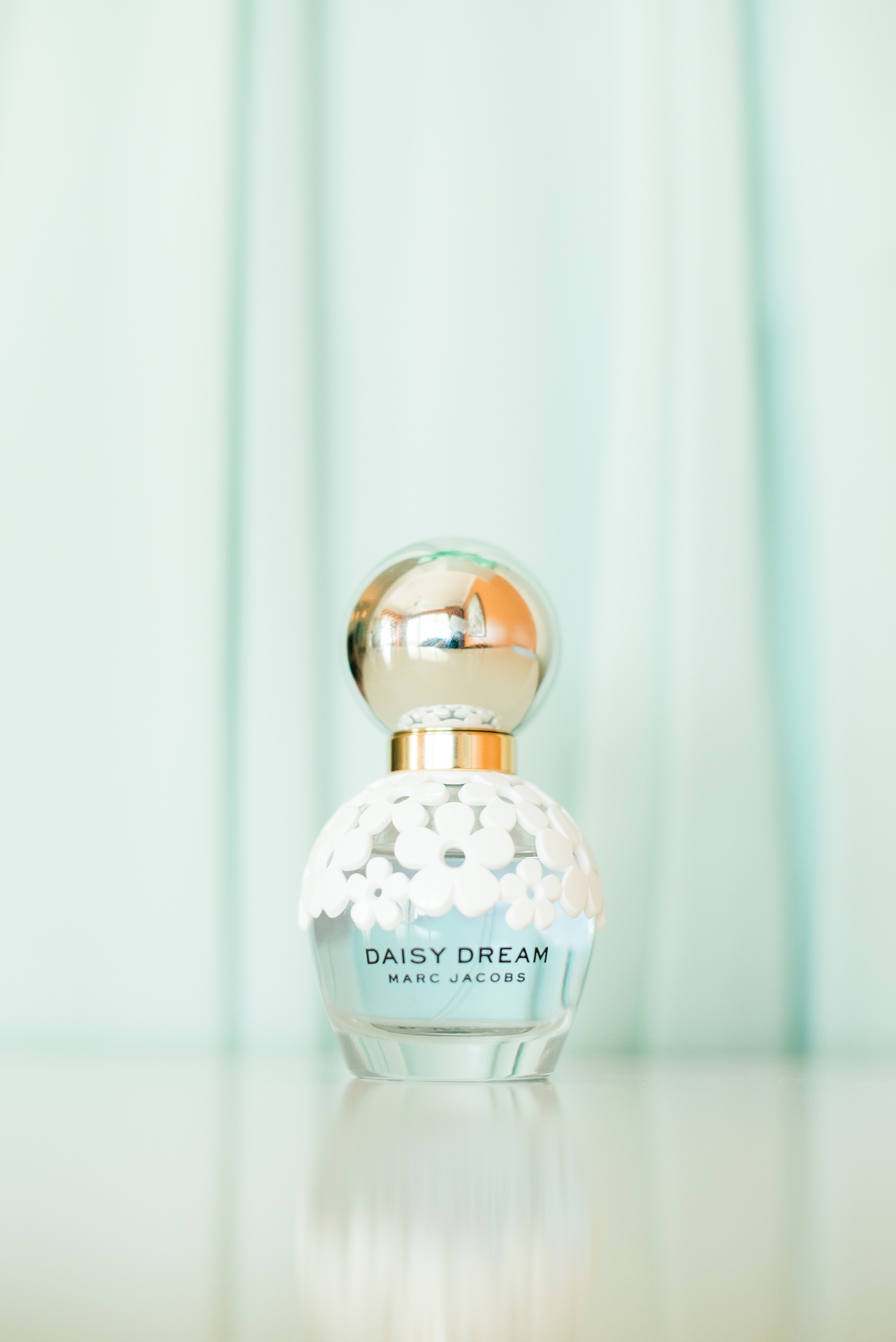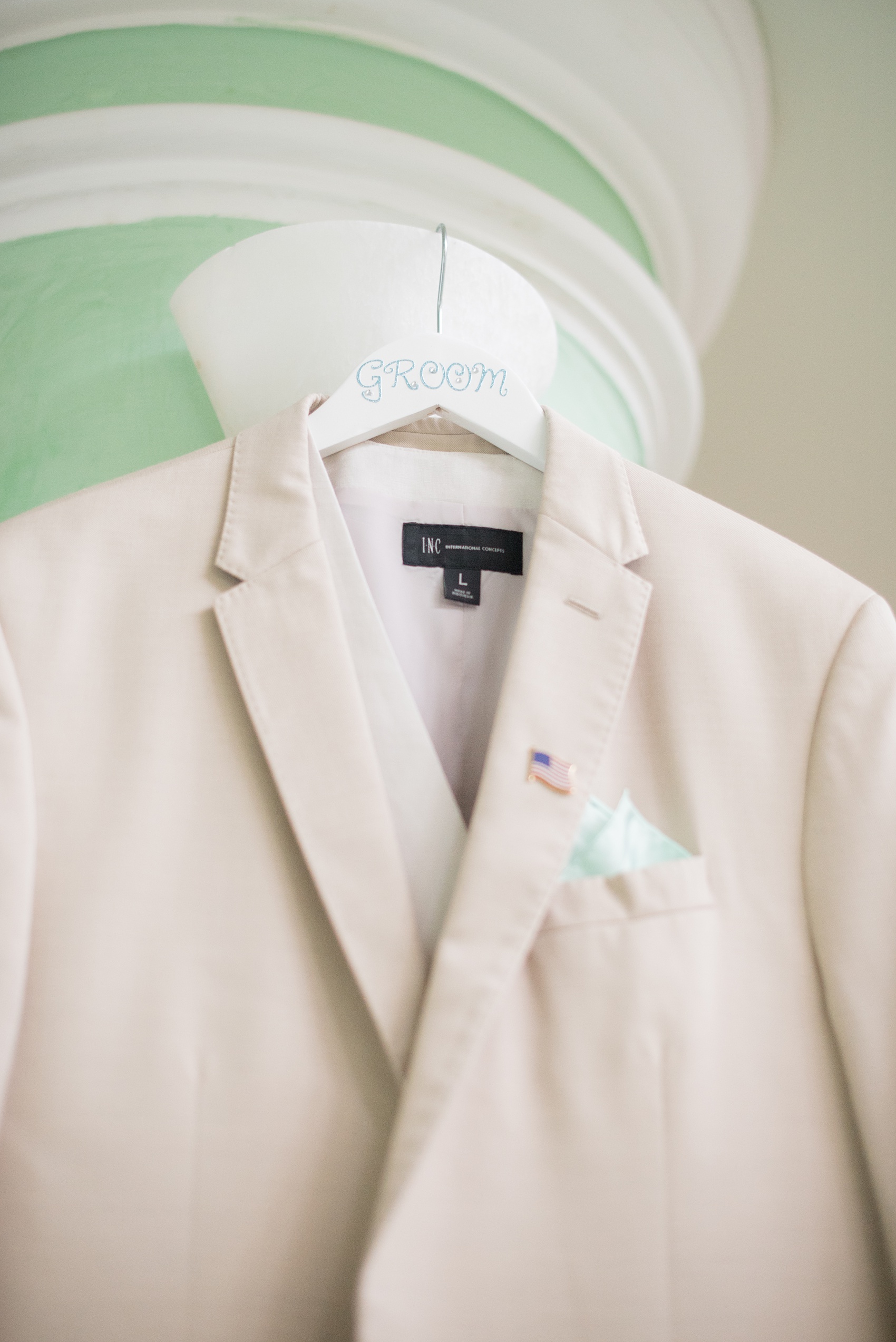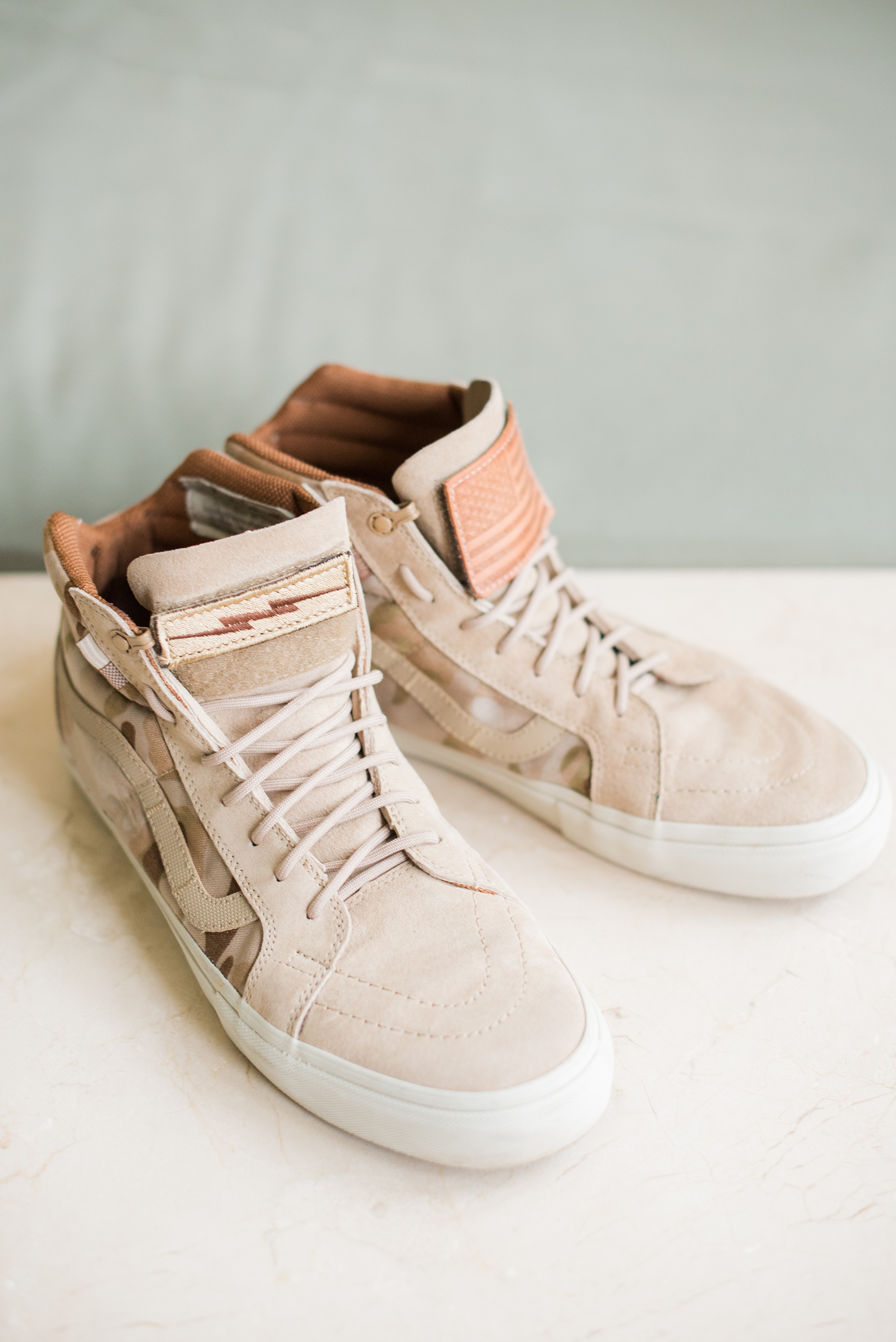 Crystal even made sure her groom, and boyfriend of ten years, Steven, had a special hanger for his suit that matched hers and her Maid and Matrons of Honor for their Iberostar Grand Paraiso wedding.
Brides and grooms should always be themselves on their day and I loved that Steven opted to wear his hightop Van sneakers with a camouflage print and put a USA flag pin as the finishing touch on his suit lapel. The detail that sealed the deal for this military couple was Crystal's "remove before flight" garter with a helicopter charm!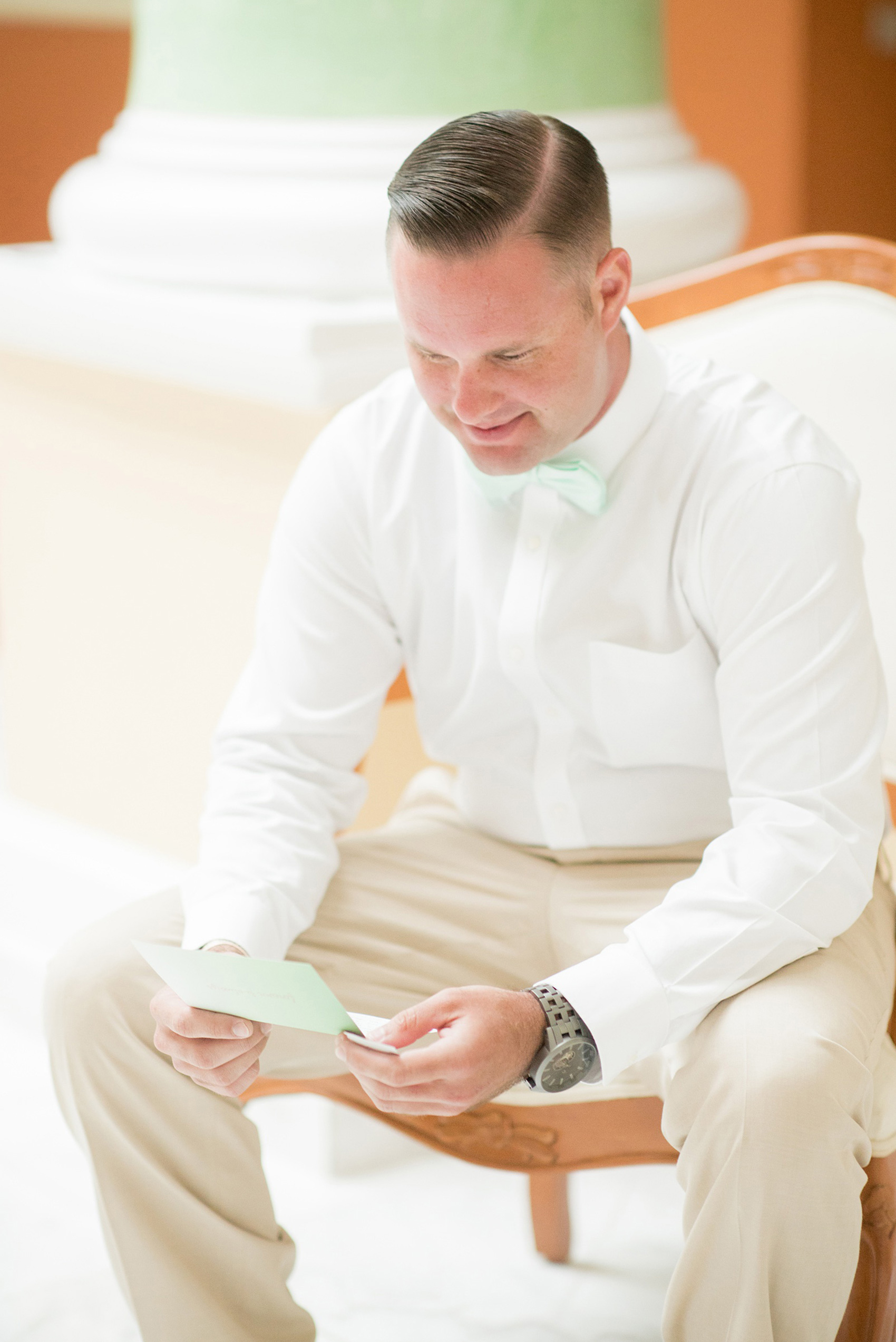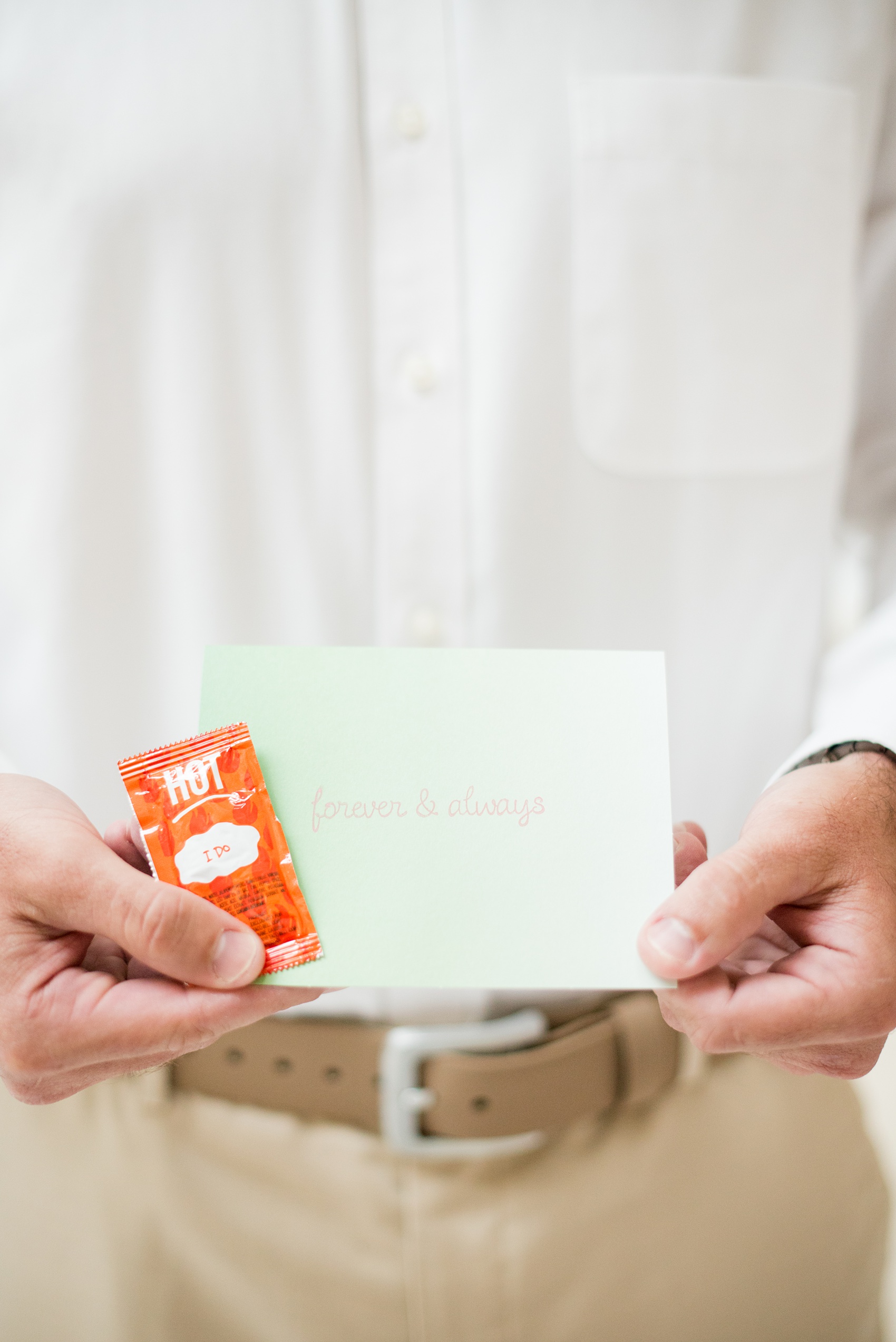 Steven told me, "You have to get a picture of this hot sauce packet!" He seemed a bit emotional as he mentioned it, revealing he had a similar packet he gave his bride when he asked Crystal to marry him. Though his asked, "Will You Marry Me?" How cute is that?! (I love condiments so…..can you blame them?)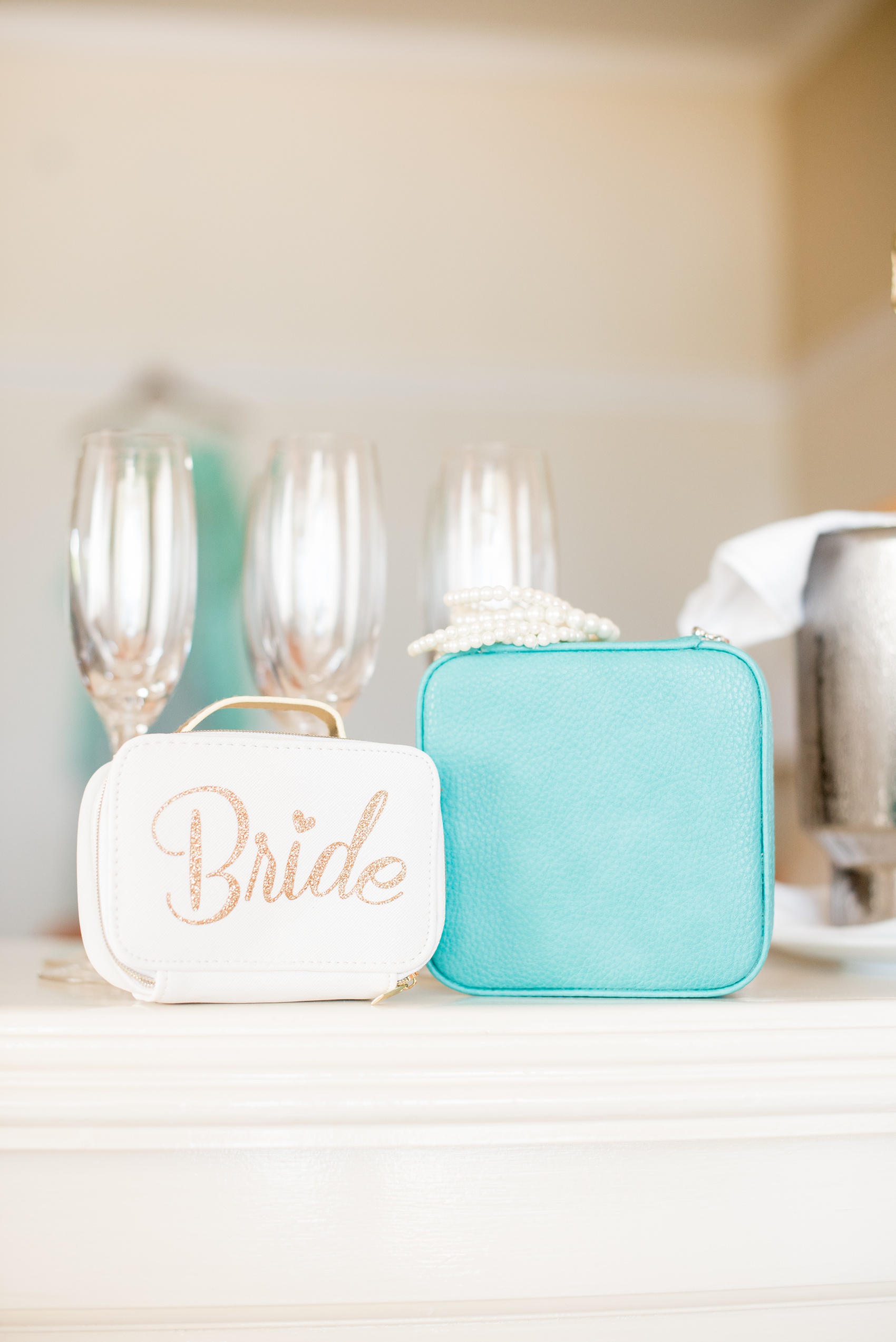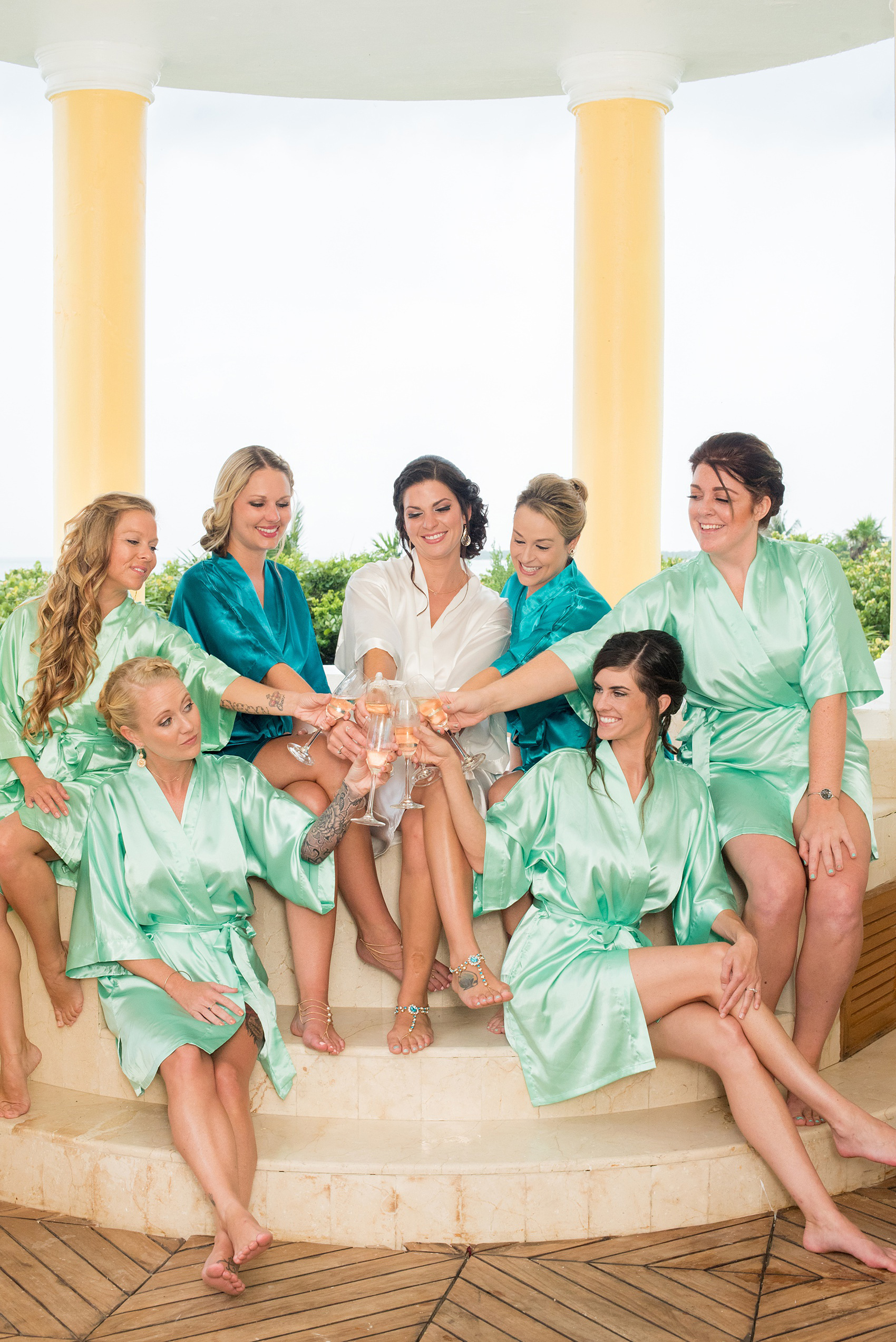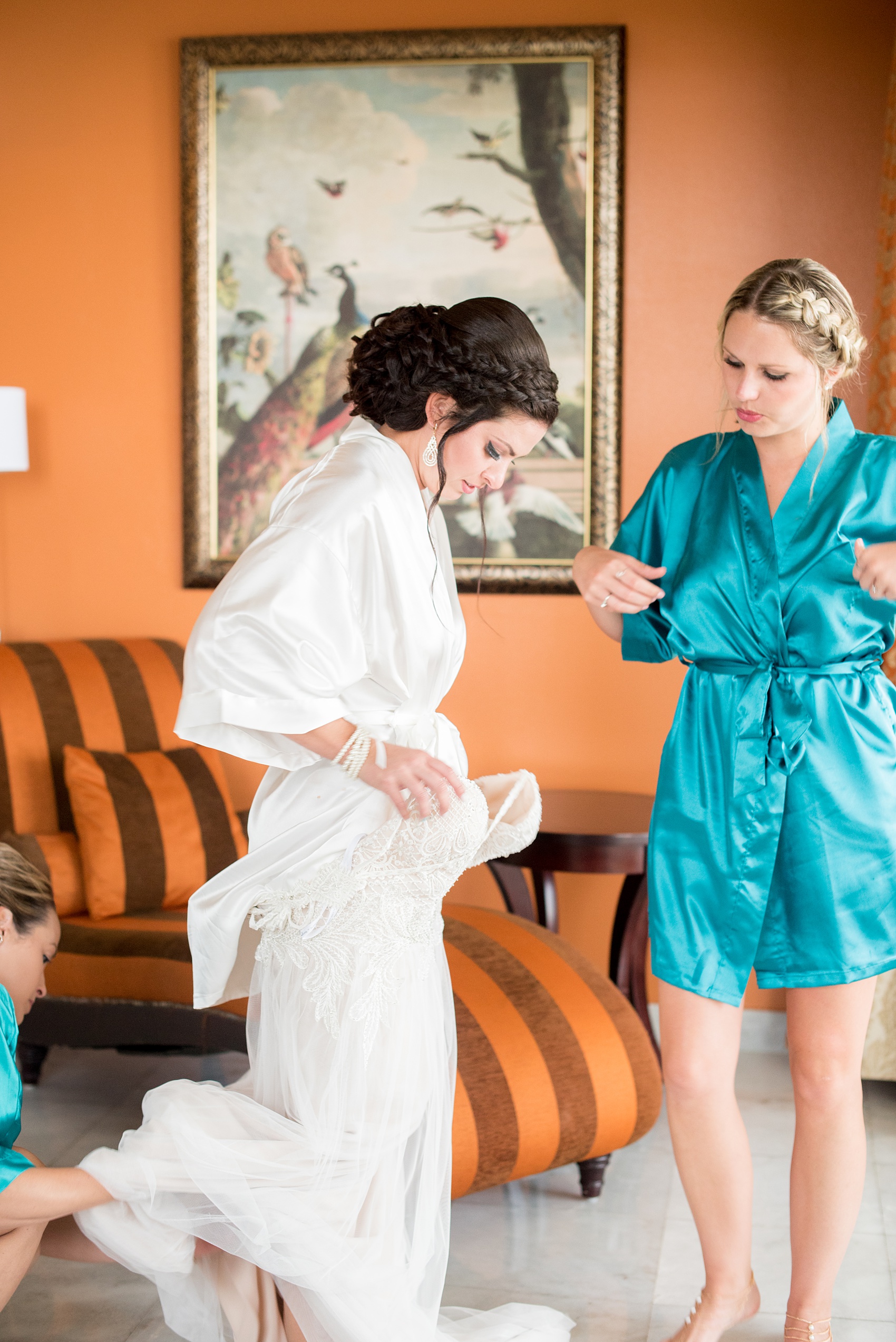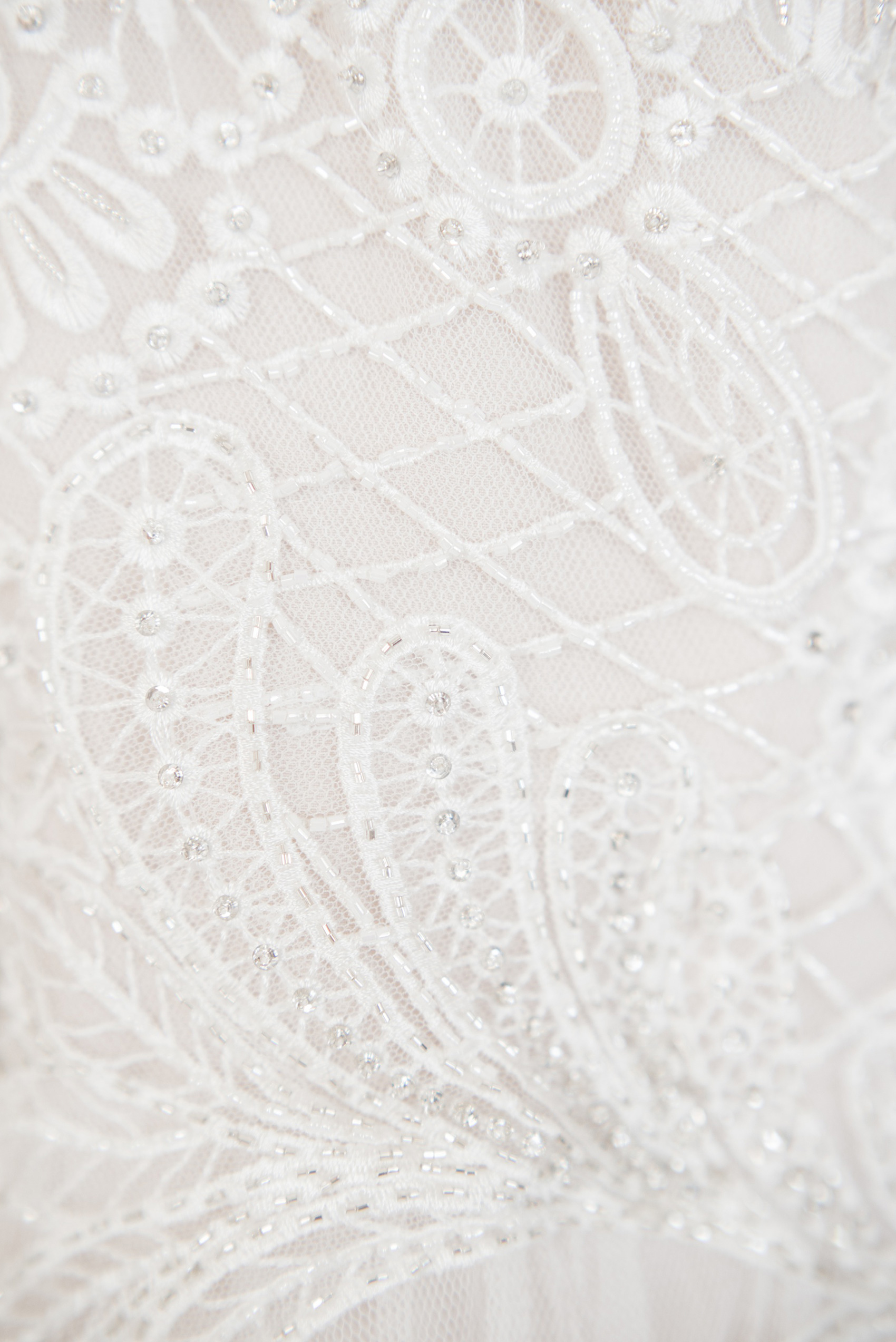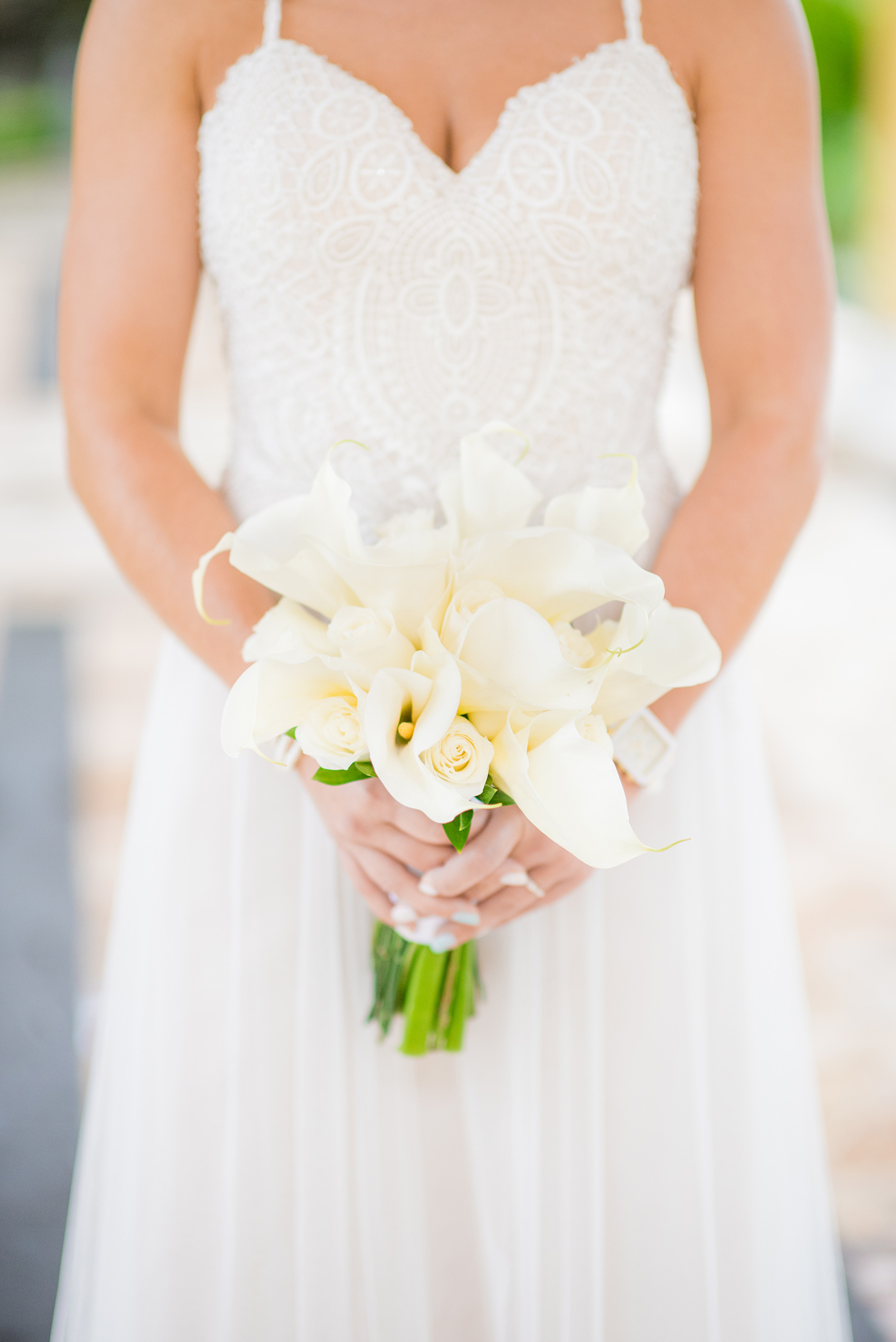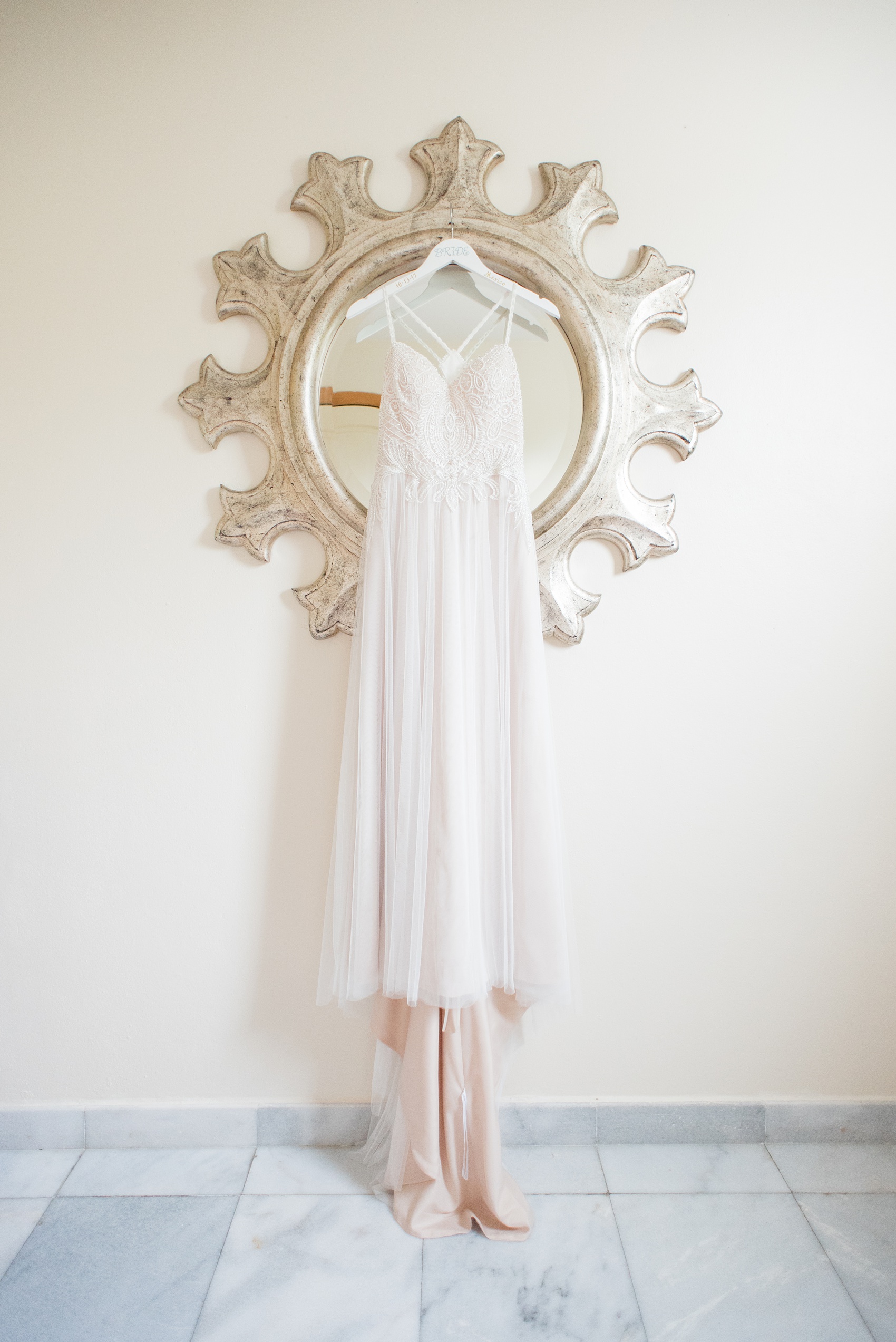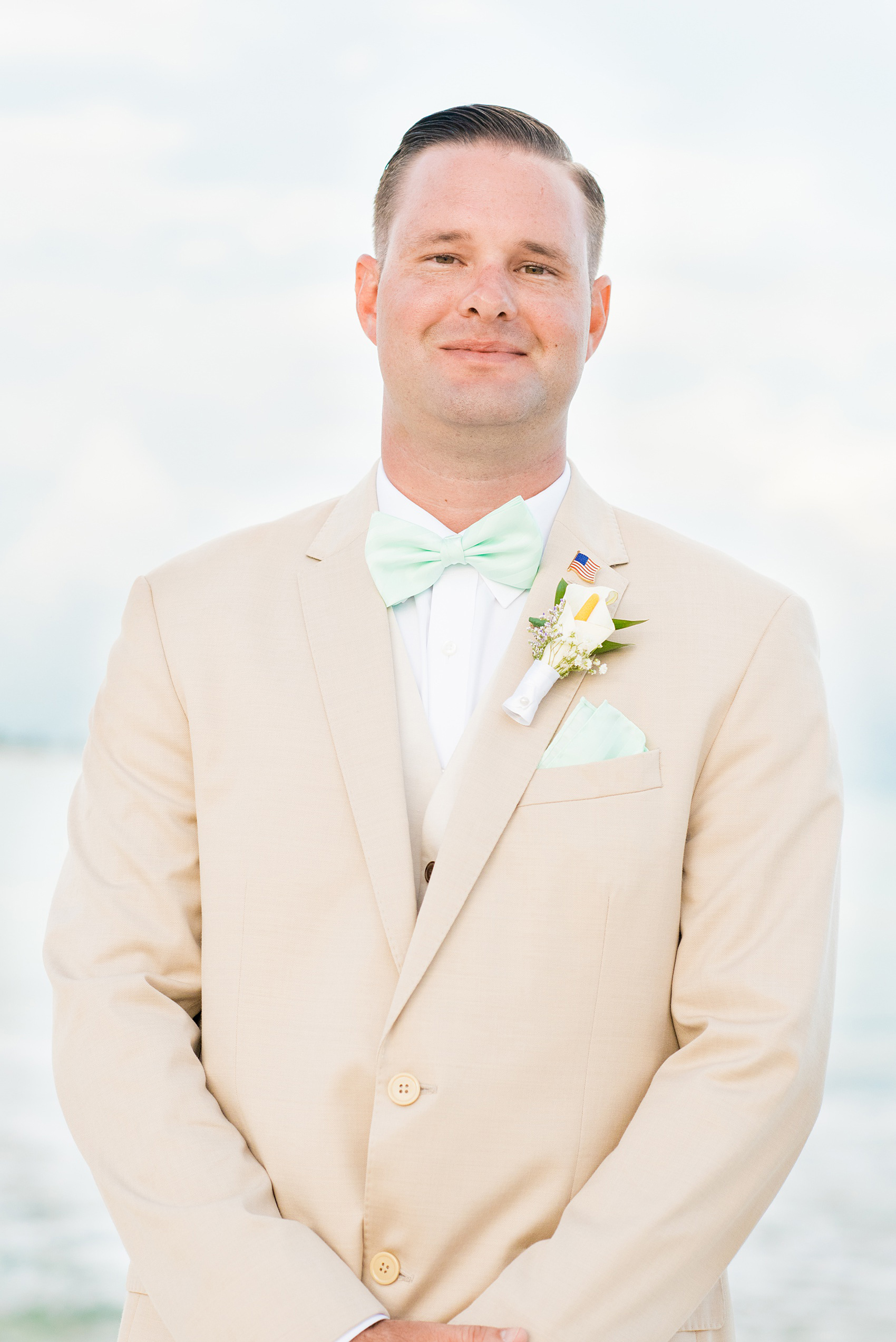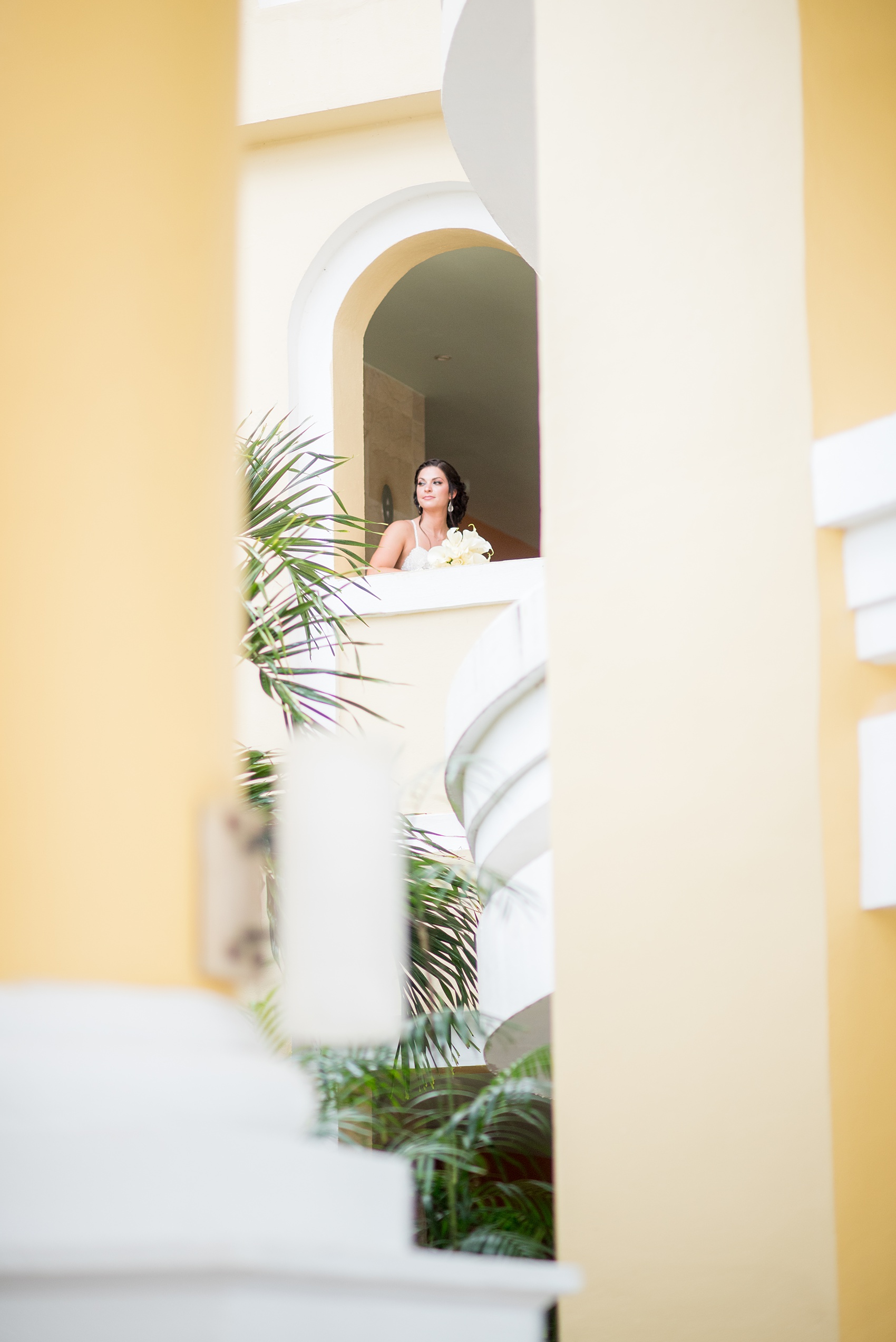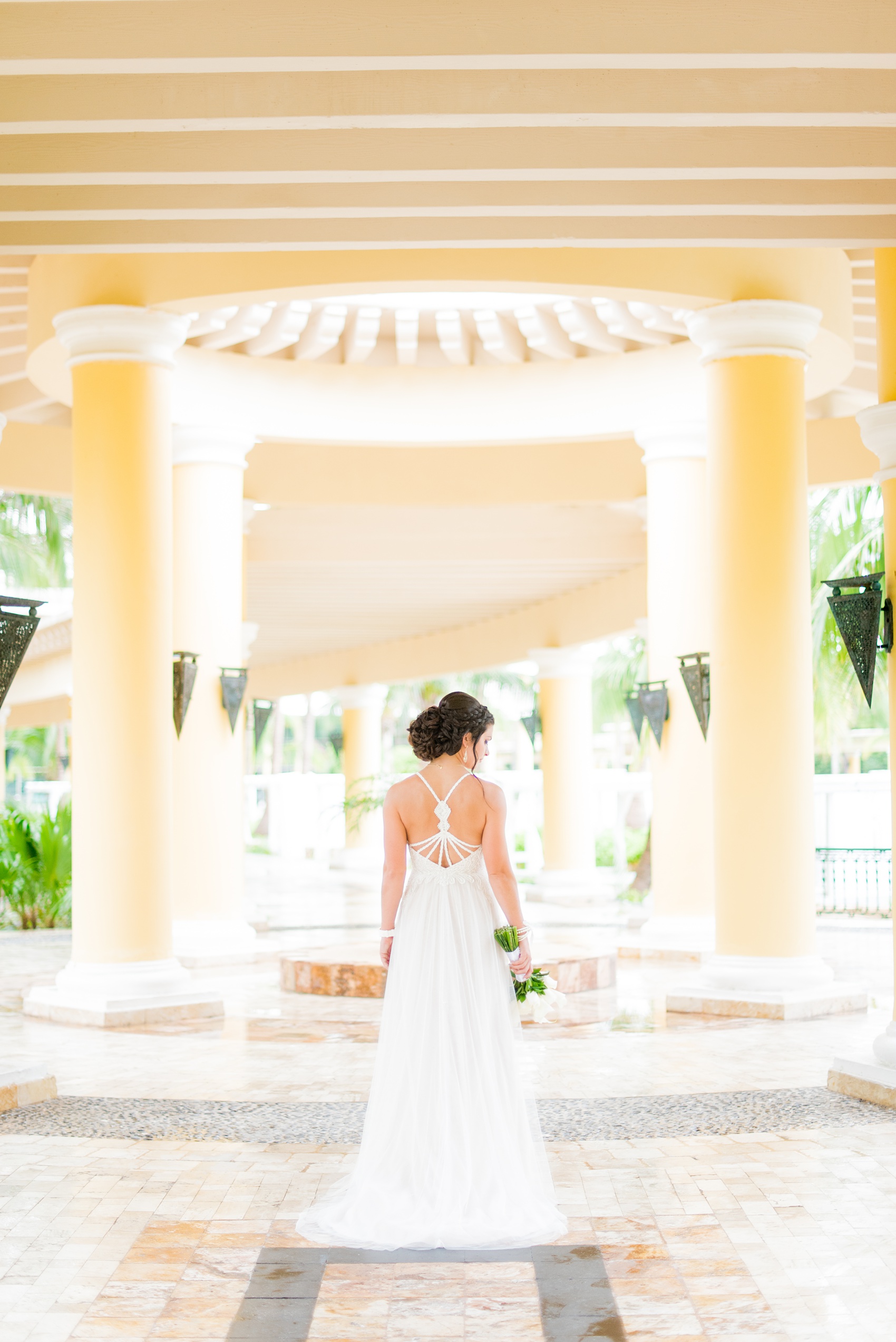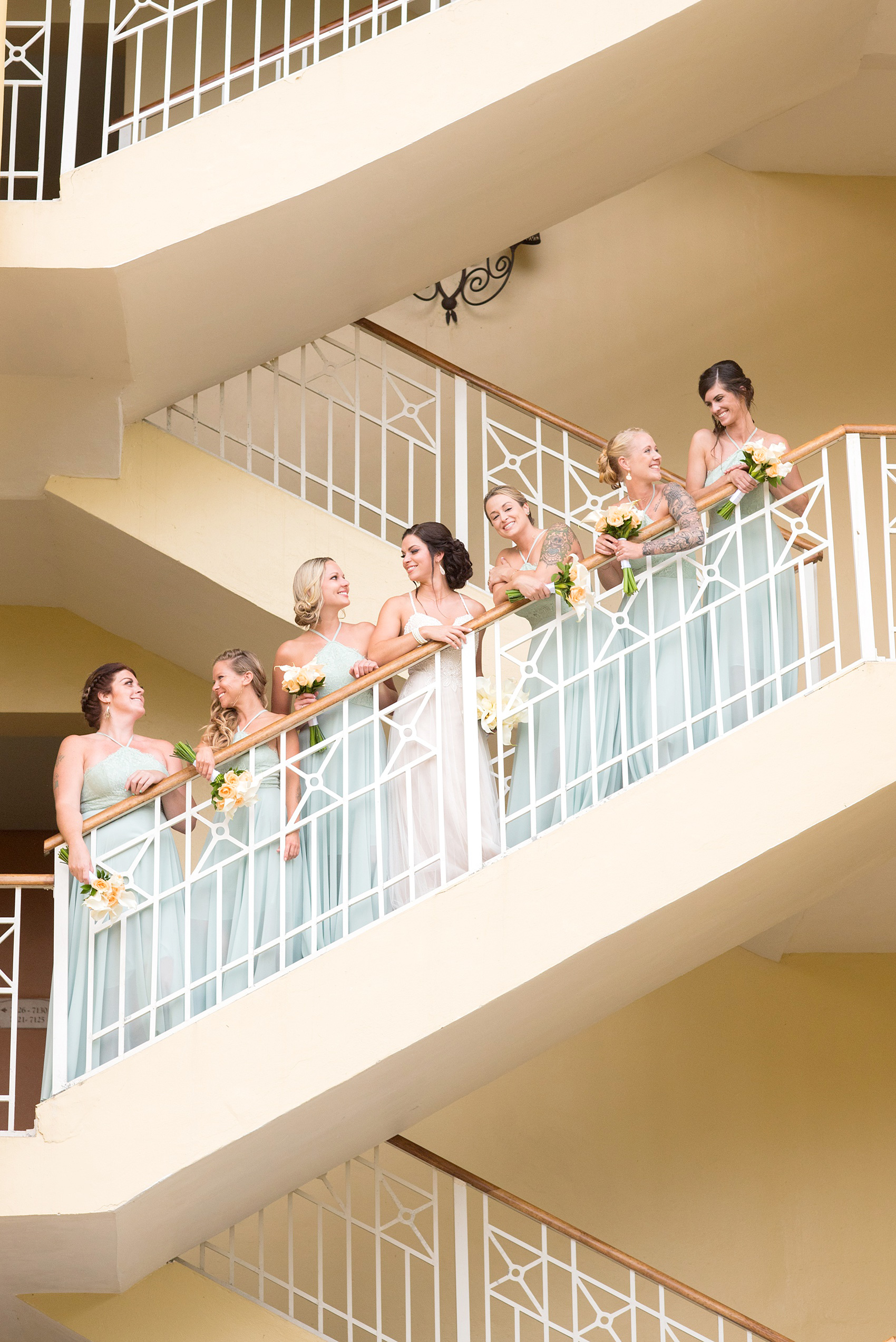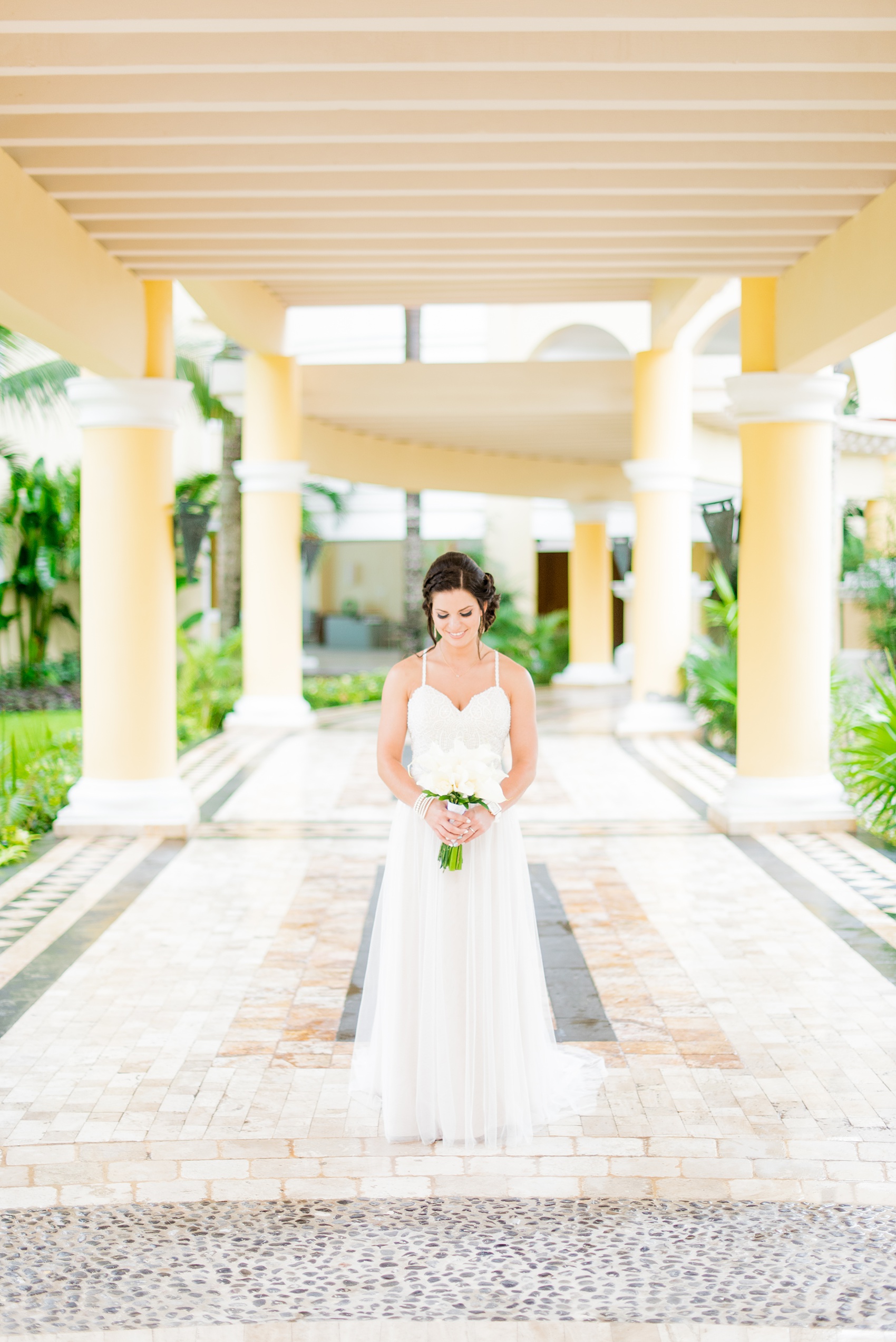 Crystal carried a delicate bouquet of white roses and calla lilies for her Iberostar Grand Paraiso wedding. Her bridesmaids, dressed in beautiful mint green lace and chiffon gowns, held similar creations with peach roses instead of white.
Their save-the-date doubled as their wedding invitation (so smart!); I was super excited to get my hands on some tropical flowers and leaves to photograph it with! The Grand Paraiso is full of beautiful white marble so what better backdrop to photograph it against?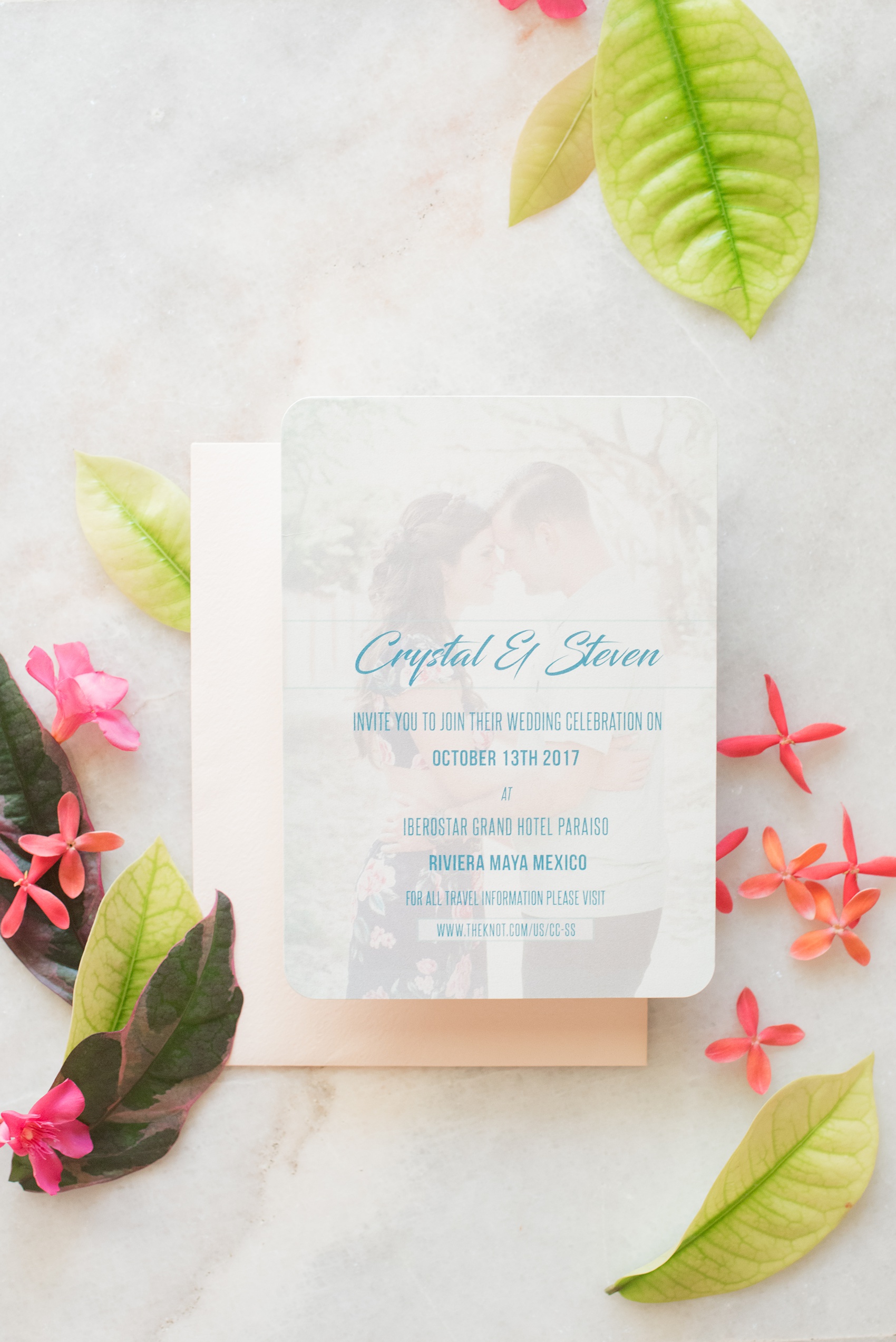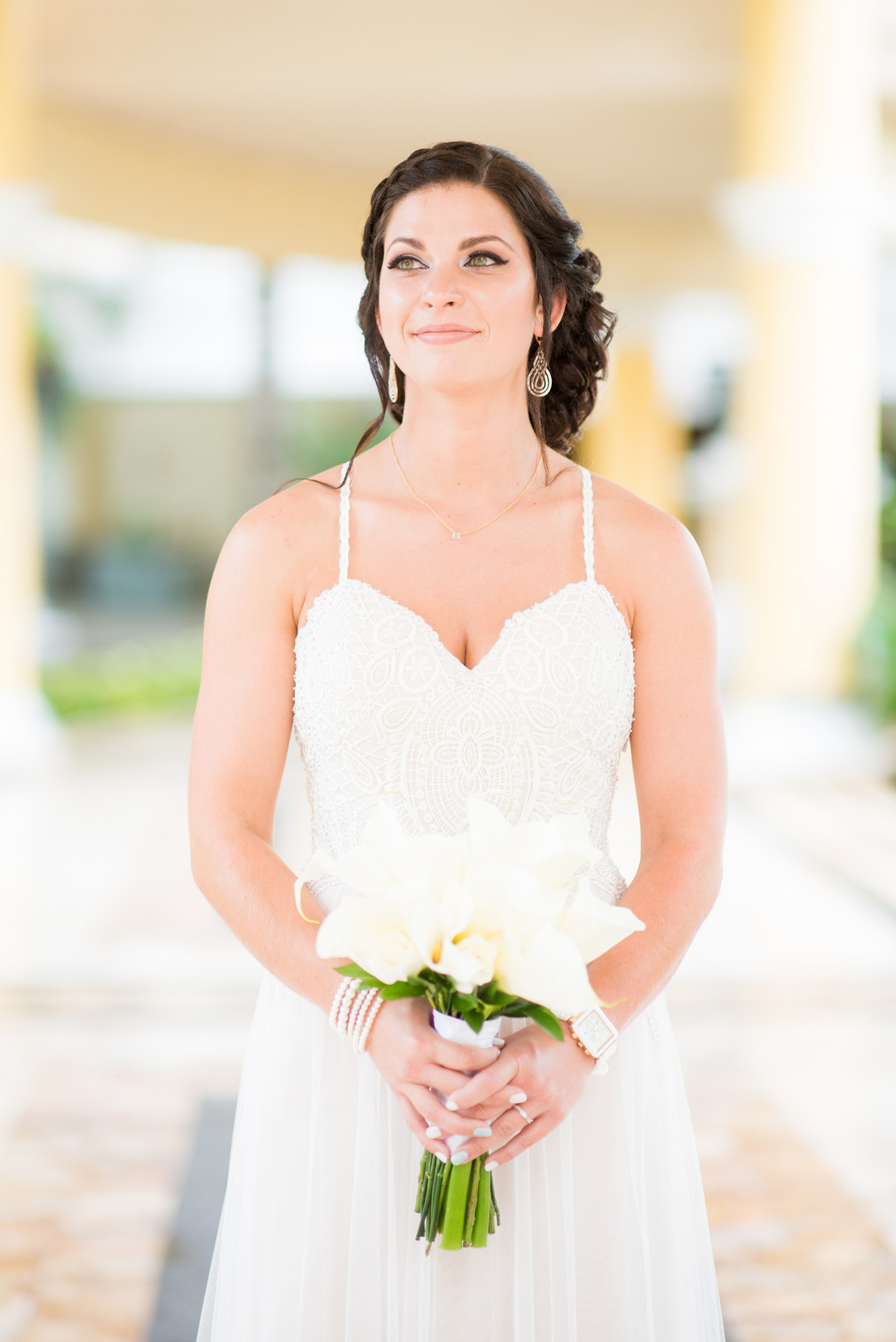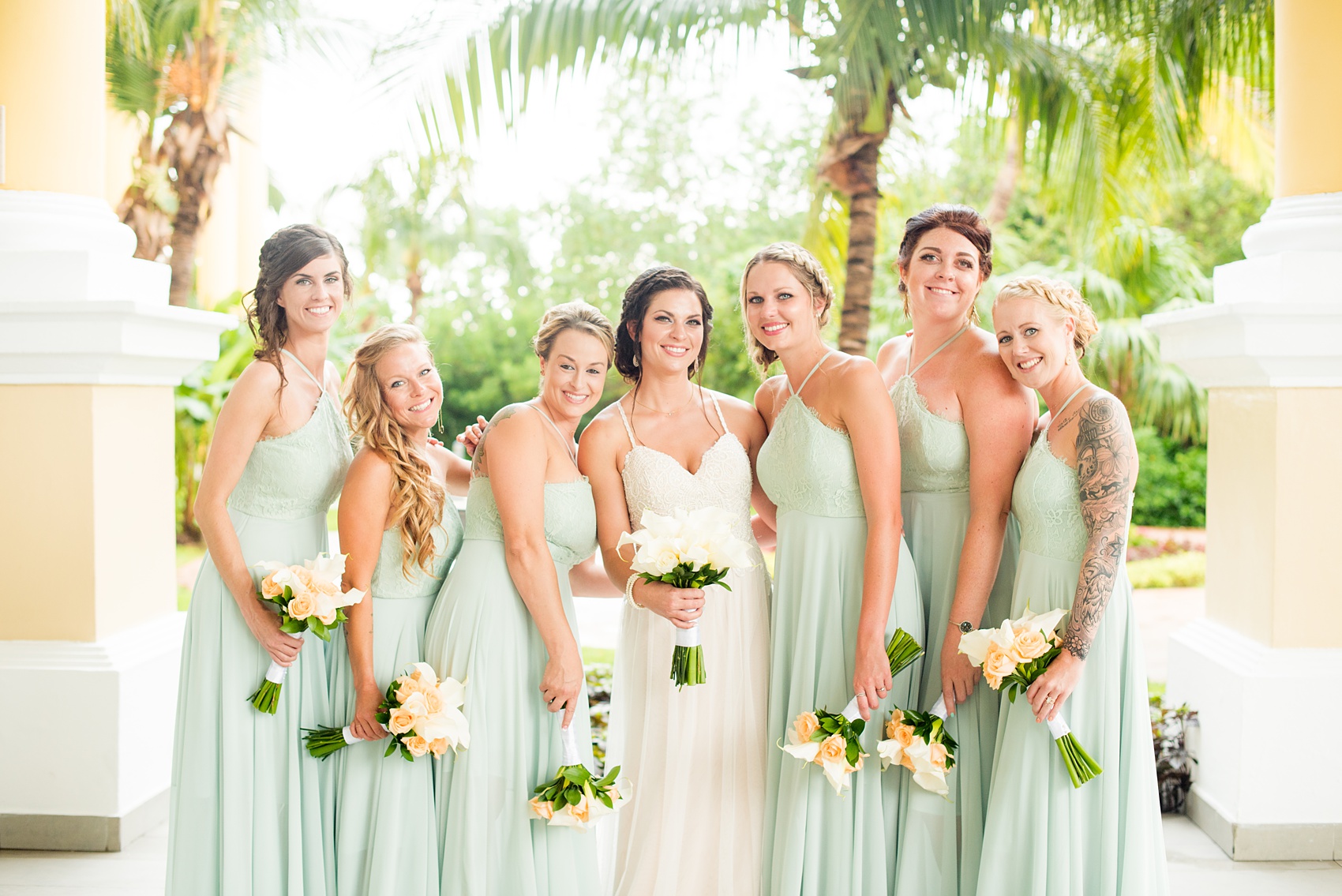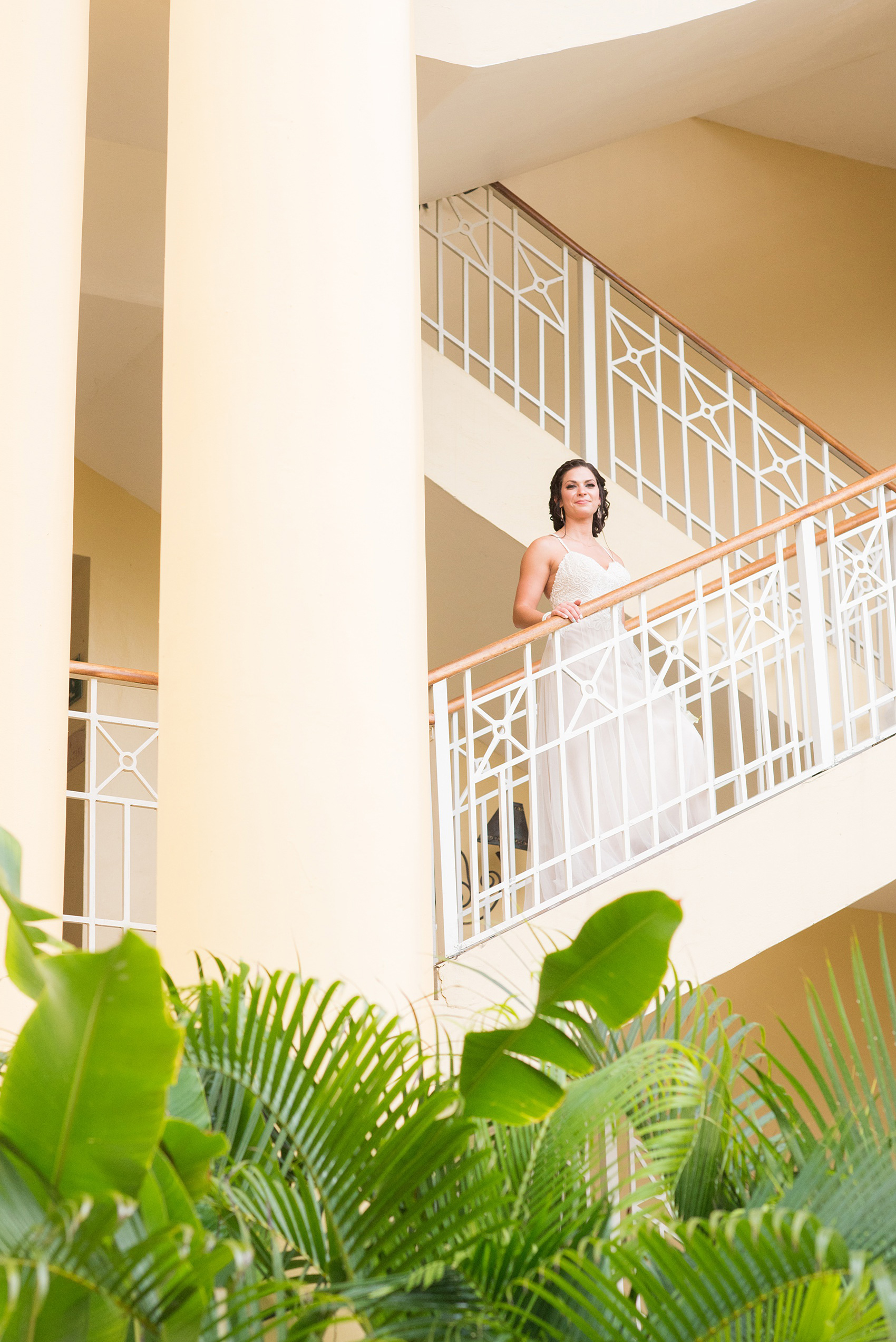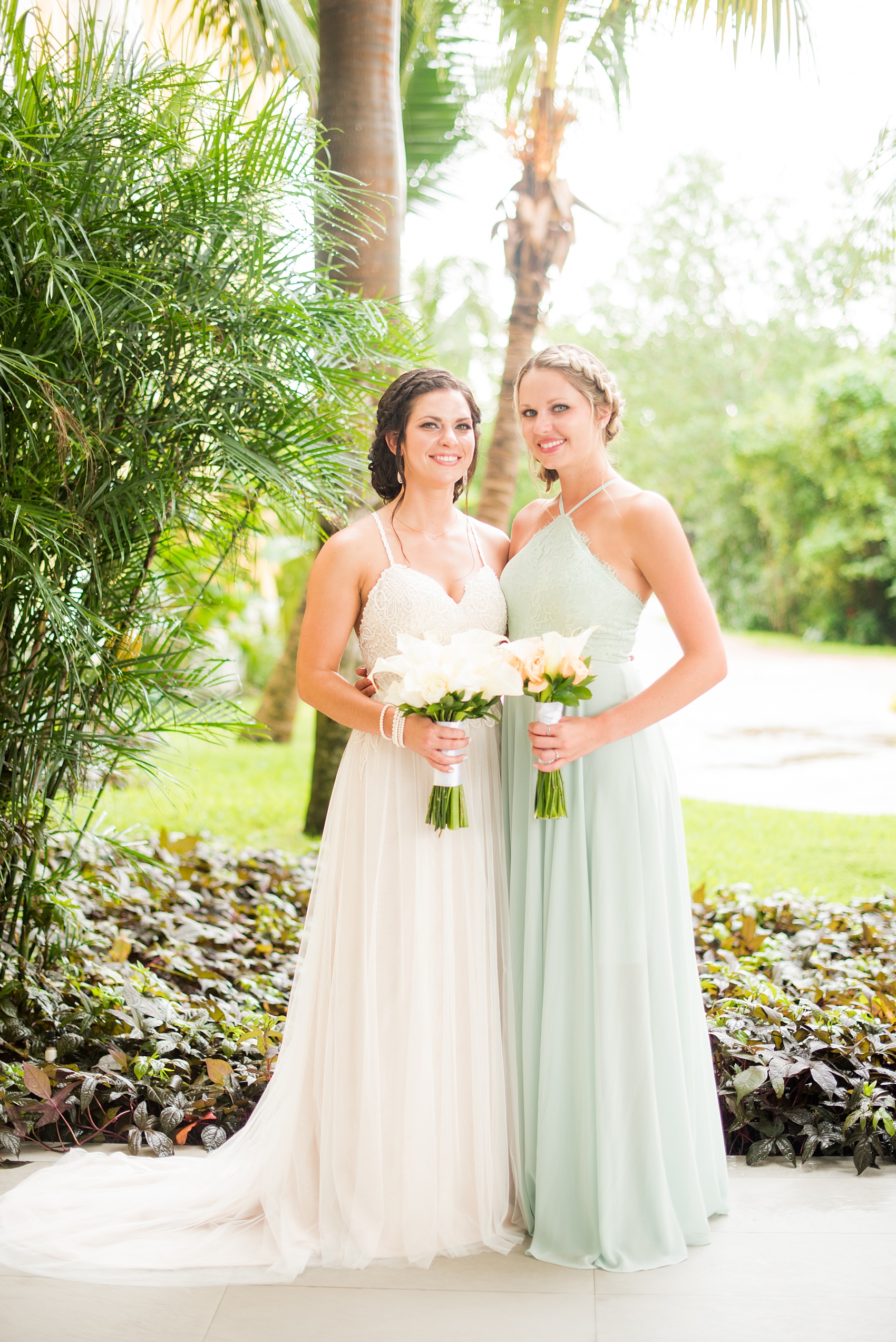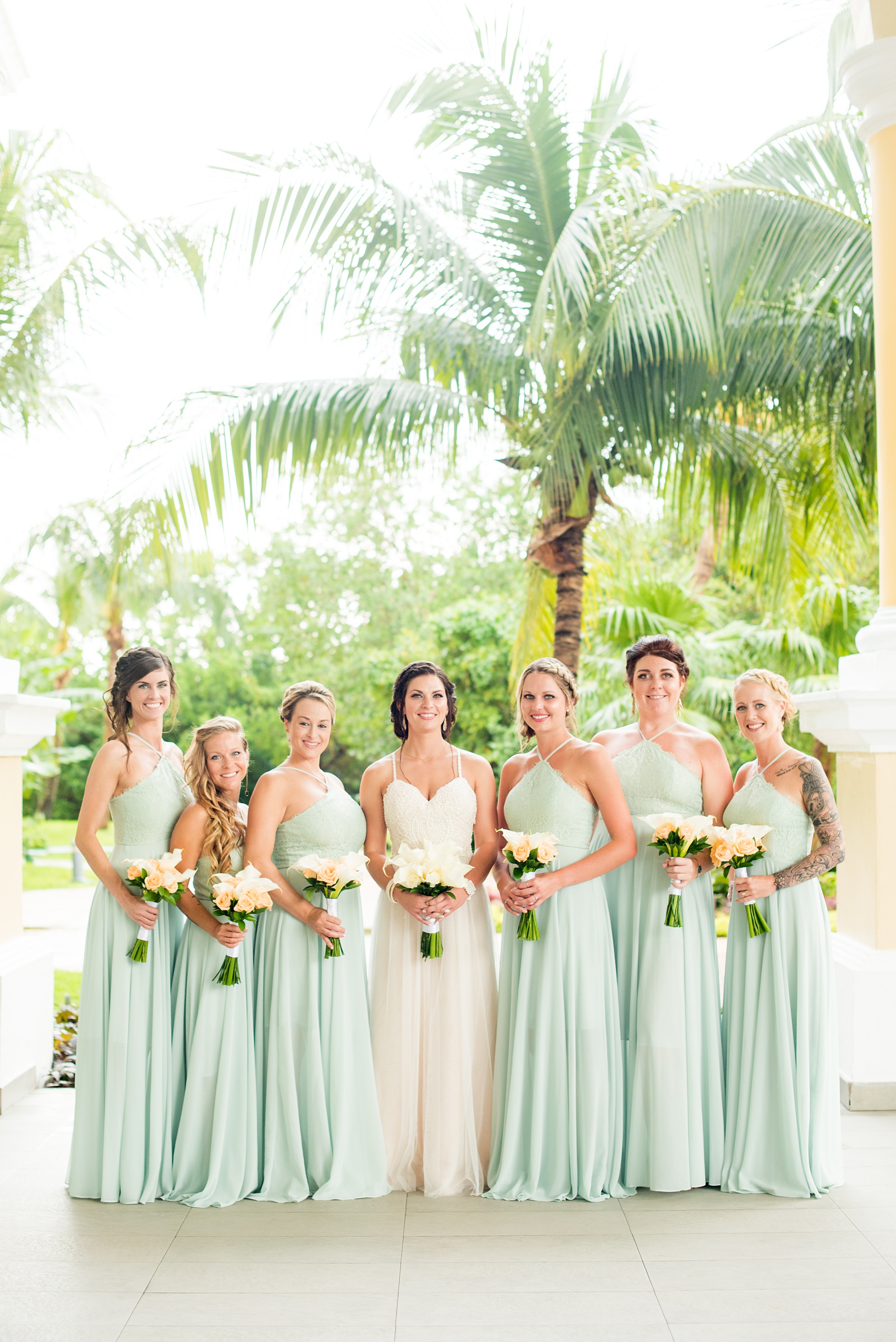 I know it's nearly impossible to believe but just before I photographed Crystal and her bridesmaids it was storming like crazy. The resort was drenched. Luckily, since tropical flash storms are usual, the staff for this Iberostar Grand Paraiso wedding was fully prepared to get things as dry as possible, as quickly as possible.
Along with my assistant for the day, Dan (my husband all the time, assistant at destination weddings and marketing guru by day!), who was ready with a lot of towels to ensure it was extra dry (he was amazing!), nothing was off limits we wanted to cover. And, luckily, the rain helped immensely in cooling off the area and releasing its humidity.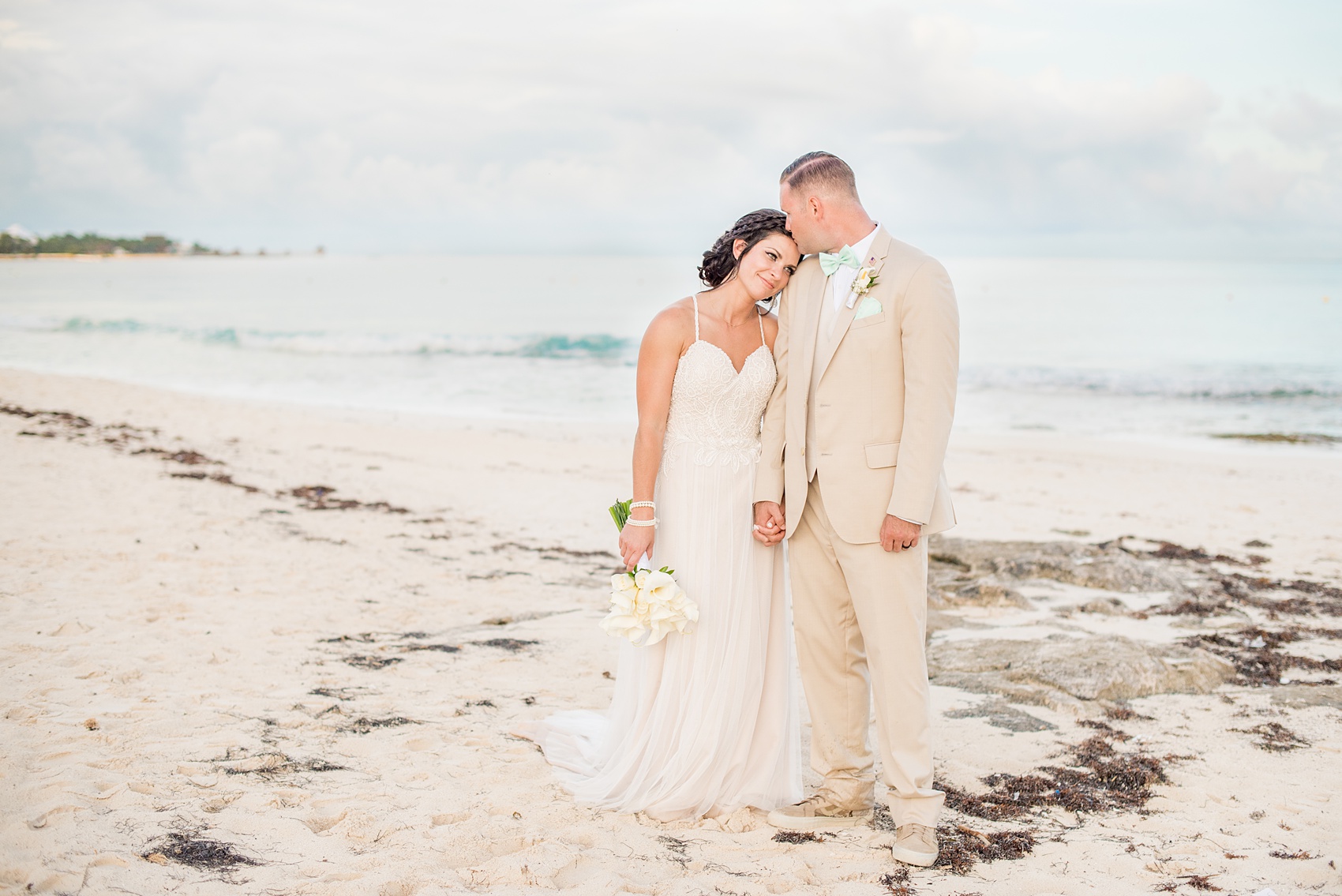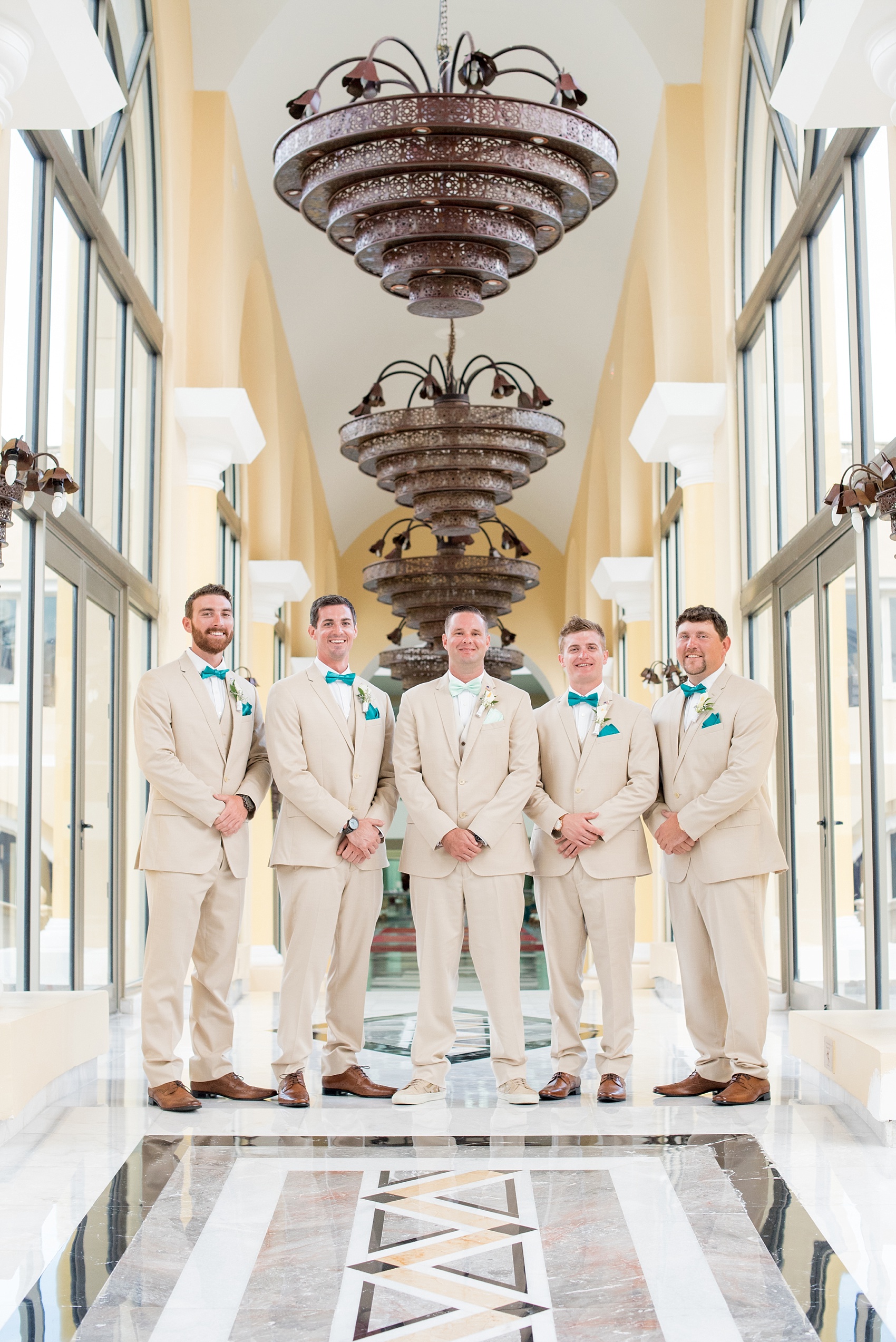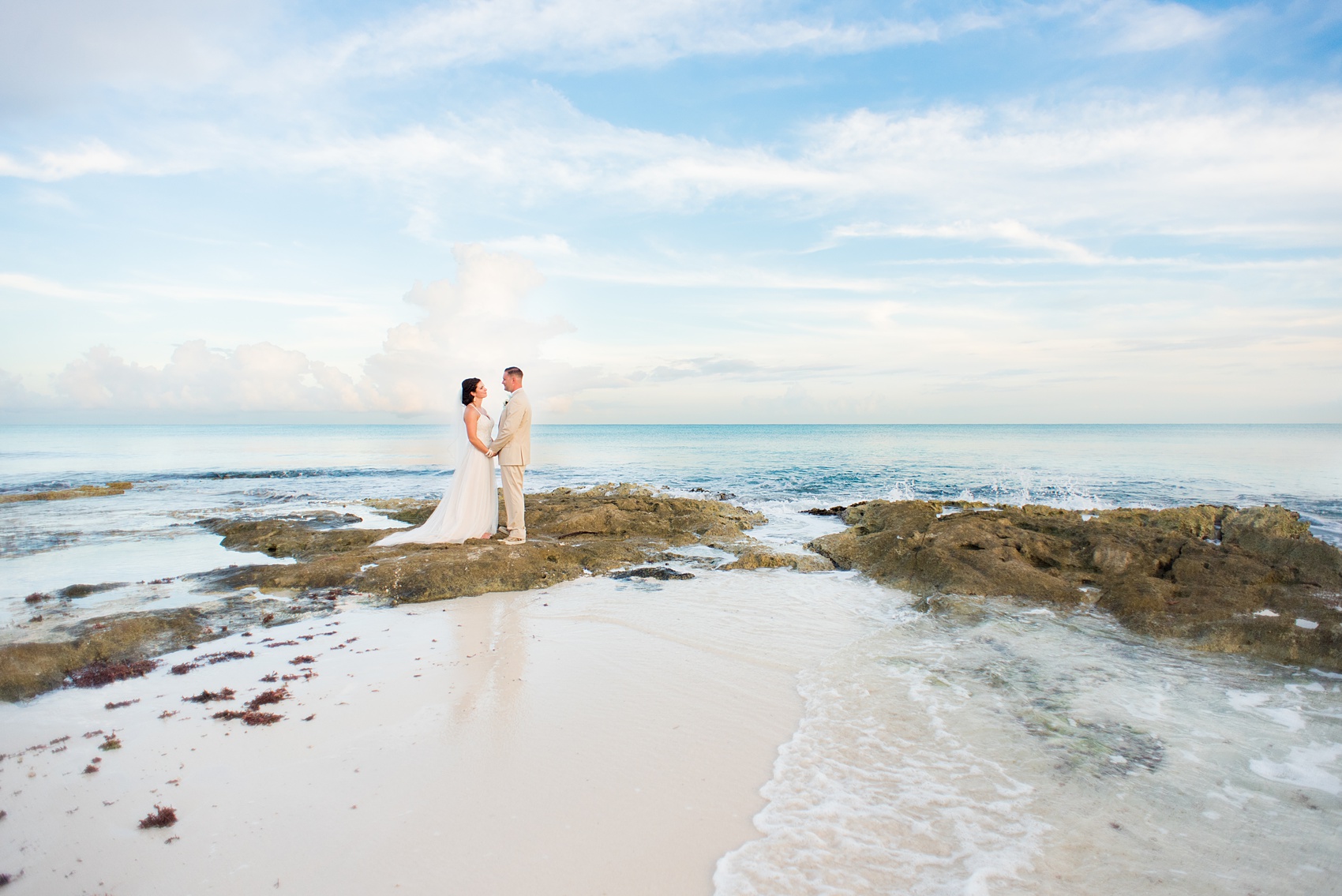 I practically fainted when I saw these images….I LOVE THEM! We stayed close to the beachfront ceremony location for the wedding party photos and had free reign to travel all over the resort for photos of the bride and groom. It was fun to be with them after they were married, by their good friend, Tyler, too!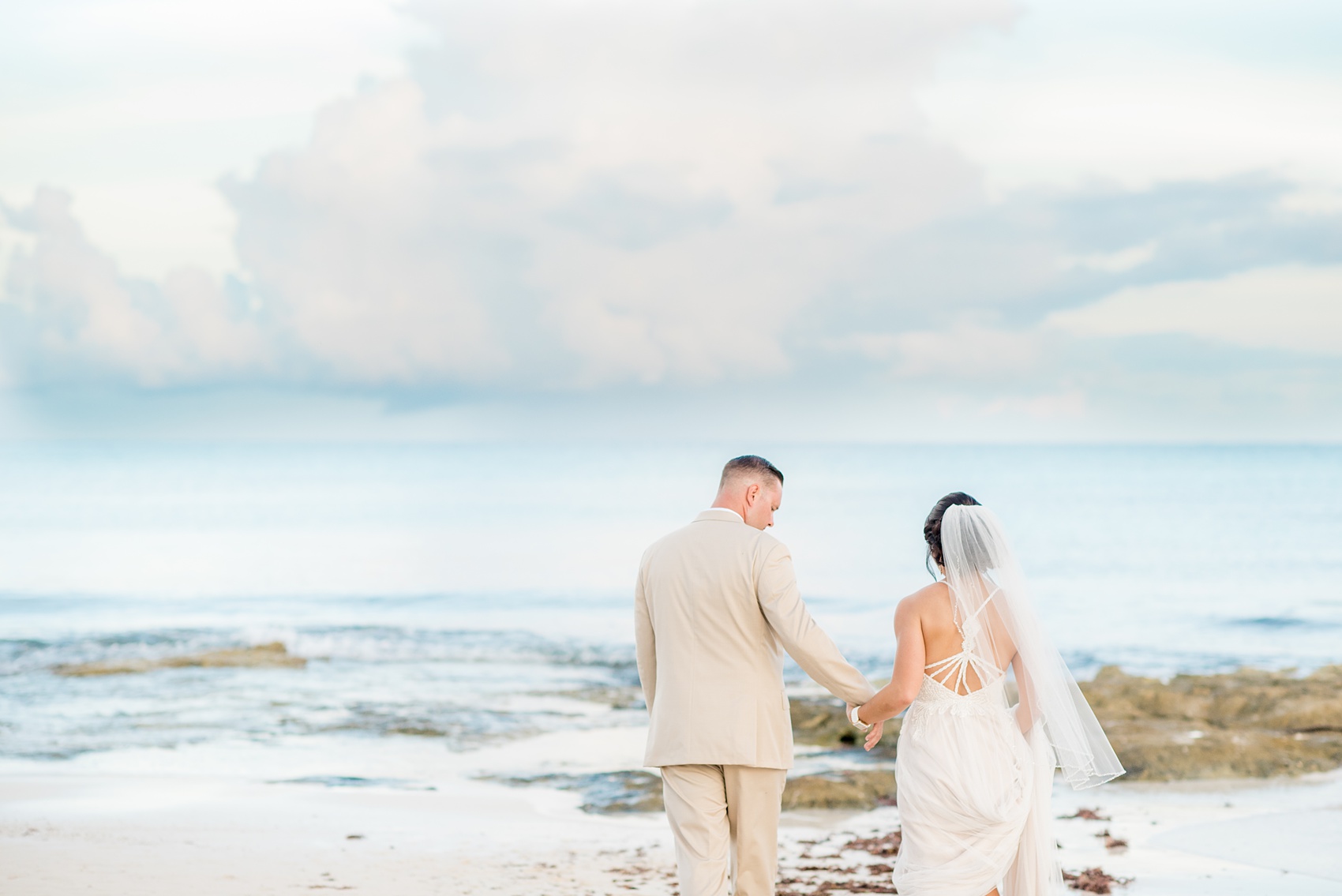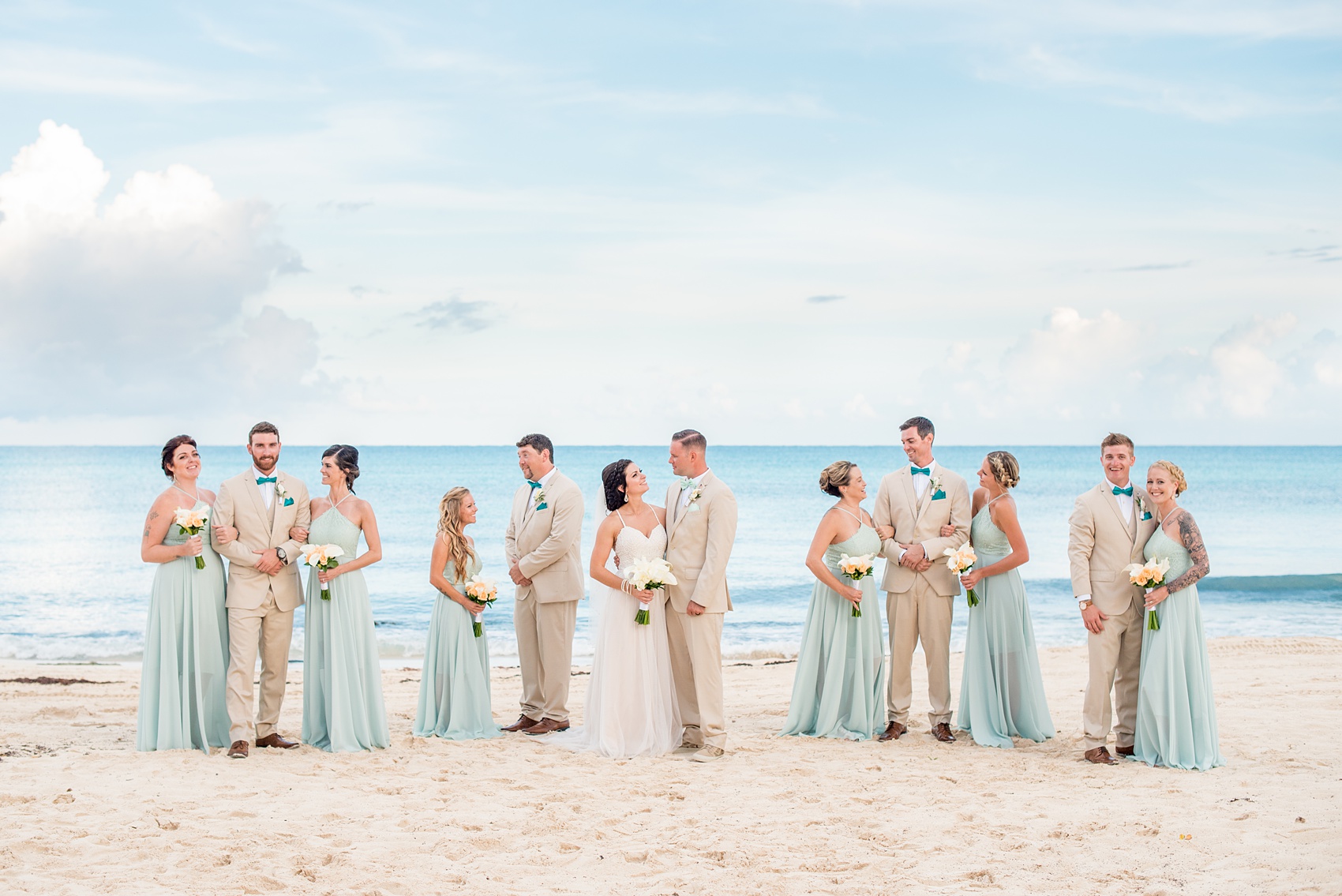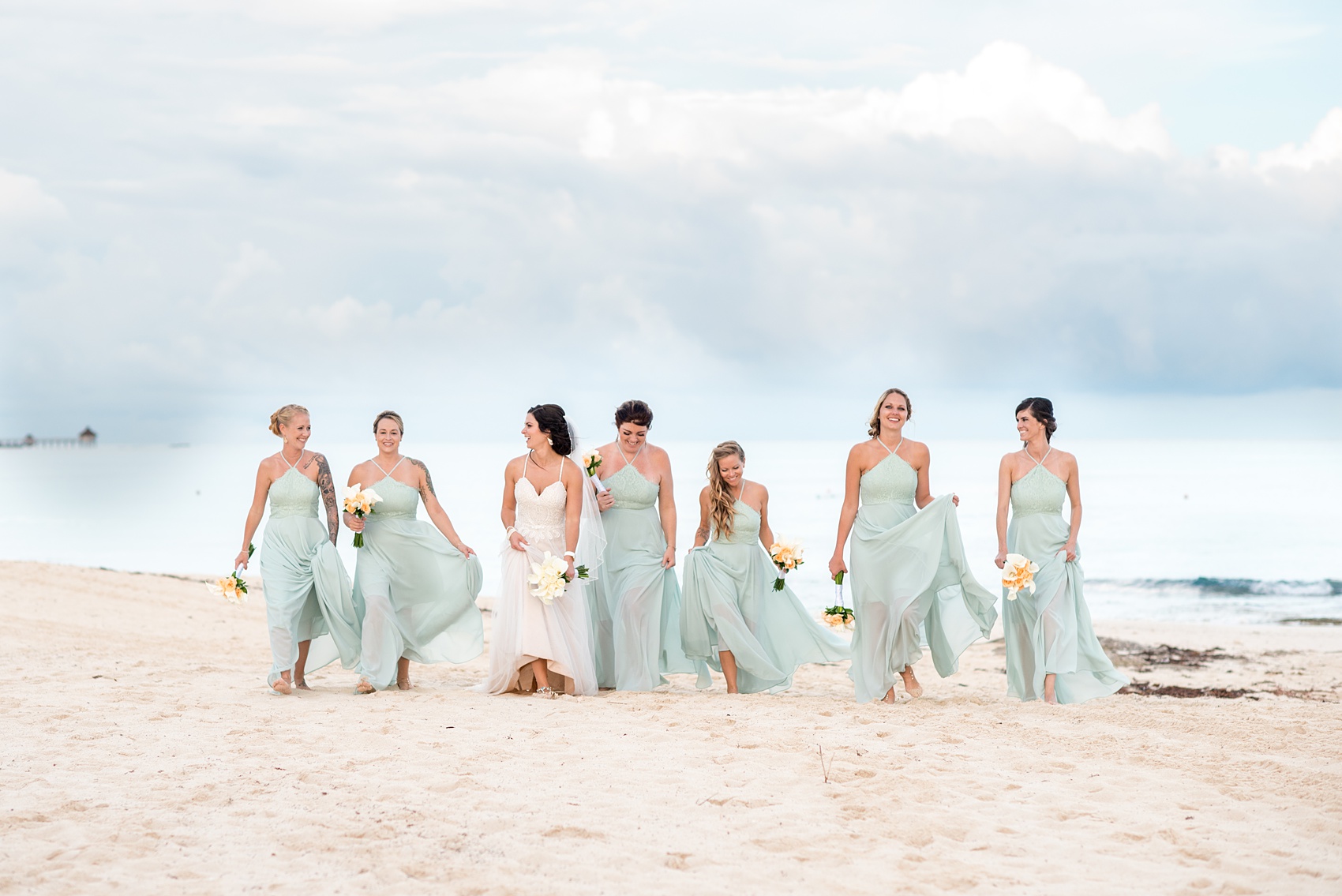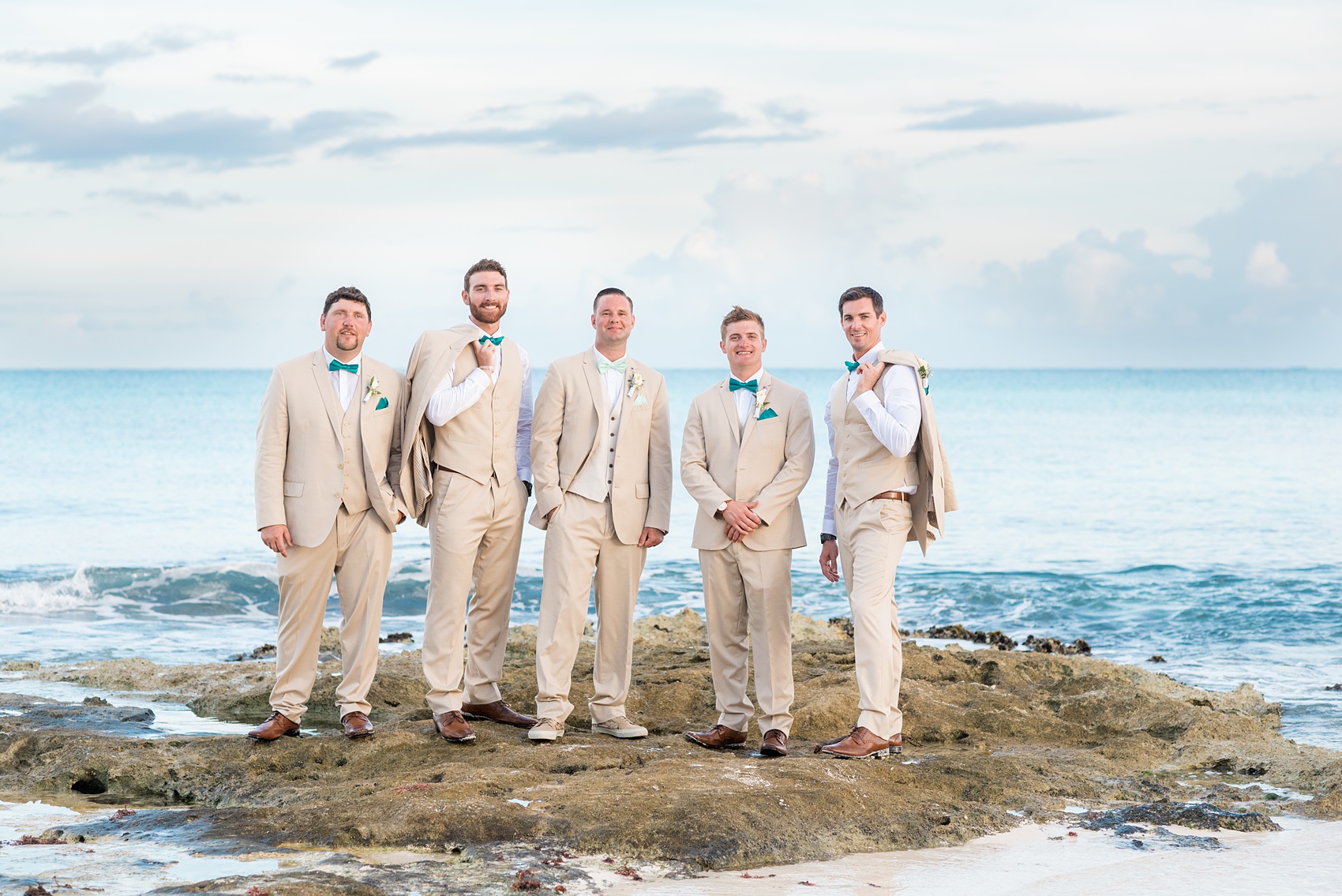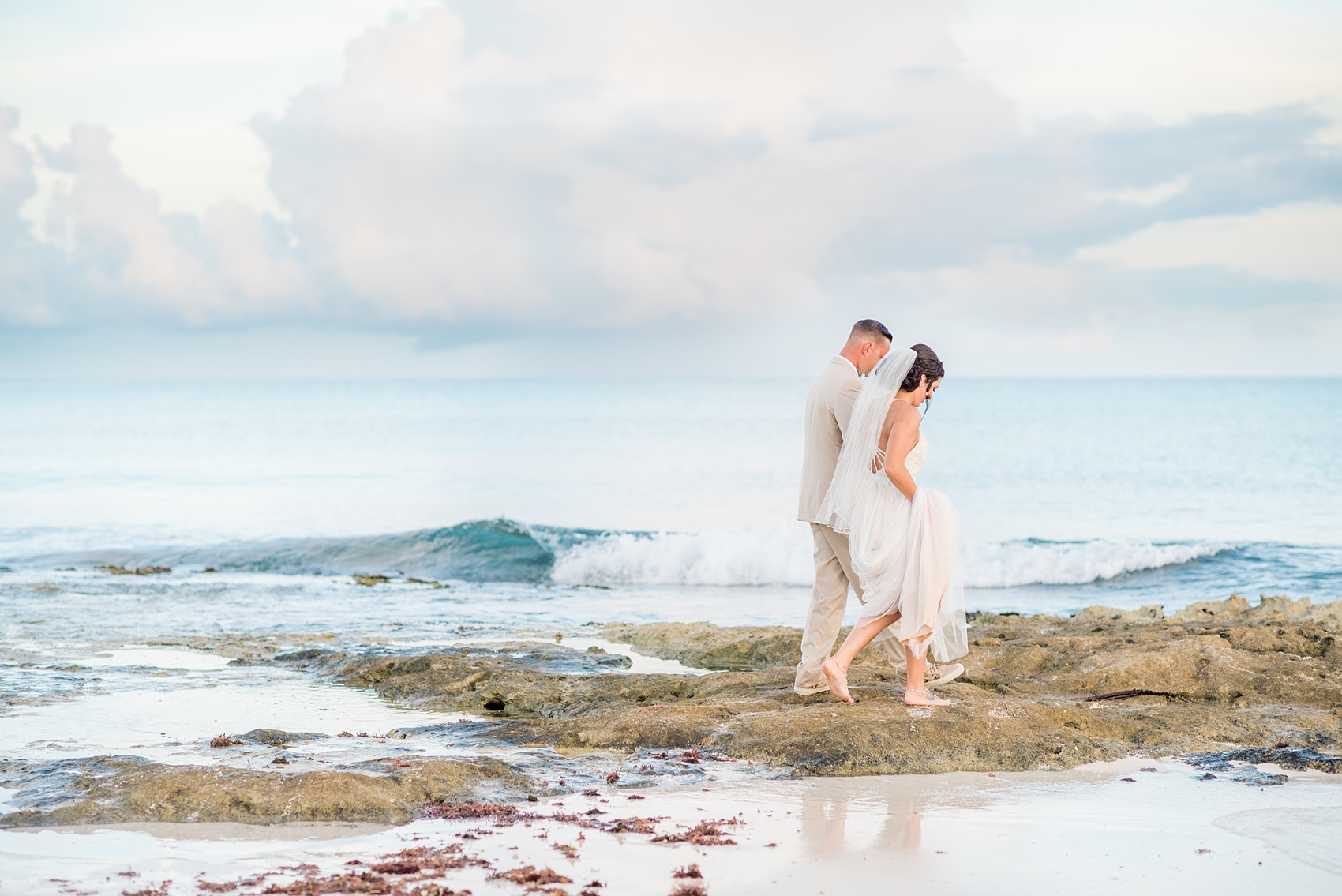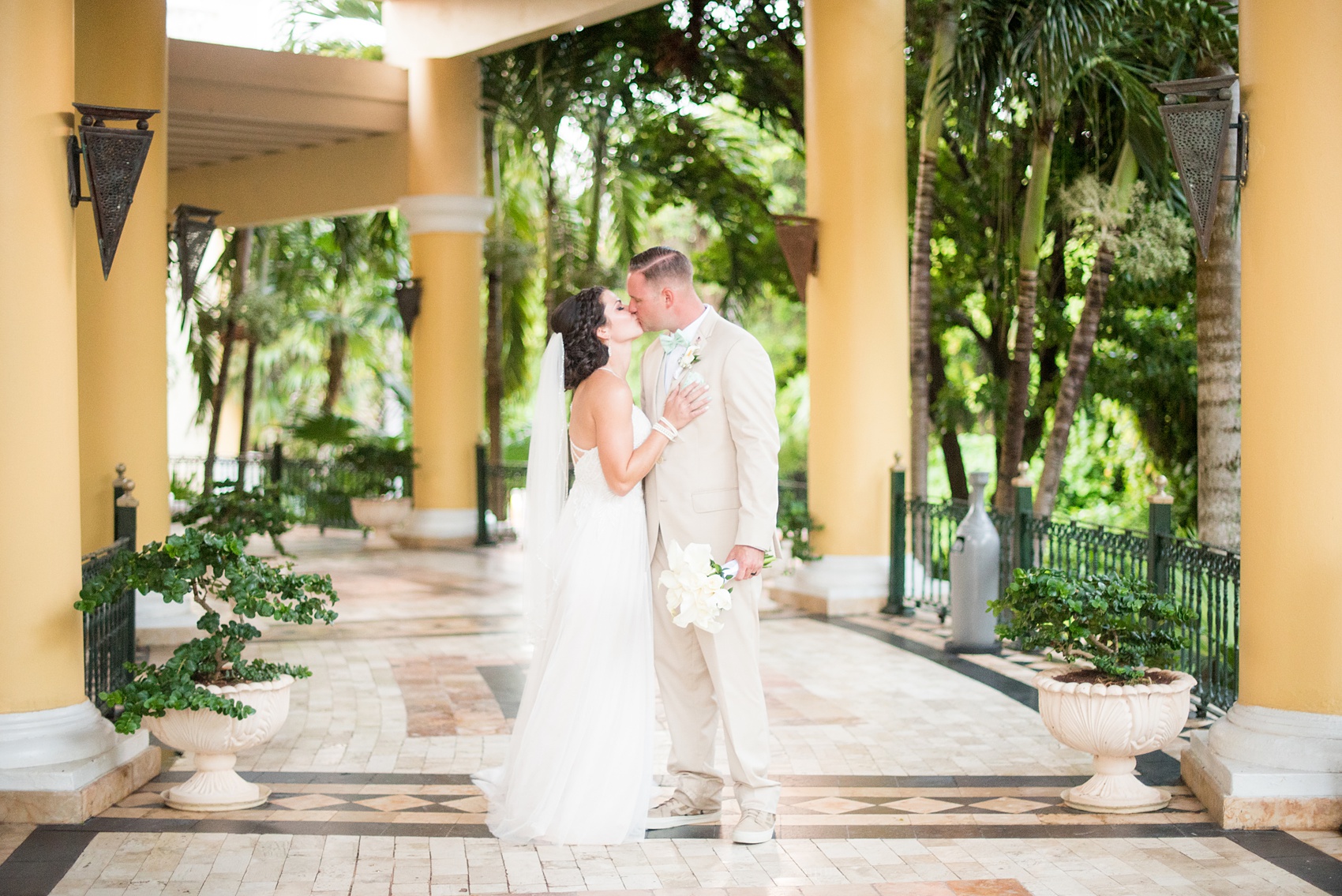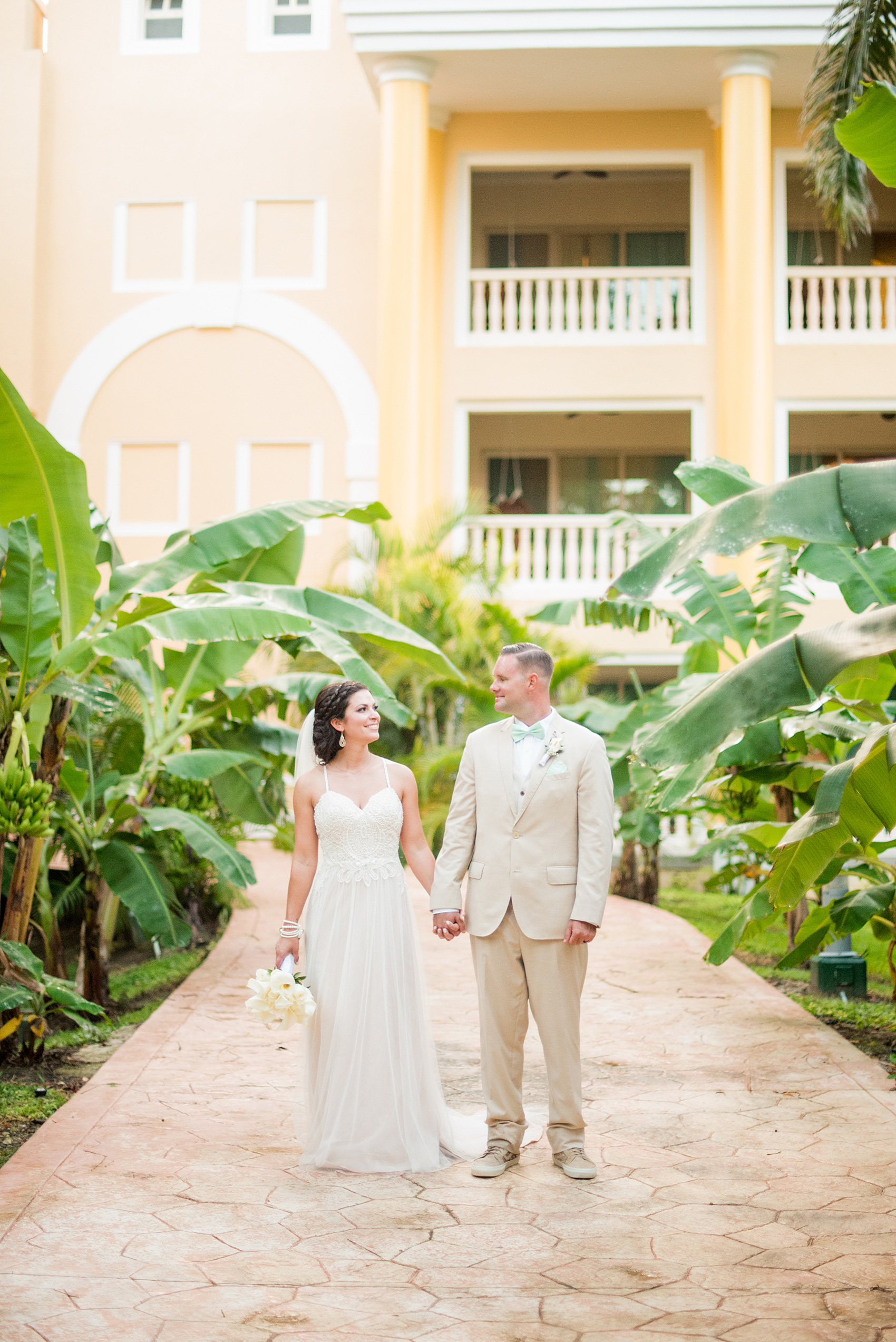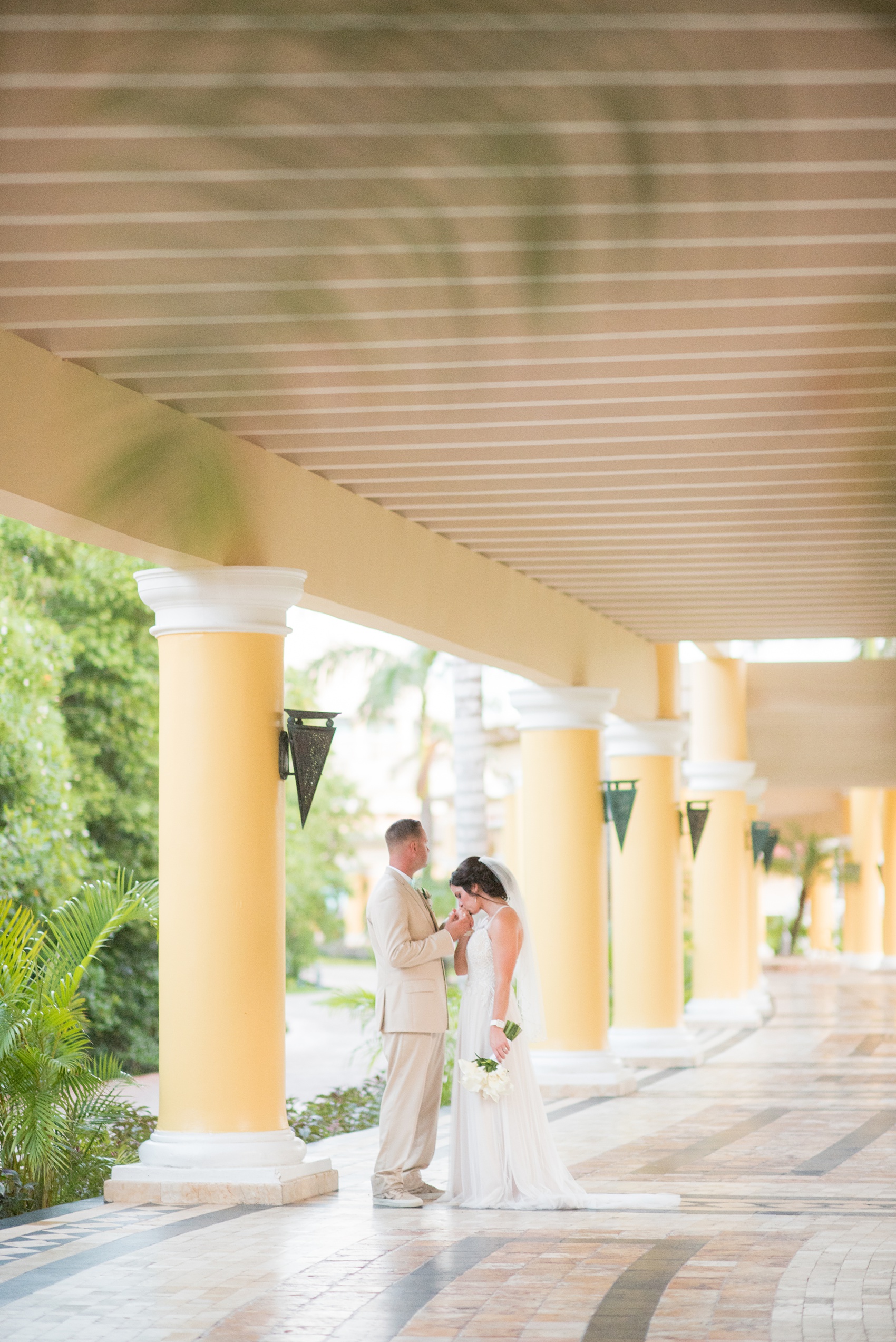 The photo of Crystal kissing Steven's had makes my heart smile! It was such a sincere, candid moment between them.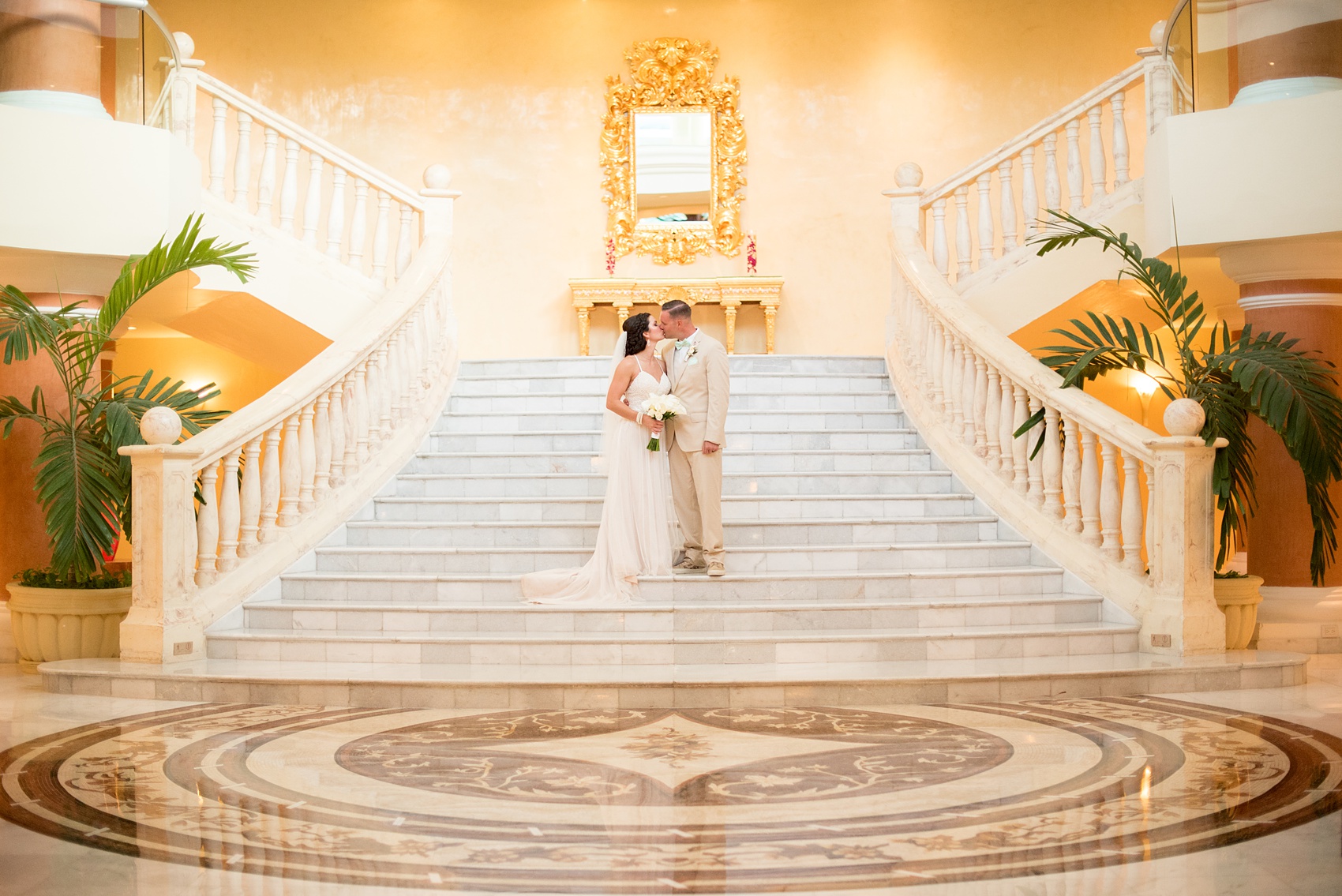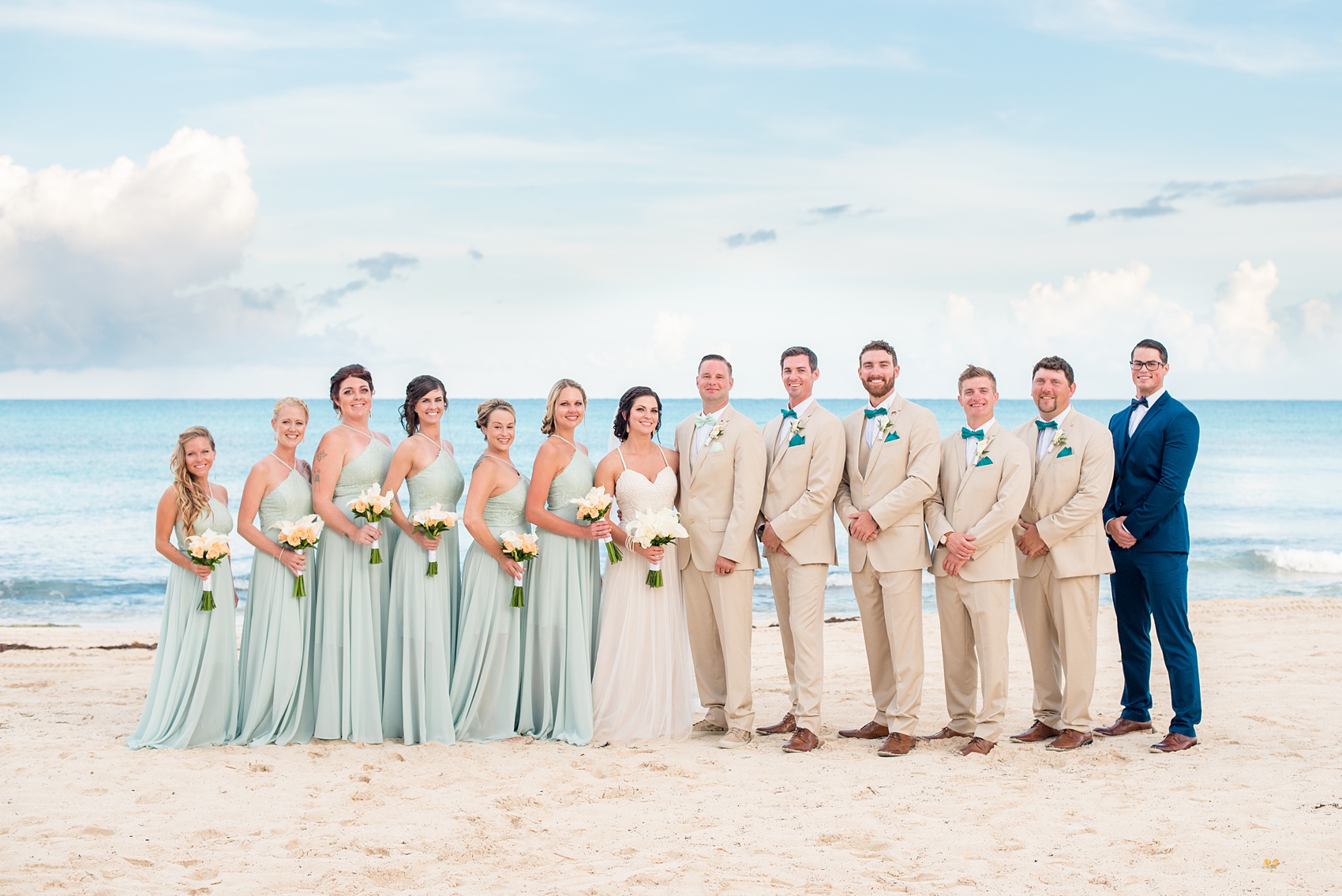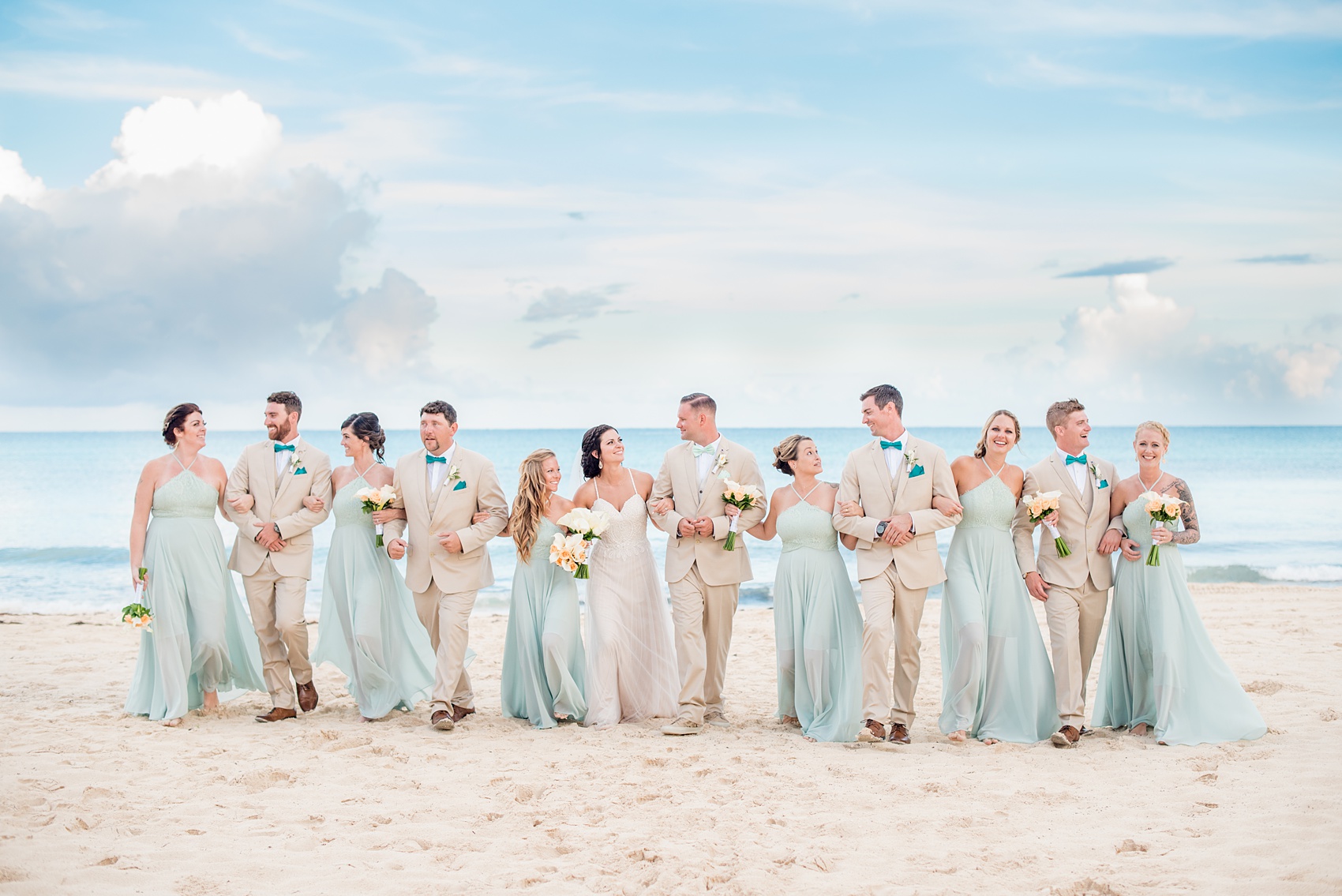 Fun jewelry adorned the feet of the Matron and Maid of Honor and the bride, and starfish clips with flowing blue ribbons were created by Steven's mom for the ceremony chairs.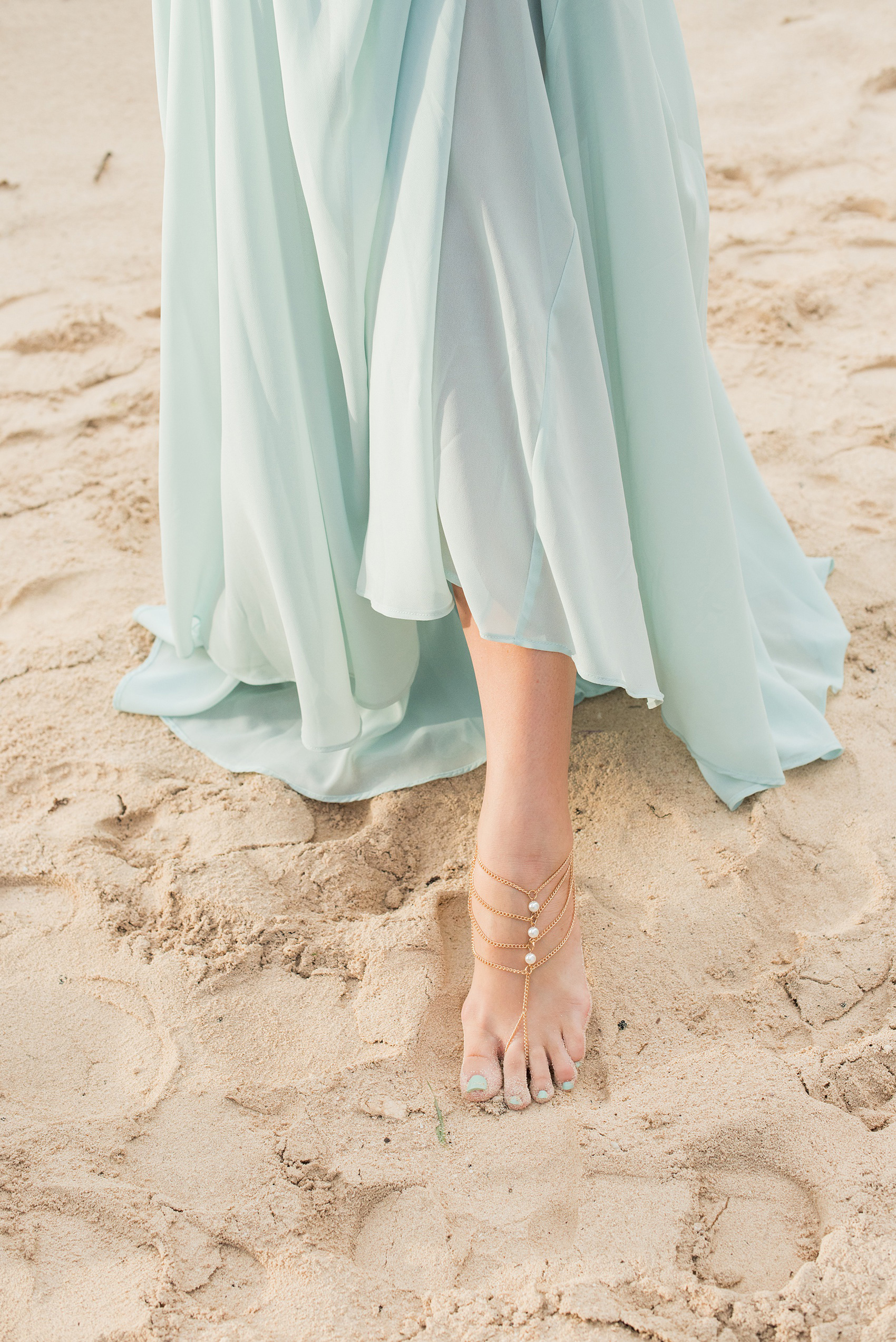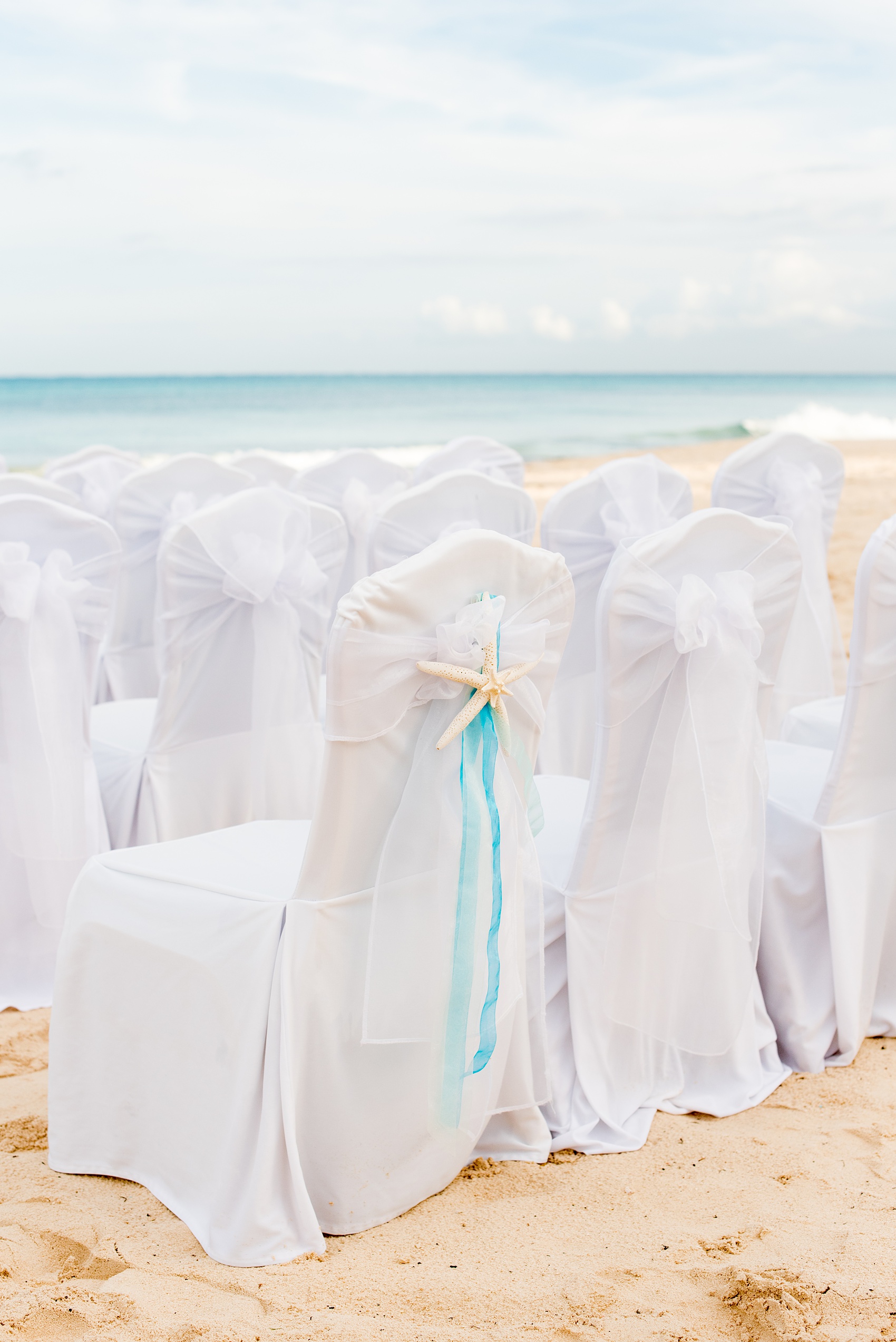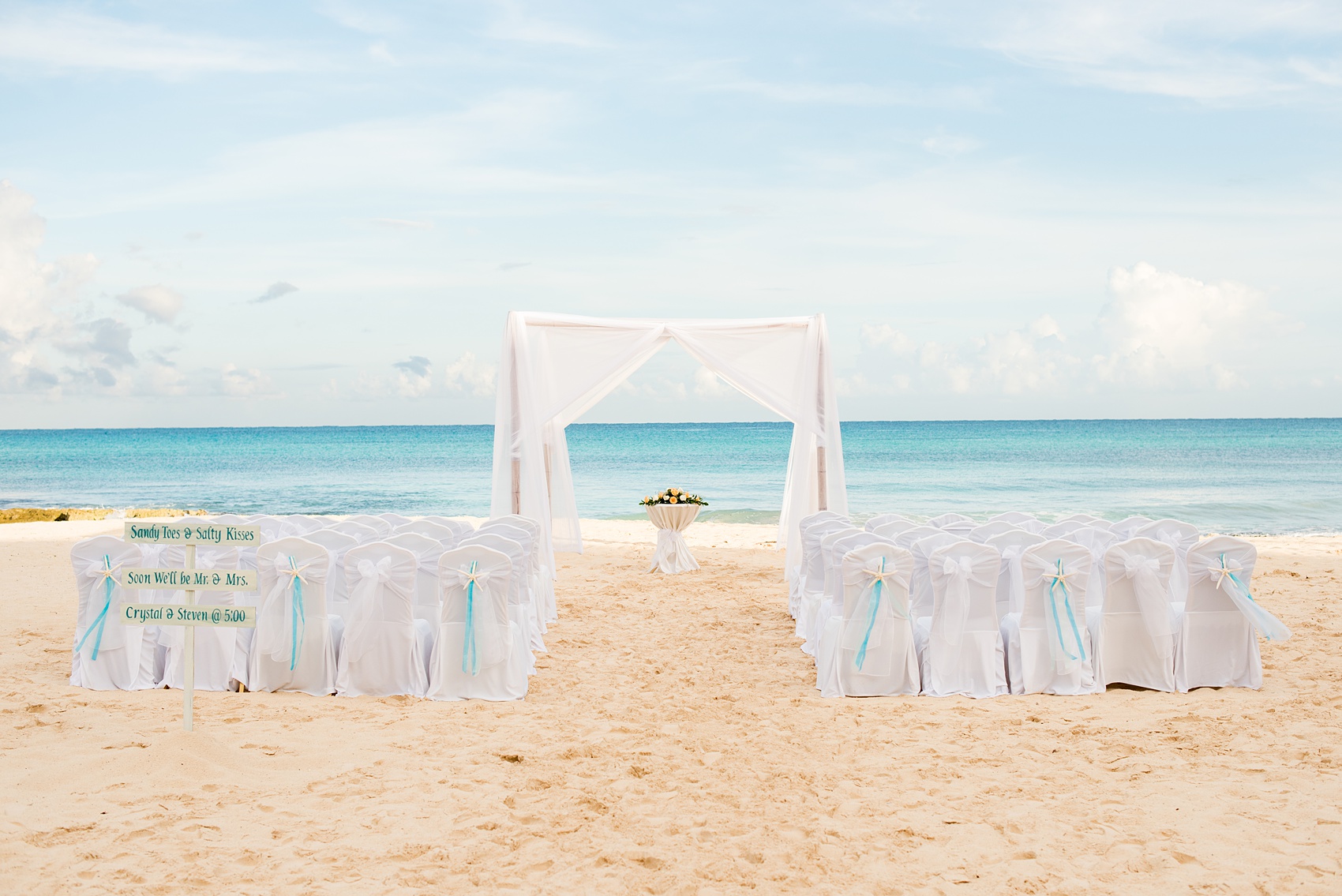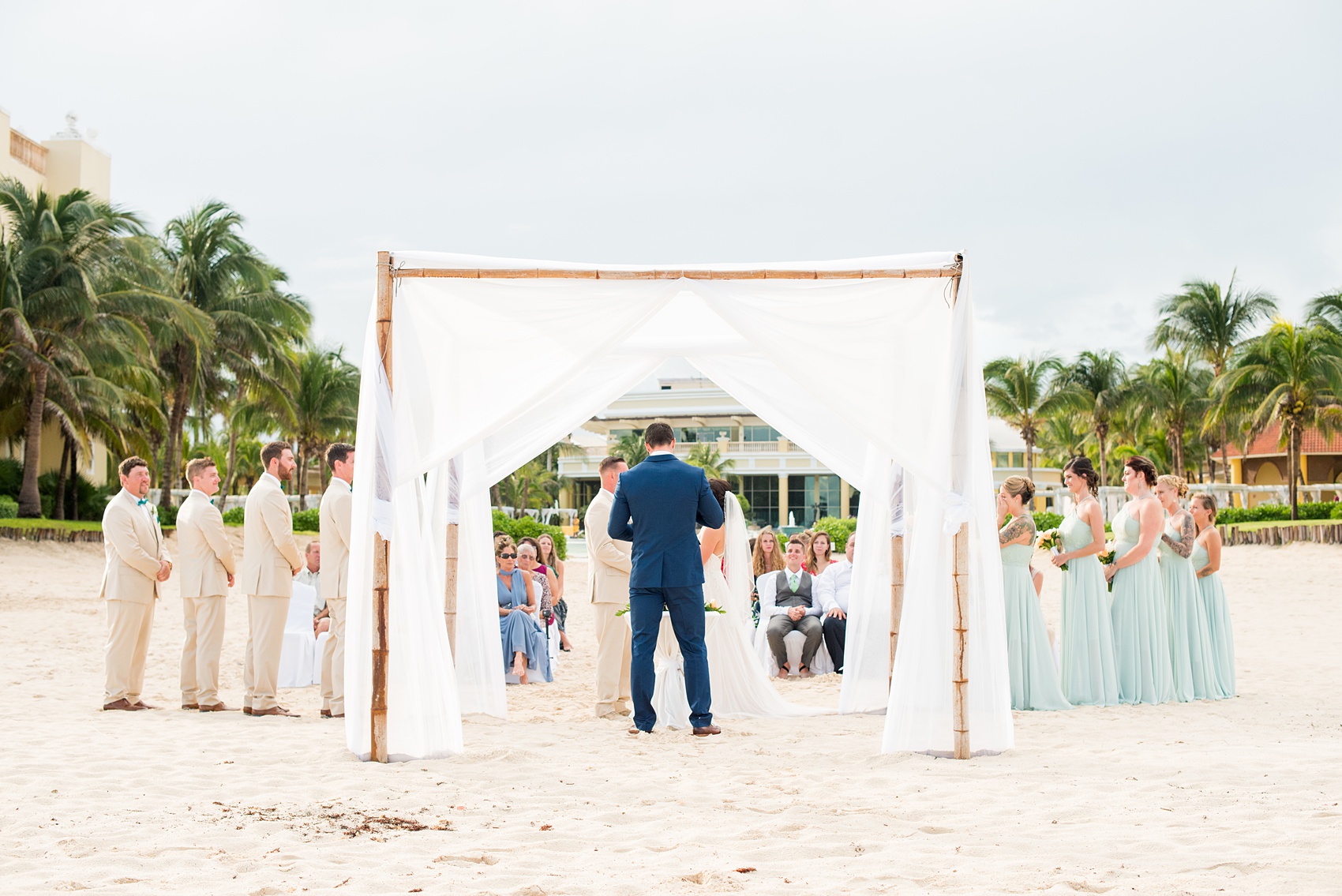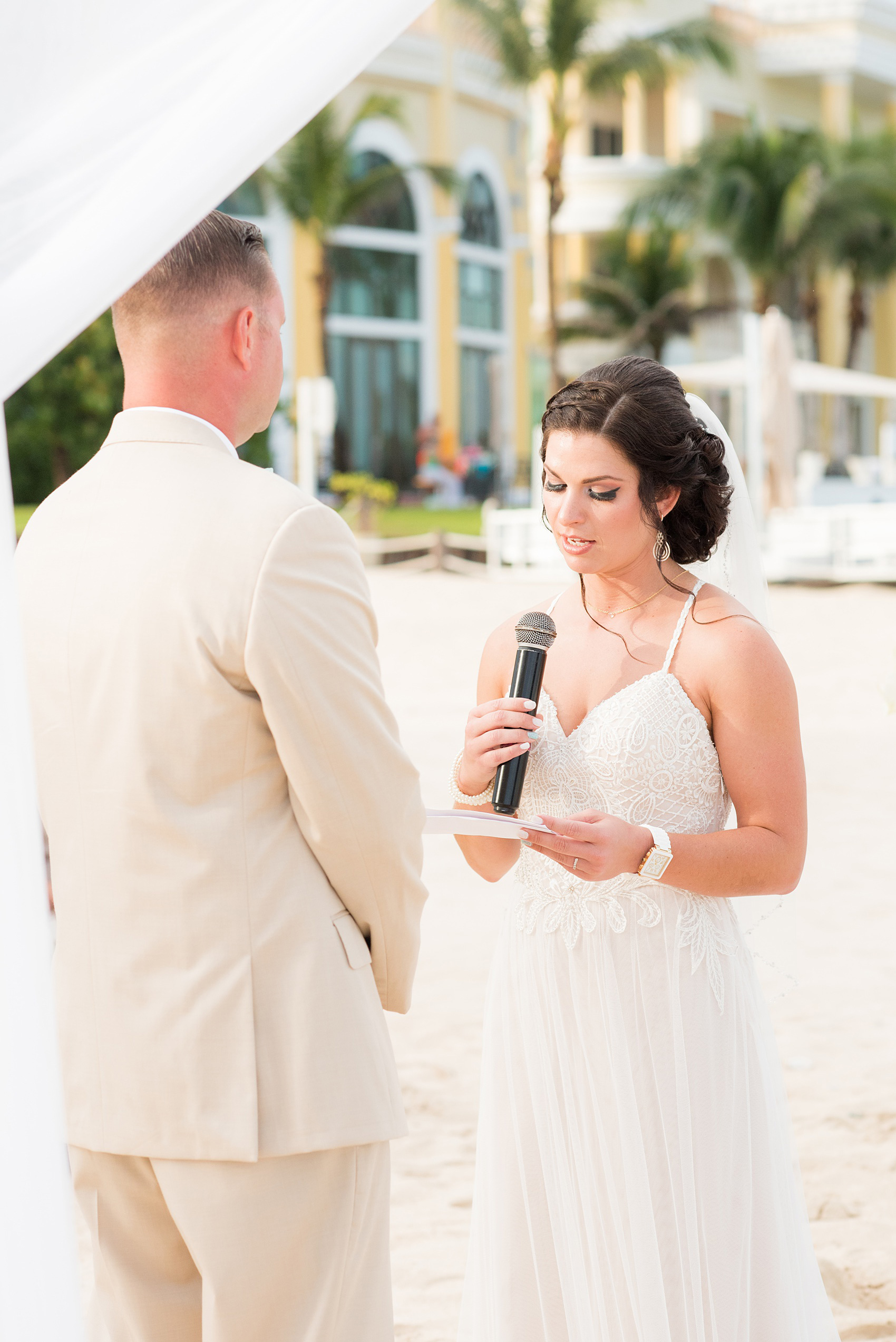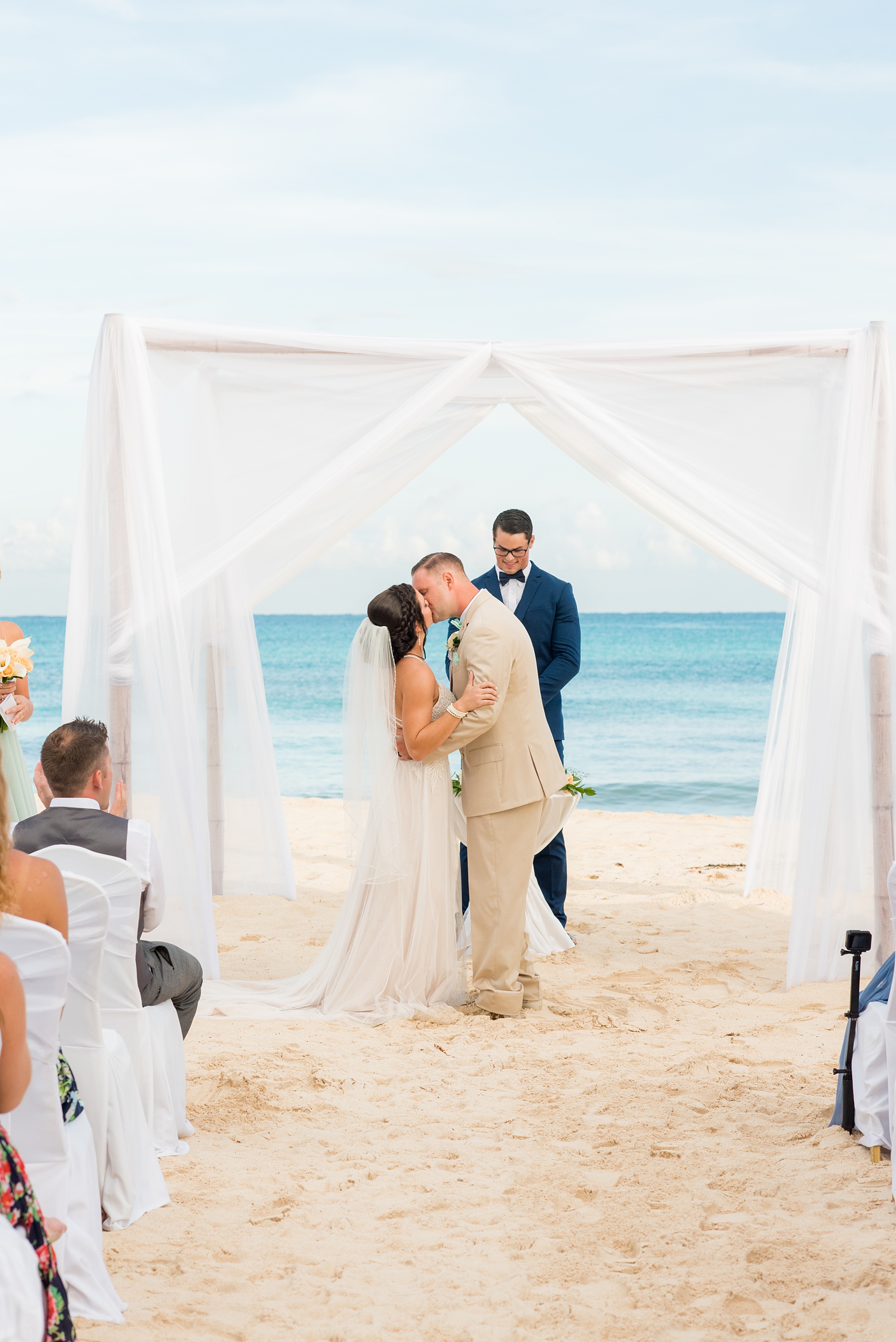 Another fun thing they did was surprise one another with their wedding rings. They knew they were getting them for one another but the style wasn't revealed until they exchanged rings during their ceremony.
After their ceremony and a bit of photo-taking around the Iberostar Grand Paraiso for their wedding in Mexico, it was time to party!
A drink from the military flasks Steven had made for his groomsmen were the perfect way to welcome in the indoor, oceanfront reception.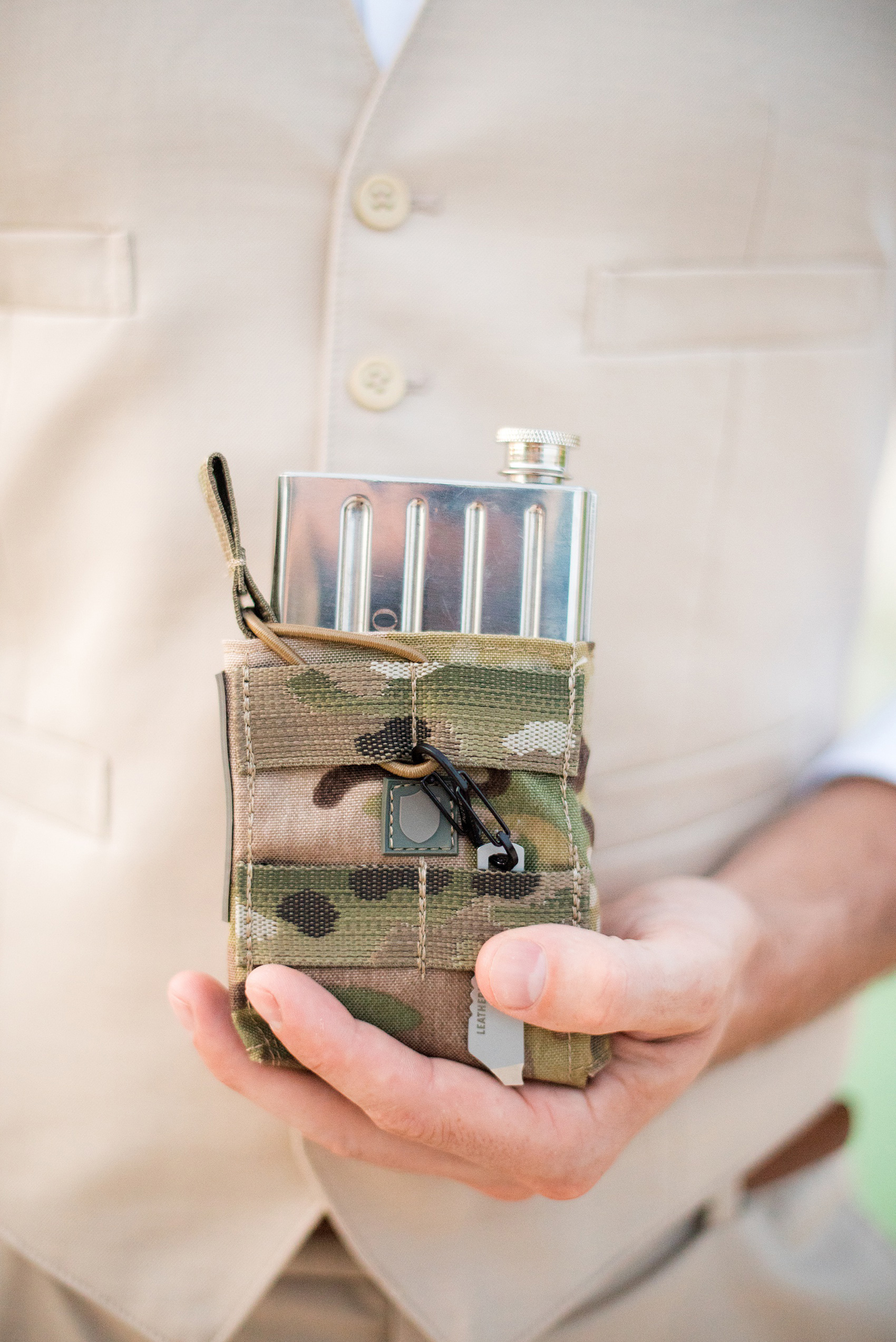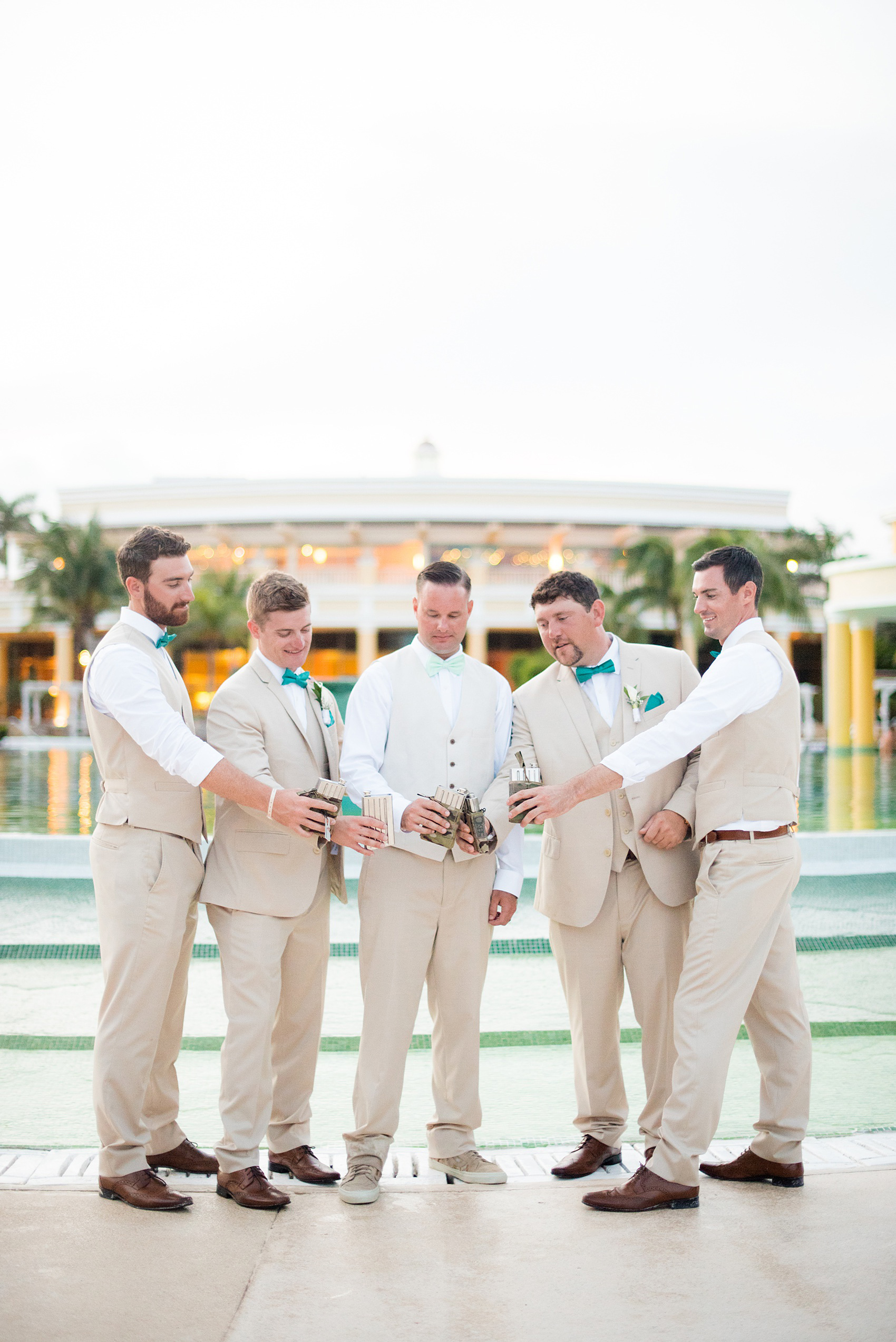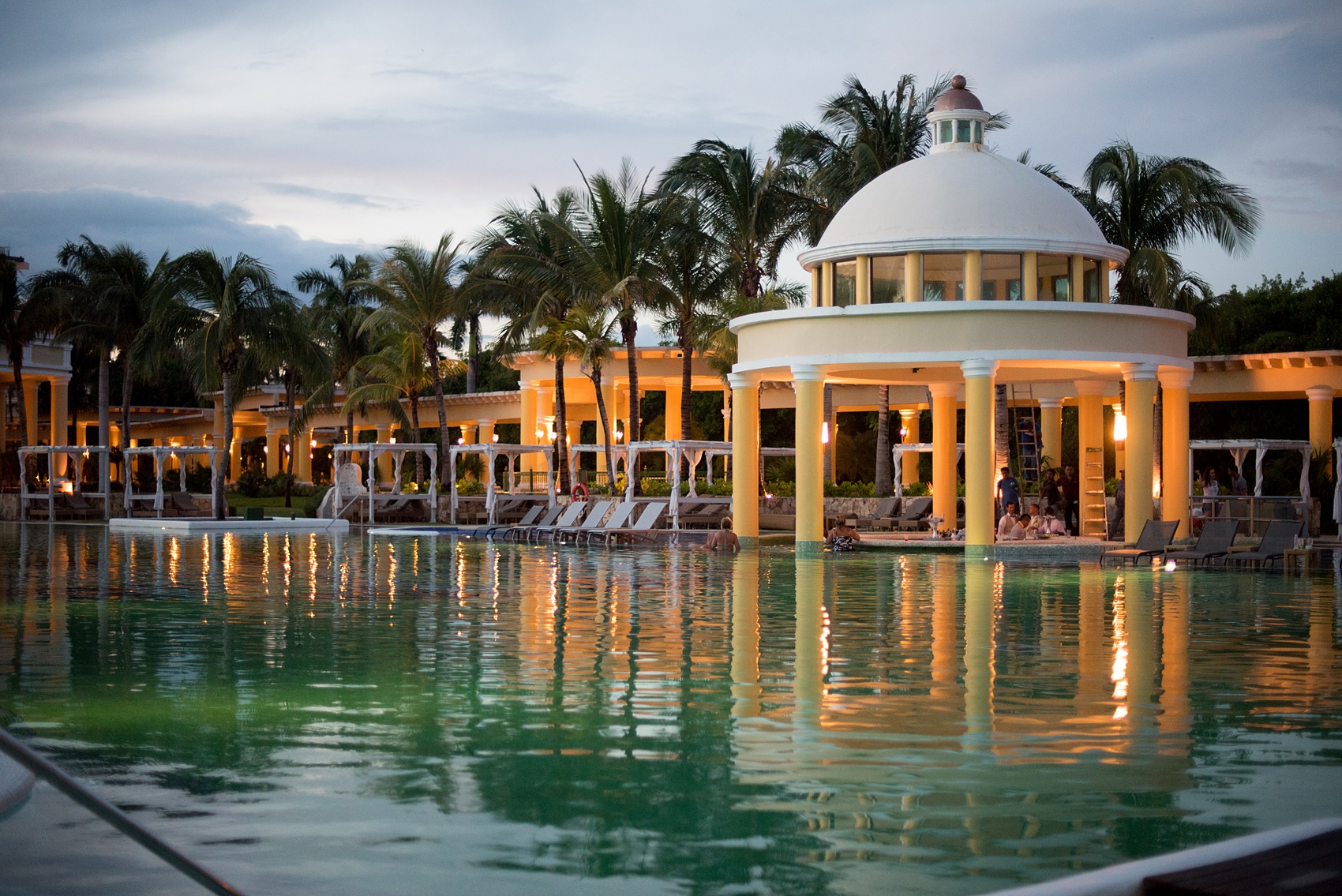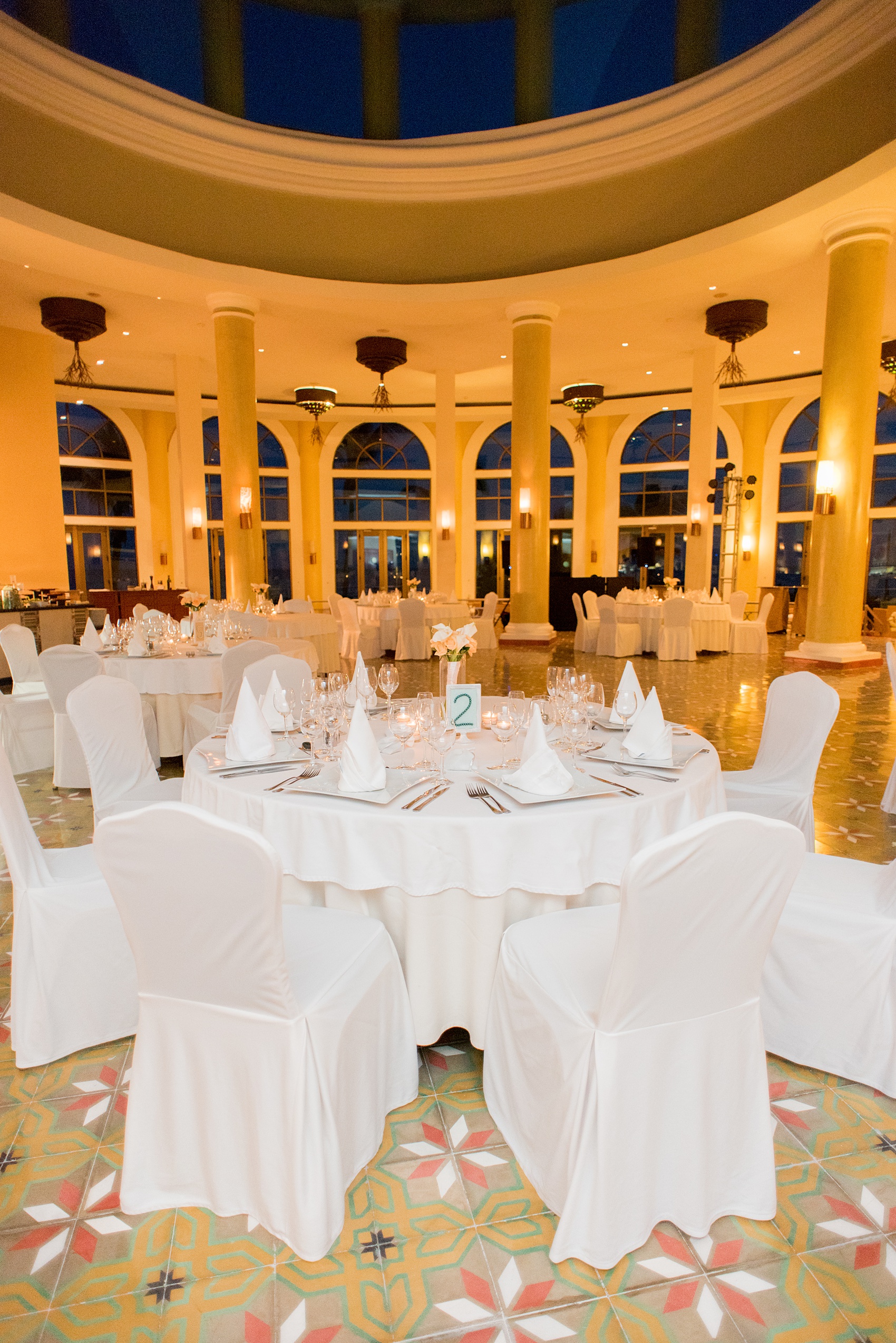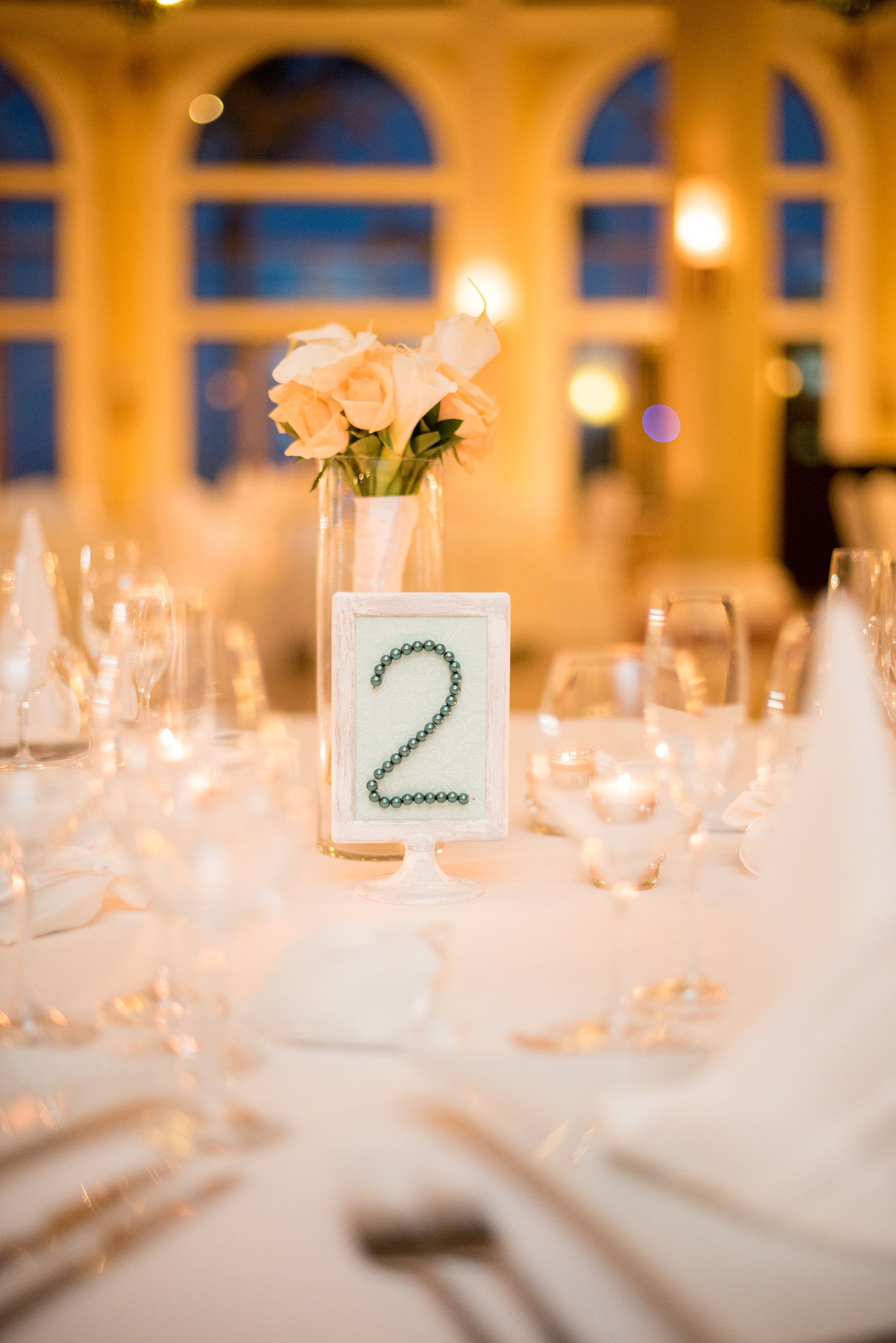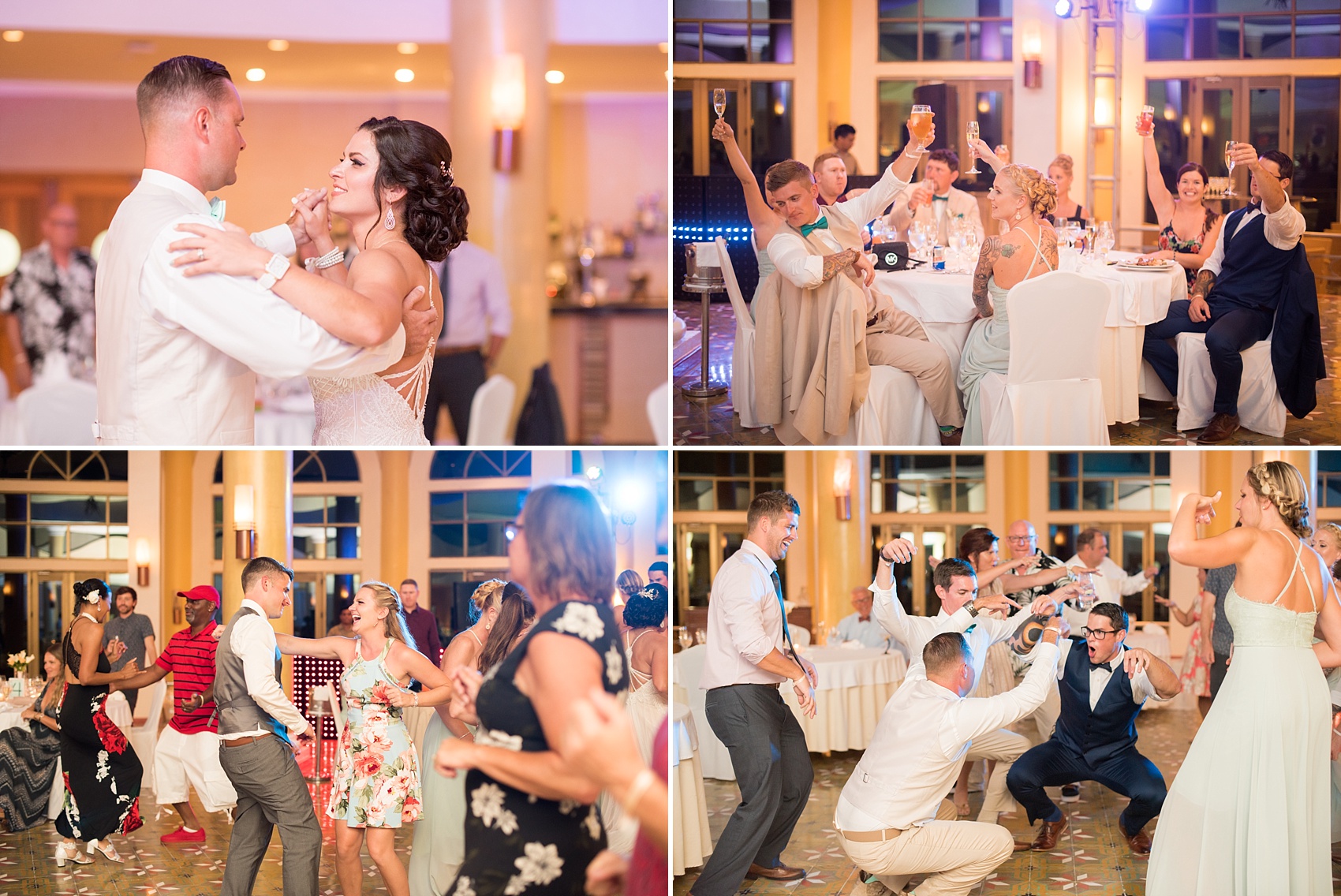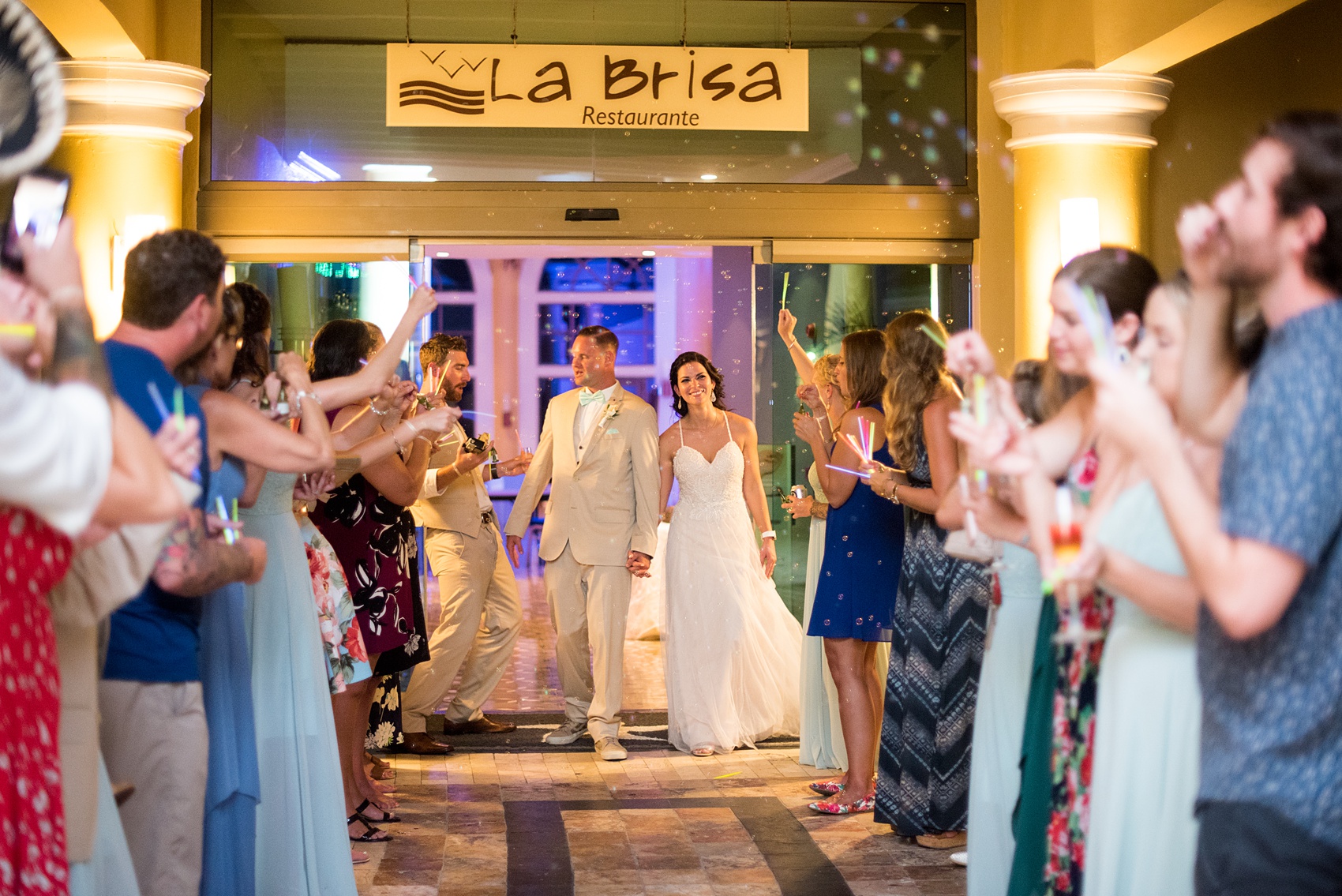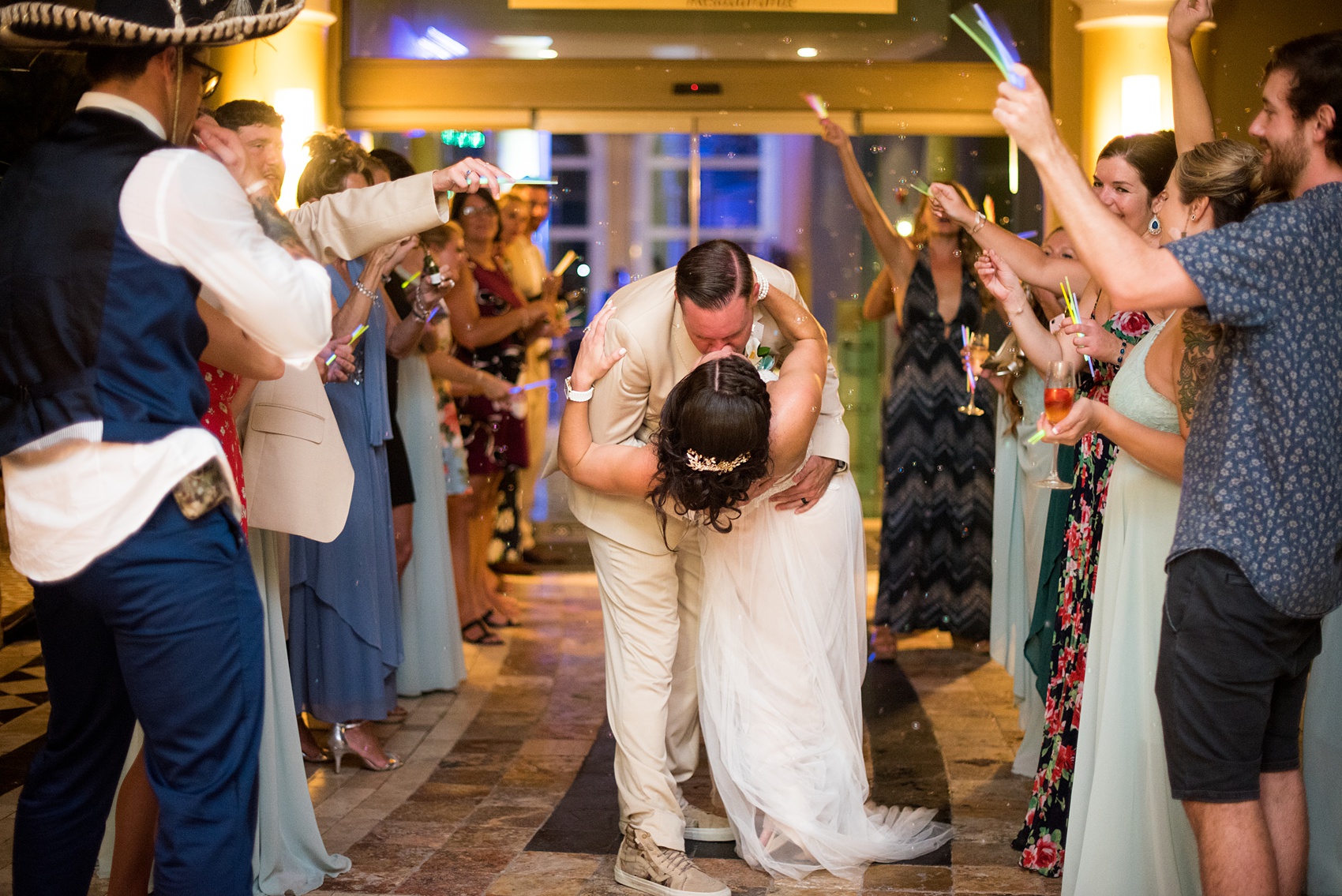 Is there anything better than dancing the night away in Mexico with your best friends? Maybe not but a bubble and glow stick exit comes close to second! Congratulations, Crystal and Steven! Words cannot express how amazing it was to be a part of your day and the celebration surrounding it all!
Venue: Iberostar, Grand Paraiso Mexico (Playa del Carmen/Riviera Maya) / Invitations and seating chart: Joshua Raulerson Art / Wedding dress: Katherine's Bridal Boutique, designer Ti Adora / Bridesmaids gowns: Lulus / Travel agent: Tammy, Travel Leaders High Point
Craving more destination weddings? Check out:
Don't hesitate to contact us with any questions!