It was the anticipated "wedding of the year" for everyone involved in Lucy and Van's lives, from their family and friends to the vendors who came together to make the day happen. Viva L'Event put together one of the most memorable wedding weekends, from countless meetings with the bride and groom, to site visits, communication with the team, and hours and hours of planning and designing it all.
I was so lucky to have been involved in their lives, including their wedding photos at The Lodge at Mount Ida Farm and months before it for their memorable, colorful engagement session in Chapel Hill. They're two of the kindest souls I've ever met and seeing their love for each other and everyone that surrounds them really makes my heart explode. They're considerate, hard working, good looking (!!), compassionate, low key people. They admit they're not ones for being the center of attention…but it was hard to keep your eyes off of them all day. Not only because they looked incredible – but because they share a love anyone would envy.
* PLEASE NOTE: this is a long post with over 100 photos, so please **give it a few minutes to completely load** on your device (best viewed on a computer) before beginning to scroll.*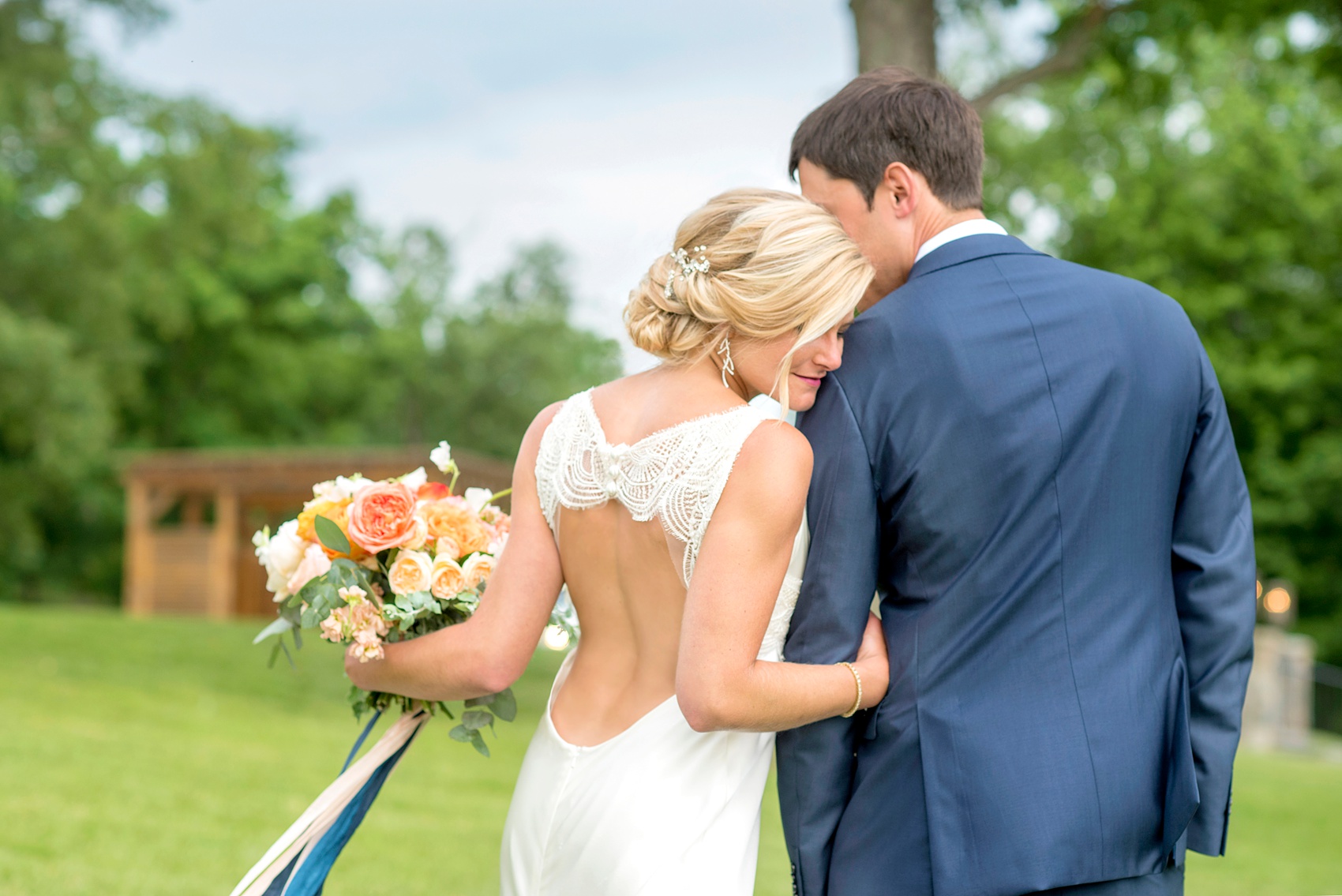 I'm nearly speechless trying to think of how to start describing the incredible details from their wedding. (Pause…15 minutes later! I find the words.) Nearly everything was custom and put together by an incredibly talented, A-list vendor team hand picked by the bride, groom, and Viva L'Event.
The Chapel Hill, North Carolina natives wanted to have their wedding somewhere memorable with incredible views that reflected their personalities. They found their perfect destination in Charlottesville, Virginia, where Van finished his MBA a week before the big day. Lucy, a disabilities lawyer, often came to visit him whenever possible during their time apart; they'd grown fond of the area and wanted to share it with their family and friends.
They decided the Lodge at Mount Ida Farm was the place for them. However, this posed a logistics problem for including two furry family members in their day: their chocolate lab, Larry, and yellow lab, Colonel Mustard. The perfect solution for how to include them was found in a custom watercolor crest by their stationery designer, One and Only Paper. This crest would be a logo of sorts, that would also serve as the foundation for their wedding color palette and feel for their celebration weekend. It included their dogs, initials and wedding flowers. This motif would be repeated in many elements, from their invitation, to welcome boxes (which were given out at a huge welcome party at The Graduate hotel the day before their wedding), and custom bars at the reception. Their florist, Meristem Floral, knocked it out of the park with incredible bouquets and hundreds of flowers everywhere.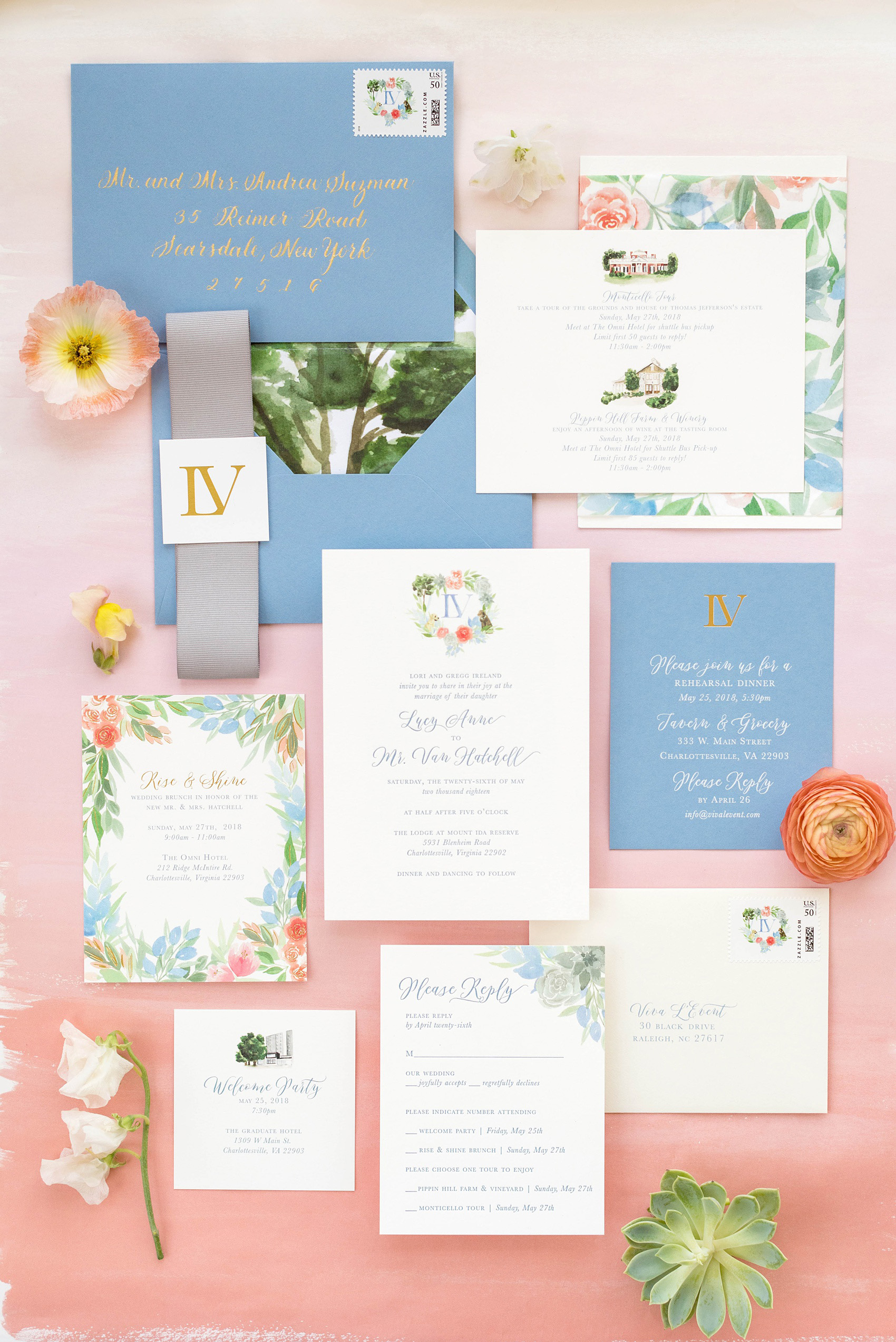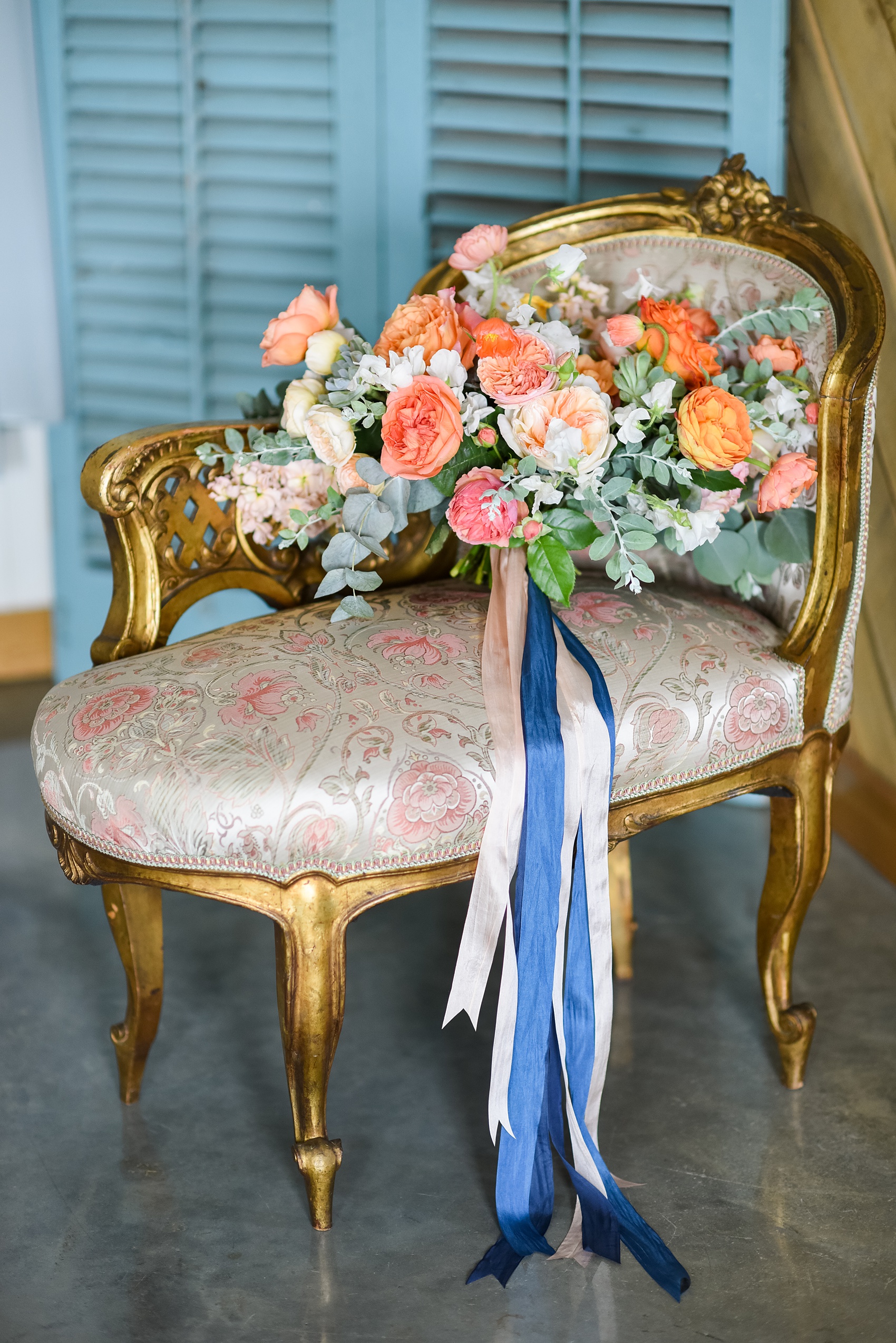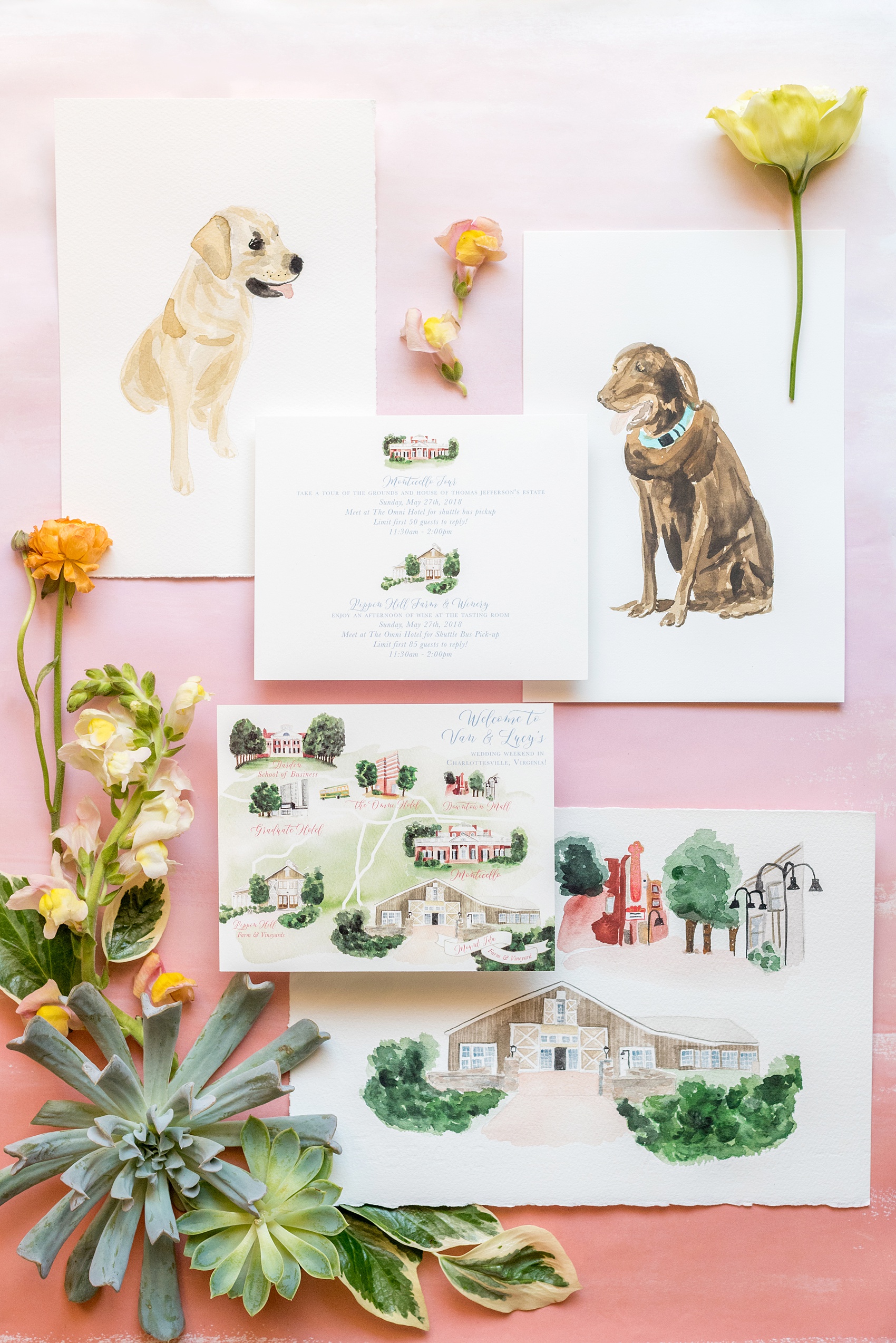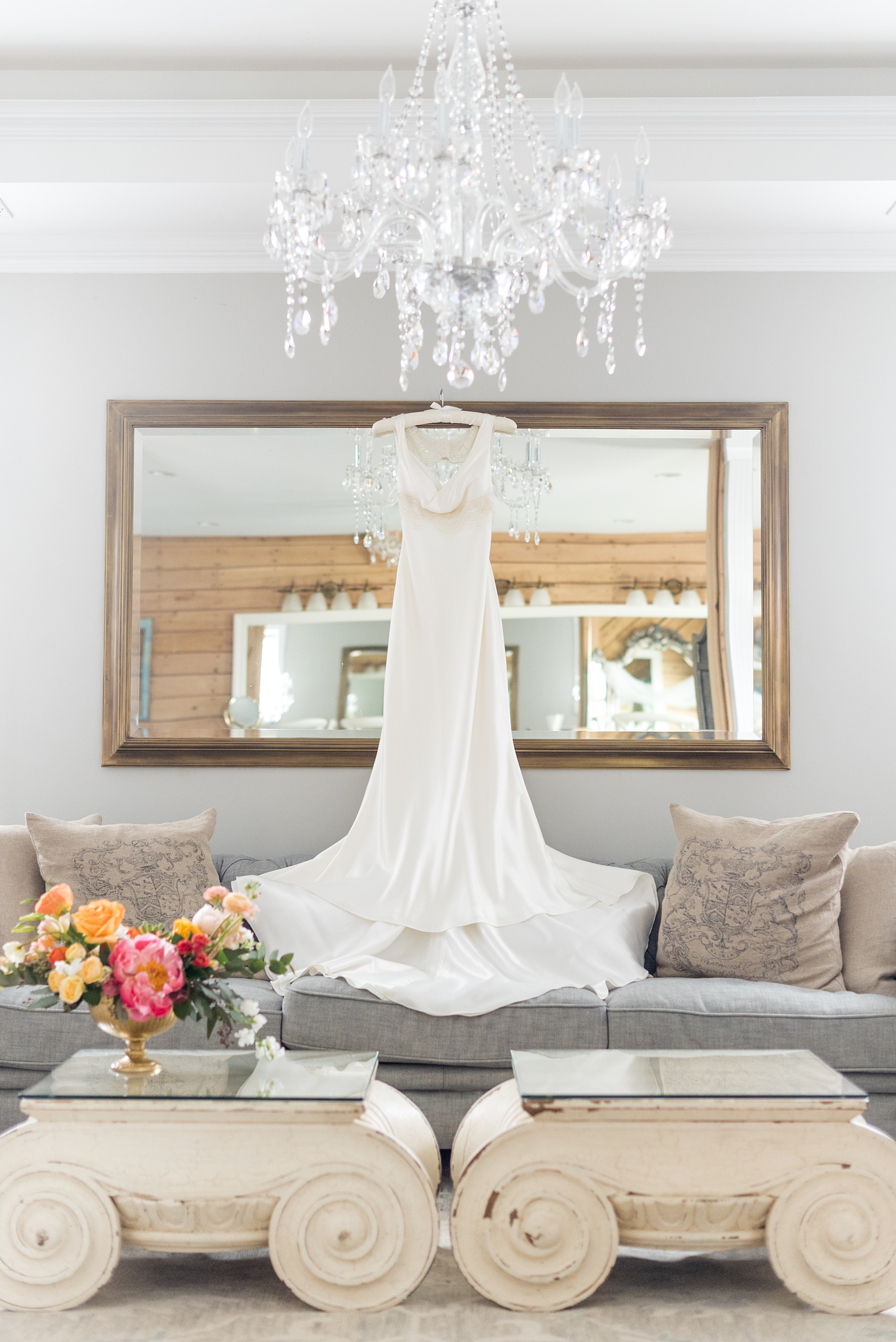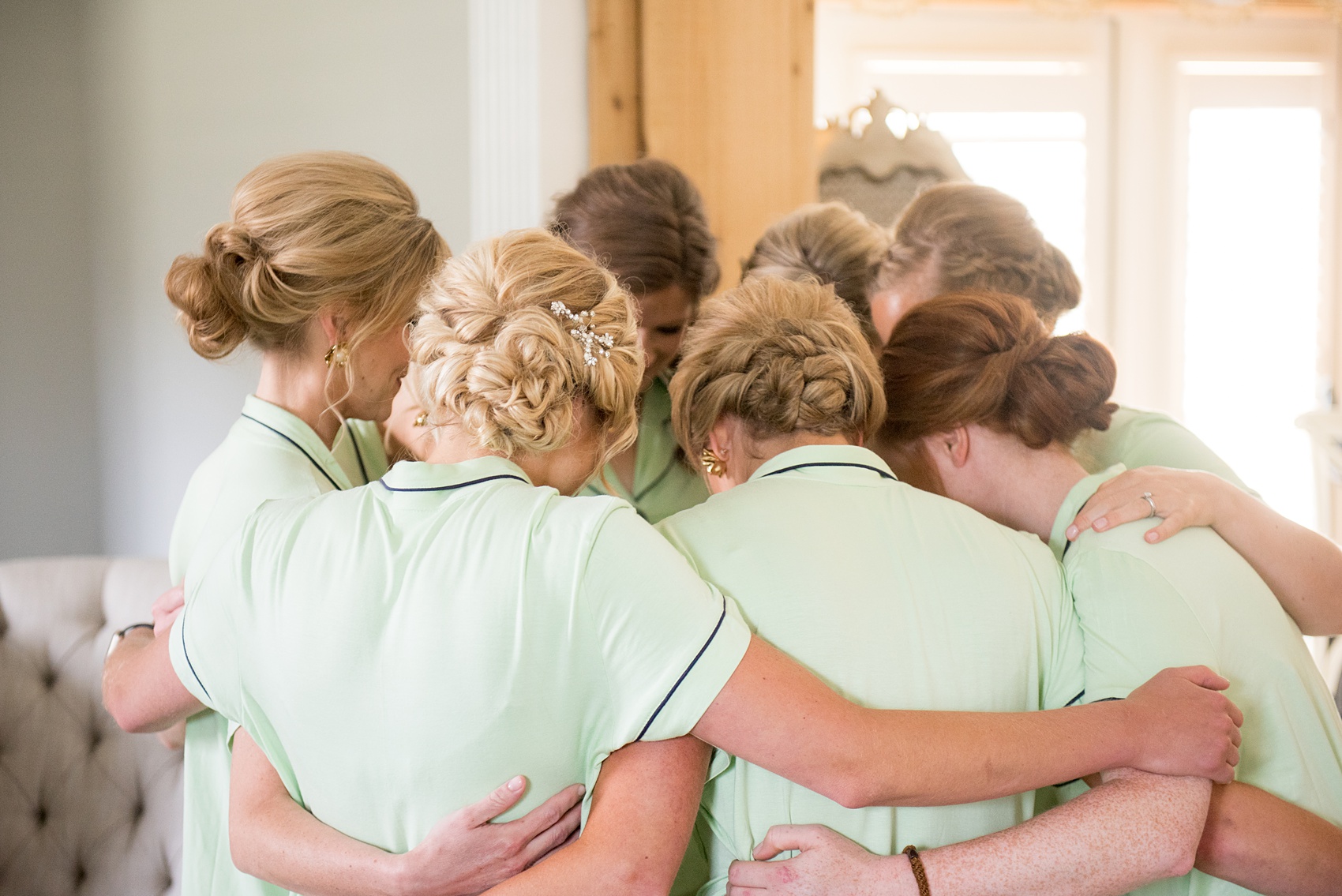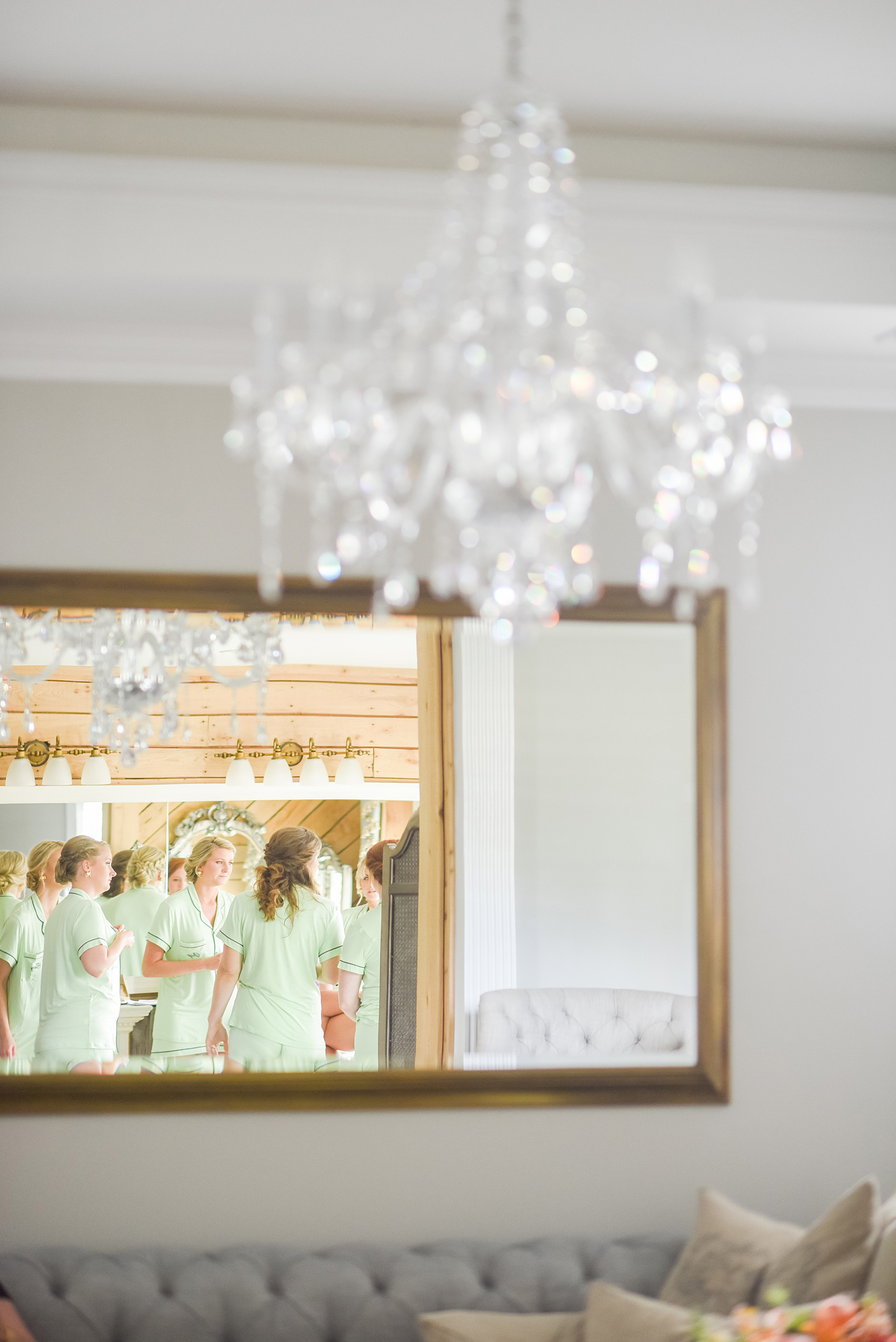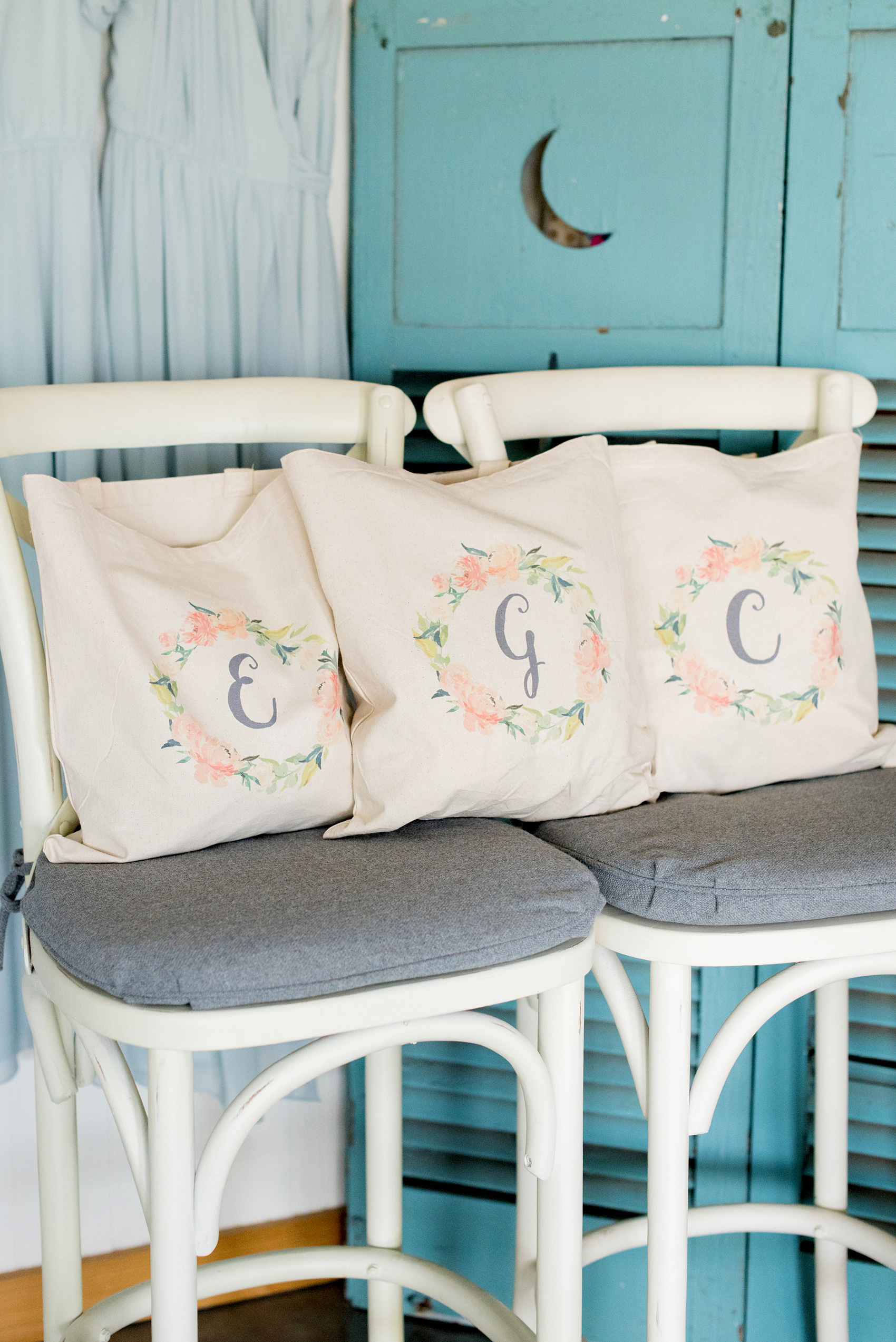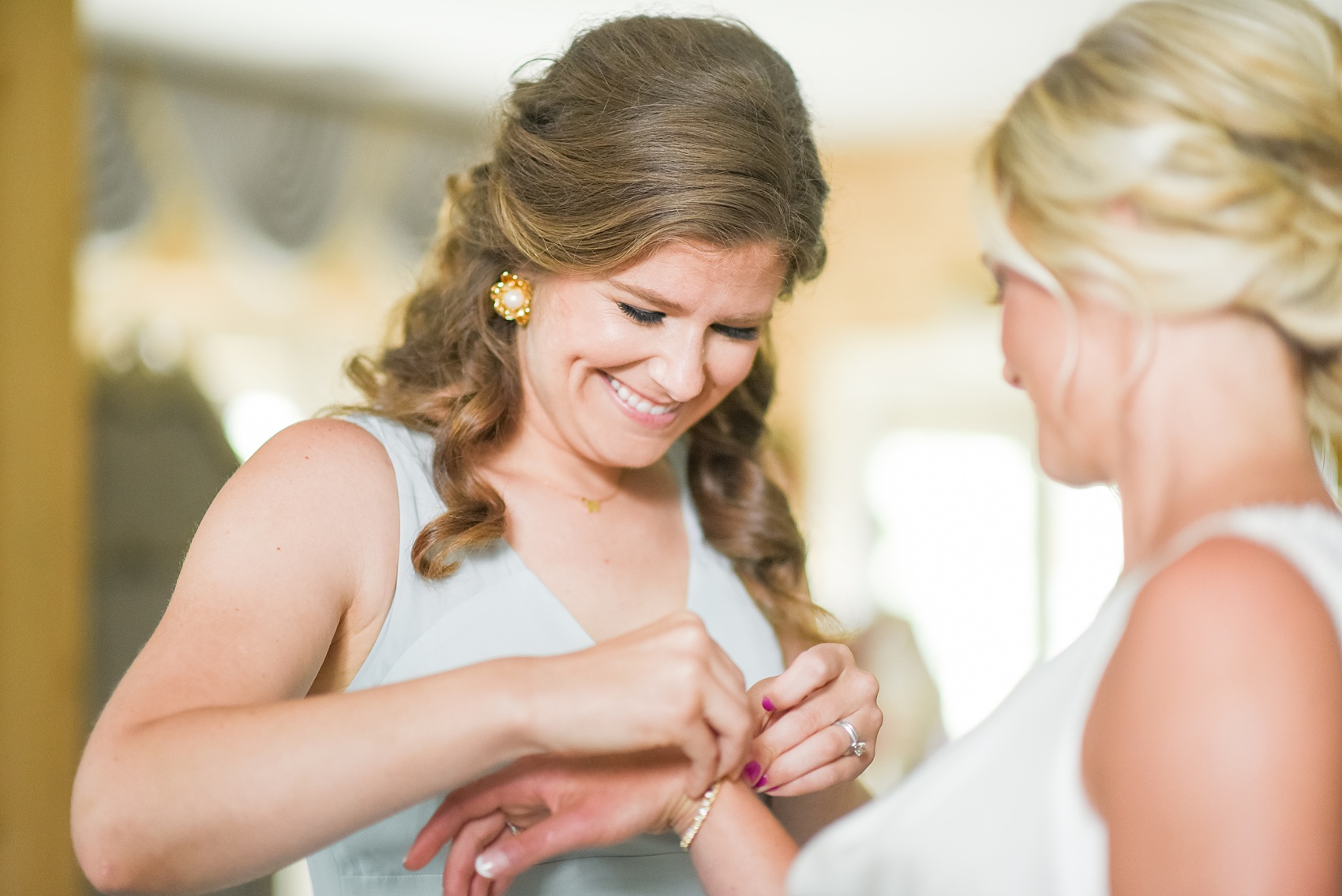 The bridesmaids got ready for the day starting at 8:00am, with hair and makeup meticulously prepared by the Wink Hair and Makeup team. They wore matching green shorts pajamas and enjoyed a casual, relaxing morning. After Lucy stepped into her beautiful white wedding gown, her sister, Gina, fastened a special diamond tennis bracelet on Lucy's wrist. It was her grandmother's that served as "something borrowed" and also a special bracelet Gina wore on her wedding day, and their sister-in-law Ella, wore on her wedding day to their brother too.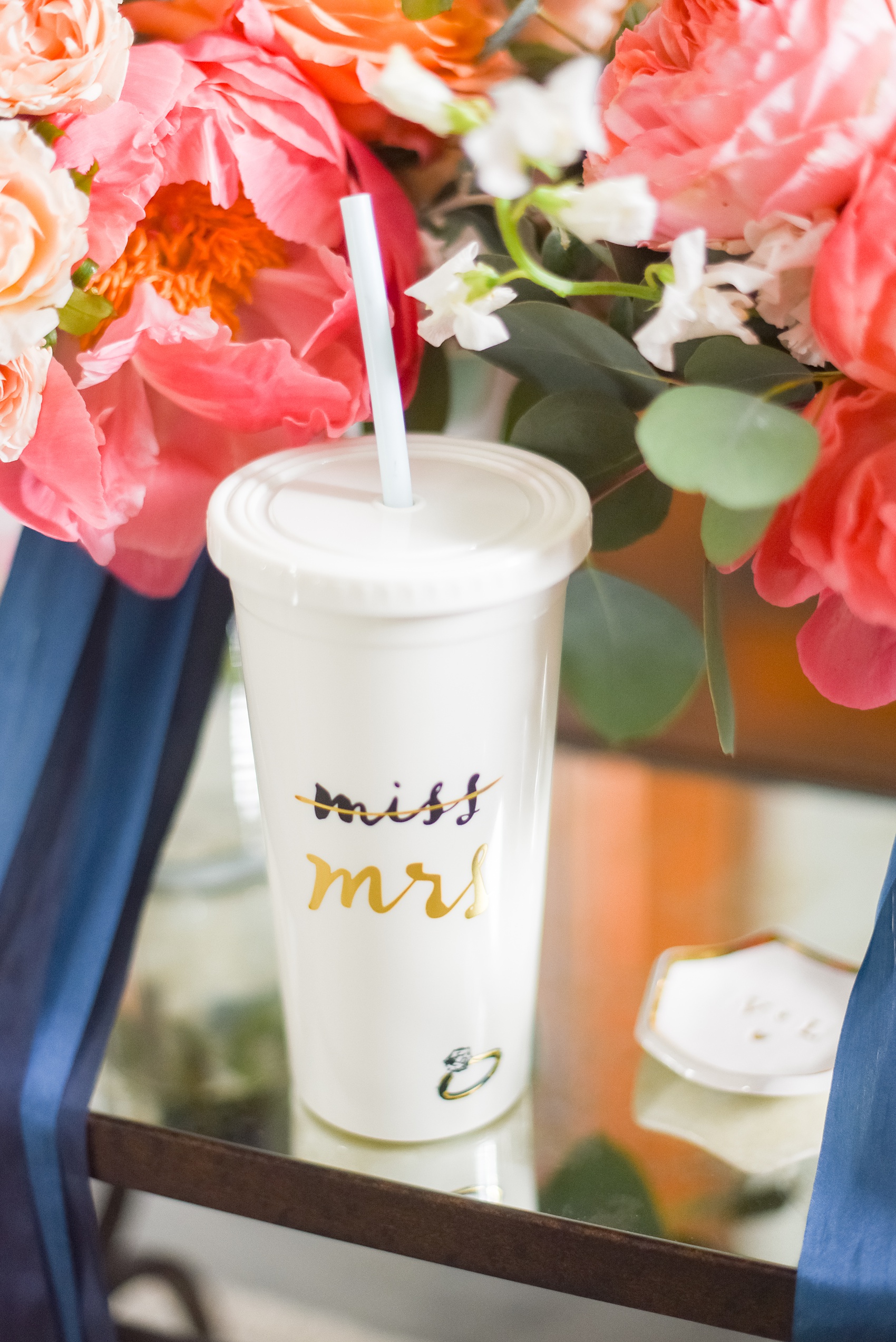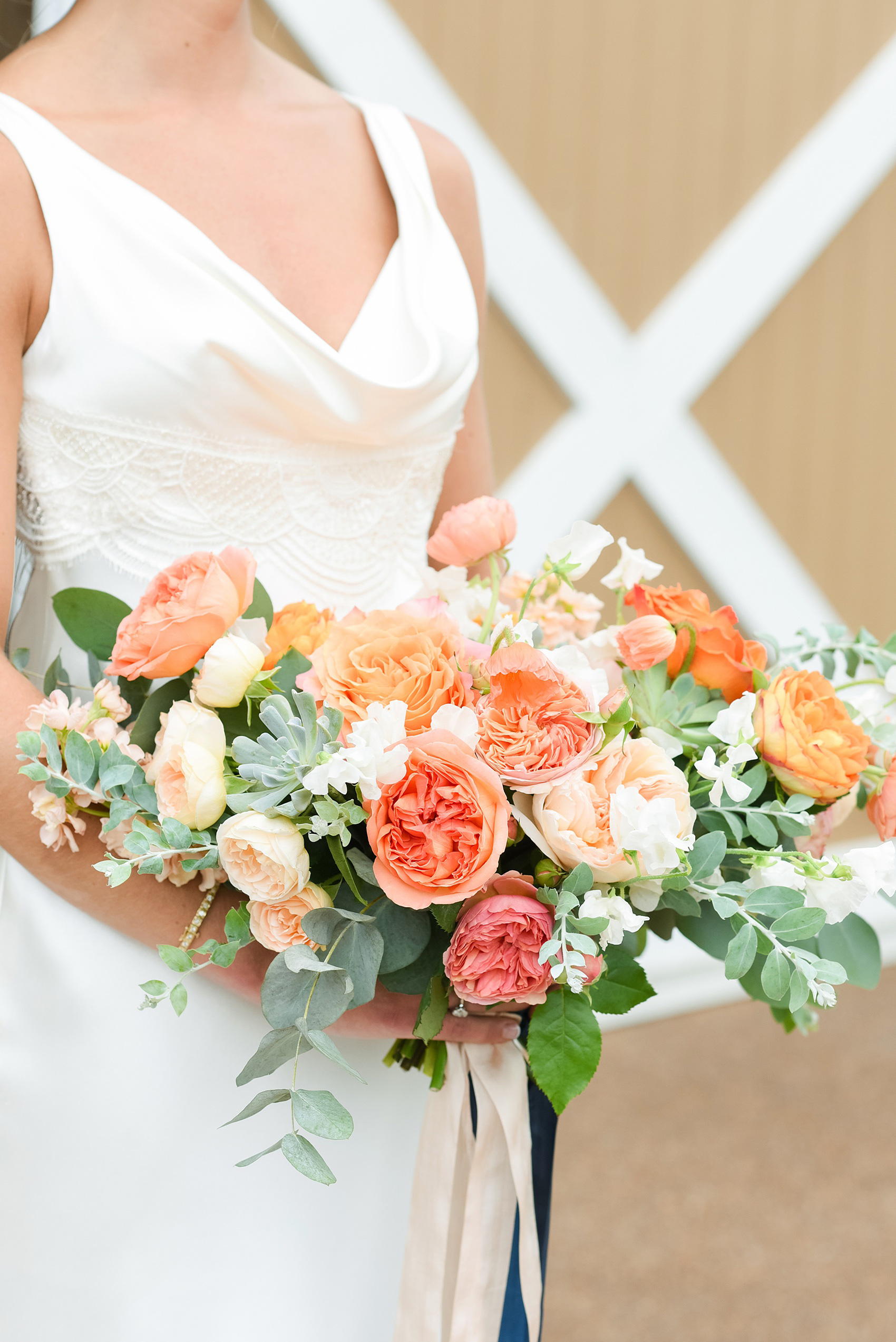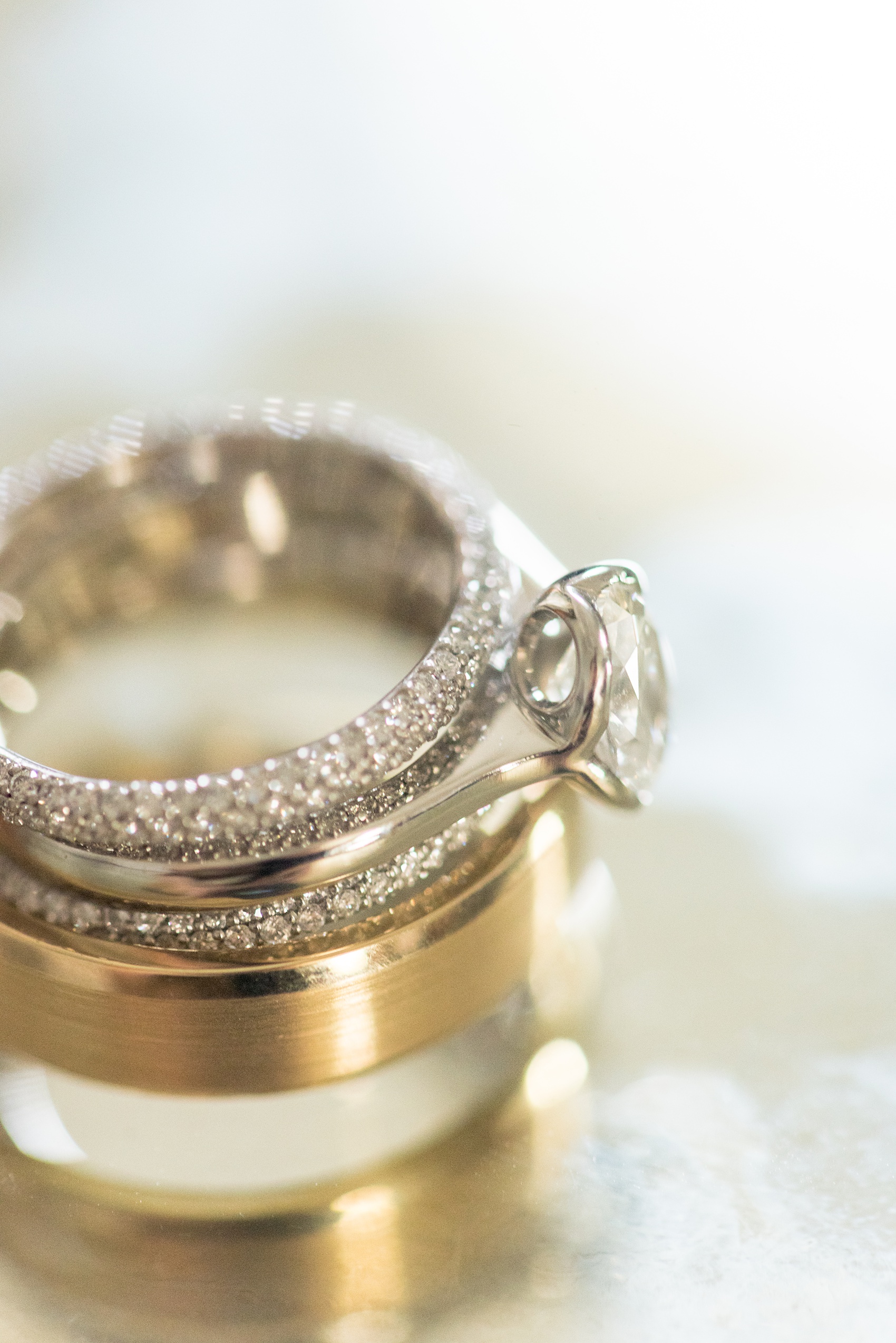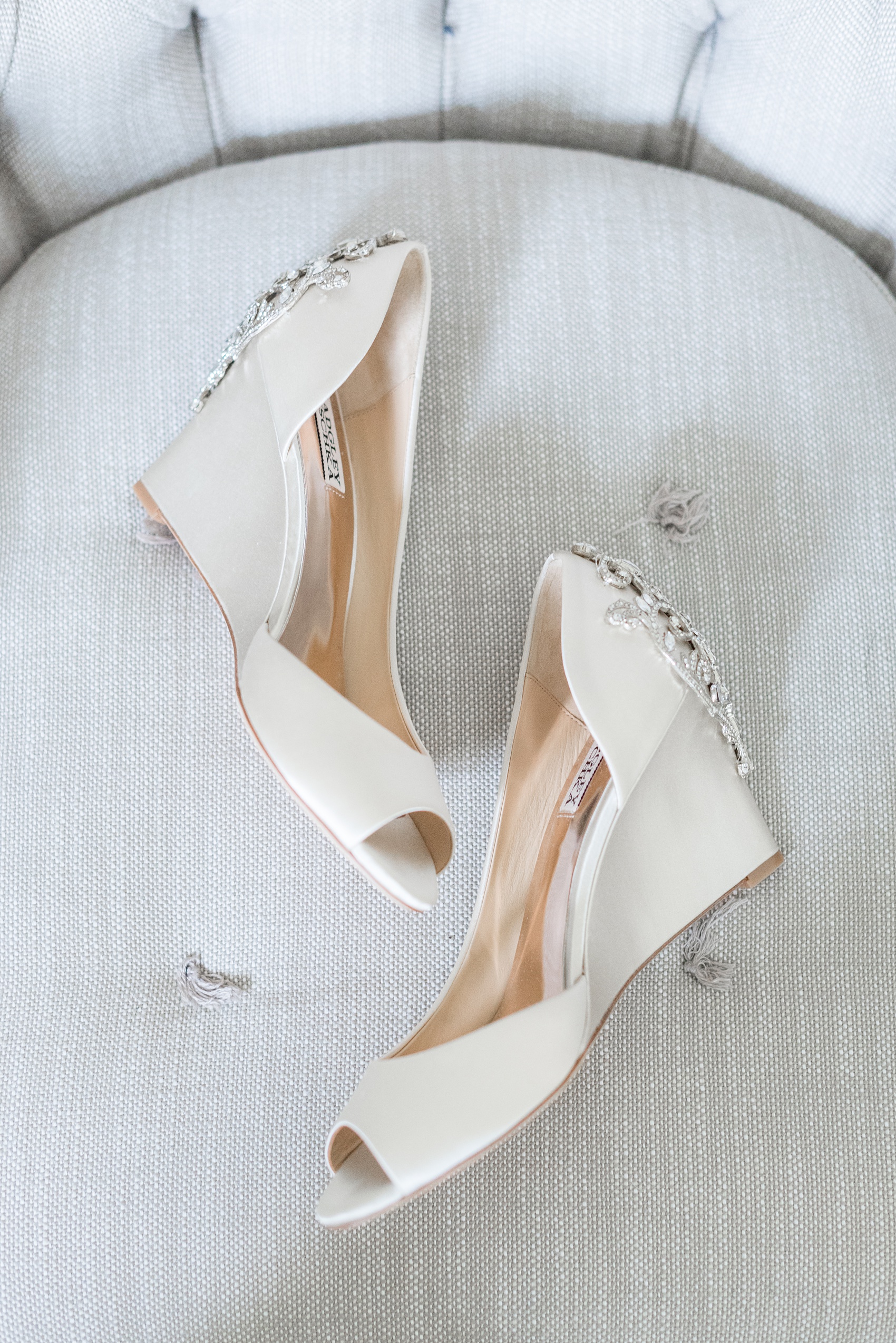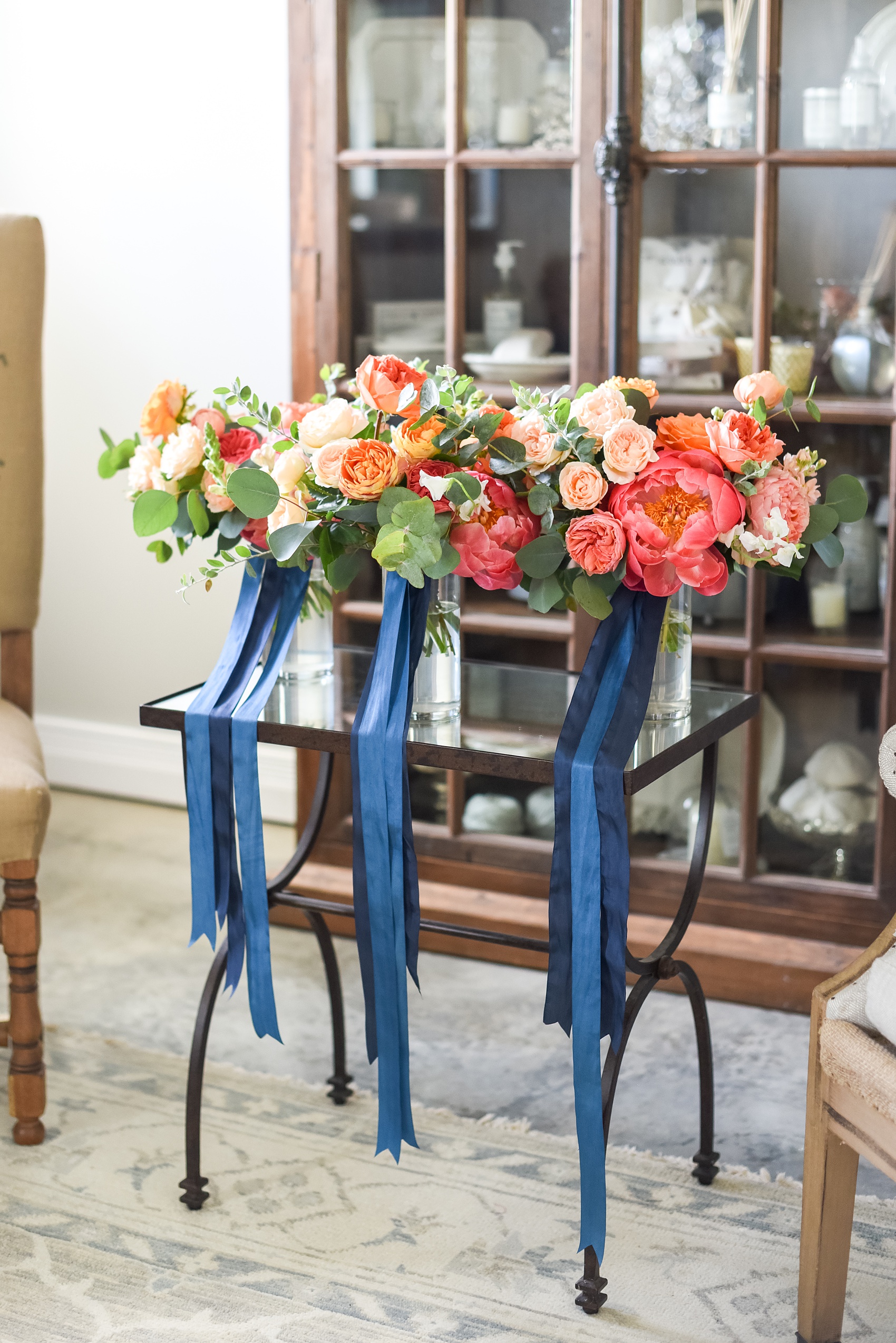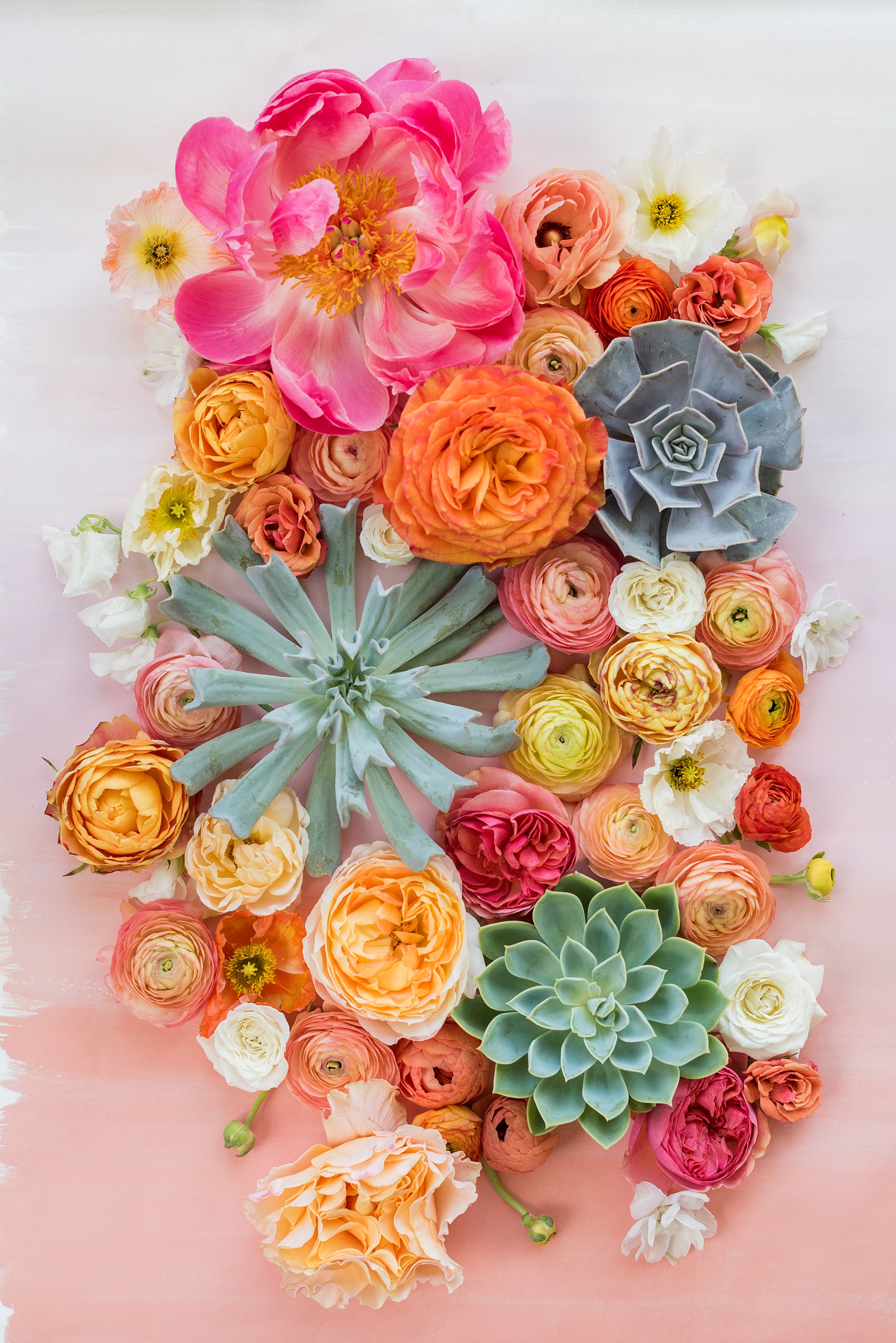 The bride opted for a first look with her dad, Gregg, before the ceremony began. I loved photographing them interacting and practicing their first dance in the bridal suite!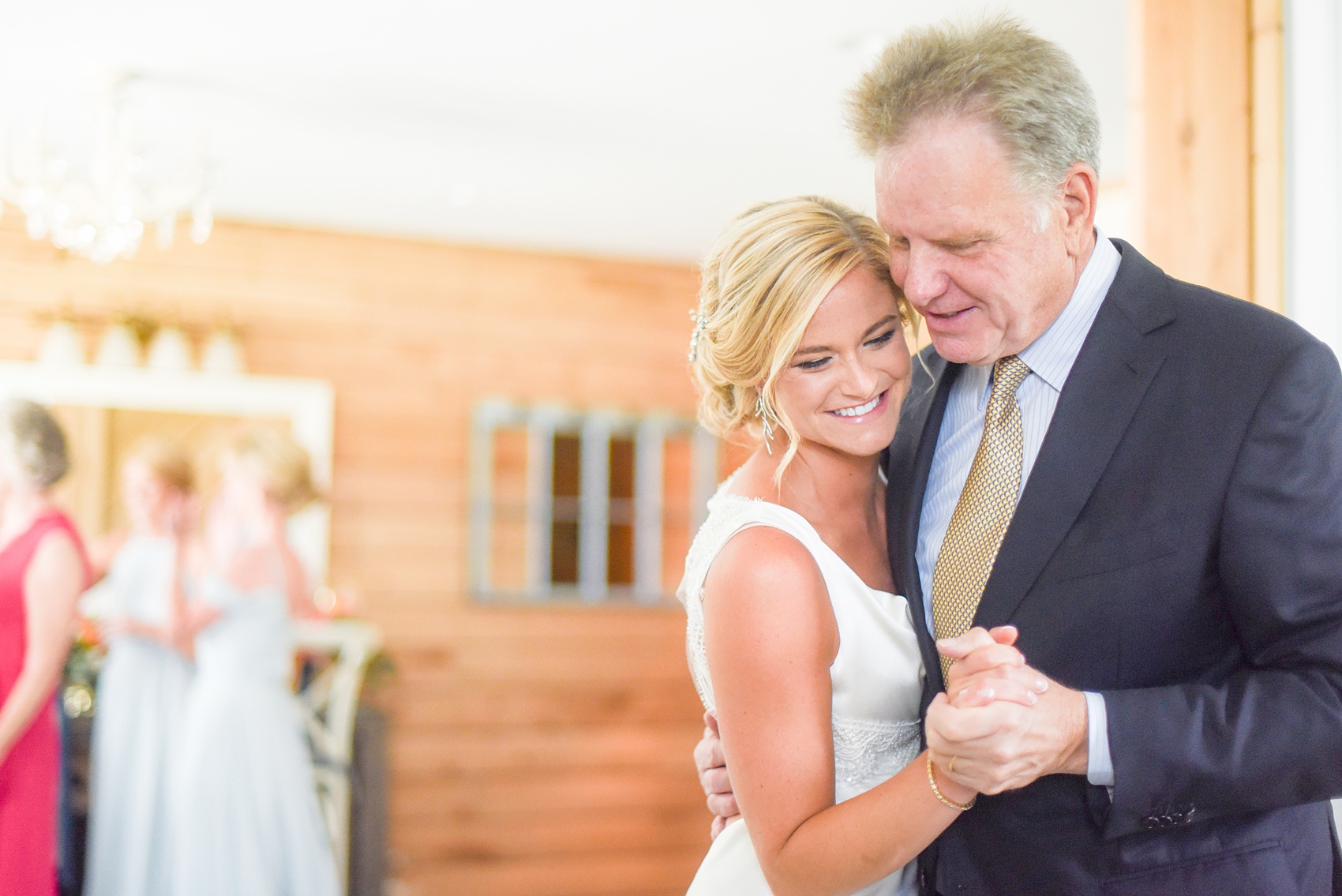 The men prepared for most of the day at The Graduate hotel in downtown Charlottesville, but came to take their wedding photos at The Lodge at Mount Ida Farm in the afternoon. Van wore special cufflinks that were his grandfathers, an extra special detail of his attire. I had a conversation with his dad, Sammy, about them and it was a sentimental story. Van didn't really know his grandfather so it meant a lot to Sammy his father was there in spirit in this way.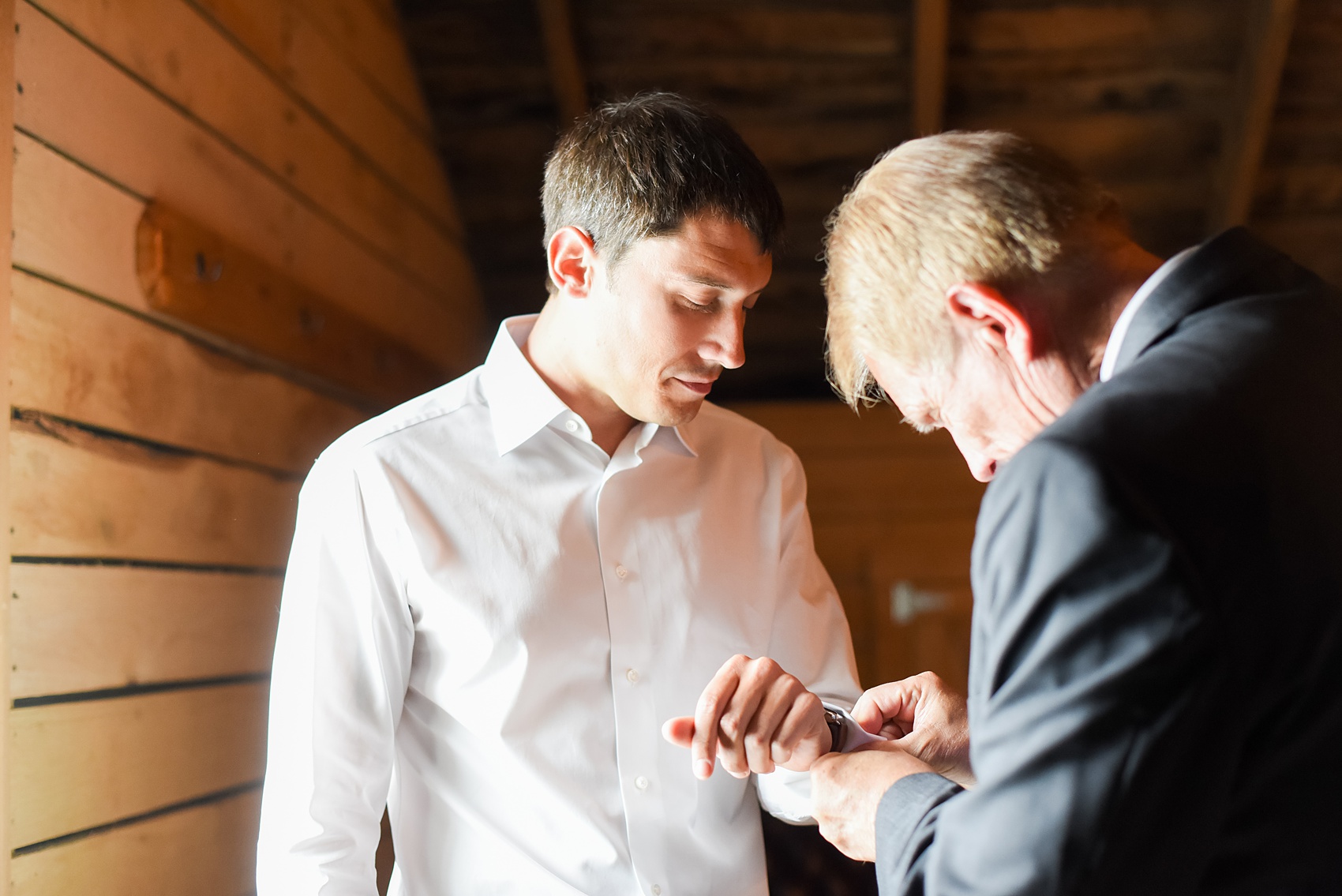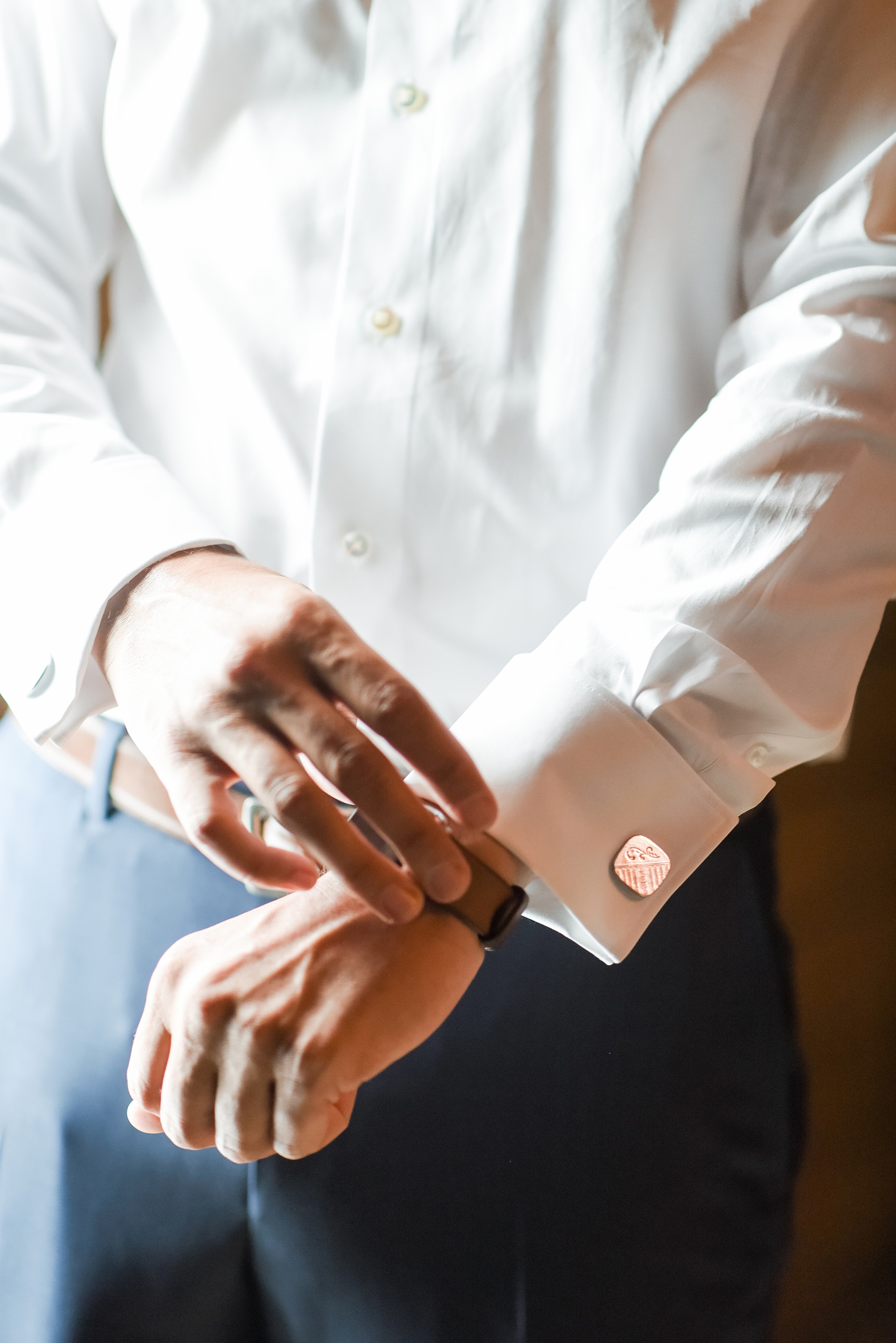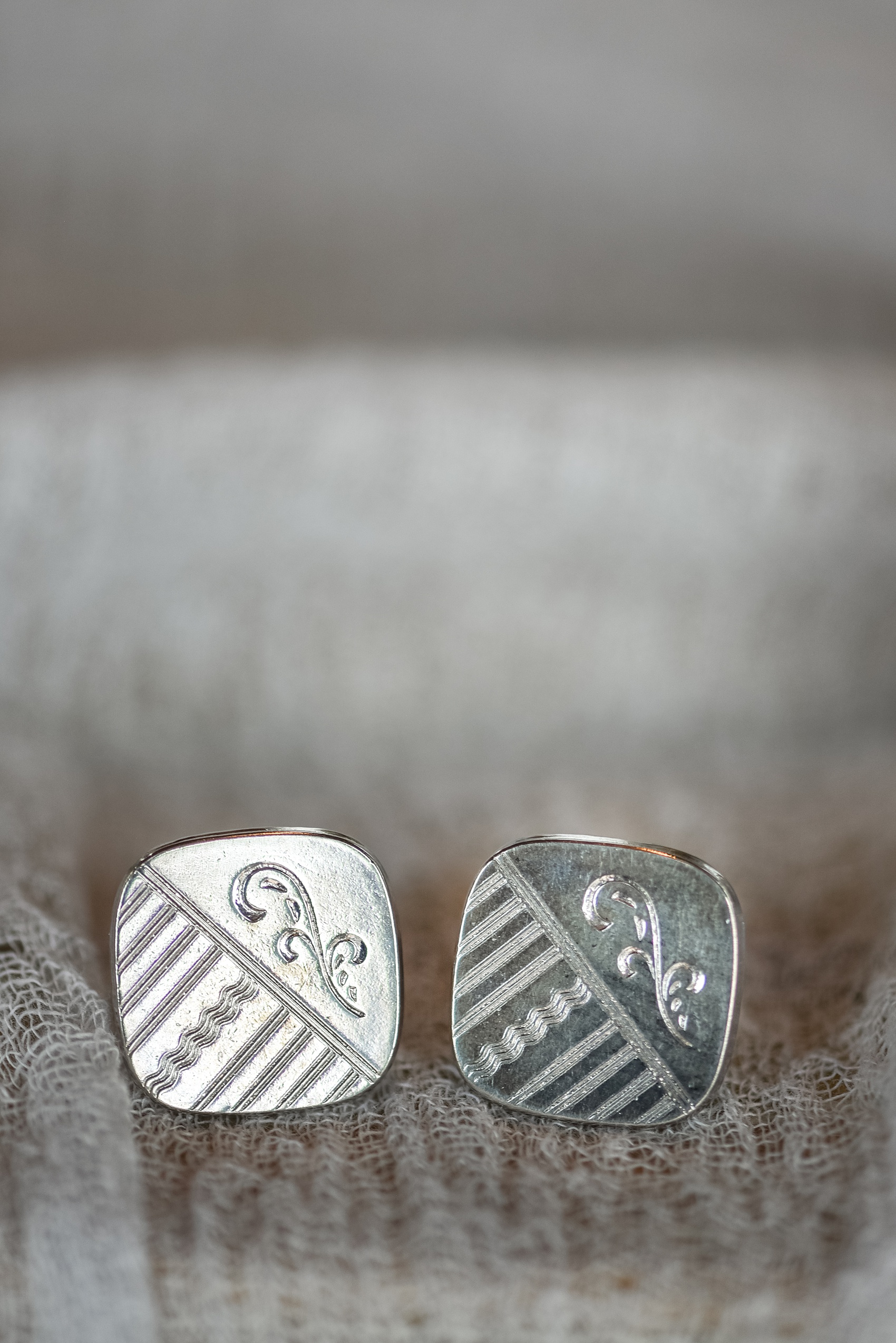 After everyone was ready we went outside to beat the rain (which, thankfully, barely arrived!) to get some photos of Lucy, her bridesmaids, Van and his groomsmen. They chose to stay traditional and not do a first look so all the photos beforehand were done separately! The first time Van wanted to see Lucy that day was as his bride walked down the aisle to recite their vows. The fun thing about a sky, pregnant with rain, is it often makes for the prettiest periwinkle background.
The bridesmaids wore beautiful mismatched mint green chiffon gowns. They carried the most stunning bouquets tied with long silk ribbons. The groomsmen wore navy blue suits and had succulent boutonnieres fastened to their lapels. Lucy's bouquet was extra large! It had pink peonies, white ranunculus, a few succulents, eucalyptus, peach garden roses and many sweet peas. (I LOVE sweet peas!) As the bride, her bouquet's silk ribbons were extra long, and contained blue and light peach colors.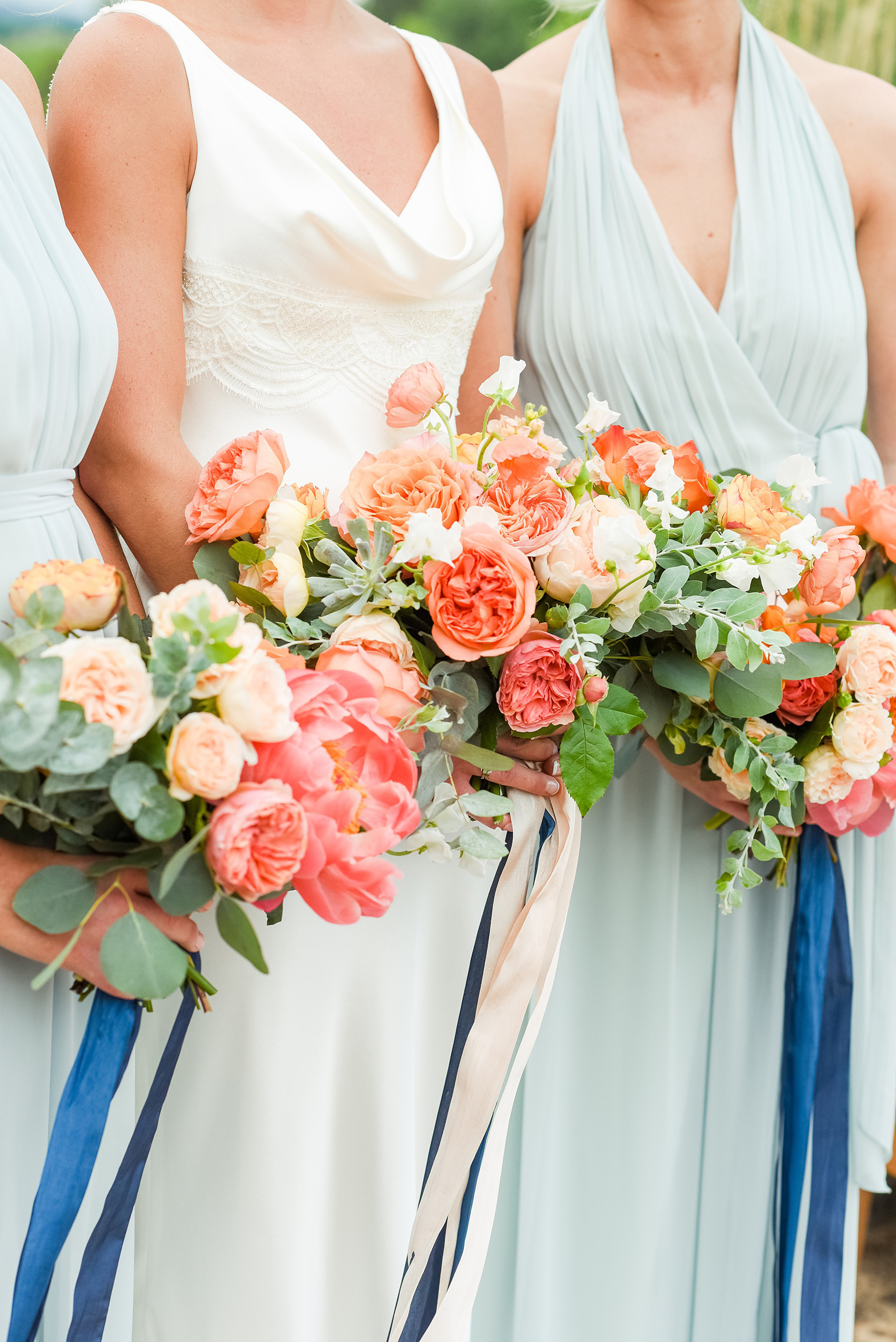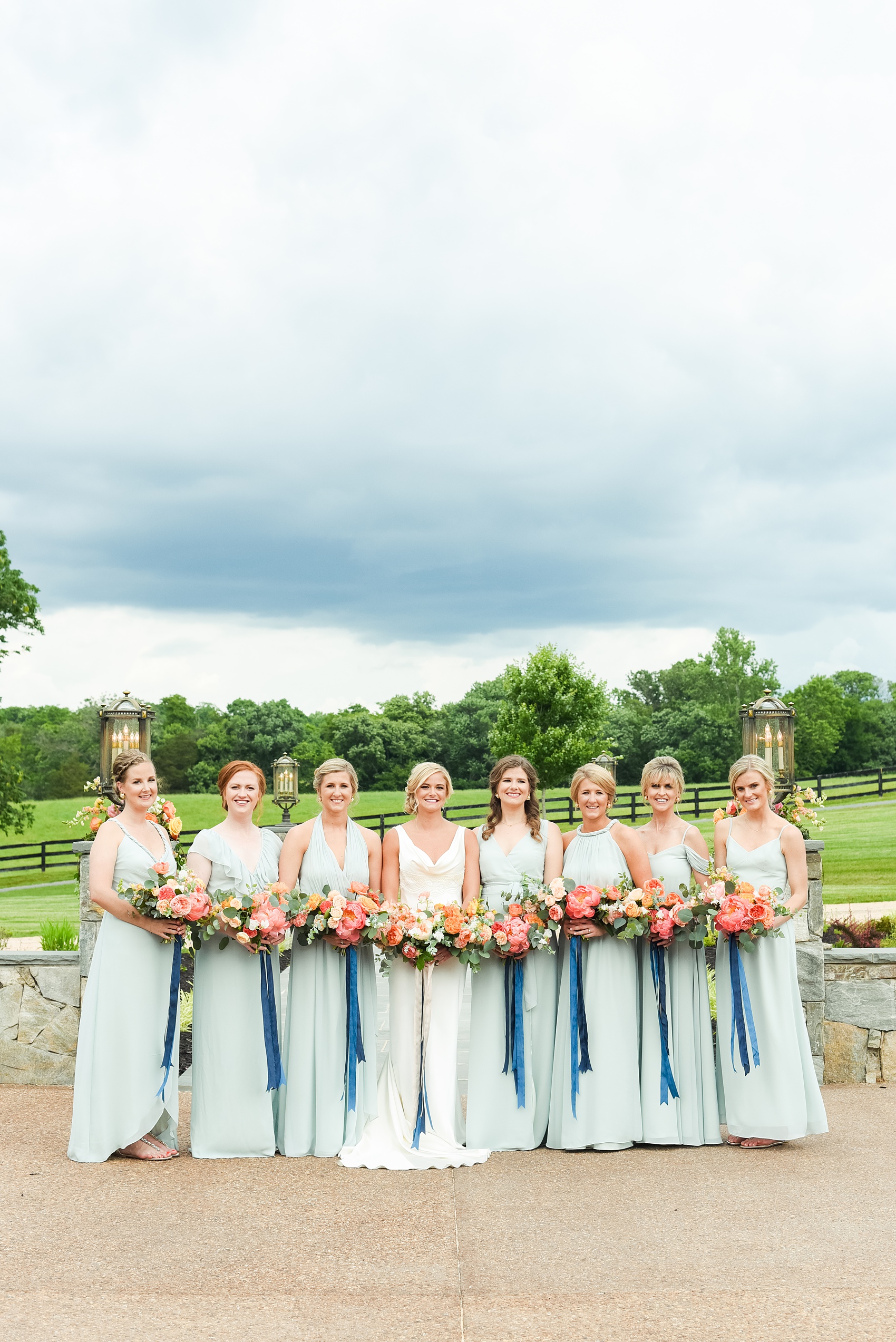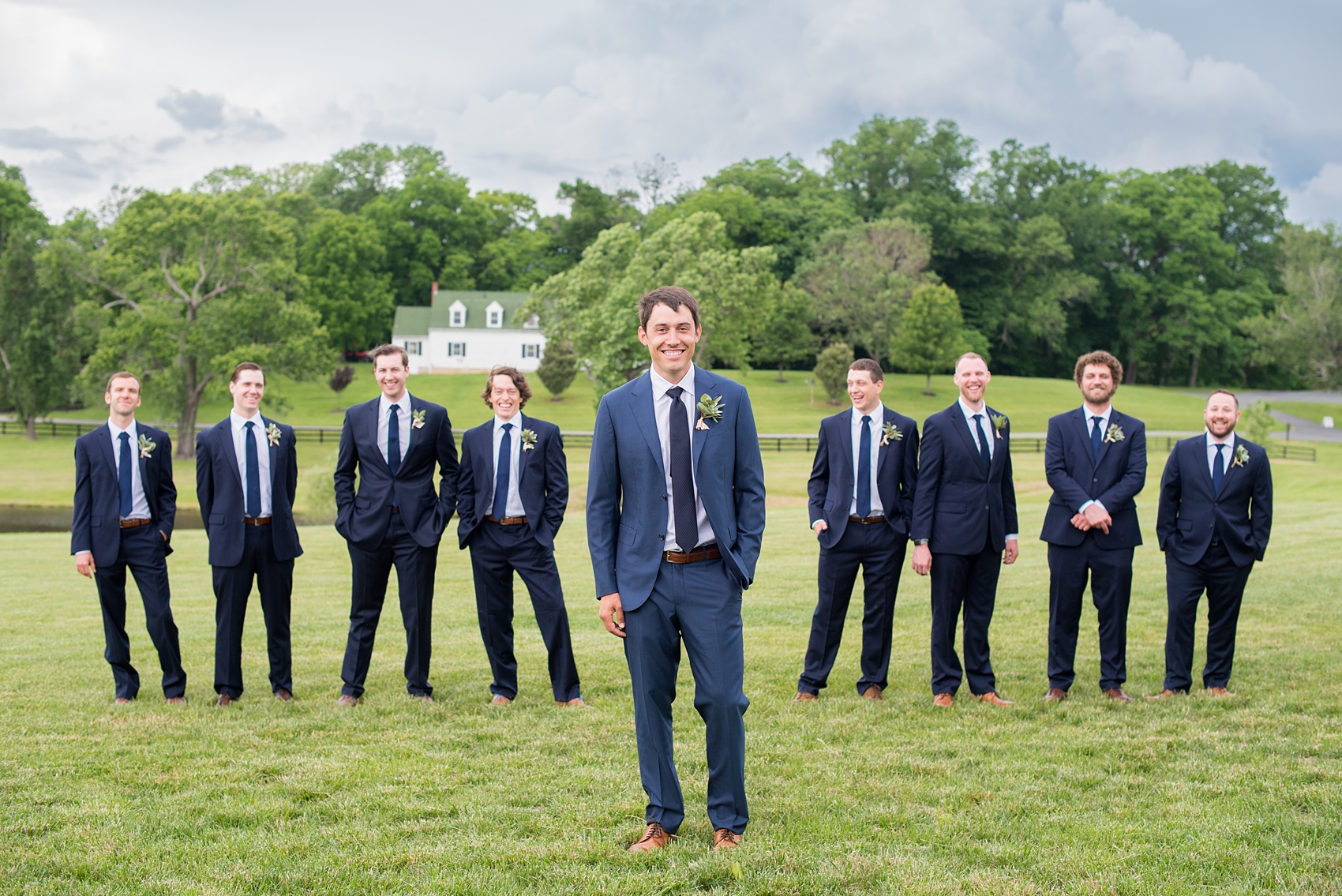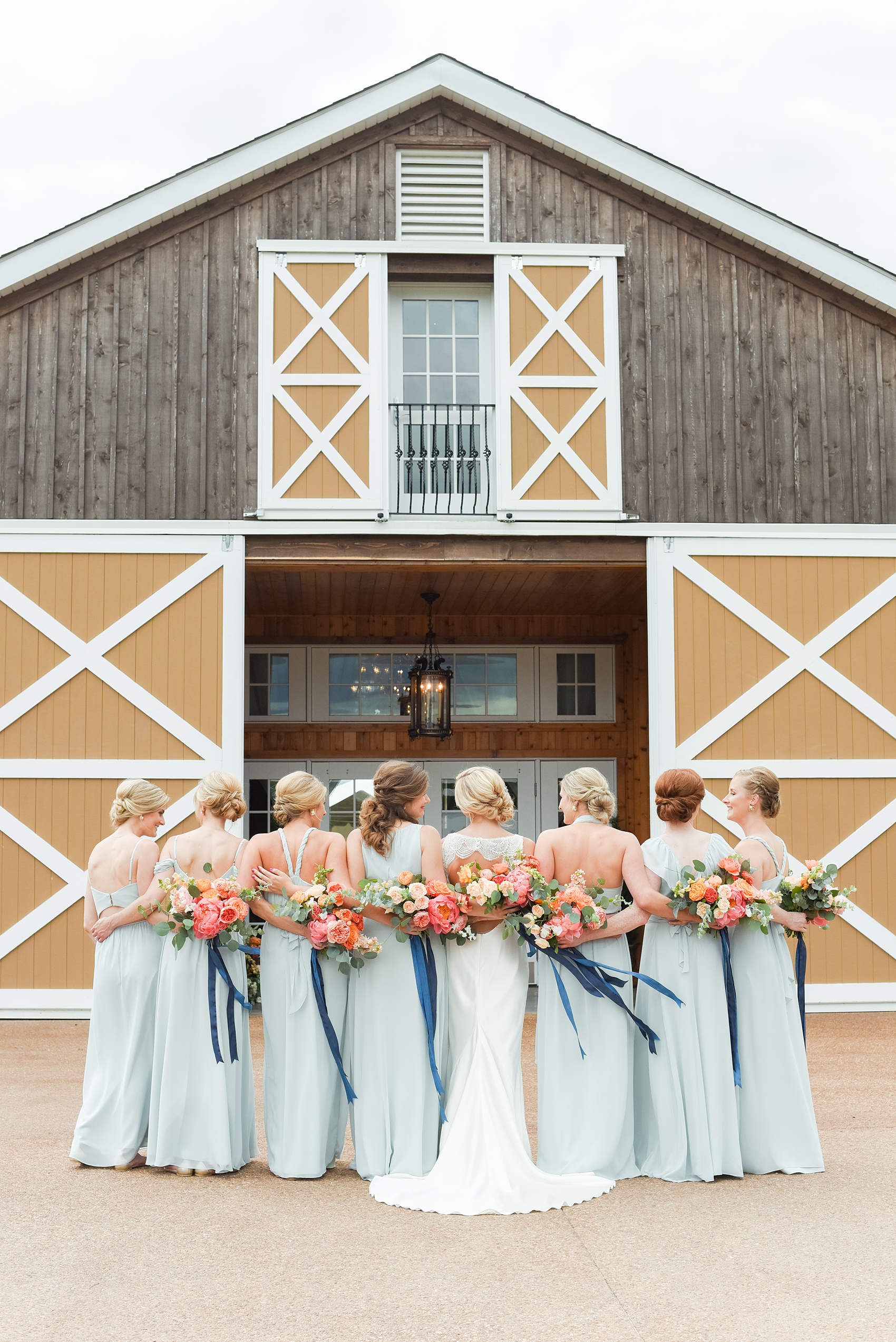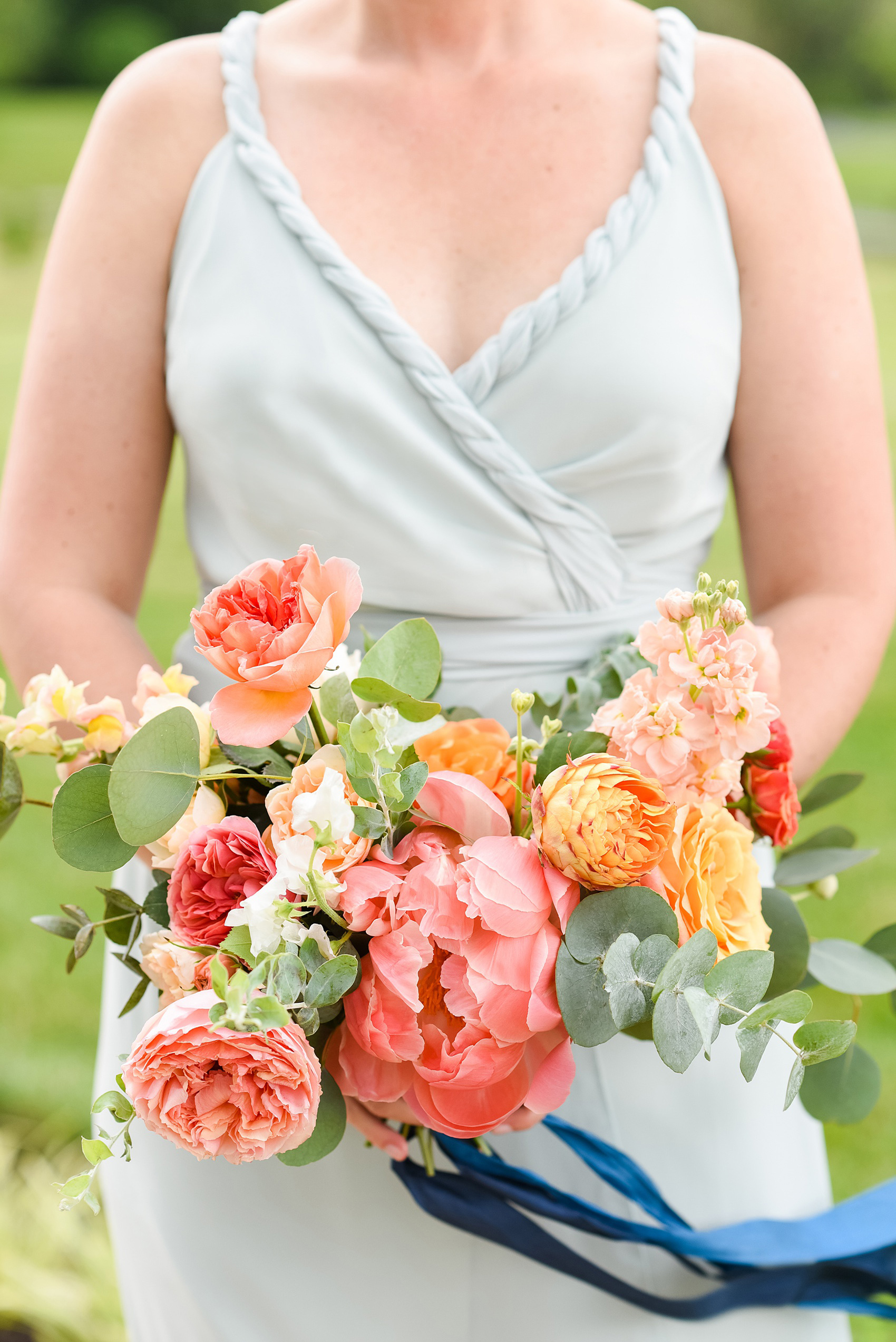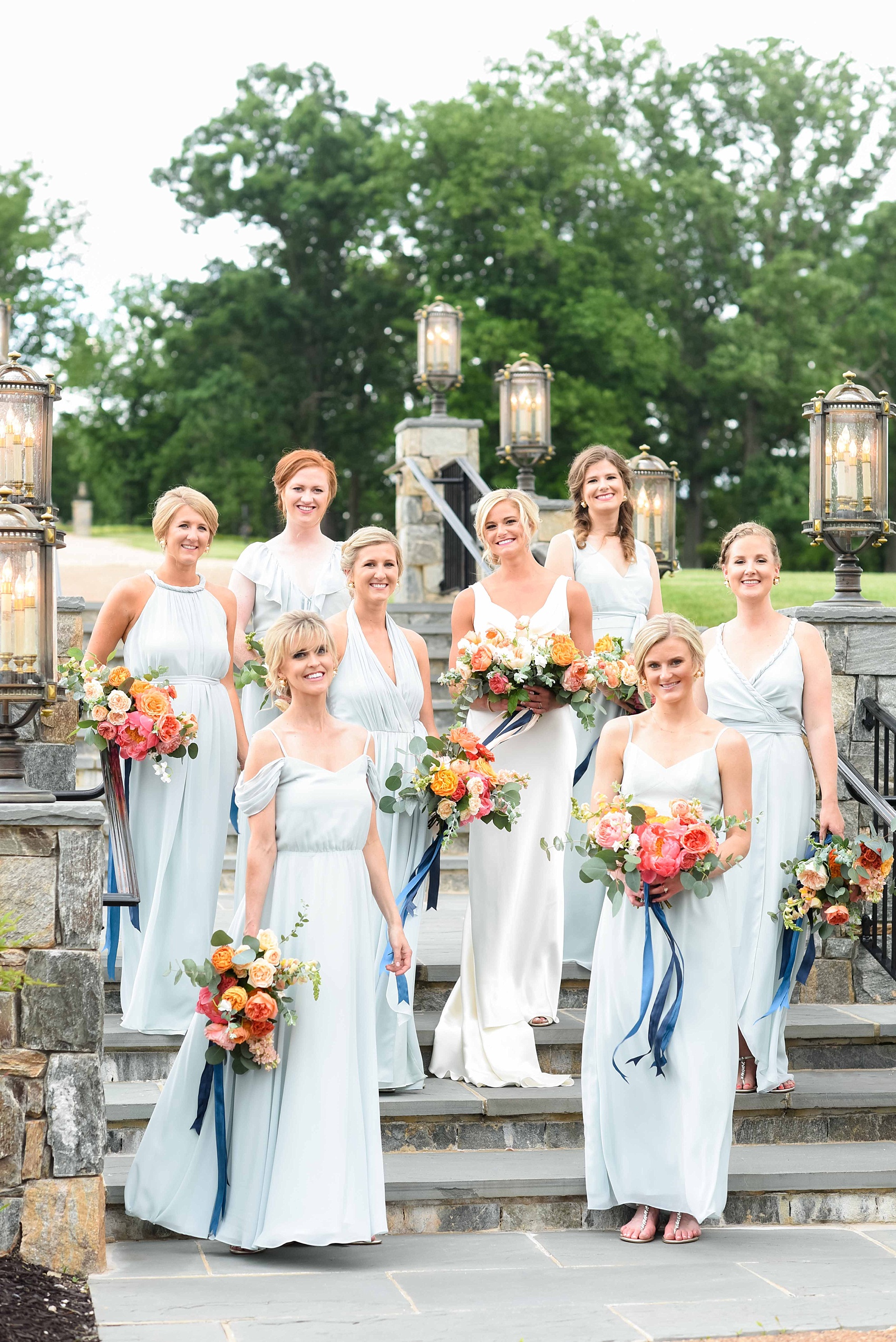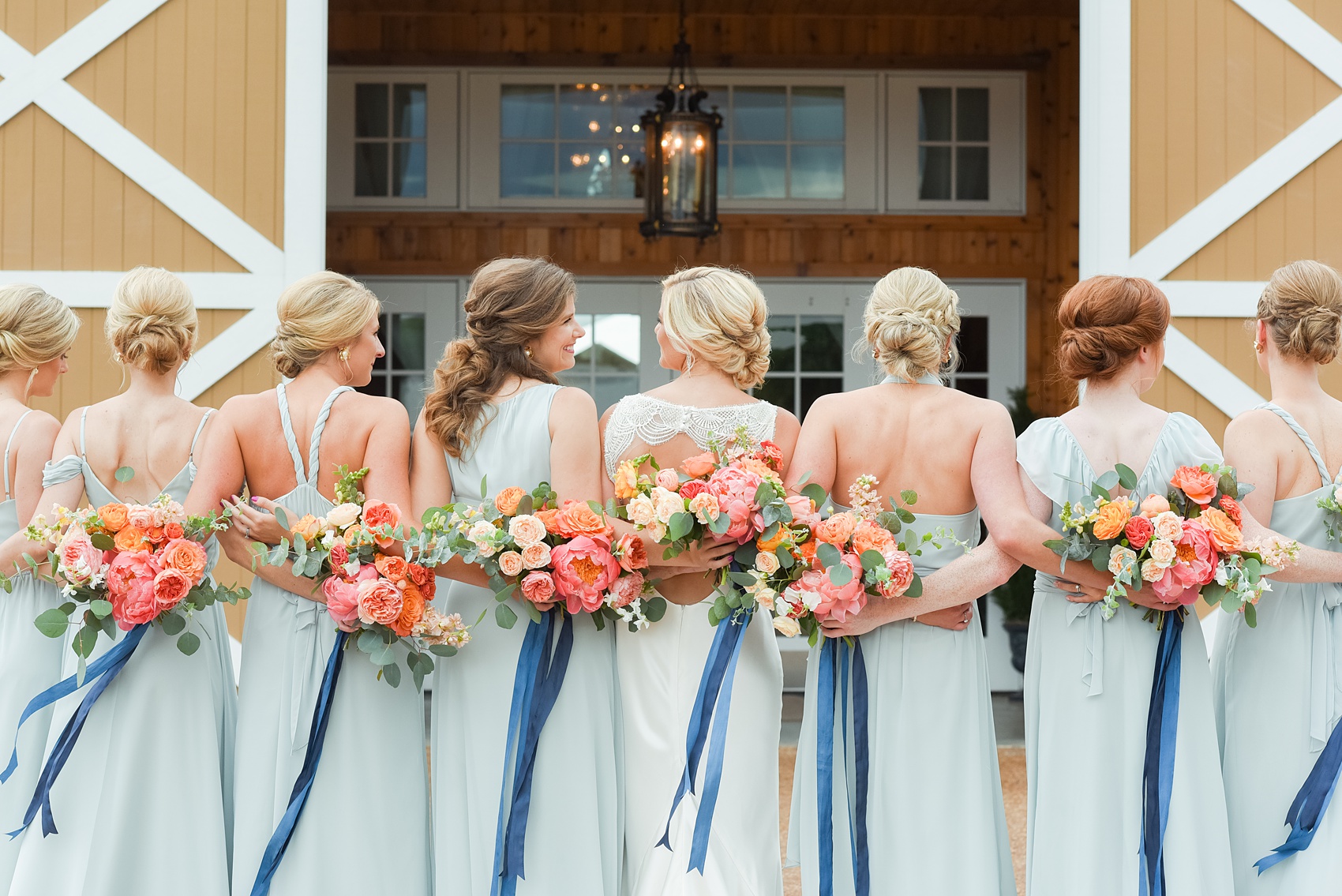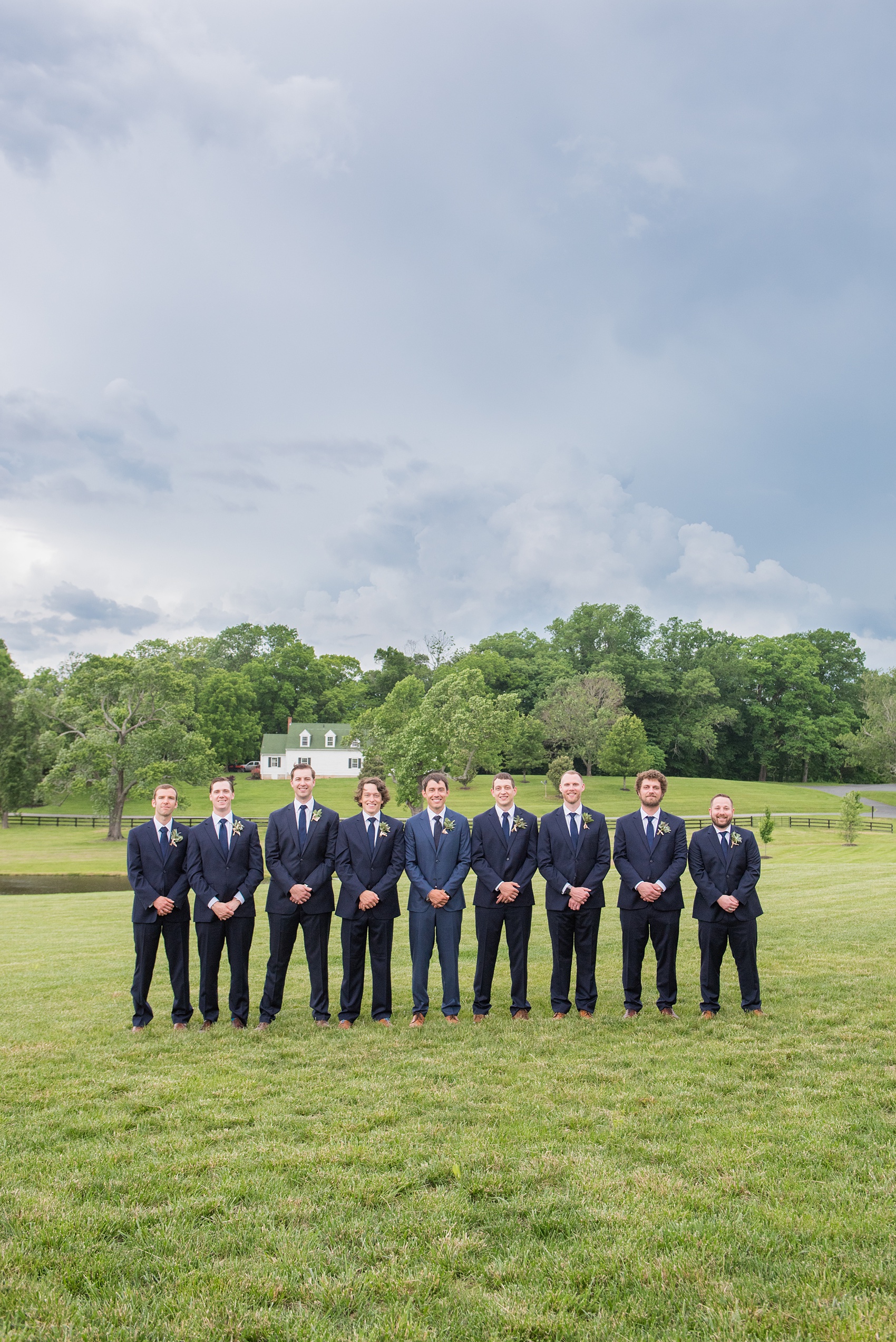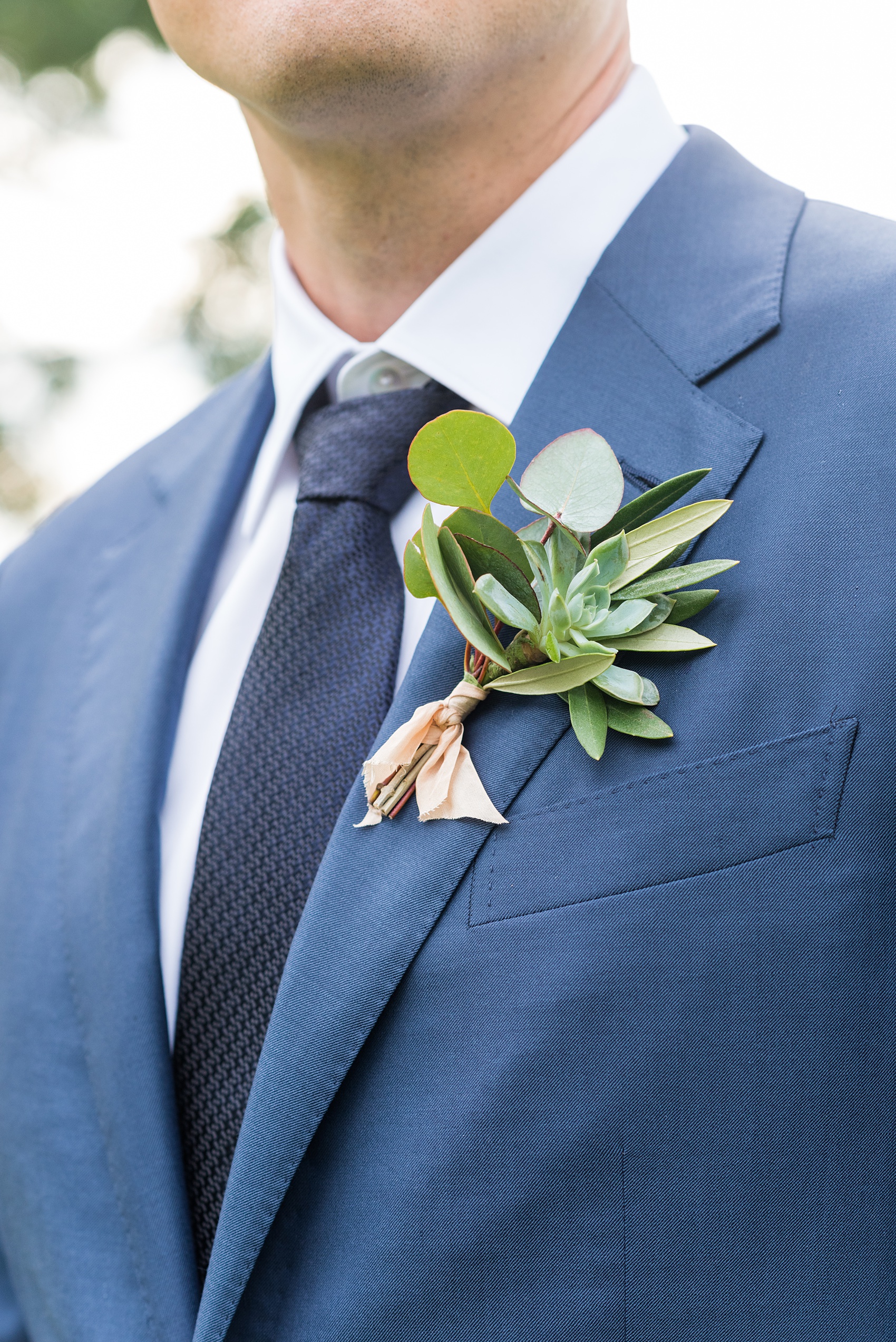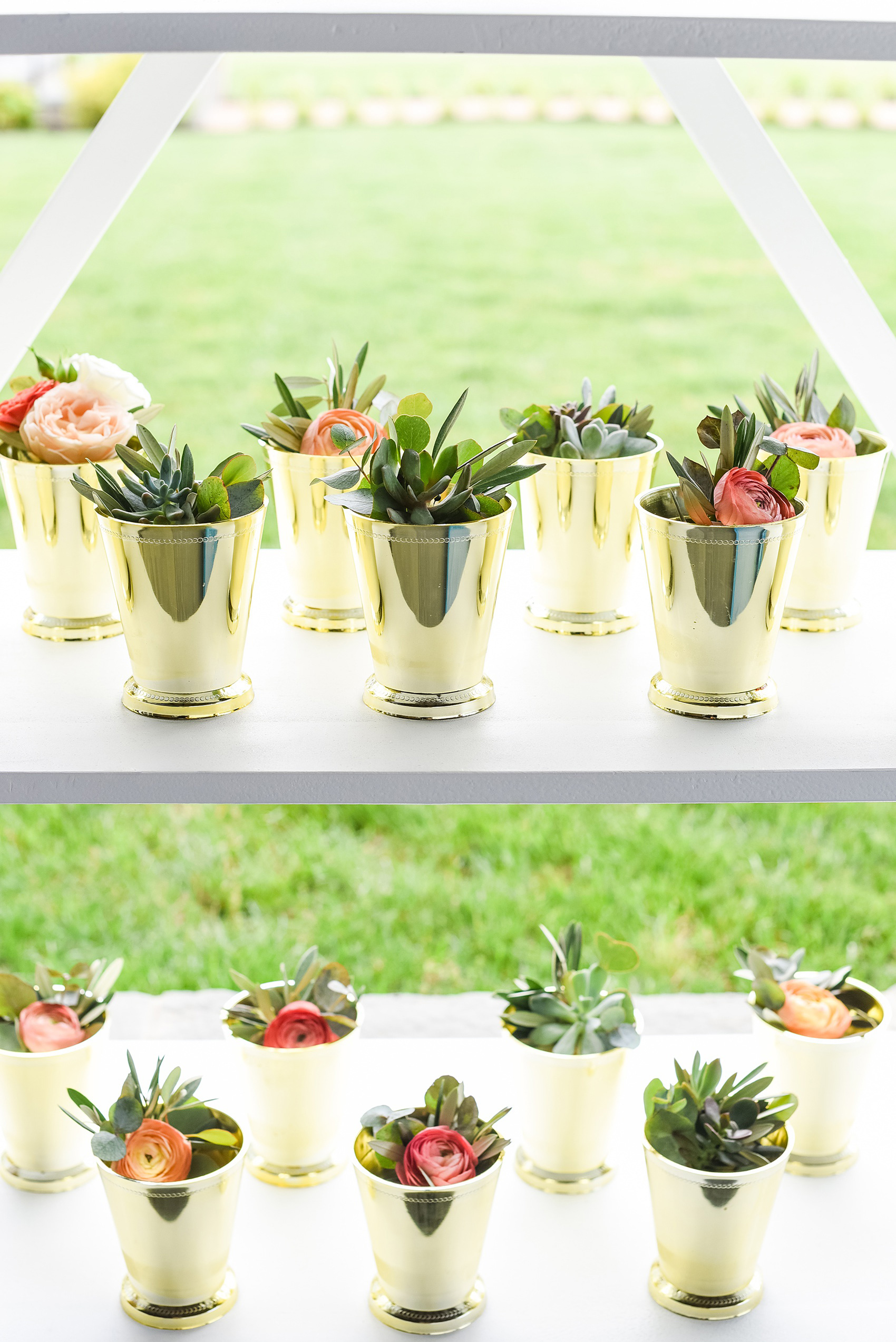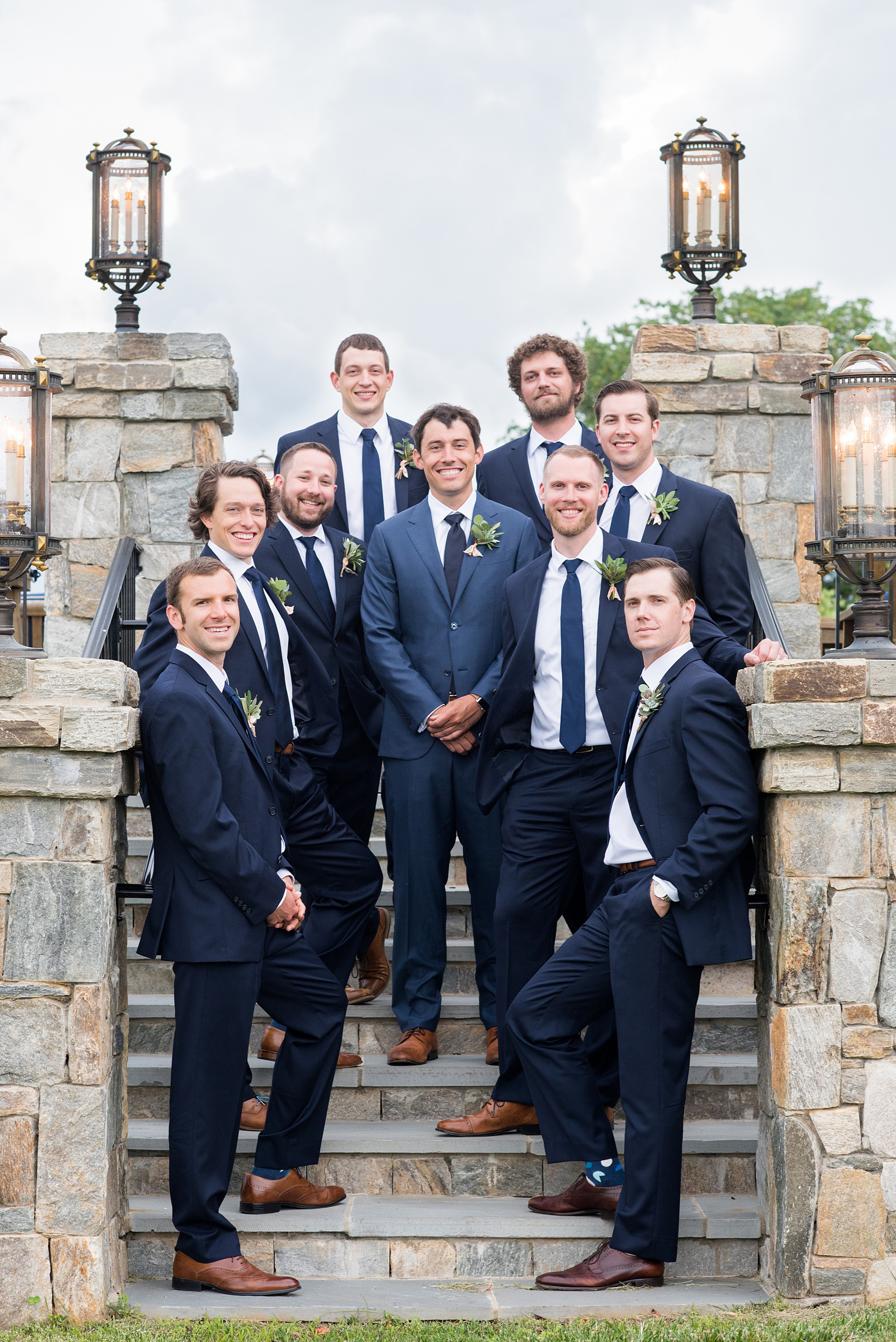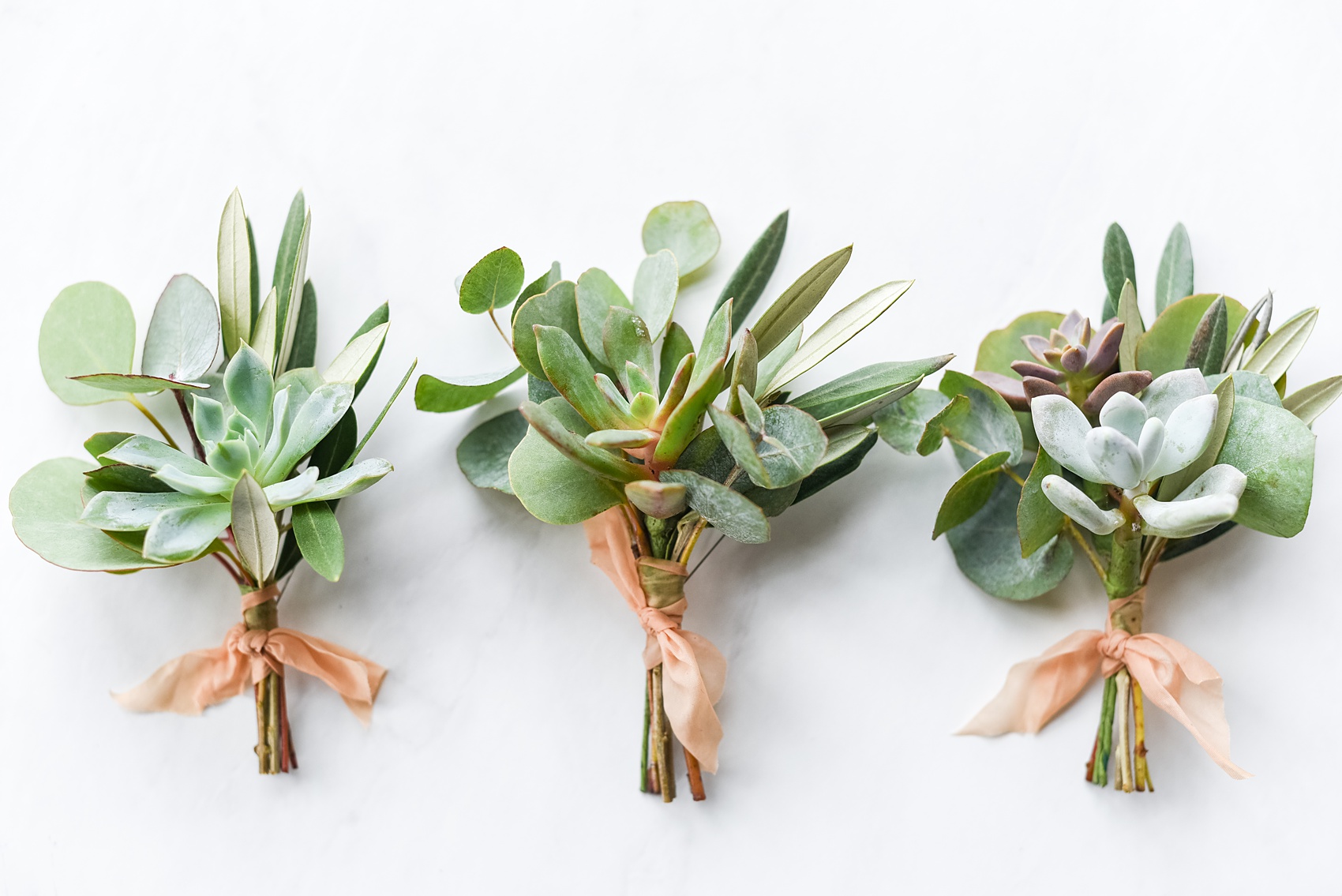 The bride and groom decided to make a risky call to proceed with having their ceremony outdoors. They say if there's no risk there's no reward. And their risk paid off in a big way – their wish of getting married overlooking the Blue Ridge Mountains in a beautiful outdoor setting came true! The rain held up and their wedding photos at The Lodge at Mount Ida Farm would now be as they fully imagined.
Their ceremony aisle was lined with fresh flower arrangements. Two barrels stood at its entrance holding two of the grandest arrangements that perfectly framed the view. The front row was for family, who could comfortably view Lucy and Van's marriage ceremony on upholstered sofas and chairs from Cottage Luxe. Ceremony programs double as fans and entertainment. There was a wordsearch puzzle on the back with words to find pertaining to the bride and groom's lives.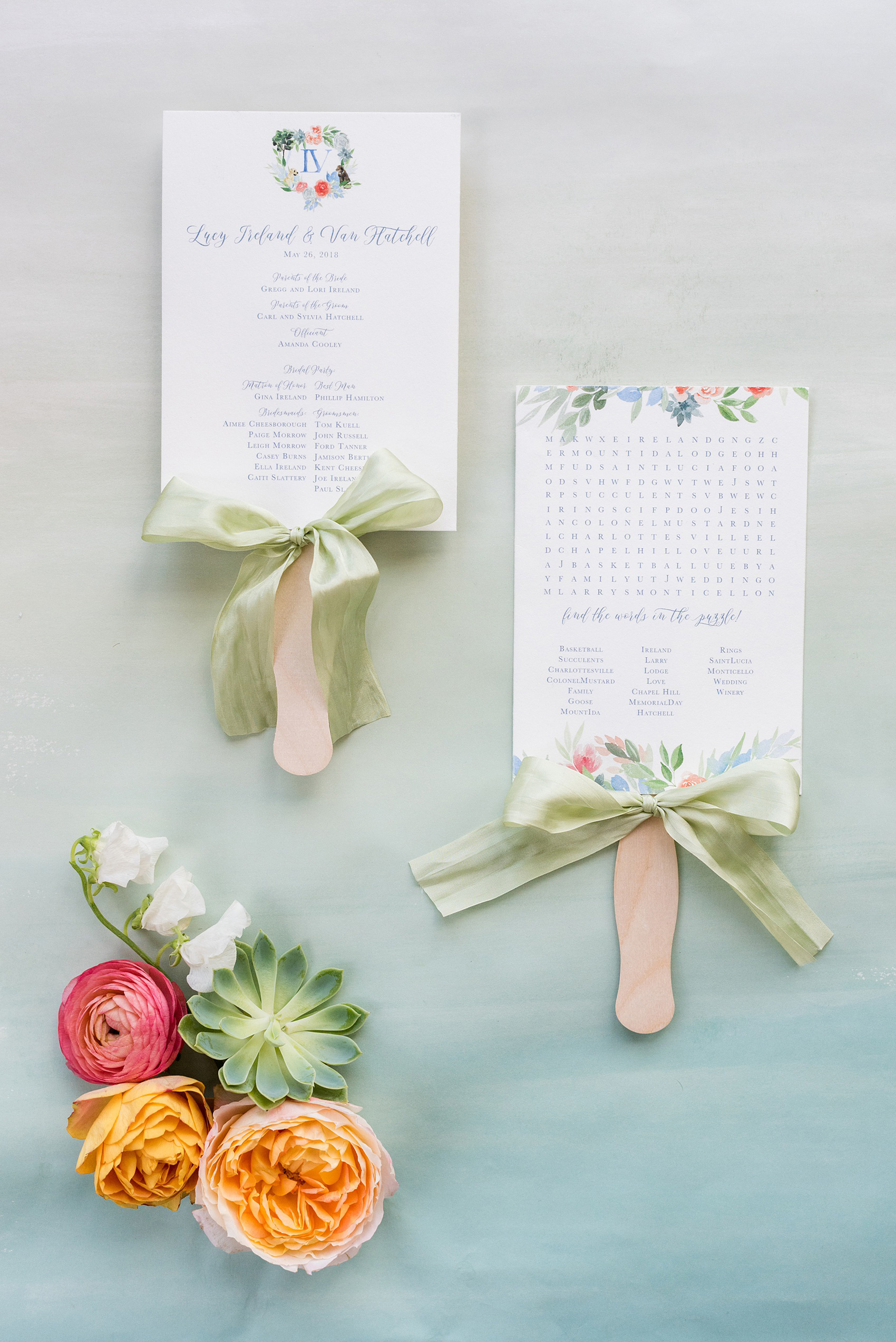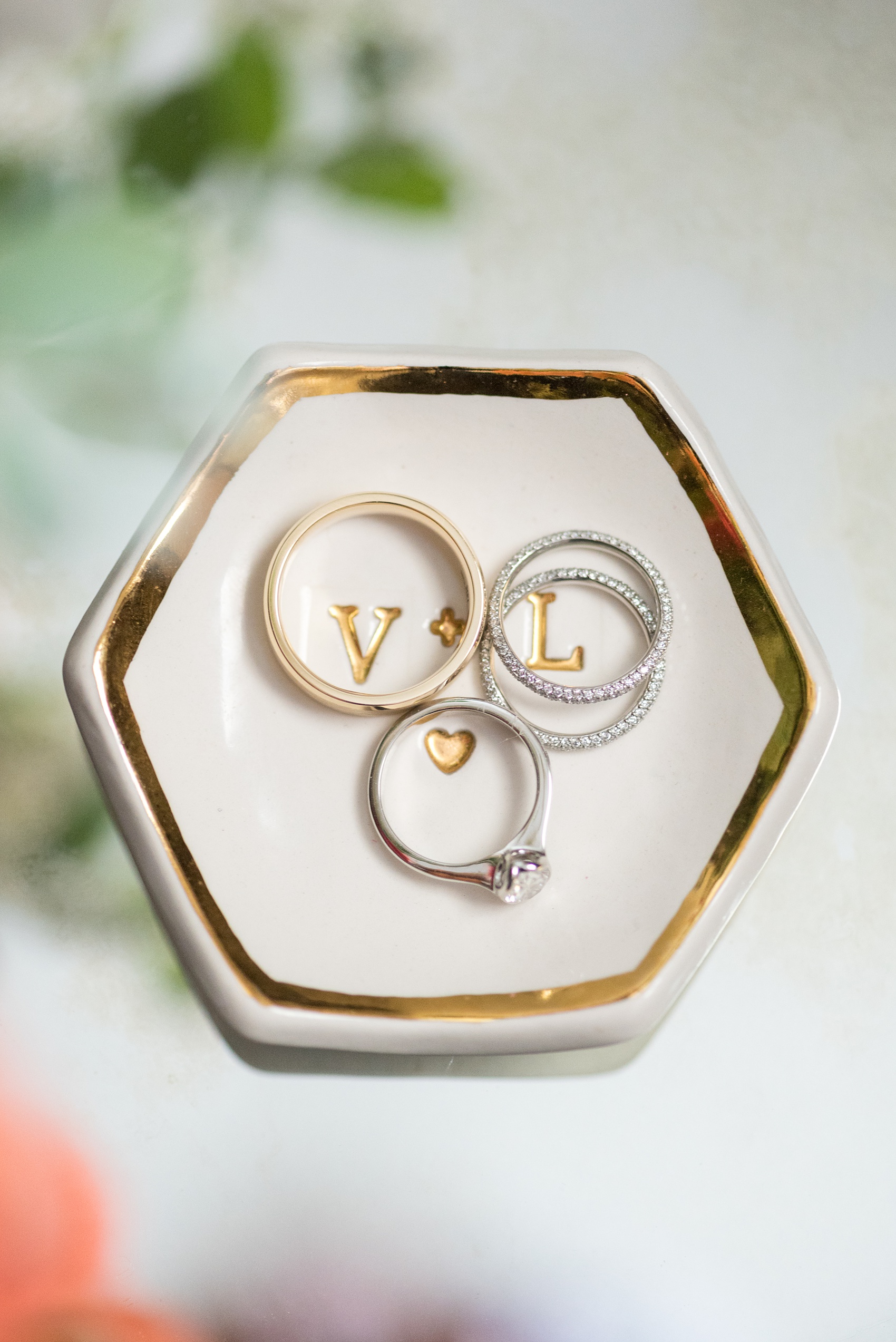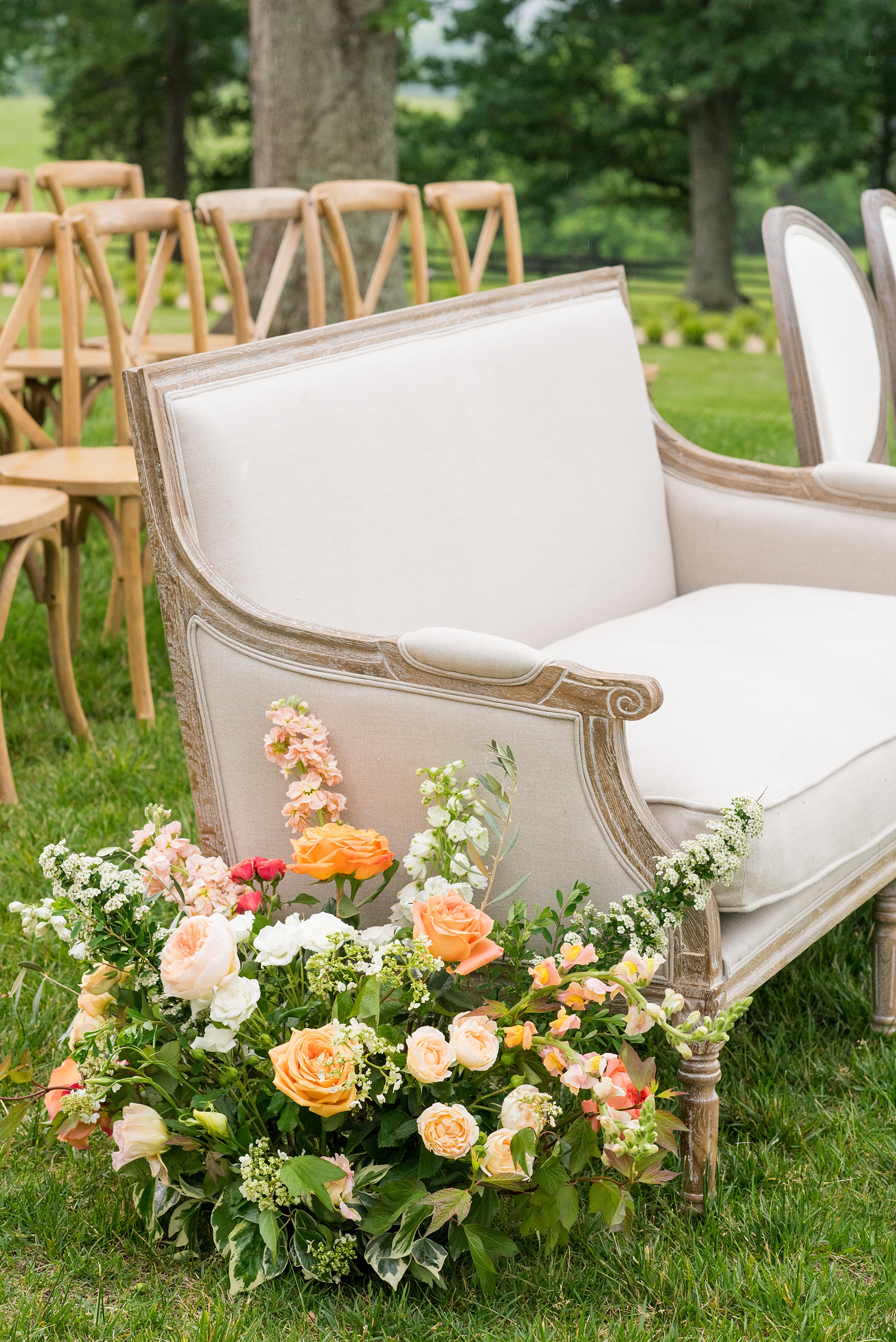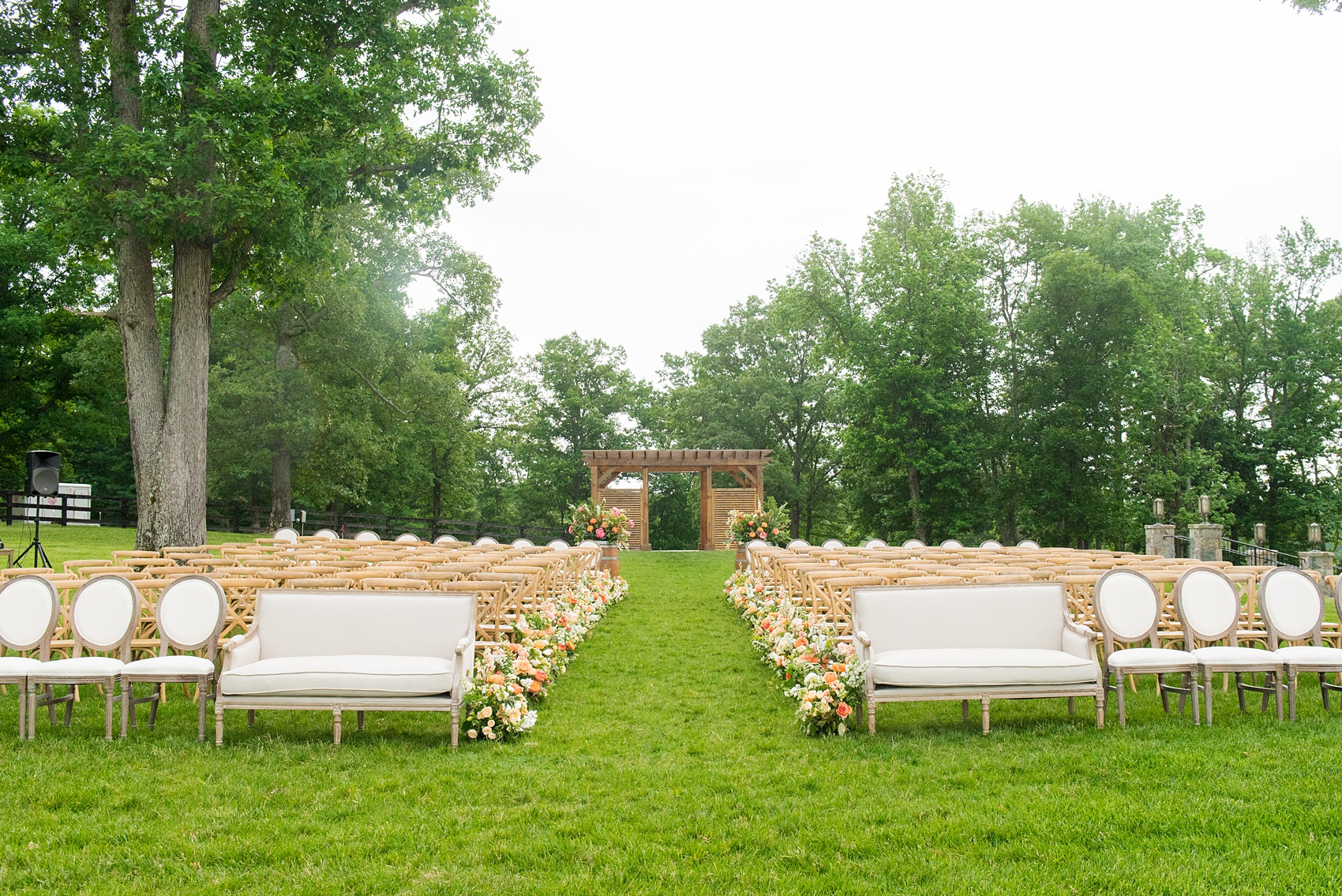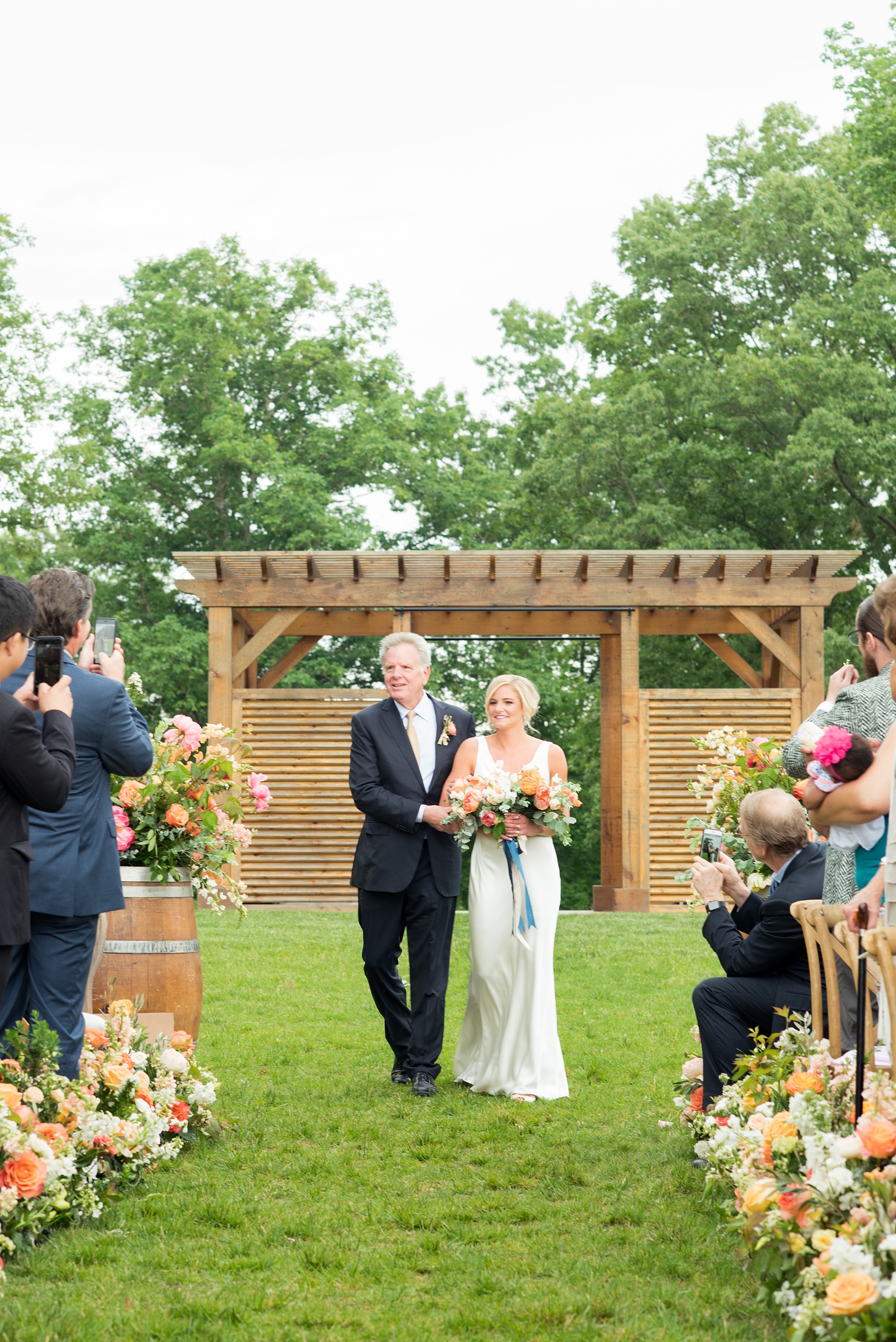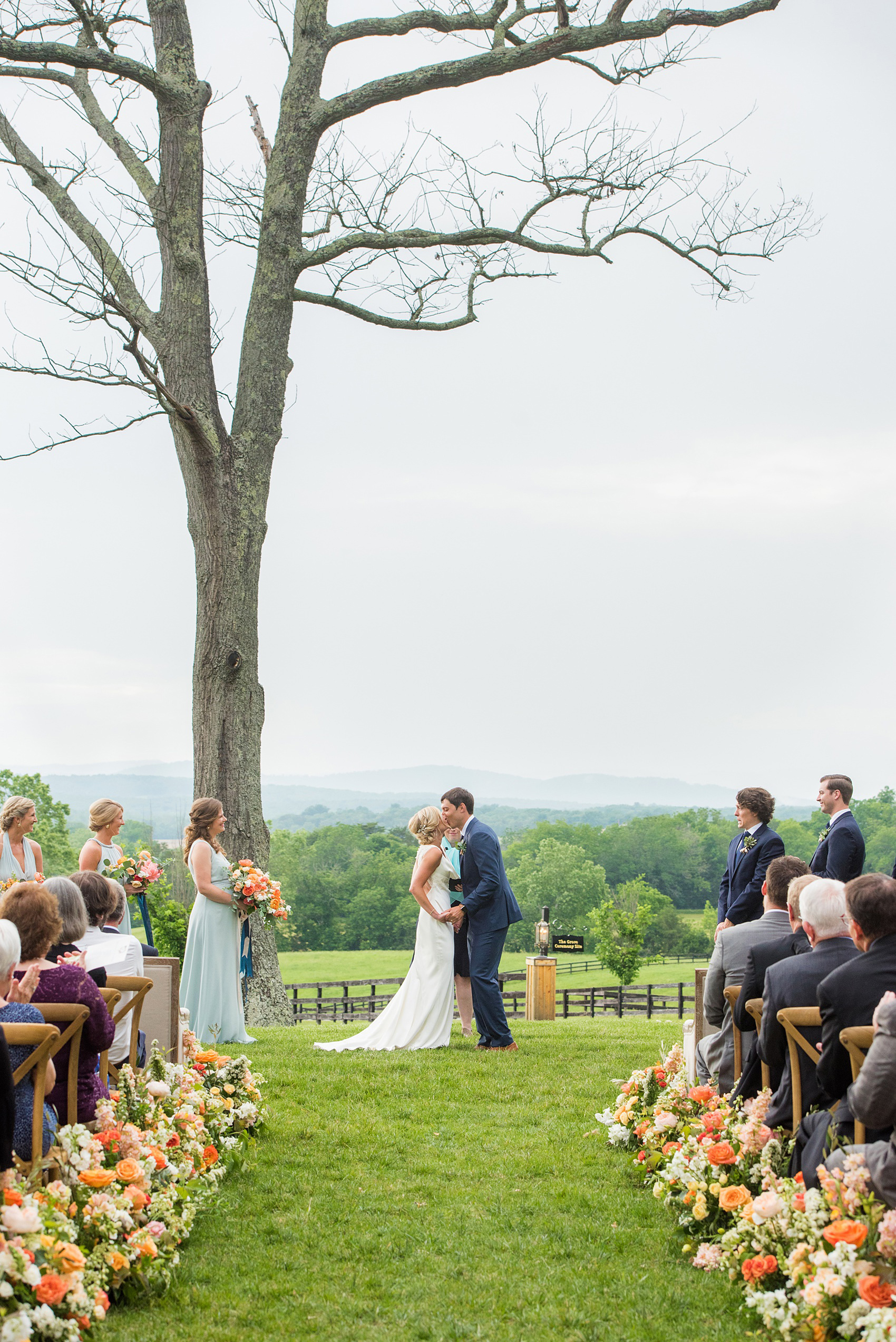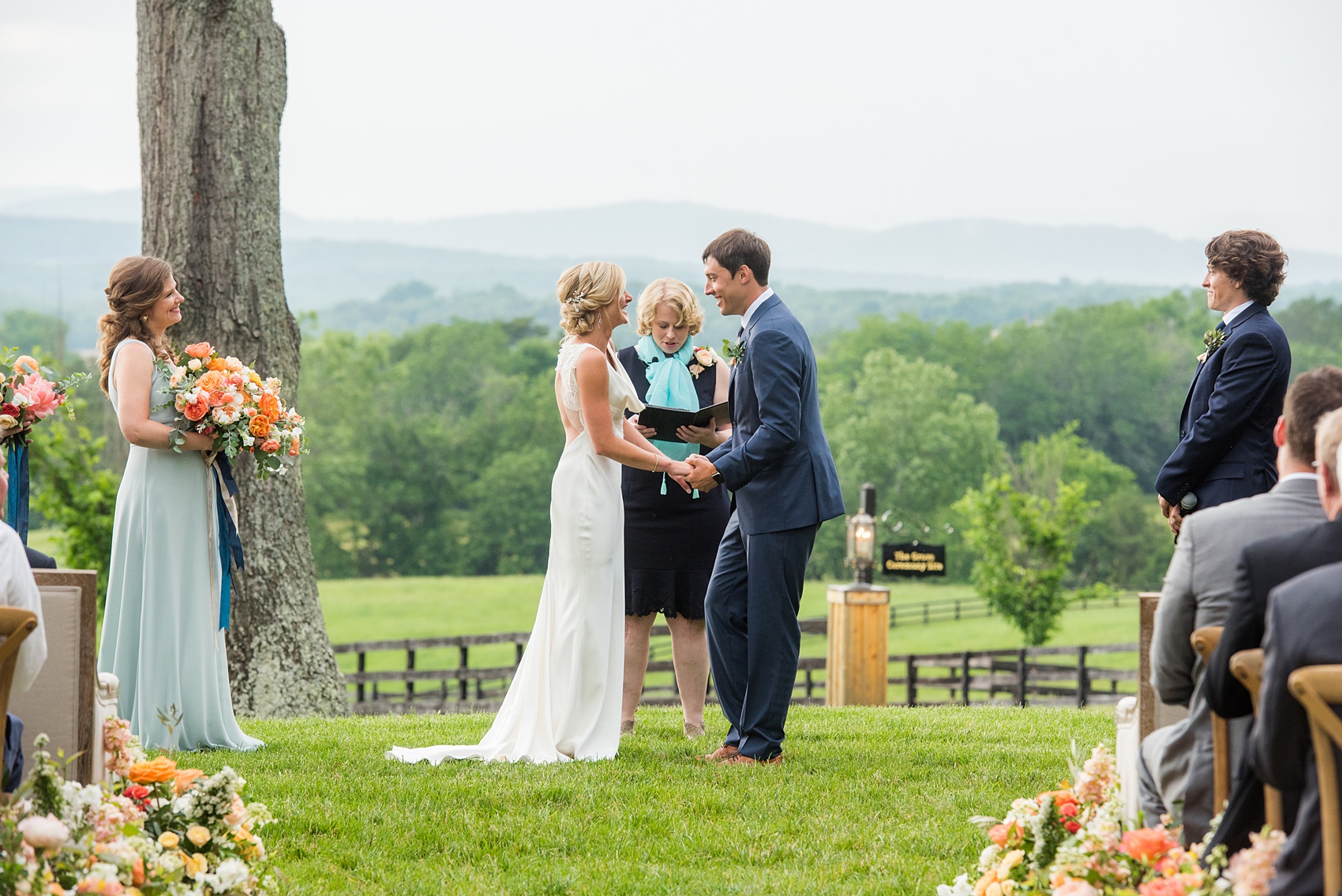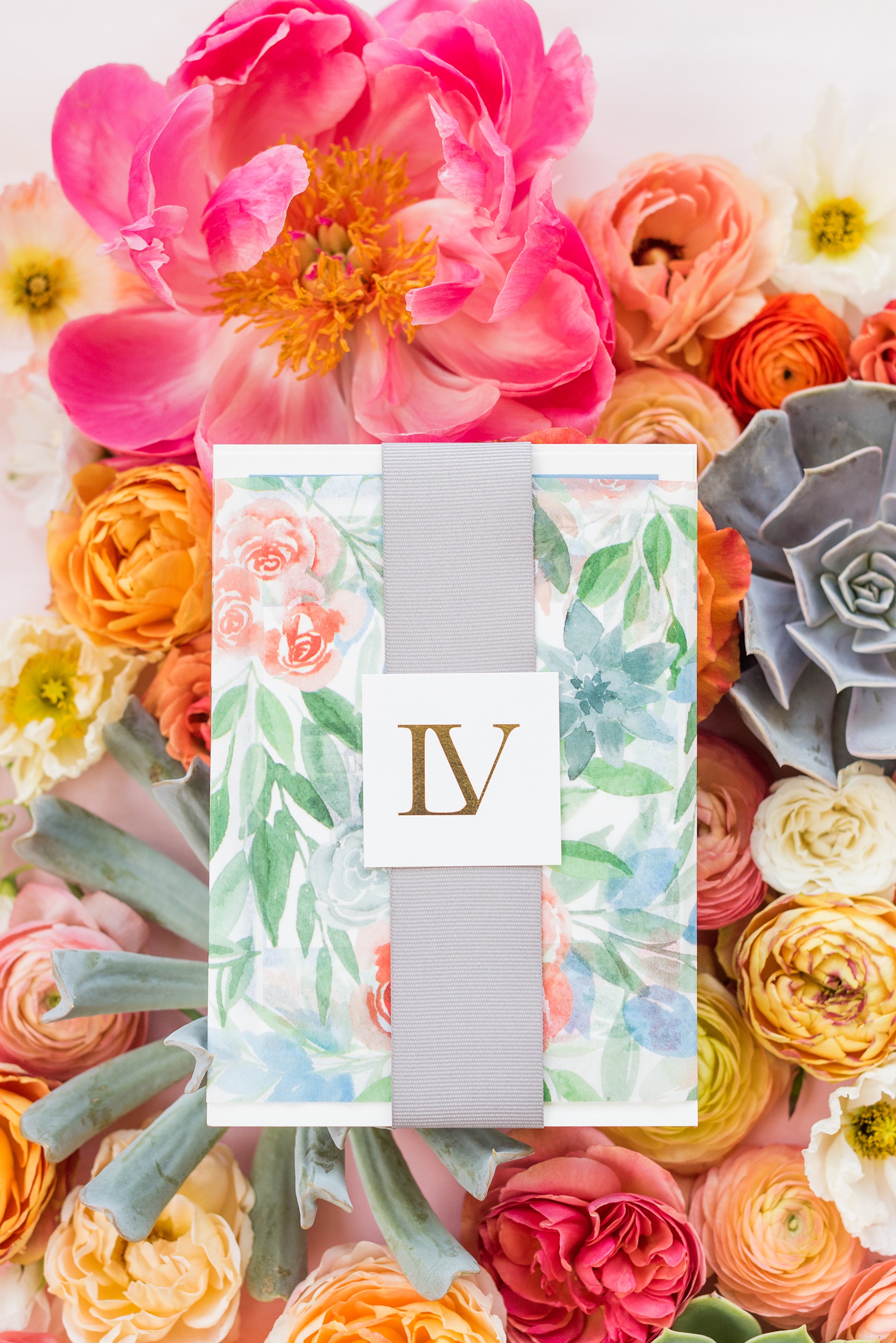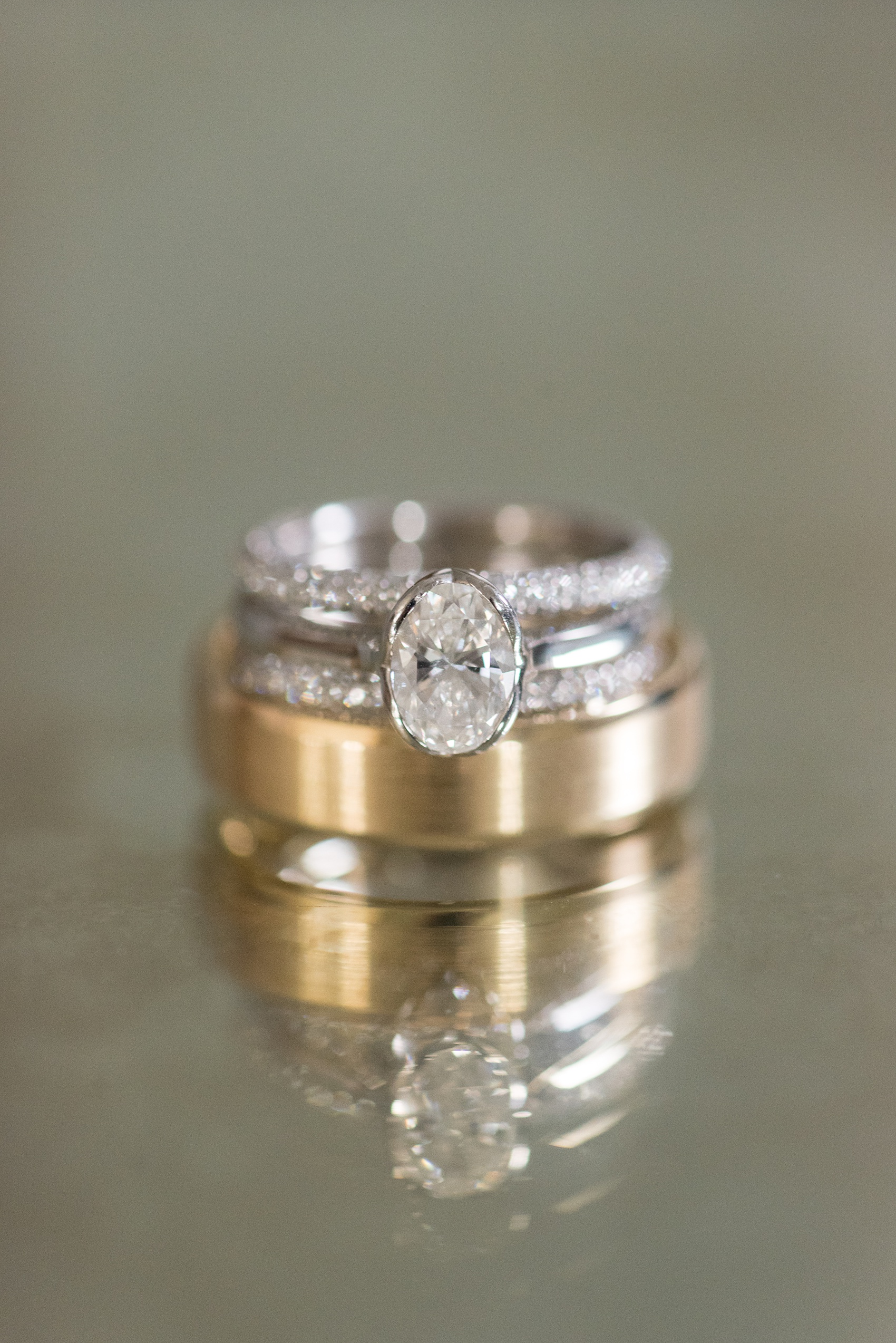 Guests headed to cocktail hour down the hill after their "I Dos", closer to the barn at Mount Ida Farm. We stayed uphill to capture their family photos, wedding party images and of course pictures of the newlyweds with the breathtaking scenery.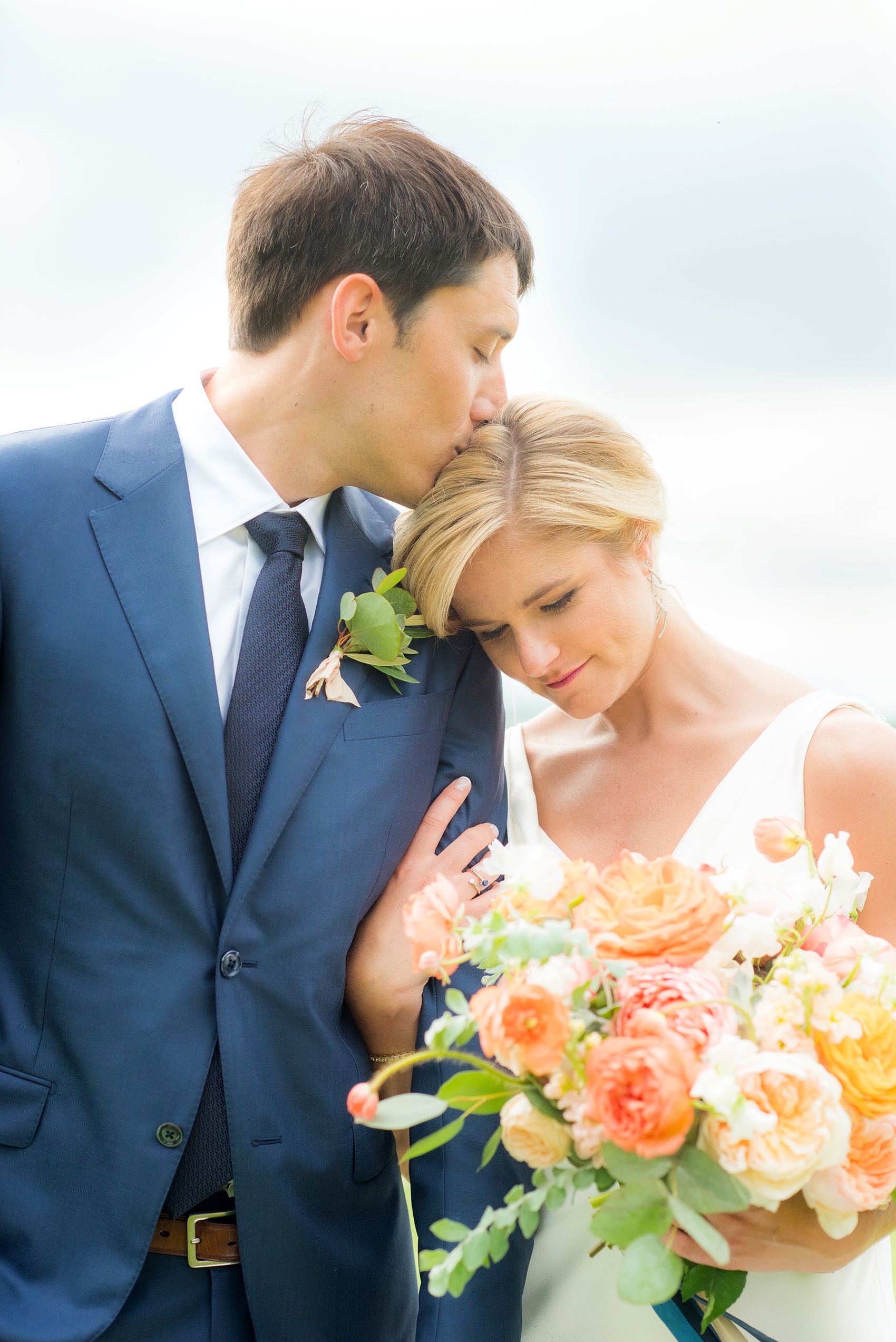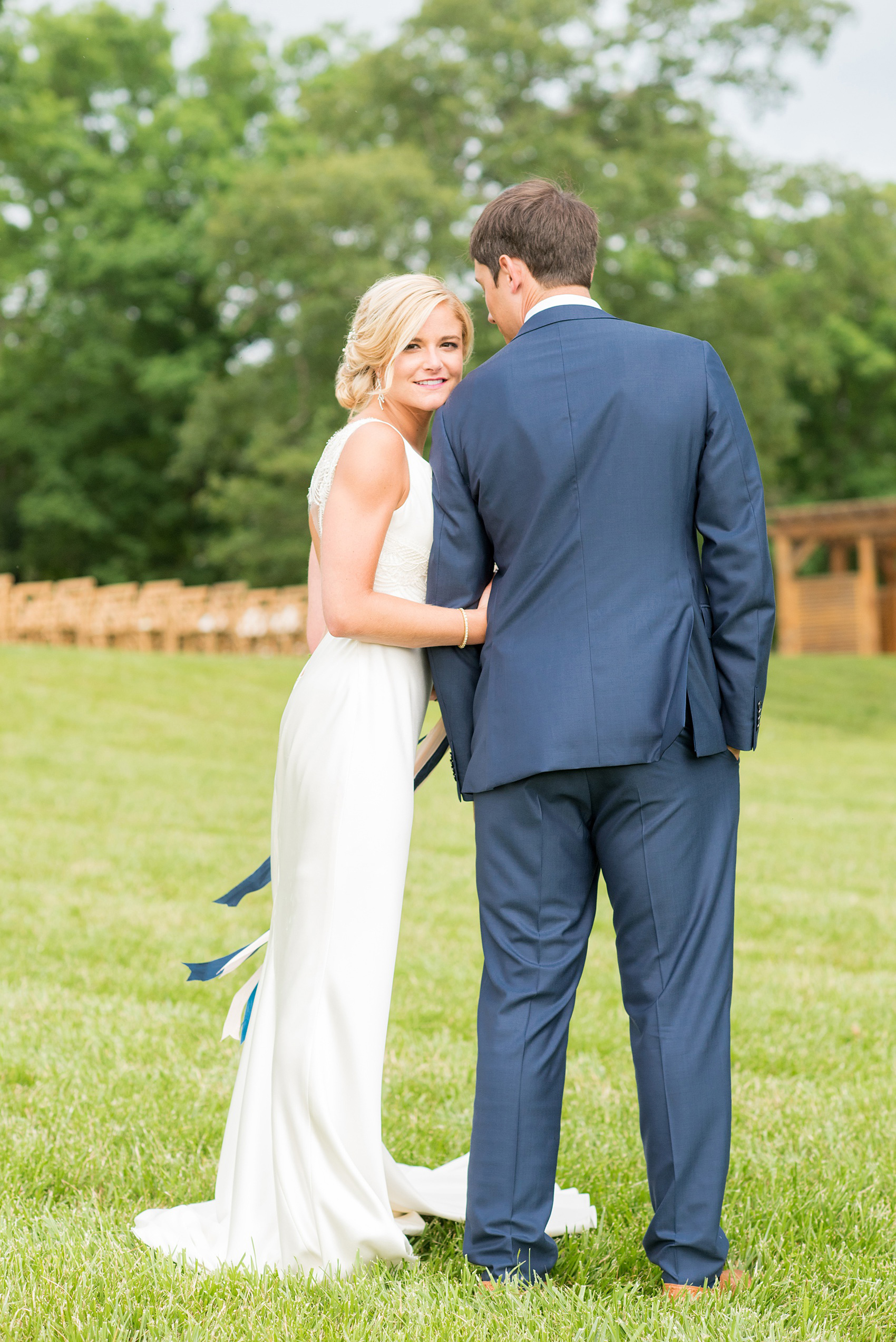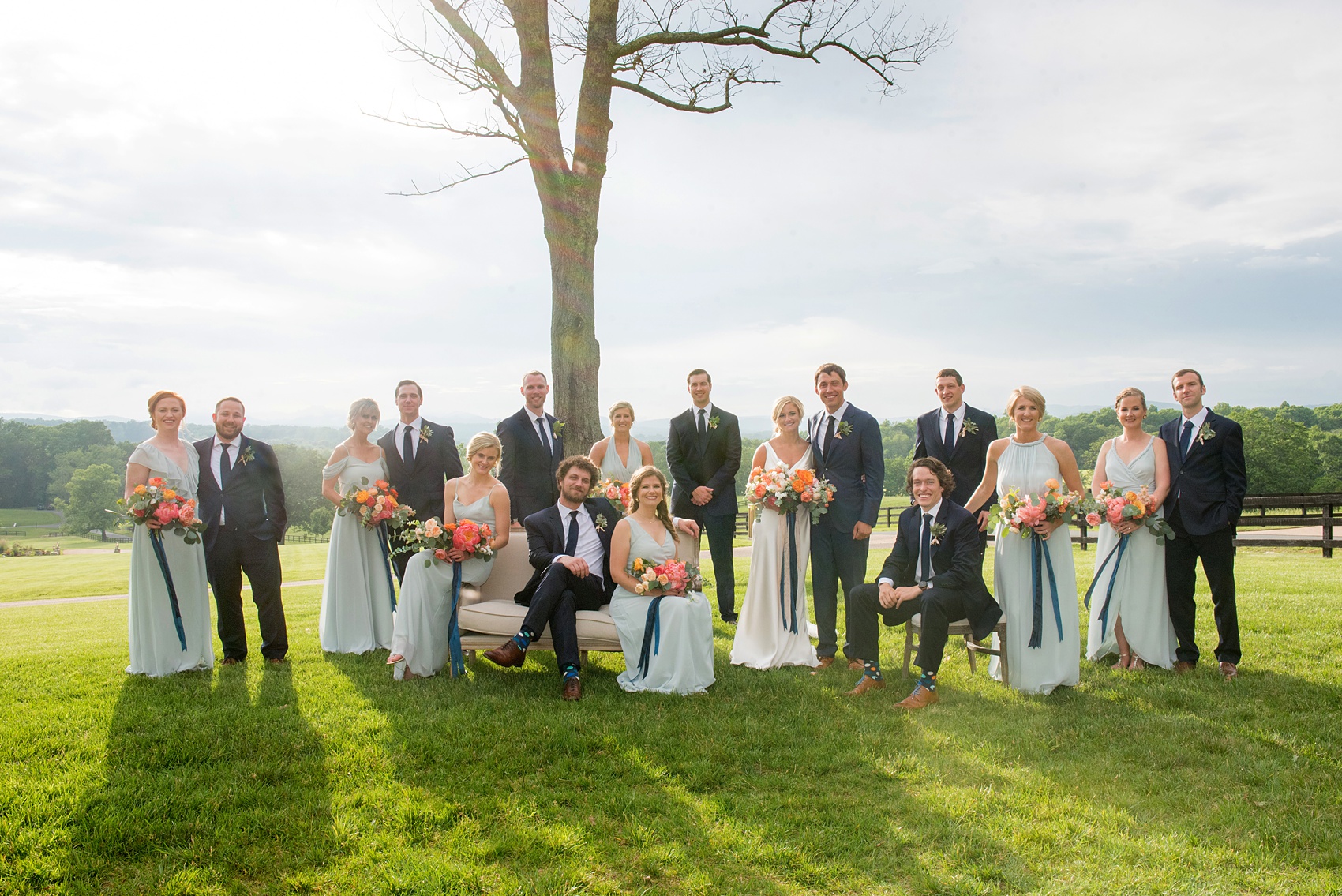 The groomsmen jumped into action when I requested we use the Cottage Luxe sofa as a bit of a prop for this Vogue-esque creative wedding party photo. That golden hour sunshine was melting my heart!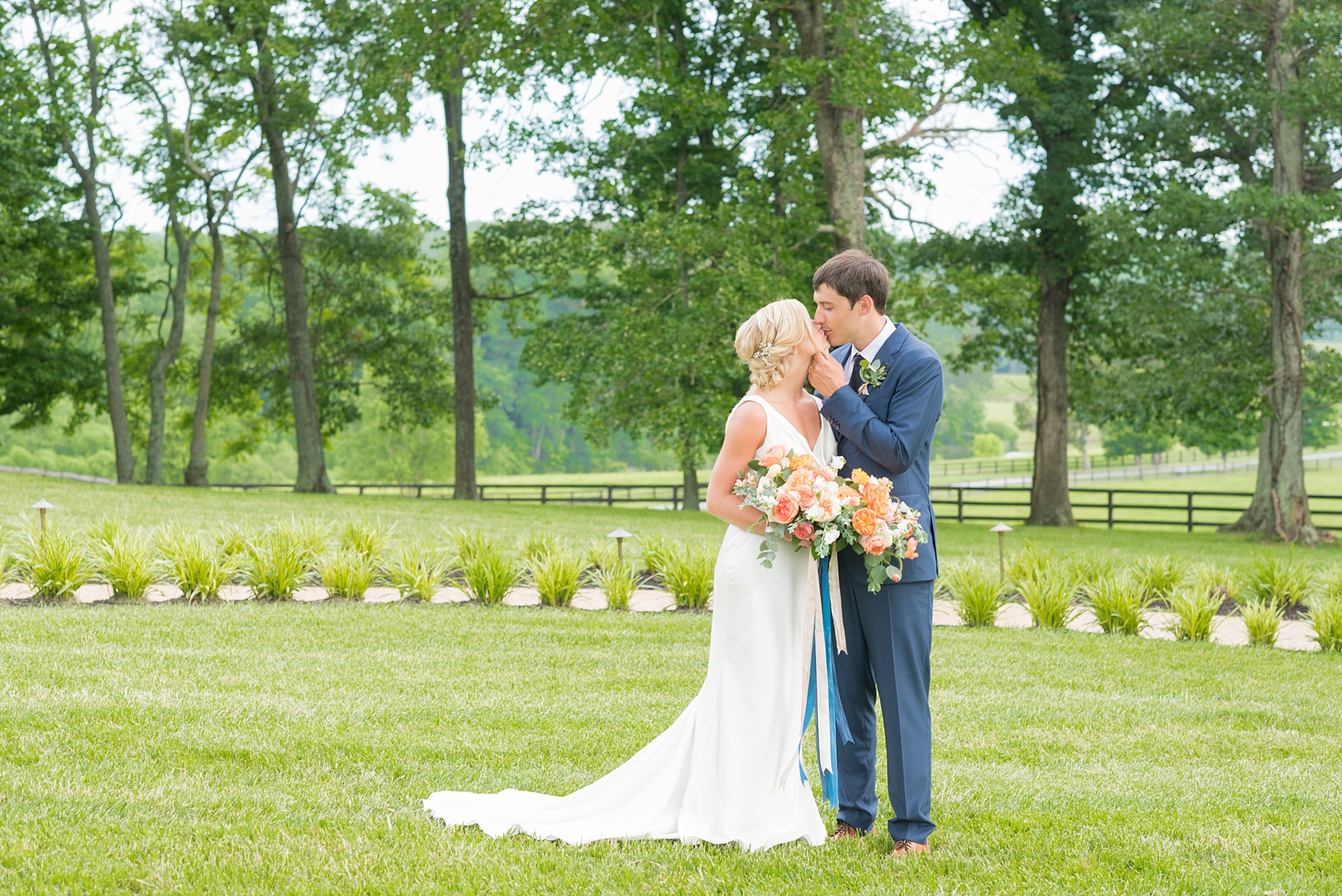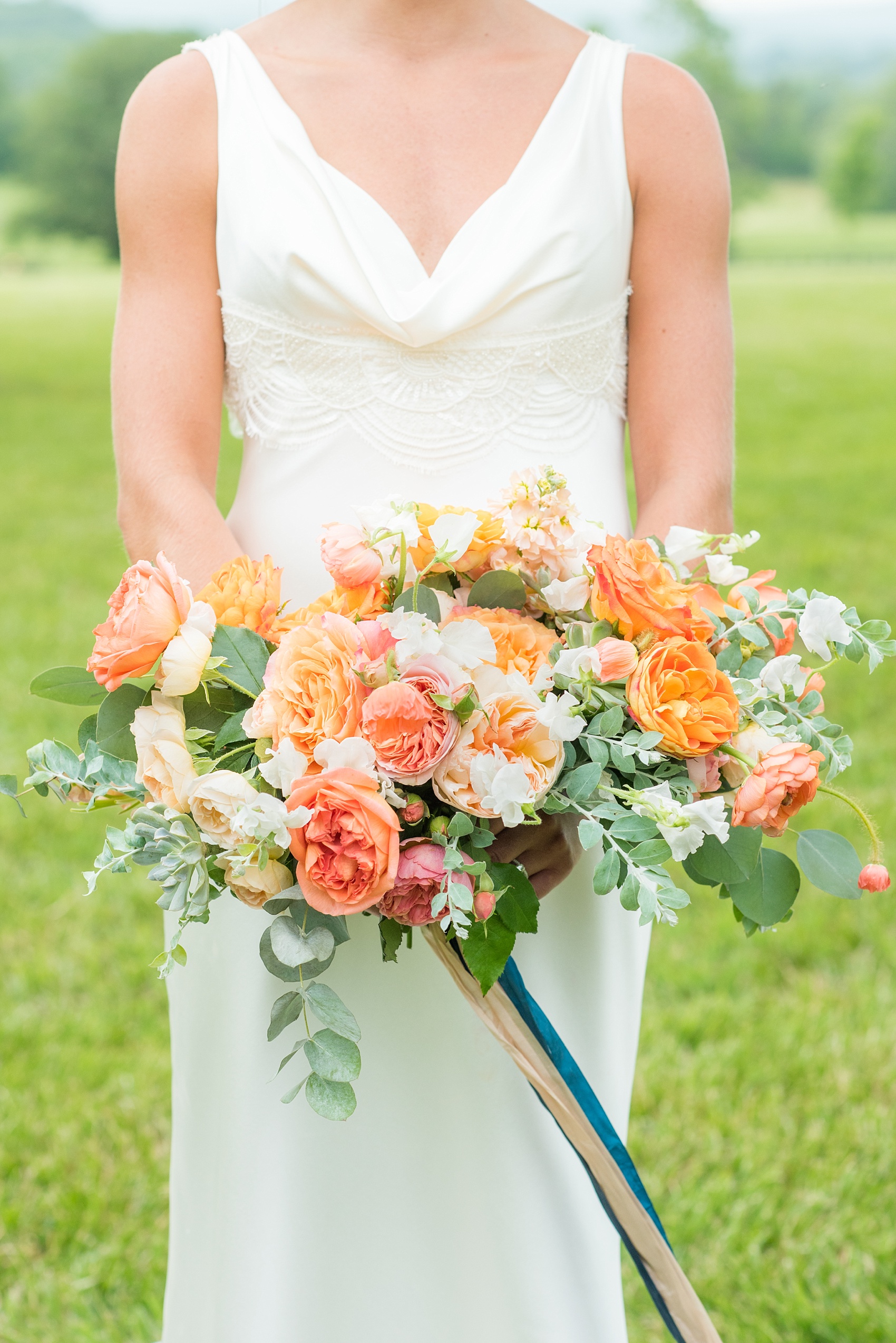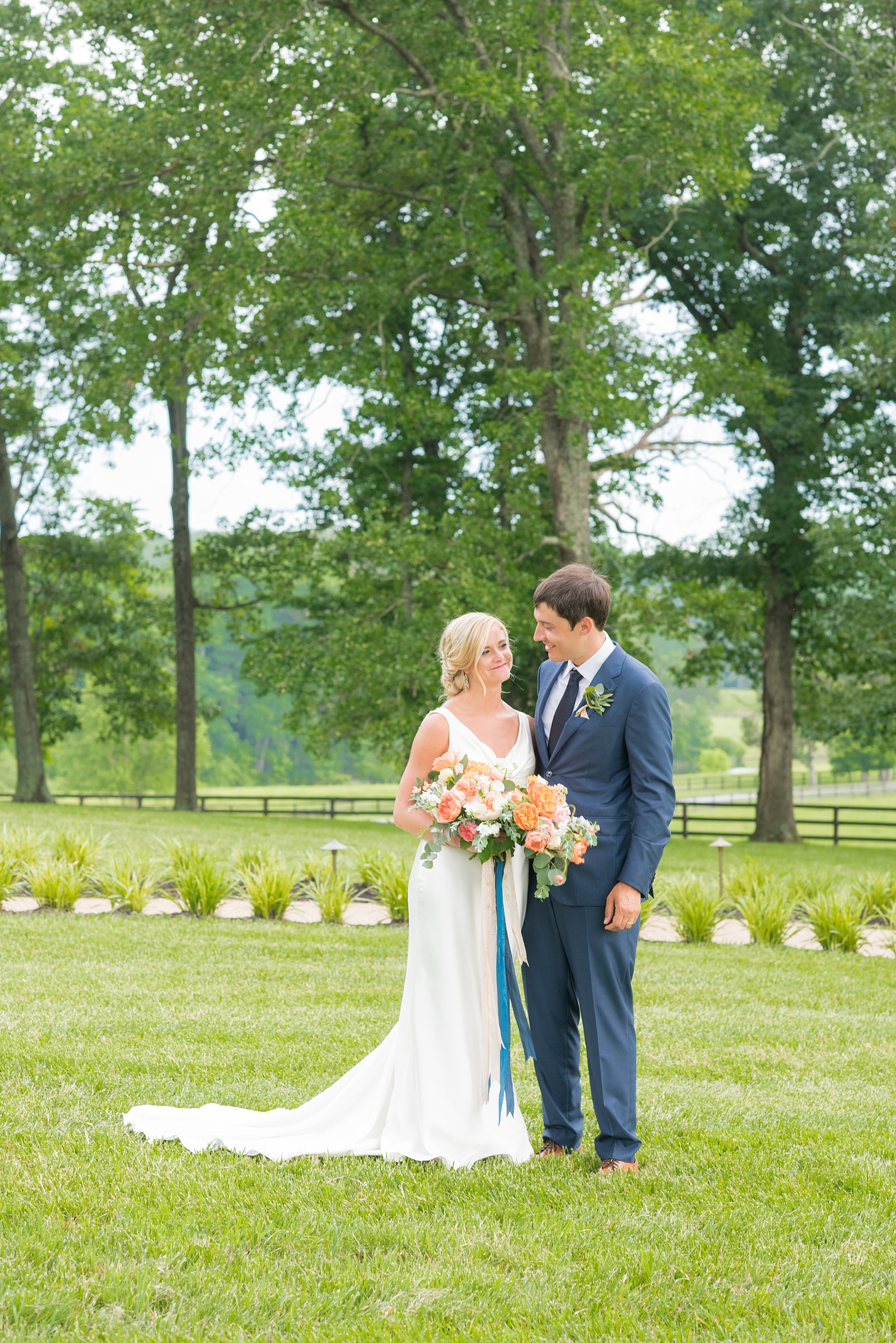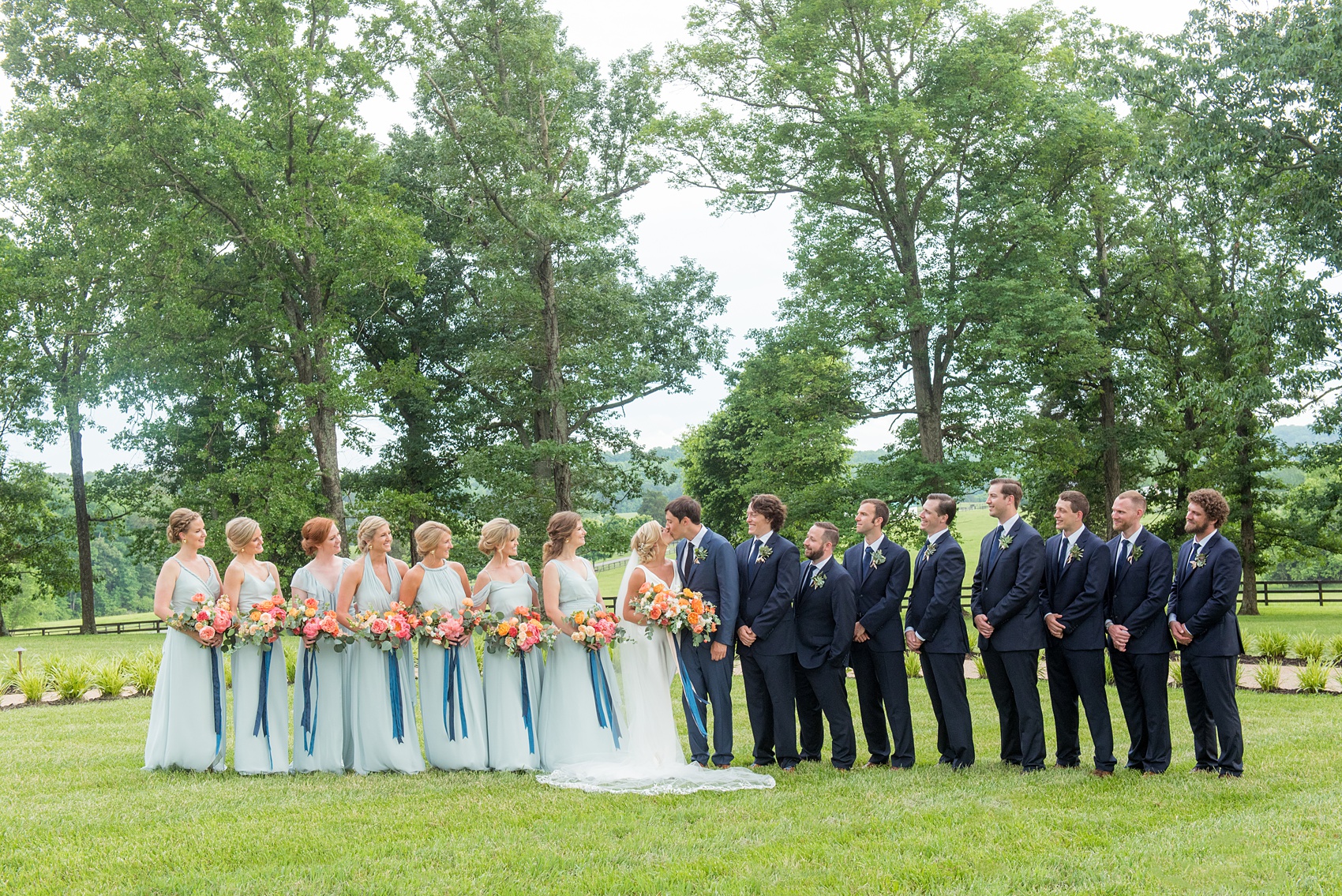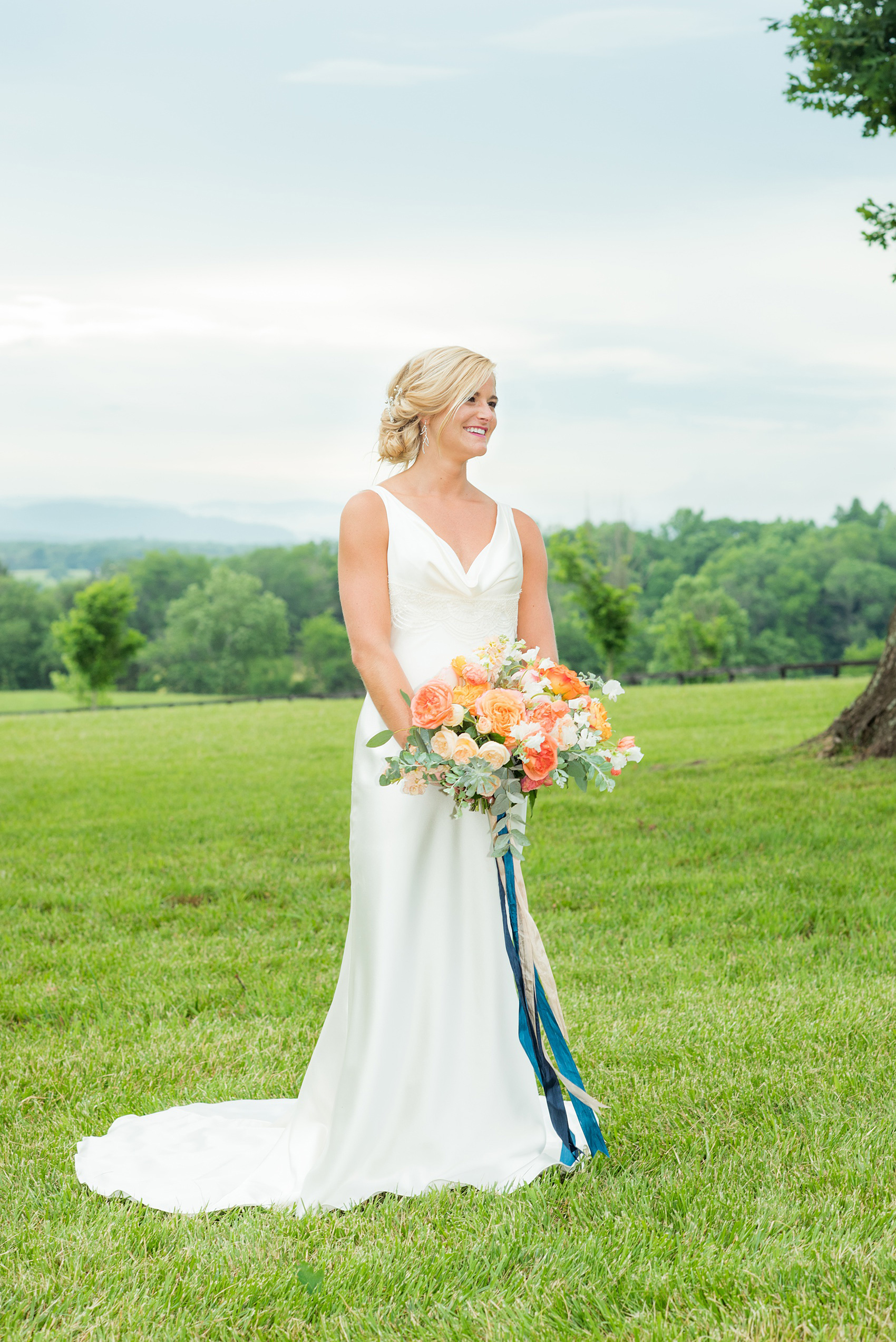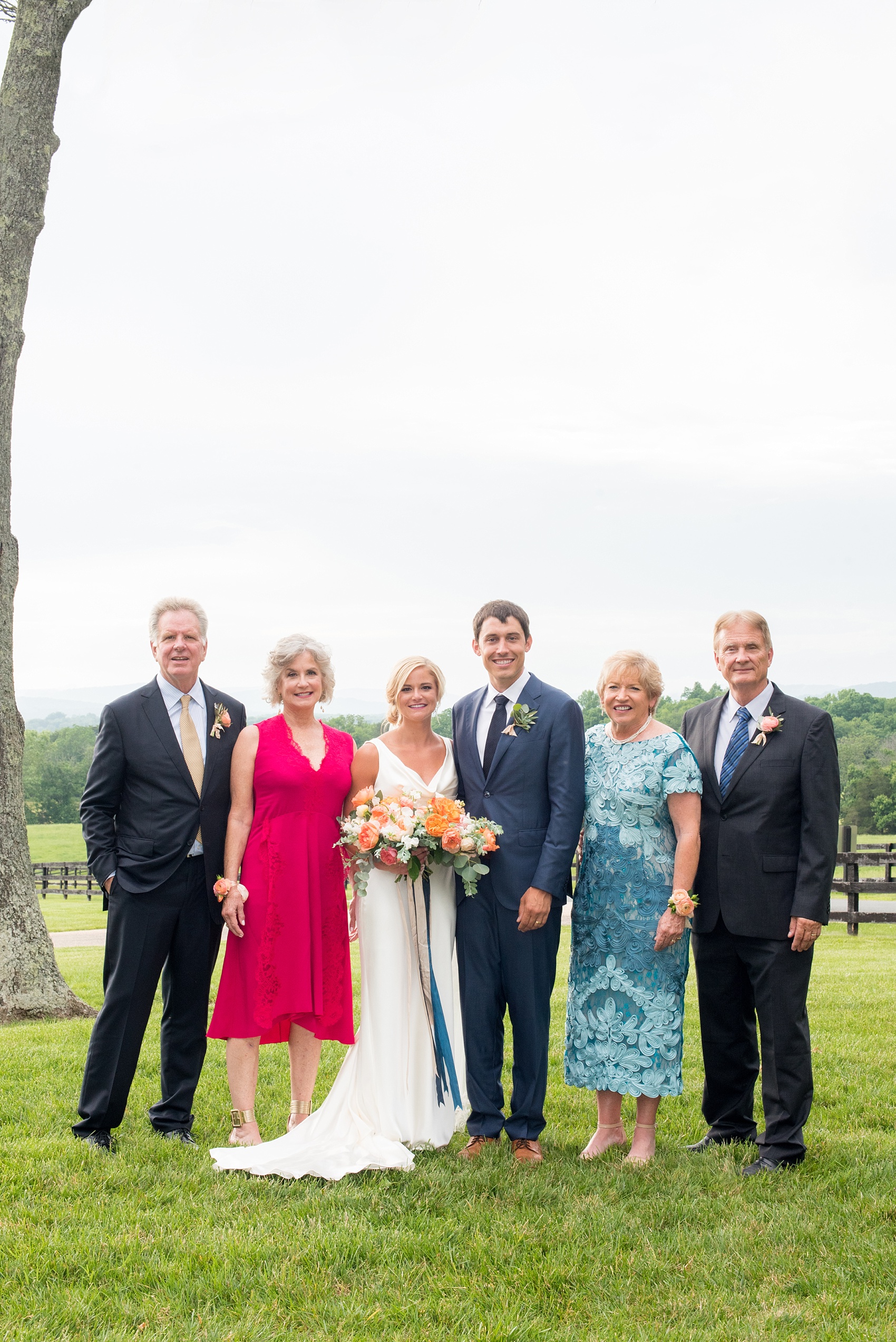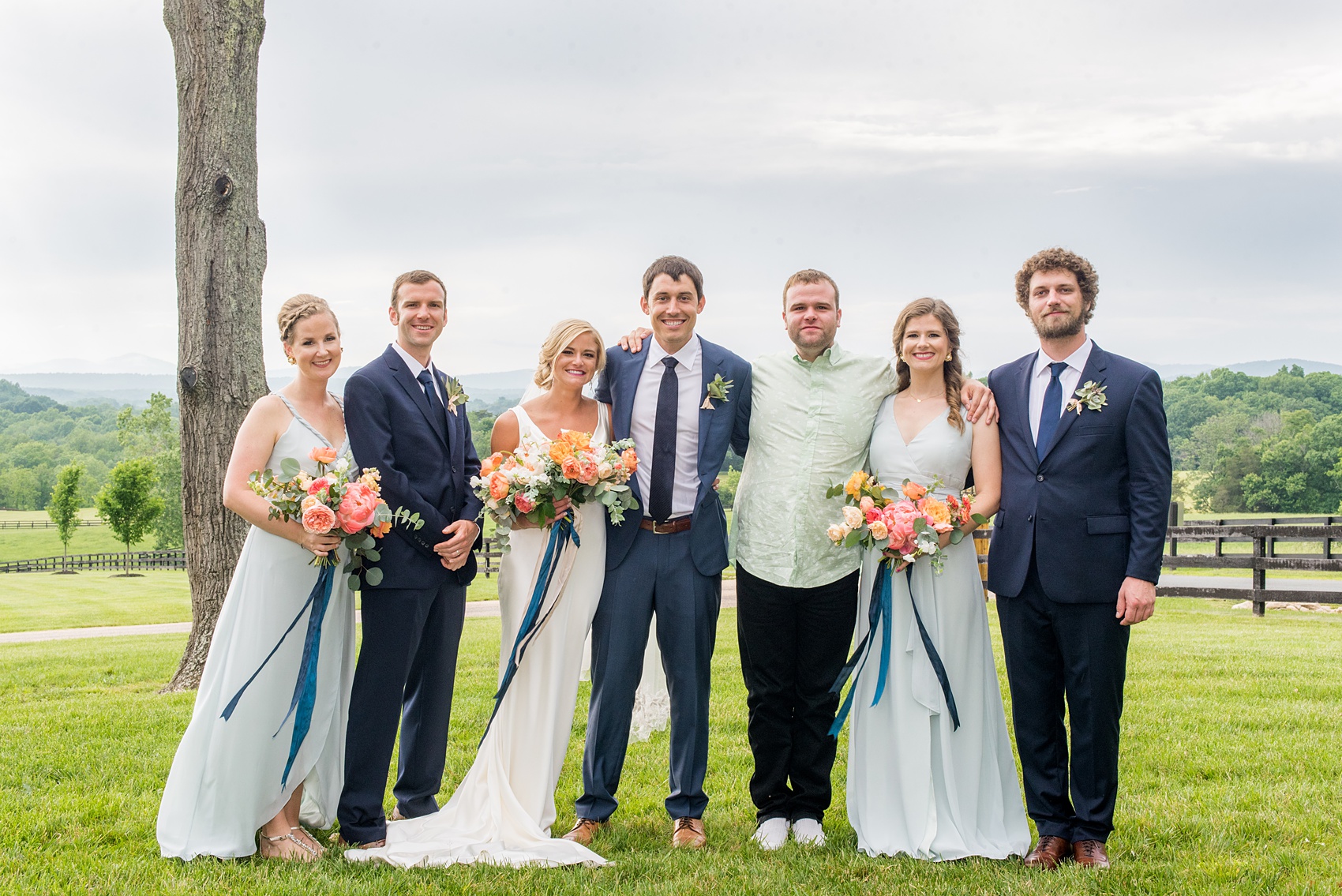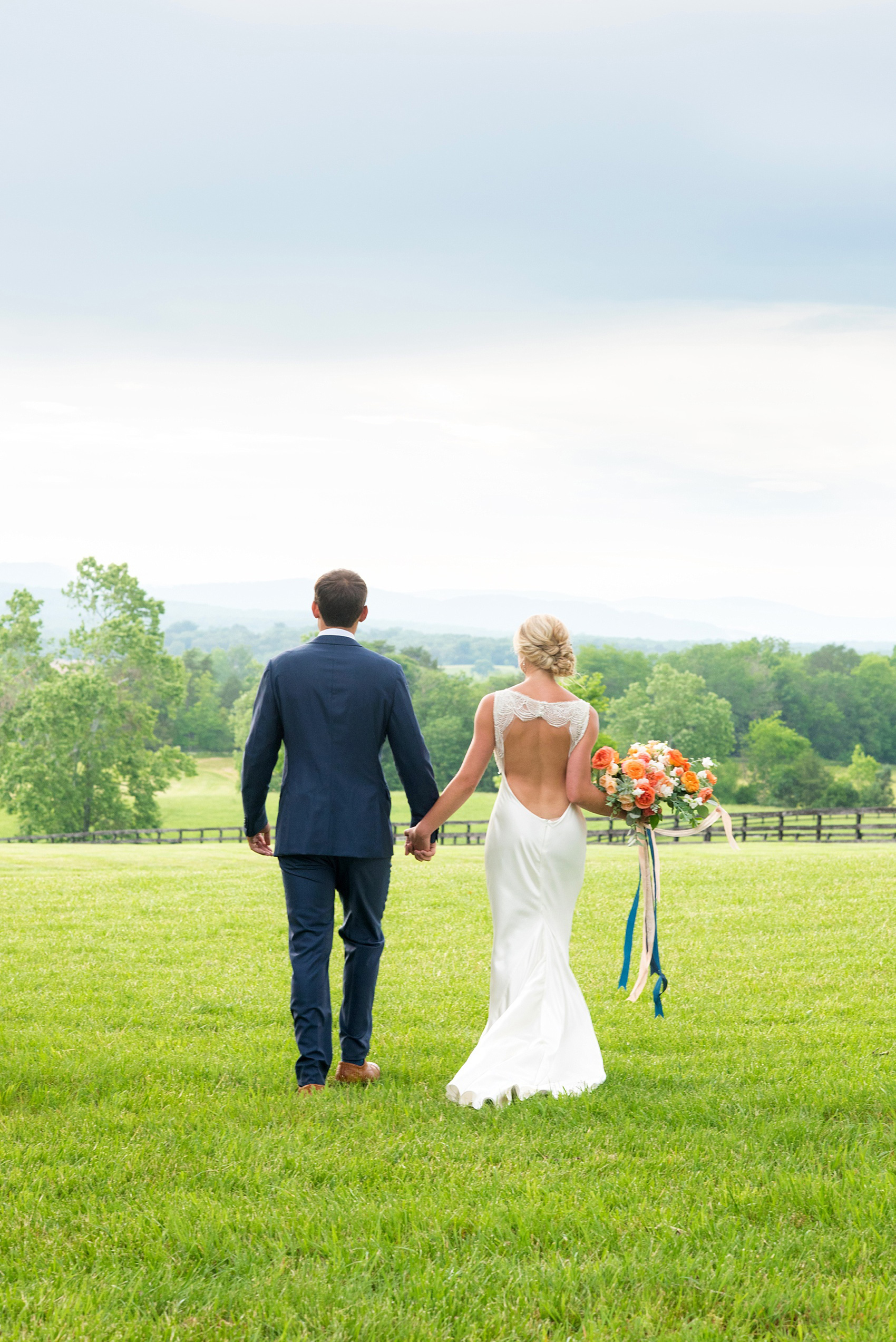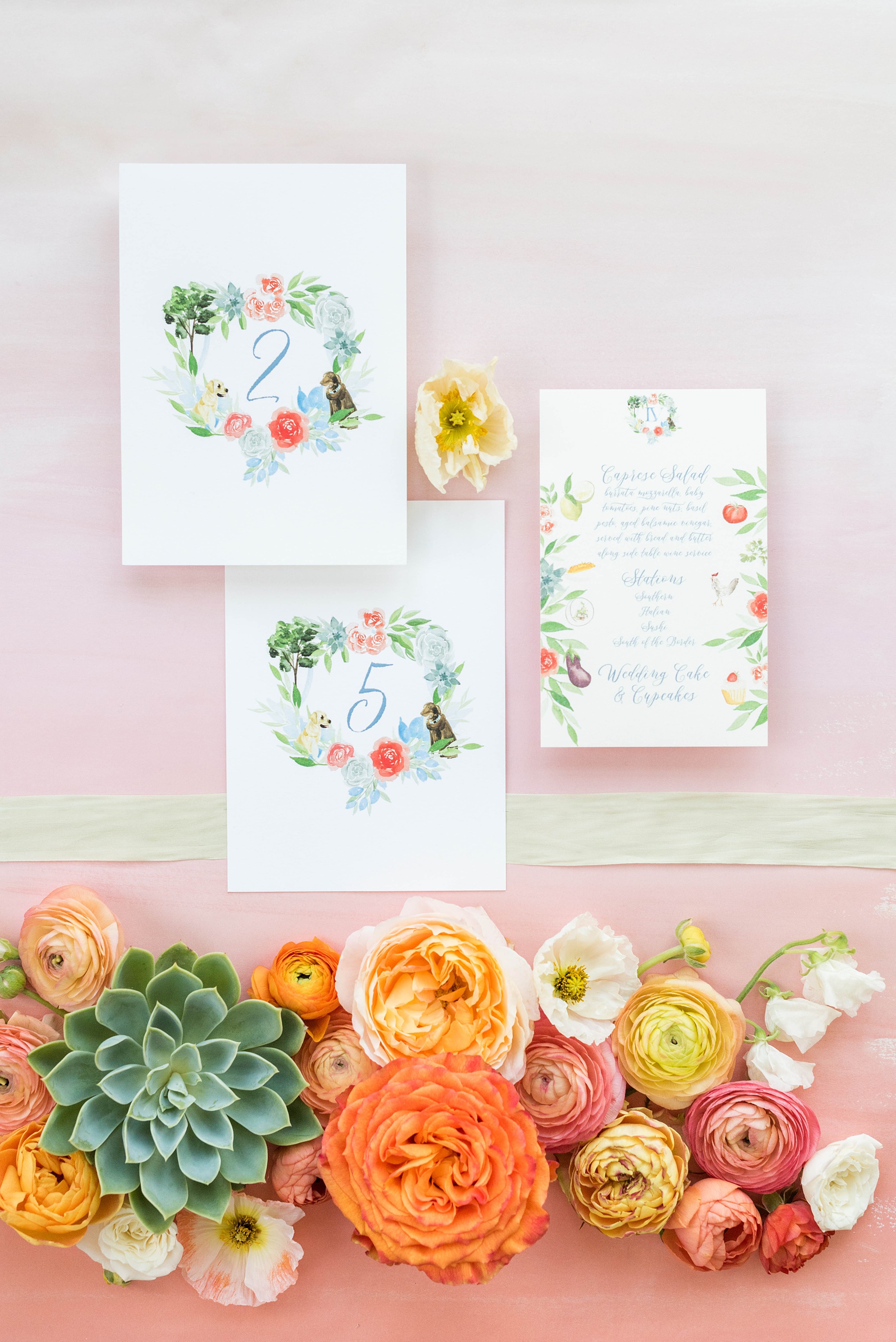 Back down the hill guests were fully enjoying cocktail hour with the sounds of a live bluegrass band. They found their places for the seated dinner on an oversized mirror at the barn's entrance with pretty calligraphy hand drawn in white letters.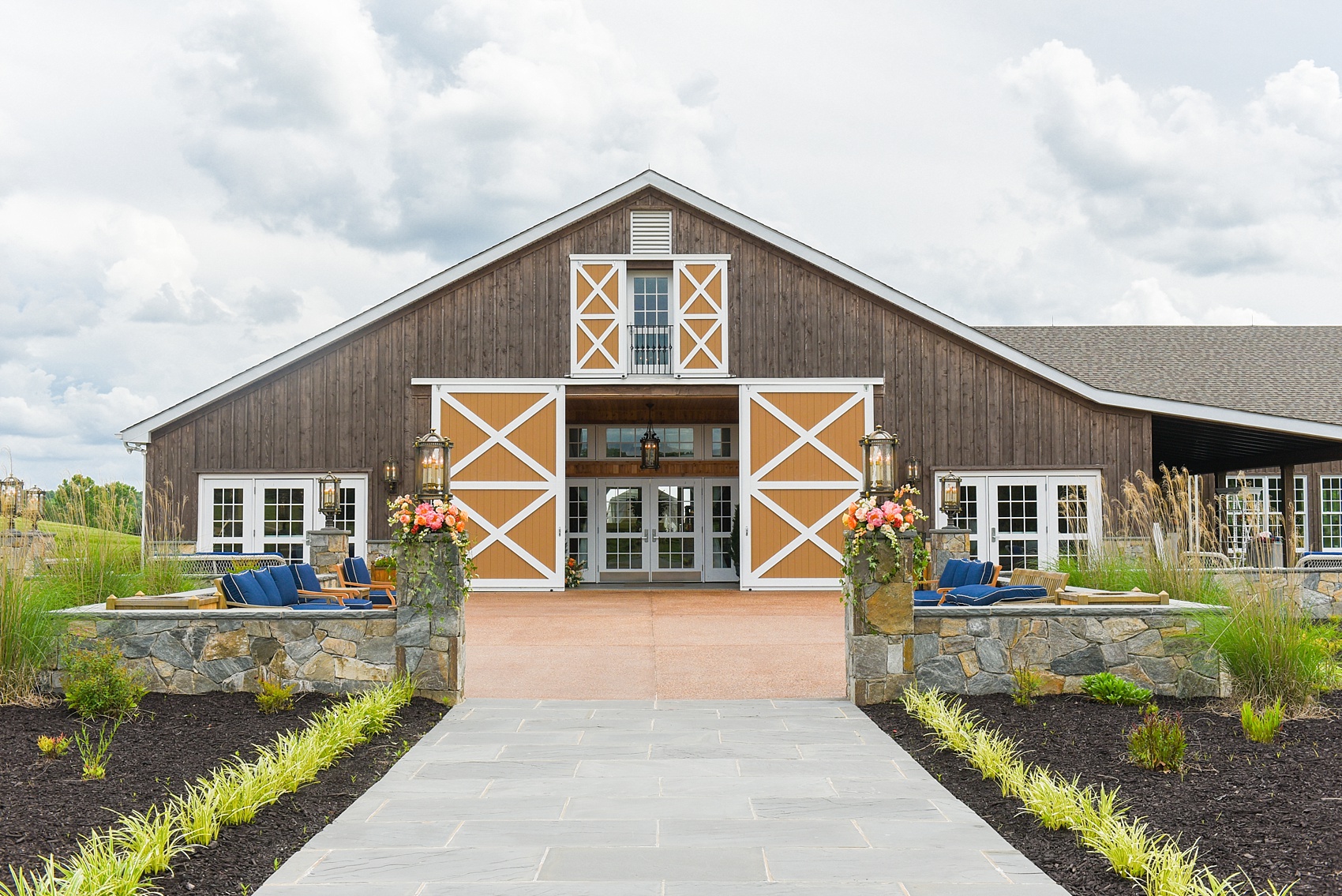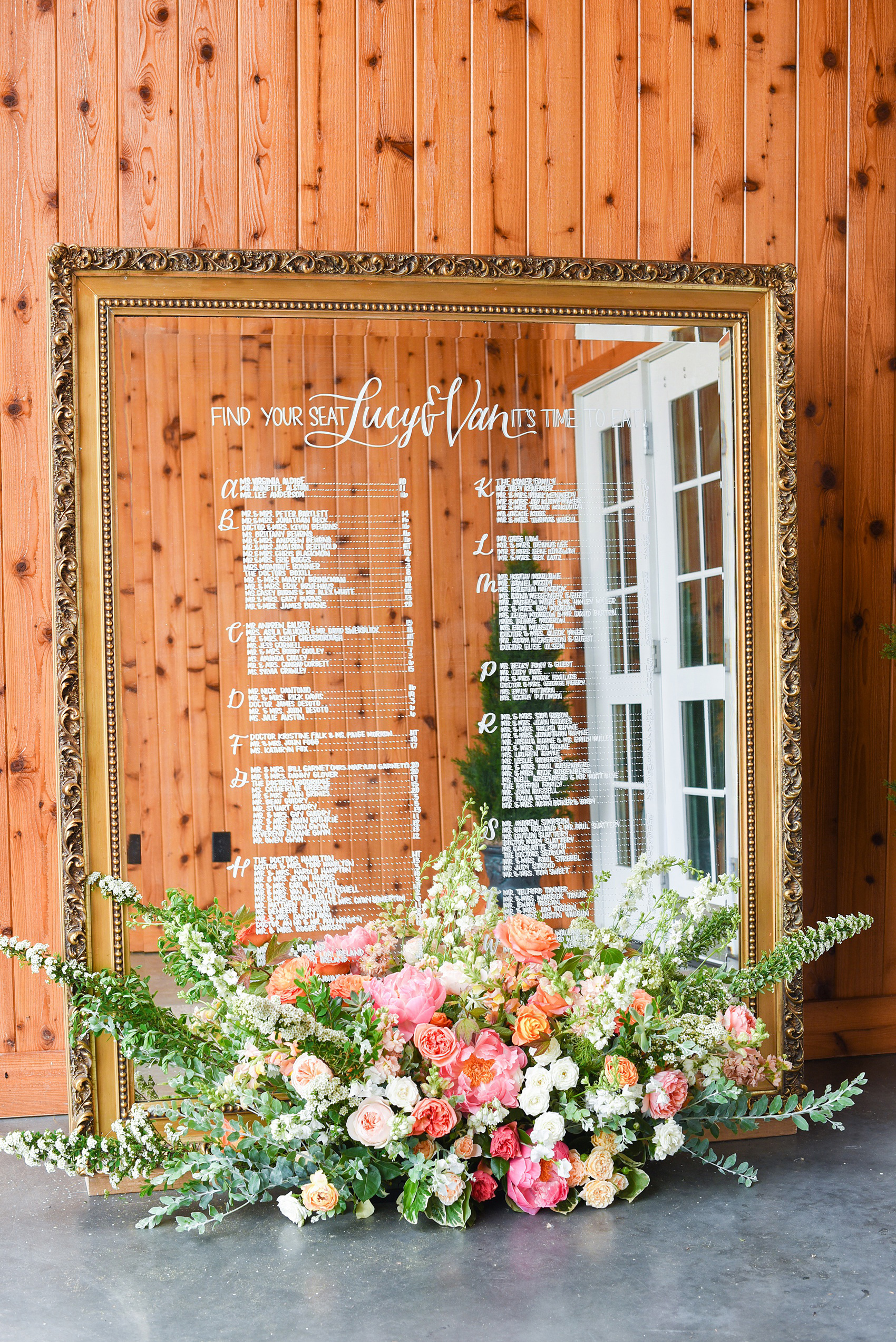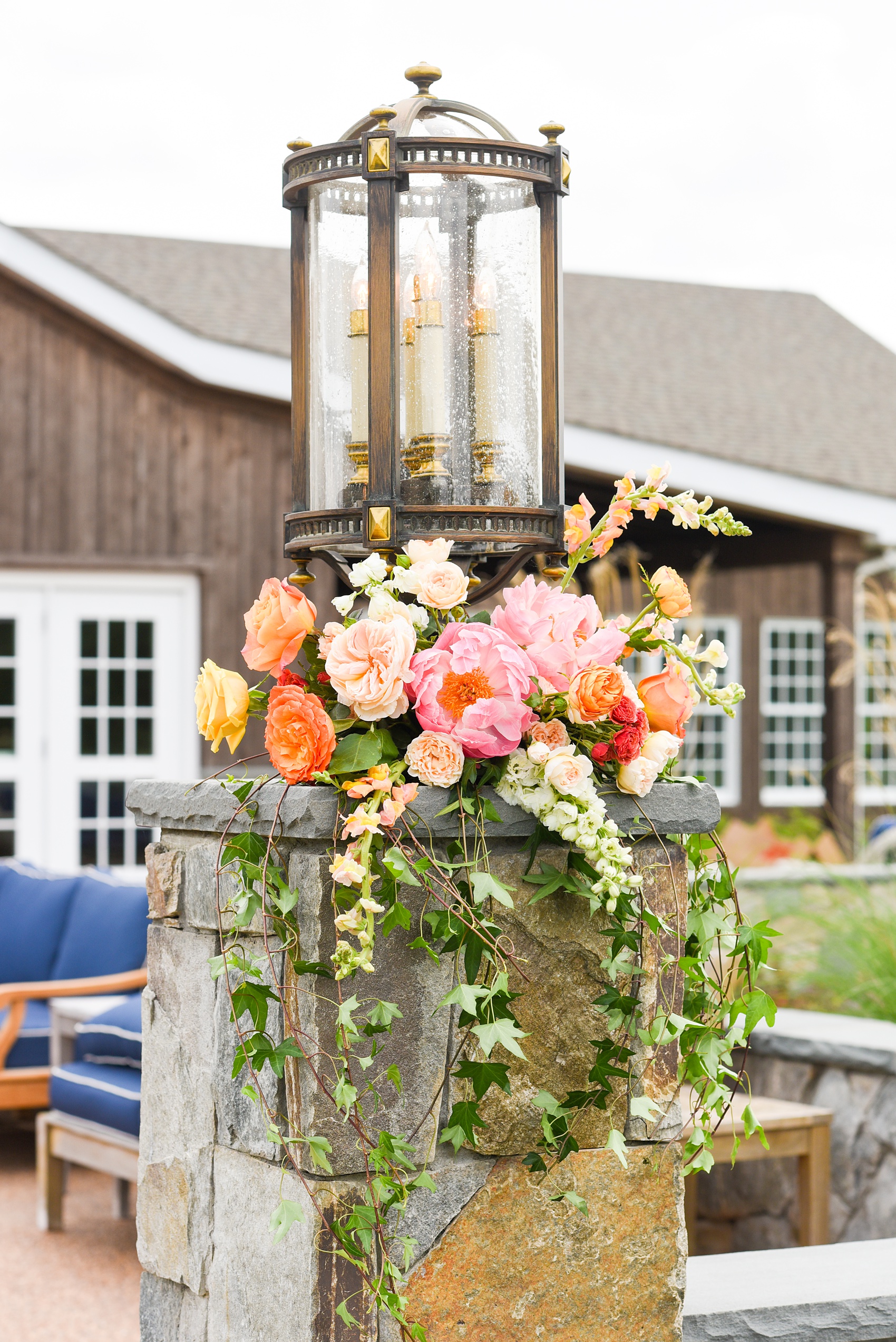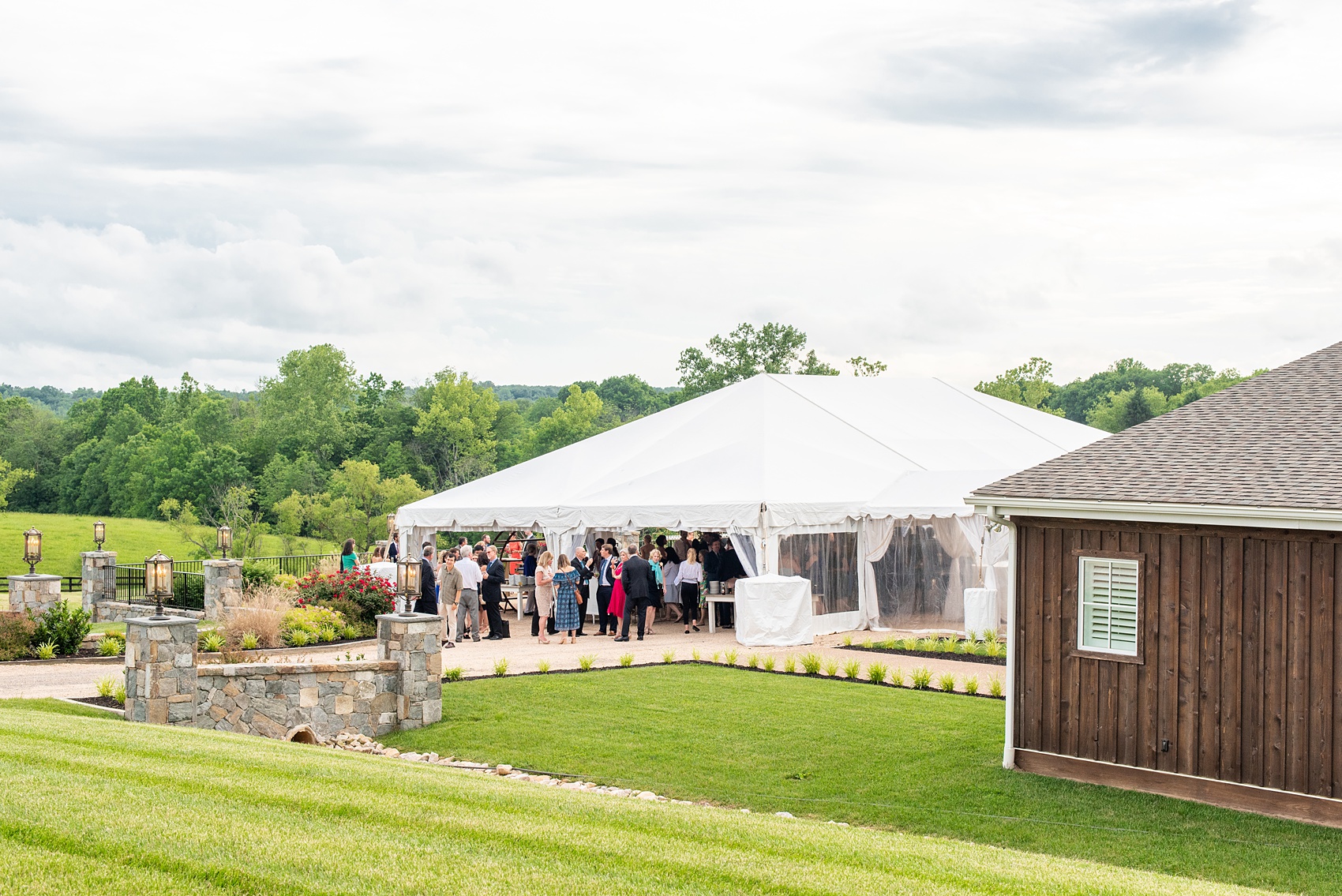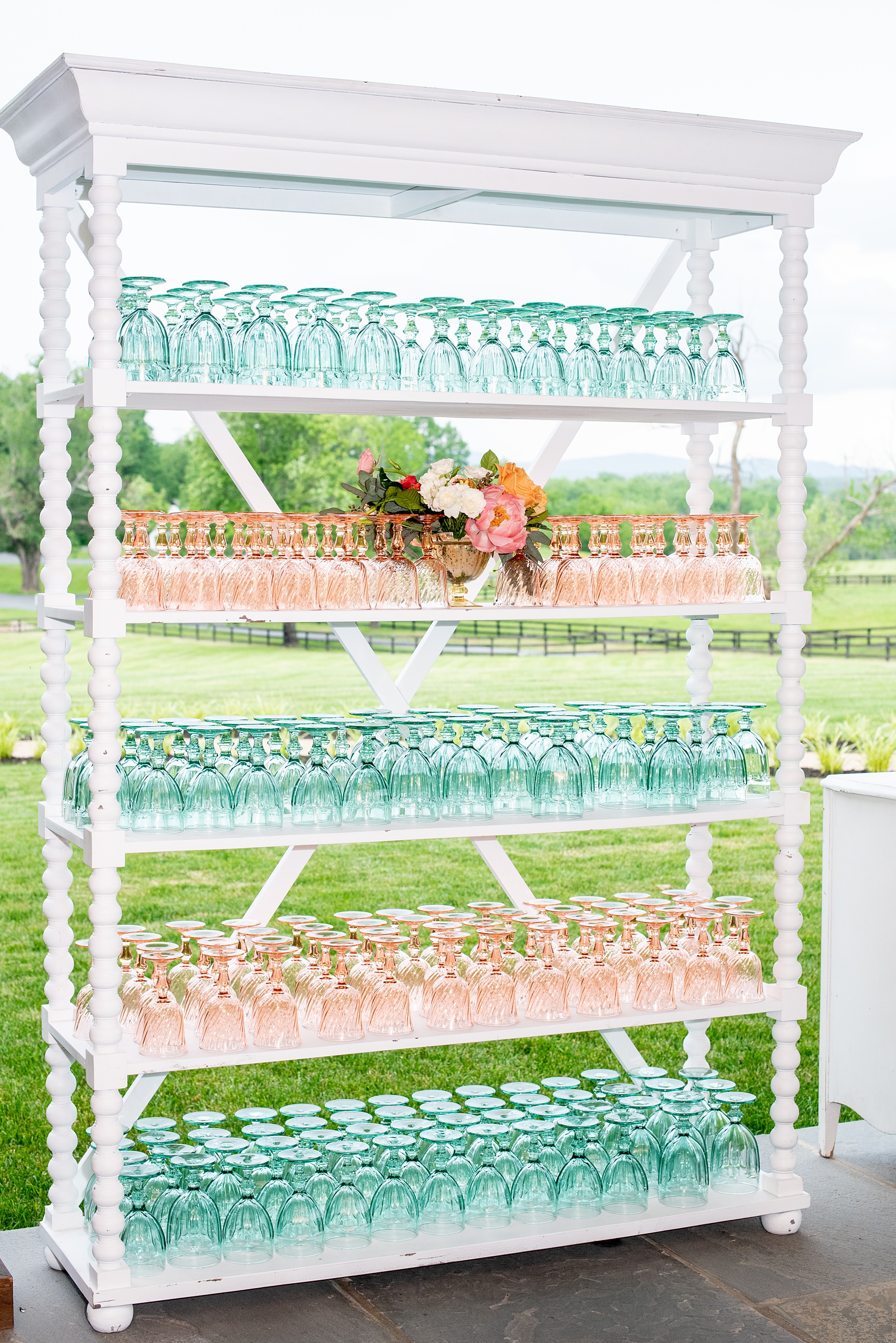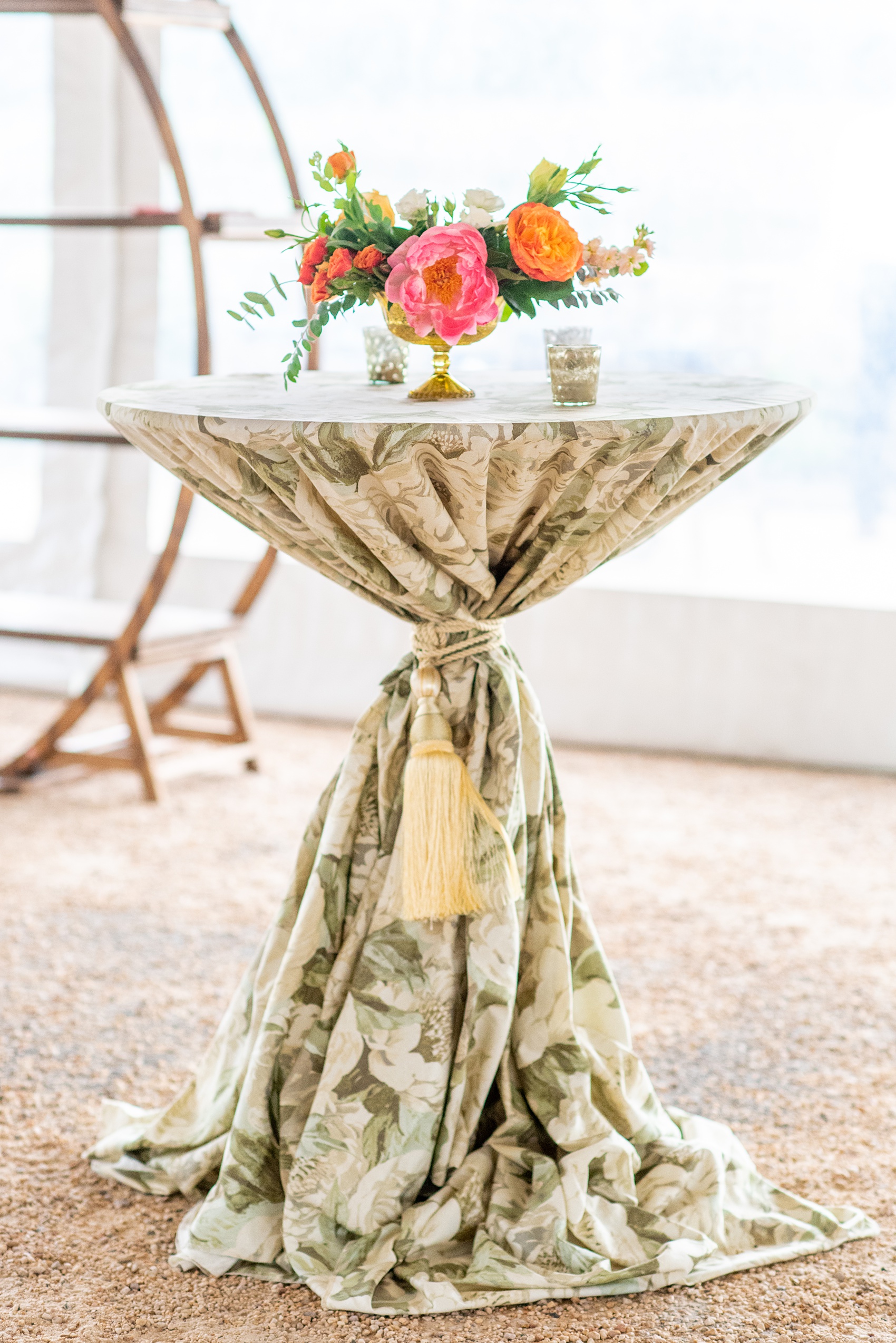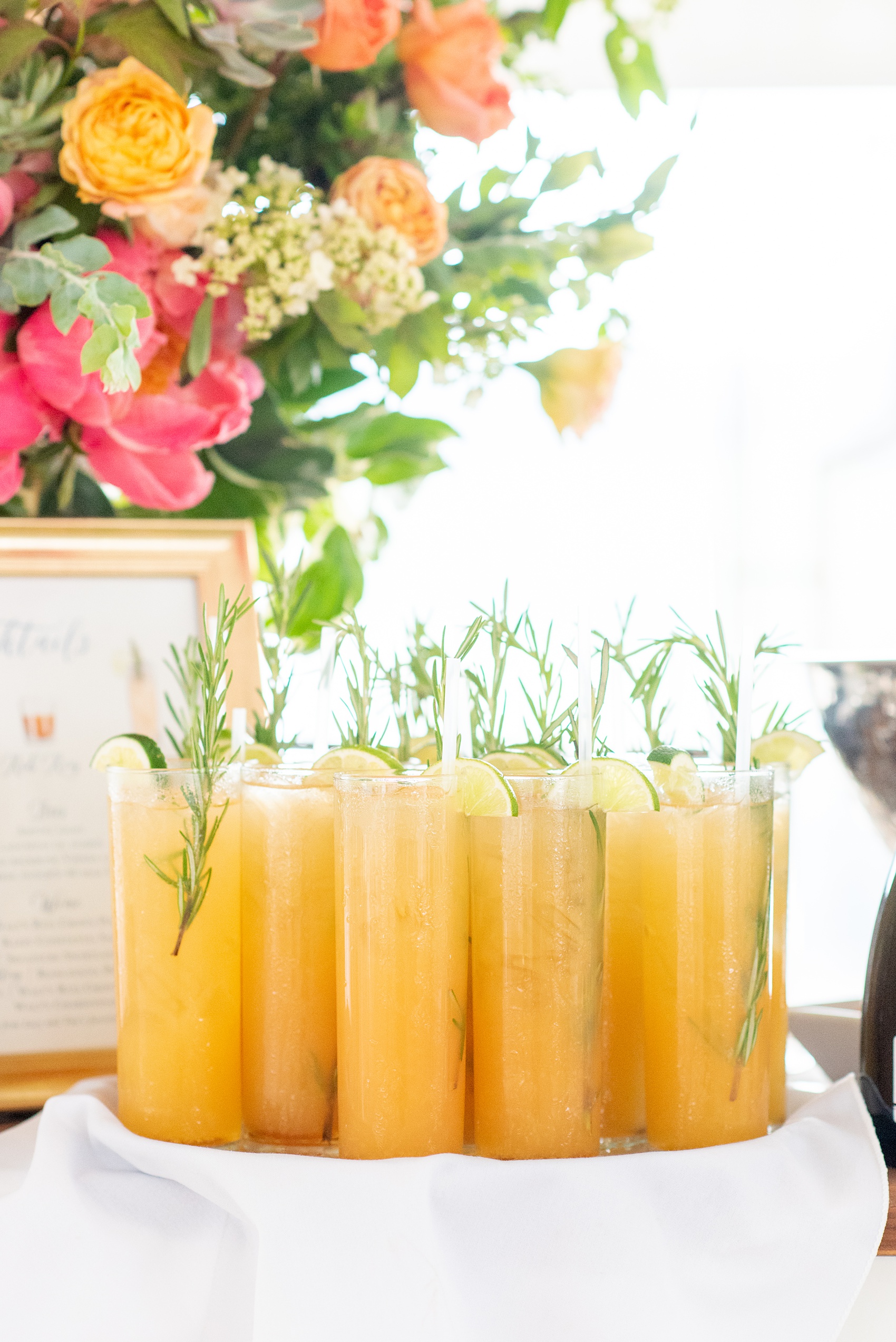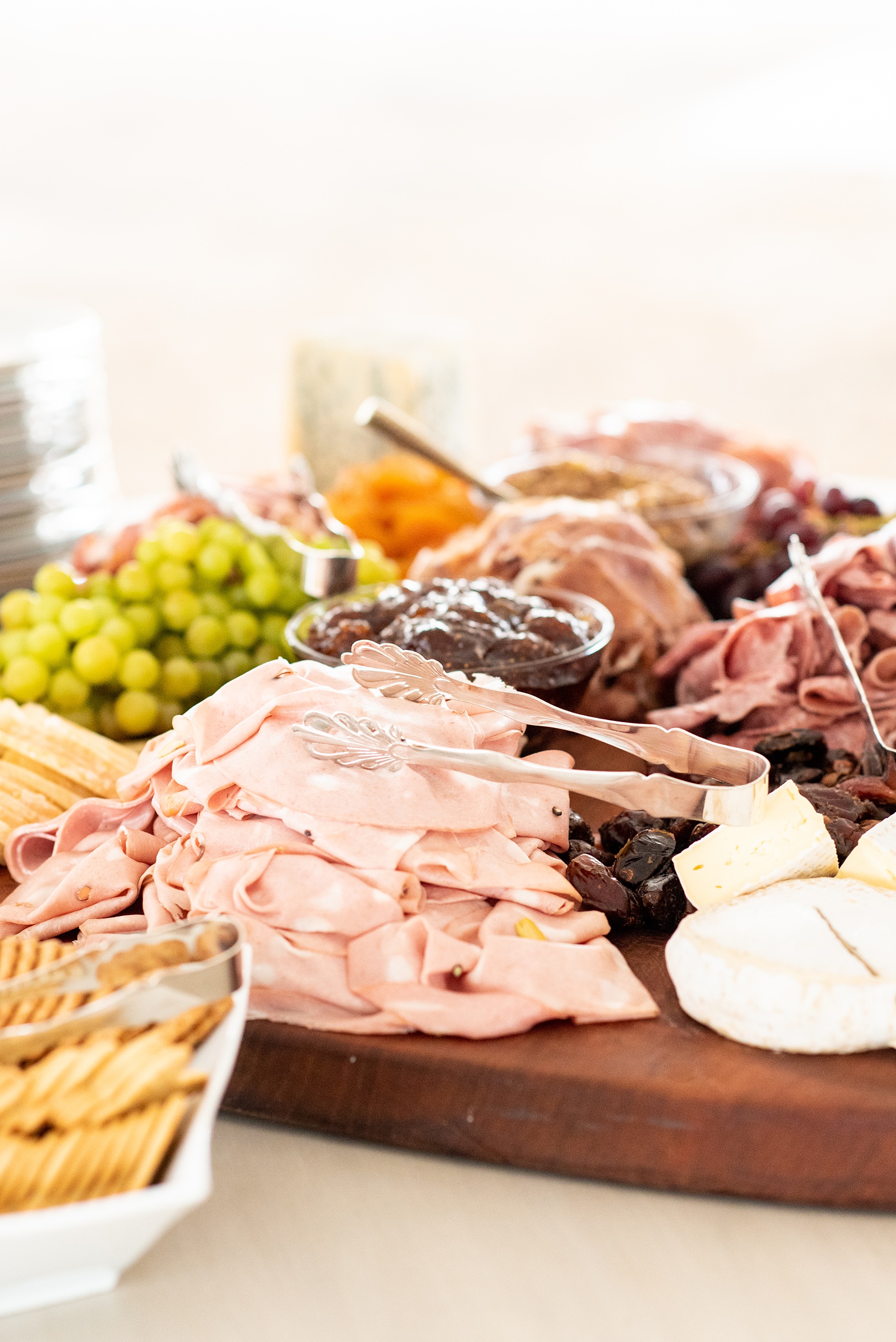 Cocktail hour was inside a tented space draped with beautiful white chiffon fabric, much like the inside of the barn. Charcuterie and signature cocktails were available for guests and hors d'oeuvres passed around. This space transformed into the dinner buffet area while salads were being served inside the building during speeches. Four food stations were available for dinner, with cuisine handpicked by Lucy and Van: Japanese for Lucy's favorite food (sushi), Mexican for Van's favorite food (tacos), Italian food for Lucy's heritage, and southern food for Van's heritage.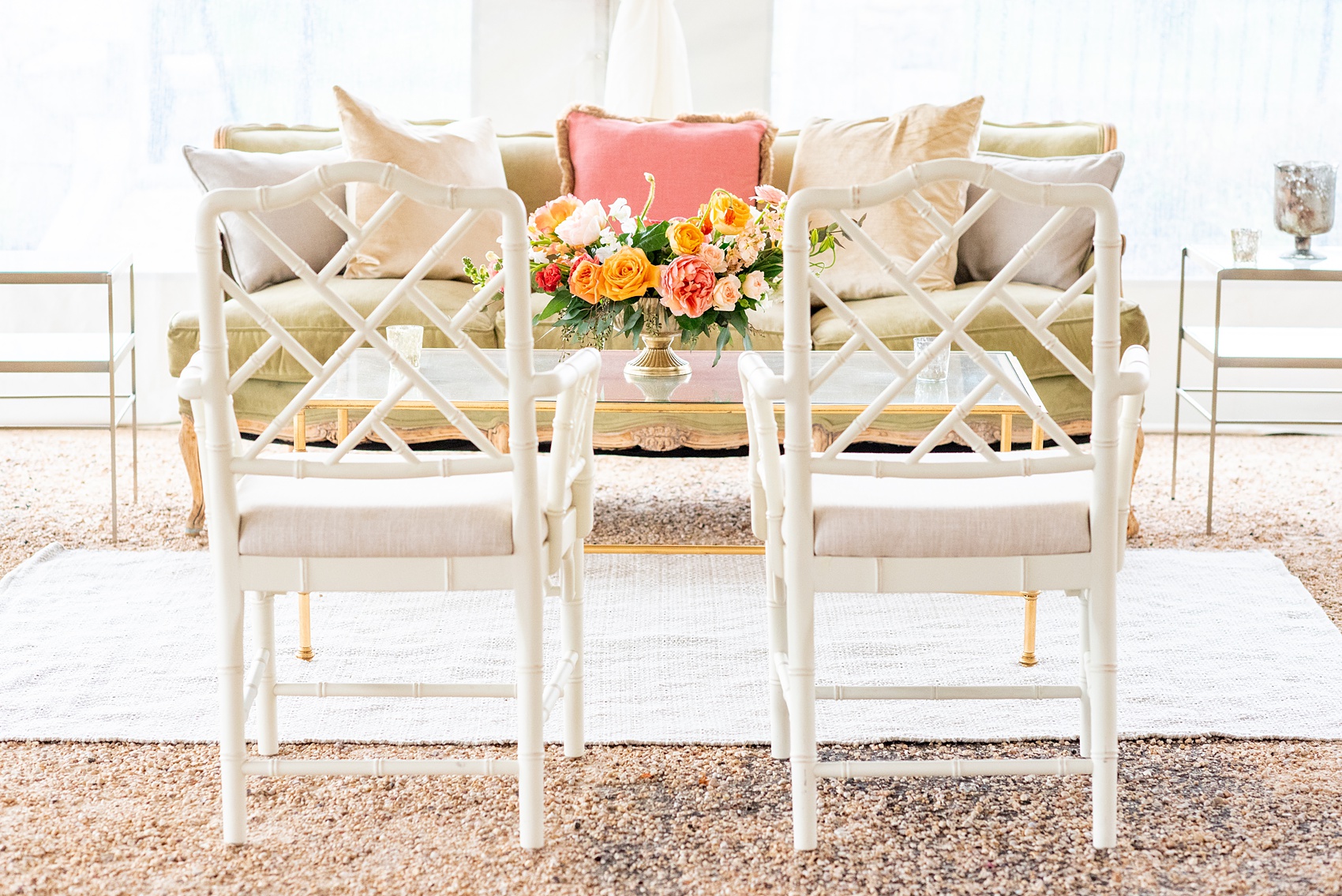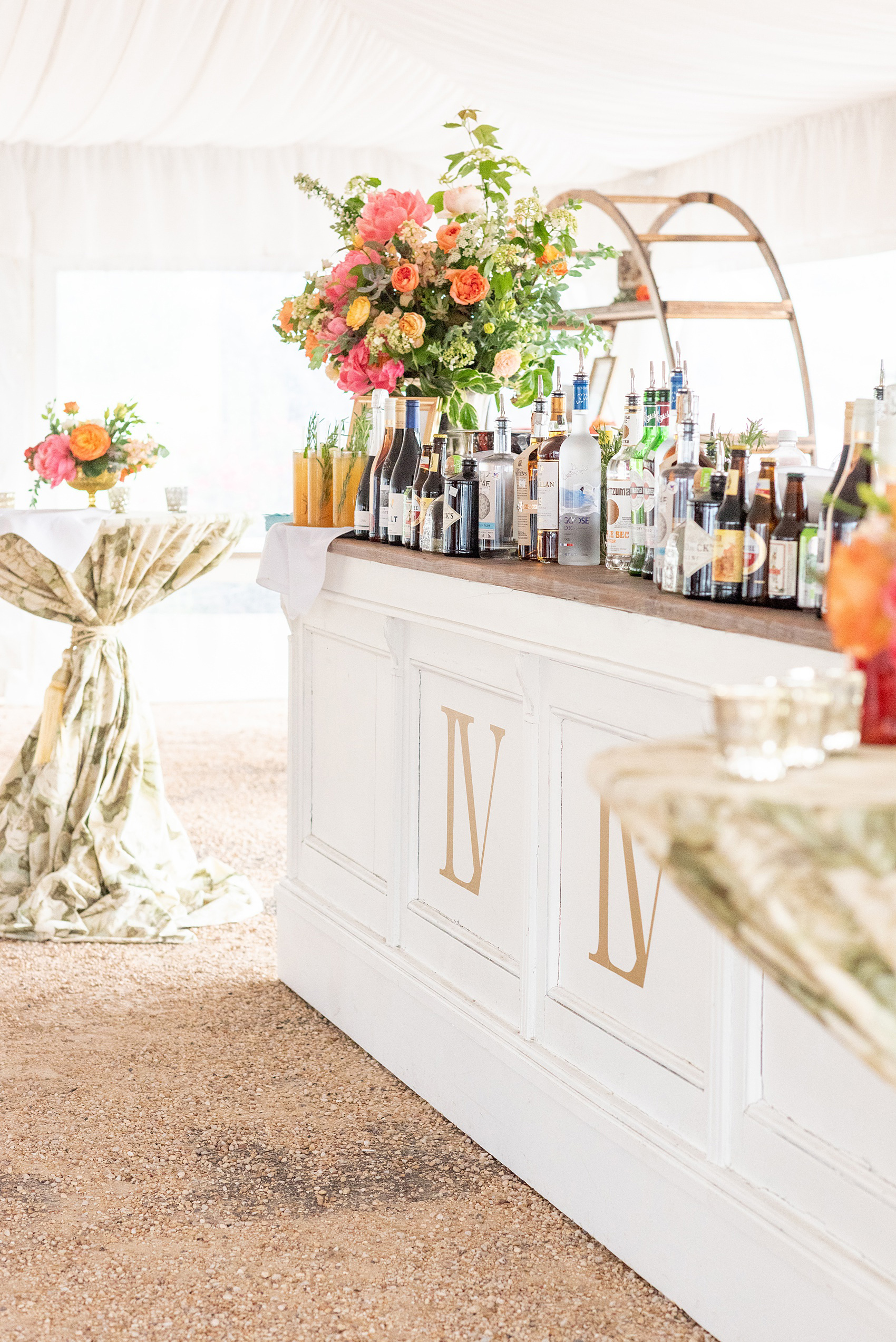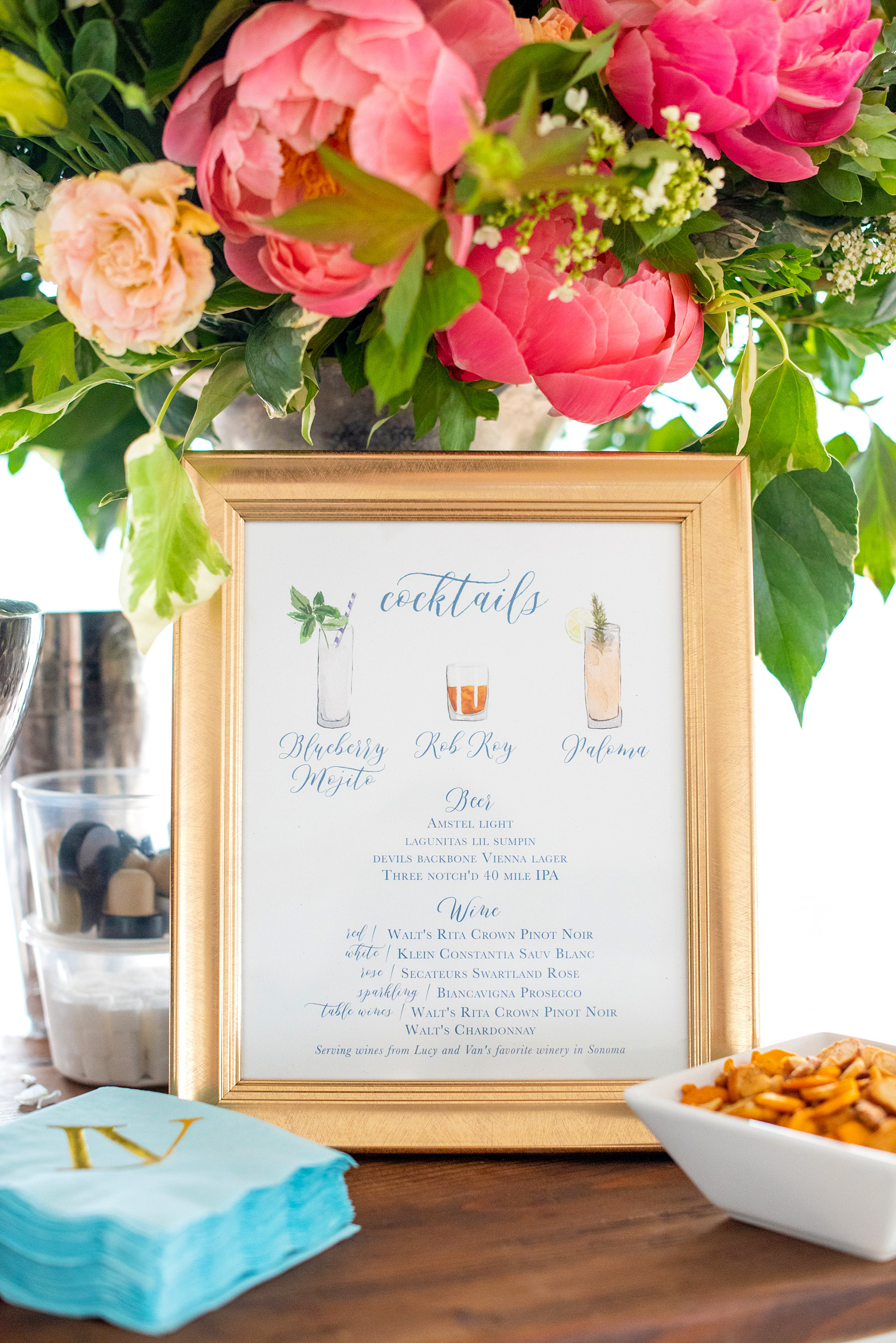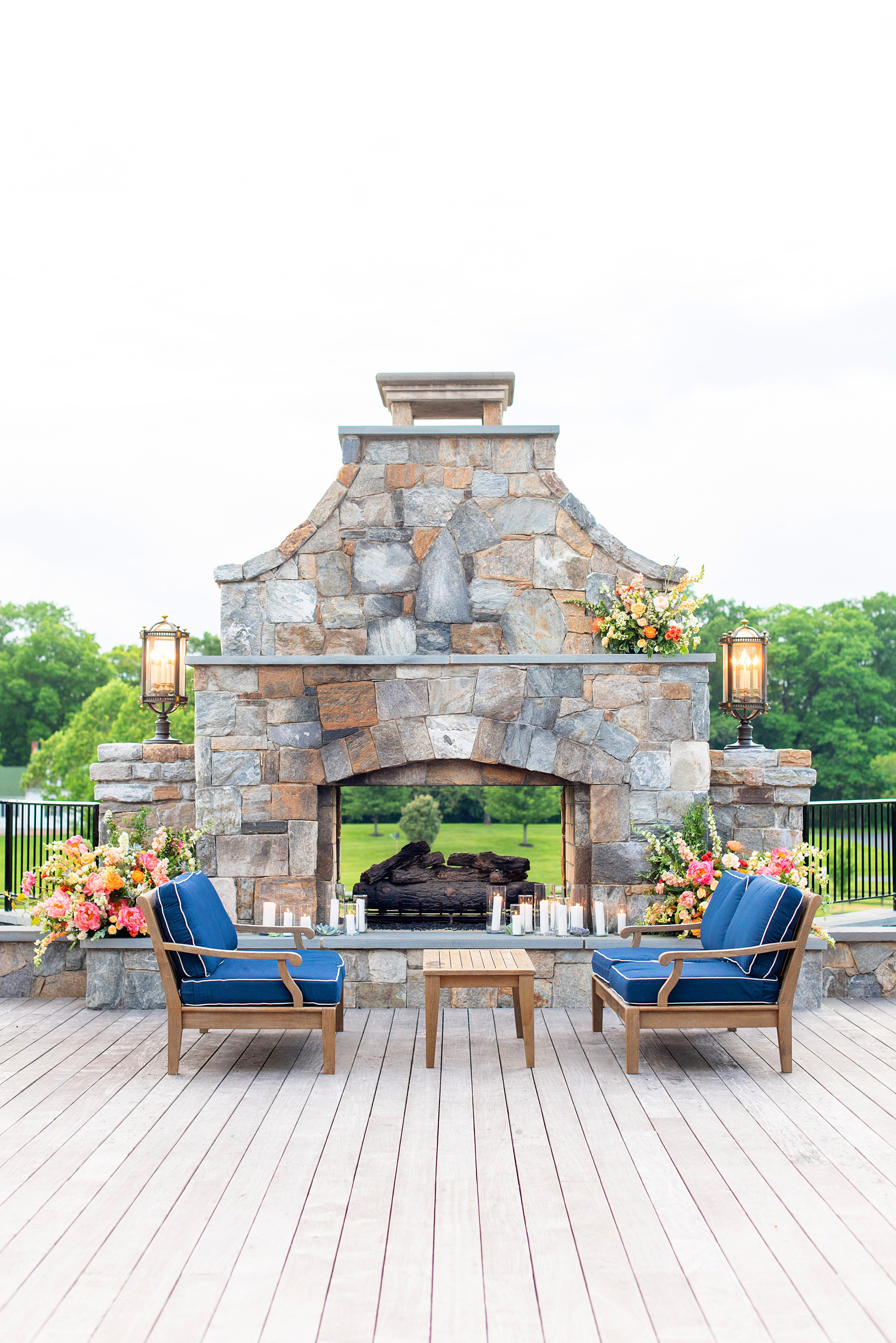 They wanted both a rustic and elegant feel at Mount Ida Farm inside their reception barn, that echoed their tastes. It came to life with chandeliers, draping, mixed rectangular farm tables and round luxurious blue linen-covered round tables.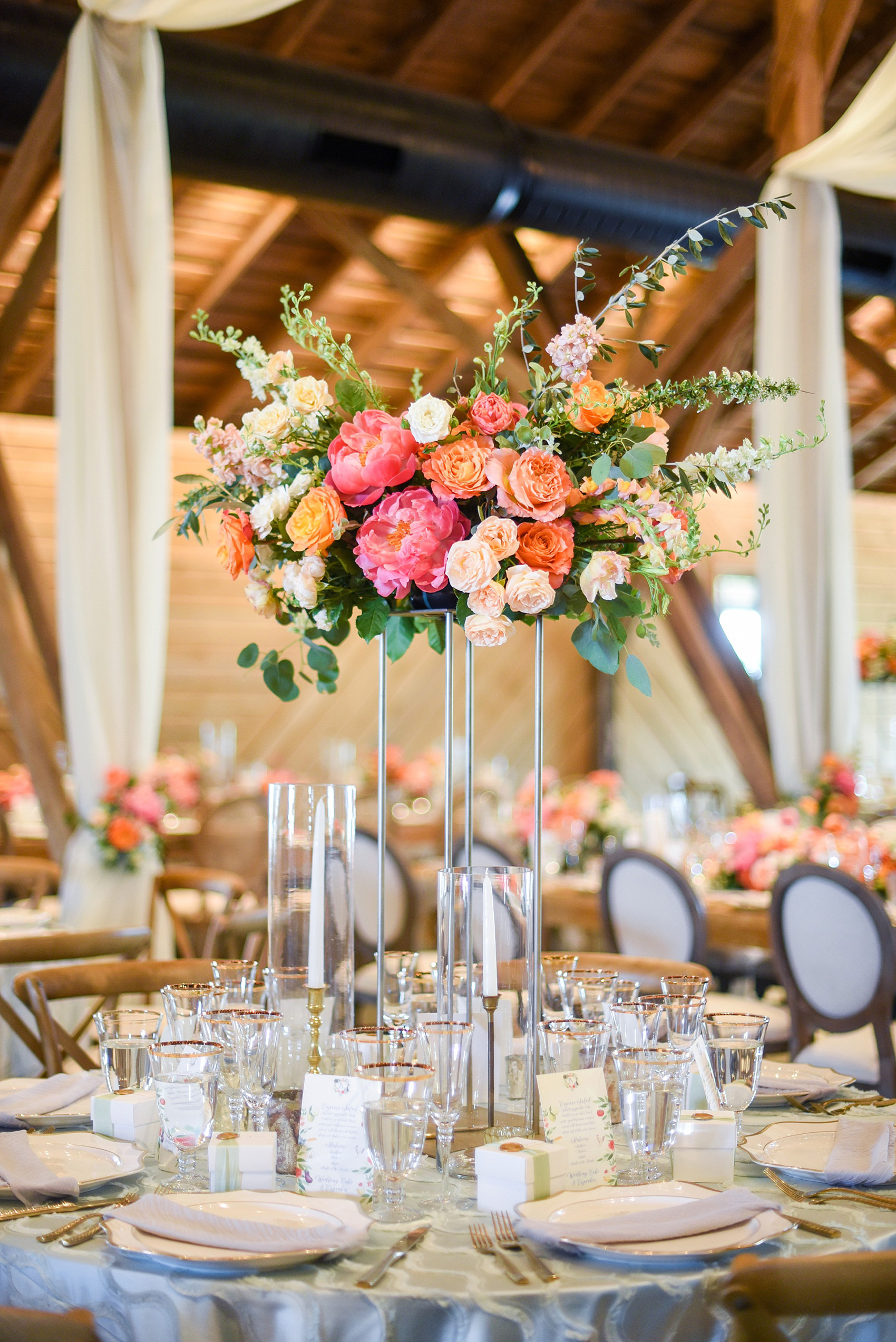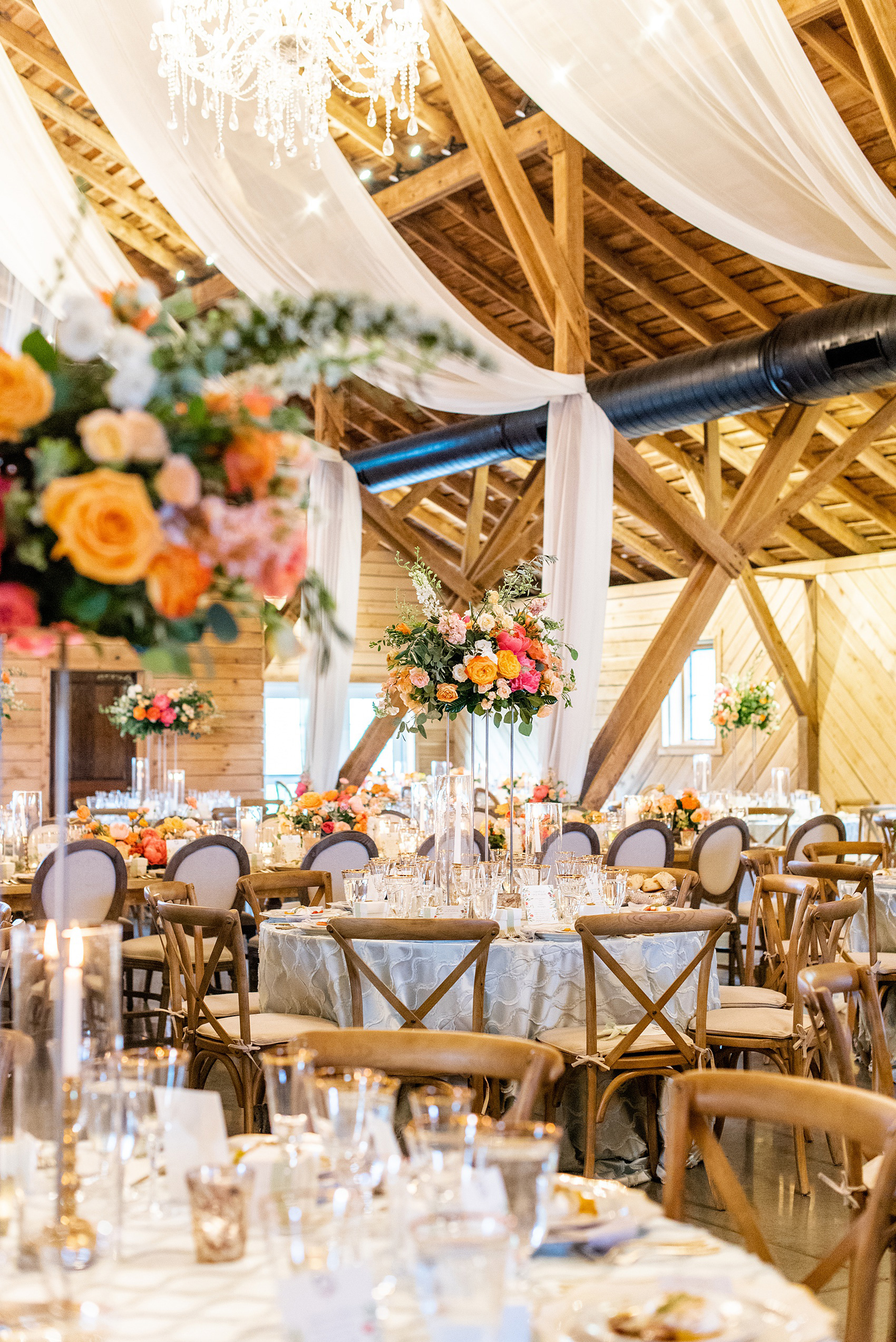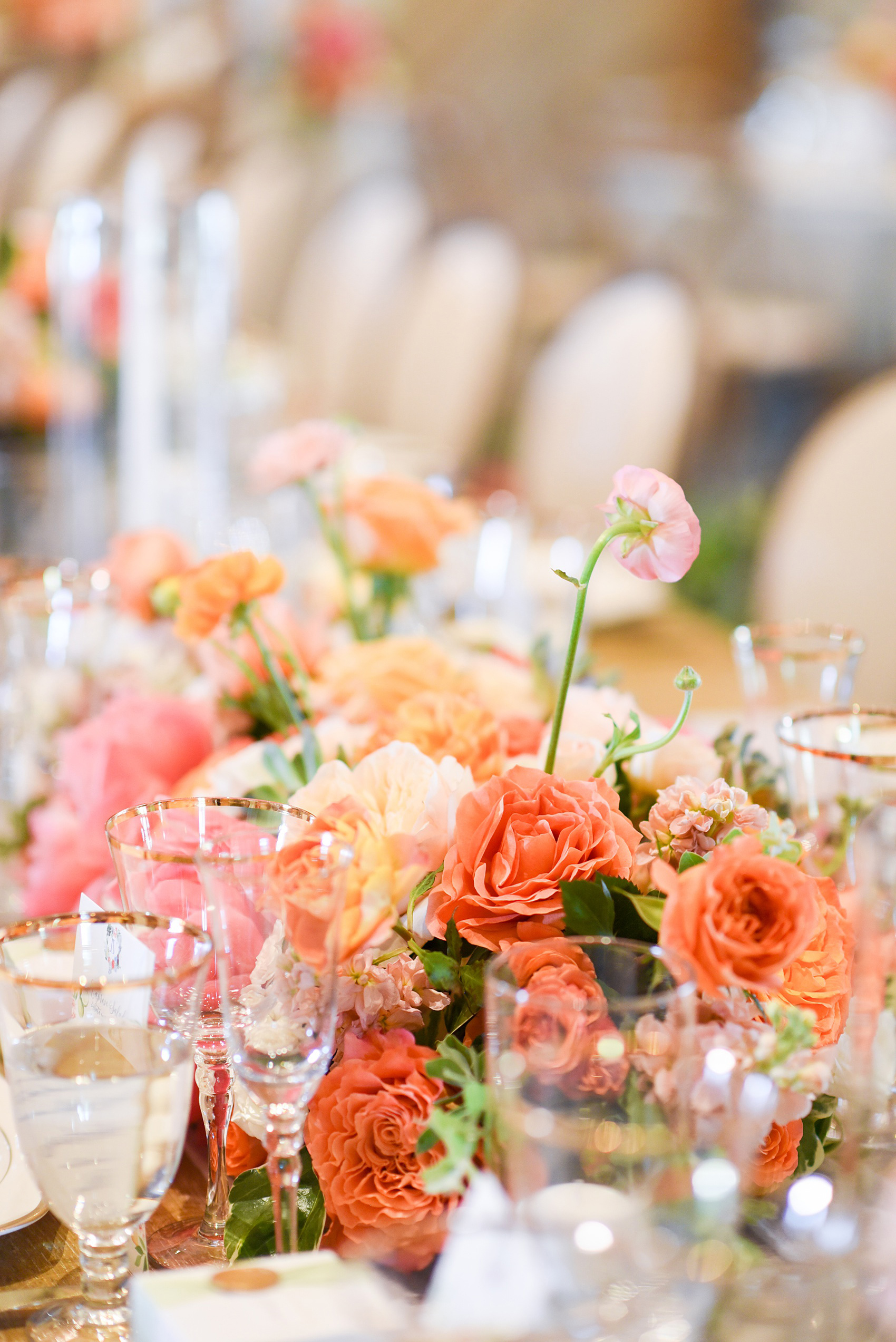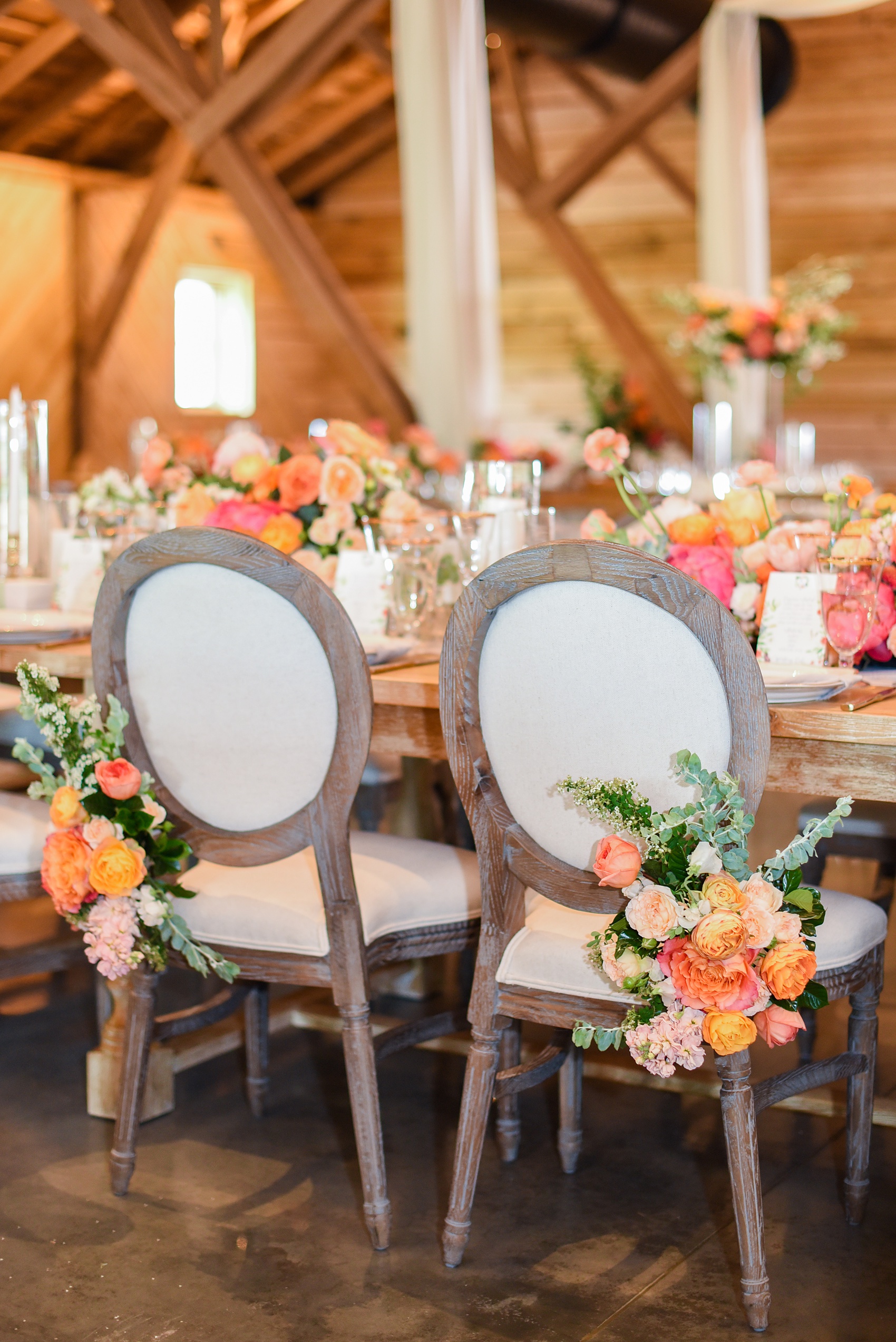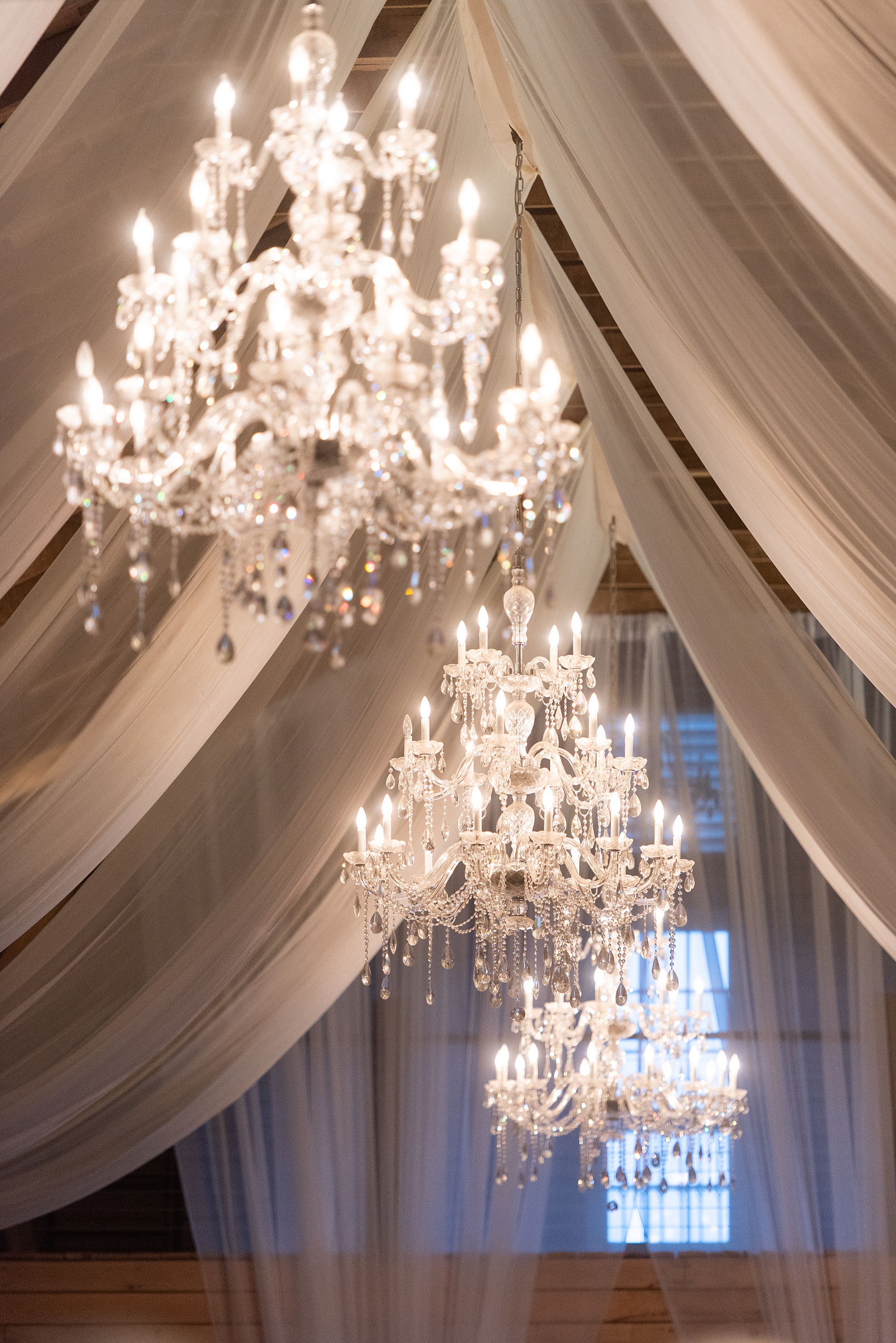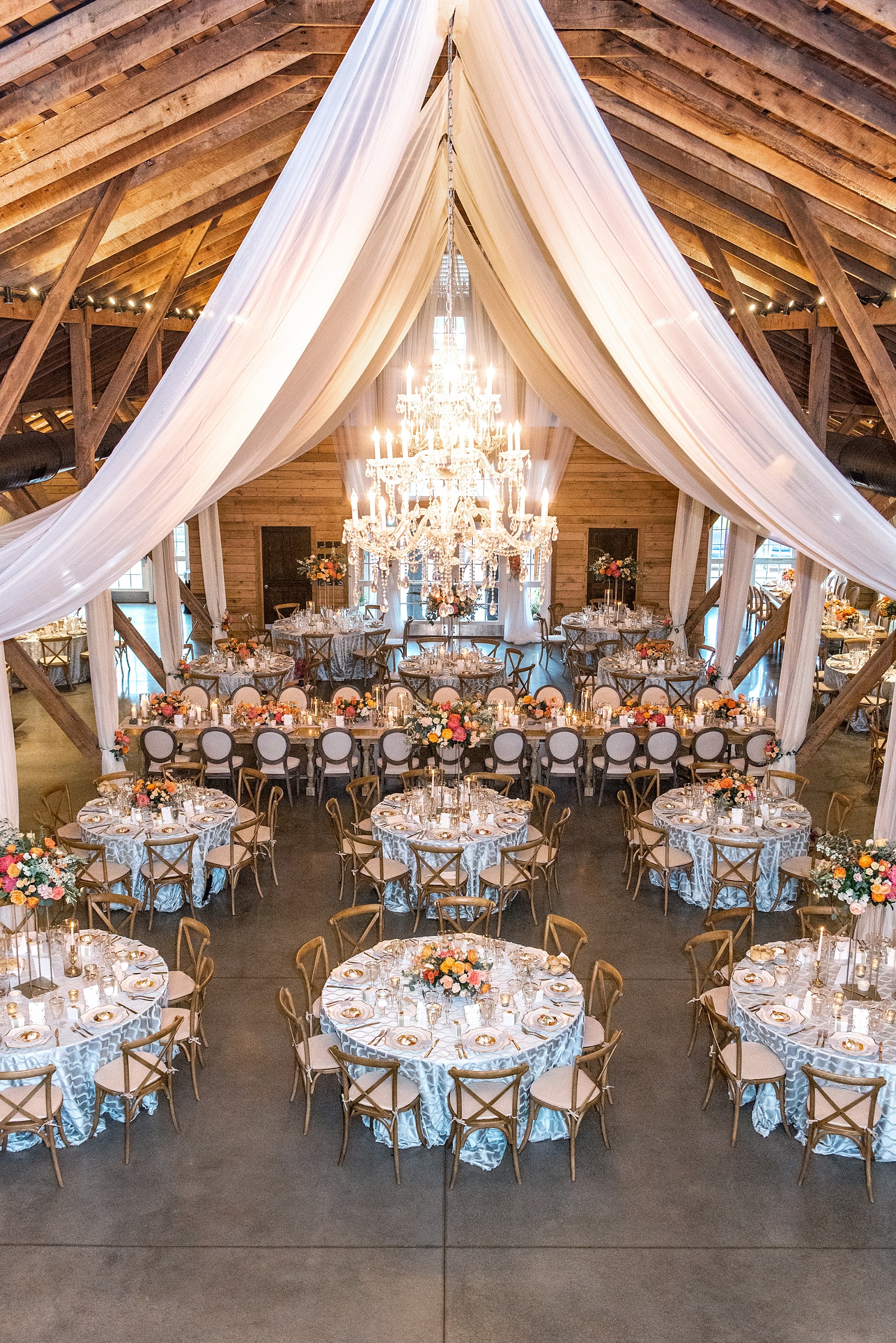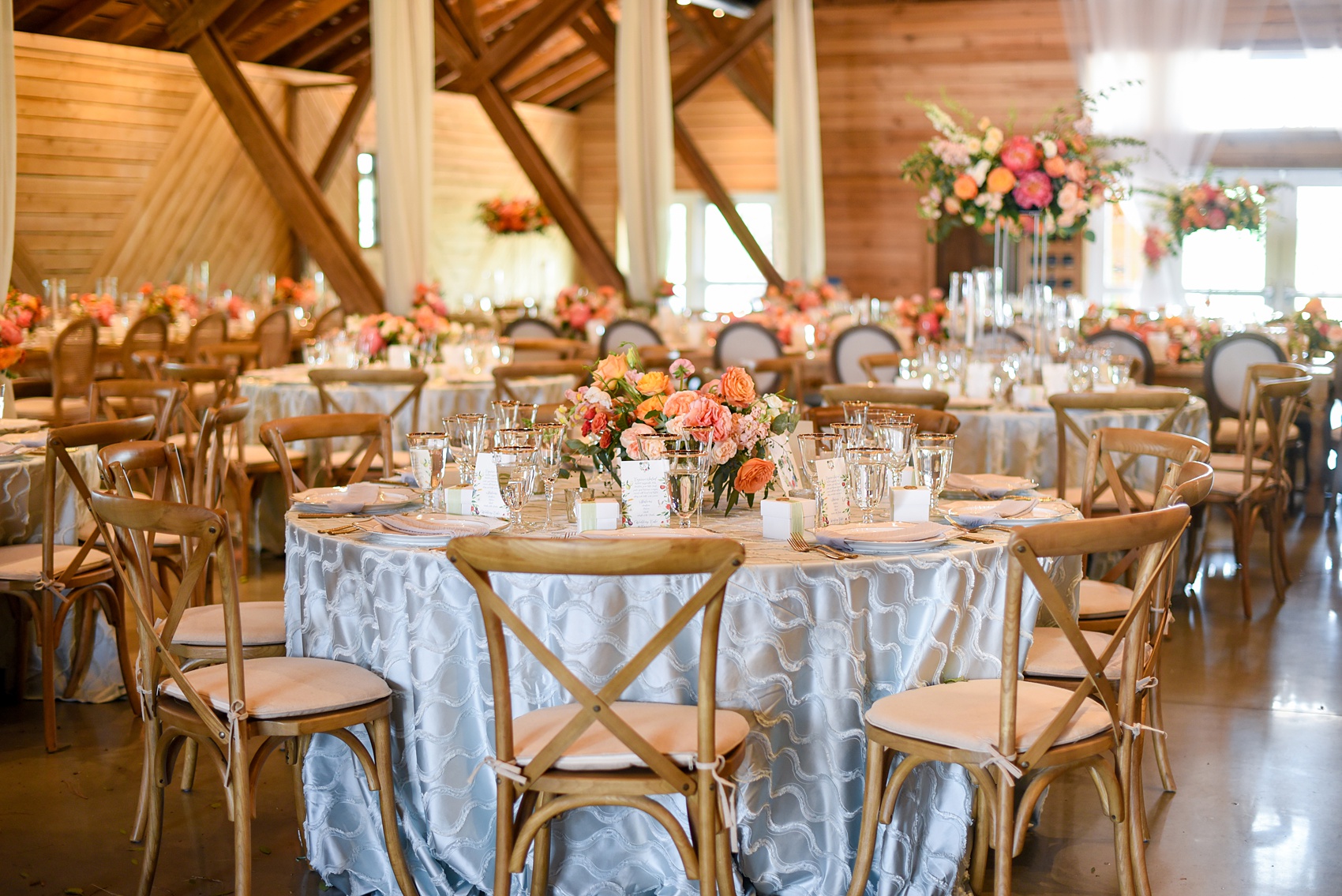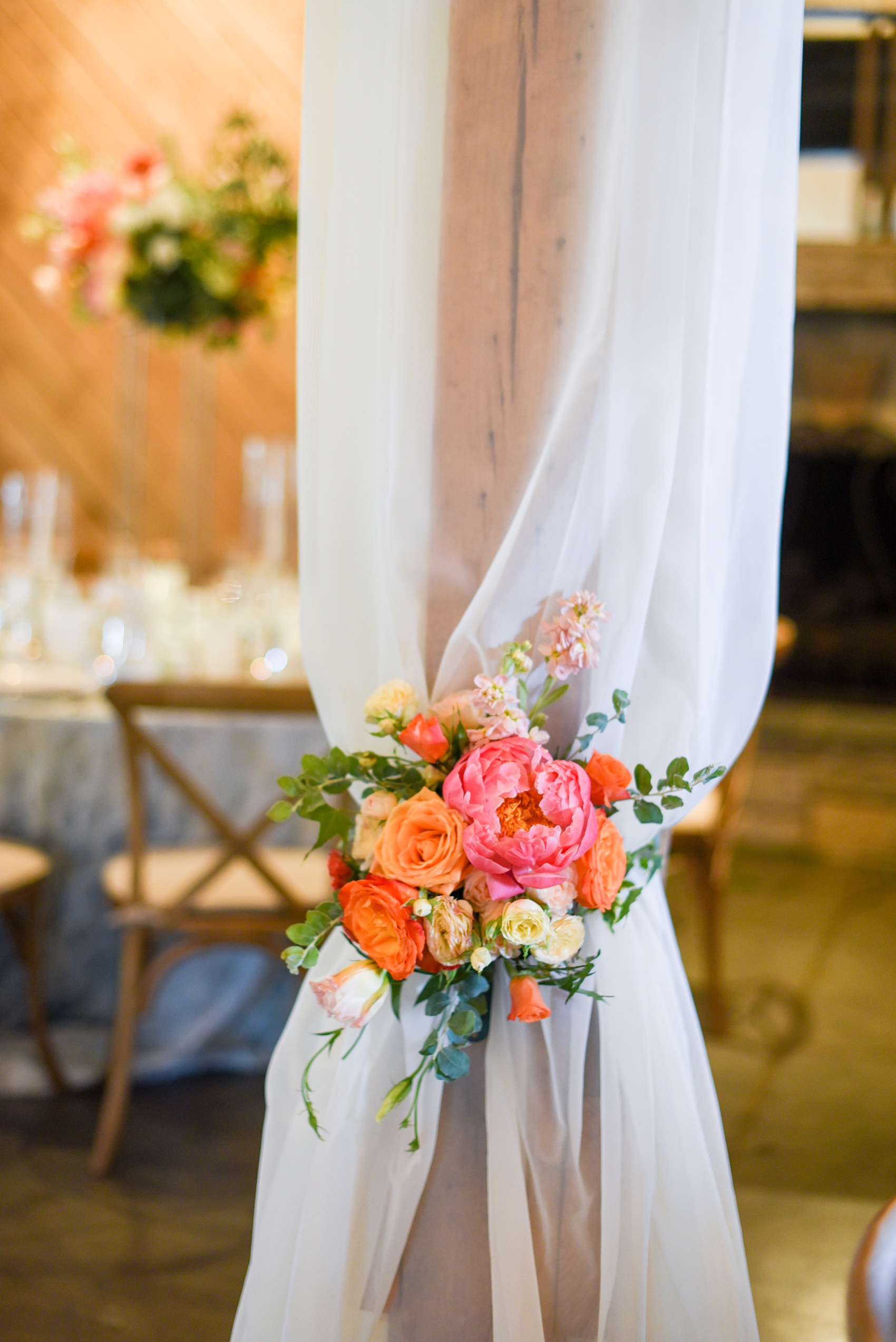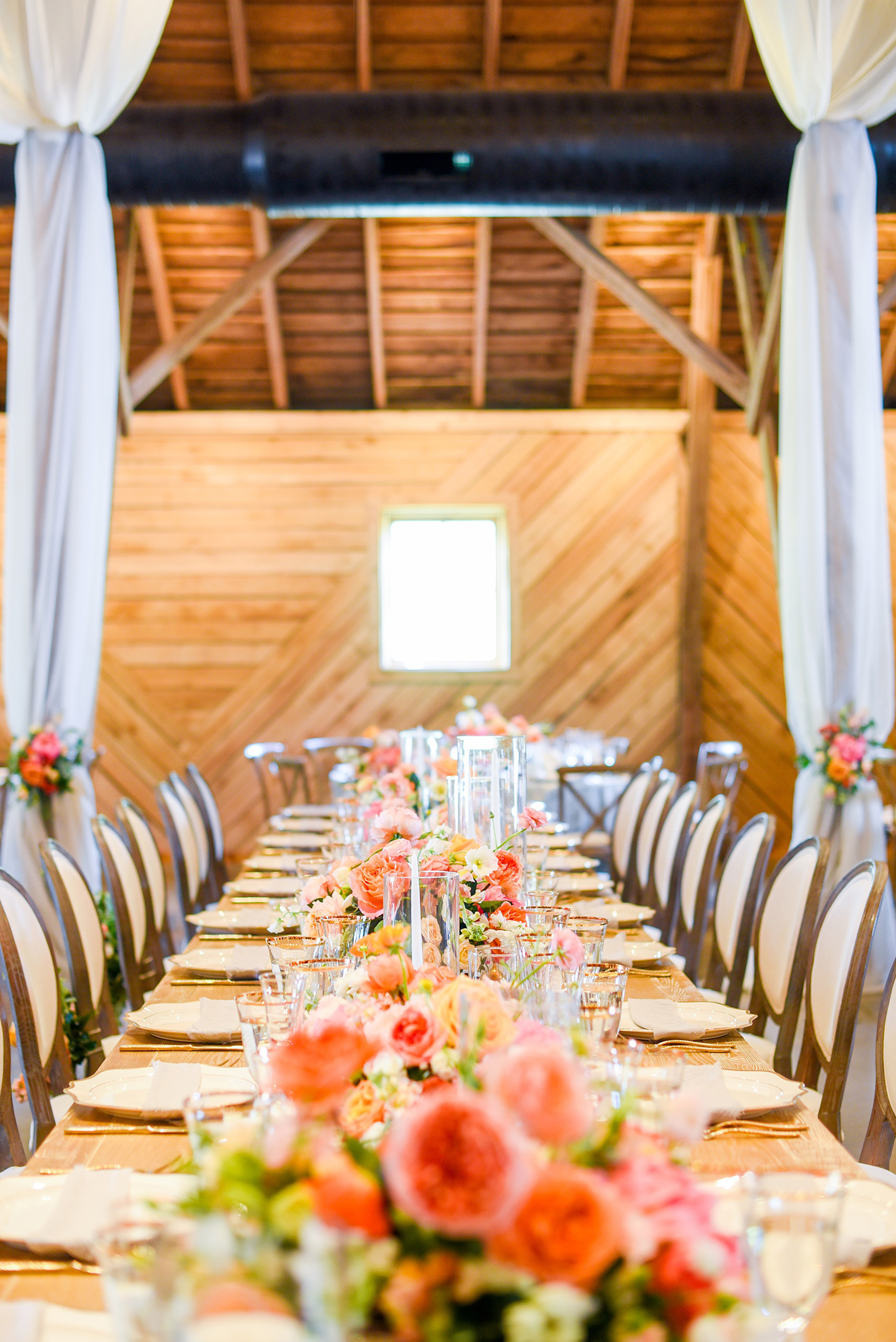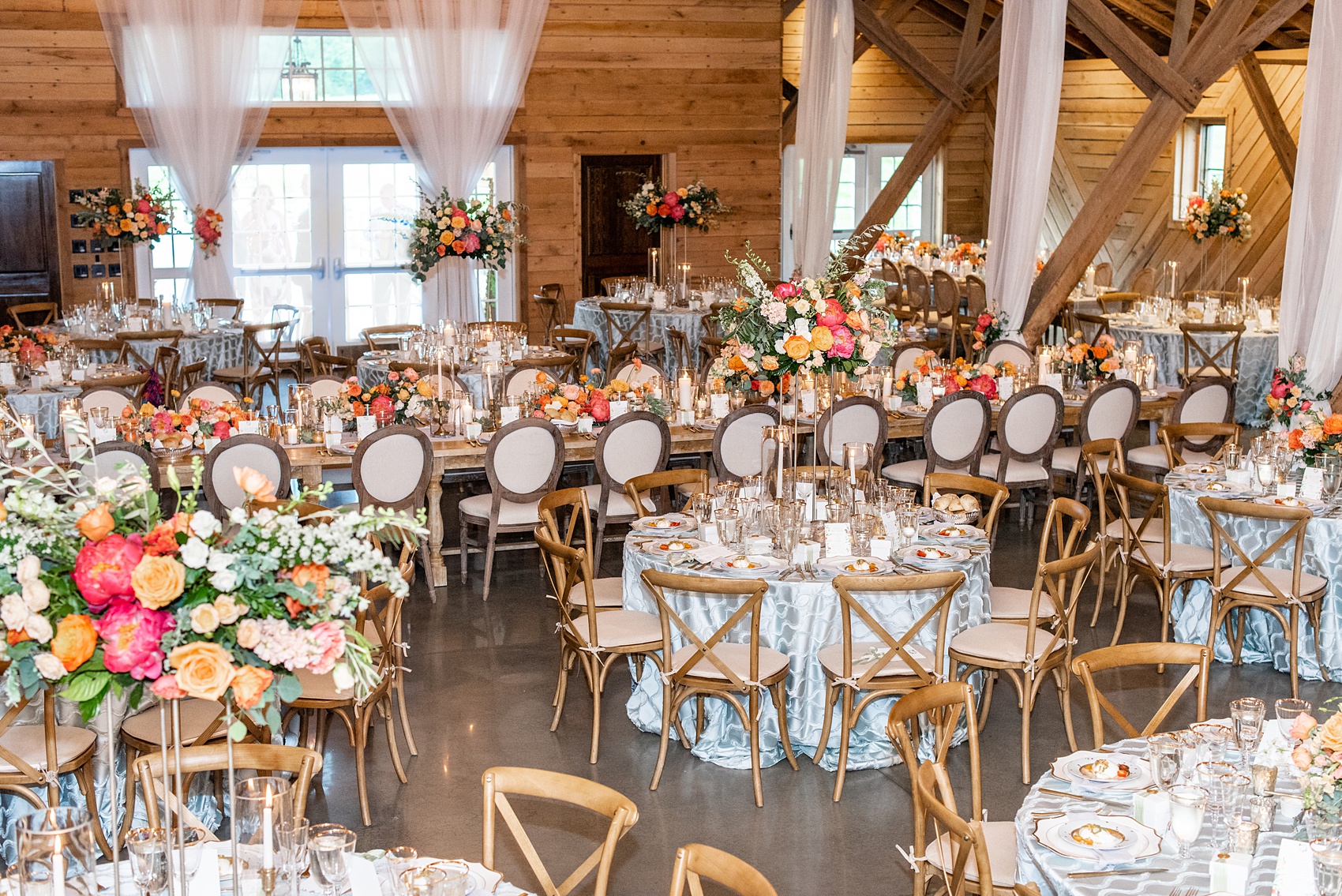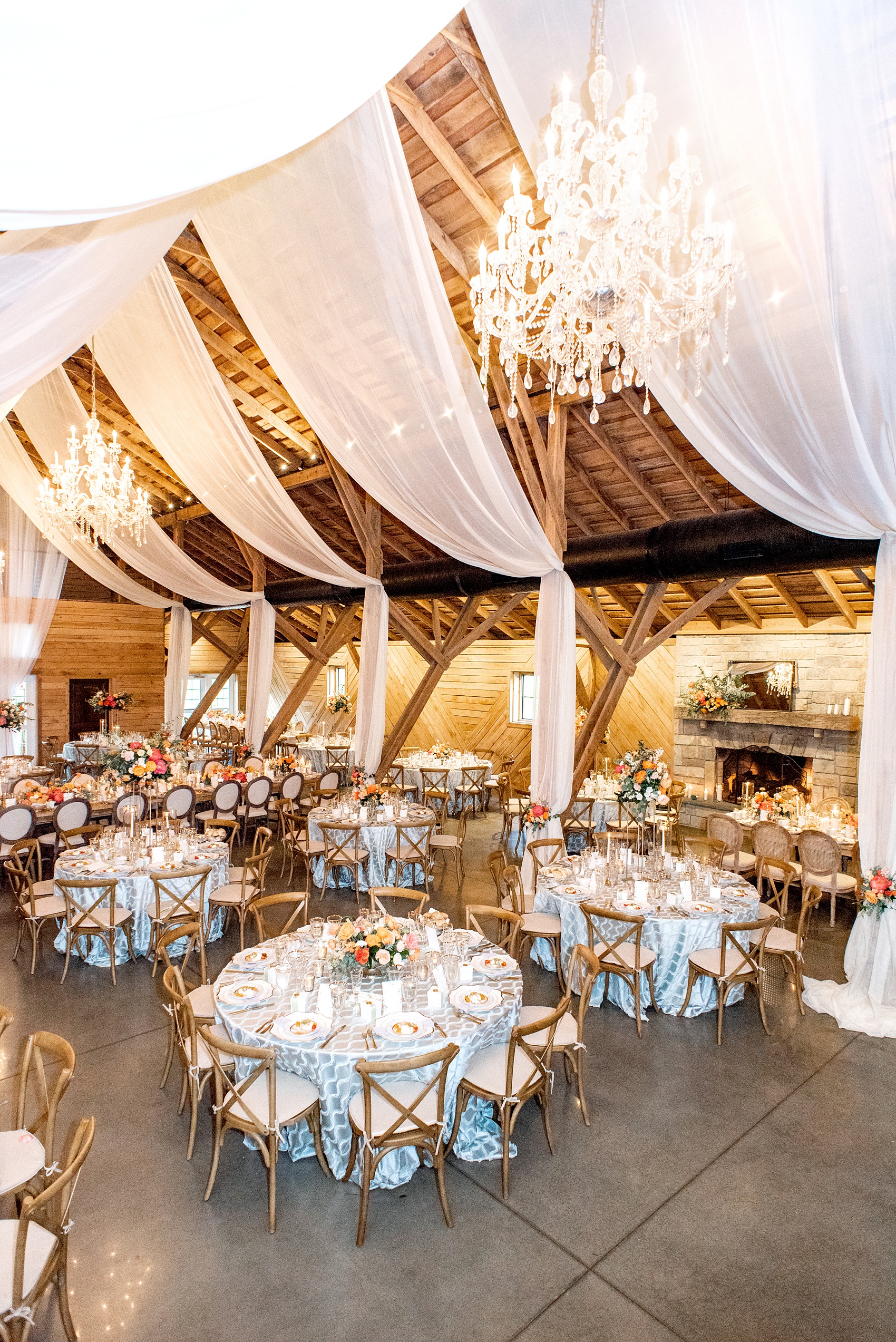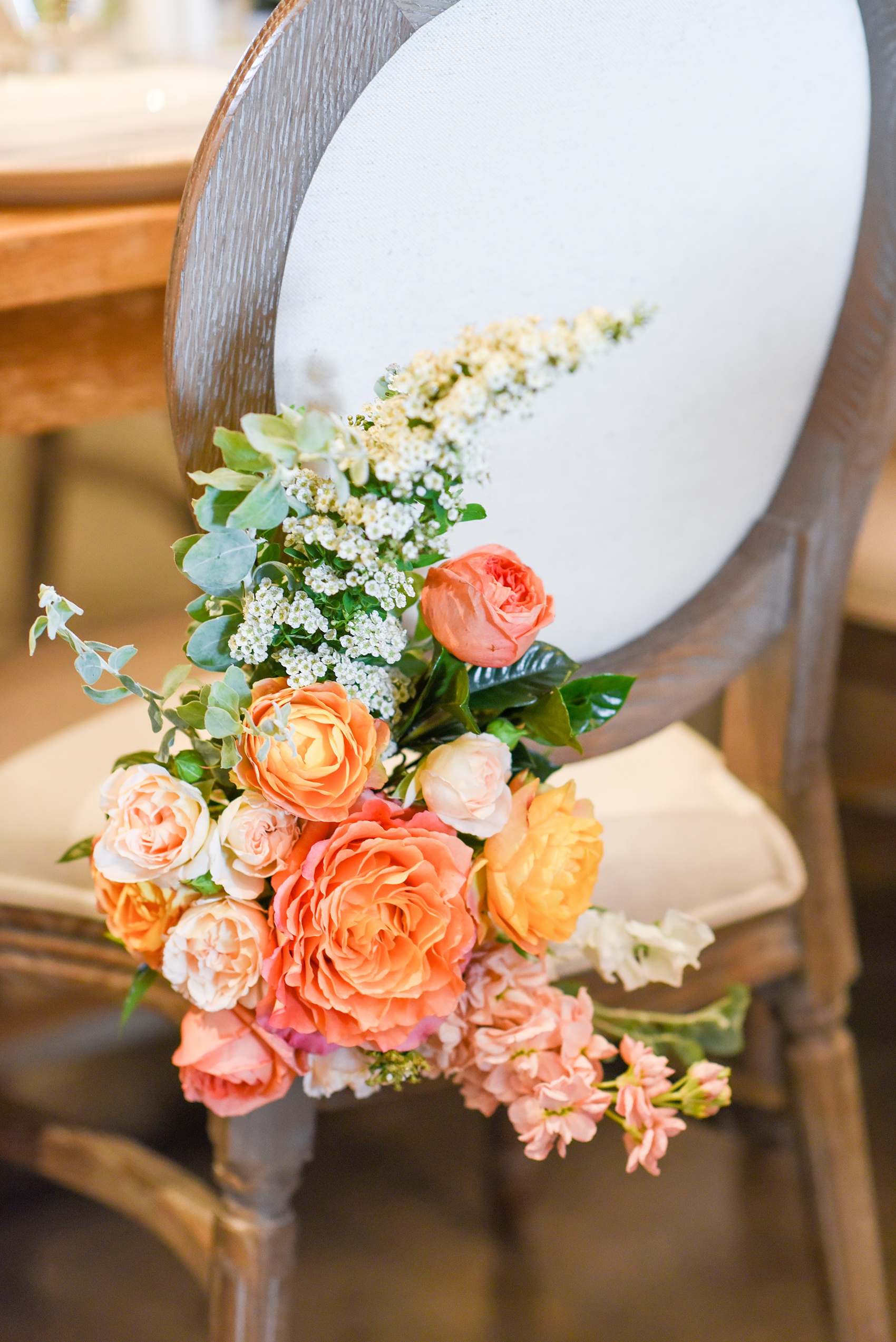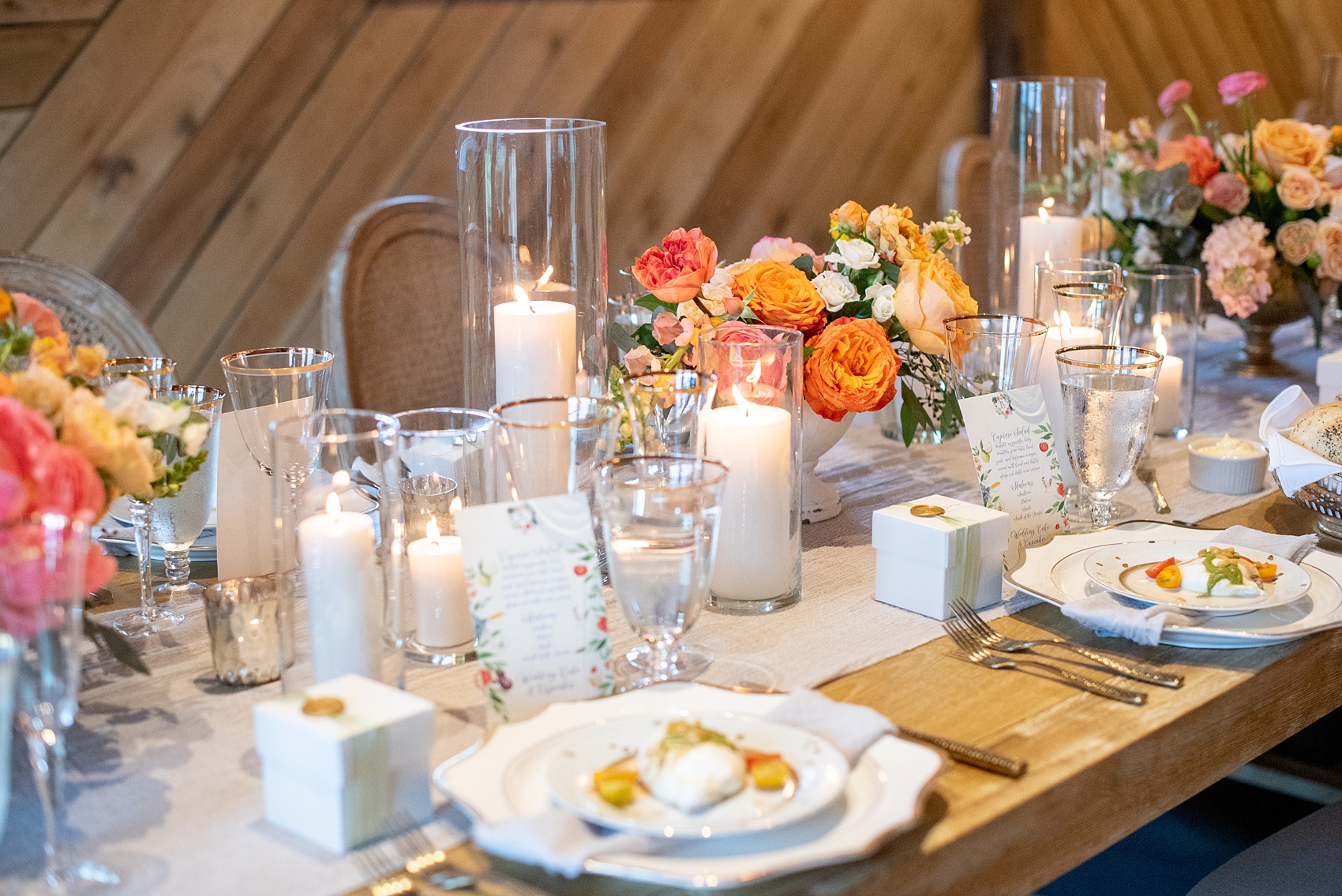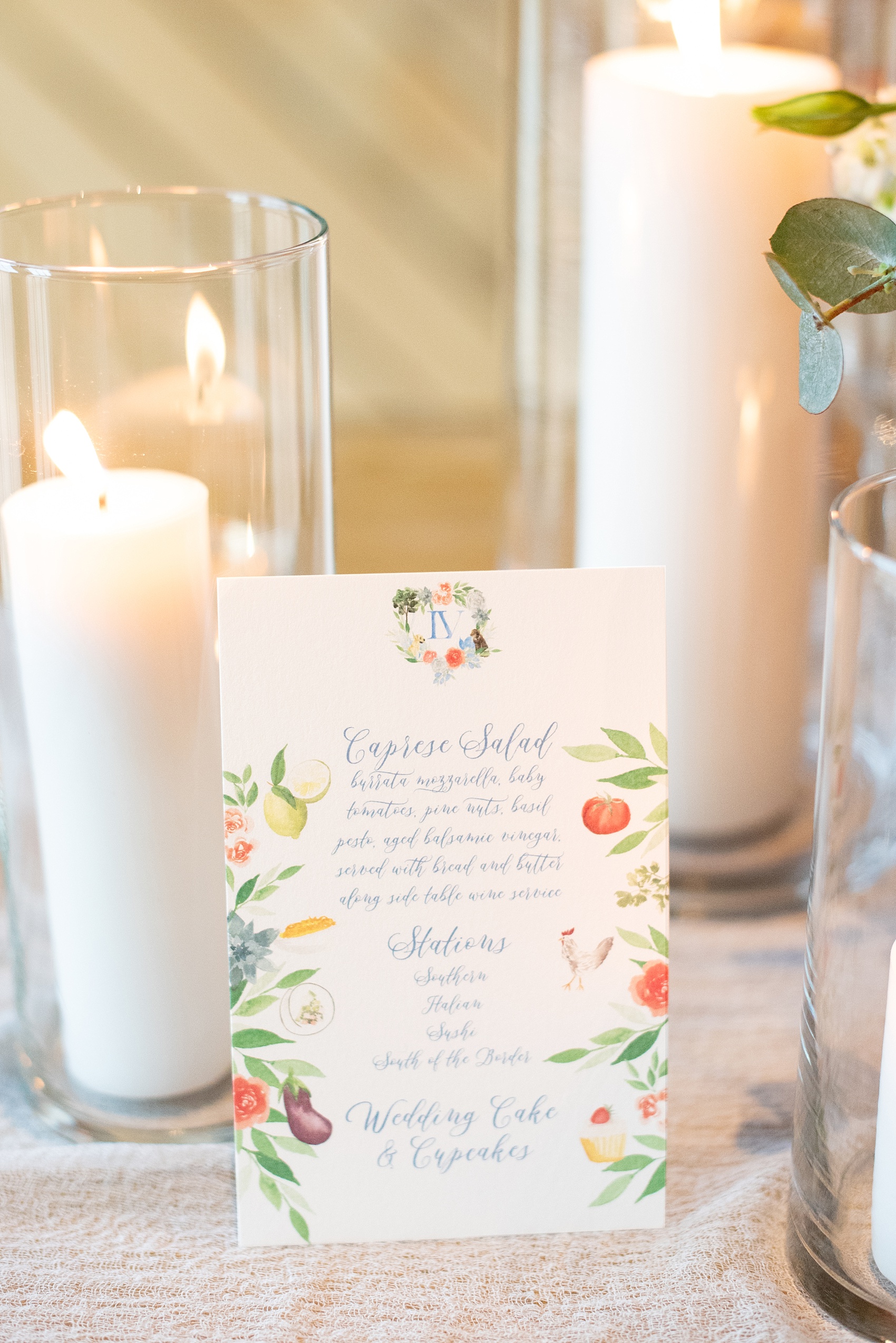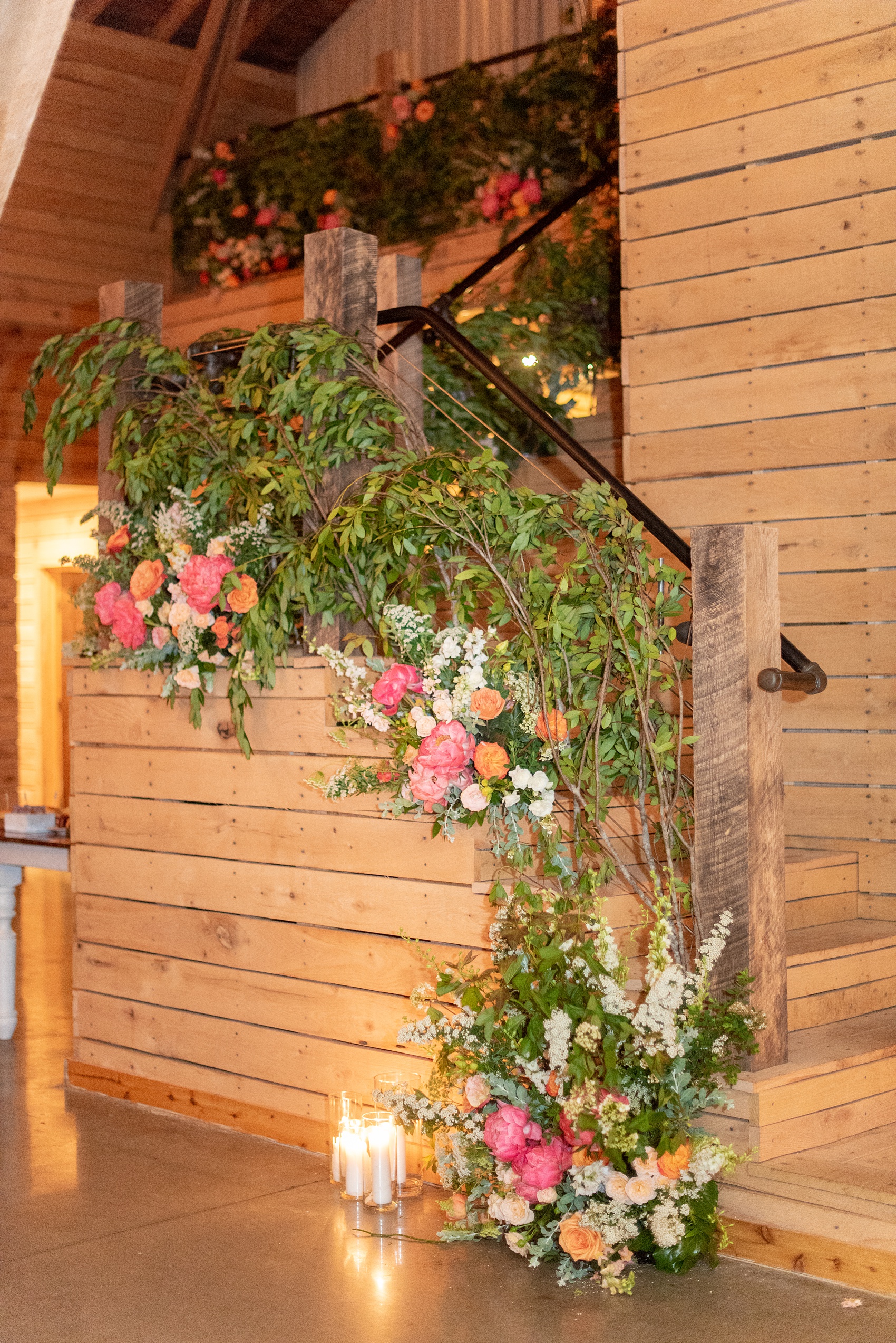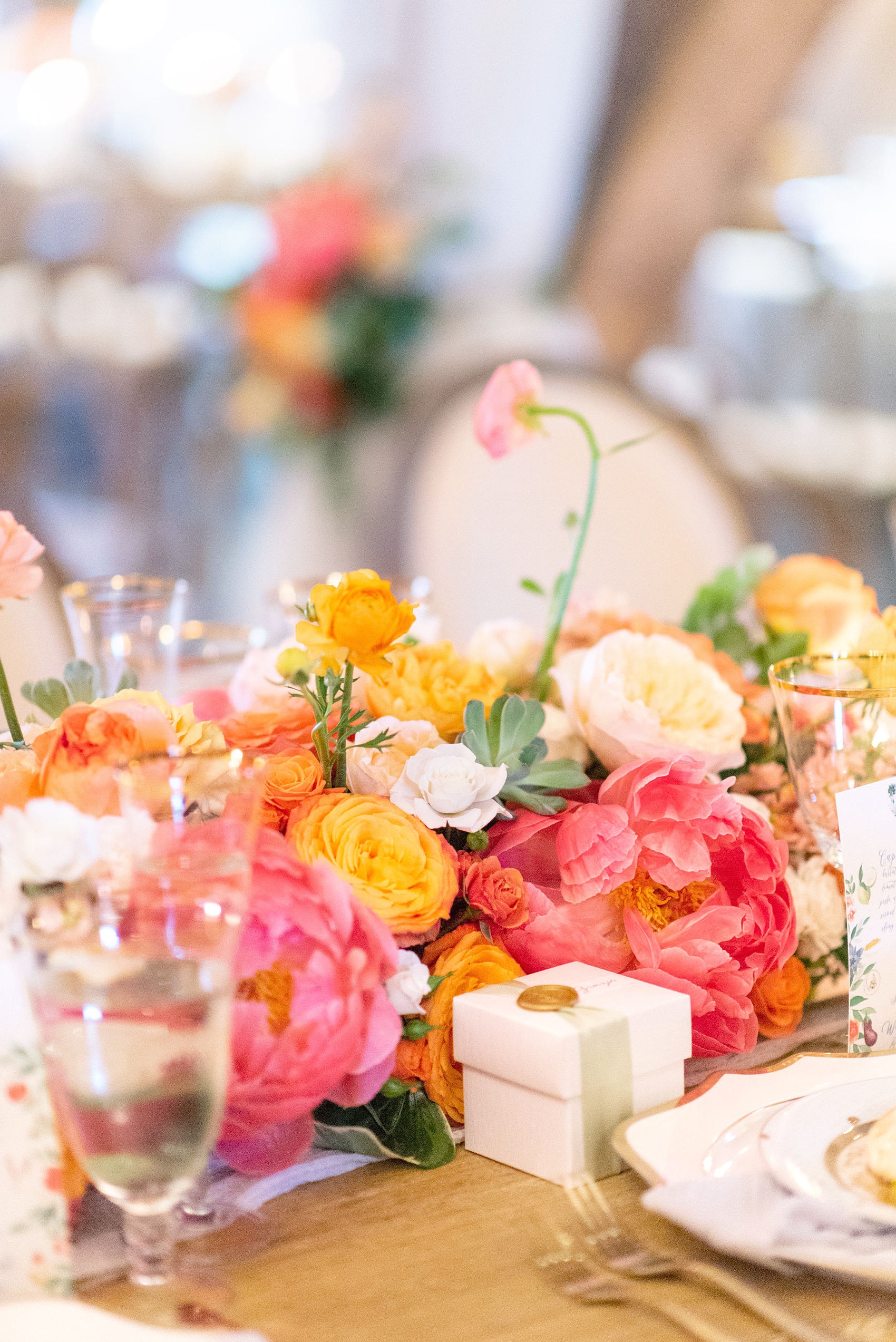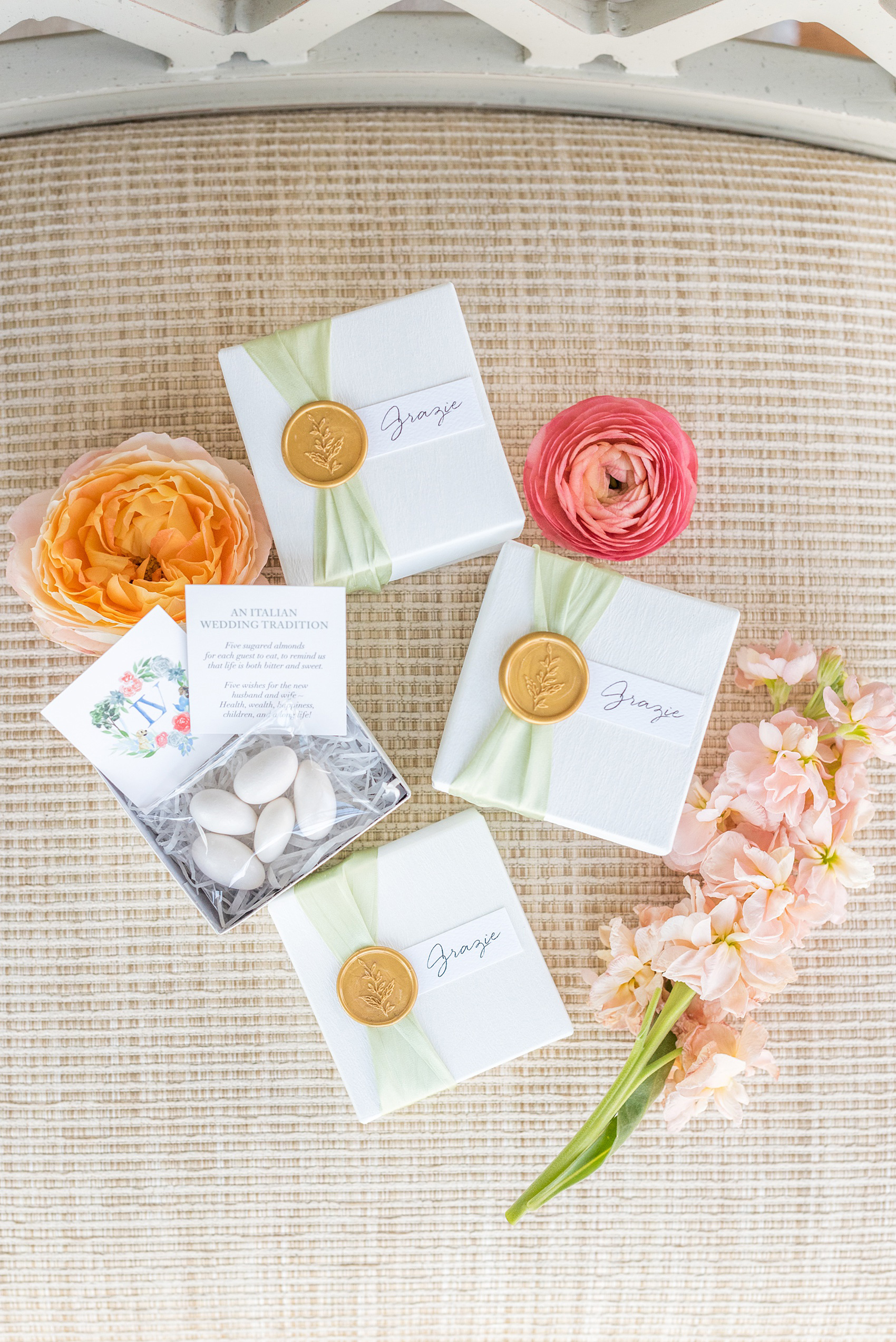 I love the mix of high and low centerpieces, the flowers "tying" the sweeping drapery to the wooden beams and the gauze fabric runners on the farm tables.  The menus were custom and created to match the colorful signage around the reception. A highlight and true focal point in the barn was the staircase, which was covered in flowers! Each guest had a favor box at their place setting with a "grazie" tag attached to it ("thank you," in Italian). The light green silk ribbon matched the welcome boxes they'd received the day before. Five sugared almonds inside were for 1) health, 2) wealth, 3) happiness, 4) children, and 5) a long life. The Italian tradition was an homage to Lucy's heritage.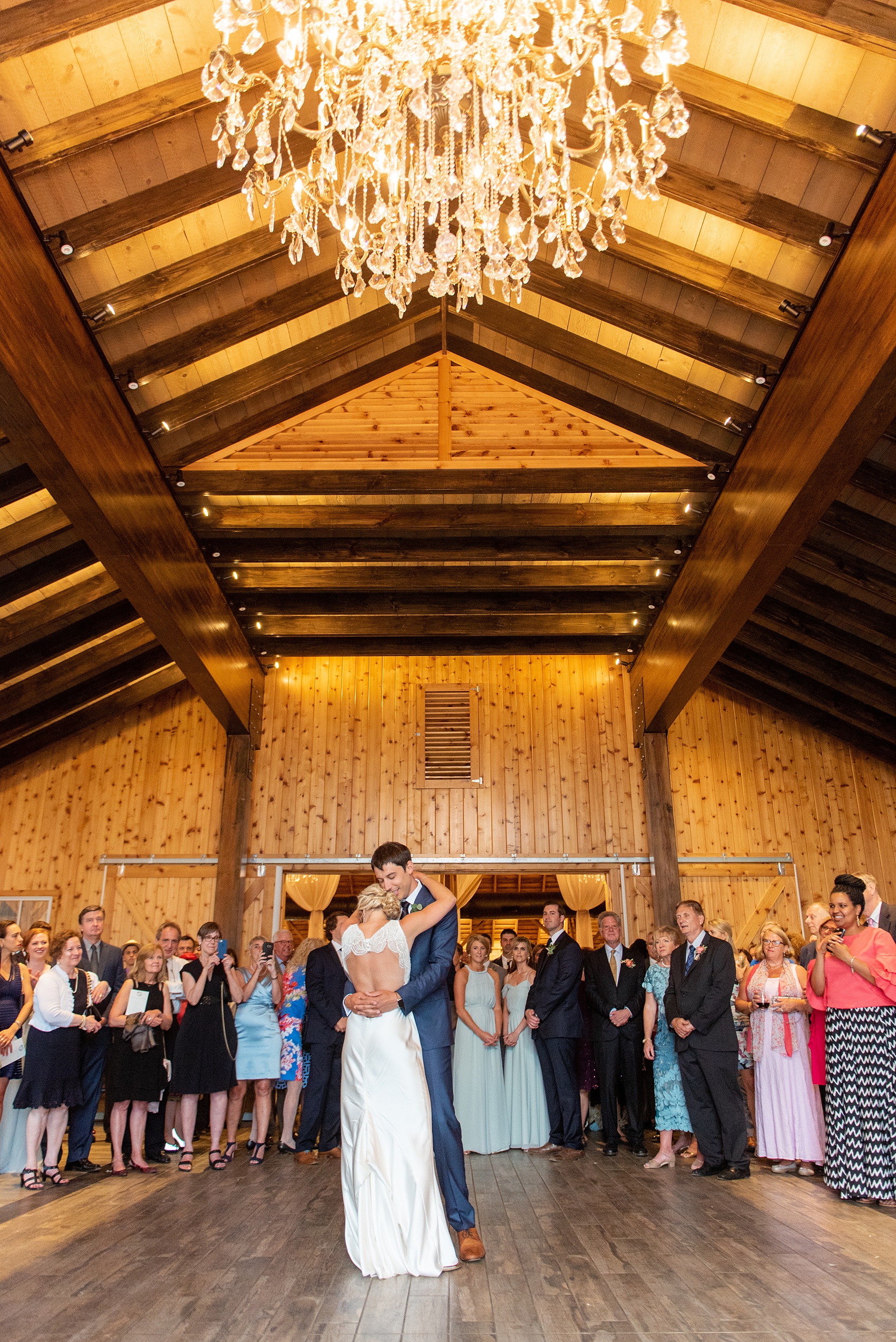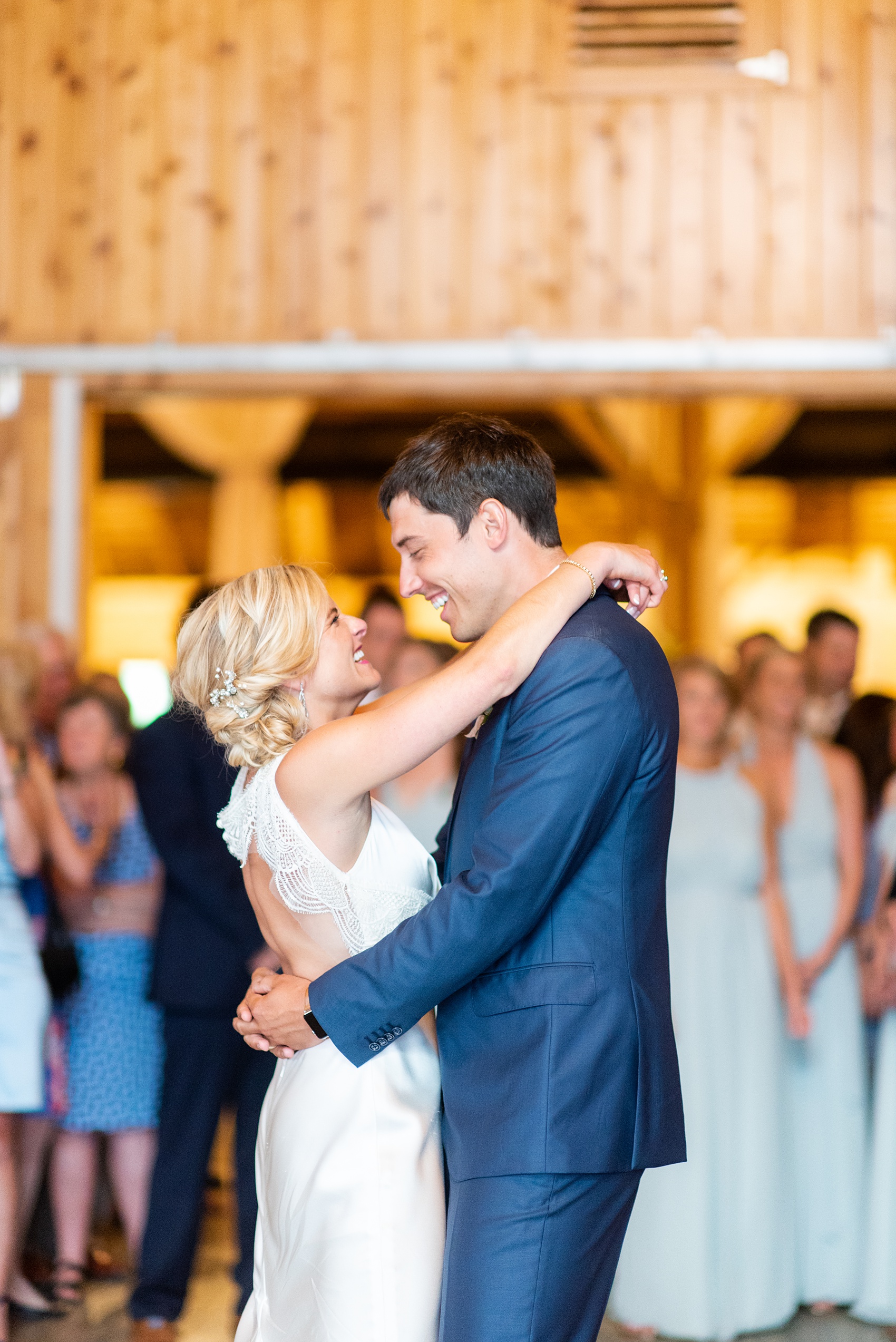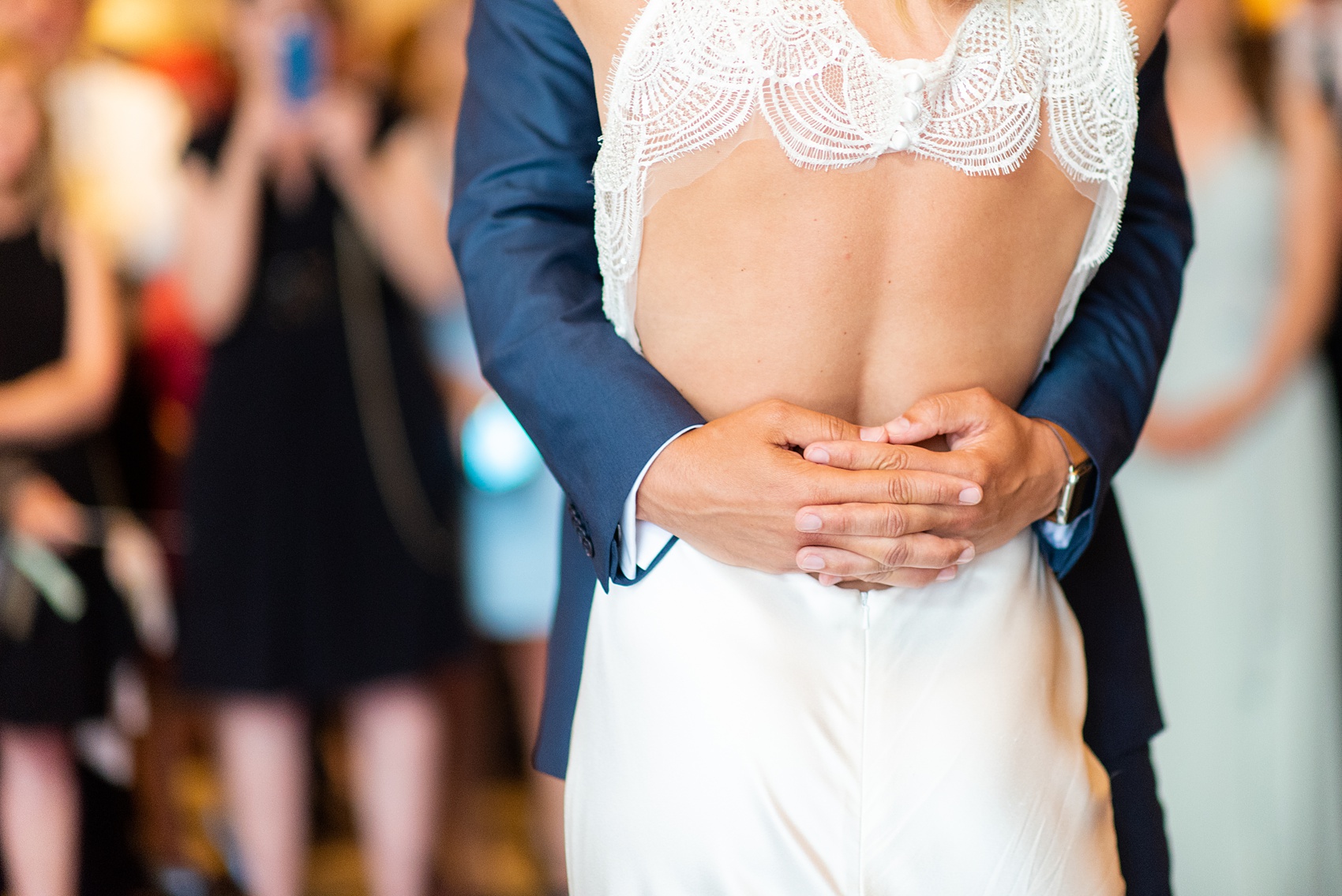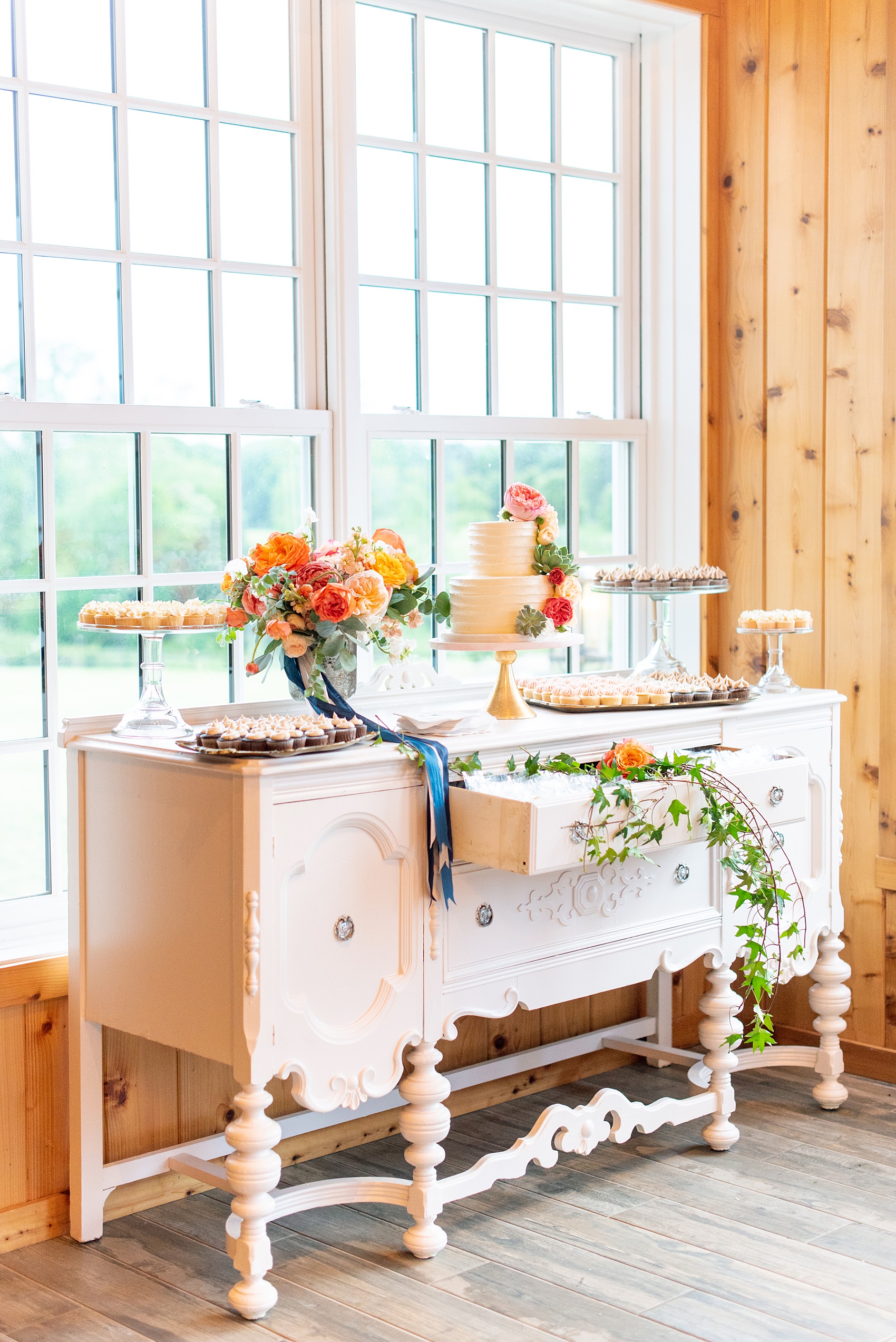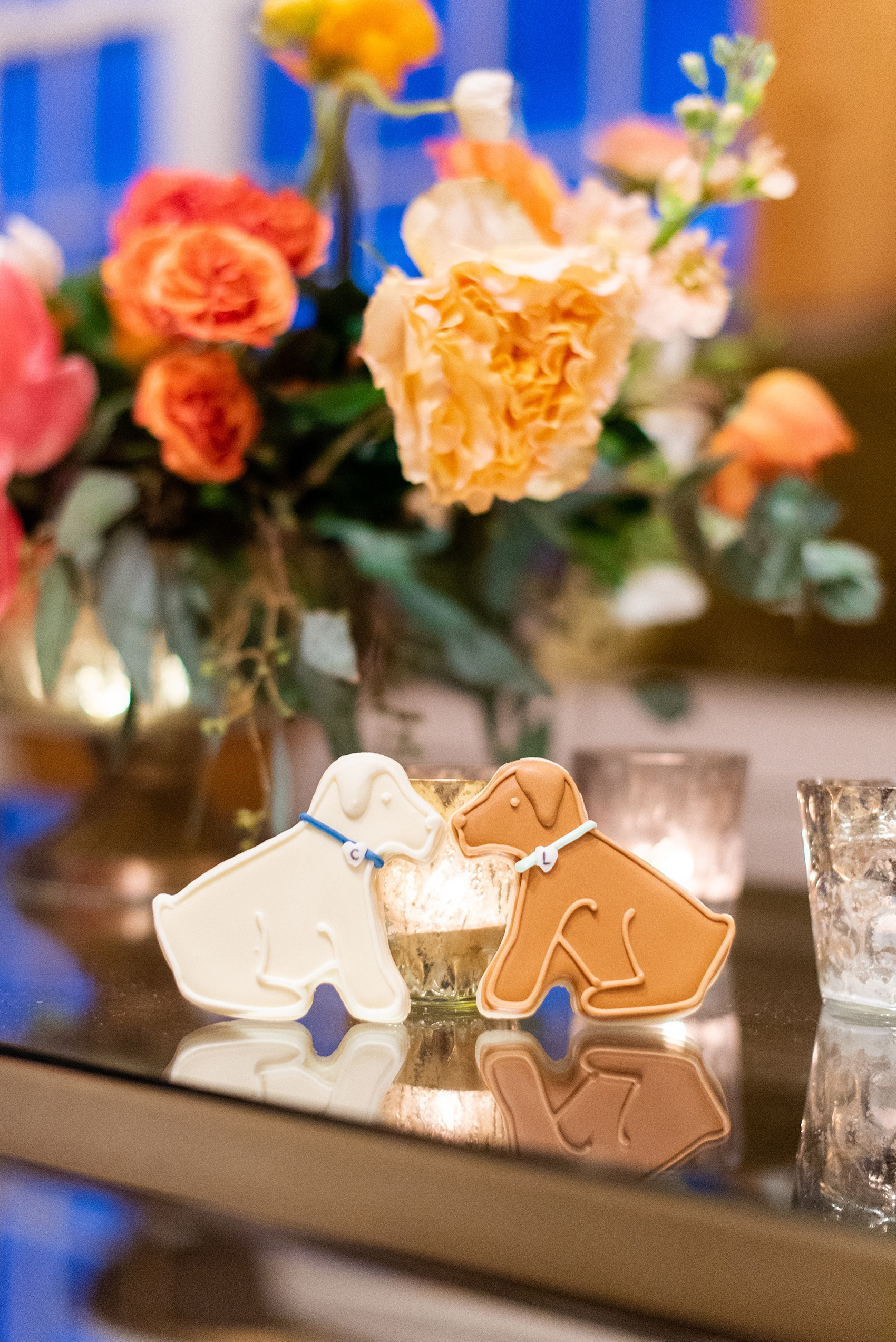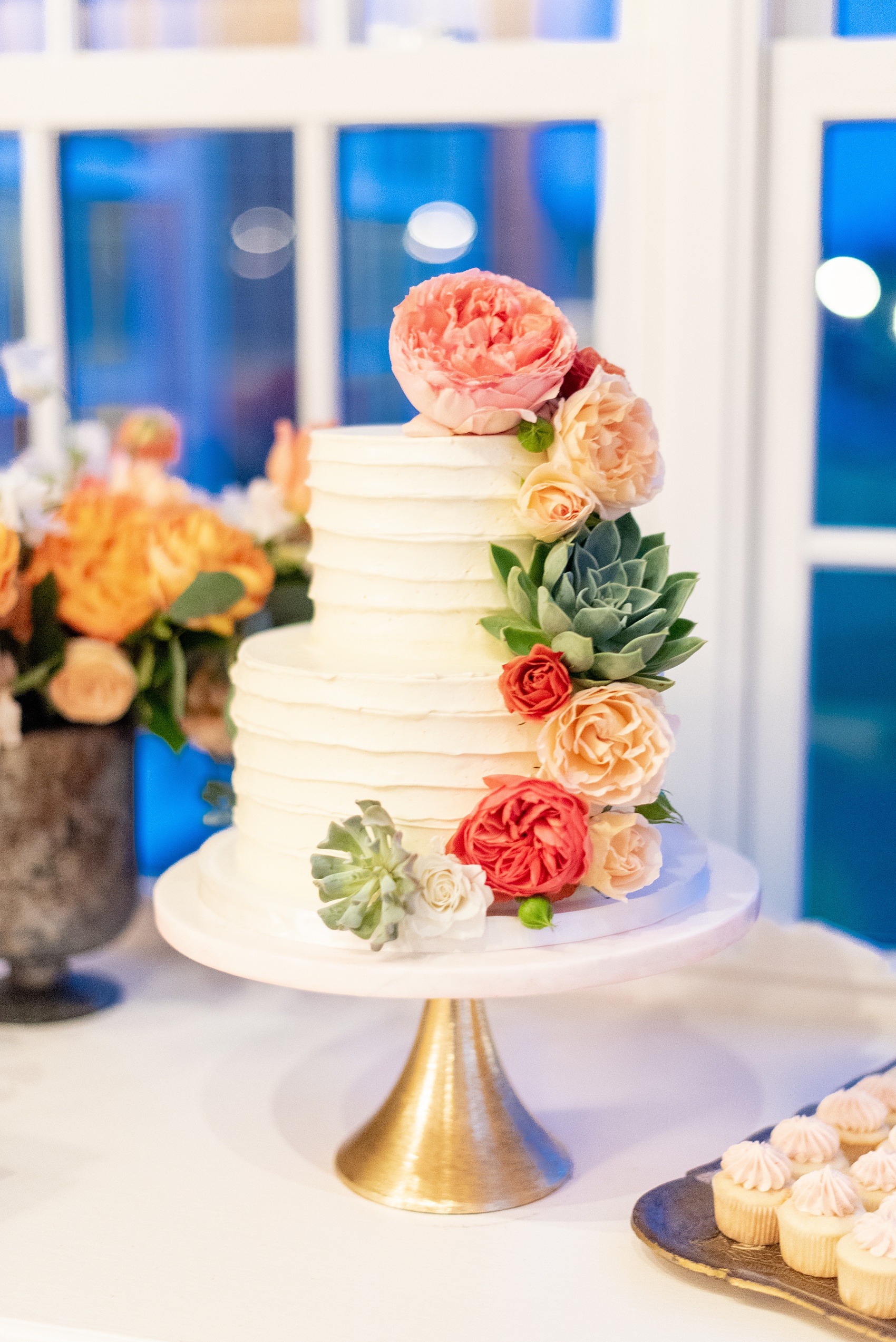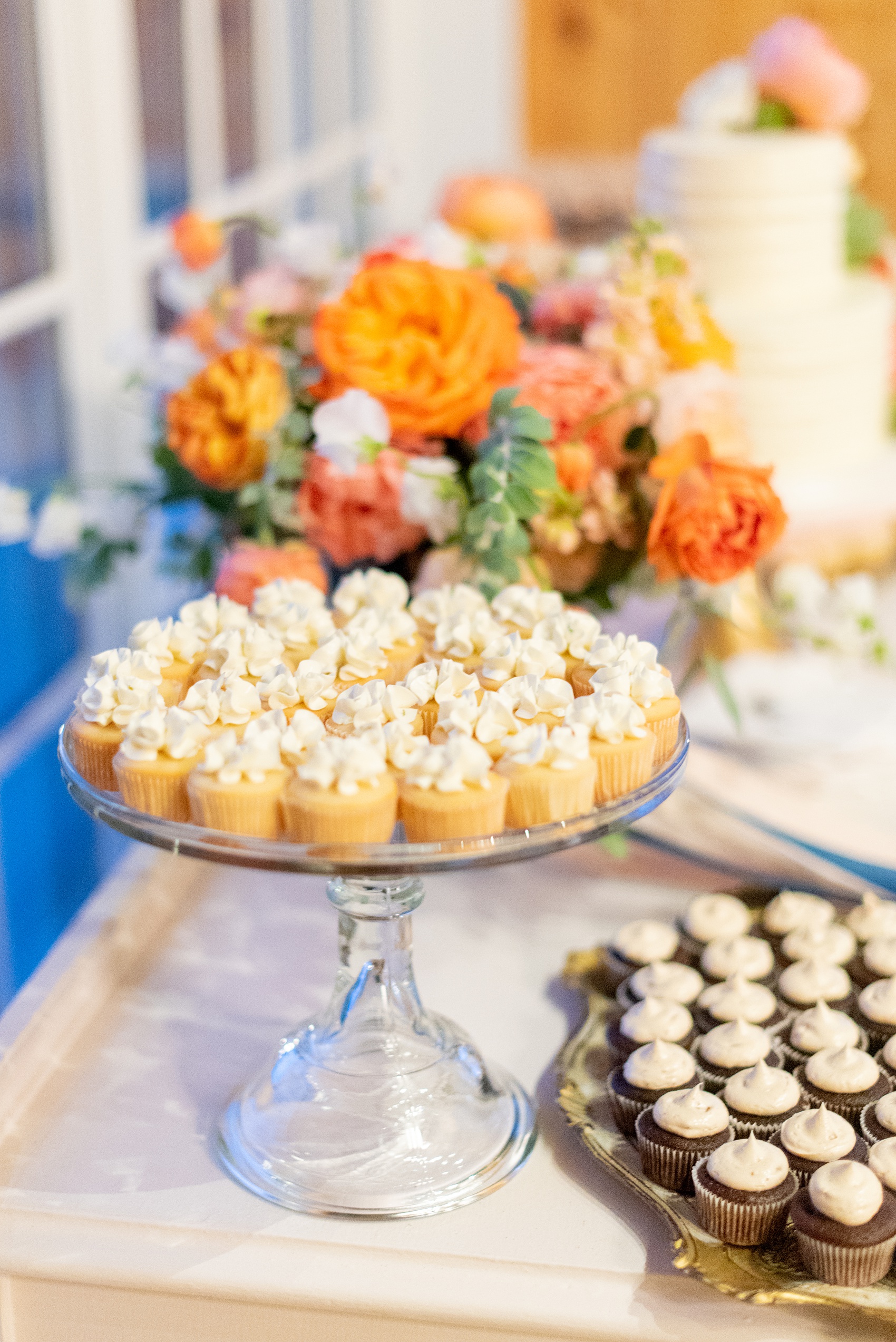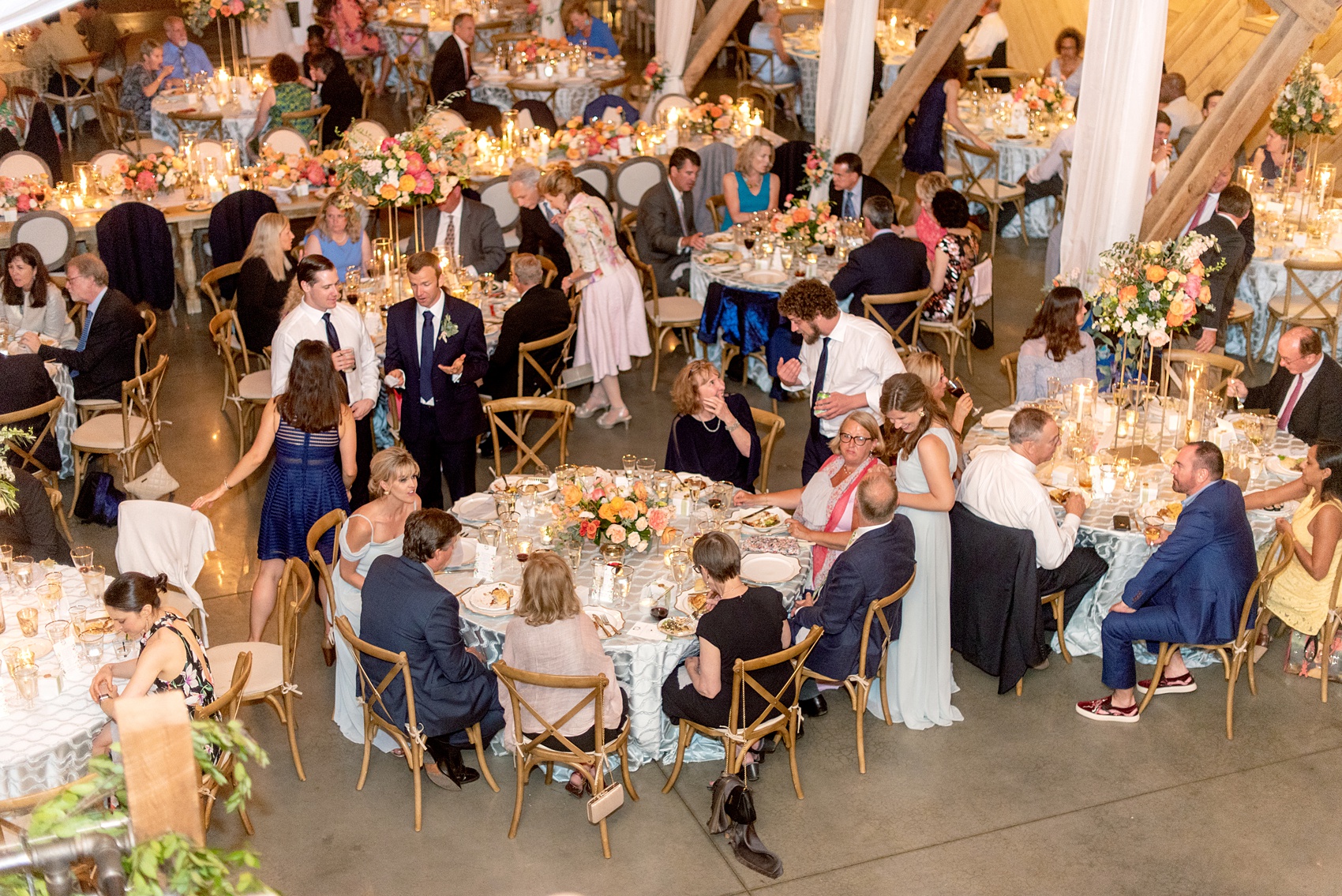 Their wedding photos at The Lodge at Mount Ida Farm continued well into the evening, from speeches by their parents, siblings and best friends, to a lot of dancing to a live band, Kristen and the Noise, who came in from Philadelphia for the event. Their dessert table included a mix of mini cupcakes, a small tiered white buttercream cake decorated with fresh flowers and succulents, and a very special surprise from their planner, Stephanie: custom sugar cookies by Bailey Lane Baking Co. of their dogs, Larry and Colonel Mustard!
Lucy changed into a second dress after the cake cutting. It was a beautiful, beaded, long sleeve and short skirt white dress. Soon after she appeared in this second look for the evening, guests were instructed to go outside for a "group photo." It was only a ploy though to get them outside for….SURPRISE FIREWORKS!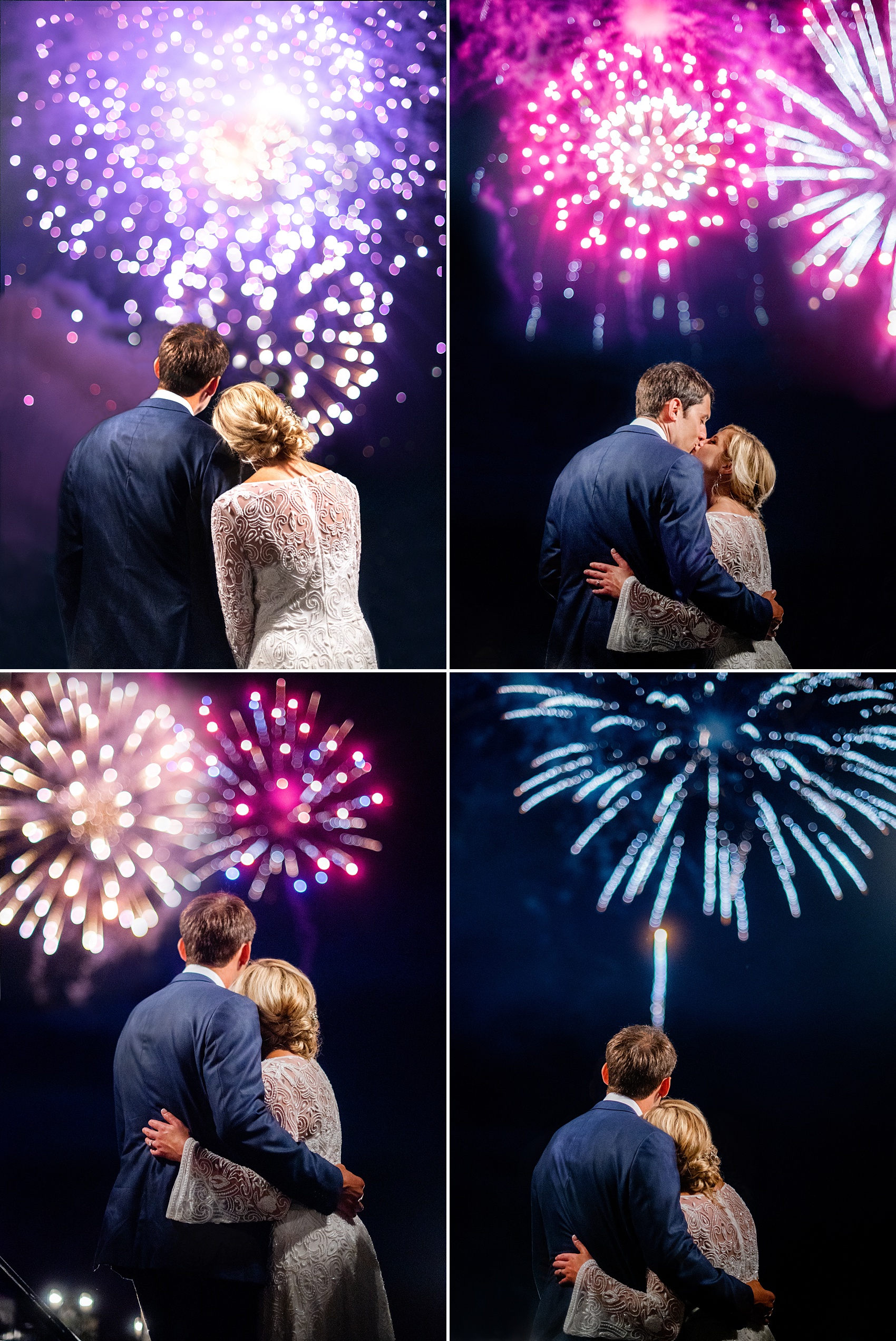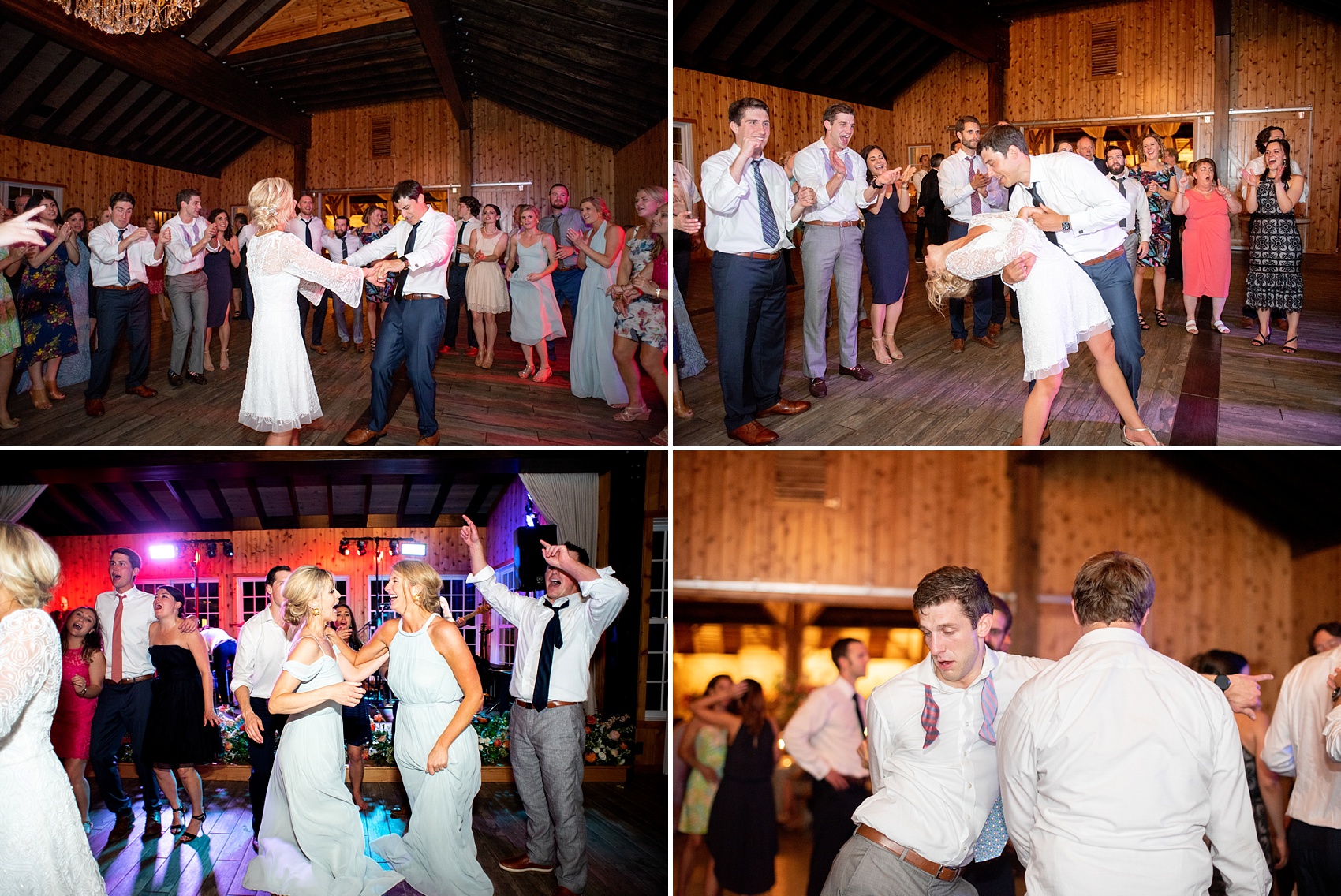 They had about an hour of dancing left after the colorful show in the sky and they made the most of it! Lucy and Van exited their reception in style, through two lines of guests blowing bubbles to wish them farewell as they escaped to their evening cottage in a vintage 1950s Cadillac.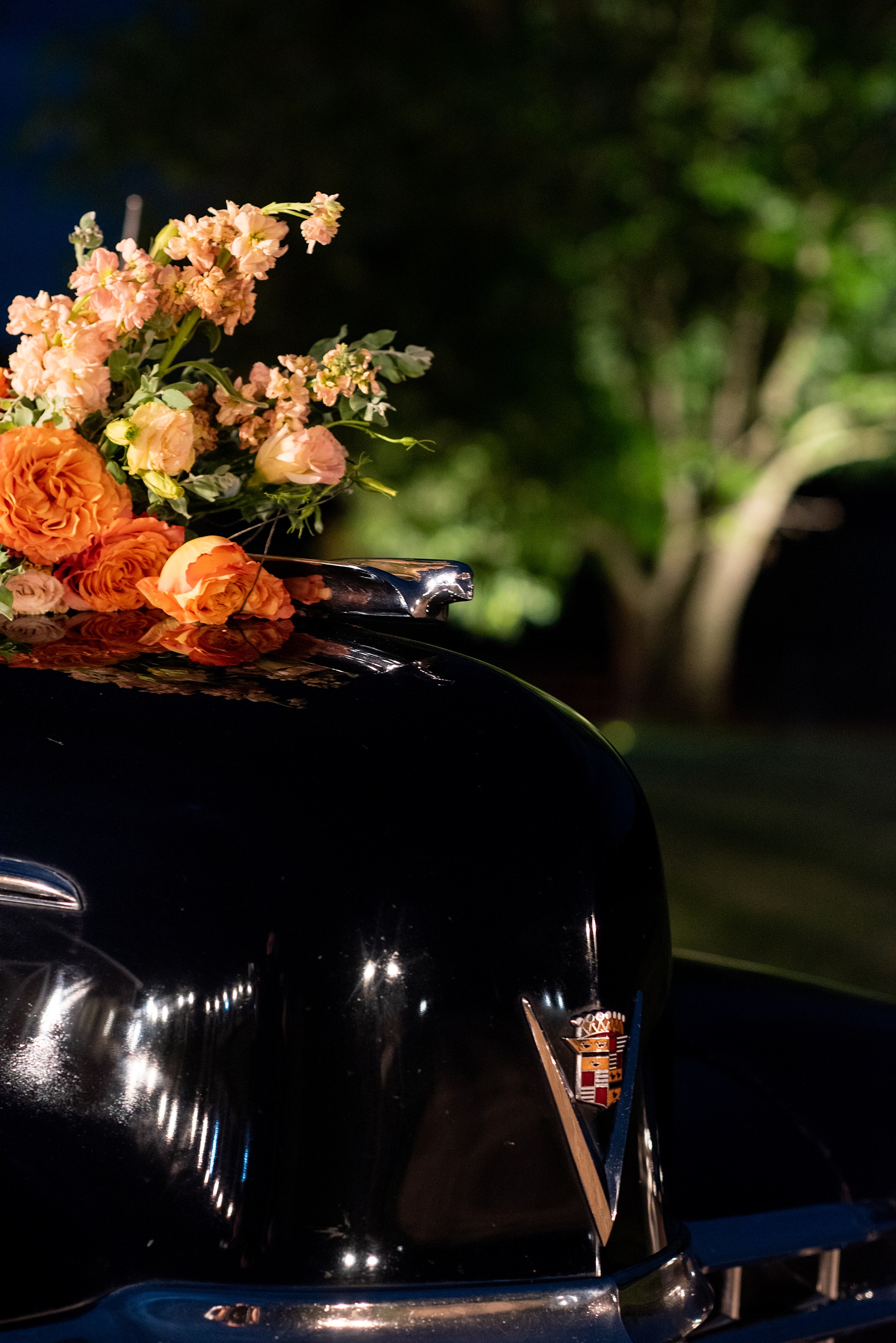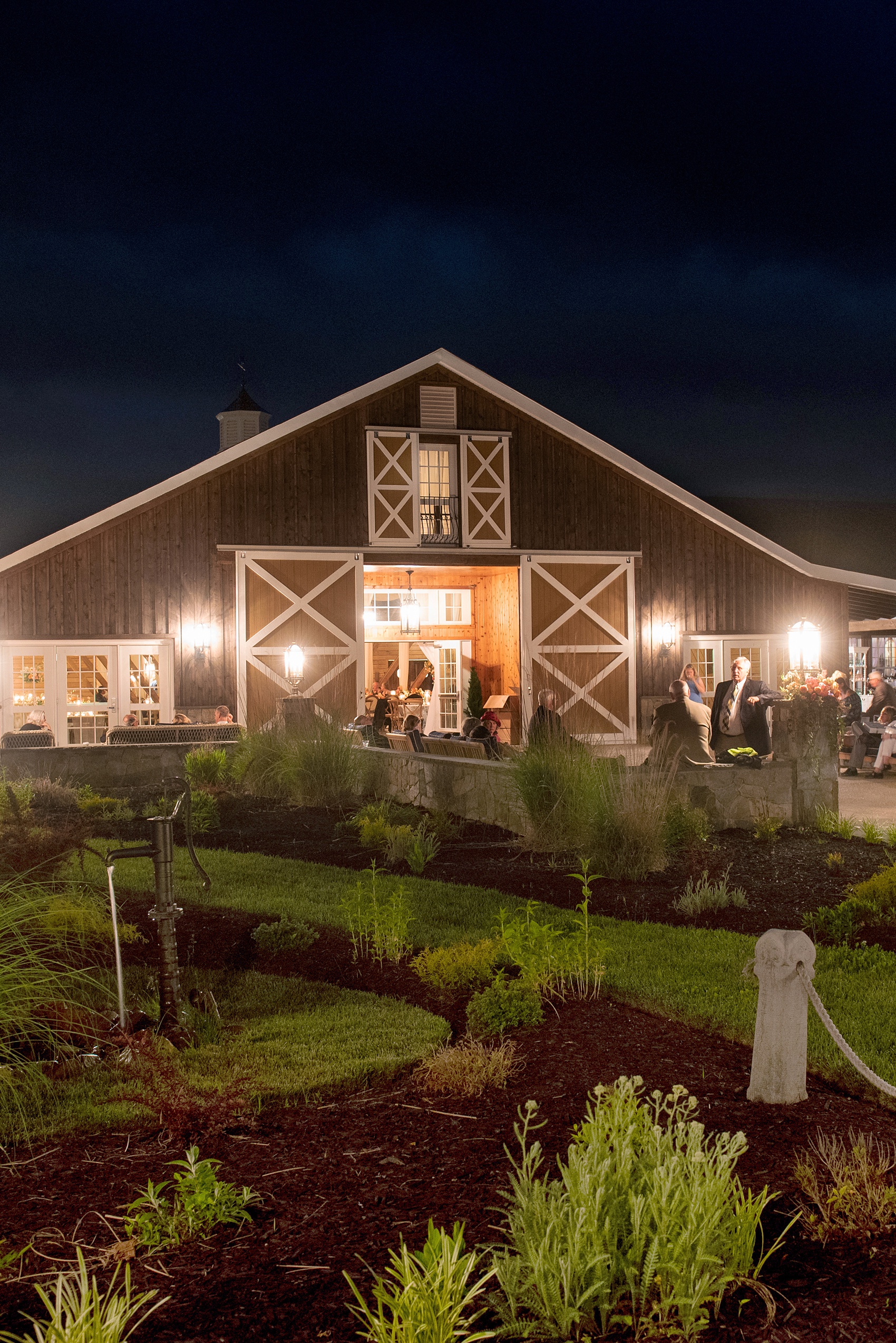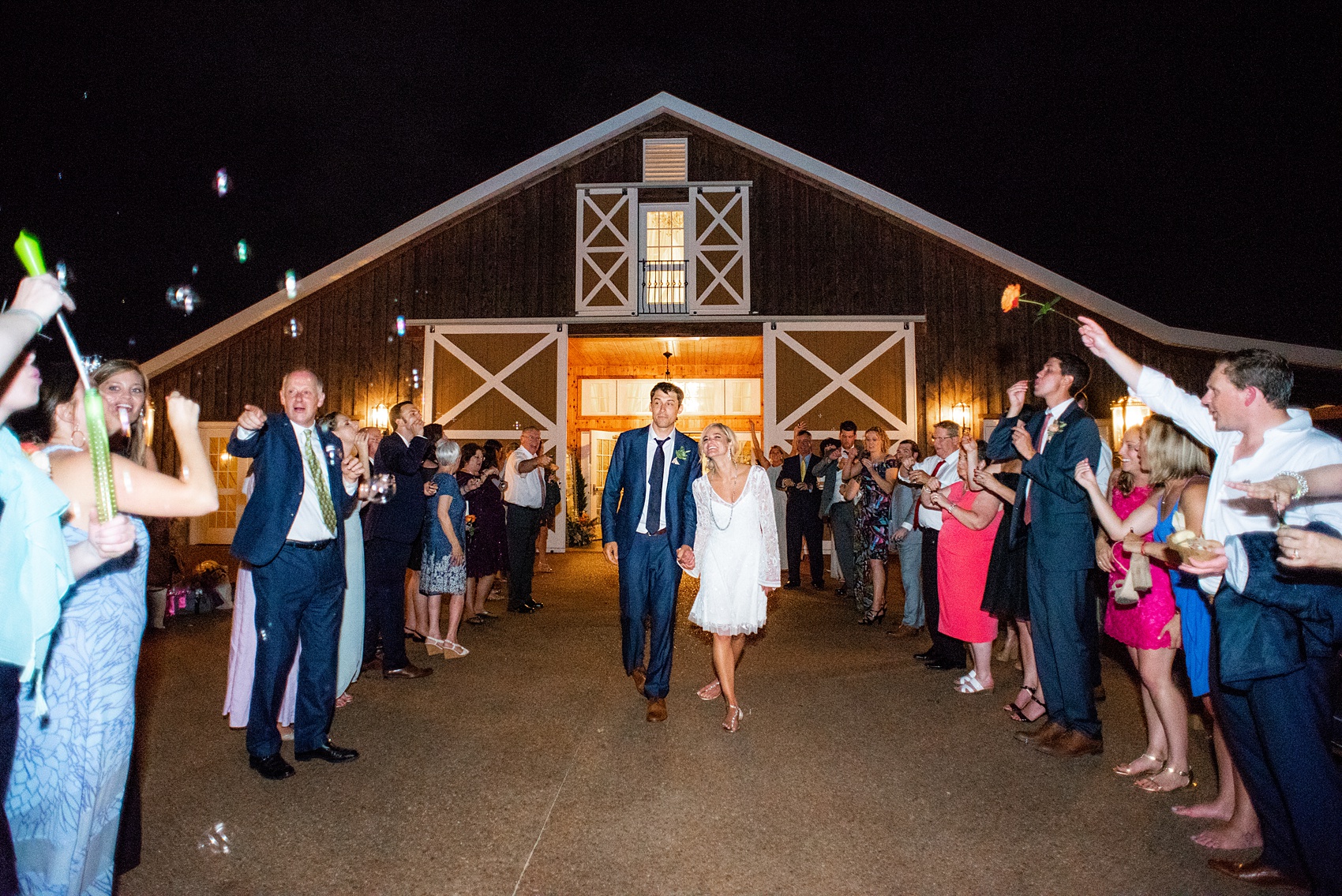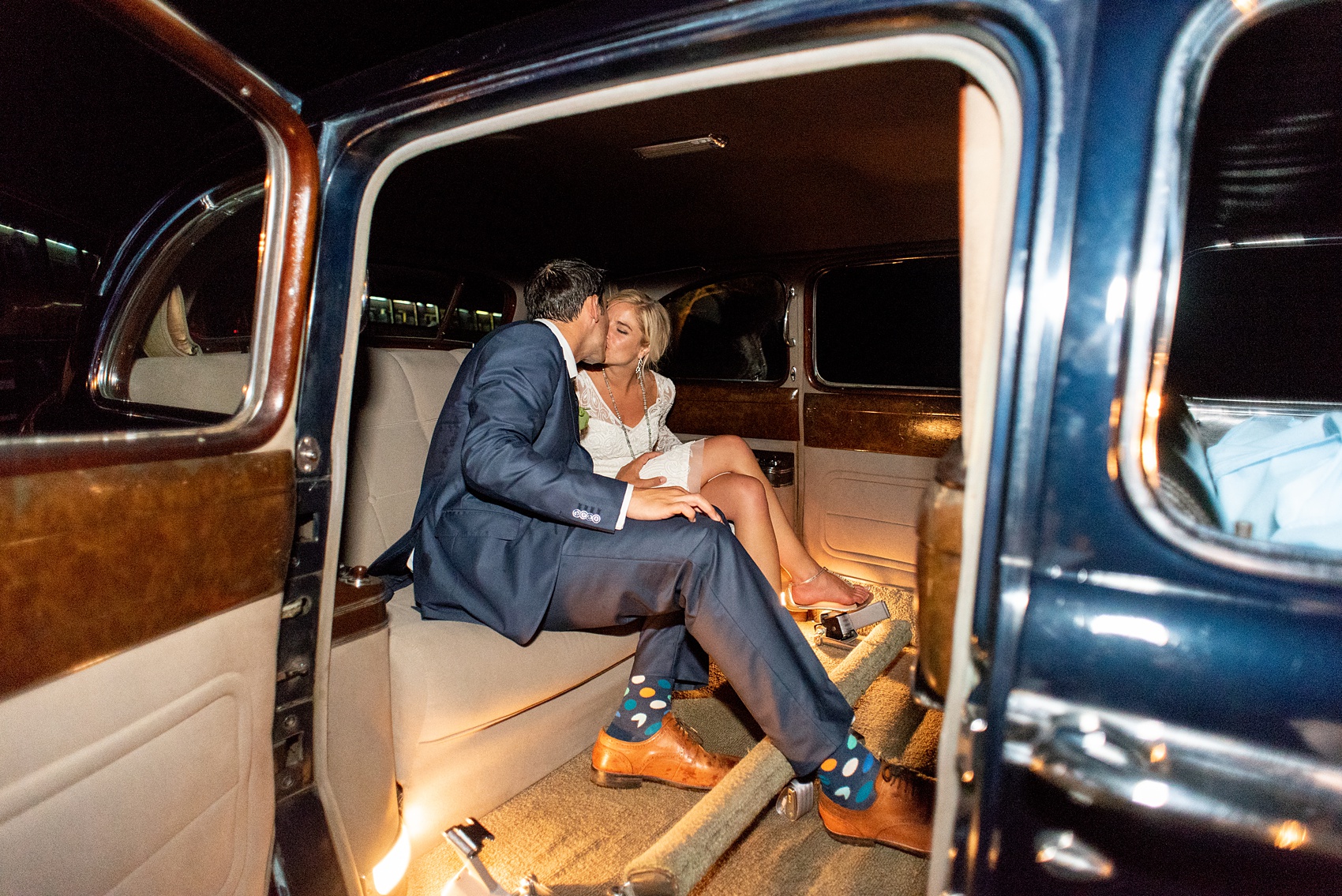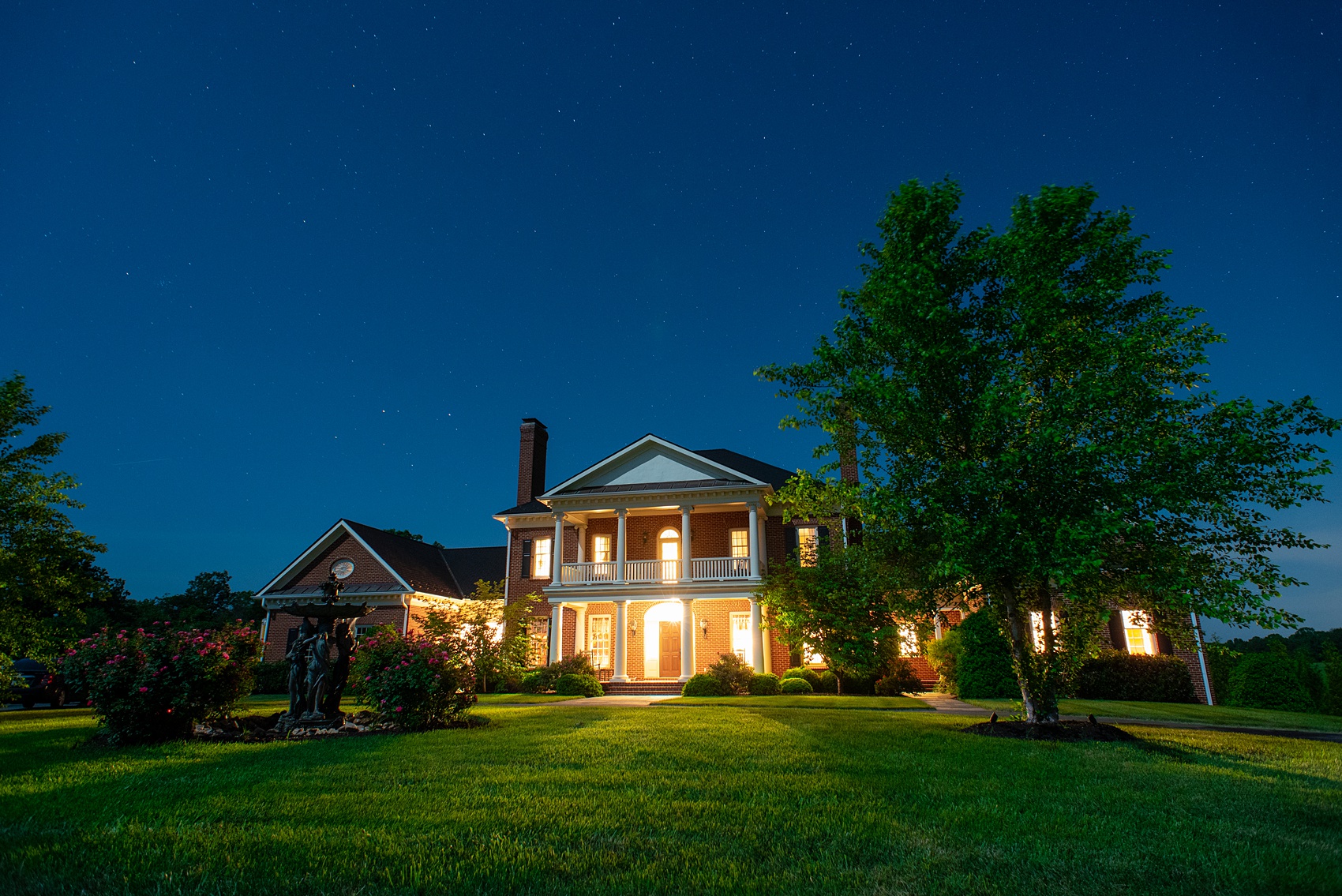 The day after their wedding guests were treated to one of two wonderful Charlottesville attraction options: a trip to Pippin Hill Farm, a beautiful winery, or some time with American history enjoying a visit to Monticello, Jefferson's home. I love when a wedding extends from Friday to Sunday, not just the day of the big event. It really makes for a fabulous destination celebration!
Lucy and Van jet off to St. Lucia for their honeymoon a few weeks later to one of the most incredible resorts in the world: Jade Mountain! Having been to Jade Mountain, I can say first-hand how incredible it is. When they shared they were considering it for their honeymoon back when I took their engagement photos I emphatically said, "Yes! You have to go there!"
I went with my friend Lauren, of Every Last Detail, a couple years ago. It was definitely a trip where we had to scrape our jaws off the floor over and over again from our awe over the amazing views, service and food. You have to check it out!
I was delighted to receive a postcard from Lucy and Van this week, which they sent while they were there! It was so thoughtful of them to think of me as they soaked up the sun and cool blue water. I hope their lives are always as beautiful as their wedding and honeymoon!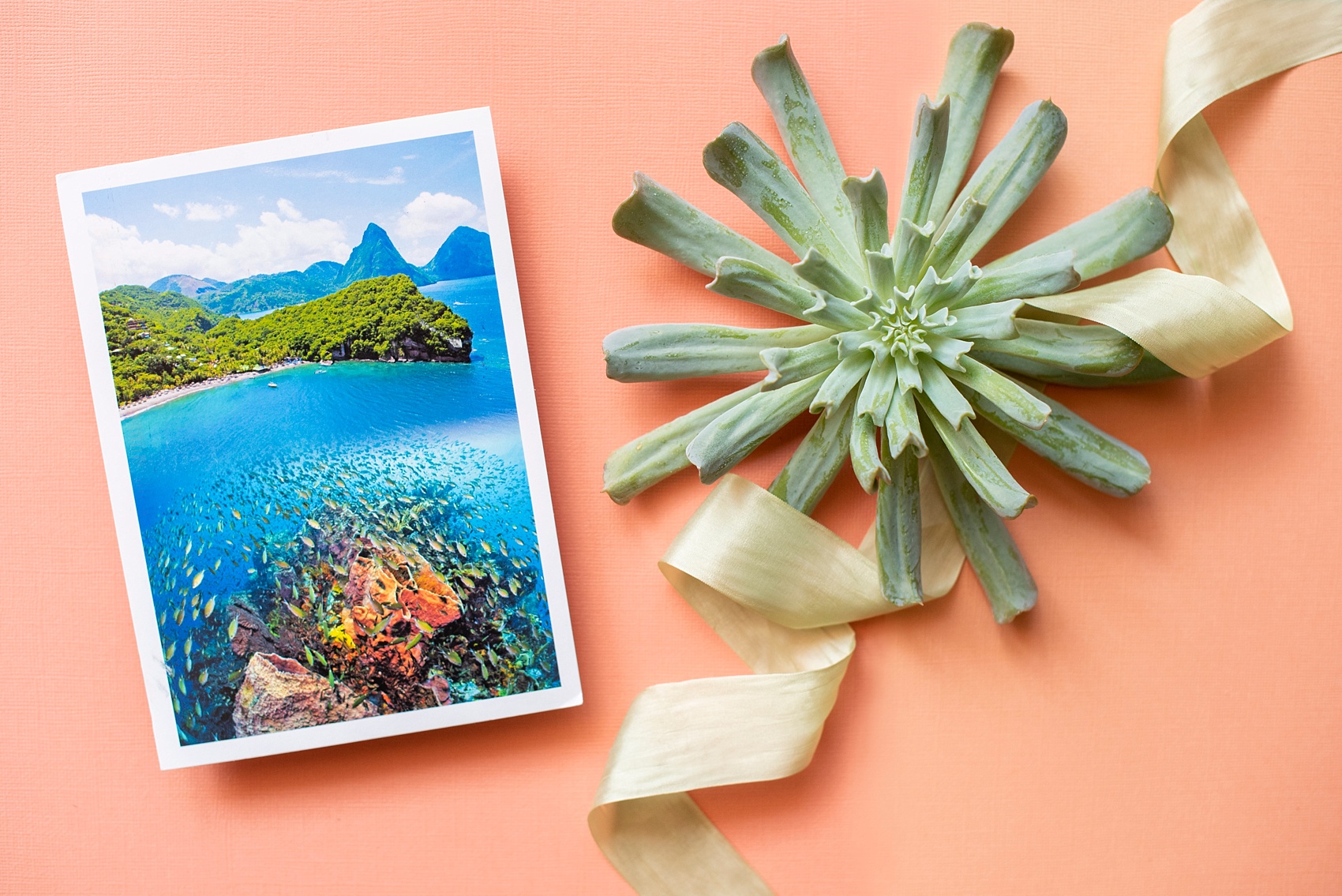 Congratulations Lucy and Van!!!
Wedding planner and event designer: Viva L'Event / Venue: The Lodge at Mount Ida Farm / Flowers: Meristem Floral / Beauty: Wink Hair + Makeup / Stationery: One + Only Paper / Calligraphy: Mason Dixon Designs / Welcome boxes: Memento + Muse / Ceremony music:  Gallatin Canyon Band via Sam Hill Entertainment / Ceremony sound: Charlottesville Ceremony Sound / Reception band: Kristen and the Noise / Wedding gown: Traditions by Anna, designer Suzanne Neville / Bridesmaids dresses: Bella Bridesmaids / Tuxedos: Jos A Bank / Furniture rentals: Cottage Luxe, Paisley and Jade, White Glove Rentals and Festive Fare Rentals / Cake: Passion Flower Cakes / Cookies: Bailey Lane Baking Co. / Catering: The Catering Outfit / Transportation (including vintage car): Albemarle Transportation / Lighting and draping: Blue Ridge Event Production
For more wedding inspiration check out:
Interested in having us capture your wedding day? Contact us!