They say "when you know, you know" and Laura and Phil are the epitome of meant to be. These two met online and were almost immediately hooked. One of my favorite parts of their day (even though it's hard to pinpoint – just look at the gorgeousness – there were so many highlights) was when Phil's best man, John, mentioned that Laura reached out to him to ask him to meet up for conversation and a meal one day – without Phil. He said that's when he knew Laura was really the one for Phil, because she cared about his friends. And that Laura's sister, Jenny, mentioned a memorable trip to Ikea with Phil that made her think of him in terms of a great brother-in-law.
It's sometimes the ability to add to each others lives completely, from family to friends, that really enriches us and takes a relationship to the next level. Well, that and a trip to Africa several weeks after you begin dating doesn't hurt! It seems Phil's love of penguins was only deepened there. Hence, the incorporation of penguin cufflinks into their day!
Being a witness and documenter of such a special day in their lives, when they became husband and wife, was really remarkable. They're in love, goofy, and simply sincere wonderful people.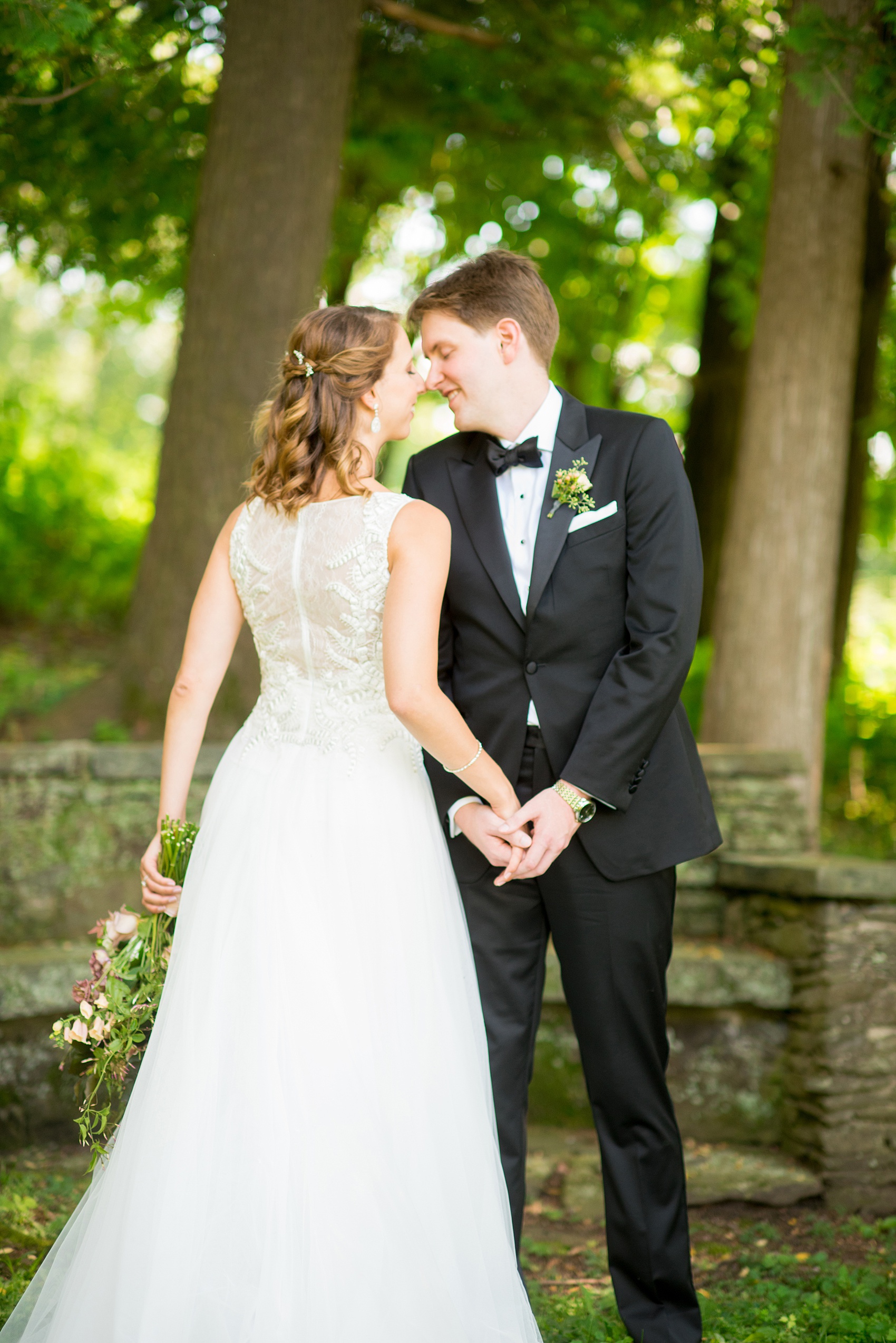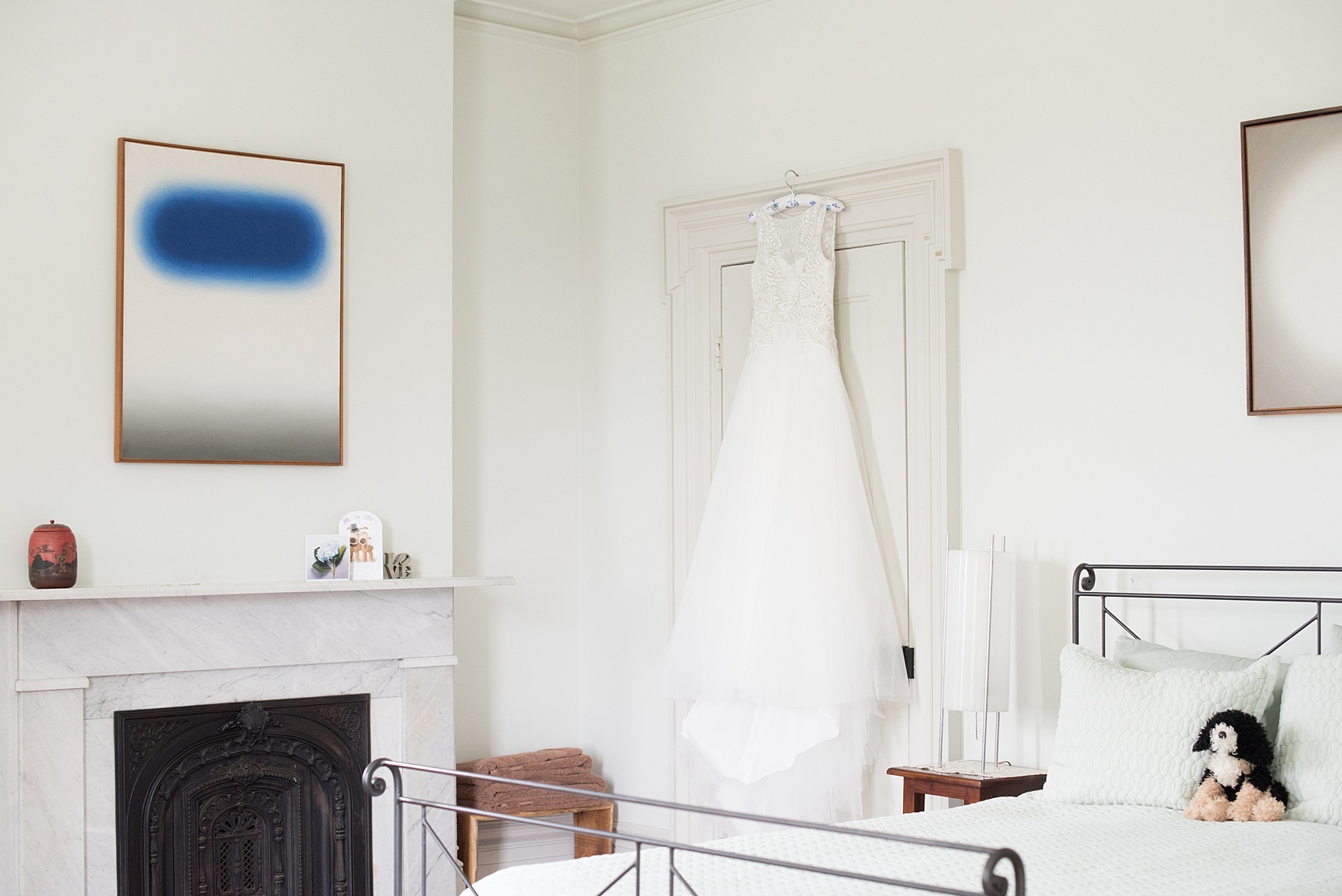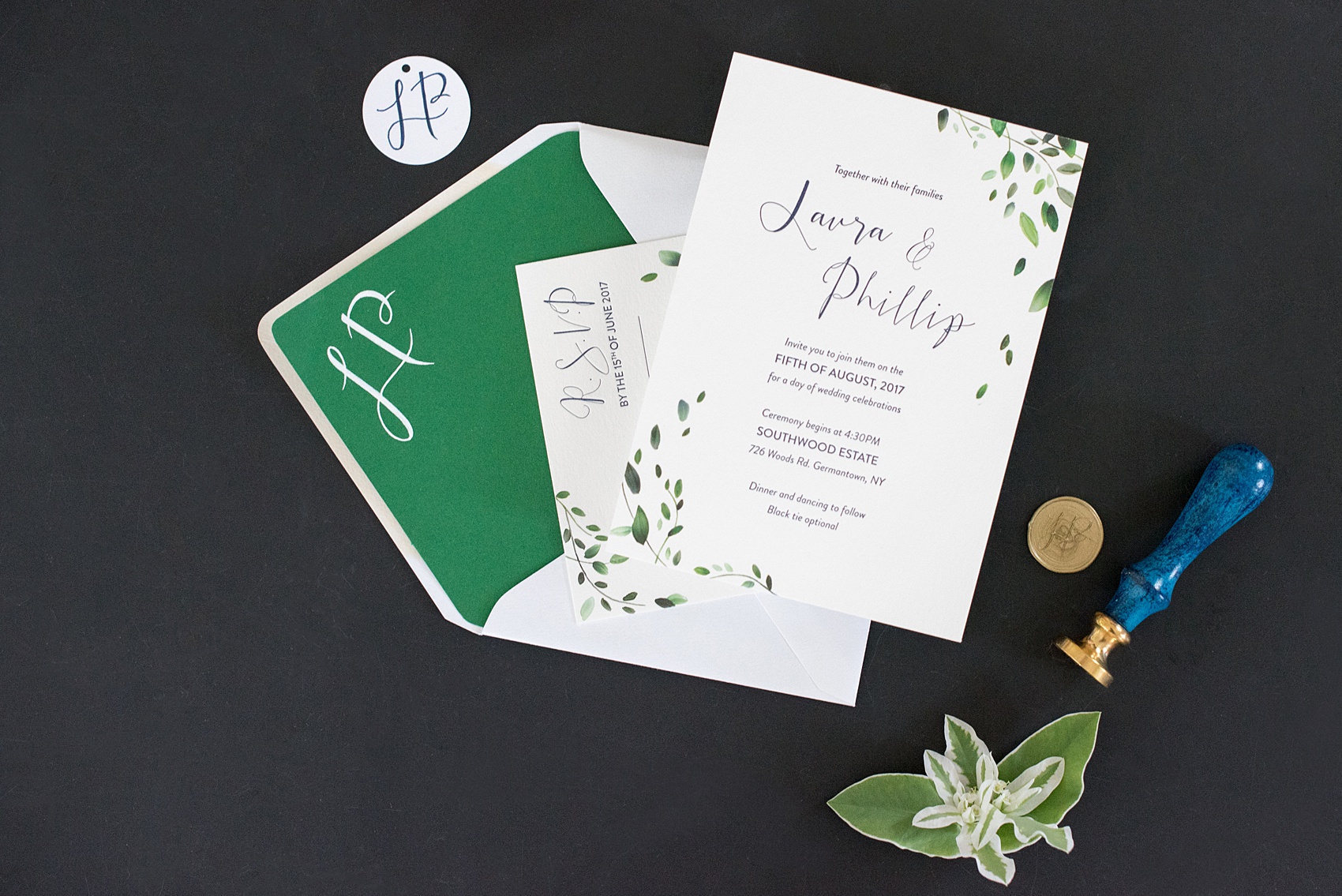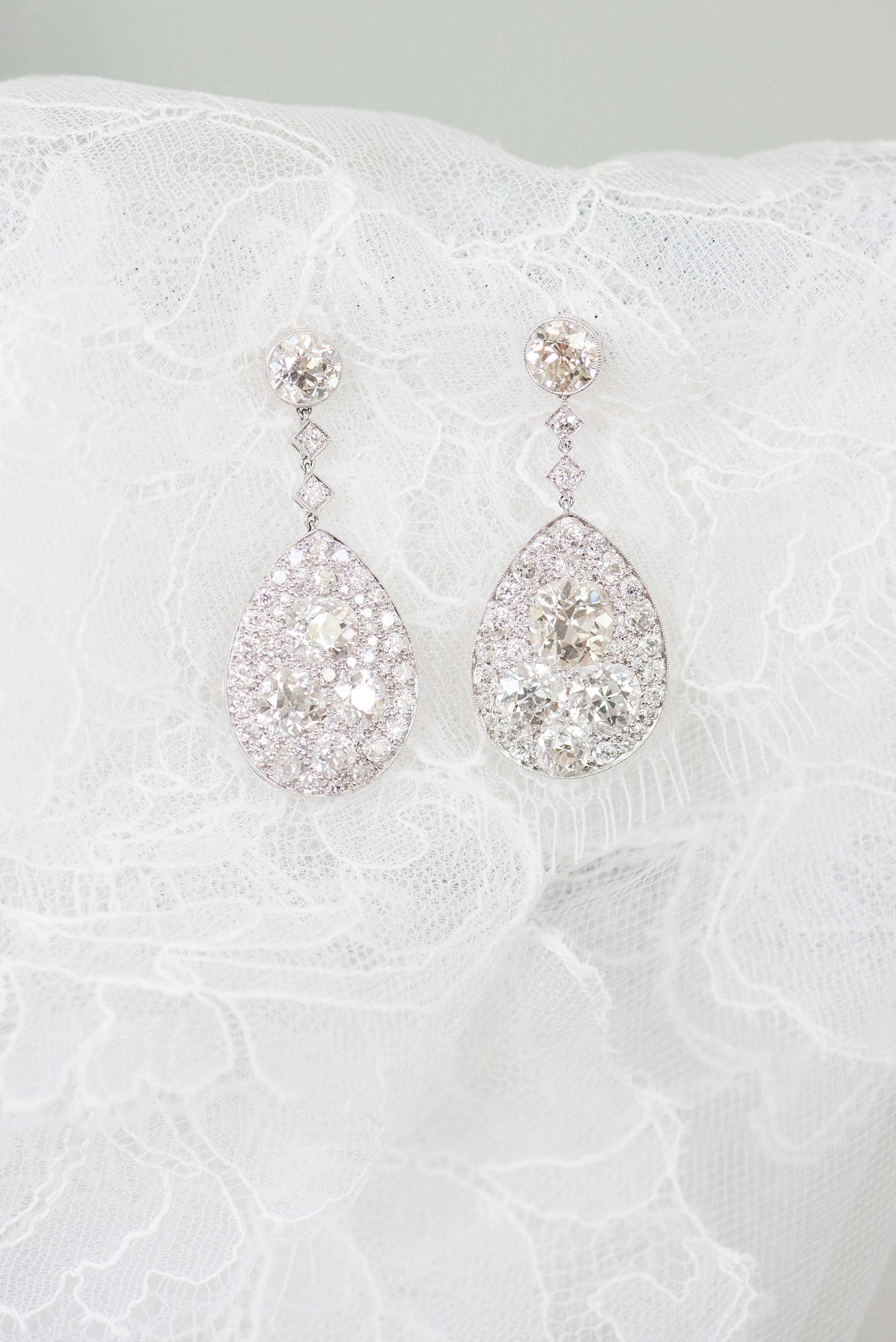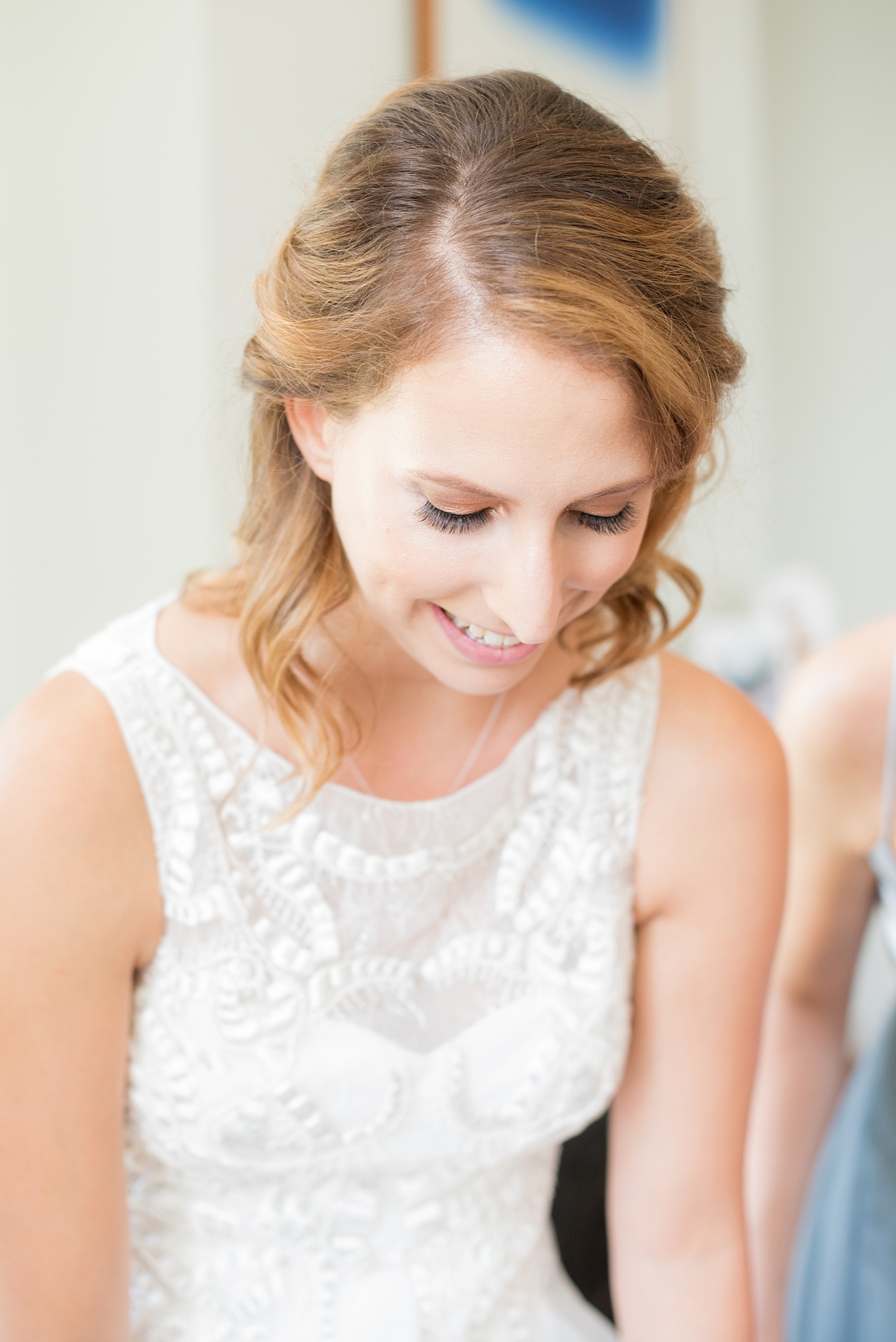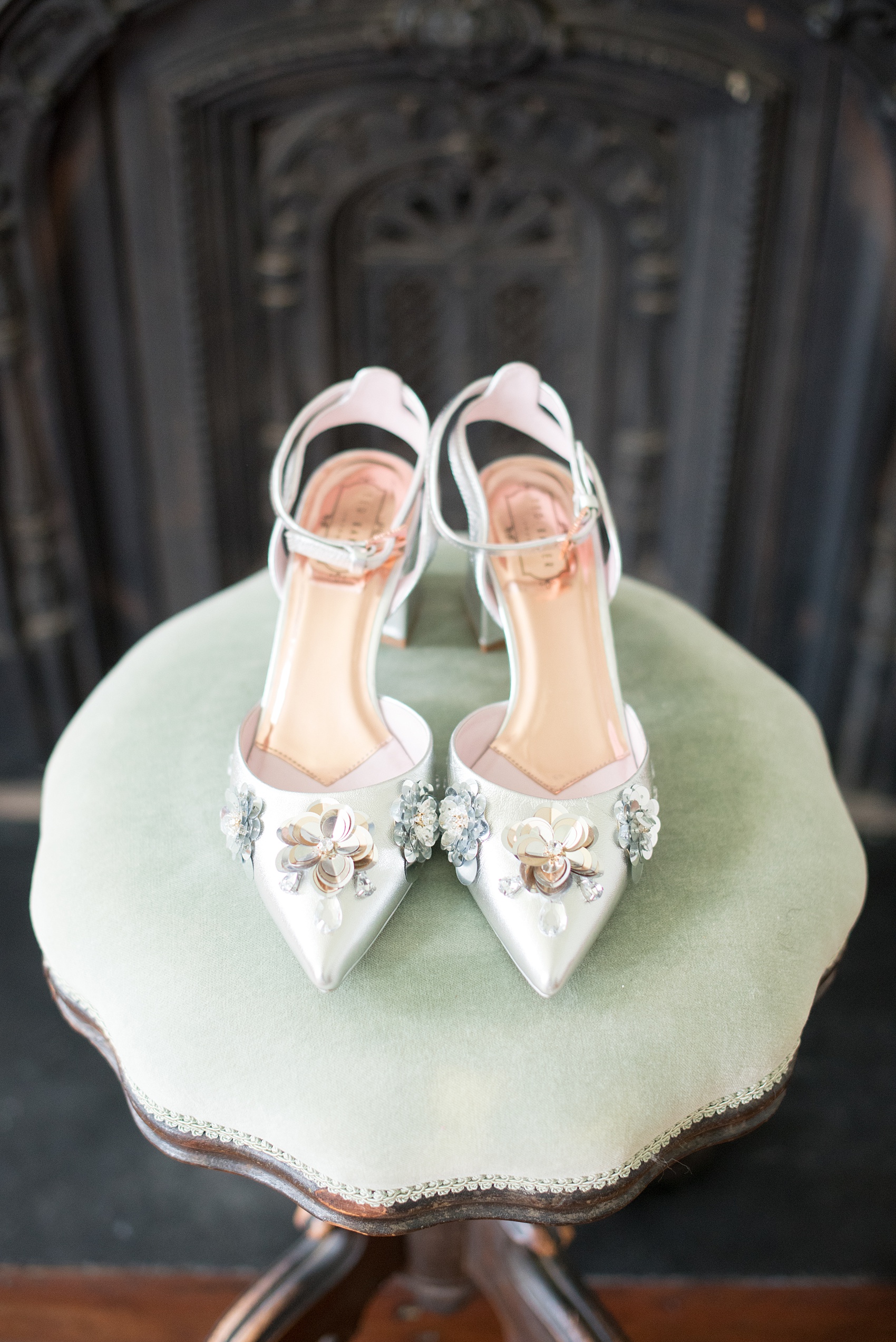 Getting ready images at Southwood Estate always knock expectations out of the park. The historic home is filled with dreamy light and beautiful rooms. Laura got ready in a pretty suite that let her gown and details shine. I absolutely LOVED her bridal shoes! She opted for a lower chunky heel with silver metallic sequins and accents. They were such a fantastic, practical choice for the grassy areas of the venue without having to sacrifice fashion.
A few bridesmaids and her mother, Vivian, helped her get into her gown. They even assisted in making sure each layer of tulle of the skirt was perfectly placed. After a first look with her father, Ralph, and Phil put finishing touches on his wedding day outfit with the help of his groomsmen and mother (including the penguin cufflinks!) it was time for them to see one another.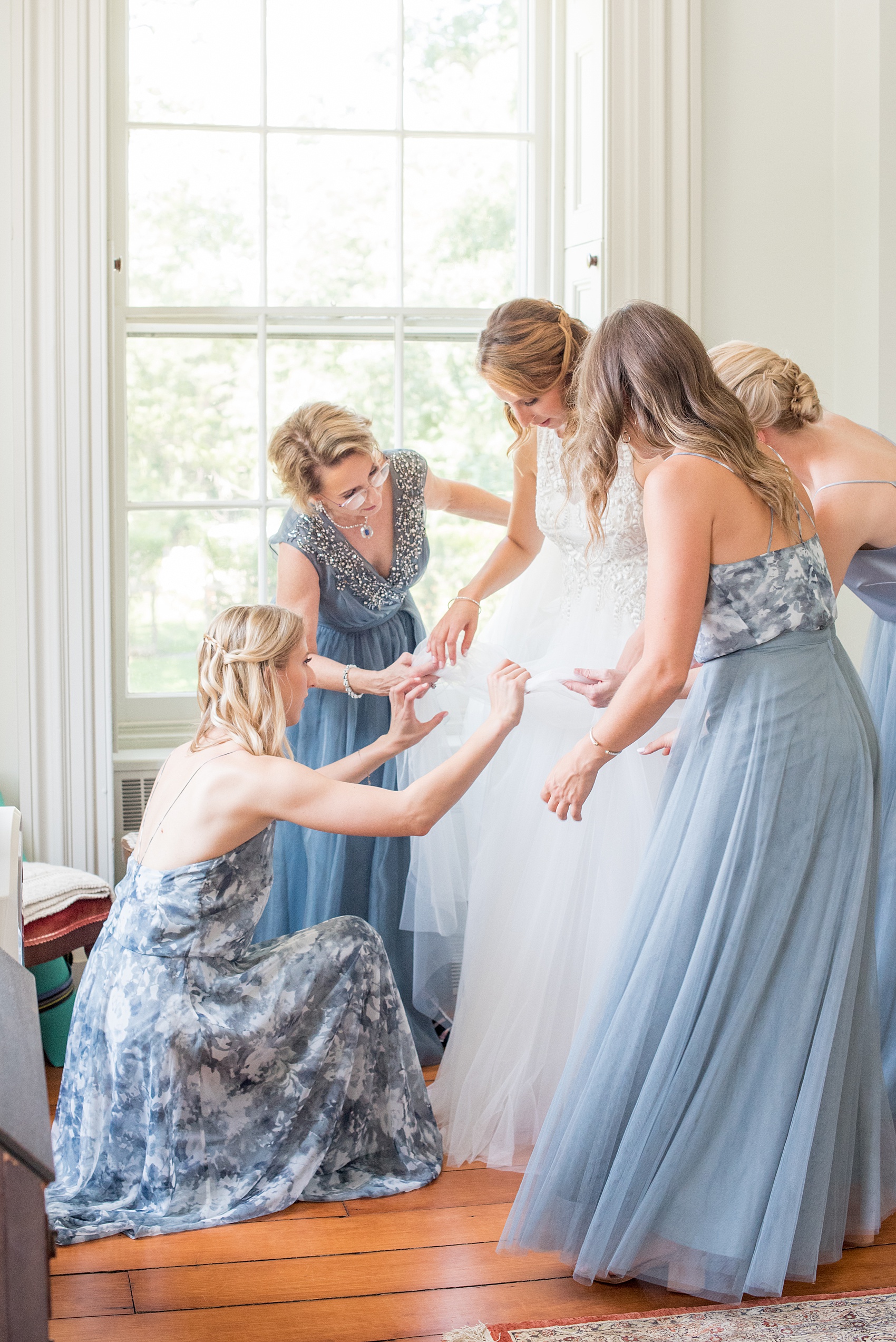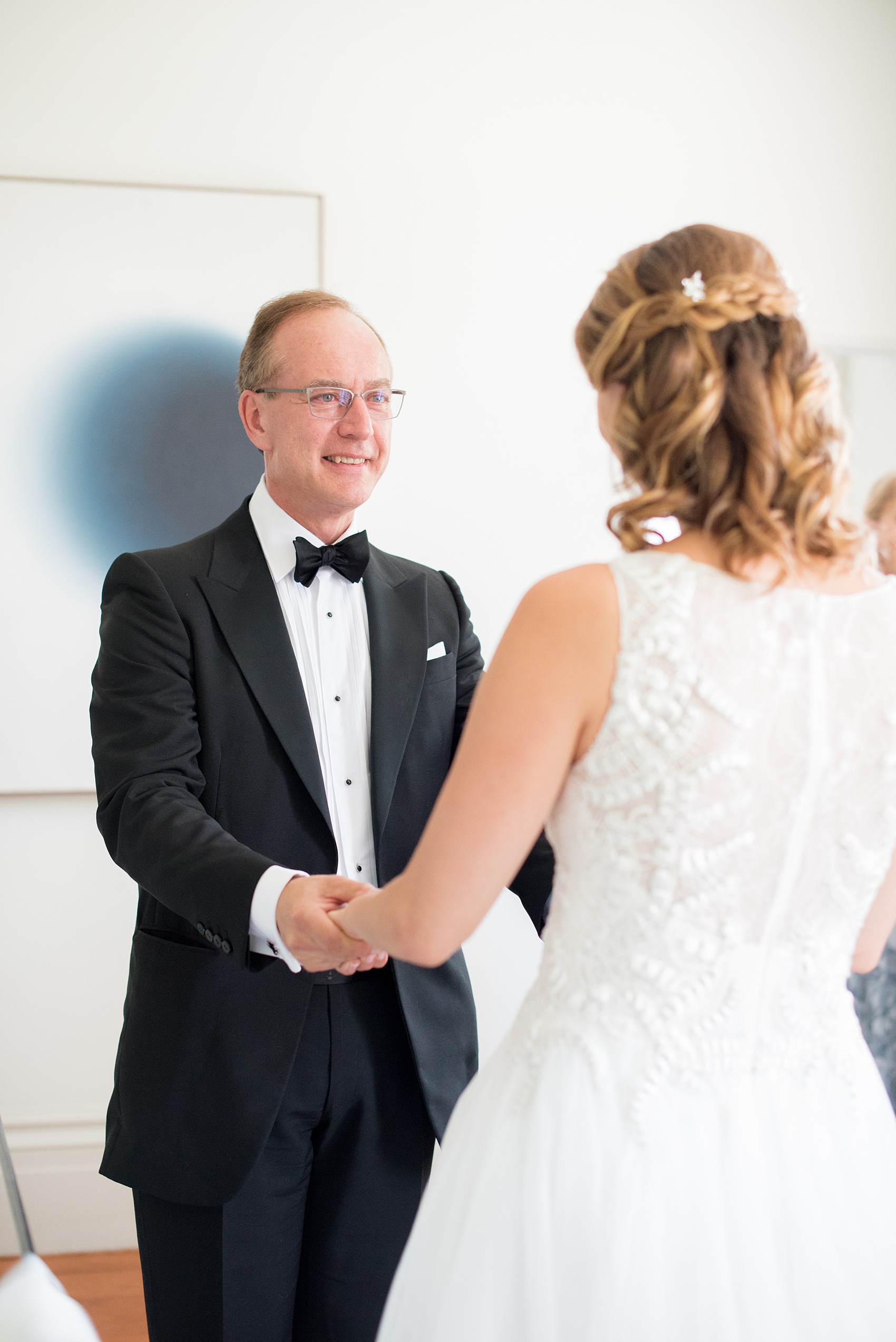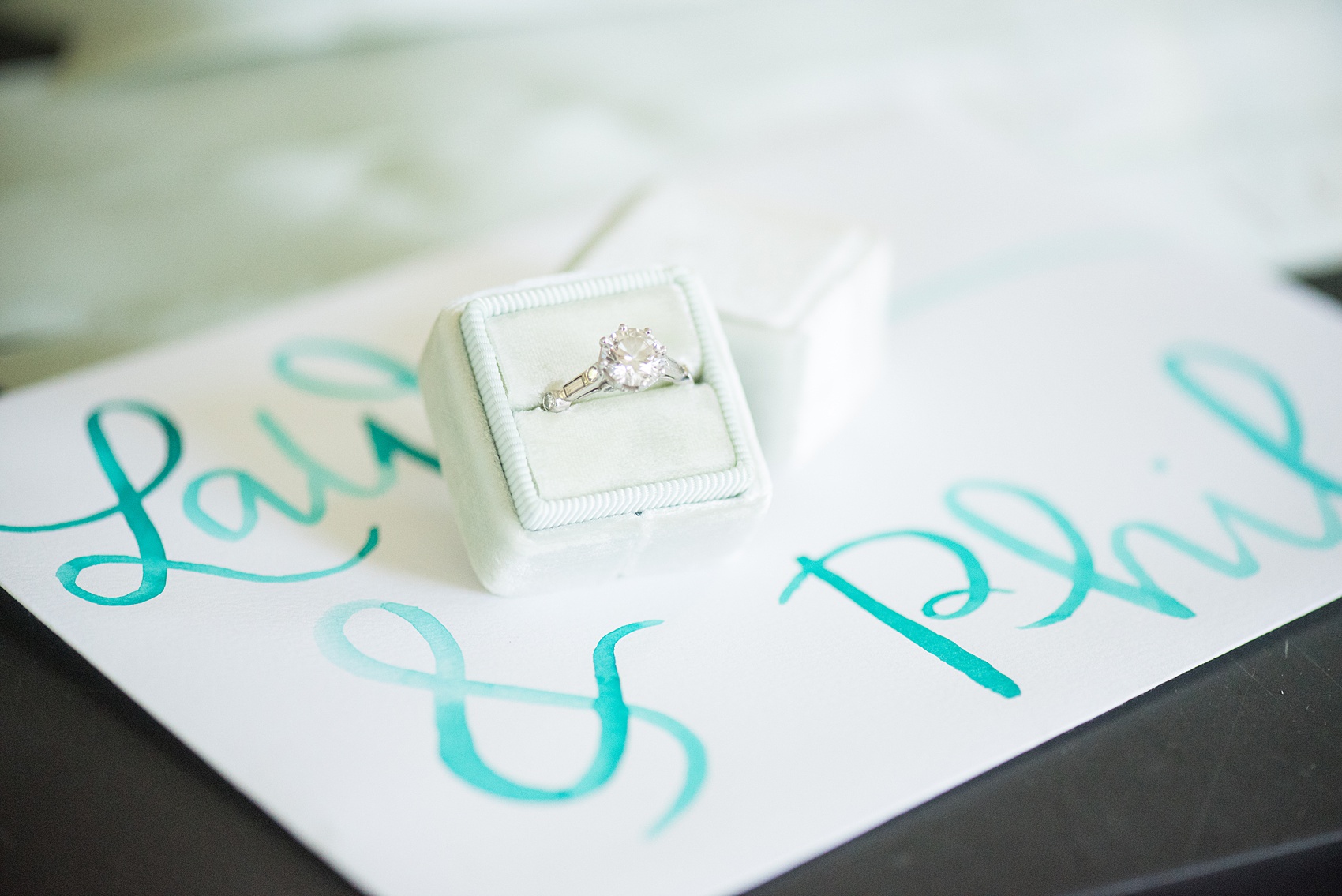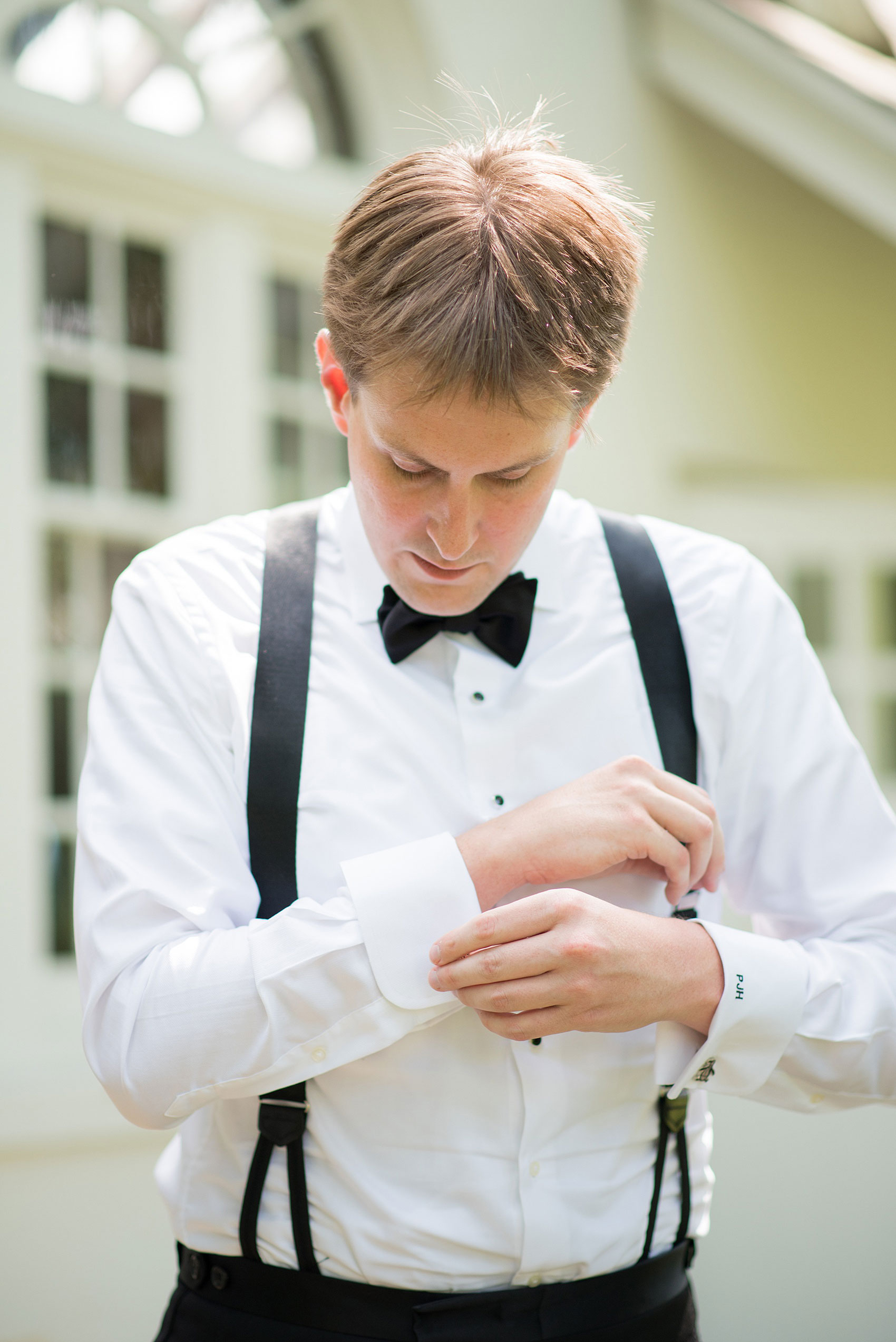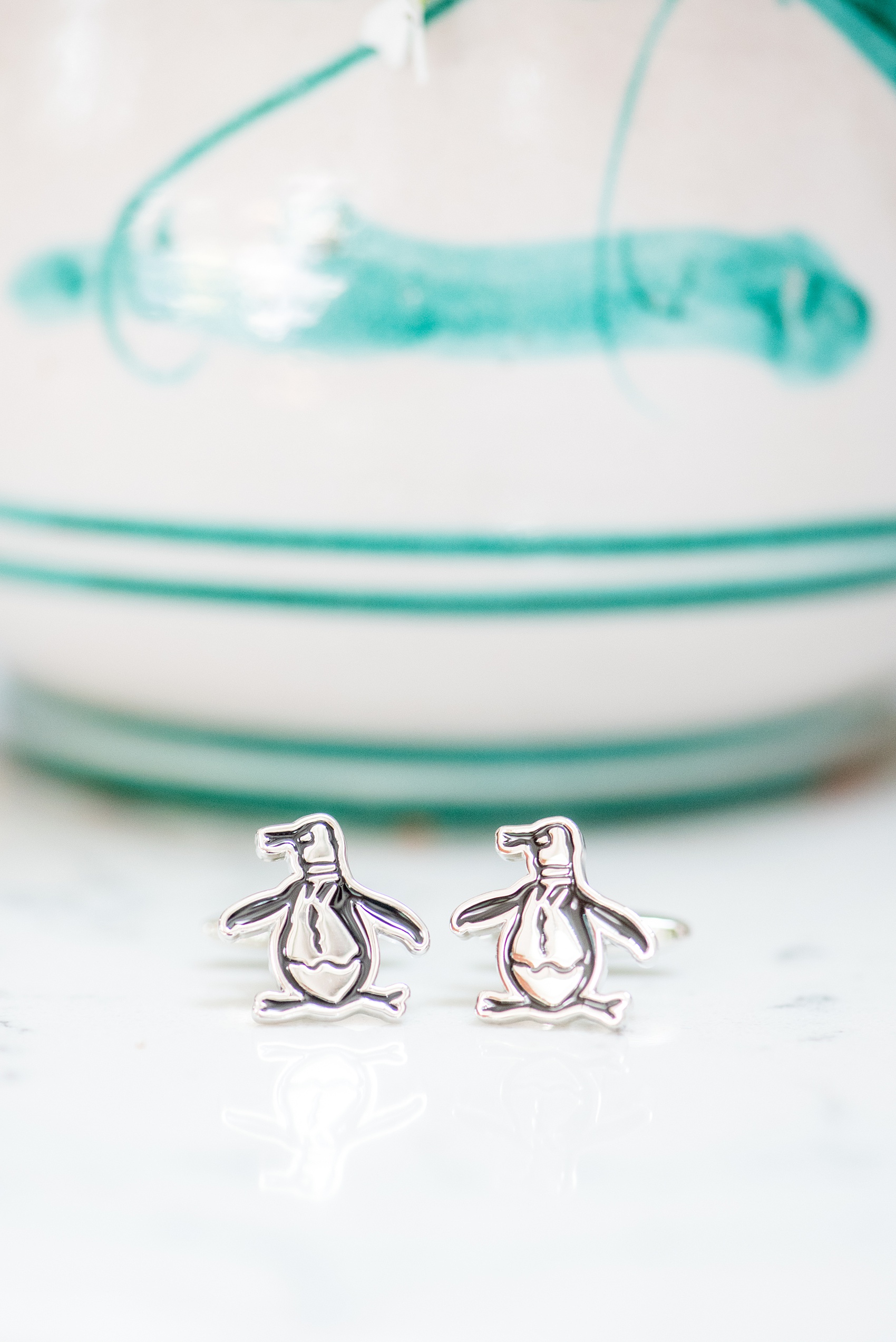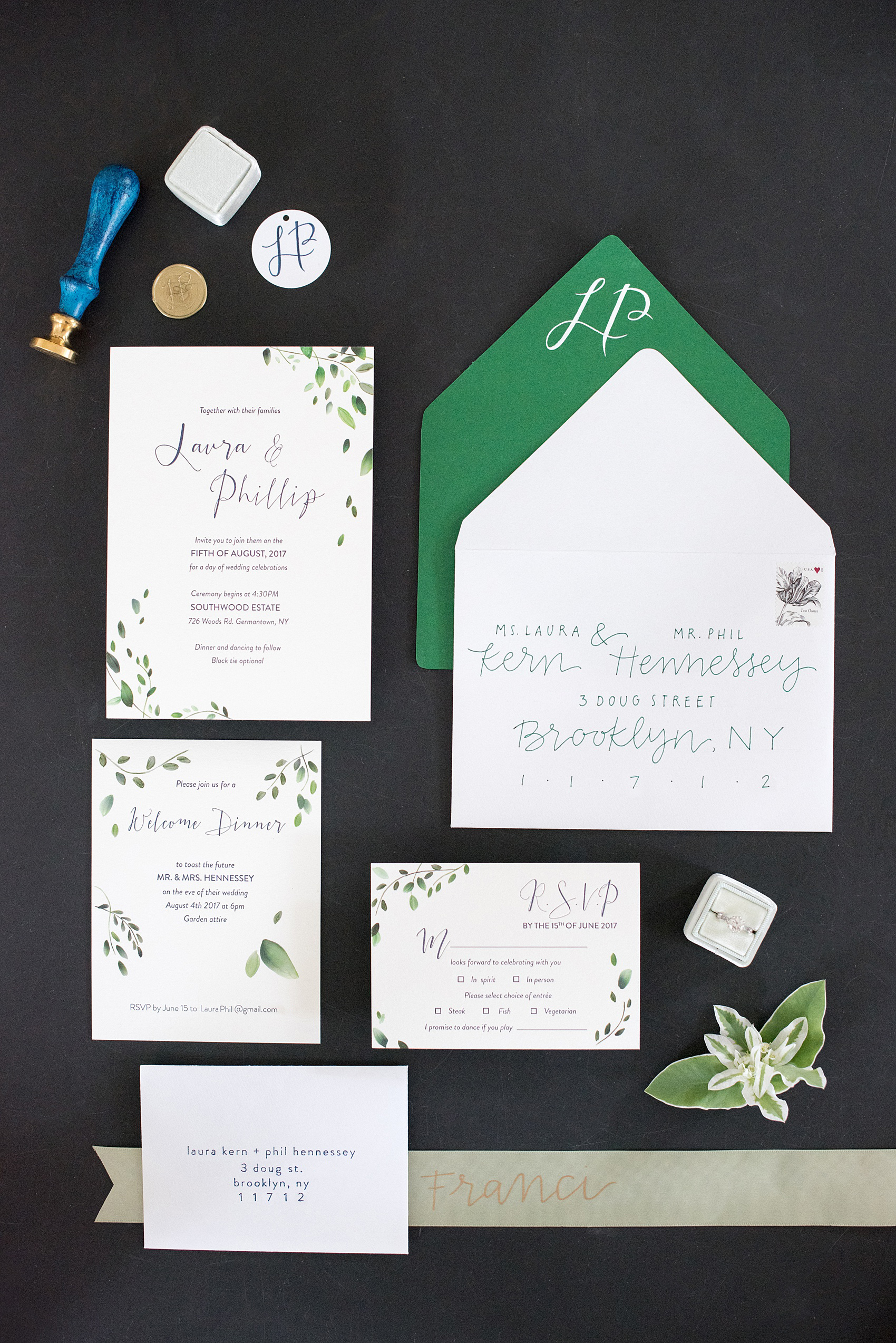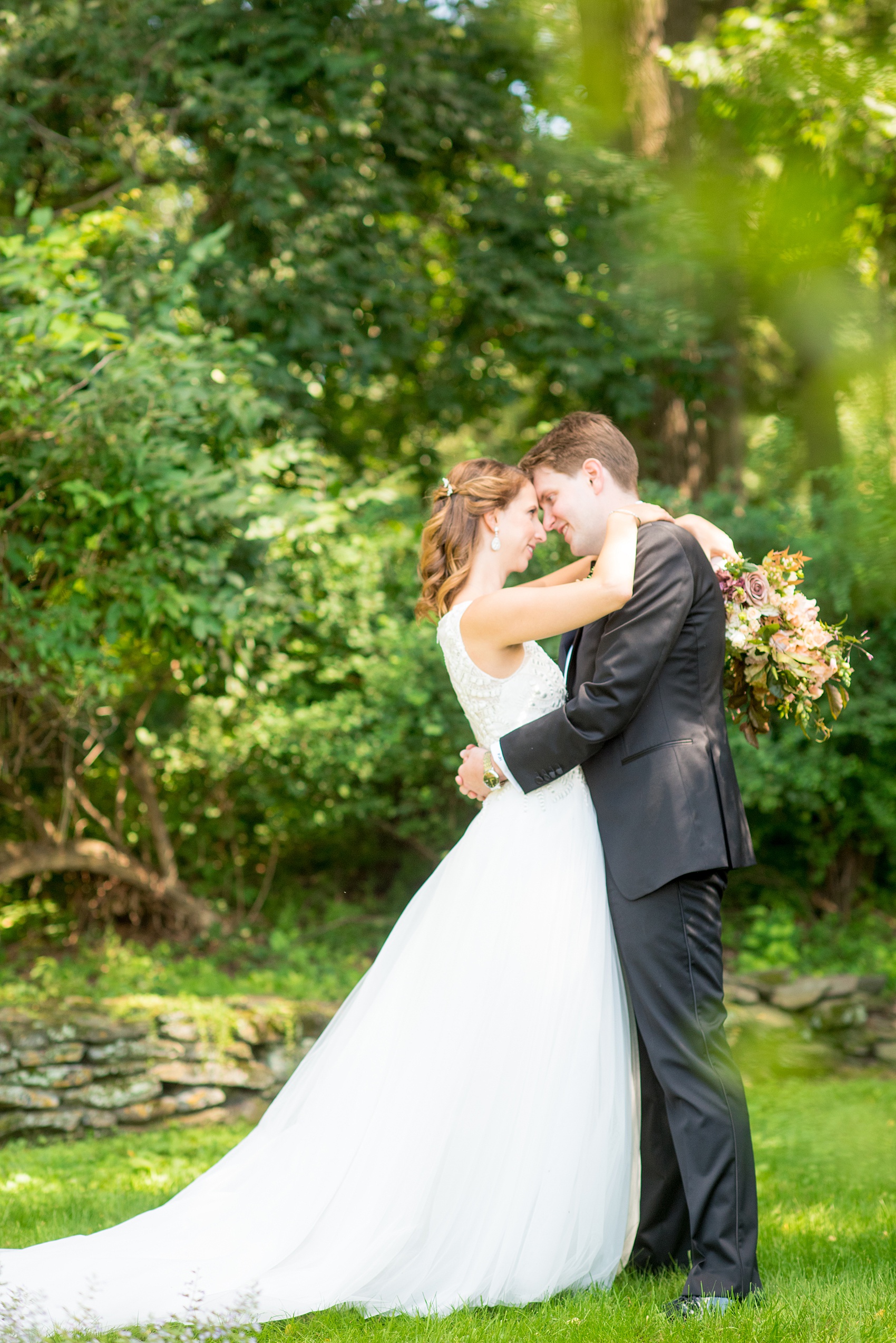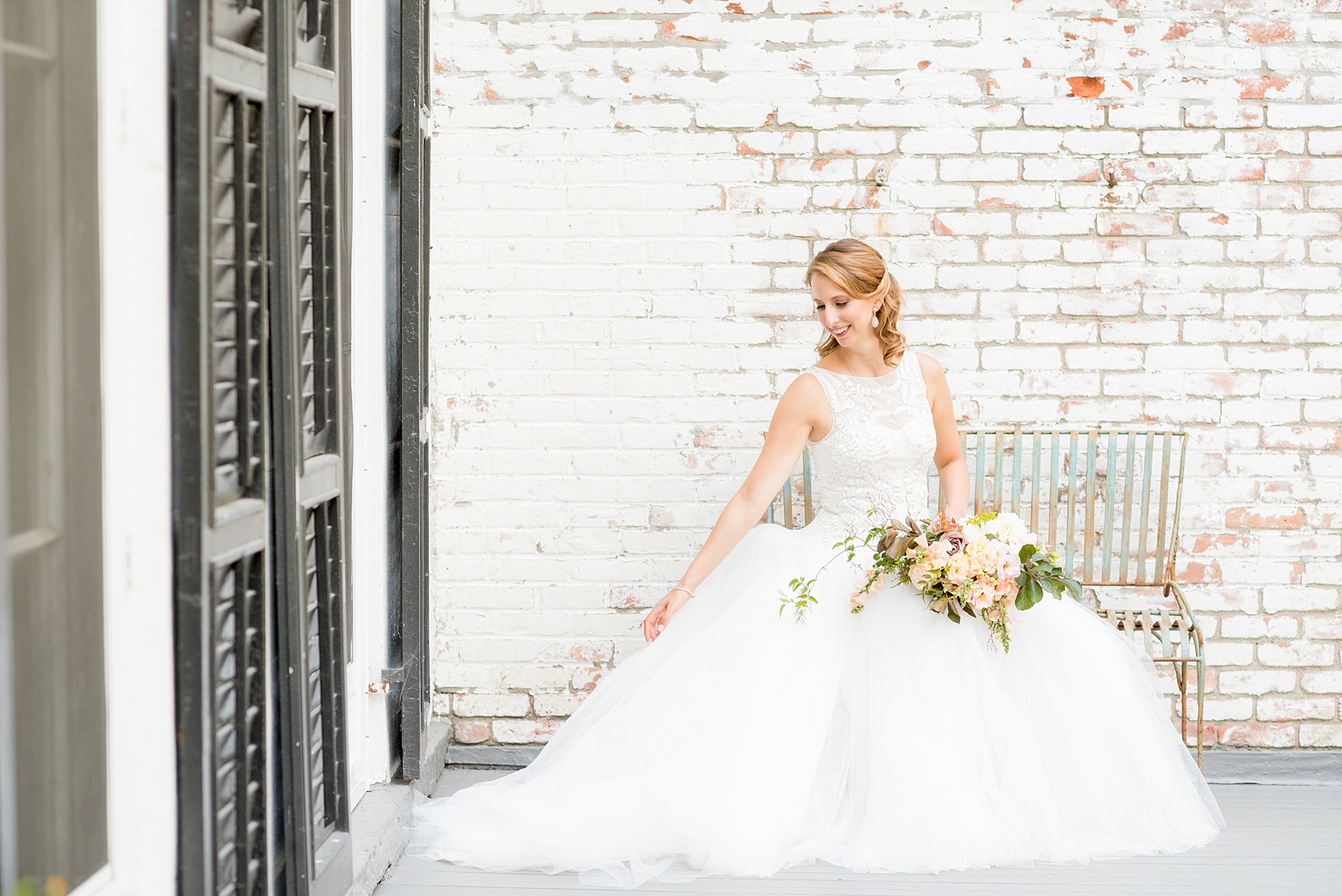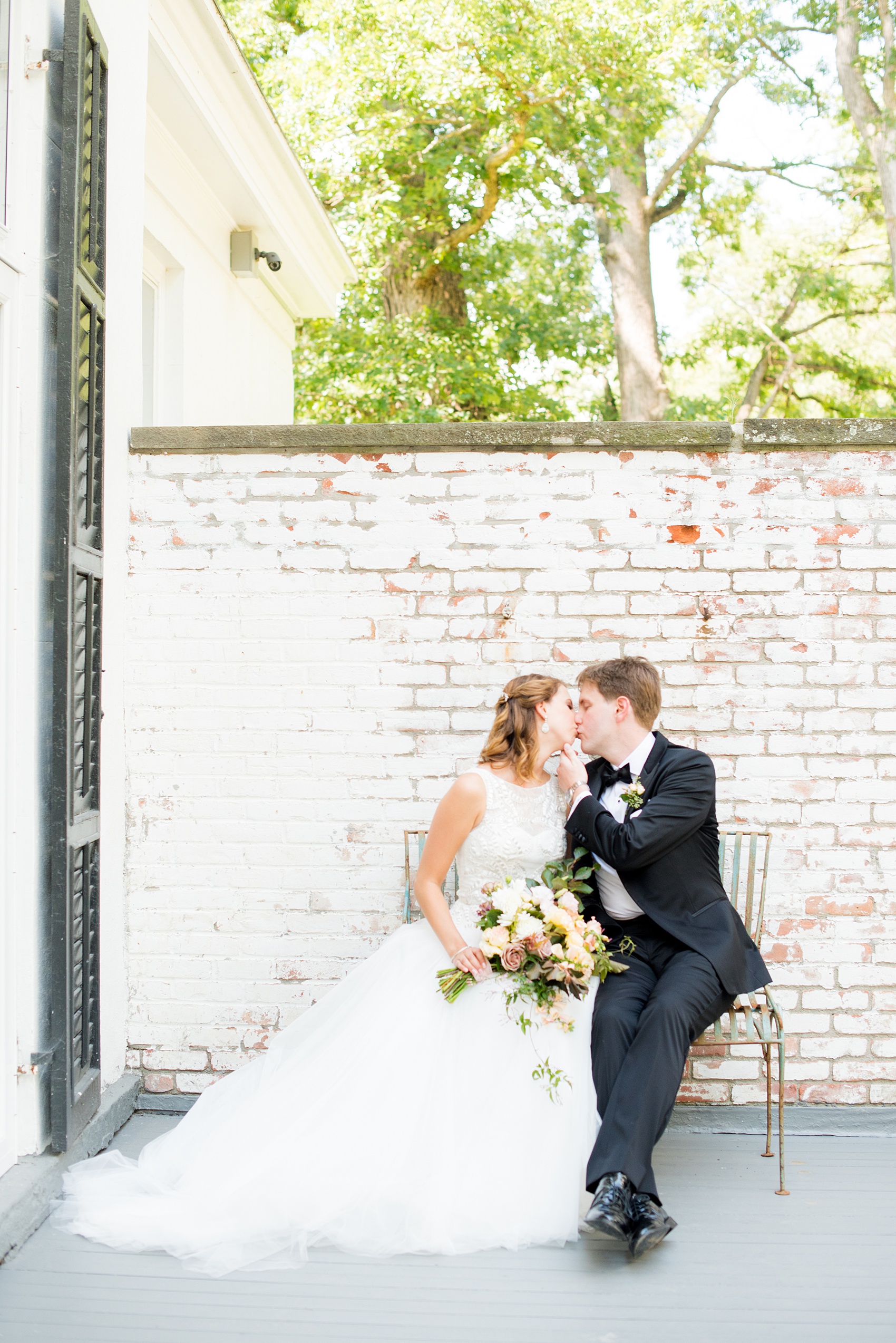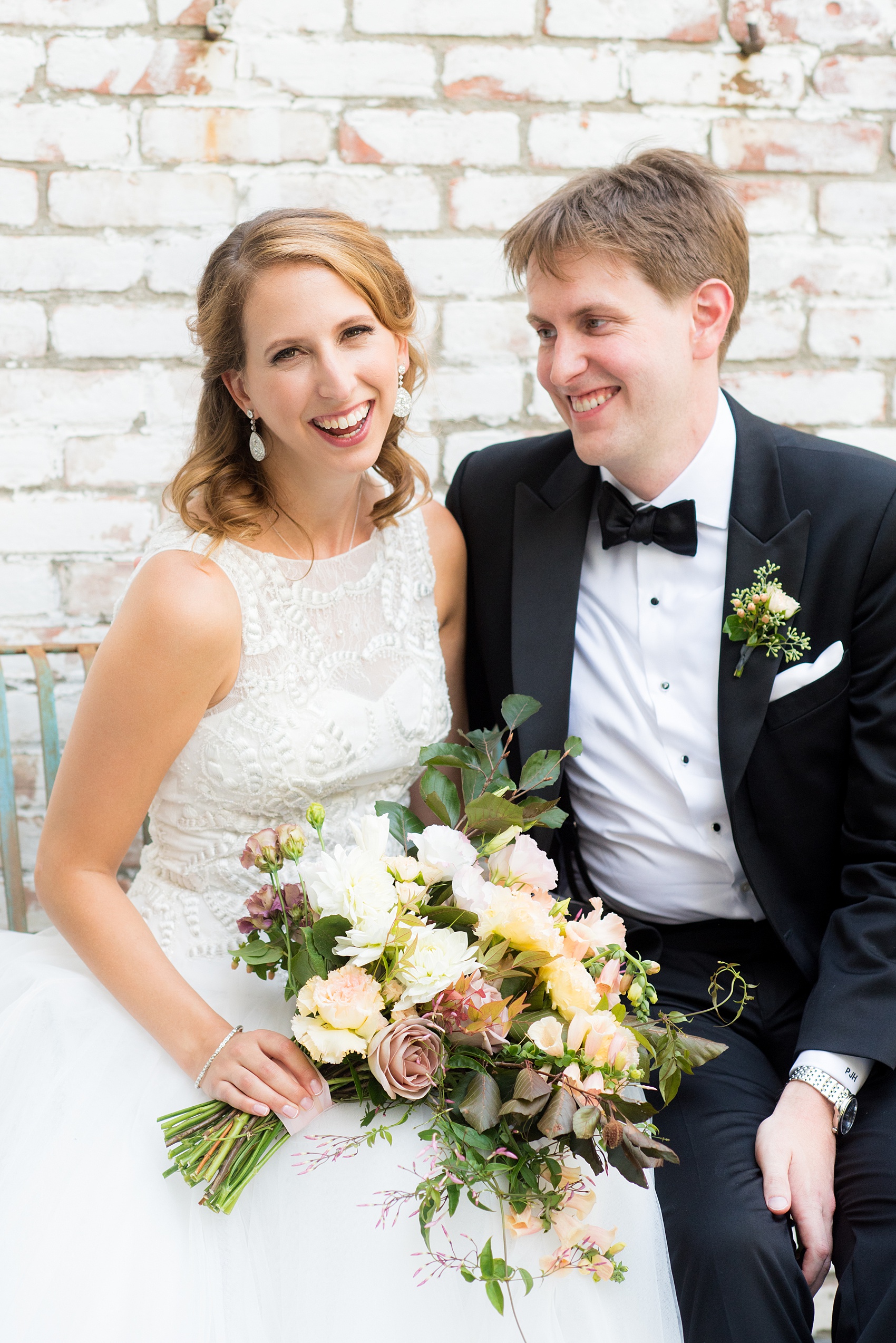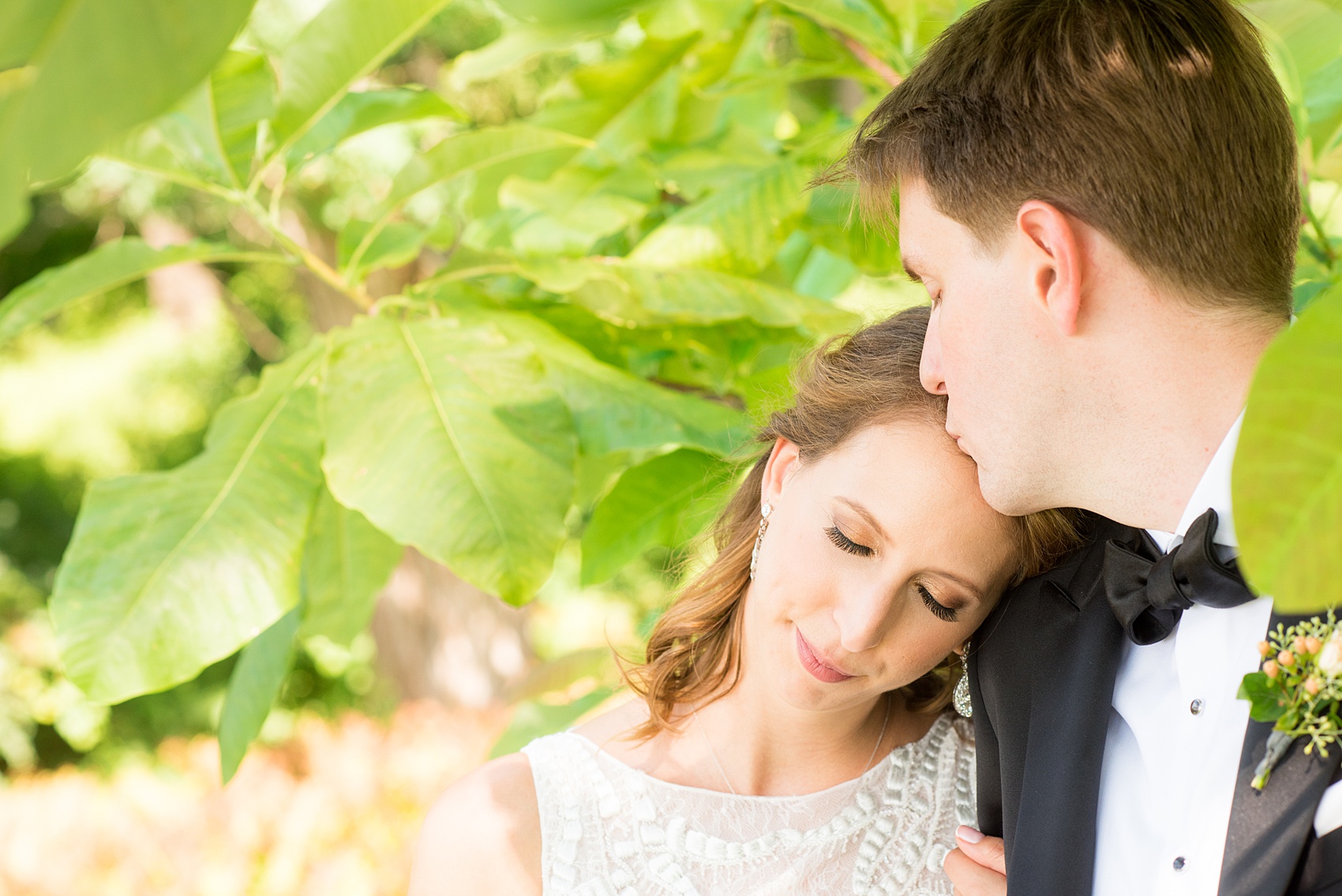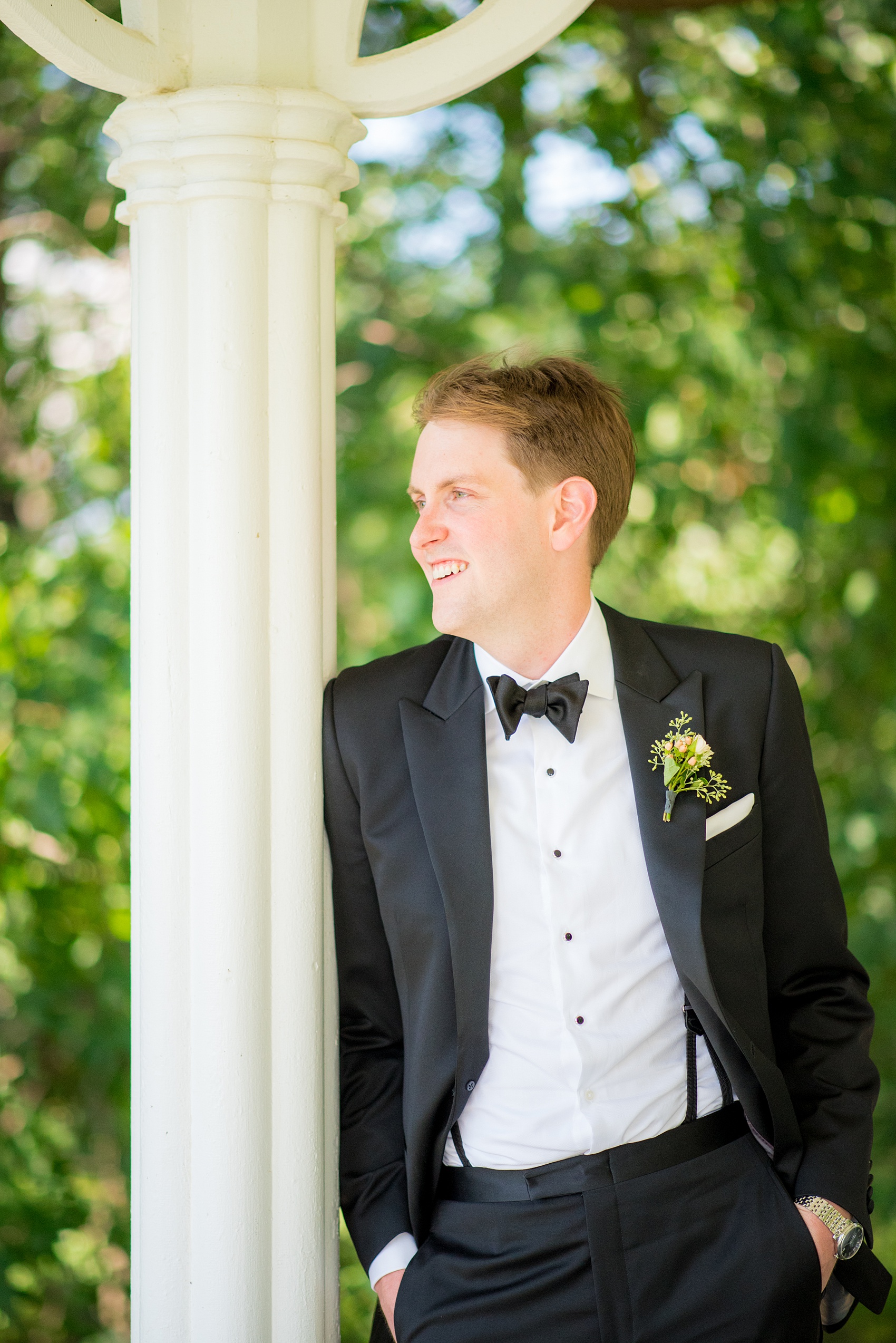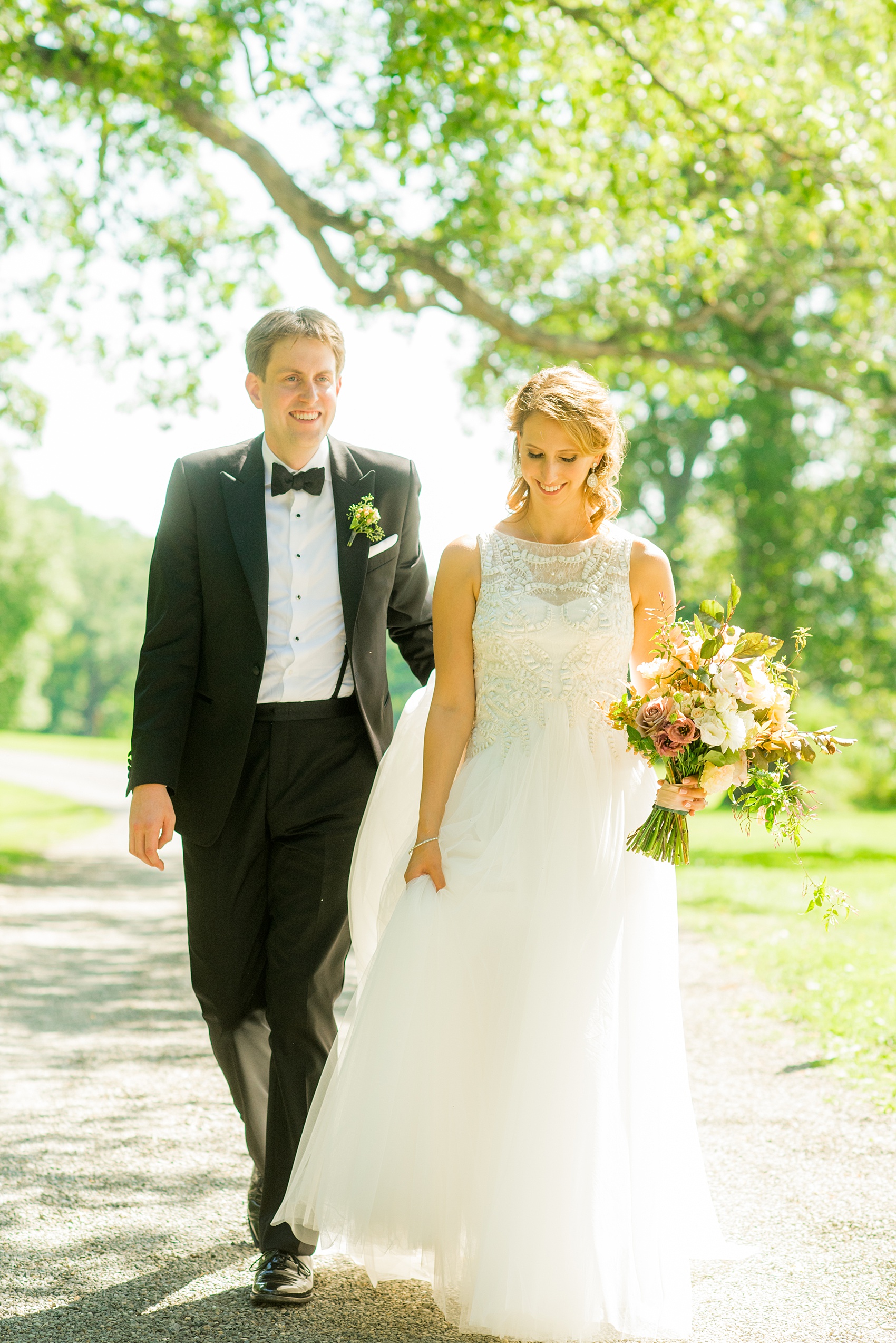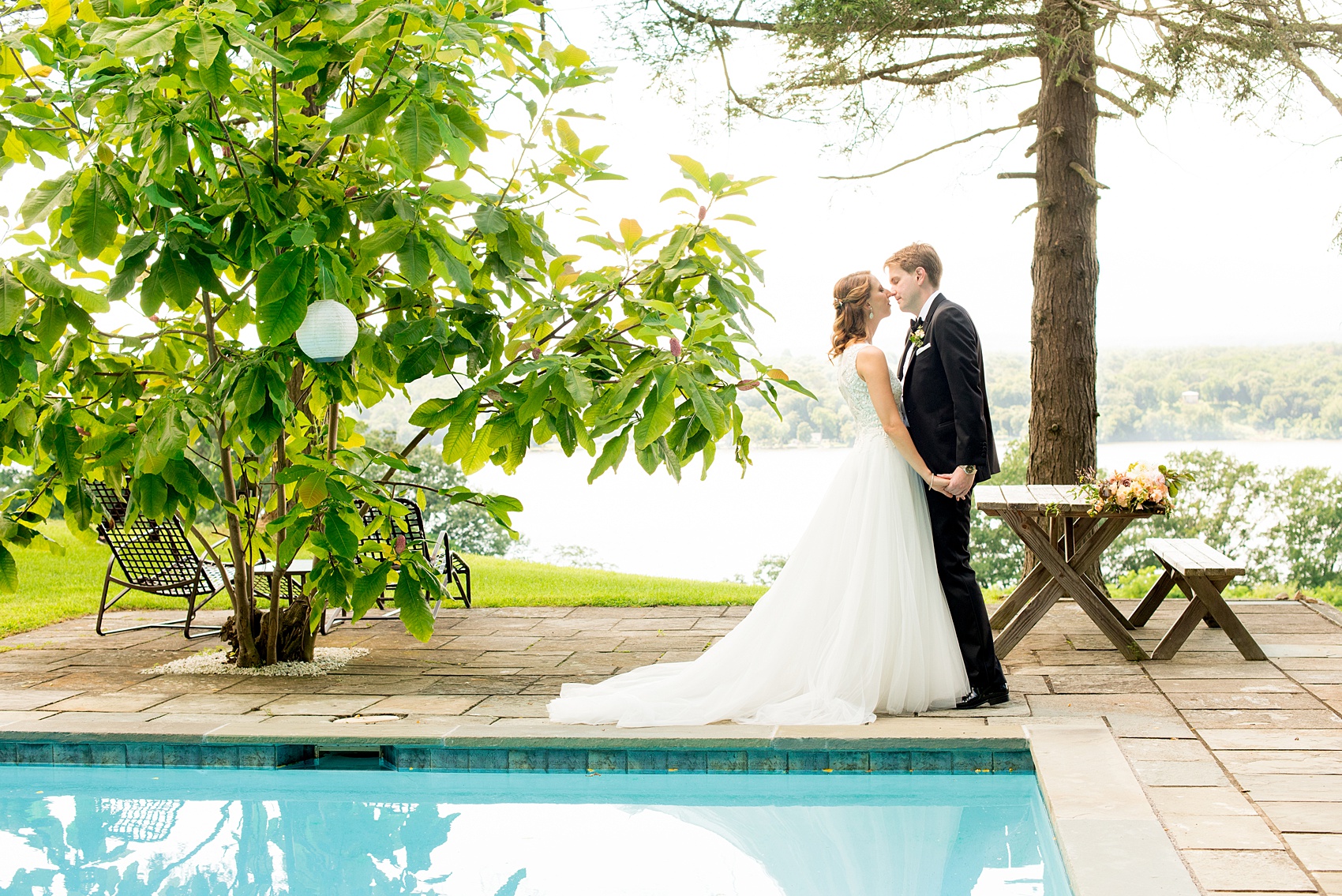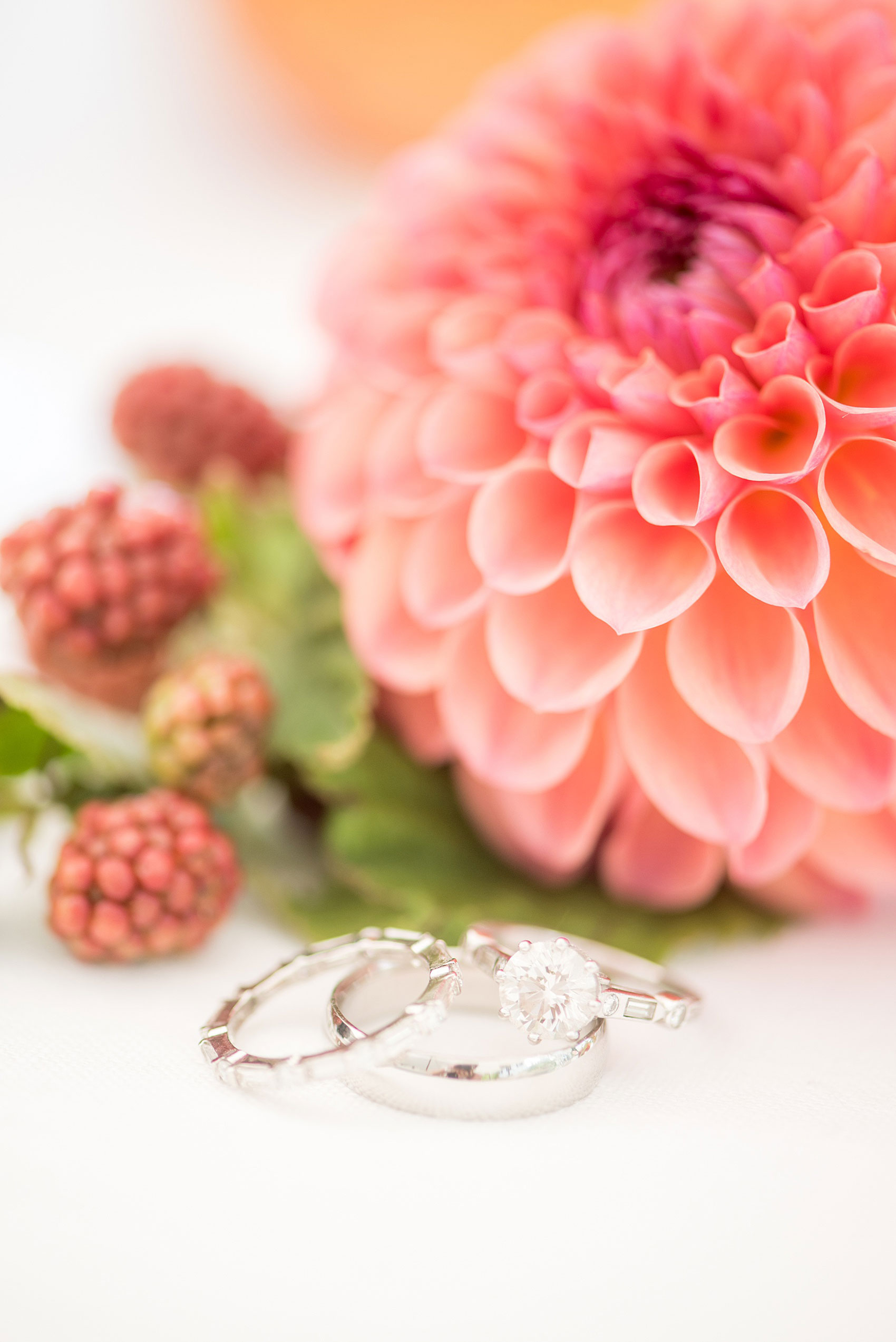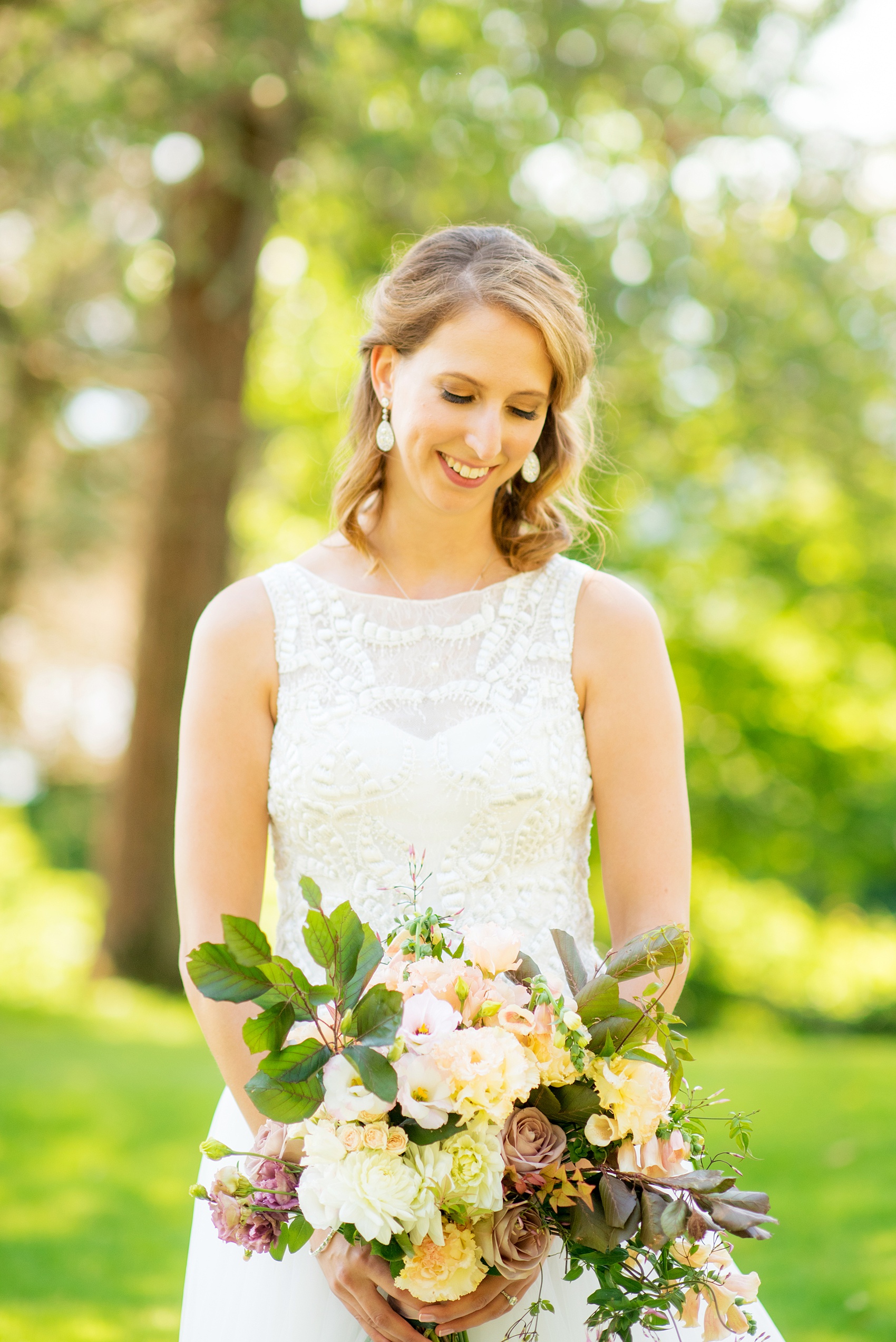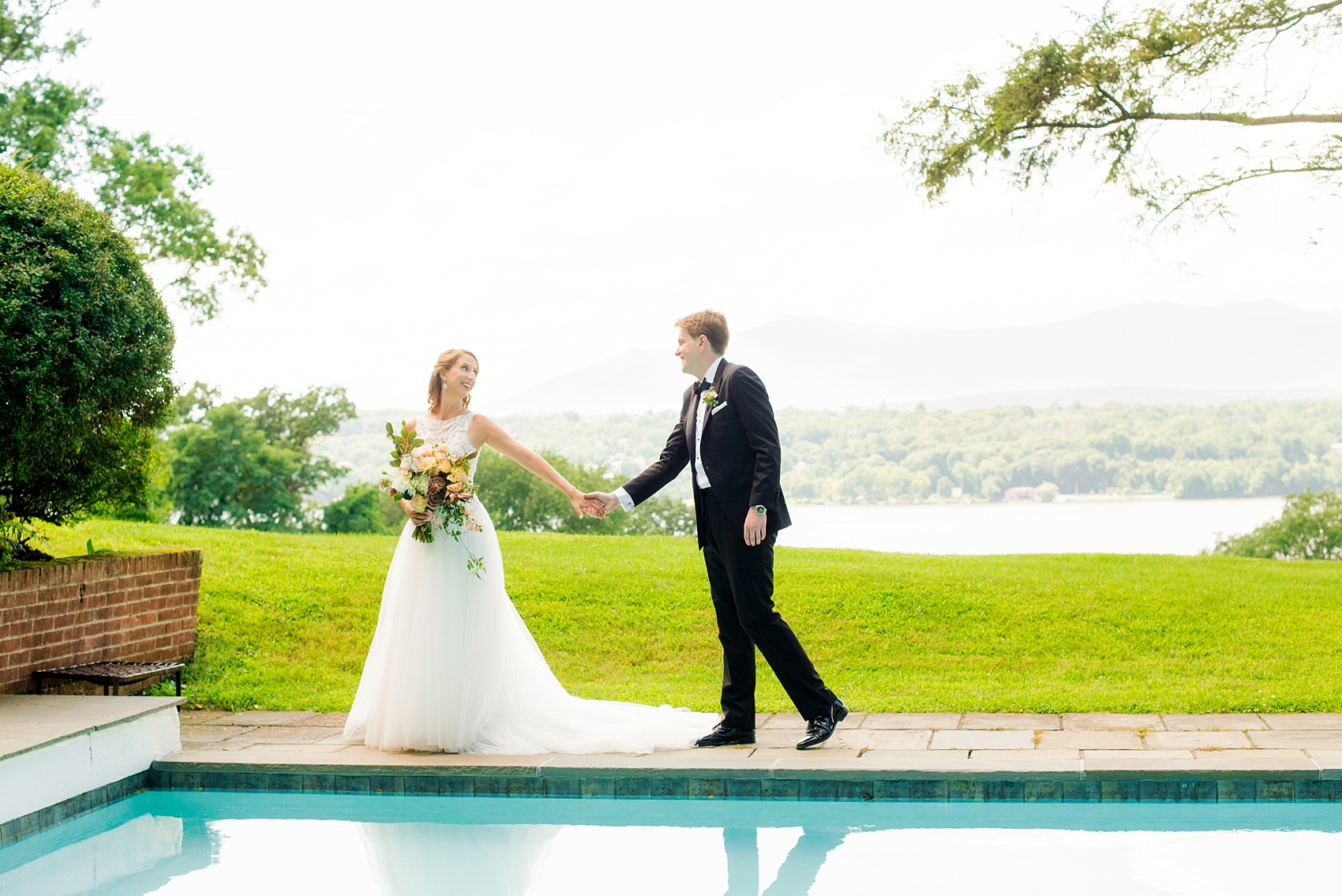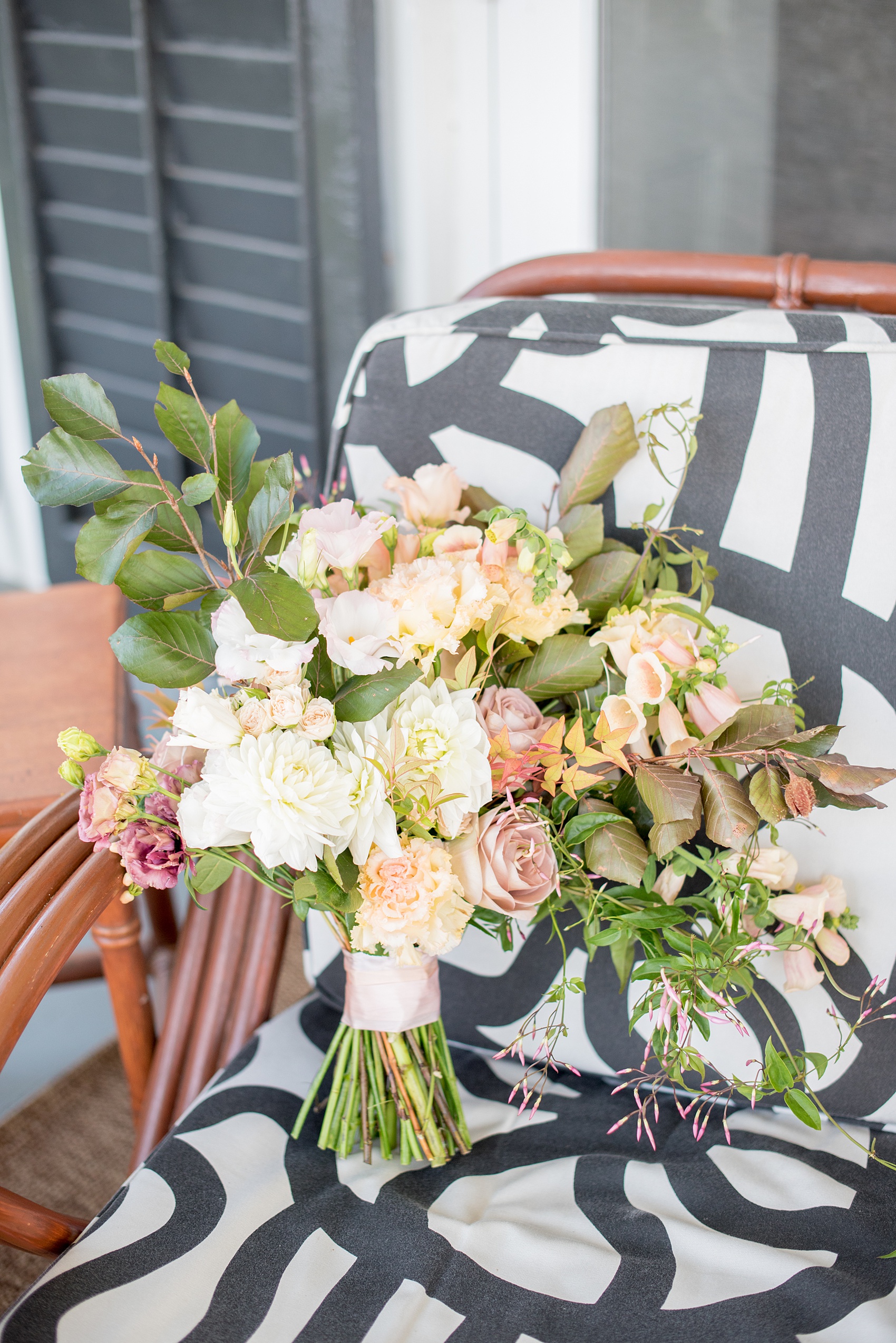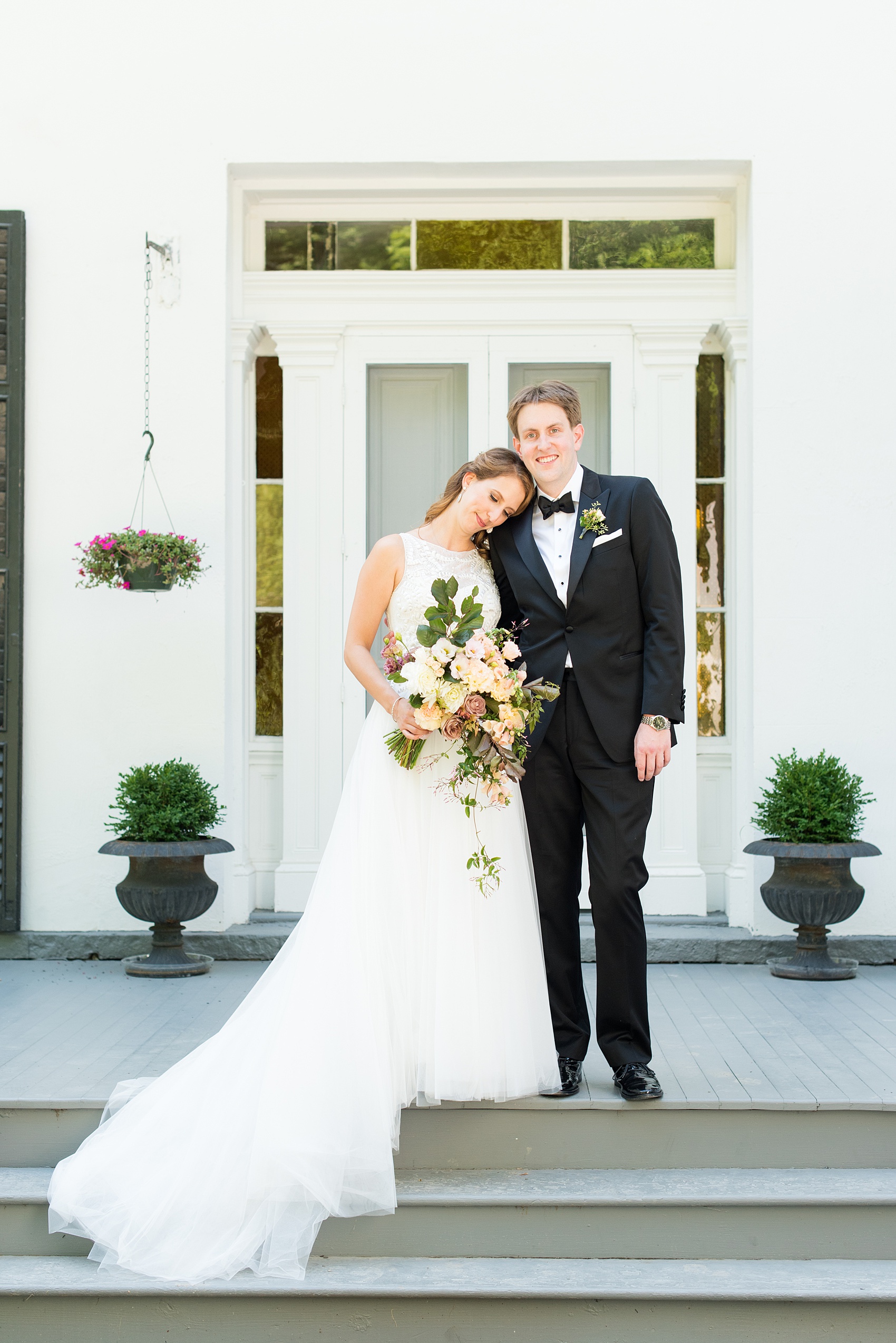 It's easy to fall in love with these two, isn't it? It was so great to move around the venue to some spots that weren't being used for the later part of the day, like the back porch complete with rustic white bricks and the pool area. Also – can we talk about her INCREDIBLE bouquet for a minute?! It was made with a variety of mixed seasonal flowers and tied with dreamy plant-dyed silk ribbons. Foxglove, jasmine vine, dahlias, heirloom garden roses, and lisianthus were just a few of the flowers making it so lush and delicious!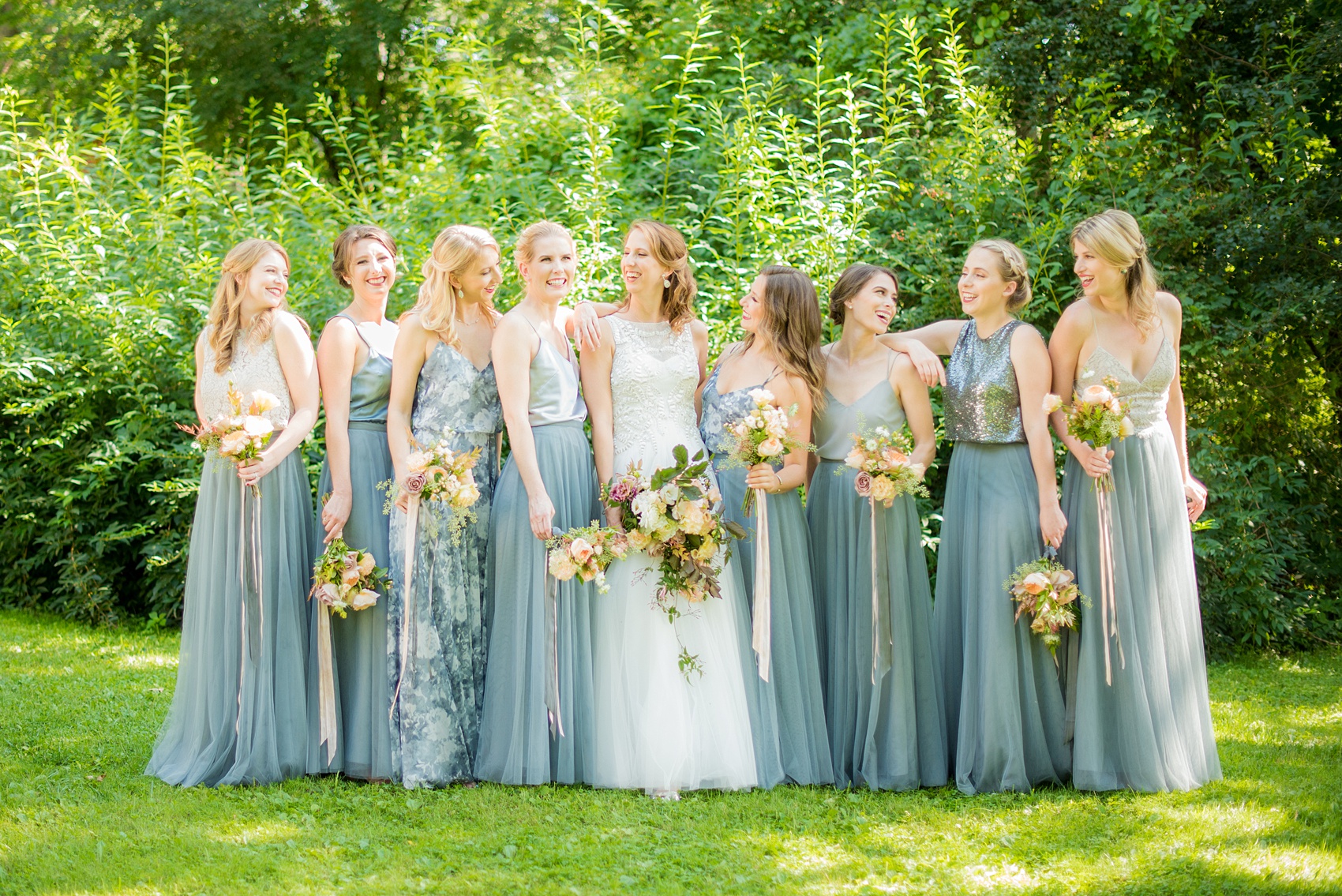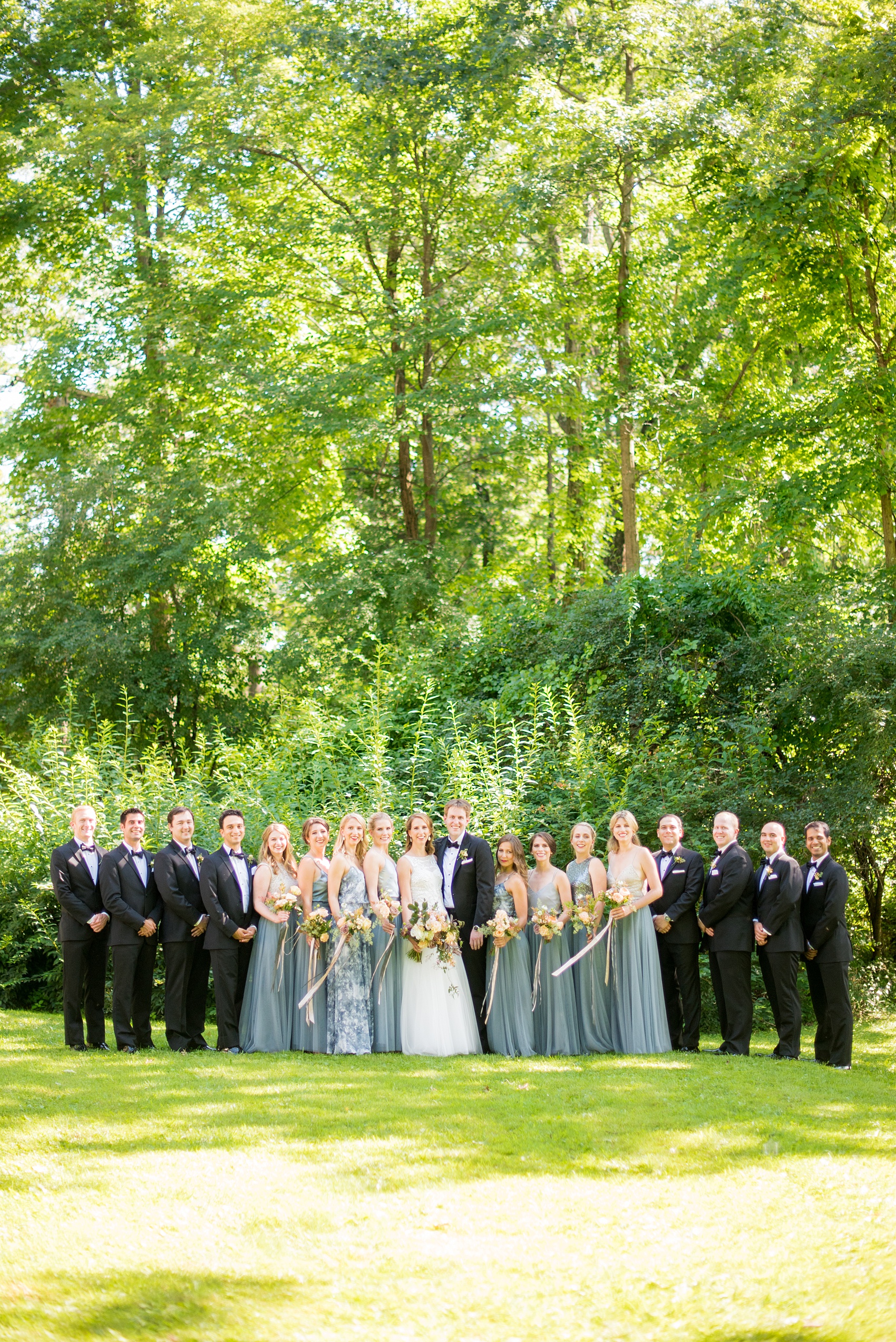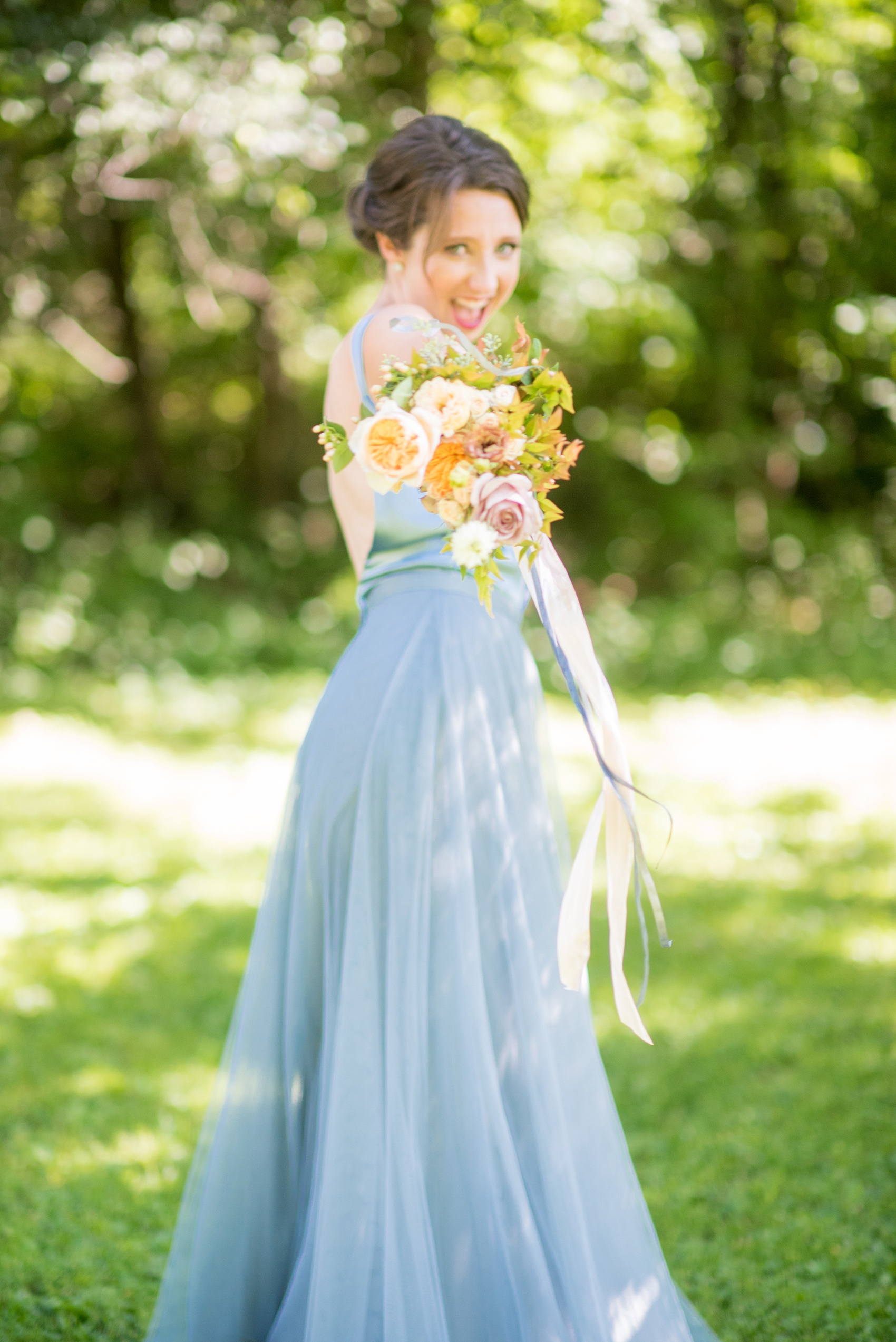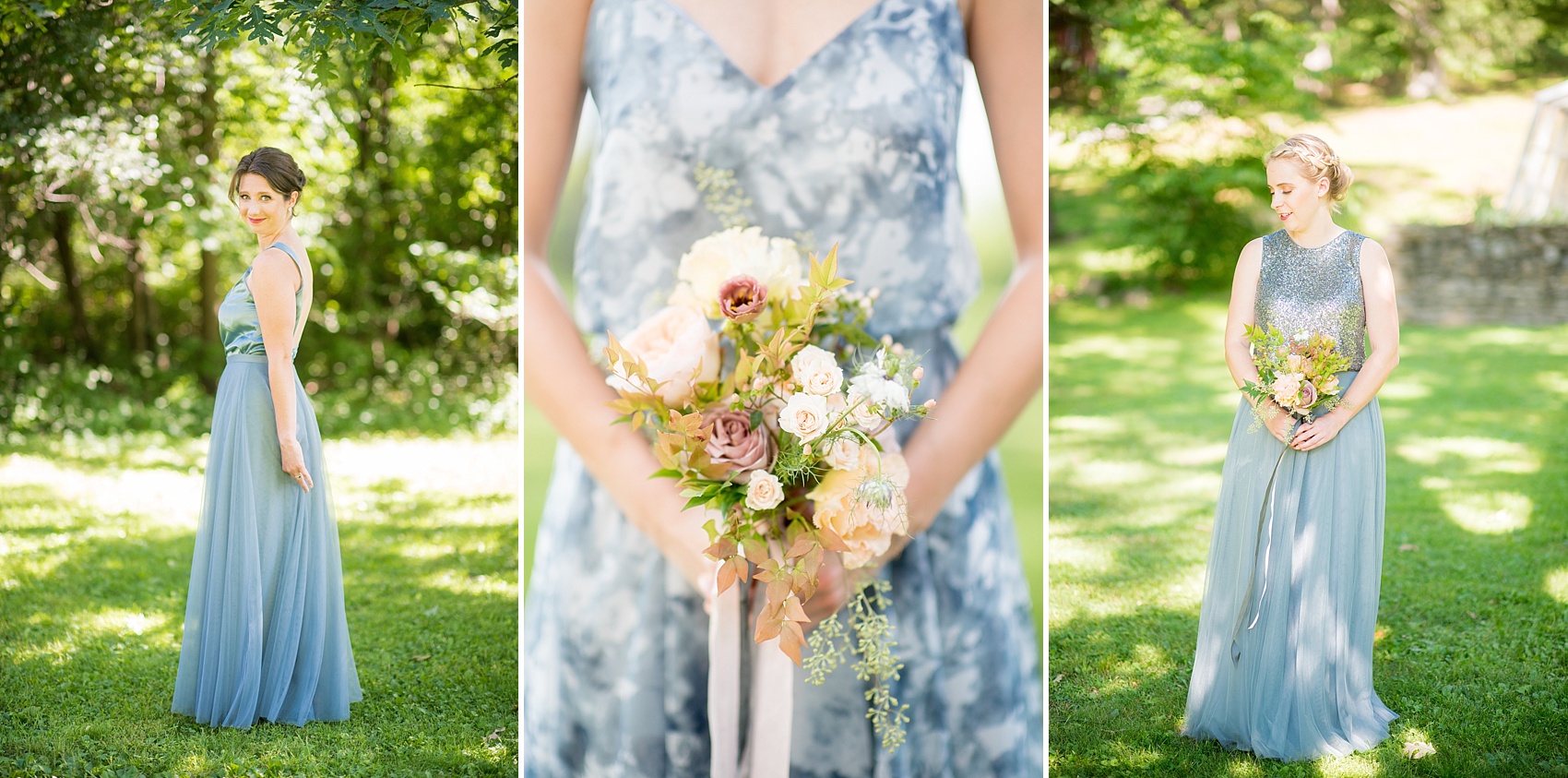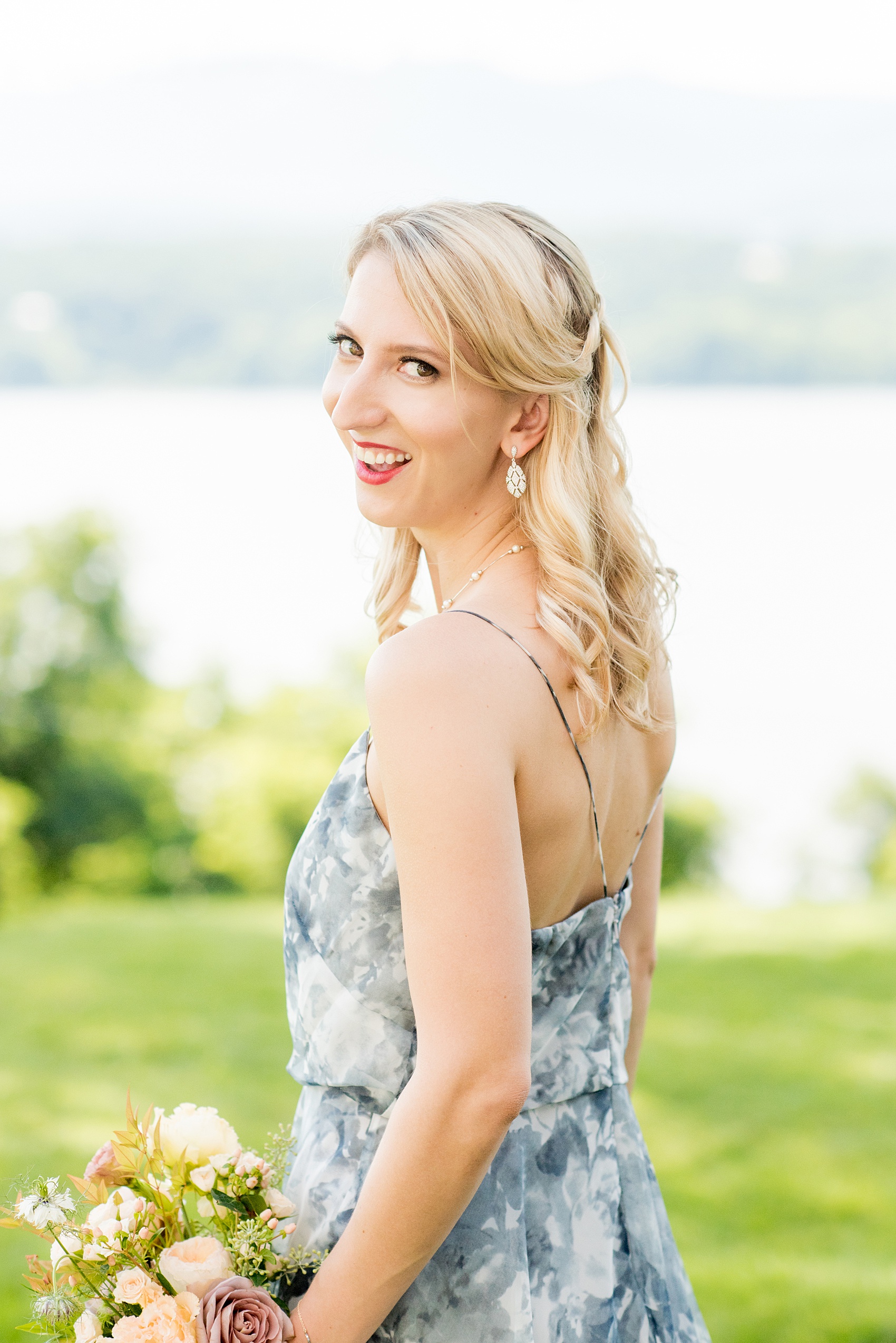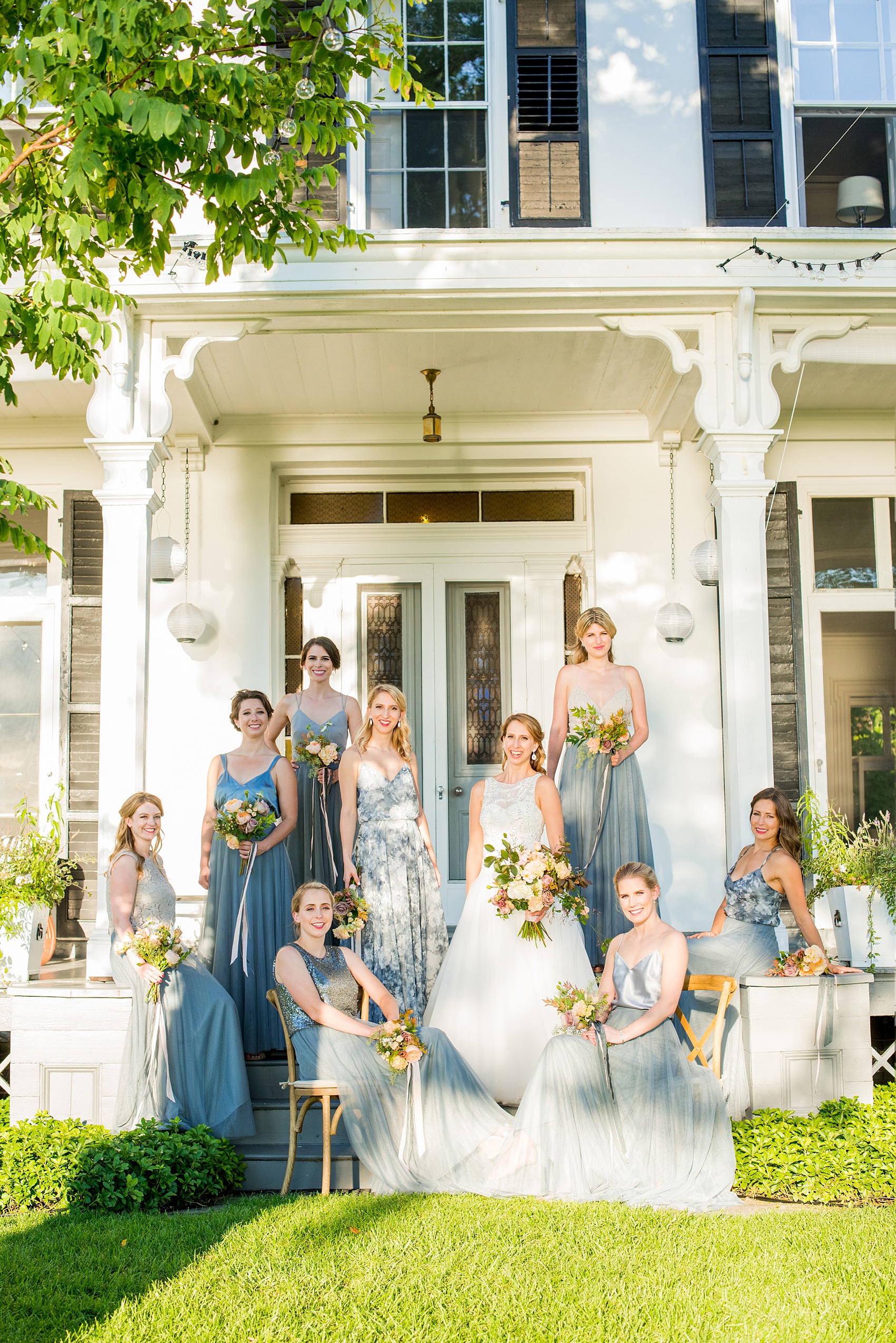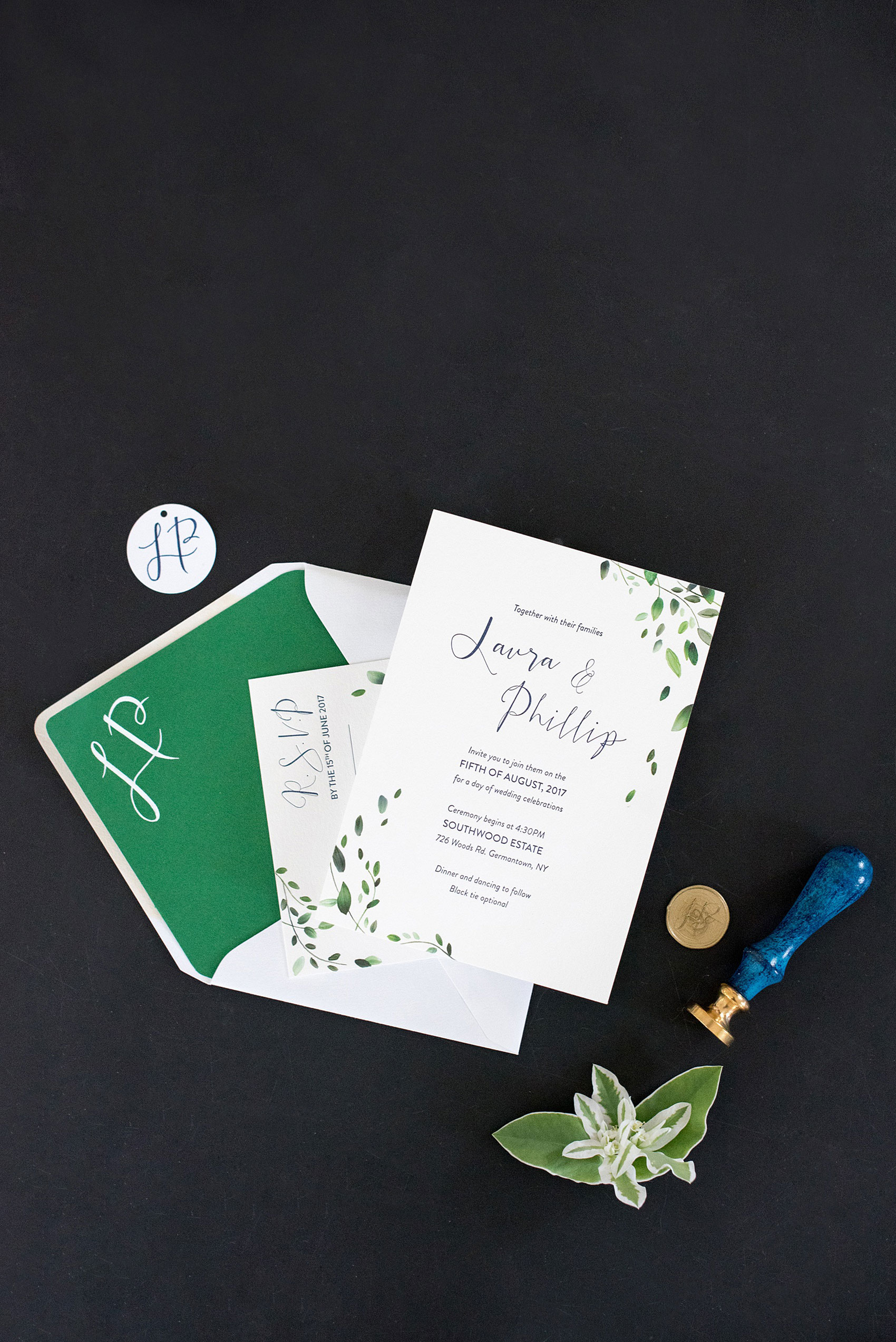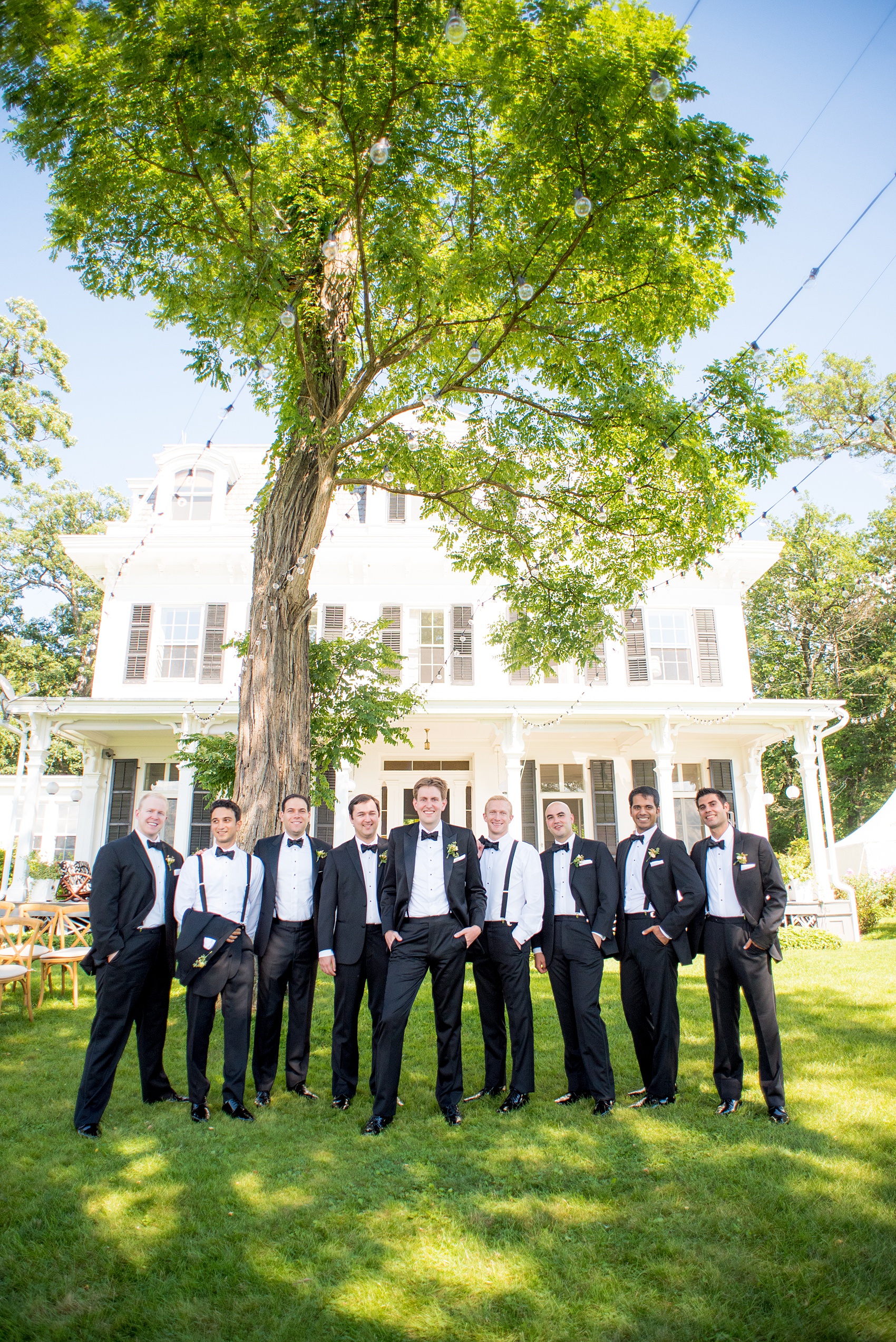 By the way, playful wedding party members never go unnoticed. Jesse's playfulness during a little solo portrait session I asked her to do had me laughing. And Jenny's solo portraits as her sister's Maid of Honor had me admiring how beautiful she looked, from her floral patterned dress to makeup, to amazing cascading braid half-up hair style.
I absolutely loved Laura's choice of fashion for her girls. They all wore the same cornflower/dusty blue tulle skirts (the perfect compliment to her own tulle skirt) and they all chose their own top to match. It's a great way to be coordinated without being too "matchy matchy." The groomsmen were a wonderful accompaniment in classic black tuxedos and bow ties.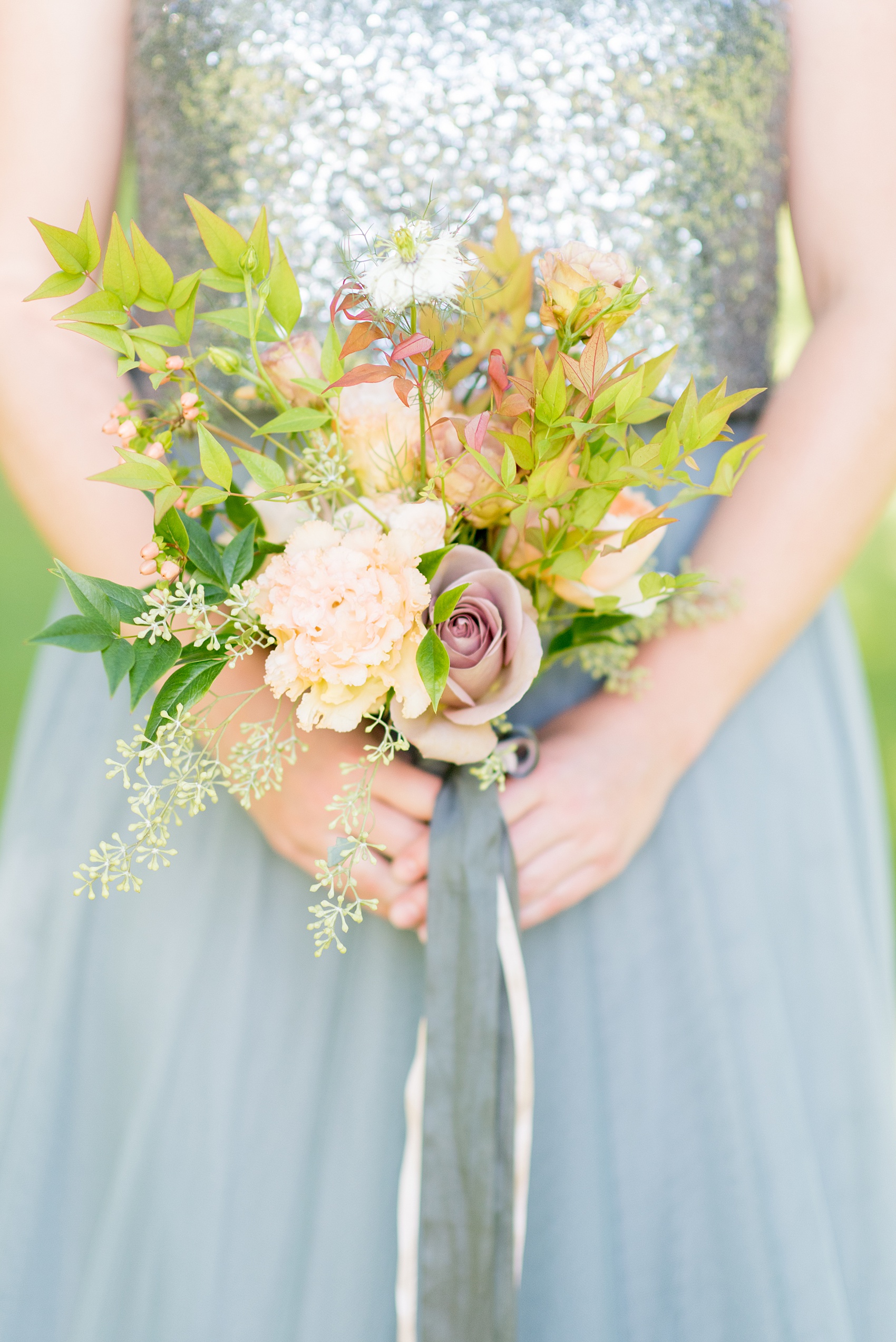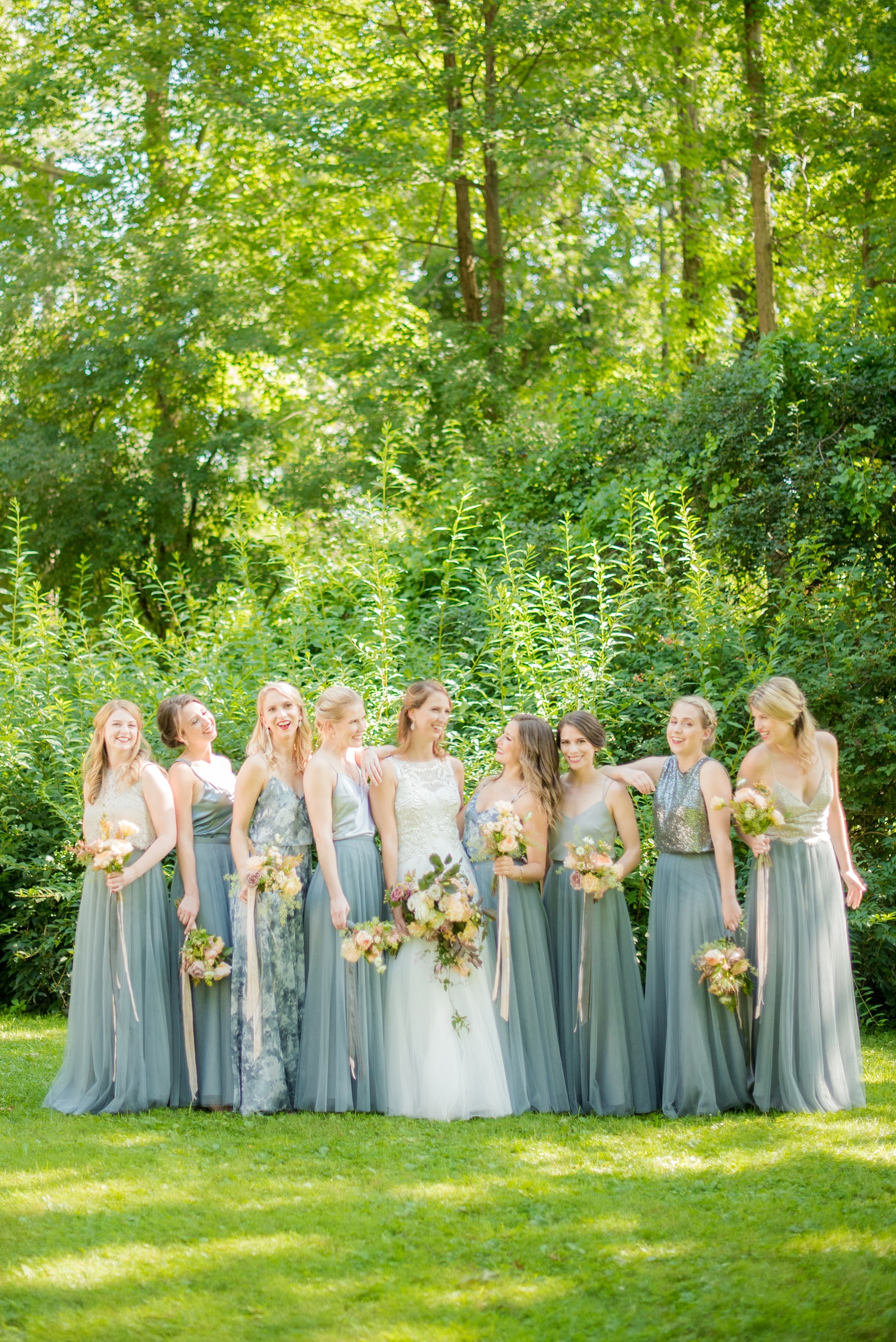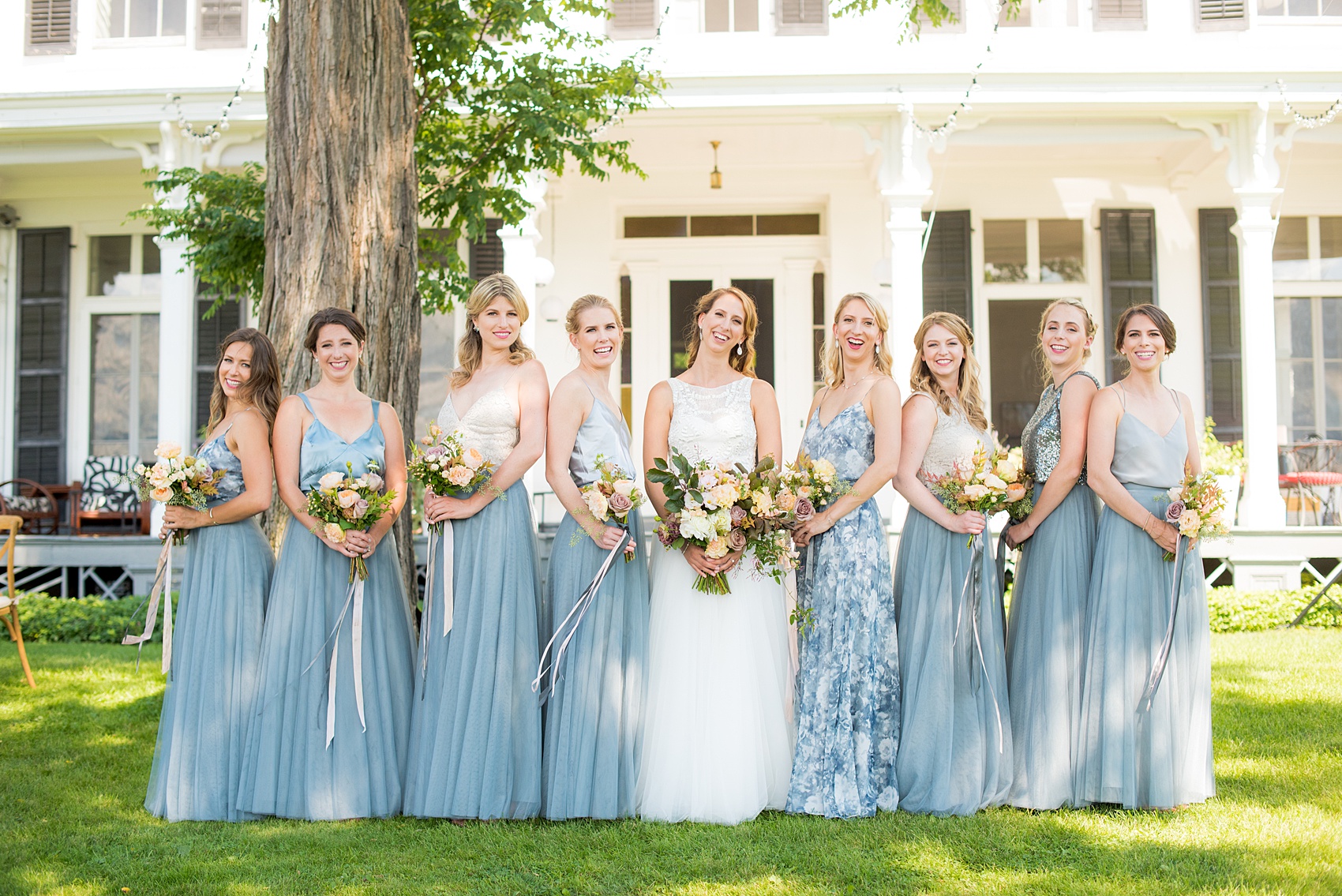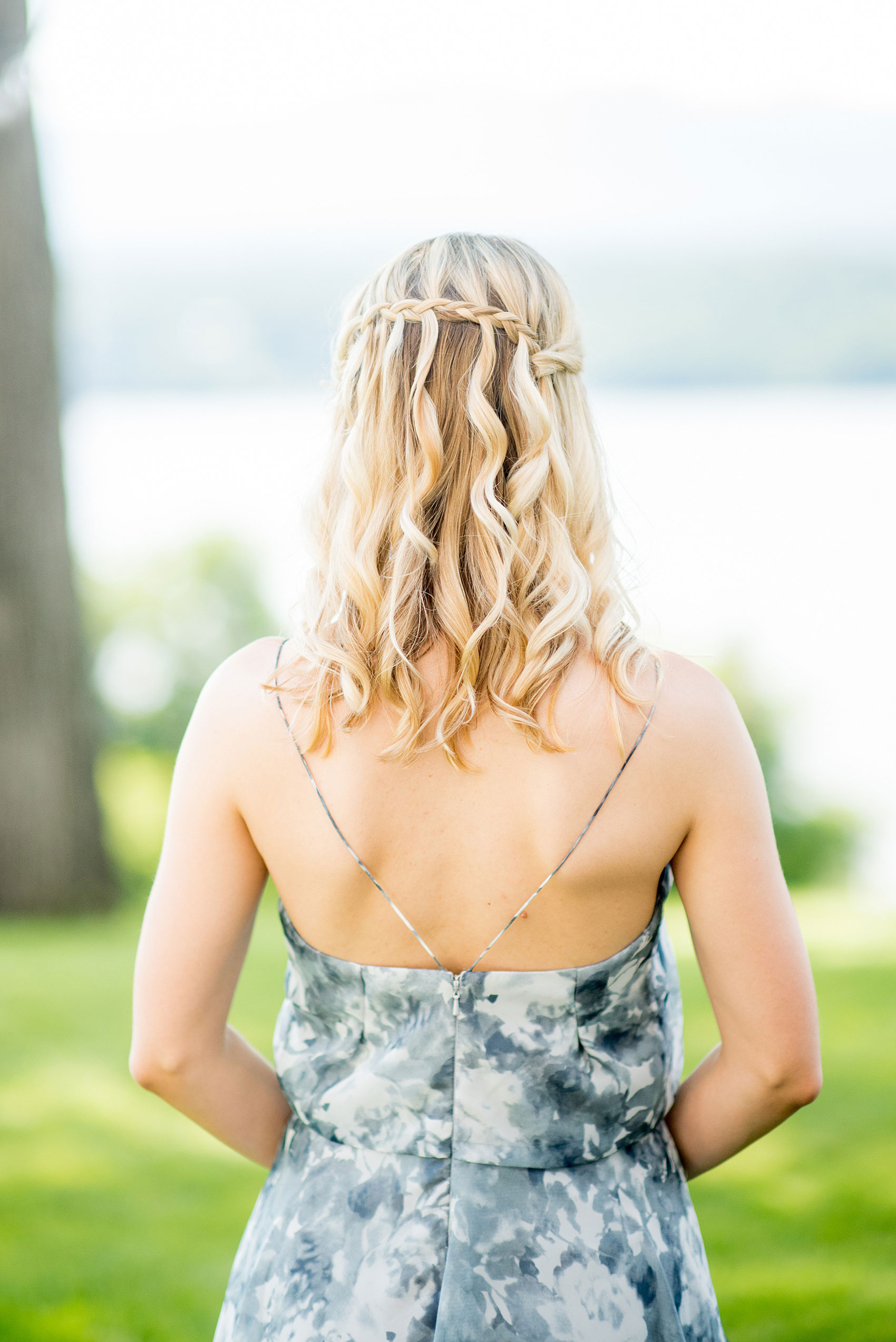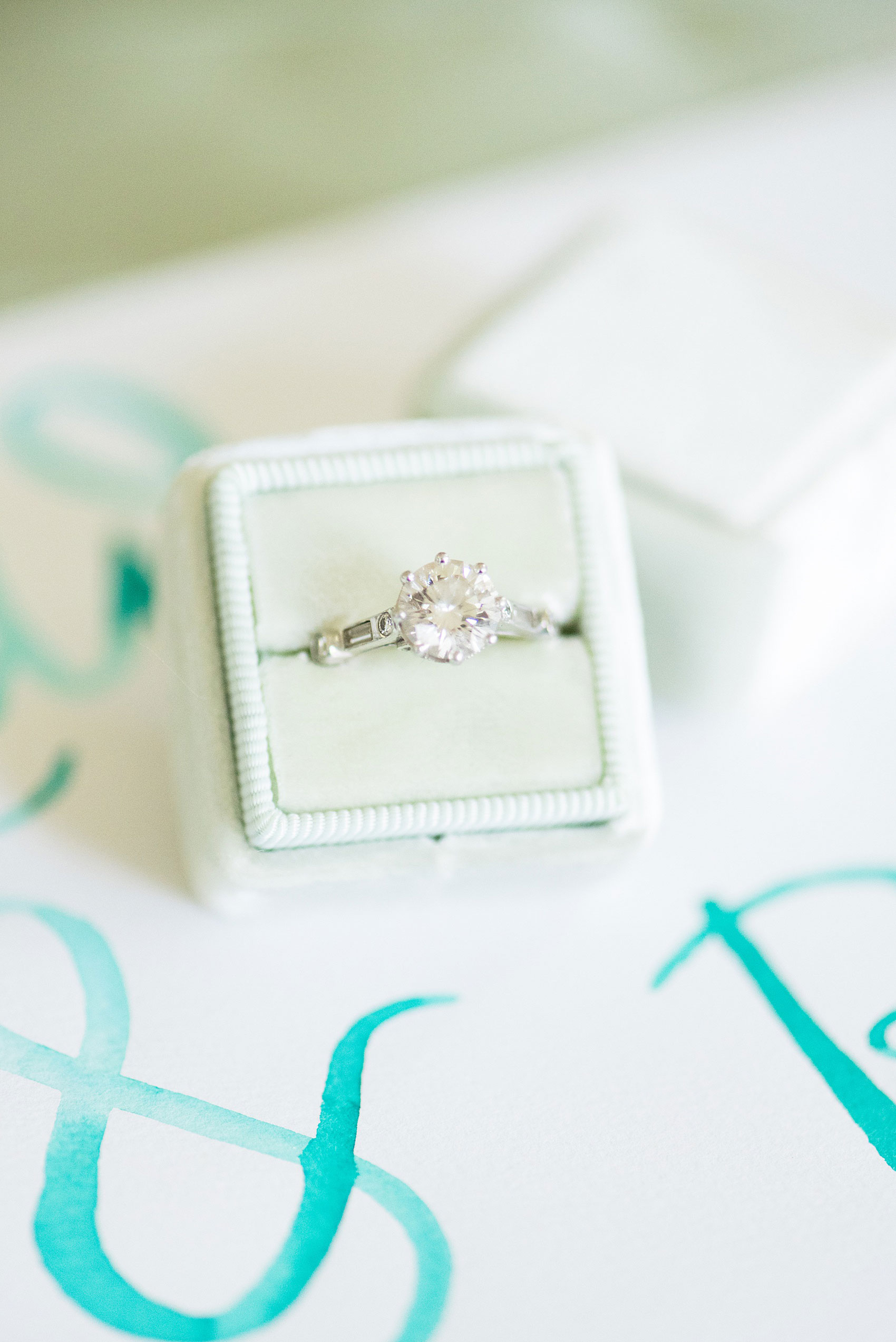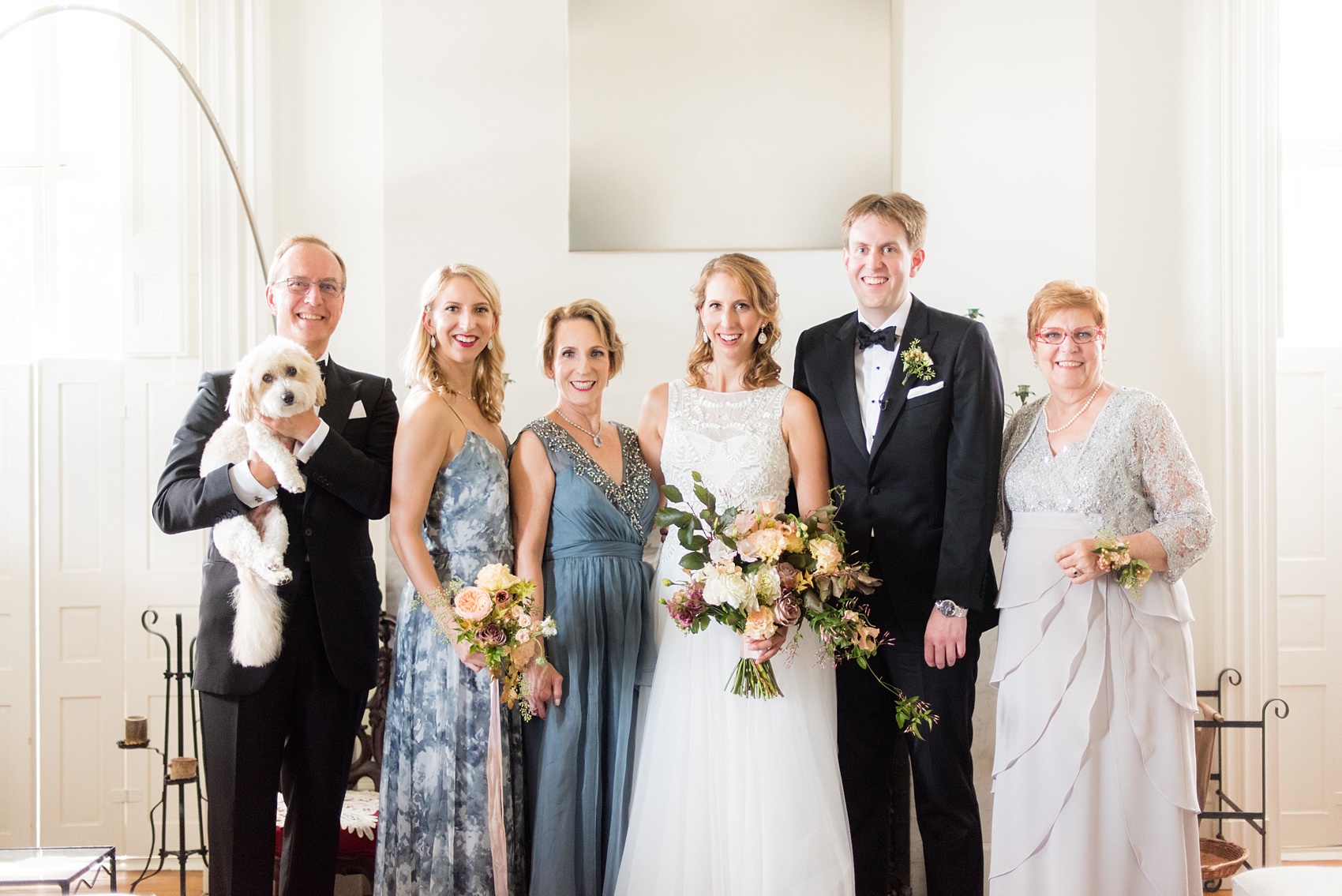 Laura and Phil, their parents and the wedding party (not to mention, their adorable dog, Cali, short for "Caliente"!) headed inside for a special intimate ketubah signing ceremony. It took place just before the outdoor ceremony with all their guests overlooking the picturesque Hudson River Valley. Would you believe the weather report was calling for thunderstorms up until the morning of their wedding? It didn't rain and it ended up being the most perfect-weather day.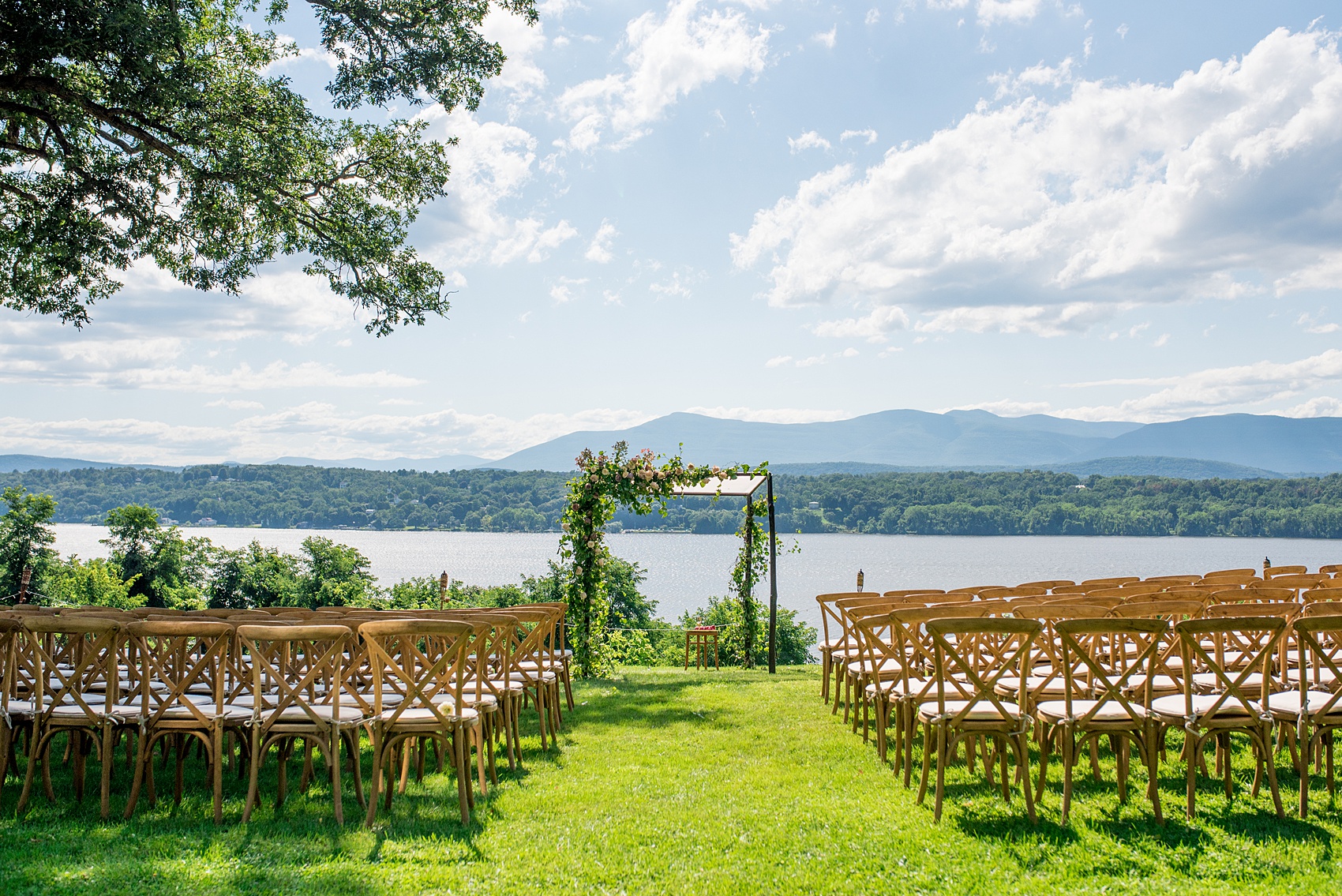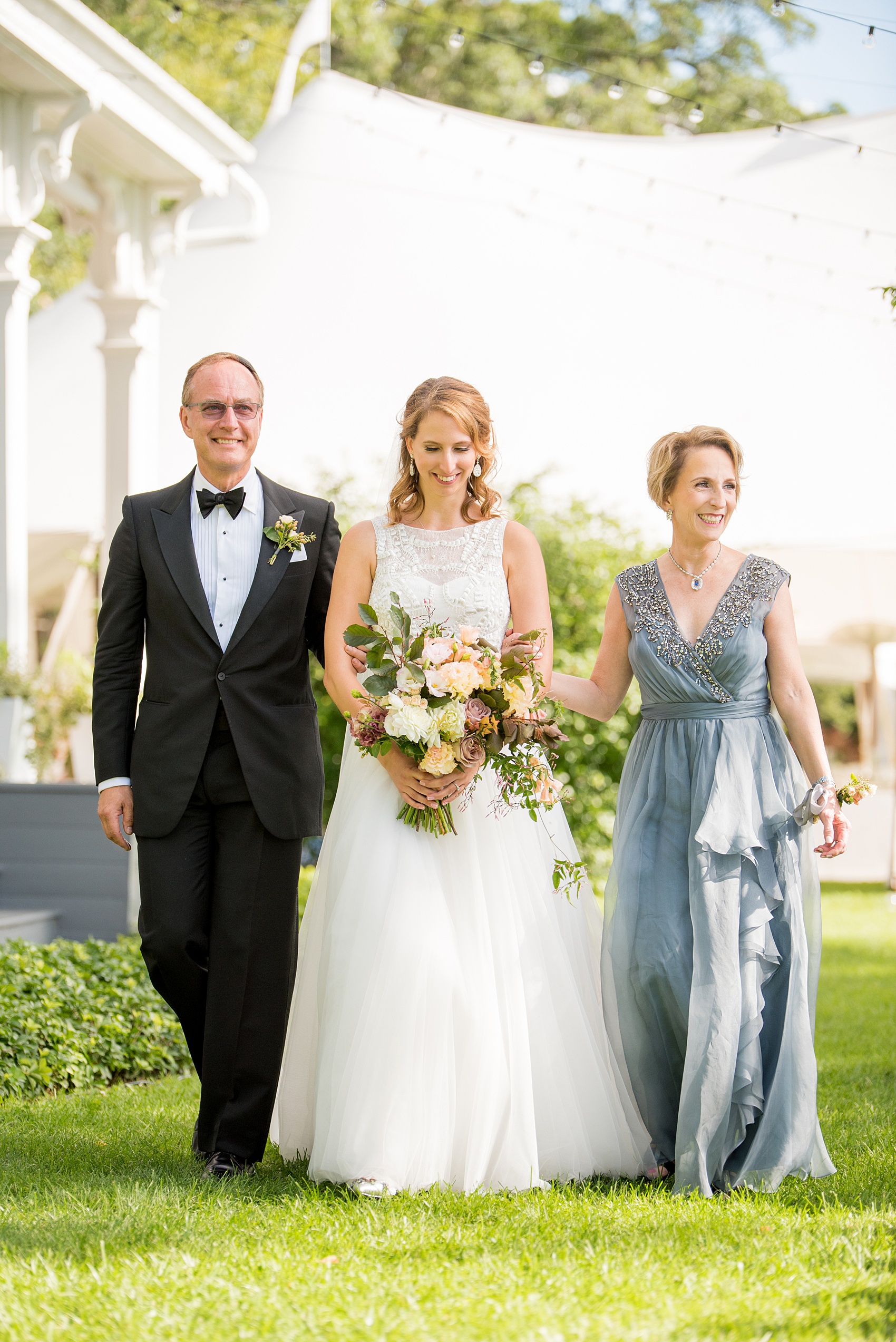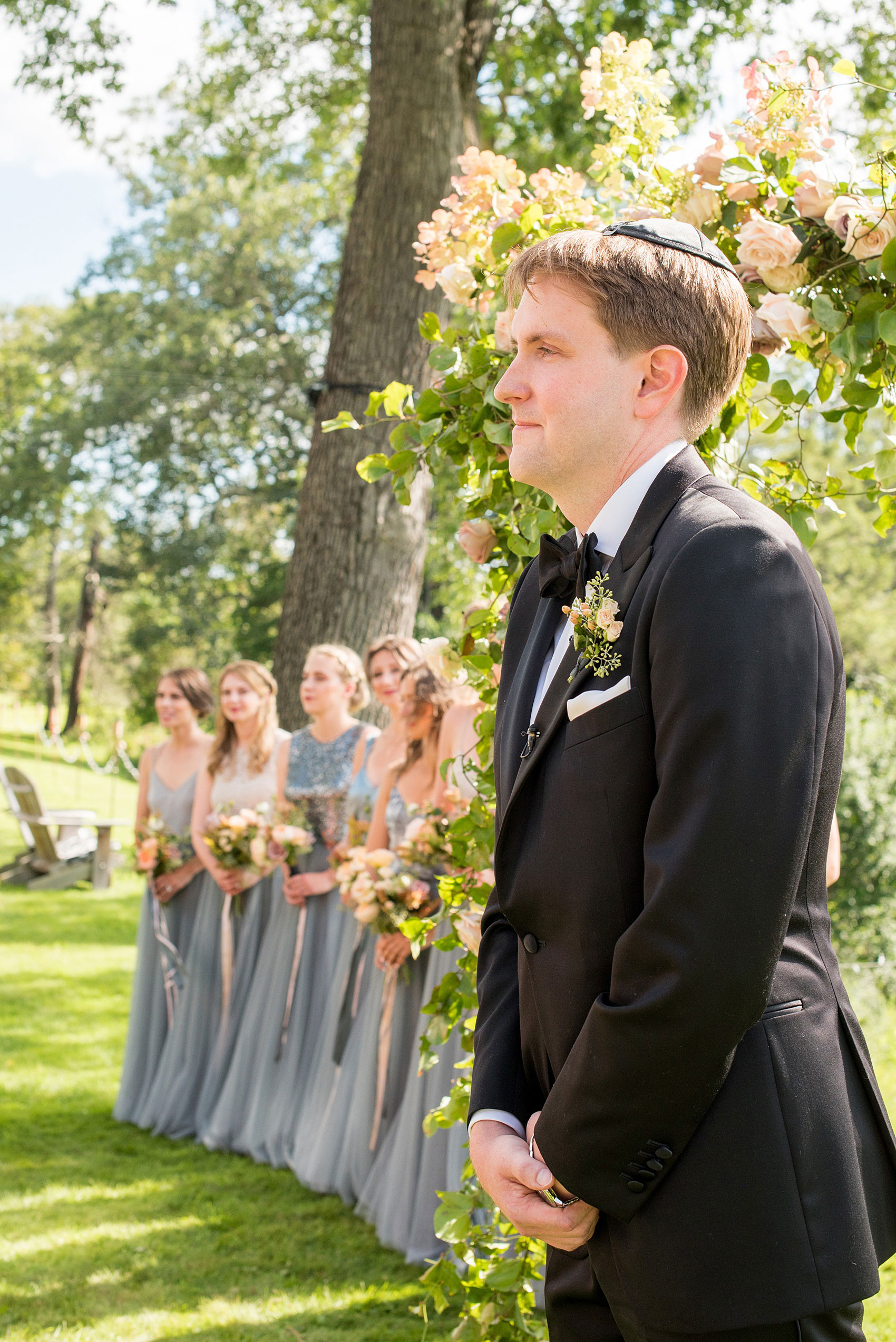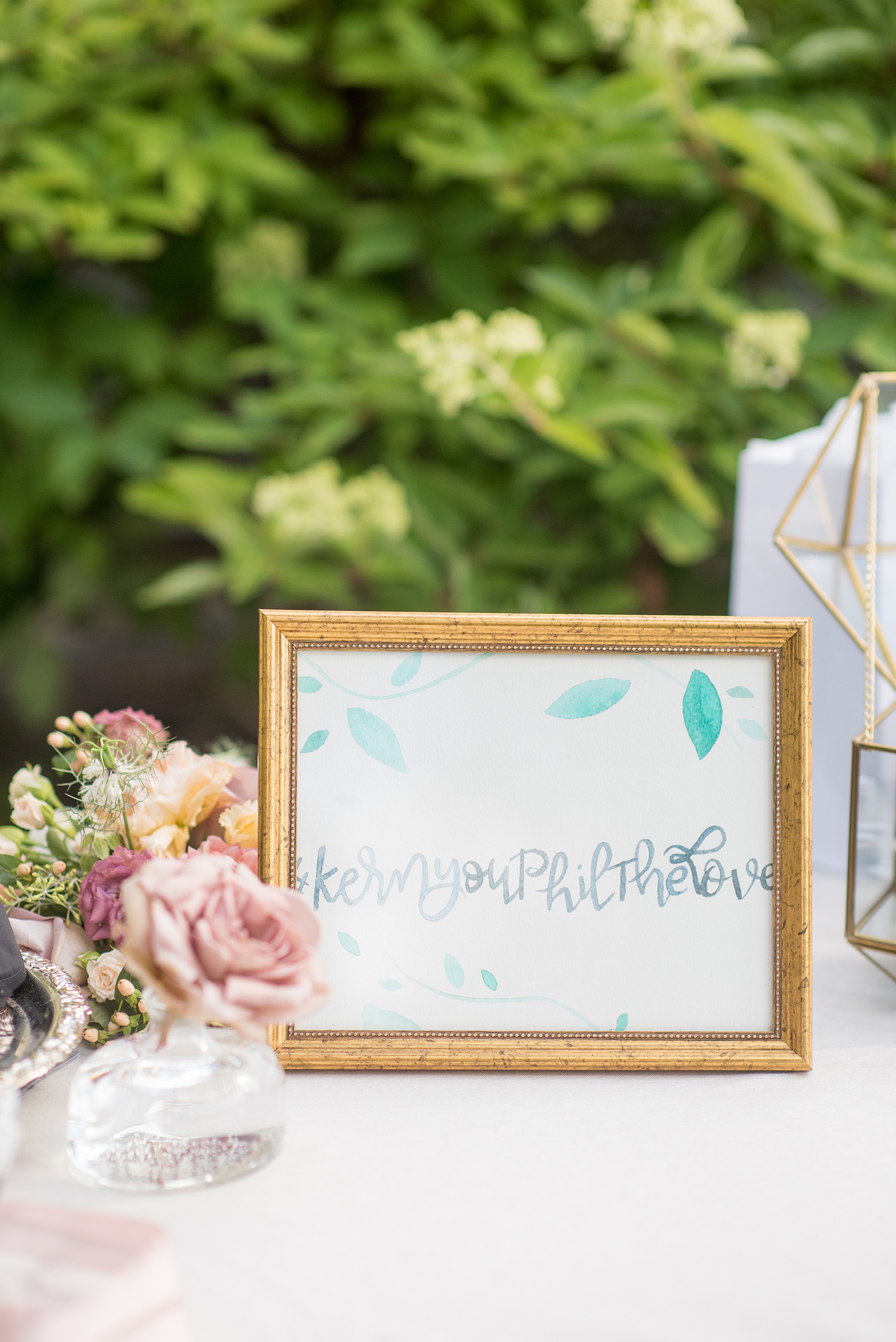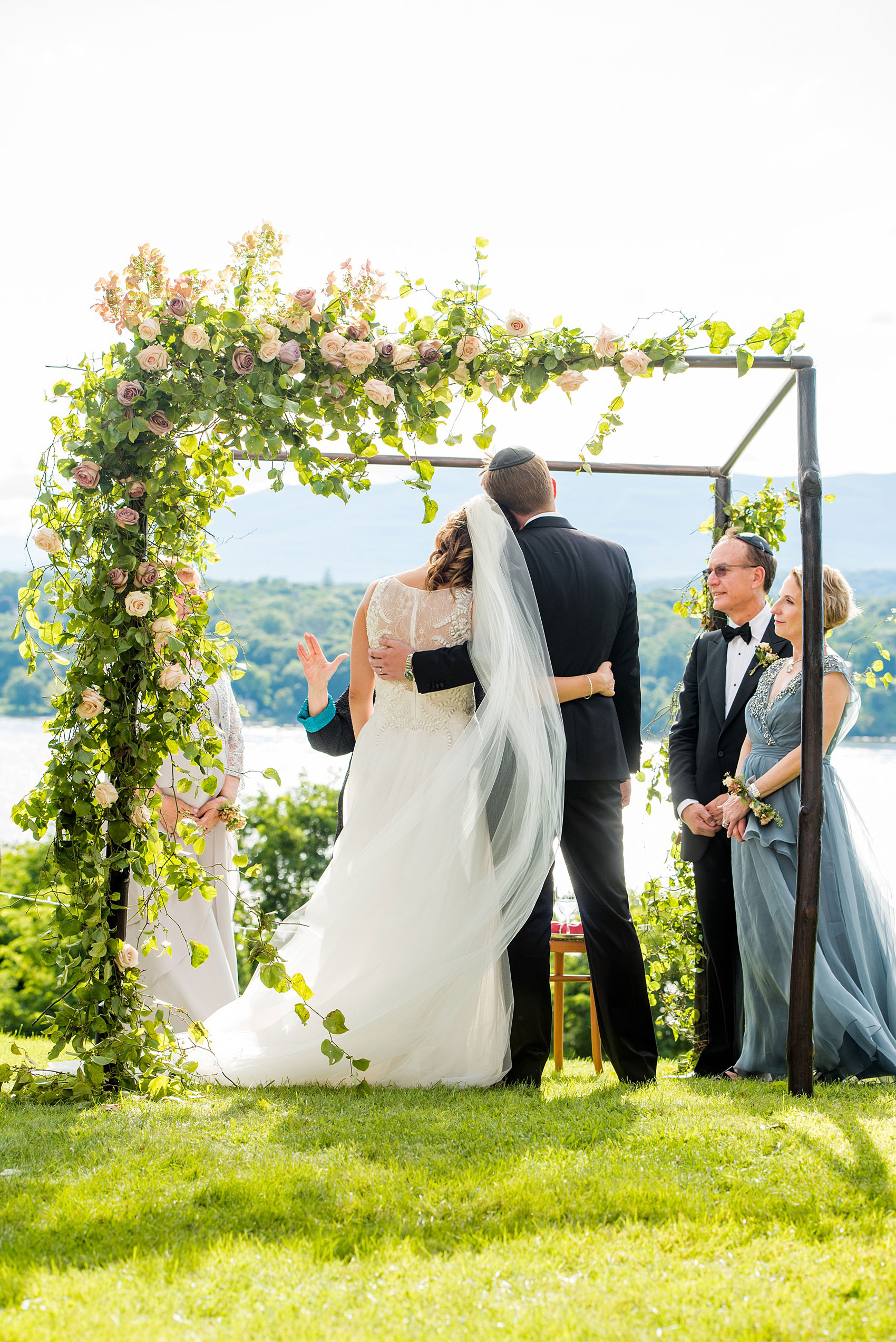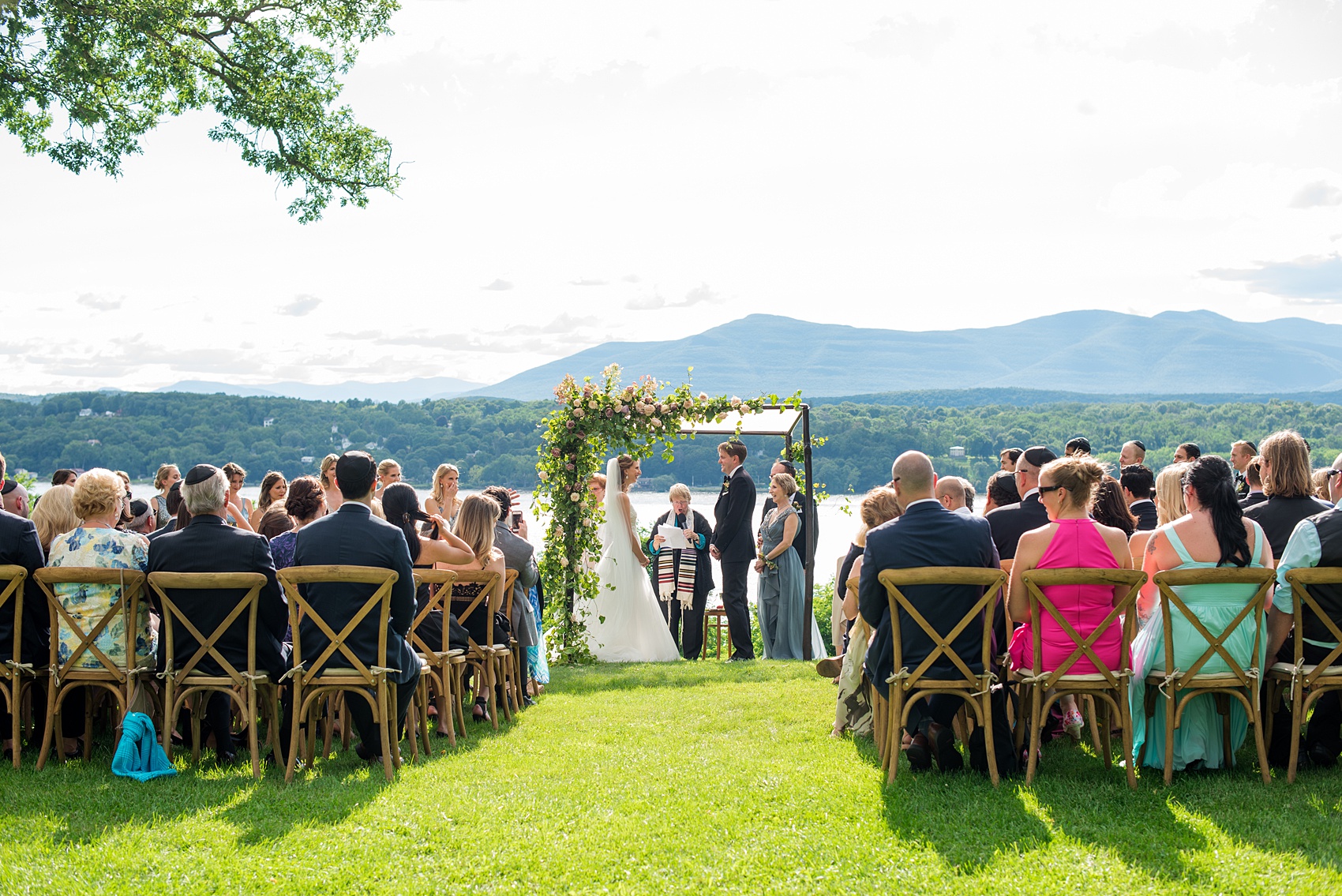 Doesn't that look like something directly out of a magazine?! Dreamy! They had a traditional Jewish ceremony officiated by a female rabbi who spoke both English and French (for the French-Canadians in the crowd – woohoo!). Her enthusiasm was contagious! After a breaking of the glass and "mazel tov!" it was time to party on the lawn. Starting with specialty cocktails named after the new Mr. and Mrs. Hennessey! The custom watercolor sign was created by Laura's friend and incredibly talented artist, Shyama Golden. Laura's friend Kristin, of Winter Craft Co, did all of the calligraphy for the day, including the envelopes, table cards and place "card" ribbons at each seat at the reception. (See the end of the post for complete credits.)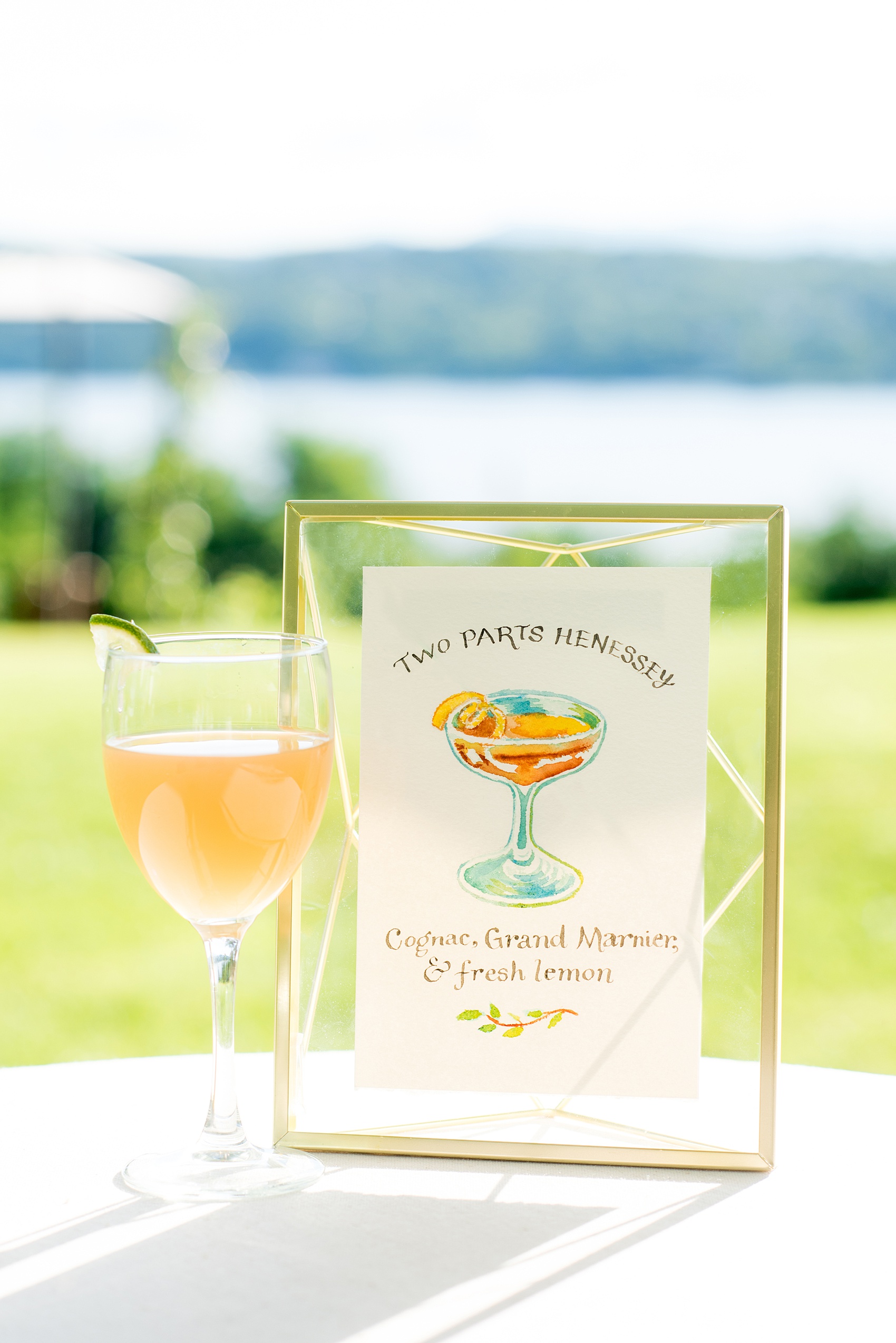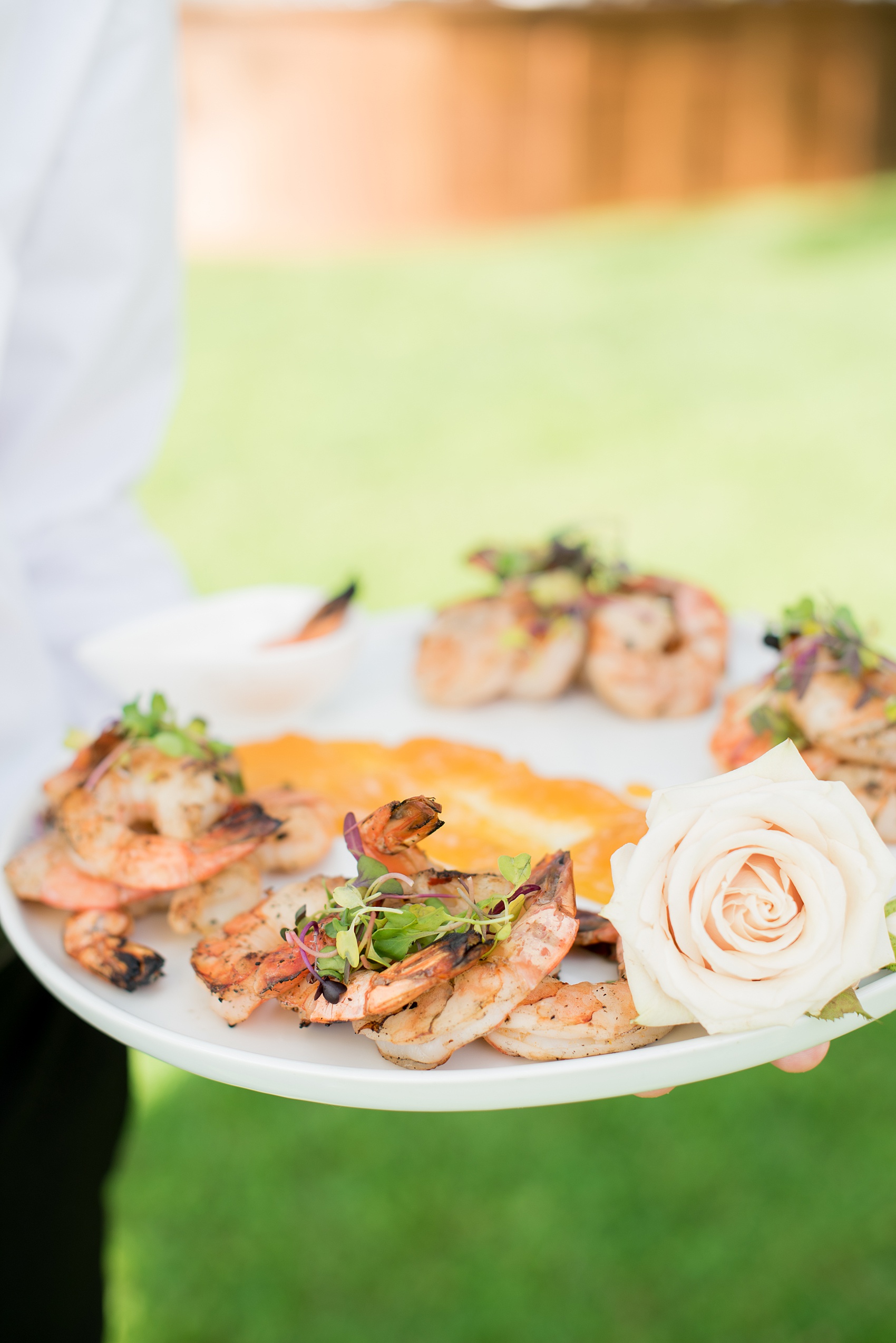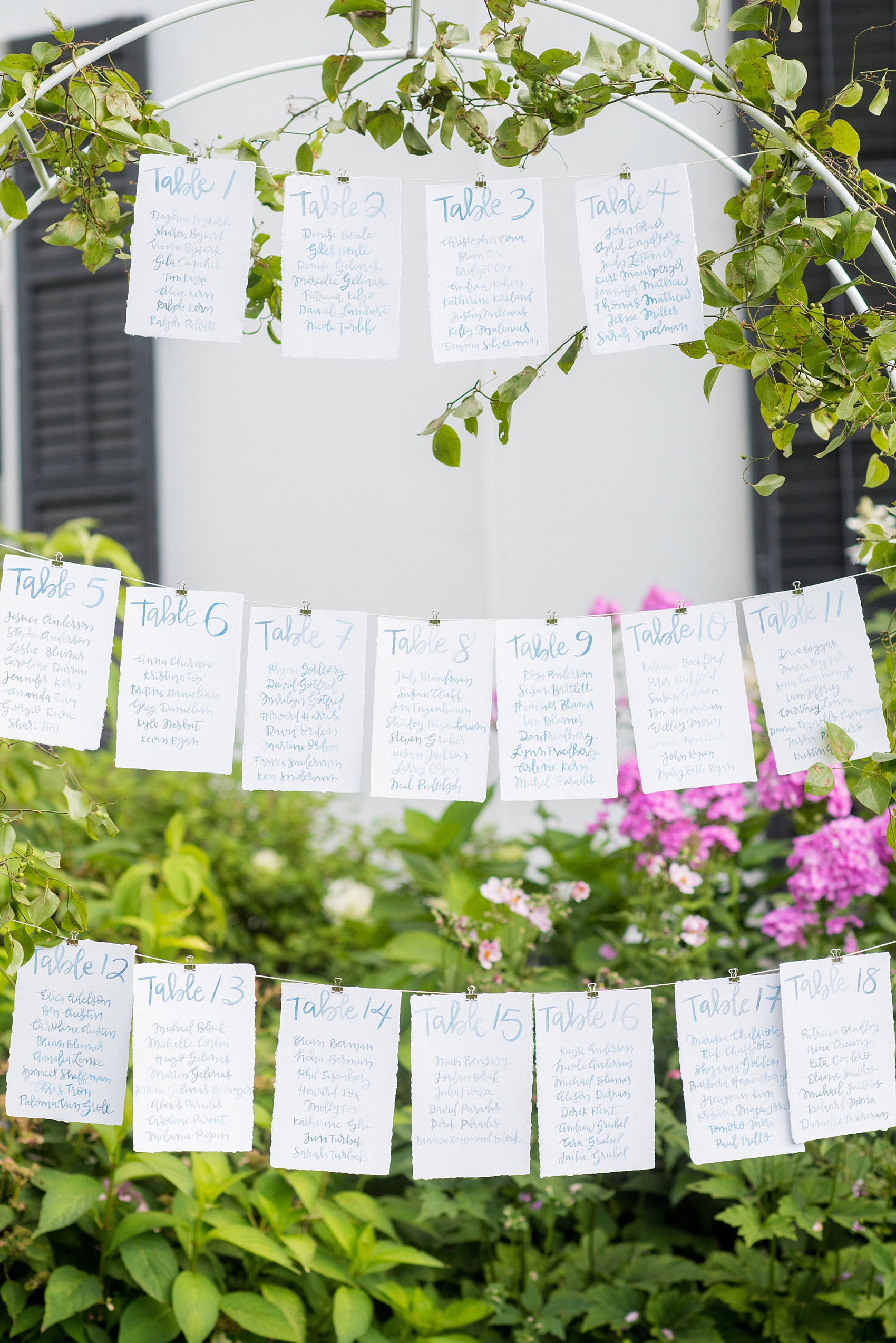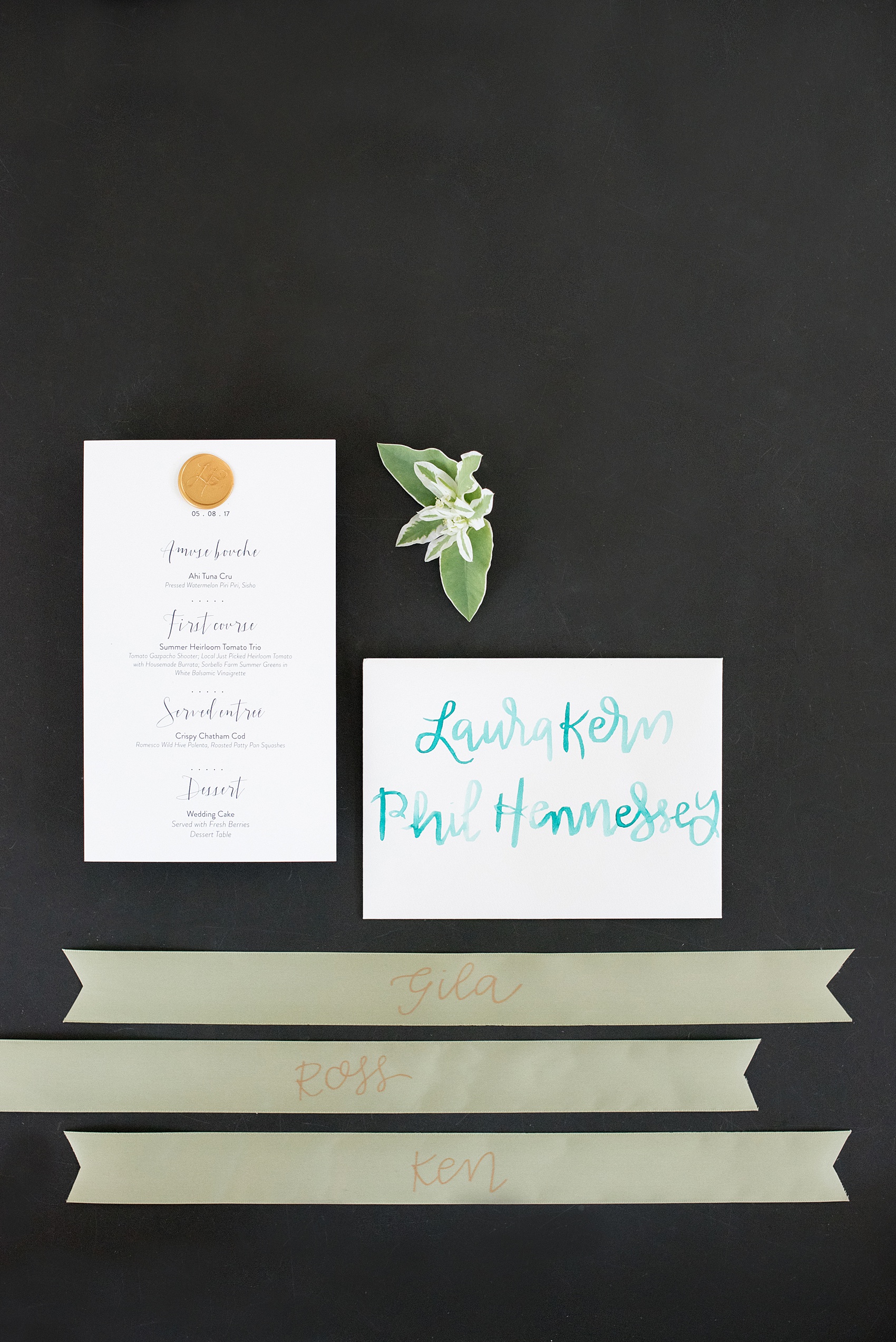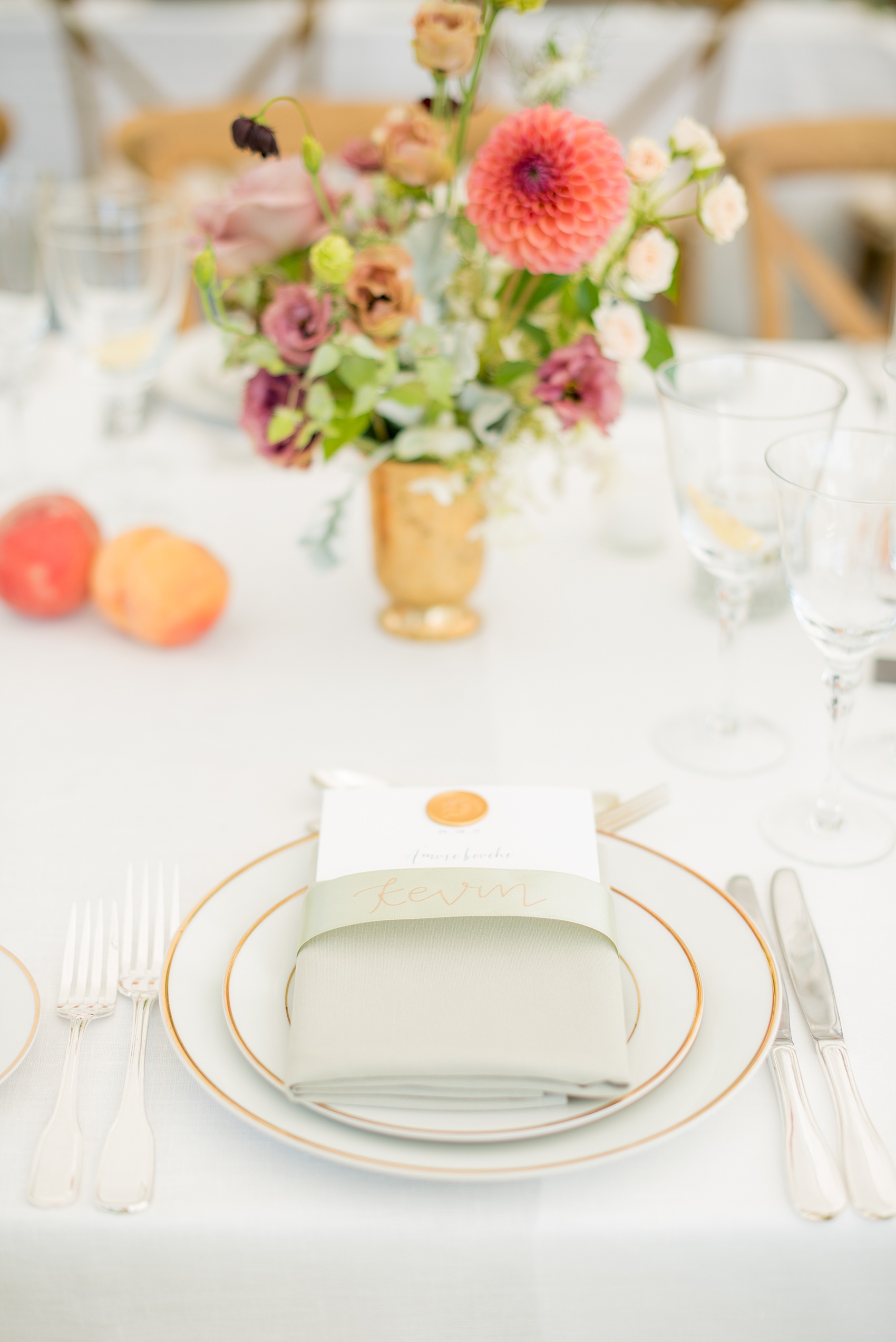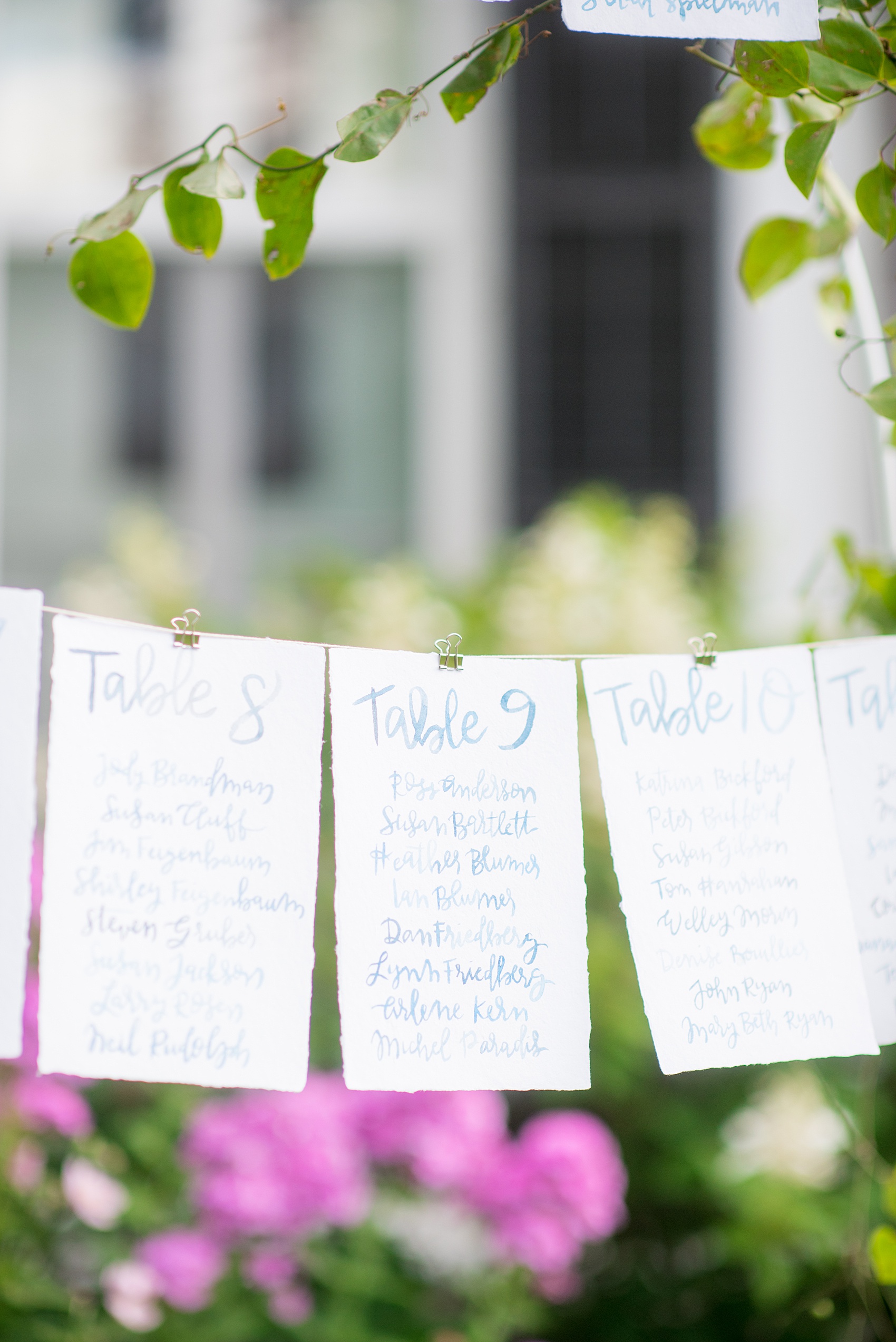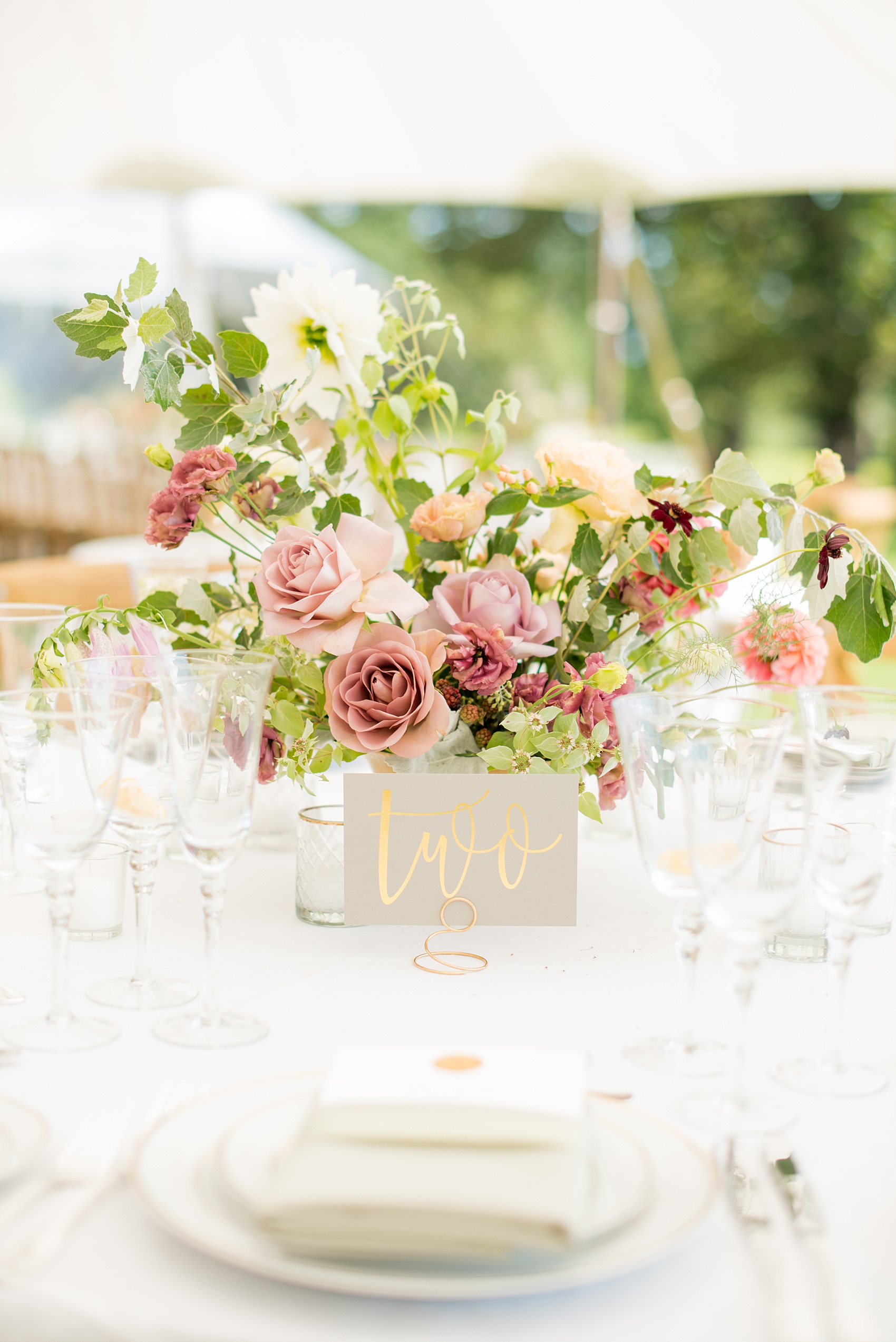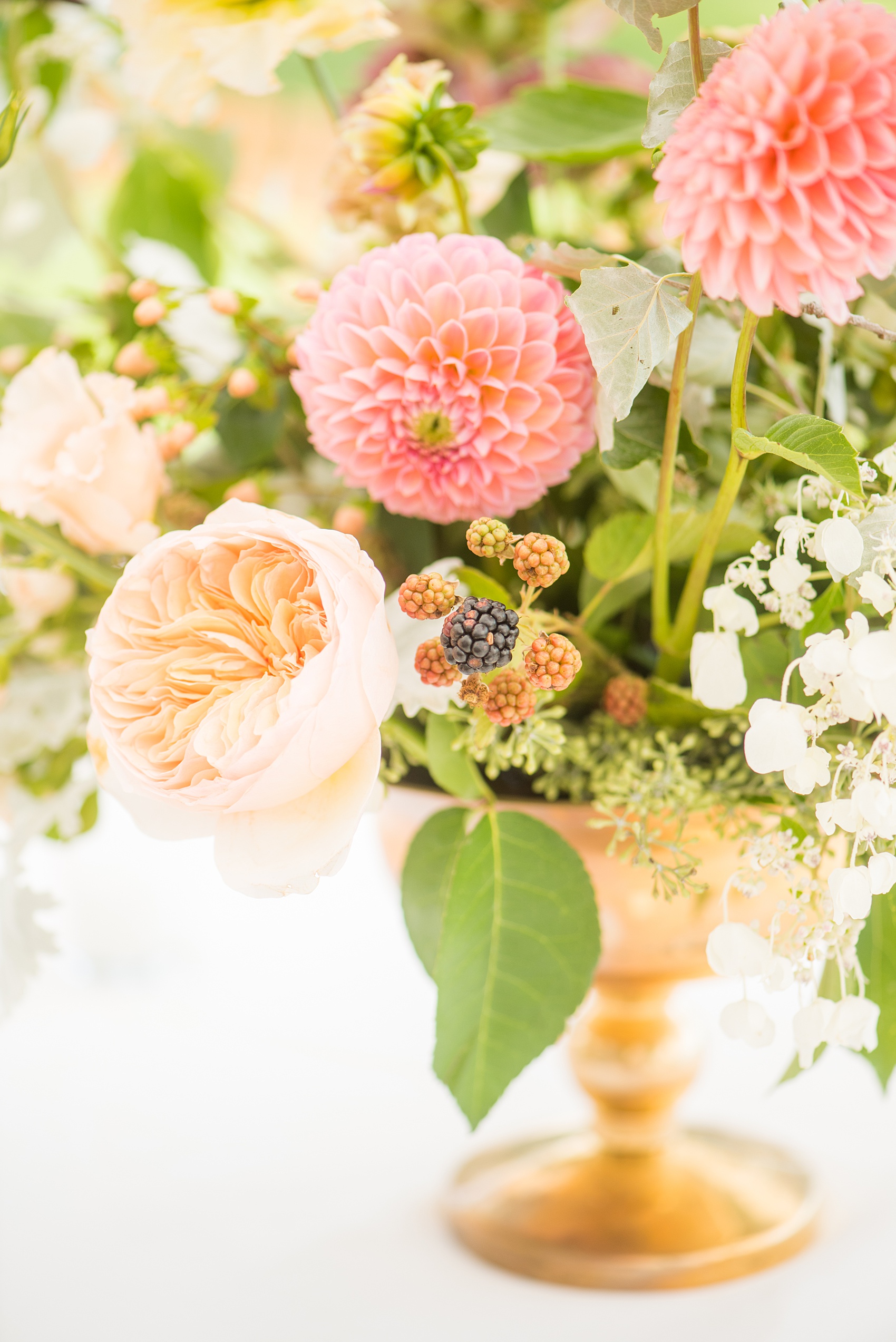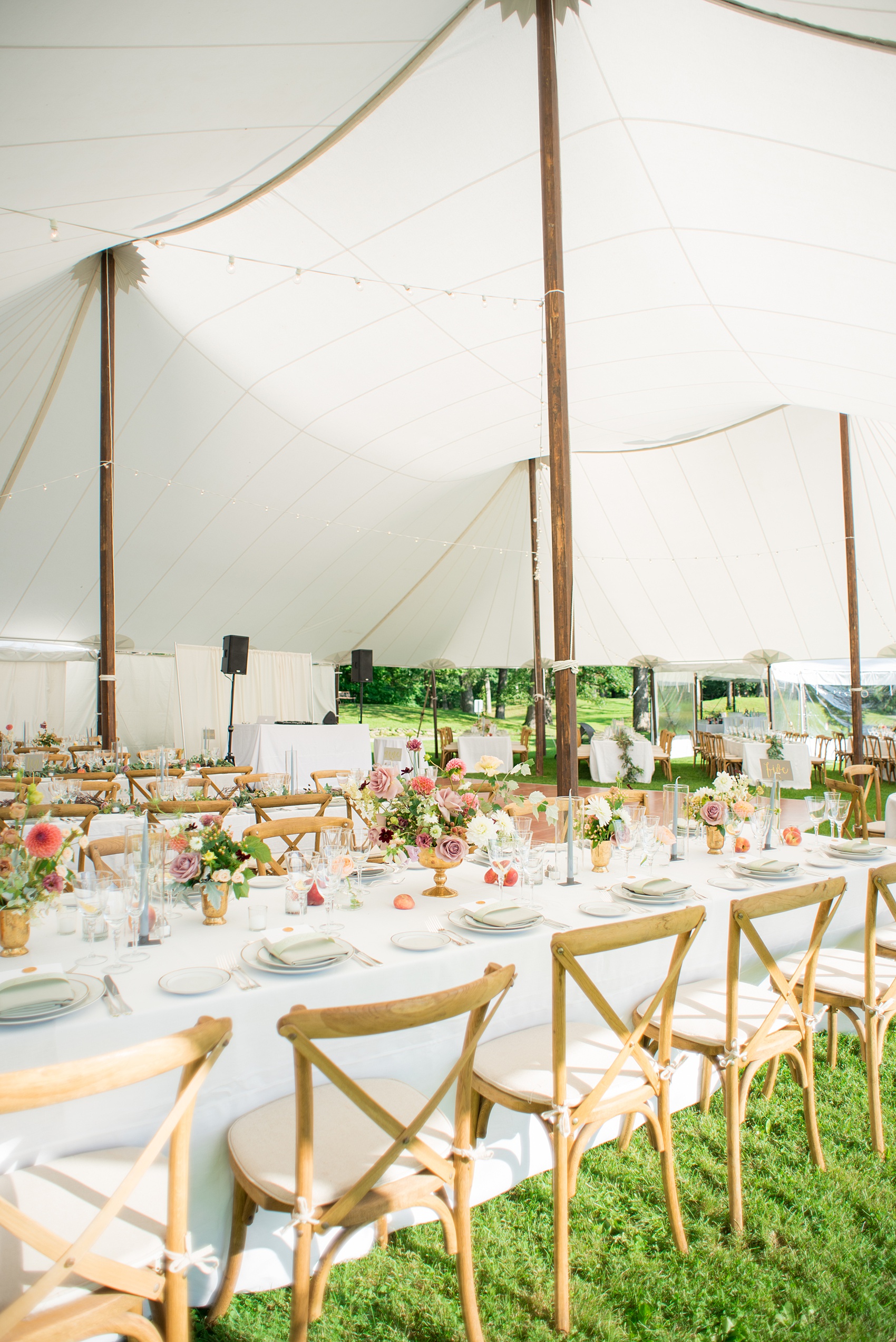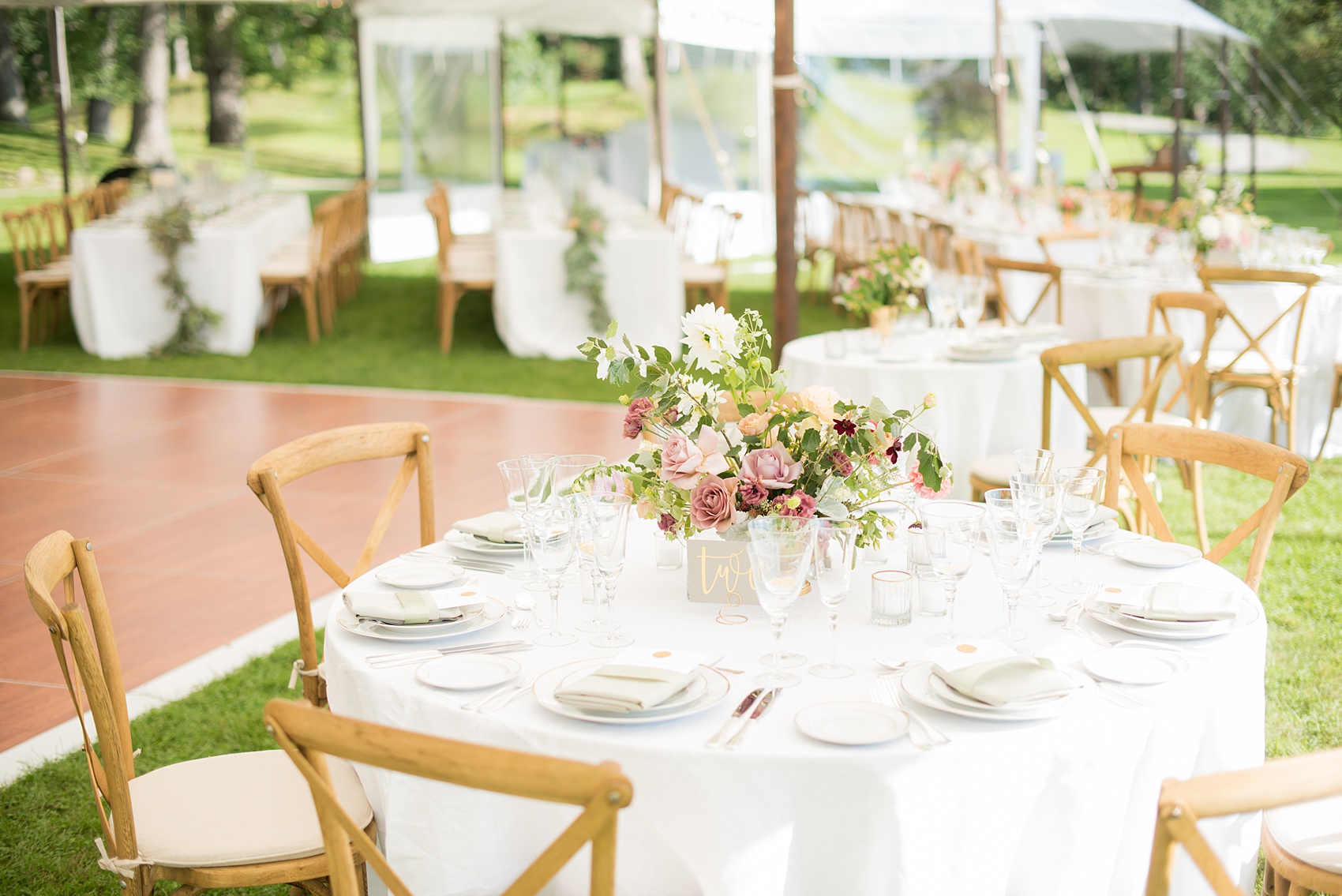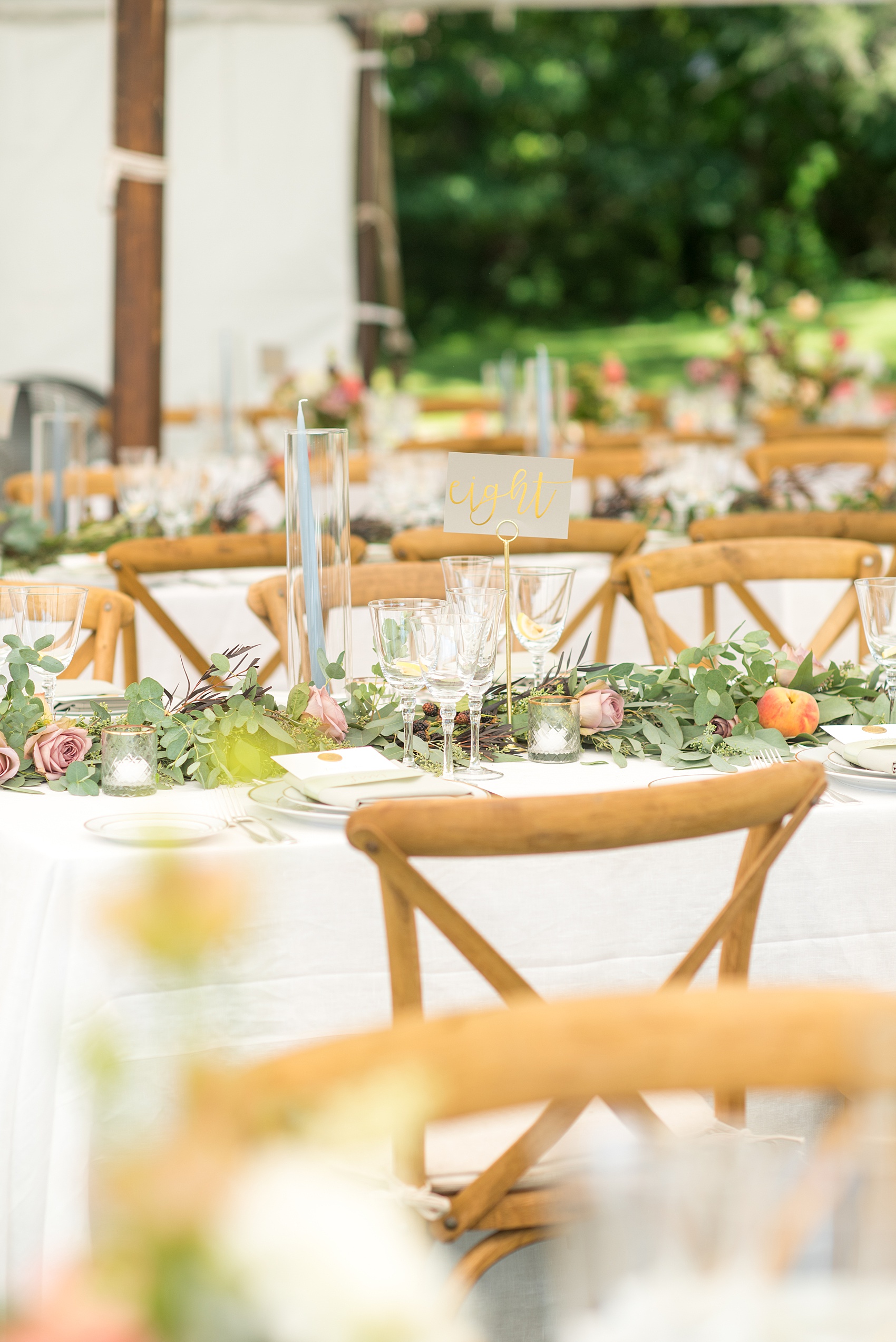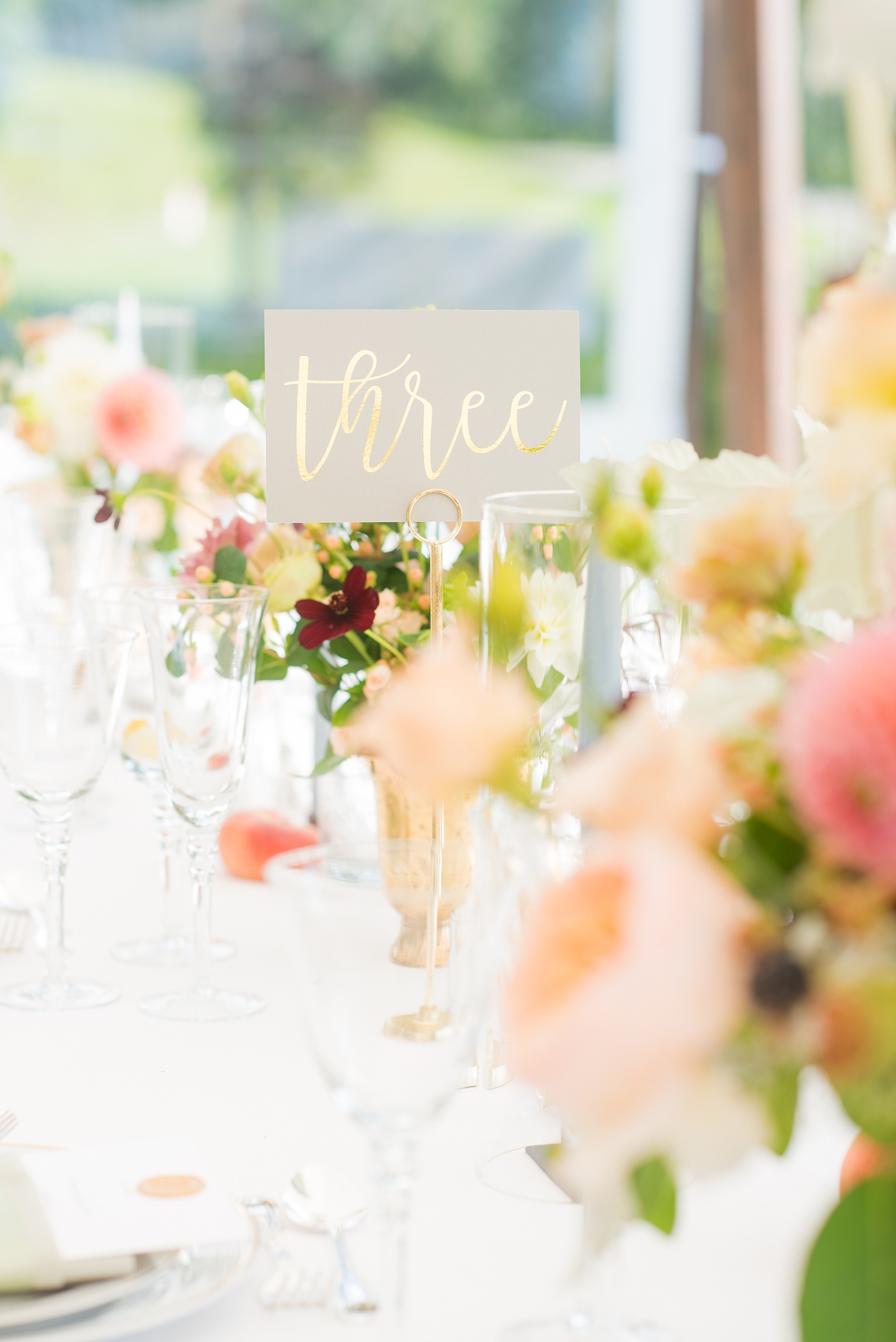 I was gushing over the tables. Everything was meticulously planned, down to the table numbers, menu and then some. I have to give a huge shoutout to Amanda of ByAmanda Events. She was so on the ball during the entire planning process, which I sincerely appreciated.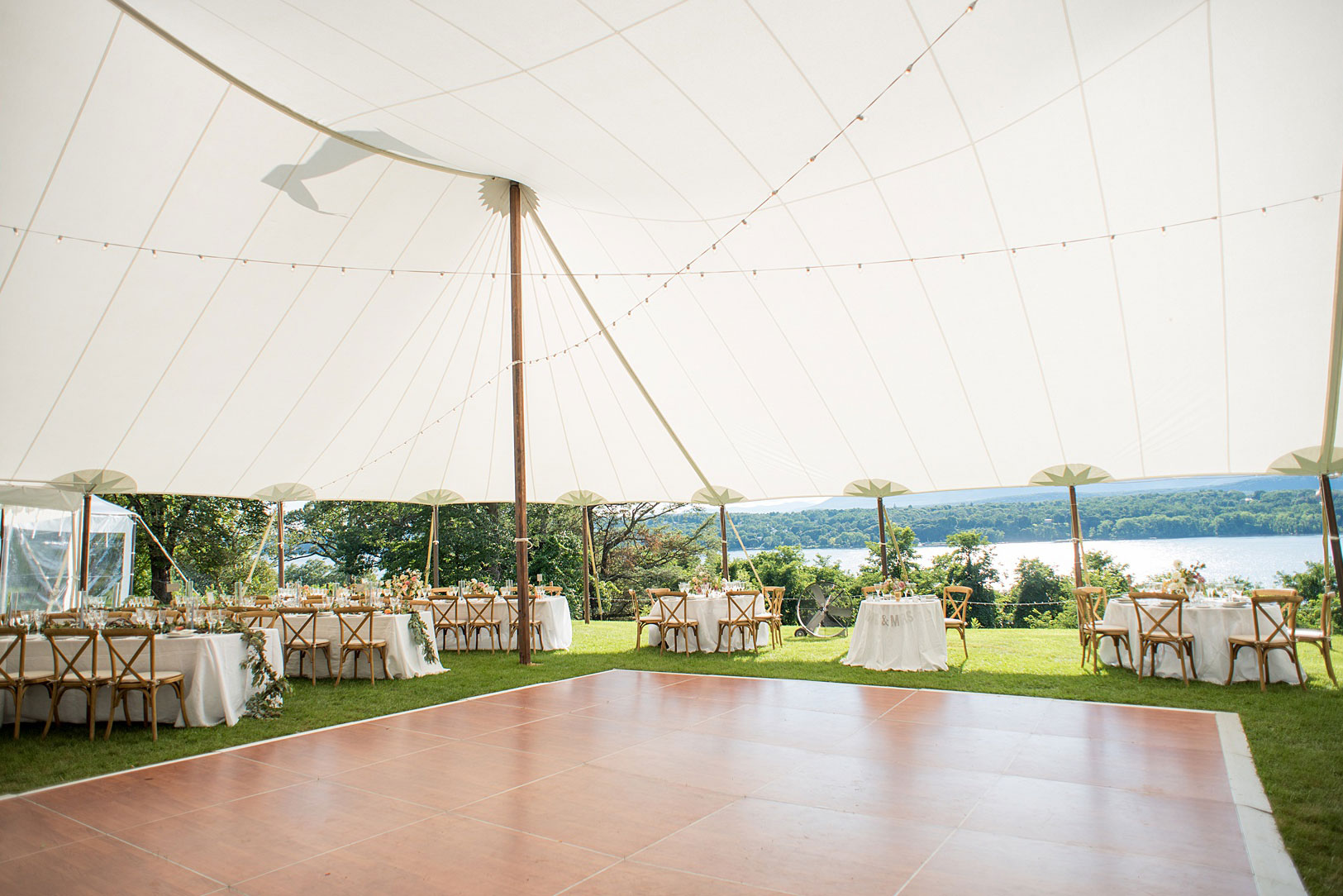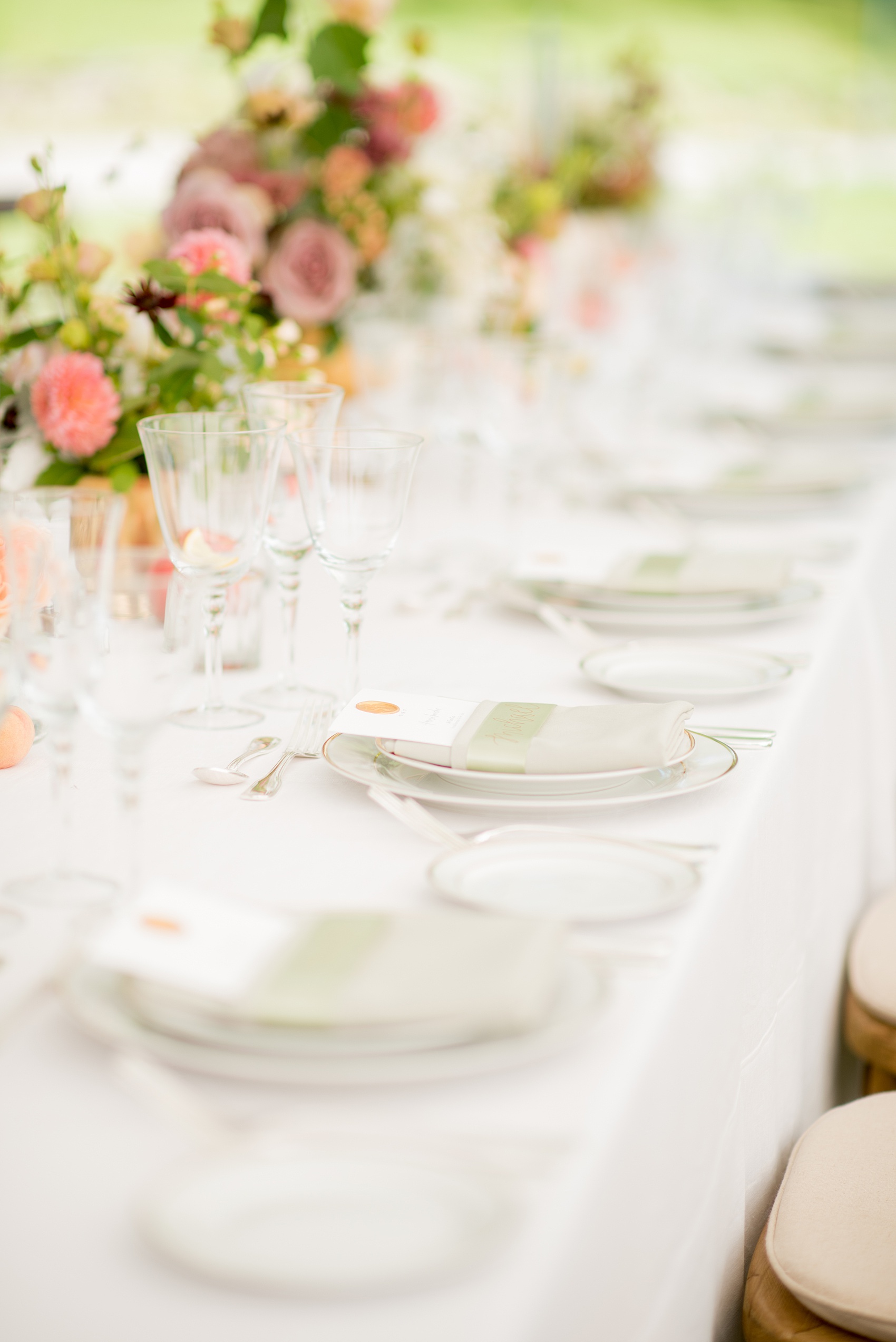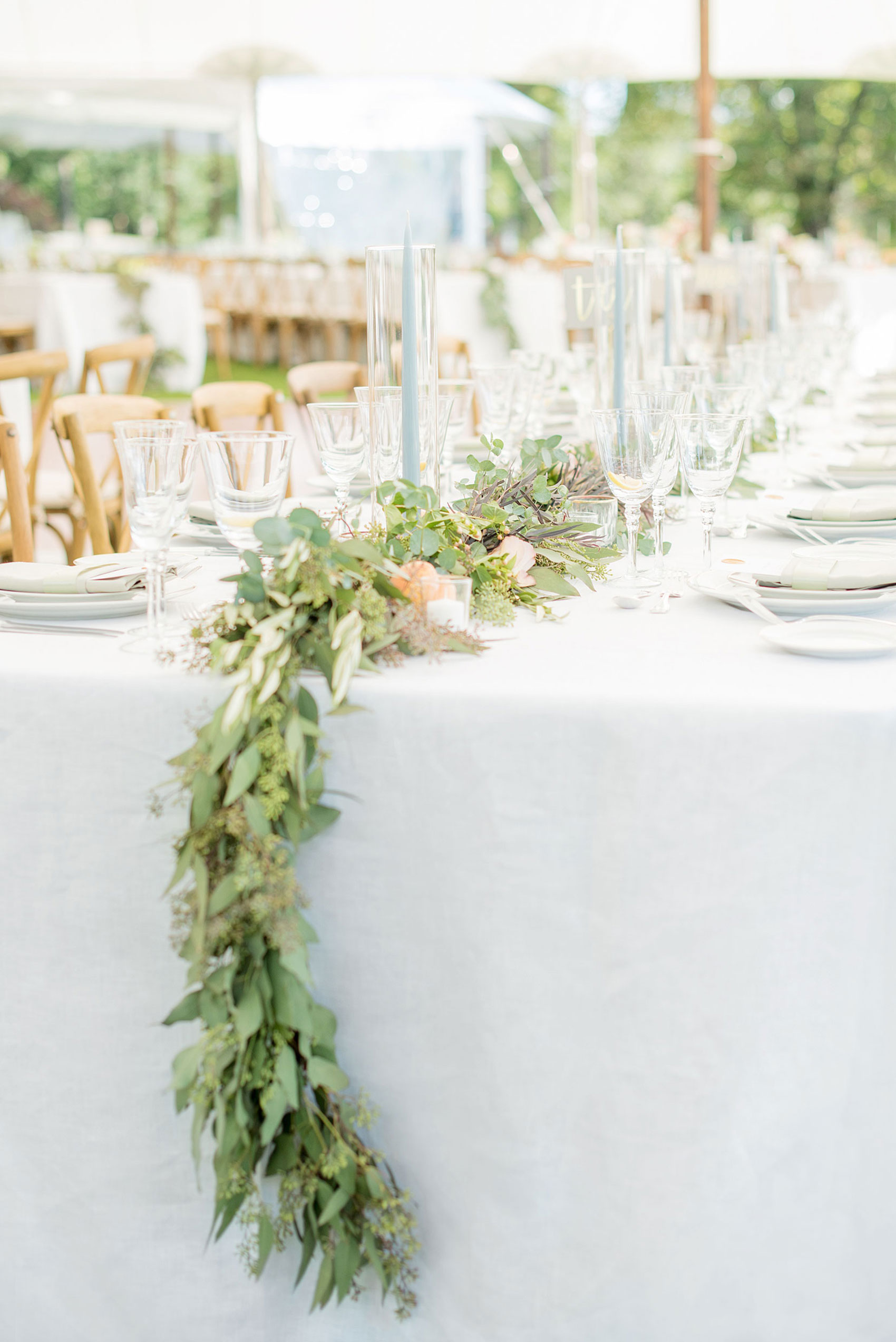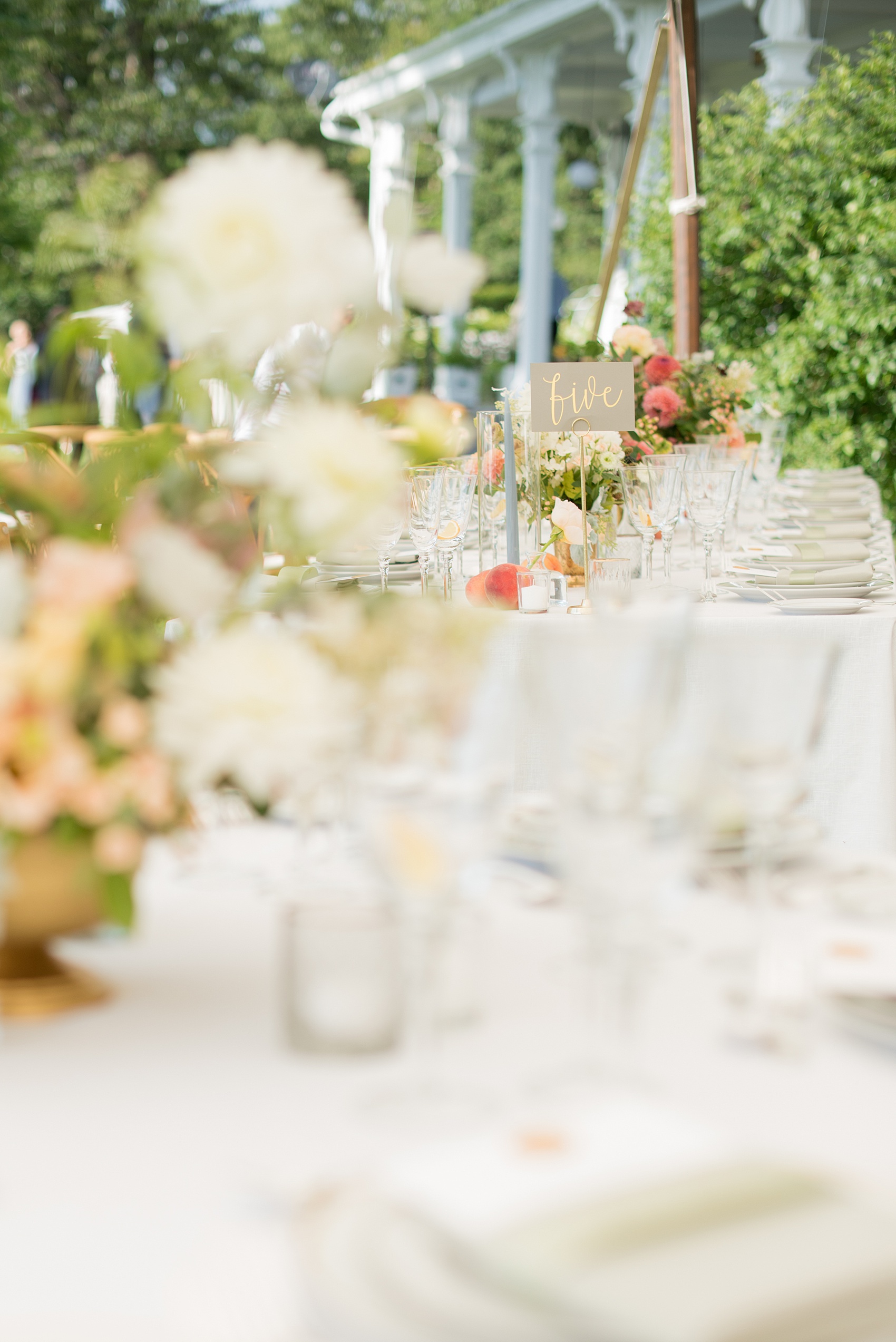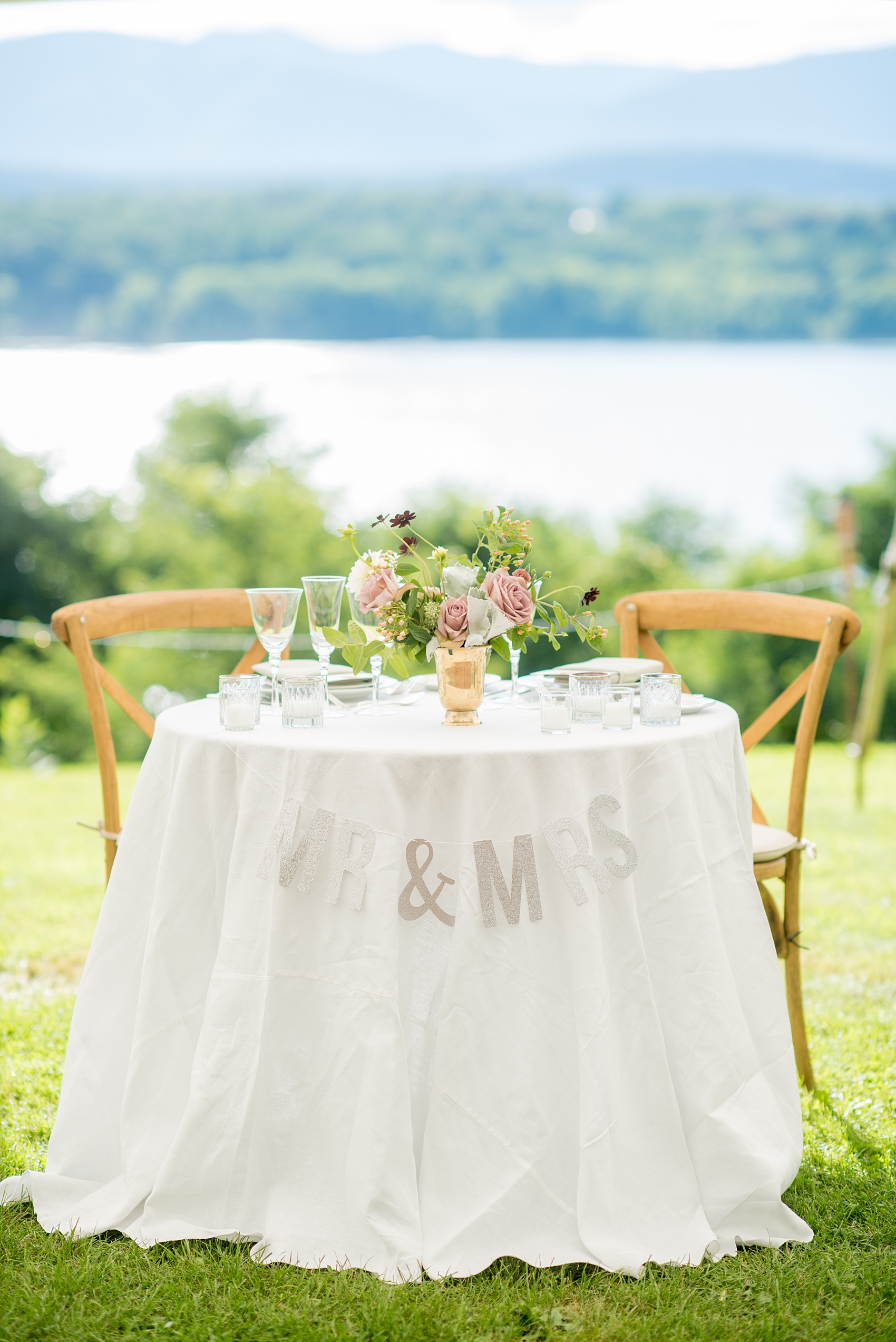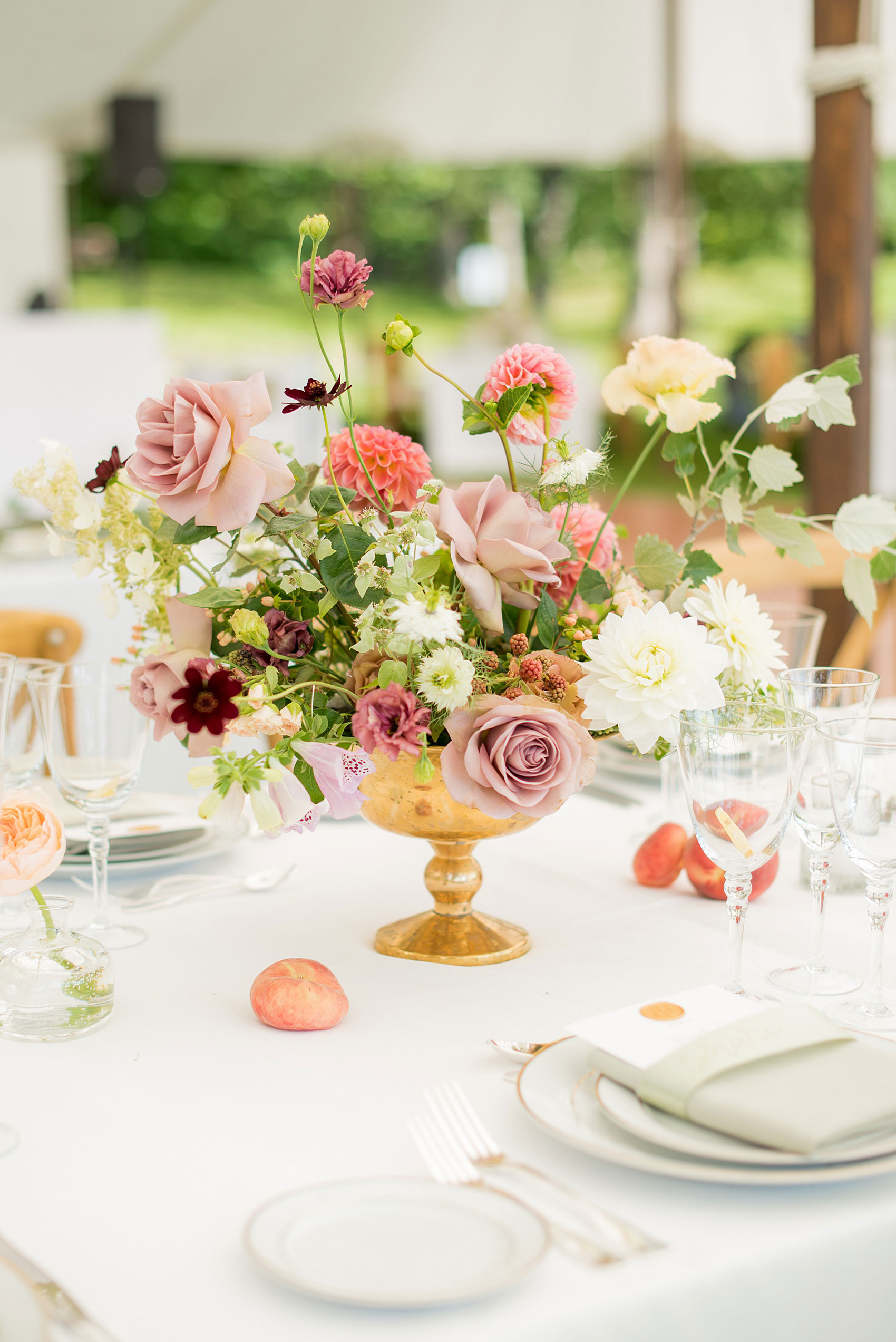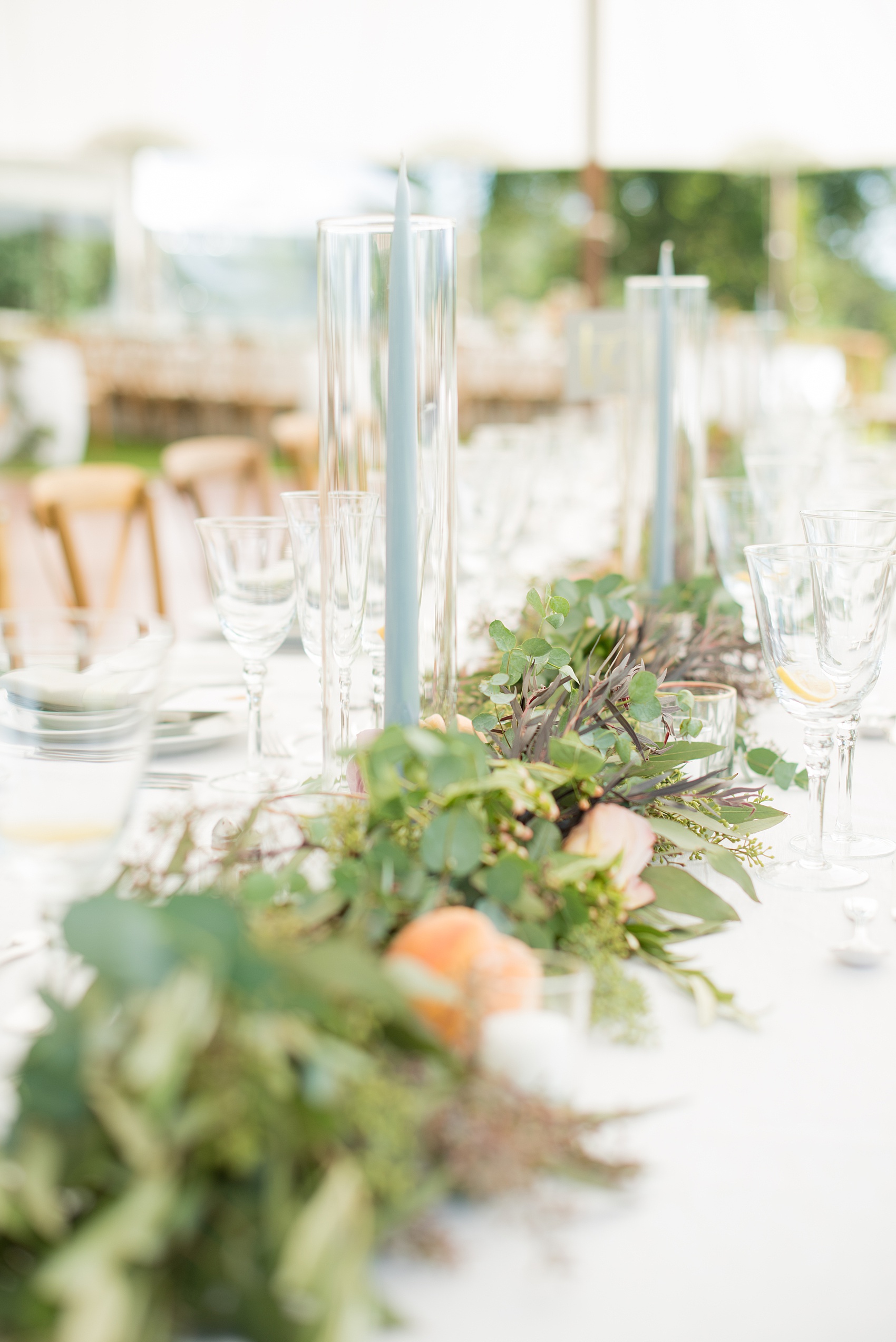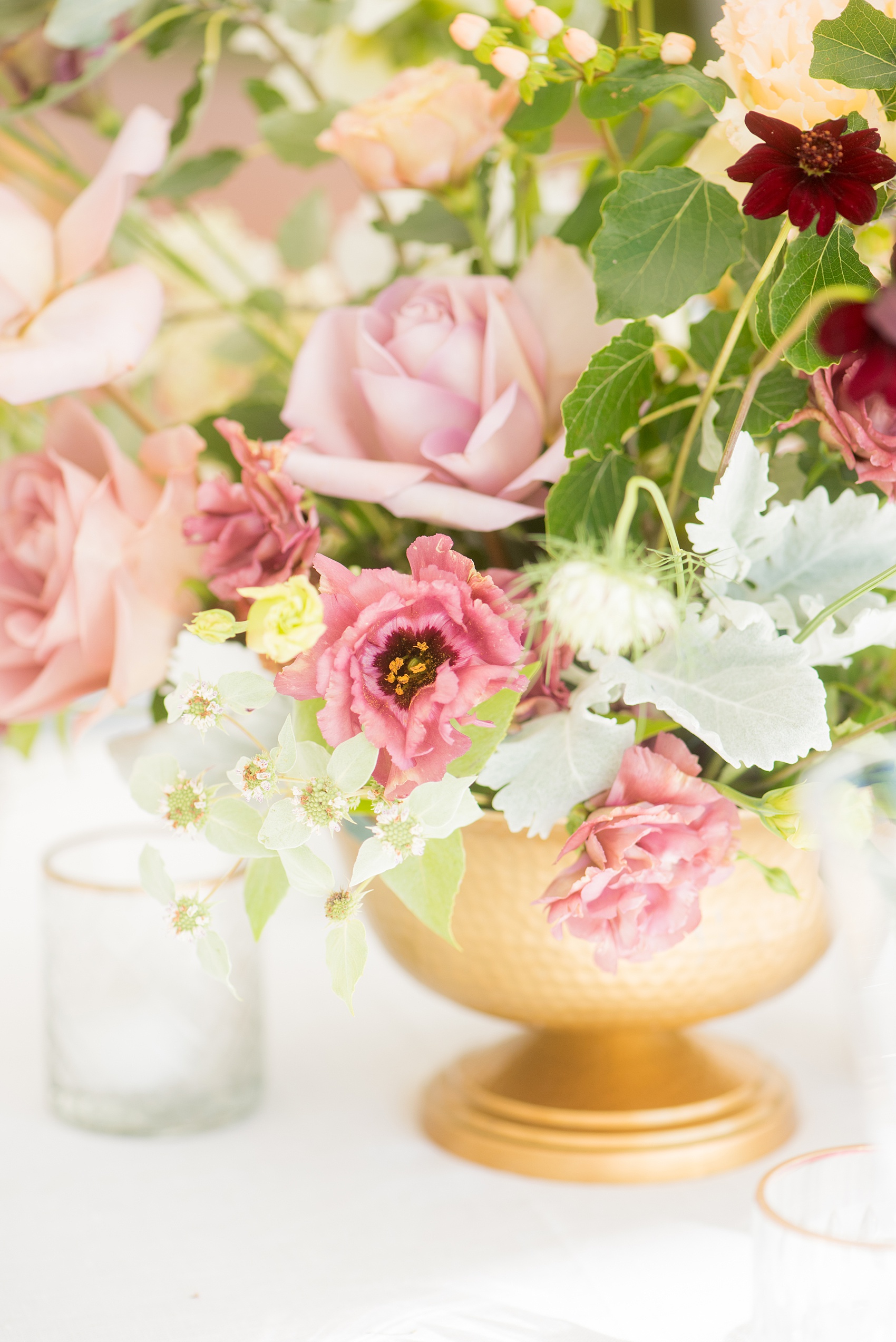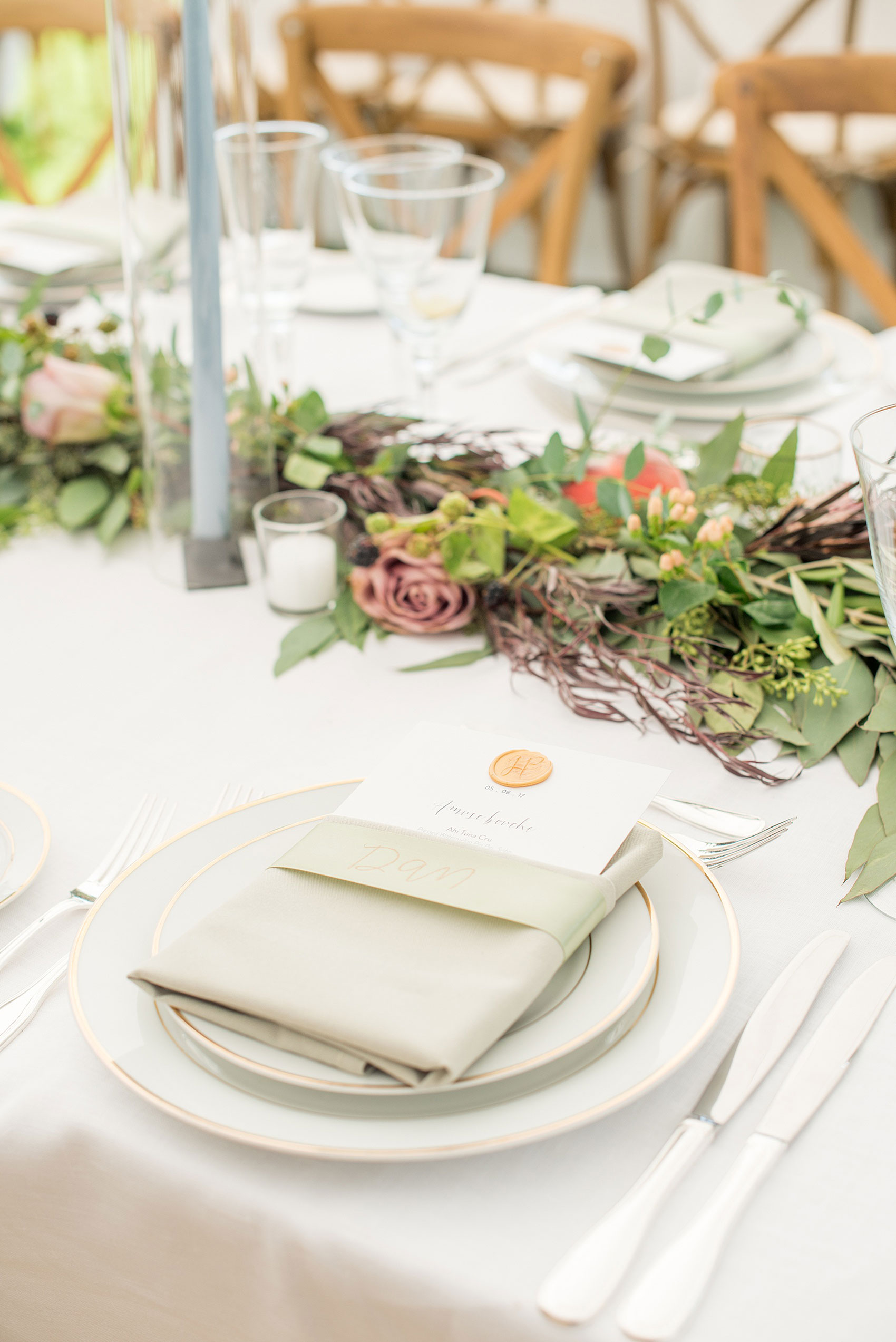 Eucalyptus garland dashed with roses, tapered blue candles in tall glass cylinders, fresh peaches, custom wax seals for the menus, cross-back wooden chairs, gold rimmed plates, light green napkins, and floral centerpieces to compliment the women's bouquets were all around the tent. They opted for a combination of round and rectangular tables marked with table numbers created from grey cards and metallic script words – a small detail that always makes a big difference. Laura and Phil sat front and center at their sweetheart table, complete with a silver glitter "Mr. & Mrs." sign.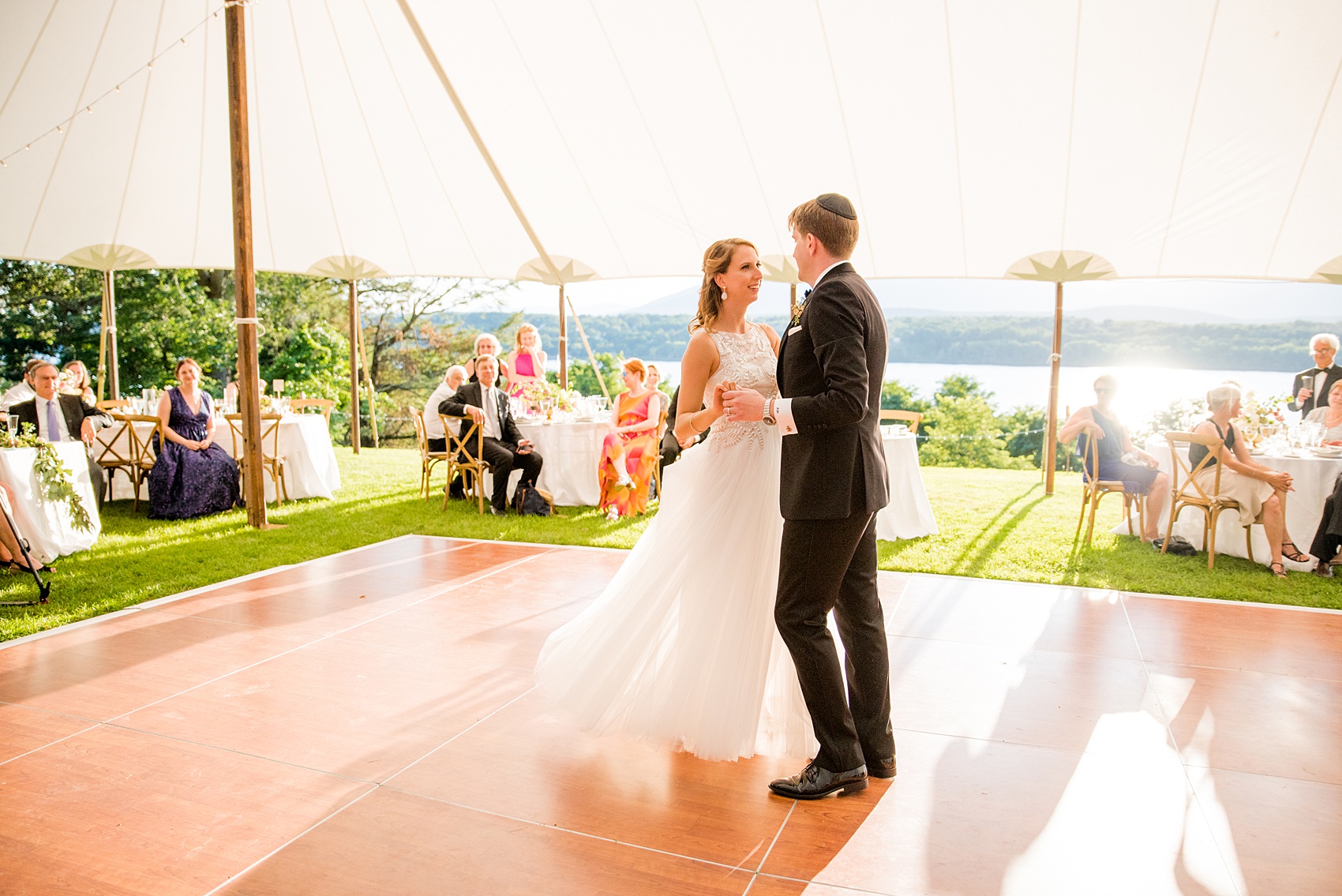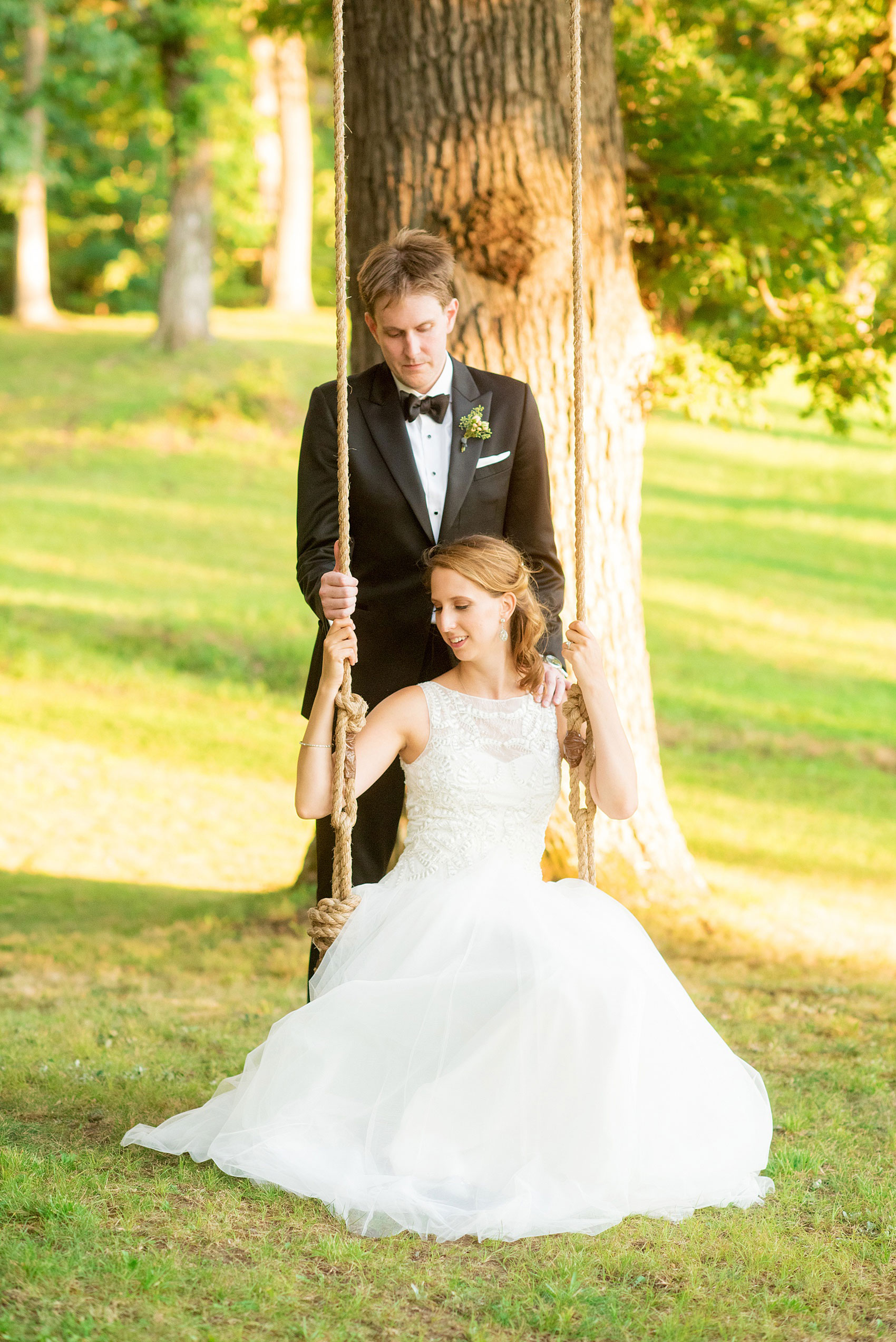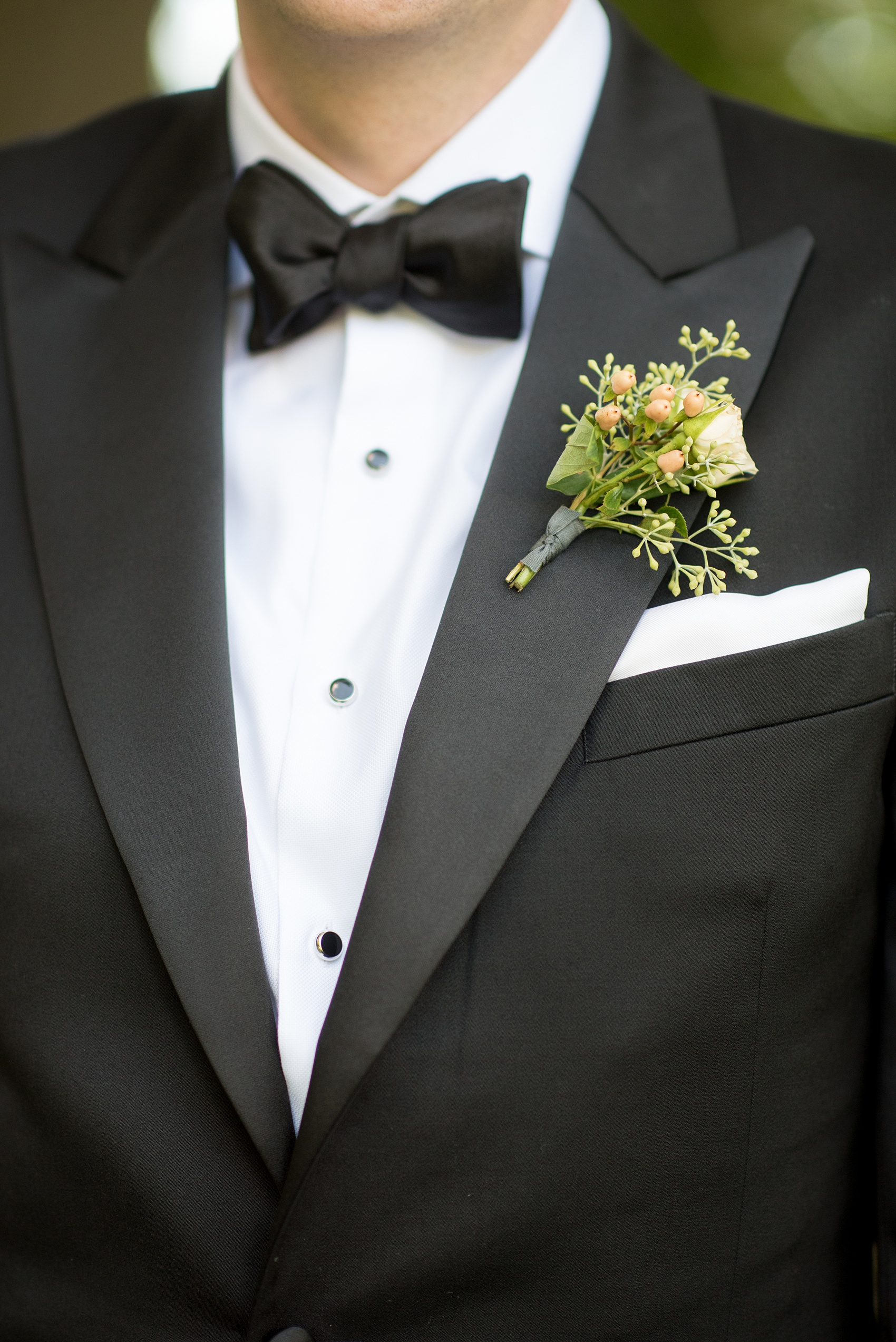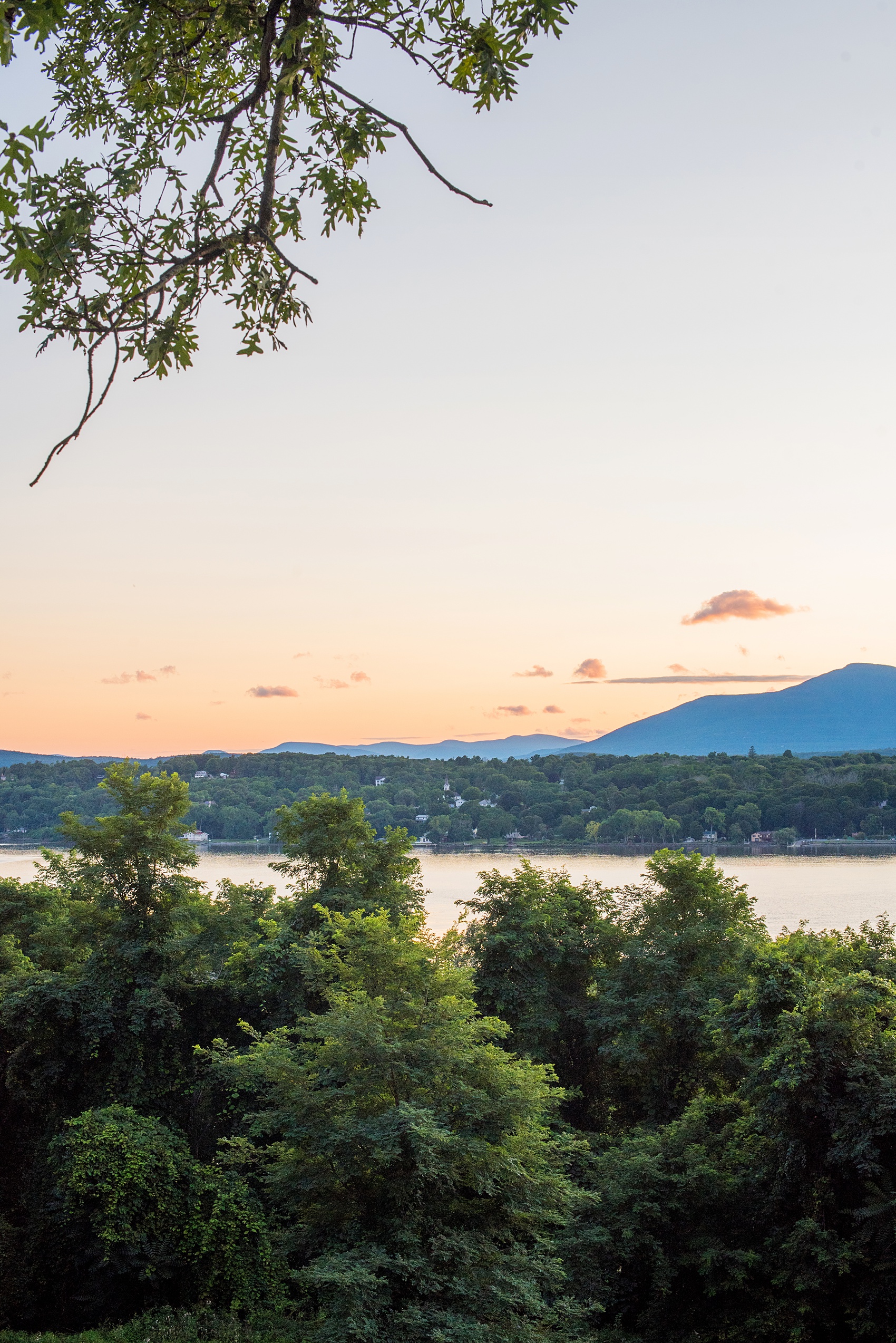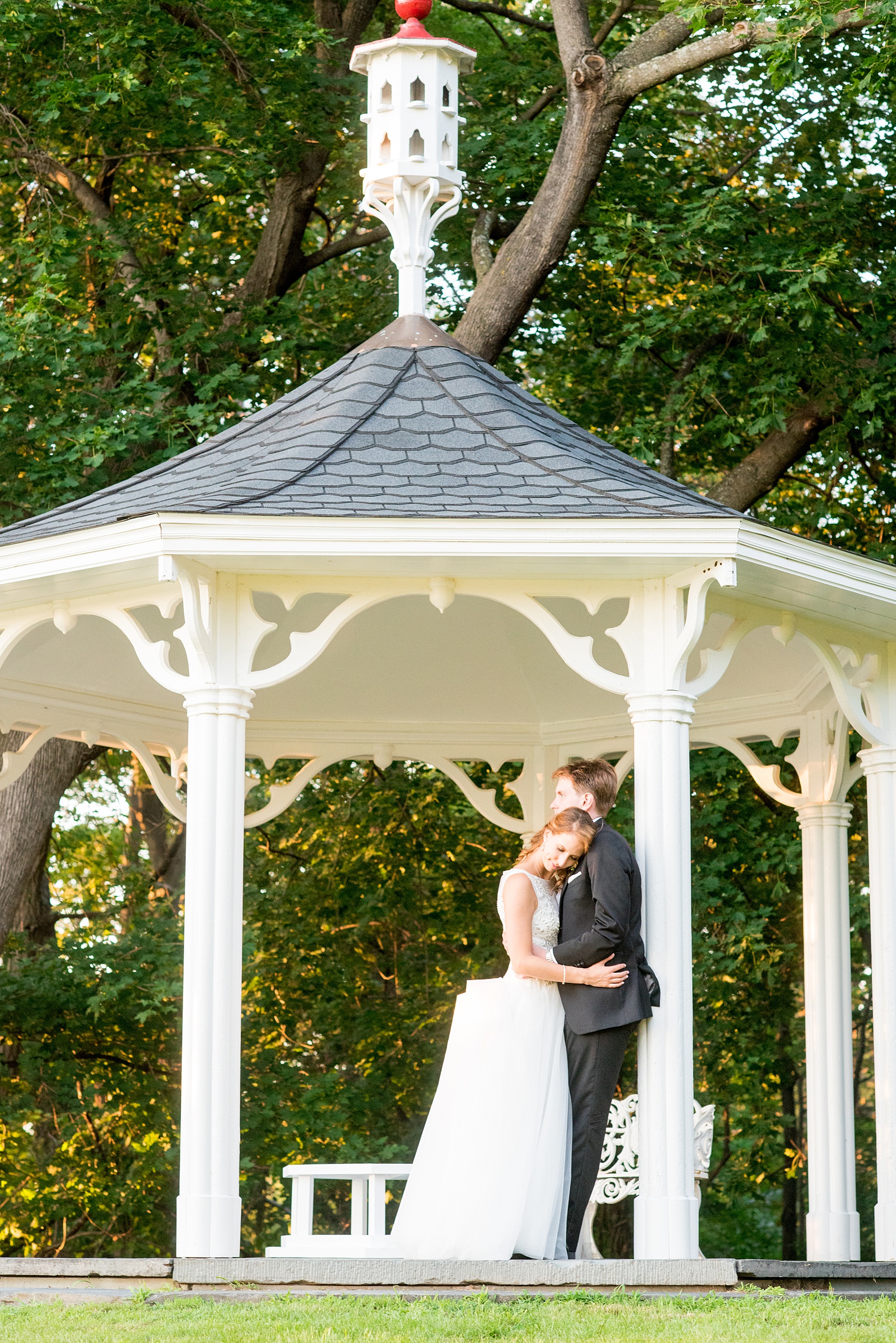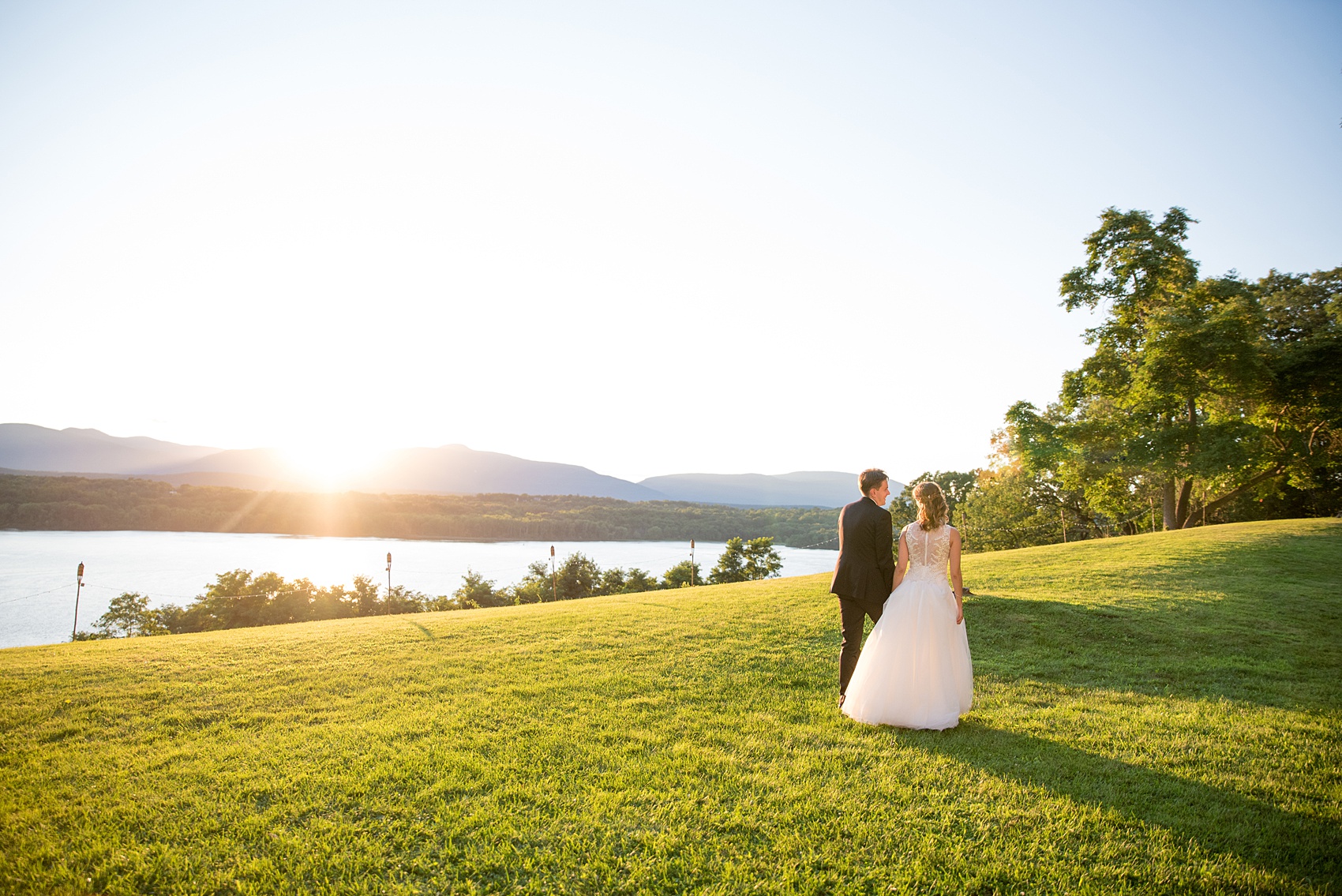 Sunset provided such a beautiful golden hour. We worked about fifteen minutes into their timeline to escape their reception for a little while. Who doesn't love a great photo opportunity? I know I do!
The rest of the evening was filled with humorous and heartfelt speeches by parents and best friends, amazing food, dancing, a memorable cake cutting (hello adorable penguins cake topper) and to top it all off? Fireworks! As a lifelong lover of fireworks I agreed it was an incredible way to honor Phil's father.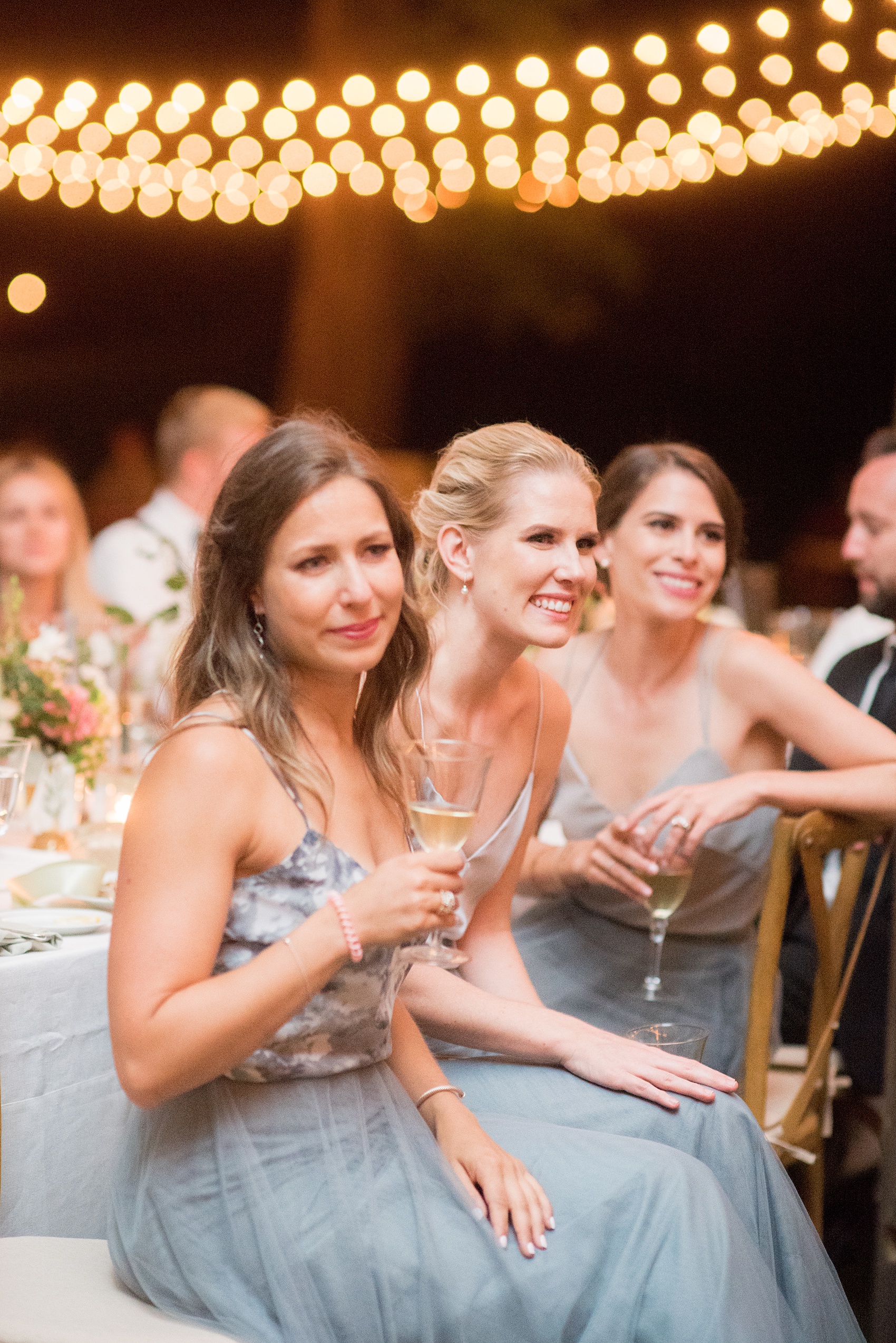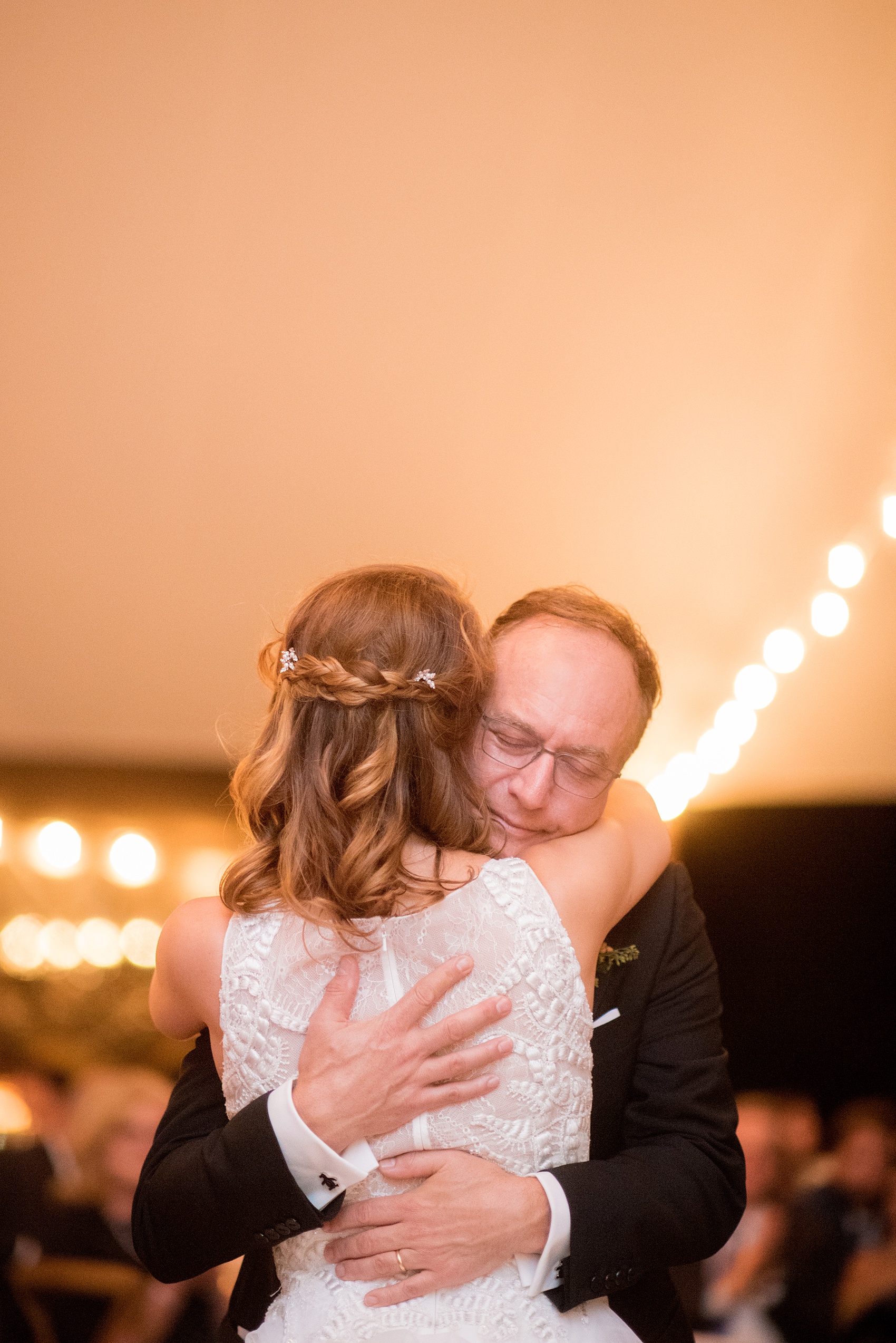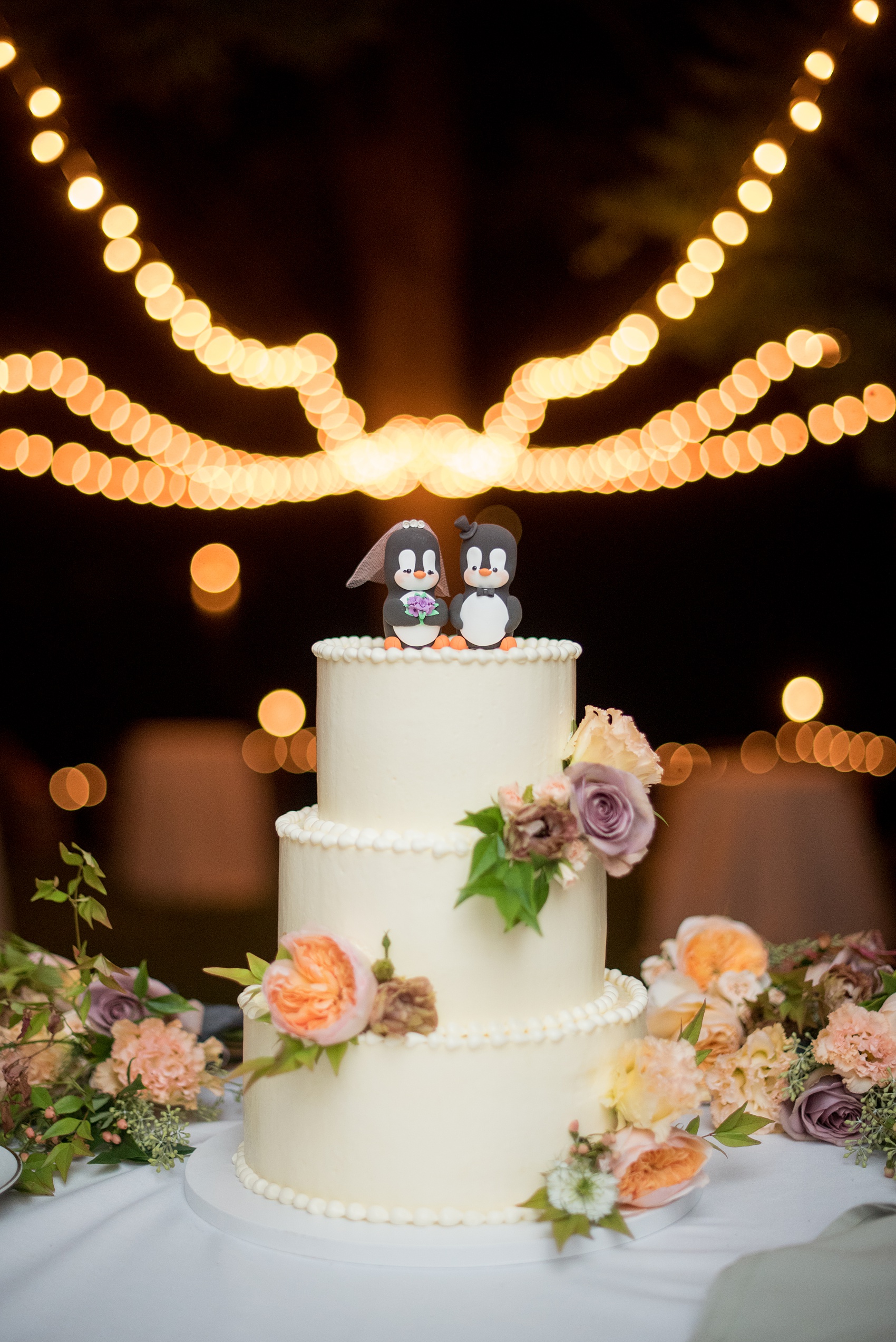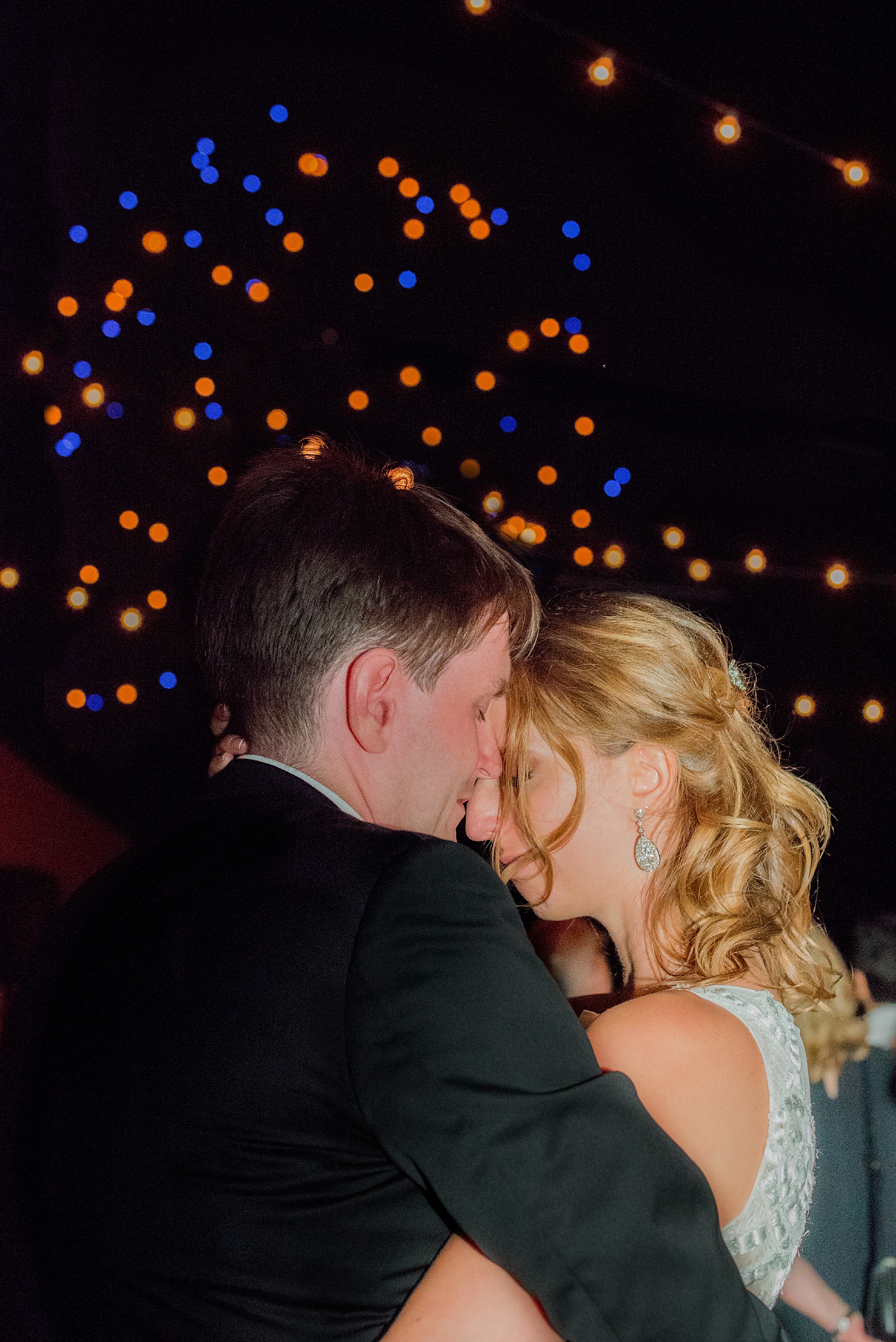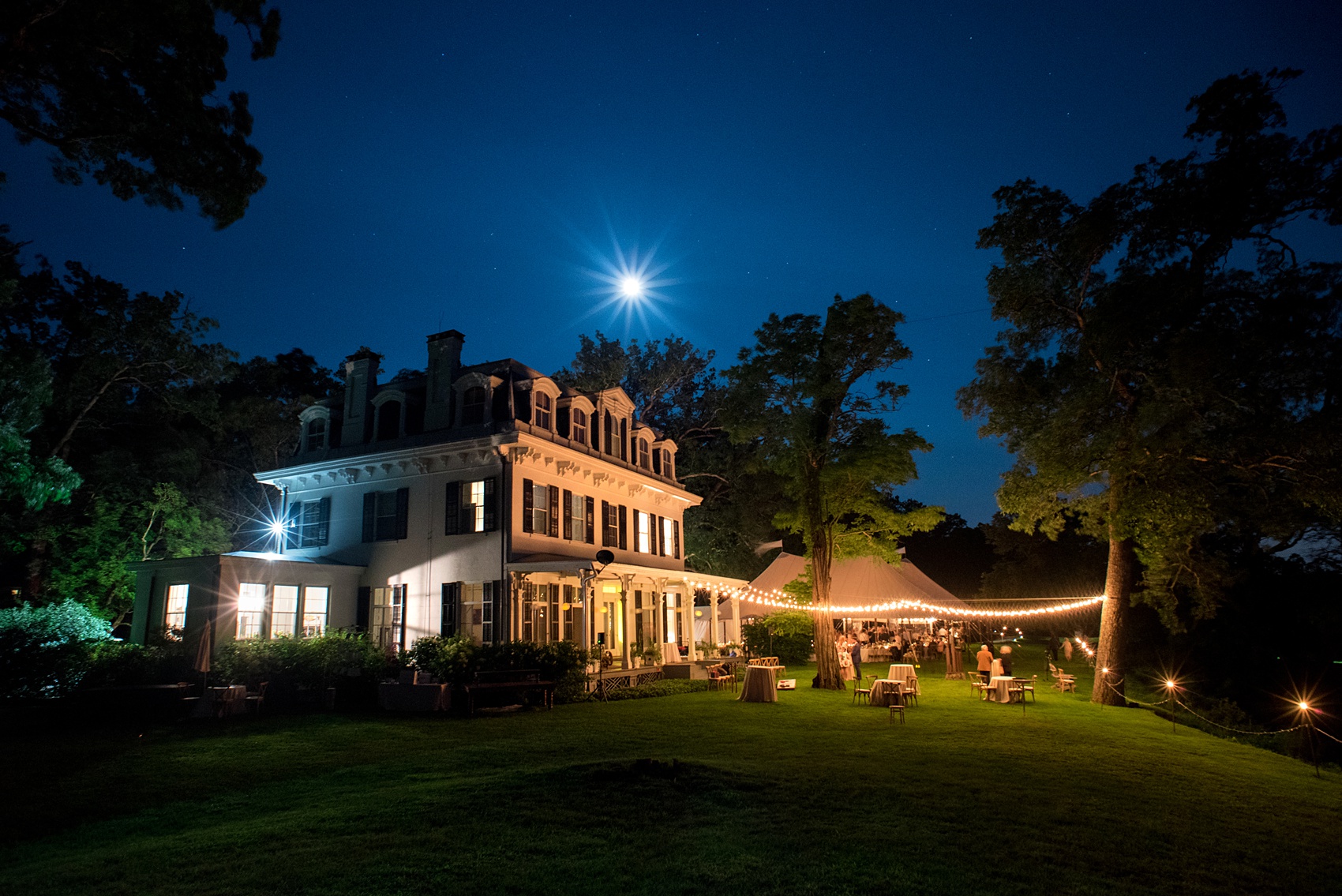 Does life get much better than this day? Congratulations Laura and Phil! Saying capturing your day was an honor and such a joy is an understatement!
Wedding planner: The Union Studio / Venue: Southwood Estate / Florist: Bourgeon by Amy Febinger / Hair and makeup: Beautini / Invitation and Illustration: Escort table cards, menu wax seal, invitation calligraphy: Winter Craft Co. / Specialty cocktail sign: Shyama Golden / Catering and cake: Main Course / Tent and rentals: Event Unlimited Party Rentals and Party Rental Limited / DJ: Love Junkies NYC, Jon / Officiant: Rabbi Claire Green / Videographer: We Cinema Films / Fireworks: Young Explosives
Getting married outside of NYC? For more inspiration check out: