I know for certain Nicole's contagious excitement and beauty radiated from her every pore on hers and Rob's wedding day. It filled the entire venue with the most positive, loving energy. A single but significant day, years in the making, was spotted with details as colorful as Nicole's fun-loving personality. A former wedding planner herself, and friend of mine, I was utterly flattered and elated when she asked if I would photograph their wedding. Her and Rob have been on such a great journey together – they met in NYC and moved to Raleigh, North Carolina together. They got engaged and planed a wedding in Riviera Maya, Mexico and made the tough decision to change to a local destination instead when Zika virus hit the foreign country – and they've been by each other's side each step of the way. And on their wedding day those steps took them down the aisle into marriage. I was so happy I was there, capturing the start of the next chapter of their lives together…especially because every little detail was oh-so-pretty!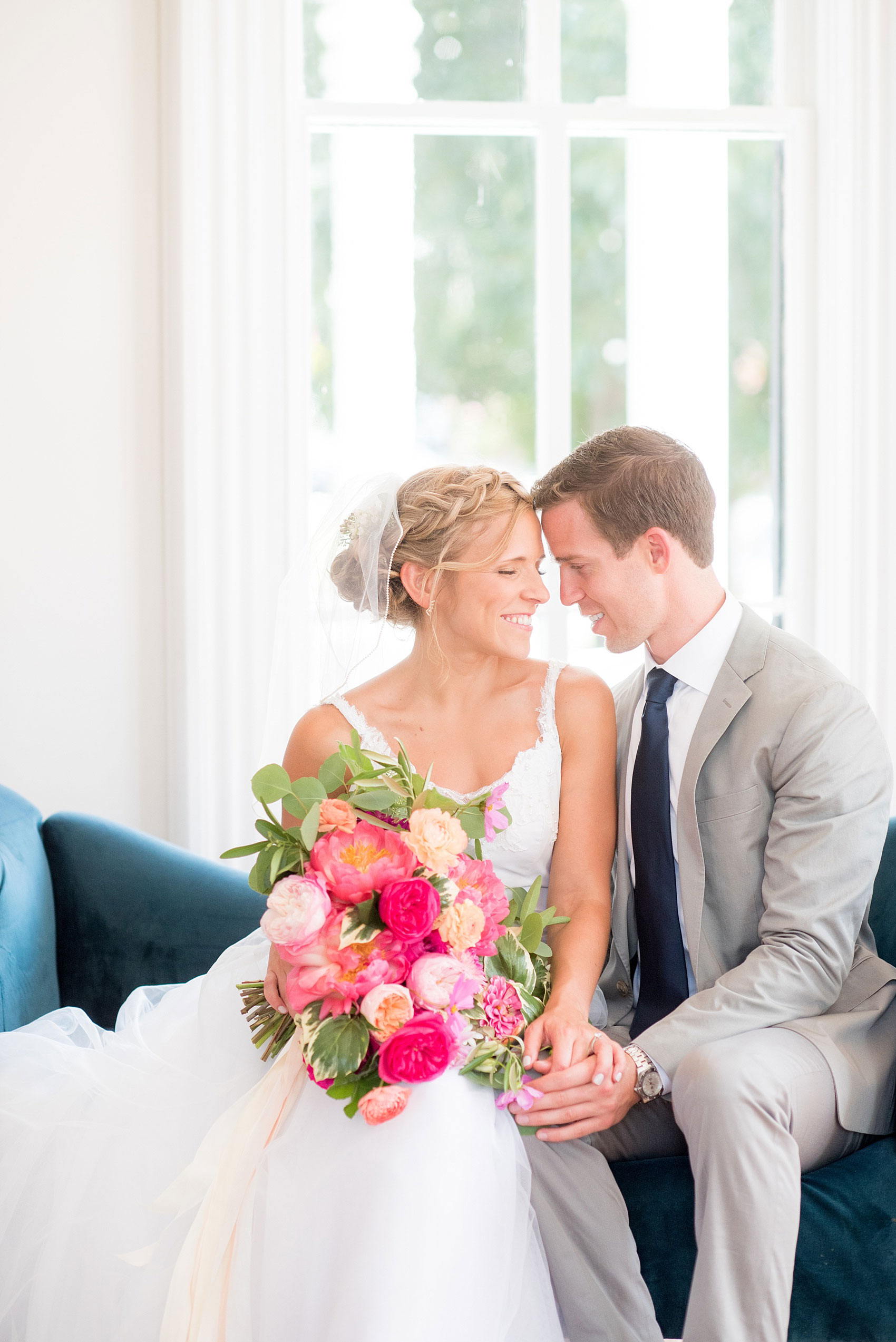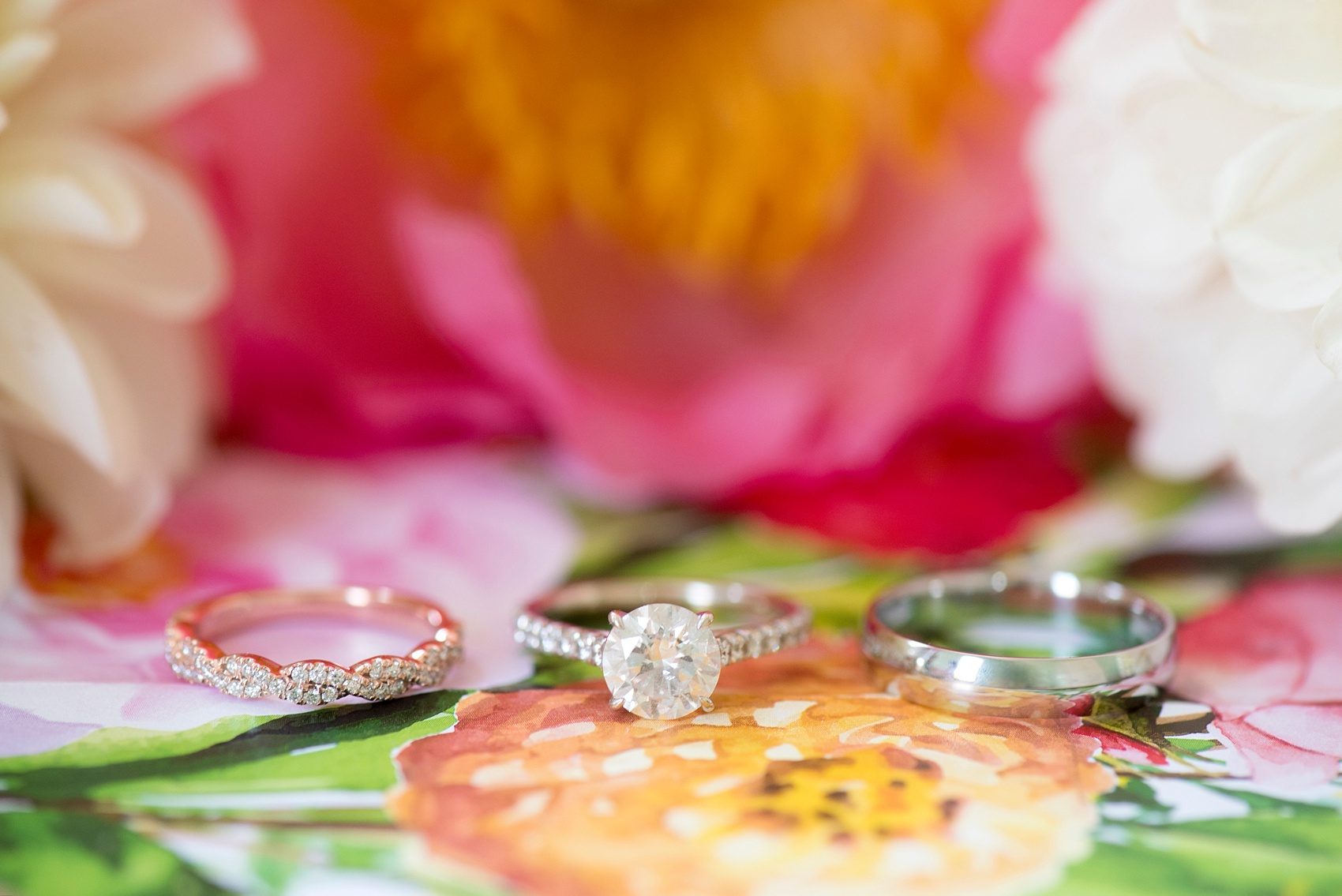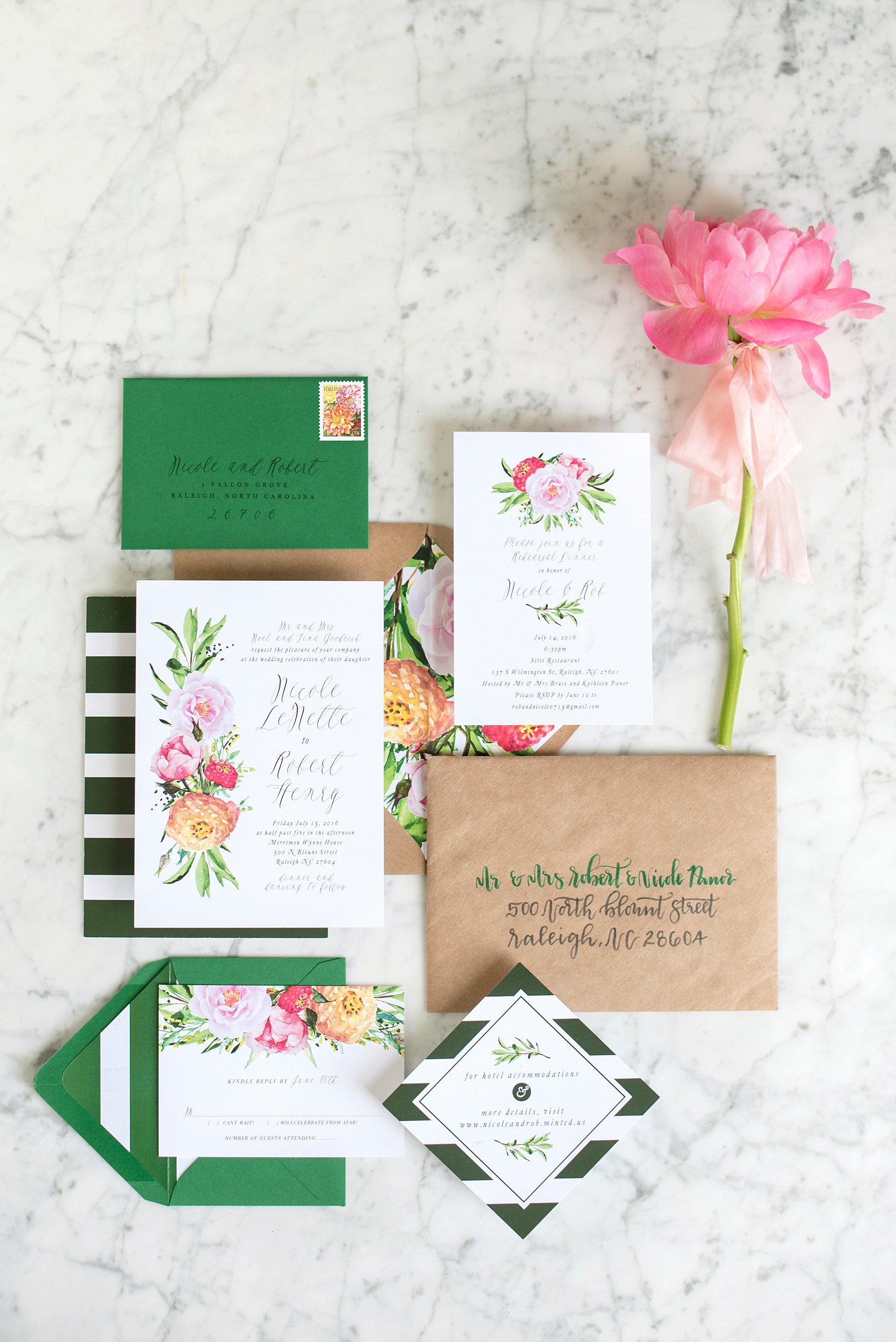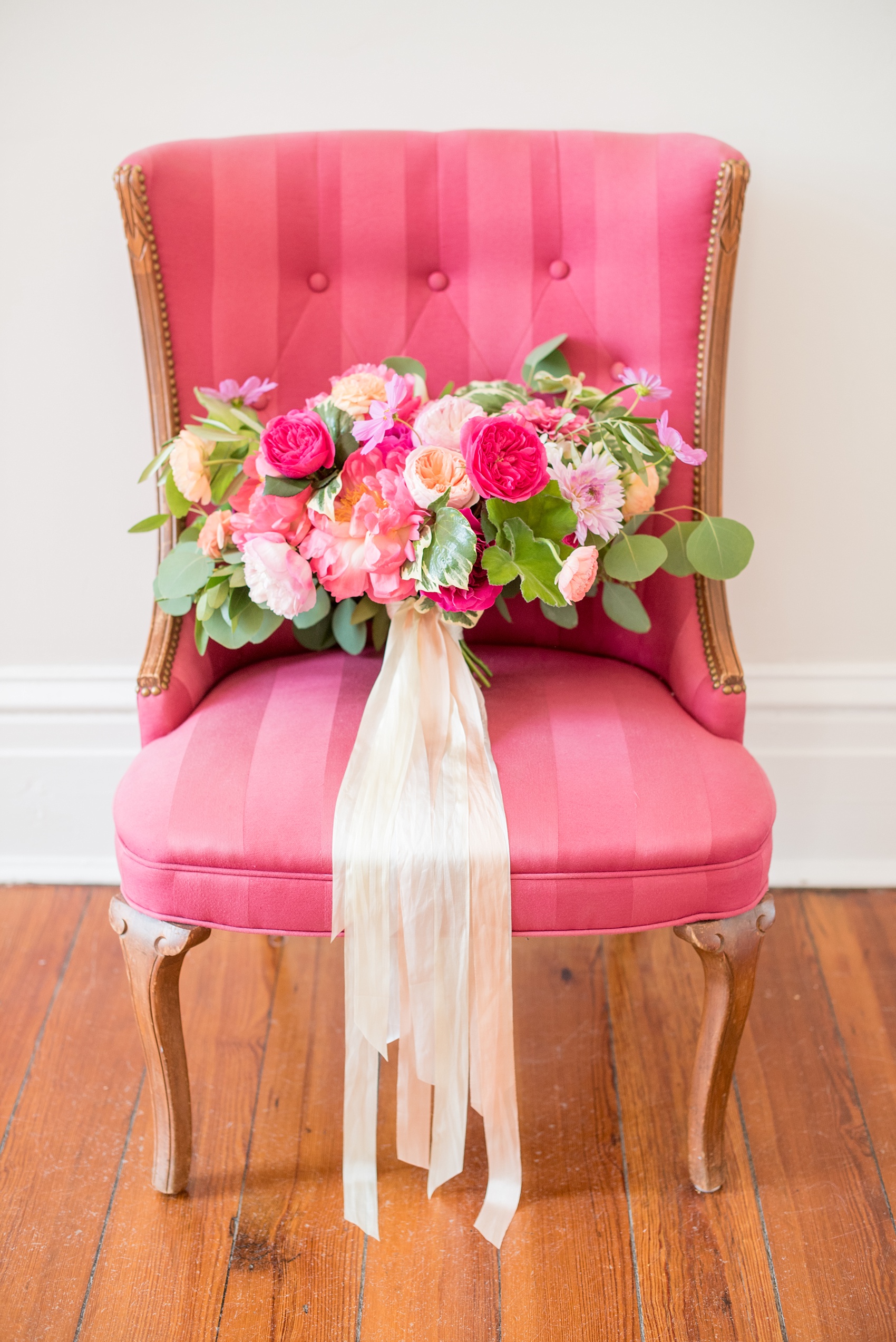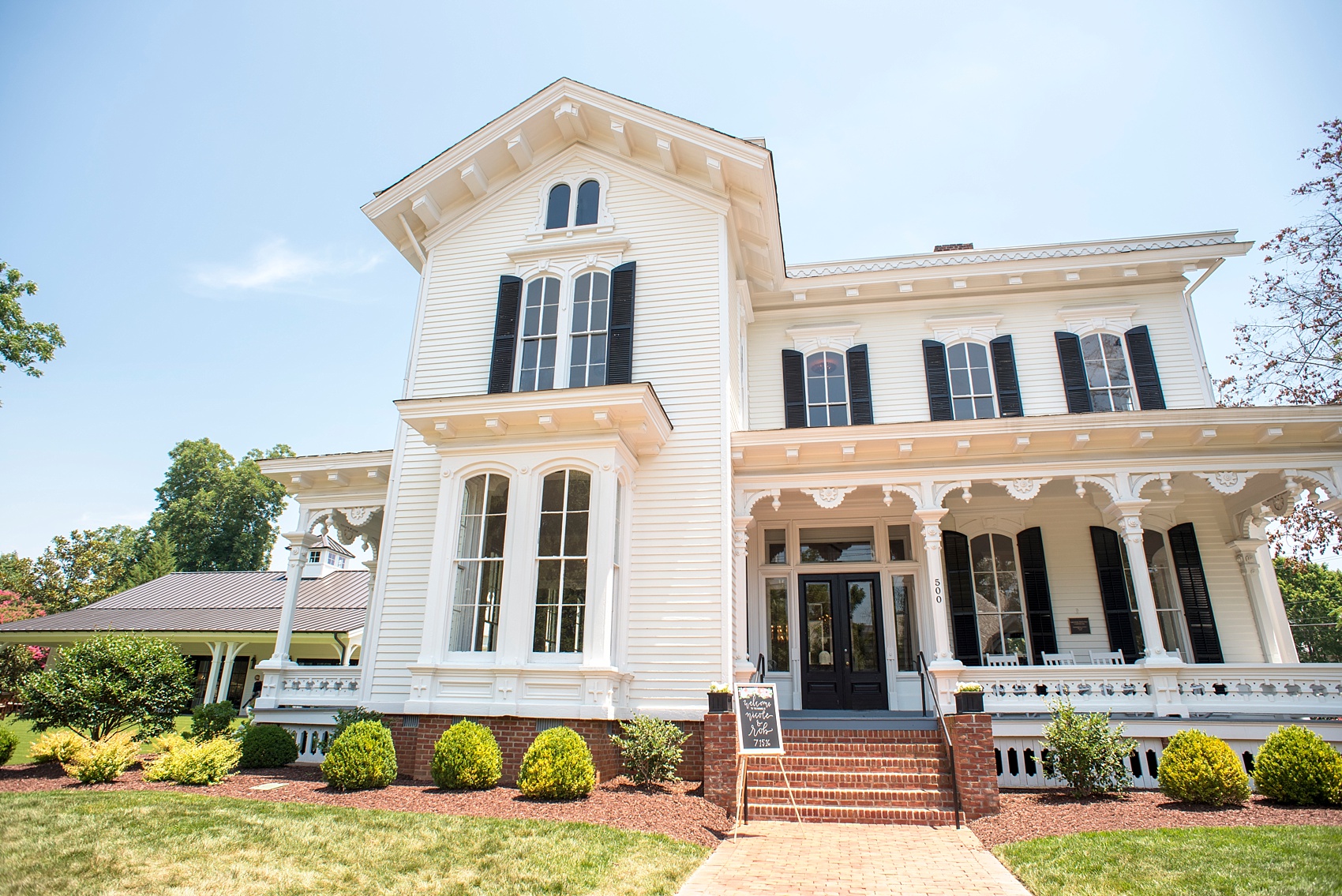 The scene was set beautifully. Meristem Floral nailed the flowers, perfectly emulating the feel and colors of the invitation stationery set, including the hand-painted floral envelope liner. The kraft envelope was accented by two-tones of ink and hand calligraphed addresses.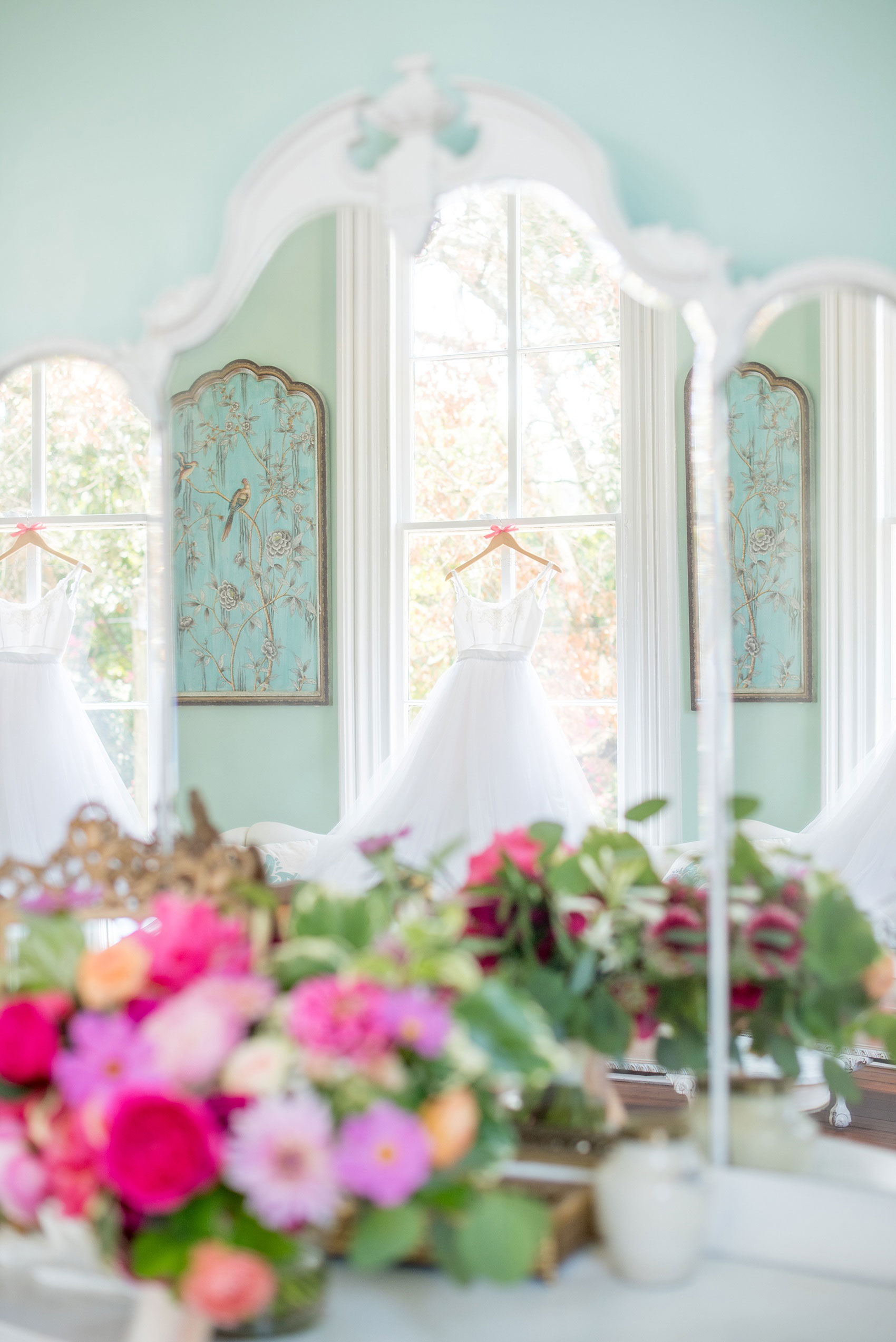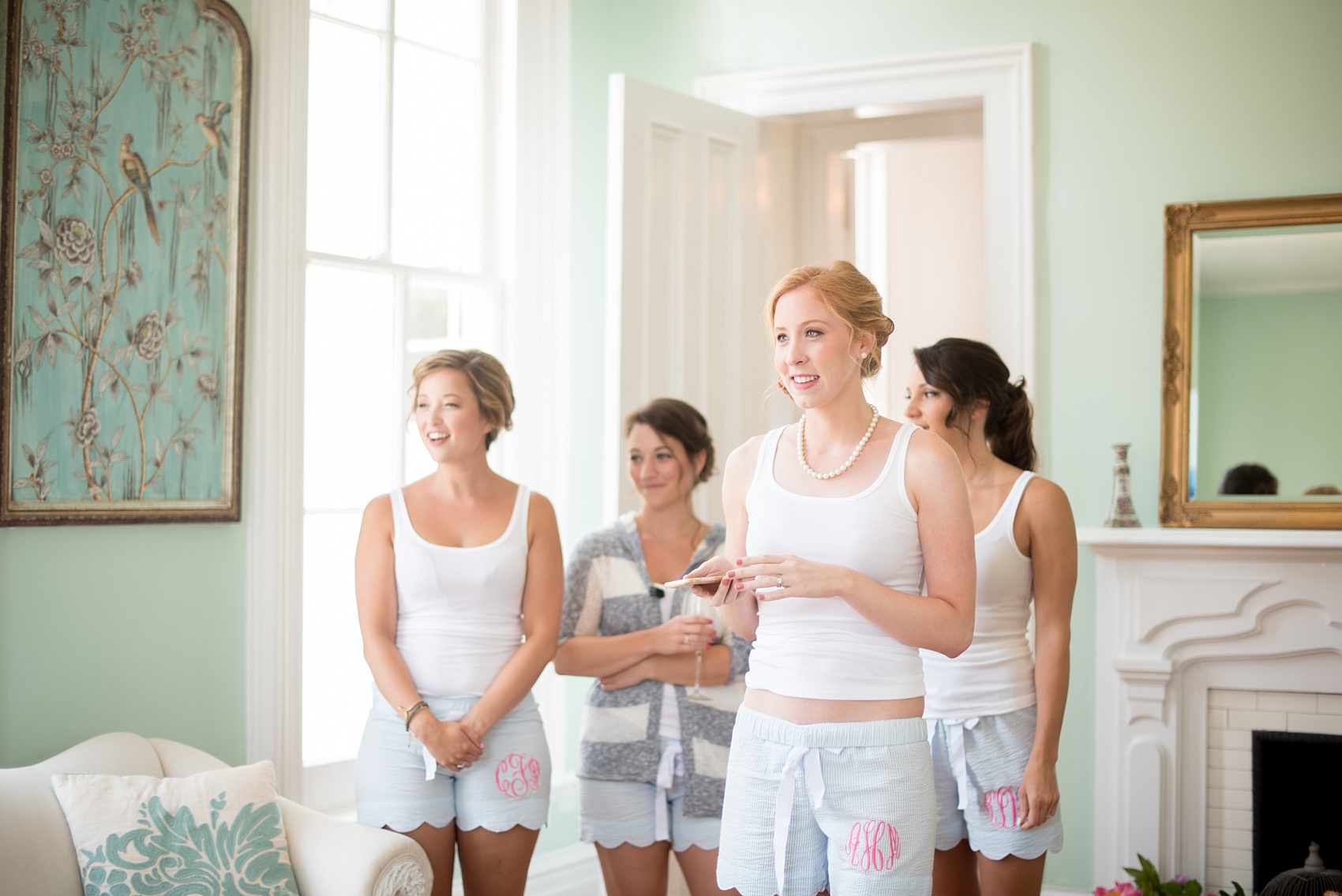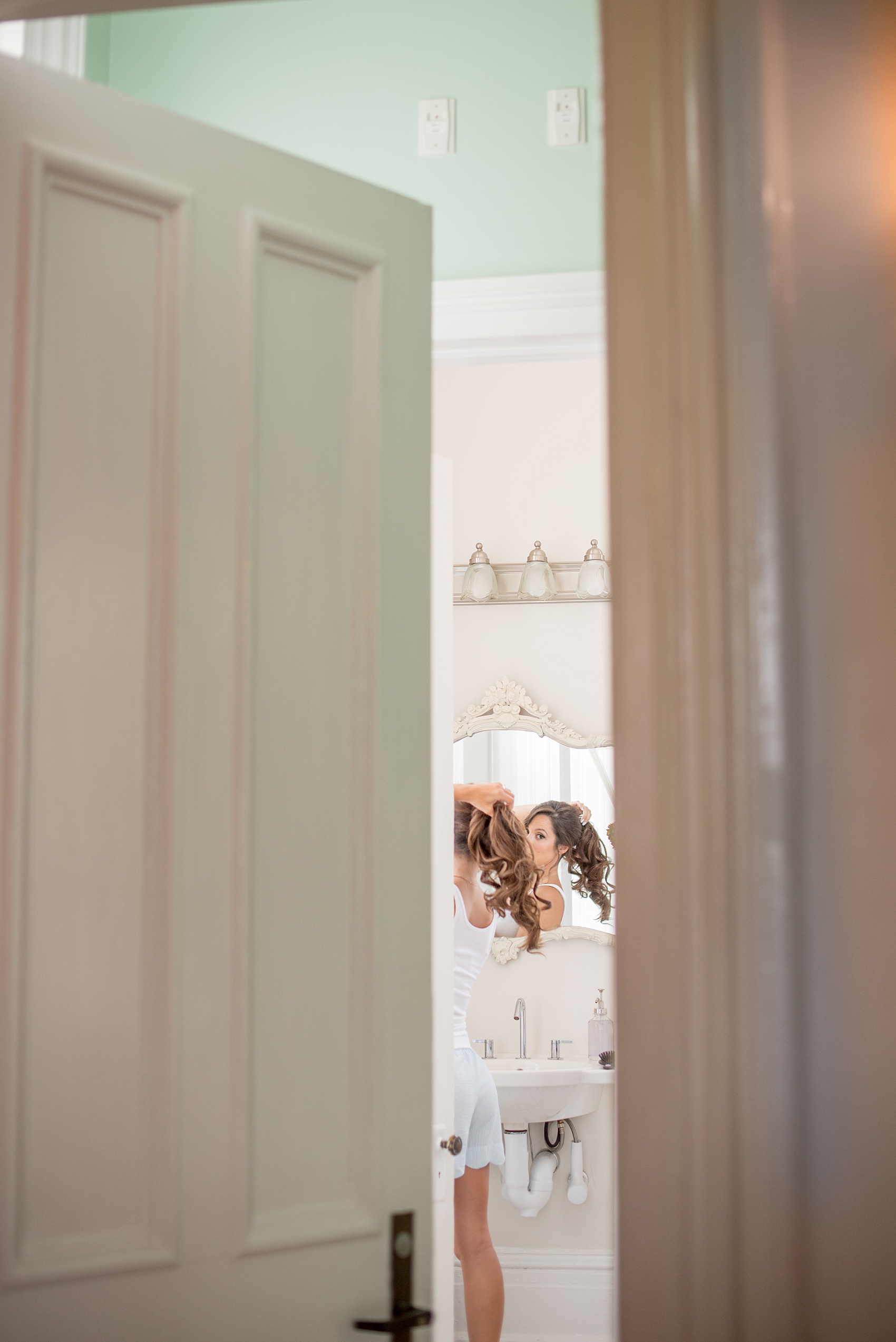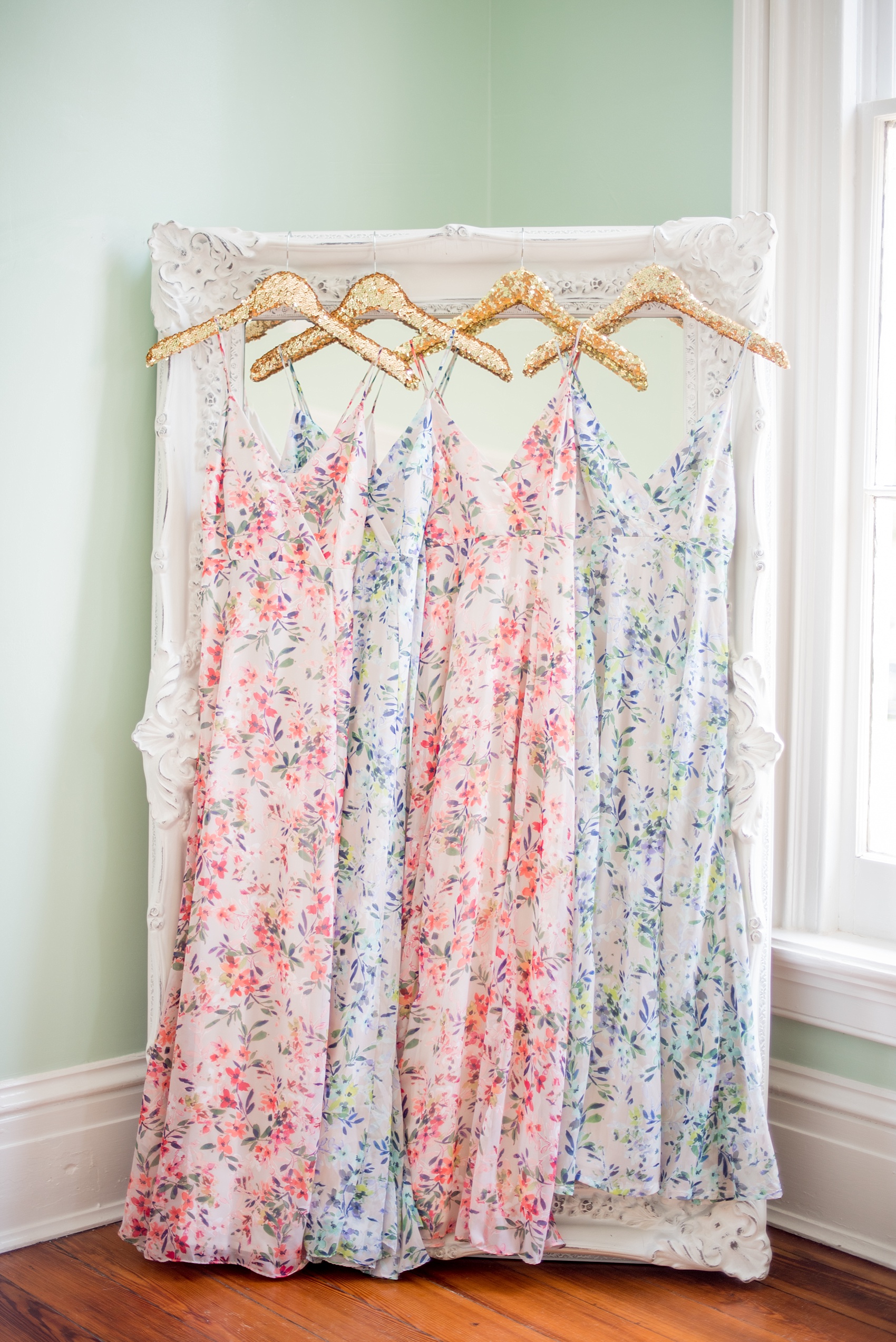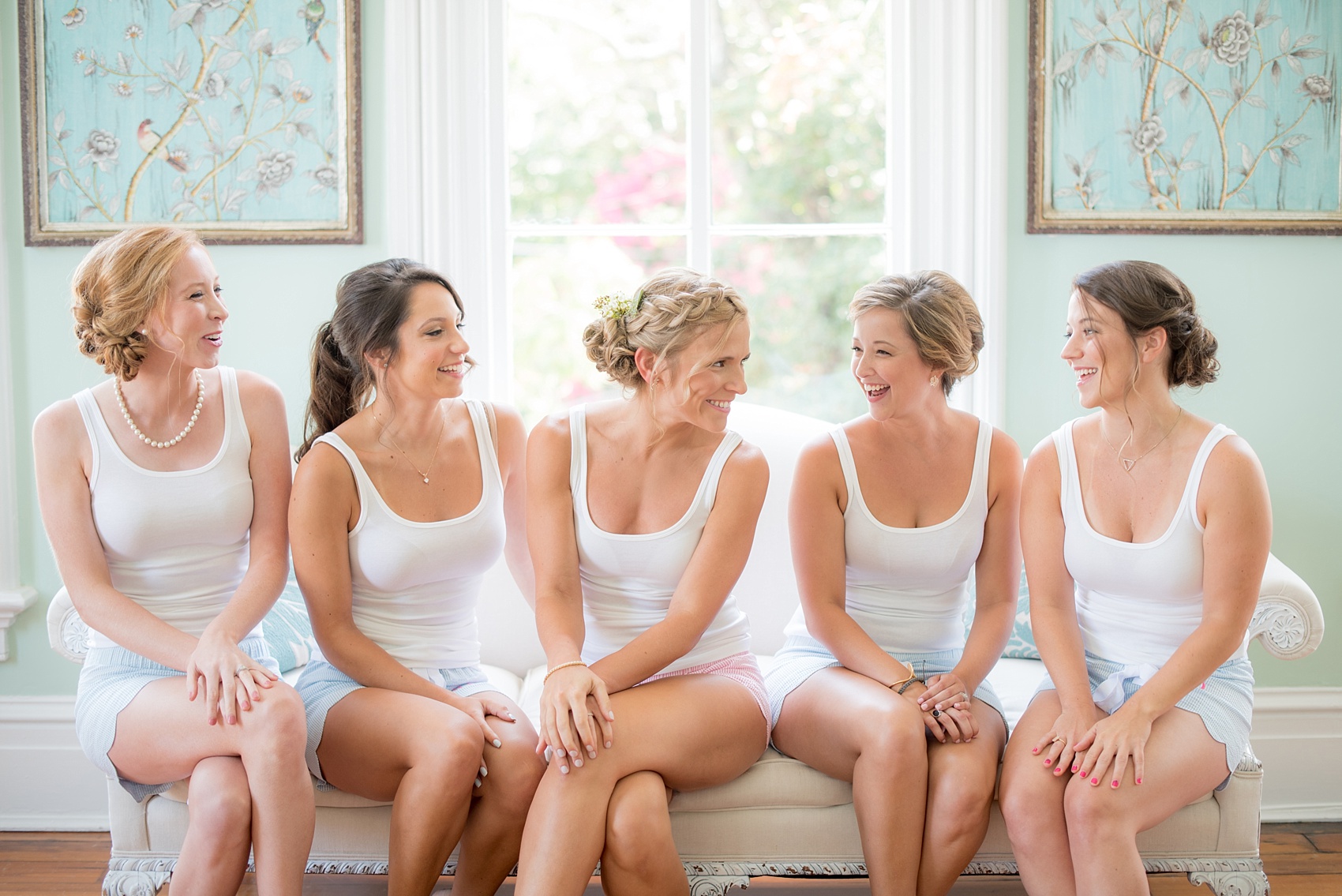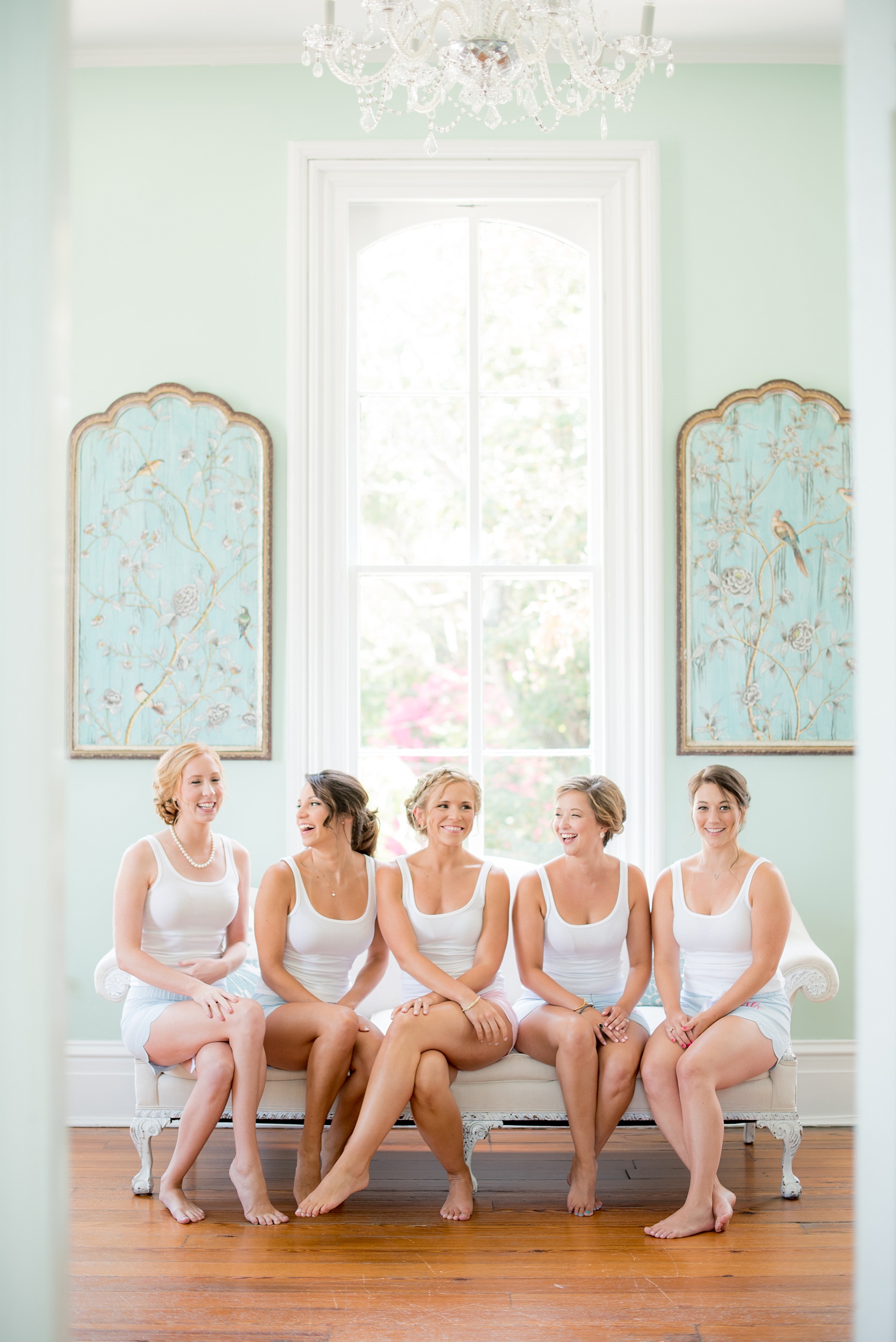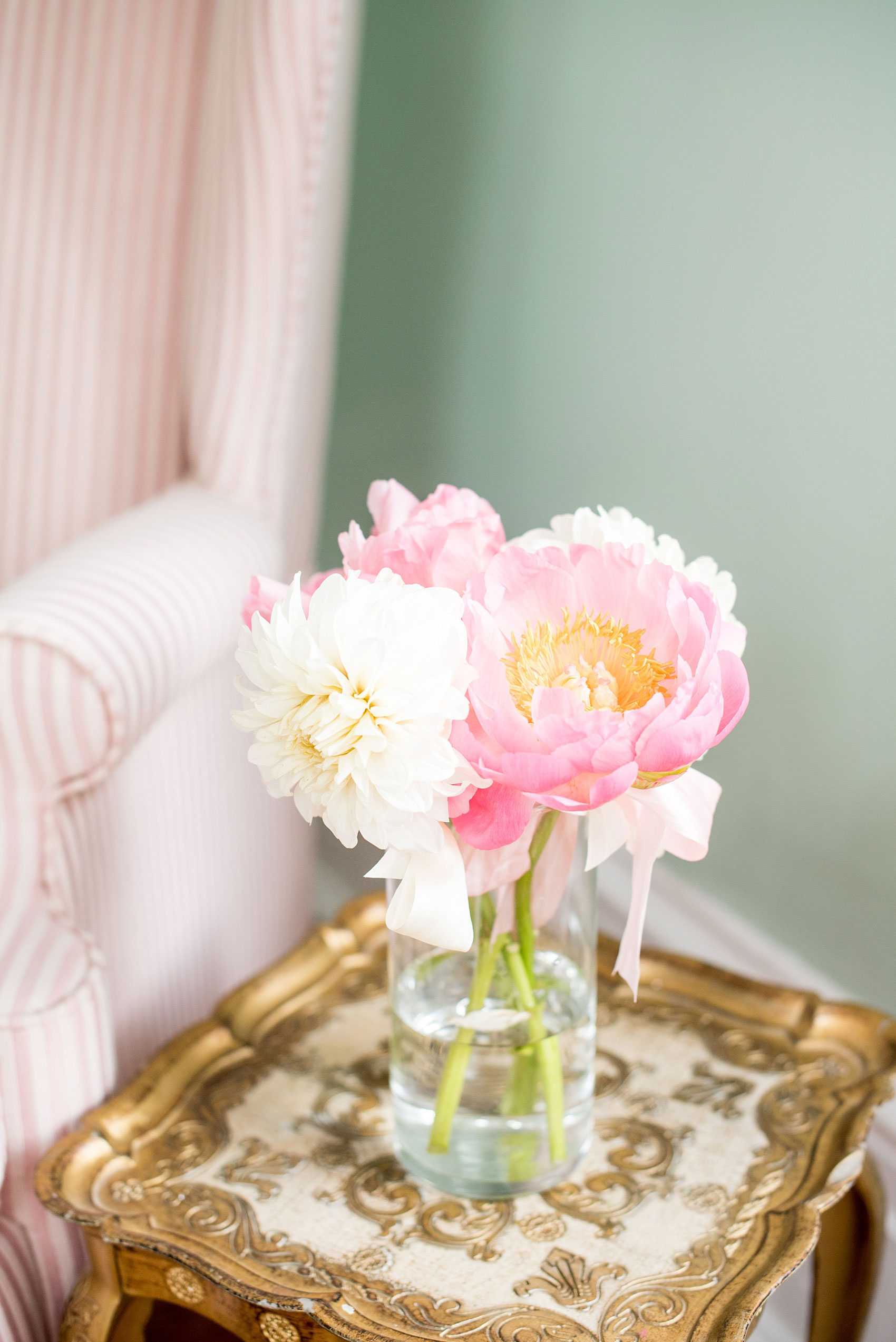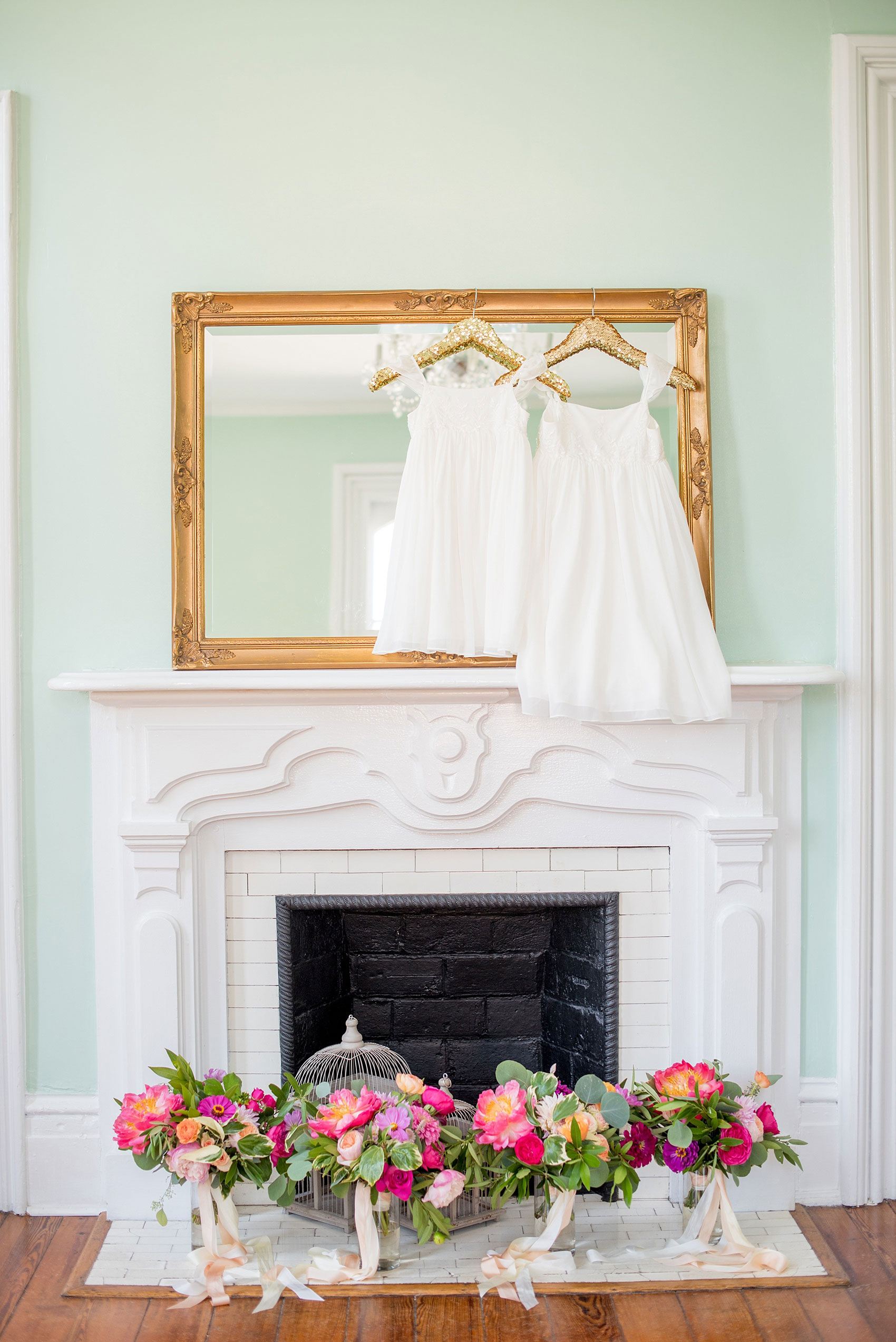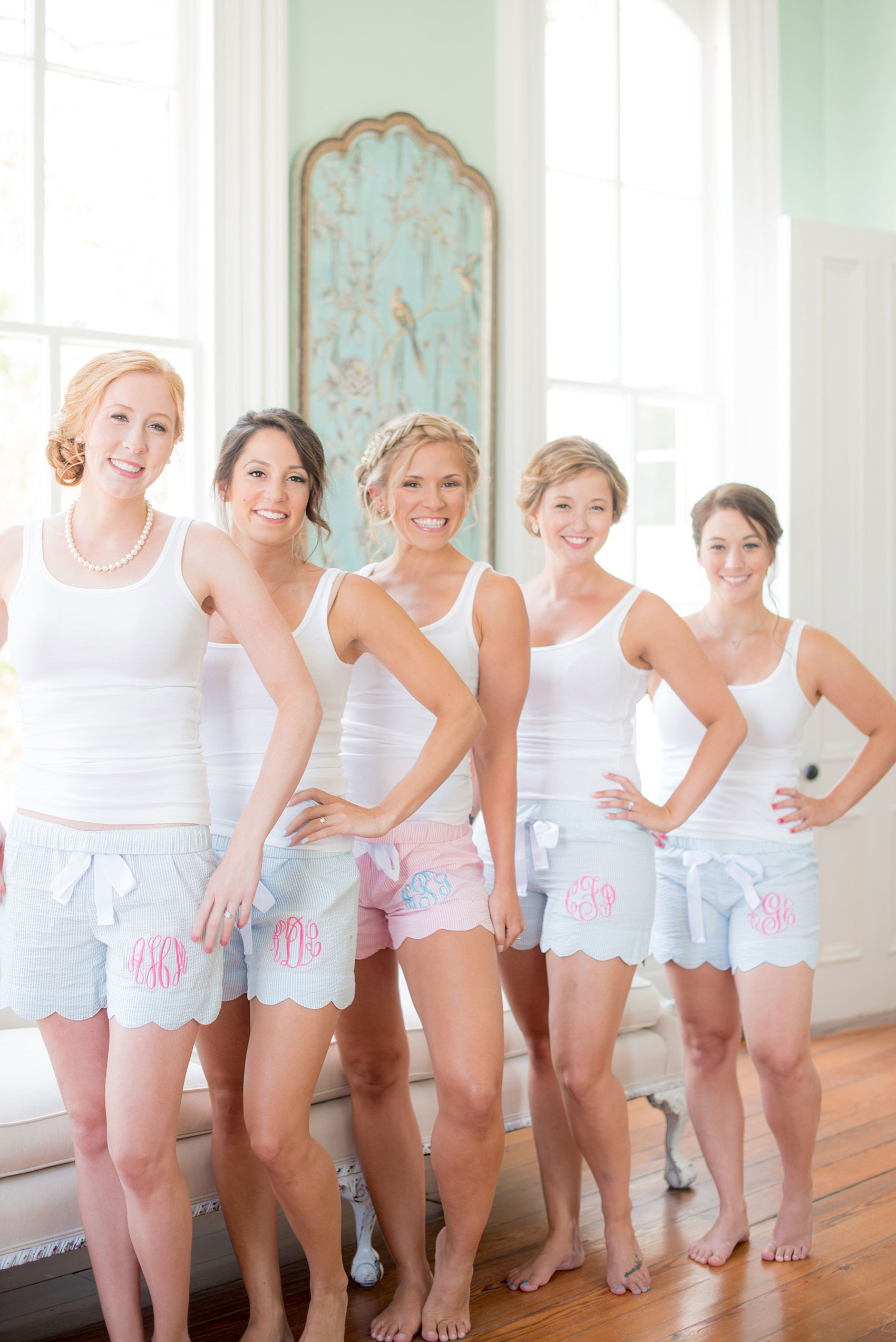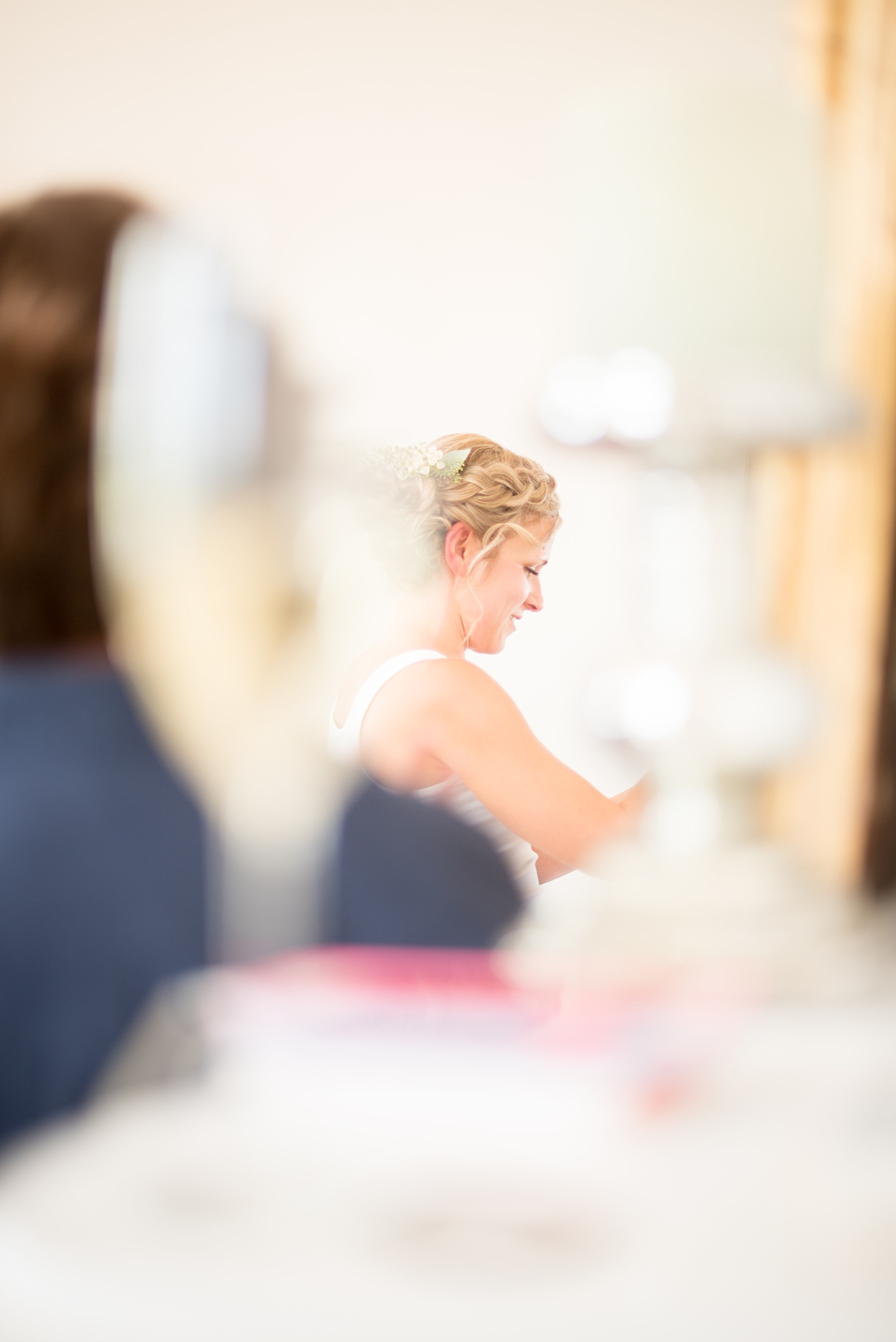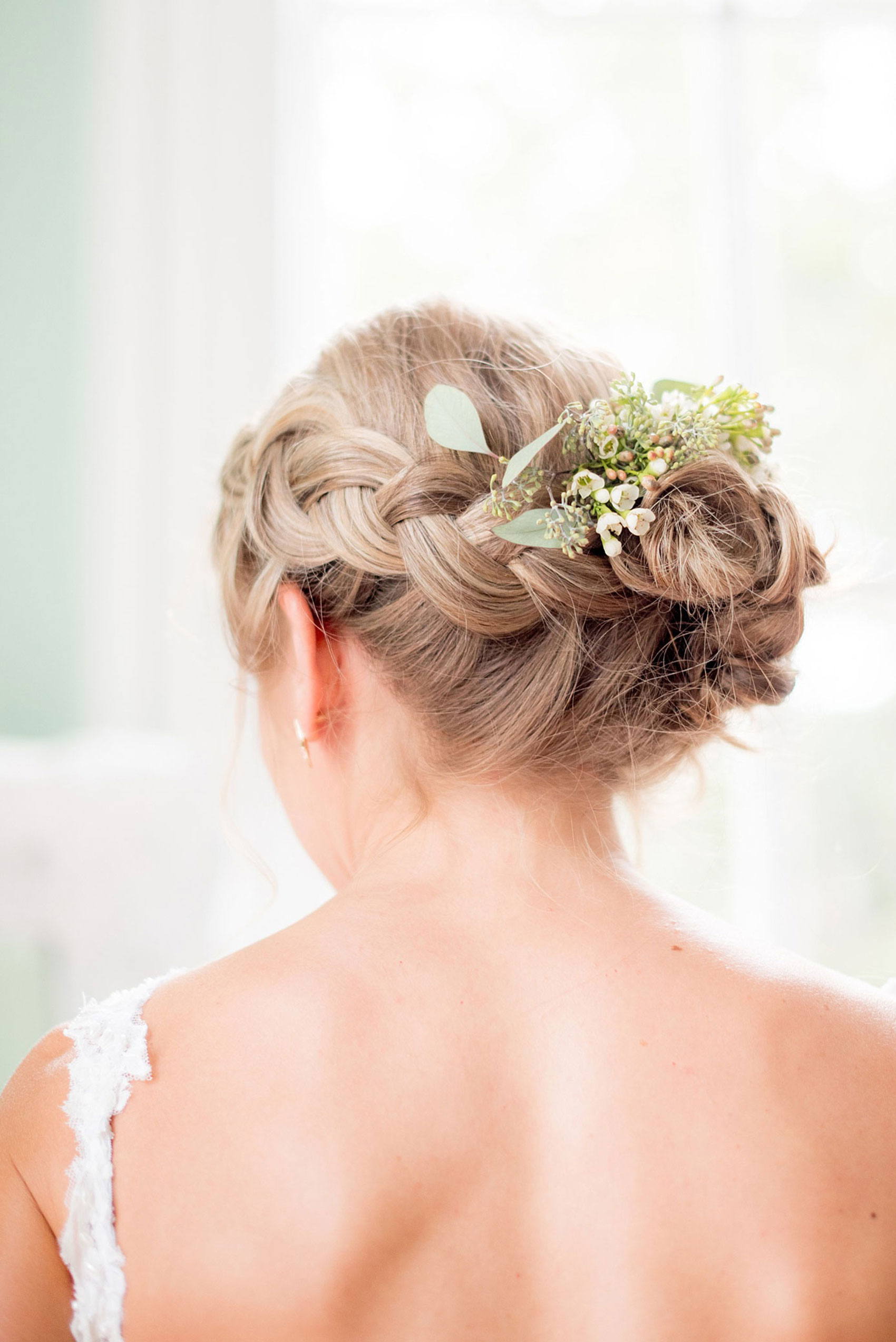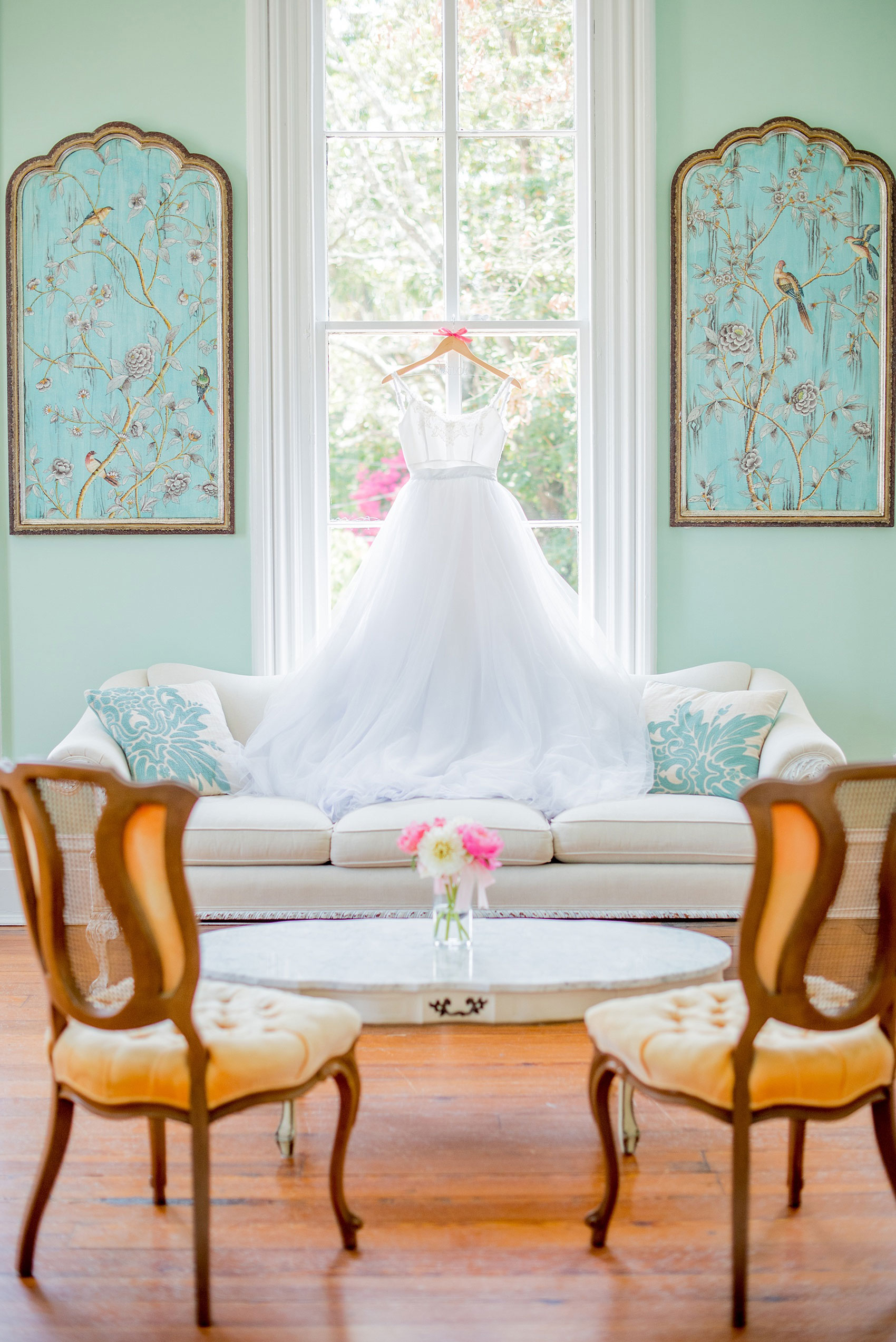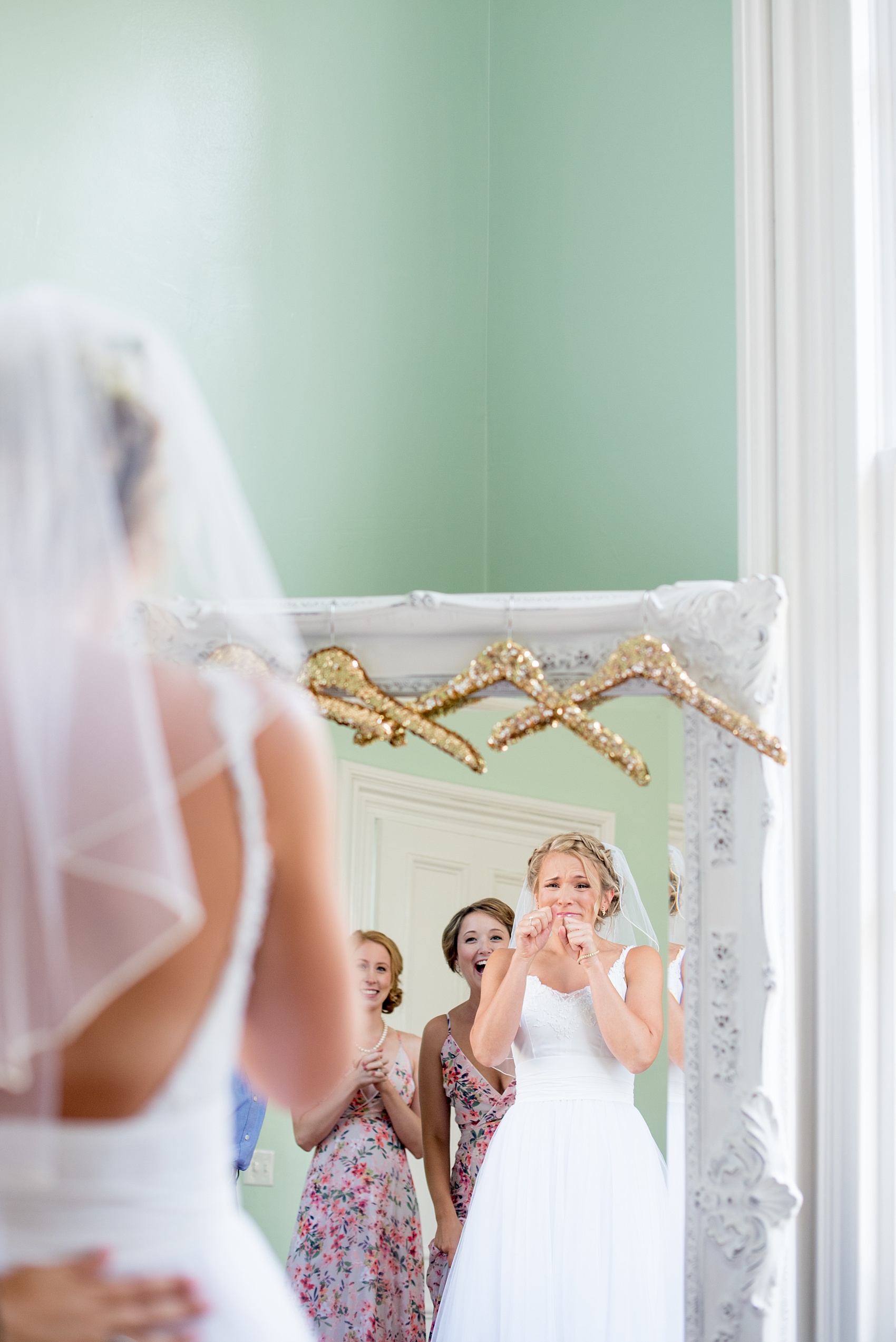 Everything was ready to g0 – Nicole's gorgeous reverse-braided crown up-do, her sweet pearl-edged veil; I absolutely loved her reaction when she saw herself in the mirror and the reality sunk in: she really was about to go see Rob for the first time that day, dressed up as a bride and groom and she was simply over-the-moon to see her soon-to-be husband.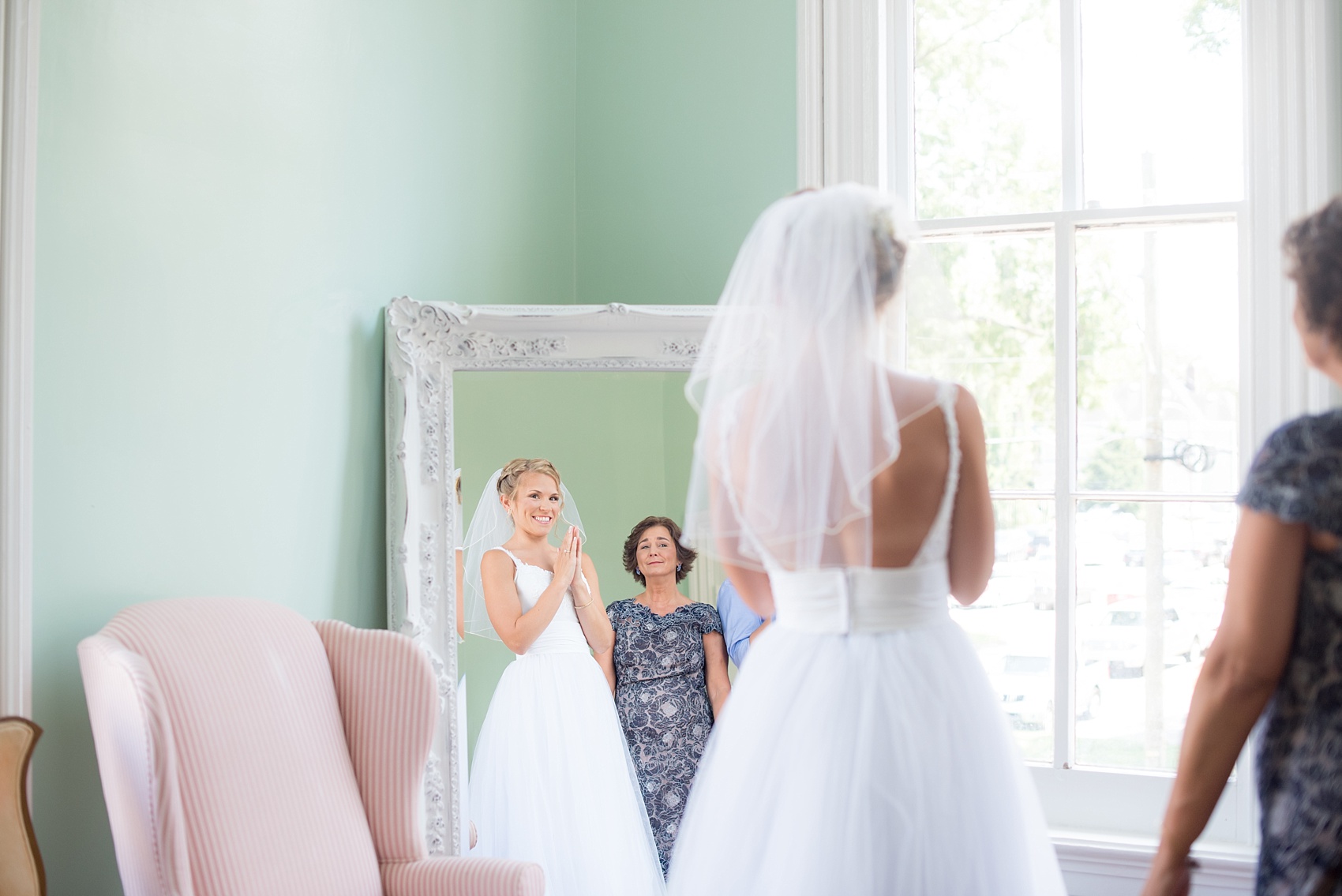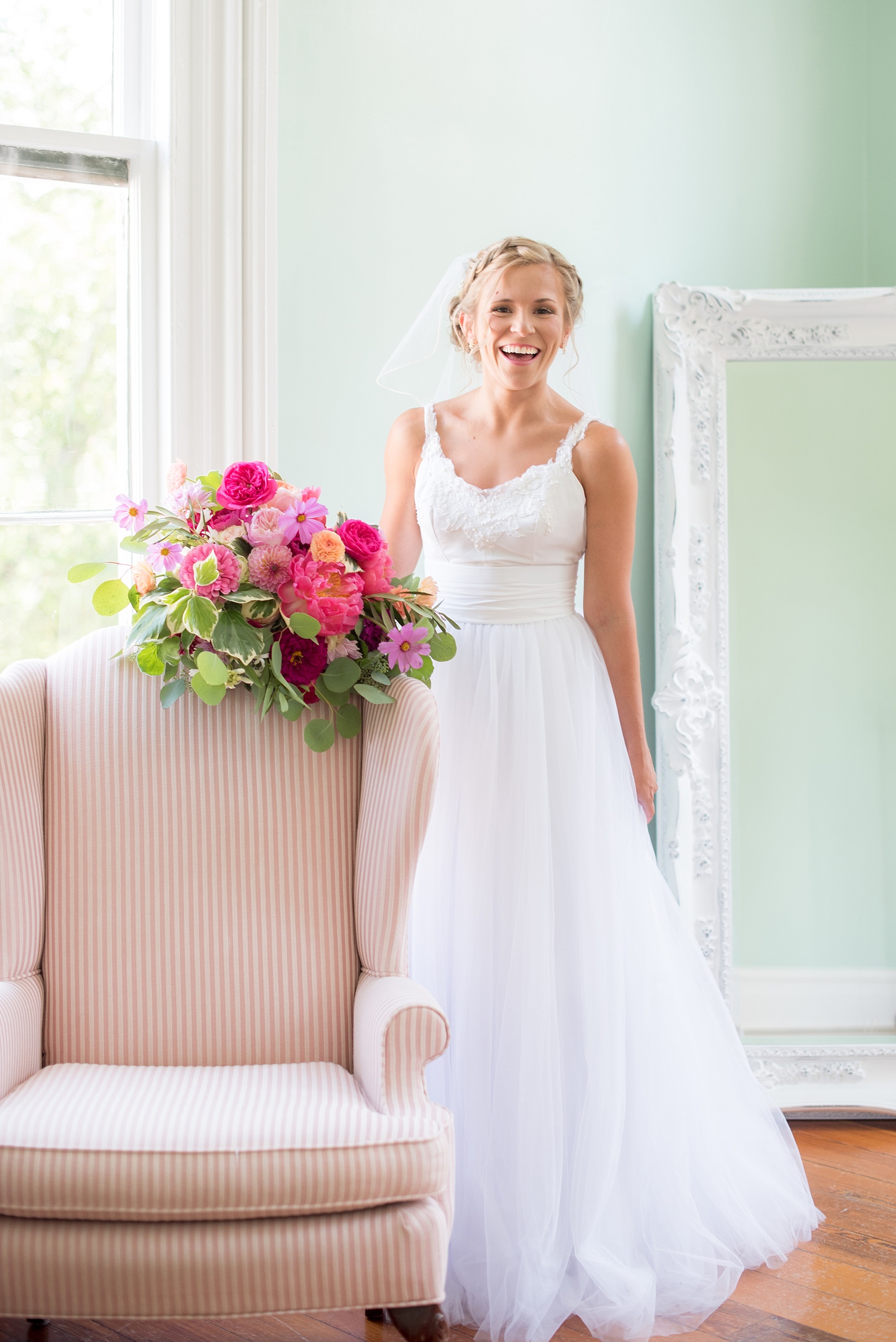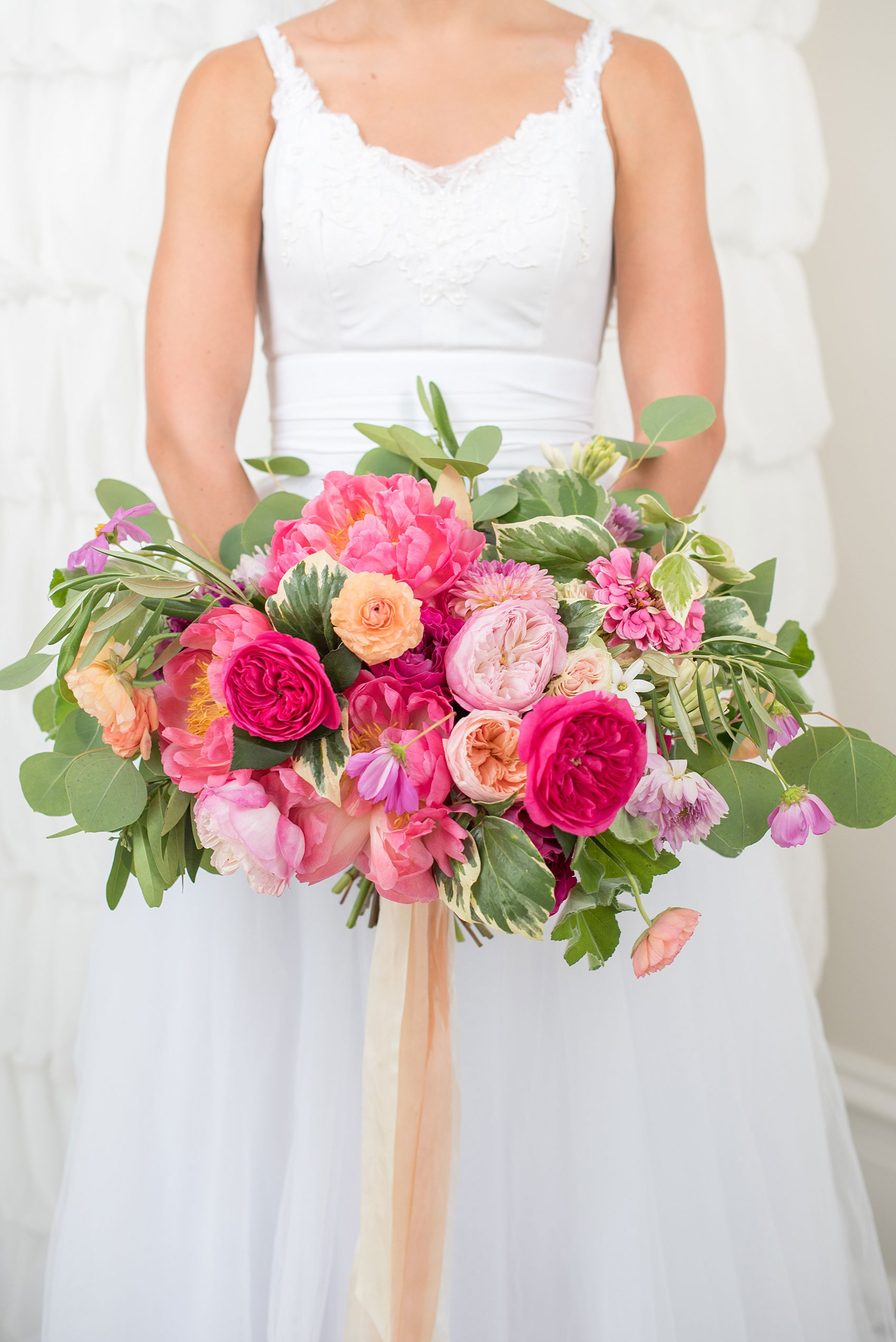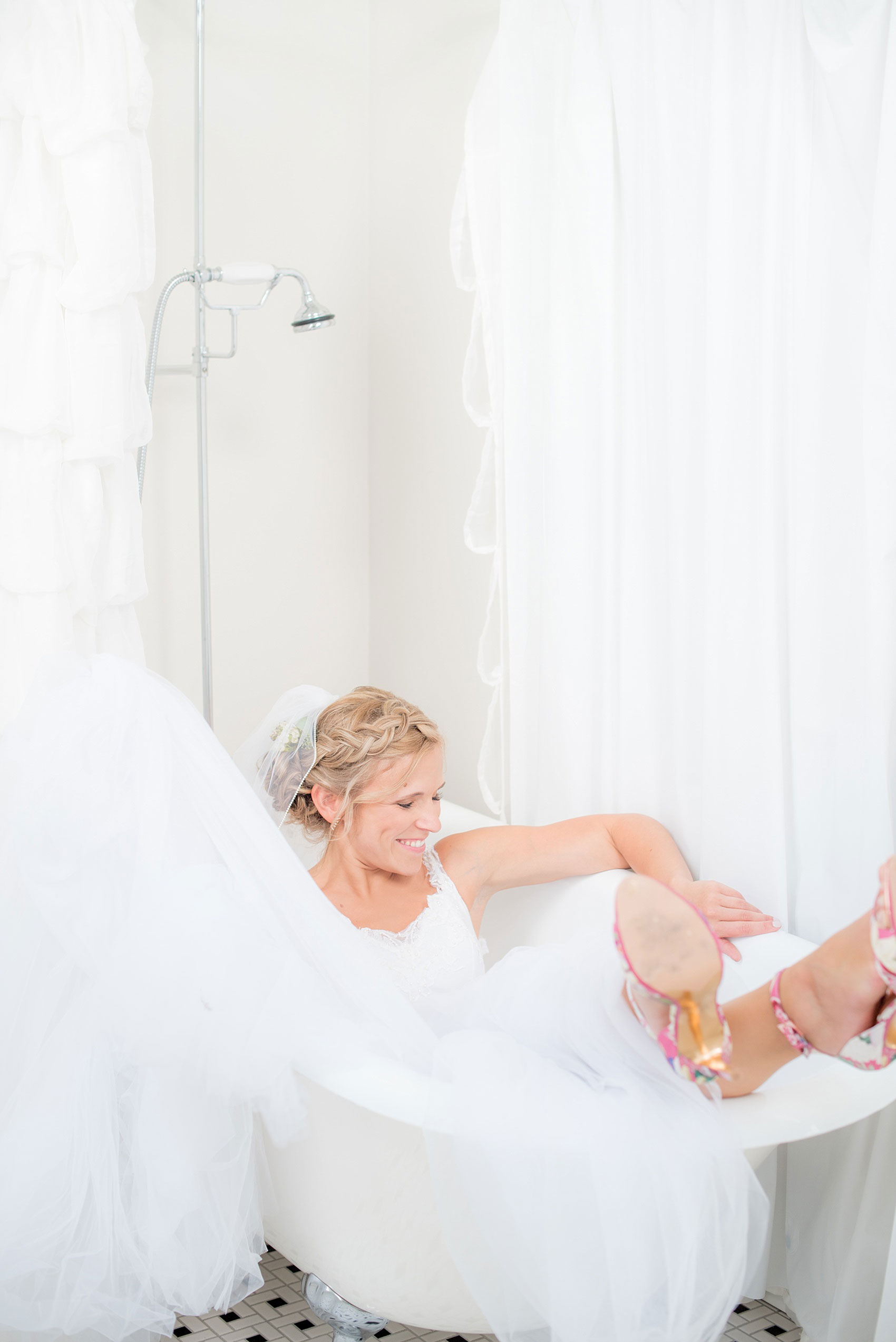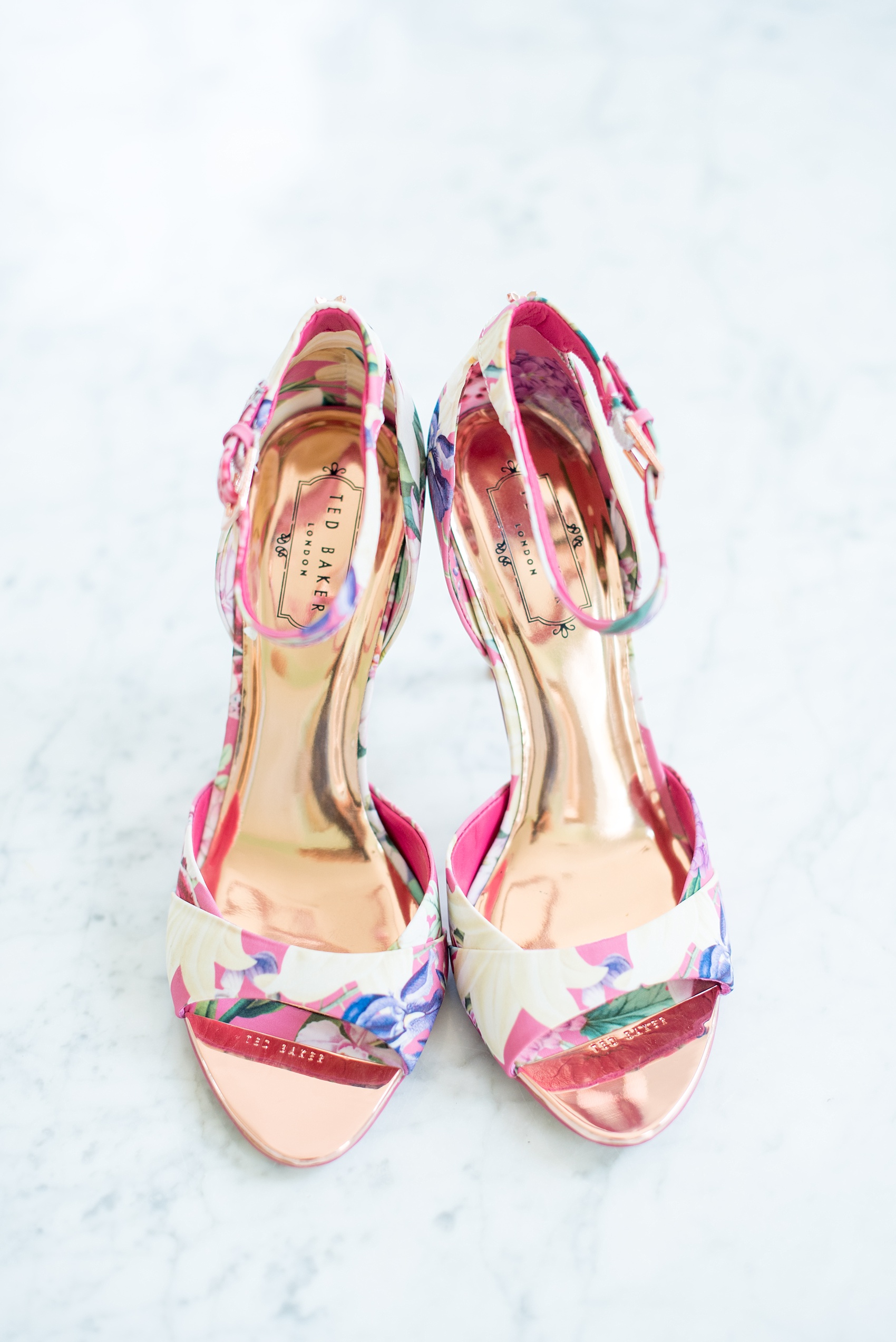 I love a bride who is game for anything! We both looked at the beautiful claw-foot tub at Merrimon-Wynne and Nicole said, "I'll get in. Do you want me to get in?!" I said yes! Woohoo! Tub wedding day photos just basking in the glory of a beautiful tulle skirt! How fun is that?! And the shoes to complete it?! Nicole loved her shoes and it's not hard to see why. I see many dates together in those heels! And not to mention her stunning bouquet Anna at Meristem Floral made. Peonies, dahlias, variegated leaves, eucalyptus…it's just gorgeous! I love how bright and colorful it is; it's exactly what Nicole wanted.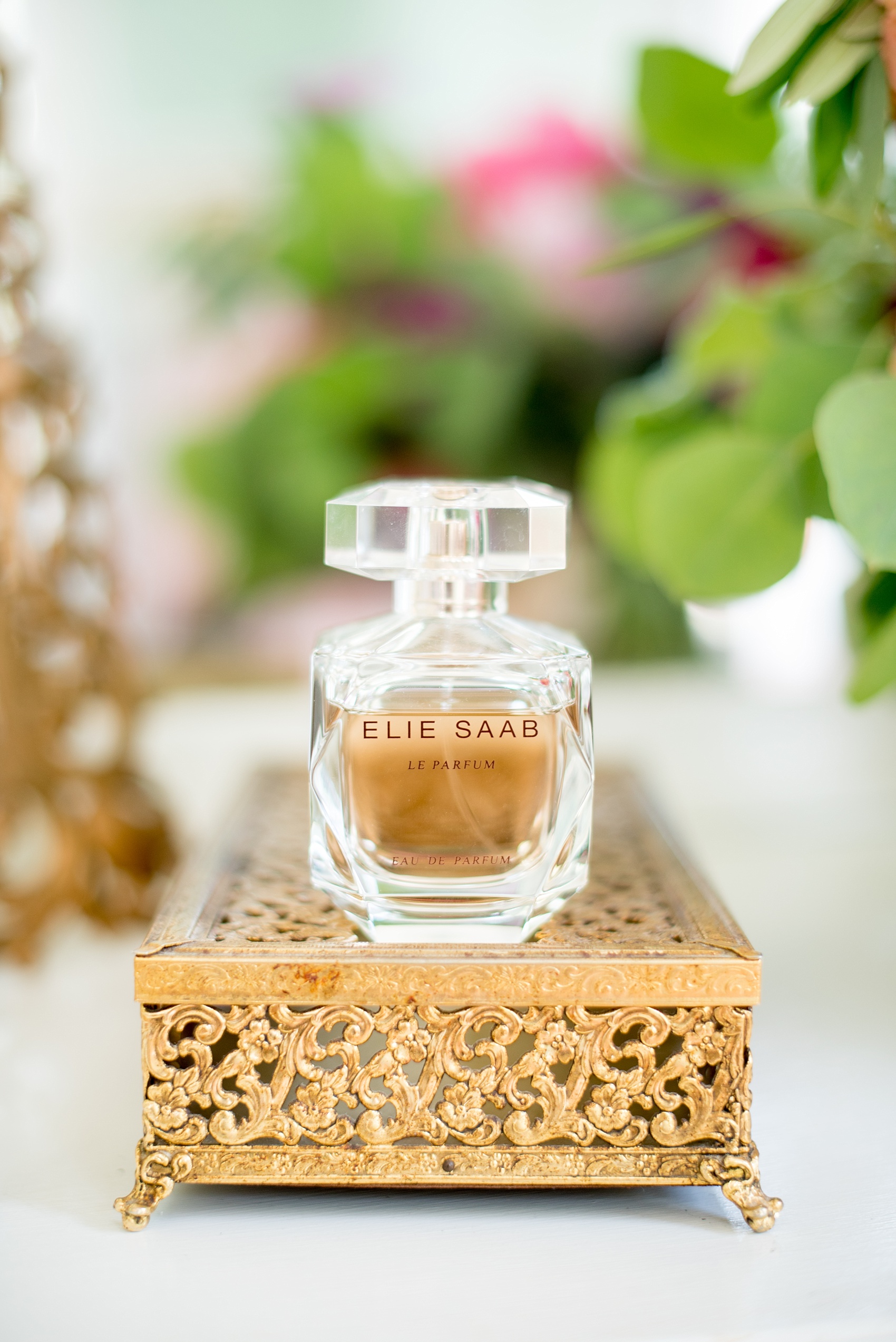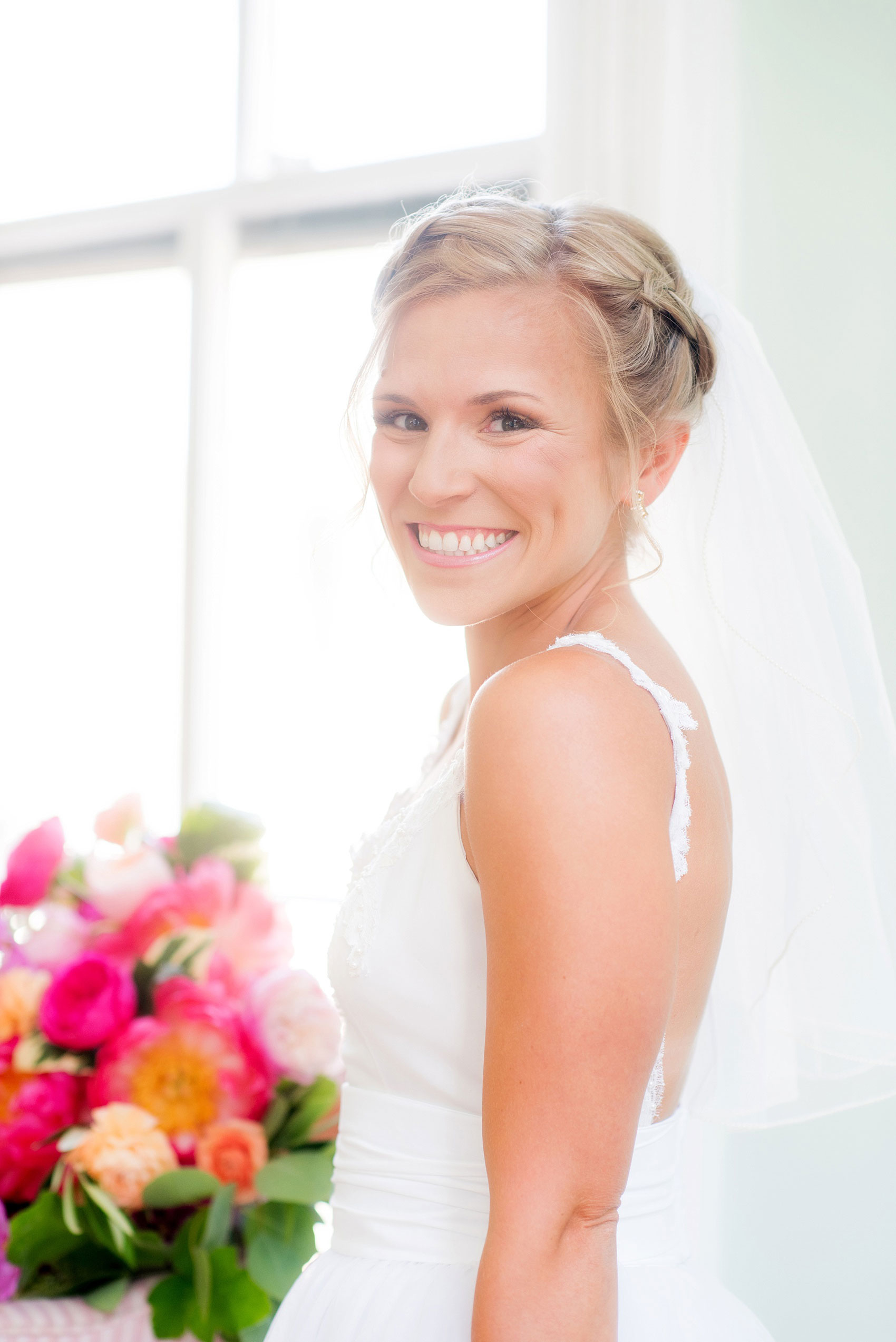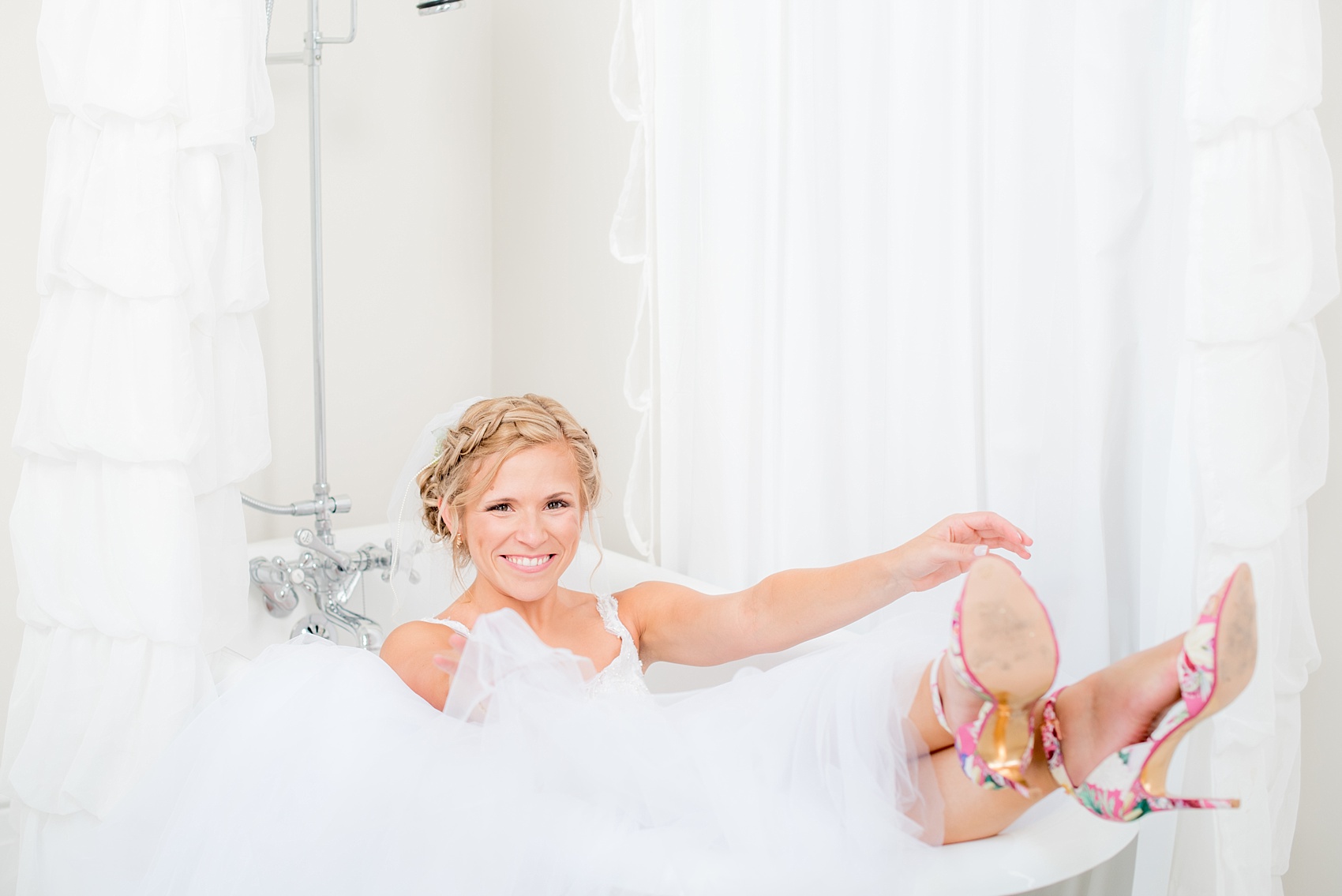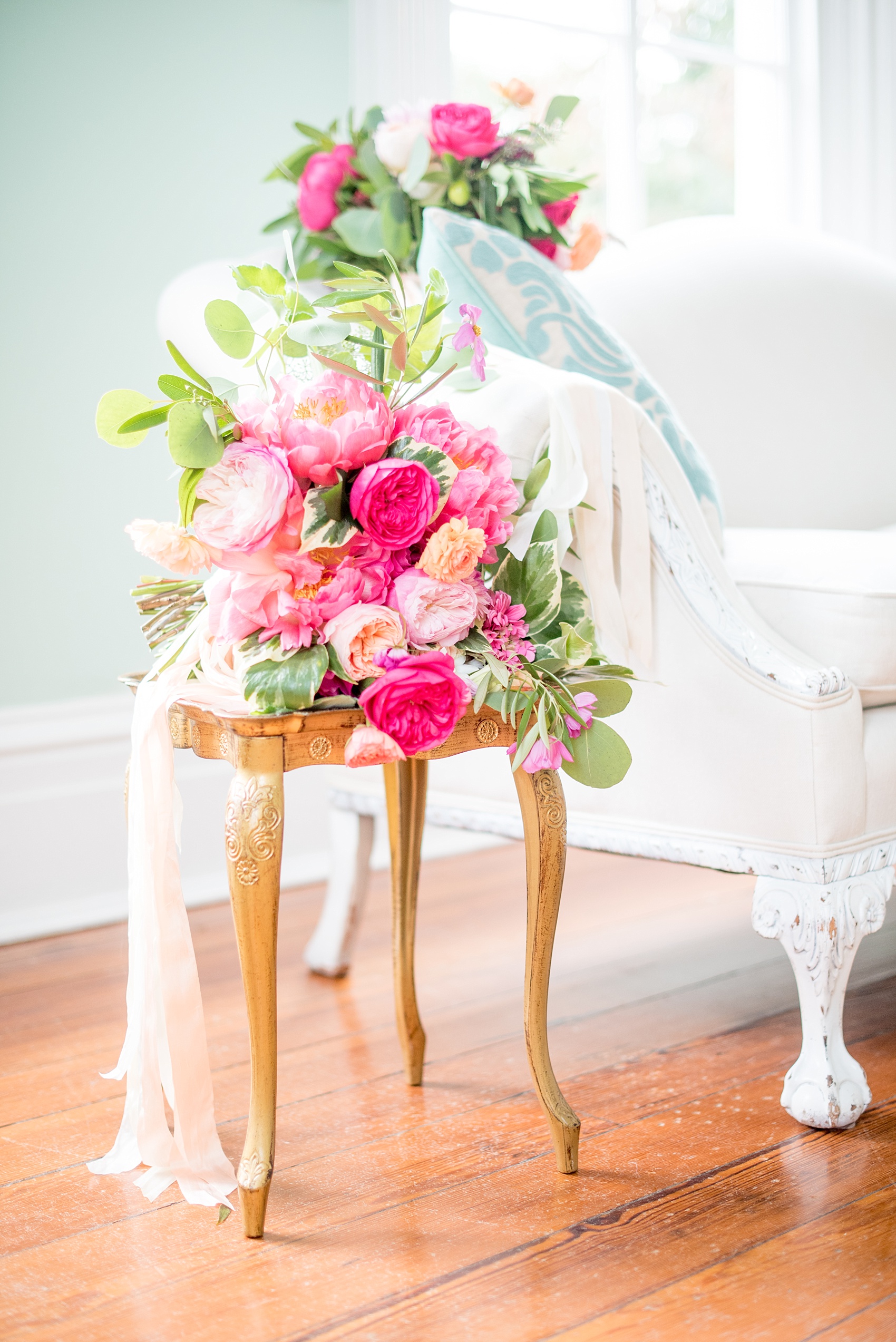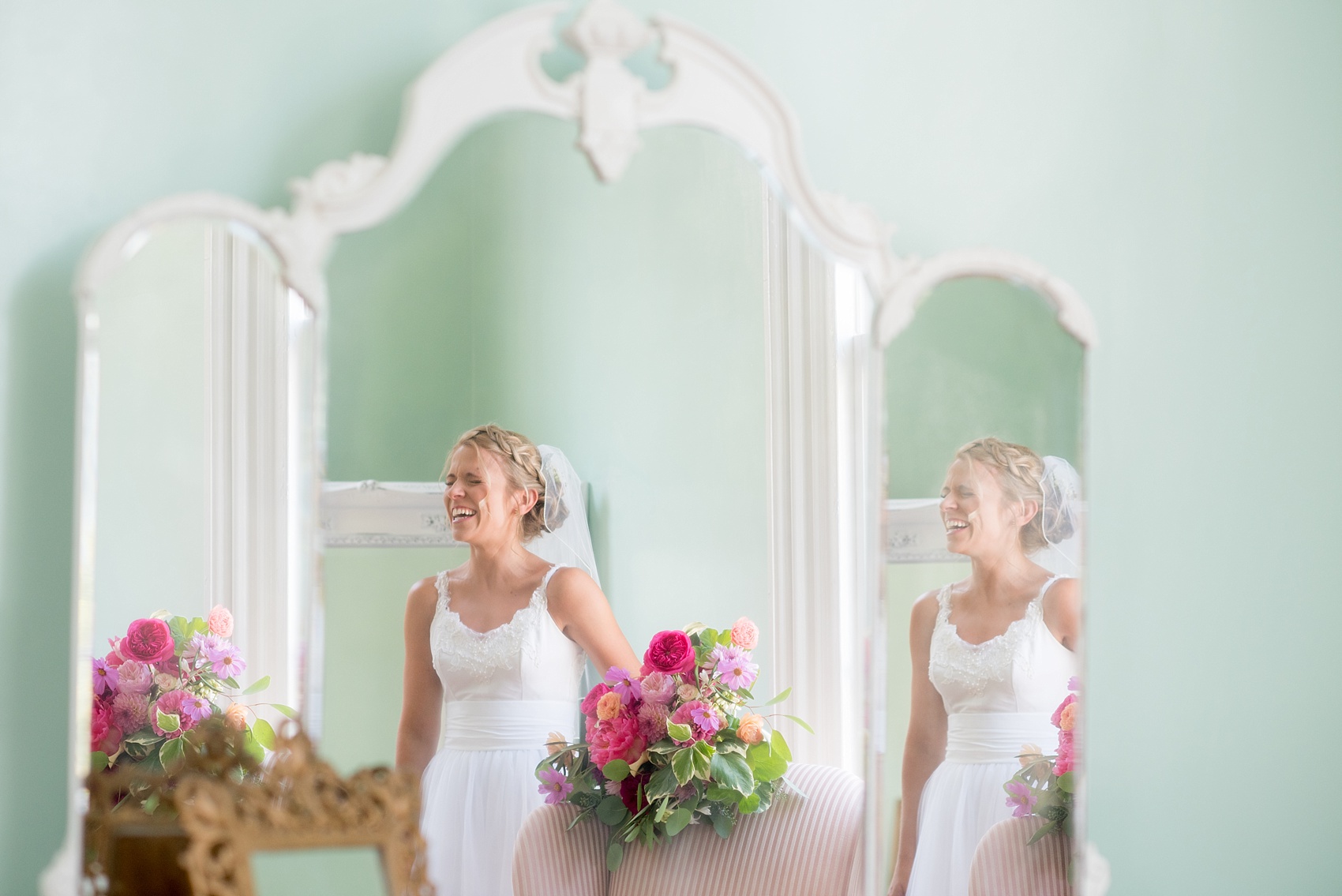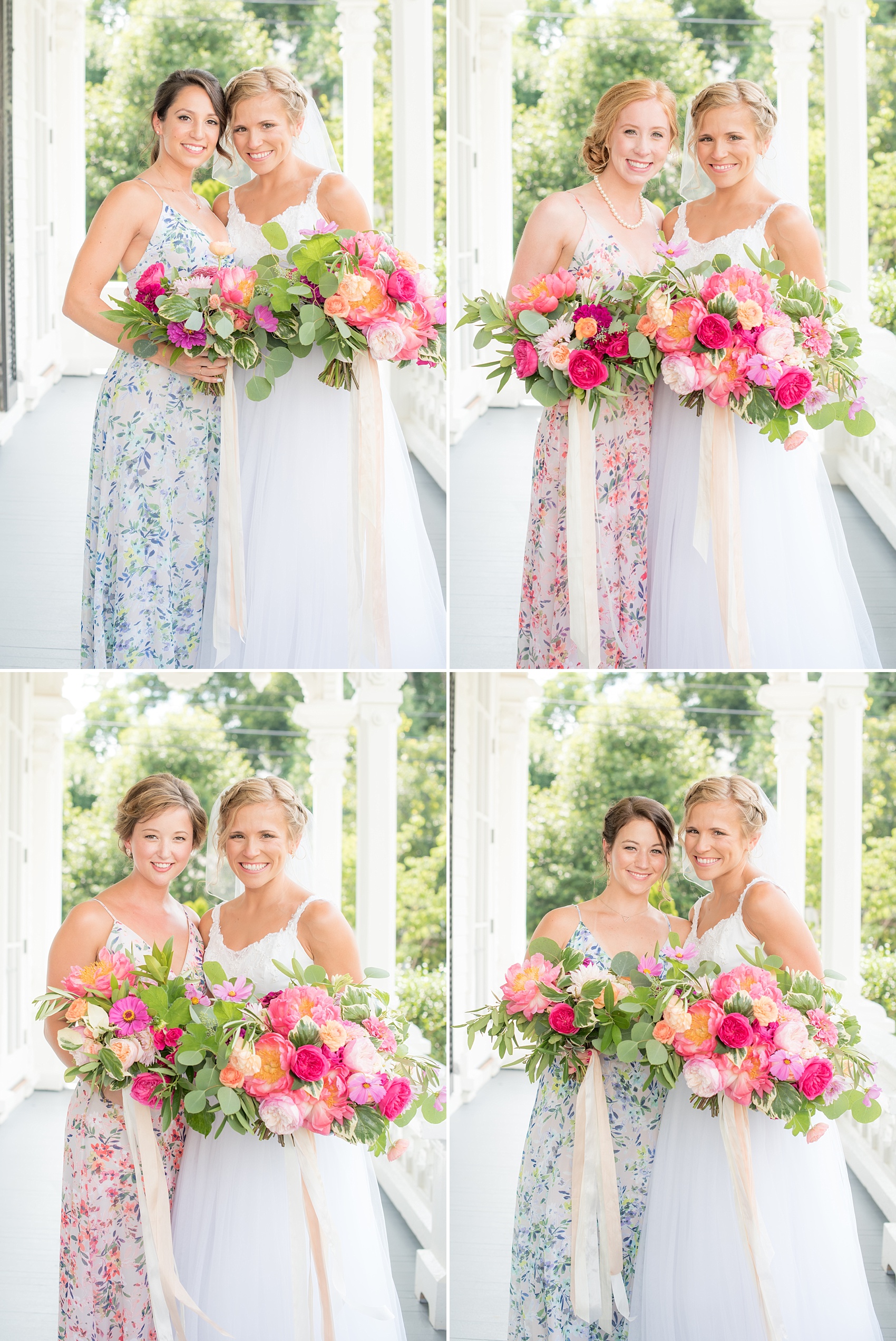 I love the photos of her with each of her bridesmaids on the porch of the southern venue. Nicole carried the floral theme throughout and I adored the floral patterned maxi dresses they wore. The pink and blue options were perfect for a hot summer day. I heard one of the bridesmaids say it was the most comfortable bridesmaid dress she's ever worn.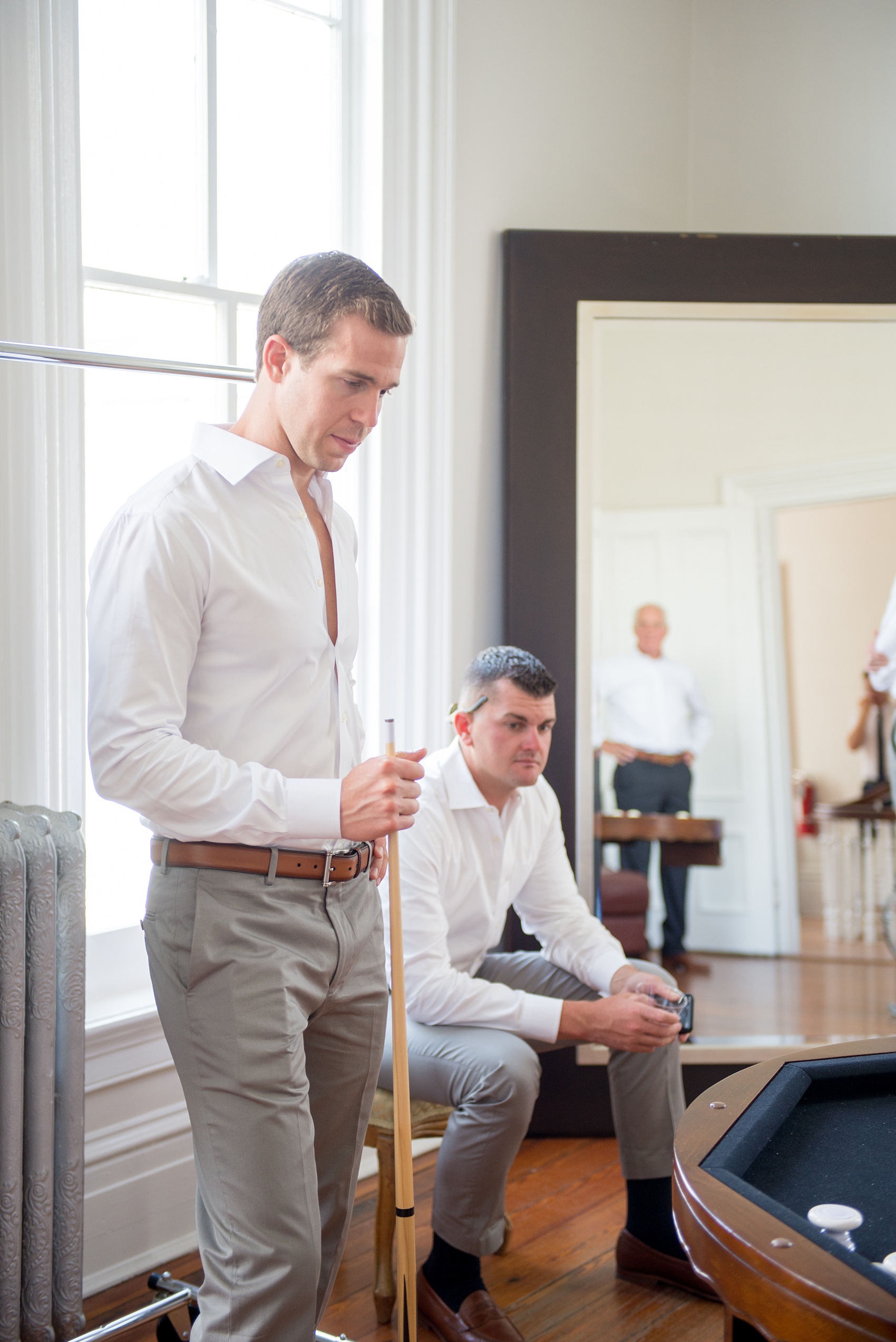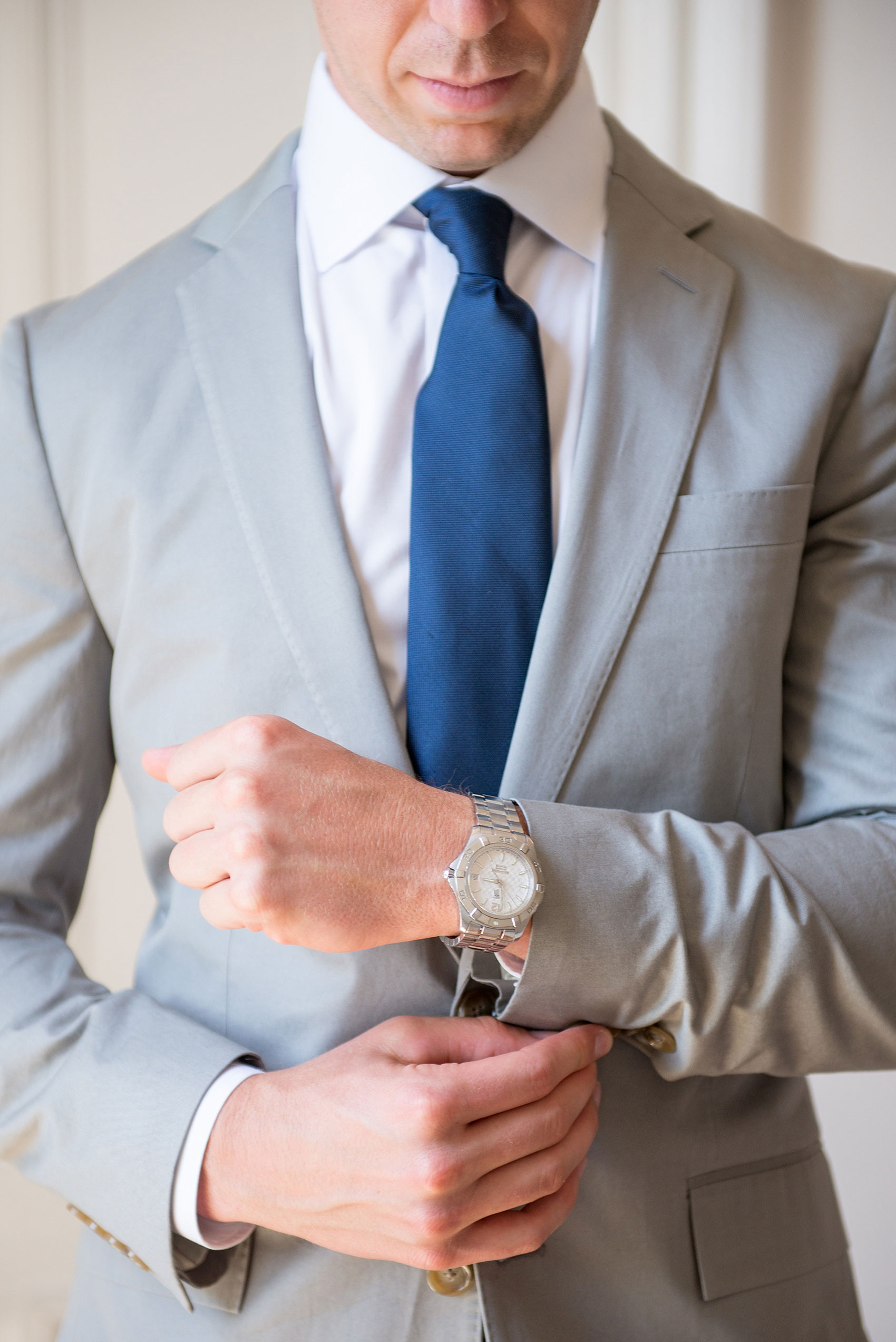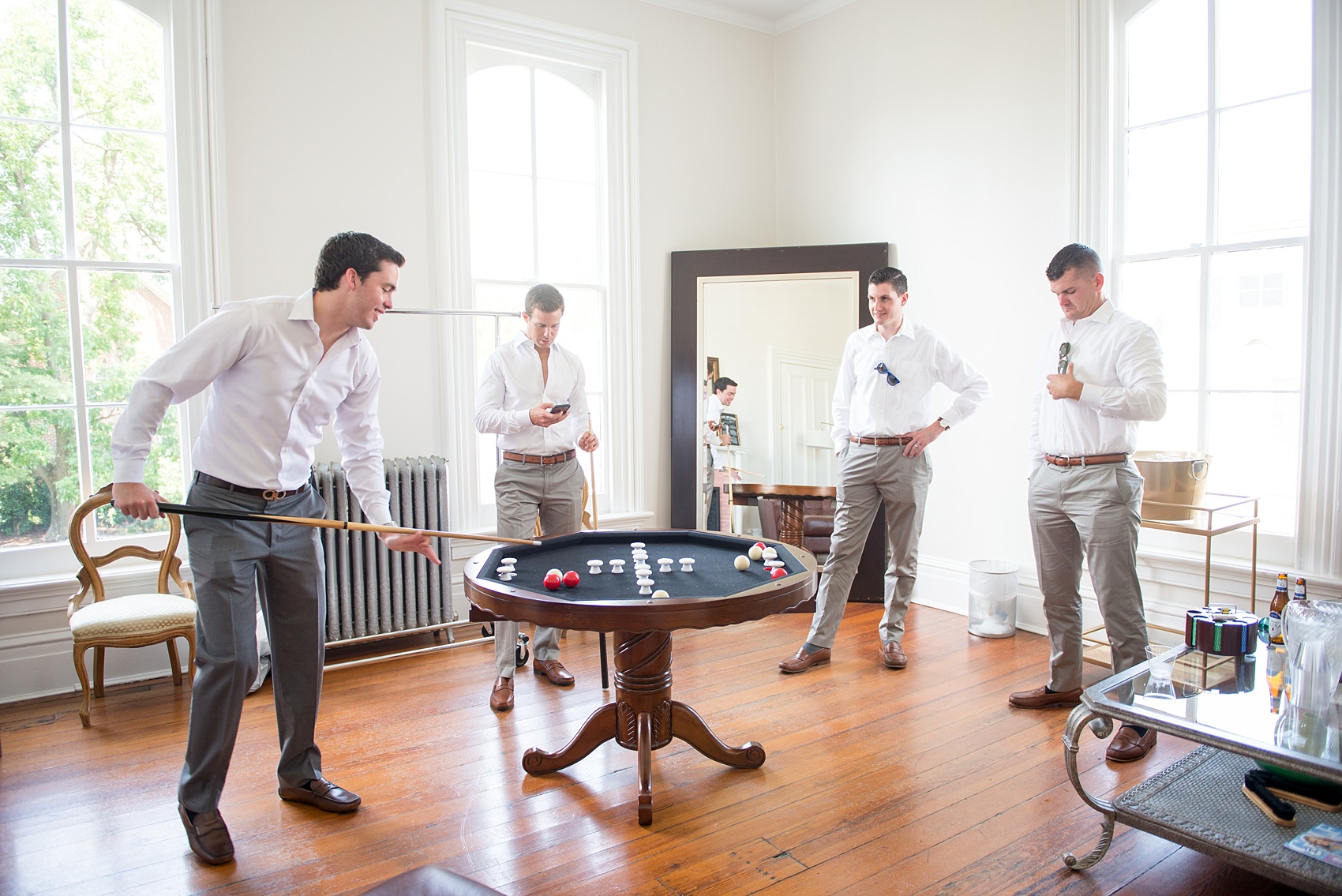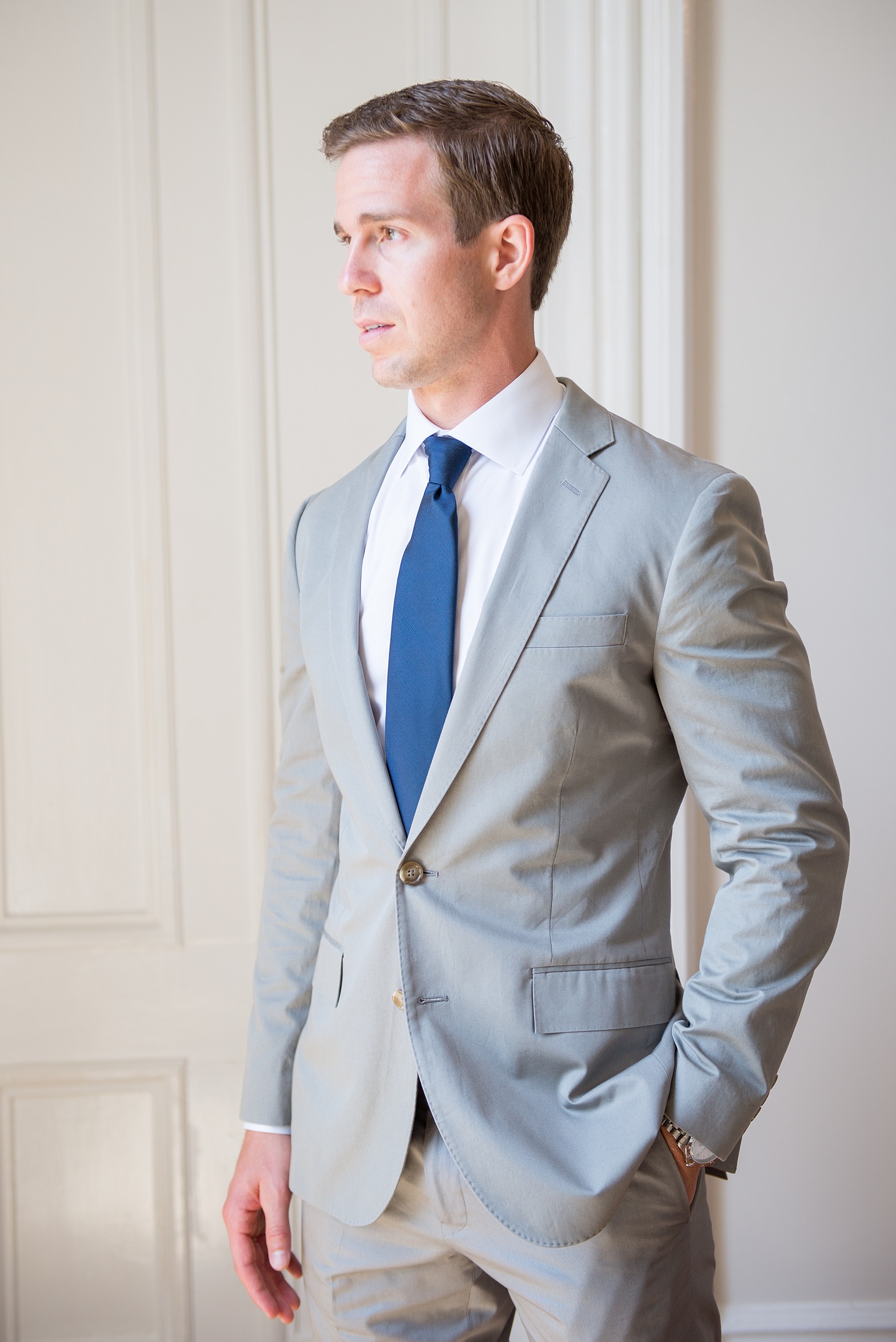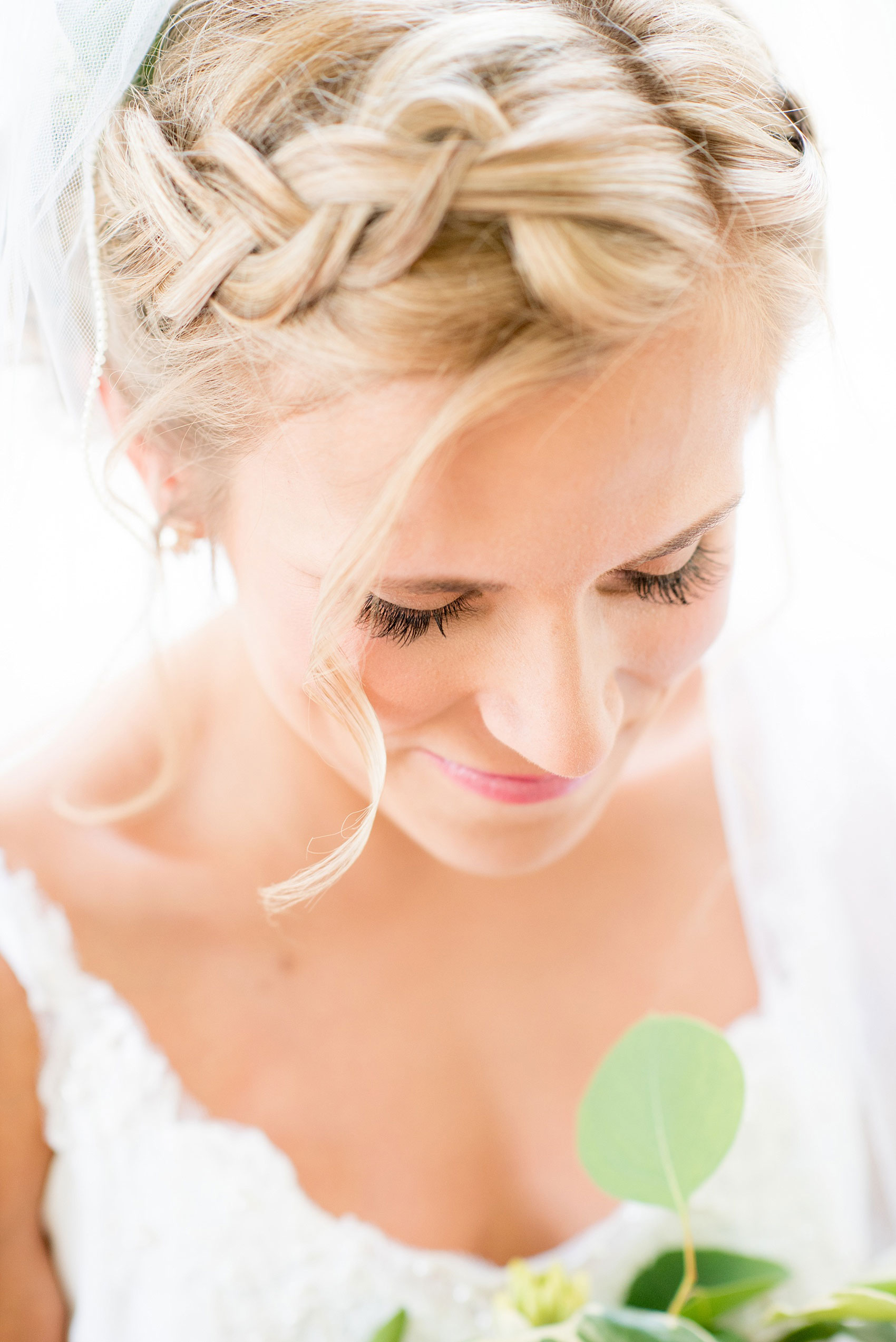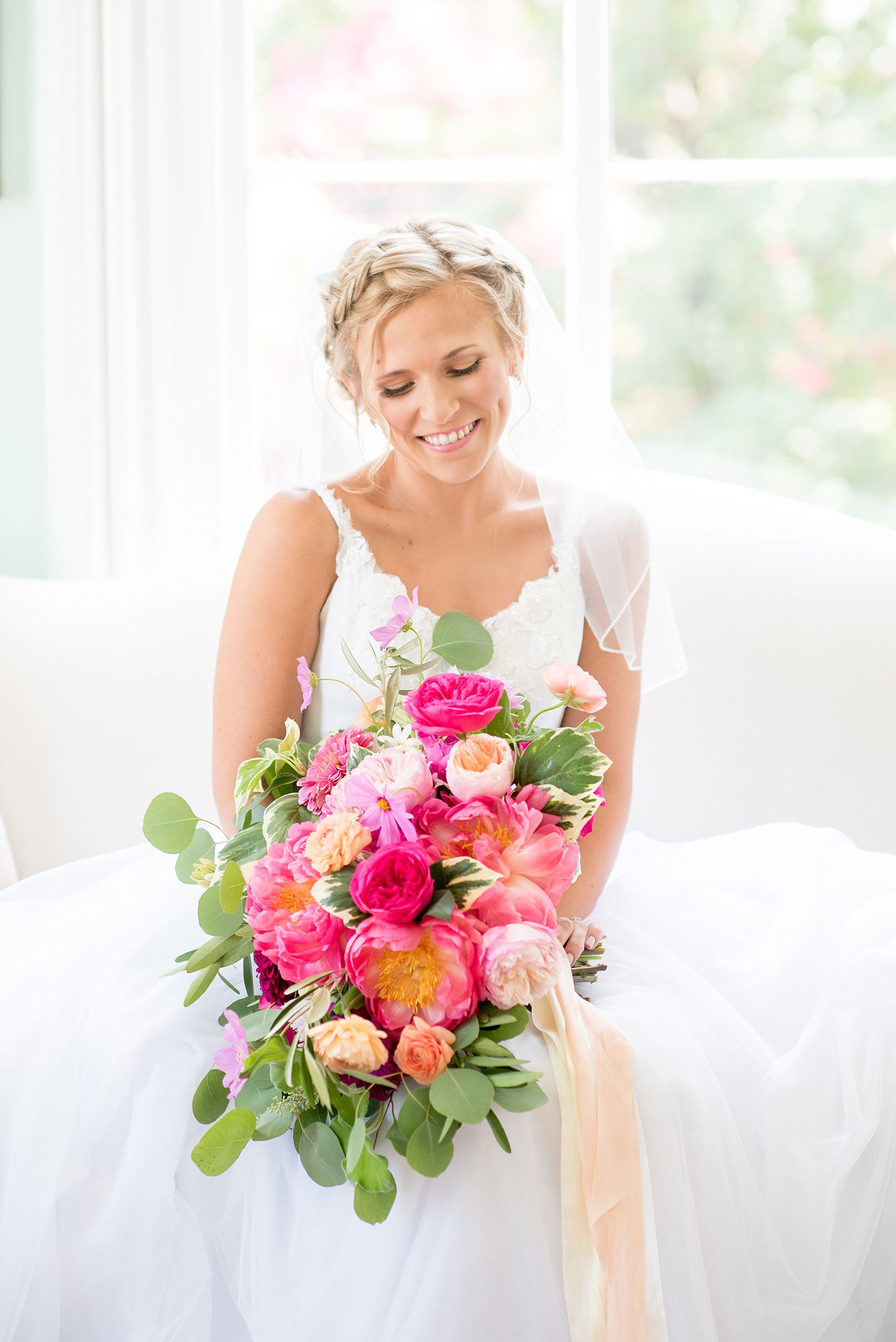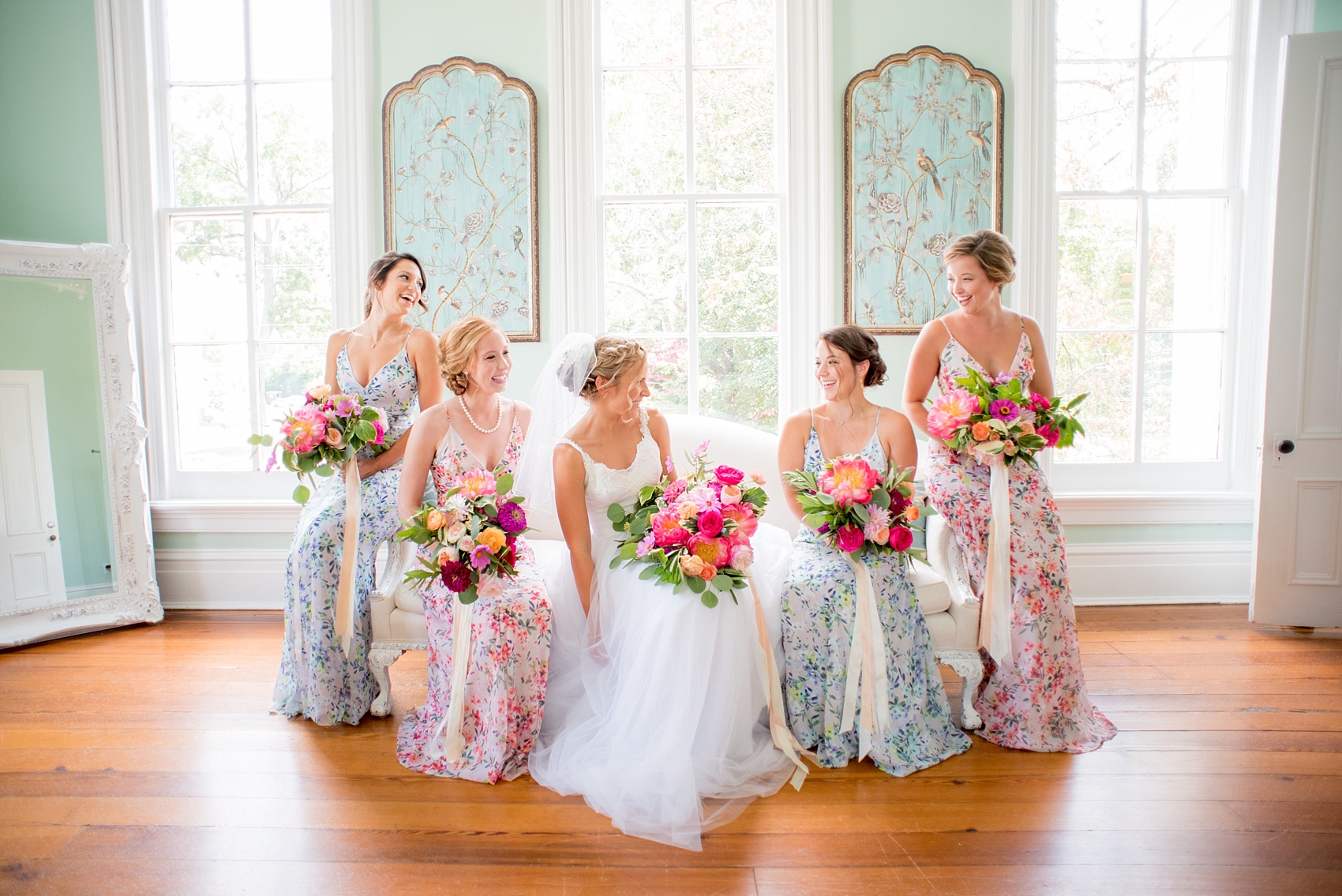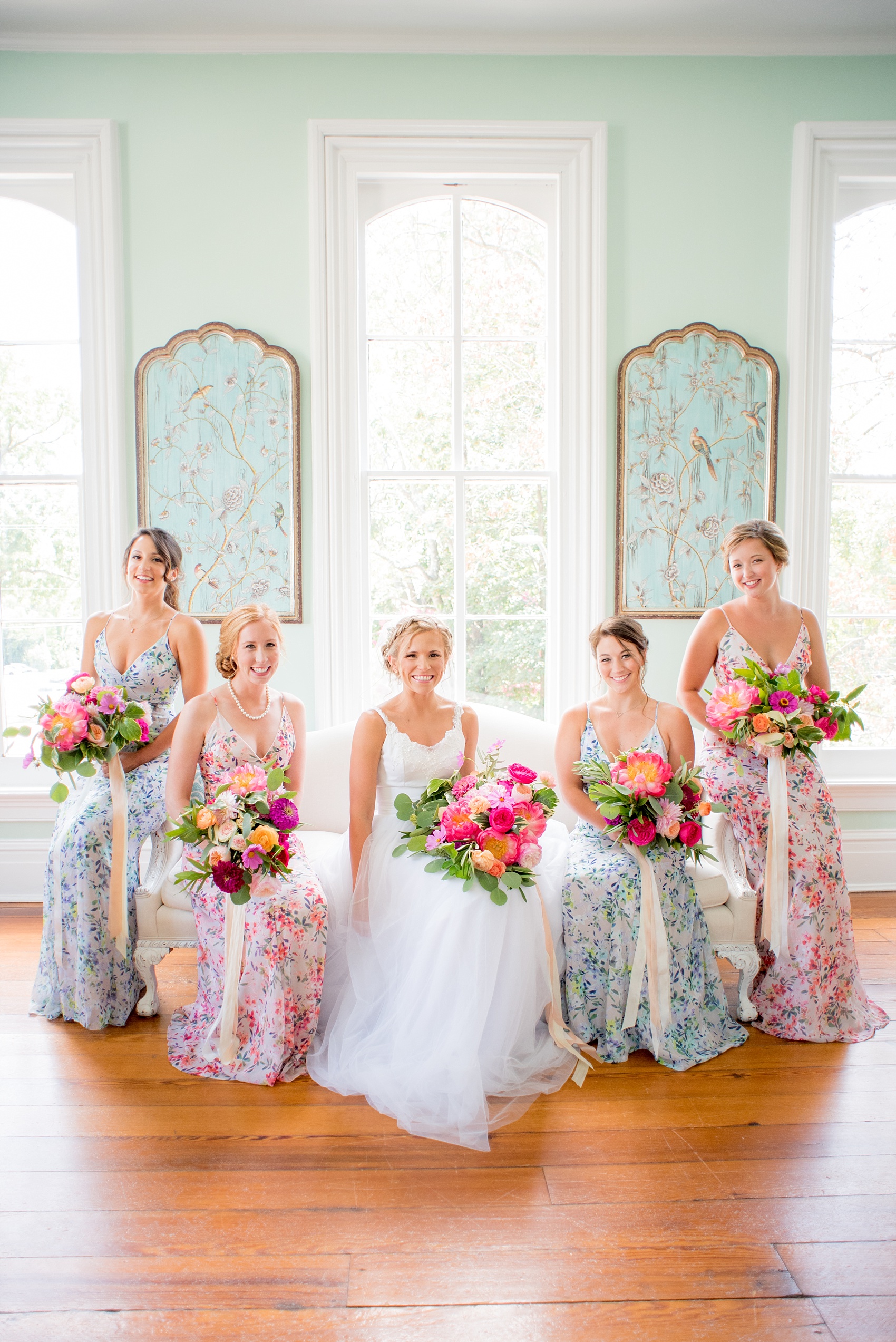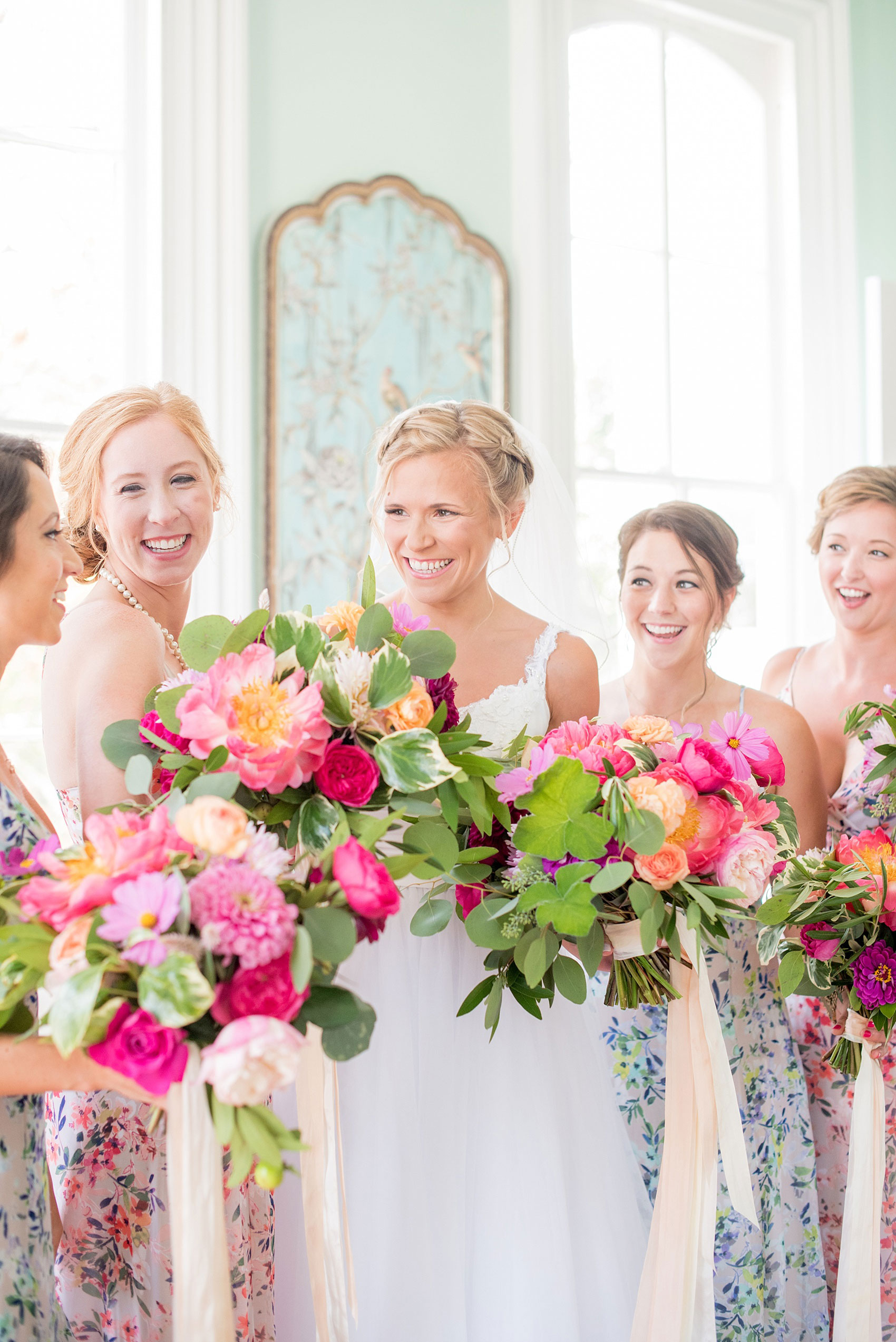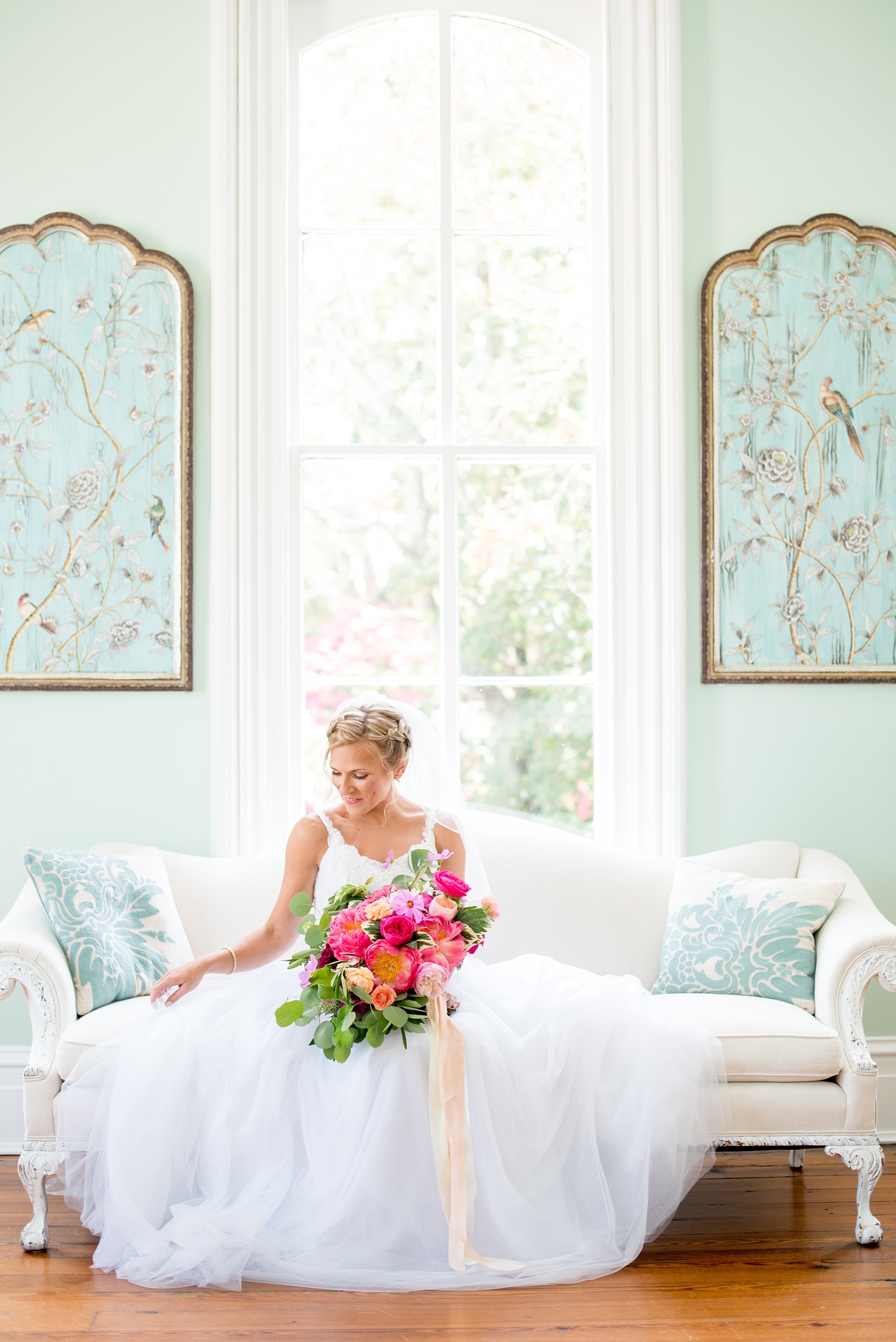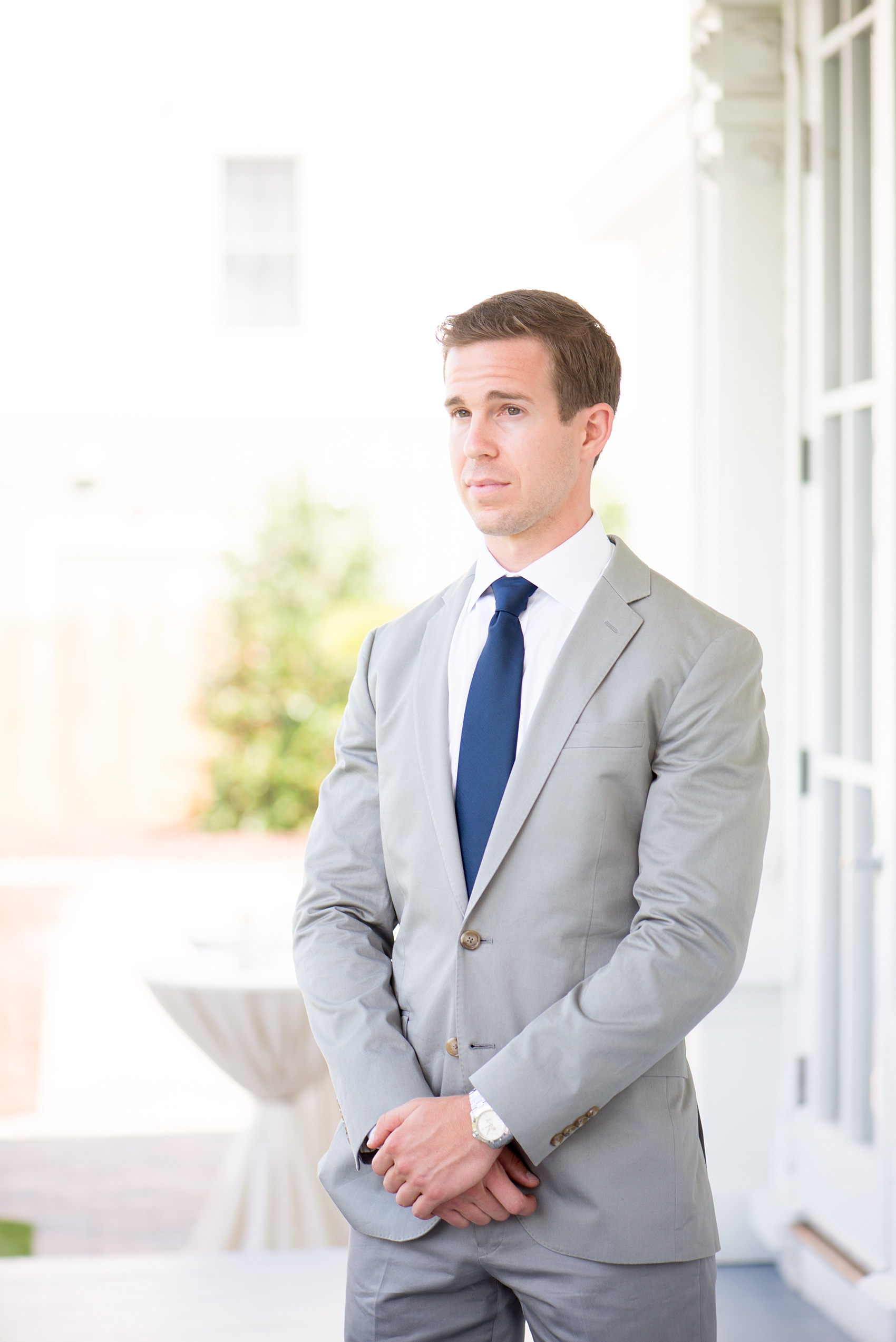 As we finished taking some fun photos upstairs, Rob waited downstairs for his first look at his bride…and it was a great reveal! I'm telling you Nicole was so giddy and excited to see her soon-to-be husband. It was adorable! Just look at the expressions on her face!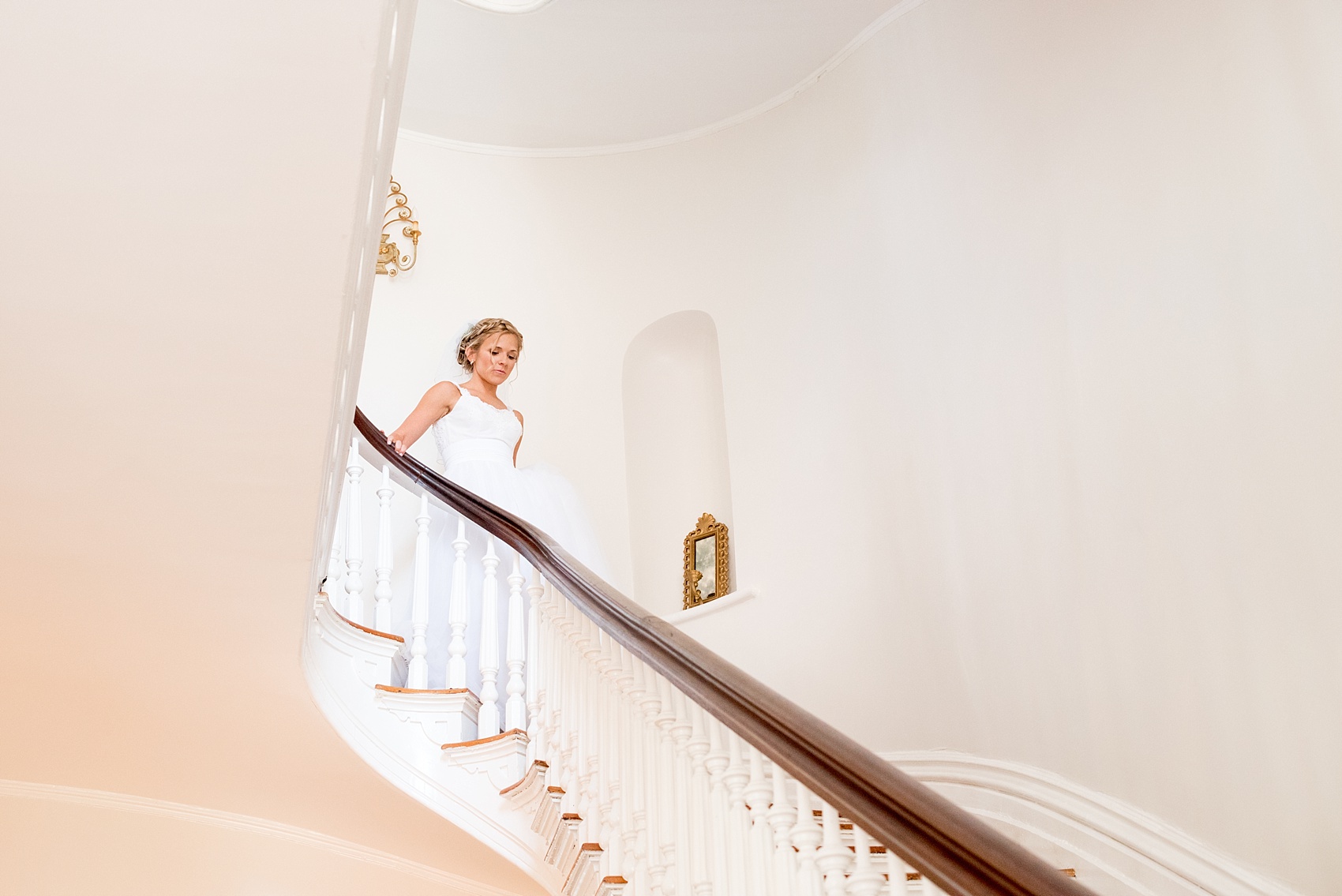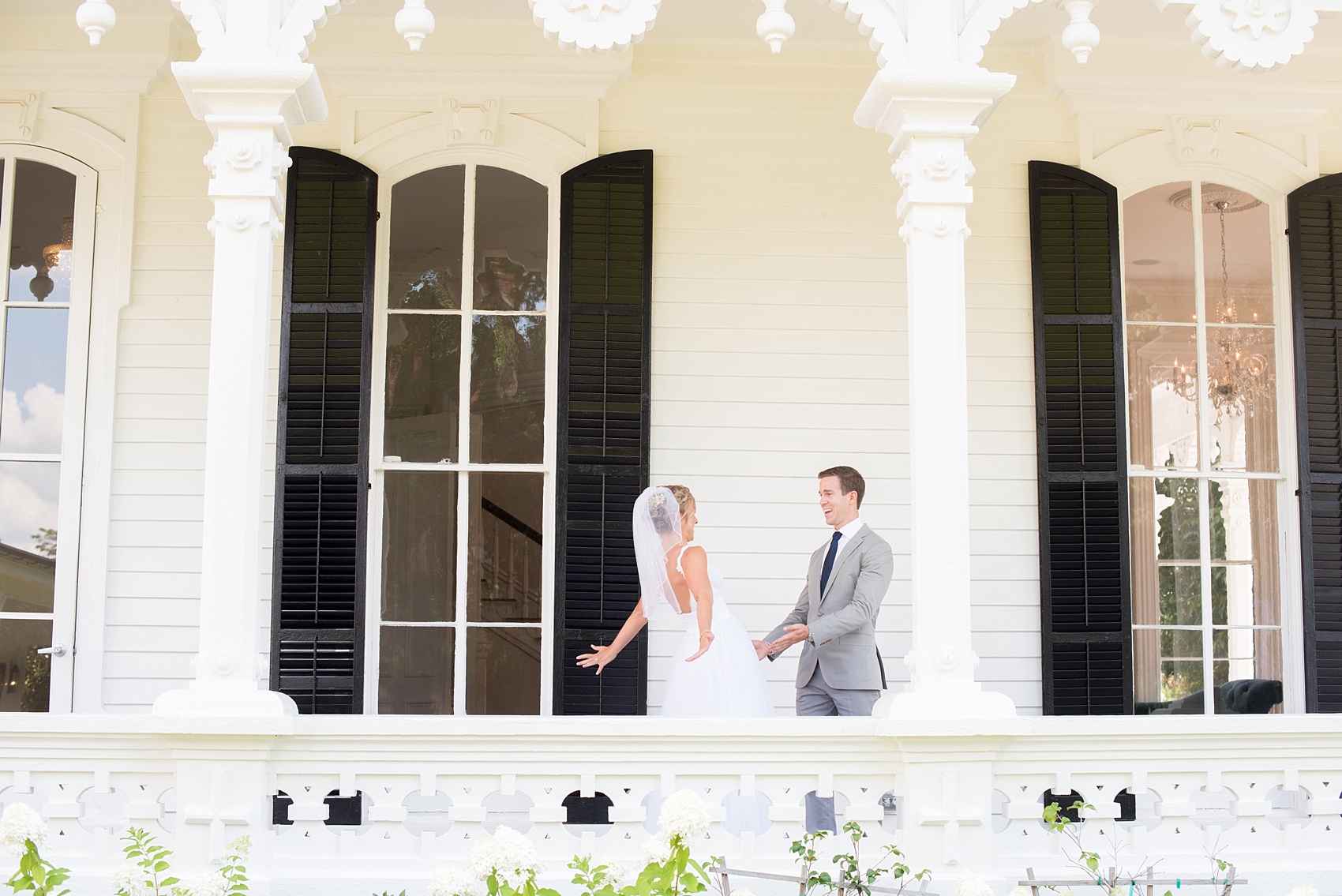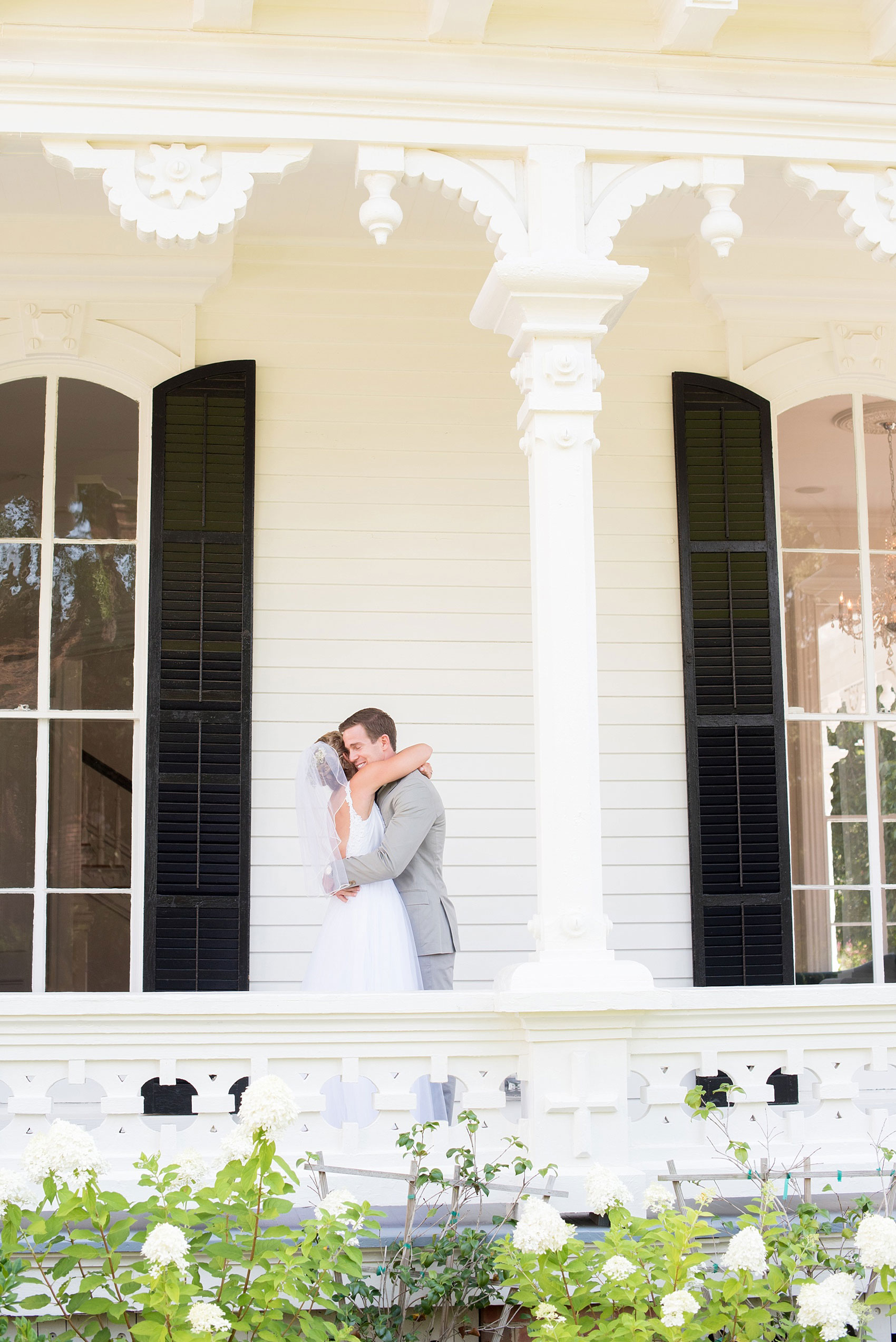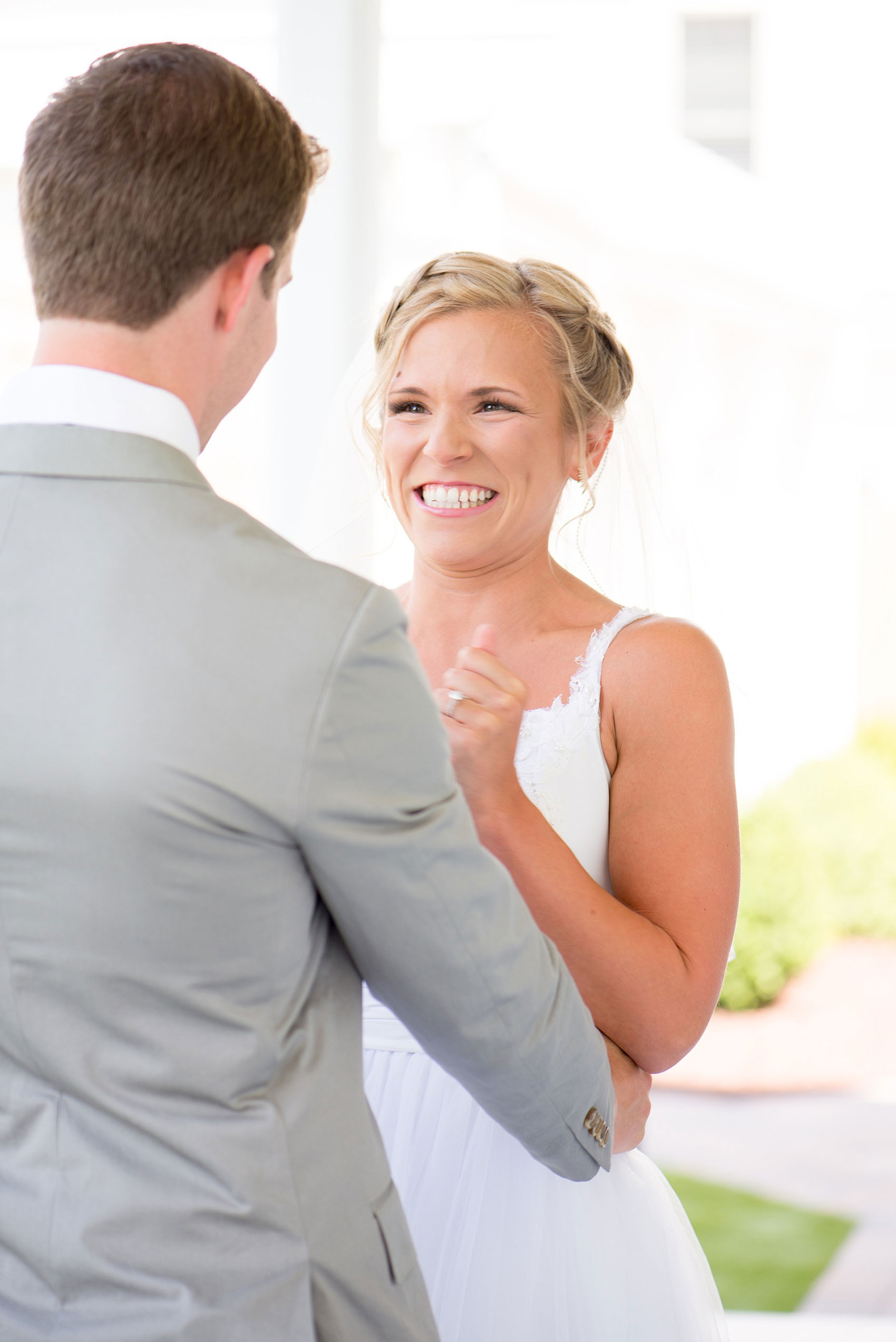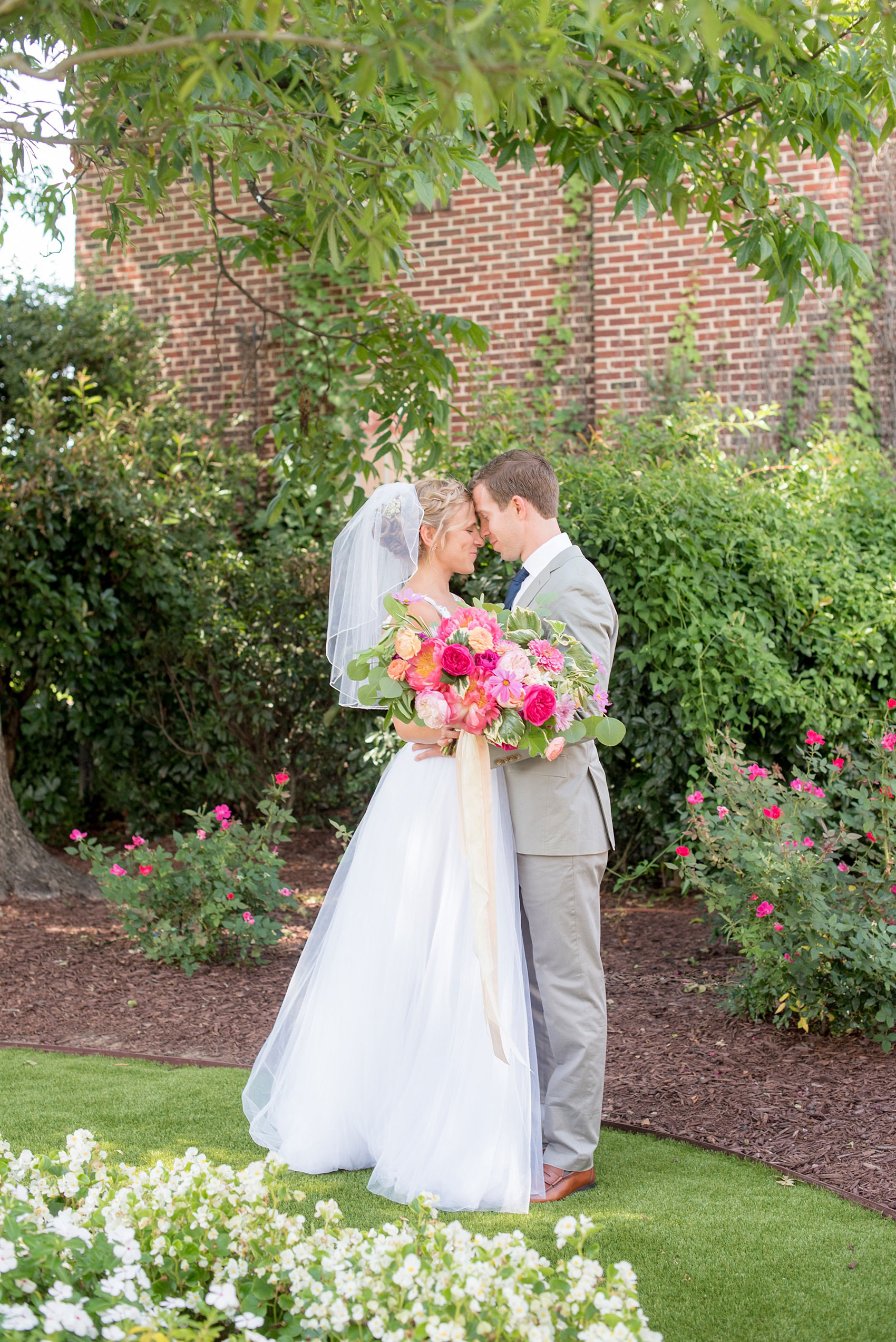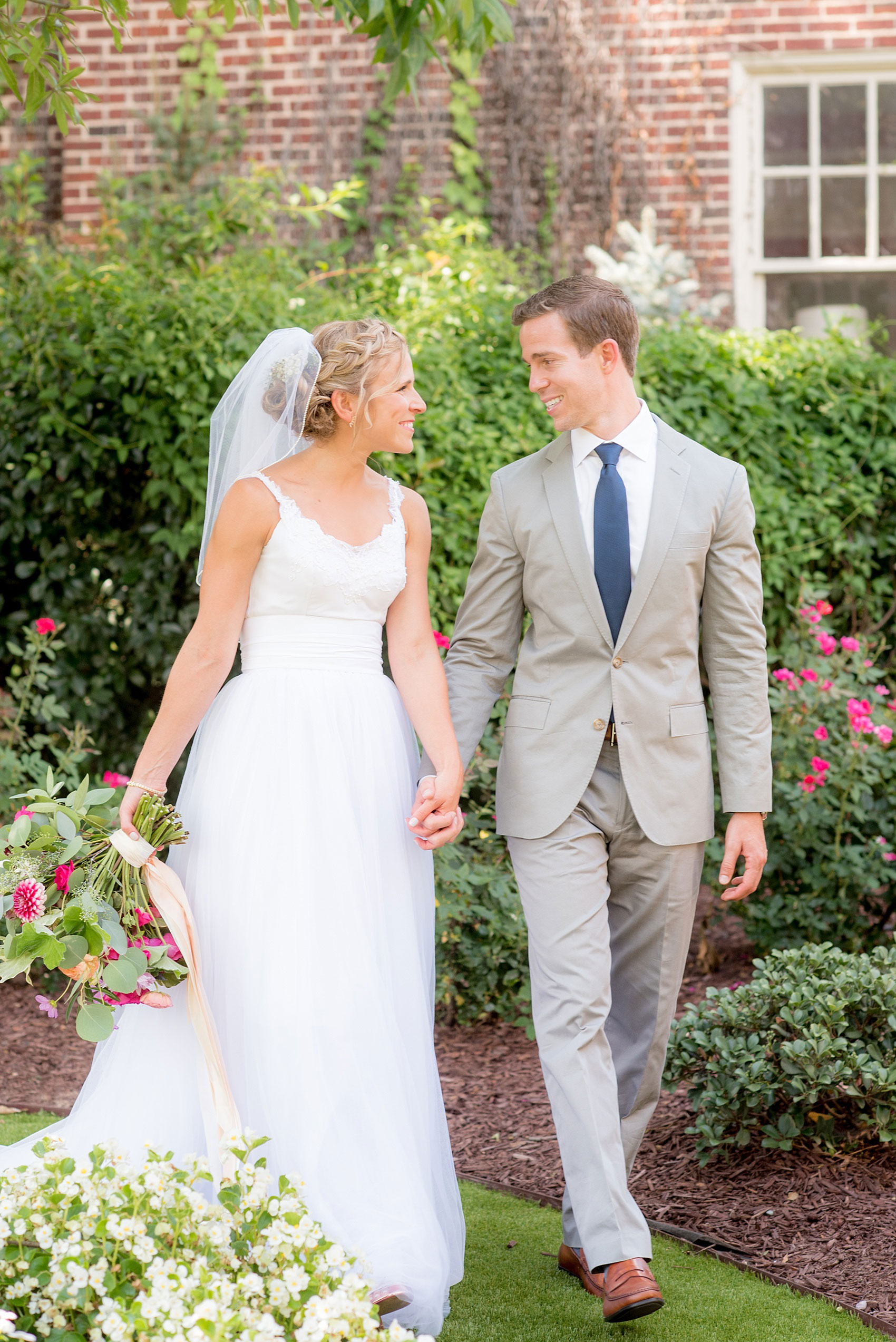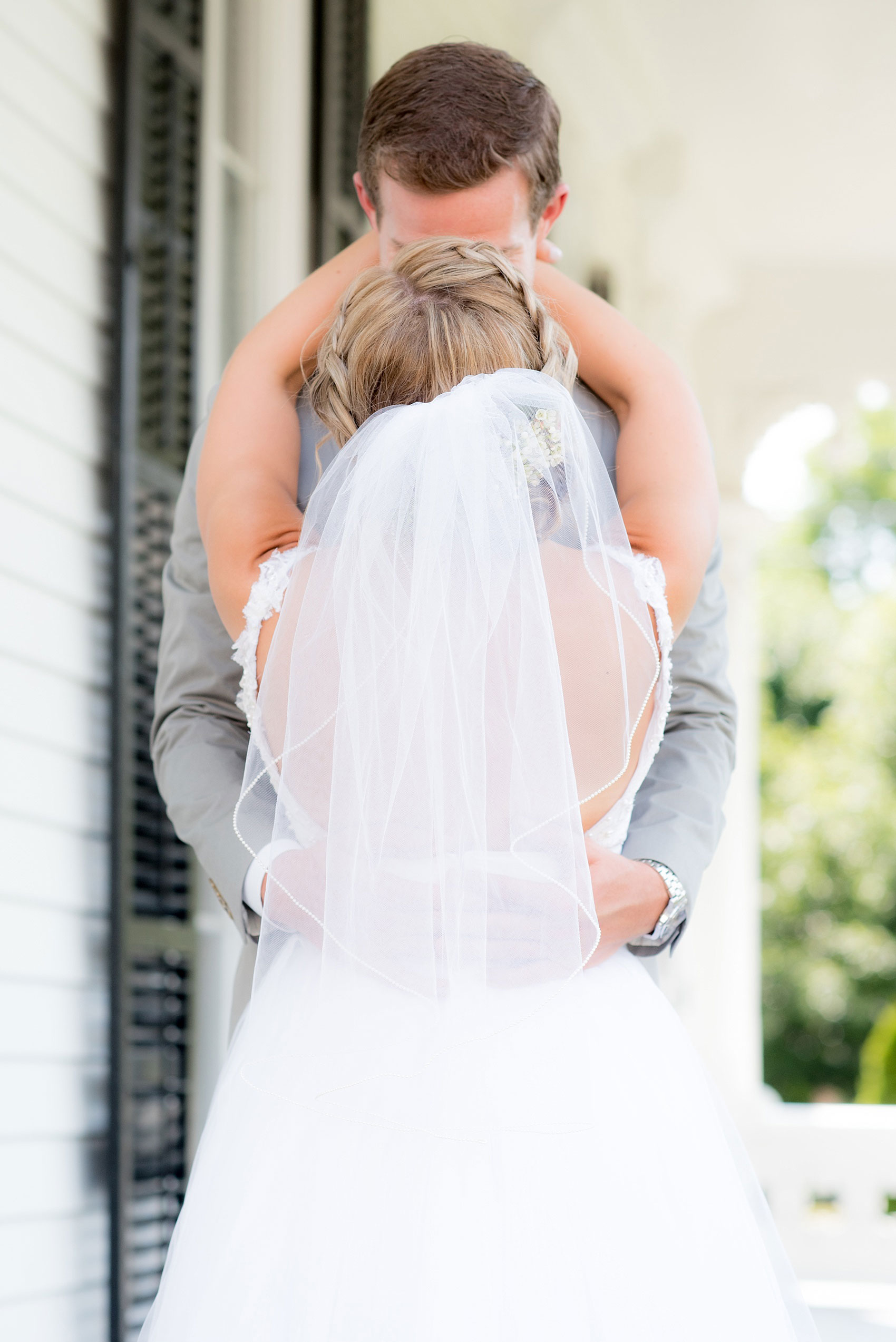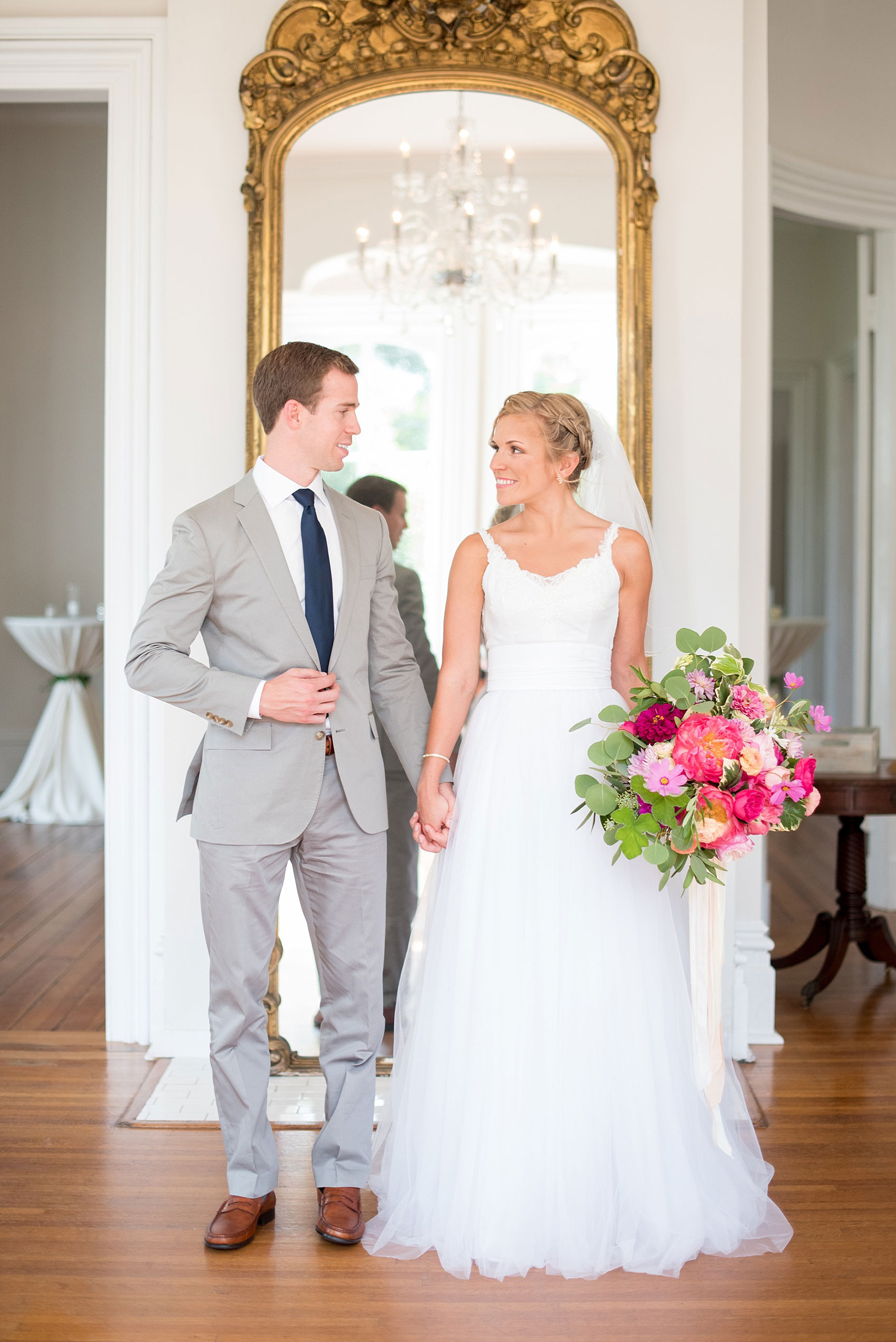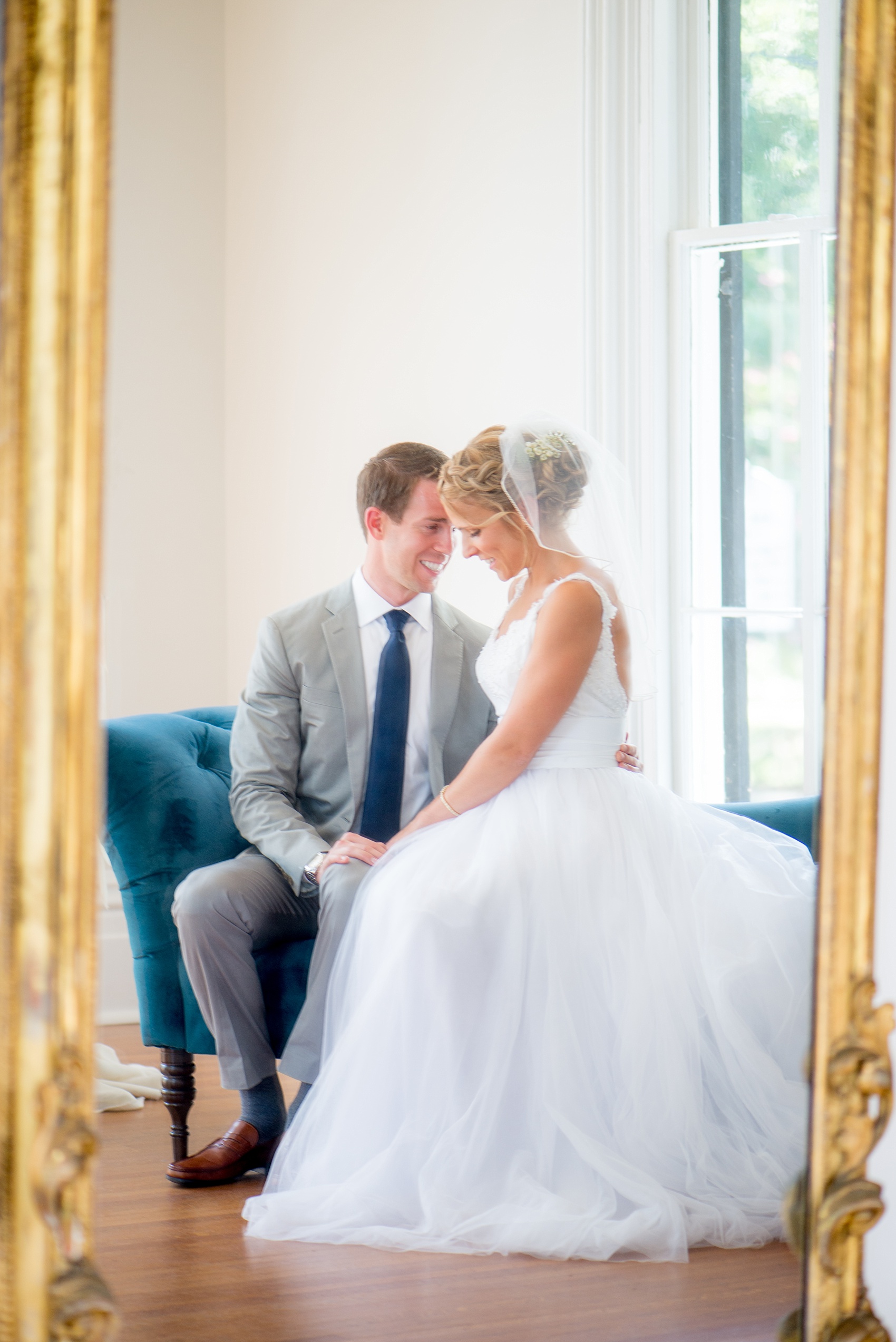 The furniture inside the house is dreamy. Grand gold framed mirrors and lush furniture abounds. The teal couch they're sitting on is one of my favorites!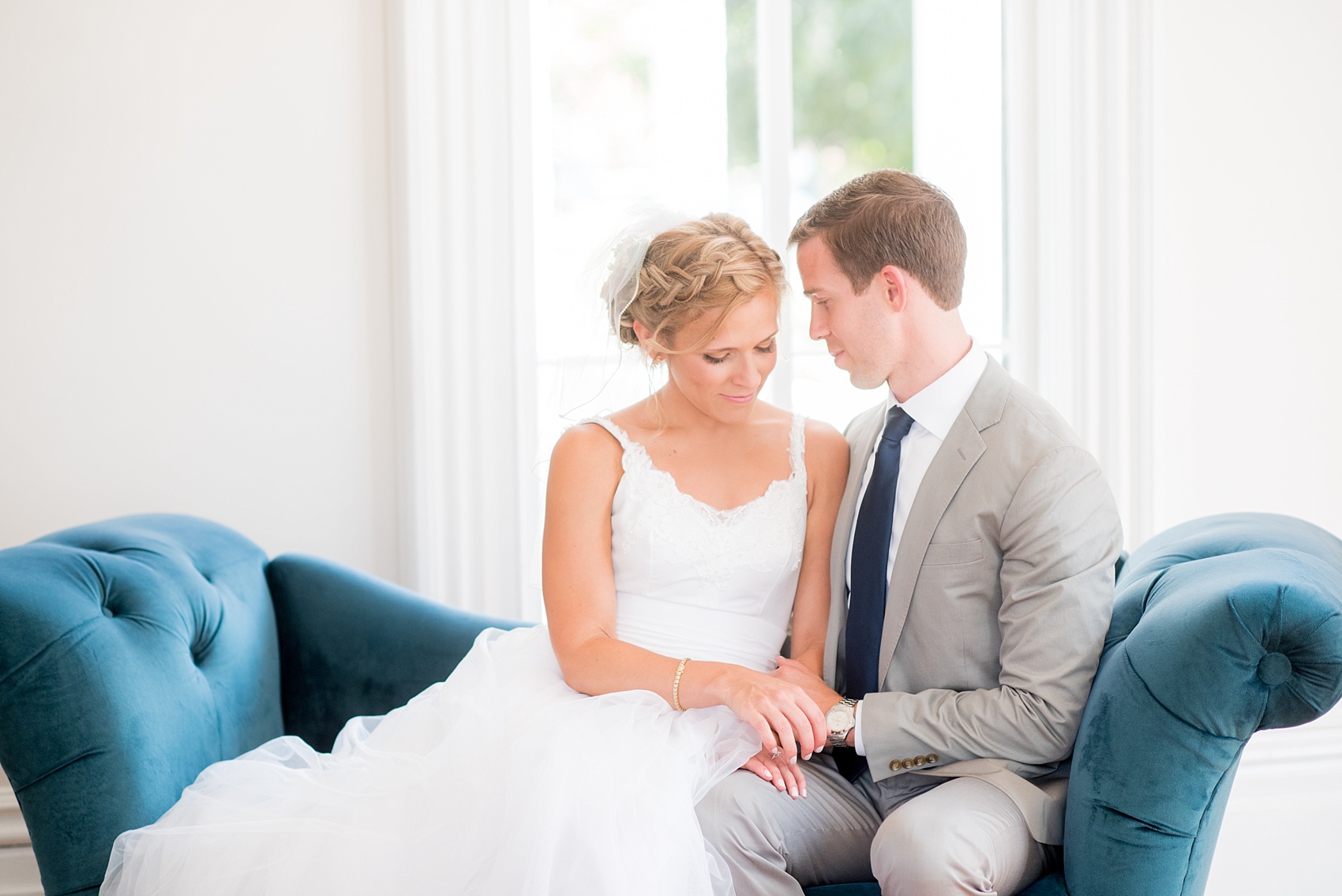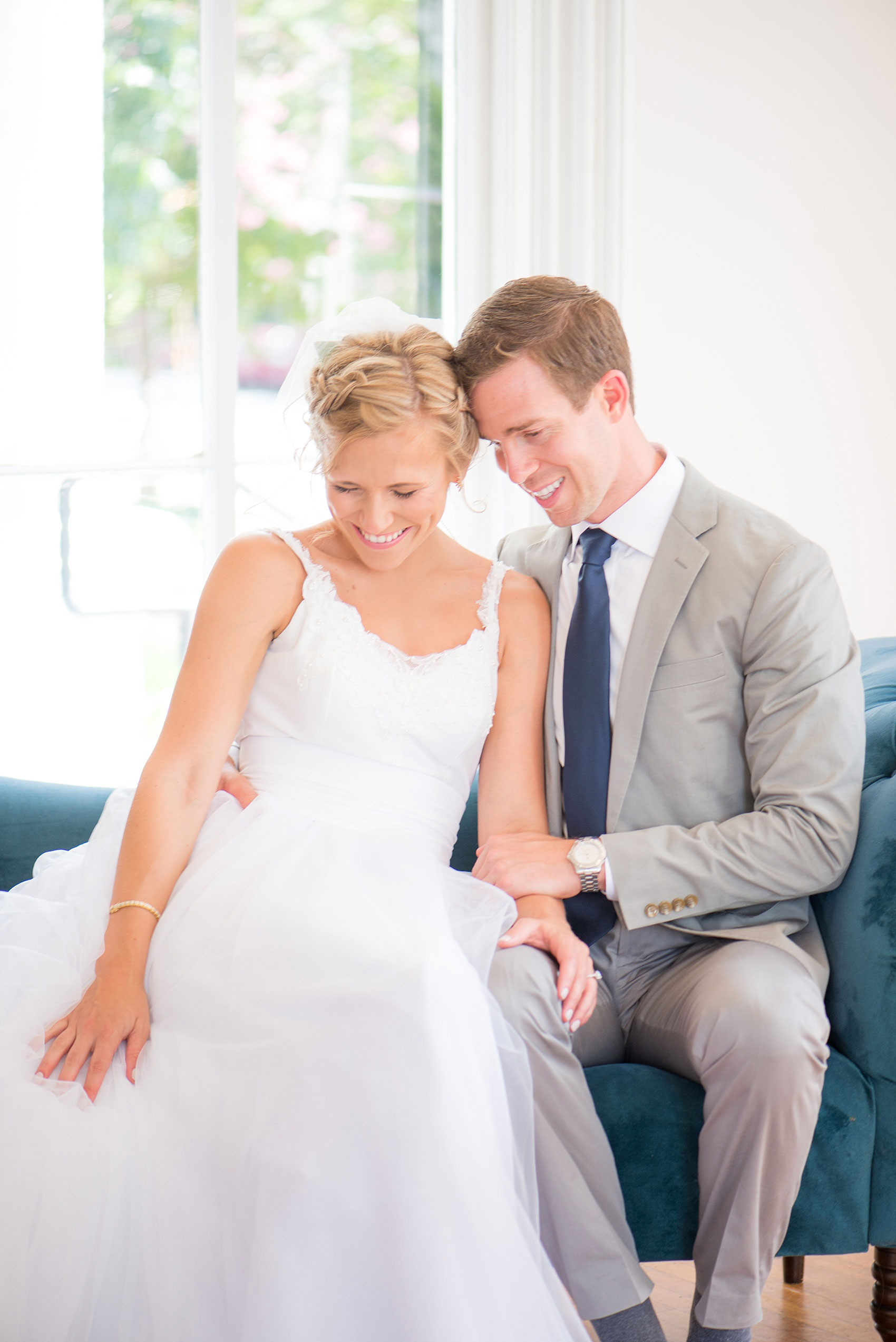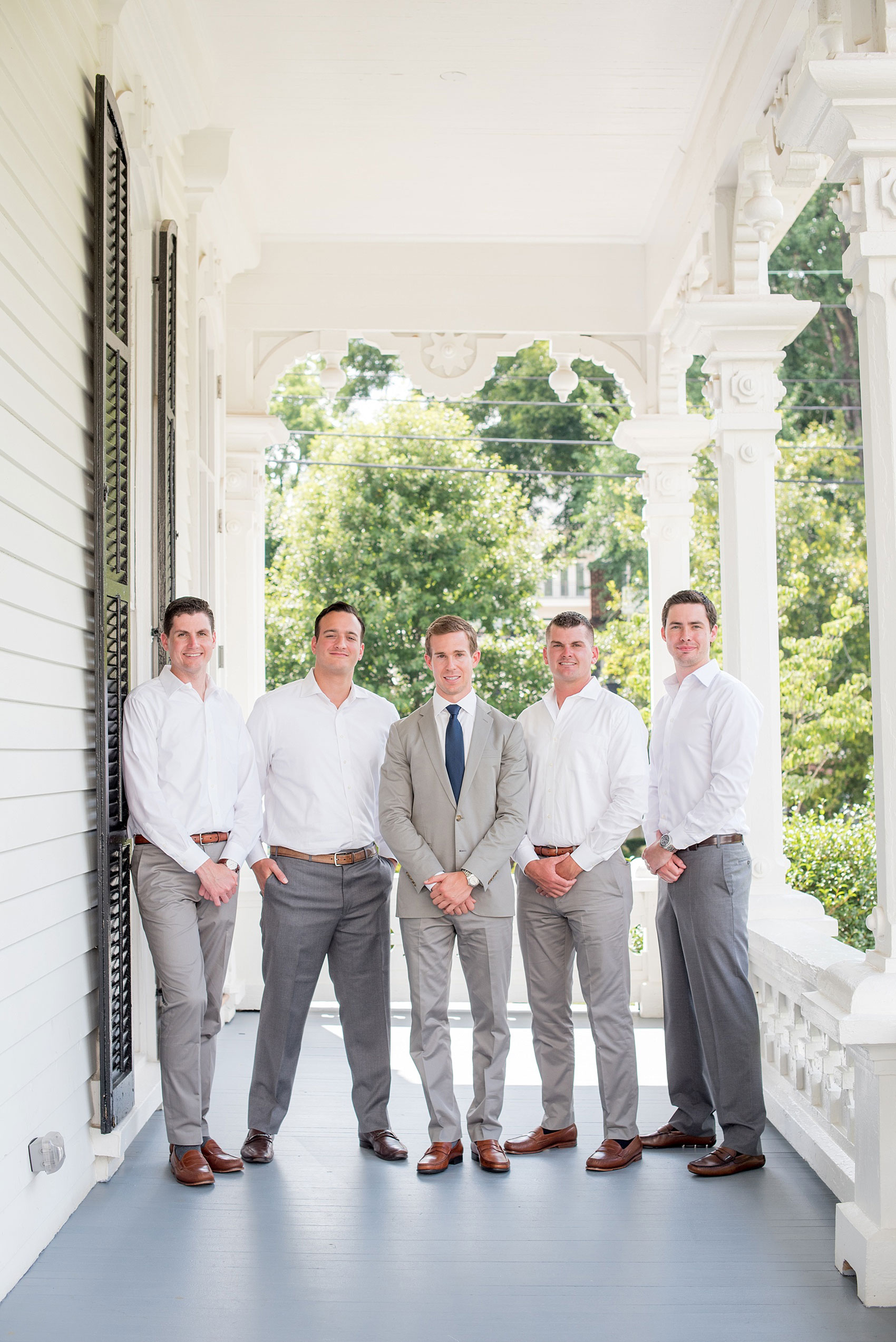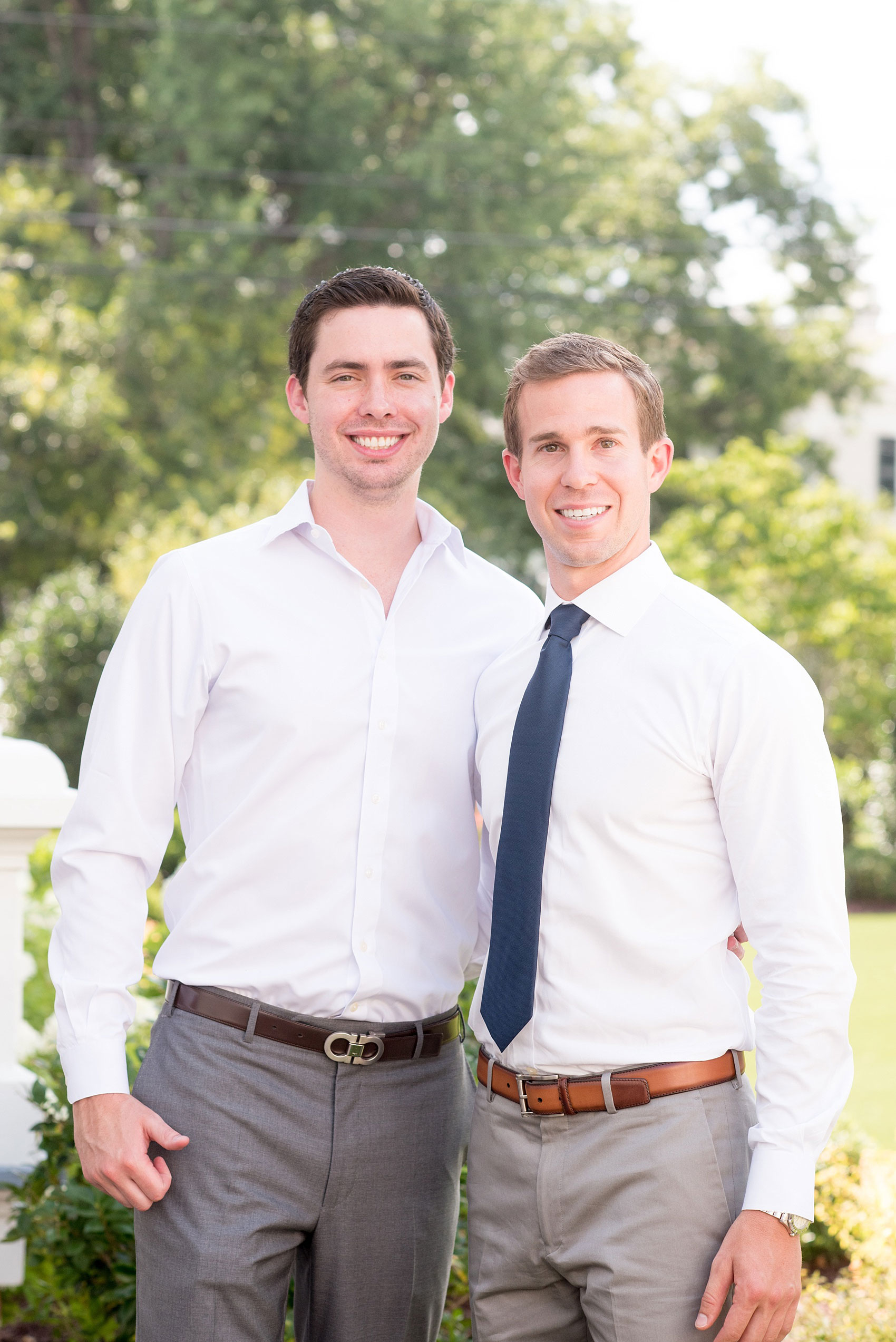 I thought it was very cool of Nicole and Rob to agree the best outfits for the groomsmen were grey slacks and a white shirt. No jacket, no tie, no fuss. Especially good for summer weddings!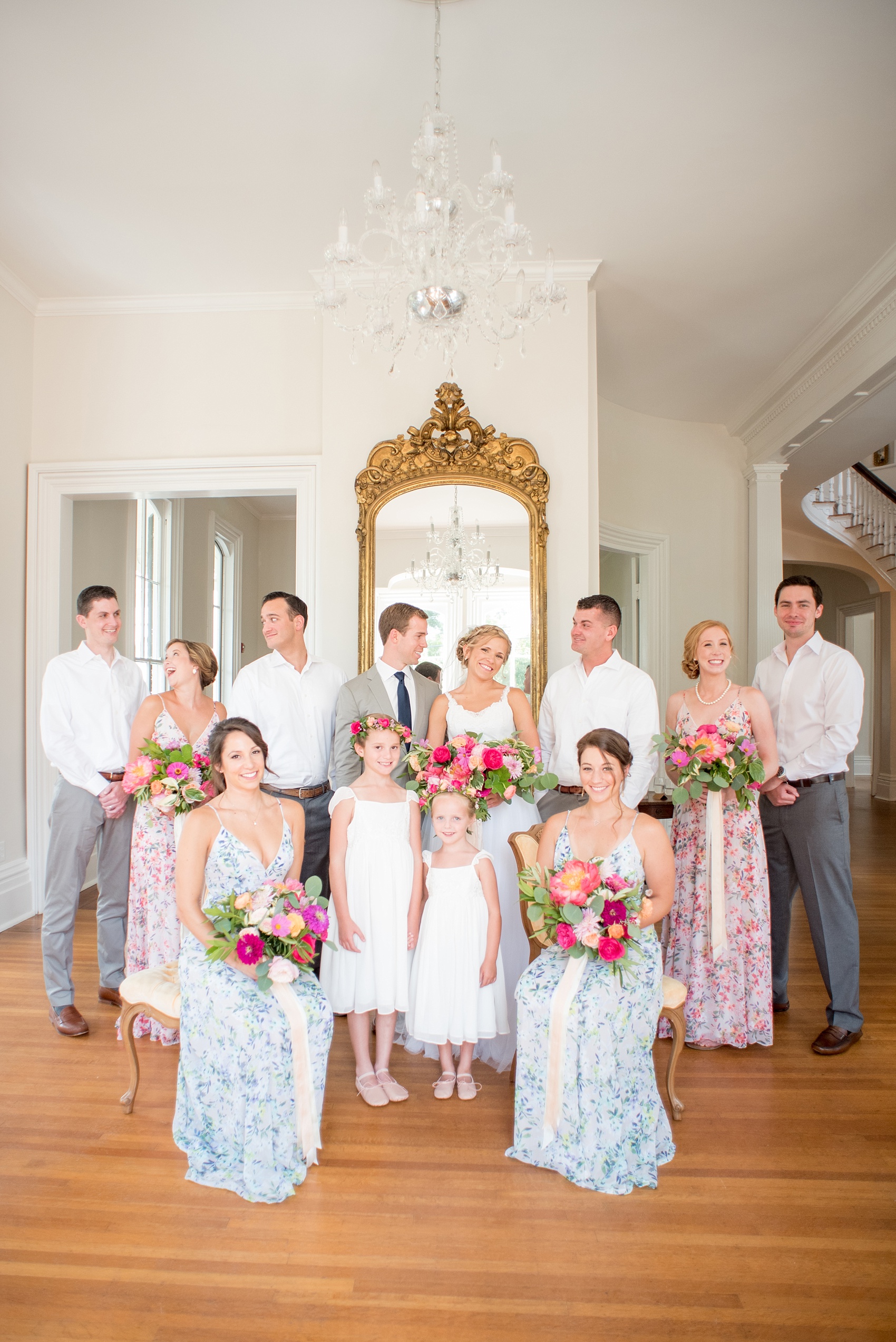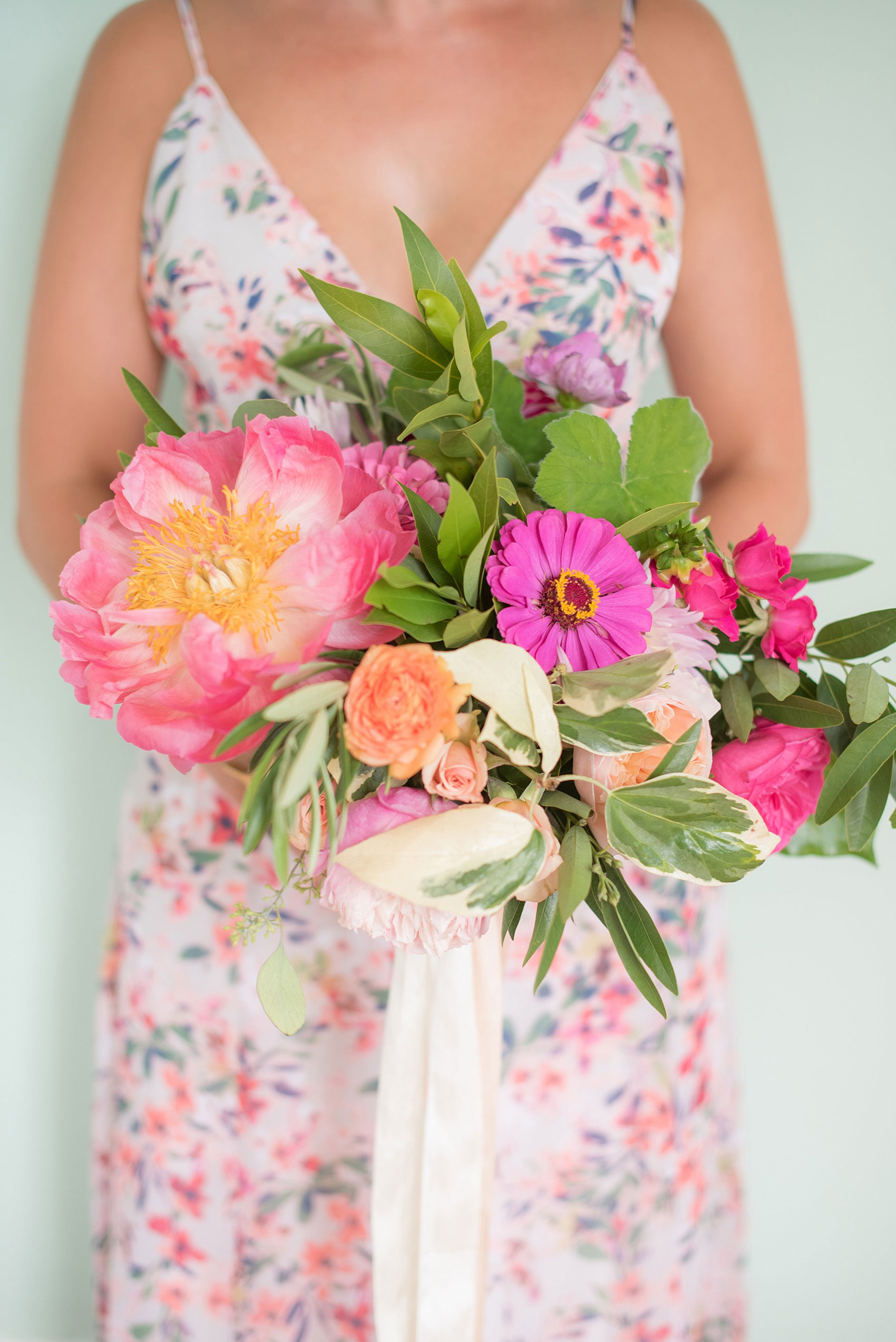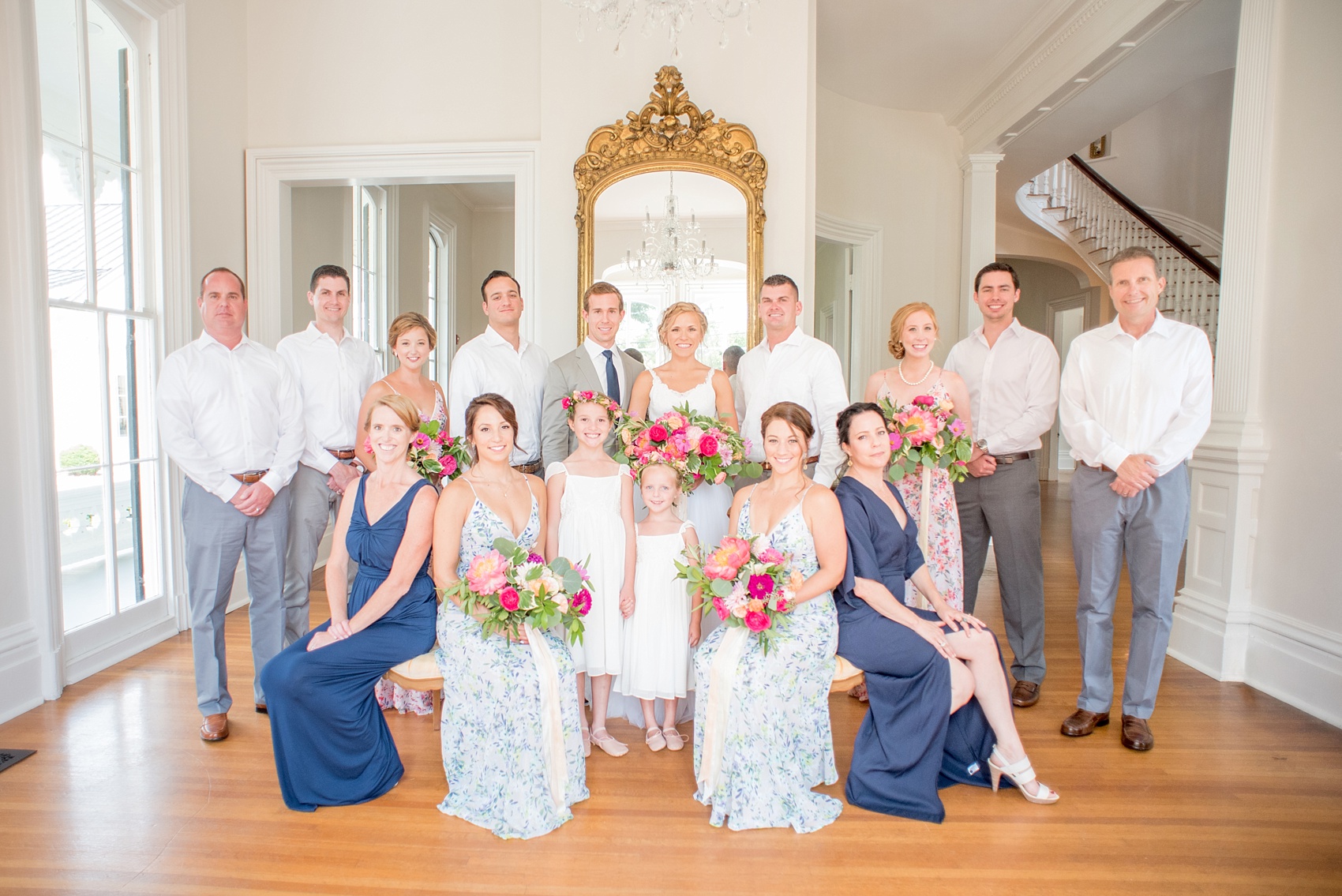 Their wedding party was their best friends, four on each side. But I liked that they included Rob's siblings and brother-in-laws in this "complete" photos. The navy nicely accented the color palette!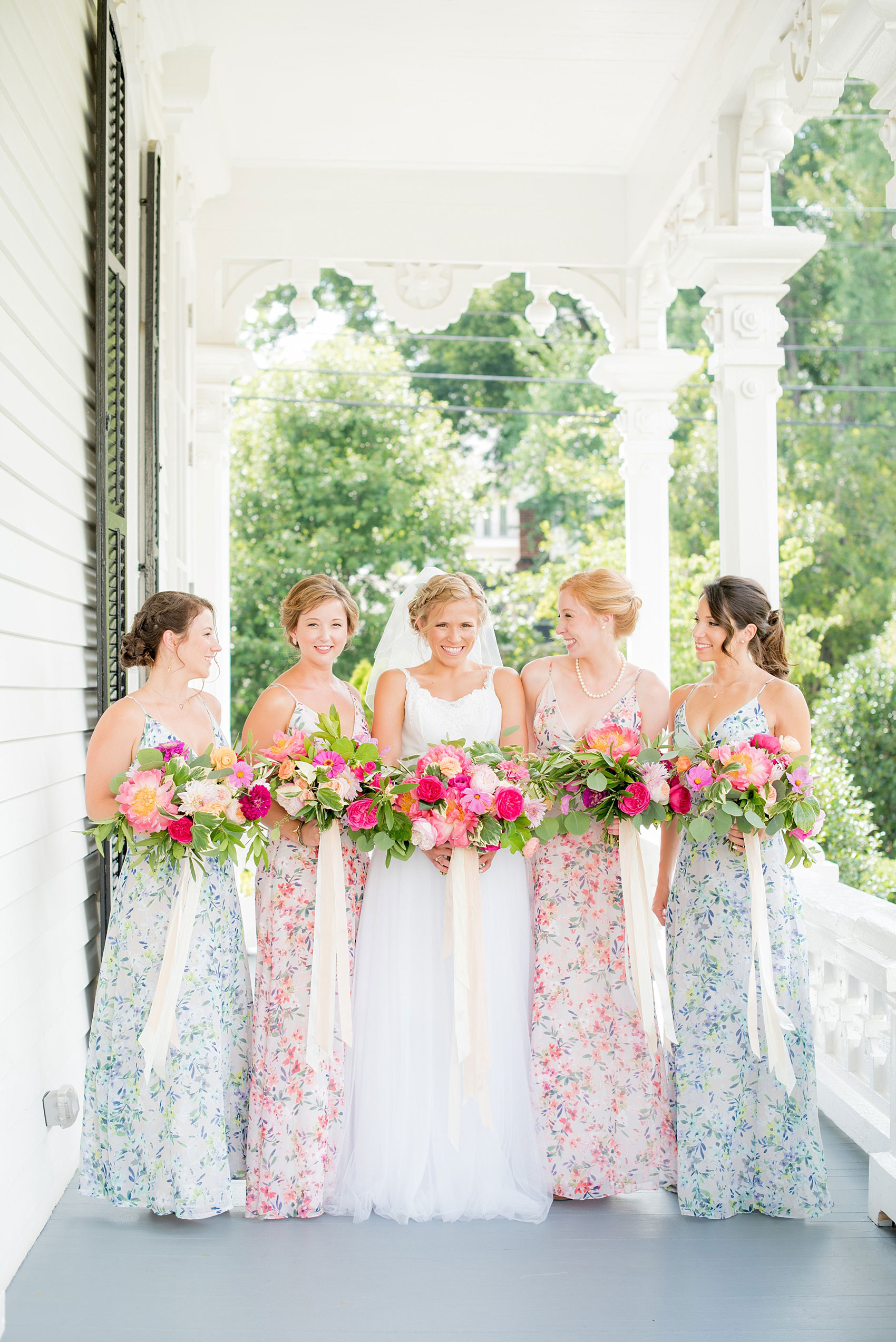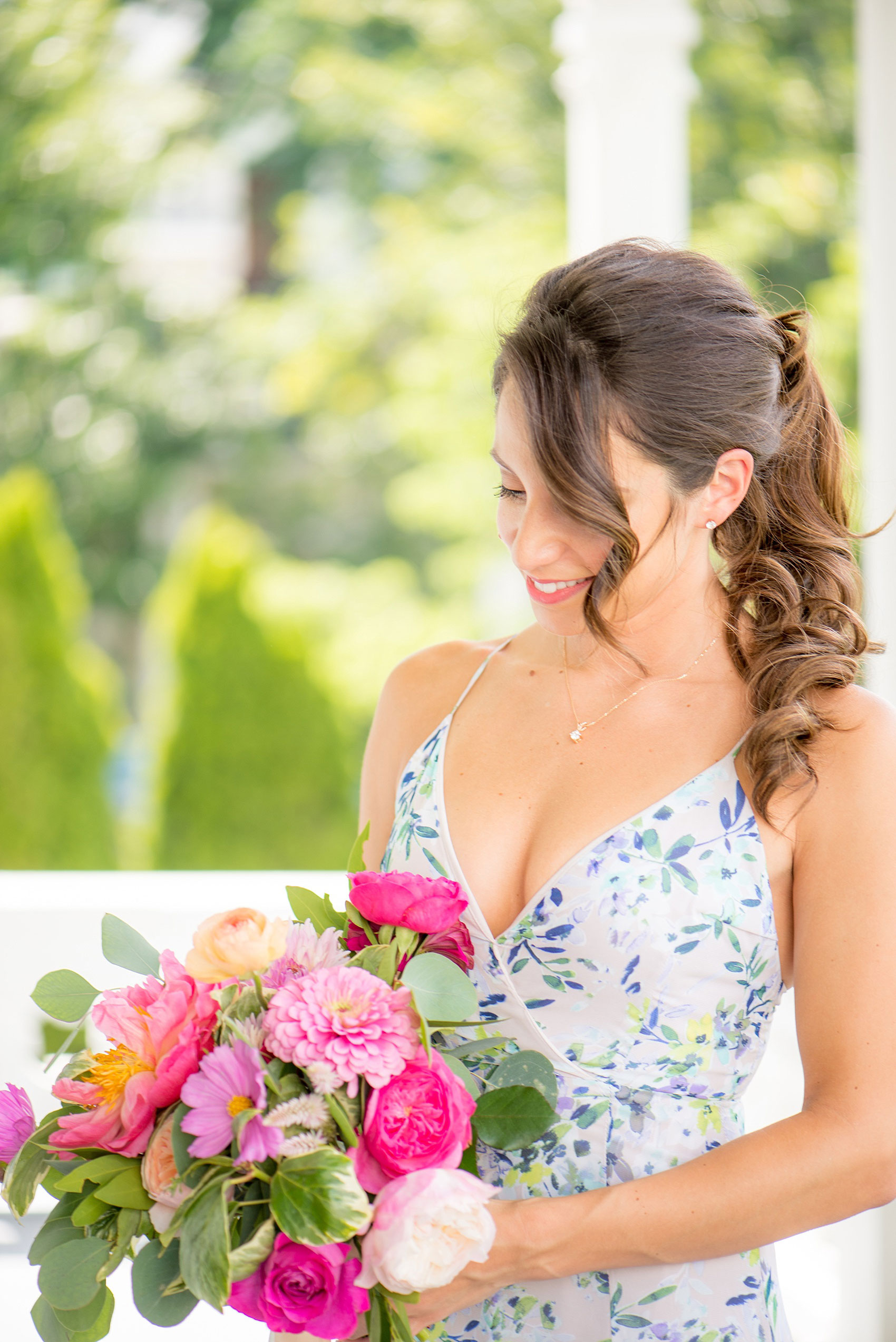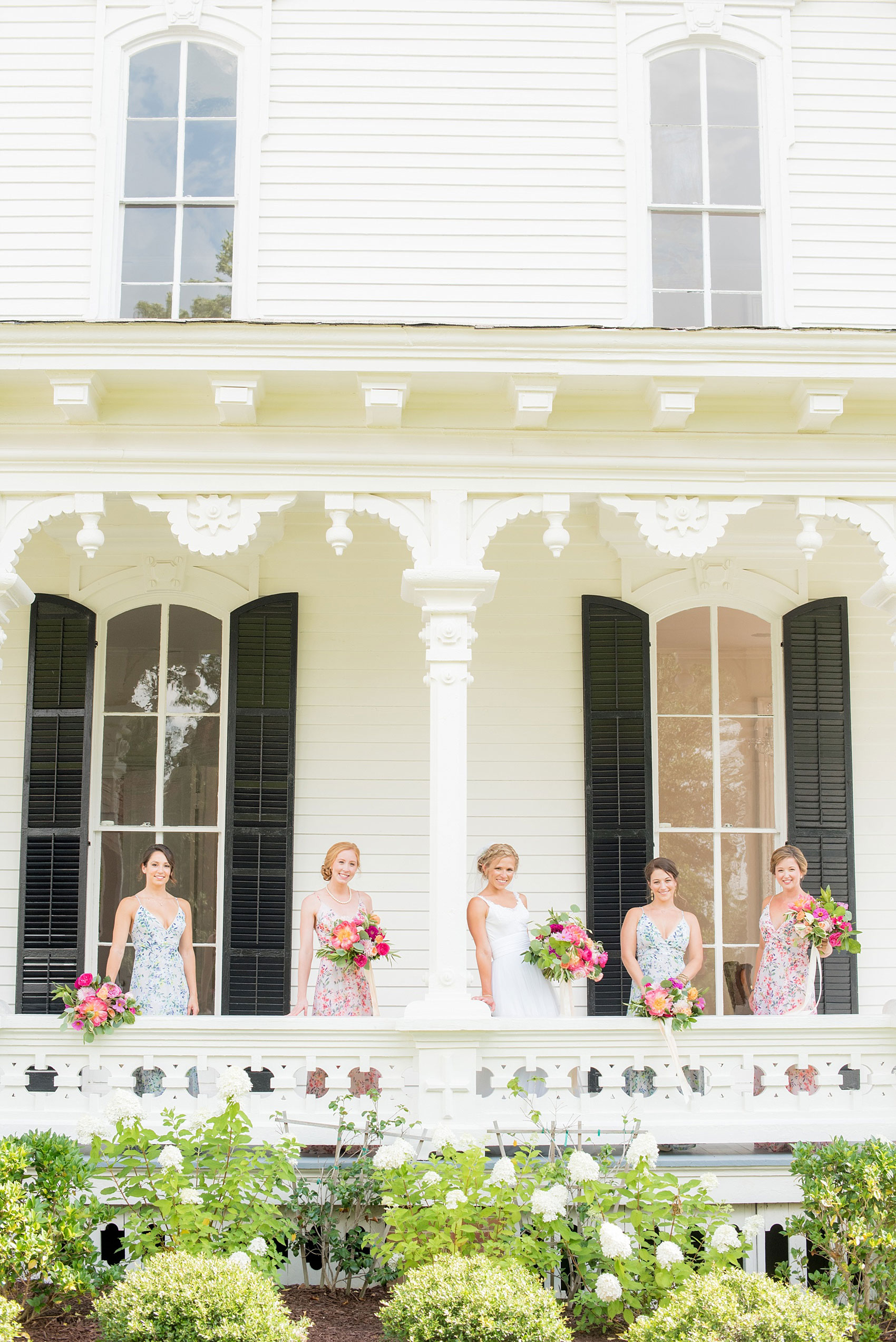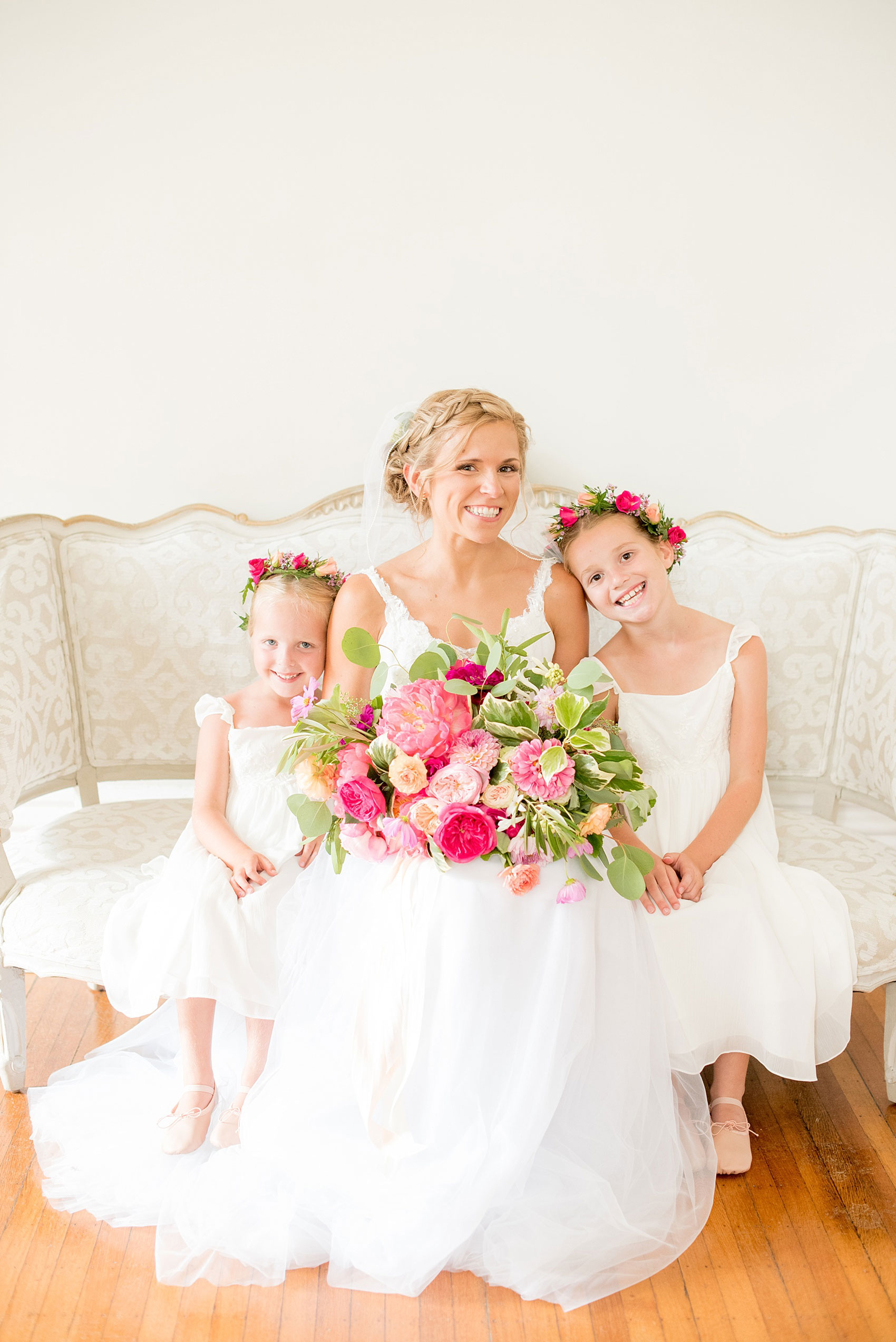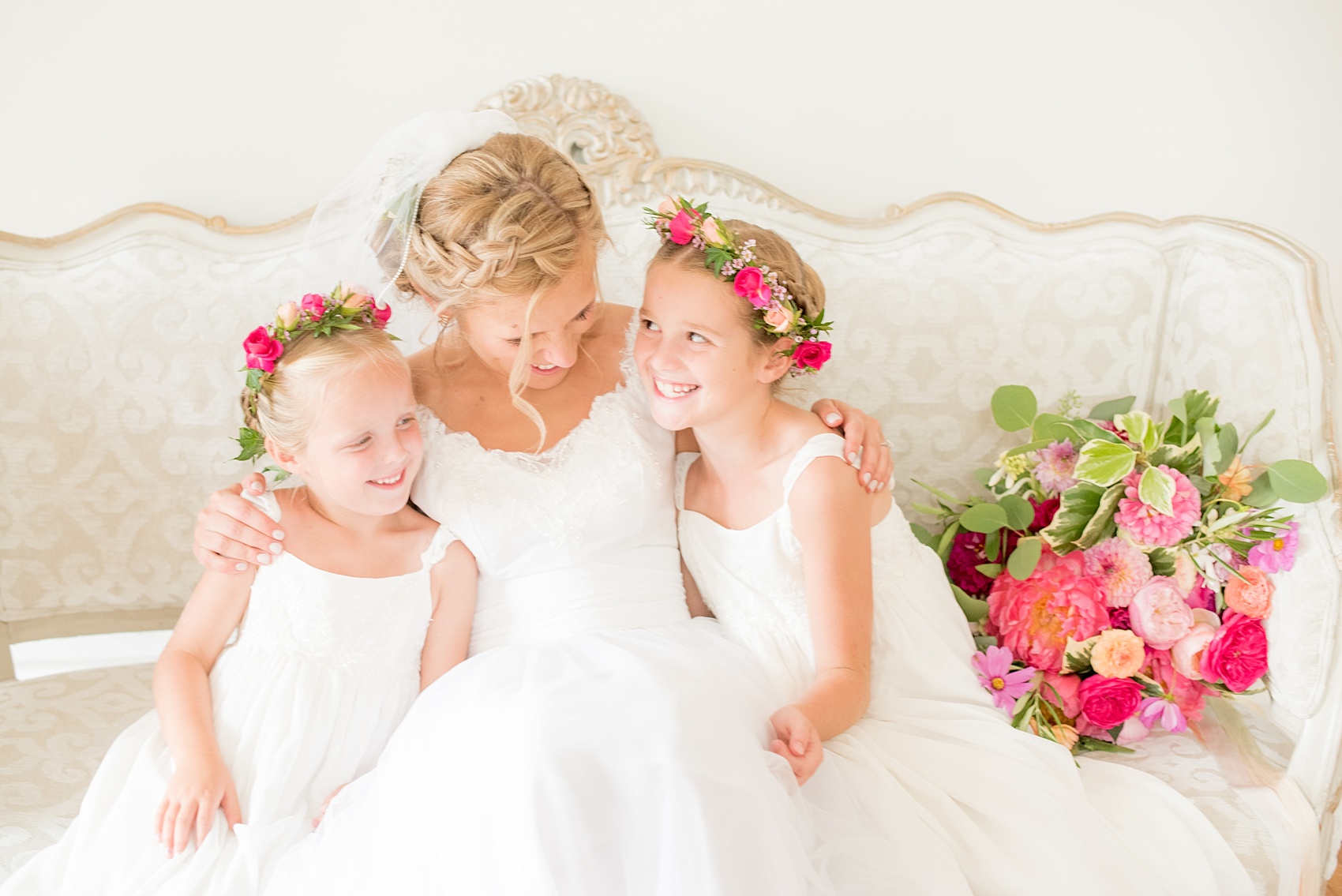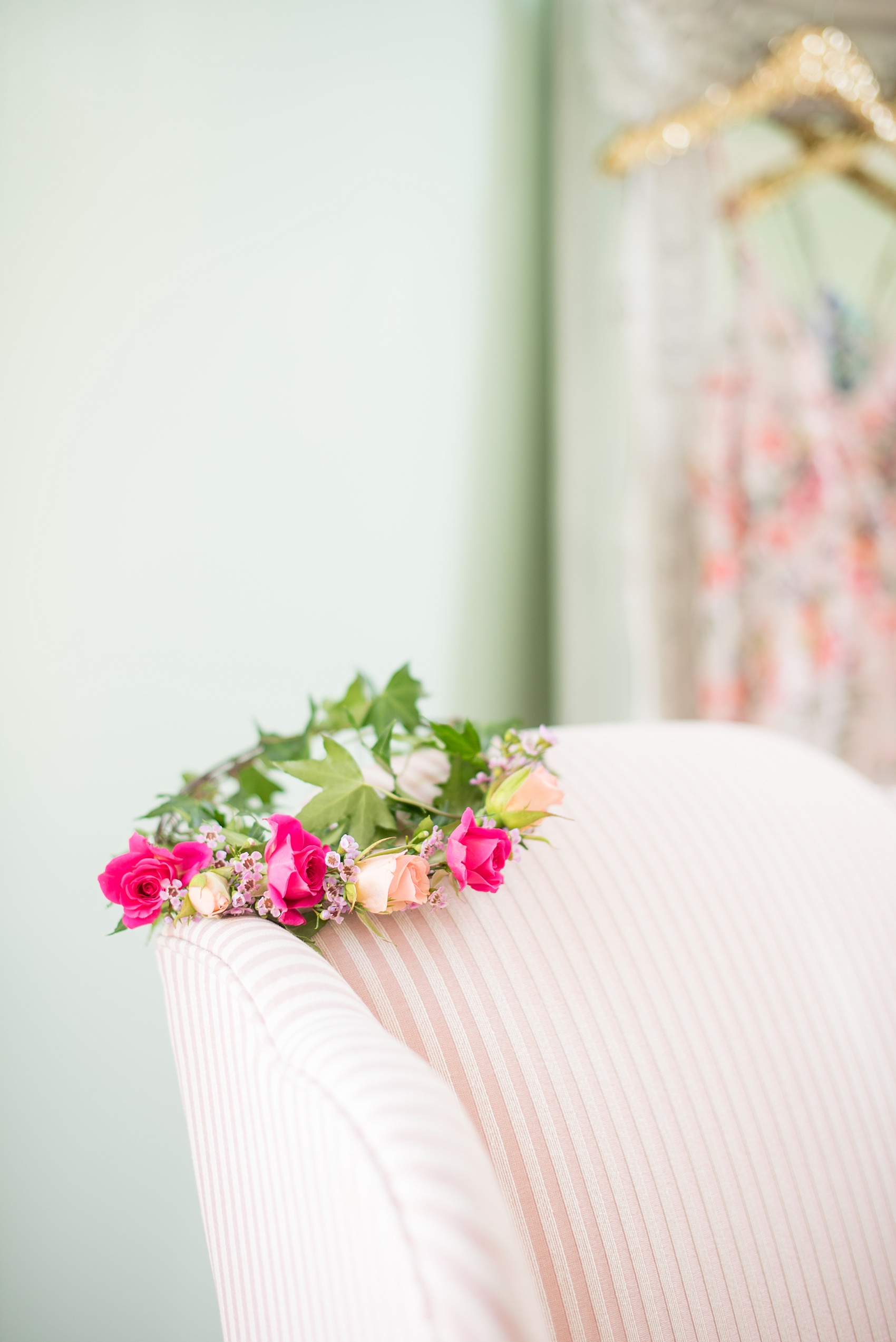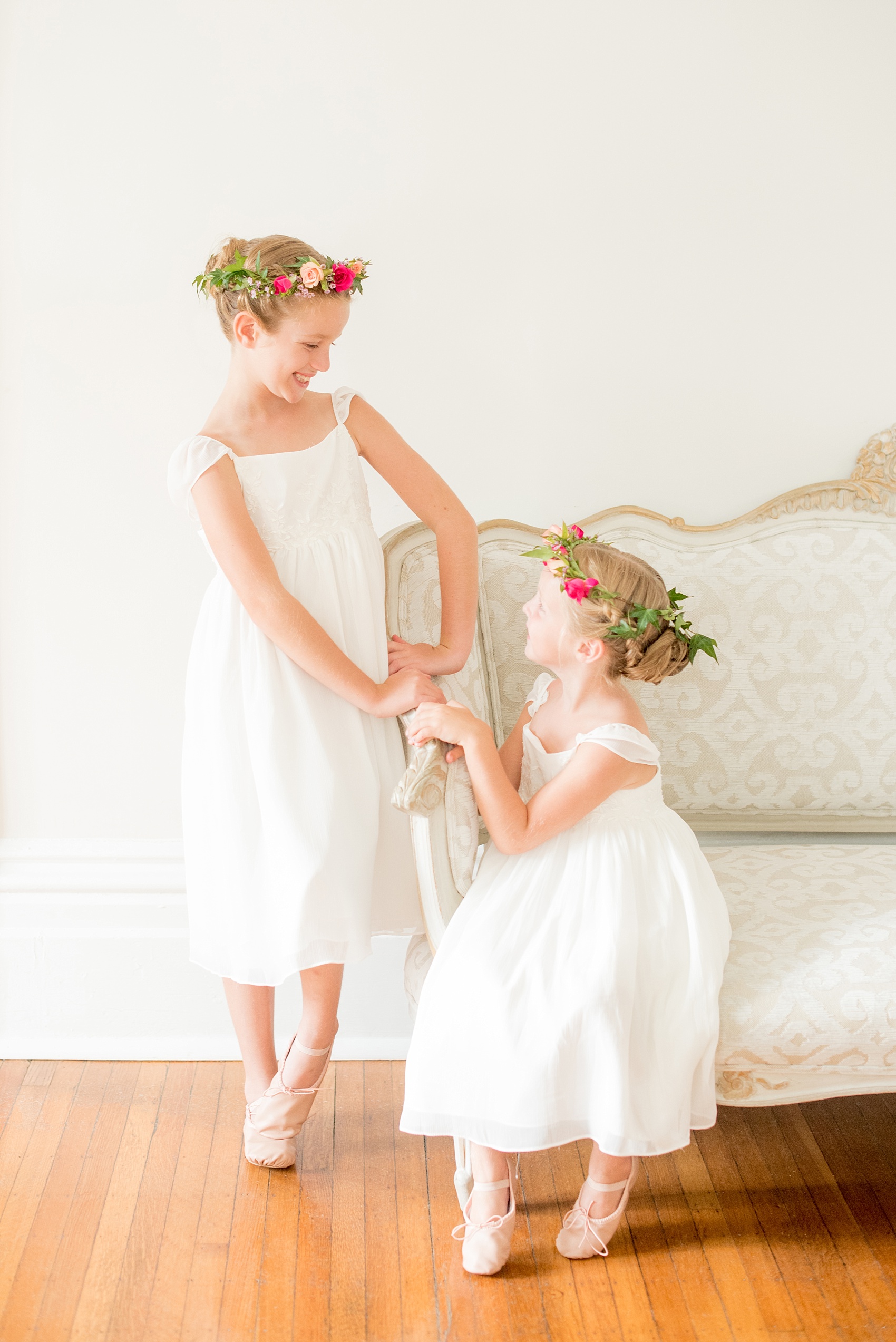 How cute are their flower girls? They look like perfect little ballerina garden fairies!
Their welcome bags included a touch of the south and the north: Cheerwine and a Black + White cookie straight from NY, where Nicole and Rob met and a lot of their guests live.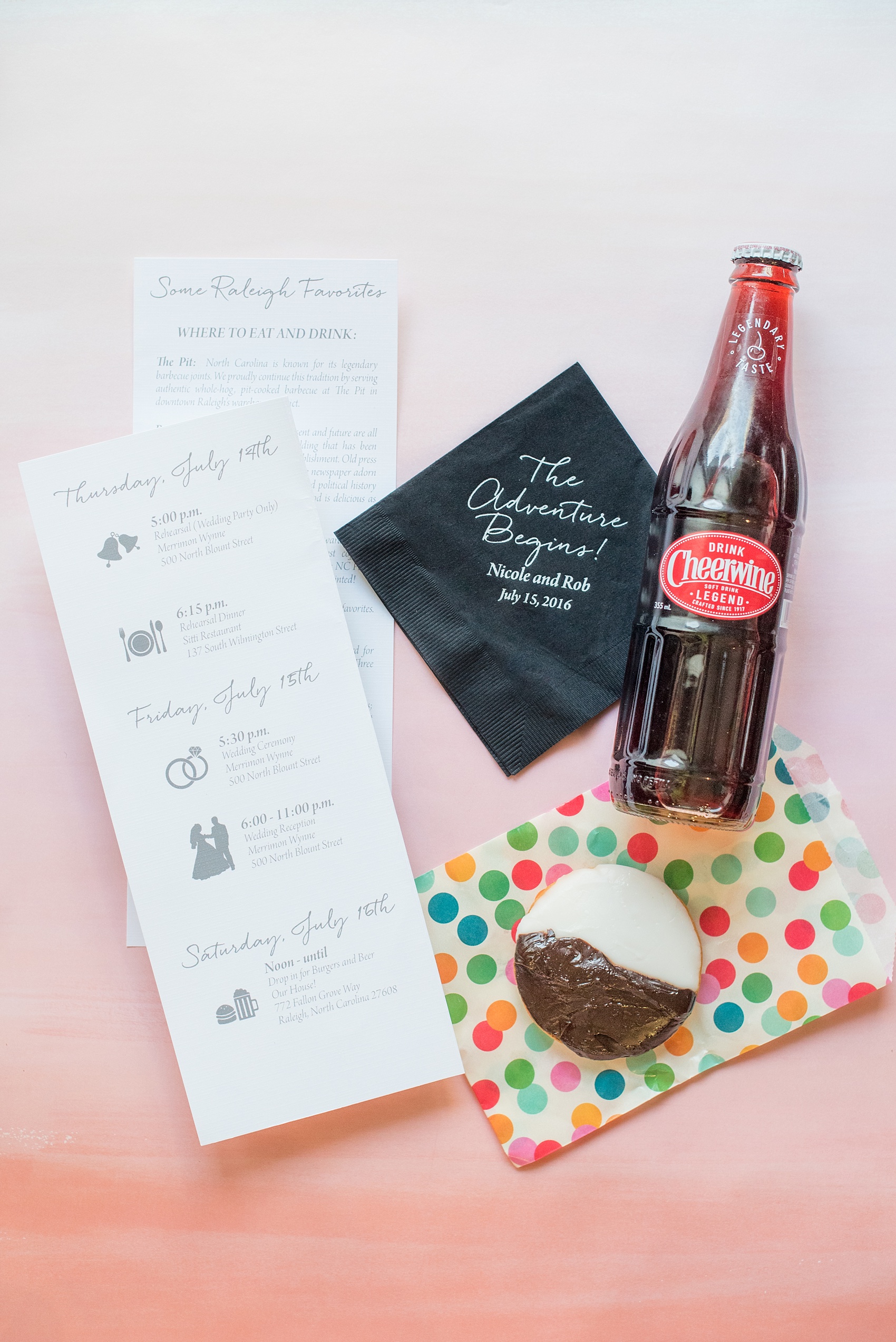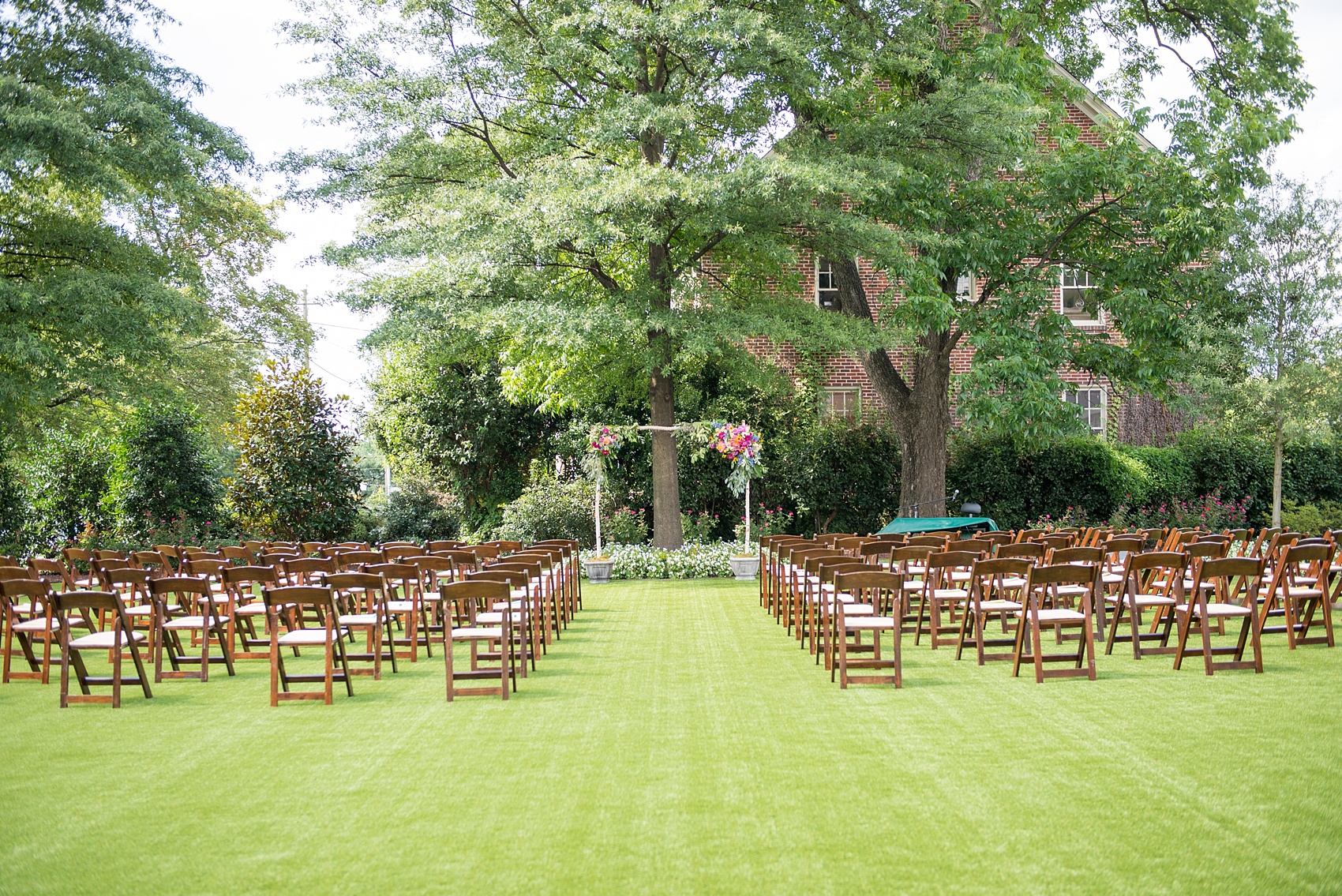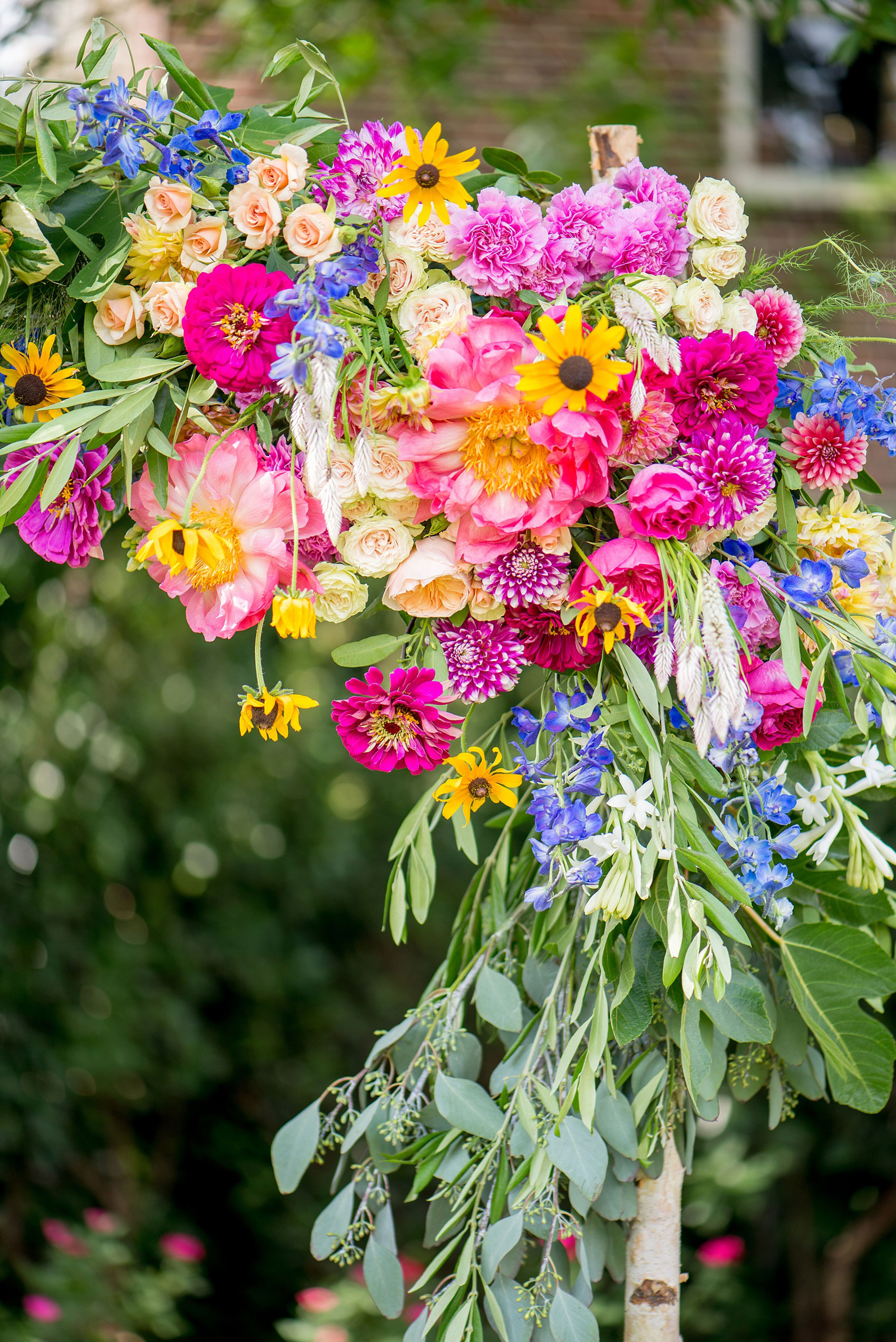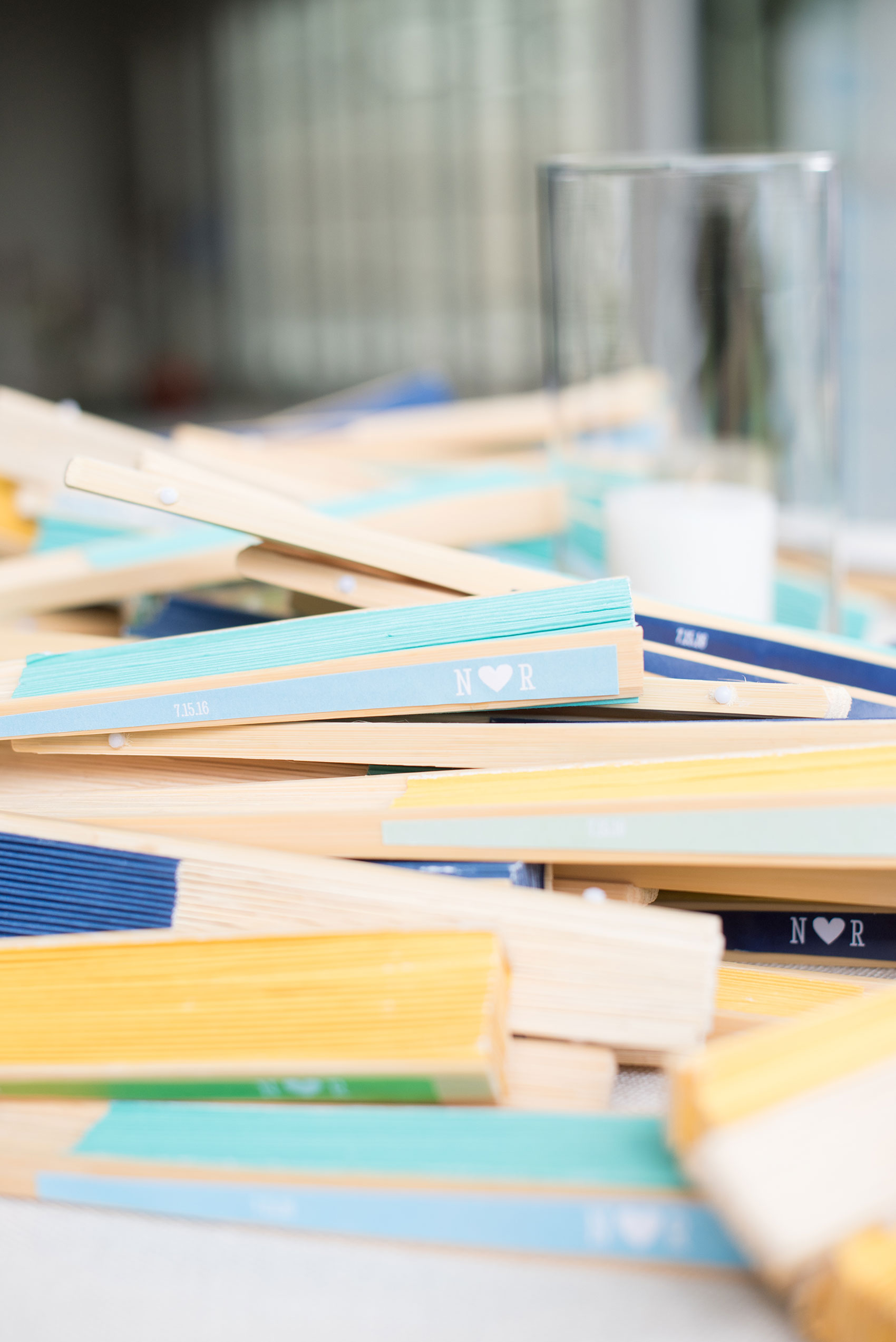 Their custom fans were great for the heat. Though the ceremony was set for outdoors the rain forecast took the nuptials inside. Everyone rallied to help move everything indoors in record time! A few of the men moved the beautiful, vibrant birch branch floral arch indoors and the chairs were quickly carried into the carriage house. Pretty soon…they were MARRIED!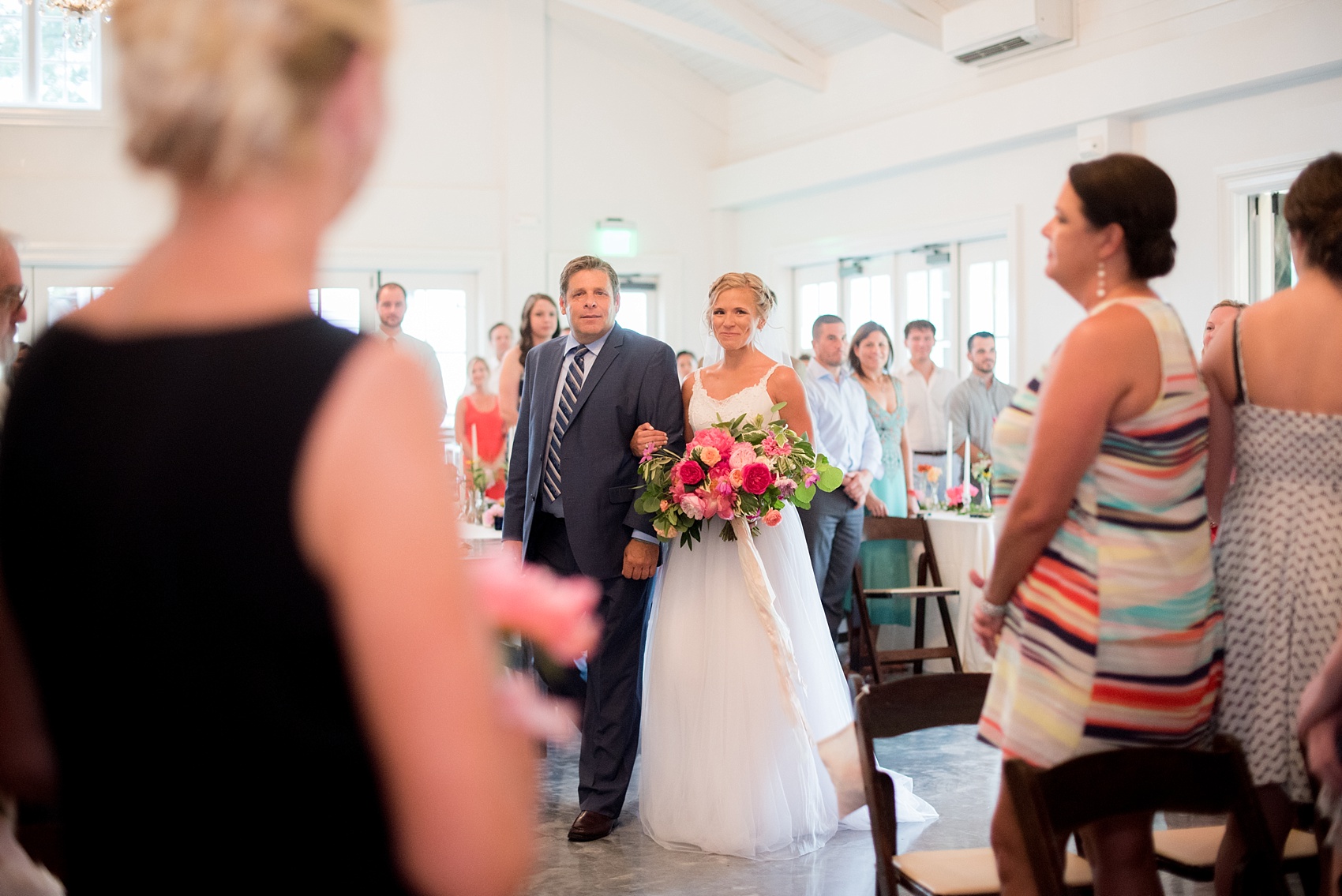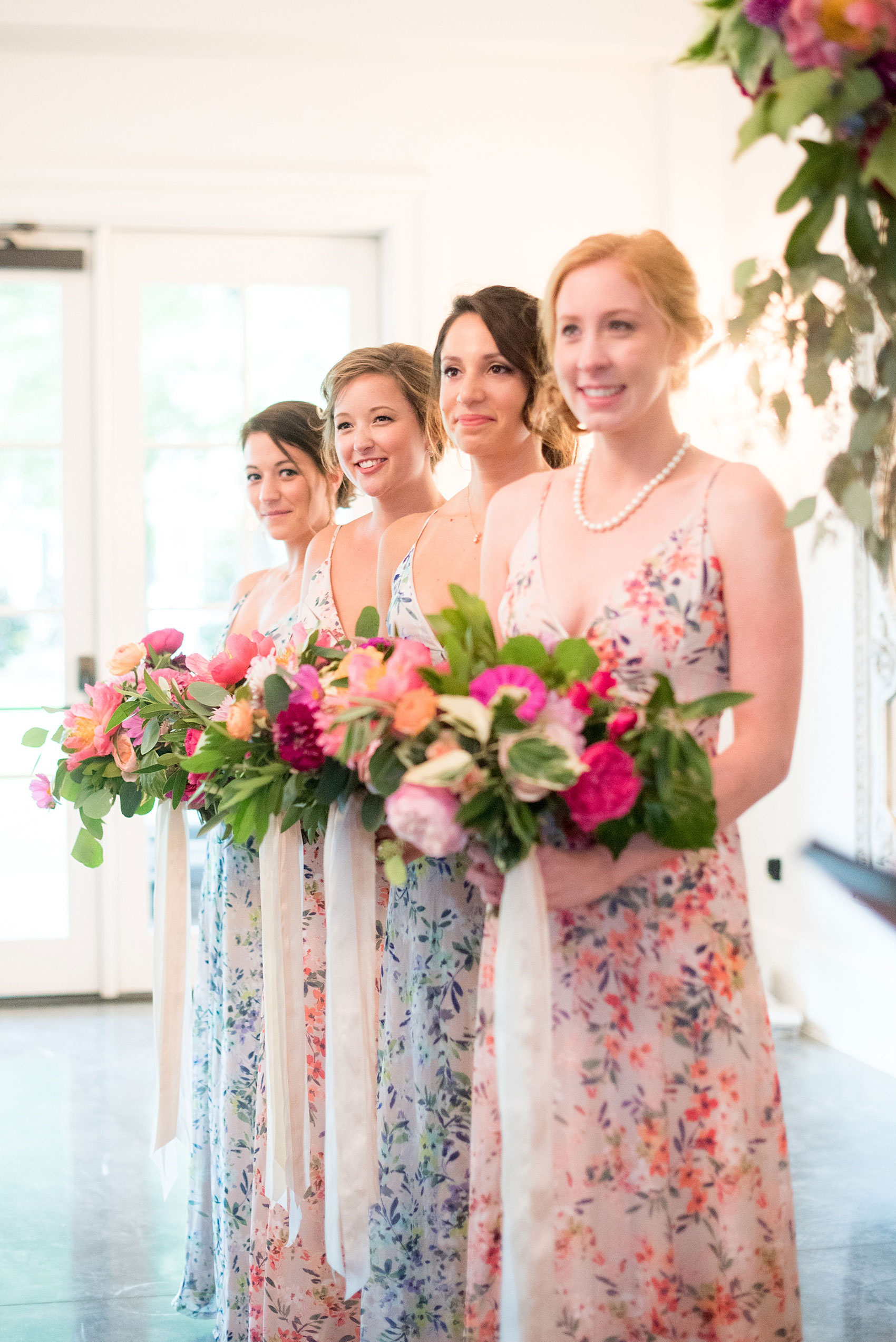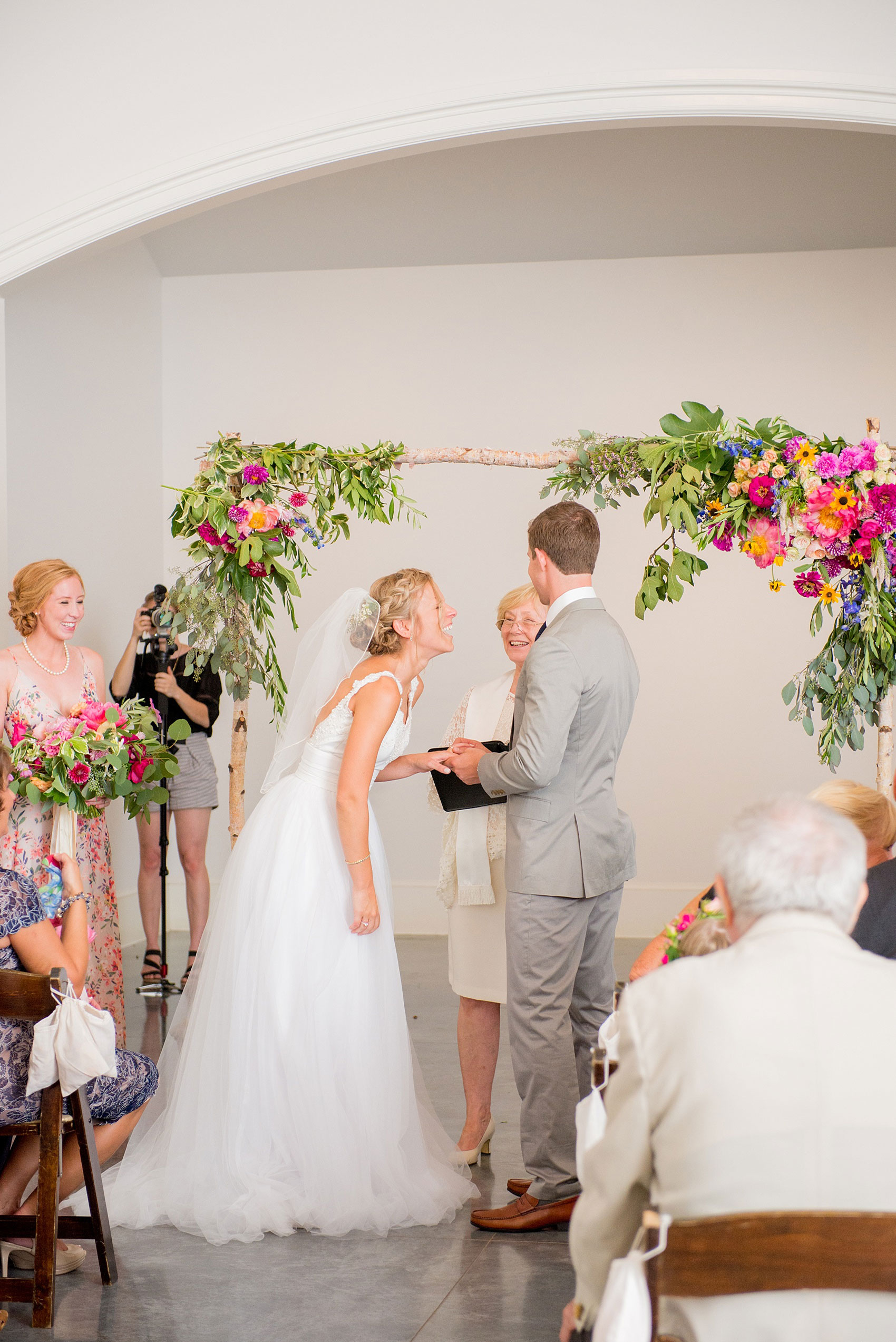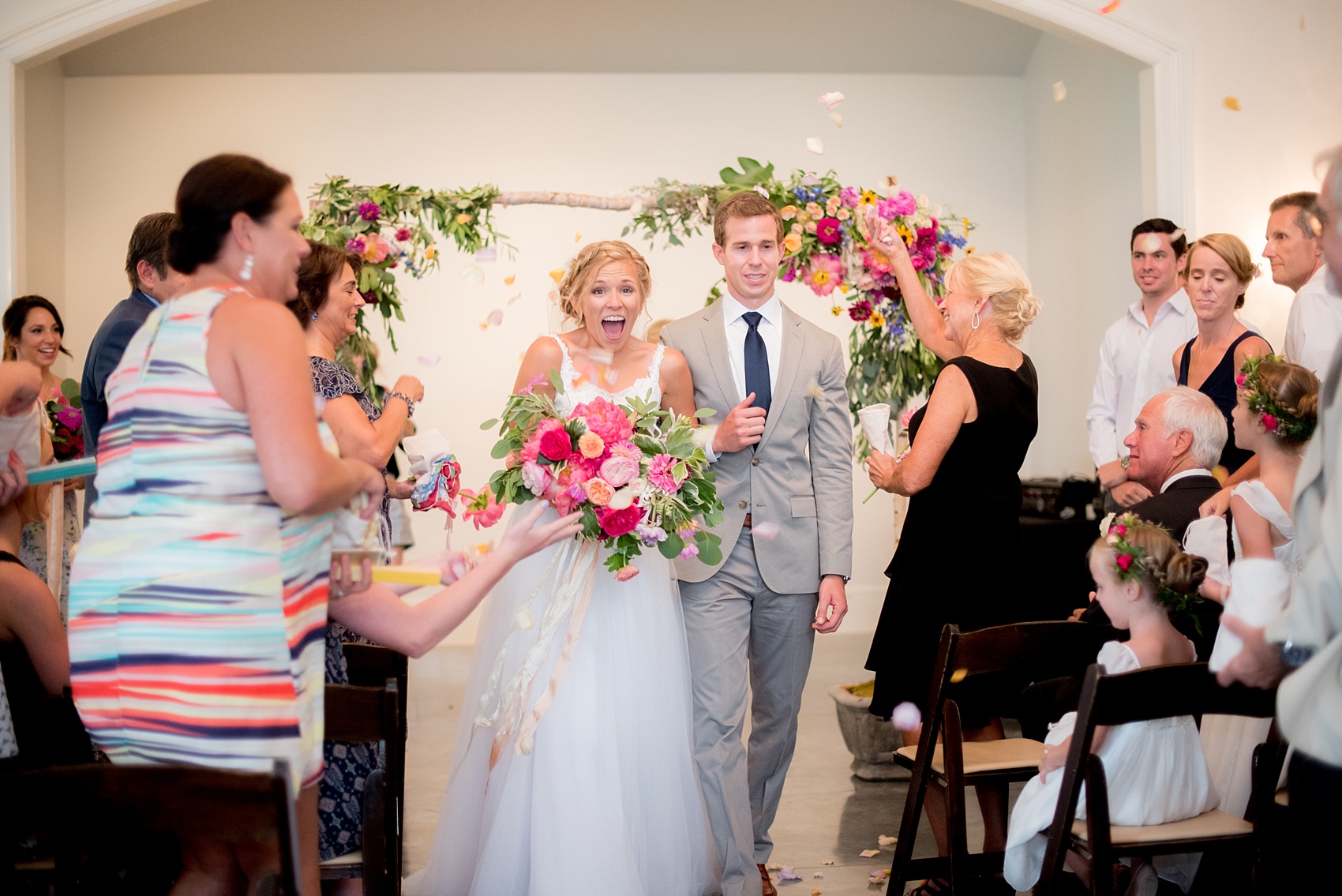 They opted to have their guests toss colorful rose petals as they recessed up the aisle and the effect was beautiful! It was important to take a moment immediately following their ceremony to enjoy a toast with their wedding party; it's now one of my favorite things I've seen at a wedding. No one's ever done such a sweet toast after the ceremony like this!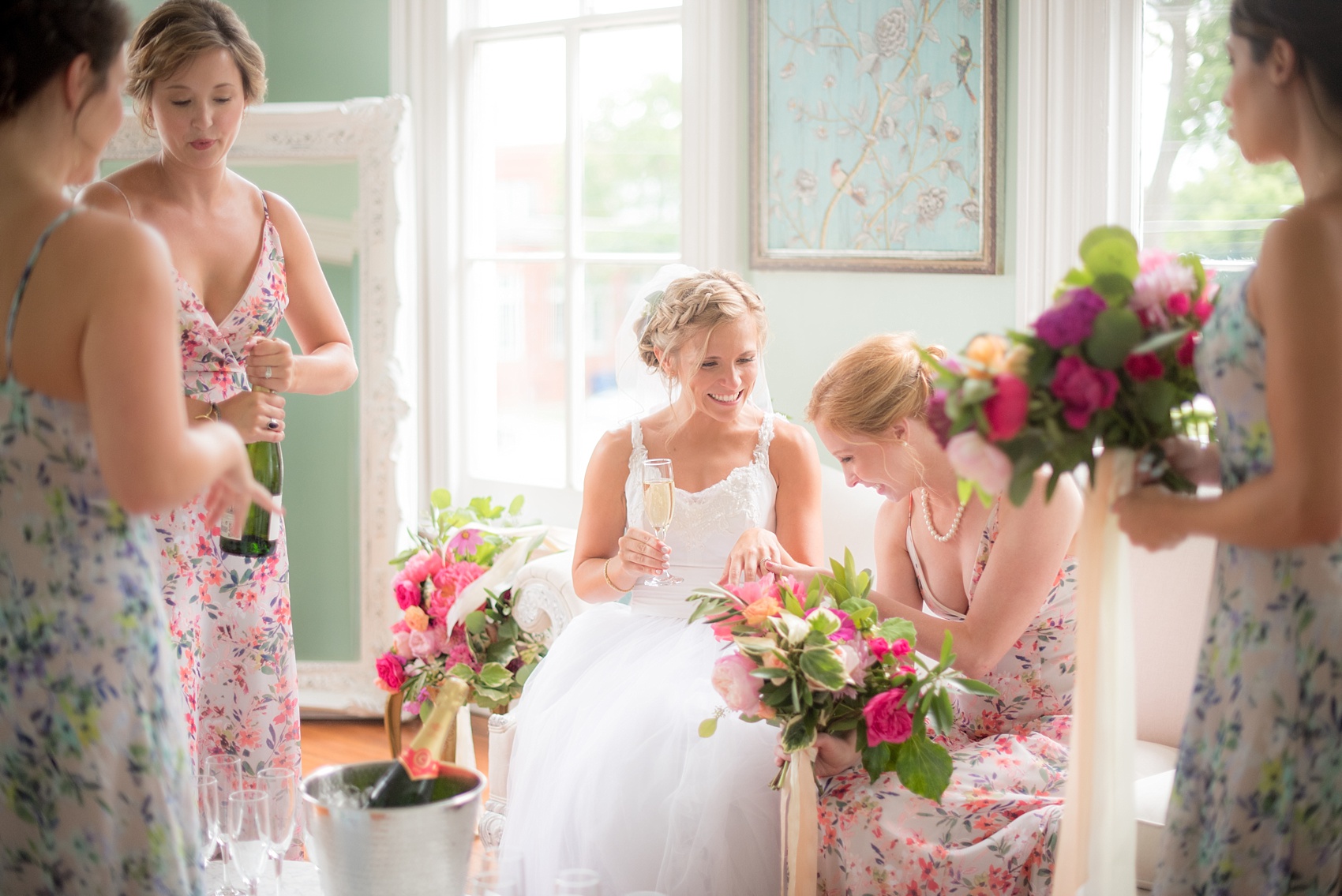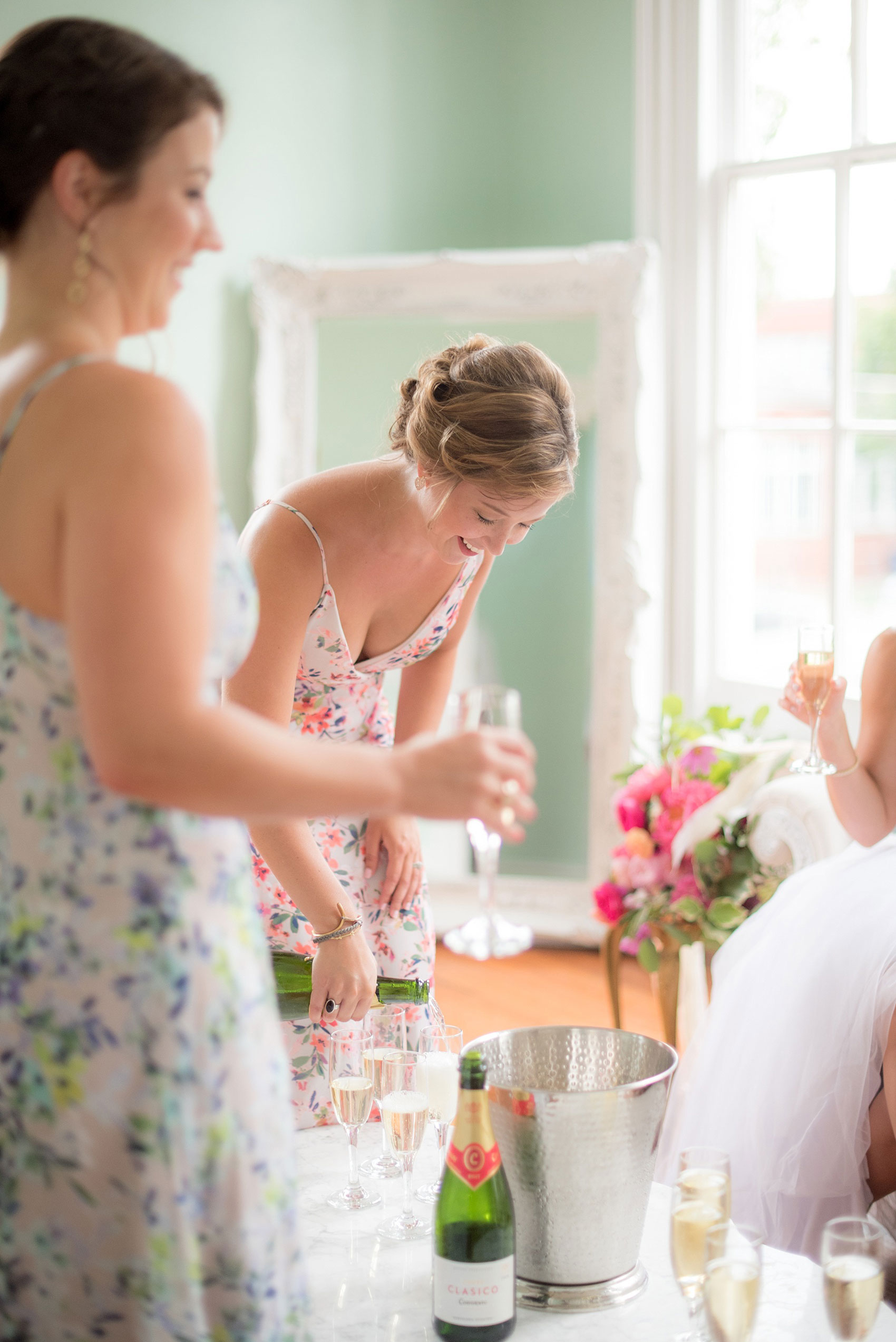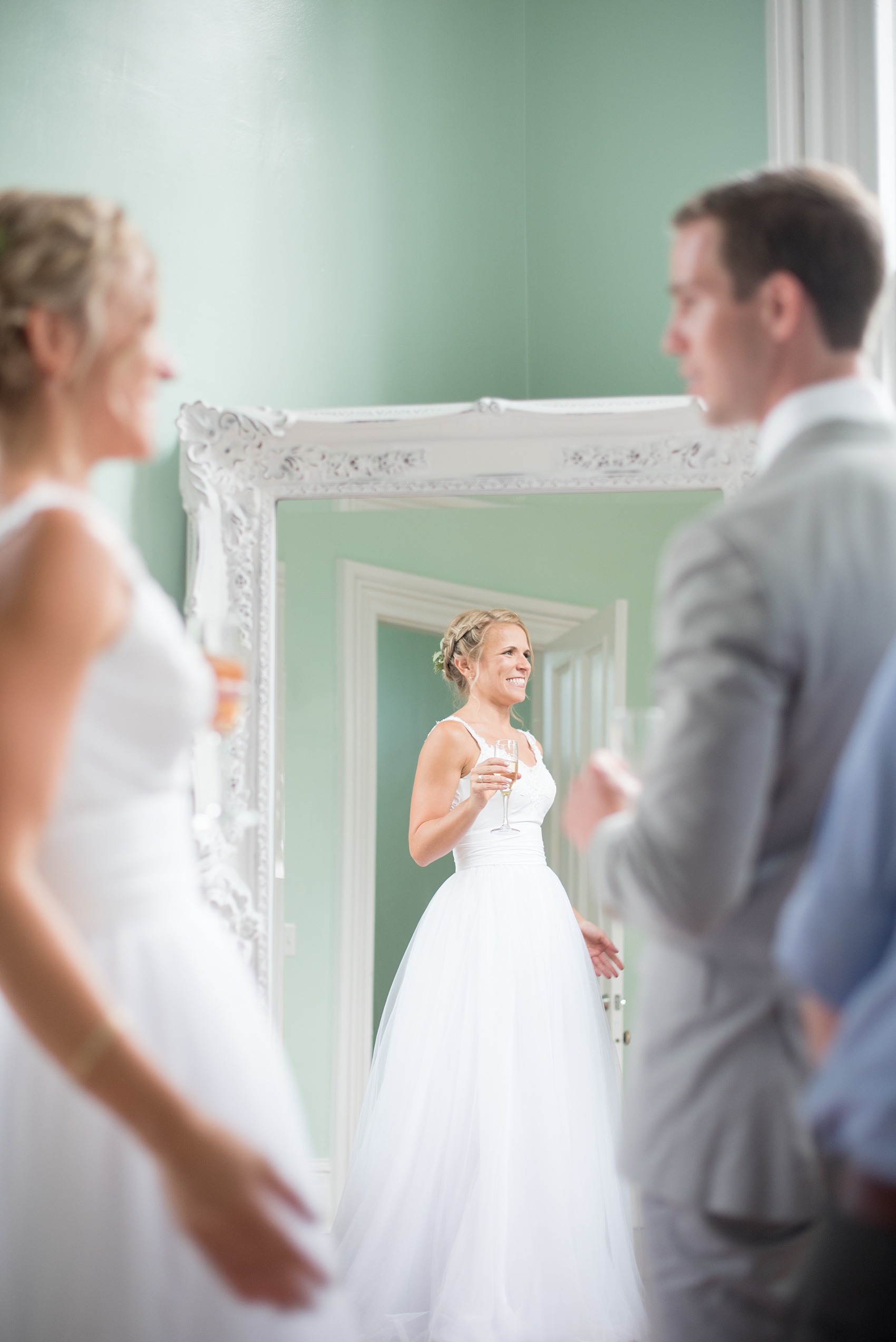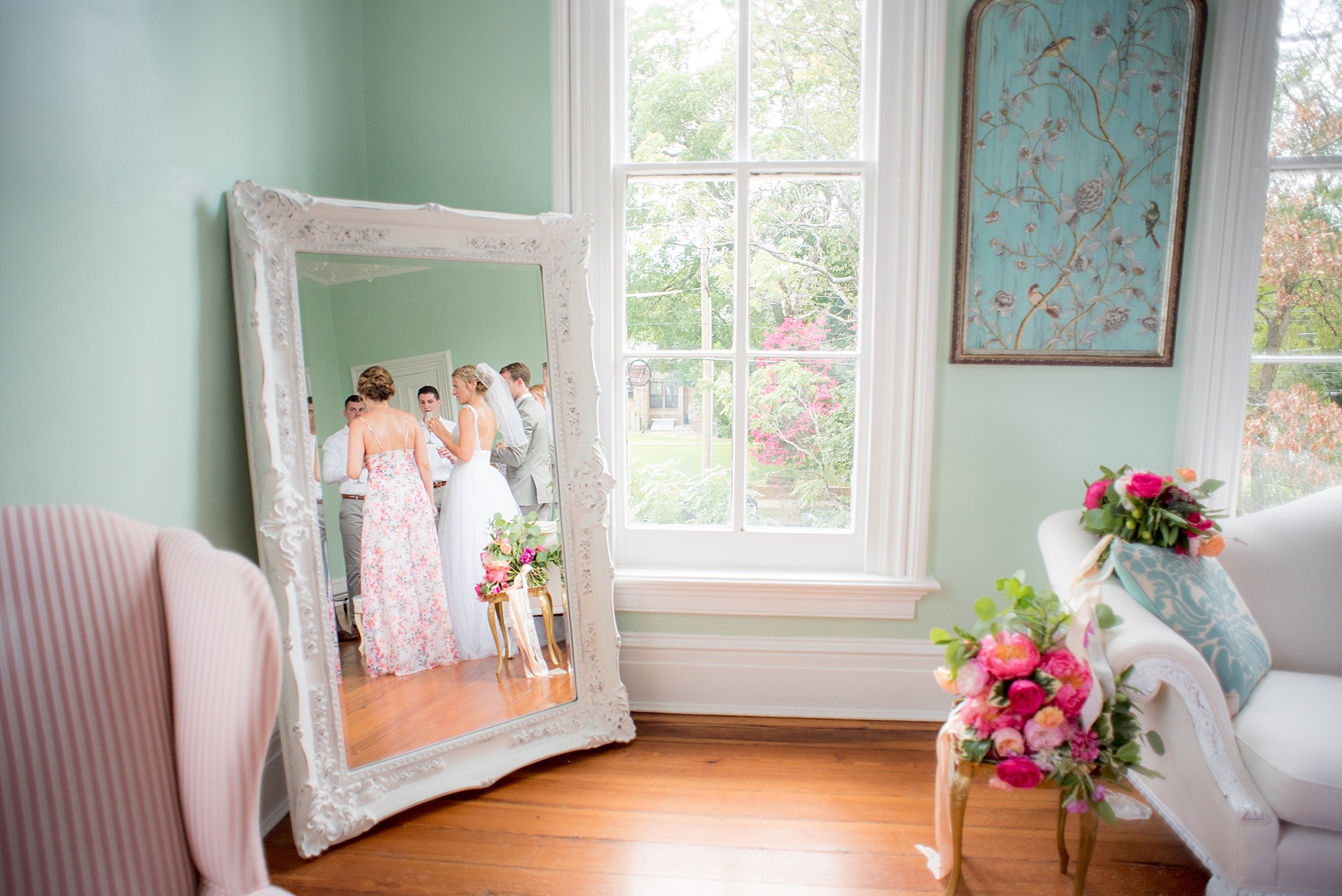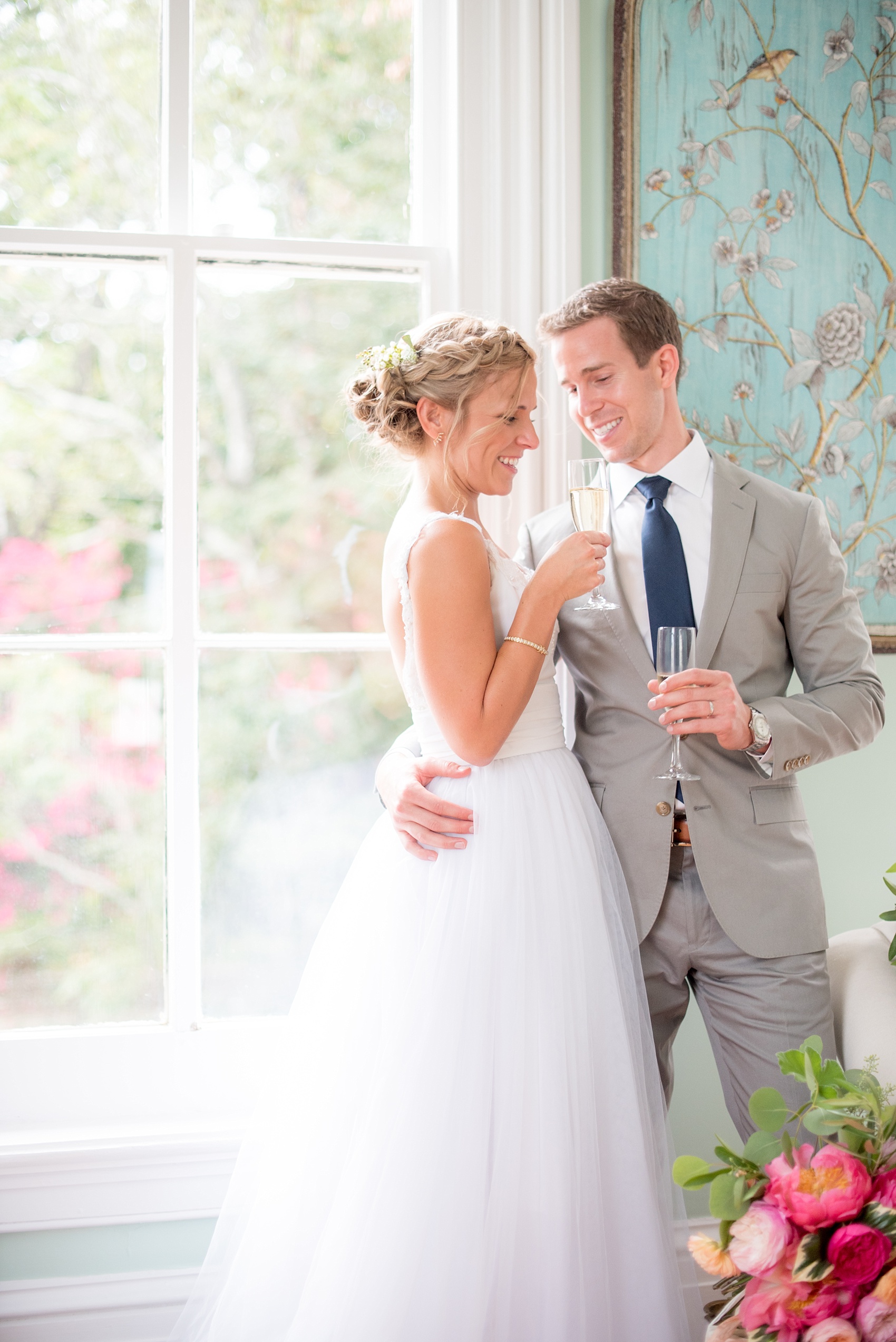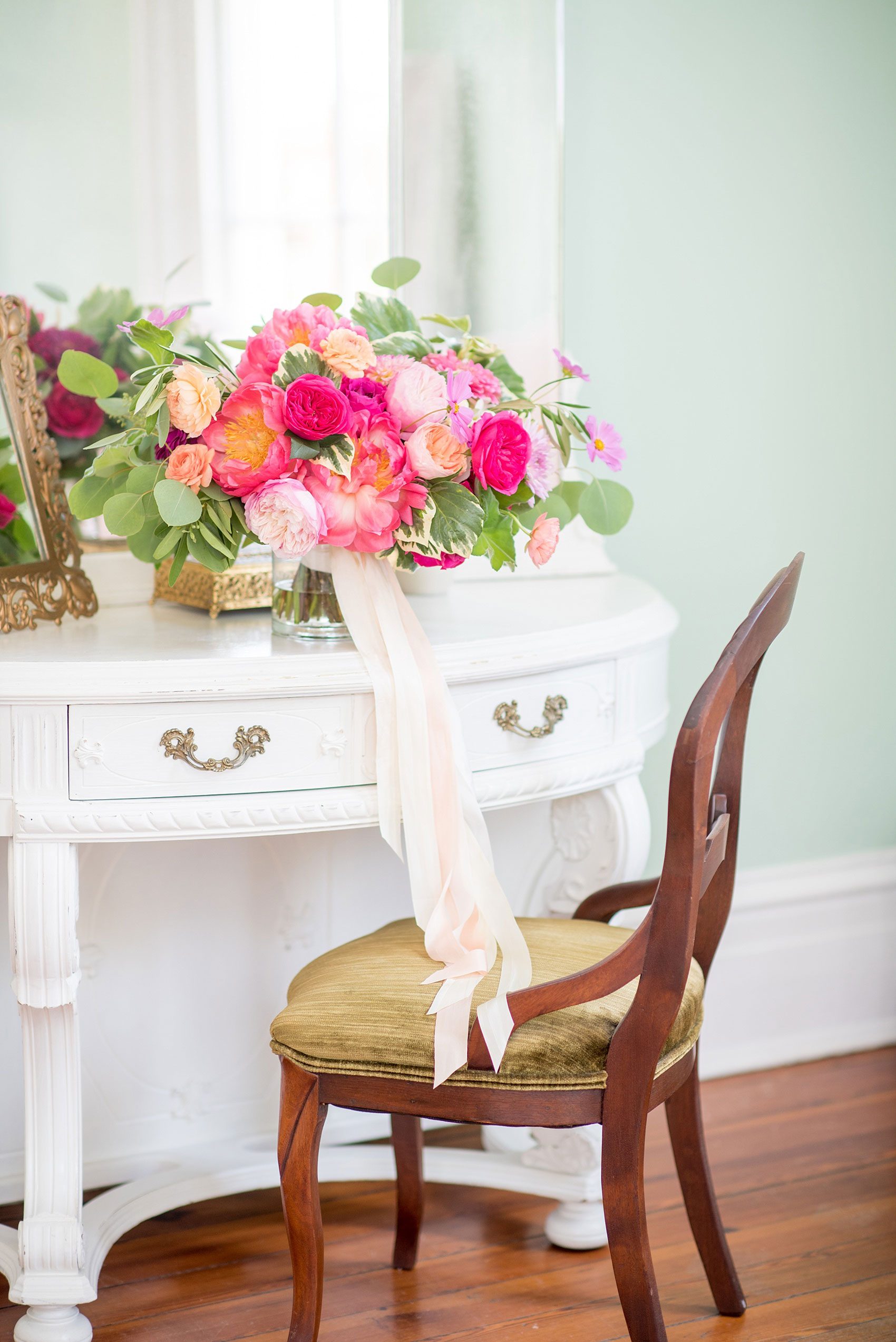 Nicole's gown was altered from her mother's wedding dress, which is so very special. To put her own twist on it she had alterations done to make it fit her vision for the day, including a second look! For the reception, her tulle skirt came off to reveal a tea-length skirt beneath it (which showed off her shoes quite perfectly, I have to say) and she attached a white bow to the back over the belt she had on for the first half of the day.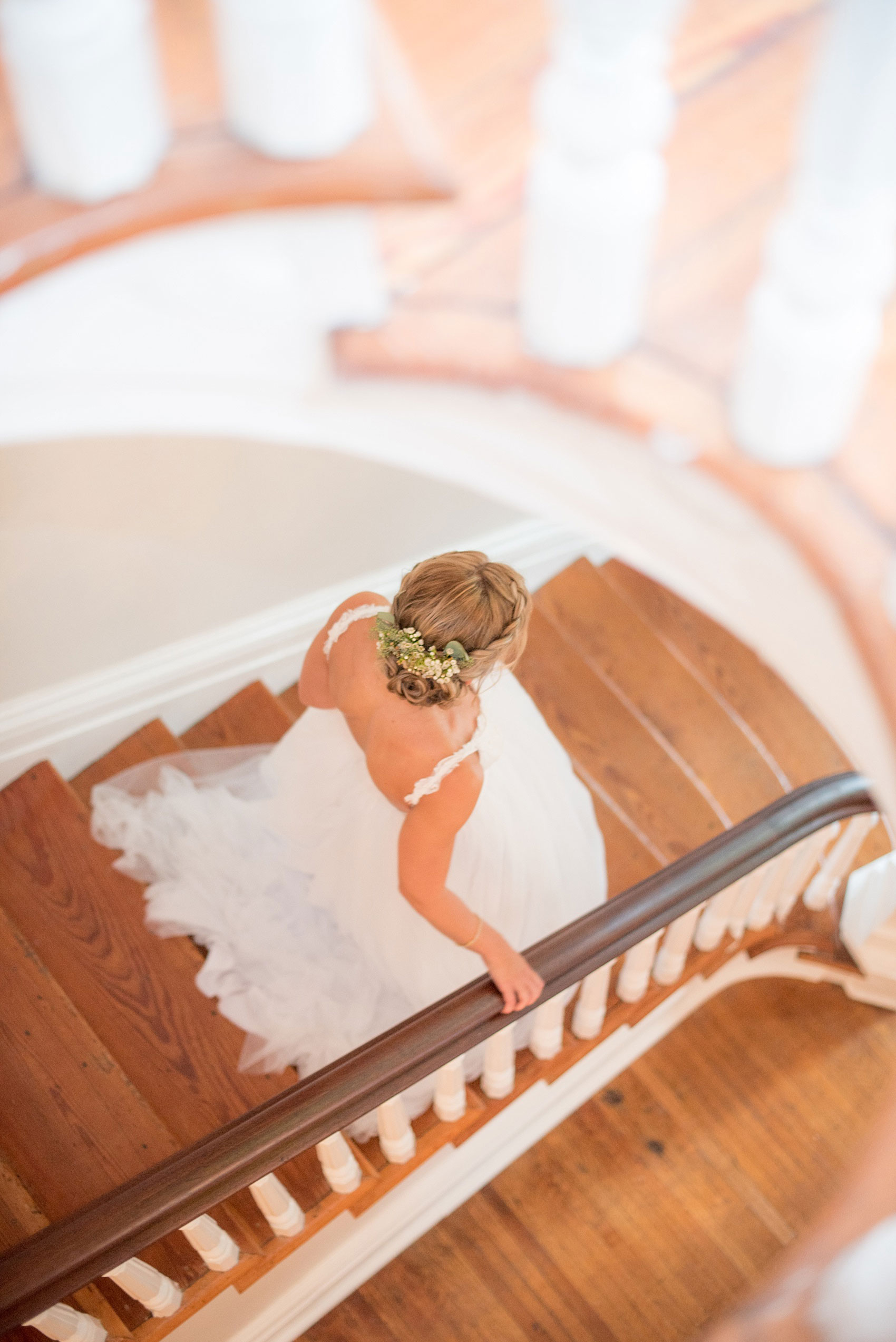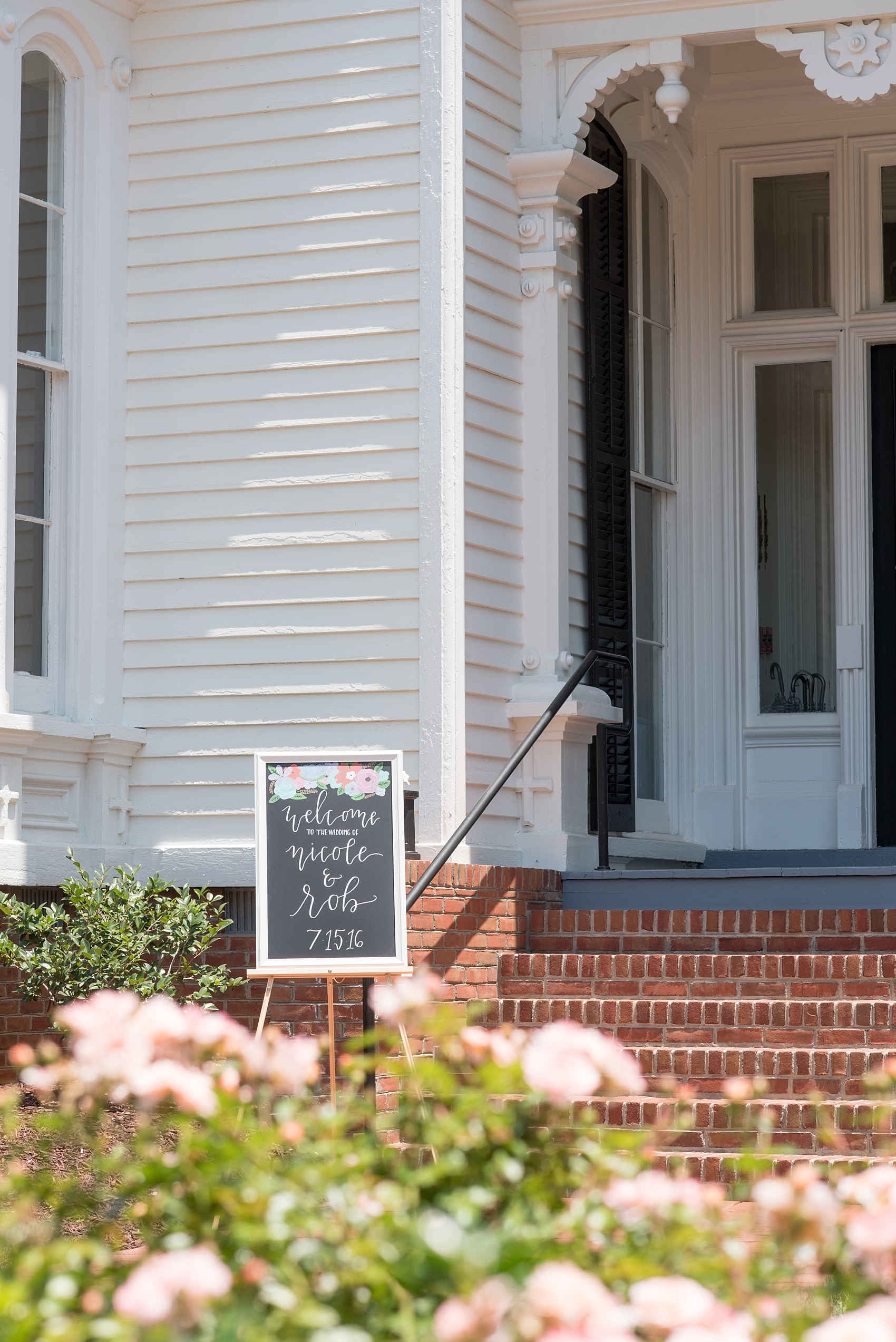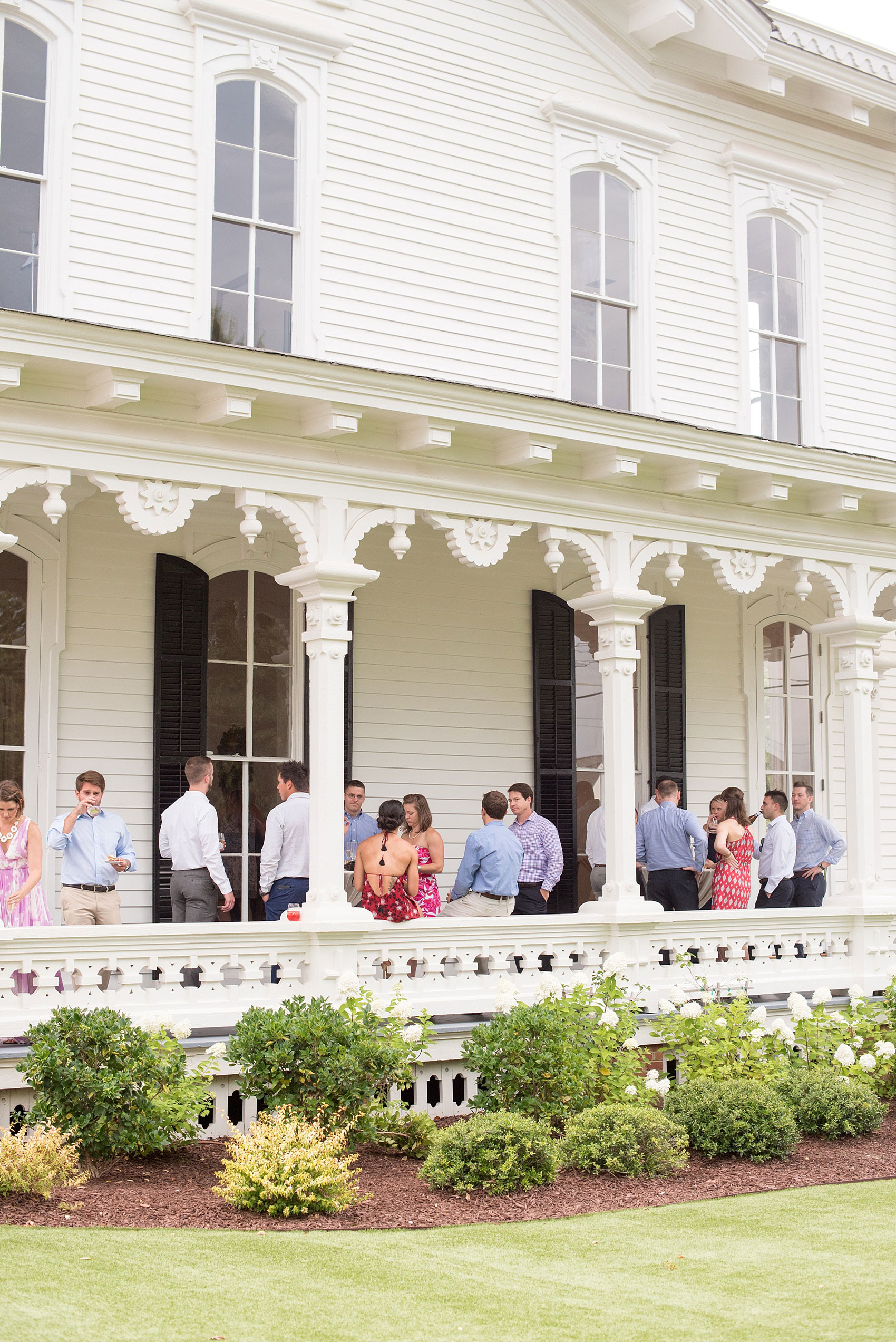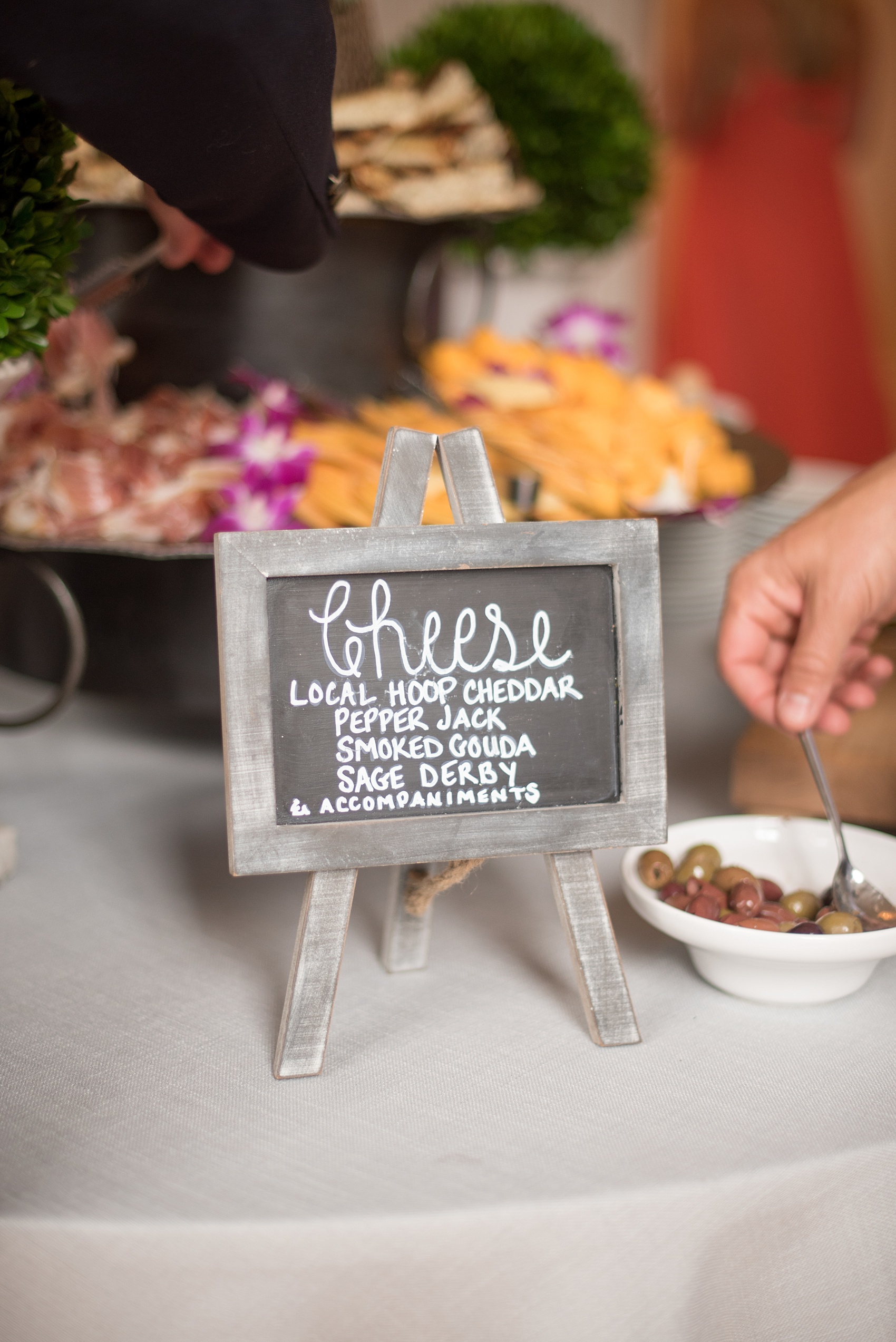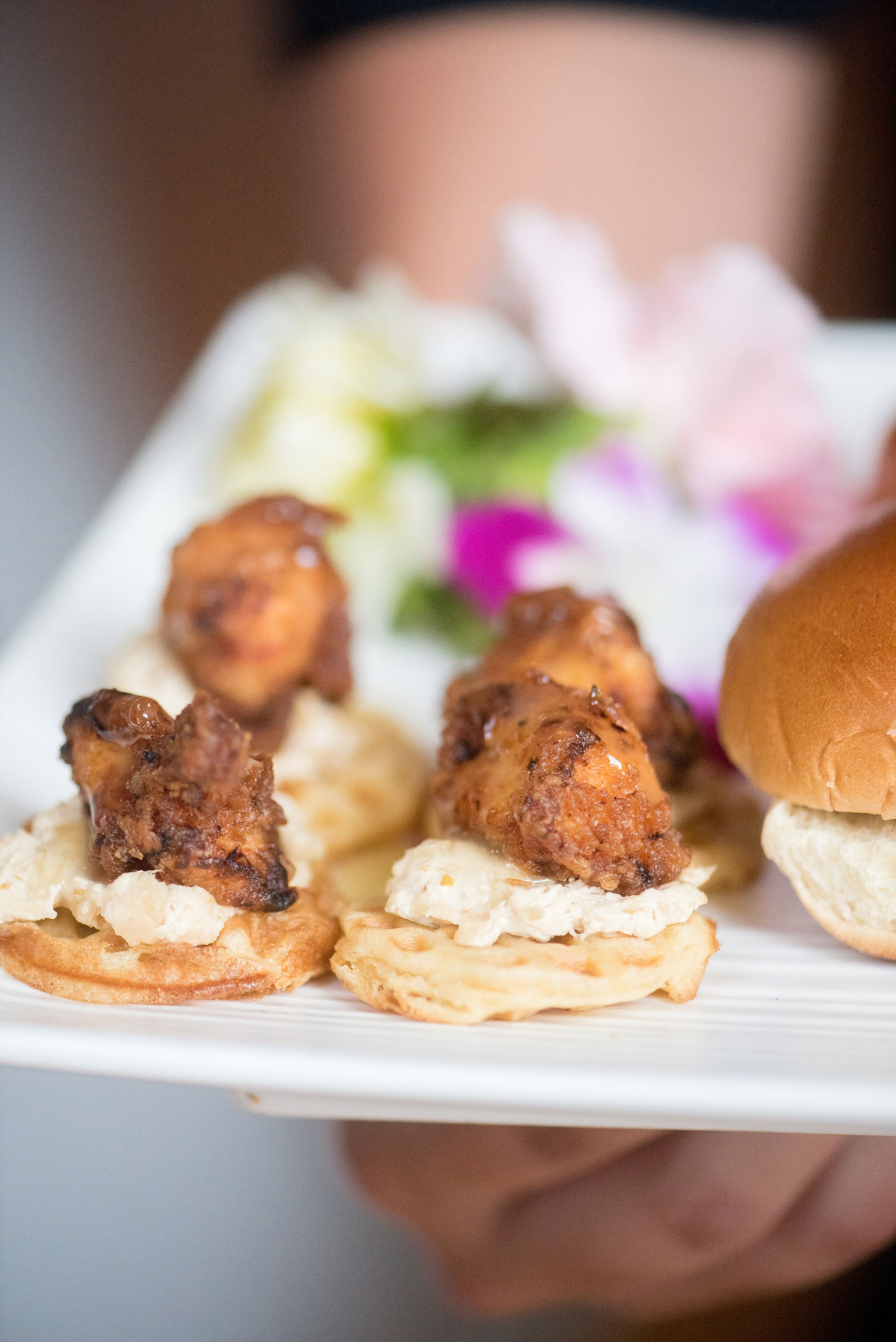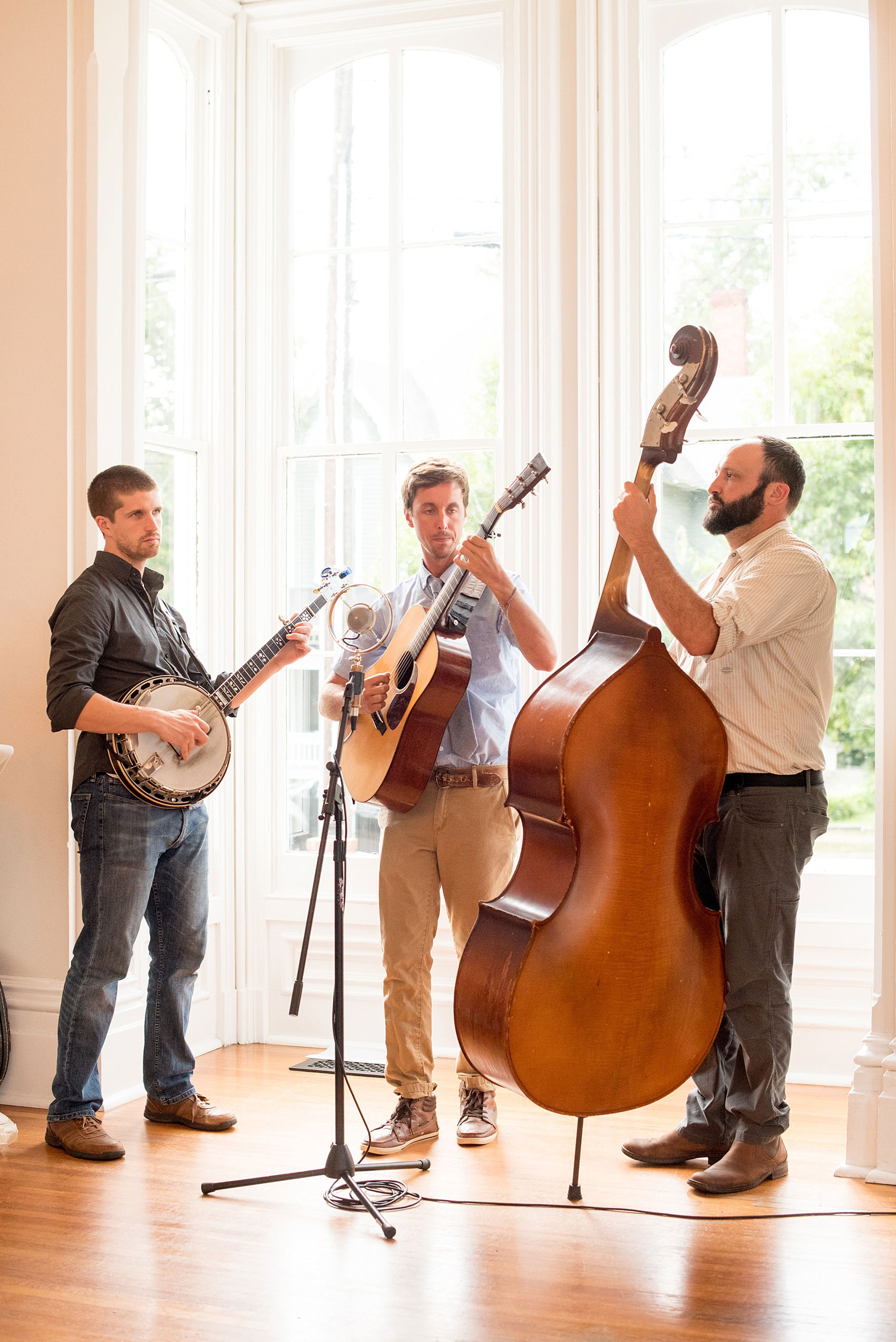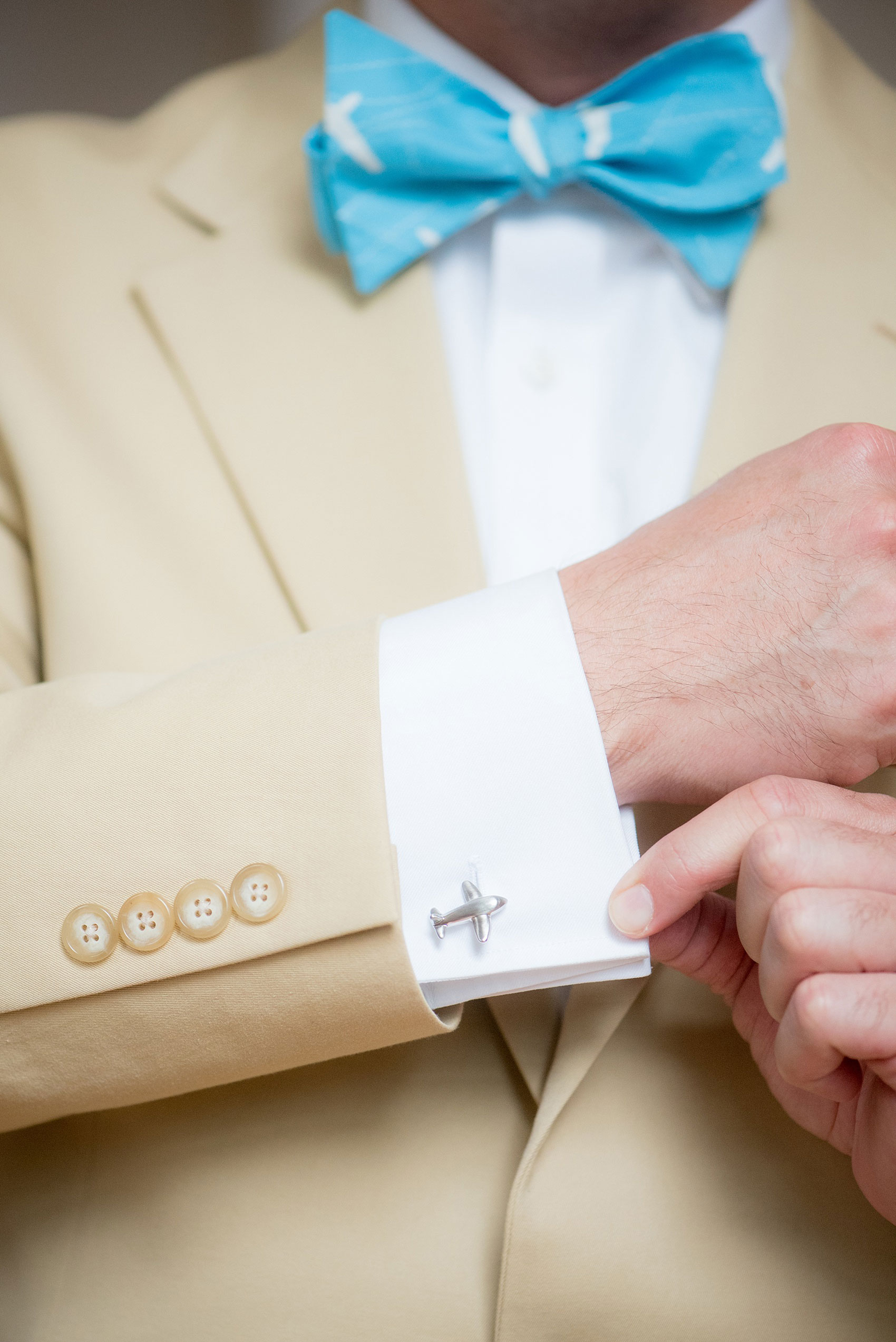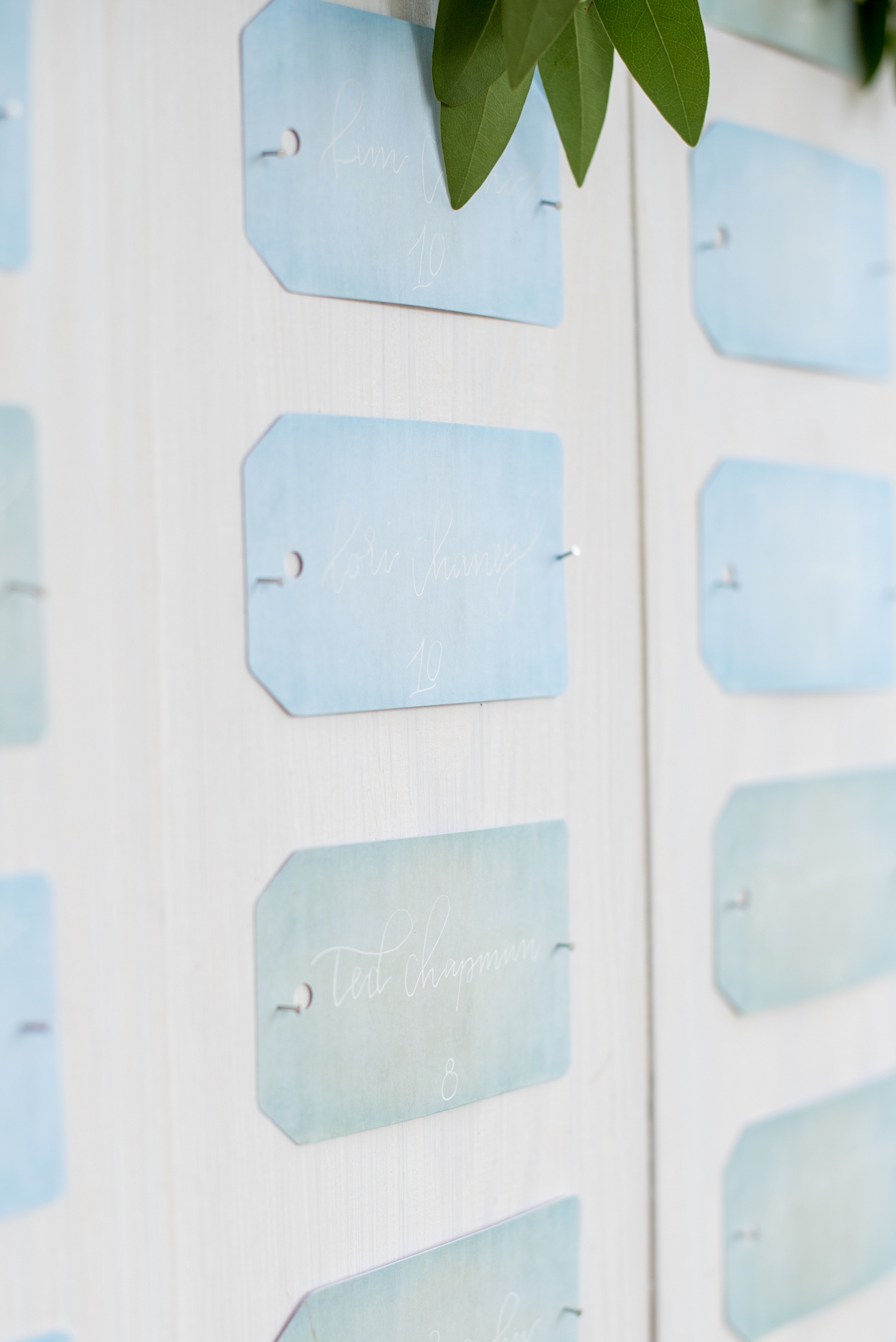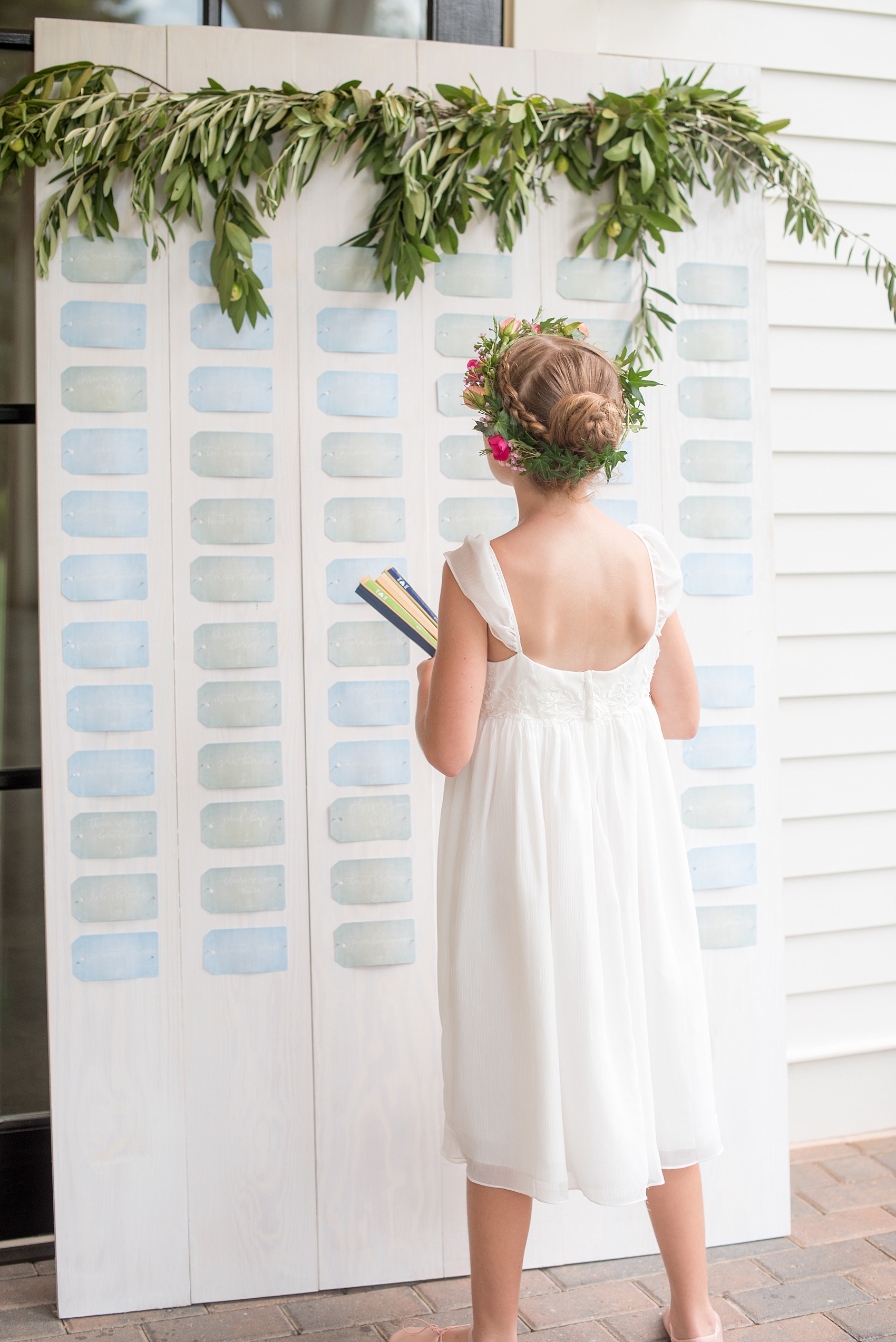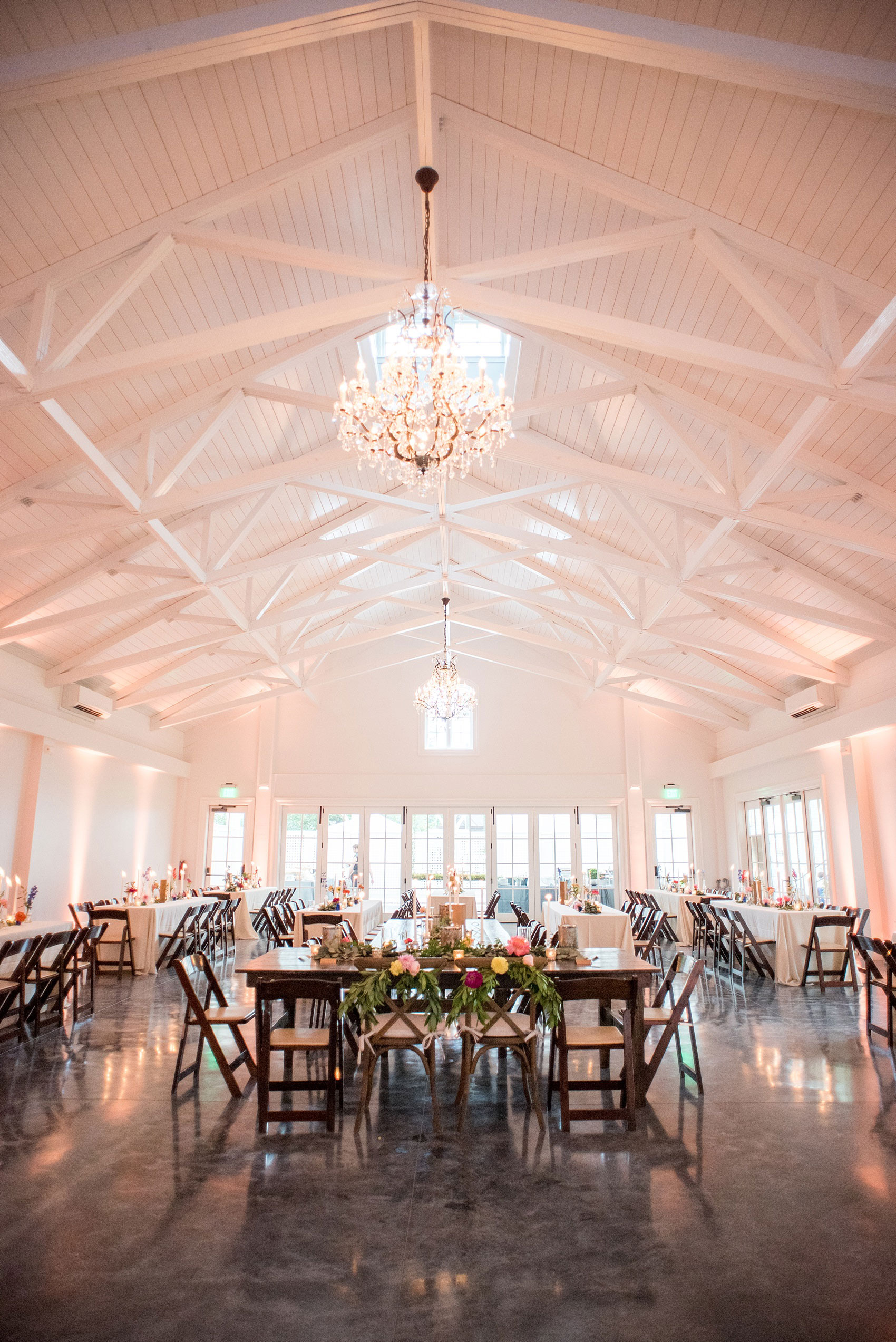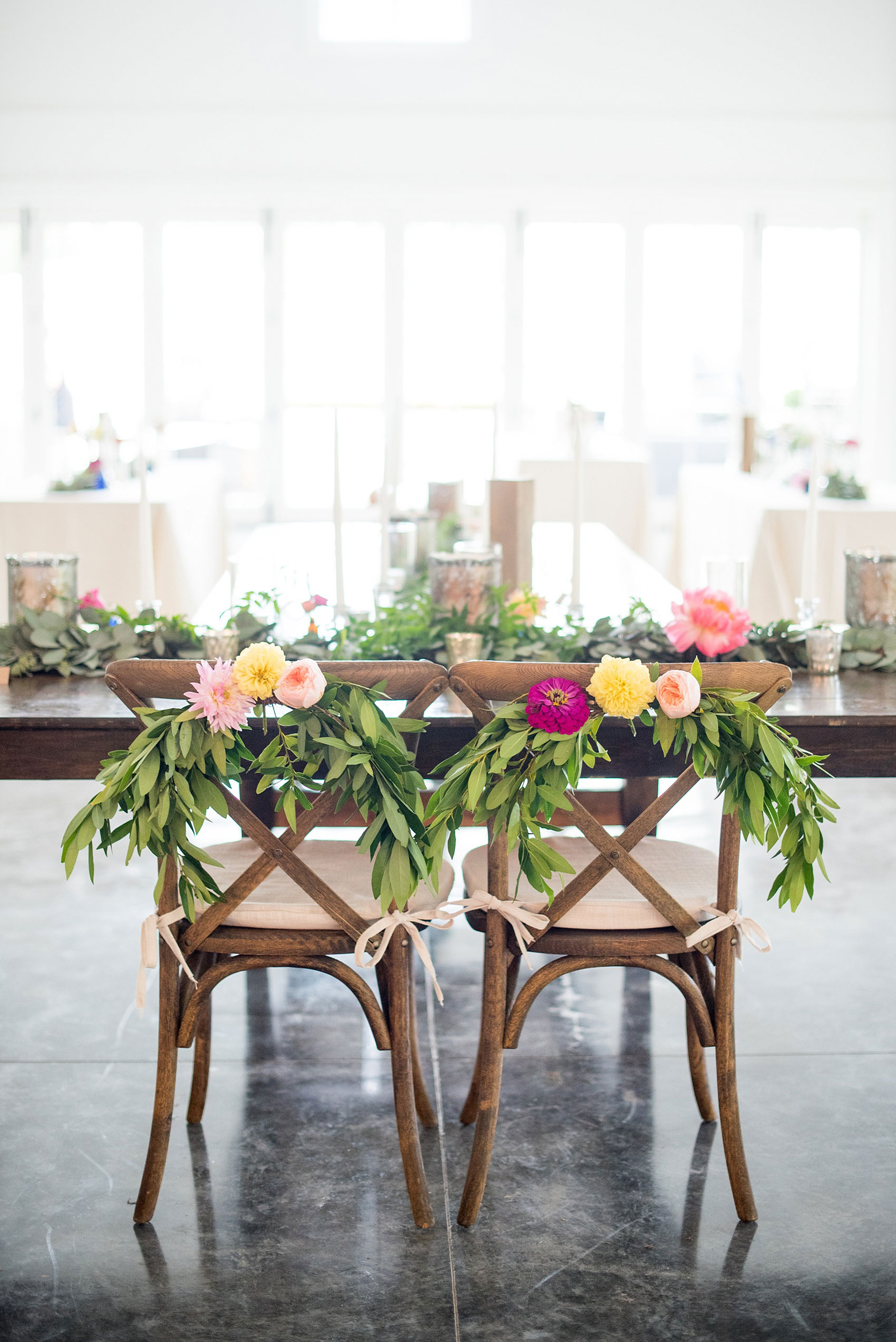 Guests enjoyed cocktail hour on the porch, lawn and rooms of the house. They dined on cheese, olive and nuts from an antipasto station and passed hors d'oeuvres like mini chicken and waffles. To go with the southern vibe, a blue grass band entertained for the hour (they were so good!). A guest in town from NYC even succumbed to the North Carolina spirit, wearing airplane cufflinks and blue airplane bow tie (NC: first in flight!).
The carriage house was set with rectangle farmhouse tables, with pretty sweetheart chairs for the bride and groom, decorated with eucalyptus garland and colorful dahlia flowers. Wild flower filled bud vases lined the tables, alternating with candlelight and rustic wooden block table numbers. Everyone quickly got to dancing to the great songs DJ Randy was playing!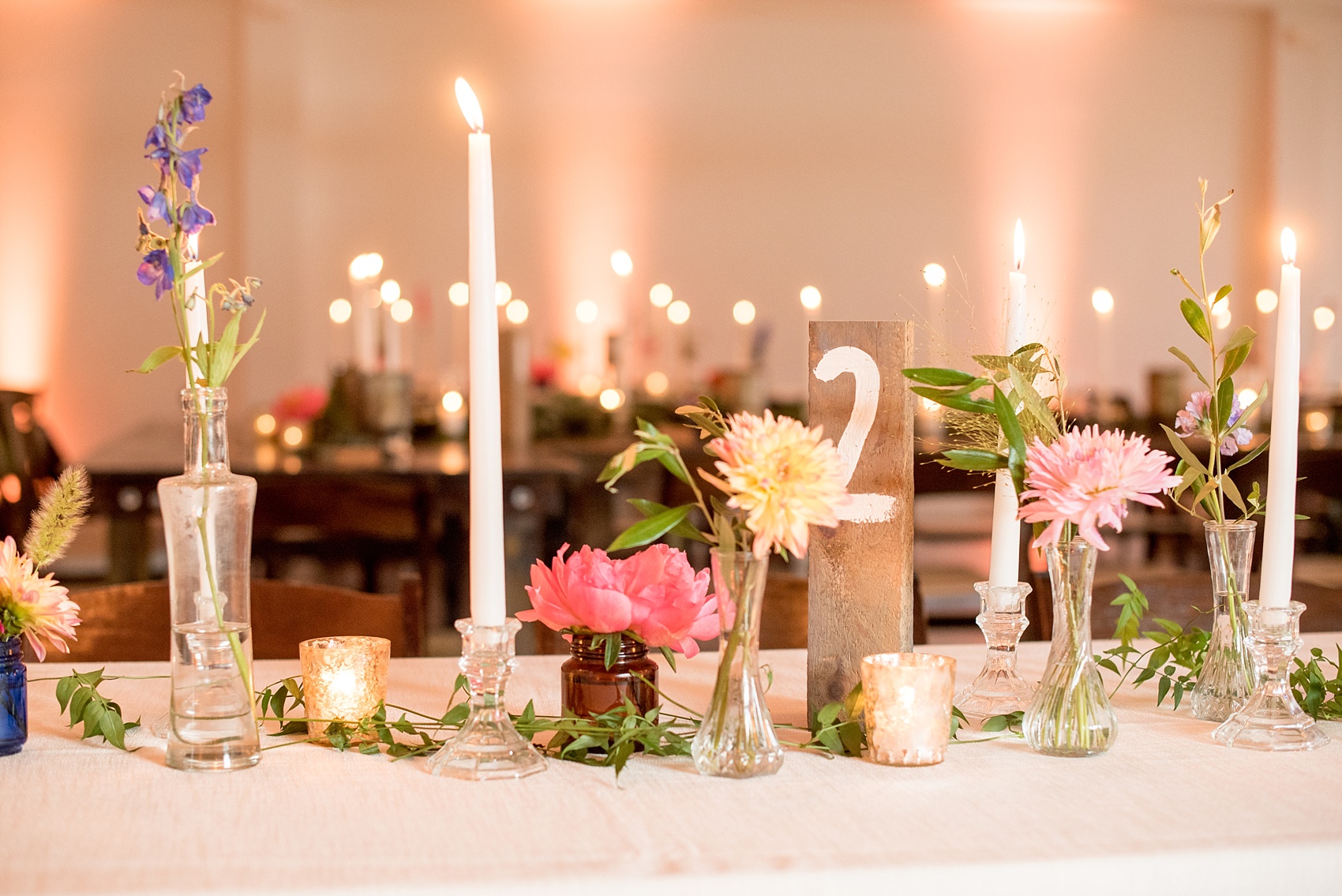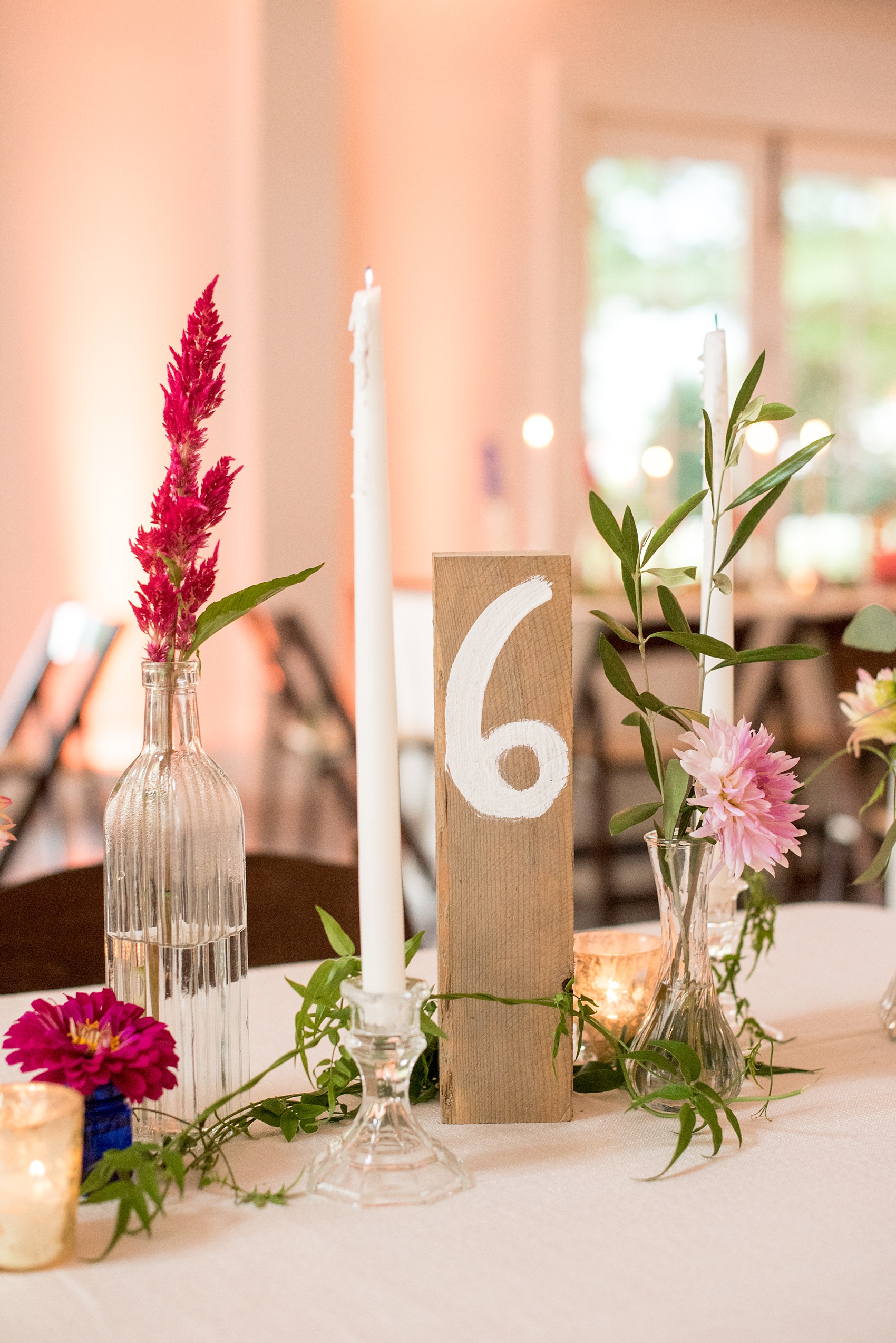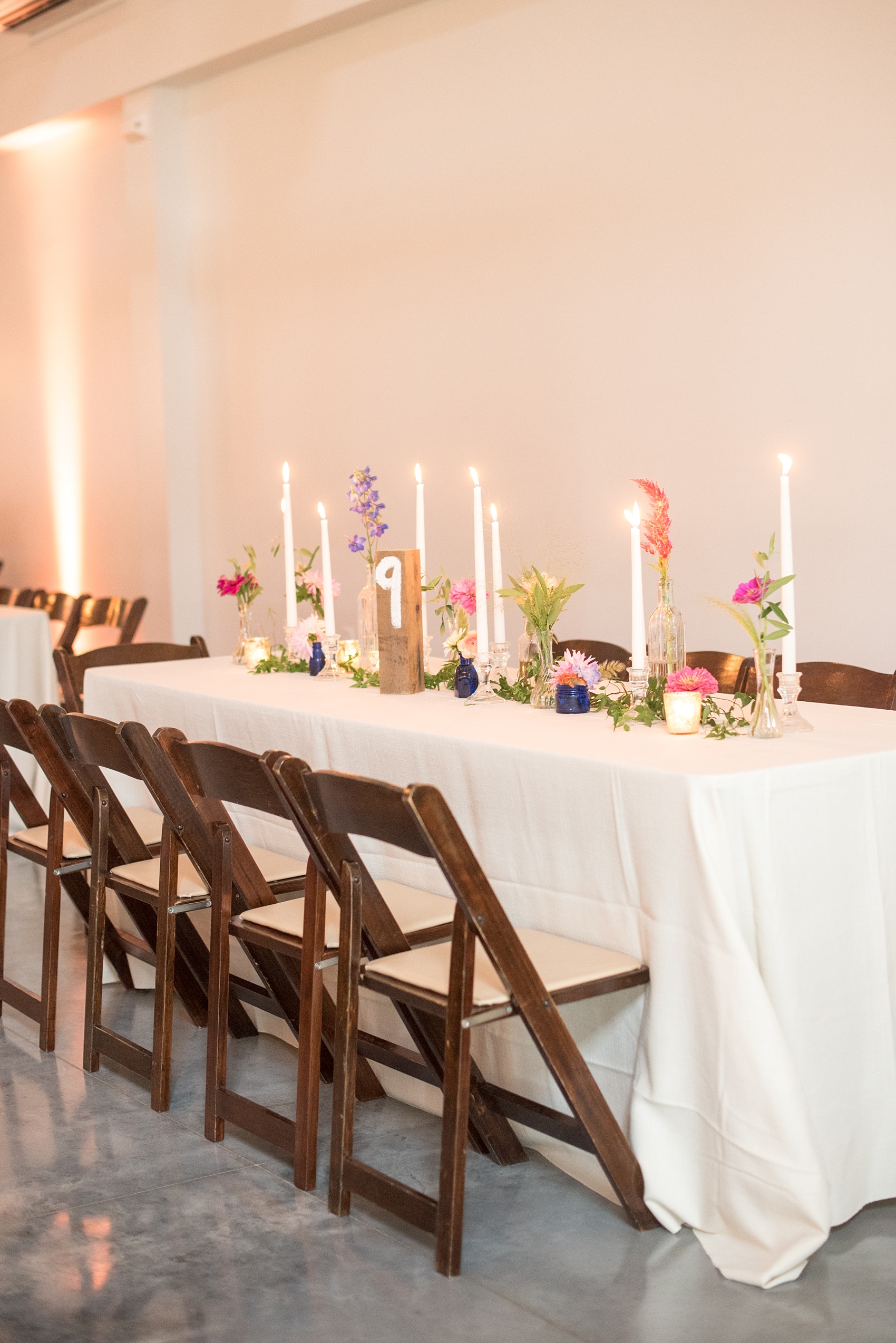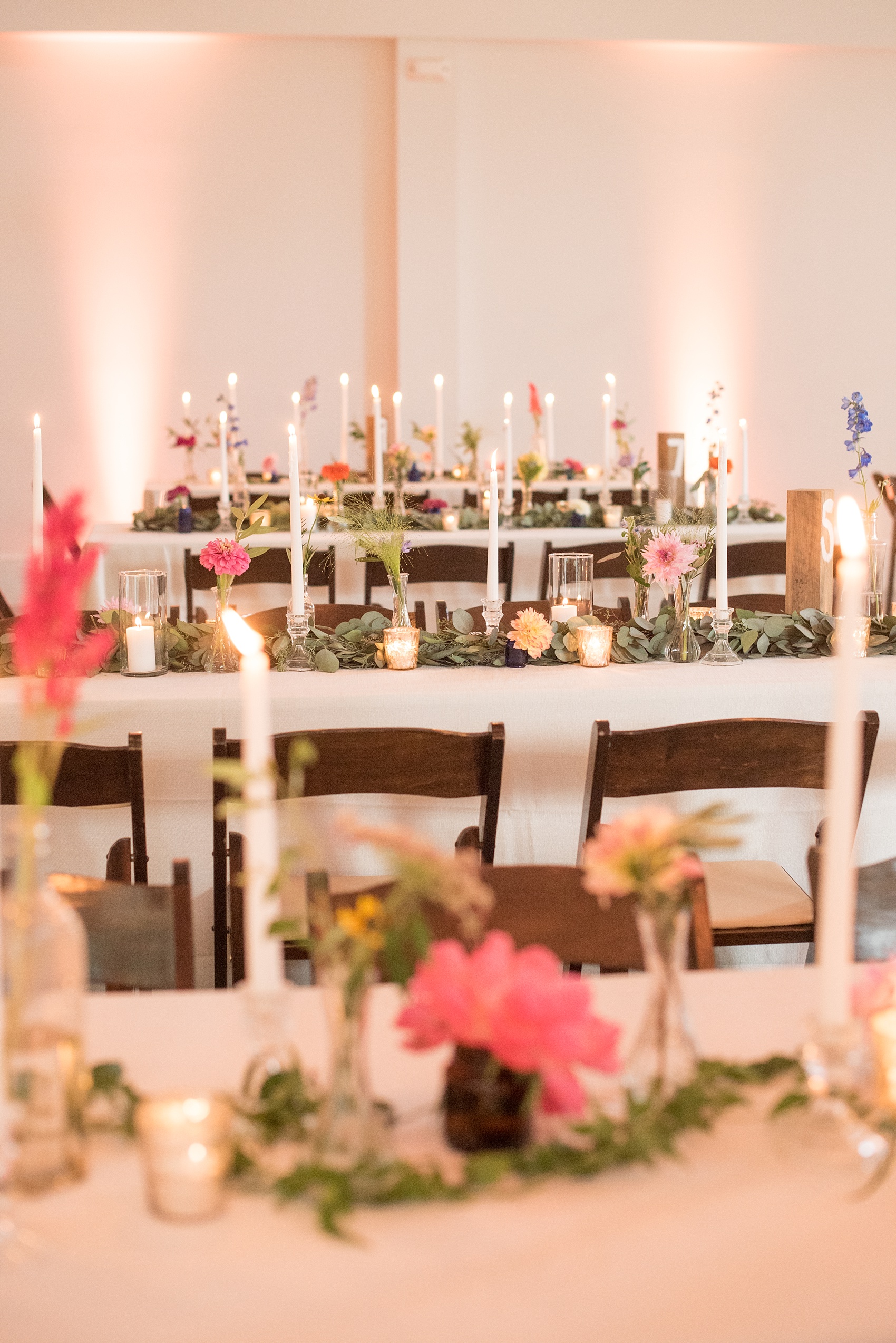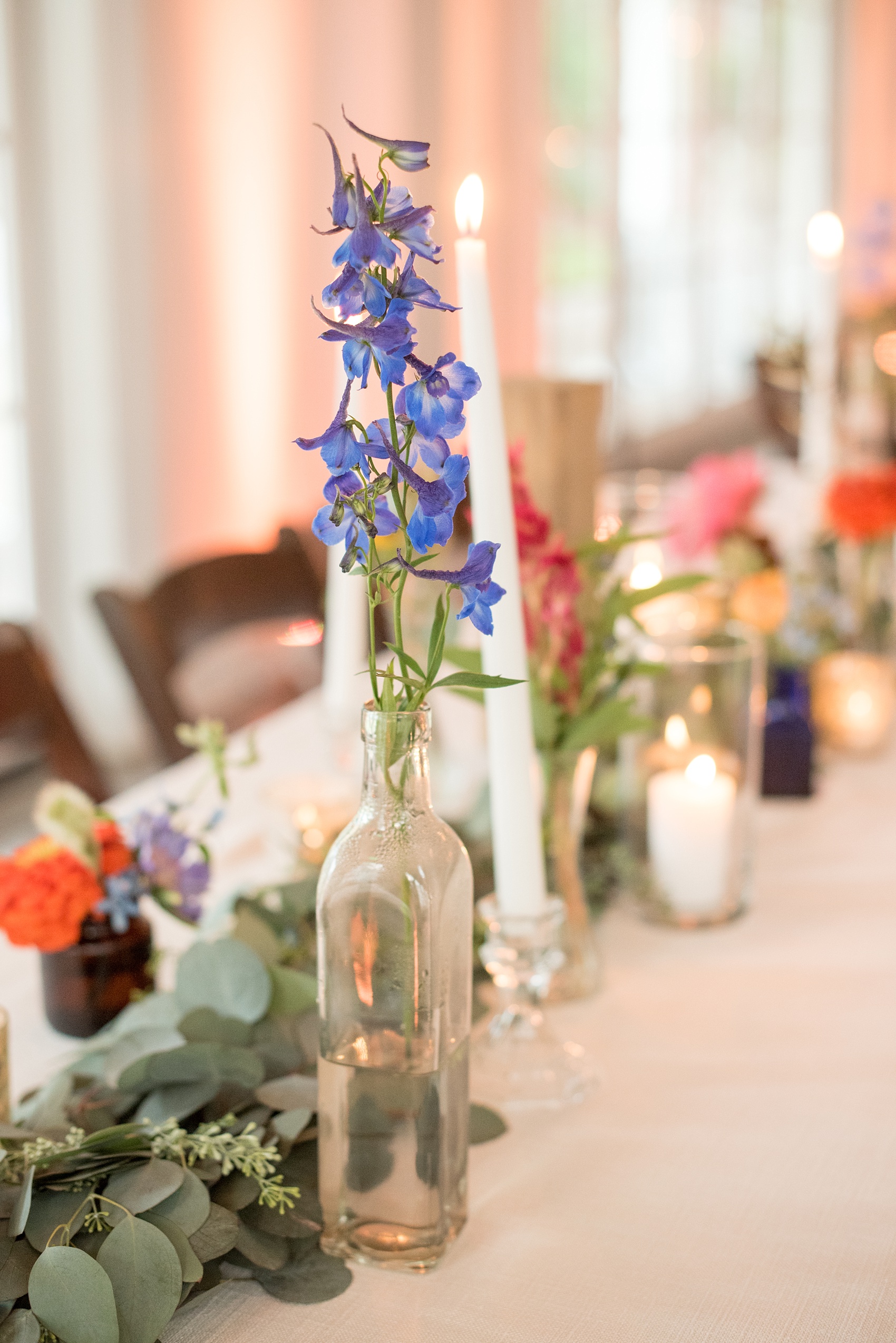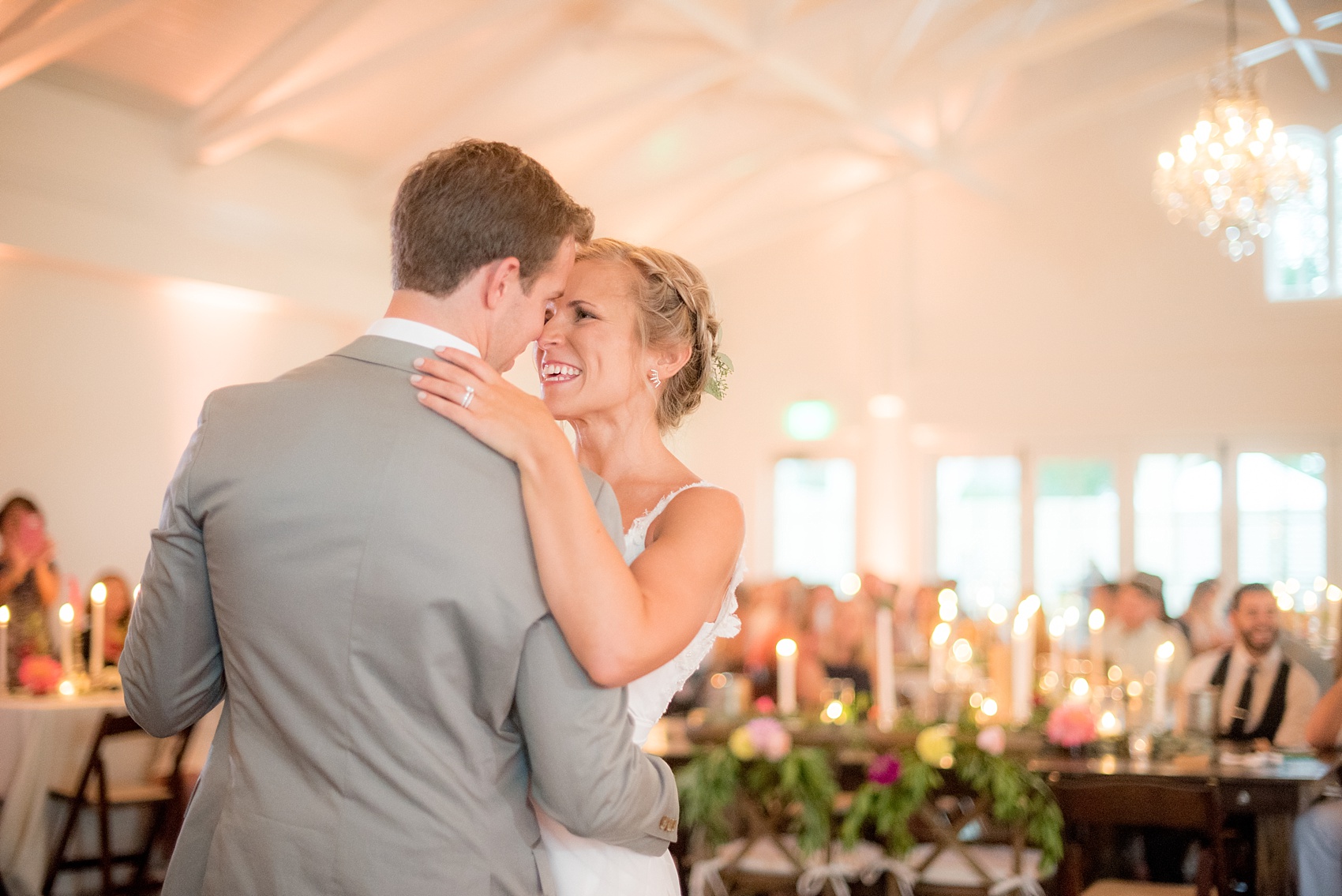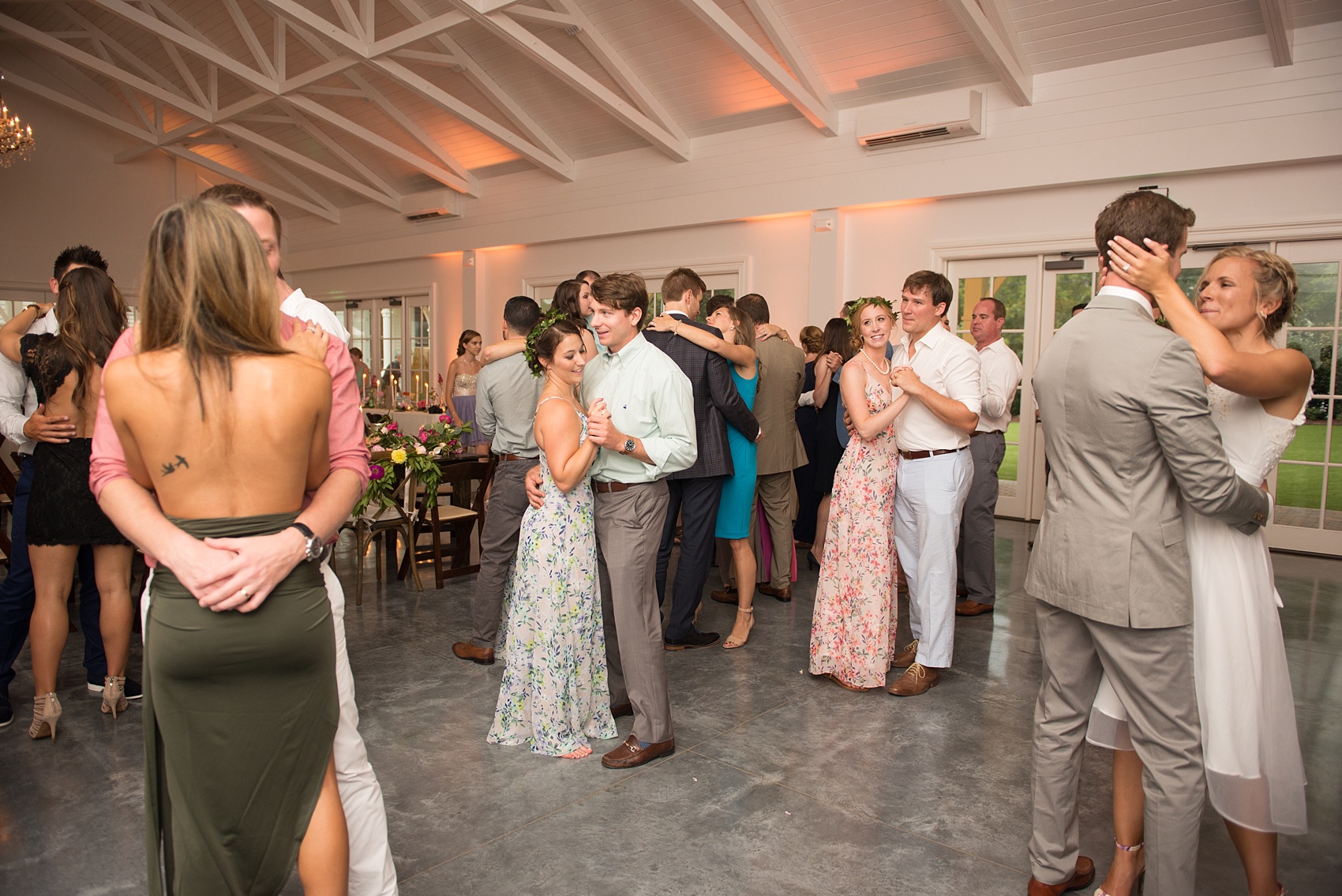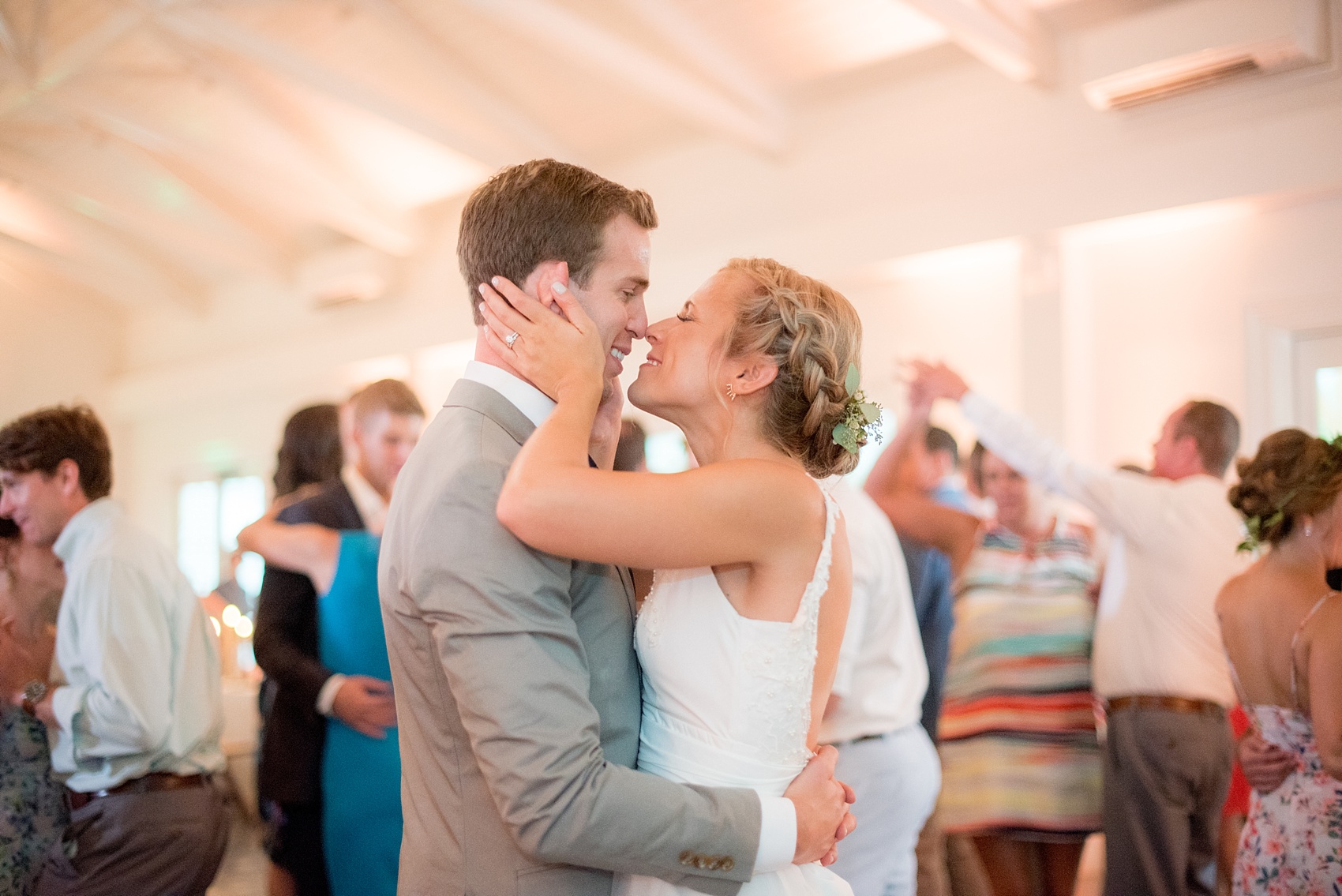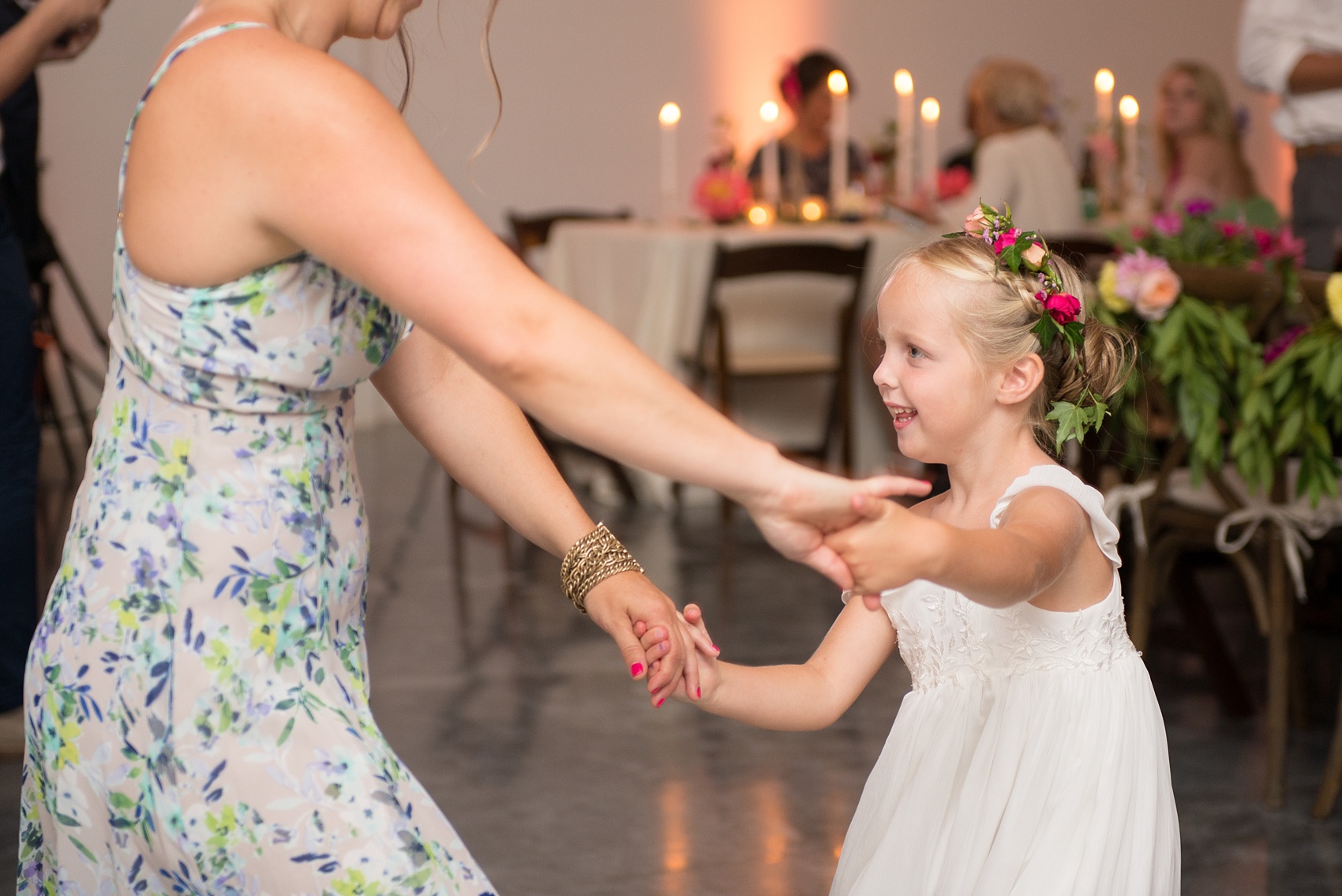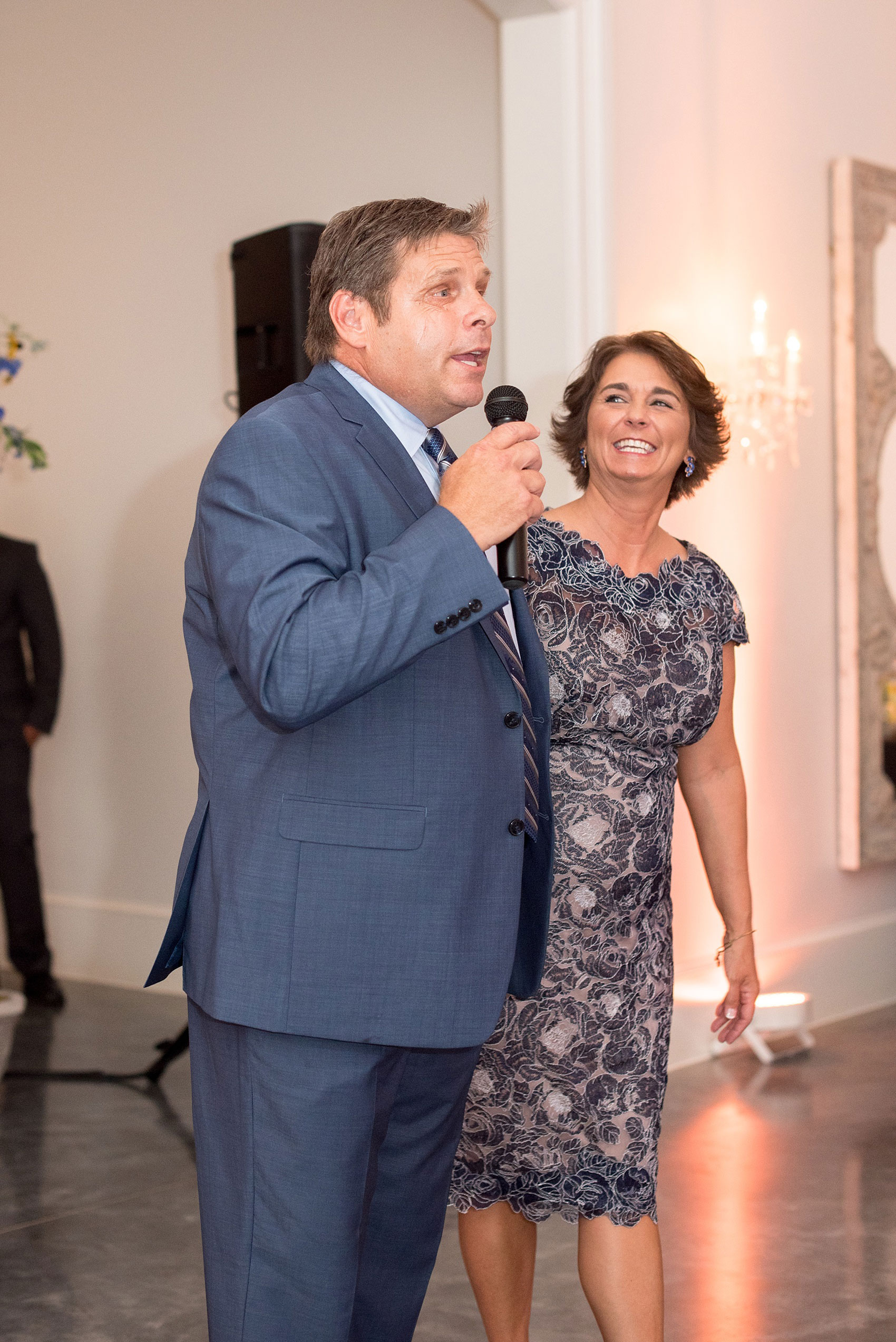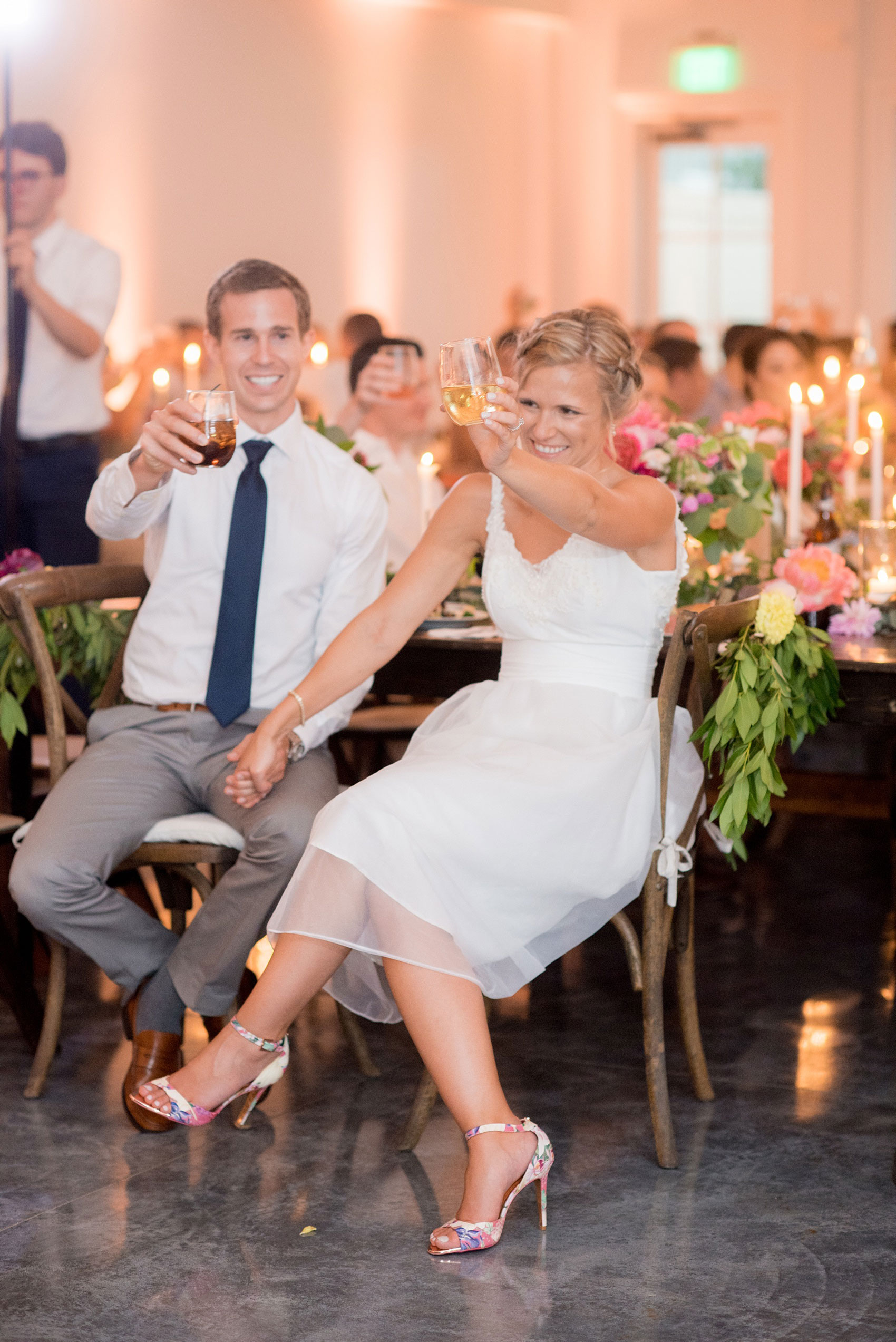 They were VERY excited to have homemade ice cream by The Freezing Point there! Let me tell you – their ice cream is DELICIOUS. If you ever have a chance to try some, jump on it! They set up the cutest little toppings buffet with sprinkles in teacups and chocolate chips in glass ice cream holders, and even made a special Mr. and Mrs. waffle cone piece for Nicole and Rob.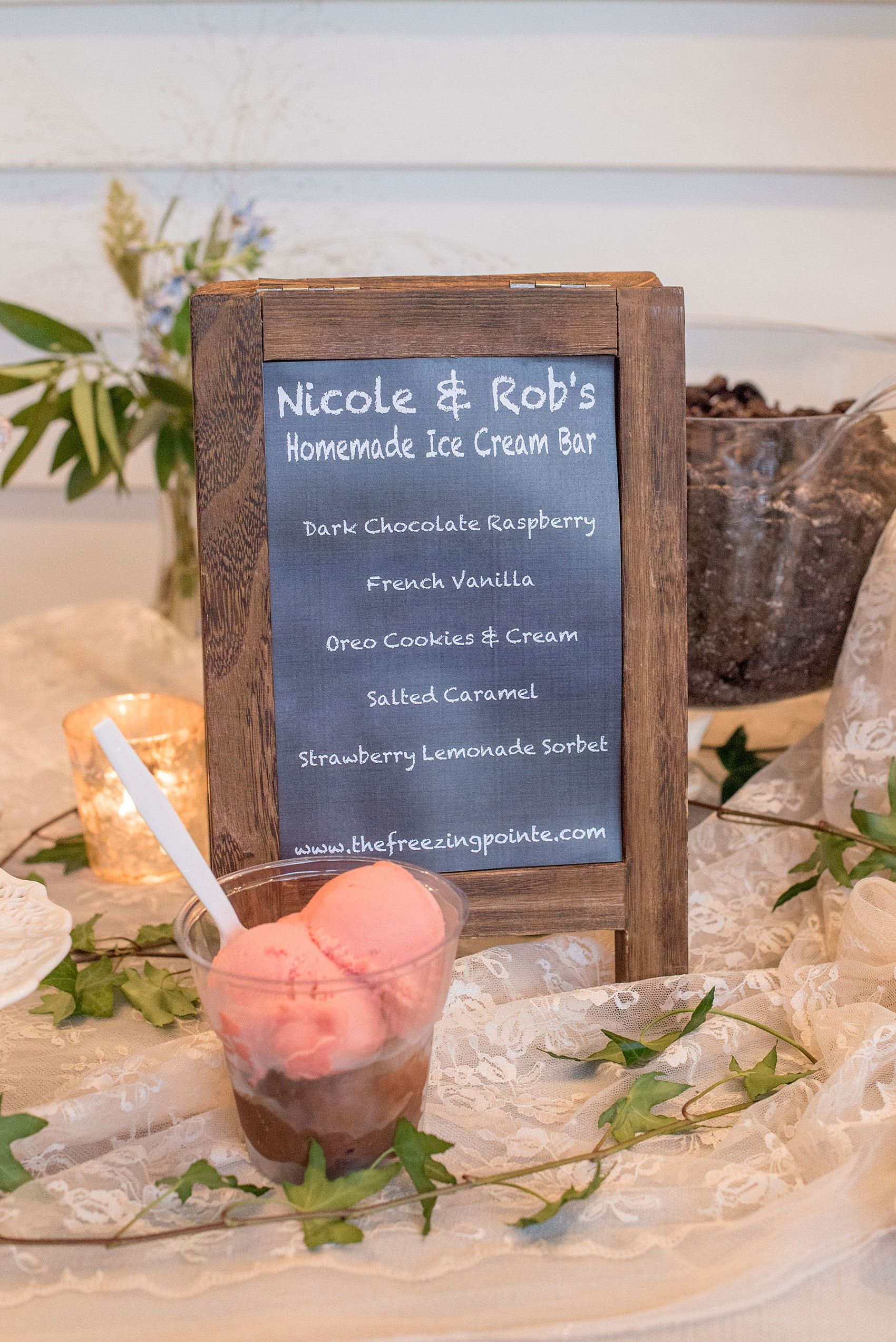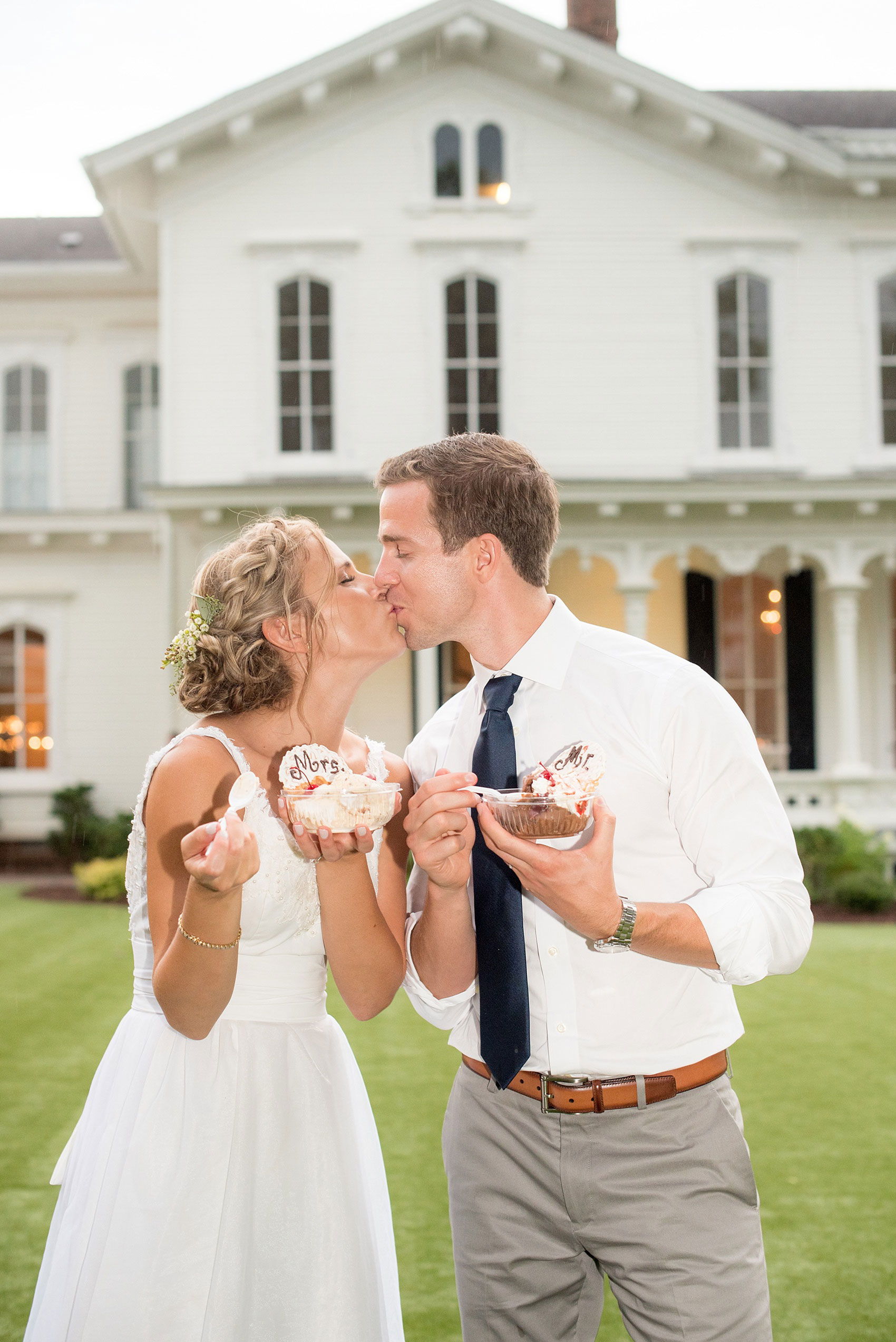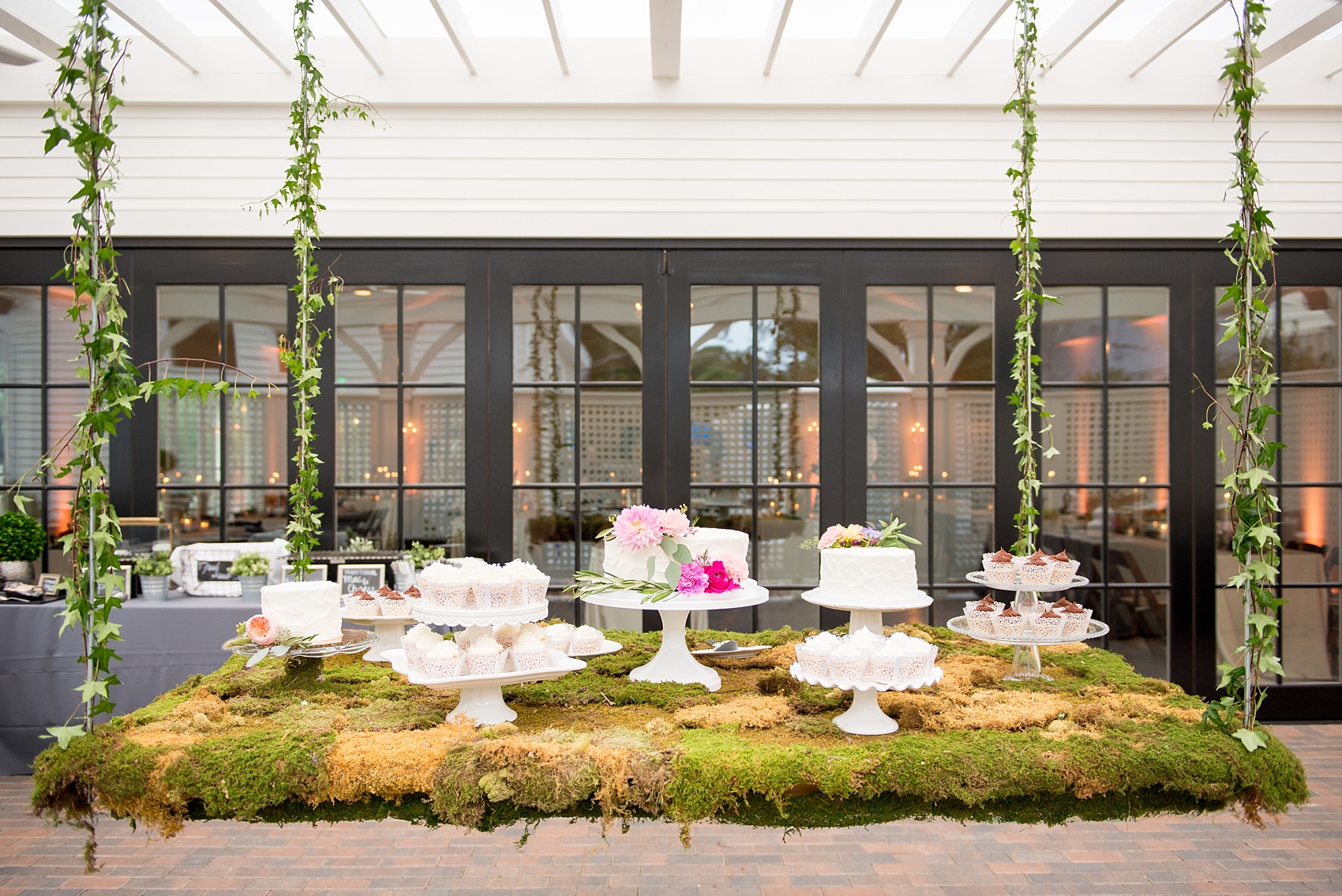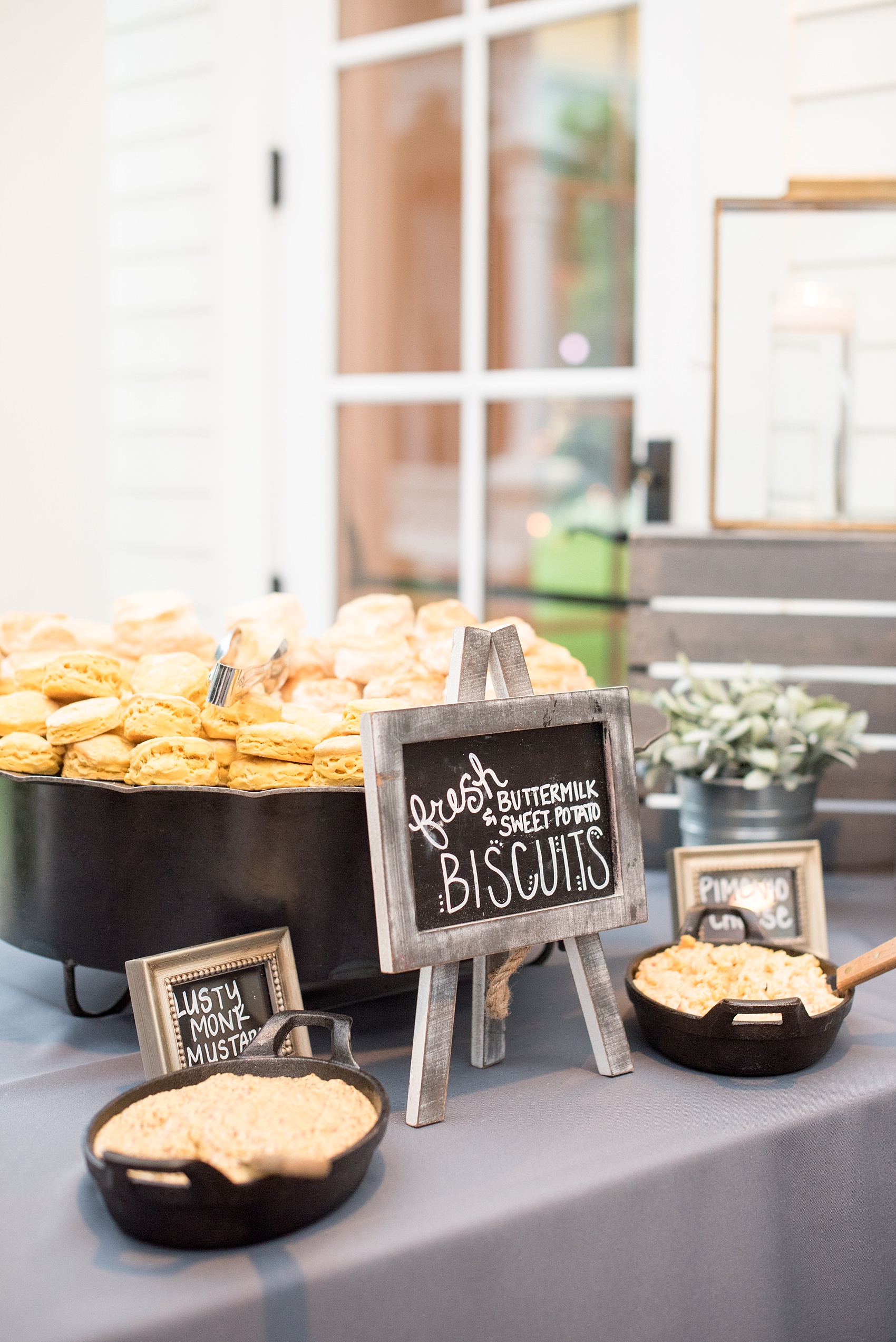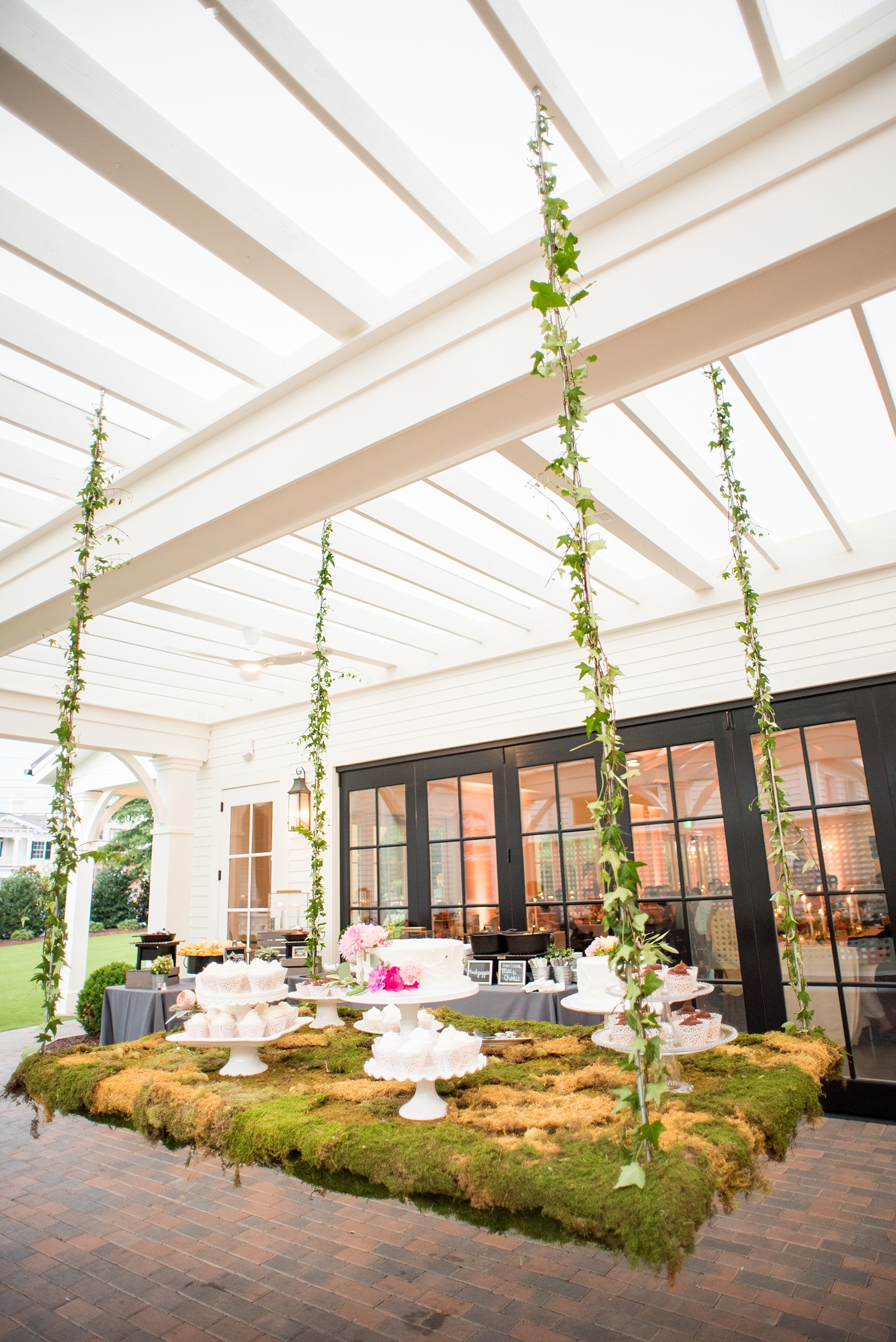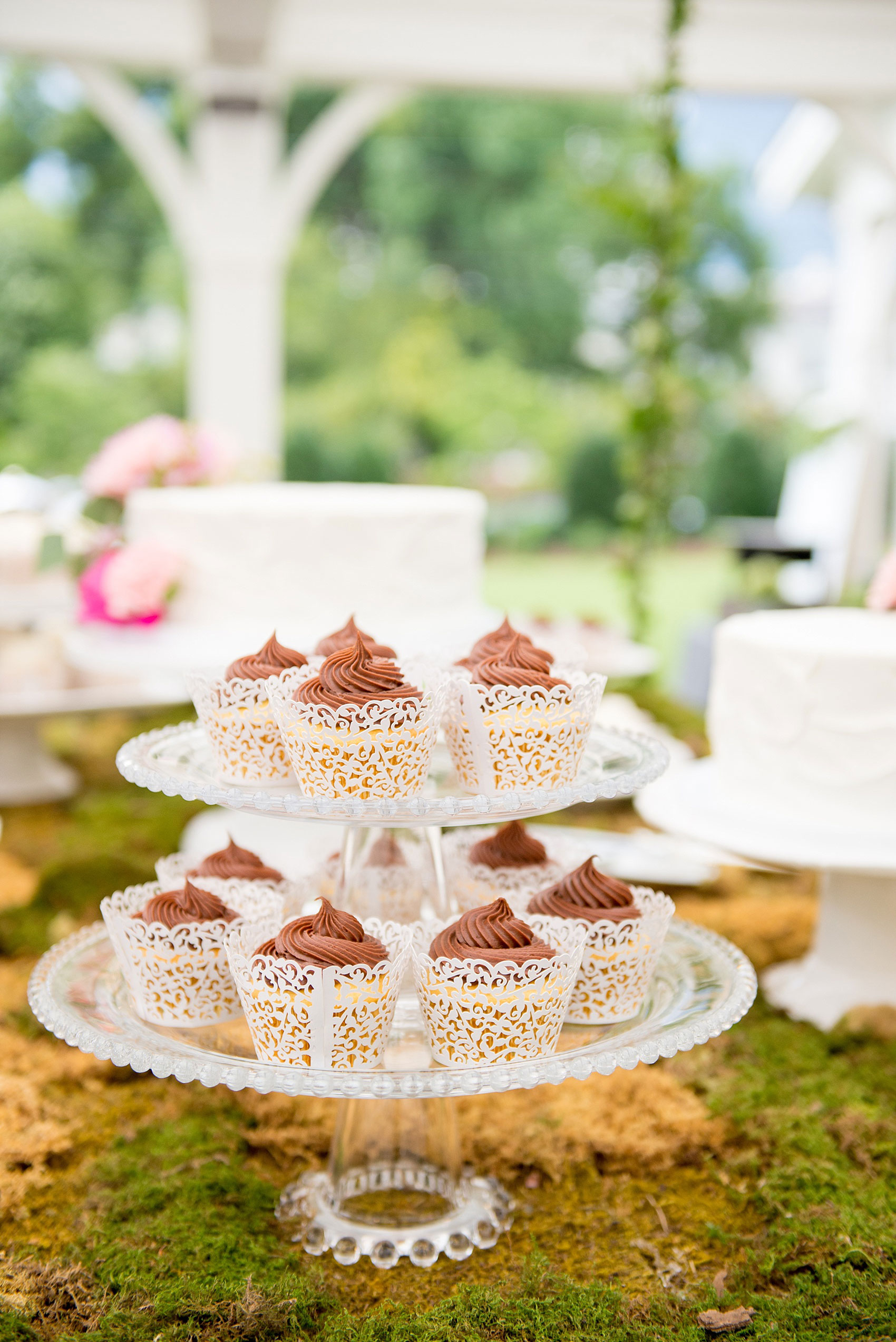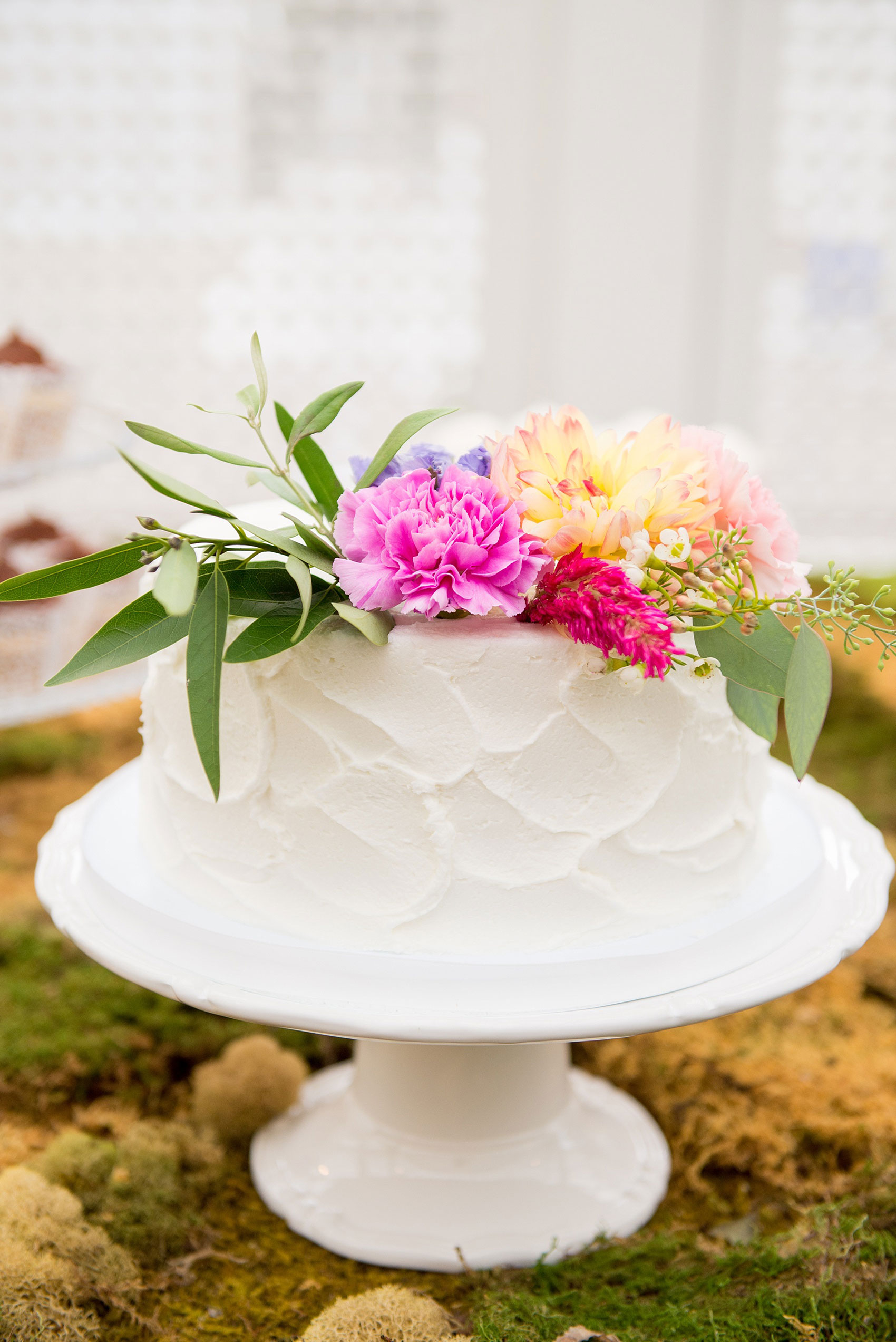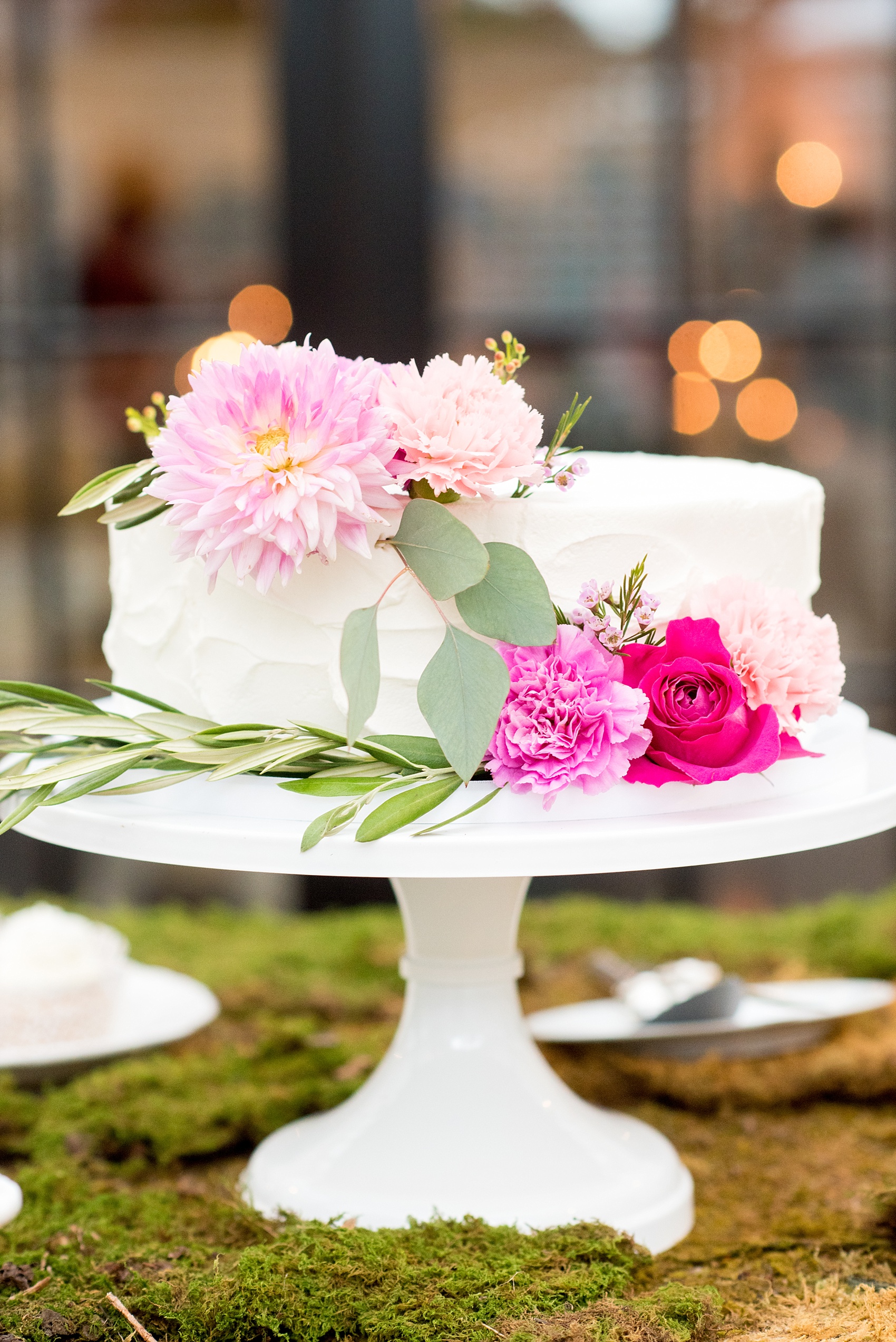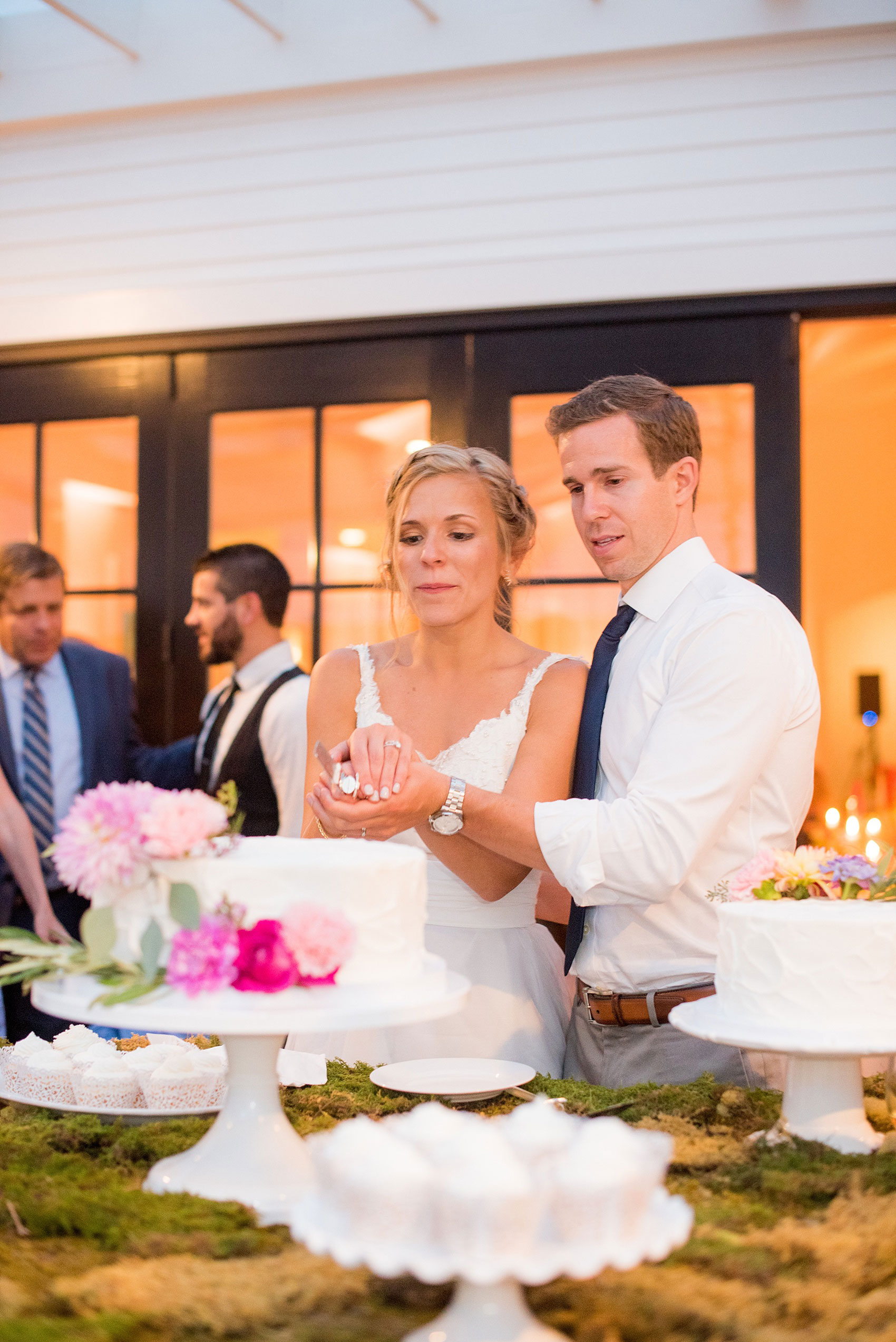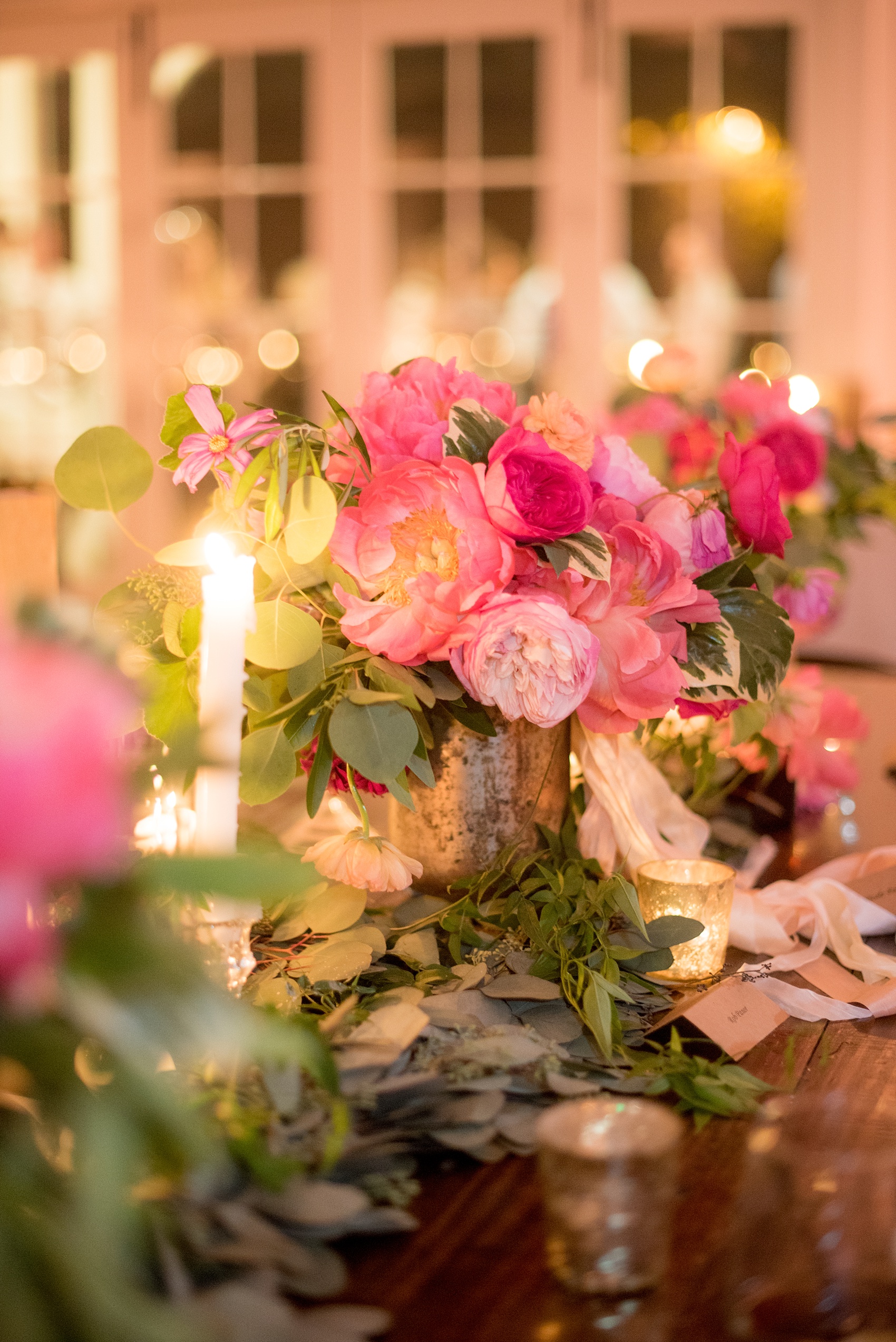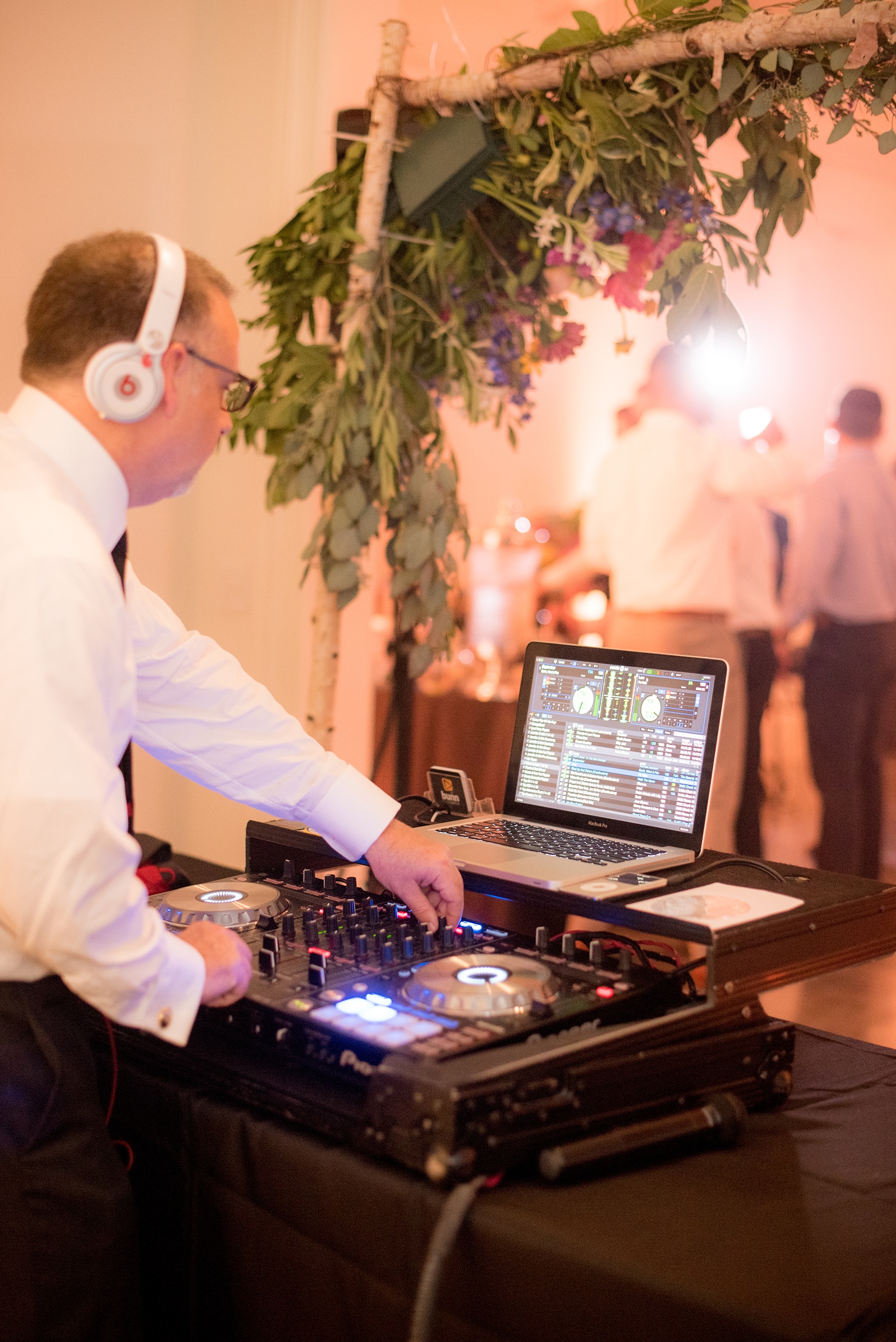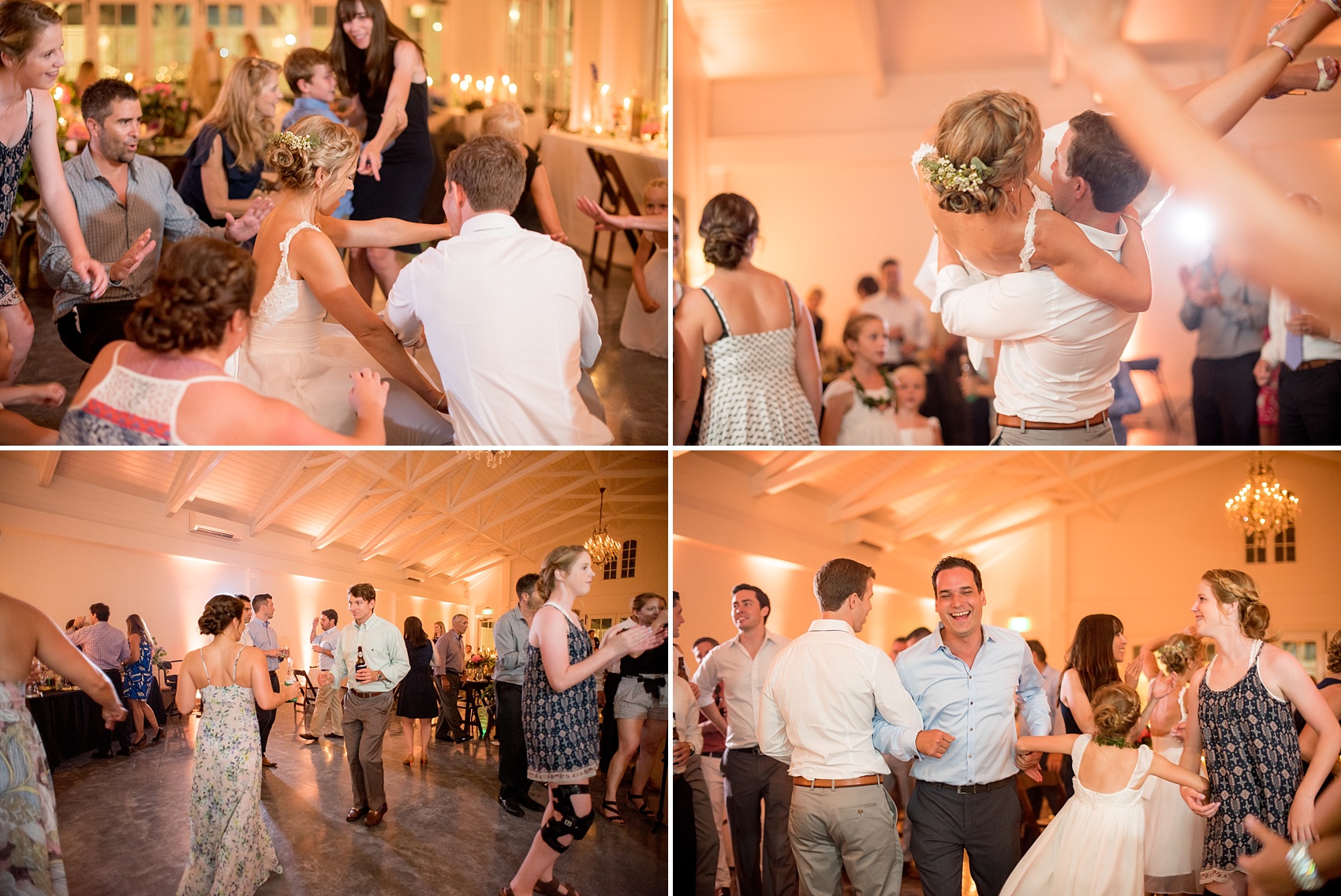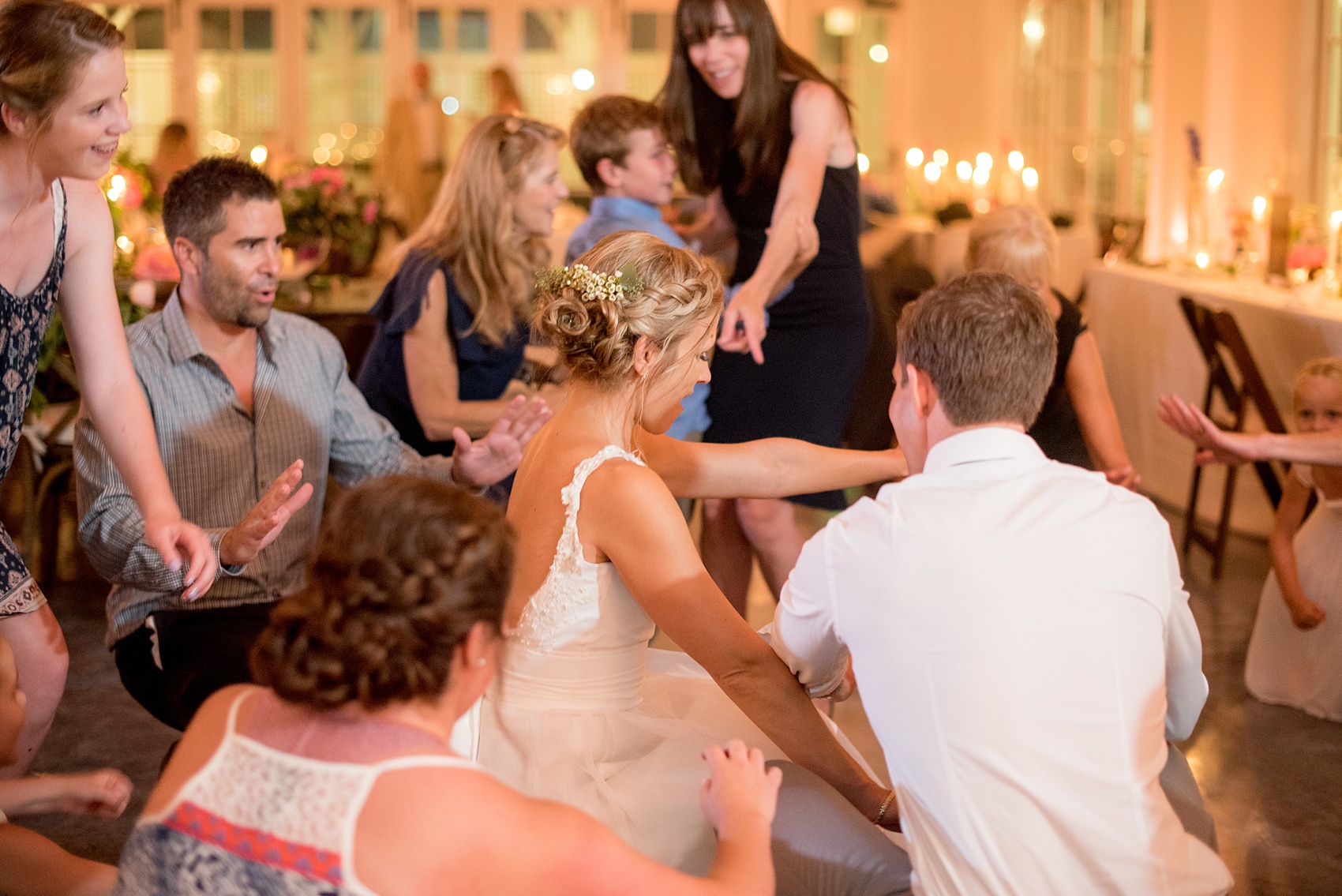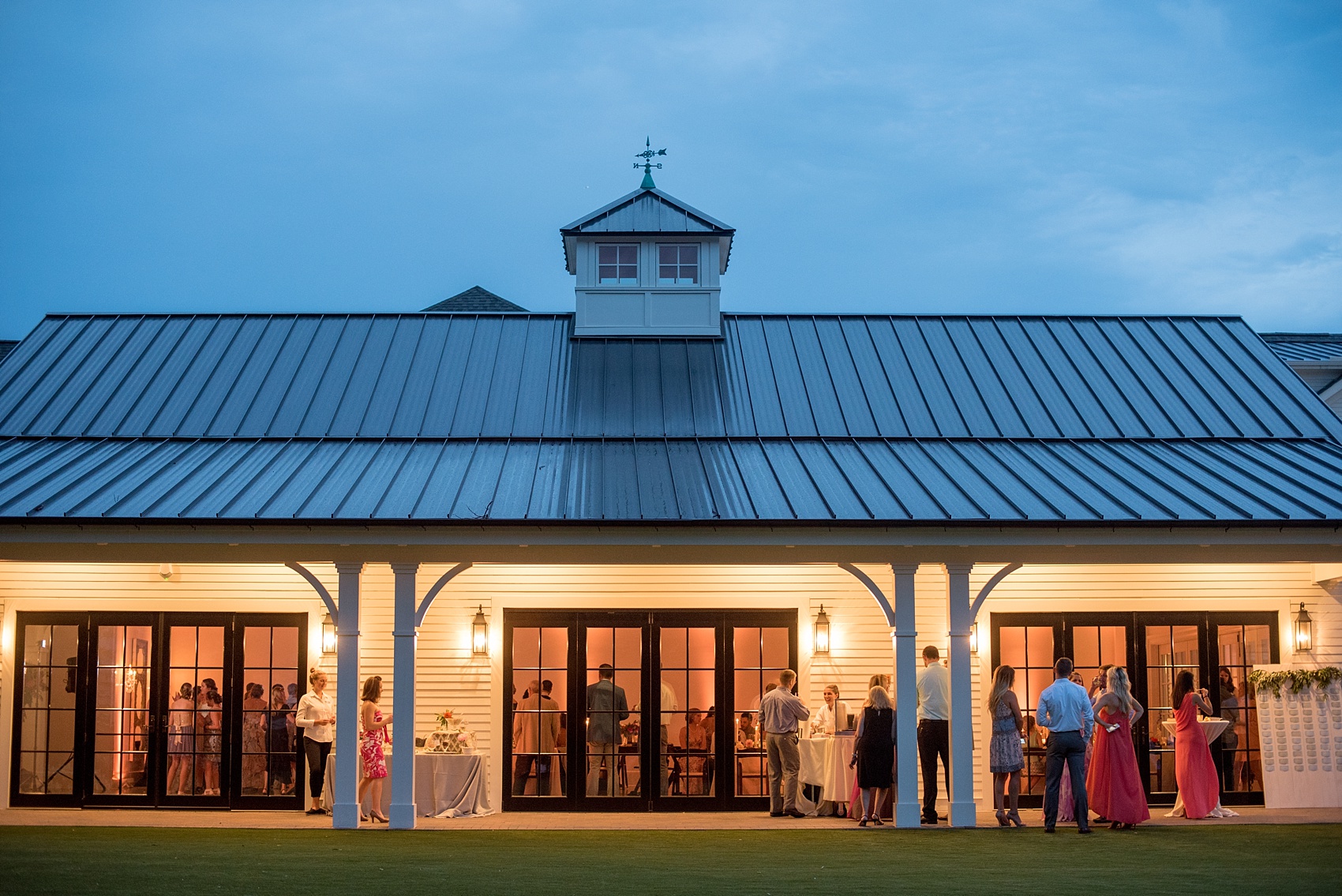 Wasn't their cake station dreamy? It was the perfect sweet ending to a savory southern dinner. And then of course…there was LOTS of dancing that ensued!
I'm so happy I could capture the wedding day of my sweet friend and witness the bond between Rob and her, first hand. It's truly #goodtobeapanor, like their hashtag says, but it's beautiful to witness it all too. Congratulations and big hugs to the newlyweds!
Venue: The Merrimon Wynne House / Caterer: Rocky Top Hospitality / Officiant: Barbara Lodge / Hair and Makeup: Makeup For Your Day, Jennifer / Cake: Ashley Cakes / Ice Cream: The Freezing Pointe / Videographer: Charis Films / Florist: Meristem Floral / Ceremony Music: Arioso Strings / Cocktail Hour Music: Big Fat Gap / Lighting and Reception Music: Bunn DJ Company, DJ Randy / Rentals: Party Reflections / Linens: CE Rentals / Invitation: Citrus Press Co. / Dress Redesign: Marie Cordella Bridal