These Merrimon-Wynne House wedding photos make me beyond ecstatic. I've loved looking at Mollyann and Sean's wedding – every ounce of details along with the heart and soul poured into it. And I continue to do so periodically, remembering their happiness of the start of this next chapter in their lives through the story the photos tell.
Every time I look at their Merrimon-Wynne House wedding photos, I love them more. I couldn't be happier with how it all turned out for such a beautiful couple I increasingly adore and value as our friendship grows. The vibrant colors of their day truly reflect what a happy, joyful occasion it was and I'm SO excited to share their images with the world!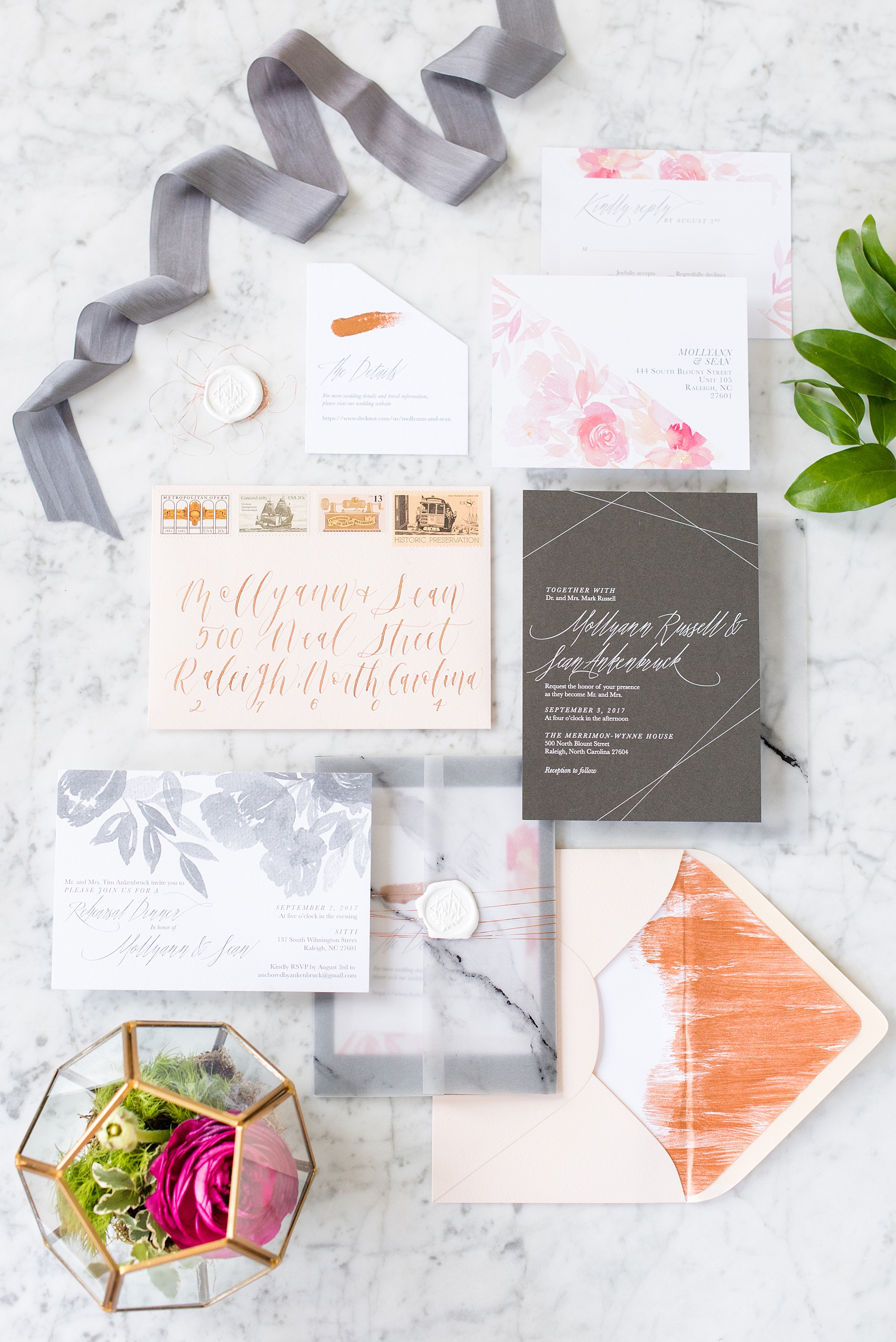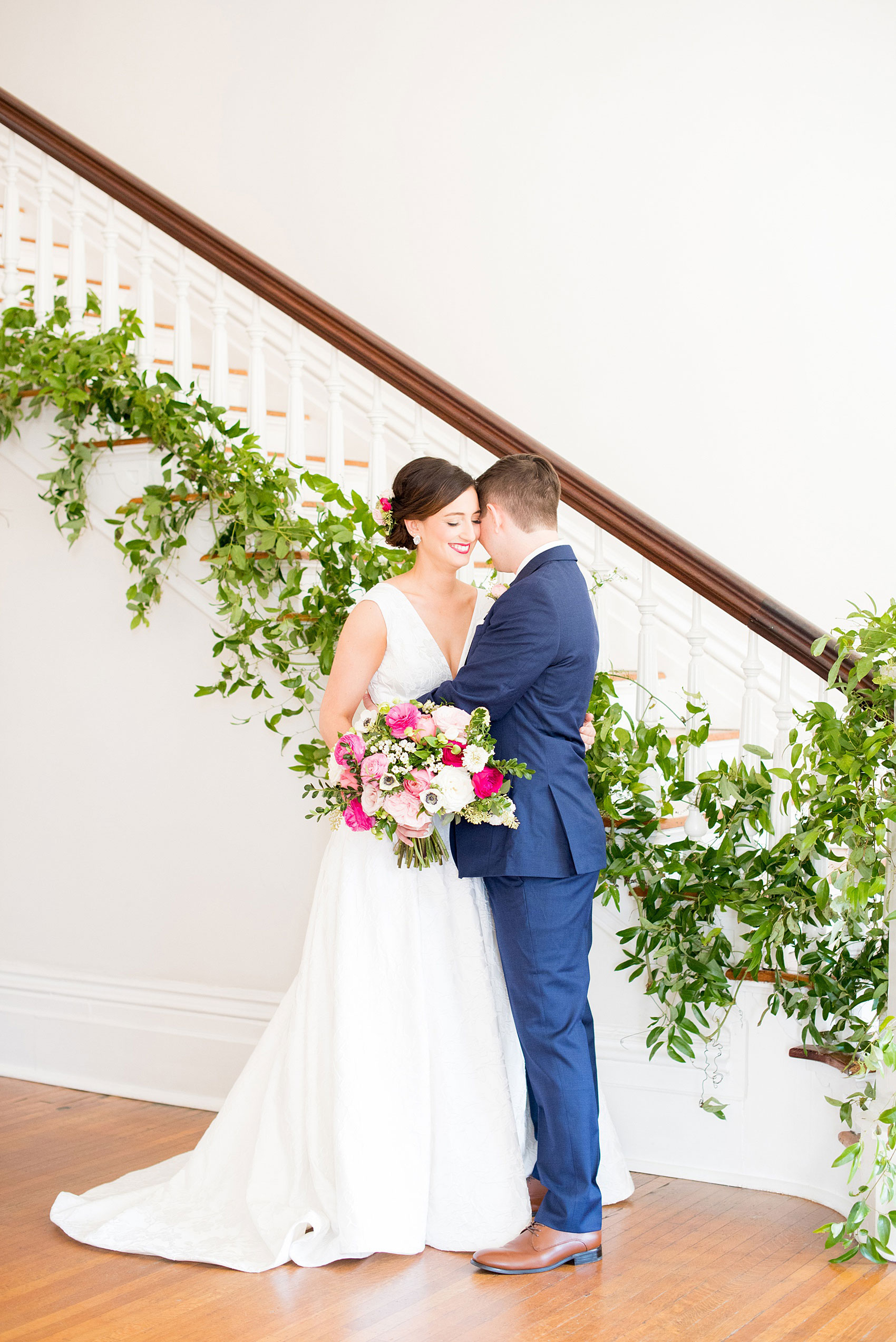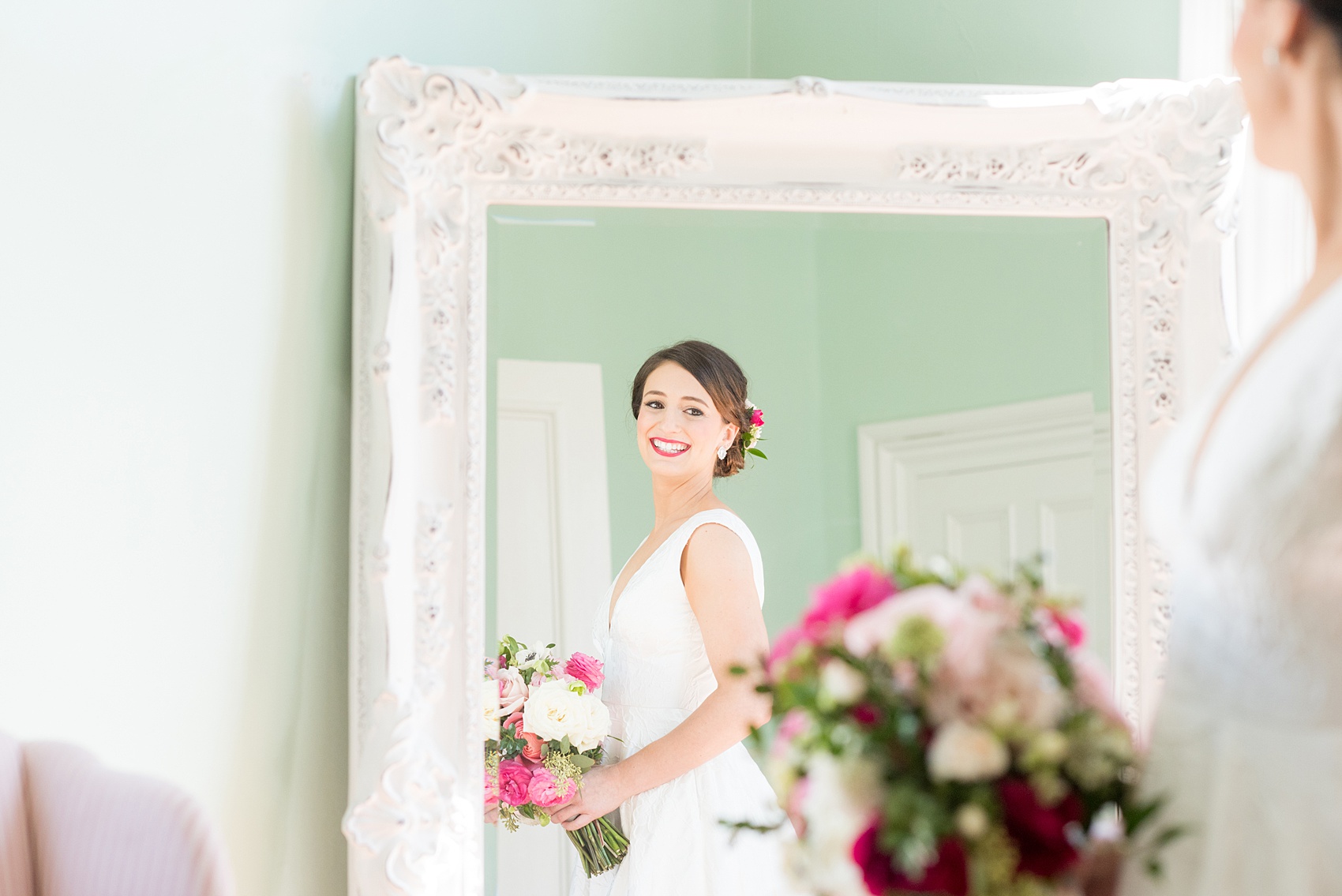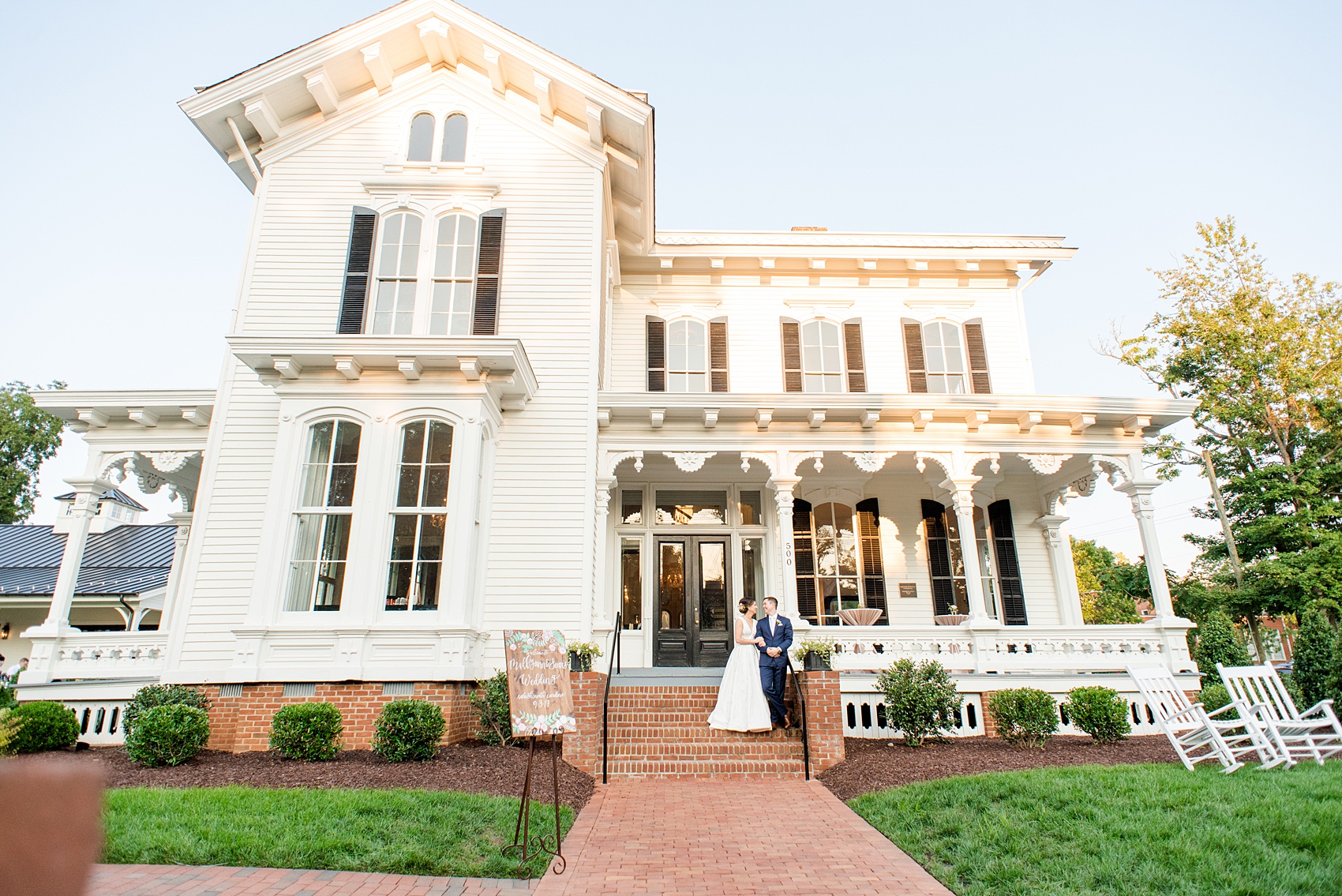 Their wedding invitation suite really emulates Mollyann's vision for their day. One and Only Paper always knocks it out of the park and her and Mollyann designed a elegant yet edgy suite.
Greys and pinks, watercolors and hard lines were harmoniously created to welcome guests to the grand event. They created matching ceremony programs as well. The wedding party all gladly arrived at the house that morning to start the celebrations!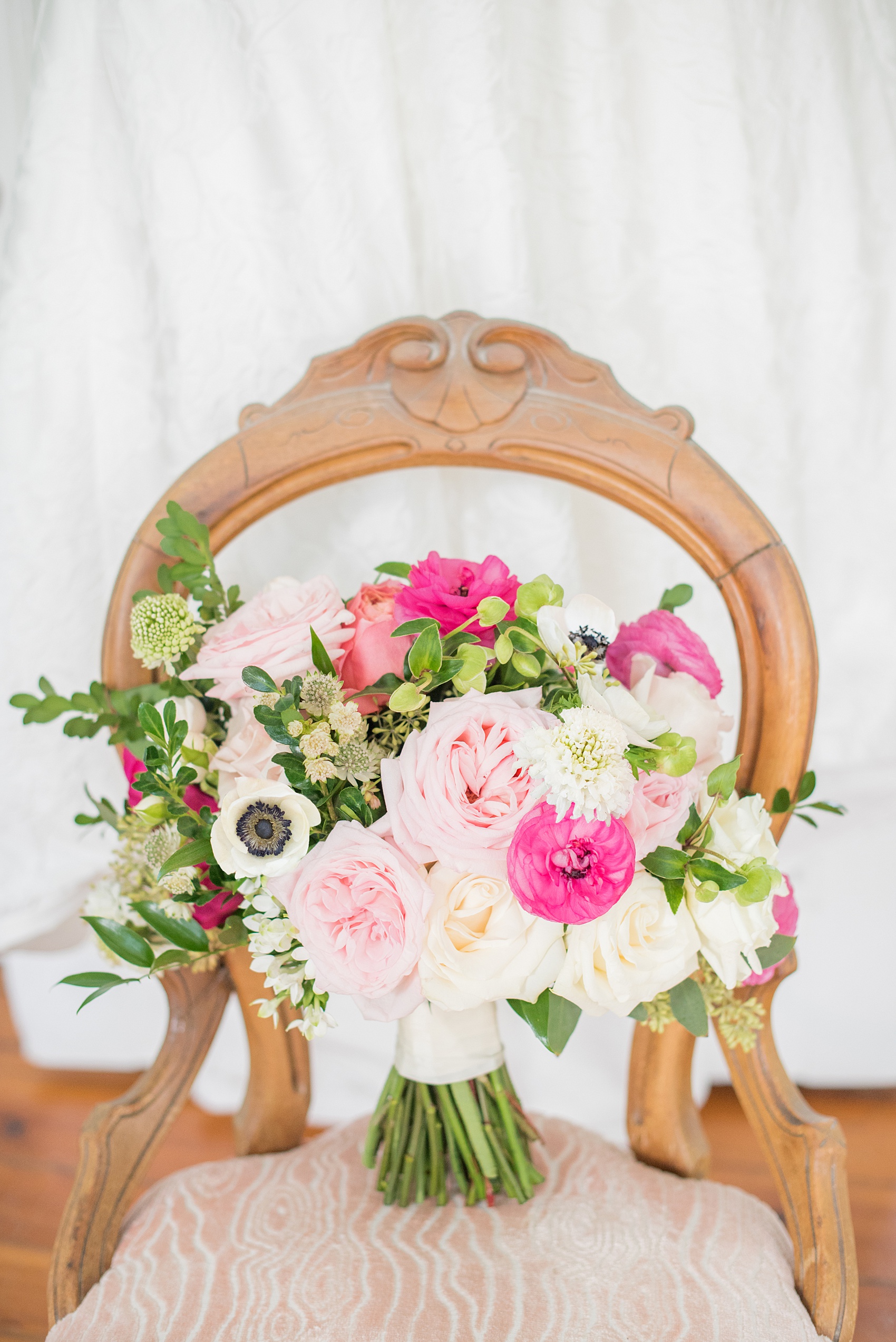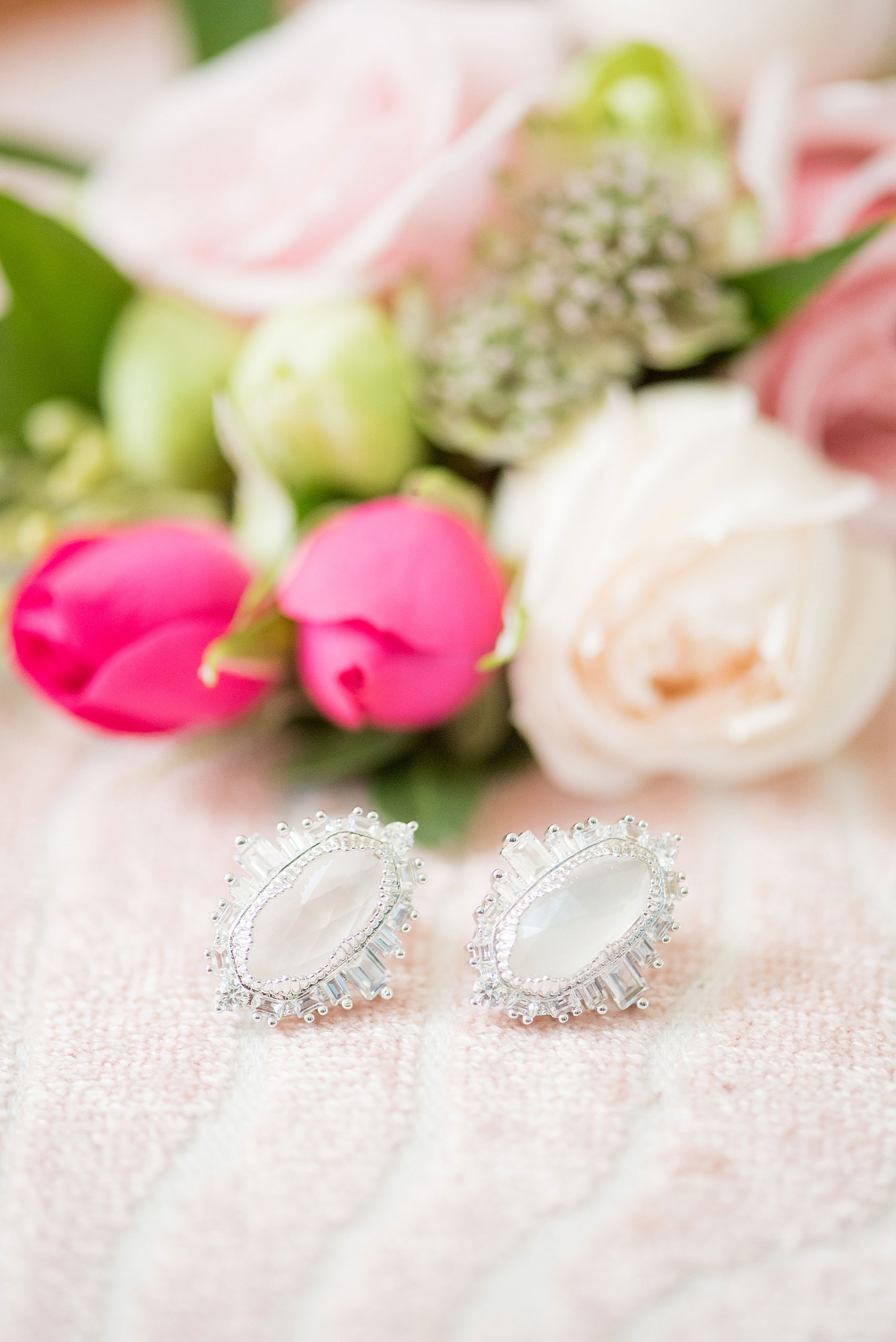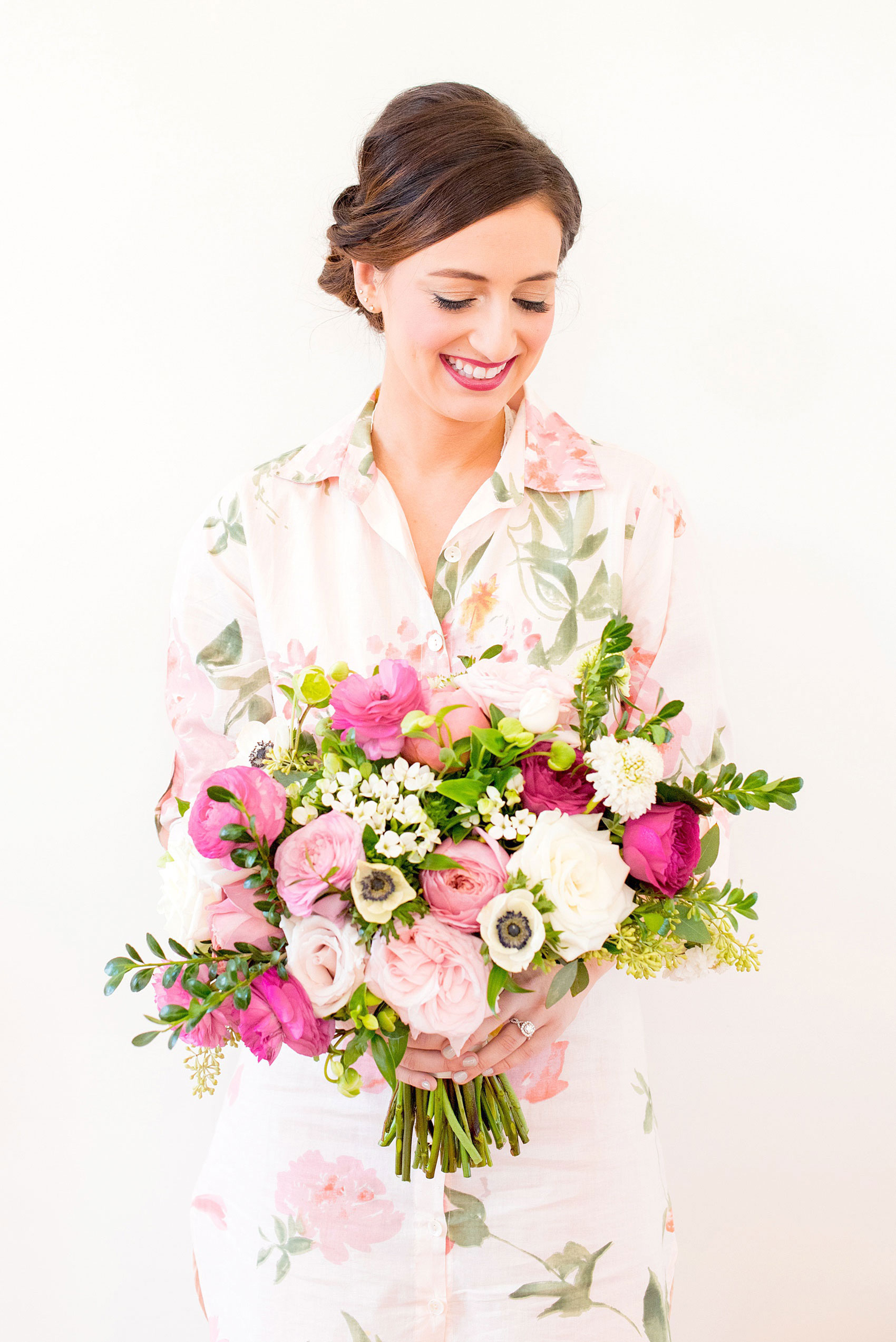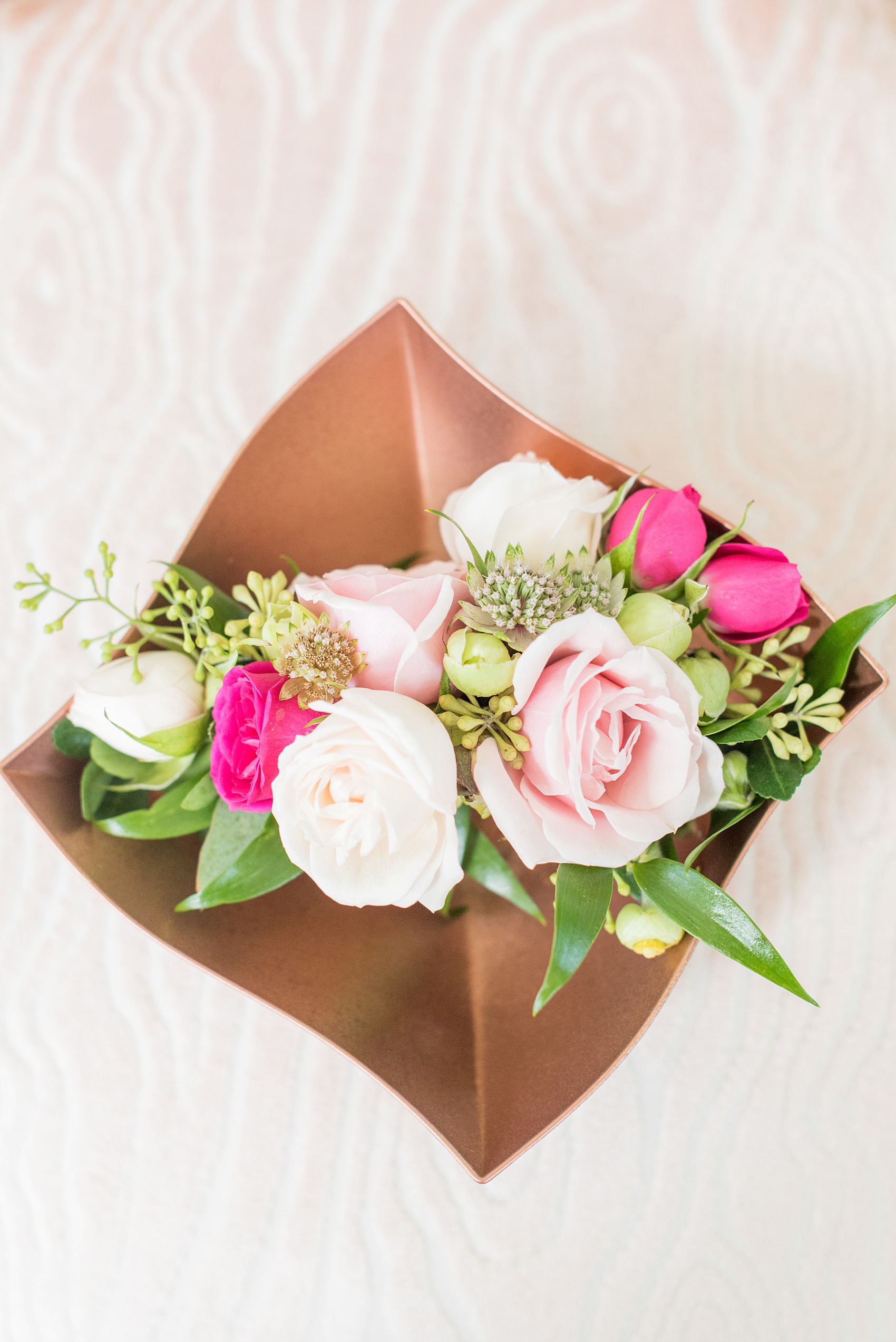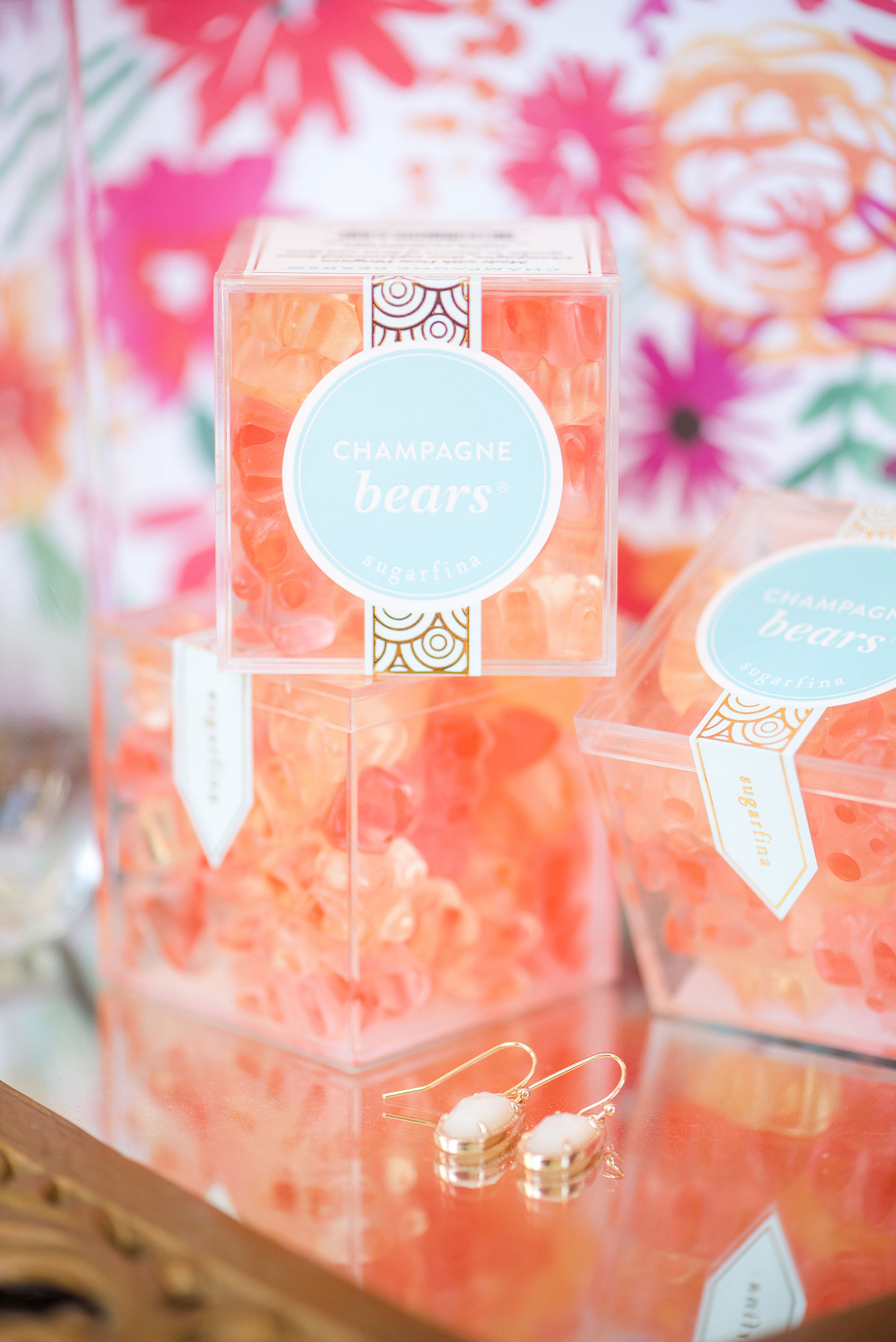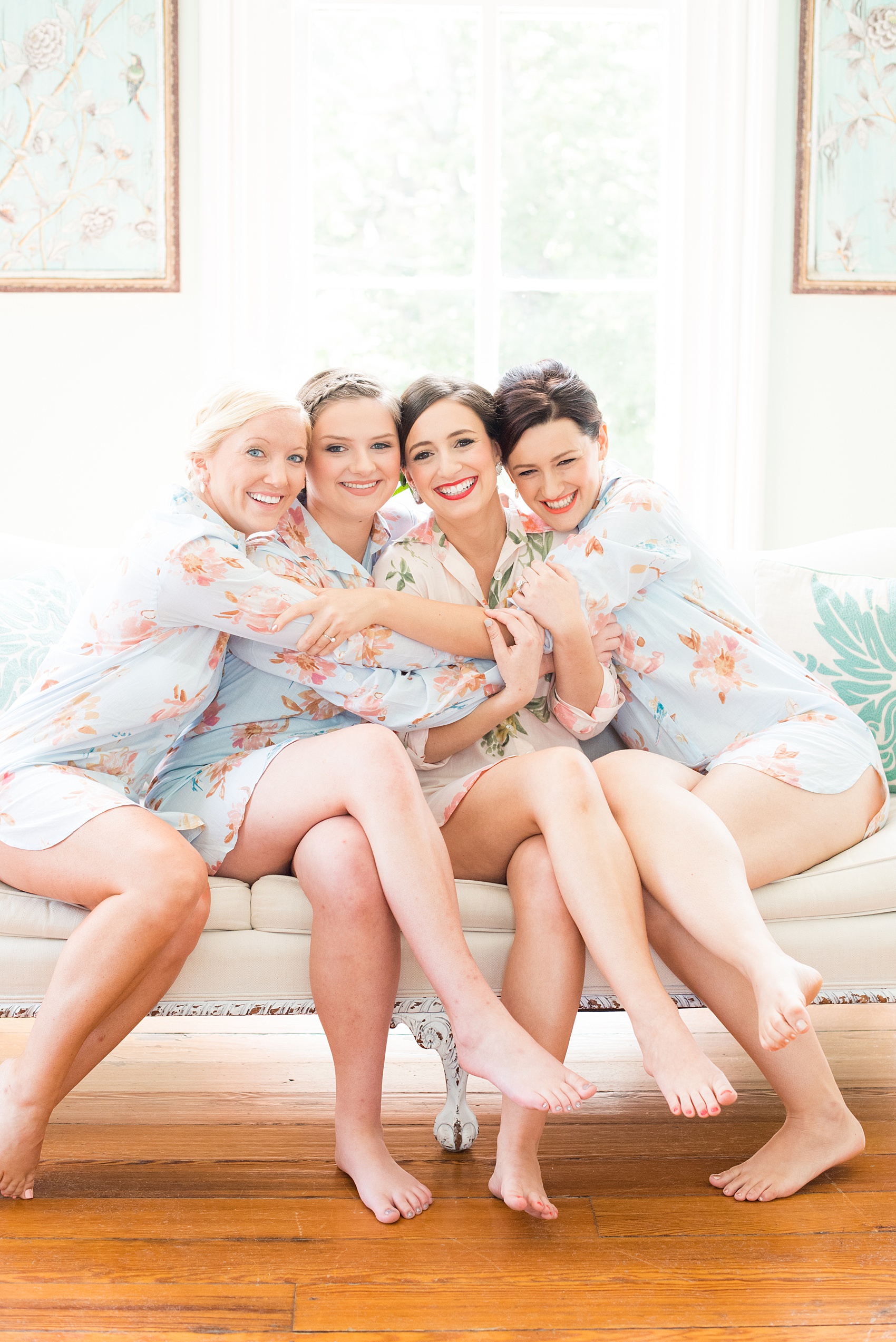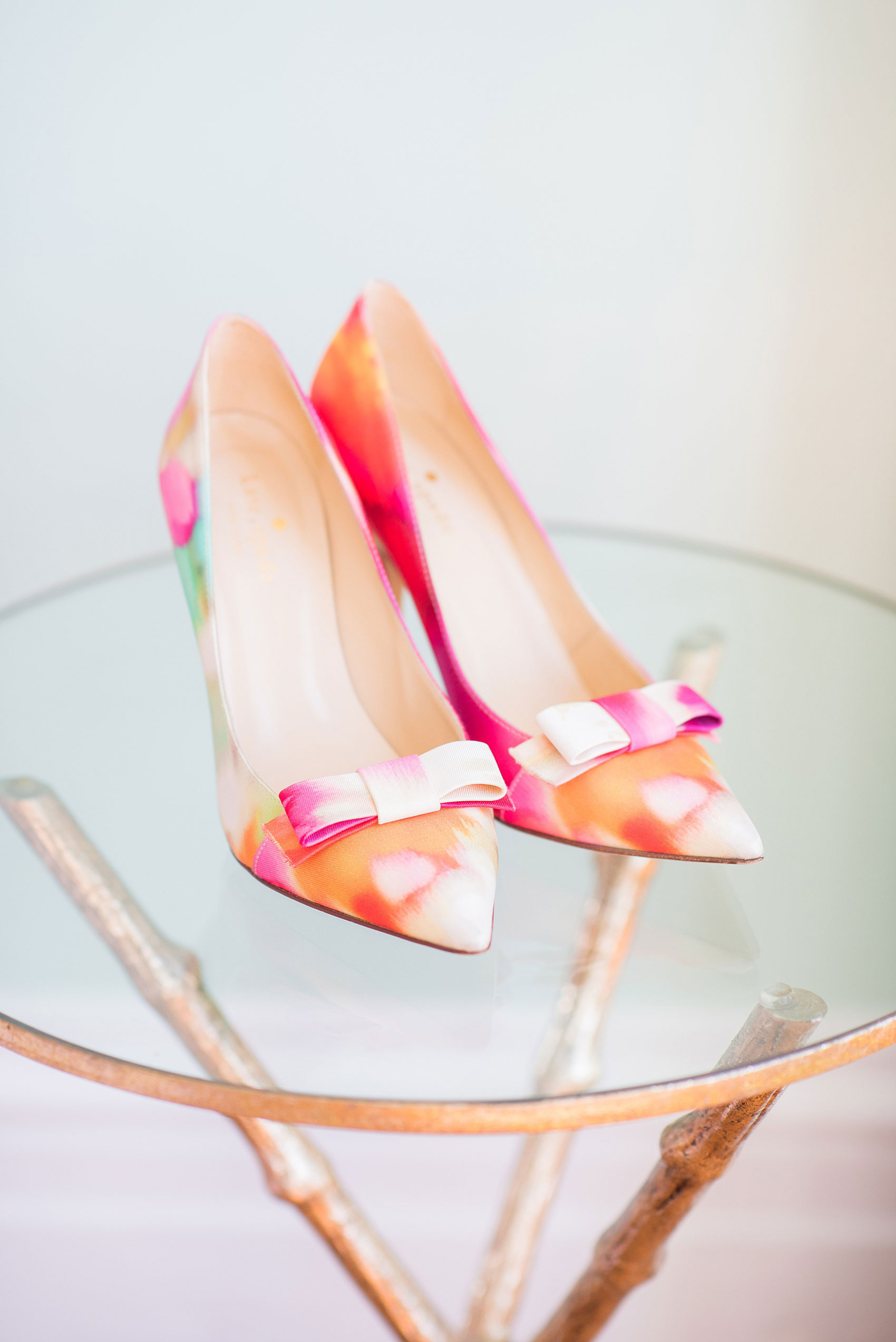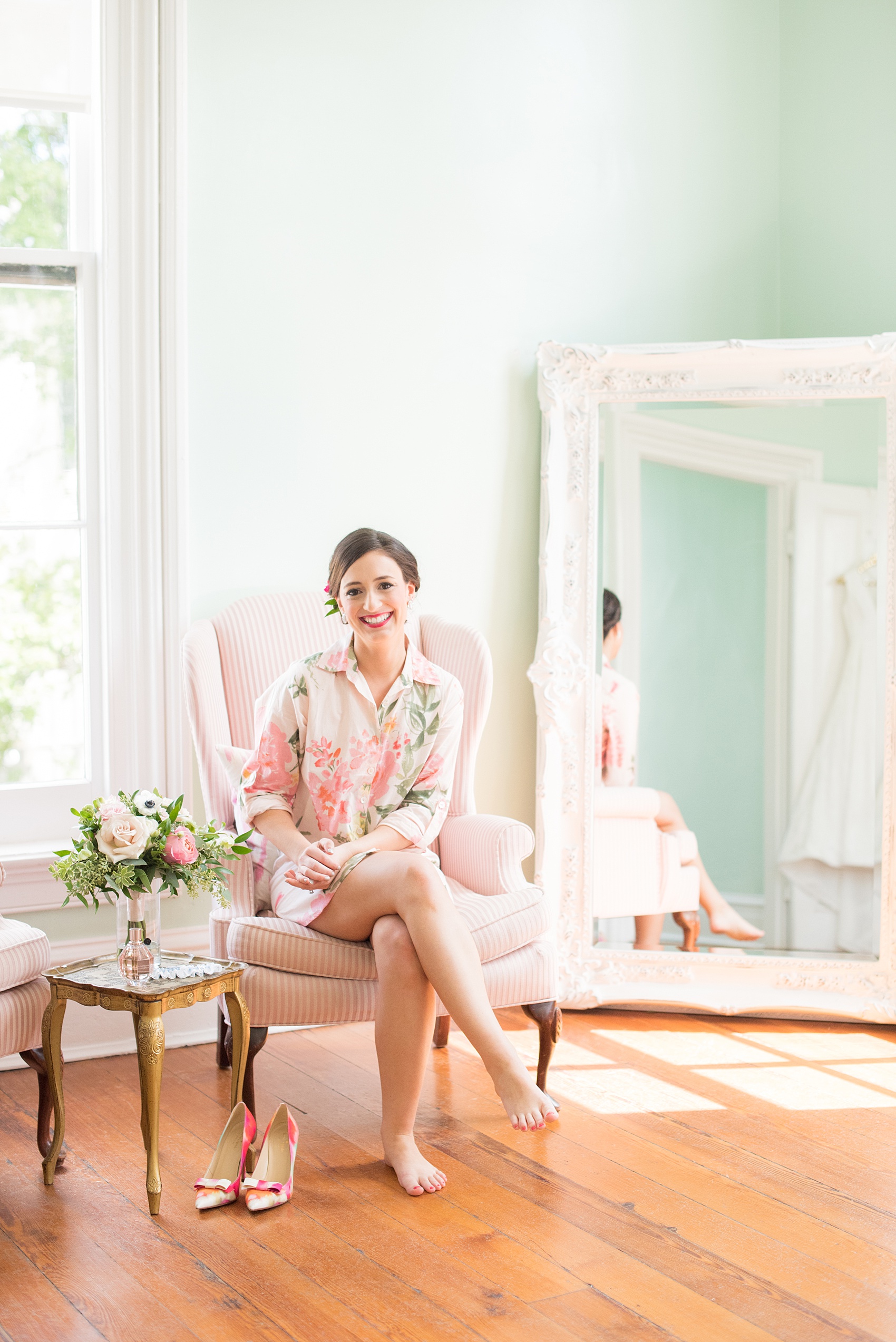 Everything matched perfectly, down to the Sugarfina champagne gummy bears that were part of the gifts Mollyann gave her bridesmaids, along with gorgeous Kendra Scott earrings (who was the designer of her earrings as well), a champagne flute with their name and those super cute Plum Pretty Sugar shirts they all prepared for Mollyann and Sean's day in.
Their Merrimon-Wynne House wedding photos were enhanced with such care to details Mollyann took, which I was happy to pay equal attention to capturing.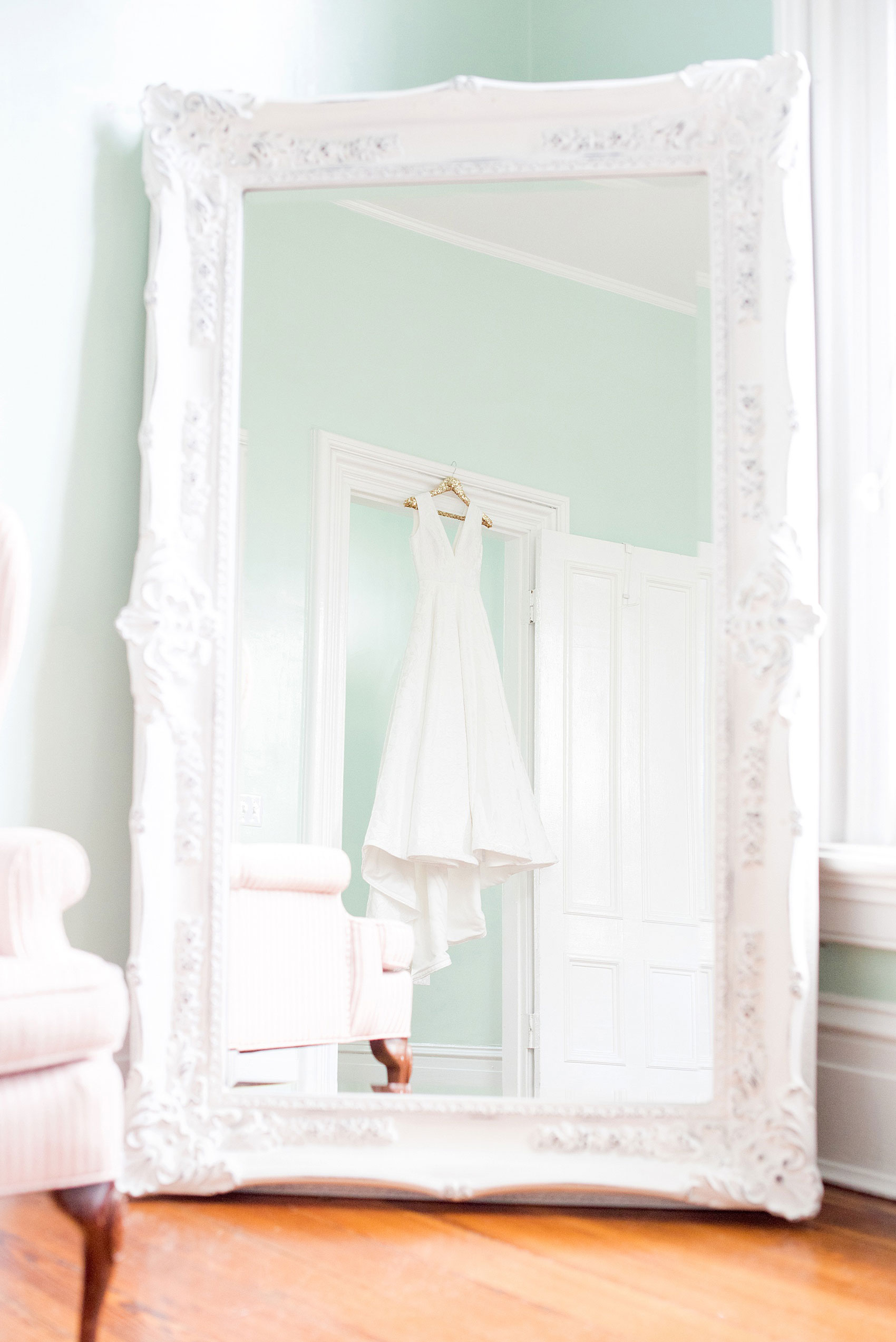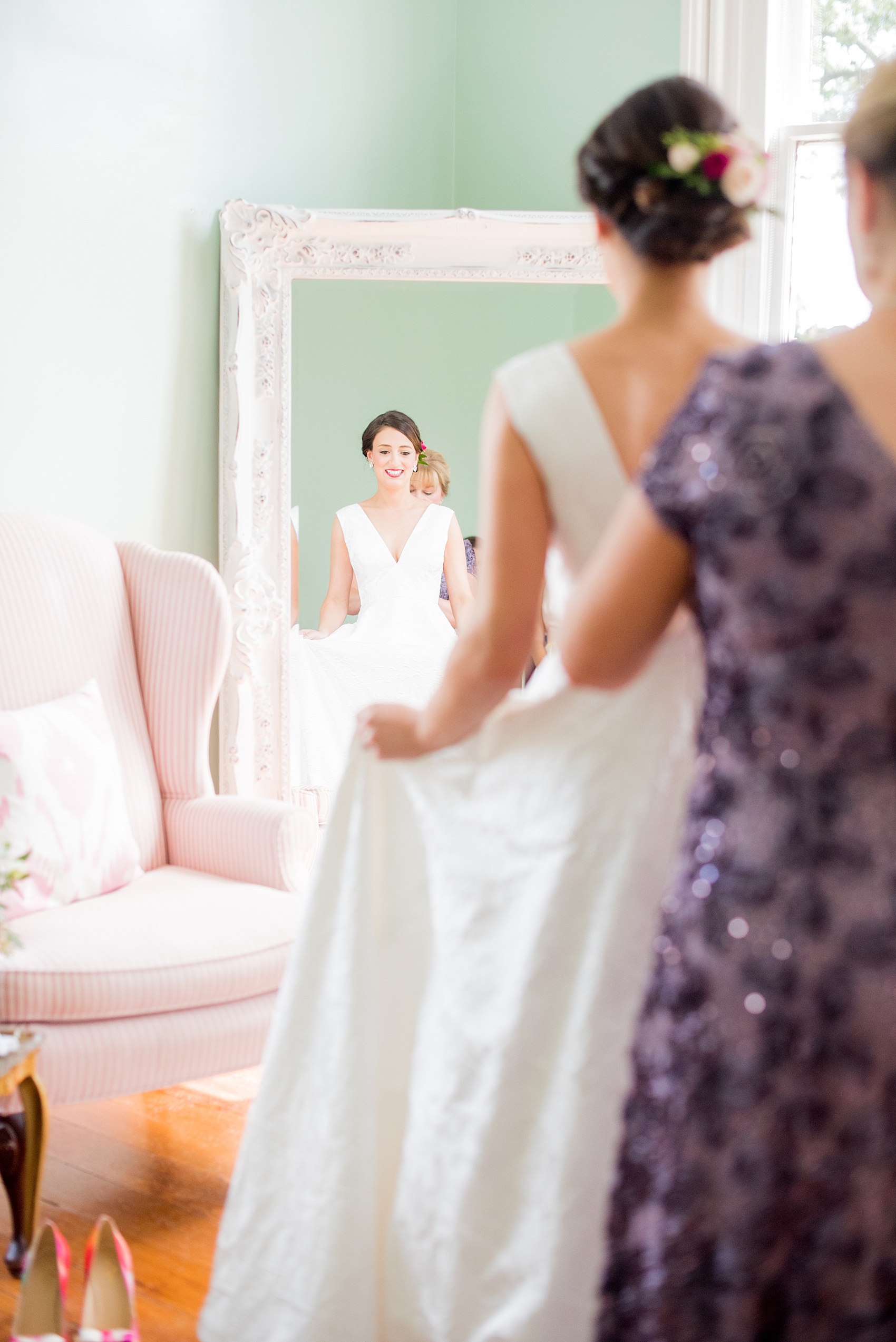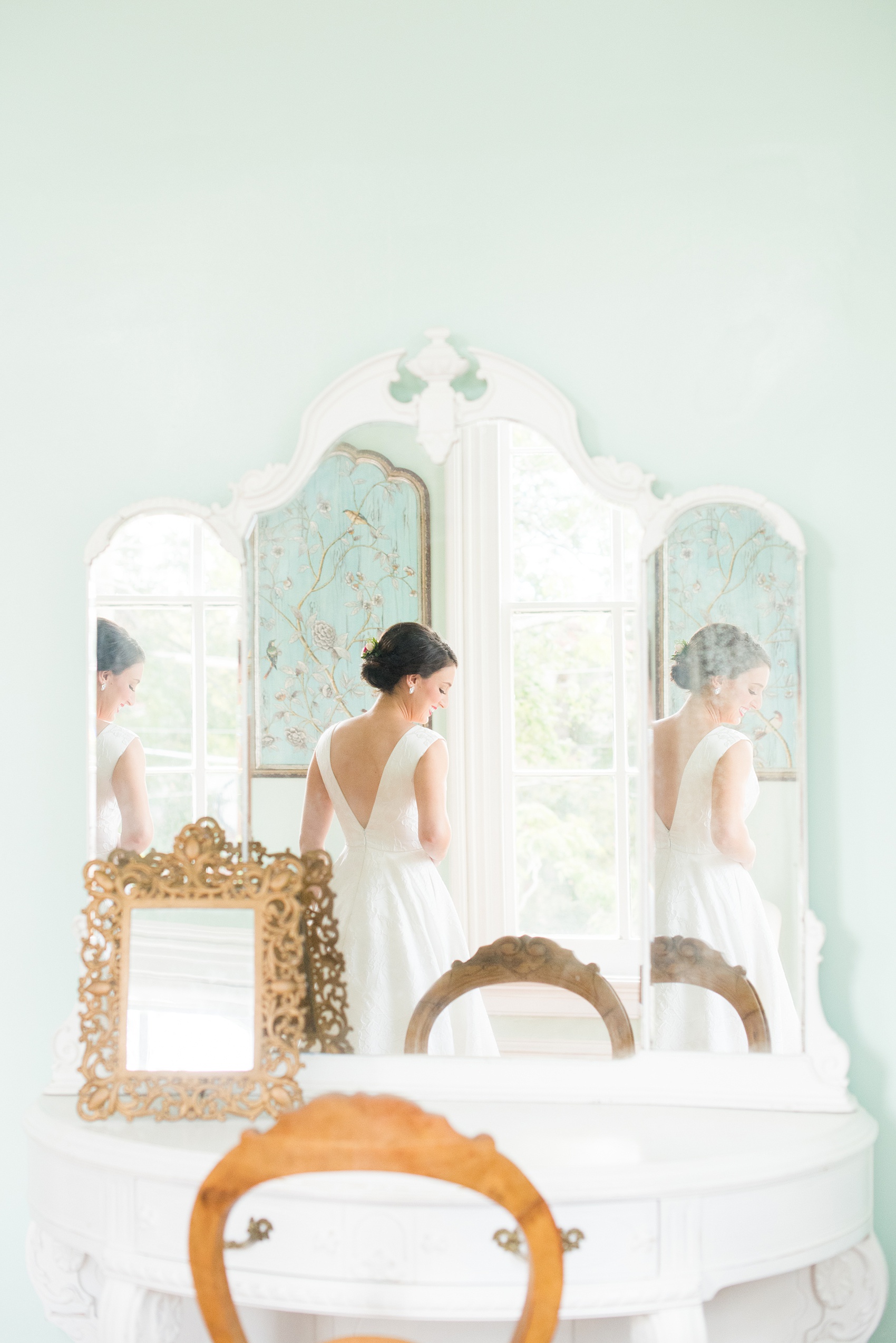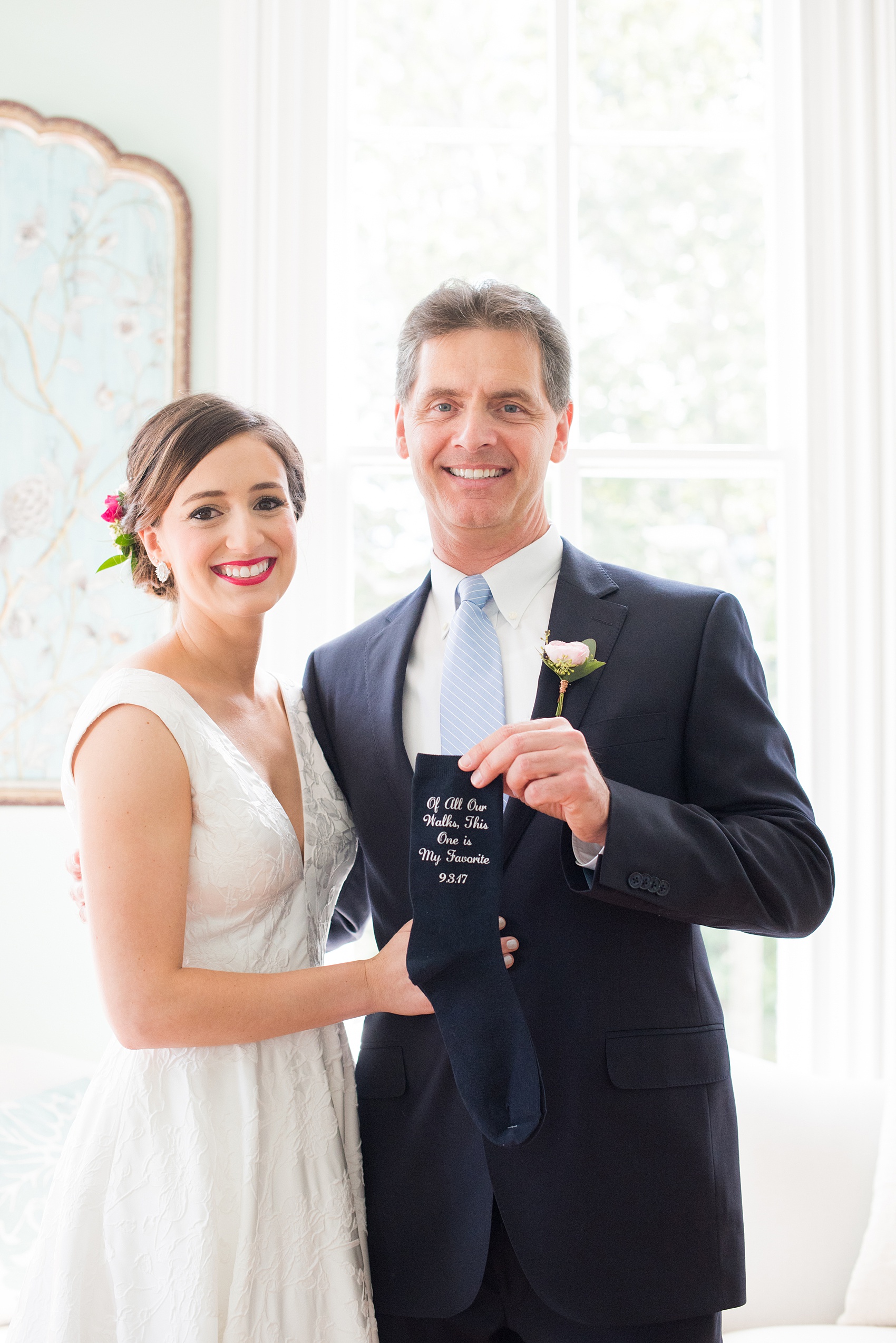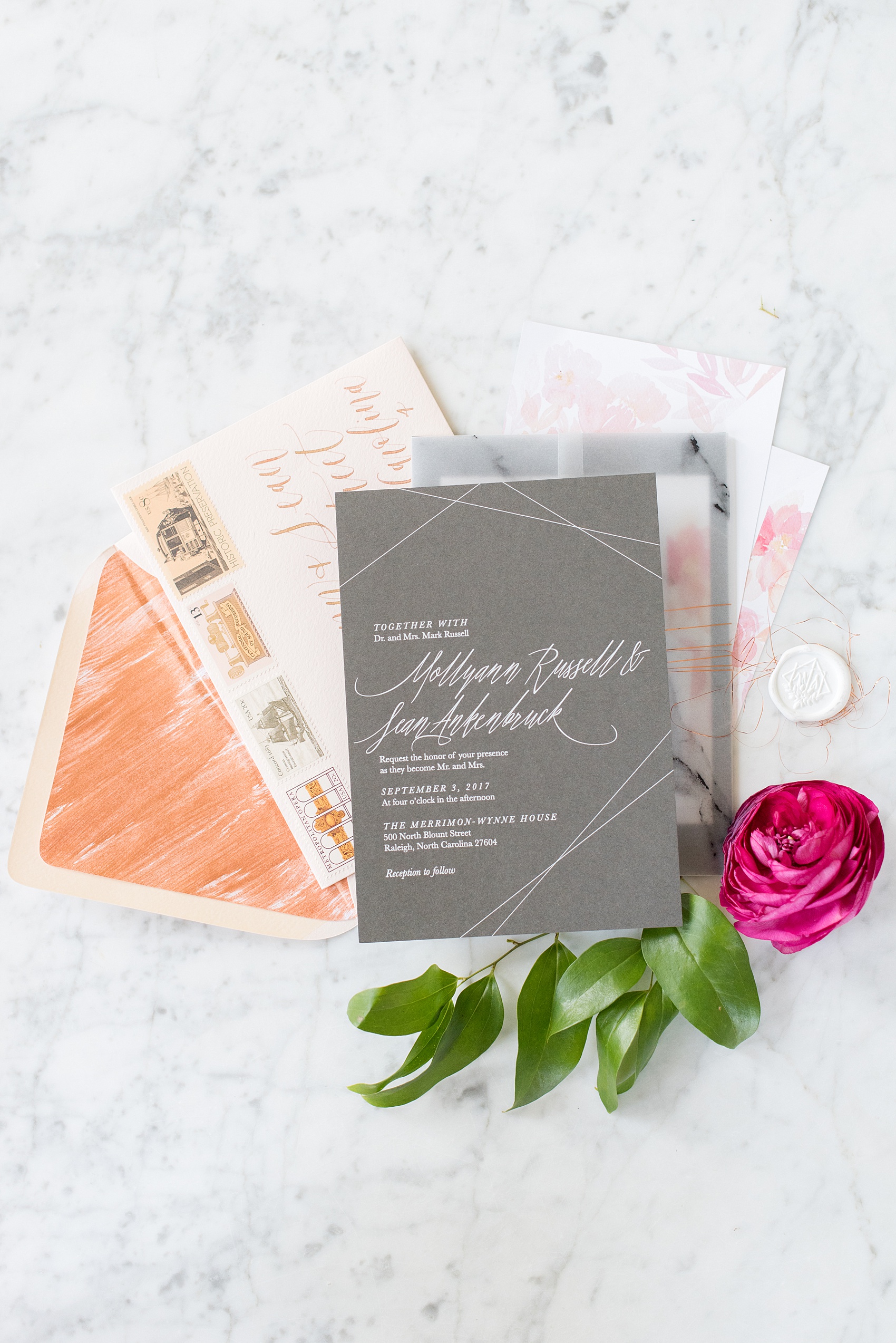 Mollyann's mom helped her put the finishing touches on her wedding day look just before she had a first look with her father. I adored the socks she gave him. They had her wedding date and read, "Of All Our Walks, This One is My Favorite."
Sean enlisted the help of his groomsmen to dig up the bourbon him and Mollyann buried at the venue a month before. It's a southern tradition, carried out in hopes of having a rain-free wedding day, which they did!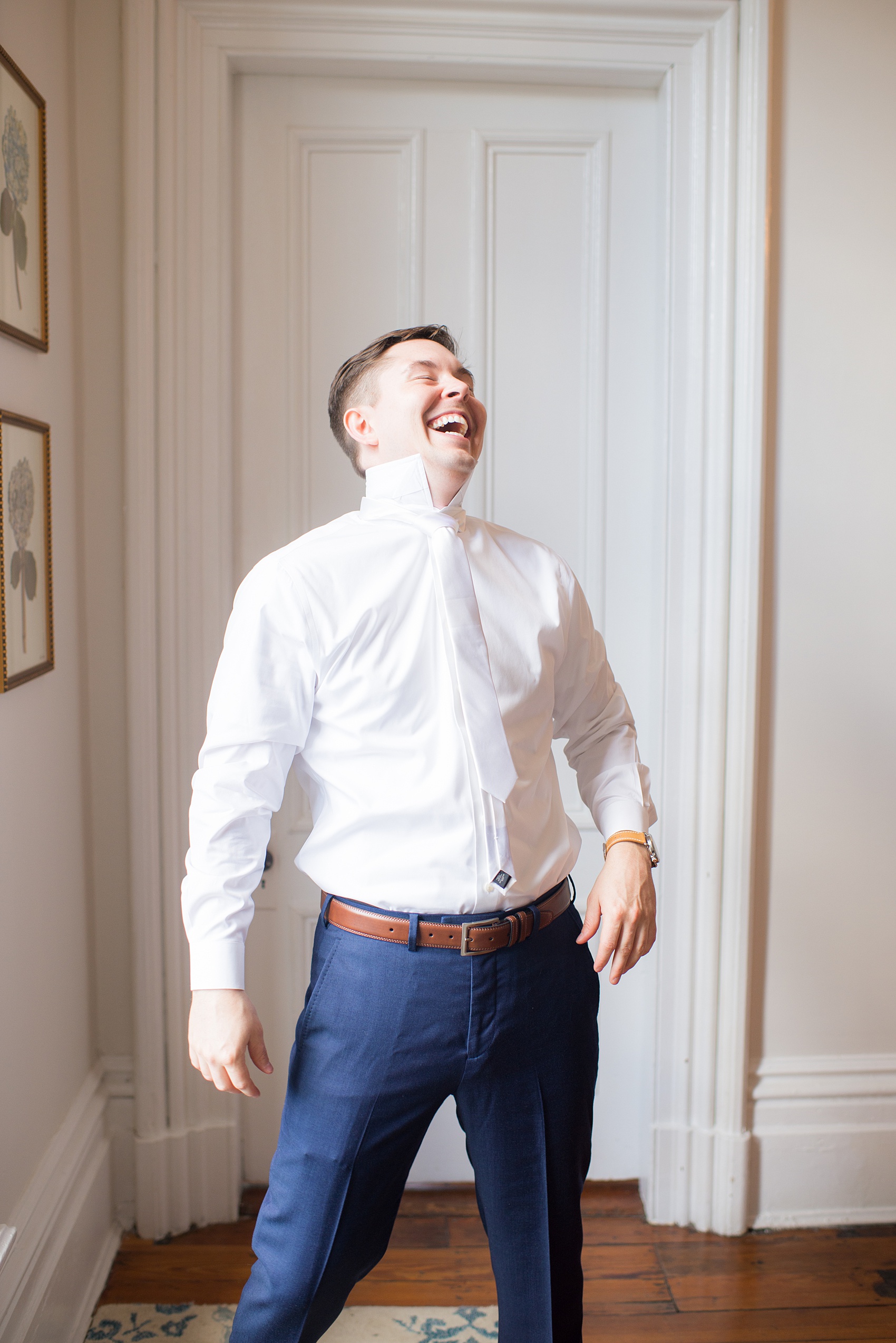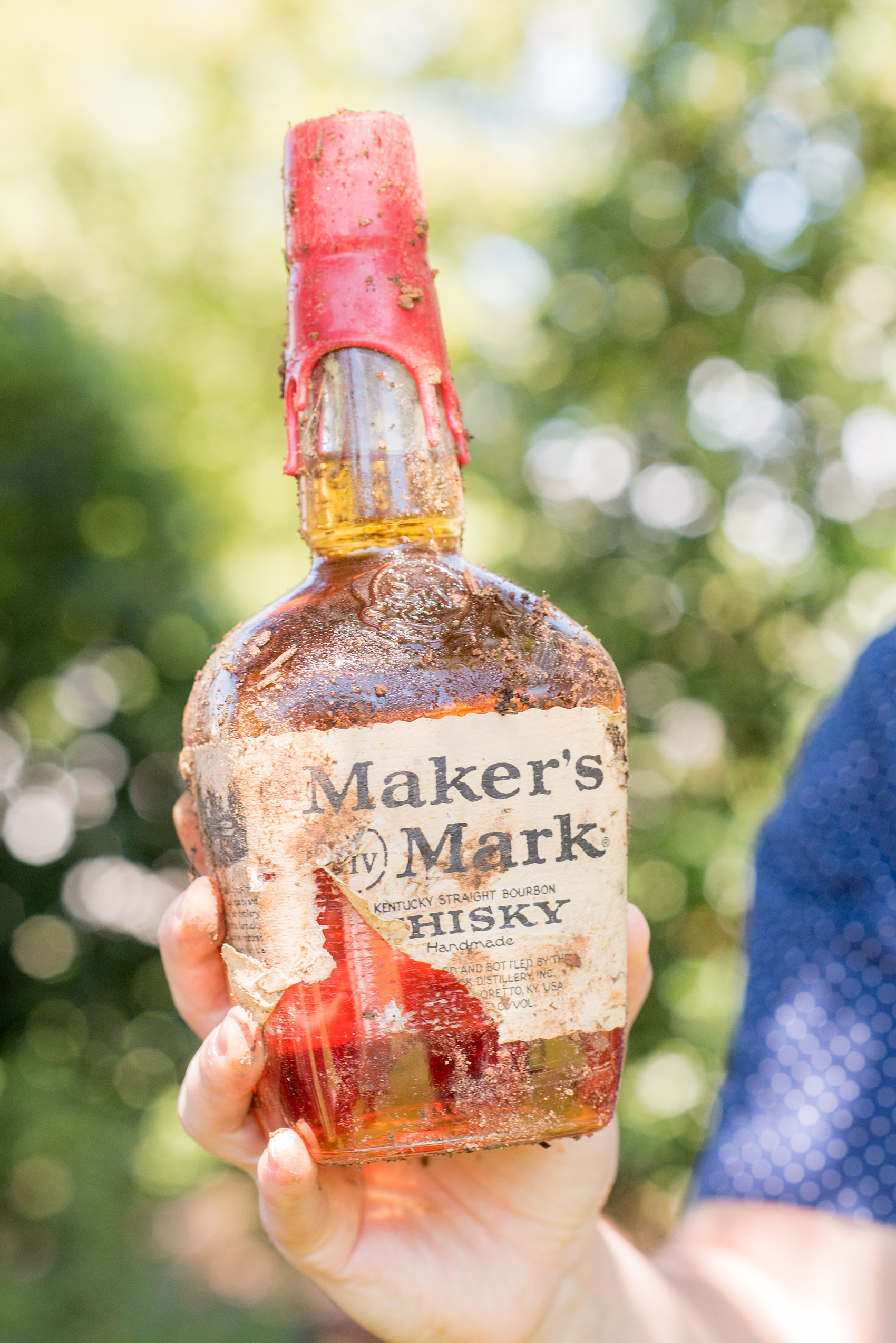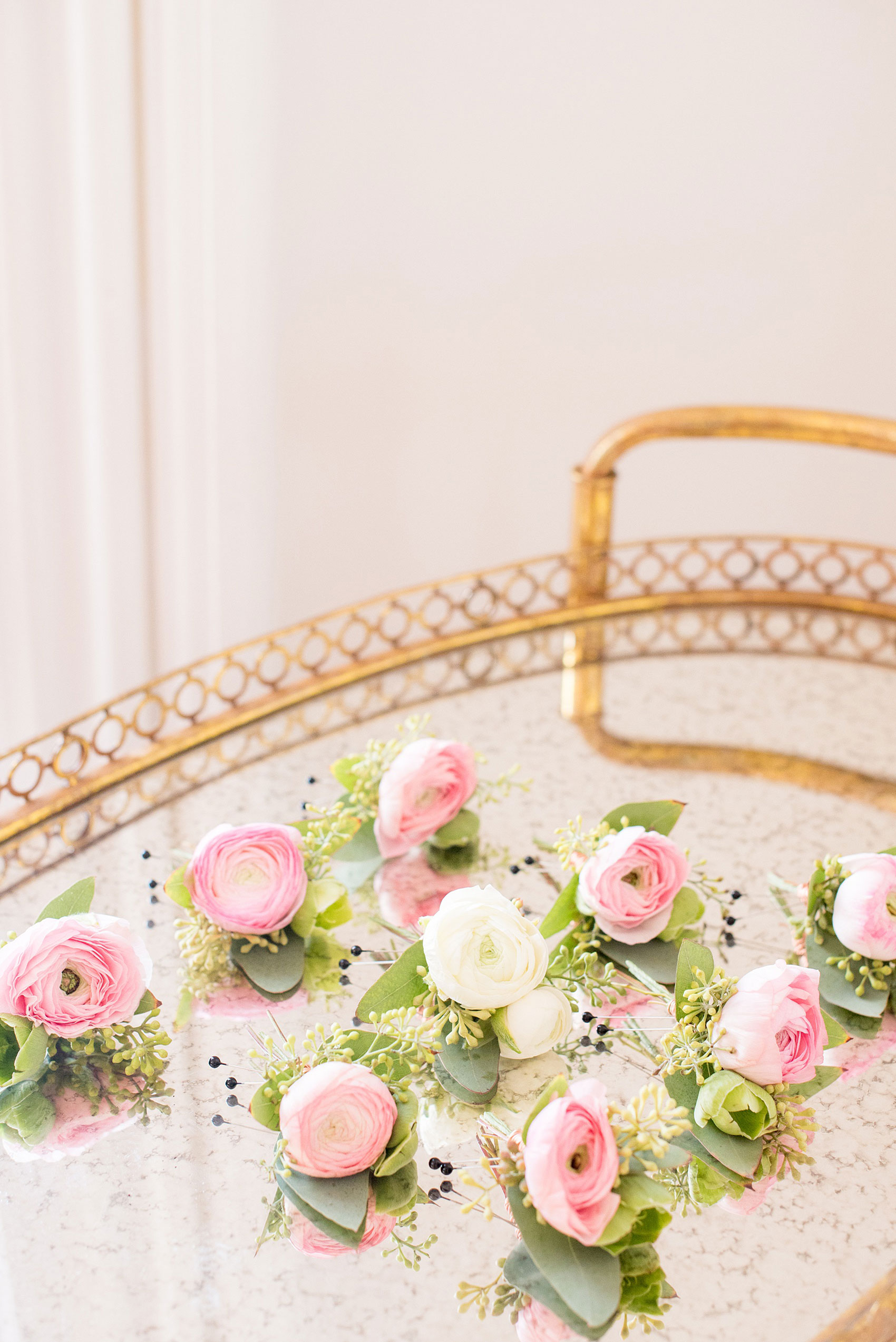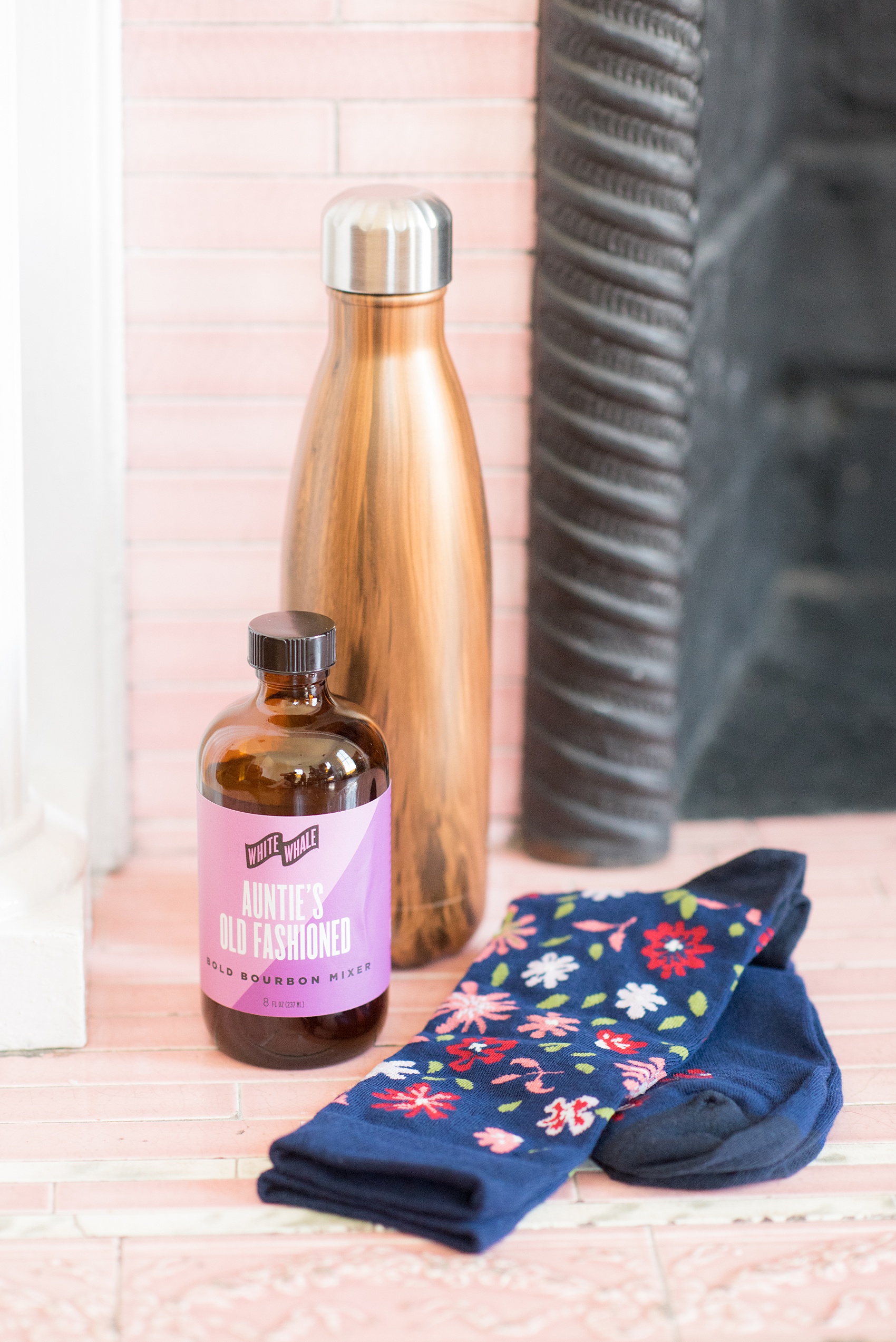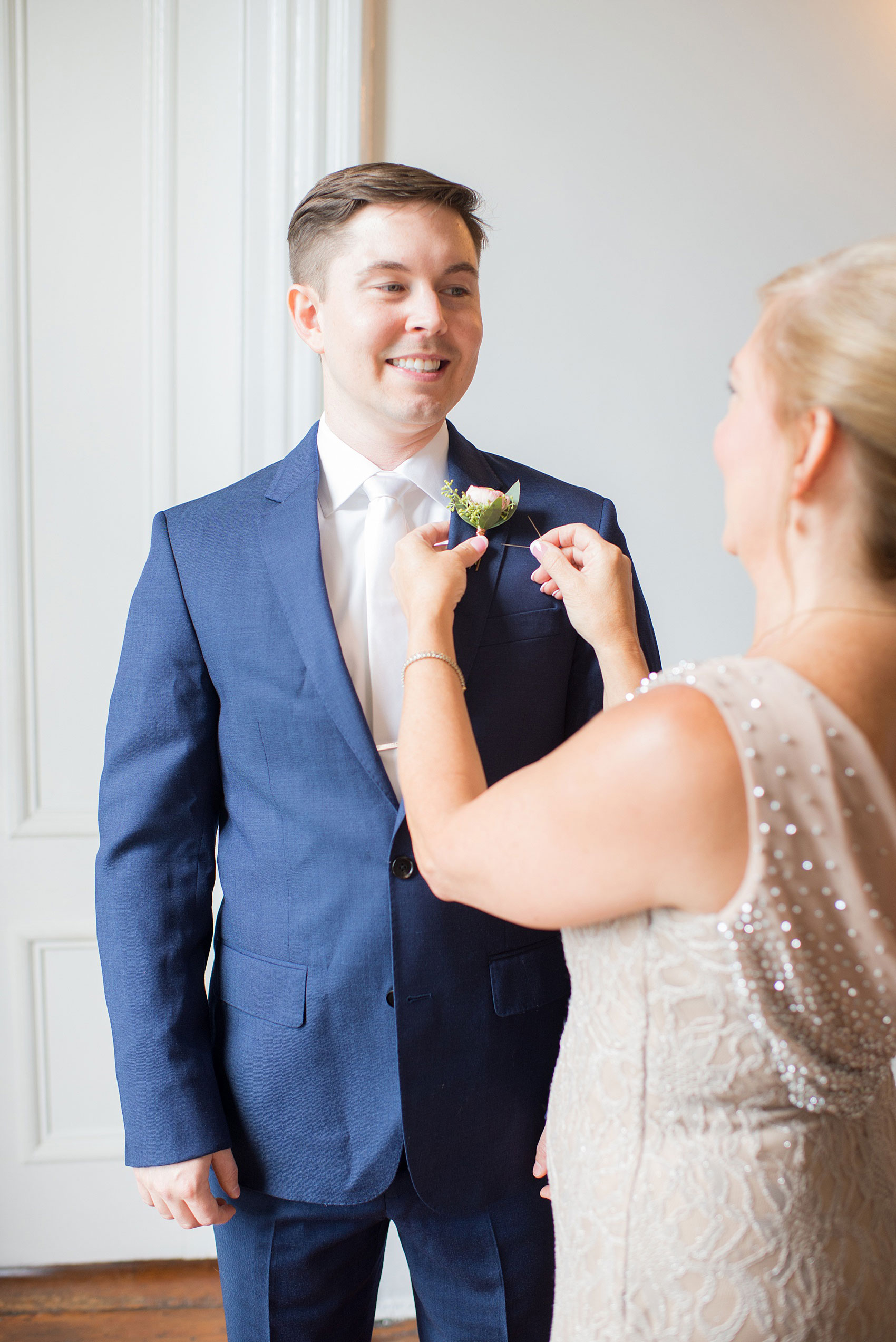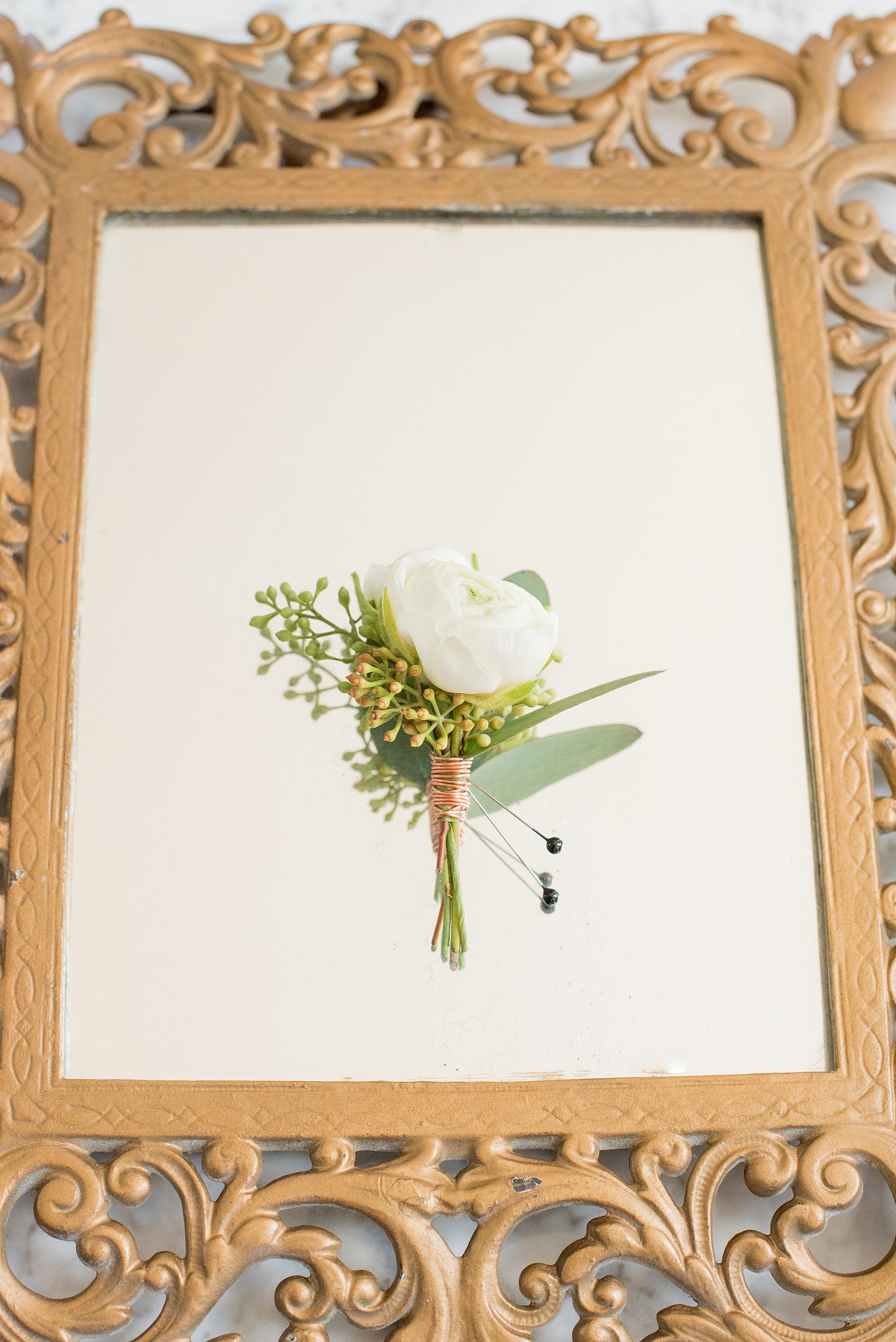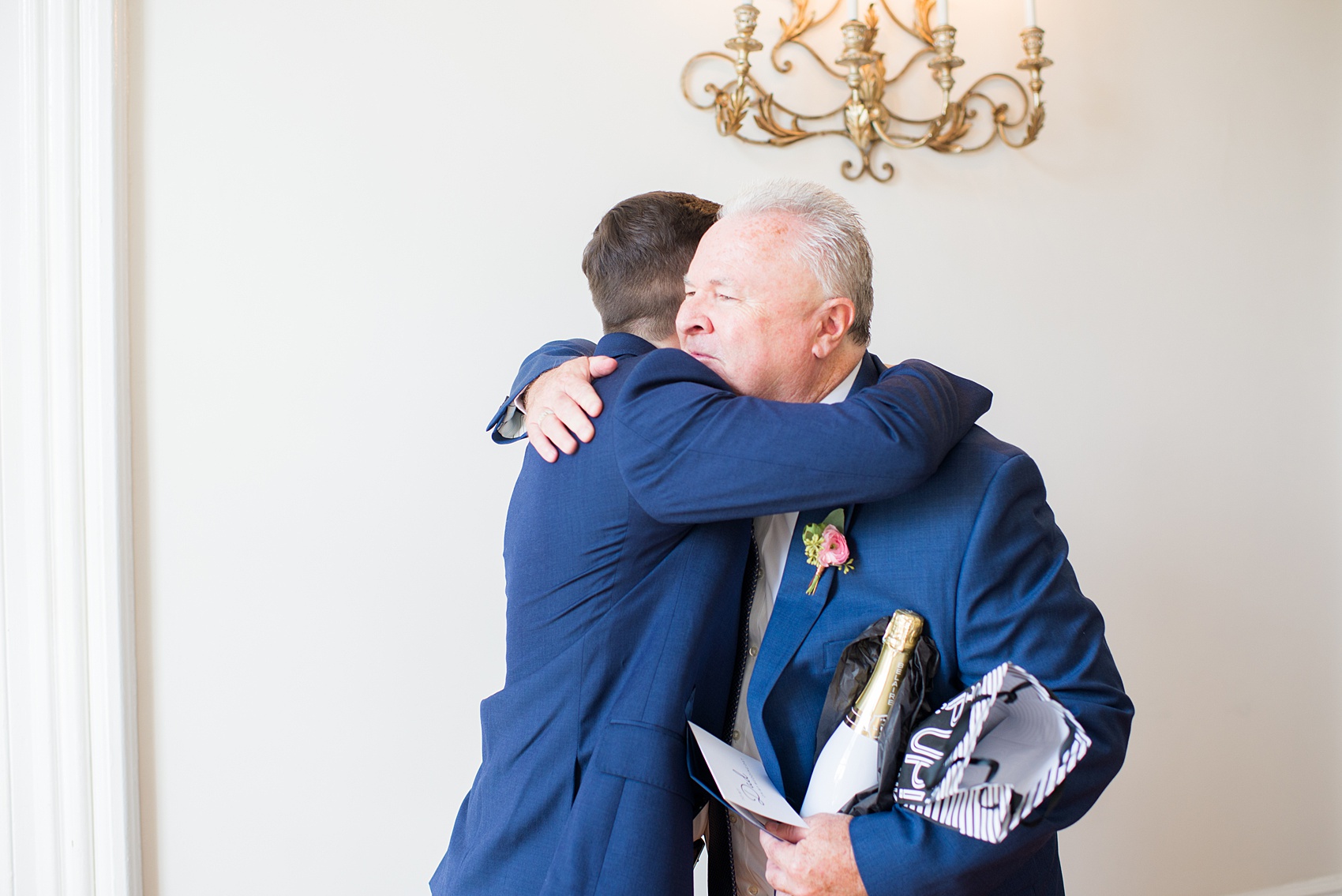 Perfectly crafted white and pink ranunculus boutonnieres were fastened with copper wire for the groomsmen. Sean gave them all floral socks, woodgrain Swell bottles and White Whale Mixers (perfect for the bourbon they dug up!) for gifts. He gave his father a special gift as well. Sadly, his father has since passed away, making the Merrimon-Wynne House wedding photos of them at his wedding even more special.
Mollyann's bouquet was one of my favorites! Eclectic Sage did an incredible job of crafting the textures and colors to create a one-of-a-kind stunner! It had white anemones, green hellebores, light pink roses, white scabiosa, hot pink ranunculus and assorted greenery. After finishing touches it was time for Mollyann to grab her bouquet and travel down the beautiful staircase to meet her groom!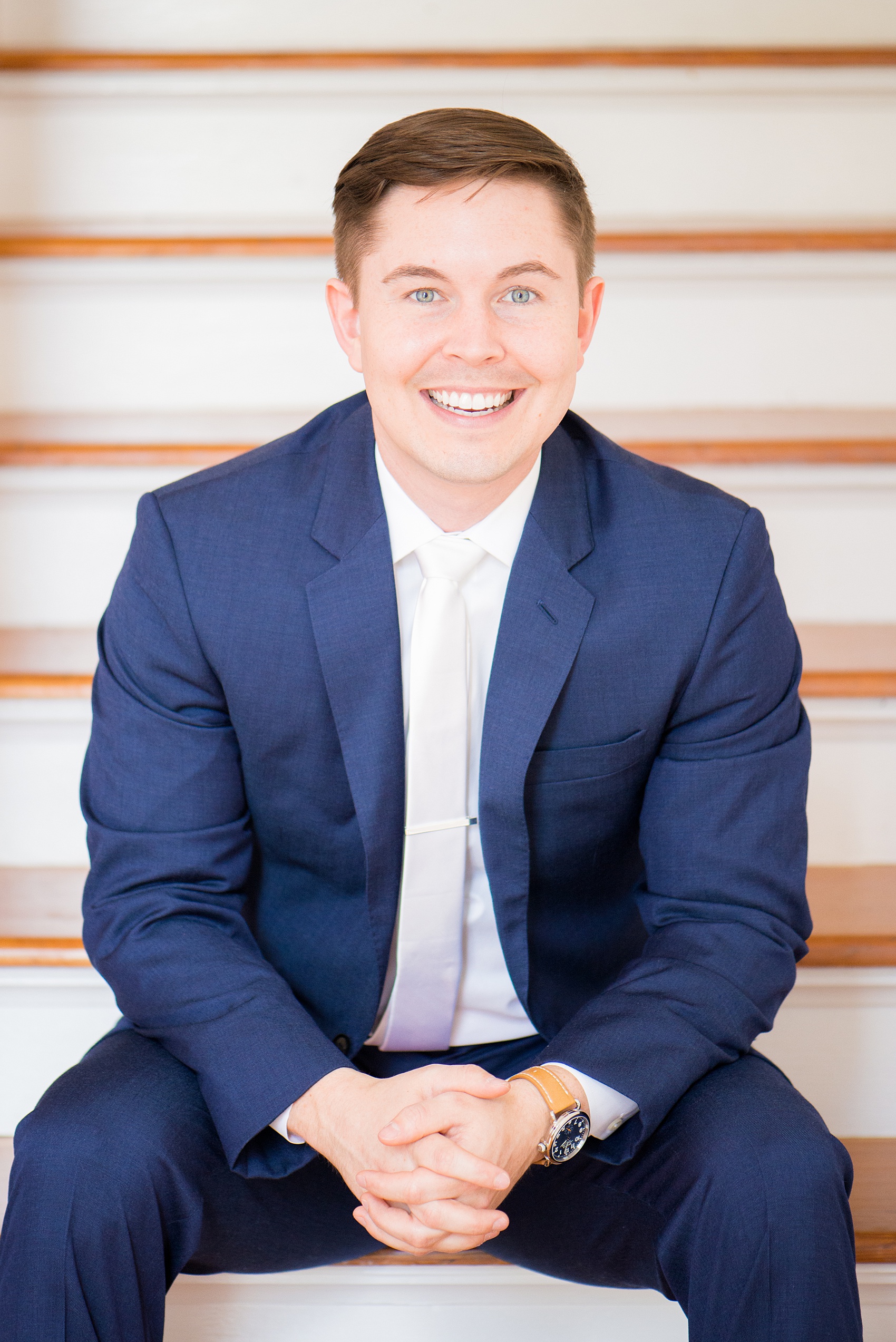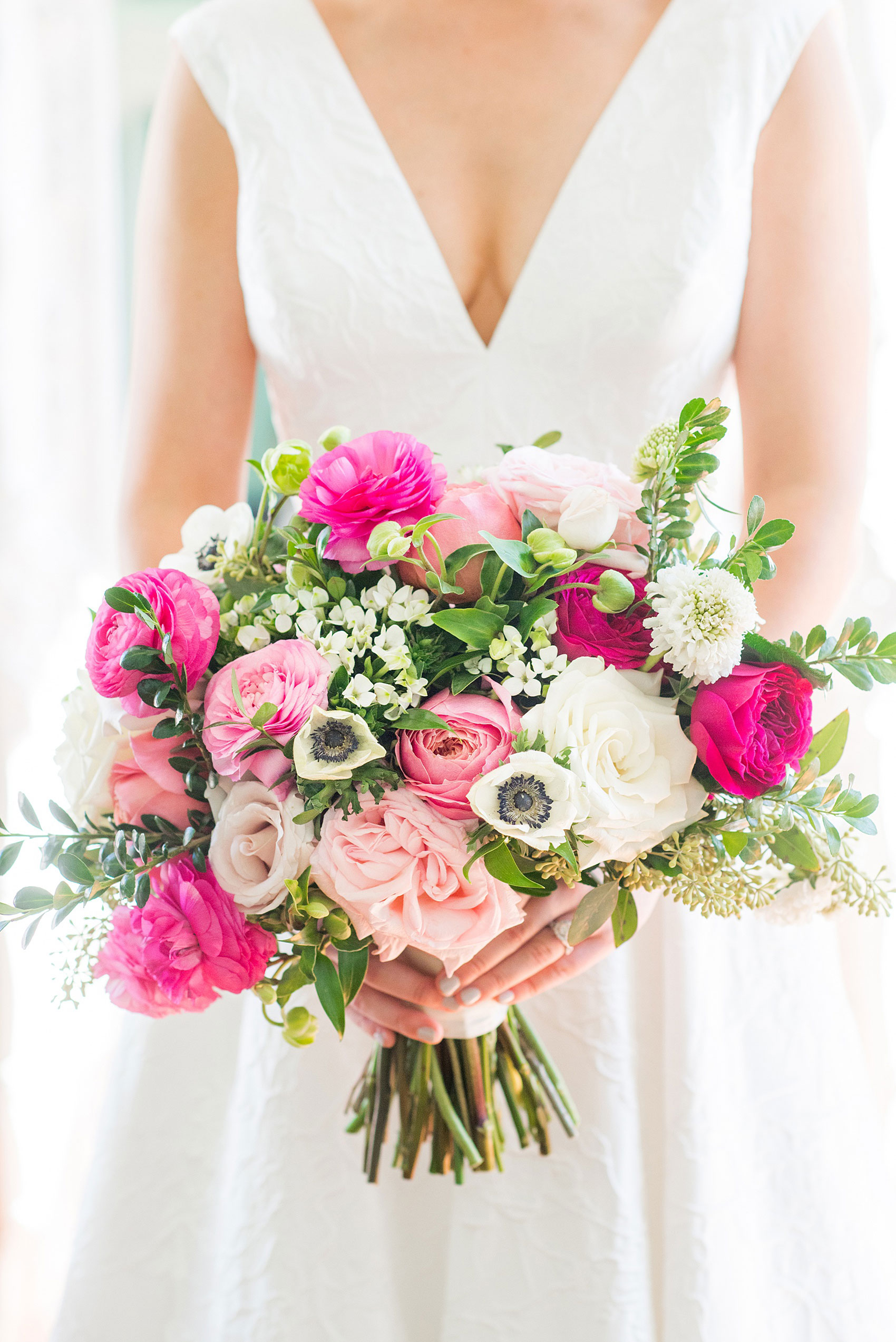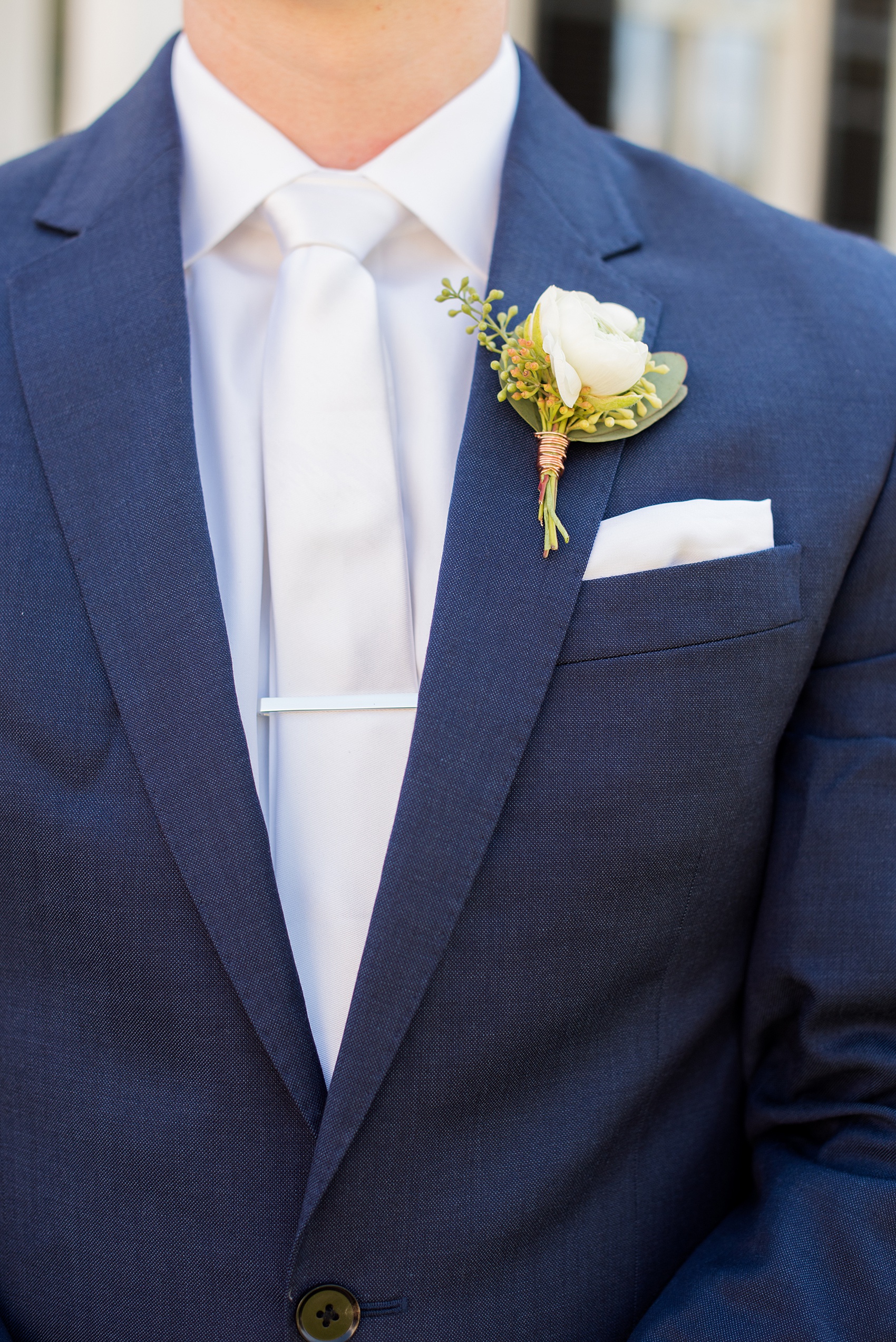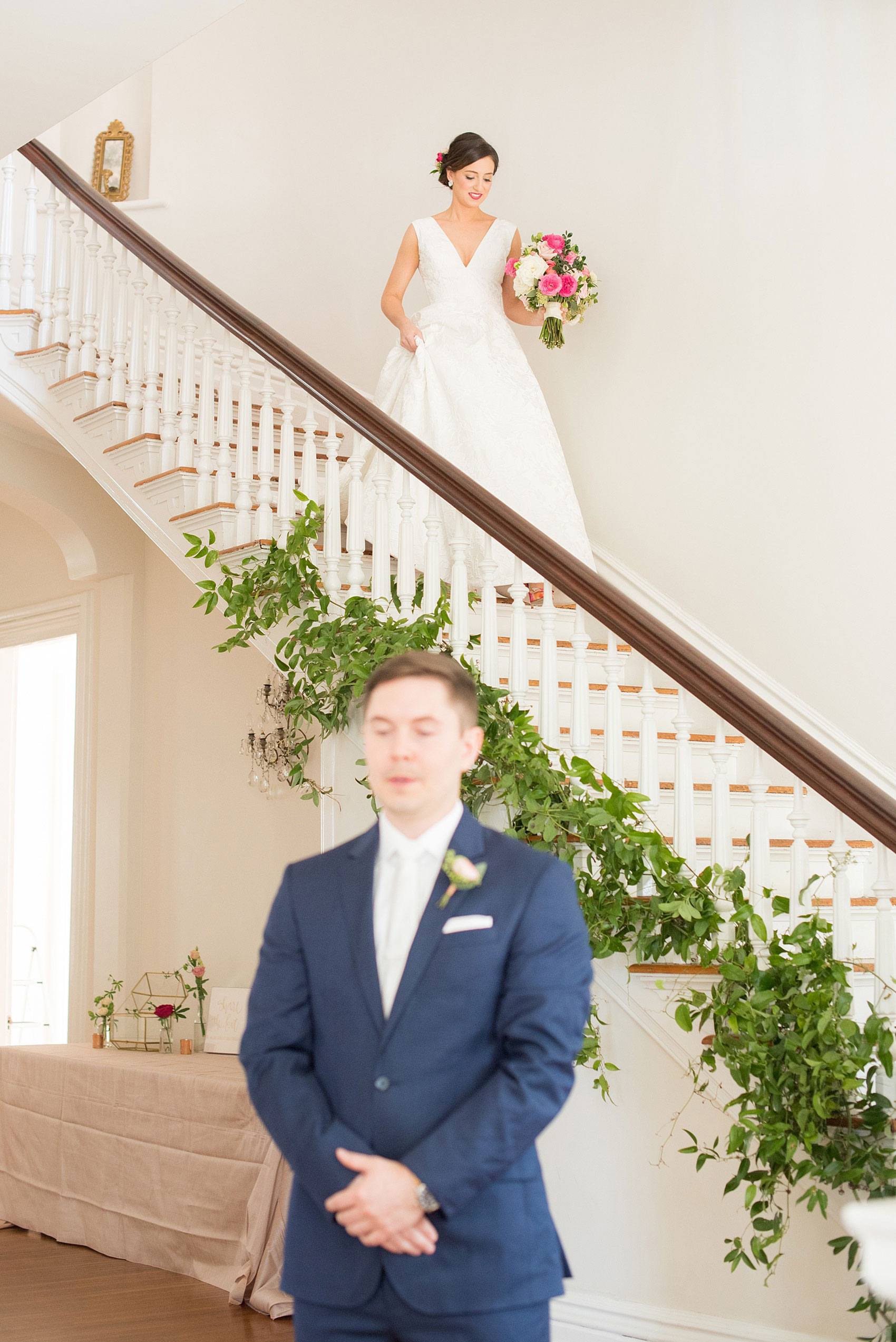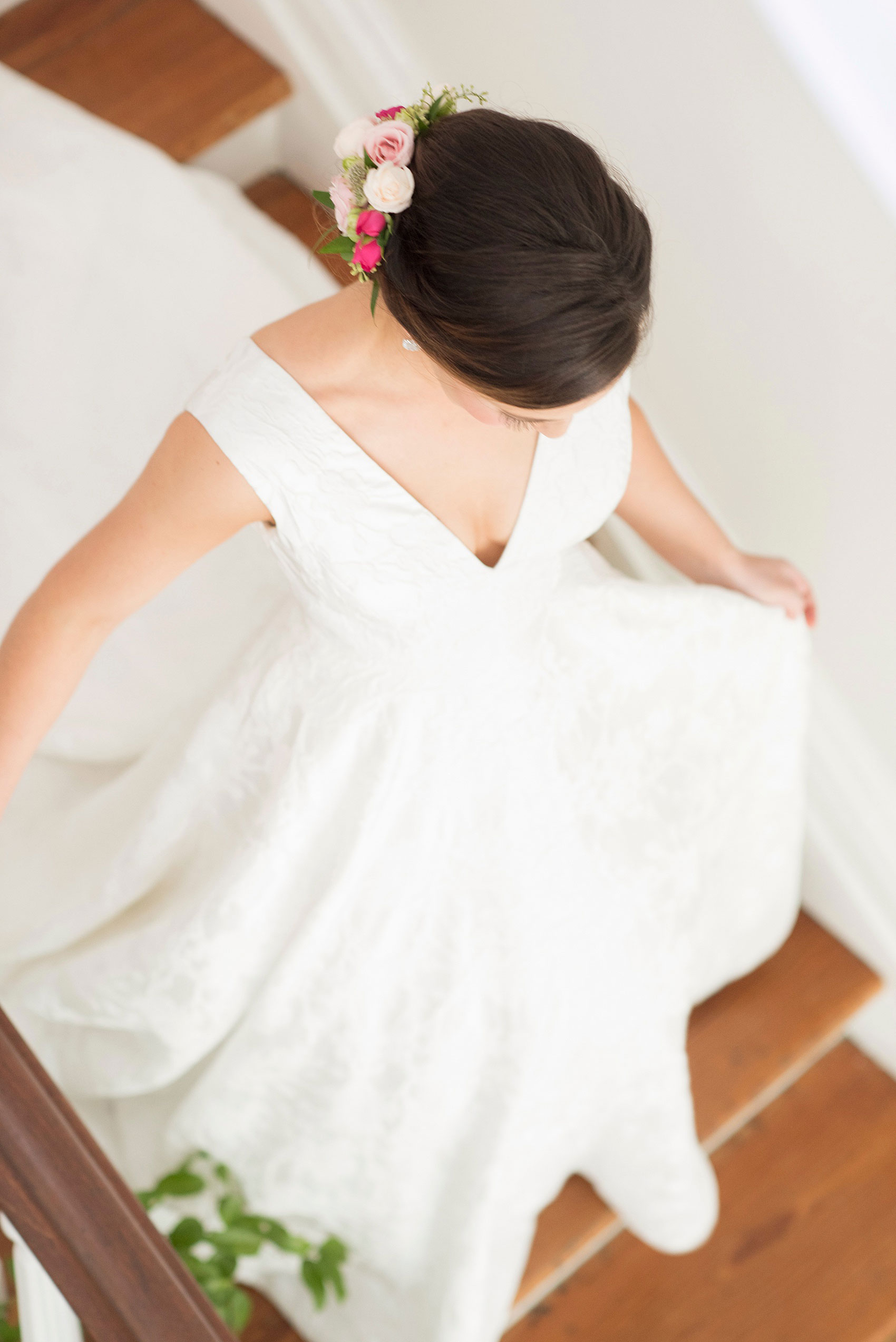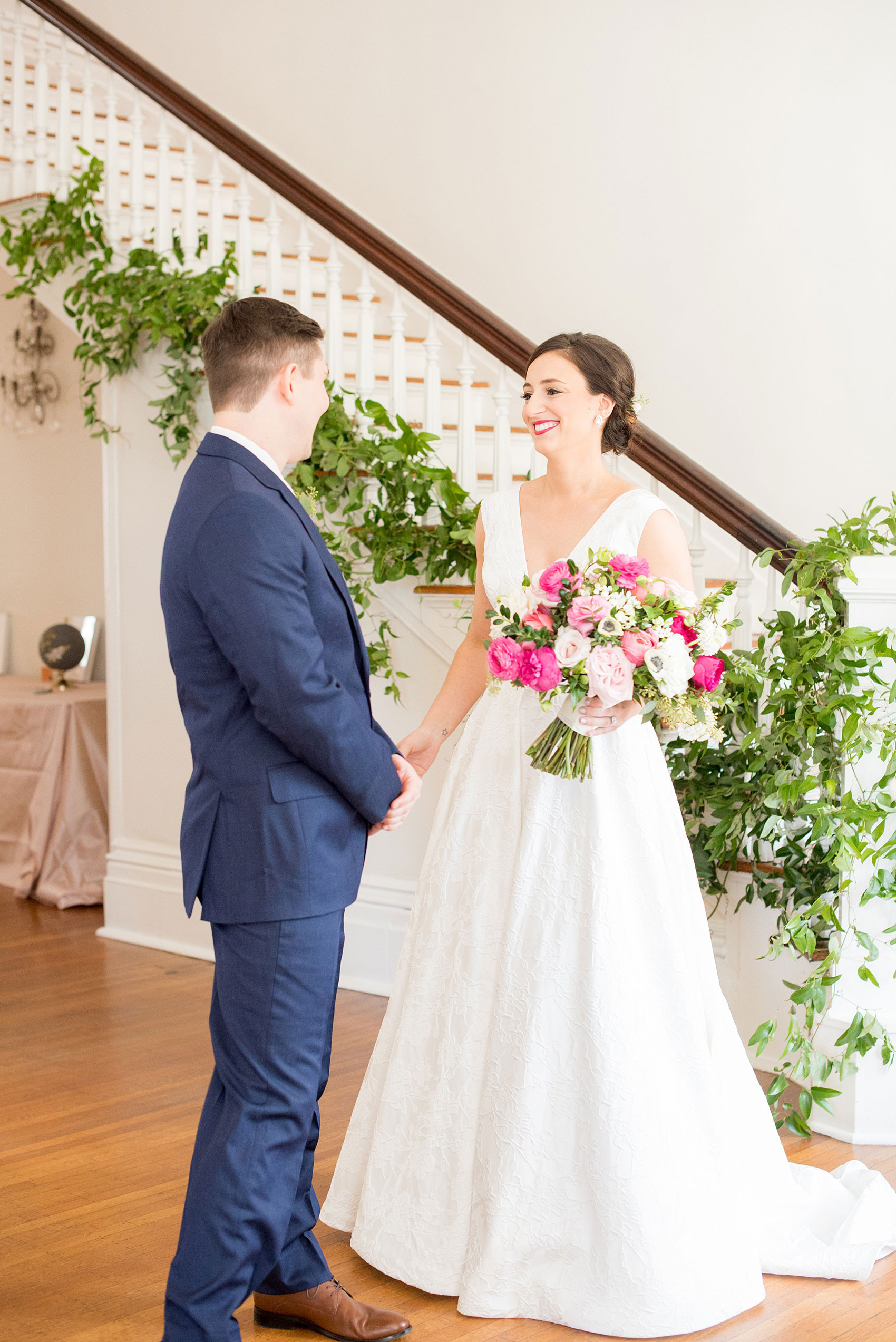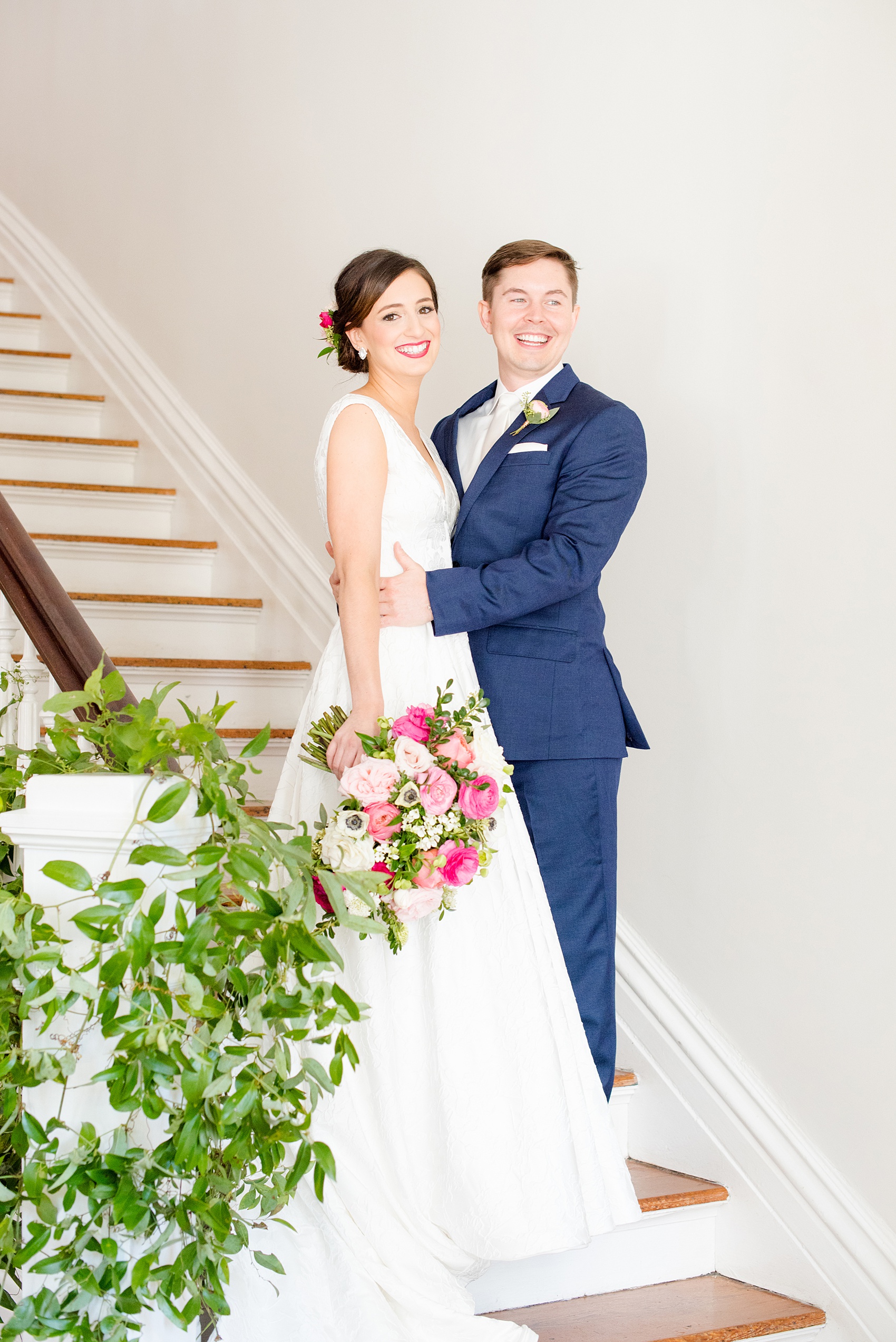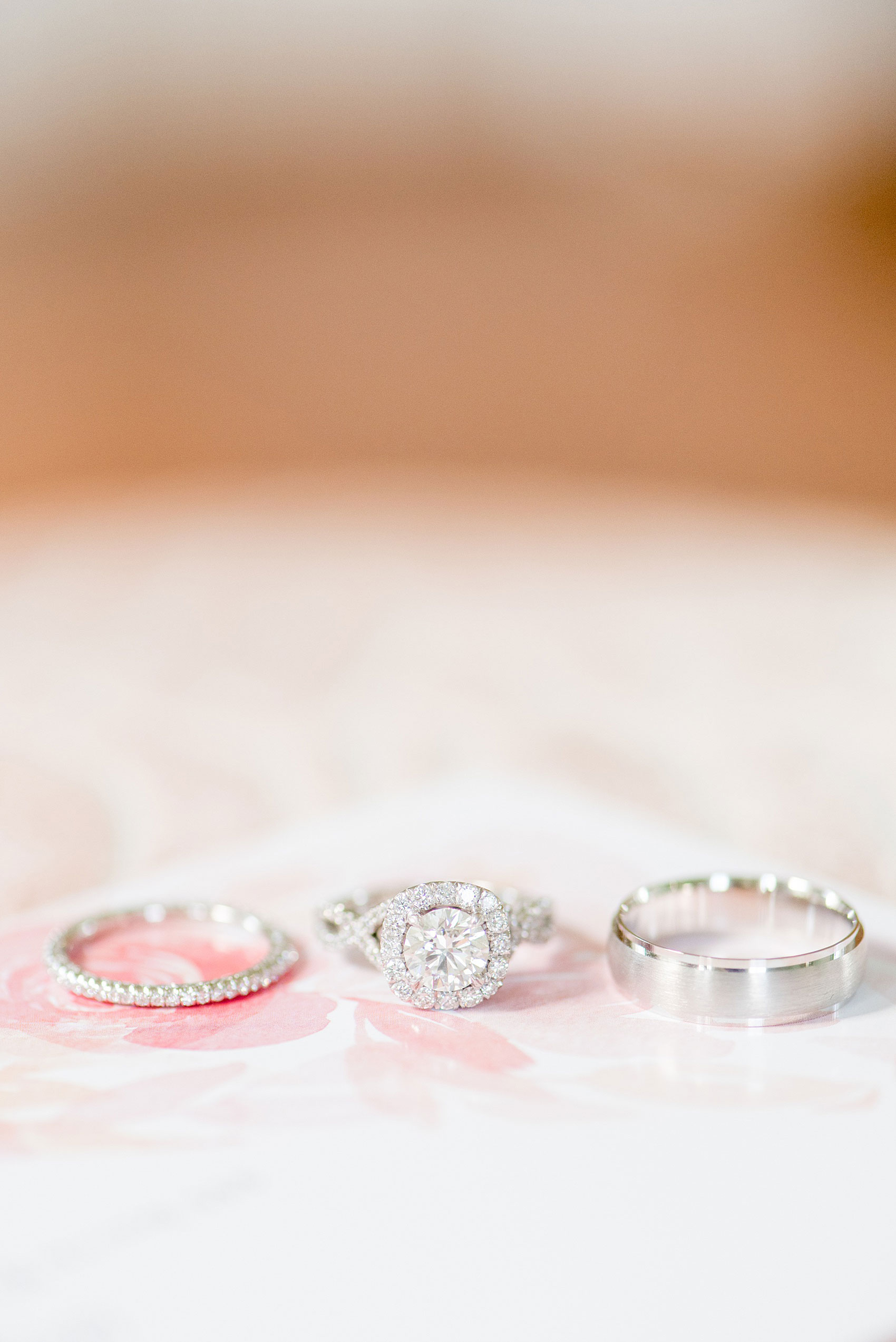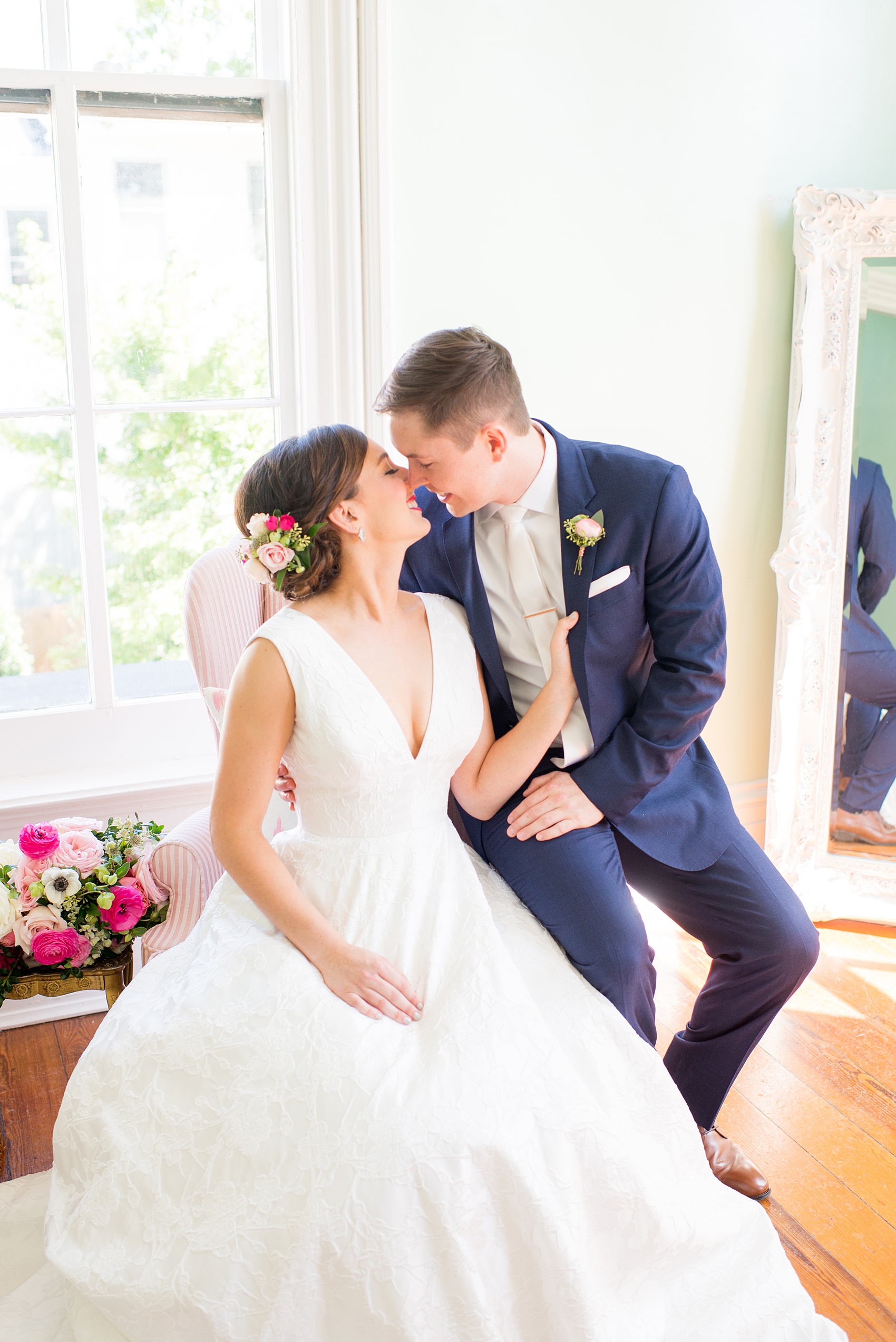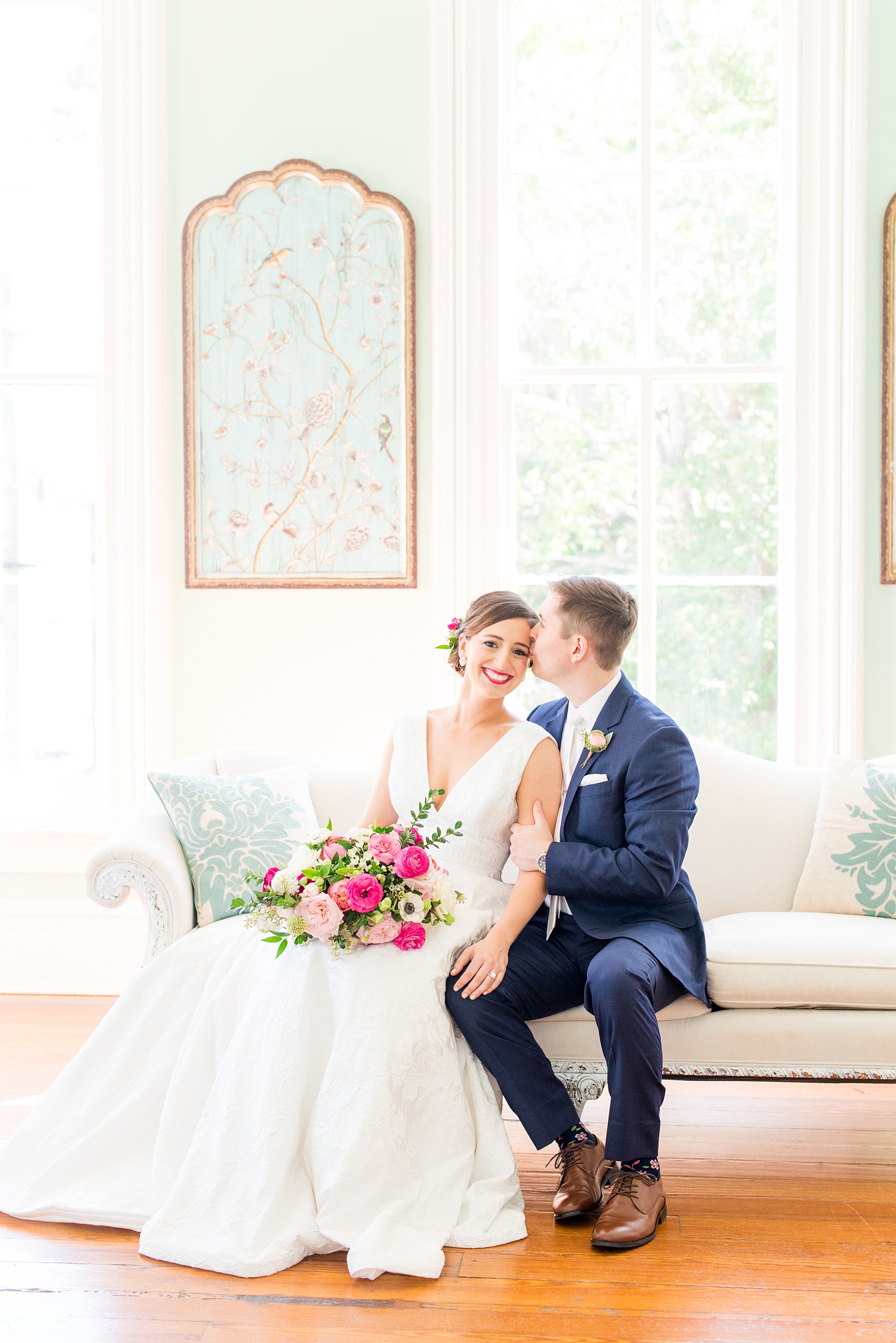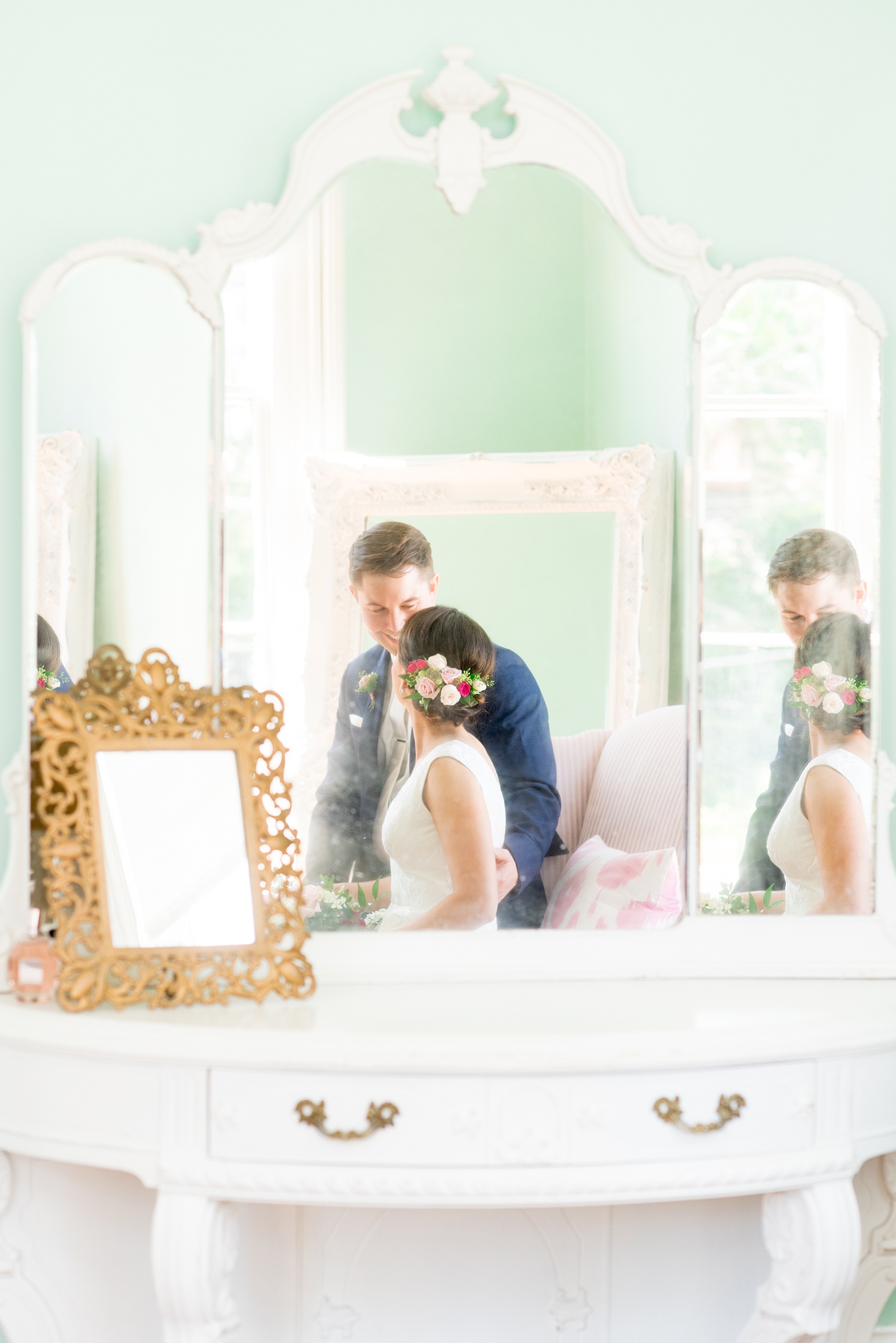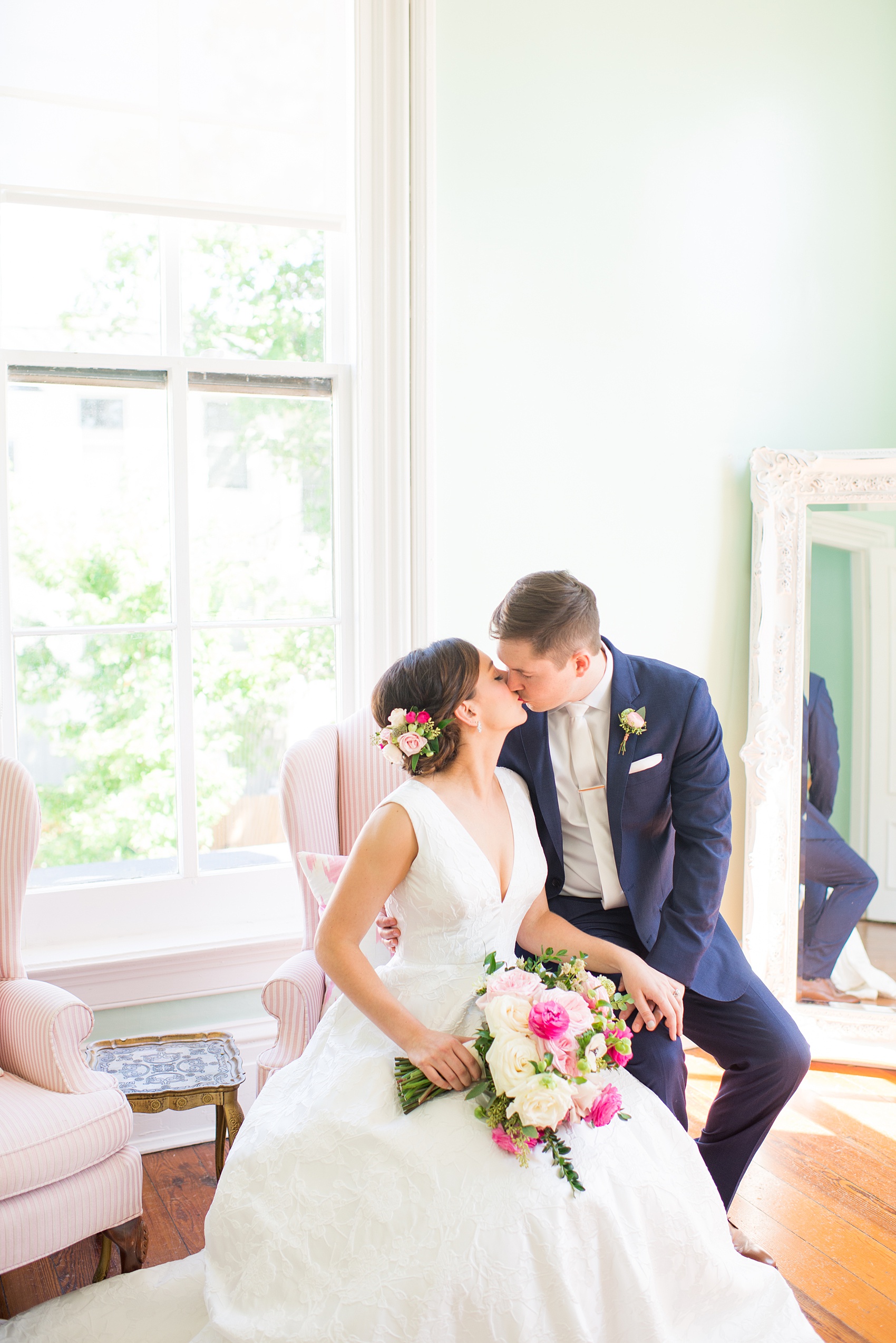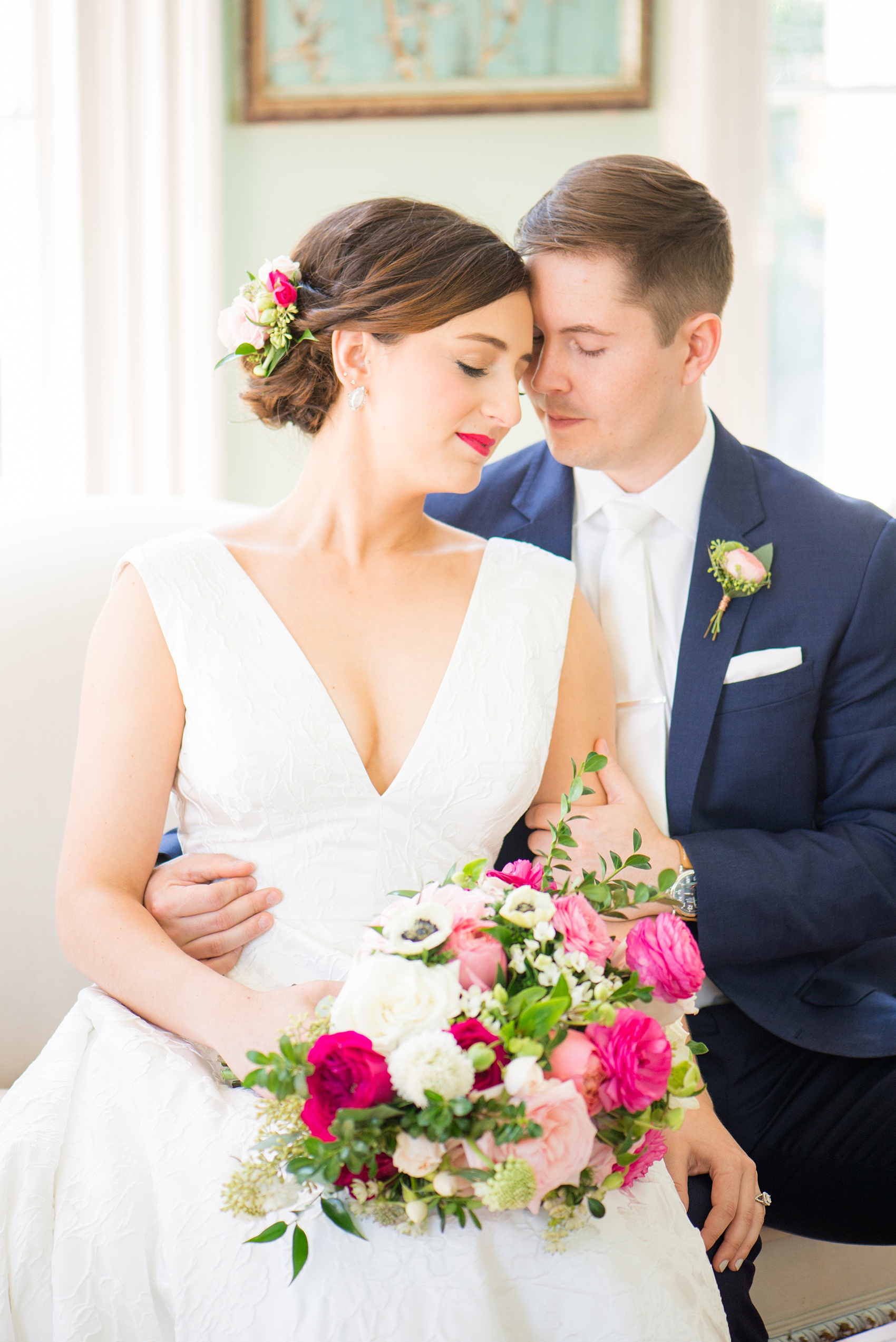 Any way you looked at the bride and groom was picture perfect. Mollyann's up-do was made even more beautiful by the floral comb she wore, and the v-back of her dress was elegant and complimentary to the v-neck front that looked incredible on her. Sean looked handsome in his blue linen suit and white tie.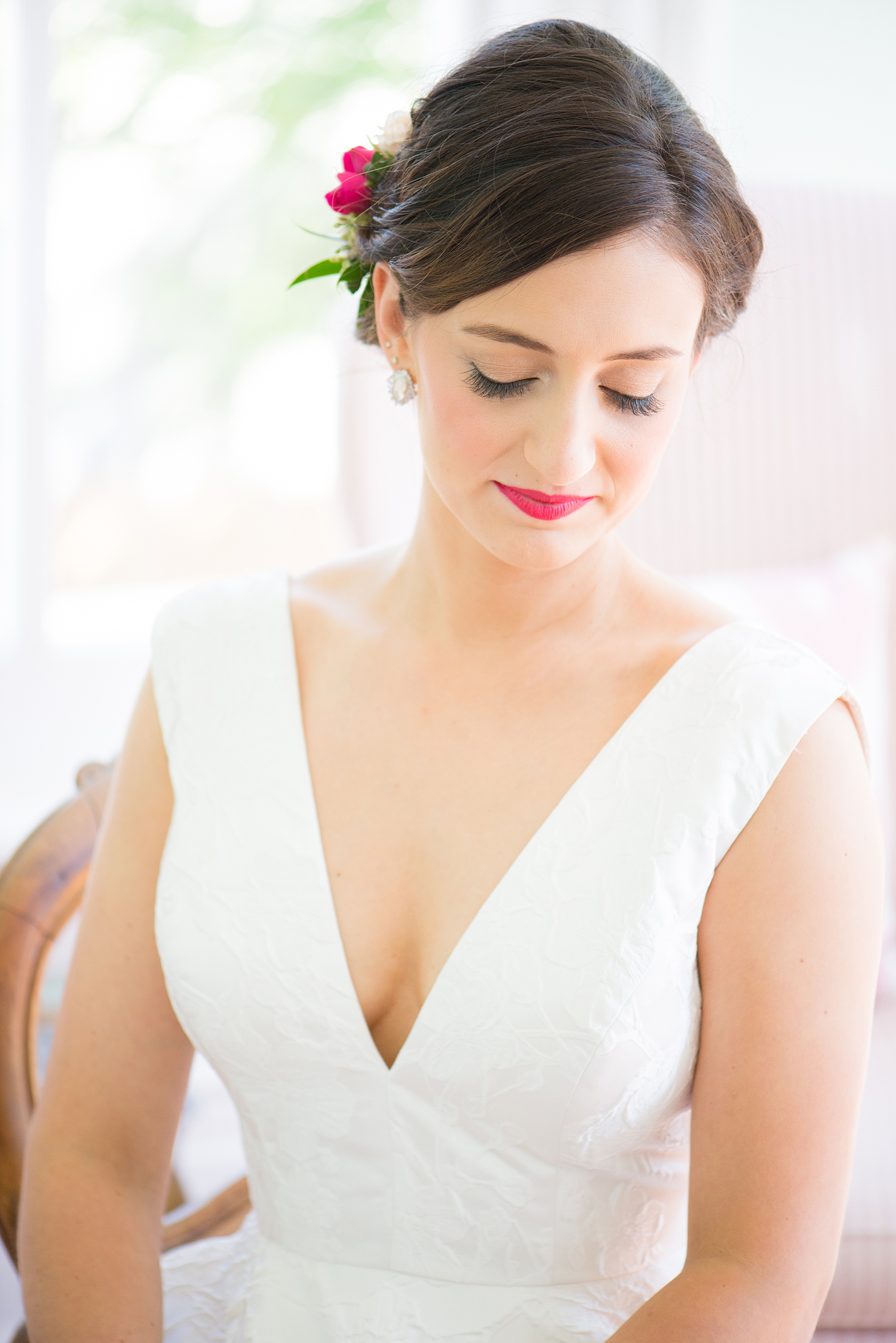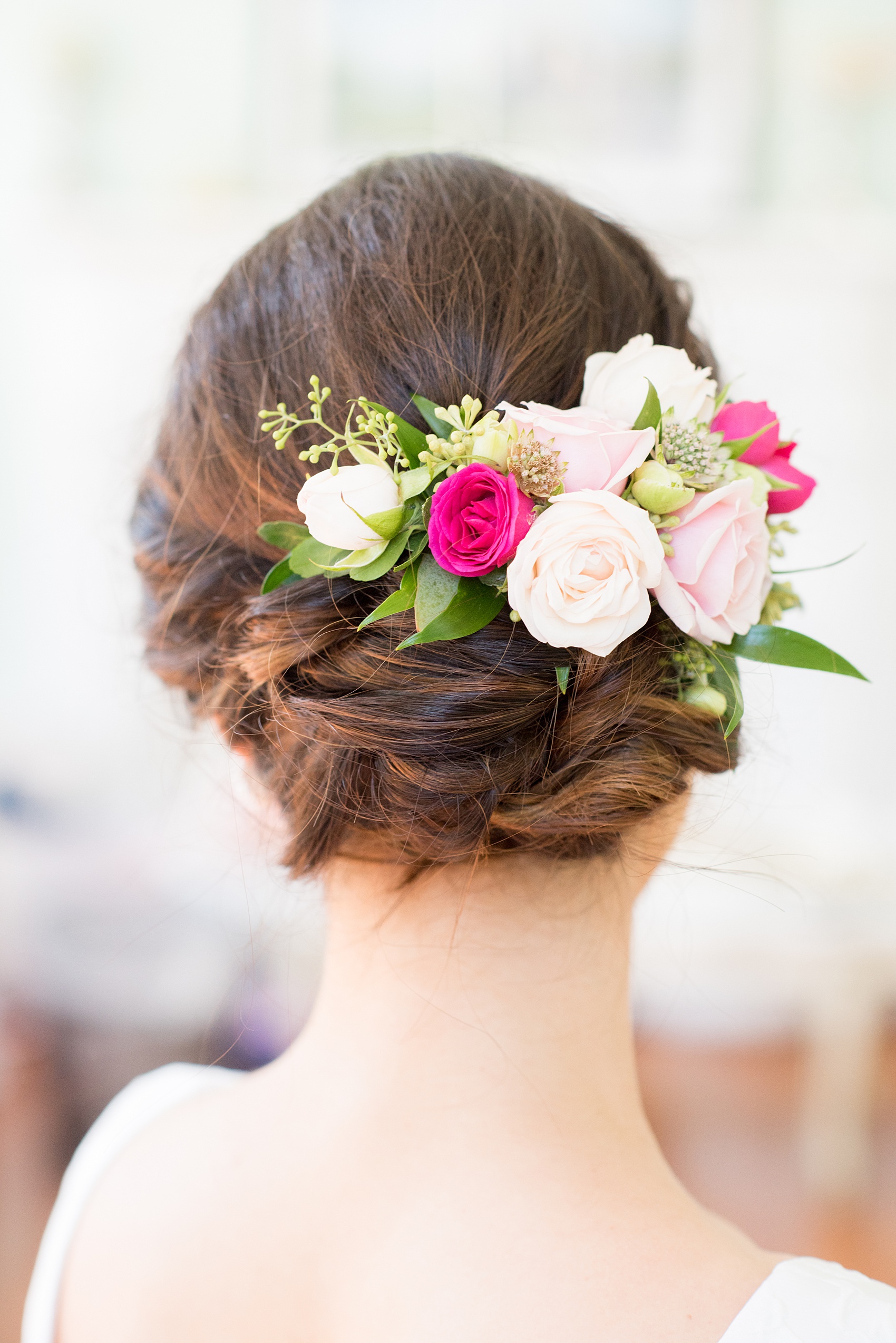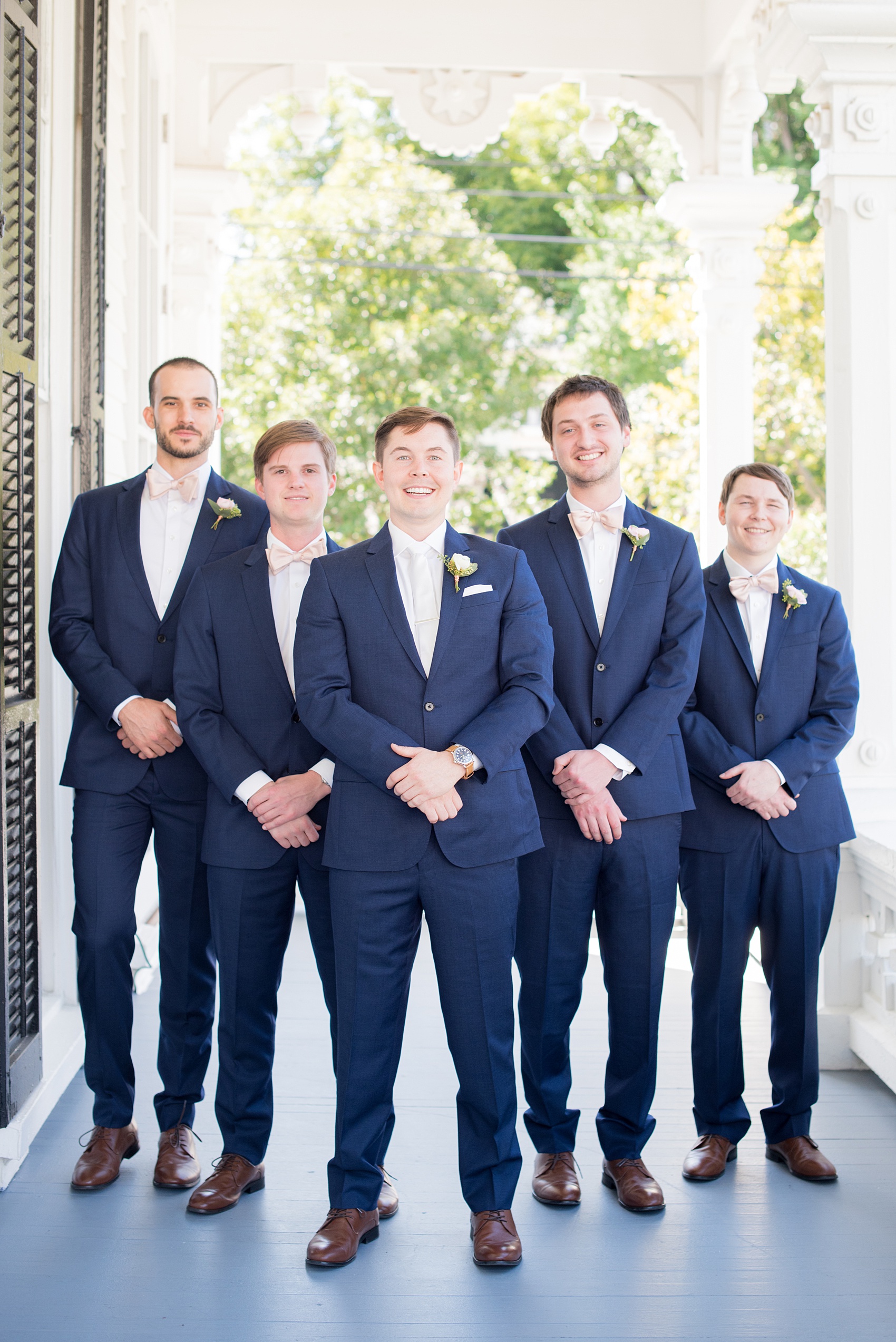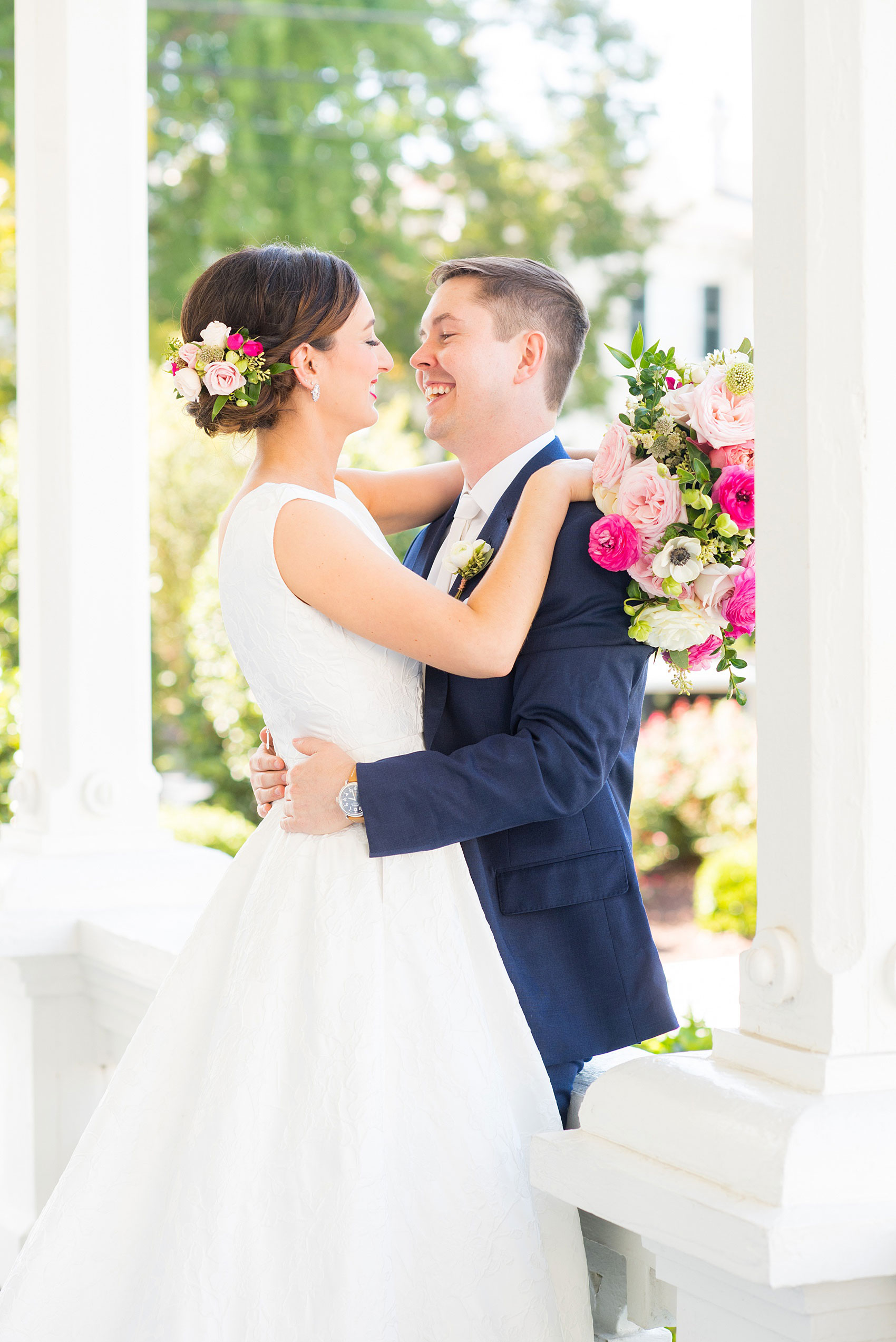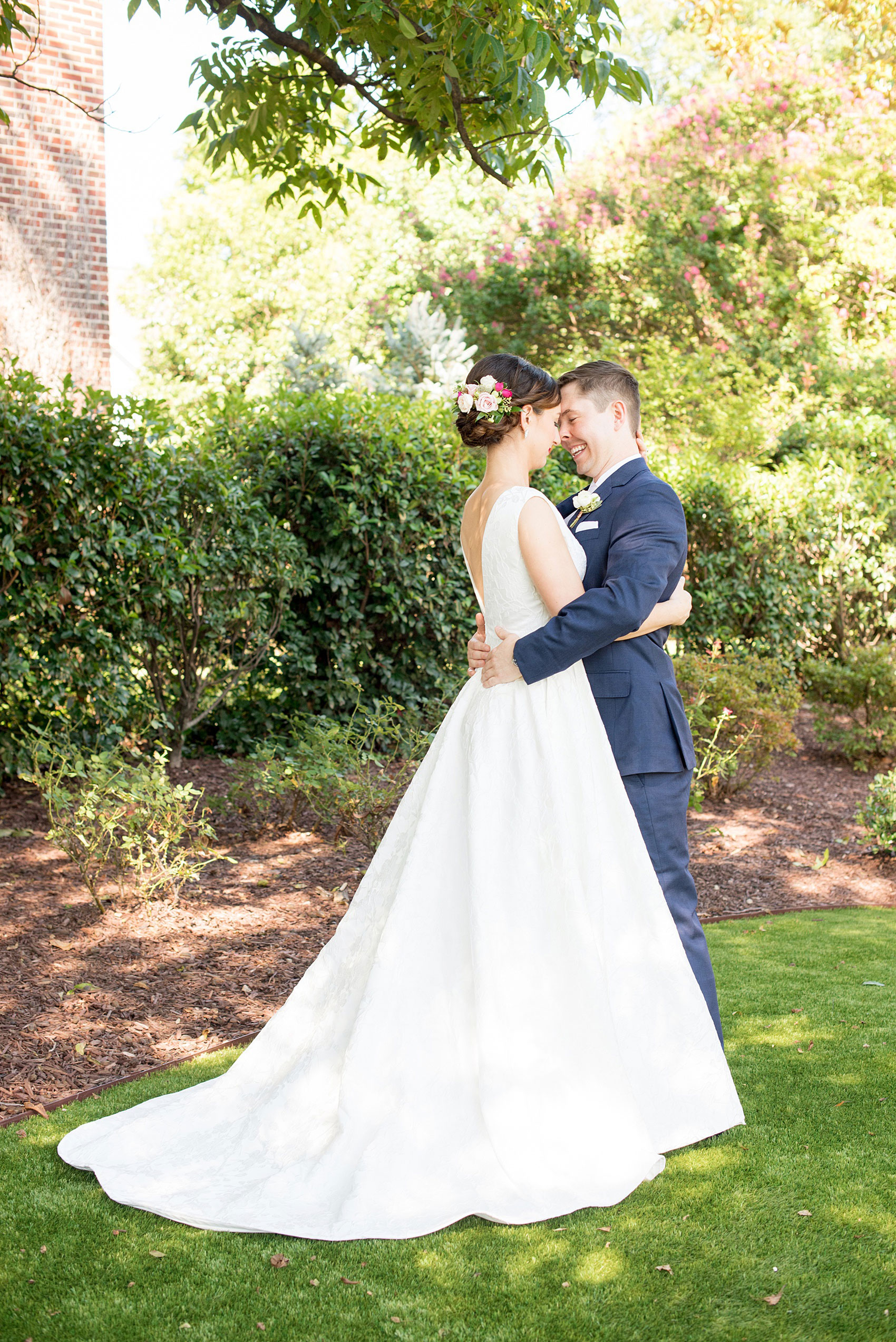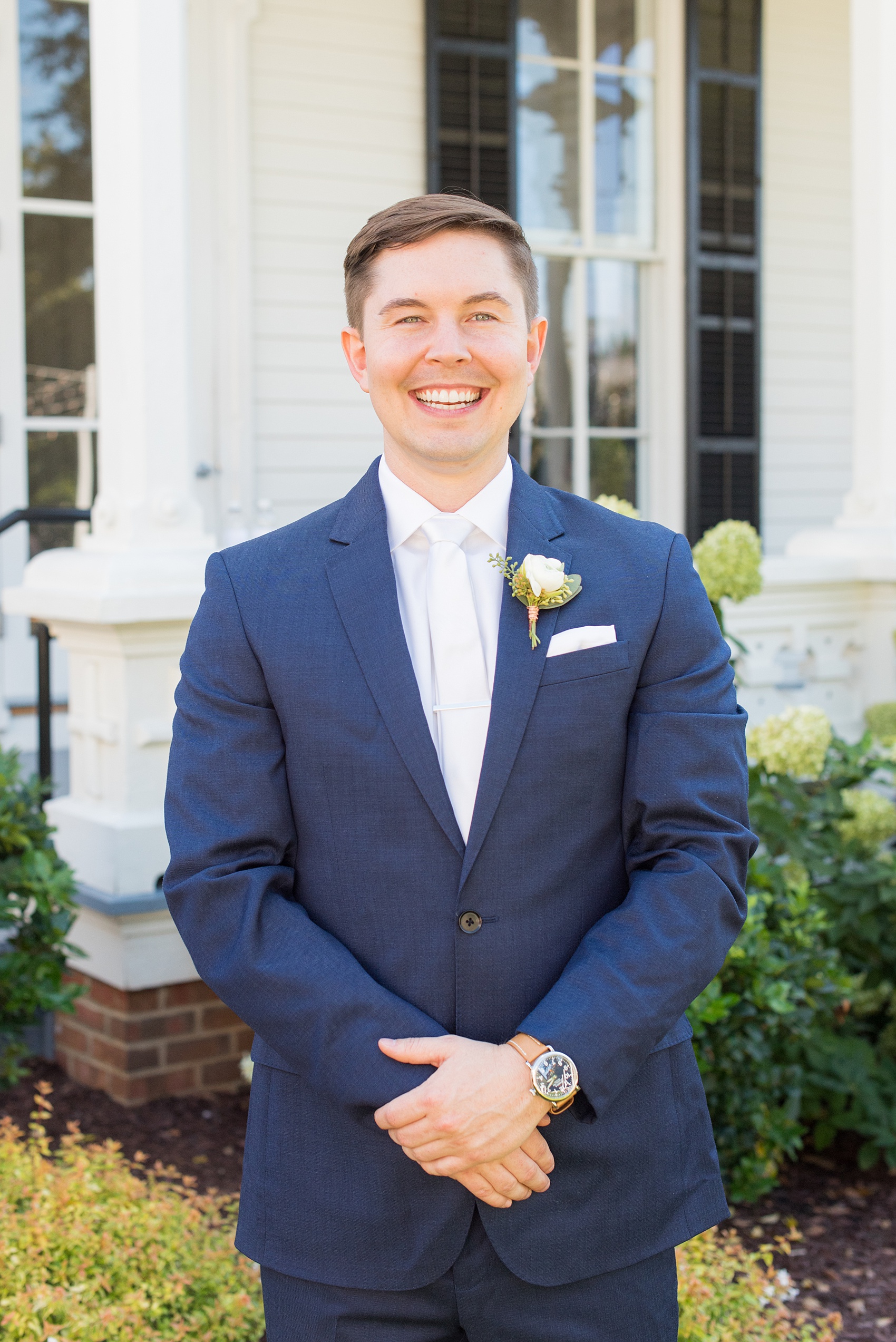 The wedding party looked awesome – whether on the porch of the venue or on the lawn. I loved how all the colors they were wearing came together, especially the bridesmaids' pink floral patterned gowns.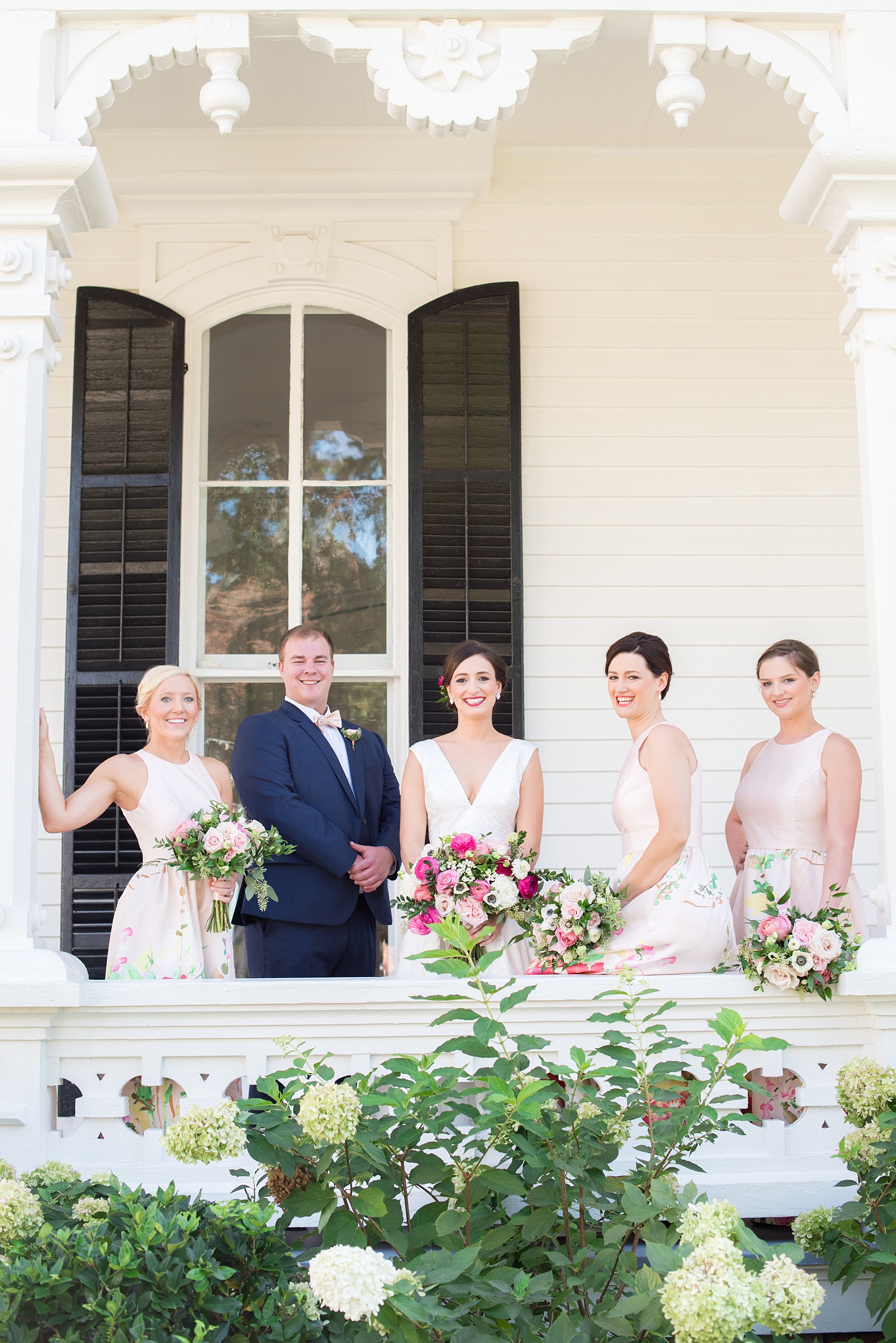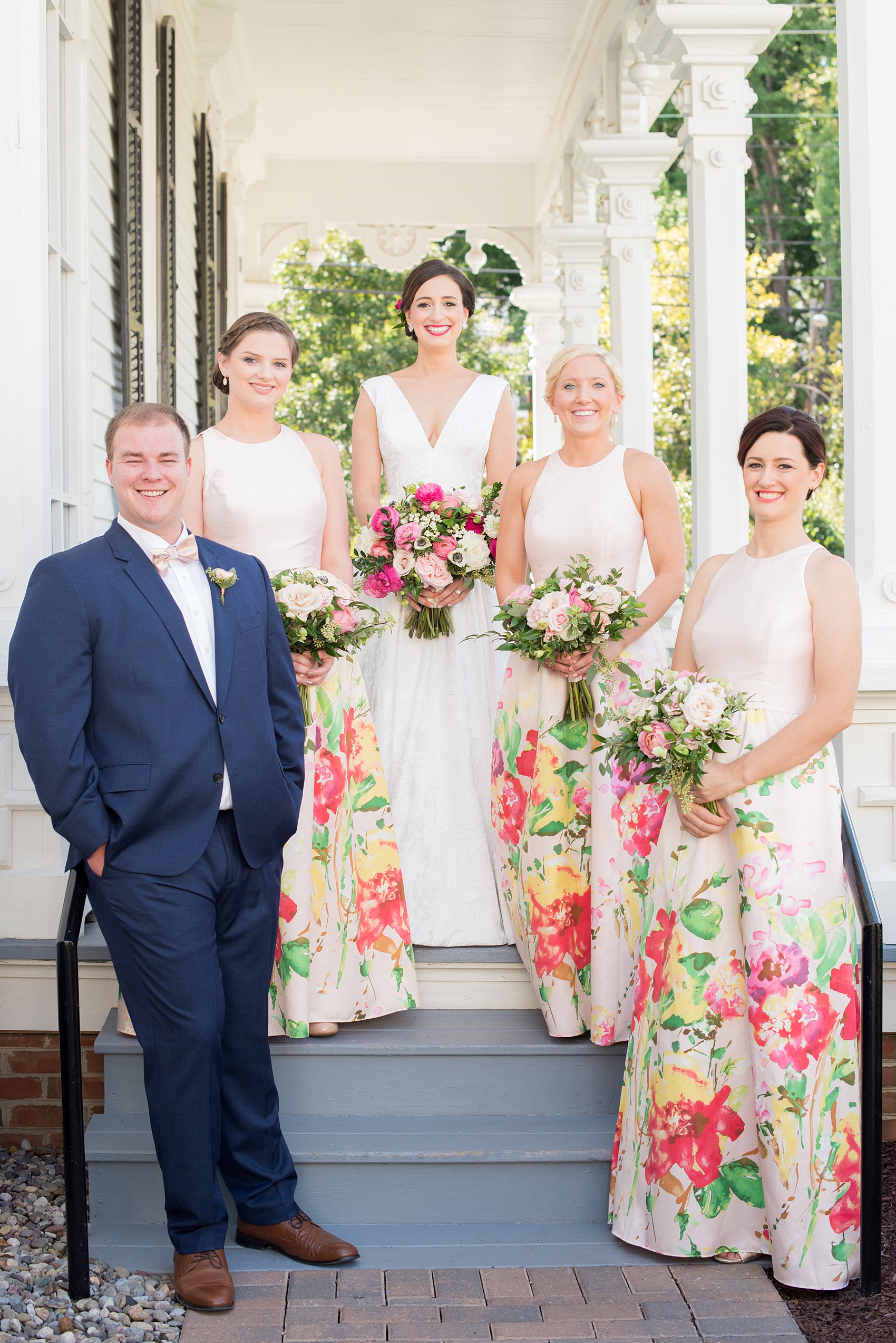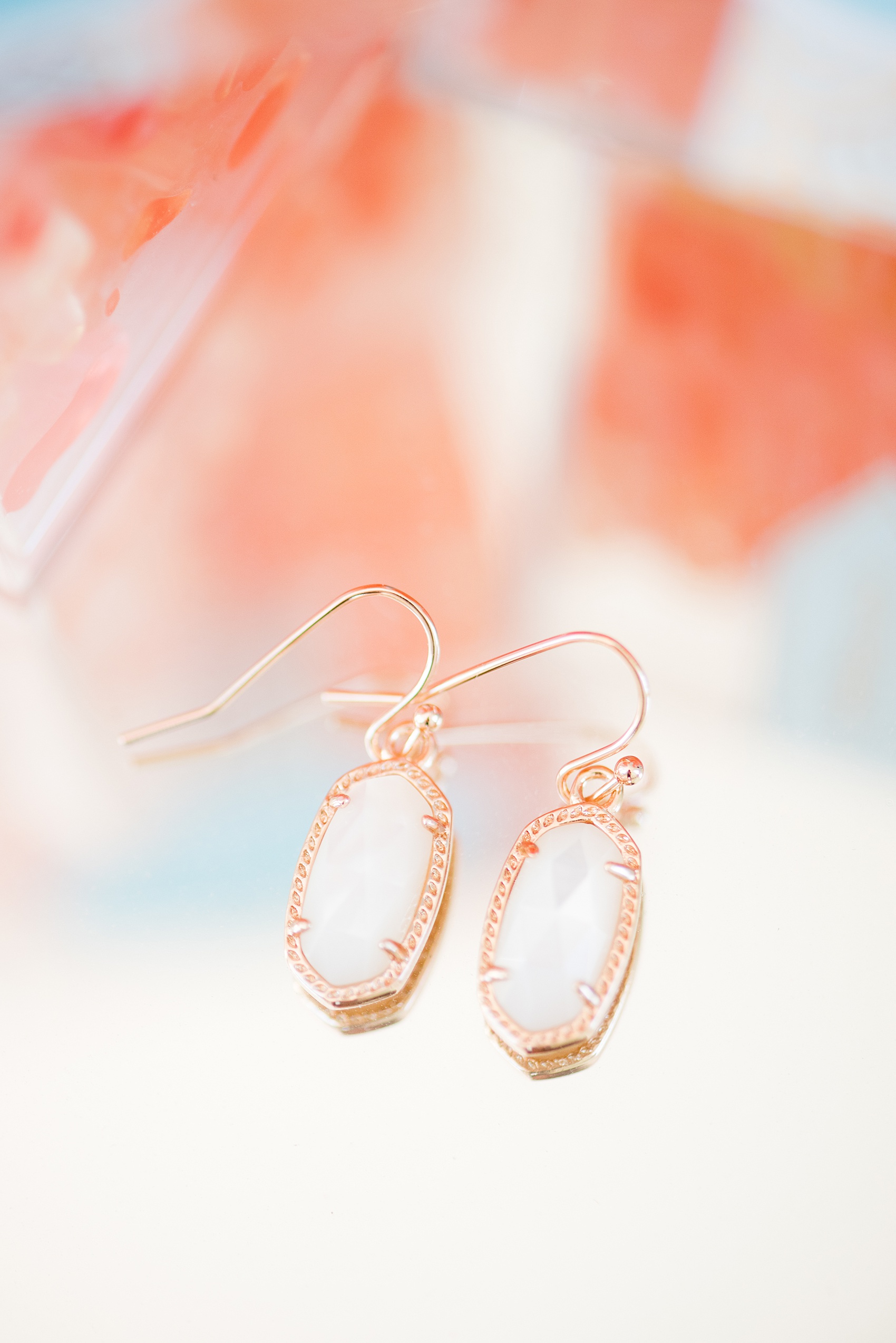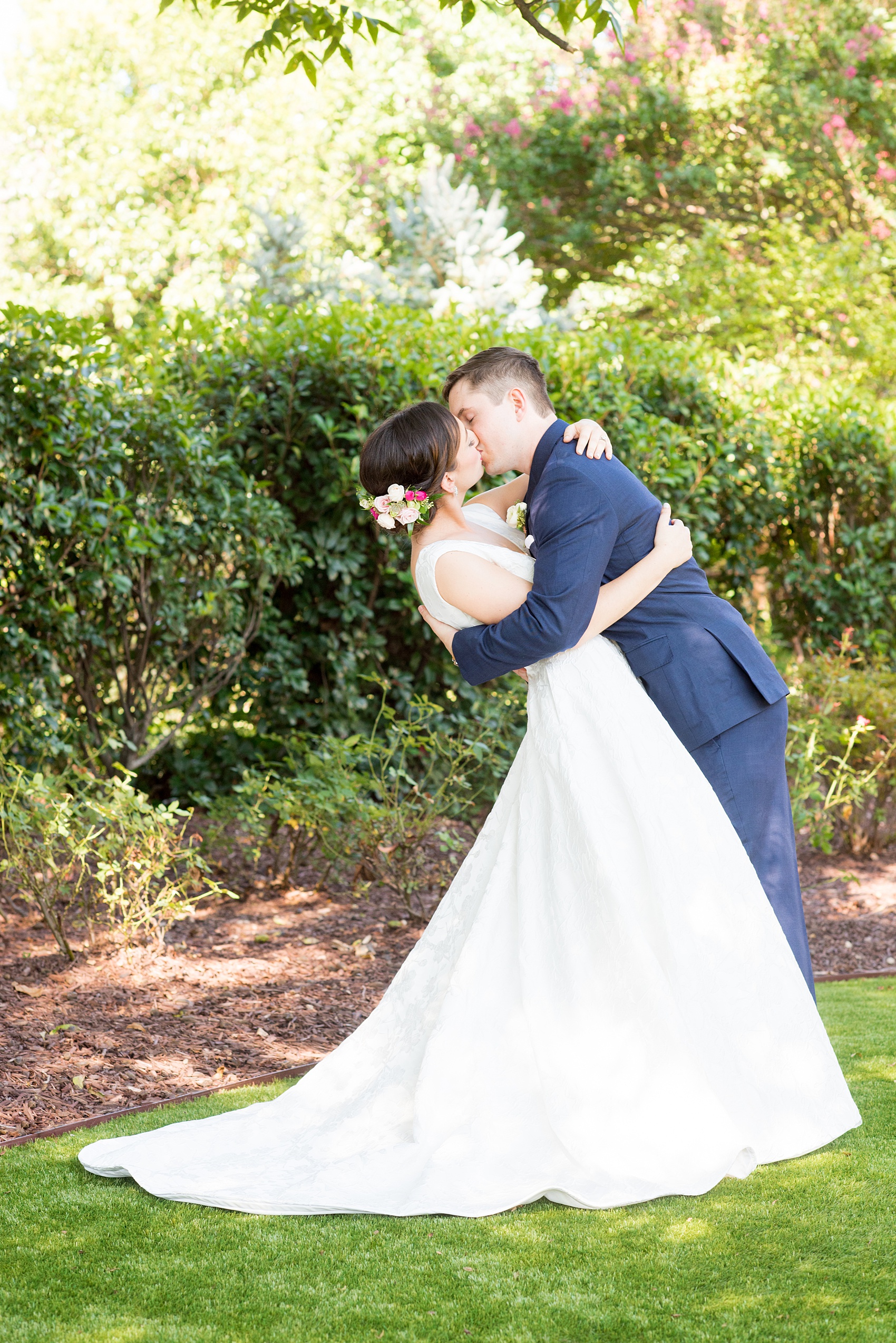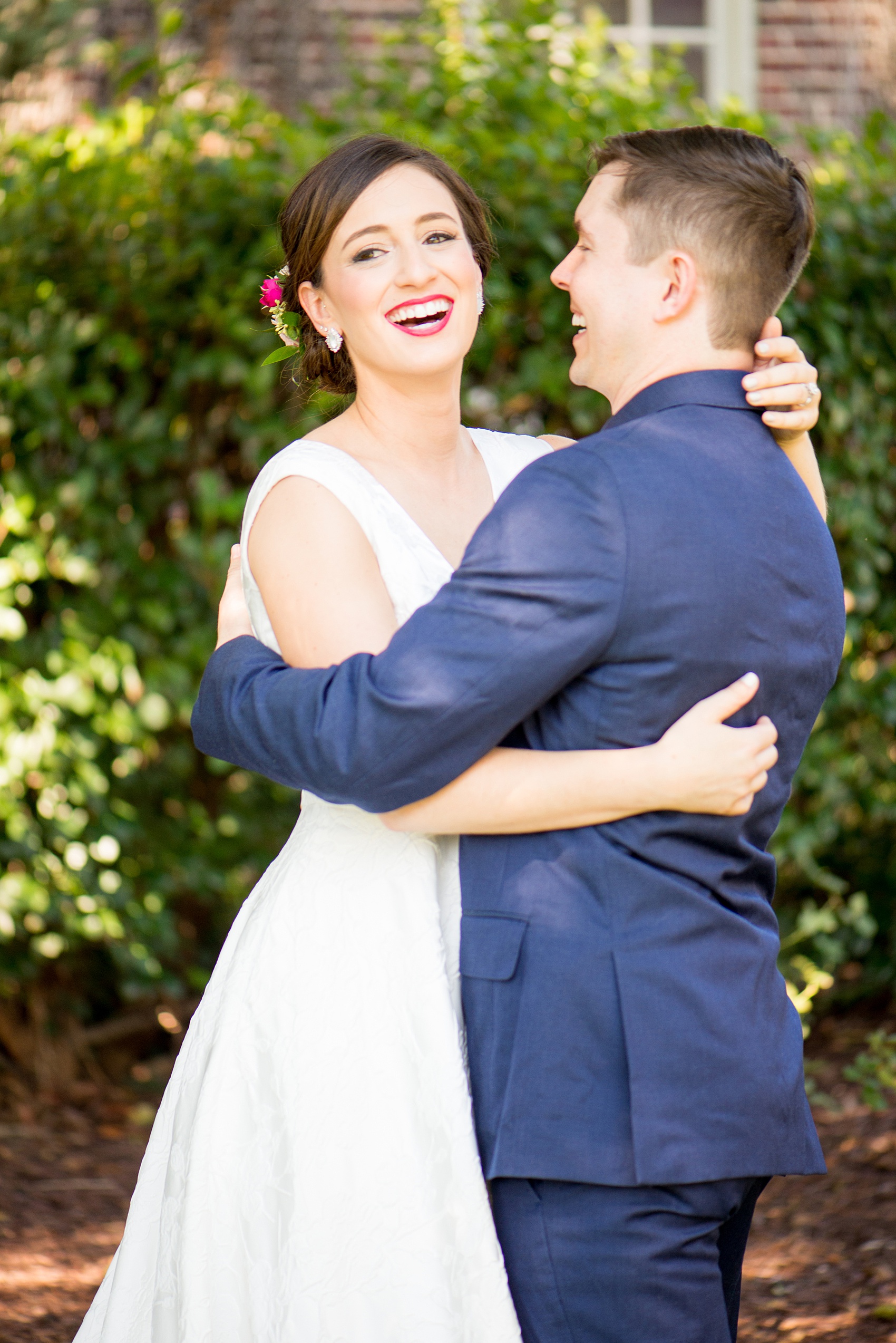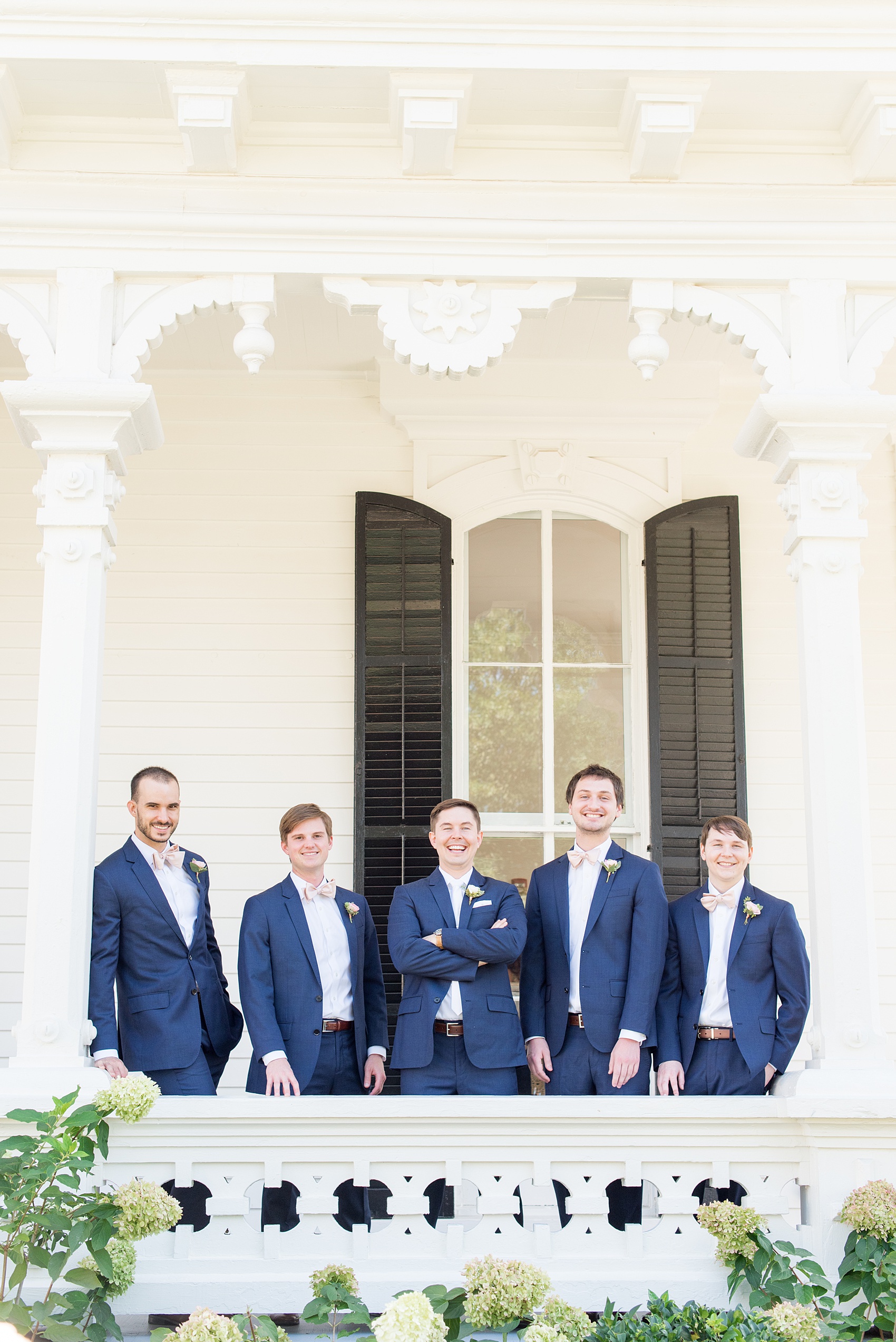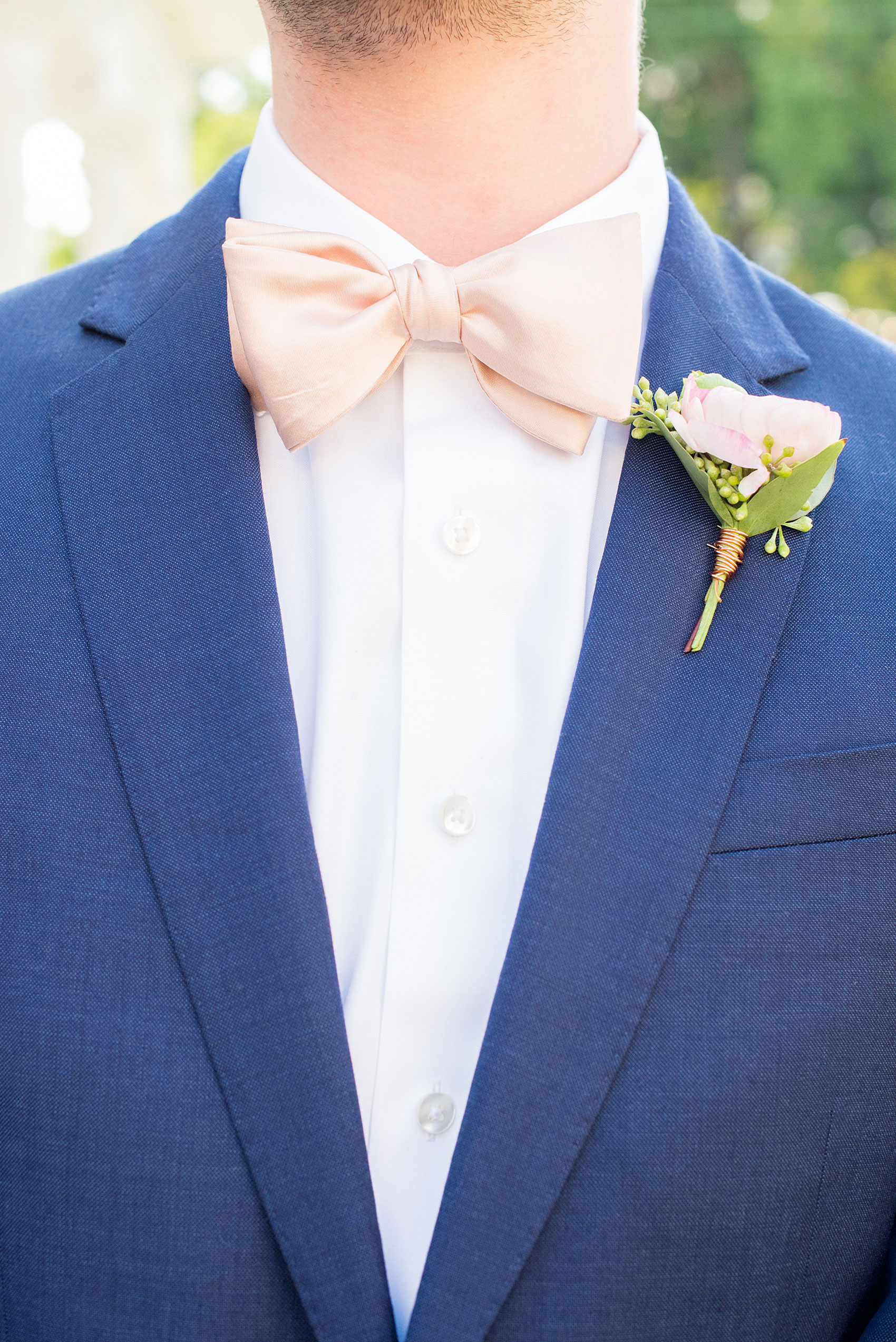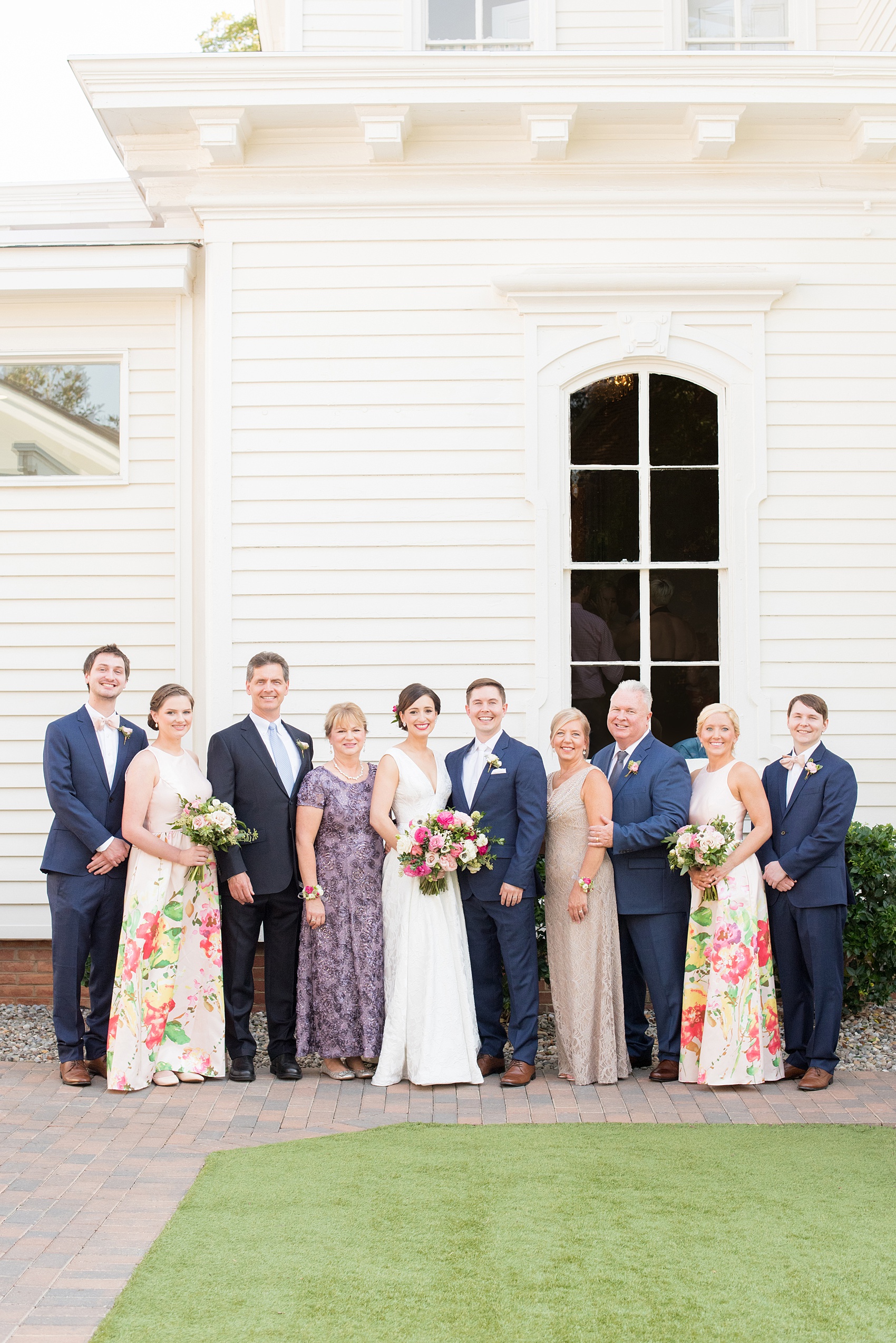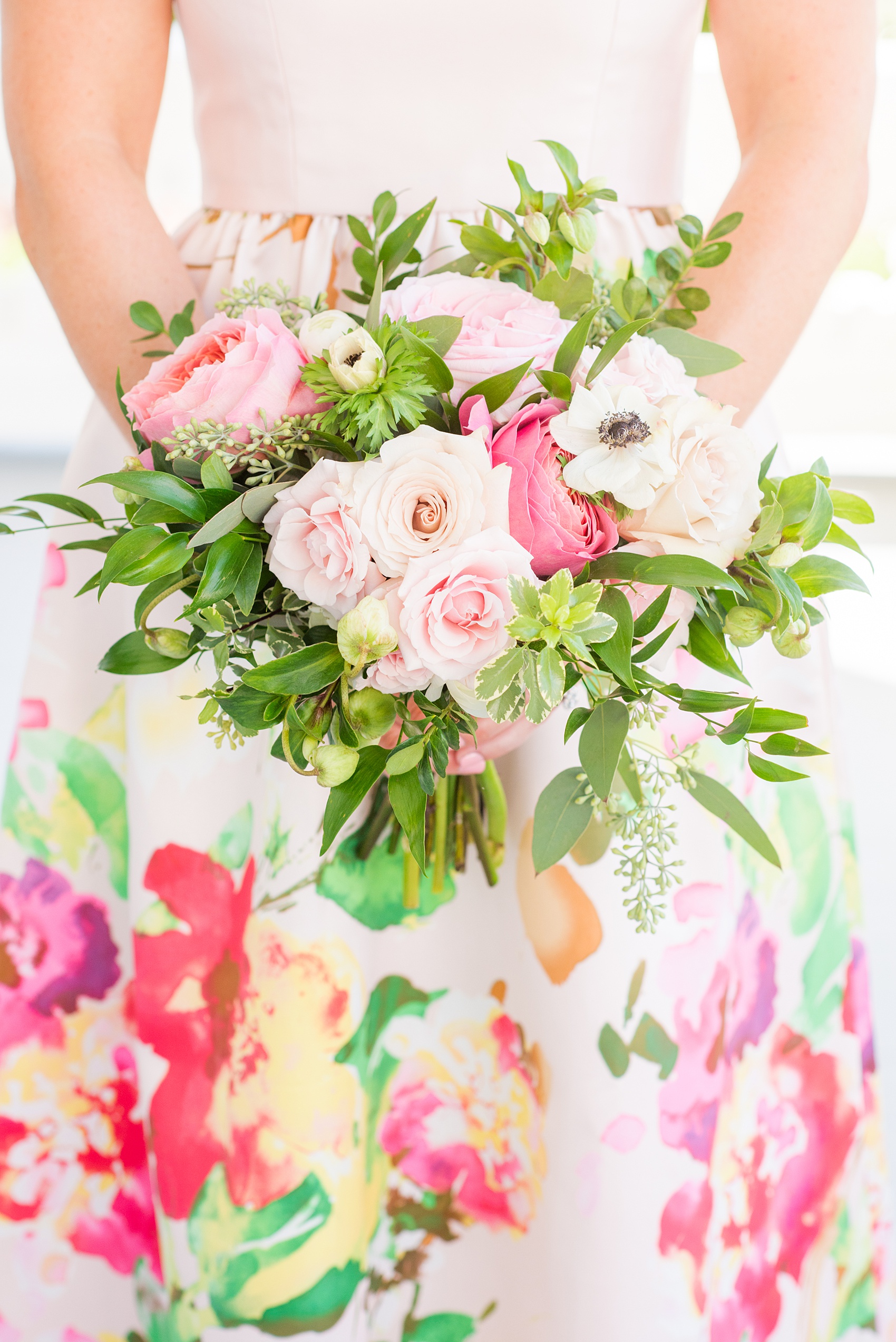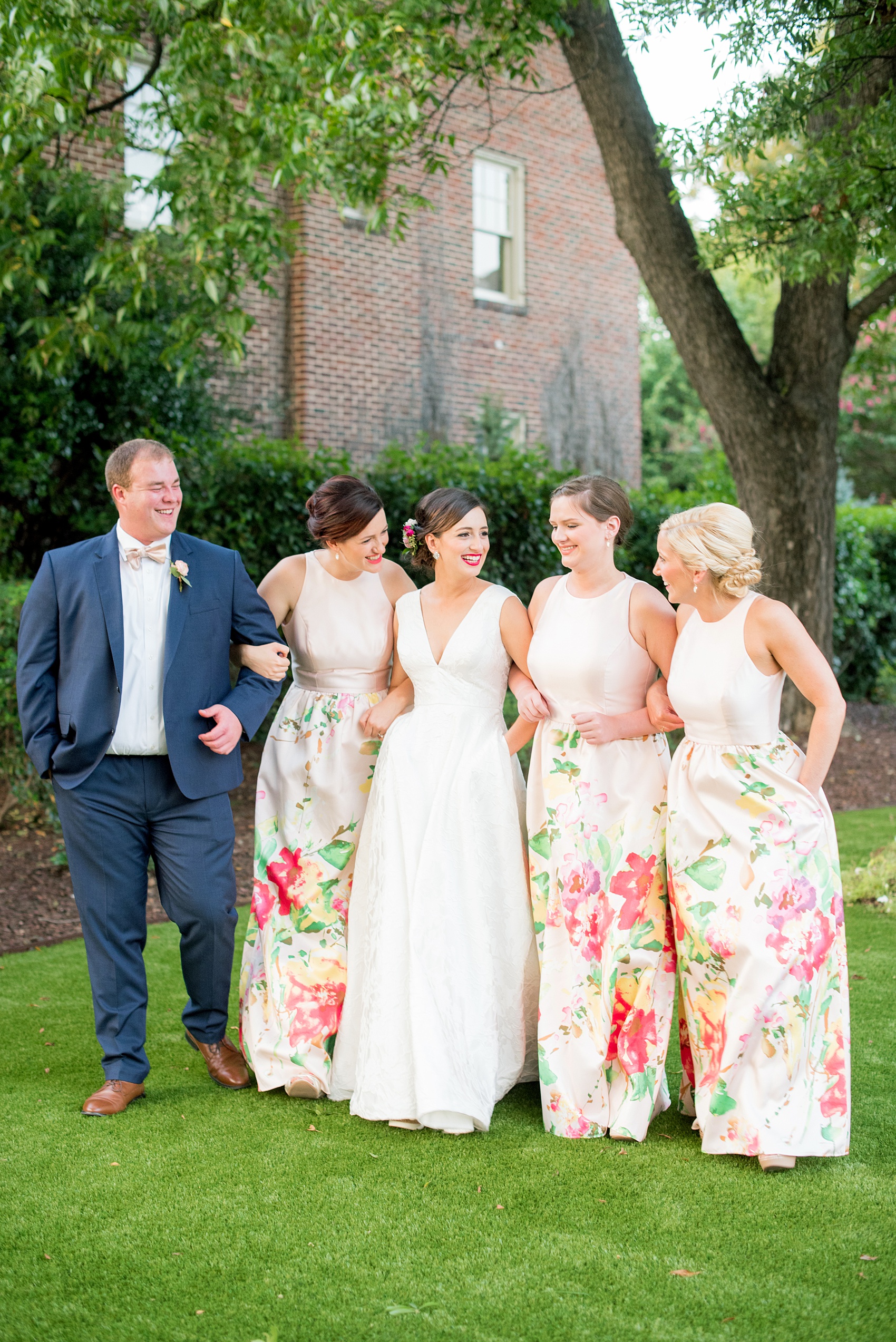 Mollyann's best friend, also named Sean, stood by her side as her one and only "bride's dude," or best man, of sorts. Including him the entire bridal party had pockets! How great is that?
After their first look and great photo taking, including a few family combinations, it was time to get their wedding bands on their fingers. Their ceremony was held in the Carriage House of The Merrimon-Wynne House. They were married in front of a beautiful green boxwood backdrop, adorned with flowers to match their wedding and the words "let the adventure begin" in script behind them.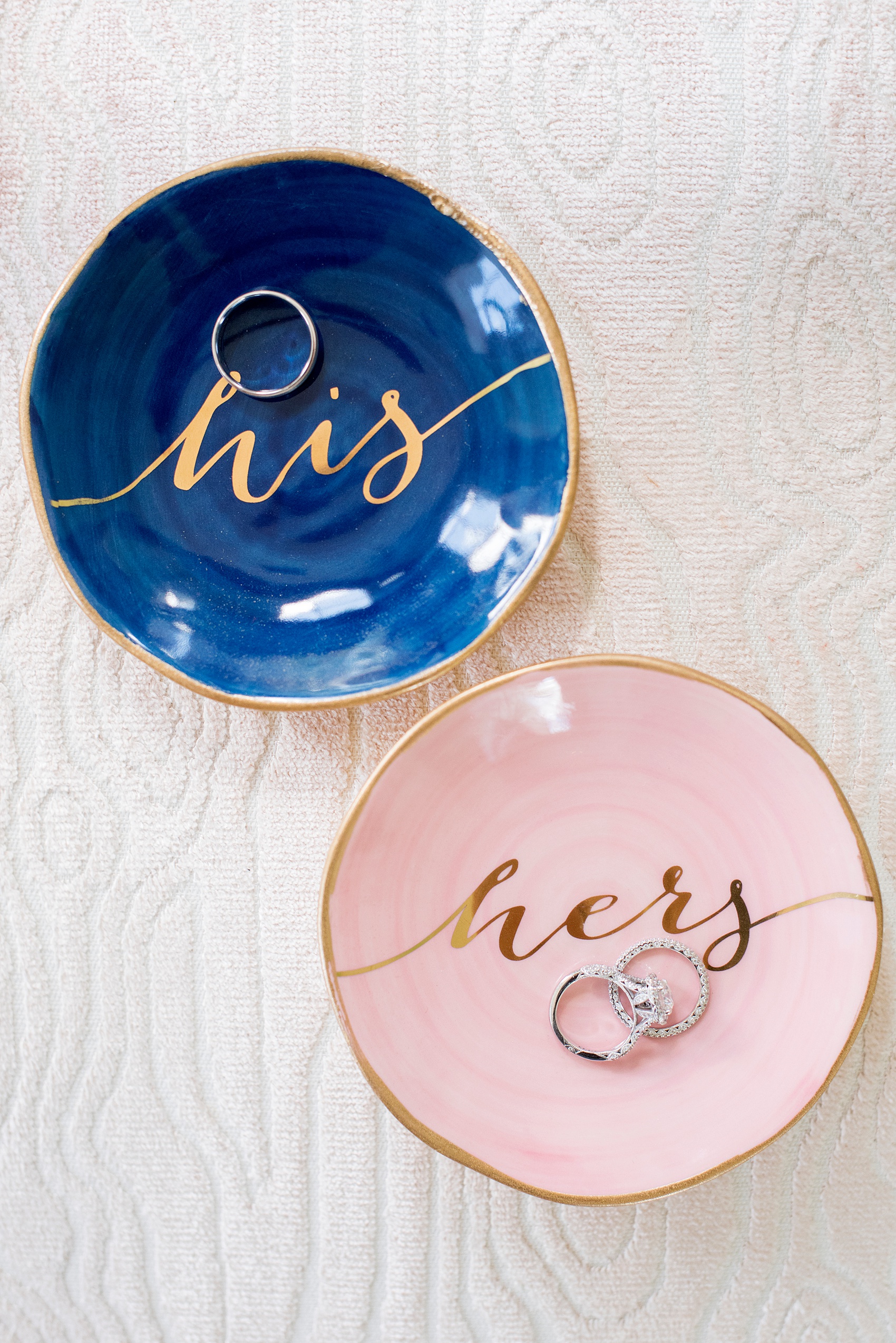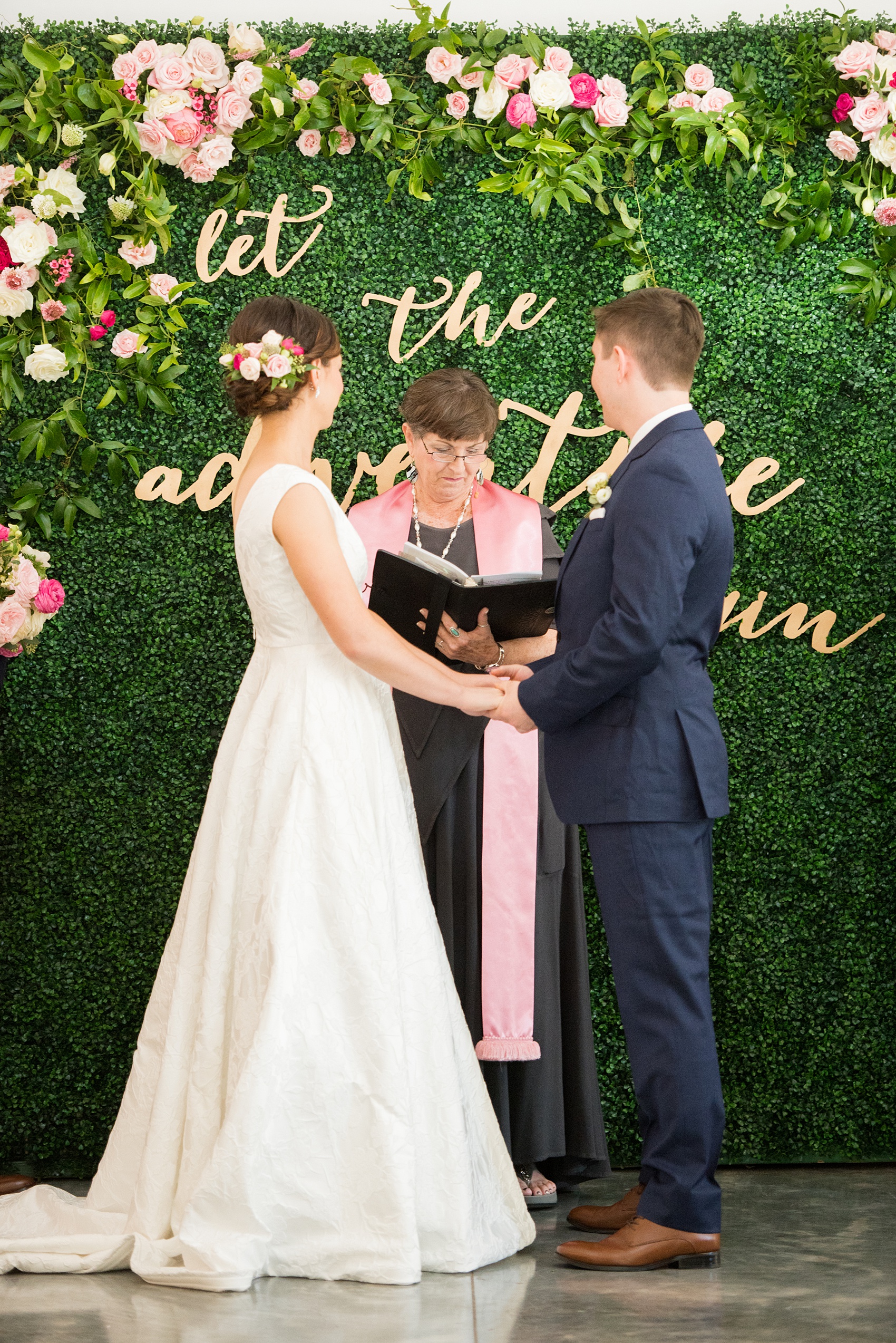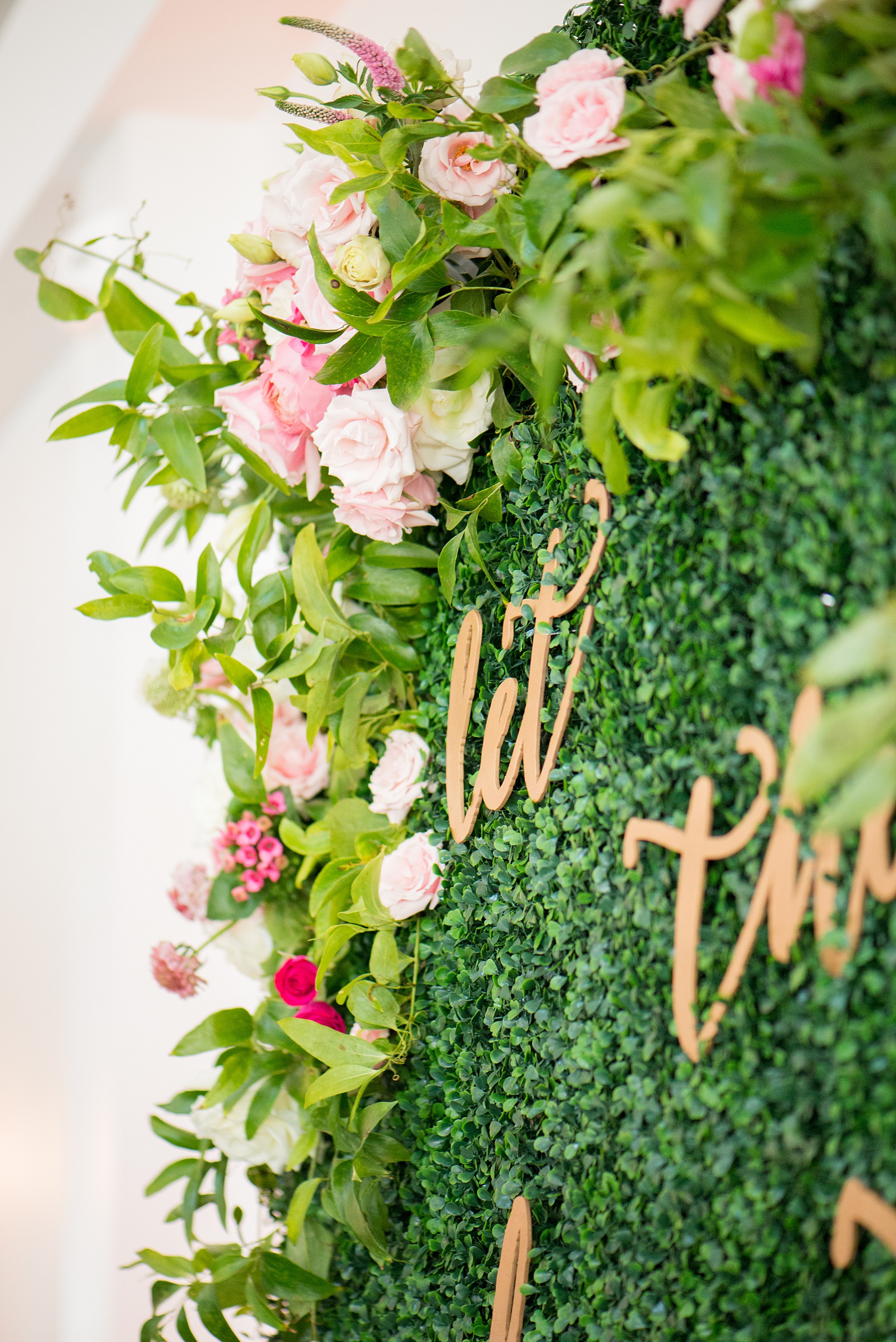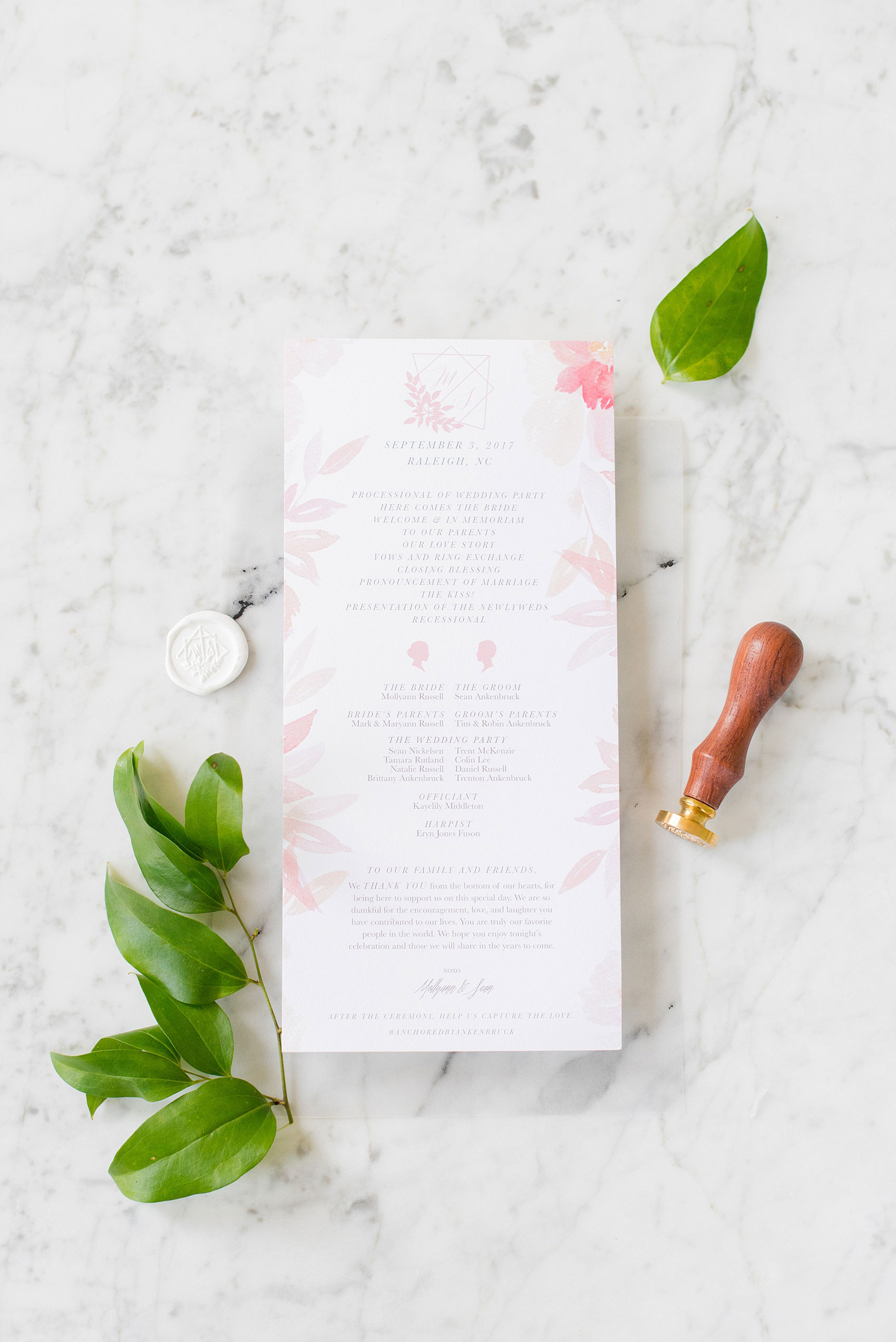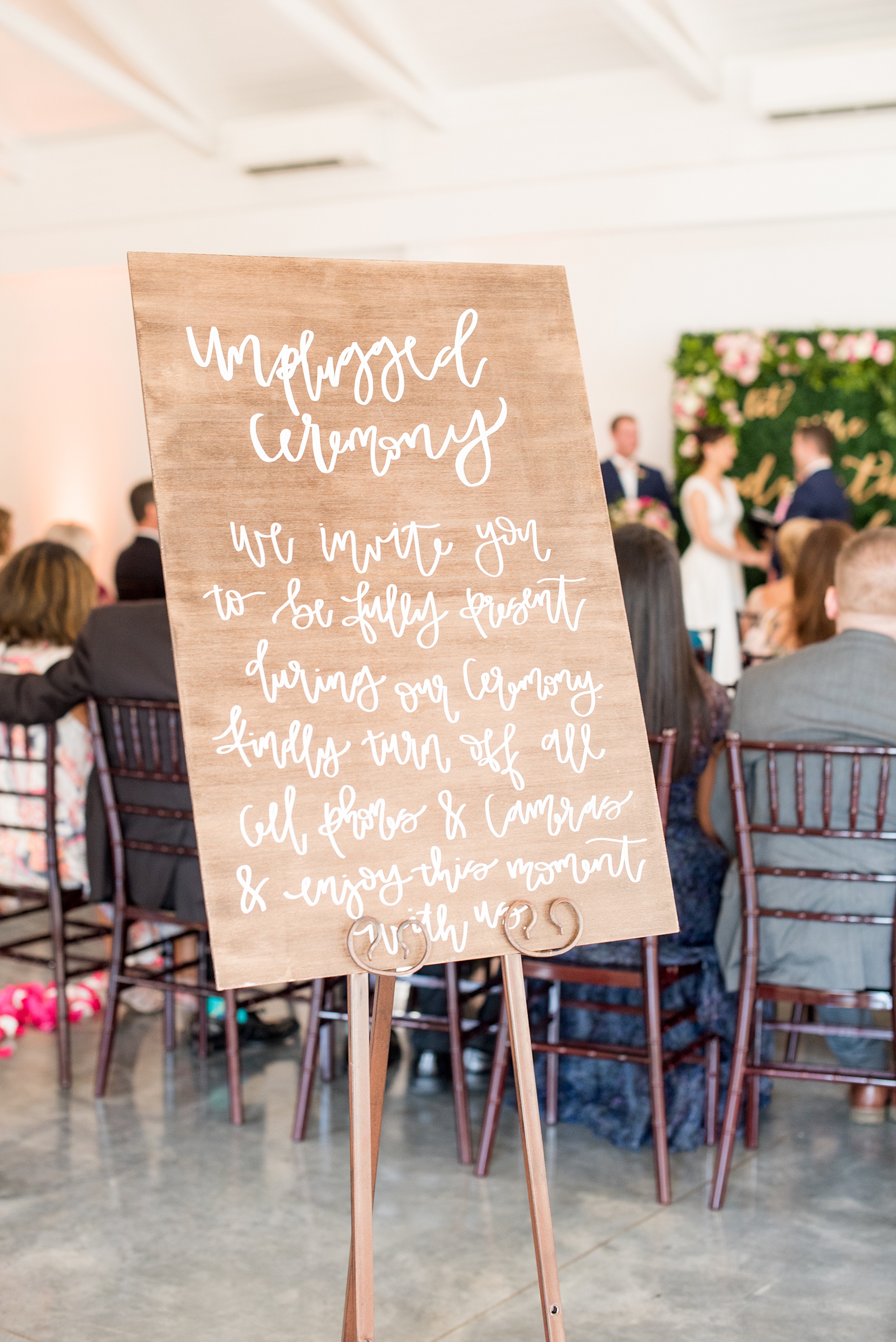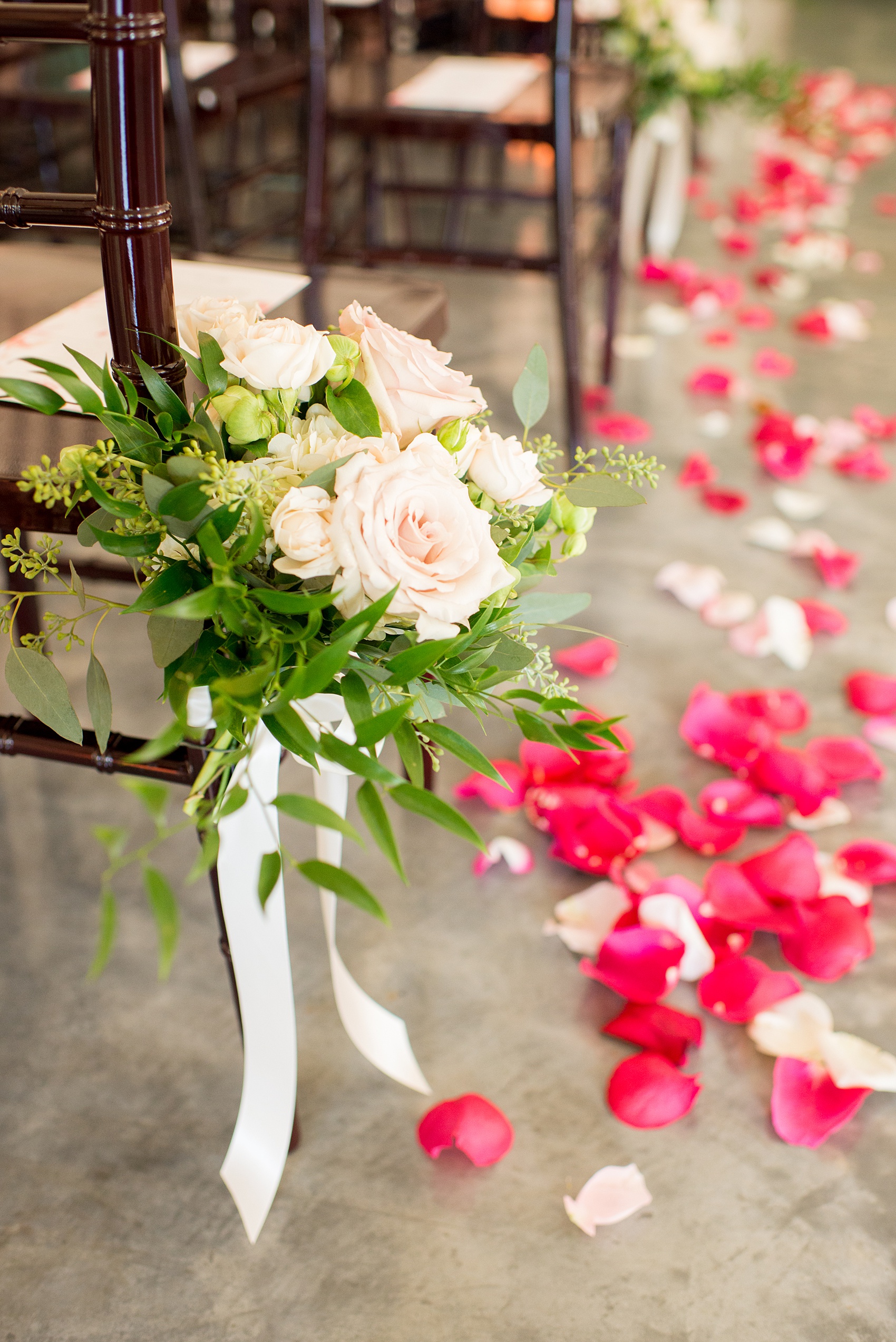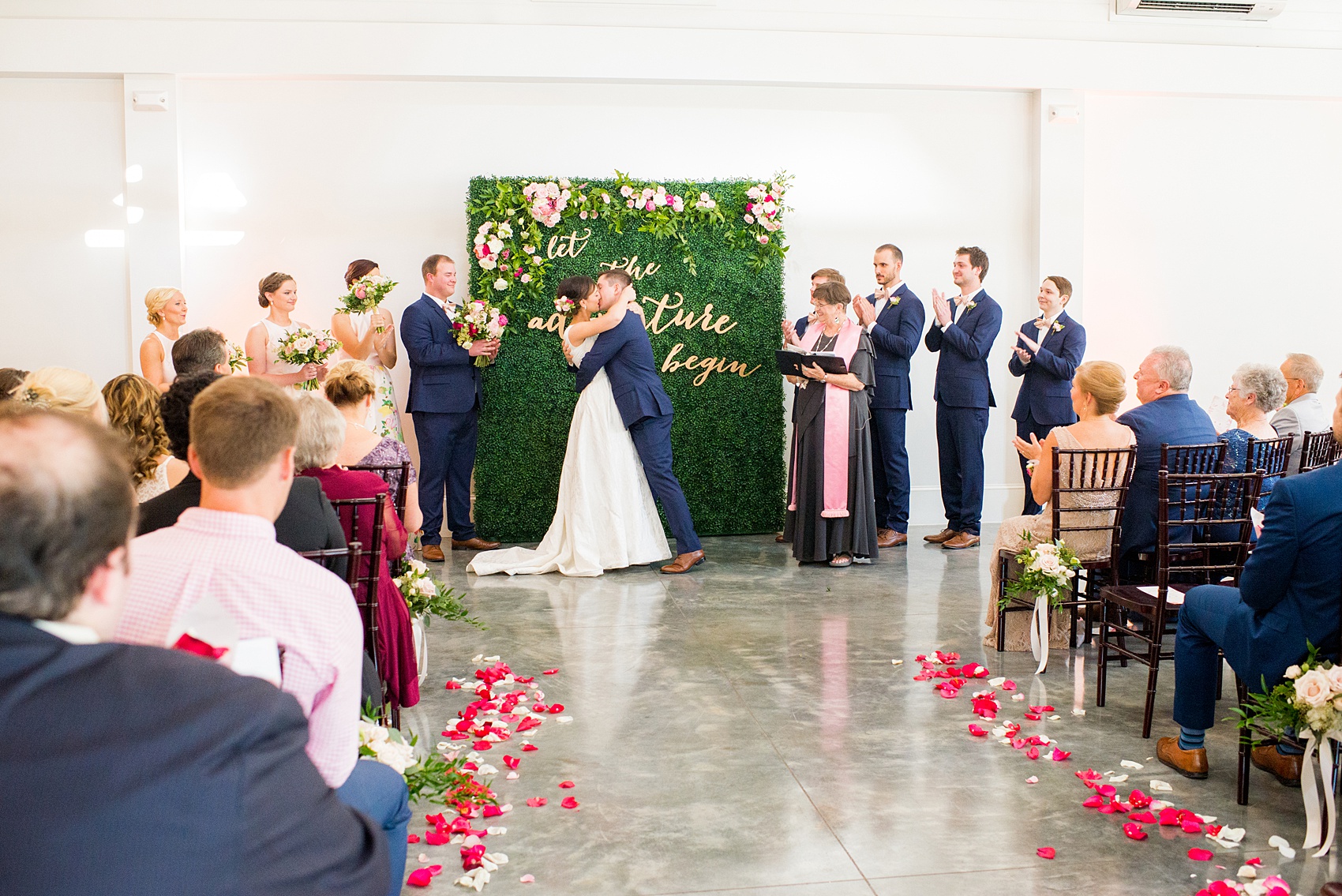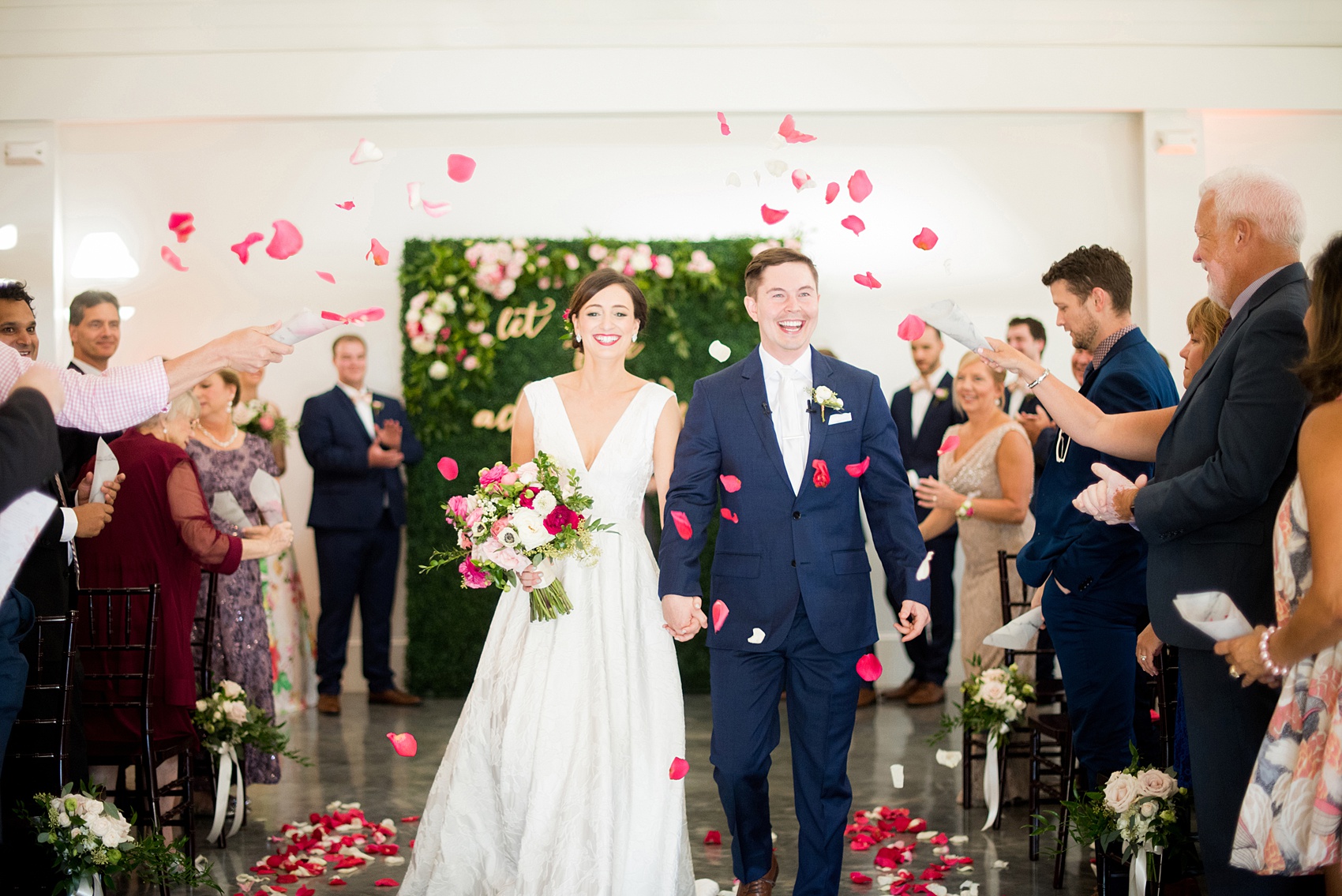 A perfect petal toss led the way for the new Mr. and Mrs. back down the aisle to their cocktail hour.
One of my favorite details was the luggage tags on an acrylic board they created as the way for guests to find their seats. Their dinner was on the lawn under market lights. A mixture of round tables with grey linens and grey wood-topped farm tables were the base for a beautiful setting on top of each. Copper flatware, pink glasses, blush napkins, grey plates, gold script table numbers, candles in glass geometric holders, and flowers in unique vases were at each table. Guests sat on copper metal chairs and enjoyed the candlelight from grey tapered candles in gold holders. The head table had extra special details, including grey chairs for the bride and groom, square marble chargers, and pink champagne flutes for Mollyann and Sean. Special signage, including a wedding hashtag mention and "Sip sip hooray!" (a personal fave) were on each bar.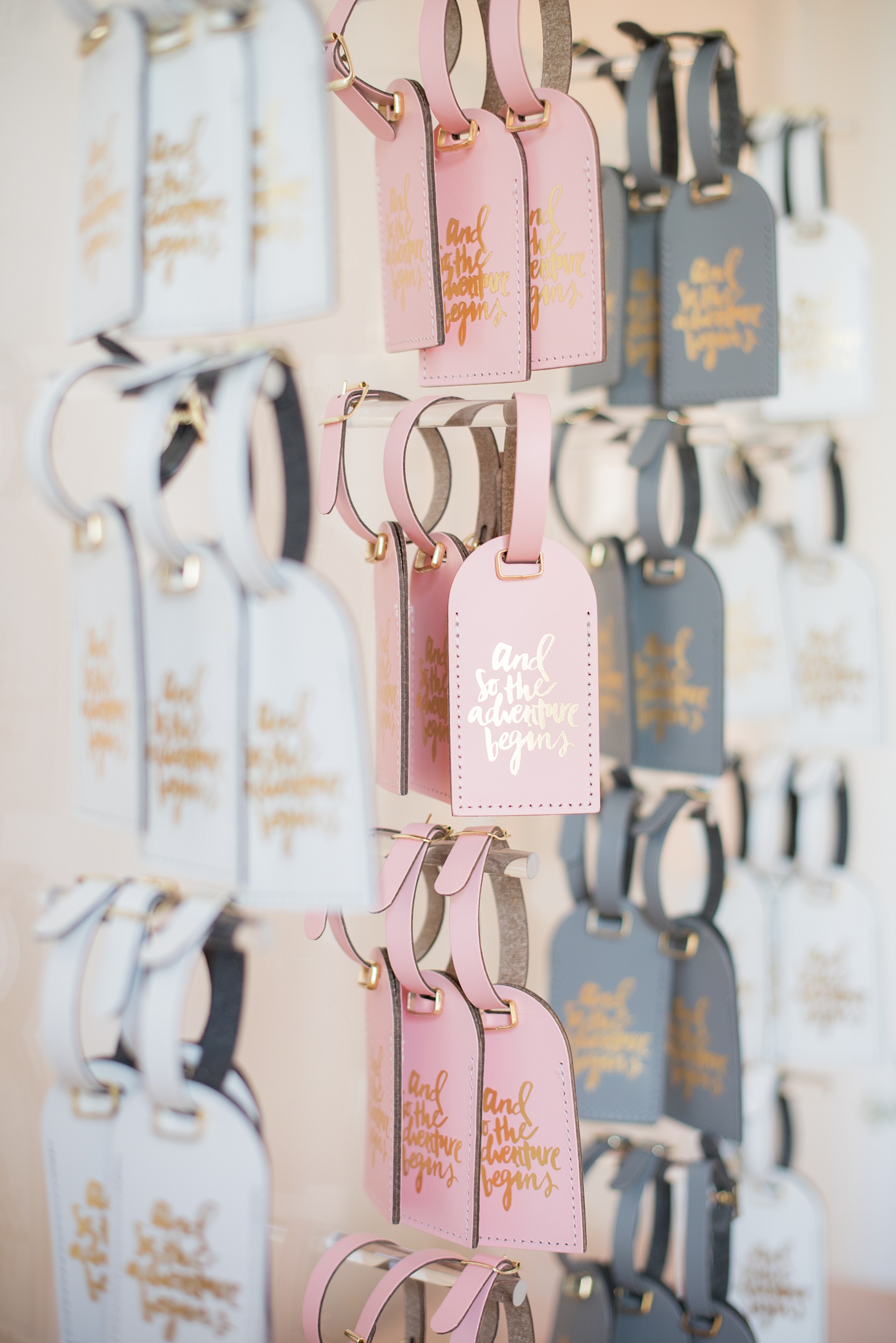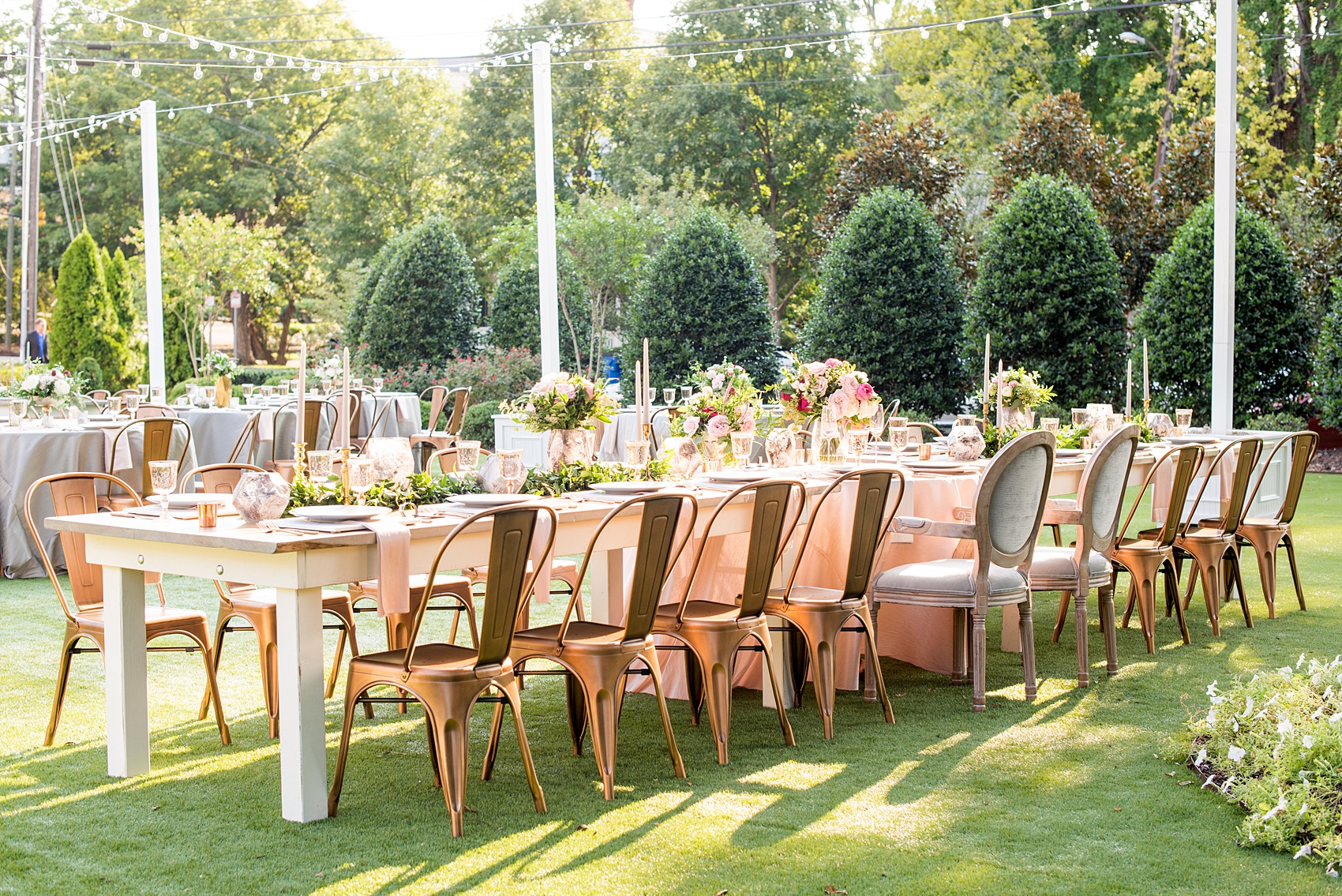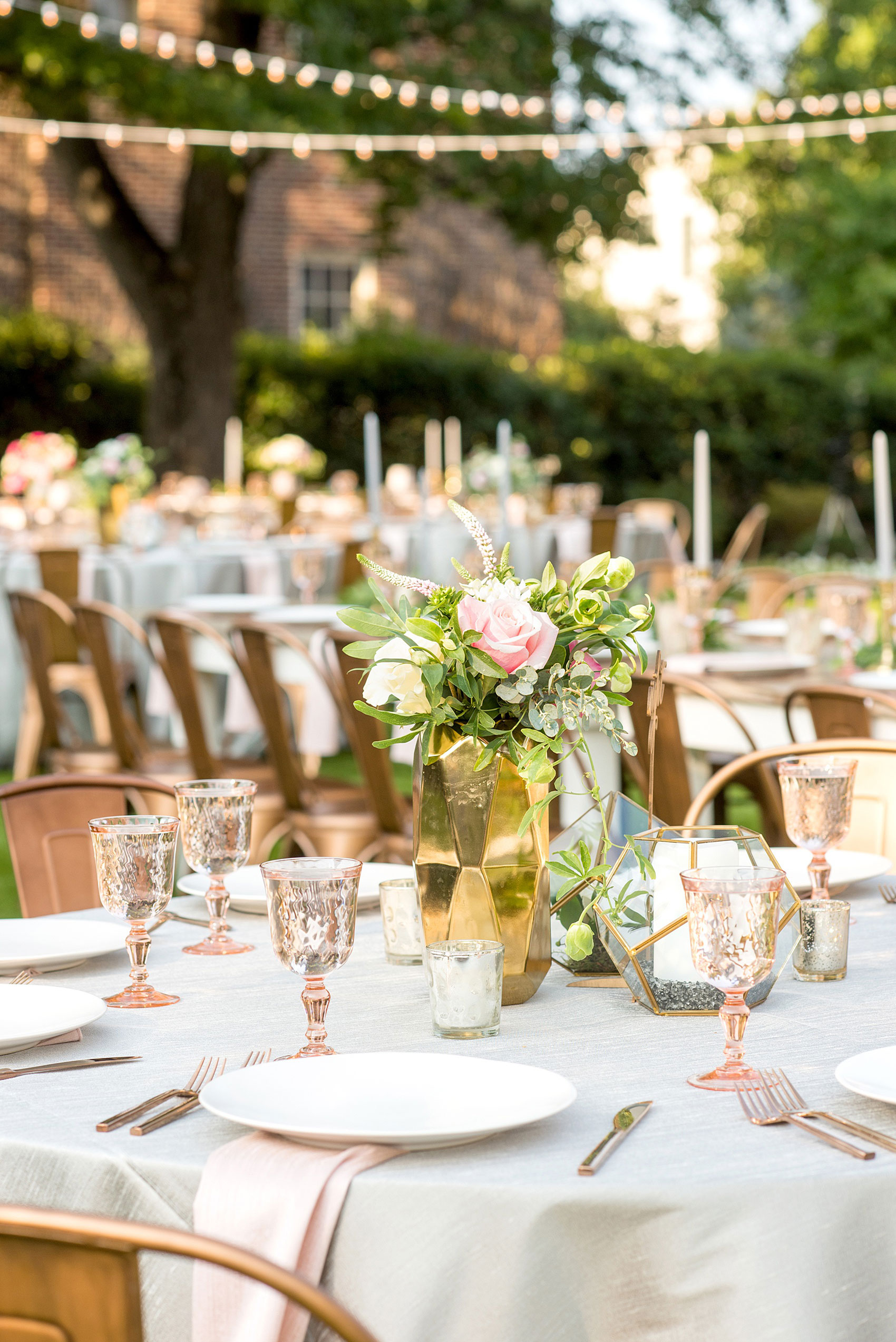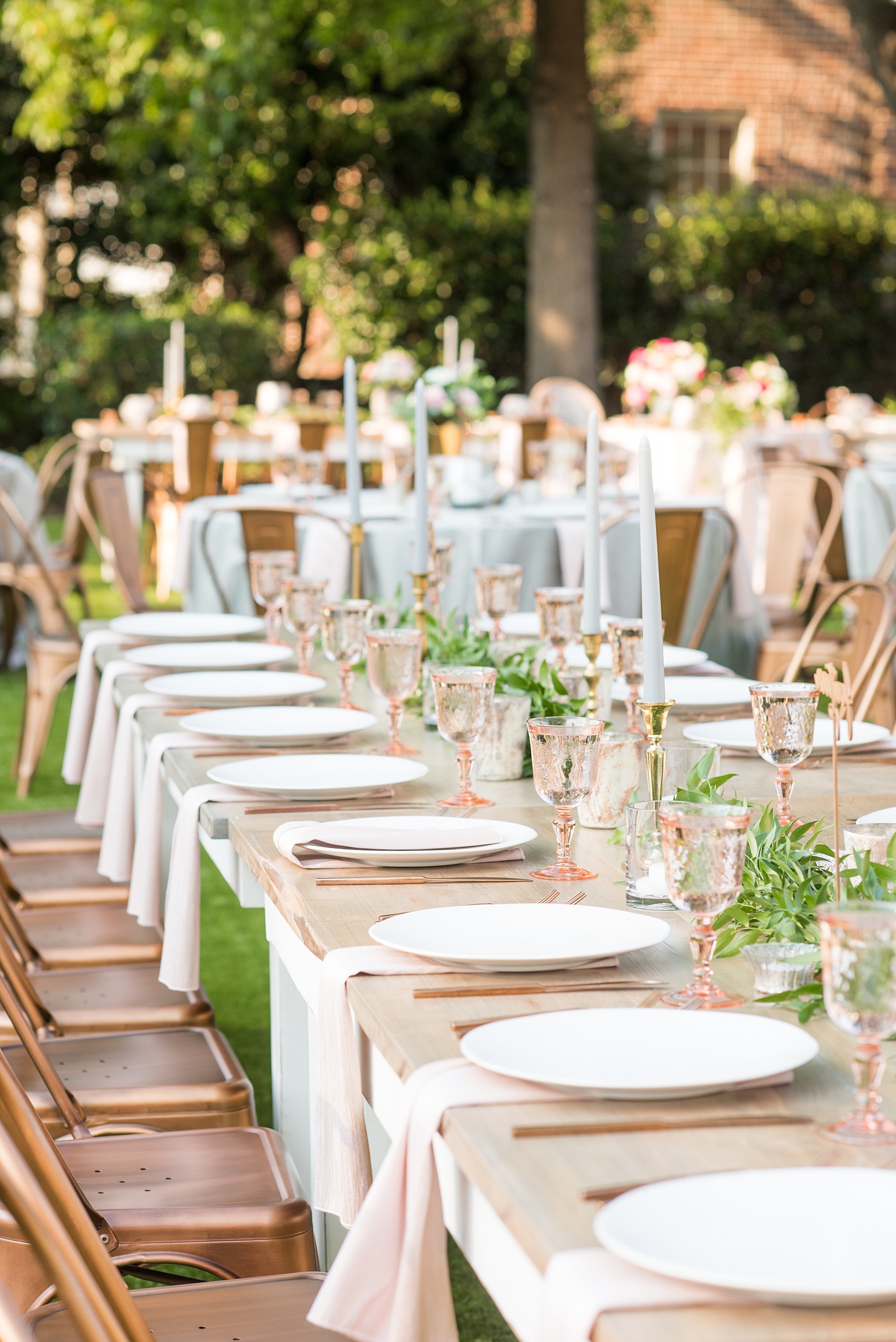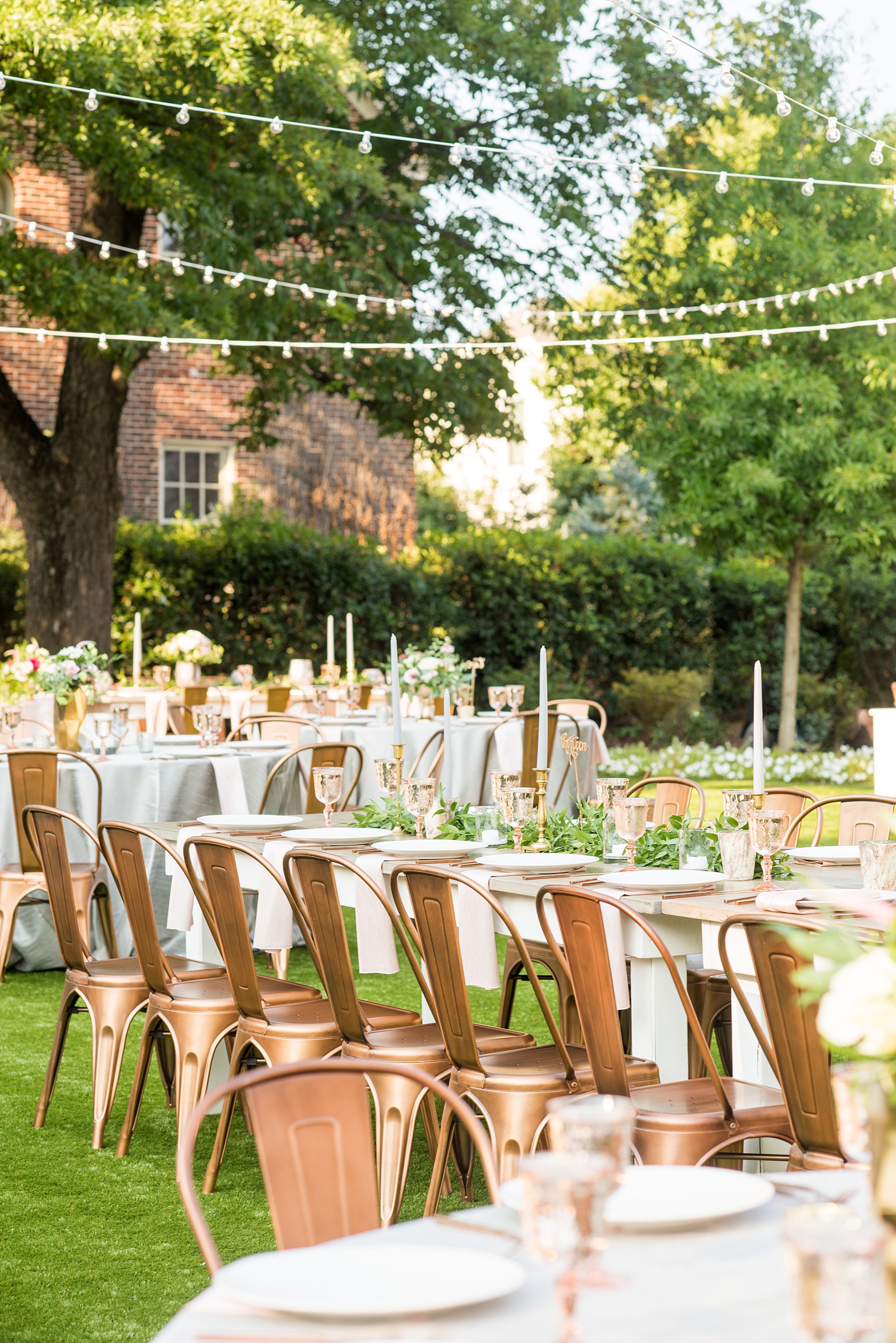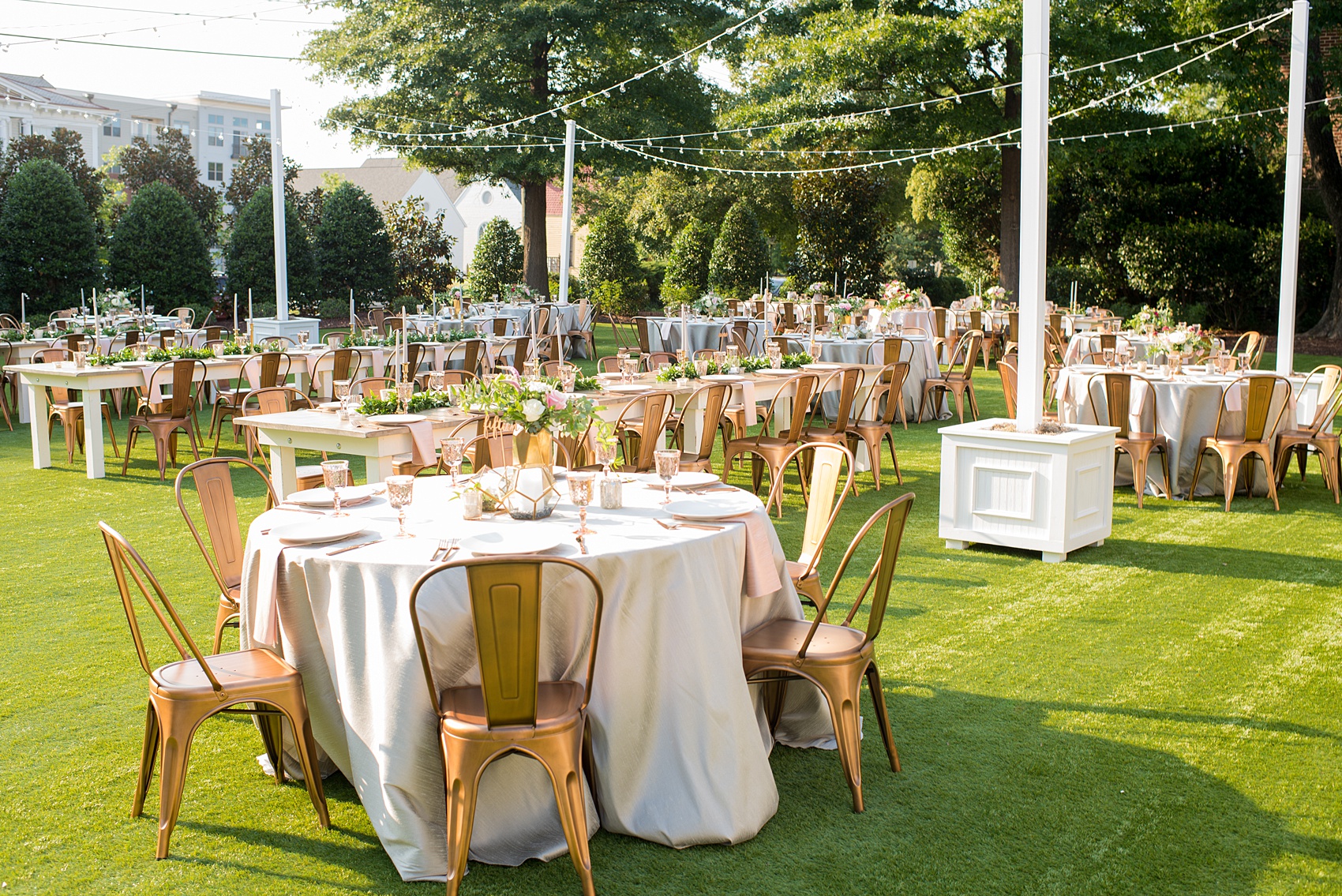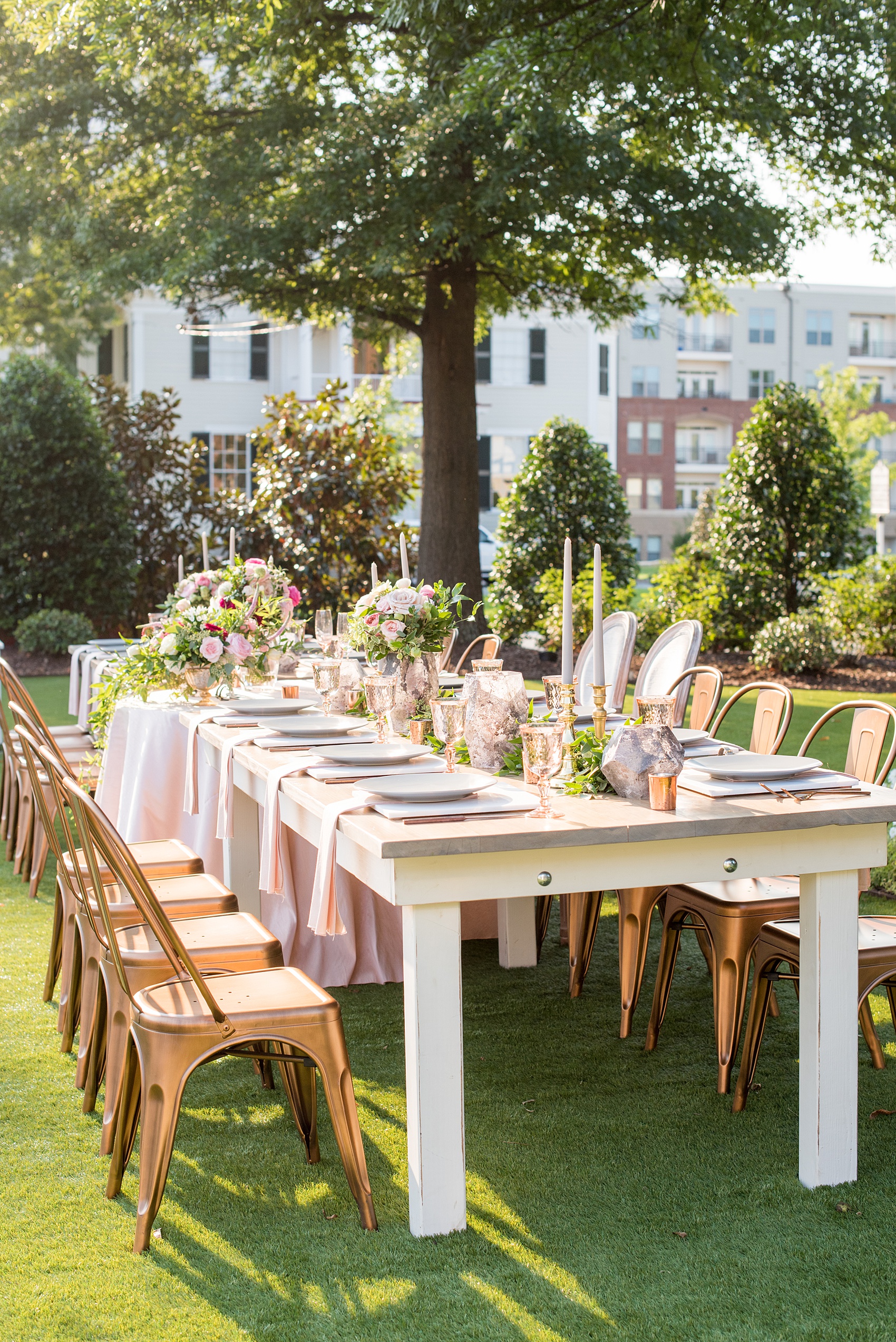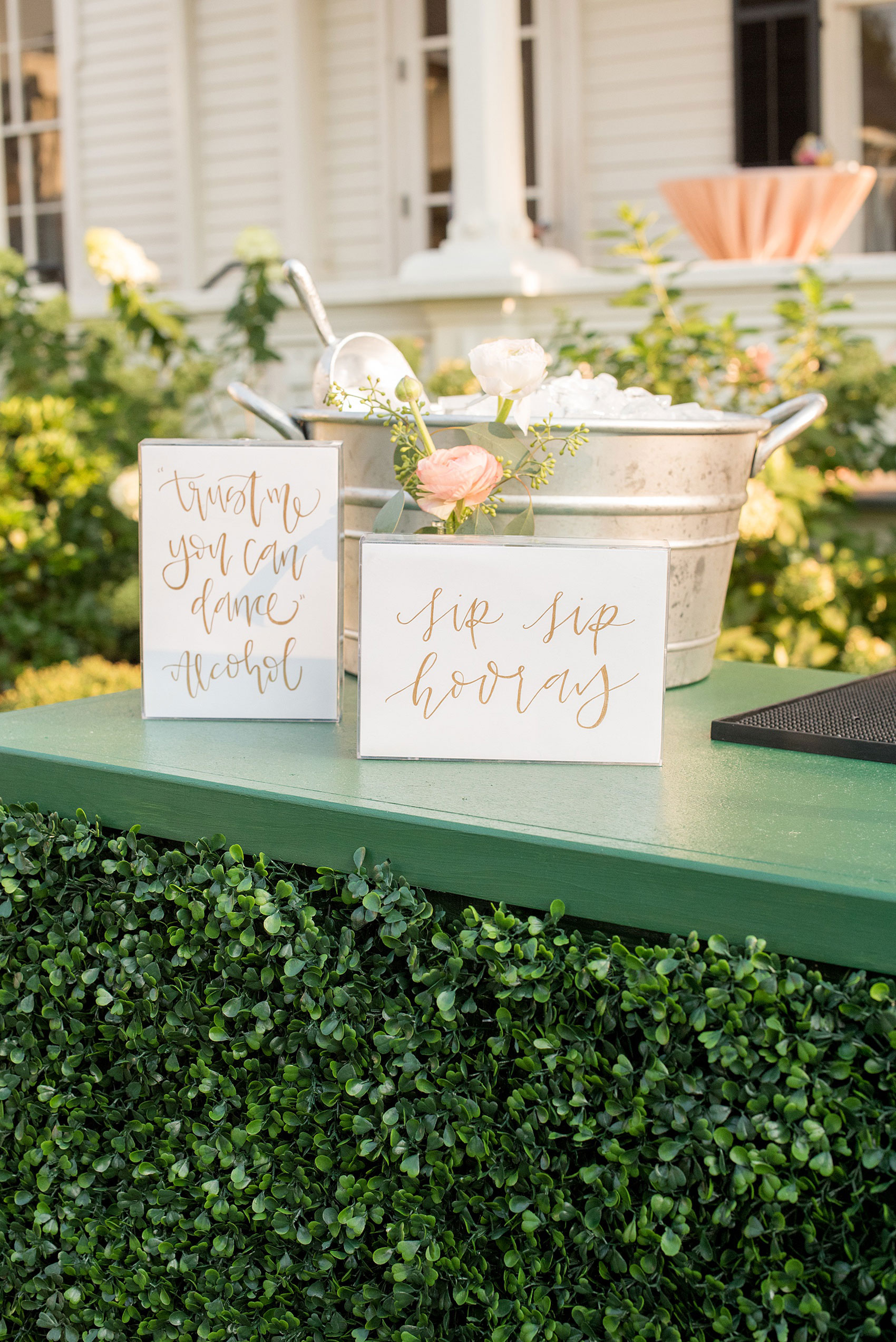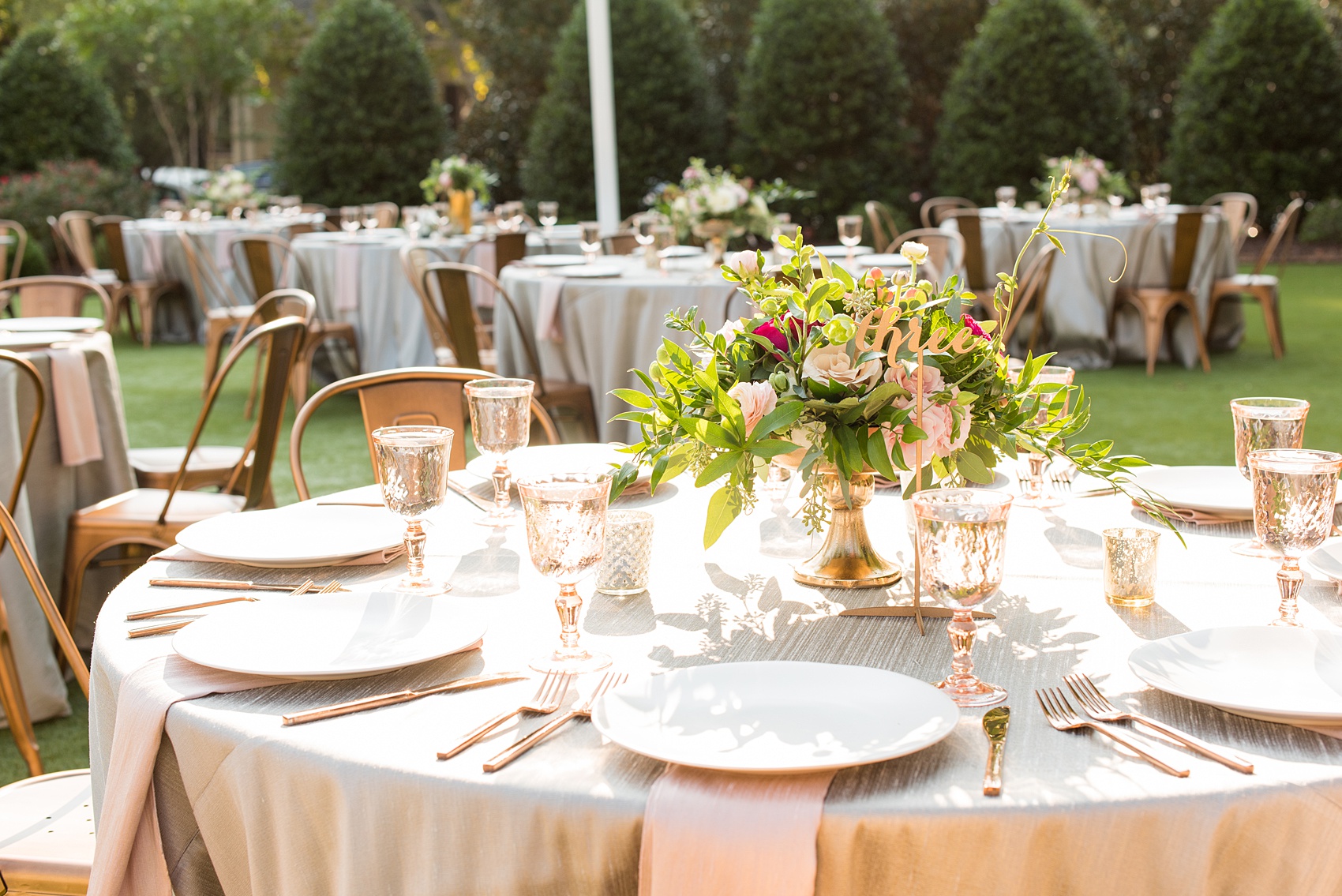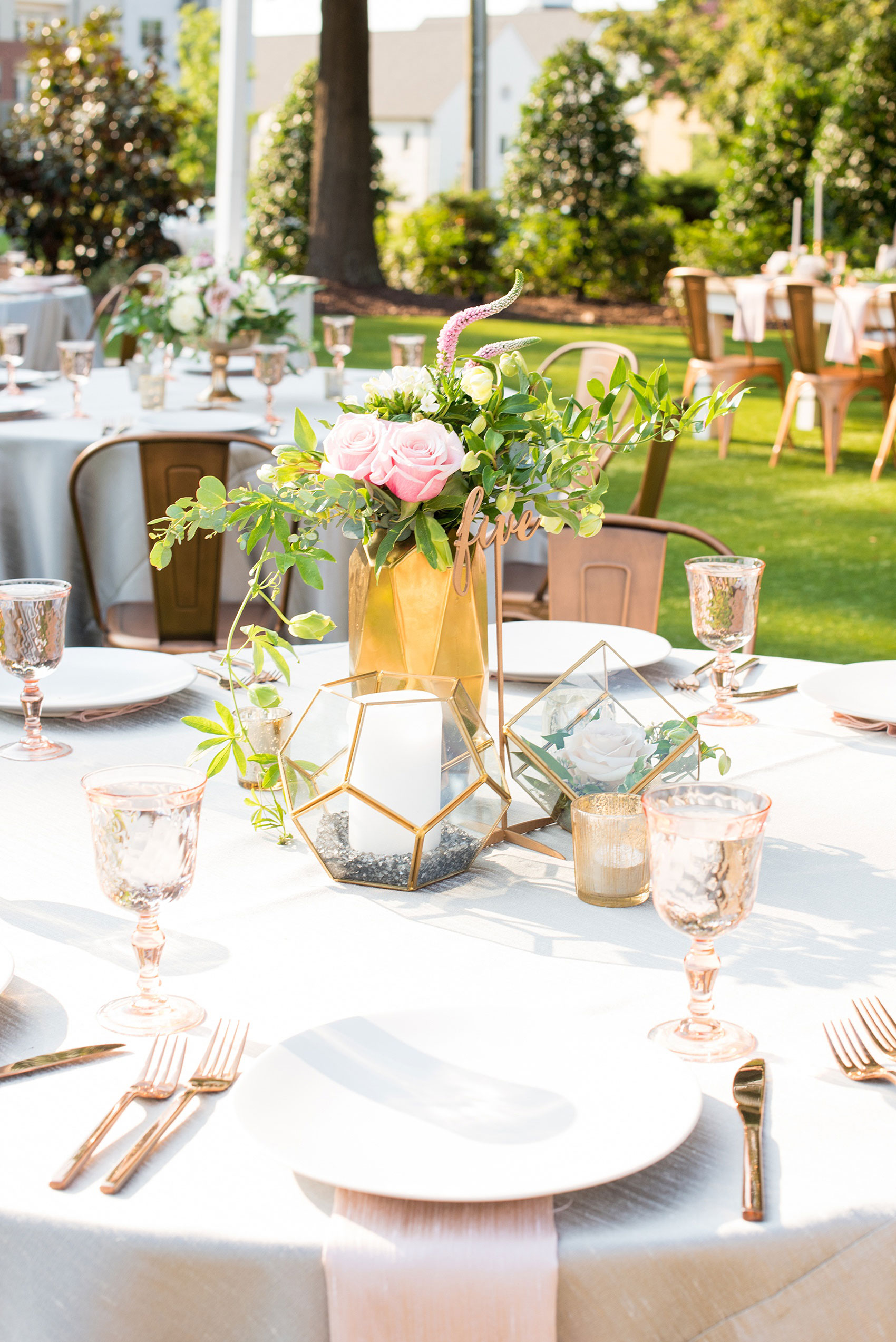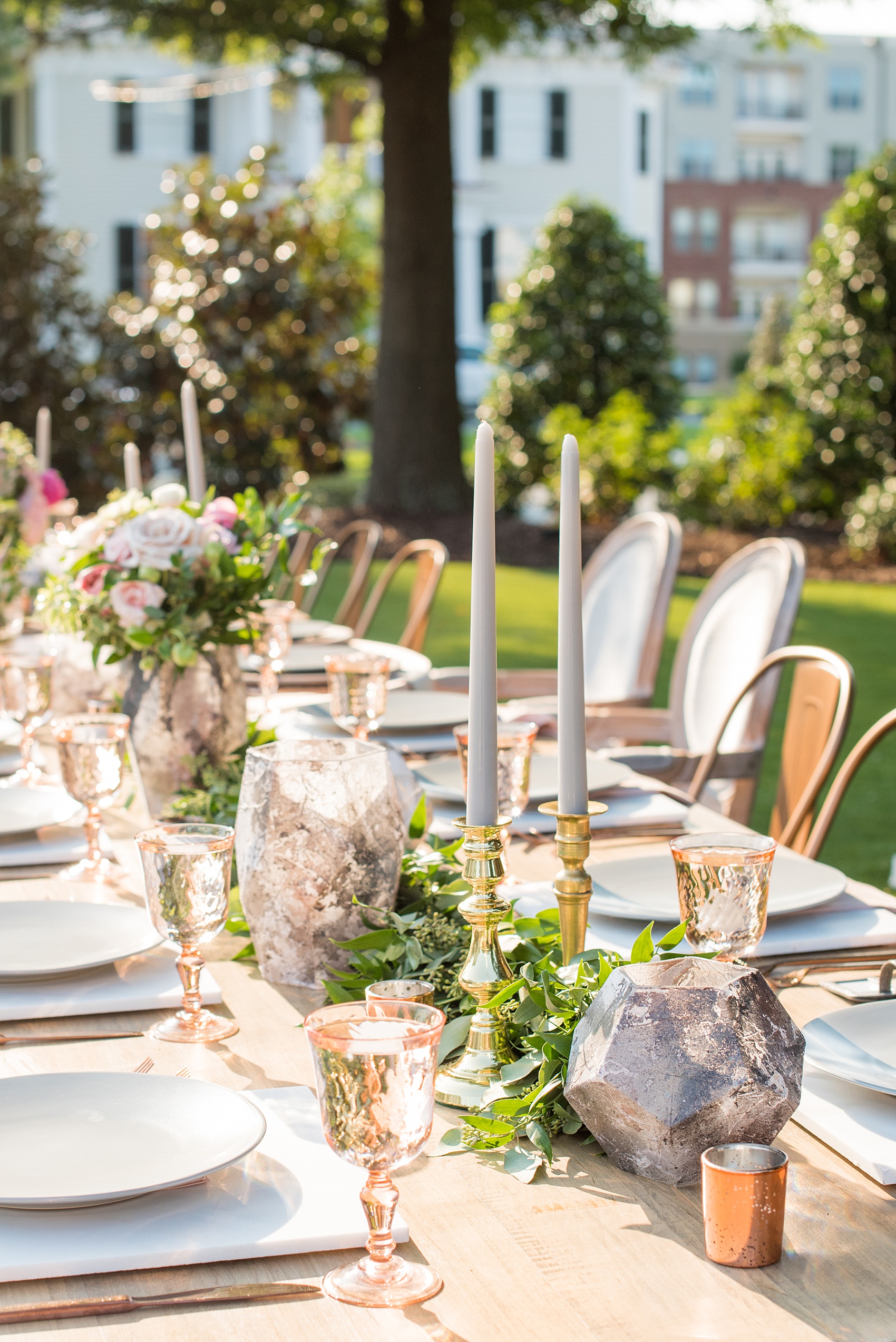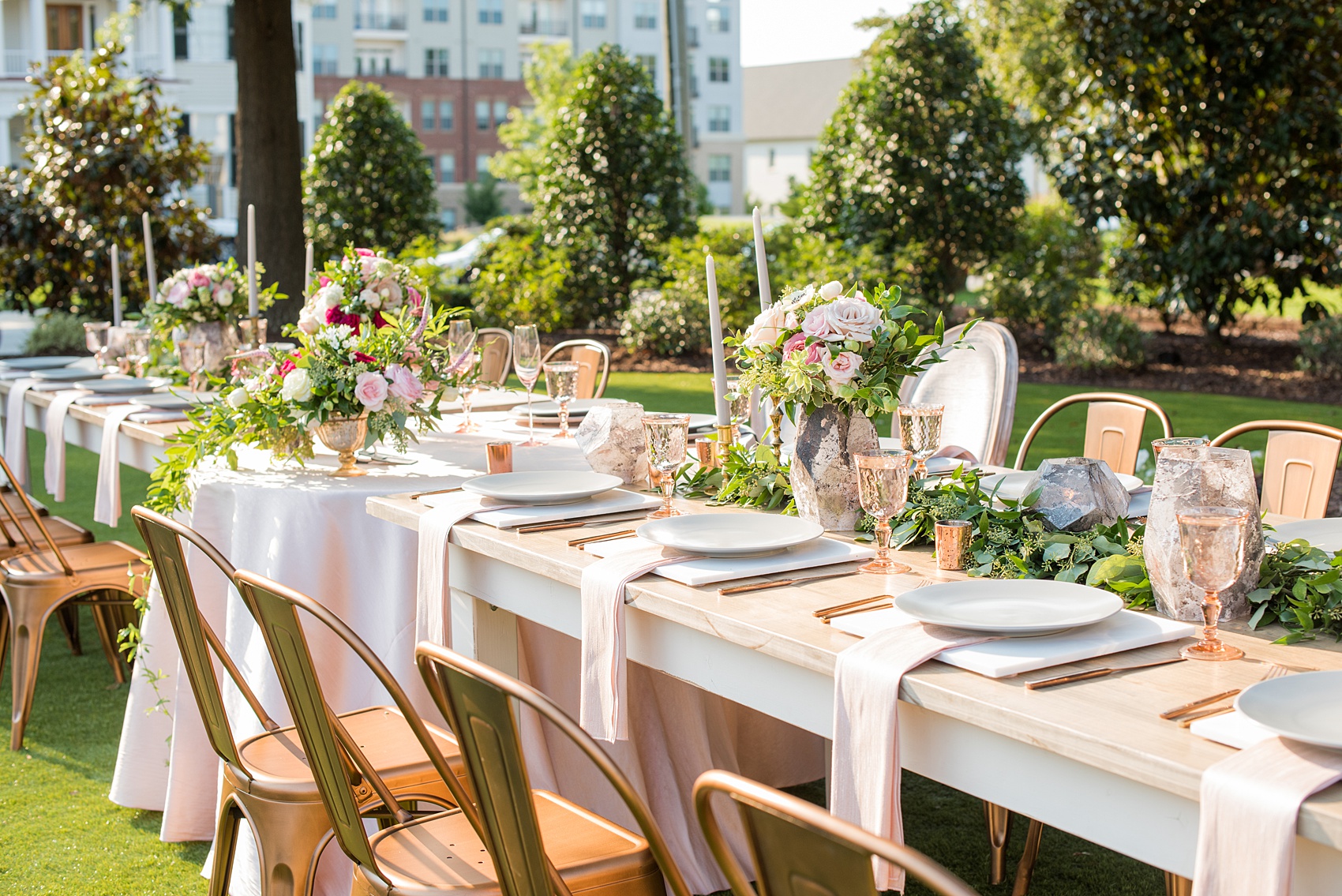 I completely love the photos of them in front of the house – we were able to sneak them there during the dinner, just before the sun started to truly set and before the toasts for the evening.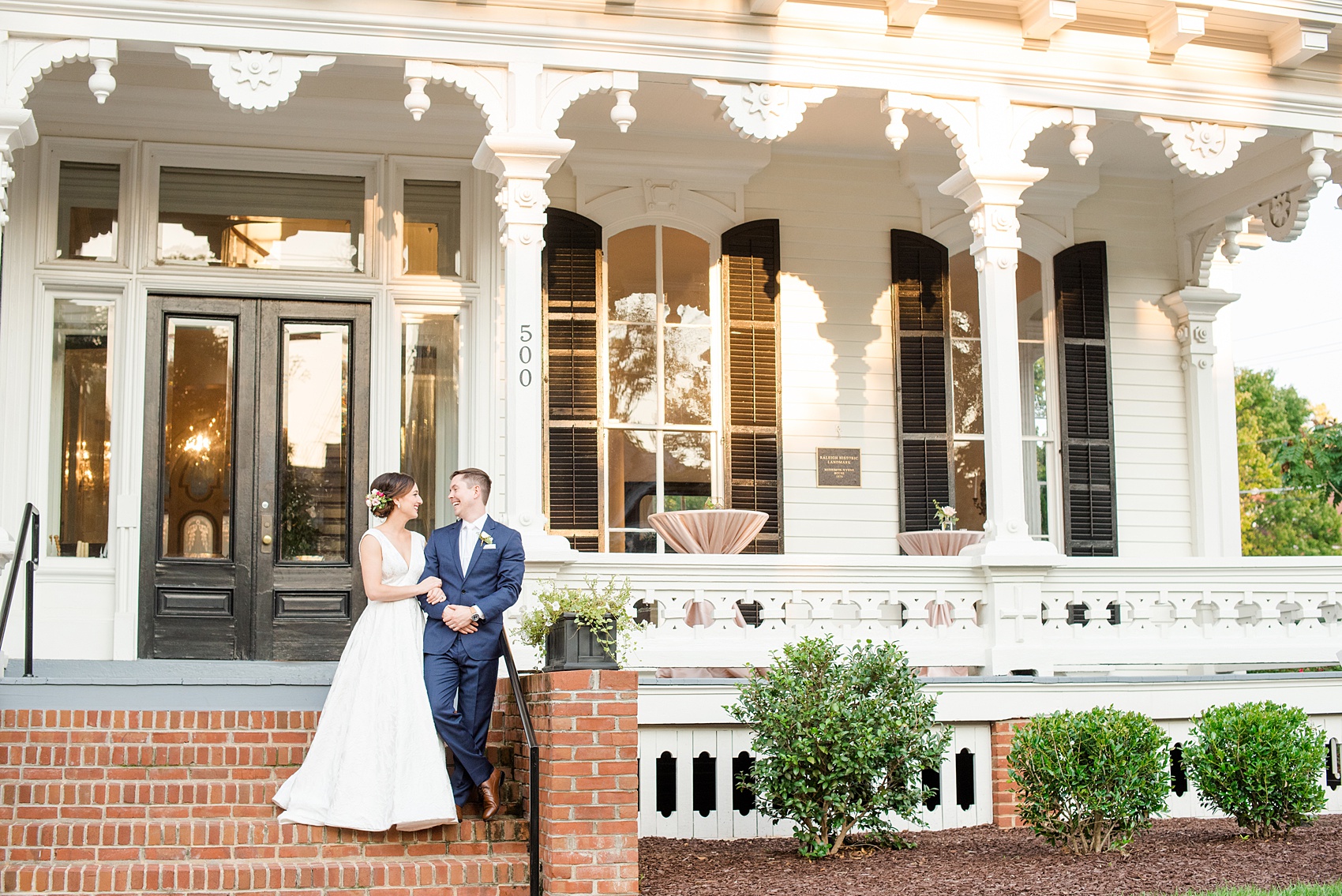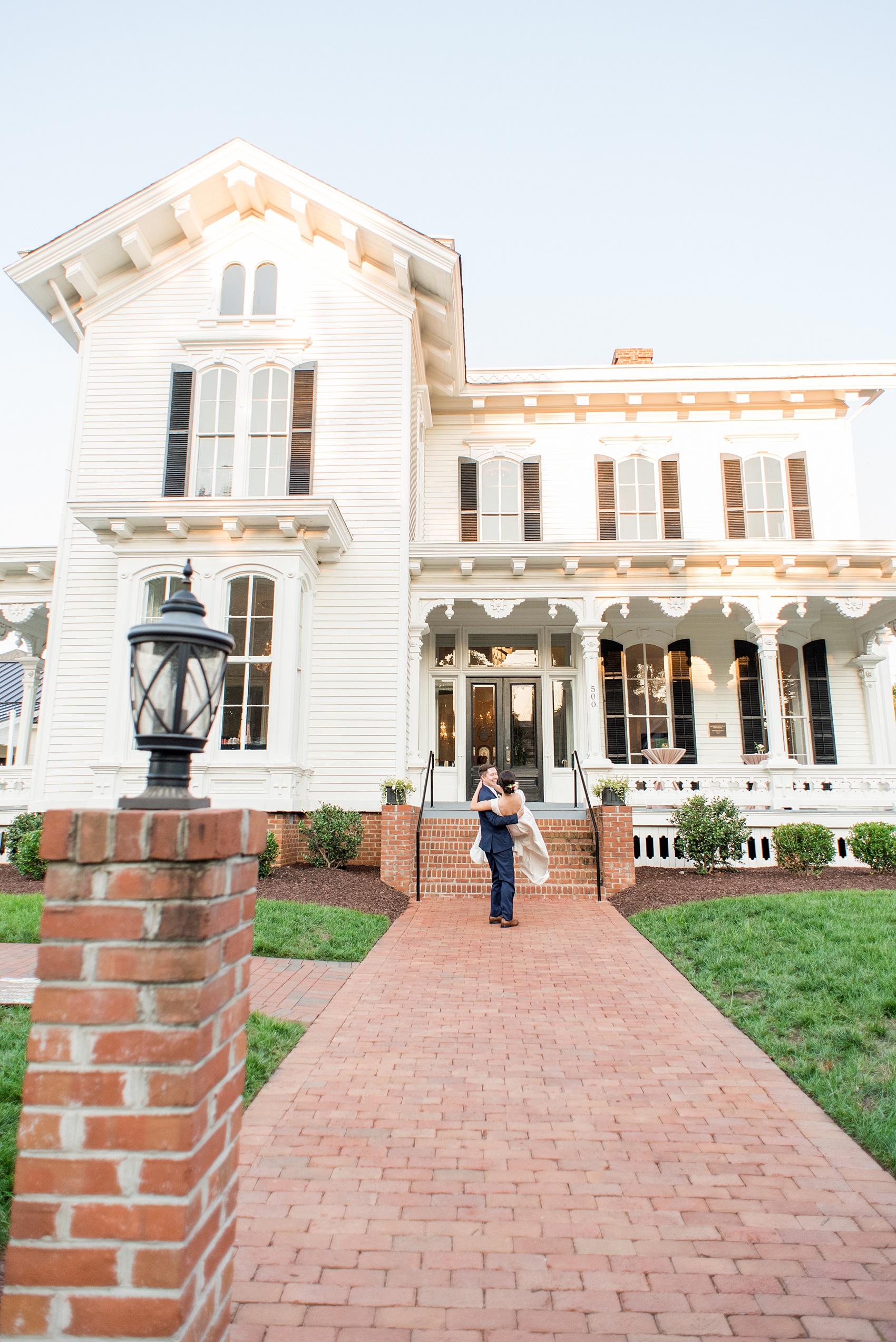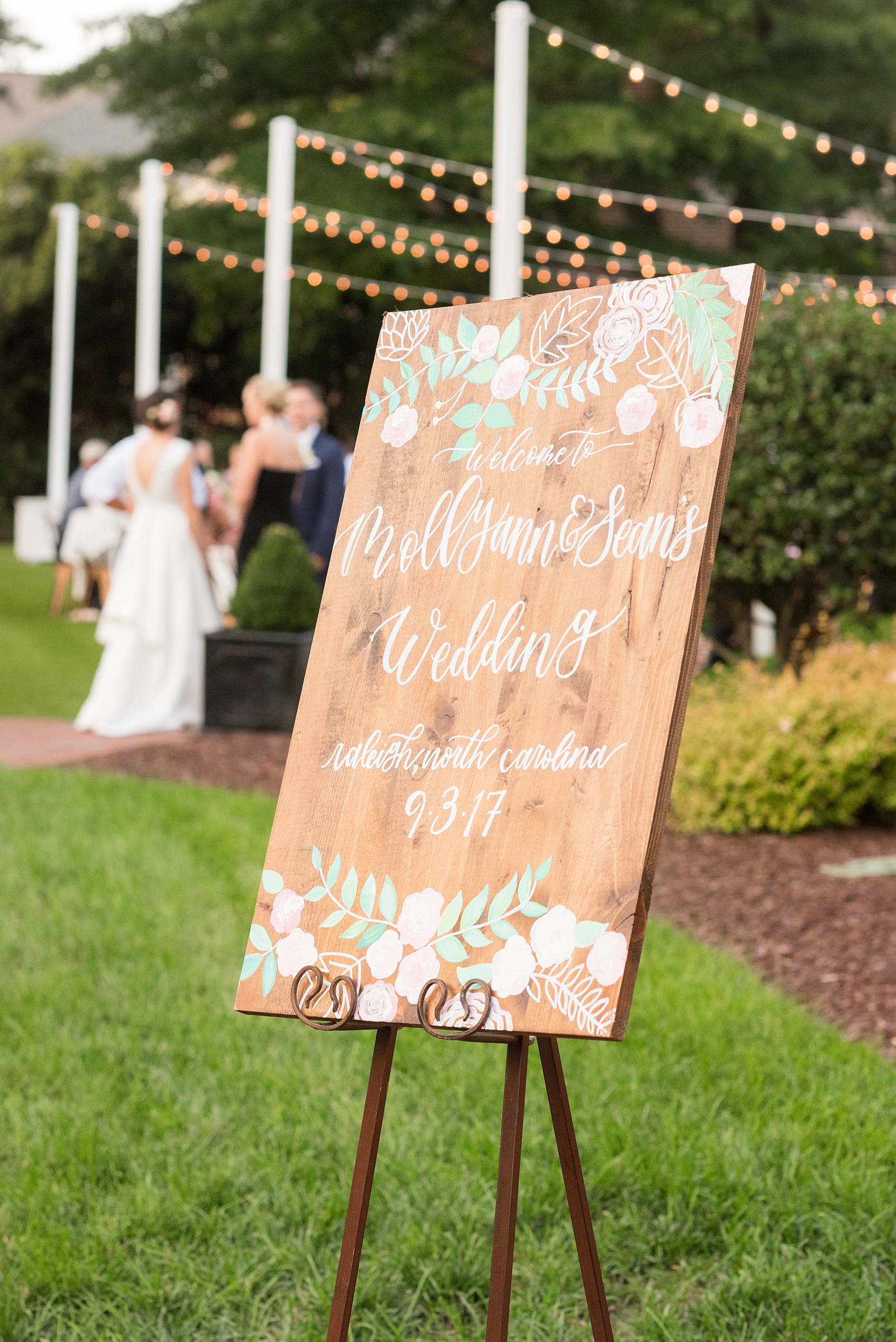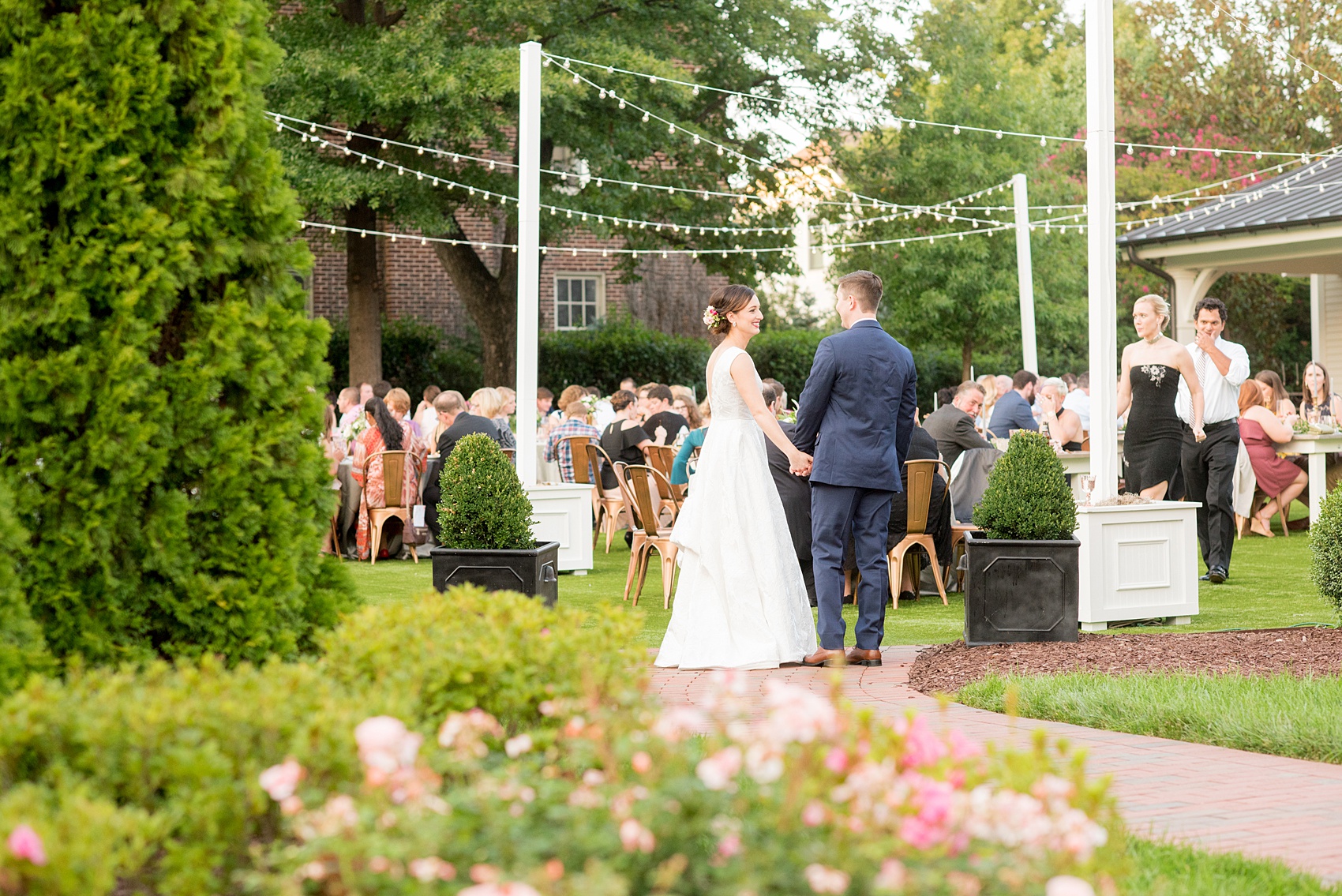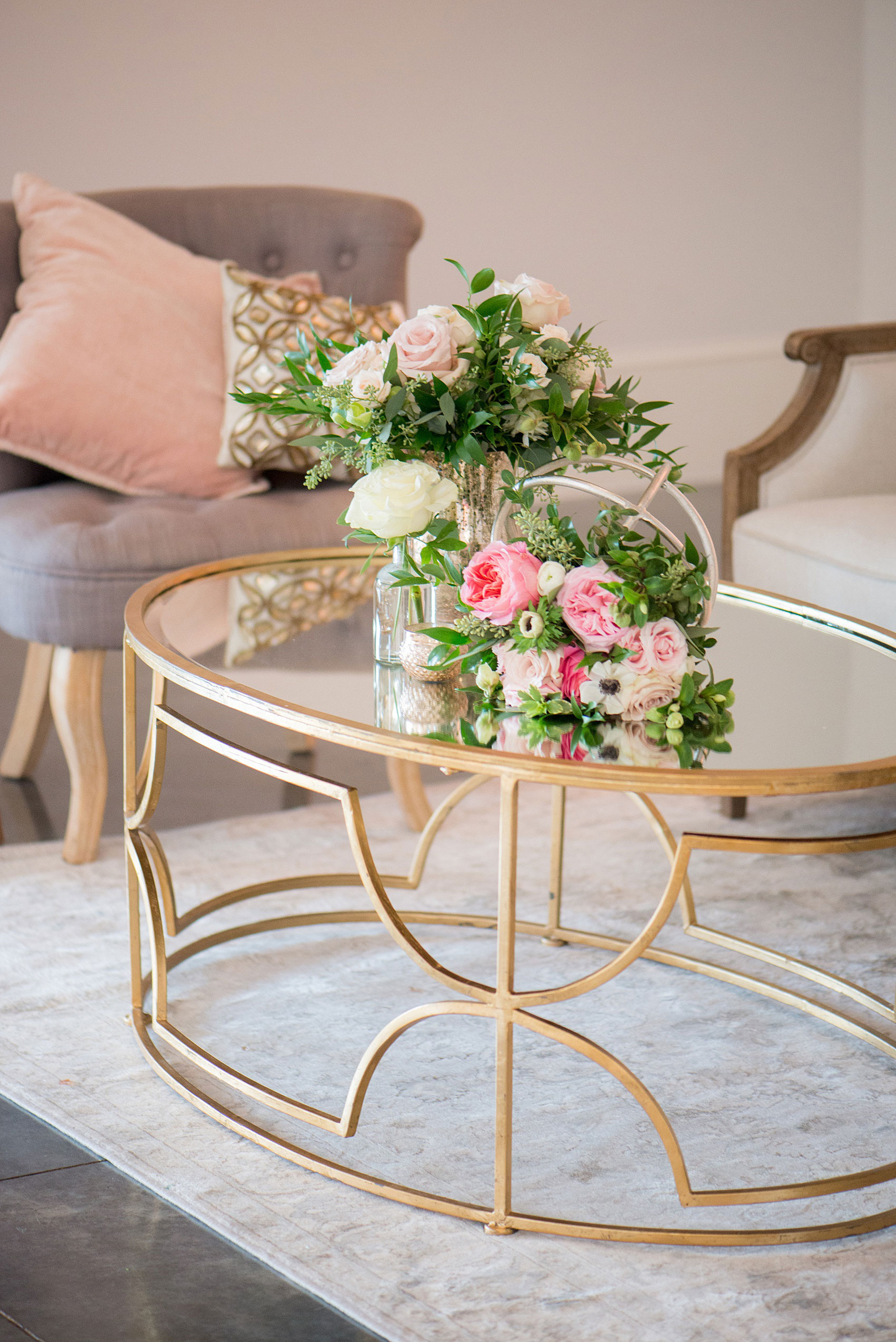 The lounge area was set next to the dessert table back in the carriage house. Soft grey chairs and a couch were complete with a geometric gold and glass coffee table. I love a good throw pillow – and they had many! The dessert table had a variety of cakes and sweets to satisfy any sweet tooth. All that divided guests from dessert was a thank you speech from the newlyweds (look at that incredible moon!), first dances and a cake cutting! Then it was time to dance the night away, enjoy a photobooth, and send them off with a sparkler exit!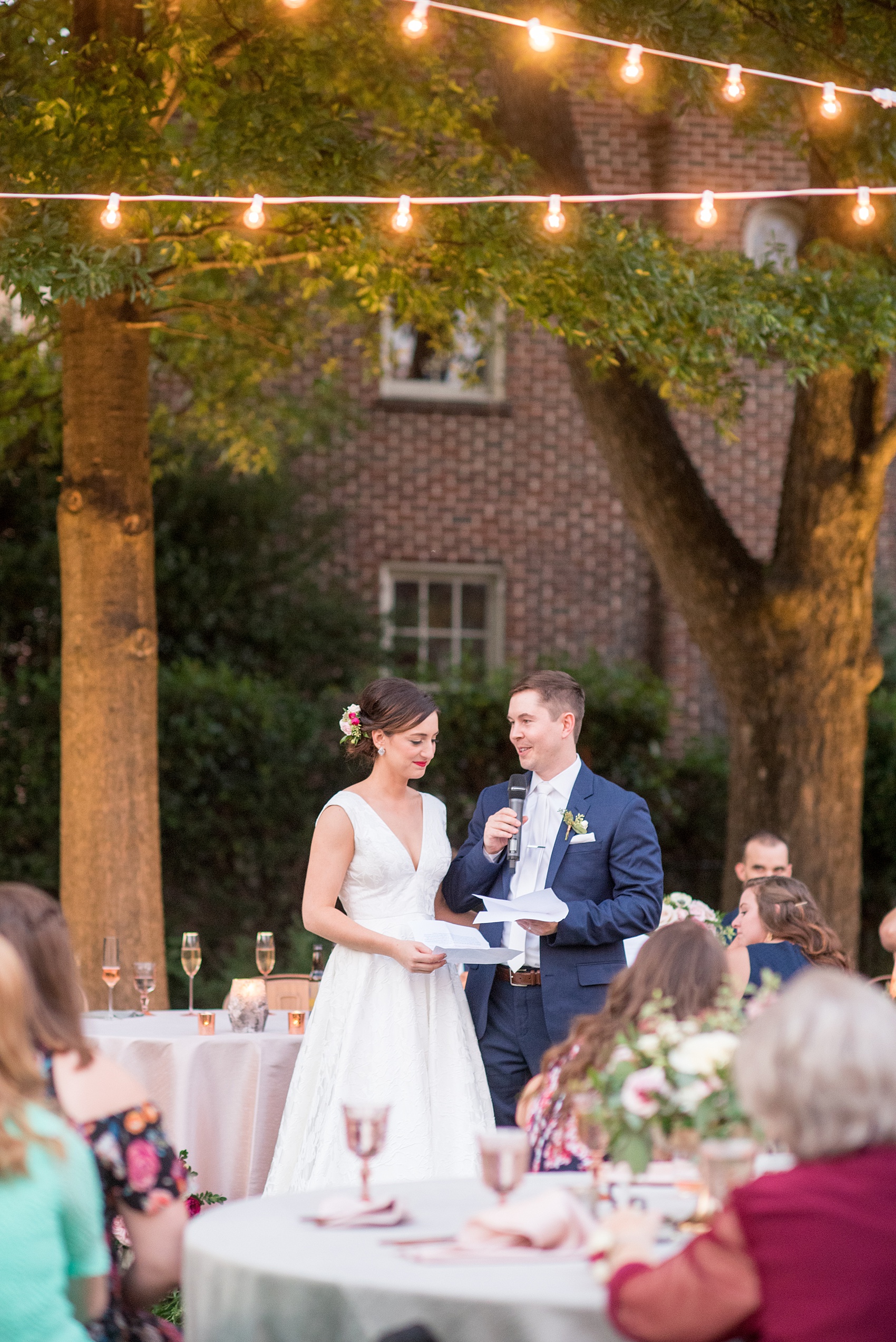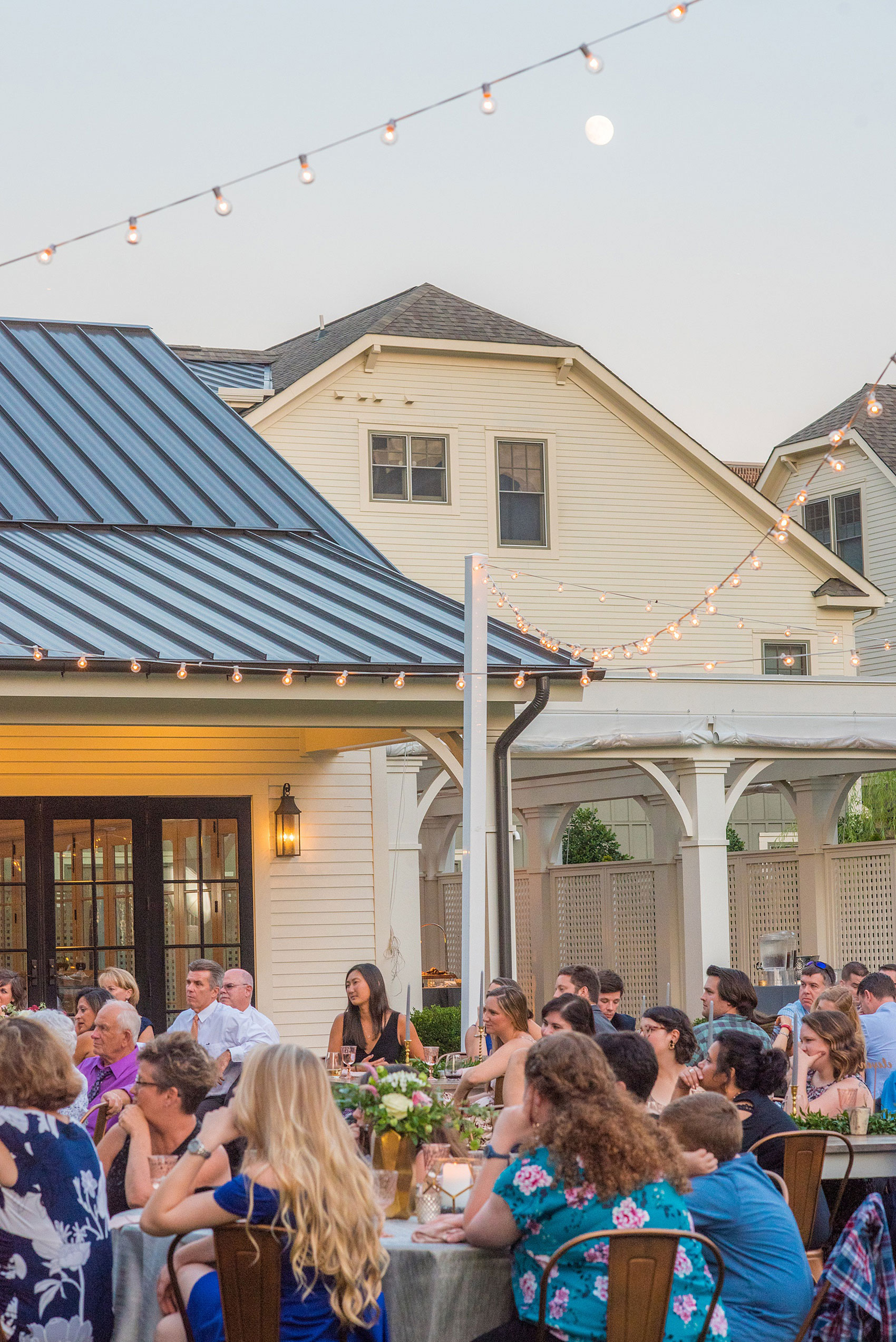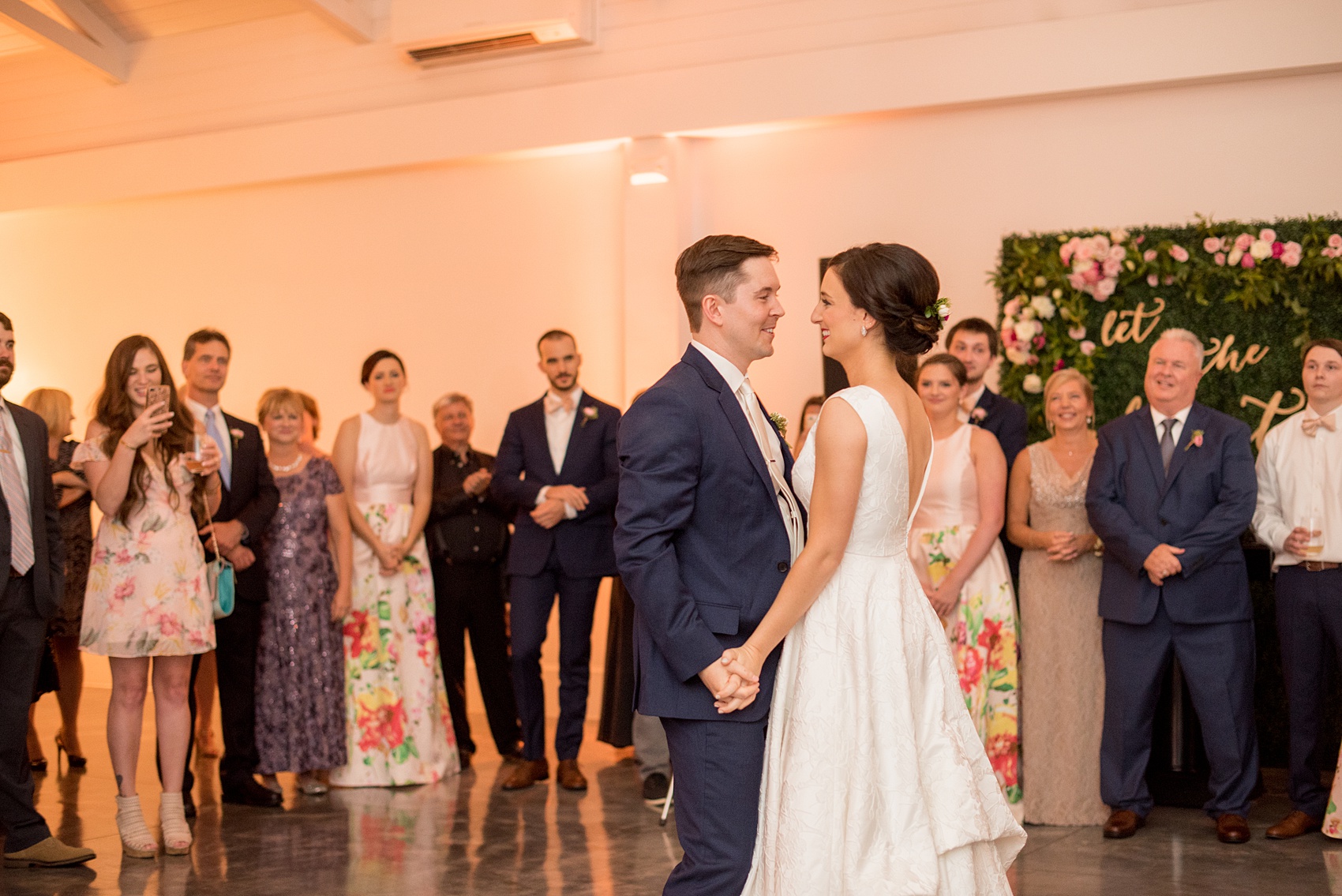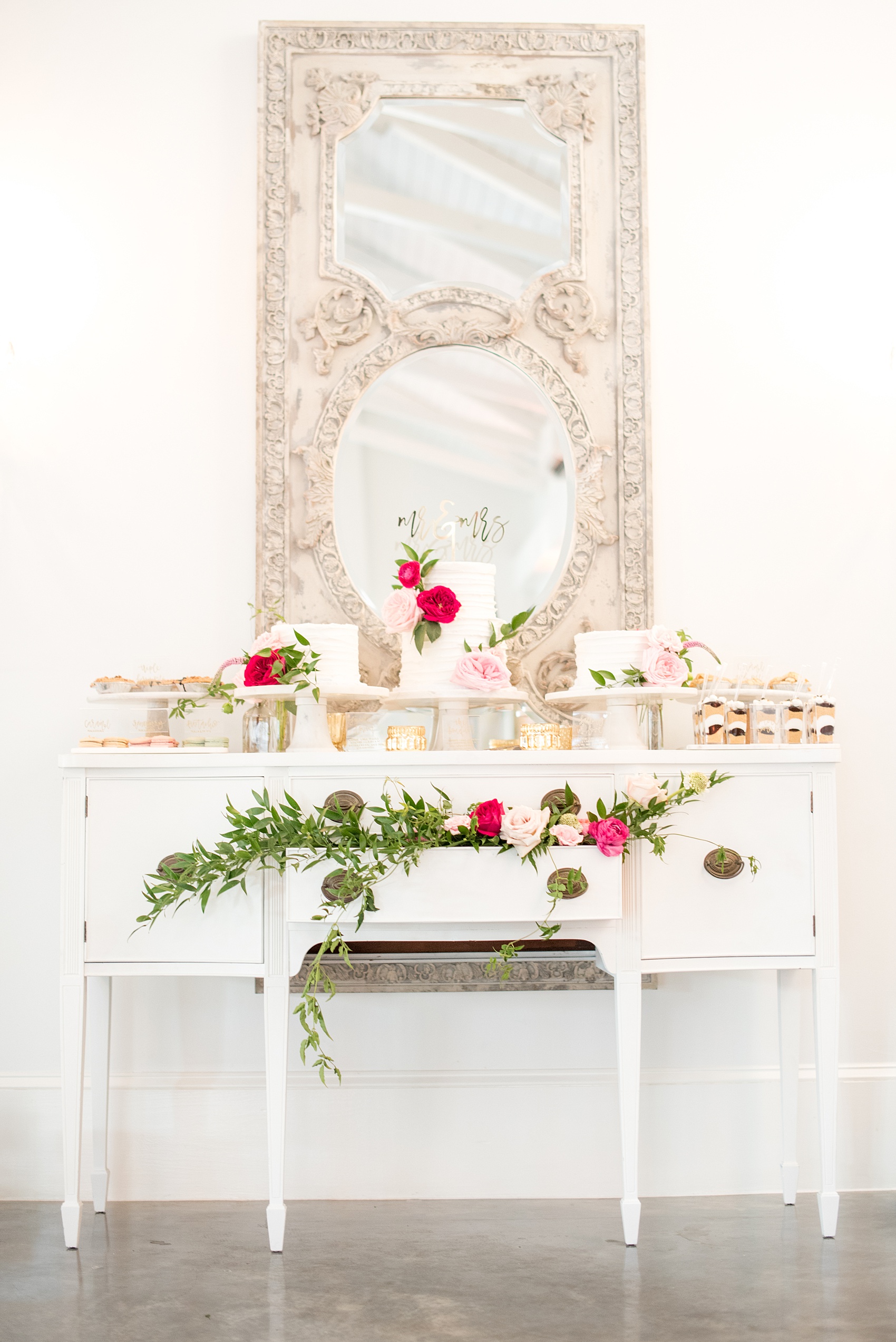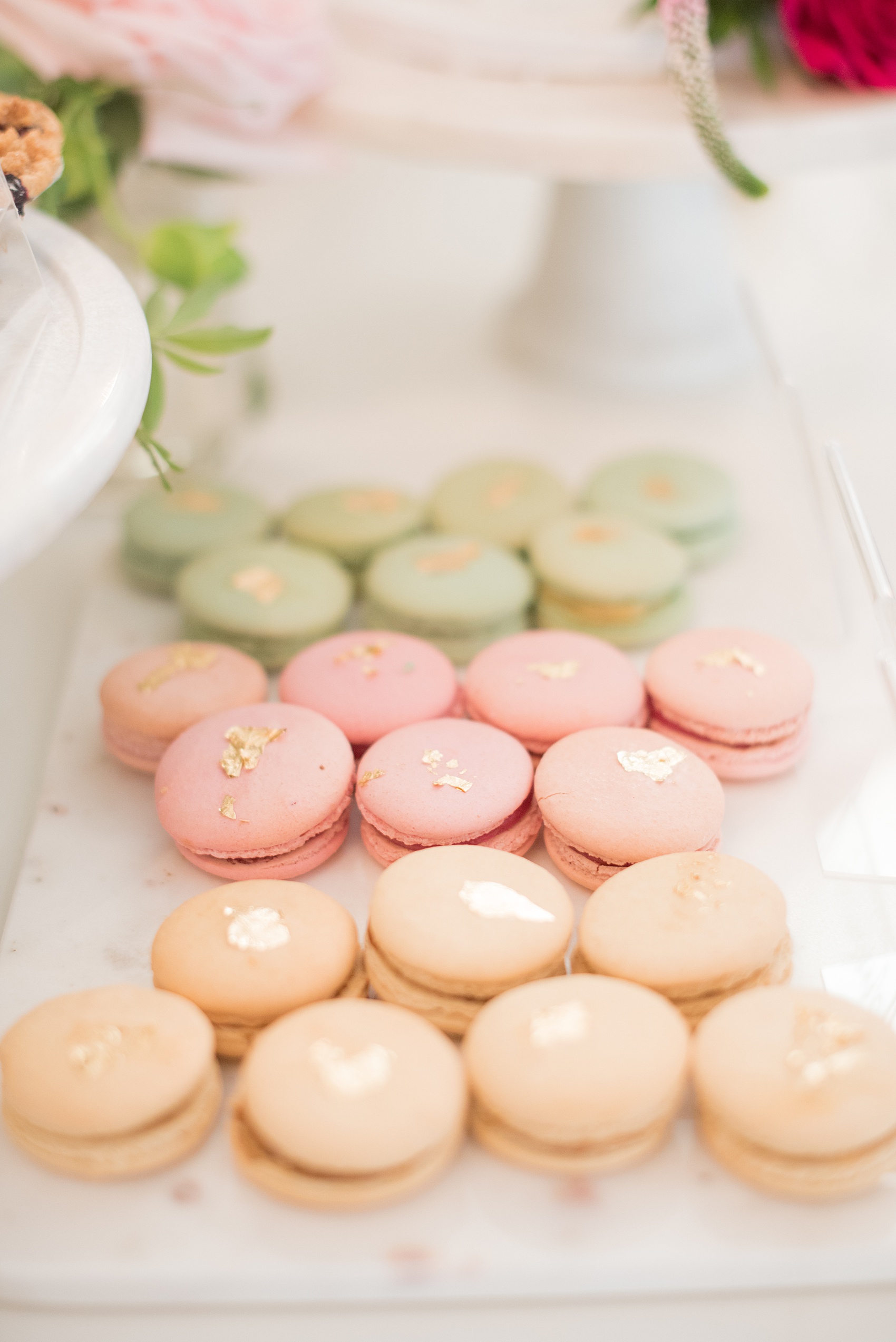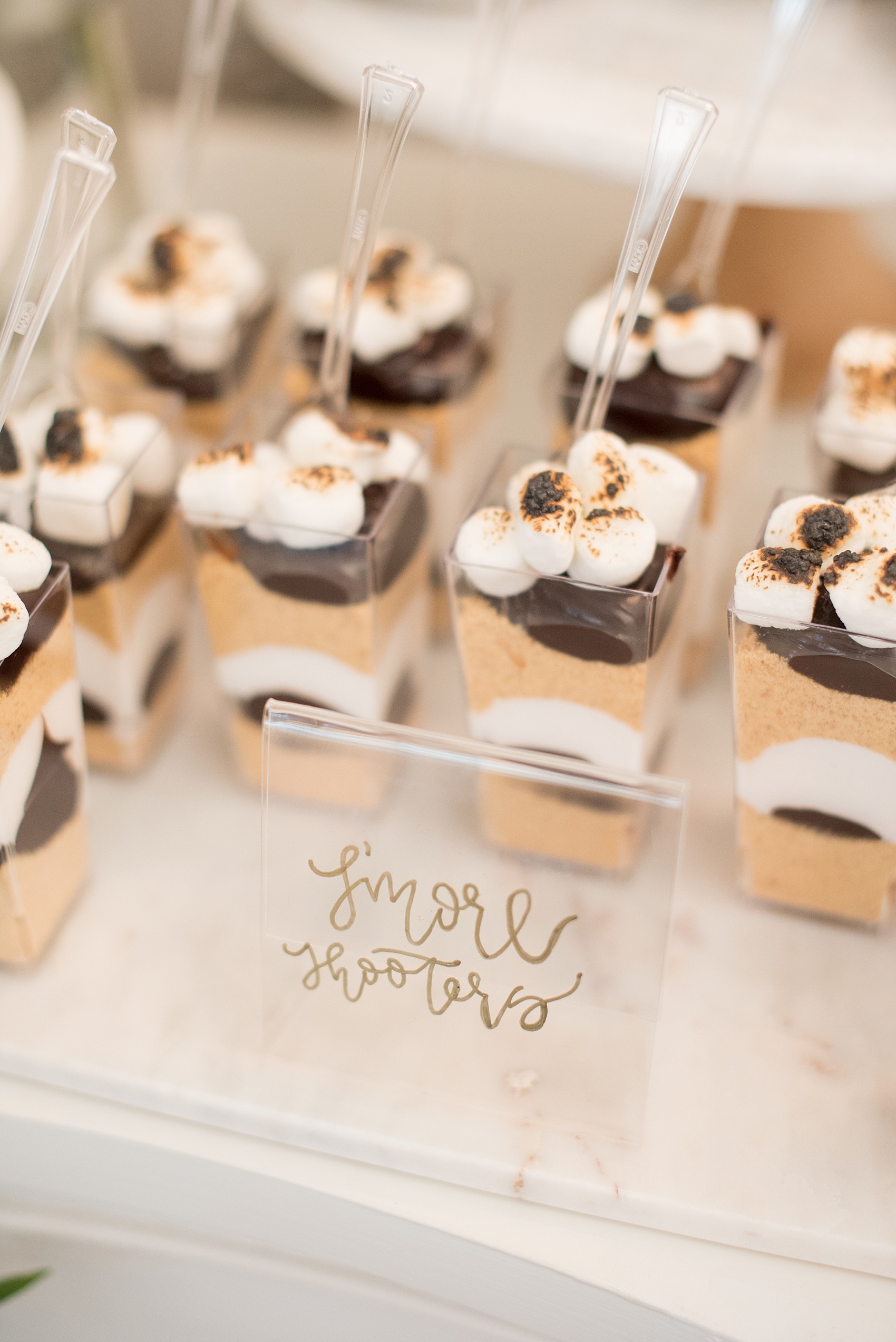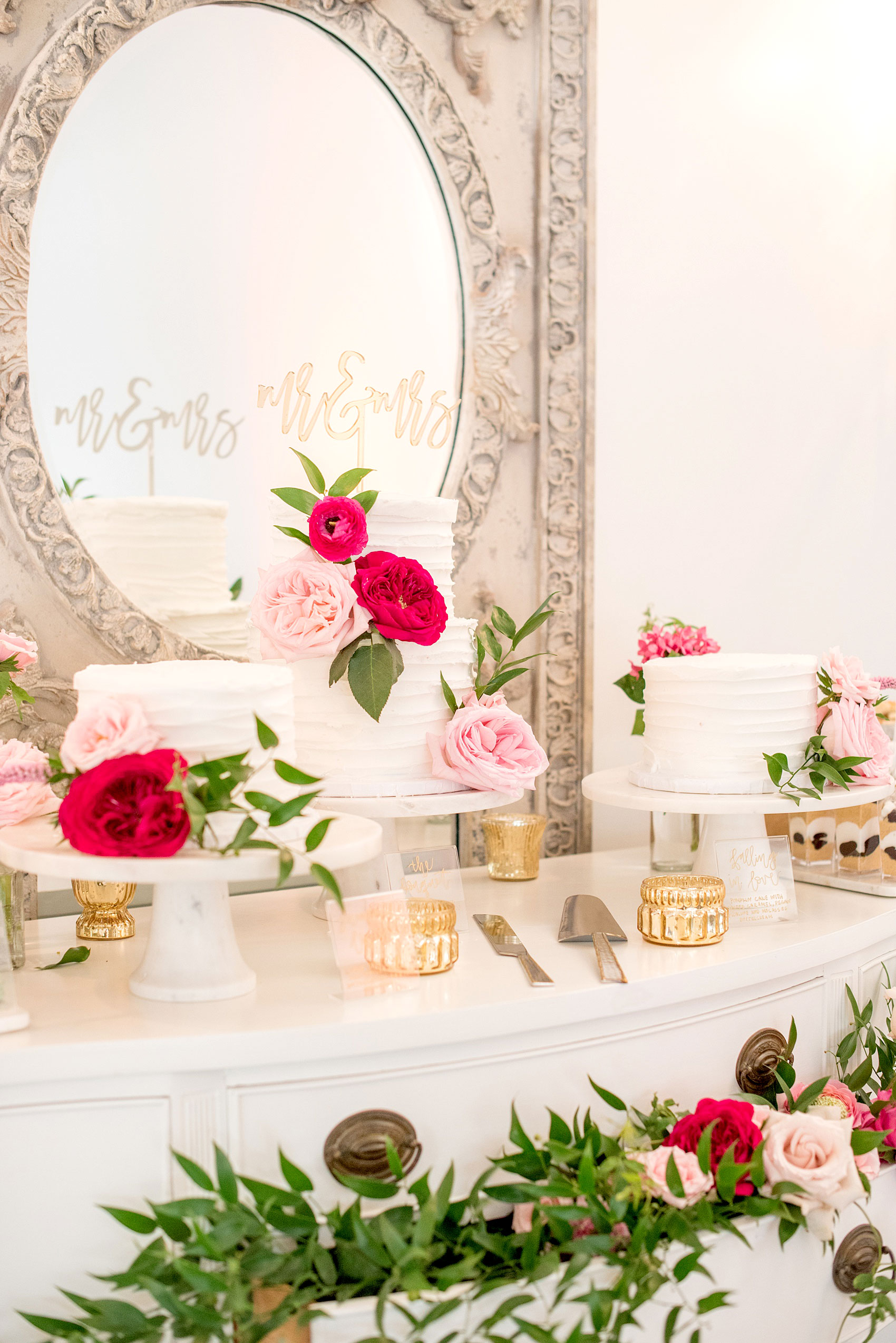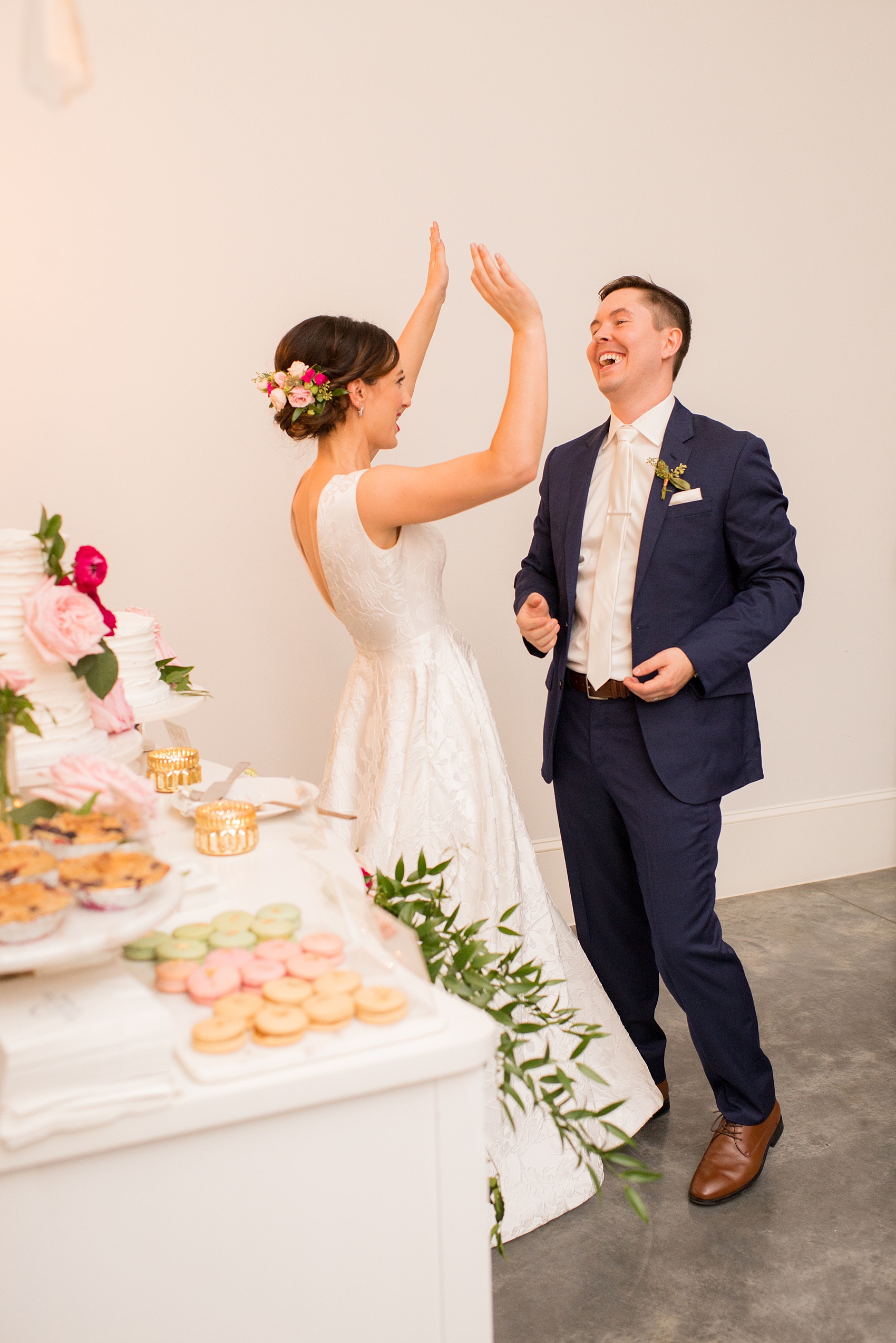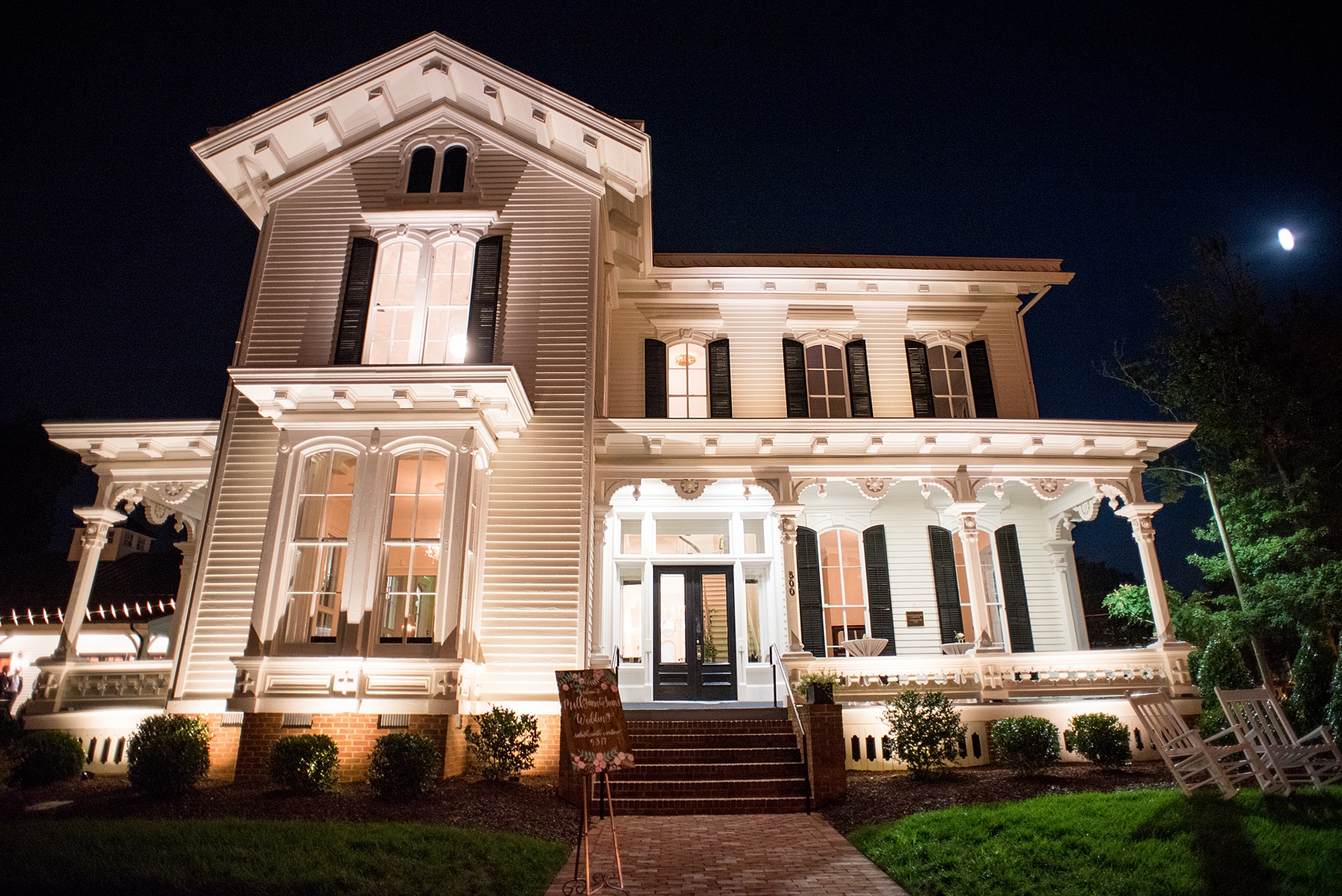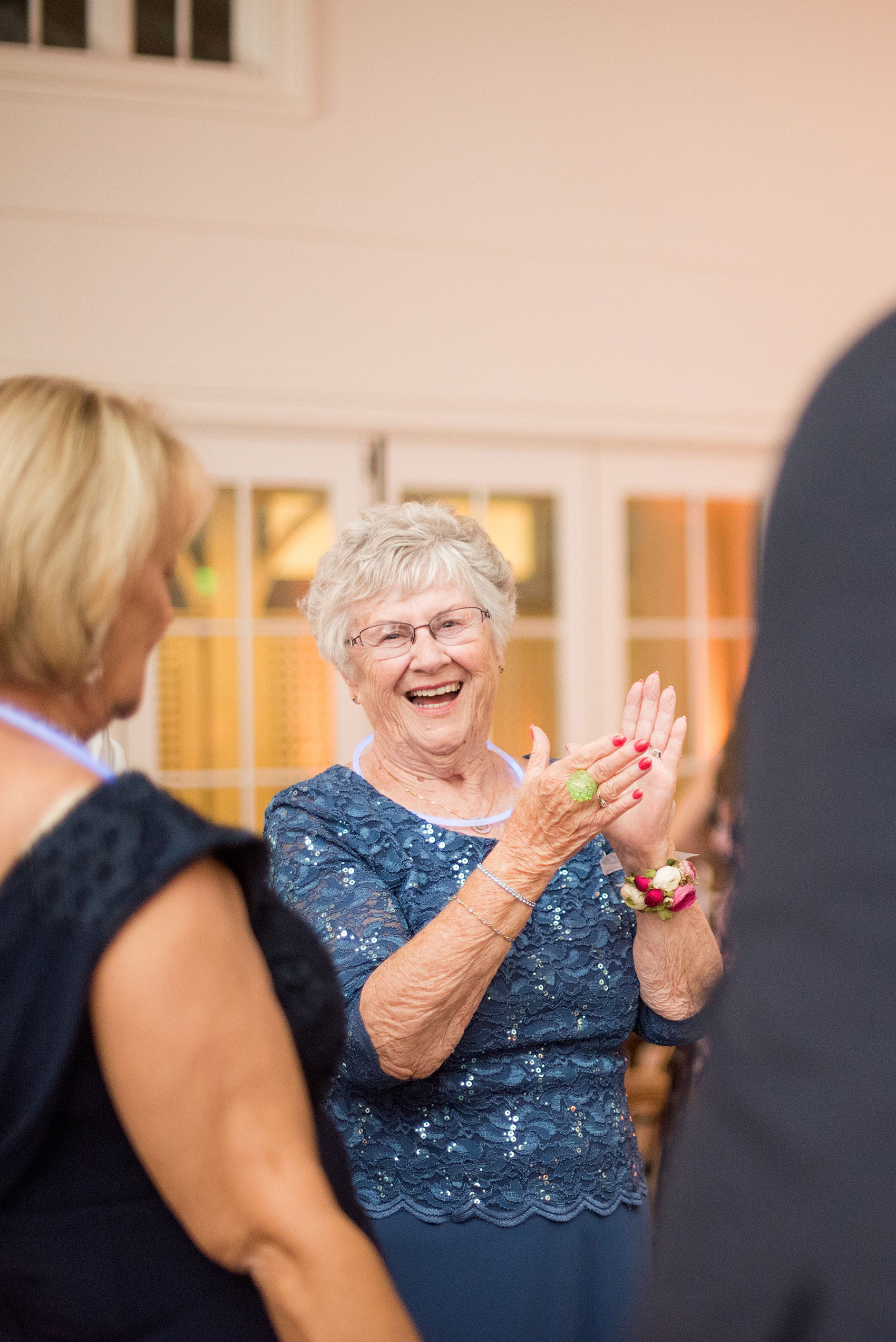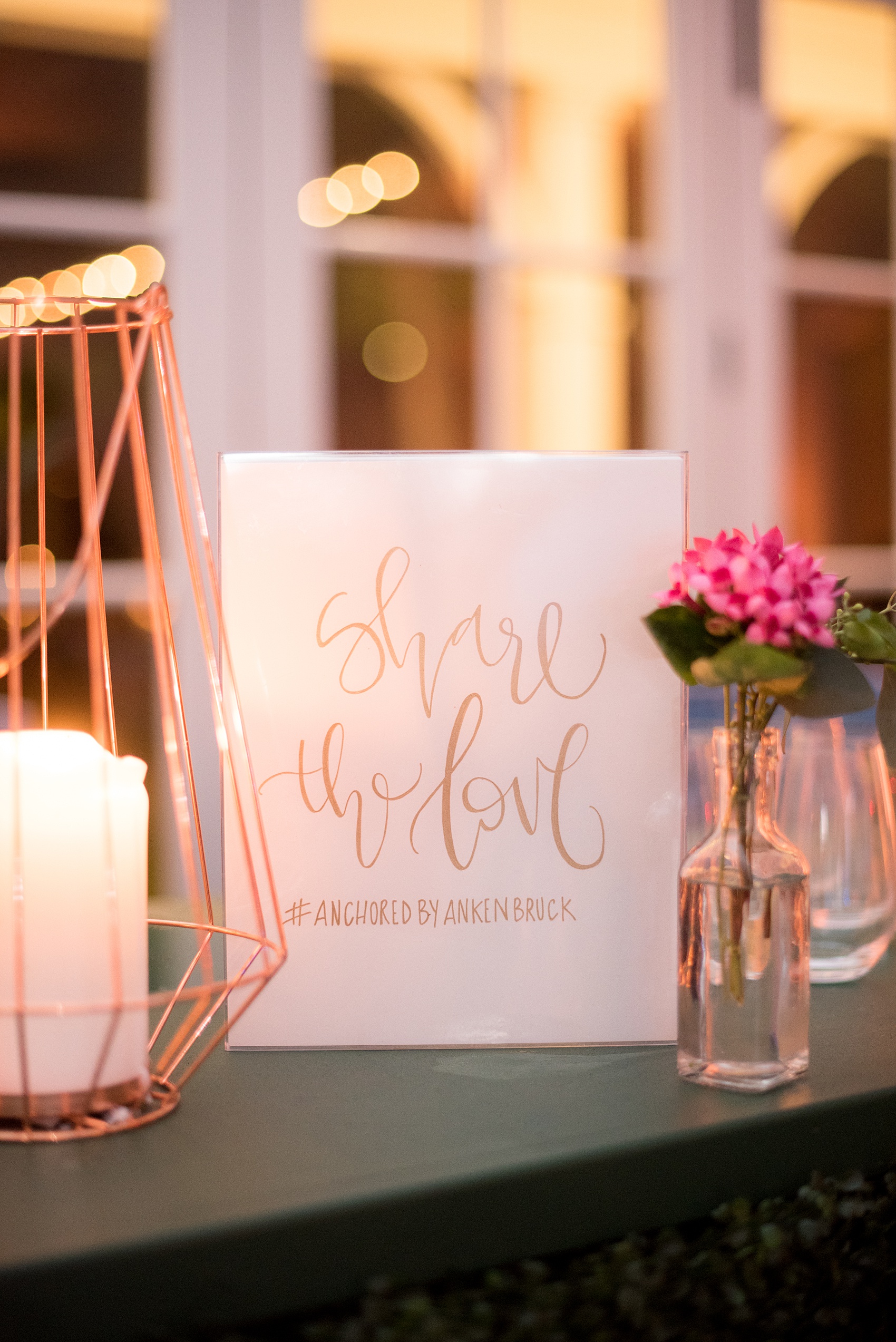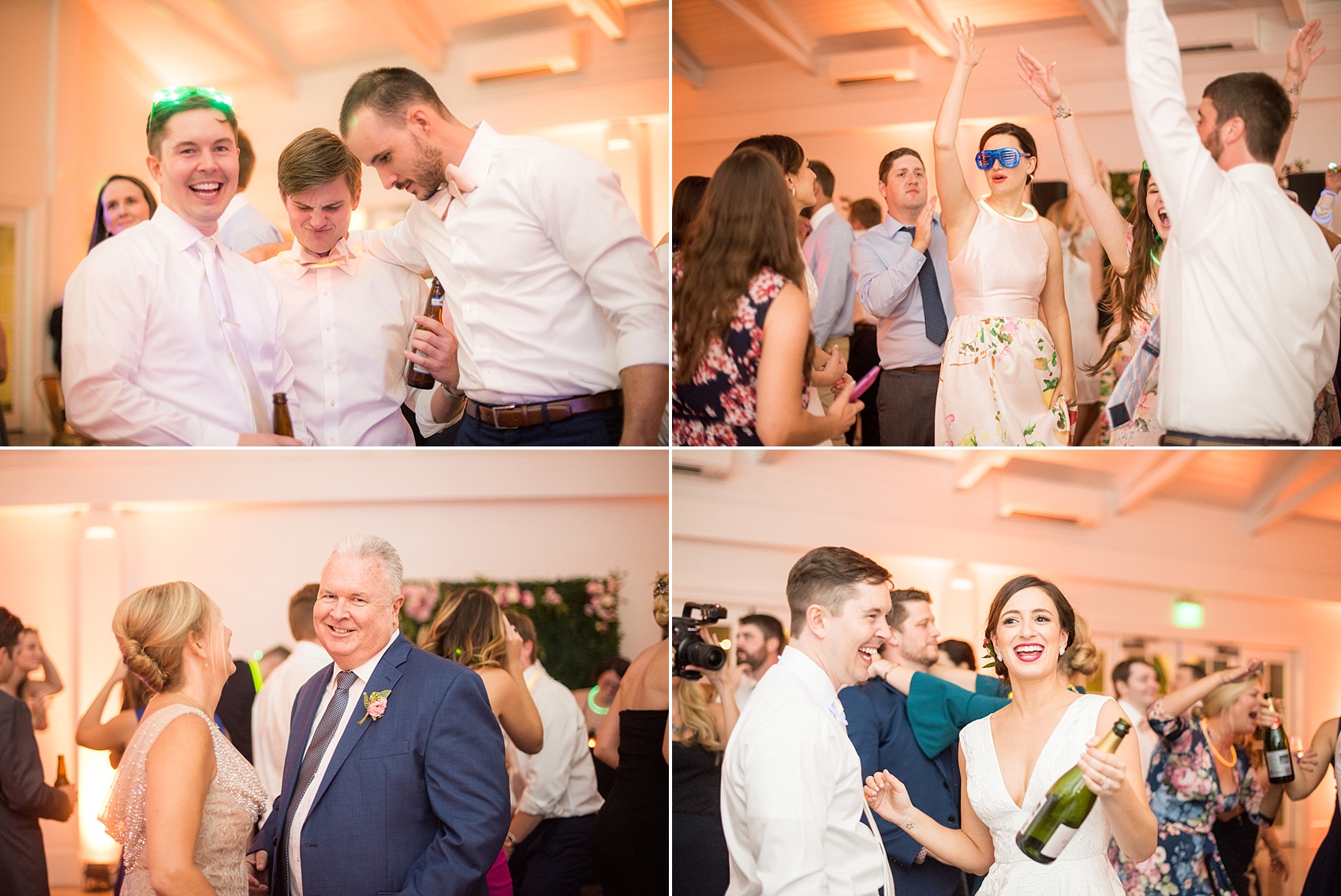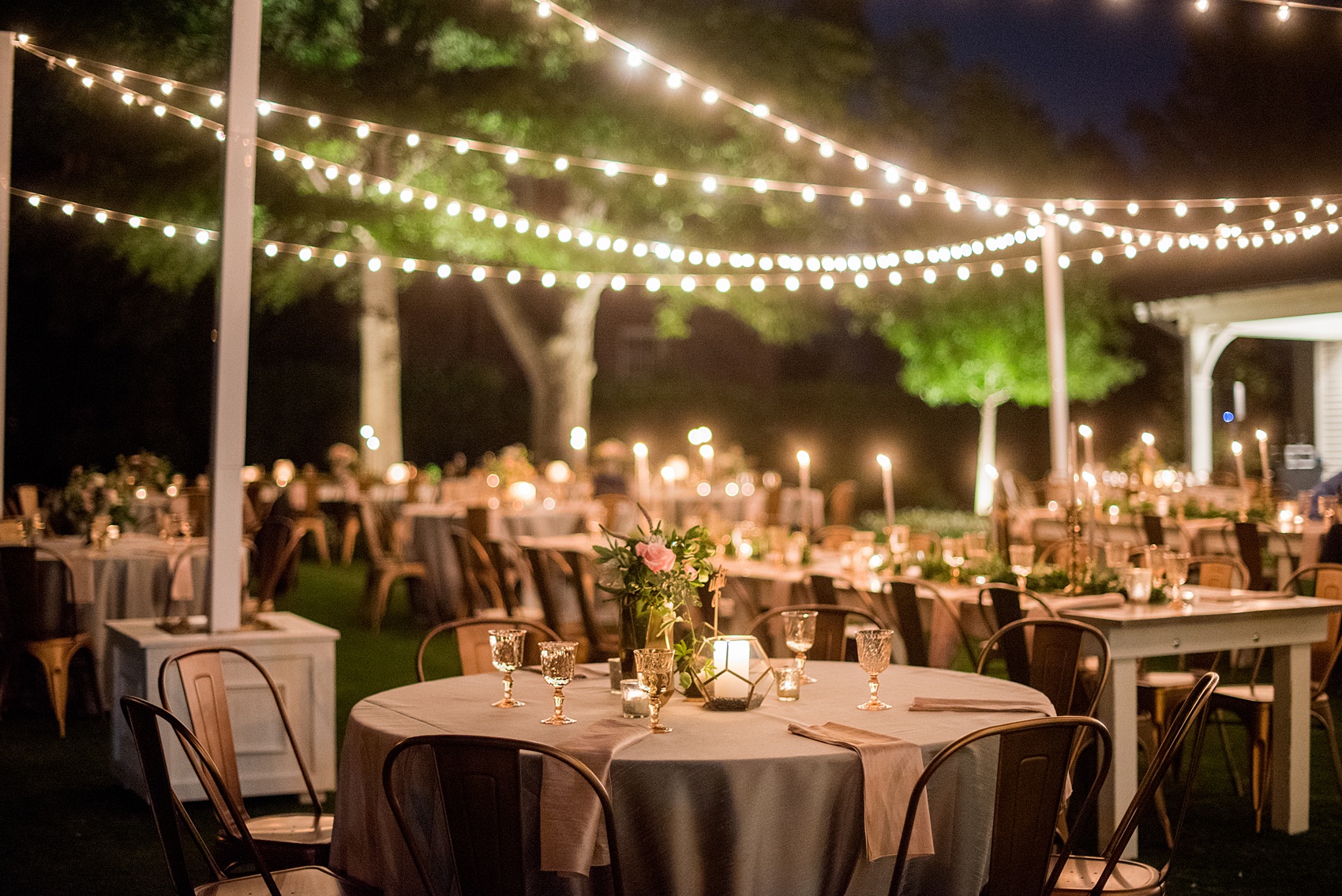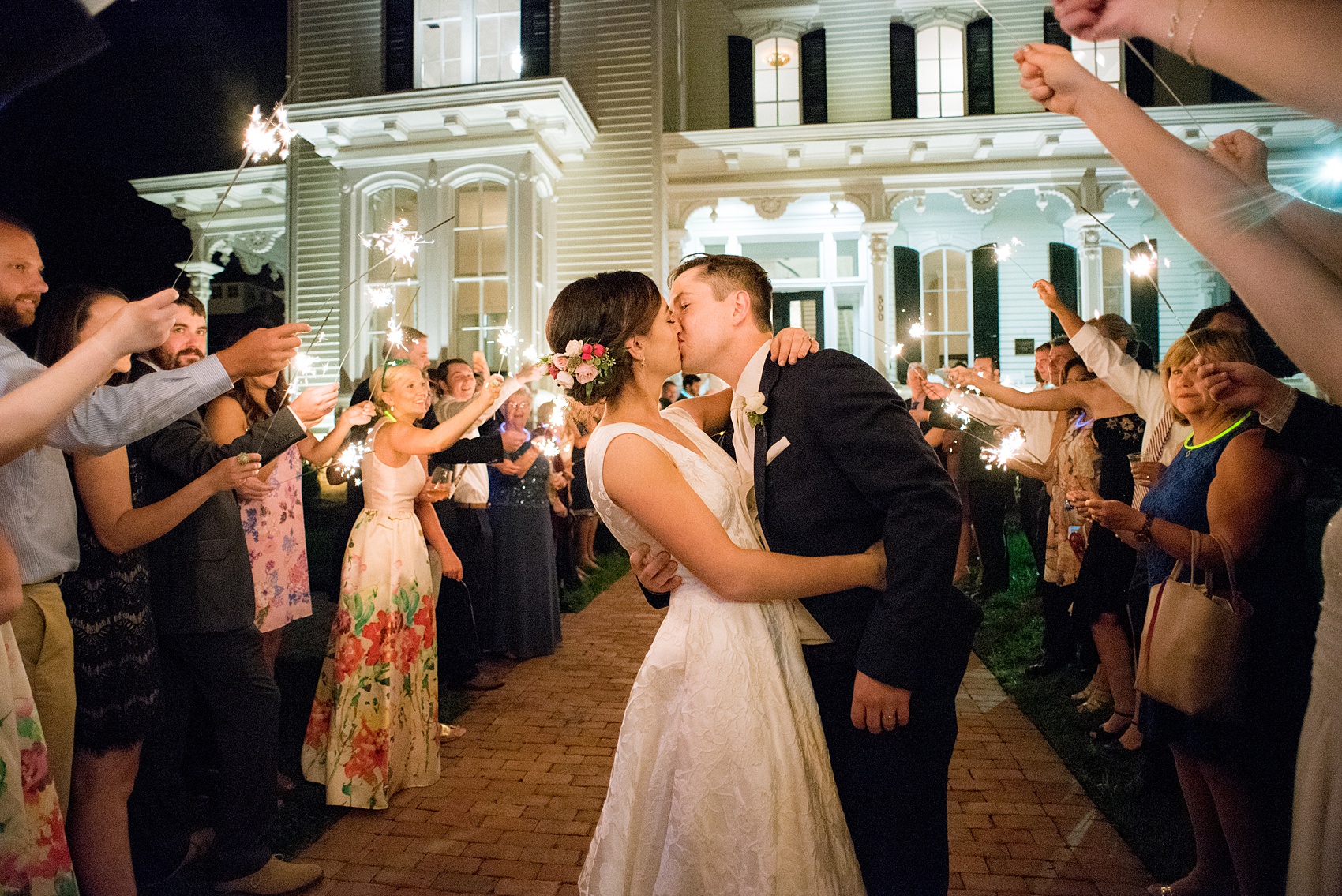 Congratulations to a couple I am SO incredibly happy for and even more excited to be a witness to your marriage, not just the one who captured your Merrimon-Wynne House wedding photos, but also as a good friend!
Planning and design: Becca, C+D Events / Venue: Merrimon-Wynne House / Flowers: Eclectic Sage / Hair and makeup: Makeup by Ashley Mooney / Wedding gown: Gilded Bridal, designer Kate McDonald / Envelope calligraphy: Quietude Co. / Stationery: One and Only Paper / Rentals (farm tables, votives, blush glasses, copper chairs, marble chargers): Cottage Luxe / Rentals (lighting, boxwood bars and ceremony backdrop): ThemeWorks / Rentals (lounge area and sweetheart table chairs): Greenhouse Picker Sisters / Videographer: Thomas Blake Films / Officiant: Kayelily Middleton / DJ: Joe Bunn, Bunn DJ Company / Harpist: Eryn Jones Fuson / Desserts: Sugar Euphoria / Cake topper: Moon and Lola / Catering: Rocky Top Catering /  Bridesmaids gowns: Bella Bridesmaids, designer Alfred Sung / Bridesmaids jewelry: Kendra Scott / Bridesmaids shirts: Plum Pretty Sugar / Tuxedo: The Black Tux / Groomsmen gifts: Swell Bottles and White Whale Mixers / Luggage tags: Currys Leather, Etsy / Guest signing globe: Spoon Feather Designs, Etsy / Photobooth: Zim Zoom Photobooth / Bar signage, escort tag wood sign, unplugged ceremony sign and dessert table signage: Color Me Calligraphy / Ceremony backdrop sign: DelovelyDetails, Etsy
For other downtown Raleigh inspiration check out:
Interested in having Mikkel Paige photograph your day? Contact us! We'd love to hear from you!