The choice for your perfect wedding venue plays a crucial role in creating a unique look and feel. Brooklyn Wedding venues aren't simply a place to "get married."
If you want your celebration to be singular, consider one of these 15 awesome NYC wedding venues in cool Brooklyn neighborhoods. (And of course contacting us to photograph it all!)
Gowanus Brooklyn Wedding Venues
The Green Building
Address: 452 Union St., Brooklyn, NY 11231
The Green Building was restored in the 21st century after its original inception as a brass foundry in 1889. It's now an elegant 6,000 square foot indoor and outdoor wedding venue for up to 200 guests
It has a charm all its own, thanks to its shining chandeliers, high ceilings and exposed brick walls. It is conveniently located in the Gowanus neighborhood, away from the noise and bustle of the city. It's owned by the same group that manages 501 Union and is just across the street.
The Green Building features a main event room, private lounge areas that can be used as bridal and groom's suites, and a beautiful outdoor courtyard for outdoor ceremonies, cocktail hours, and dinners.
Color is my jam! And I loved being a part of this couple's shoot at The Green Building, coordinated by Color Pop Events.
501 Union
Address: 501 Union St., Brooklyn, NY 11215
This former classic cars restoration shop, whose building dates back to 1916, was transformed into a venue for private events in 2013. It now serves as an elegant place to hold stylish weddings and photo shoots. (And it's personally one of my favorite Brooklyn wedding venues!)
Embedded in brick and steel, 501 Union is centrally located within the Gowanus neighborhood of Brooklyn. It can serve as a cozy and elegant place for your wedding bash for up to 250 guests. It's surely one of the best Brooklyn wedding venues you can hope for.
It has three distinct spaces where guests can enjoy exceptional events. The space has a covered Atrium where most couple hold their ceremonies. They also have a cocktail space with awesome photo-worthy wallpaper (trust me – it's very cool!) and a light-filled reception hall. There's a bridal or groom suite in the back.
I've been honored to photograph outstanding celebrations at 501 Union, including: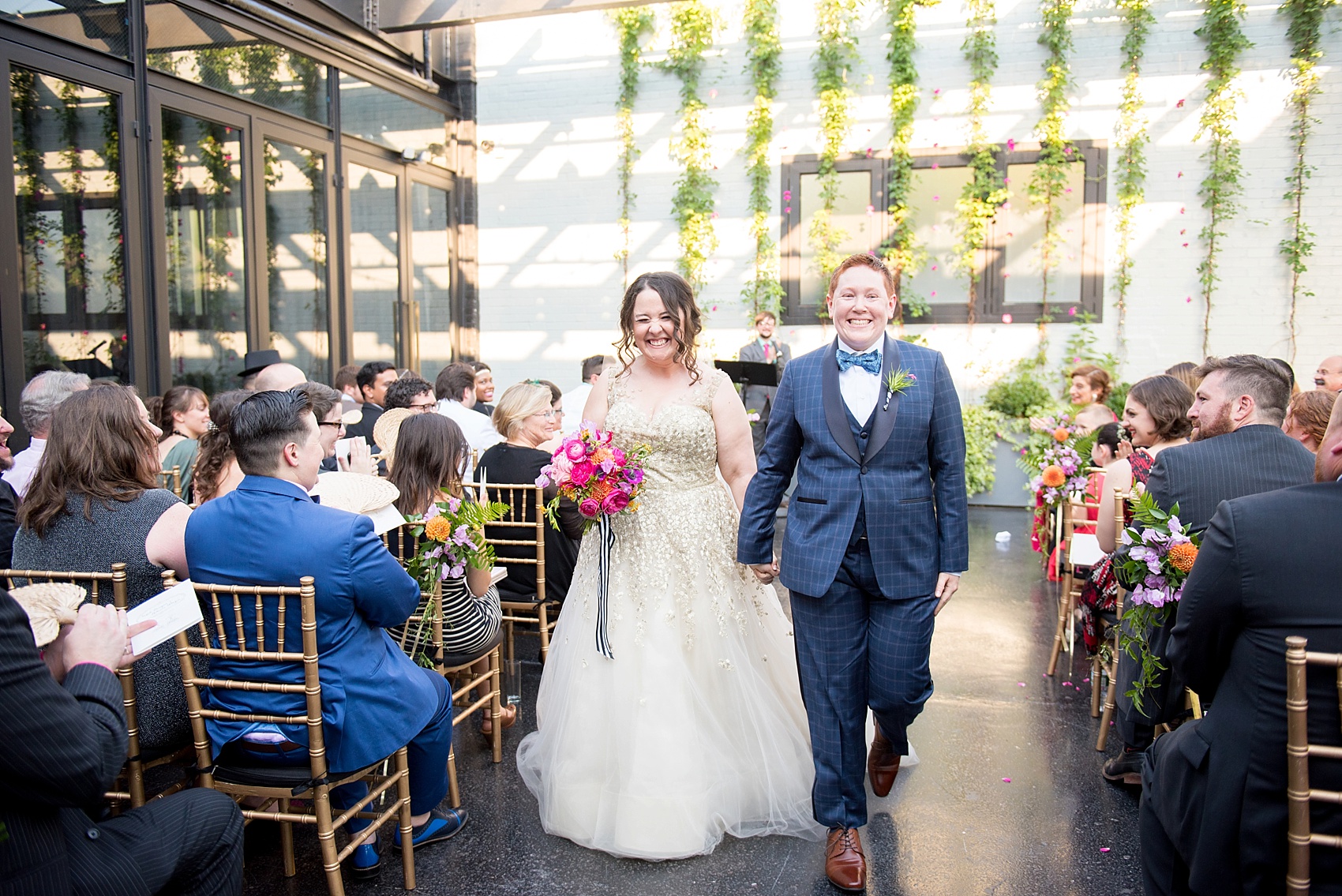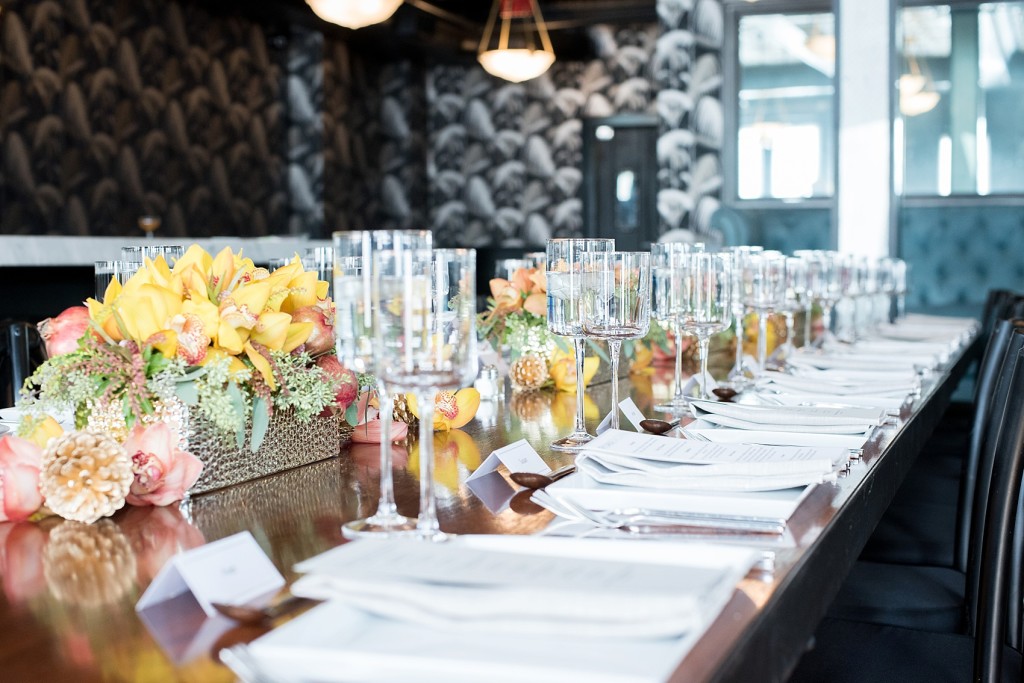 Williamsburg Brooklyn Wedding Venues
The Wythe Hotel
Address: 80 Wythe Ave., Brooklyn, NY 11249
The chic Wythe Hotel in Williasmburg, Brooklyn, can perhaps rival anything found in Manhattan. It has spacious light-filled rooms and stunning views of the East River.
The event space and boutique hotel are housed in a former factory building that dates back to 1901. Its purpose was to manufacture sugar barrels. Afterwards, it had a life as a textile factory, contributing fabrics to the Space Program. (Whoa!)
The exposed brickwork, cast iron columns and pine beams help retain the industrial feel of the Wythe.
The historical character of the hotel provides a charming backdrop for a Brooklyn wedding. (And their hotel suites are some of my favorite "getting ready" rooms for brides and grooms I've seen in NYC.)
The Main Hall, Garden Terrace and their Lofts can accommodate up to 45 guests for a ceremony overlooking the waterfront and NYC skyline. Le Crocodile is their in-house caterer used for their events, including their Brooklyn weddings.
If you are getting married elsewhere but want to find a venue in Brooklyn for other coordinated wedding events, consider it for your rehearsal dinner.
Brooklyn Winery
Address: 213 North 8th St, Brooklyn, NY 11211
This fully functional winery, in the trendy Williamsburg neighborhood, is just a stroll away from the L and G trains. It provides the right blend of sophistication and warmth for a couple to exchange vows. The bright atrium ceremony room lets in wonderful natural light and has an attractive wooden wall. The adjacent industrial feeling winery space can accommodate up to 165 guests in this romantic venue.
Cocktail hour is setup in the entry space and has a lofted, somewhat hidden, area guests can enjoy for another space of interest. This same space transforms after dinner for dancing and more merriment. The Brooklyn Winery offers an all-inclusive package to make your treasured celebration hassle free.
Check out this beautiful wedding at Brooklyn Winery I helped Jaine Kershner Photography shoot!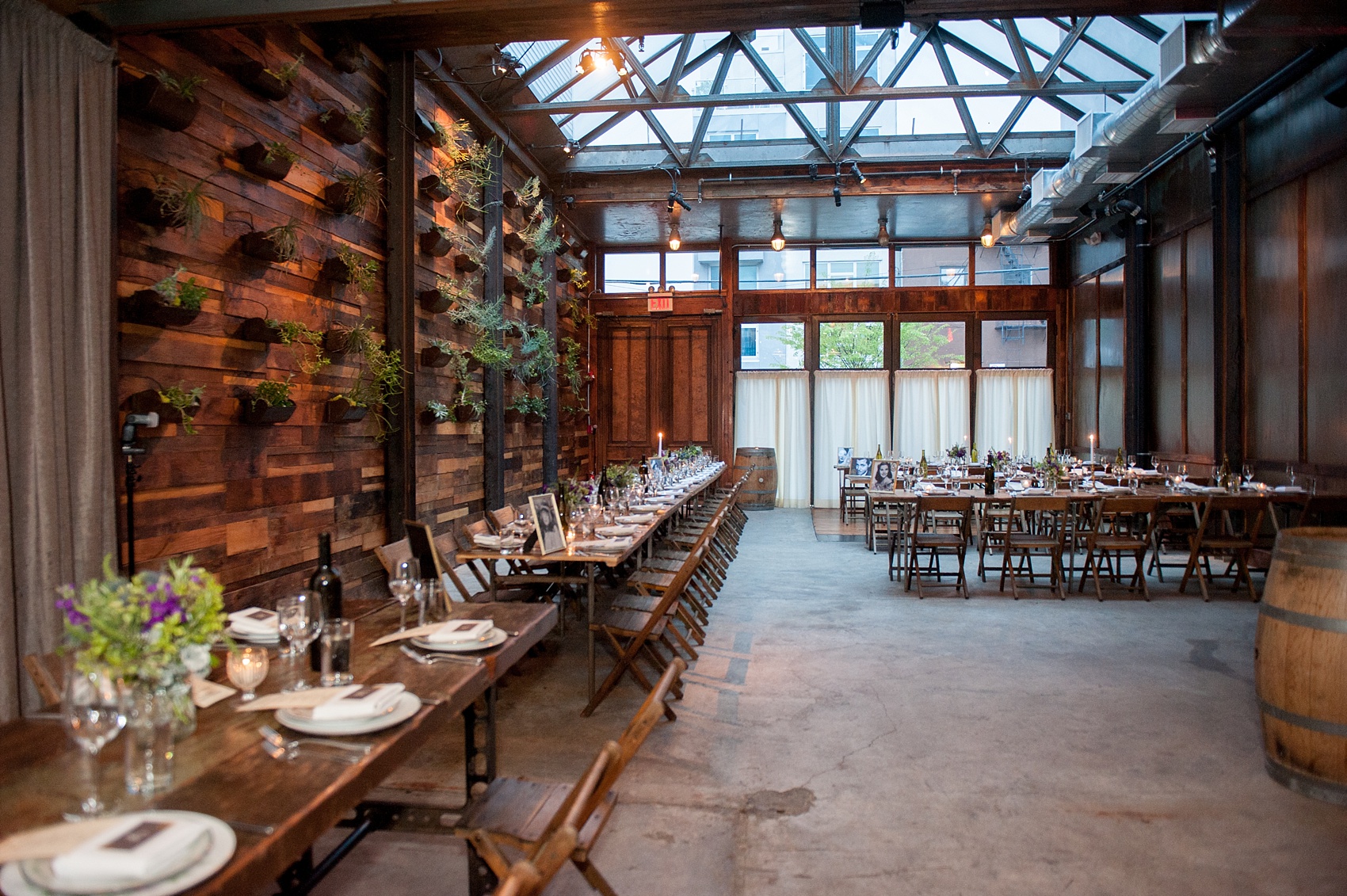 The Weylin
Address: 175 Broadway, Brooklyn, NY 11211
Weylin is the brainchild of an award winning restoration which has made this iconic venue on the site of the Williamsburg Savings Bank a premier cultural hub.
The stunning Main Rotunda and Oculus domes, reminiscent of the Pantheon, with its intricate mosaic and wooden carvings provide an ideal background for weddings and other five star programs in Weylin for upto 400 guests.
Park Slope Brooklyn Wedding Venues
Brooklyn Botanic Garden
Address: Prospect Park, Brooklyn, NY 11225
Brooklyn Botanic Garden is 52 acres of pastoral lawns, trees and flowers. It's within one of the best cities in the world, where open spaces and gardens like this are truly rare.
This Brooklyn wedding venue is a magical oasis tucked away next to Prospect Park and Brooklyn Museum.
Palm House and the Atrium are great to consider for your Brooklyn wedding venue if you're interested in a special spring wedding ceremony amongst the cherry blossoms. The gardens remain beautiful throughout all four seasons, however, with something magical in bloom during each one.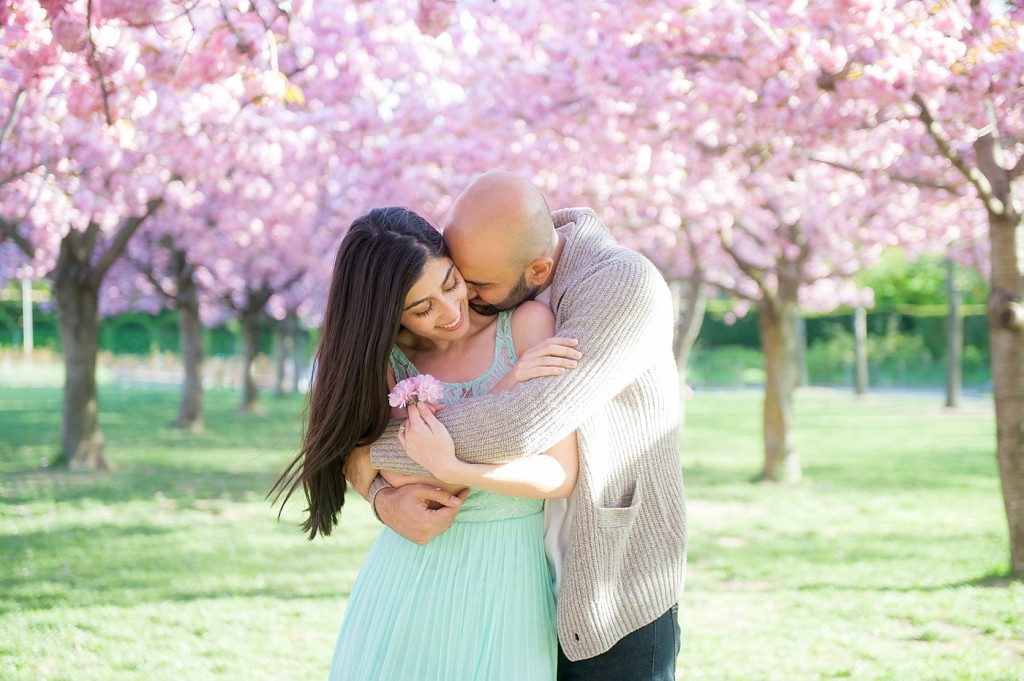 Prospect Park Boathouse
Address: 101 East Dr., Brooklyn, NY 11225
You can't go wrong with Prospect Park Boathouse if you love the outdoors yet still want to get married in the city.
You can have your ceremony within this famous park in front of a striking pond. Then take photos on the bridge that goes over the body of water. And finish family photos with the gorgeous foliage the park provides as your backdrop. You'll then celebrate towards midnight in the boathouse.
Events here are always some of my favorite. This is because it's one of the Brooklyn wedding venues that provides the best nature NYC has to offer. Photographing James and Mike's, and Rachel and Joe's weddings here were both dreams come true!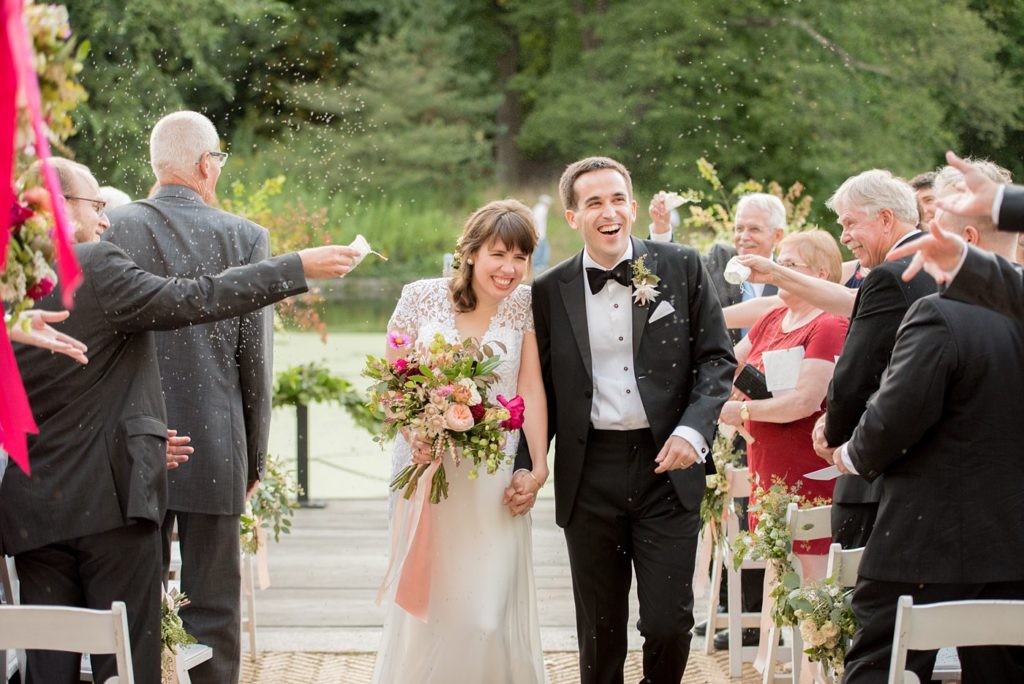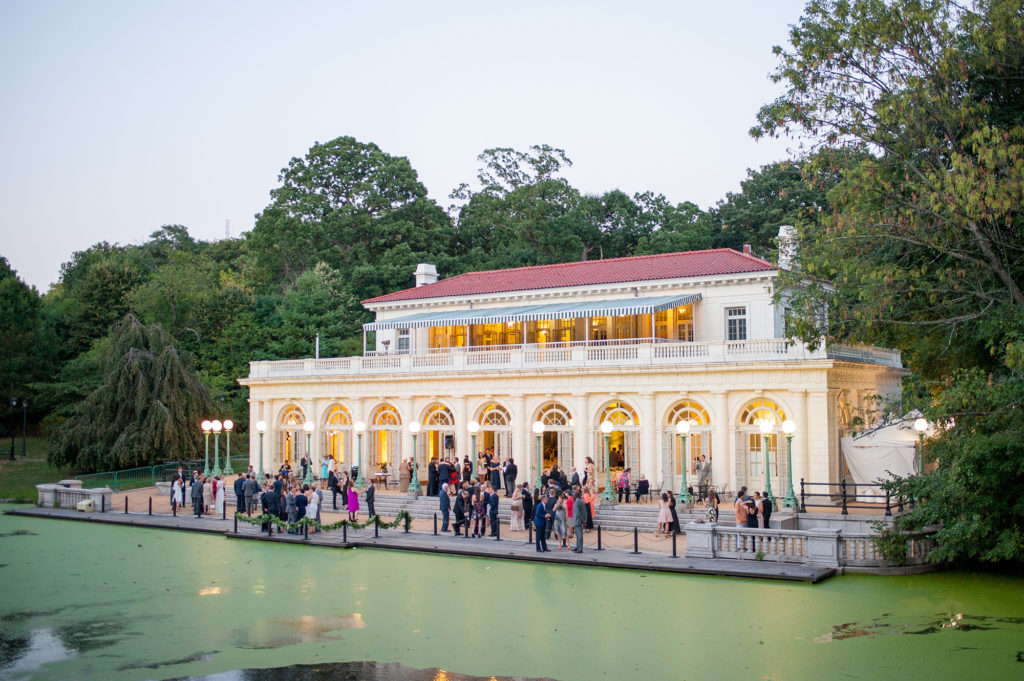 Greenpoint Brooklyn Wedding Venues
Dobbin Street
Address: 64 Dobbin Street, Brooklyn, NY 11222
The colorful façade makes it SUPER easy to spot this wonderful Brooklyn wedding venue. It's often dubbed the 'Blue Building' because of its striking façade, painted with Yves Klein Blue color. It's a former factory located just next to McCarren Park..
This unique and well designed wedding venue offers both indoor and outdoor spaces. They have beautiful suites upstairs for the couple to get ready in with their wedding party too. Dobbin Street offers glittering views of the Manhattan skyline from its rooftop terrace.
Its interior walls are decorated with fun and quirky (yet tasteful) paper and the space has polished concrete floors. Their small outdoor patio space out back is a great highlight for cocktail hour, wedding photos, or a small ceremony.
This Dobbin St. wedding photo shoot I did with Color Pop Events remains one of my all time favorites!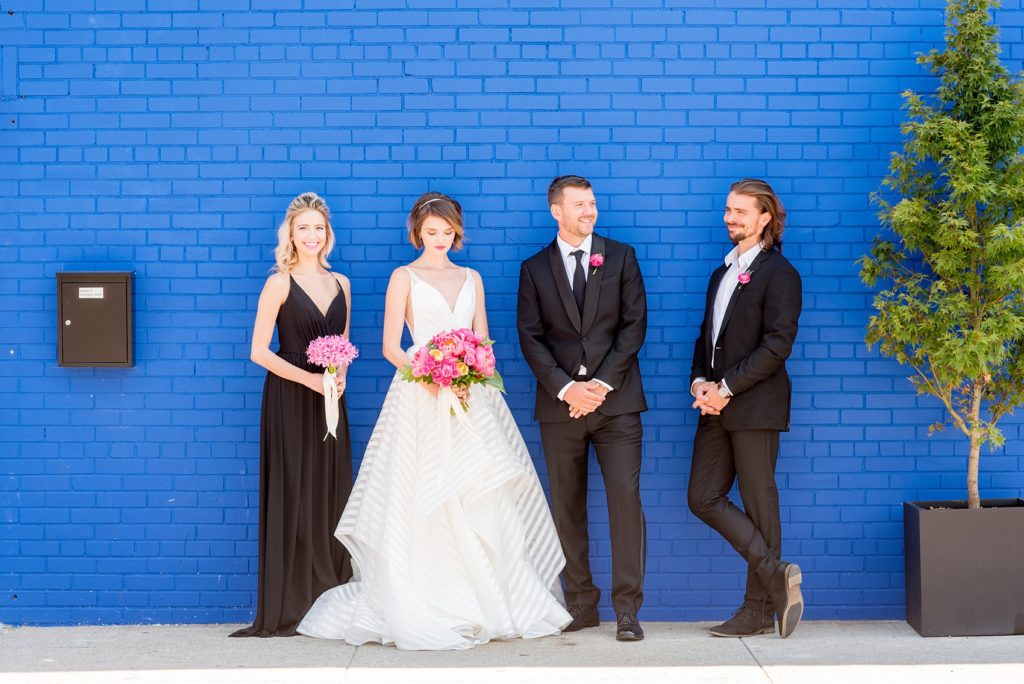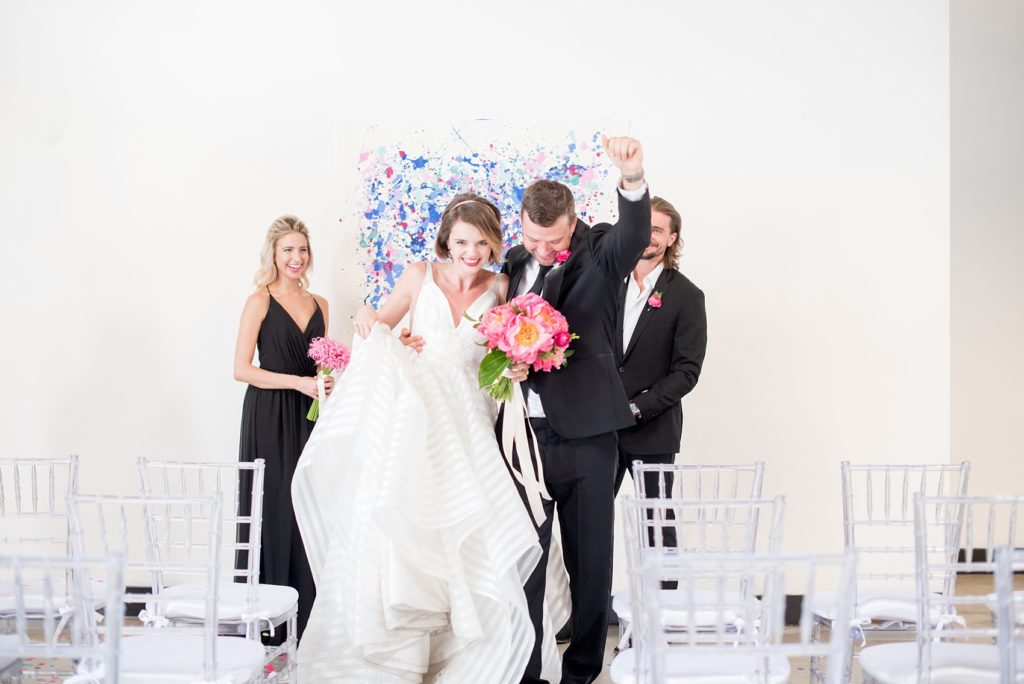 The William Vale Hotel
Address: 111 N. 12th St., Brooklyn NY 11249
At William Vale guests have a choice of stunning options for hosting pre and post wedding events for a cherished experience. The striking architecture of the Vale Ballroom and the adjacent foyer create an unparalleled setting for a wedding.
The 22nd floor's rooftop dining space, called Westlight, is a unique place in Brooklyn to hold a customized event; that will look like floating in the sky.
MyMoon Brooklyn
Address: 184 N. 10th St., Brooklyn NY, 11211
This top-rated spacious wedding venue in the prized Williamsburg neighborhood is a true New York luxury. A retractable roof with walls of glass and a striking planted deck can accommodate 160 guests at a time. A 19th century boiler room and a private garden make for an enviable setting where to exchange vows.
I loved capturing Jarett and Melanie's MyMoon wedding at this restaurant Brooklyn wedding venue.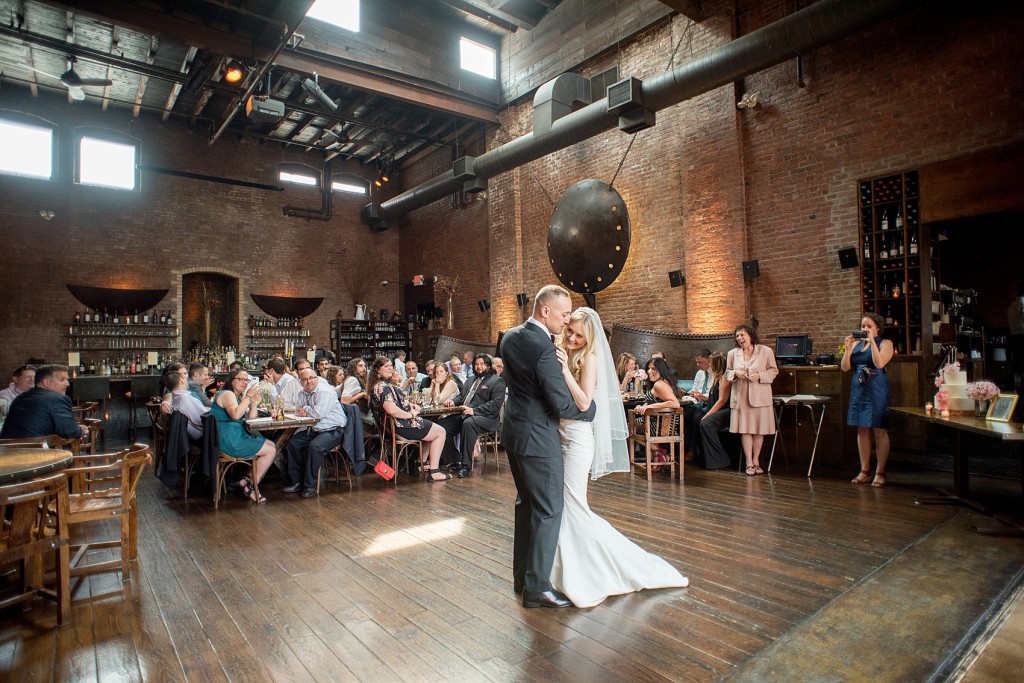 Brooklyn Heights Wedding Venues
Center for Brooklyn History (or Brooklyn Historical Society)
Address: 128 Pierrepont St., Brooklyn NY 11201
The Center for Brooklyn History is an iconic landmark steps from the Brooklyn Promenade. It's dedicated to preserving the rich 400-year old history of the borough.
Recently restored, the center offers a unique space for a wedding ceremony and customizable packages to suit anyone's needs. The extraordinary terra cotta colored brick building and its Great Hall can hold 200 guests. Their Othmer Library can accommodate up to 130 people.
Pilot (Sailboat Venue)
Address: Pier 6, Brooklyn Bridge Park, NY 11201
Want something incredibly different for a small scale Brooklyn wedding venue? Try a BOAT! Yes, a boat.
Pilot is a full service bar and restaurant located on a wooden sailboat Schooner. Though it's had many past lives, it currently anchored (semi-permanently) on the East River.
This hundred year old vessel can easily be hired for any wedding event with a group of up to 150 guests.
DUMBO Brooklyn Wedding Venues
Smack Mellon
Address: 92 Plymouth St., Brooklyn NY
Just one stop on the subway from Manhattan, Smack Mellon is located in the vibrant Dumbo neighborhood. Offering breathtaking views of the city's skyline, The 6,000 square foot gallery of Smack Mellon is an ideal venue for weddings with an event space for 150 guests. There are 25 windows to provide beautiful light and highlight the tremendous architectural elements of the building.
Fort Greene Brooklyn Wedding Venues
Maison May
Address: 246 Dekalb Ave., Brooklyn, NY 11205
Maison May offers a perfect backdrop for a one-of-a-kind wedding nestled into the historic Brownstone in the heart of Fort Greene.
You can exchange vows in their outdoor backyard garden, then move indoors to the main dining room for dinner. Work off the delicious calories on the dance away upstairs, in the Parlor.
Maison May allows exclusive use of its property for groups of 40 to 100 people so it's perfect for small to medium sized weddings.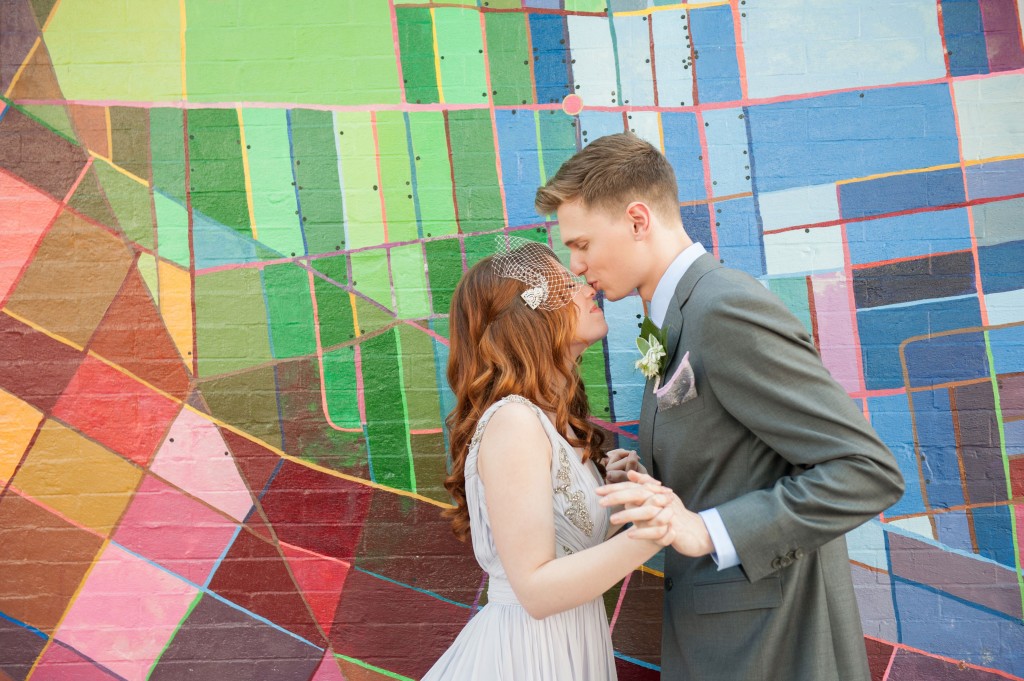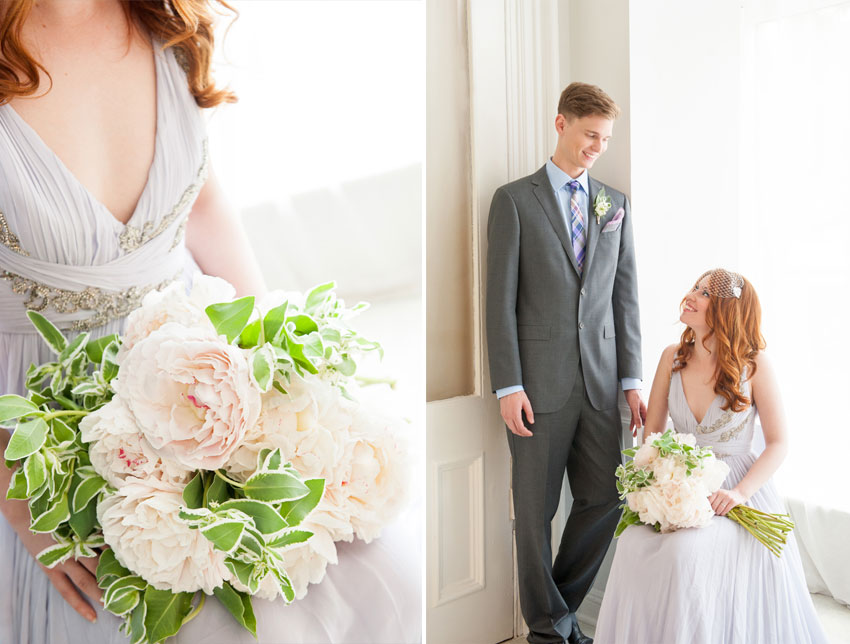 Fort Greene Park
Address: Dekalb Ave. & S. Portland Ave., Brooklyn, NY 11205
Brooklyn's first official park is just the right size for a Brooklyn wedding venue if you're doing something low key and small. Like a 12 person ceremony, which is exactly what I photographed when Genna and JP got married there.
It was a dreamy fall day in New York City and love filled the air in a park whose history dates back to 1847.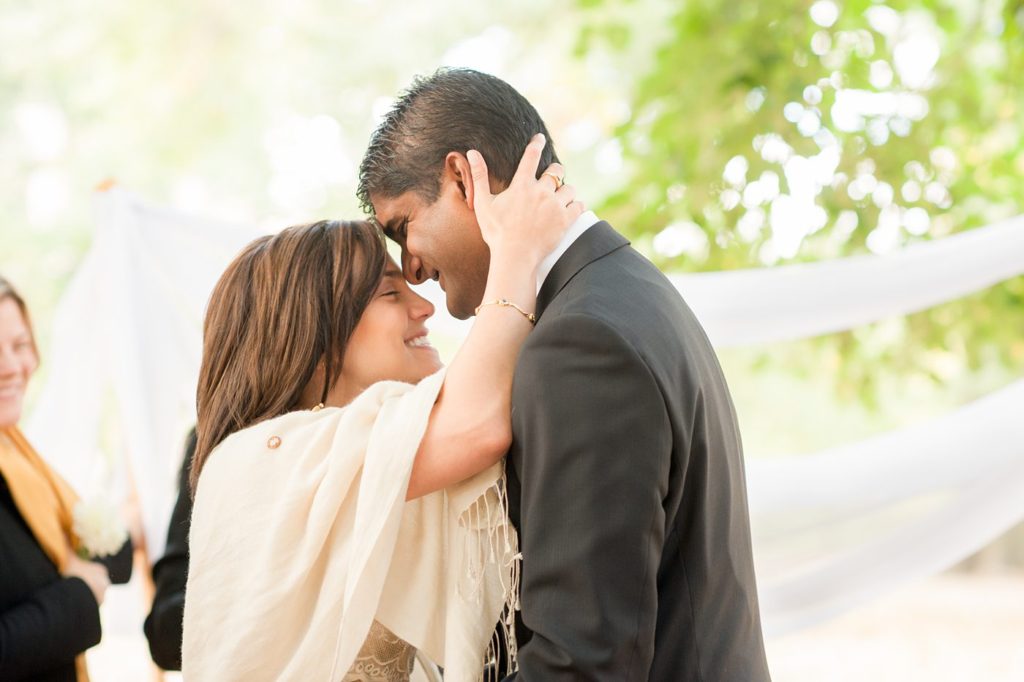 Red Hook Brooklyn Wedding Venues
Liberty Warehouse
Address: 260 Conover St., Suite 326, Brooklyn NY
The enormous waterfront patios, unique rooms and industrial vibe makes Liberty Warehouse a perfect space for weddings.
It's on the Red Hook Brooklyn waterfront and the space offers incredible views of the New York Harbor and Statue of Liberty. The venue can accommodate up to 400 guests for a sit down dinner and 1,500 people for cocktails. (But really, who has that many friends?)
Getting married soon? Check out this Brooklyn Bridge Park engagement session for additional inspiration from us!