The hottest new venue in NYC, Dobbin Street Brooklyn opened a few summer ago.
And I, along with a team of amazing vendors, was amongst the first to shoot a "wedding" there. And one of my favorite wedding and event planners, Color Pop Events, was at the helm on this one. Because naturally the colors and fun patterns of the venue were a perfect fit for both of our styles!
Dobbin Street wedding inspiration featured on Ruffled
I'm proud to say our Jackson Pollock inspired shoot was featured on Ruffled, because they loved it so much too!
Things to love about Dobbin Street Brooklyn
These are just a few of my favorite things about Dobbin St: their custom wallpapers, tape mural on the back wall, open plan, Manhattan skyline view from the rooftop, and of course their Yves Klein cobalt blue wall welcoming guests into their black and white geometric tiled foyer.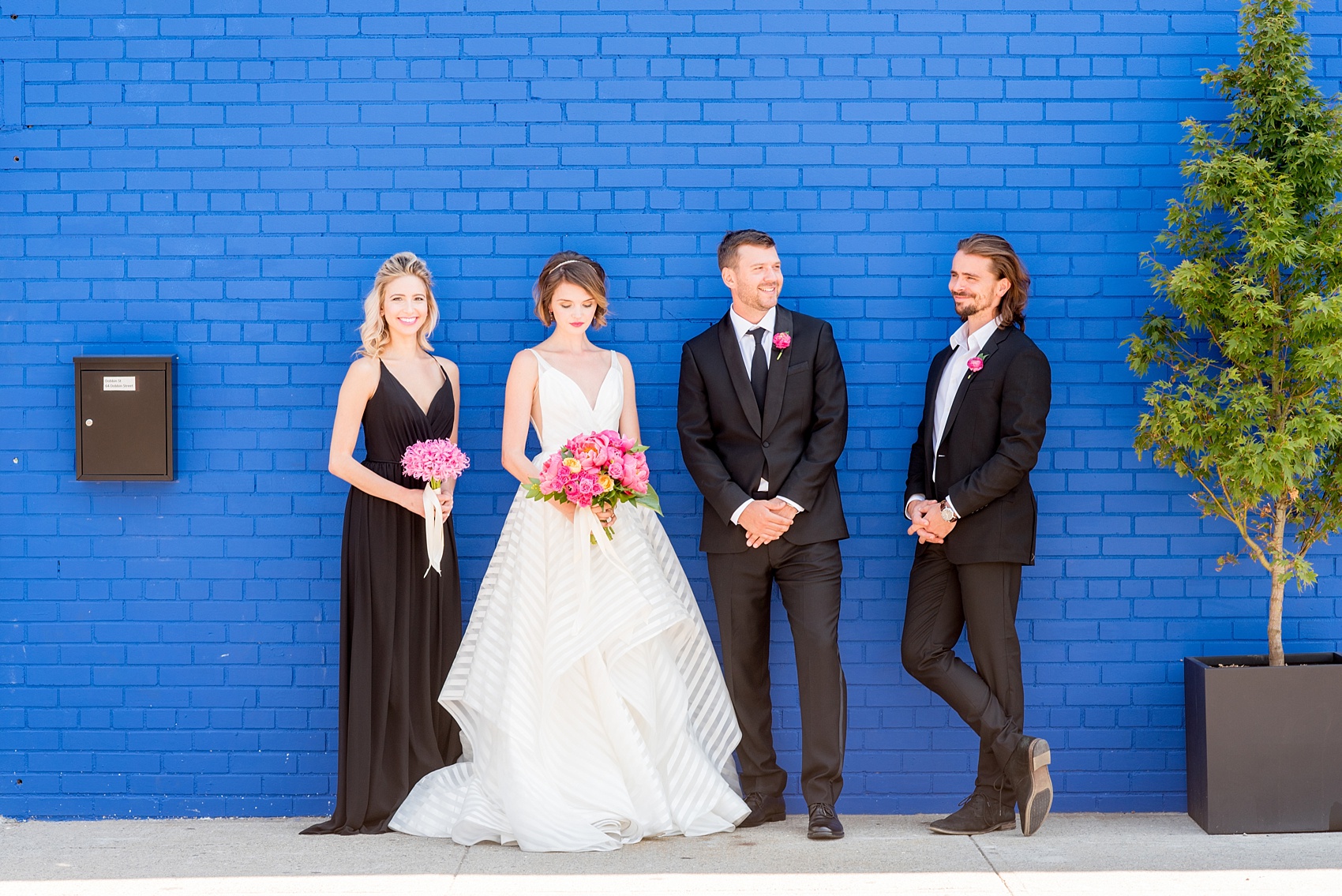 Getting Ready in the Groom and Bridal Suite at Dobbin Street Brooklyn
The men prepared in a lounge compete with beautiful wood floors and black and white alphabet wallpaper. The women were nearby in a suite with pink chaise lounge chair and custom sketched lines wallpaper. As the maid of honor helped her best friend into her v-neck, white striped fabric Hayley Paige gown the best man helped the groom in his tuxedo from The Black Tux.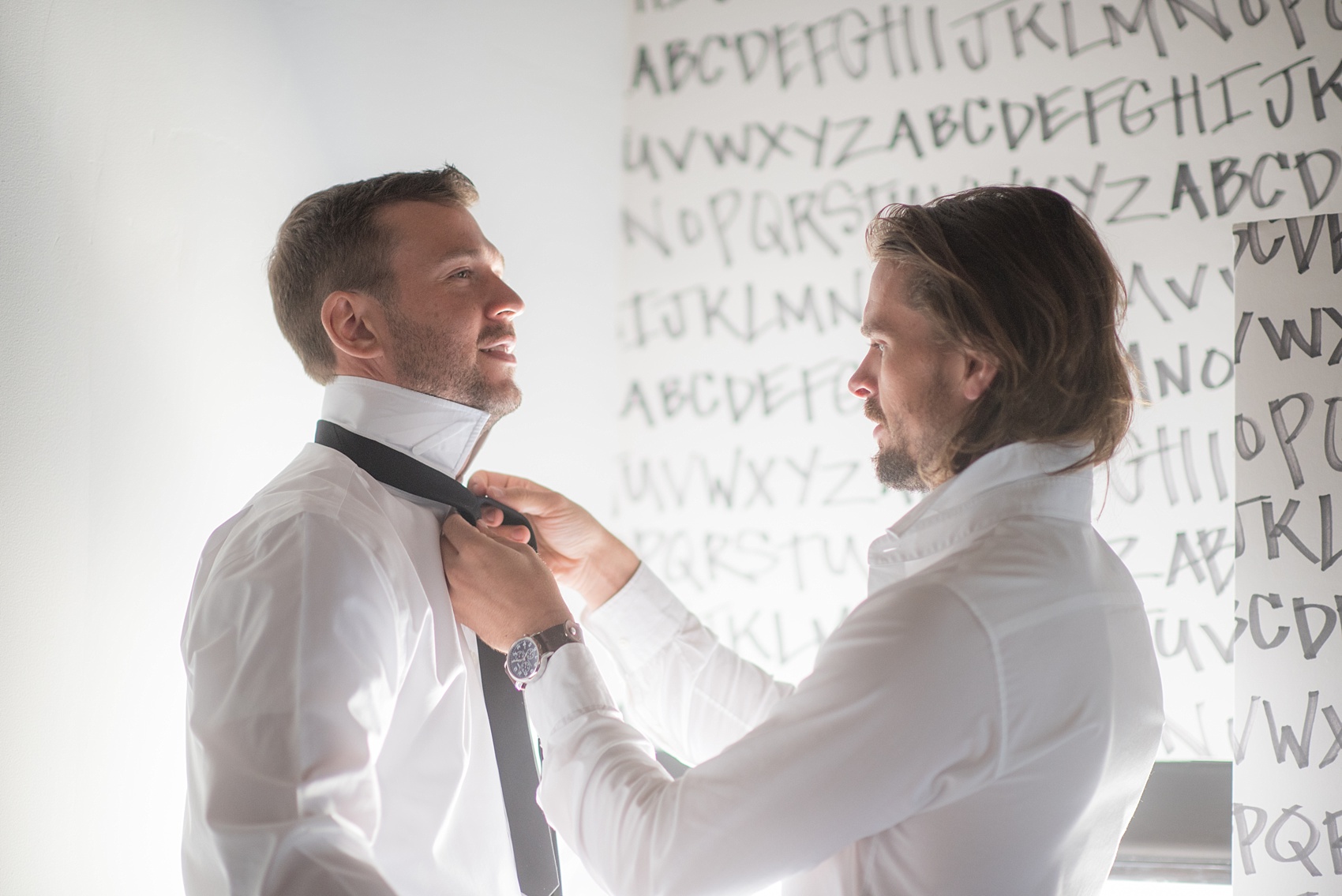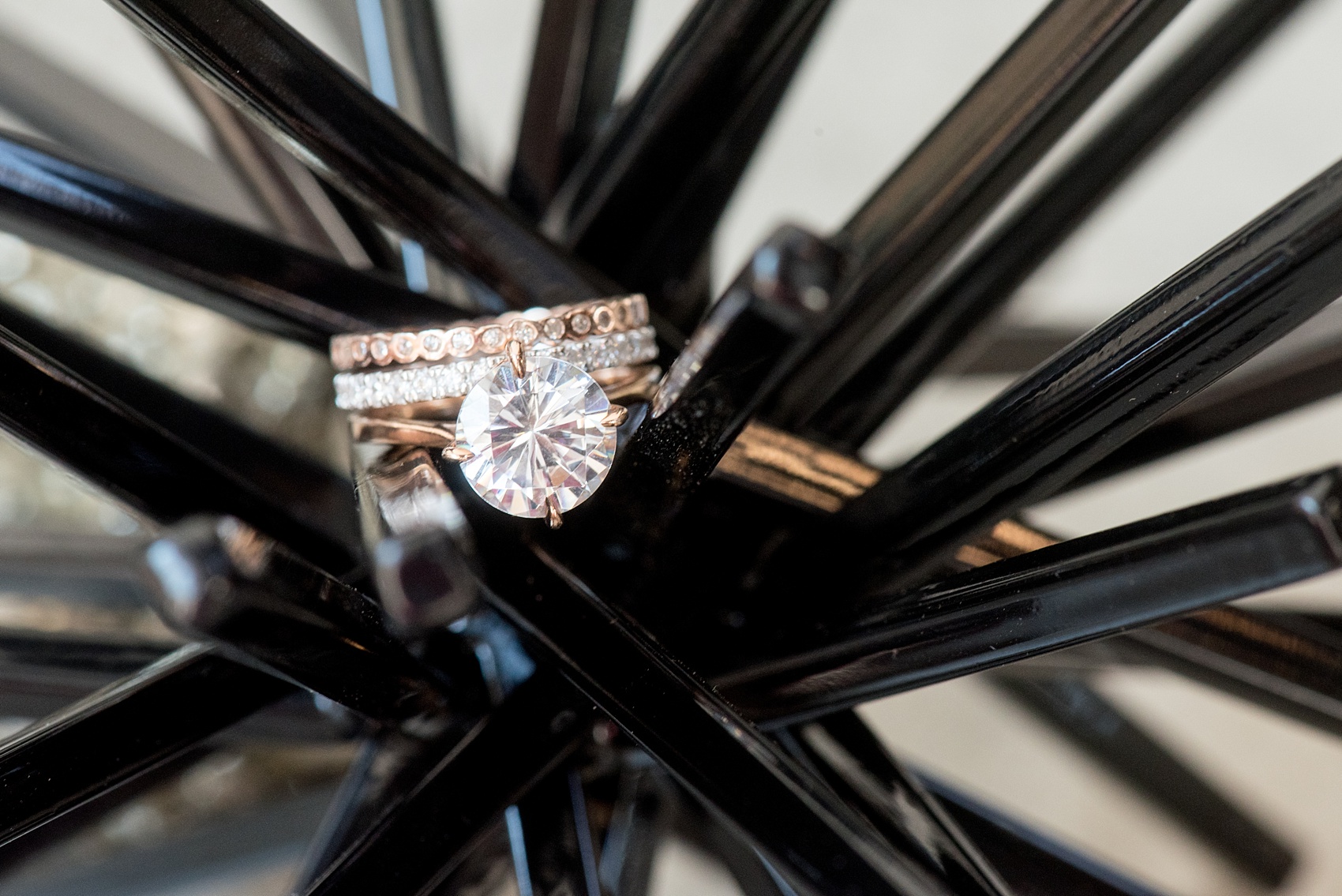 Endless Photo Opportunities at Dobbin St.
There are truly an endless amount of photo opportunities at Dobbin Street. From the outdoor wall, to the rooftop, to the cool wallpaper inside, and outdoor patio…
….and the entry foyer and the main area with its many different walls.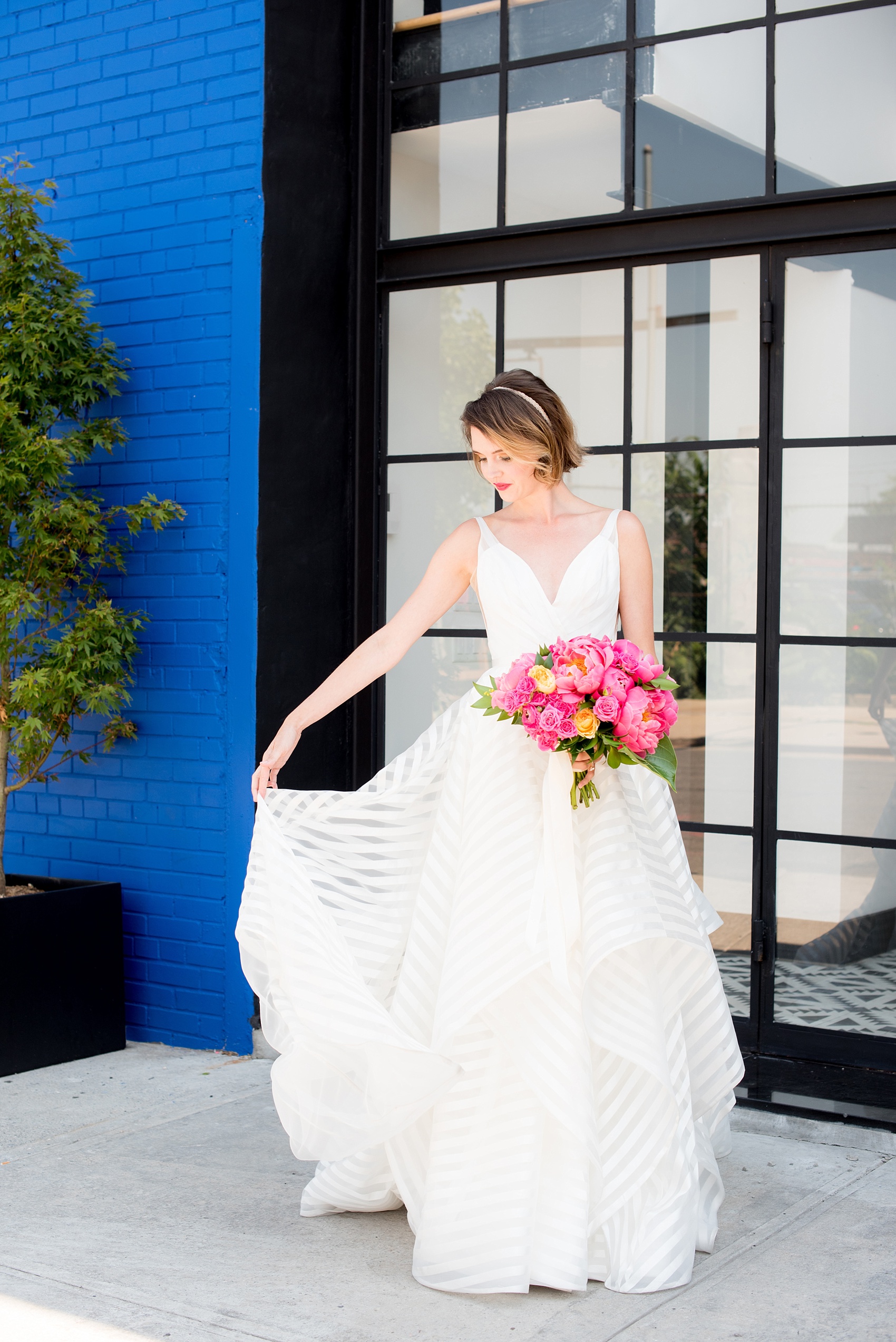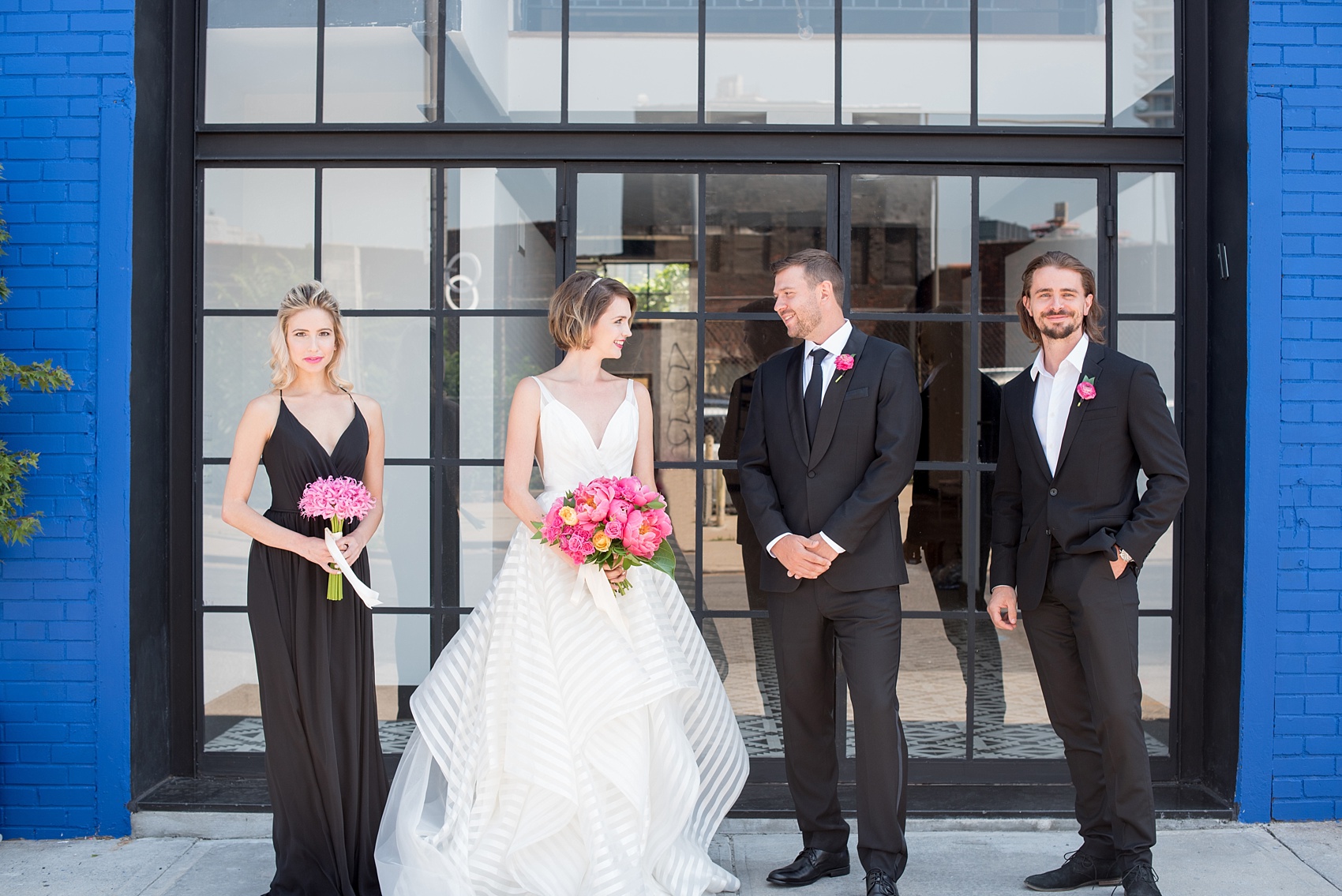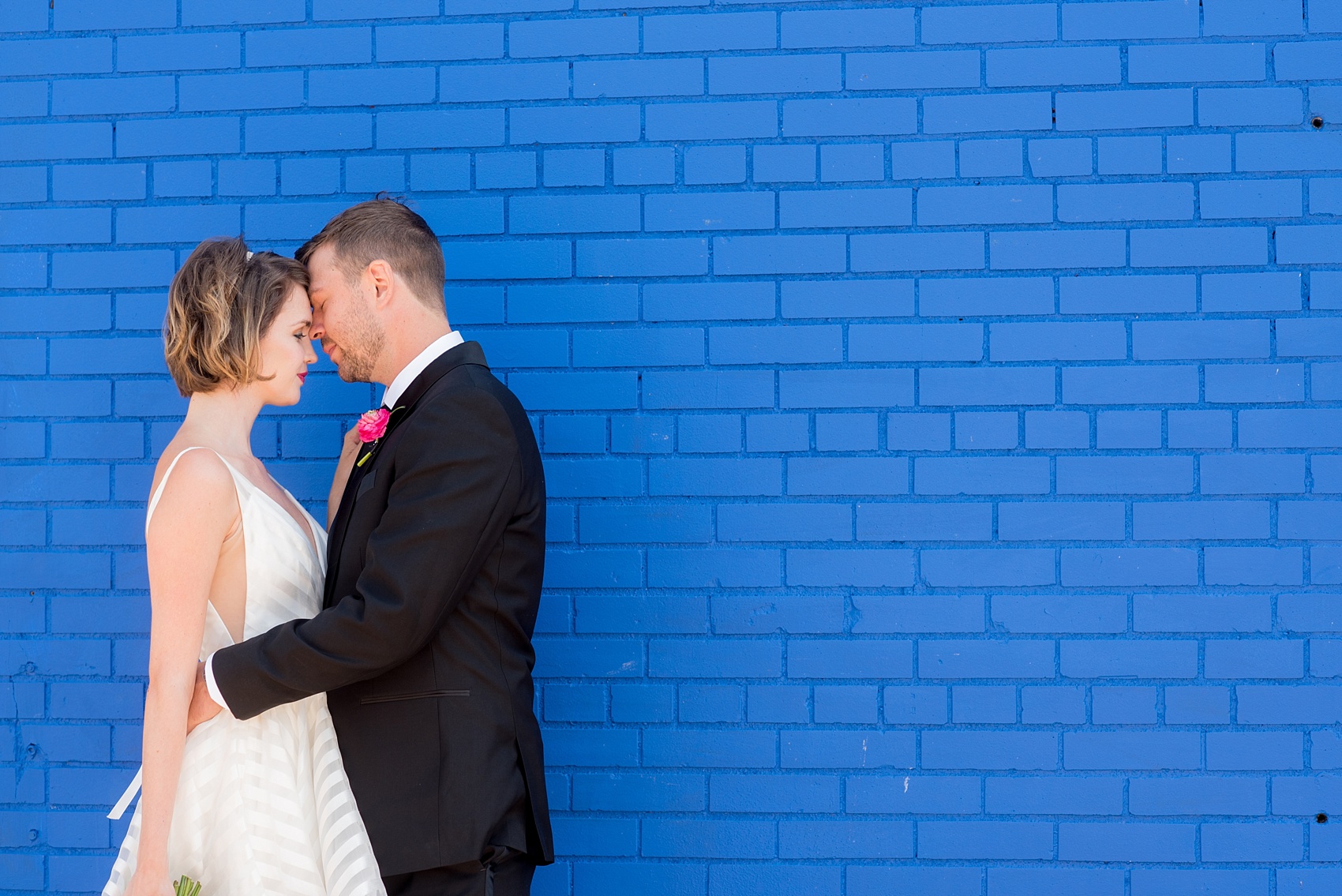 Rooftop at Dobbin Street, overlooking Brooklyn
The rooftop overlooks Brooklyn and, further in the distance, the Manhattan skyline in NYC. You can see Freedom Tower in Manhattan's Financial District in the distance.
It's a great place to take photos, have a ceremony or small wedding dinner during summer and early fall.
Can you imagine a golden hour, sunset ceremony up here? Or even a cocktail hour as day falls to night? How picturesque!
Black and white wedding party attire with pops of colors in their flowers
The venue is such a stunner and so unique that in order to let it shine we decided to do a classic wedding party dressed in black and white. The pops of color really add to the eye-catching photos, including this single flower type all pink, Guernsey lily bridesmaid bouquet.
She wore a Hayley Paige Occasions black chiffon gown with plunging v-neck – a similar neckline to the bride. The bride's short hair was given some volume and finished with a braided metallic headband, while her maid of honor's hair was in a half-up do with a small bun and soft curls.
Indoor ceremony at Dobbin St.
A small indoor ceremony was set up with clear Chiavari chairs and an original painting for a simple, yet effective, backdrop.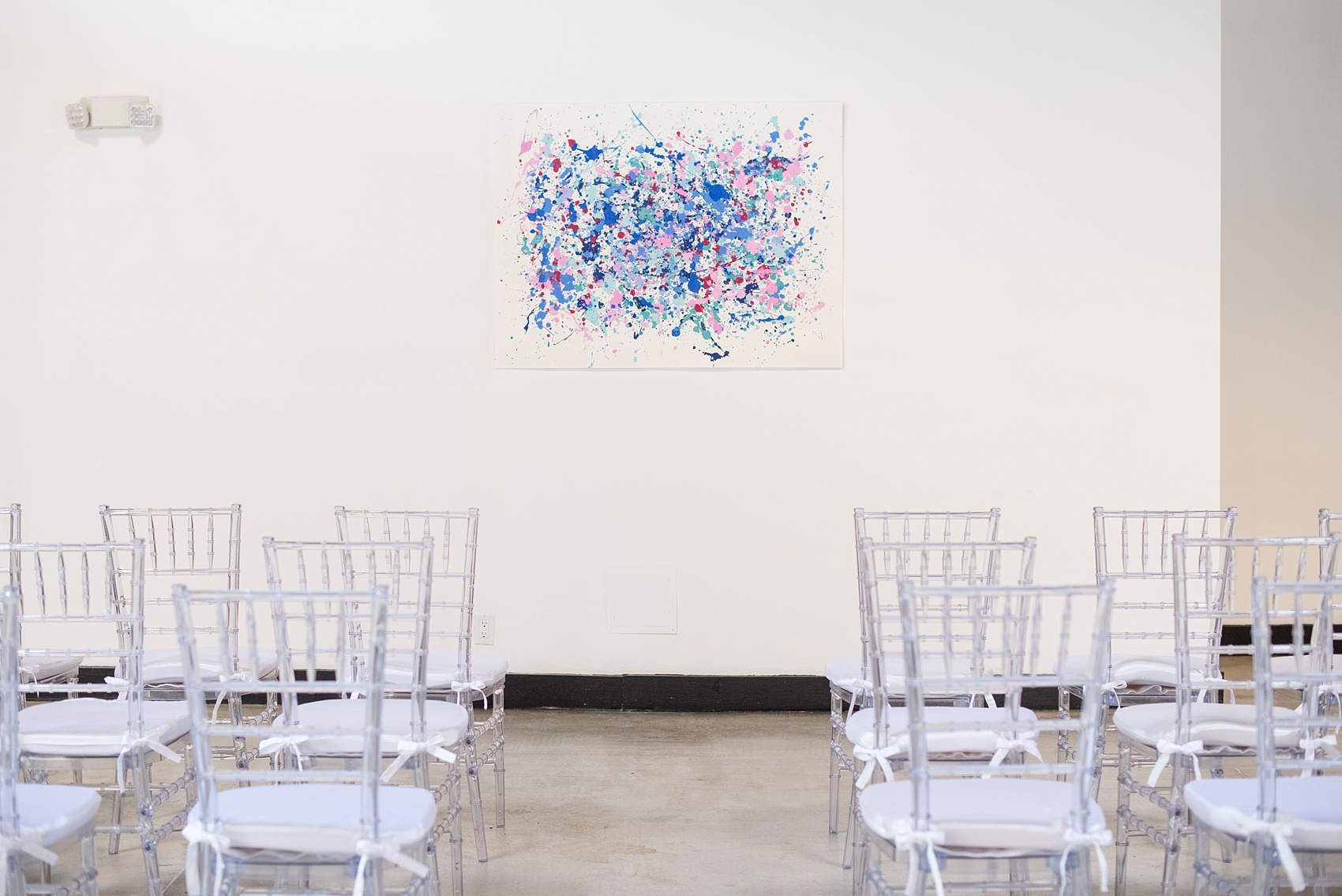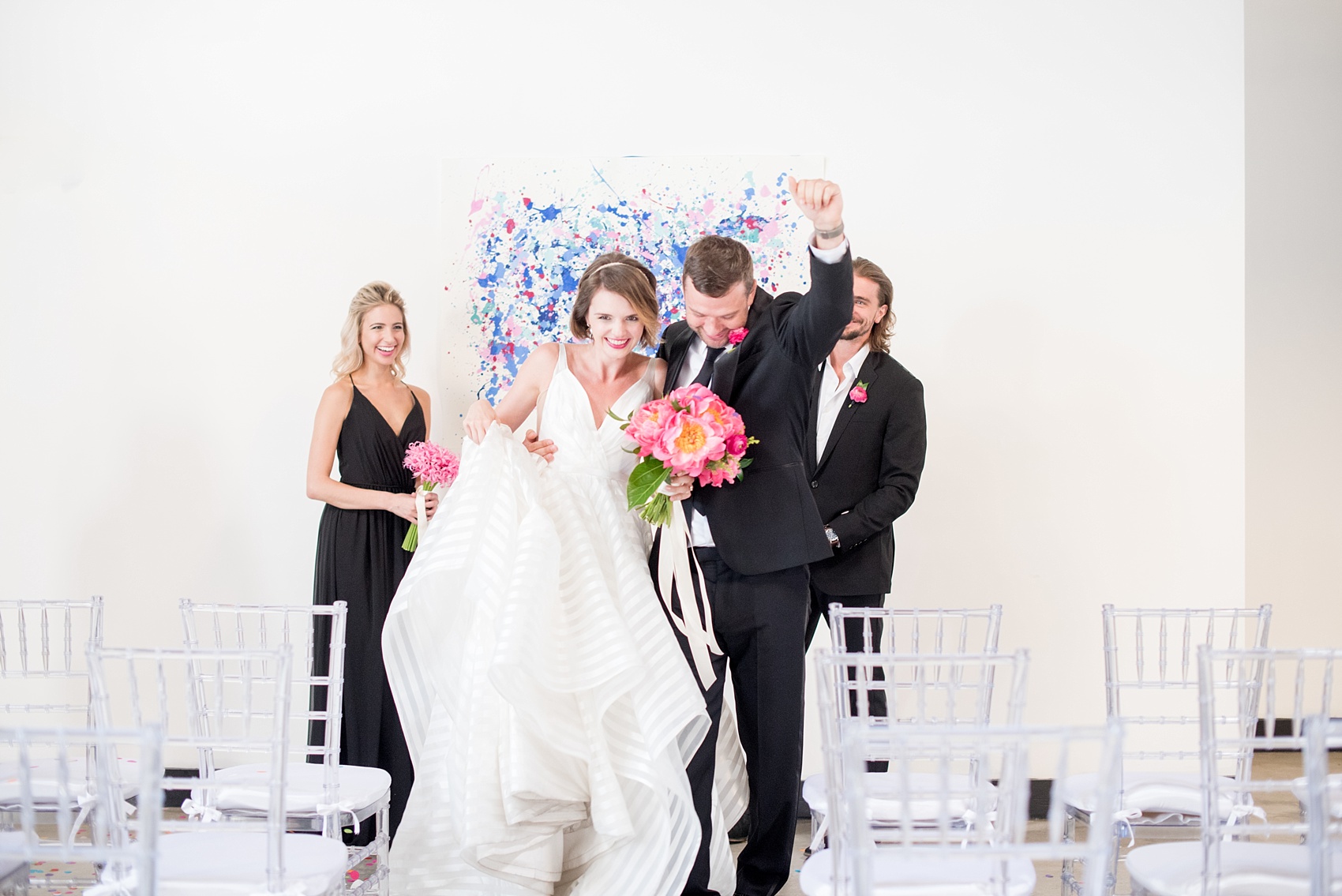 The confetti flying at the end of the ceremony is one of my favorite parts of the wedding video NST Pictures put together:
Dobbin St. Styled Shoot :: NST Pictures Artistic Brooklyn Wedding Videographer from NST Pictures on Vimeo.
Special touches: wedding rings and guest book
Rose gold and white eternity band diamond rings by Susie Saltzman were exchanged and they were pronounced married with a colorful confetti bang!; the celebration continued with passed hors d'oeuvres on the outdoor patio (complete with green corrugated metal, grape vines and rustic brick, which I also posted about in my original Dobbin Street post, here) and the reception table was ready to go indoors.
We enjoyed taking photos against the various backdrops in the outdoor courtyard attached to the back of the venue, and the bride's best friend was eager to sign the guest book; it carried through the Pollock inspiration with its splatter-painted cardstock.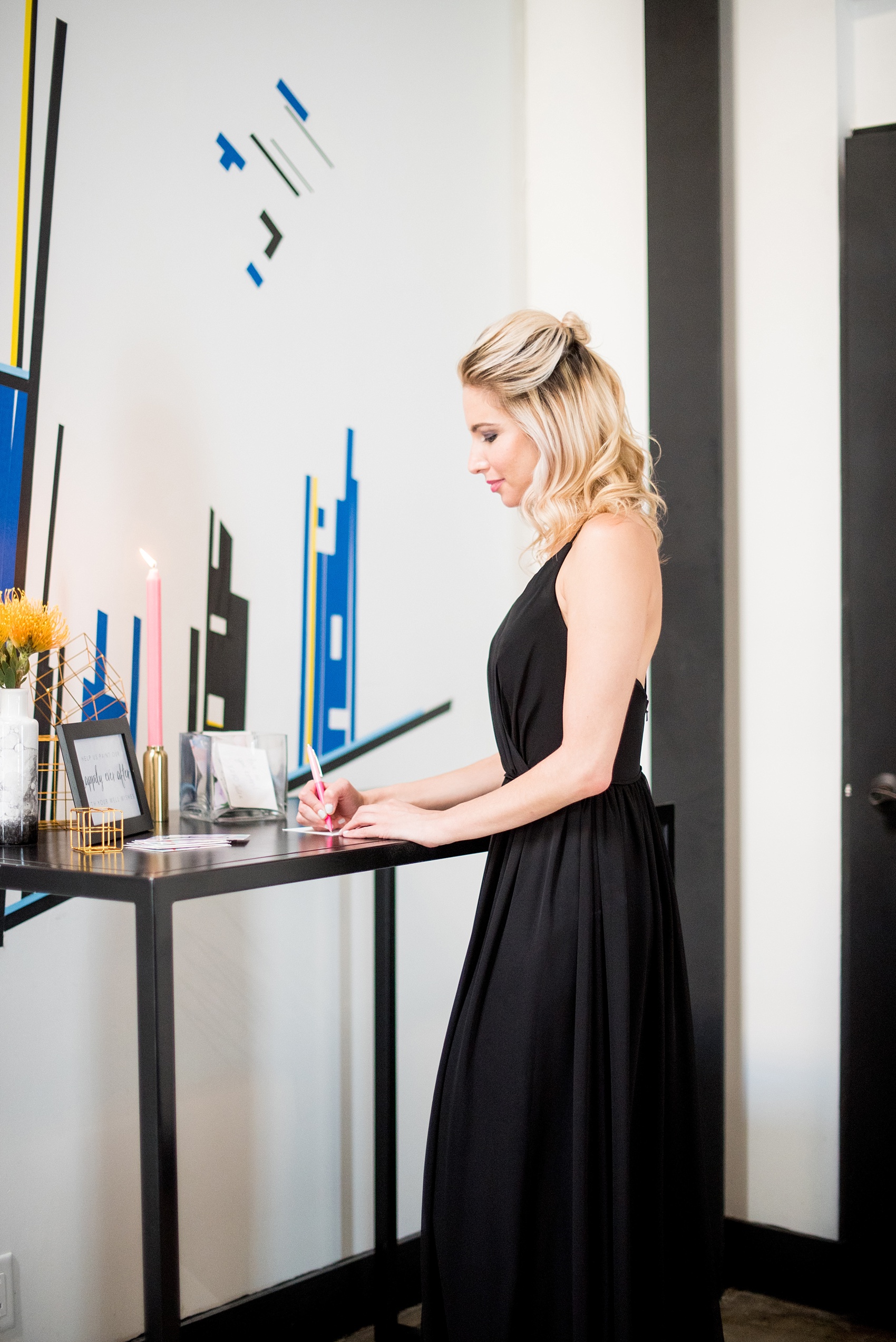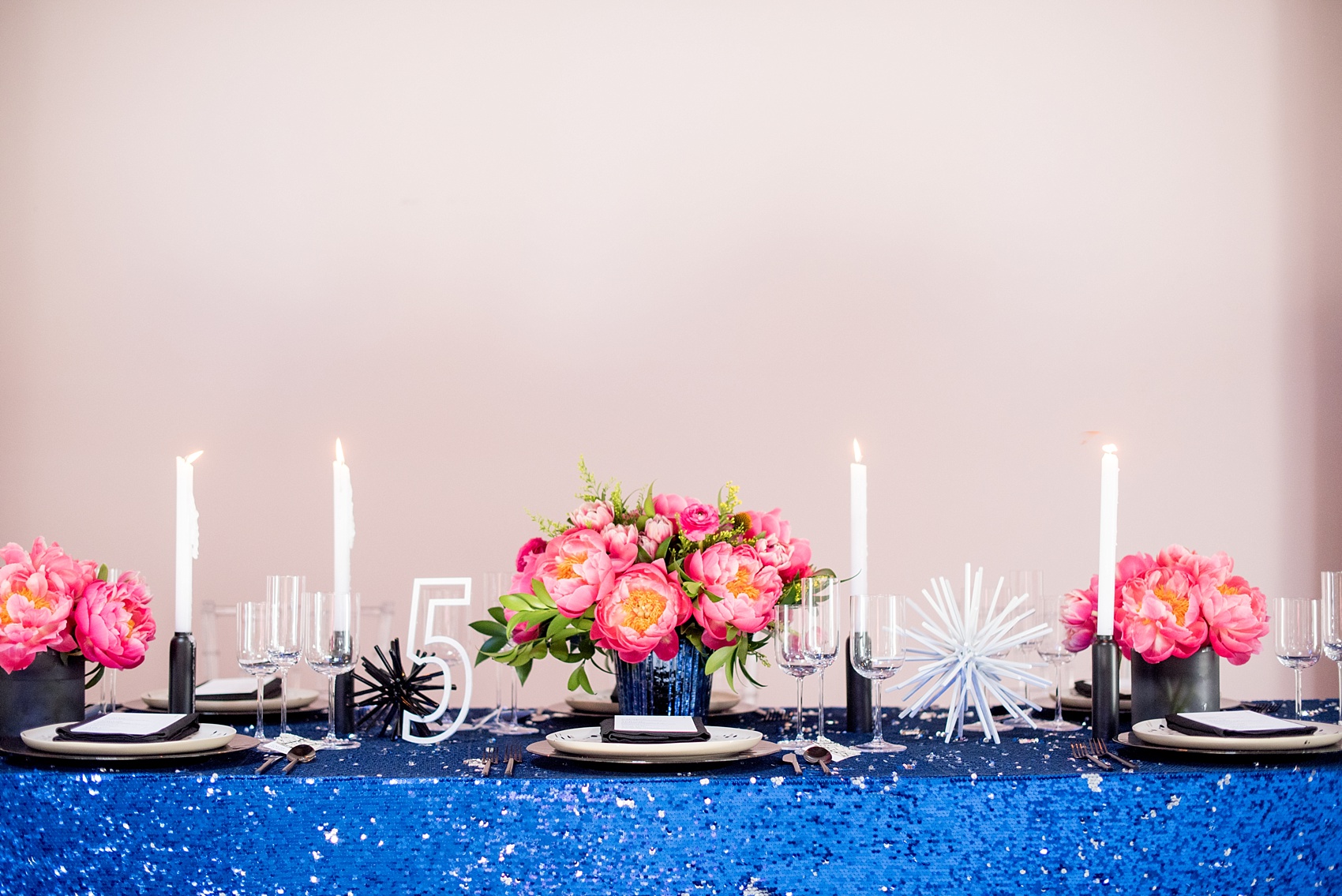 Colorful decor details at this Dobbin Street Brooklyn wedding
Bliss and Bone really knocked it out of the park on the paper goods. From the invitation to the menu to the table number to place cards – they splatter painted canvas in black and white and used texture to communicate the idea thoroughly.
The linen on the table is blue sequins that is double-sided with silver so a hint of the metallic on the other side shines through. Classic clear Chiavari chairs with white cushions helped complete the place settings. Even the dinner plates had splatter paint drips on them, thanks to the careful curation of Leah from Color Pop Events!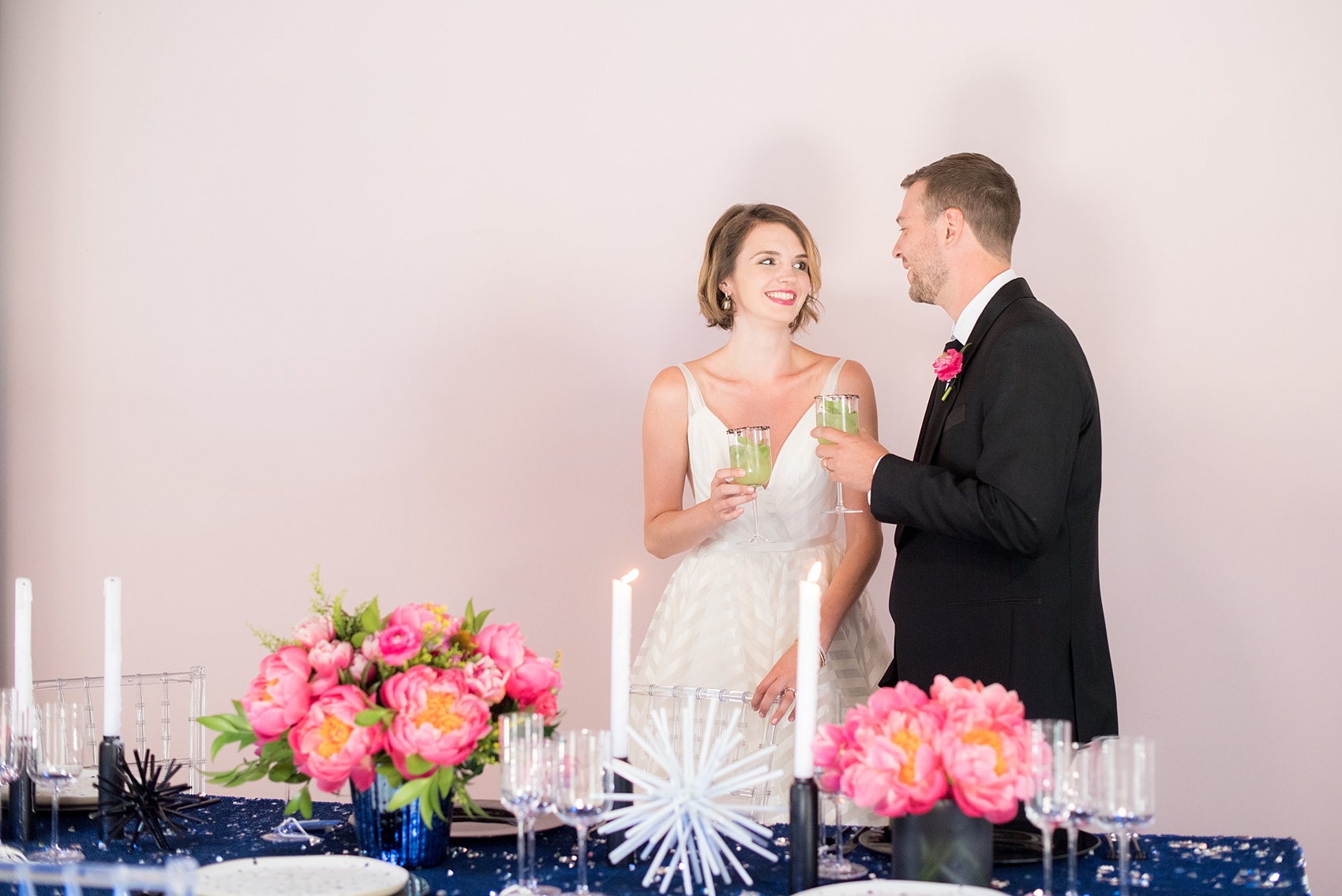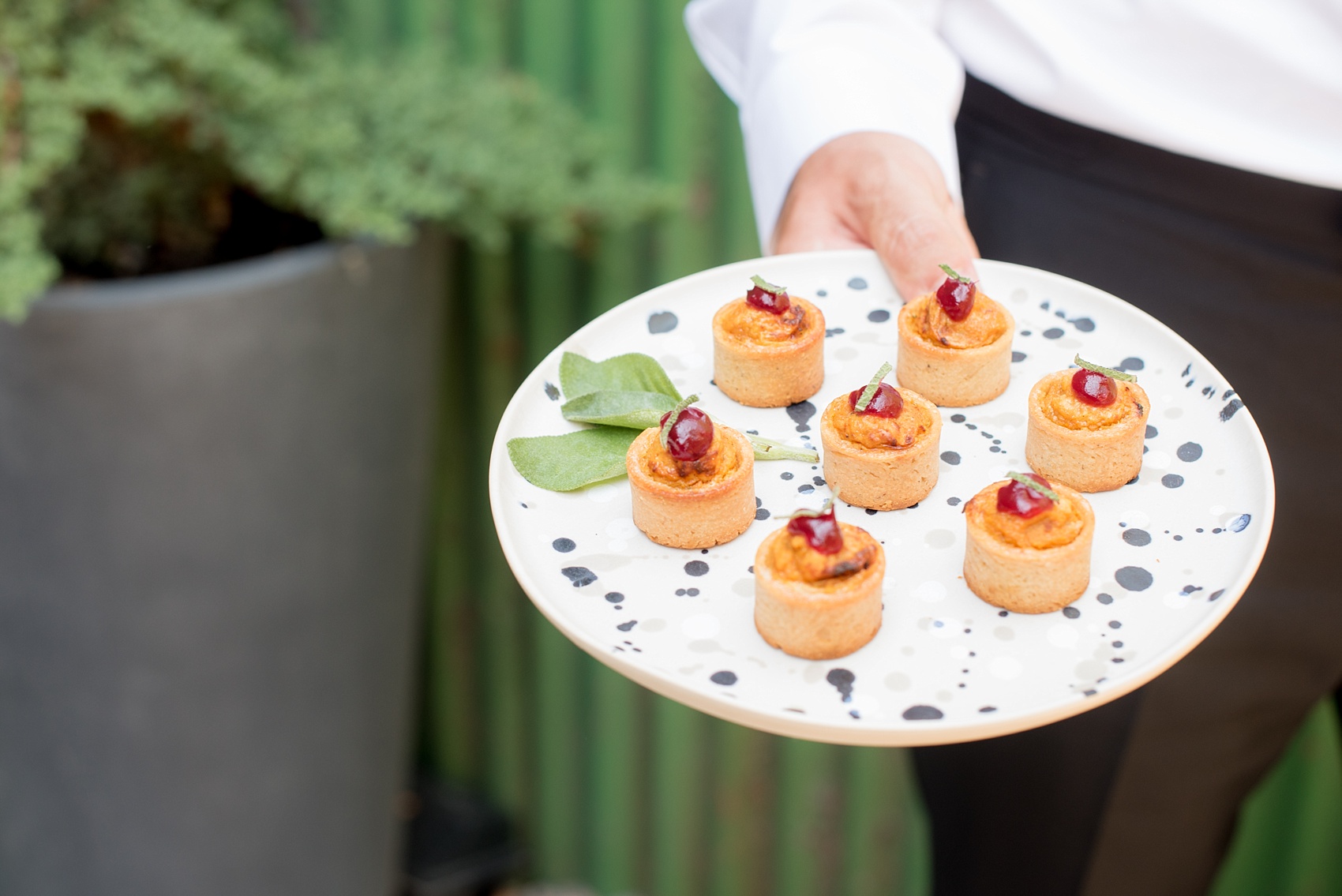 Dinner and dessert at Dobbin Street with a bridal outfit change
A fresh heirloom and feta cheese salad was finished with a fresh balsamic glaze. Salmon with fresh roe and a celery reduction was followed by a delicious splatter painted cake! The bride changed into a second dress for the party and send off – black knit with metallic gold sequins and thread and black classic Louboutin heels.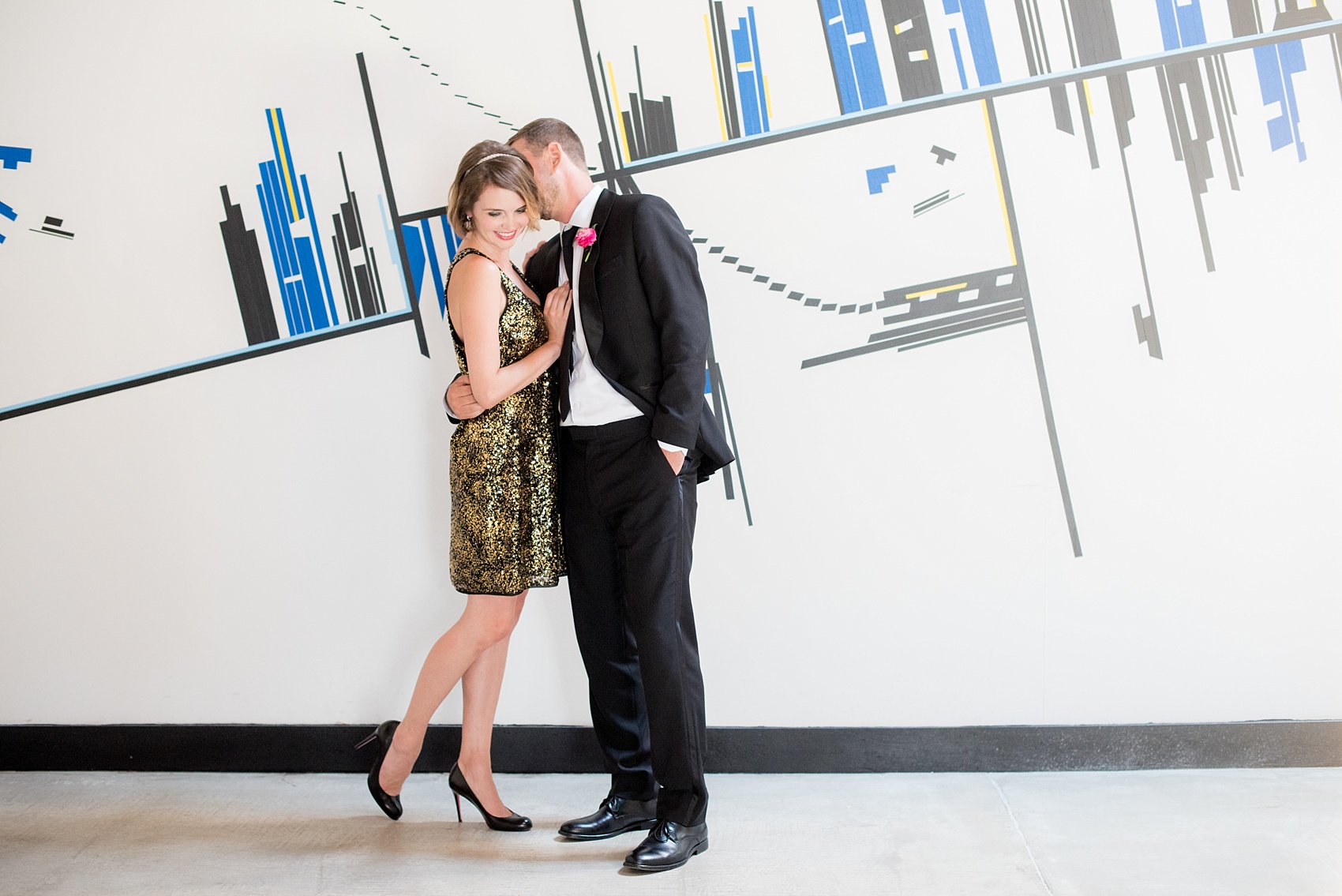 Dobbin Street vendors
Photographer: Mikkel Paige (that's me, of course) / Venue: Dobbin St / Concept and coordination: Color Pop Events / Styling: Kristen Poissant / Flowers: Blade Floral / Wedding gown: Hayley Paige / Bridesmaid dress: Hayley Paige Occasions / Reception dress, black and gold: Diane Von Furstenburg / Tuxedo: The Black Tux / Videographer: NST Pictures / Catering: Ryan Brown Catering / Cake: Nine Cakes / Invitation and place cards: Bliss and Bone / Rentals: Broadway Party Rentals / Hair: Chelsie Rodden for SB Beauty / Makeup: Adriana Andaluz for SB Beauty / Rings: Susie Saltzman Custom Fine Jewelry / Dinner plate: Hawkins New York / Custom painting for ceremony: Art by Megan / Envelope hand lettering: Anne Robin / Wallpaper: Sarah Merenda / Tape mural: Christine Gedeon / Truffles: Mini Melanie
If you're interested in Mikkel Paige capturing your day please reach out and contact us!