A proposal over smoked fish and NYC bagels kick-started the wedding planning of these college sweethearts. Rachel and Joe contacted me just a little less than a year before their big day after one of my favorite floral designers, Sachi Rose, recommended me to them. They had gotten engaged at Manhattan's famed Russ and Daughters, where Joe was able to surprise Rachel with a proposal. Enthusiastic and looking forward to discussing the details of their Labor Day Weekend wedding in Brooklyn, we quickly set up time to talk…and it was love! For me. And them. 🙂
Family would be coming in from as close as Manhattan (where Rachel is from) and up the east coast in Vermont (where Joe is from) and friends from all over the states to witness this couple, who have been together just over a decade after meeting as college freshmen, wed in a waterfront ceremony on a perfect near-end-of-summer day.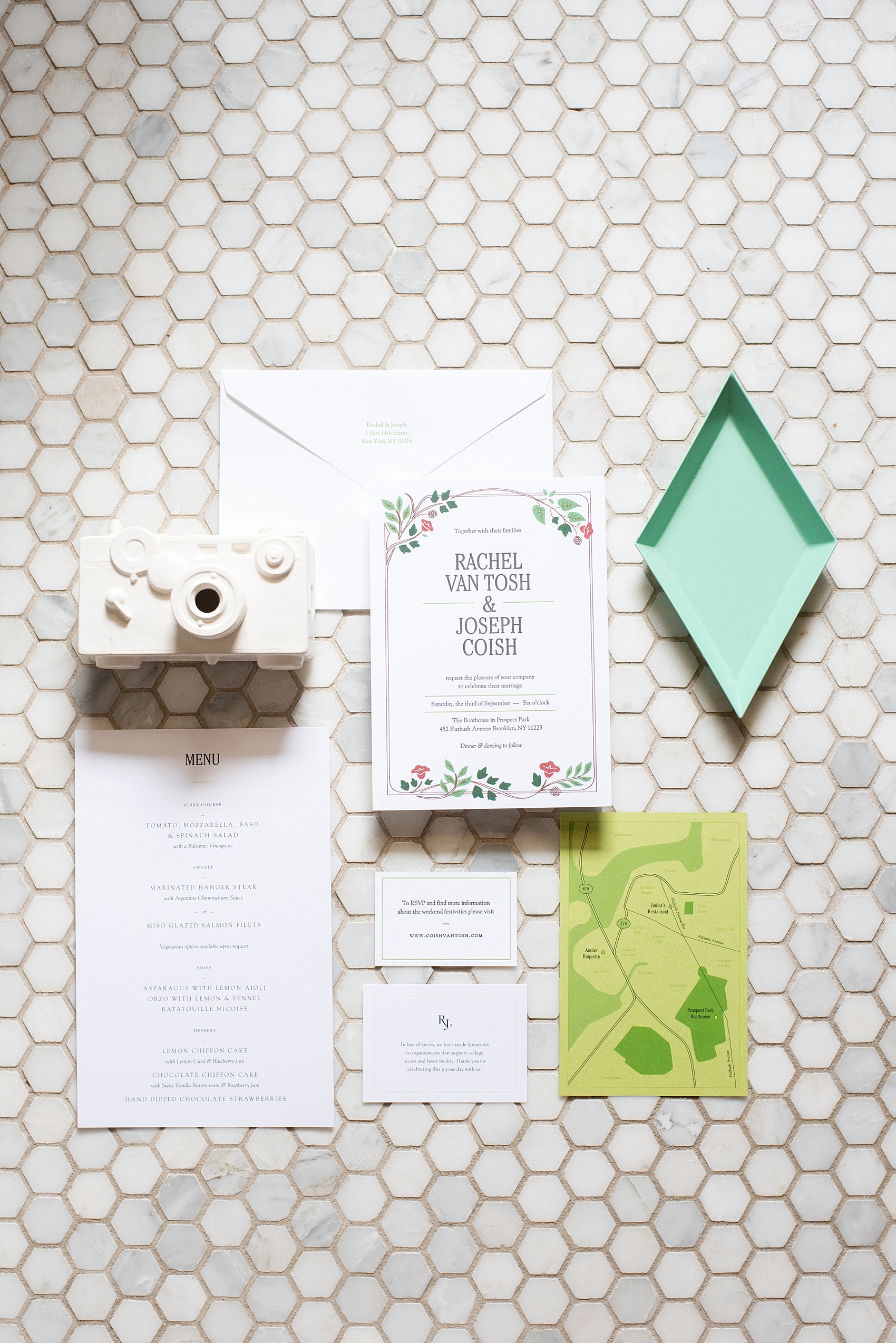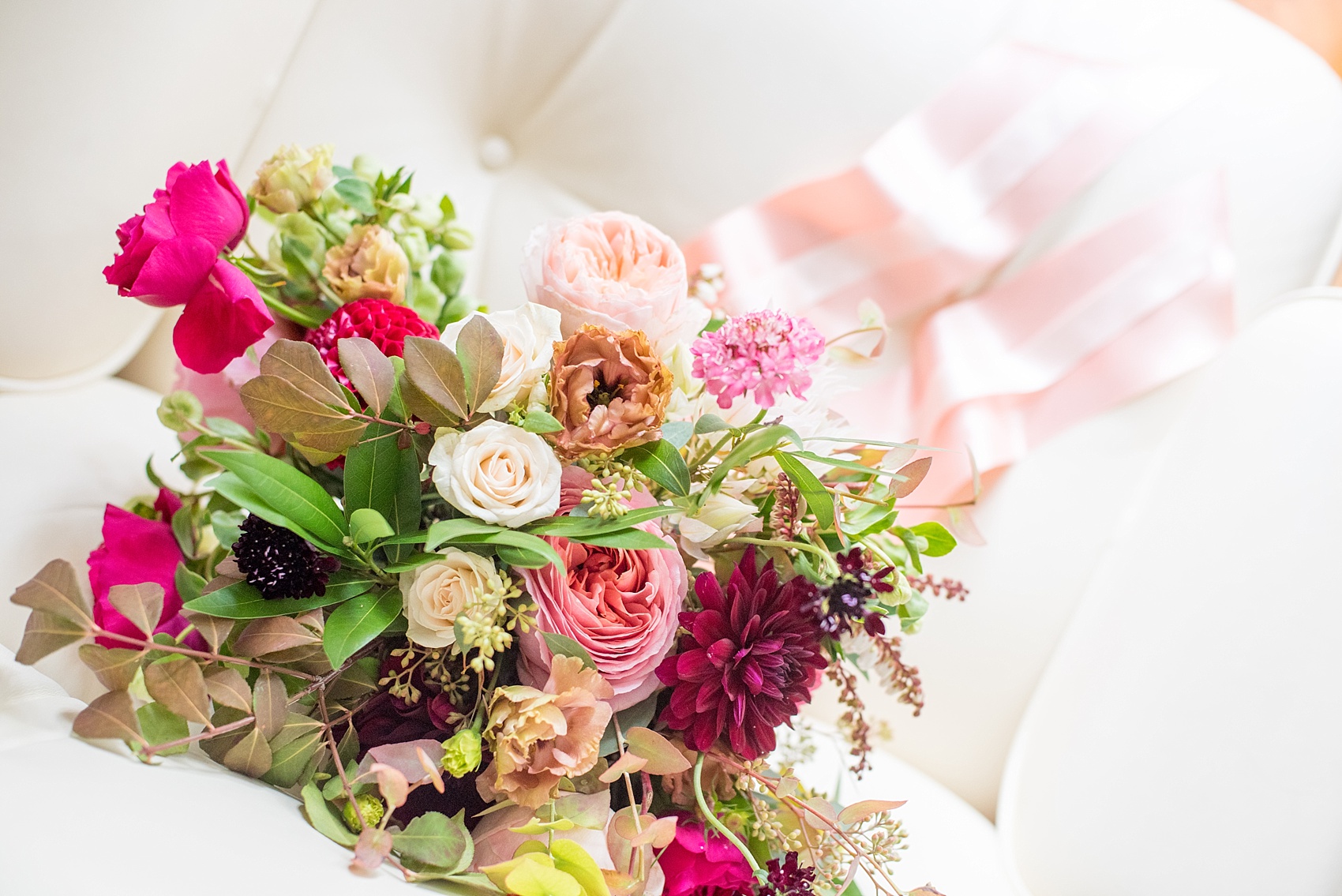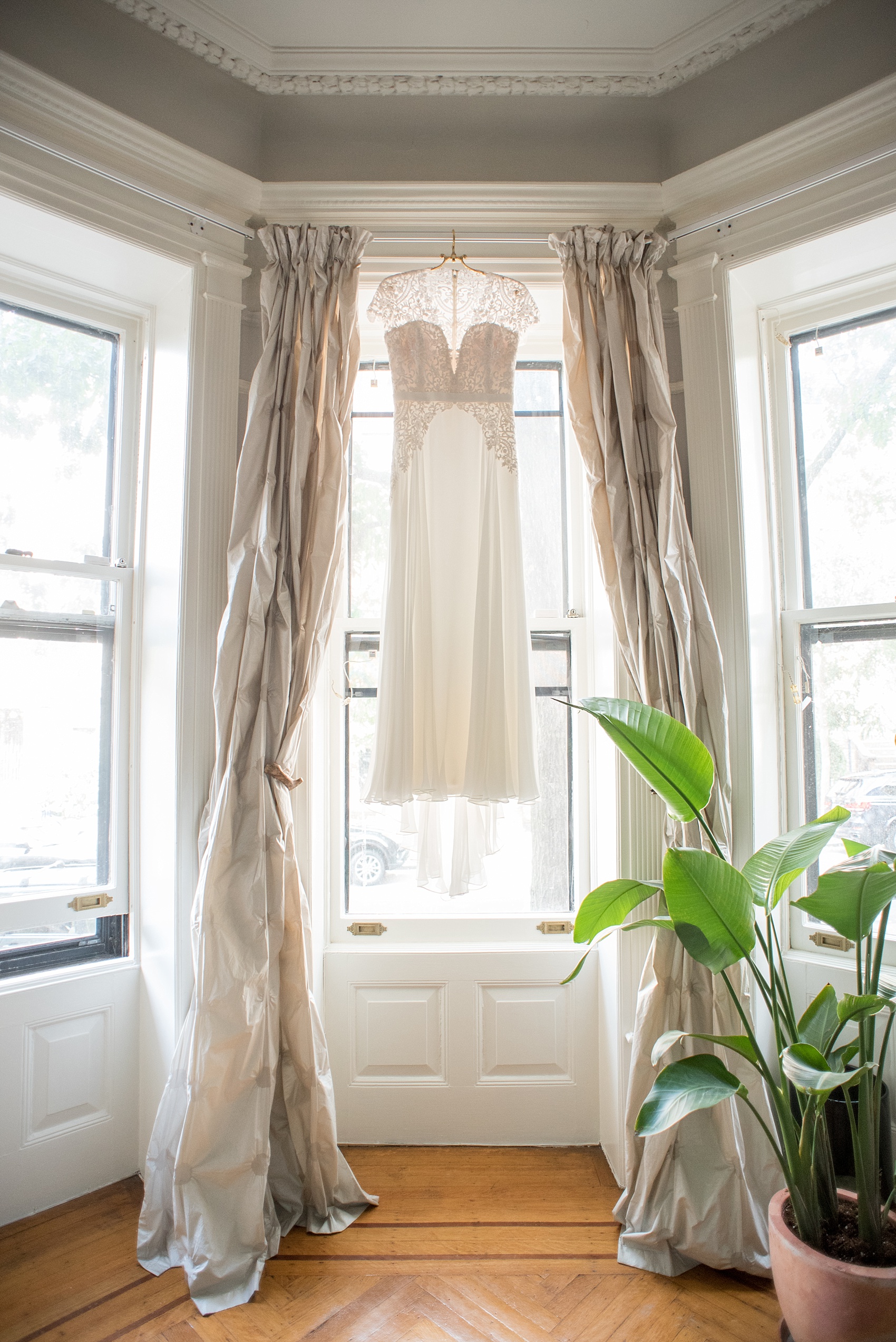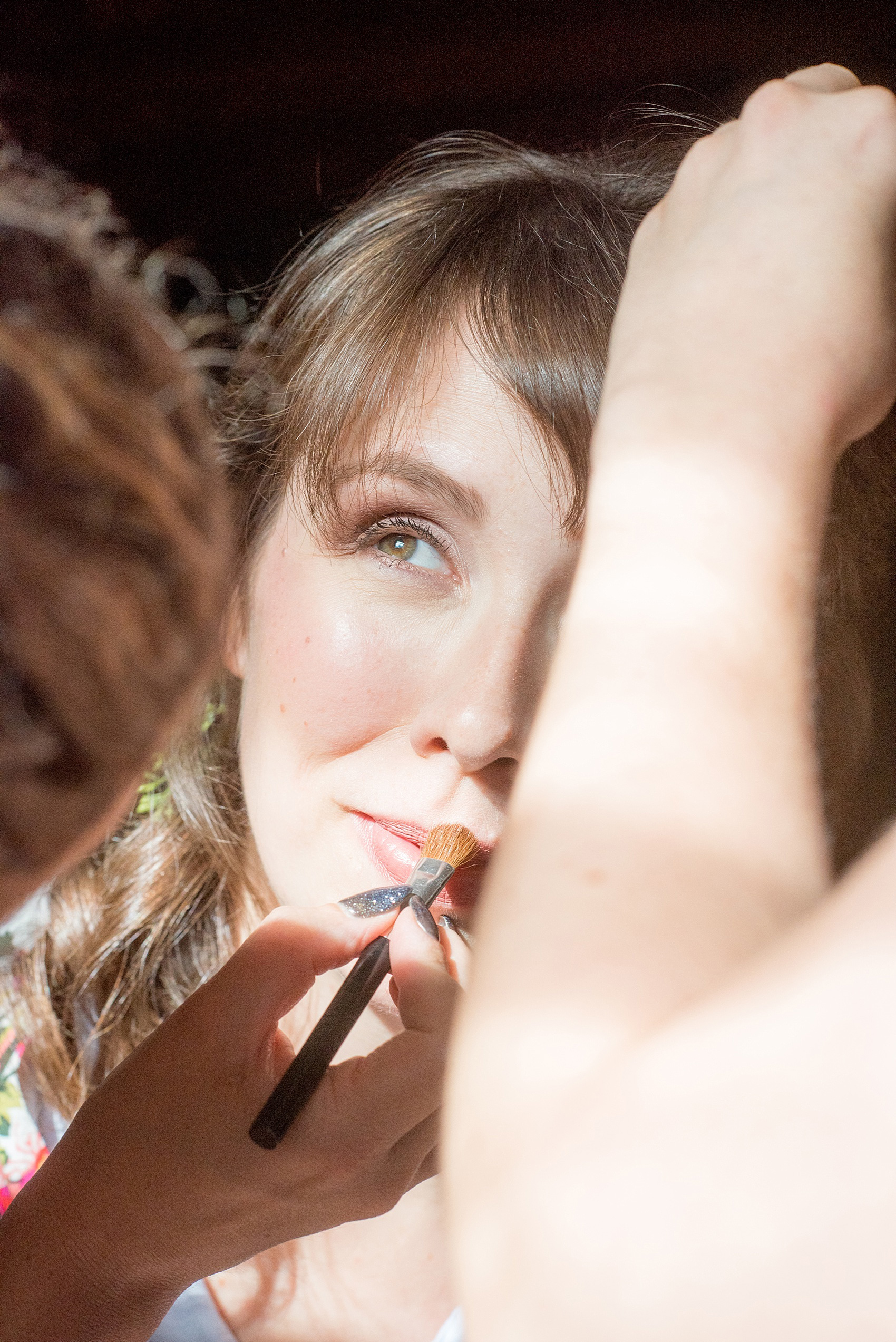 Rachel chose an incredible lace and chiffon Reem Acra gown for her wedding day and got a wonderful gold metal hanger for me to use for photos. Her and Joe opted to rent two awesome Air BnB homes to enjoy with their wedding party during their wedding weekend. There were so many perfect photo locations for me to capture their details.
One of my favorite details was Rachel including her mother and mother-in-law, also their officiants, in the morning-of fun. They looked adorable in their blue-hue robes! She gifted her bridesmaids floral robes in various colors with earrings and a necklace (for her new sister-in-law) to always enjoy but also complete their wedding day looks.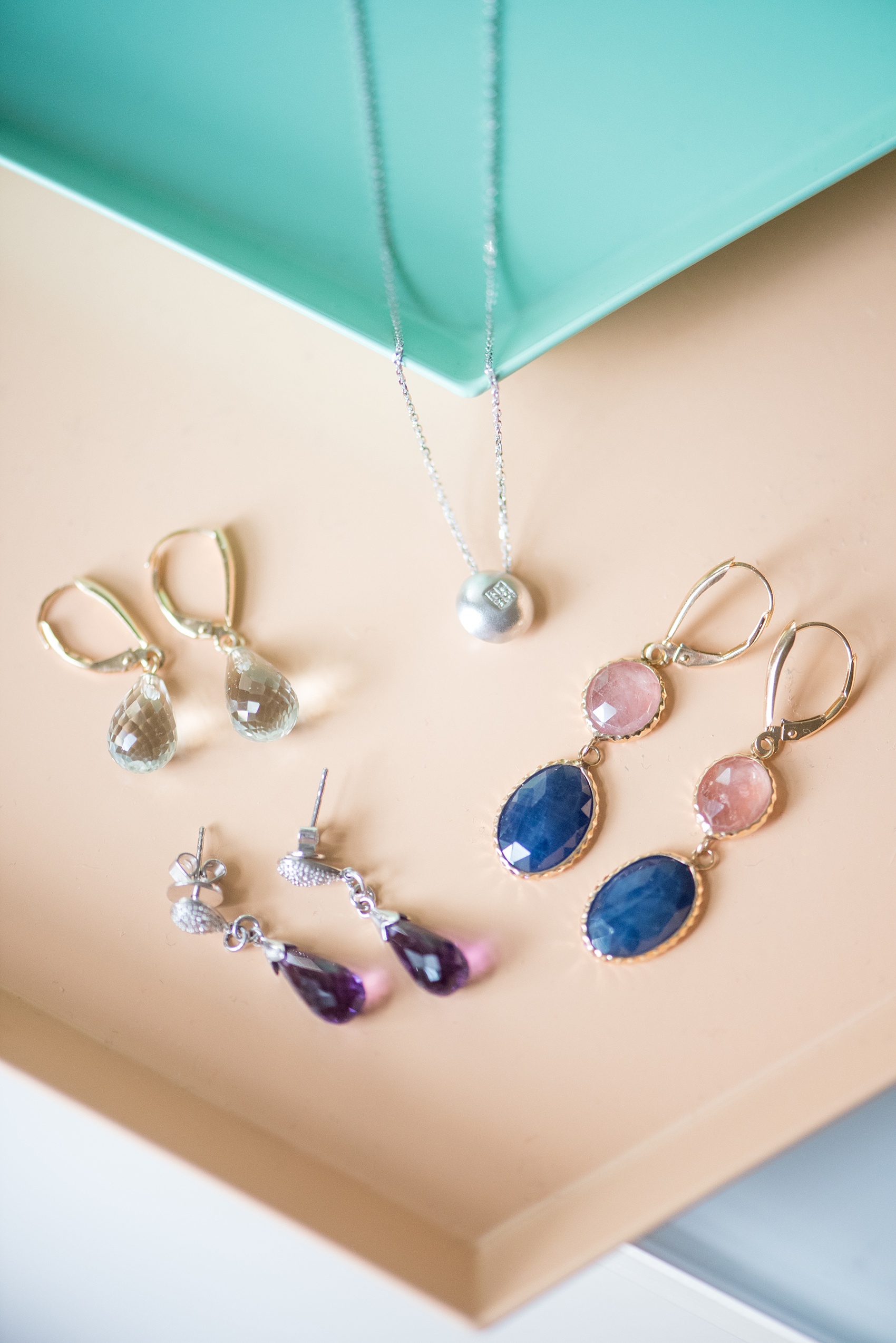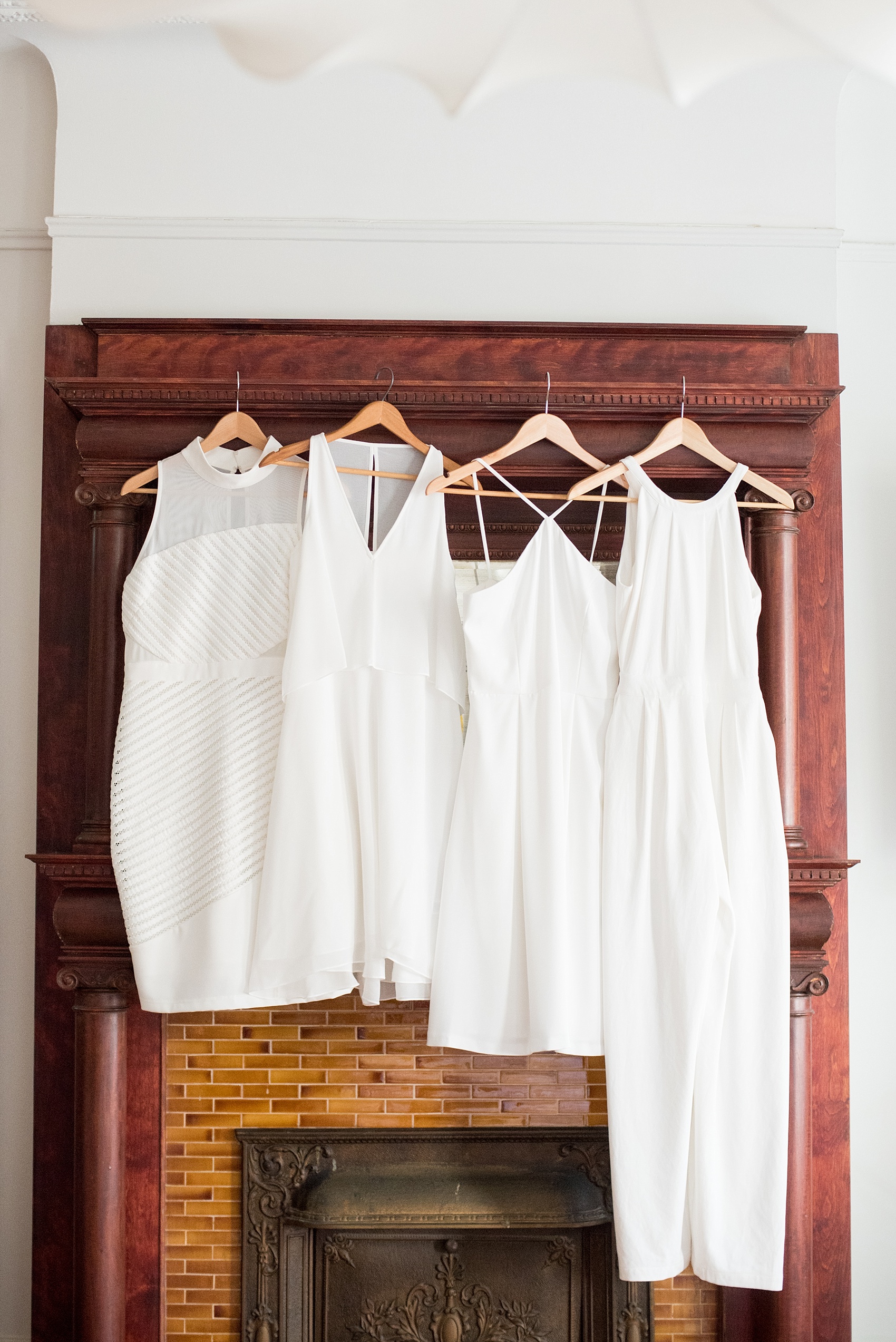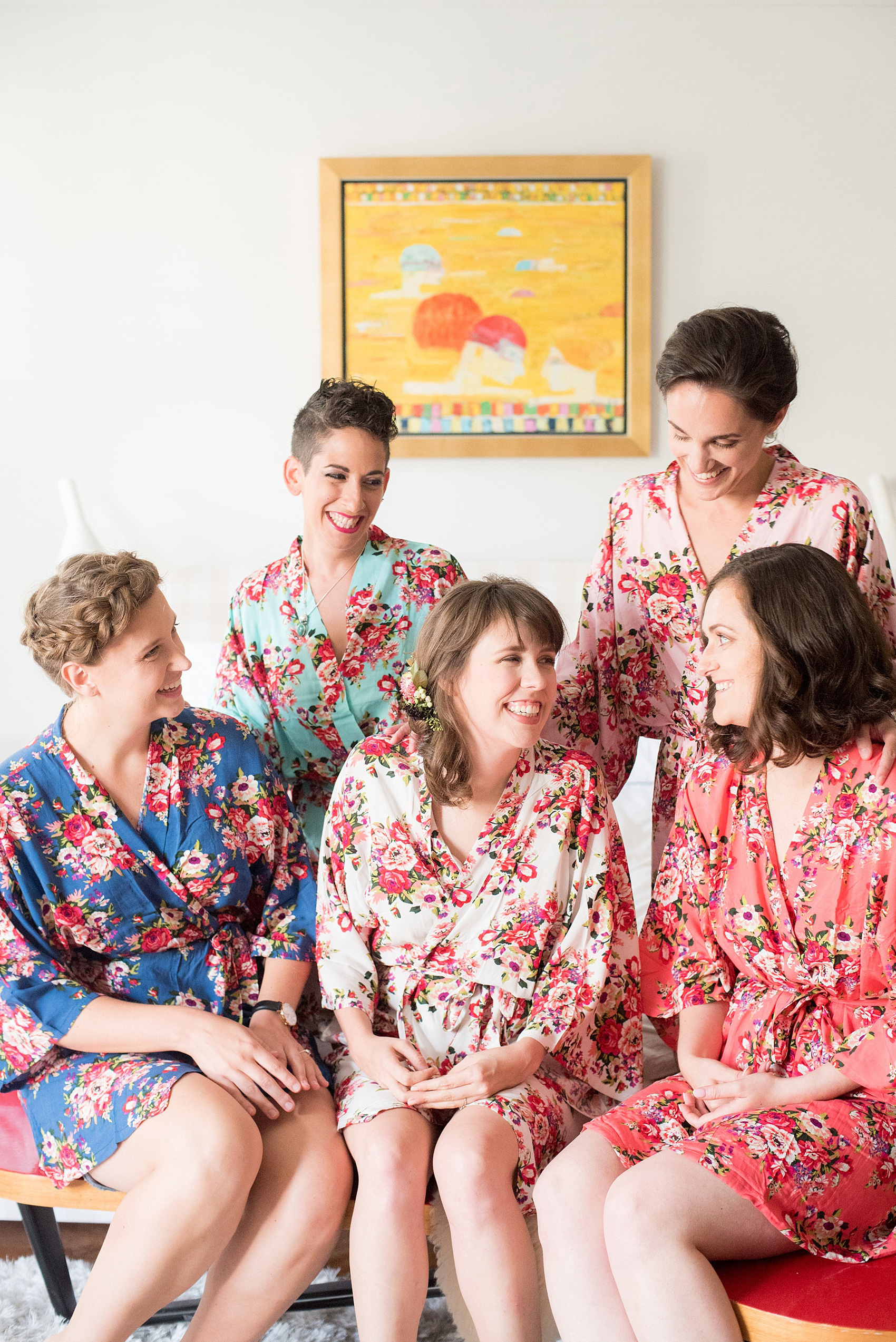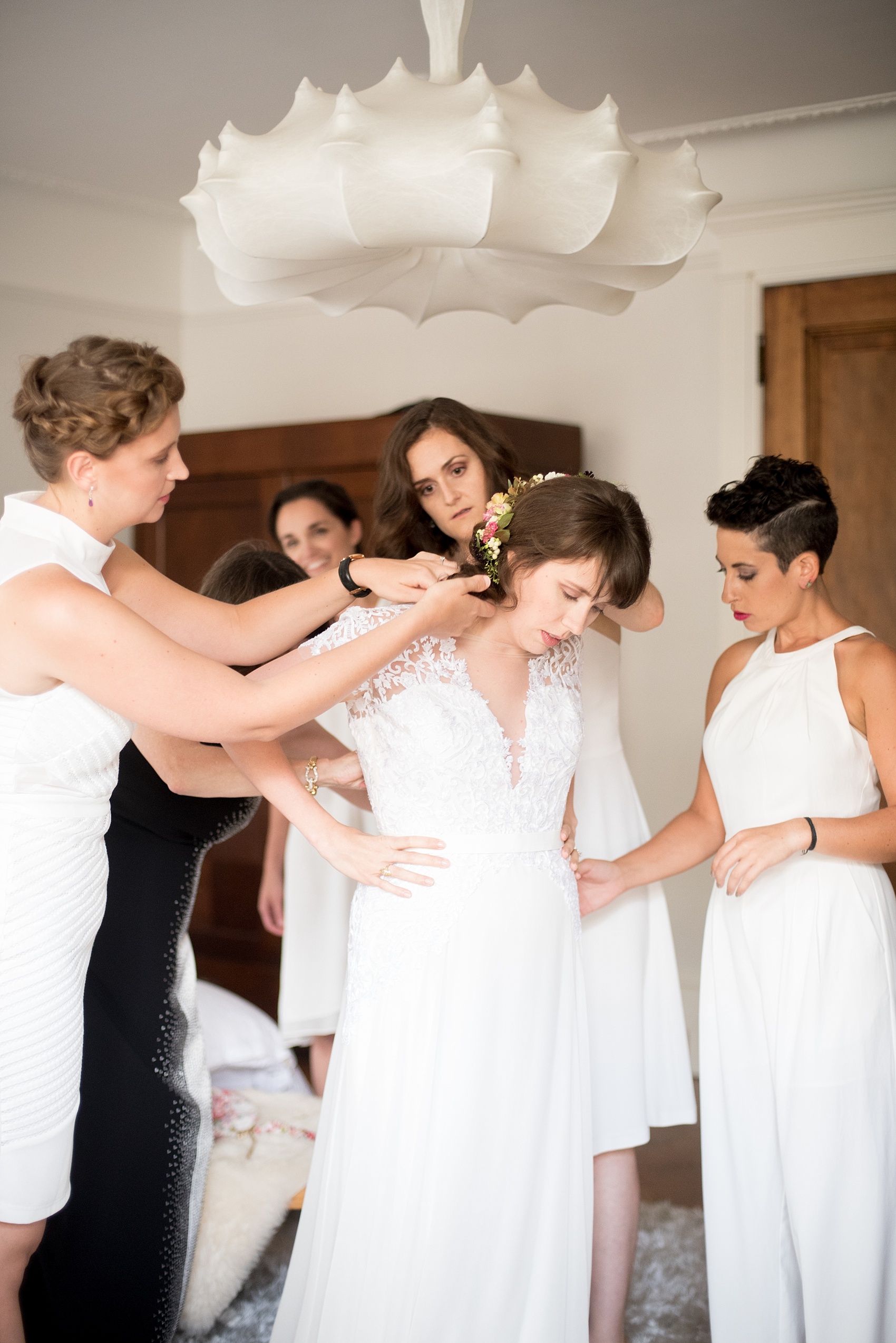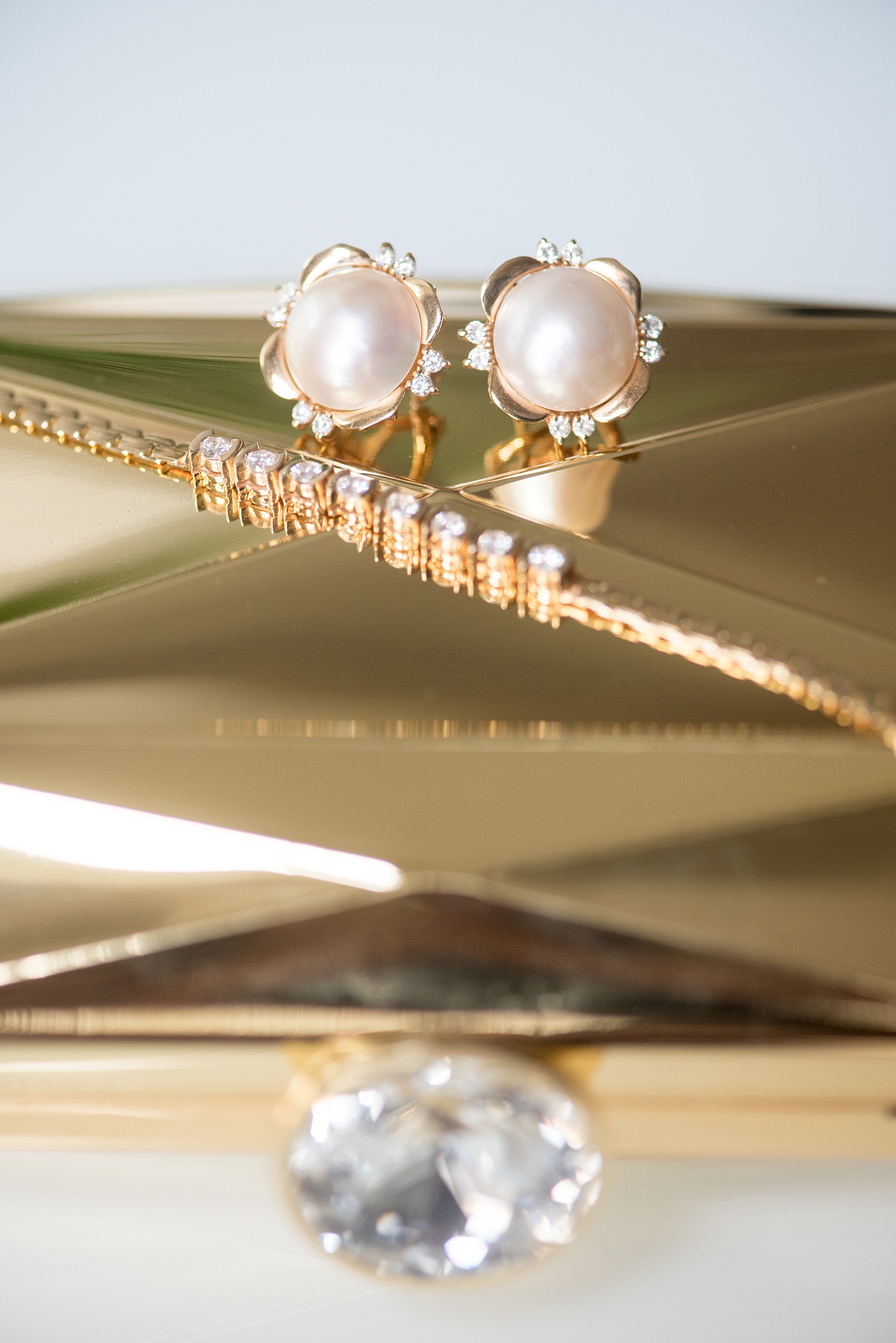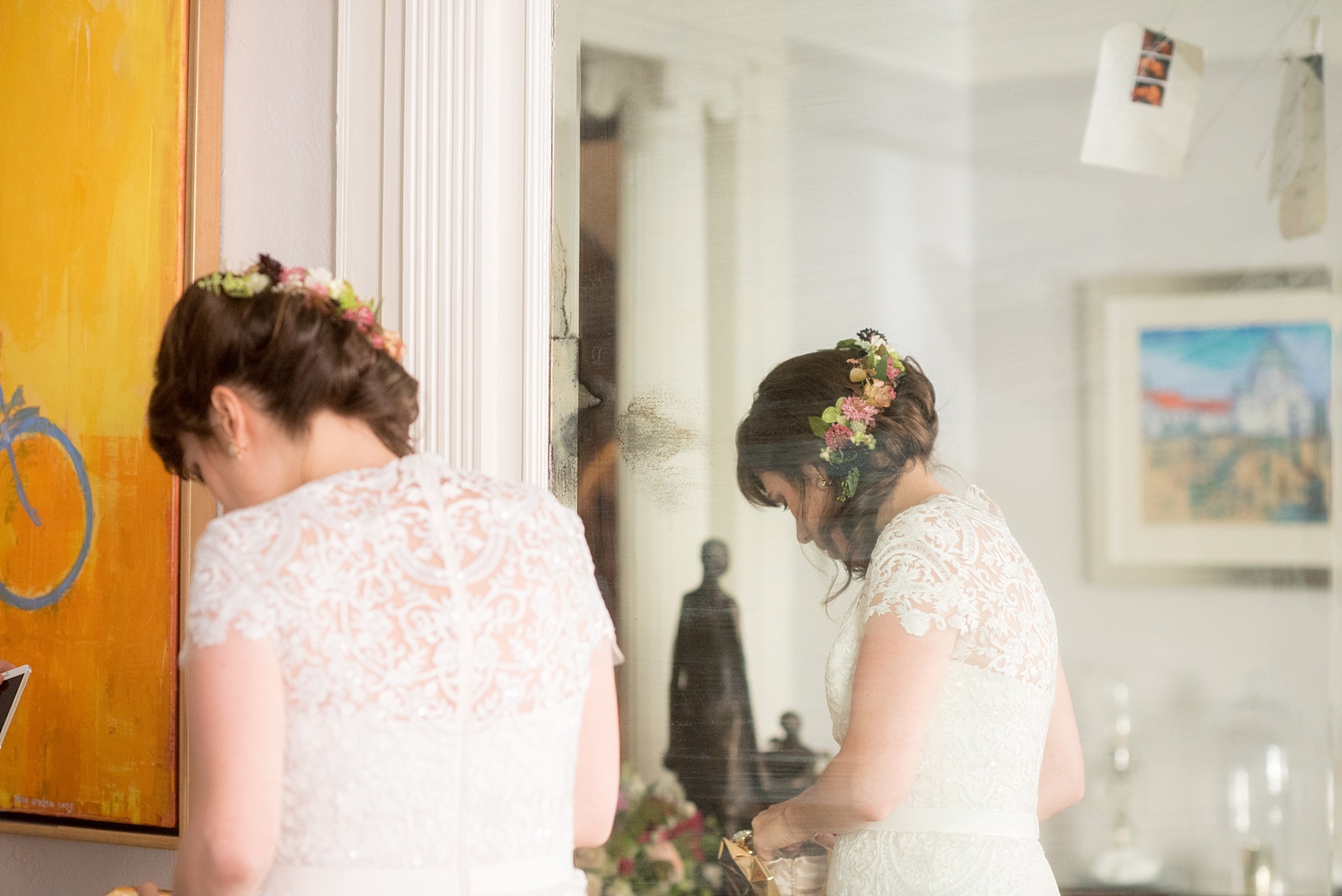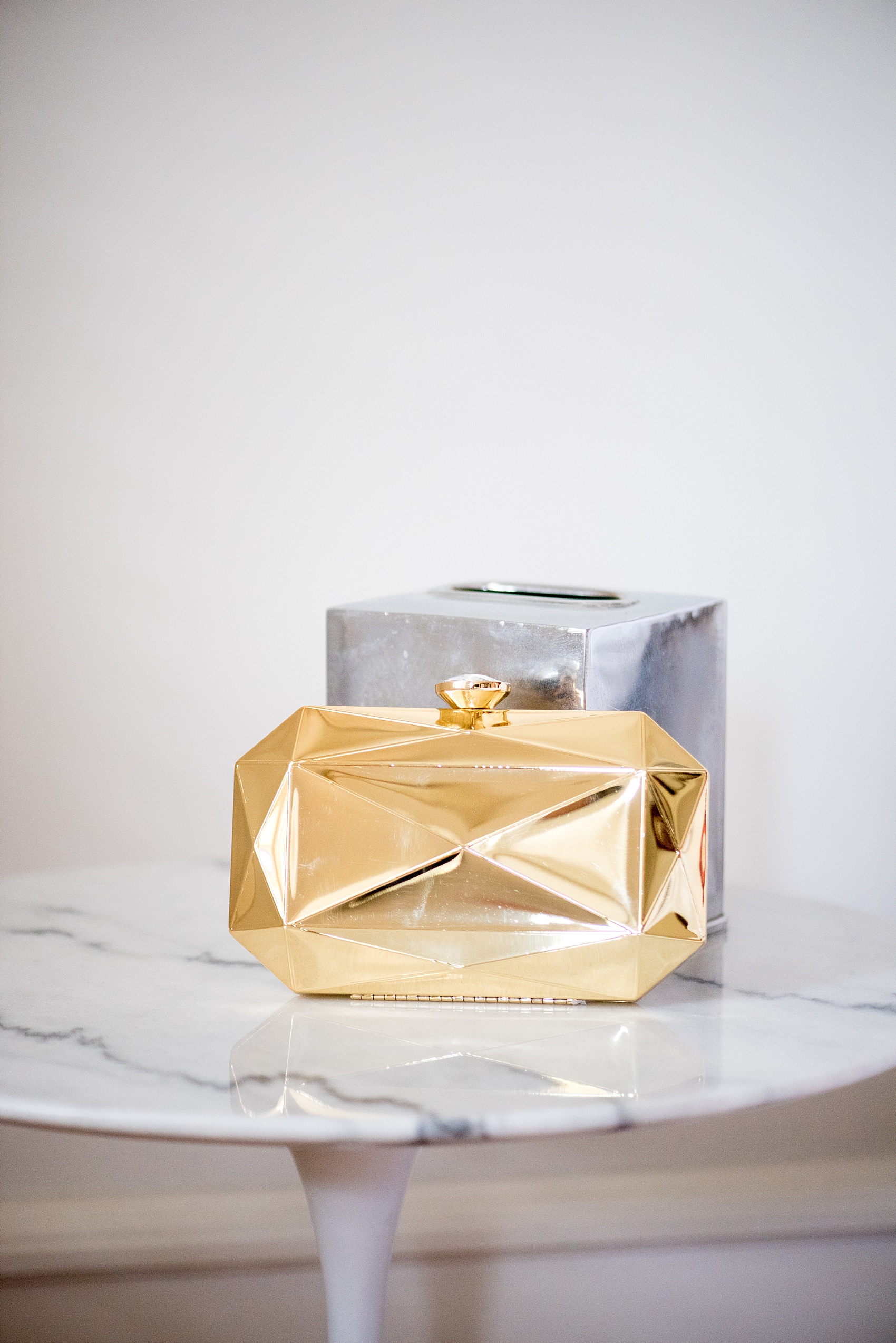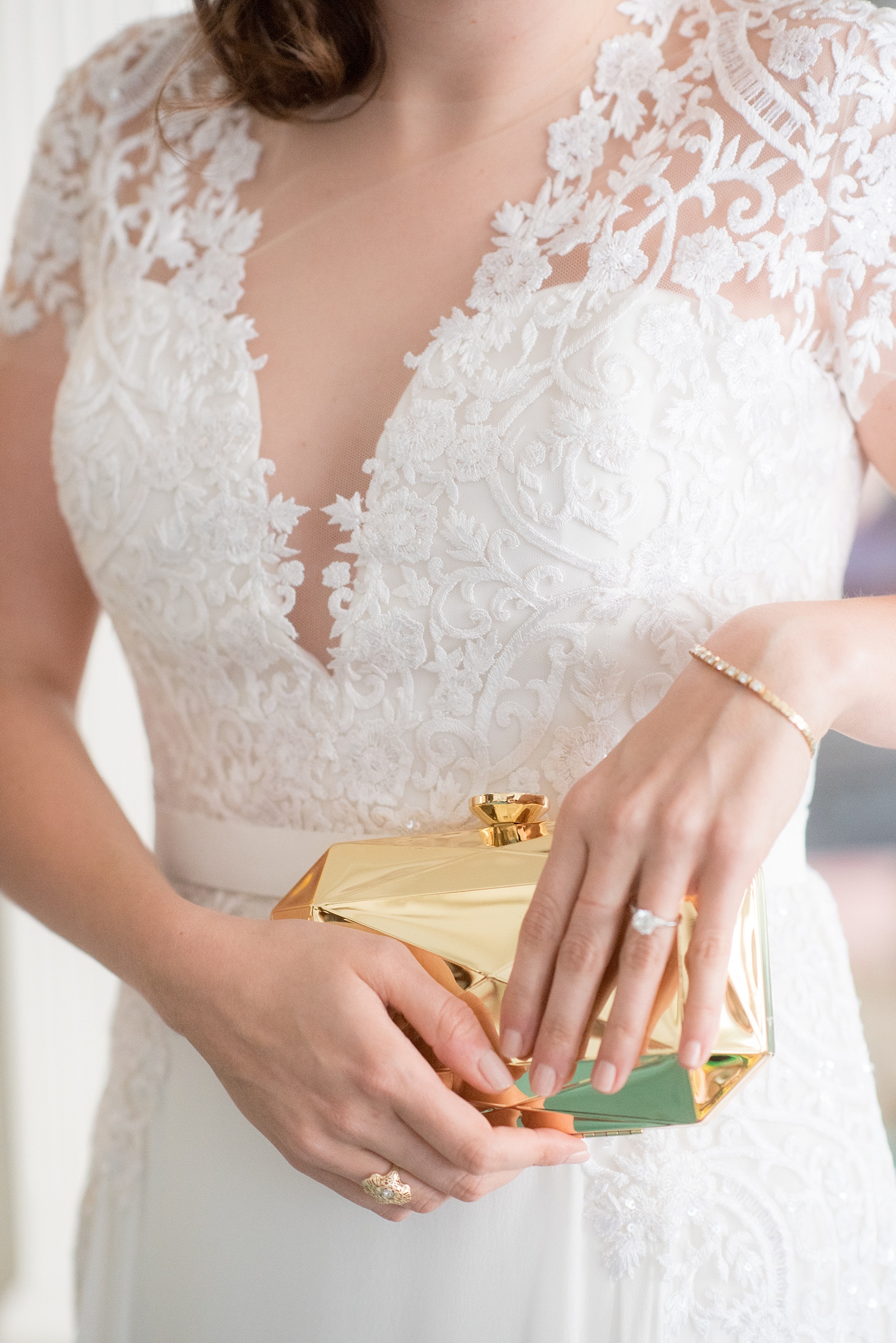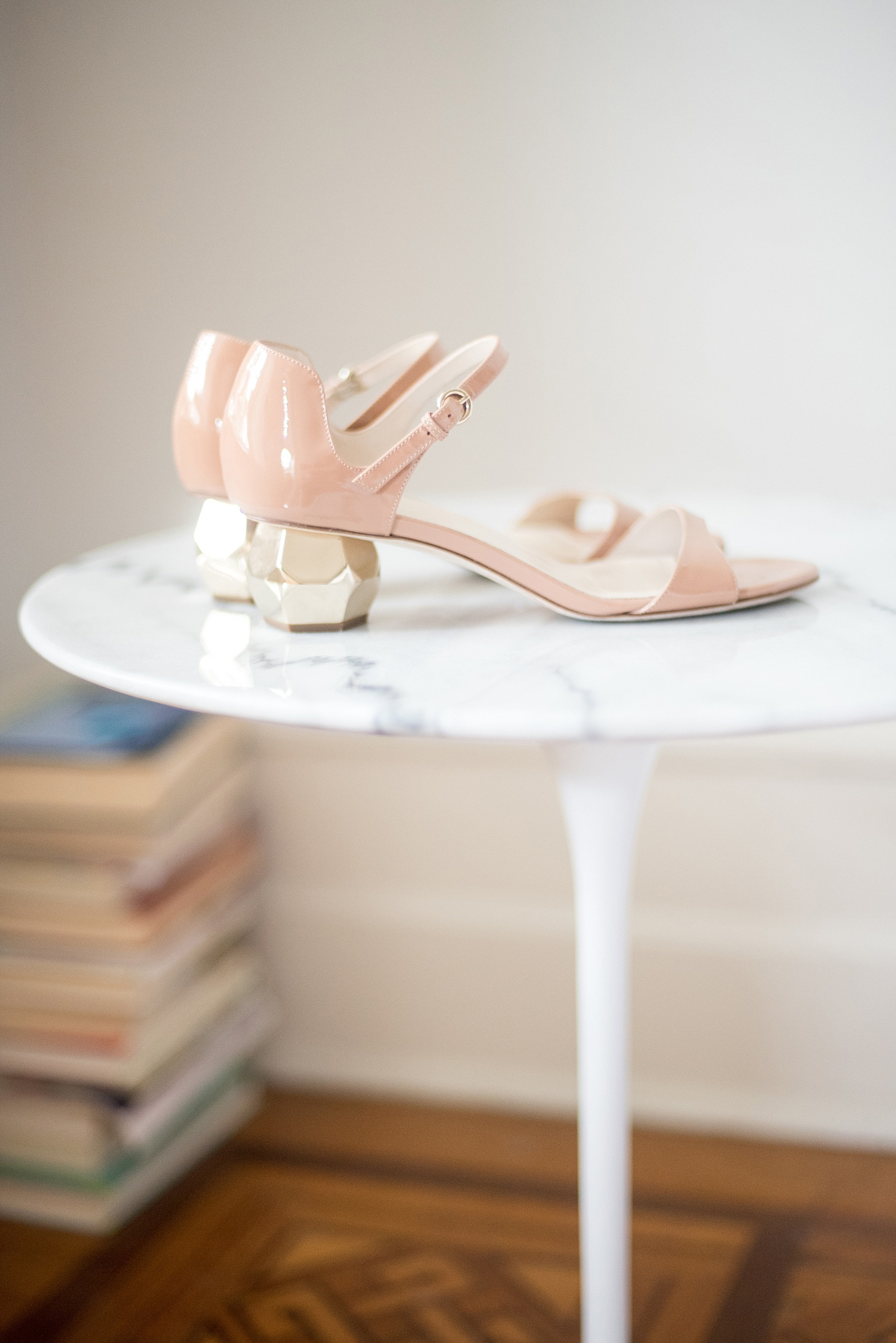 Rachel's fashion-forward, while keeping her style classic and timeless. (Look what she wore for their rehearsal dinner too – I loved how delicate her white two-piece outfit was.) Her gold metallic clutch, pearl earrings and geometric nude low-heel shoes emphasized her fashionable personality.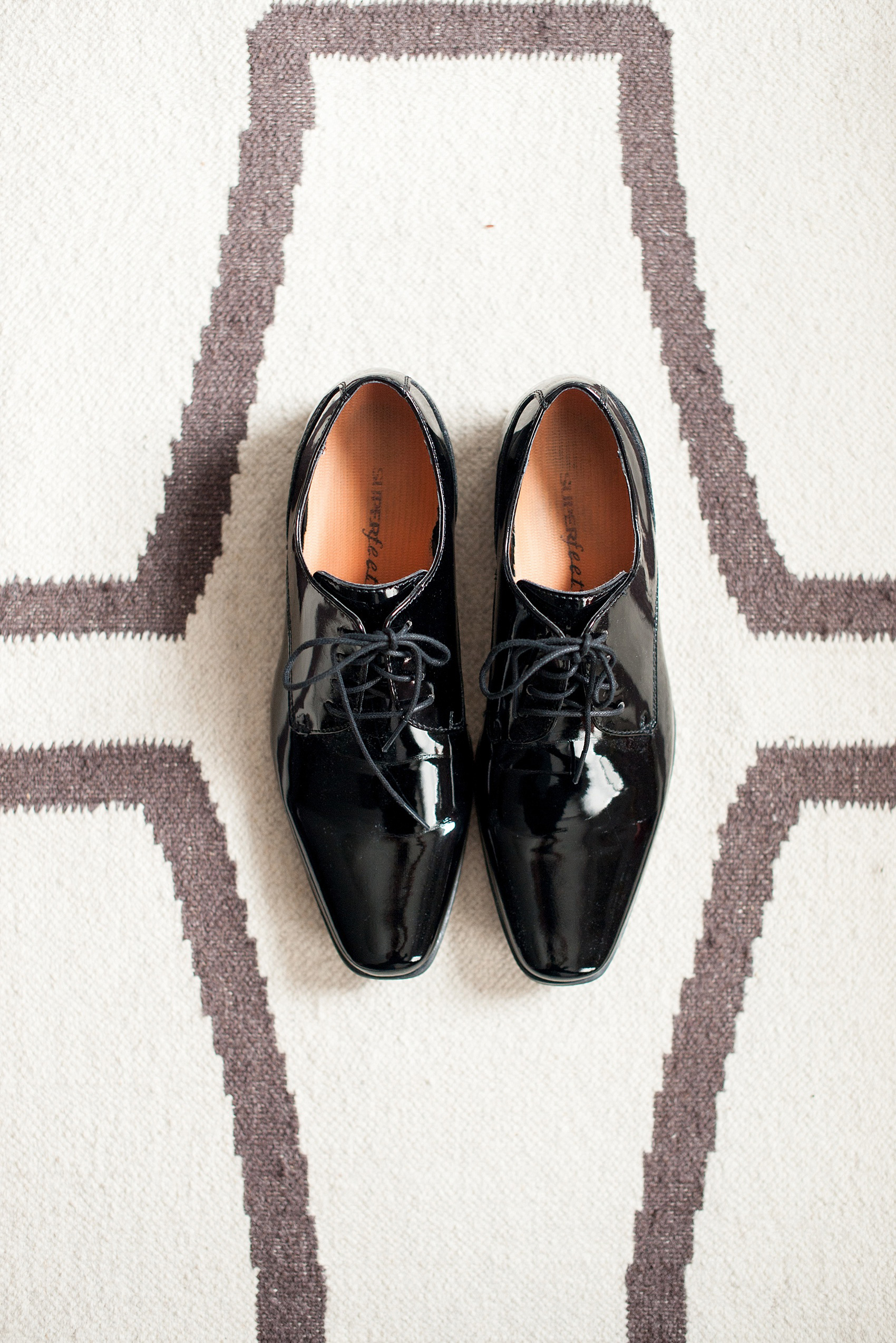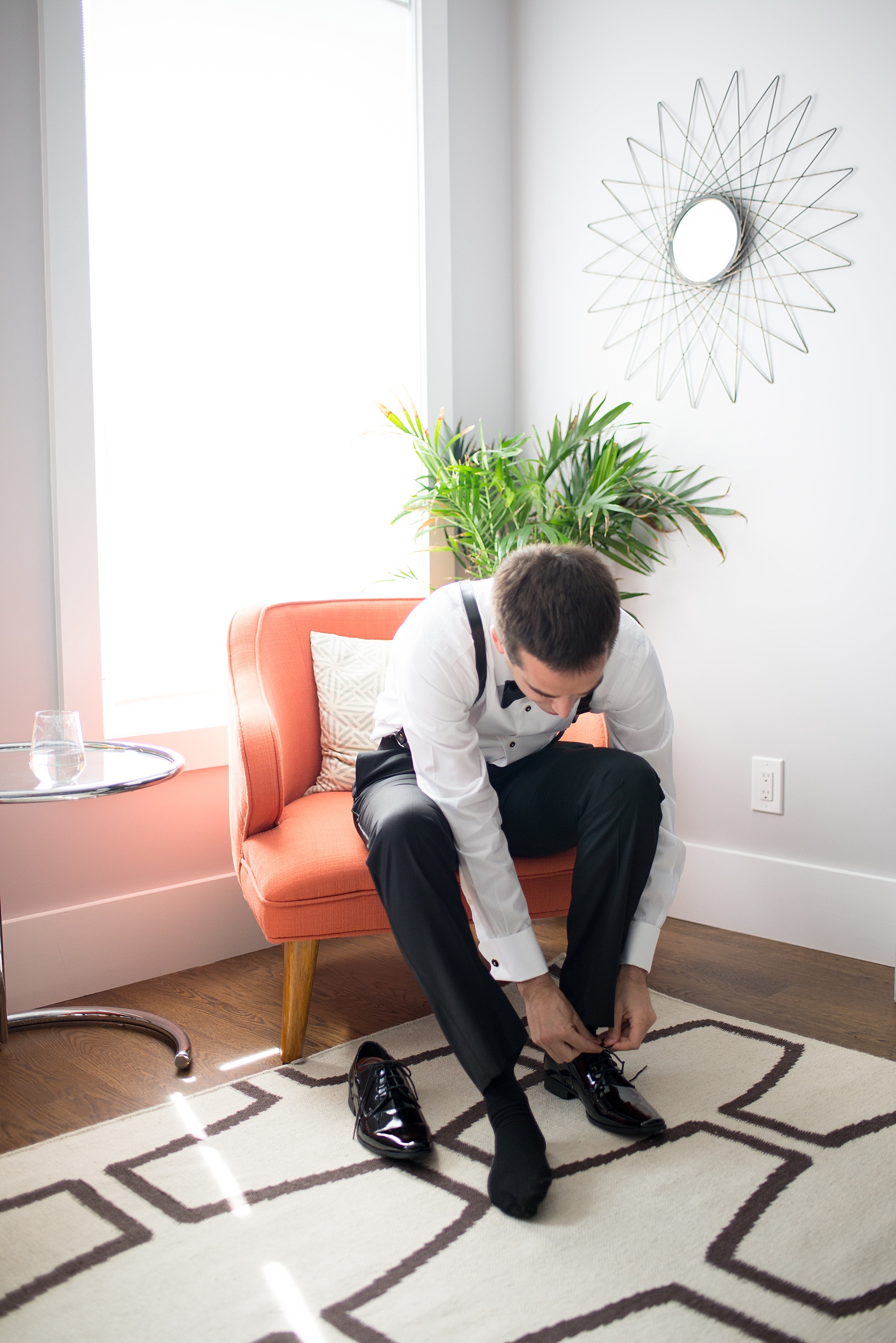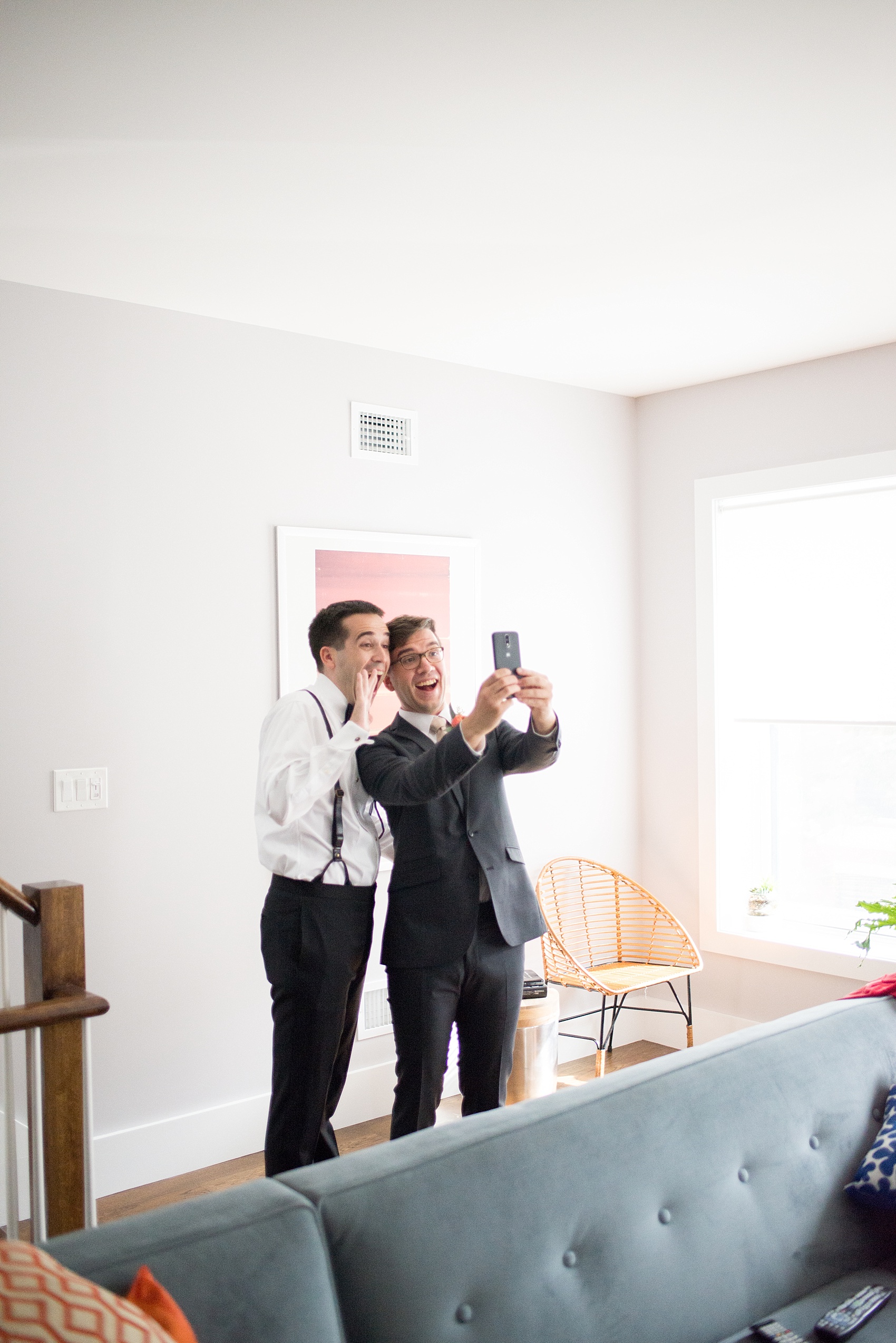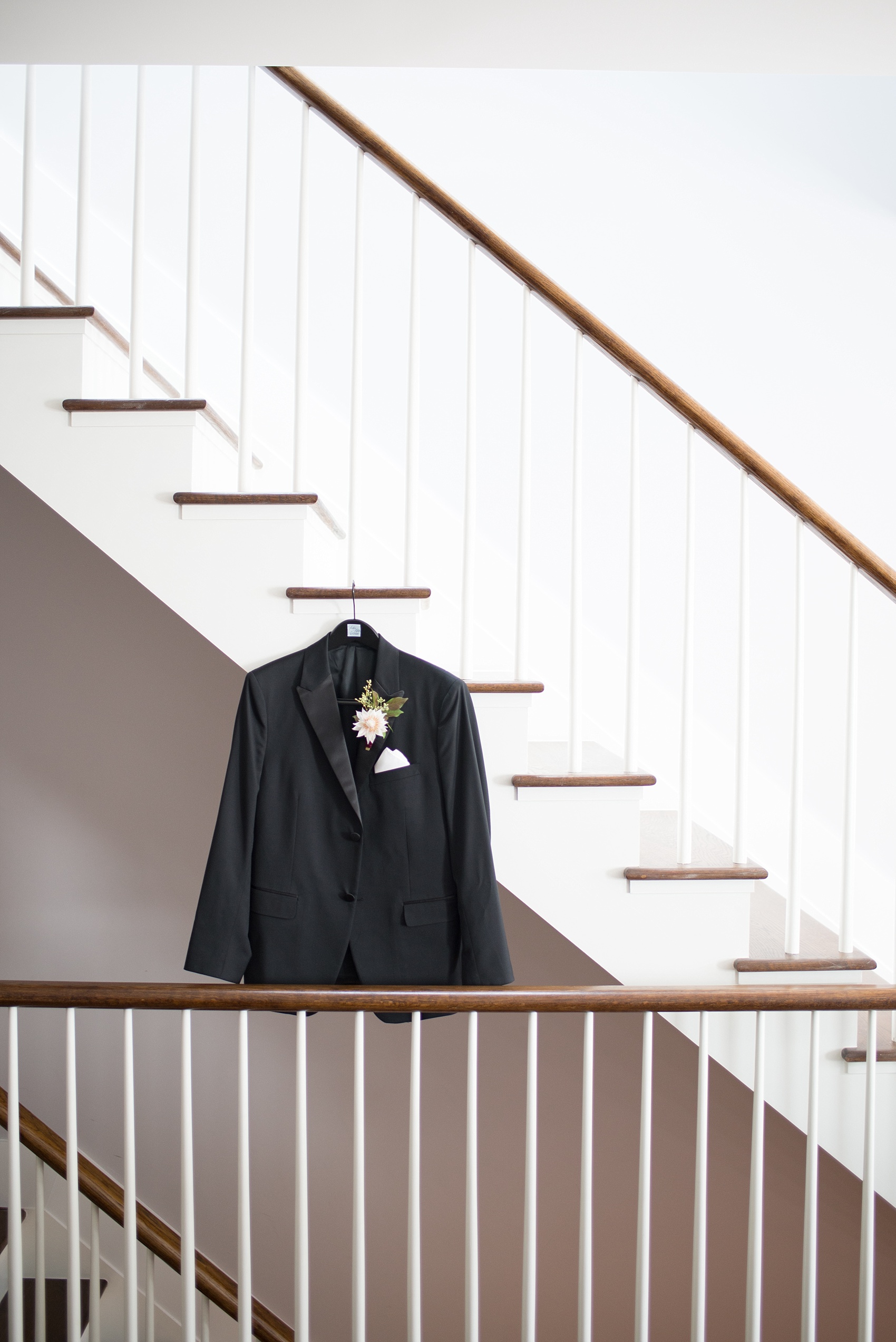 Joe's classic black tuxedo and black bow tie were complimented by a blushing bride protea boutonniere by Sachi Rose. Rachel carried a stunning colorful bouquet with deep pink dahlias, green hellebores, andromeda, seeded eucalyptus, purple scabiosa, and blush and fuchsia garden roses. I loved the long flowing peach ribbons hanging off of it.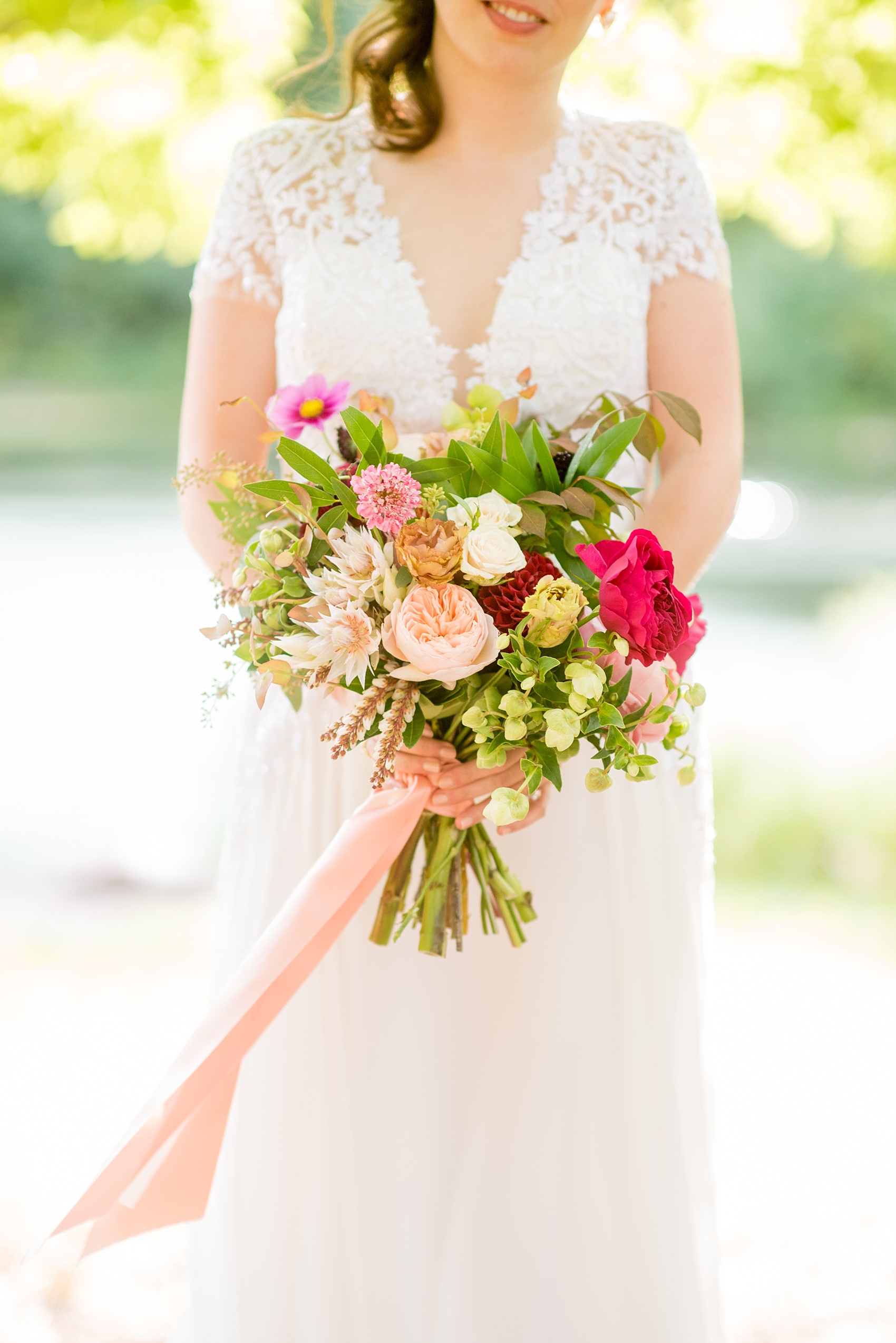 We all headed to Grand Army Plaza adjacent to Prospect Park for their first look. It's a spot I particularly love because it reminds me of the charm of European cities.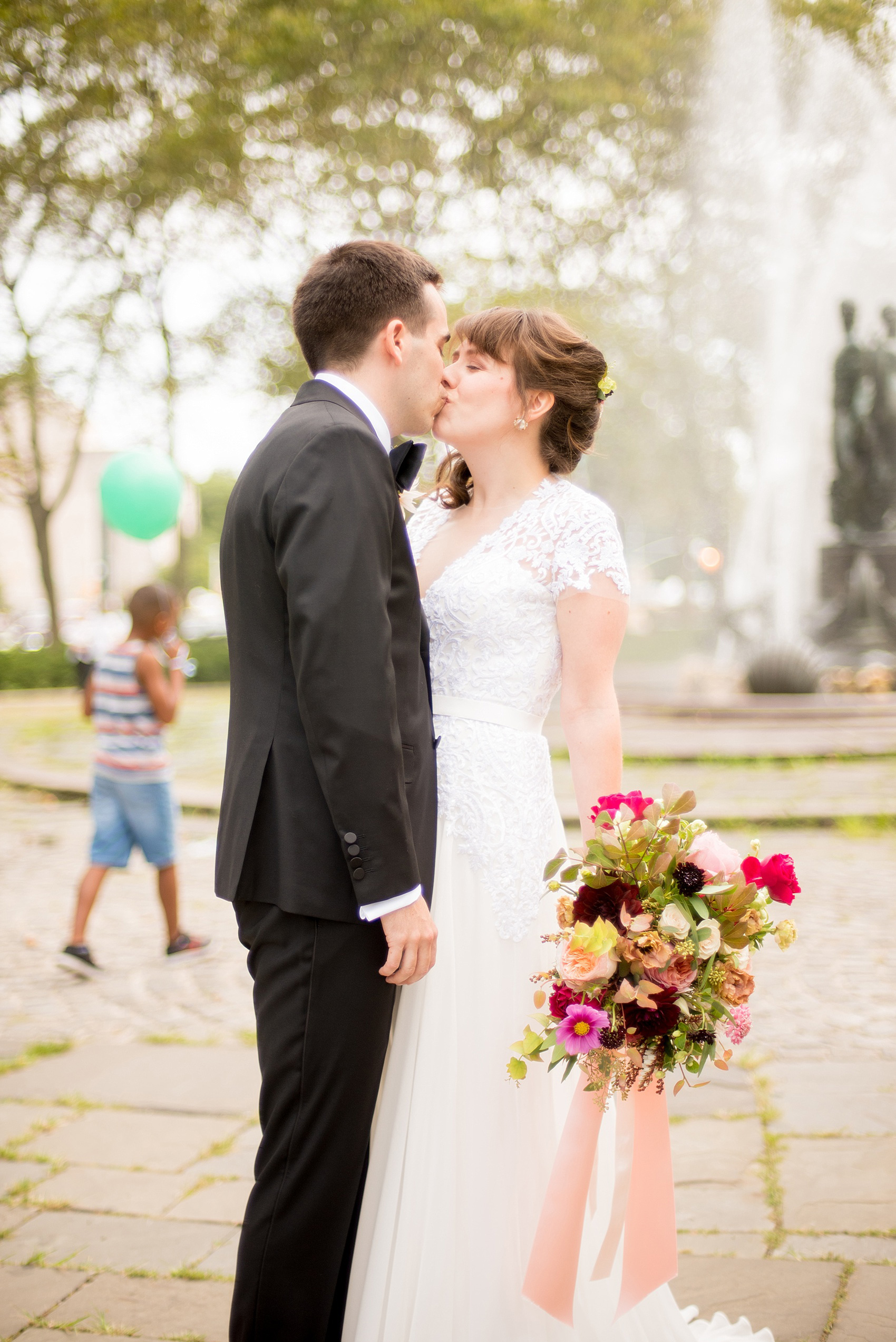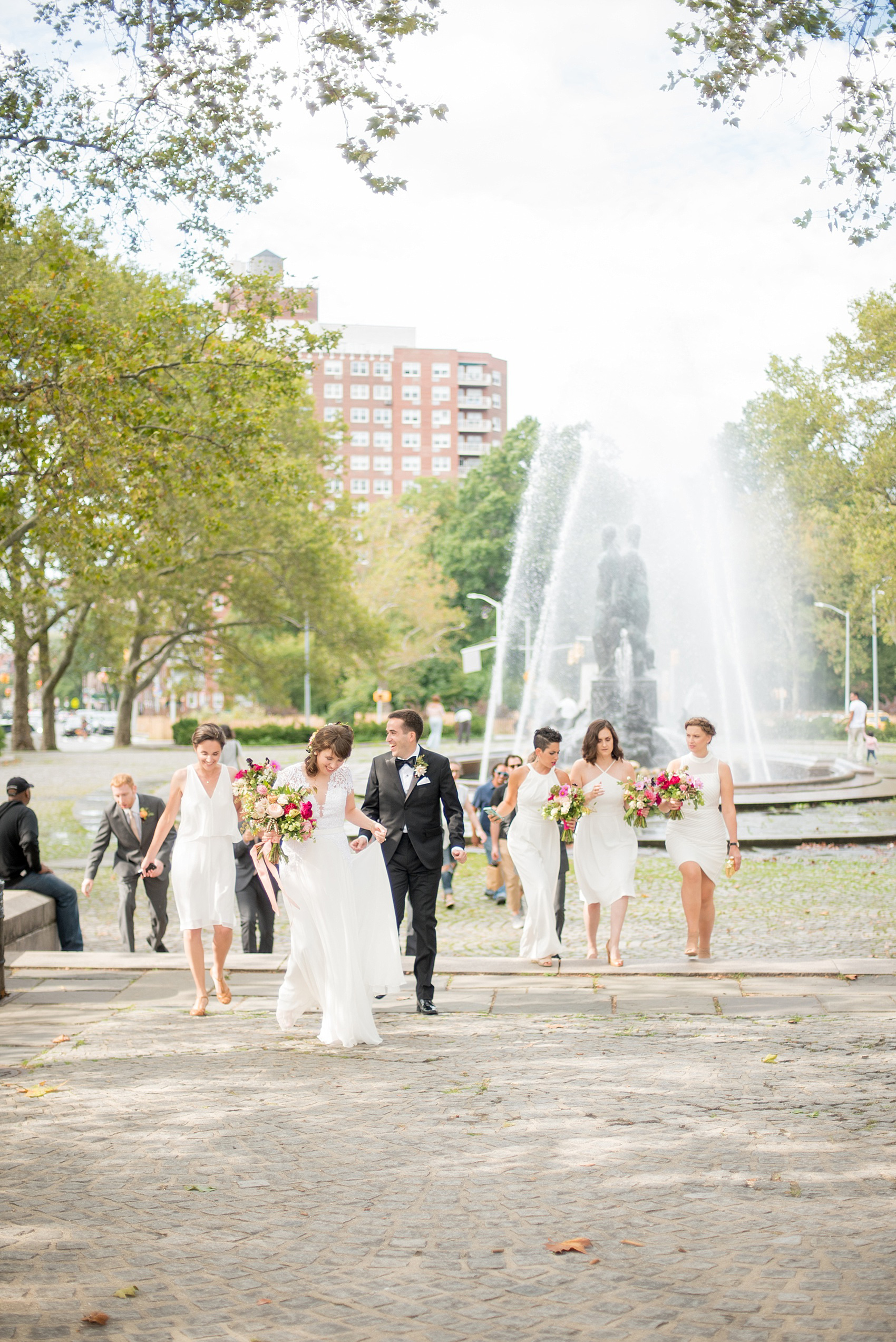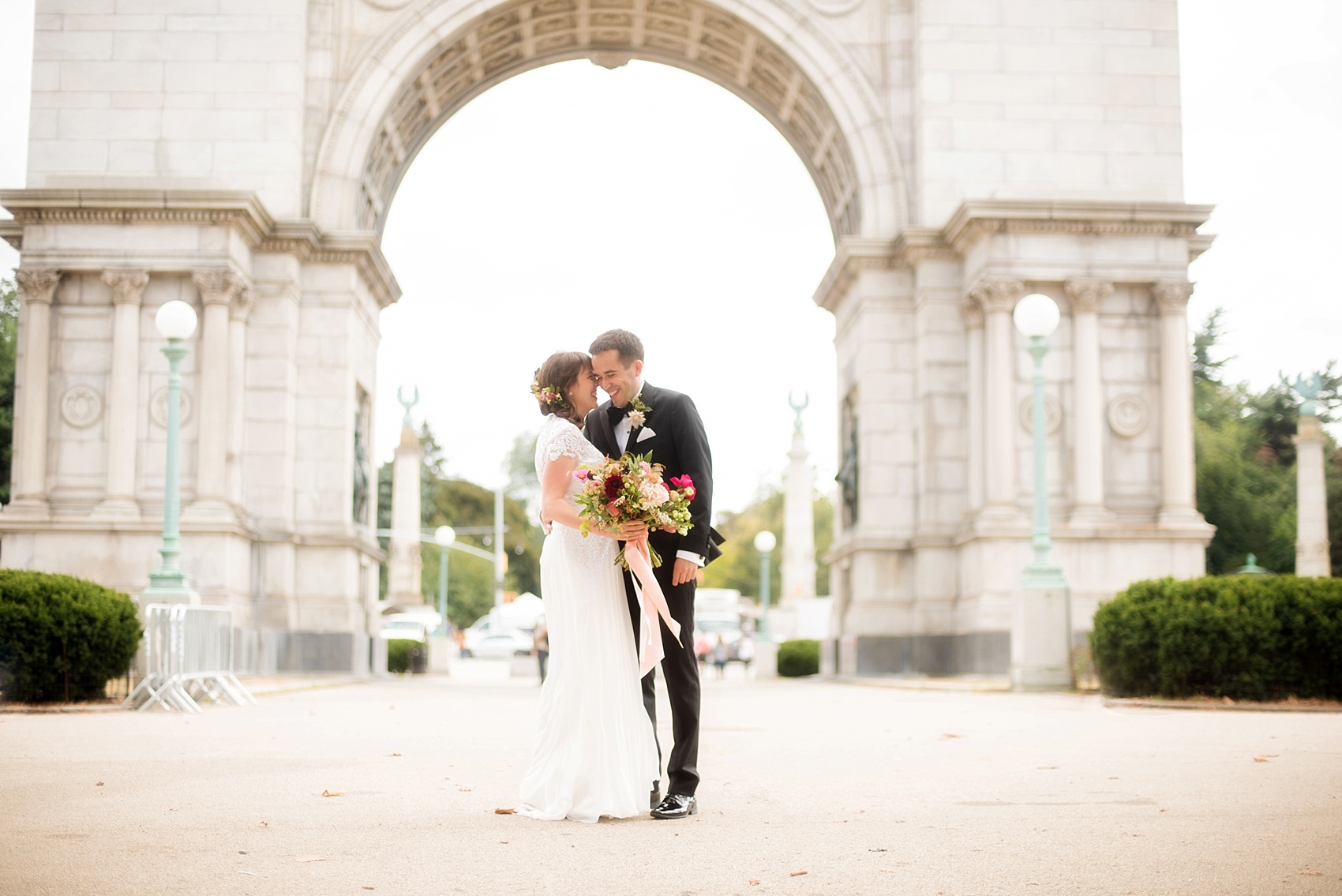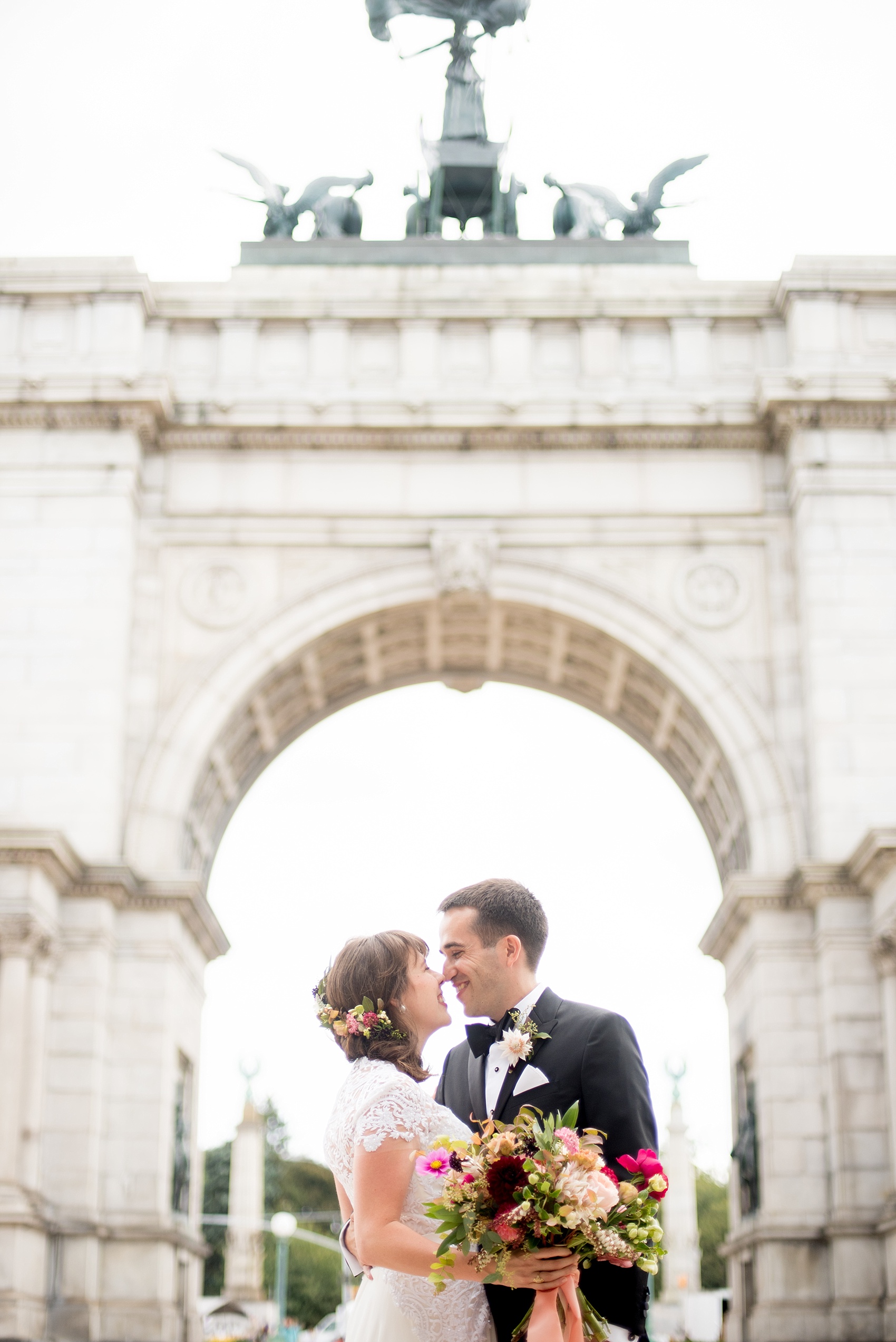 We all hopped in cars and were off to their venue, the beautiful Prospect Park Boathouse, to take some amazing photos of the bridesmaids (all in white, which I adored…especially two days before Labor Day!) and groomsmen with Rachel and Joe.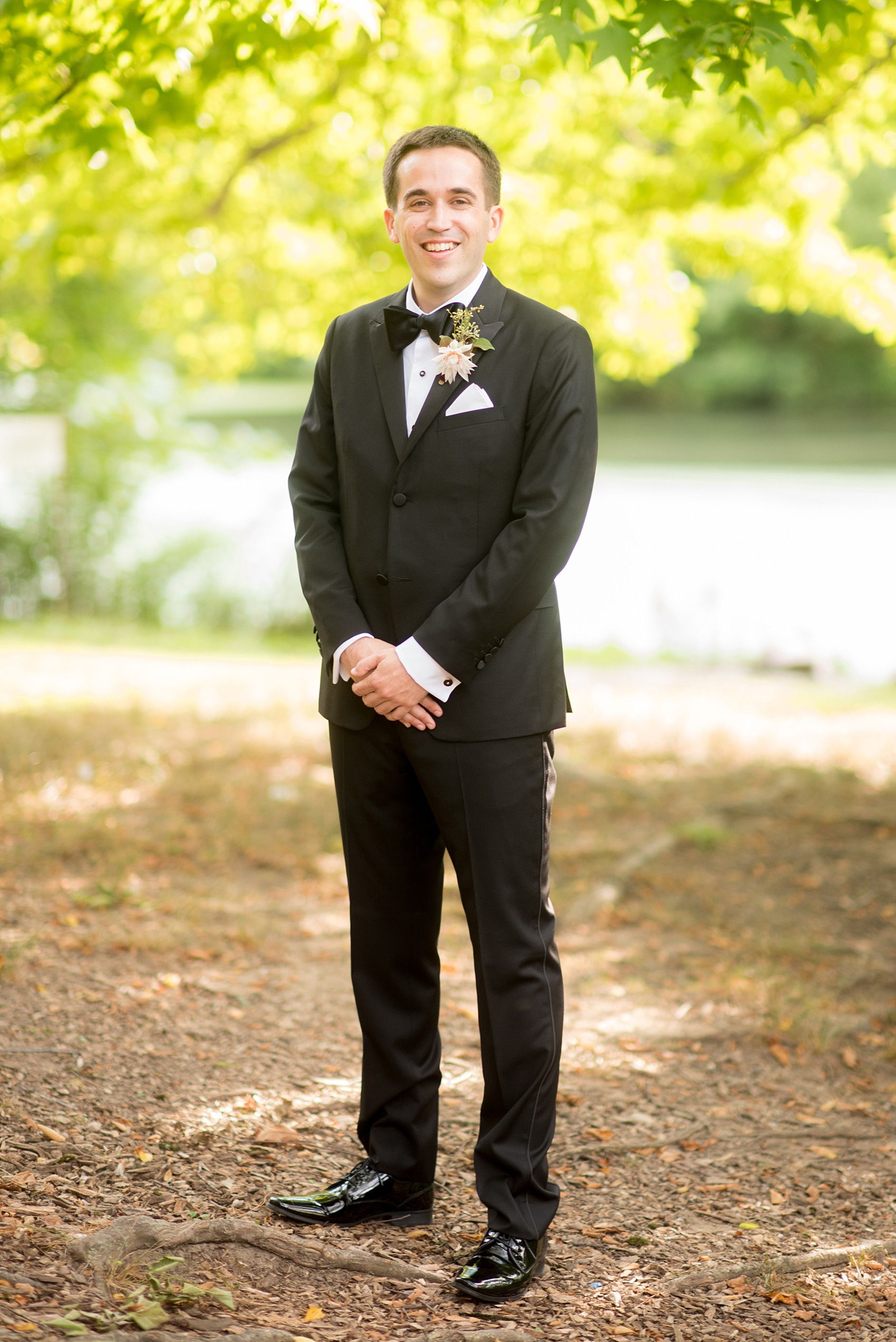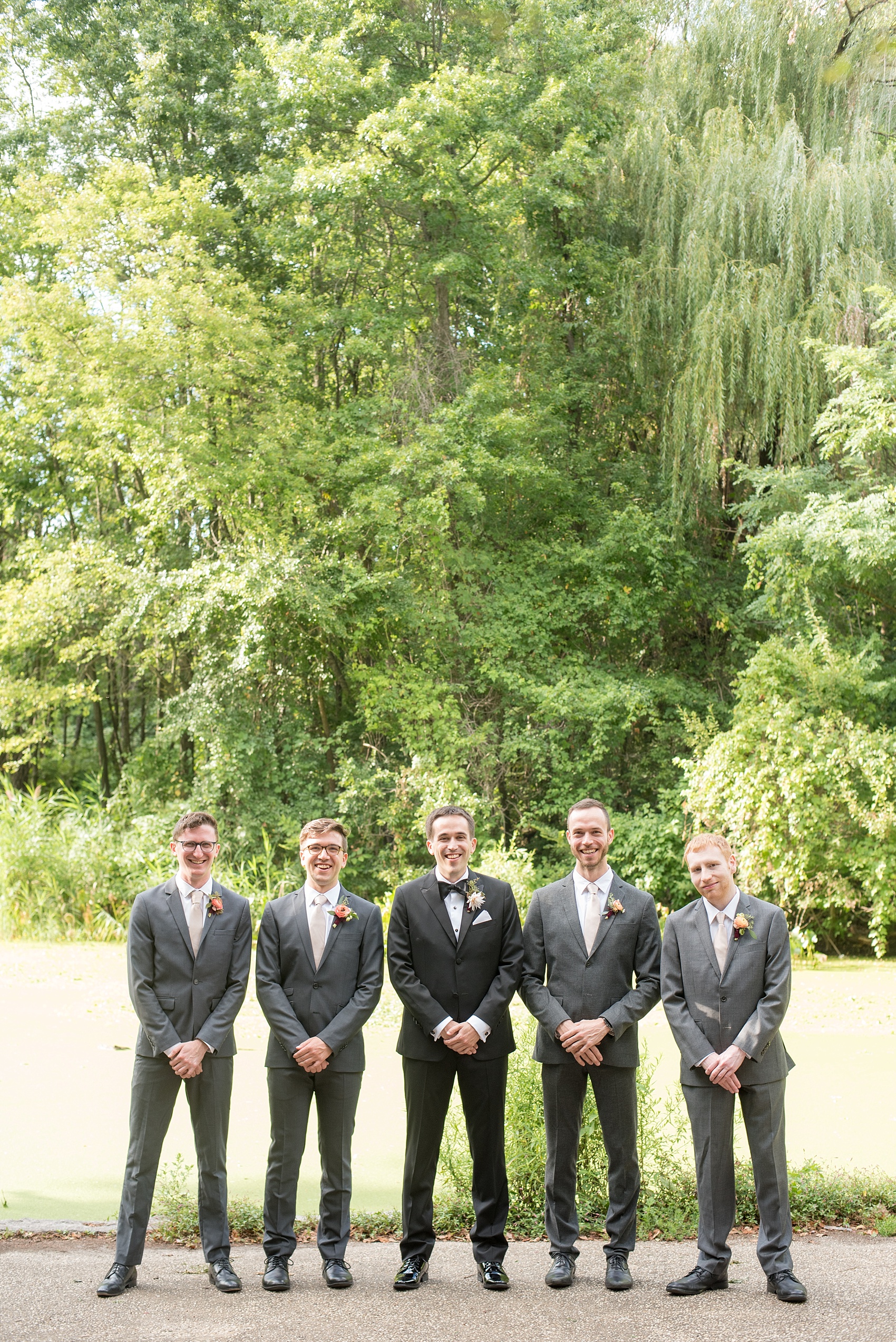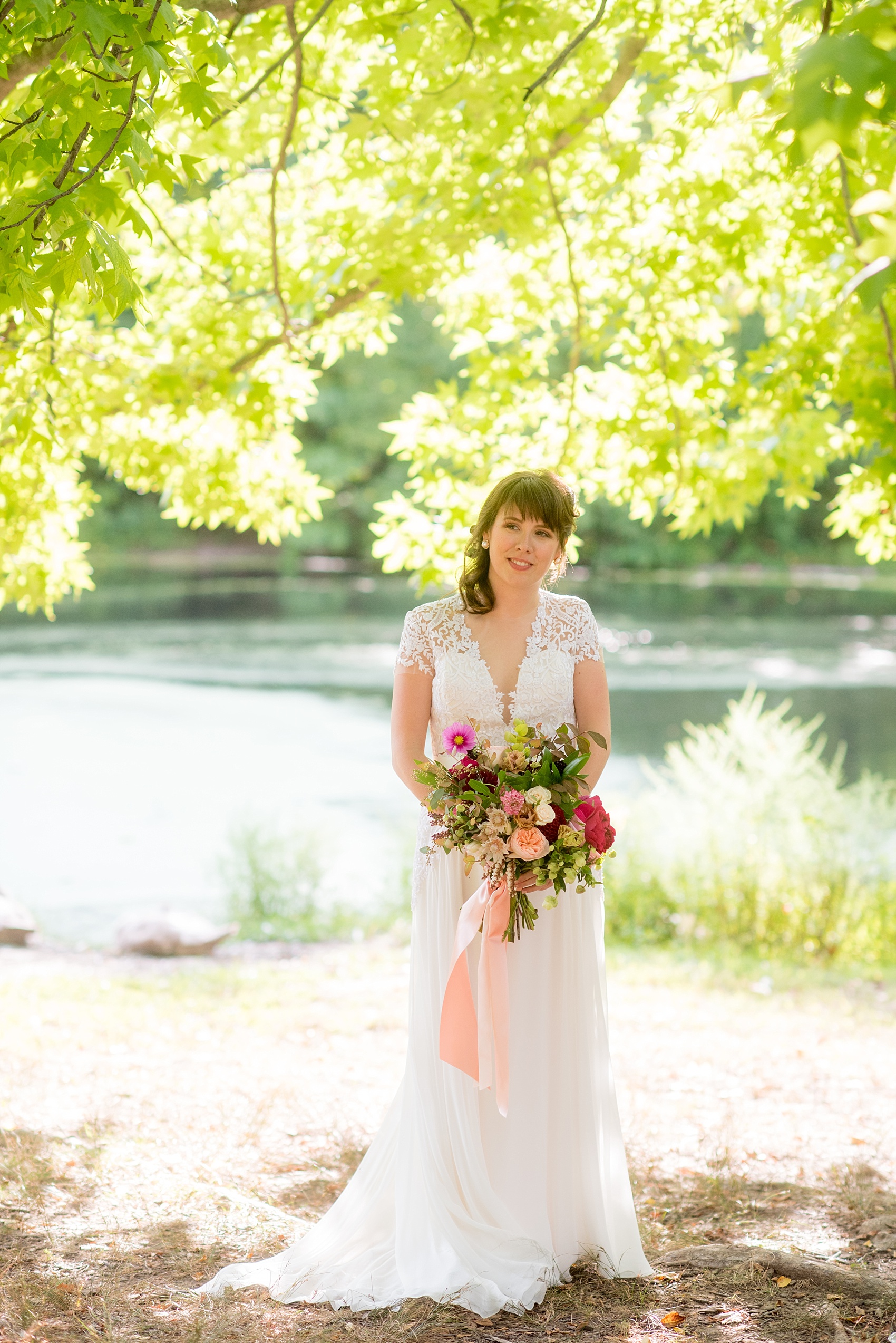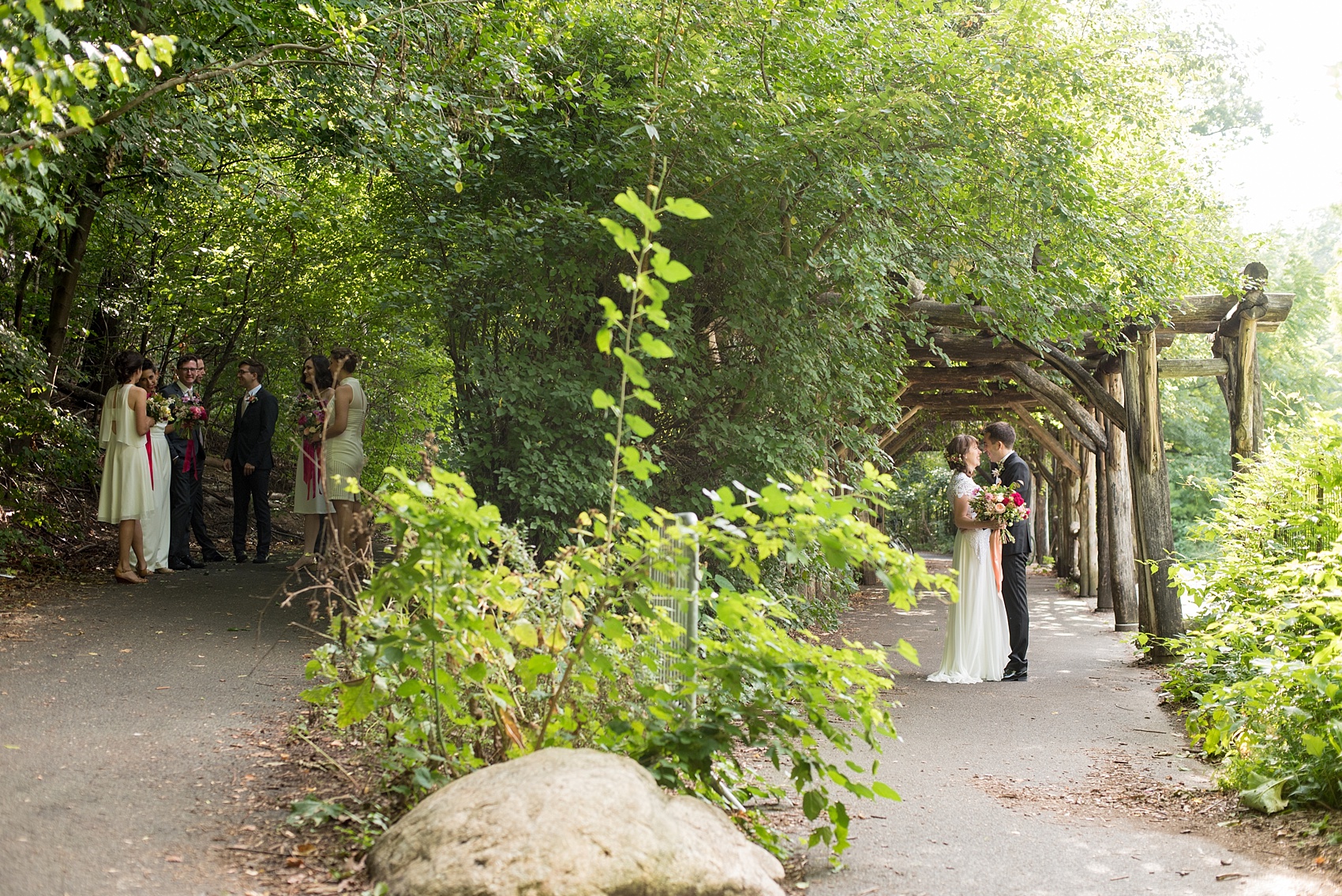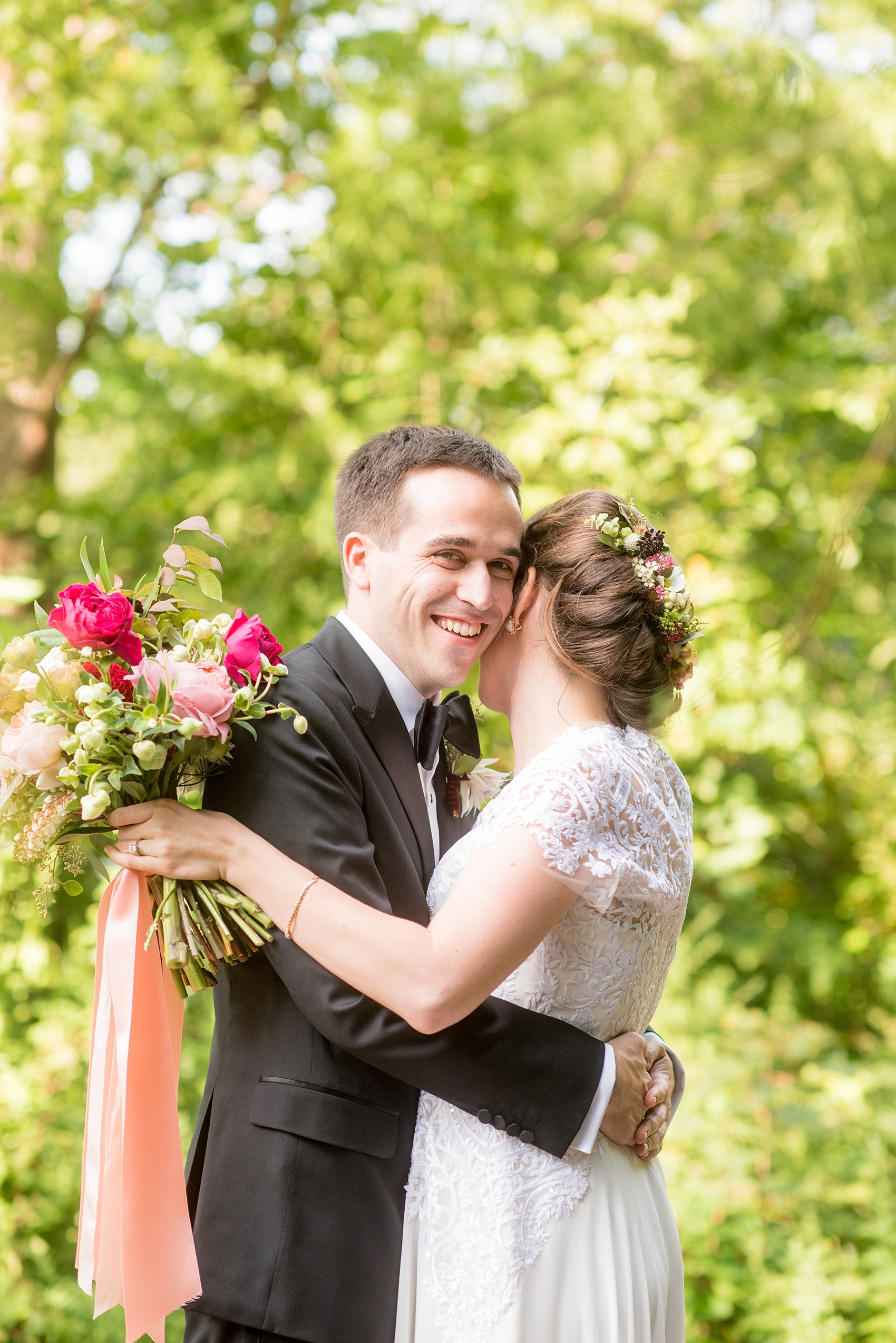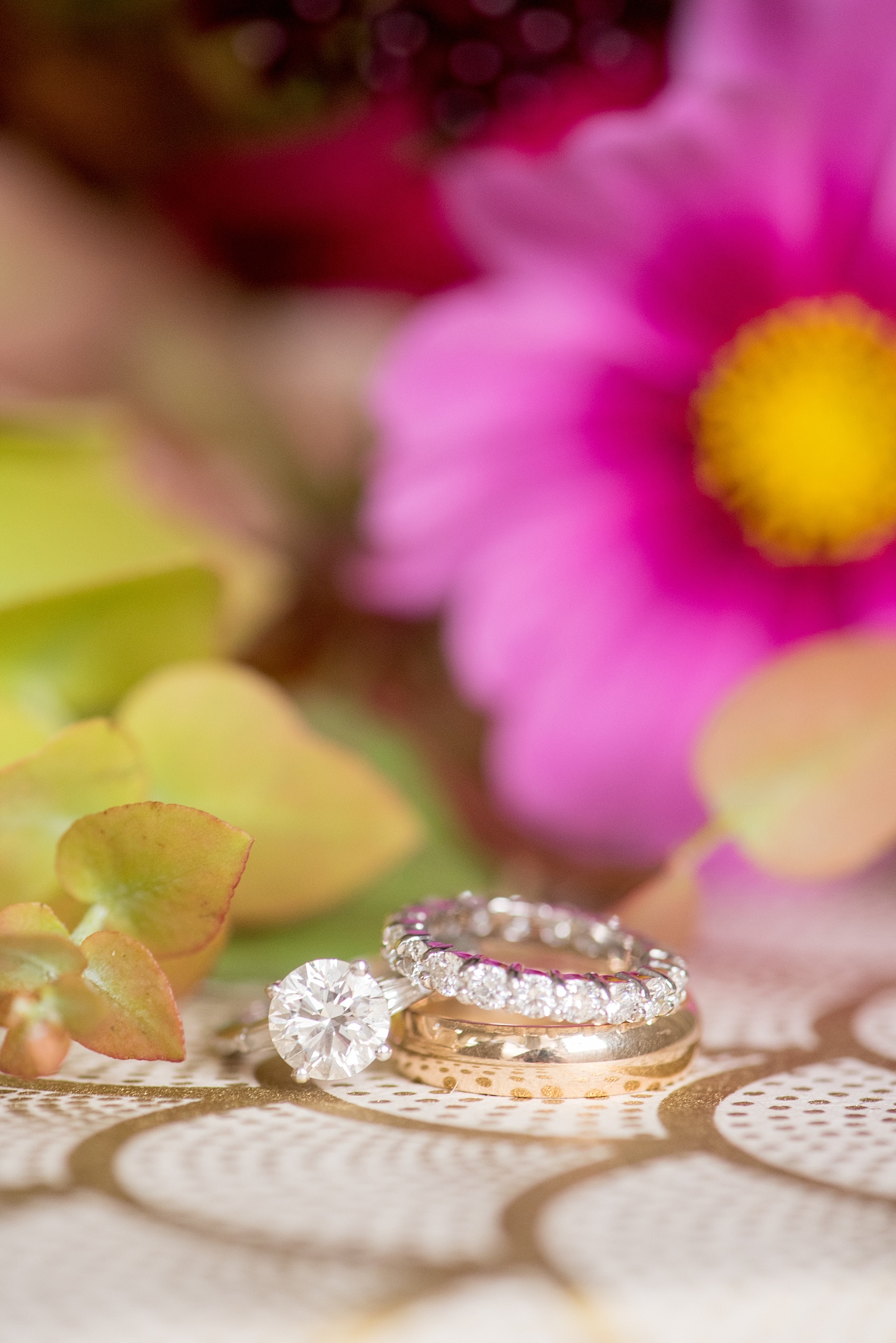 Their wedding rings were a diamond eternity band and gold band for Joe. For a subtle detail I captured the rings with the bridal bouquet behind it and placed them on top of one of the mom's officiant book for their ceremony.
This very Vogue-like wedding party photos is one of my favorites!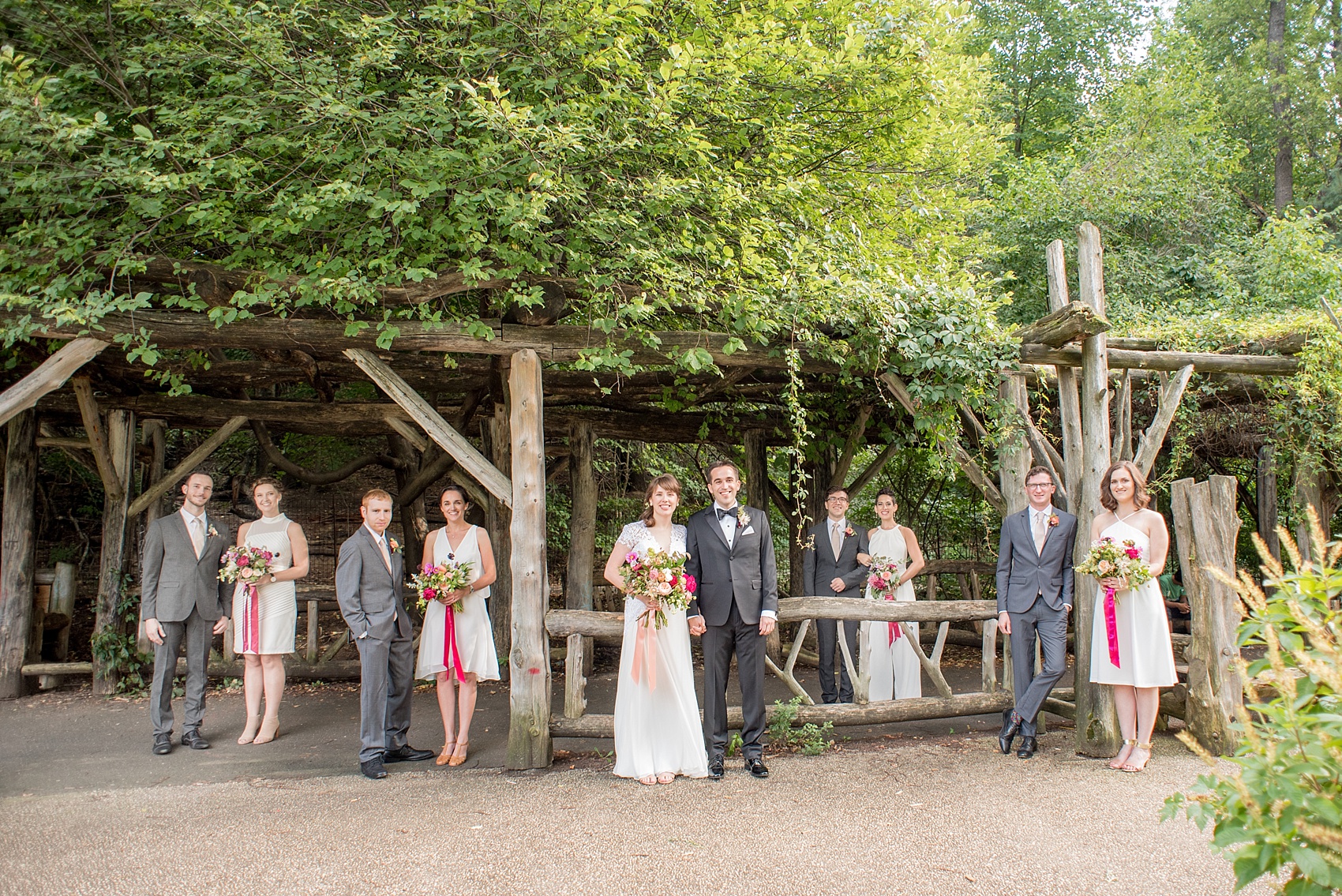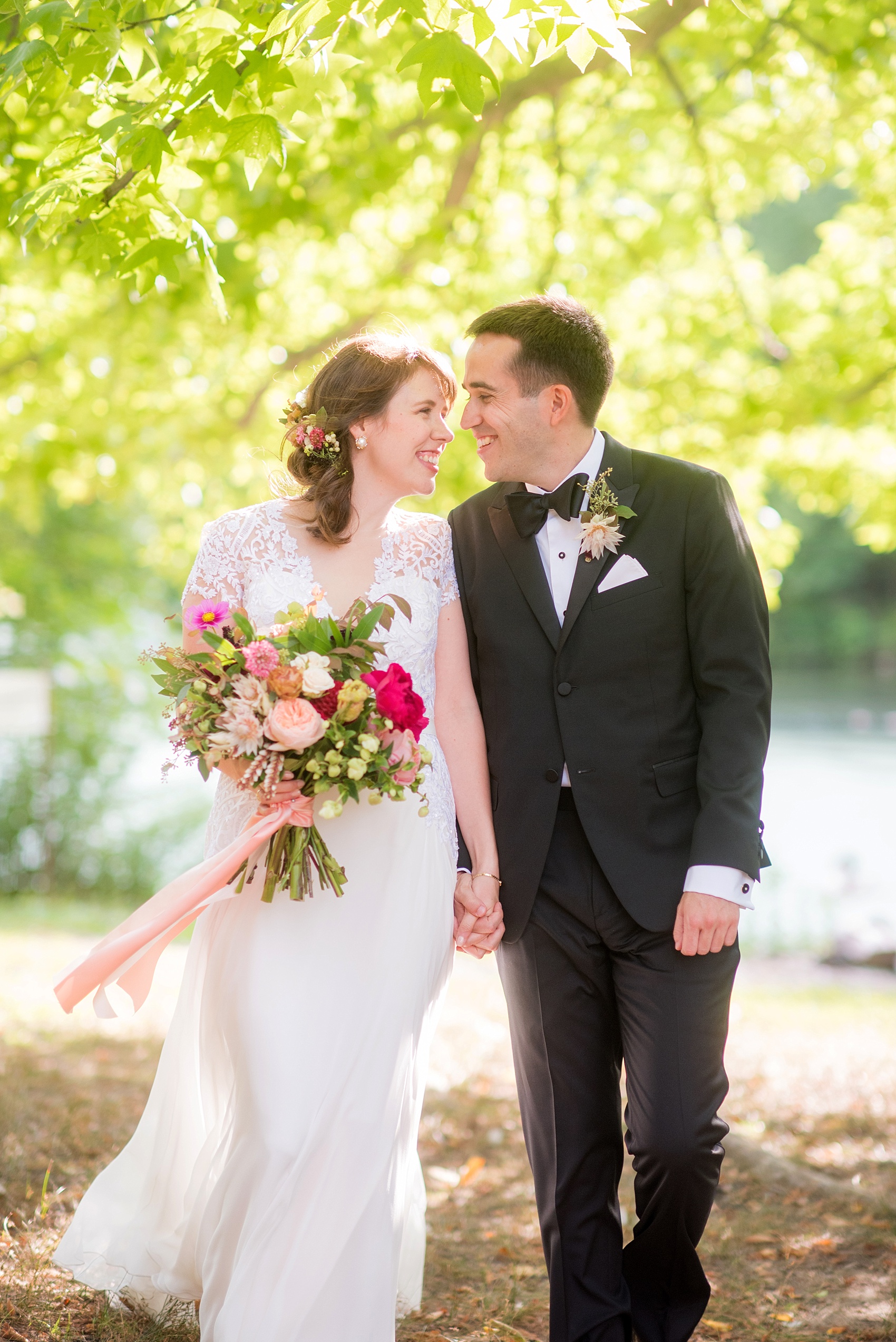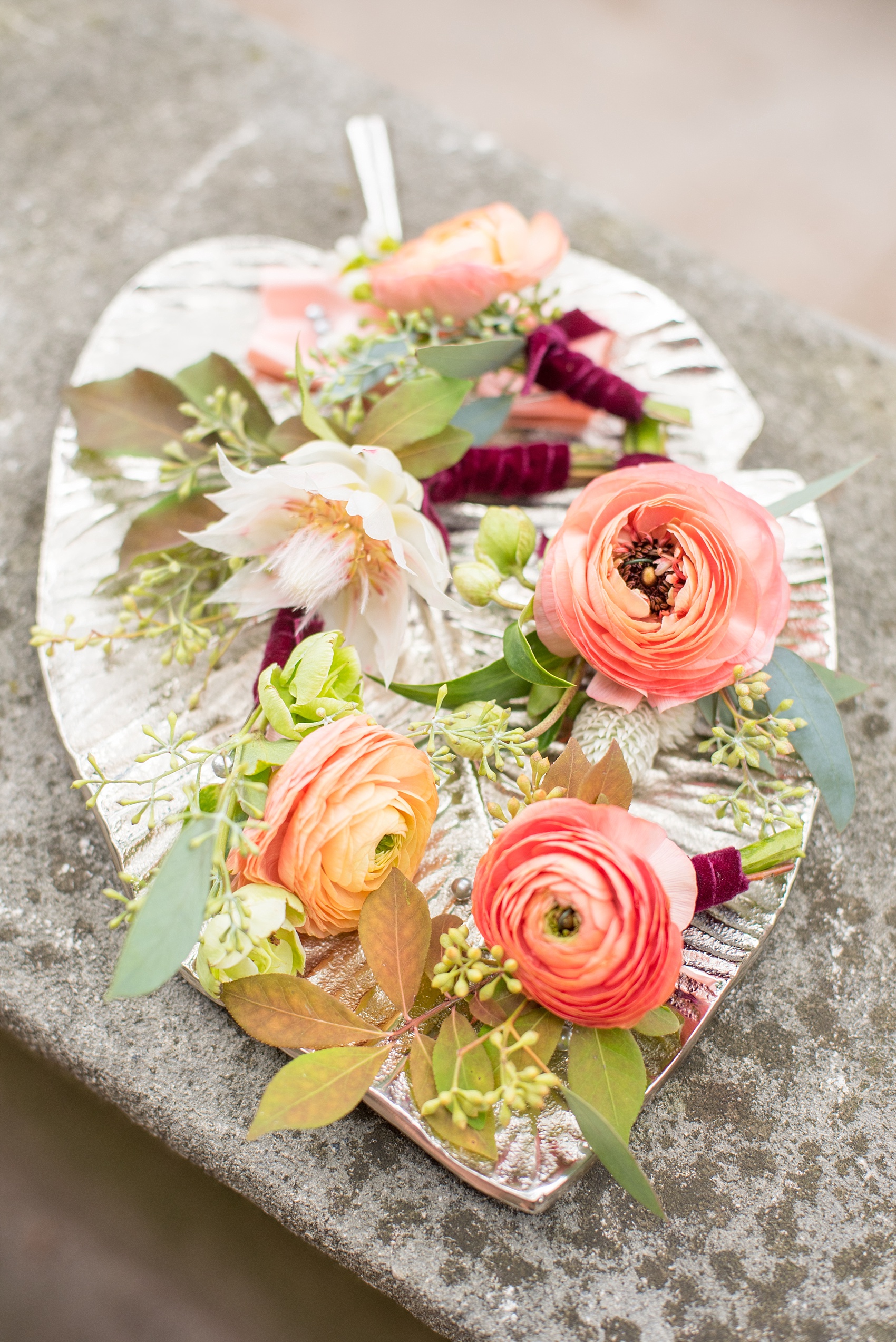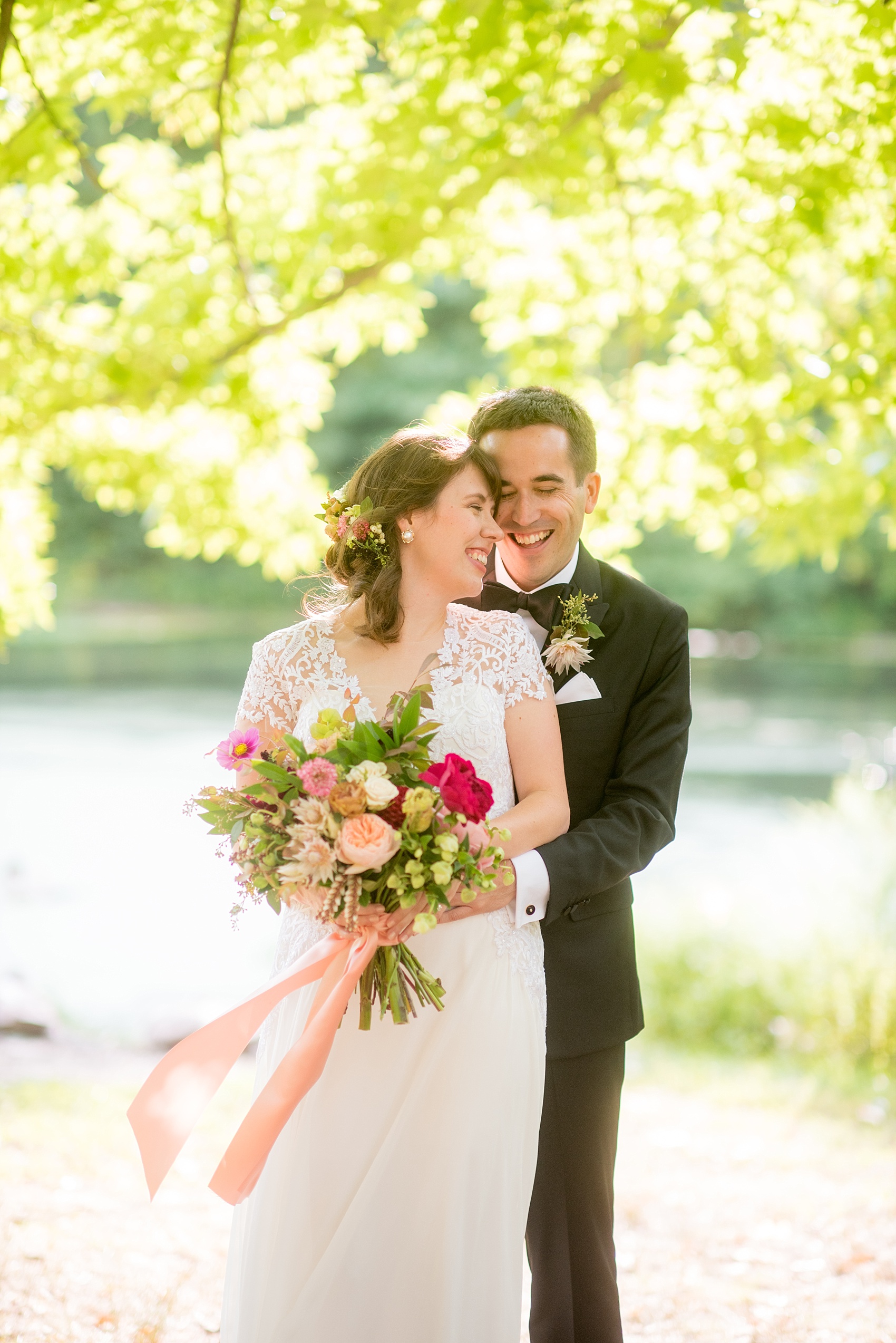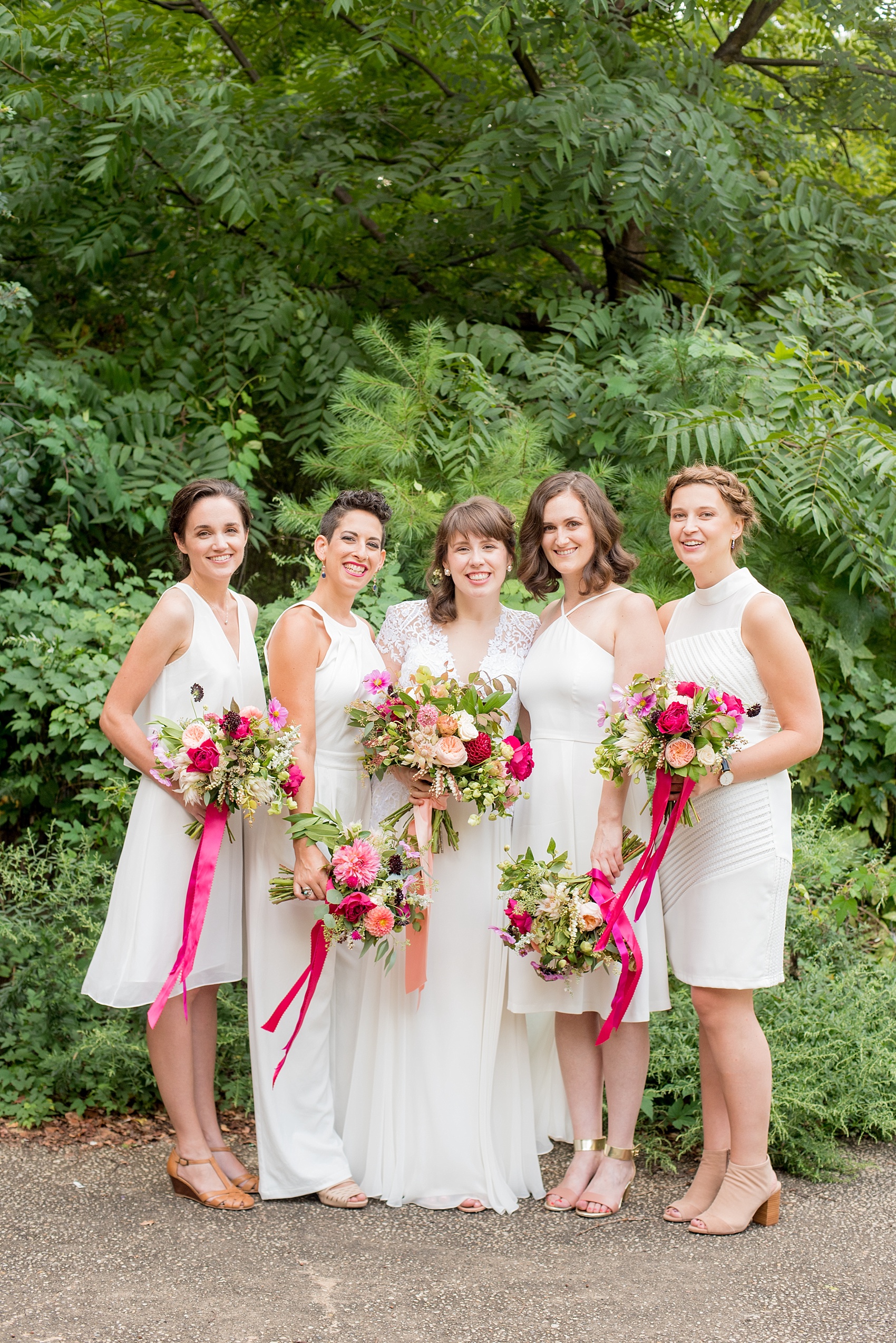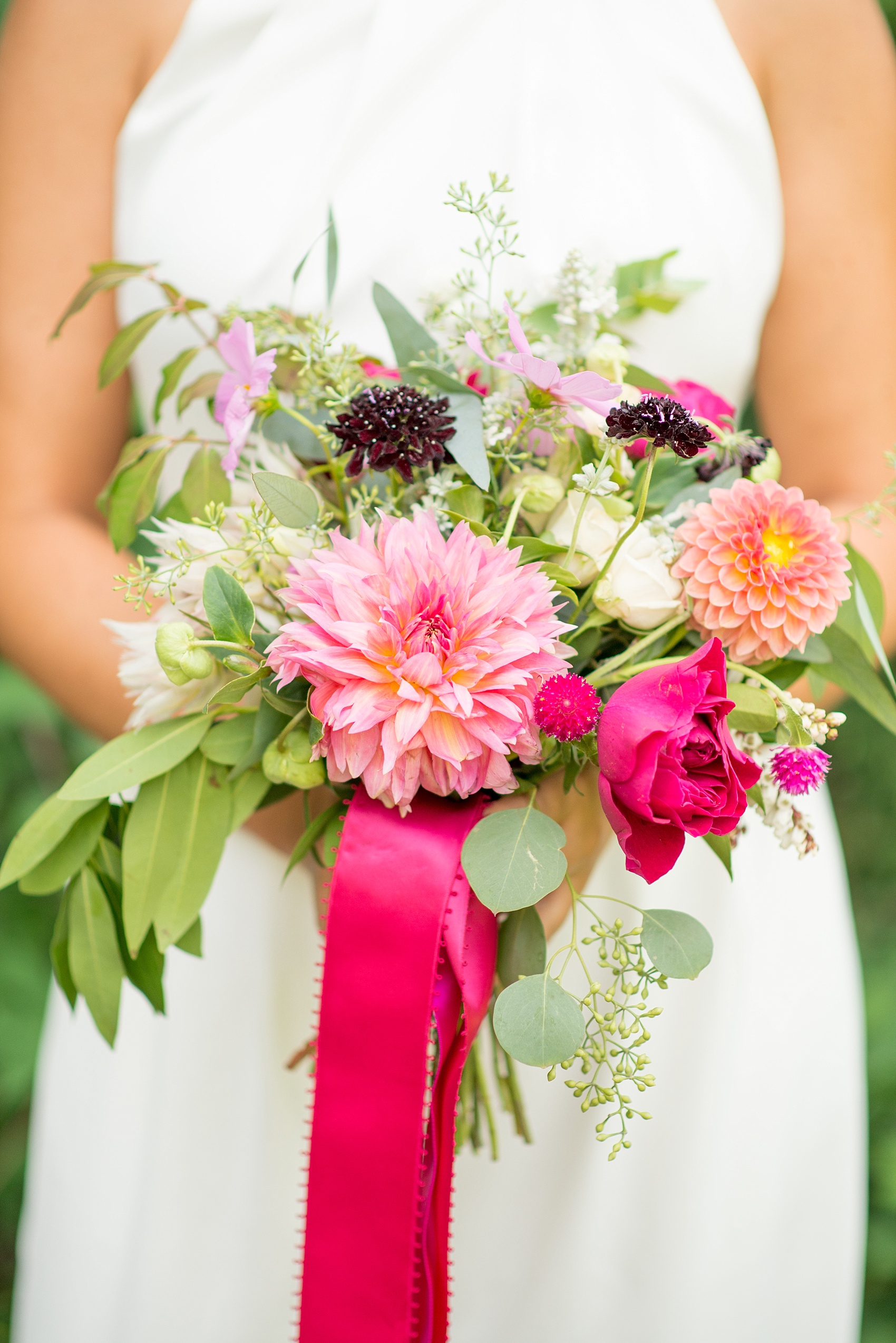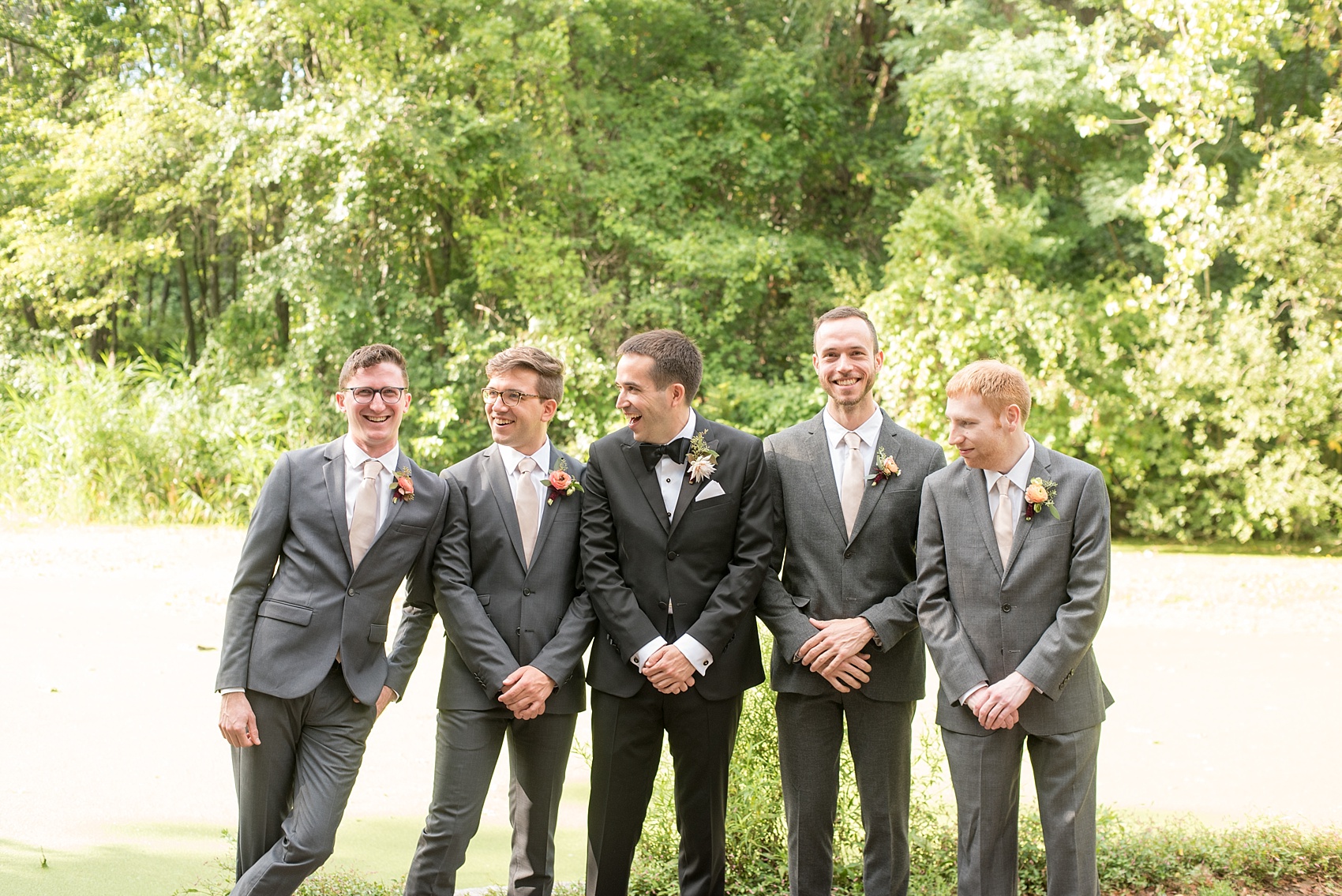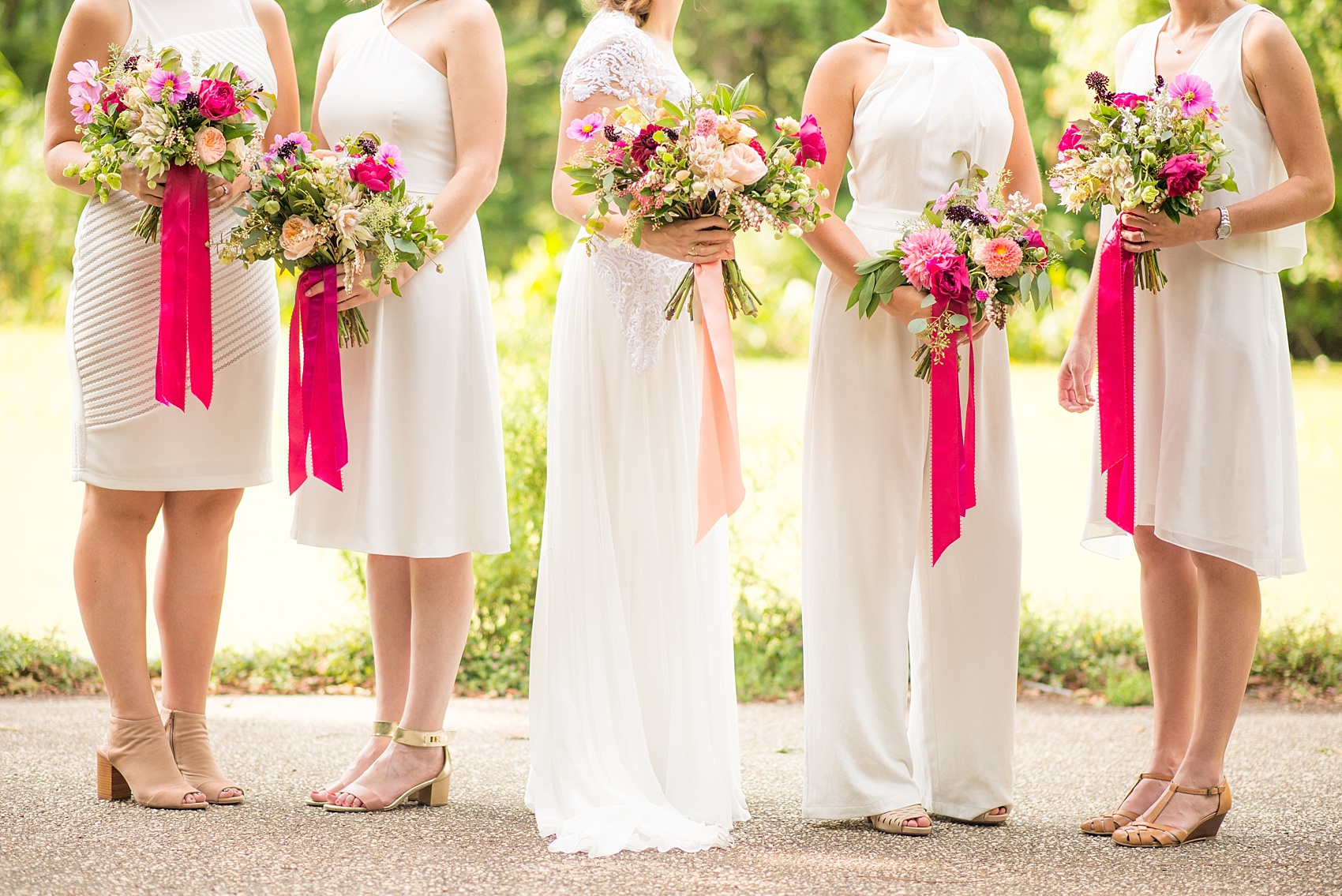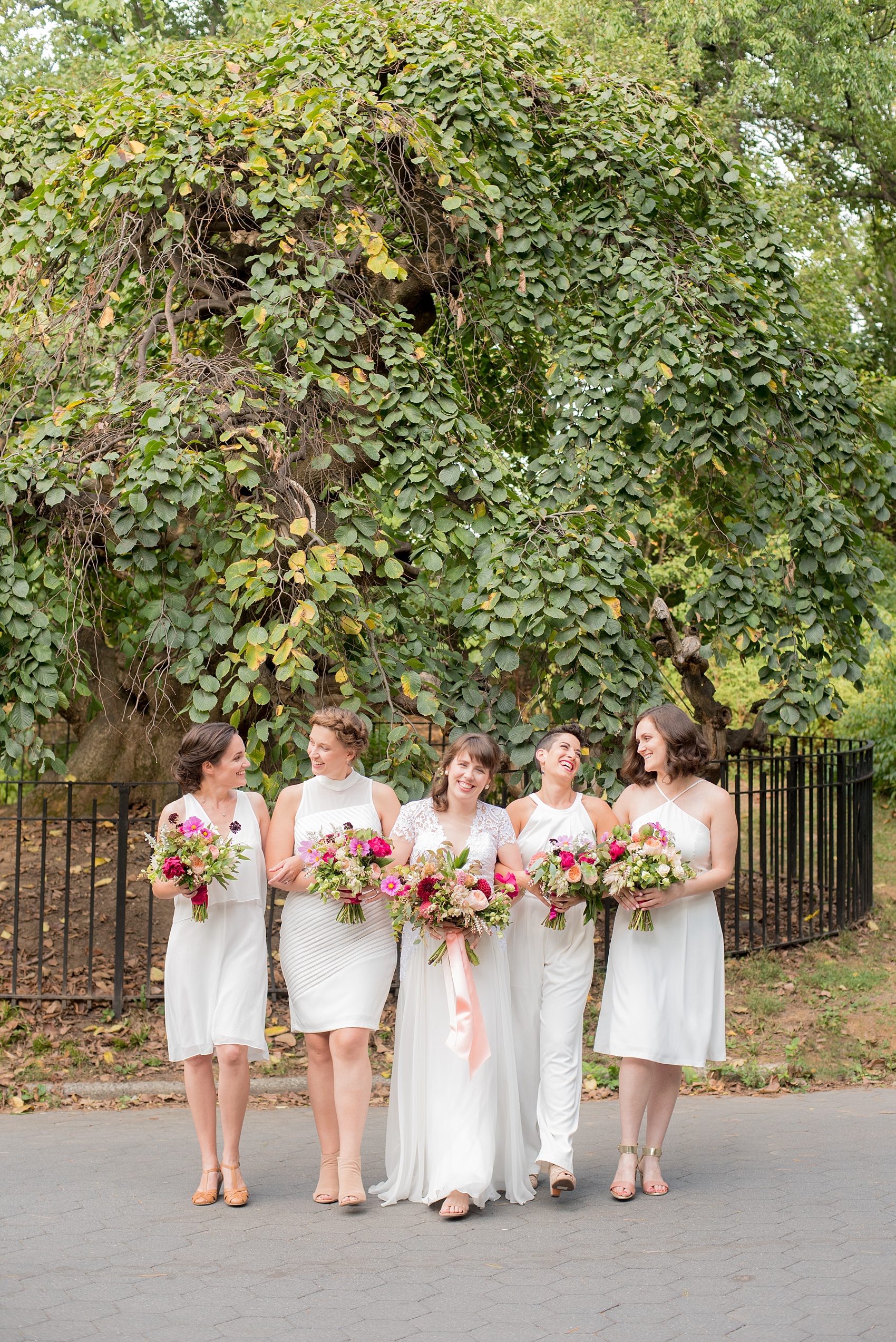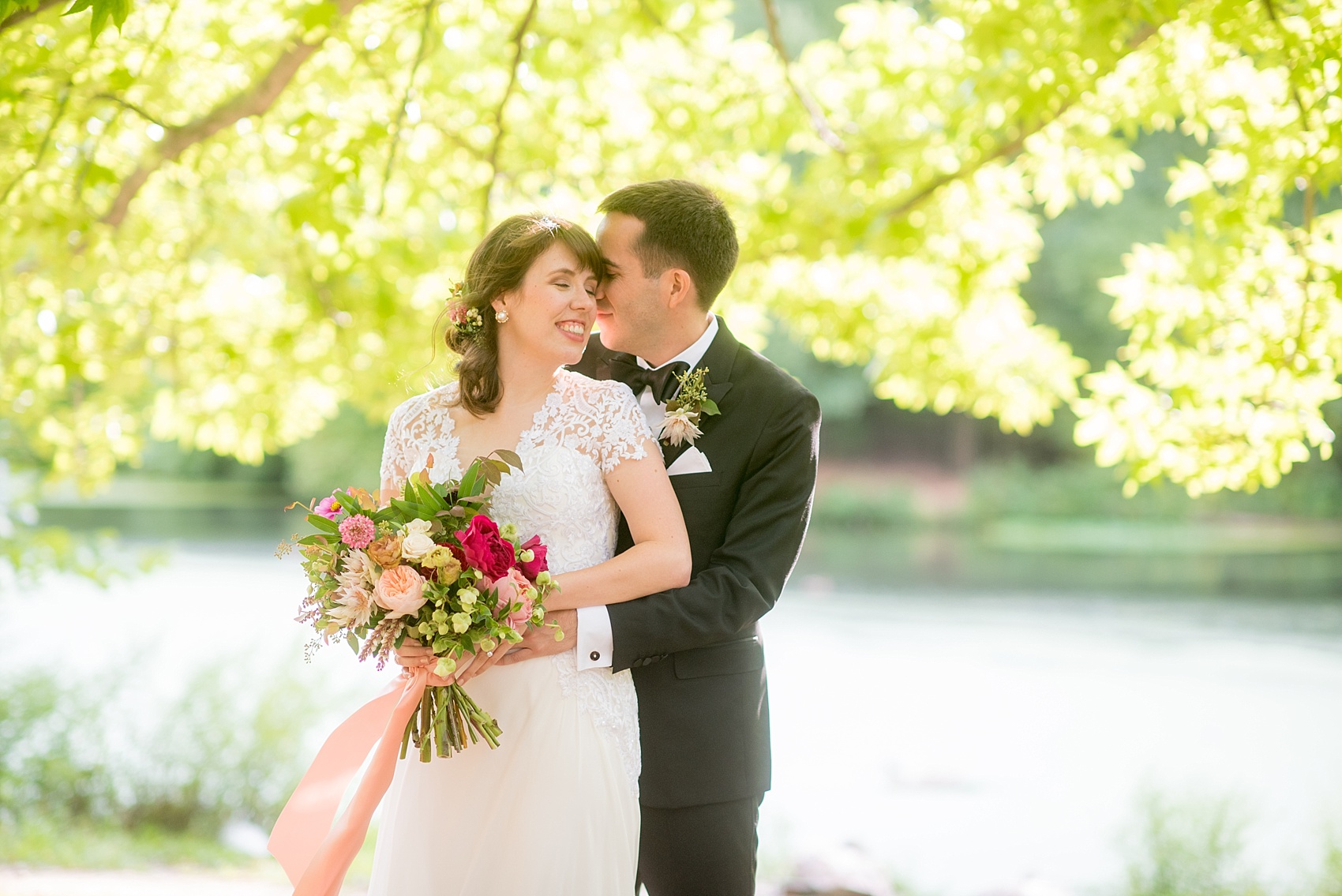 How cute are all their smiles and laughter? The weather gave us some soft summer breezes that helped move the ladies' dresses and ribbons on their bouquets.
If I didn't mention I loved the all-white look Rachel created…I'm emphasizing it again! Because she let them pick their own and they all chose very different styles and cuts. Even the backs of their dresses (and one jumper!) were unique.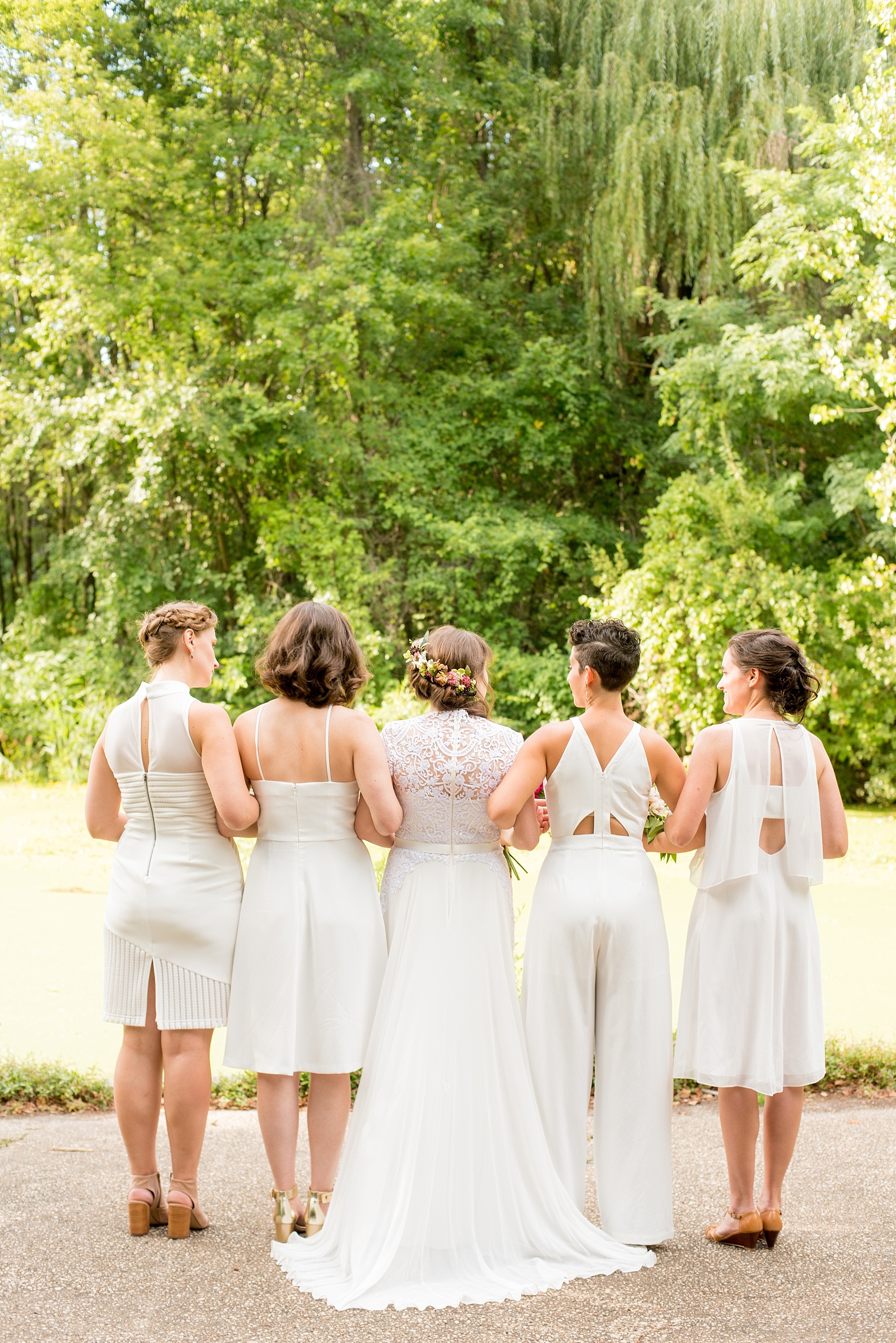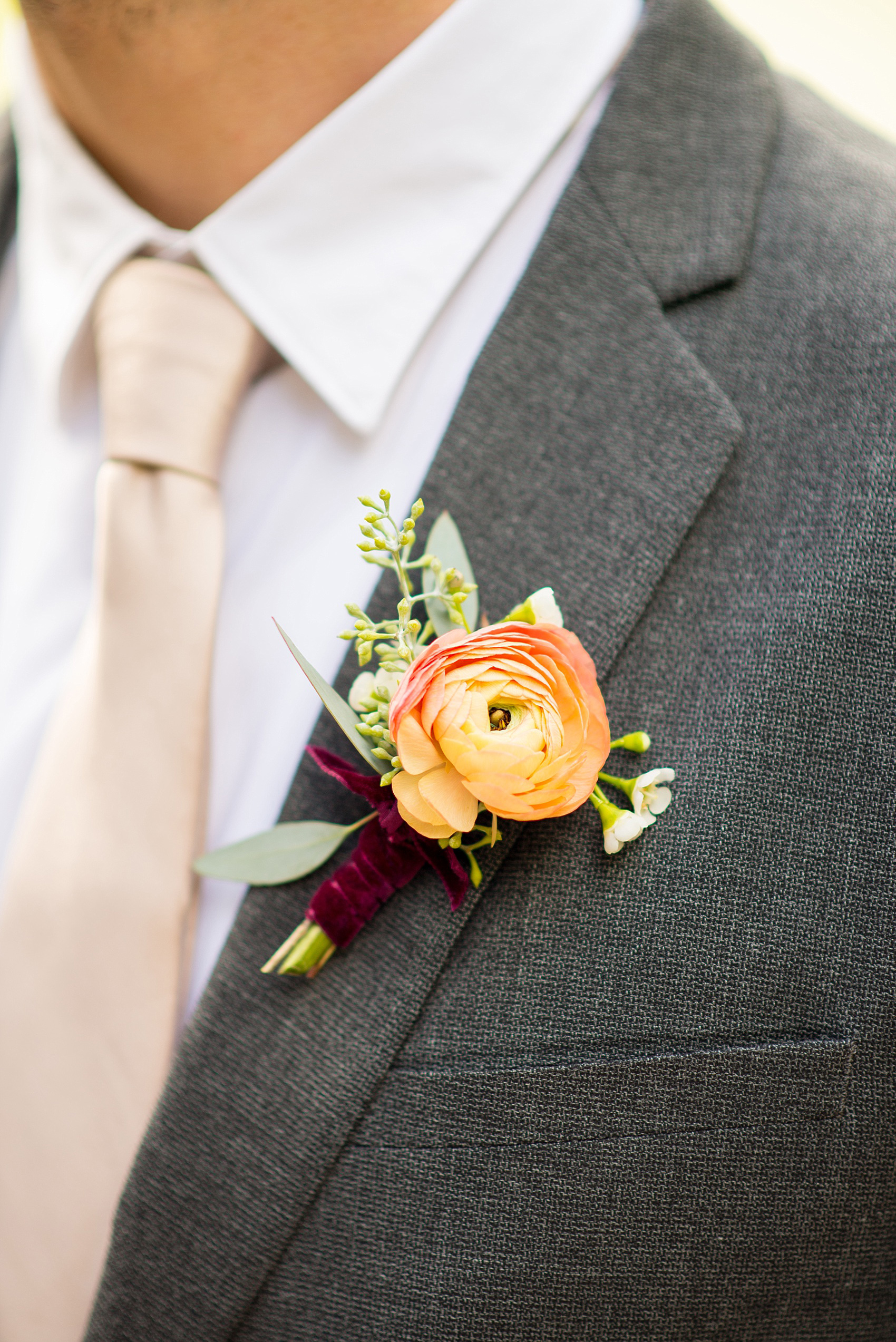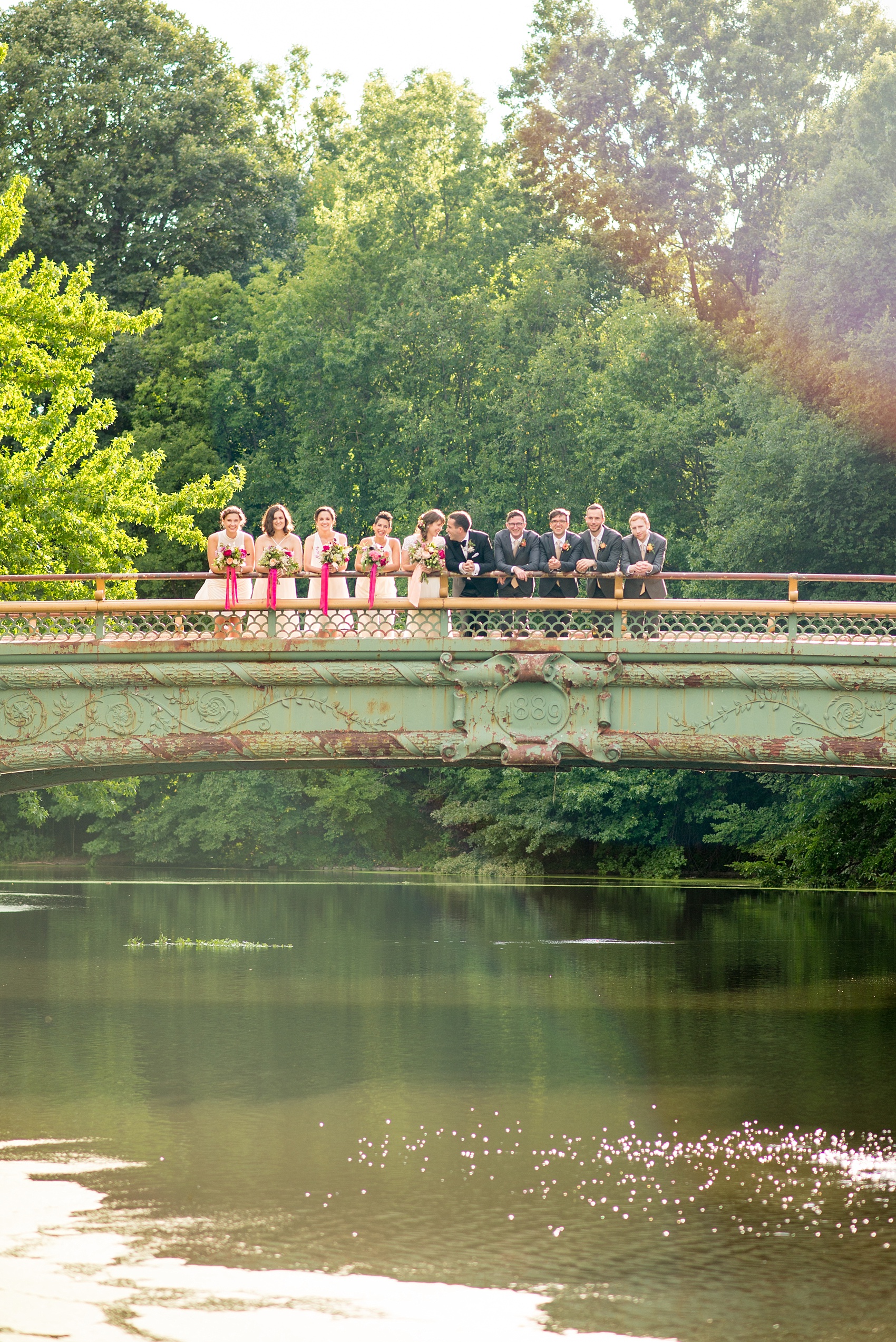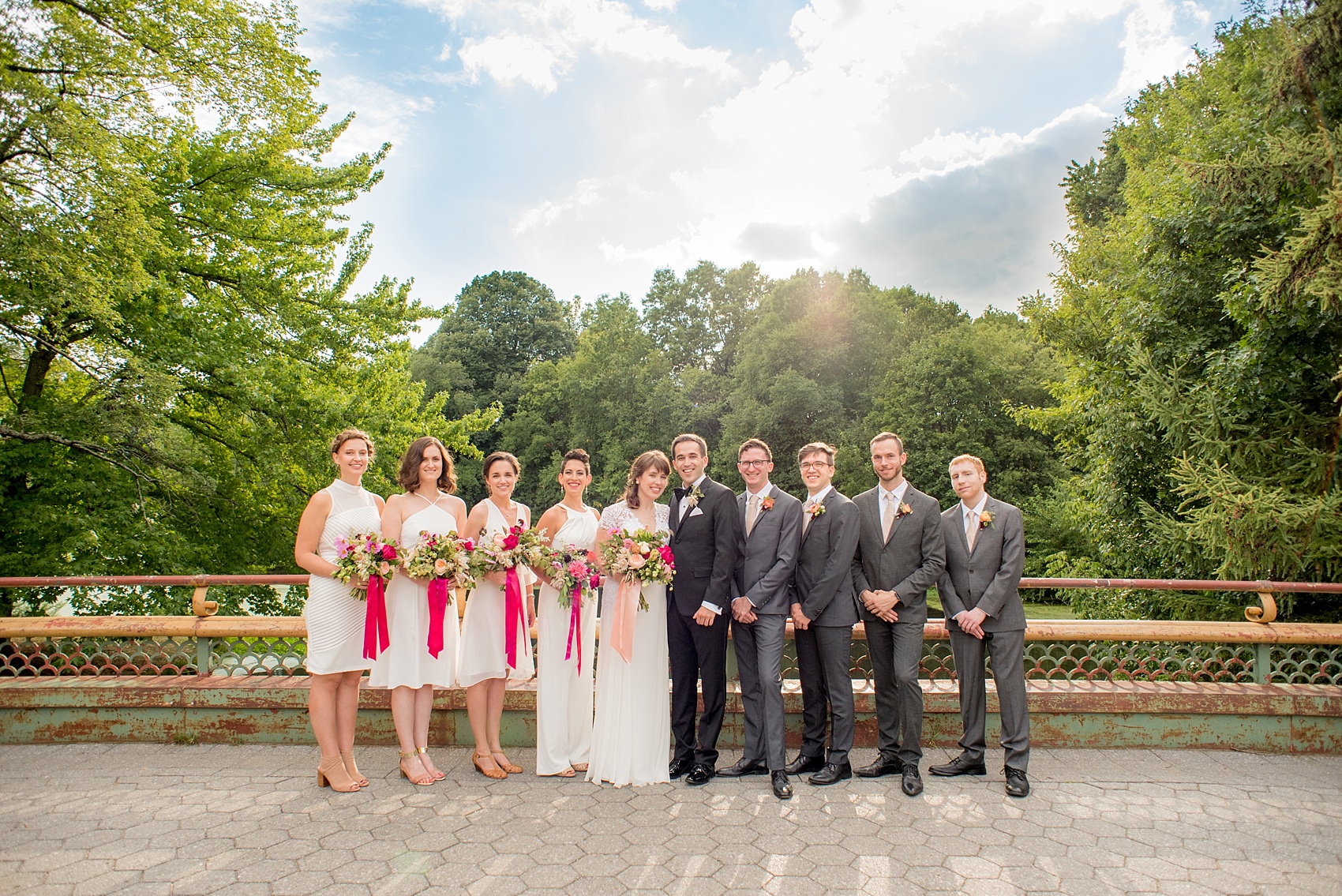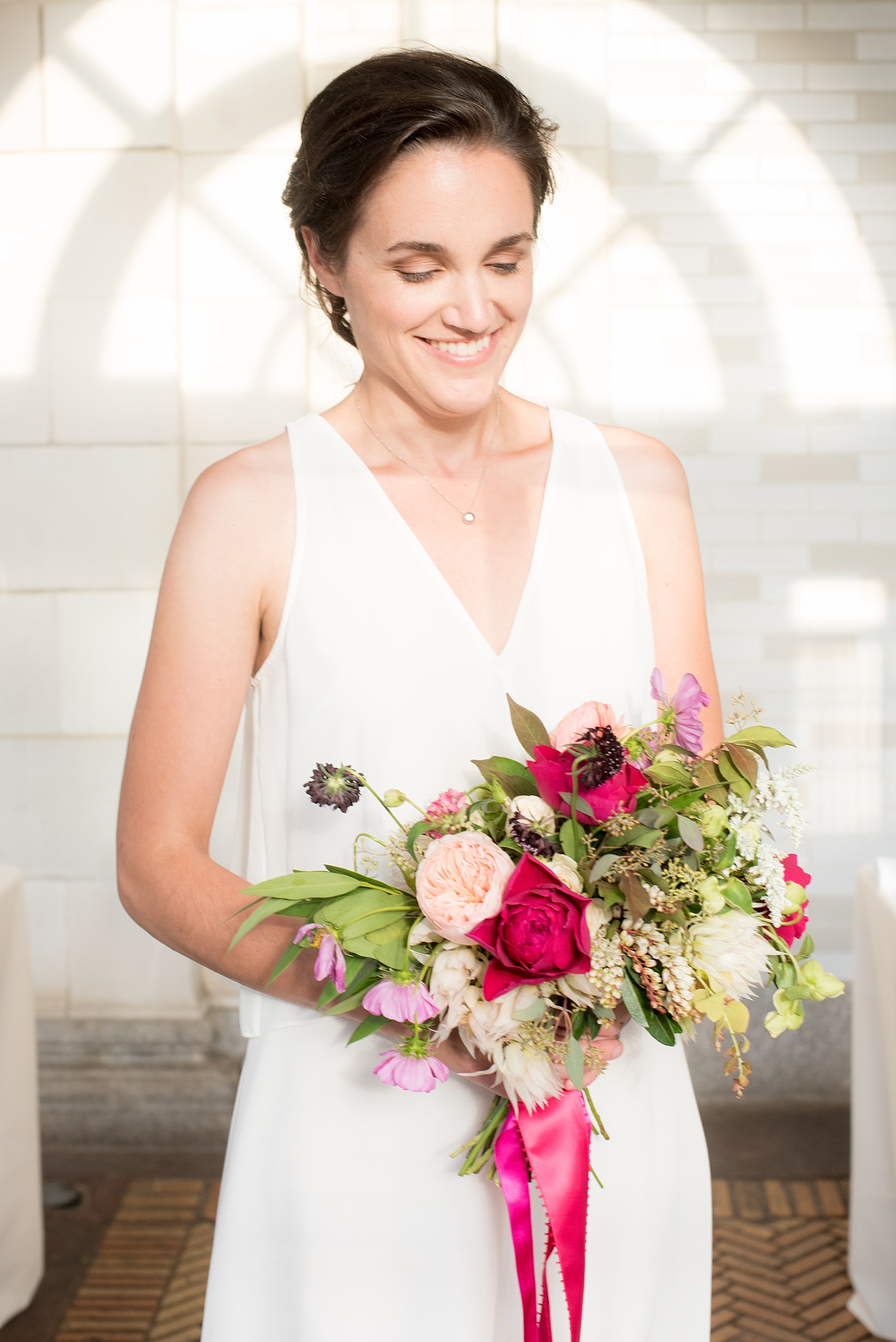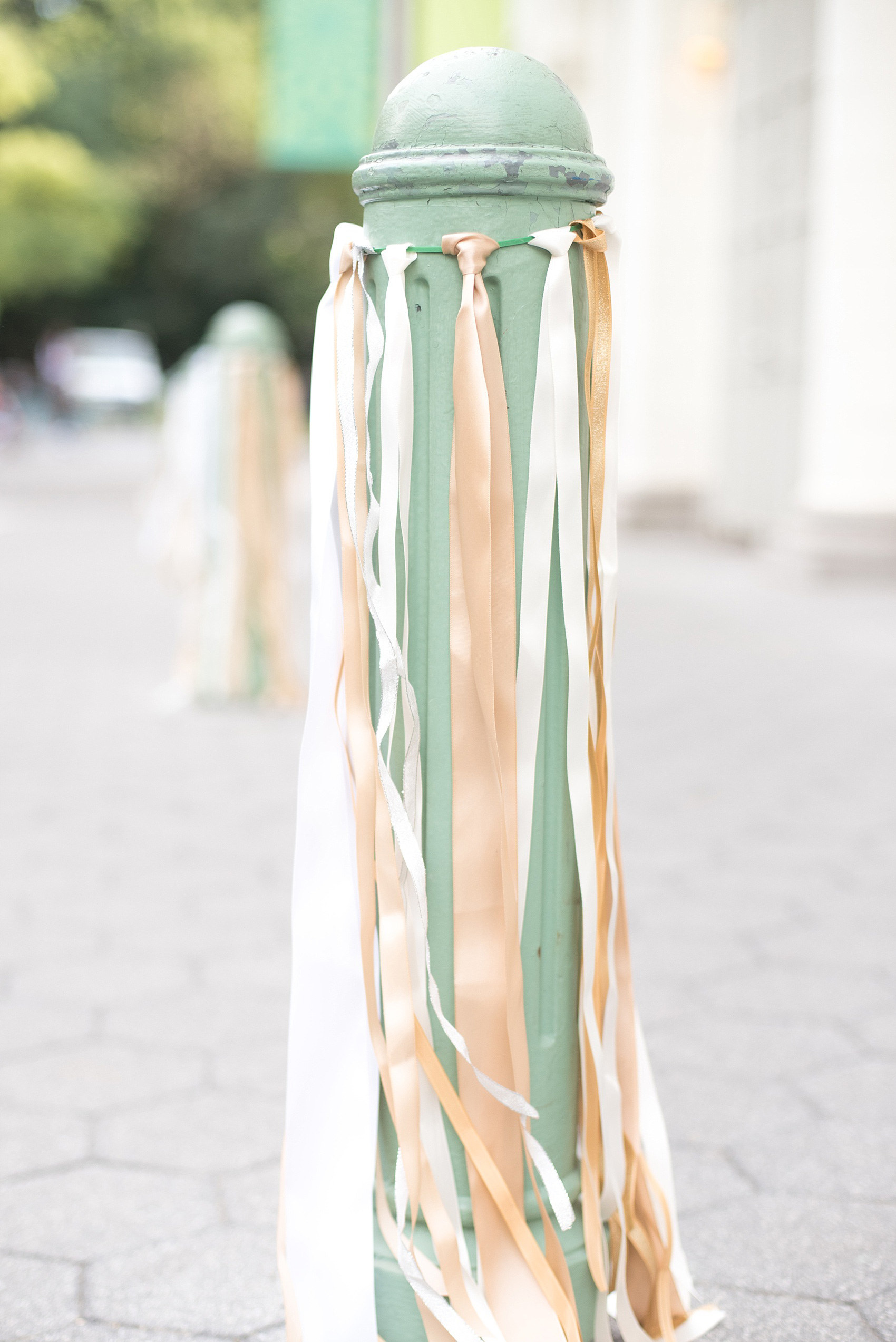 It was soon time to prepare for their ceremony and head inside the venue. It was unexpected and welcome that when we walked from the bridge to the boathouse these ribbons were attached to the pylons outside. It was such a cute detail I'd never seen before that made a big impact.
Emma put the finishing touches on their wedding cake that she'd been working hard on for a while…and before we knew it they were pronounced husband and wife, walking back down the aisle to a festive lavender toss, and it was time to party!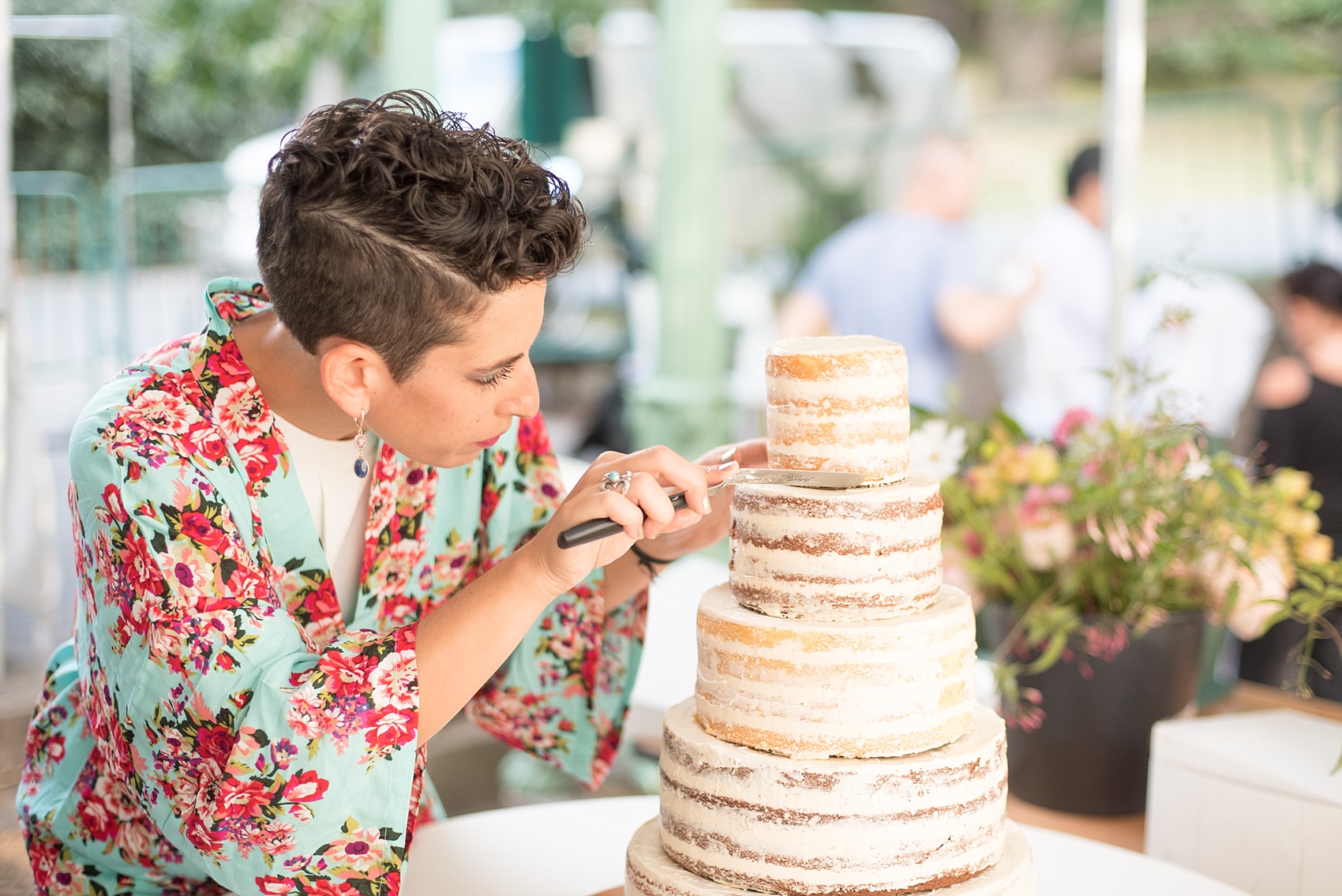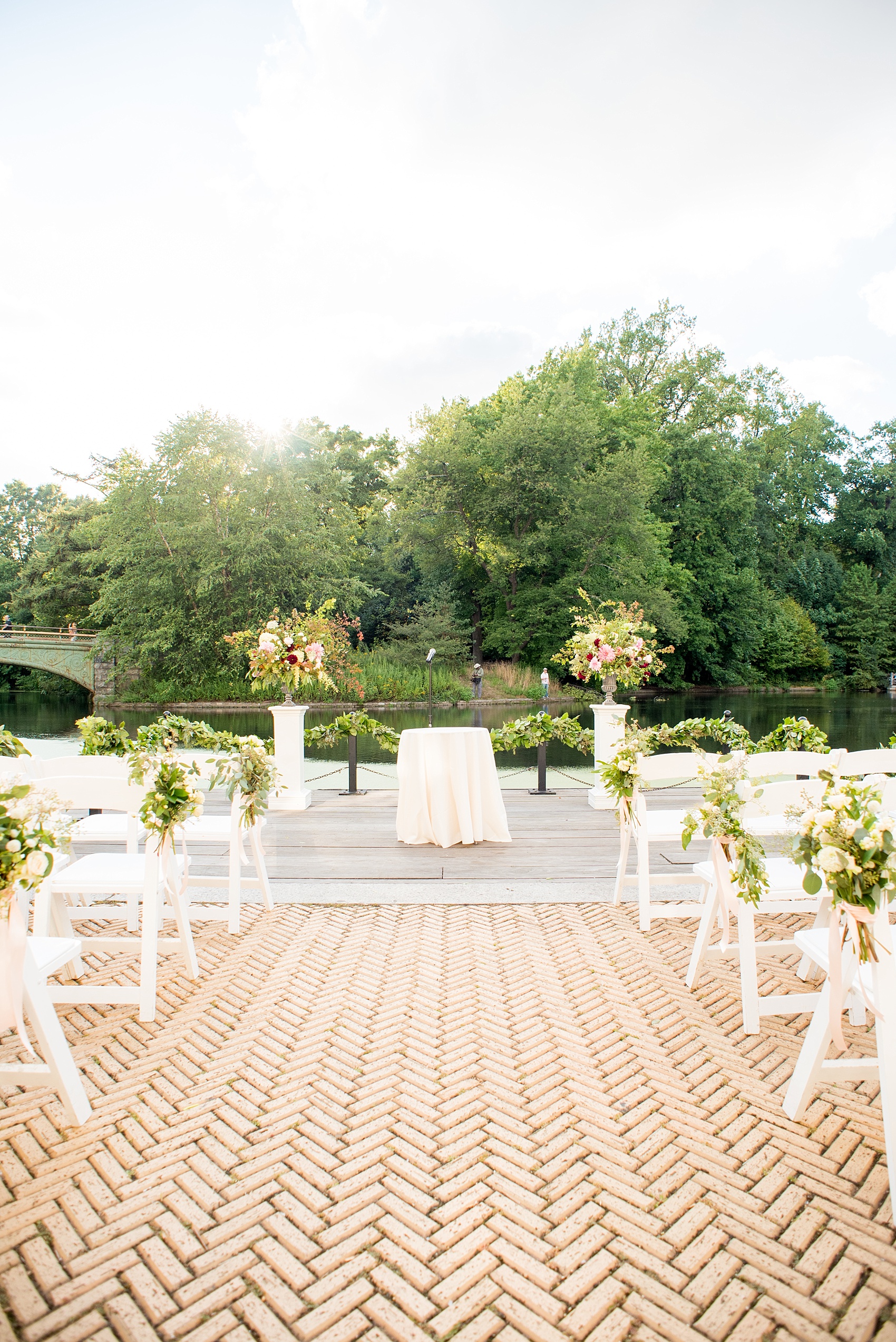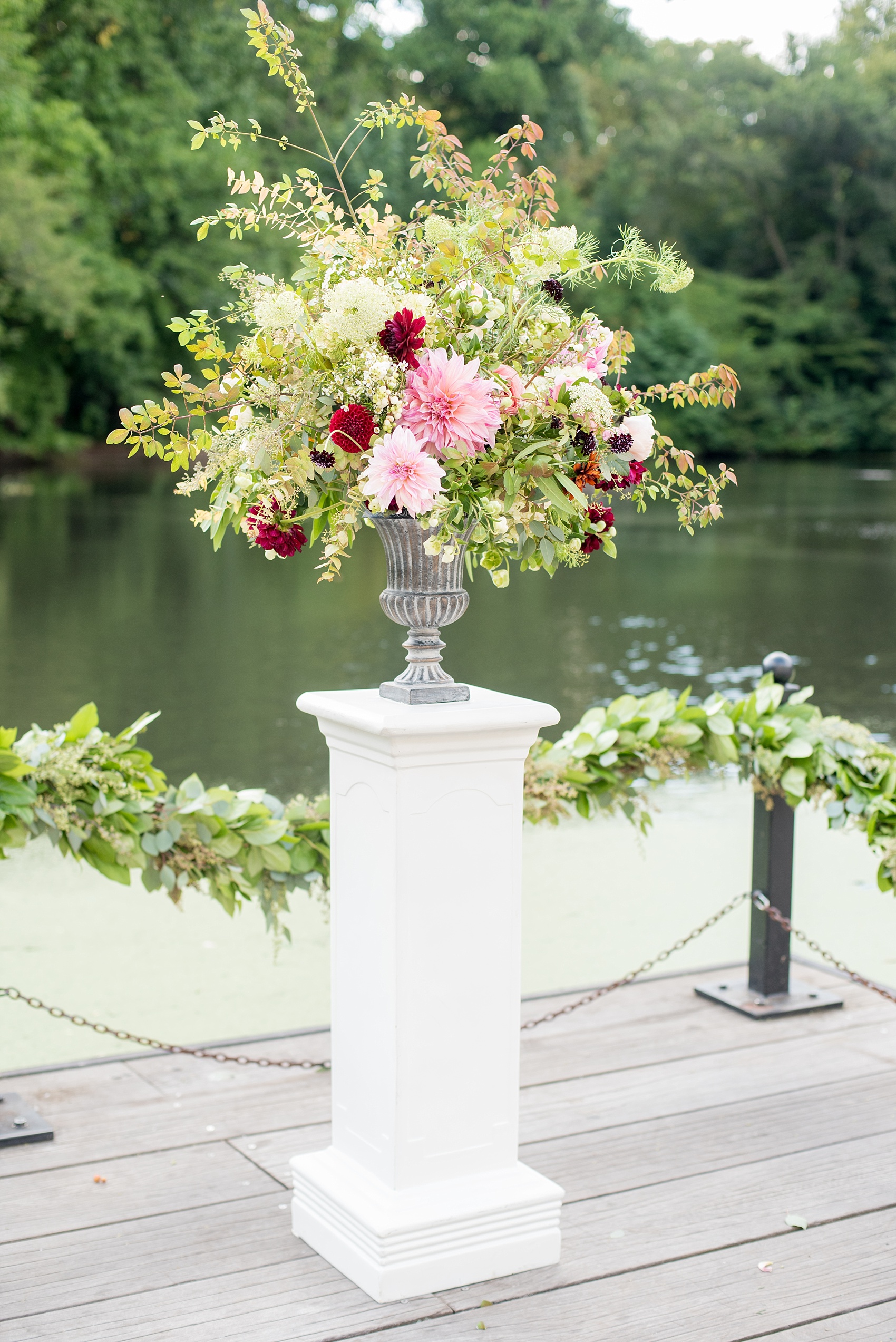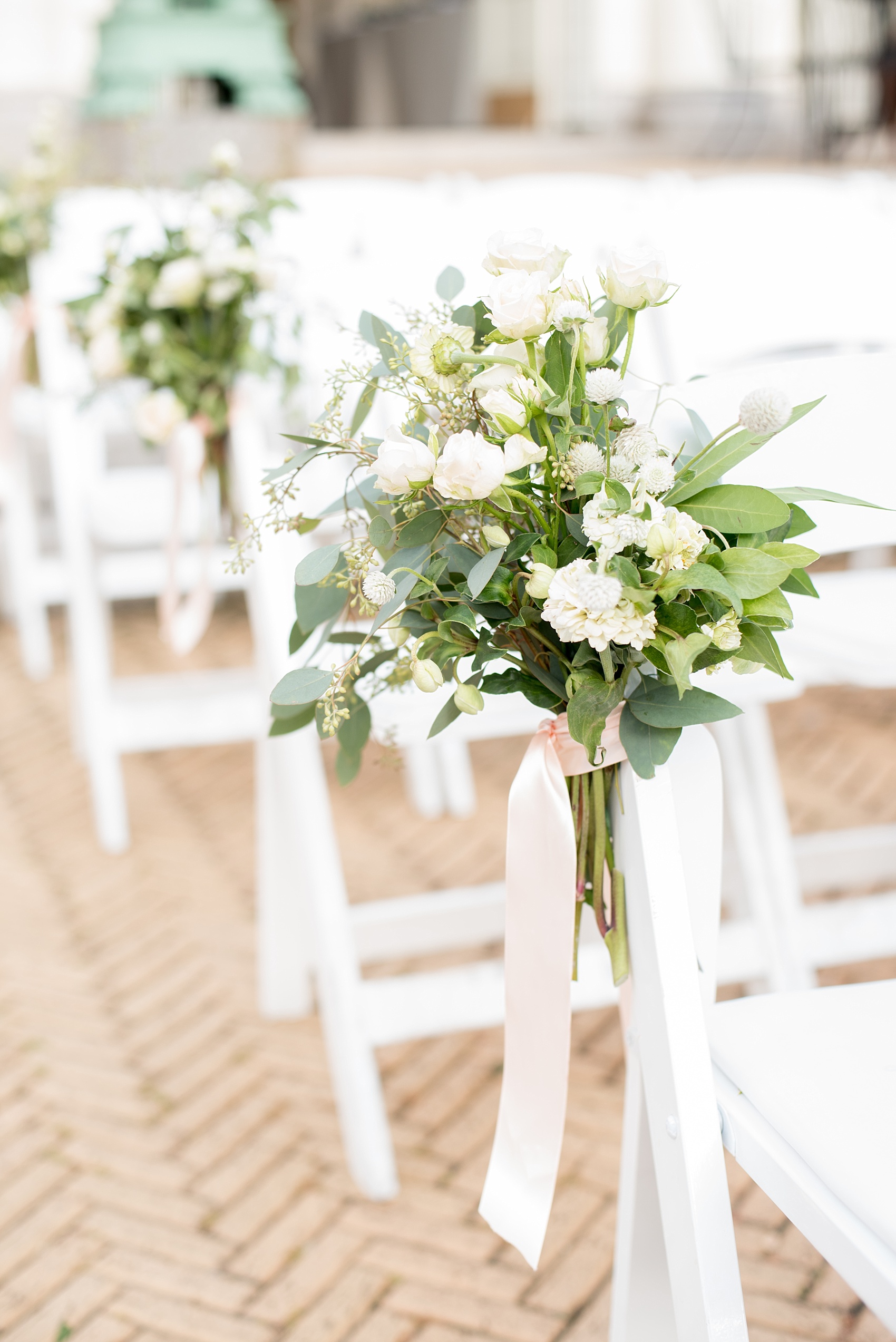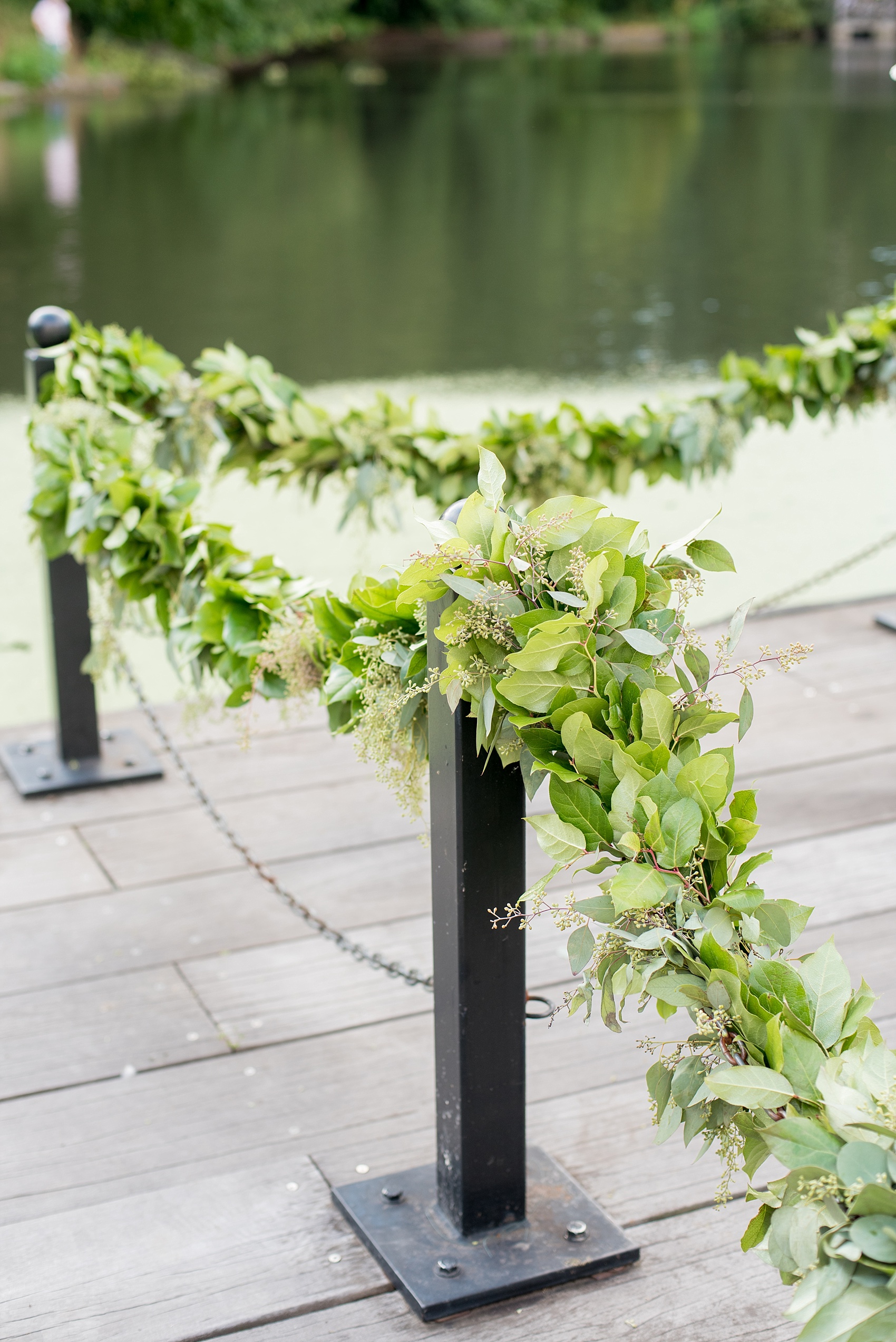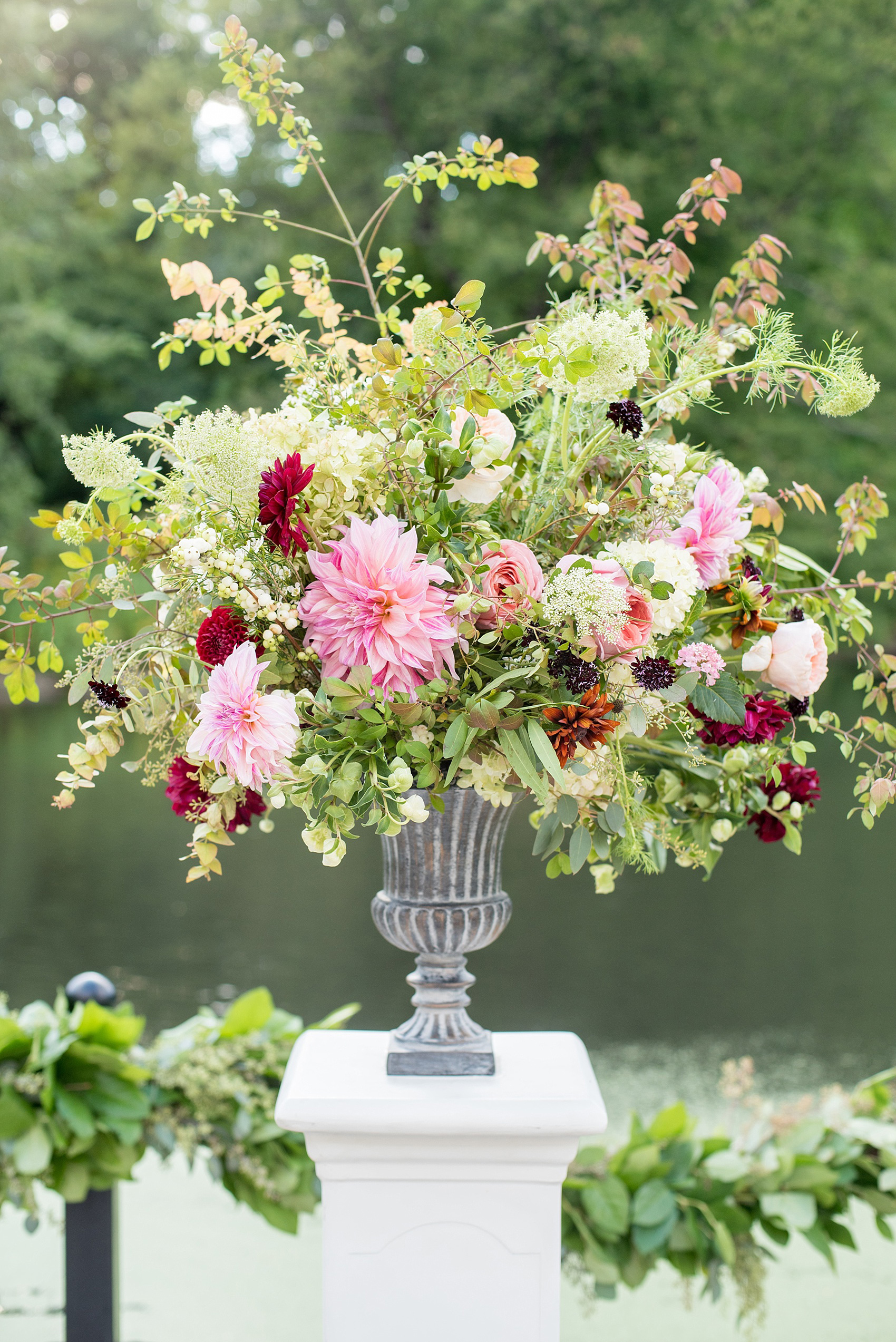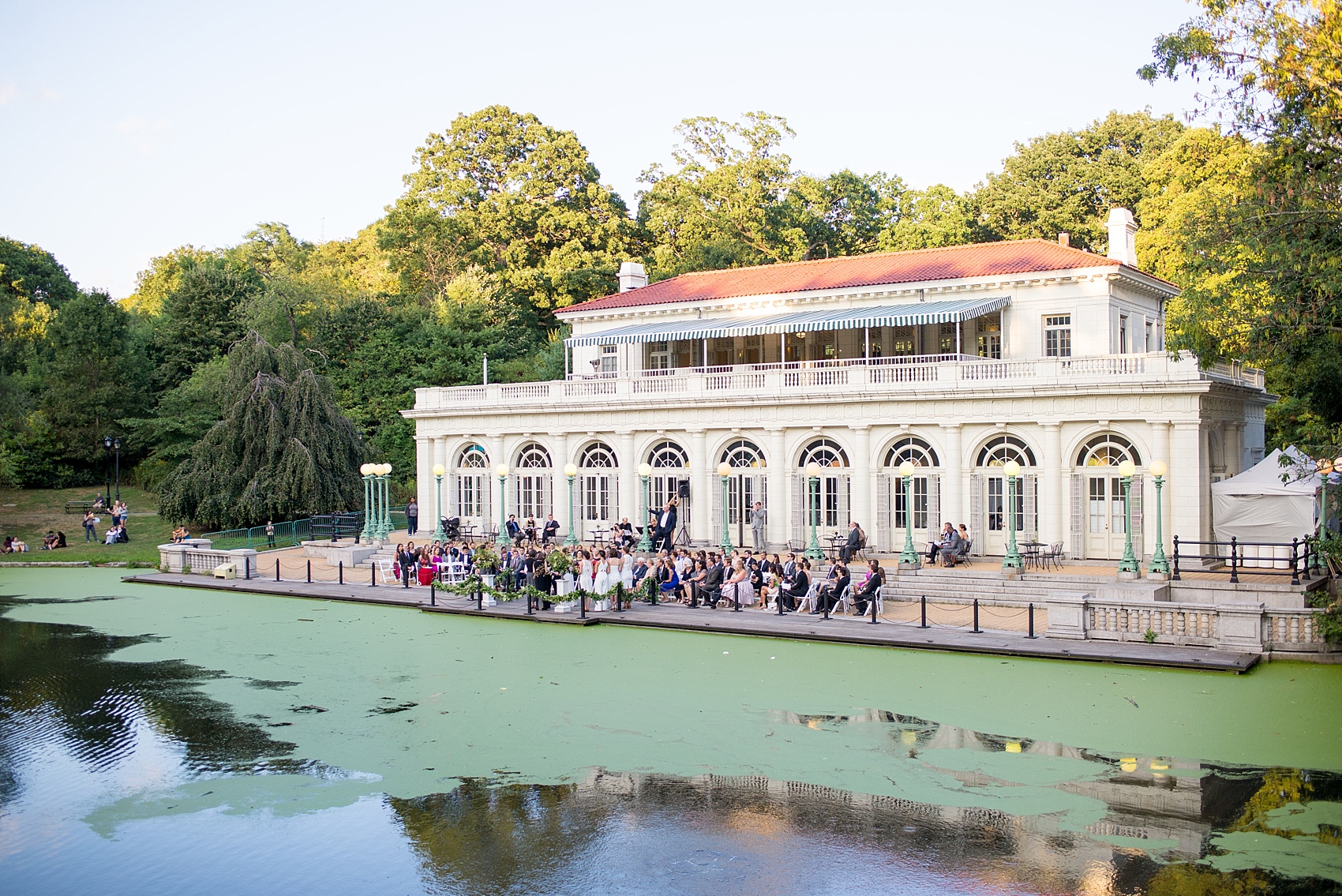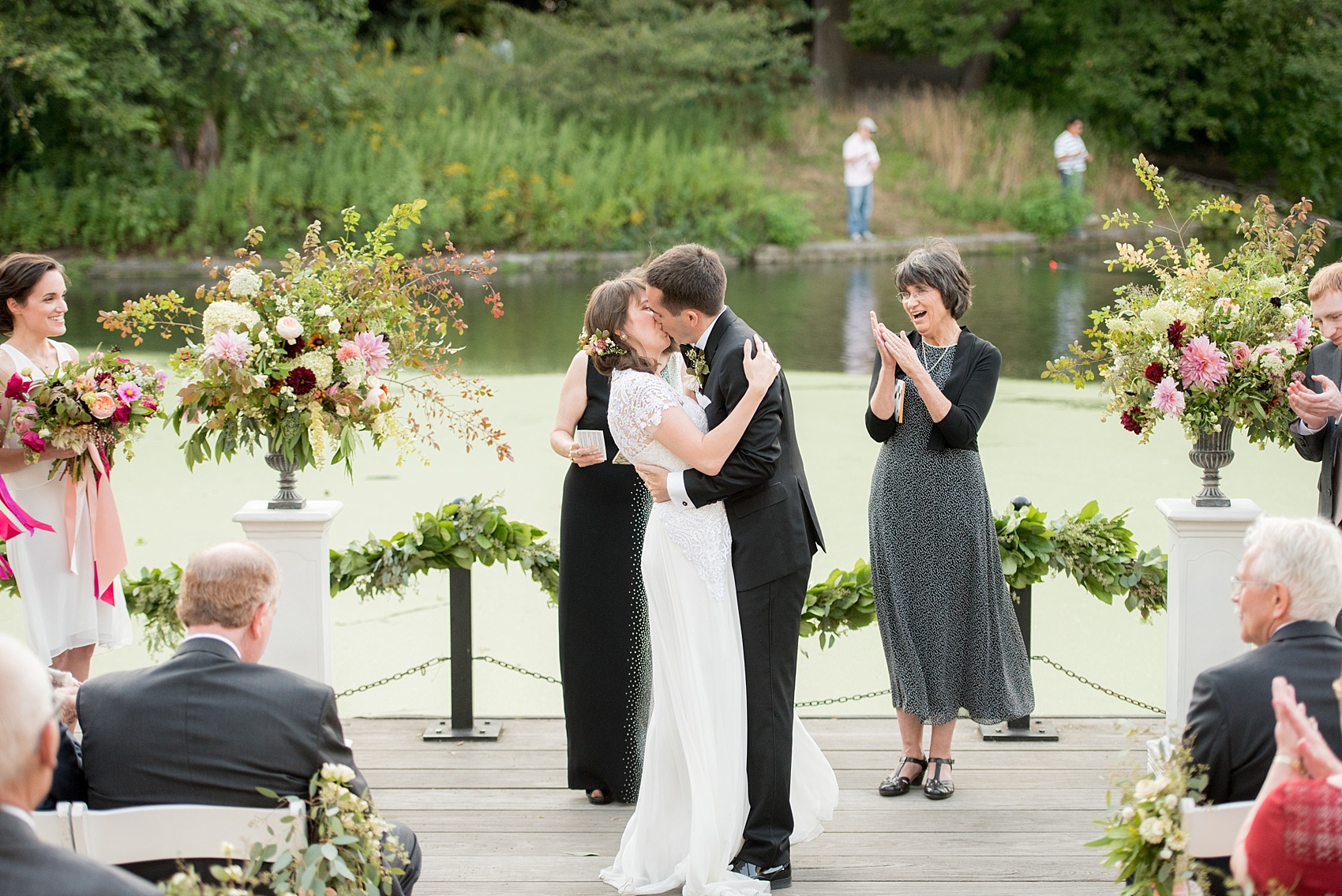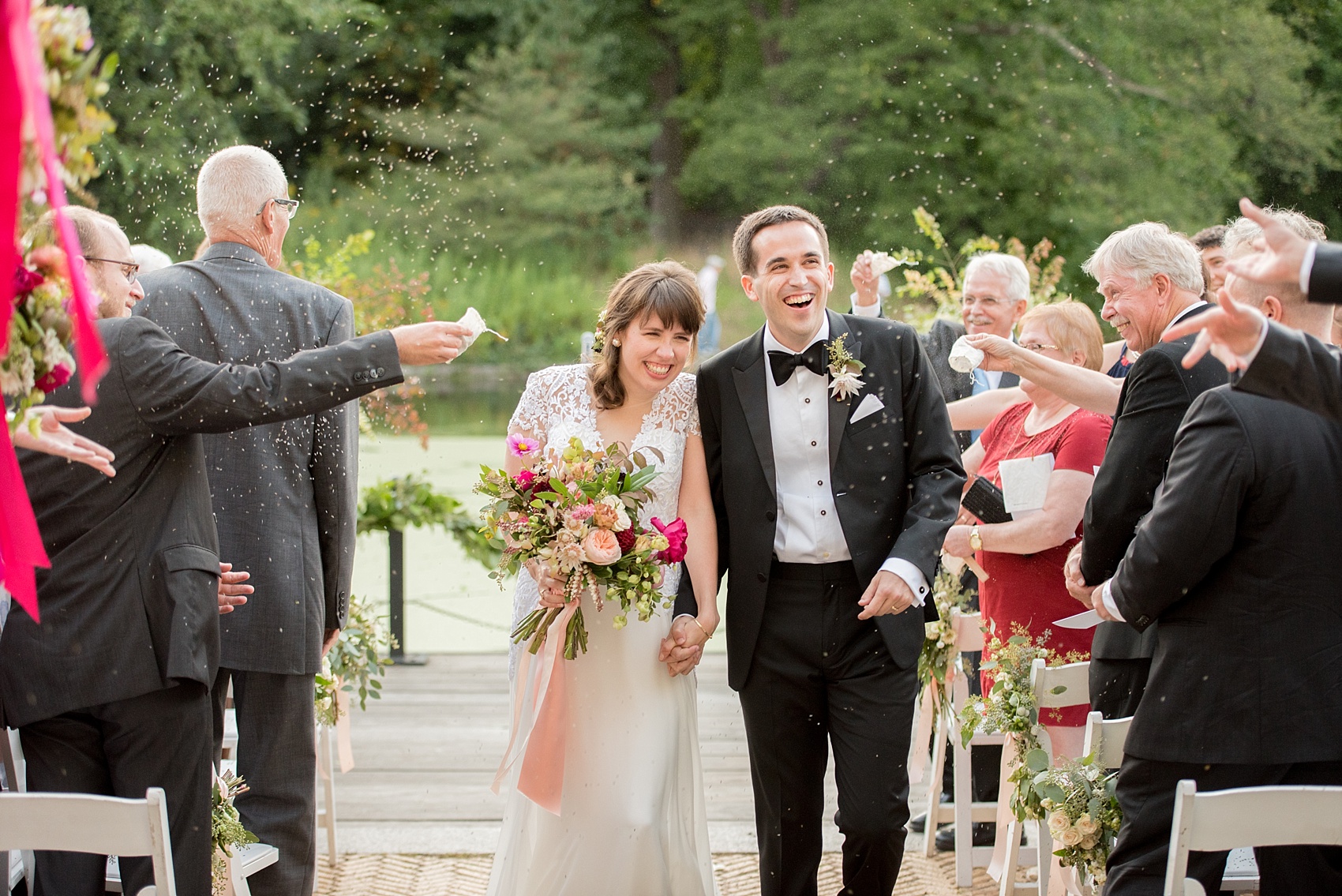 Guests were welcomed into the space with a really pretty, woodsy escort card table, with a design that matched their invitation set in birch branches on a bed of moss. The garland set across long rectangular tables was breathtaking and I love how the green on the table on white linens really brought out the green tile in the ceiling. Table numbers were painted in white on gold and glass frames. I loved their glass geometric card holder that was on a table dashed with vibrant dahlias in silver mercury glass. In lieu of guest gifts, donation cards were set at each seat – the bride and groom donated to charities that support heart health and college access (Joe's a teacher so I loved that detail!)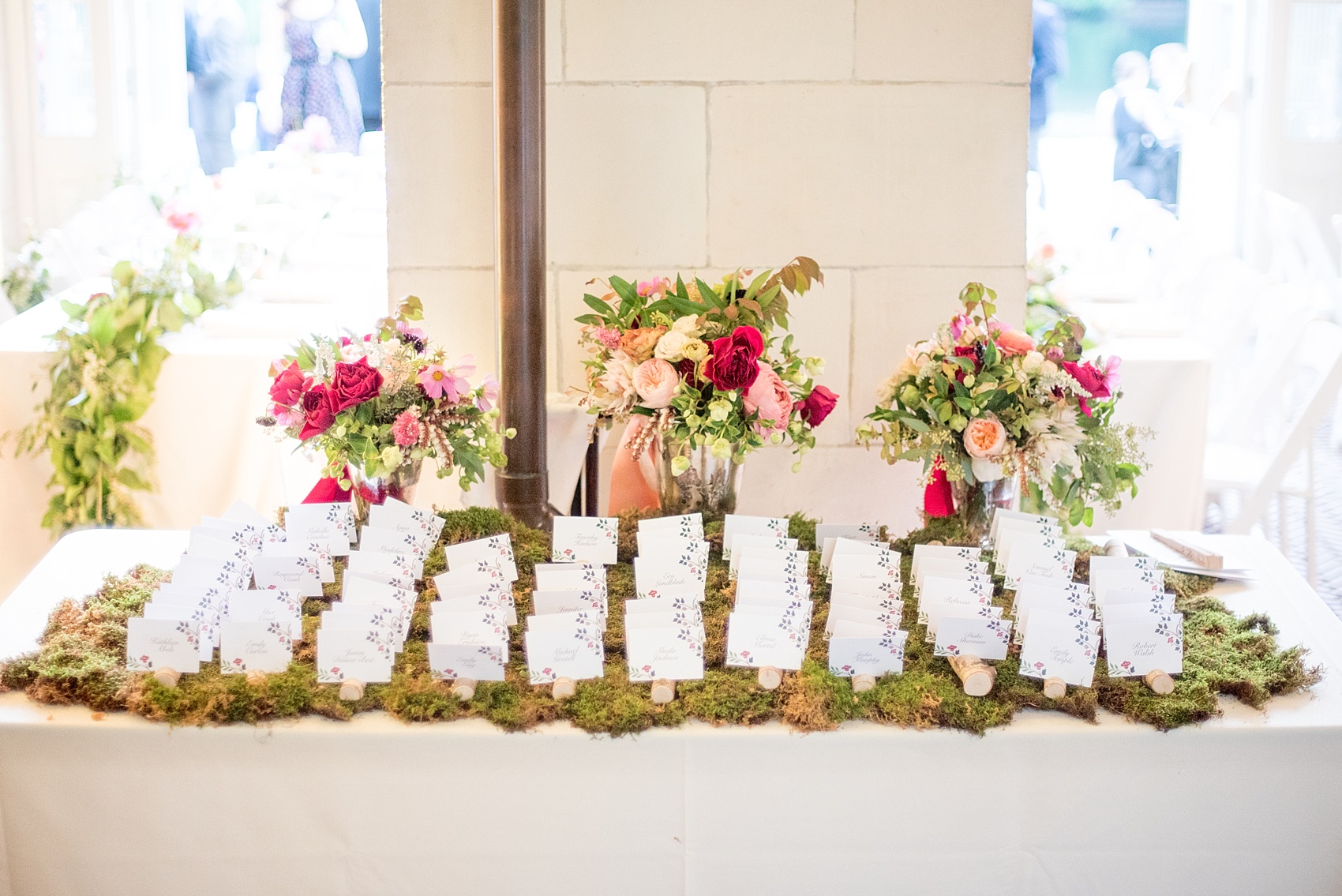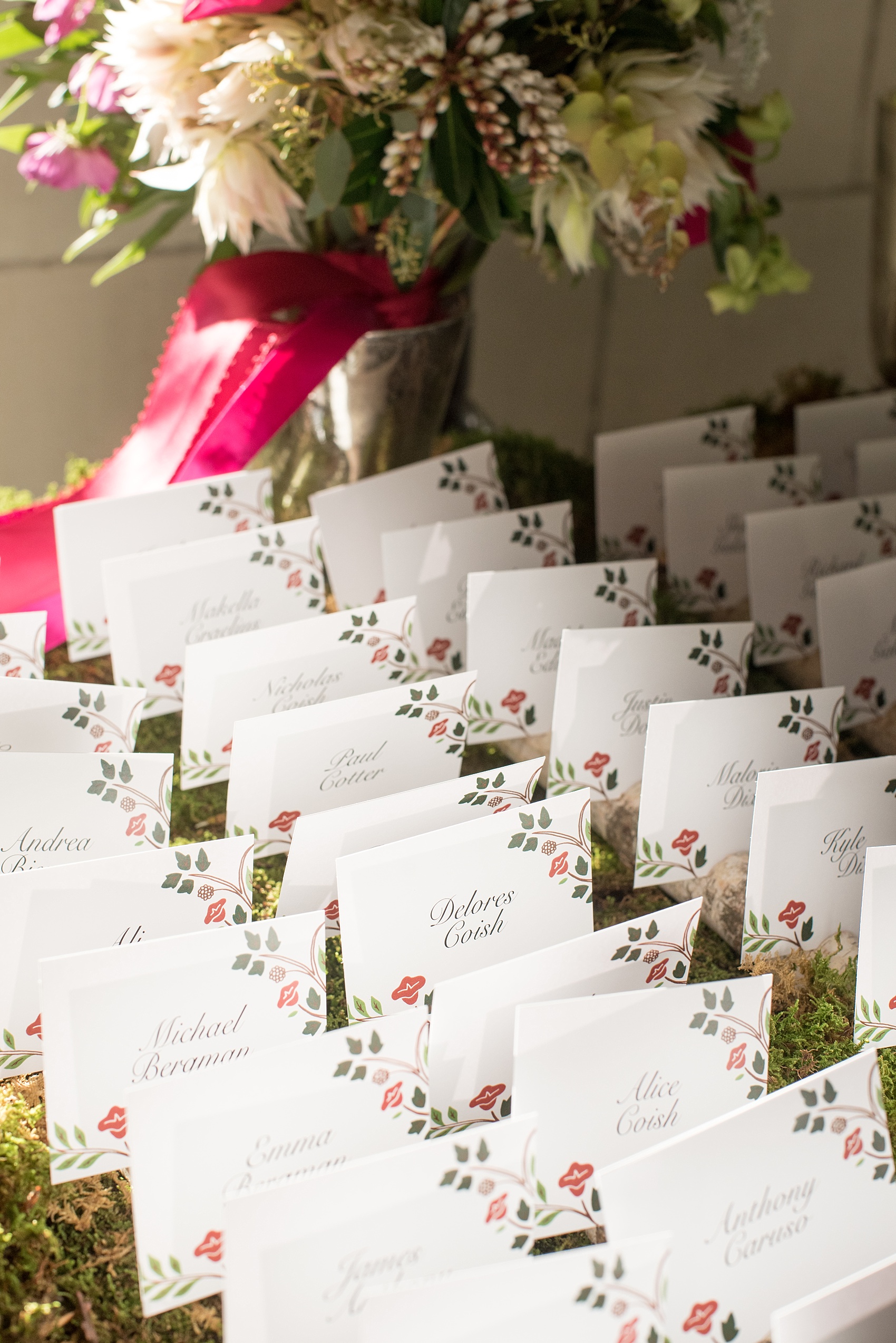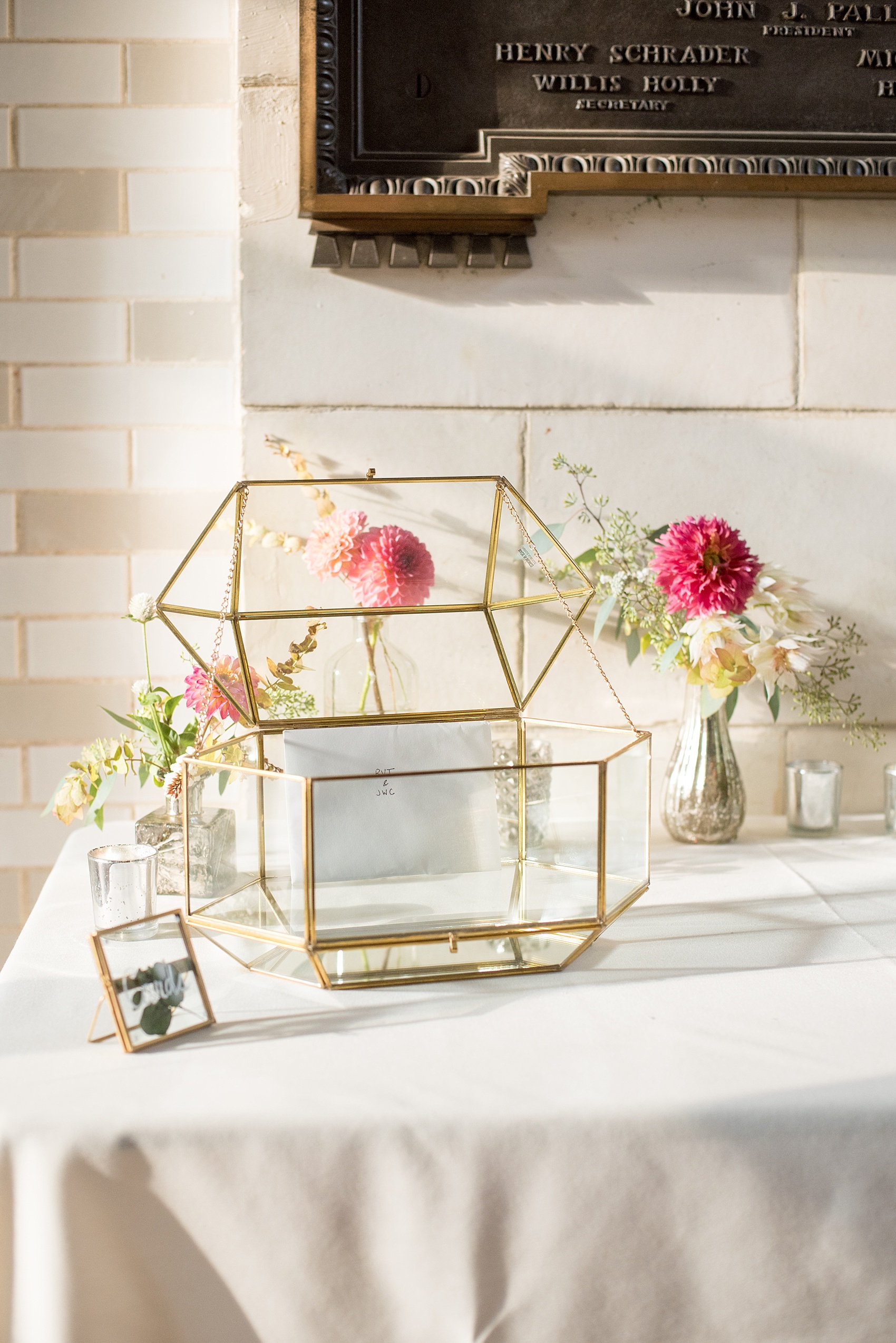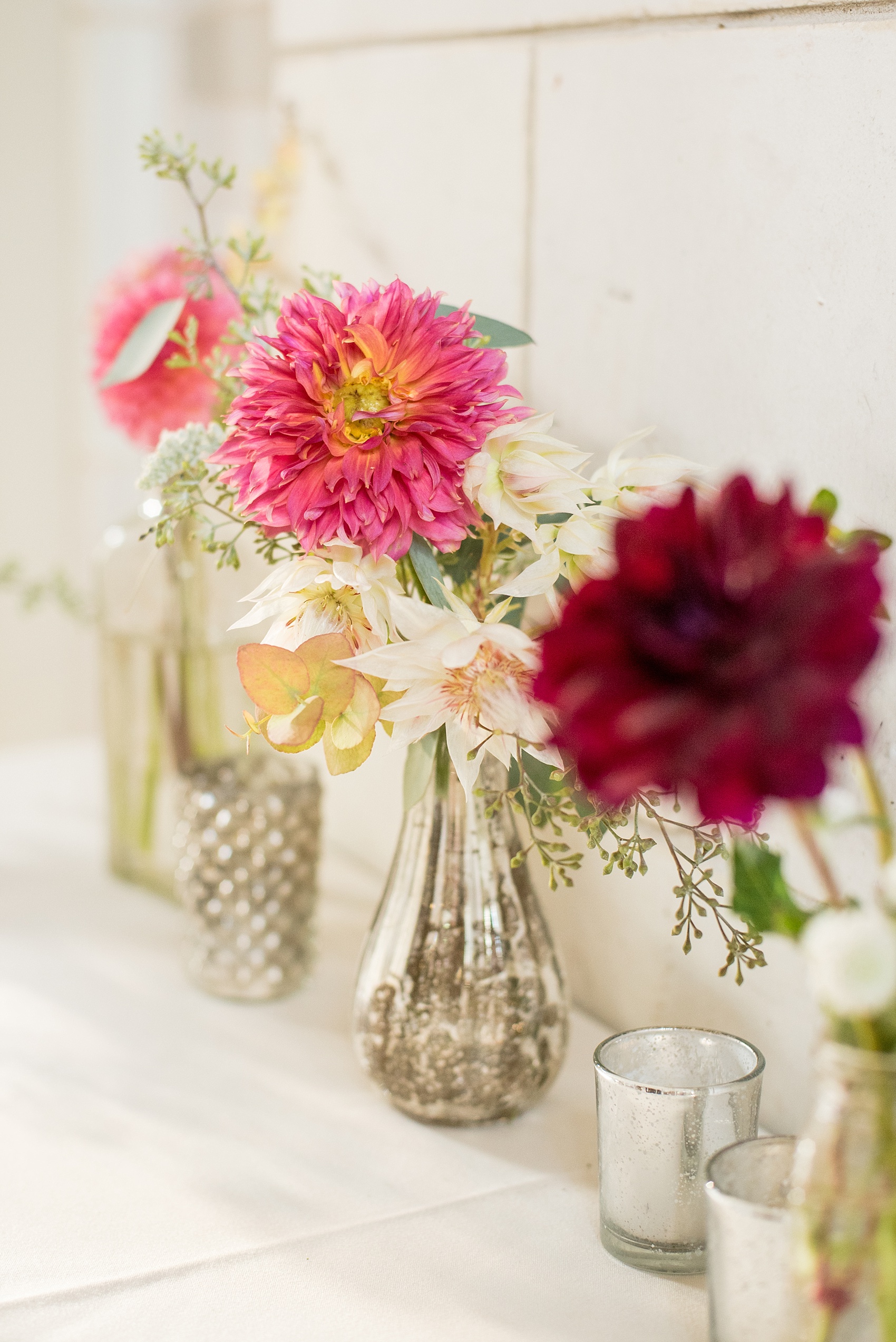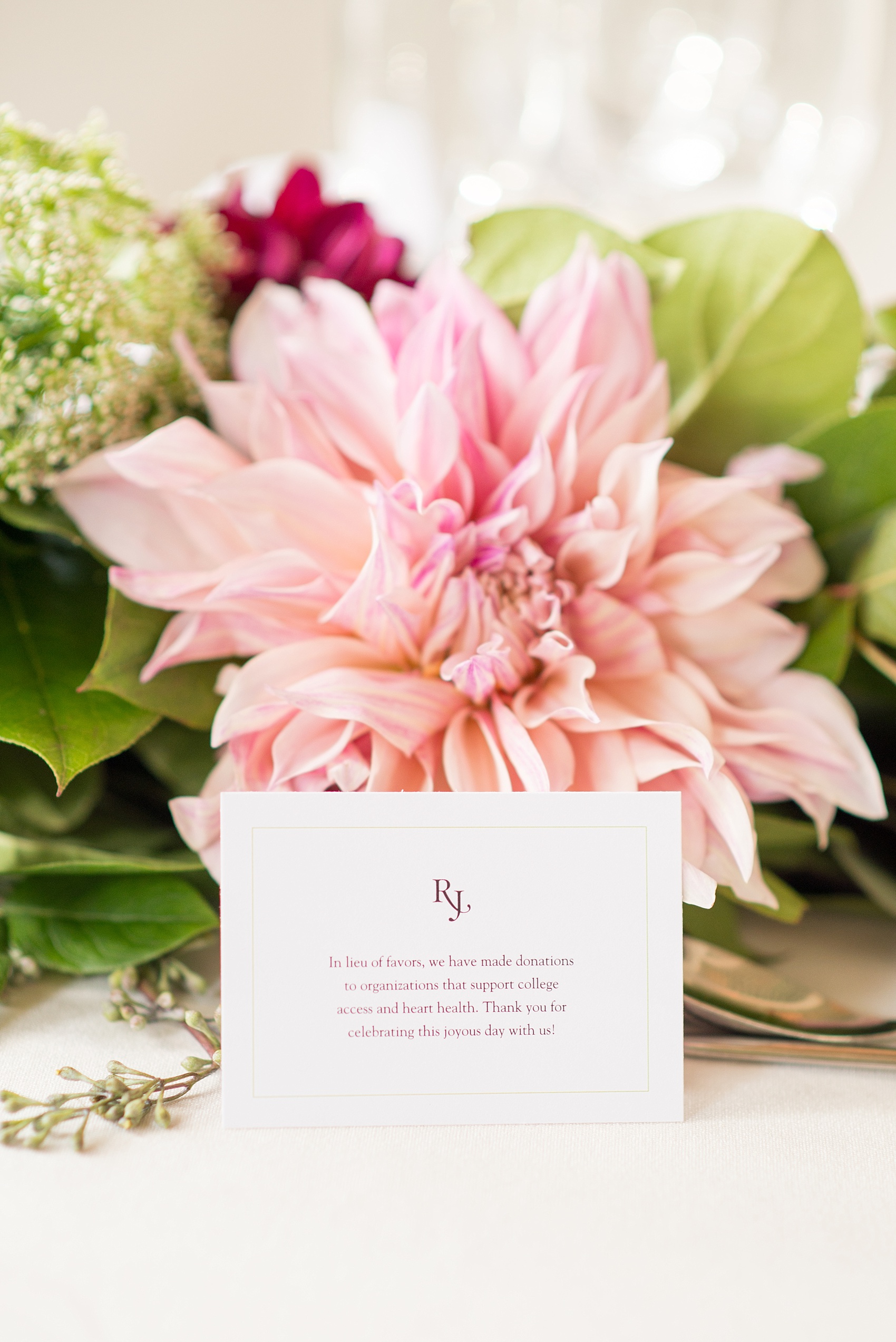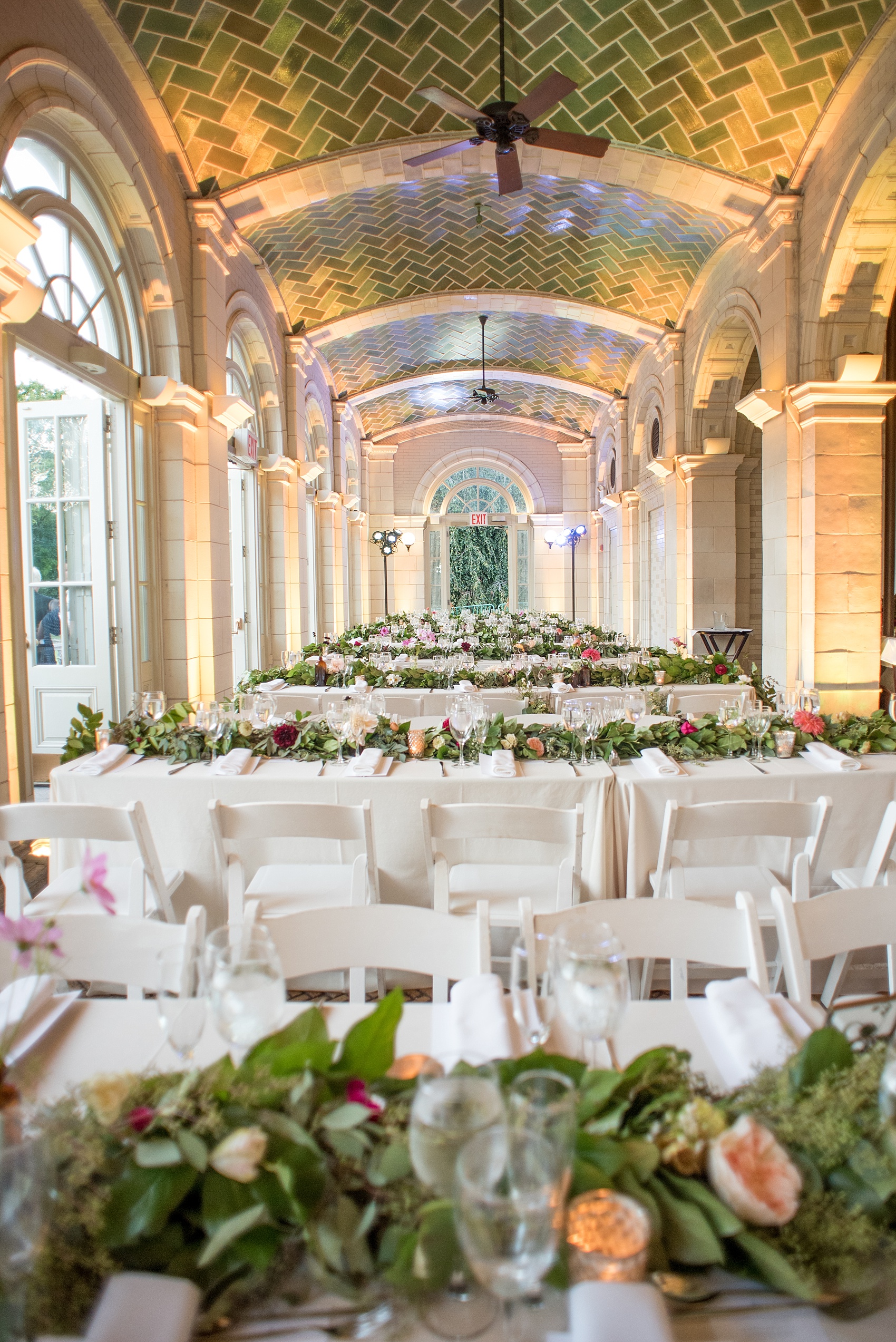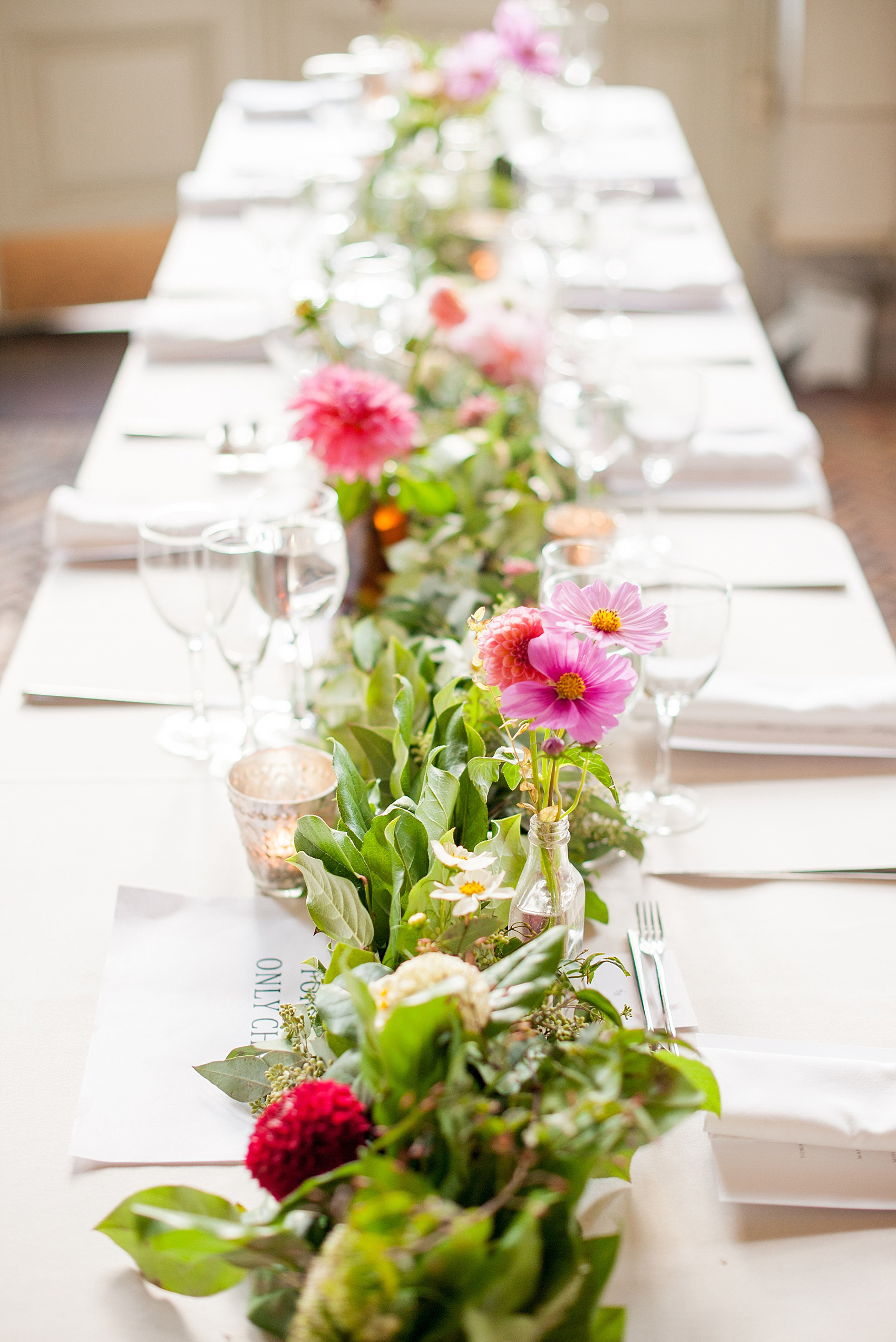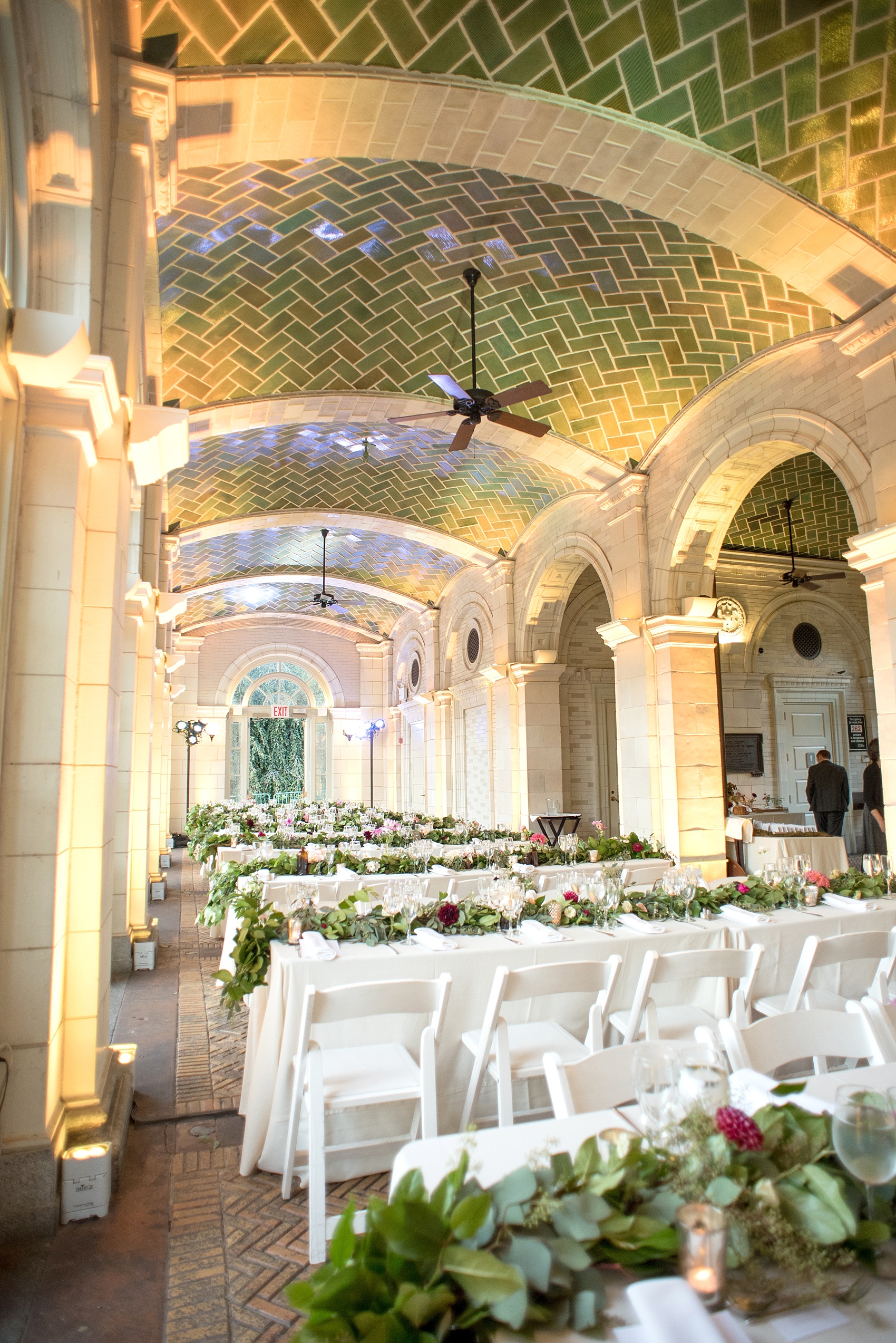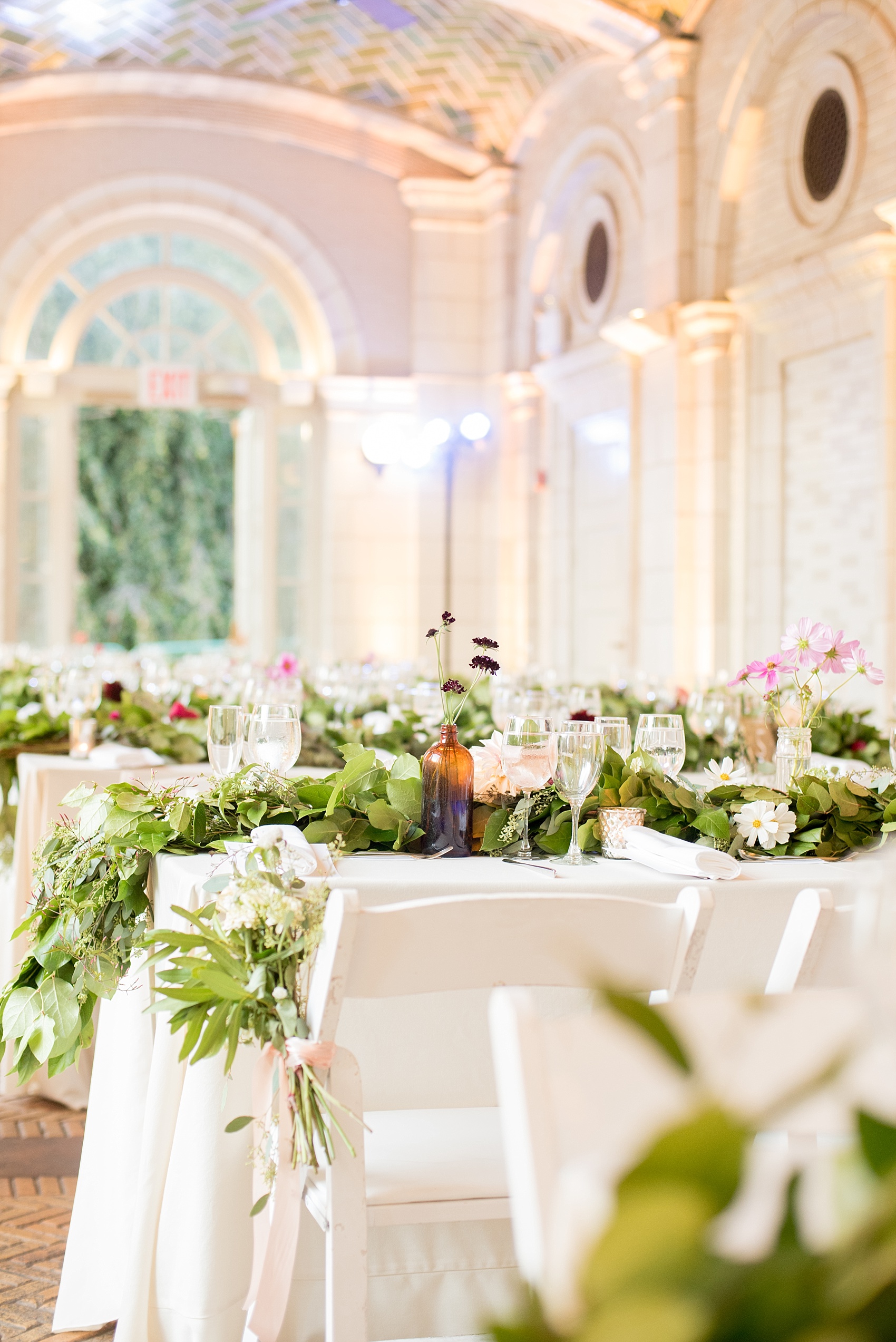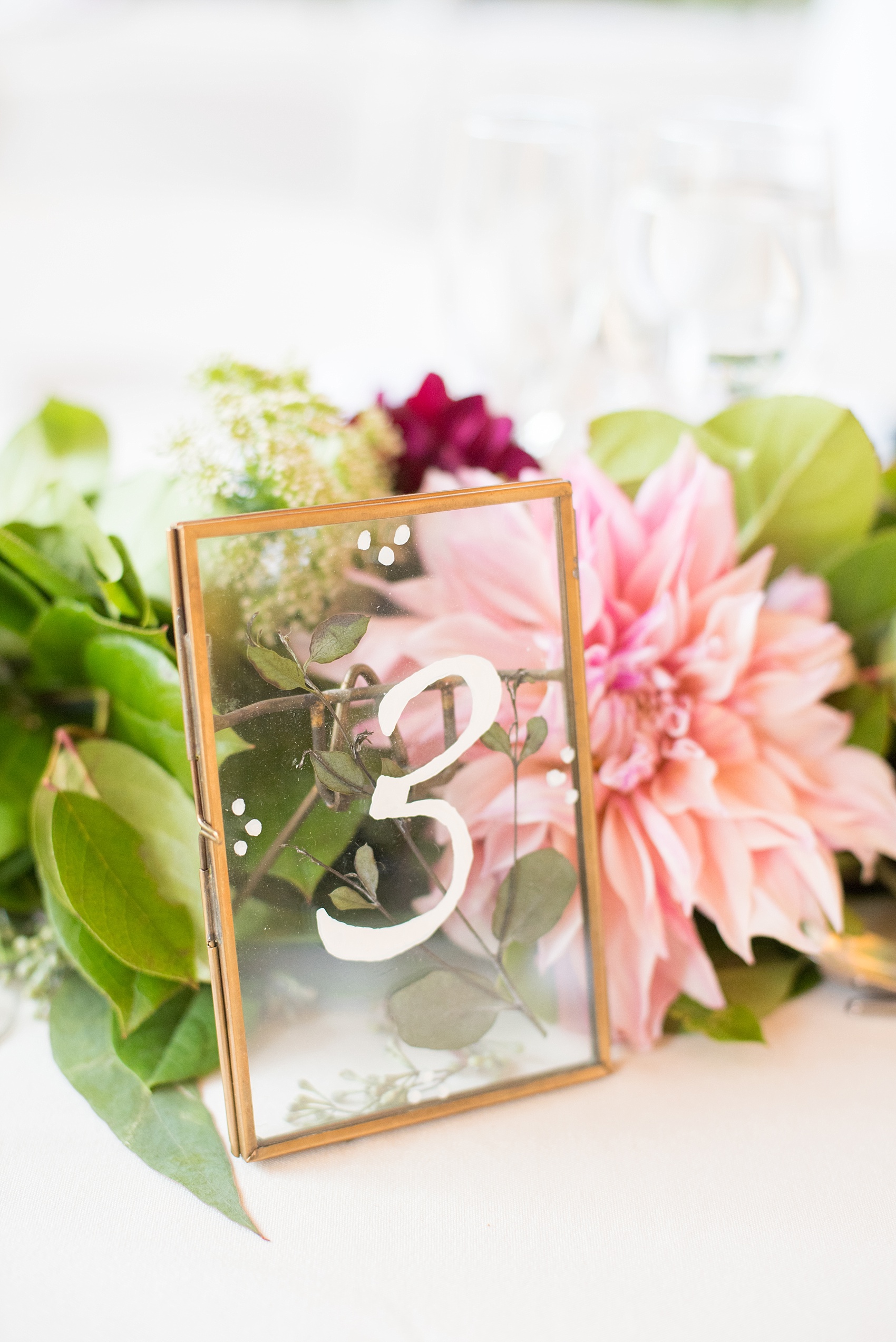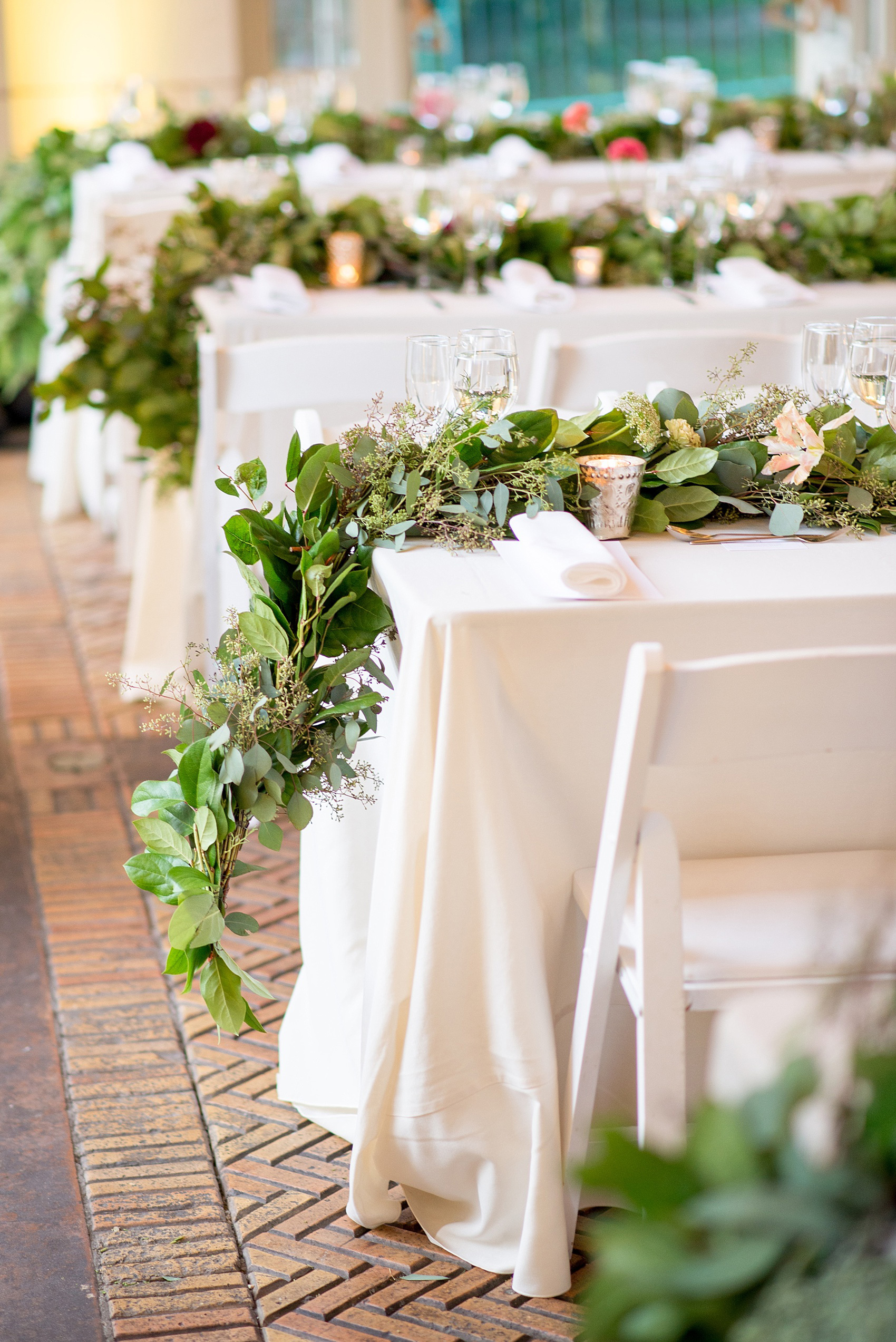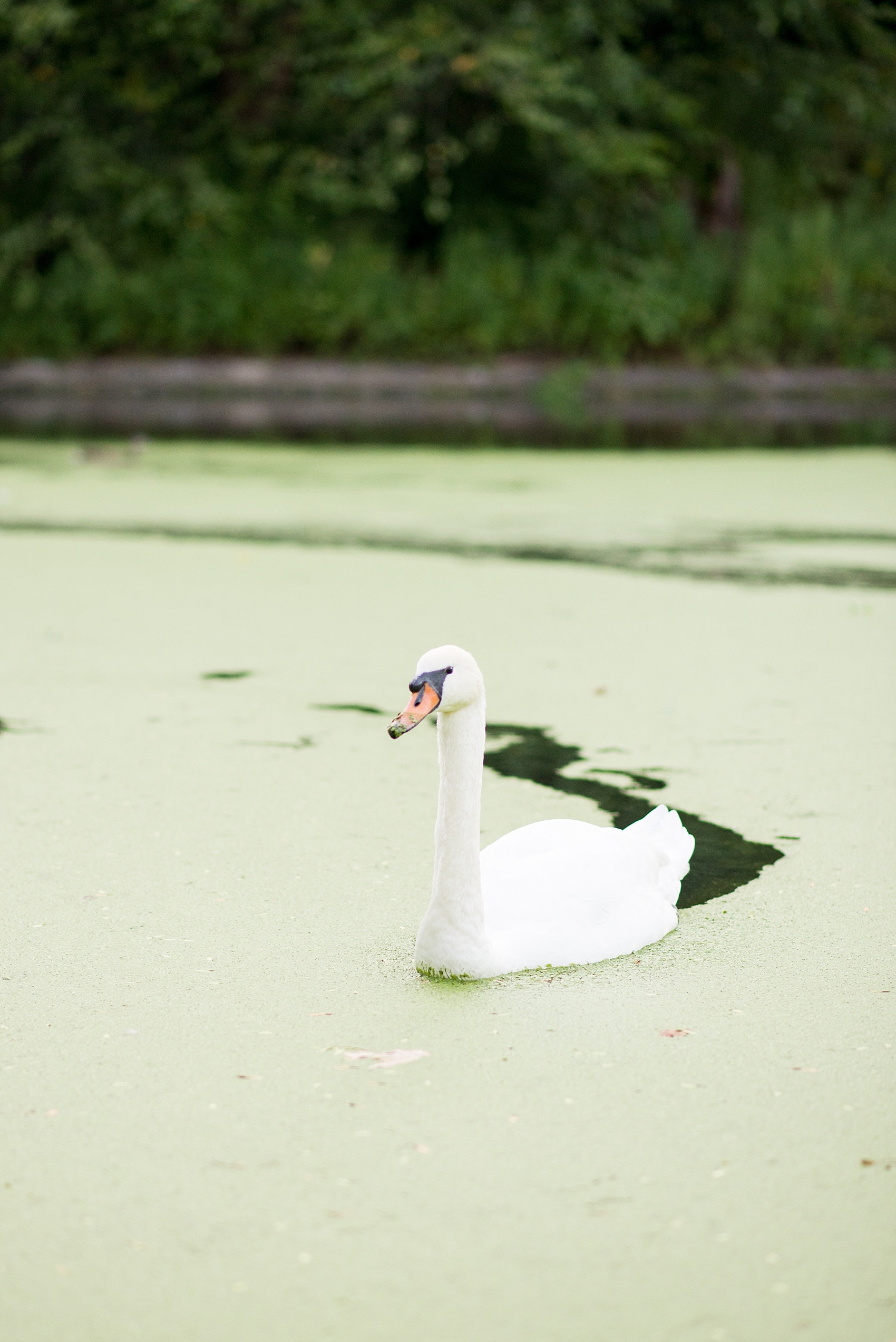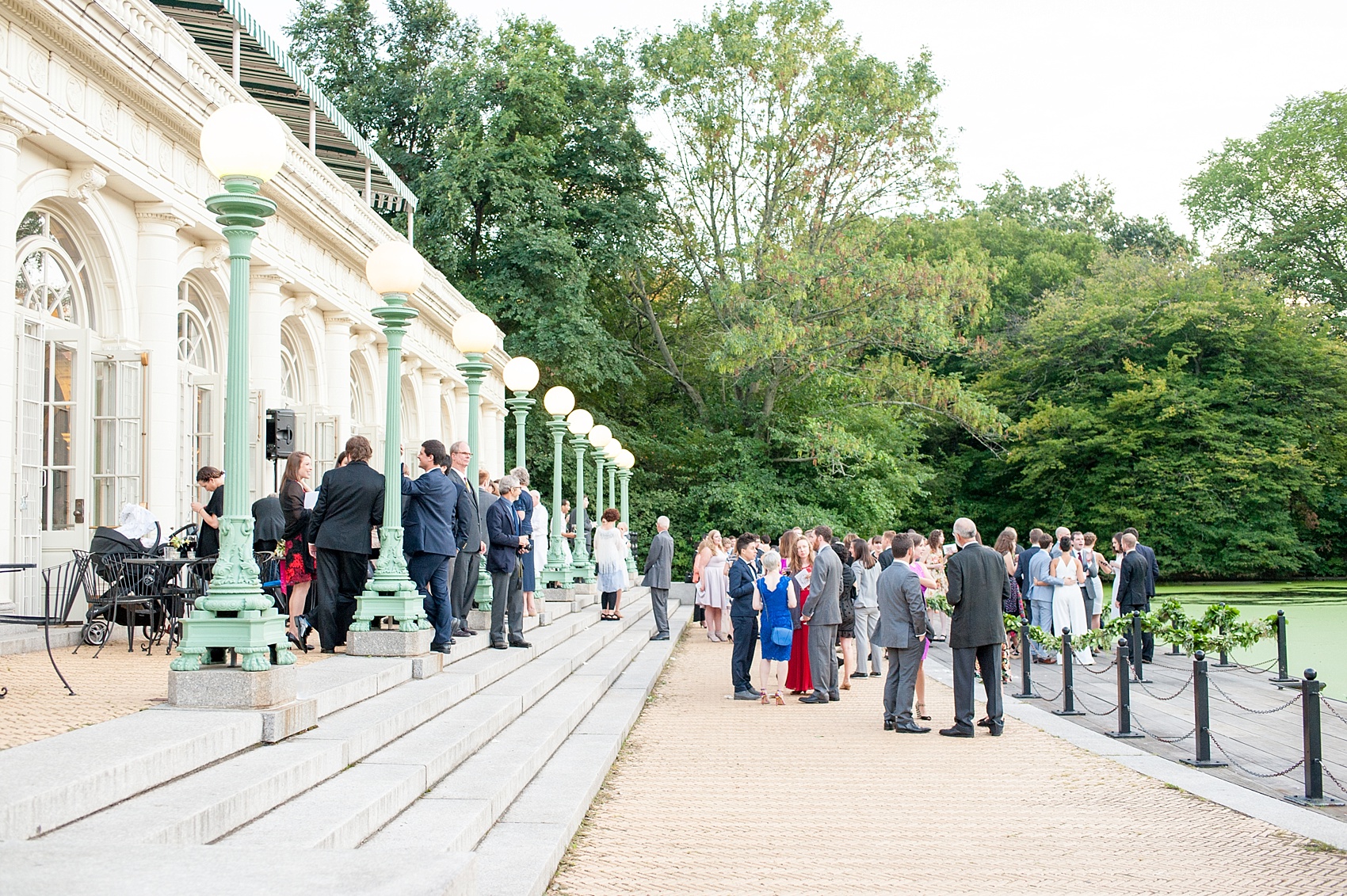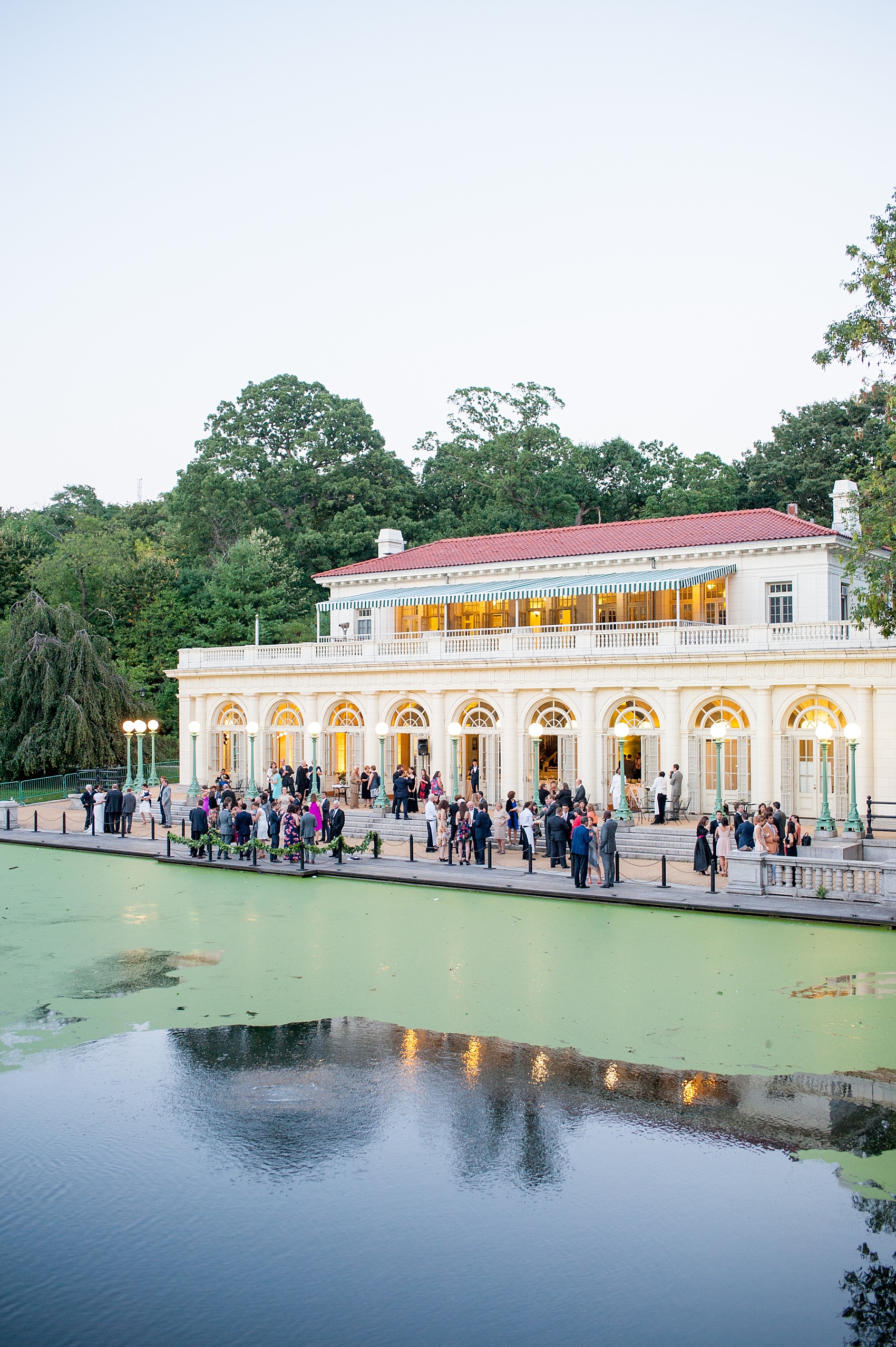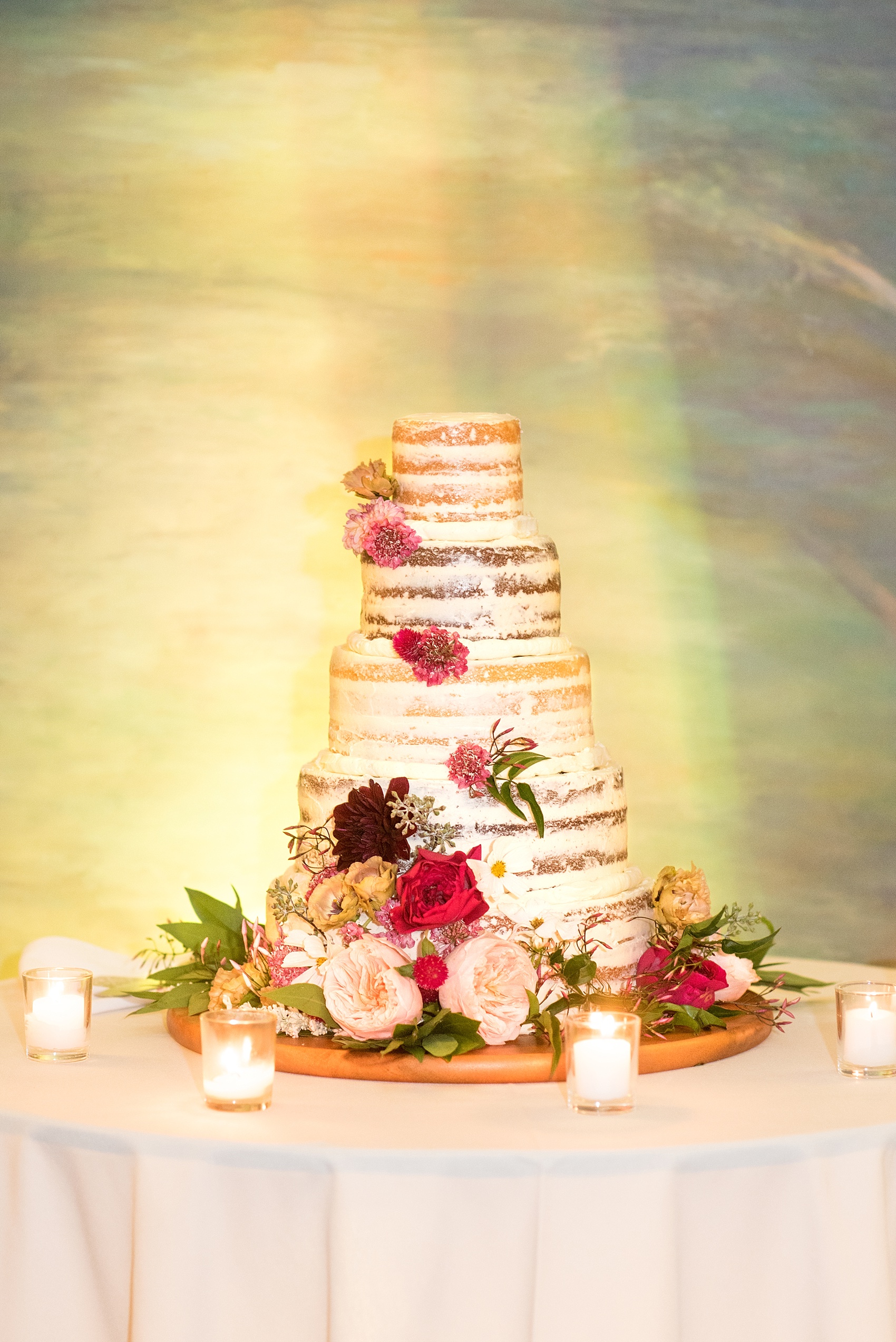 The sun went down and guests were asked to welcome the newlyweds to the dance floor as they looked on while Rachel and Joe danced to Simon and Garfunkel's, "Song for the Asking."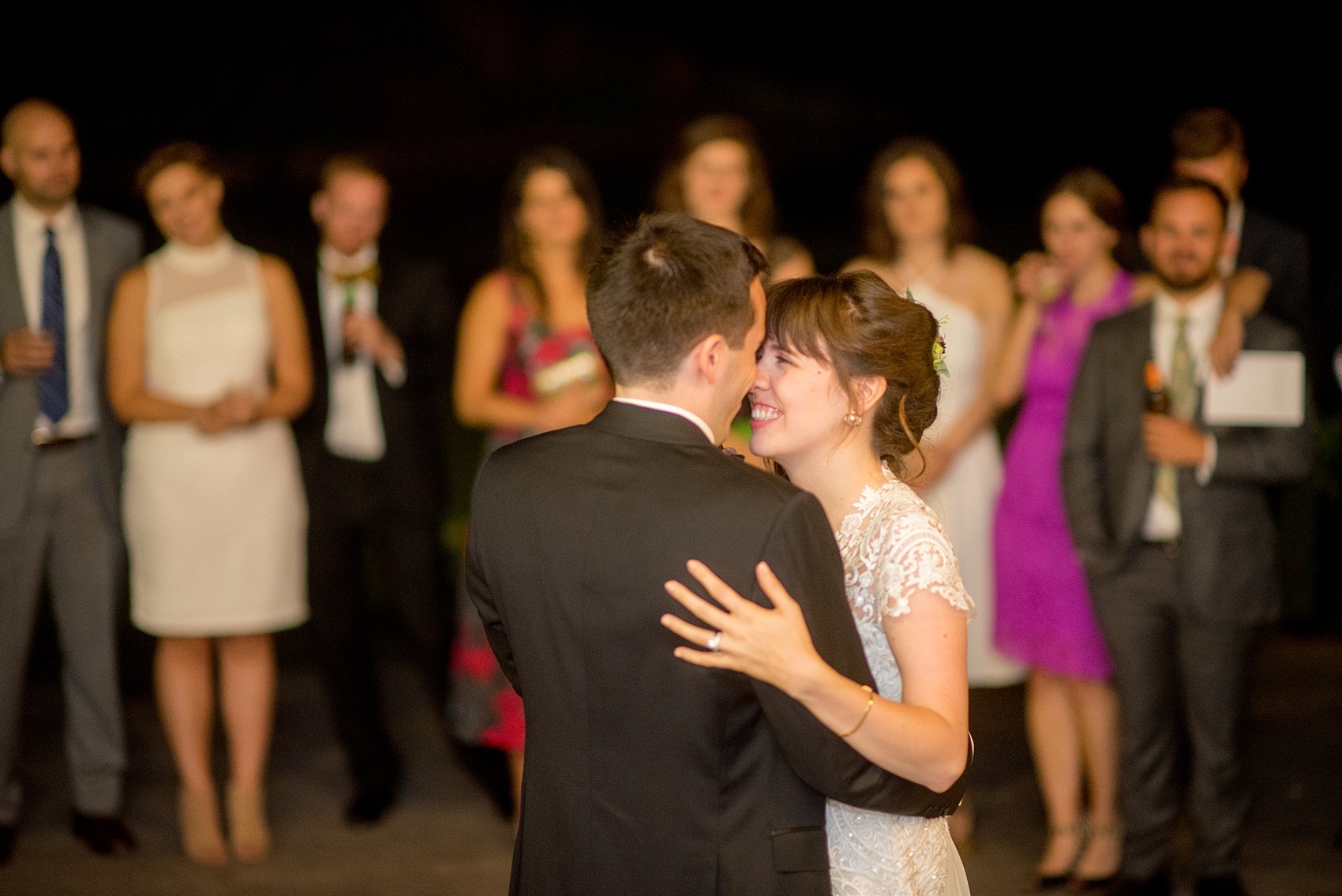 This hug with Rachel and her dad melts my heart! But before I get too sentimental…look at grandma getting the party started!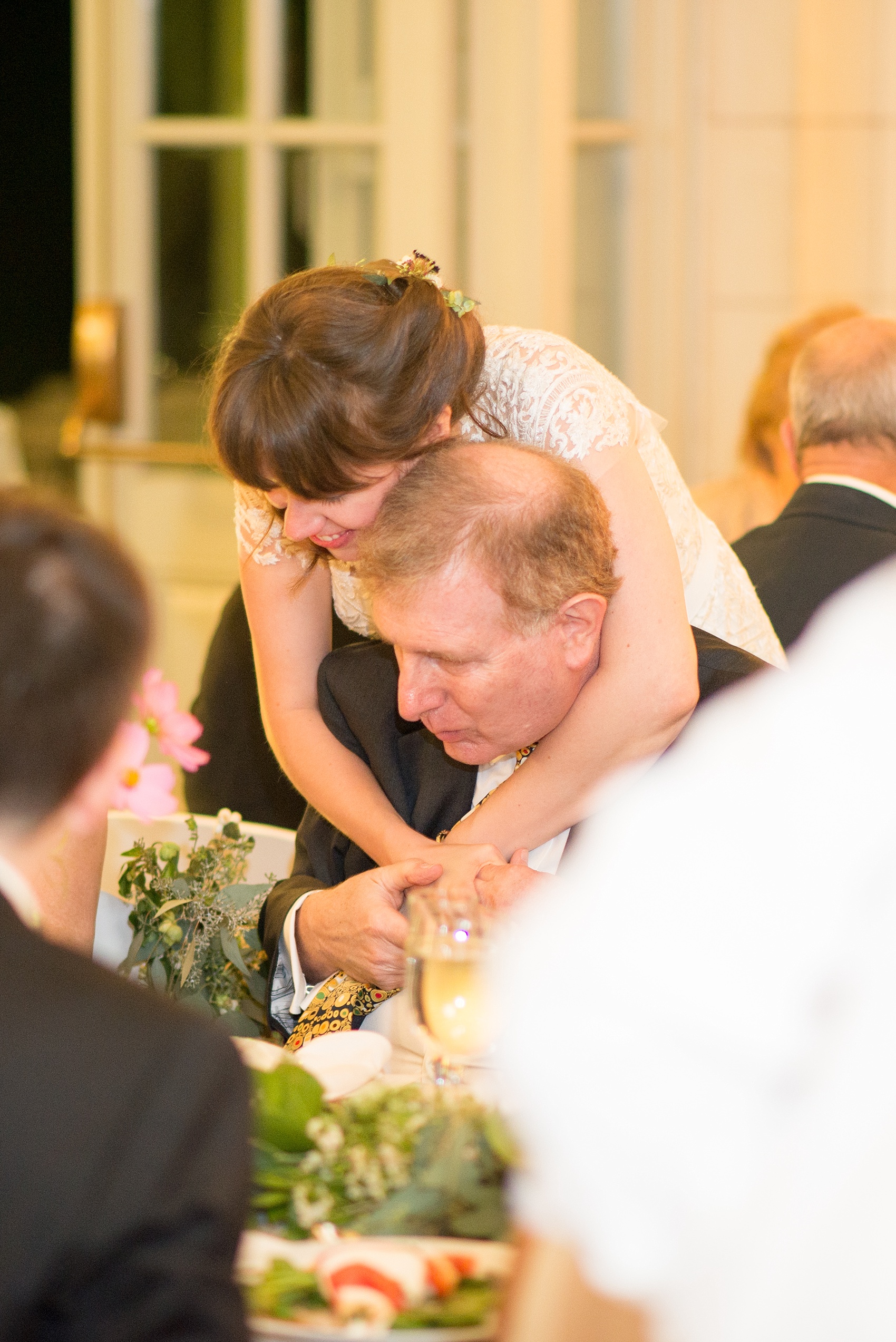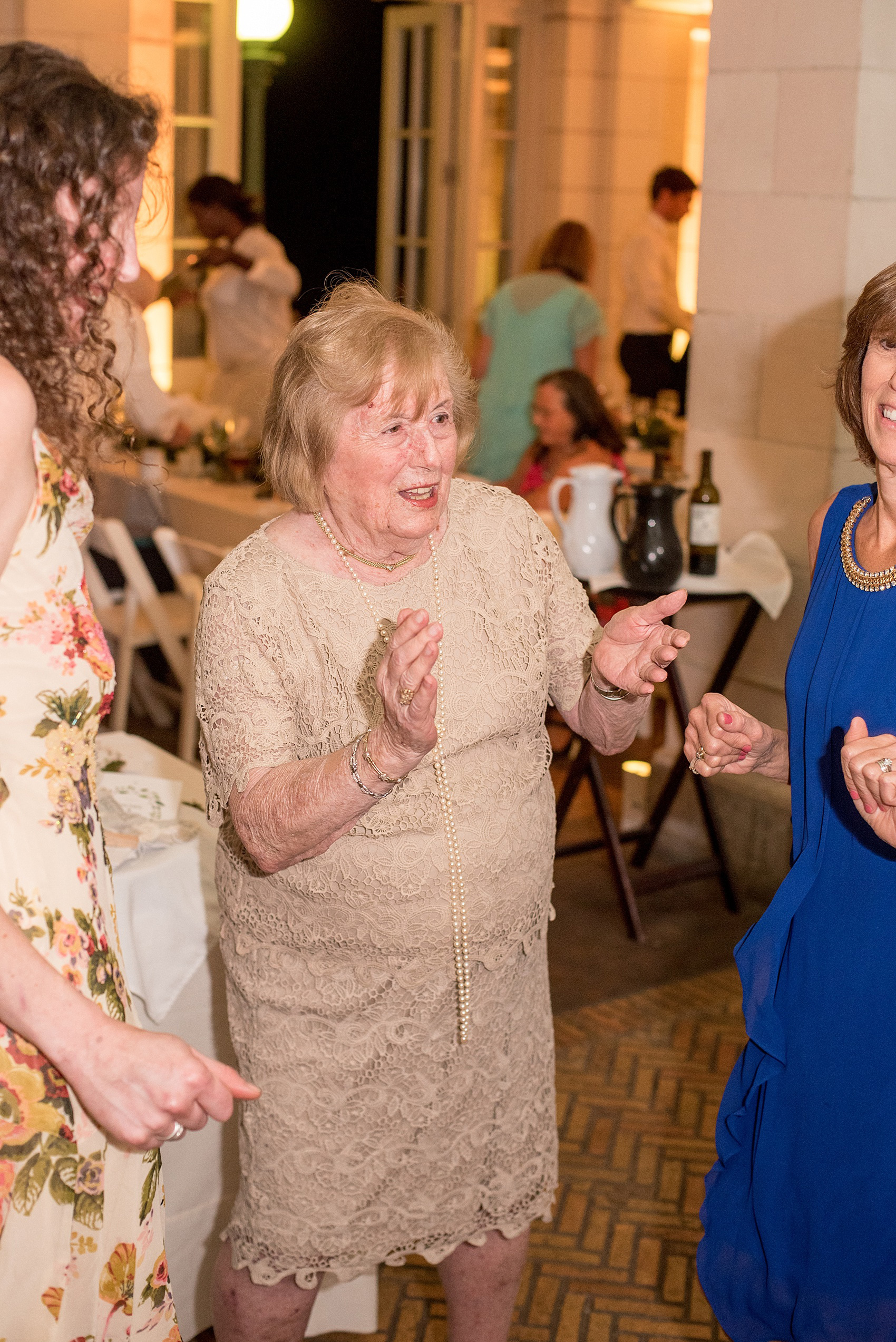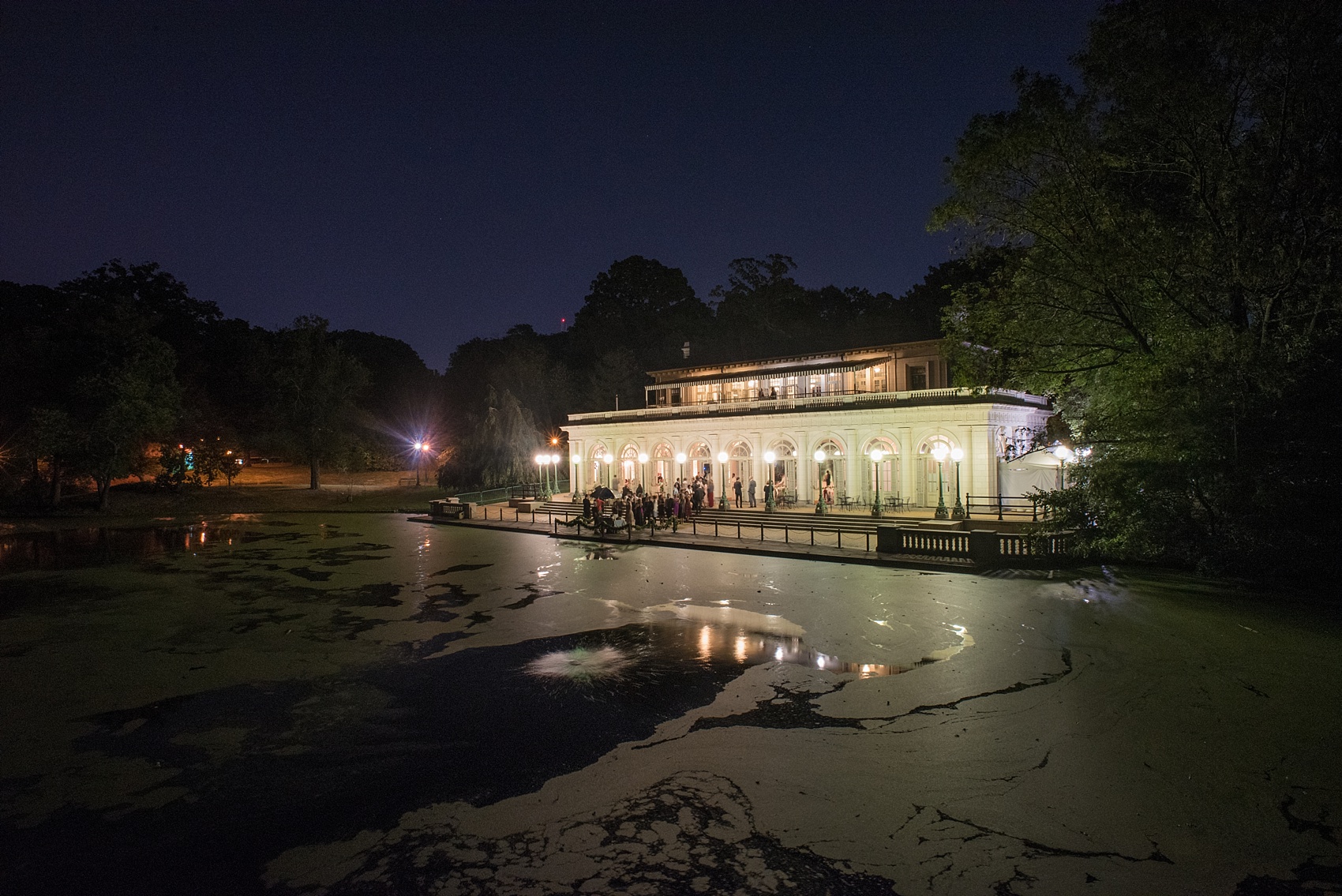 I couldn't resist going to the bridge during their reception to capture a nigh photo of the boathouse from a distance. It looks so amazing during the day…and in the evening. And let the dancing, cake cutting and speeches roll….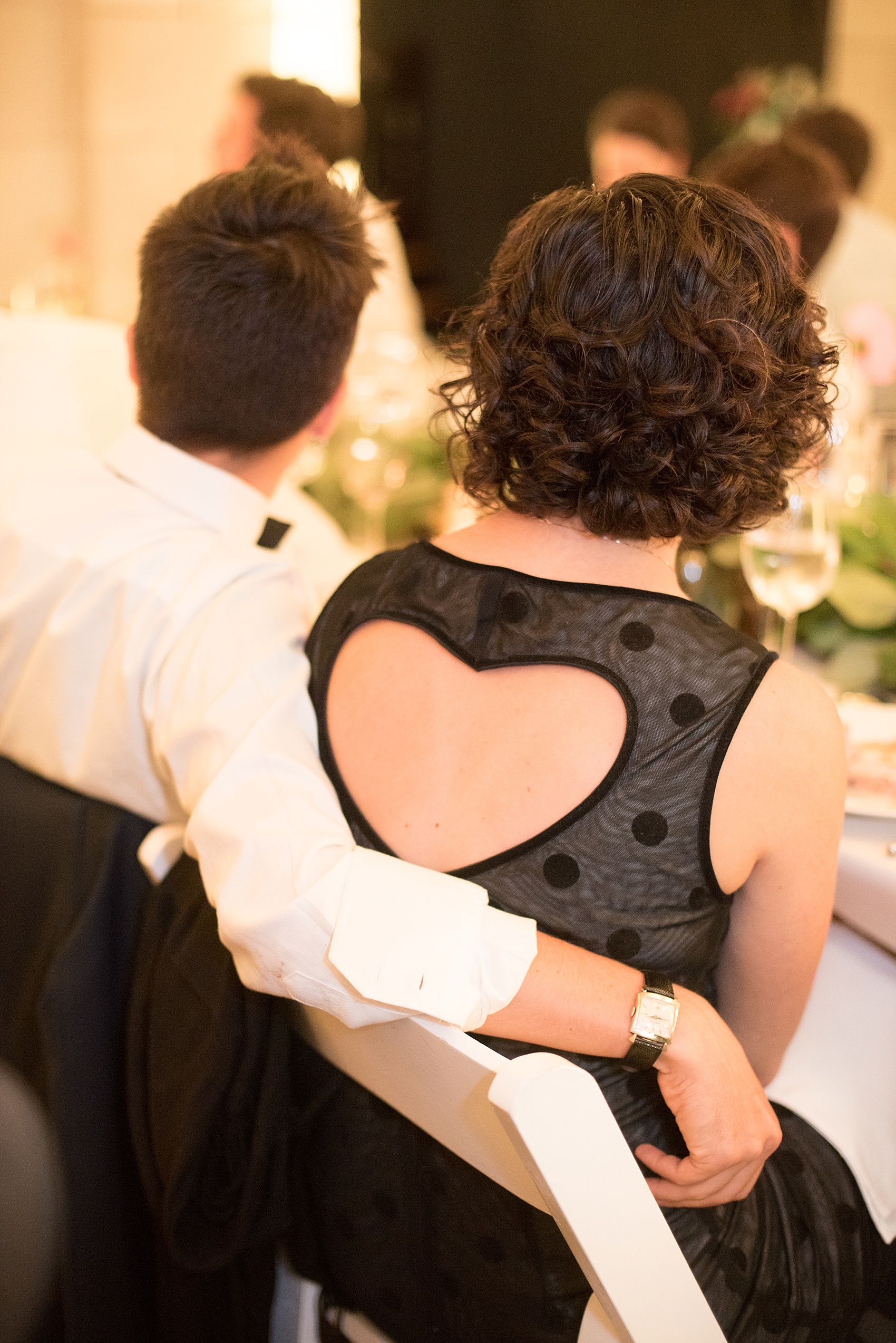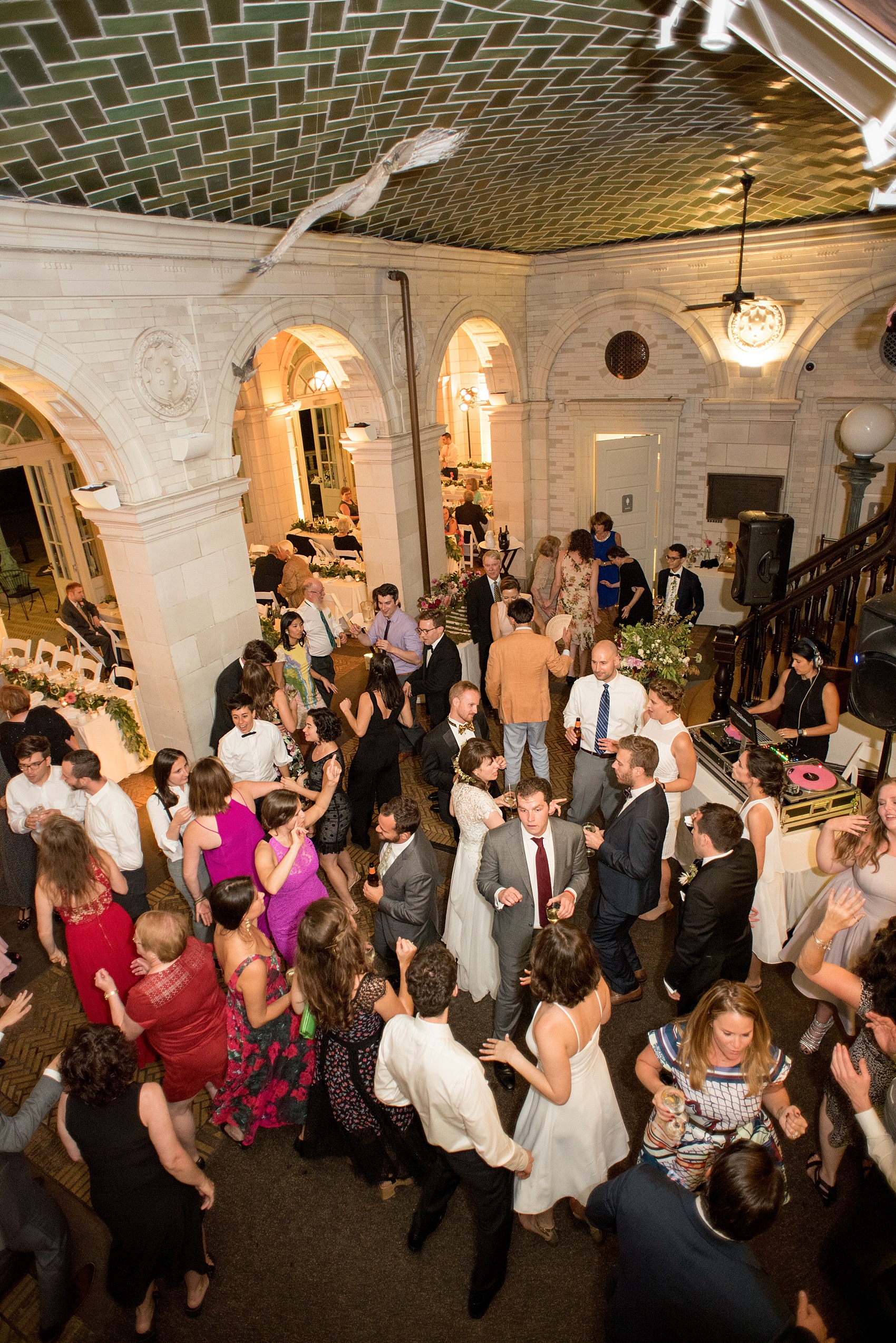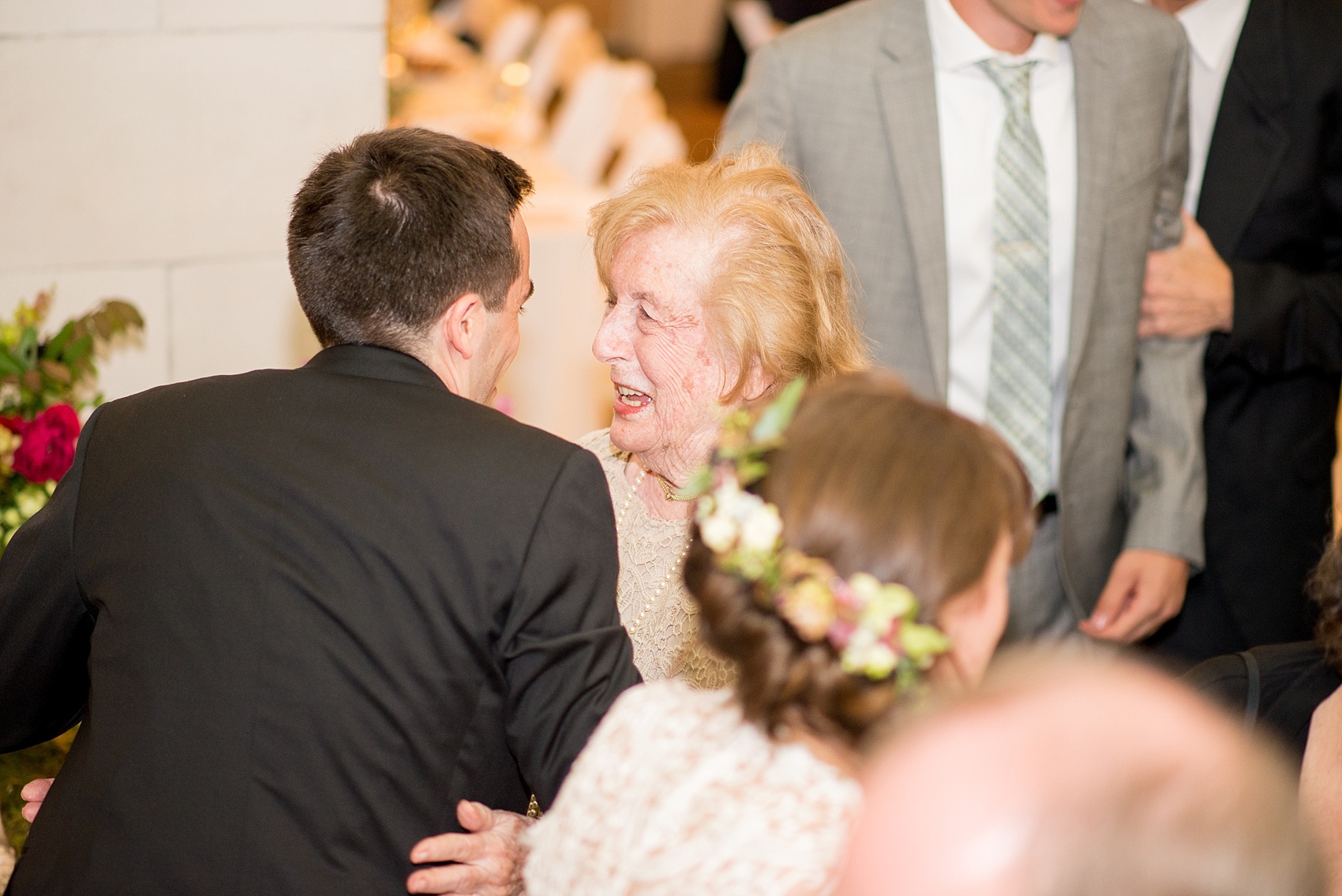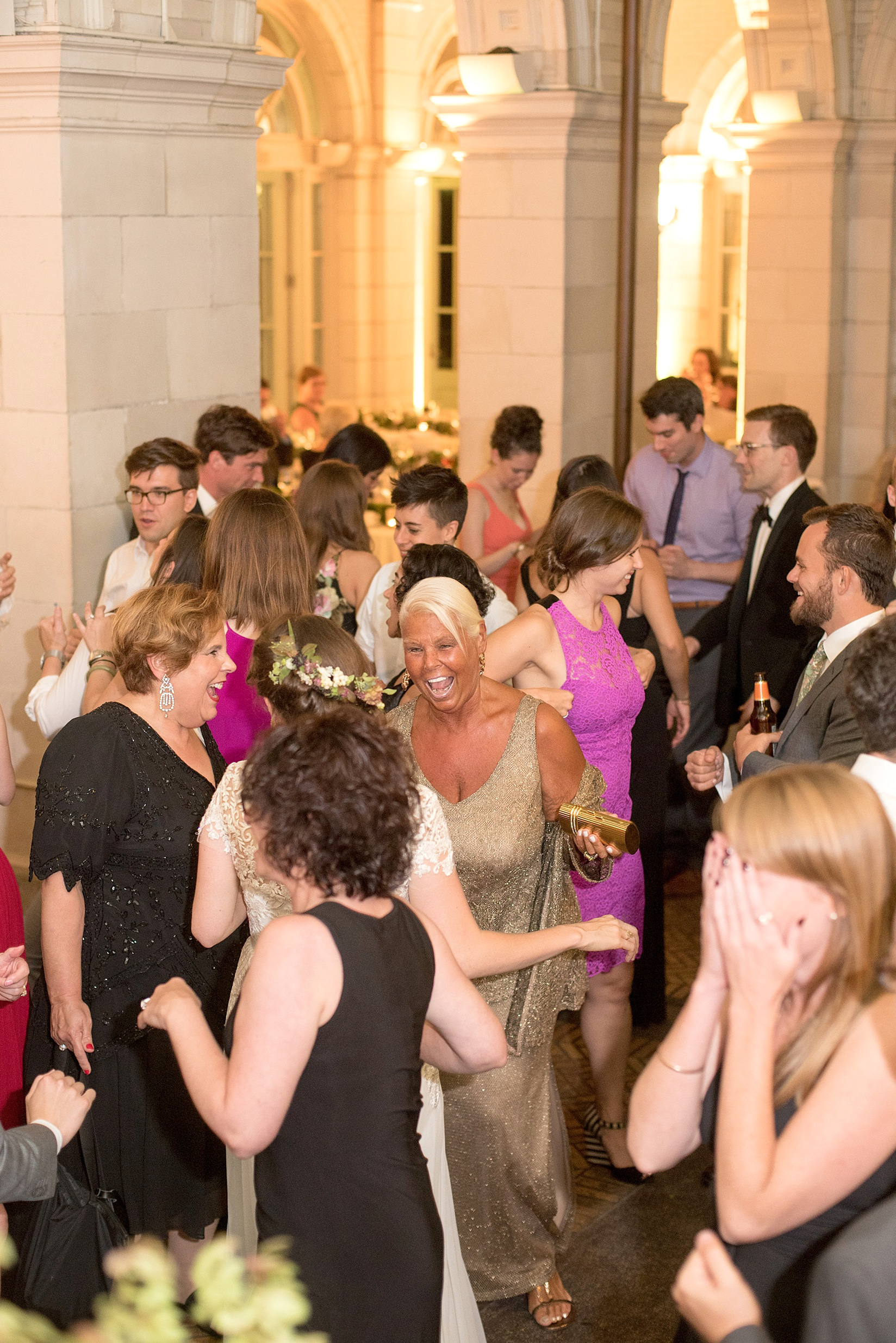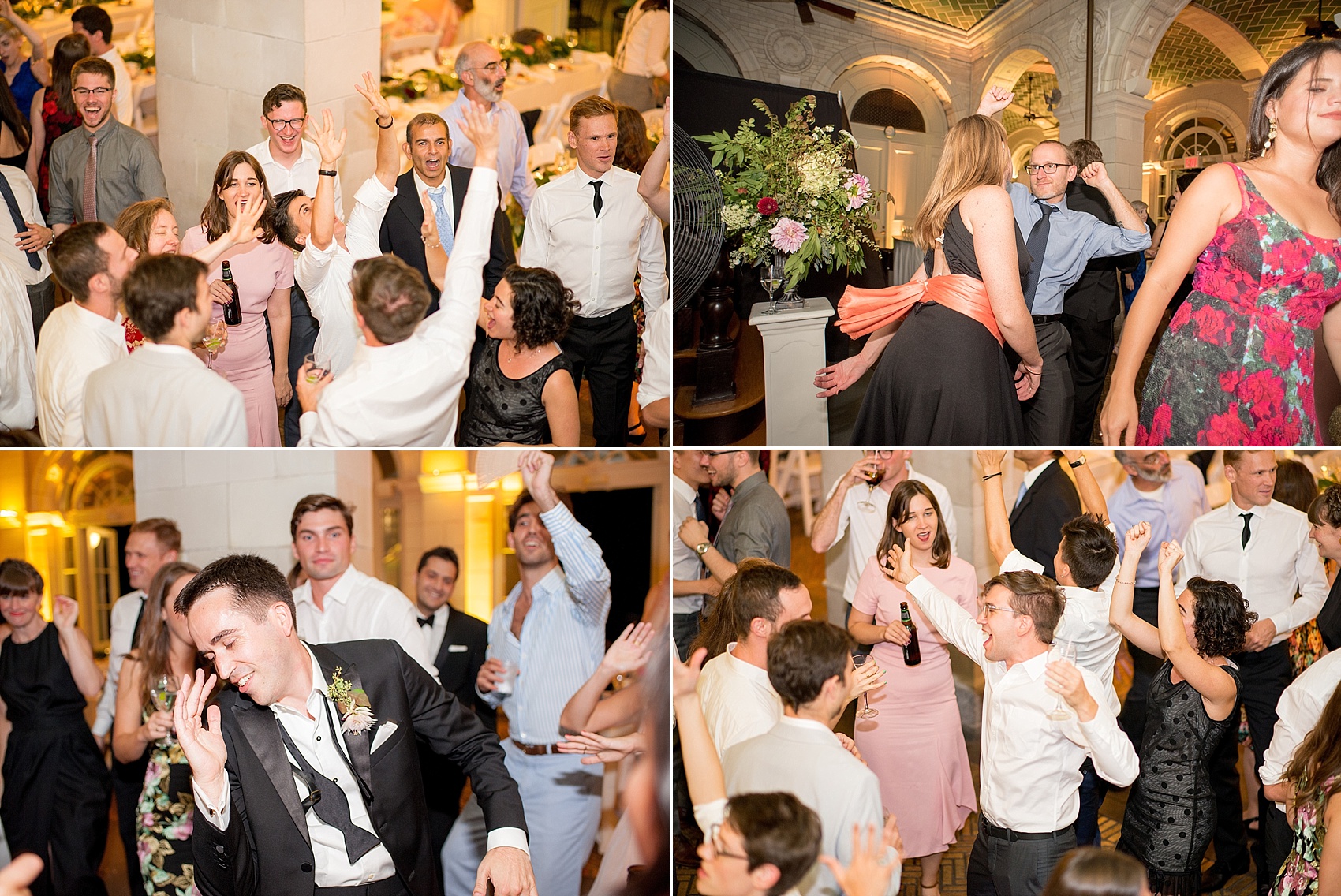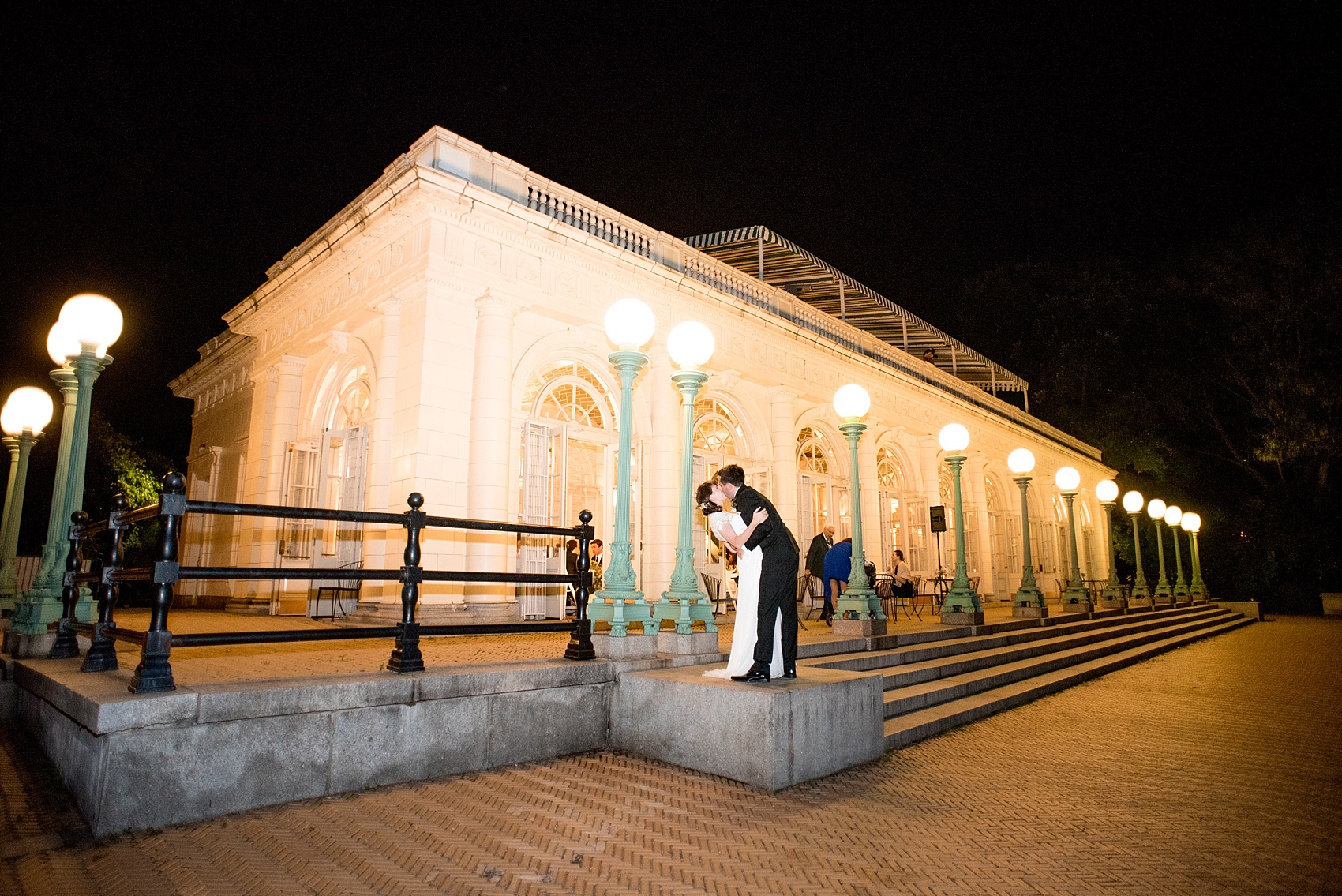 And that's a wrap on an incredible day! I'm definitely inspired by their wedding and it's times like these I'm sad it's over but smile that they can relive it through photos. Congratulations, Rachel and Joe!
Wedding coordinator: Yoriko Ueno / Florist: Sachi Rose Designs / Cake designer: Emma Bergman / Invitation suite: Meaghan Murray / Officiants: Clare Hochreiter and Barbara Merz / DJ: Scratch Weddings, DJ Vida / Makeup Artist: Fallon Fitzpatrick / Hair Stylist: Paula Randazzo / Wedding Dress Designer: Reem Acra / Bridesmaids gifts and wedding rings: Piccadilly Jewelry / Groom's tuxedo: Theory Tuxedo / Groom's bow tie: Turnbull & Asser / Groomsmen ties: Michael Kors. / Ceremony musicians: Sweet Music
For more there's always additional exciting images posted to Facebook and Instagram! And if you're interested in discussing your NYC wedding, please reach out and contact us!