I'm like a moth to a flame when it comes to color and contrast. I was asked to be a very special part of the Love Union vendor week at 501 Union venue in New York City. A styled shoot would take place, led by Leah of Color Pop Events, and I was asked to be the lucky head photographer capturing it all at Brooklyn's Green Building.
Two special people, and real life married team, Madine and Sabine, were the wonderful models that flew in from Los Angeles to be the couple in the spotlight. Their hip vibe, tattooed skin and magnetic personalities were just what was needed for the final touch on an amazing team inspired by Neo-Pop Modern Art featuring Jeff Koons balloon animal sculptures.
We are so proud our Brooklyn Green Building wedding photos were also featured on 100 Layer Cake. Be sure to see this post to the end for Mae B. Films' inspiring video.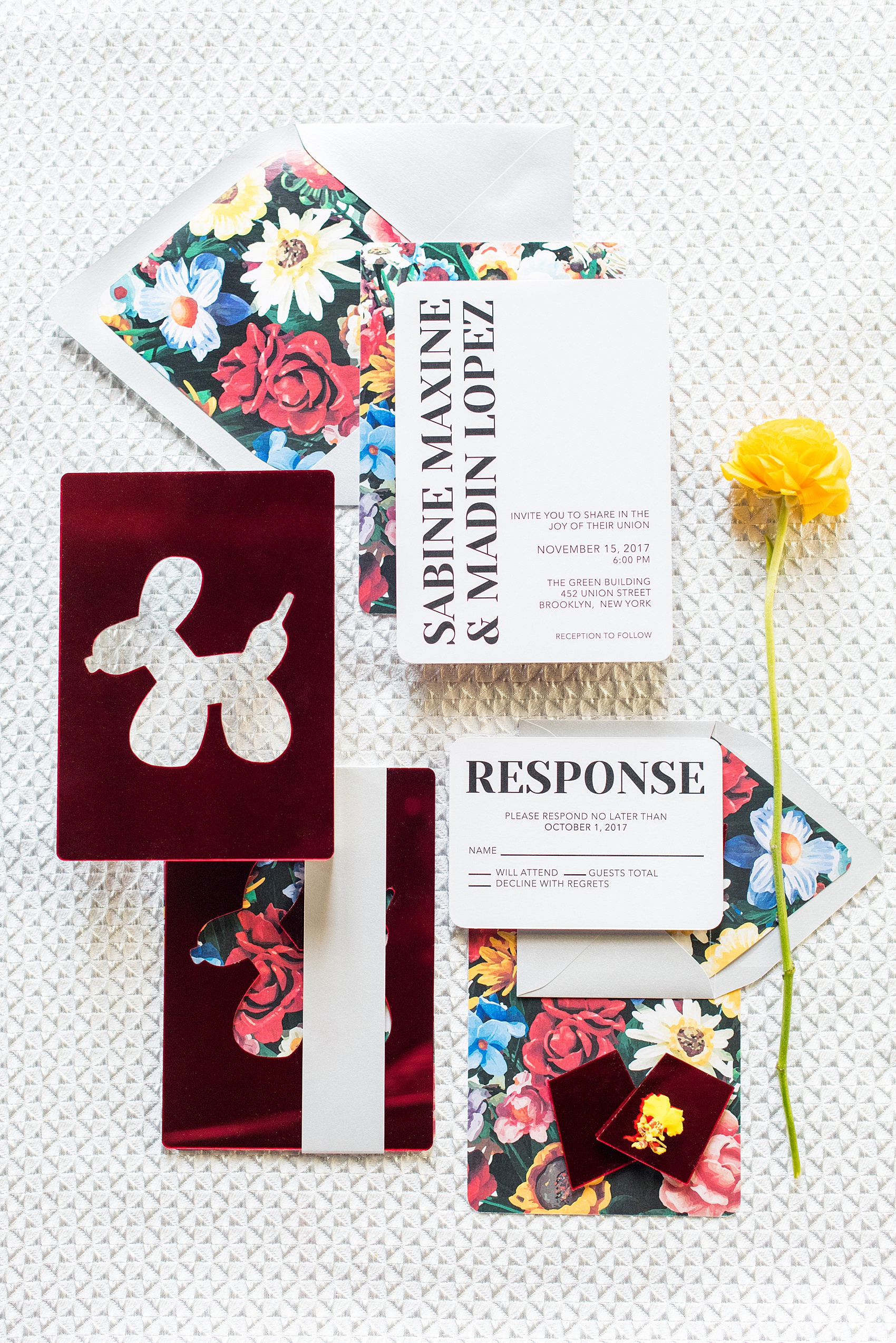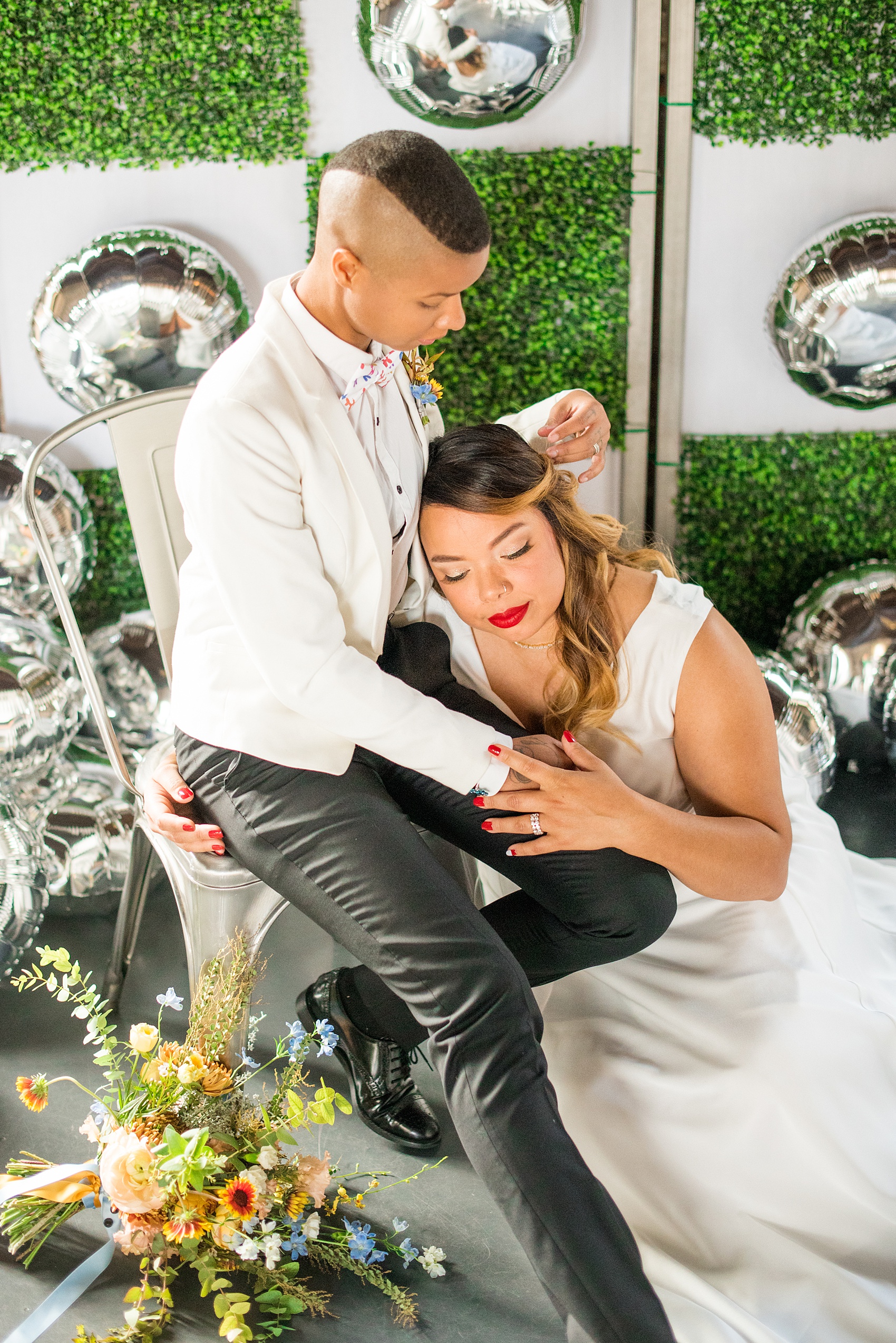 This invitation is a knock-your-socks-off suite. The floral liner is punchy but sweet and the acrylic red mirror elements were the negative space of the laser cut place cards that were placed on the reception table for the dinner. A modern serif font was used for the couples names that went next to simple, clean information on the black and white invitation.
The couples rings perfectly matched the design. The bride's black and white diamond band was worn on her hand nearby an emerald cut diamond engagement ring.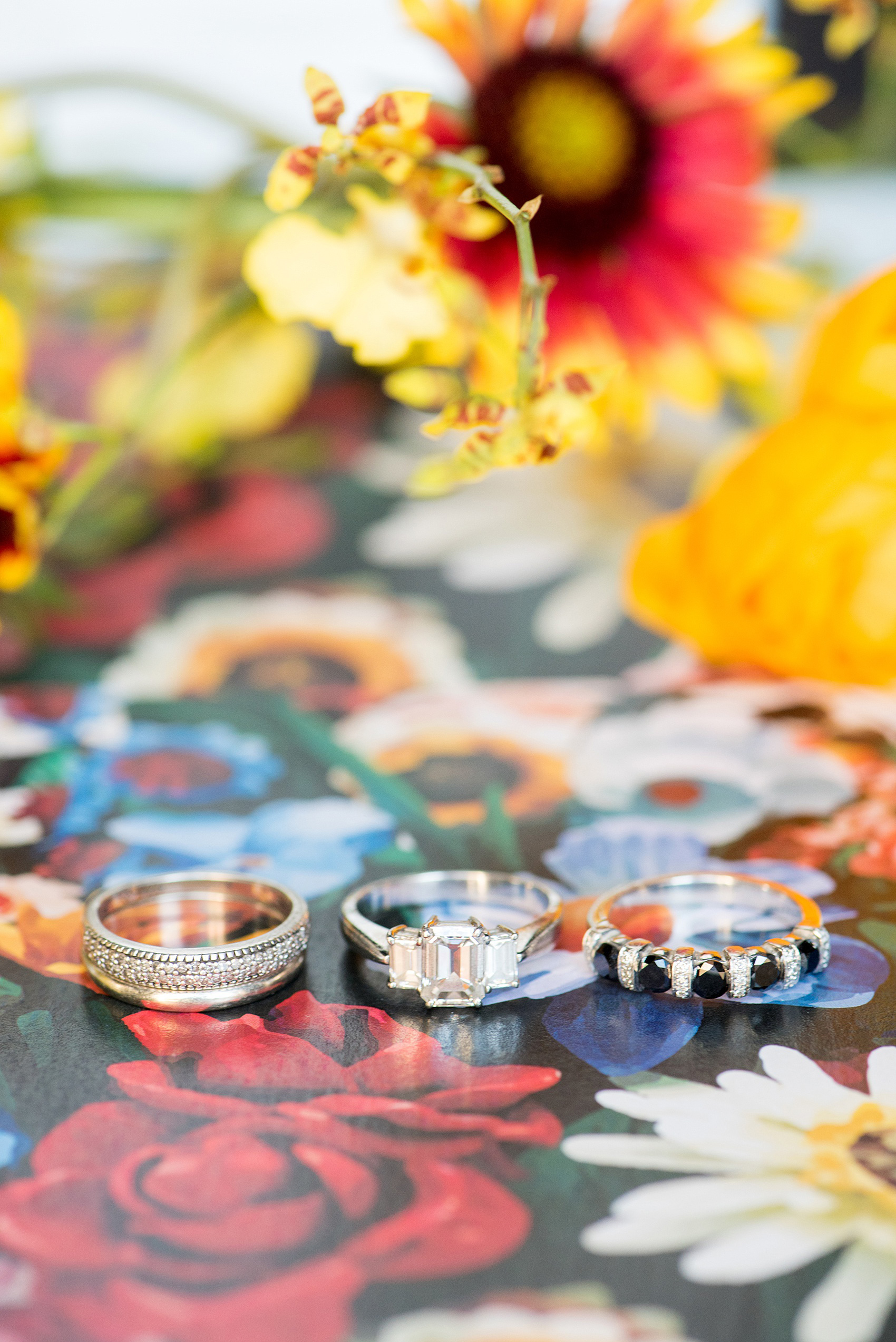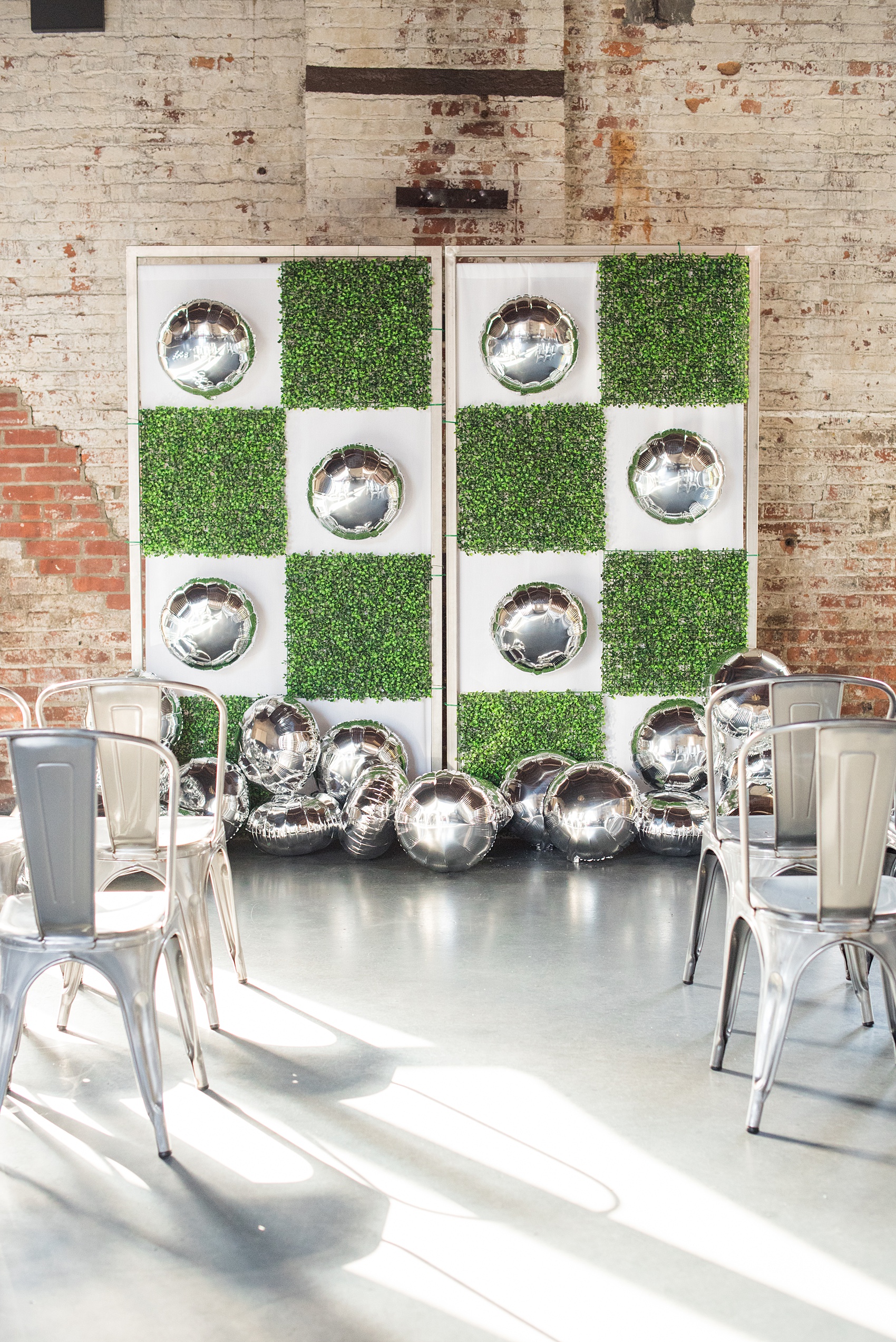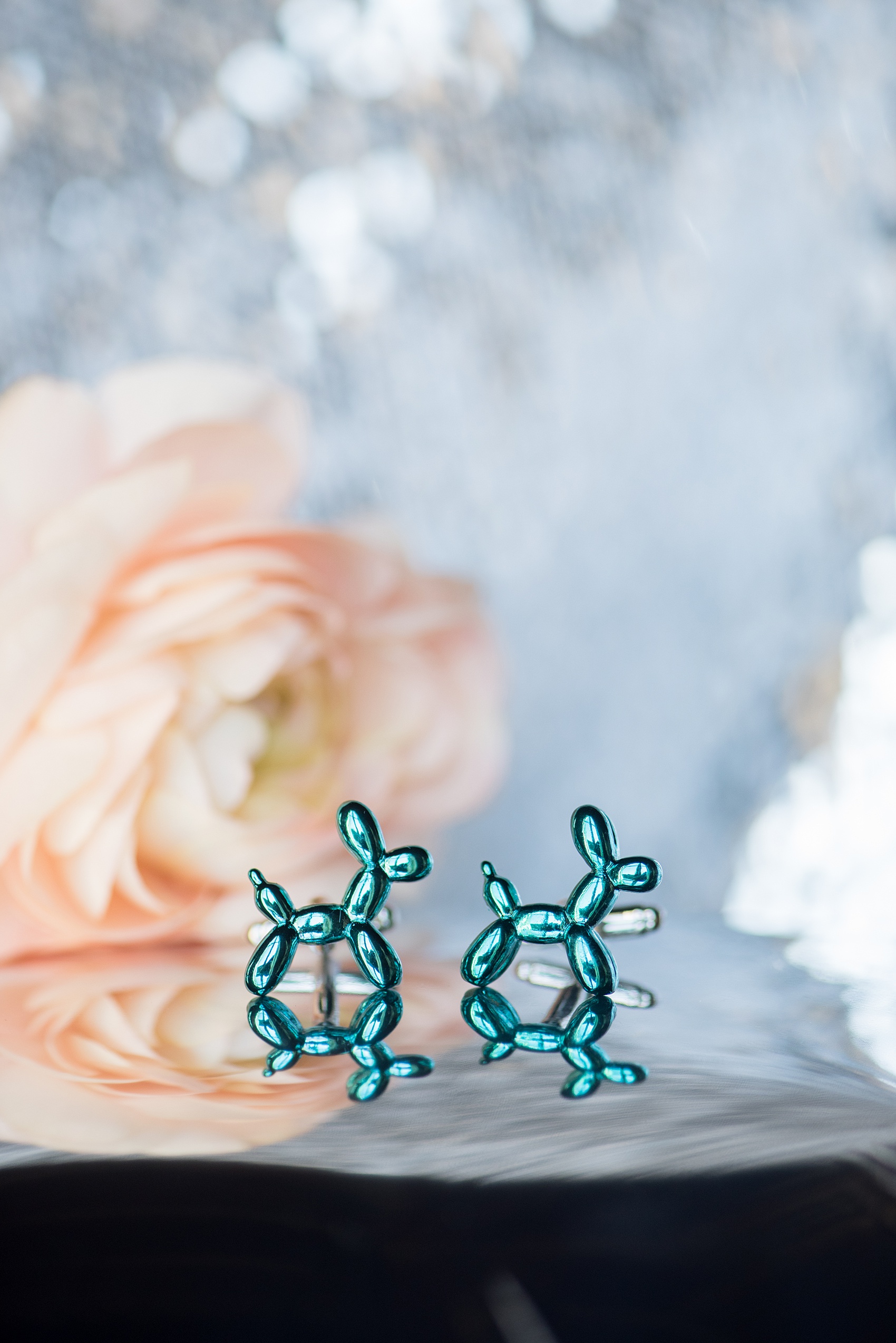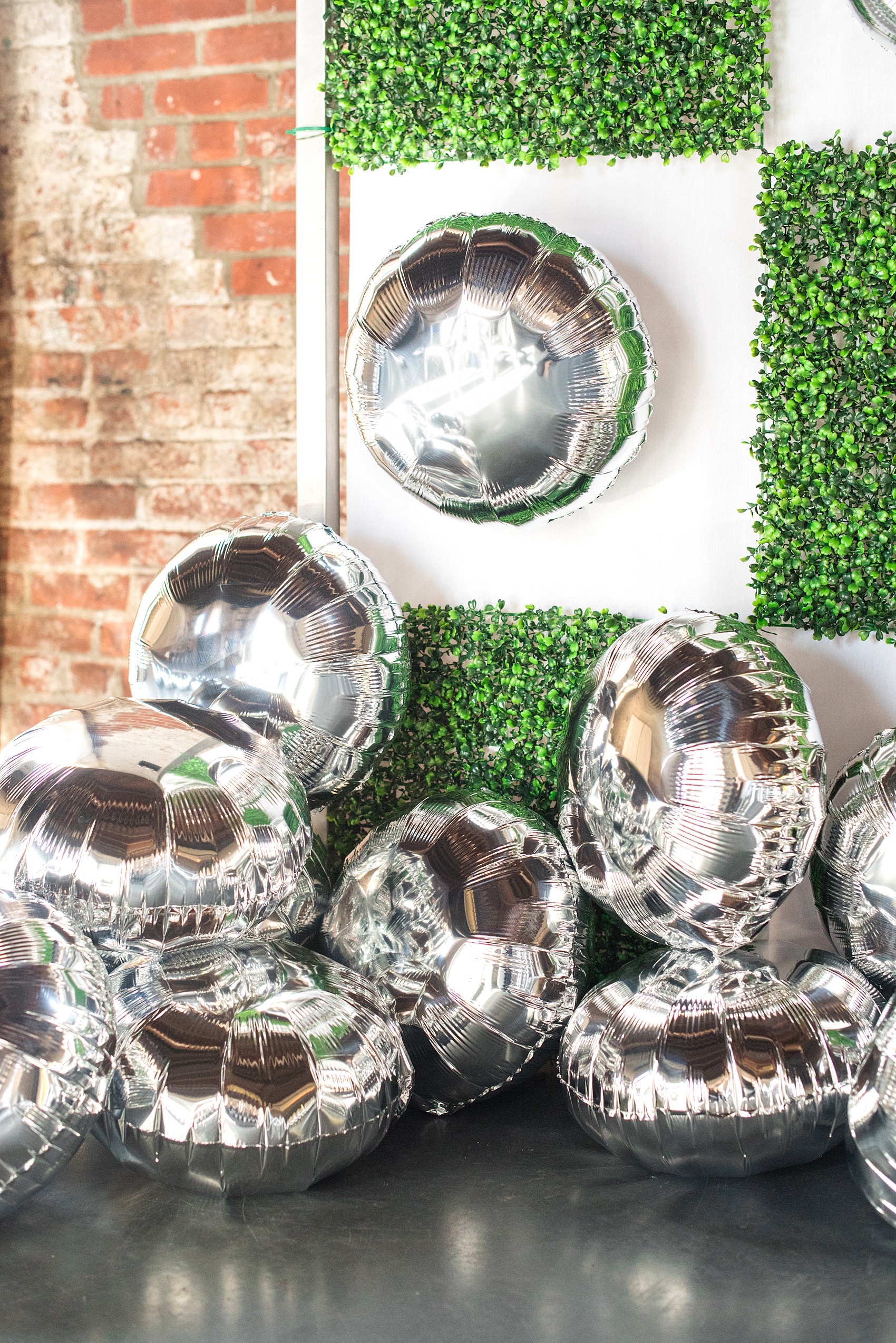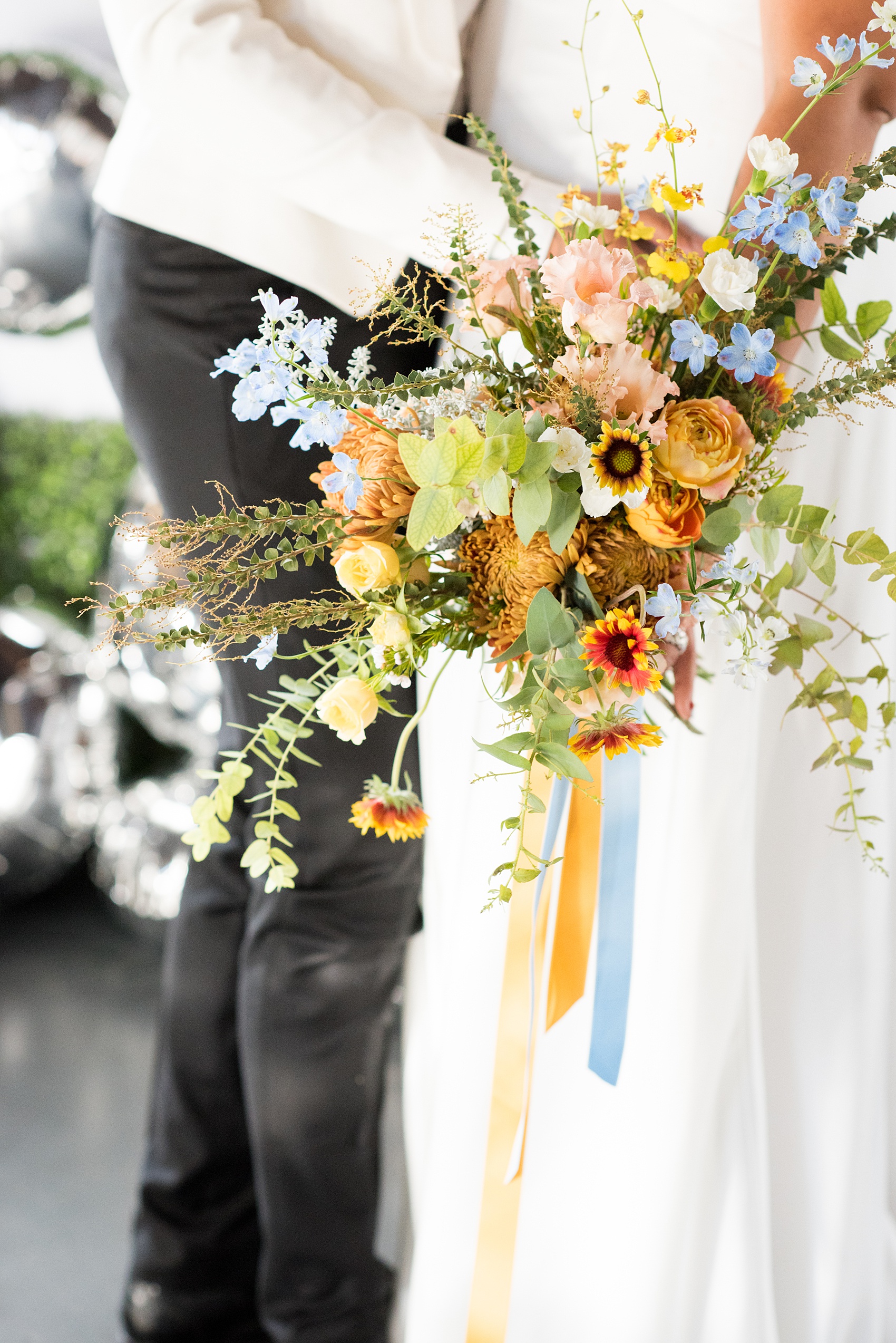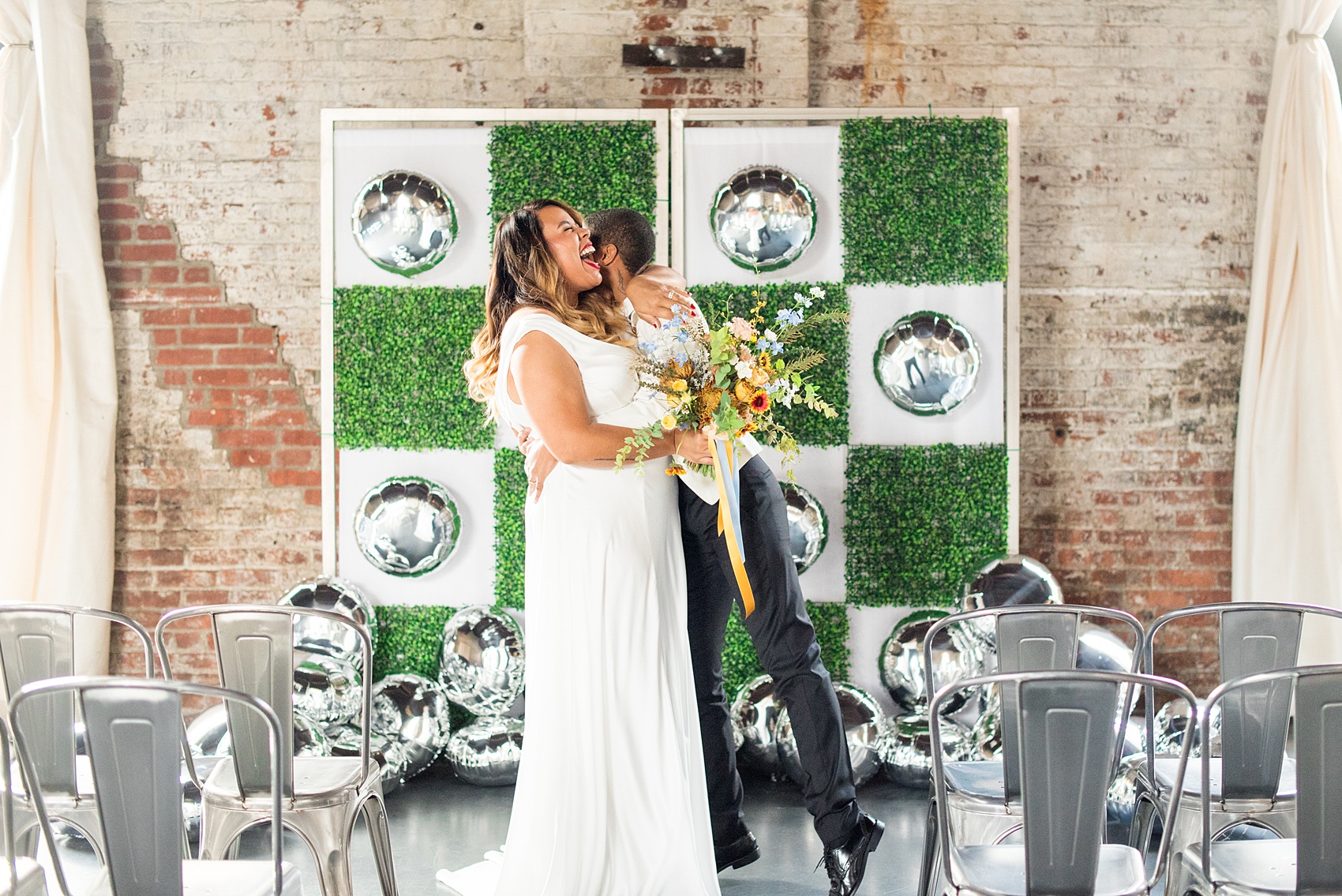 Their ceremony backdrop was complete with alternating blocks of green boxwoods and silver mylar balloons. This shiny metallic was seen again in Jeff Koons balloon animals touches, including Madin's playful blue cufflinks and silver dogs on the dinner table. The whimsical, colorful balloon animal bow tie for Madin's ceremony look complimented a balloon animal pin on the ribbons of Sabine's fall inspired bouquet. The bride's cowl neck dress dress looks sleek and sharp next to her partner's black pants, white jacket and black buttons on a formal shirt. Madin would wear the same leather suspender again for their second look of the day: silver fabric pants and a black button-down shirt to contrast Sabine's sexy red chiffon gown. She wore emerald cut diamond earrings to match her engagement ring – the perfect hint of sparkle near her hot red lips!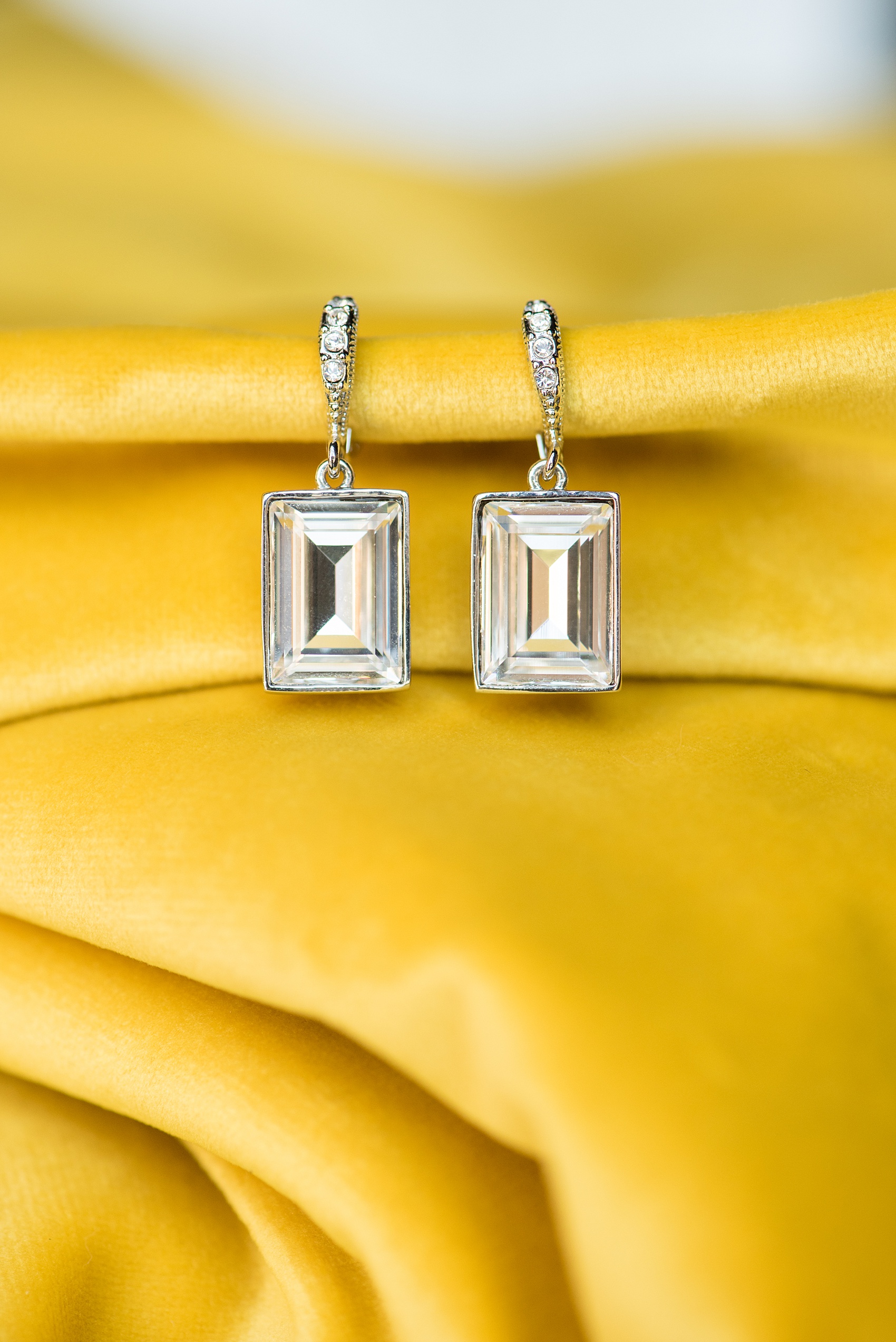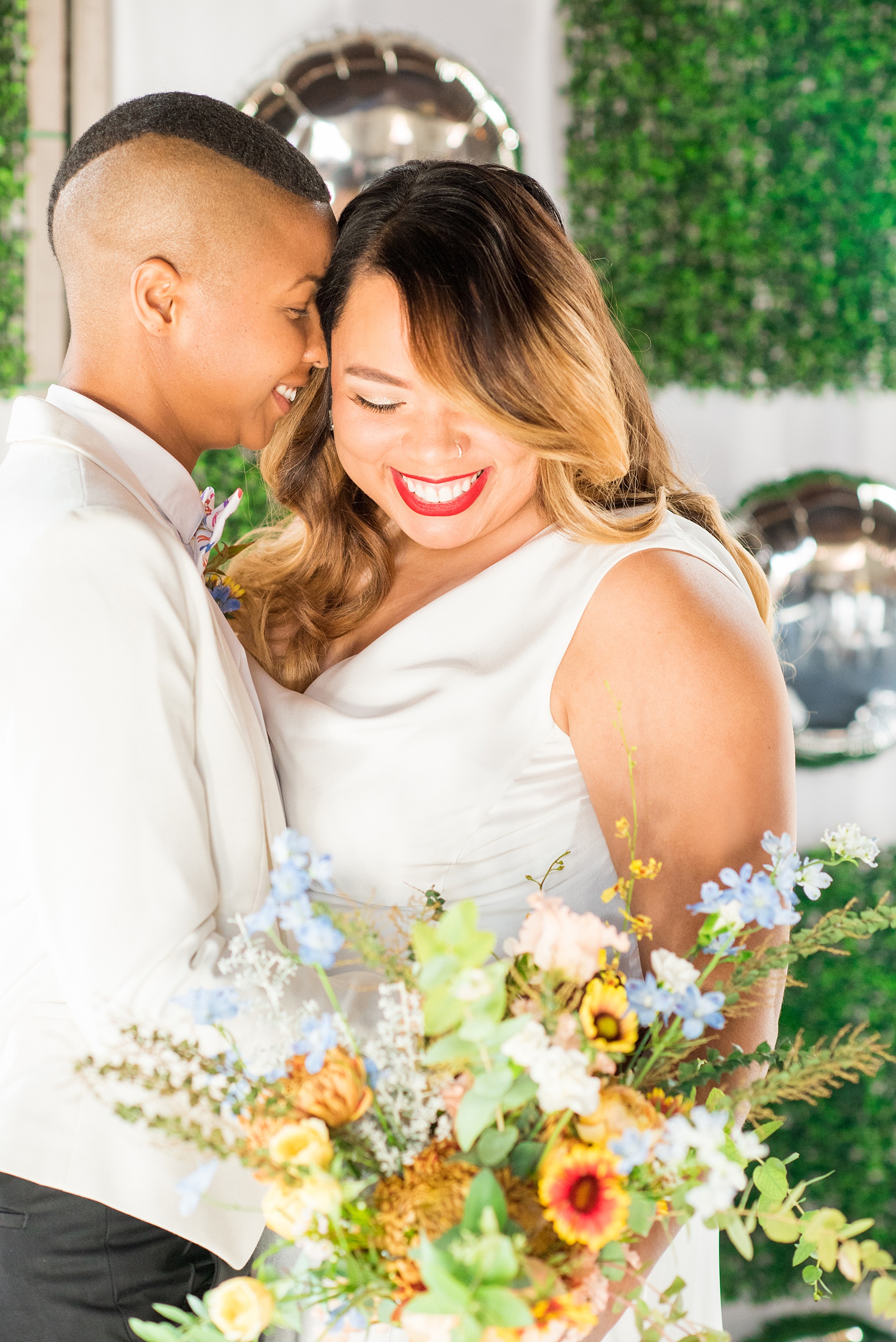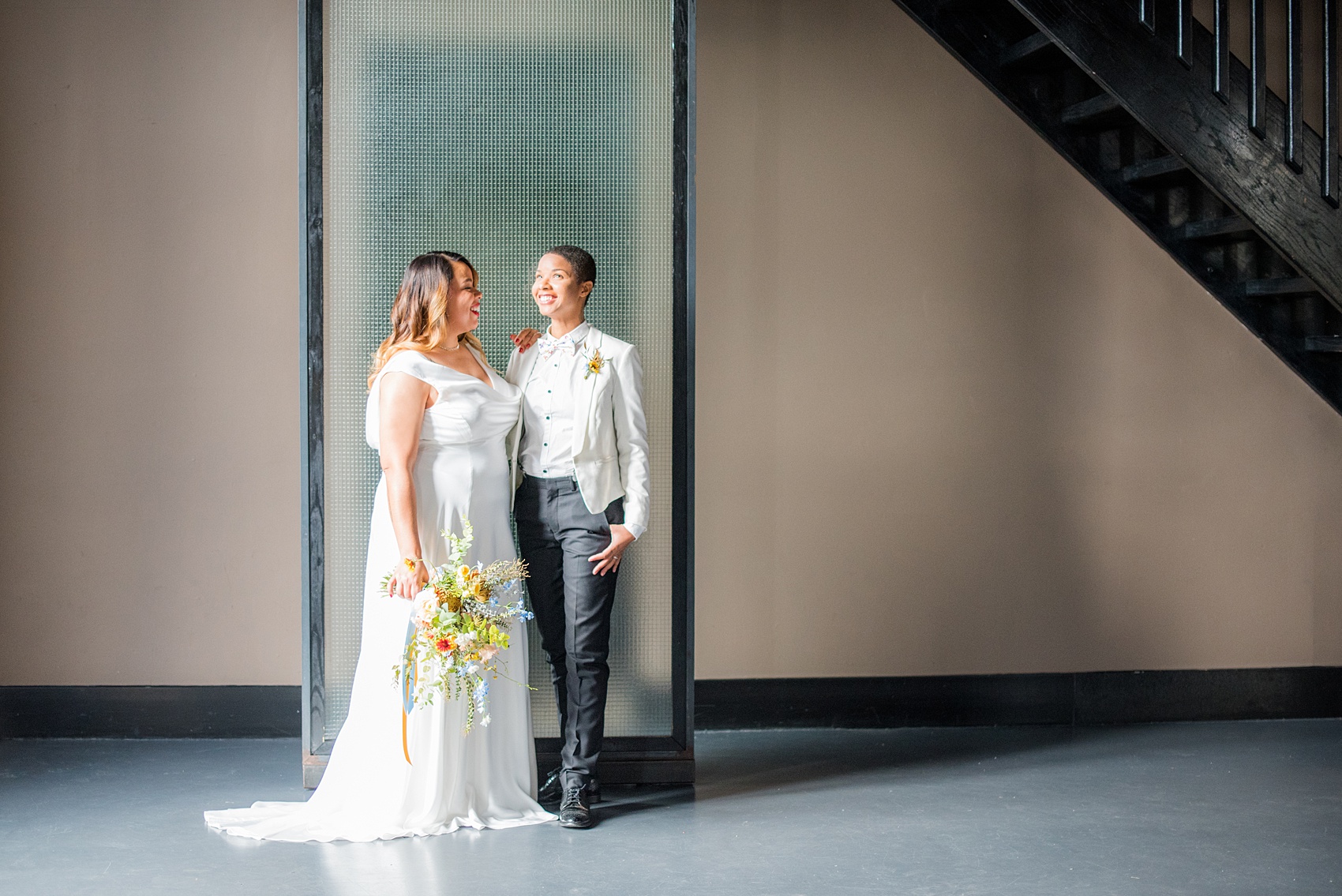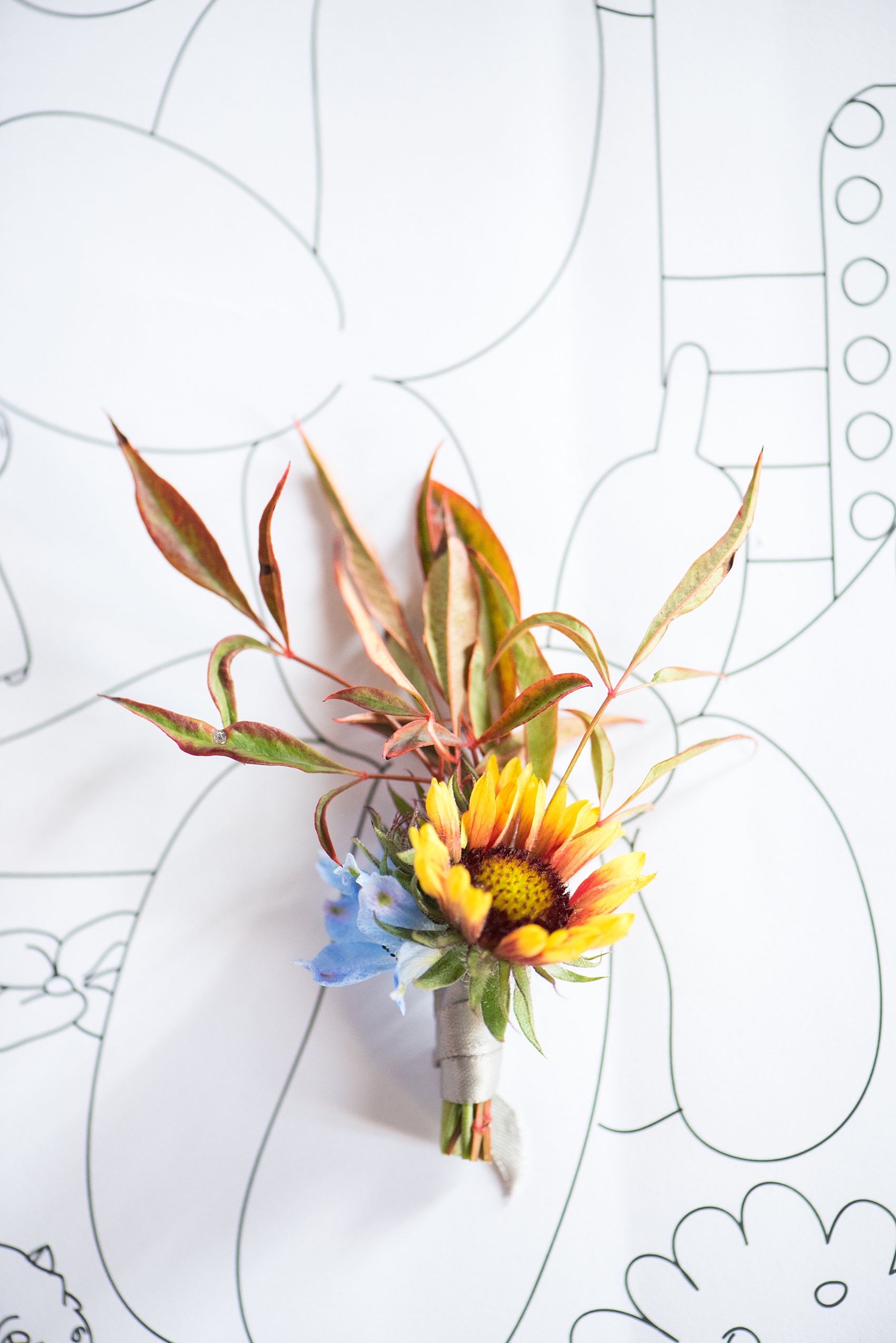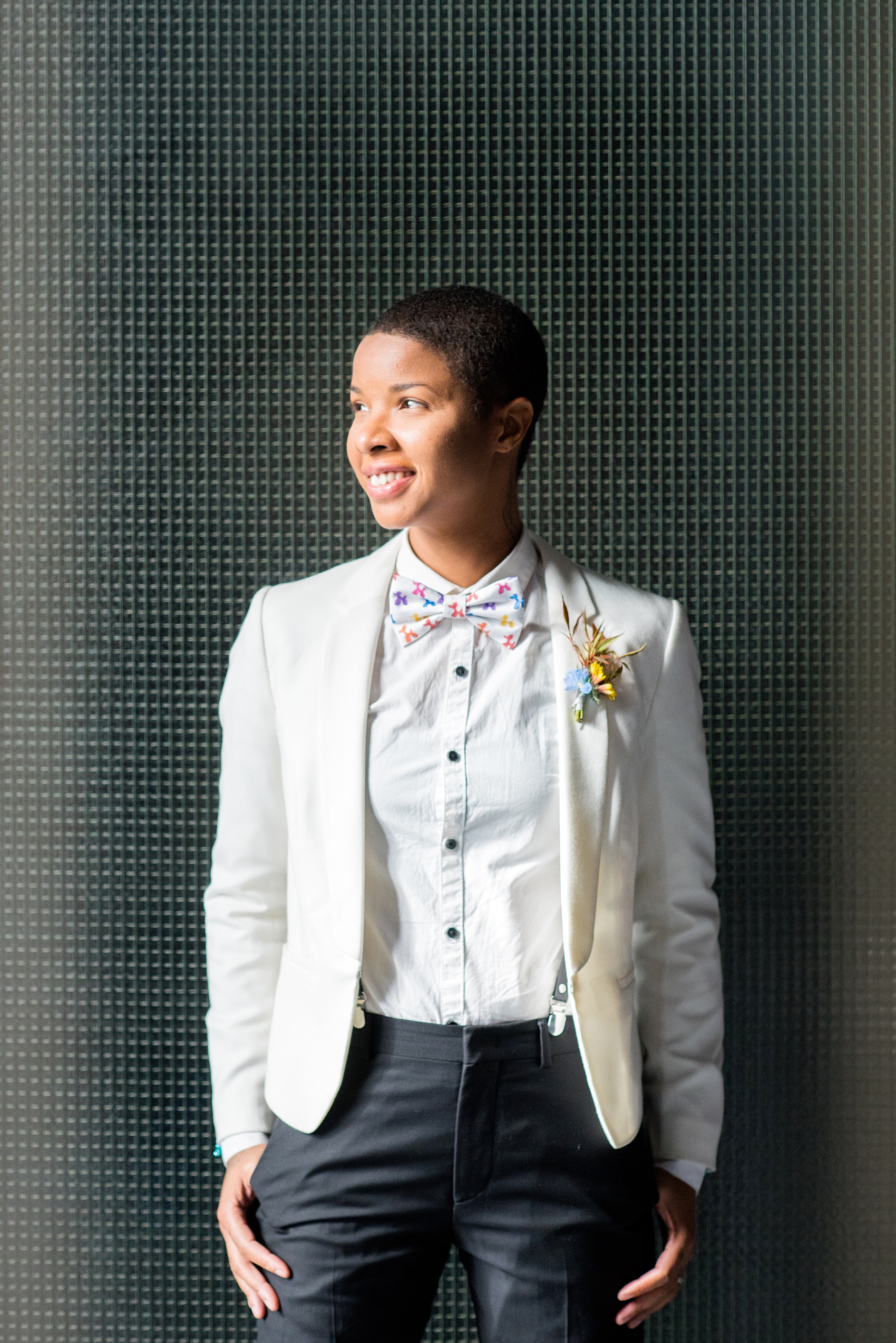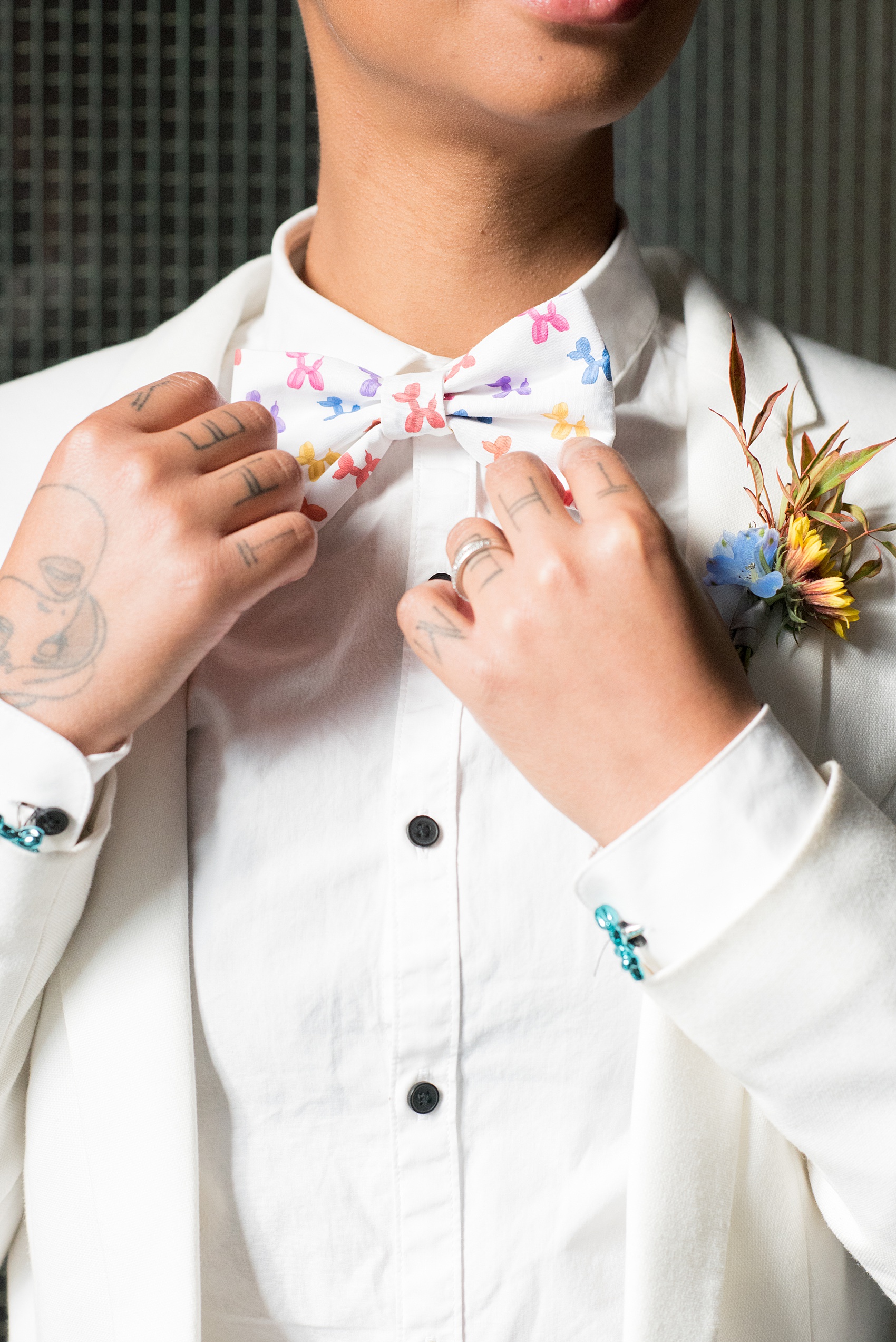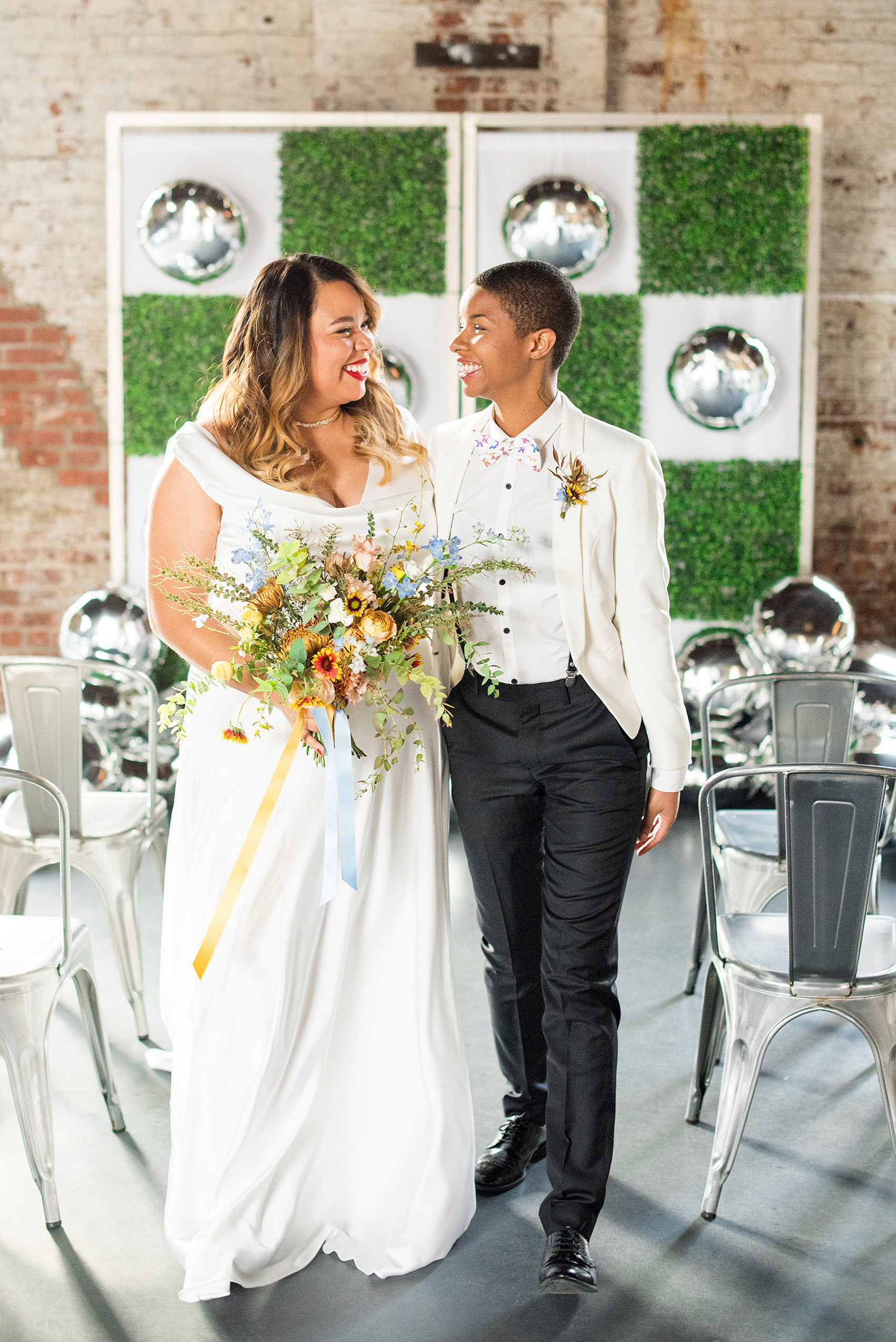 Every bride loves changing into something a "little more comfortable" for an evening of dancing. Sabine's silver glitter Gucci shoes weren't just comfortable – they're trend setters! Their Brooklyn Green Building wedding was shining from every angle between the balloons, cufflinks, jewelry and shoes!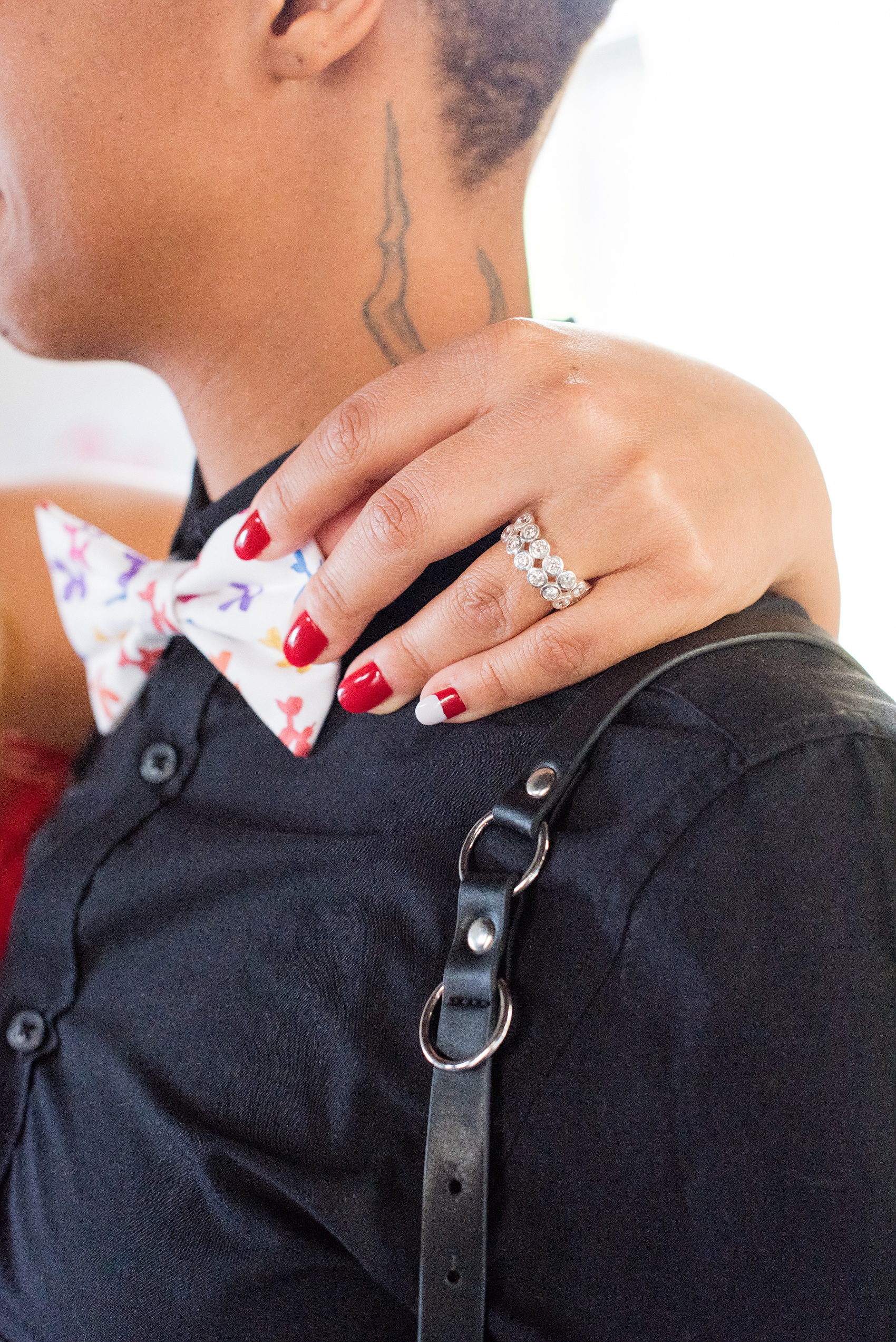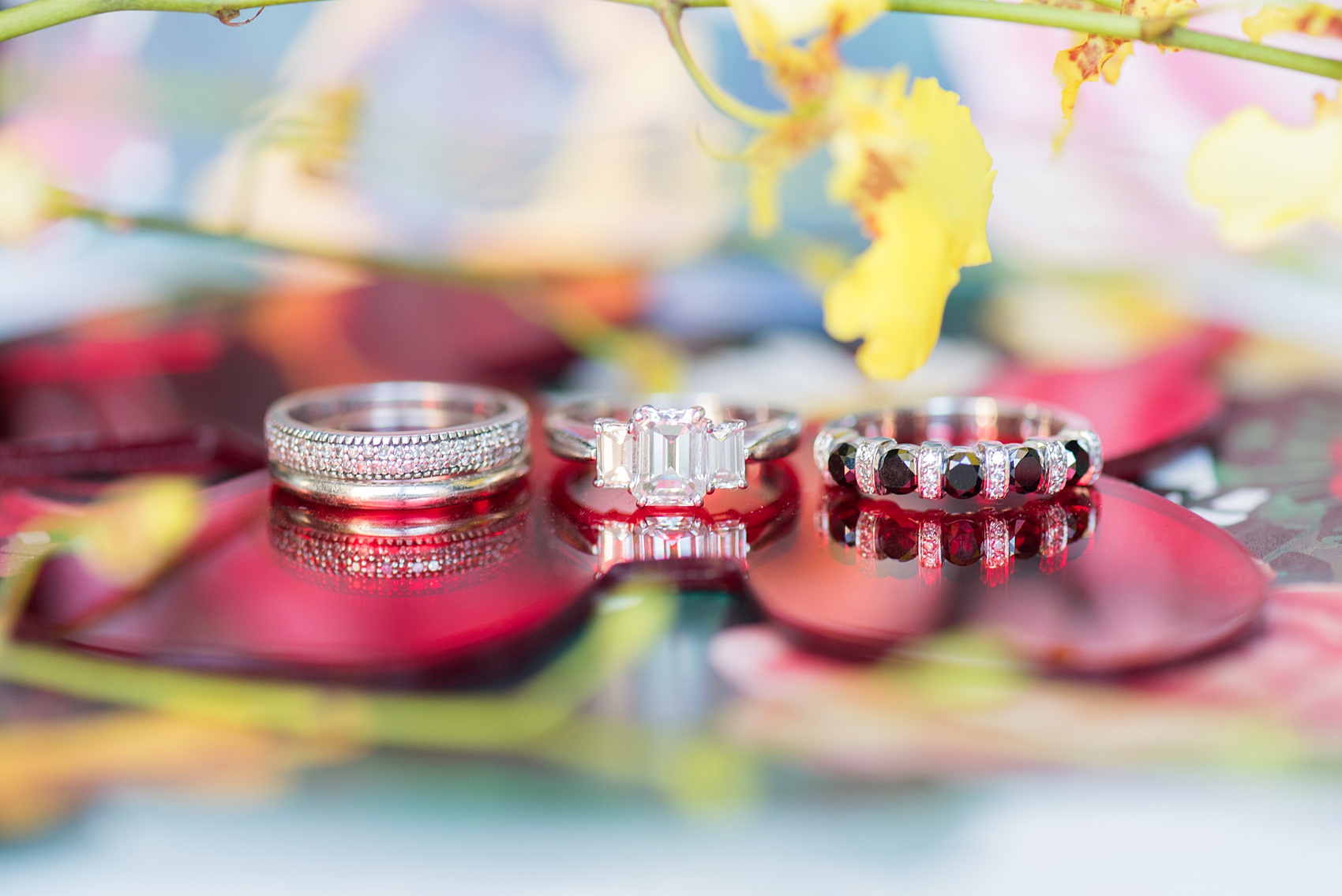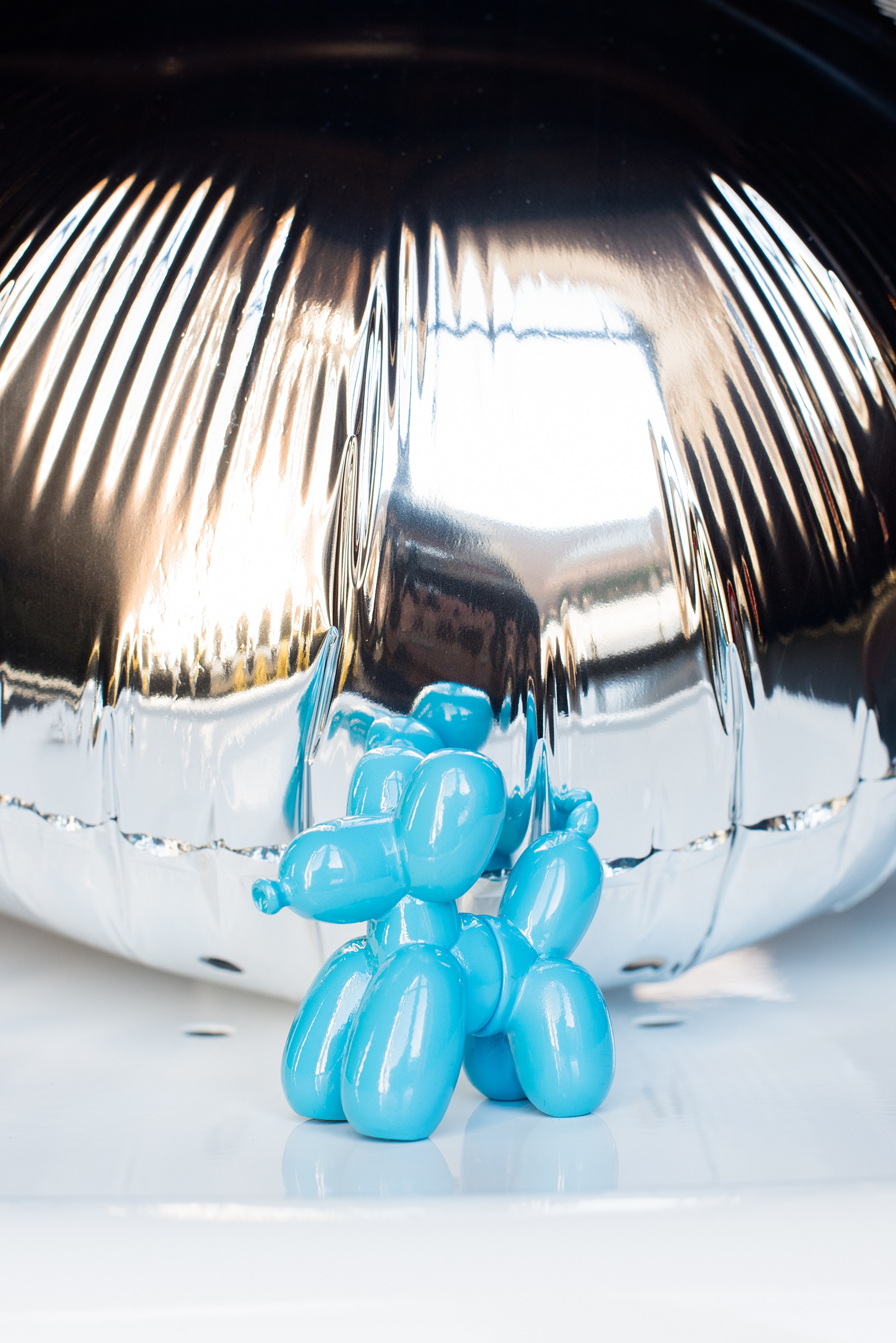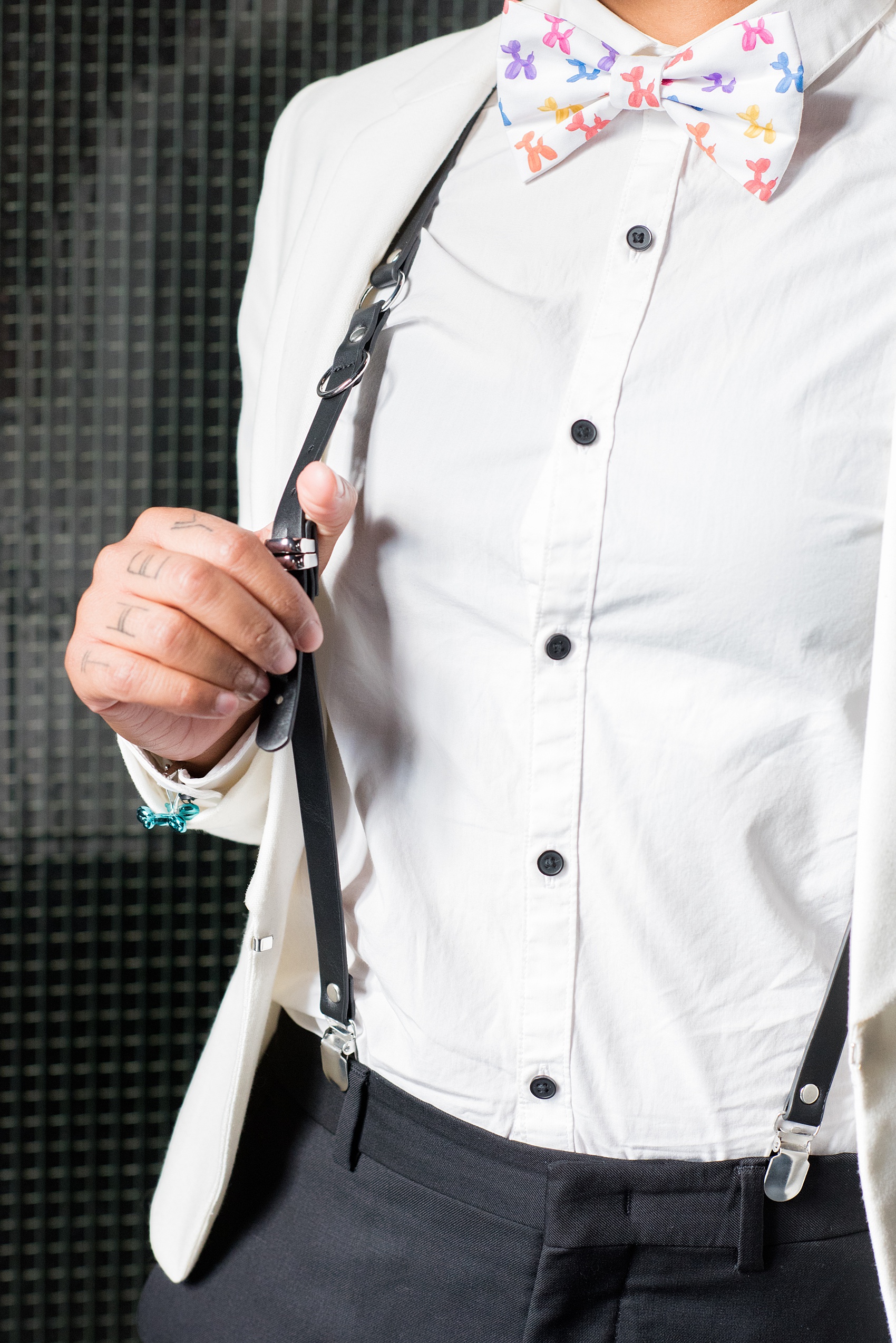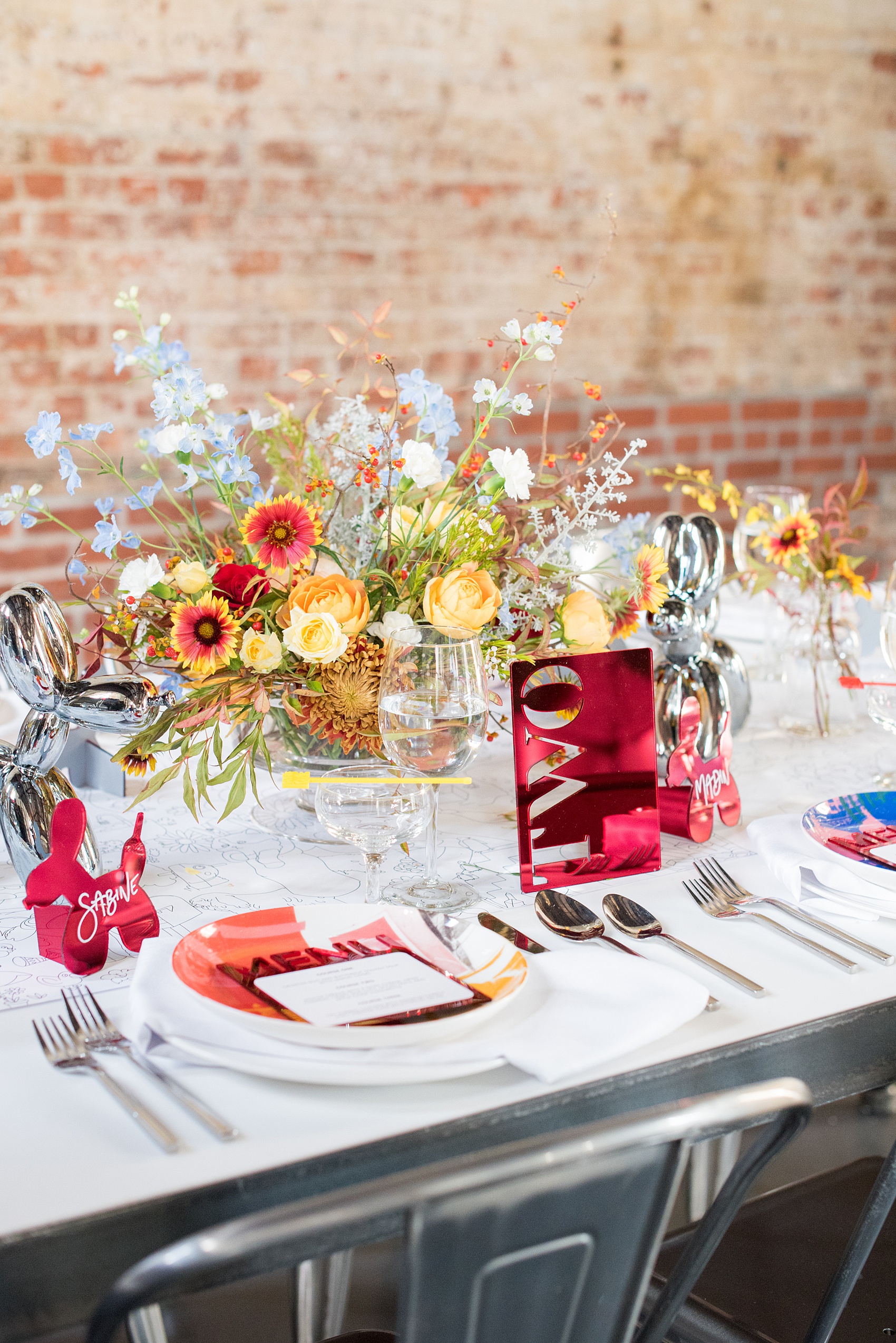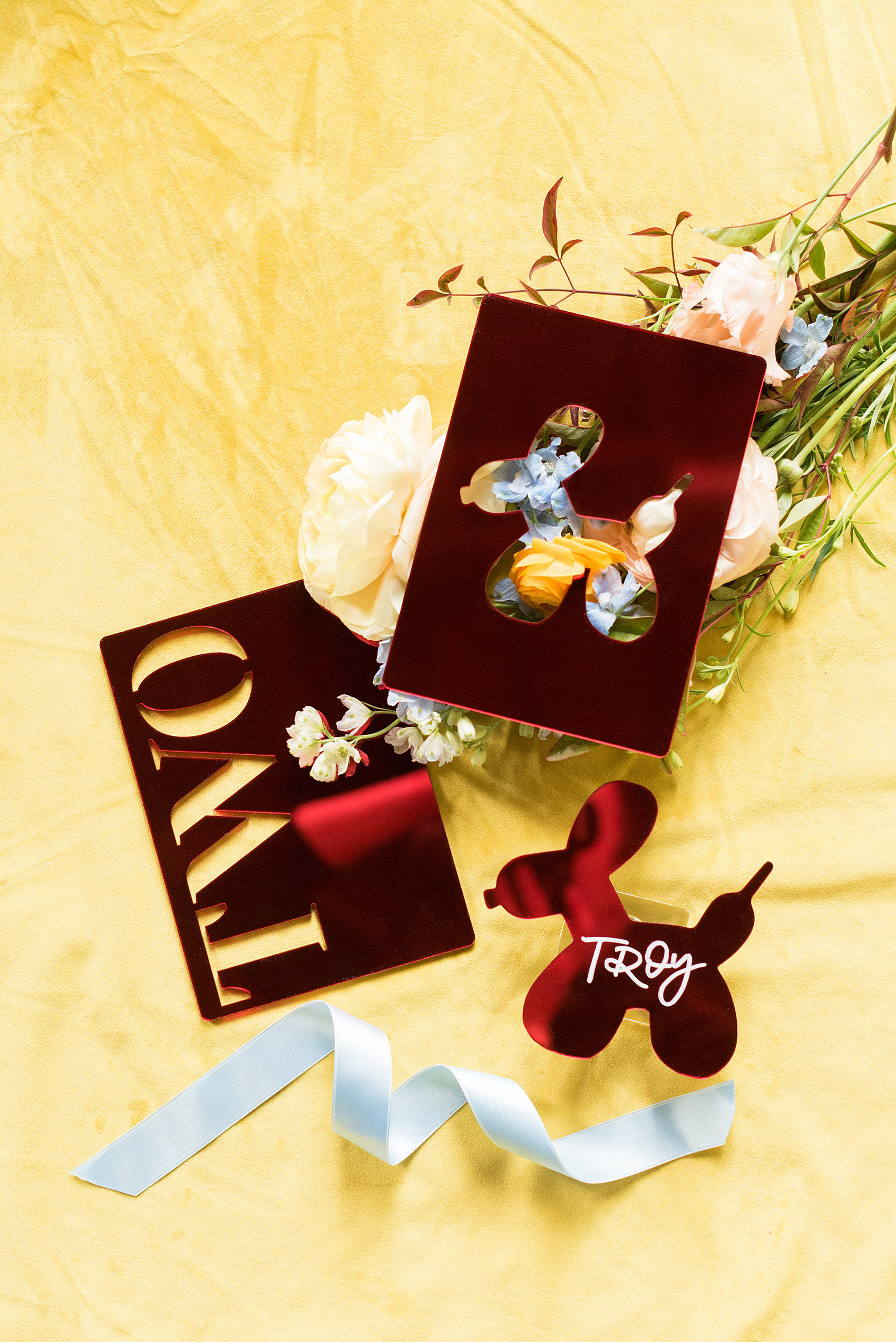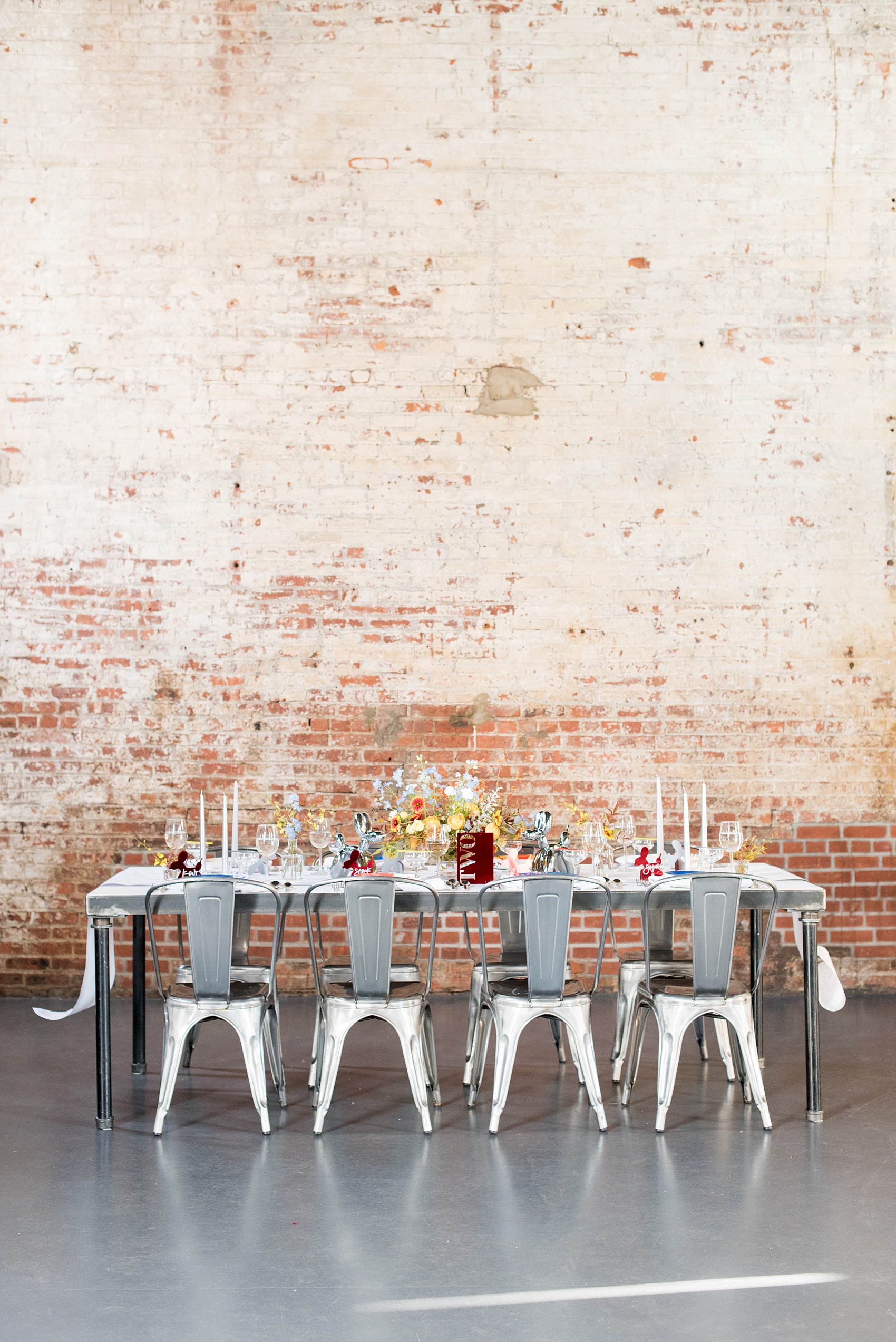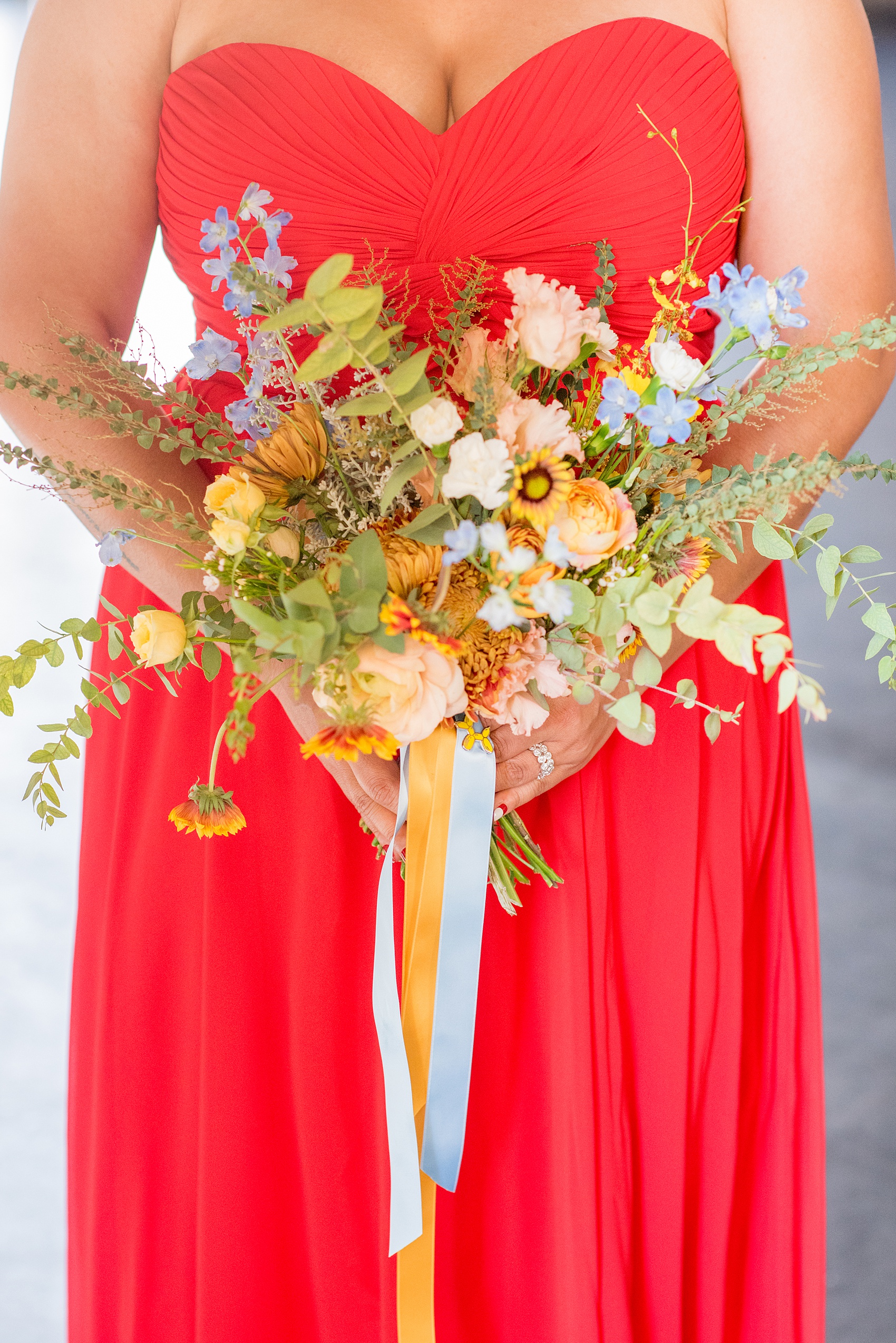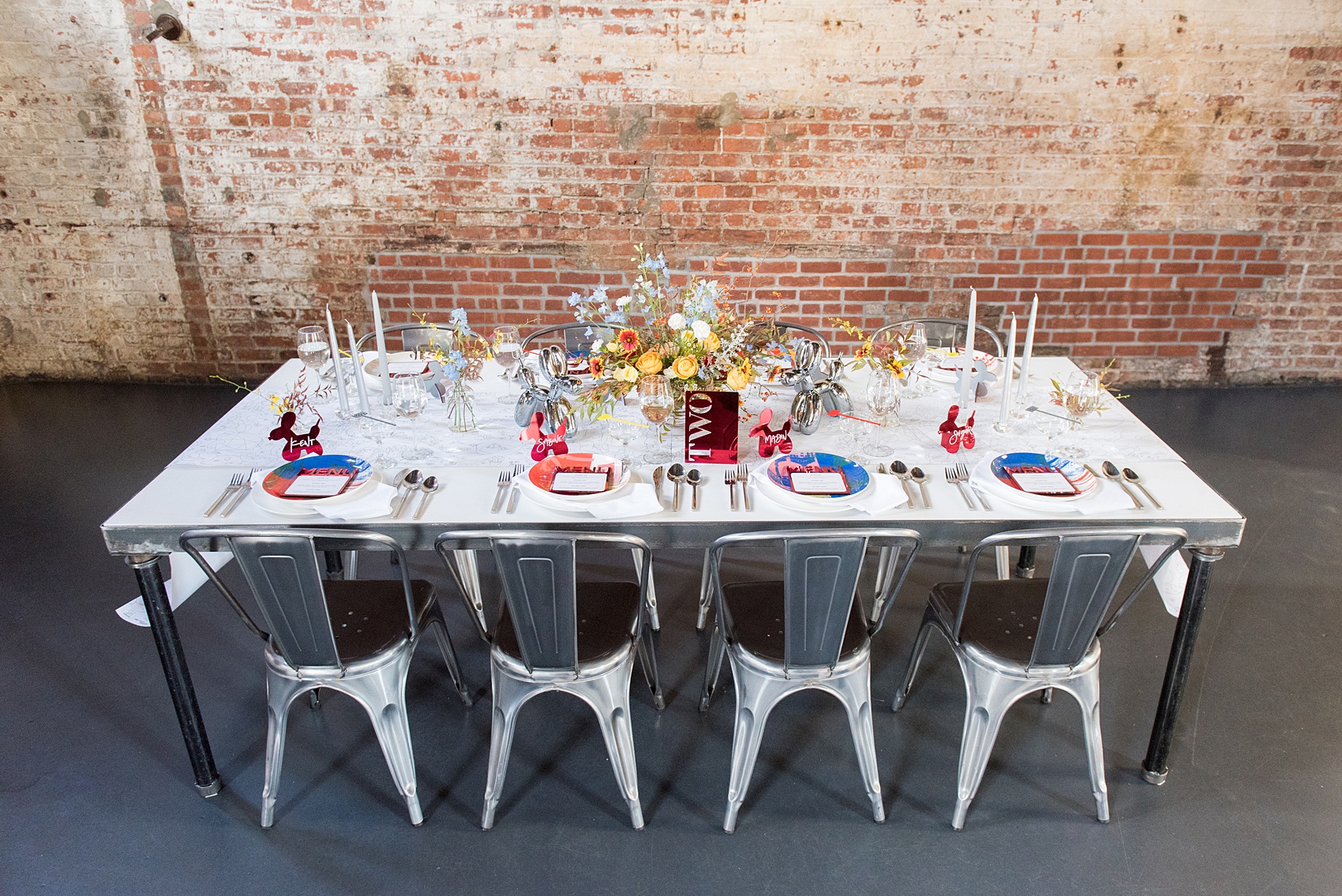 Sabine's bouquet and the floral centerpiece had similar flowers in yellow, peach and blue tones. Giant orange chrysanthemums signaled the season. The table was set with pops of color against a white background and coloring book runner. Urban industrial chairs were set on either side, with artistic plates adding hues to each place setting. The table number matched the invitation suite and mirror dogs with laser cut numbers, and menus were affixed to laser cut "MENU" frames as well.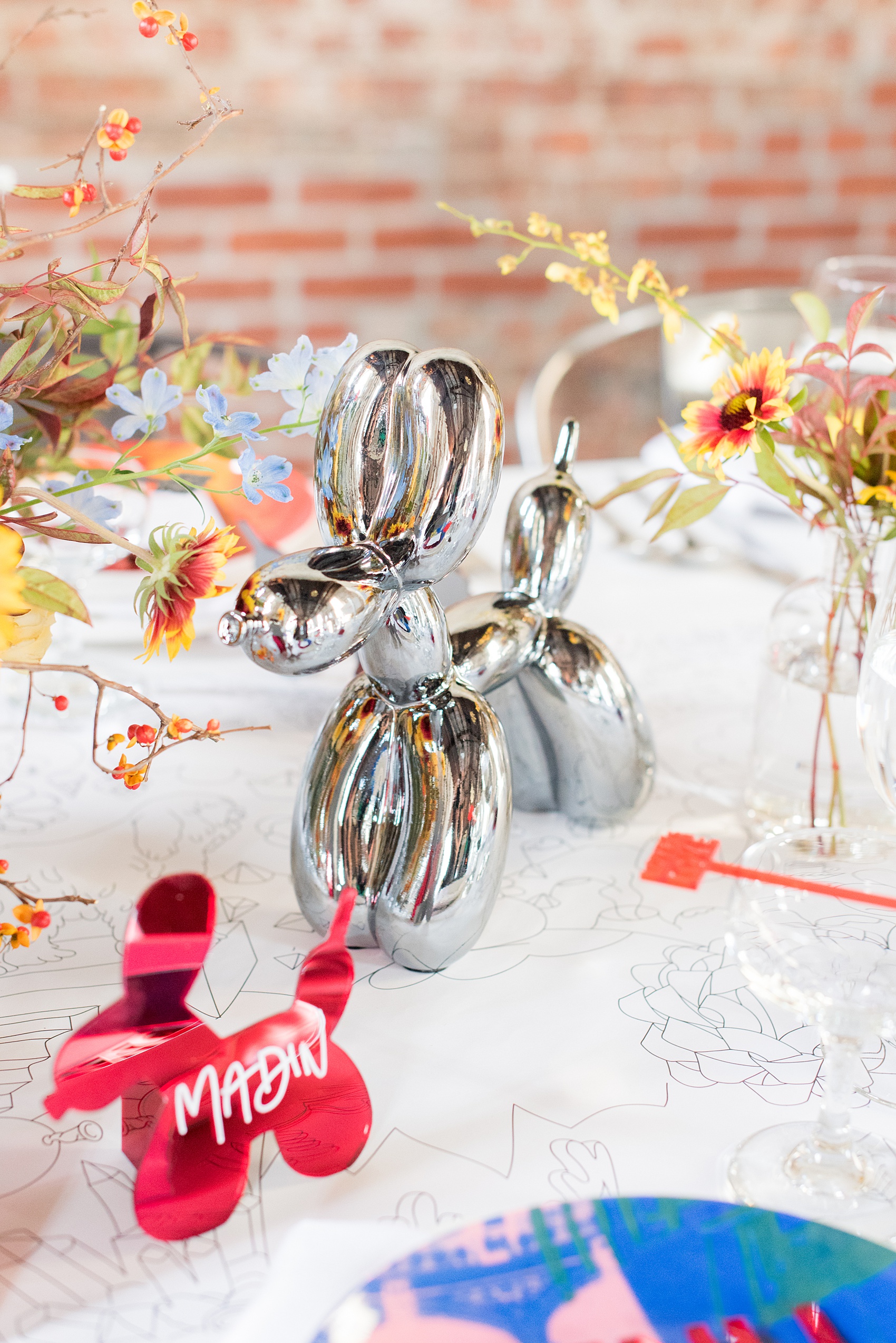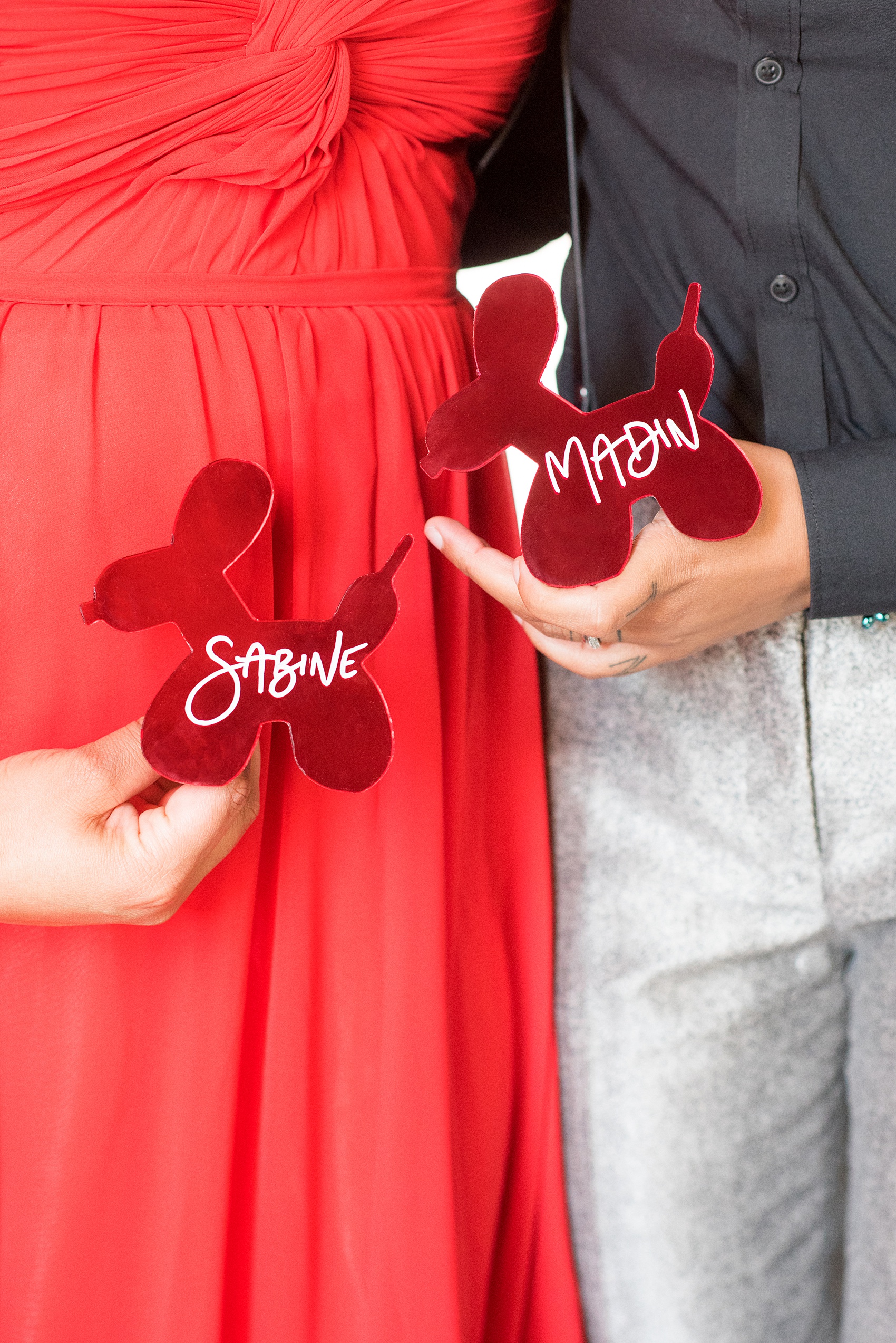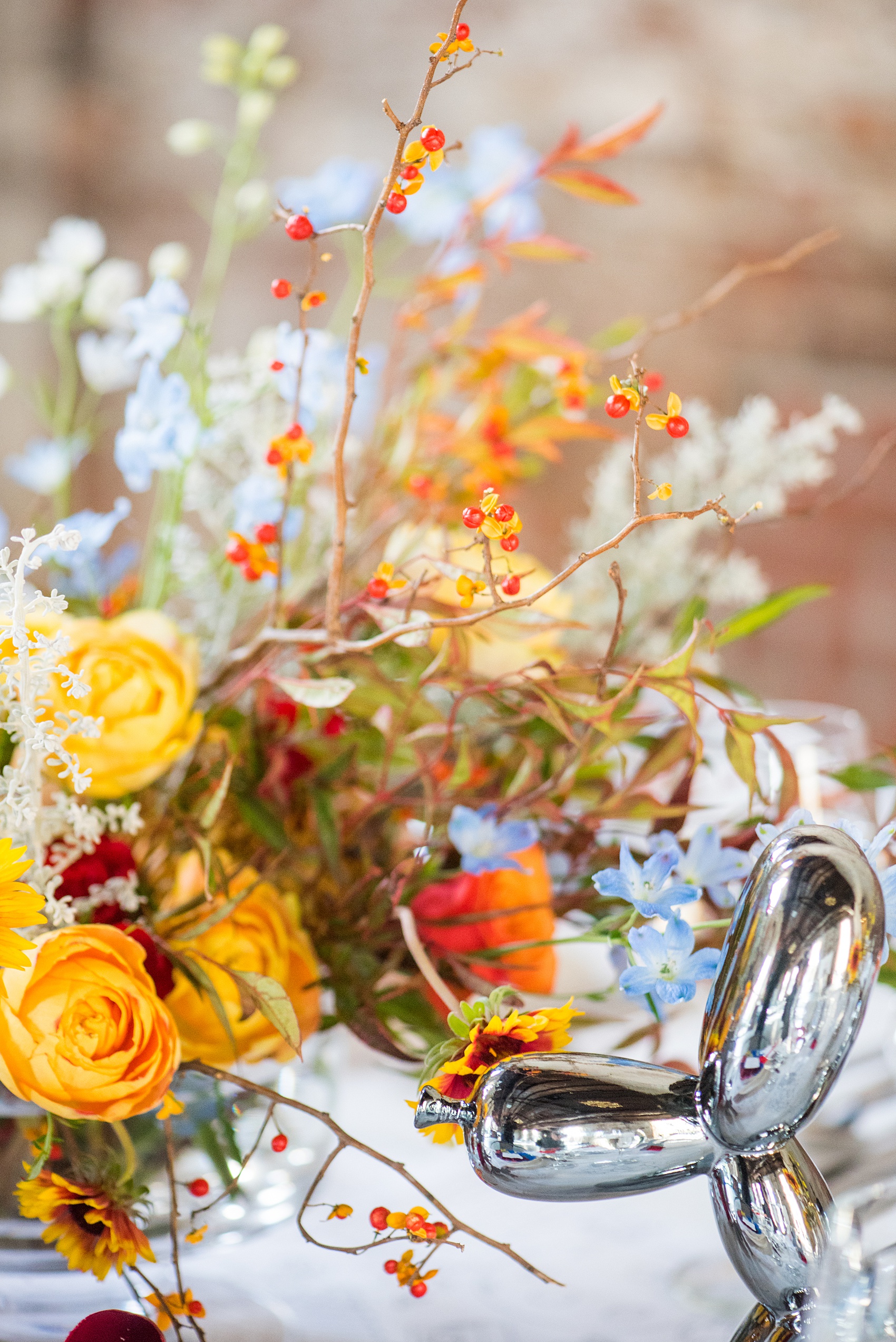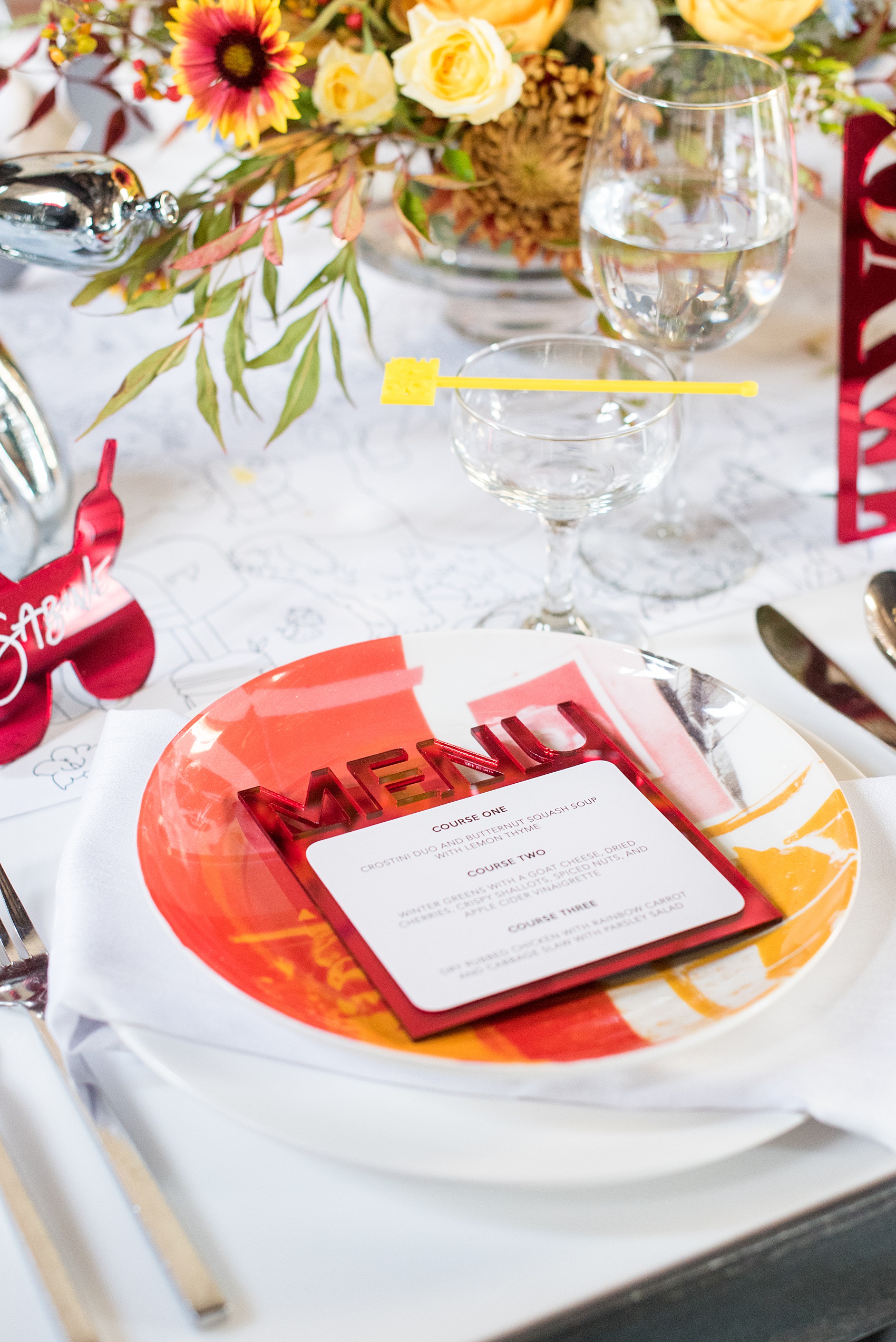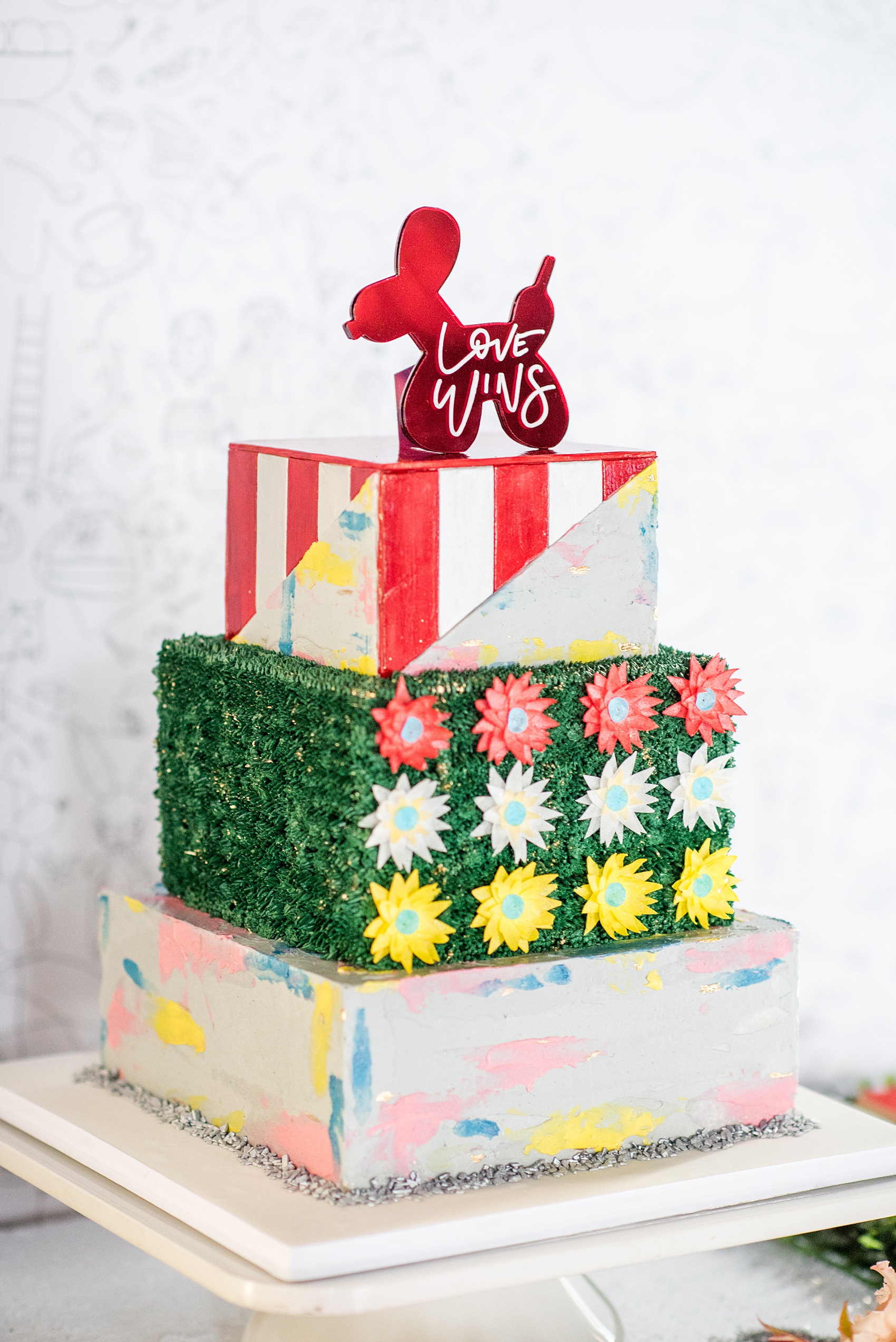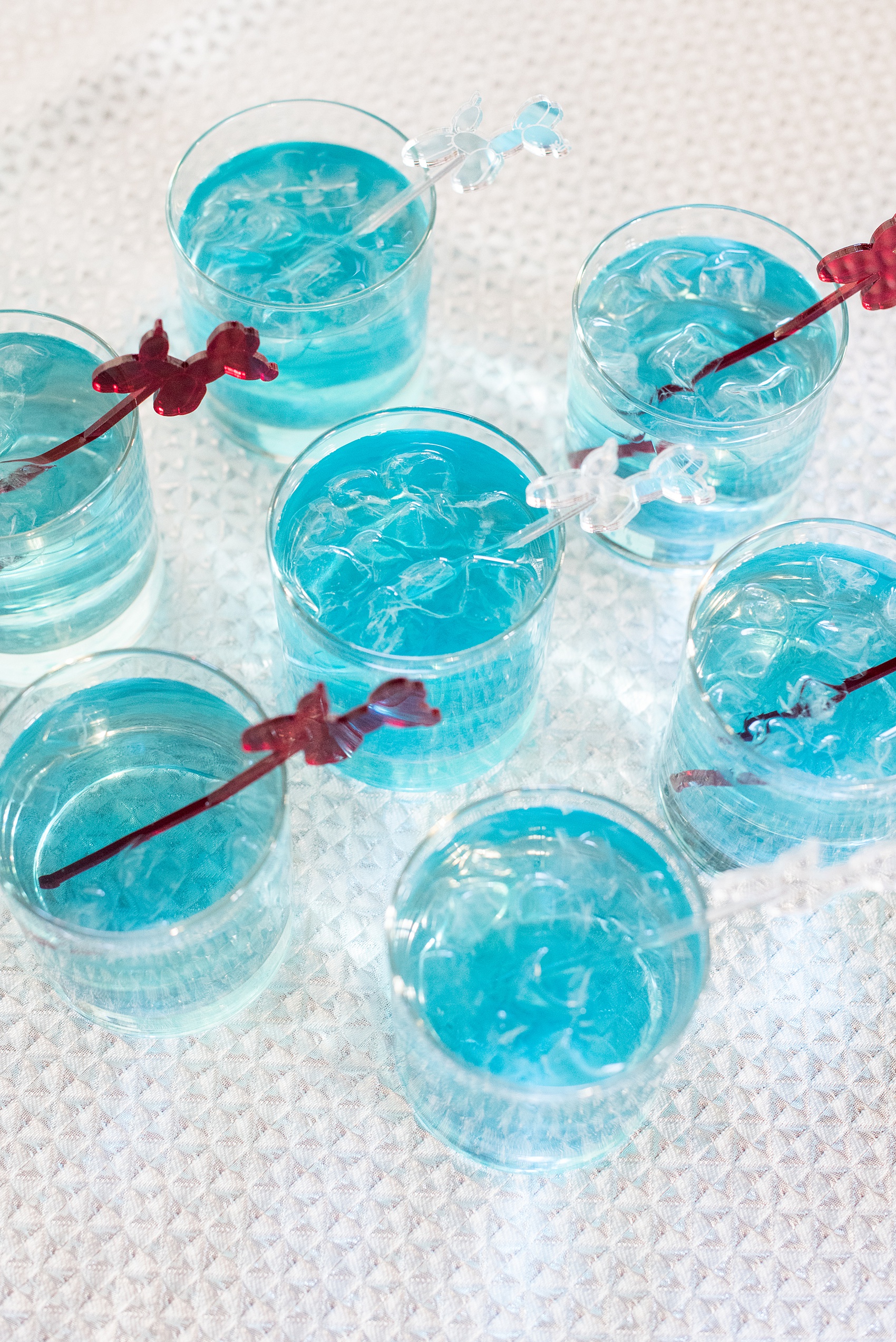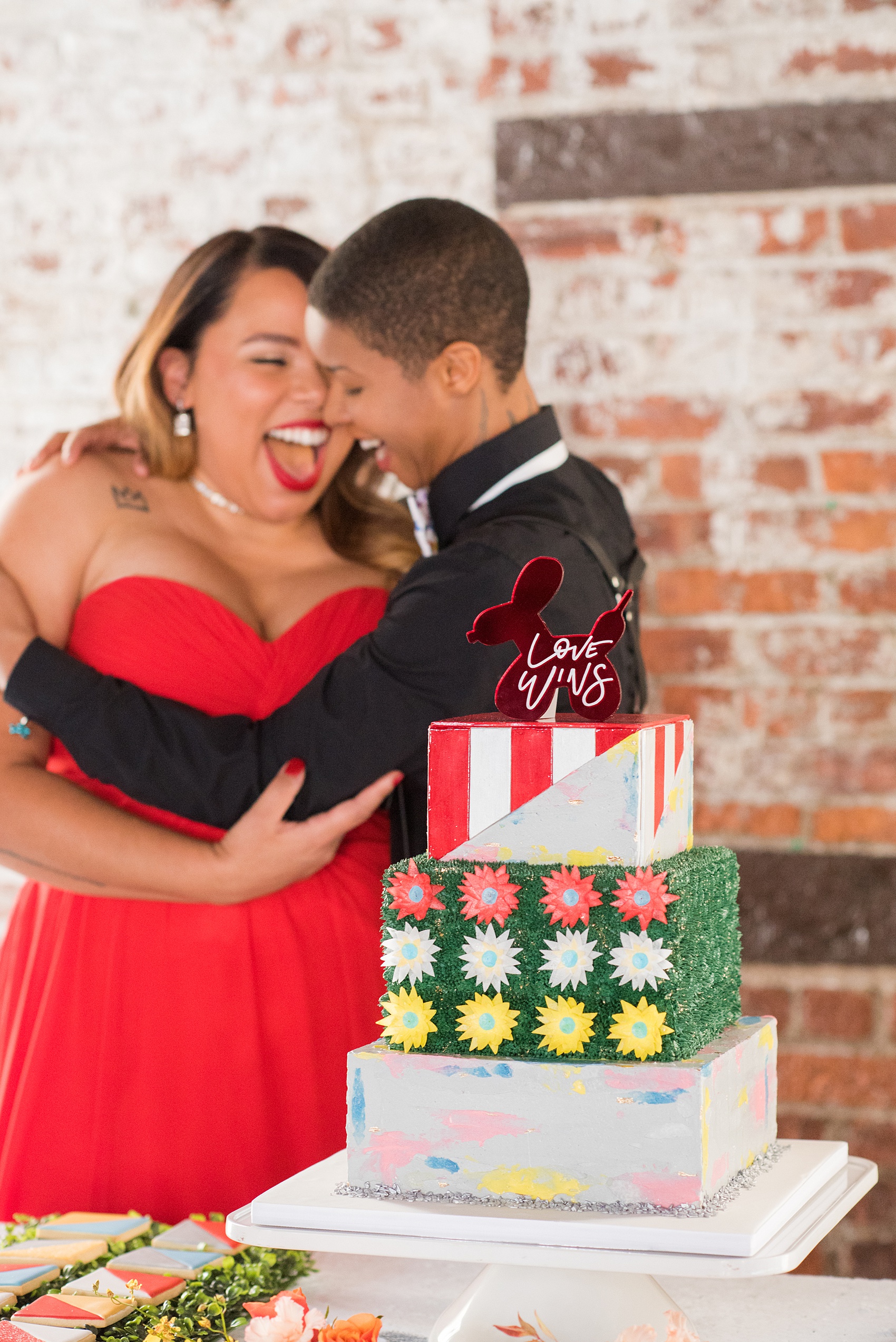 There was no shortage of flavorful delights at this Brooklyn Green Building wedding! The cake was created with art in mind, of course: Three square tiers were topped by a red balloon animal dog that proclaimed, "Love Wins"! Edible paper flowers were attached to the middle tier of piped greenery and brush strokes completed a "concrete" looking bottom tier, echoing the industrial, urban vibe of the venue. Cookies were available for guests next to the cake and as custom sugar cookie favors as well, and gummy lips were around for a snack! Guests could wash it all down with a custom cocktail, called the Palloncino: a vodka blue curacao lemonade creation. As if all that awesomeness wasn't enough, custom drink stirrers allowed a statement of "love is love" to be in some cocktails while others were decorated with a balloon animal dog stirrer.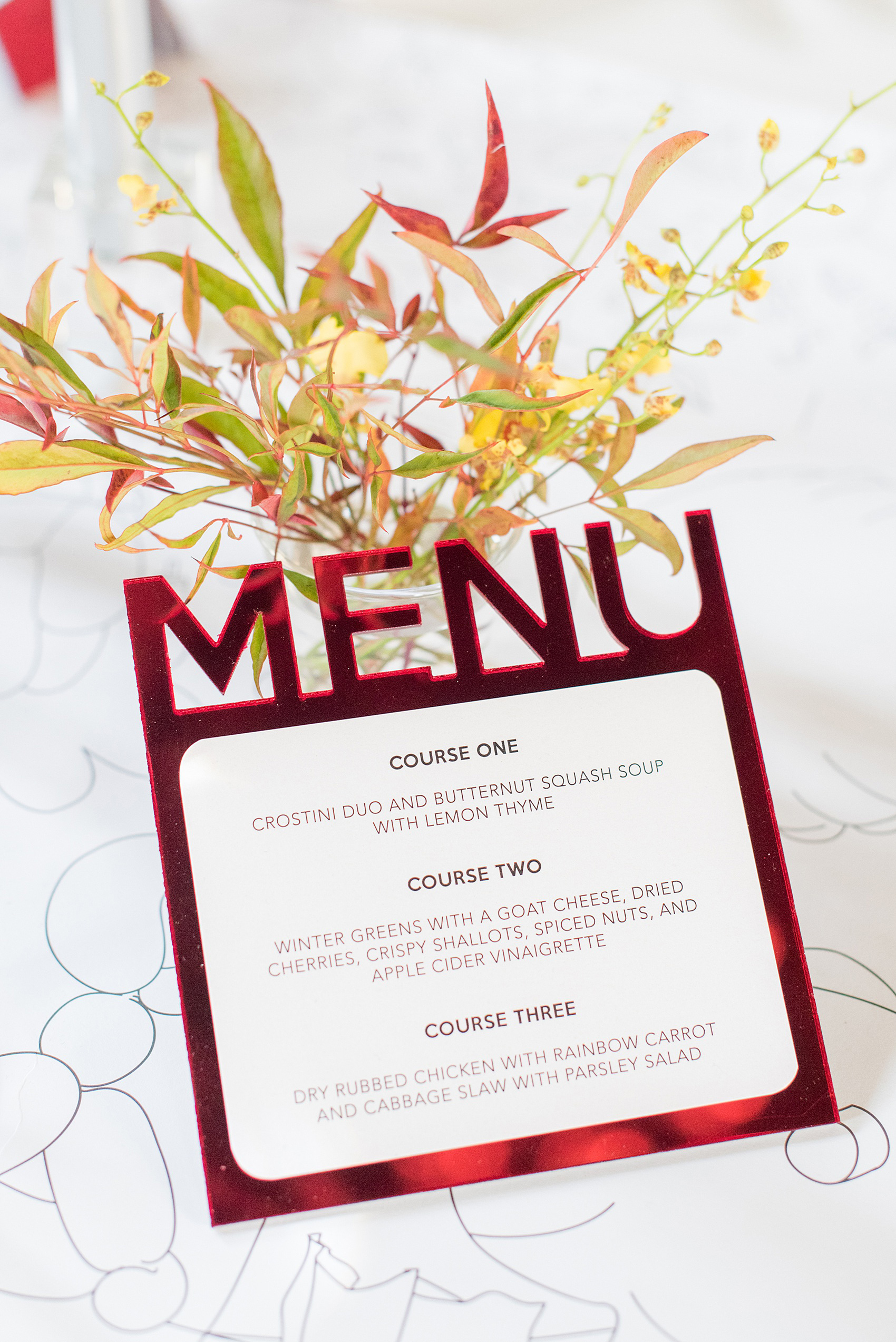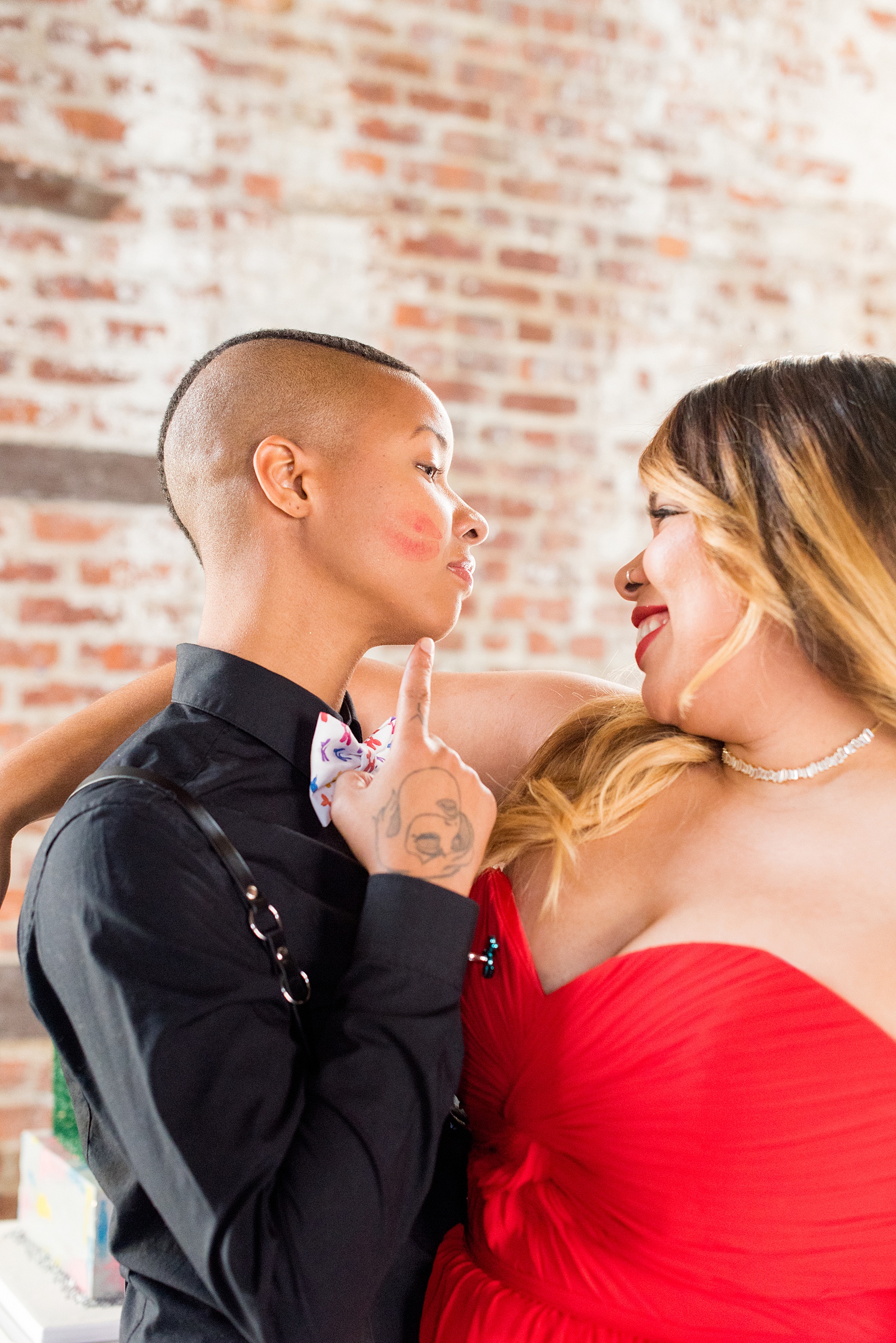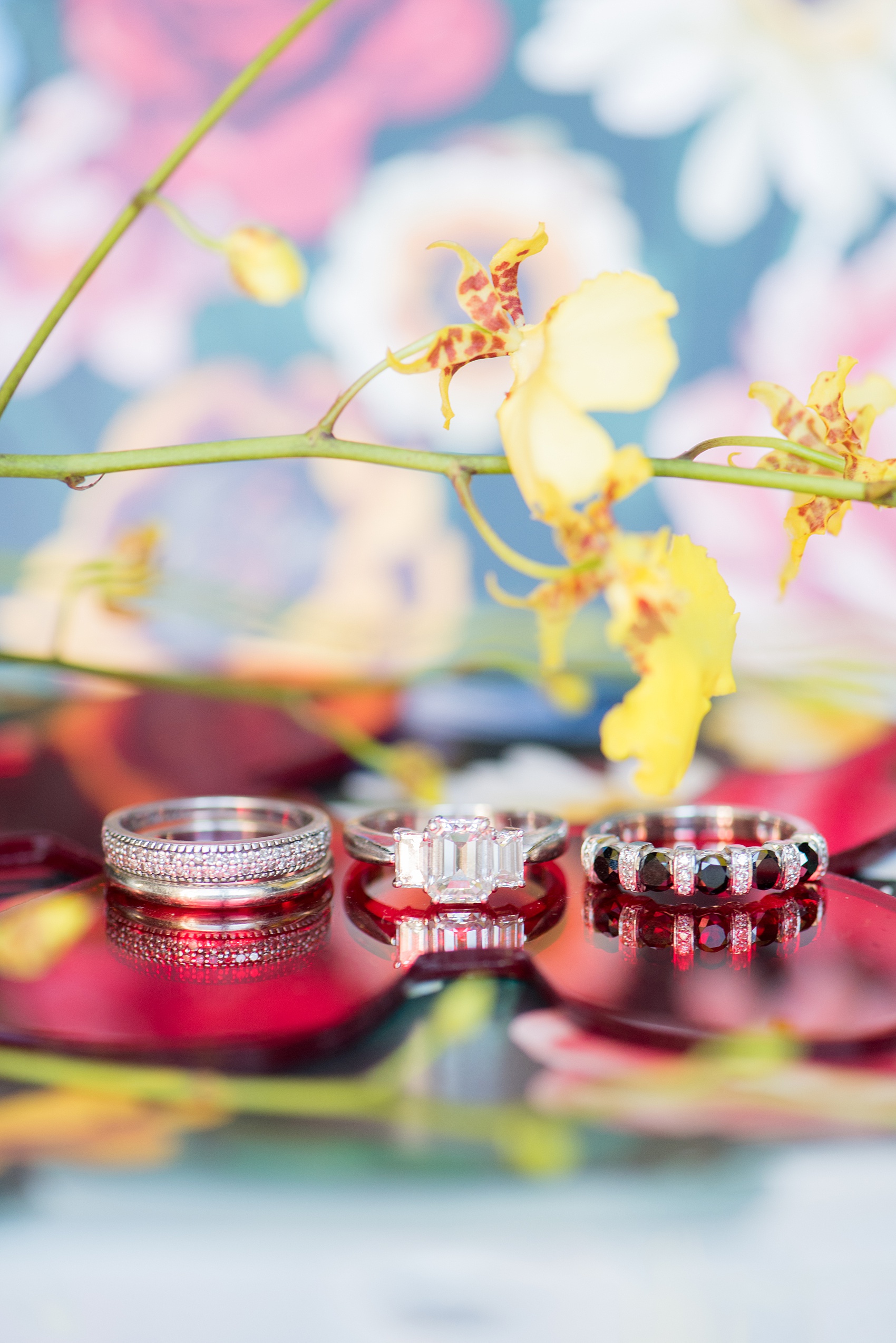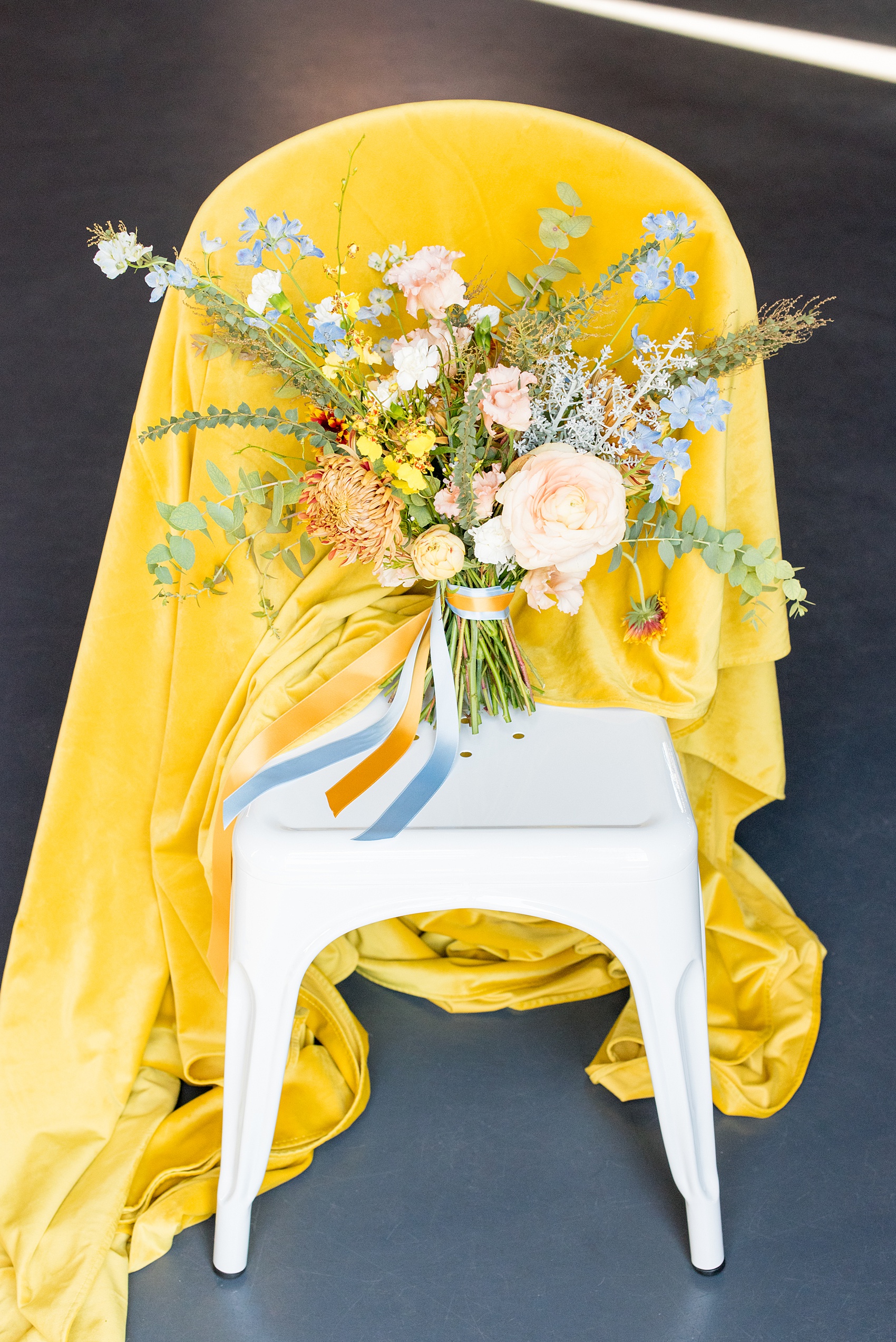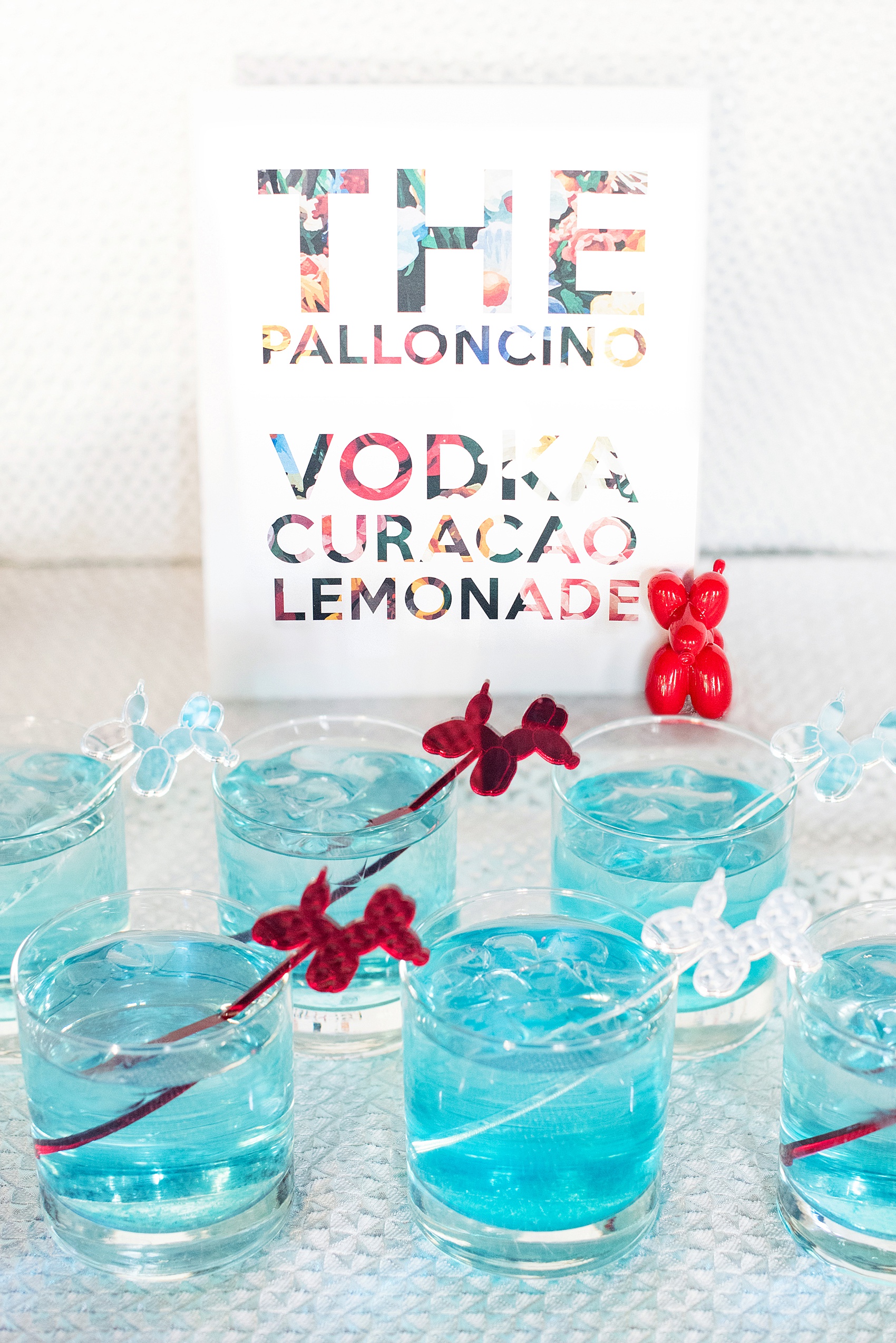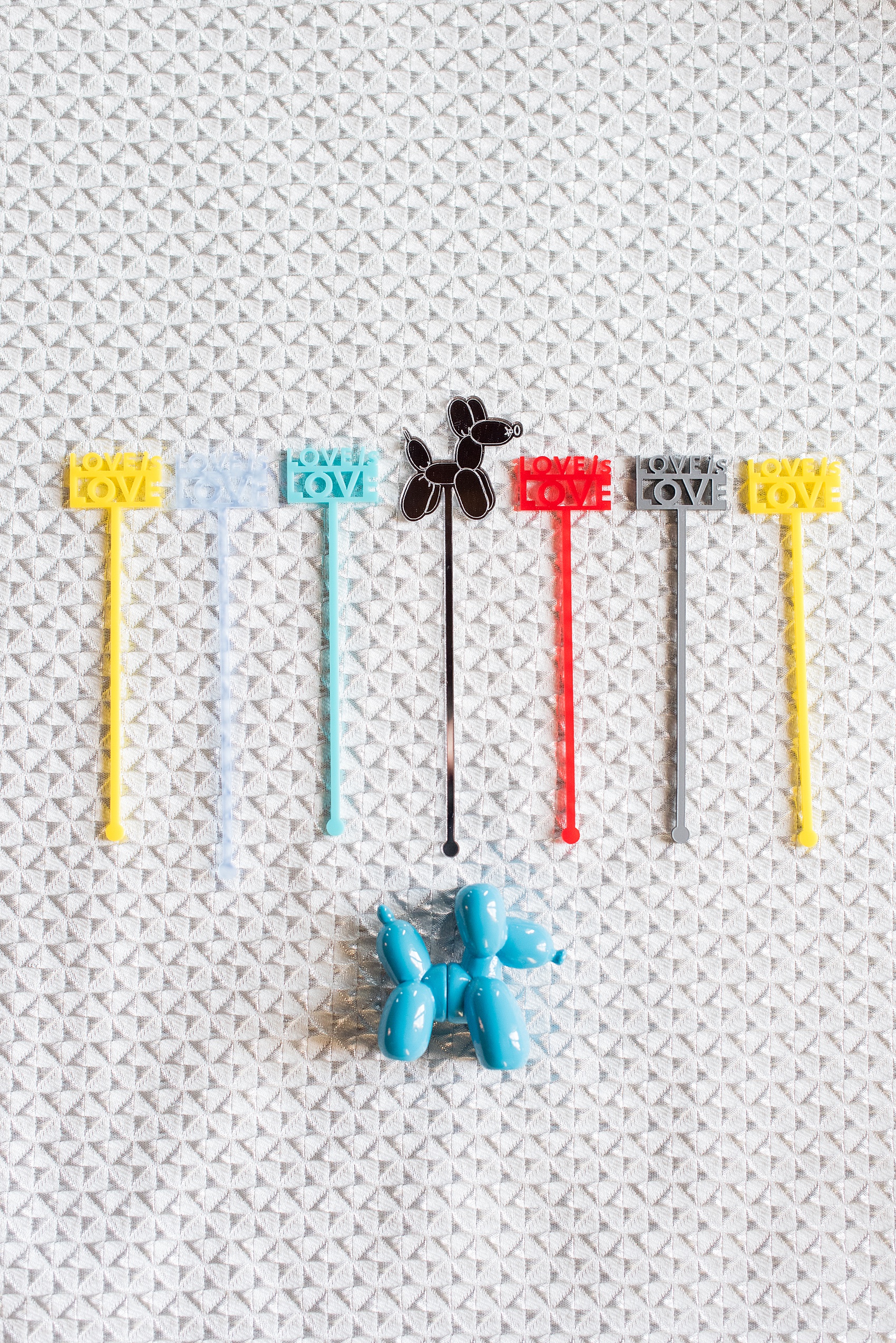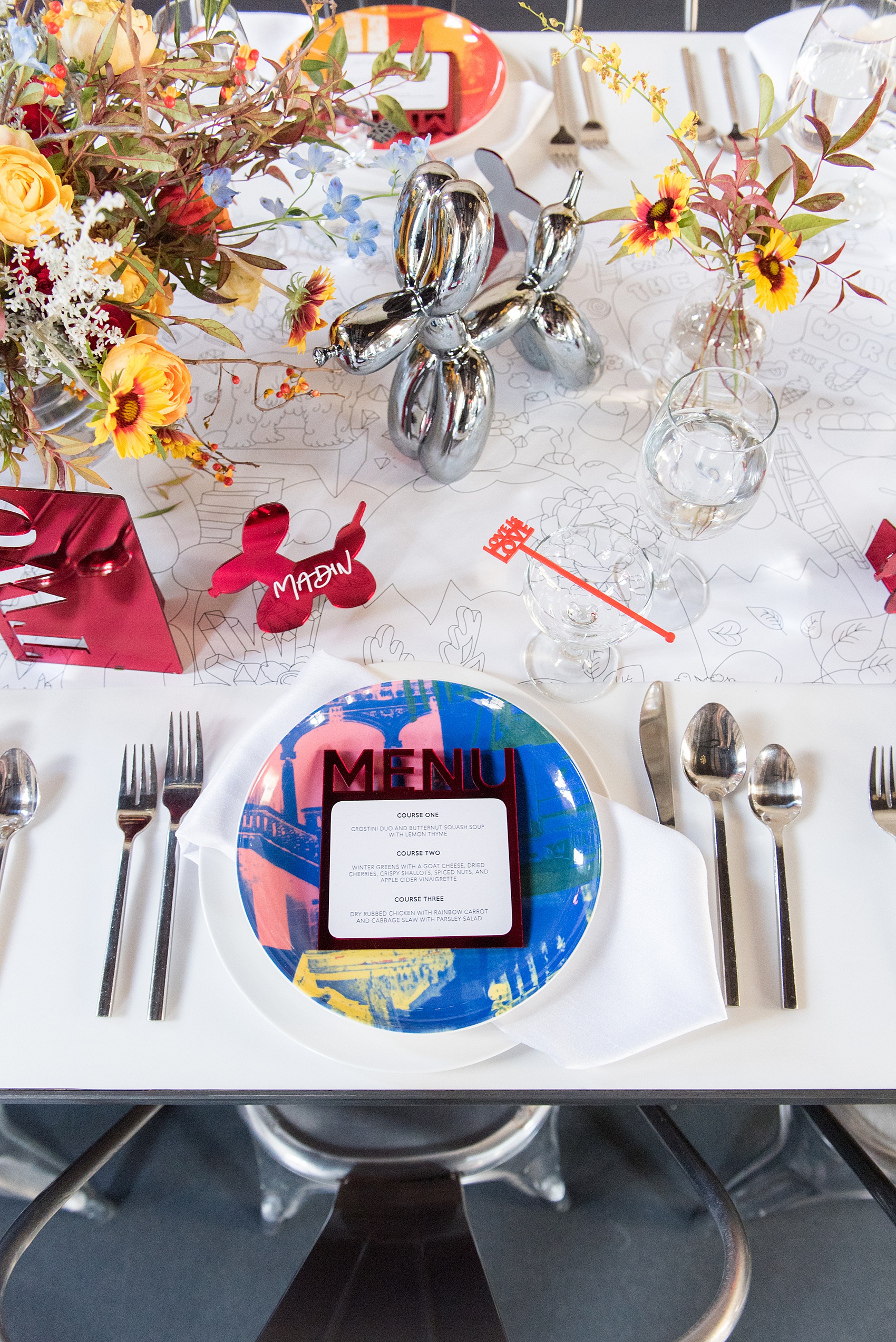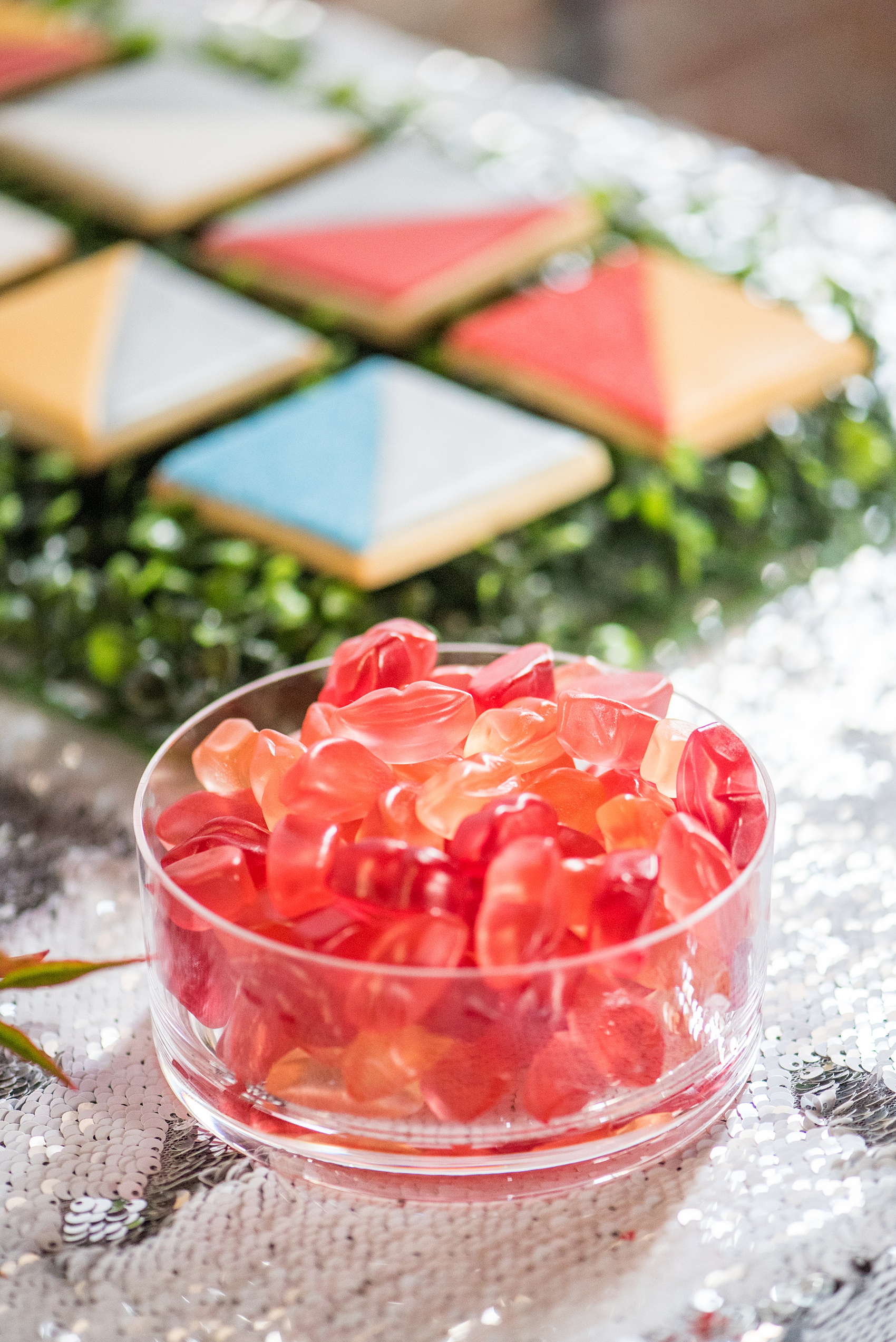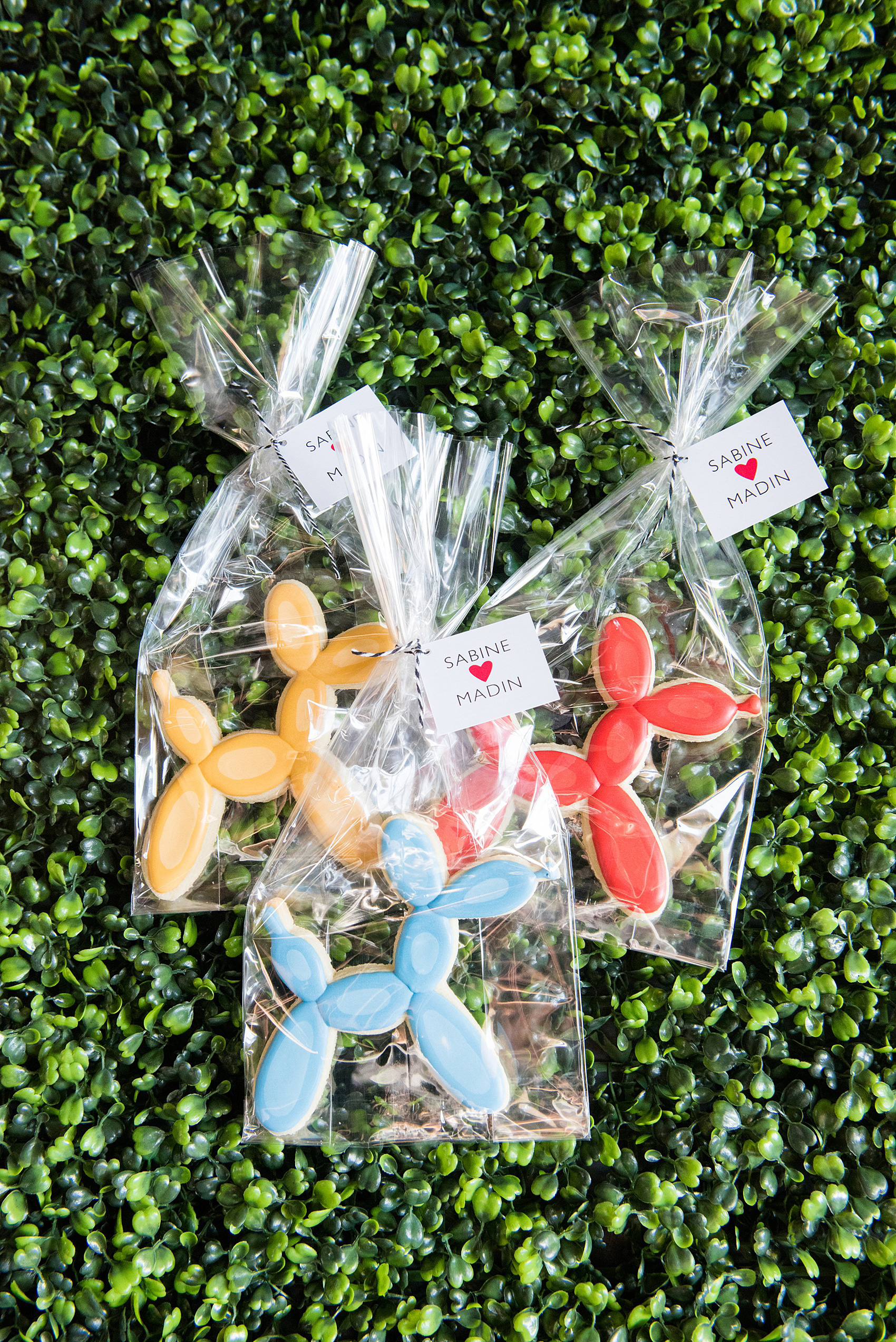 Venue: The Green Building / Concept and coordination: Color Pop Events / Design and paper goods: Taylor & Hov Events + Design / Videography: Mae B. Films / Calligraphy: Ink and Nibs / Florist: Abby Tabak Studio / Hair and Make-Up: Facetime Beauty / Linens: Nuage Designs / Rentals: Broadway Party Rentals / Dinner Table: Party Rental Ltd. / Cake: Sugar Monster / Signature Cocktail: Ryan Brown Catering / Drink Stirrers: California Lustre / Cookies: Sweet Dani B / Models: Sabine Maxine and Madin Lopez
For more LGBTQ inspiration check out:
Want to talk to us about capturing your wedding day with your love? Contact us! We'd love to hear from you!