Photographing Reilly and Mike's Disney Wish wedding was a dream. I'm a huge fan of Disney Cruise Line (mostly because I love Disney and I love cruises – so what's better than the two together?), and I knew the Disney Wish was debuting in 2022. Capturing Disney Wish wedding photos was inevitably somewhere in the distance on my mind but not at the forefront…until they contacted me!
I envisioned their Disney Fairy Tale wedding day in the Grand Hall. It was well known by DCL fans that the atrium, renamed the "Grand Hall" on Wish because of its splendor, was going to be a stunner. As we talked more and more, it was clear that it was a perfect fit.
We counted down the days until Reilly and Mike's wedding weekend; their Disney Wish wedding photos are some of the first to have ever been taken on the ship, the fifth in the Disney Cruise Line (DCL) fleet. They truly make me smile from ear to ear, recalling every moment of this fantastic destination wedding weekend for the bride and groom, their family, and friends.
Deciding On a Disney Cruise Line Destination Wedding
Reilly and Mike wanted to get married in a weekend-long celebration. Reilly's family had all been together for a relative's destination wedding weekend, and the wonderful memories were something that the family often recalled. The warm feelings that the destination wedding left stayed with everyone who attended. Stories from that weekend were often retold during family gatherings, and stronger bonds between family members were formed.
They wanted their wedding guests to still be talking about their destination wedding for weeks, months, and years after their wedding day. Disney Cruise Line came into the conversation when they began to look for wedding locations.
Mike's family had been on many cruises, and Reilly had felt a love for Disney experiences for years, having been to Disney parks from France and Hong Kong to Florida. She even visited her cousin who was at Walt Disney World for the college program during high school. Ever since she's loved Disney World (I can relate!).
Though they had both never been on Disney Cruise Line, they decided to get married on Disney Wish. The new Grand Hall (the three-deck atrium) was to Cinderella-themed; the renderings depicted a dazzling and beautiful setting. It was the perfect environment to say "I do."
Reilly saw my photos of Brittany and Josh's wedding on Castaway Cay from a few years prior and knew she found the photographer for them. My bright, colorful style spoke to her and they liked what they saw so
Reilly mentioned to me that she wanted to maximize the length of their "…wedding to be as long as possible so it never ever ends." Though their wedding eventually came to an end the day the cruise disembarked at Port Canaveral and everyone had to sadly get off the ship, I'm happy to say that from the days her family and friends hung out with them at Walt Disney World to three wonderful days on the ship, it was a joyous and well-documented occasion.
Disney Wish Wedding Photos: The Couple's Decision to Bring a Photographer Along
More than a wedding that was going to last one day for a few hours, was Reilly and Mike's decision to have a destination wedding that spanned multiple days. As such, they knew that bringing their "own" a photographer along on the Disney cruise to capture the weekend's events was the way to go.
Their Disney Wish wedding photography spanned all days of their three-night cruise. (Here, I'm simply posting images from their wedding day, which was the day the ship docked at Nassau. It was the second day of a 3-night cruise.)
This included Friday night, long after check-in at Port Canaveral, after everyone was onboard and the ship sailed away. I photographed them with their guests, as they kissed and hugged hello after not seeing each other in a long time since people were traveling in from all over.
Their photography coverage included their wedding day, of course, from getting ready photos in the morning to photos of the bride, groom, and their wedding party around the ship.
It also included some photos at the start of their dinner that evening, which was at 1923. It was fun to see Reilly and Mike there, still in their wedding suit and gown! Reilly even had her veil on. It's always fun for other guests on the ship to see such a happy, beautiful bride, and I'm sure everyone at dinner in 1923 that evening loved seeing Reilly and Mike!
Later that evening, I captured them during the short fireworks show. Lastly, we had an amazing photoshoot together for an hour the next day at Castaway Cay, before they joined their family and friends for a fun beach day, relaxing and creating more memories before the ship docked the next morning back at the Space Coast of Florida for disembarkation.
Disney Wish Wedding Photos: Getting Ready and the Ceremony
Reilly got ready with her two best friends in her and Mike's stateroom on Deck 13. The spacious concierge-level room was the perfect place to comfortably step into her gown and shoes and make some final touches to her hair and makeup.
We momentarily went to Untangled Salon for Reilly to say hi to some extra special women in her life, who were getting their hair and makeup done. This included her mom, mother-in-law, sister and sister-in-law.
I hopped over to Hook's Barbery to say hi to Mike who was getting a quick trim. His groomsmen were all there to support him and hang out until Mike was ready for his first look with Reilly.
Their first look on Deck 5 was amazing. I made sure that the iconic chandelier was behind them with it's "Wishing Star" perfectly placed.
We'll get back to the photos of the bride, groom, and their wedding party…but first, their amazing Disney Wish wedding photos getting ready and their ceremony in the Grand Hall, which spans three decks!
If you look closely, Reilly's wedding day shoes have a touch of gold on the inside of the heel, a detail I loved and was sure to capture. Her best friend, Cassie, helped button her gown while Missy helped her put on her shoes. They were incredibly helpful, thoughtful Matrons of Honor!
Shortly after Mike and Reilly's first look we ran into their niece, Ellie. This little flower girl was glowing with excitement at seeing her aunt Reilly. You cannot fake this kind of pure joy!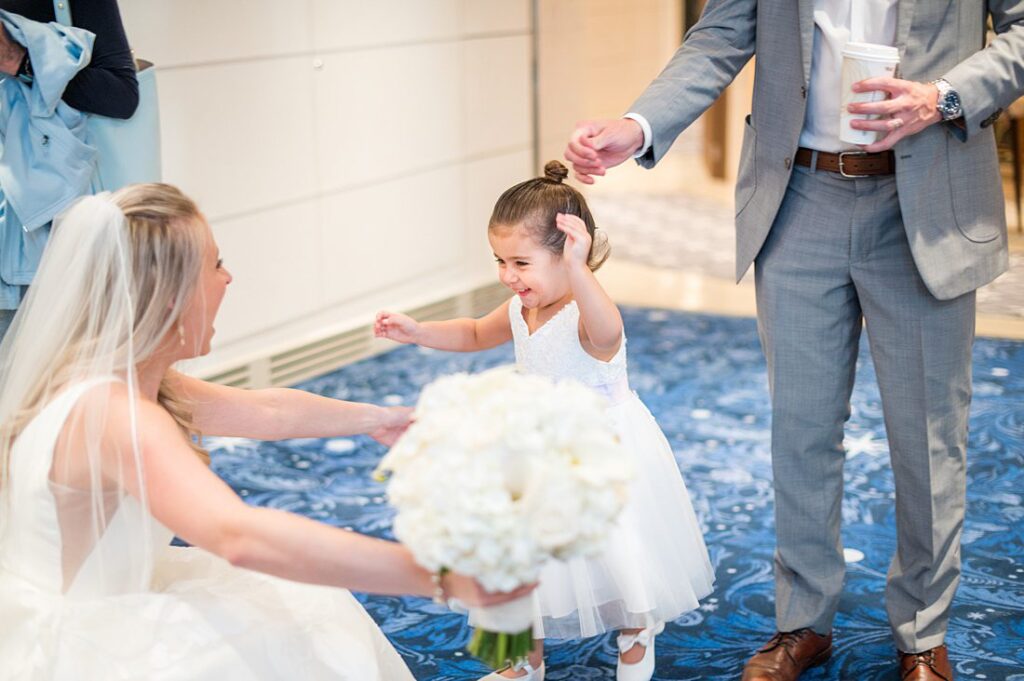 Disney Wish Grand Hall Ceremony
Reilly and her dad entered the ceremony in a gorgeous entrance via the grand staircase. Reilly came down from Deck 5 alone, met her father on Deck 4, and proceeded to Deck 3, where her future husband was patiently awaiting her arrival.
He smiled and admired her from in between their best friends who comprised their wedding party and their family and friends looking on.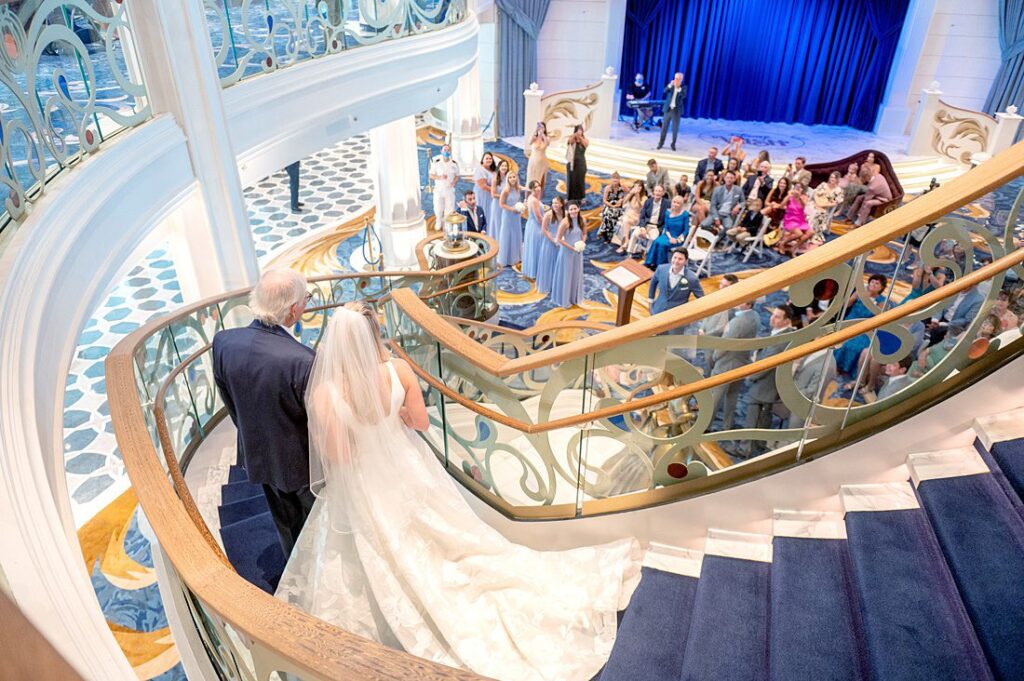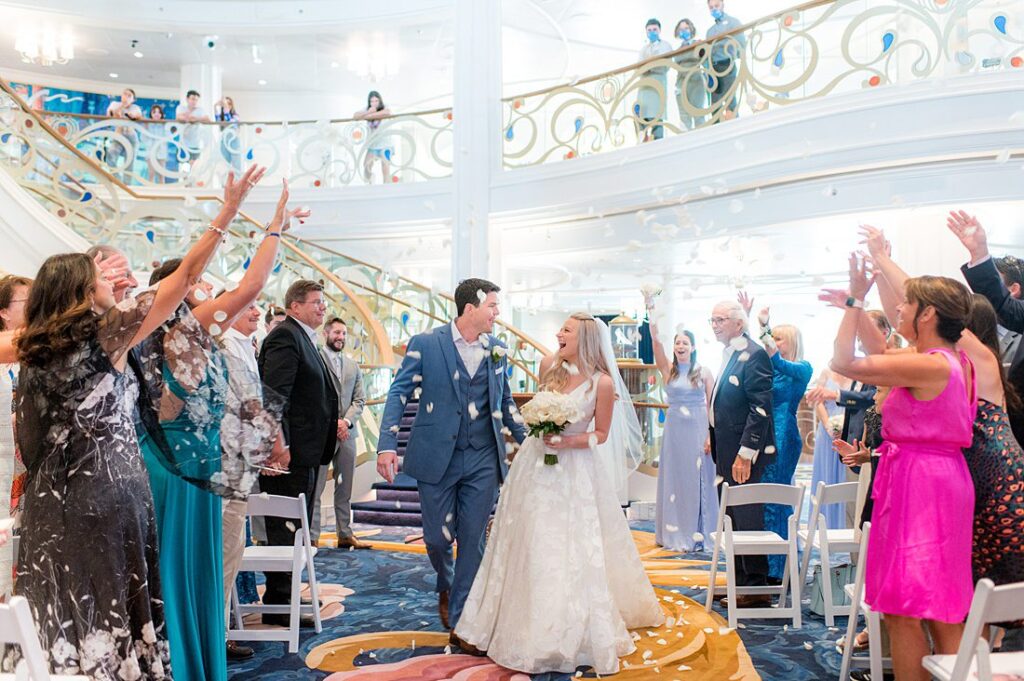 Part of what was so much fun about their ceremony was that there were Disney Cruise Line guests listening in on Decks 4 and 5 (the wedding was on the main floor, which is on Deck 3. Reilly and Mike wrote their ceremony, which Reilly's cousin, Hunter, performed.
They had the most perfect subtle references to Disney that got all the right chuckles in all the right places – not just from guets at the ceremony but the DCL guests on the decks above the ceremony looking on.
Their white rose petal toss was the perfect signal to start the celebrations of the new Mr. and Mrs.!
Disney Wish Photos Around the Ship of the Bride, Groom and Their Wedding Party
A highlight of any Disney Cruise Line wedding is getting to use the ship for outstanding wedding photos. It was a new ship to me, having been on every other Disney Cruise Line ship except Disney Fanstasy. It was a new ship for most people since it only debuted a few months before Reilly and Mike's weddings.
However, as soon as Dan (my husband and assistant for their wedding) and I boarded the ship we immediately went to work to find the best photo loctions. One of my concerns, upon initial research before boarding, was a lack of indoor spots to use for photos, just in case there weren't any outside and/or if it was going be too sunny outside to use the outdoor areas.
I have to say that it reminded me of my knack for being able to find great spots, anywhere. And of course it was even easier on Disney Cruise Line on the Wish! I found incredible indoor spaces, which were sure to keep the bride and groom away from the Caribbean heat while the ship was docked in Nassau.
We couldn't resist some outdoor images by the famous Mickey Mouse silhouette stack when we momentarily left the air conditioing inside. I'm still thanking the clouds that day for working with us for those images! The stack is unmistakably Disney Cruise Line, with the company's logo and famous vibrant colors.
We also stopped at Enchante during the day, one of two Disney Wish adult dining experiences, The Rose bar, and by the Cinderella mosaic.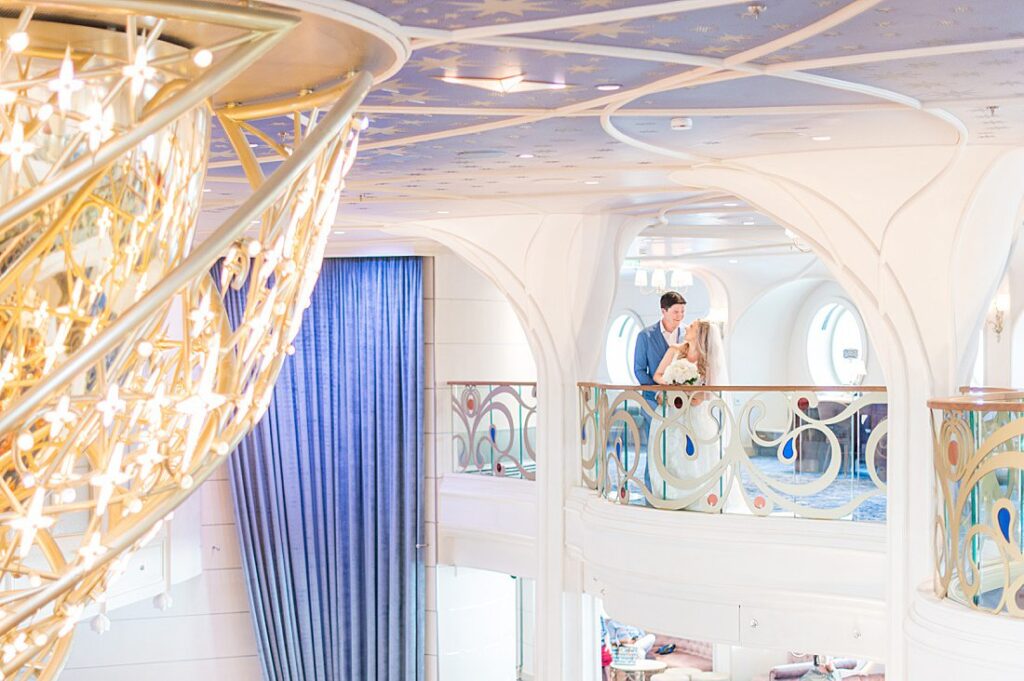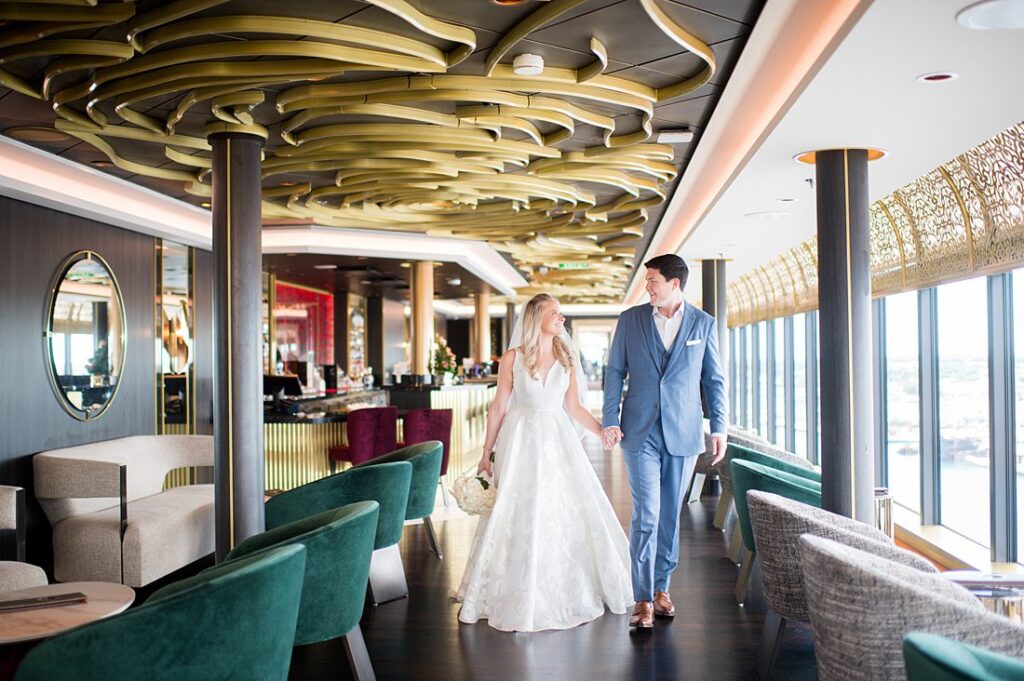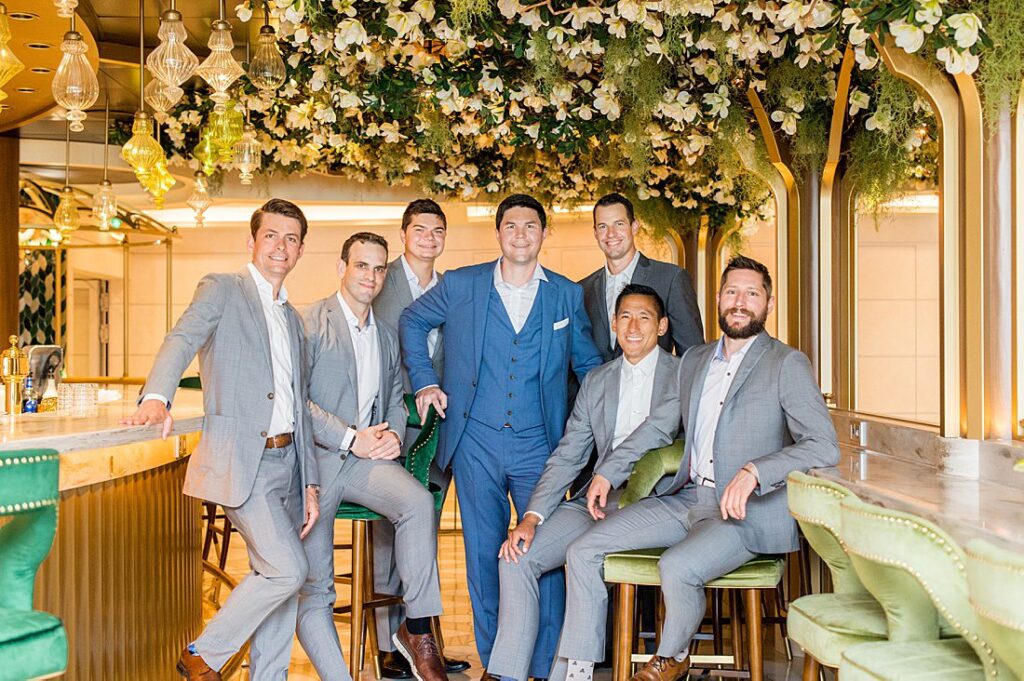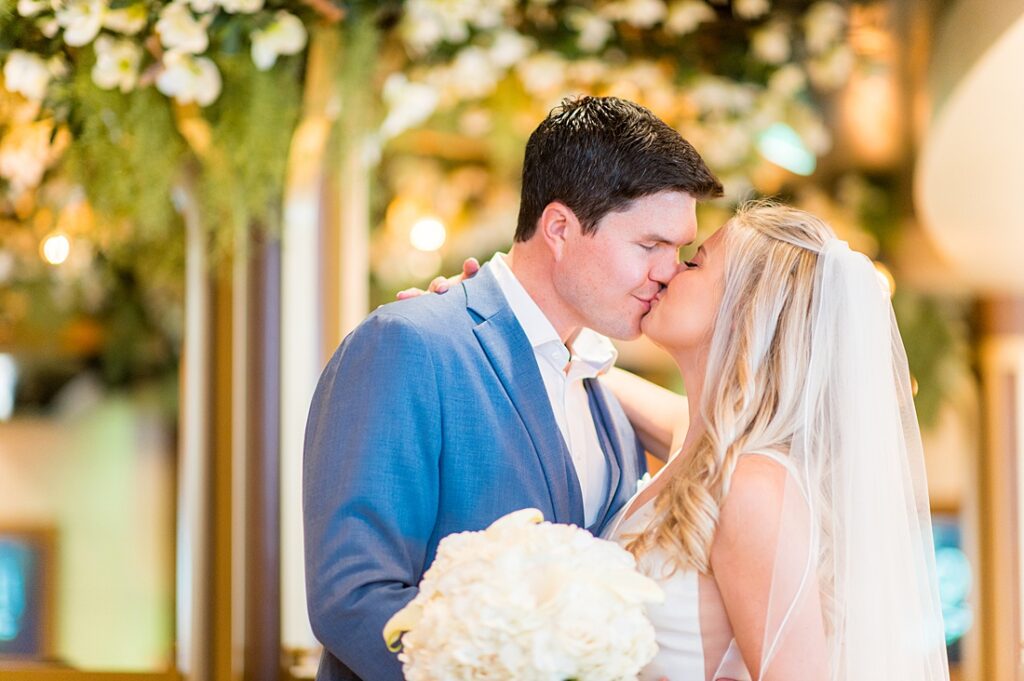 Disney Wish Wedding Reception at The Bayou
The Bayou was truly the perfect setting for their reception. The entire ceiling is beautifully adorned with southern foliage, like magnolia flowers, leaves, and touches of more greenery that was reminiscent of Spanish Moss. (Spanish moss is the famous hanging greenery that cascades down from Souther Oak trees. It's seen in places from Louisiana to South Carolina, and Florida.)
I can't thank Reilly and Mike enough for welcoming me and my husband with such open arms. (I have to say how awesome Dan was on their wedding day. He also totally rocked it as my assistant for their day-after Castaway Cay session). It was great to feel like a part of their group for the weekend and be able to not just celebrate their love with everyone, but document it all.
Cheers to Reilly and Mike!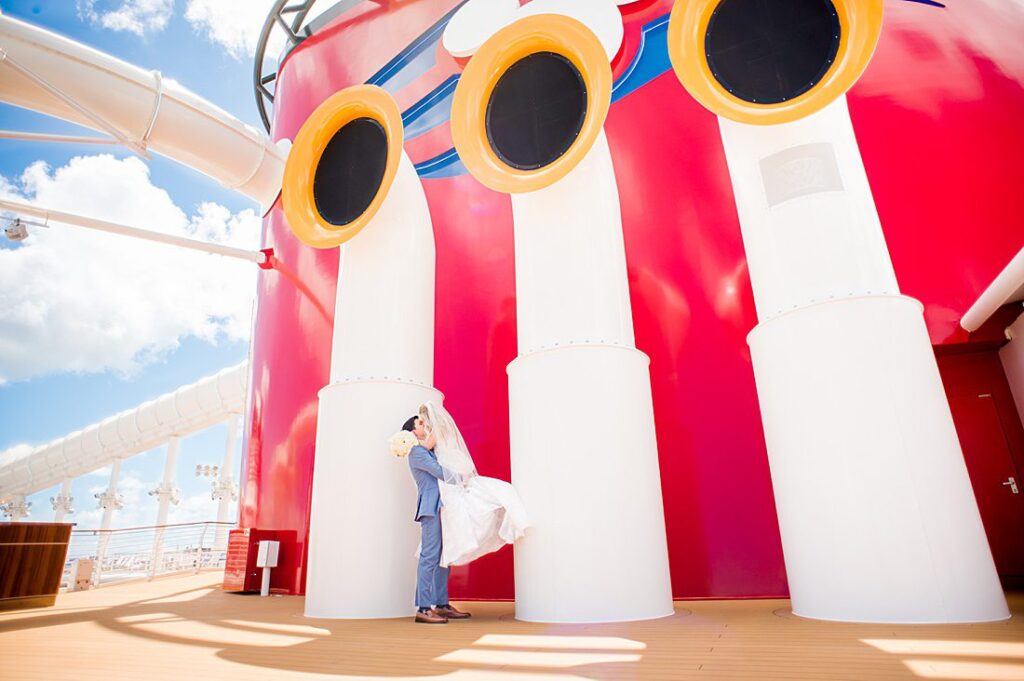 If you are interested in having Mikkel Paige Photography at your Disney Cruise Line wedding, please contact us.
For more Disney weddings inspiration, also check out: