I truly gravitated towards Brittany and Josh's love story as soon as she revealed information about their relationship in her initial inquiry emails. Brittany is from Toronto, Canada, and Josh is from Illinois. They met on a two-week transatlantic Disney Cruise Line sailing.
They were drawn to each other and quickly decided they were dating and serious – it was a big commitment to do the "long-distance thing," but their hearts knew it was right. A couple who loves Disney, Disney Cruise Line, and travel immediately grabs my attention!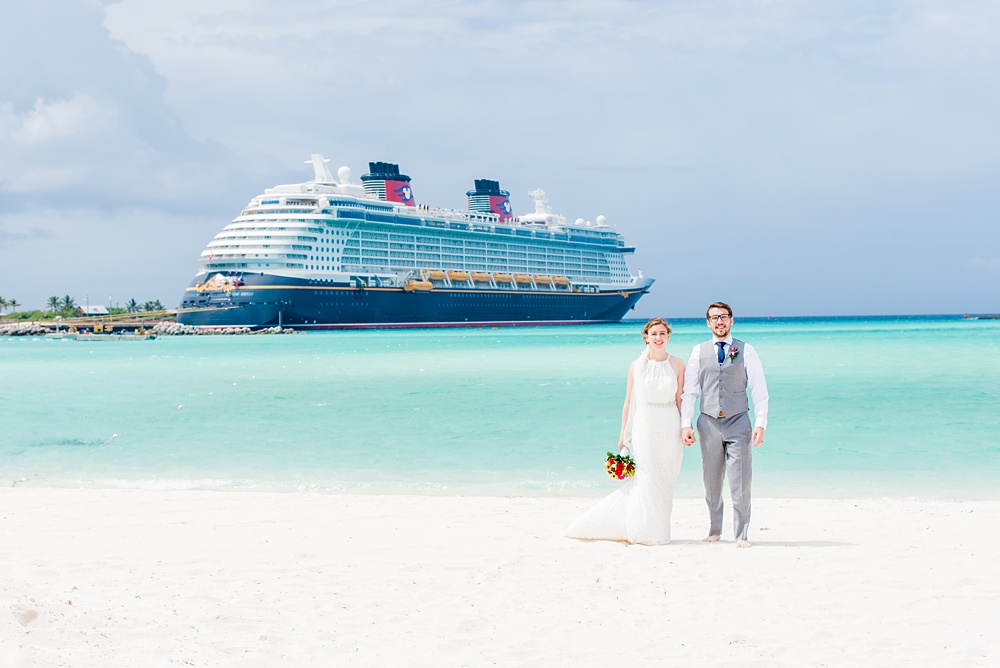 A Disney Proposal in Hawaii to Start the Disney Cruise Line Wedding Planning
Josh knew a proposal would have to be grand – their meet-up vacations were better than most people's trips, having sailed together on Disney Cruise Line three times, their wedding being their fourth. (They've been on countless Disney Cruise Line adventures in the years following their wedding too. They even chimed in to provide their thoughts on the "Best Disney Cruise Line Ships" when we asked for our cruise website.)
I've actually never personally known someone who was Disney Castaway Club PLATINUM (that's their club for repeat sailer – you're automatically enlisted after your first Disney Cruise) until I met Josh! When we first connected, he had been on something like seventeen or nineteen Disney cruises. Impressive!
So with all this in mind, Josh knew it would have to be a proposal somewhere truly exceptional.
He saw his opportunity when his family was planning a Christmas holiday trip to Hawaii in 2017, staying at Disney's Aulani Resort in Oahu. His mom carried the ring through TSA security just in case they had to sift through any baggage going through the x-ray machine!
He proposed on the beach during sunset, and she said yes! (I especially love this proposal because I've been to Aulani and could picture the exact beach he proposed on.)
Their Disney Dream Wedding Plan
As they started to plan their wedding and getting married on a cruise came into focus, including what it would look like, they knew photography would be extremely important to them.
A Disney Cruise Line wedding package doesn't necessarily include a photographer – it's an add-on of sorts – and even at that, they don't have wedding photographer specialists onboard. Many couples consider bringing a pro along…and I'm so glad I was that pro for them.
(Getting married on a cruise ship takes some extra considerations and I'm so glad they prepared early and locked me in!)
Their three-night wedding was a celebration the entire time, from each great meal and port destination to the next, including Port Canaveral, Nassau, and Castaway Cay. (I'll even include Orlando in that because they stayed at Walt Disney World before and afterward!)
It was a time for family and friends to gather from near and far and get to know one another better, from Canada and the United States, to watch a really sweet, genuine, smiley, and down-to-Earth couple enter the next exciting season of life: marriage.
Here you have just a taste of their wedding photos (there are hundreds more for them to enjoy in a private gallery!) showing their day's splendor.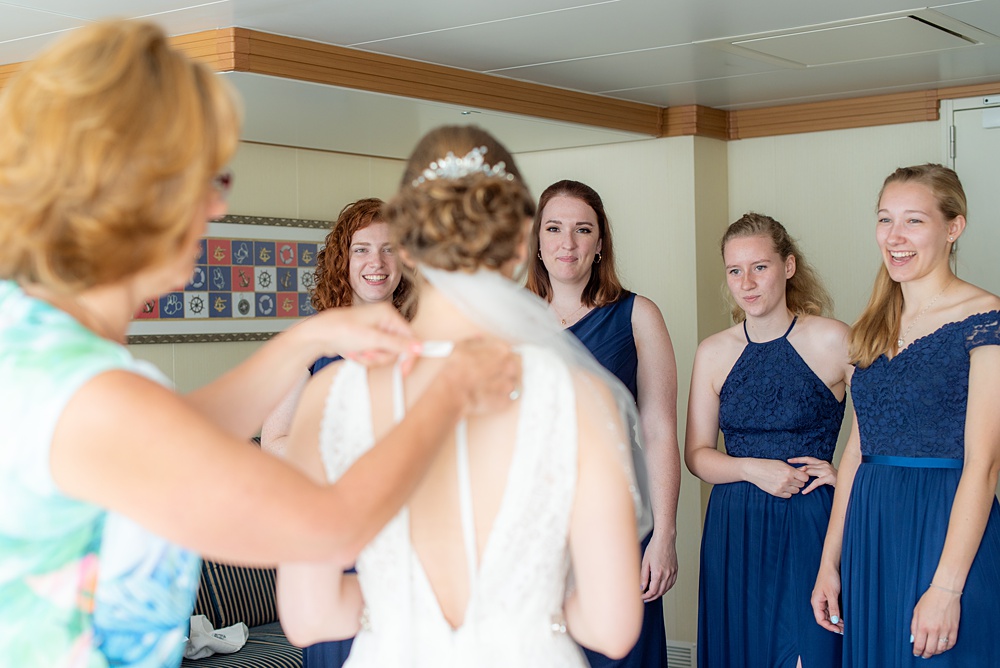 Disney Dream Cruise Wedding Photos: Getting Ready
Getting married on a cruise is a blast with family and your best friends nearby, at all times. You can do as much as you want or as little as you want together, to having meals with relaxing by the pool…and of course, going to the spa the morning of the wedding.
One of the things I loved about being a photographer brought on the ship to photograph their fairy tale wedding was I could capture all details and moments, like getting ready, that the onboard photographers don't capture yet make a wedding day special. It's not simply the ceremony and reception but the moments preparing for the day with family and friends, that add to the fun of having a wedding.
Luckily Brittany, her bridesmaids, and mom were just across the way from the groomsmen, all on Deck 5, just a few yards away from each other.
I could easily go back and forth between the rooms to capture them both getting ready and special details, including their shoes, rings, and attire.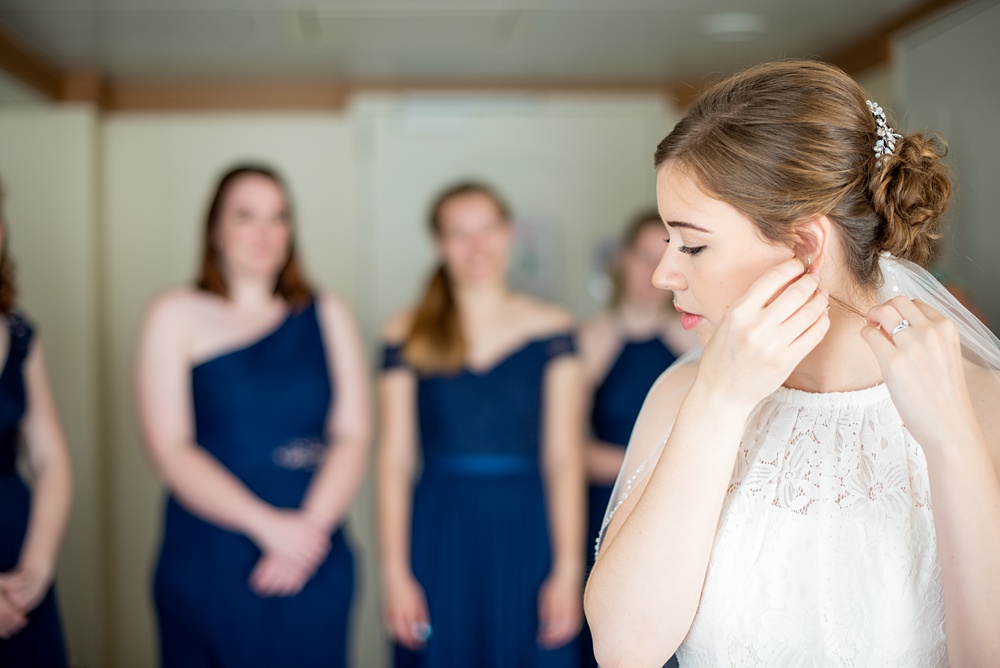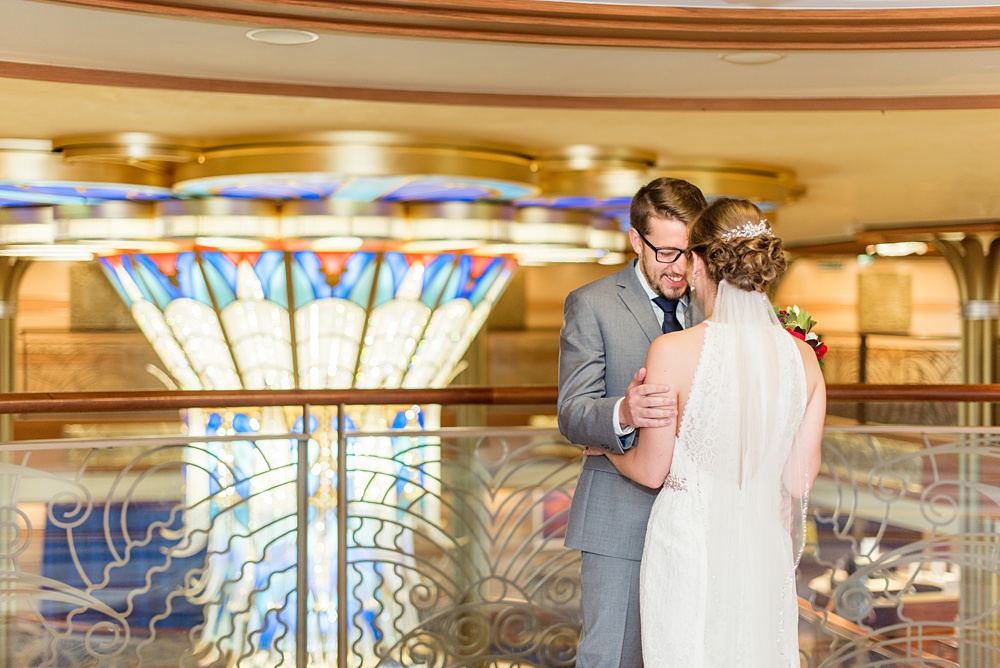 Disney Dream Wedding Photos: A Last Minute First Look Decision
I pride myself on having a great plan with any wedding when it comes to a couple's photography timeline. However, if I need to pivot due to weather or any other unforeseen circumstance that arises, I also pride myself on being flexible.
Brittany and Josh were going to wait to see each other at their ceremony. But quickly after the cruise began, they let me know they changed their minds and wanted to do a first look, which I was all for. After the first look, they commuted to the ceremony area on the beach at Castaway Cay, separately.
I happened to have been sitting near Josh on the tram to the beach and he said, "I'm SO GLAD we did a first look. My nerves are calm now." And that's precisely one of the reasons I advocate for a first look!
Imagine having a best friend you're about to marry – someone you confide in, who you share all time with, both happy and sad. Your best friend and confident. Then imagine having the most important day of your life and refraining from seeing one another until the pomp and circumstance of a ceremony with everyone looking on. It's a little nerve-wracking to some people…and I don't blame them!
Wouldn't it be better to just see each other first to hug and kiss and be excited for your wedding day together? (I think so!) I shared a bit of that sentiment with Josh as we were transported to the beach on the tram for their Disney Cruise Line wedding ceremony.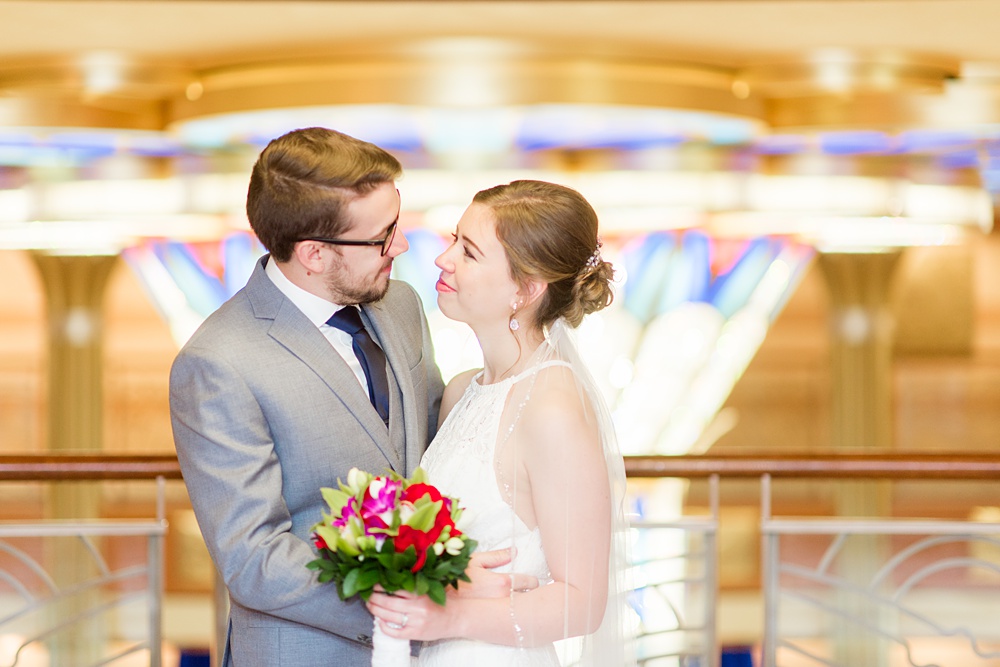 Castaway Cay Wedding Photos for Their Outdoor, Beach Ceremony
They recited custom vows with a perfect view of the Disney Dream cruise ship in the background. Shoes were optional, which they proudly declared on custom signage. Most people opted to have their toes in the sand and left their shoes by a cute sign sitting next to a tropical palm tree.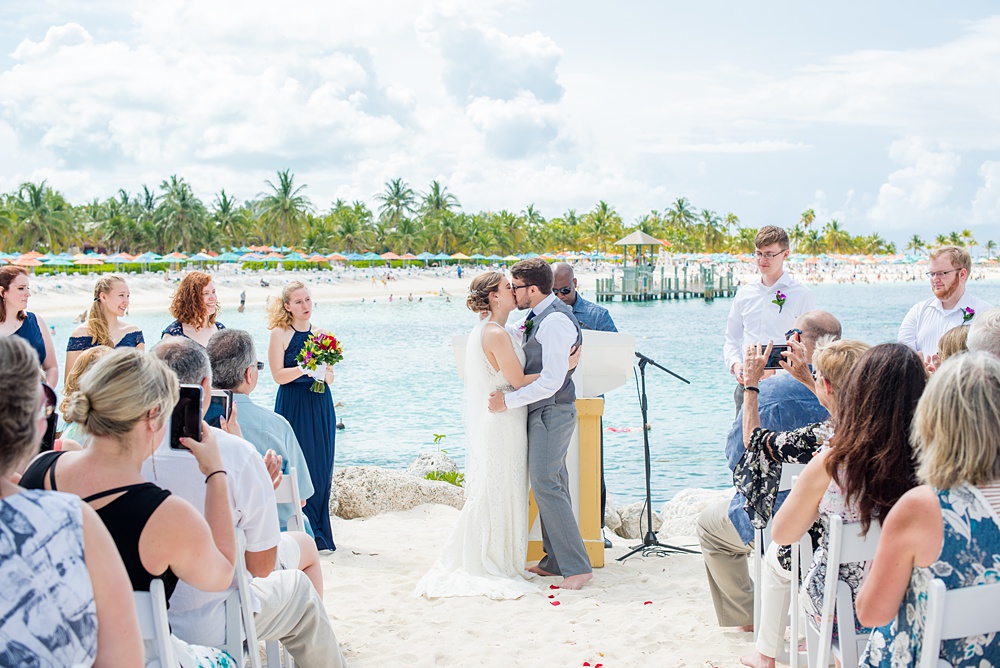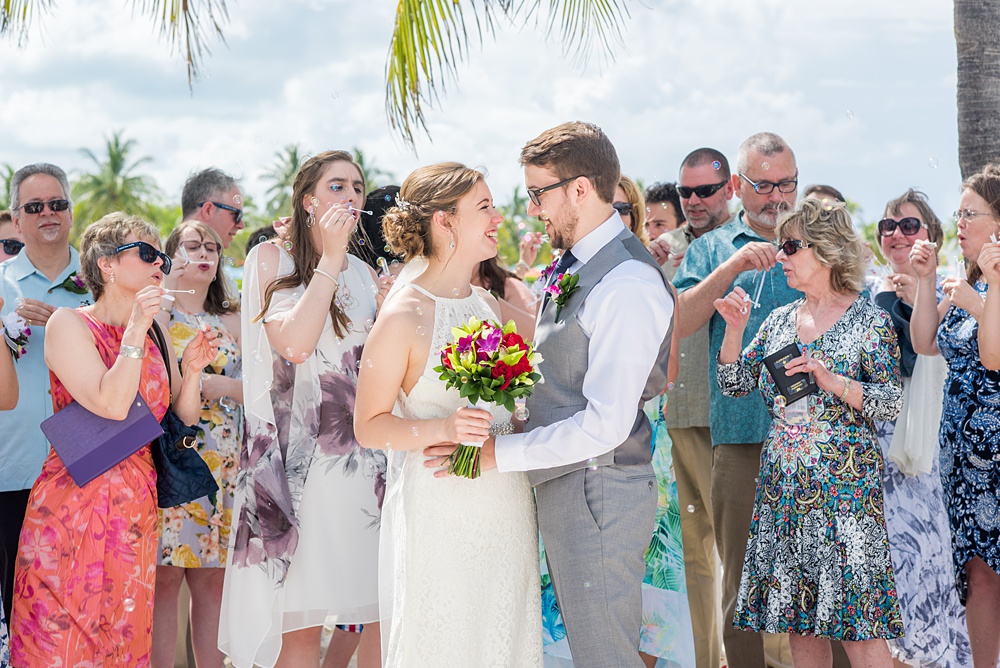 Guests congratulated them on the beach with a little bubble celebration before we took some quick family photos.
Castaway Cay Wedding Photos with Their Bridesmaids, Groomsmen, and the Bride and Groom
As guests made their way back to the ship for their reception Brittany, Josh, and I – along with their wedding party – walked a small radius for iconic beach wedding photos.
Then we took a quick stop at Boat Beach with the help of golf cart transportation for some of my favorite photos of the day. Finally, we made our way back onto the ship.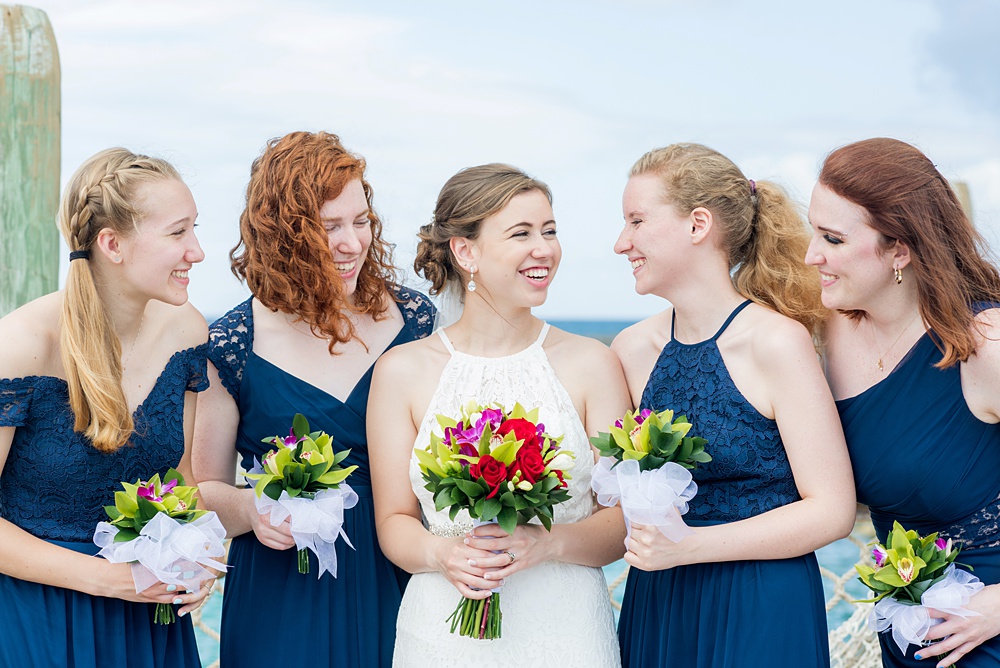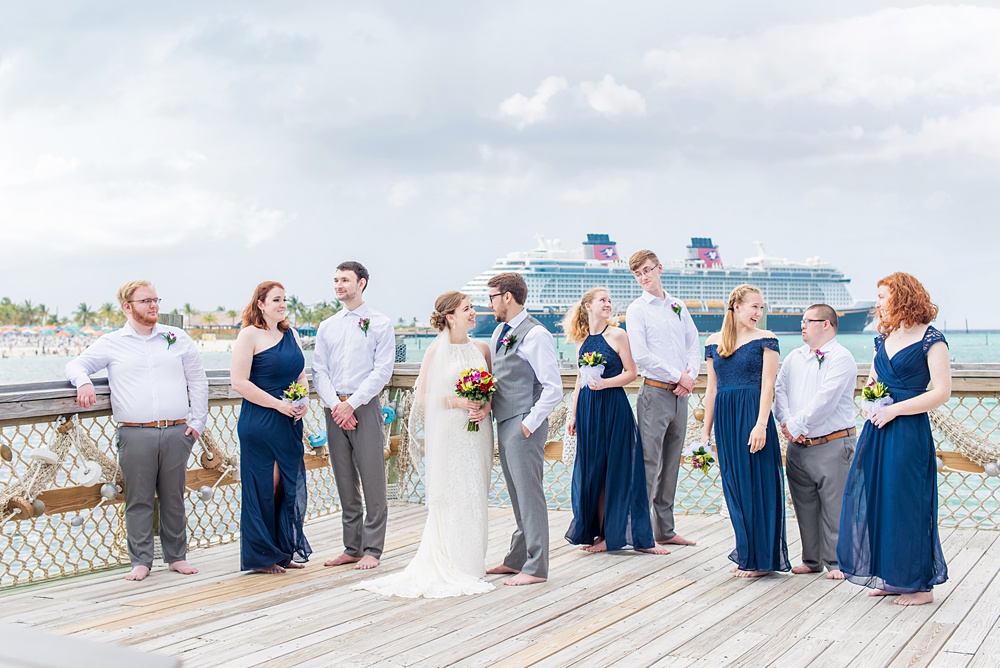 I love doing the best job possible for all my couples. This is why I absolutely adored hearing someone on the island (who was watching from nearby, waiting for us to board golf carts so she could help transport us back to the ship) say, "Oooh I've never seen any photographer do that!"
I was smiling ear to ear and replied, "That's why they hired me!"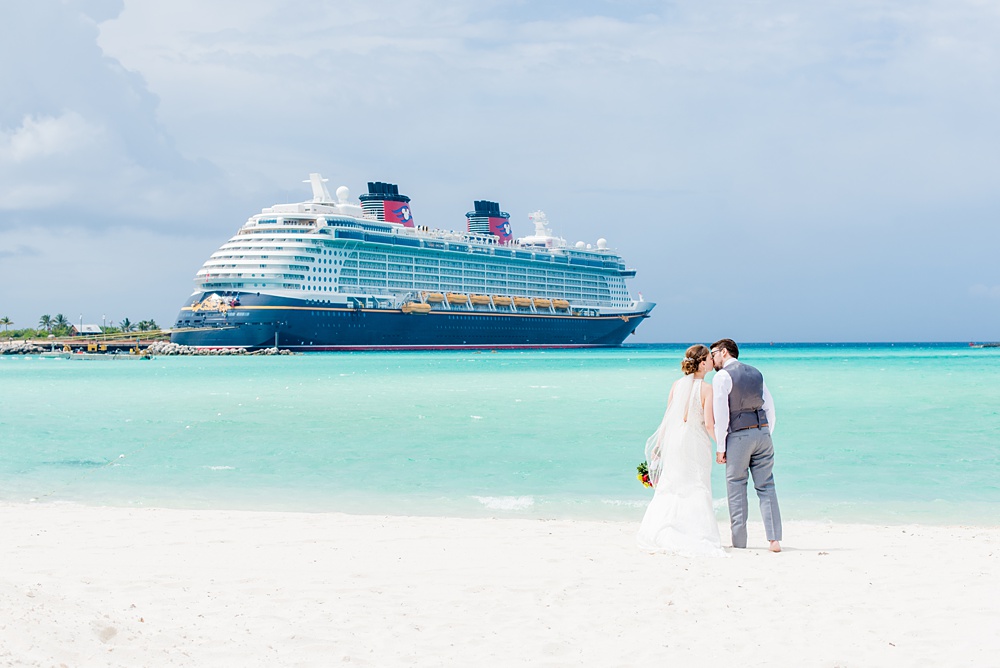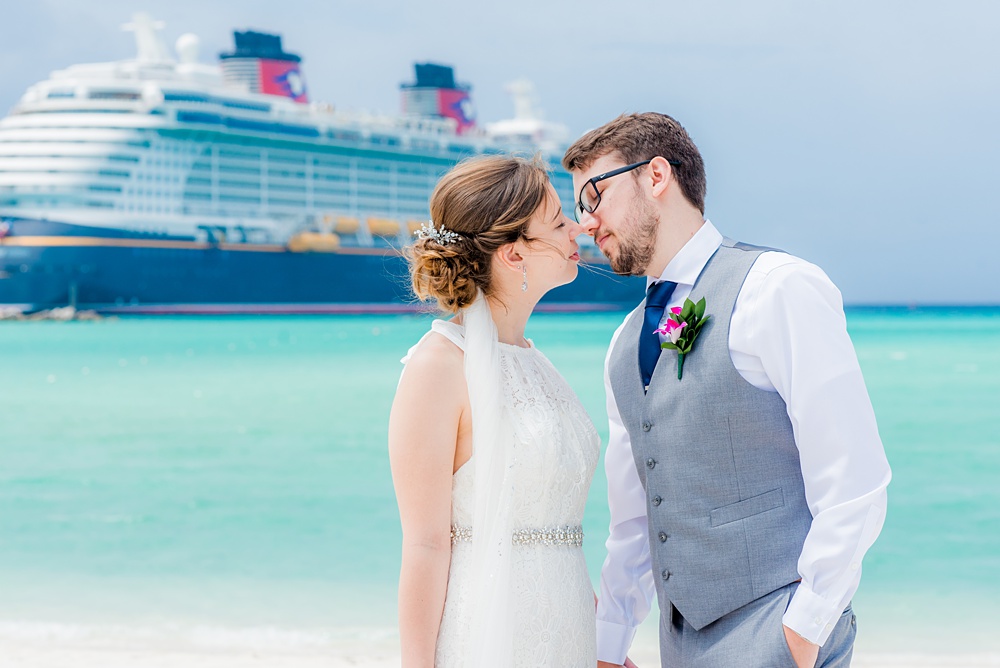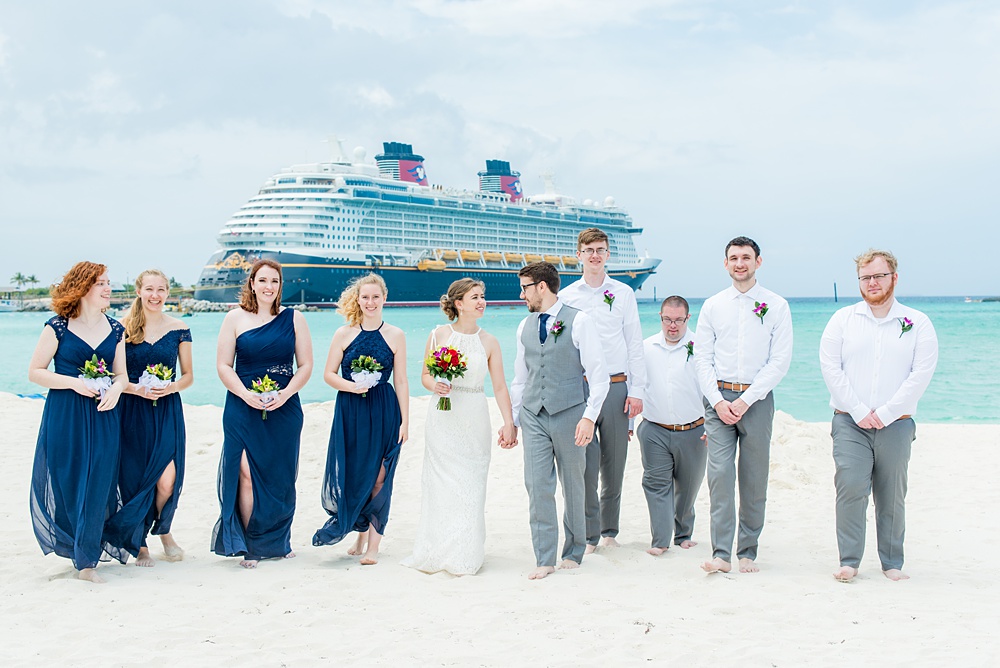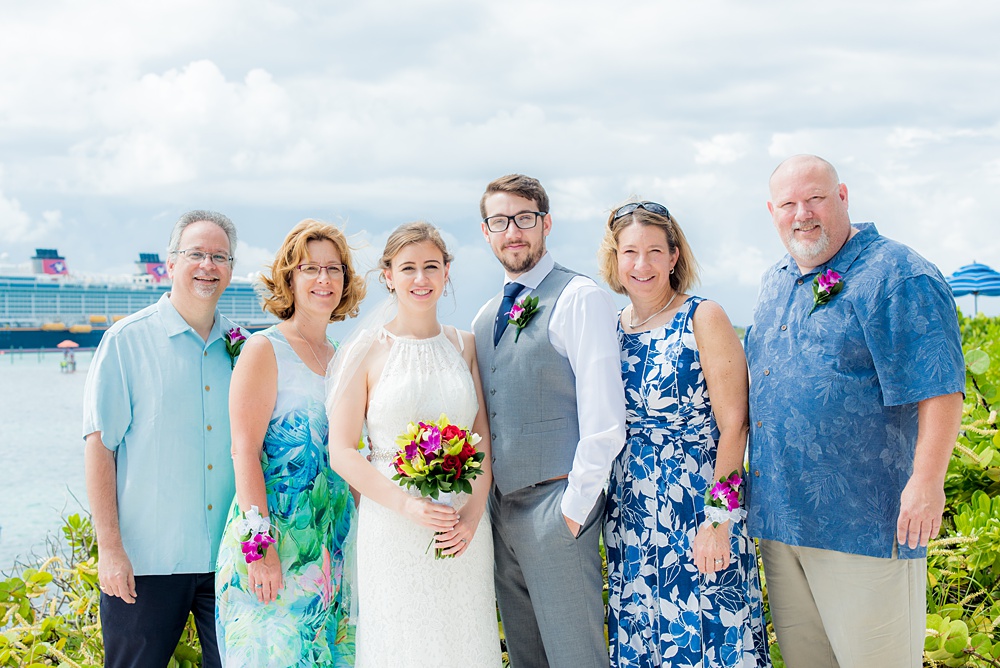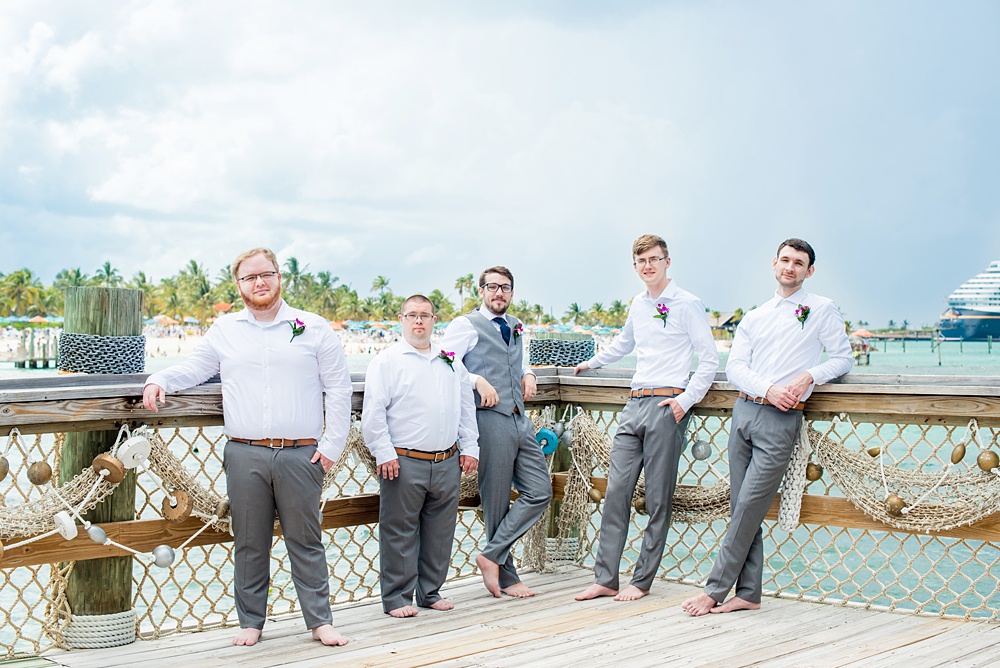 Wedding Reception on Disney Dream in D Lounge
We made our way back to the ship just before the heavens opened and it started to pour (but after photos with Mickey Mouse, of course)!
It was perfect timing because we were due to be in the D Lounge for their cake and champagne toast reception. They also danced their first dance to a Disney song, of course, "Can You Feel the Love Tonight." It was the extra lovely, emotional Elton John version of the song.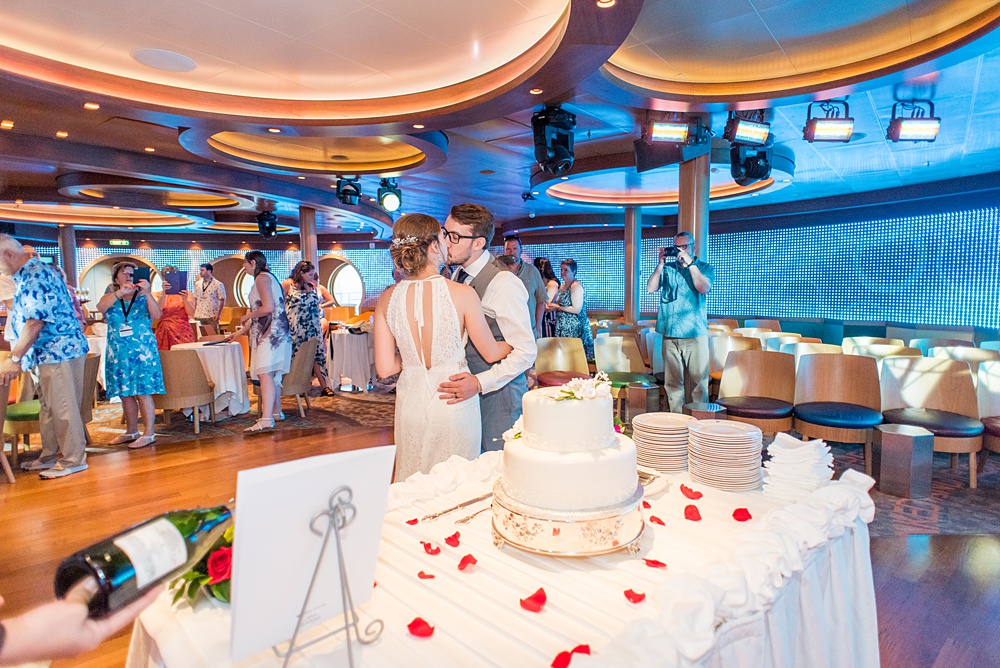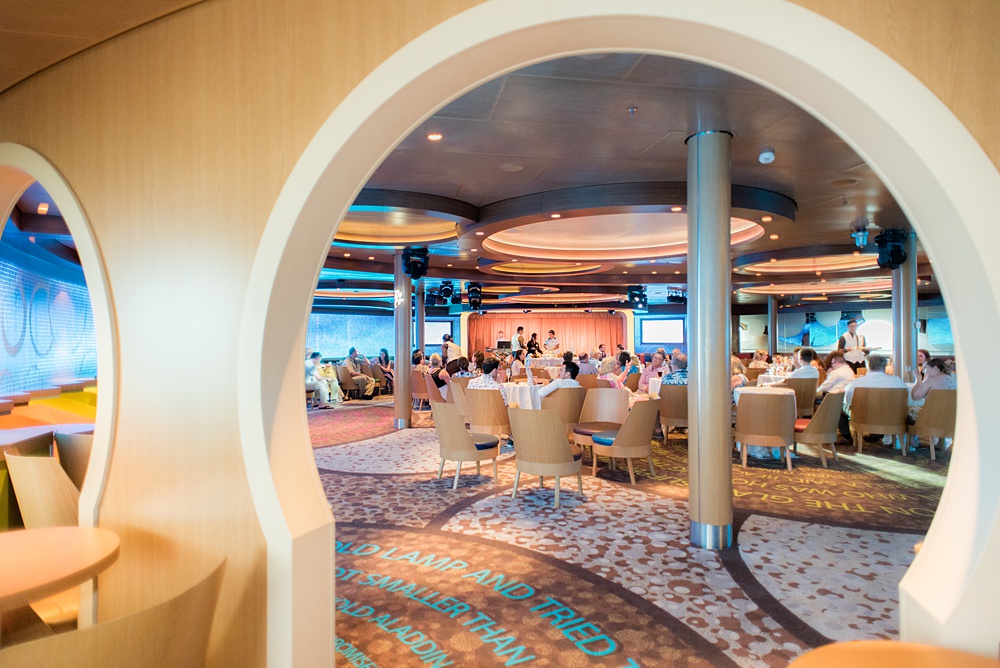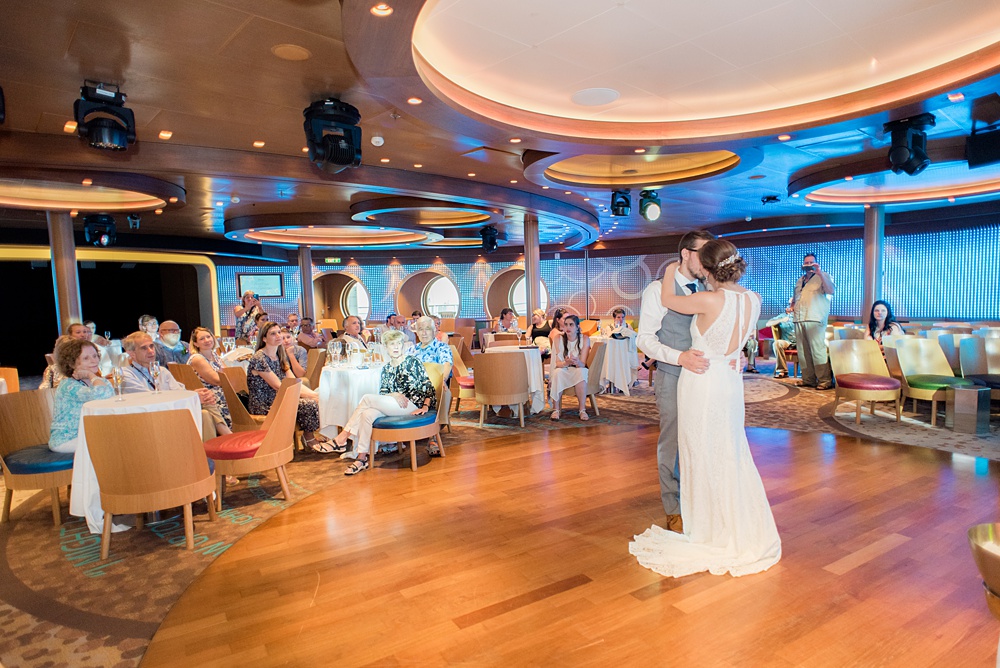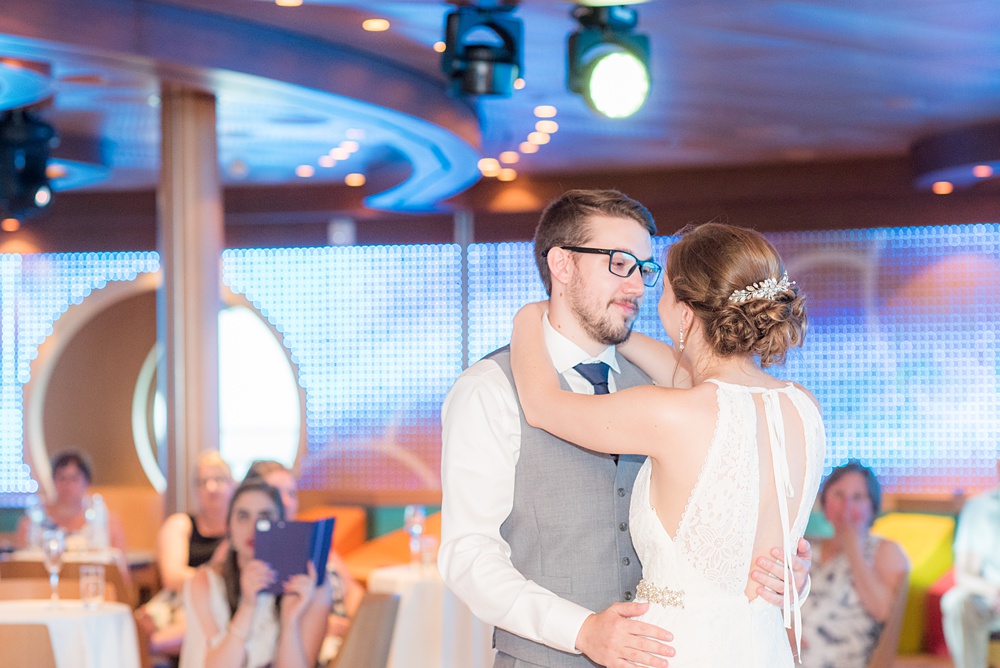 Disney Dream Wedding Photos Around the Ship
Getting married on a cruise ship meant the joy of the Disney-owned island, Castaway Cay, and the splendor of a Disney ship, in particular. It's the best of both worlds, land, and sea. Thus, we took full advantage of the opportunity to roam a practically empty ship, as most of the guests were enjoying Castaway Cay at the time. We took many more photos of the bridesmaids, groomsmen, and happy newlyweds all over the place, on nearly every upper deck.
We went from the grand staircase in the main atrium, to Cabanas for the impressive Finding Nemo mosaic walls, to the upper stacks, to the Enchanted Garden restaurant, to the Cinderella mosaics near Guest Services, and more. We spent over an hour having fun in all these awesome locations!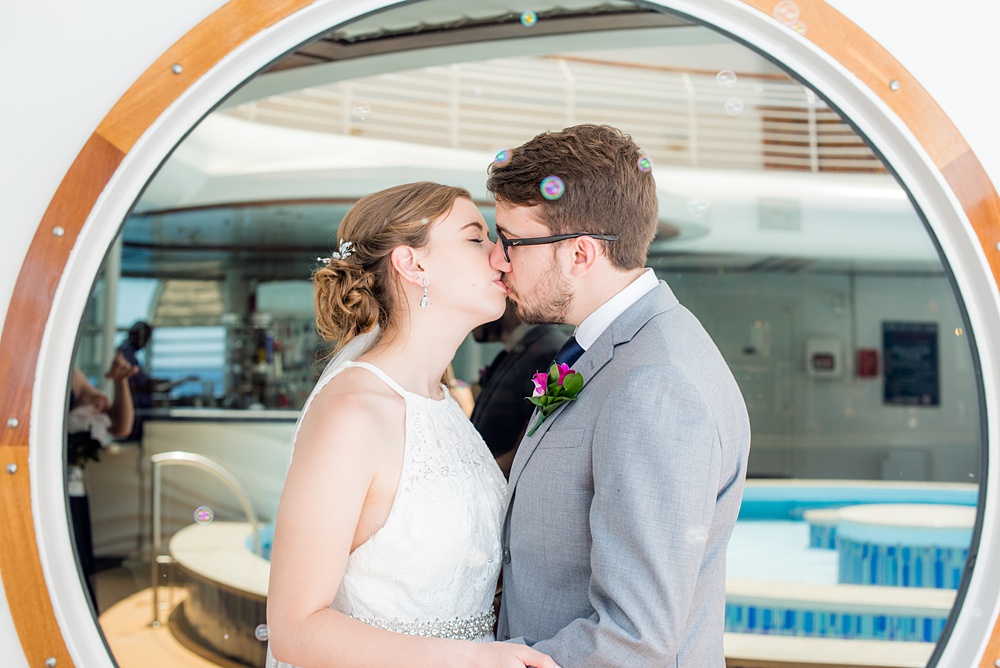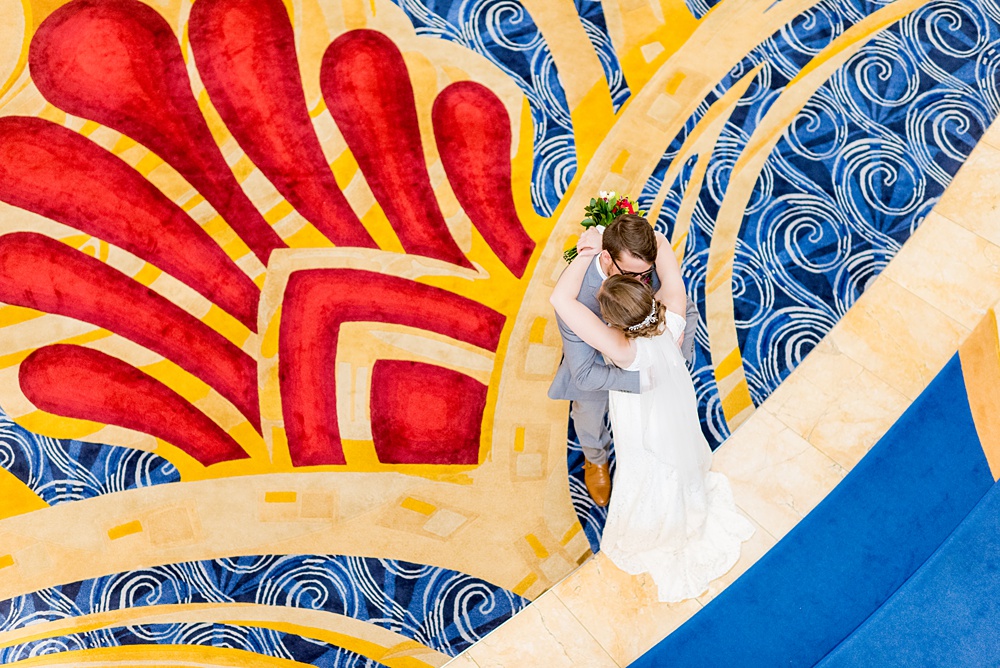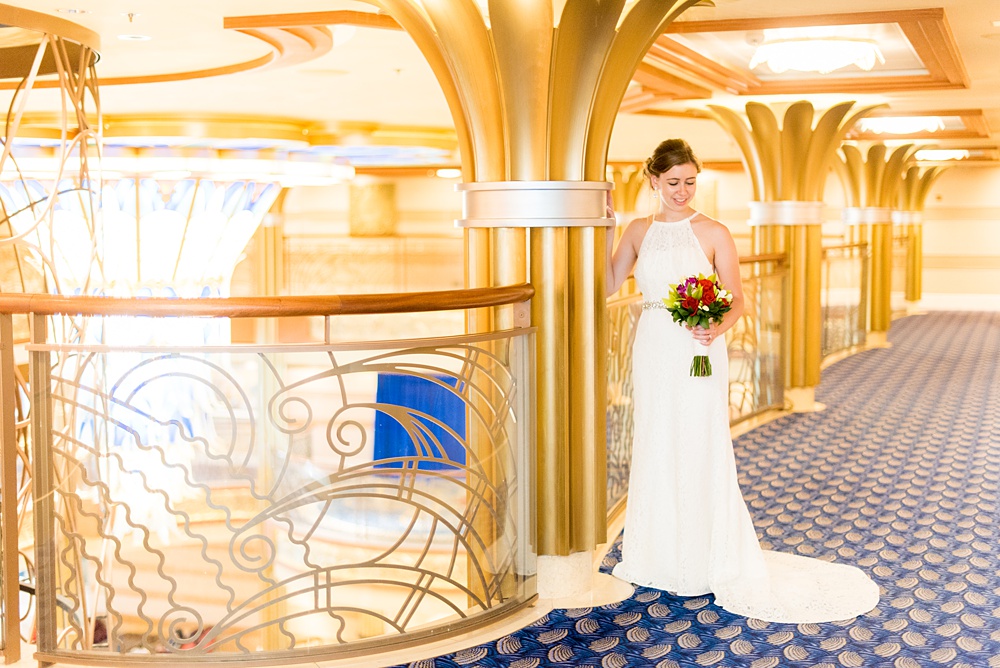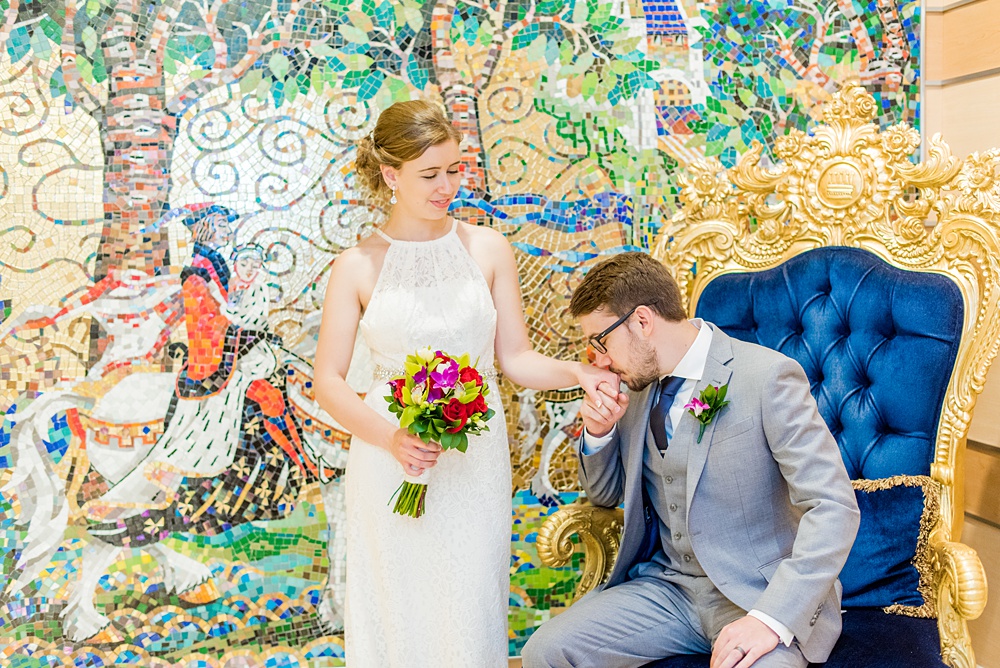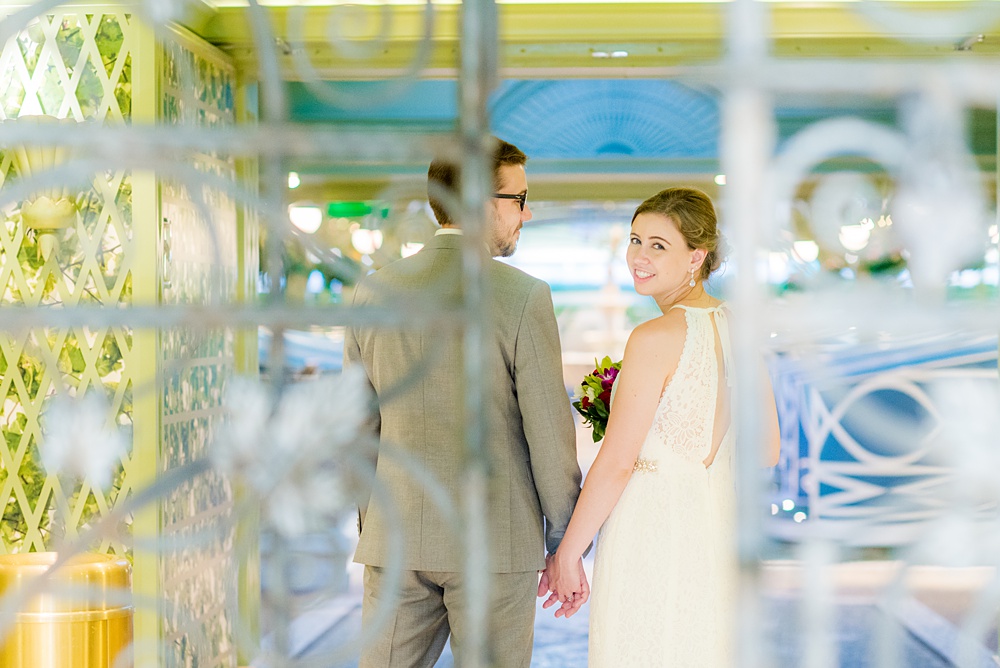 Disney Dream Wedding Photos
Isn't it all such a dream come true? Their hashtag was #MitchellDreamWedding (for their last name, the cruise ship name and simply the reality of the situation) and it was just that. A dream wedding, just for them.
I've been so fortunate to be a part of a few Disney Fairy Tale Weddings now. For more inspiration, check out:
Also check out this super sweet, Cinderella proposal in NYC and the Disney wedding ideas in Shantelle and Andrew's wedding in Raleigh, North Carolina.
Interested in having us capture your fairy tale wedding? Contact us!