What's the best way to spend a holiday? At a wedding AND Walt Disney World! Nonica and Jeremy's fairy tale dream became 100% real as their Christmas Eve Day wedding (and one year anniversary of the day they got engaged) unfolded in the Florida sunshine.
This couple's love story began in middle school and they endured long distance, lots of life experiences, love and memories to come to this incredible day and lovely occasion. It was a day sincerely fit for a prince and princess.
Looking at their photos reinforces a deserving couple's wish came true: they got the most dreamy wedding anyone could hope for.
**Please note there are over 100 images in this blog post. Kindly give it a few minutes to completely load.** It is also best viewed on a computer.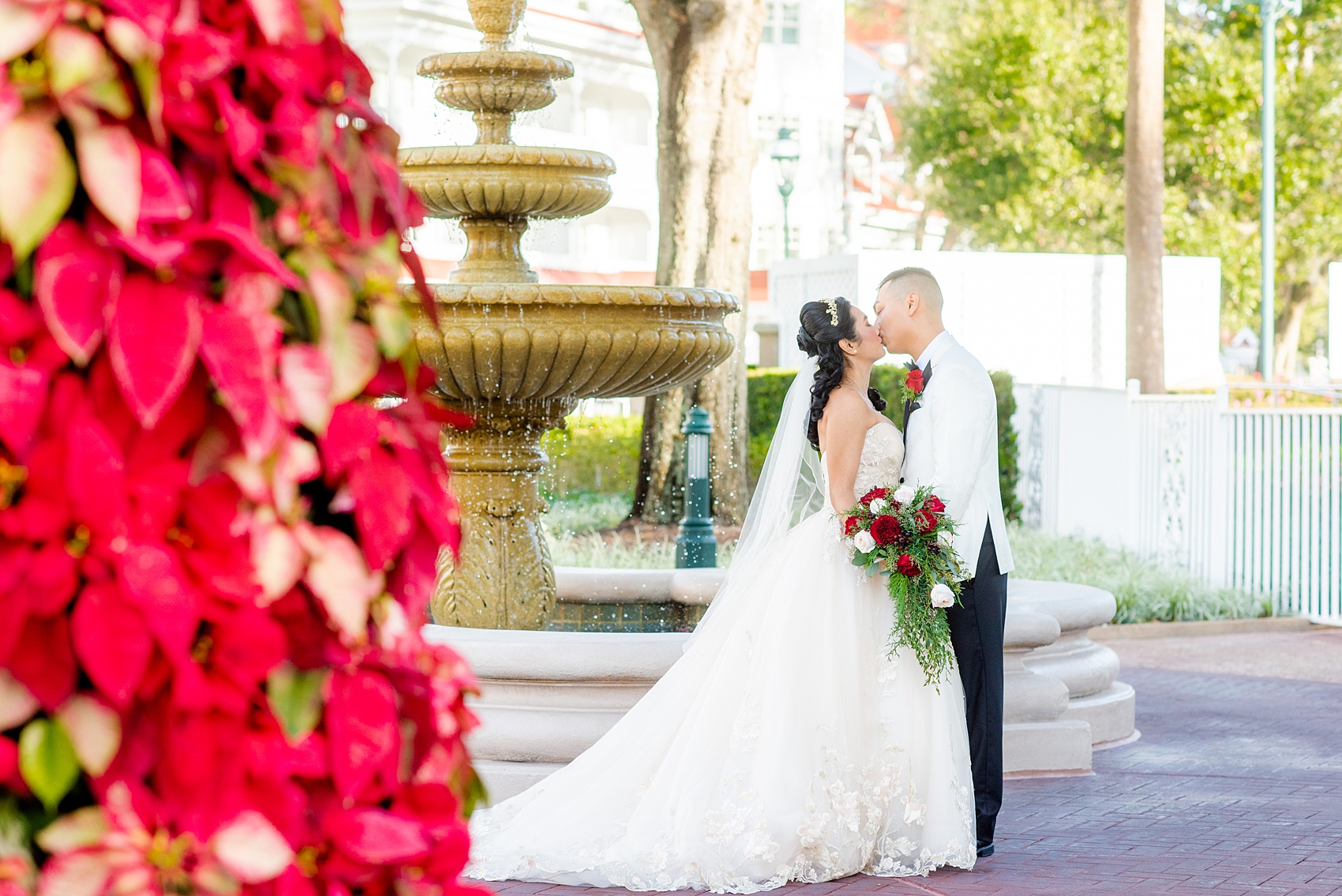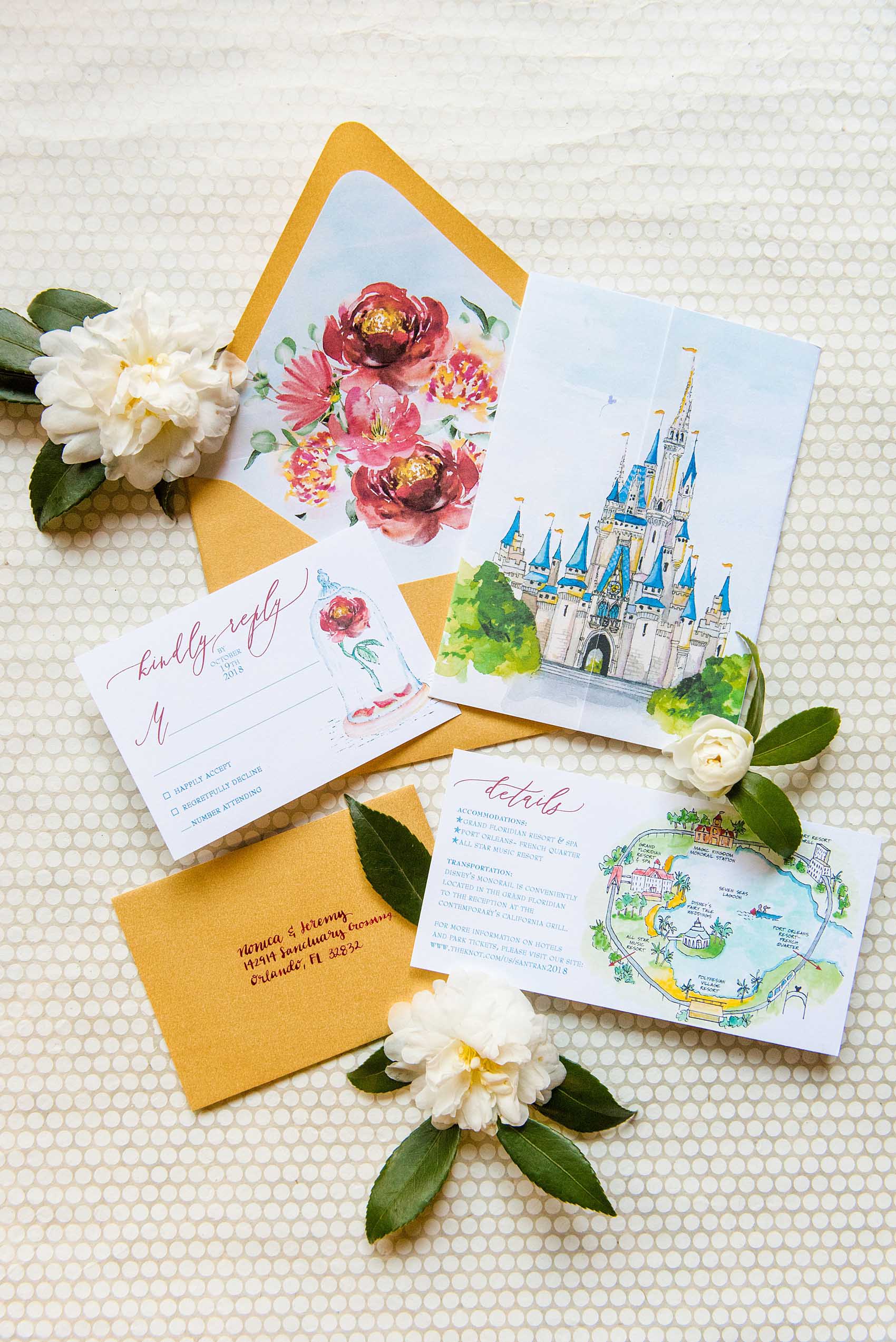 Their invitation was really the piece to set the tone and welcome guests to join their celebration. I was IN LOVE with it. I still am! It was custom designed by Watercolor Design Studio with such special touches including the Beauty and the Beast rose, Cinderella Castle (which you could view from their reception venue) and their Corgi dog, Tank! He's such a cutie! He wasn't able to attend the wedding so this was a fabulous way to include him in the festivities.
Nonica got a burgundy velvet ring box to keep her beautiful engagement ring in. There were so many special touches I loved photographing throughout the day. Including that incredible sunrise I saw from Nonica's balcony looking out onto the Wedding Pavilion, their ceremony location.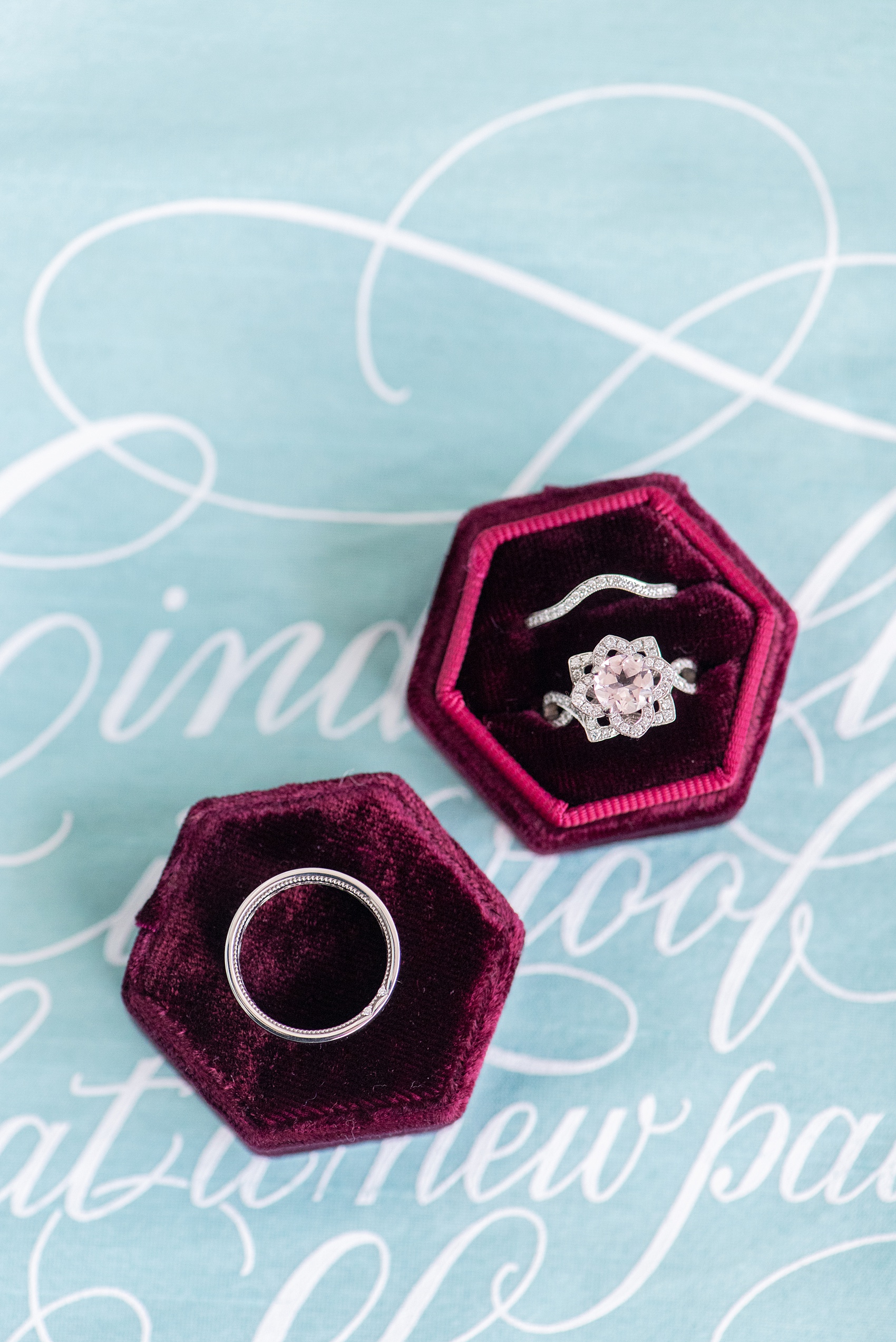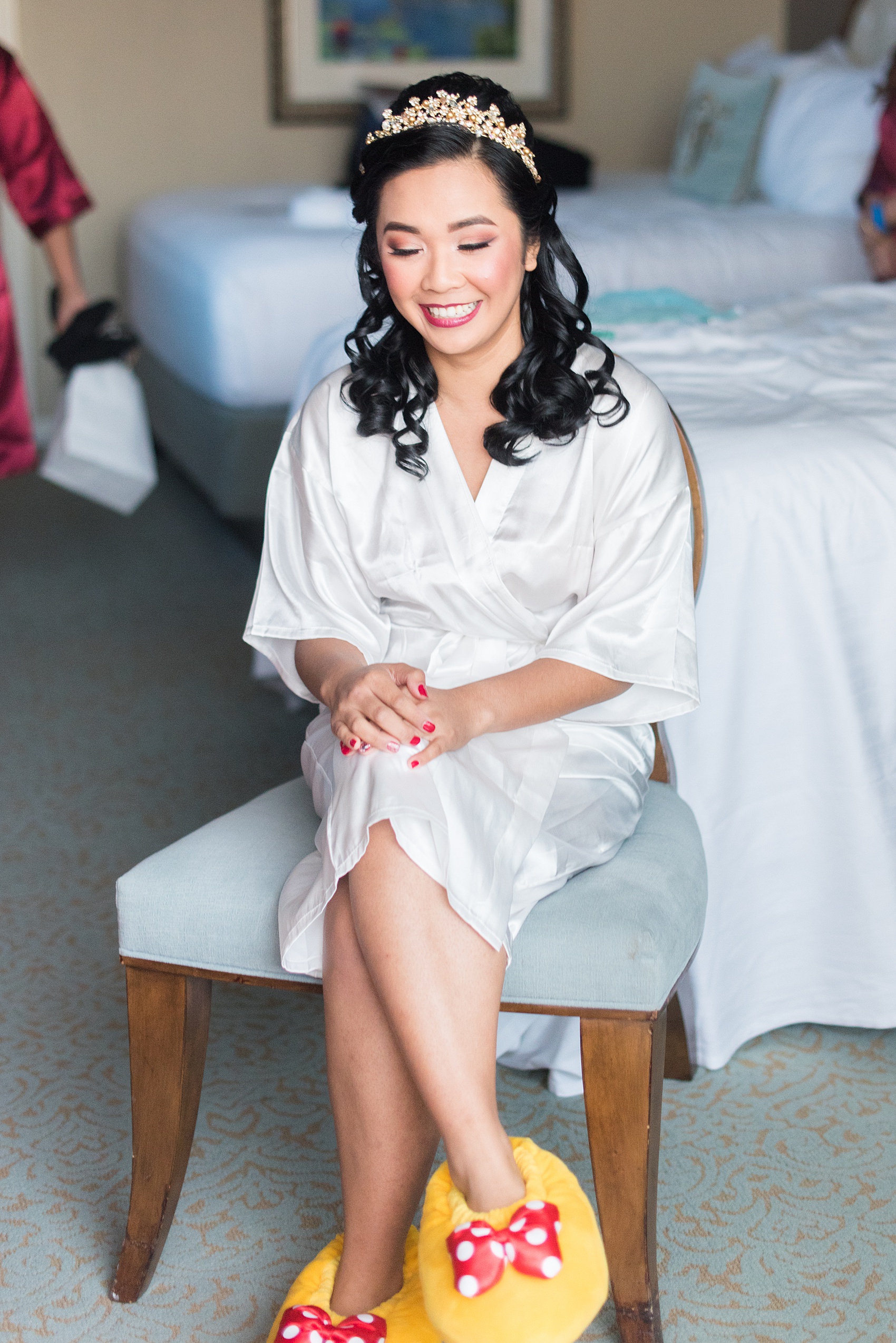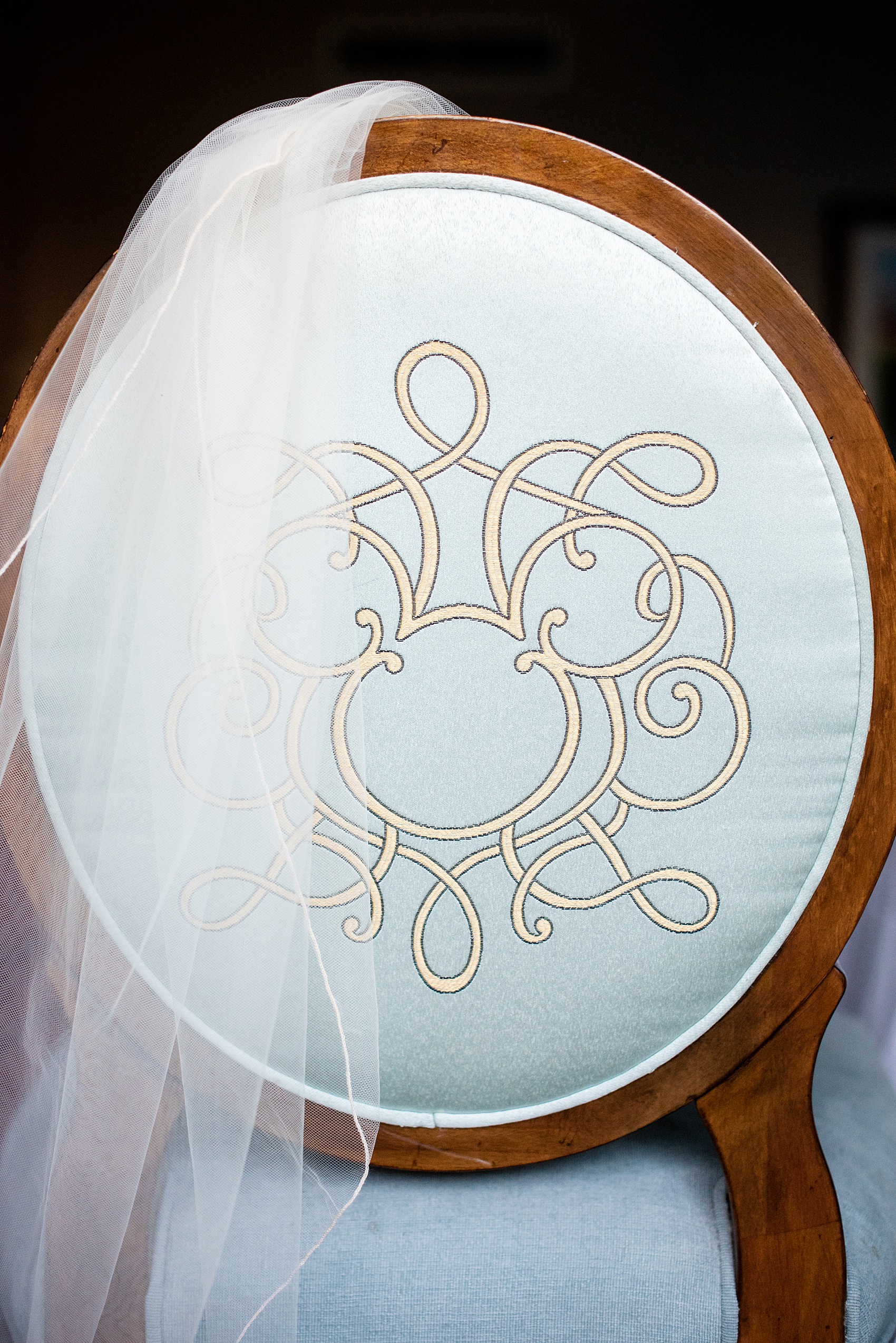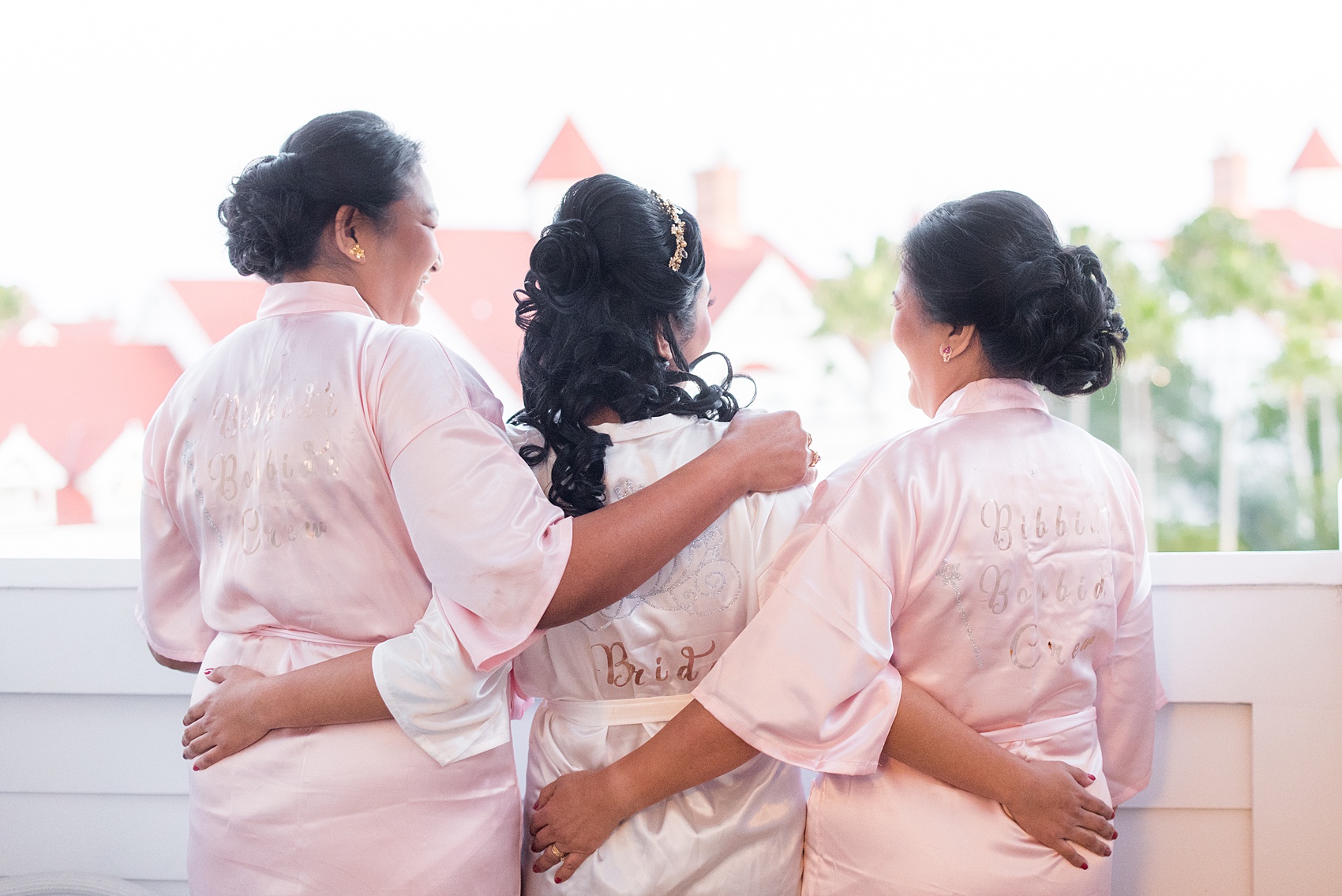 Nonica gifted her girls (and moms!) the cutest pink and red silk robes. I snapped some pictures as Nonica, her mom and mother-in-law shared a moment on the balcony. A cold one! It was chilly that morning but warmed up significantly during the day. (Whew!)
If it isn't already blatantly obvious: I'm obsessed with their rings. Jeremy proposed to Nonica at Disneyland Paris (where else?!). Which is extra amazing because "La Belle and La Bete" (the French version of Beauty and the Beast made decades ago) is the true original film version and was filmed in that country. How romantic of him, right? One year later, to the day, they tied the knot.
They had custom Tacori rings made for the wedding that perfectly fit Nonica's rose-inspired engagement ring. (Check out their amazing metal lattice work inside Jeremy's band later in the post.)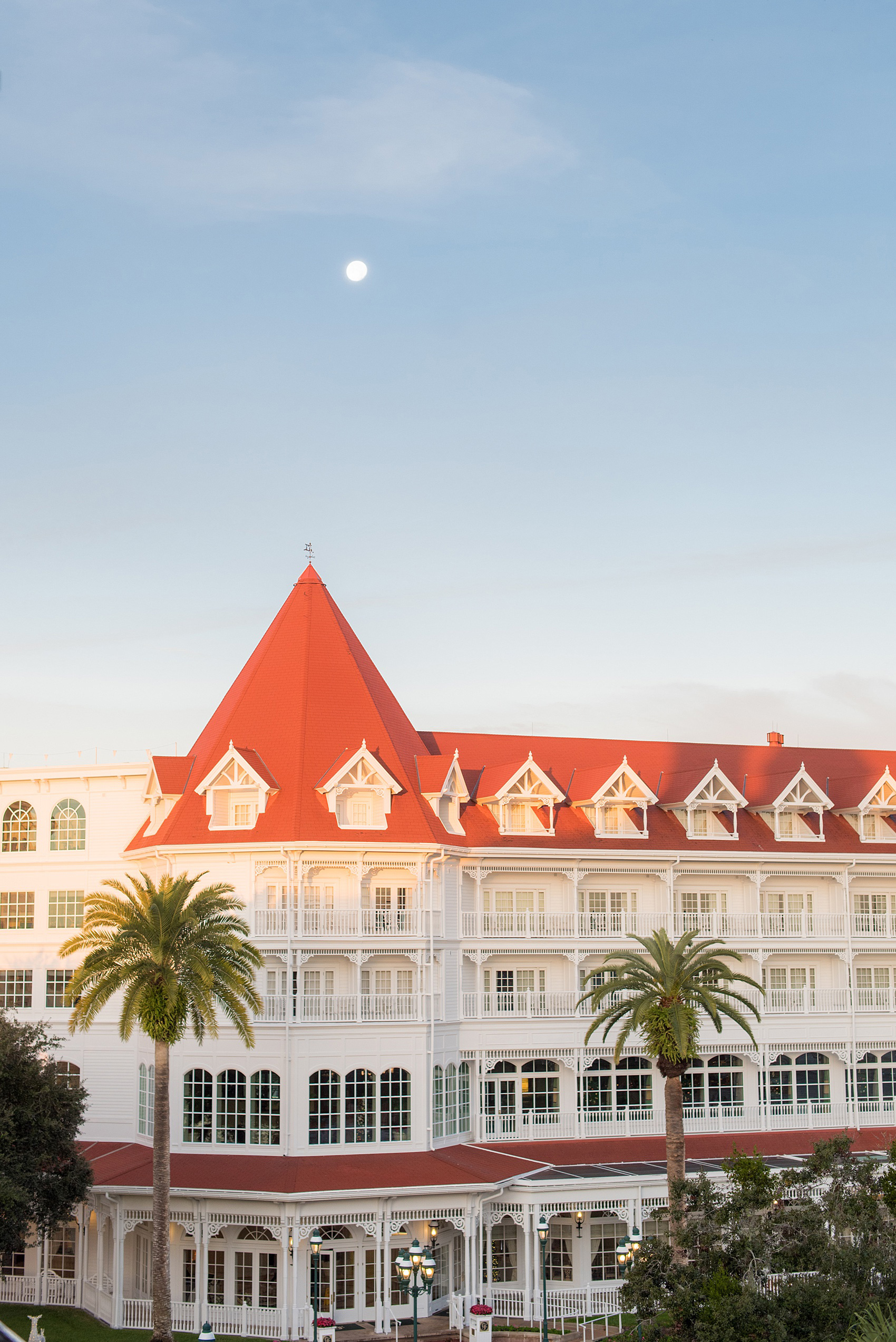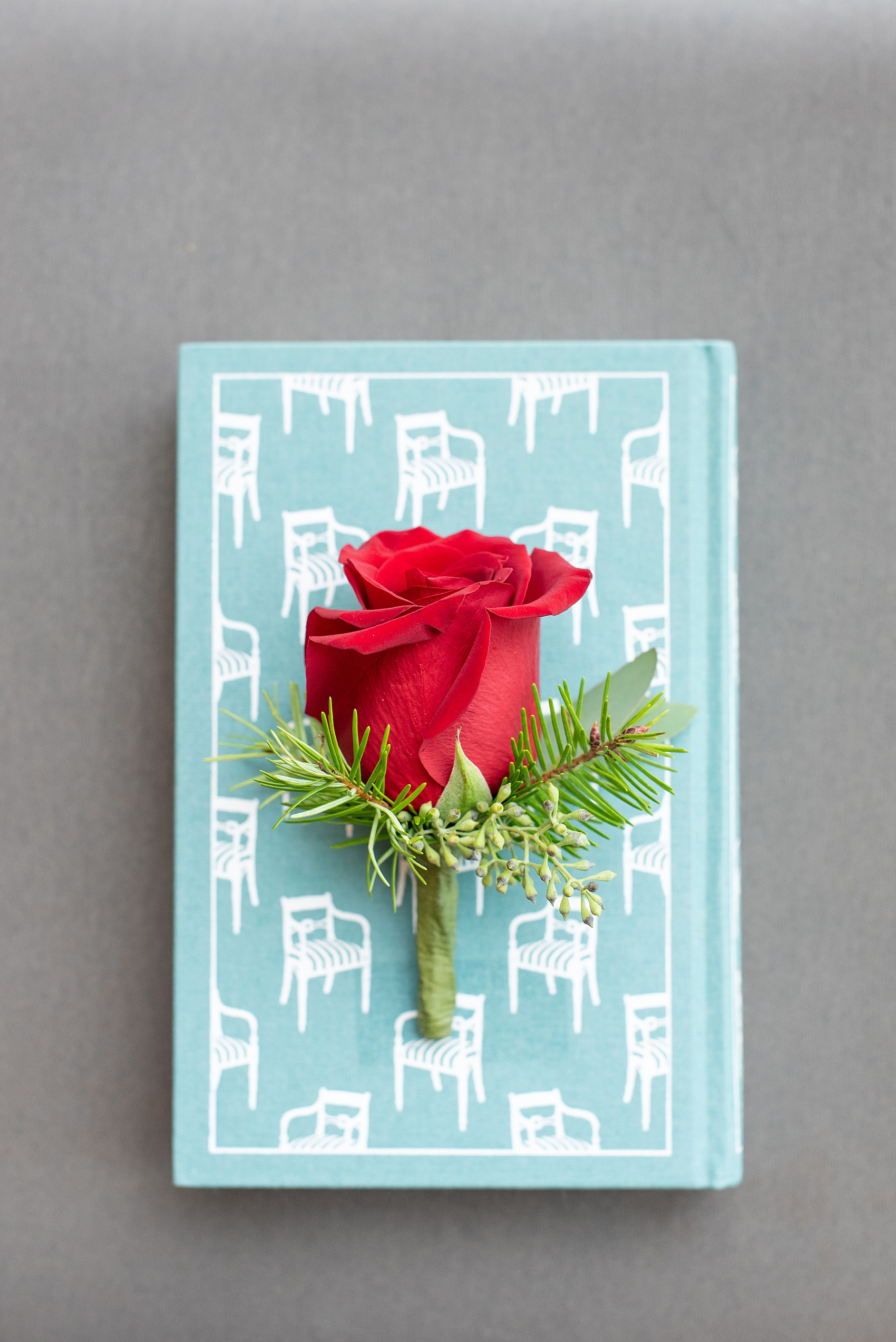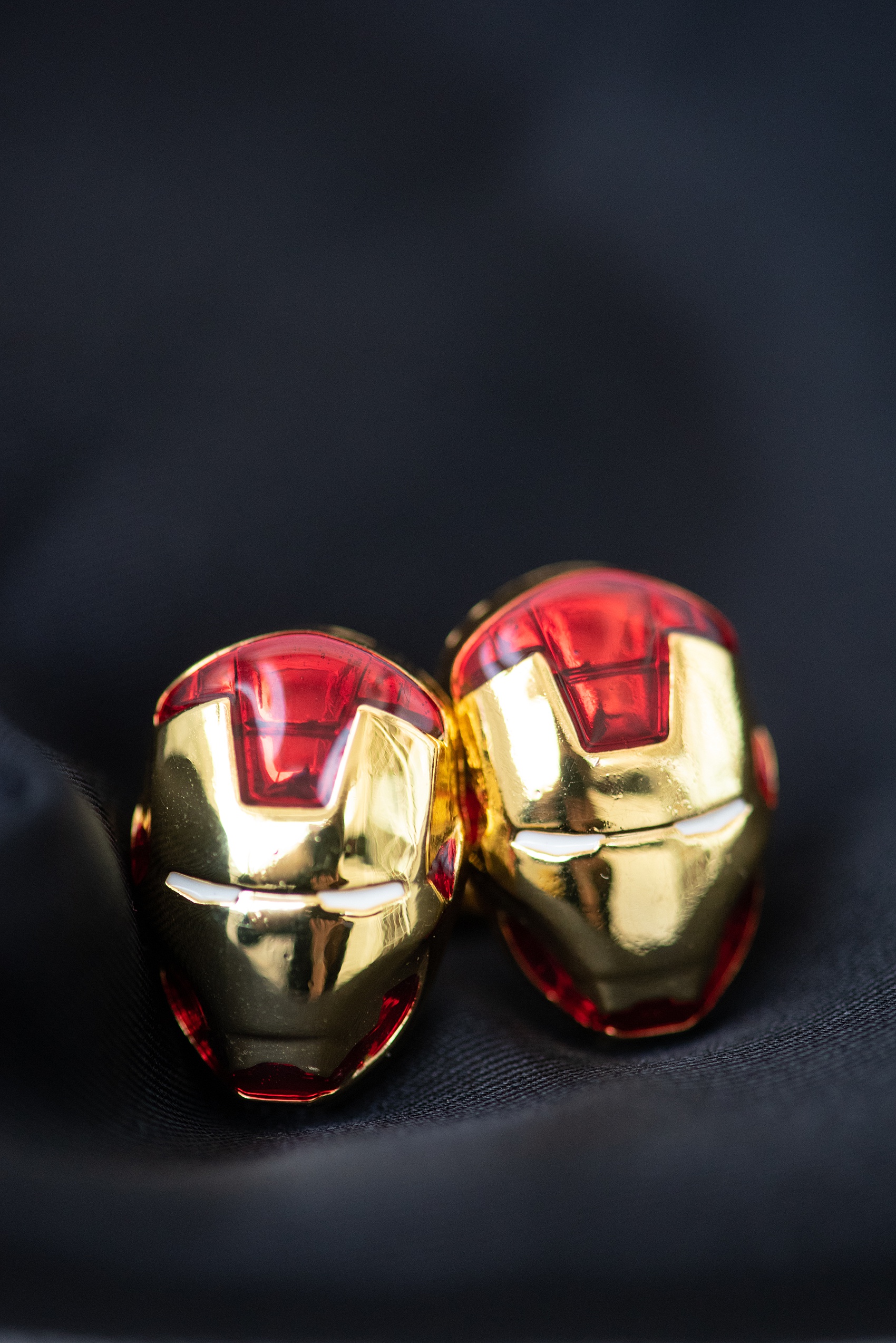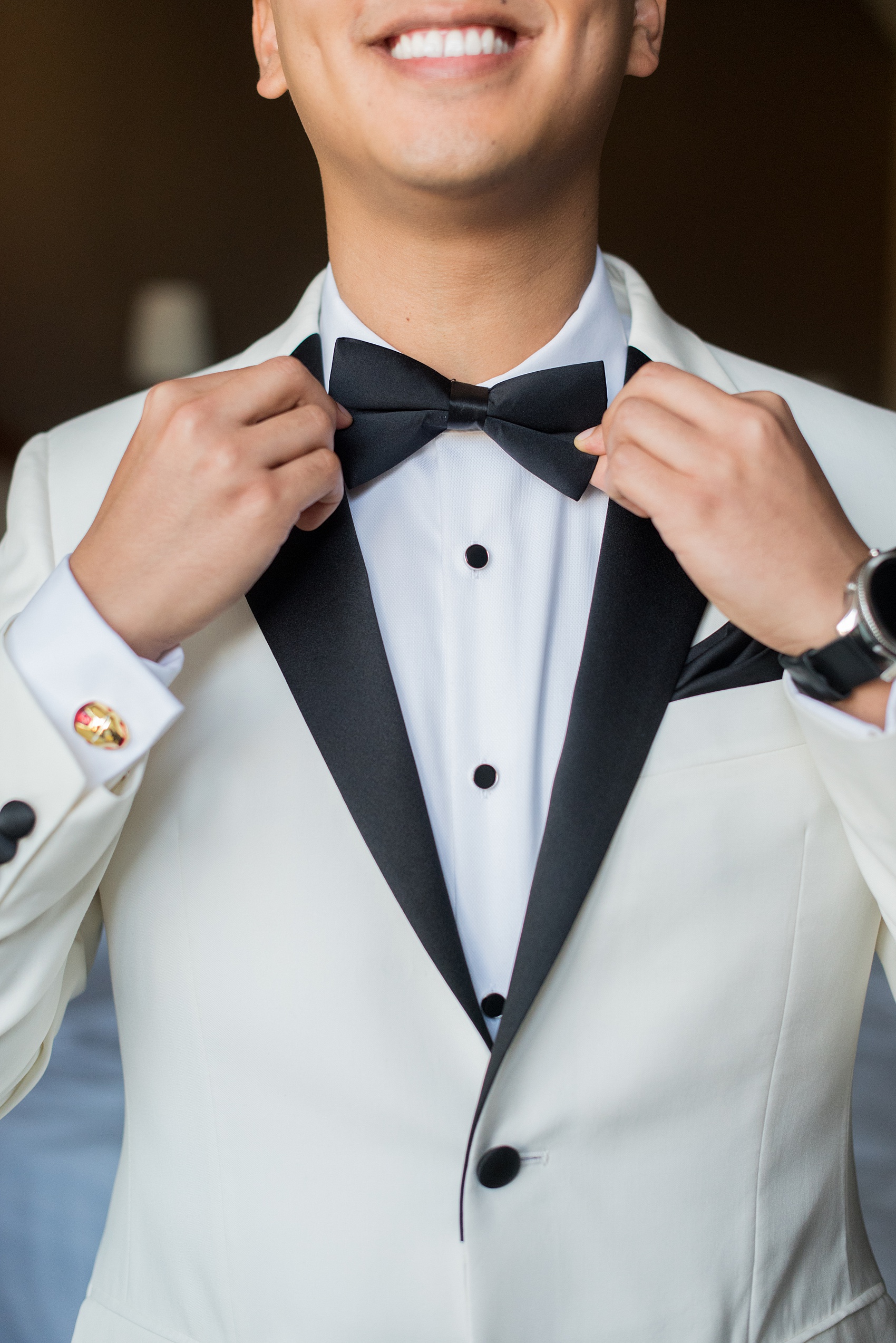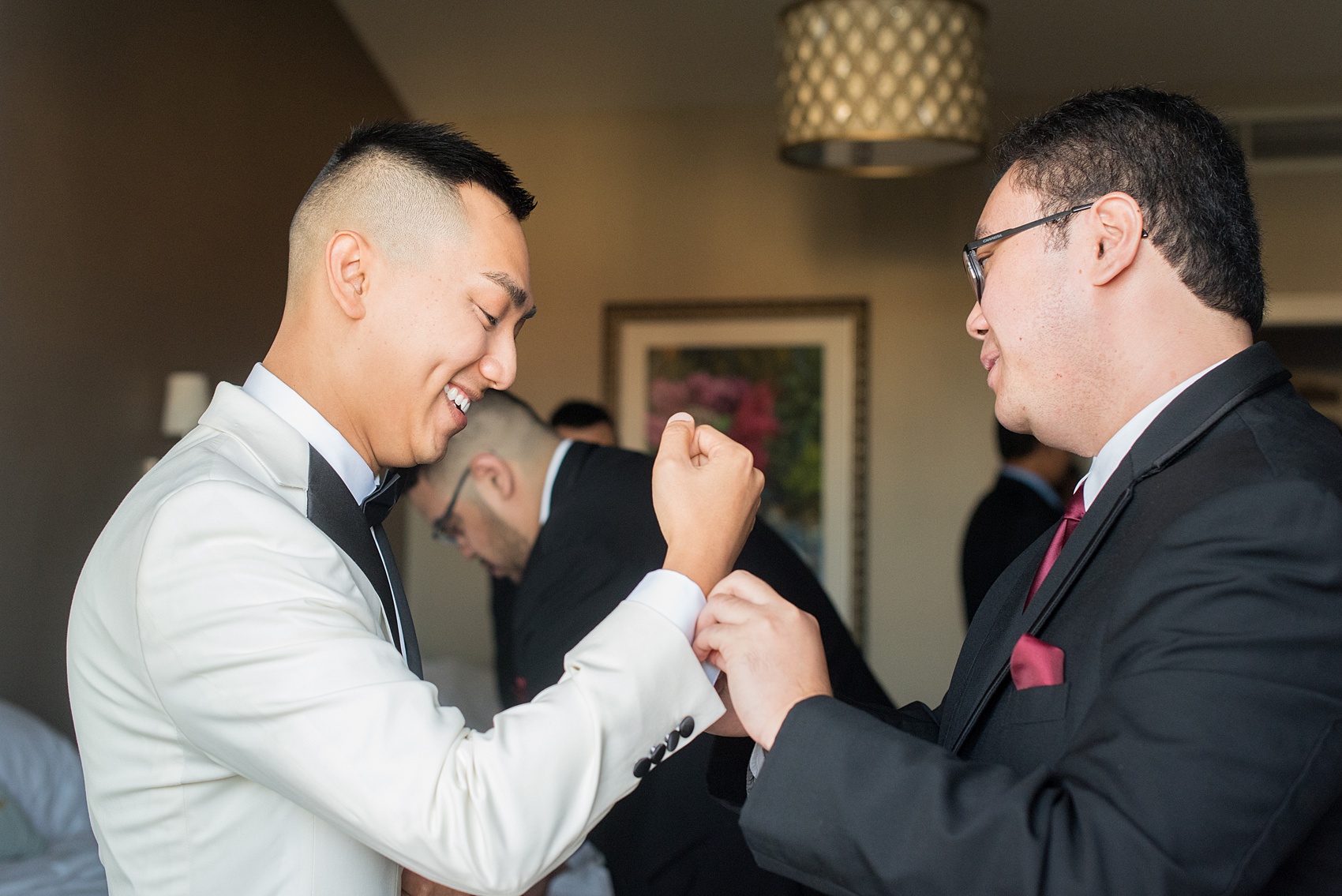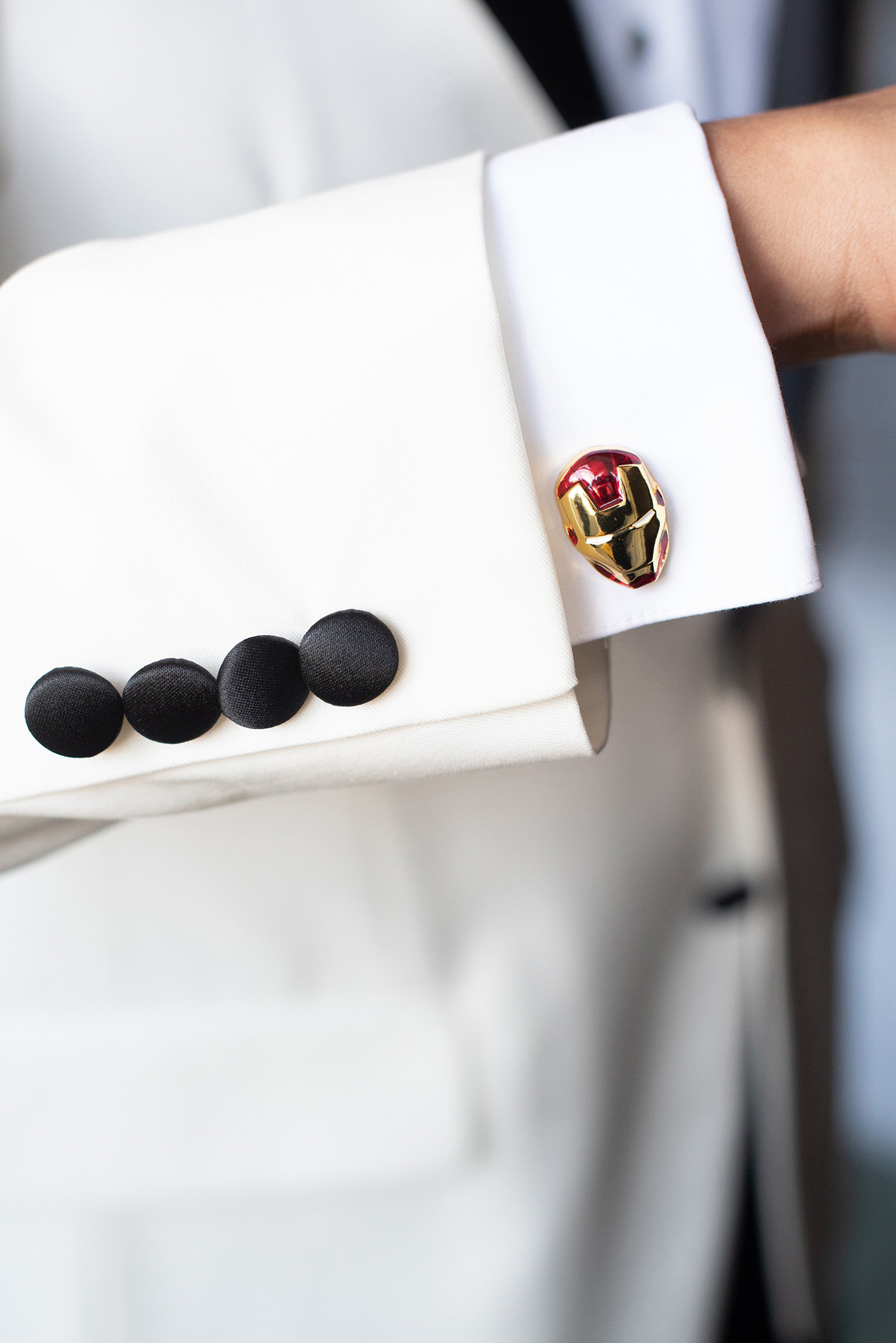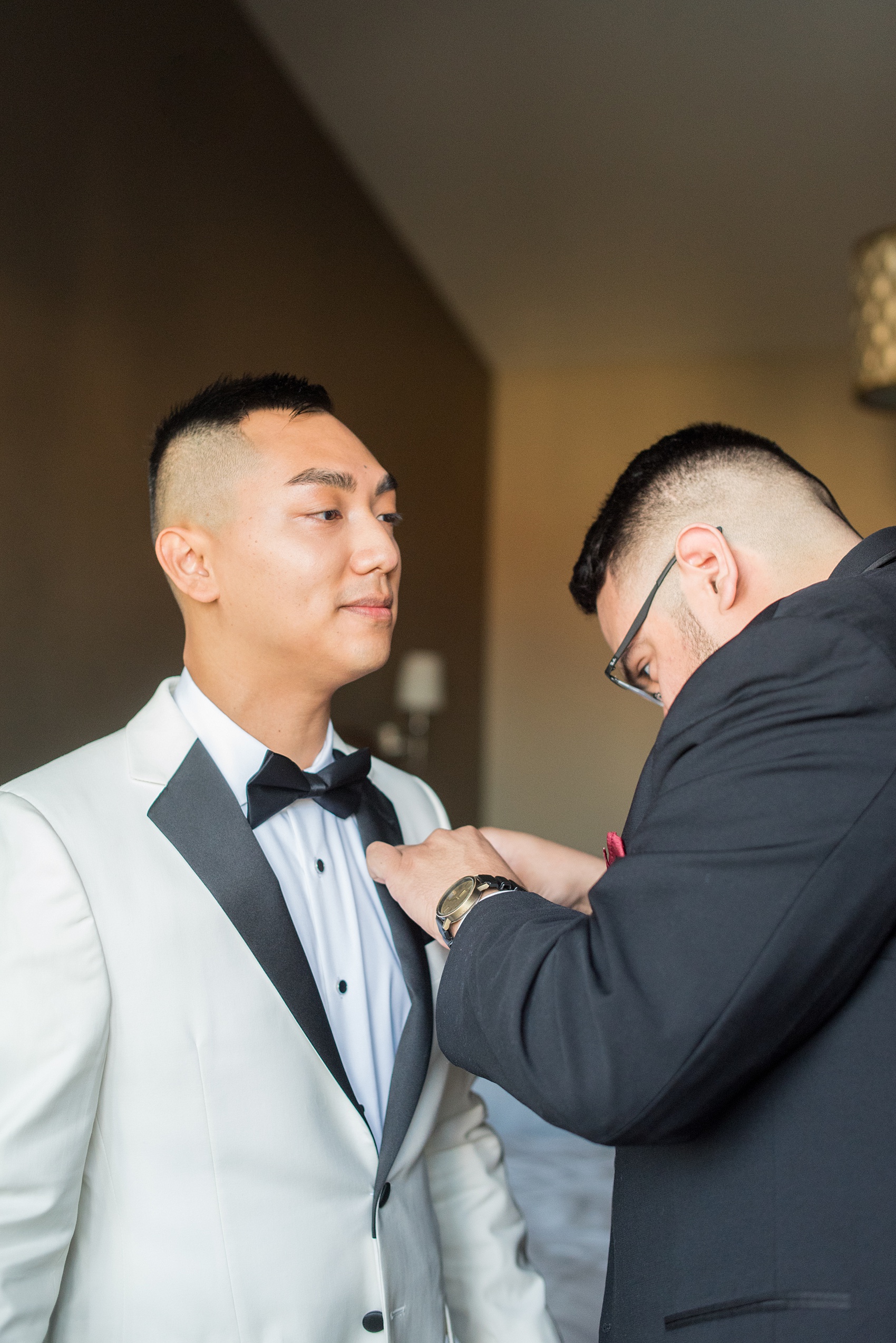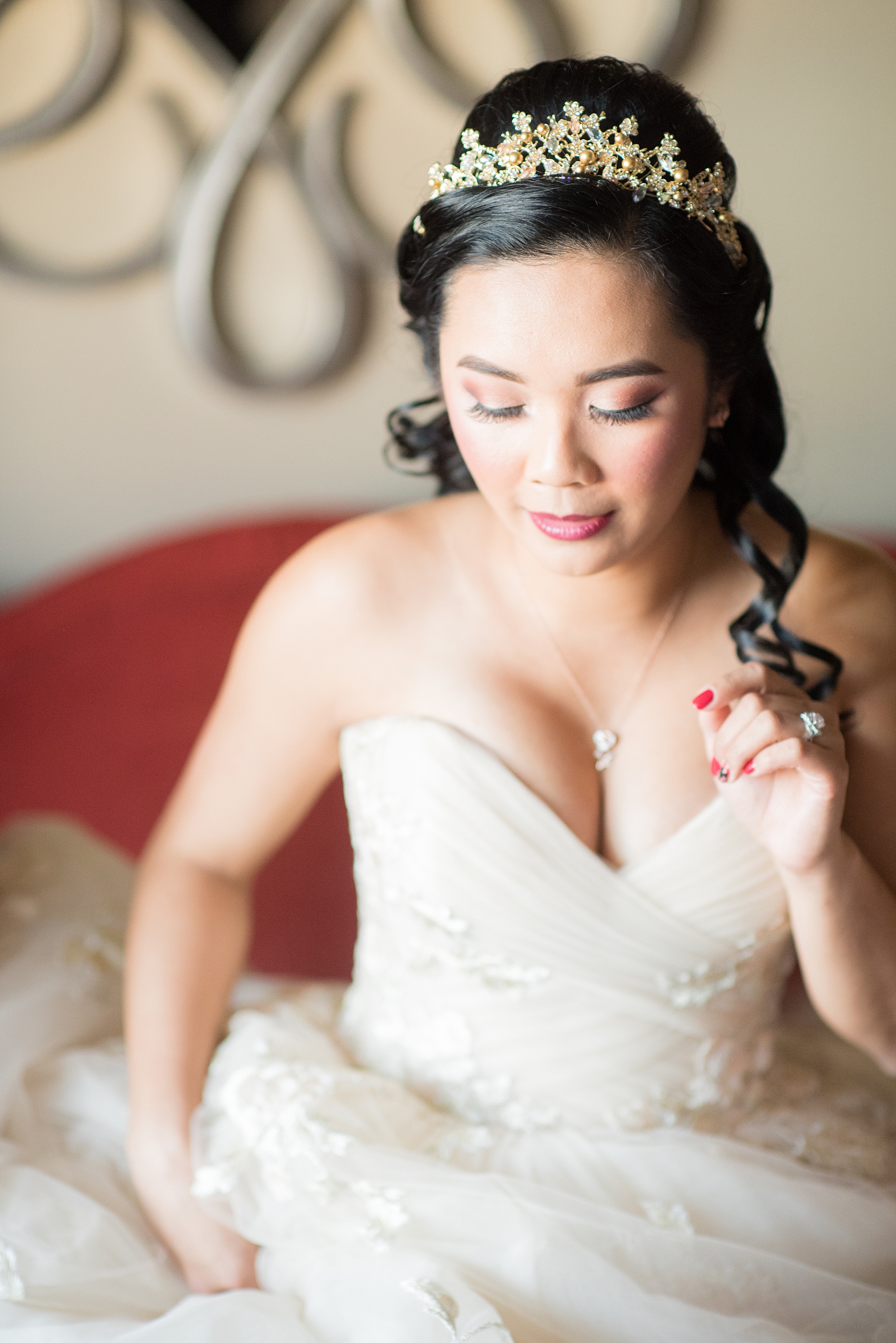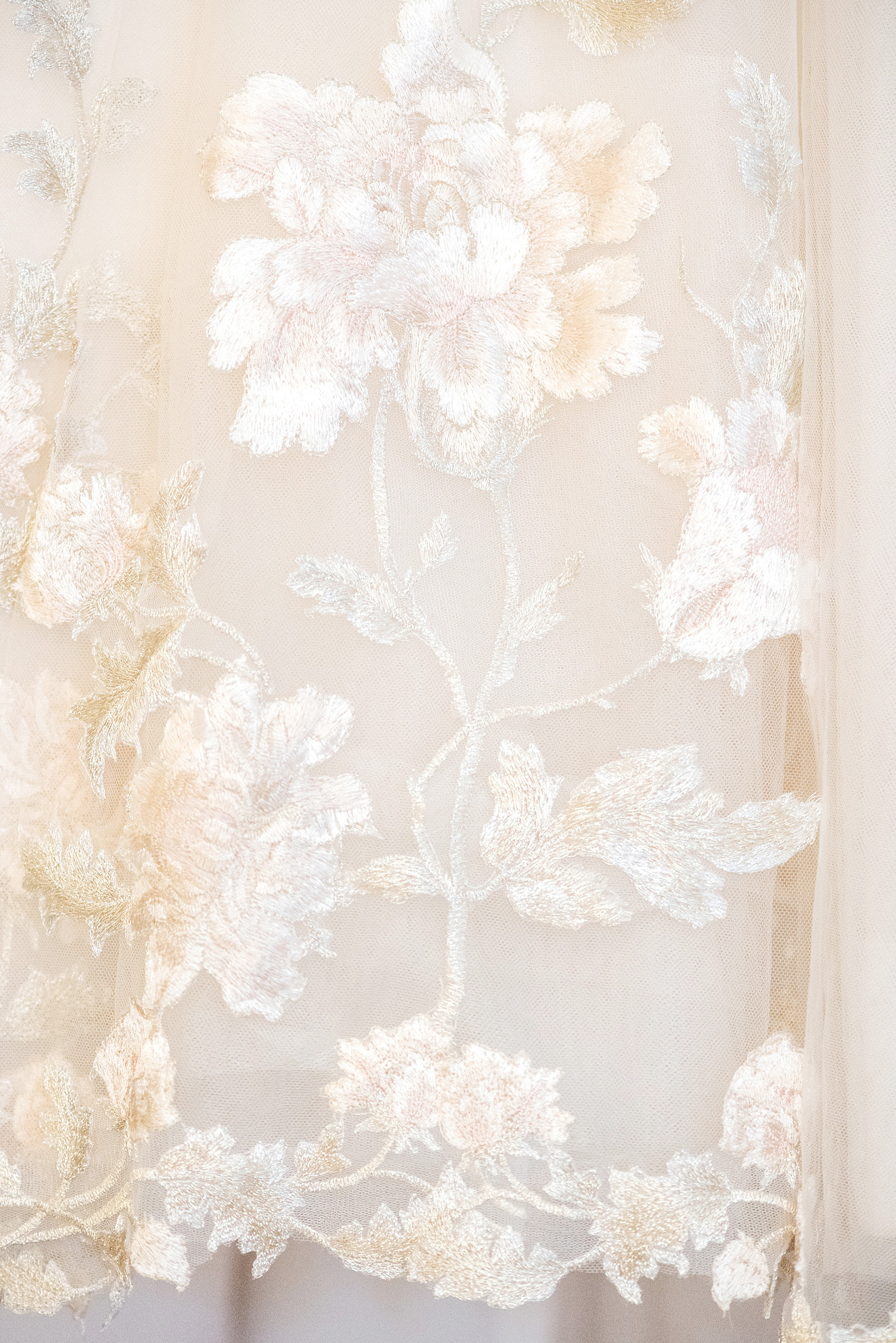 The groomsmen got ready in a room next door to the bridesmaids. It was actually really fun they had three rooms right across and next to one another at The Grand Floridian. It made it really easy for me to bounce back and forth to capture their Walt Disney World wedding photos!
Jeremy wore a super cool white tuxedo and classic black bowtie. He was sure to don his Iron Man Marvel cufflinks along with his groomsmen's Marvel cufflinks. Jeremy gifted each groomsman their own, whether Superman, Batman or another character.
Nonica had so many details in her wedding day style I loved from the rose embroidery on her wedding gown (naturally befitting of a princess), her rose styled half-up hair do, and her Mickey Mouse nail on her red and gold glitter manicure. She also wore rose gold, diamond and rose themed jewelry; another nod to her love of Beauty and the Beast.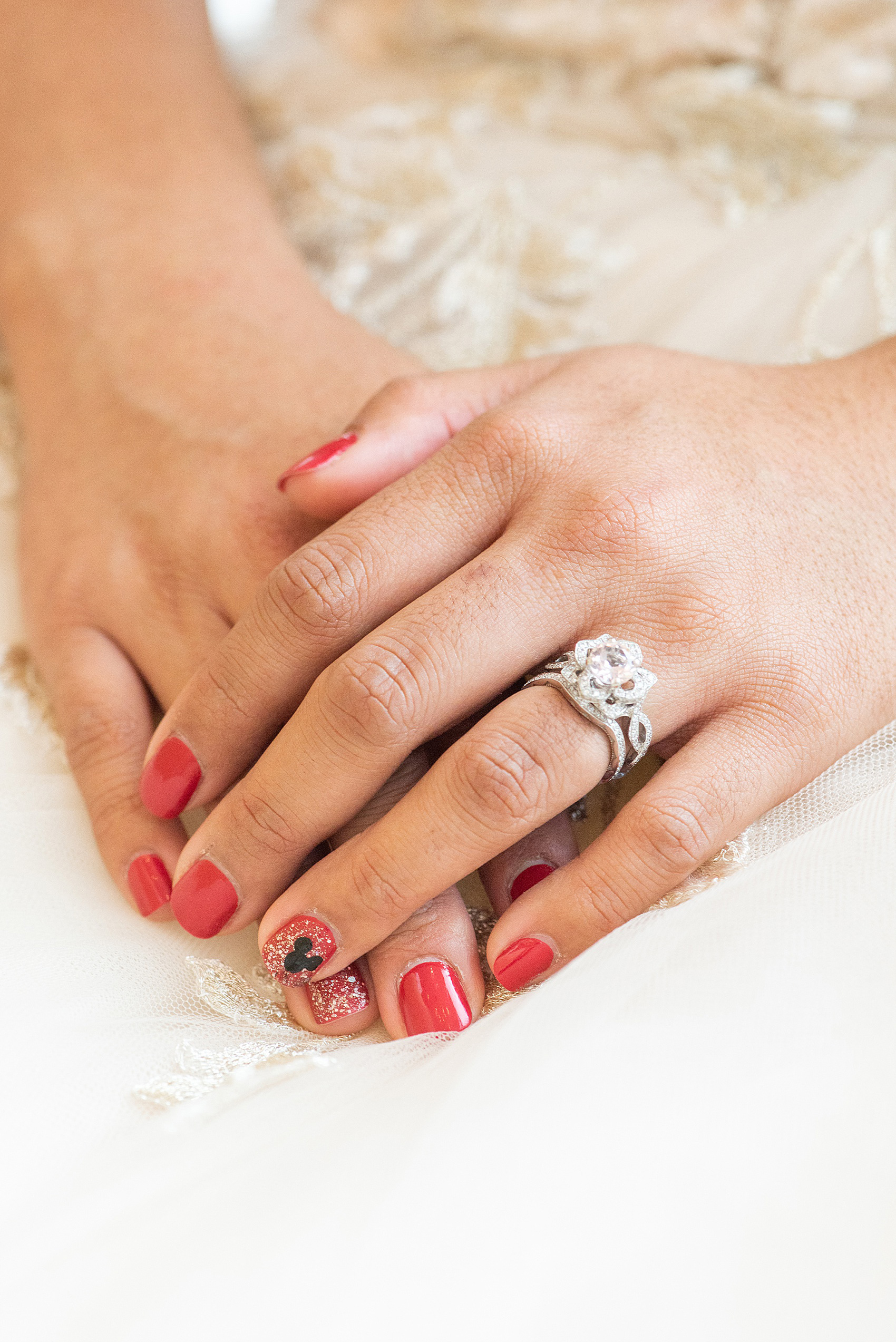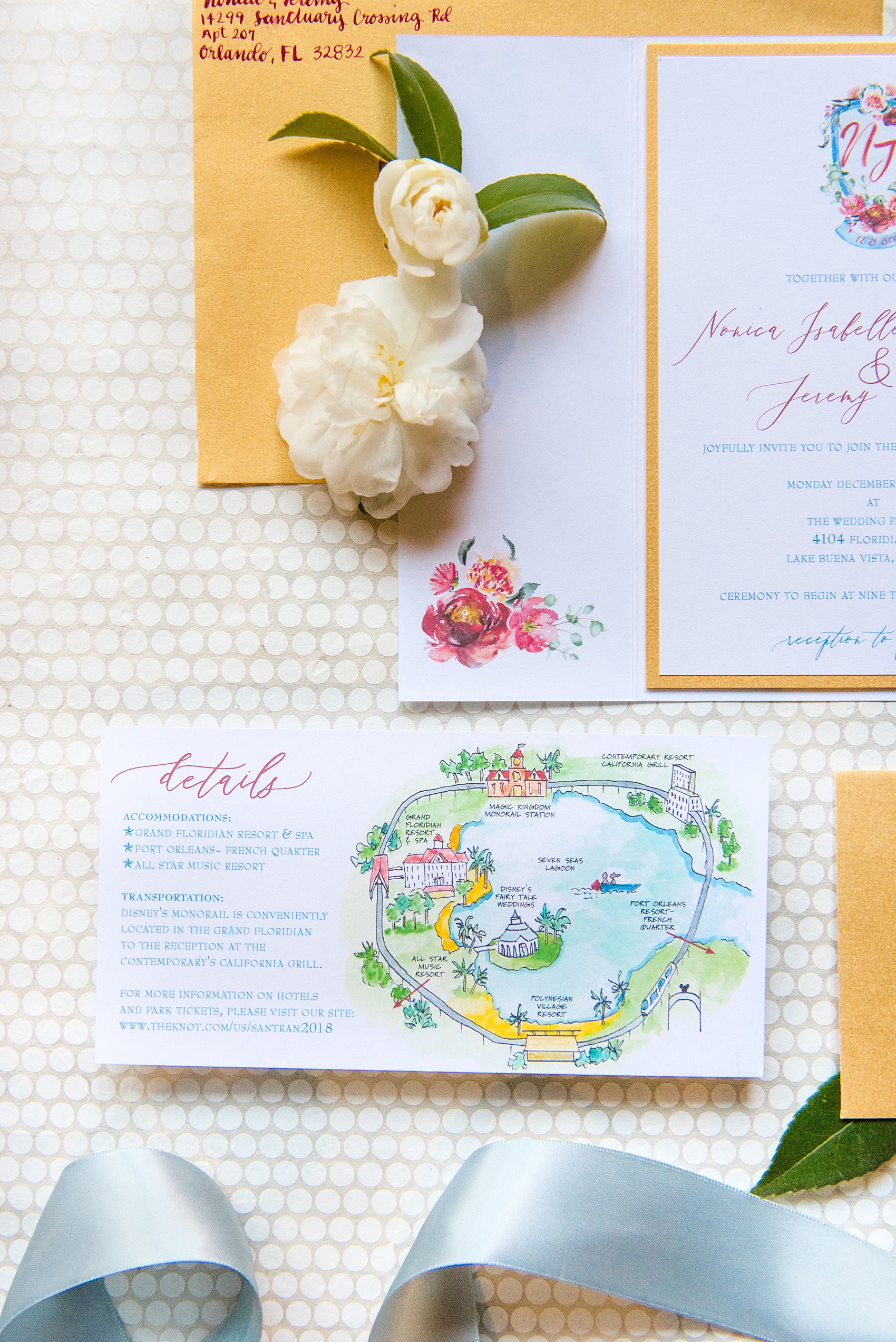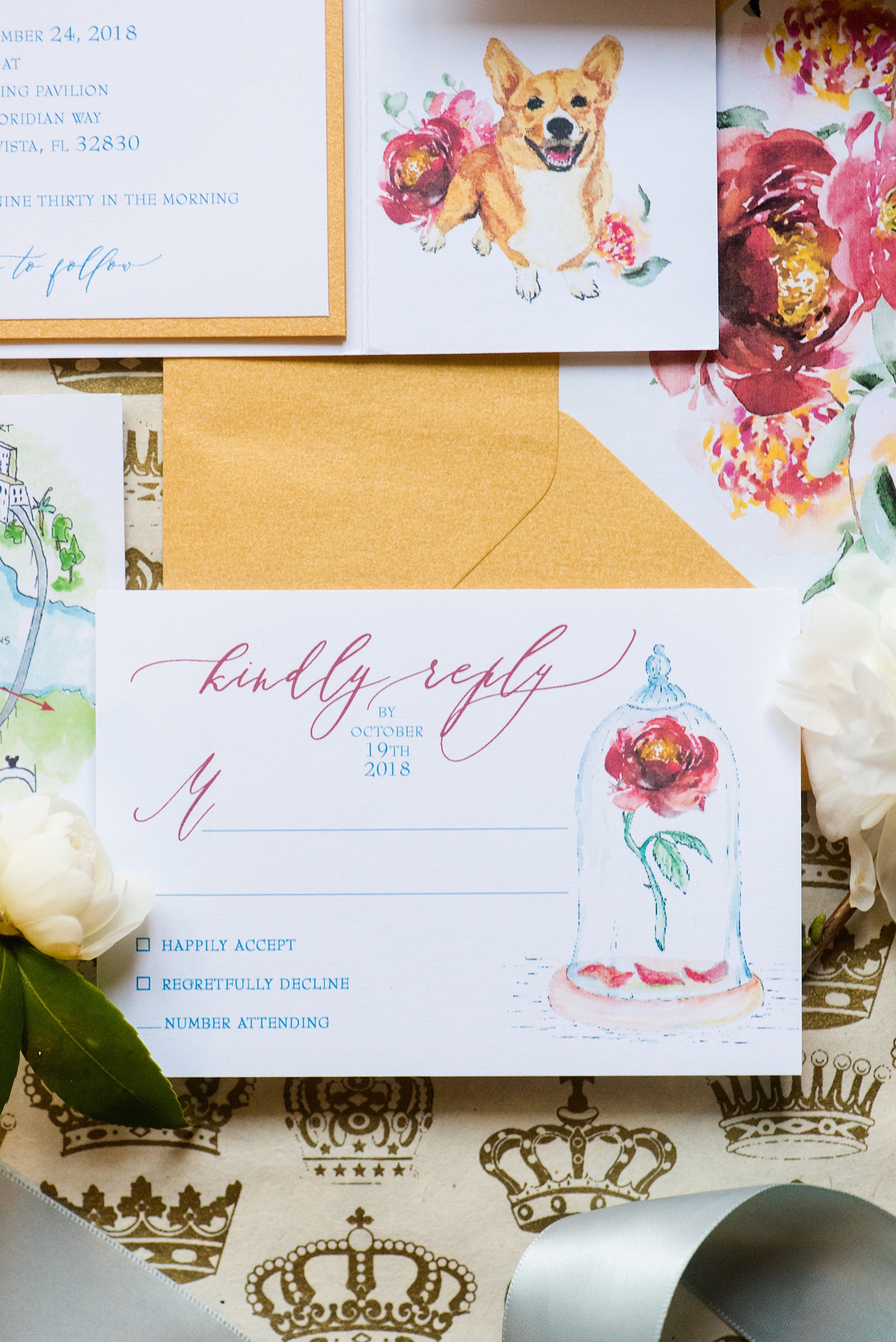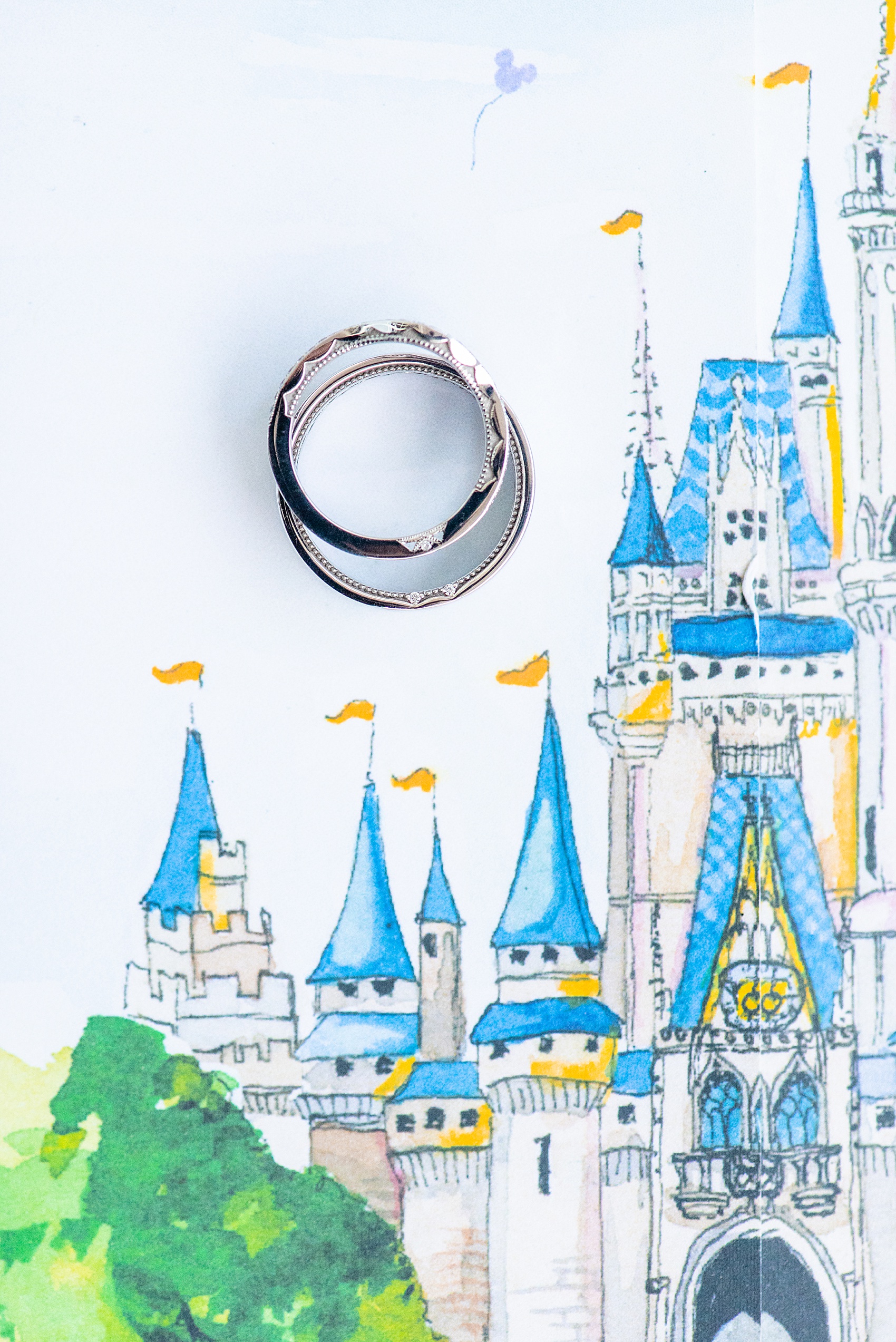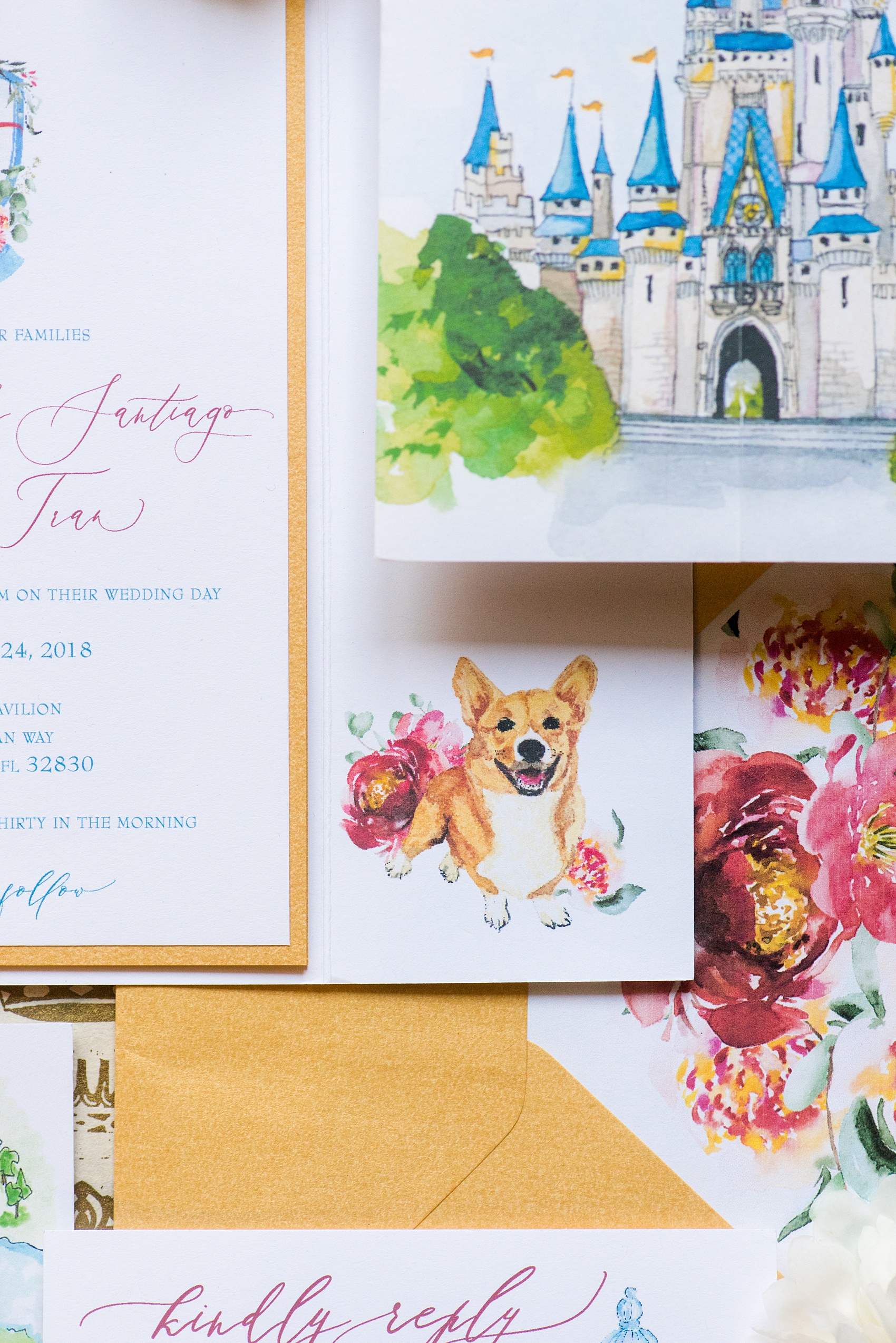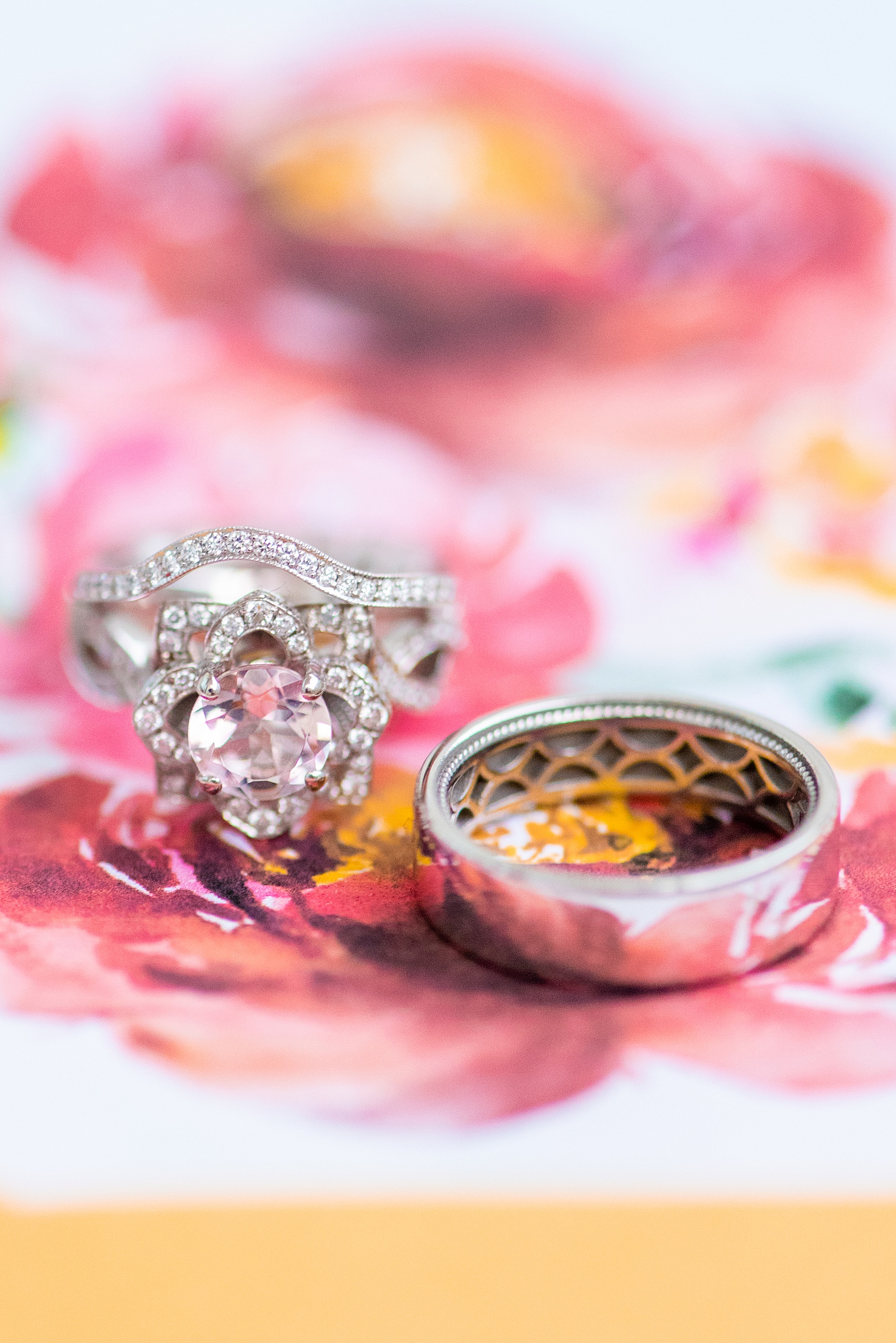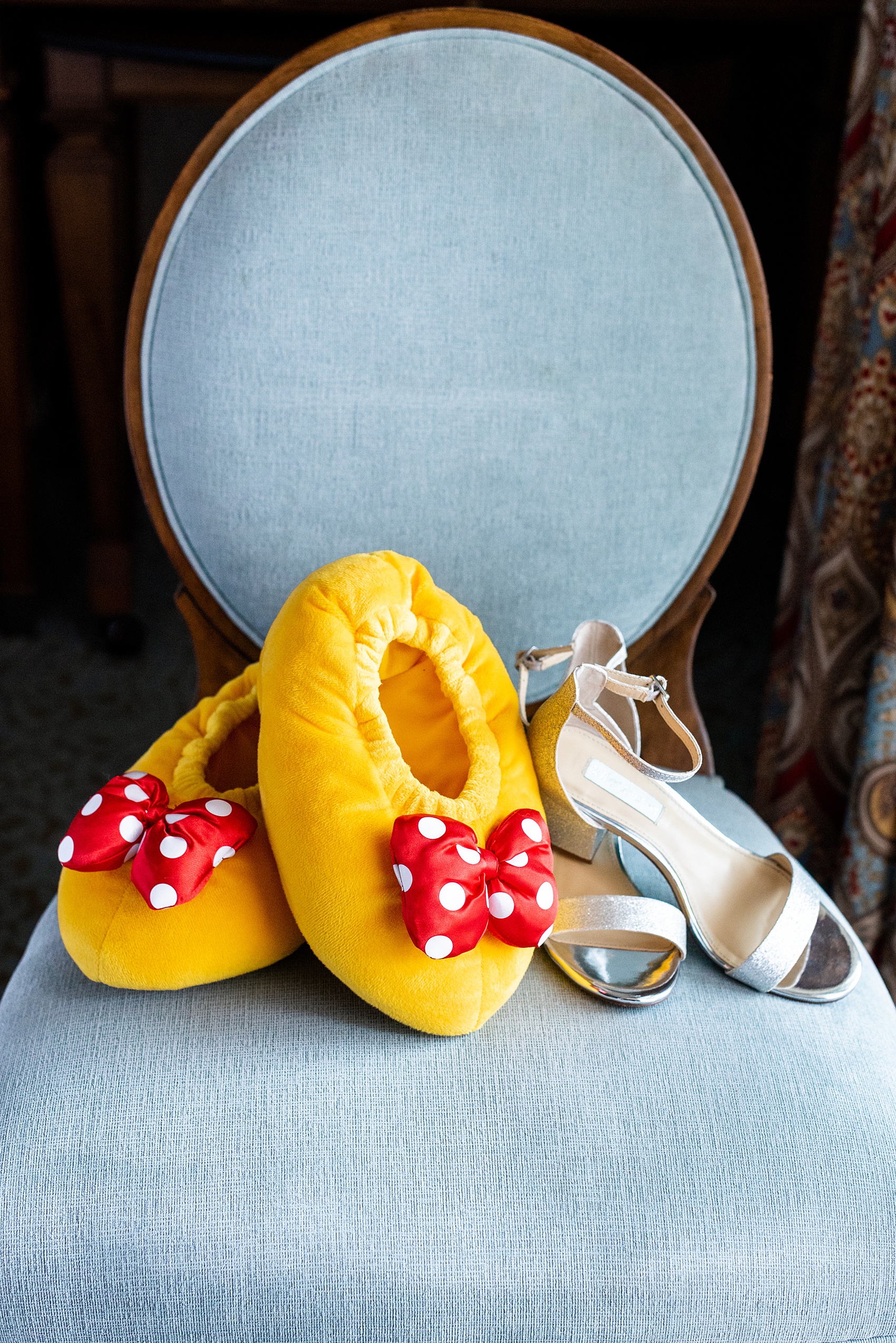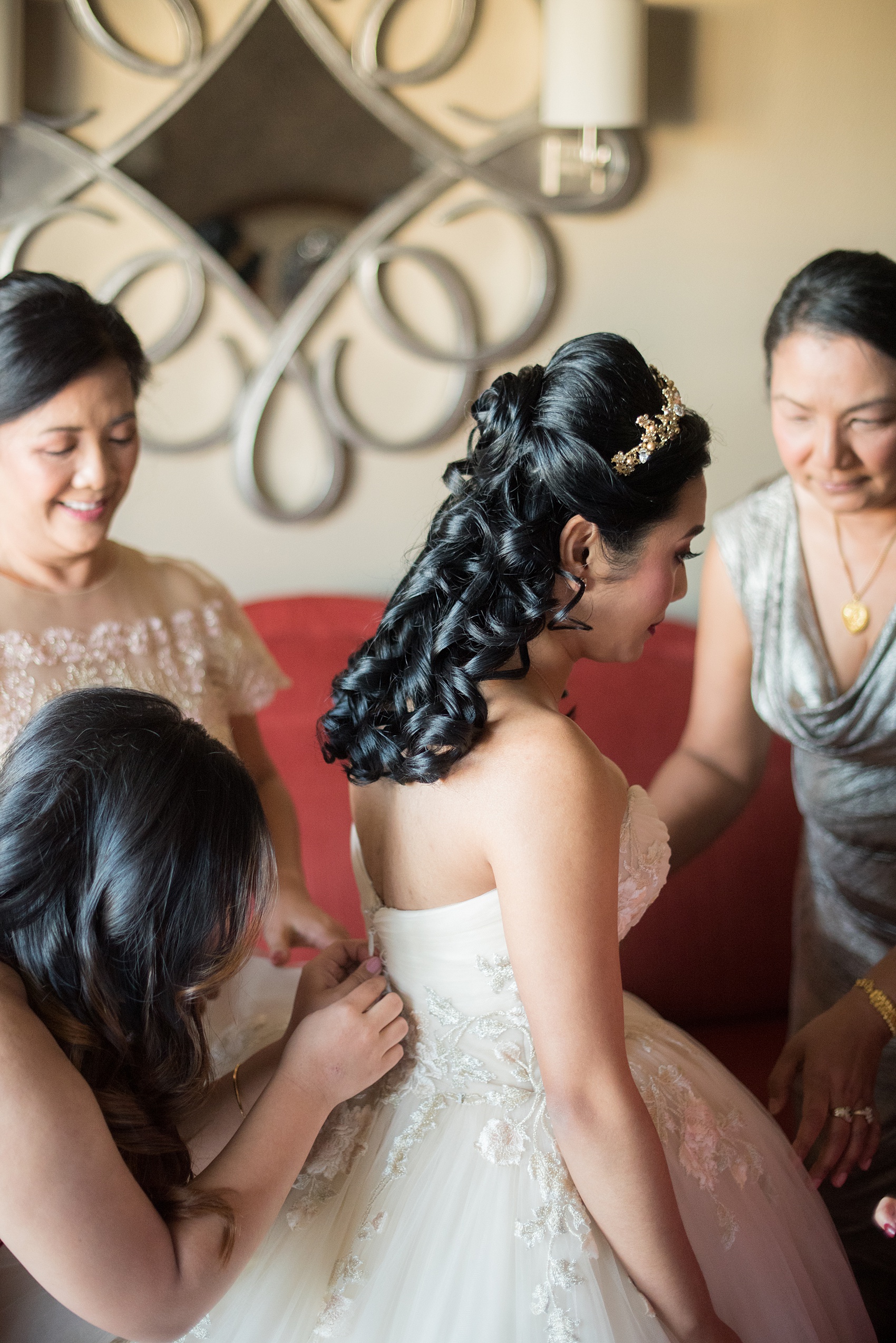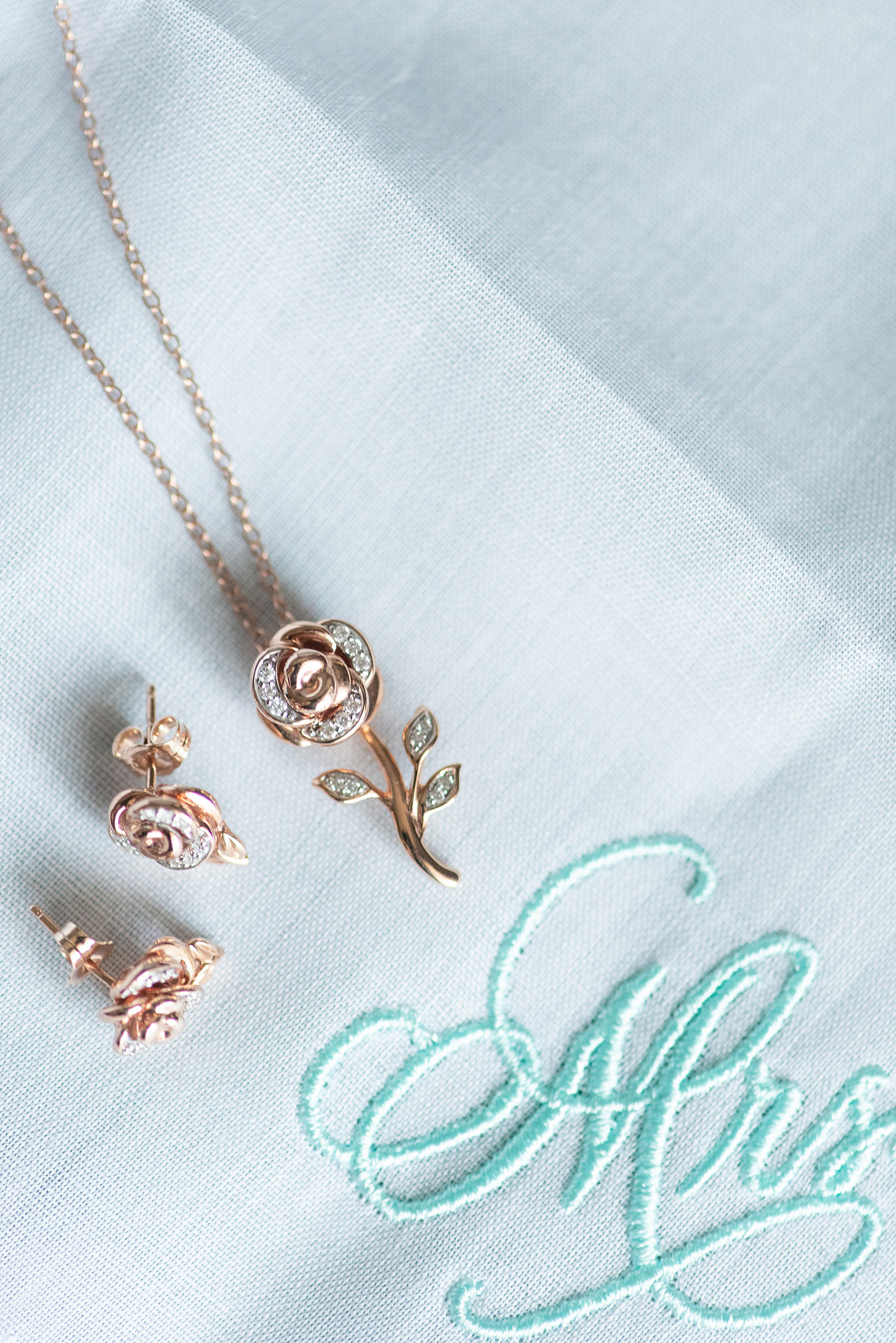 Did I mention how unbelievably cute it was Nonica wore Minnie Mouse slipper to get ready in? They looked so comfortable and cozy on a chilly December morning in Florida. I suggested she bring them to the reception when we were packing things up to go to their ceremony and lunch that followed. I knew they'd make for an amazing photo with Minnie Mouse later on!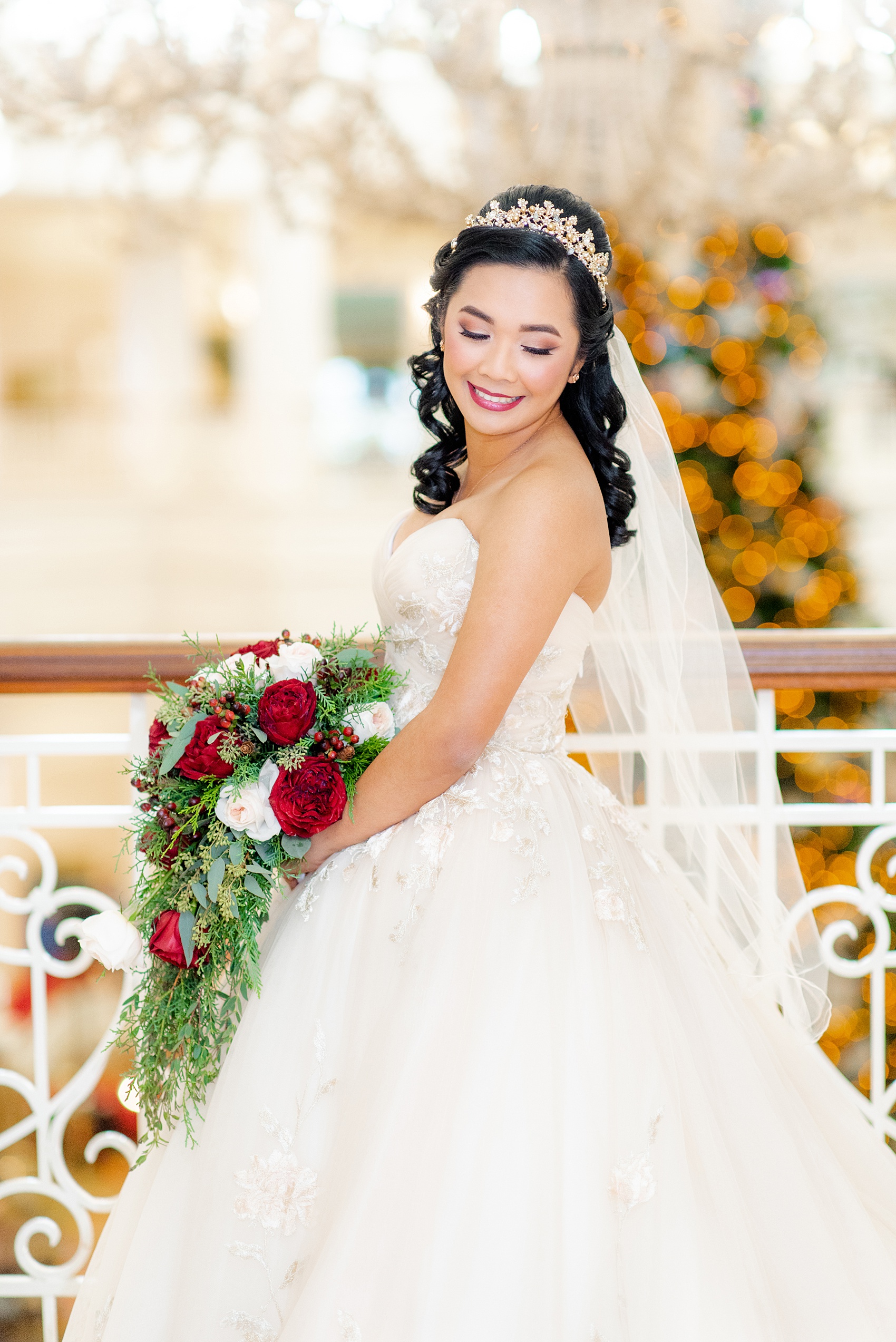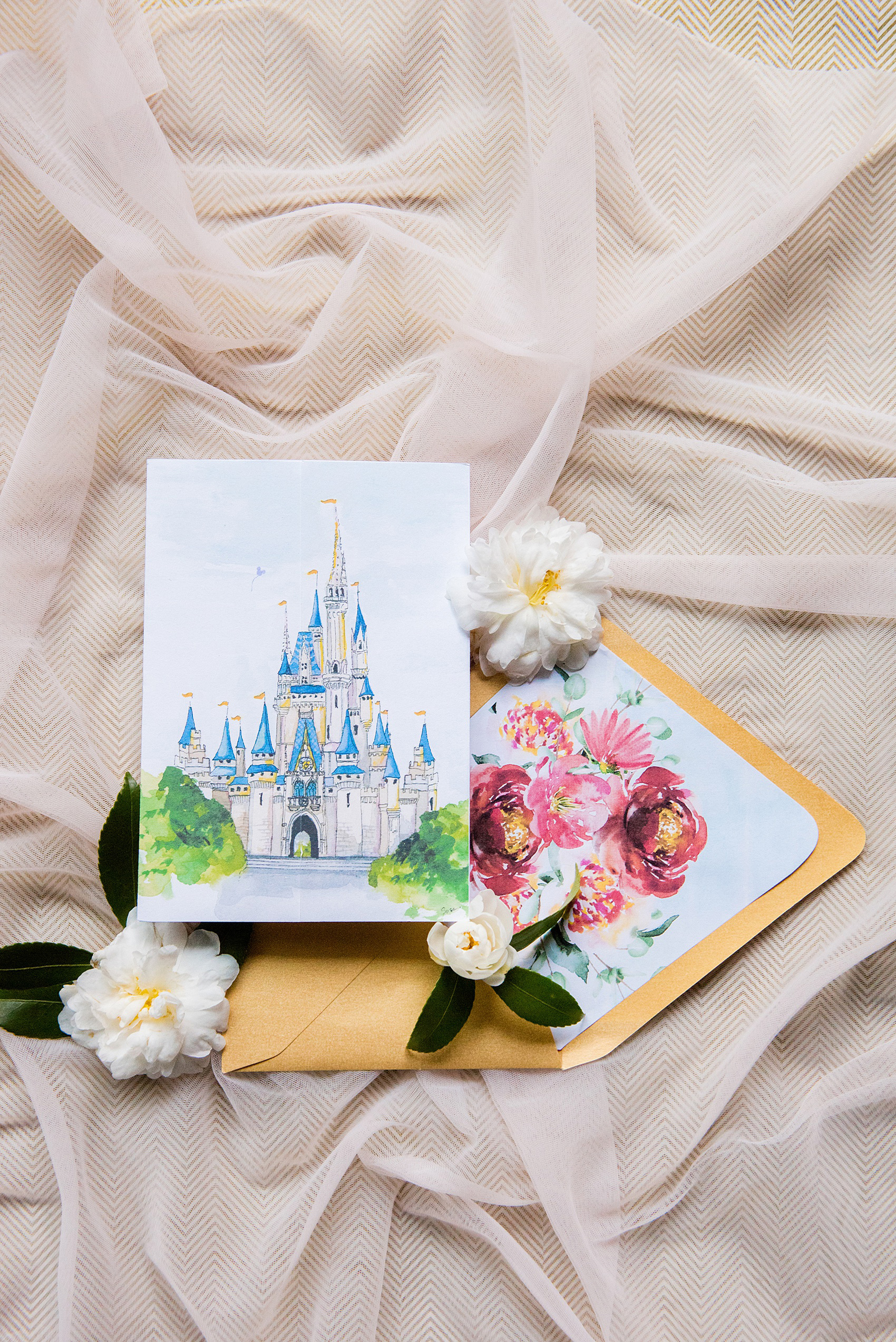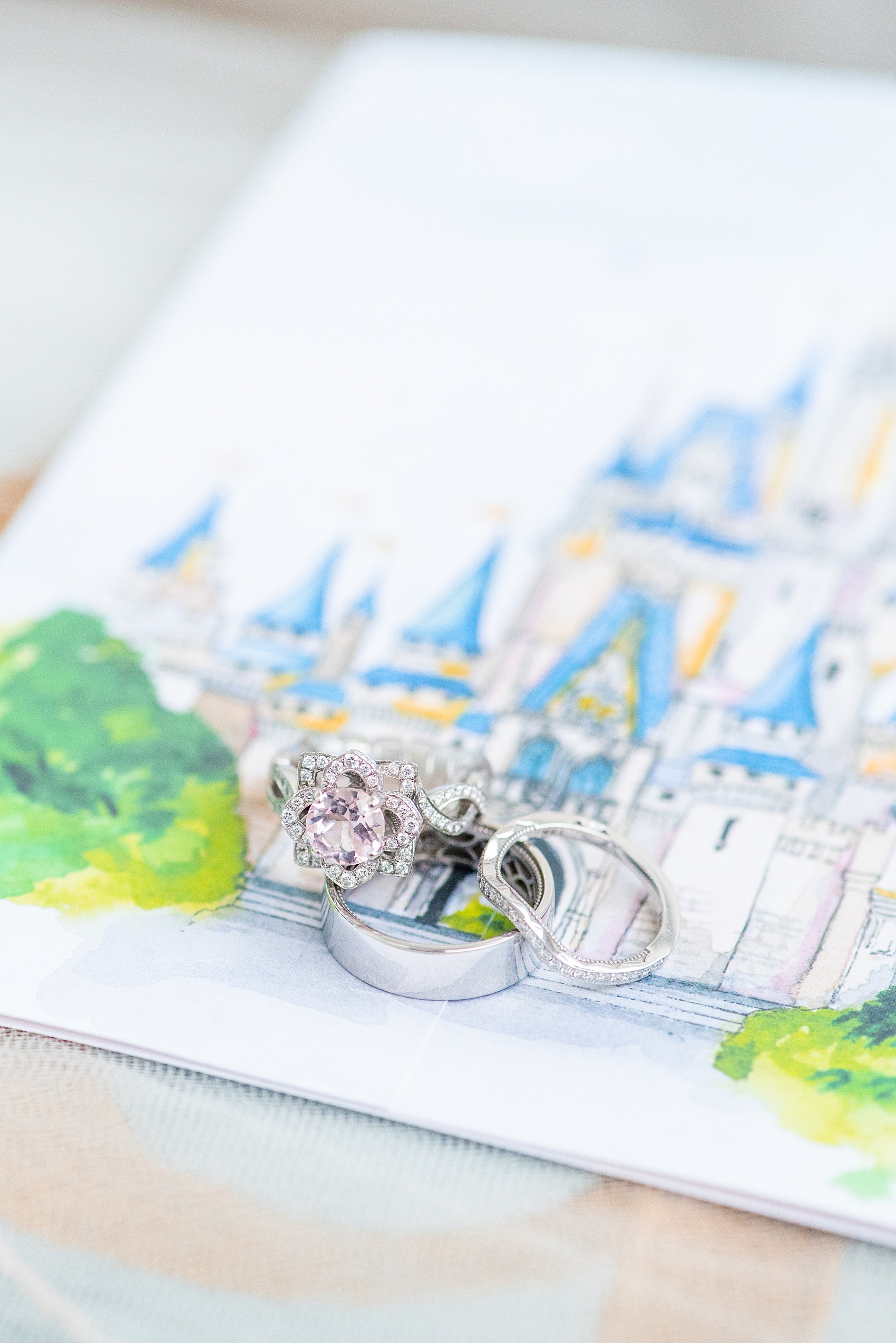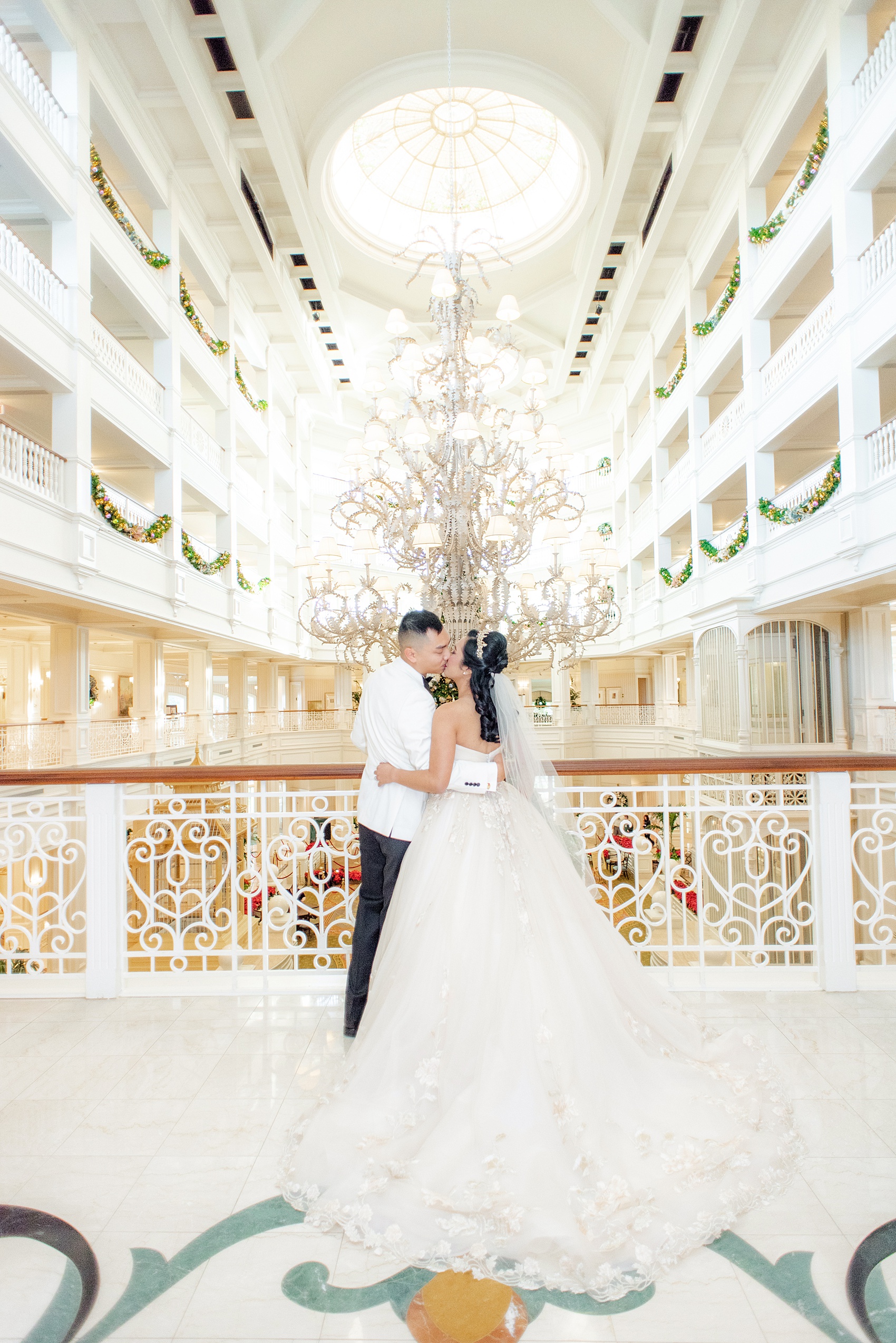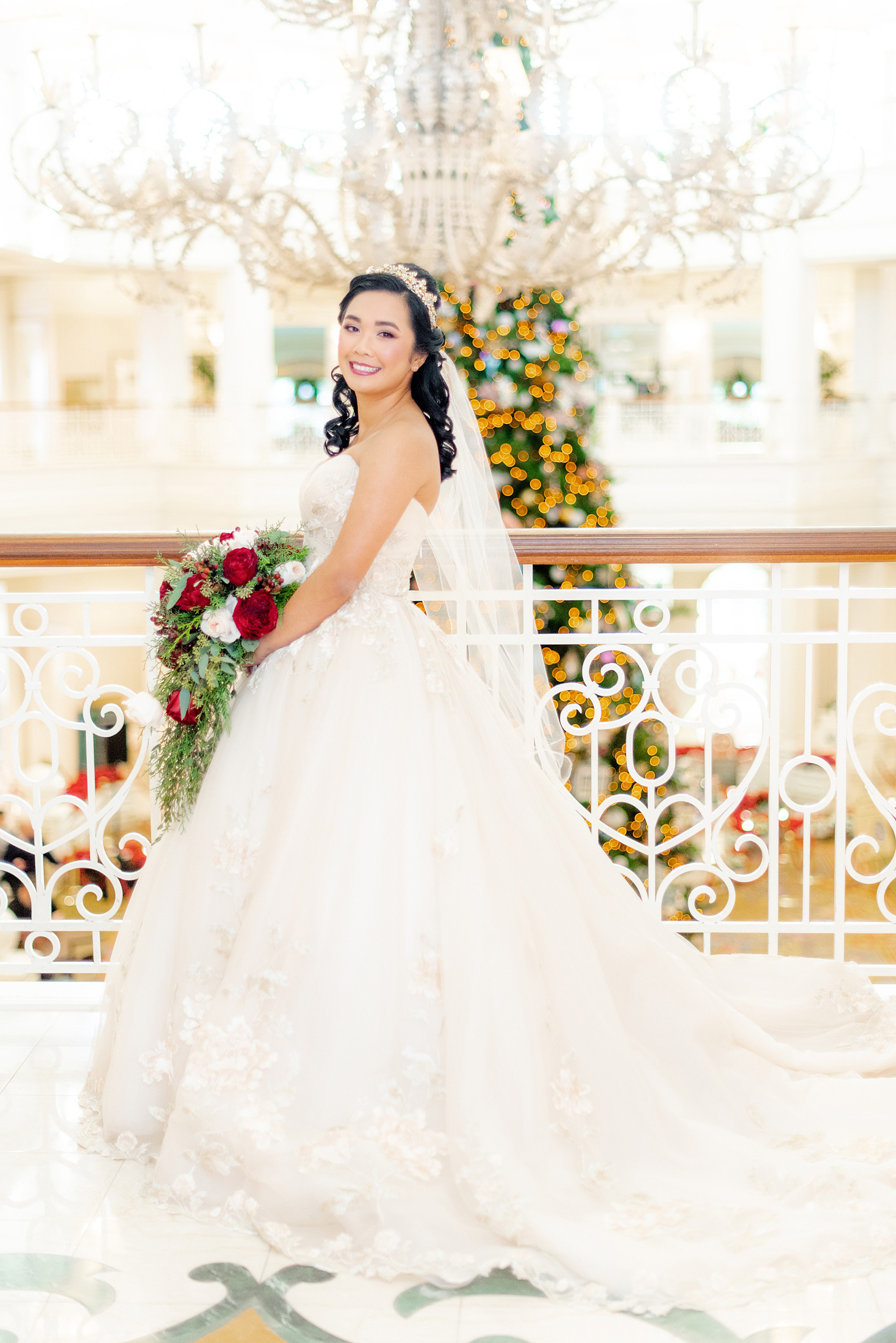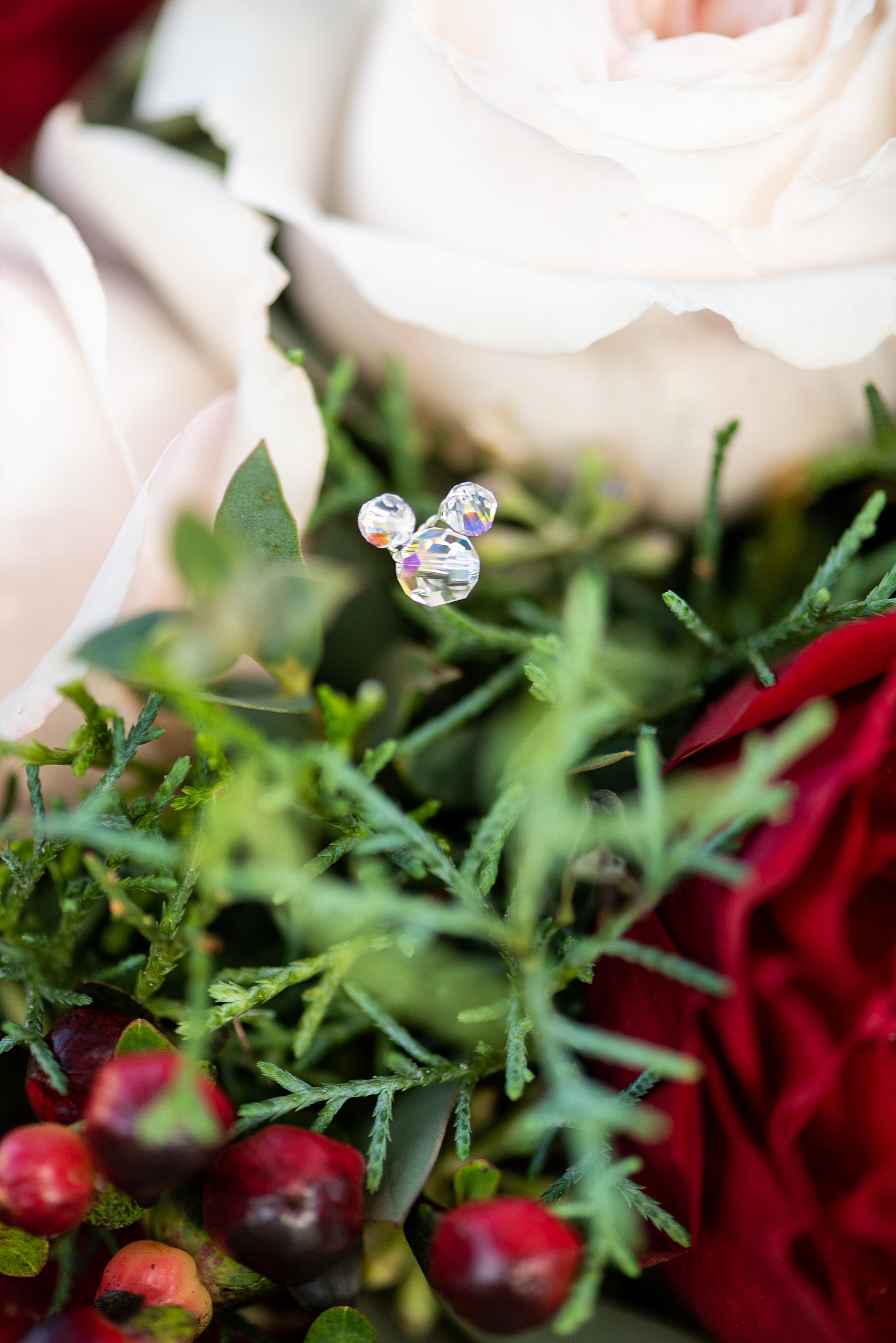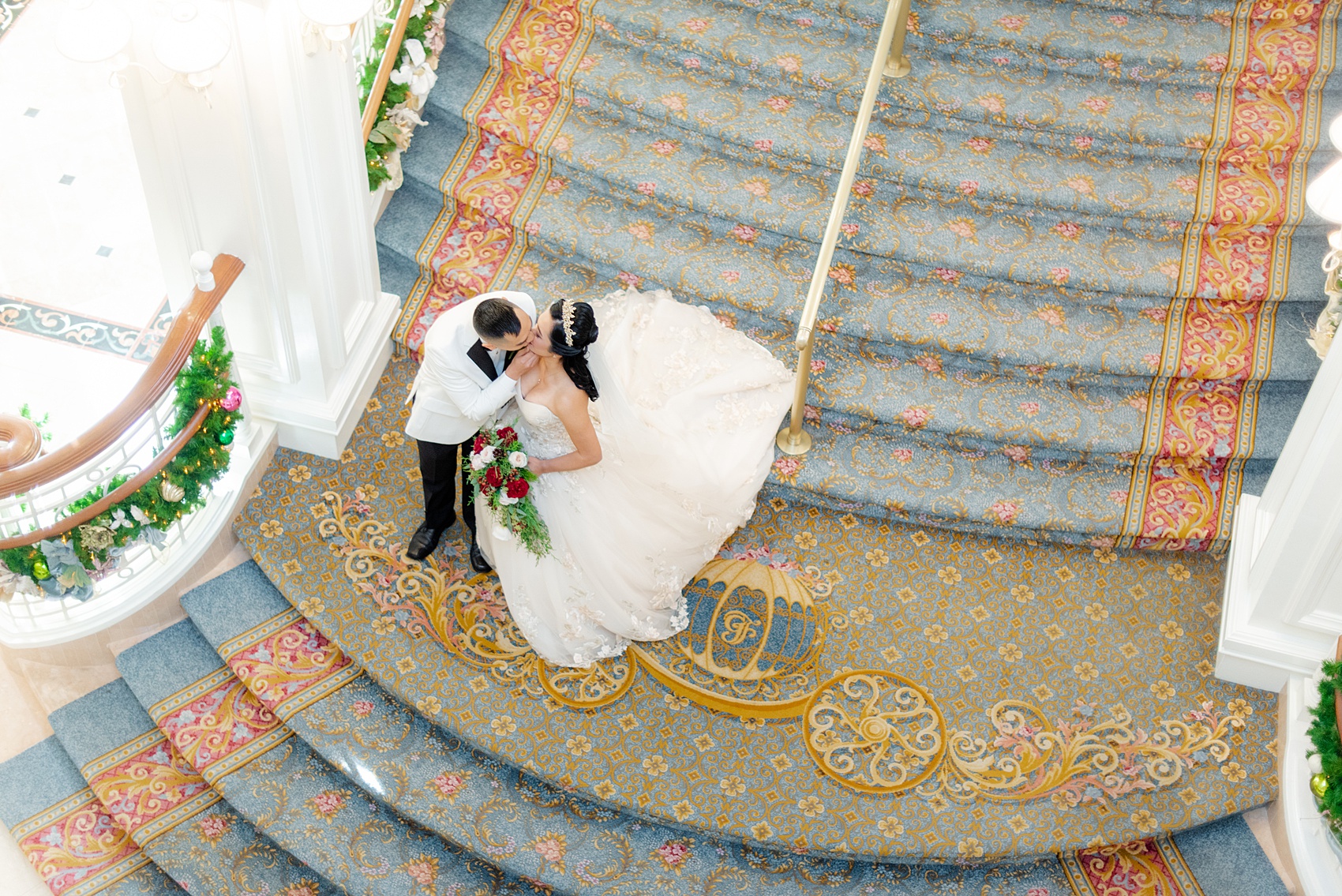 I was completely head-over-heels for their rings. Can you tell?
After their first look on the second floor of the Grand Floridian we headed down the grandiose staircase for a gift exchange…where else? In front of the lobby Christmas Tree of course! It was such a sweet moment. After a funny gift from Nonica to Jeremy – of an avocado, seen in this video she shared with me – there was a much more serious gift. Nonica opened her beautiful glass dome encased rose from Jeremy (so perfect for her!) then Jeremy opened his from his bride. It was a Christmas ornament with their new last name: Tran. But it was extra emotional and special because she had told him she wasn't changing her last name. But she surprised him and decided to! Everyone (including me) was really tear-filled watching it all unfold. Feel the love and pixy dust!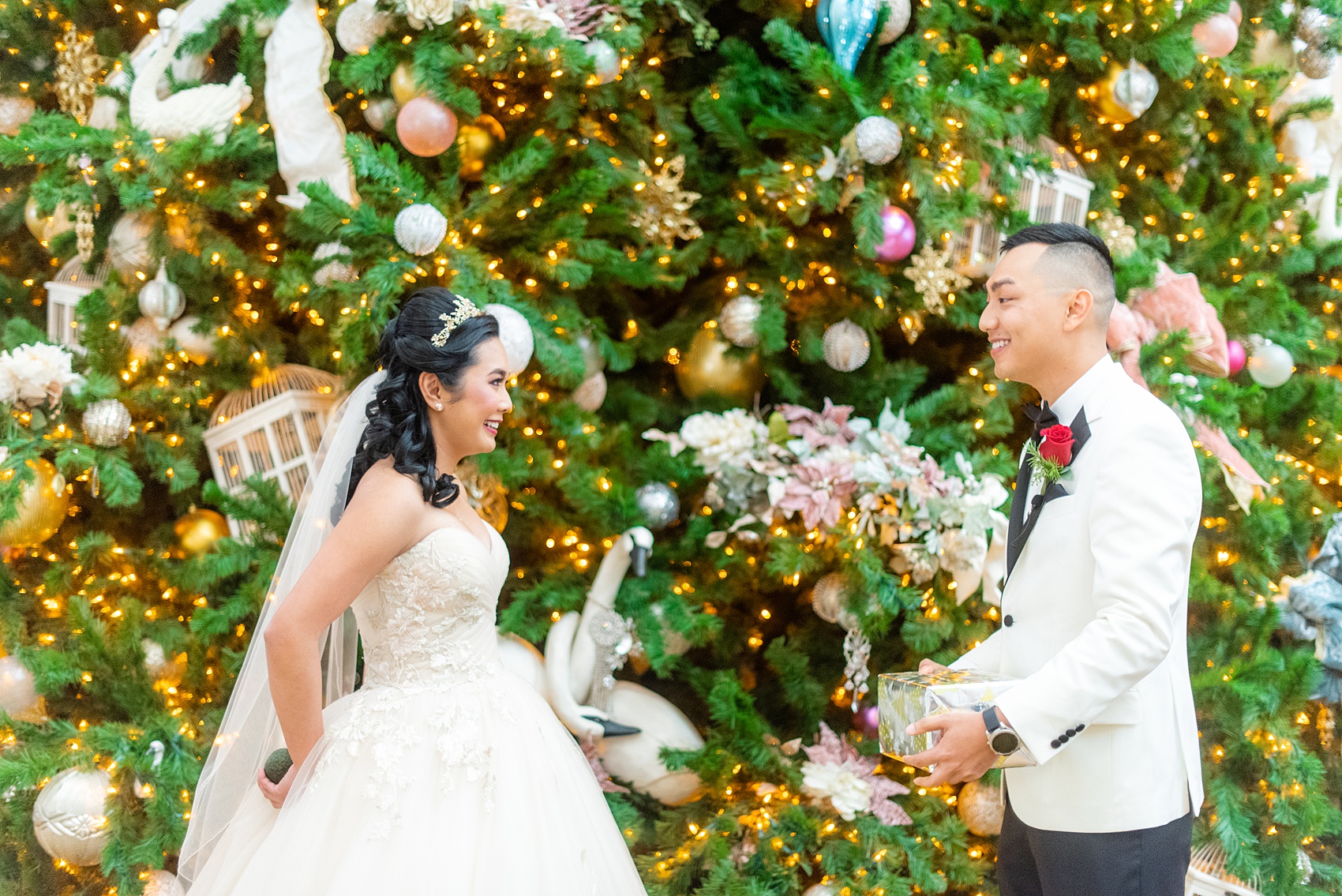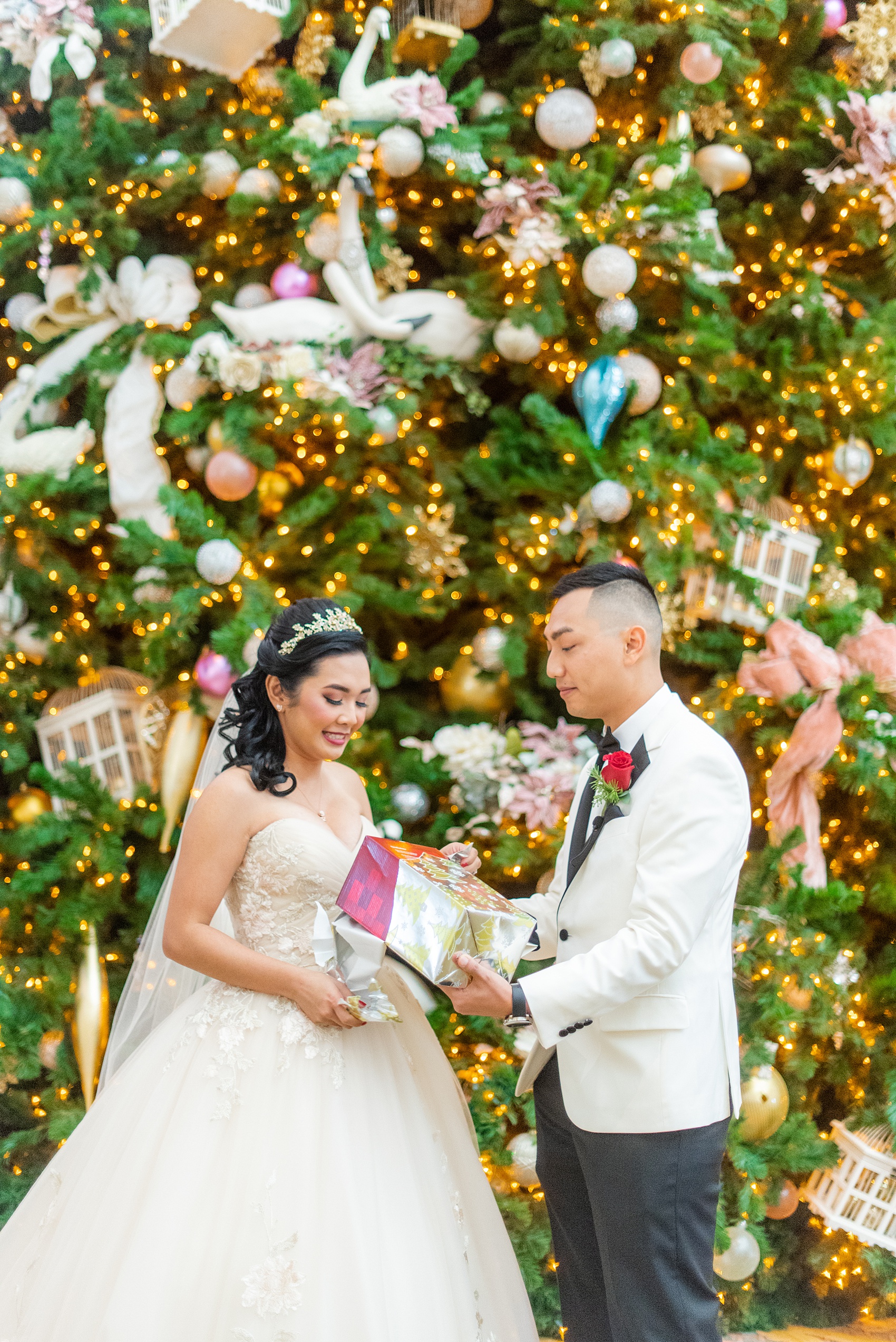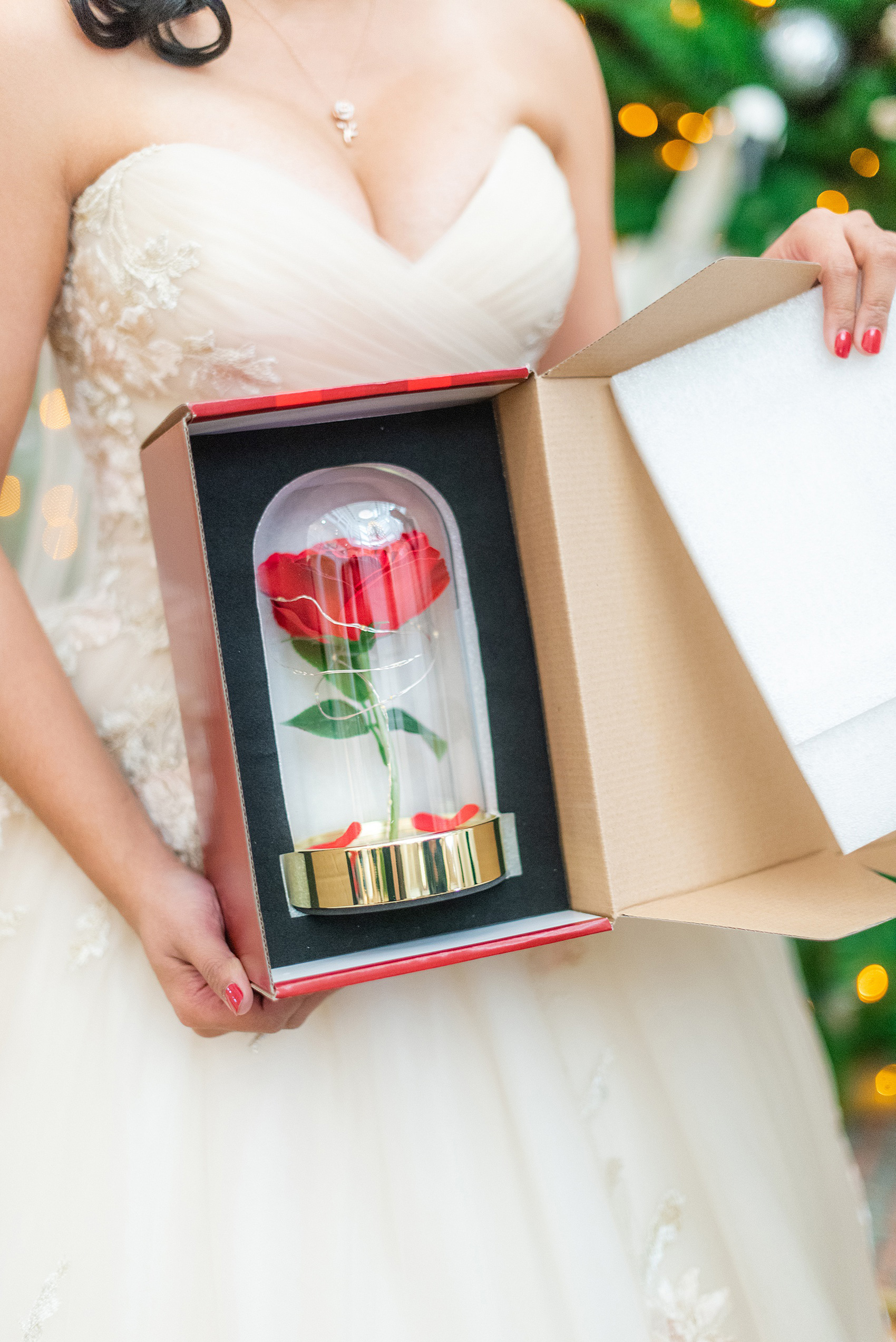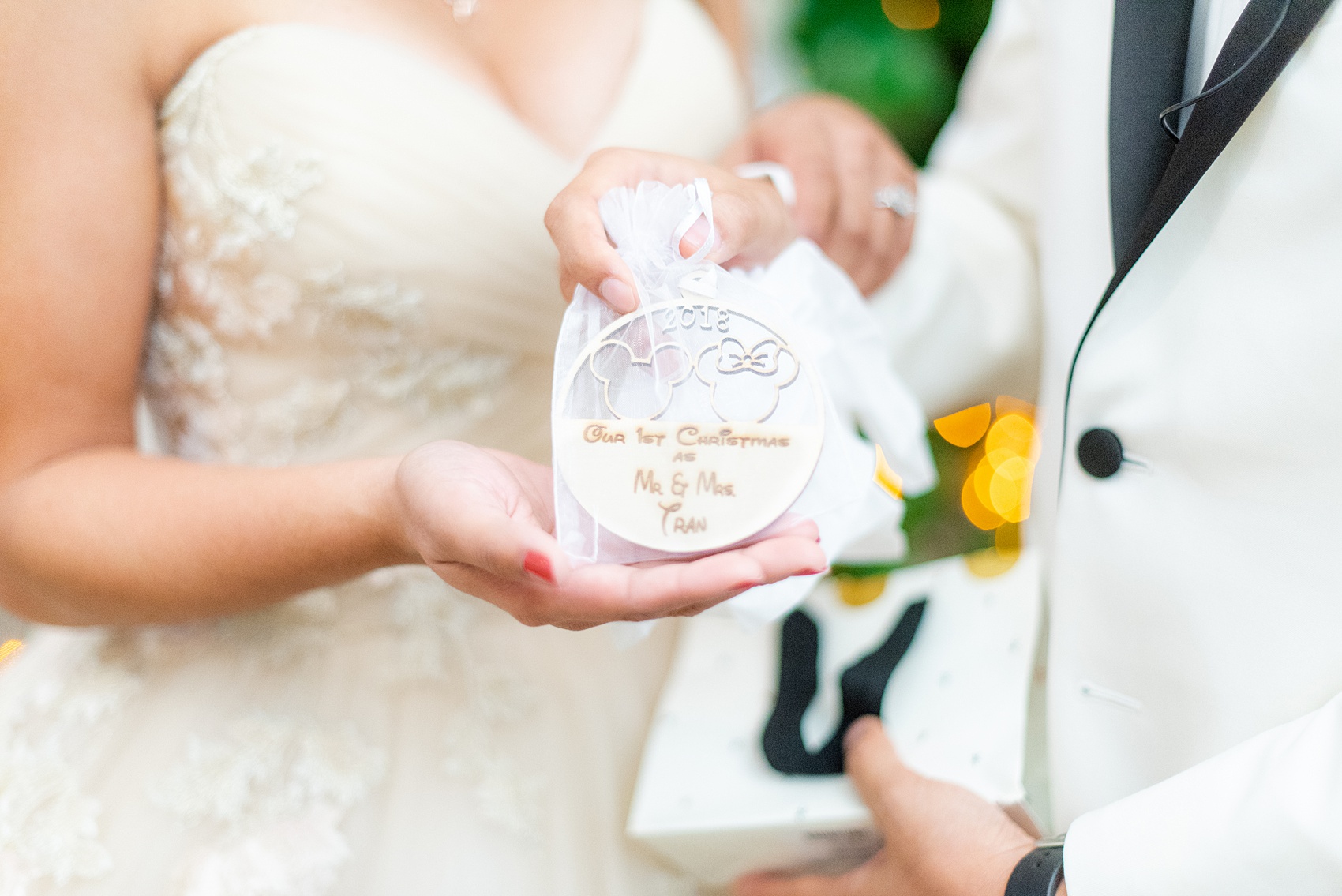 After family photos by the tree the sun was fully up. Yay! It was the perfect time to head outside for a little bit of photos of the bride and groom and their wedding party. Nonica's best friends wore different shades of red and the groomsmen wore black tuxedos with burgundy vest. Nonica carried a cascading bouquet of red and pink roses with red hypericum berries and eucalyptus leaves. A few tiny pine cones were tucked into the holiday greenery as well as a special Swavorski crystal hidden Mickey. The bridesmaids carried complimentary rose bouquet that had a little hidden Mickey pearl detail on its underside.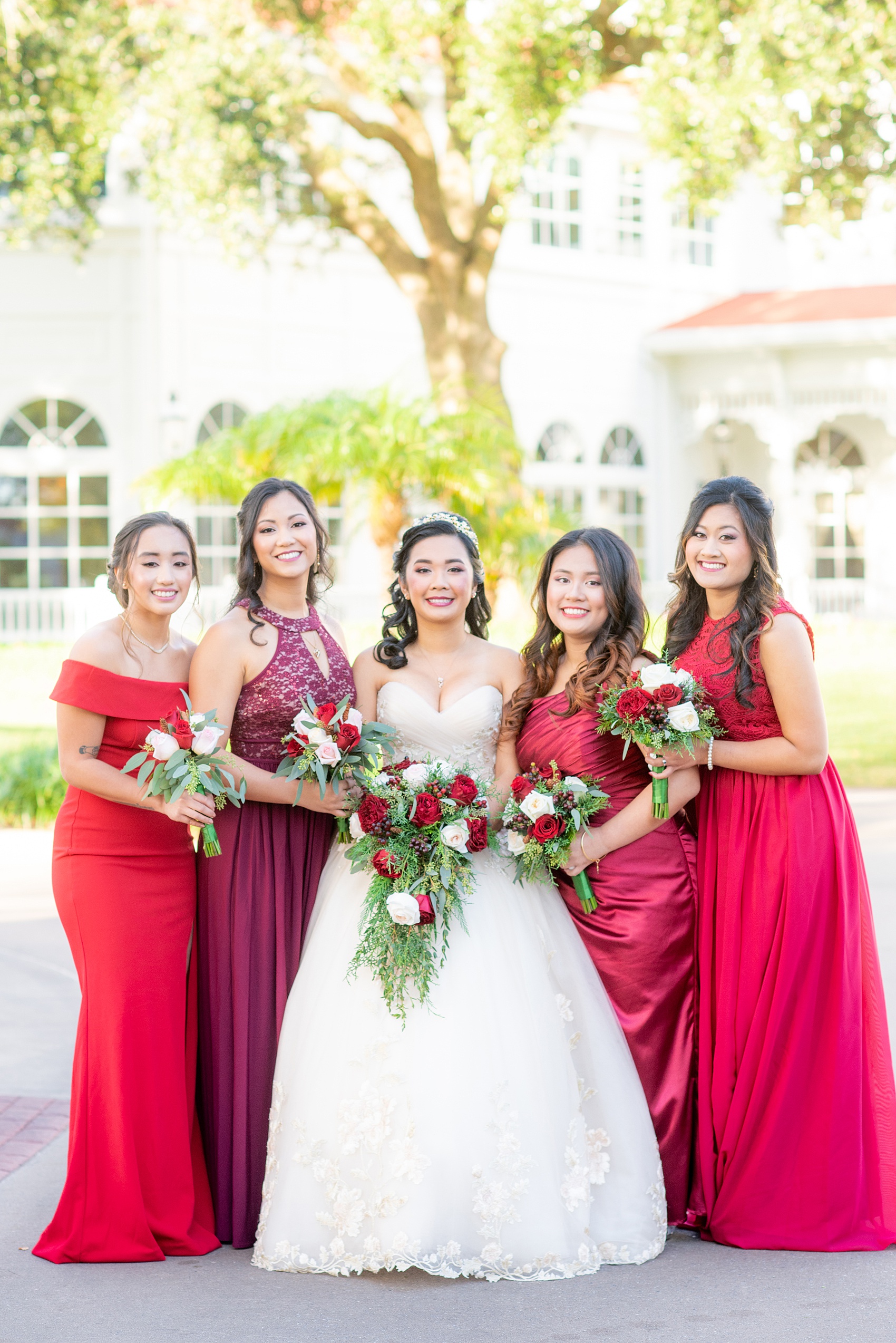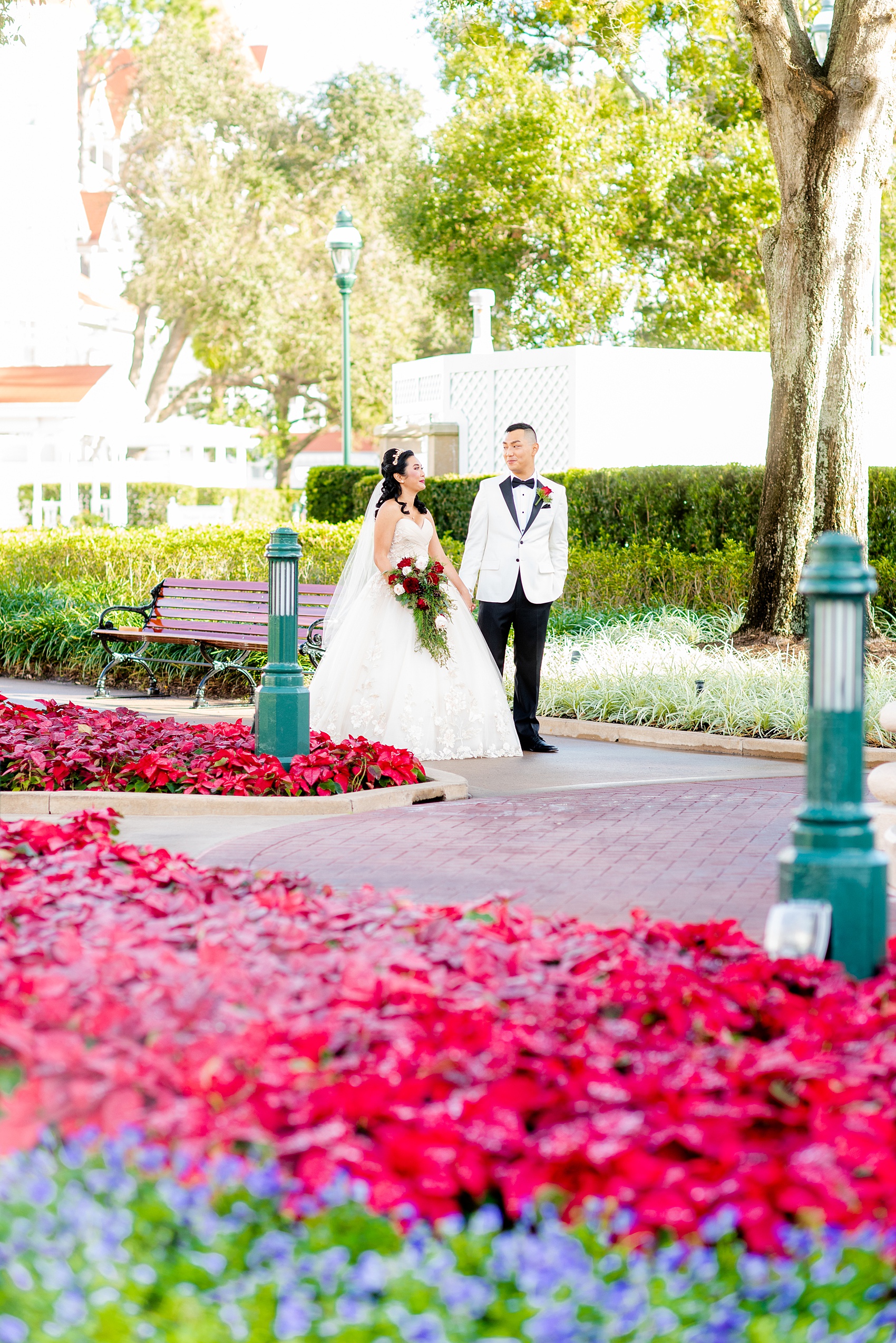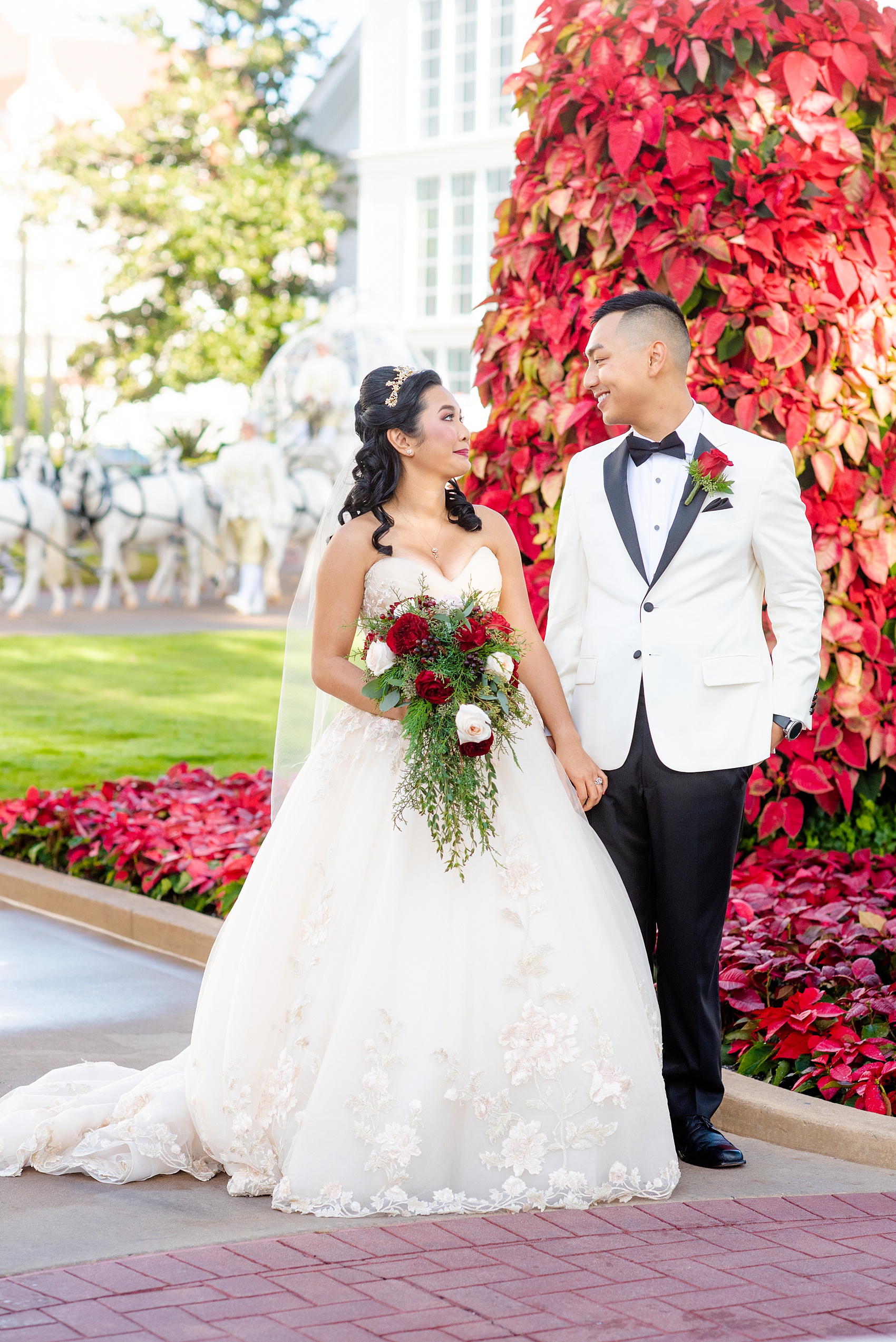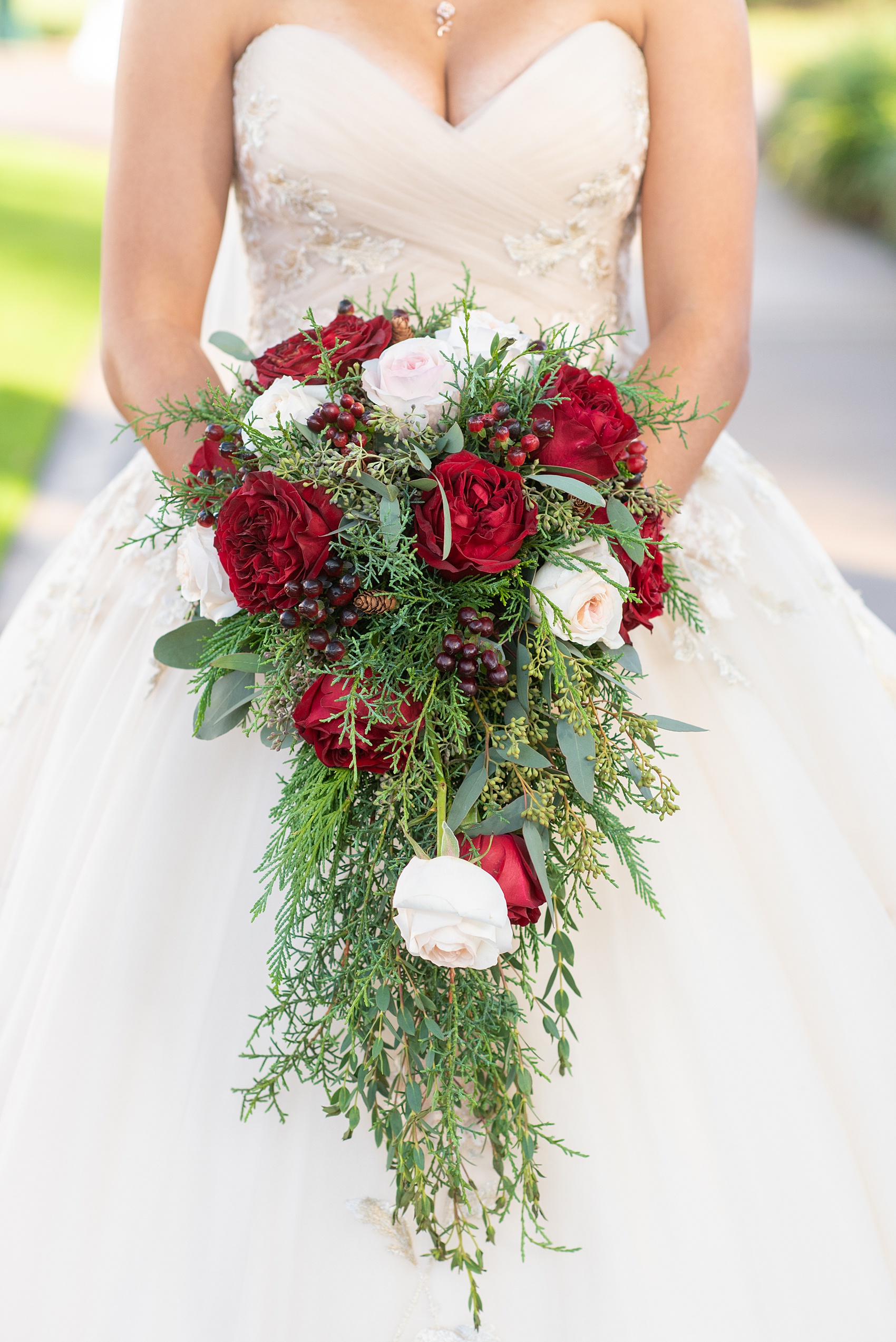 I LOVE the photo above to the left because you can see Cinderella's Glass Coach carriage ponies in the background on their way to await the bride and her mom's arrival to go to their ceremony!
The flowers at Walt Disney World are always impeccable. But I especially loved them on December 24th, their wedding day. The poinsettias were gorgeous….and matched their wedding palette!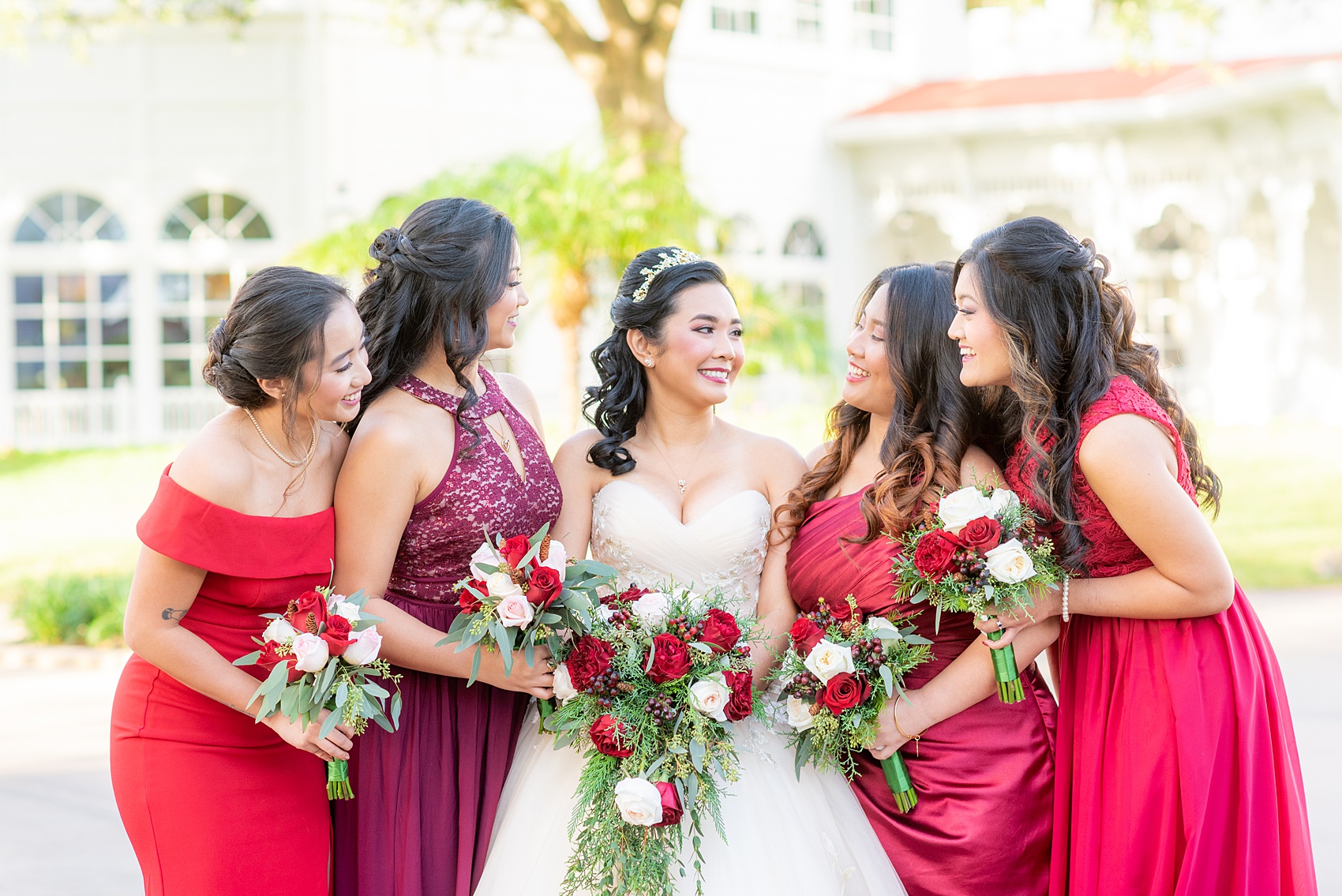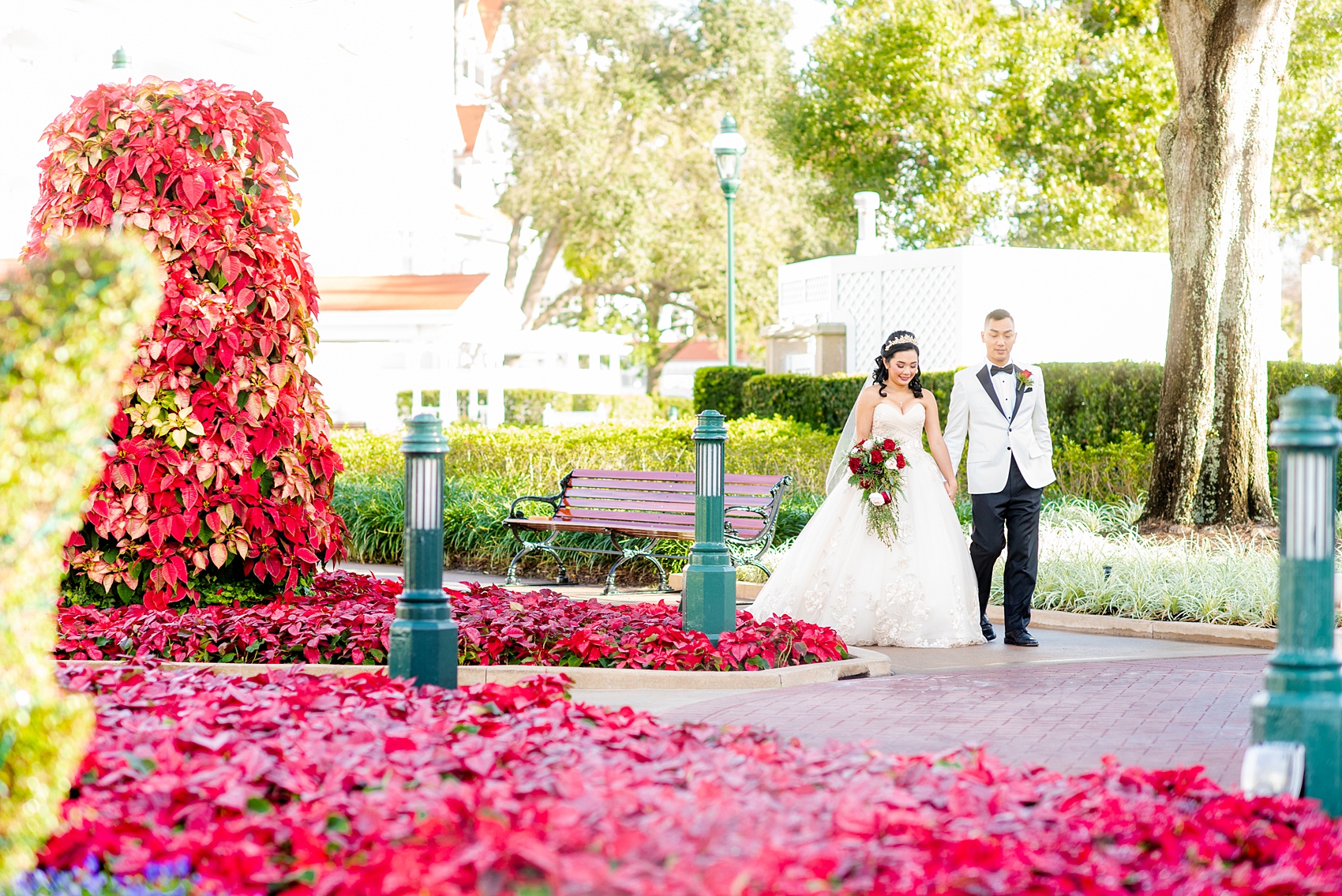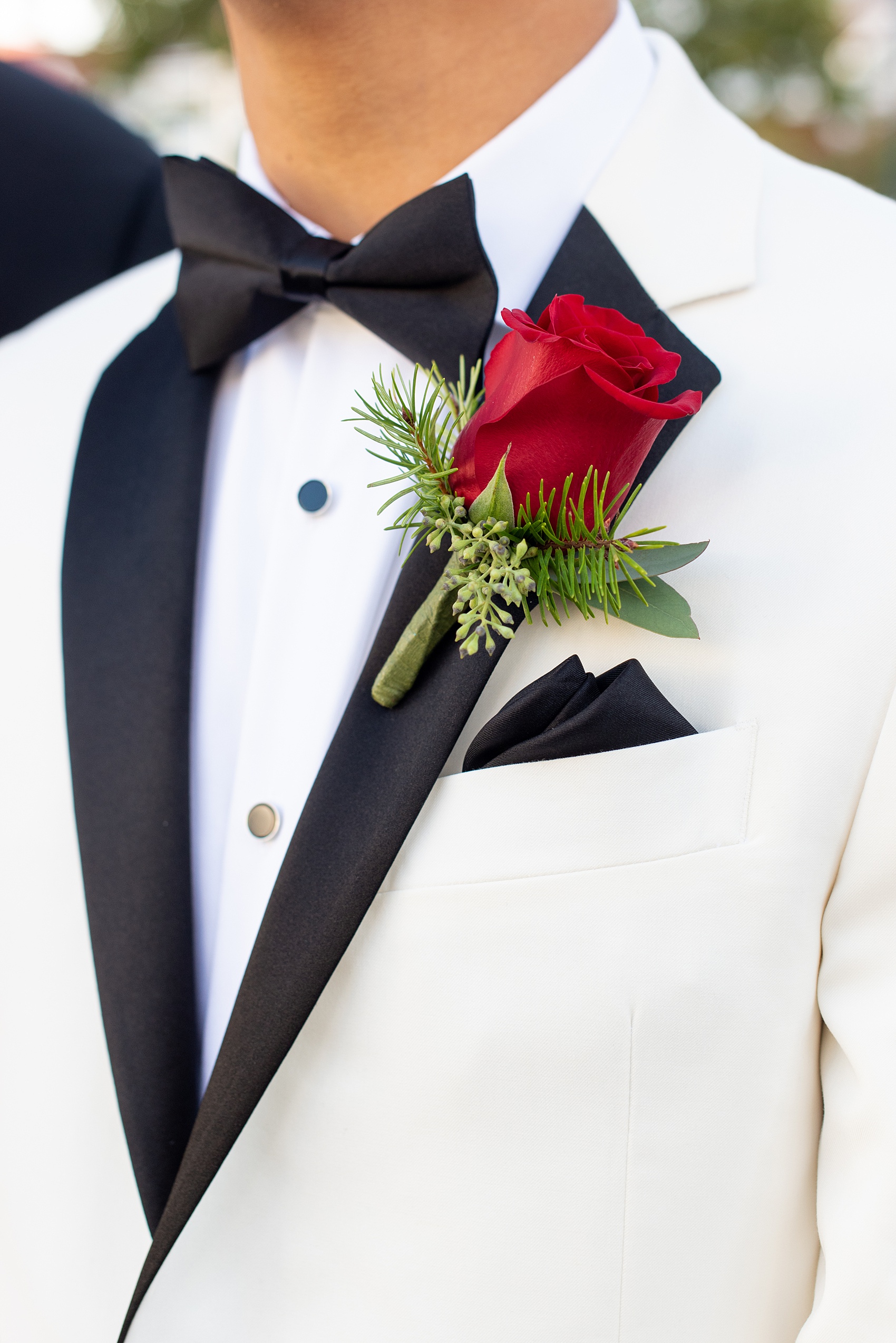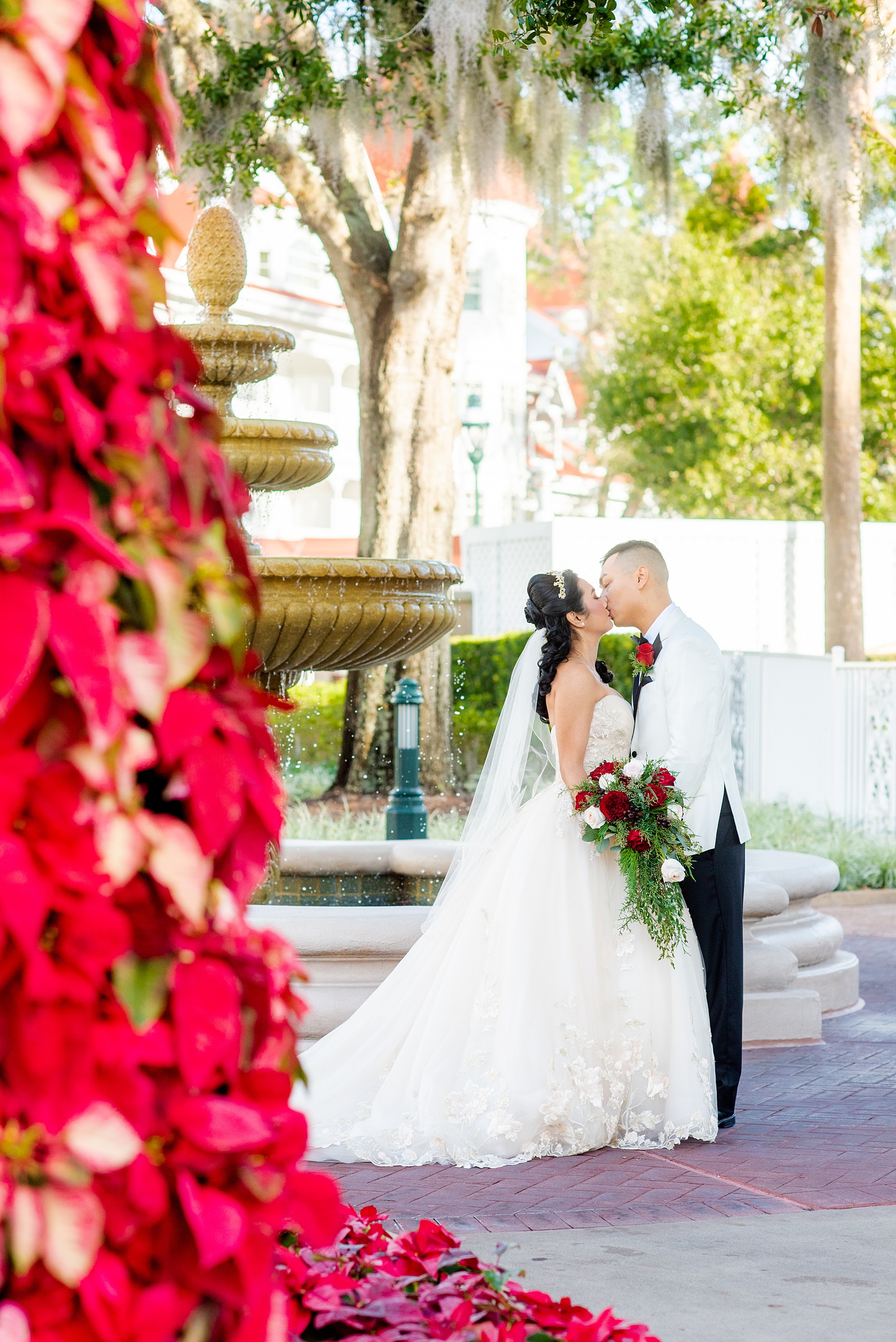 Aren't these photos straight out of a fairy tale? Truly!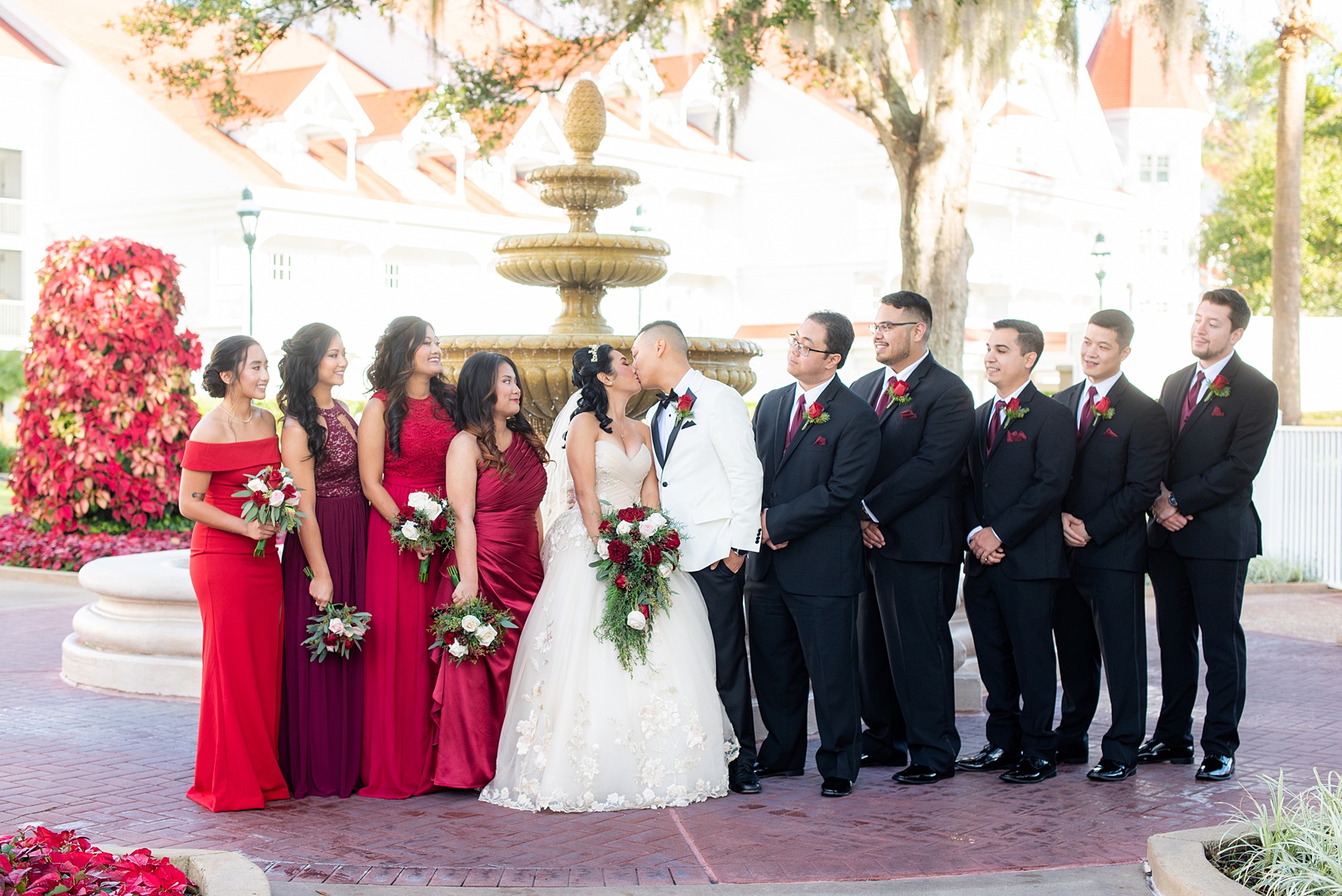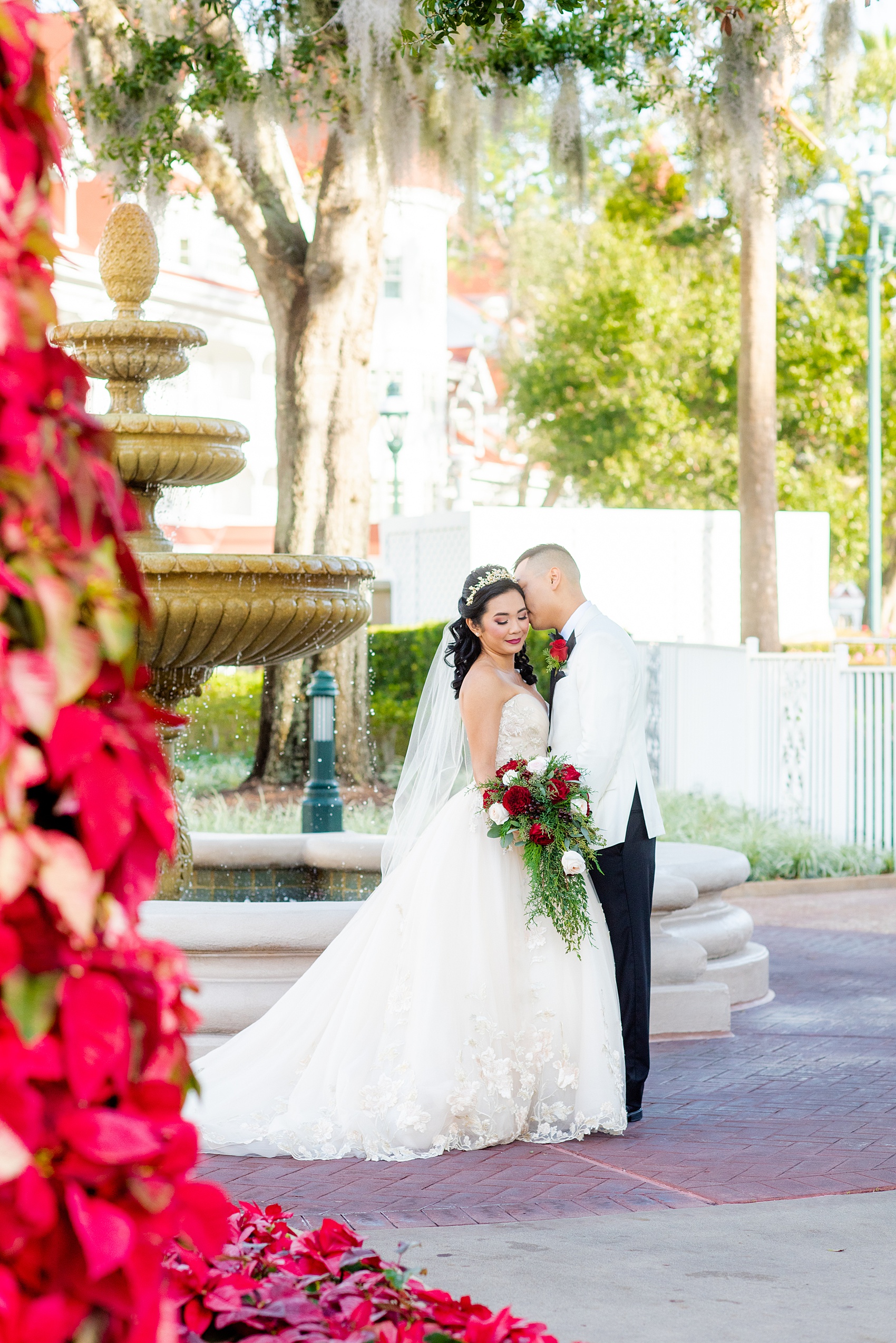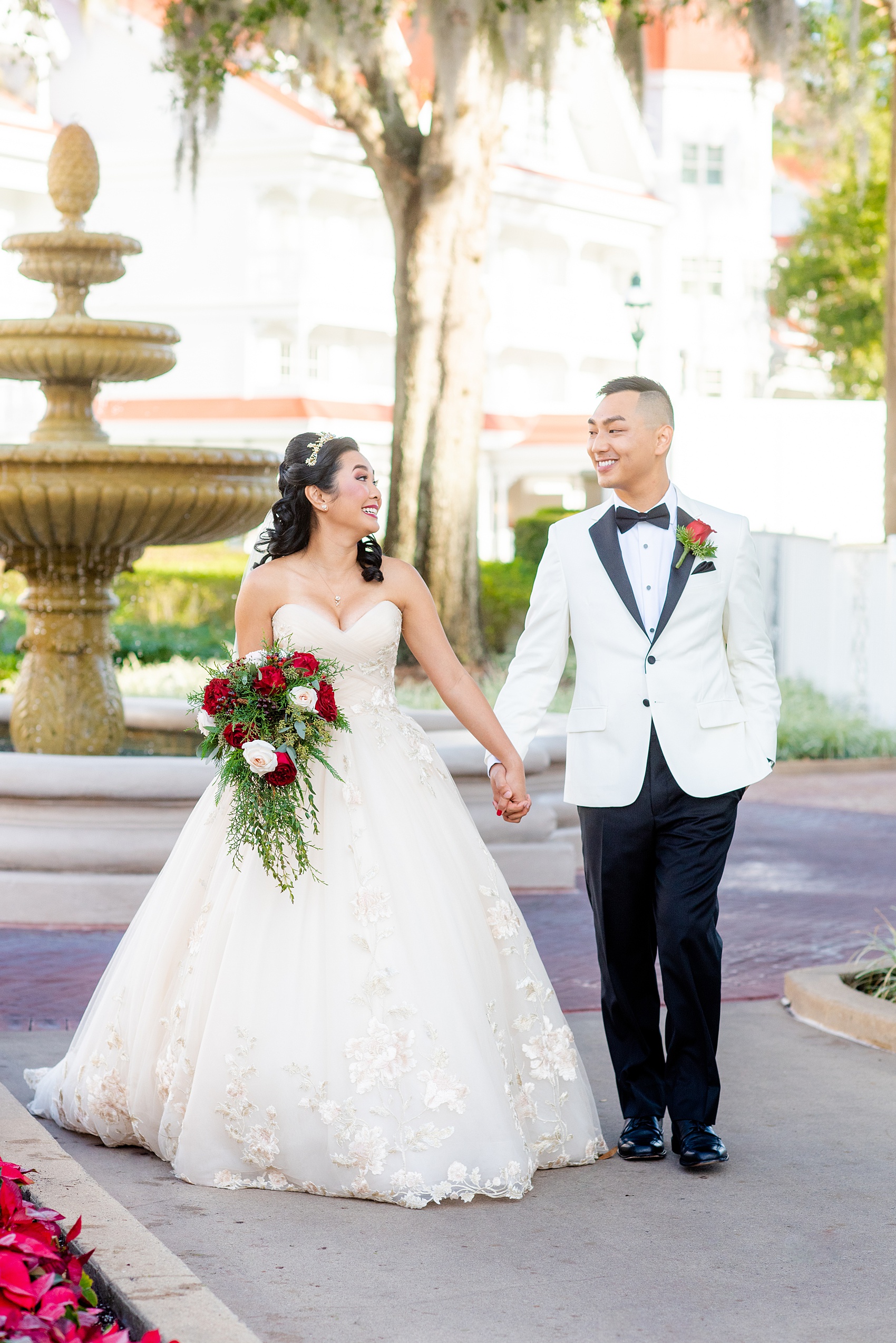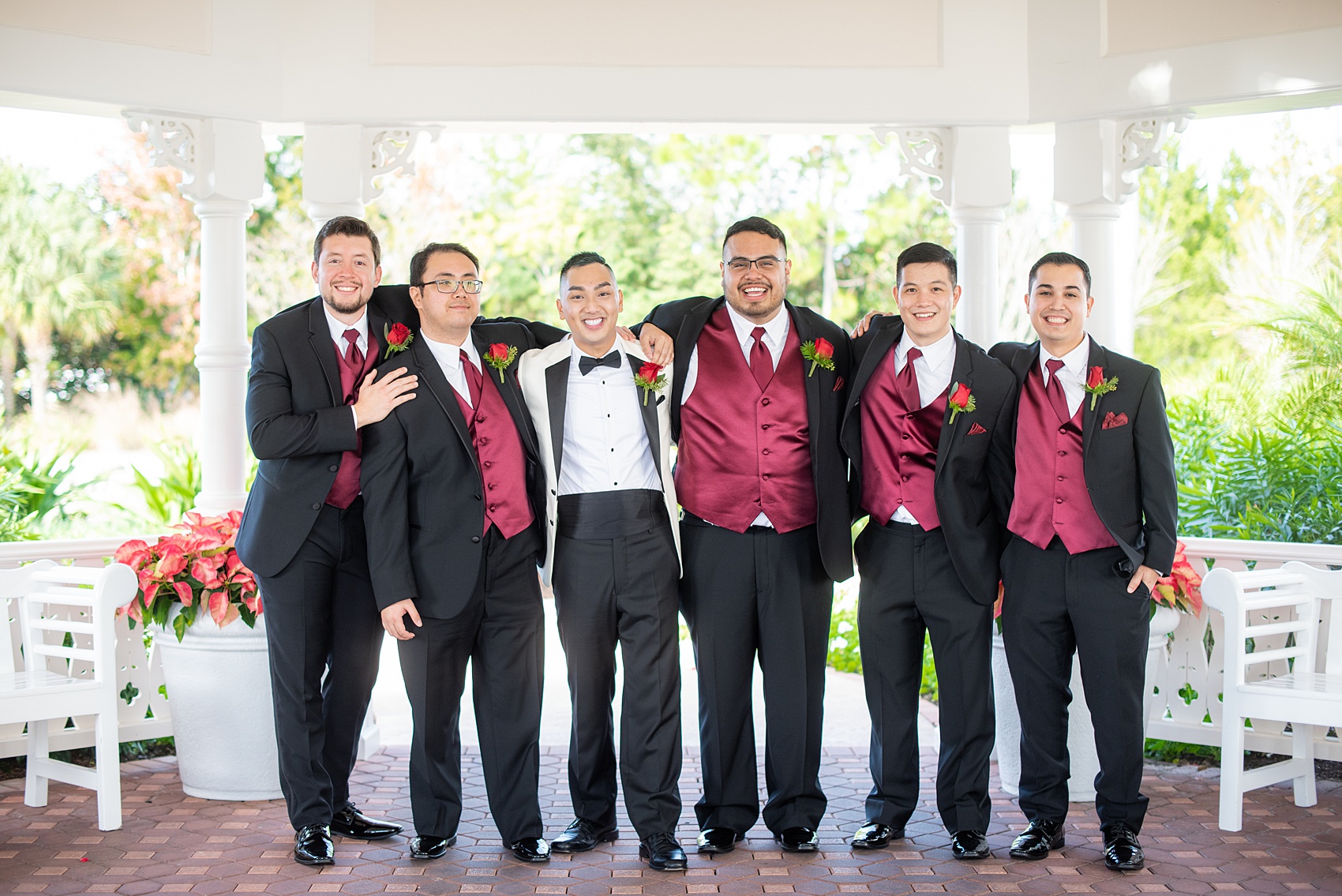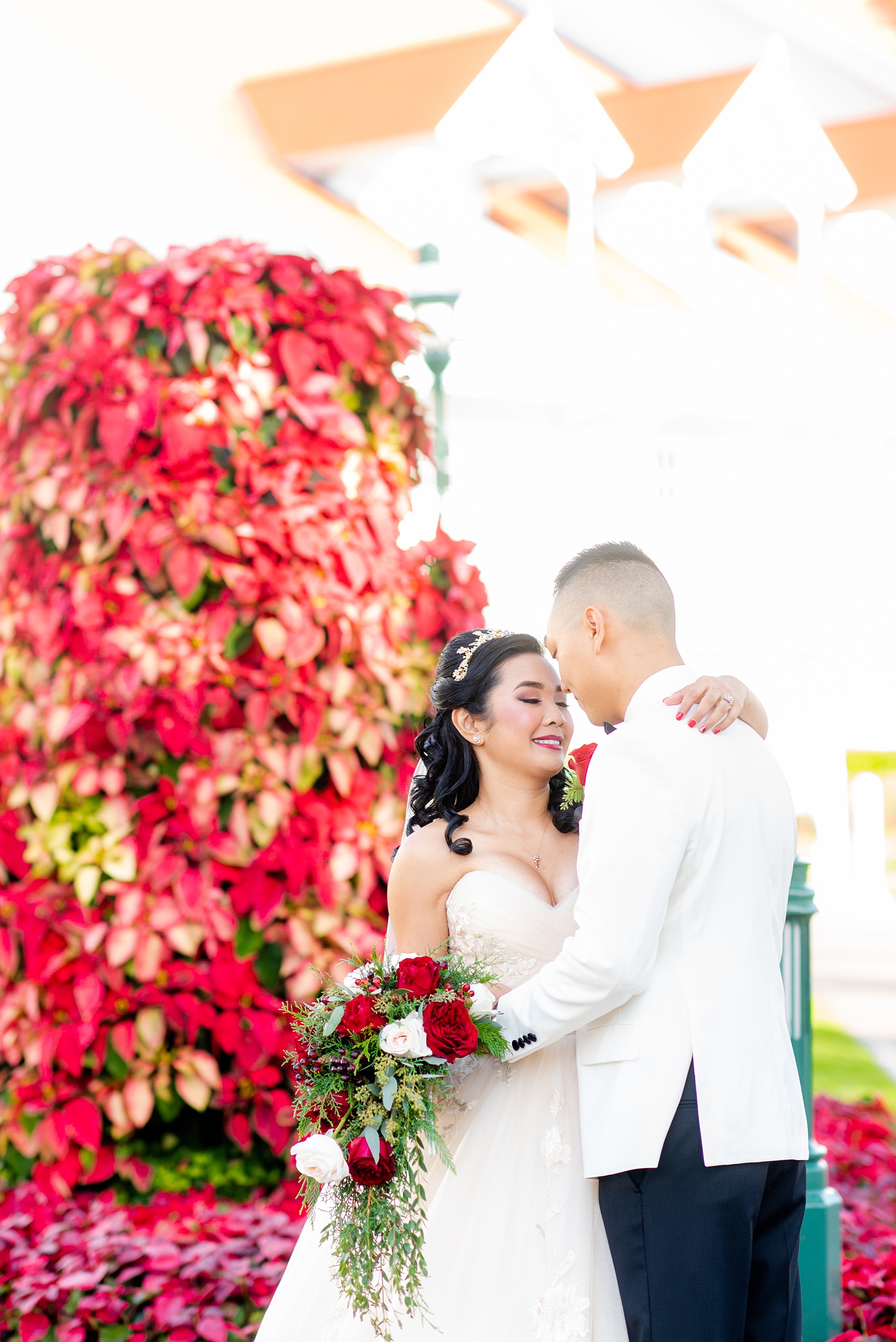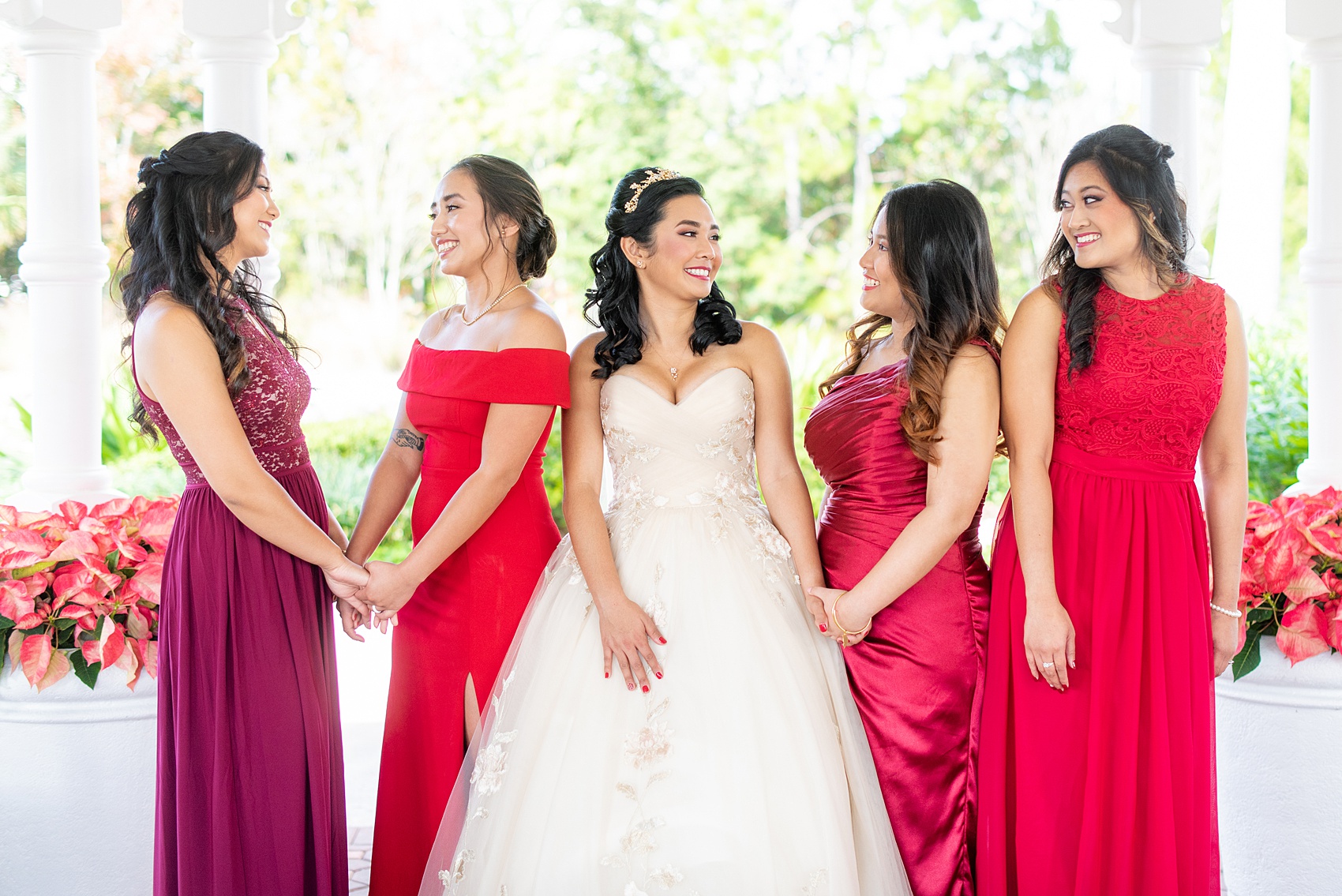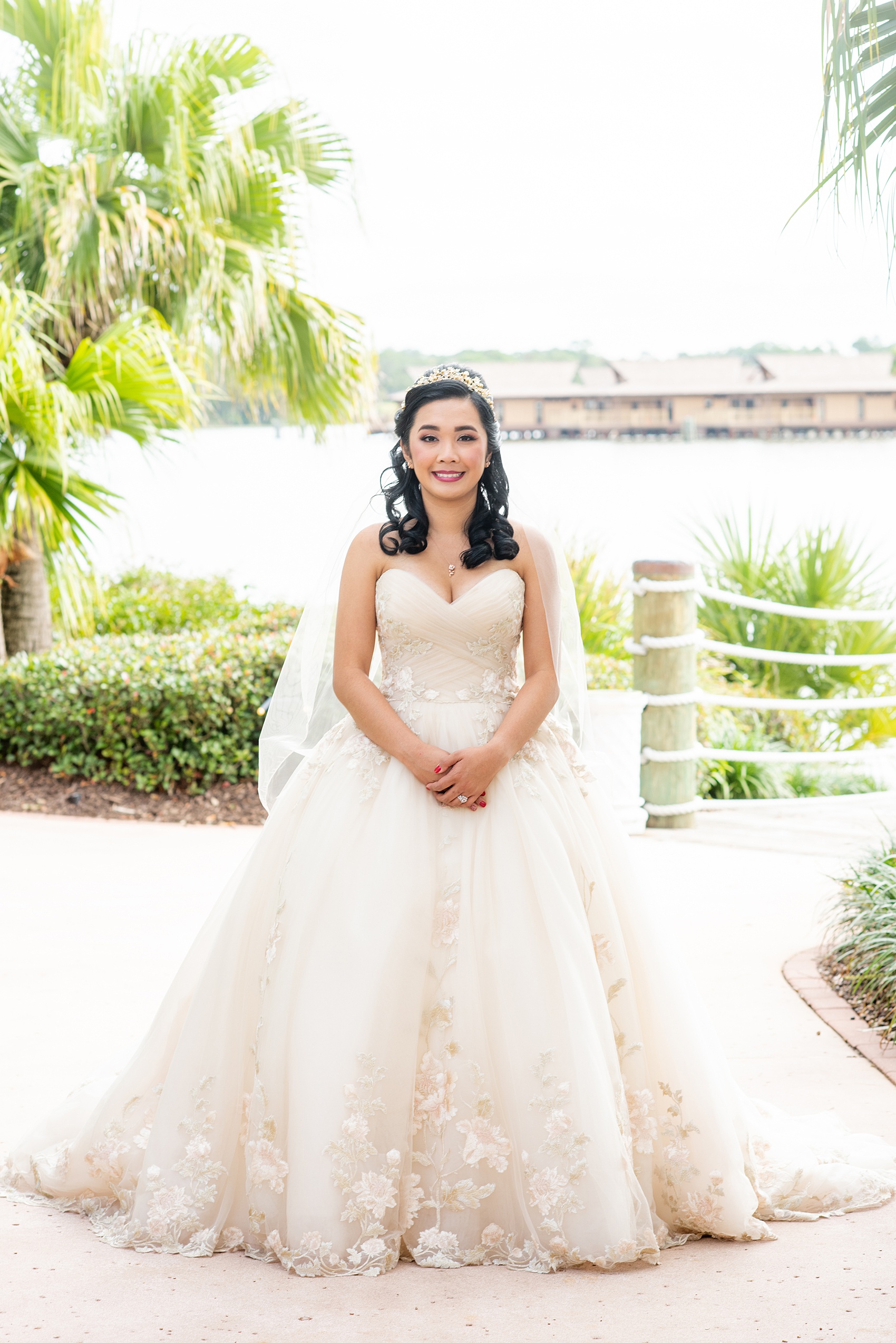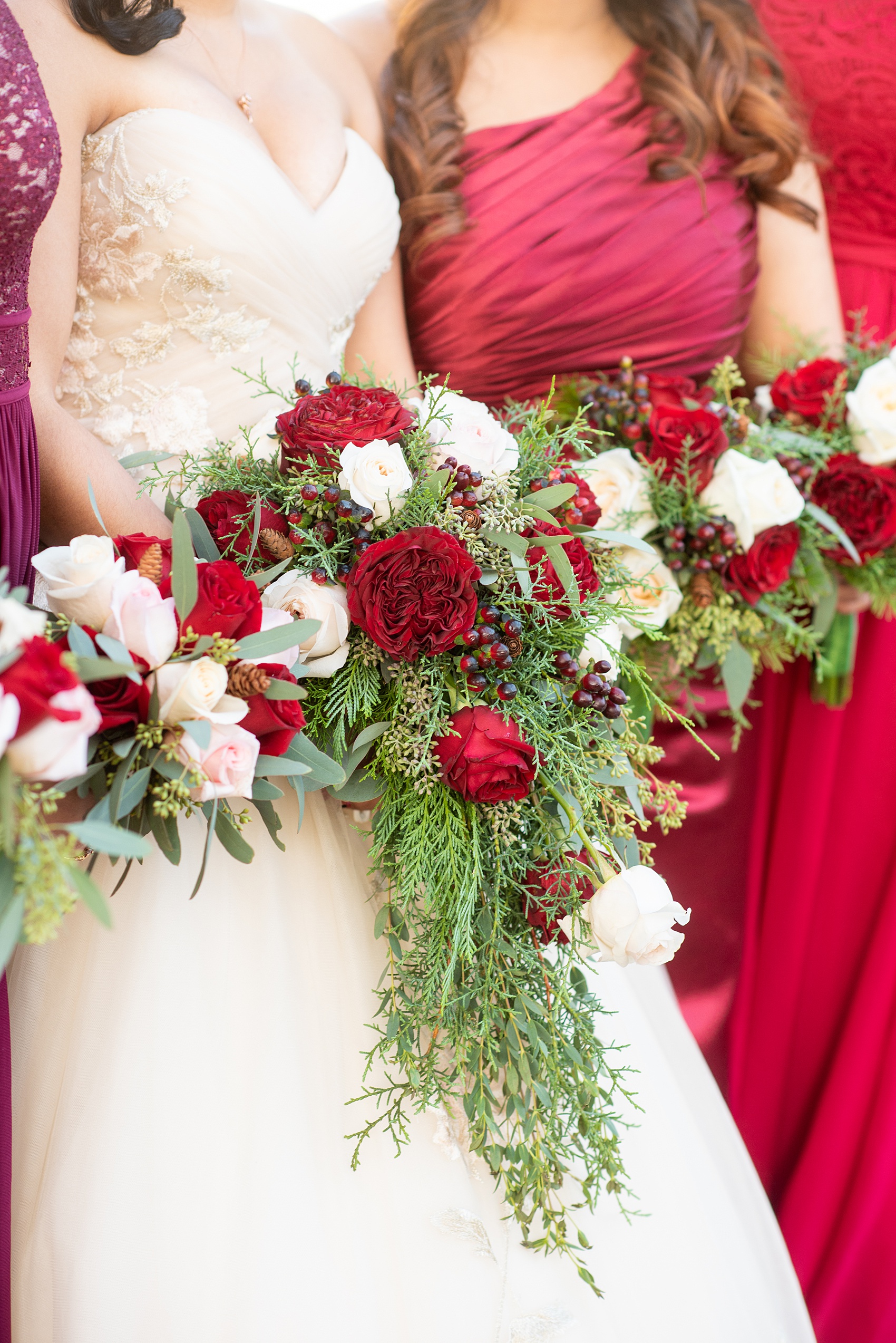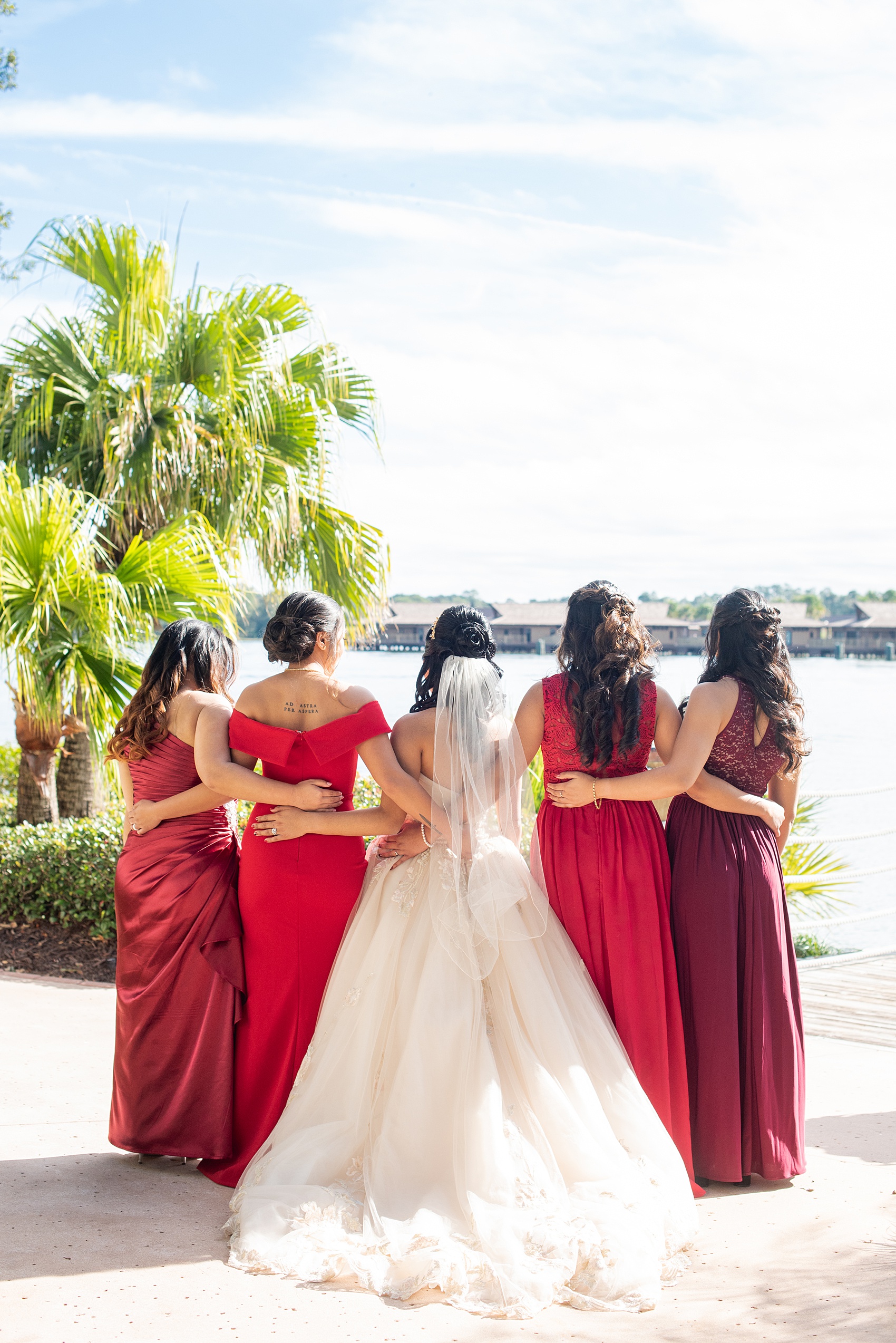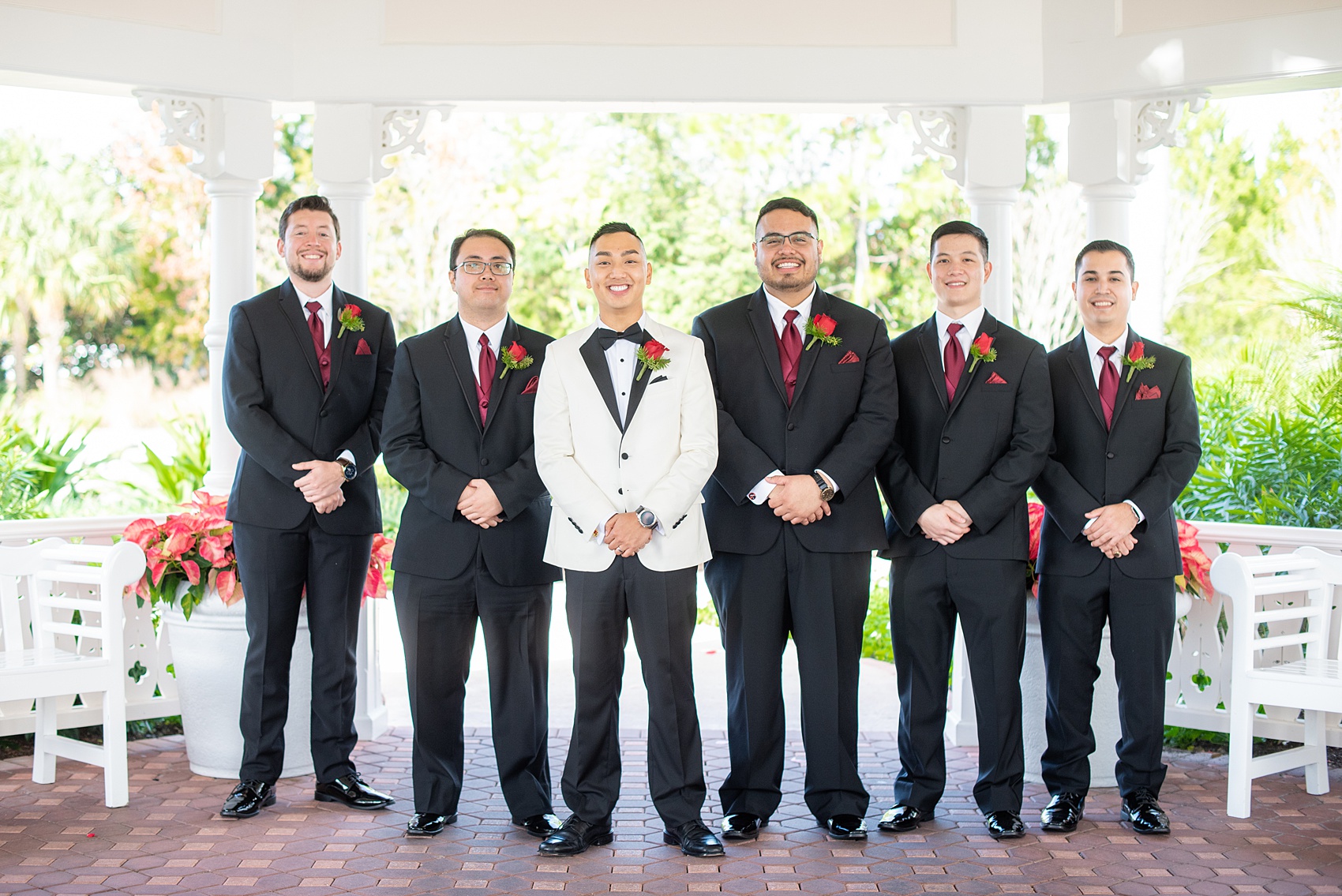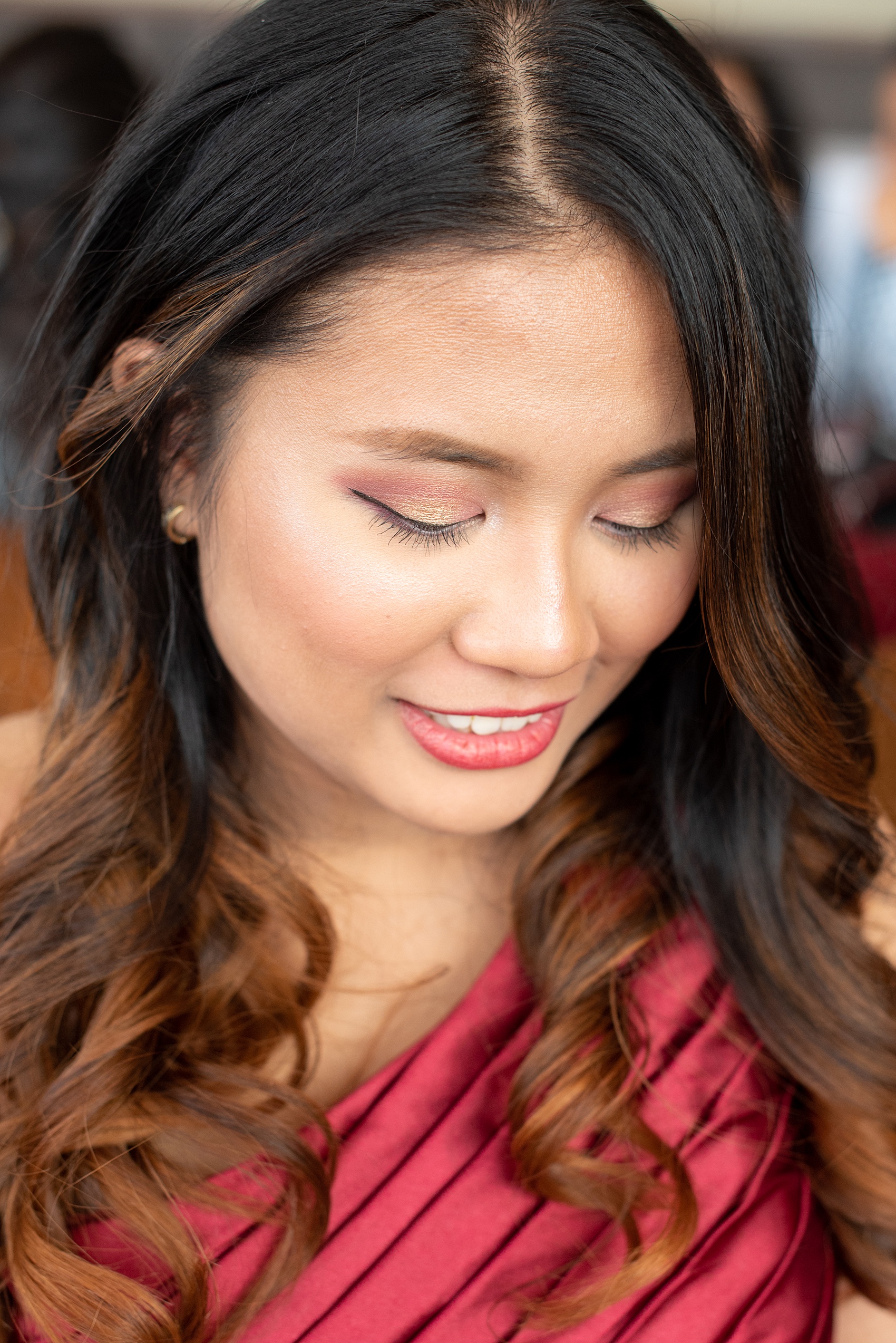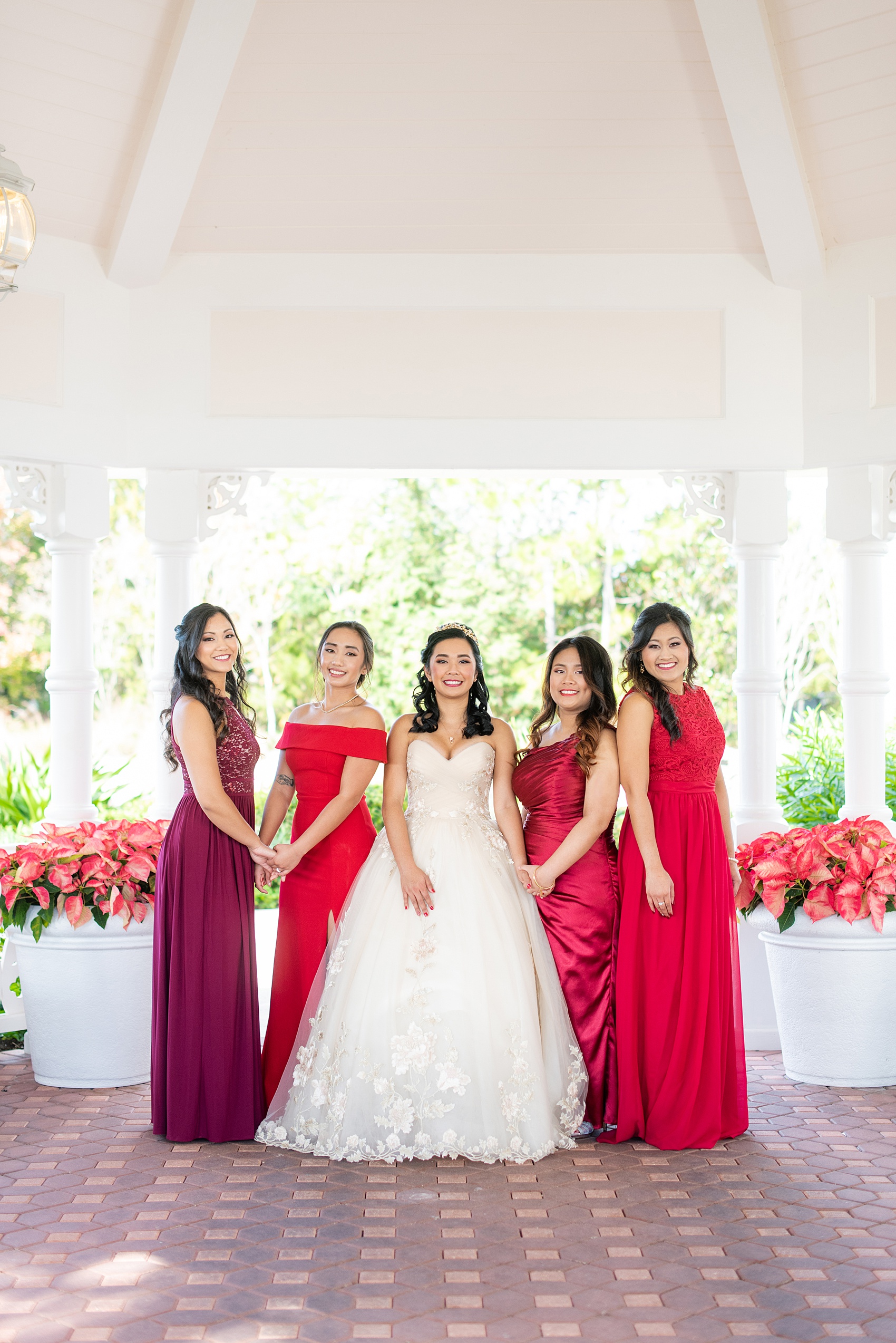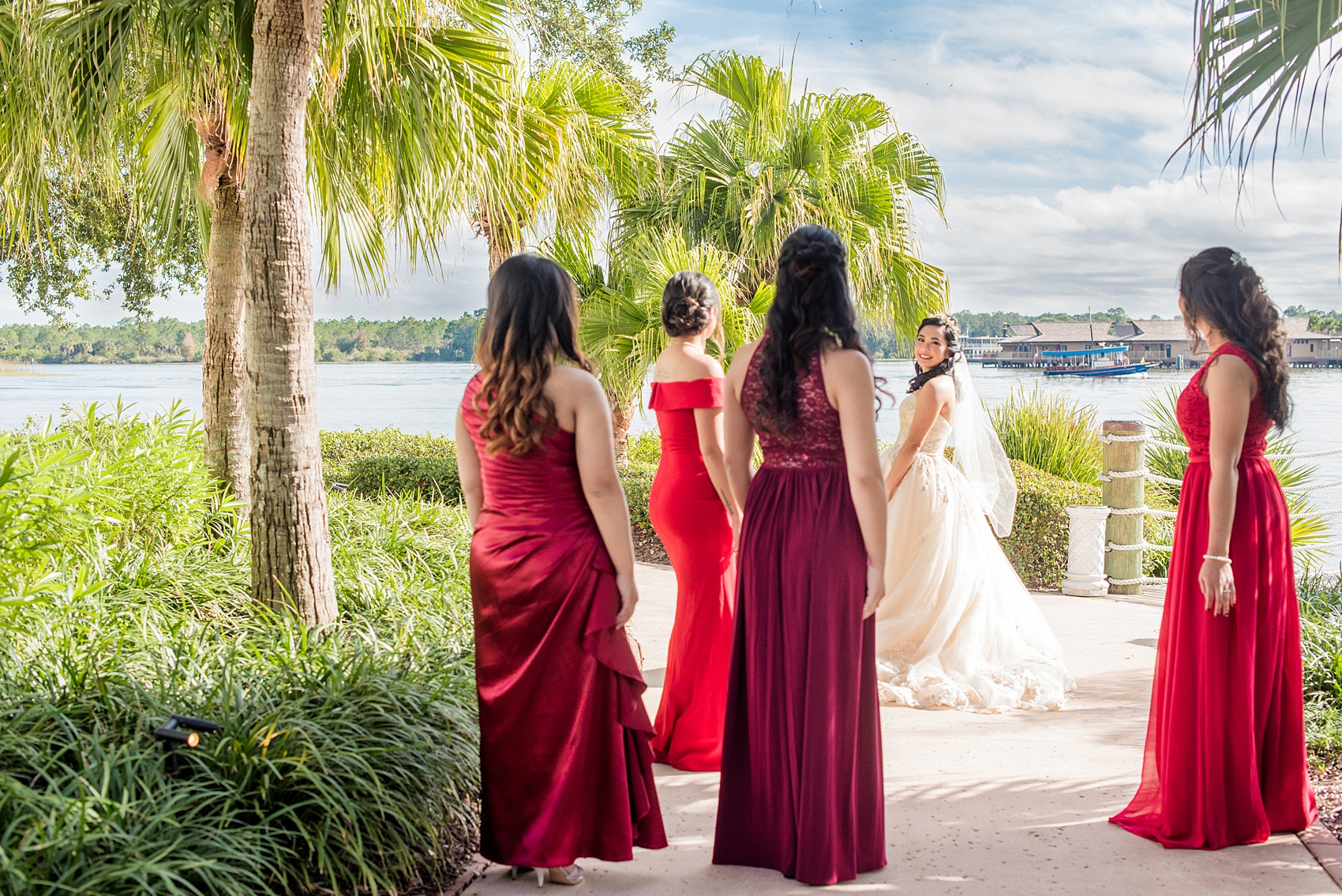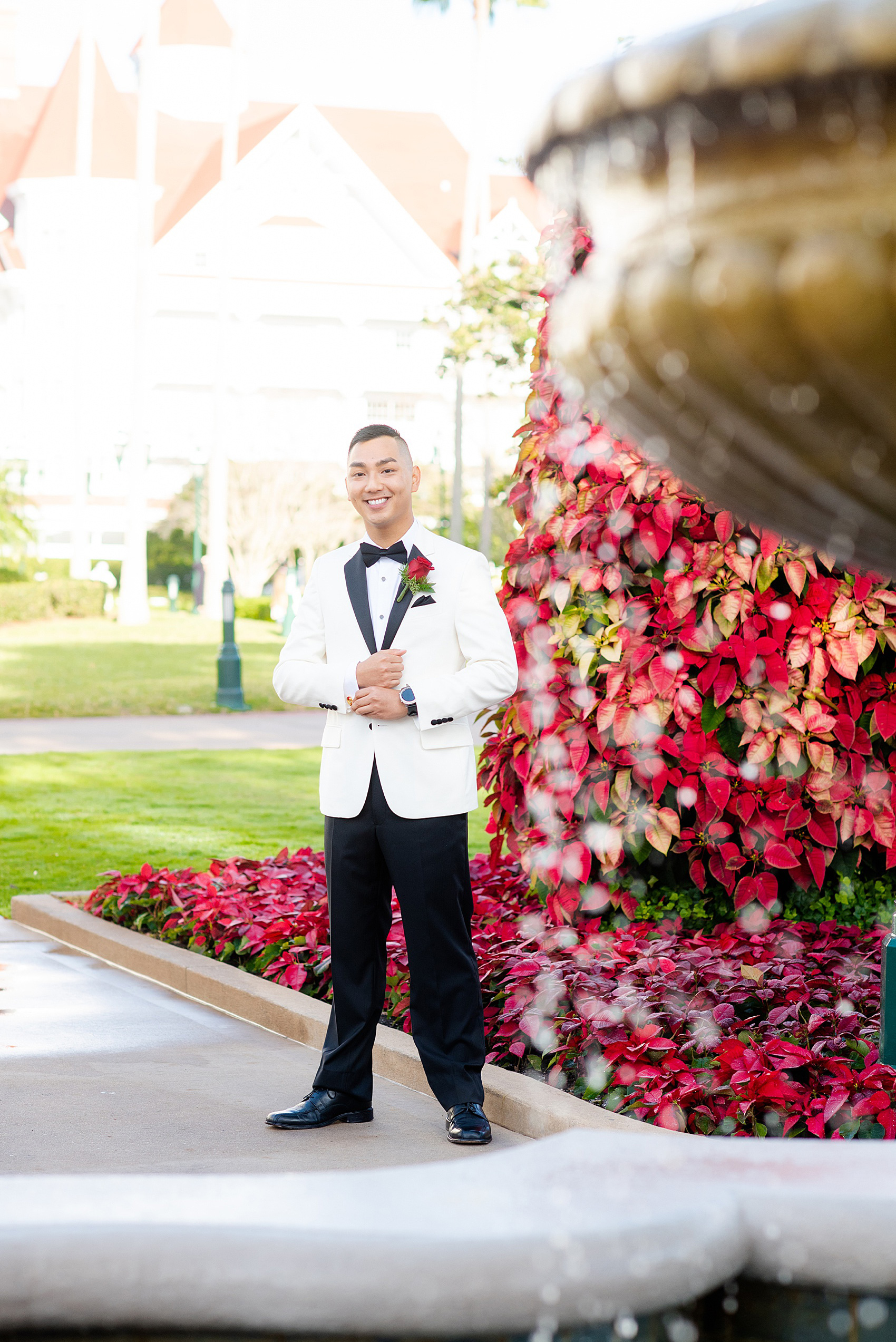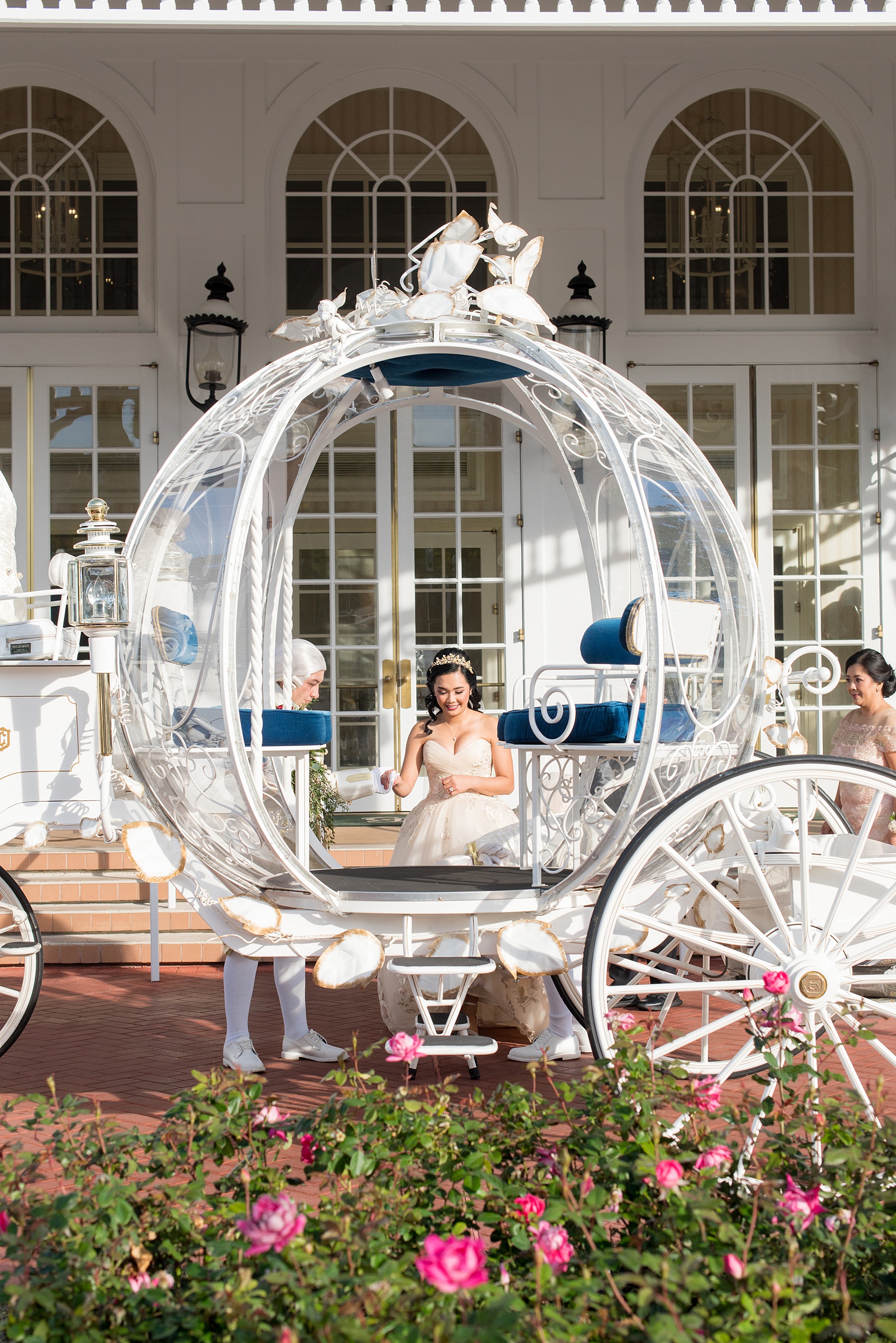 The bride and her mother, Veronica, rode to the Wedding Pavilion in style. They took Cinderella's Glass Coach there to meet their family, friends and groom inside the red rose petal framed aisle.
The ring bearer was fierce "ring security" and sentimental signage along with a photo of Nonica's father lead the way to the altar.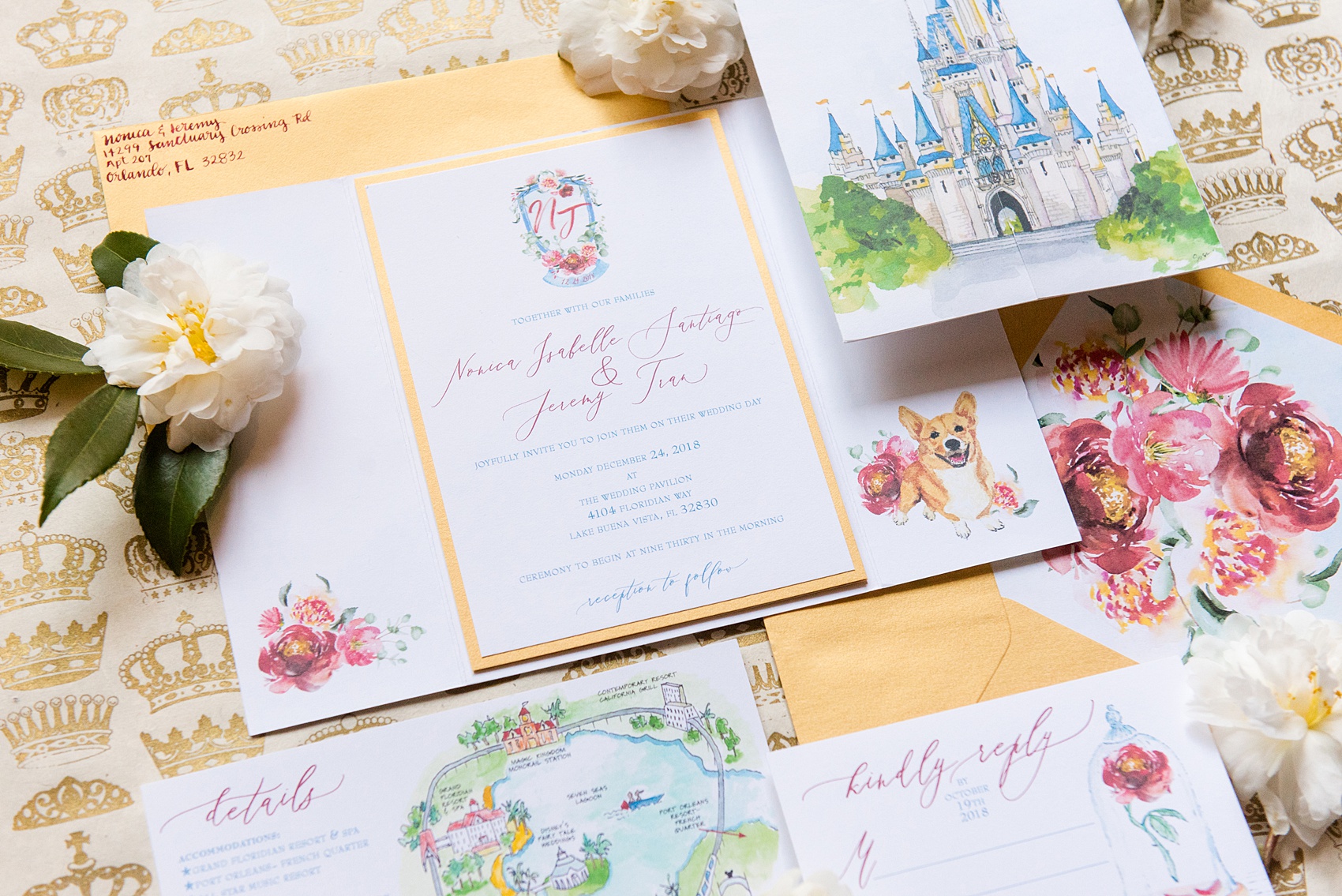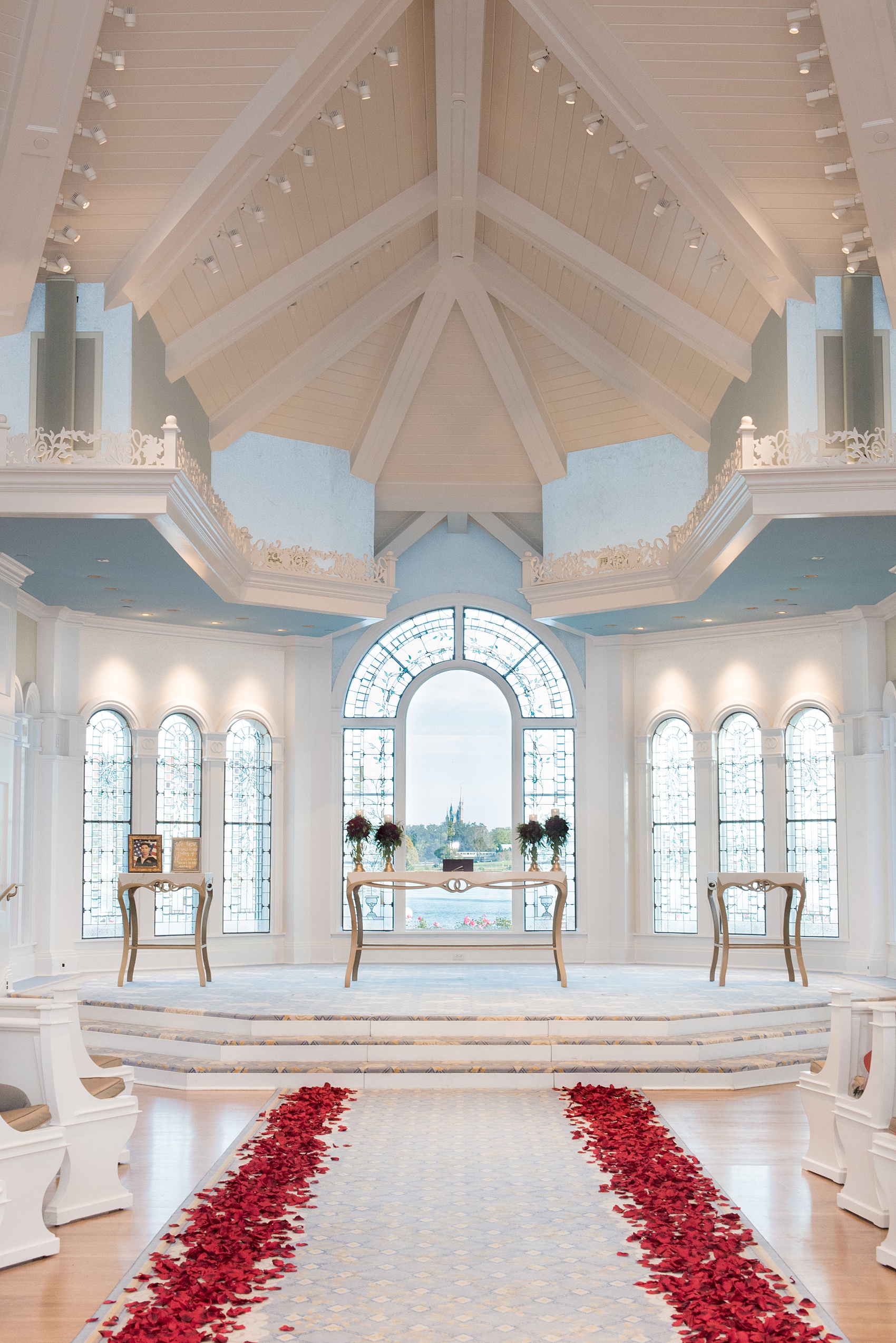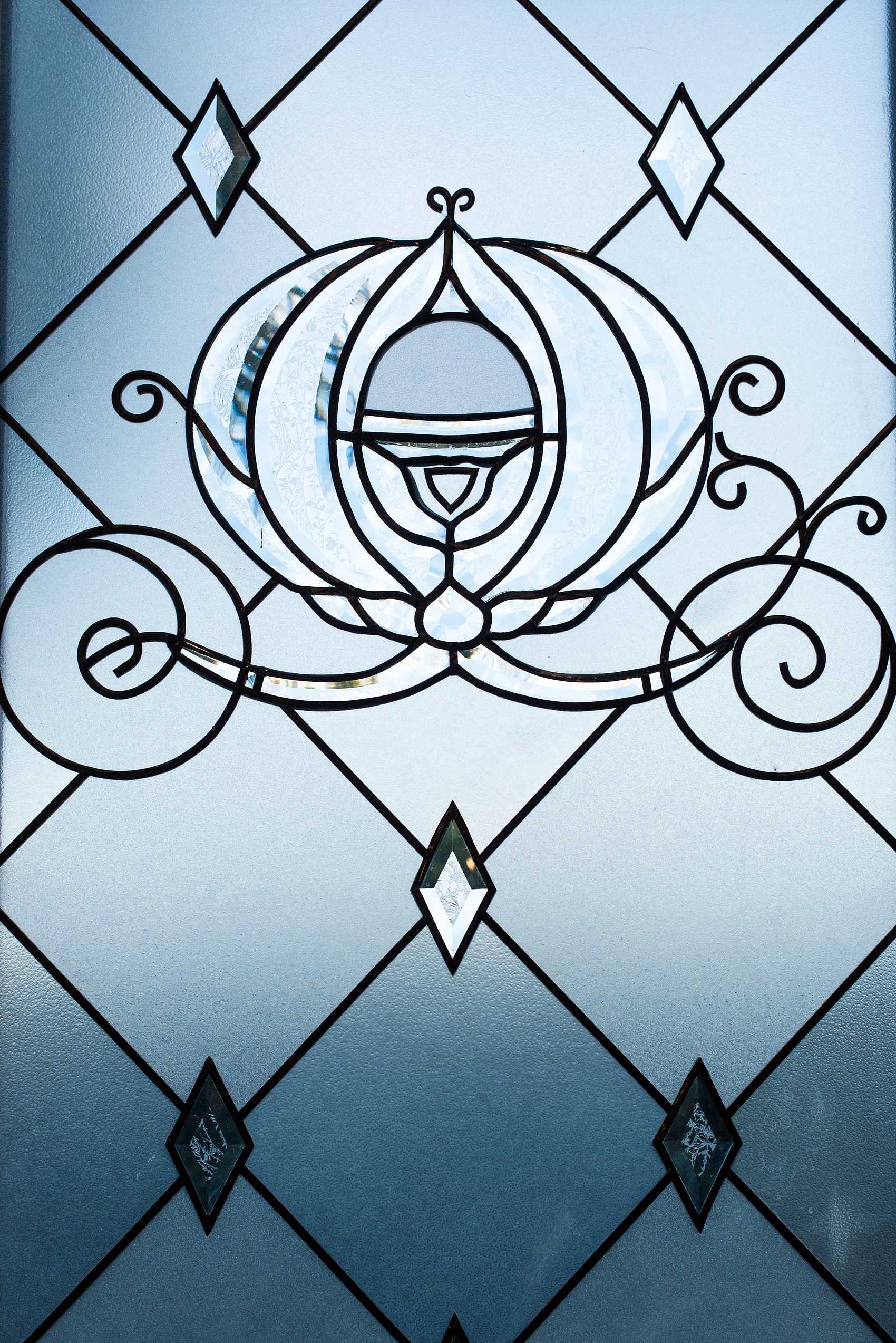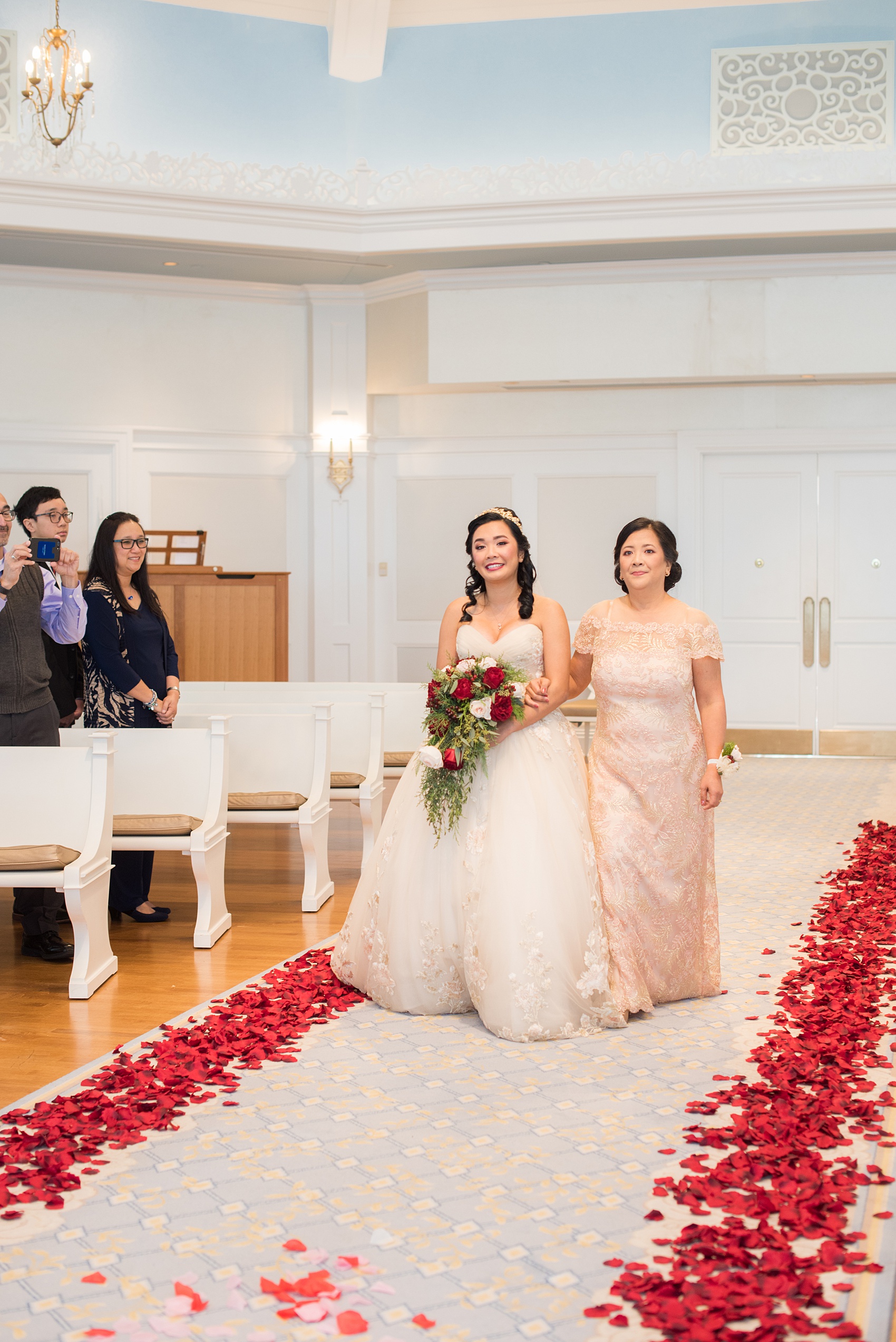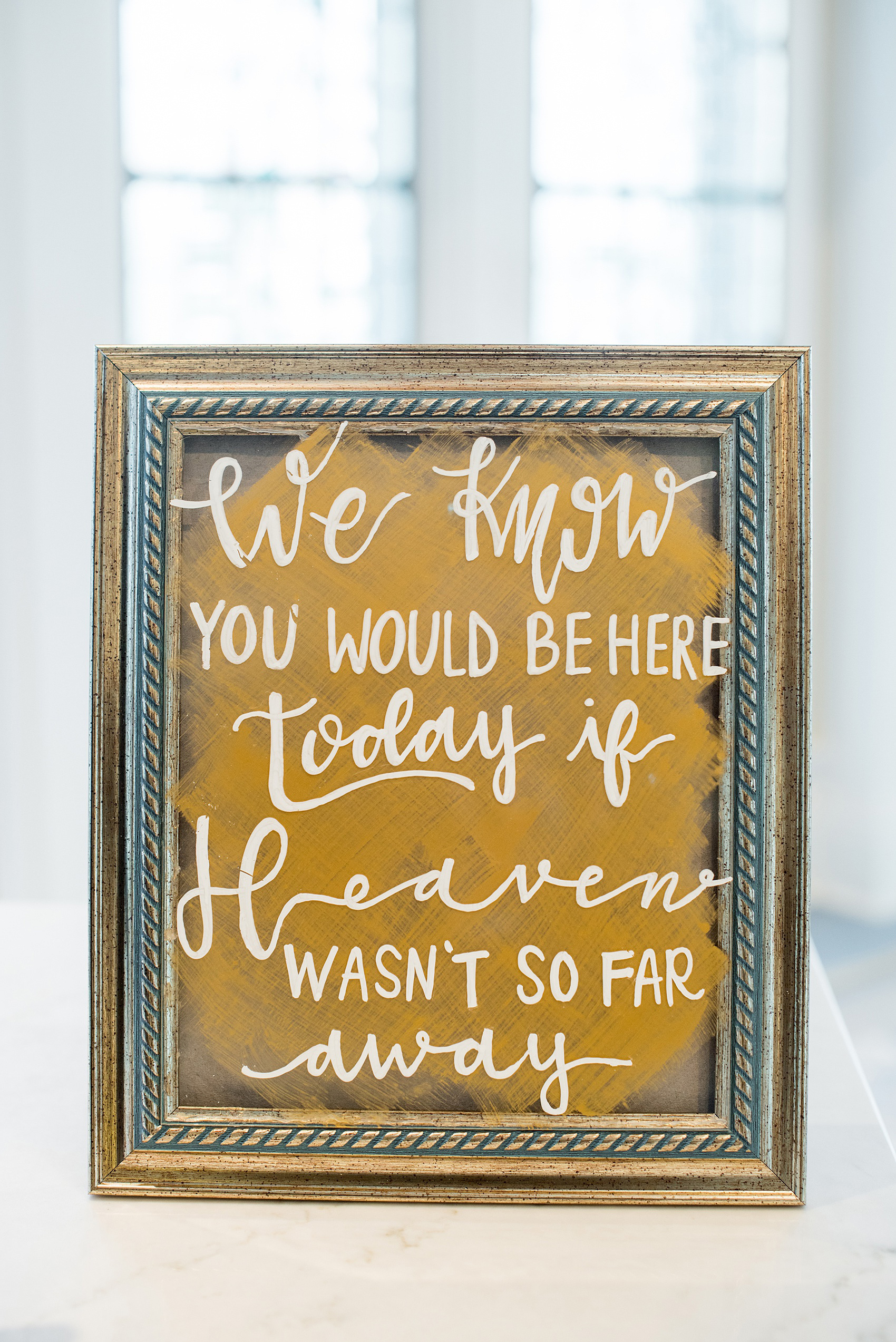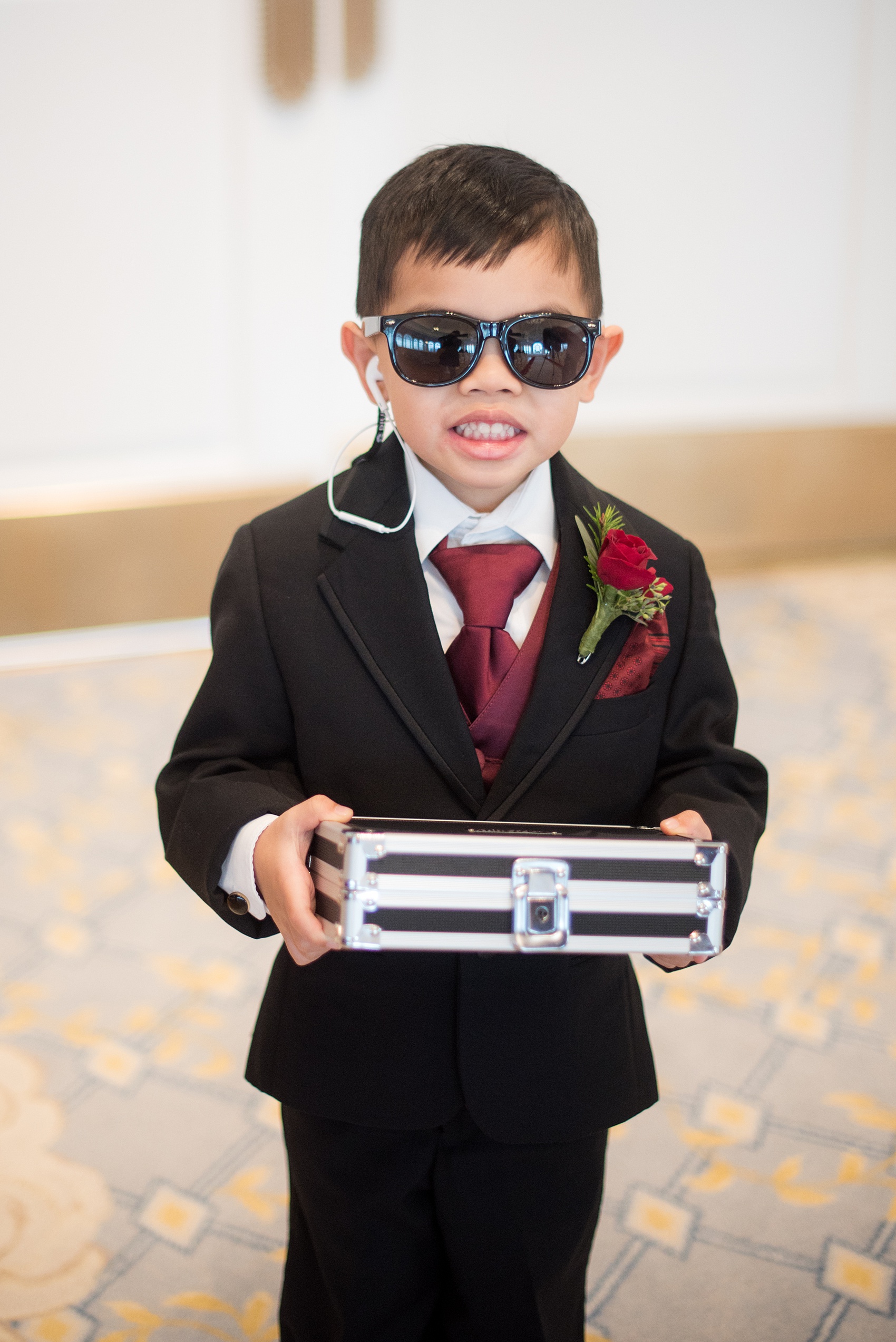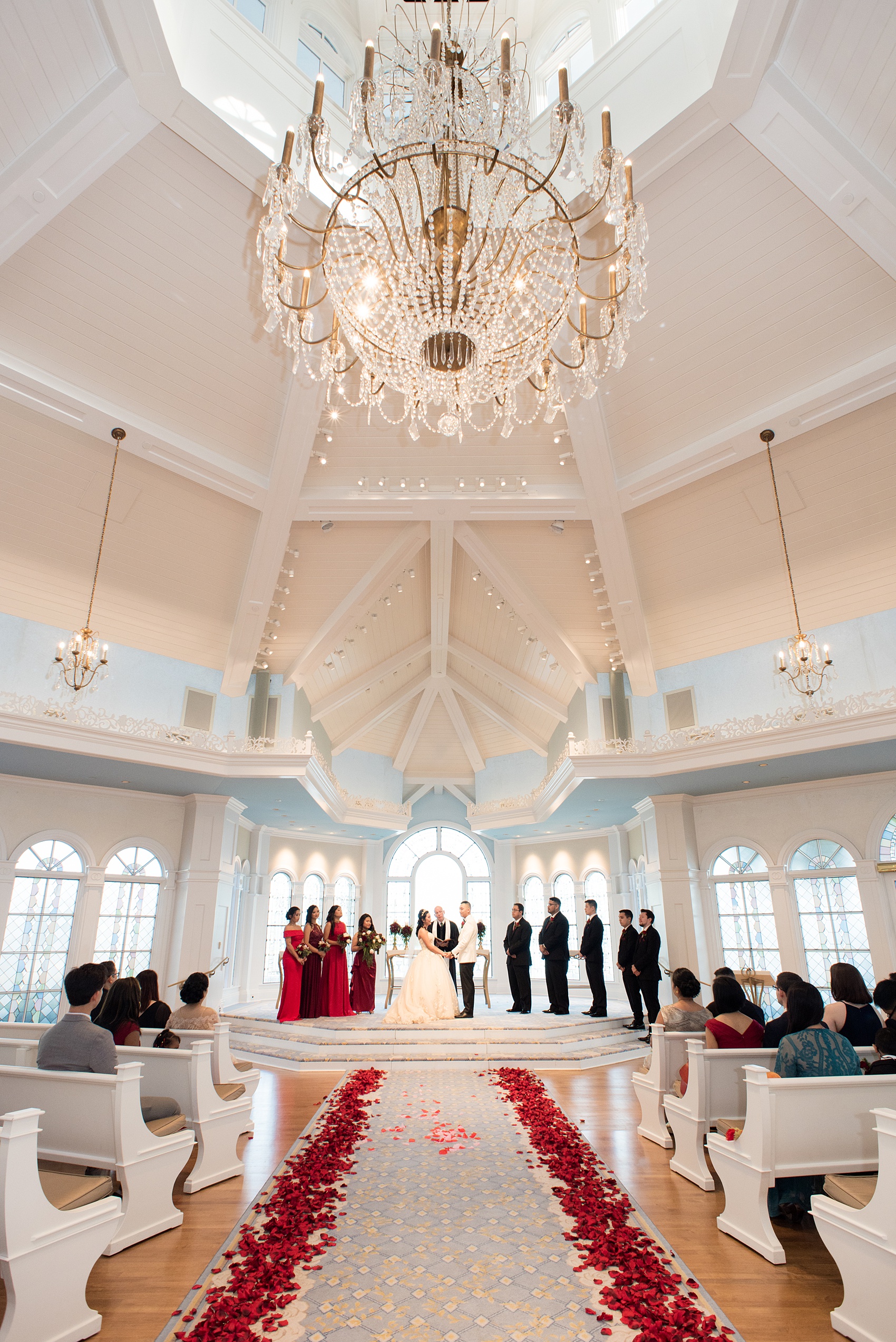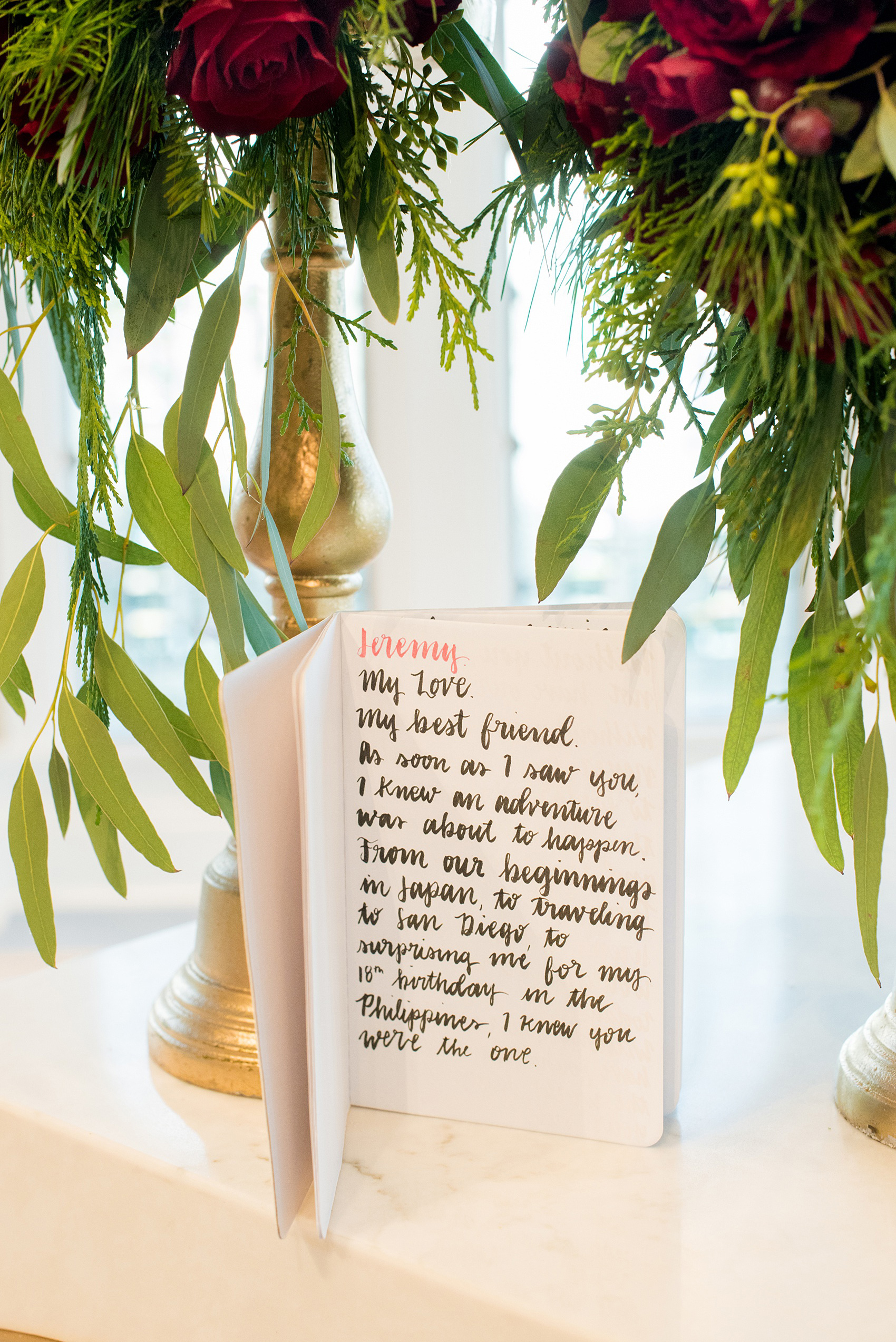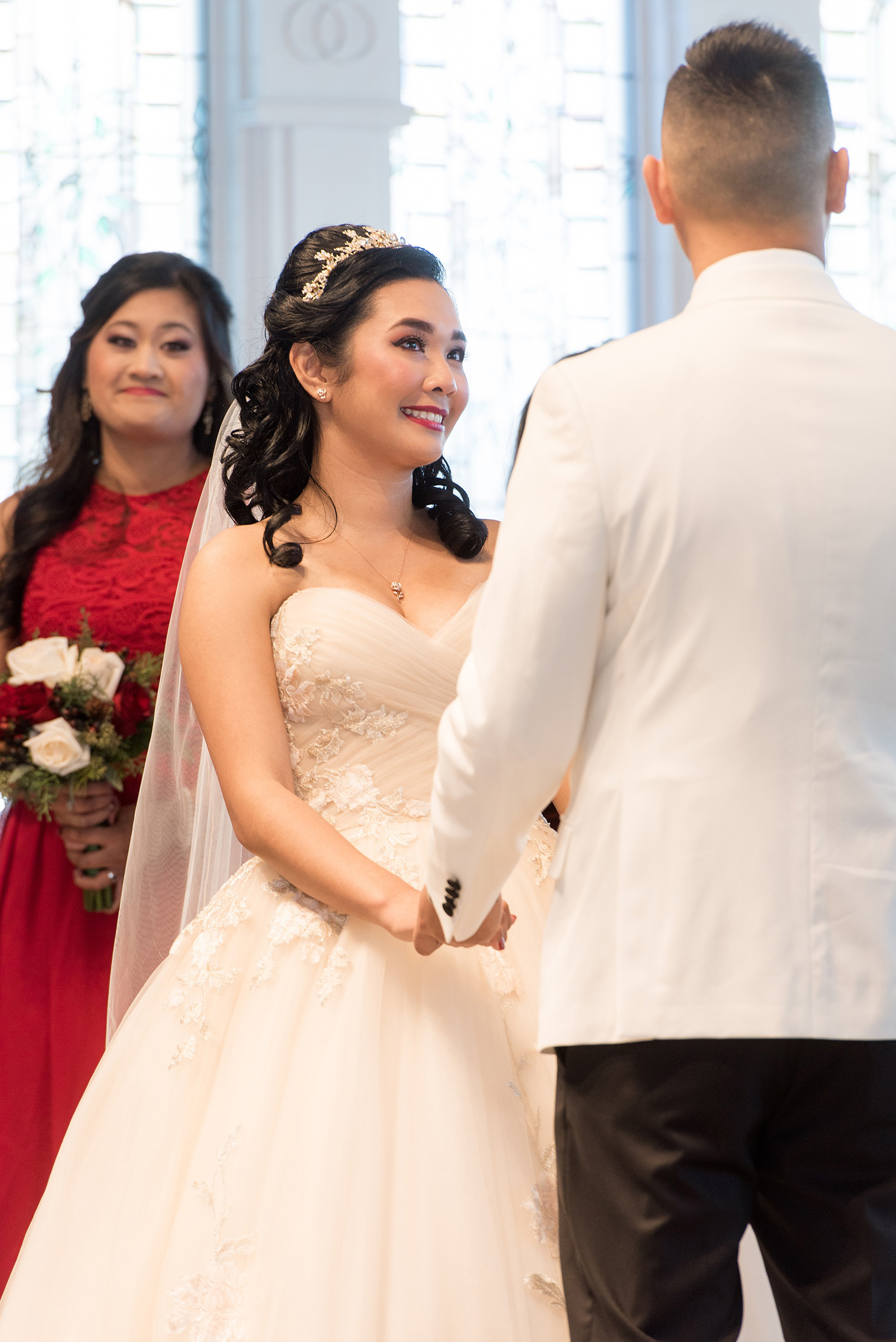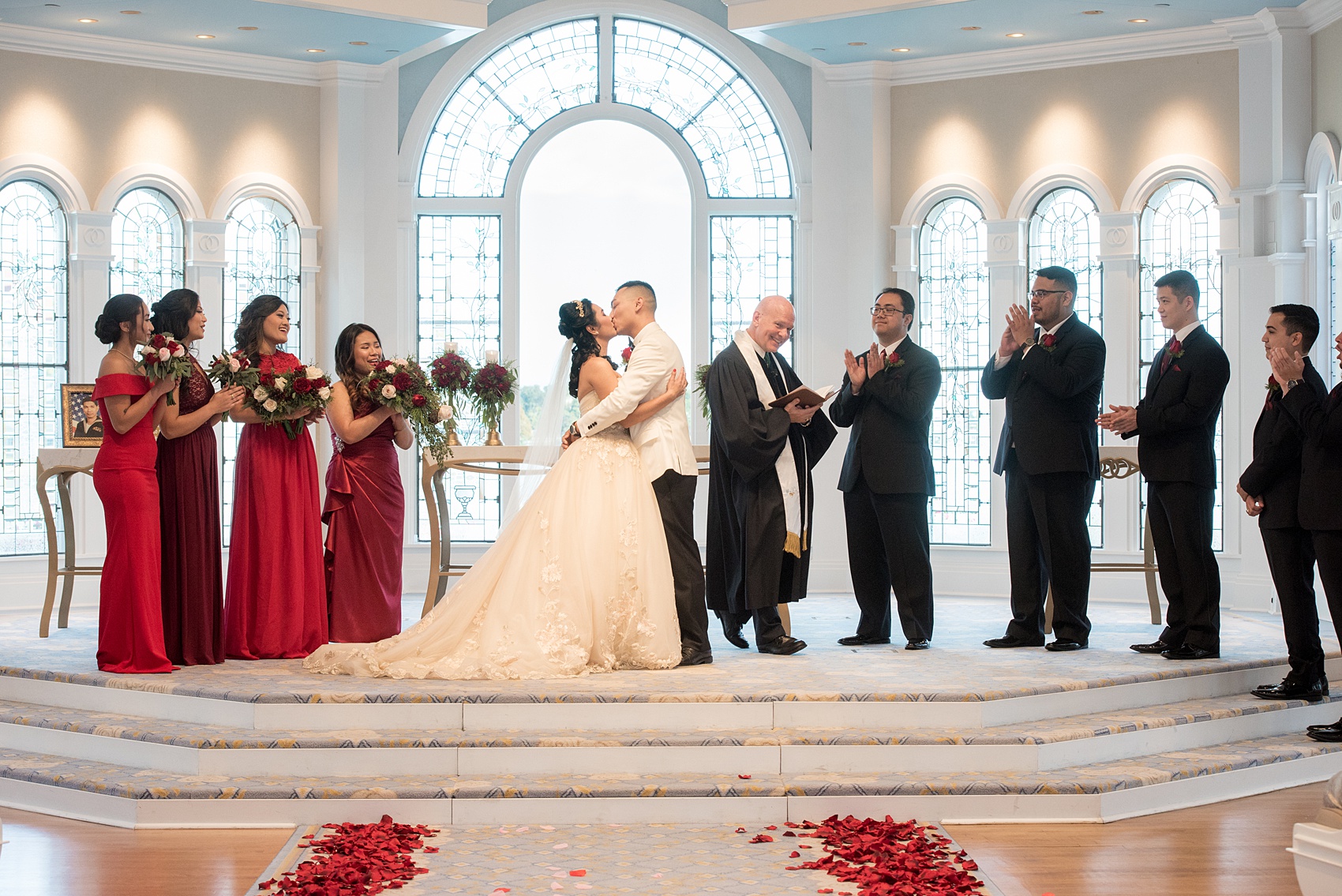 They exchanged heartfelt vows reminiscing about "way back when…" they met in sixth grade and how they knew it was always meant to be. It was truly very sweet and I felt lucky to be witnessing (and capturing) it all. They were welcomed outside with a fun white-rose-petal toss that ended at Cinderella's Glass Coach! Talk about a grand exit! The sky was simply perfect on their wedding day and every time the monorail passed by and sneaked into their photos I felt my heart swell with joy for them.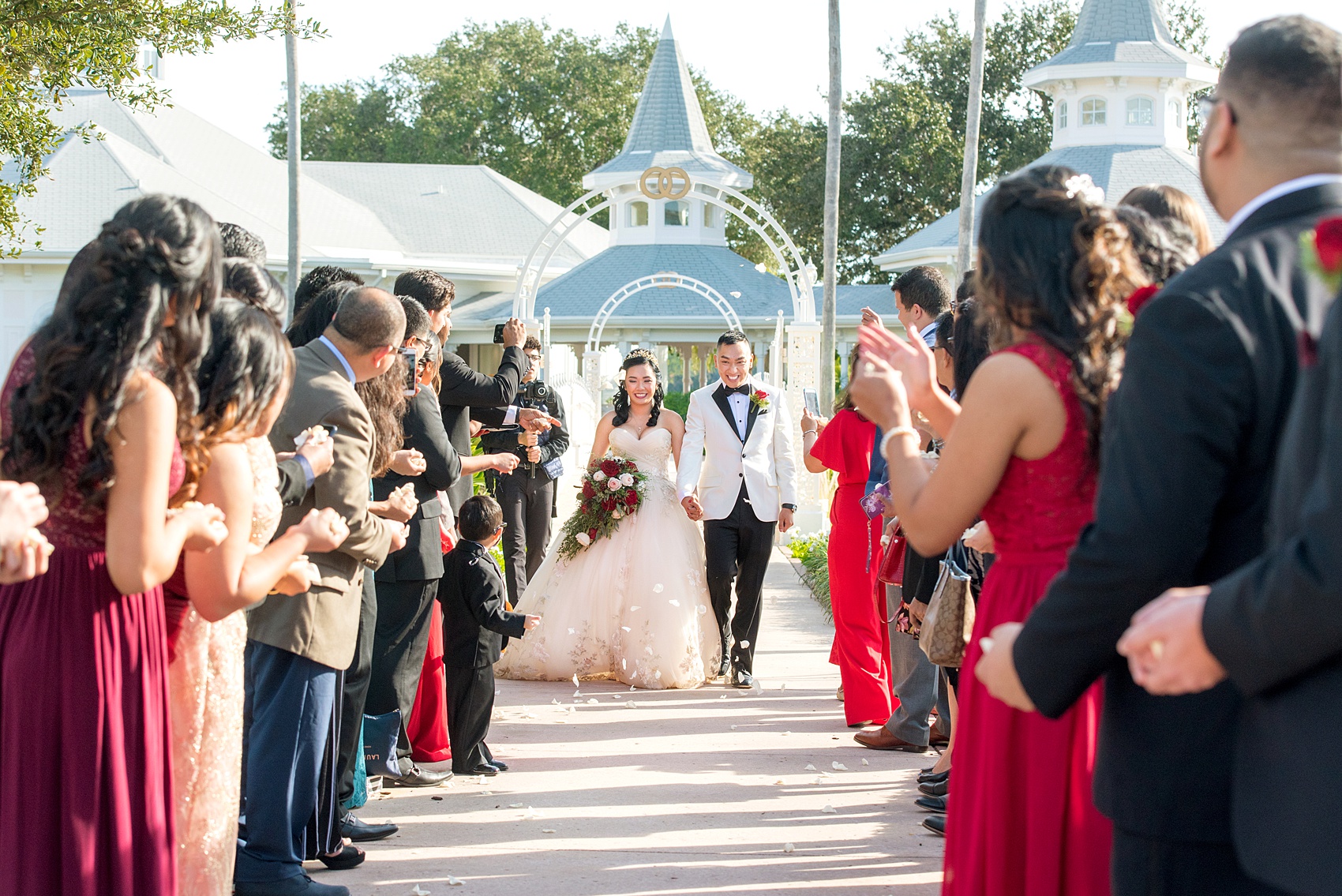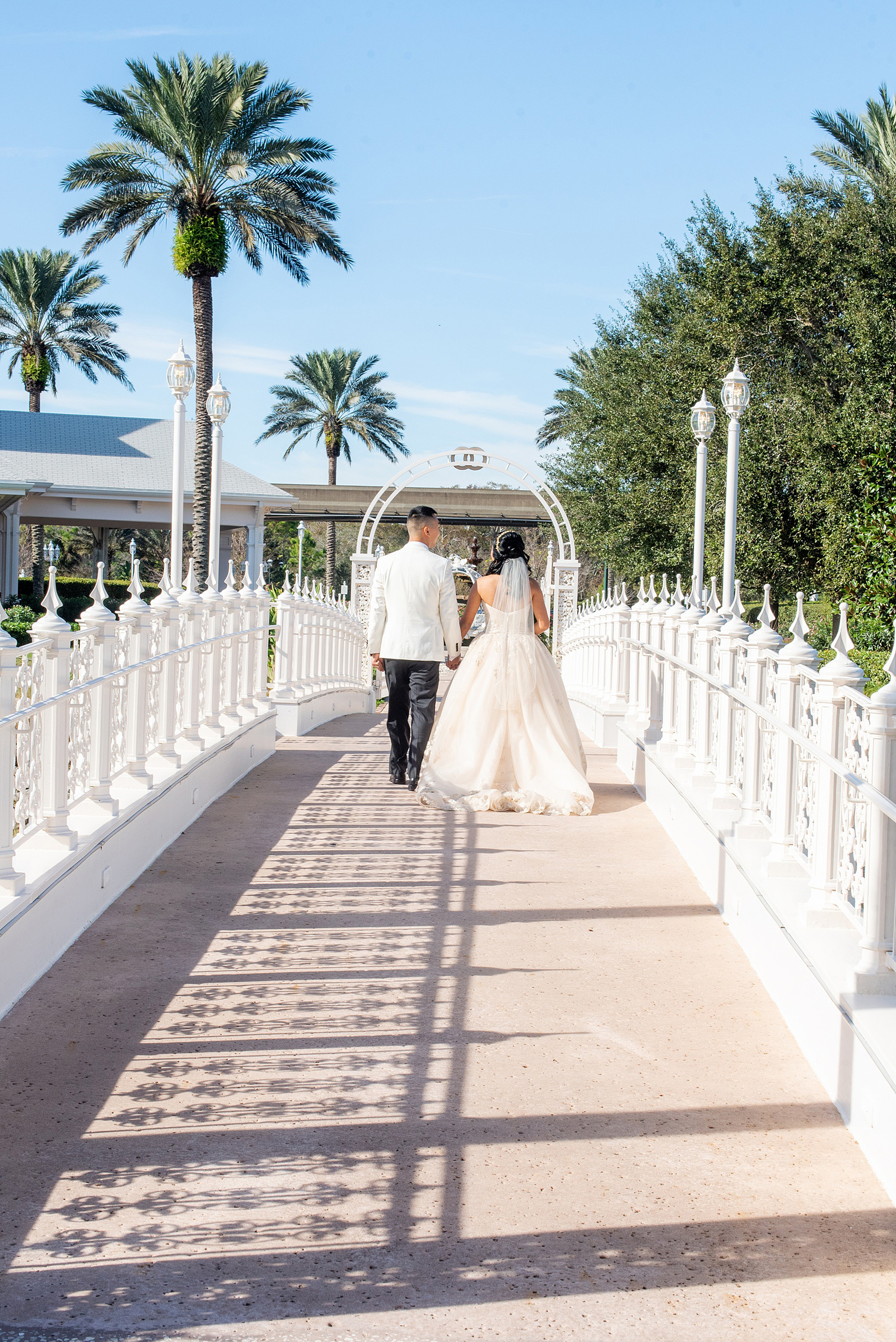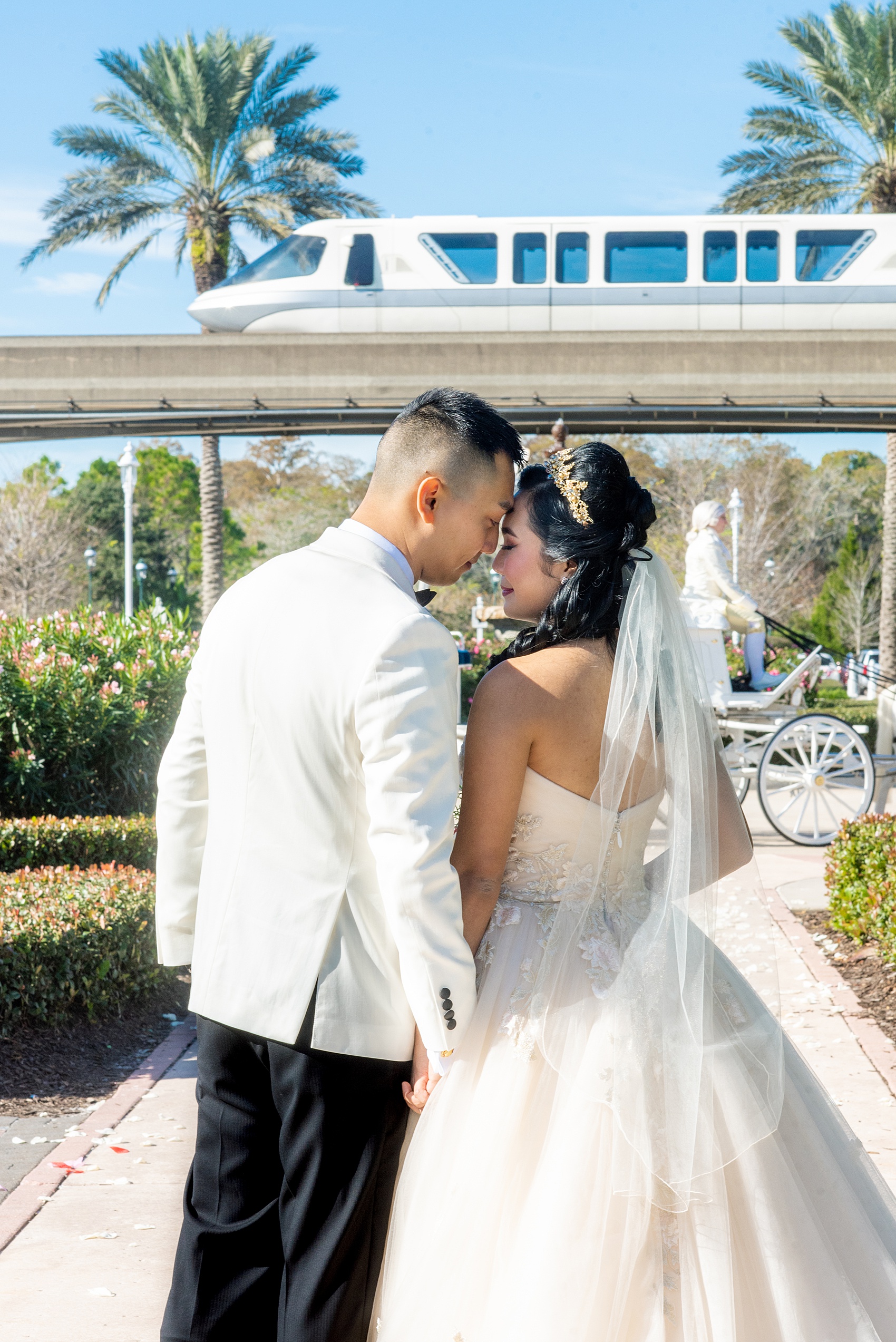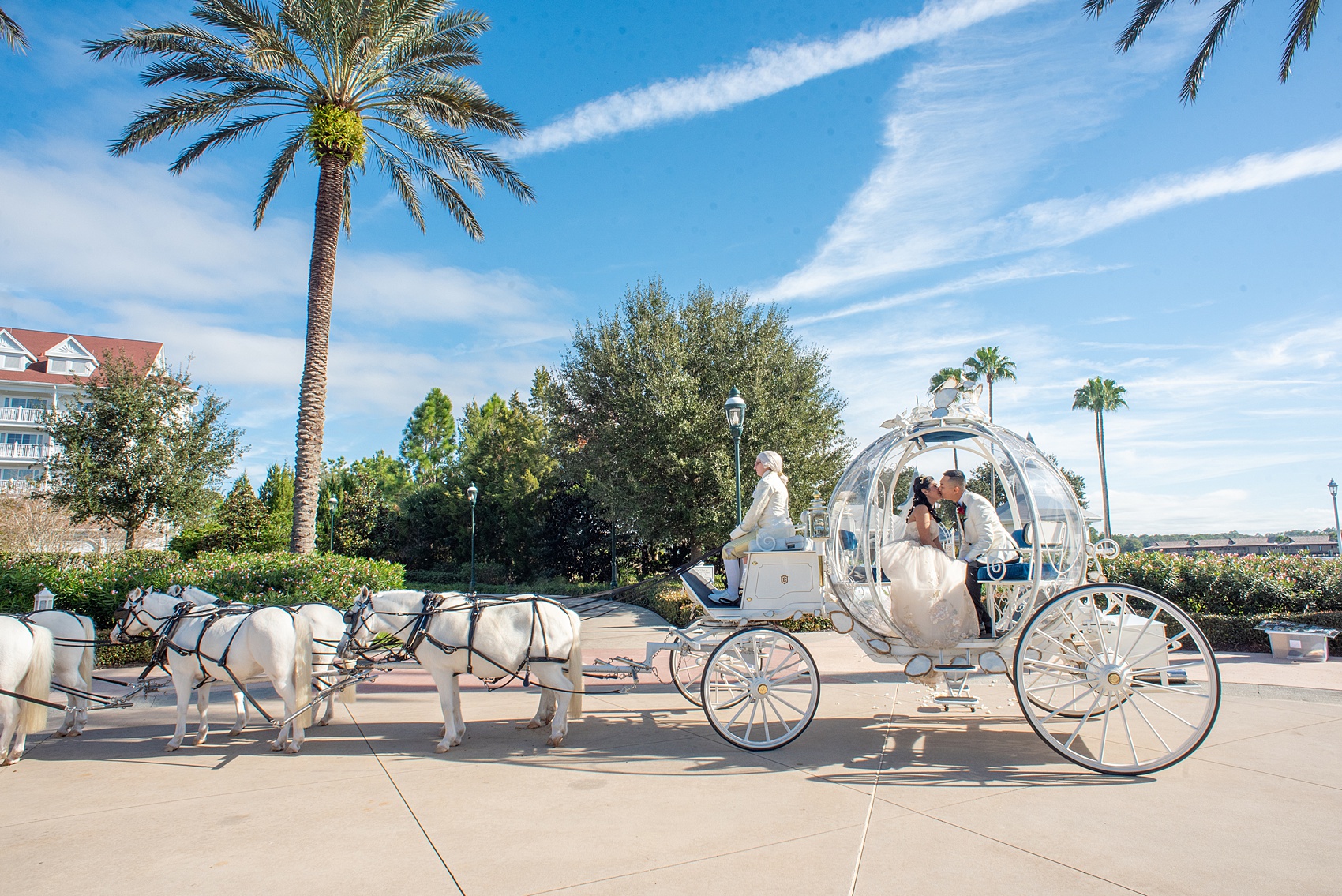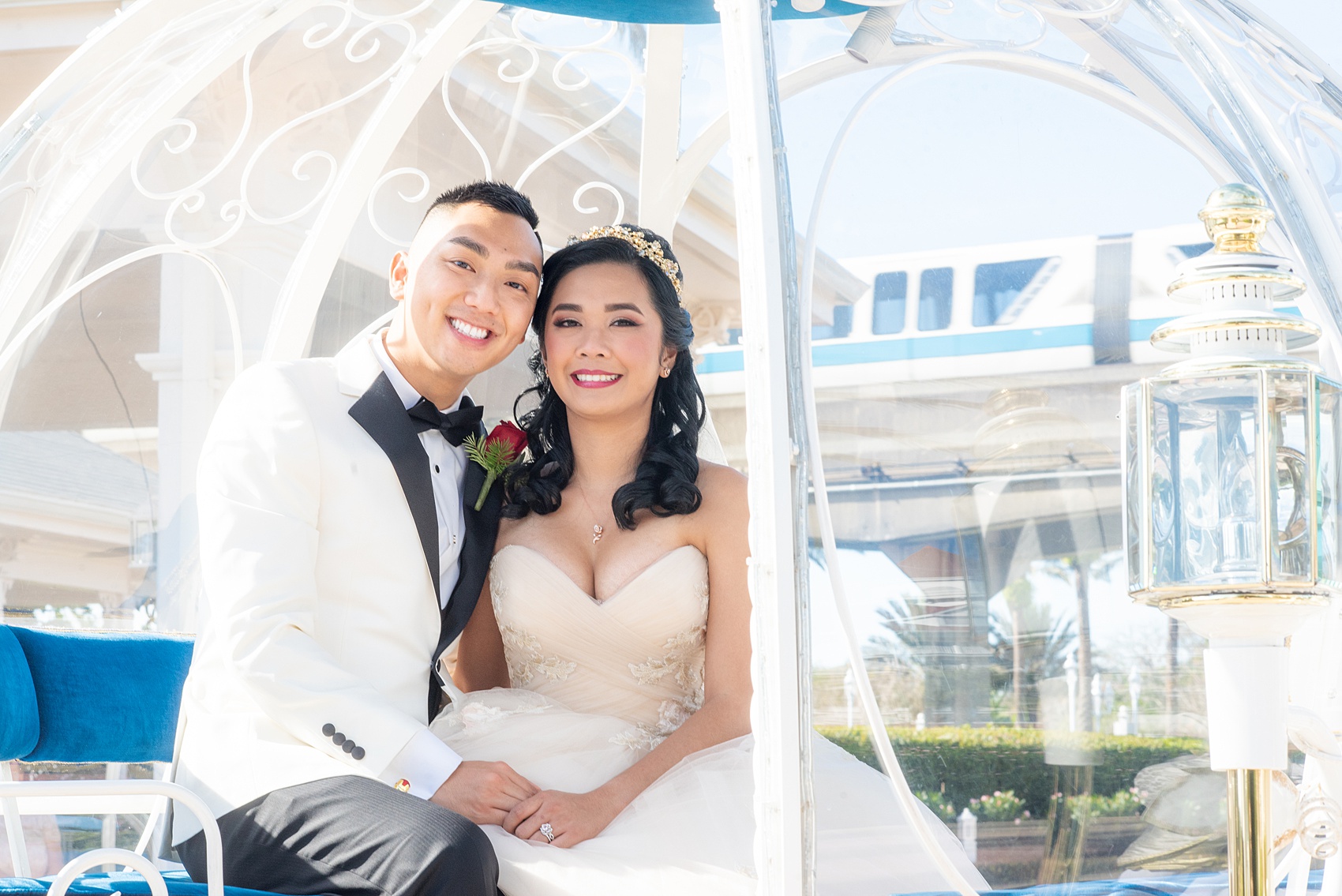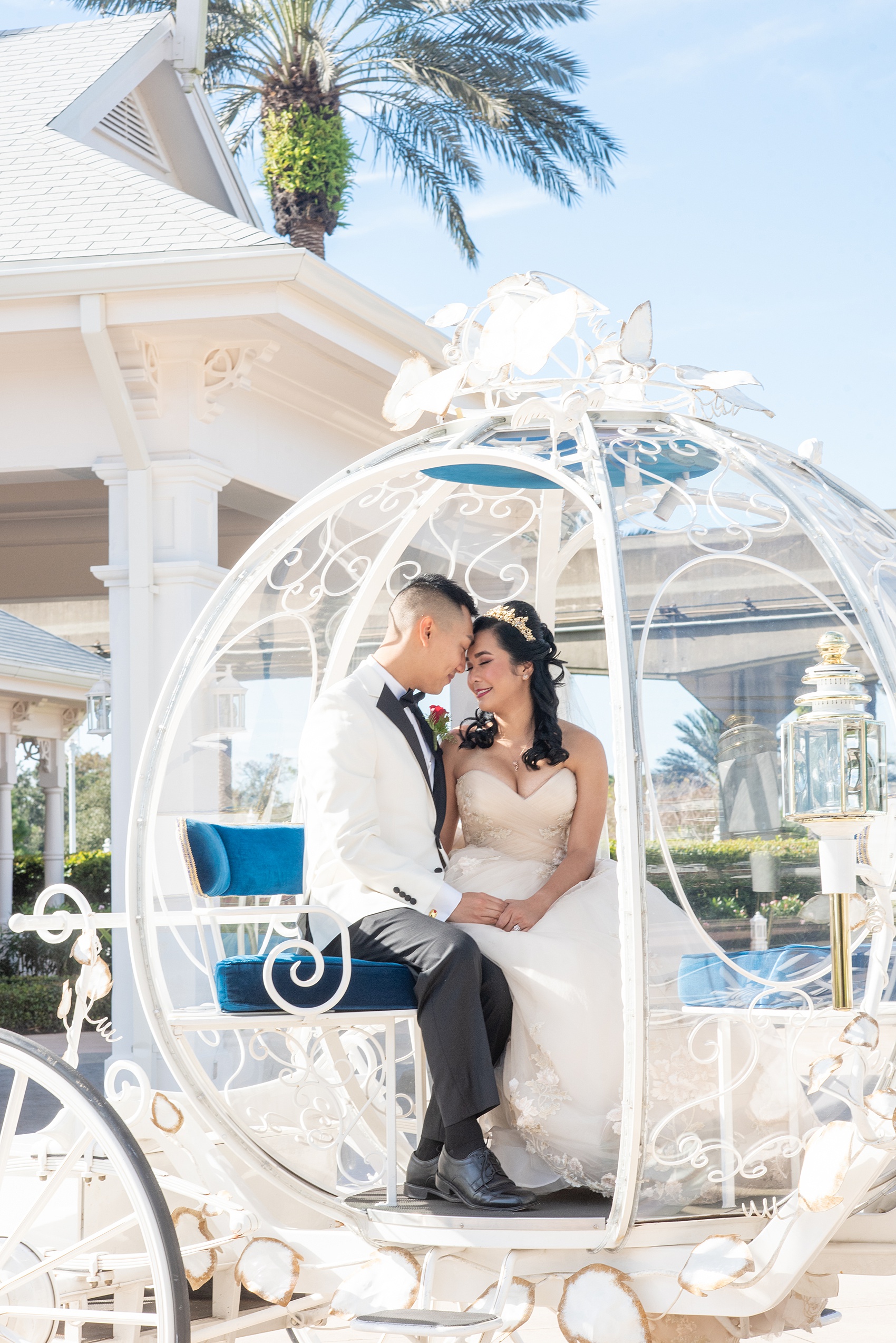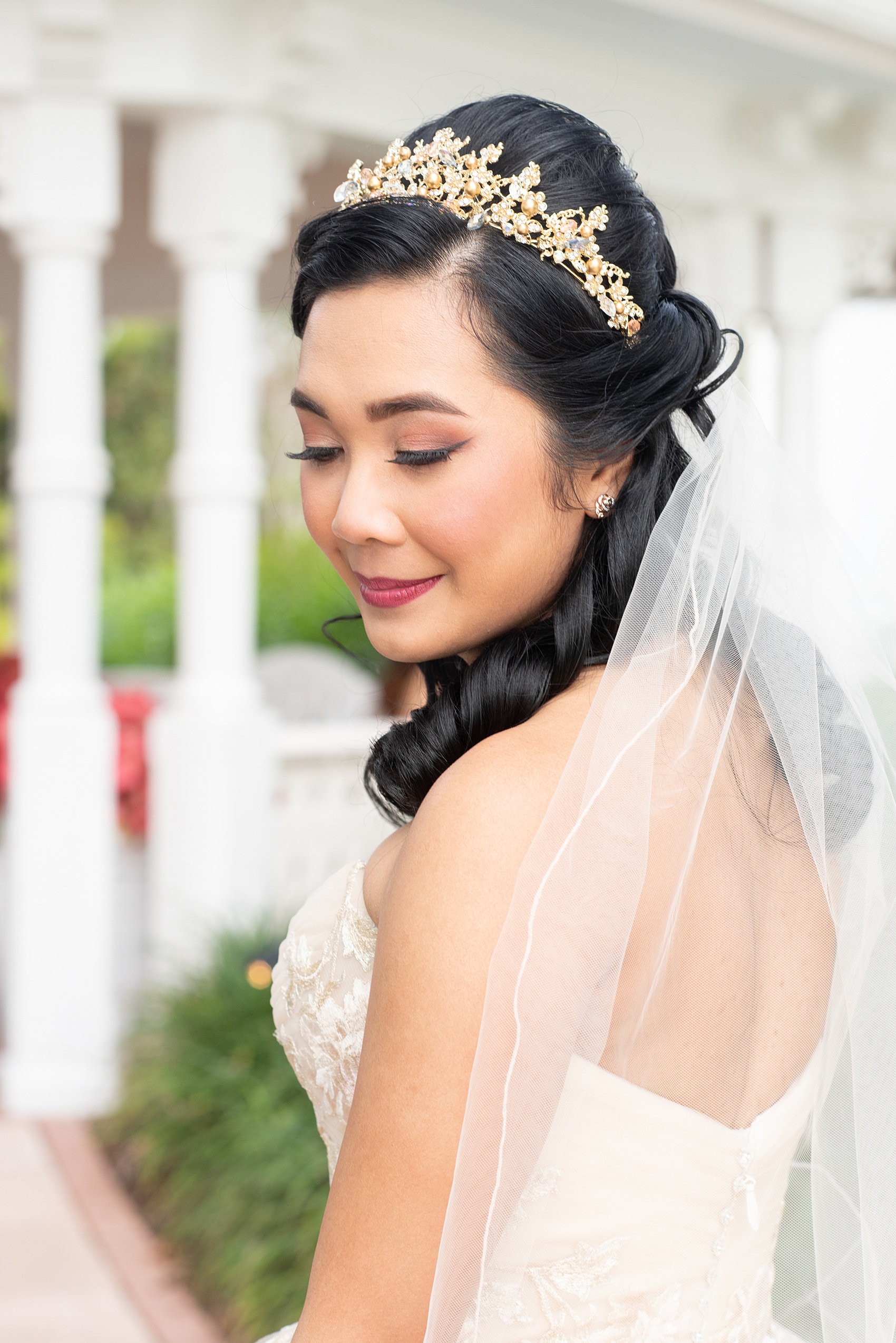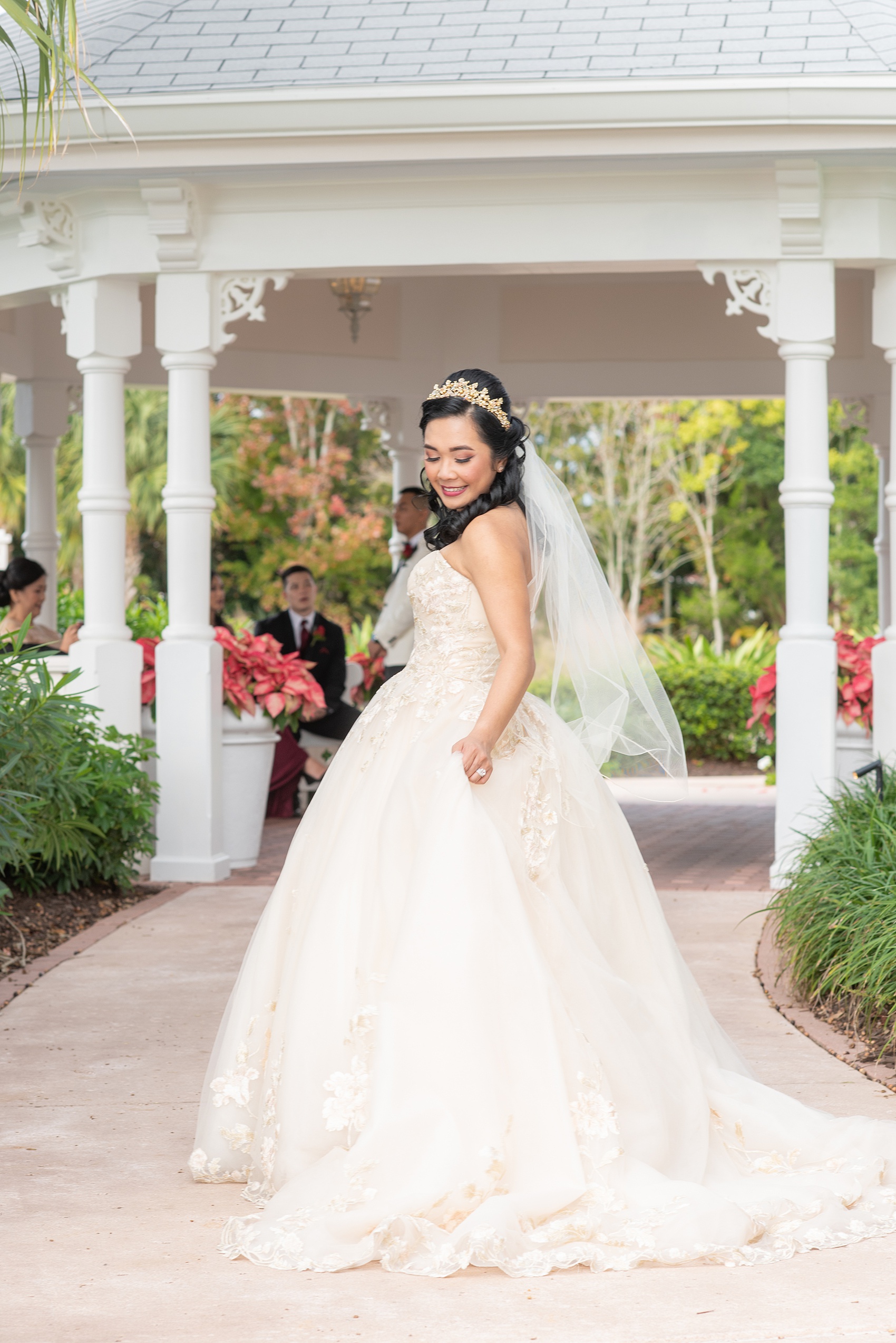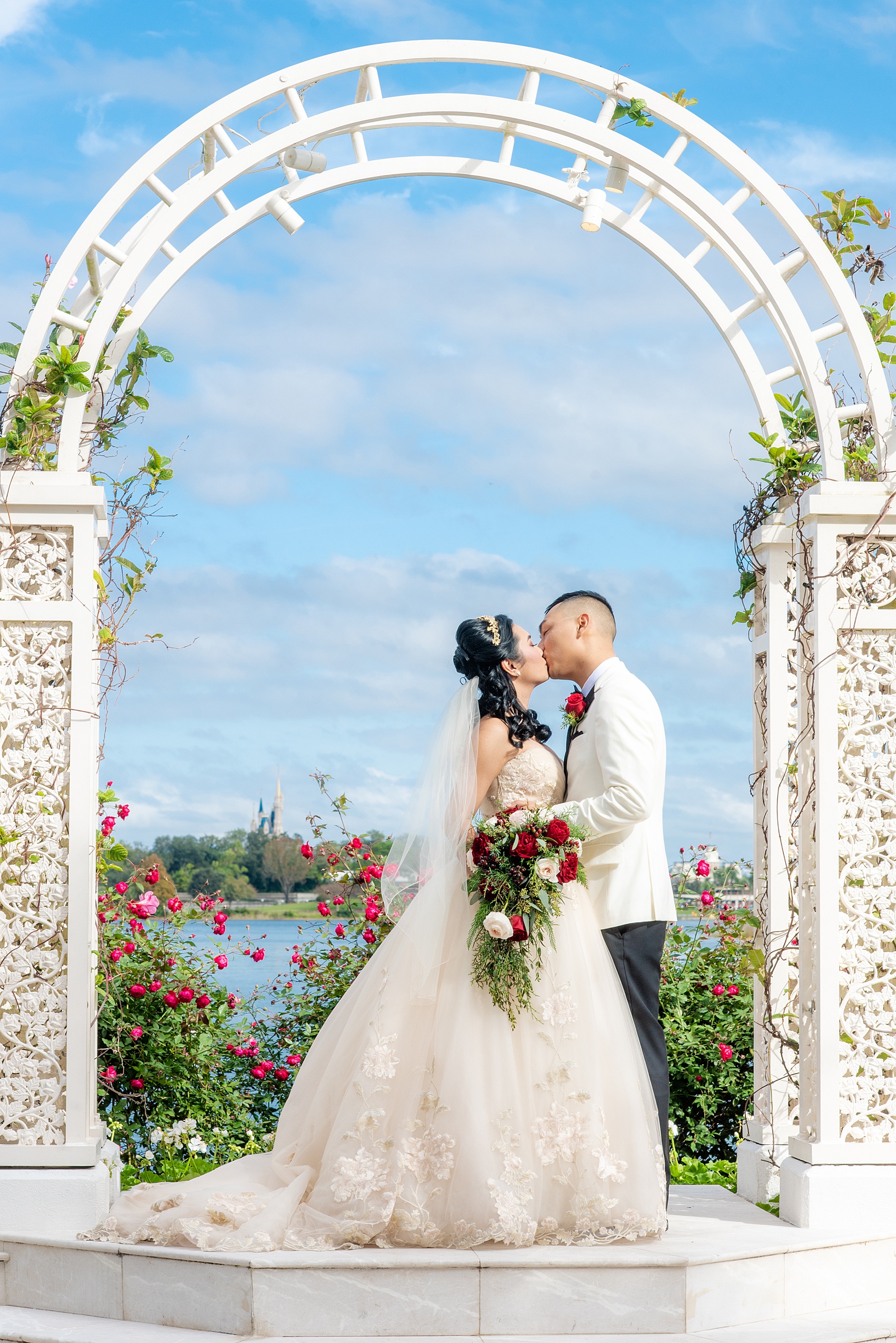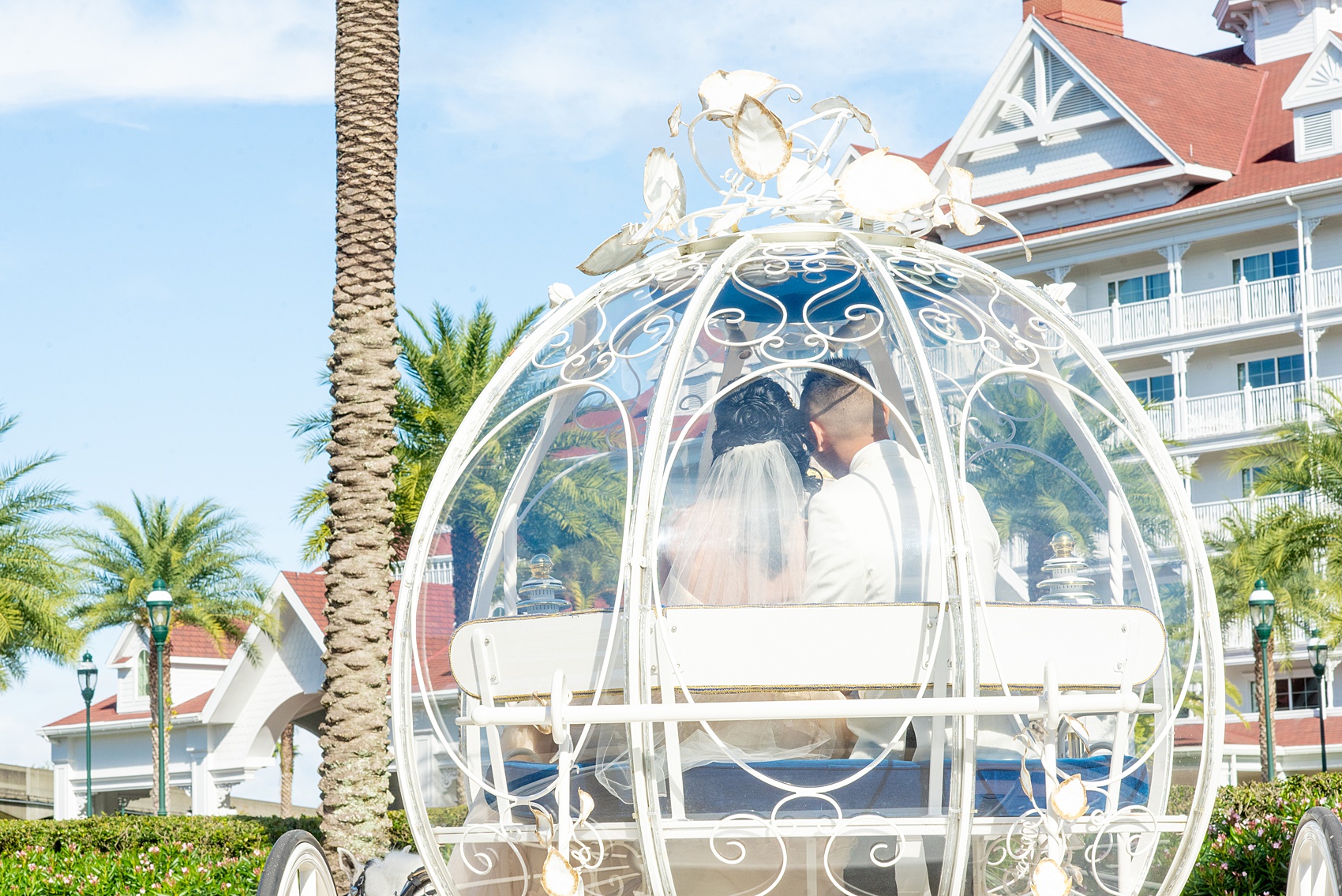 A beautiful celebration was awaiting just around the monorail over at Disney's Contemporary Resort. The California Grill was set with Beauty and the Beast inspired centerpieces and details. Red roses floated in tall cylindrical vases topped with candlelight. Pine cones and holly crowded at their bases. Each table had beautiful books set on them as well (Belle loved to read!) and a "chapter" number for the table number.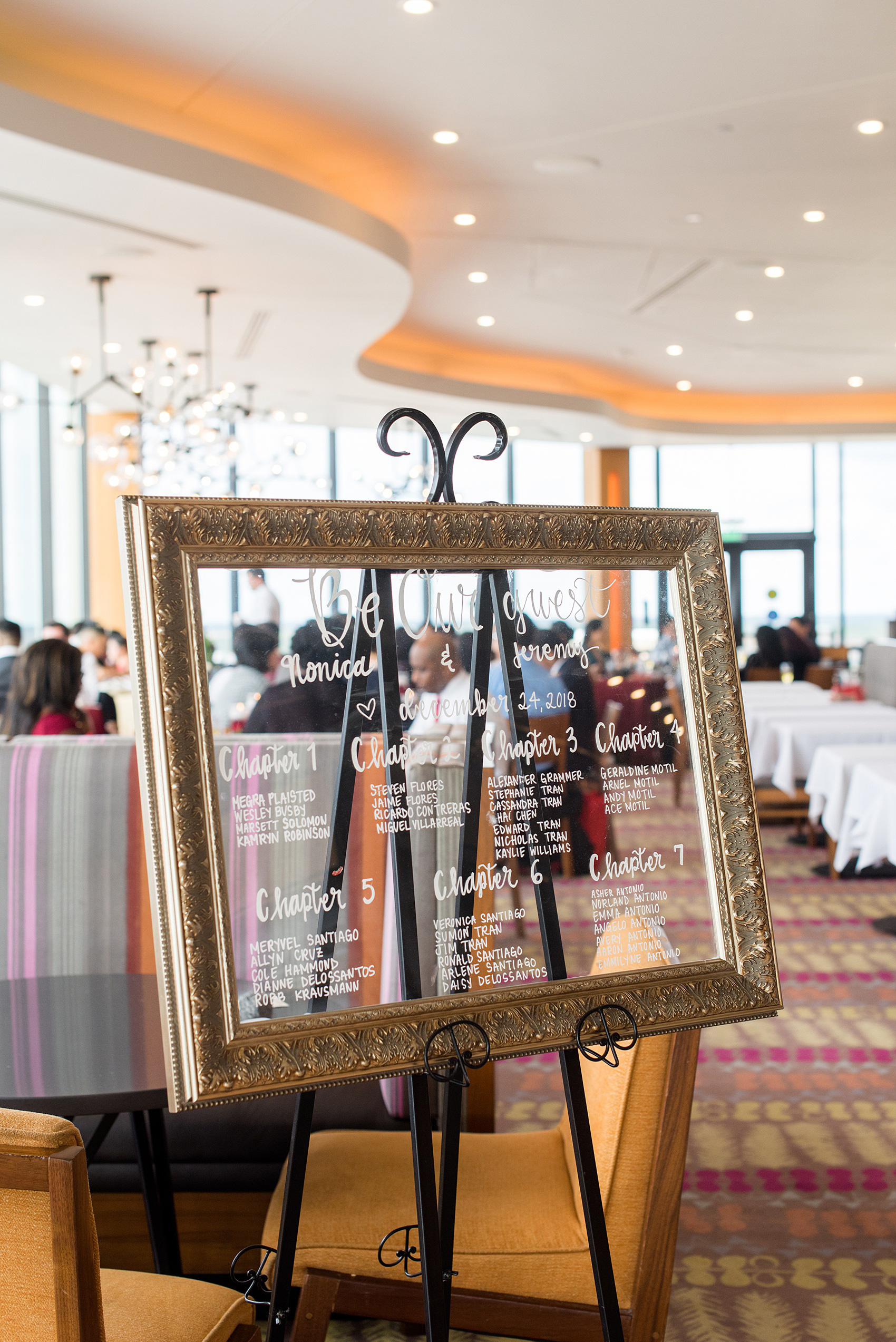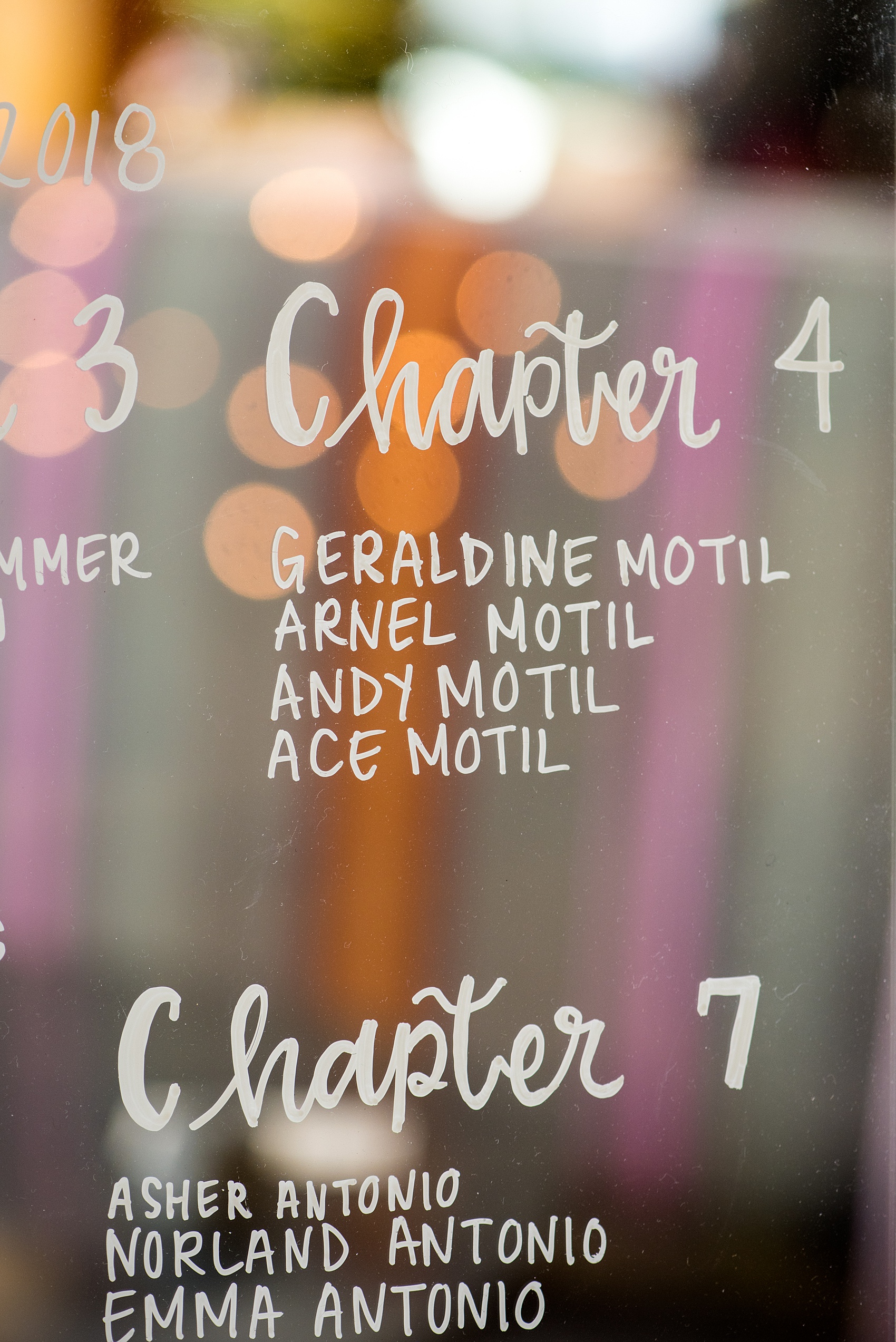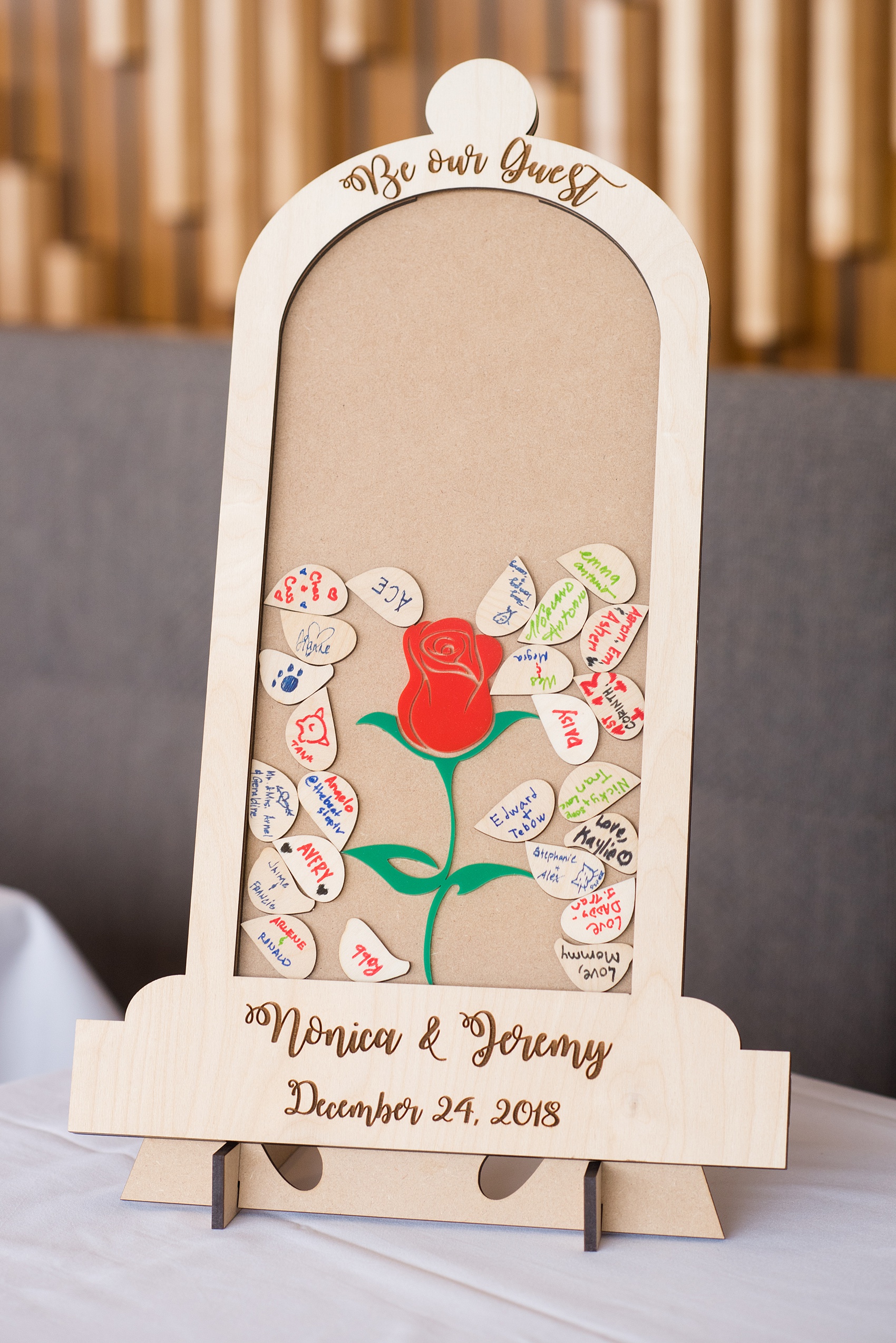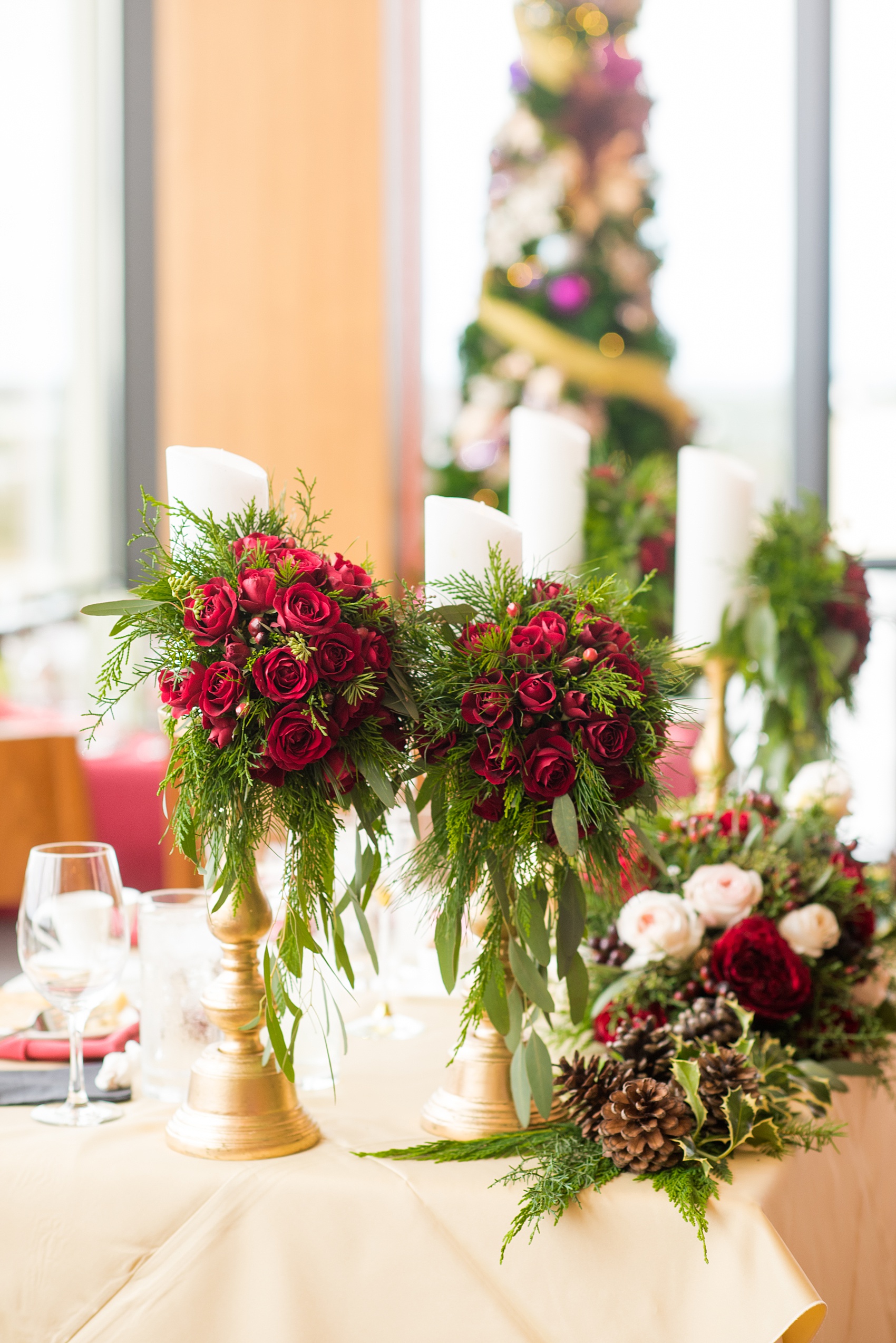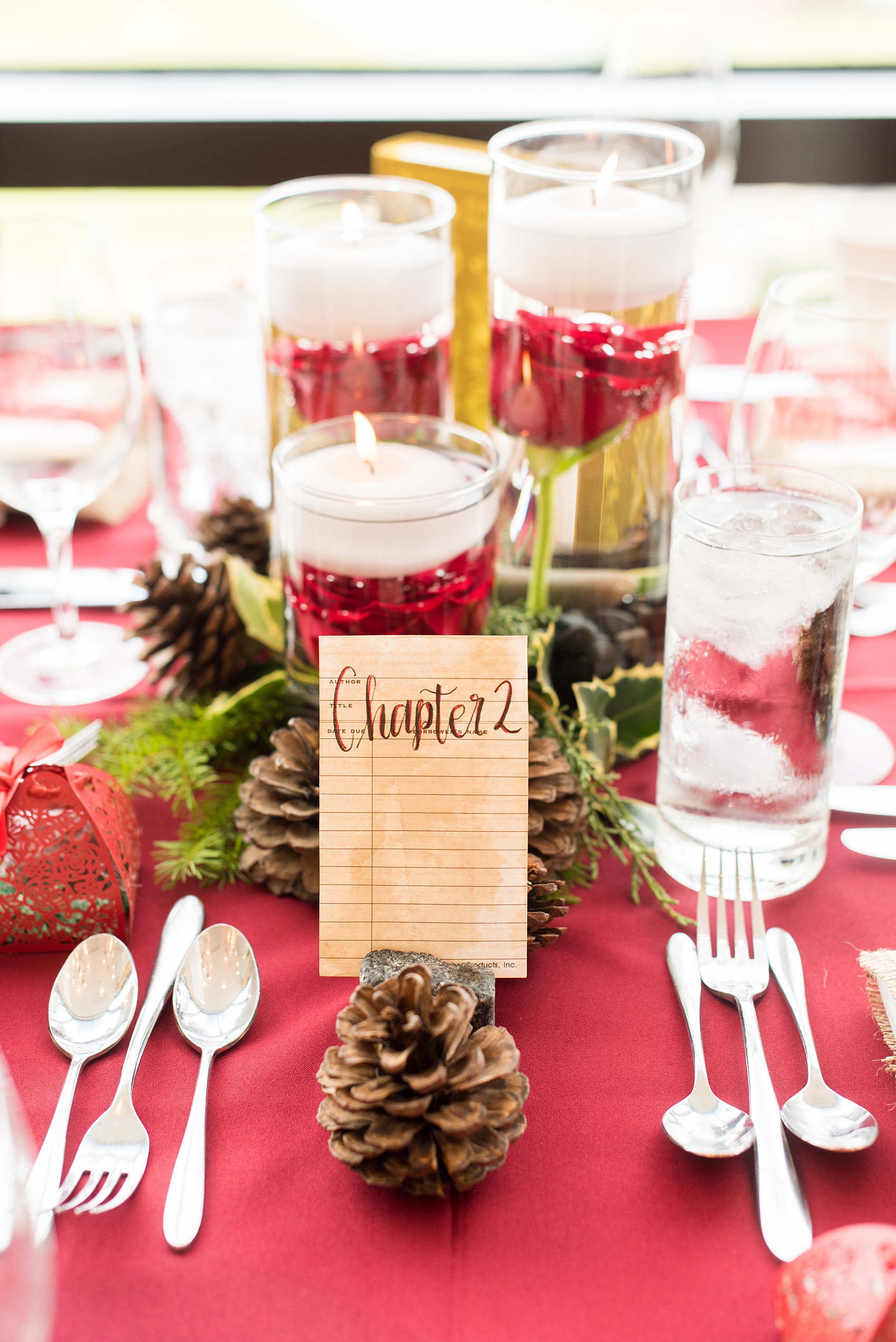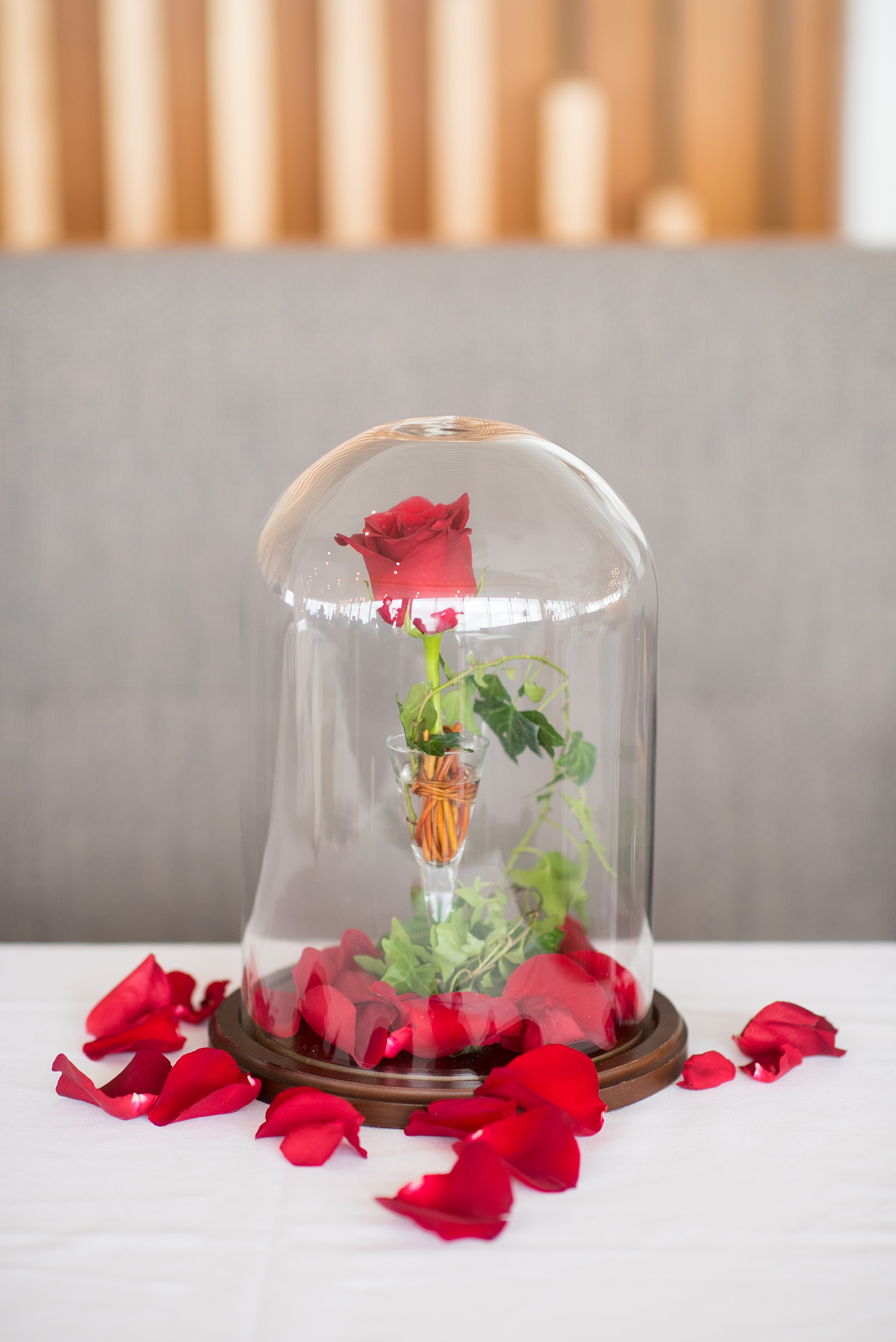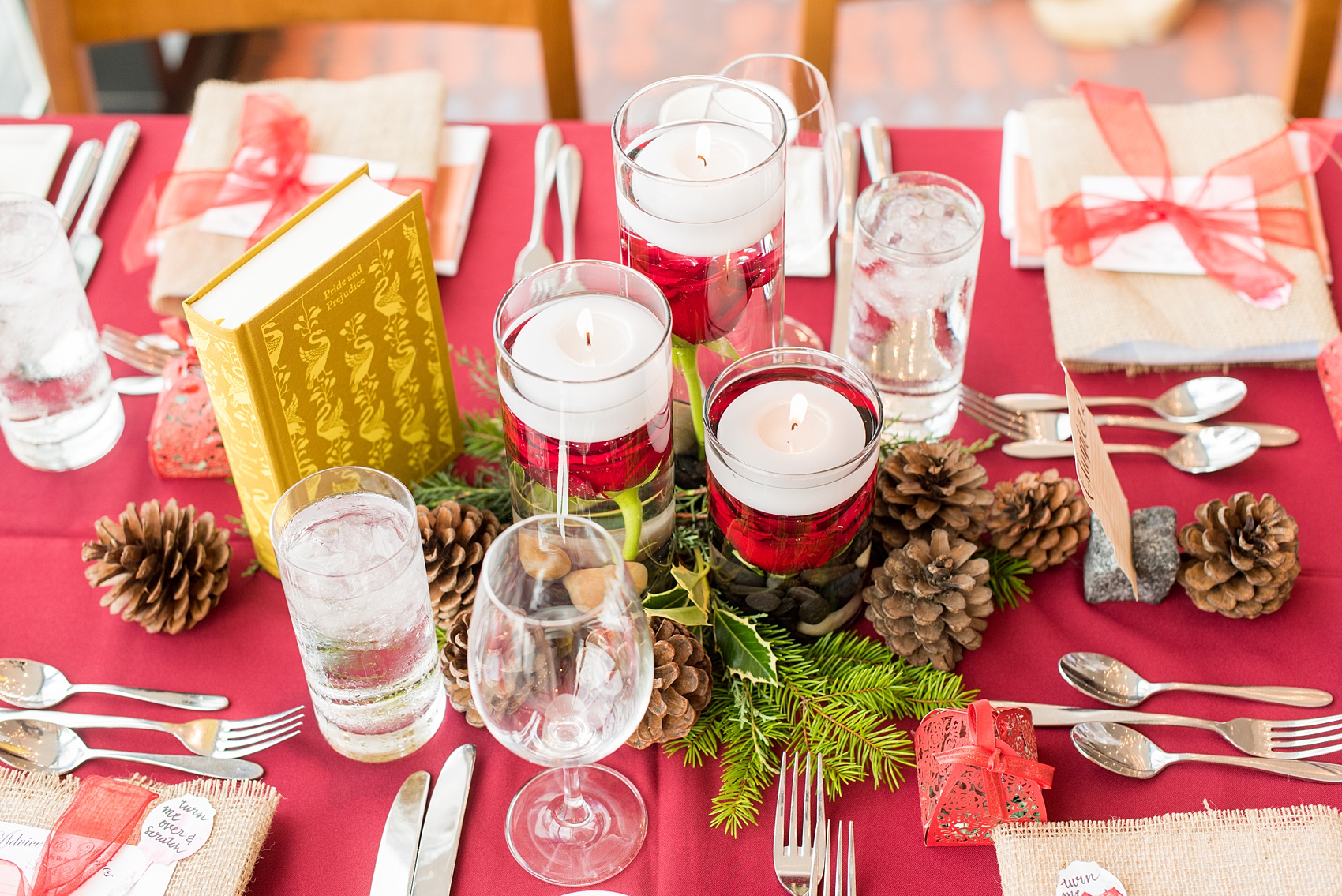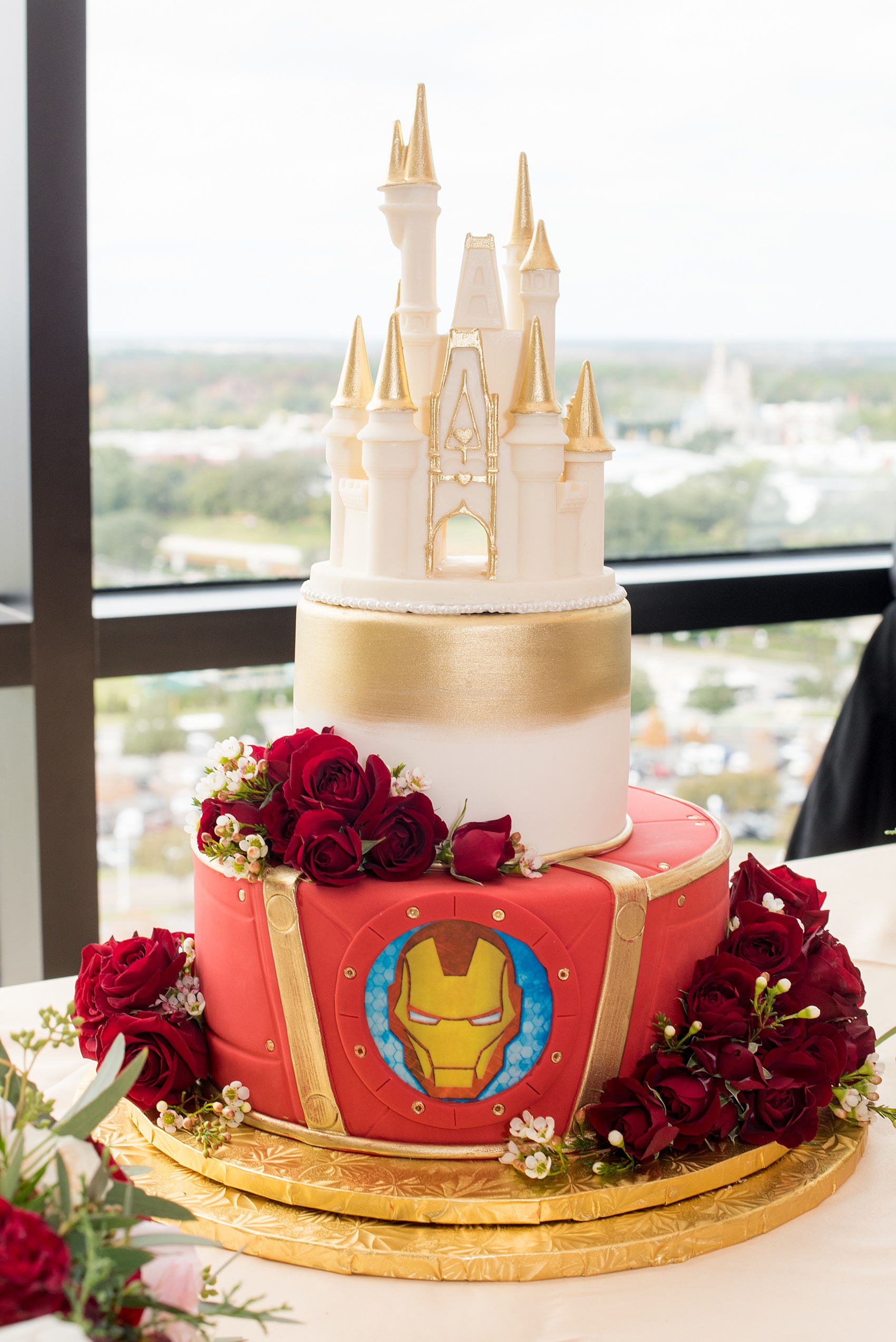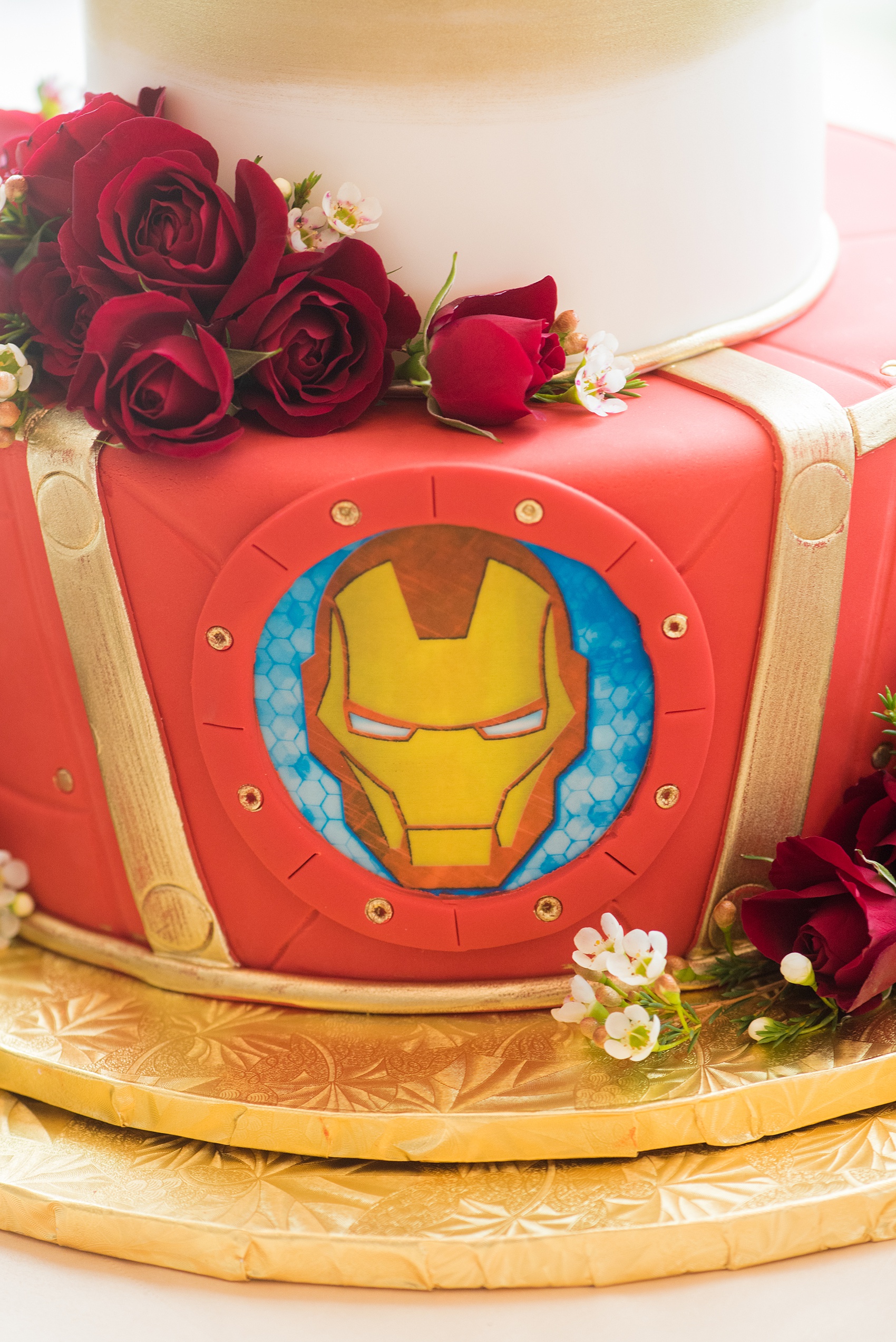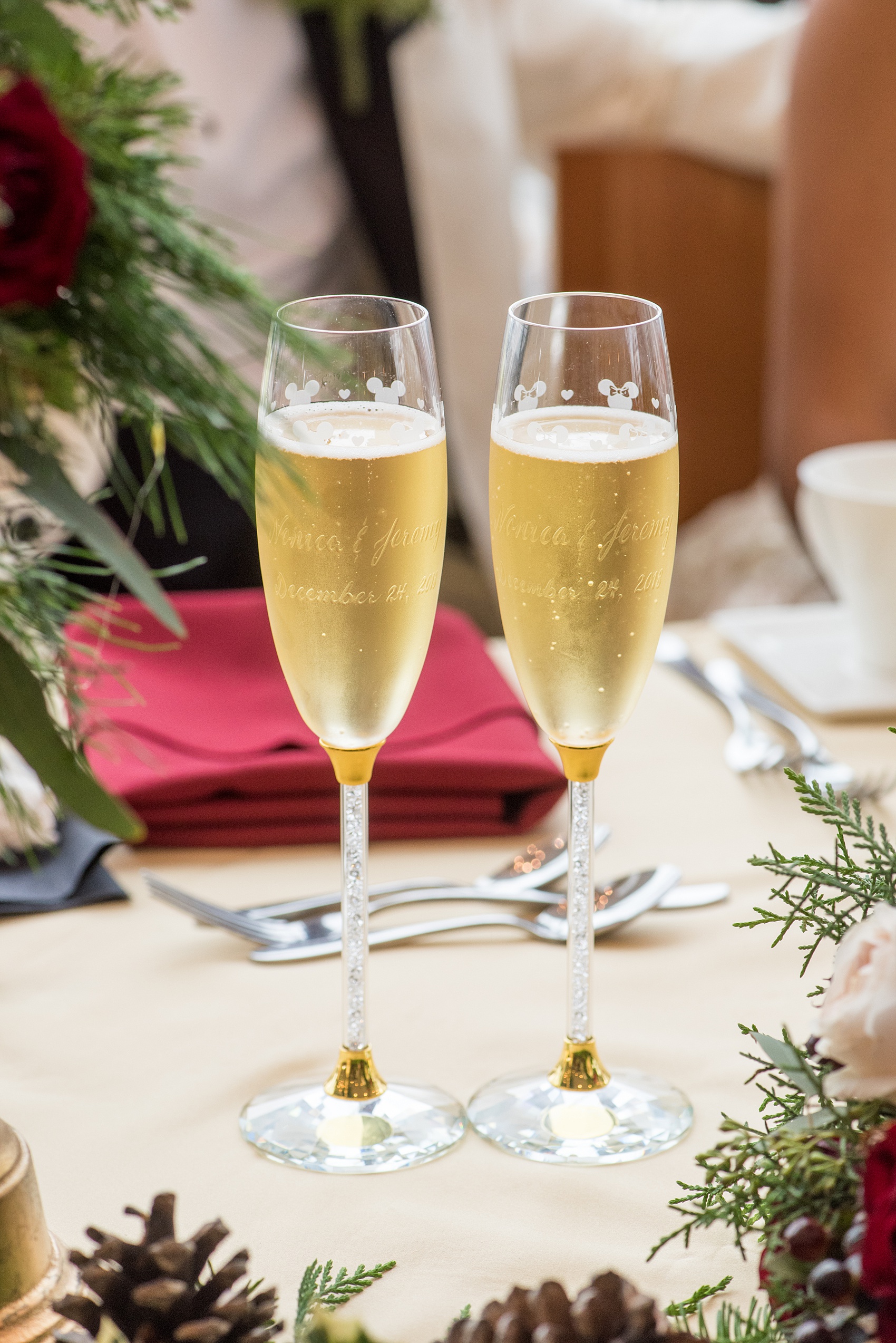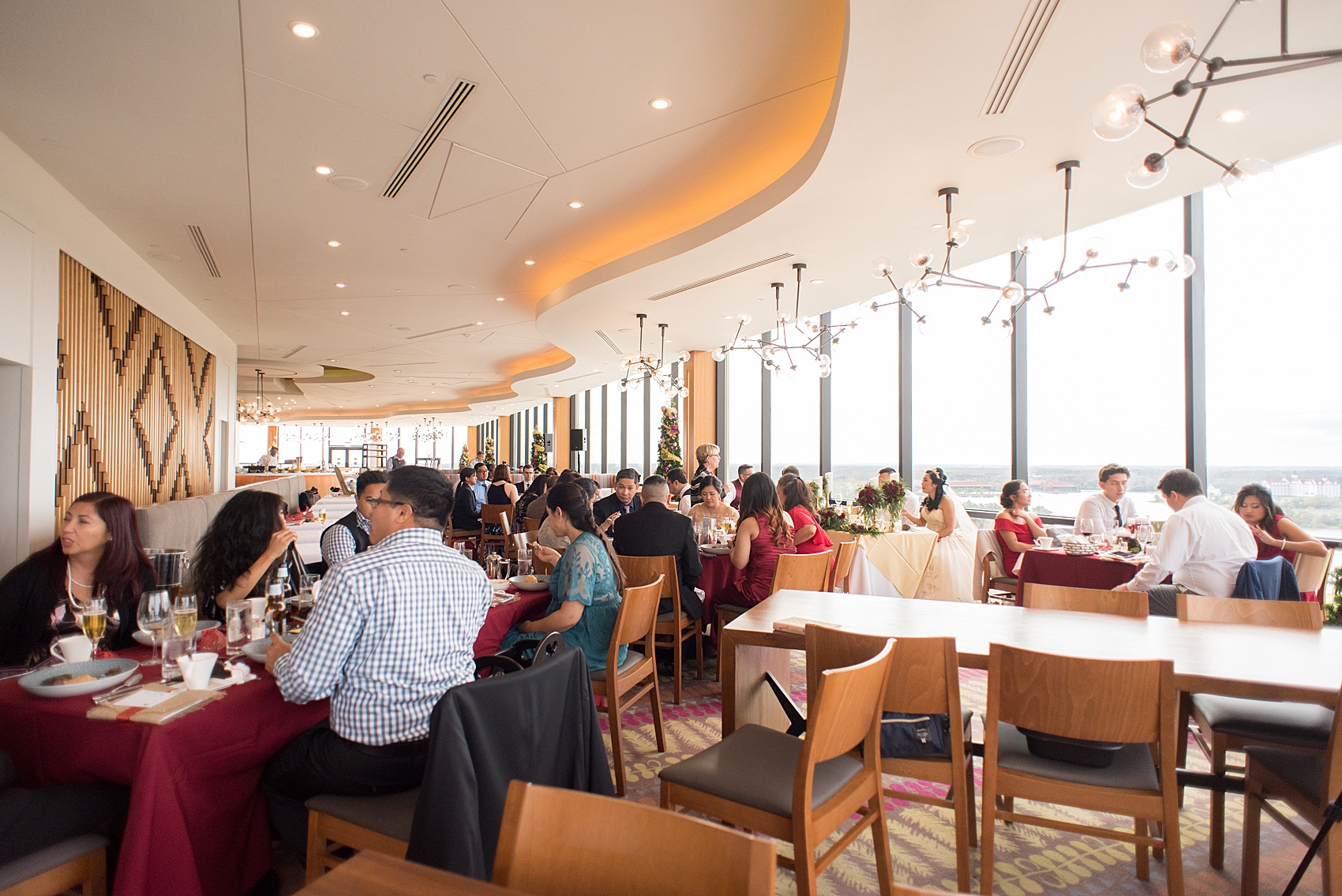 Their cake was really incredible. It had a red-fondant covered base with a Marvel emblem in the front and a gold hidden Mickey was secretly hiding in the back. A white chocolate Cinderella Castle sat on top of a gold brush-stroke dusted white fondant layer. The view from The California Grill is breathtaking: you can see a partial aerial view of the Magic Kingdom from there. It's the ideal view for Walt Disney World wedding photos and total Disney fans!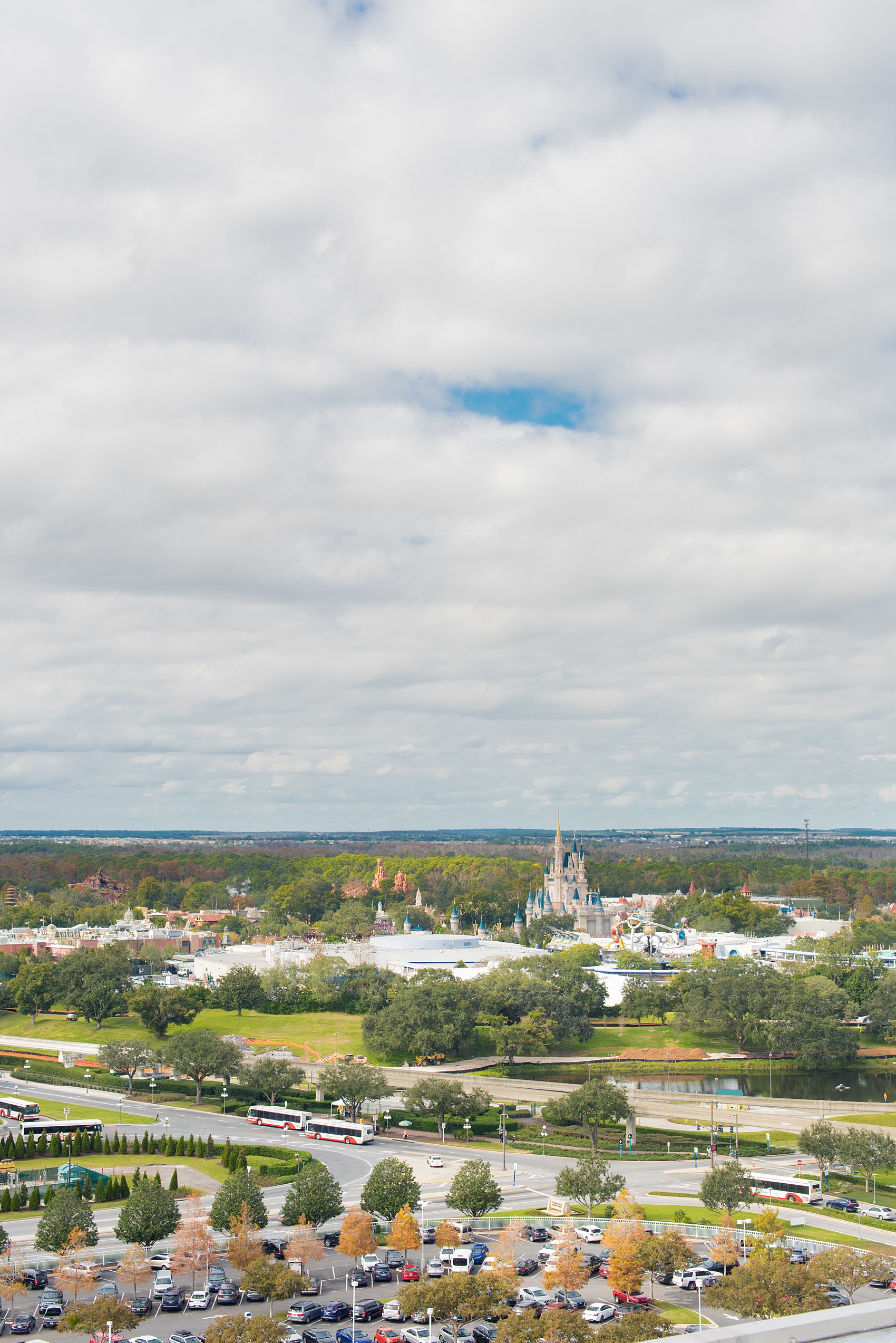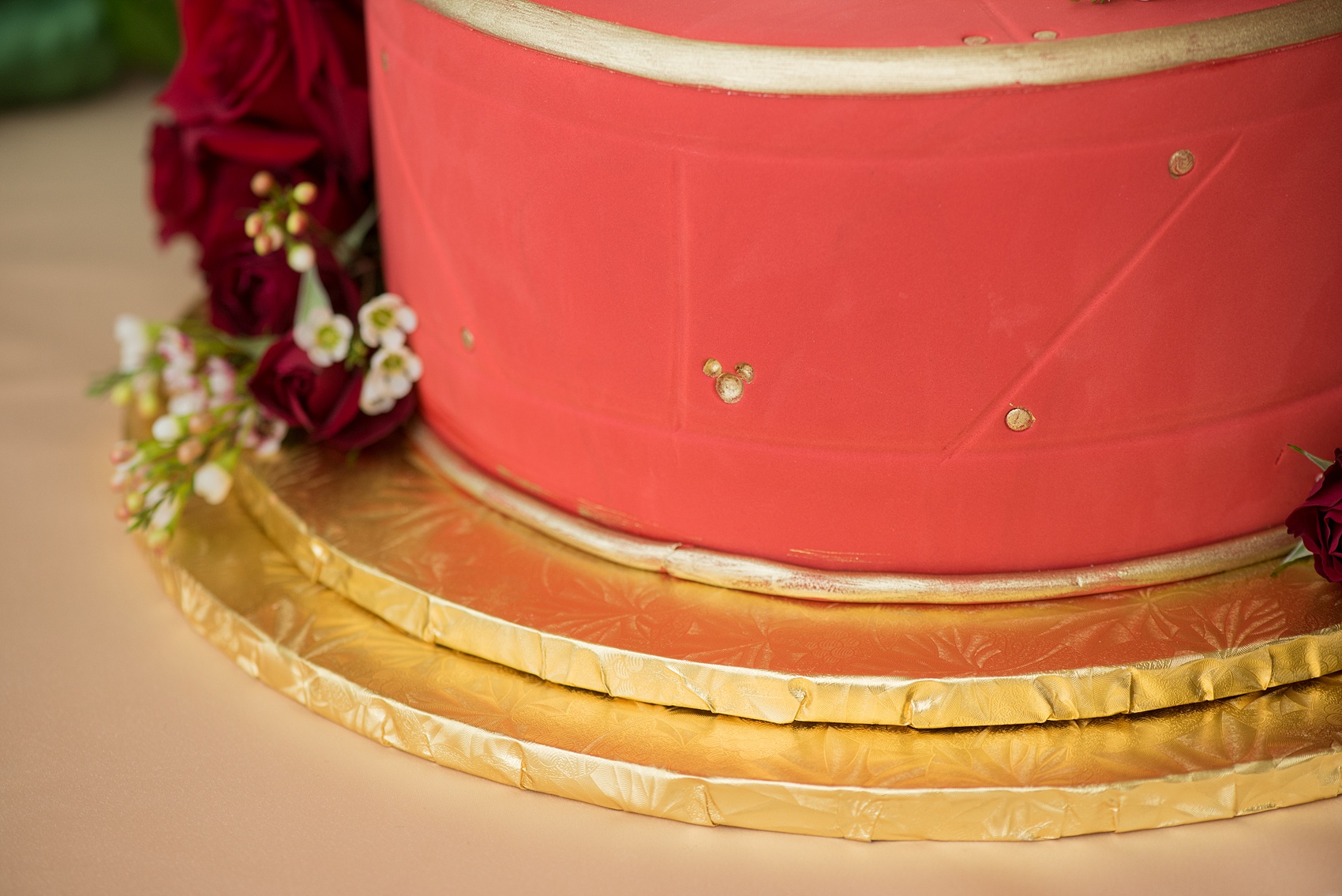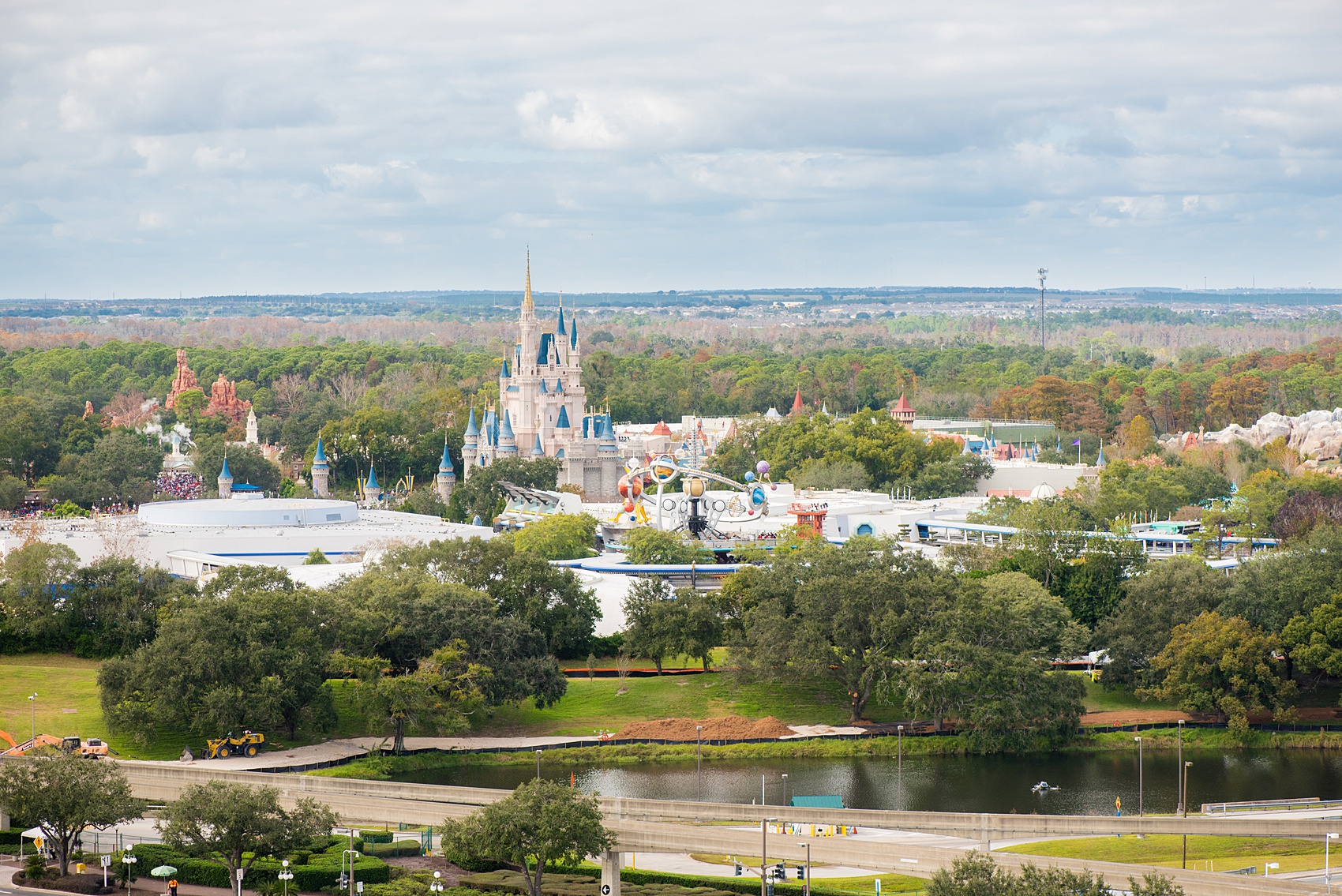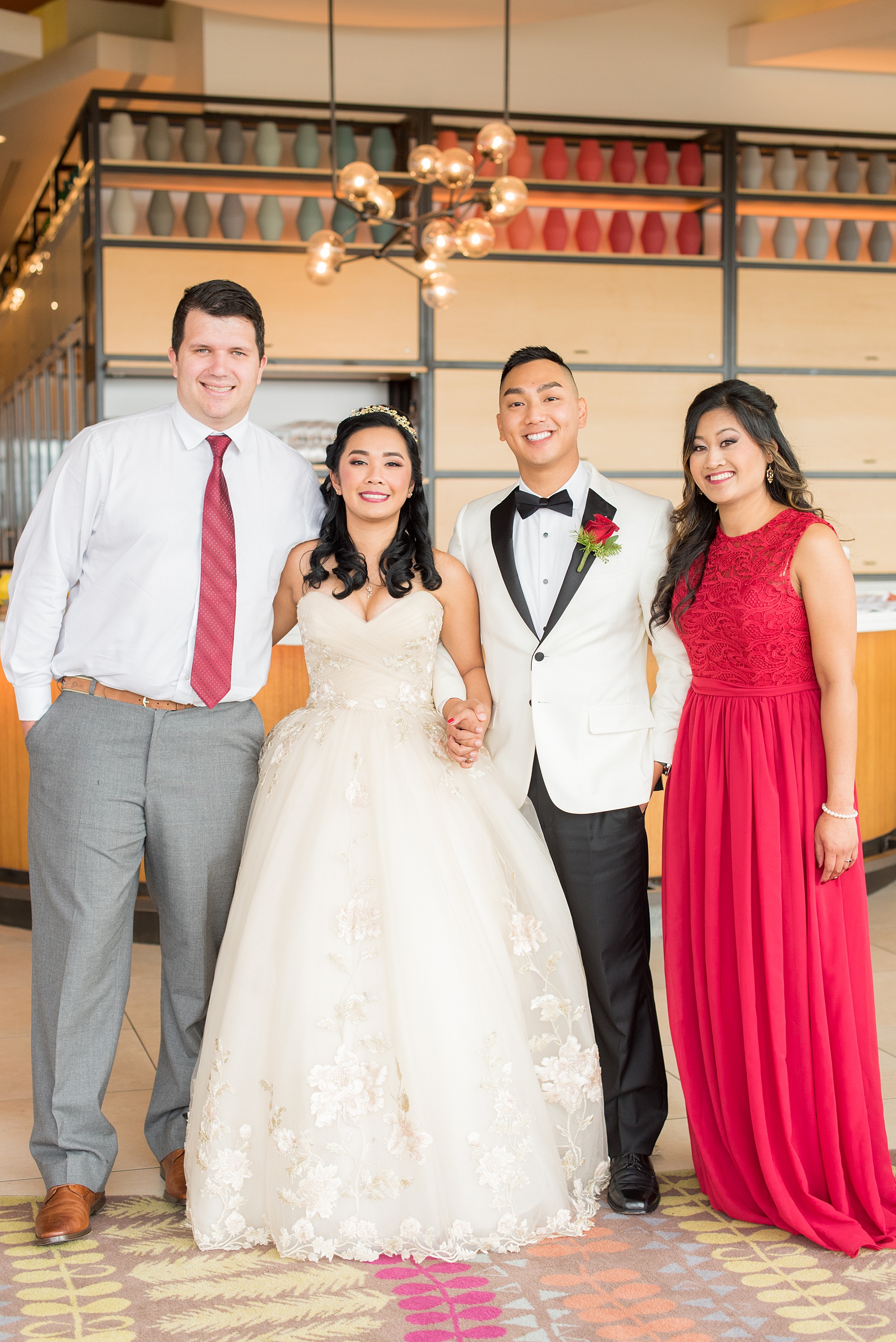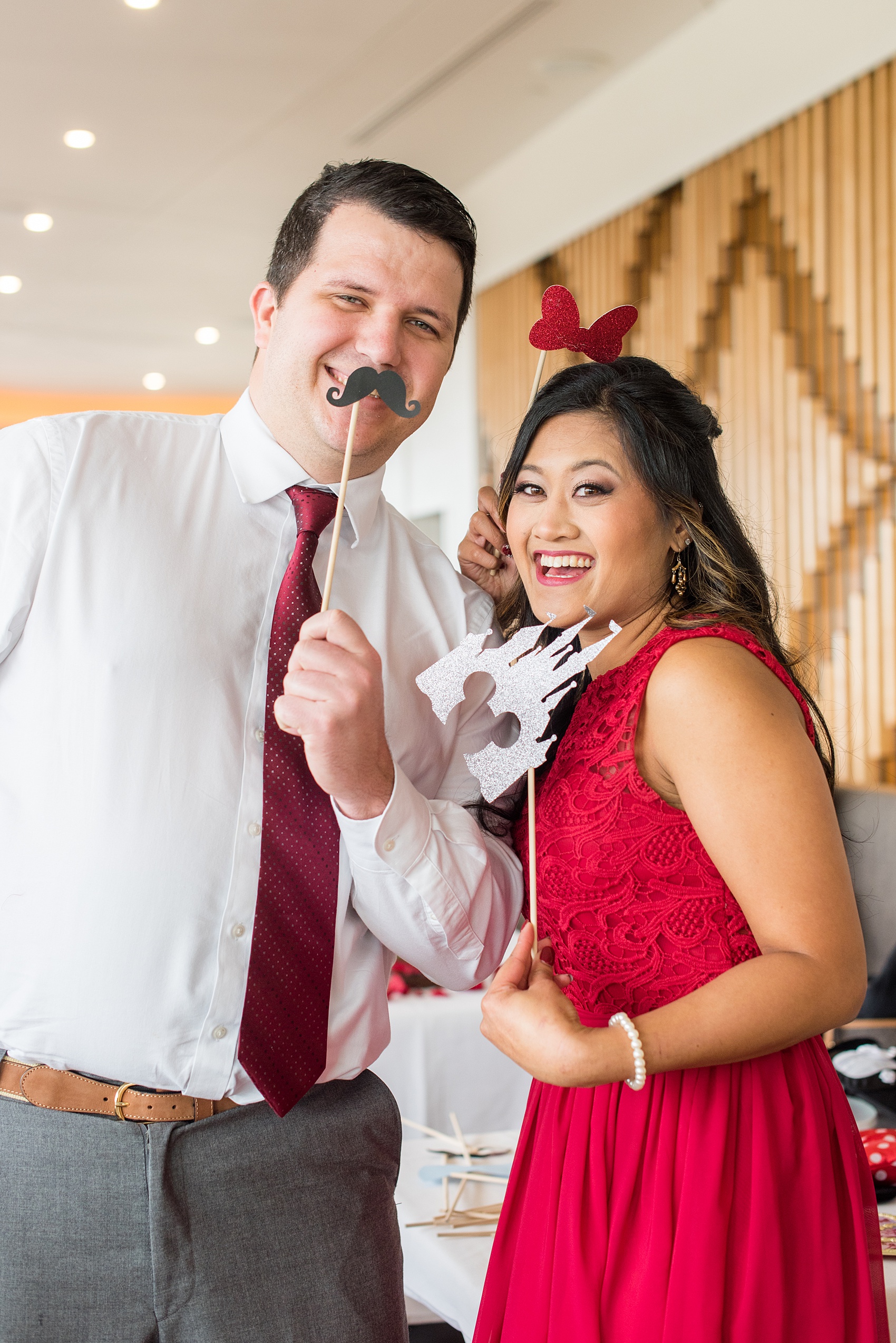 Every one of their guests was in for such a treat when Minnie Mouse and Mickey Mouse, dressed in formal wear, showed up to help the bride and groom cut their cake! It was such a huge highlight of the day for me. You can't be anything but joyful around those two cheerful characters! Look how cute the four of them are!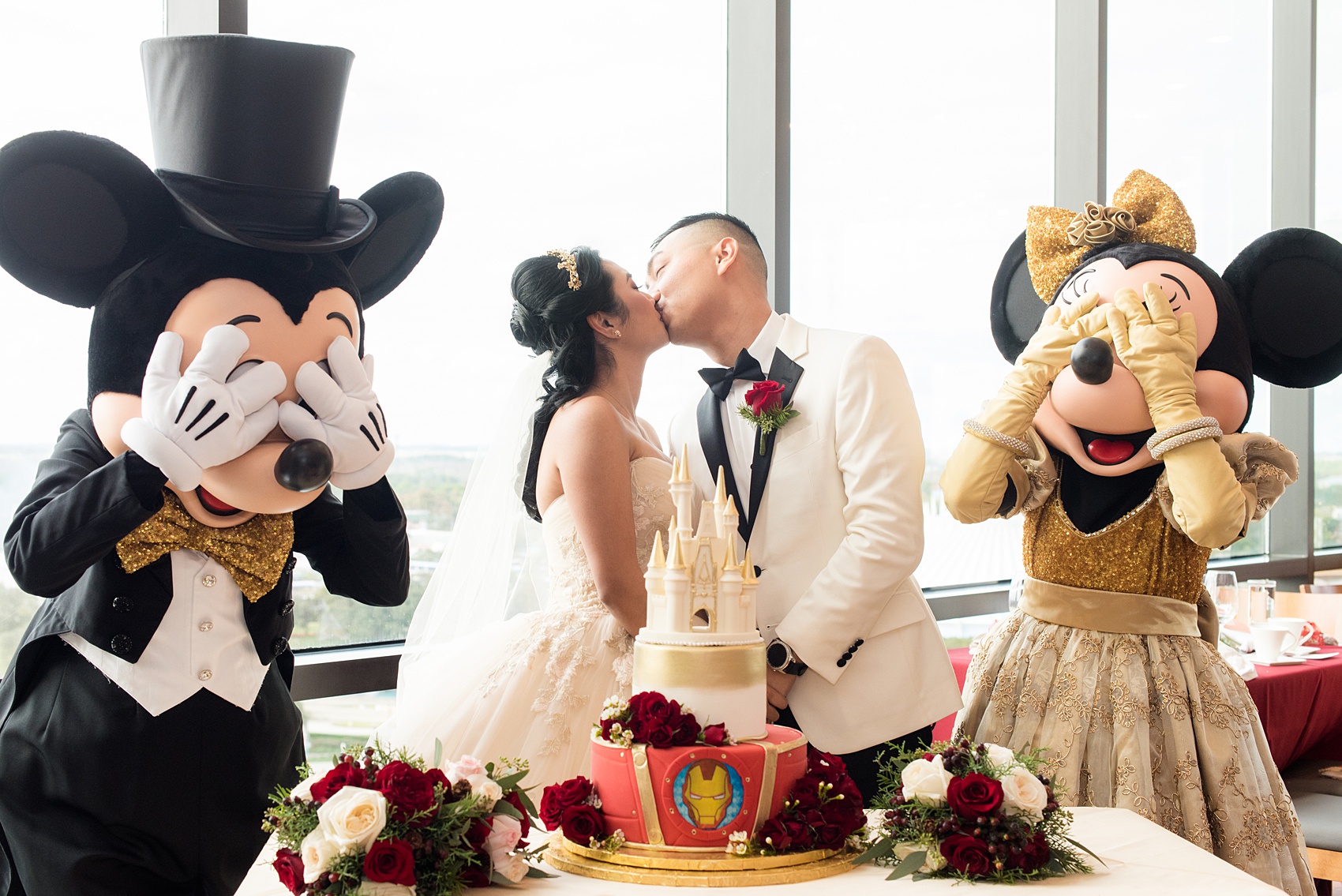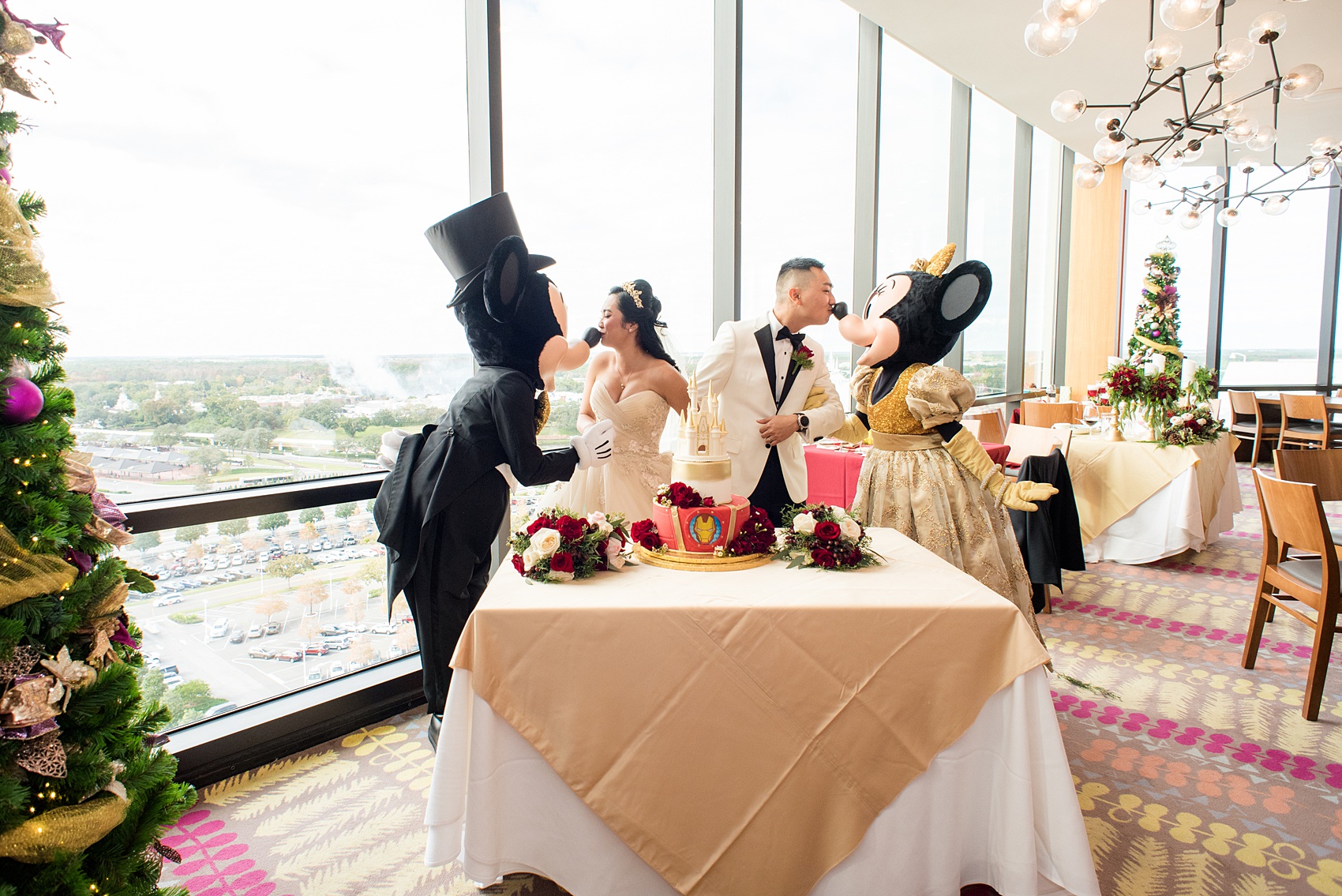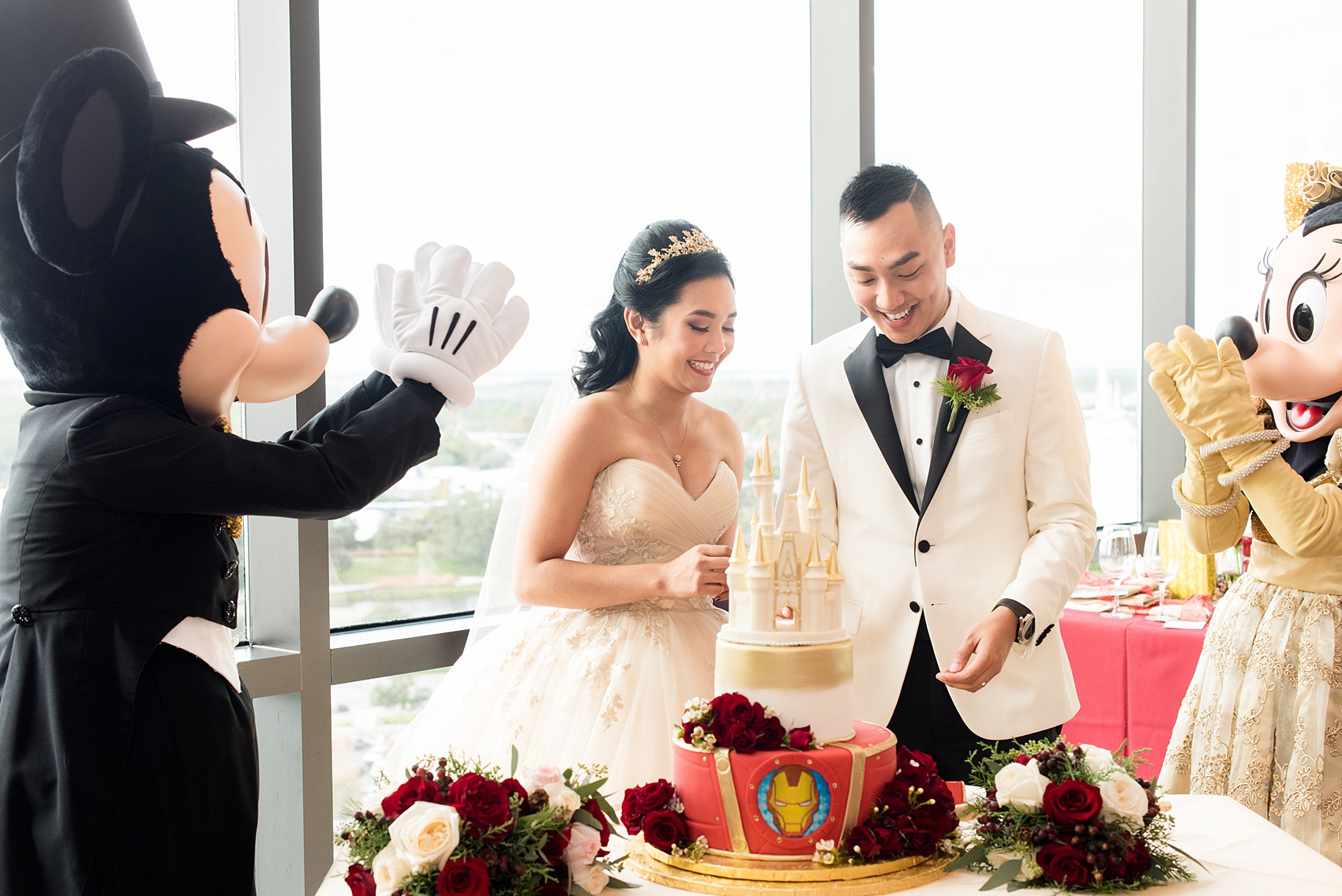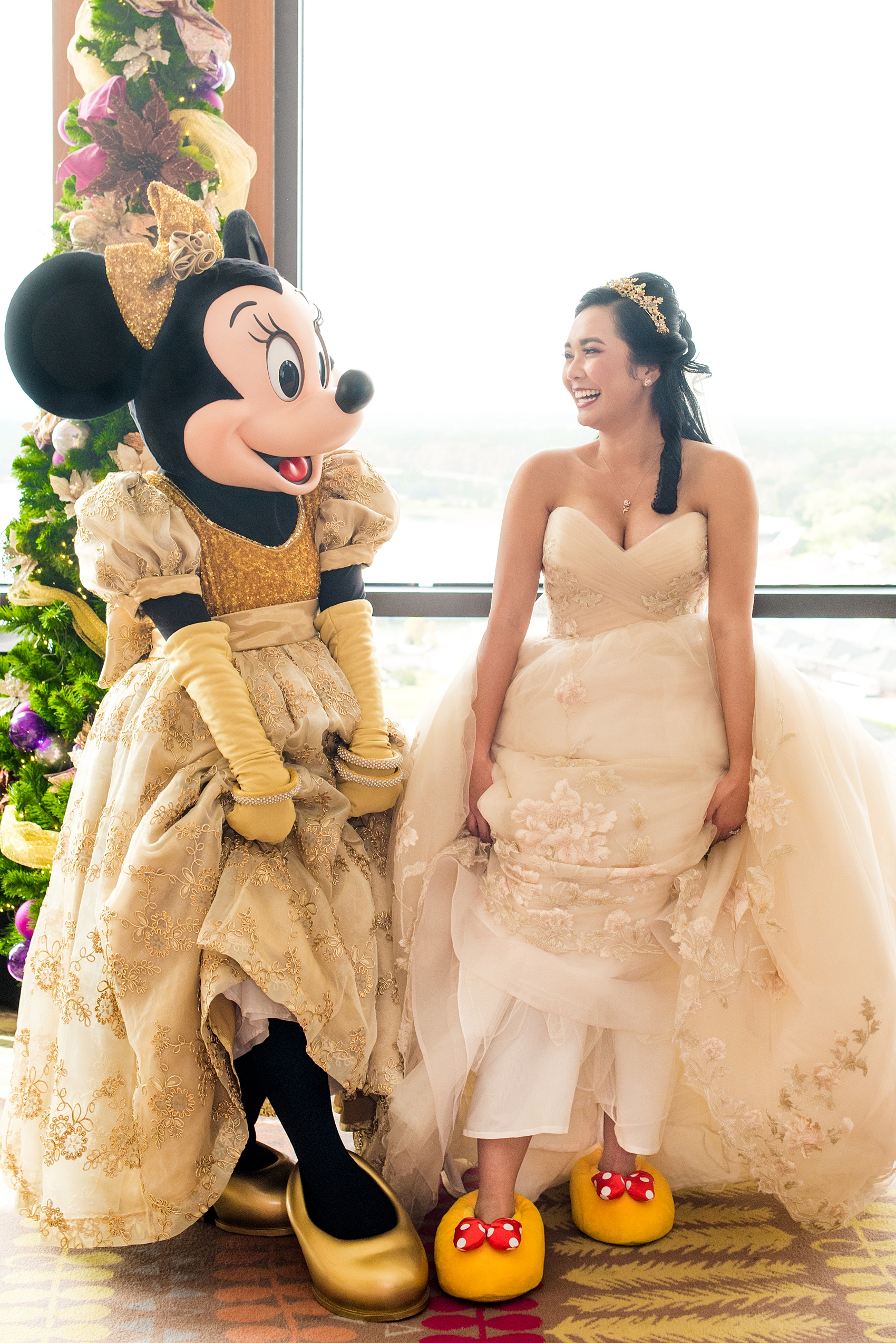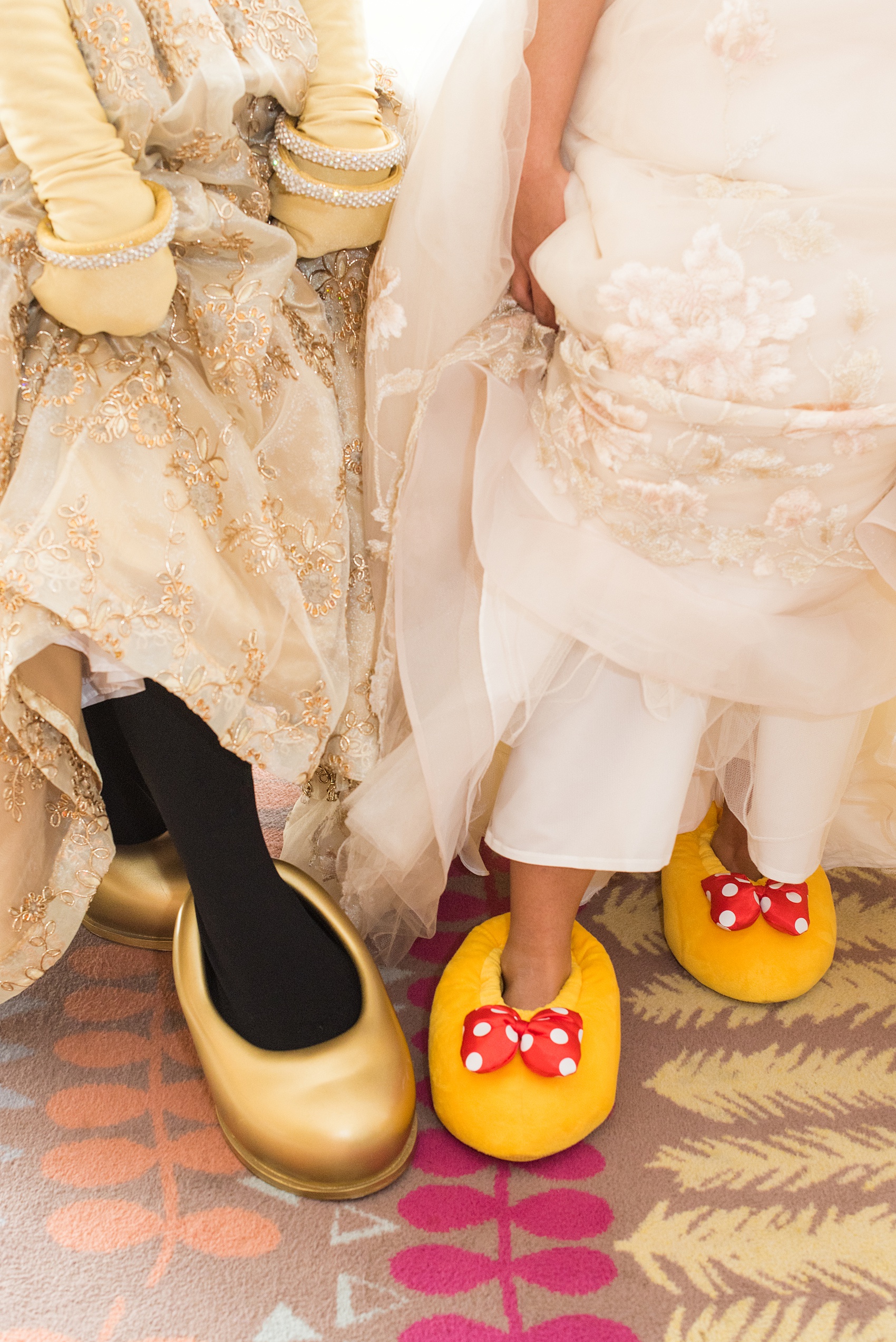 There's that shoe photo I was anxious to get. So worth it, right? And SO cute!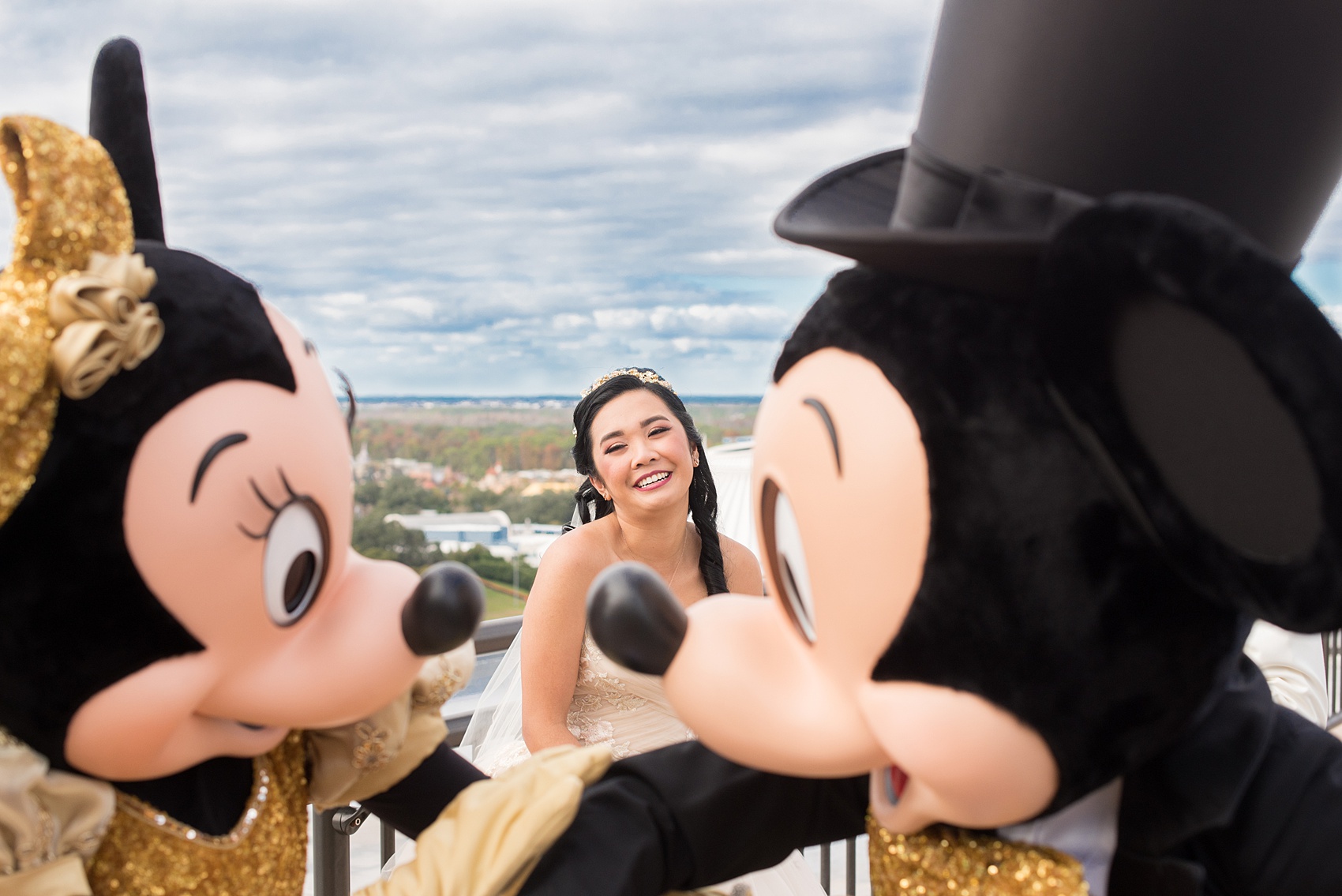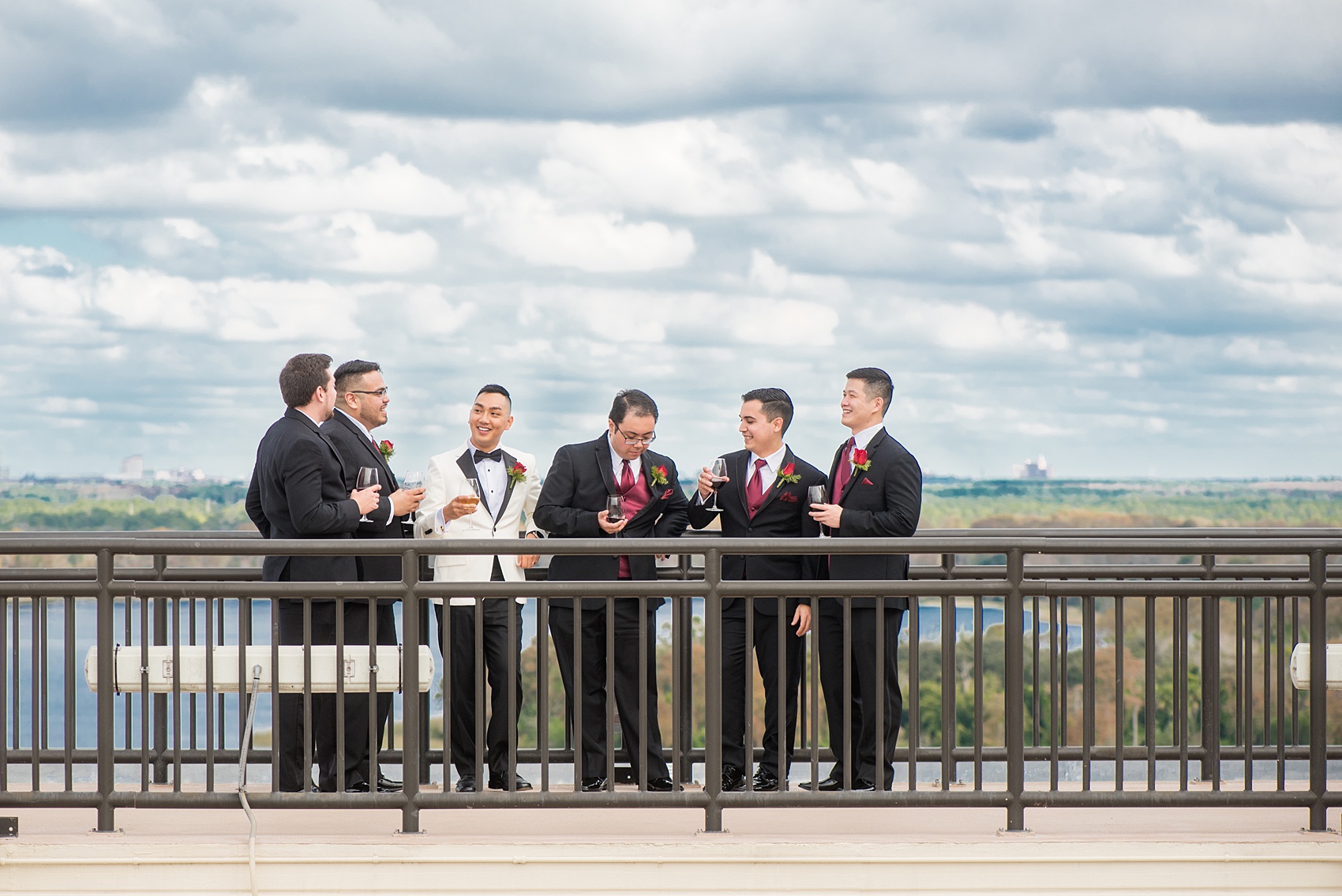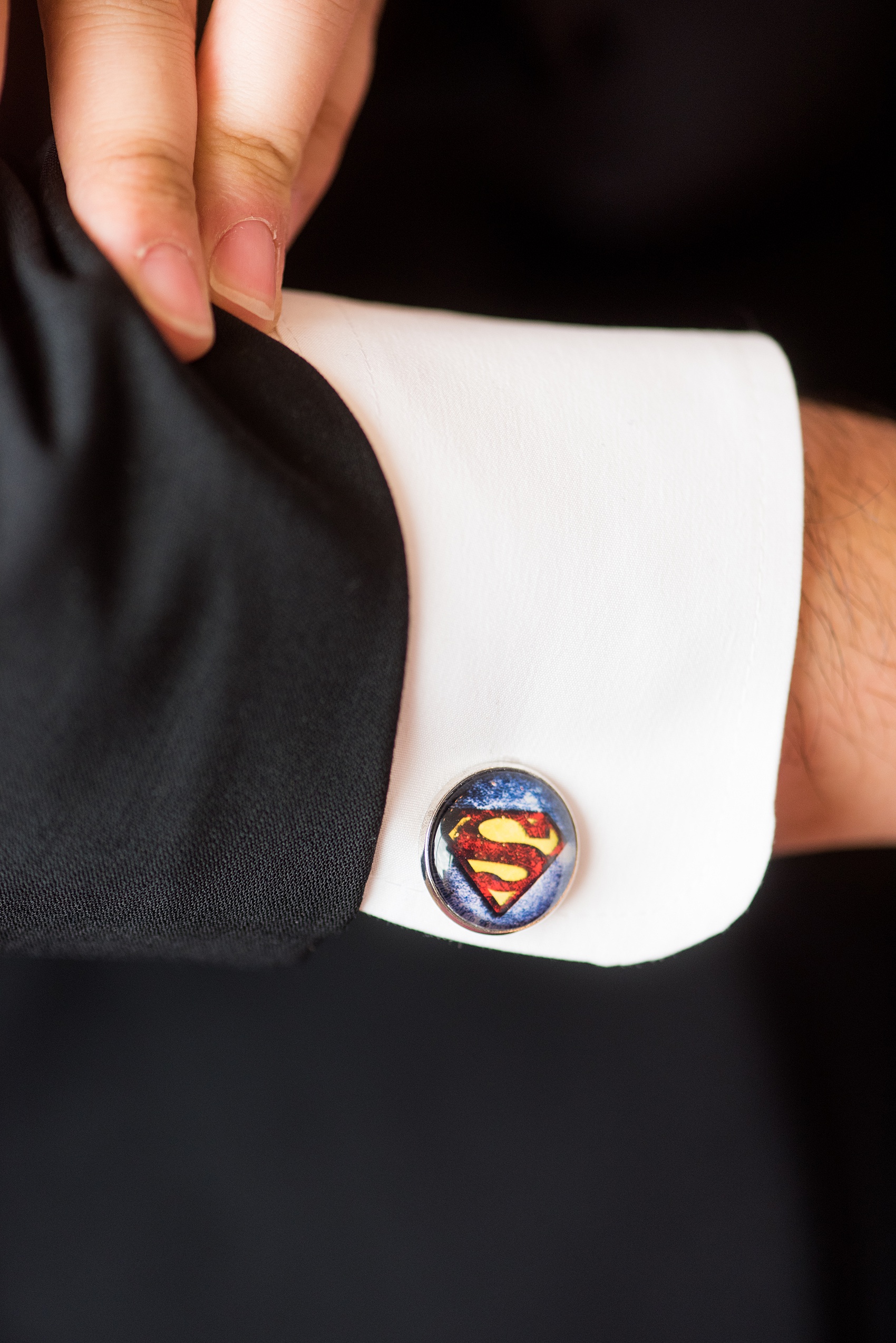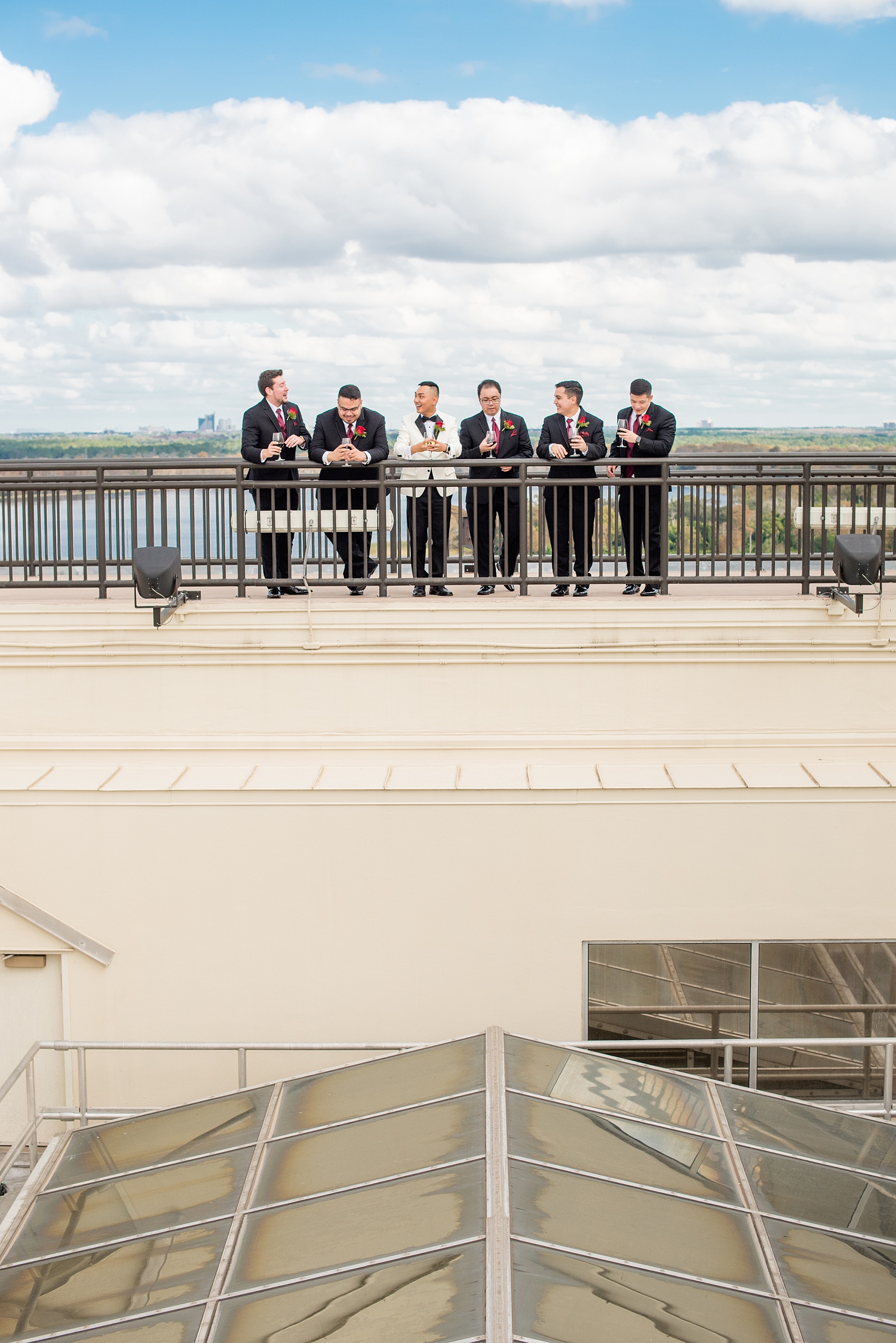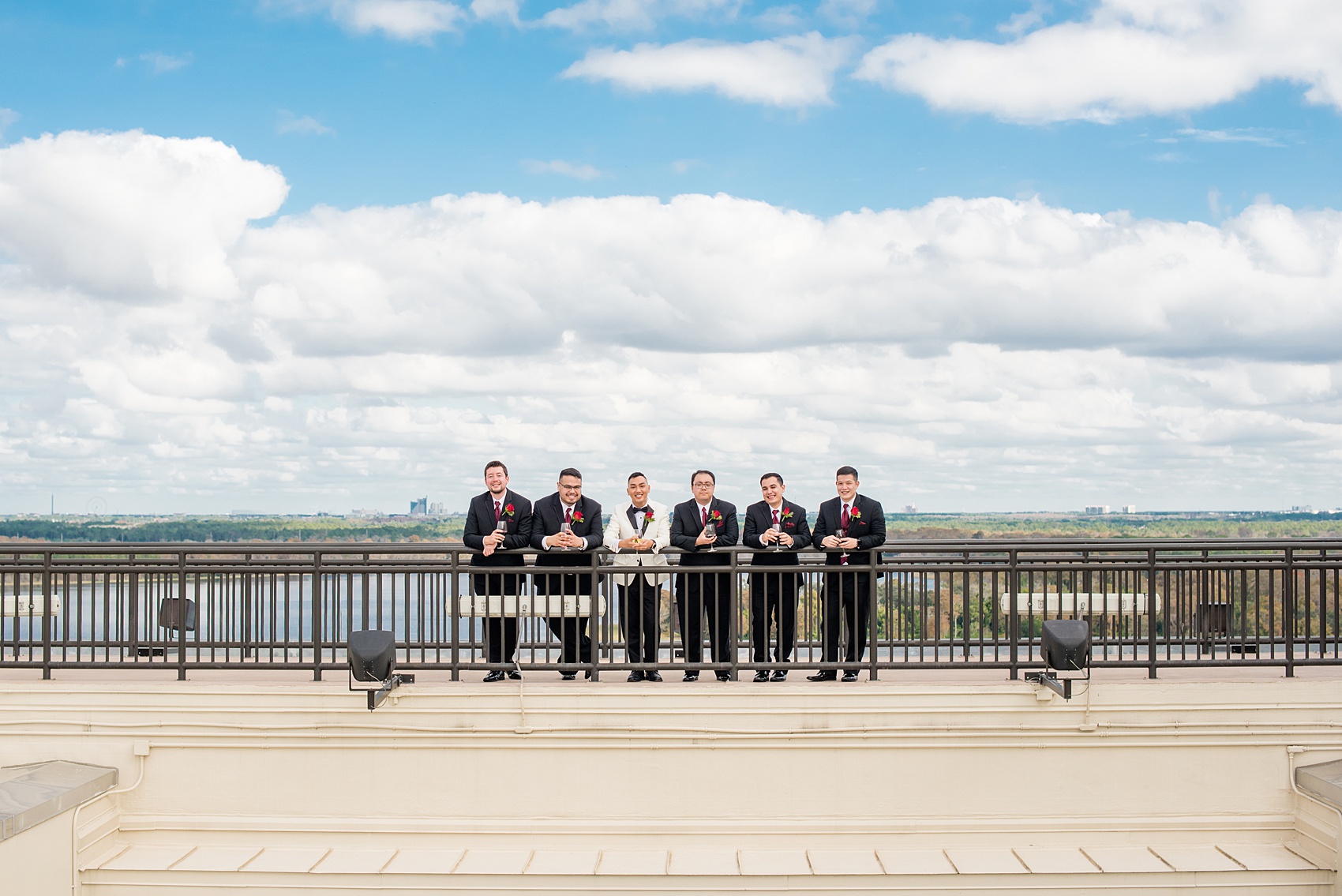 It was so pleasant outside the groomsmen all joined the Mickey Mouse and Minnie Mouse photo session from a distance to enjoy the weather and gorgeous view.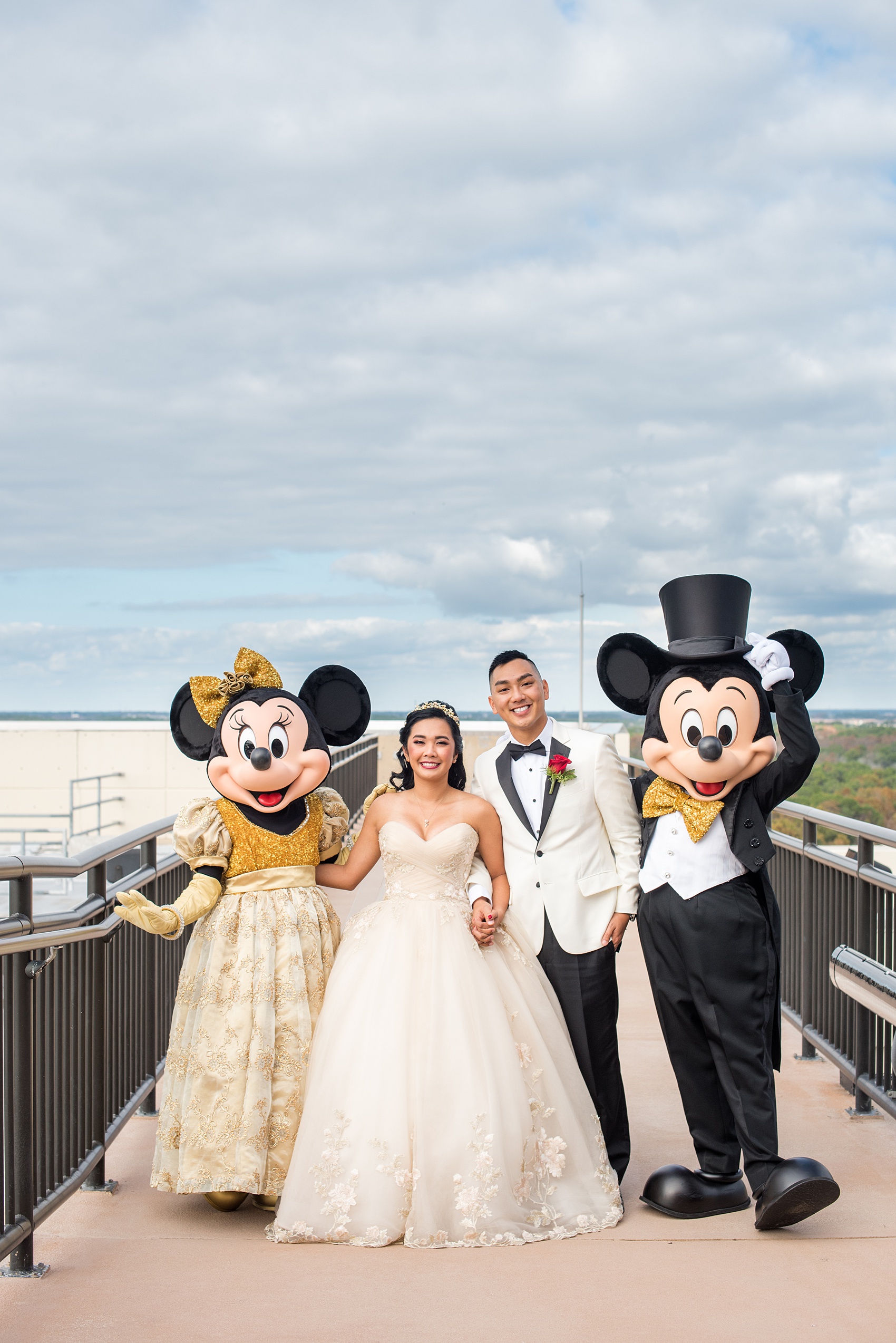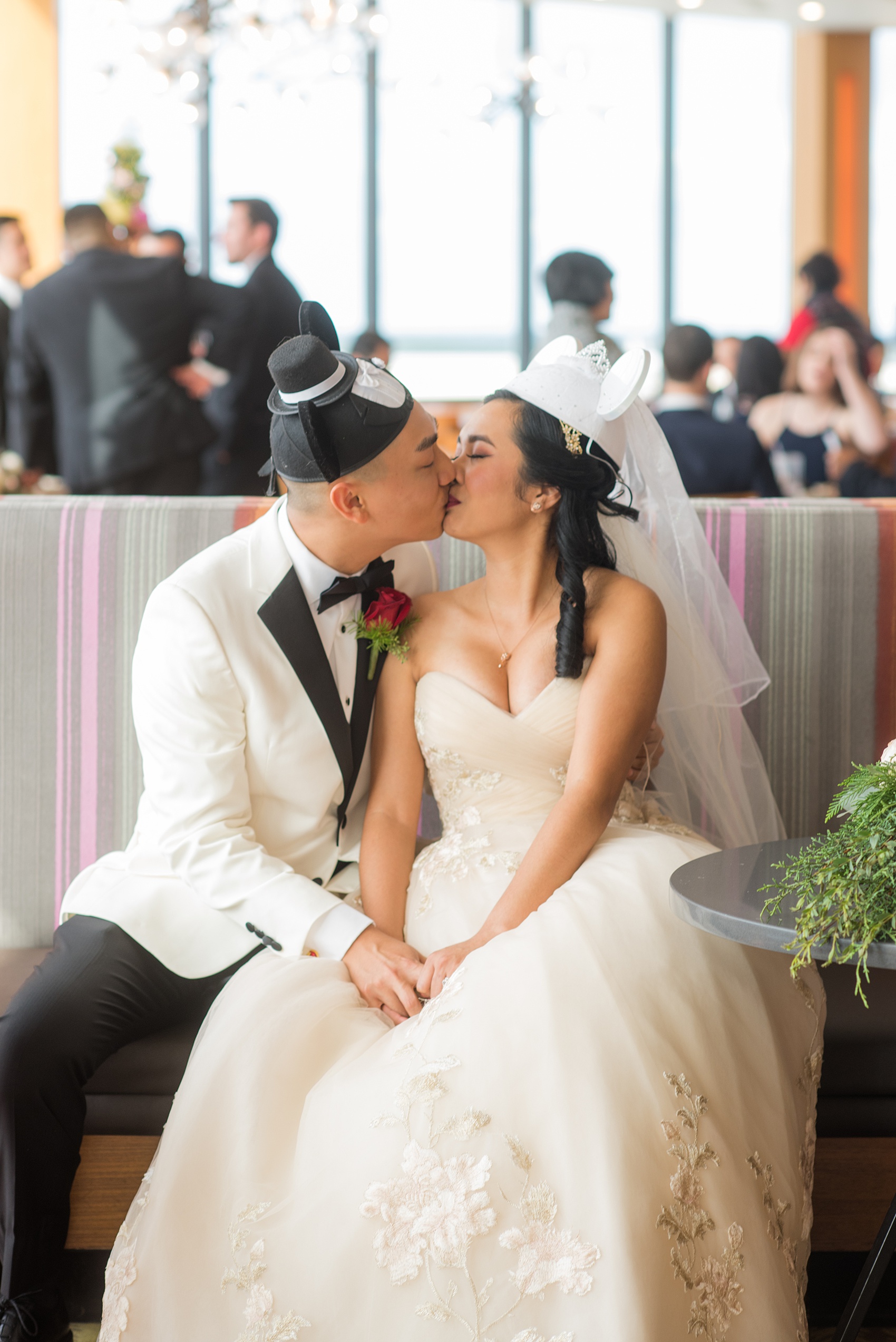 What's a Walt Disney World wedding without Mickey Mouse ears and some playful props for a photo booth?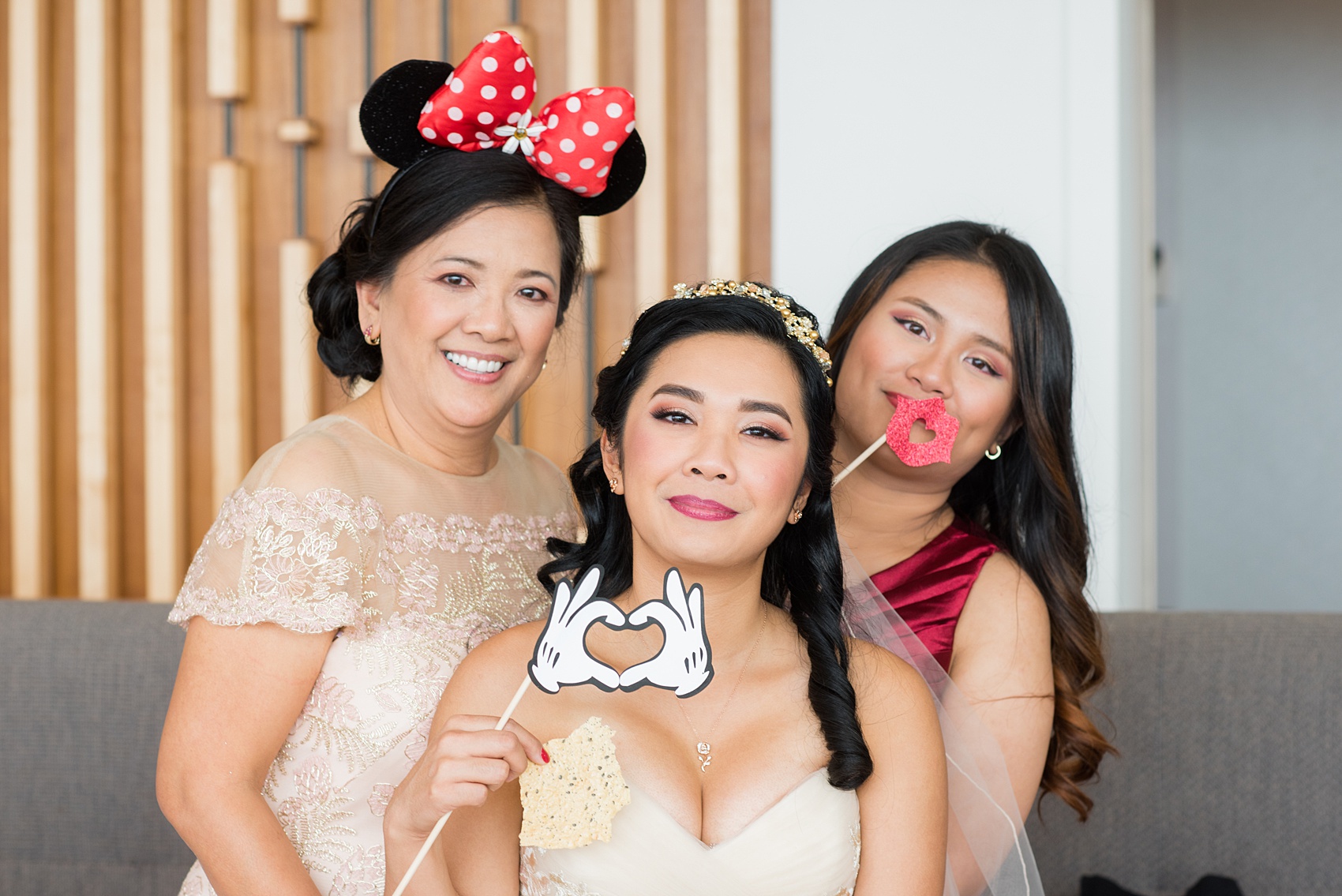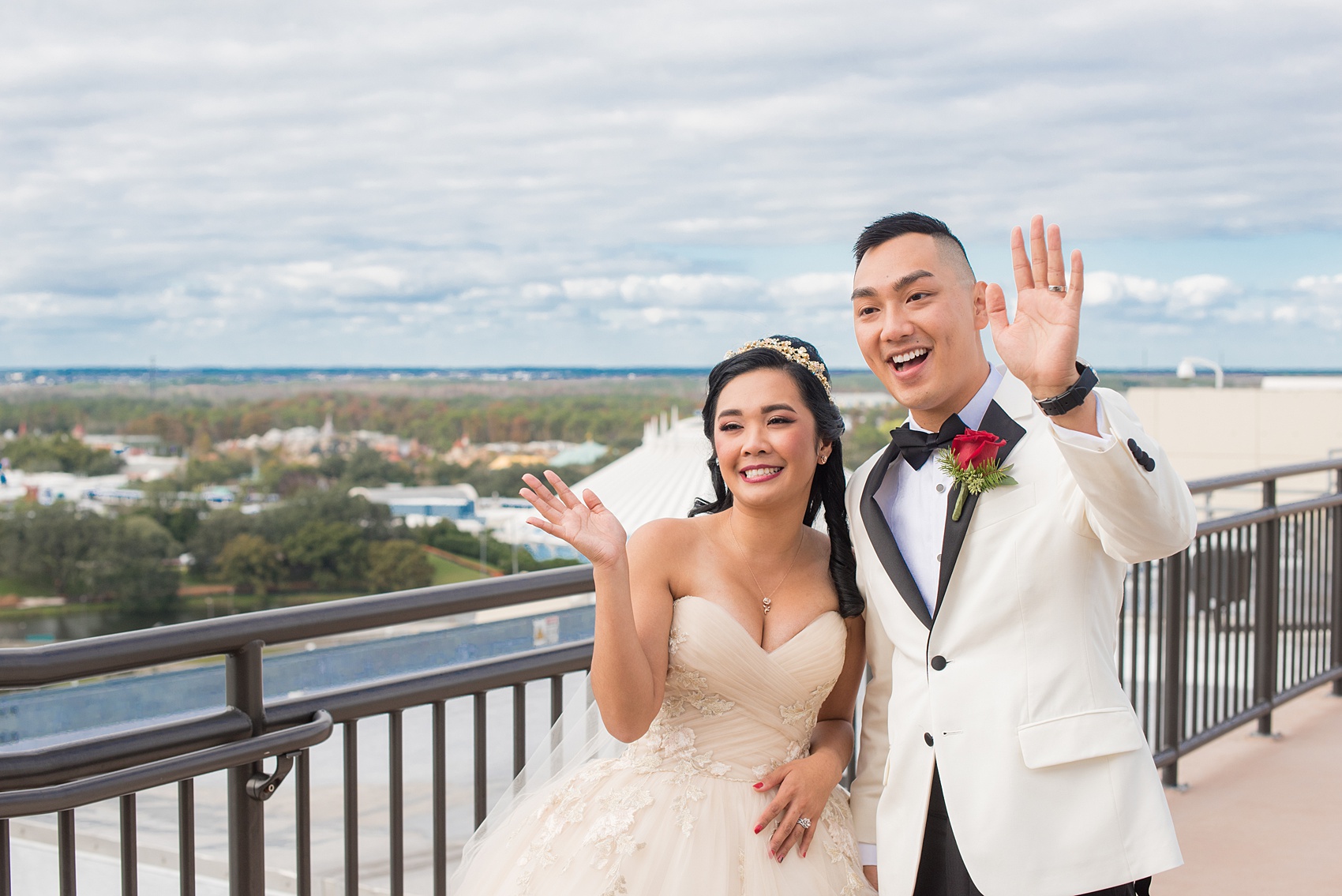 Congratulations Mr. and Mrs. Tran – may all your wishes as a couple and beautiful humans on Earth come true! Thank you for having me play such a special role in your day.
Getting ready venue: Disney's Grand Floridian Resort and Spa / Ceremony: Disney's Wedding Pavilion / Reception: Disney's Contemporary Resort, California Grill / Invitation: Watercolor Design Studio / Florist: Disney / Hair and makeup: Fairy Tale Make Up / Officiant: Sensational Ceremonies / Wedding gown: Bridal Showcase Bridal Salon, designer Maggie Soterro / Tuxedo: Men's Warehouse / Wedding bands: Tacori Wedding Bands, custom design
For more Orlando inspiration check out:
Interested in having Mikkel Paige Photography capture your wedding? Contact us! We'd love to hear from you!