Christine and Jake's Daufuskie Island wedding at Haig Point, just off the coast of Hilton Head Island, was truly dreamy.
Southern weddings truly have a certain charm about them you simply can't get elsewhere in the United States and though they reside in New Jersey, they knew this special location was where they wanted to start their life together as husband and wife.
A wedding off the coast of Hilton Head is also a great excuse to explore the Hilton Head, South Carolina area. It's a wonderful family-friendly vacation spot and is fantastic for couples who love the beach. It's a popular golf destination but I assure you, there's plenty to do in Hilton Head, SC if you don't golf. You can get to Daufuskie Island from Hilton Head via ferry.
But I digress. I was there for a weekend filled with Christine and Jake's family and friends for a truly relaxing, beautiful, coastal celebration.
About Their Daufuskie Island Wedding
They are such a special couple to me. Christine has been a supporter of my business since before we even met, back when I photographed her sister's and brother-in-law's engagement photos and wedding (friends I still keep in touch with and absolutely adore). When I received her Facebook friend request, only knowing she was related from her last name, I was over-the-moon; I felt her enthusiasm shine through the computer. (And having a sister myself who I'm close to, I immediately understood!)
When I arrived at Gina and Sean's wedding, where Christine was Maid of Honor, I was so deeply looking forward to meet Christine. Our friendship has just blossomed from there and I was excited to spend the past year getting to know her and Jake even more from their engagement photos, to dinners, to texting back and forth with Christine to talk about wedding day details that we both love so much.    
Their Daufuskie Island wedding was at an incredible location at Haig Point, a private community within the island, where Jake's twin sister, Sarra, got married the same day as Christine's sister, Gina (the day she and I met Christine). It's also where Jake's parents have retired, in a gorgeous southern home with a double-decked front porched. That's where the groomsmen got ready.
It's a short ferry ride from Hilton Head Island, South Carolina. Surrounded by water, beautiful views, and dripping in Spanish Moss, every turn is refreshing. The groomsmen prepared for the wedding day at Jake's parents' home and the ladies prepared with the bride at the picturesque lighthouse. 
Her mother and sister helped her put her BHLDN, Ben Amun earrings on.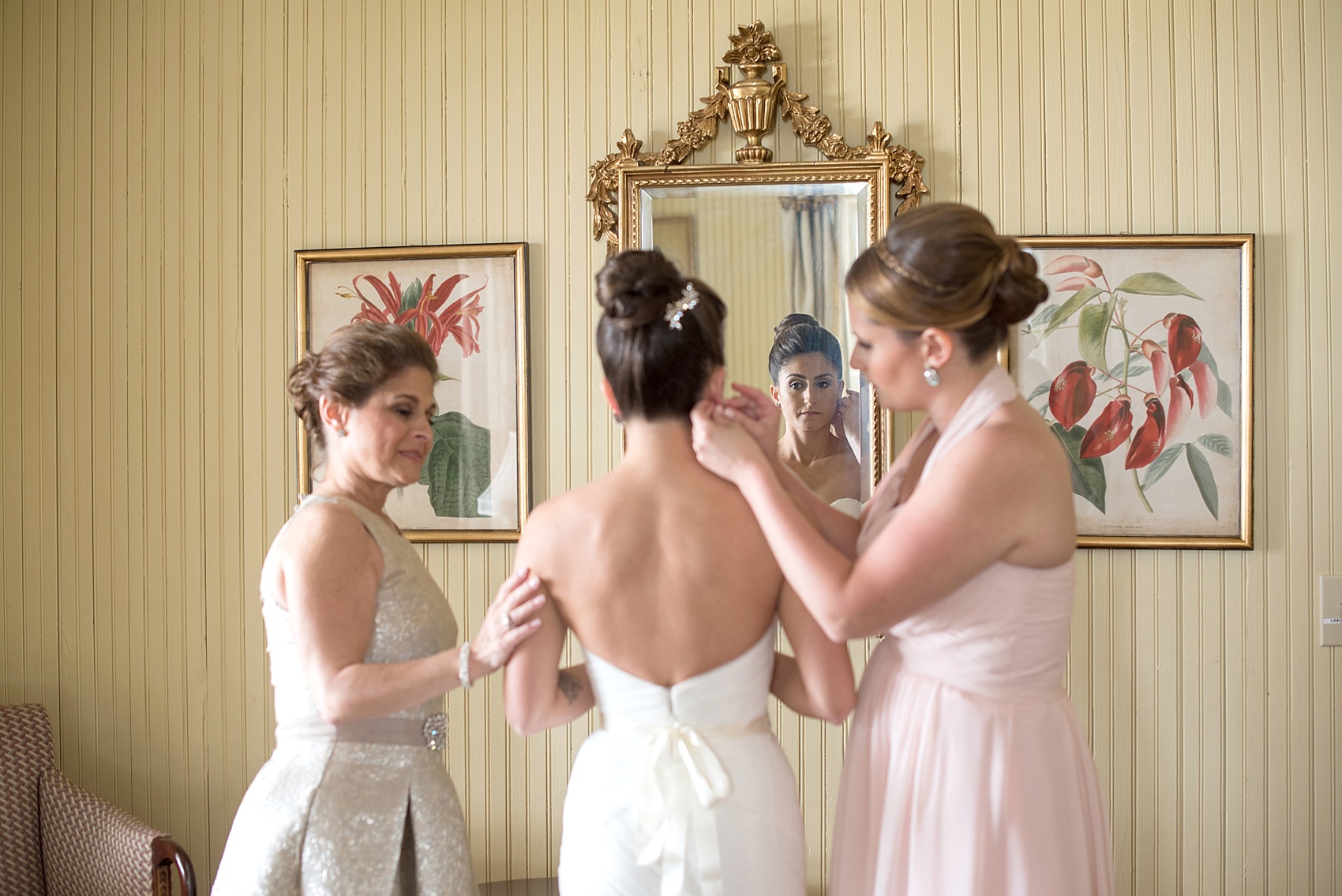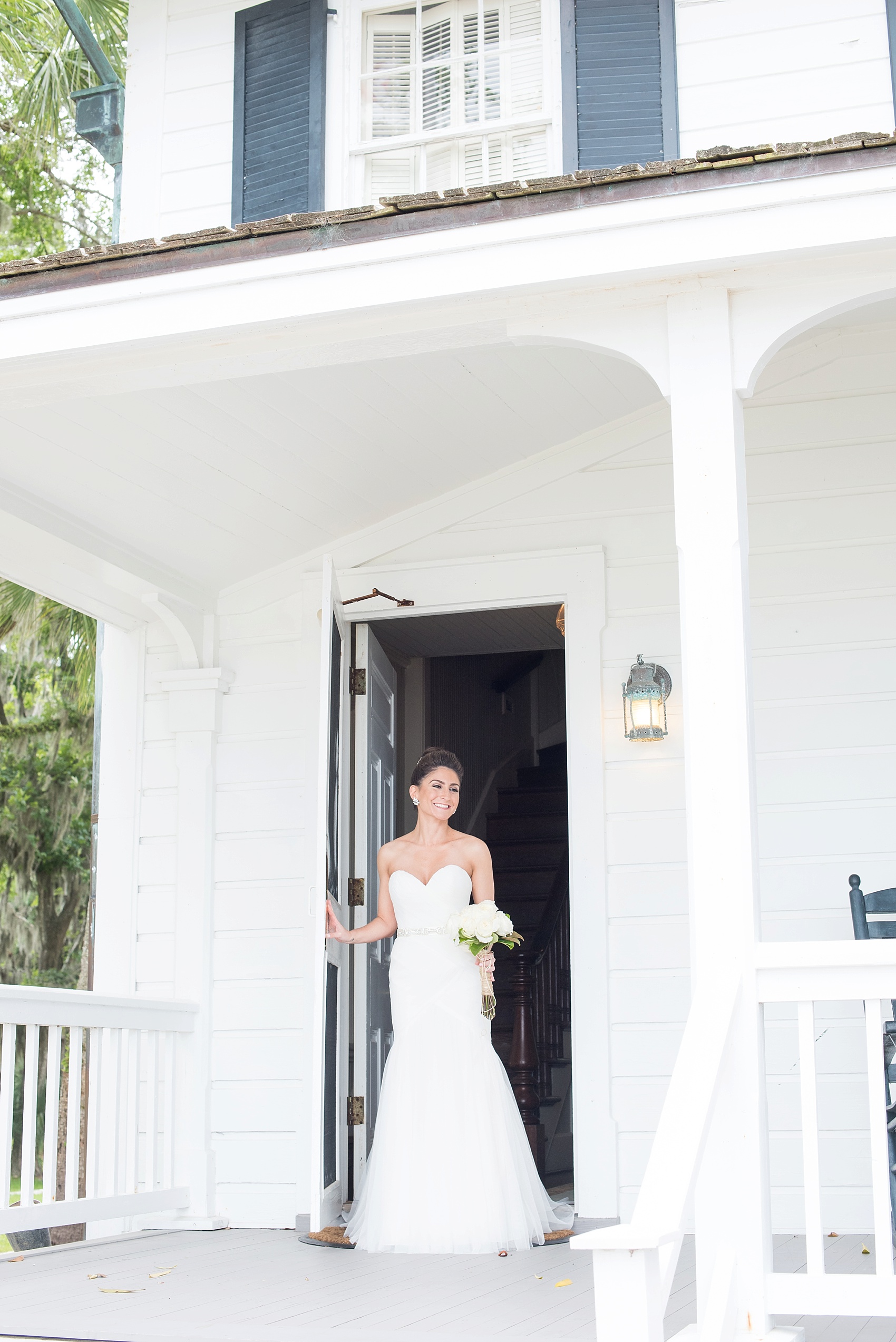 Daufuskie Island Wedding Details
White roses were wrapped with Magnolia leaves for the bride's bouquet and the groom's boutonniere contained amazing succulents and was tied with twine. Rose gold rings would be placed on their fingers as they said "I do!" overlooking the Harbor River.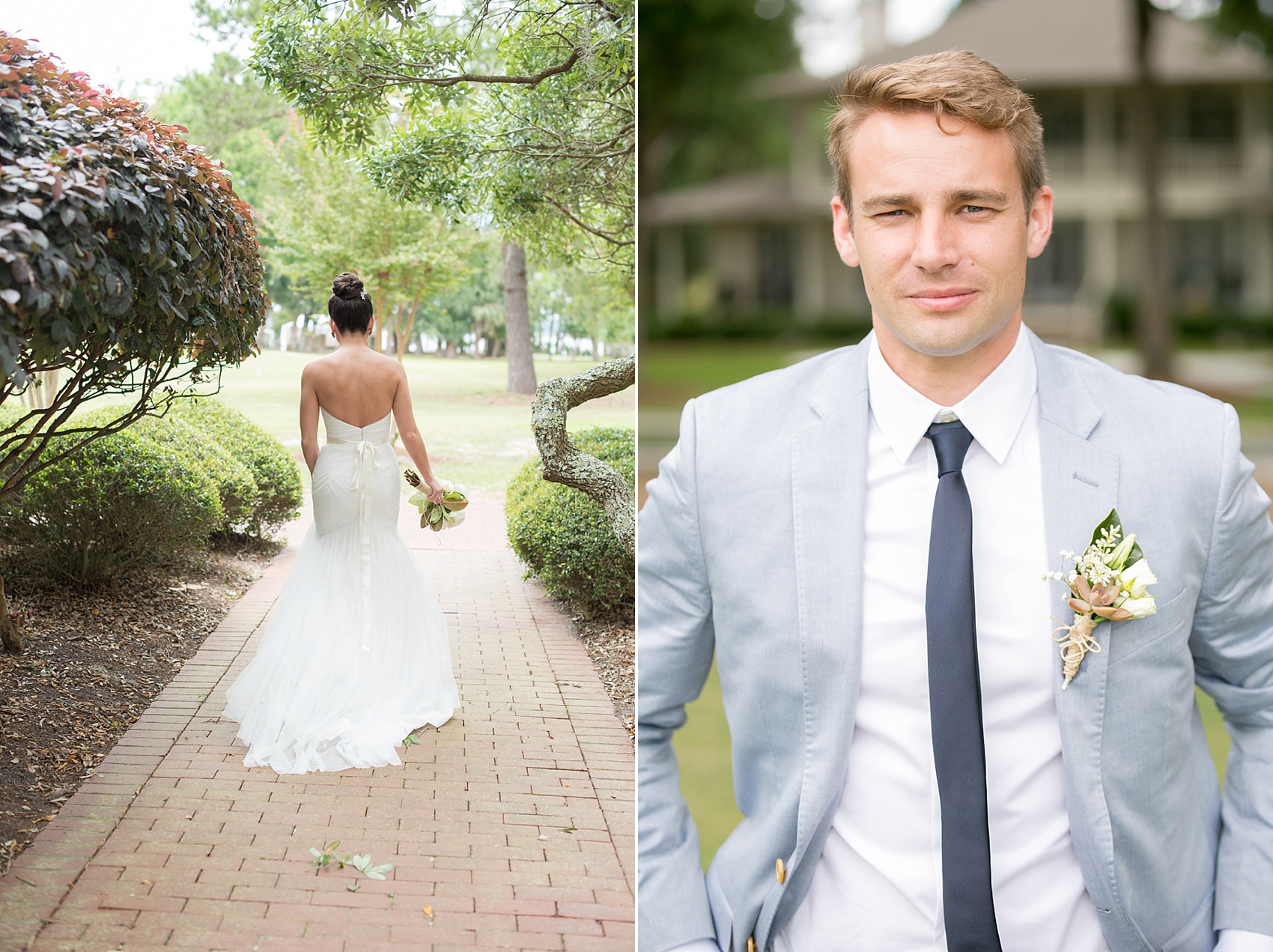 The two had their first look in front of the family's home on the 15th hole of the golf course. The wedding party and parents looked on from the porch in the distance.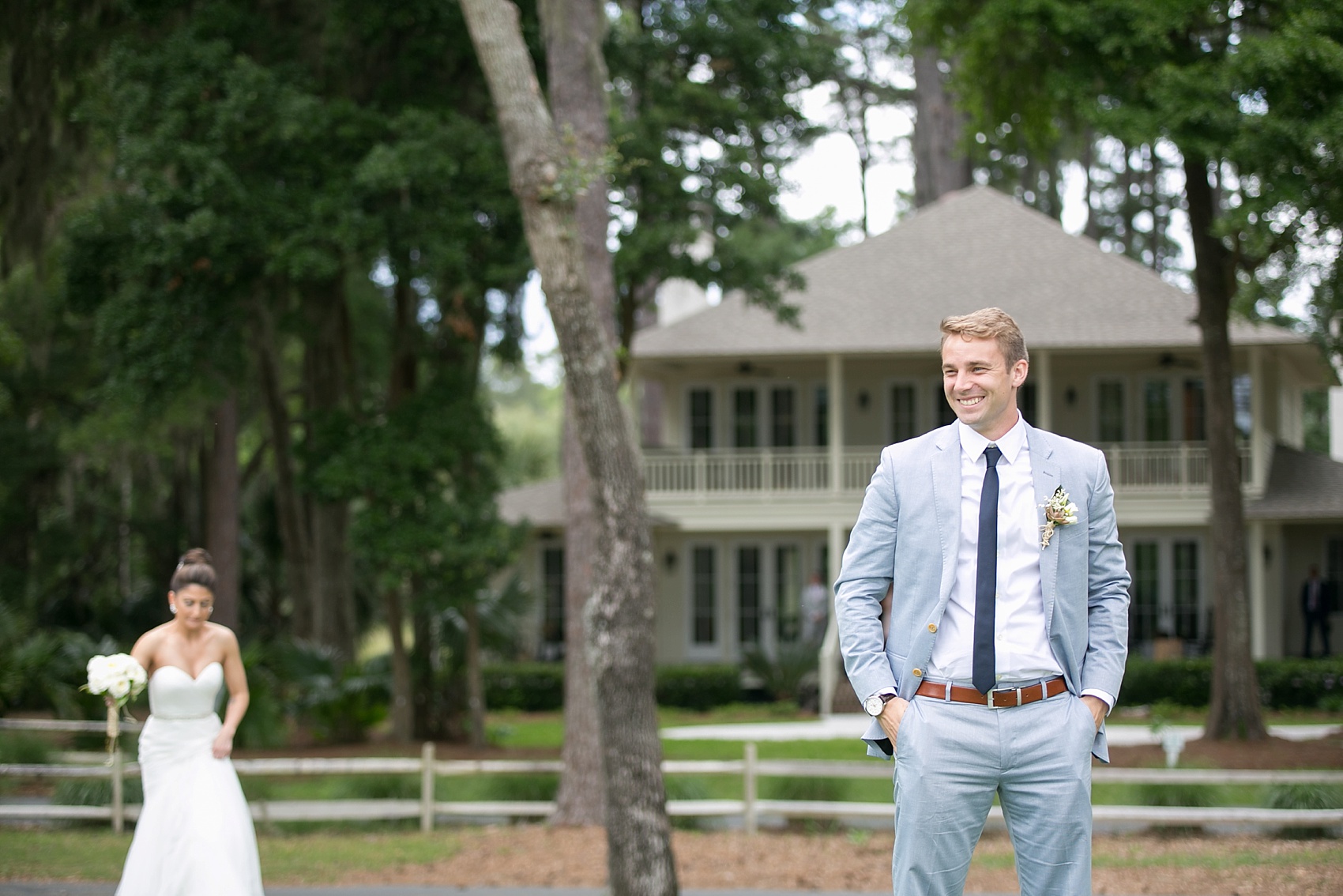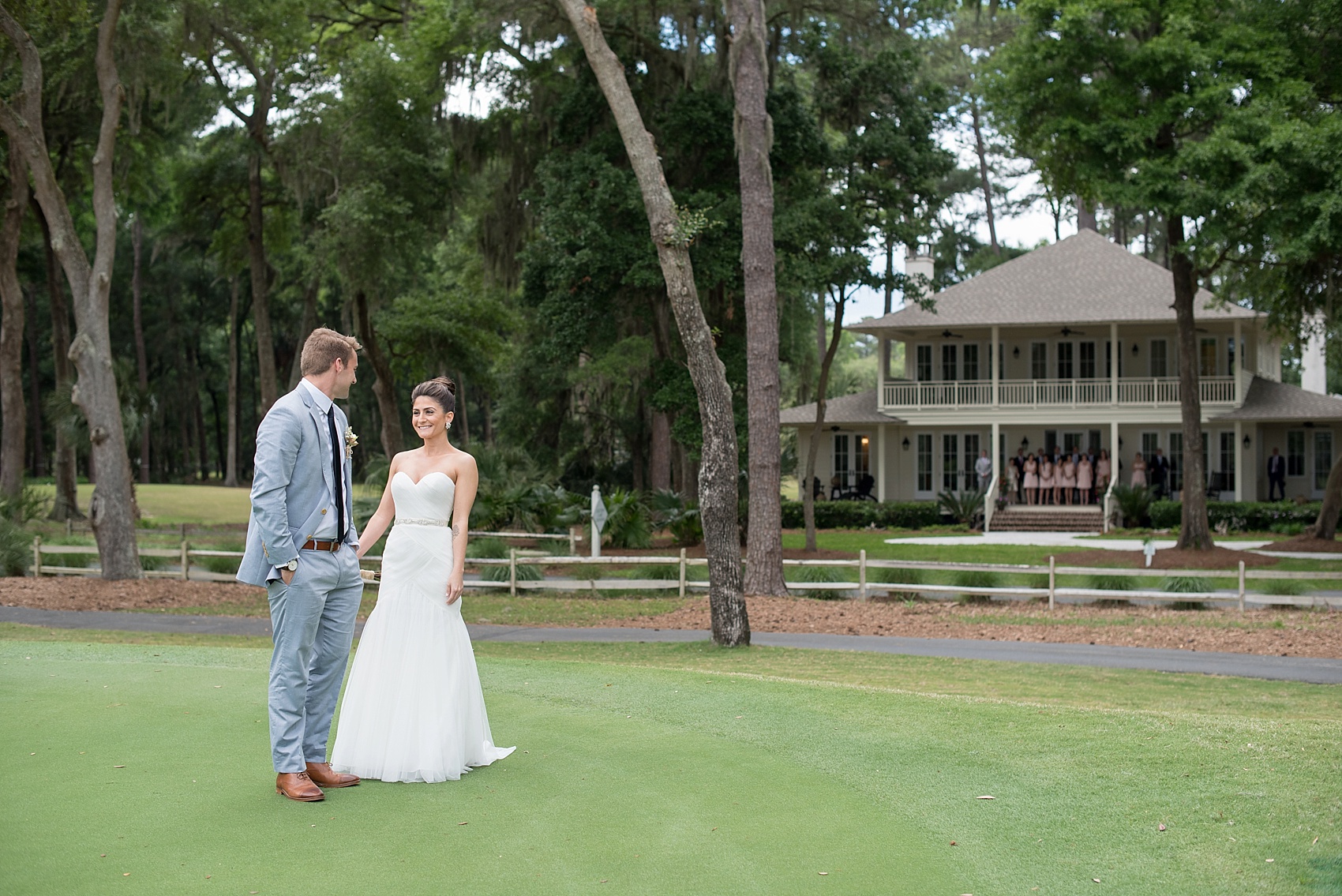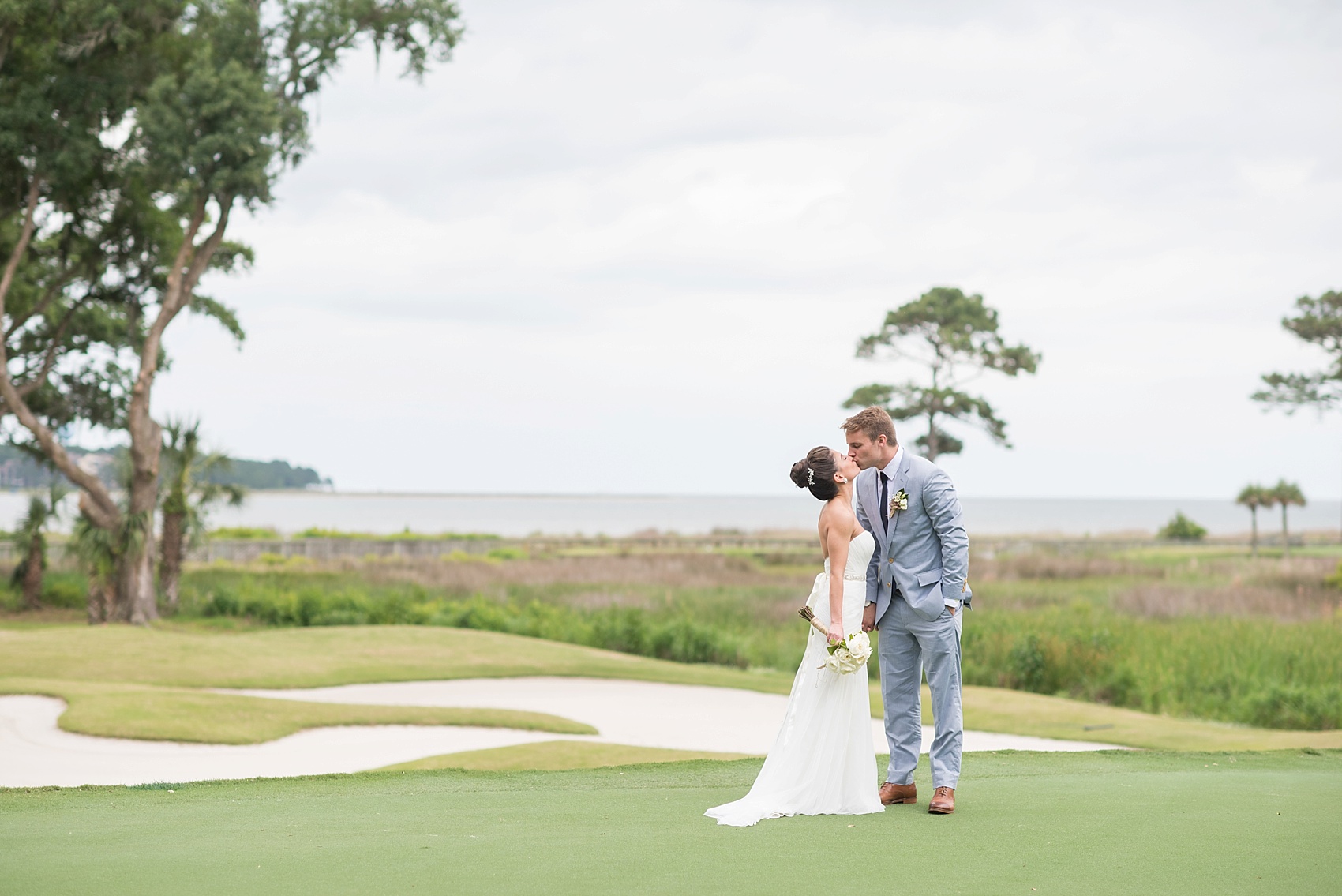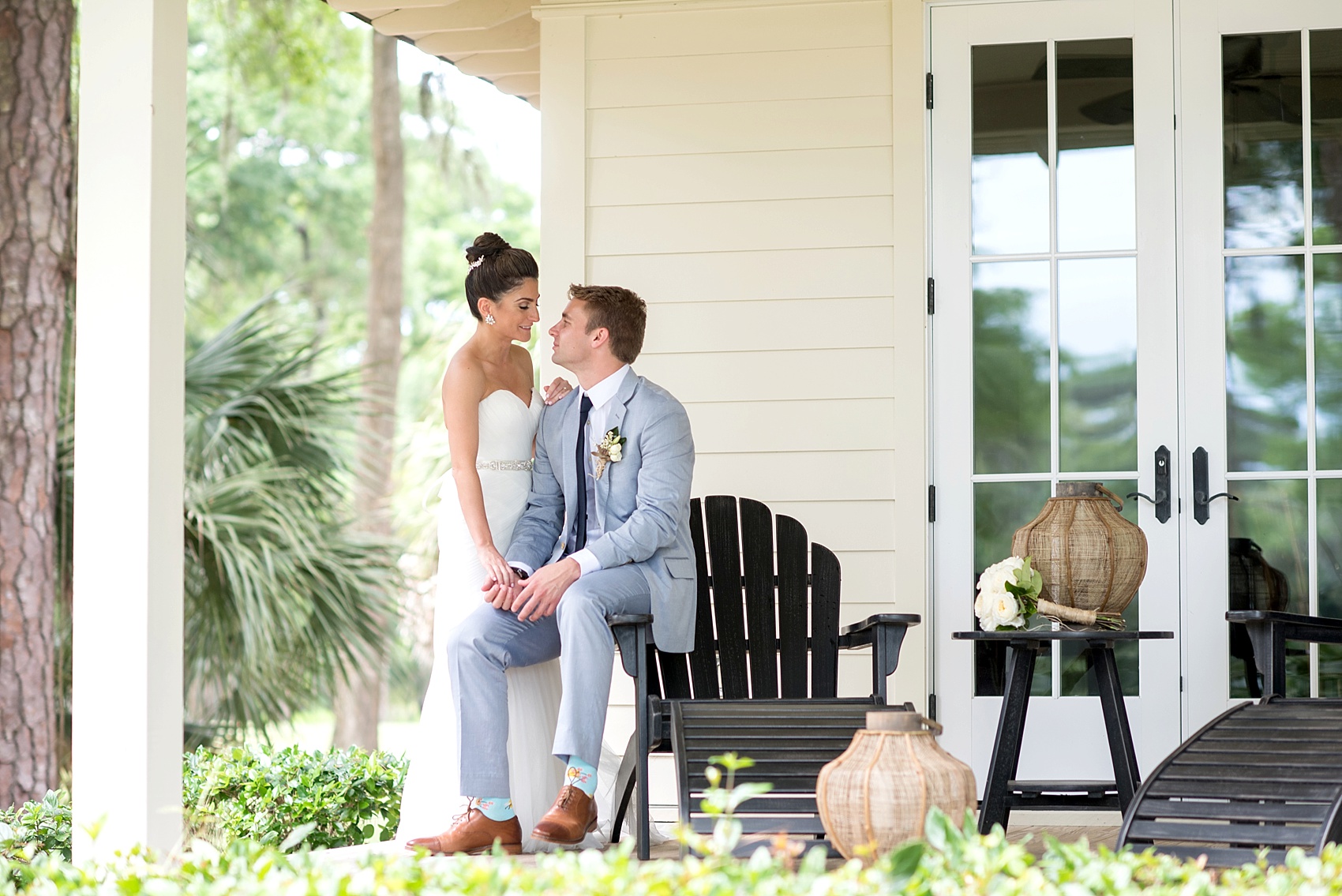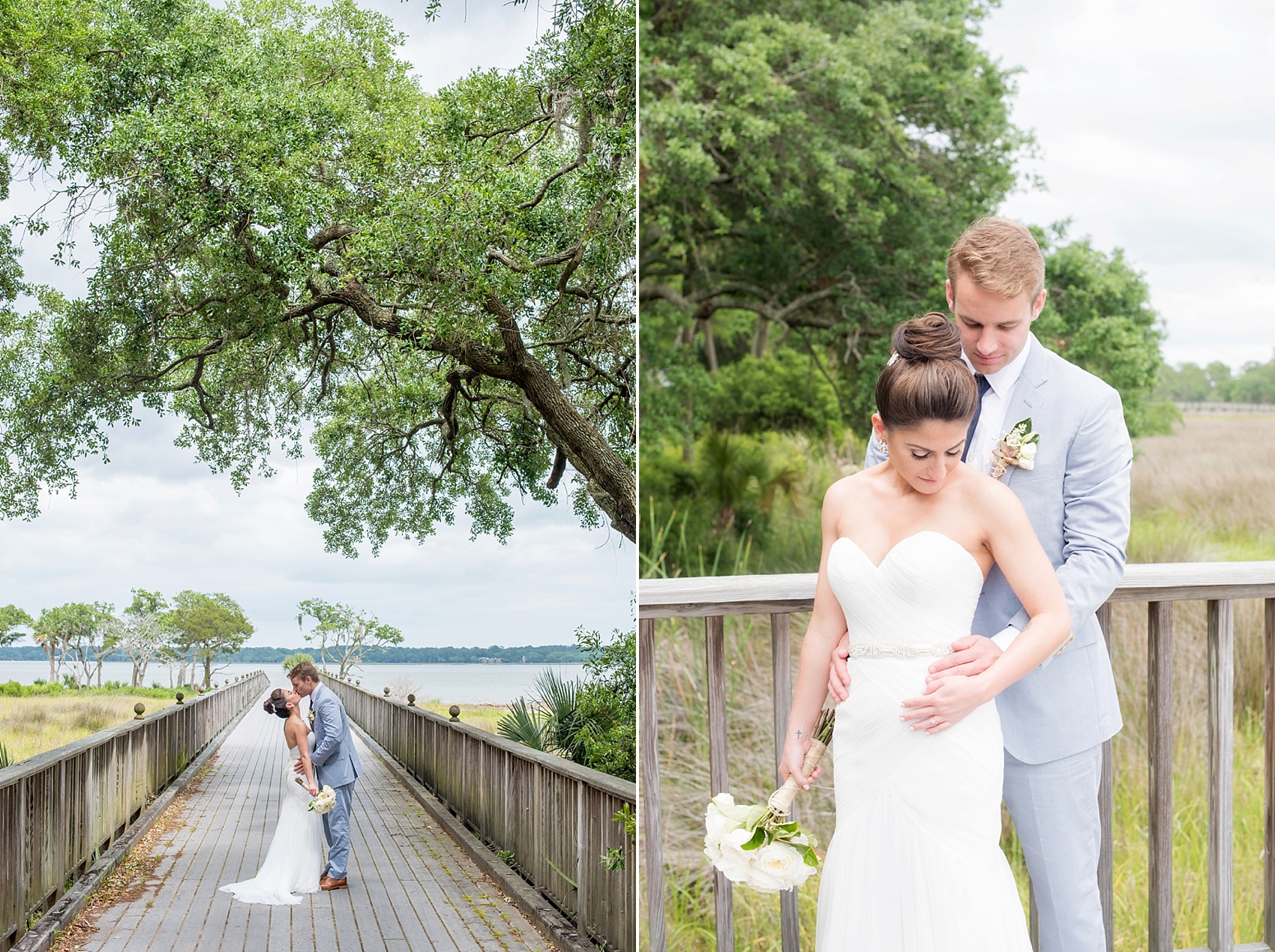 Photo Opportunities at Haig Point on Daufuskie Island
There are SO many opportunities for incredible photography, especially when you have an amazing couple. We hopped in a golf cart (it's a car-free community!) and headed towards the water, where oyster shells wash up on the shore (ah-maze-ing!).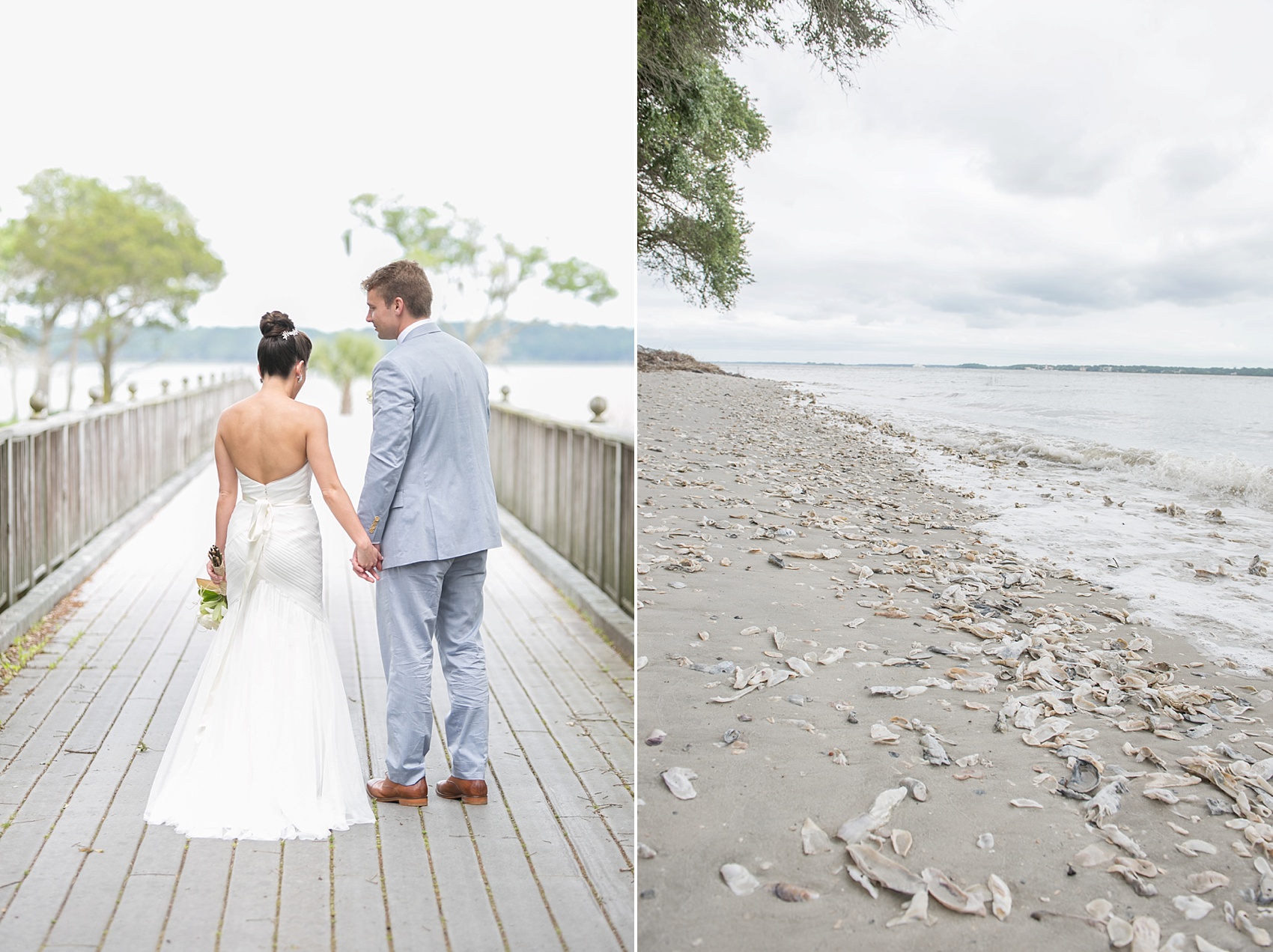 This is one of my favorite wedding photos…EVER.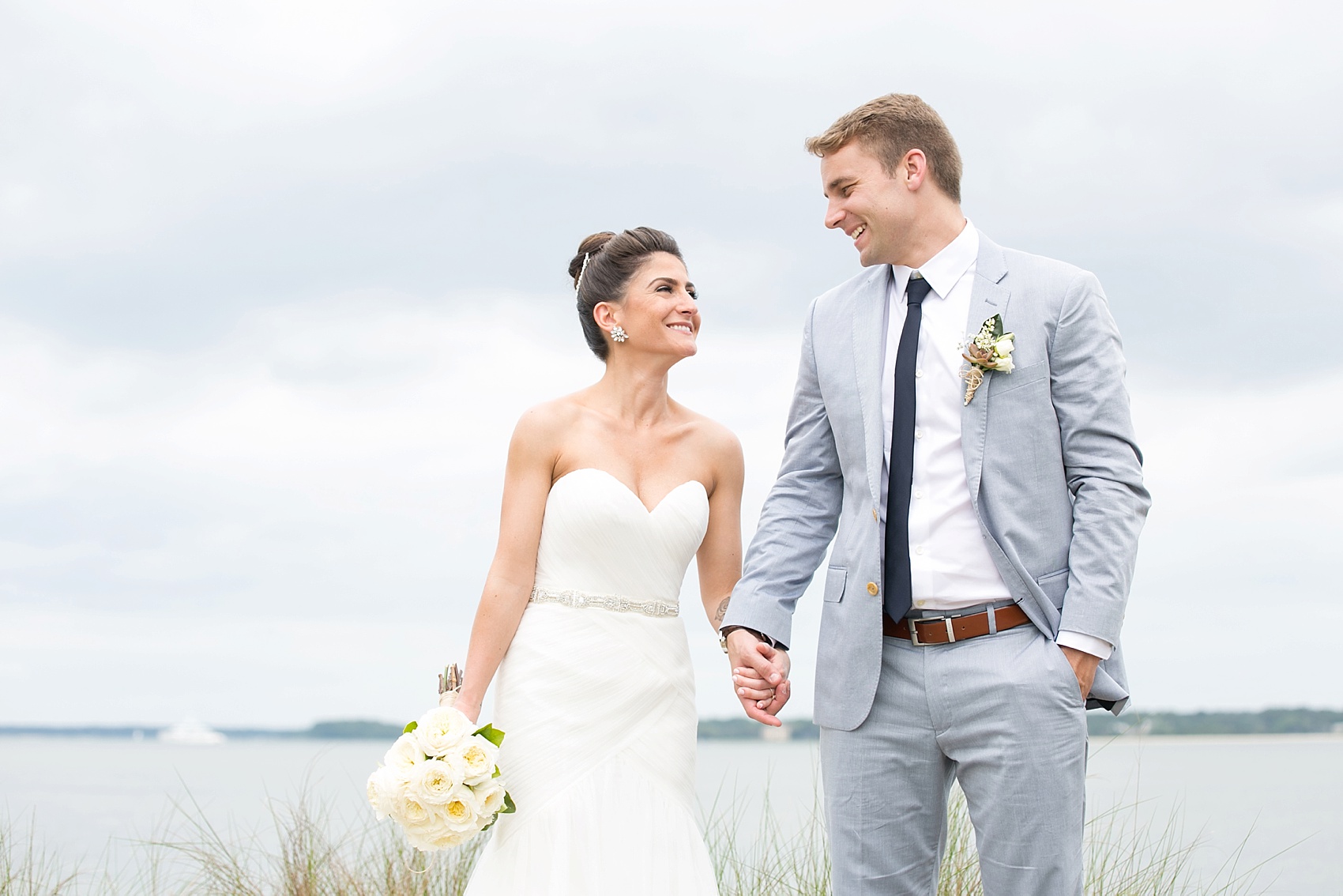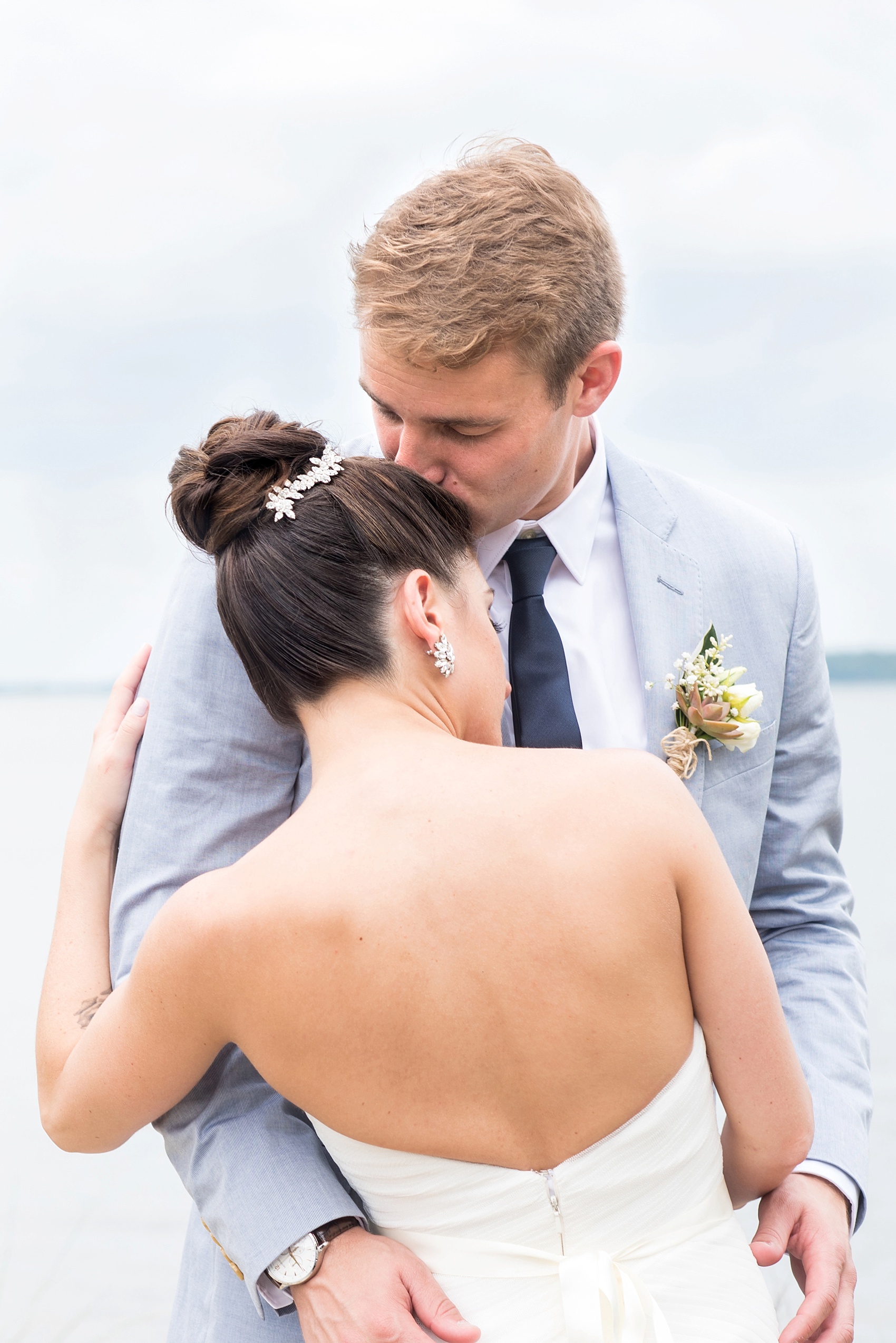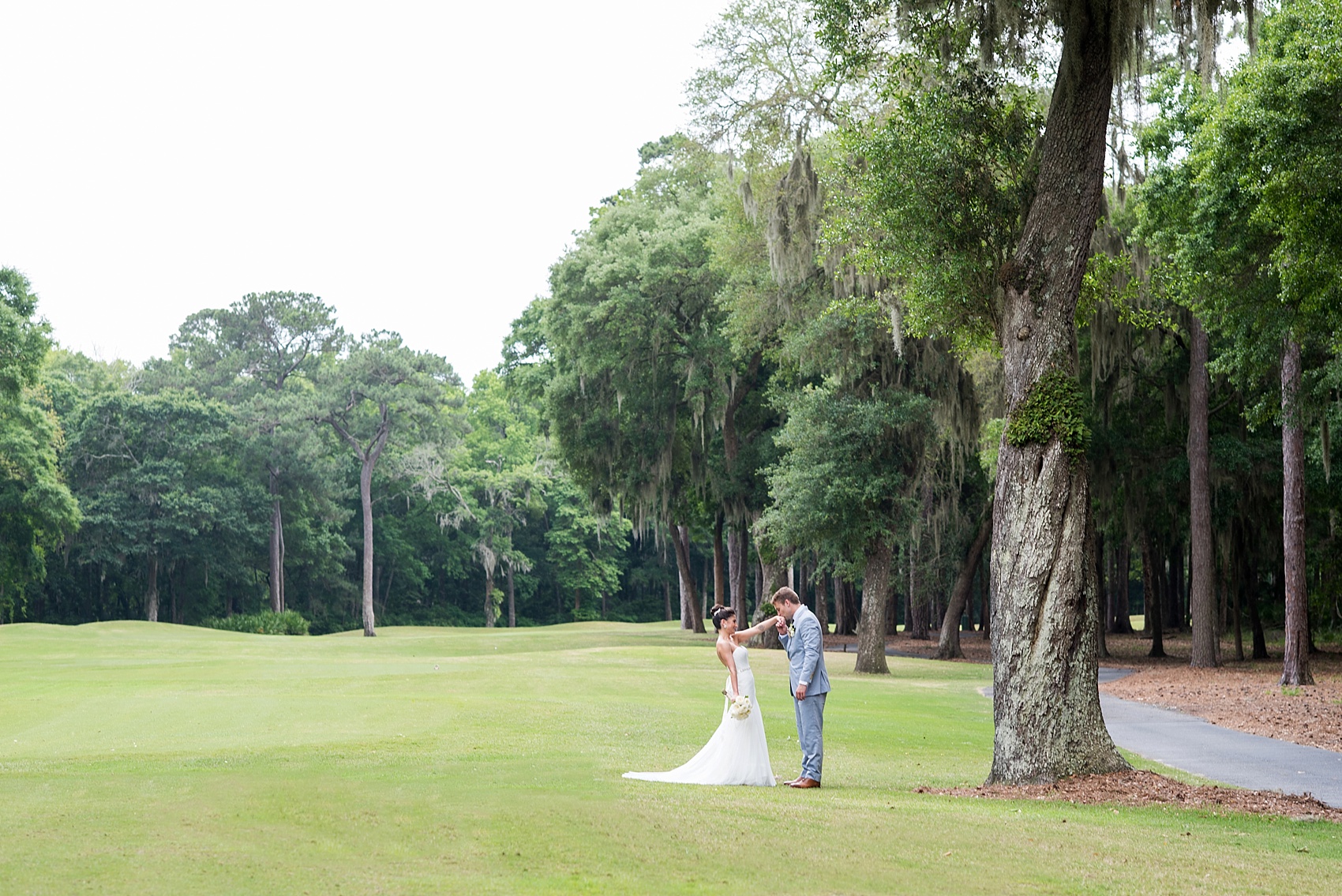 As a personal favorite spot I scoped out, I wanted to take them to this particular golf course hole because of that unique twisted tree trunk. It was fun to have golfers pass by and yell, "Congratulations! You look wonderful!"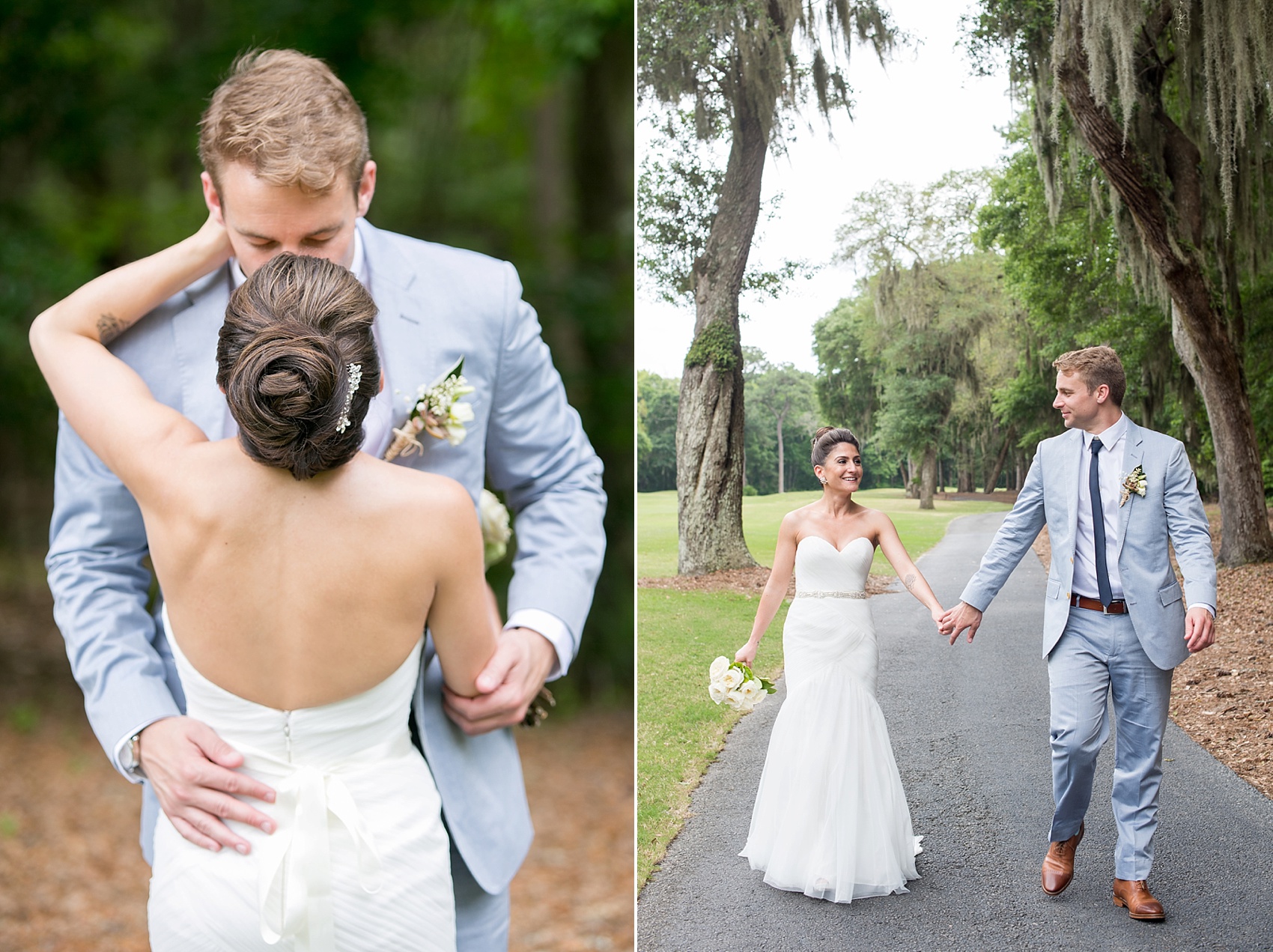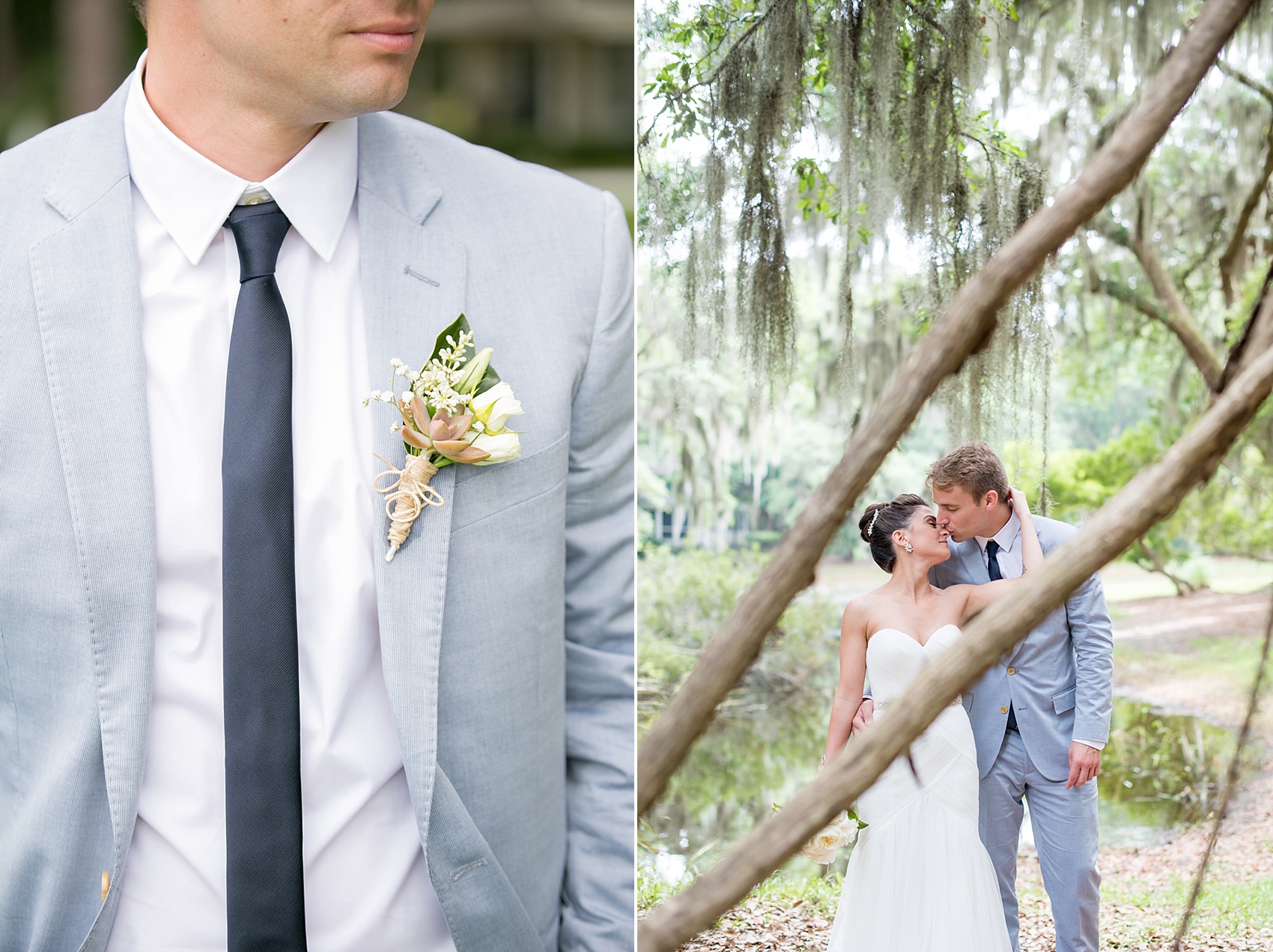 Though we were battling cloudy skies, a few raindrops, mosquitos, and crawling bugs, the entire wedding party (particularly the ladies in short skirts and high heels) were incredible sports. In their pink chiffon dresses and men in navy blue suits they looked like they belonged on the cover of a magazine.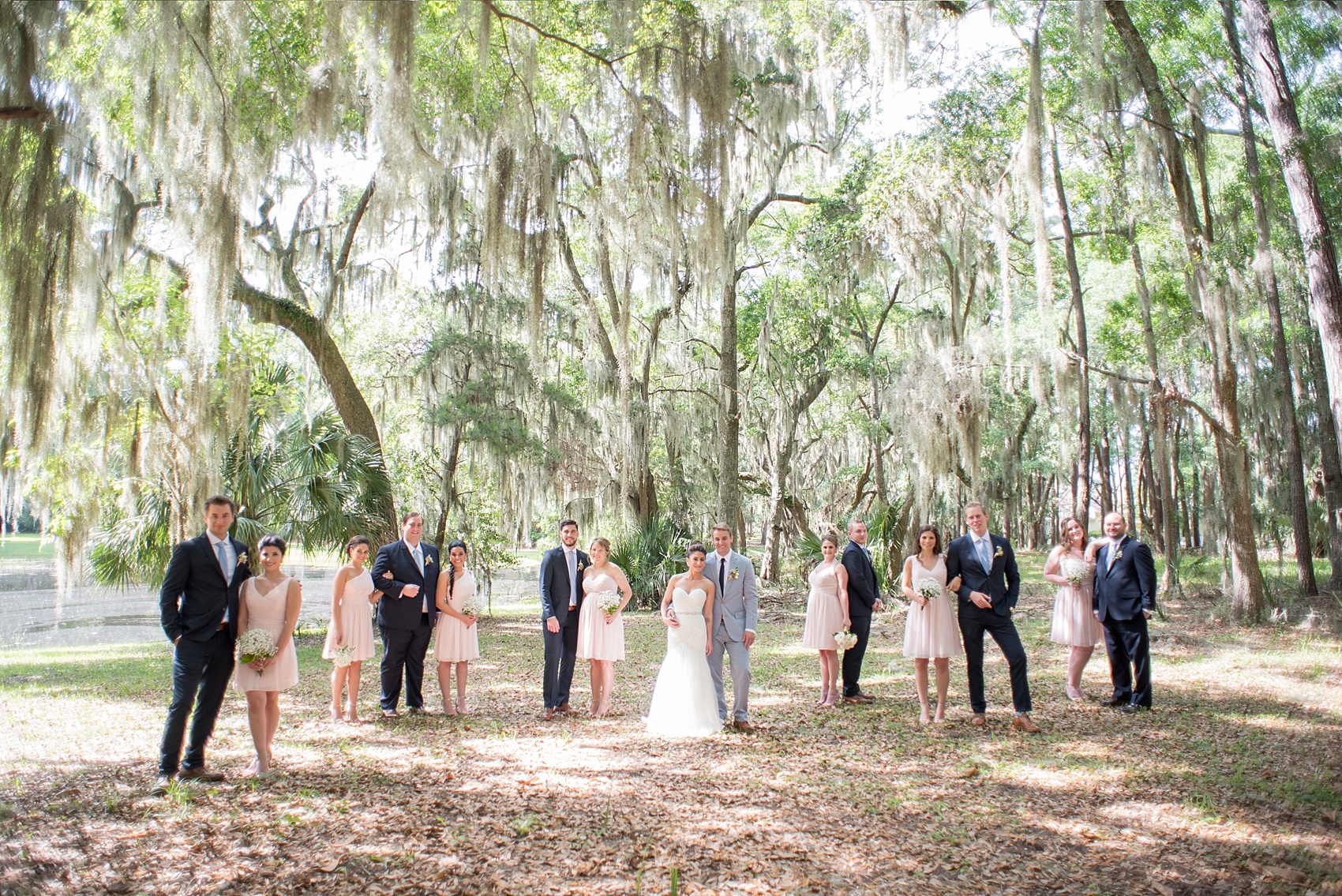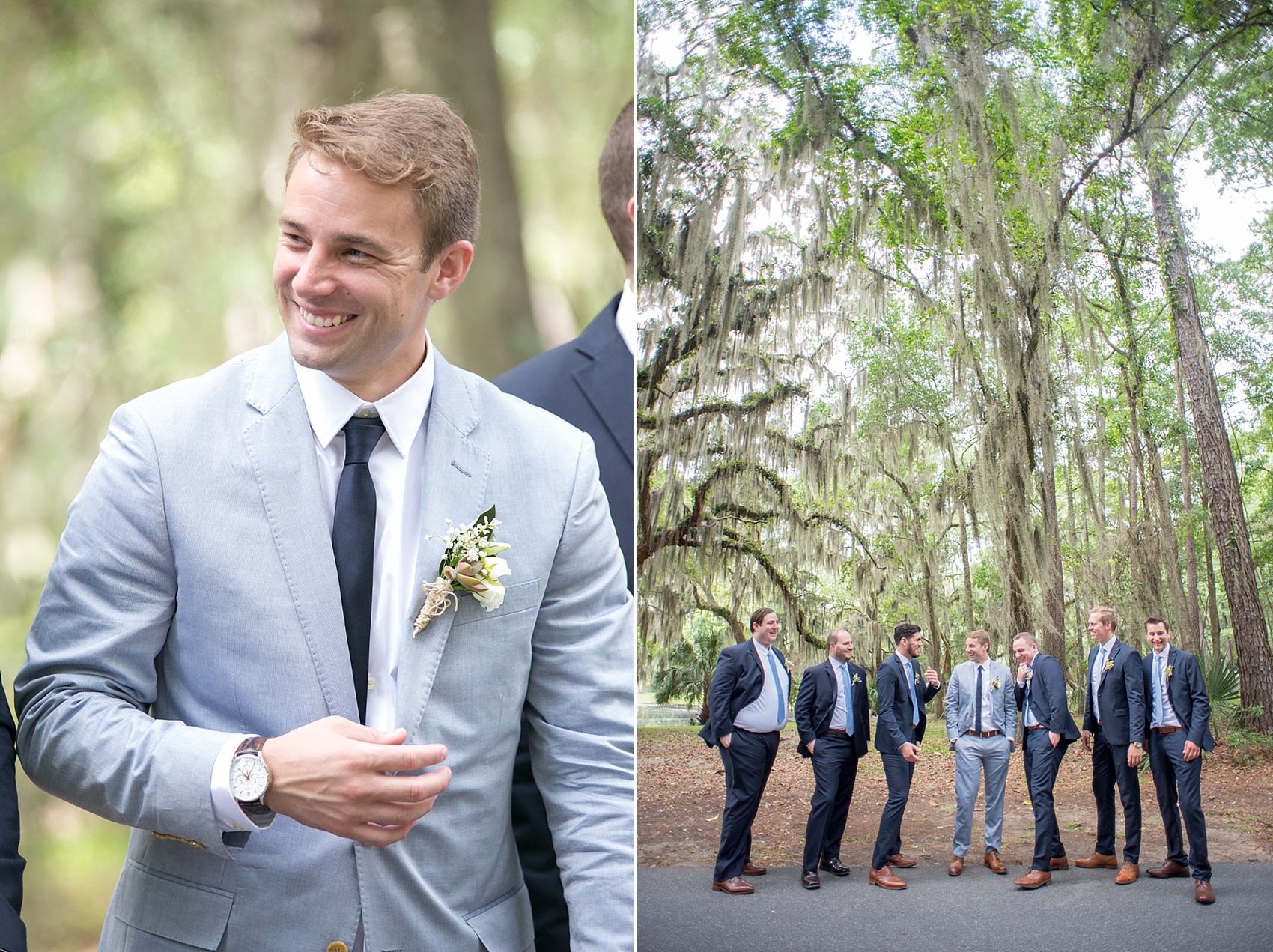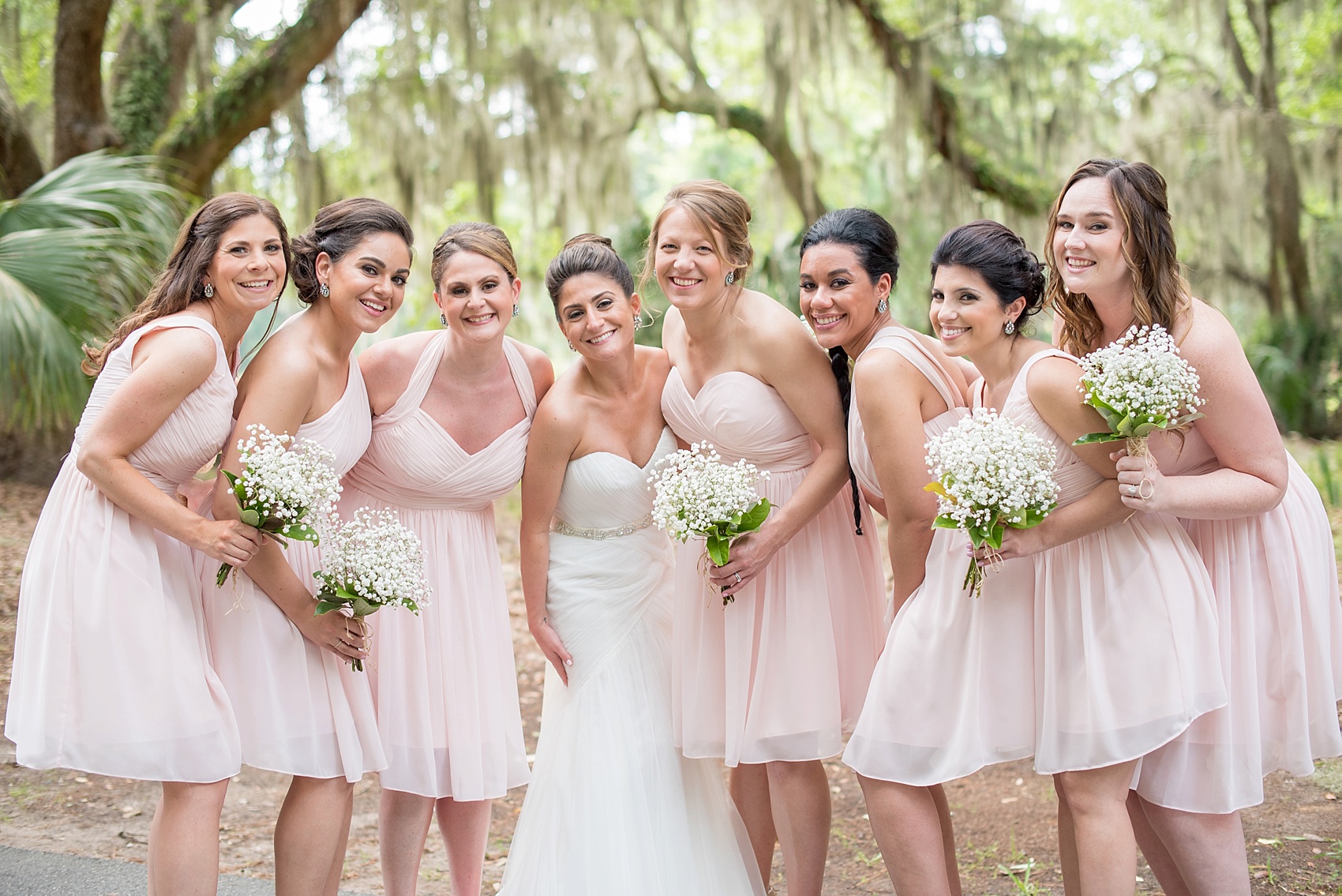 The Baby's Breath bridesmaids' bouquets were framed by magnolia leaves – perfect for a southern Daufuskie Island wedding! 
I was so grateful to the weather gods for providing a gorgeous day. It was cloudy when I needed a bit of a photography soft box for photos earlier in the day, also providing a bit of relief from the heat, and it was a beautiful, clear evening. What was most special was the moment a rainbow appeared just before everyone started to walk down the aisle for their ceremony.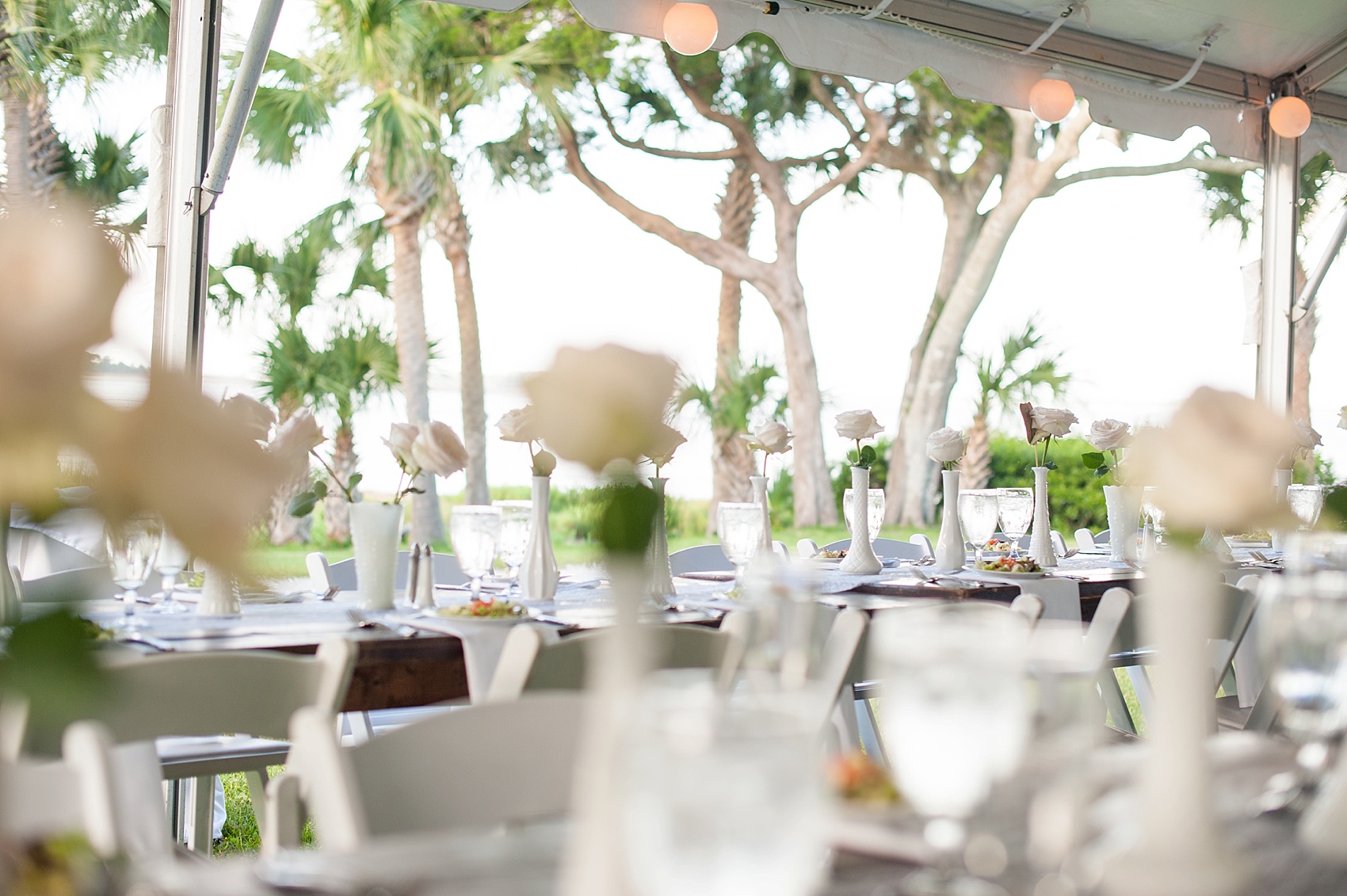 I was thrilled to see Christine's vision come to life. Milk glass vases held a single full white, velvety rose set atop wooden farm tables she had specially brought in. The bride and groom's chairs were bow-tied with burlap ribbon, that I was so touched she used. (I sent her the spool as a gift months ago.)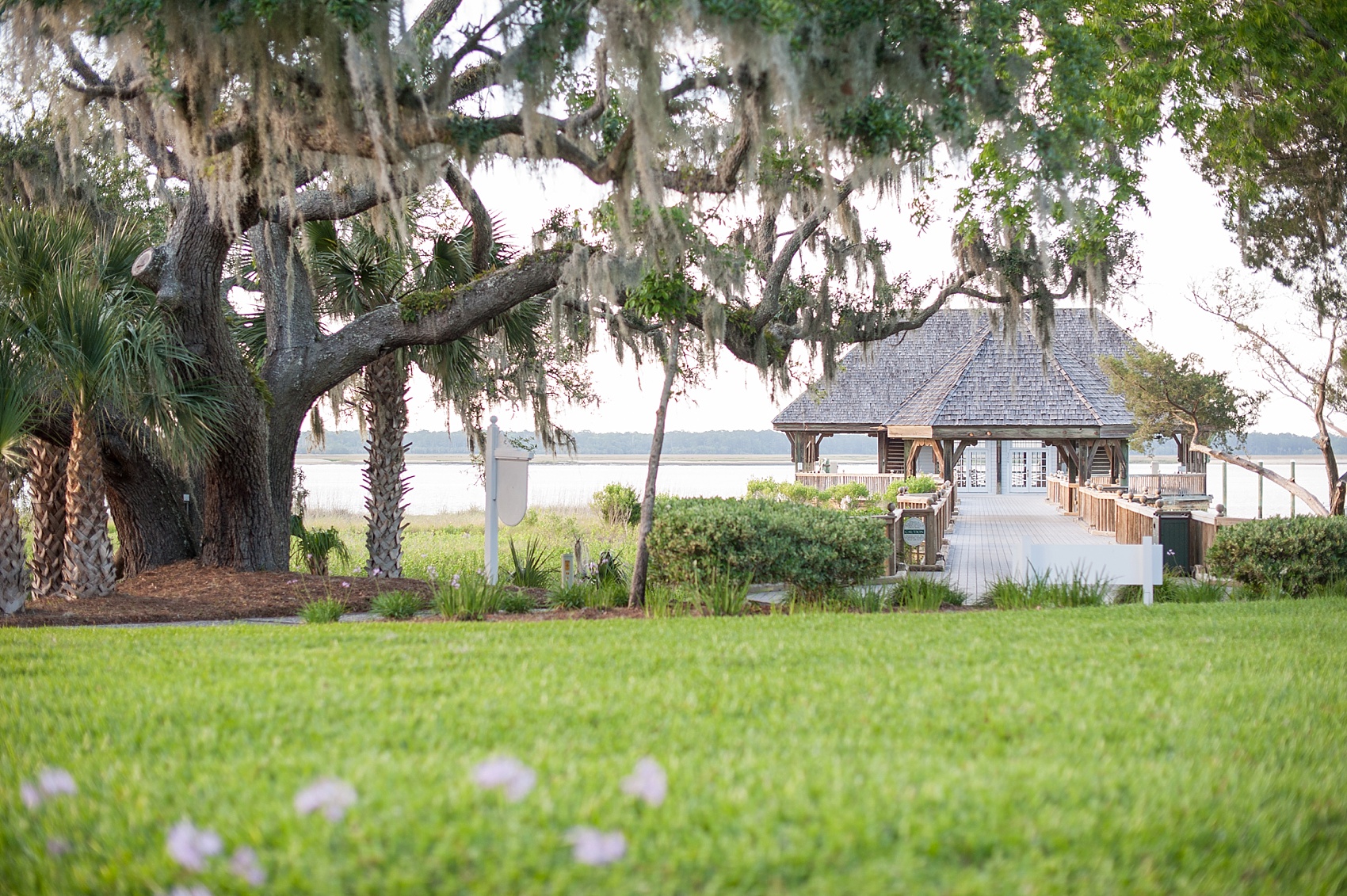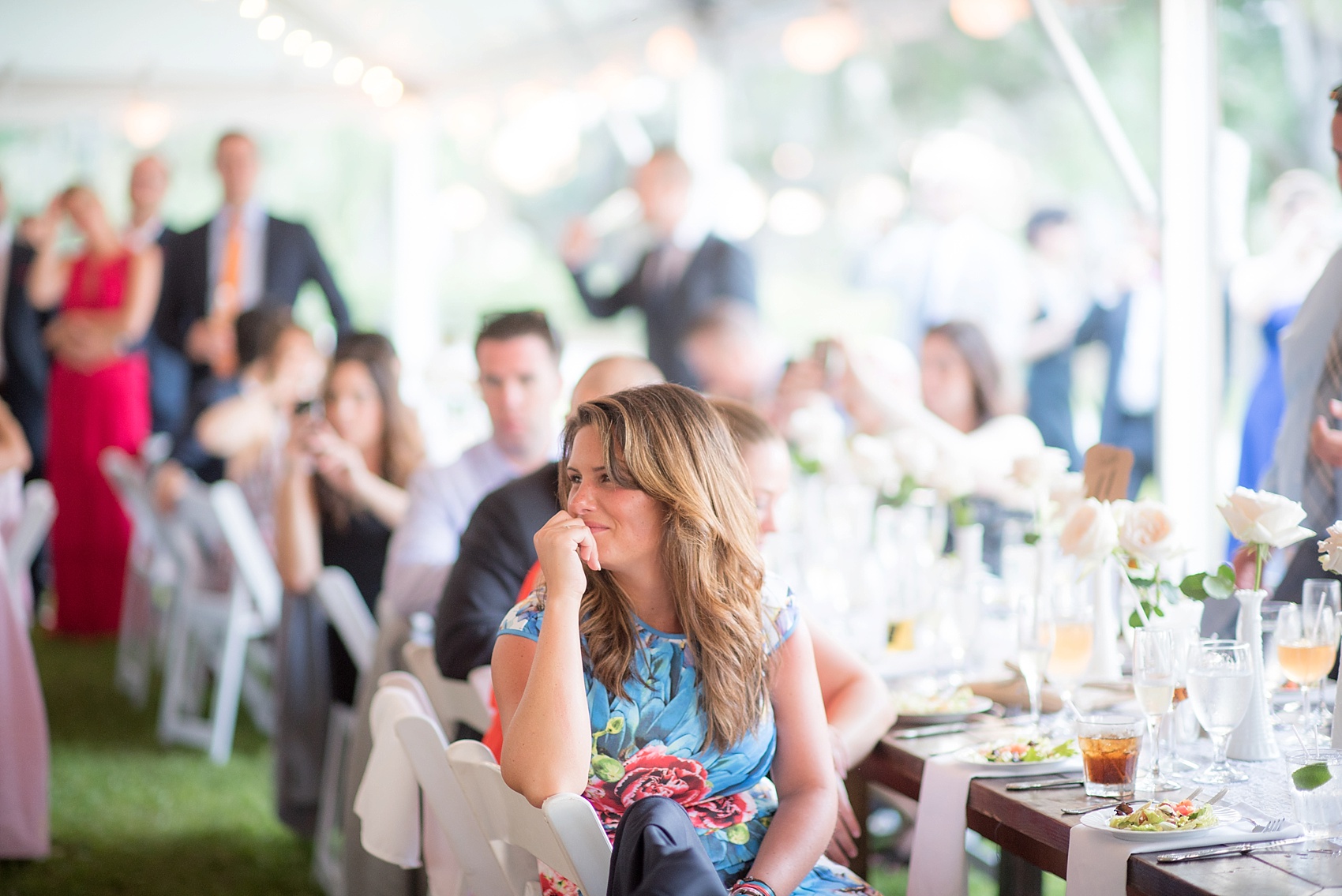 The first dances were heartfelt and the speeches were all funny, sincere and well thought out. As the sun set in the west, it was time for guests to dine on chicken and waffles and a shrimp 'n grits station (my personal favorite southern dish!).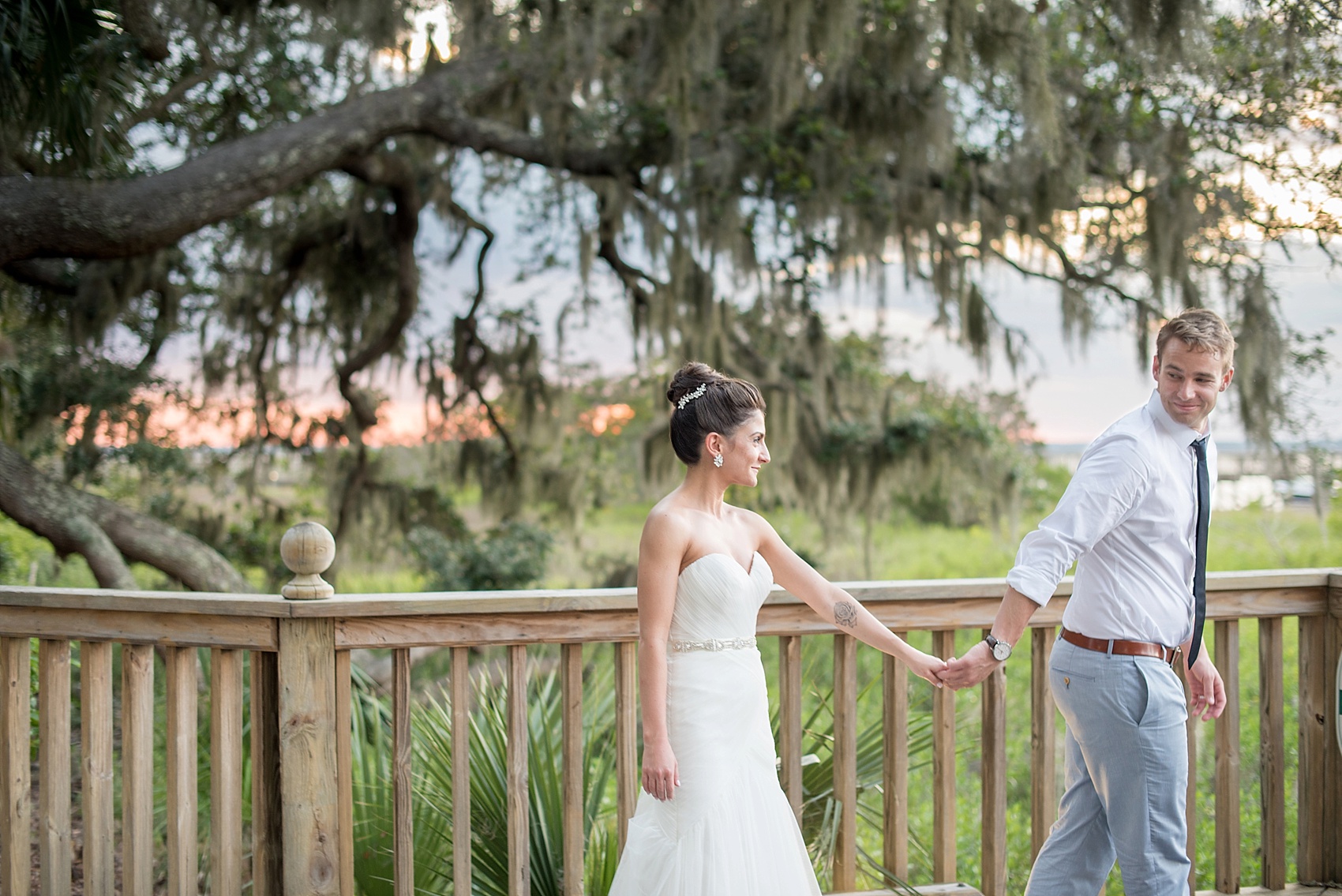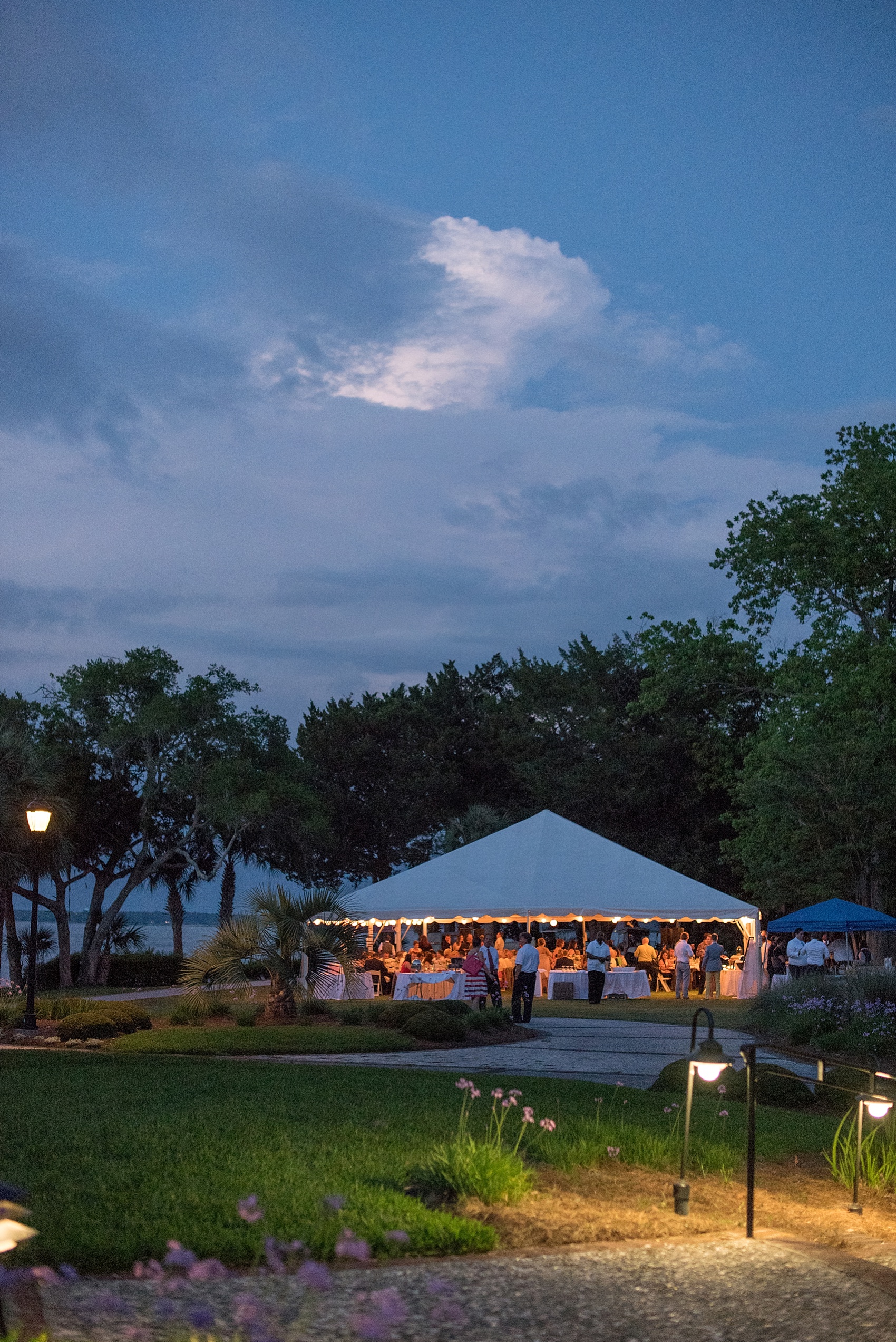 The sun may have set, but the party just got increasingly turned up. The live band was incredible – they even specially learned a few Bruce Springsteen songs for the strong Jersey crowd.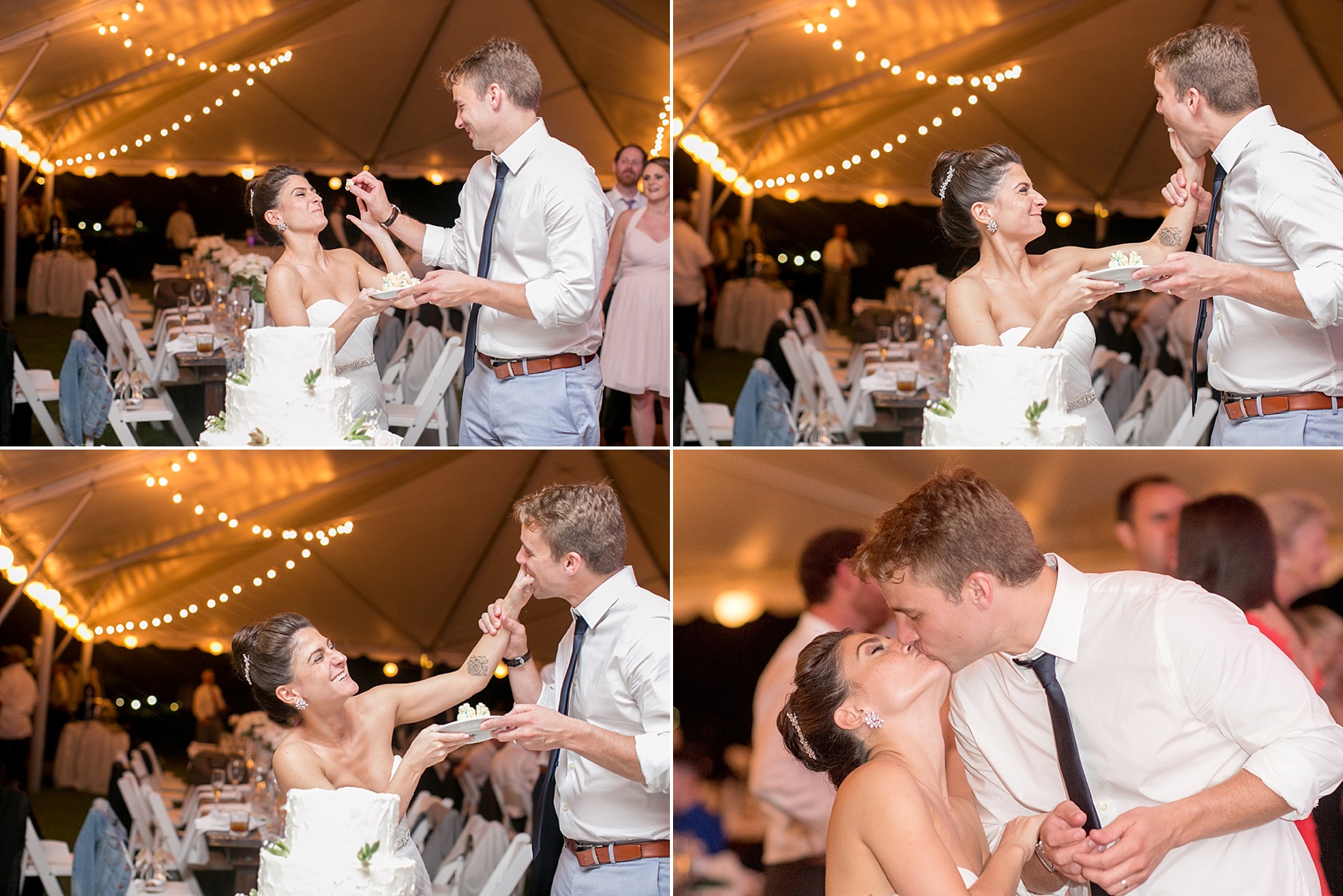 I have to admit I was excited to take out my tripod after photography "officially" ended and enjoy some long exposure photography amongst the peaceful scenery of the island. What a serene way to end the day.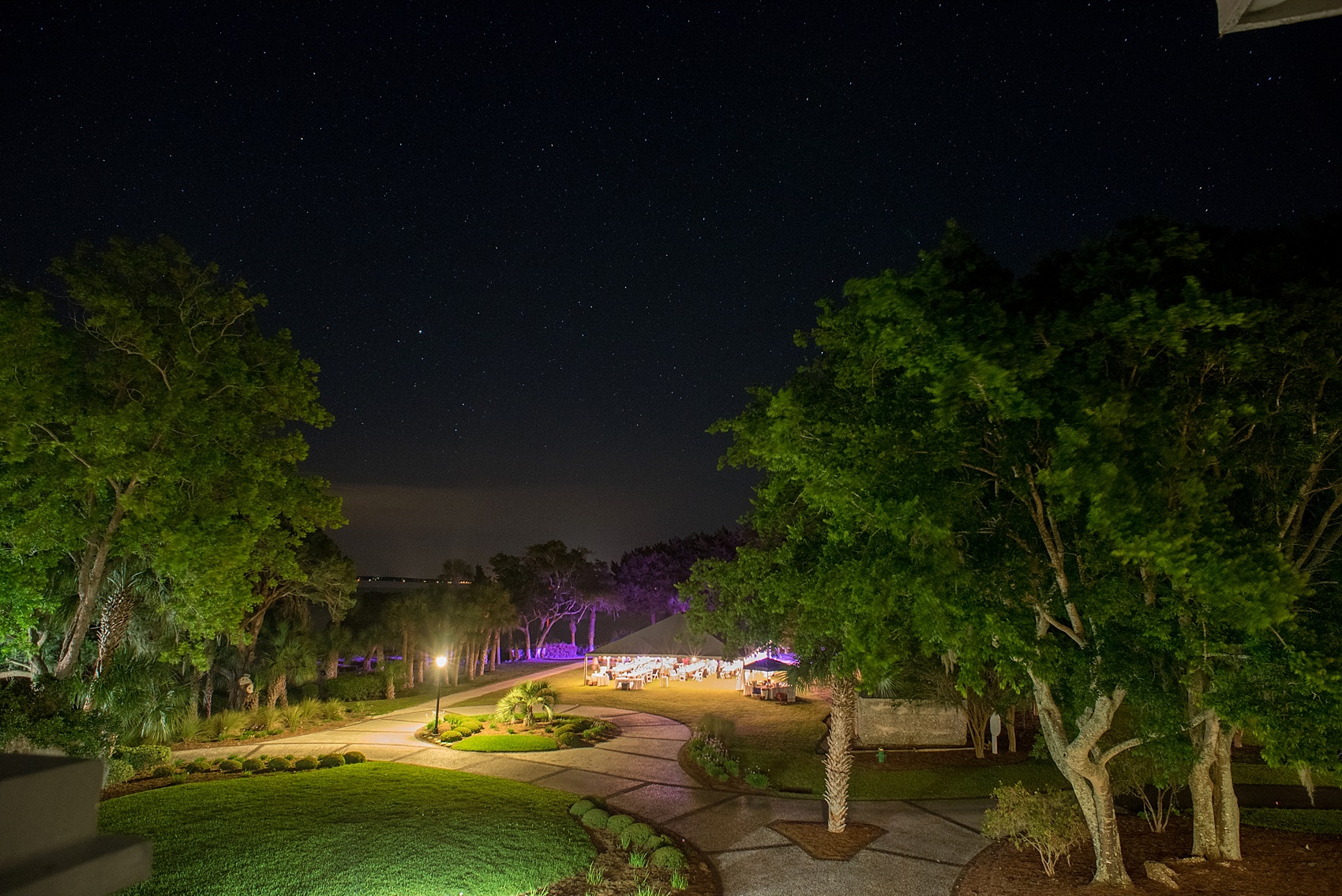 It was a beautiful Daufuskie Island wedding day but an equally incredible evening with star-filled skies.
Congratulations, Christine and Jake!
Daufuskie Island Wedding Vendors
Venue: Haig Point, Daufuskie Island, catering and event director, Kristen Quillin / Wedding Gown: WToo by Watters / Shoes: Badgley Mischka / Bride's earrings: Ben Amun for BHLDN / Bridesmaids dresses: Bill Levkoff, from RK Bridal / Bridesmaids getting ready tanks: Why Not Shop, Etsy / Bridesmaids earrings: Anthropologie / Rings: Ken and Dana Design / Groom's Suit: J.Crew / Groomsmen Suits: Zara / Groomsmen socks: Happy Socks / Ties: Express / Paper suite: Poshest Papers, Etsy / Welcome bags: Before the I Dos, Etsy / Wedding programs: SweetSights, Etsy / Tables and lighting: Eventhaus Rentals / Makeup: Bride's Side Beauty / Hair: Salon 1050E / Band: Dave Higgins Band / Milk-glass vases: Mother's Vintage and Northwest Accents, Etsy / Flowers: Flowers by "KK" / Cake: Signe's Bakery