Vidrio Raleigh is a downtown restaurant that transforms to a gorgeous wedding venue in North Carolina. The beautiful space is wonderful for a couple seeking an interestingly decorated space filled with color and possibility.
It's a unique, colorful restaurant with impeccable interior decor. It can check a lot of things off a wedding vendor list including the venue, catering and rentals all within one package.
Event Spaces within Vidrio Raleigh
There are multiple spaces you're able to rent for events at Vidrio.
A private room on the first floor (large enough for a small dinner, perhaps with 10-20 people).
The entire restaurant.
Two distinct spaces upstairs perfect for seated dinners. And a third if you count the immediate area when you walk upstairs from the first to second floor, which is great for a small ceremony before dinner in an adjacent space.
I was lucky enough to do a styled shoot at Vidrio with a fabulous vendor team, led by Michelle of Magnolia and Grace Events. (I was also one of the first Raleigh, North Carolina photographers inside the restaurant, taking interior photos before this shoot.) We utilized a lot of the second floor areas.
There's also a pretty bridal suite at Vidrio. They hired me to take premiere photographs of their bridal suite, which opened several months after they began hosting downtown Raleigh weddings.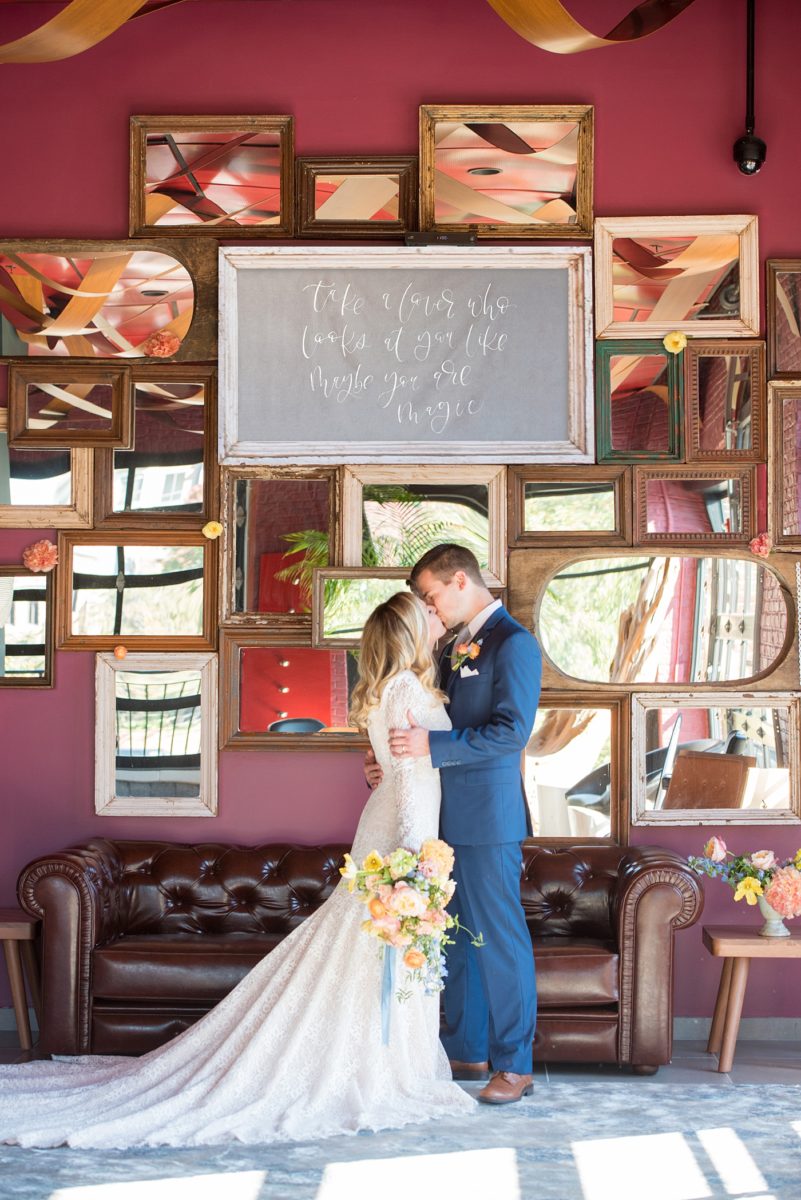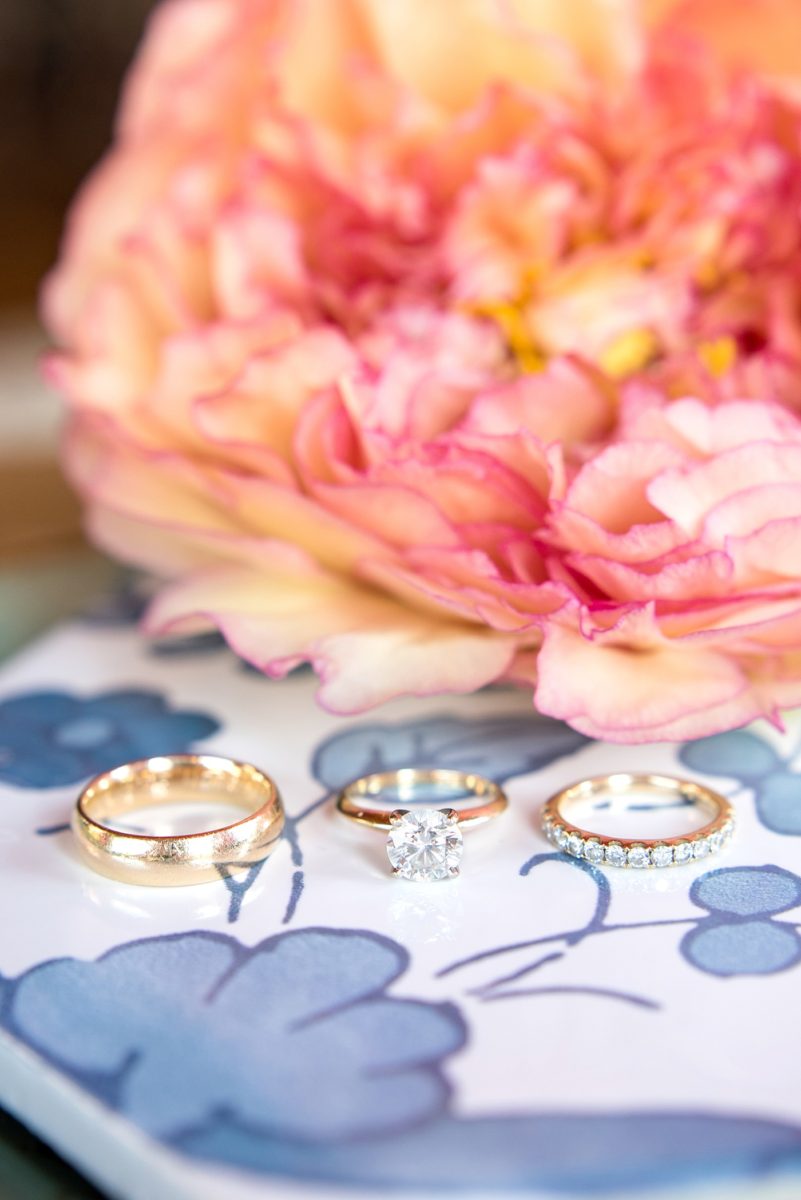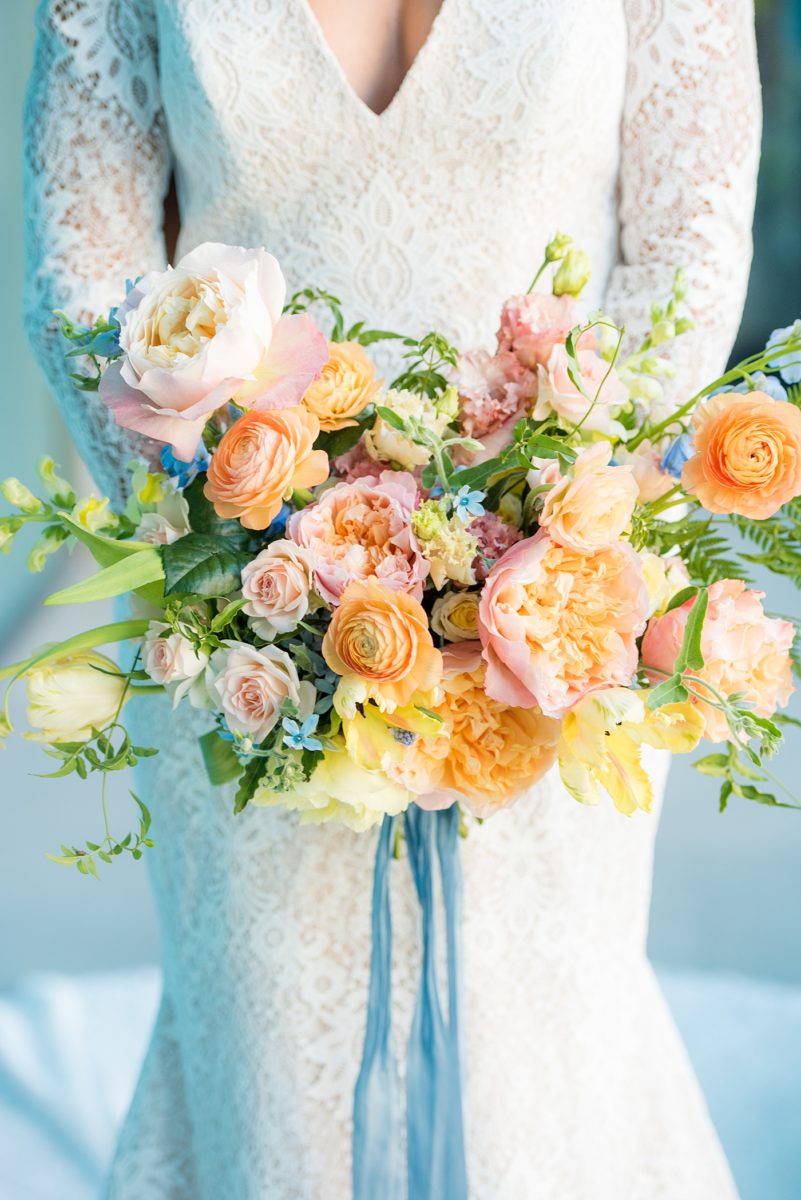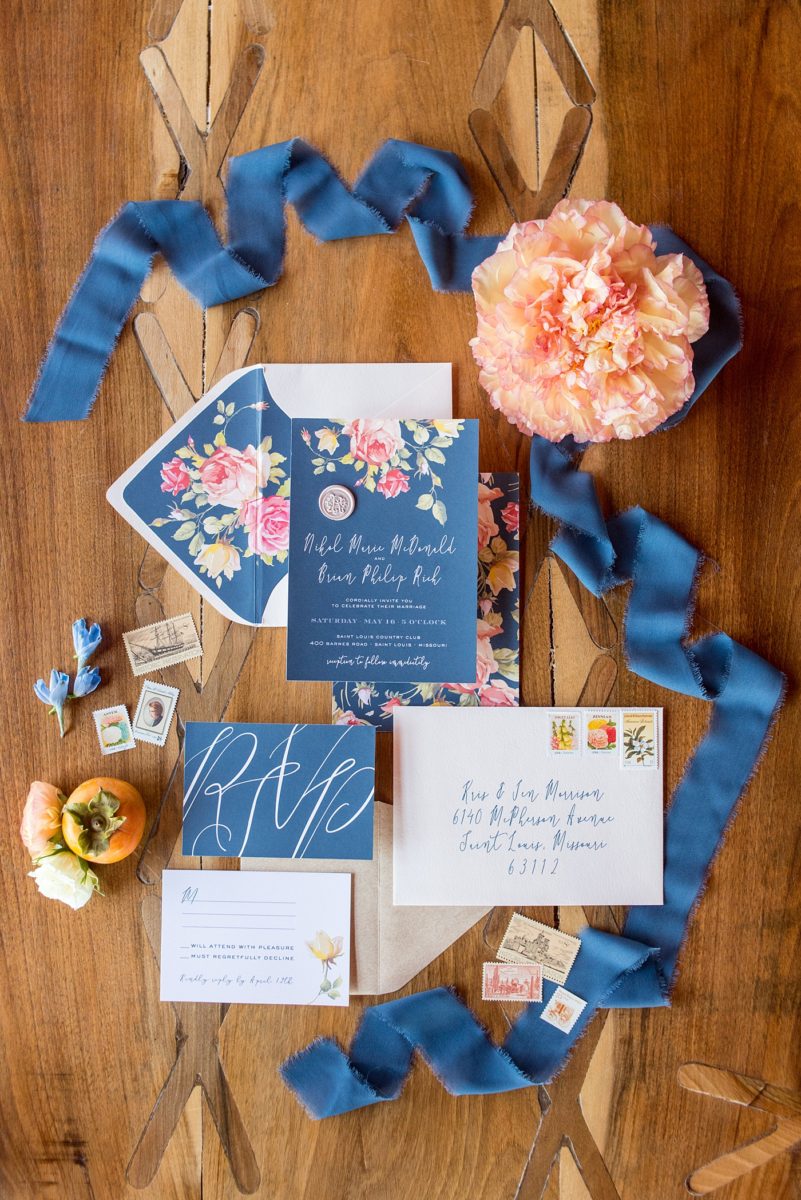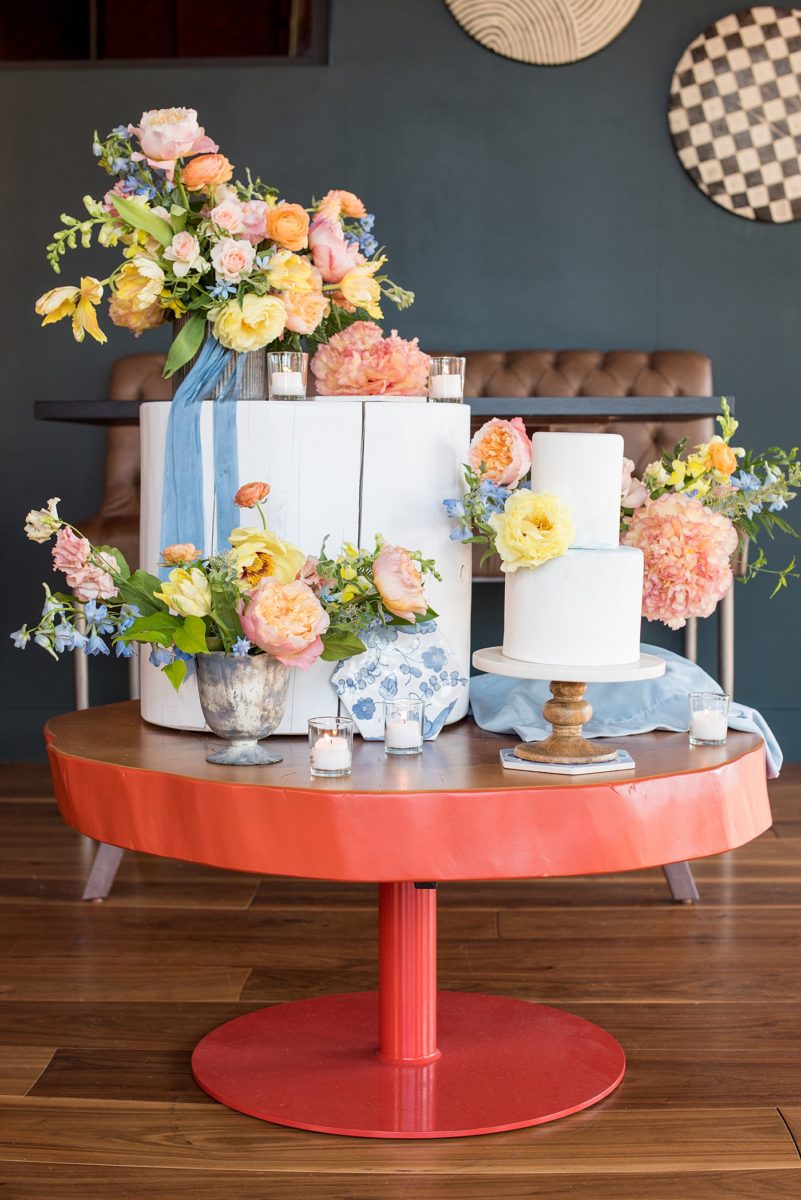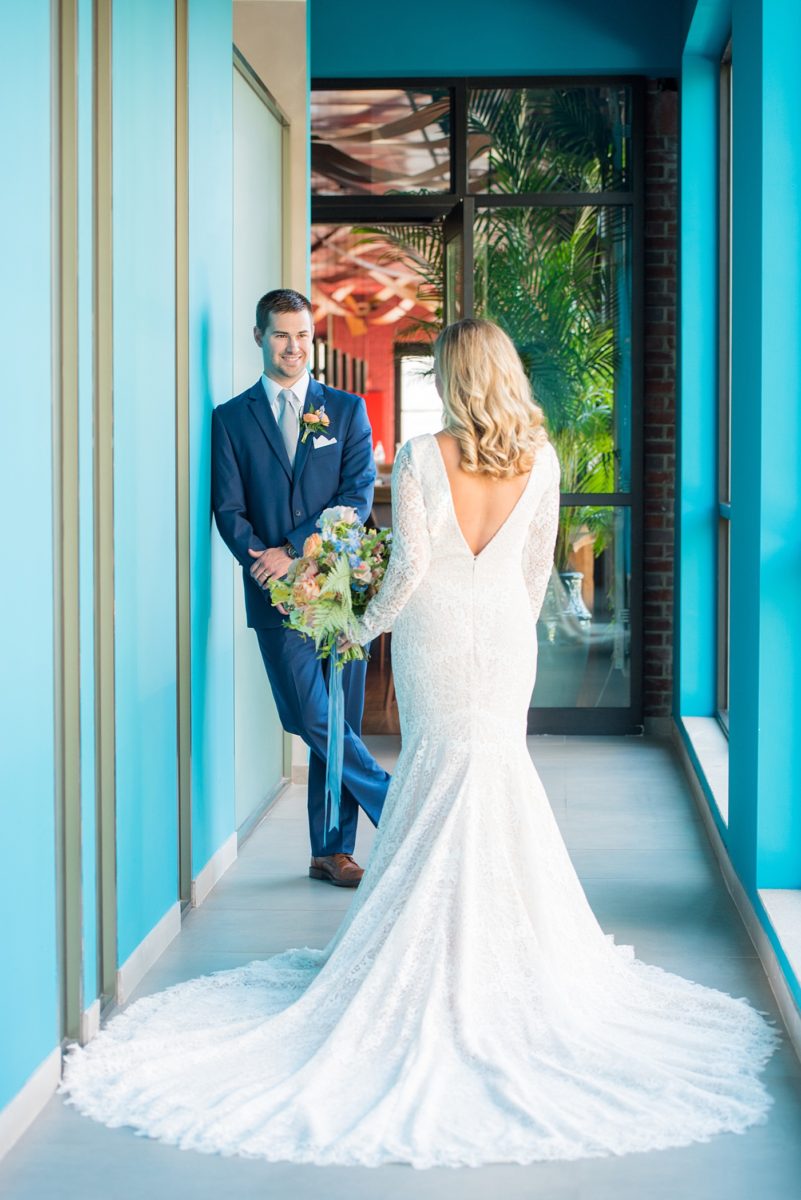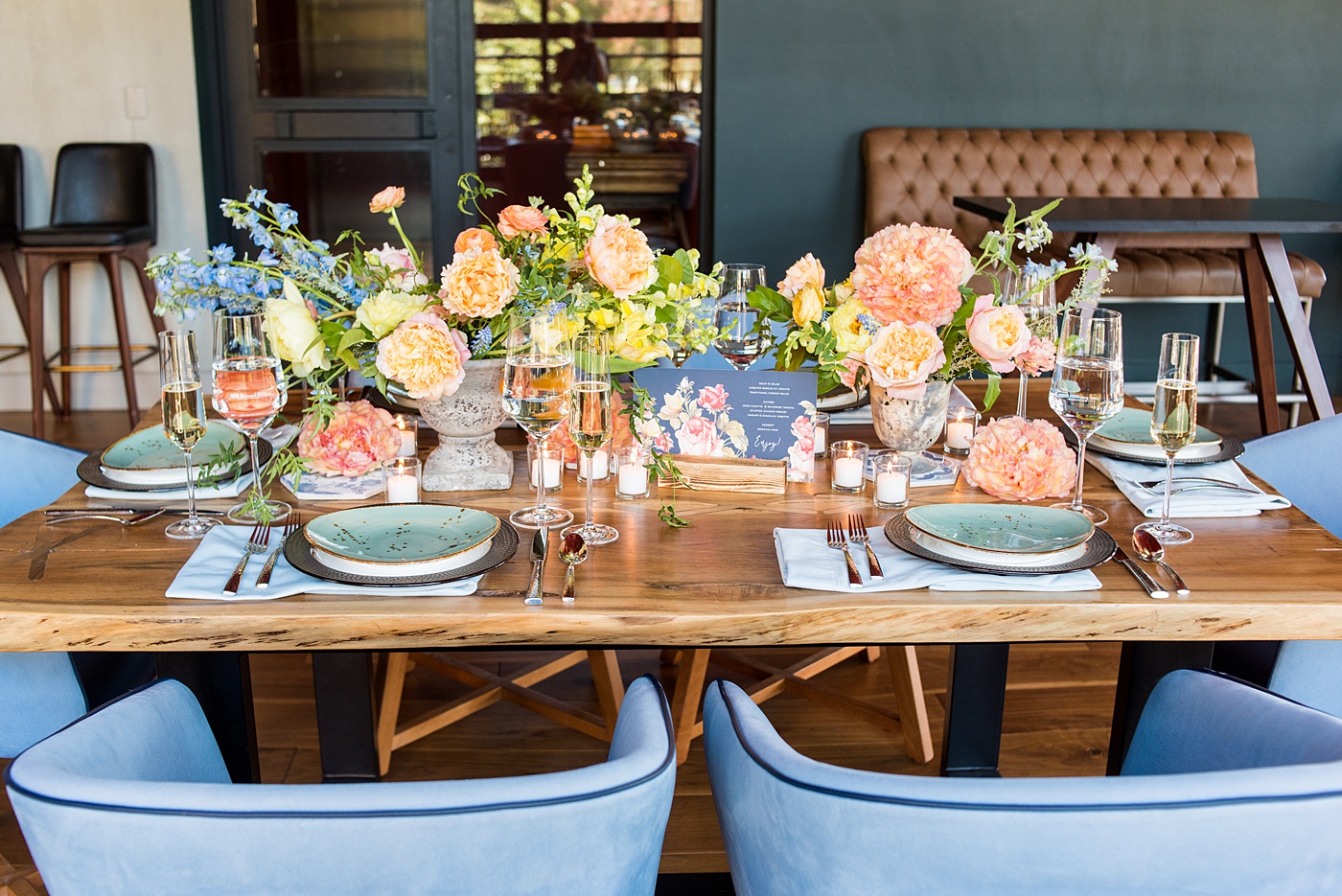 Our Vidrio Raleigh Wedding Inspiration
There were so many elements to love at this shoot. The blue micro suede chairs brought out the blues in the floral centerpieces. Huge peach and pink peonies were placed on the tables with painted blue and white tiles, that matched the entry way to the restaurant where we photographed the bride's blue suede shoes. (Vidrio means "glass" in Spanish, which is what inspired the restaurant's interior design.
The tiles reminded us of
Plaza de España in Seville
!) The navy blue invitation featured large script details and echoed the flowers at the shoot. The place cards were made to match with names of guests written in beautiful script as well.
Vidrio Raleigh Bride and Groom
The bride wore a gorgeous, long-sleeve Pronovias gown from Lana Addison bridal, with a deep v-neck matching a deep v in the back of the gown that pointed down to the bride's train. Her groom's blue suit and grey tie were was perfect for the color palette.
Meristem Floral made the most perfect little boutonniere for him, featuring blue musacri and orange ranunculus. The ribbons that wrapped the boutonniere matched the long blue ribbons on the bride's organically designed bouquet. Her bouquet was comprised of tulips, ferns, snapdragons, peonies, larkspur, roses and jasmine vine.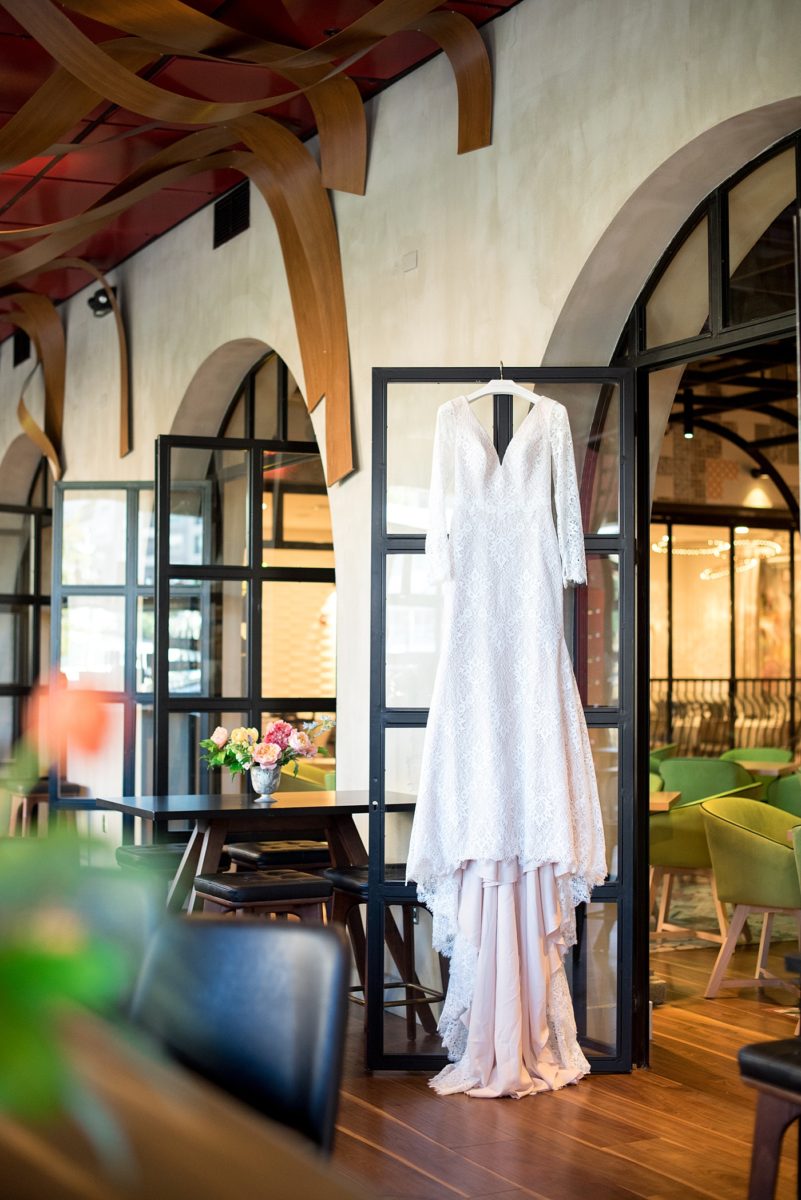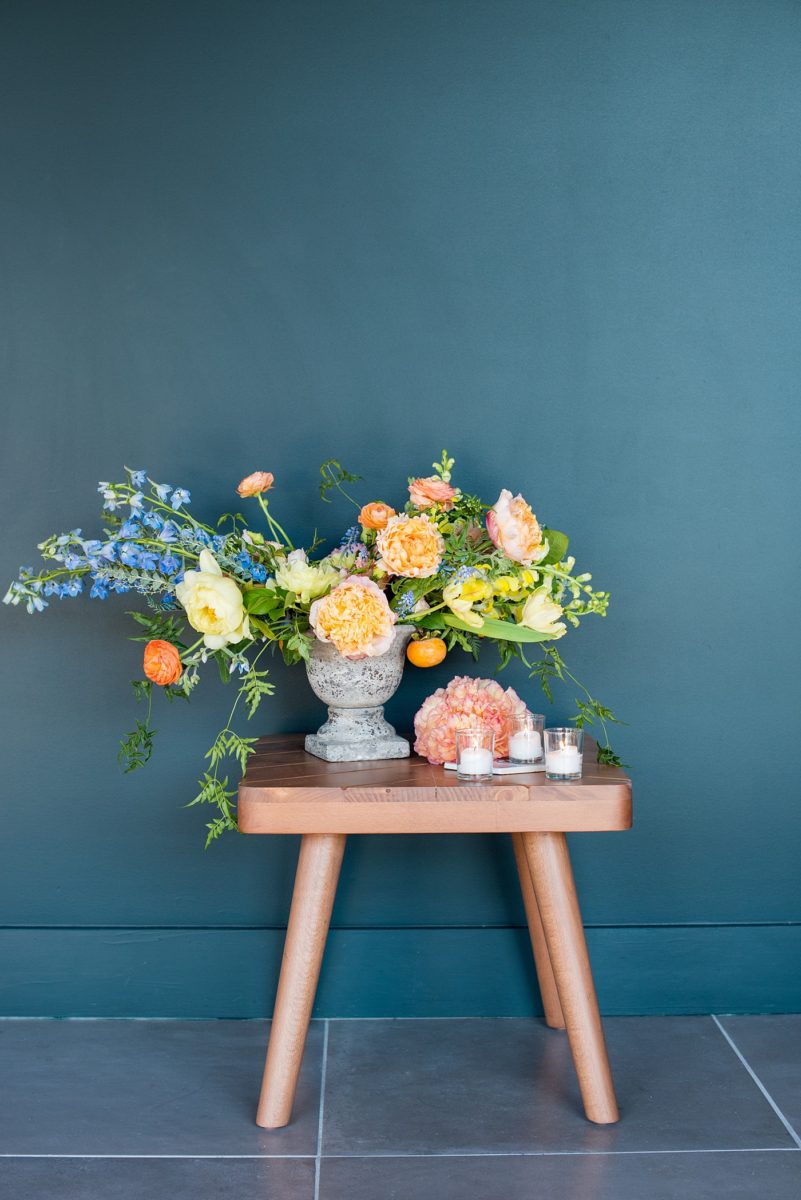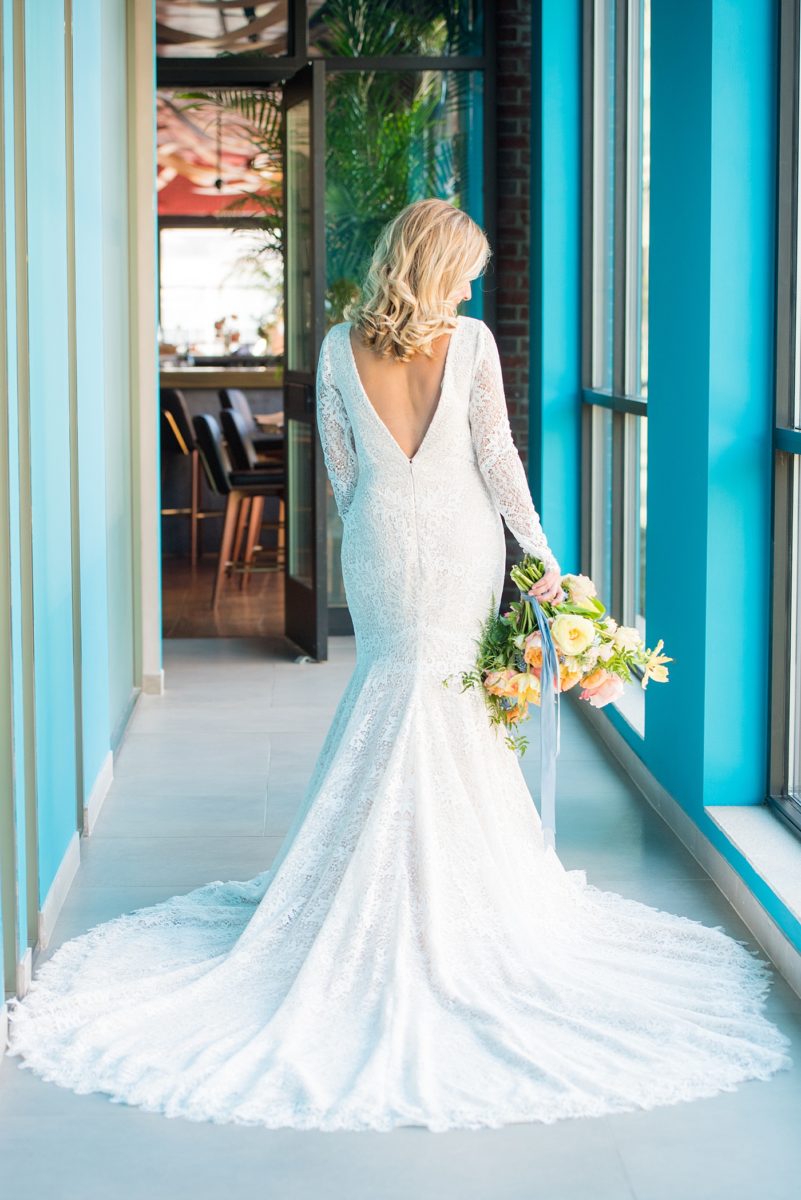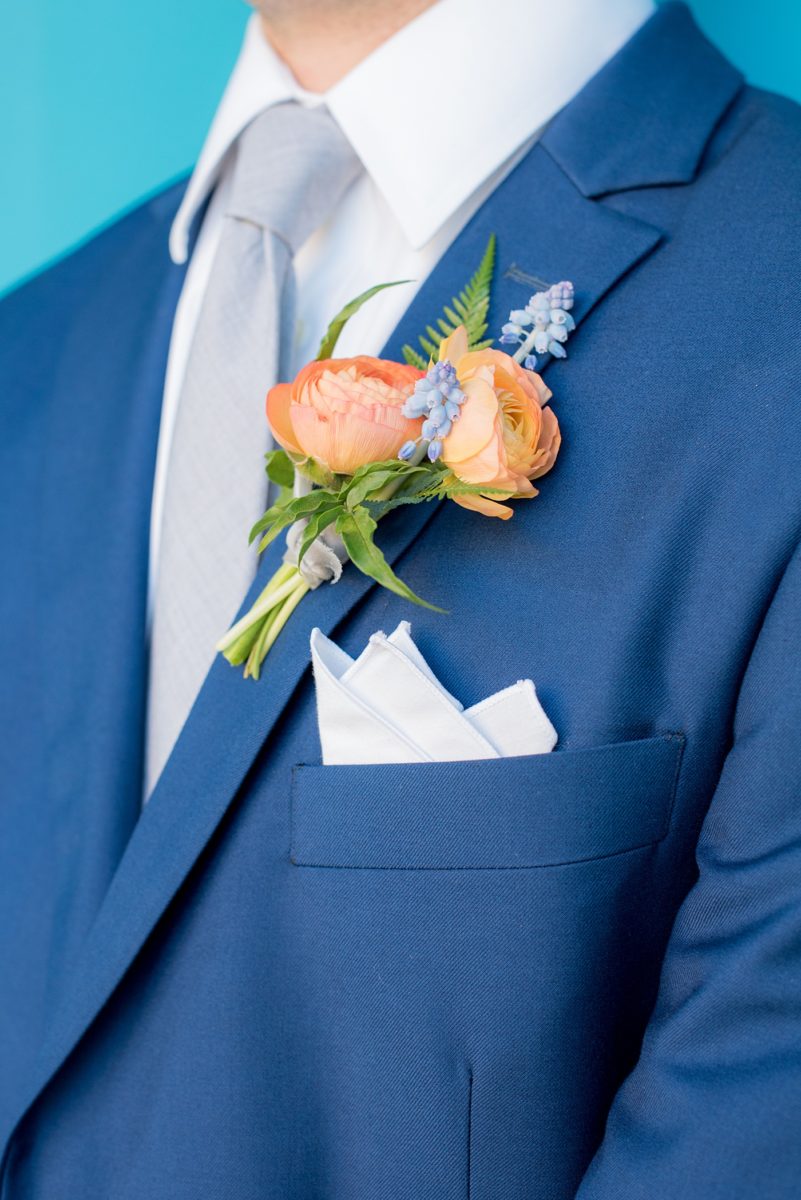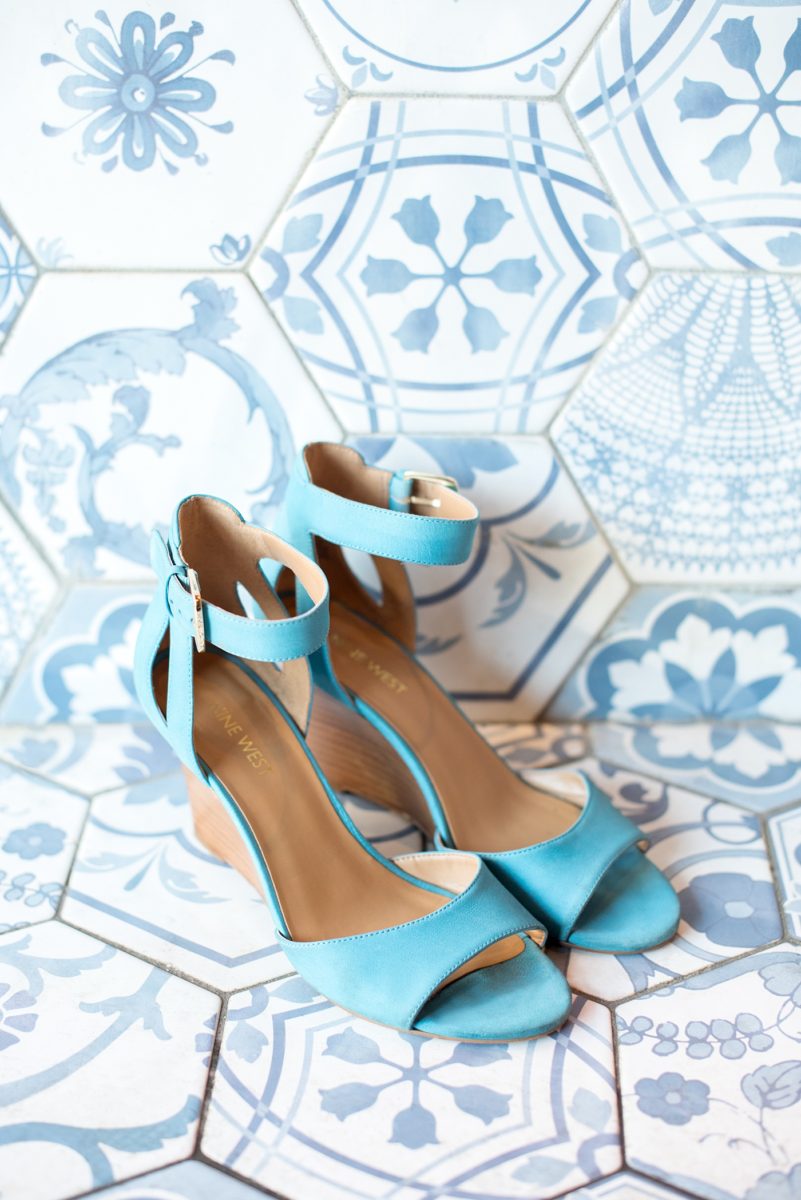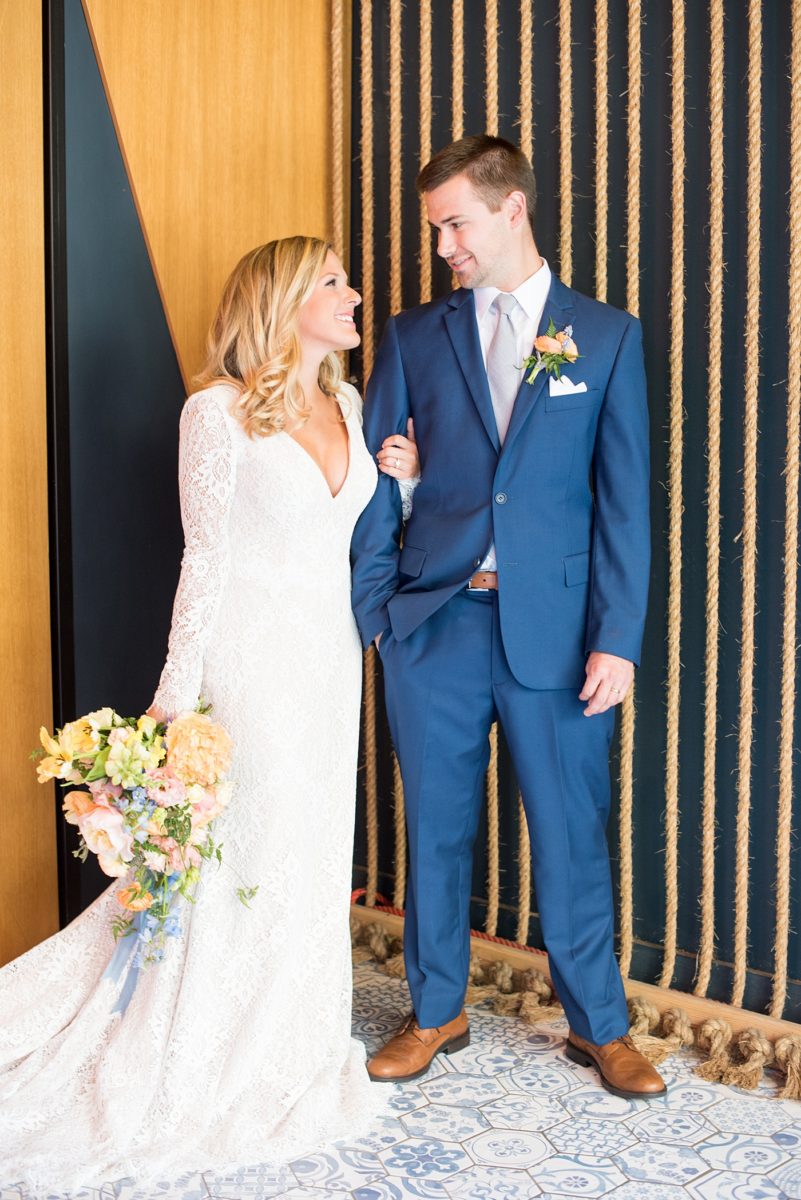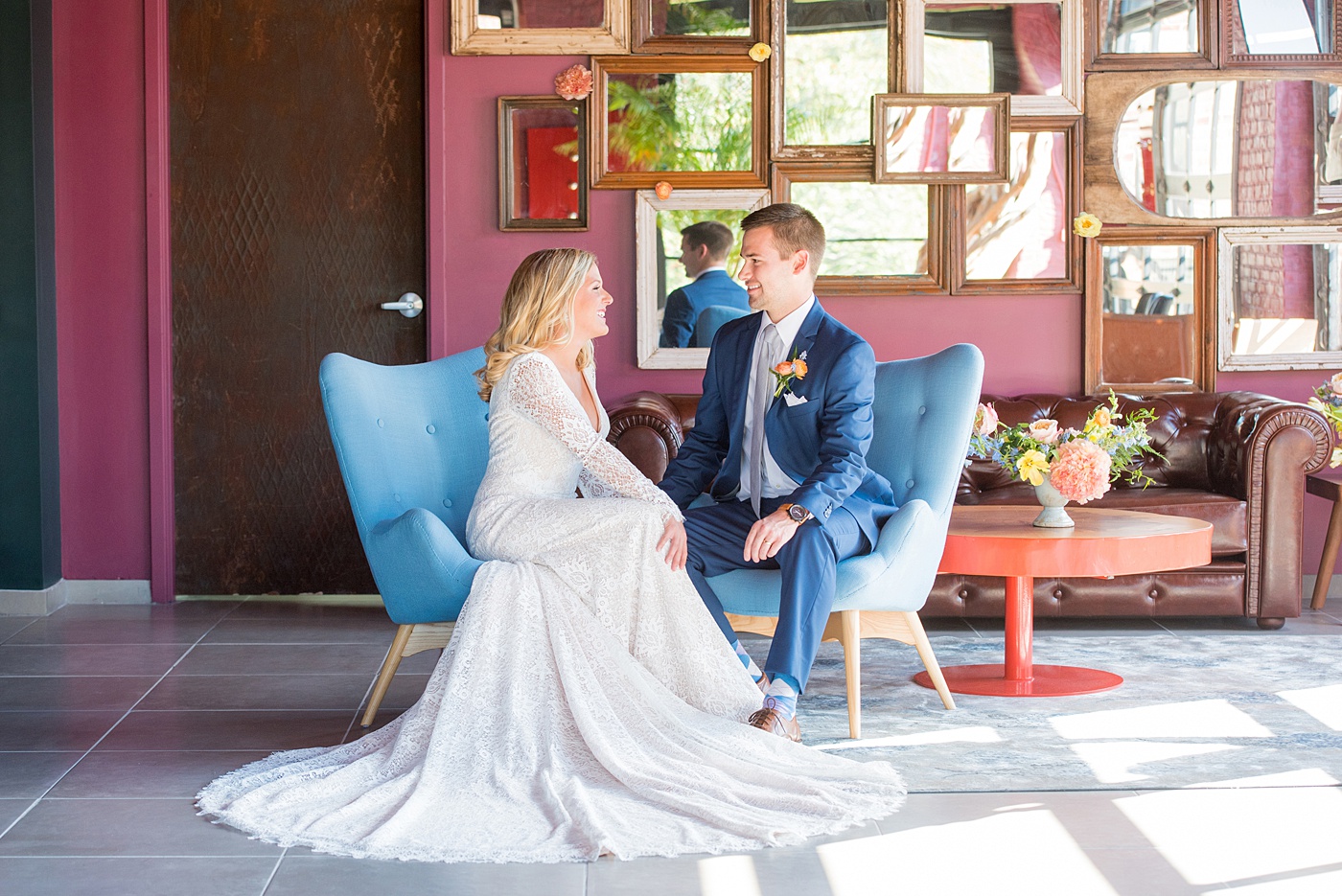 Favorite Spaces on the Second Level of Vidrio Raleigh
One of the highlights of the upstairs, second level of Vidrio is the floor to ceiling mirror wall they have, hung against a berry colored wall. It's a photographer's dream even though I had to be very careful to maneuver myself out of the picture, ensuring my reflection wasn't showing in any frame.
Another favorite area of Vidrio for me is the upstairs hallway painted a bright blue. It's a bit of a cross between turquoise and teal and it's actually a hall that leads to the restrooms. But who cares, right? It's beautiful and really lightens up the bride and groom's faces, as if they weren't already glowing enough!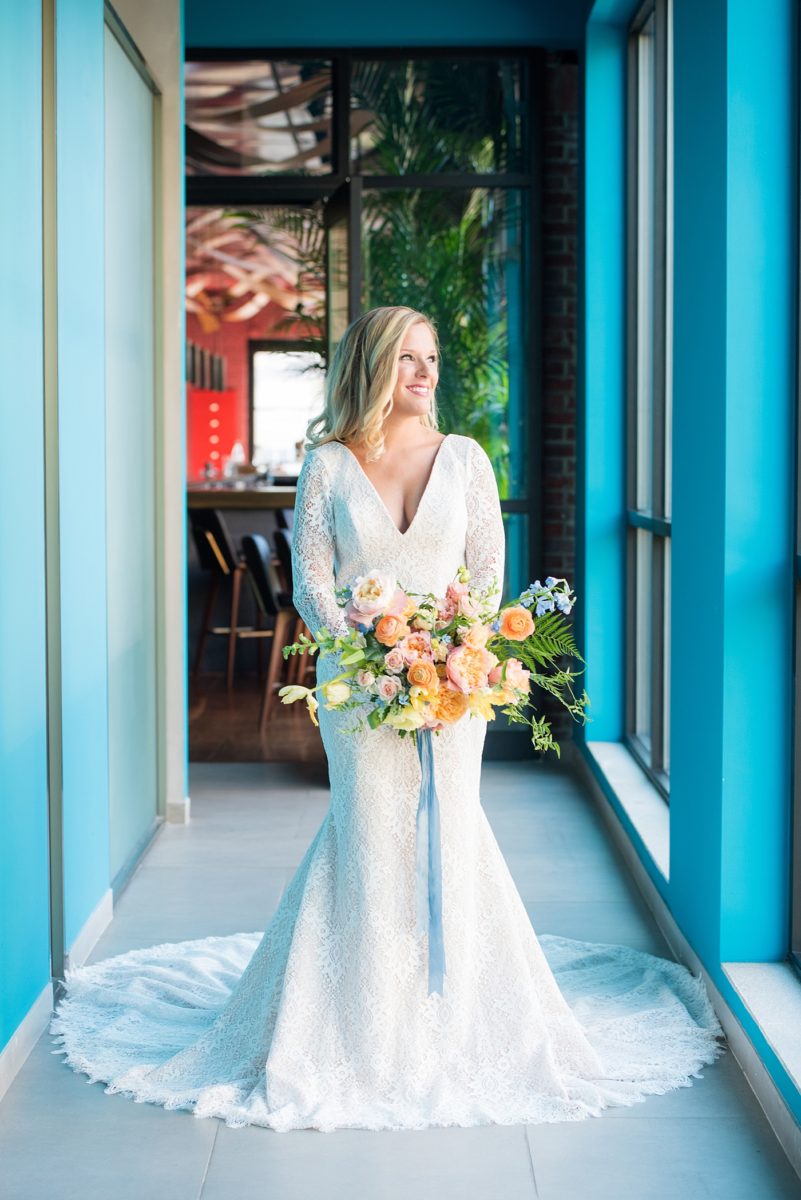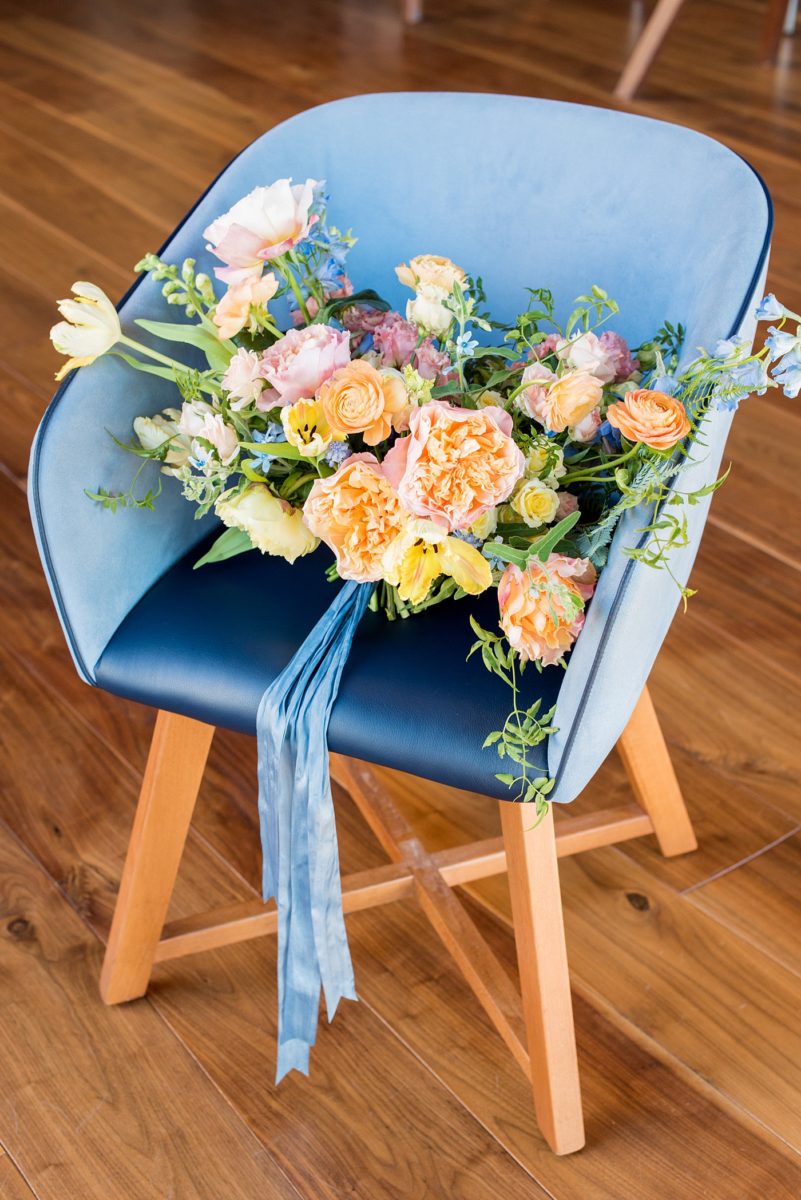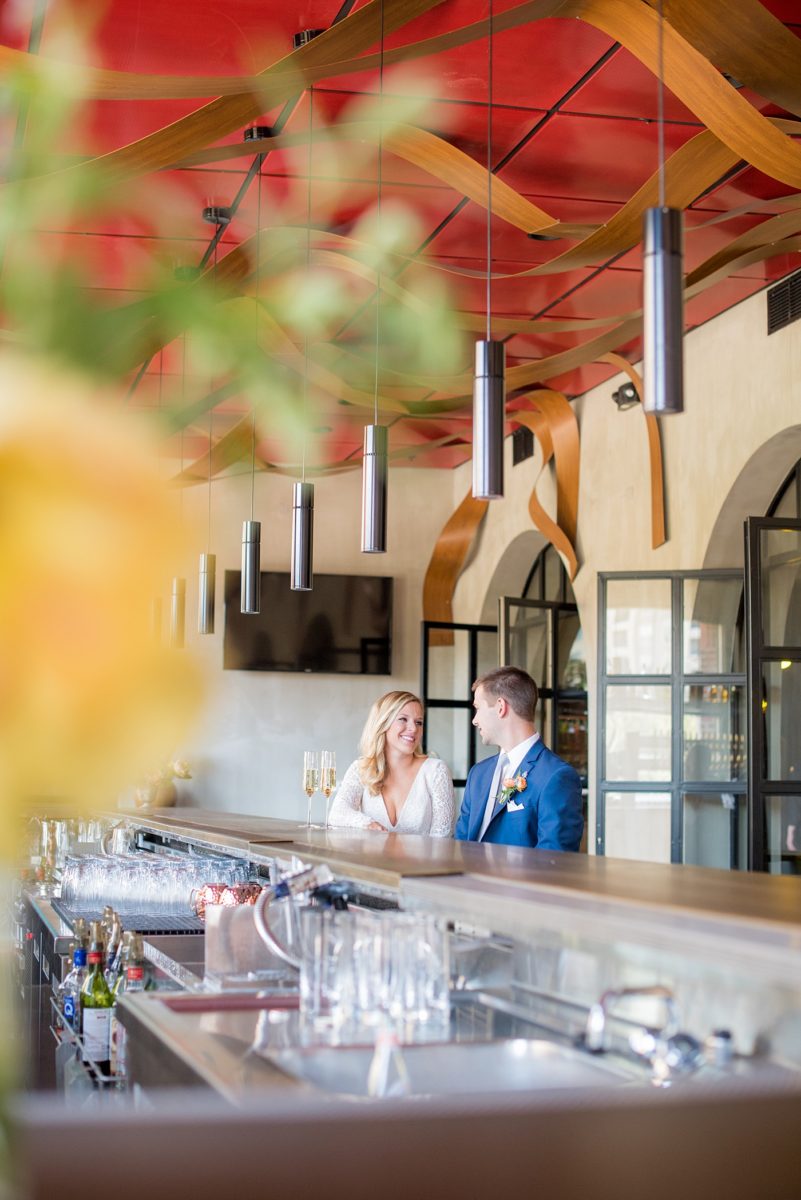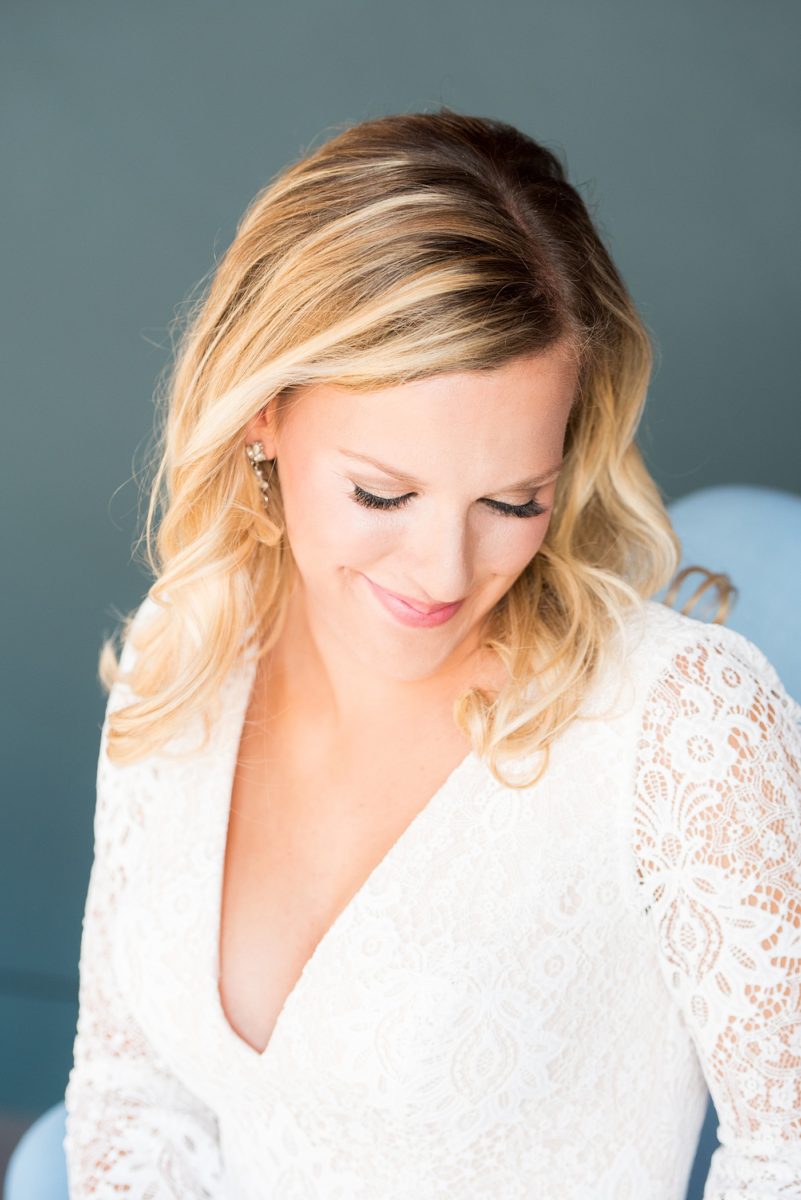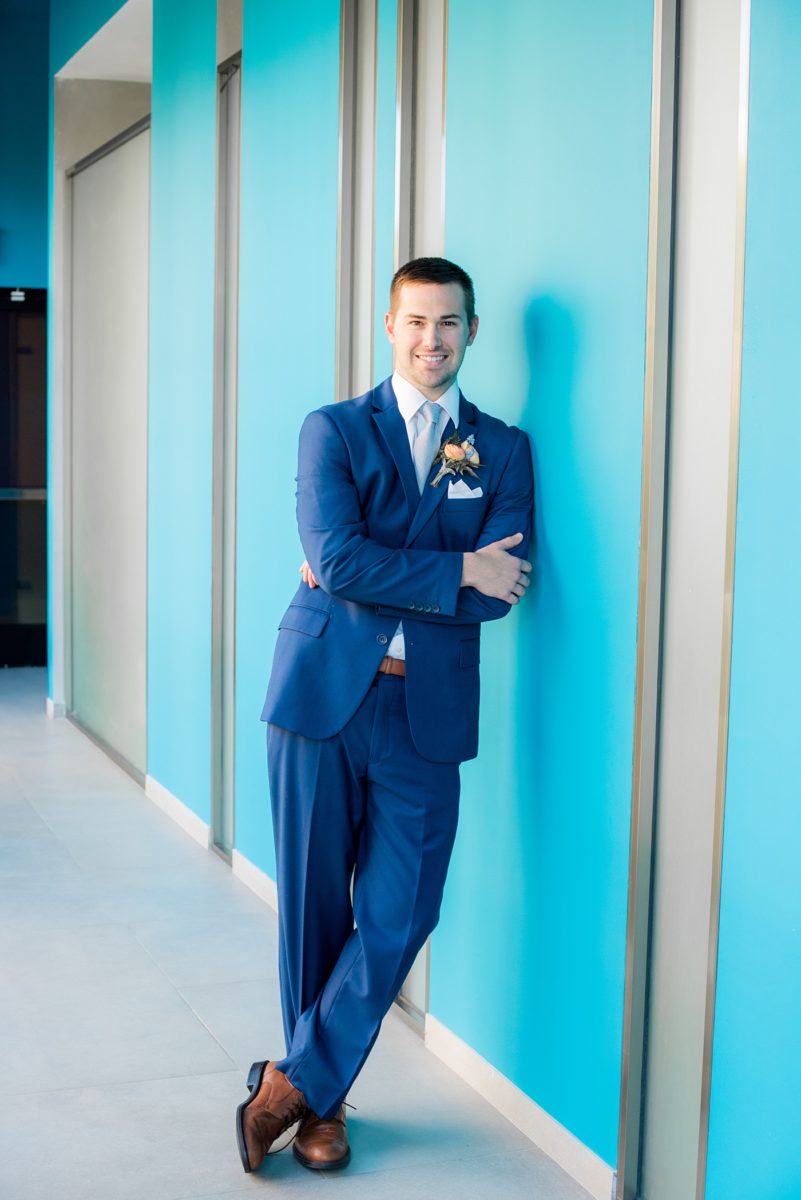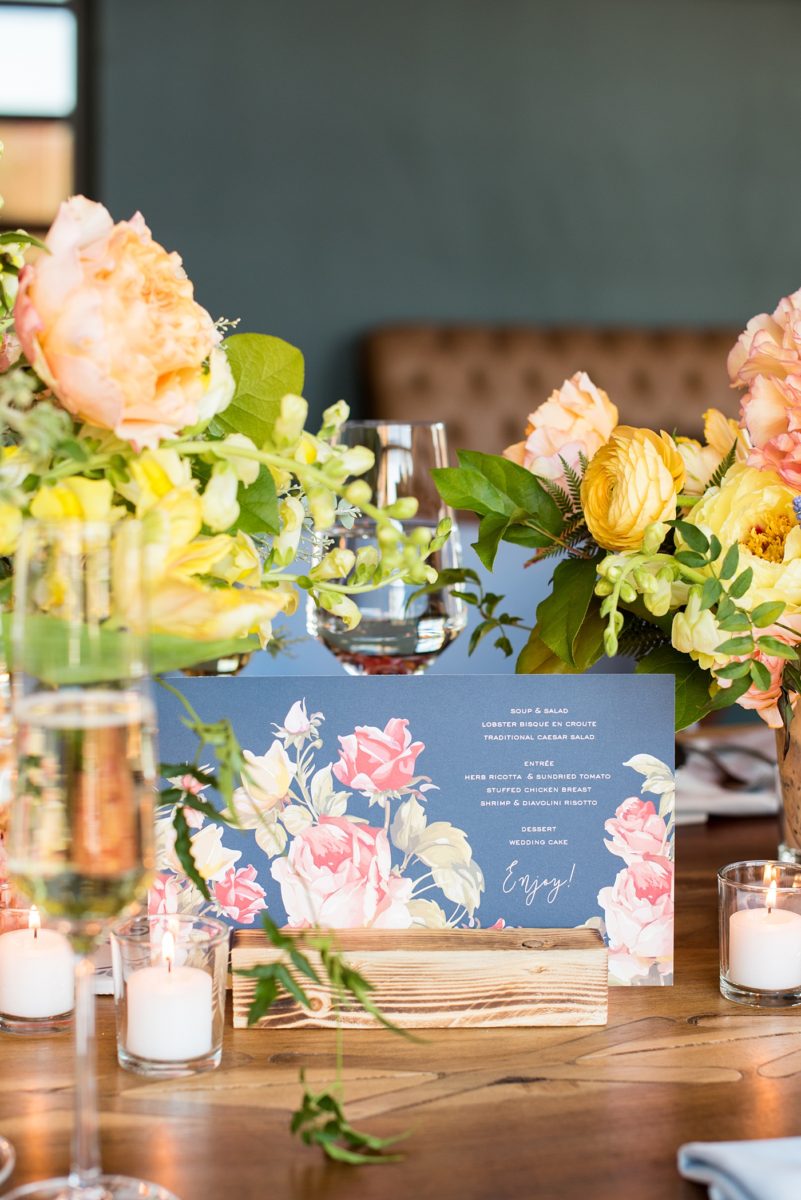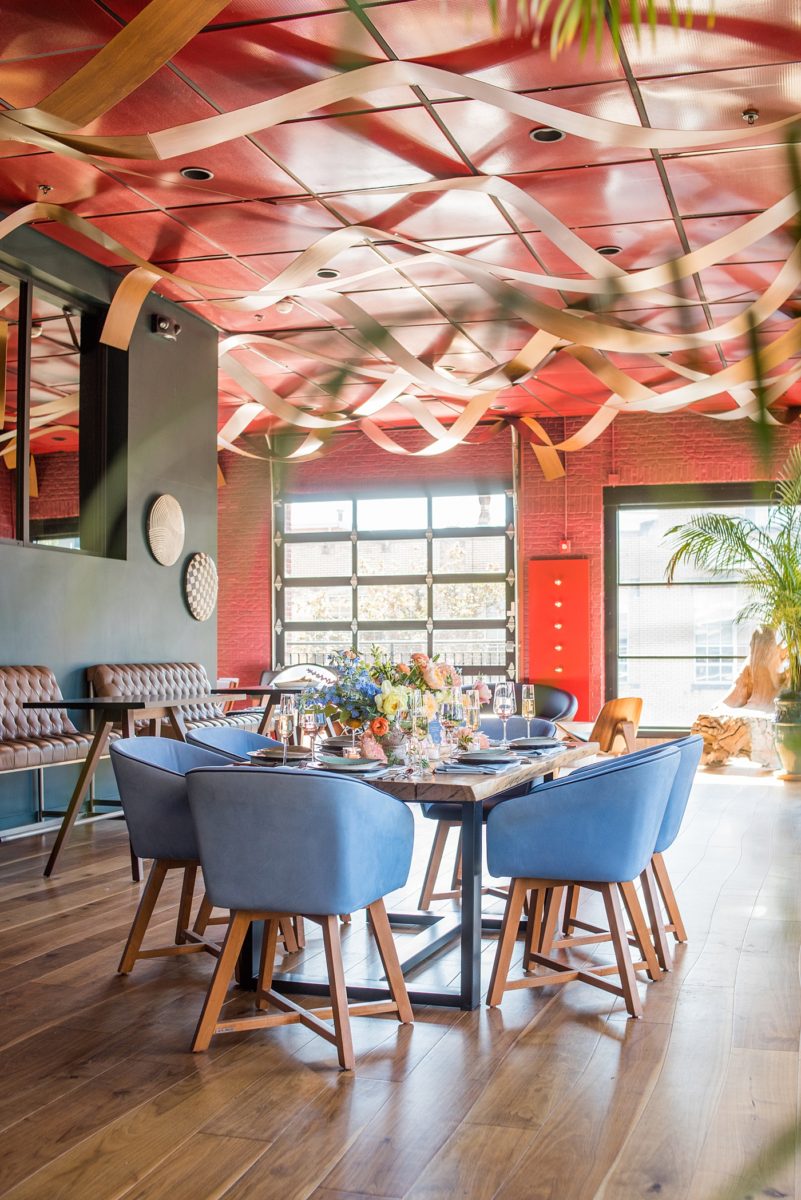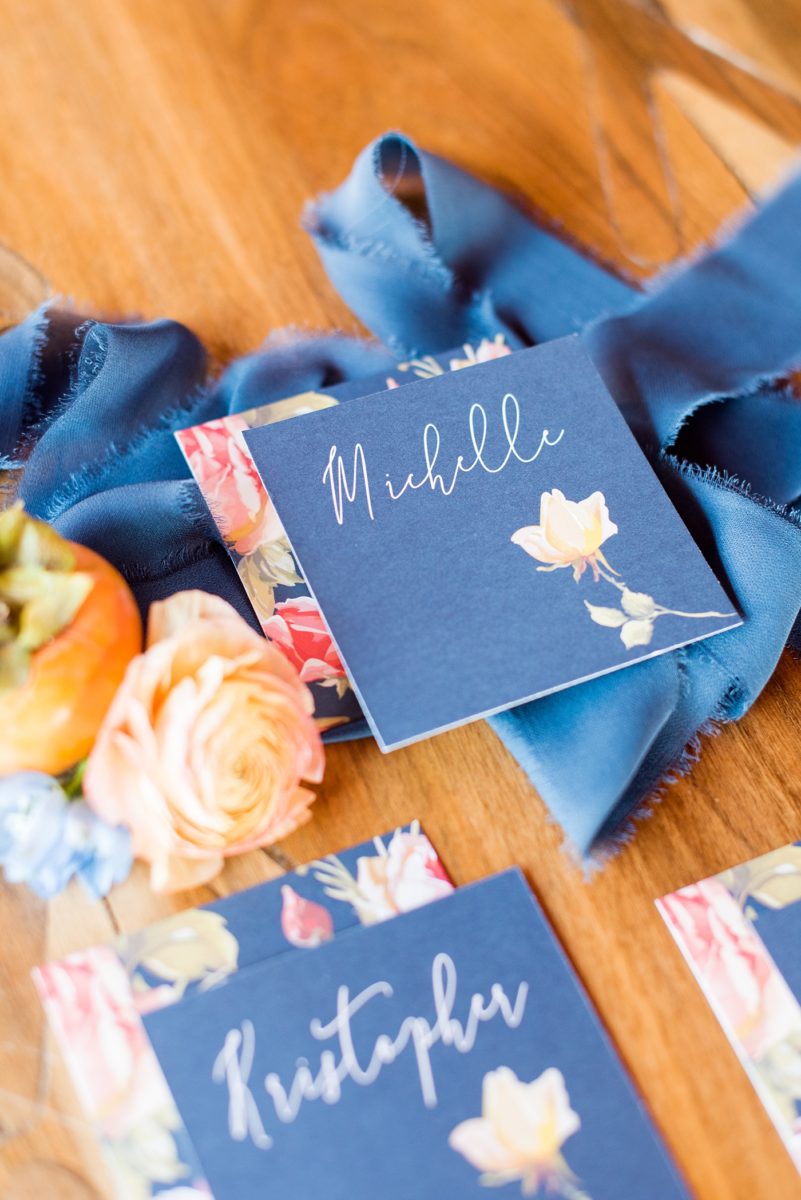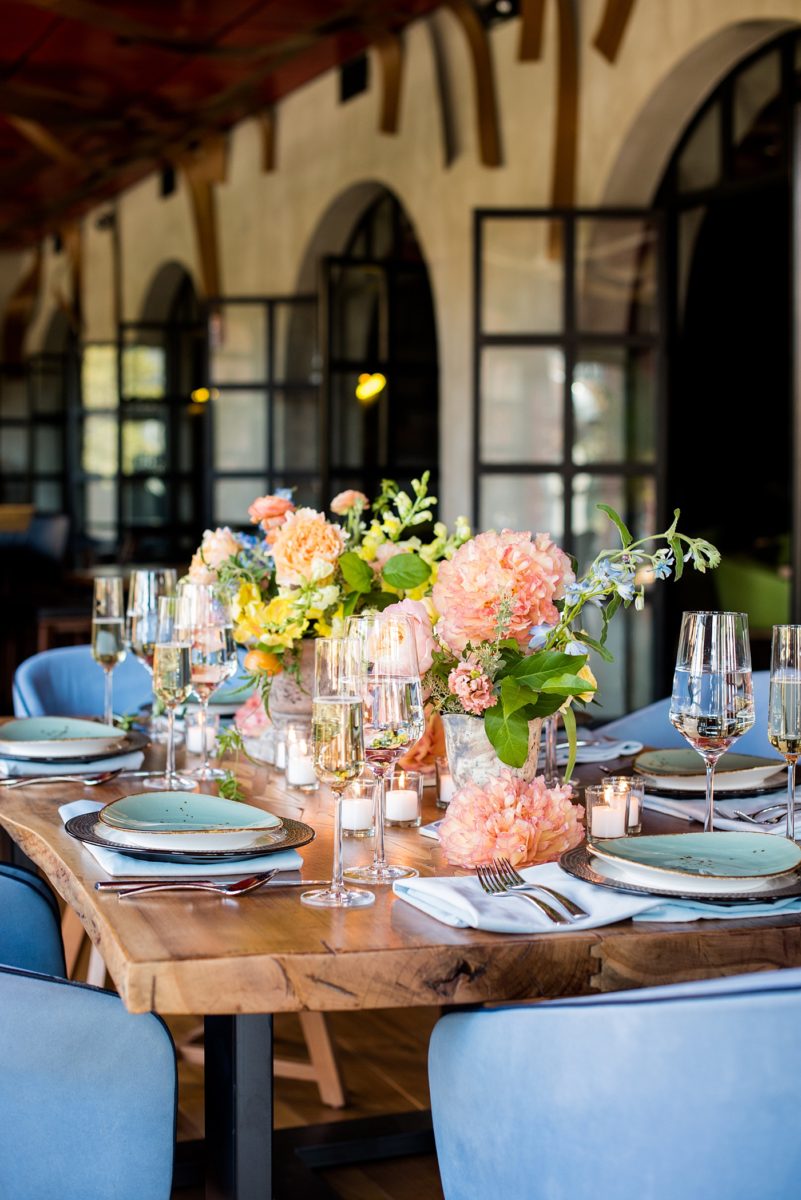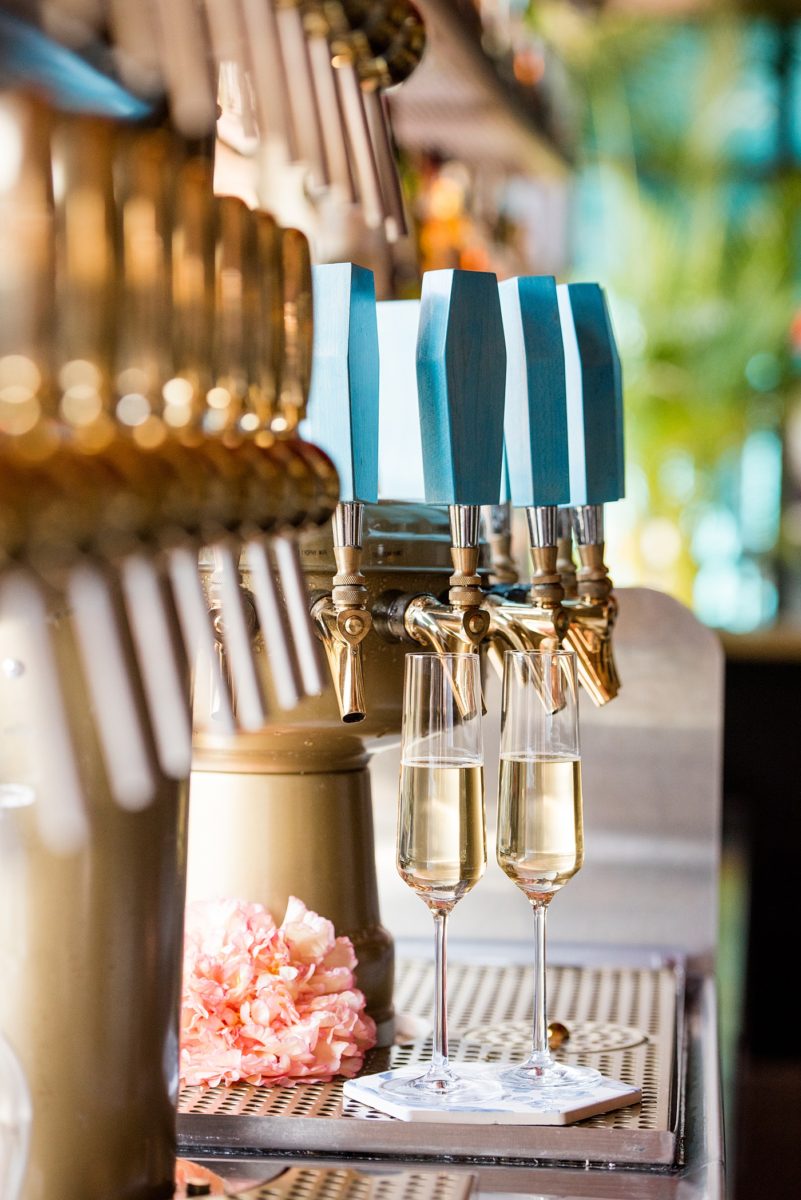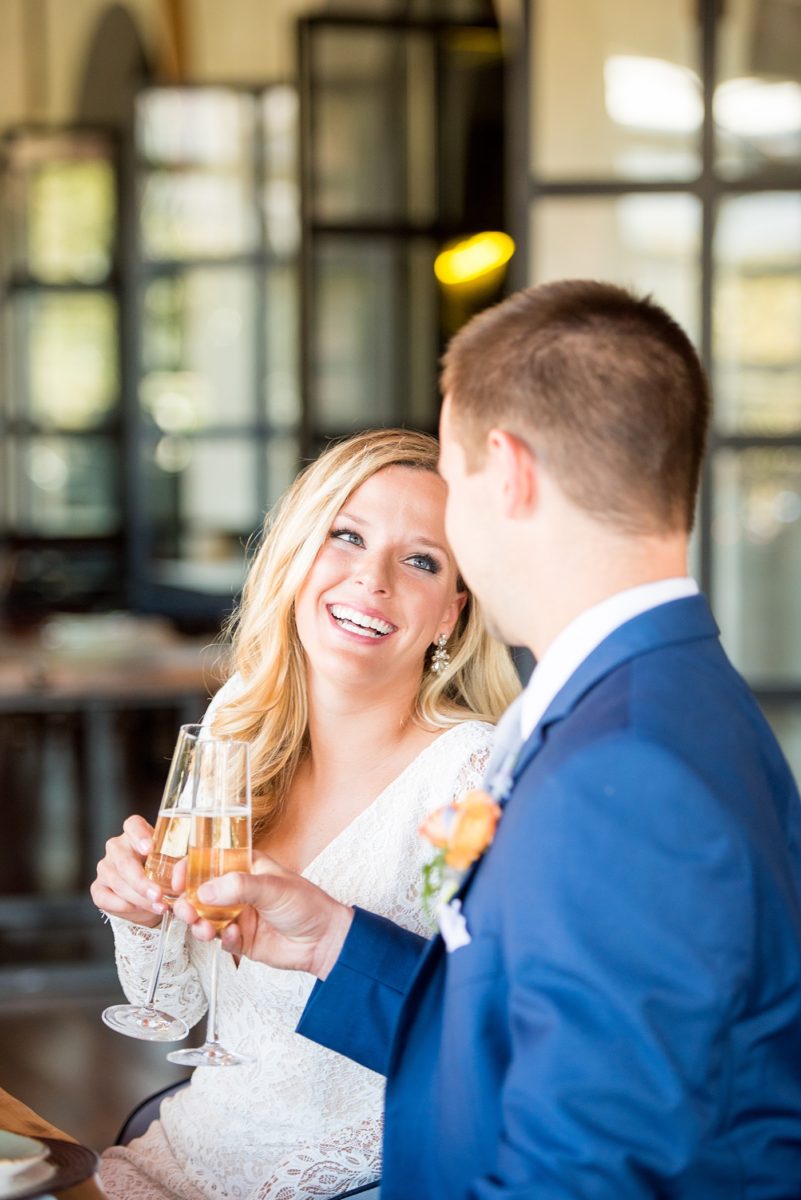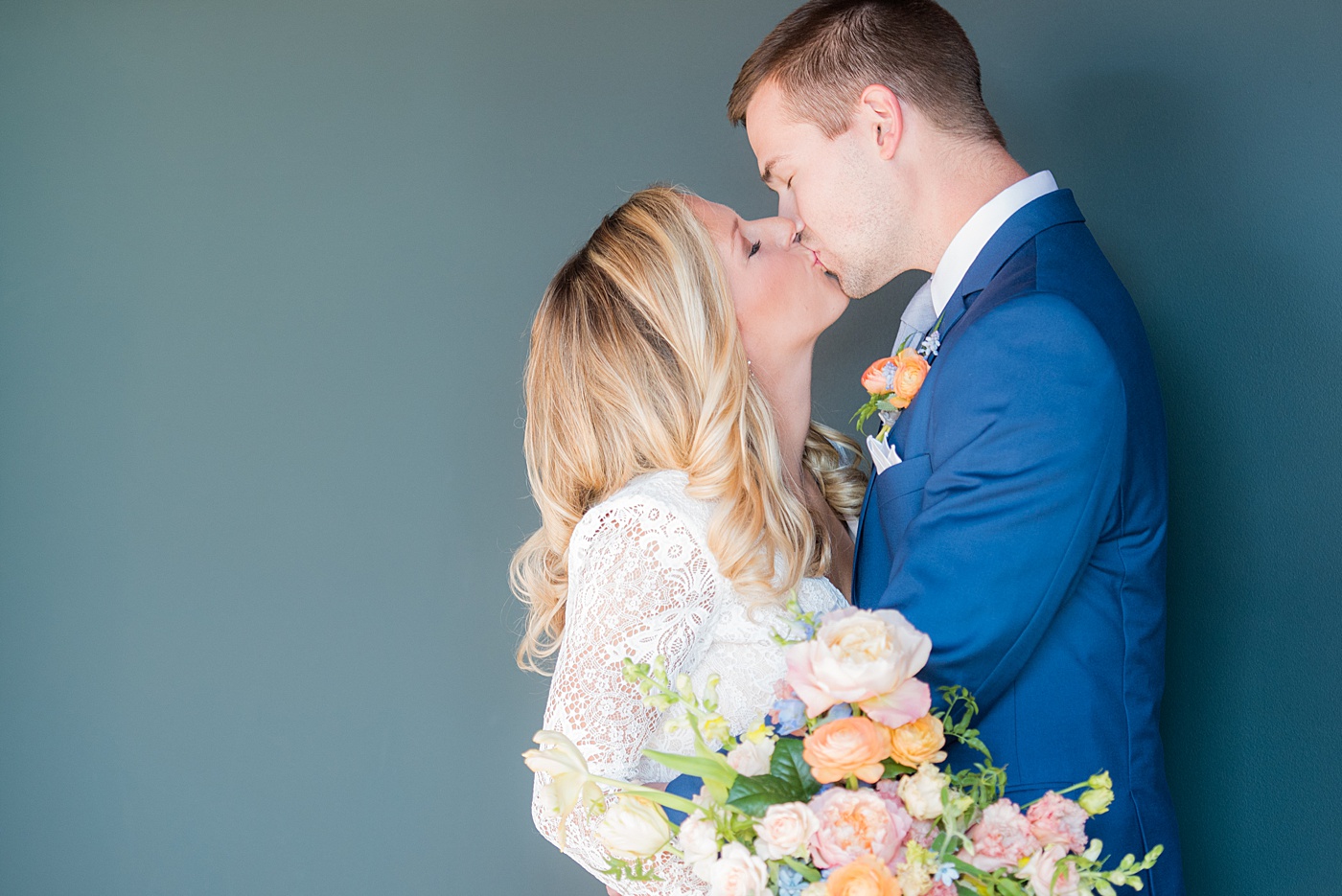 Drinks, Food, and Dessert
They, of course, have a caterer in-house at Vidrio Raleigh. The restaurant is delicious and when Dan and I eloped guess where we ate dinner that night? Vidrio, Raleigh!
One of the coolest things about the restaurant is they have wine on tap! The upstairs wine bar handles are wooden and painted blue to match the adjacent hallway.
For dessert, the restaurant's catering department provided the cutest plates of petite fours. The Cupcake Shoppe's two tiered, white fondant cake had faint blue ombre between its layers, where we put a perfectly placed yellow peony.
Vidrio Raleigh wedding team:
Additional Inspiration
Getting married in downtown Raleigh or having your own Vidrio Raleigh wedding and looking for inspiration? Also check out: