Lauryn and Joe's wedding at The Stockroom at 230 was the perfect way to kick off to May. The colorful vision Lauryn had for her and Joe's celebration came to life on a Saturday with family and friends gathered from out of town. And the street was extra vibrant from a festival on Fayetteville Street that ran all day, which simply felt like more celebration for this beautiful bride and groom.
They met through Joe's brother, who was stationed in Myrtle Beach in the Coast Guard. Joe went to visit him and met Lauryn, while she was a student at Coastal Carolina University, just northwest of Myrtle Beach. Not too long after their friendship began to develop, and after just a handful of times seeing each other in person and somewhat dating long distance, this Kentucky guy and Maryland girl moved in together in Raleigh, North Carolina, to move their relationship forward. Lauryn and Joe's love was fate and I'm so glad I was the lucky photographer they chose to capture this next chapter of their lives together.
***Please note: this post has about 80 images in it. Allow a few minutes for it to load entirely before you begin scrolling. Thank you!***

Lauryn and her best friends, sister and mom got ready at The Glass Box, just 3 floors above The Stockroom at 230. They wore matching floral robes and celebrated the day before the ceremony with champagne and confetti (a personal favorite!). Wagner, their adorable dog, spent the morning first with dad (the groom) and then with mom (the bride) for a few minutes. He showed off his awfully cute floral bow tie (that matched the groom's and groomsmen's ties) and "My parents are getting married" bandana before heading back over to The Residence Inn where Joe and his family were.
Her mother helped zipped her wedding gown as Lauryn looked in the mirror at herself as a bride. She held a gorgeous bouquet of pink peonies, fern, ranunculus, garden roses, sweet peas, astilbe and more.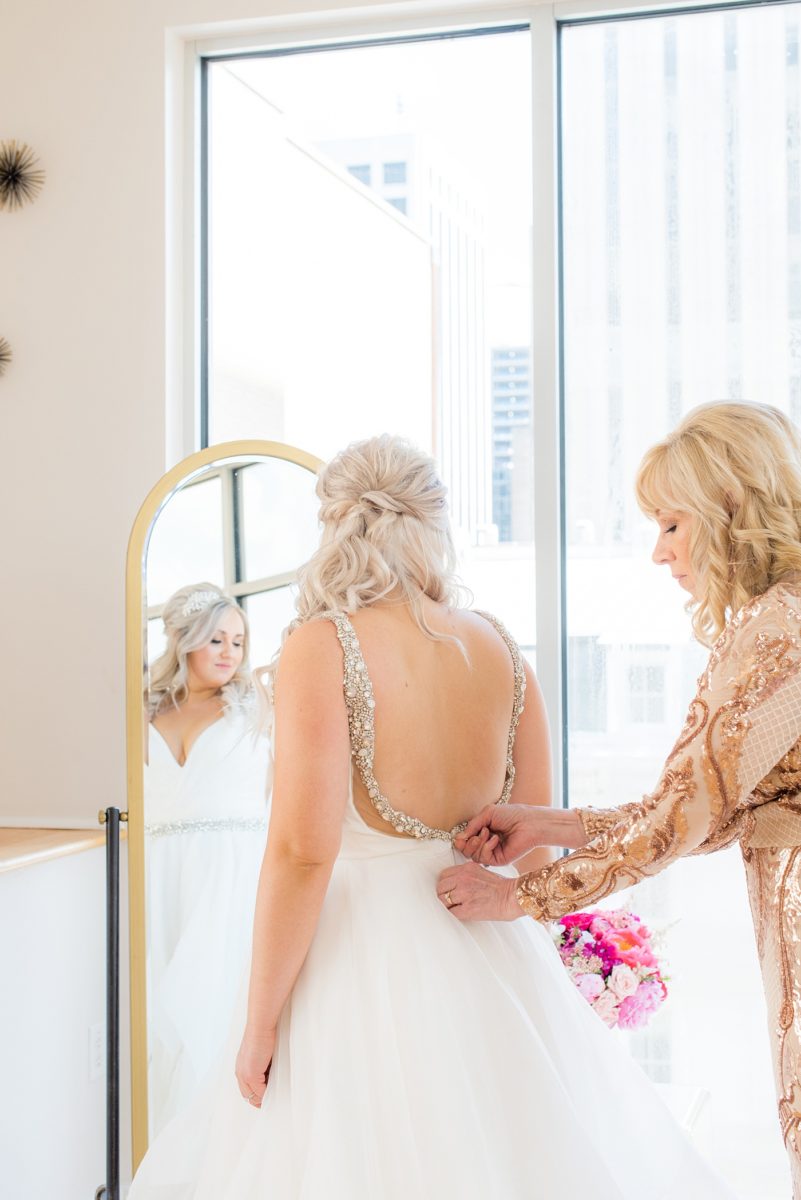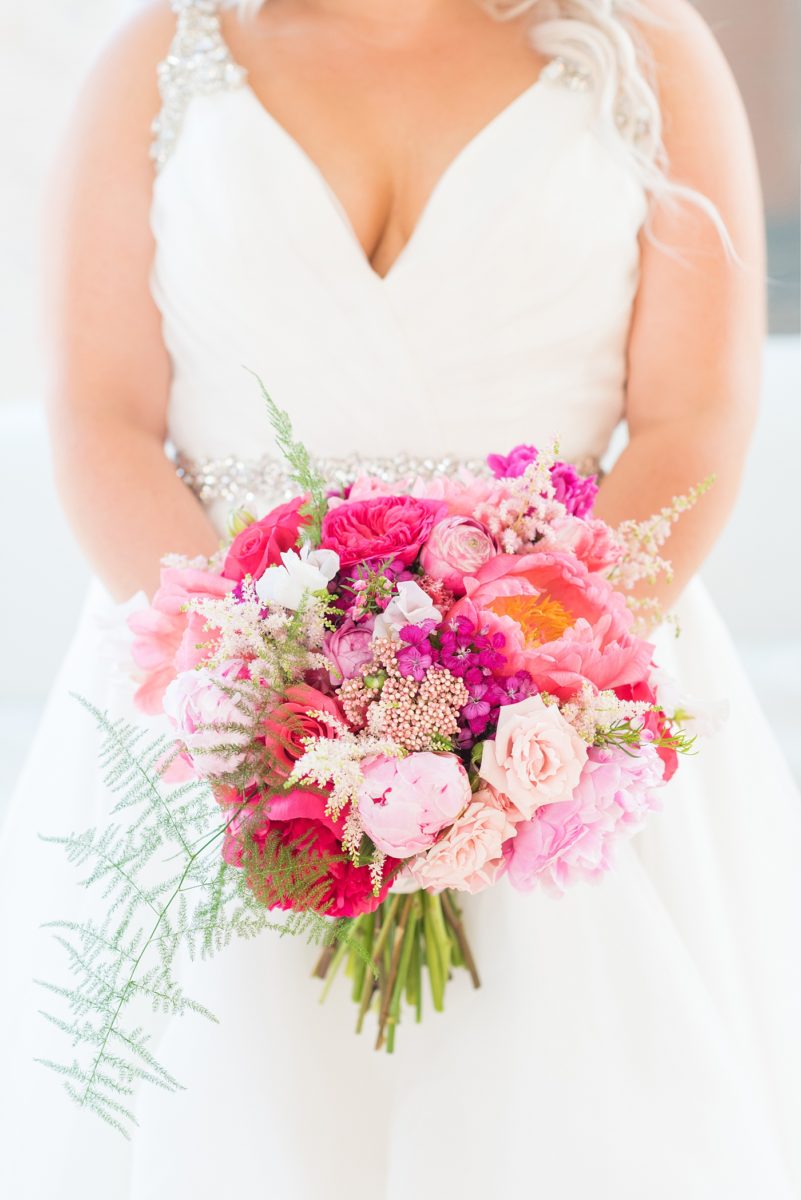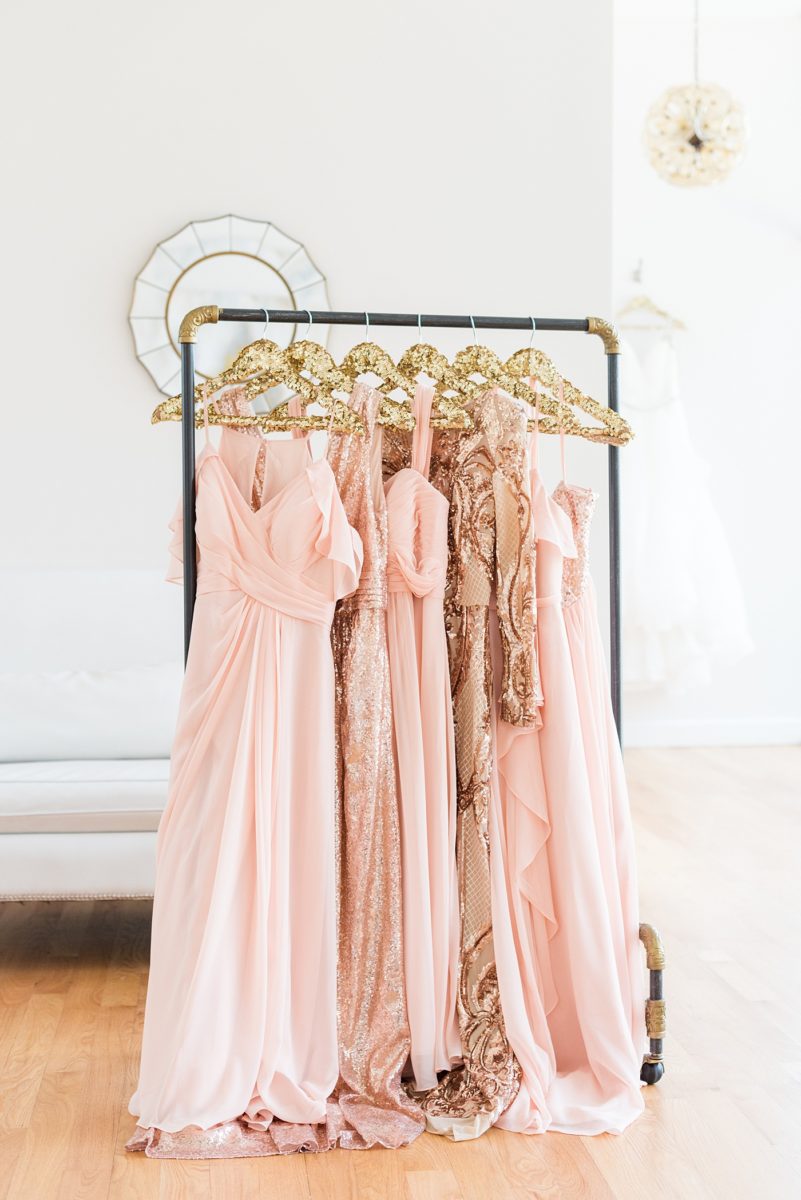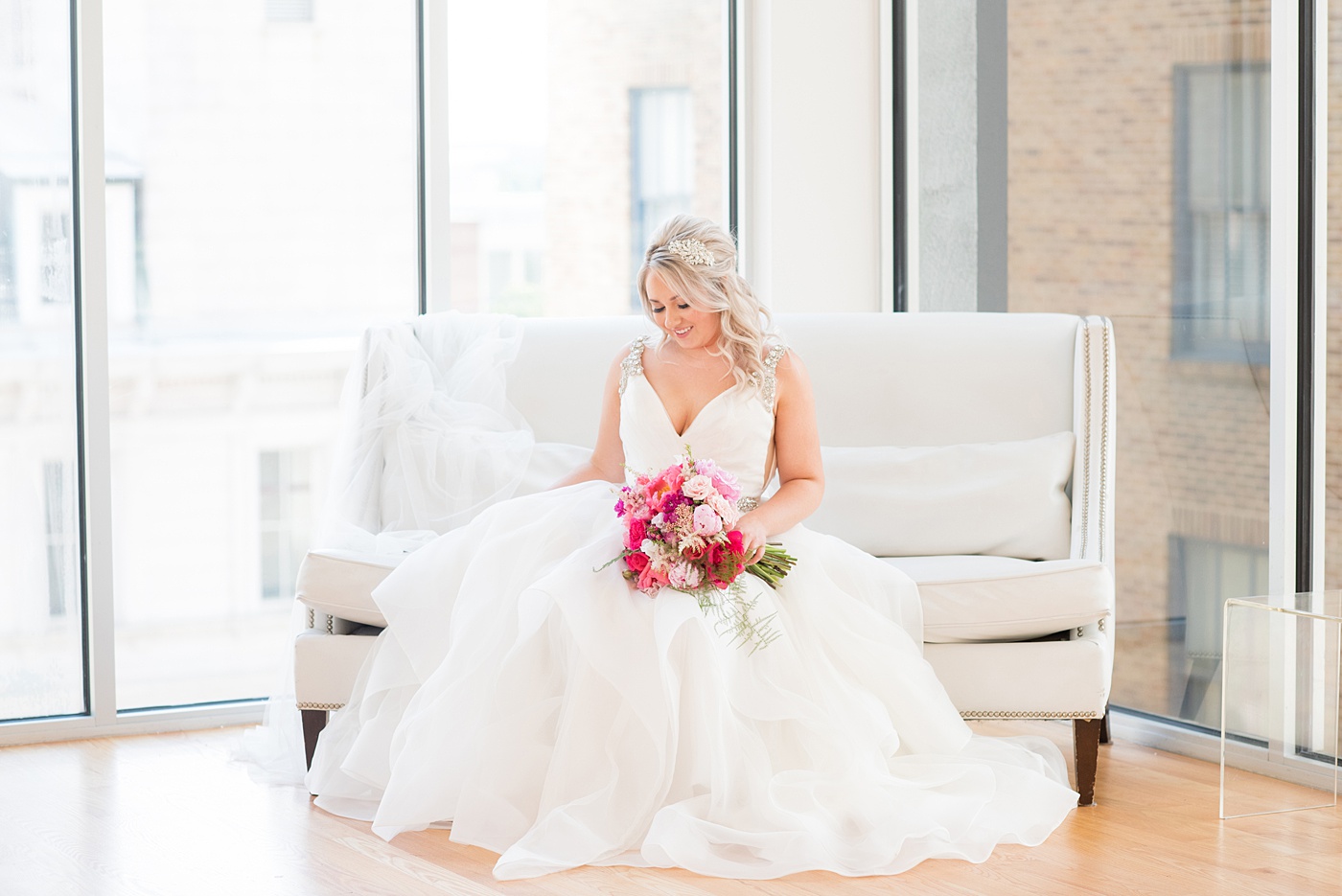 The rolling rack for garments is always a favorite highlight at The Glass Box, complete with gold sequin hangers. The bridesmaids dresses looked extra sparkly there, in front of Lauryn's gown faintly showing in the distance. We alternated between indoor and outdoor photos taking full advantage of the outdoor desk with views of downtown skyscrapers. AND WITH CONFETTI! Did I mention that part?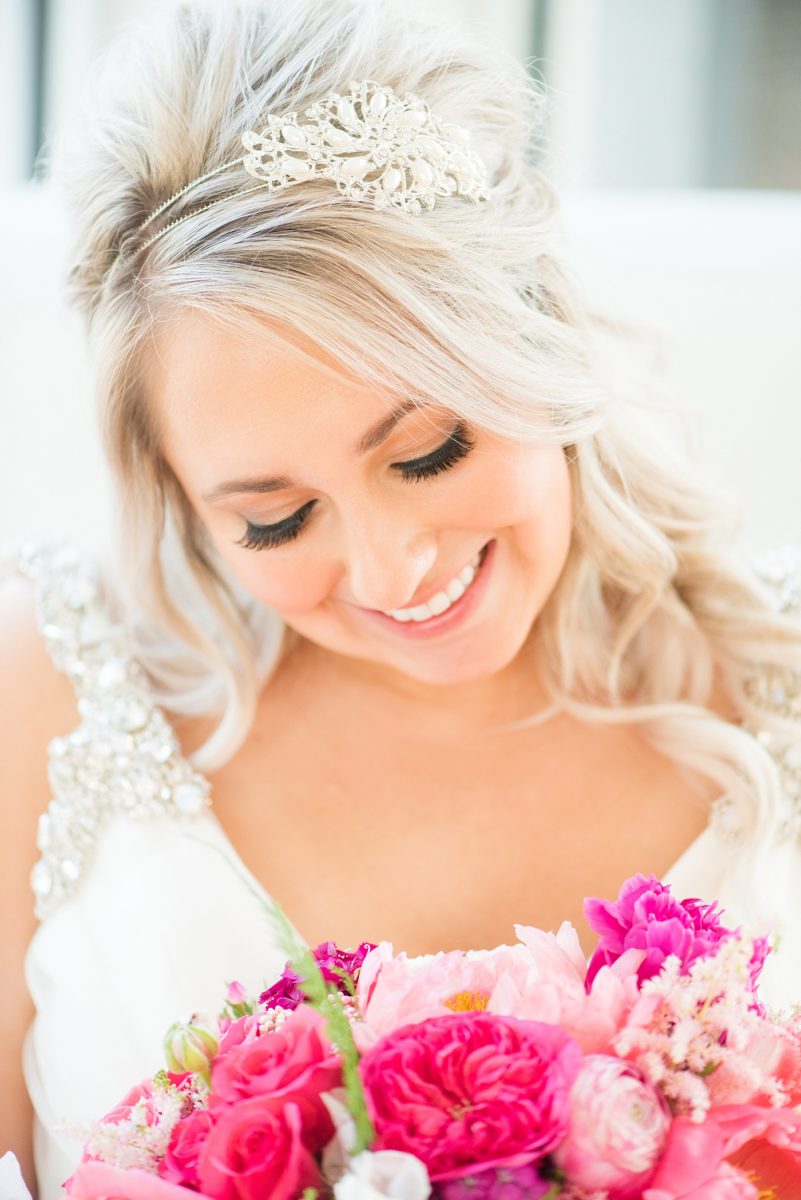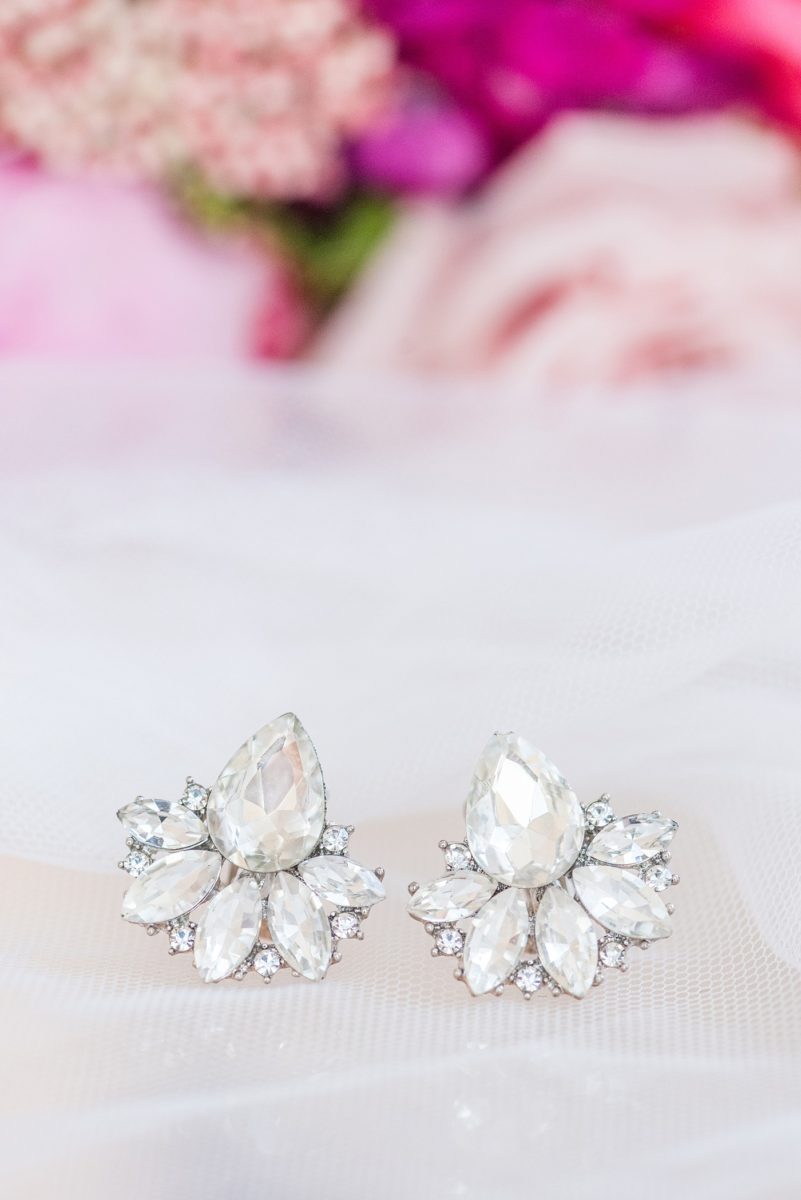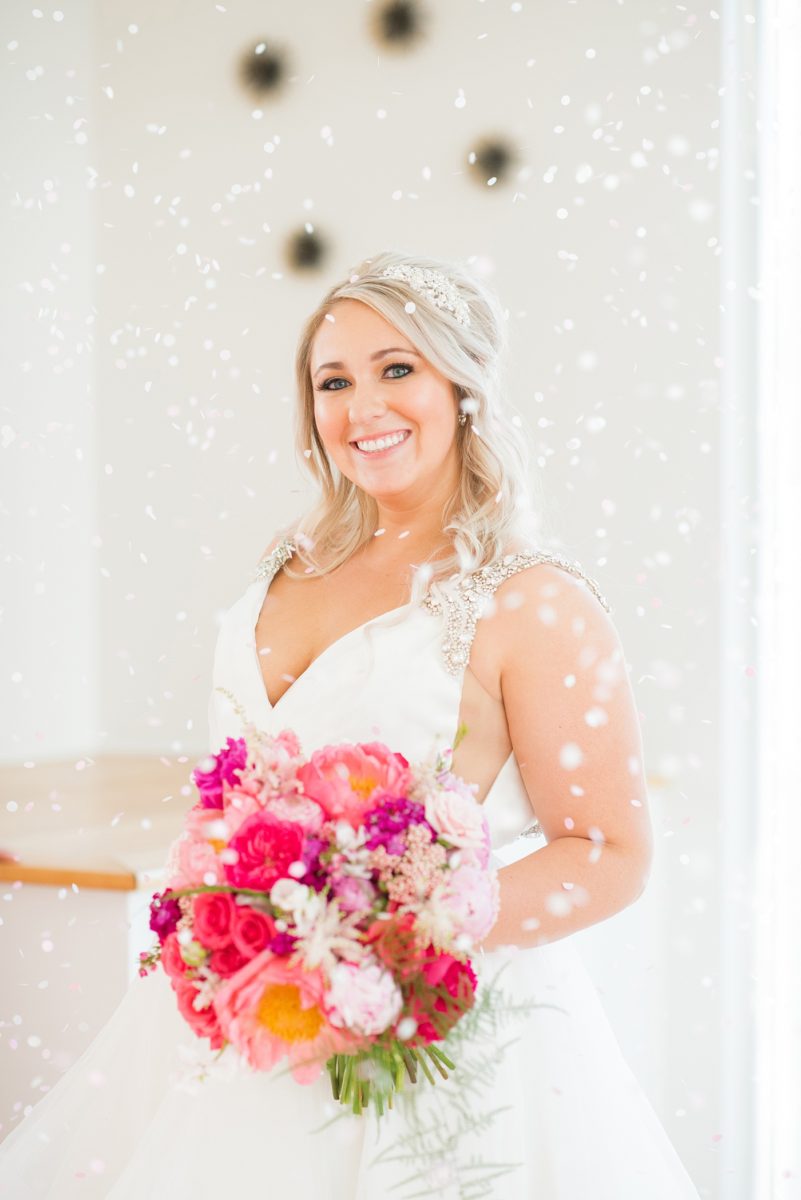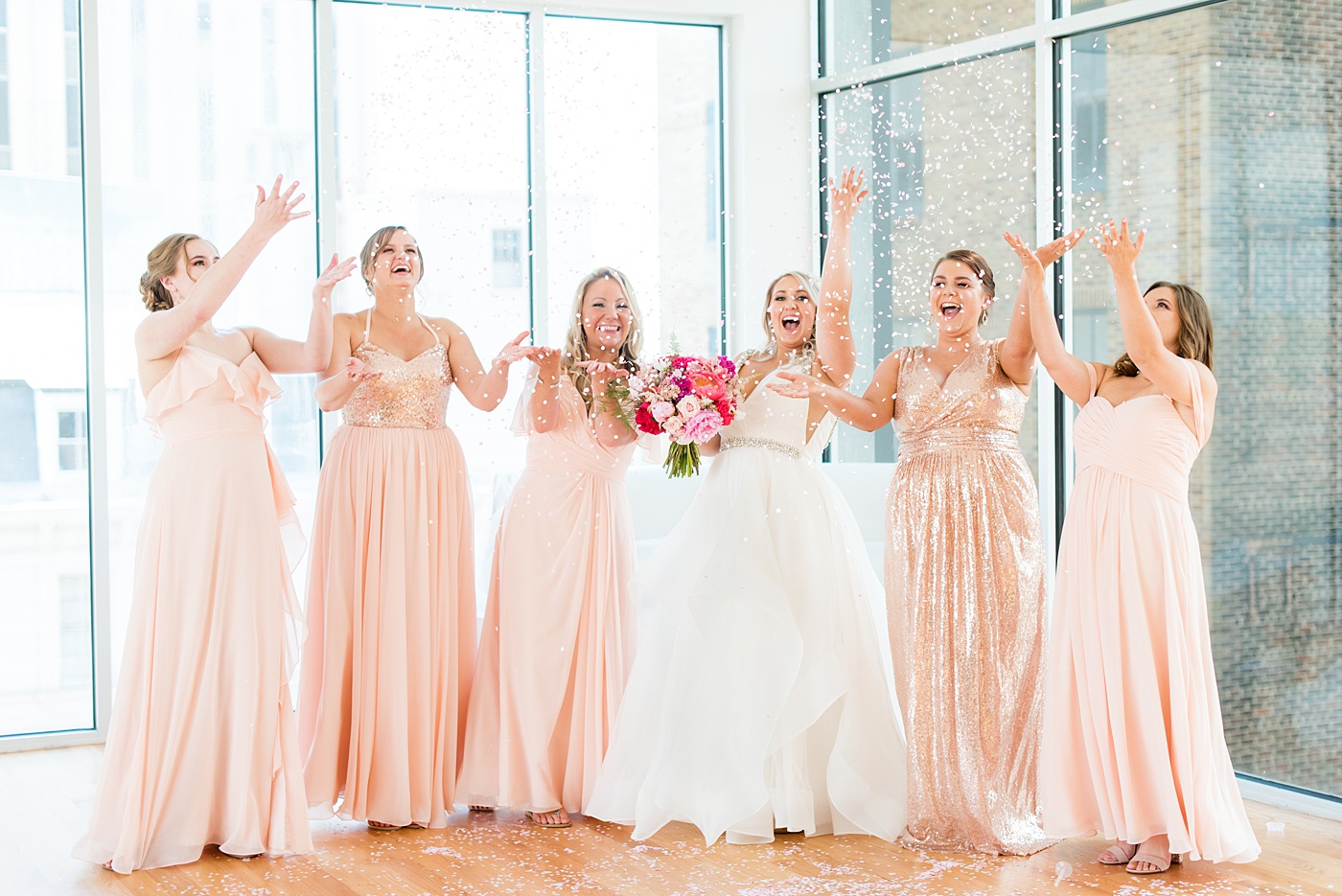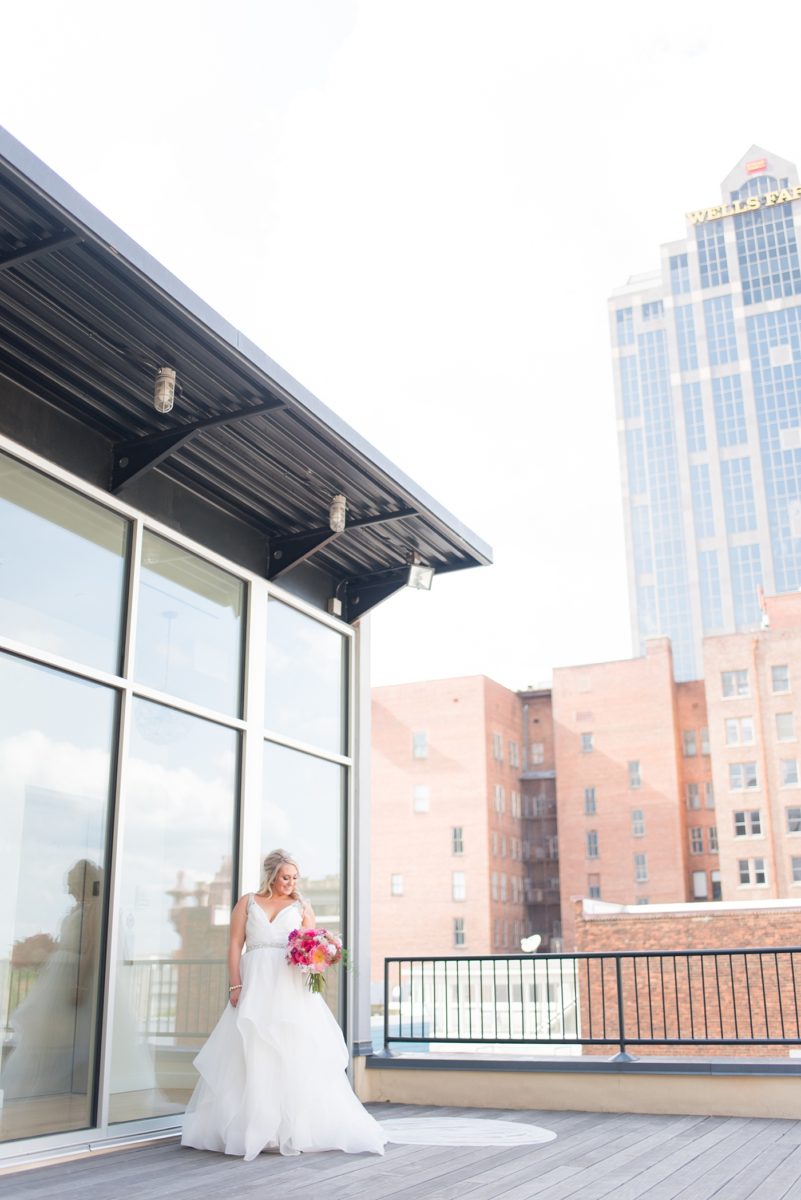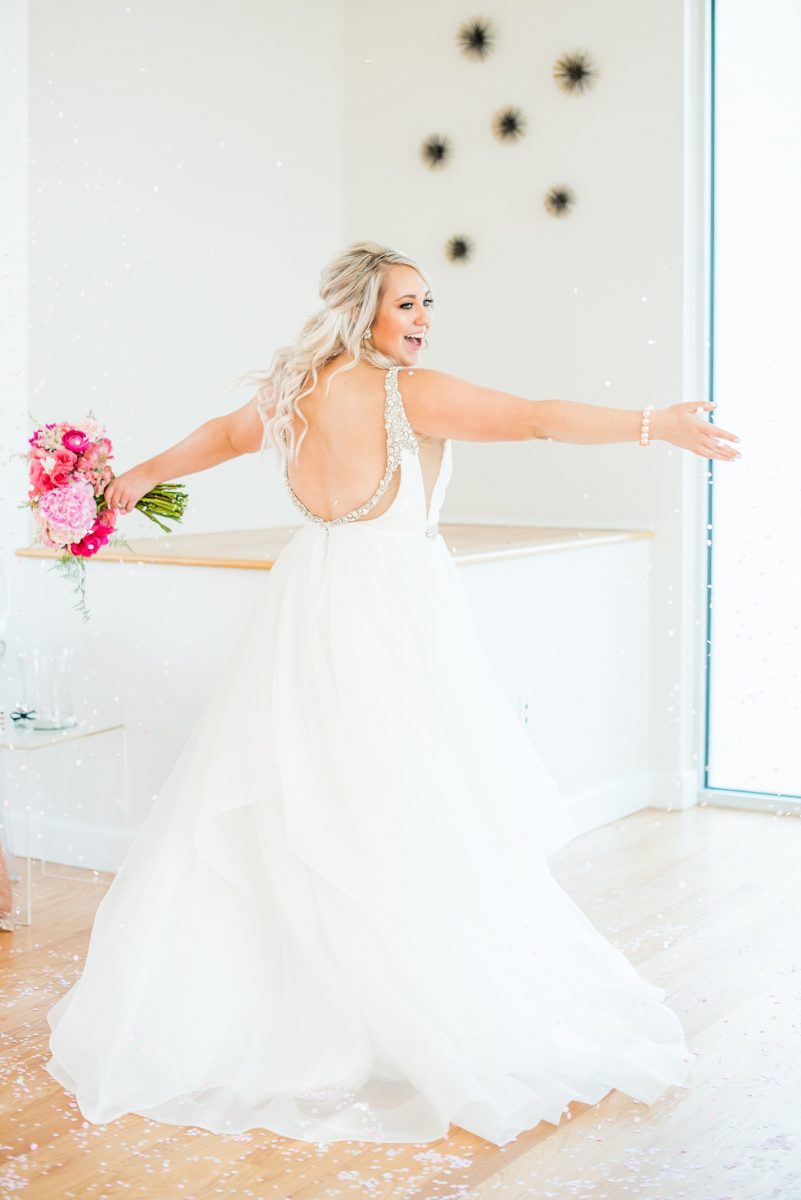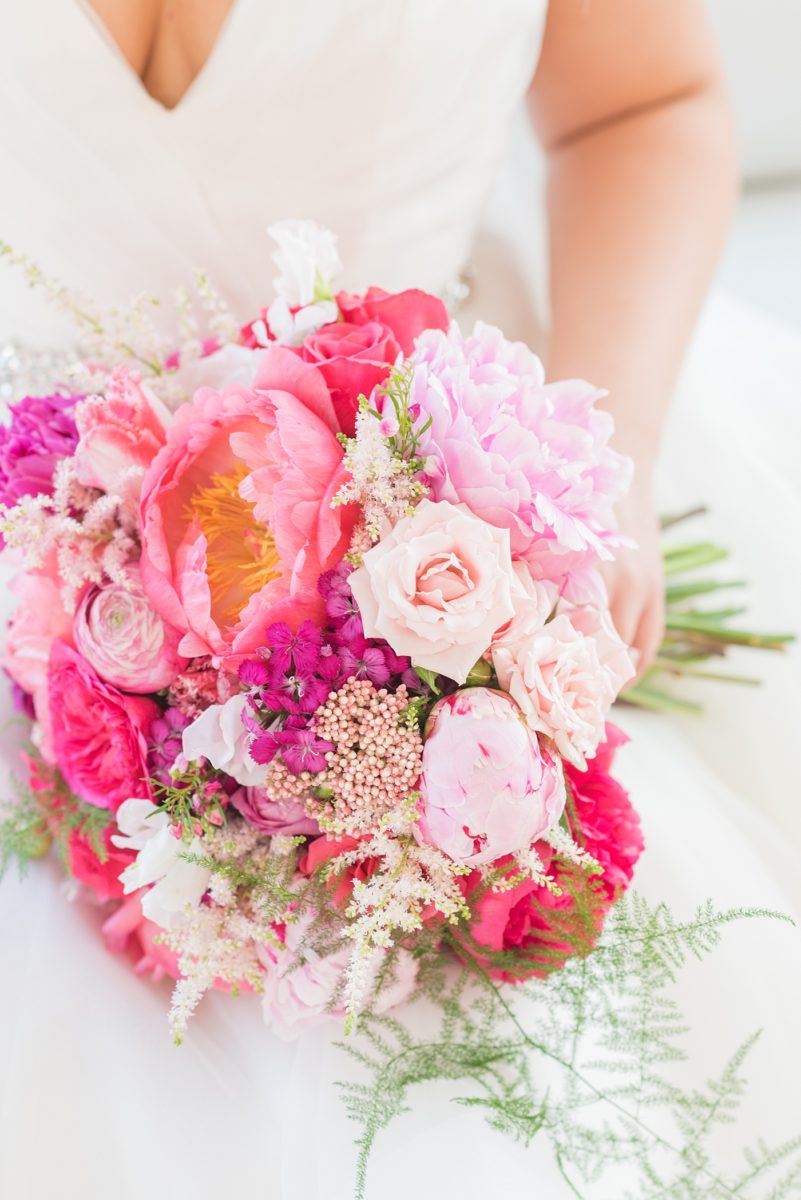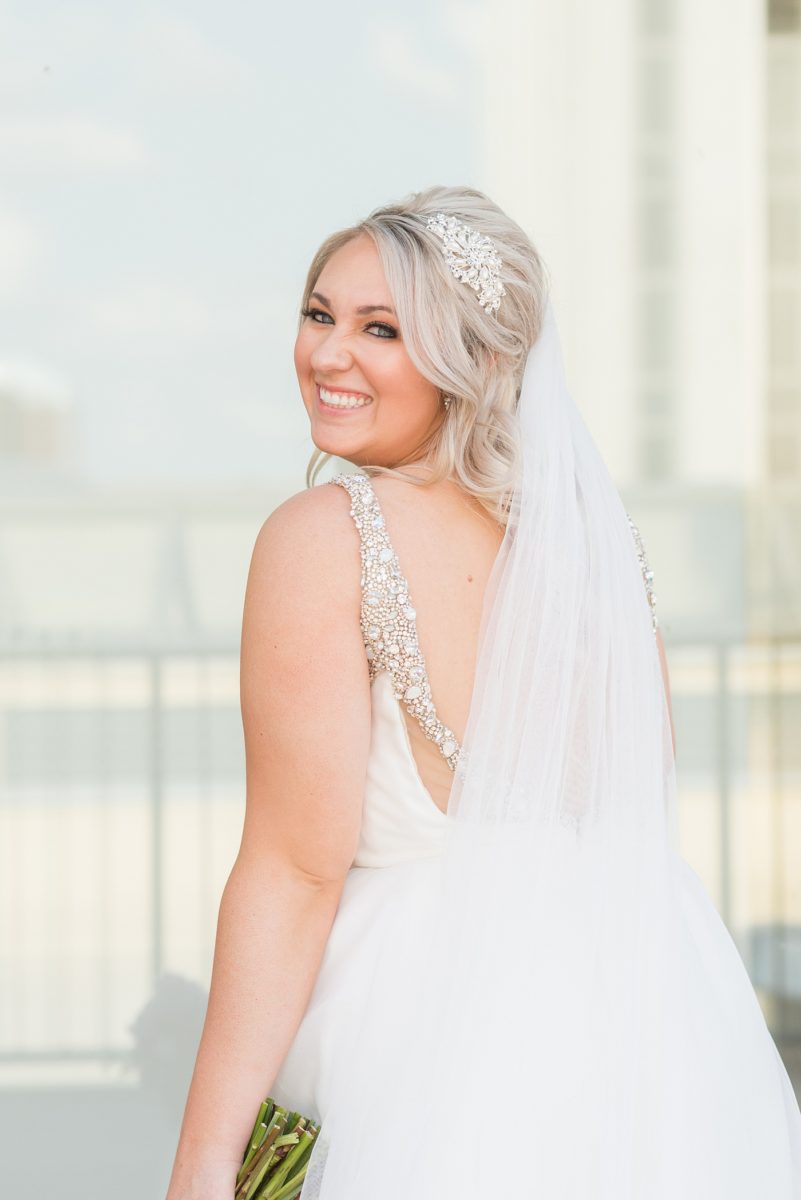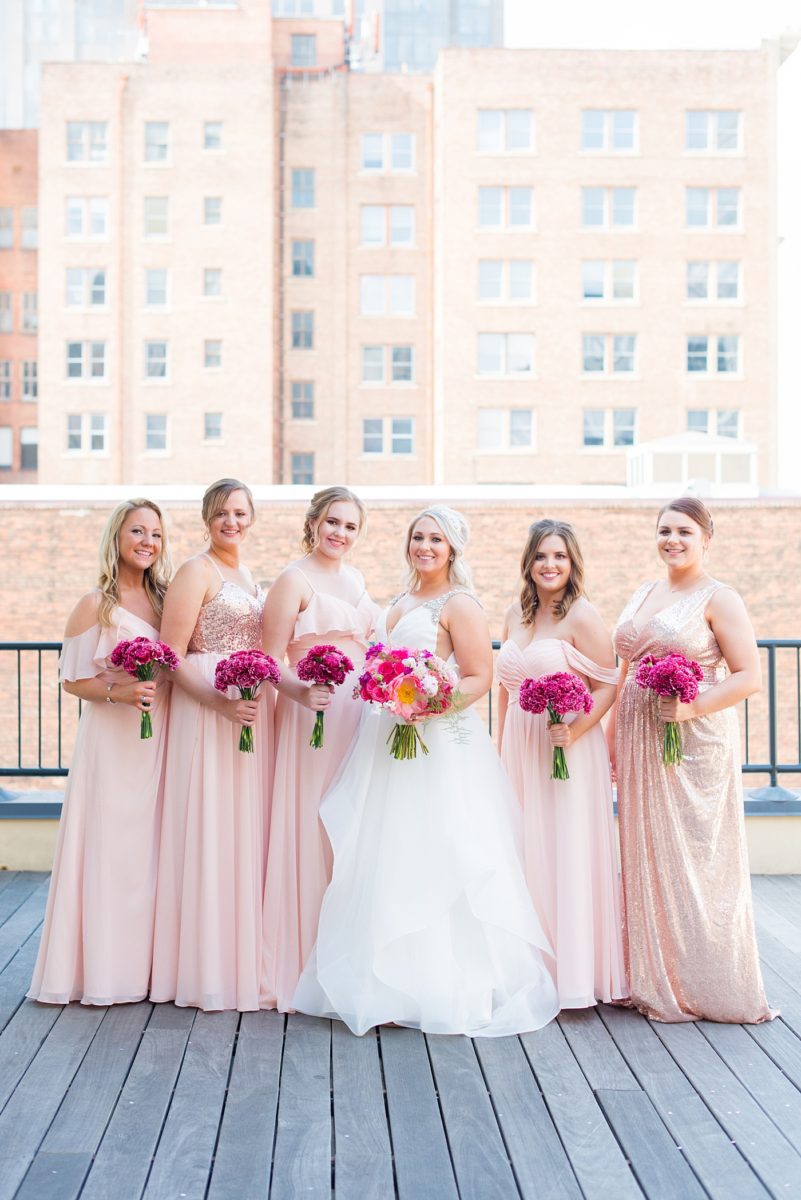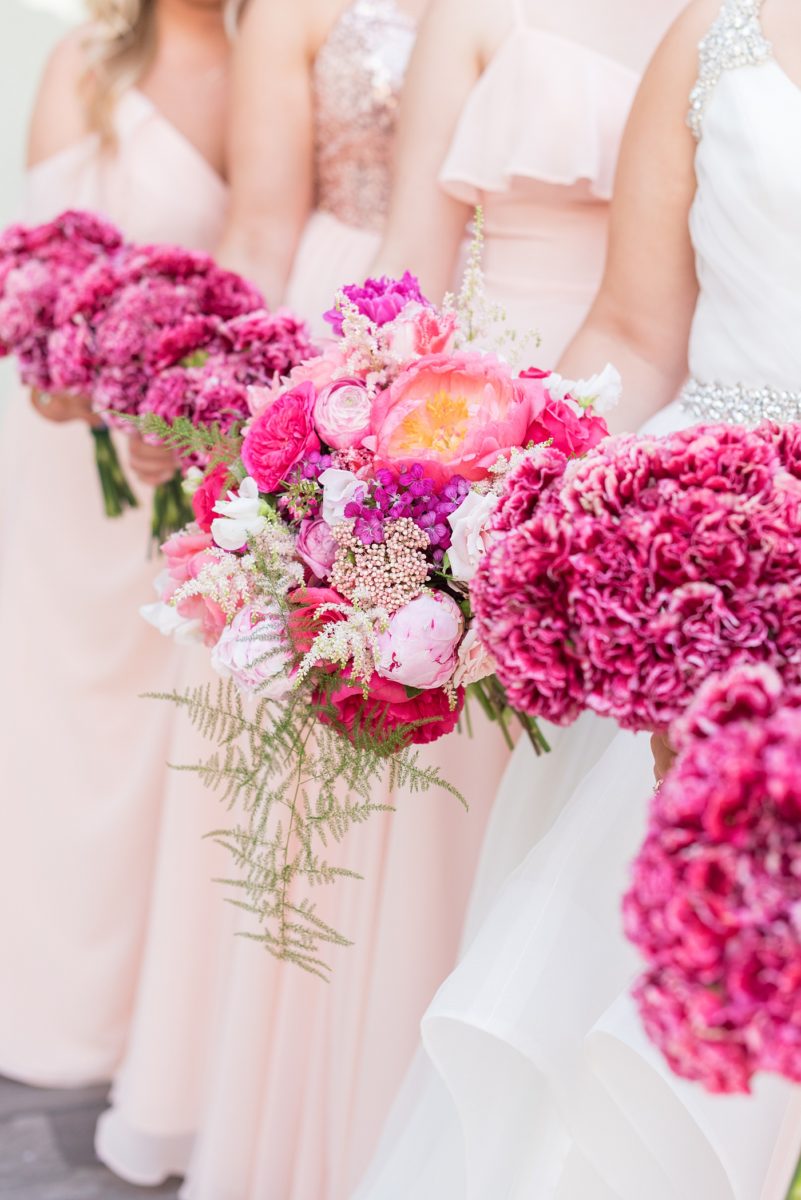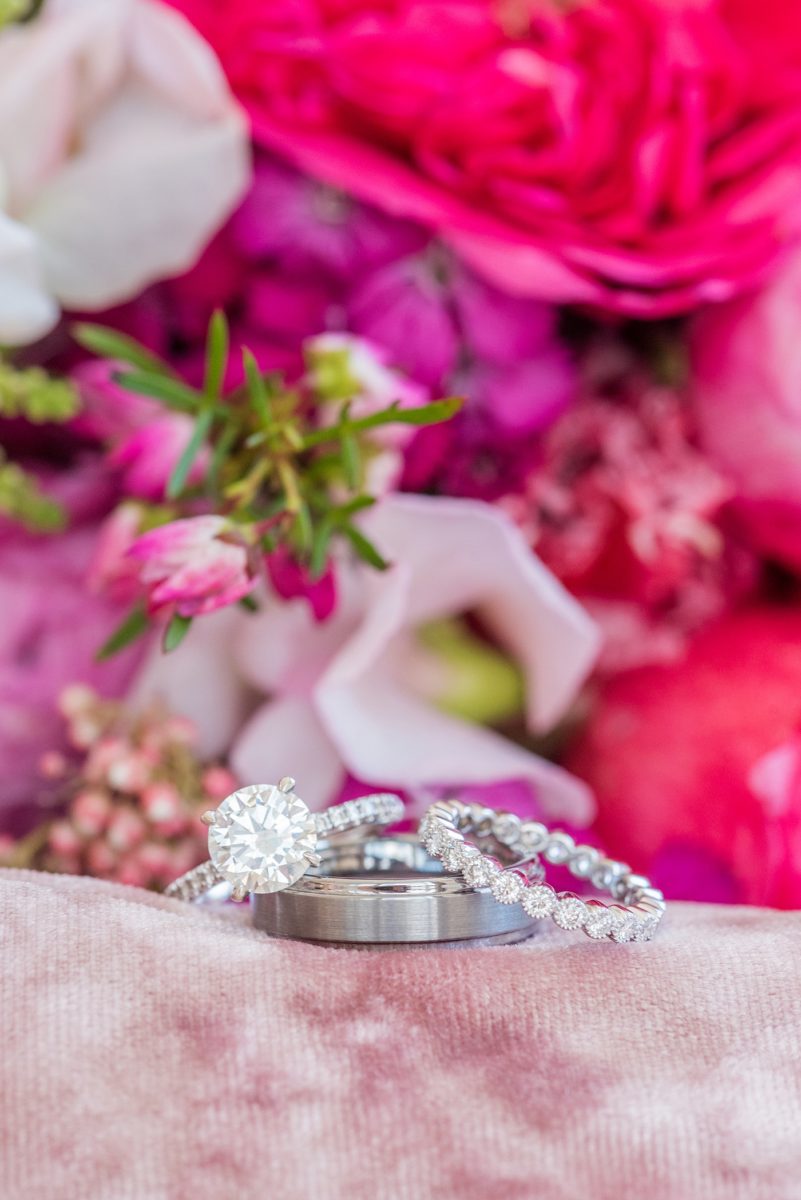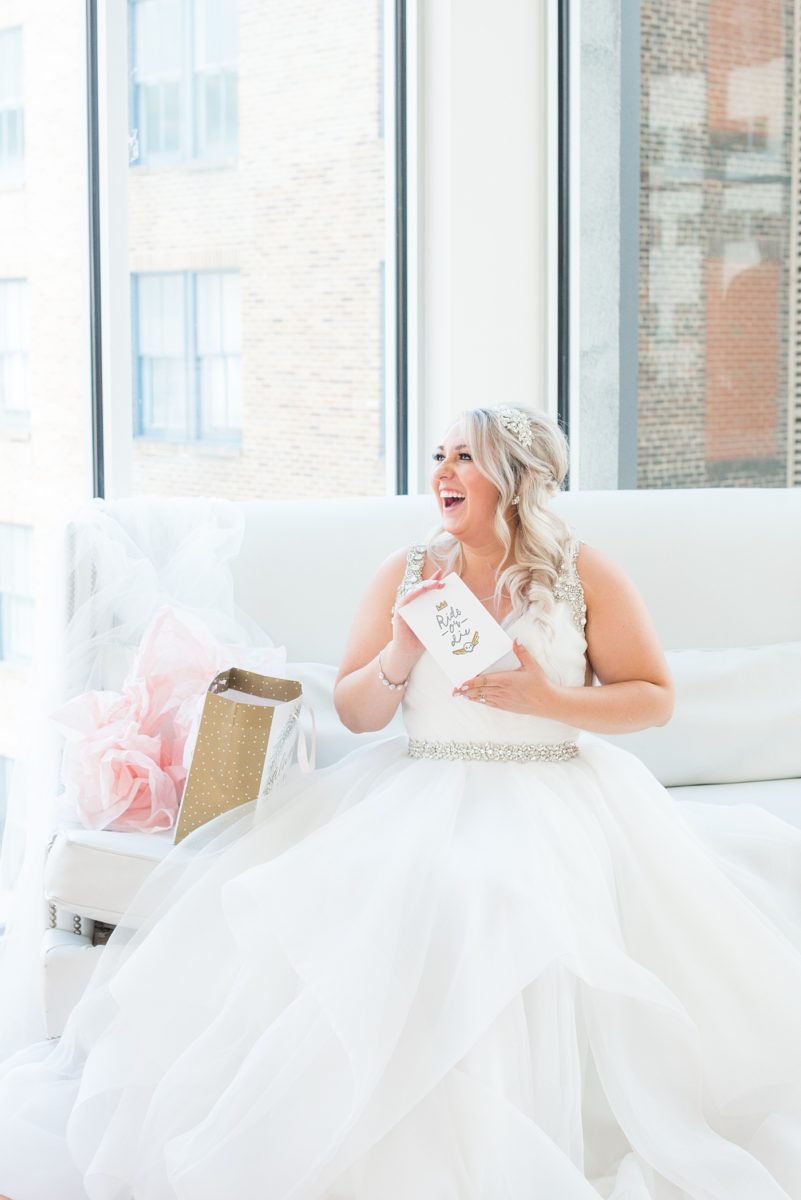 They both opened cards and gifts they'd exchanged, and coincidentally both received "jewelry" of some sort. Lauryn loves anything Kate Spade; Joe knows her well and got her a Kate Spade necklace and bracelet and an additional beautiful rose gold necklace with Roman numerals for their wedding date. Lauryn got Joe silver cufflinks with his initials.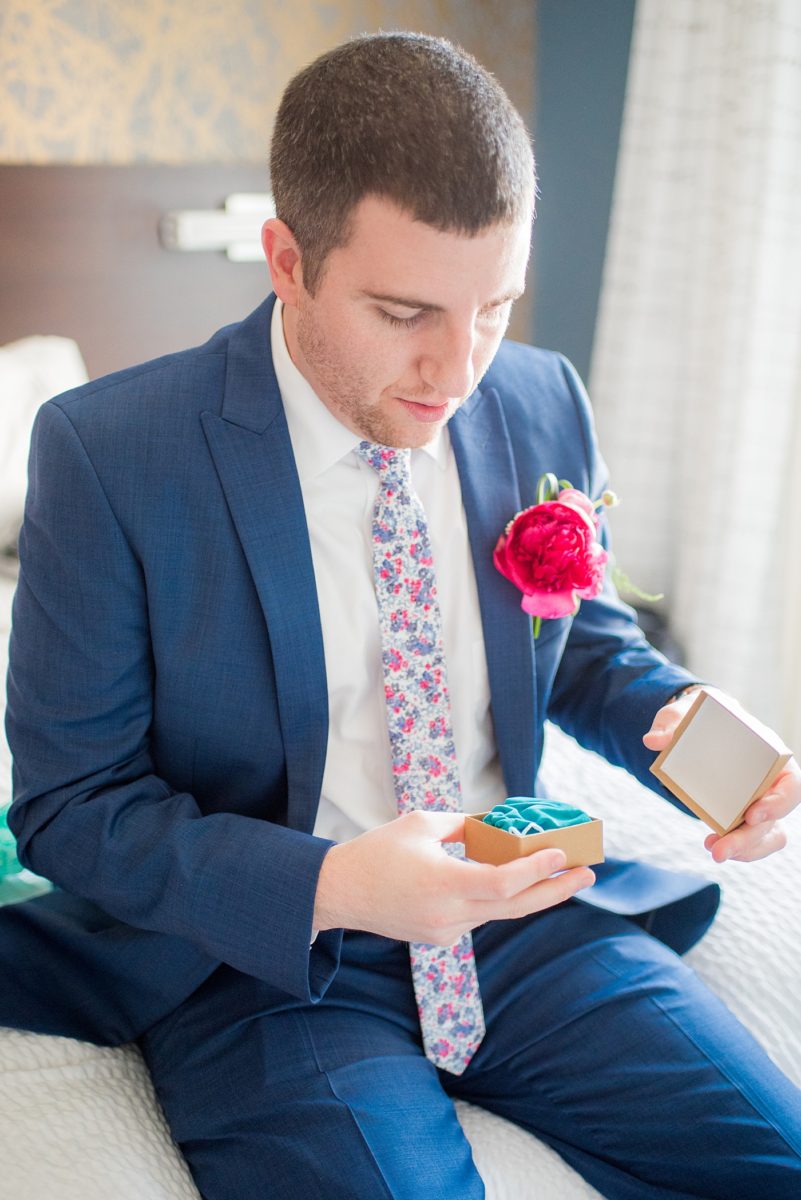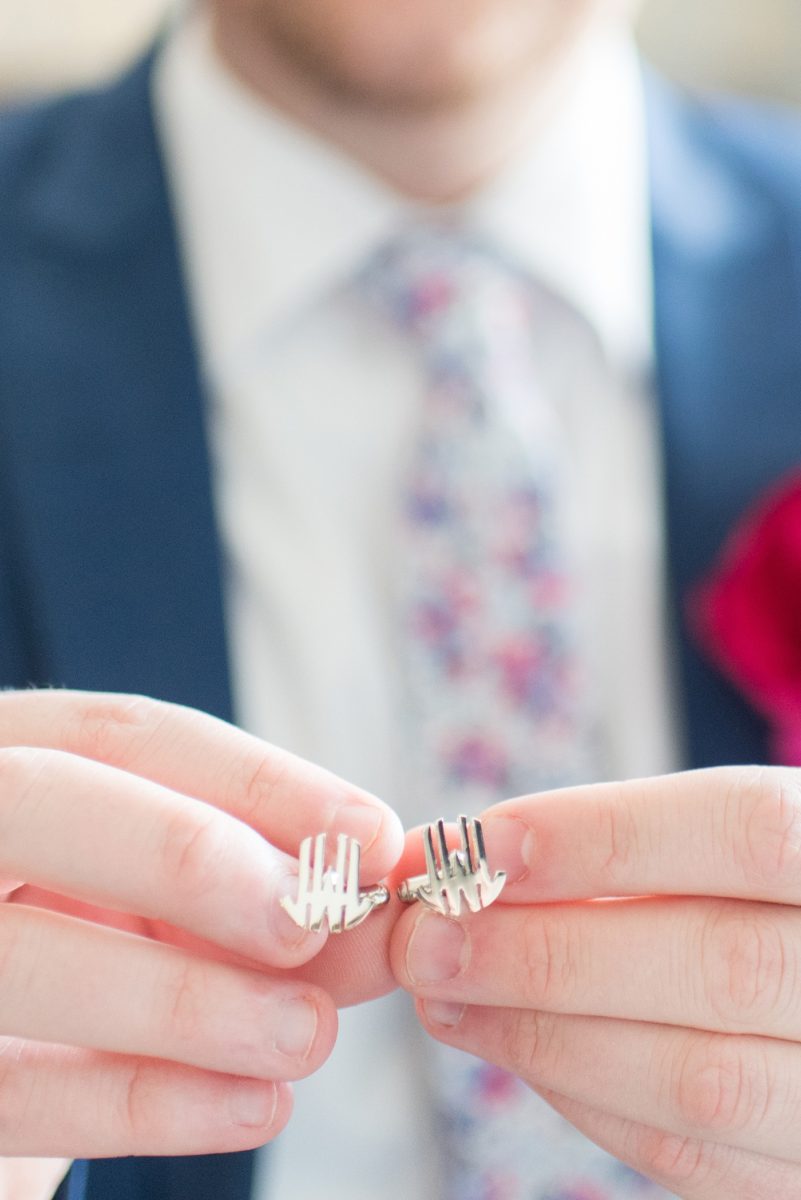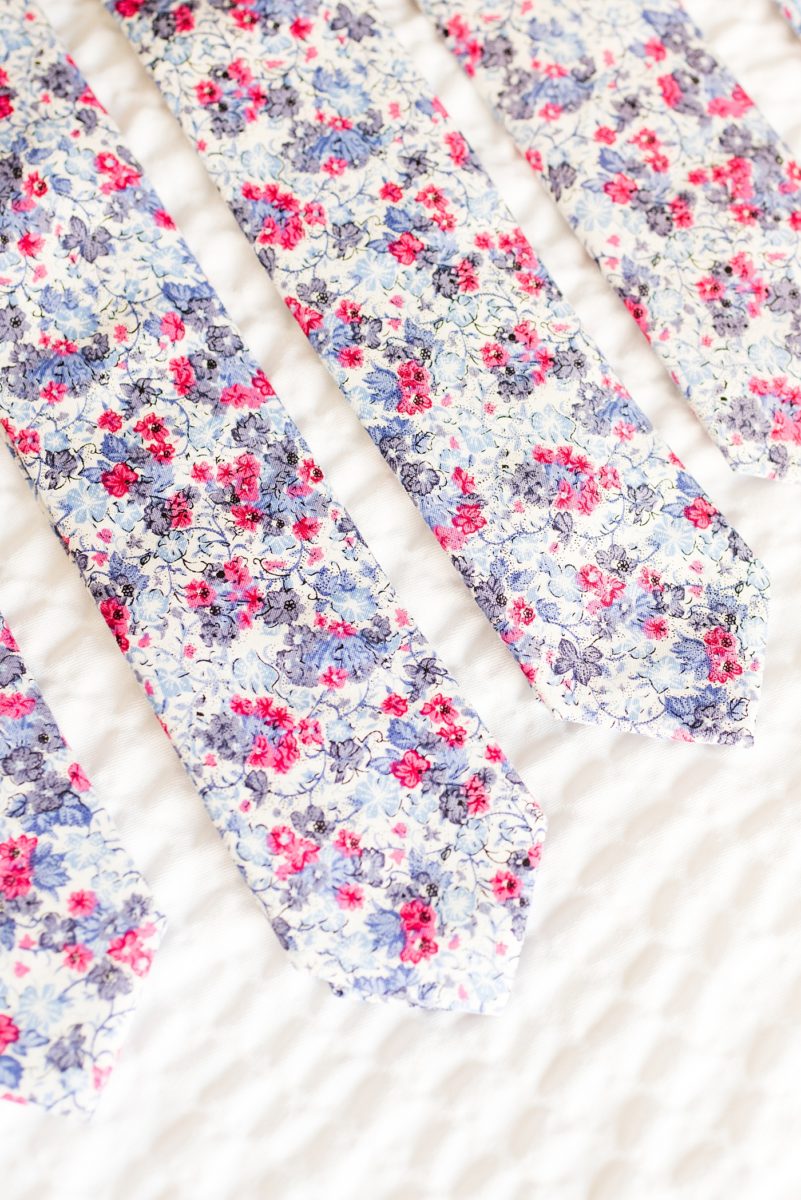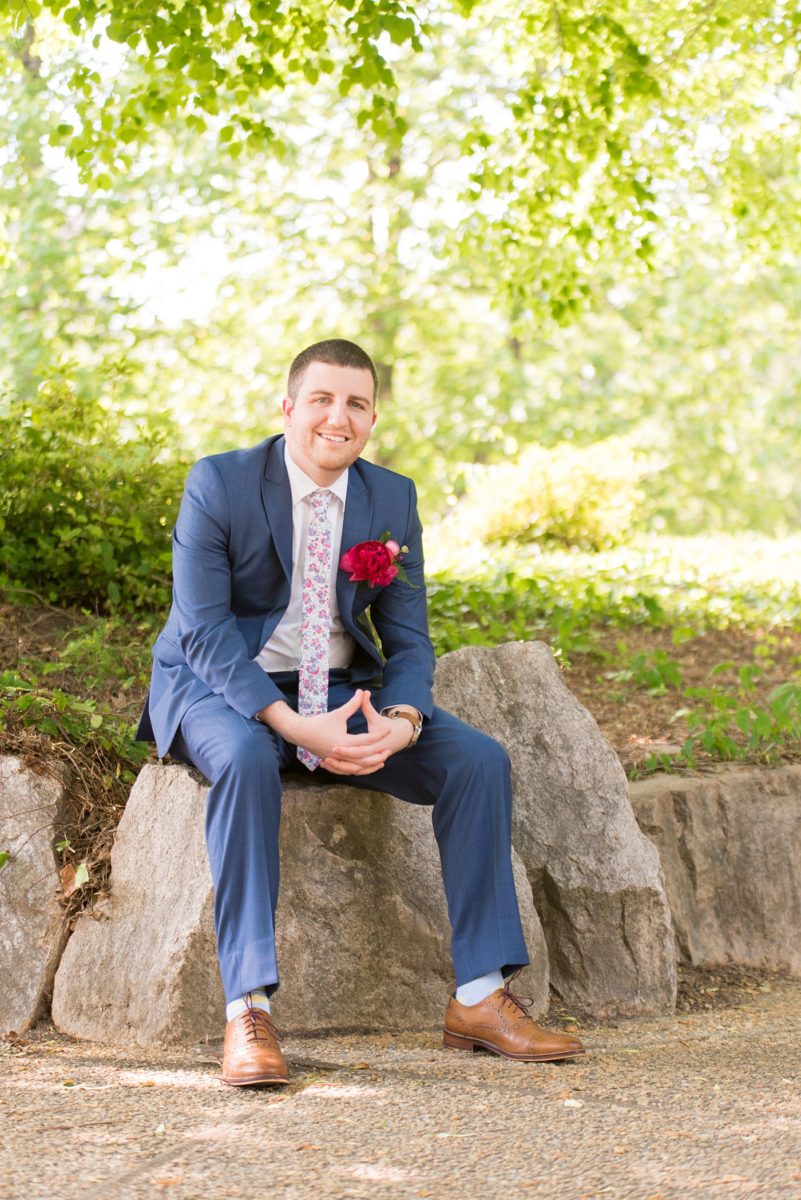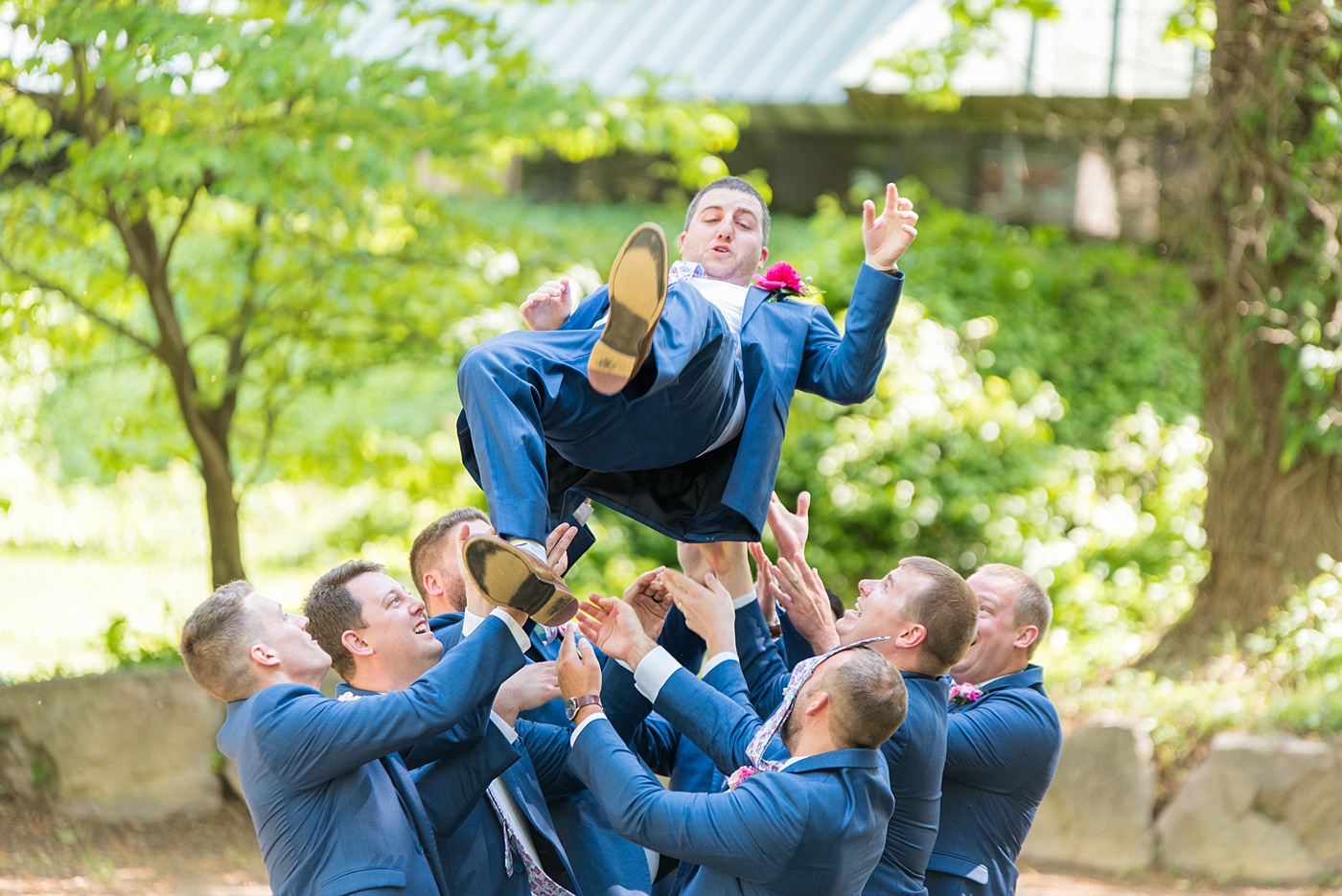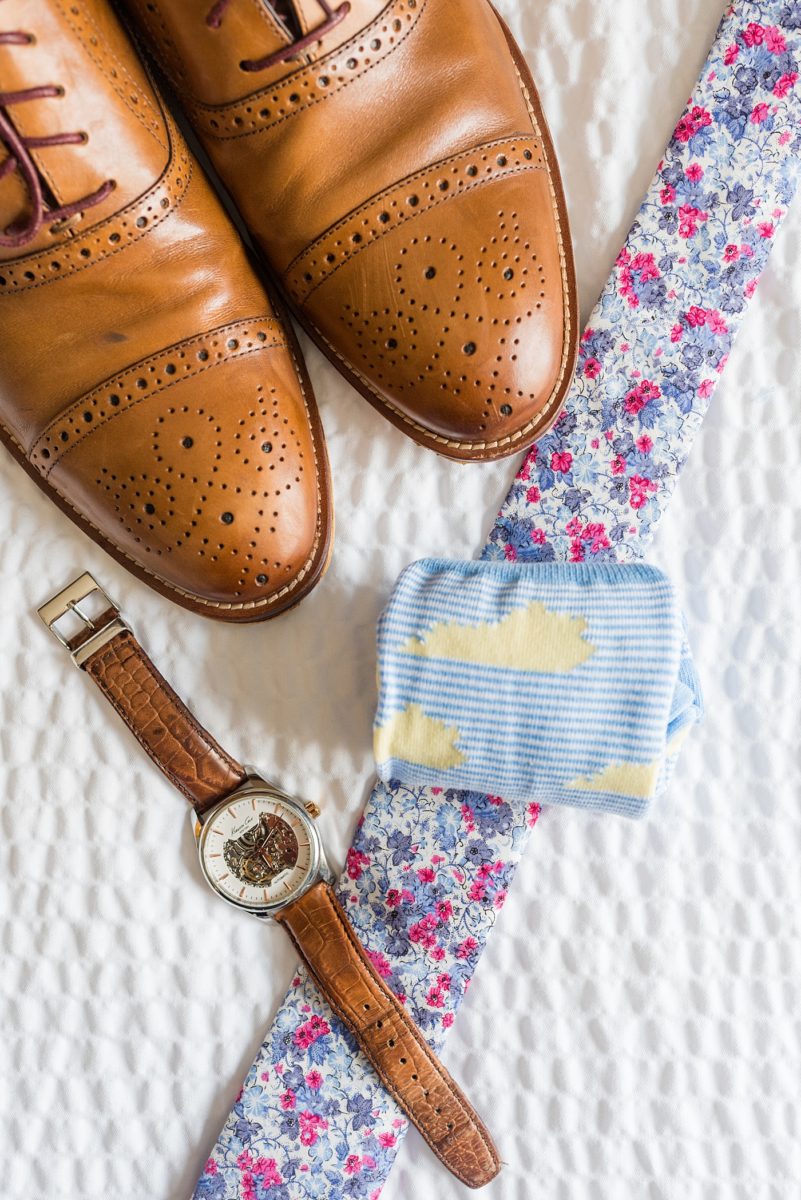 Needless to say for groomsmen getting reayd they had a lot of fun with Joe! They playfully decided to toss the man of the day in the air during photos, flash their socks which were all unique and gifted by Joe, and take some shots at the hotel bar before heading to The Stockroom for the ceremony…in style on Lime scooters!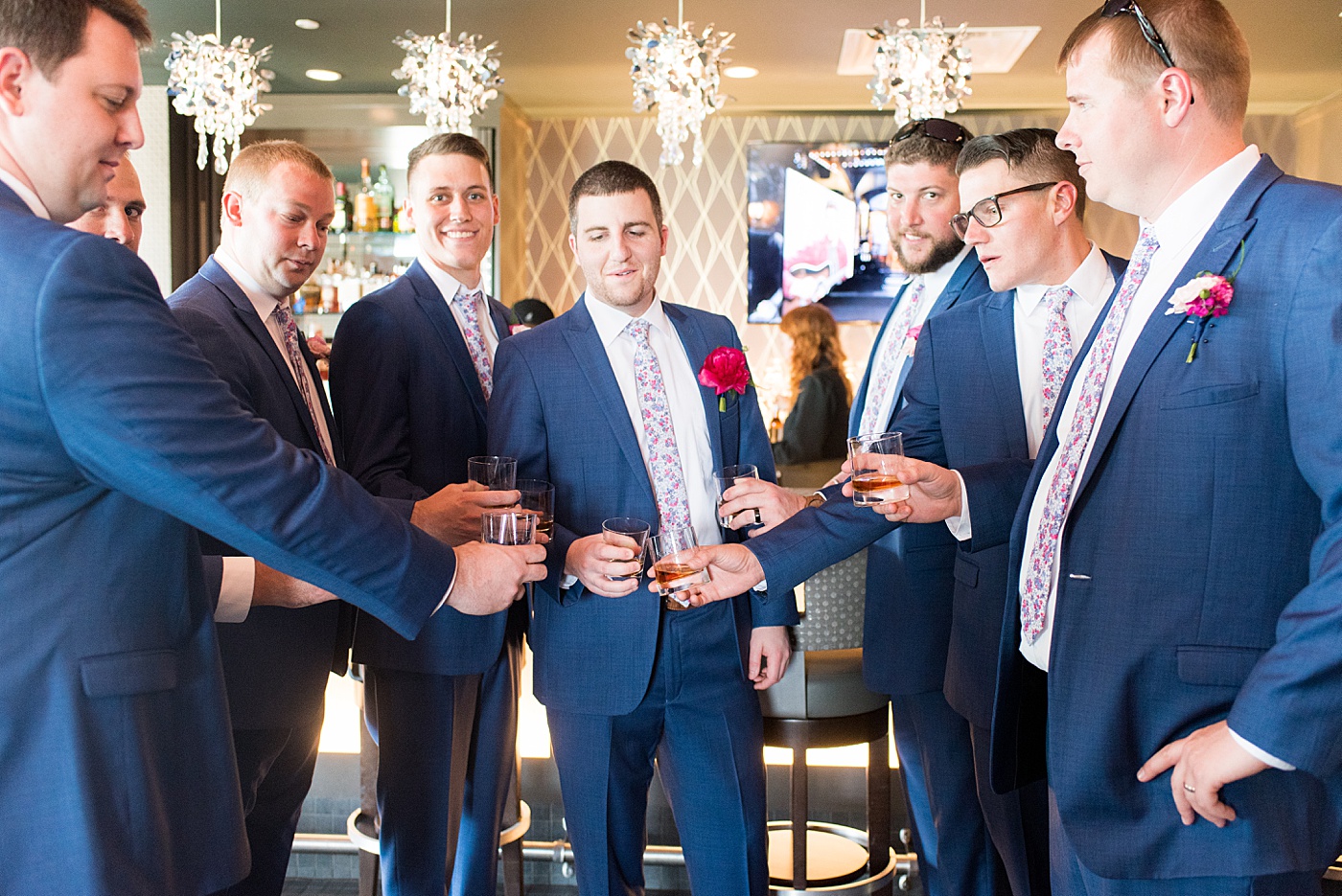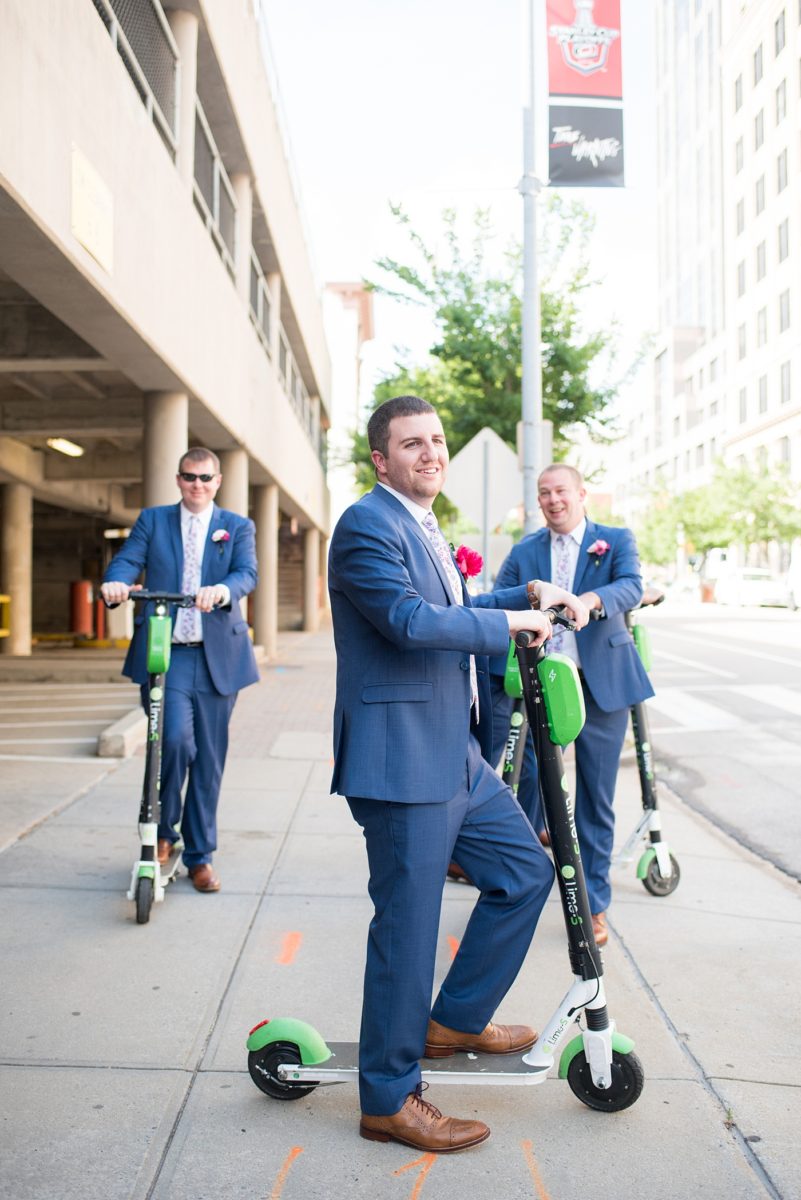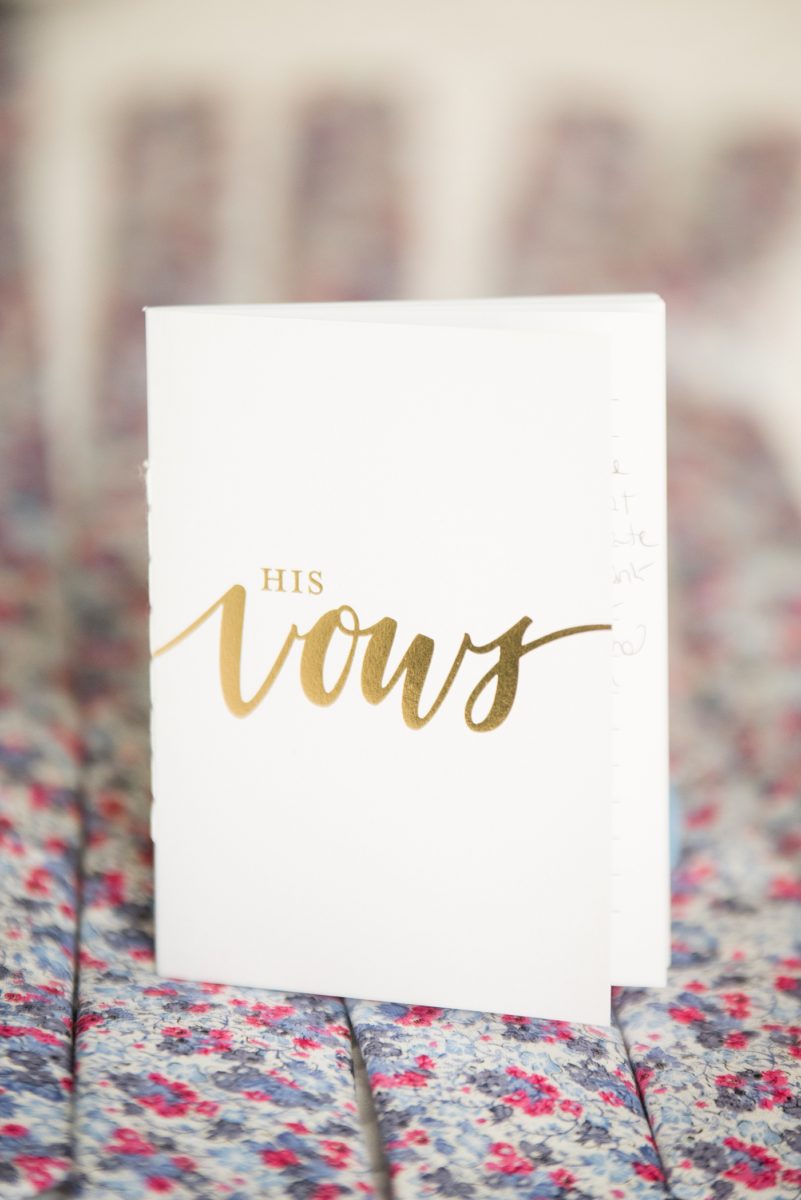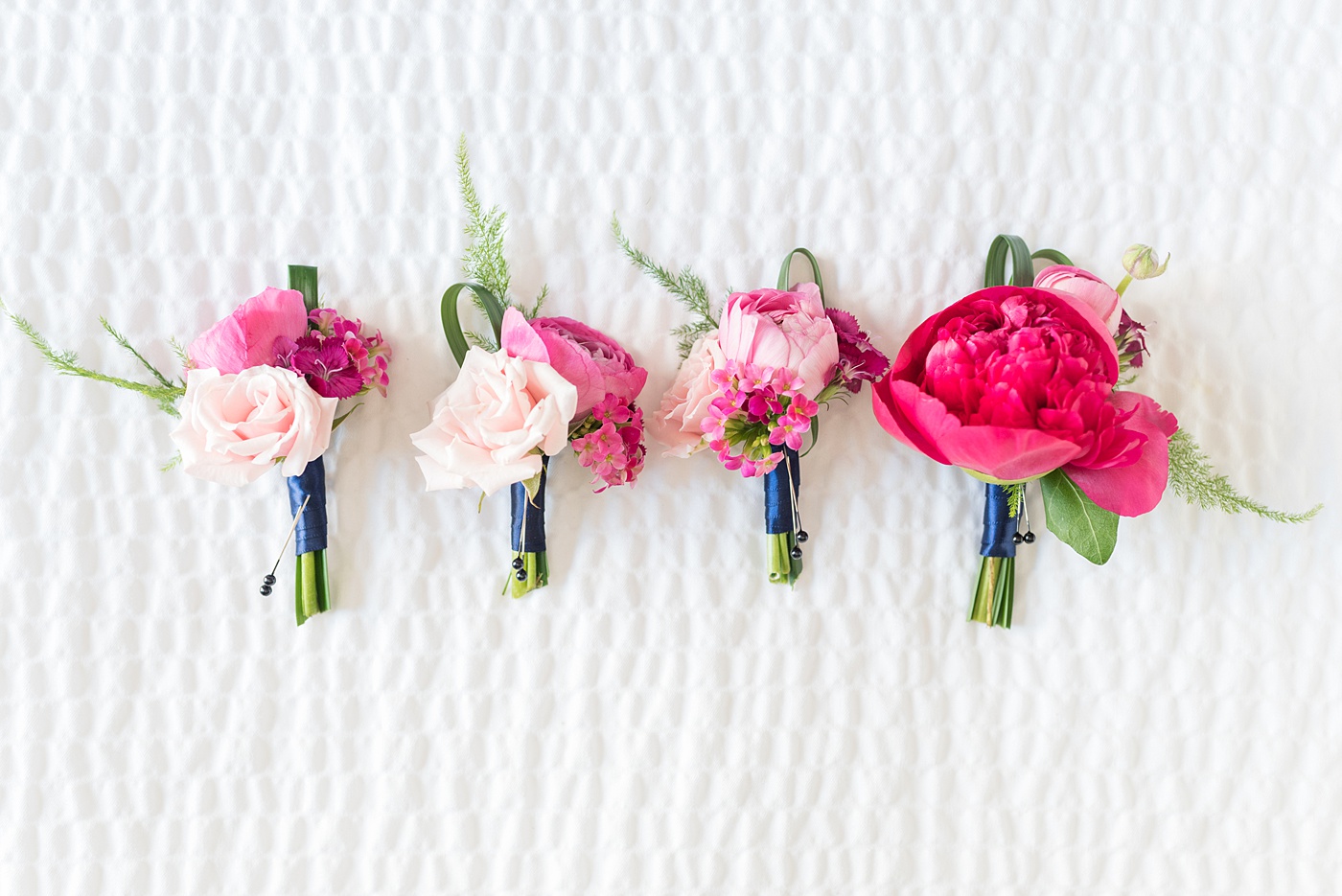 The wedding ceremony was set up with white drapery from the ceiling to the floor, chandeliers, string lights and purple and white petals lining the aisle. It was dotted with floating candle in tall vases and a vase of pink peonies sat on the table with a custom wine box behind Ed, their officiant.
I love when I see something new at a wedding I've never seen before – the "Tears of Joy" mini tissues boxes were a first. Guests could grab one as they entered the ceremony. I loved them; little details like that always get me!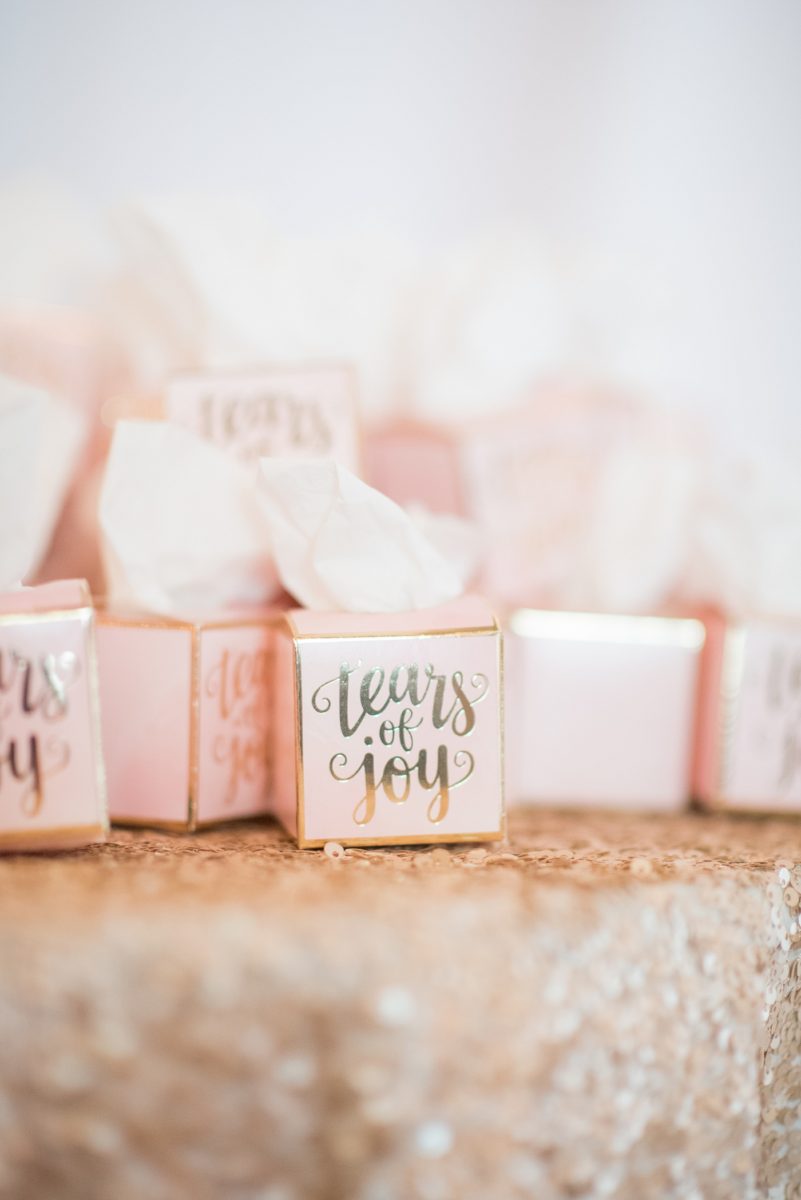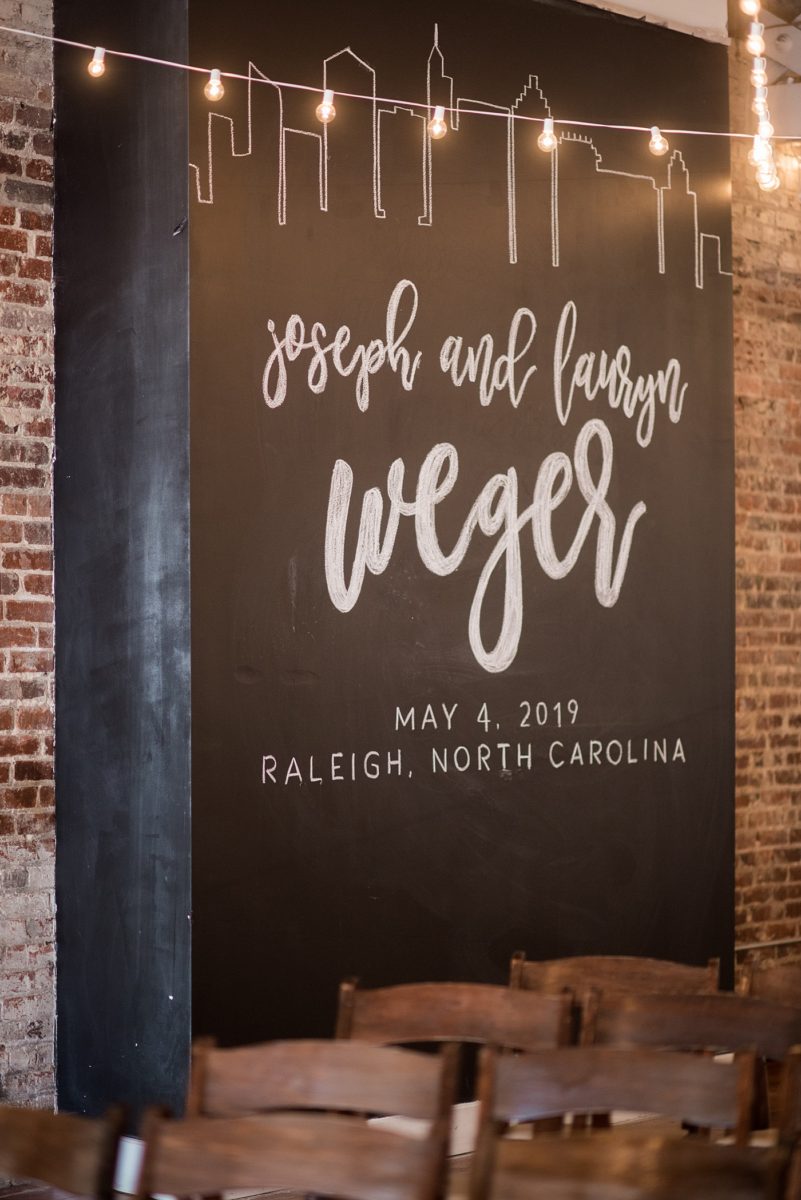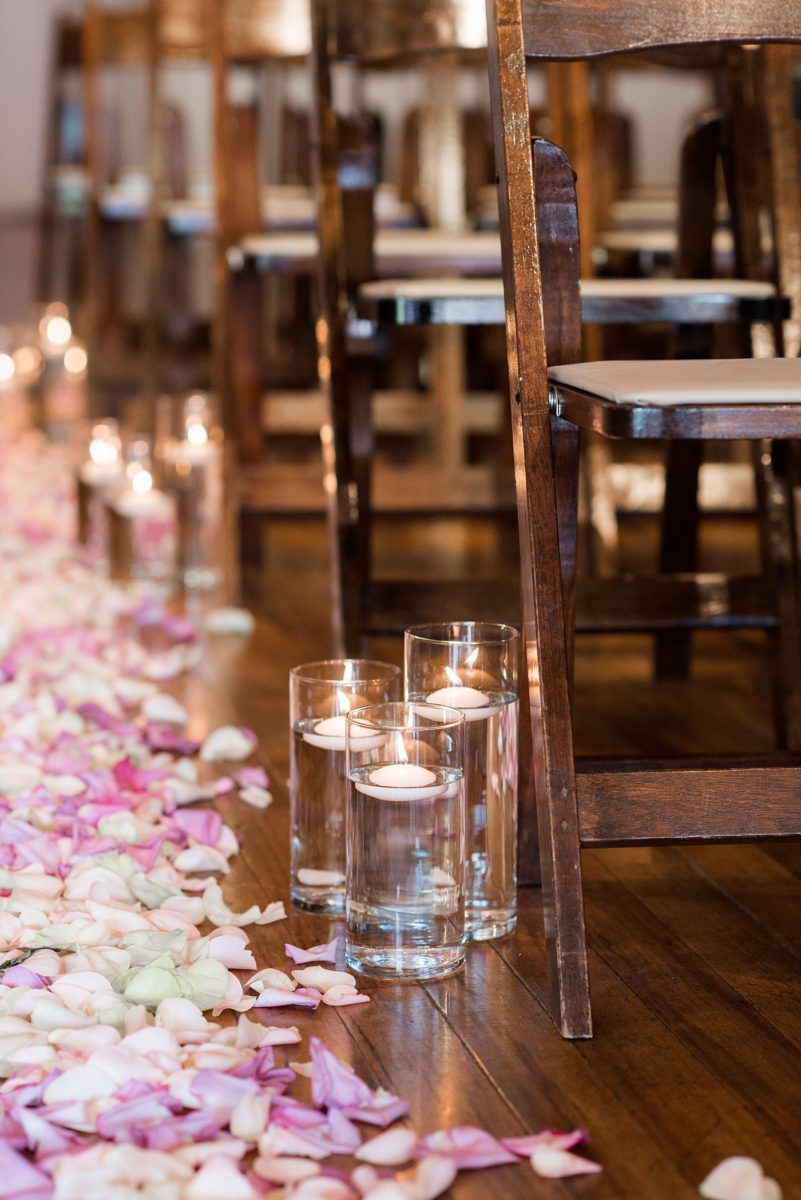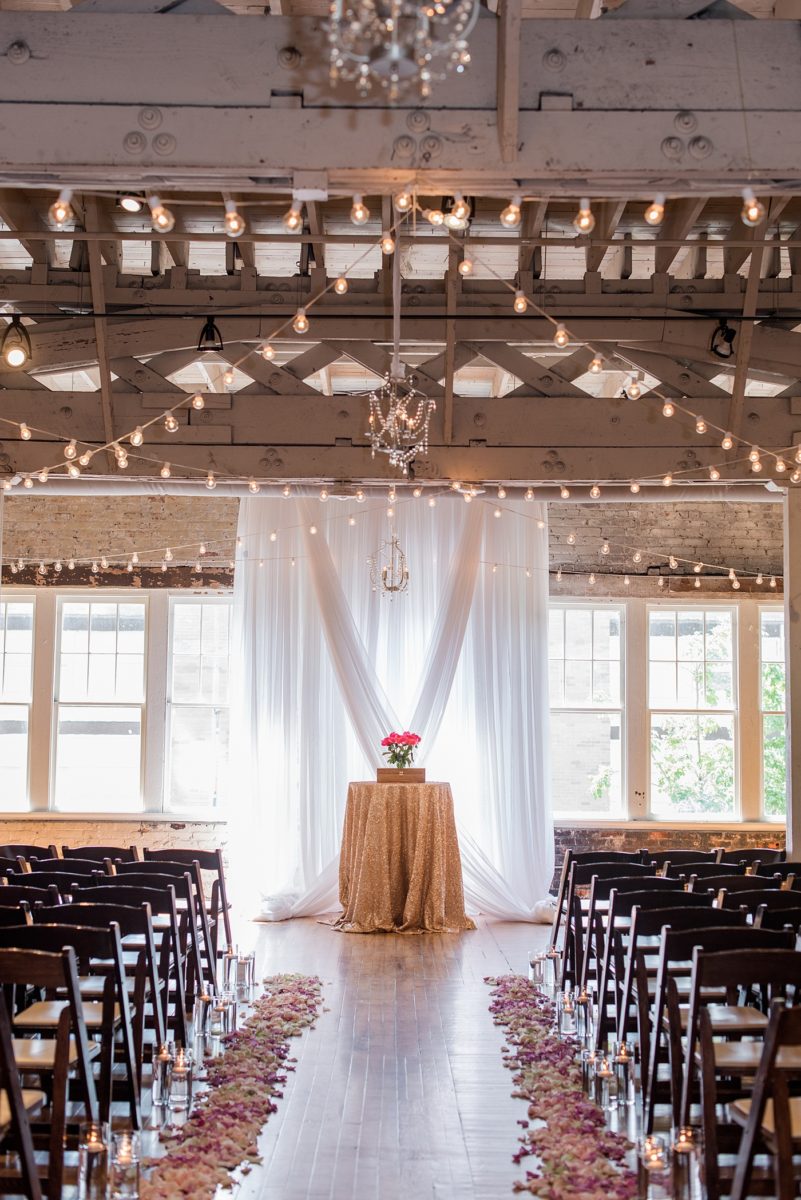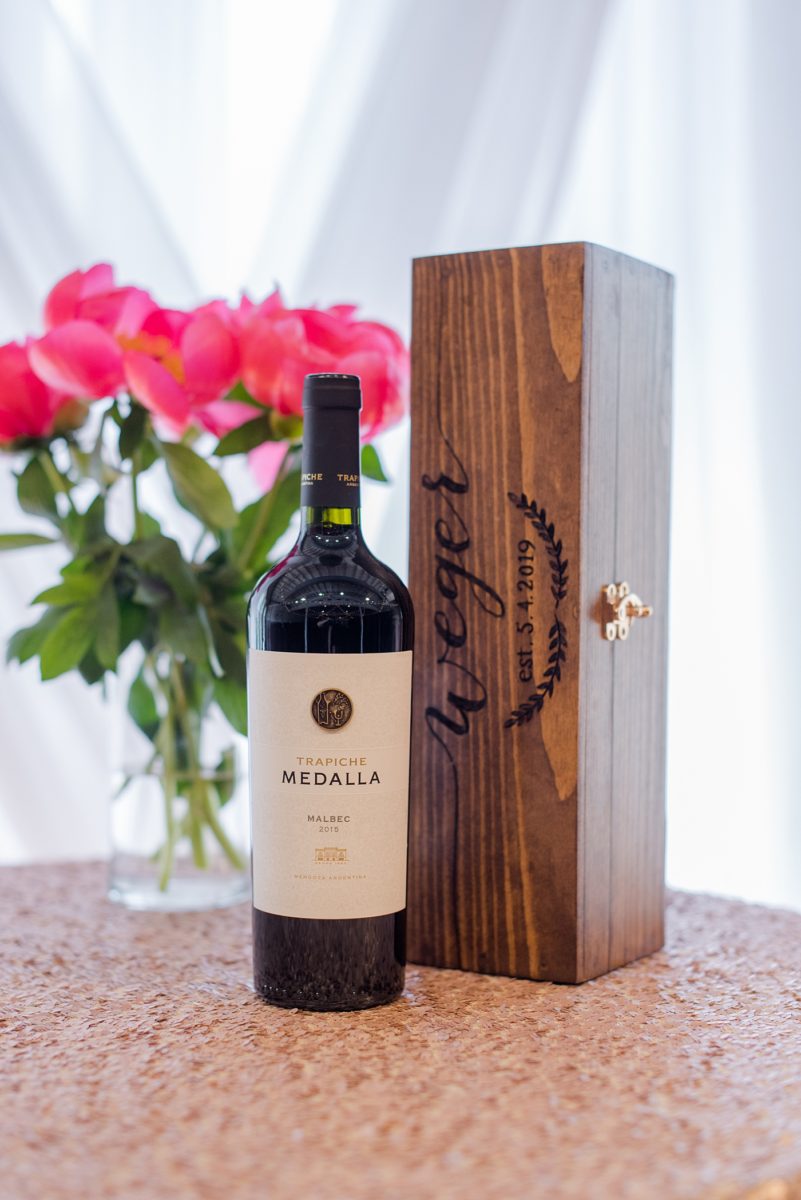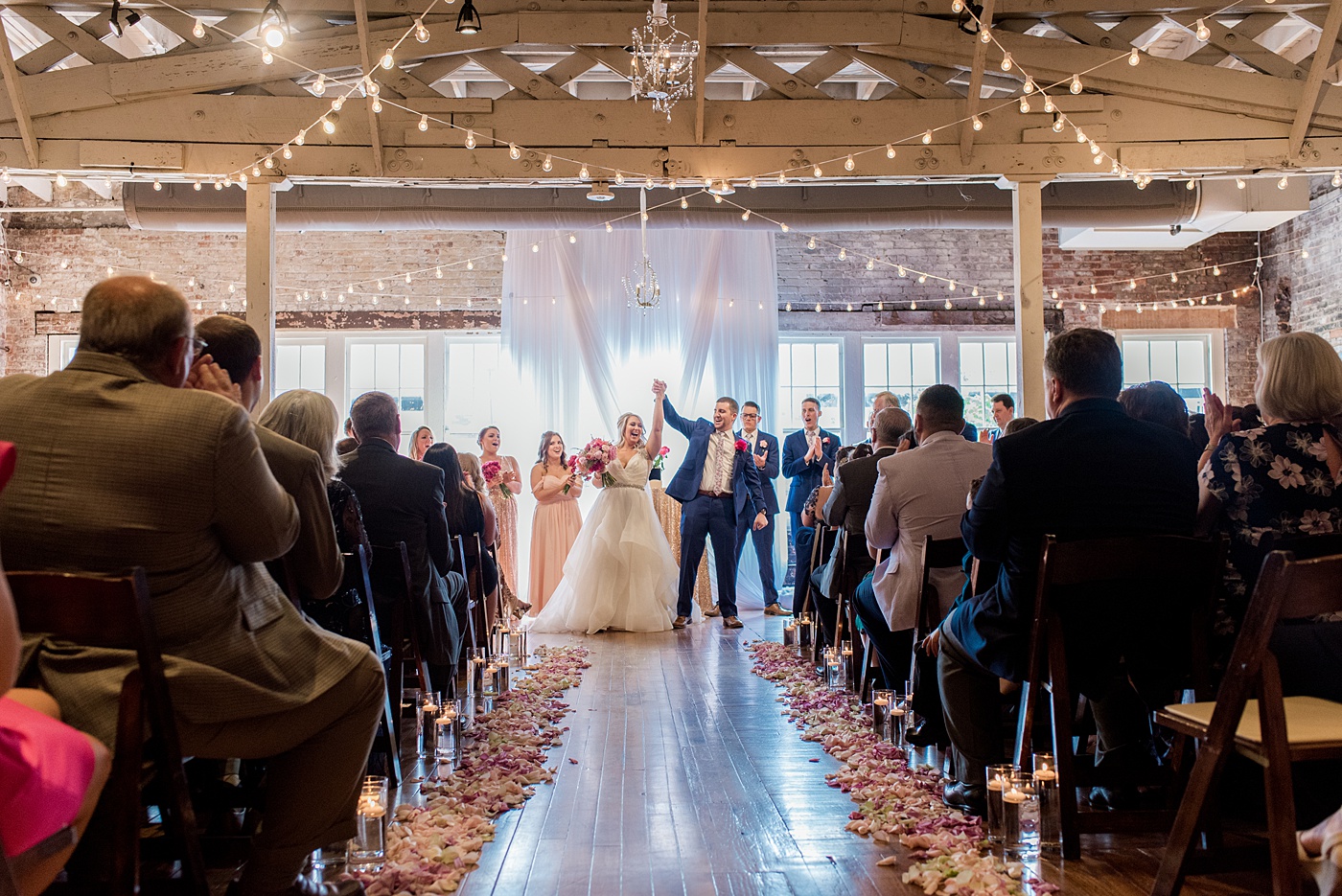 YAY! They're married!!!! 🙂 I love the photo of a couple during their ceremony right after they are announced as husband and wife. It's always the most joyful!
With their high energy flowing Lauryn, Joe and their wedding party followed their photography and videography team outside to head directly to the capital for some iconic photos in downtown Raleigh. They opted not to do a first look so this was precious time to get pictures of the bride and groom with their entire wedding party, followed by their families.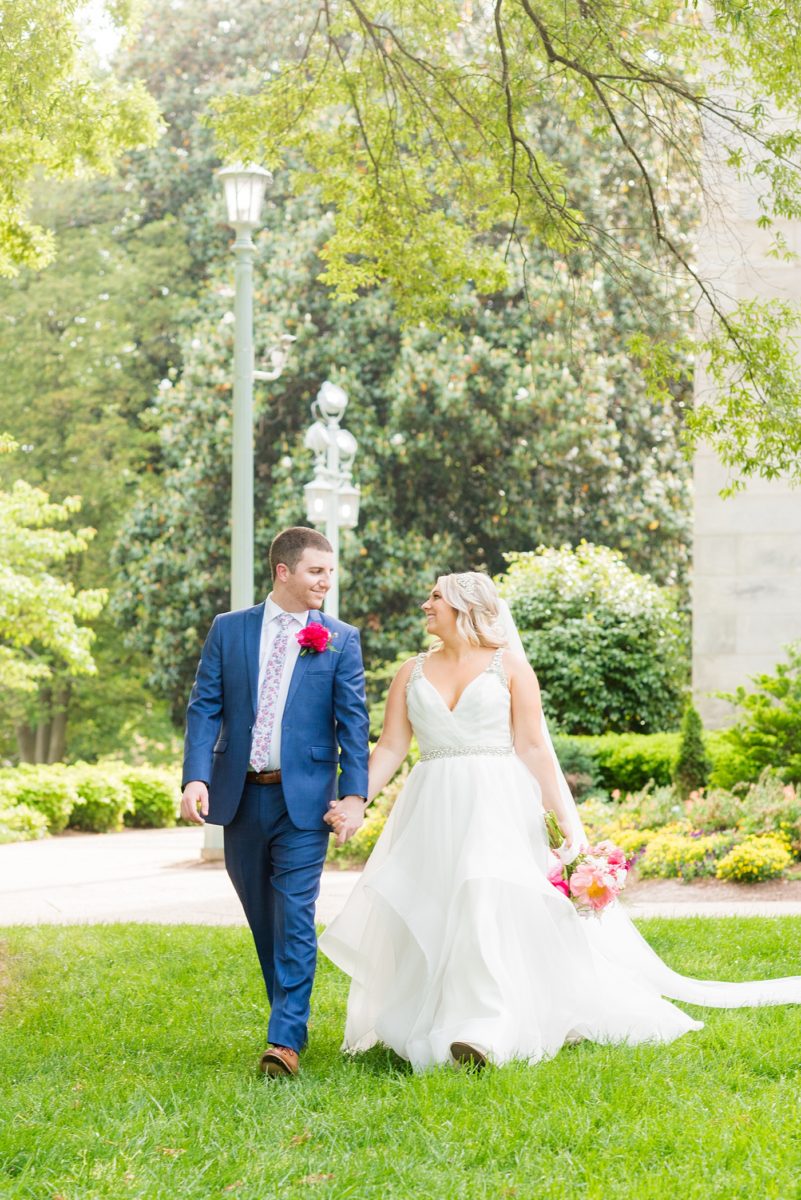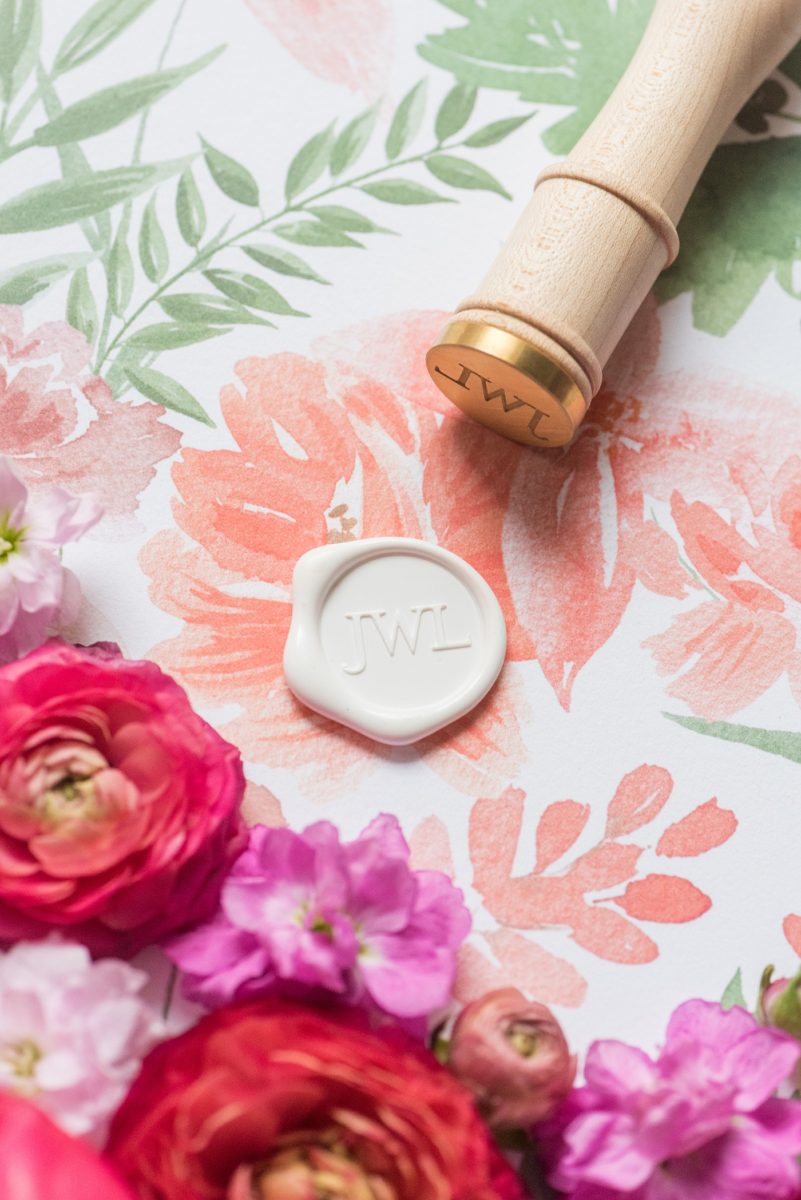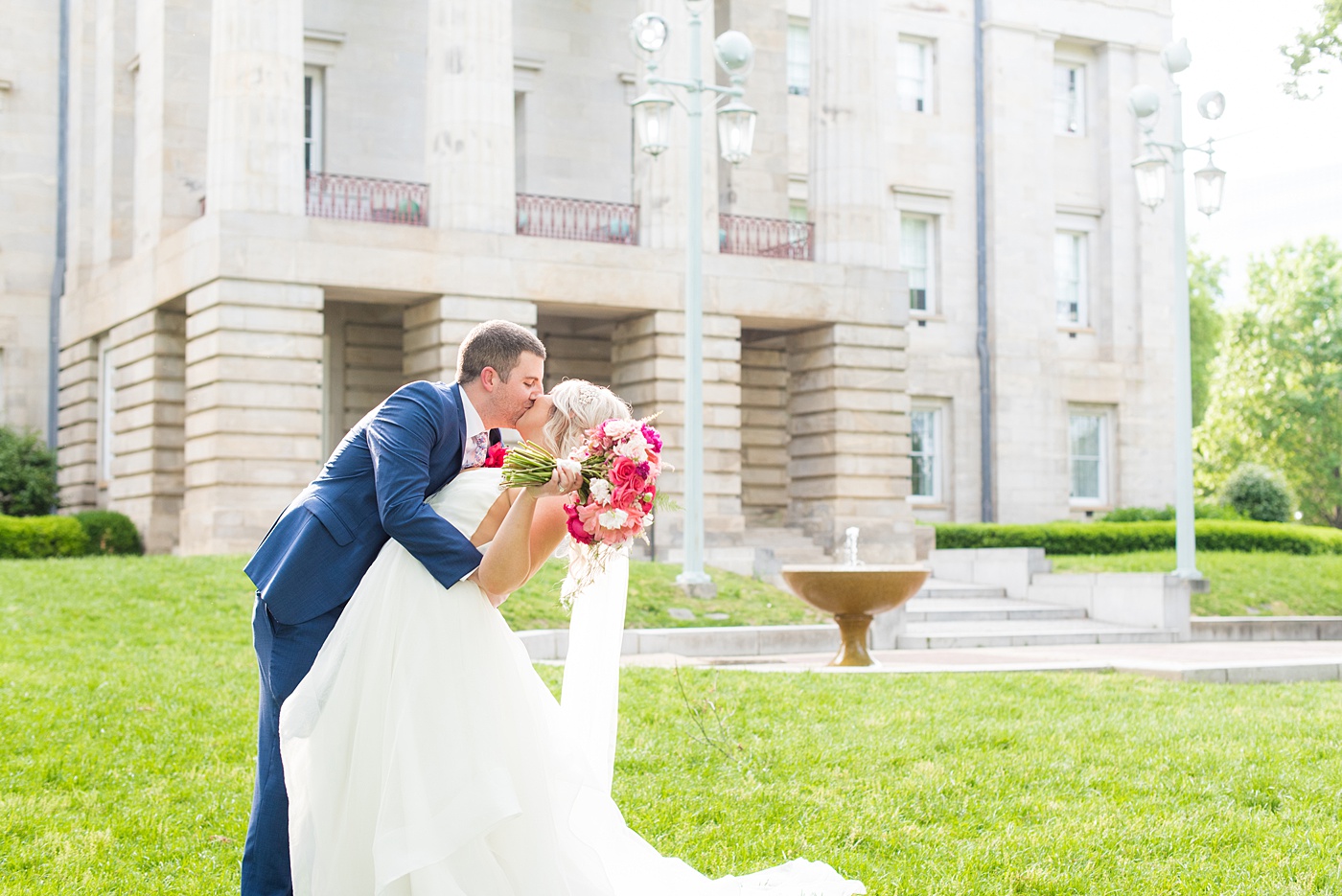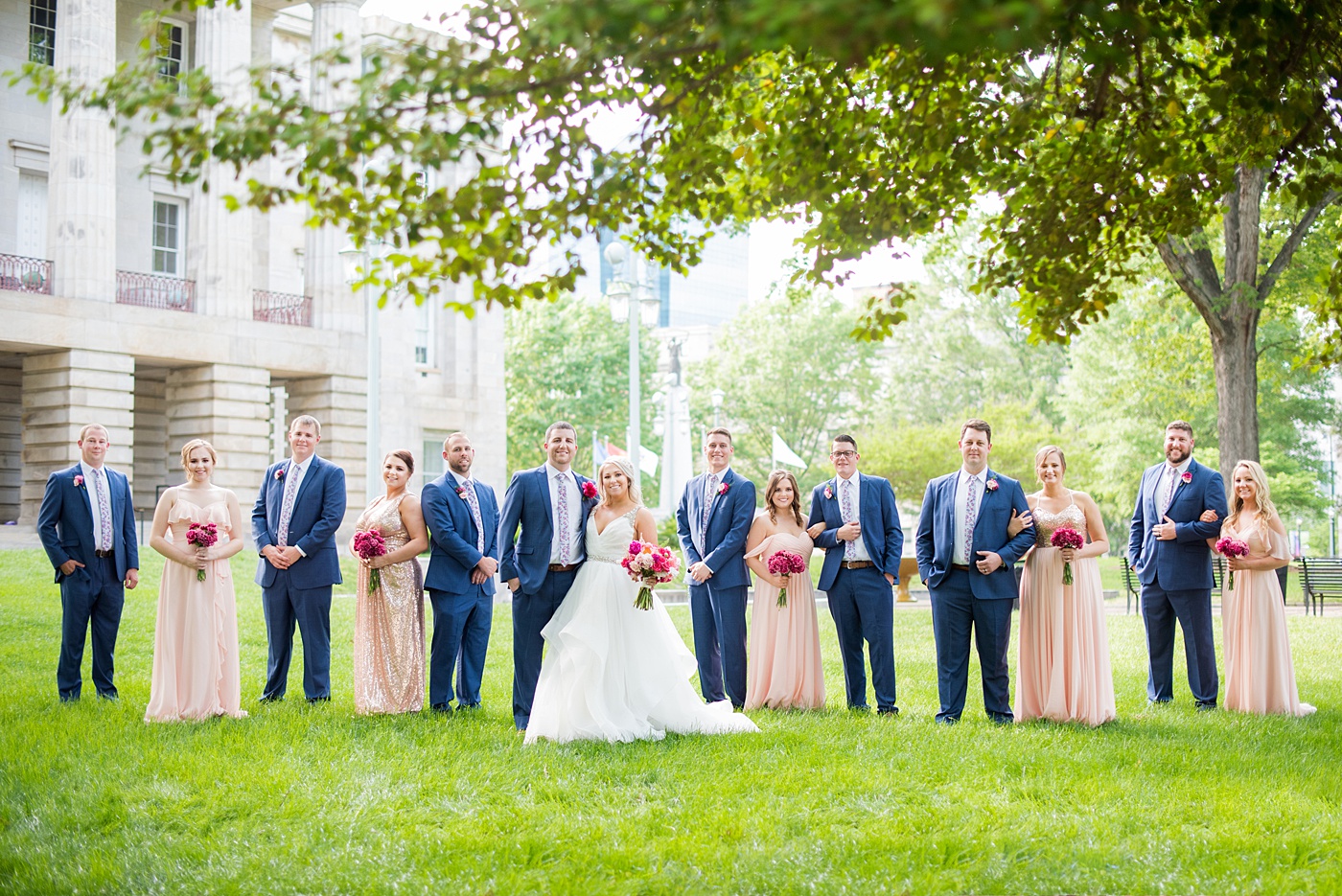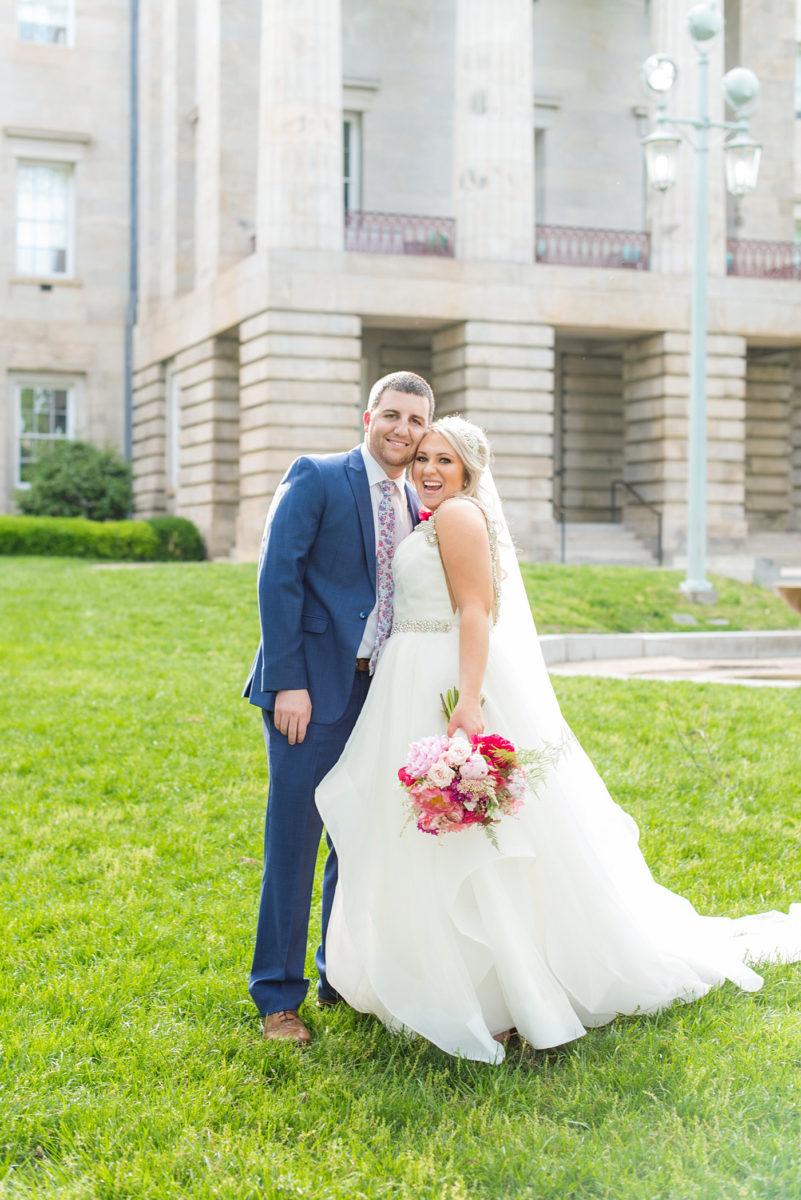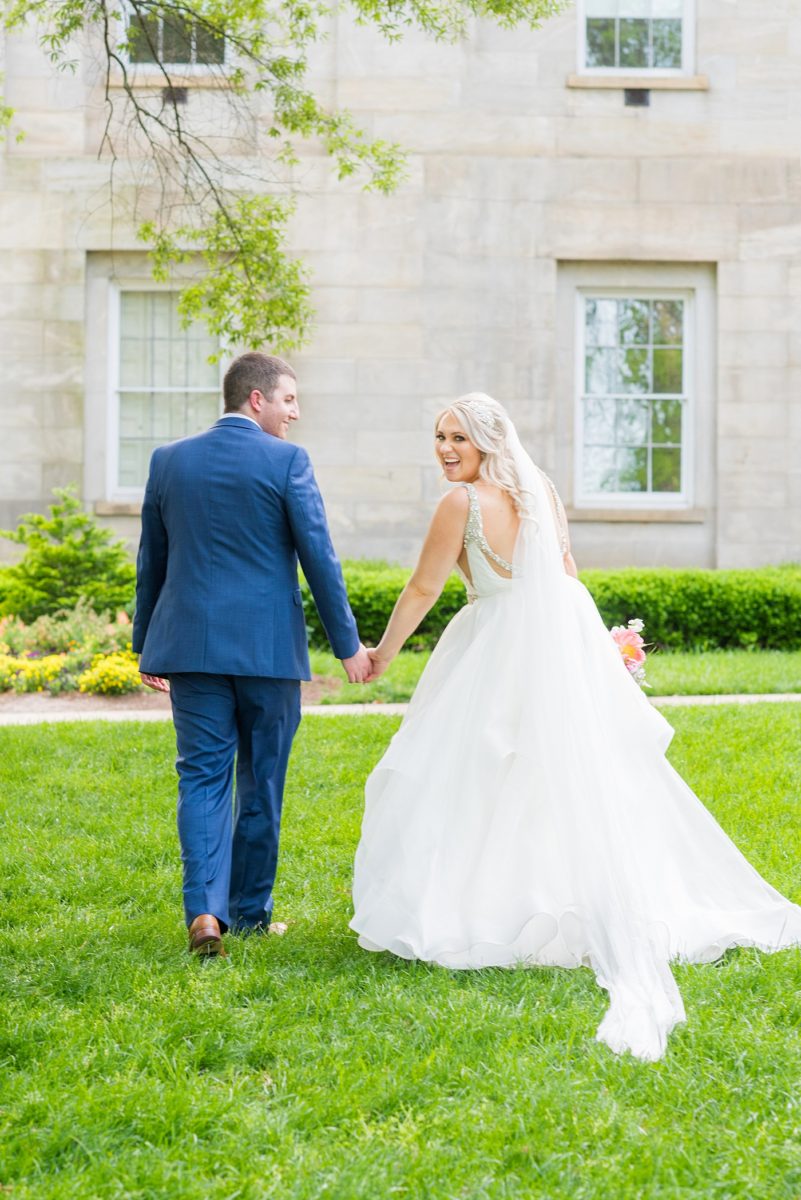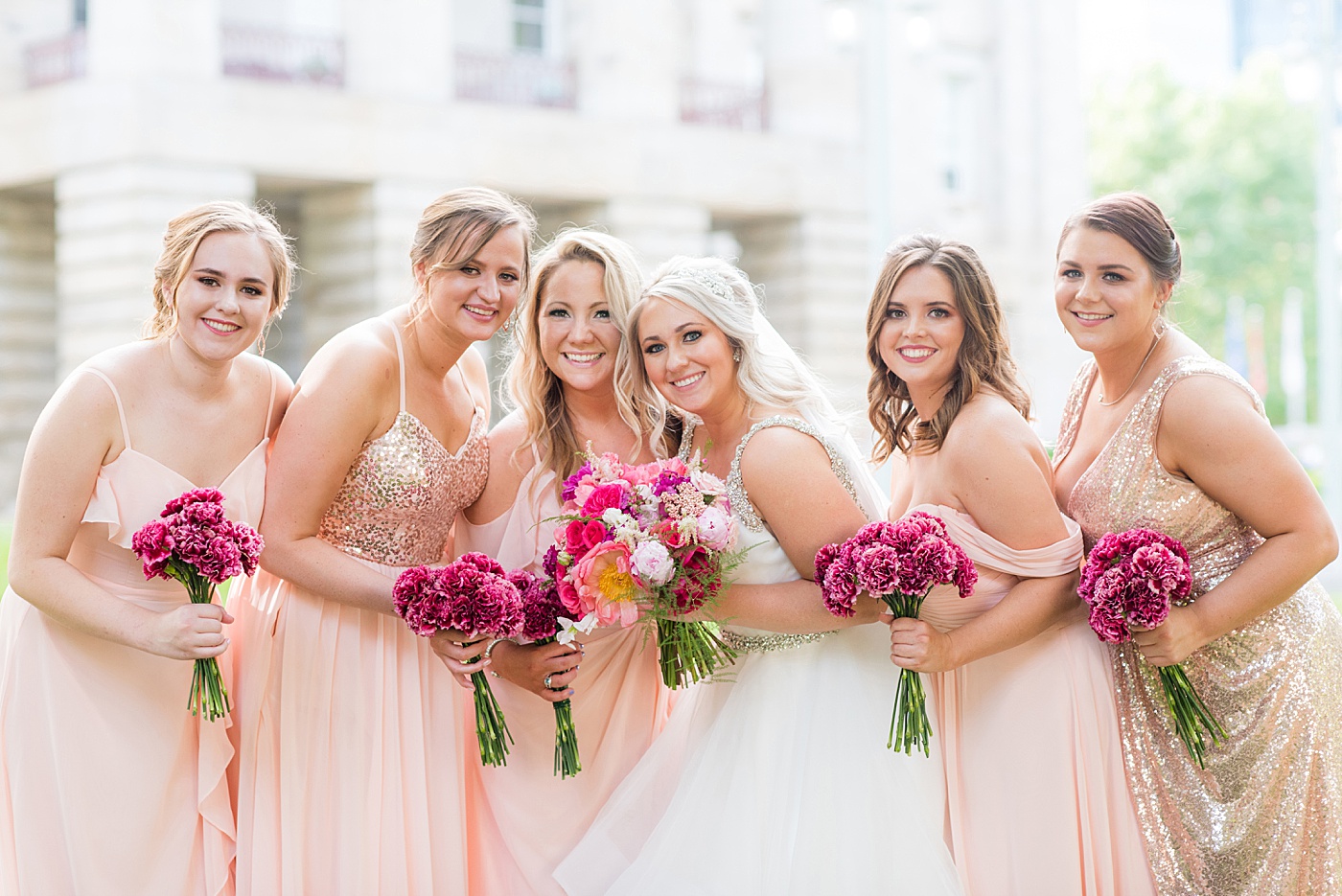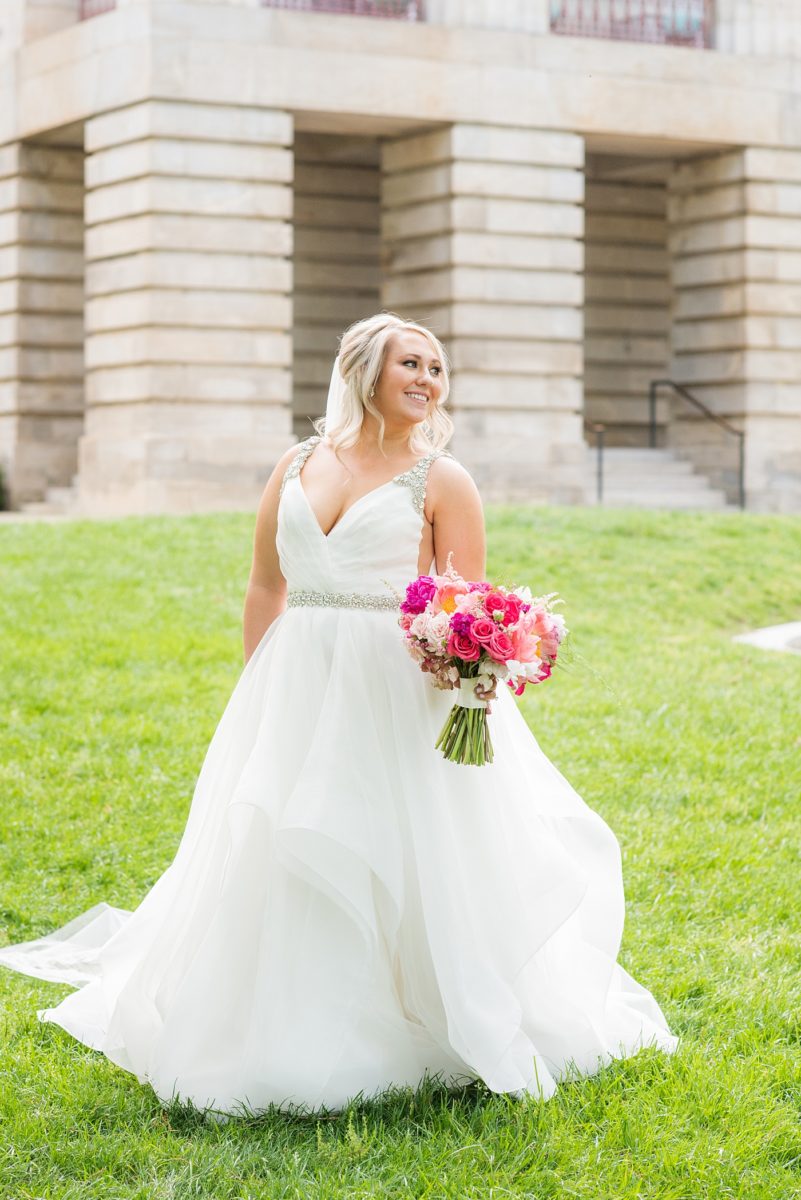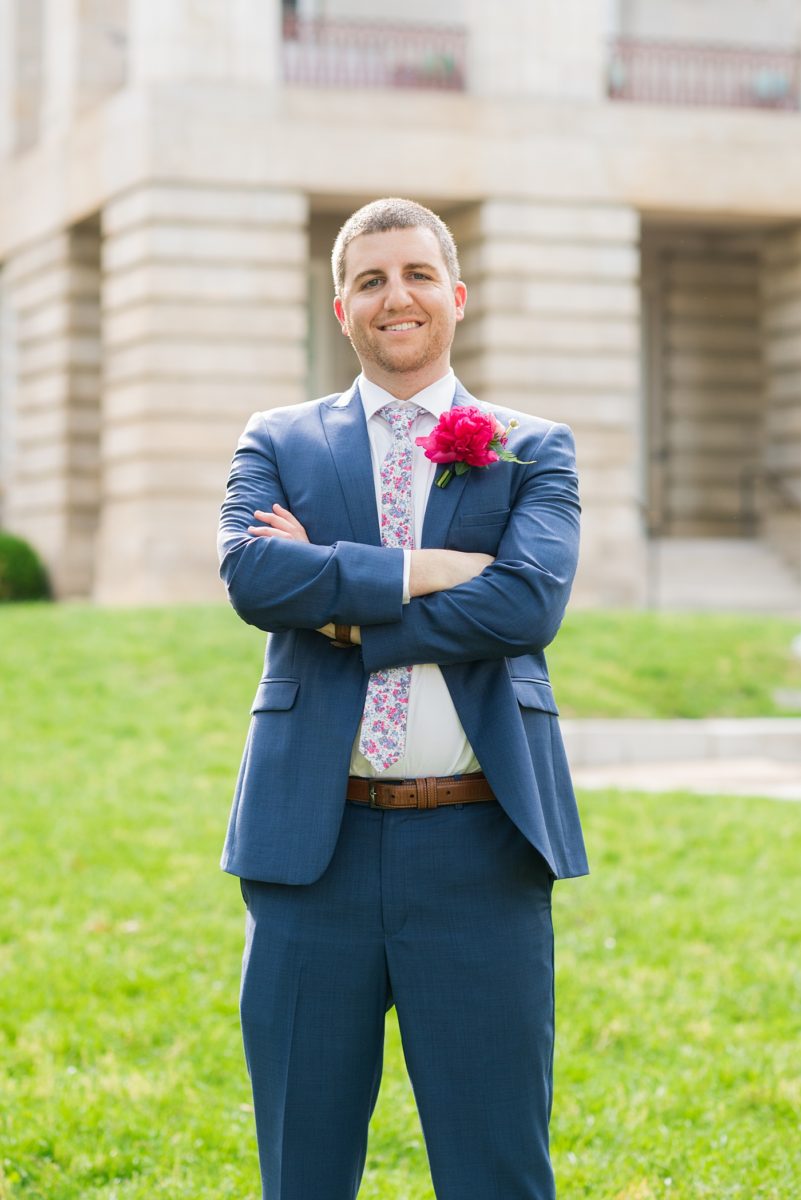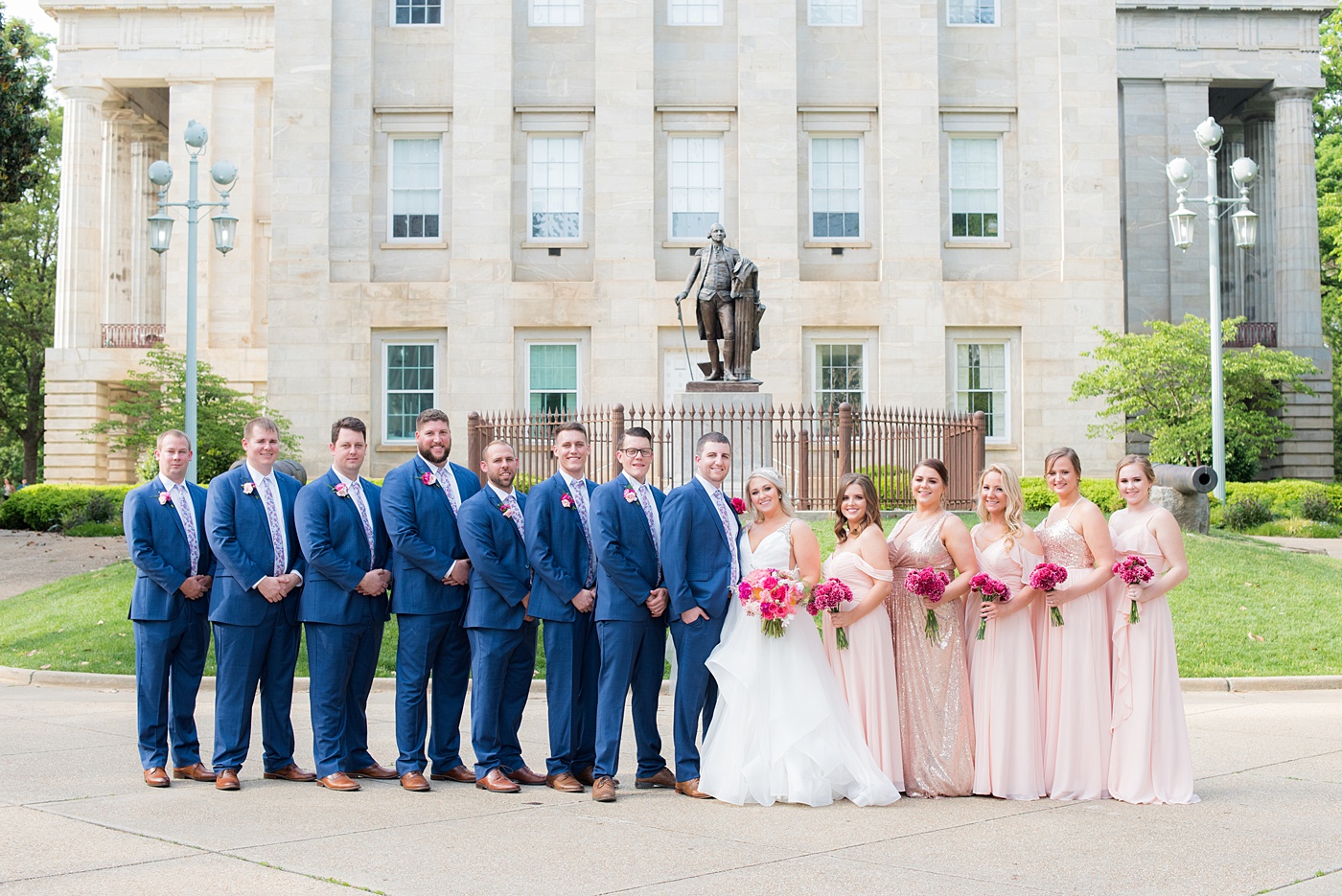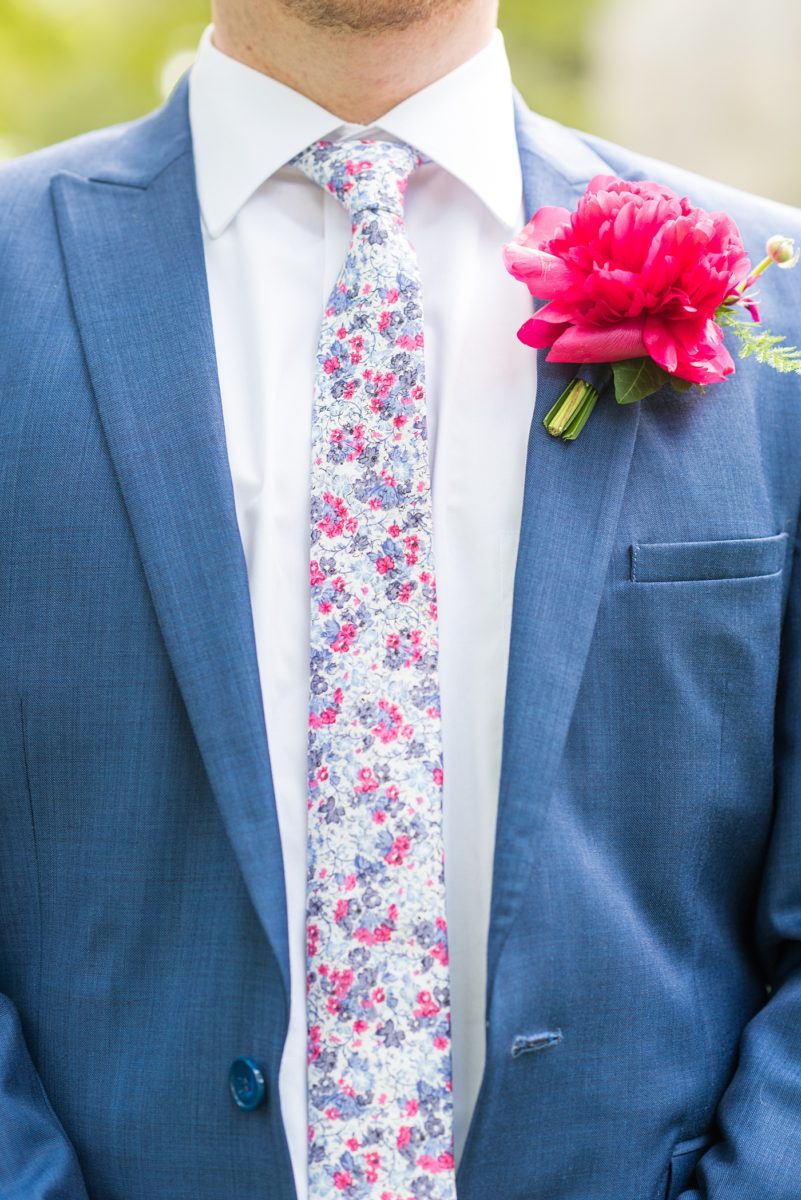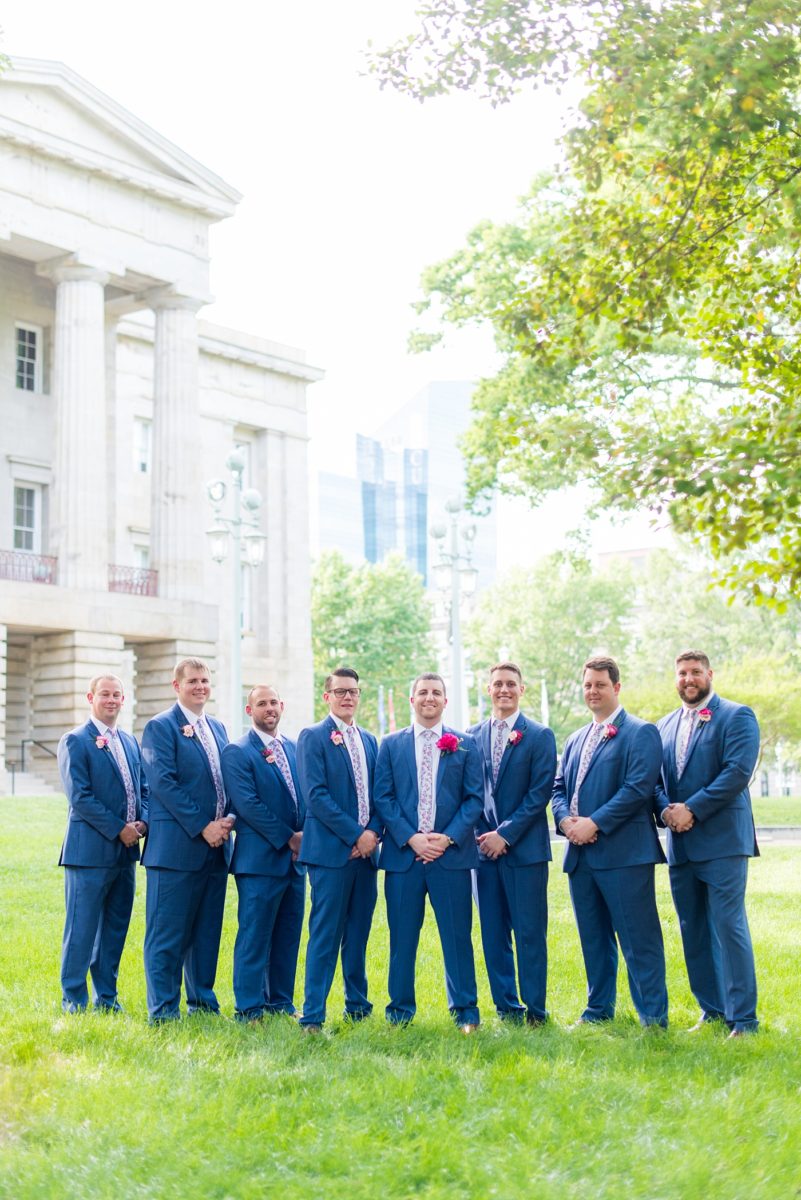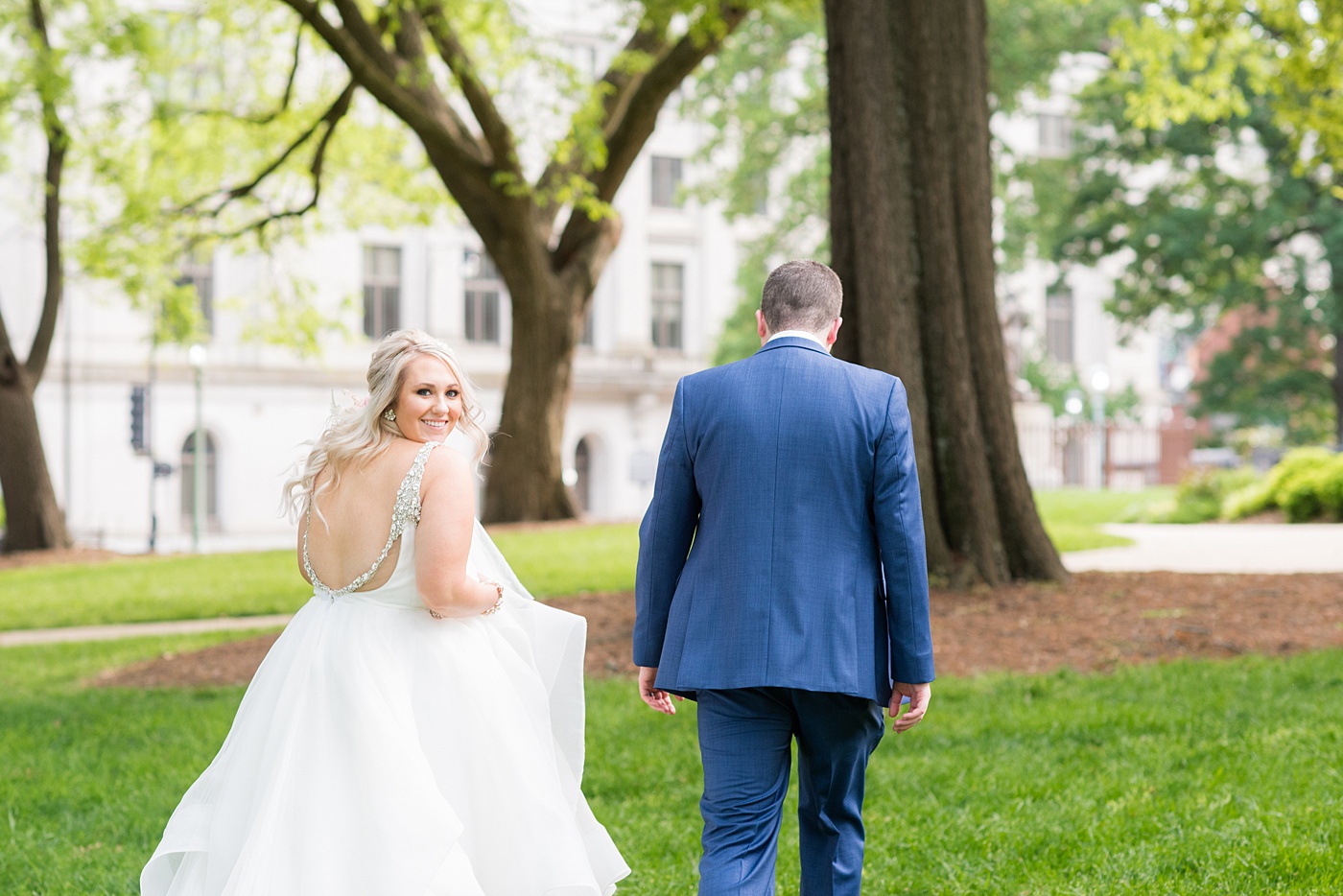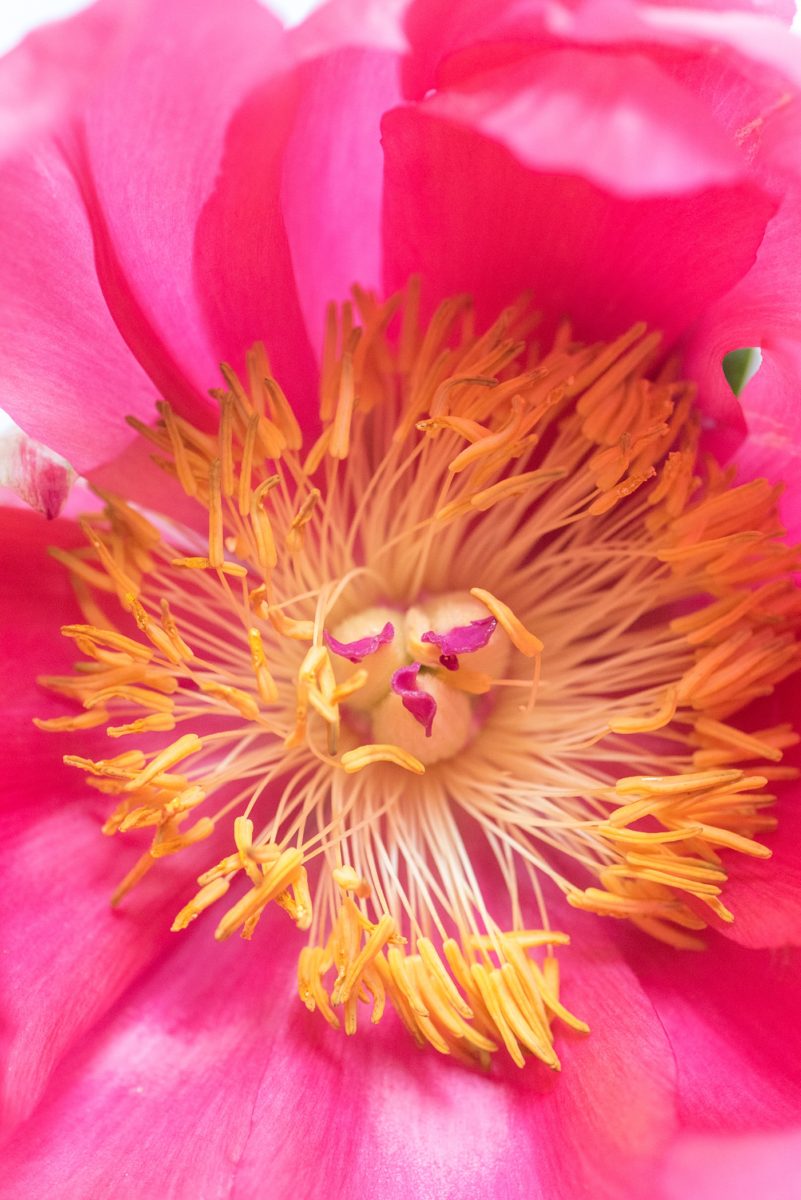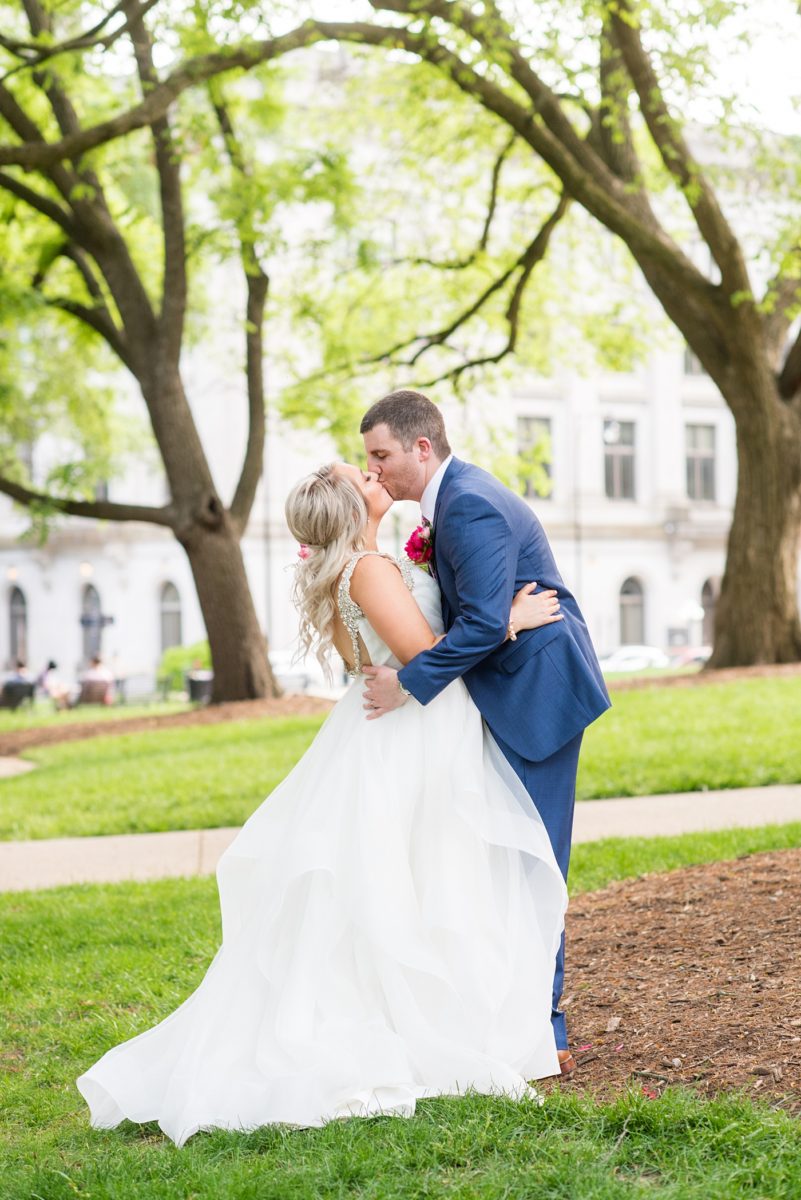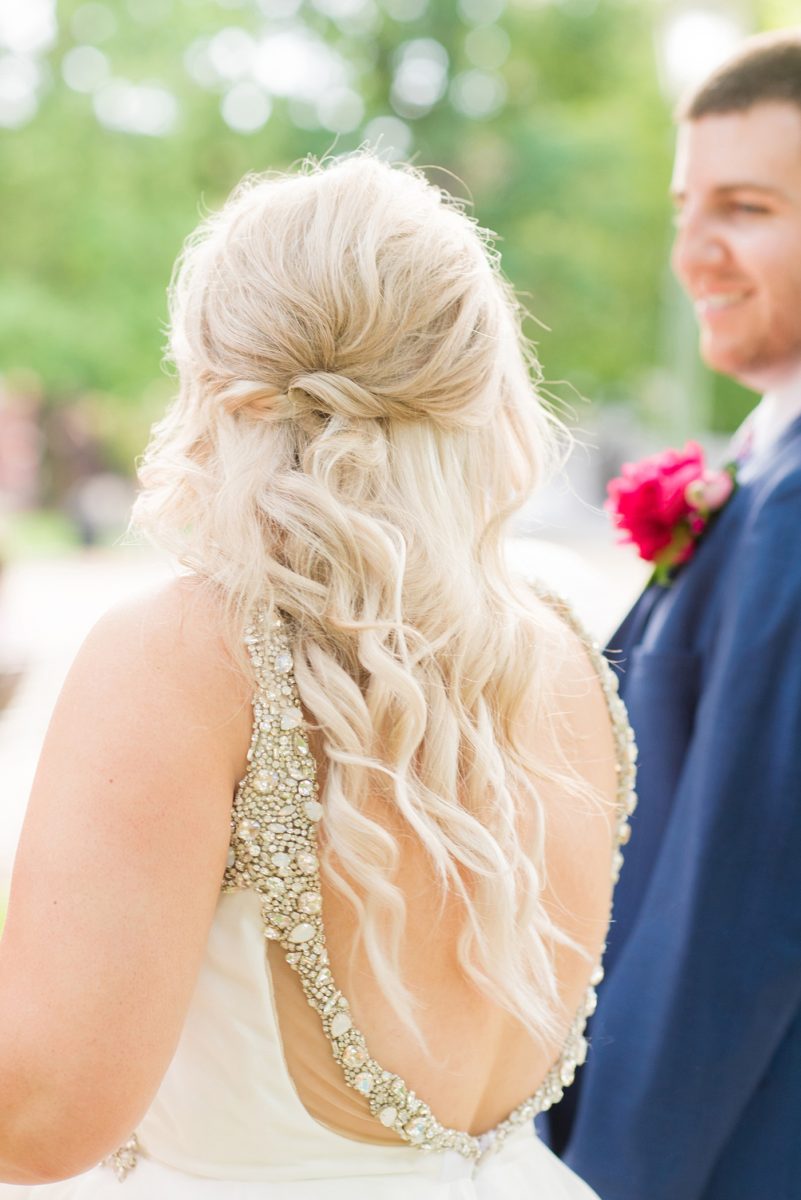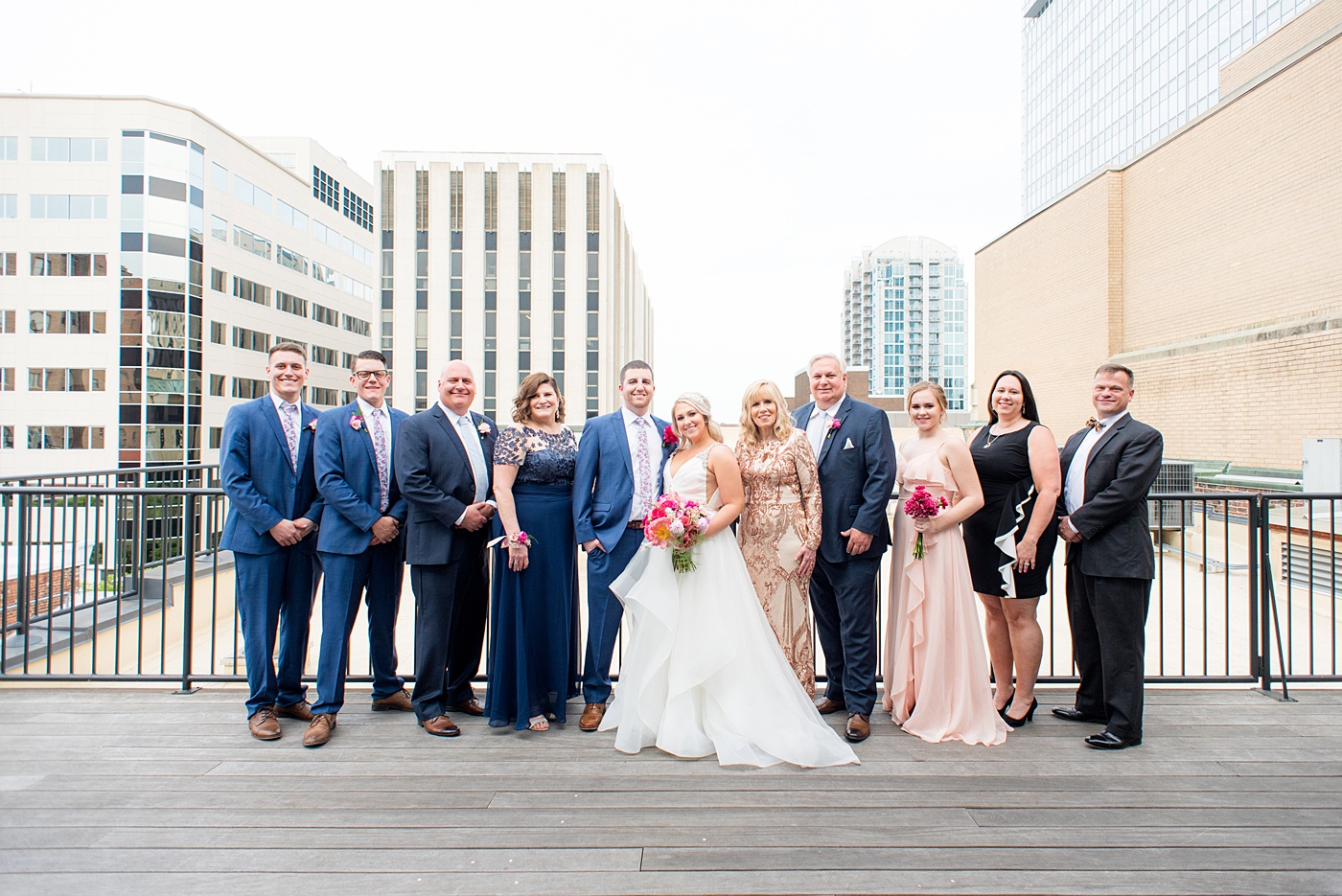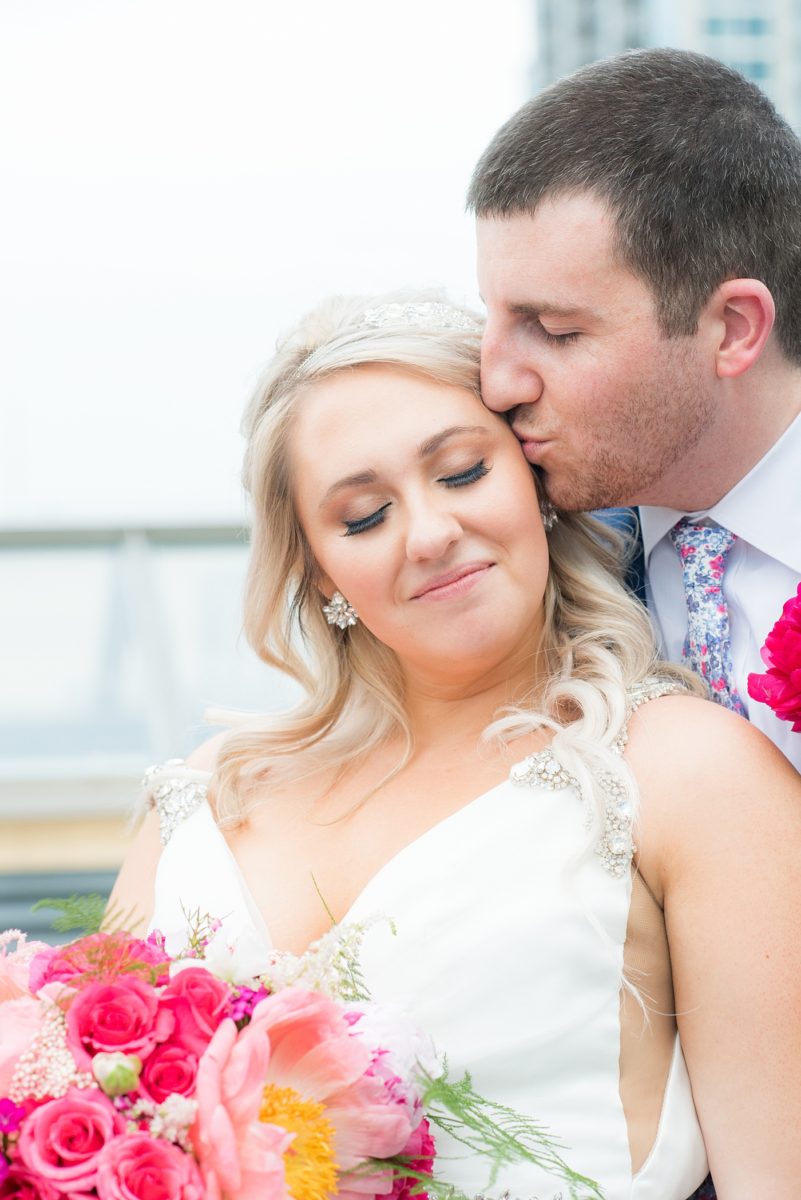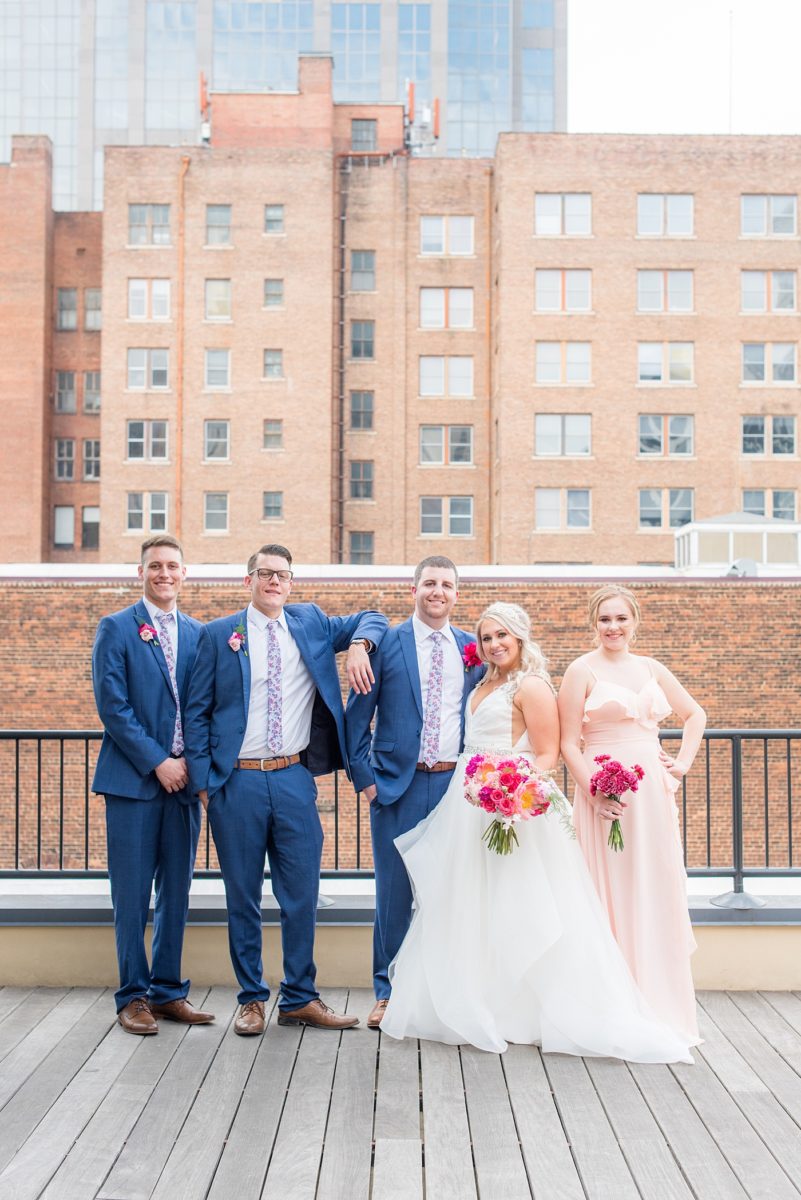 Their reception was held back where their ceremony took place. The room flip was now complete and it was transformed into a beautiful, spring-inspired room. Aqua tablecloths were topped with centerpieces consisting of green moss and gold and blue bud cases. Pink flowers were not just in the vases but a carnation was placed by each table setting too. They handmade orange and pink watercolor escort cards that matched their menus.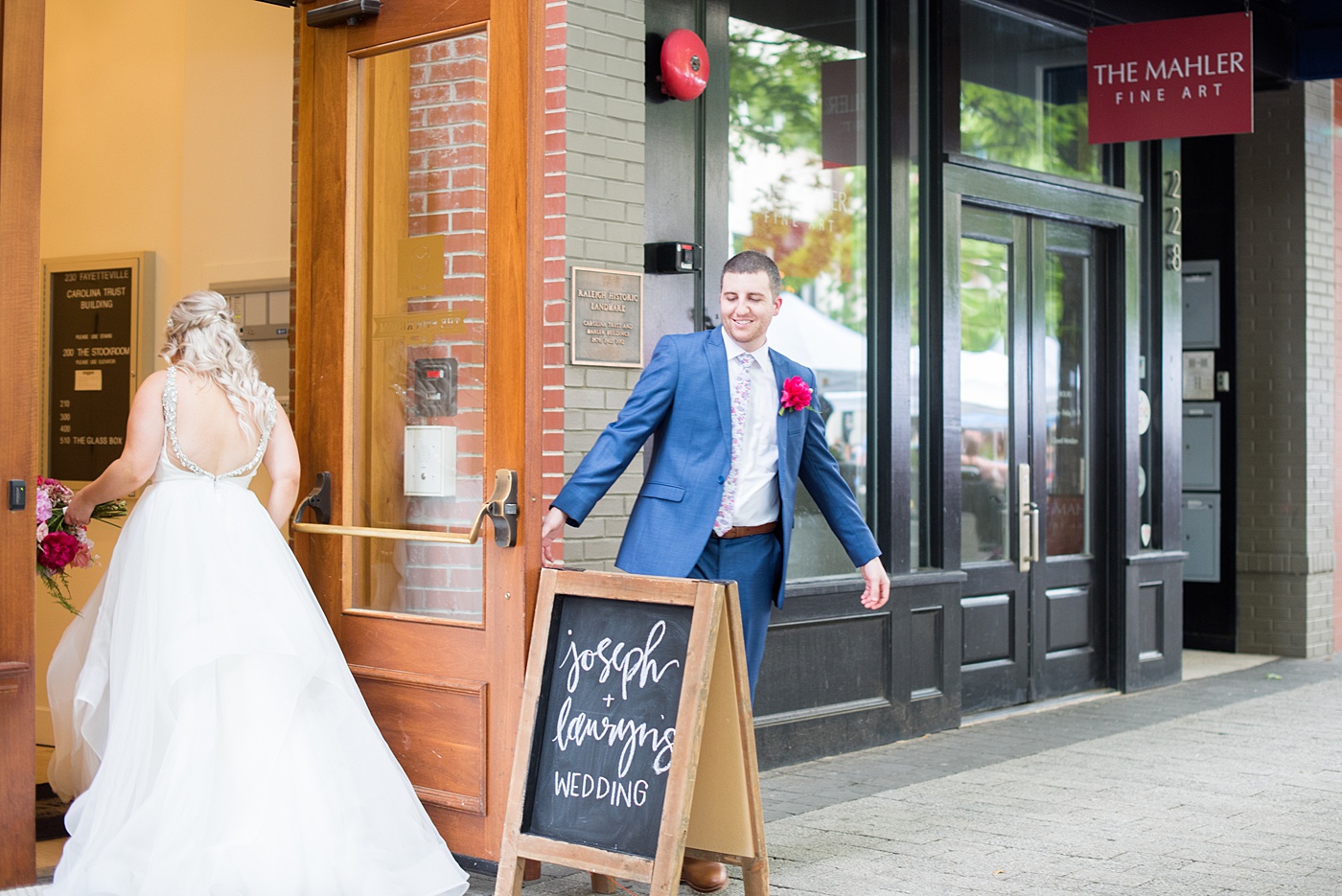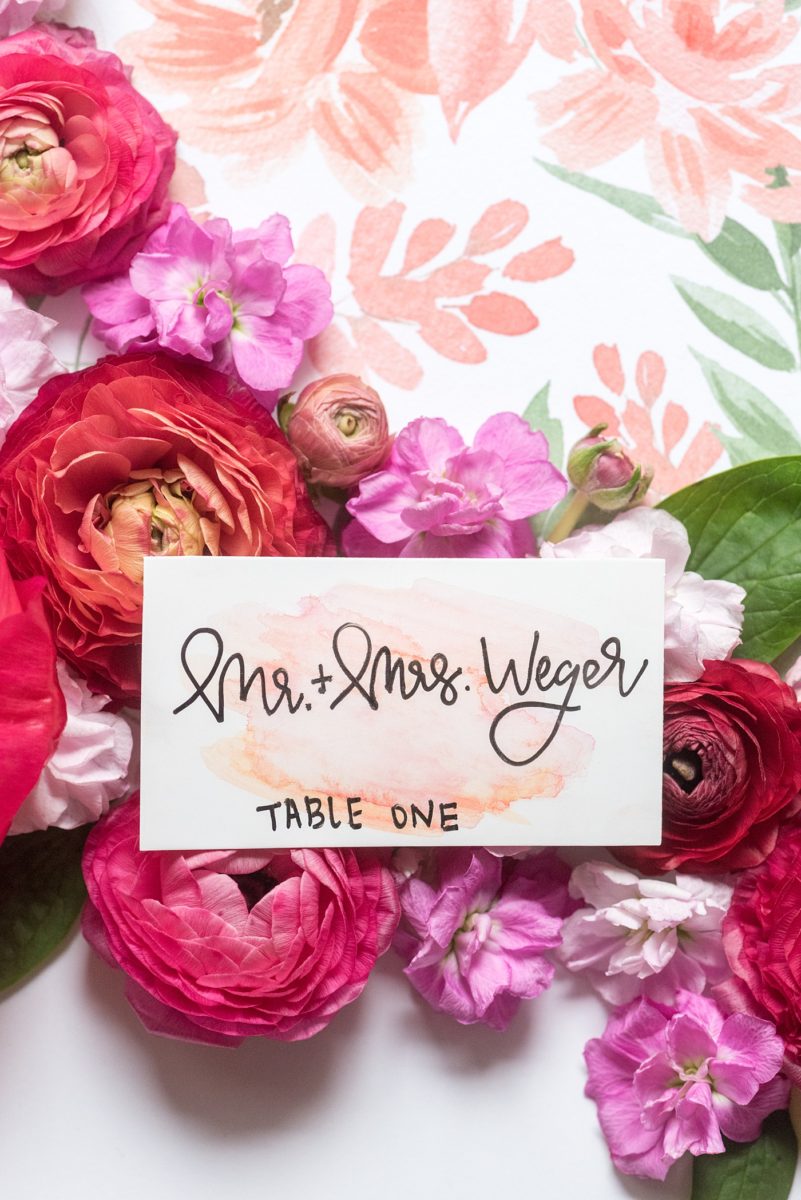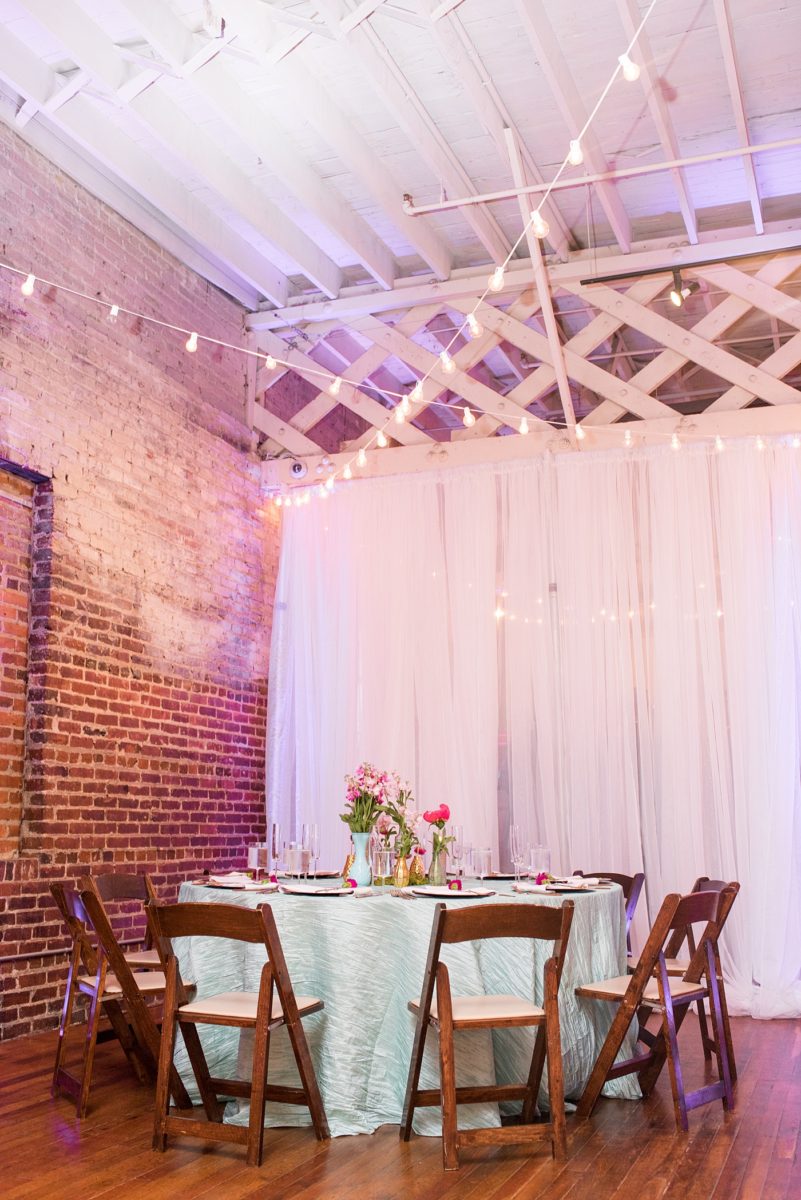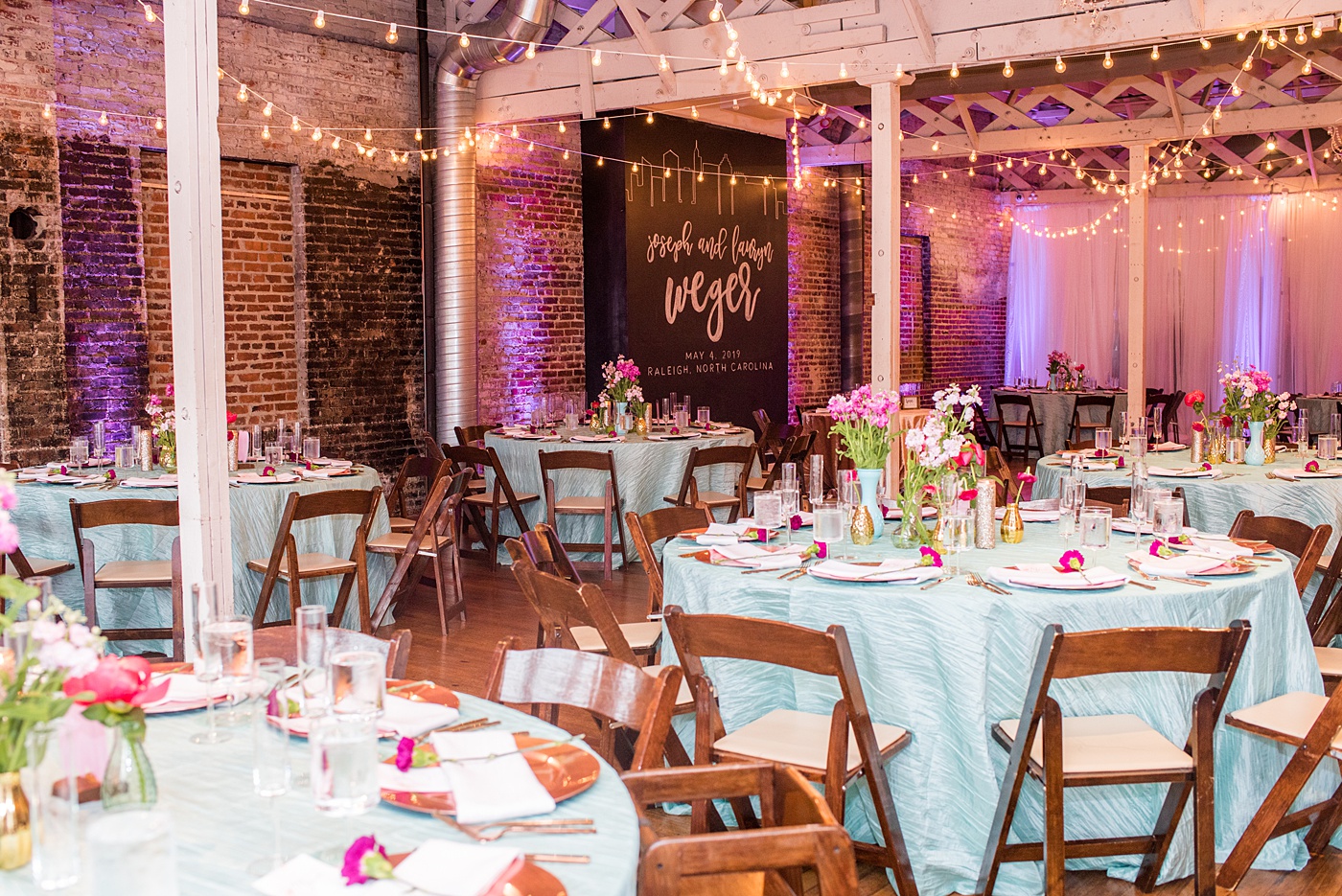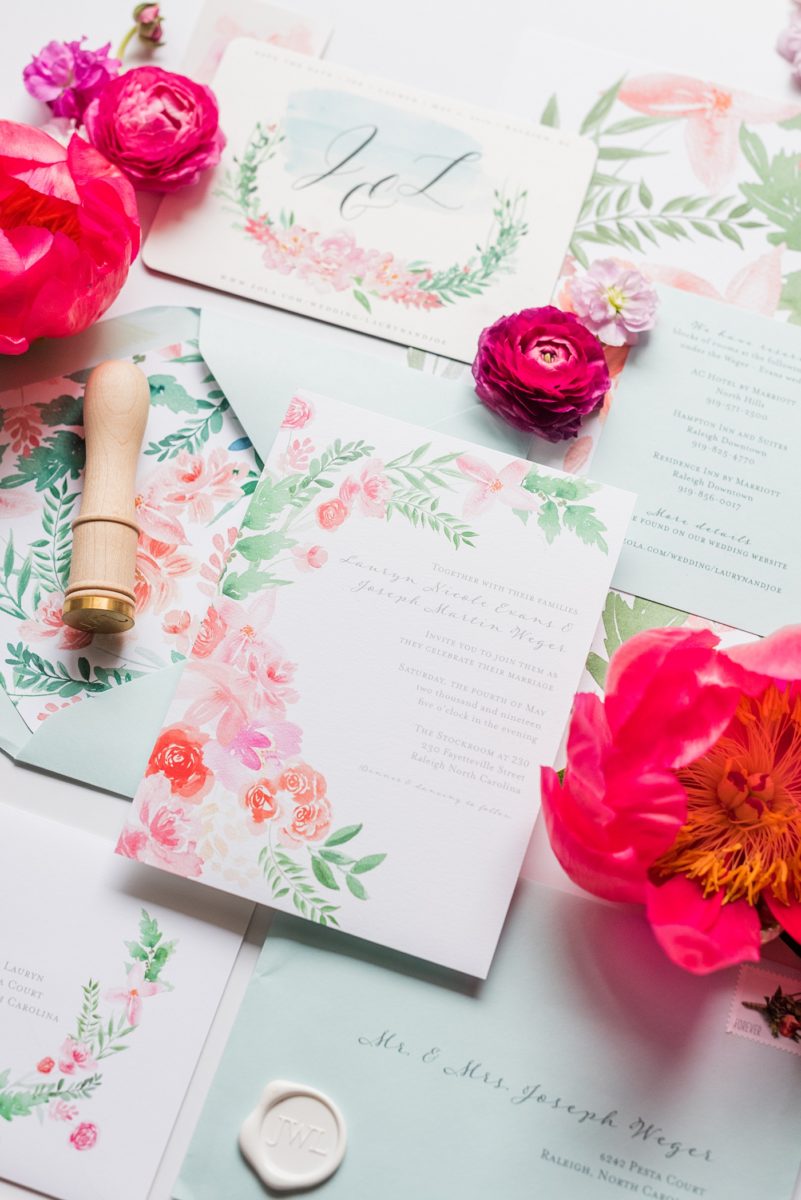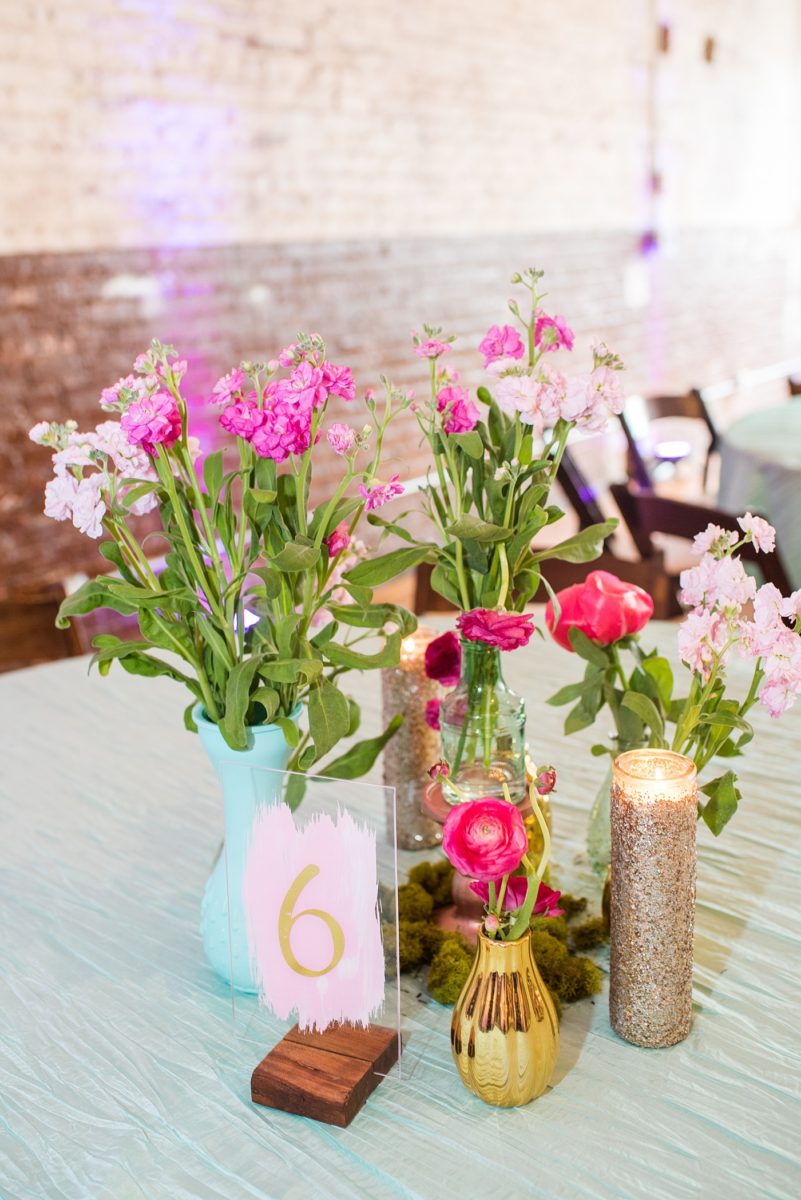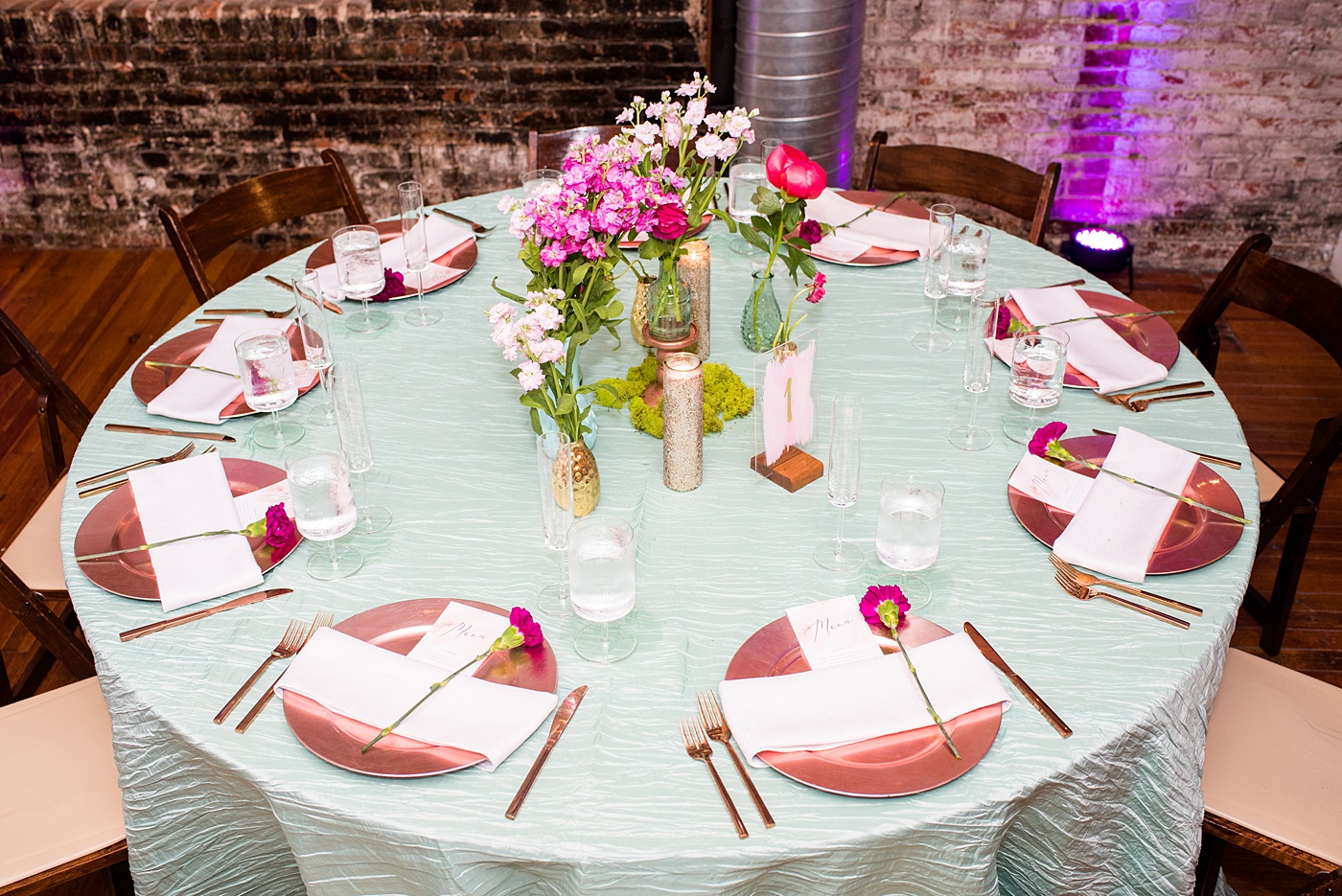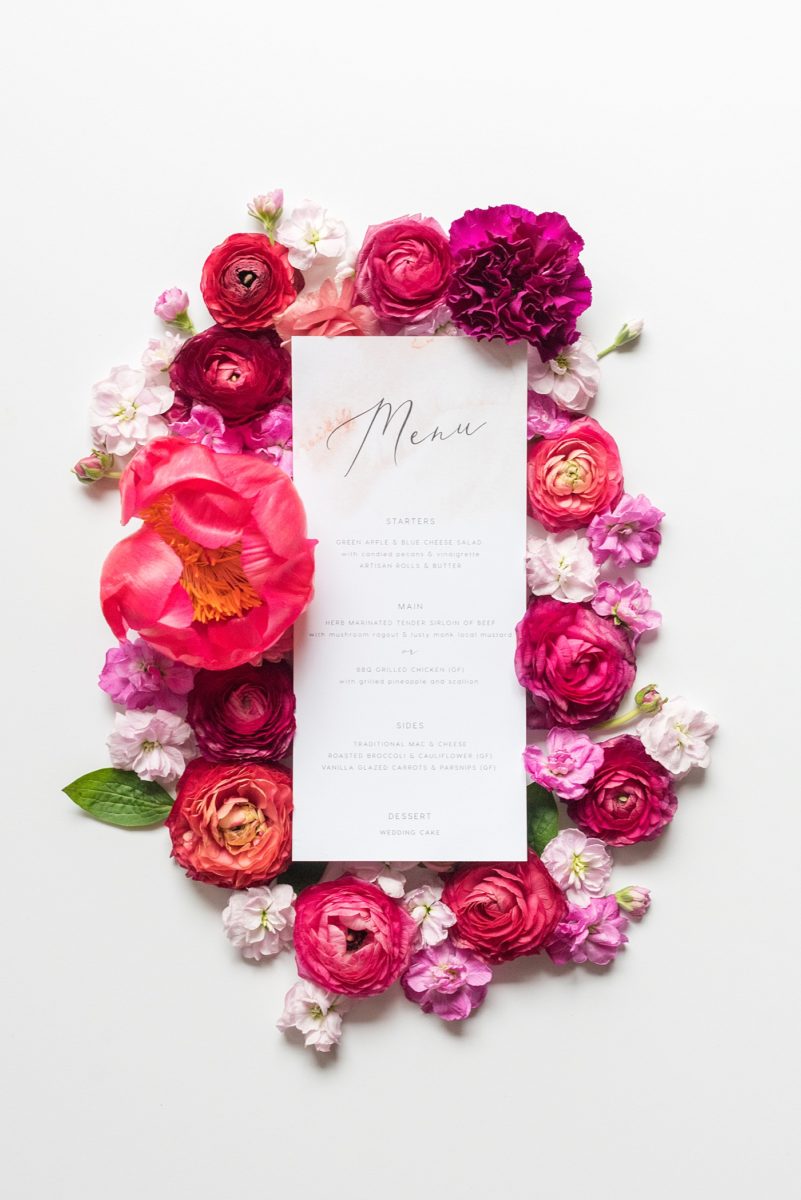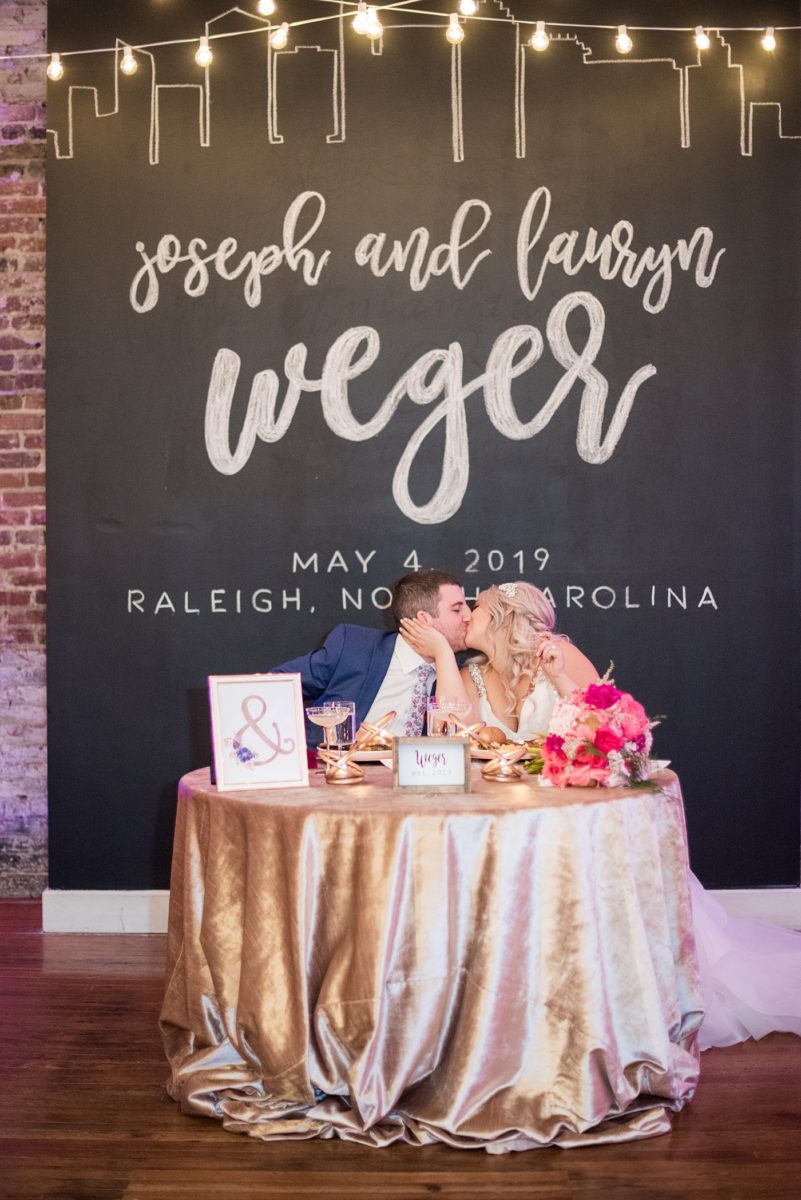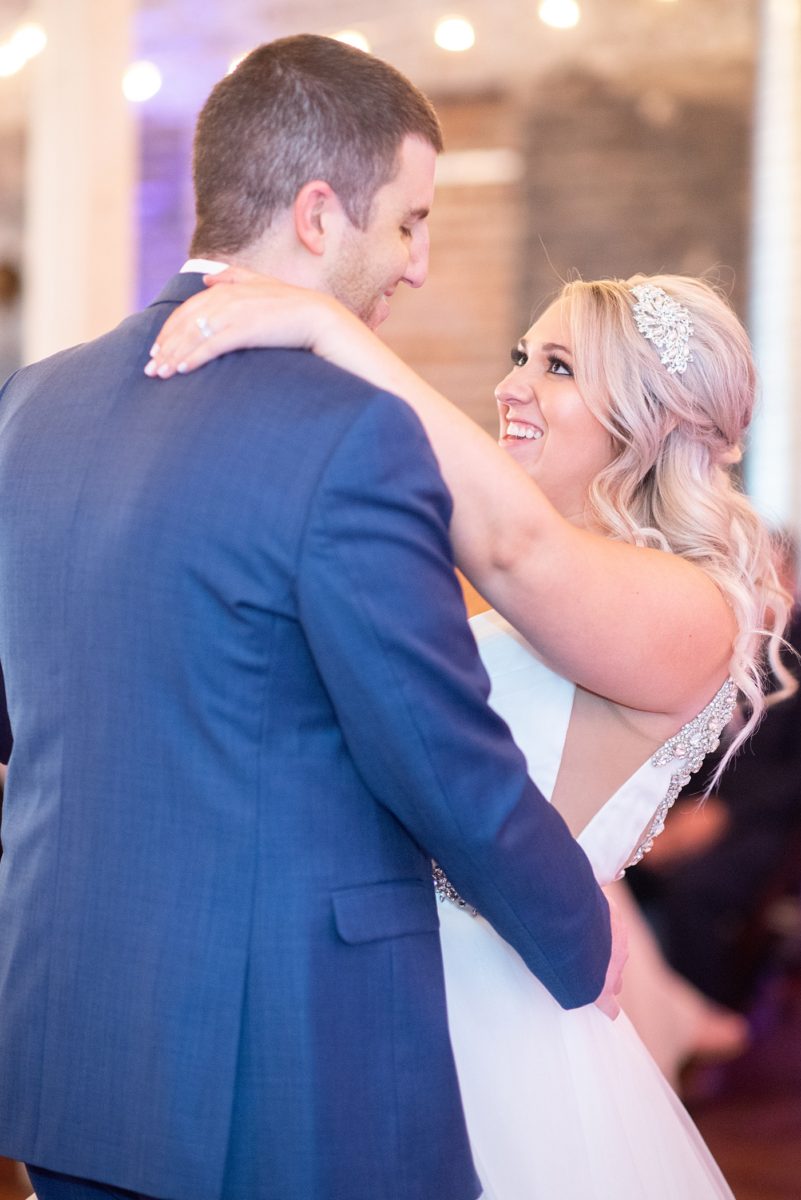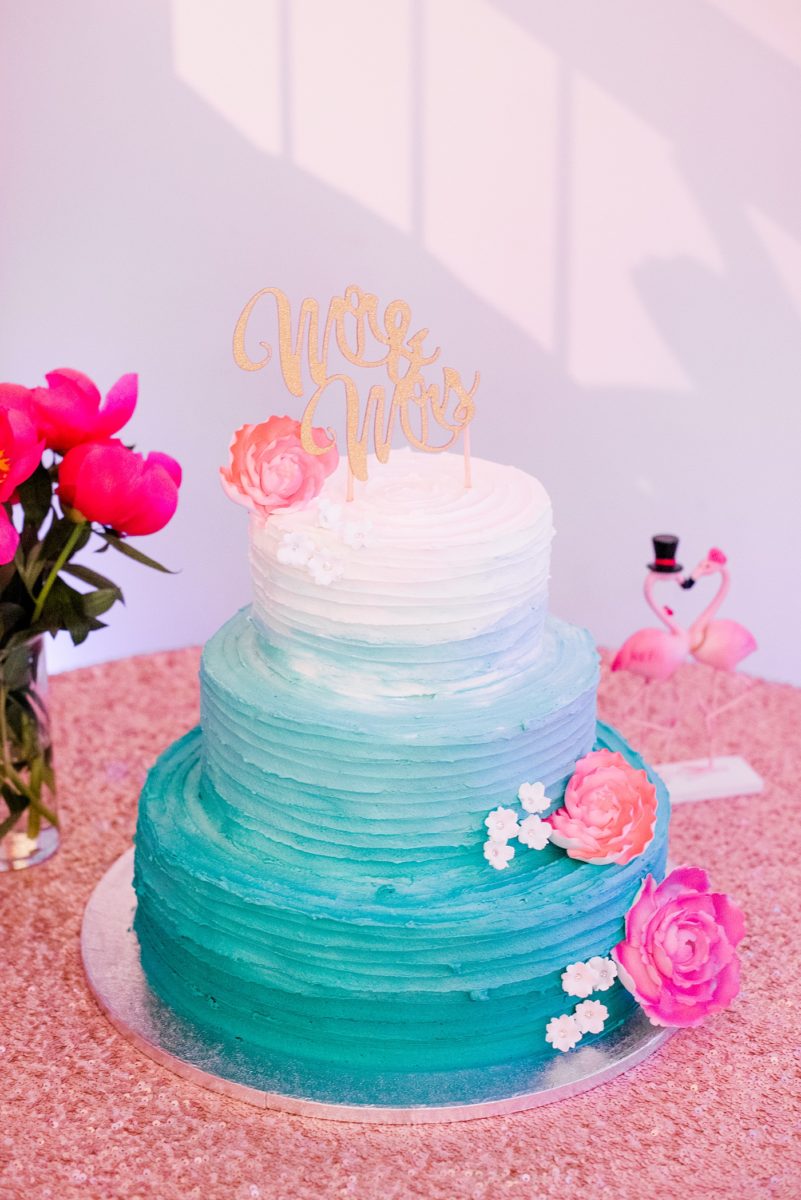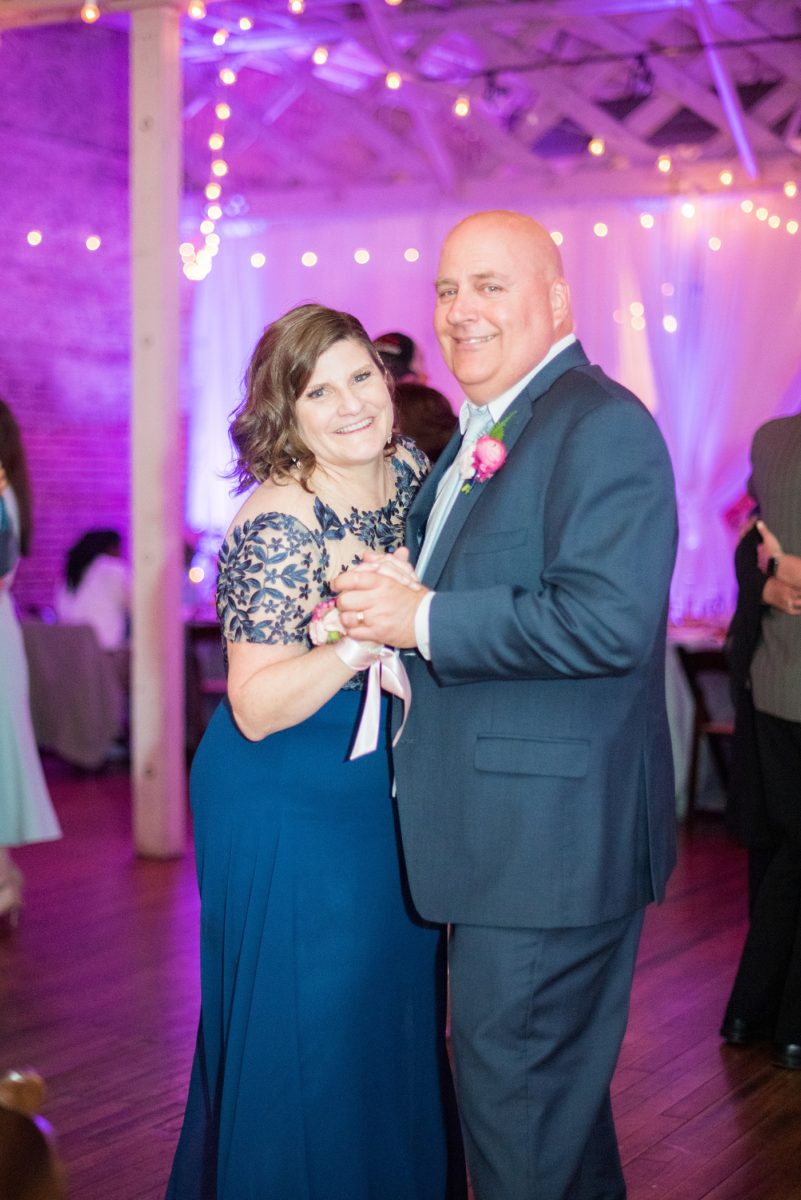 Another favorite detail from their wedding reception/day was that they had wine slushies and frose at their bar! Lauryn searched and searched for an industrial machine to rent for this purpose and not only was  her quest a success but it was a huge hit! Joe's signature drink was a Mint Julip for his Kentucky roots and also because, coincidentally, the Kentucky Derby was the day of their wedding.
They danced their first dance enamoured with one another and cut their blue ombre cake with pink and white gumpaste flowers as guests alternated between the dance floor and photobooth. It was a truly wonderful day and evening and I'm so glad I was a part of capturing such special memories and dance moves!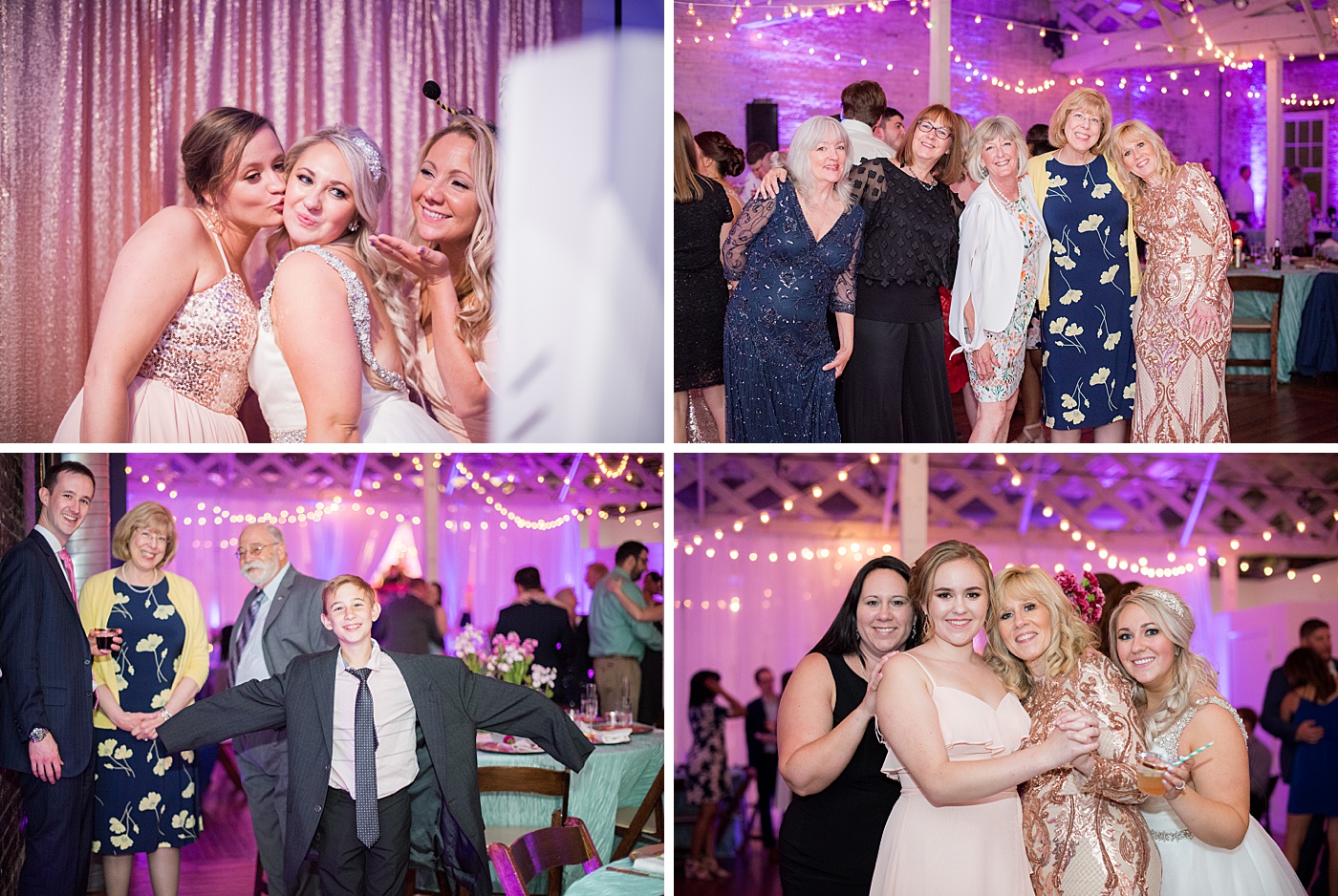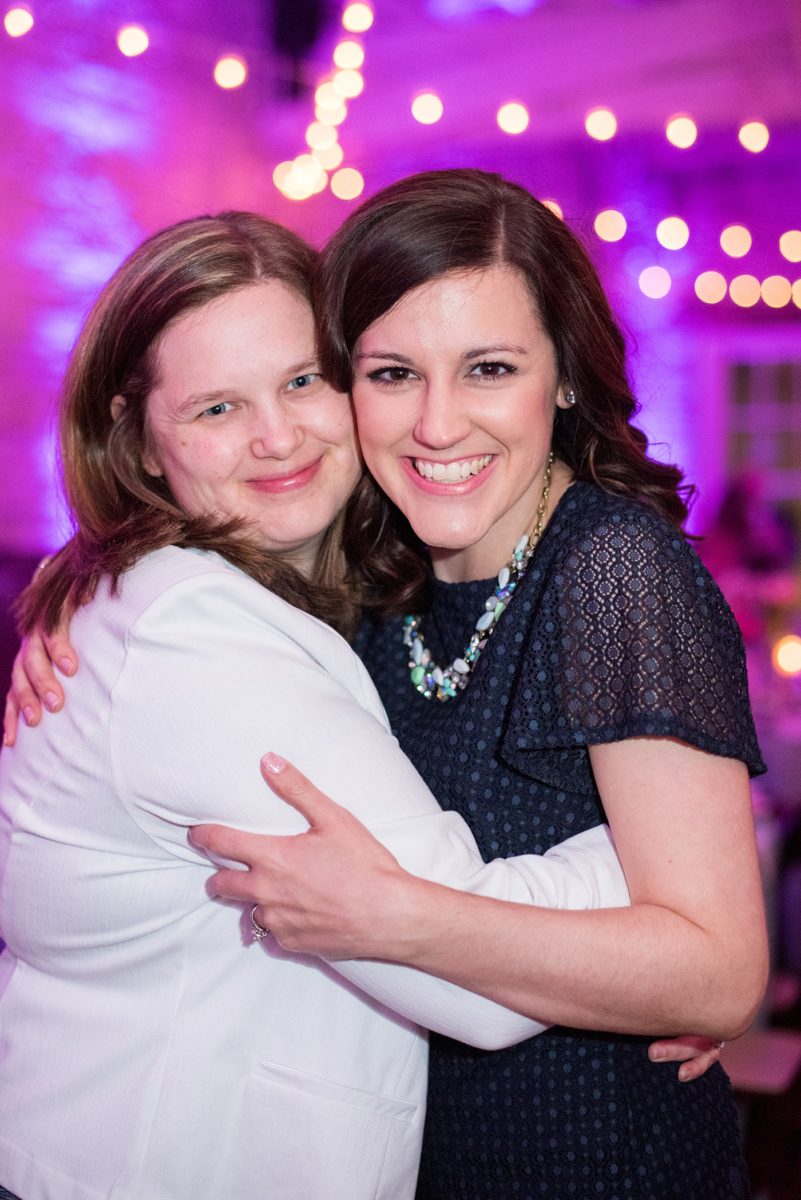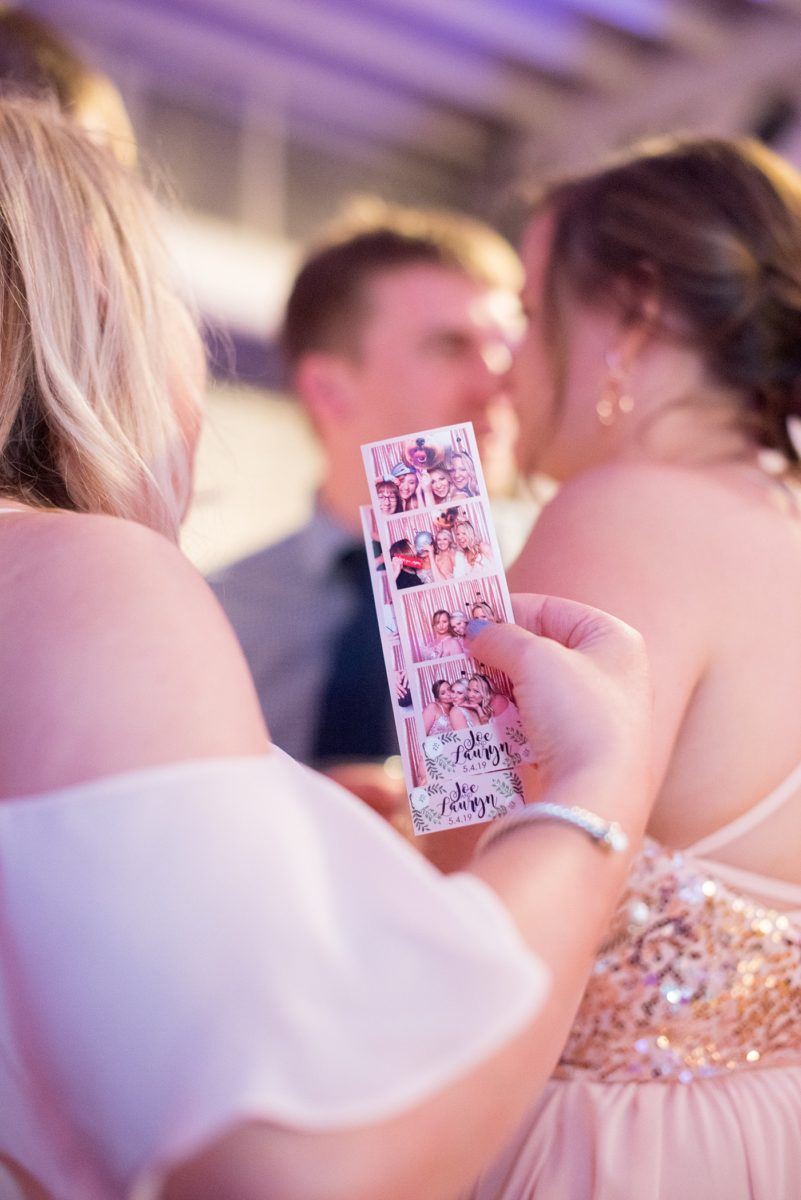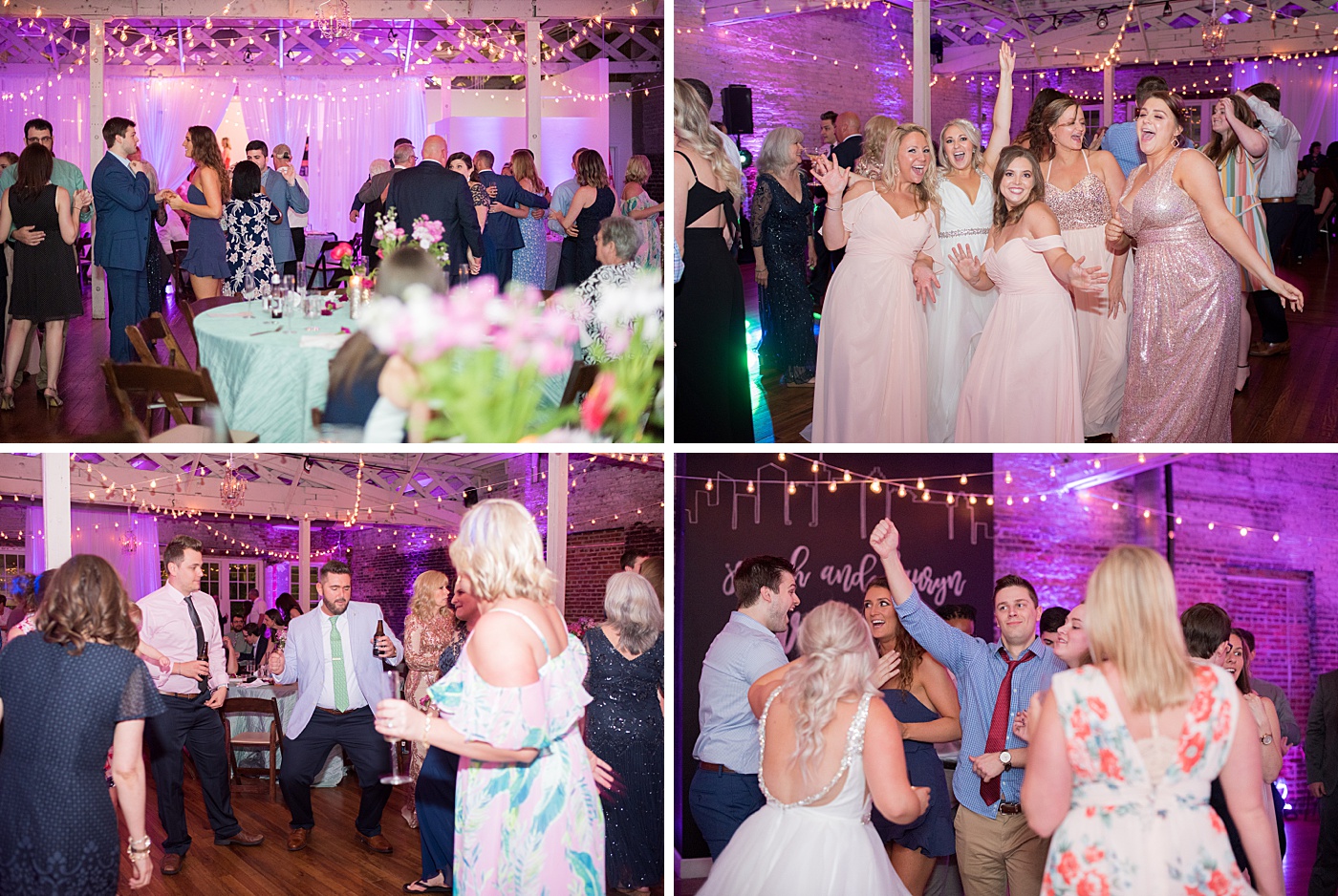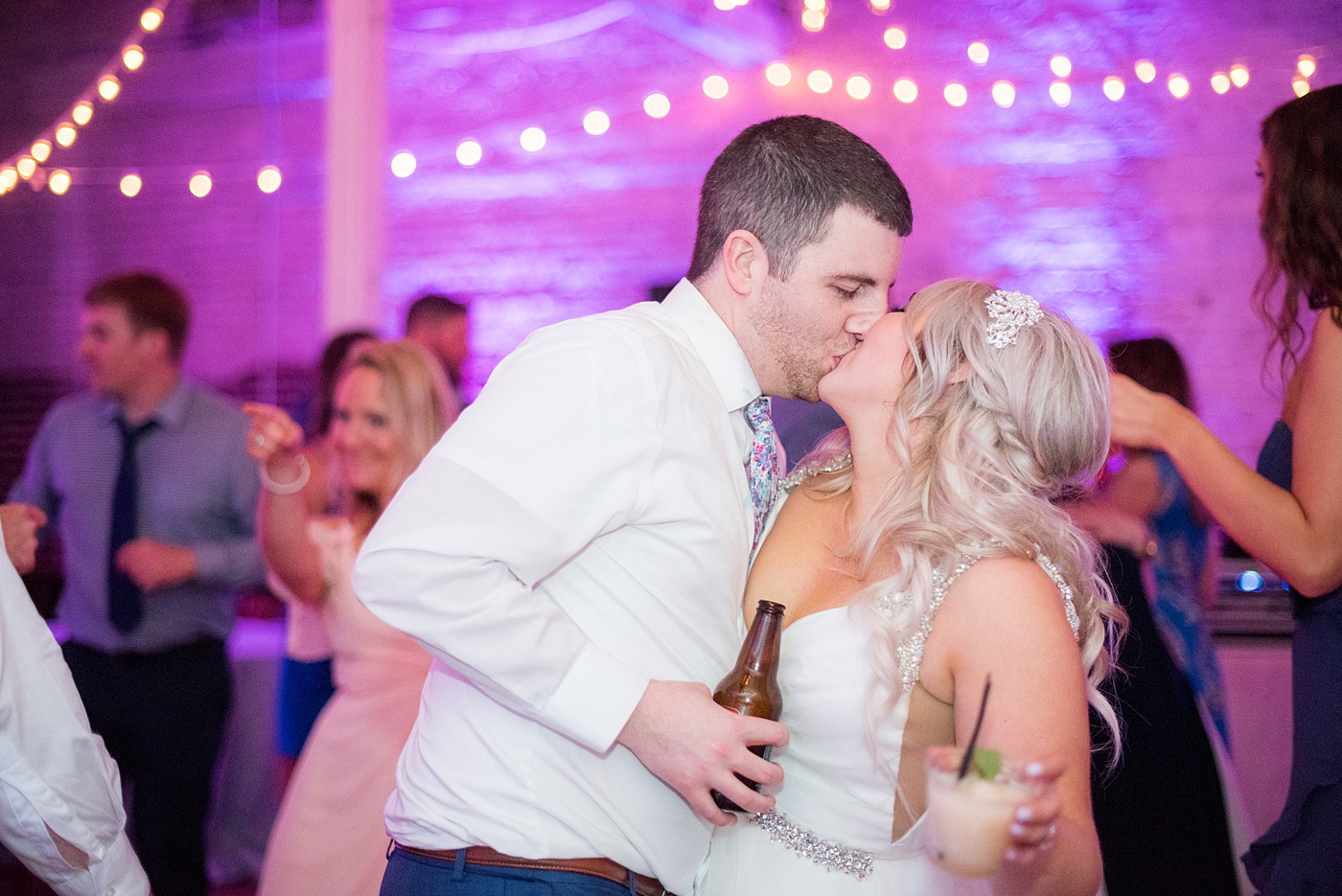 Congratulations Mr. and Mrs. Weger!
Venue: The Stockroom at 230 / Getting ready location: The Glass Box / Hair and makeup: Silverceiling Beauty Consulting / Gown and bridal earrings: The Coastal Knot, designer Hayley Paige (gown) / Coordinator: Events by Victoria / Invitation suite and watercolor: One and Only Paper / Save the date: Minted / DJ, lighting and photobooth: All Events DJs, Nina / Videography: 414 Creatives / Officiant: Ed Sansbury, Triangle Custom Ceremonies / Suits: Generation Tux / Ties: Dazi / Rings: Diamonds Direct / Bridesmaids dresses: Azazie / Linens and draping: CE Rental / Draping and chandeliers: Themeworks / Catering: Rocky Top Catering / Chalk wall: Filled and Flooded / Industrial slushie machine for frose + wine slushies: Triangle Party Rentals
Be sure to follow and "like" Mikkel Paige Photography on Instagram and Facebook for updates and contact us if you're interested in having us capture your day!
For more inspiration at The Stockroom and The Glass Box check out: