The Holy City of Charleston is known for its history and southern charm, luxury and unique venues to host important events. Check out the best wedding venues in Charleston, that provide couples with an exciting variety of breathtaking atmospheres for guests to drink, dine and dance the night away to celebrate your love!
Upstairs at Midtown
Address: 559 King St, Charleston, SC 29403
Upstairs at Midtown offers a perfect setting for intimate wedding celebrations. It is located inside an 18th century building, complete with original pine flooring, fireplaces and high mahogany ceilings.
The venue, which is situated in the heart of Downtown Charleston, offers indoor and outdoor spaces in its Center Room, foyer, Right Room and its rooftop. They also exclusively work with King Street Hospitality Group, and I can say with experience it's a delicious perk of planning a wedding here!
William Aiken House
Address: 456 King St, Charleston, SC 29403
Every detail of your wedding is flawlessly attended to by the dedicated team at Patrick Properties. This means that you, as the couple of honor, can enjoy each moment throughout the day.
The historic 1807 mansion, the William Aiken House, is one of the most popular venues in Charleston. (It's also an official "National Historic Landmark!")
Guests can choose to have a ceremony in the outdoor courtyard, and reception inside the main house, for example, with a colorful coral painted room. There are also two overnight suites with modern decor and an old-world vibe on property to help create an even smoother experience.
Lowndes Grove
Address: 266 St Margaret St, Charleston, SC 29403
This lovely venue is a rare gem: a downtown Charleston waterfront venue, that speaks for itself with its riverfront location and oak-tree grove.
Lowndes Grove's architecture is from the 18th century and has stunning features. It provides an iconic backdrop for outdoor photos, whether the Ashley River is behind you or the home is. It has beautifully landscaped grounds to boot, and a 750-square foot piazza that's perfect for a tented or open-air reception.
The River House (at Lowndes Grove)
Address: 266 St Margaret St, Charleston, SC 29403
This intimate location, named The River House, shares a waterfront property with Lowndes Grove and view of the Ashley River. (Though it has a completely different private entrance and is separate from the main house.)
It's one of the best Charleston wedding venues for its waterfront location but it also has a great black and white checkered floors inside the house.
The property offers a wonderful outdoor space among a picturesque backdrop of oak trees. It's the perfect serene venue for a wedding ceremony and reception for 100 guests or less.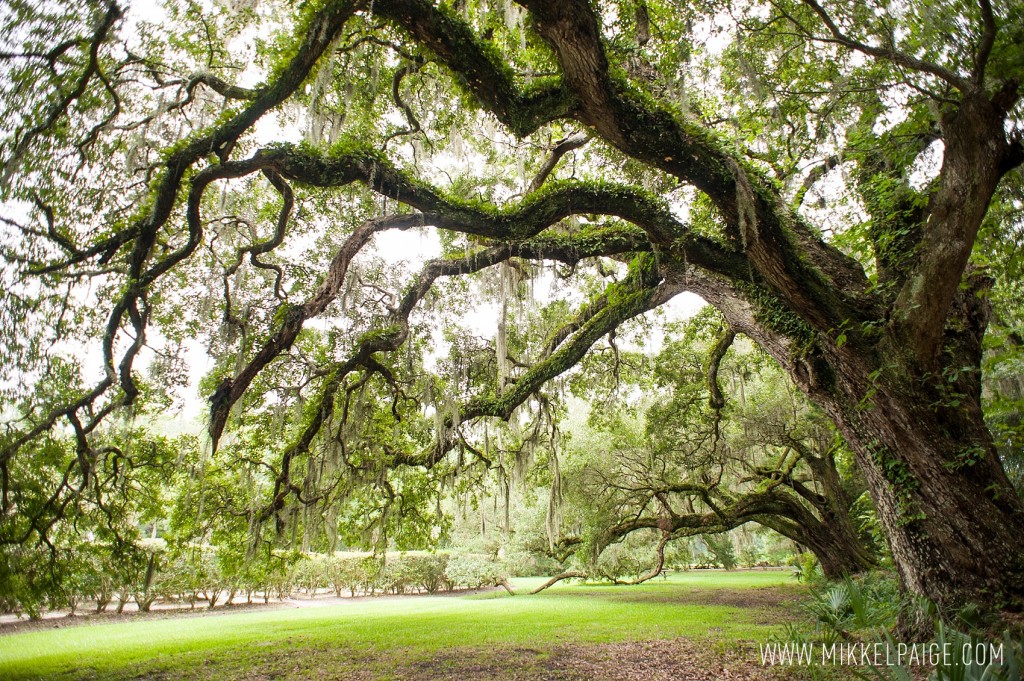 Parcel 32
Address: 442 King Street, Charleston,SC 29403
Parcel 32 is conveniently located in downtown Charleston on Upper King Street. It's an ideal wedding venue because it is located in close proximity to great hotels, landmarks, restaurants and bars.
The first floor features a "living room," a dining area and a bar (with such a cool tile floor that reminds me of Dobbin Street in Brooklyn, NY) and the second floor has an additional spacious dining room, with awesome green upholstered booths, and a bar with an open area that could be perfect for a custom lounge. It has a relaxed environment and it's perfect for a small wedding of 75 guests or less.
Wickliffe House
Address: 178 Ashley Ave, Charleston, SC 29403
There are so many architectural details of the Wickliffe House to S-W-O-O-N over! From incredible crown molding and stately columns, to a front porch and unique staircases inside. This 1850's home in the Radcliffboro neighborhood of Charleston is iconic.
Its chandeliers, four fireplaces and 14-foot ceilings will wow your guests yet make them feel like they're being welcomed into a historic home, albeit it's truly a mansion. 😉 Not to mention the outdoor lawn space is a great area to utilize for photos…and to celebrate your special day.
The Cedar Room
Address: 701 E Bay St 200, Charleston, SC 29403
The open and airy former textile mill and cigar factory has an industrial chic vibe. It features authentic whitewashed brick inside, large windows and hardwood floors that have been in place since the building's creation in 1881. The Cedar Room at Mercantile and Mash was added to the National Registry of Historic Places back in 1980. (Mercantile and Mash is its exclusive caterer.)
The venues contains a staggering 8,000 square feet, bridal suite included. It can accommodate 300 seated guests. It also has a beautiful 1,500 square-foot courtyard, surrounded by brick and green landscaping. Bonus? You can see the Ravenel Bridge over the Cooper River from the venue.
The venue reminds me of a mix of The Cotton Room in Durham, and The Stockroom in downtown Raleigh.
Gadsden House
Address: 329 E Bay St, Charleston, SC 29403
This restored heirloom property offers a blend of a historic and modern feel with its wide plank floors and crystal chandeliers; they will blow you away! I also love the spiral staircase in the exterior courtyard.
You can have your ceremony in the lush outdoor space, take photos on the many balconies and by the property's Crape Myrtle trees, and even near the 6′ tall windows in the house. Even its hallways and hardwood floors are romantic details at Gadsden House. They have both a bridal and groom suite.
Gadsden House is on Bay Street near Gadsdenboro Park and Marion Square for even more photography options. It's also a great downtown location for after the wedding, so you have great after-party options nearby!
Governor Thomas Bennett House
Address: 69 Barre St, Charleston, SC 29401
This unique property was the former home of Governor Thomas Bennett, who served the city of Charleston from 1820 to 1822. He also served as Mayor, in the SC House of Representatives and US Senate prior to his governorship. When he built the house, completed in 1825, it overlooked his family's rice and saw mills.
It's surrounded by picturesque southern trees and a gorgeous lawn, perfect for outdoor ceremonies and receptions. This Charleston venue has an east-to-west facing piazza to catch breezes coming off the water – a much needed respite from the Charleston heat!
There are so many great photo opportunities at the Governor Thomas Bennett House, whether through its architecture, its own pineapple fountain outside, or beautiful white fence in front of the property.
20 South Battery Inn
Address: 20 S Battery, Charleston, SC 29401
20 South Battery is a luxury boutique hotel in a restored home from 1843. It's in downtown Charleston on its famous "Battery," and also hosts weddings and events.
The grand ballroom of the mansion has a gorgeous marble staircase, metal tin ceiling and skylight. 20 South Battery offers true Southern hospitality amongst its common areas, suites, ballroom and its splendid grounds. And the exterior architecture is gorgeous! I love the blue-painted ceilings above the two outdoor balconies. The courtyard, which is perfect for an outdoor ceremony, has a stone walkway that beckons for a couple to use it as an aisle.
The venue is close to White Point Gardens and other local attractions make it perfect for a wedding hosting out of town guests who want to see the Charleston sites.
Legare Waring House
Address: 1500 Old Town Rd, Charleston, SC 29407
From eminent dignitaries to blushing brides, the stately Legare Waring House at Charles Towne Landing has played host to scores of weddings and events in its rich history. It's also a part of the South Carolina State Parks system. (Founders Hall at Charles Towne Landing, a more modern venue, neighbors Legare Waring House.)
Its mint green bridal suite has authentic furnishings. There's a groom's suite as well. This Charleston venue has three ceremony locations for couples to choose from: Avenue of Oaks, The Wedding Oak and The Wedding Garden. This southern classic has its own lagoon and cascading oak trees; it's a perfect venue for beautiful photos!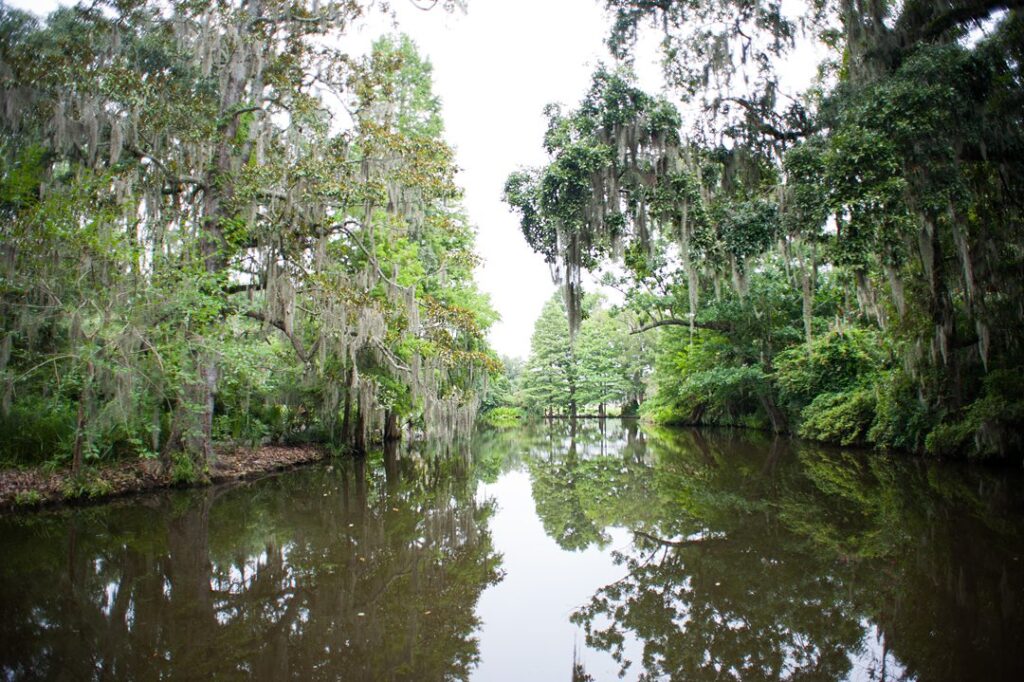 Historic Rice Mill
Address: 17 Lockwood Dr UNIT 101, Charleston, SC 29401
This historic waterfront venue in Charleston is in a large building and offers outdoor and indoor options. One of the most beautiful features is the view to the river and marshland, complete with surreal views of the setting sun.
The Historic Rice Mill features a mix of interior finishes, including classic exposed brick, wood decor, and concrete. The venue is located in a convenient area with easy access to nearby airports and highways.