What matters in life becomes glaringly important when a pandemic is part of your everyday existence. I think a lot of us are feeling this right now. Not delaying happiness is a byproduct of these feelings. Celebrate love: now. Celebrate joy: now. This is what brought Dan and me to Harrisburg for a Susquehanna Art Museum wedding last week.
Traveling to Harrisburg, Pennsylvania for our friends' wedding
We gladly packed up for the weekend and headed to Pennsylvania. We stayed in York two days prior to their festivities to get some primo content for our travel site. (Why not make a weekend of it?) Summer on the east coast, especially in Pennsylvania, is lovely, after all.
We were there from Thursday to Saturday then drove 45 minutes north from York to Harrisburg for a Saturday afternoon wedding. It was partially at Sarah and Derek's house and partially at the Susquehanna Art Museum. (Or SAM, as the cool locals say.)
Coronavirus reroute and a small wedding plan
The bride and groom had plans to get married earlier in the spring. Alas, as COVID has foiled many-a-wedding-plan in 2020 they had to postpone. But after a life changing family event for them, they decided, "Why delay our joy and next chapter of our lives together?"
We were so delighted when not only did they contact us to see if we could be a part of their intimate wedding of 30 guests… But also asked if I'd document their day. Of course!!!
Dan and I agree they're a wonderful couple and we adore seeing them together. They're a great team, have beautifully blended their families, each having a child from previous relationships, and they're all around fun to be with. And that's who we love to surround ourselves with: uplifting humans, doing good things.
Their wedding day at home and the Susquehanna Art Museum
We photographed some getting ready moments at their home and I was THRILLED to learn Sarah chose a black gown! It got me all emotional reminiscing about the day Dan and I eloped over a year before their day, and I wore a black gown.
First look, ceremony and photos at the museum
Derek left to head to the museum before us to ensure the chairs were properly set up and memory table in place. Then we grabbed Sarah's beautiful bridal bouquet with white orchids, eucalyptus and some scabiosas among other flowers.
They had a downtown Harrisburg first look just outside the museum as their small guest list continued to arrive for a 6:00pm ceremony. The ampersand mural, popping in purple, was the prime nearby location for some bride and groom photos before their beautiful ceremony.
One of the fun things about the day was Sarah's ring was a surprise! I snuck in photos of their rings earlier in the afternoon but her first time seeing it was during the ceremony. Her ring was set in yellow gold with several lines of inset diamonds (ooh-la-la!) and Derek's was lined with whiskey barrel wood inside. (Whoa – can we get a drink with that?)
I couldn't resist doing a few special things for their detail photos: 1) using the amethyst gemstone in some shots that Sarah has on a shelf in their dining room. We are like-minded in loving crystals! 2) Using an awesome, leather rainbow metallic bag from her mom for the backdrop for her shoes. LOVE. 3) Getting a close up shot of the beading on the back of Sarah's bridal gown. Because…#details.
We finished up at the outdoor mural that's part of the Susquehanna Art Museum's adjacent grass courtyard. It's a special perk of having a wedding at this downtown Harrisburg venue! I loved the colors and loved how their dark attire stood out against the blues and reds of the mural. It also echoed one of the museum's interior exhibit rooms whose walls were painted the same colors.
A reception at home
Everyone was back and their home before we knew it to celebrate with a delicious dinner, drinks and fabulous cupcakes. We were looking forward to unwinding and spending time with the bride and groom until late hours (11:30pm is pretty late for us!), which is precisely what transpired.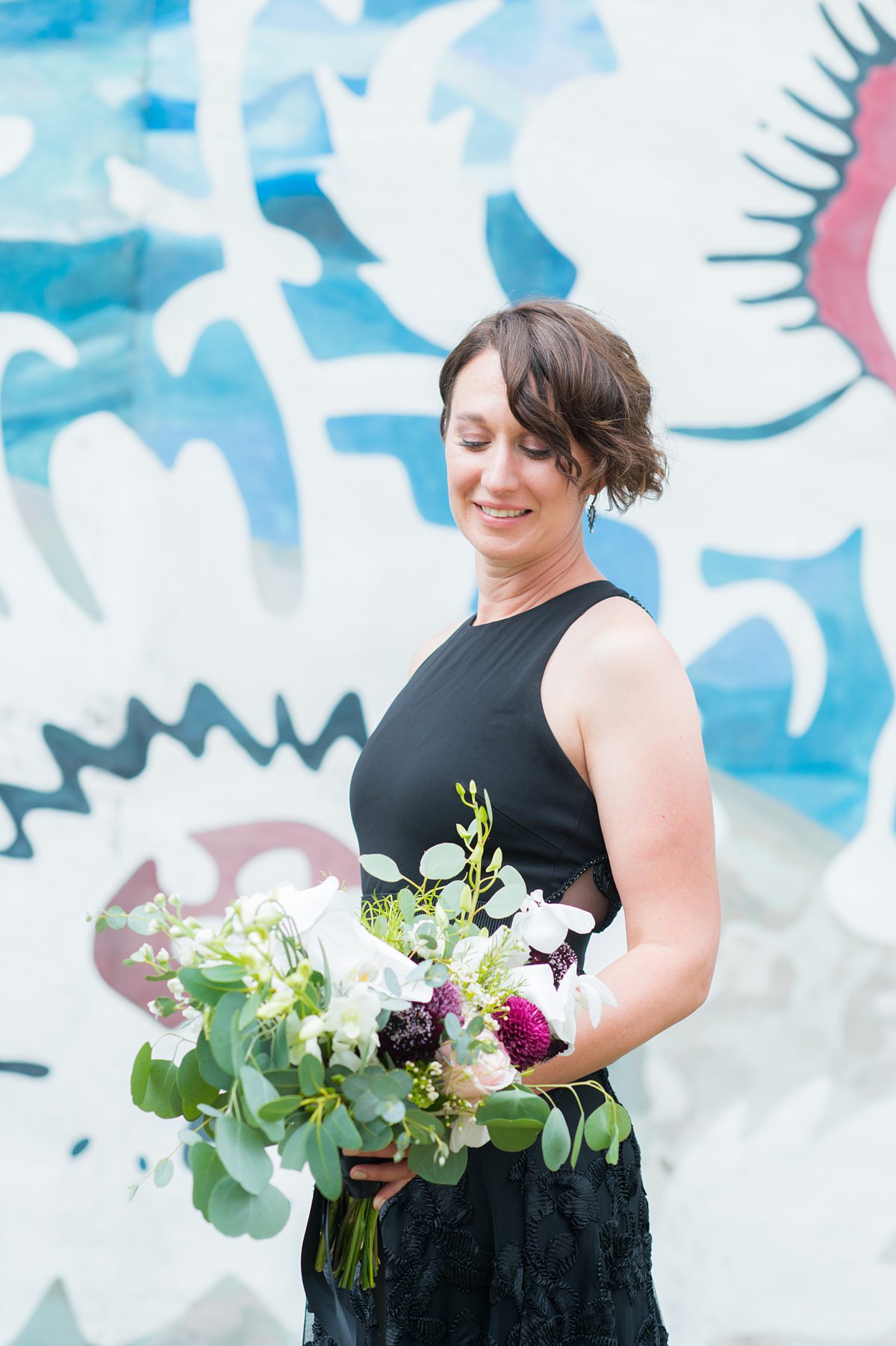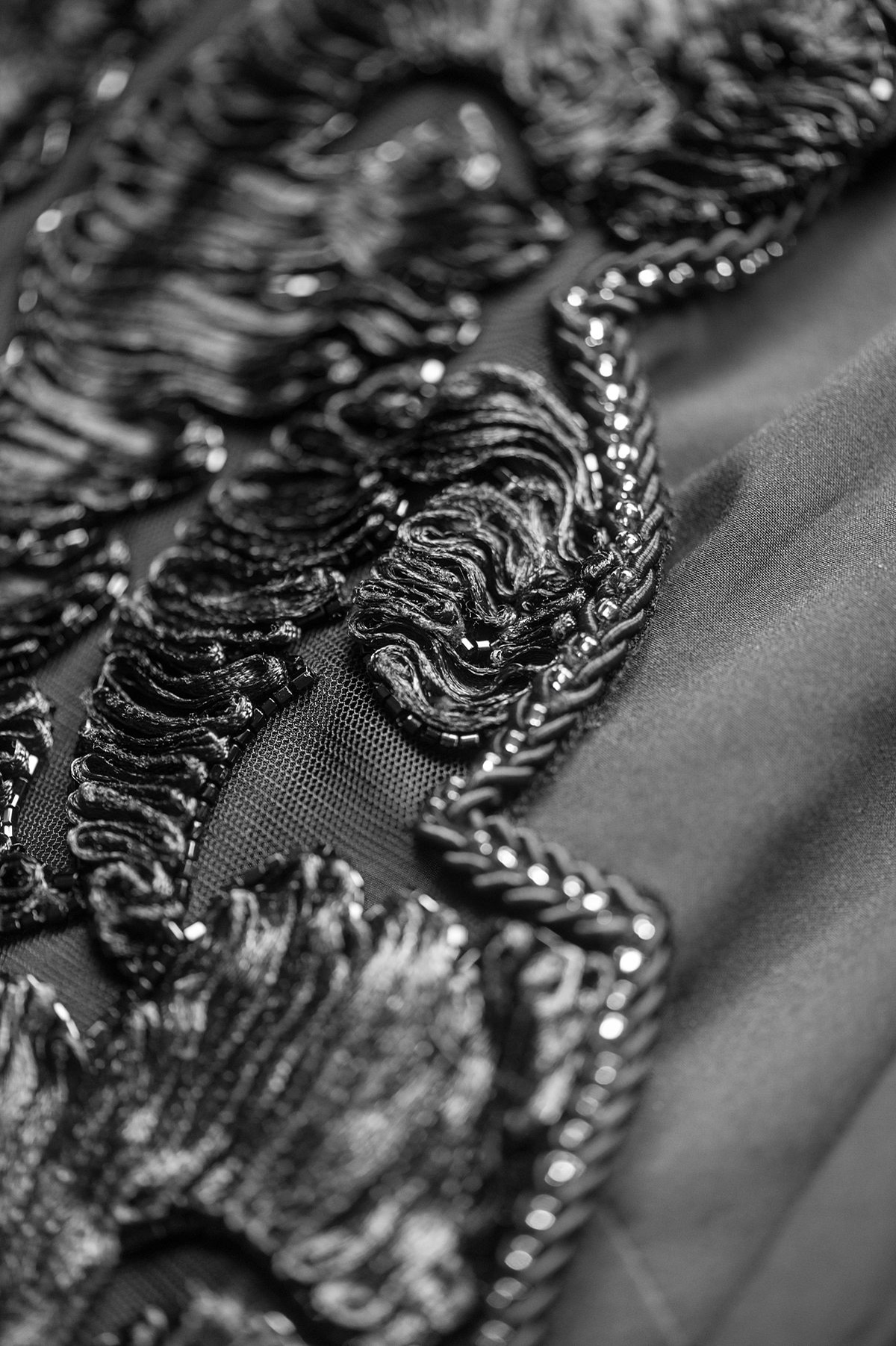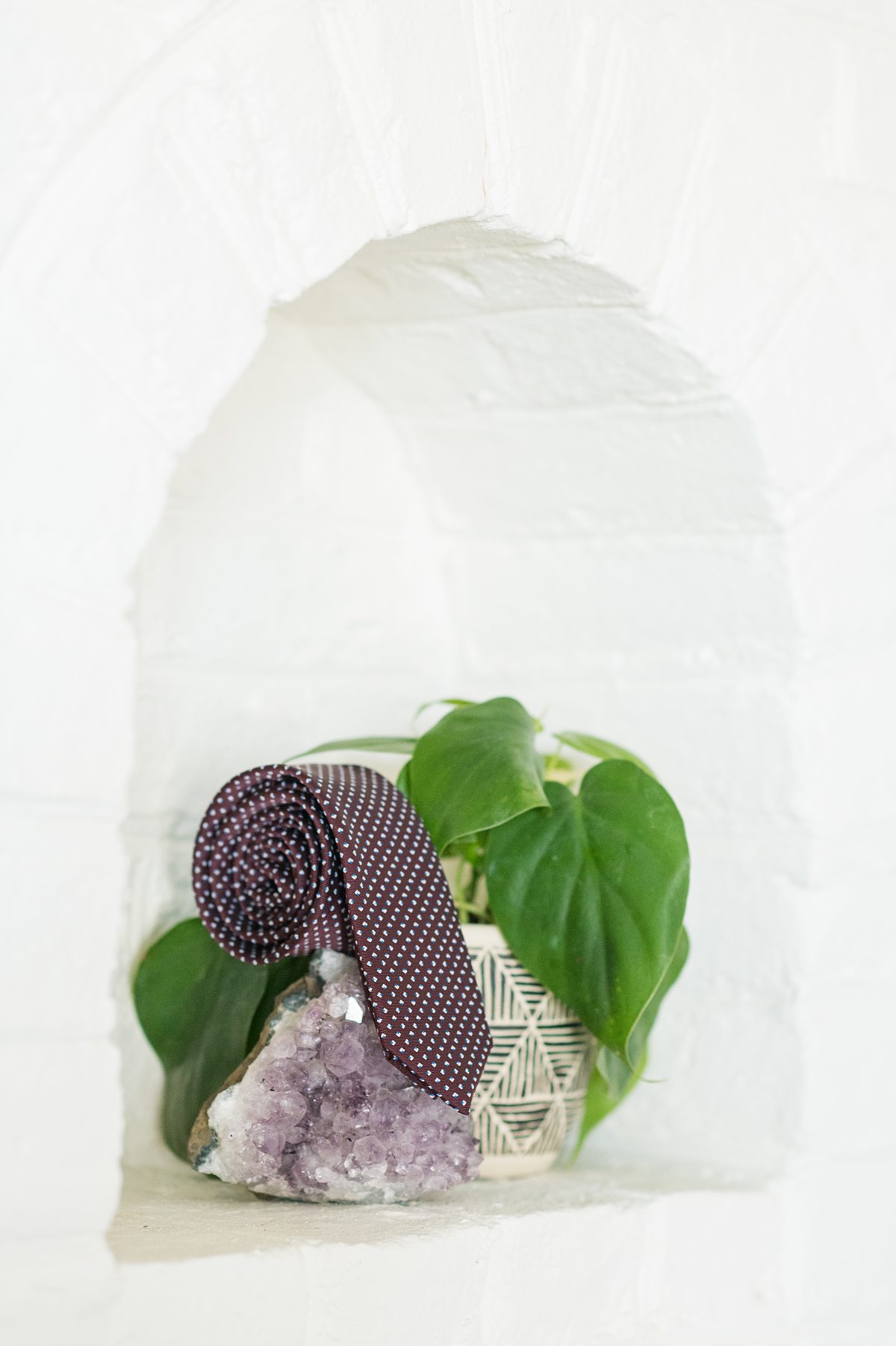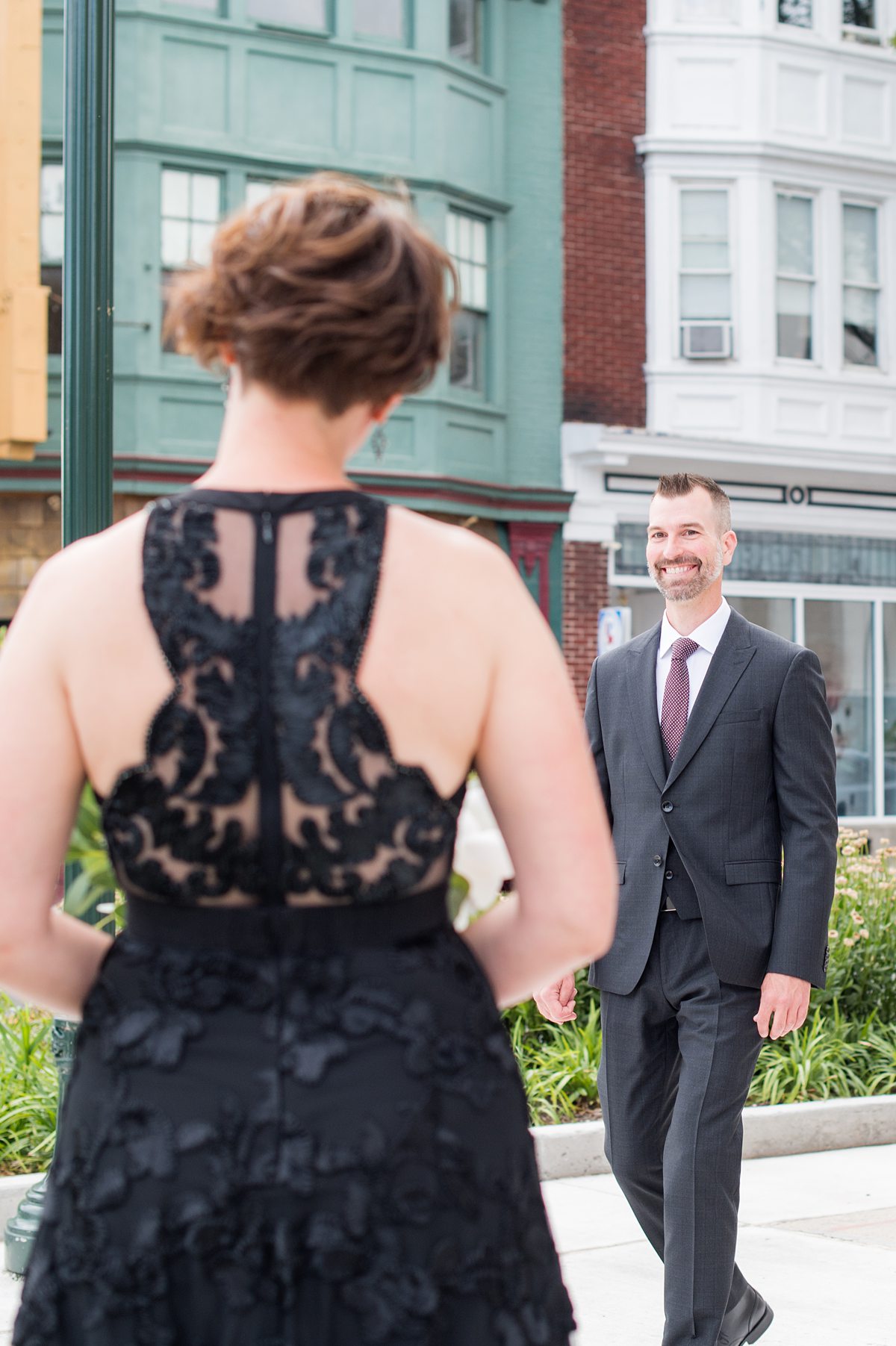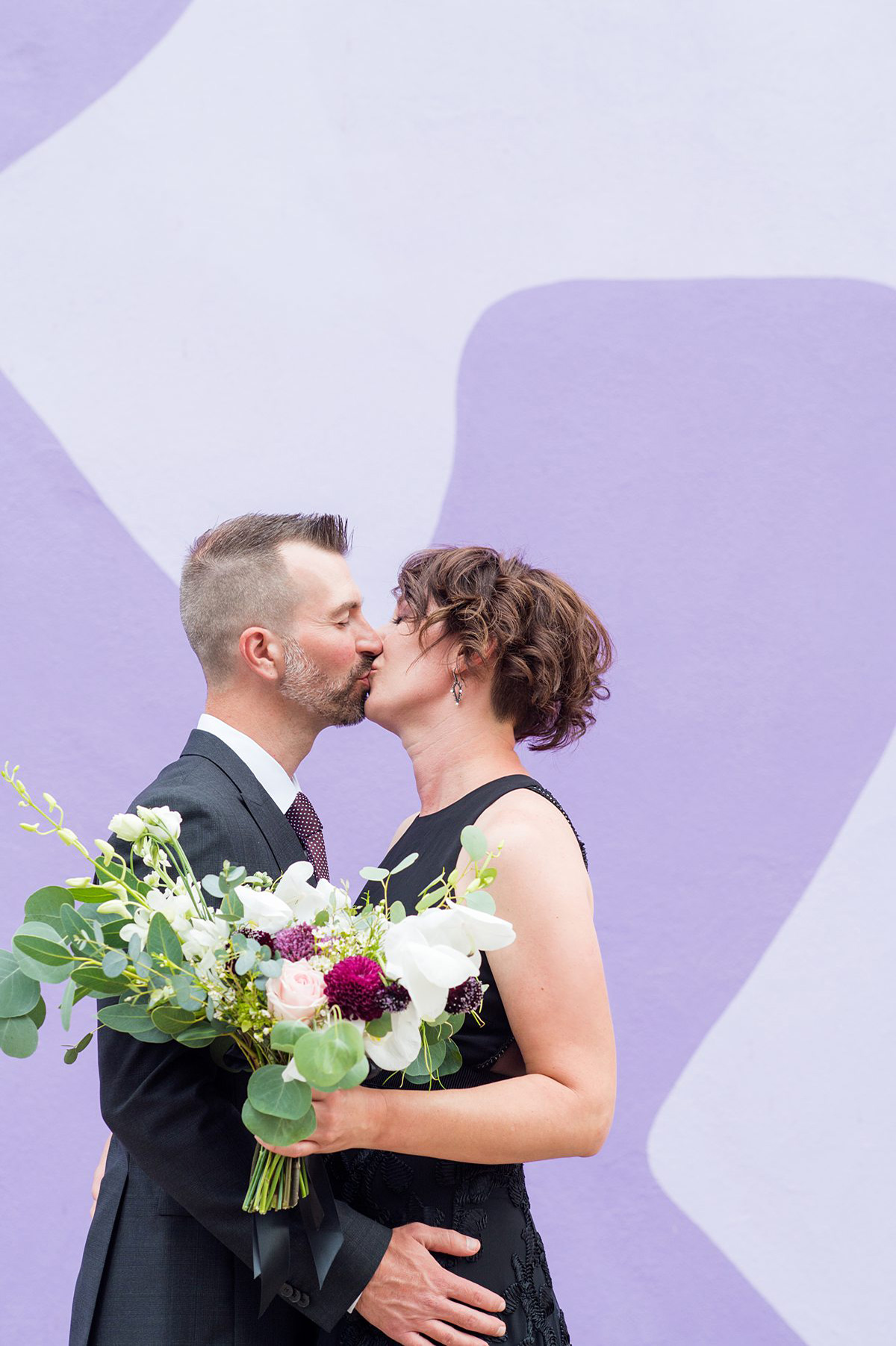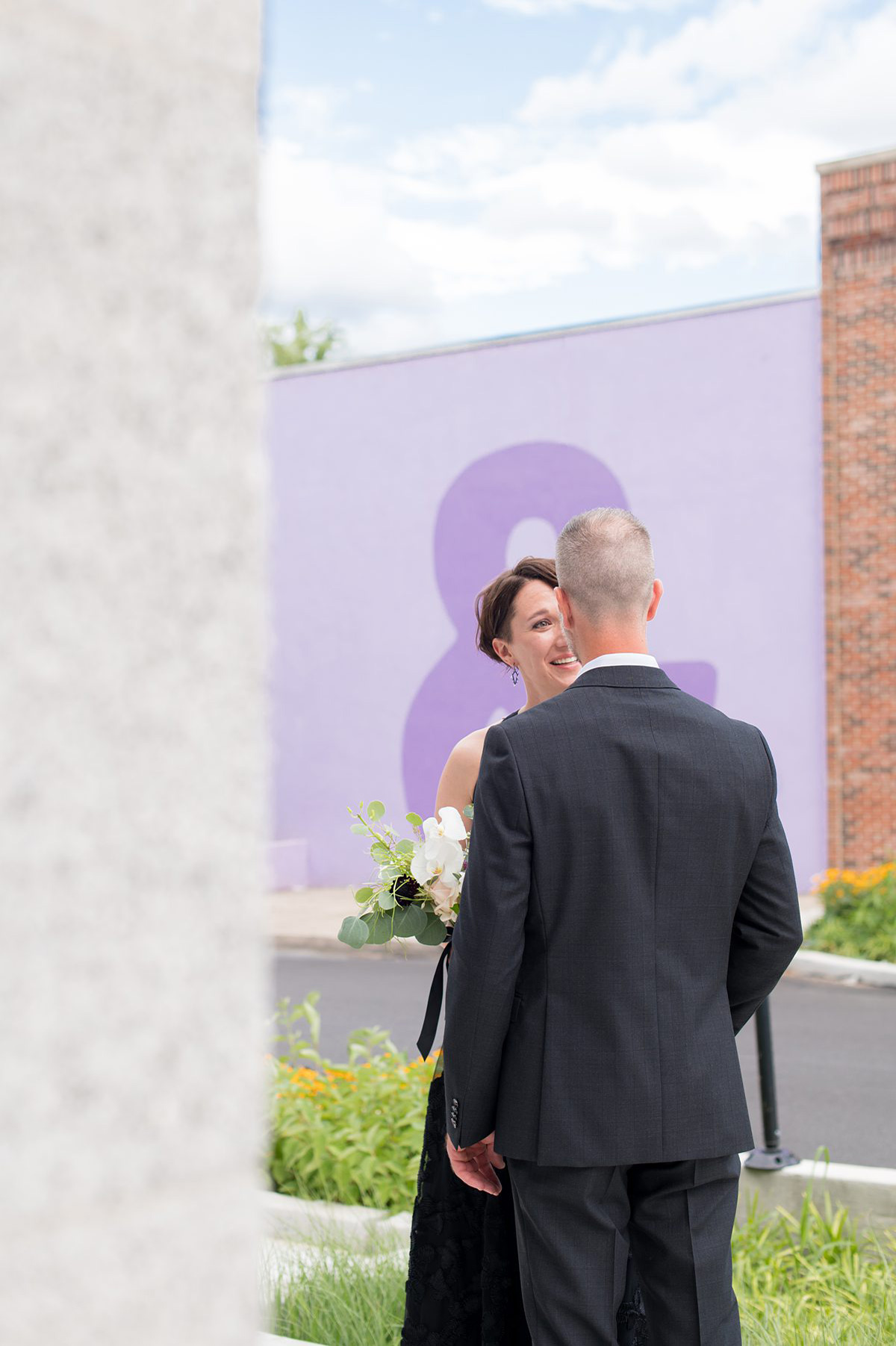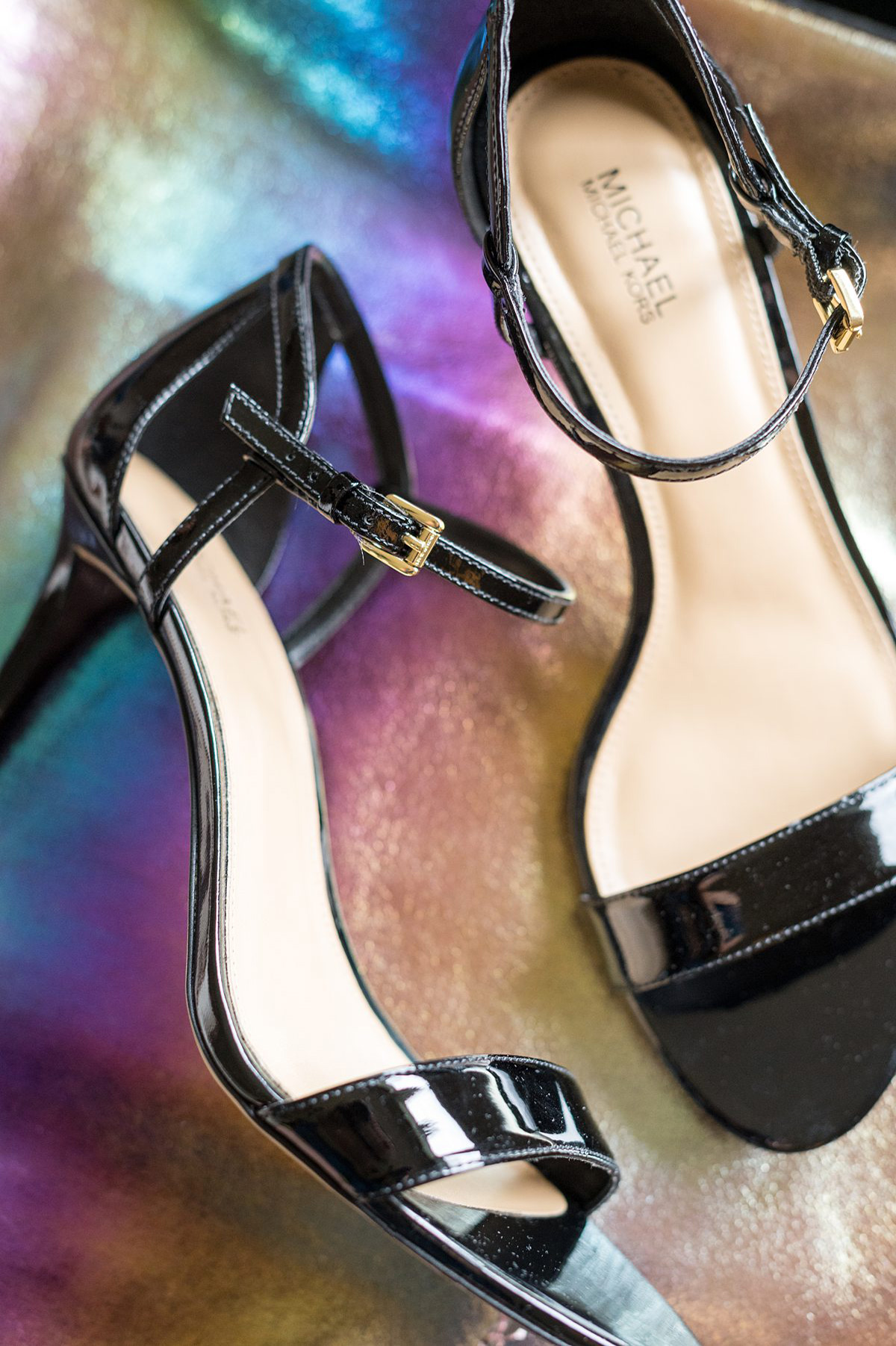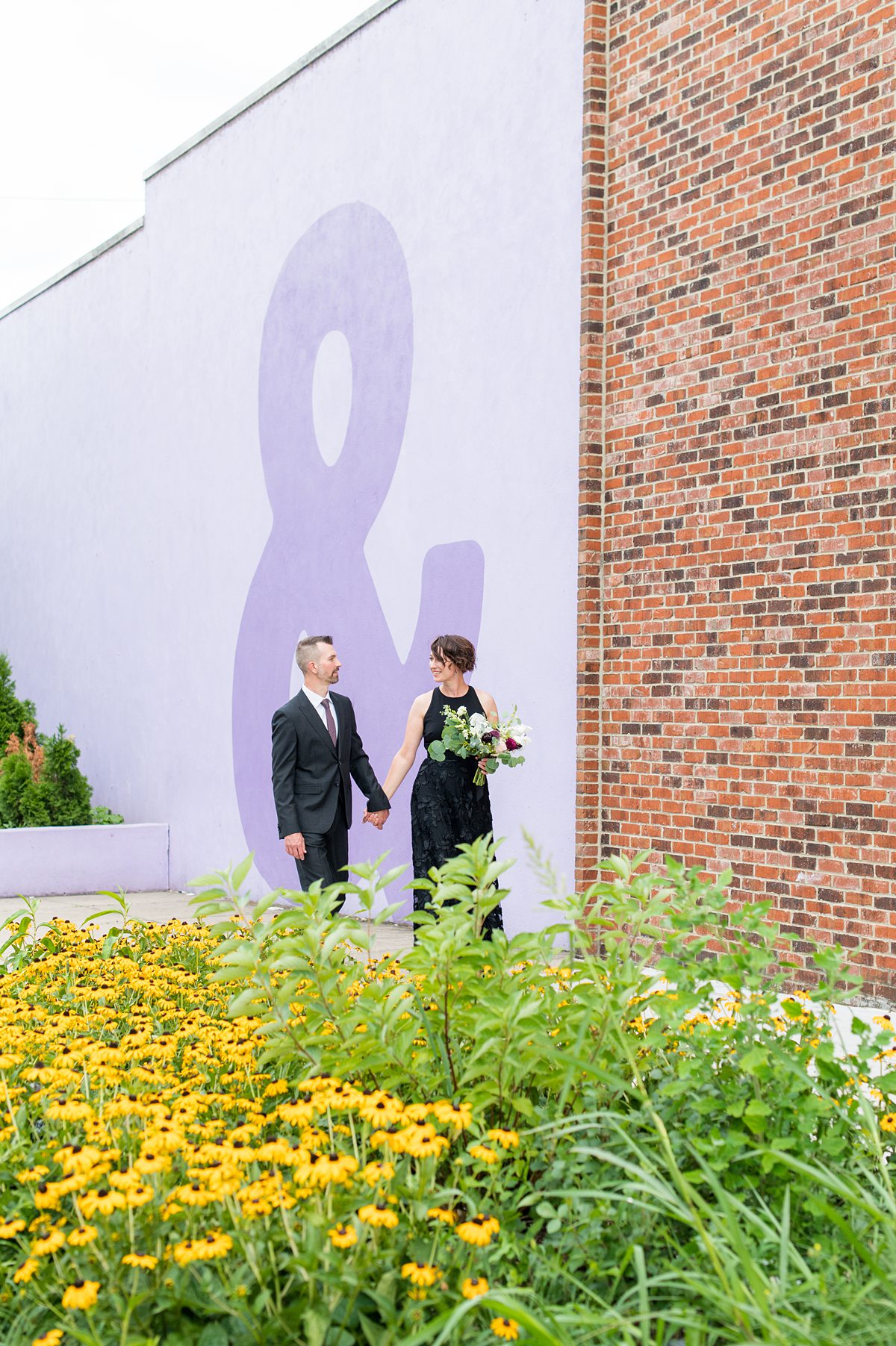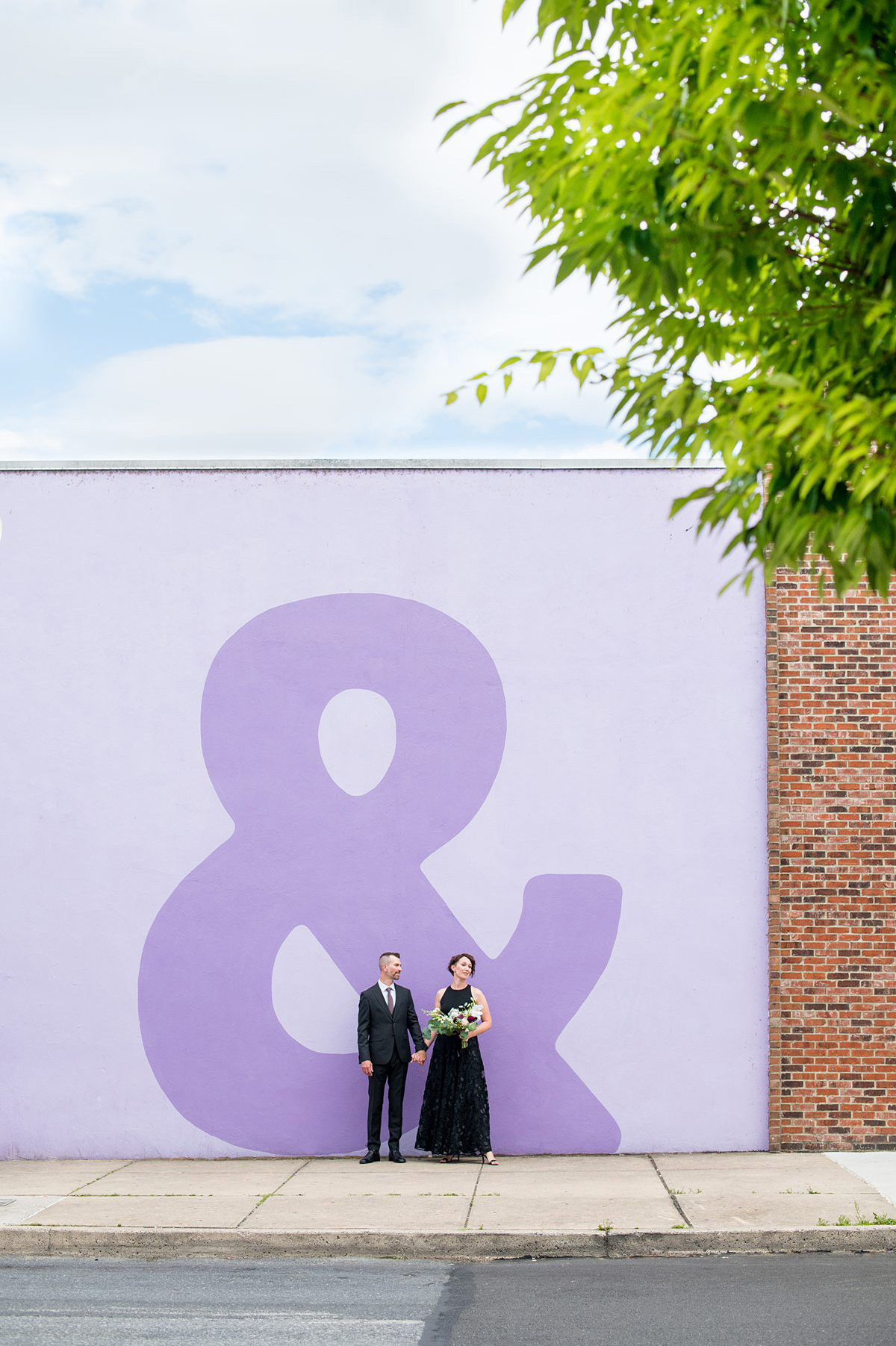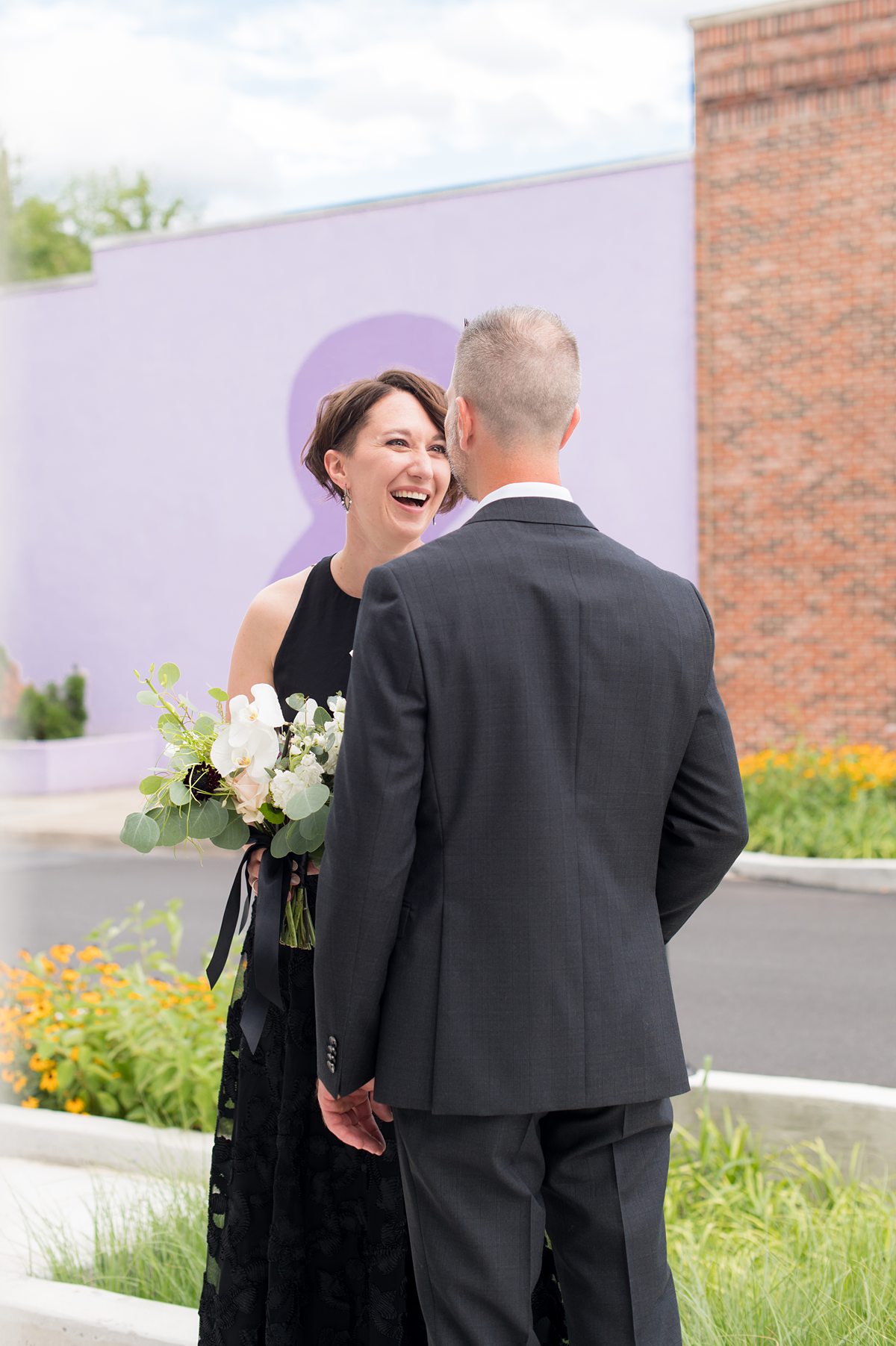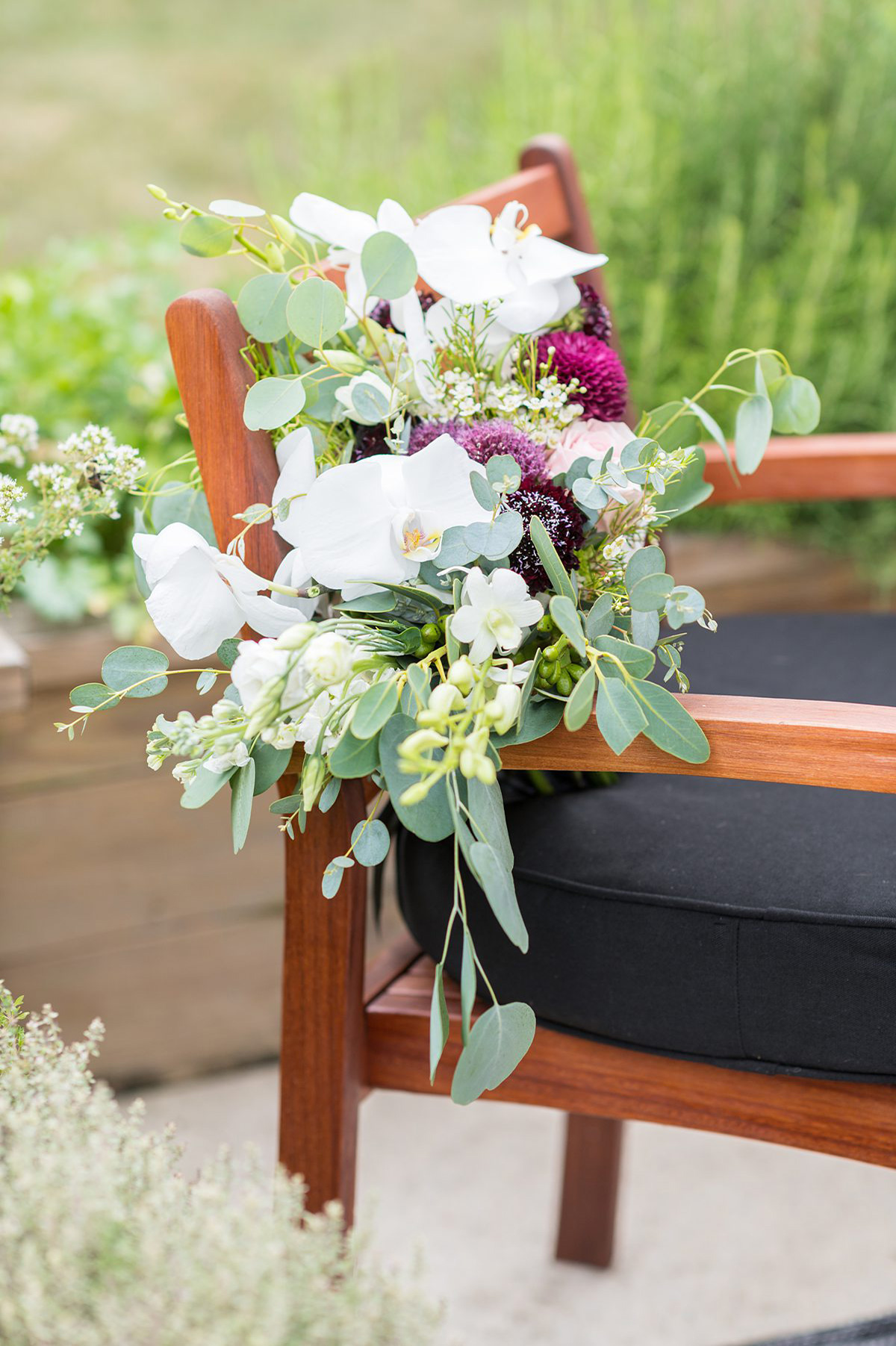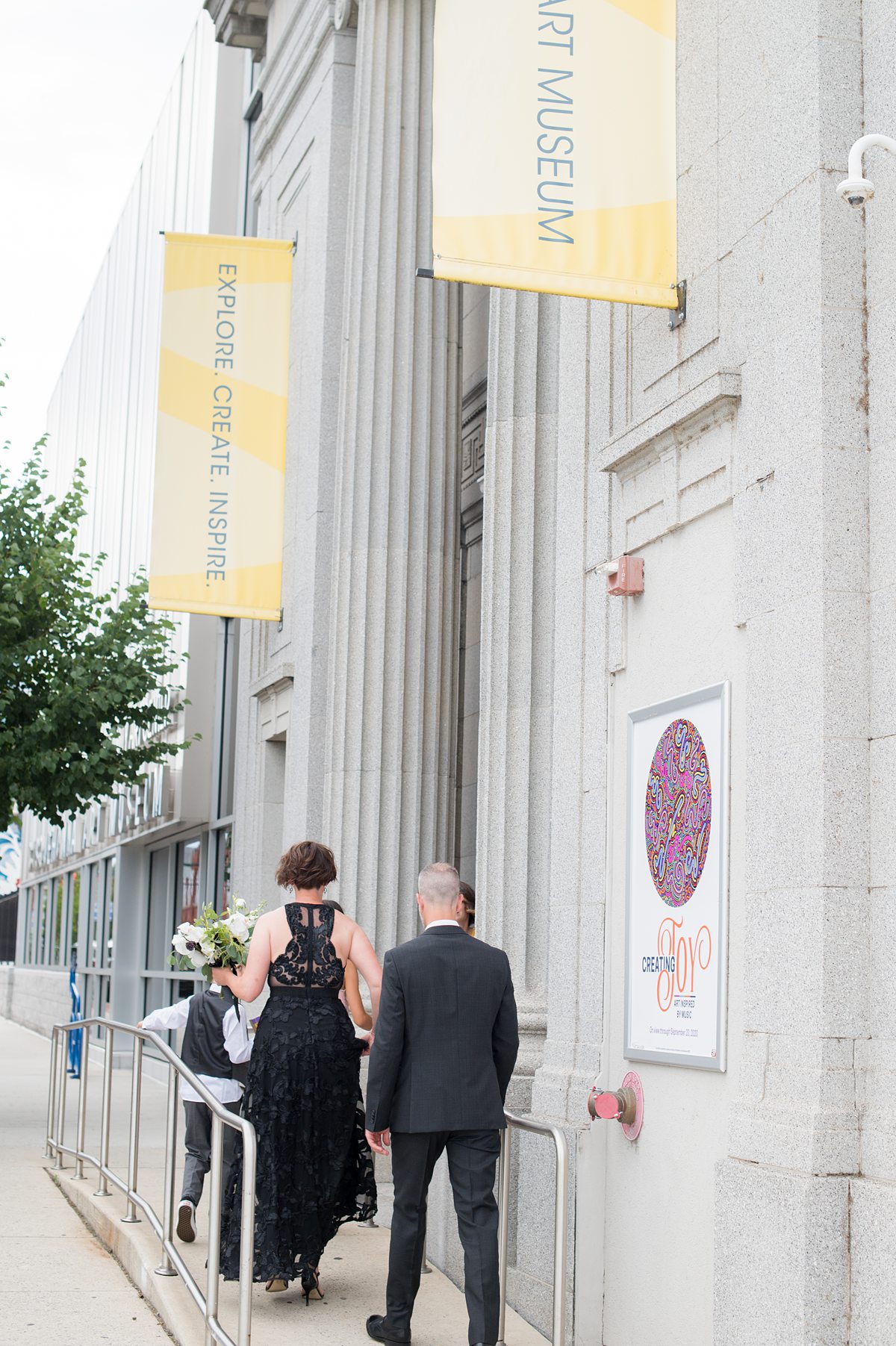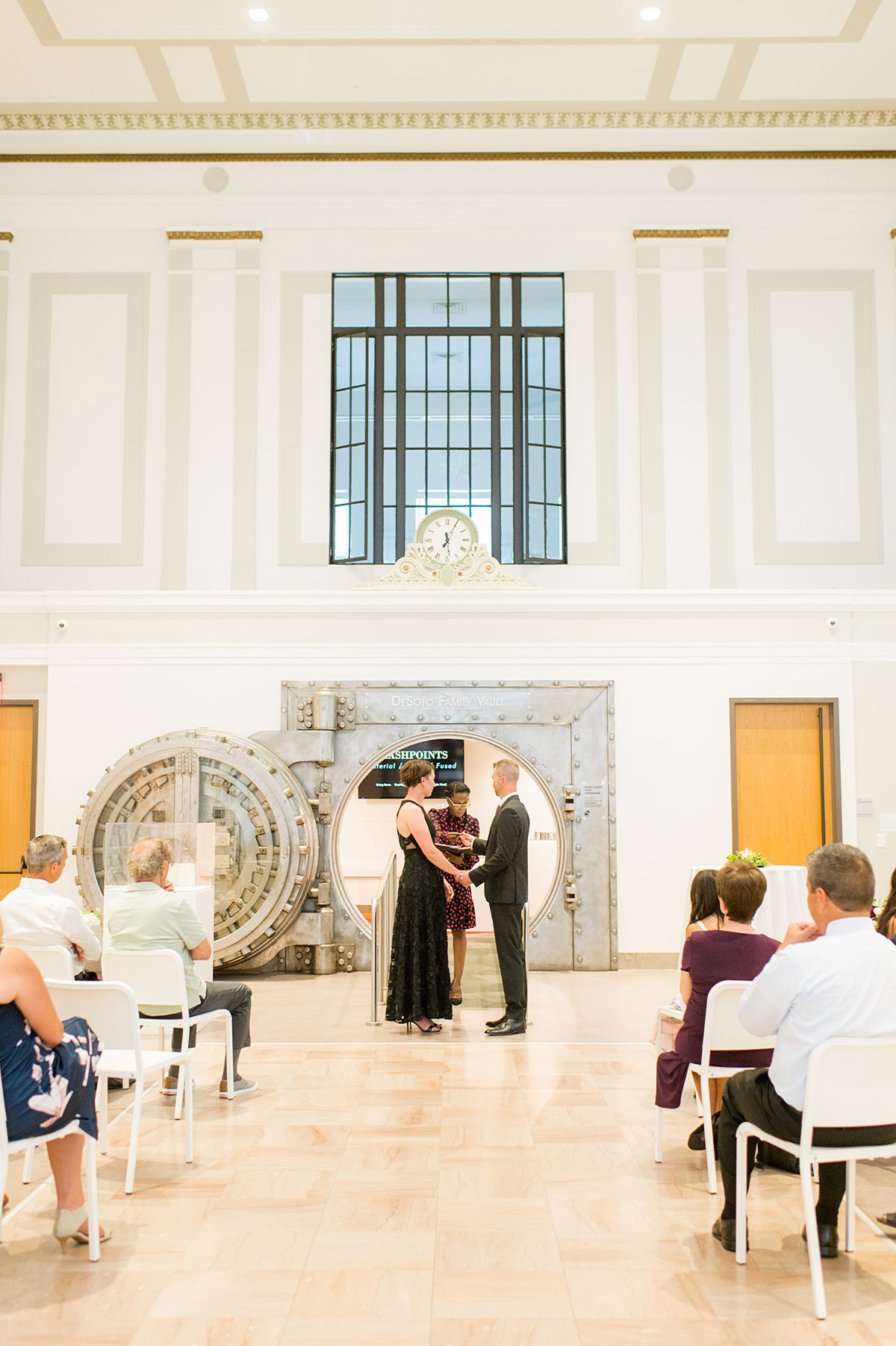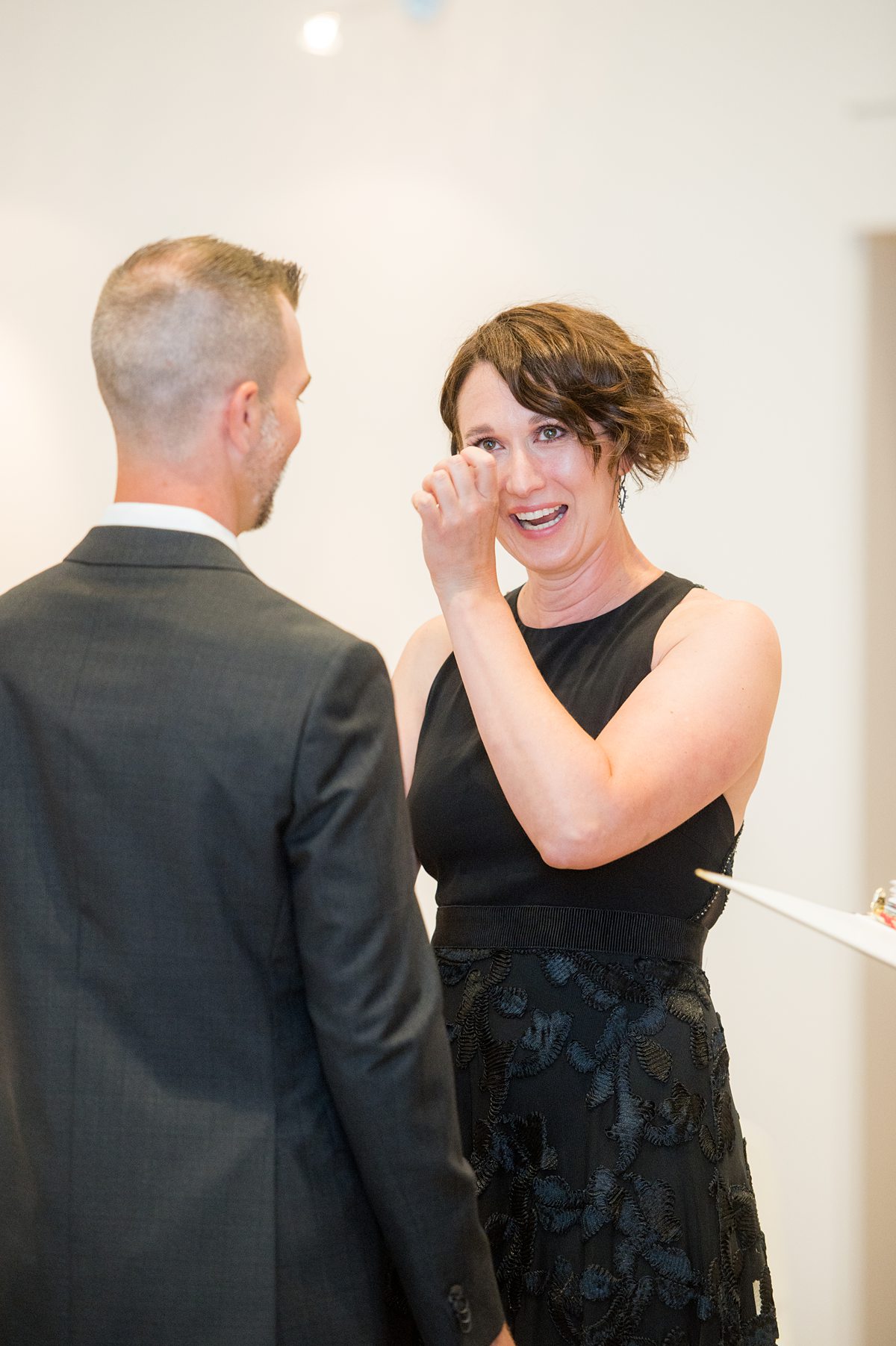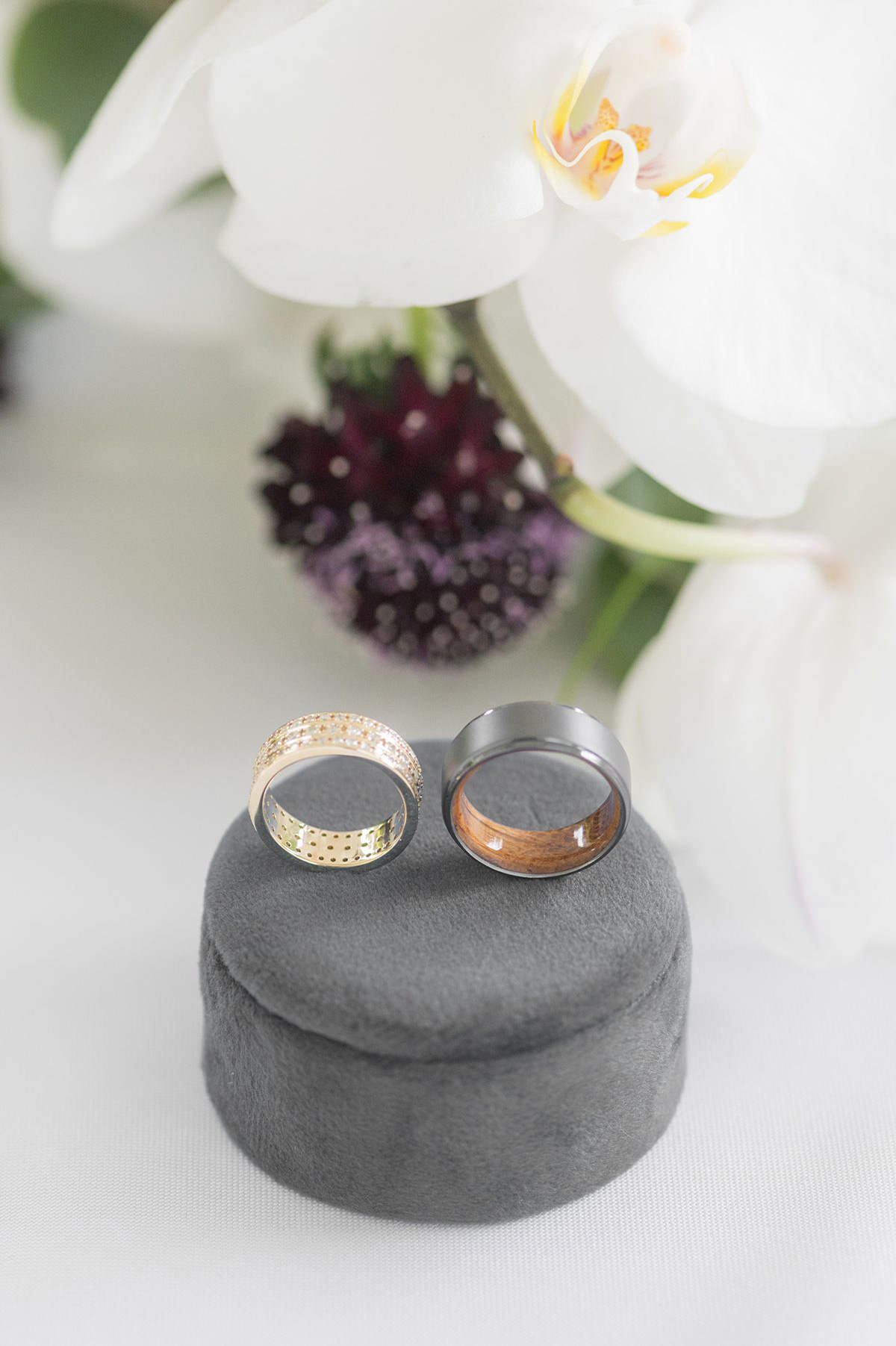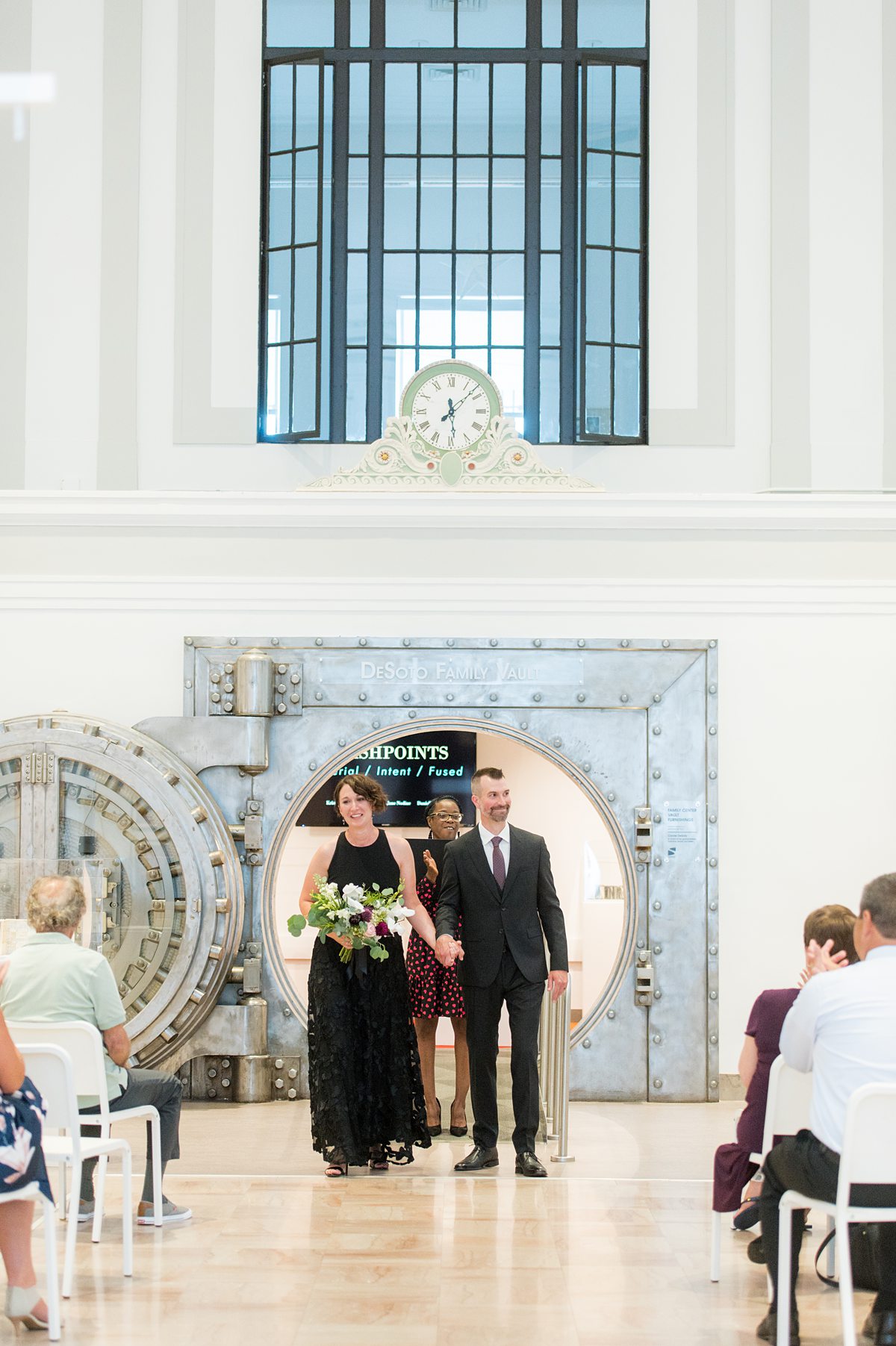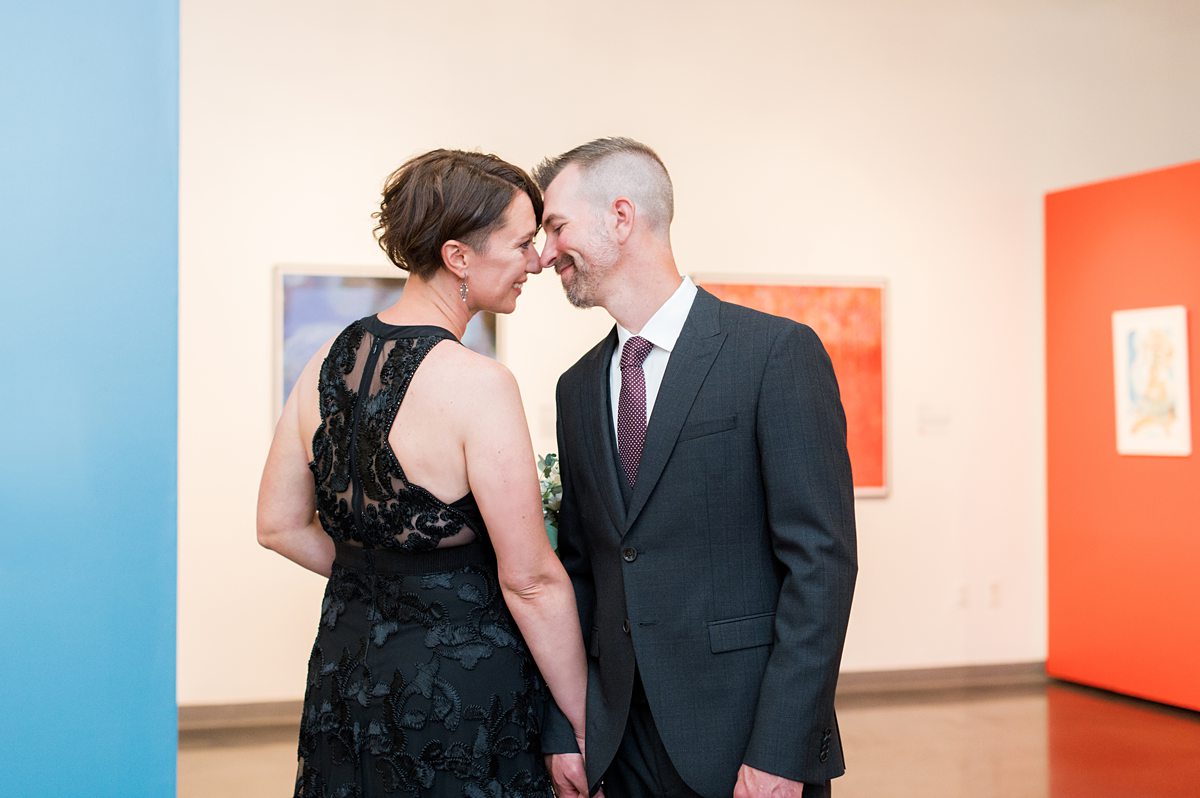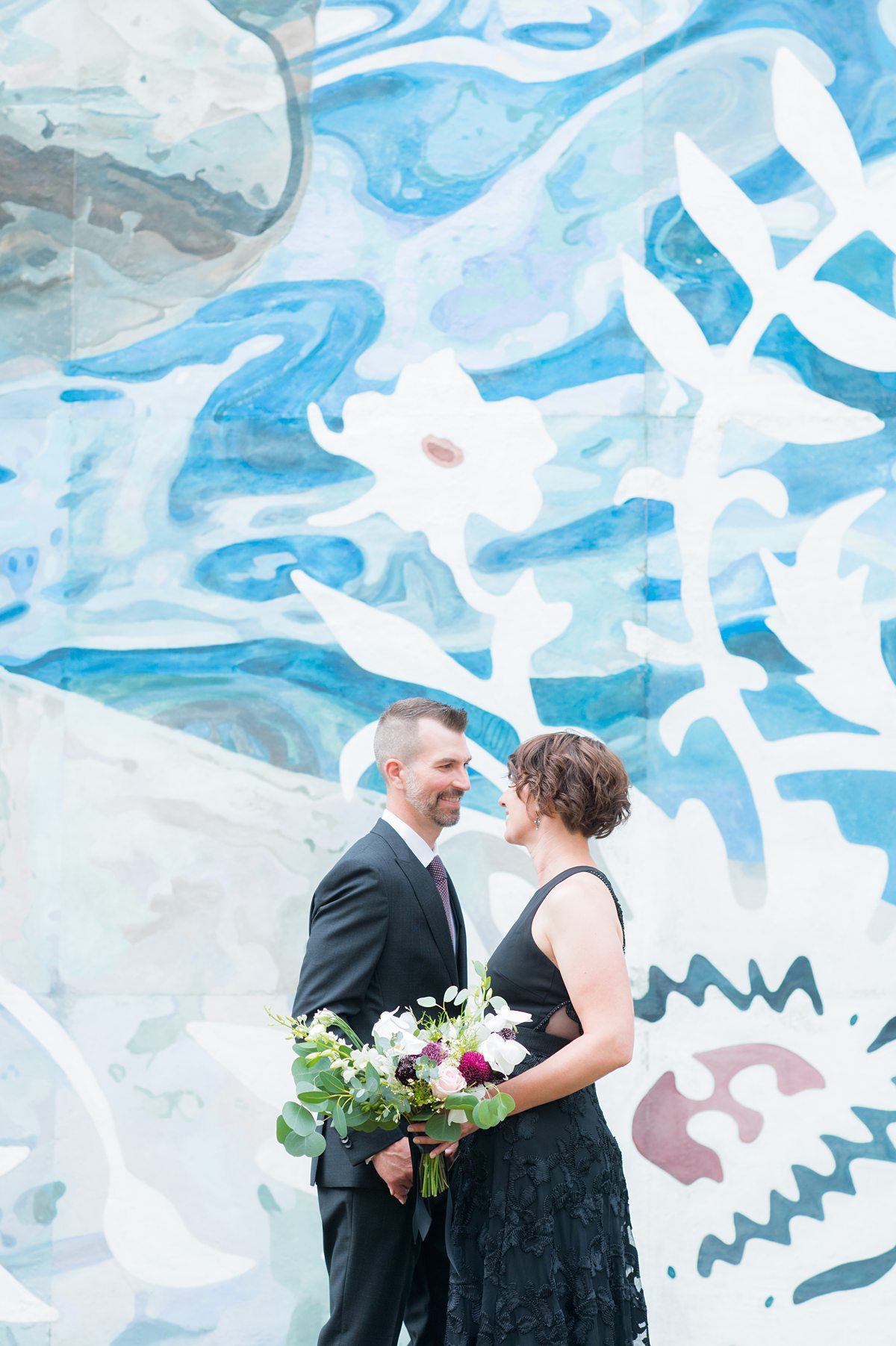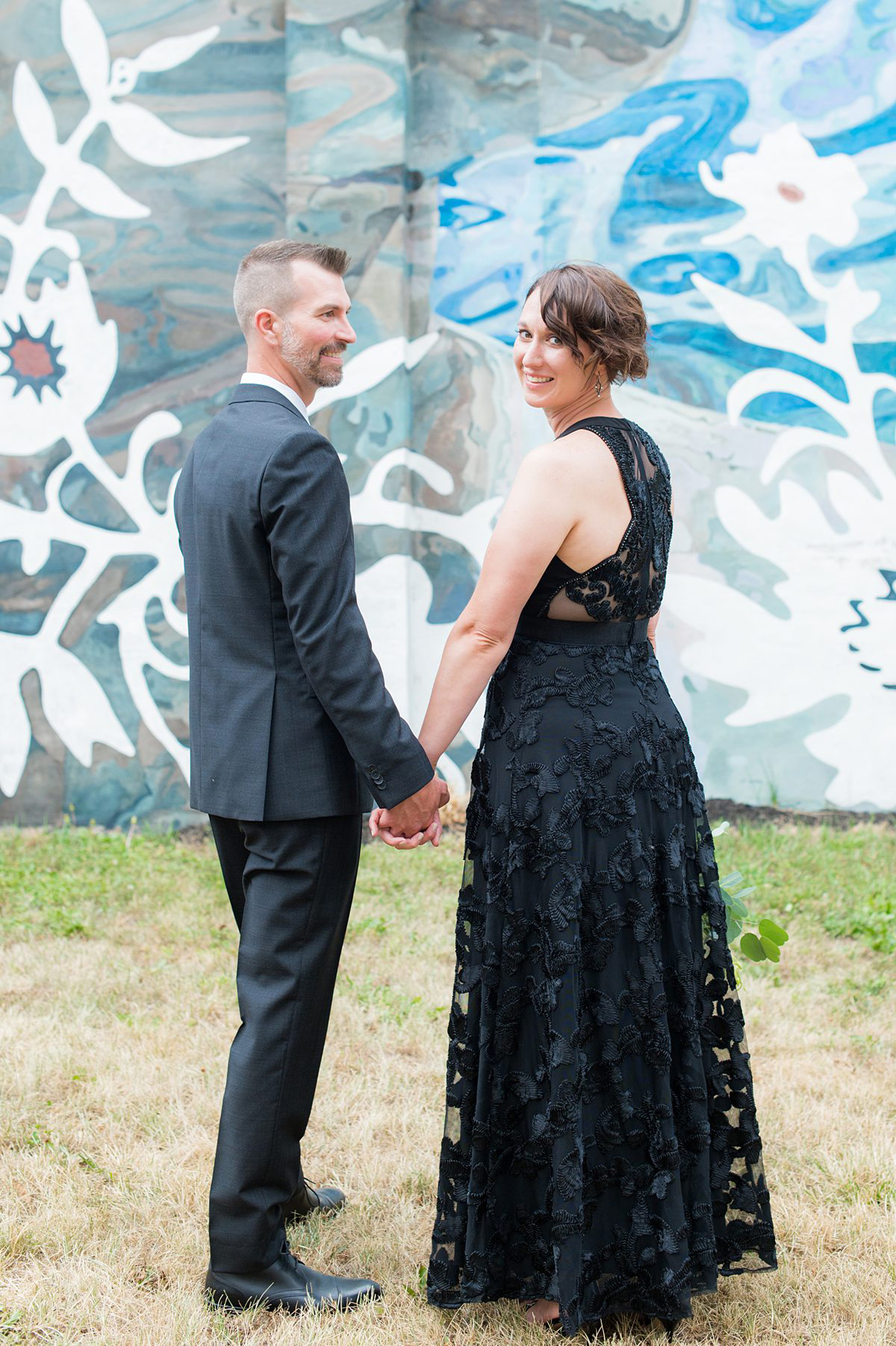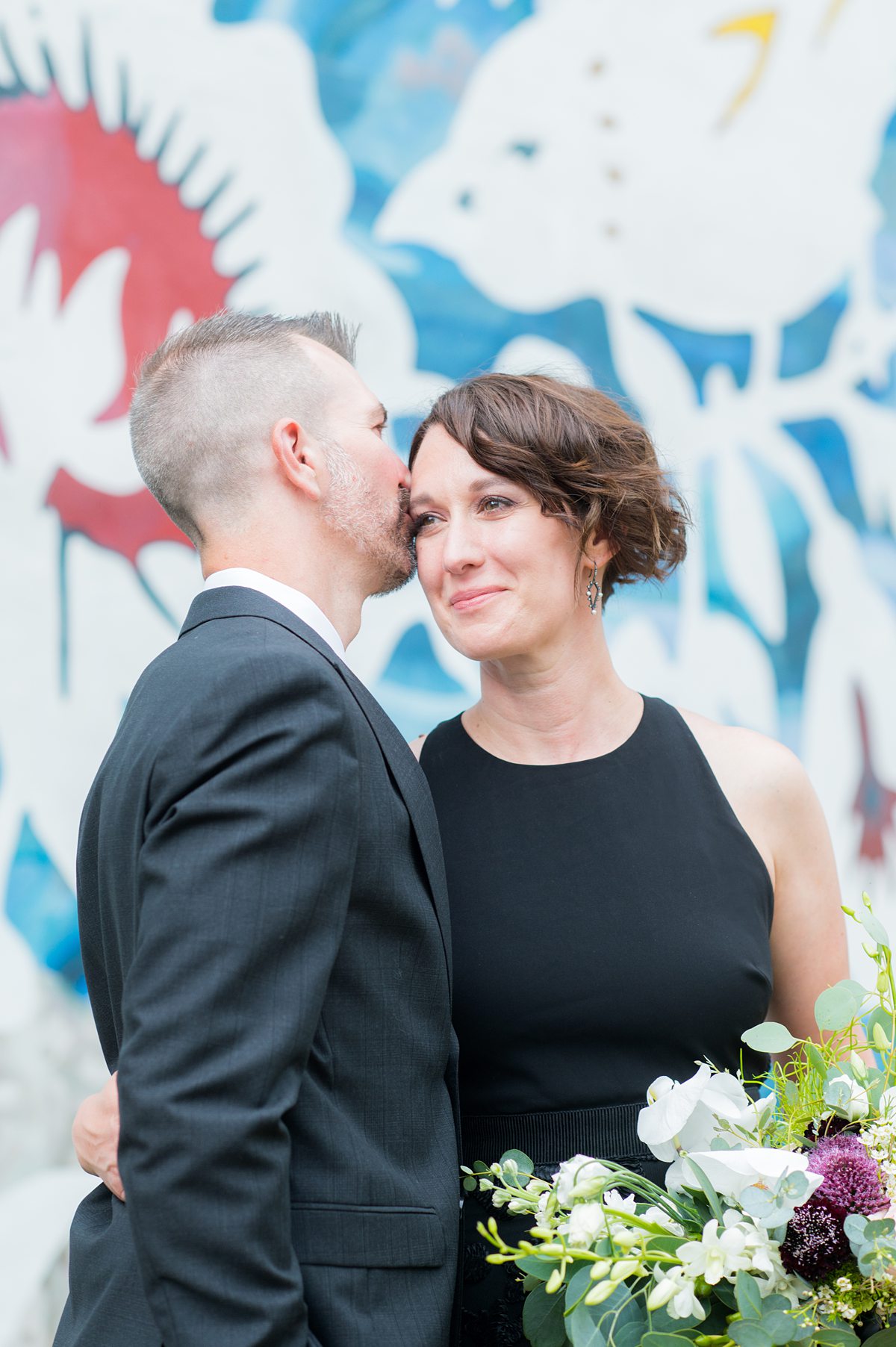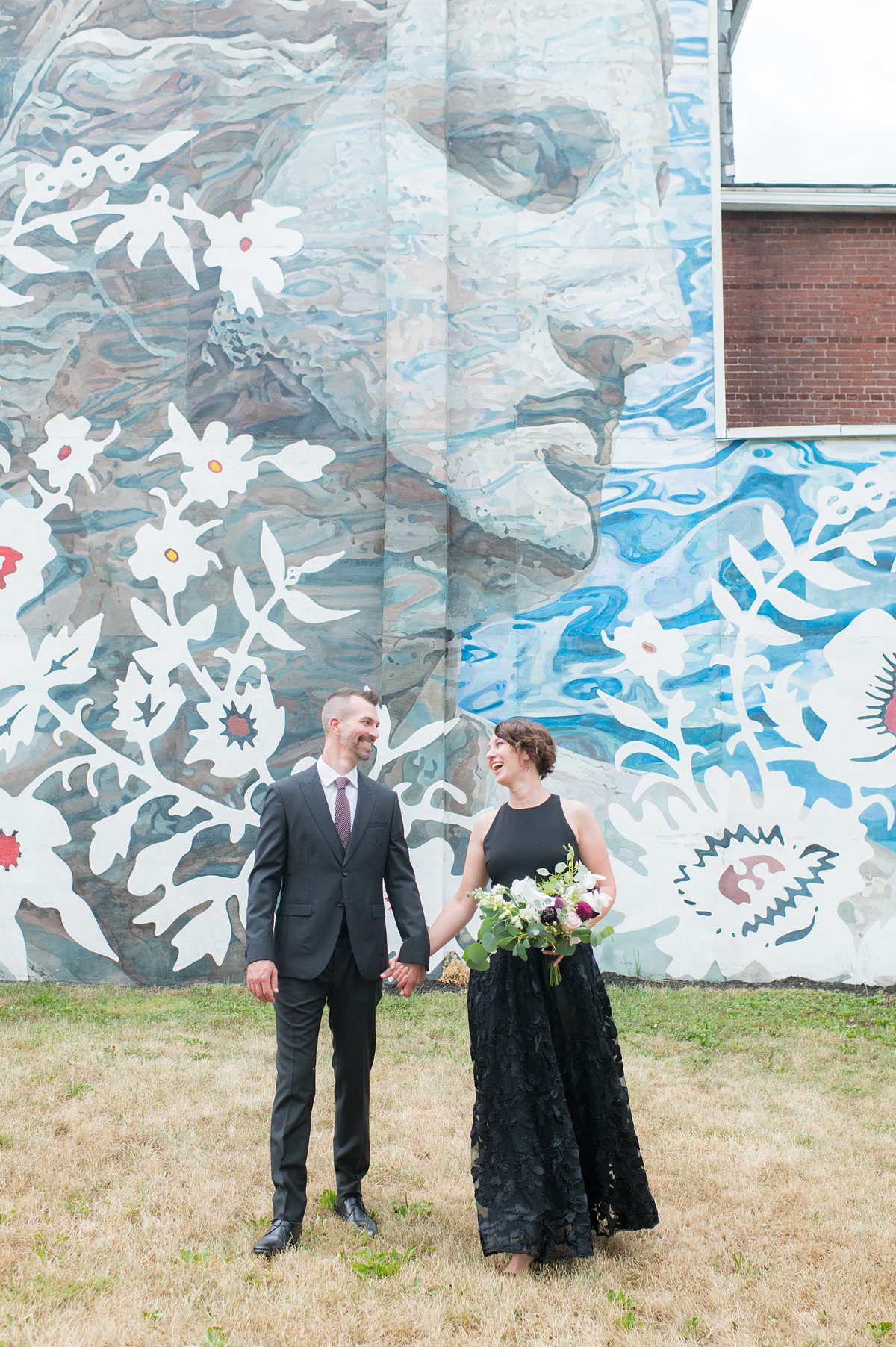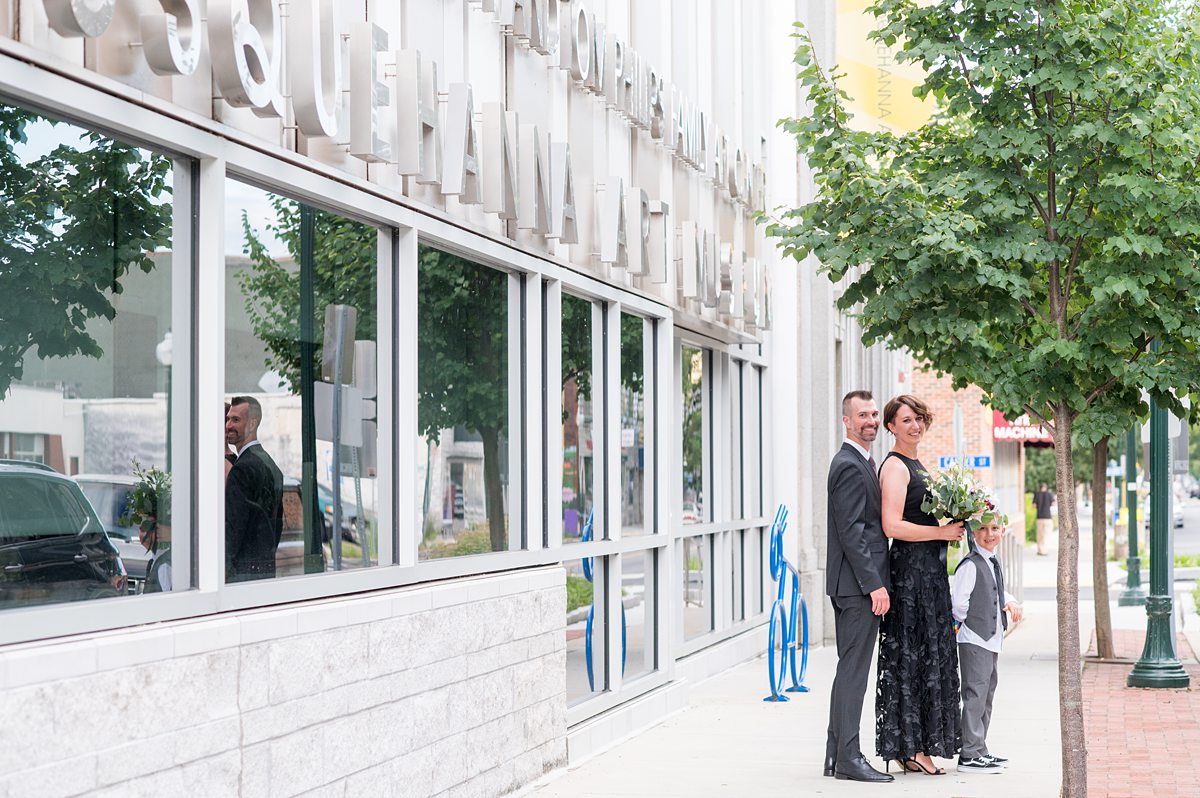 Congratulations, Sarah and Derek! We're so glad we could be a part of your special wedding day.
Venue: Susquehanna Art Museum / Flowers: Dolores McGee / Makeup: Josie Evans / Officiant: Yolanda Haywood Gross, What Matters Most Event LLC / Gown: Rent the Runway  / Bride's ring: K Novinger
Having a small wedding? Check out more inspiration: