Elaine and Kenny's New York Botanical Garden wedding photos are some of my all time favorites. Because they bring me back not just to that day but working with this wonderful couples.
Their severe organization and meticulous keeping of spreadsheets and files was just one aspect of their personalities I adored and identified with. We talked a lot leading up to the wedding about how it would go and flow, photo locations, exact times for everything and even if the rose garden would be in bloom in October. And guess what? It ALL worked out for the most perfect New York Botanical Garden wedding photos (or NYBG as some abbreviate) and event for them.
Overview of Getting Married at New York Botanical Gardens during Fall
The red details in their wedding were really beautiful and popped against the green of the garden. (Red is literally a complementary color to green so it was perfect!) I loved the two-tone dahlias they had. The bright anemones and sweet lilies. The pinks and purples of Veronica flowers and lisianthus. Colors were everywhere I was onboard!
A running theme throughout their relationship (and thus, the wedding) is dogs! We bonded over it during their engagement session at Google HQ and Washington Square Park, and I was reminded of another aspect I love about them at their wedding. Their "imaginary" dogs were even mentioned in their vows! Guests found their tables by dog photos on magnet with their names under the dogs. It was adorable! Elaine's also very crafty so special touches and great coordination and elements were found throughout their celebration.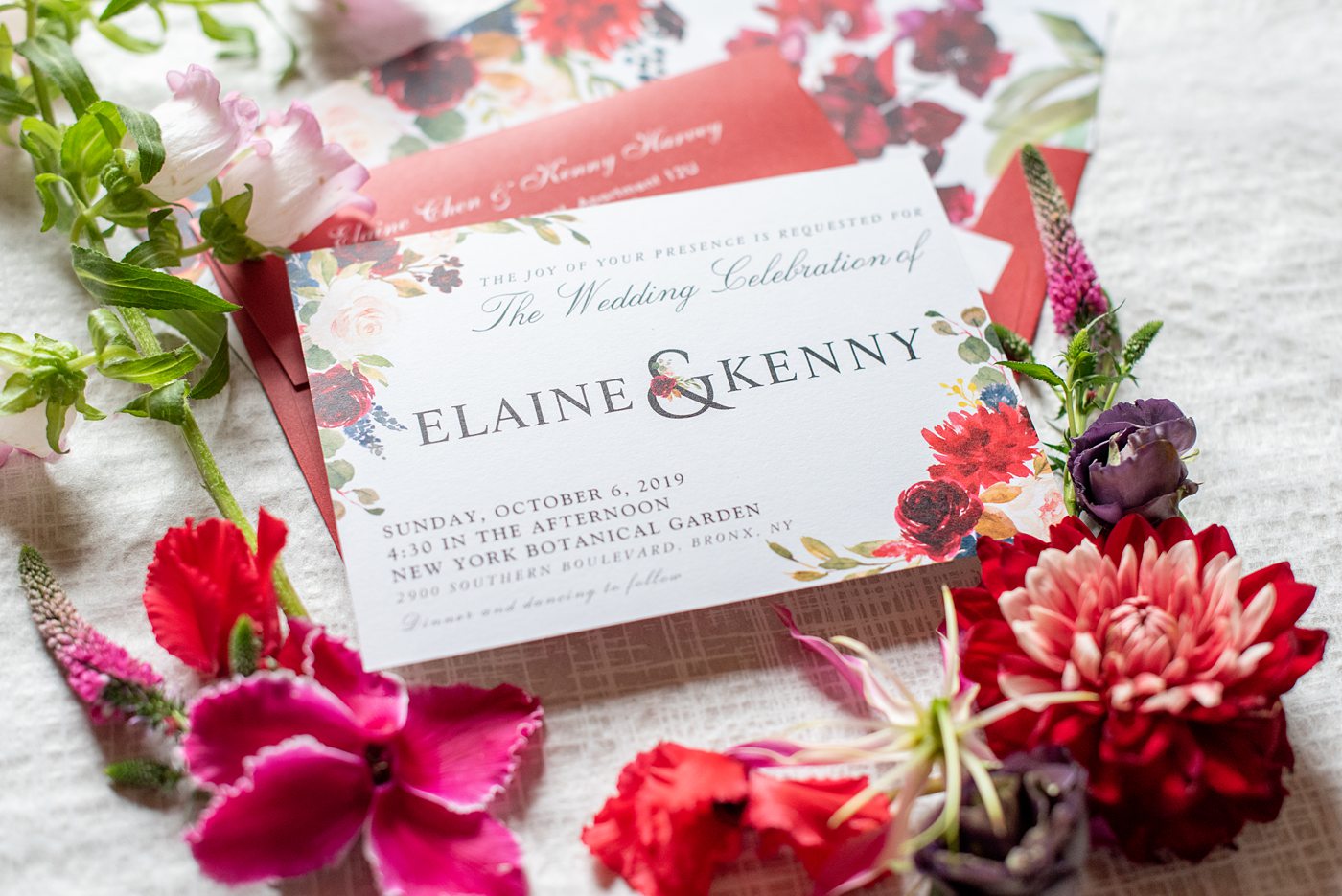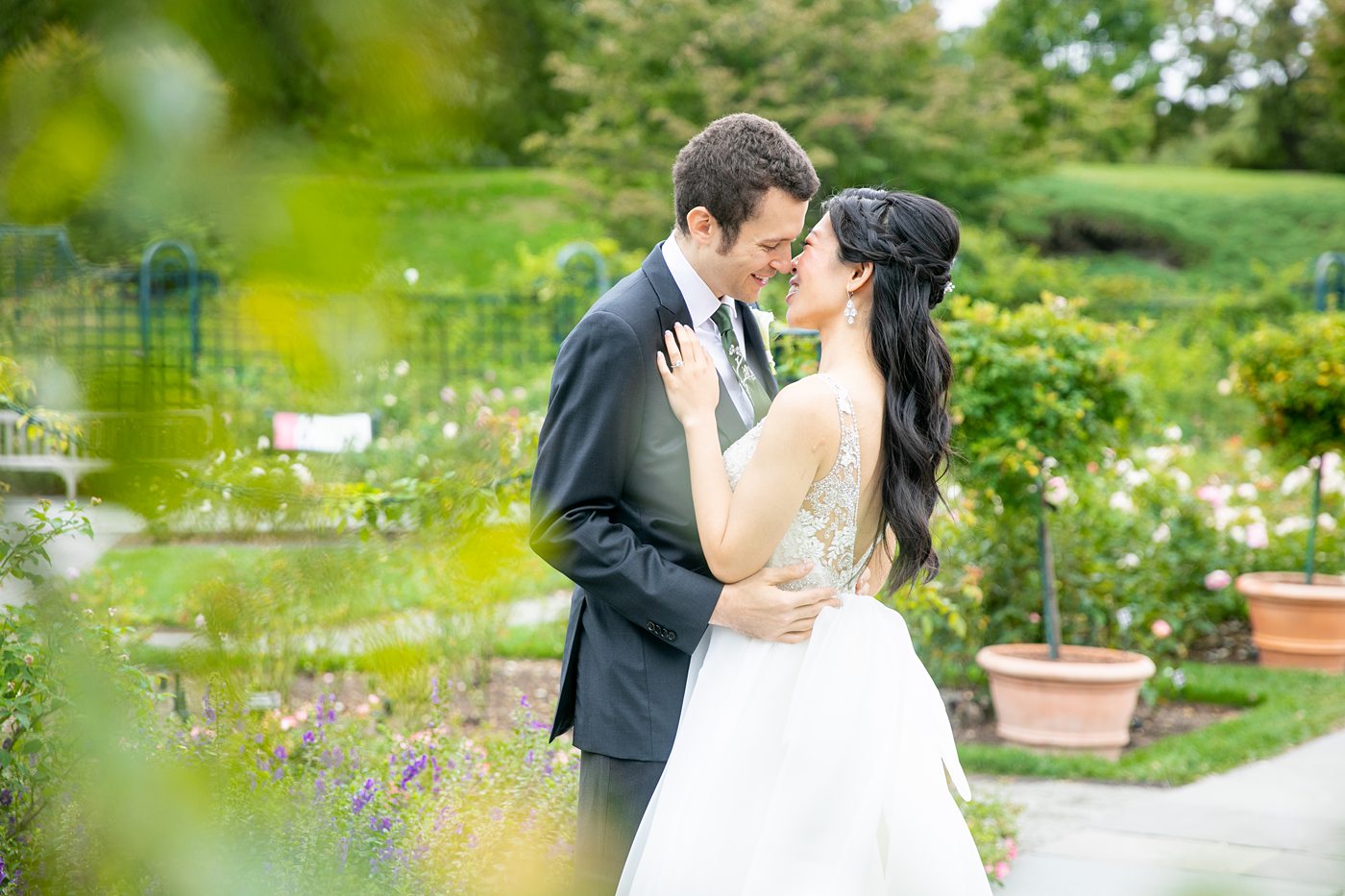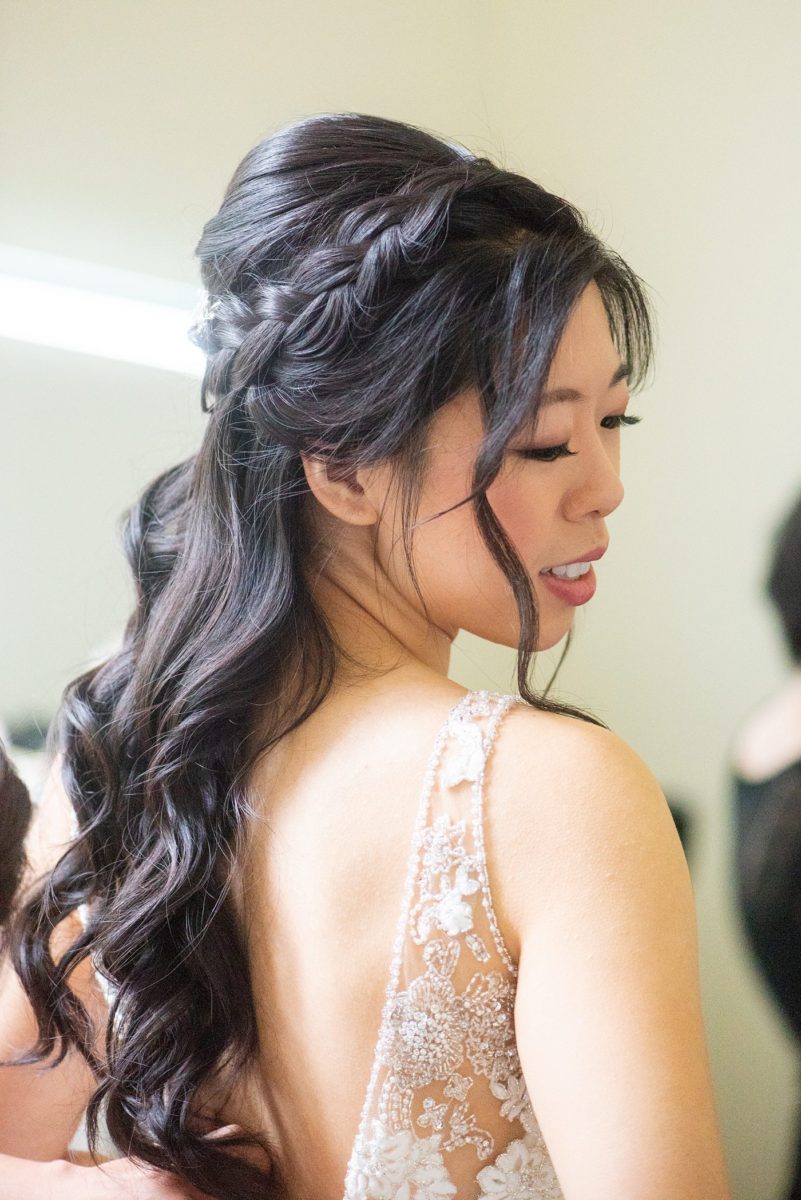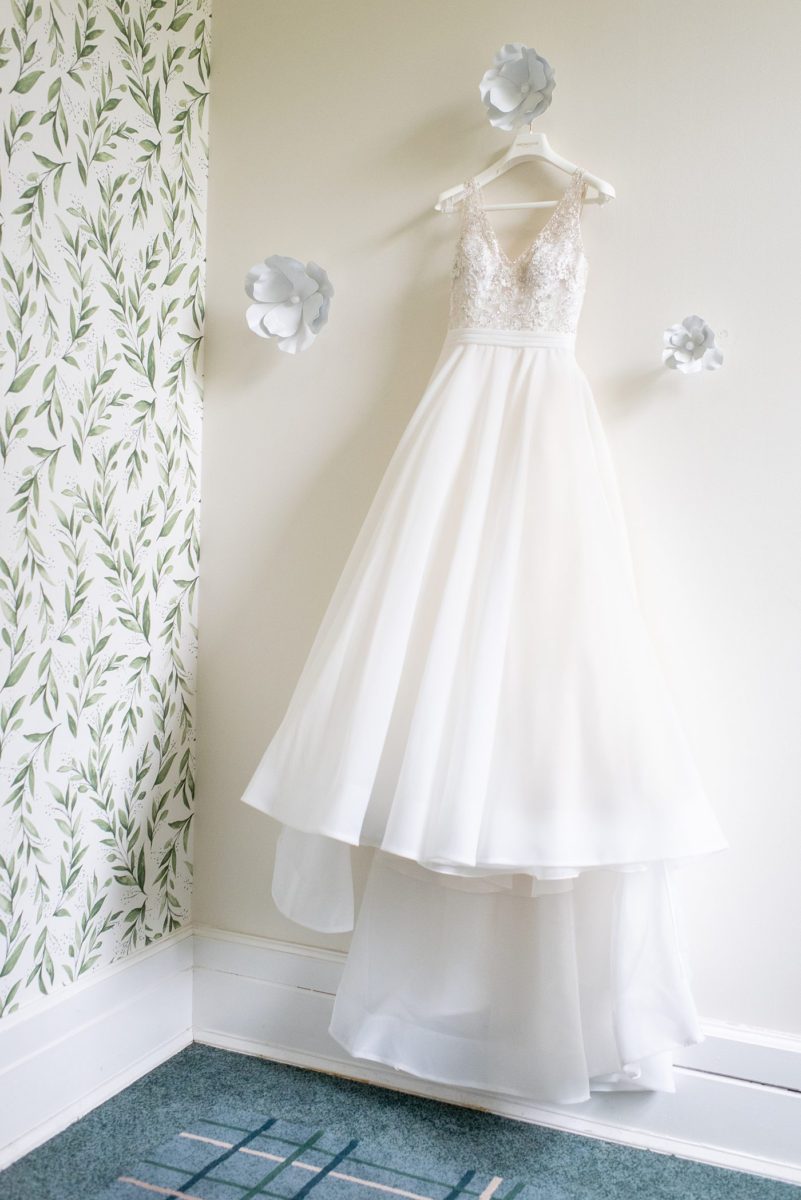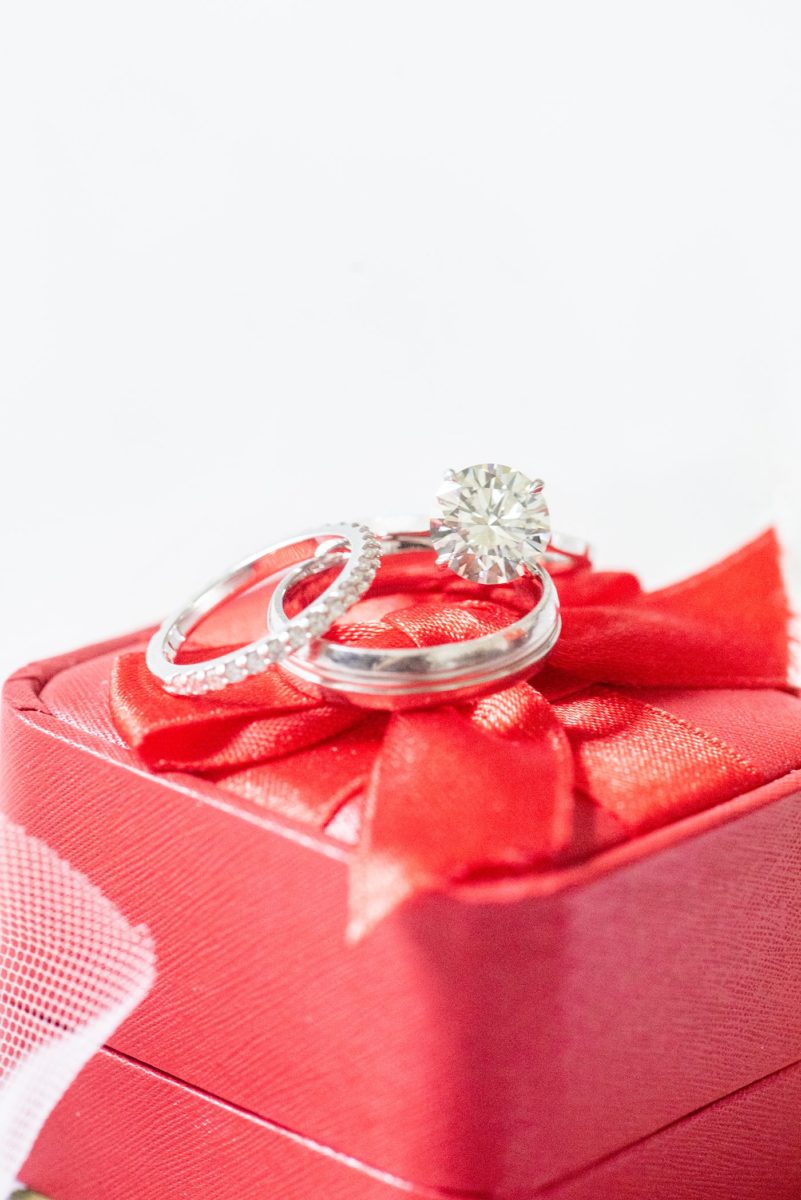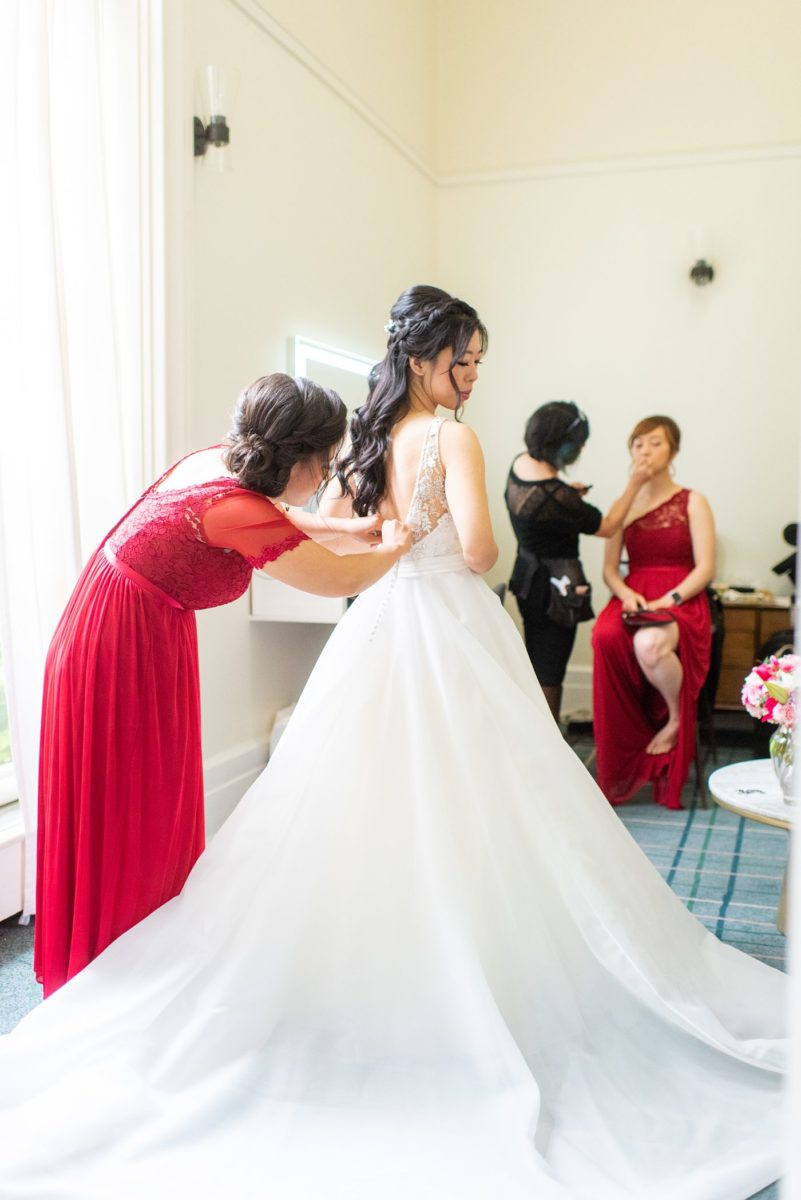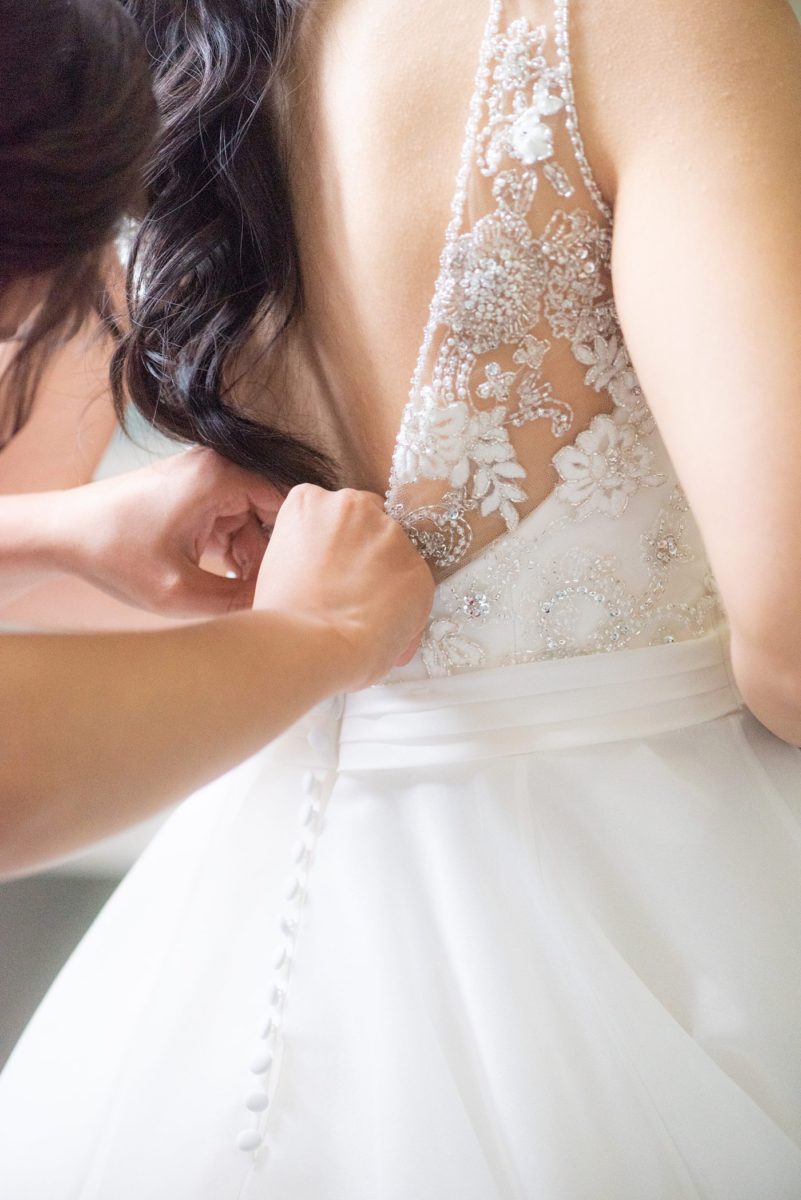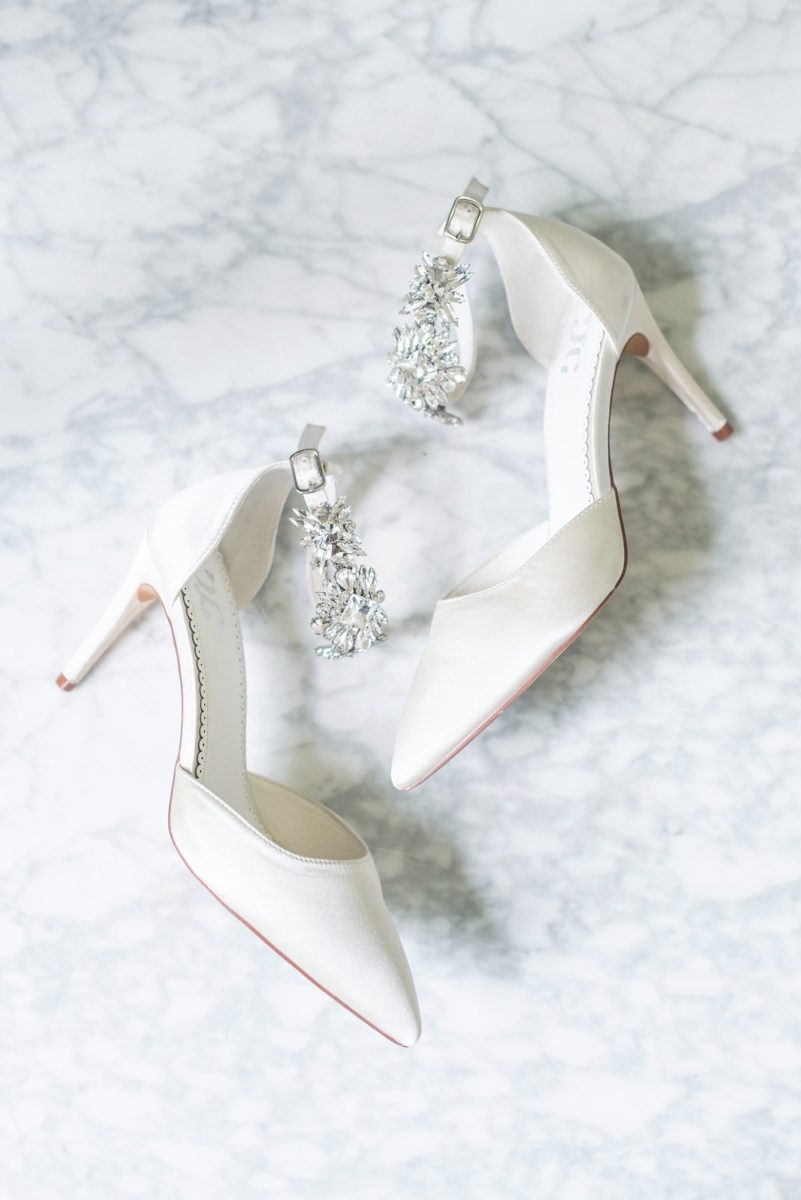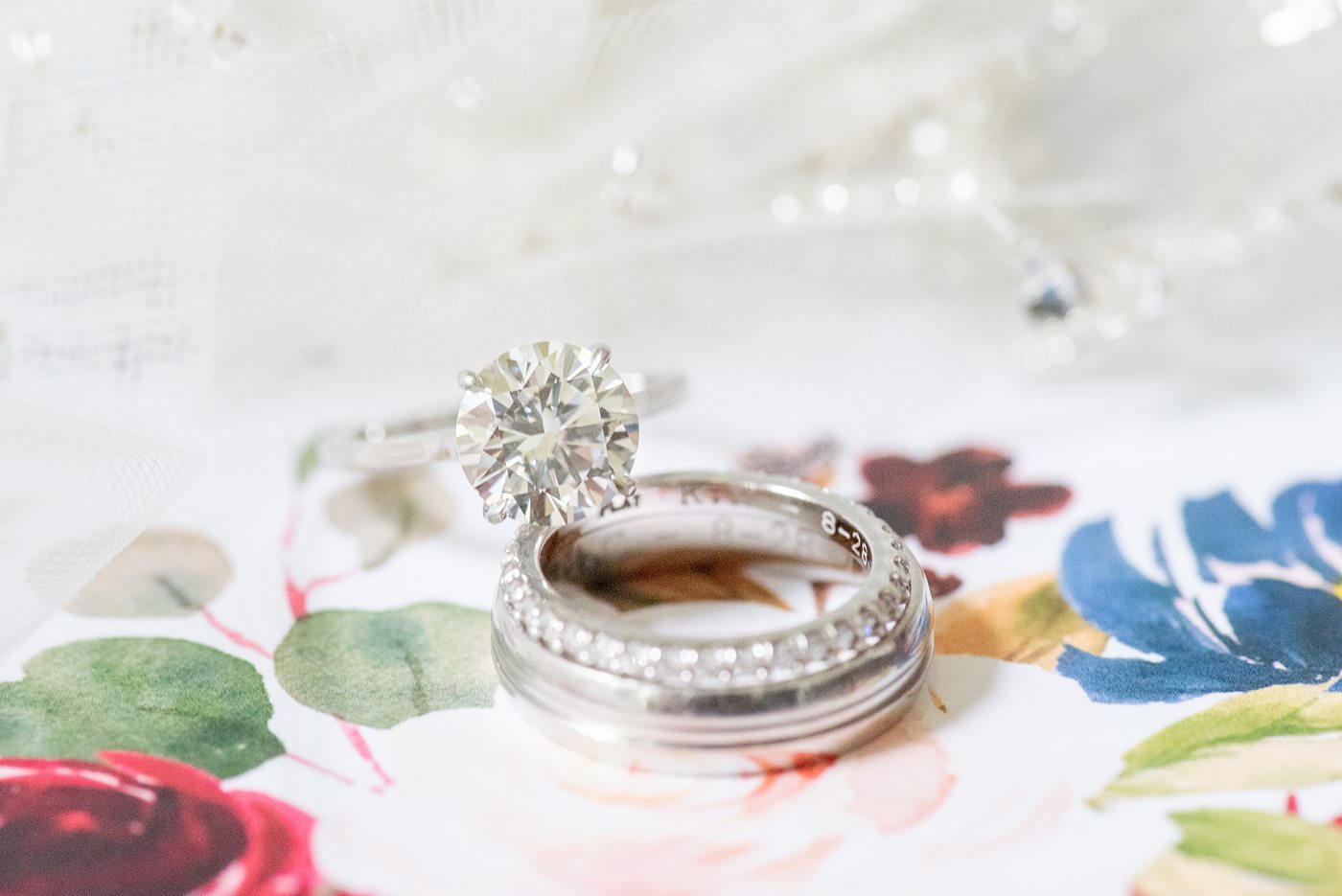 New York Botanical Garden Wedding Photos Details
I love that their wedding rings were engraved with the date they got married but I got to photograph them at New York Botanical Garden. They actually got married just a year prior in a very small private ceremony. This was the big wedding they had been waiting and planning for since then!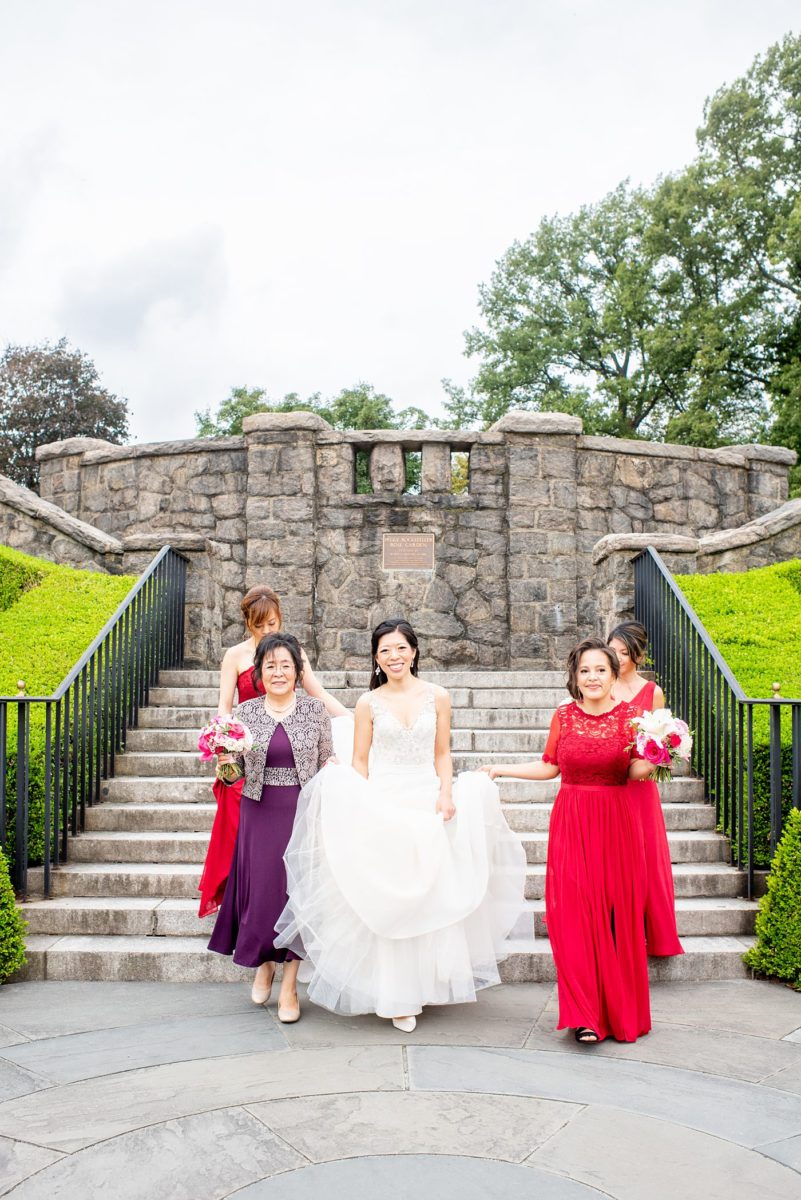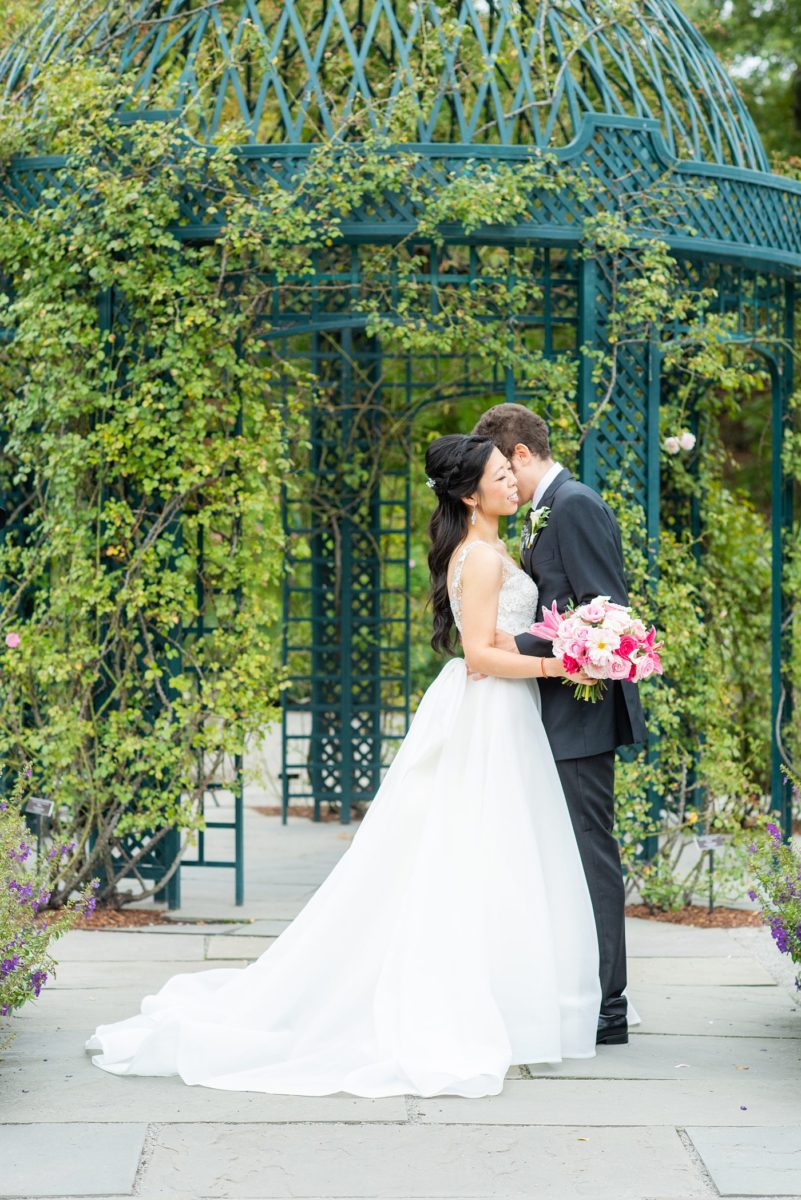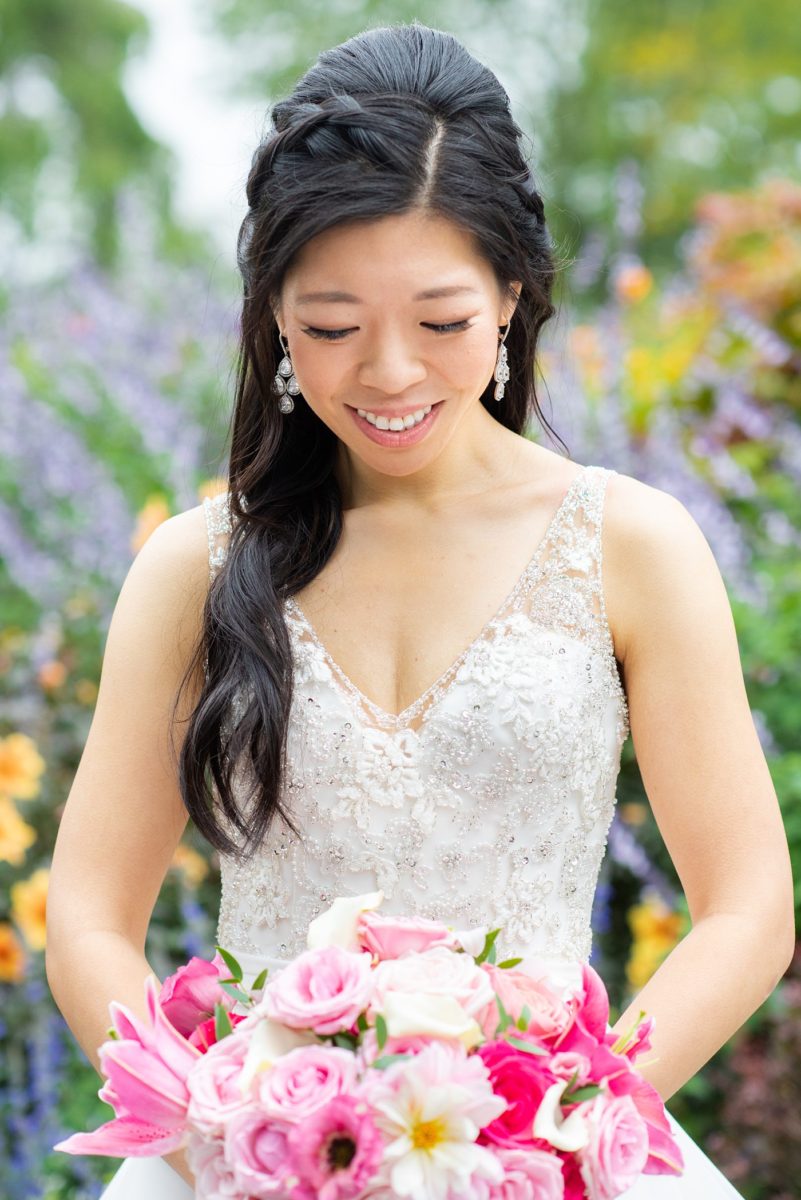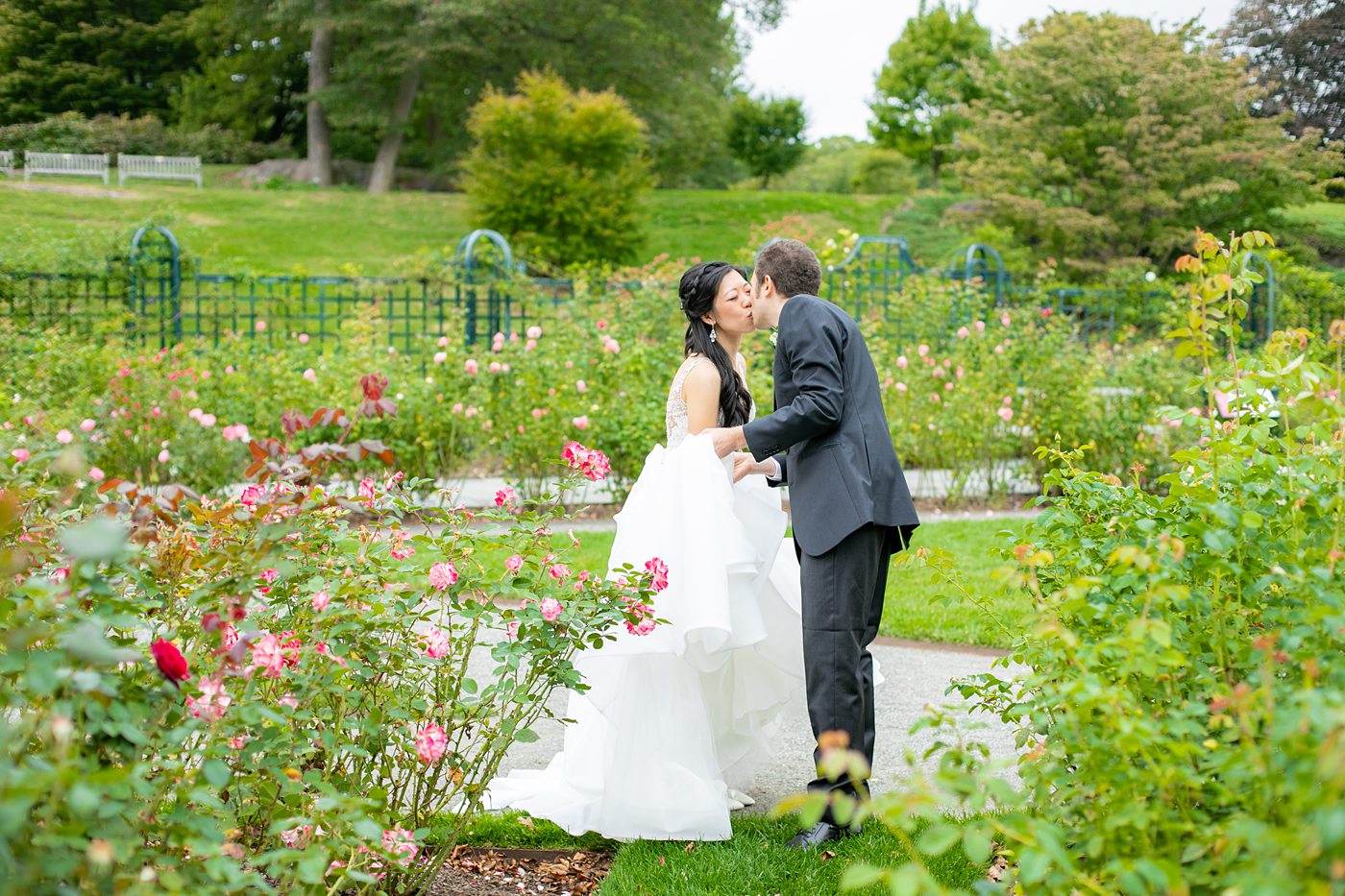 New York Botanical Gardens Wedding Photos of their First Look
Their first look was in the rose garden and I was so happy it was in bloom for them! They wanted photos there no matter whether there were flowers in bloom or not. But it was such a wonderful bonus to have colorful petals all around the first week of October.
We were lucky to take so many wedding party and family photos, and photos of the bride and groom there. (I love when a groom helps his bride with the train of her wedding gown! Isn't it sweet?)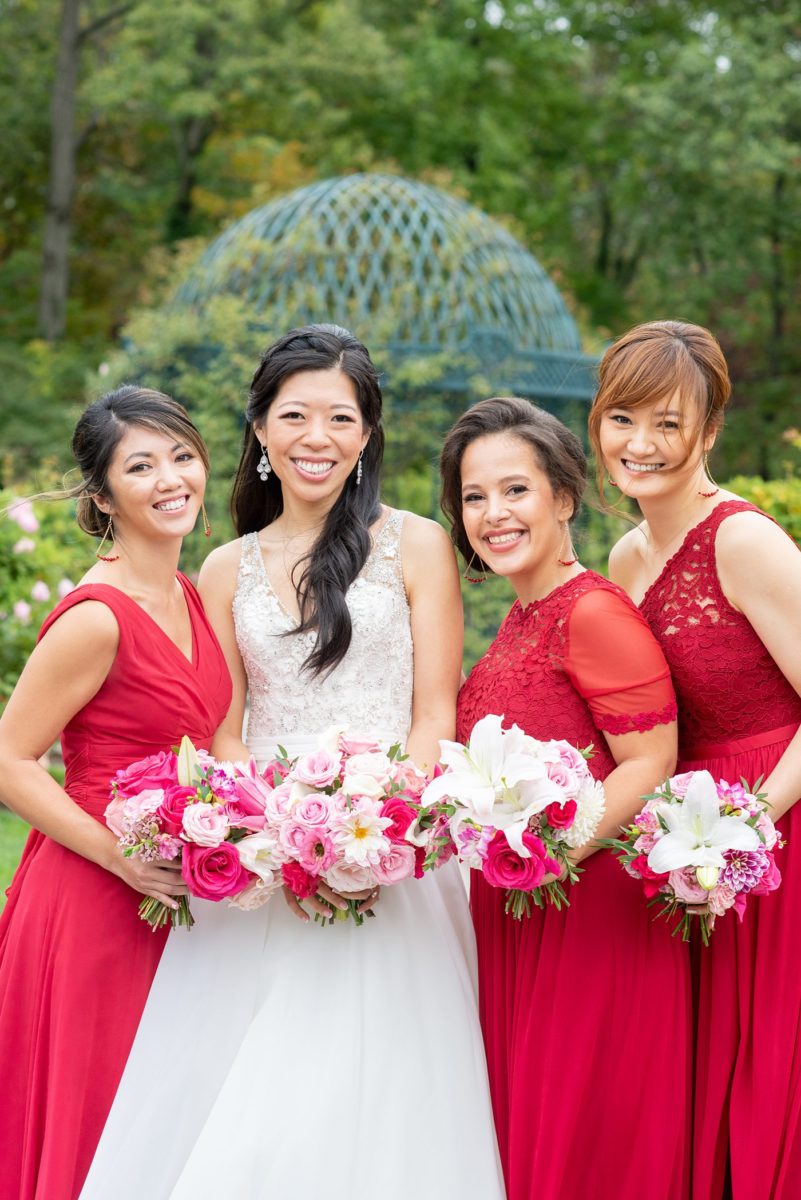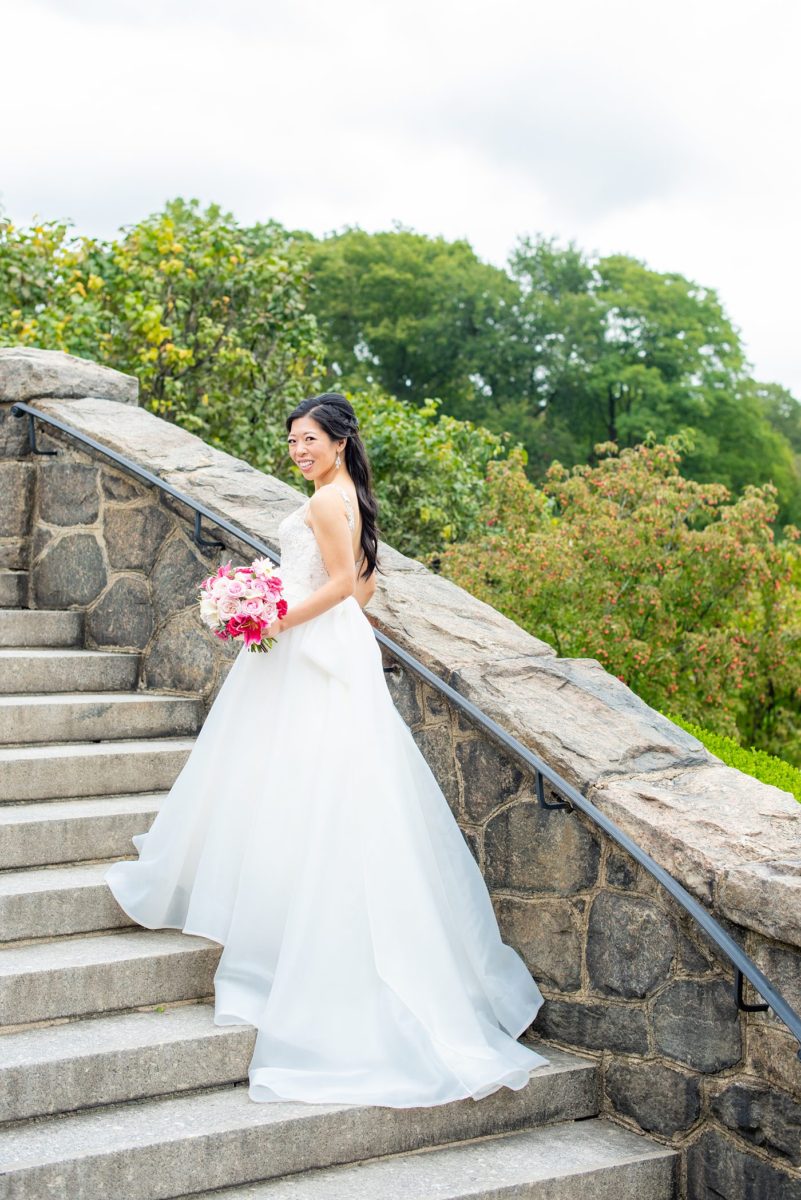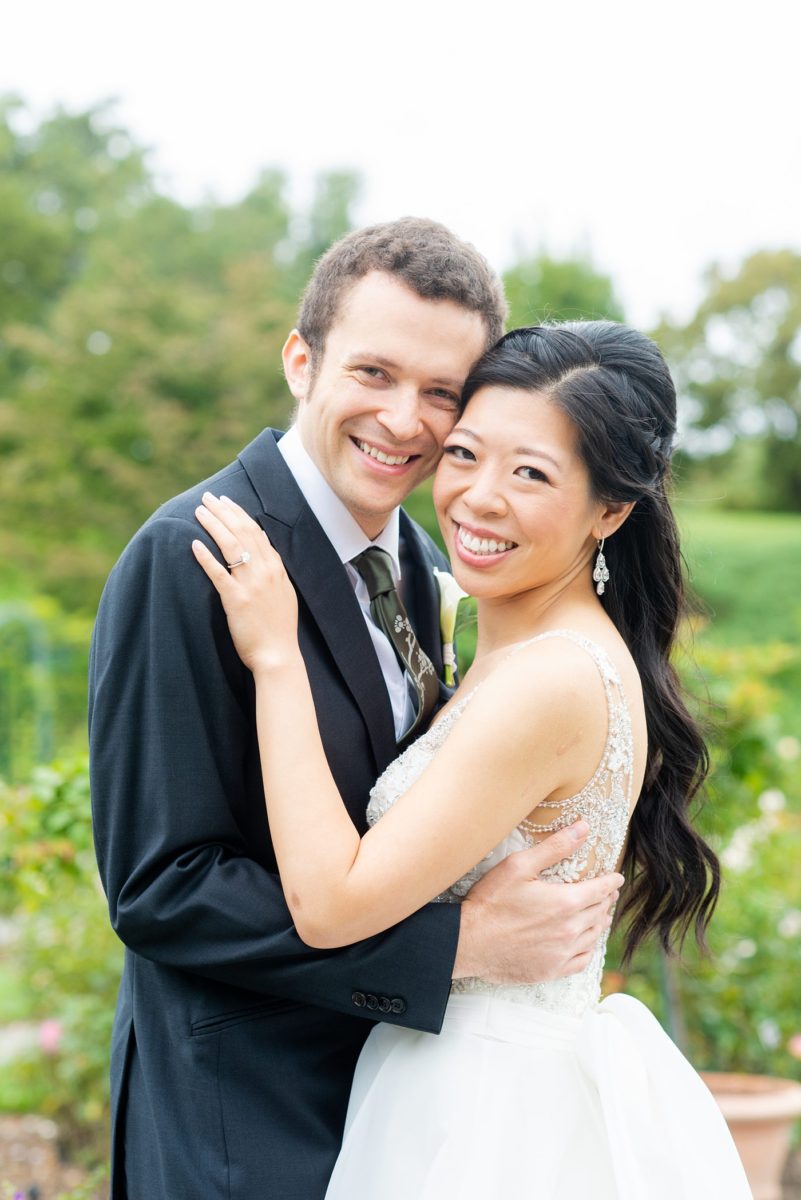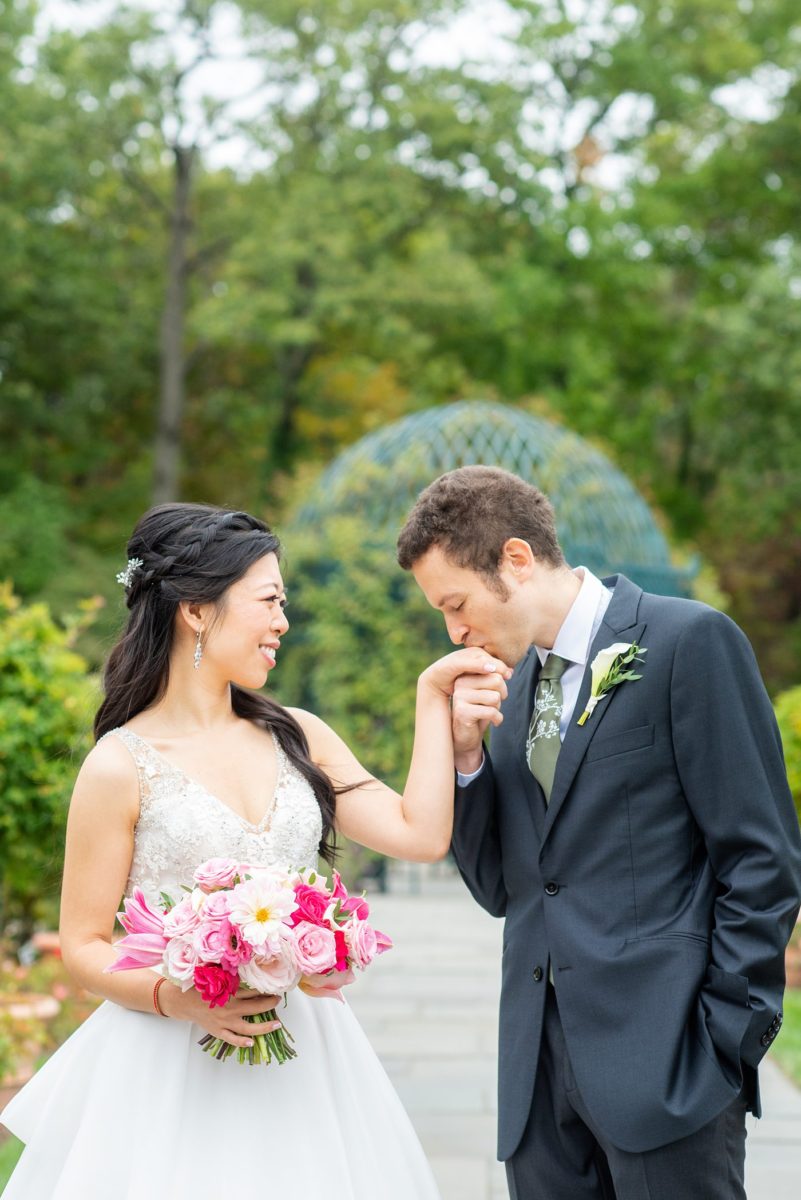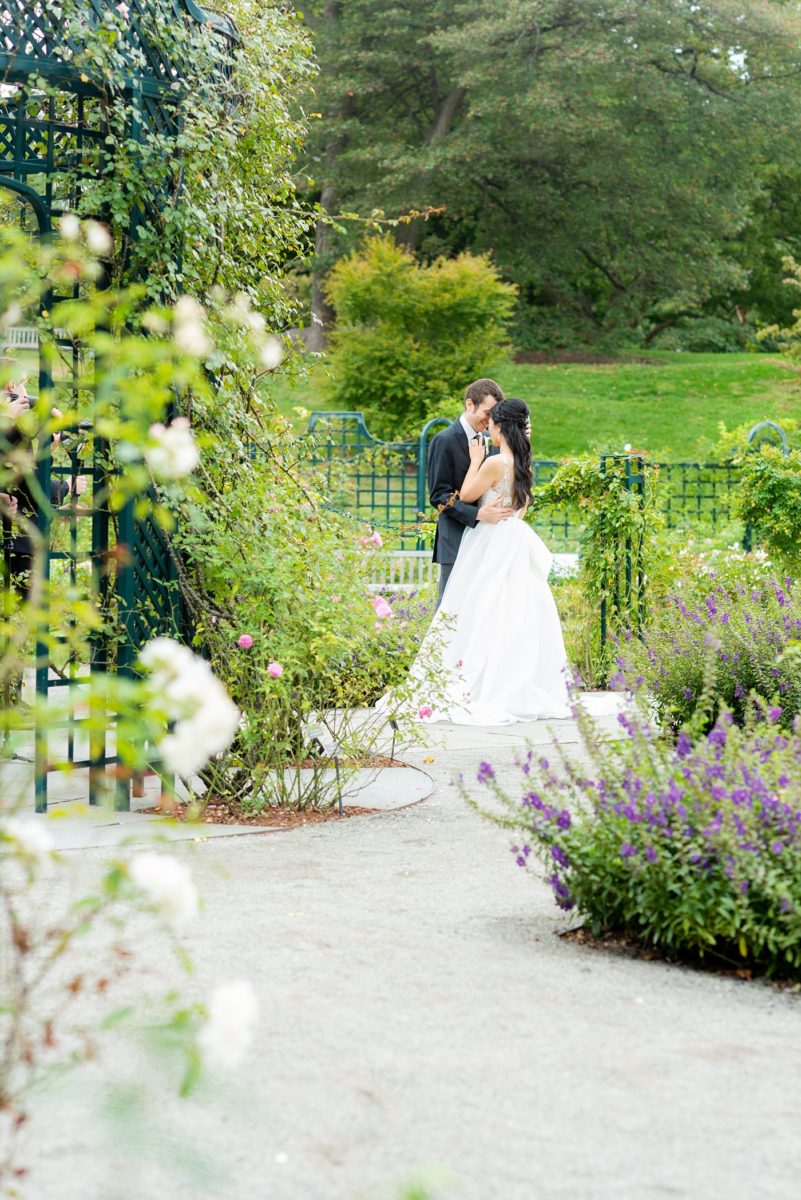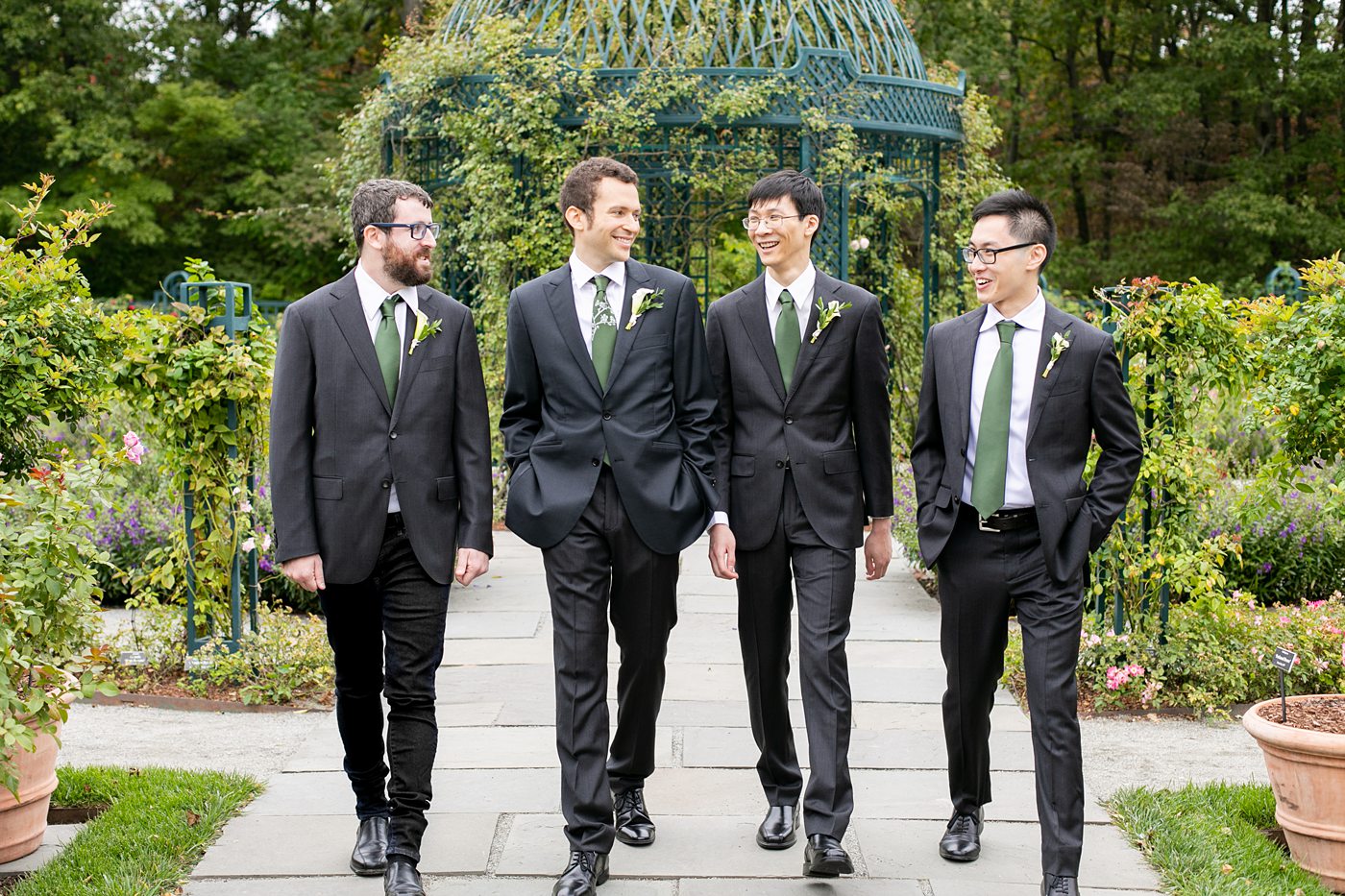 Their NYBG Wedding Bridal Party
I happen to like when wedding parties are small. I think it makes it all the more special for everyone asked to be in it and much less stressful that day to get everyone organized, ready and together. Elaine and Kenny chose to have a small wedding party for their Bronx botanical garden wedding.
Elaine had three beautiful bridesmaids in mis-matched red gown and Kenny's three best friends stood by his side. They wore matching grey suits, wore green ties (Kenny's was special with a white floral pattern on it) and they all had white Cala Lilly boutonnieres.
The bride and bridesmaids carried colorful bouquets with white and pink flowers of various shades.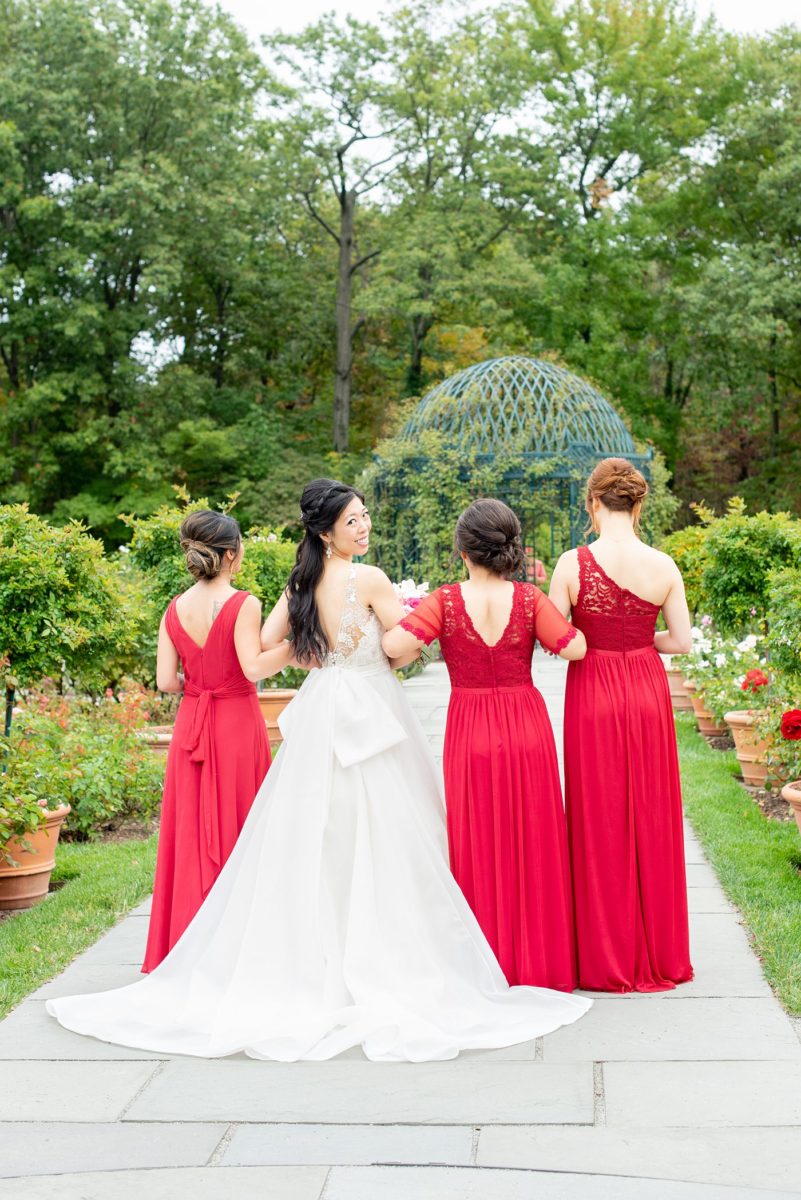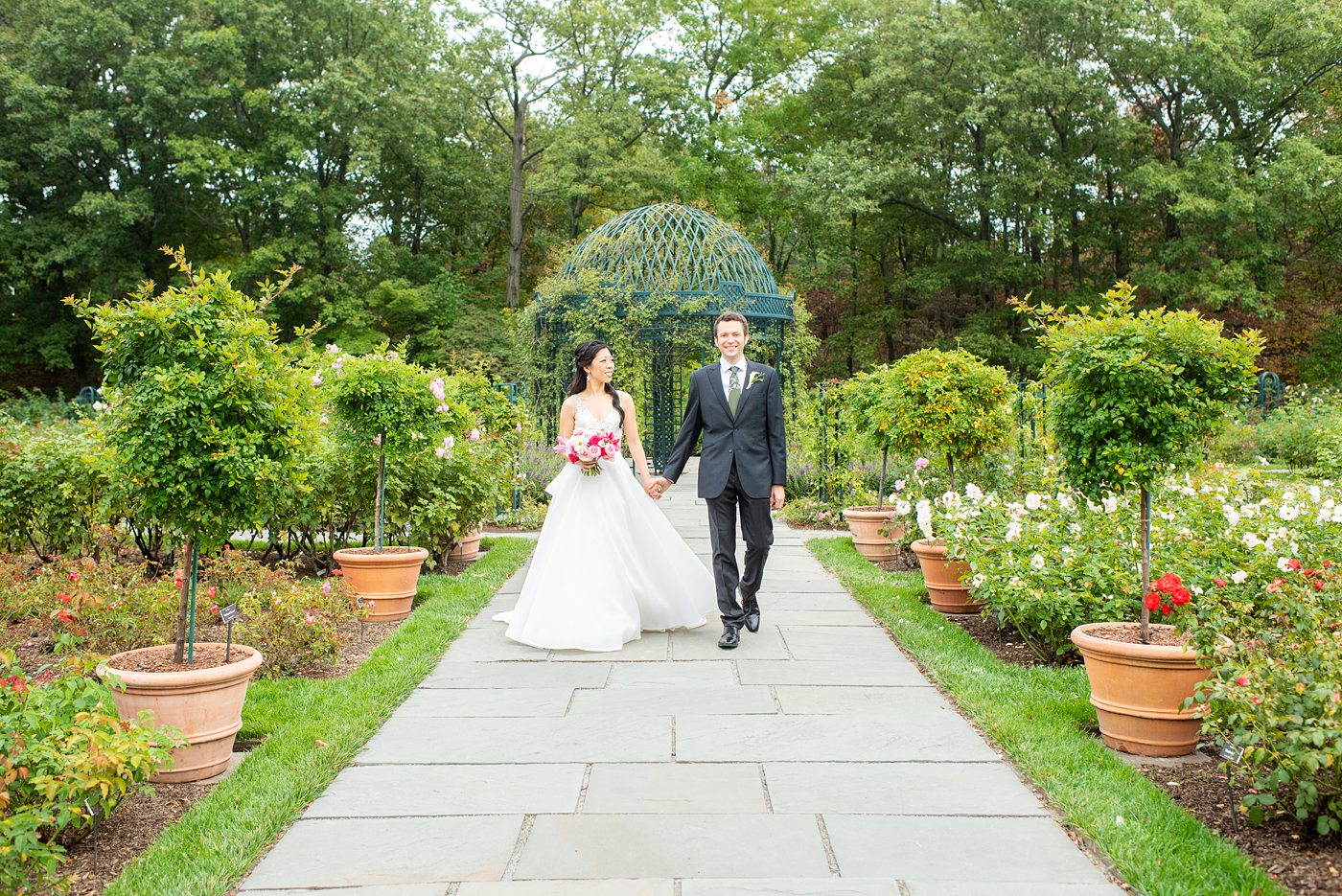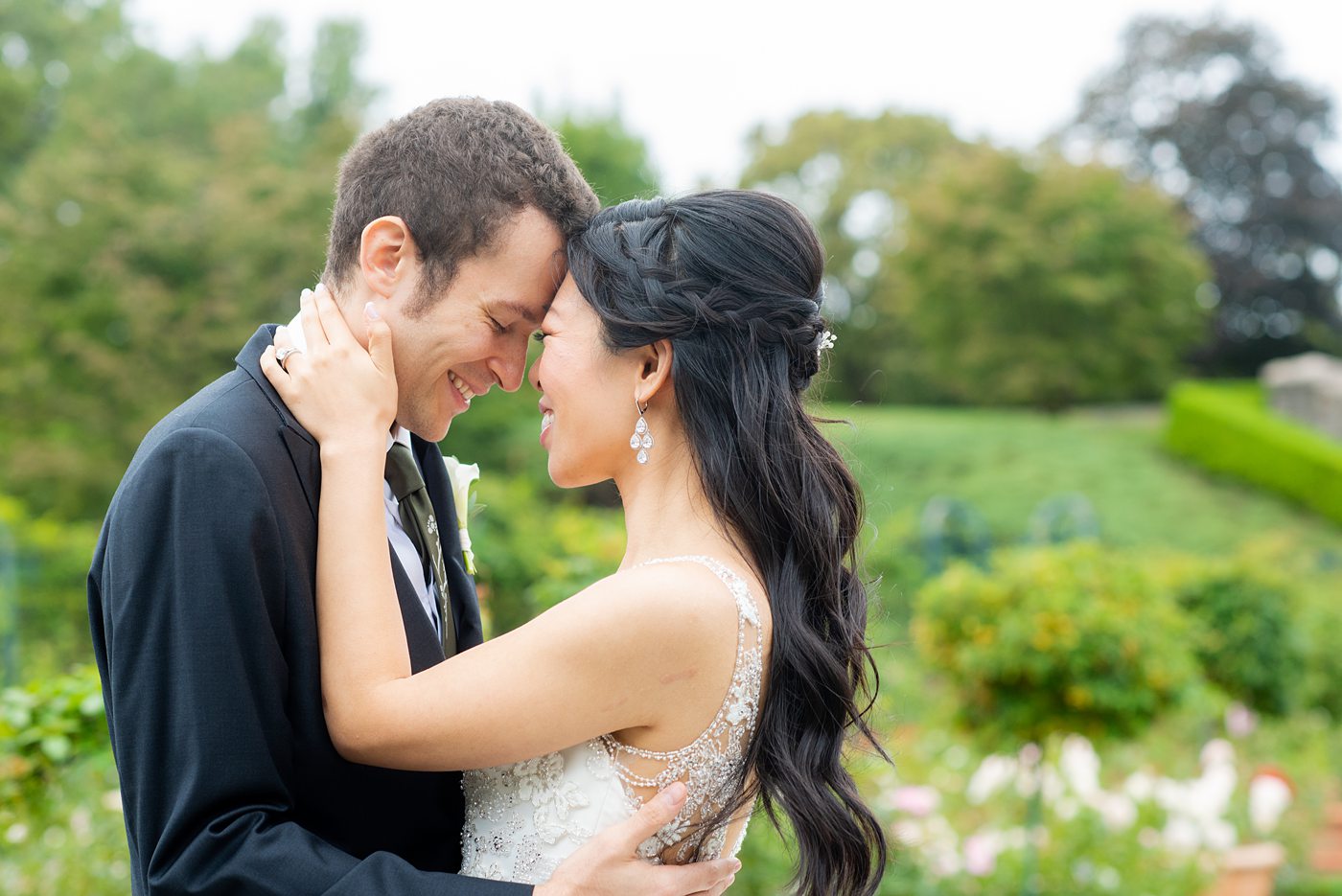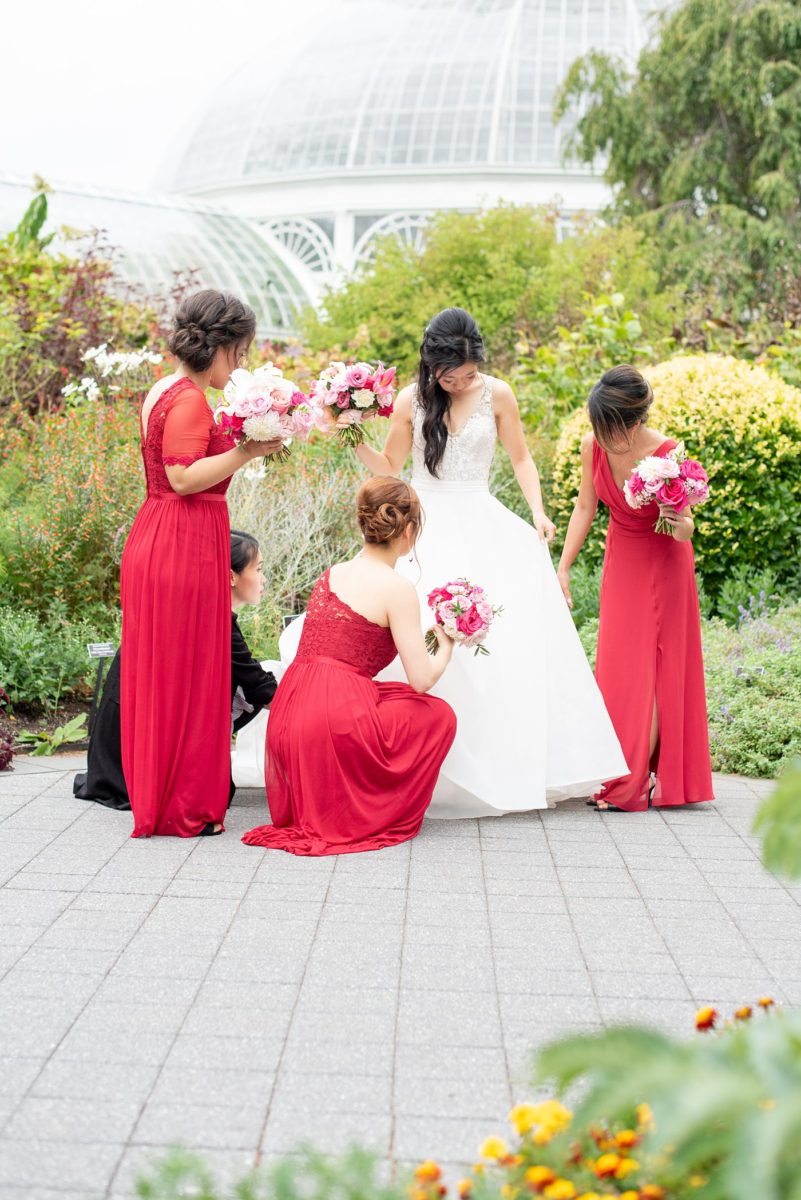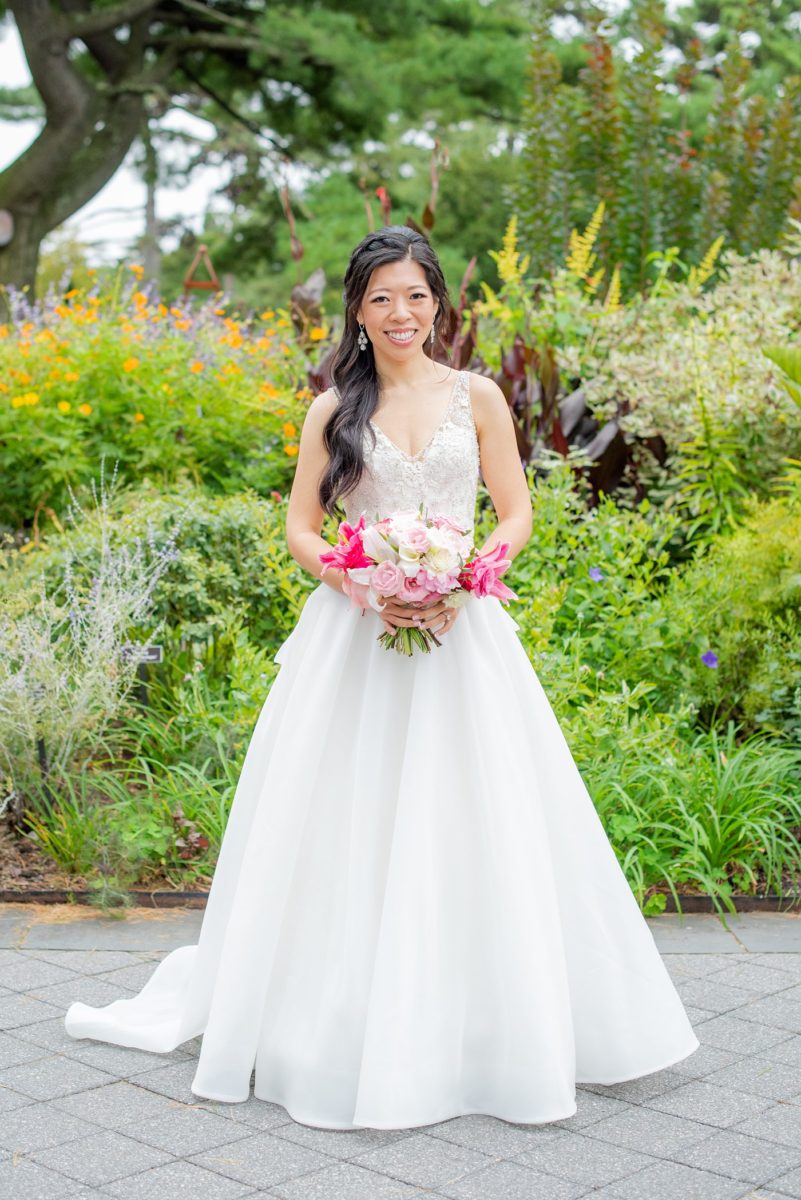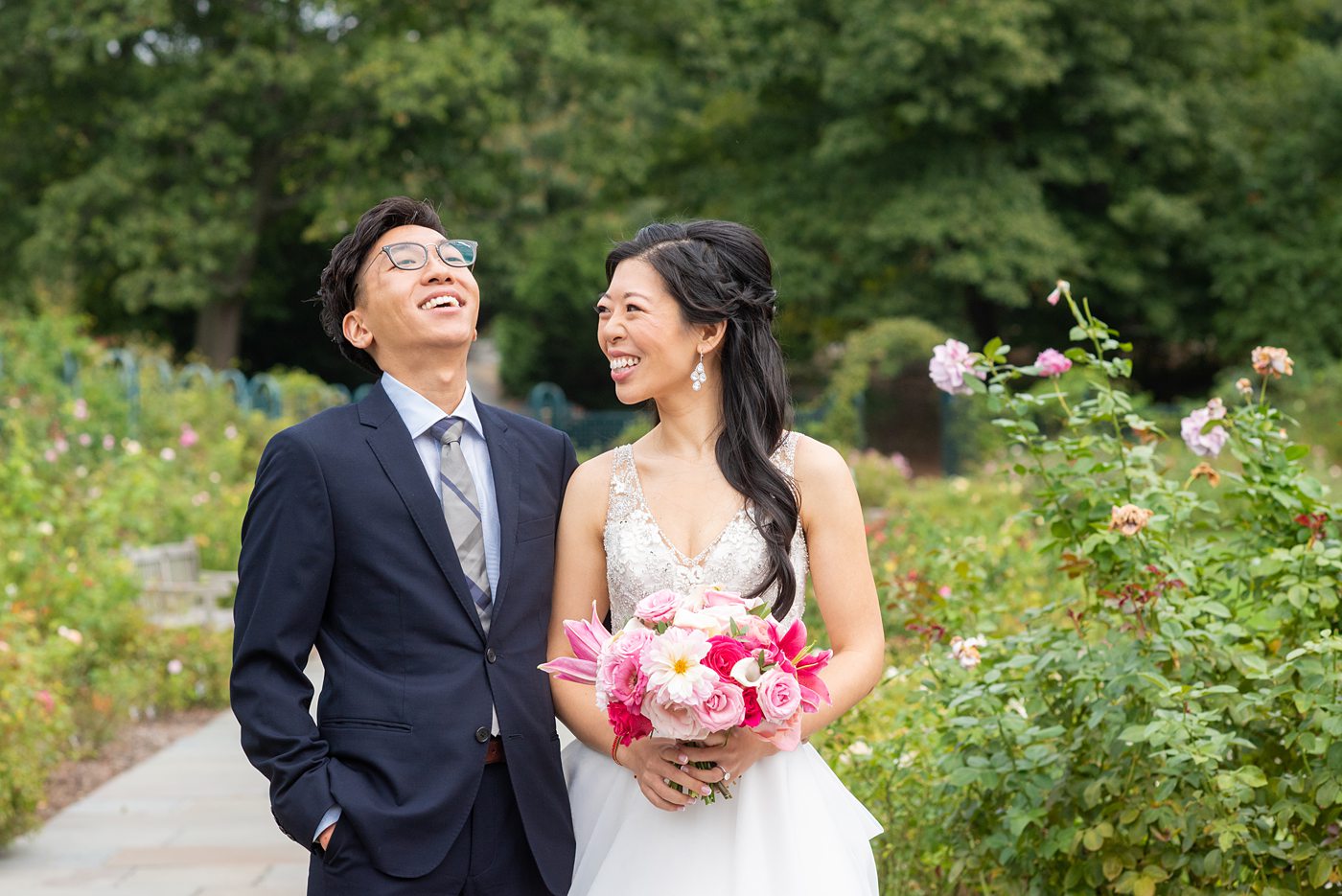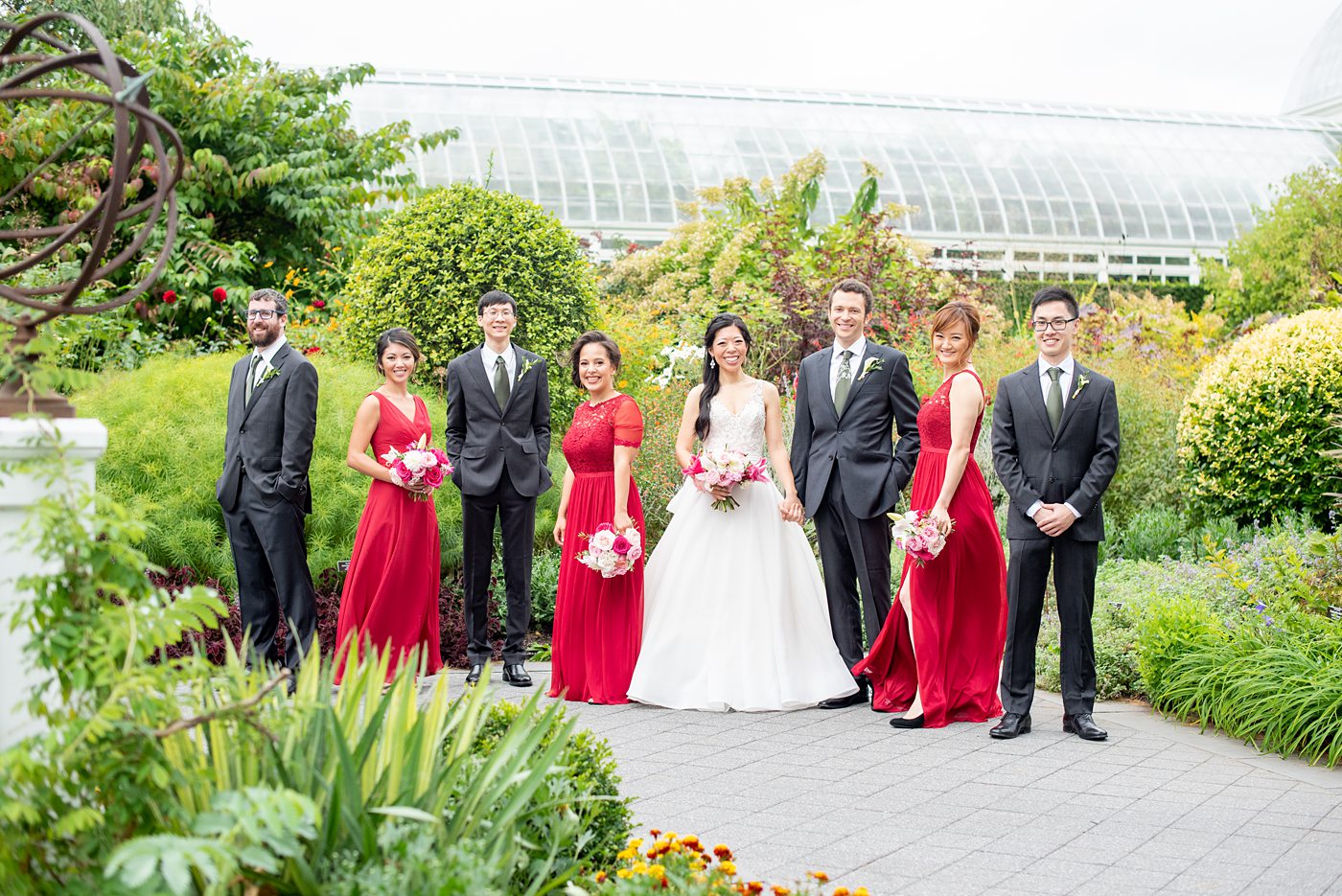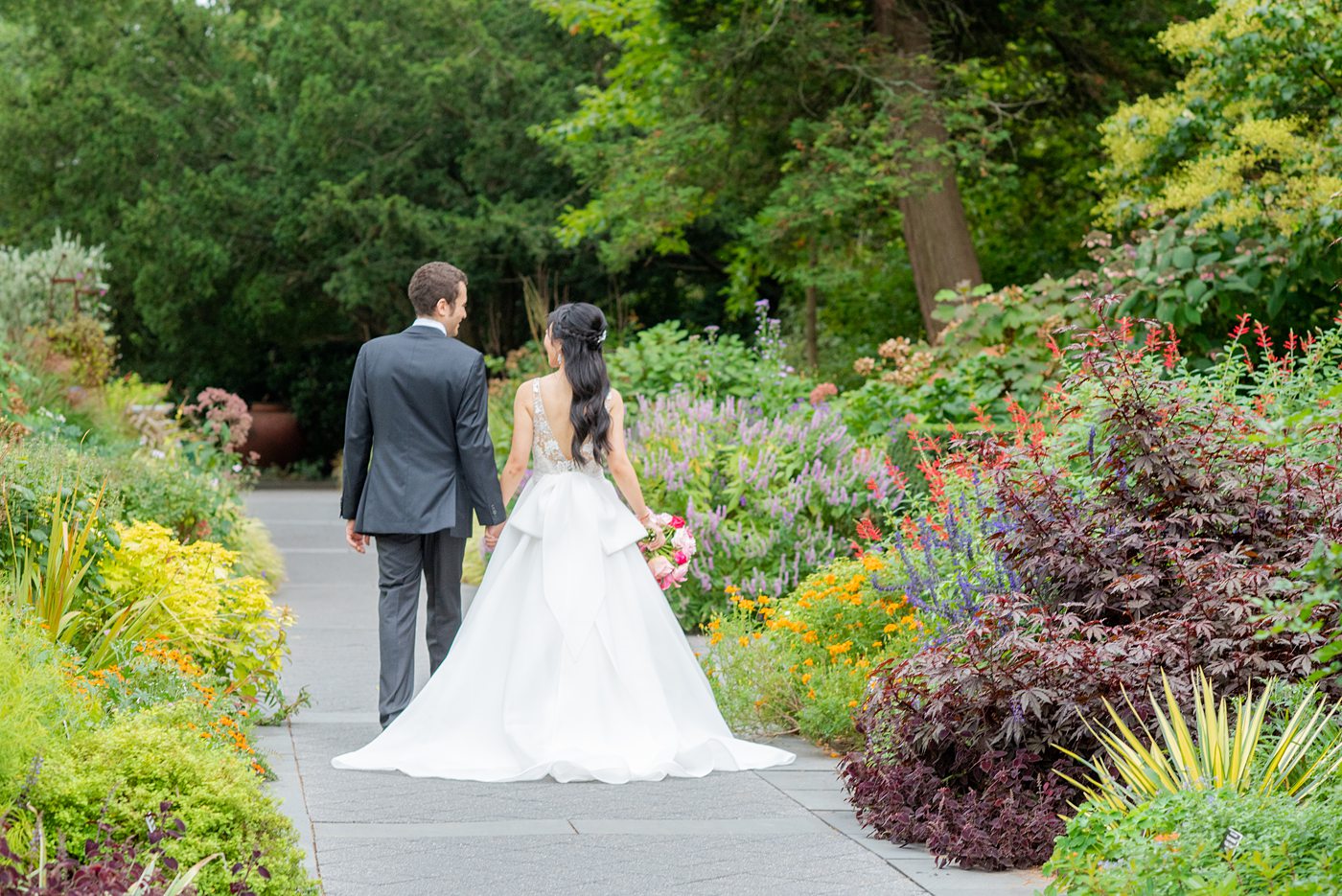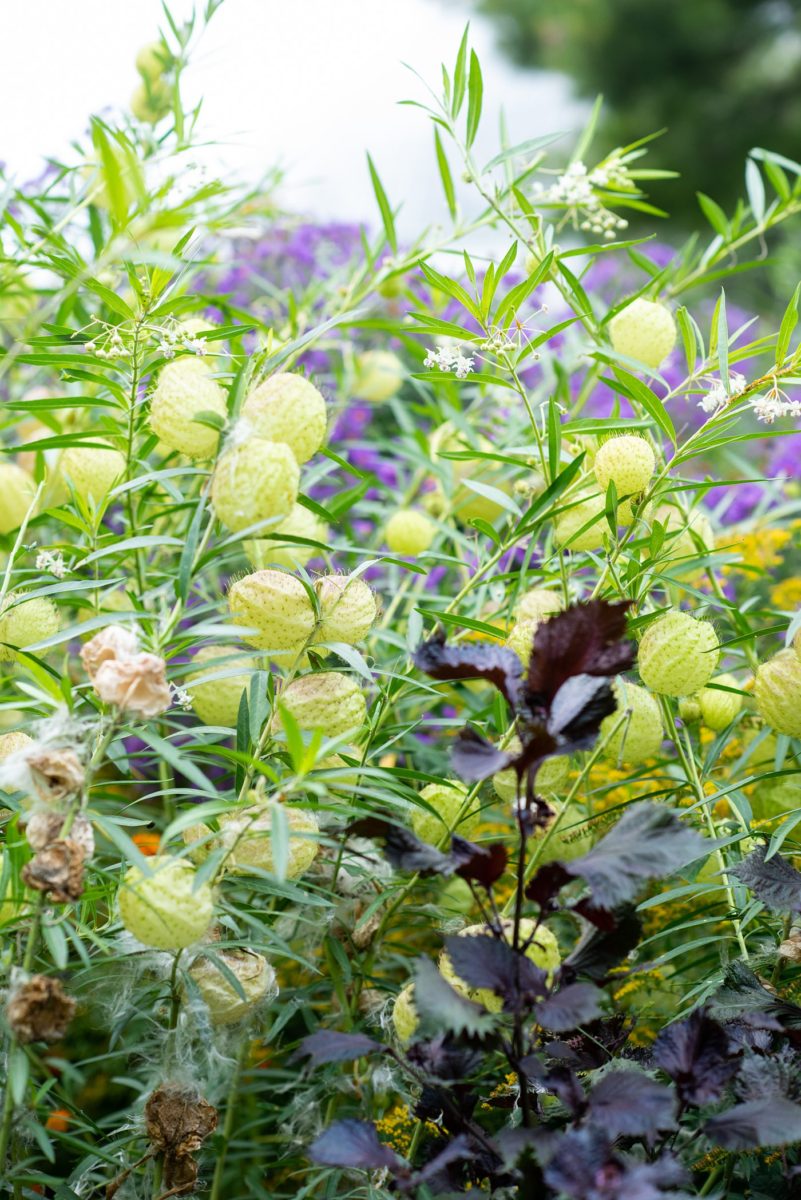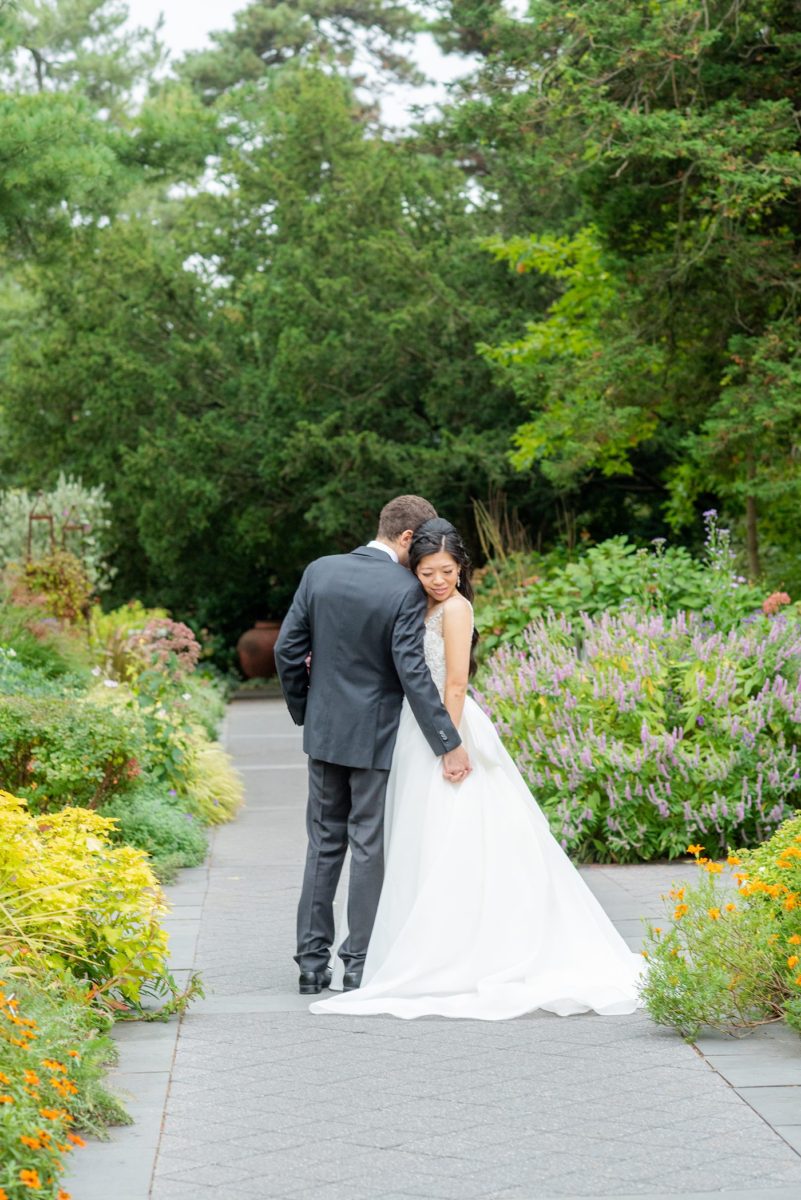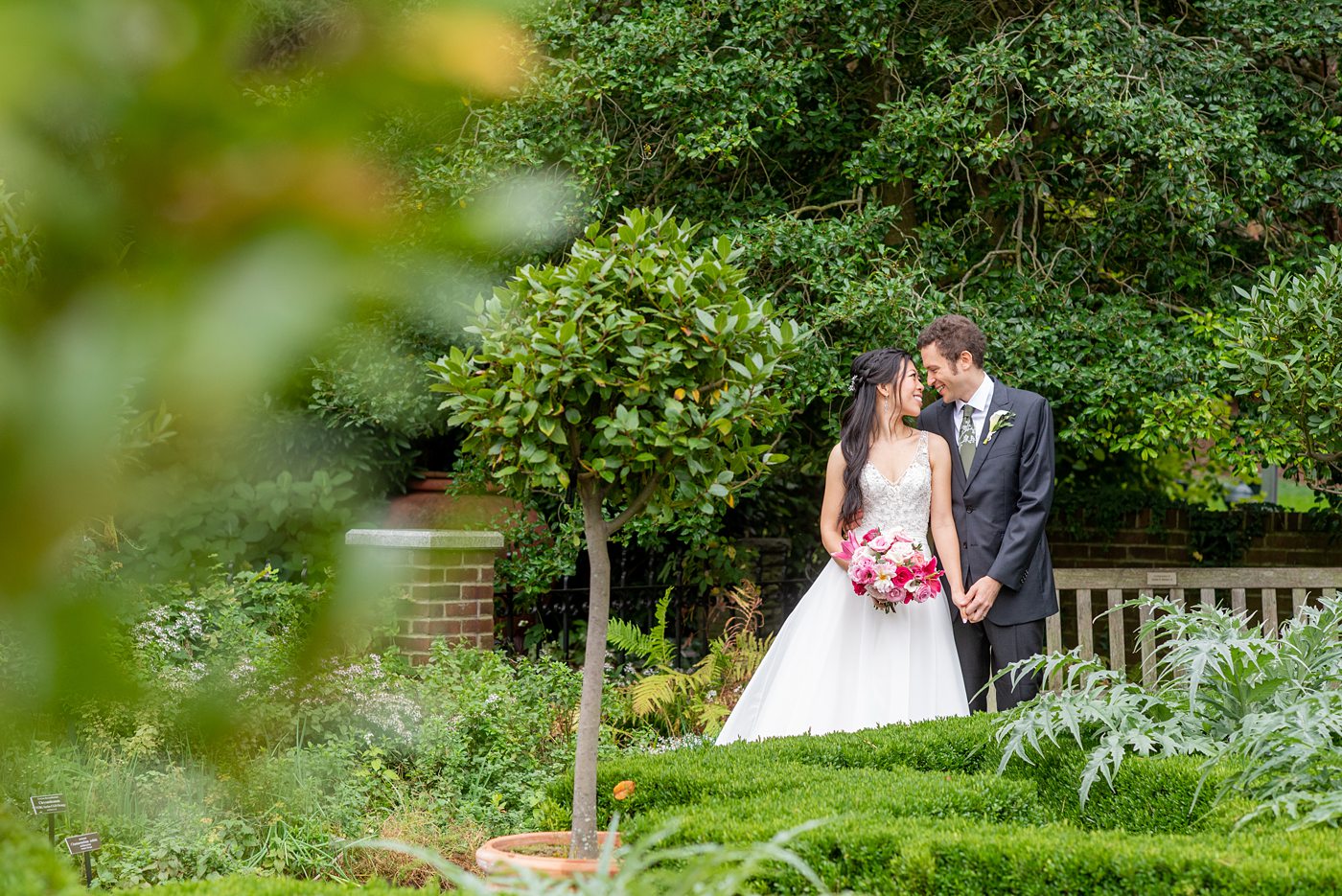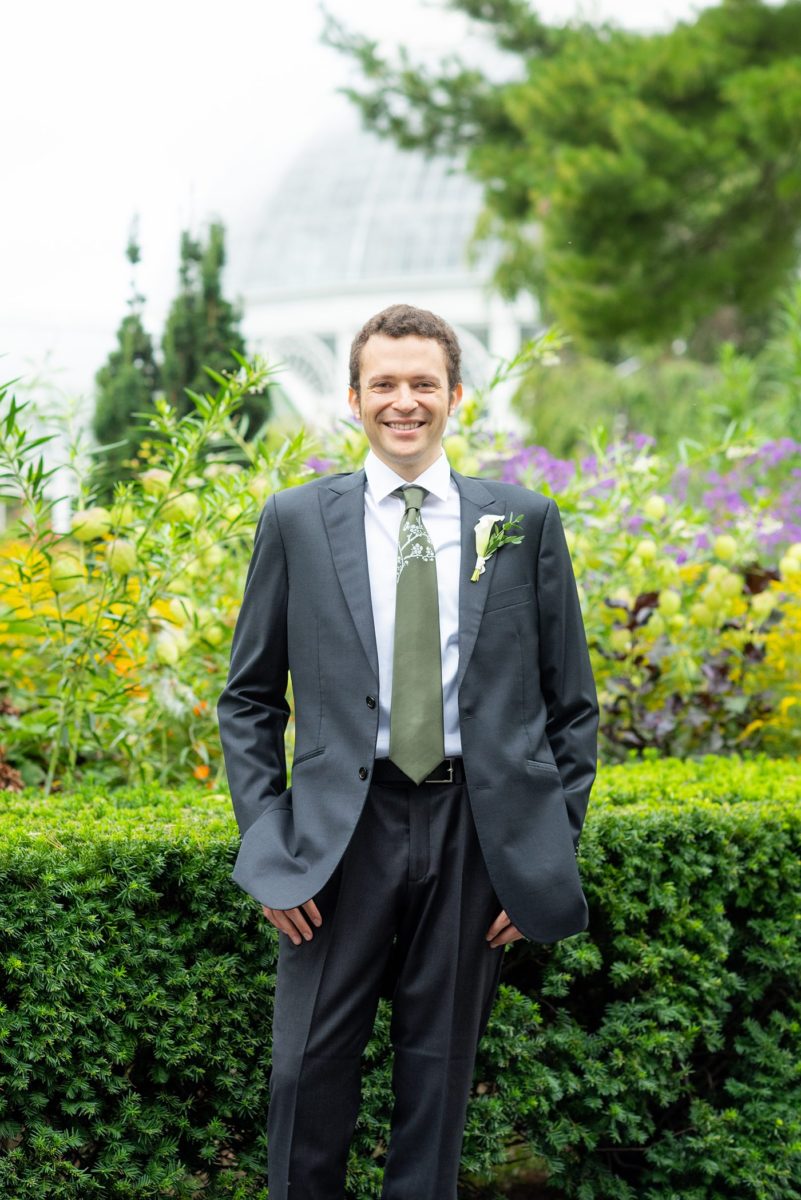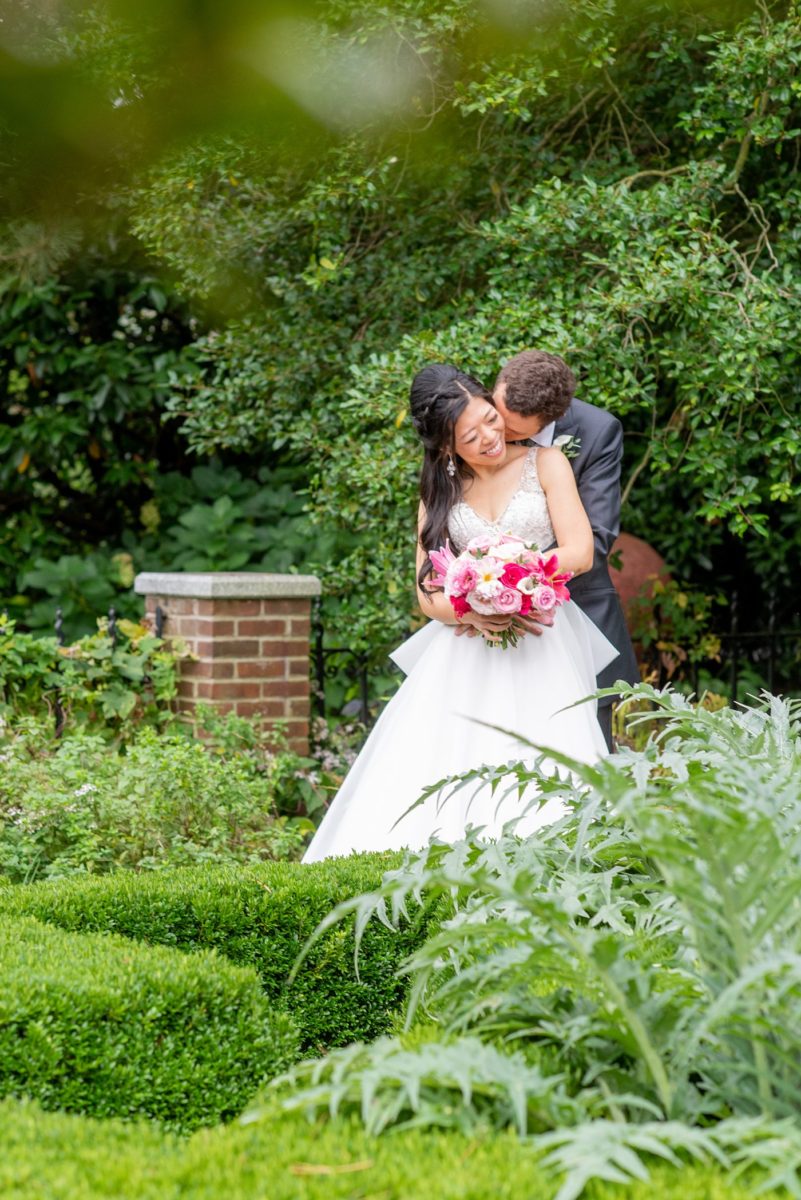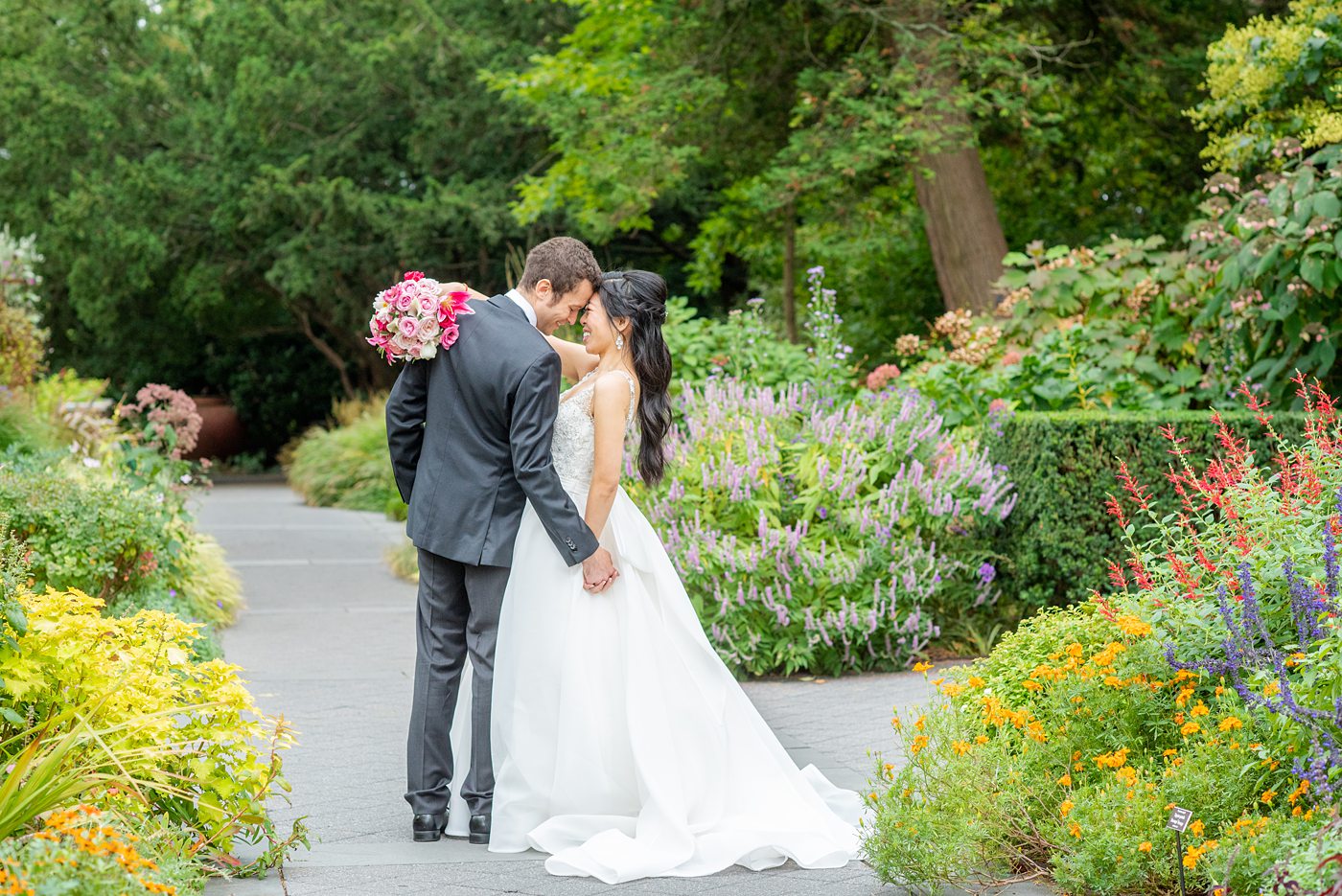 New York Botanical Garden Wedding Photos in the Perennial Garden
Their photos in the perennial garden are some of my favorites because I LOVE all the colors of the various flowers. It really matched the colors at their reception too. Late spring to fall is when you can expect gorgeous flowers to be in bloom here. And I love that it's clearly a very tended-to garden but it has an organic whimsy about it.
The Couple's Outdoor Ceremony at New York Botanical Garden in the Bronx
The Conservatory can be seen in the background of some of the perennial garden photos because they're next to each other at New York Botanical Garden. Their ceremony was close by and outdoors, set in front of a stunning pink-to-red-ombre circular floral backdrop. Their friend officiated and Elaine's mom and brother walked her down the aisle. Kenny was also accompanied by his mom.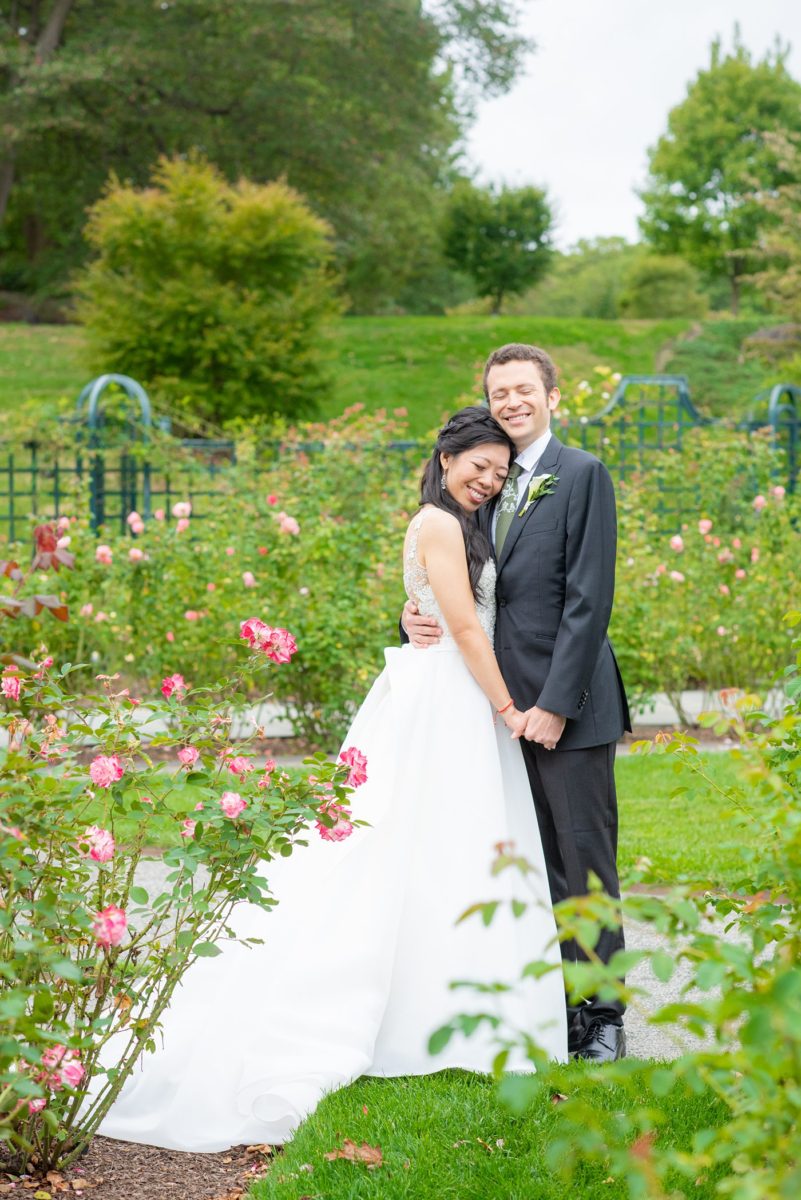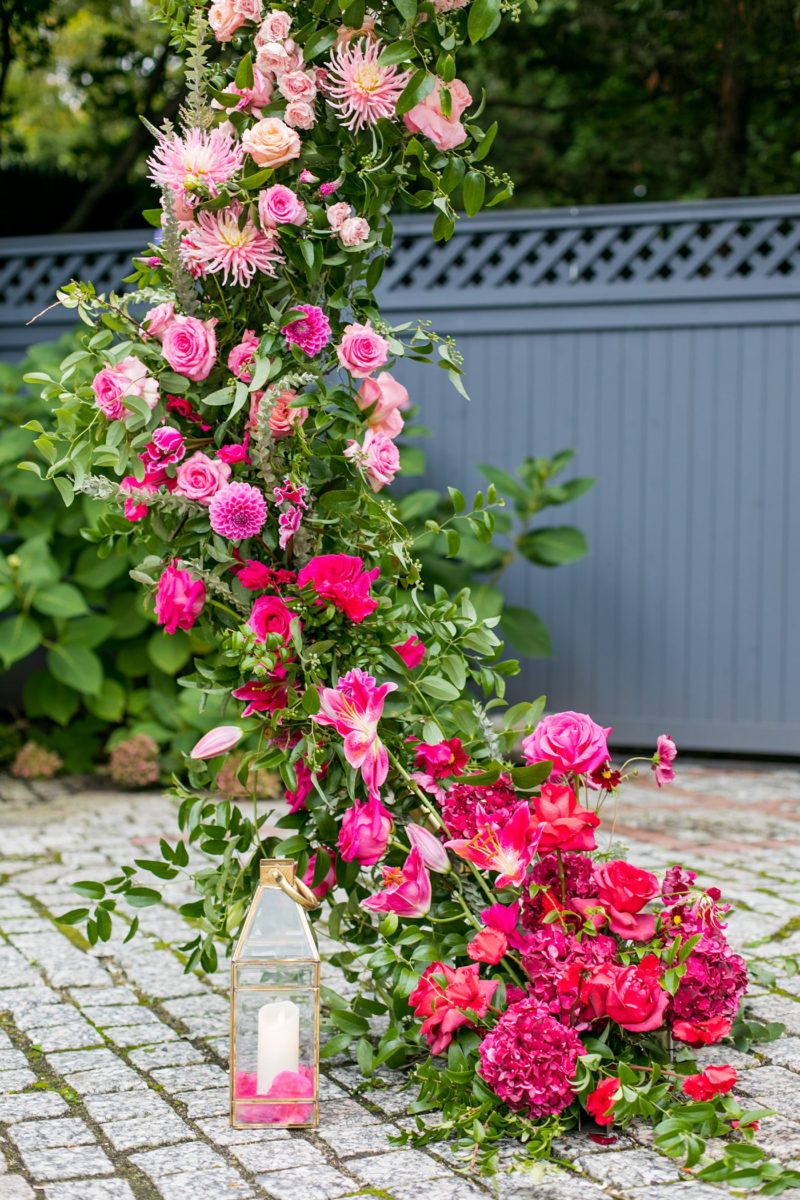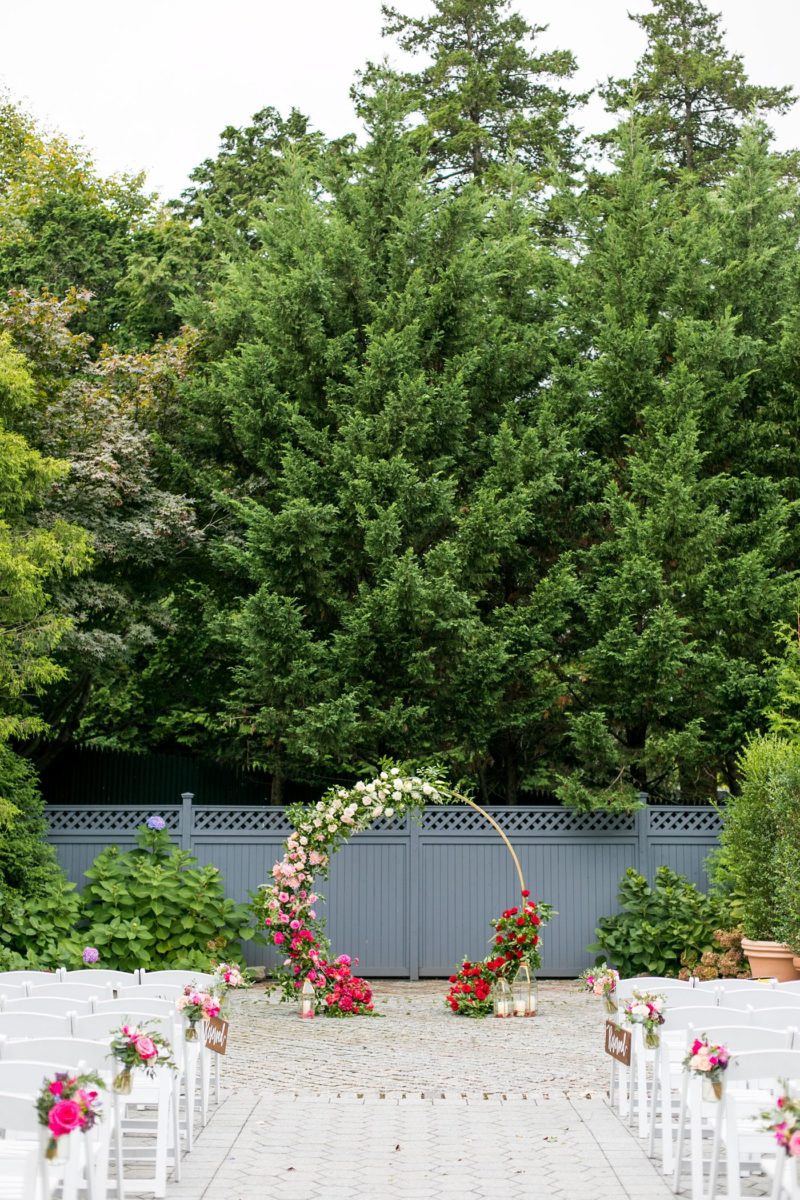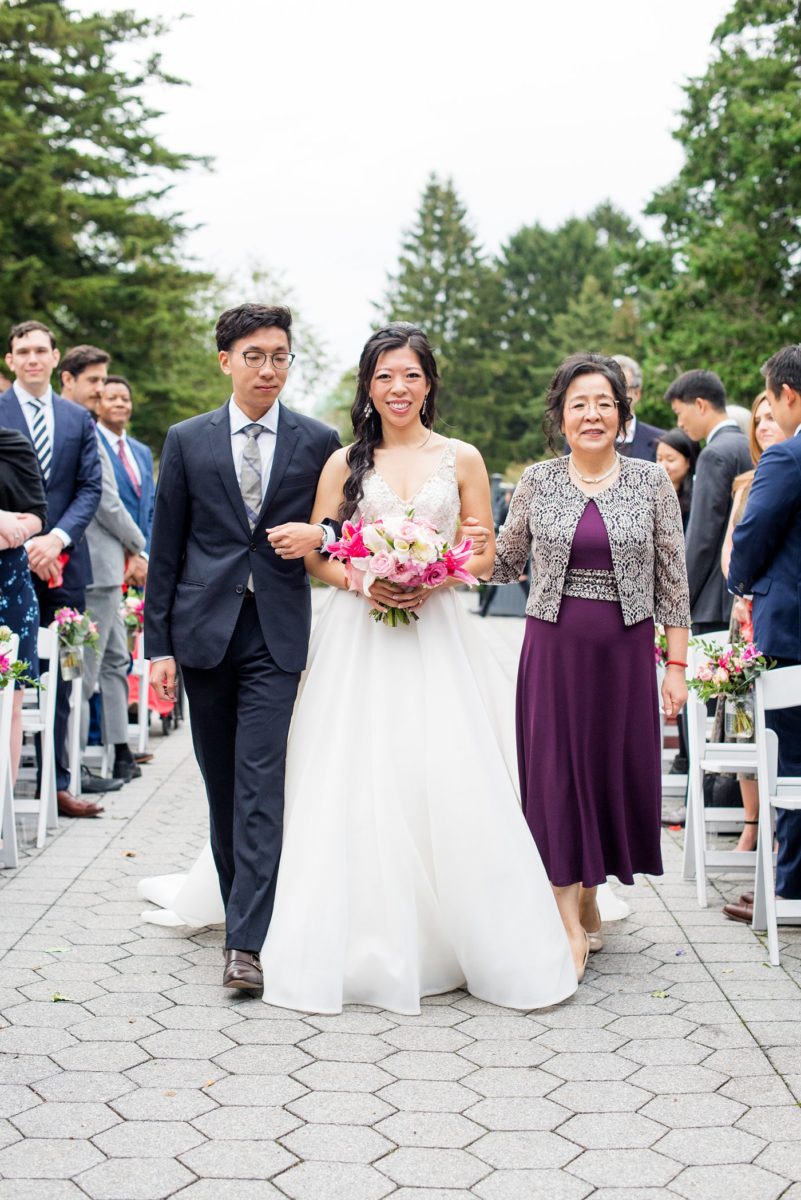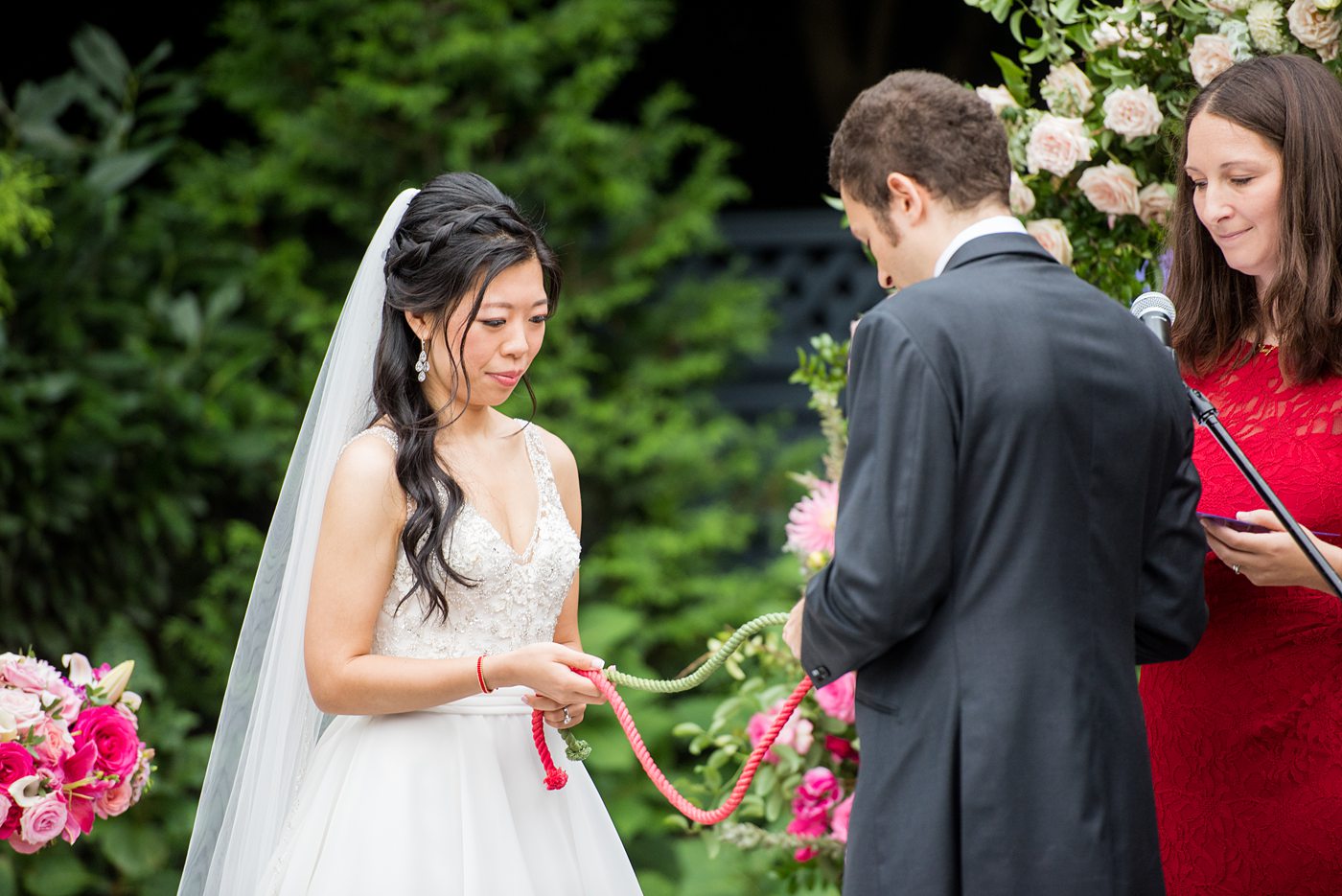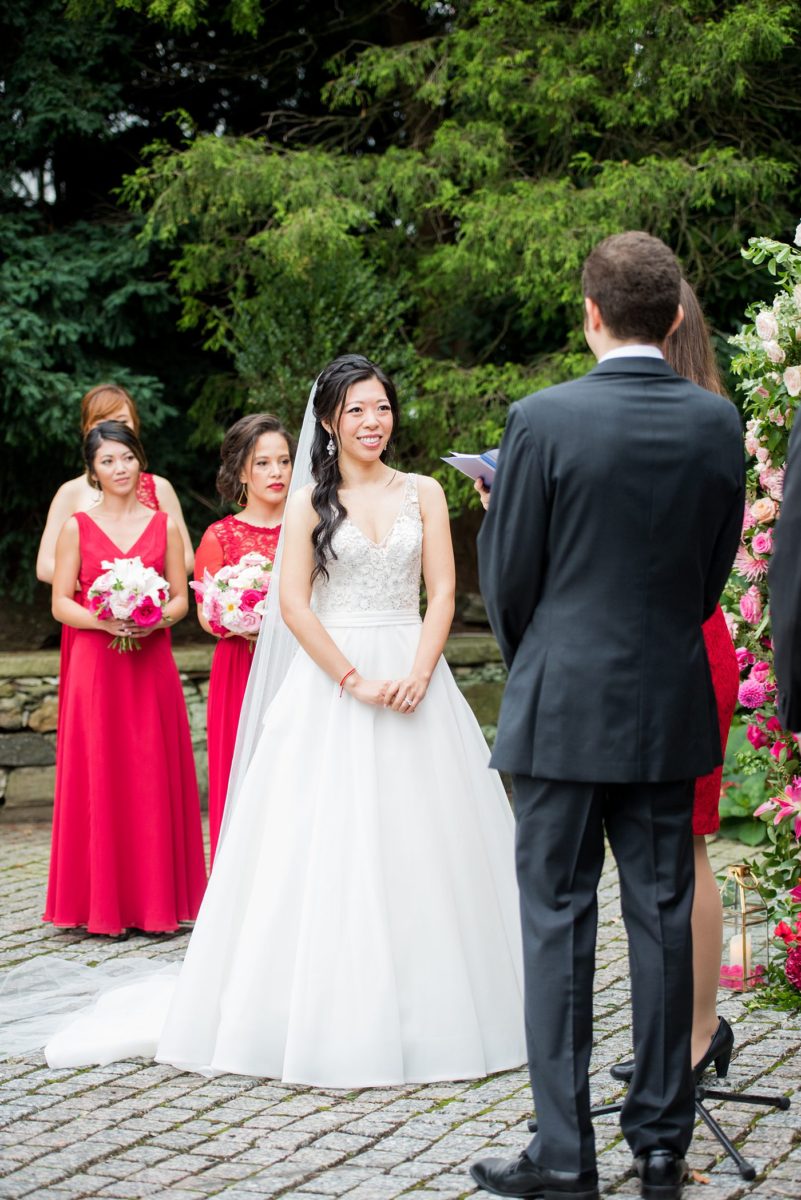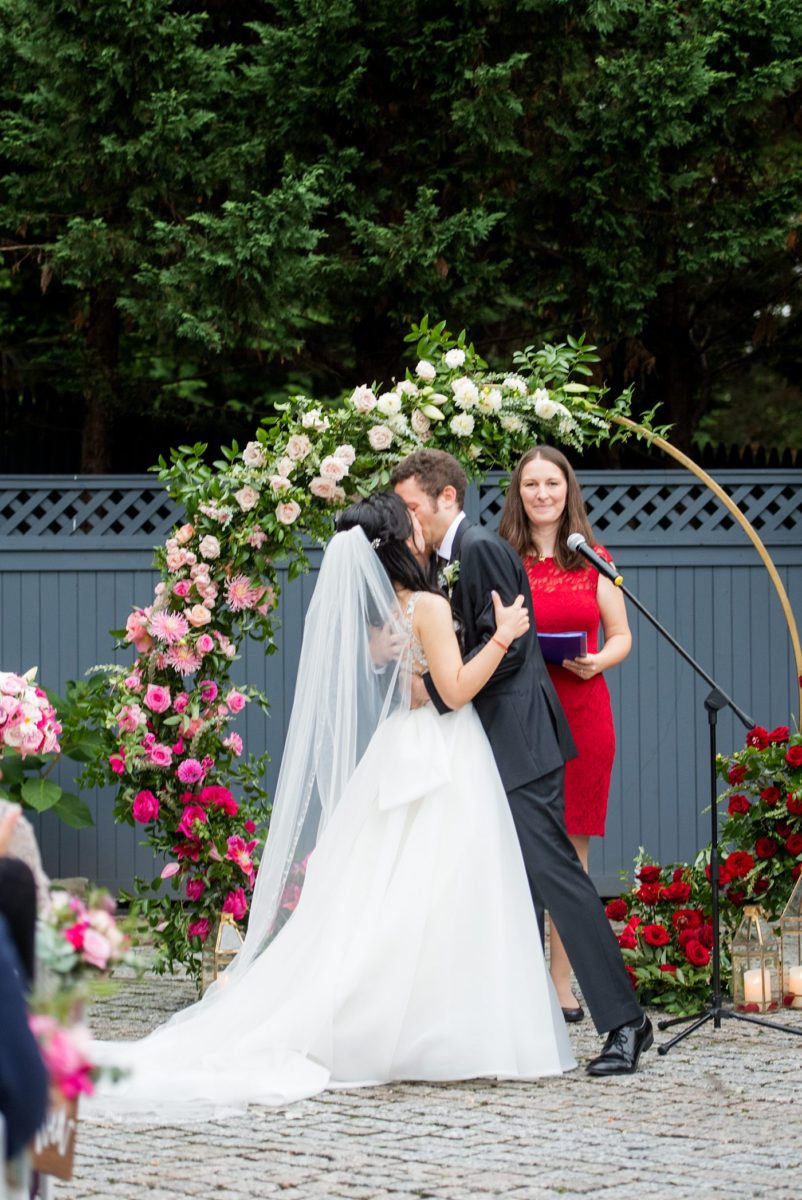 After they literally tied the knot, recited their own vows and kissed their "official" kiss they were announced and joyfully walked back up the aisle! The petal toss worked out beautifully!
New York Botanical Garden wedding photos after their ceremony, around the property
As soon as they walked away I followed them to a getaway golf cart waiting to take us to the Mertz library on property of this Bronx botanical garden for some very European looking scenery and images. It was also nice for them to spend time alone (well, with me but essentially alone) after the ceremony.
It was nice quiet time they enjoyed at dusk, as their guests enjoyed cocktail hour back at the Terrace Room at NYBG. We prearranged this time and it was all carefully orchestrated with the help of their timeline I assisted in creating.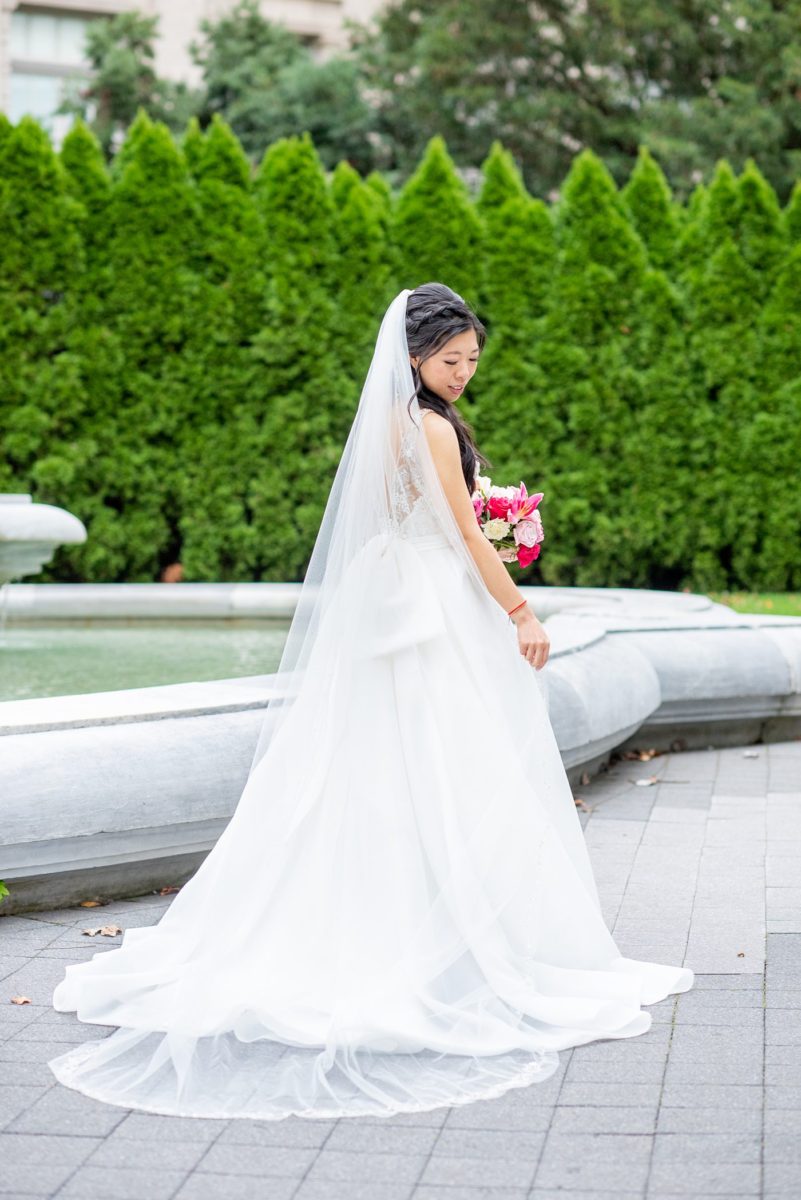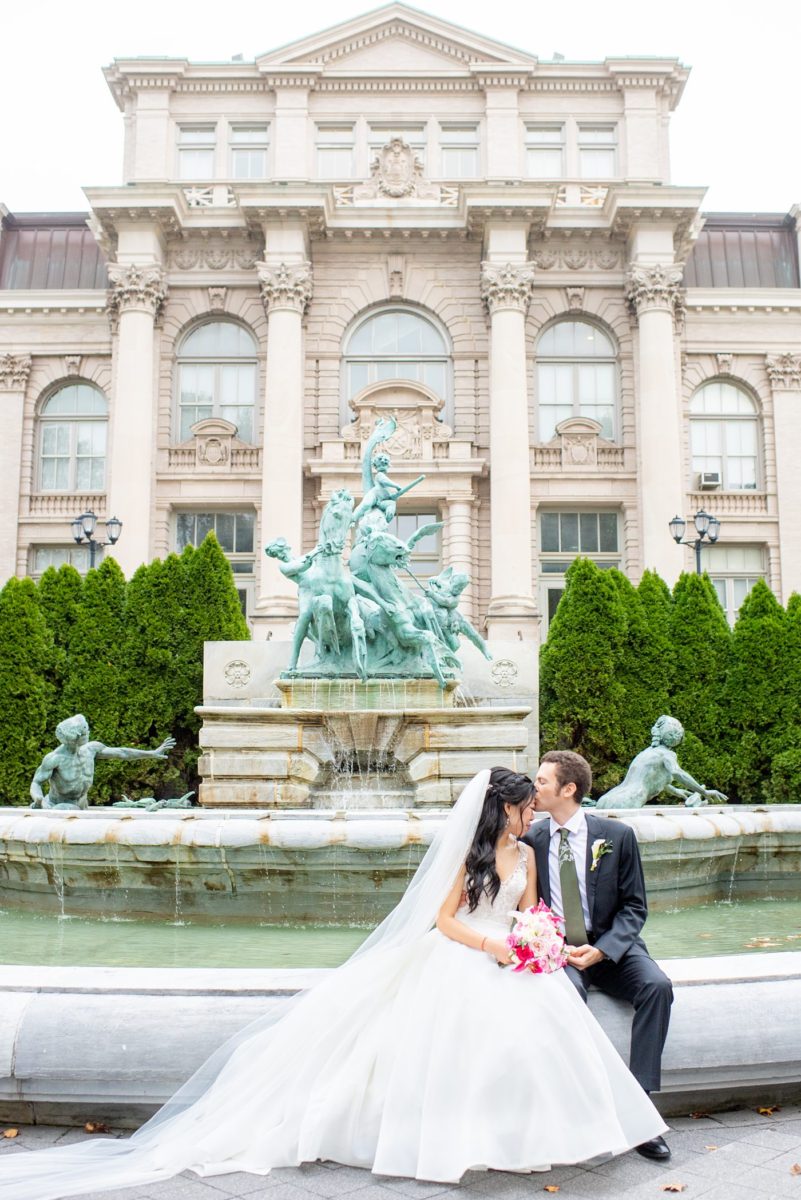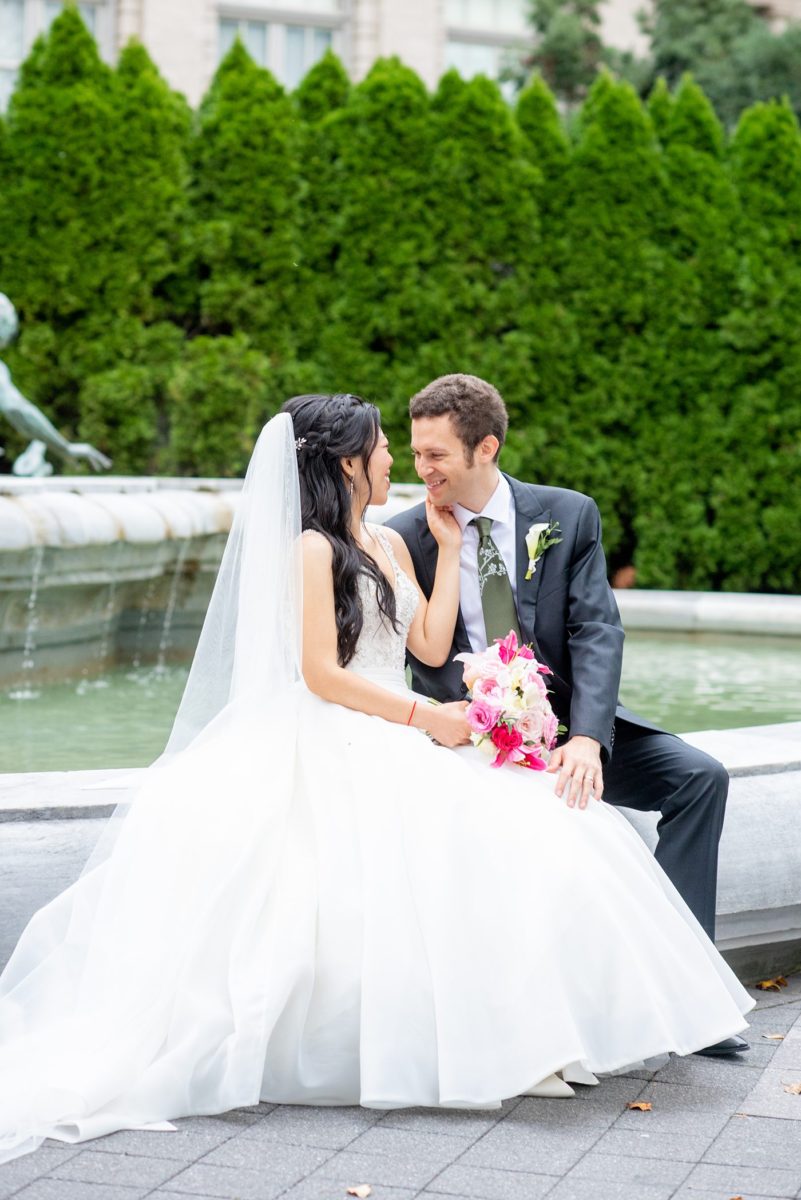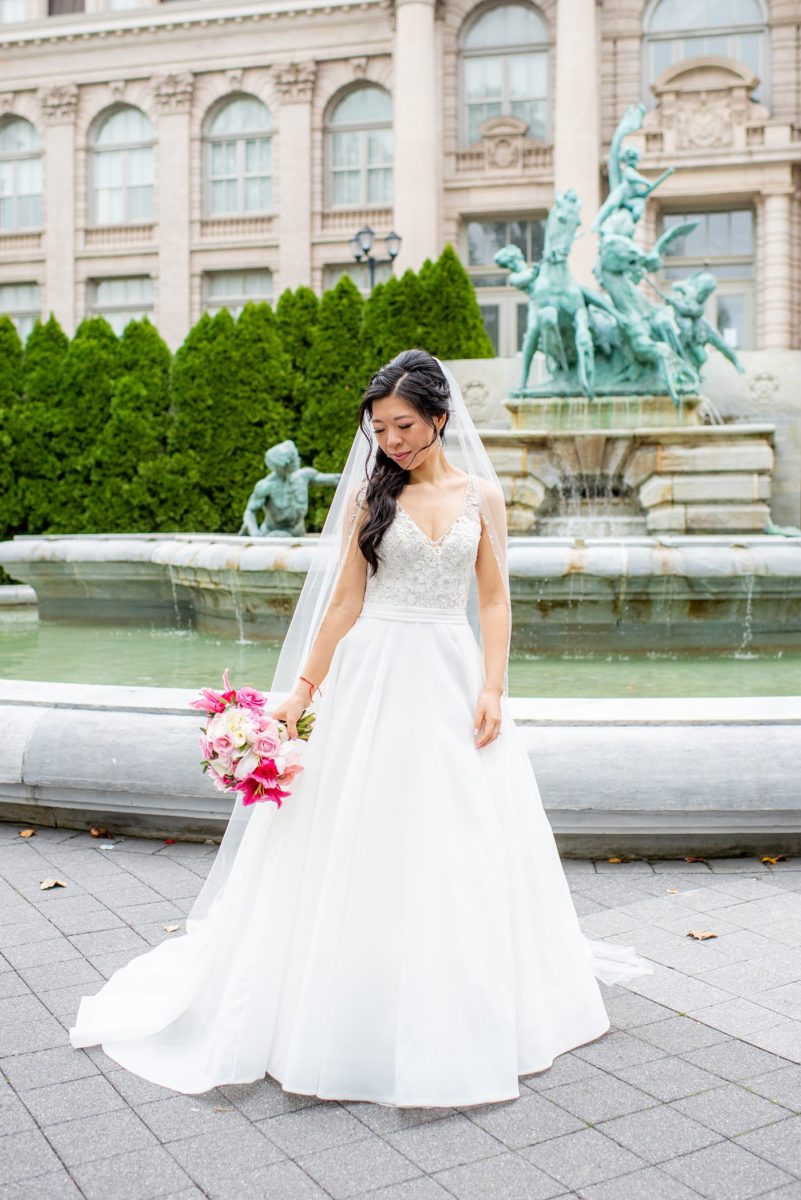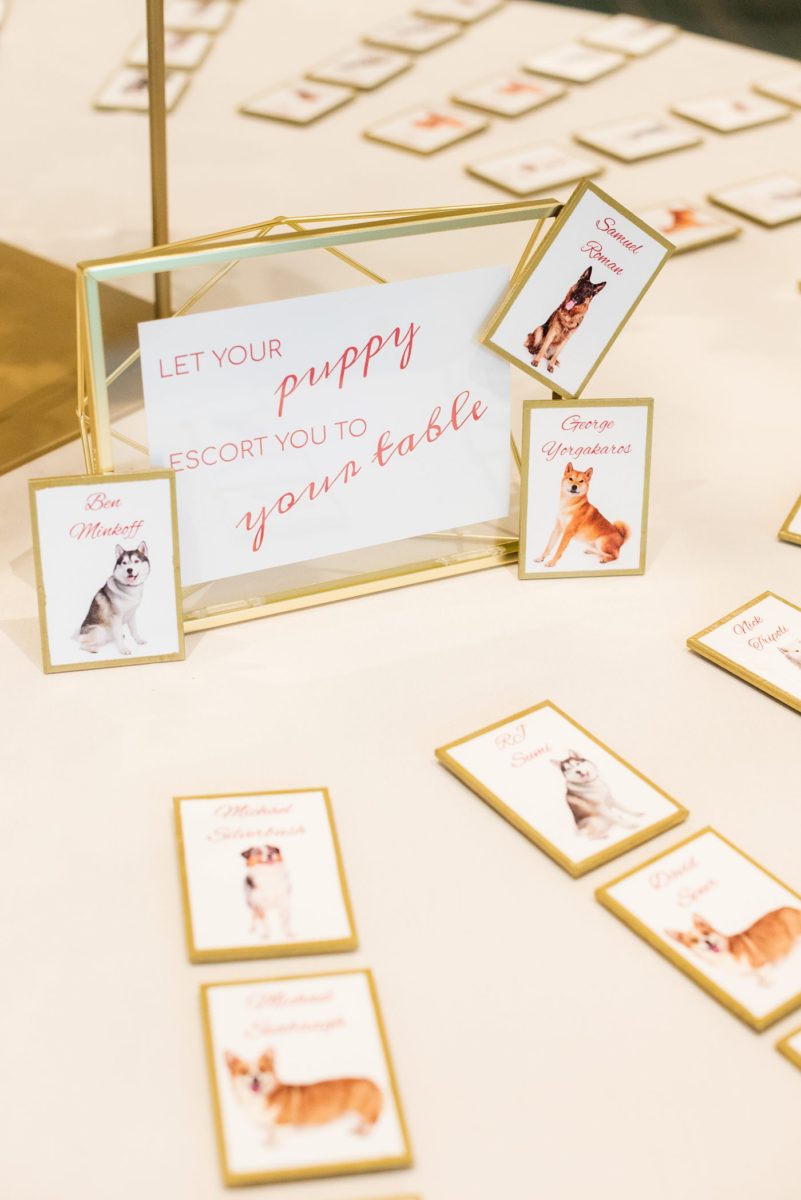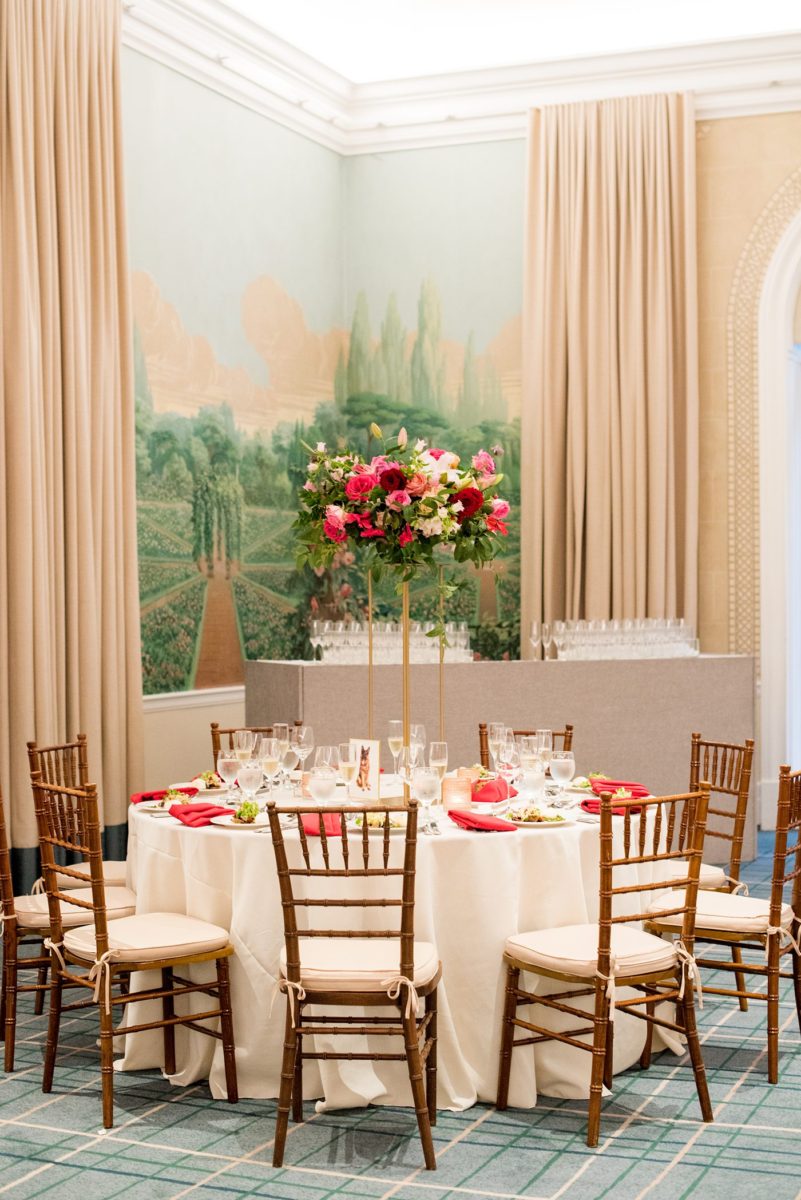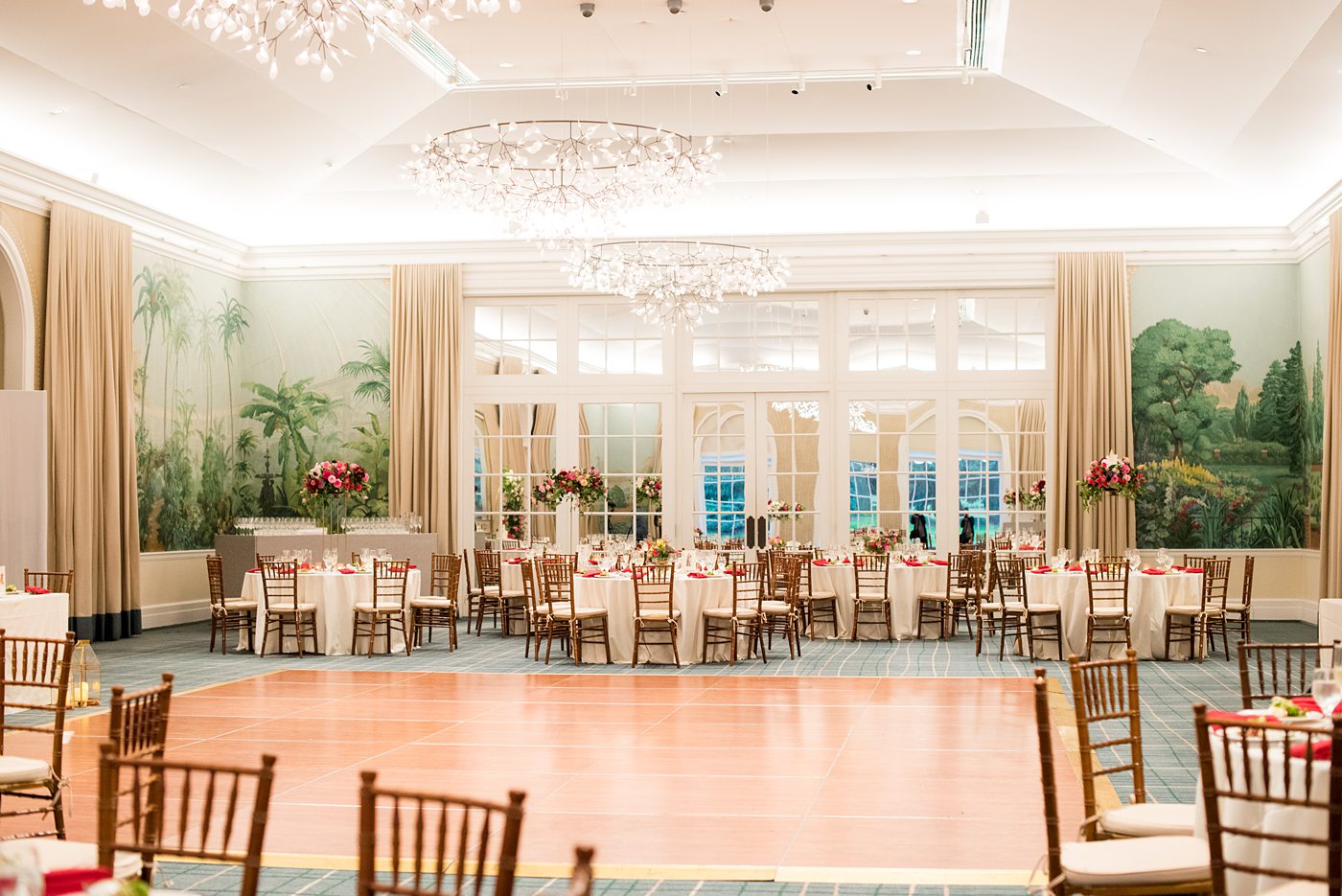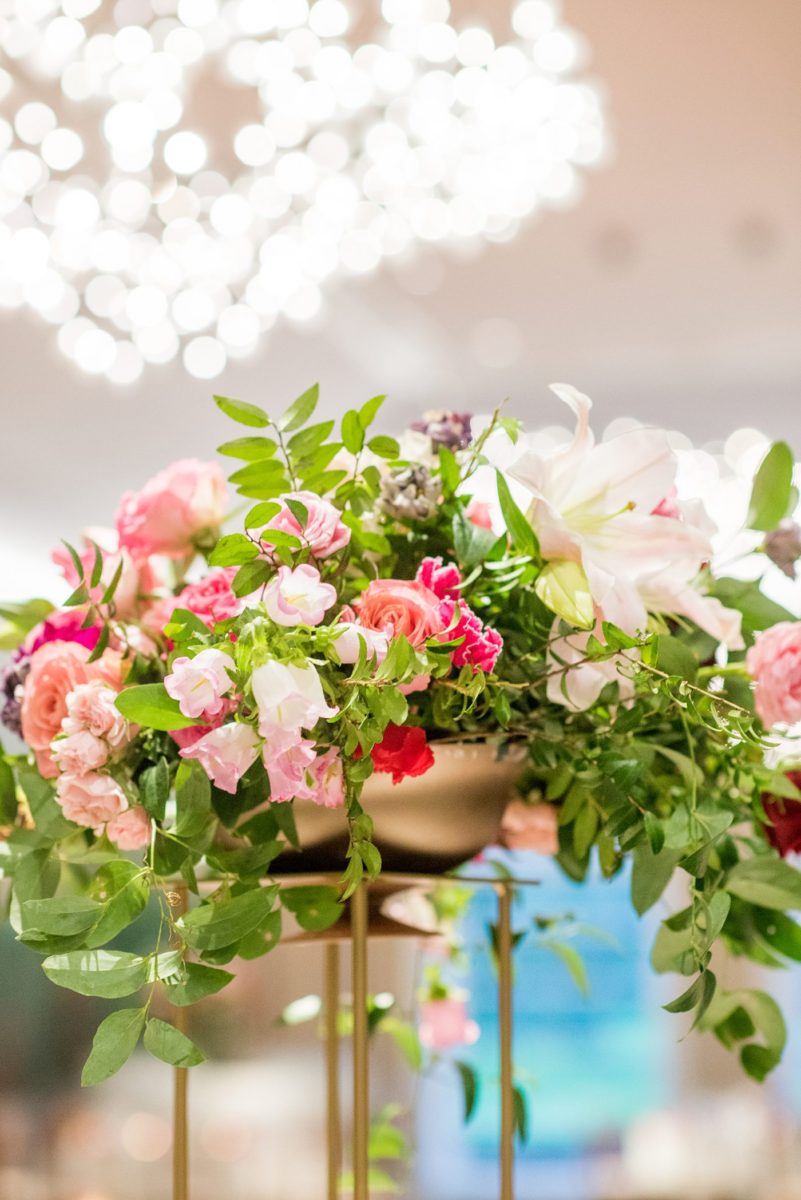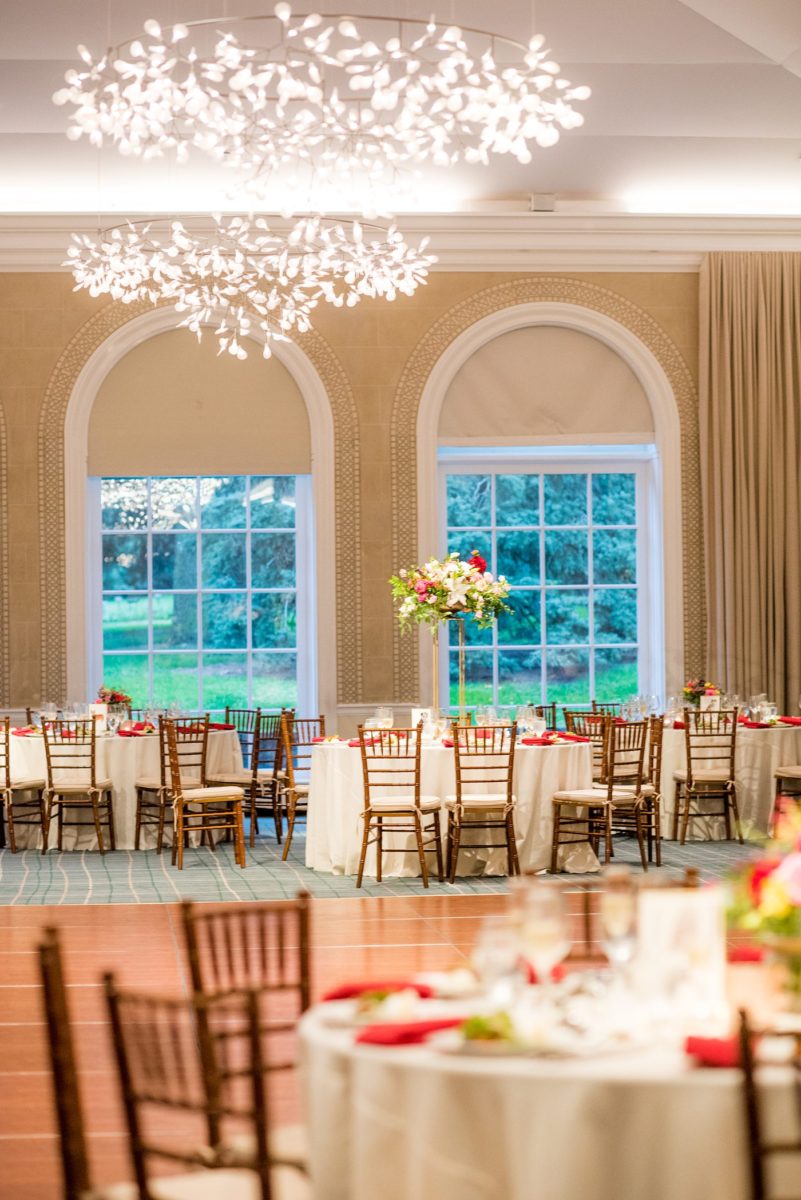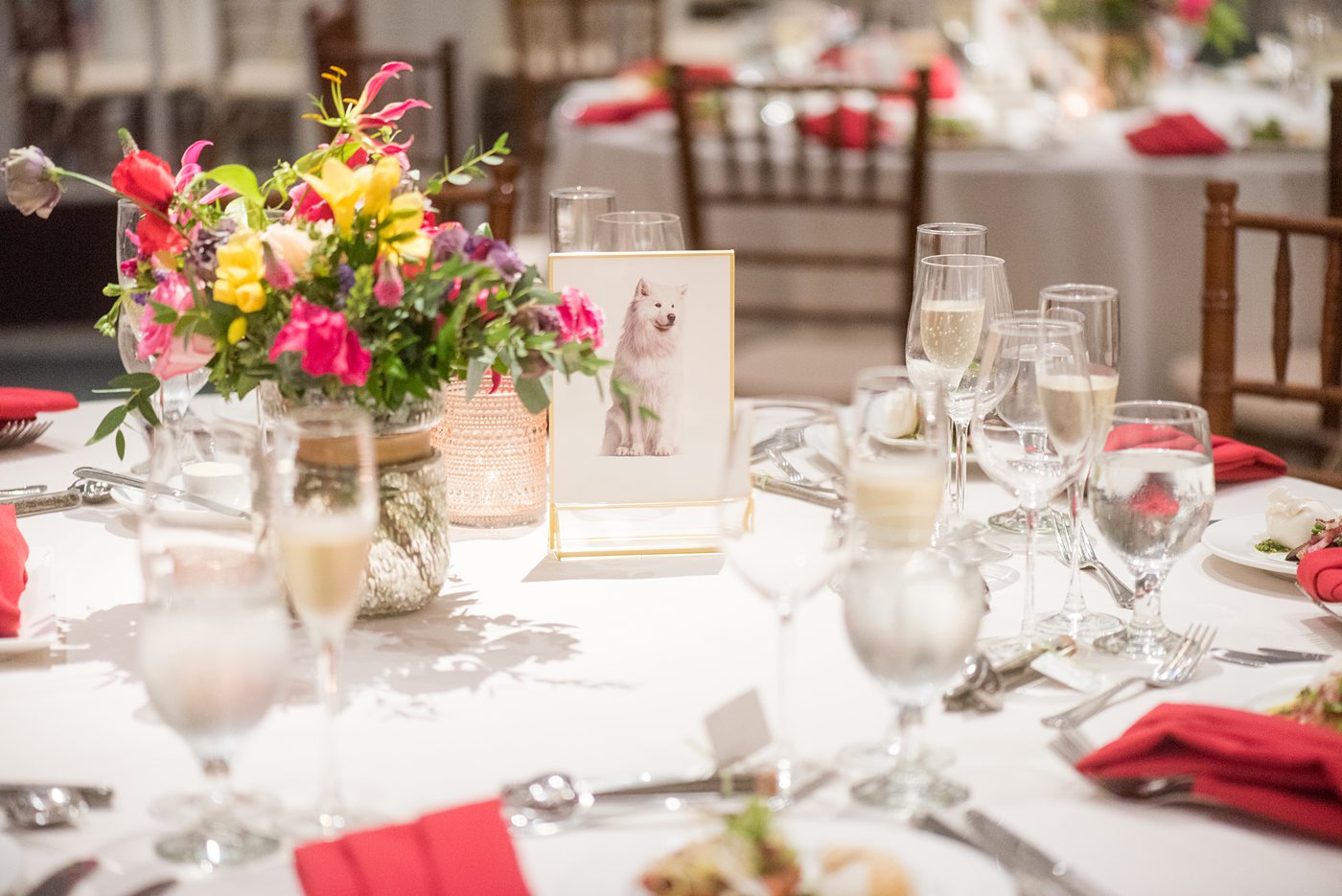 Their New York Botanical Garden Reception Wedding Photos
Their reception was indoors. The cocktail hour was in a tented area off the main building and reception in the ballroom.
Their love of dogs encouraged a bold move for escort cards: each card had a different dog on it!
Red linen napkins and tea favors were at each place setting. As guests began their meal they were treated to a wonderful, choreographed first dance Kenny and Elaine practiced for weeks!
Then…it was time to get down! And dance, dance, dance they did. My time ended after Elaine changed into a red lace gown for her cake cutting and to honor her Asian heritage. The small white cake was covered with fondant and pink and red gumpaste flowers and was a sweet ending to a perfect wedding.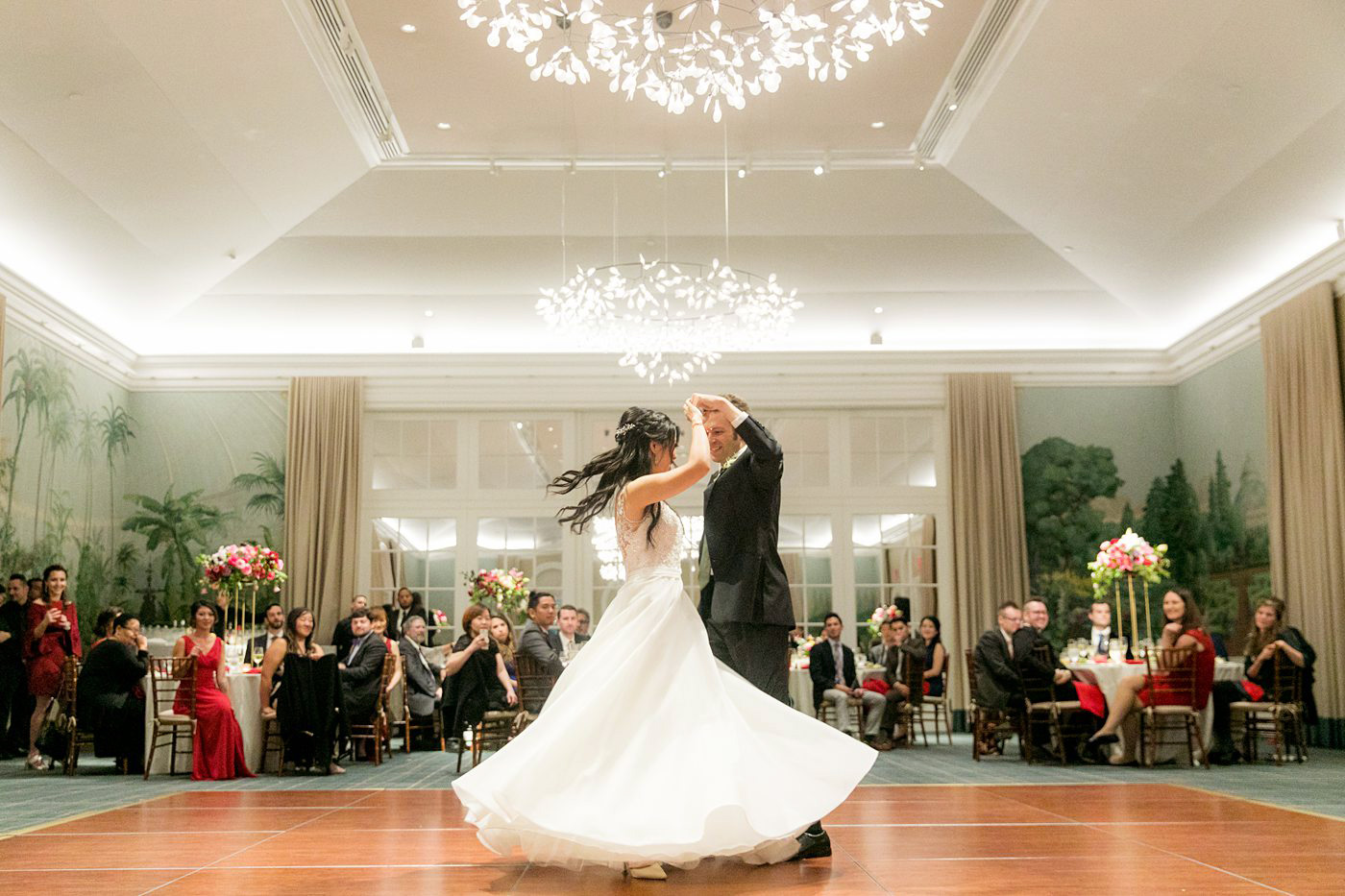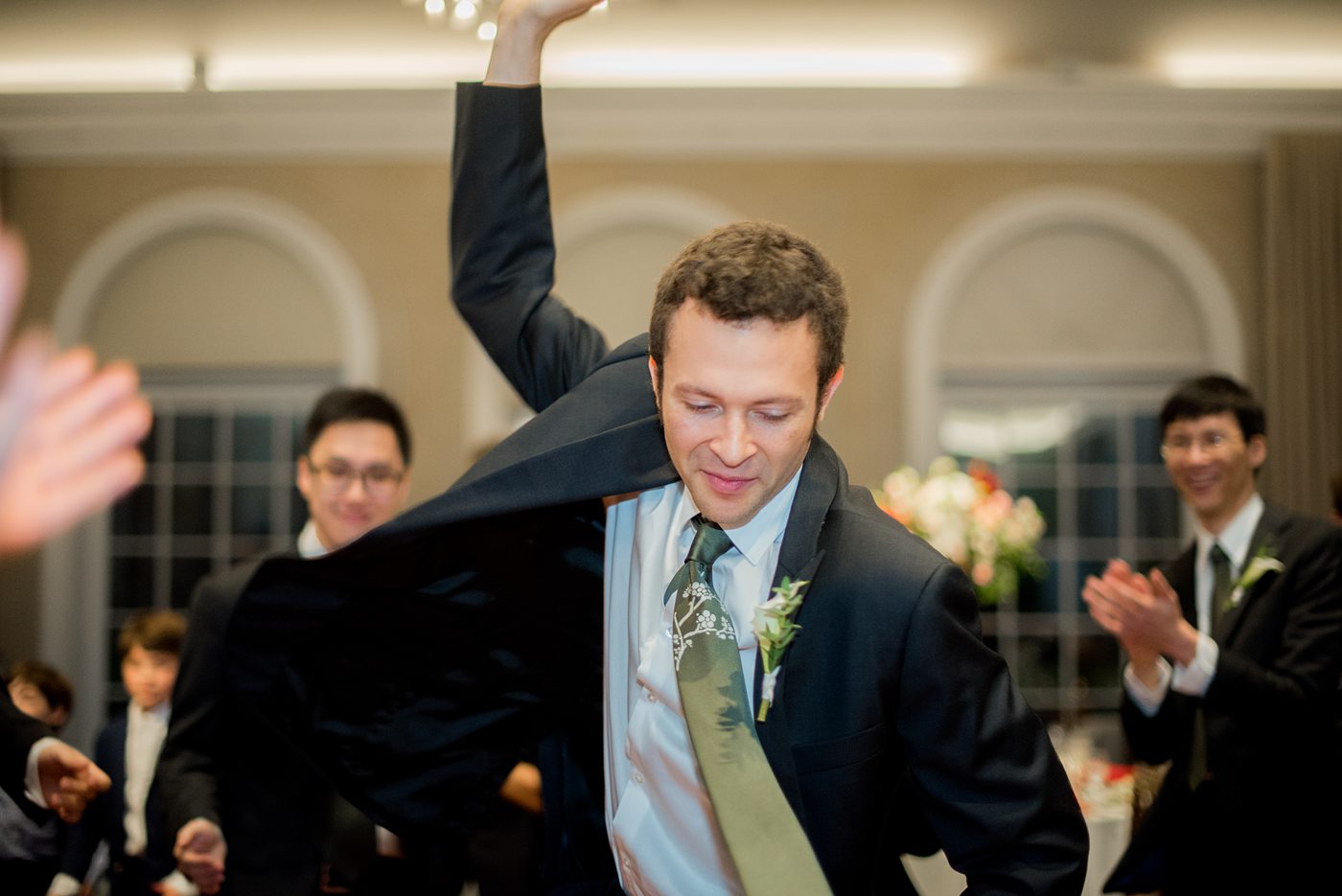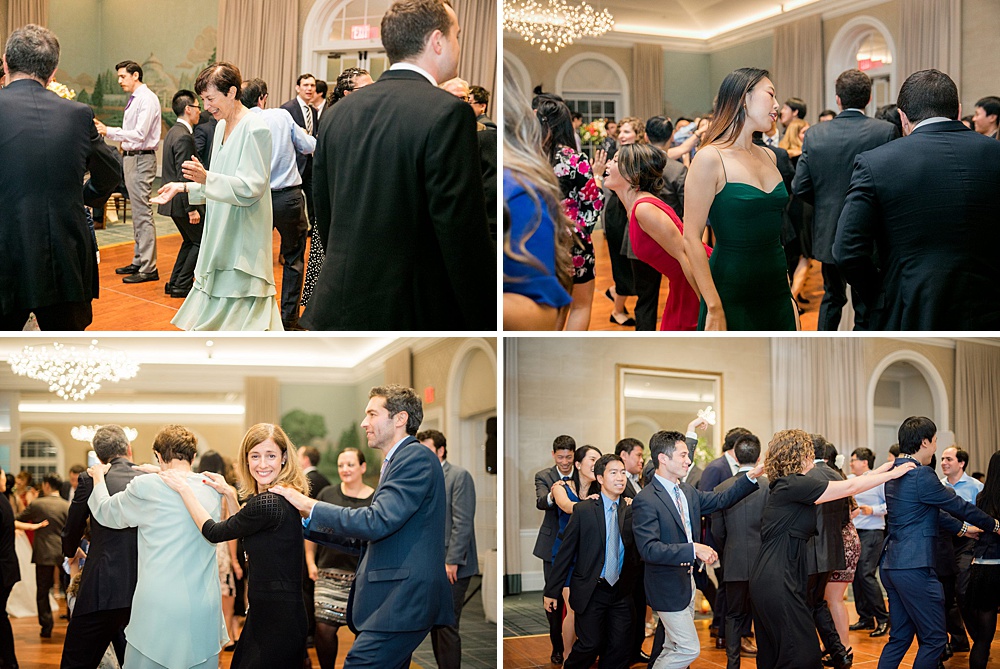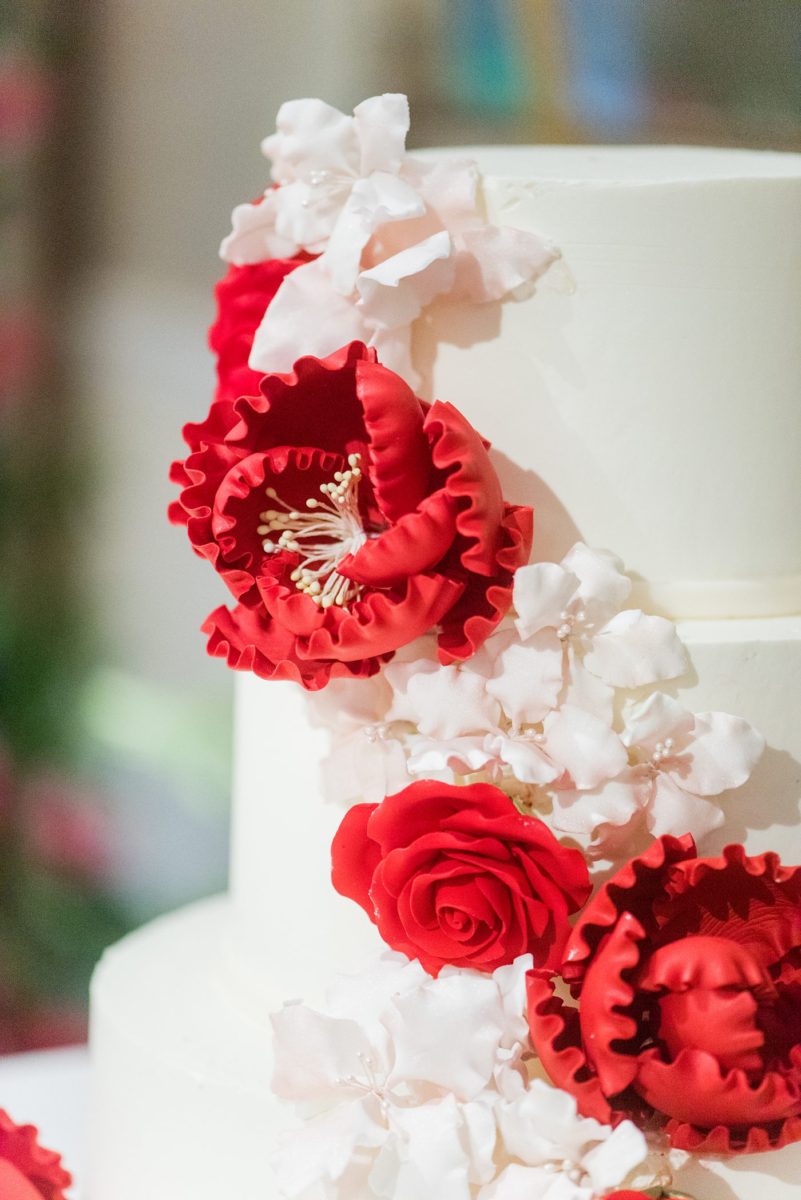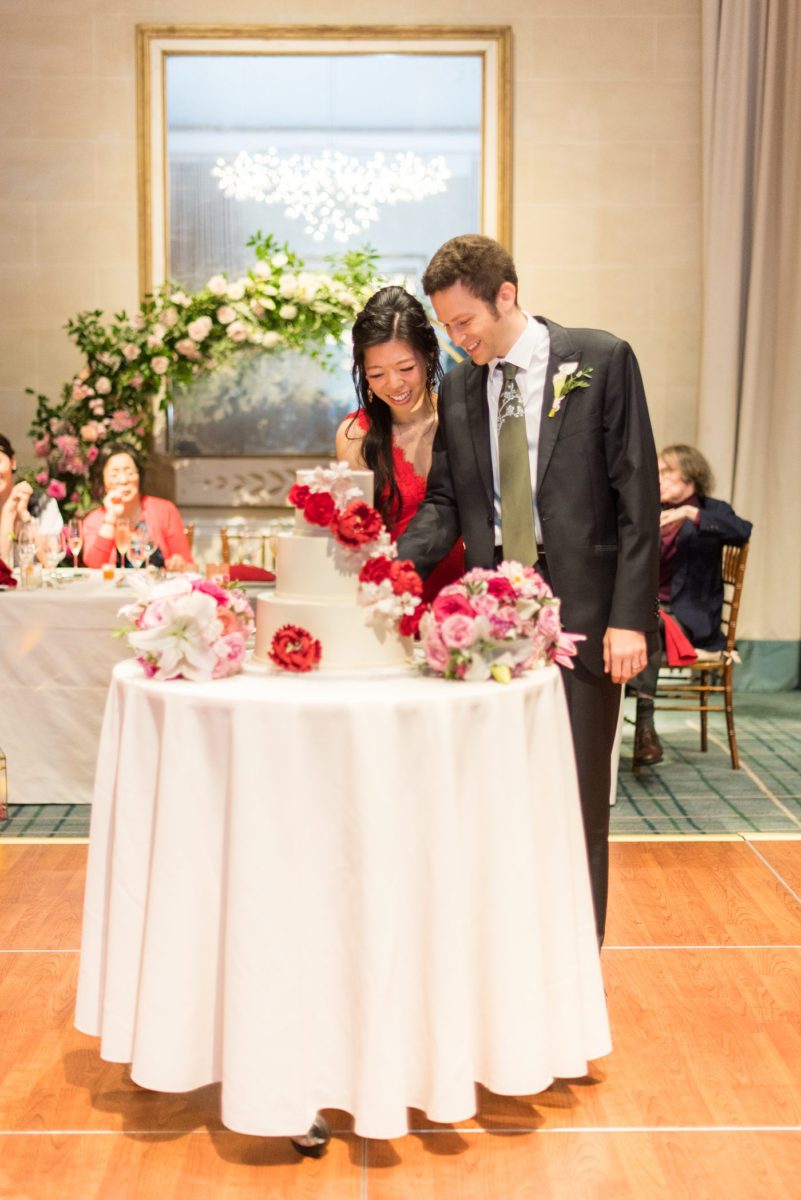 Congratulations Elaine and Kenny! May life be as beautiful as your wedding and may all of us one day have the imaginary dog family we always dreamed of. 🙂
Venue: New York Botanical Garden / Flowers: Pixel Poppy / Cake and catering: Constellation Catering (onsite) / Hair and makeup: Sachiko Yanase and Grace Weng / Invitations: Zazzle / Videography: Enchanted Celebrations / DJ: Jay McElfresh / Wedding gown: Pronovias / Jewelry designer: Ultimate Diamond
For more wedding inspiration in New York City check out: