This wedding was all their own: the day Michelle and John could finally say they were husband and wife and start a new chapter as a married couple. Theirs is a love story that spans well over a decade, starting with meeting in high school. They weren't high school sweethearts as one would think, but they were definitely sweet on each other through the years. And when they realized they were ultimately each other's destiny, that was it. John excitedly proposed to Michelle at the Brooklyn Bridge Promenade and they soon began planning their wedding.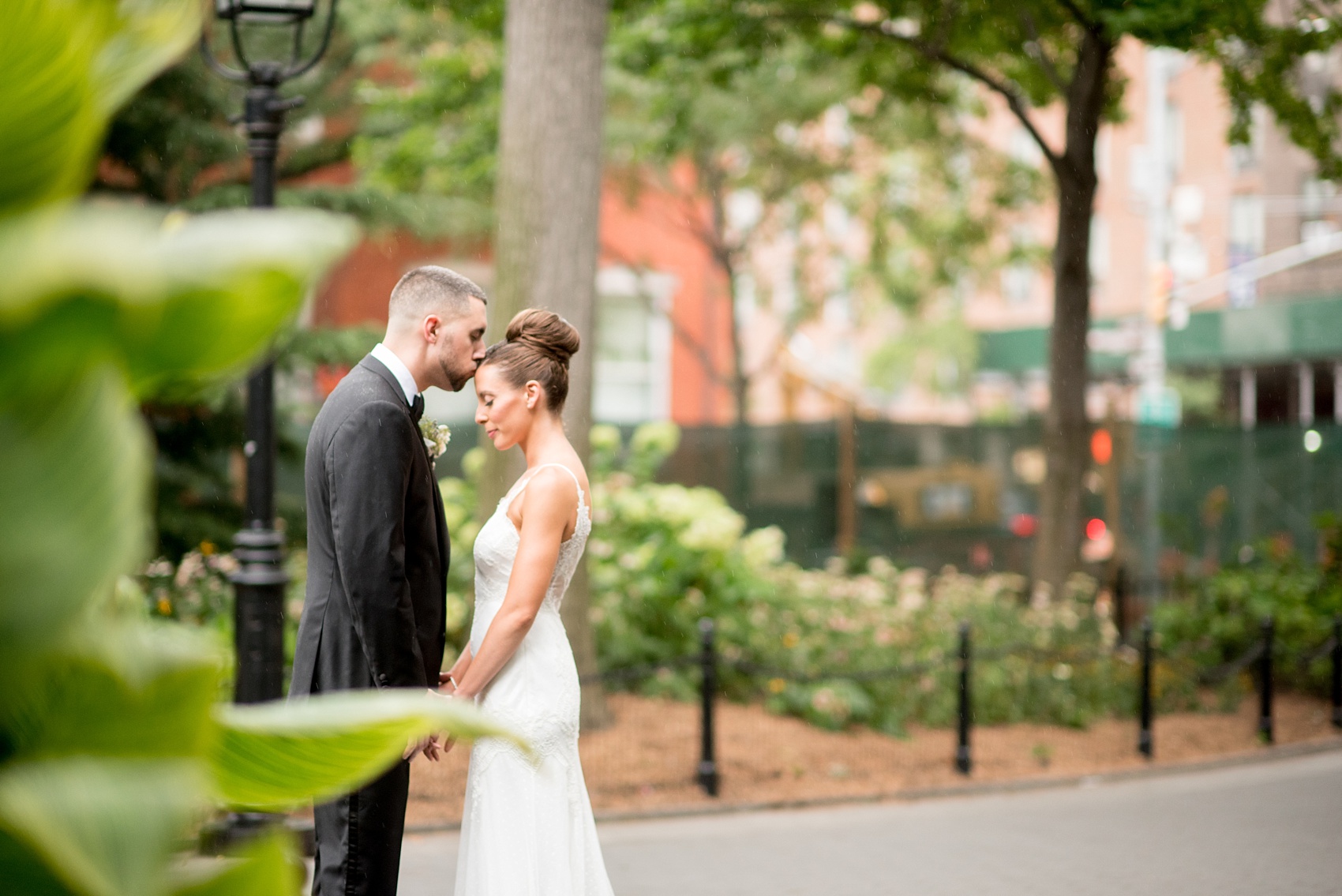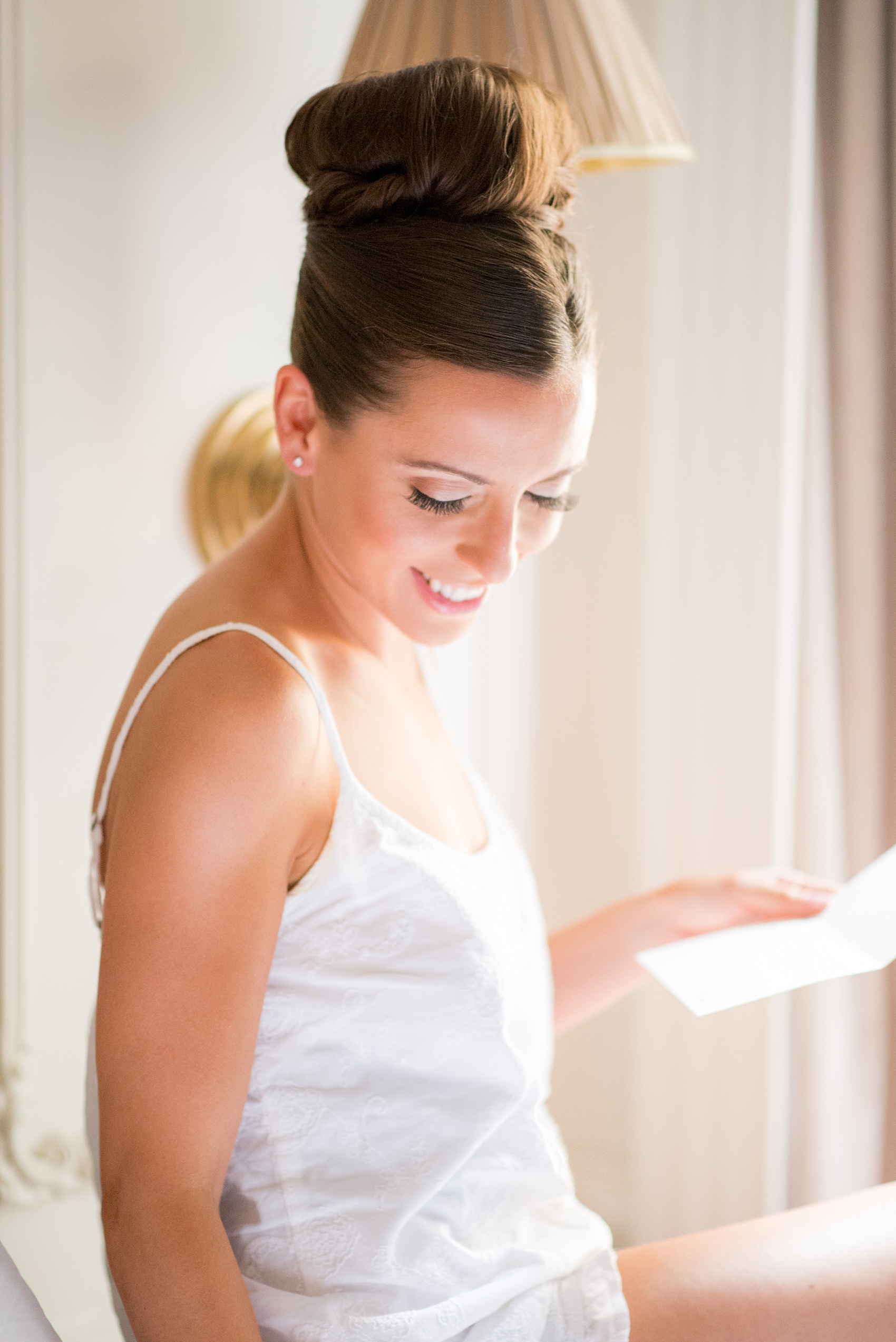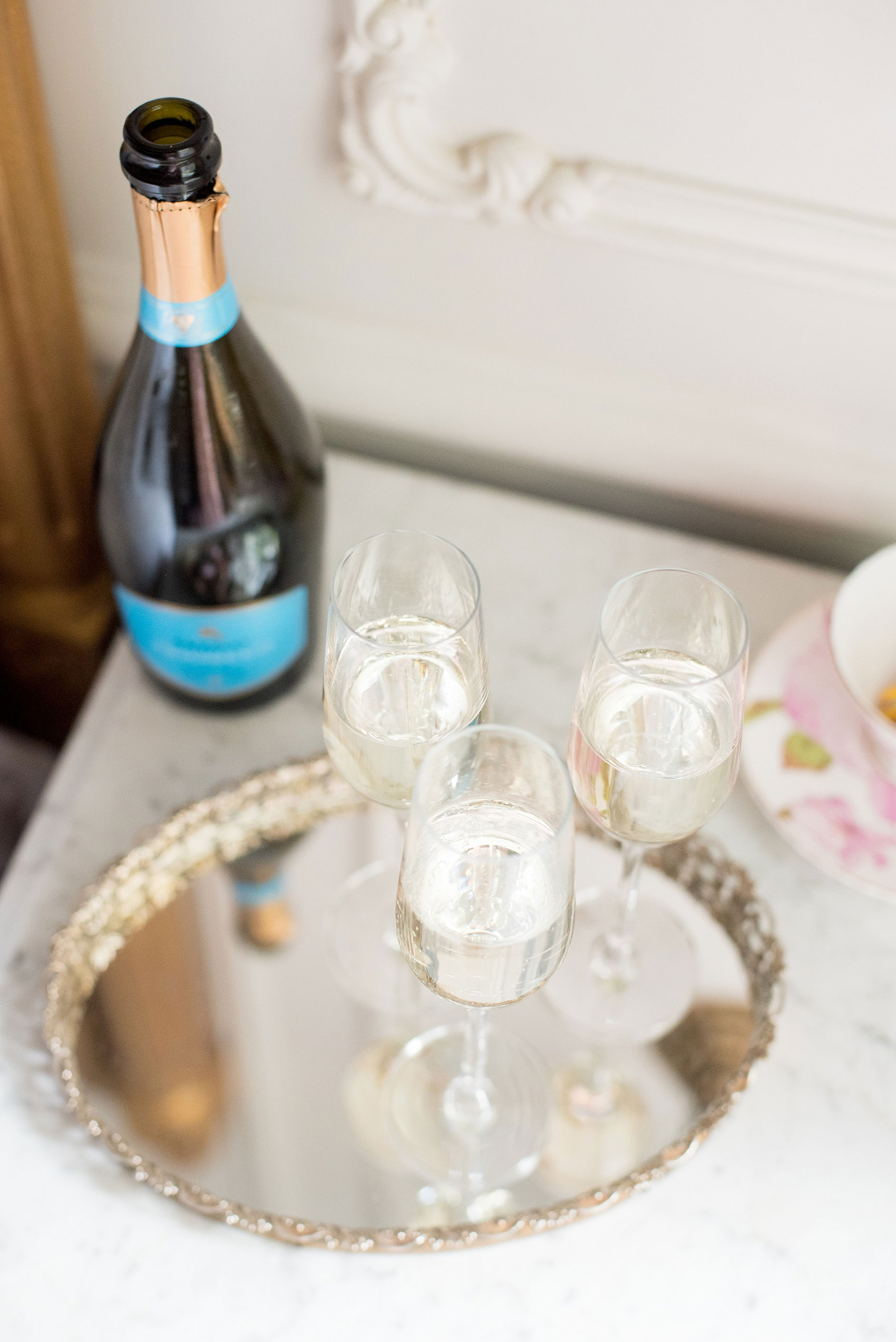 They truly are one-of-a-kind. I not only get to call them "my" bride and groom but Michelle and John are wonderful friends of mine. They both have strong, wonderful personalities; when I think of them I always think of how they 1) get shit done 🙂 2) 95% of the time they have smiles on their faces, 3) their all around zest for life and truly living each day with a packed schedule and so much love.
So, naturally, I was SO excited to photograph their wedding I showed up 2 hours early to maximize my time with them! The Marlton Hotel rooms are small but mighty, jam packed with gorgeous details from velvet curtain, to fluffy white comforters, to marble tile. I was excited to get my hands on their details to capture her INCREDIBLE shoes (especially those – my favorite pair I've ever seen a bride wear!), their rings with their monogrammed ivory "Mrs. Box," and even a very pretty "I Choose You" ring dish from BHLDN. I even got to play with their guest favors at the hotel, super cute taxi cab cookies! First order of business….capturing their incredible invitation suite! They had custom illustrations of their dog Sprinkles, who recently passed away but was honored as a huge part of their lives all over the wedding, and their new dog, Chip.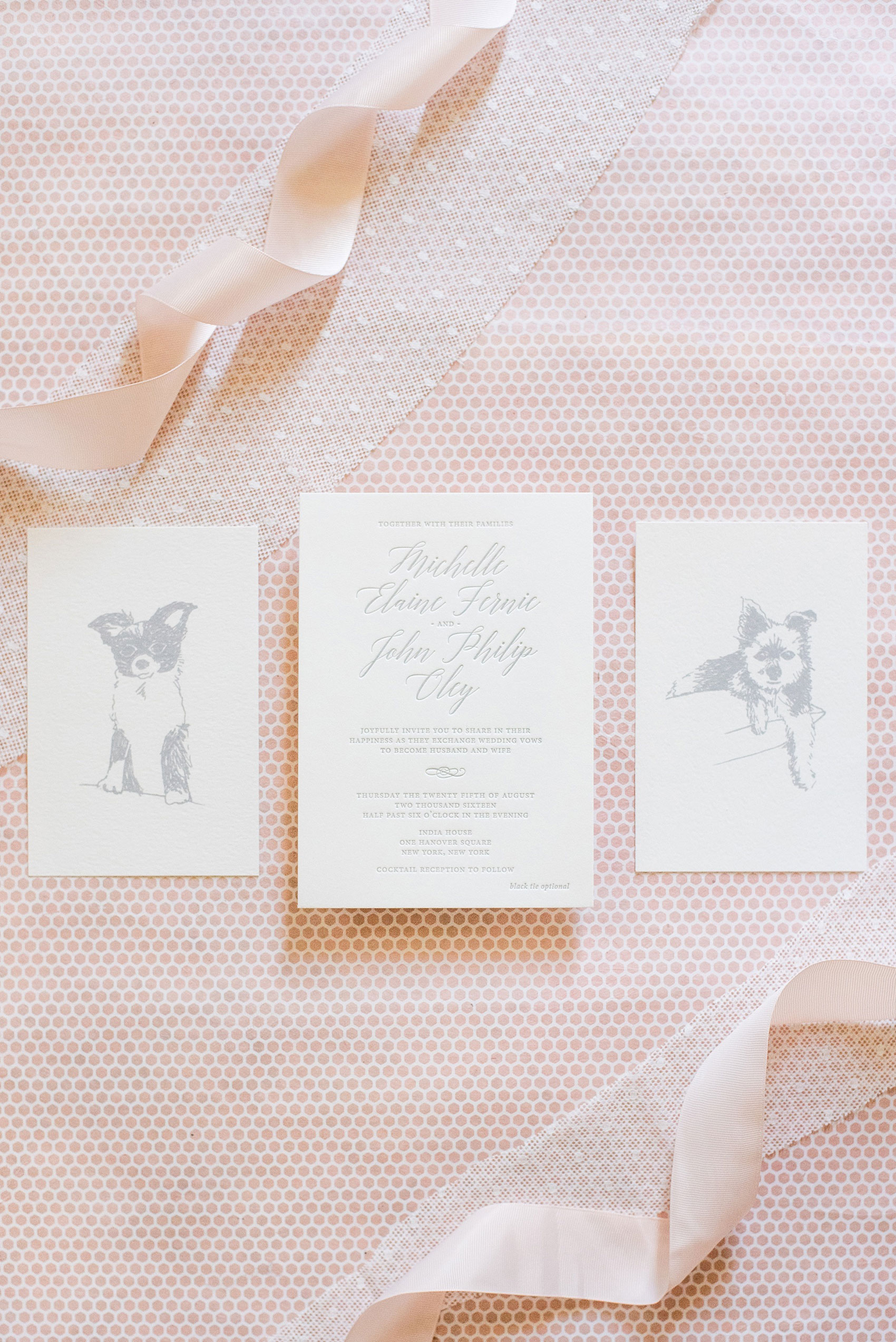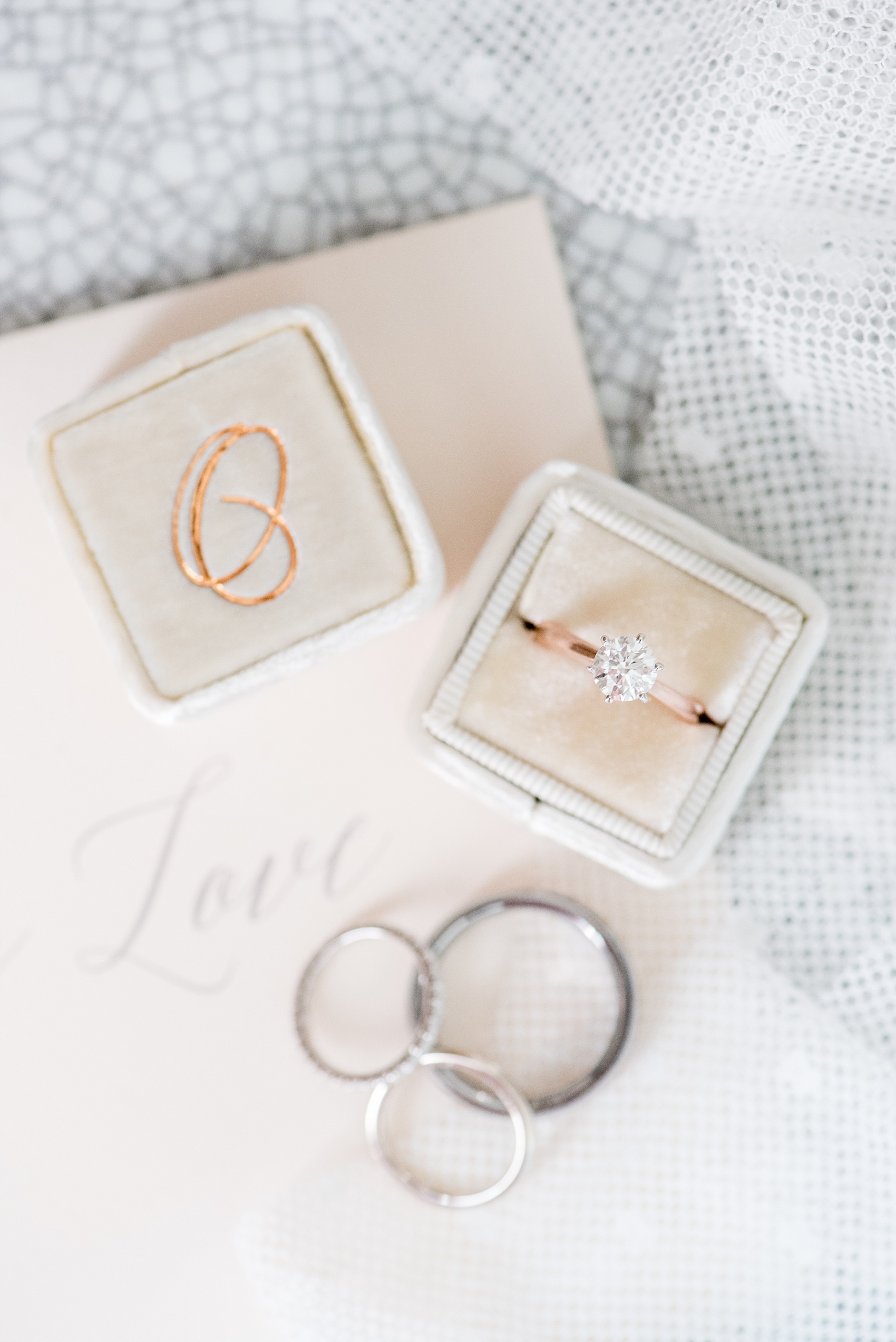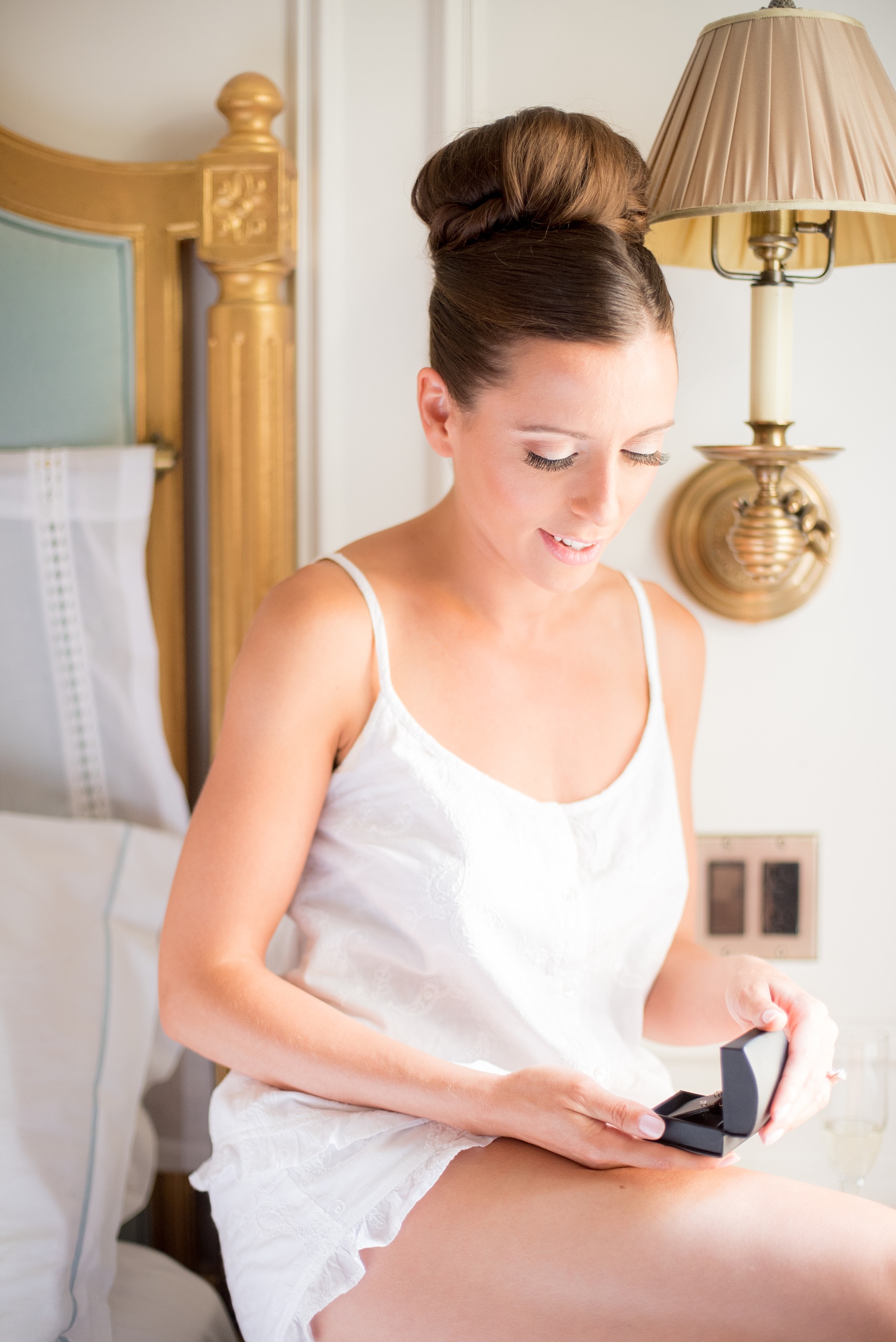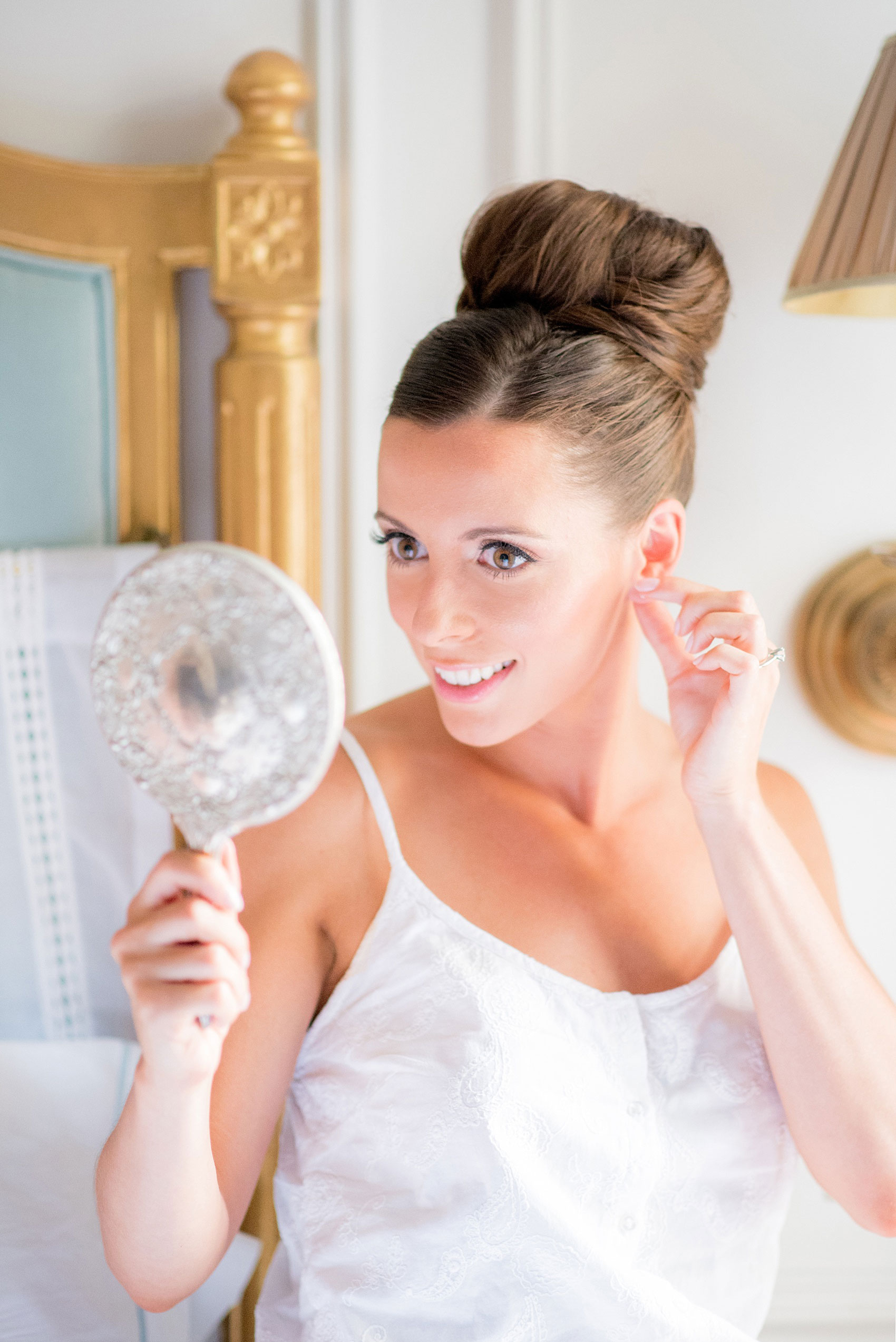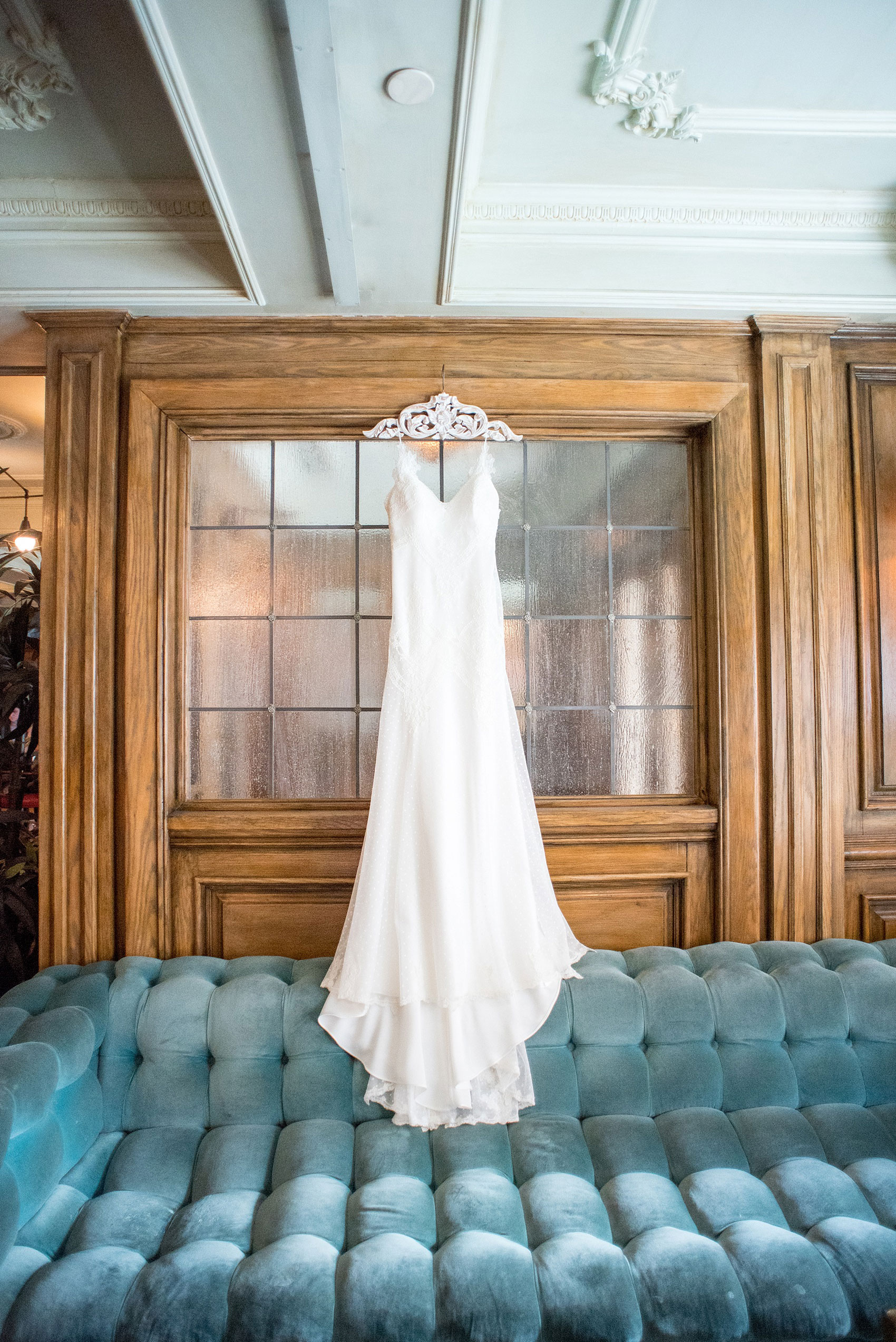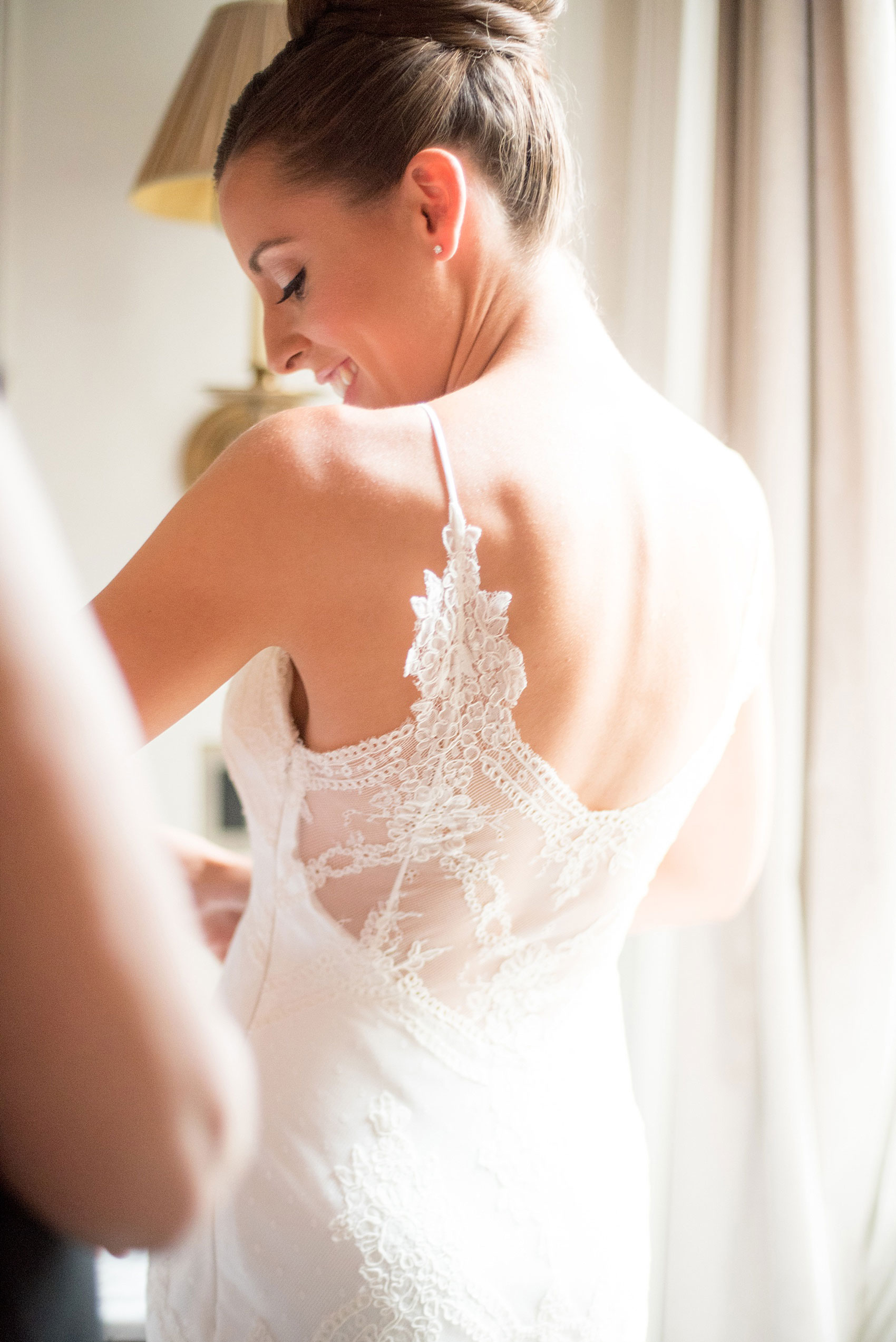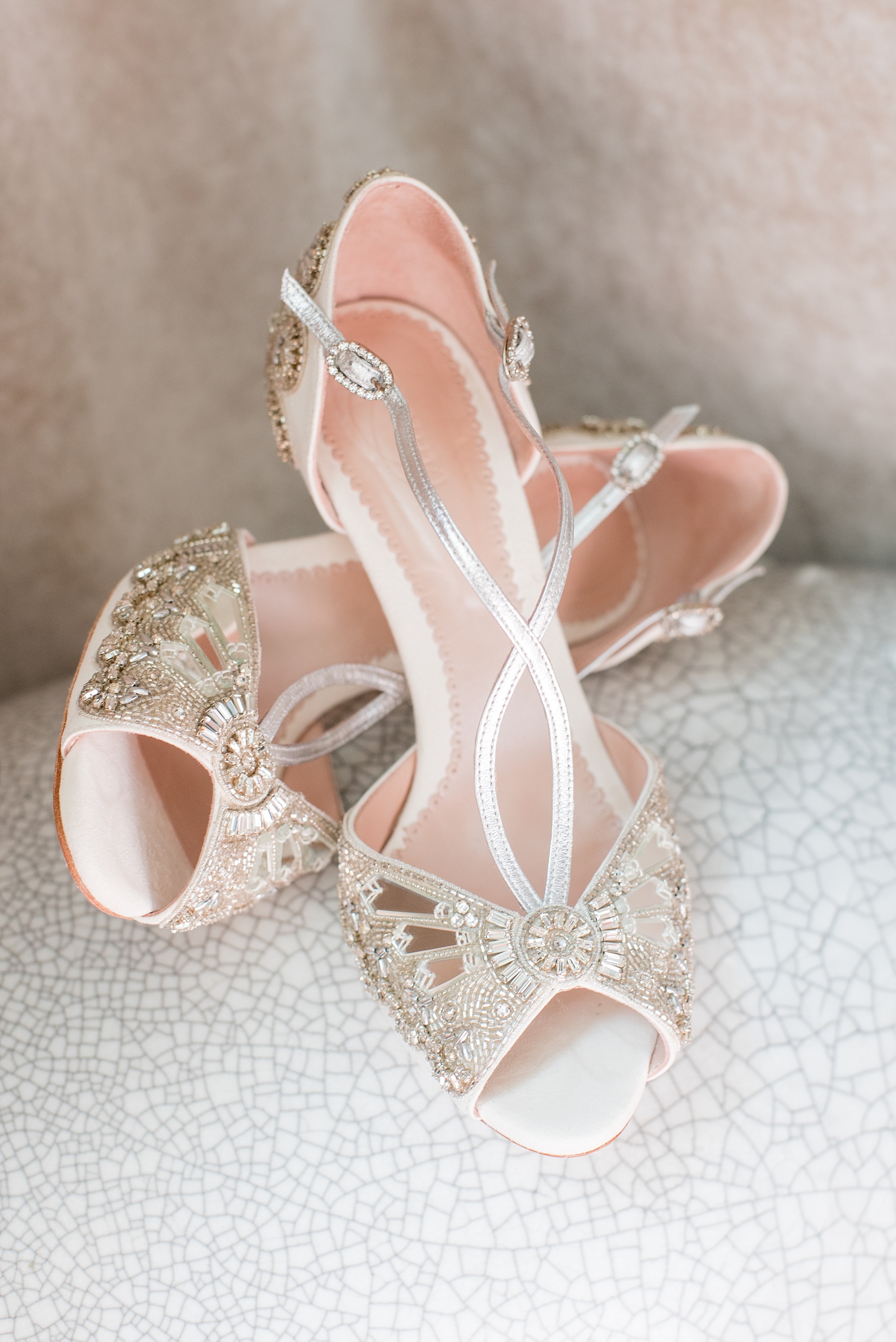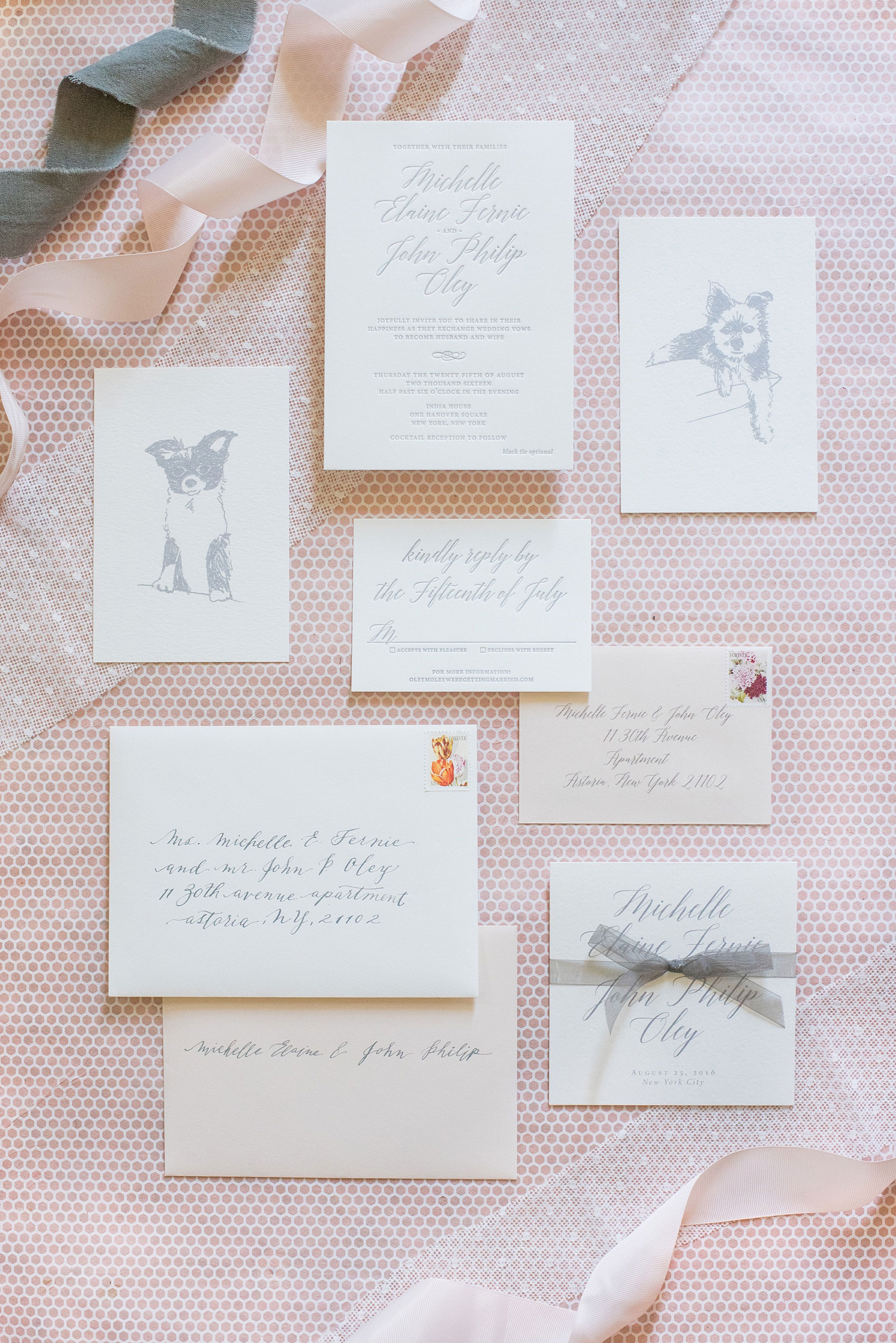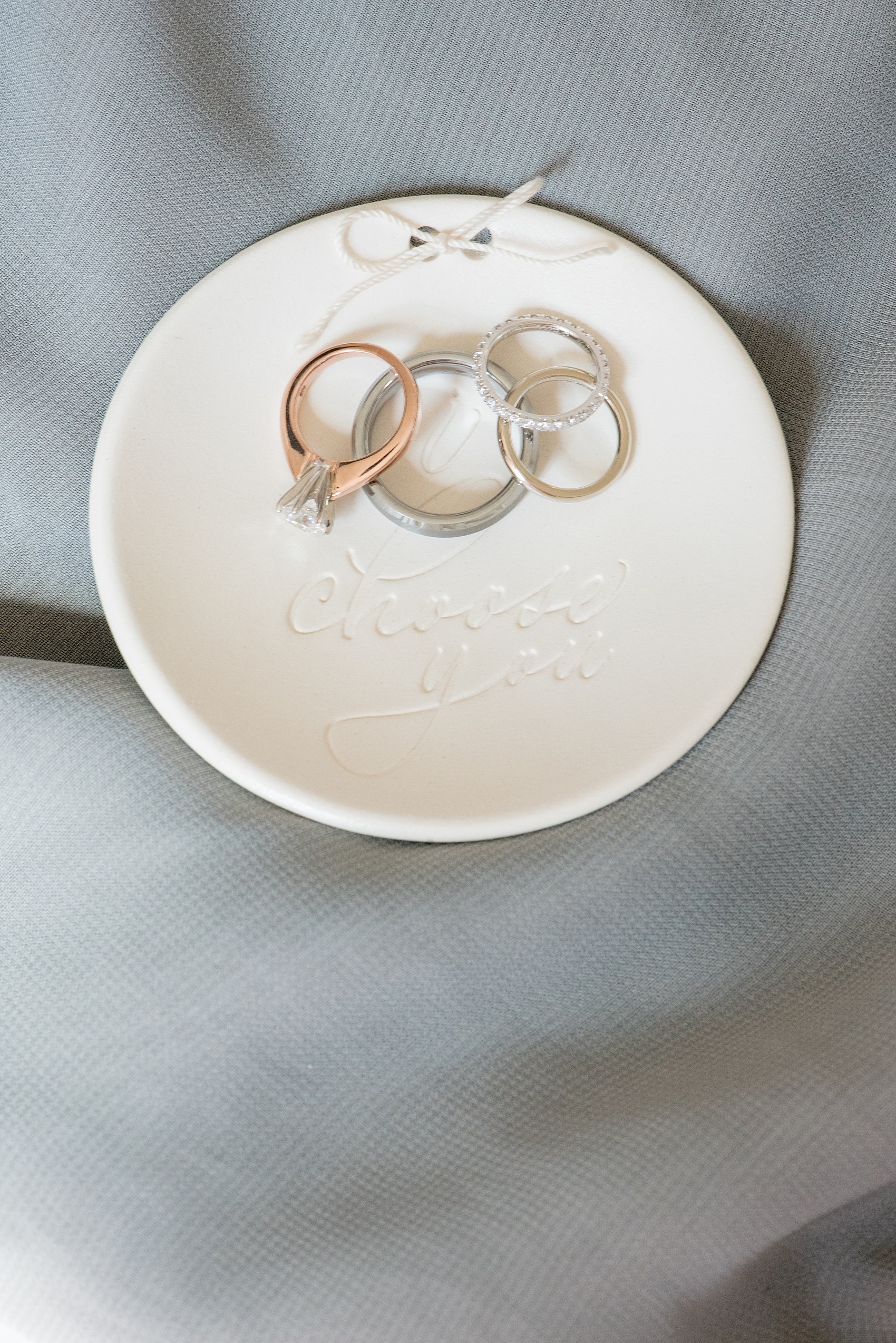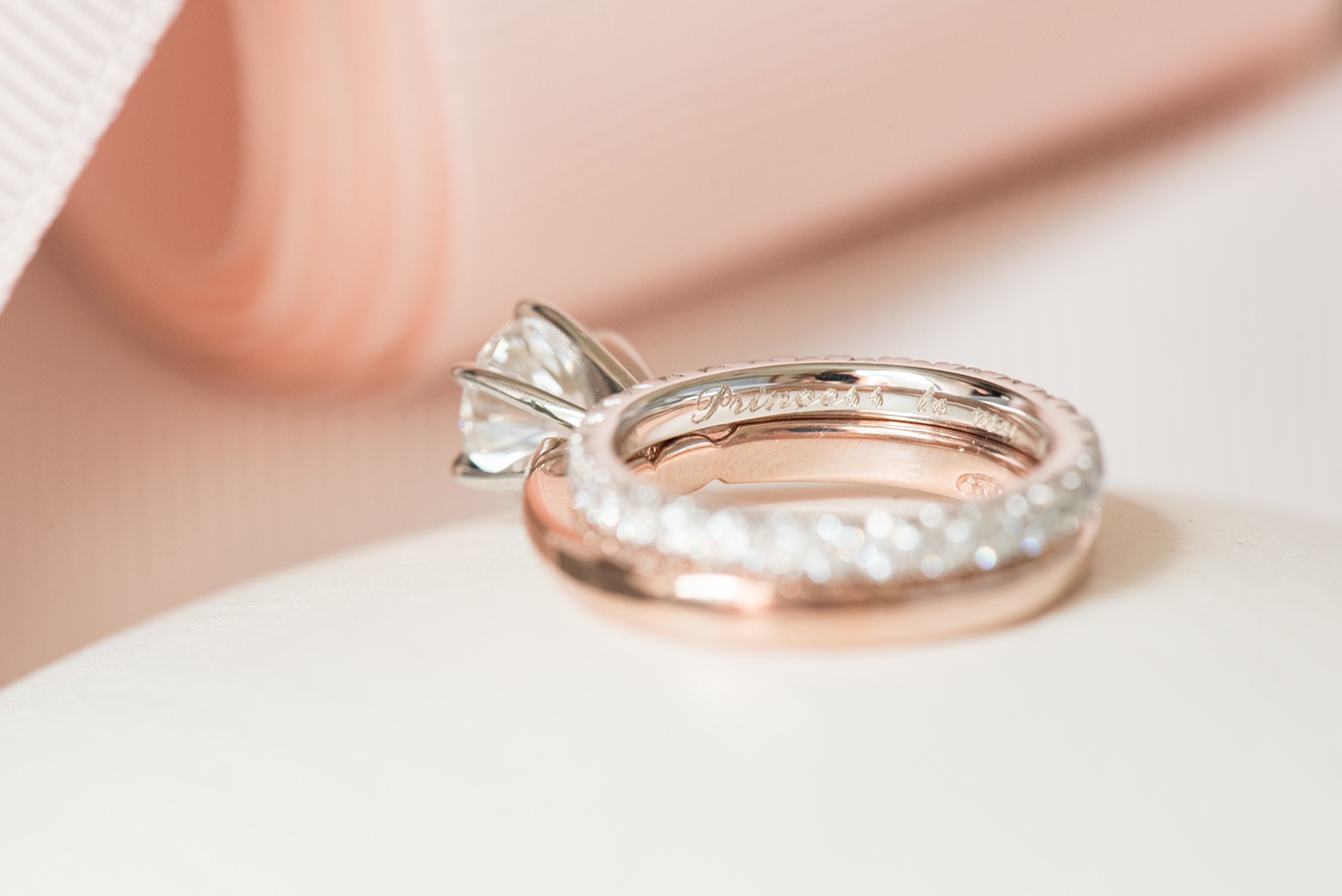 I couldn't resist featuring this photo of the inscription John included in Michelle's eternity diamond wedding band. She is the "Princess" to his "fairy tale." Isn't that the sweetest?! The whole day was a fairy tale! And yes, they really do come true.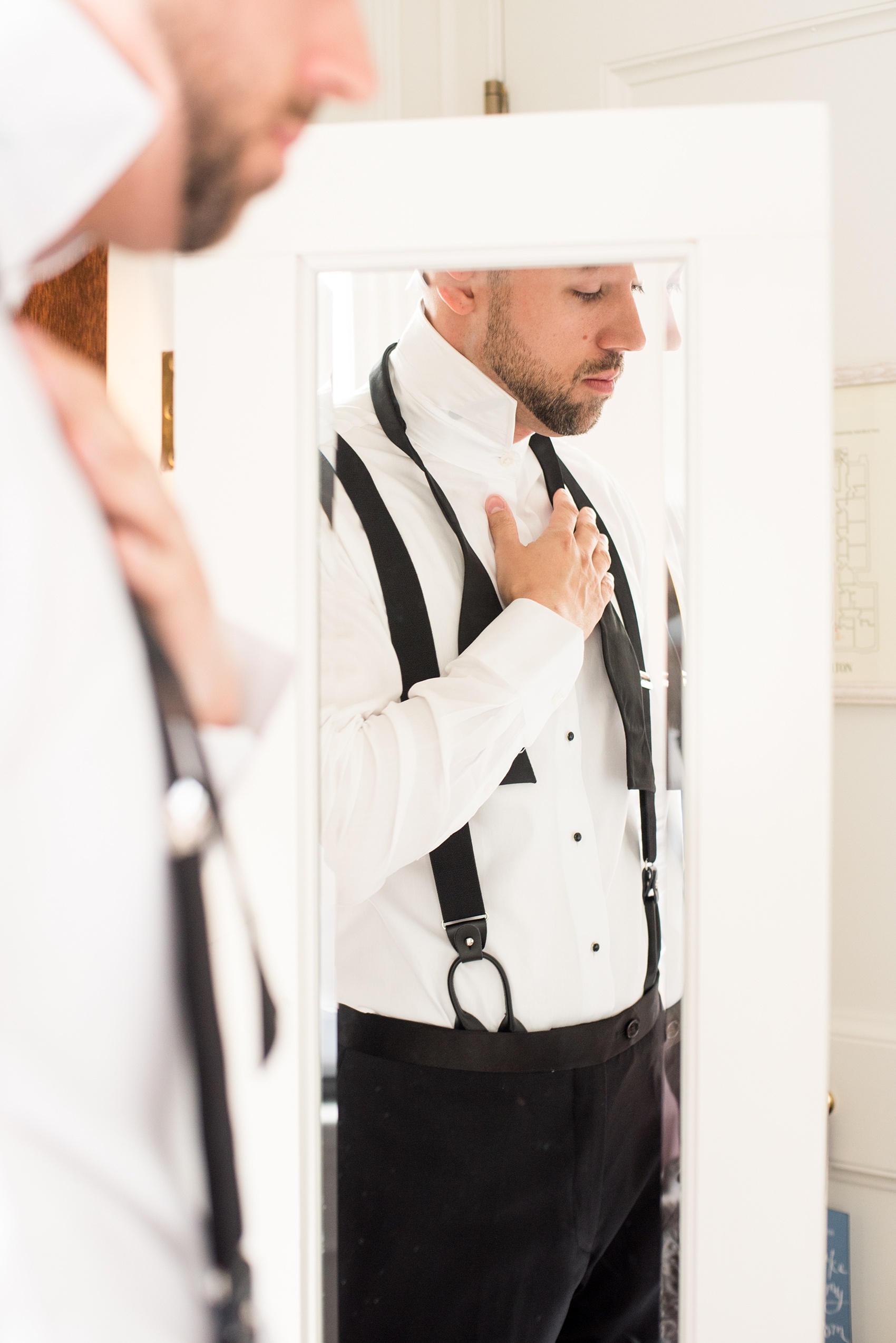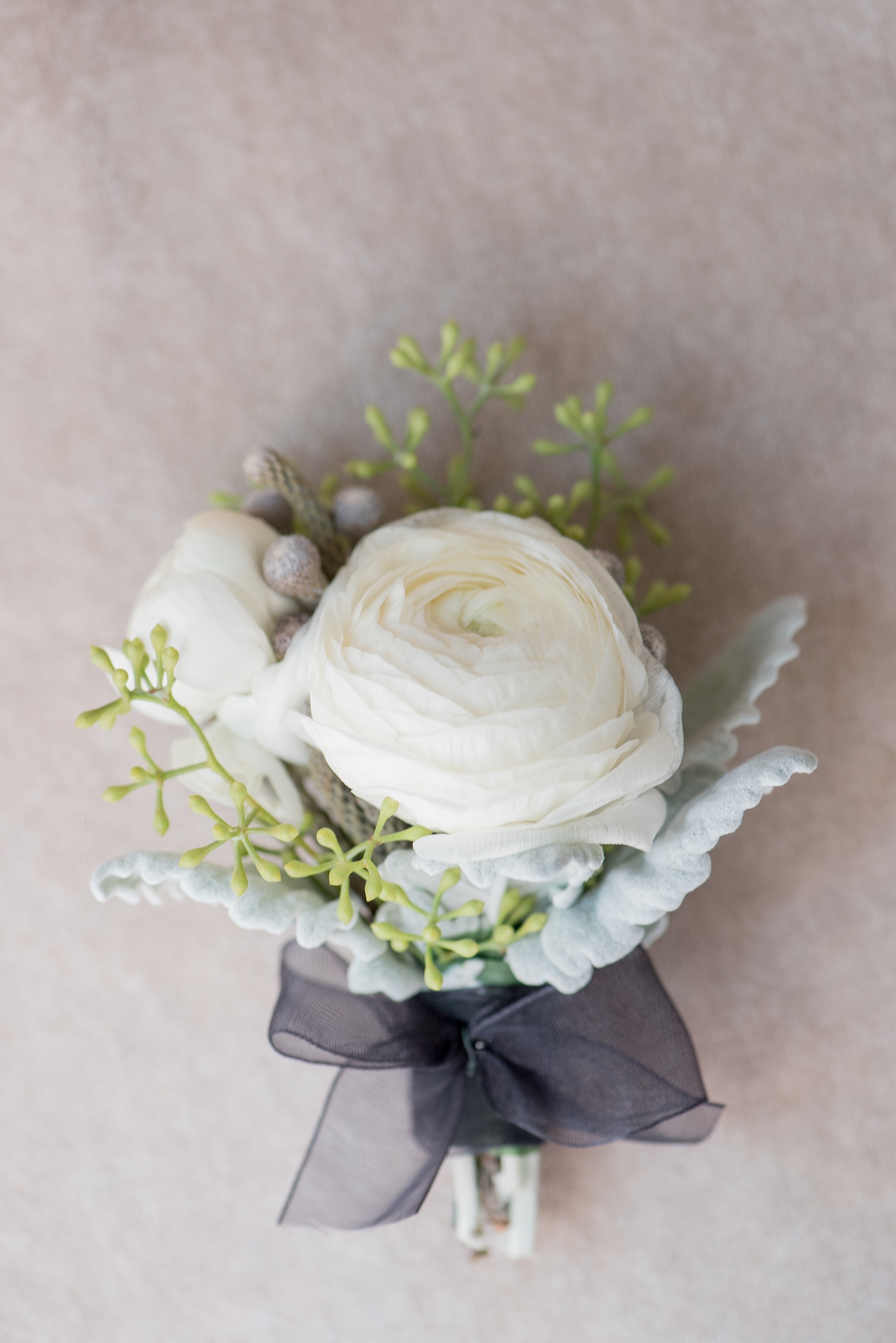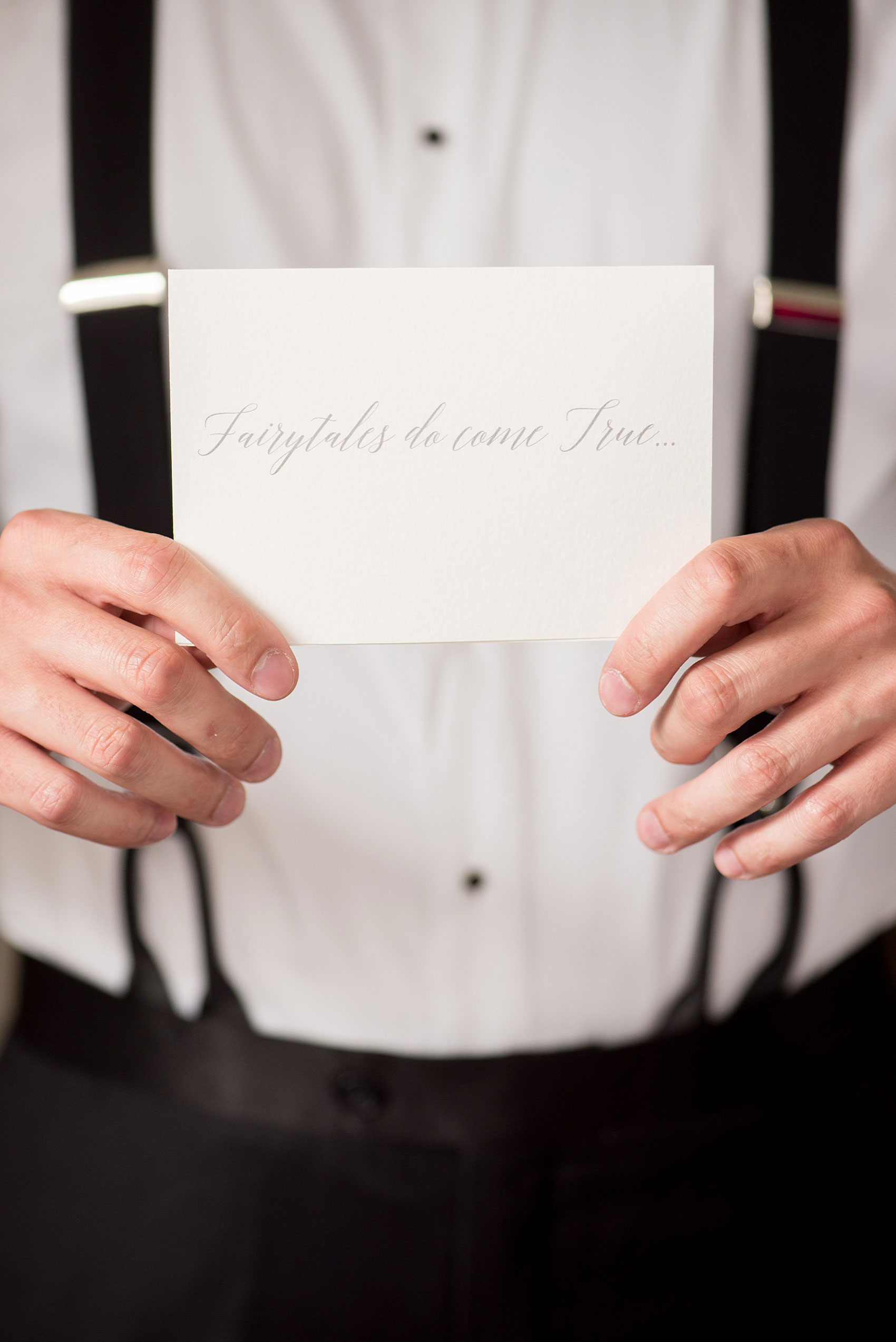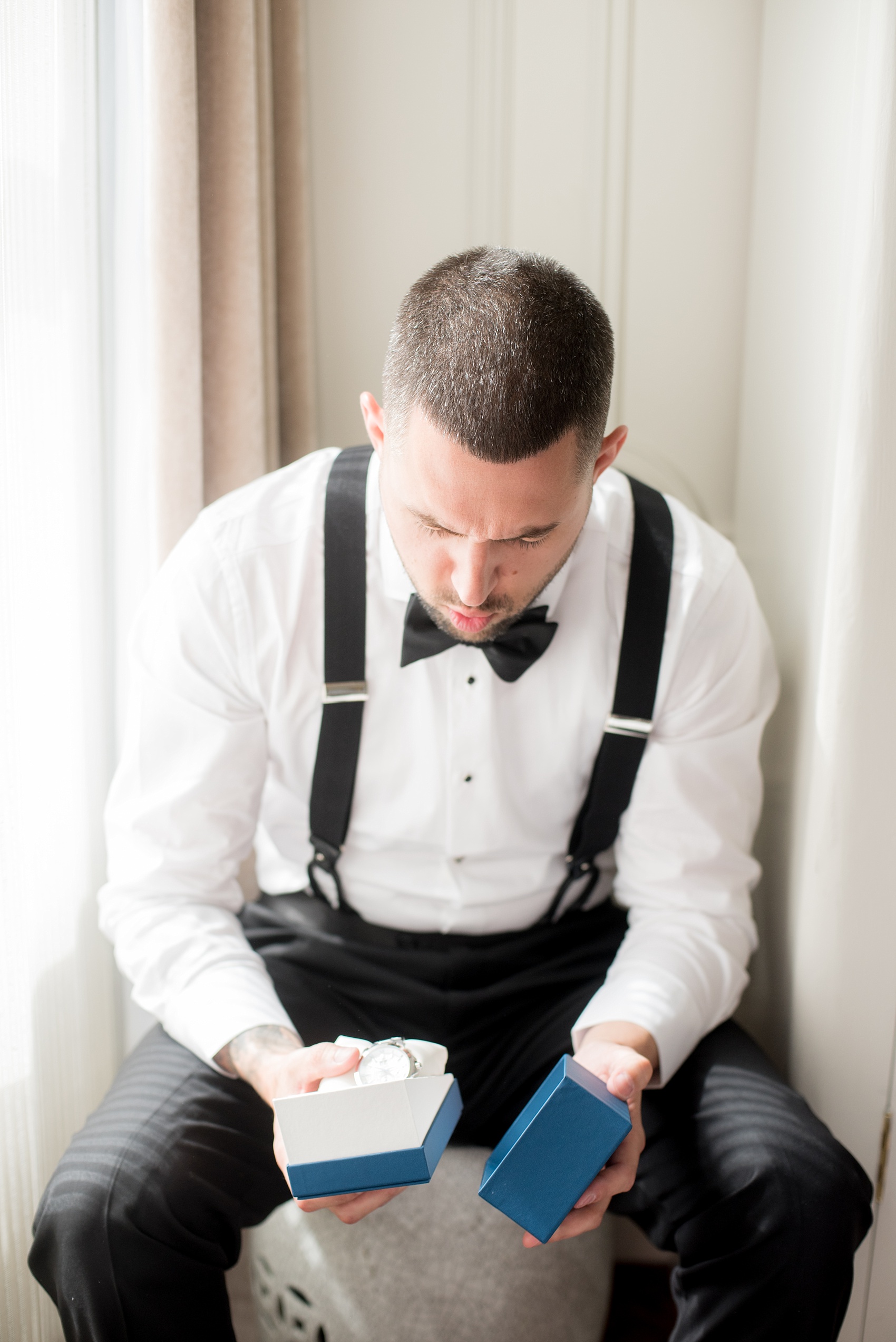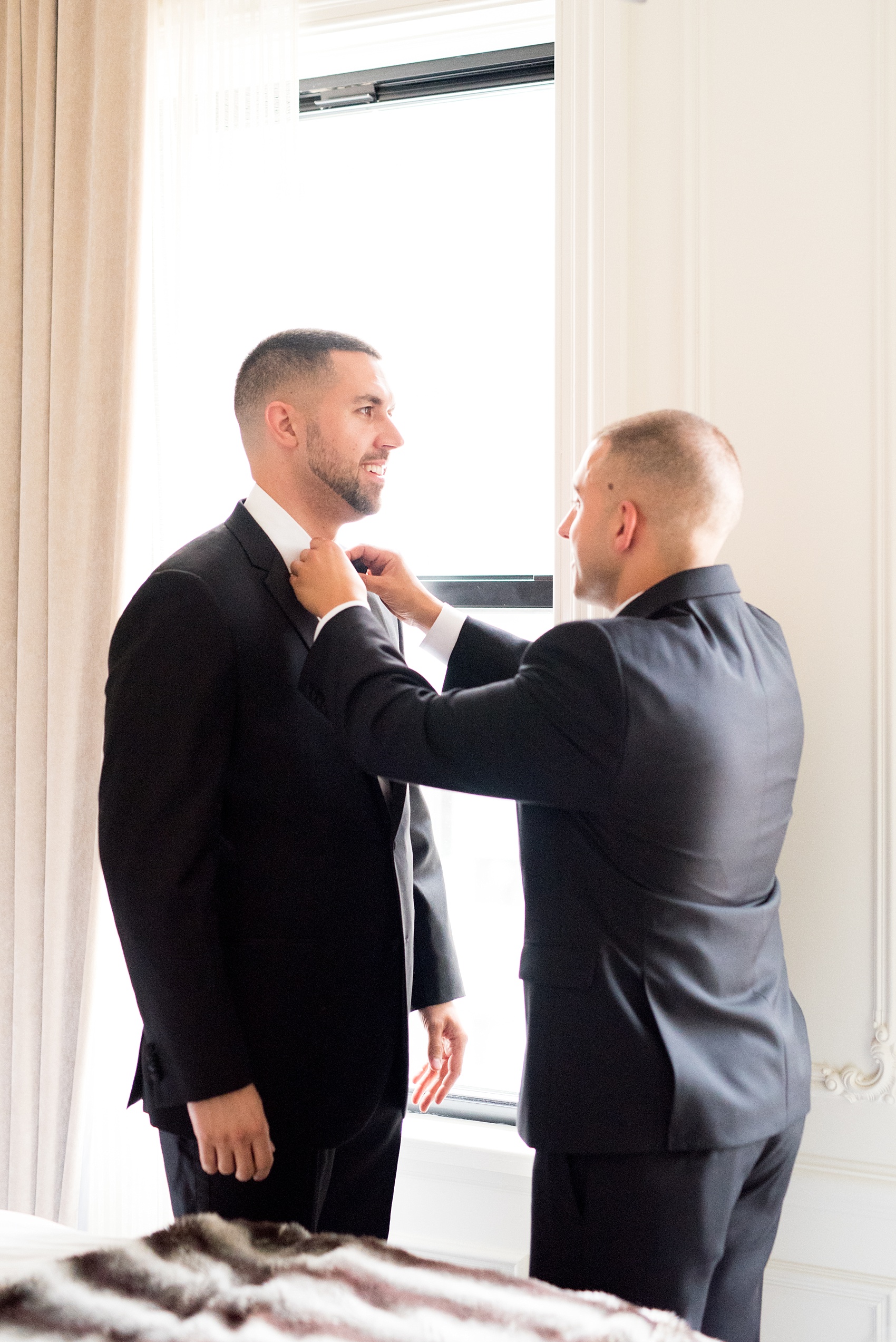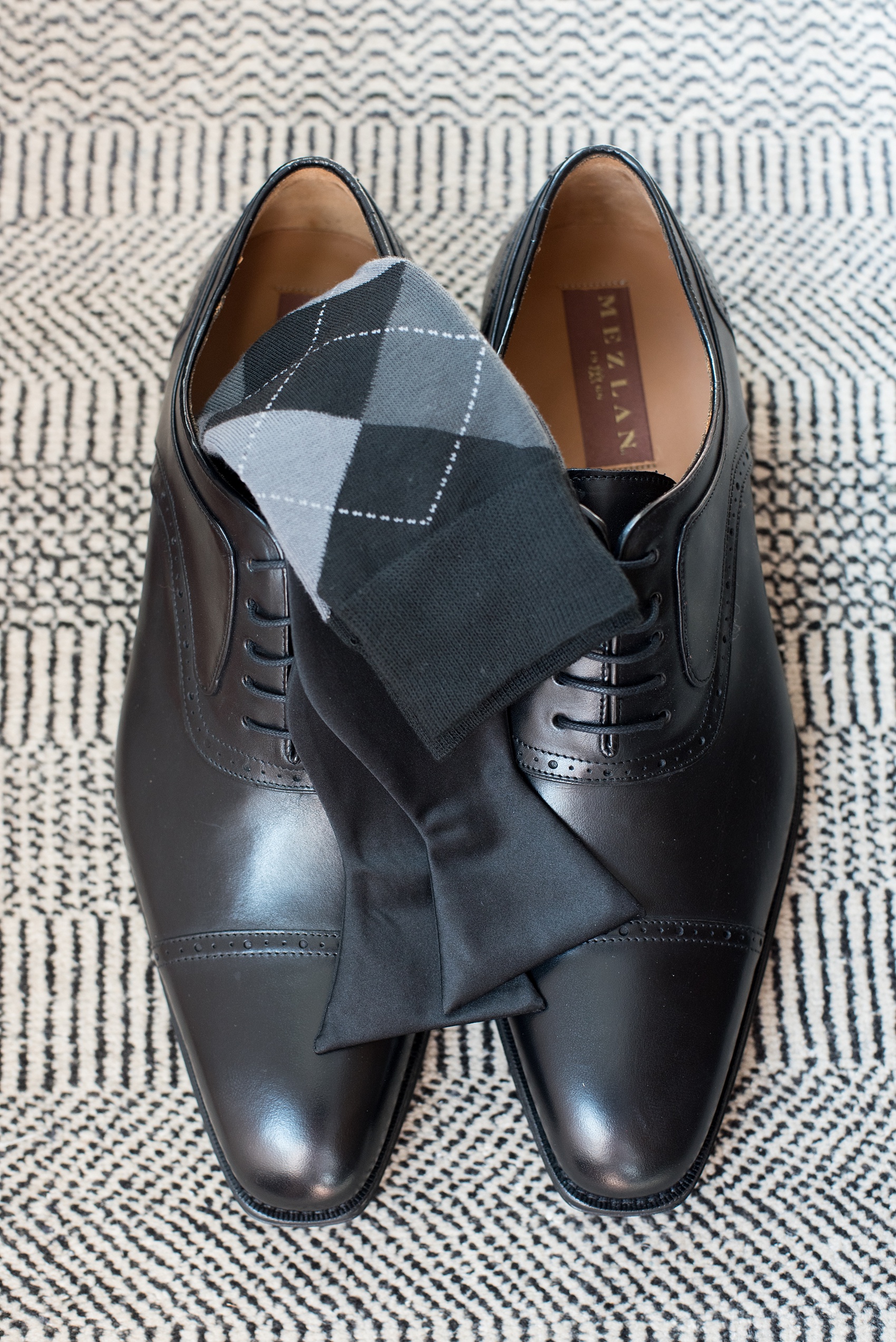 John did his final prep with his brother. His argyle socks and black bow tie and shoes helped create the classic look his bride, an awesome wedding planner (Michelle Elaine Weddings!), was going for. He wore a beautiful white ranunculus boutonniere, finished with seeded eucalyptus. Michelle's bouquet was mostly white with "silver" greenery accents. It included roses, ranunculus, lisianthus, brunia and Dusty Miller.
I had fun photographing this cookie…and I had fun eating it too! If you've never tasted one of Eleni's sugar cookies trust me – they're delicious! If you have a side of grapes it makes it healthy, right?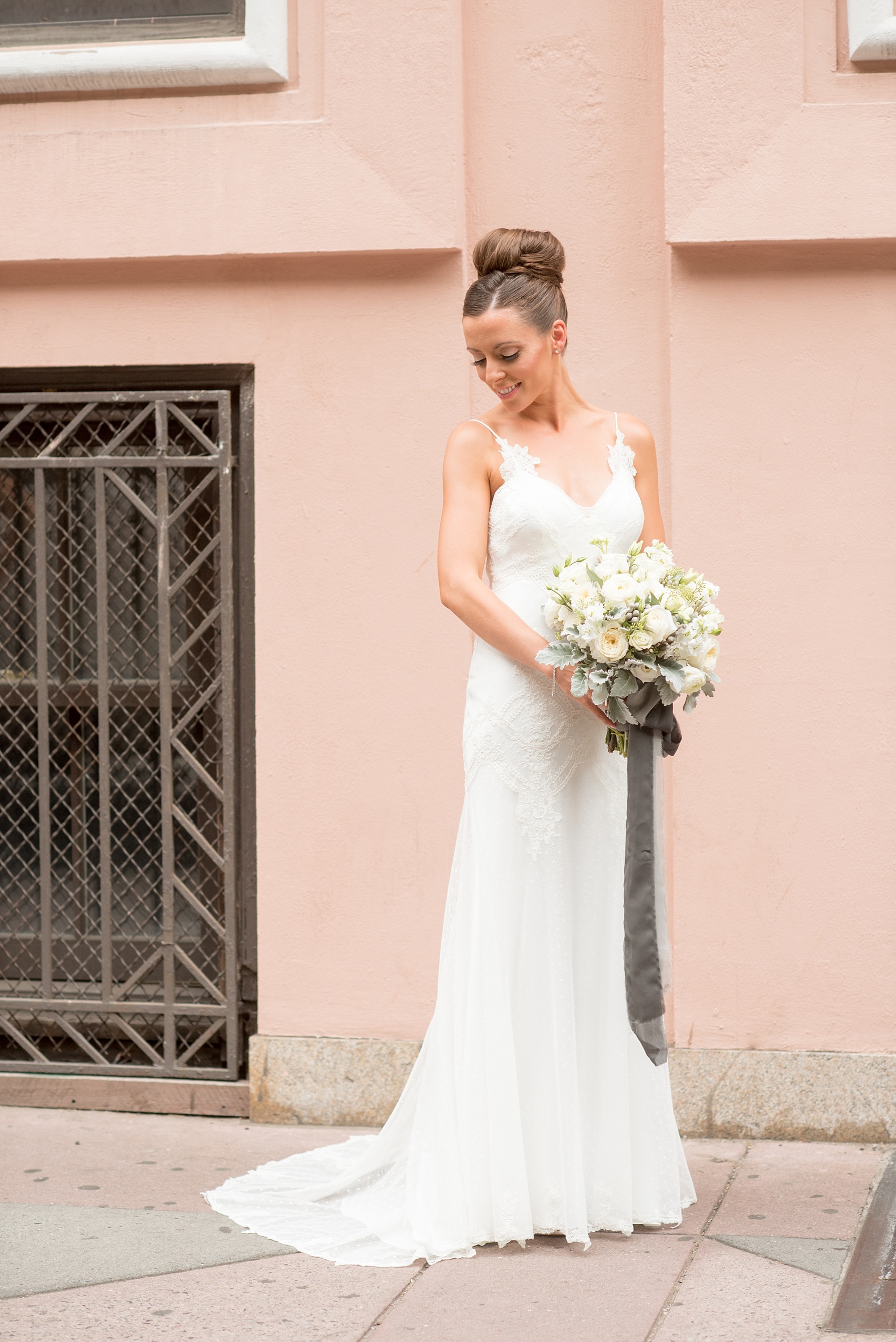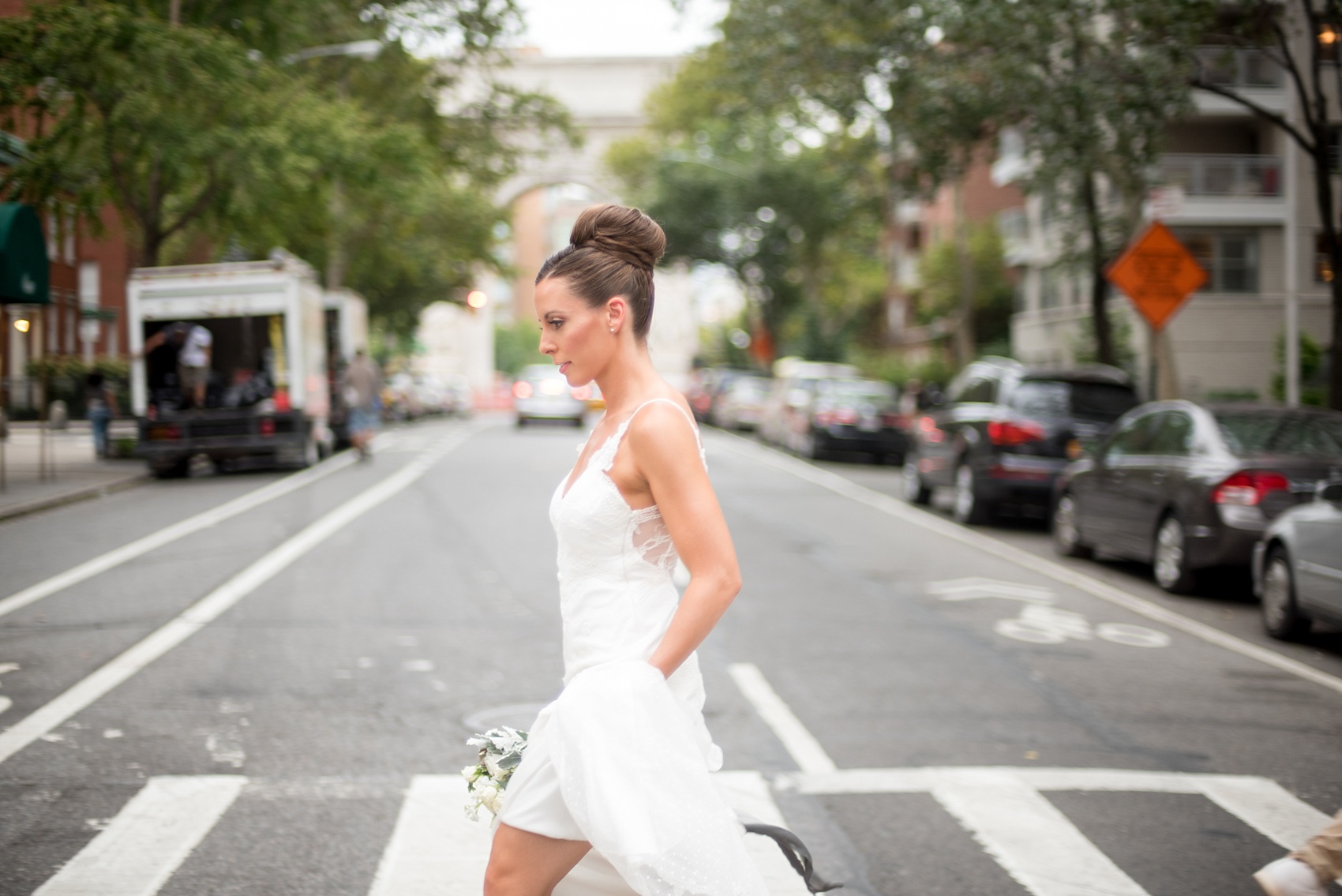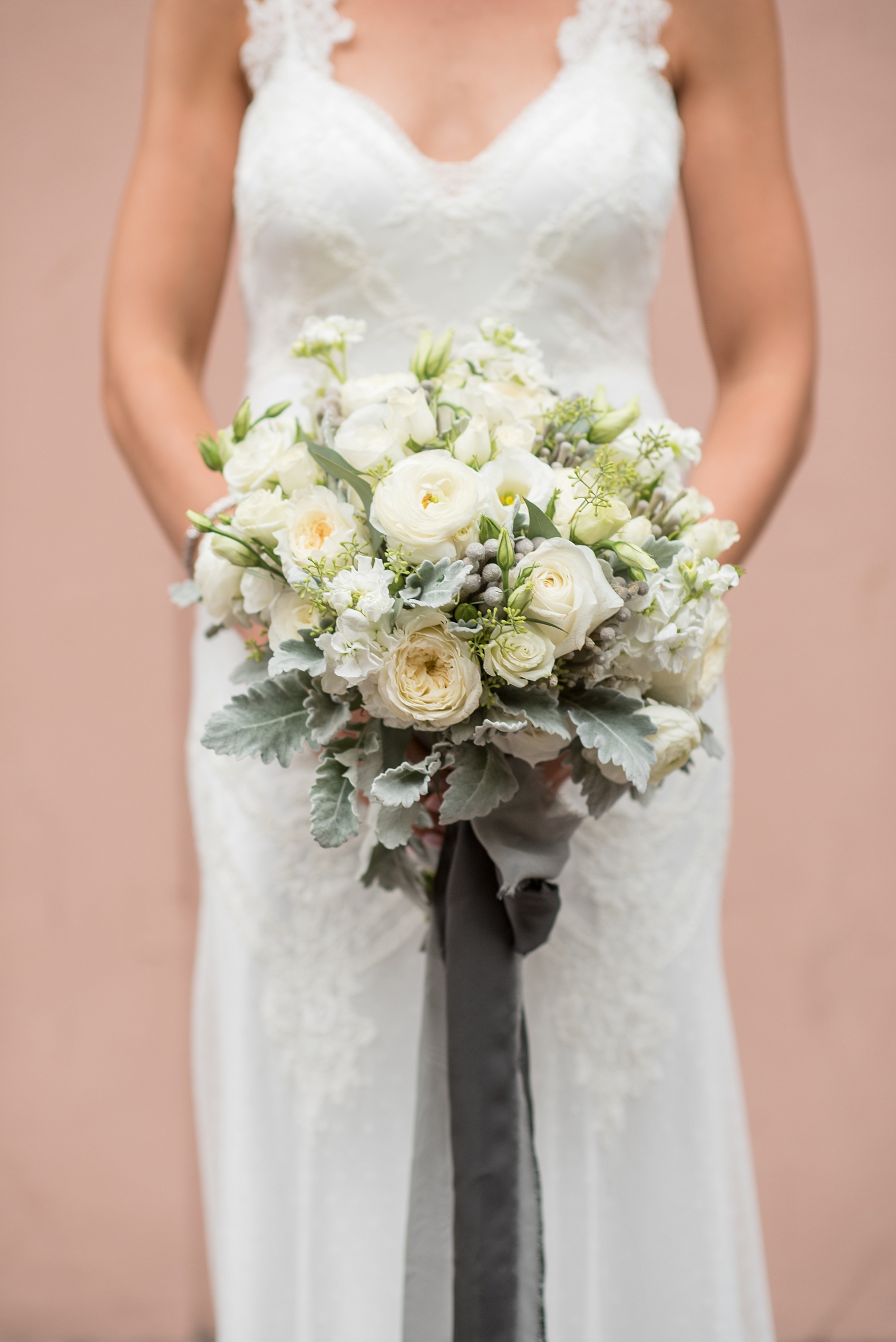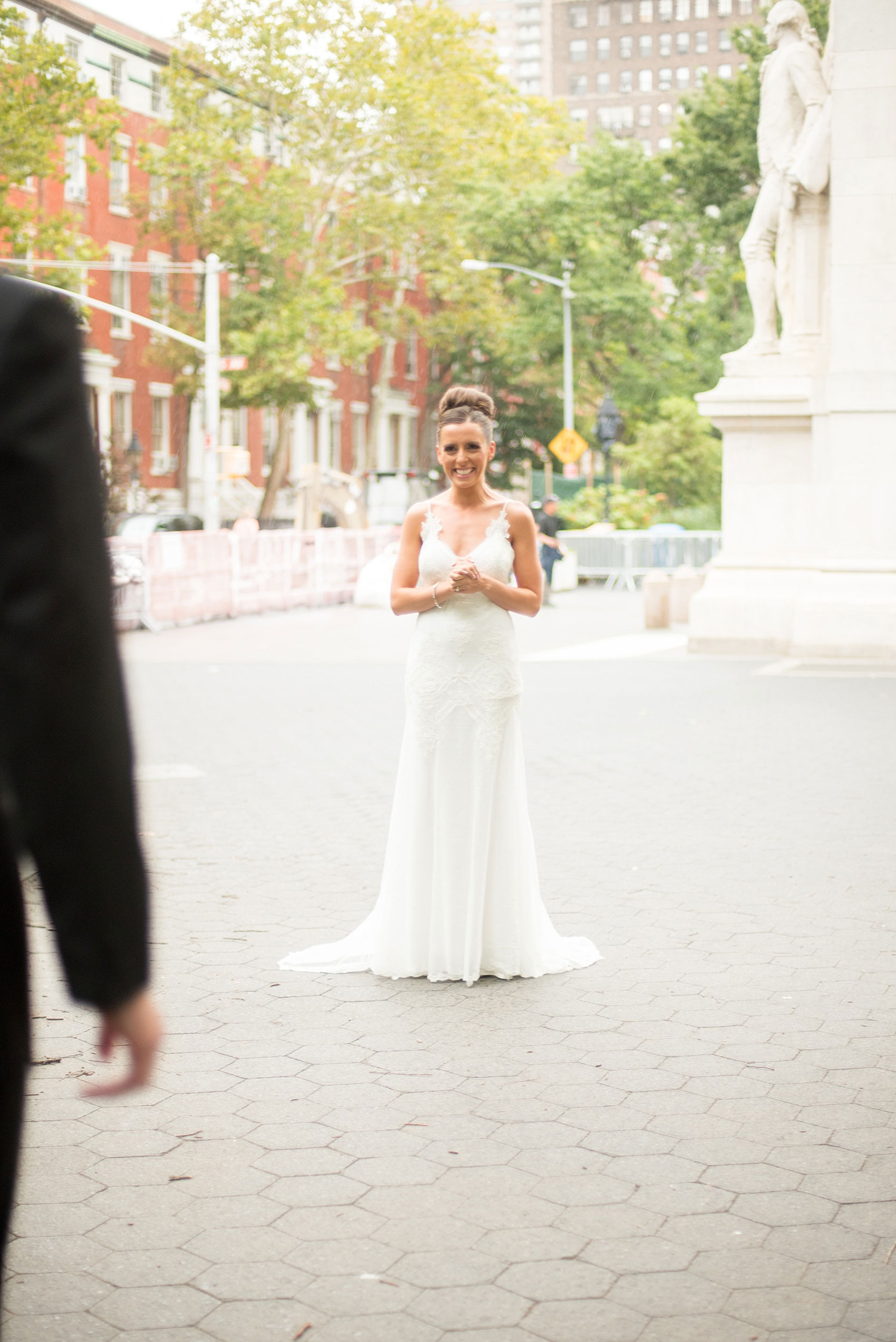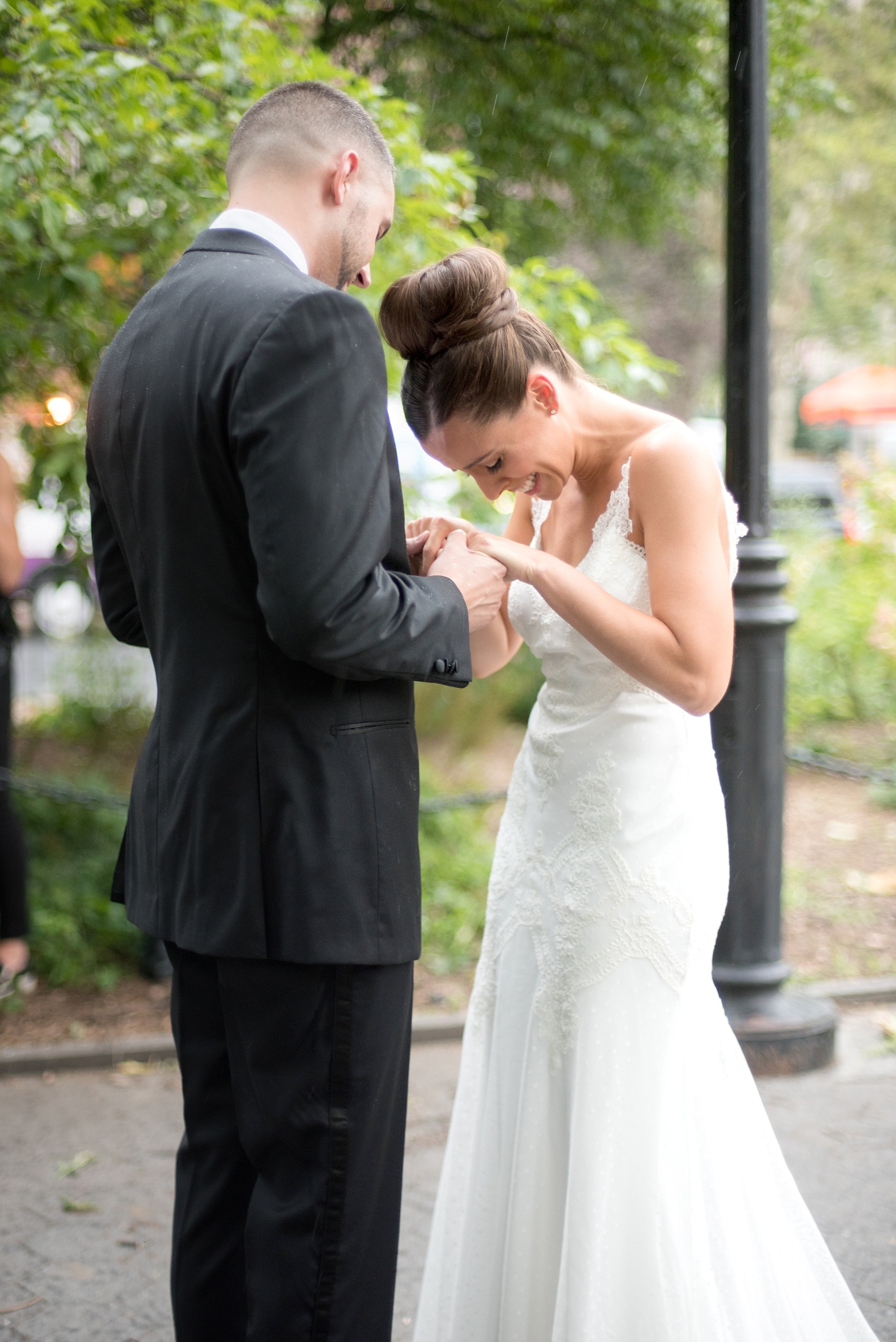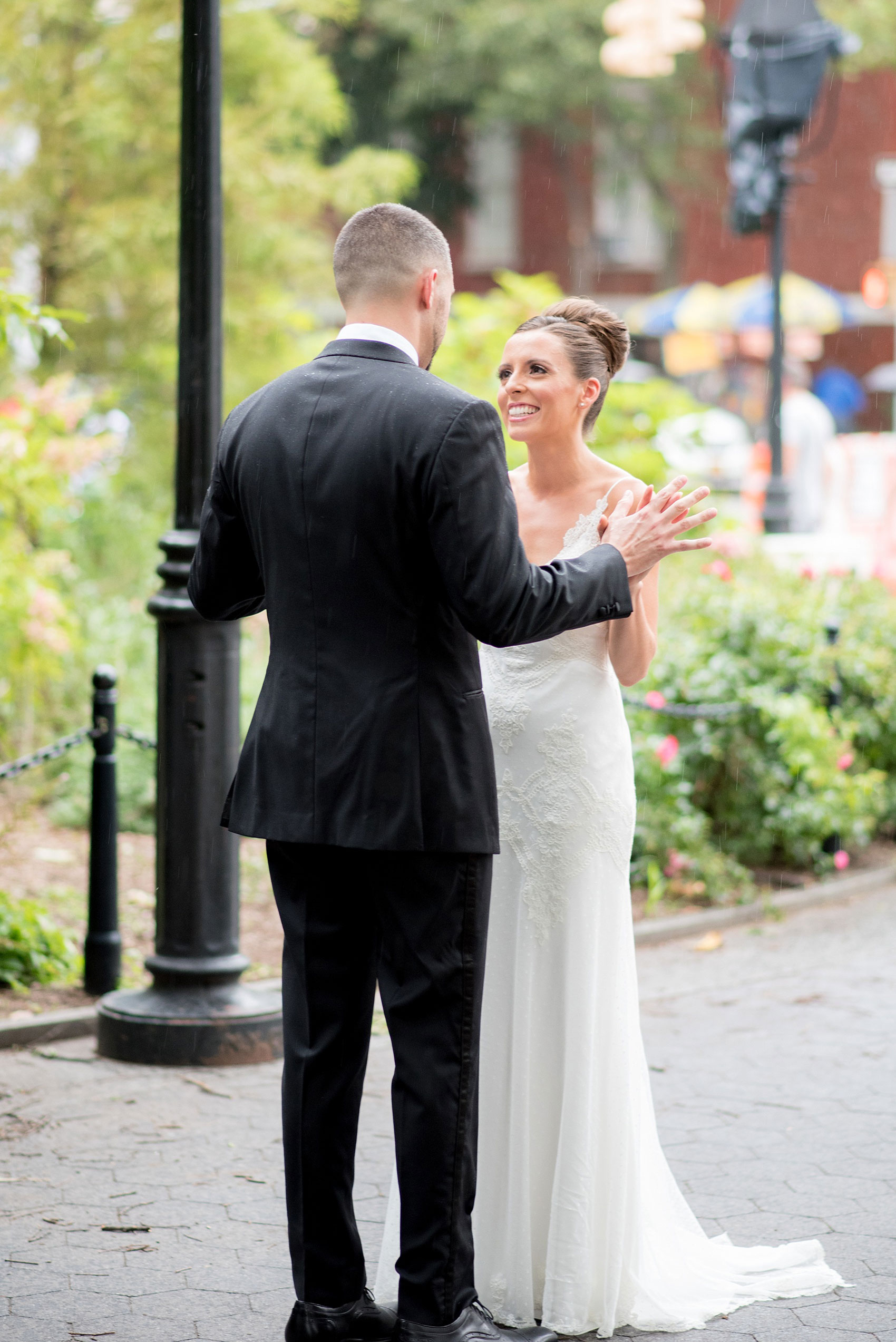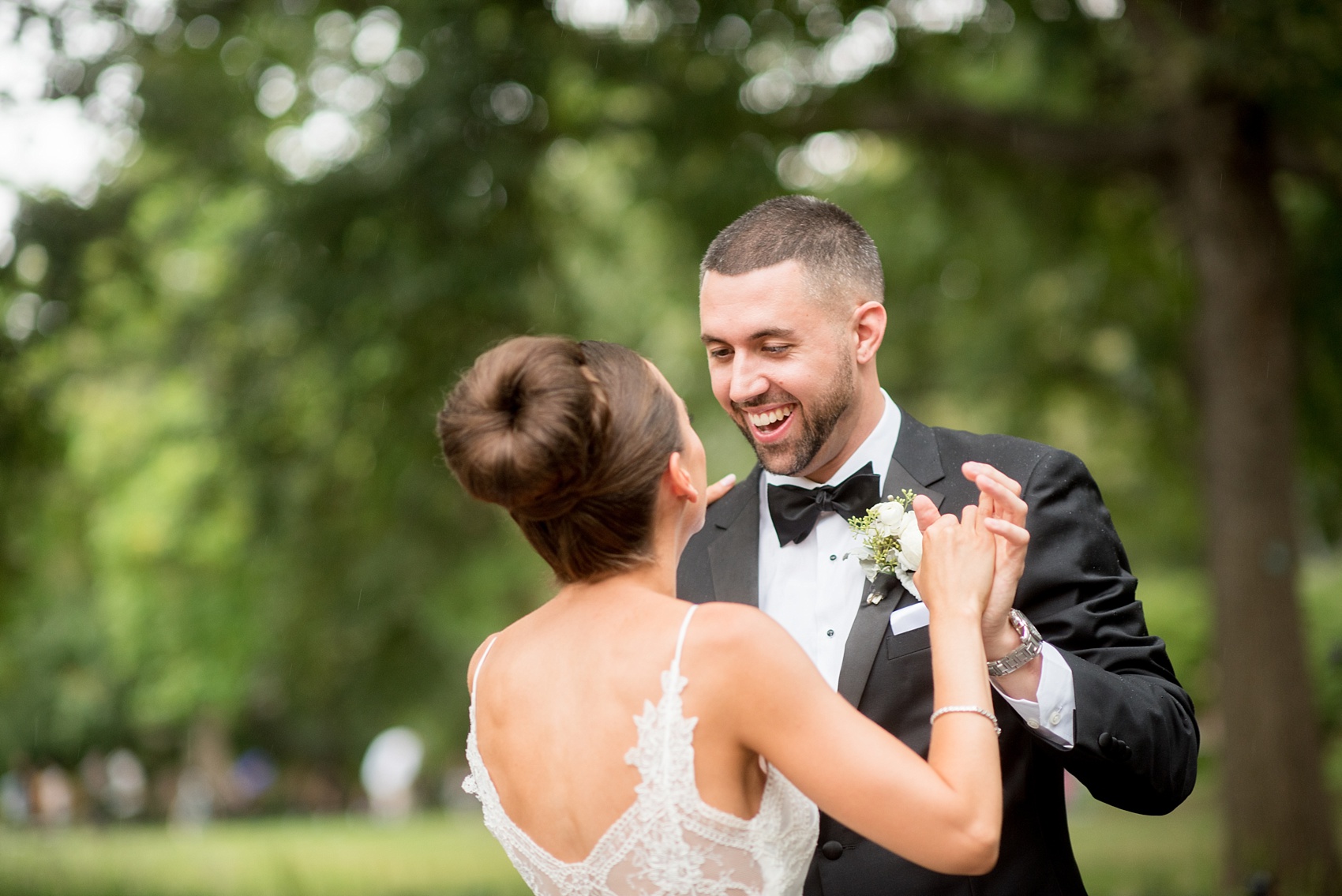 I find the first look is the exact moment the nerves of the day that have been building up from all morning are released. We headed to Washington Square Park, just steps from their hotel for the moment they'd see each other…and it was beautiful. Tears and smiles and pure joy radiated from both of them. It was also the moment the rain began for a little – but we simply rolled with it, including a stop under the iconic Washington Square Park arch. And the rain did stop soon after!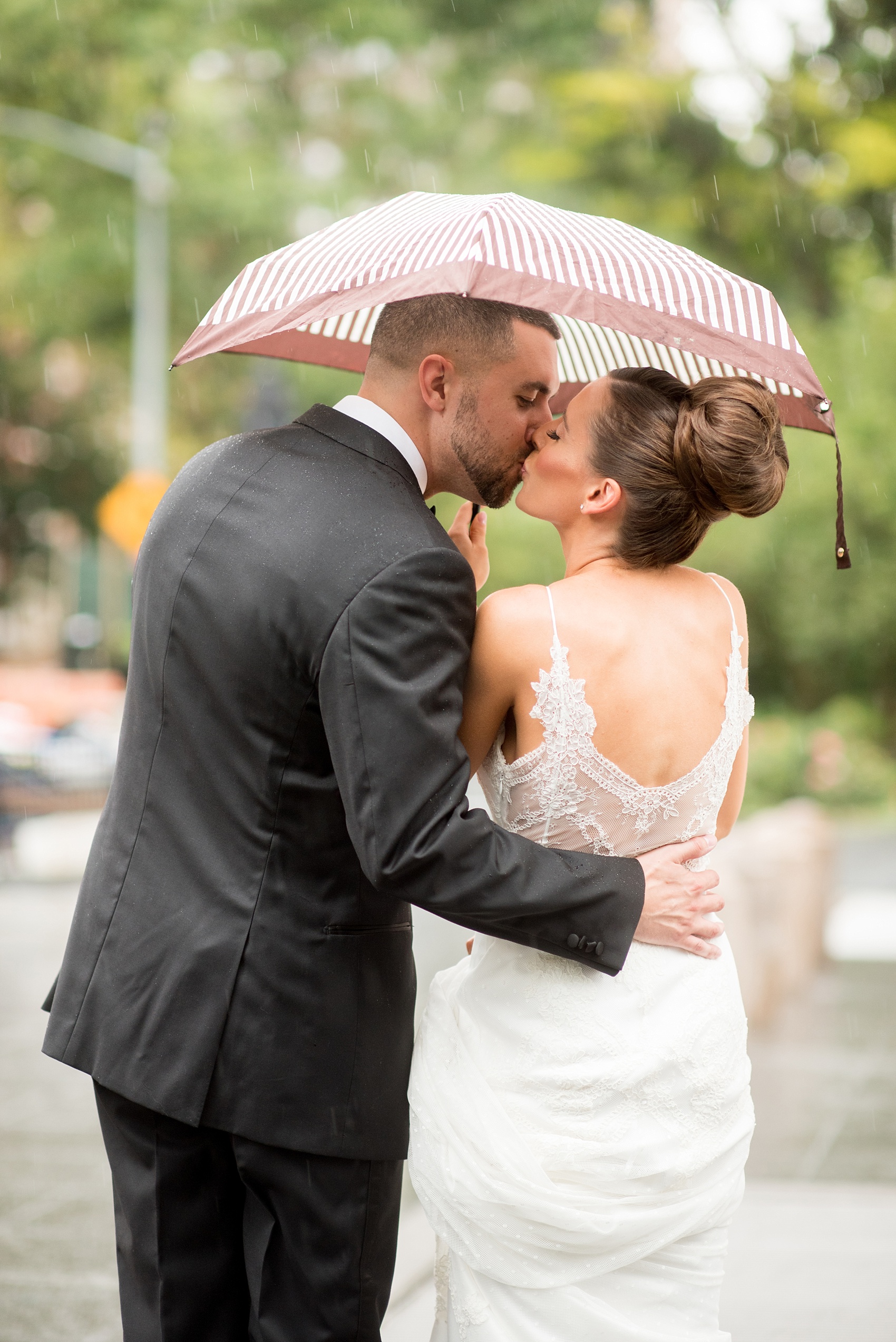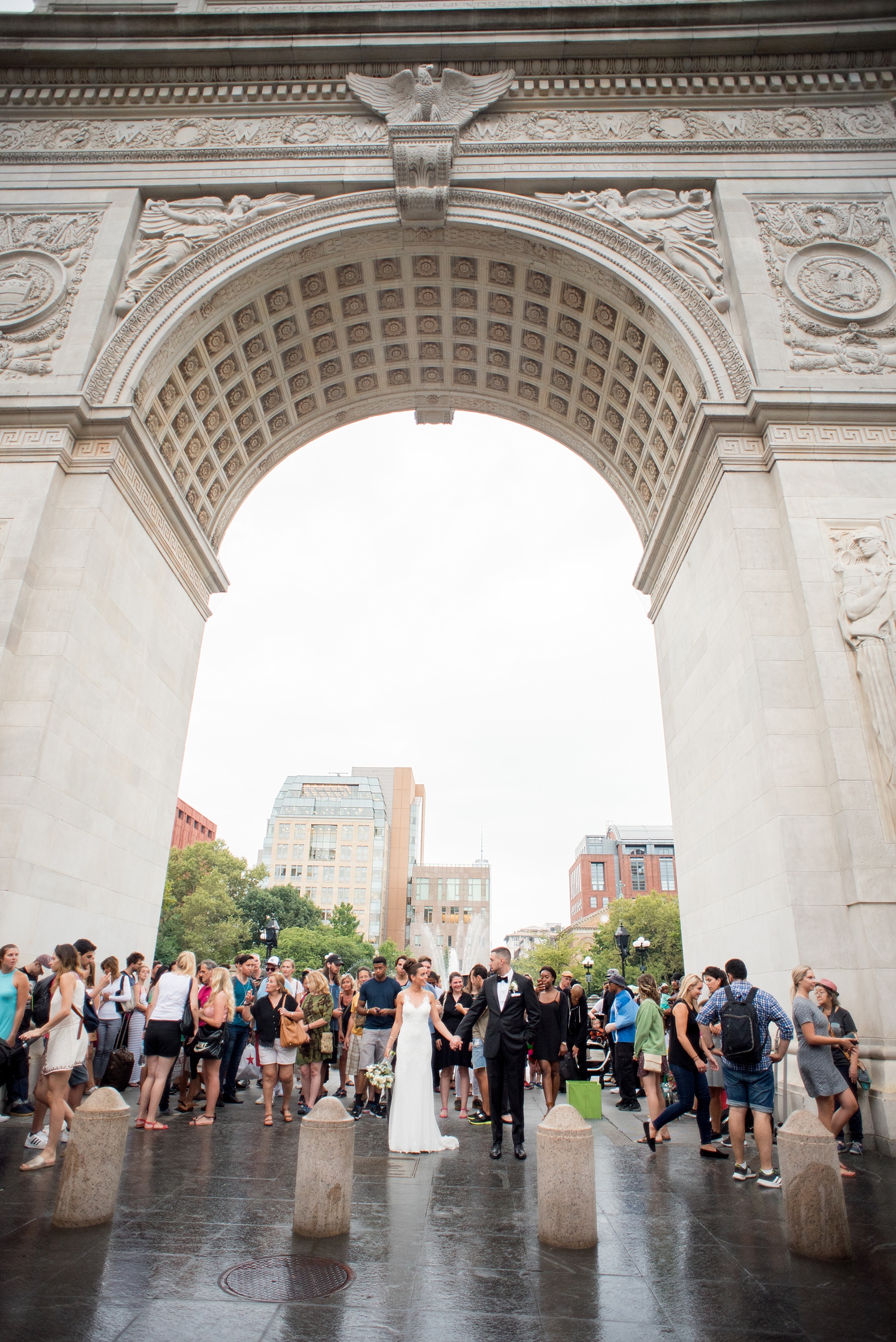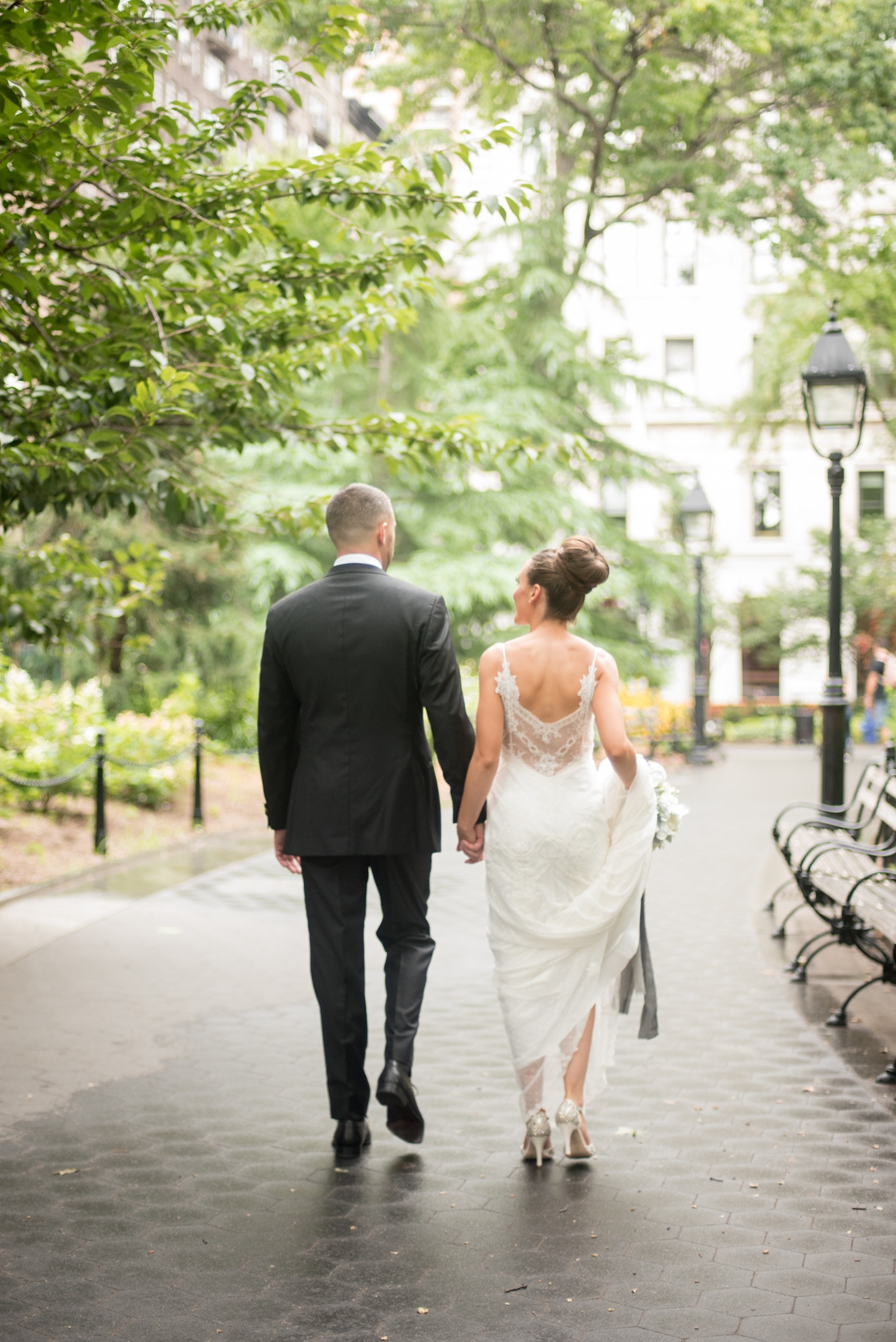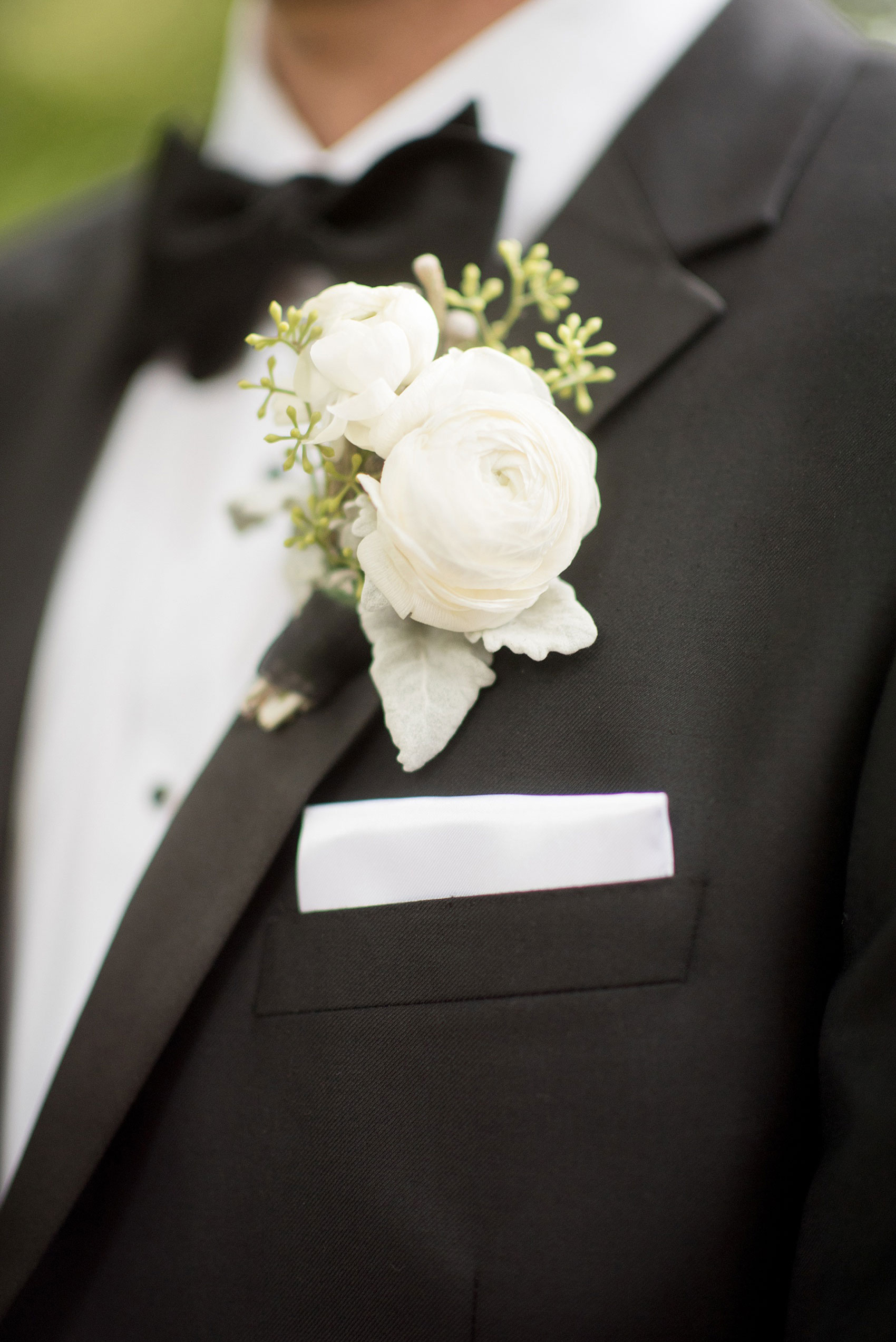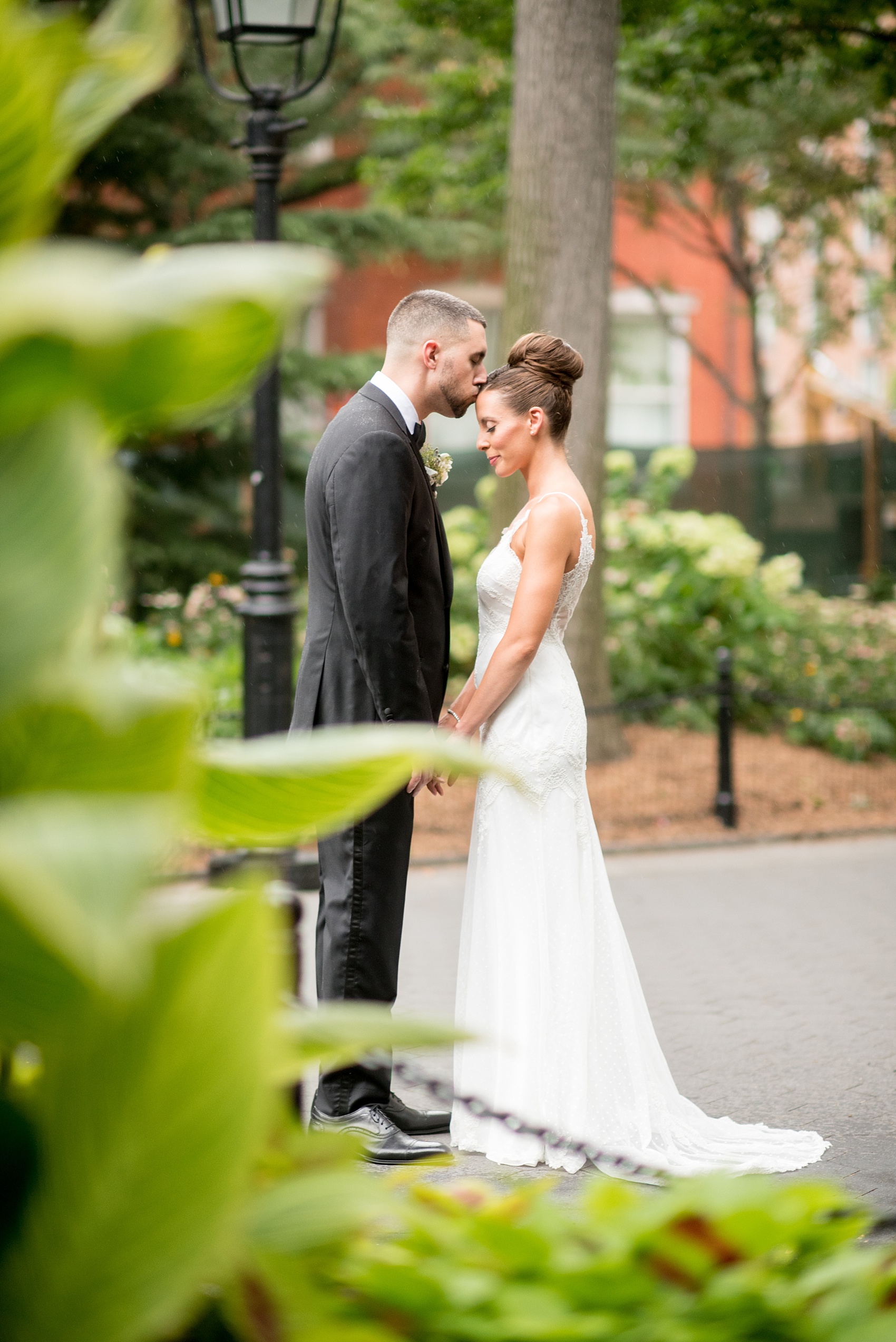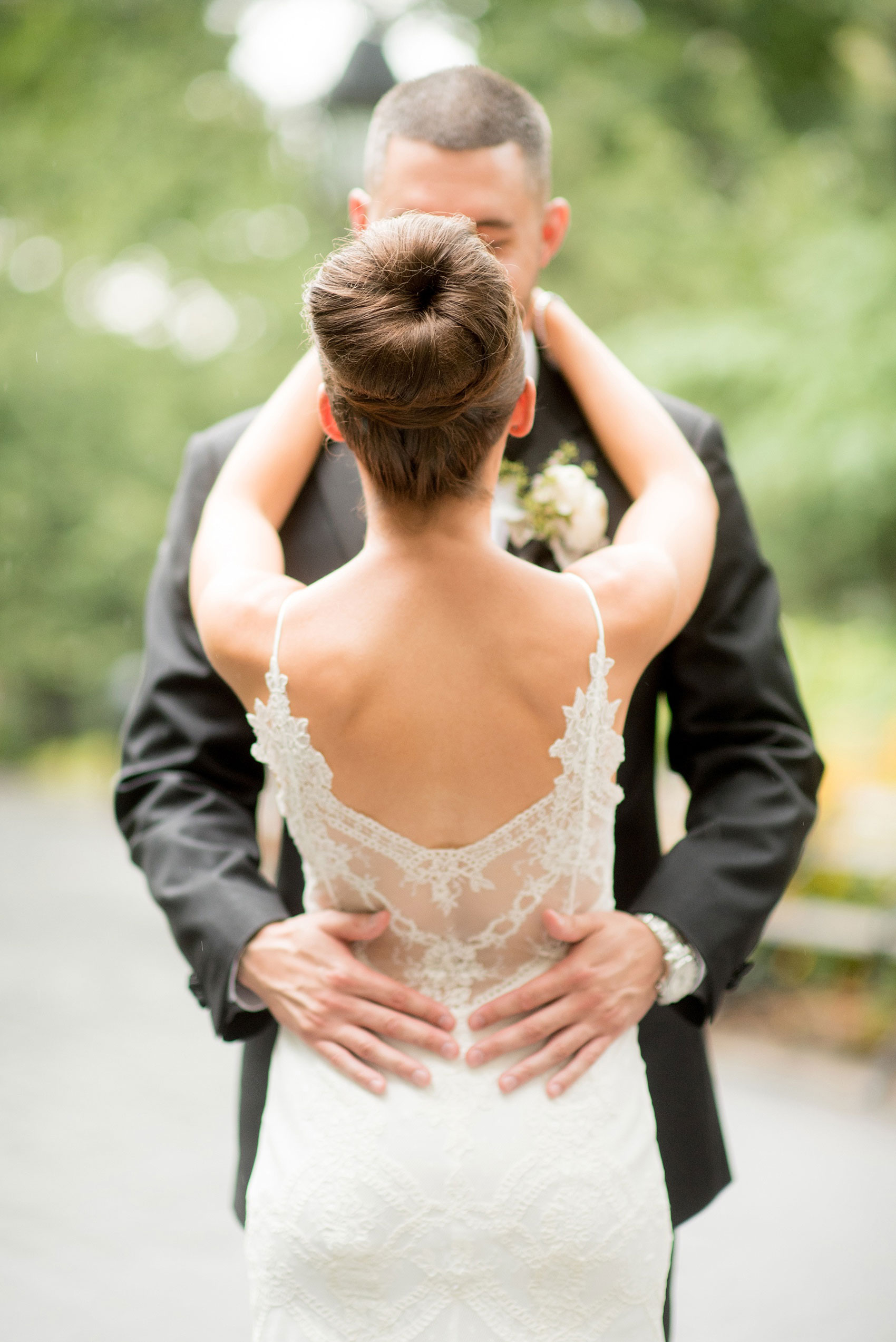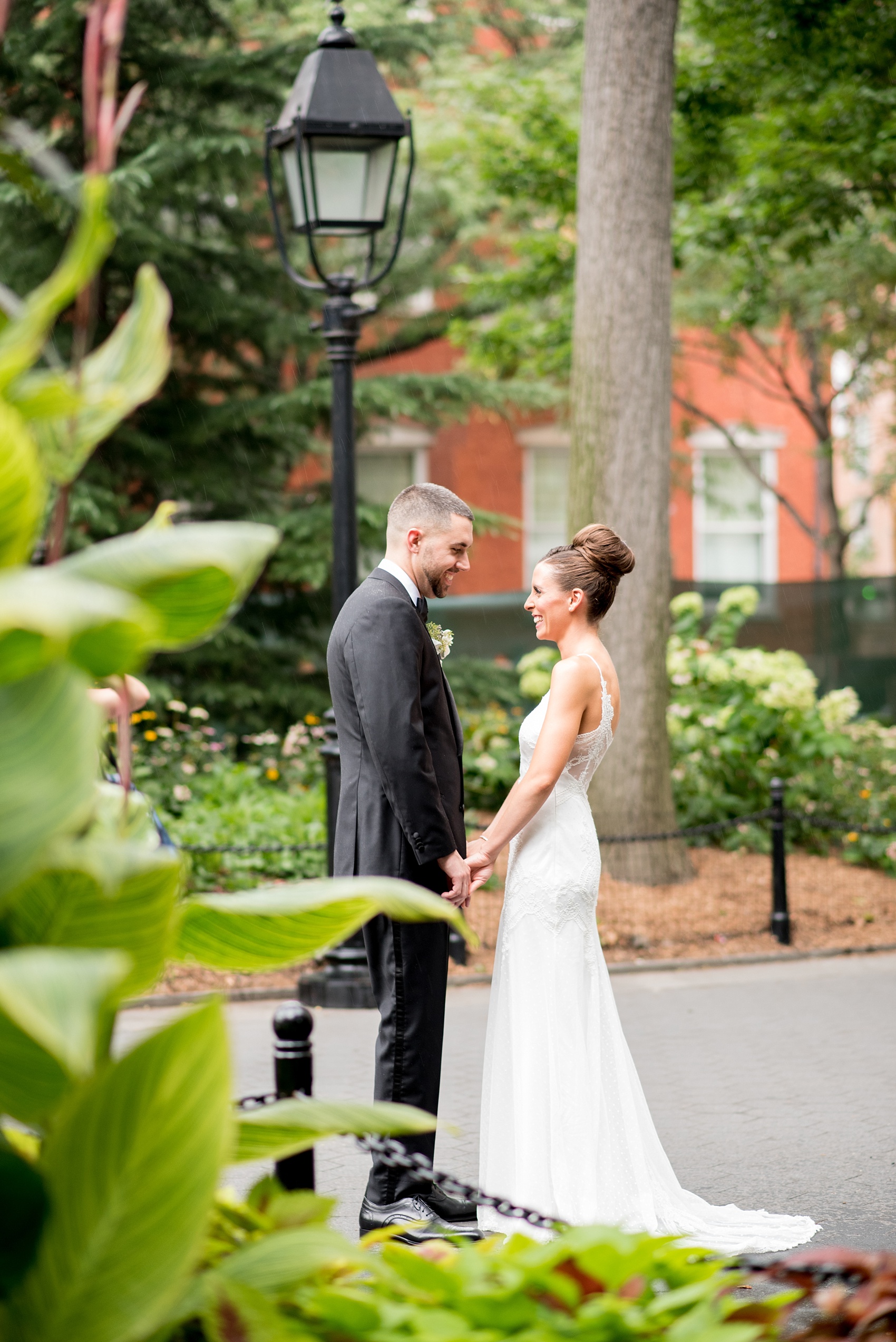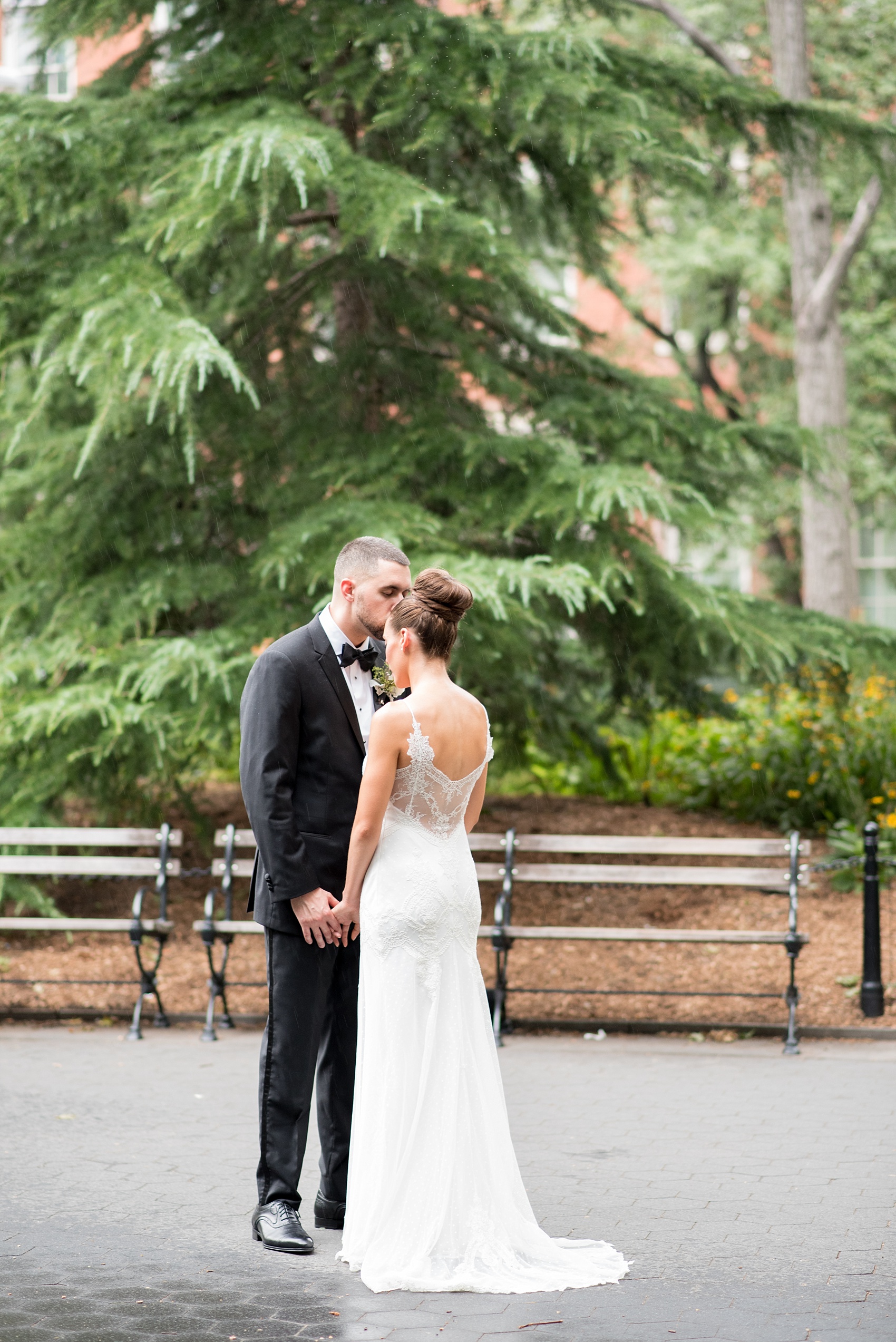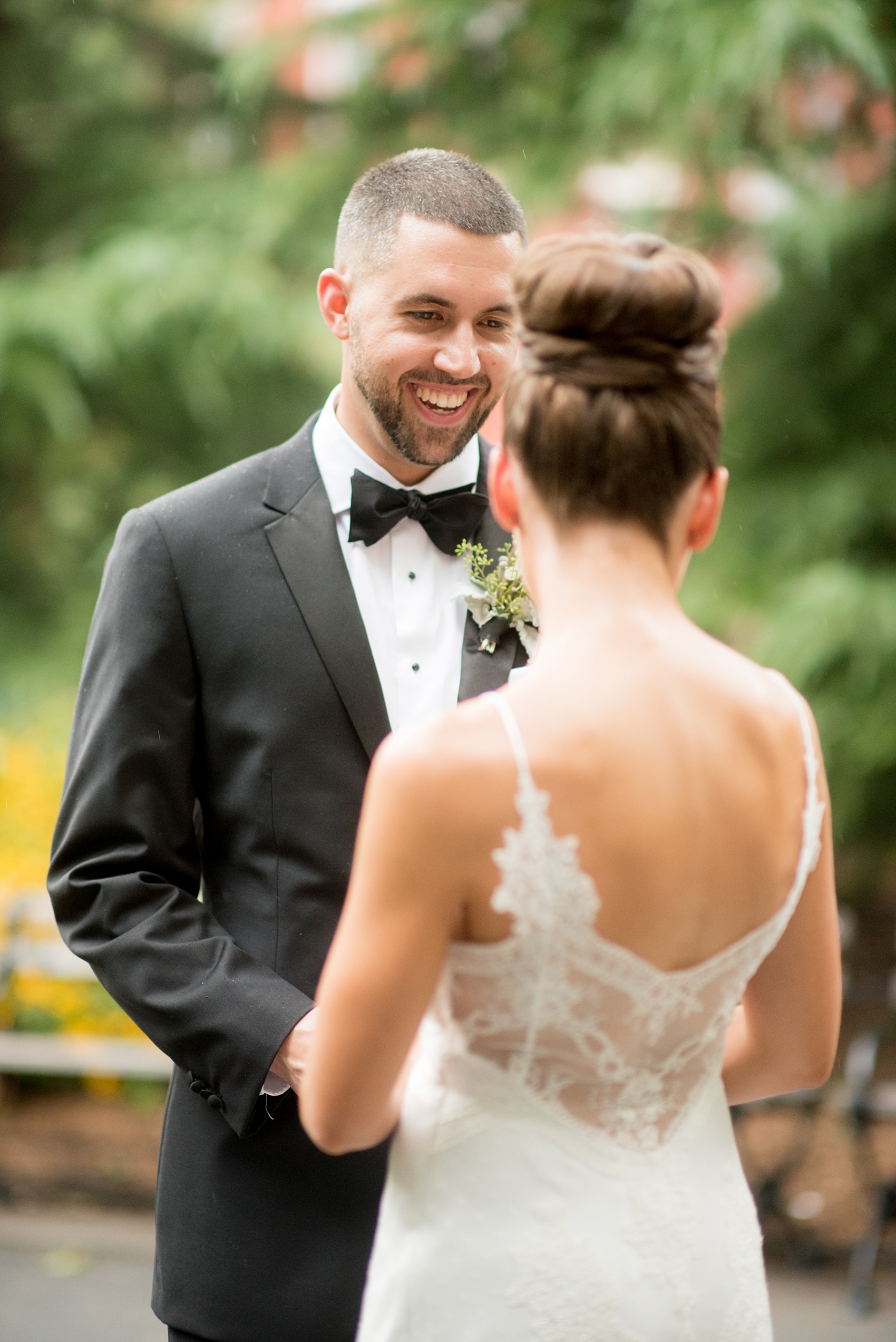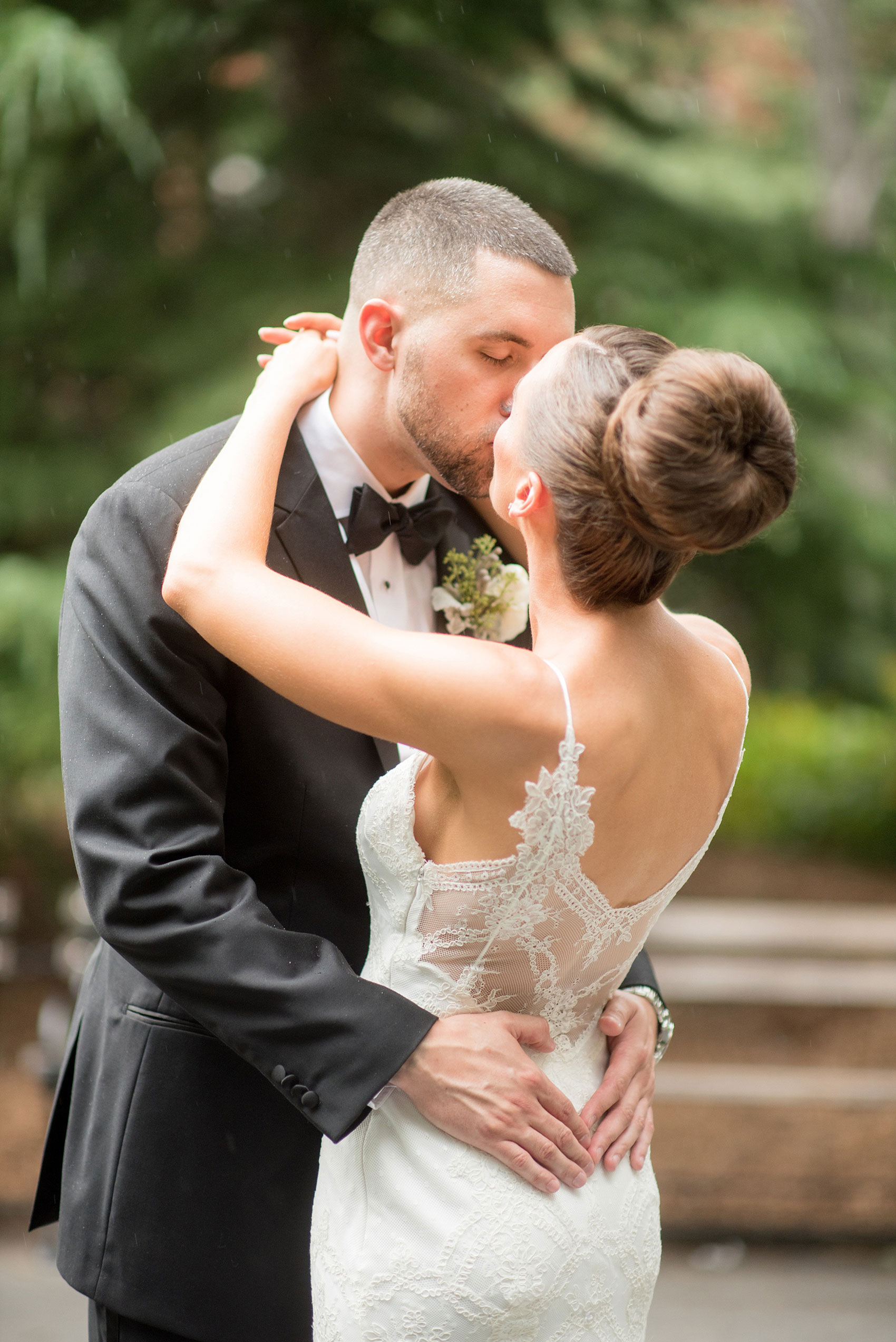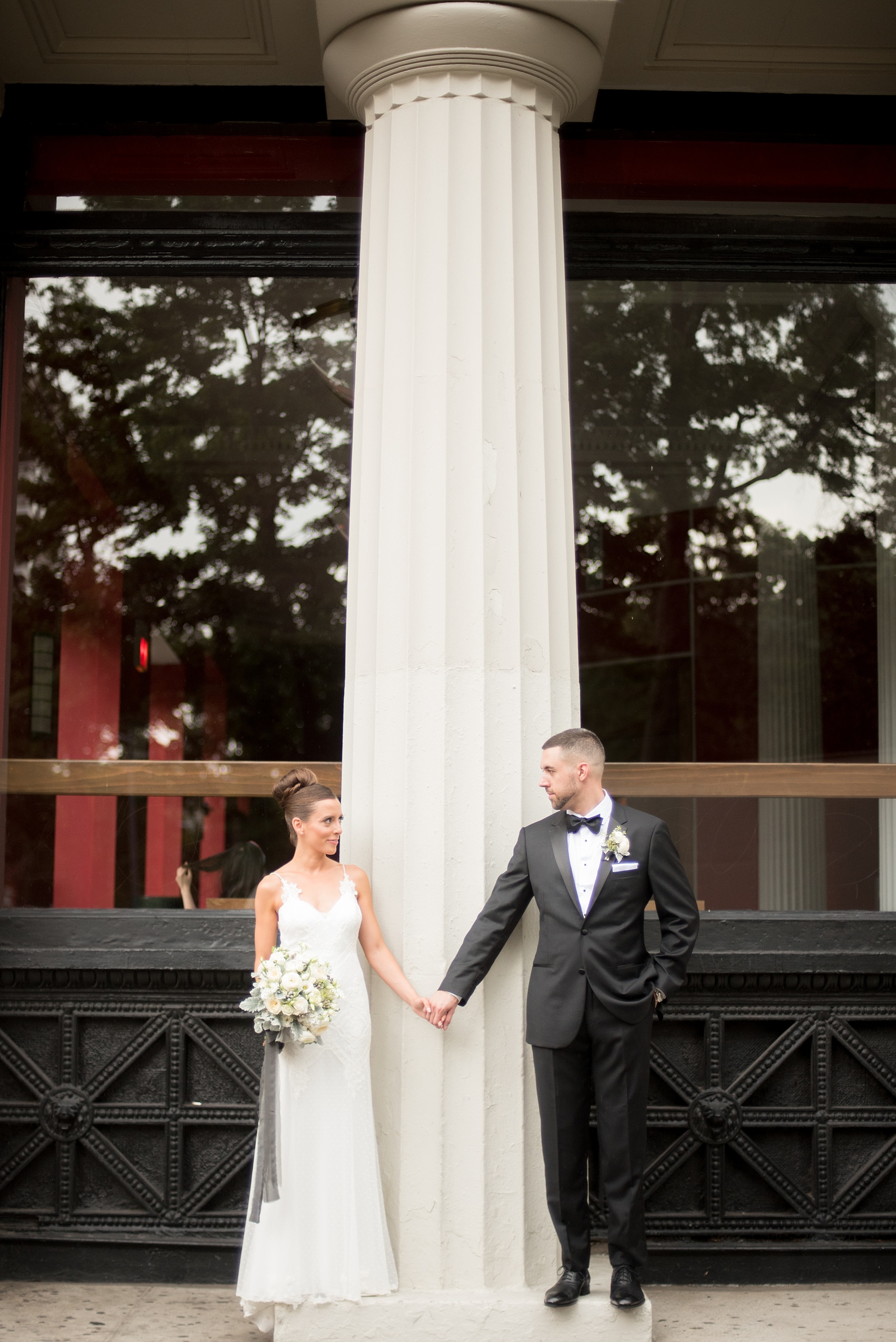 There are so many photo options in NYC from graffiti to cobblestone to skylines…knowing Michelle and her classic style I knew these columns were perfect for some photos as soon as I saw them bordering the park.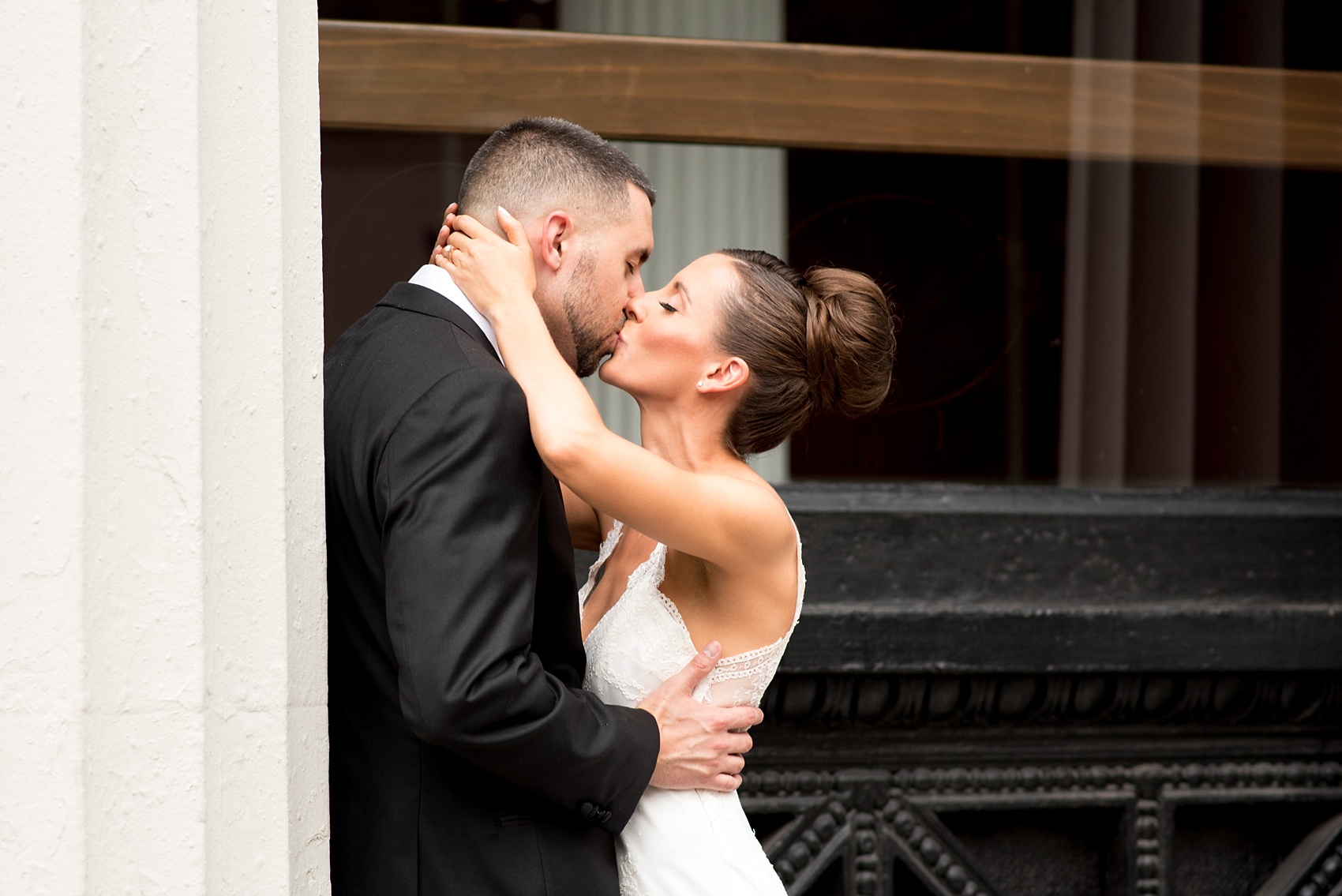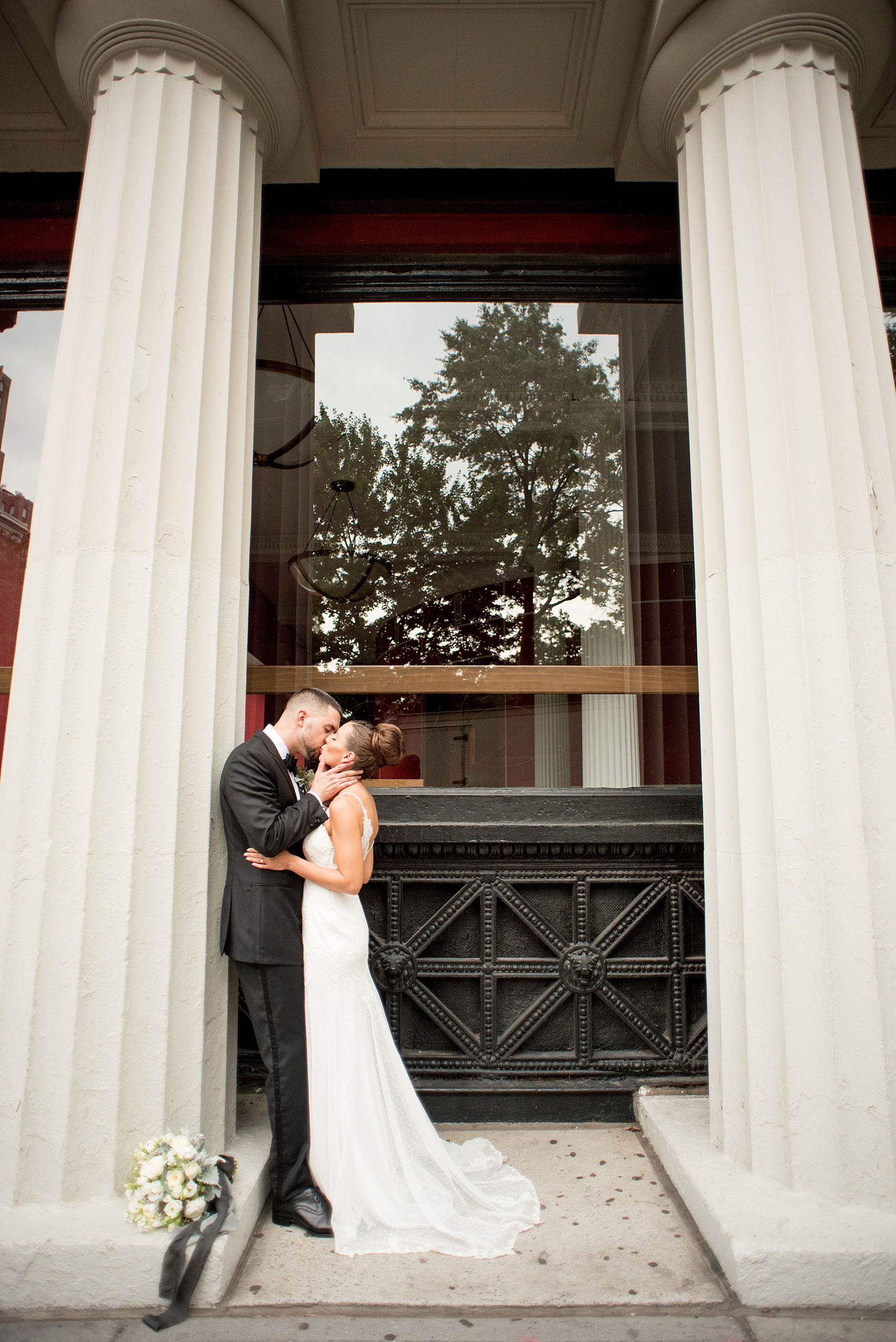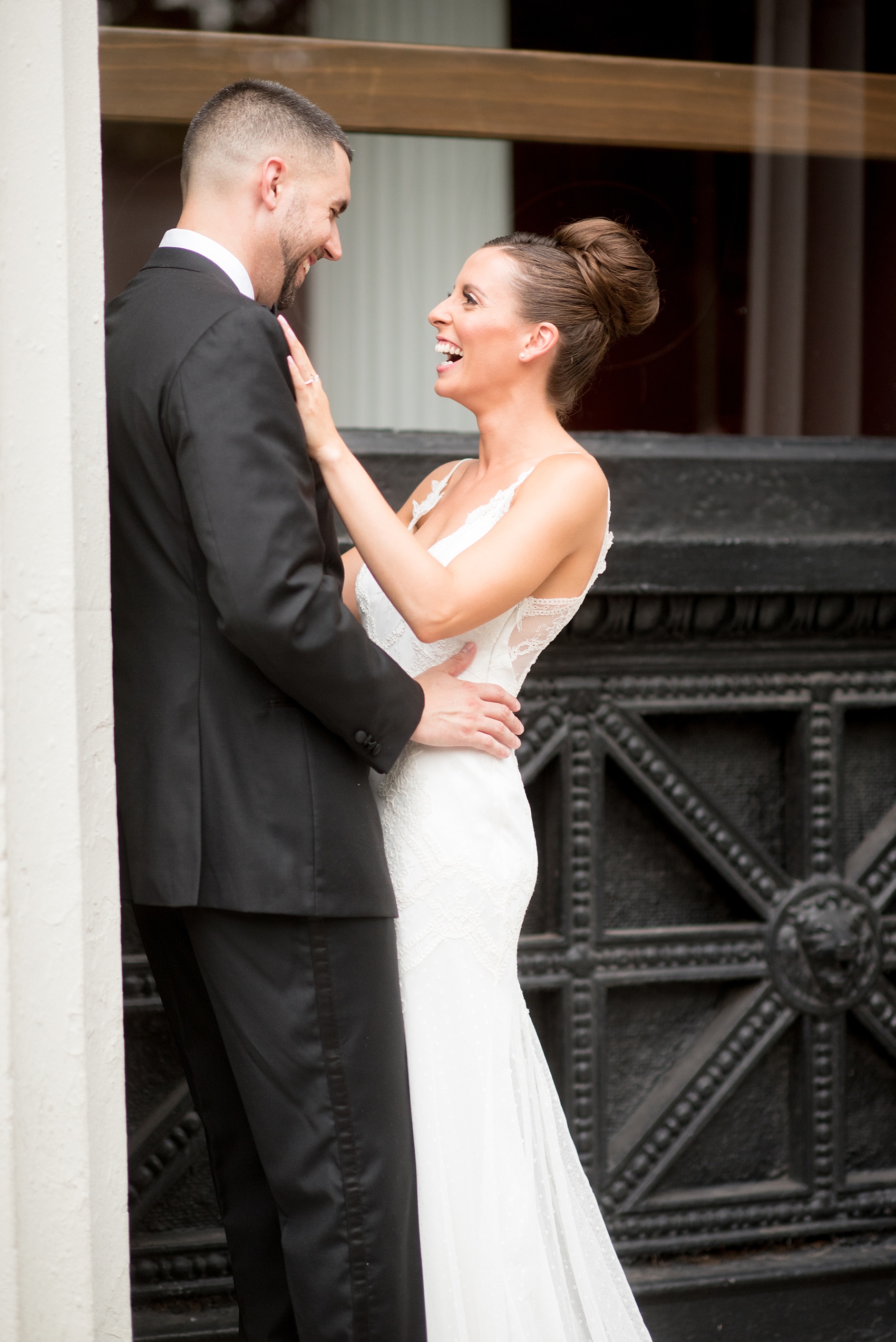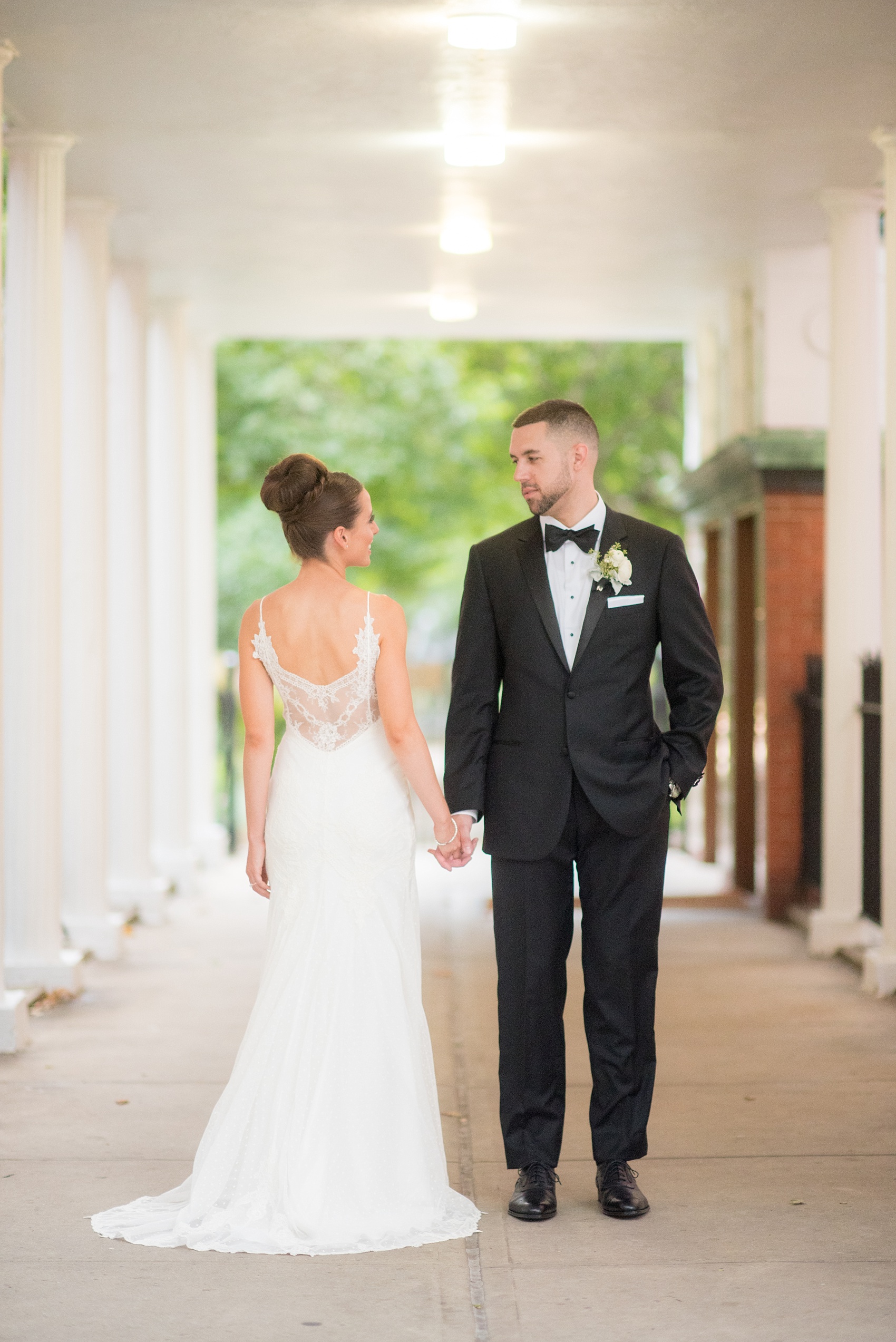 Soon it was time to head to India House where guests were welcomed with a gorgeous framed mirrored sign with hand calligraphy, "Welcome to Michelle and John's Wedding". Guests were ushered into the ceremony room and were handed programs that had a timeline of their love story inside. (I loved that detail!) We snapped from photos with their dog, Chip, and before we knew it they were married (ahhh!) and it was time to party at the reception!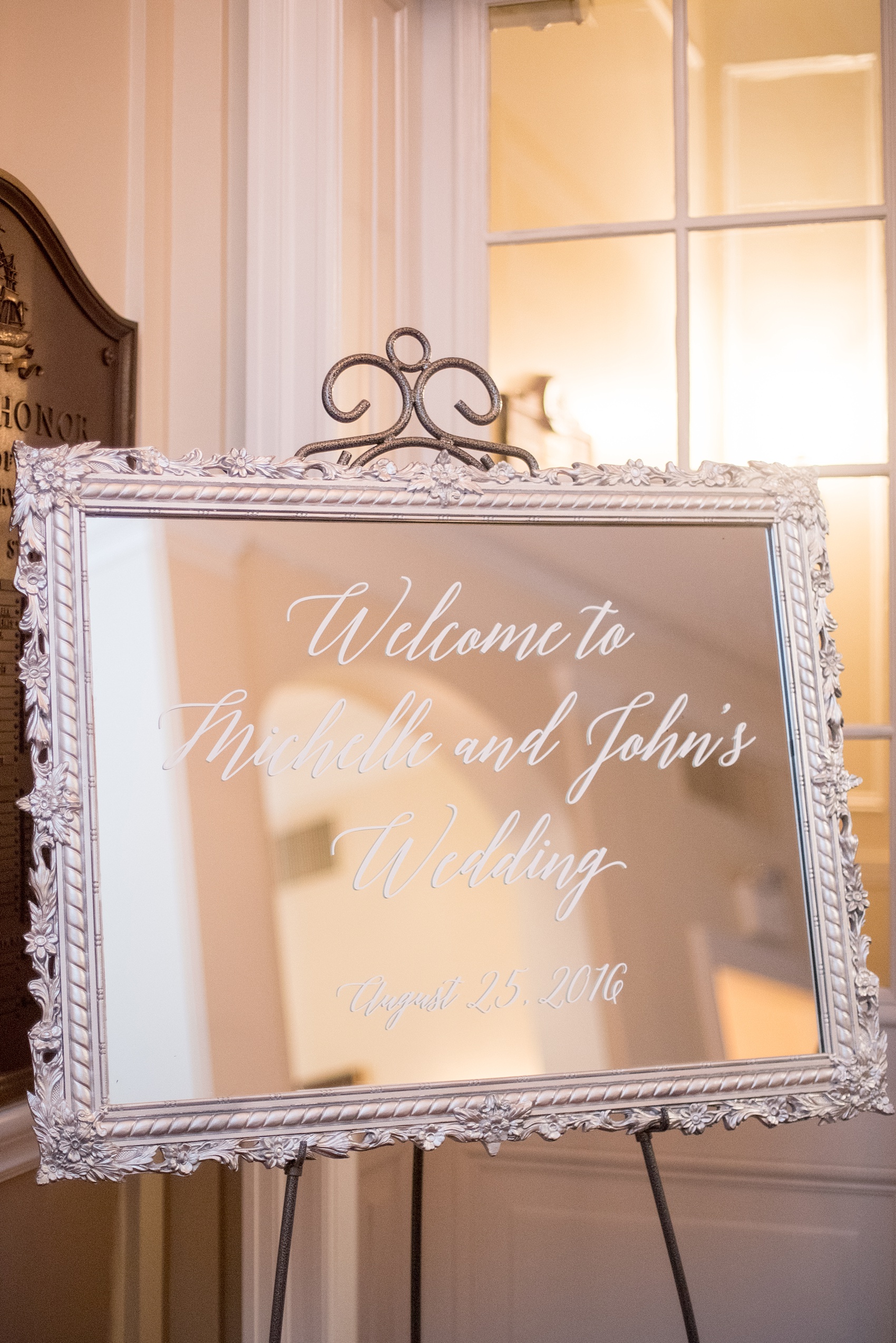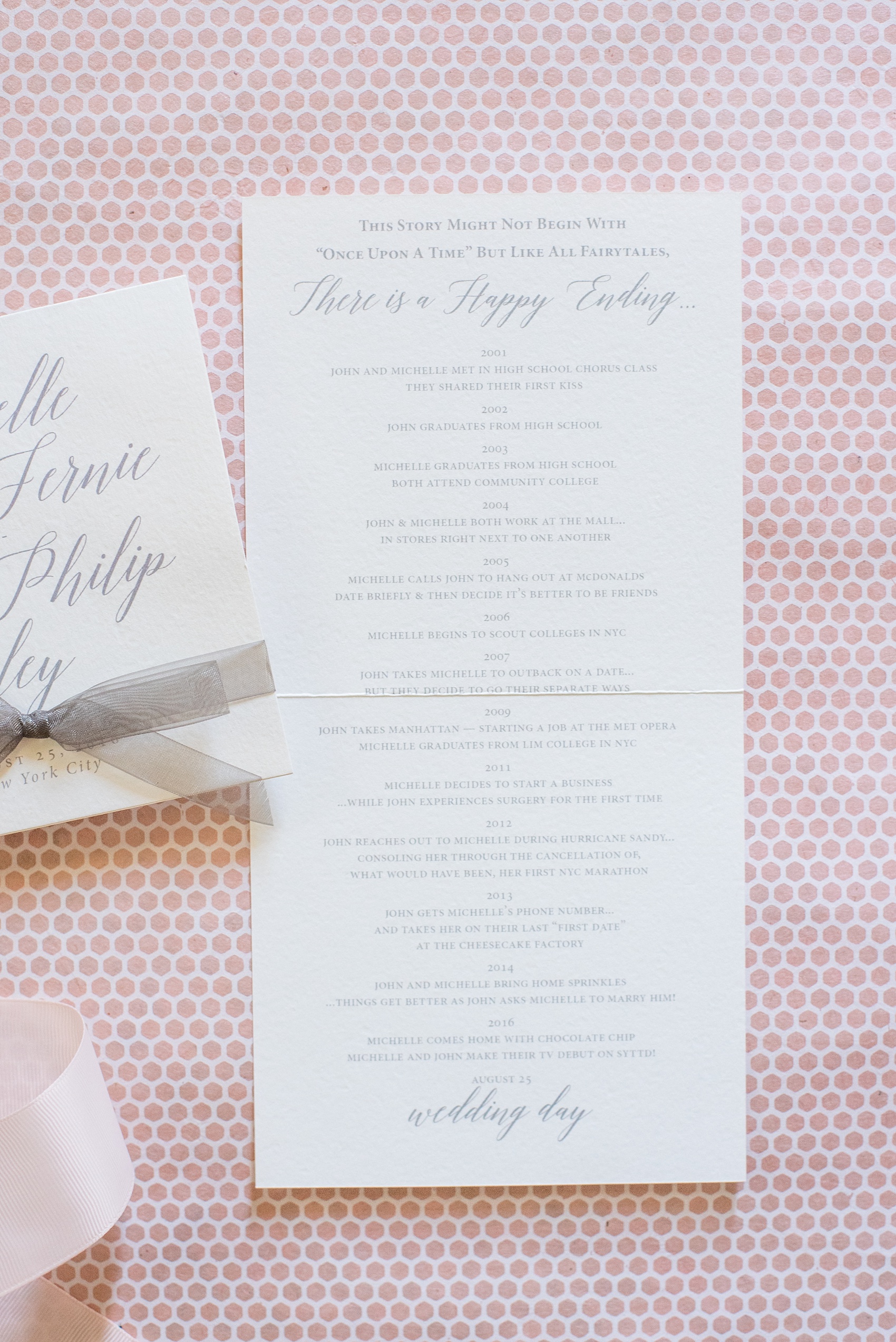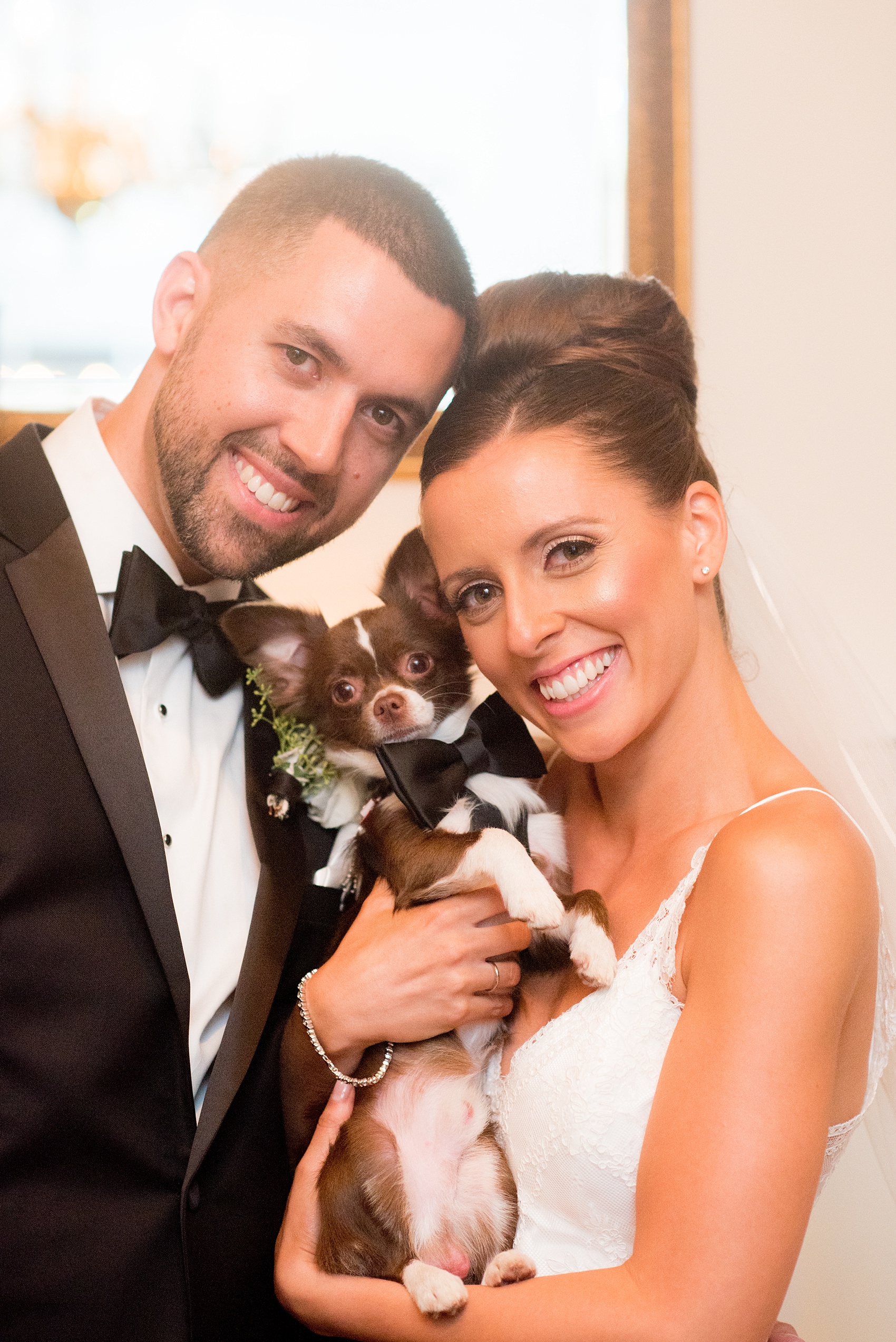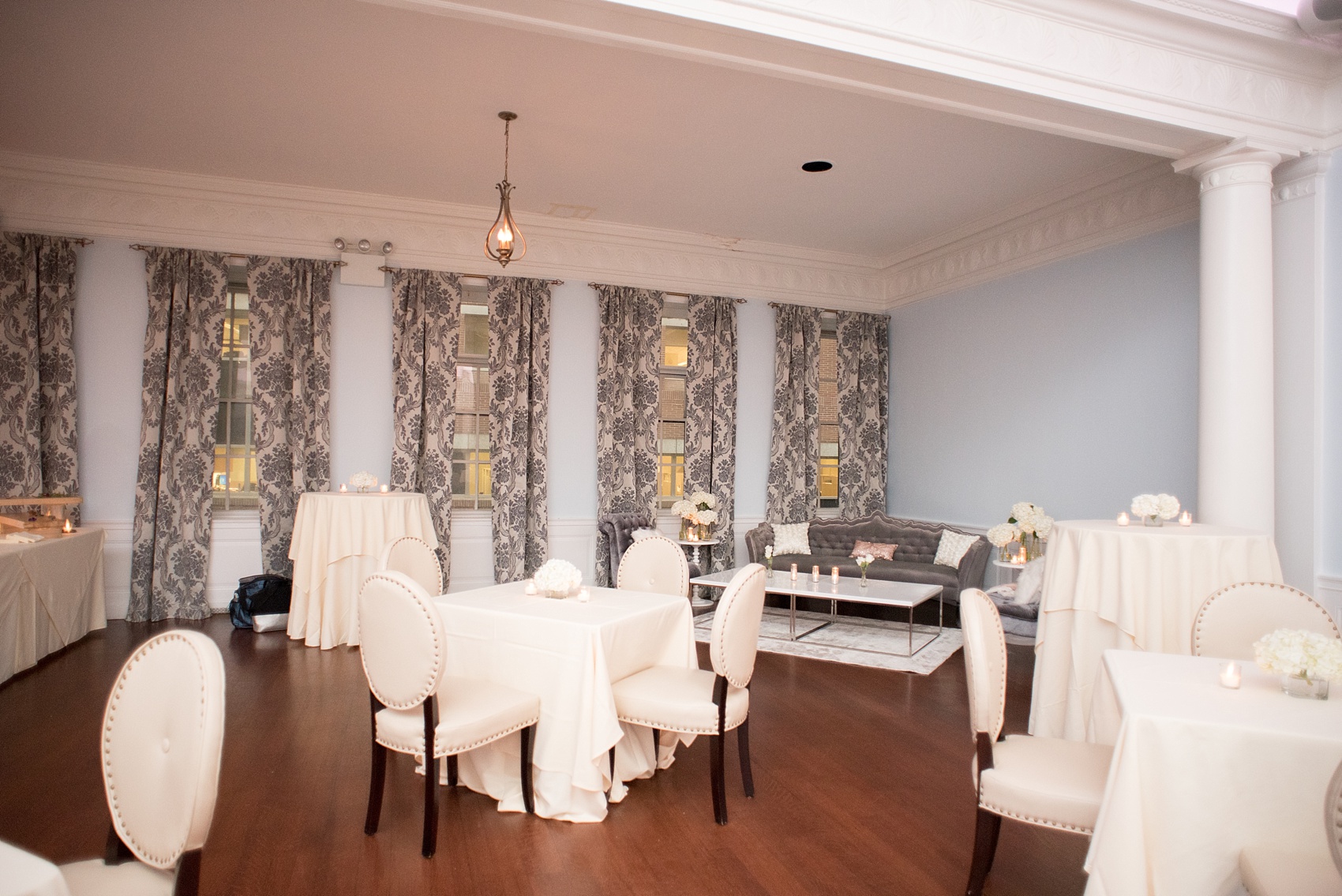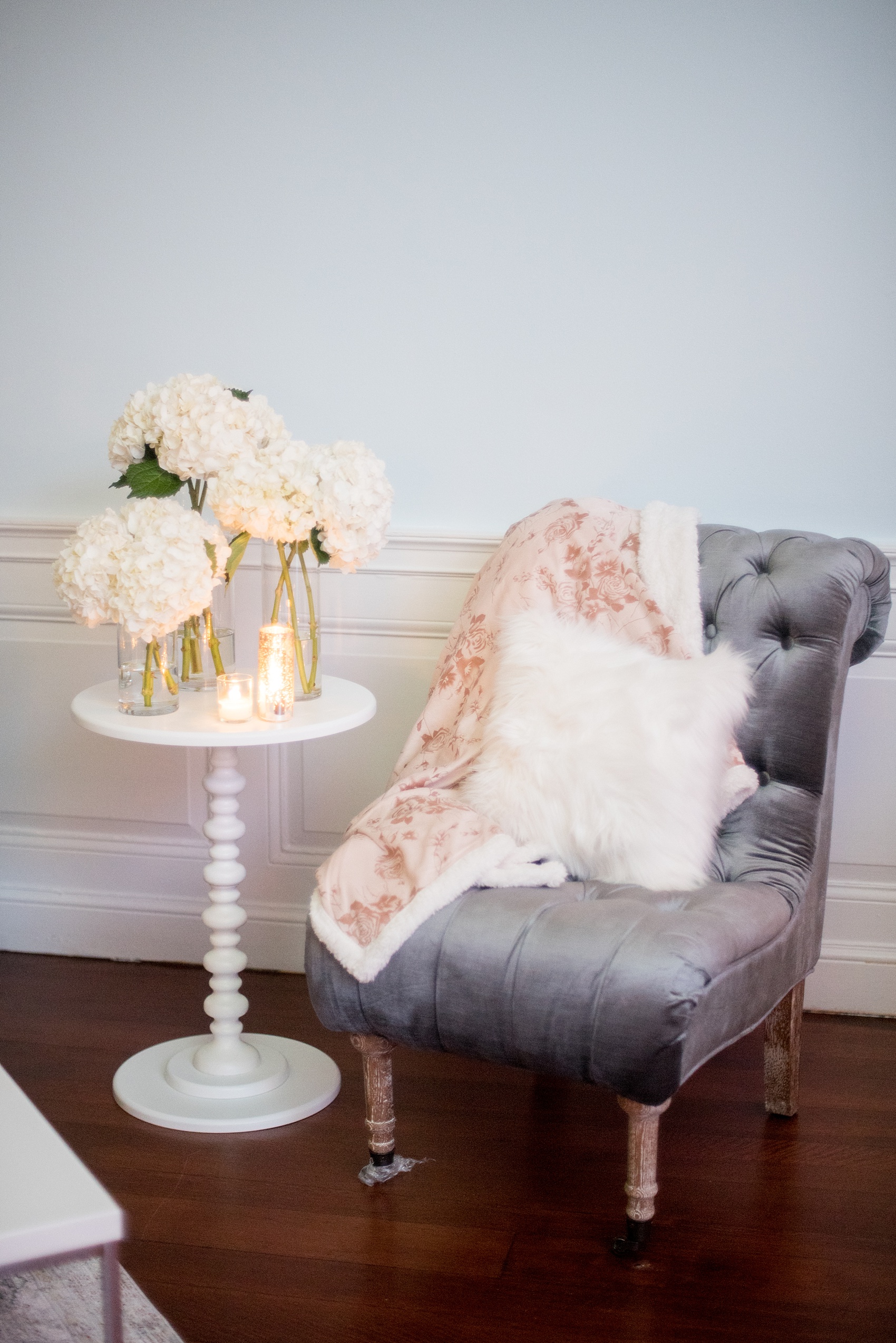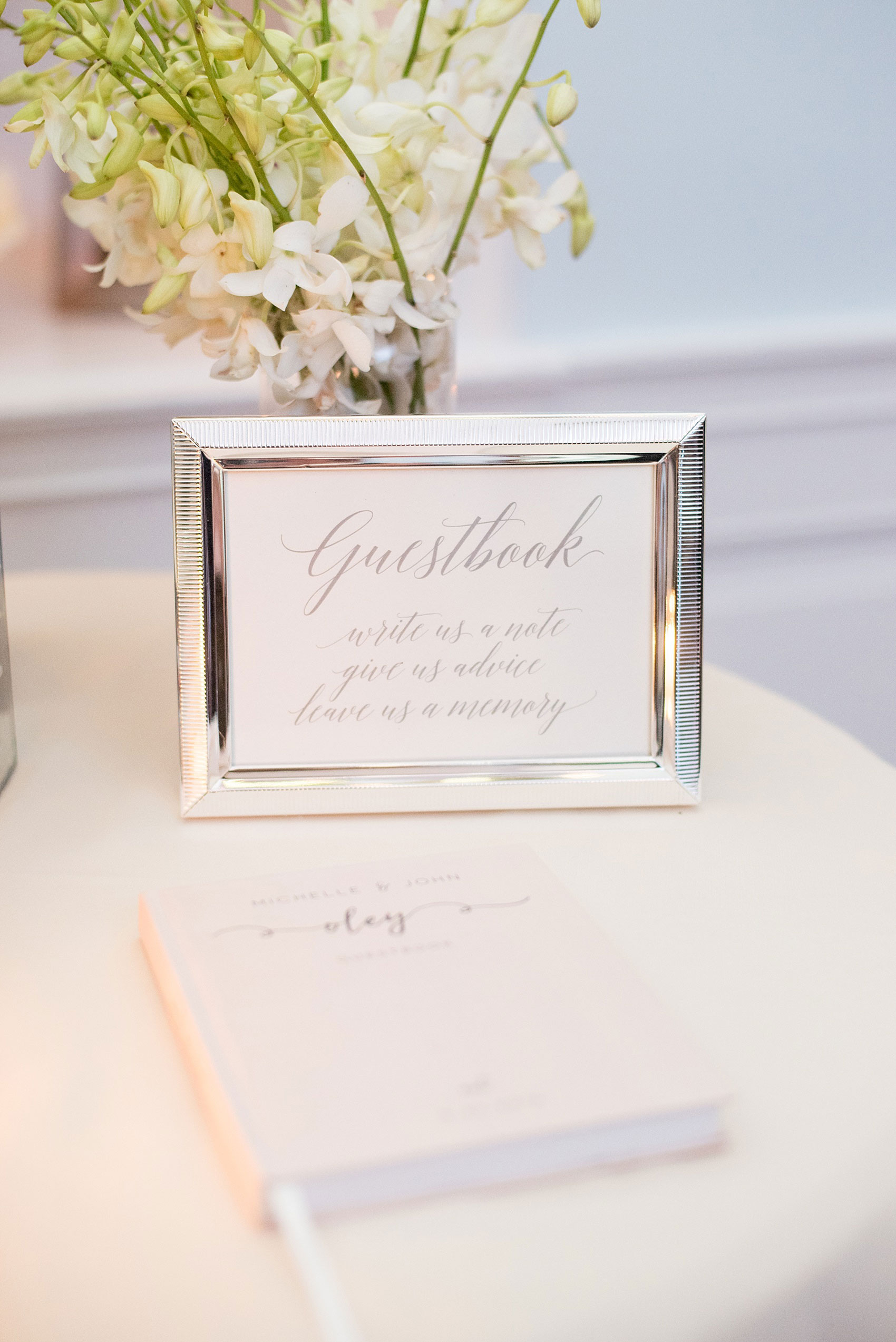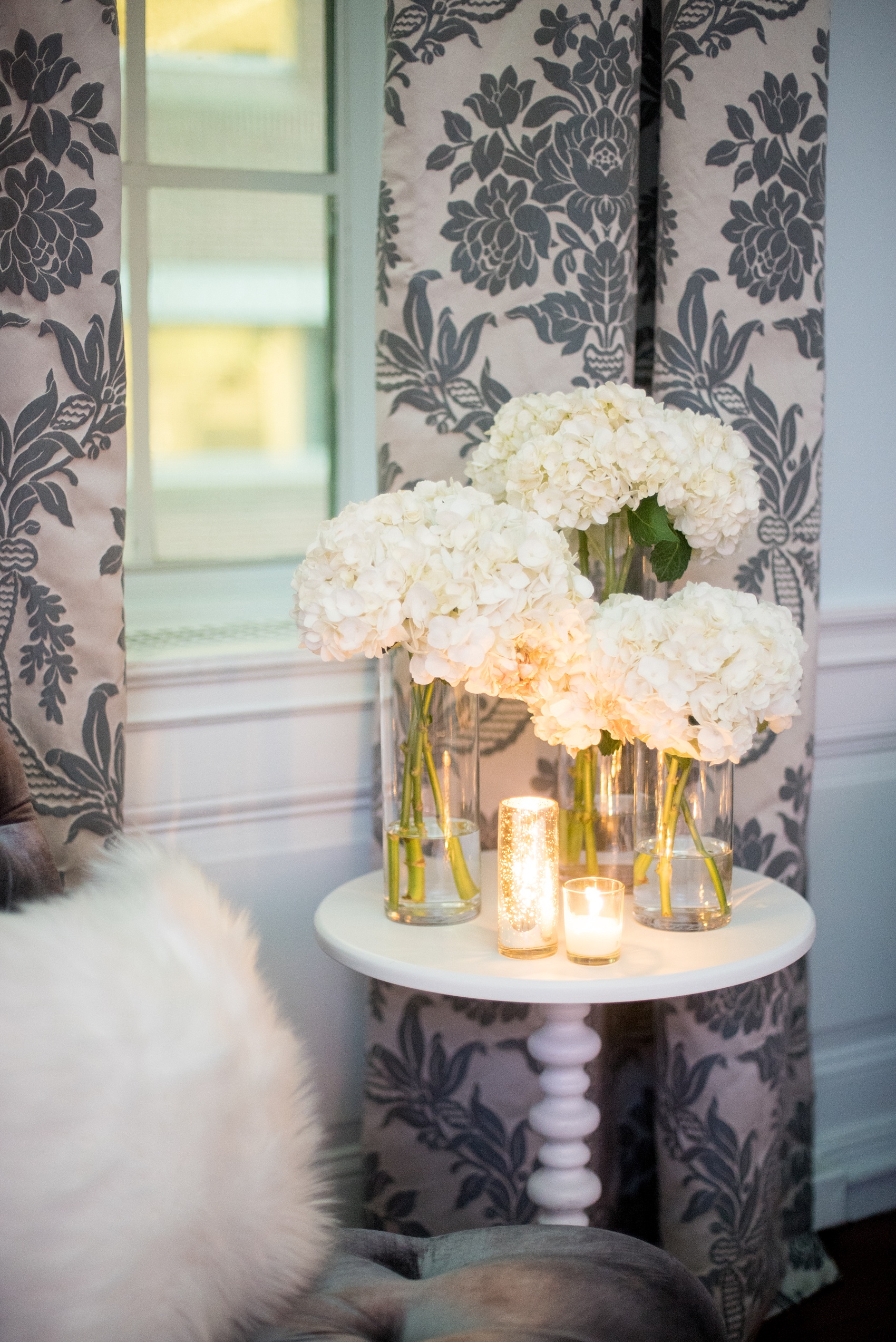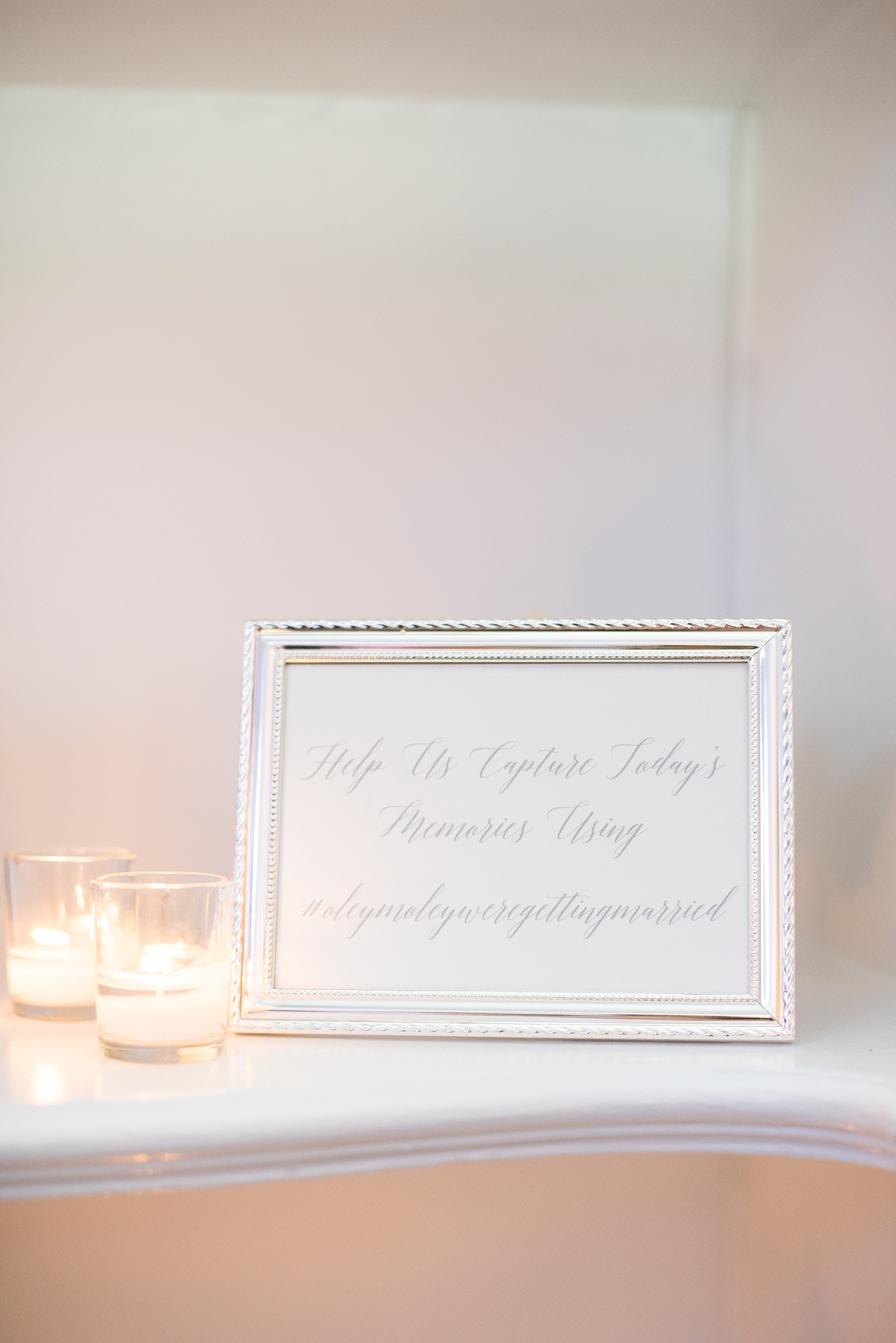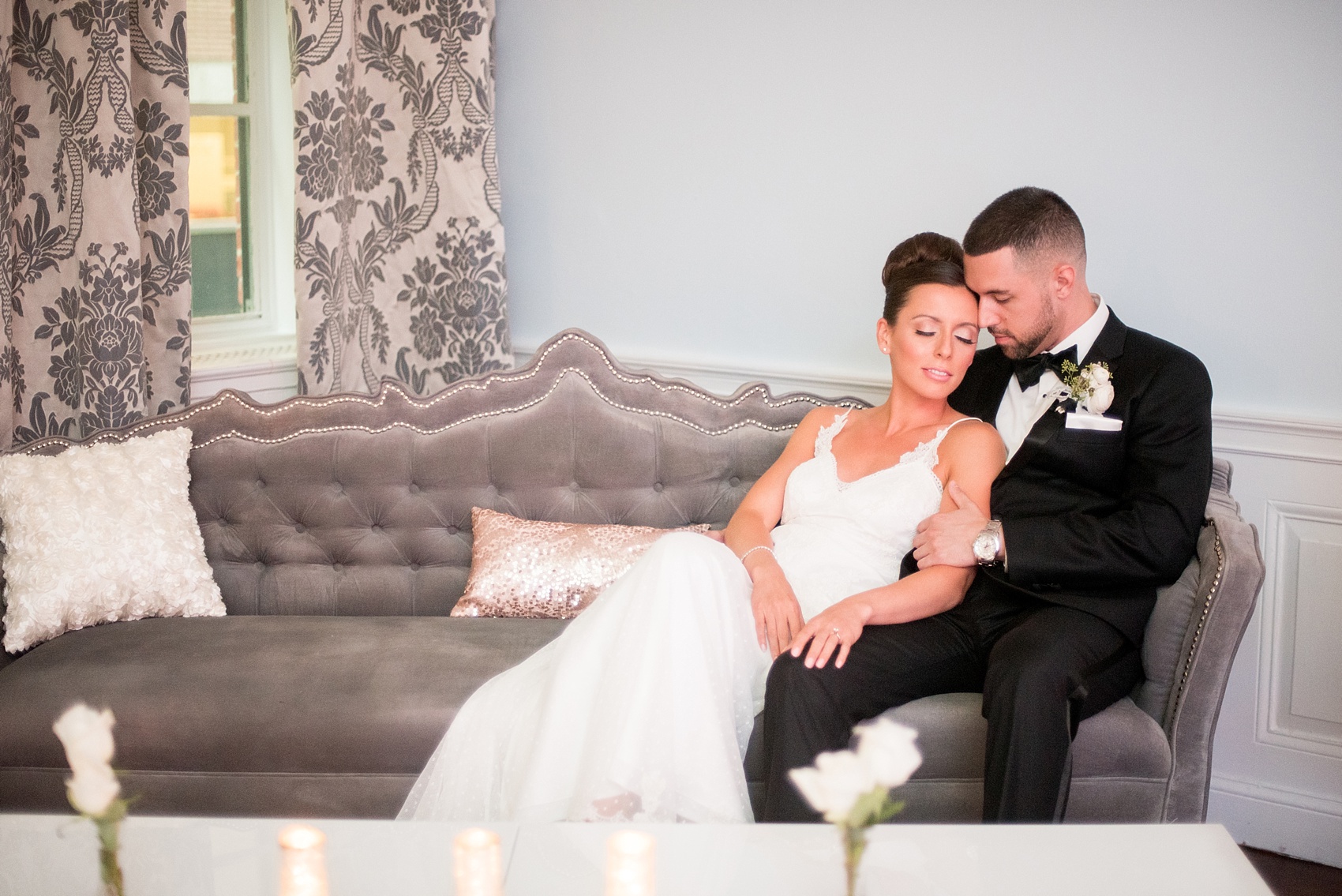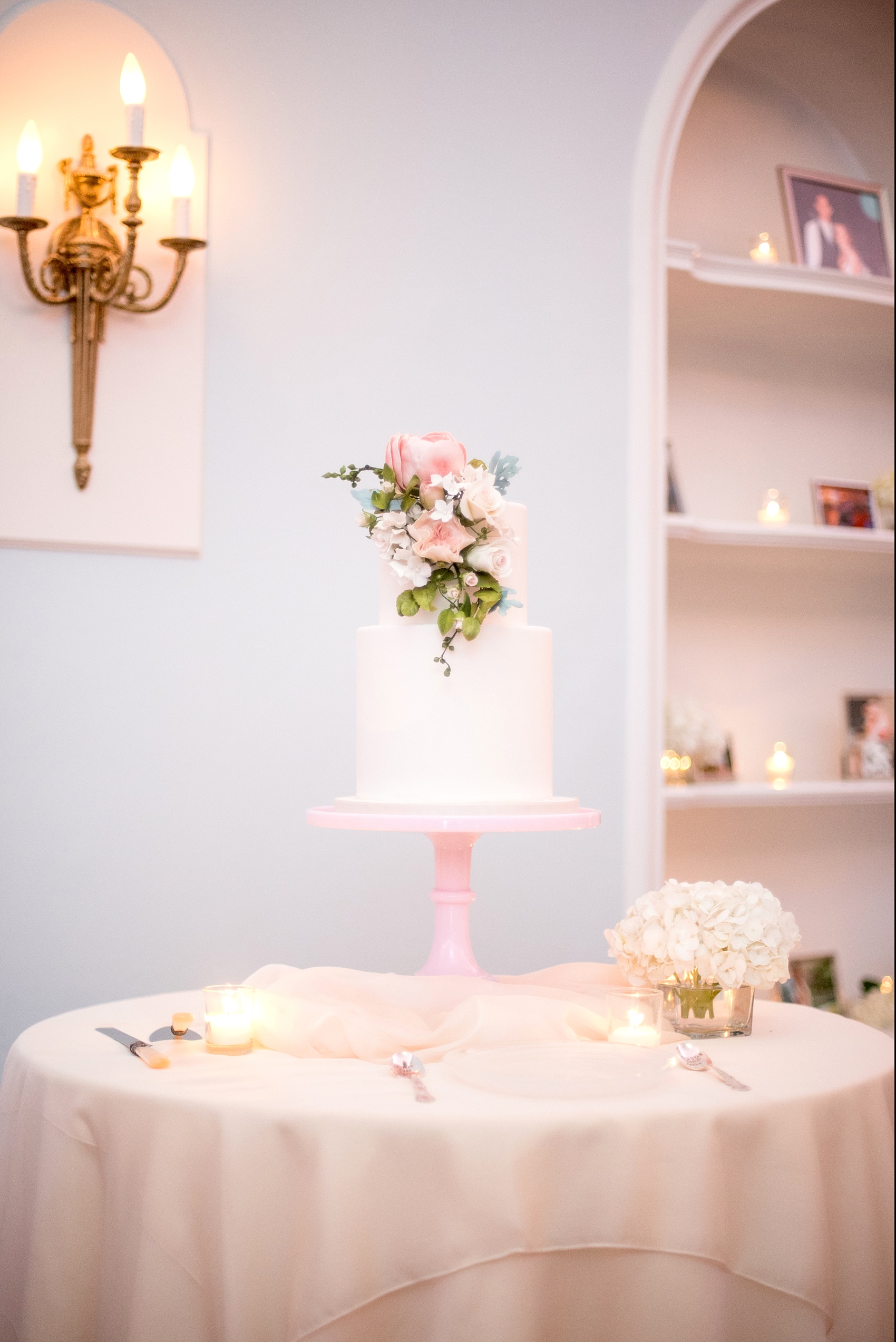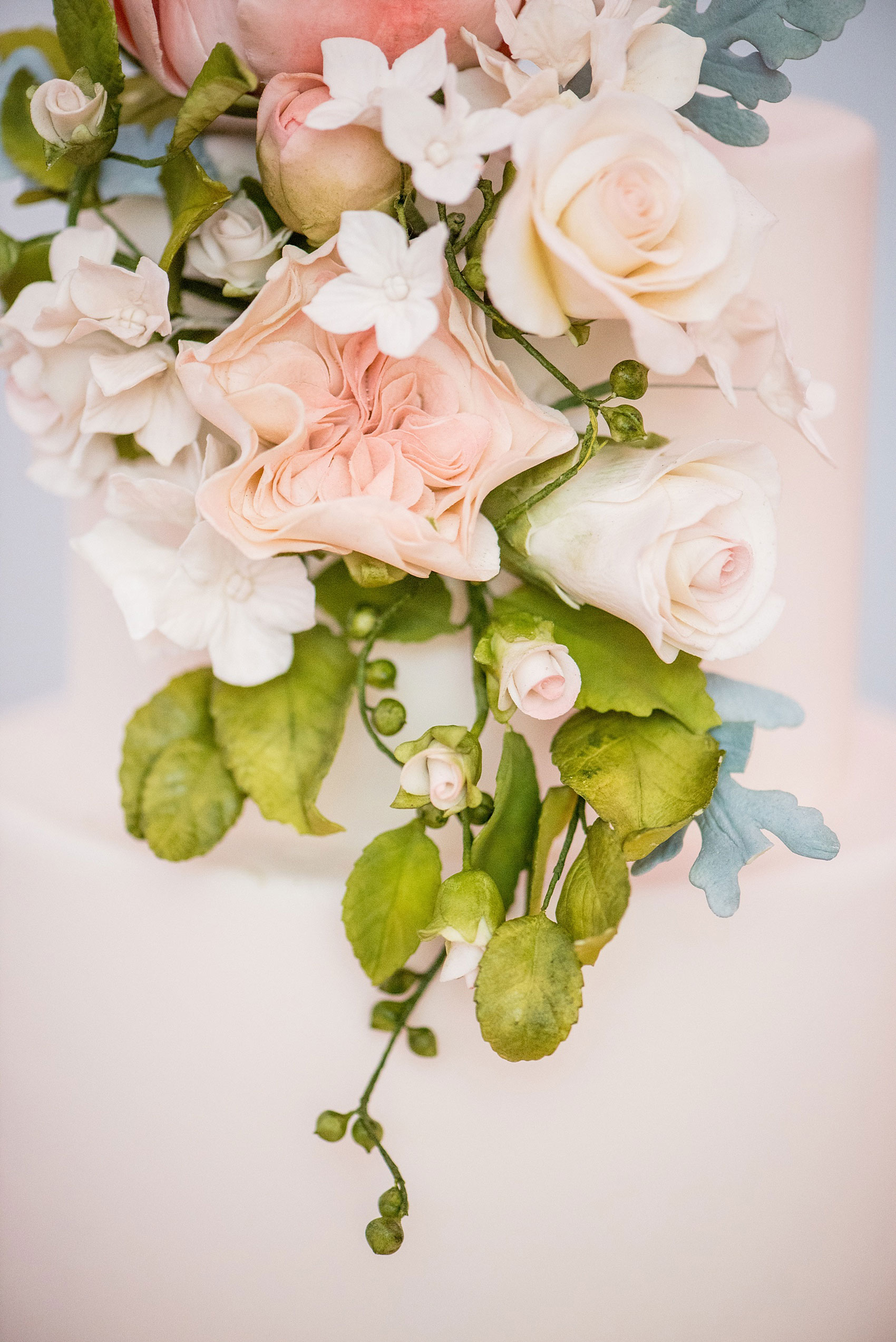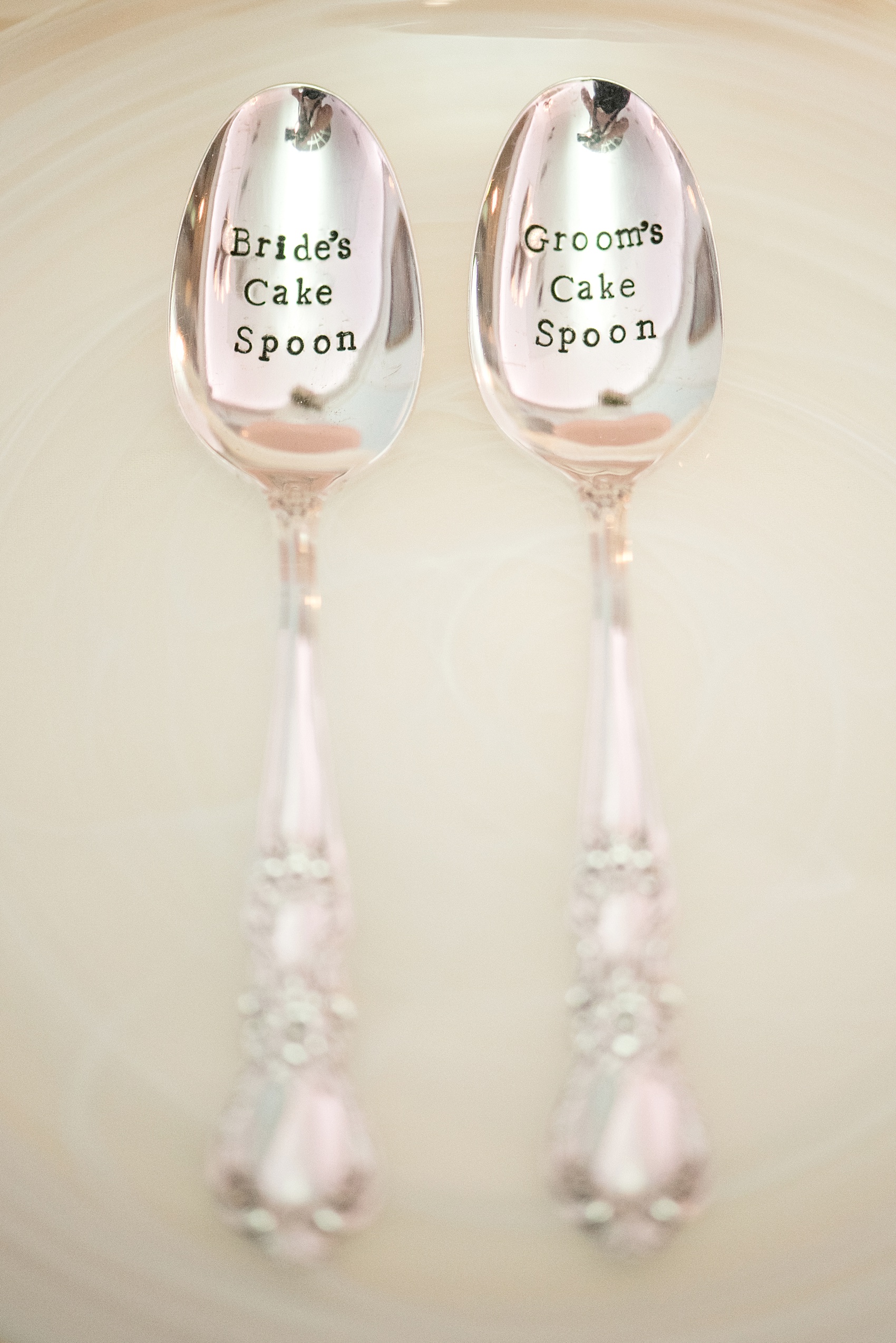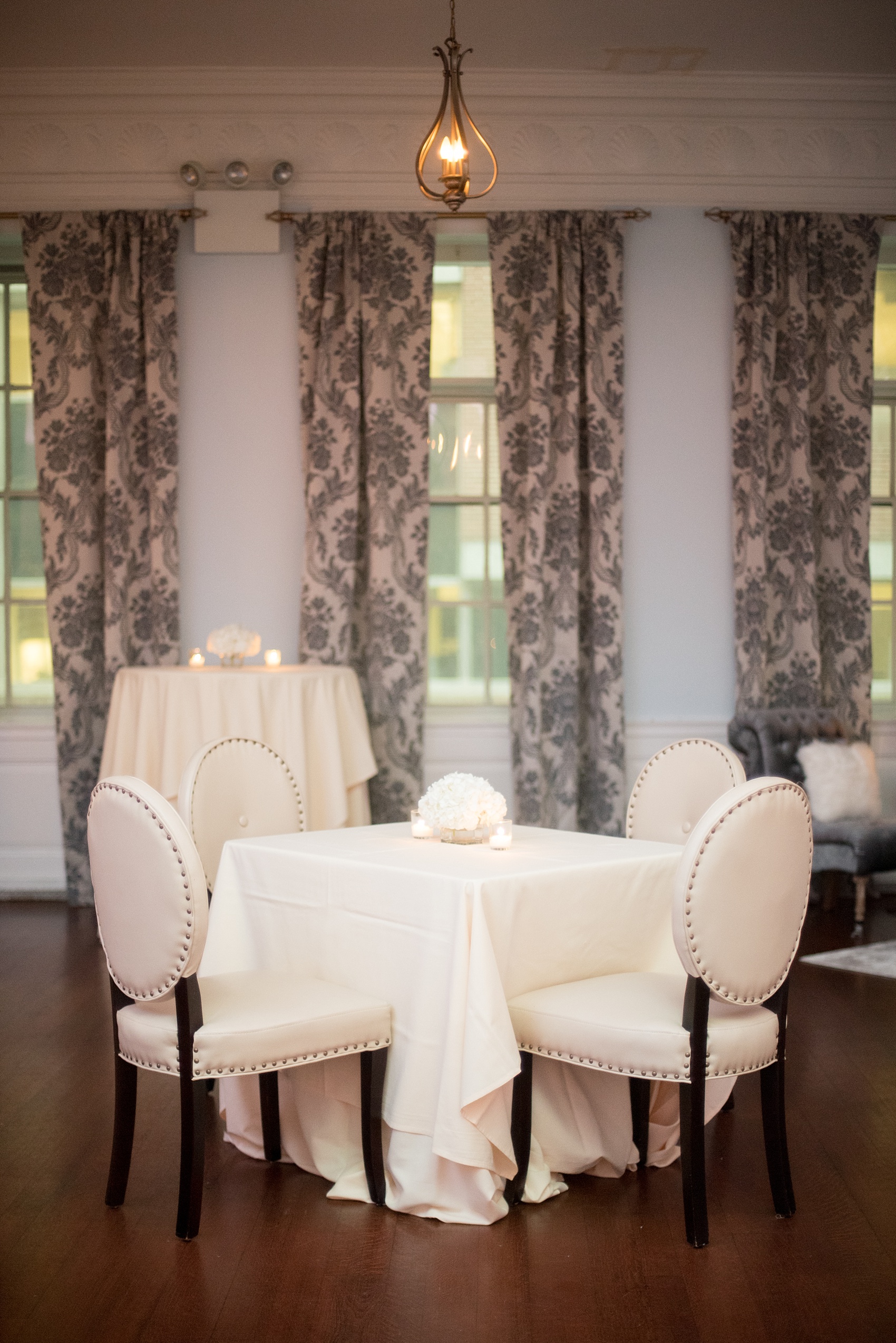 They opted for a cocktail style reception, which means cocktail hour-type stations of food and passed hors d'oeuvres for longer than usual, and limited seating which keeps everyone on the dance floor! Michelle and John had a reserved high top table just for them, with a calligraphed "Bride and Groom" sign and candlelight, special champagne flutes that were a gift from family and two pink wine glasses. Of course they had "Mr." and "Mrs." forks and "just" and "married" plates. There was a gorgeous lounge area with comfy gray furniture, white throw pillows, hydrangea flower accents and a nice long coffee table. Their cake was absolutely stunning. A classic two-tiered white round cake decorated with the most realistic looking gumpaste flowers. I had to get close to the garden rose to see if it was real or fake!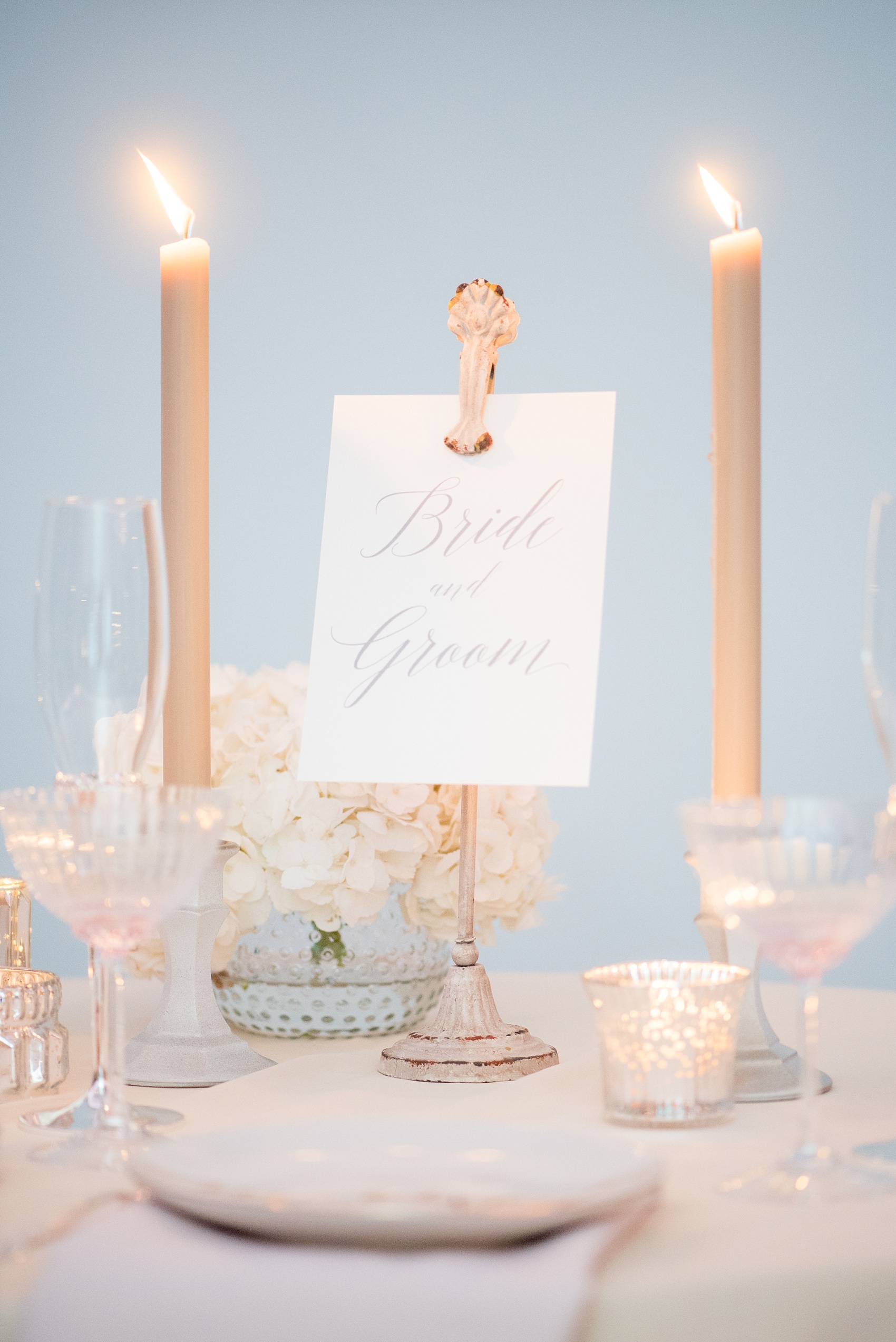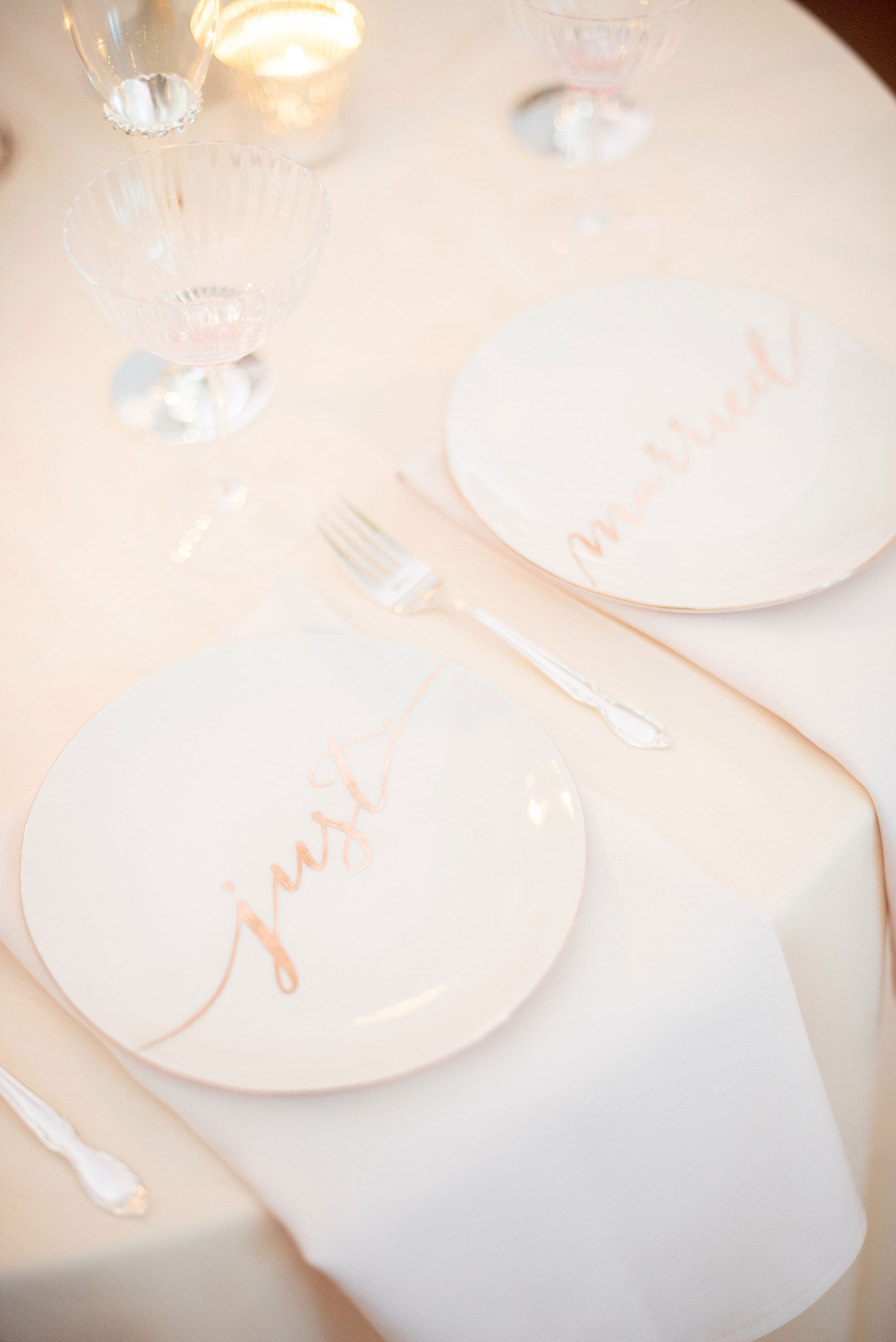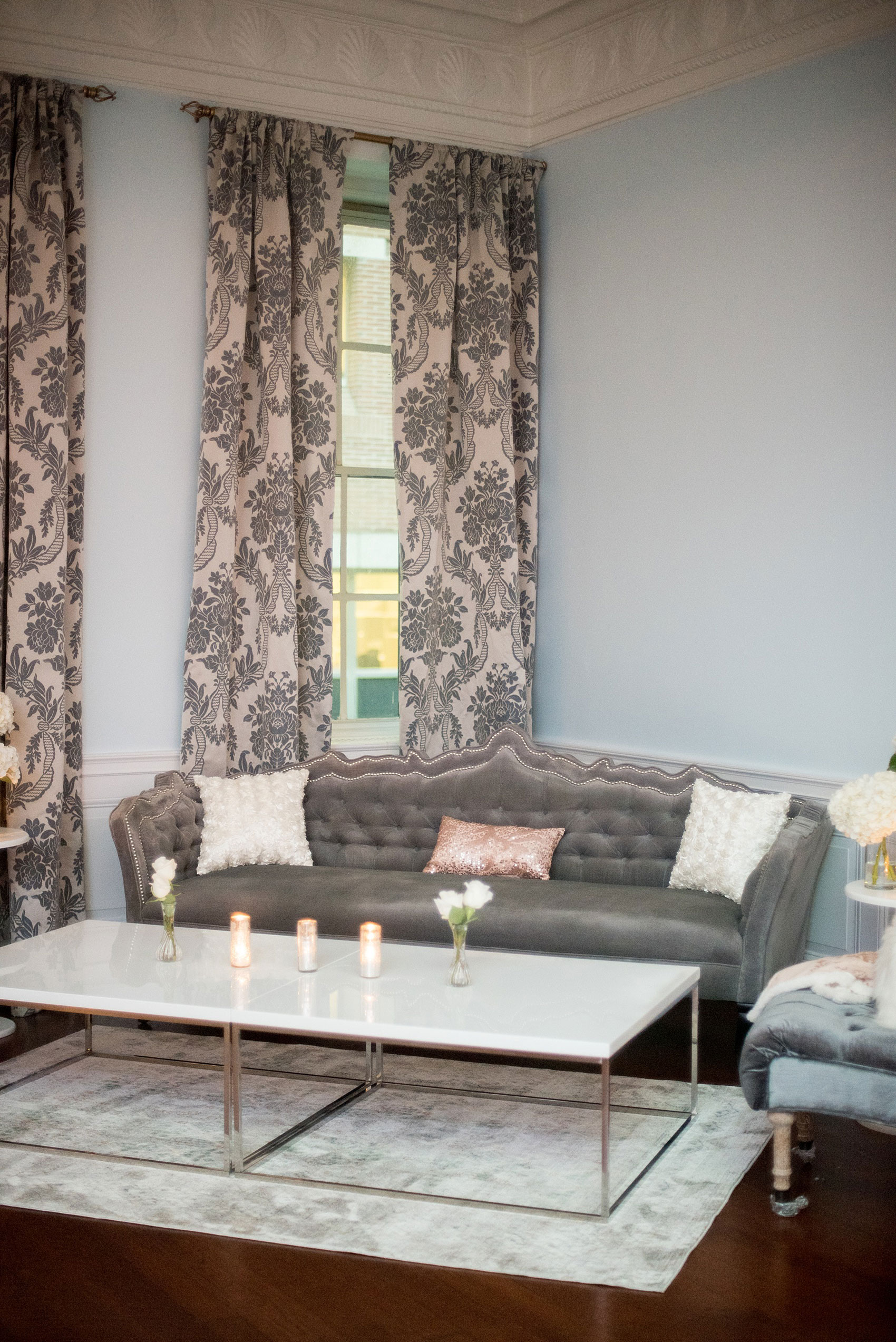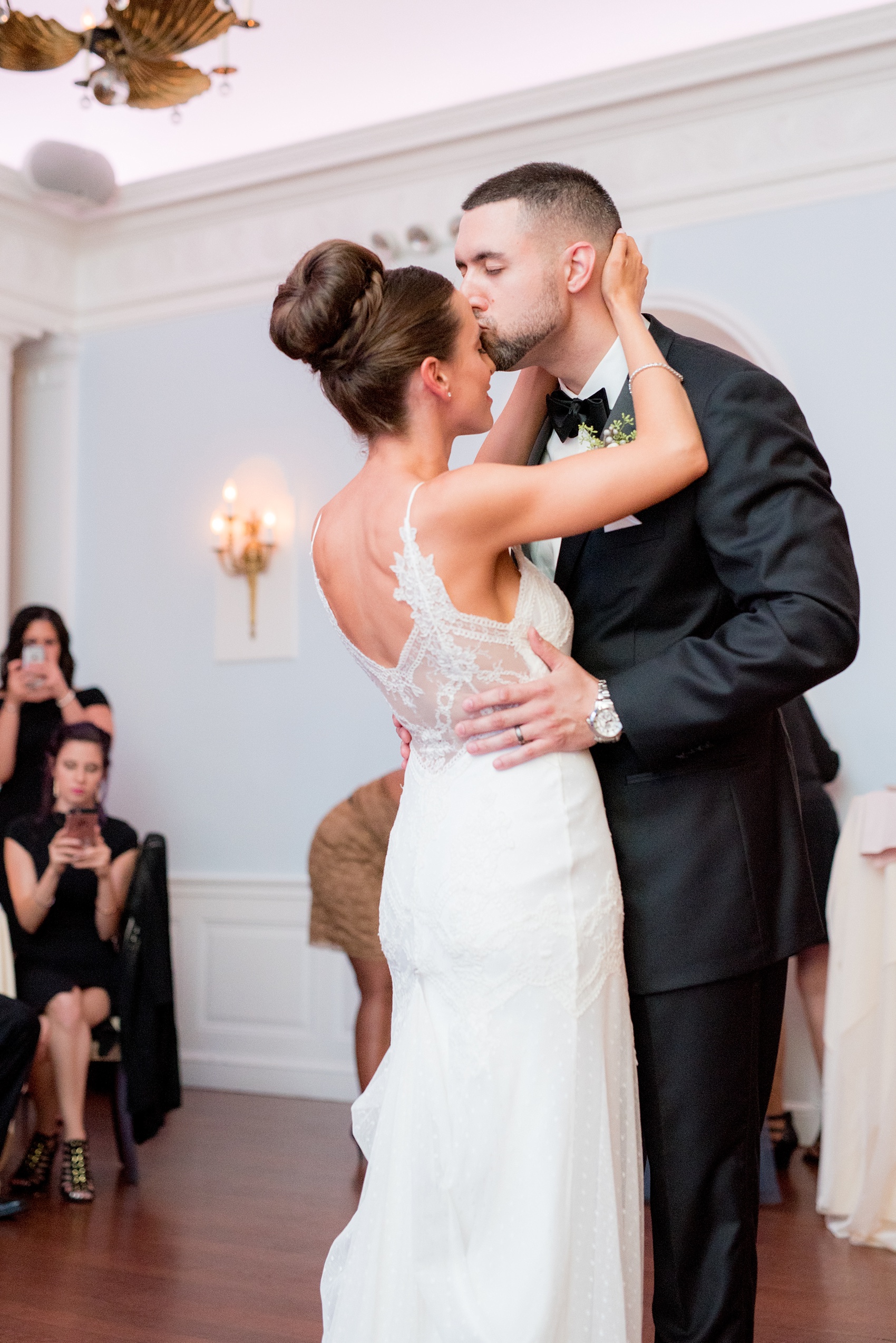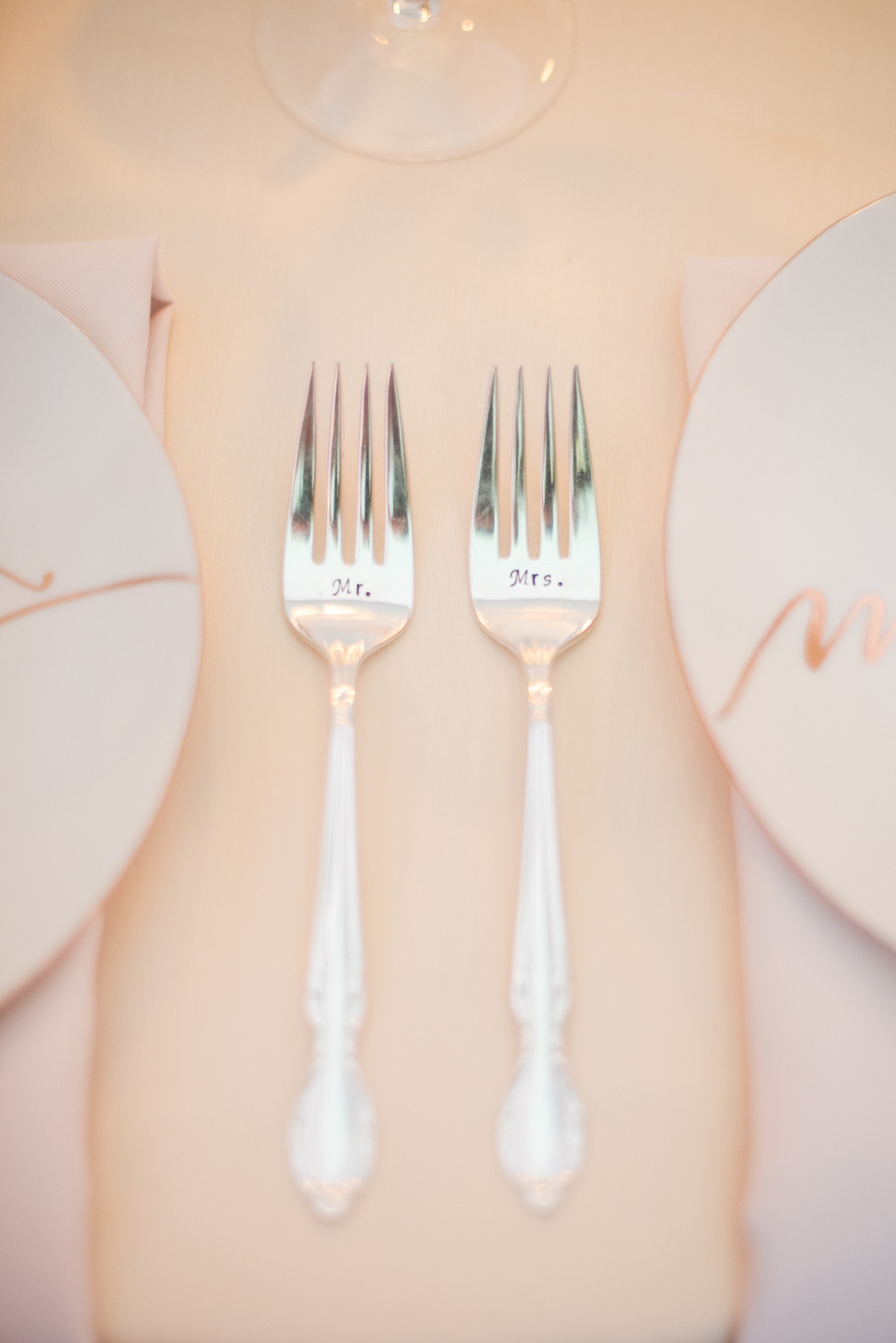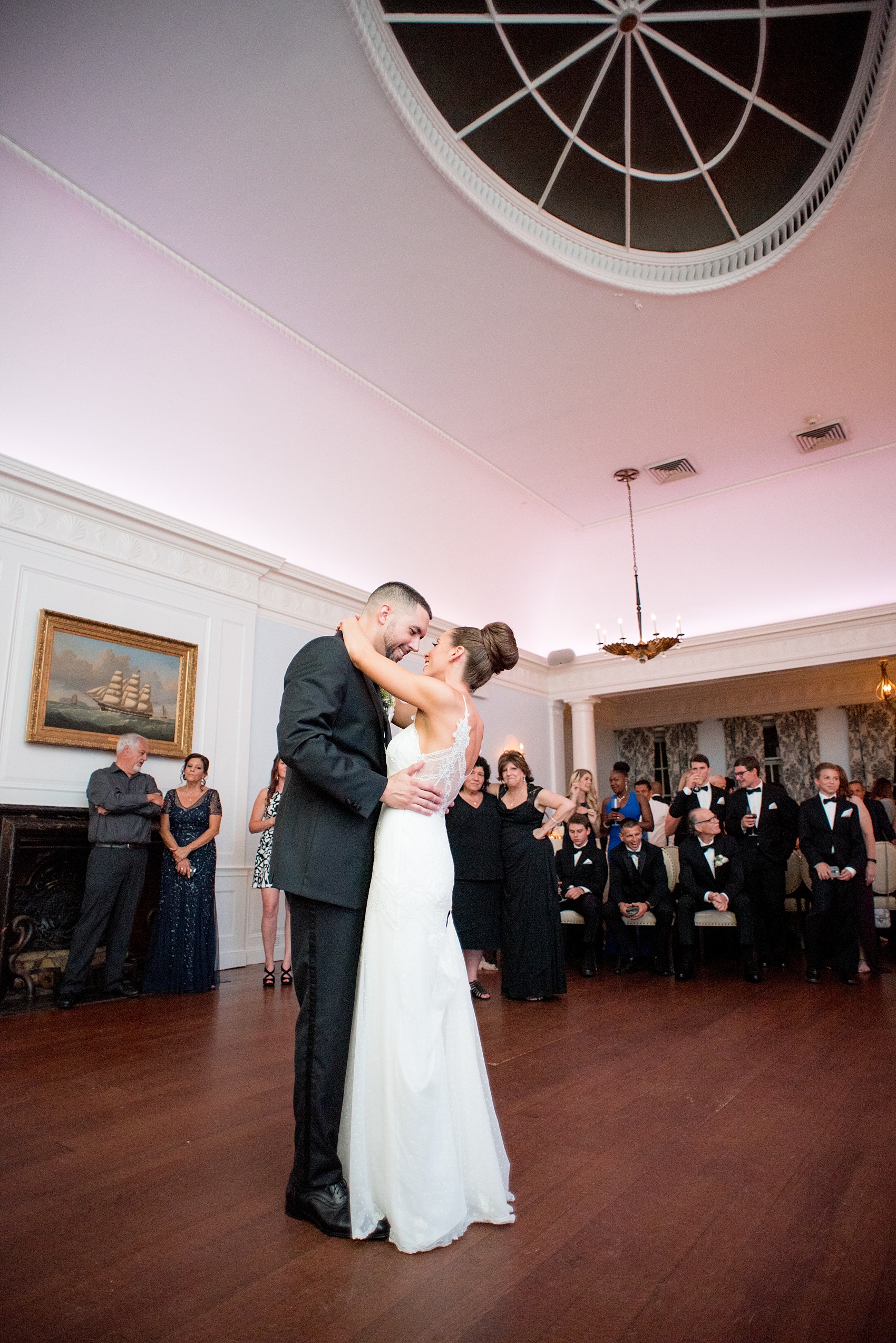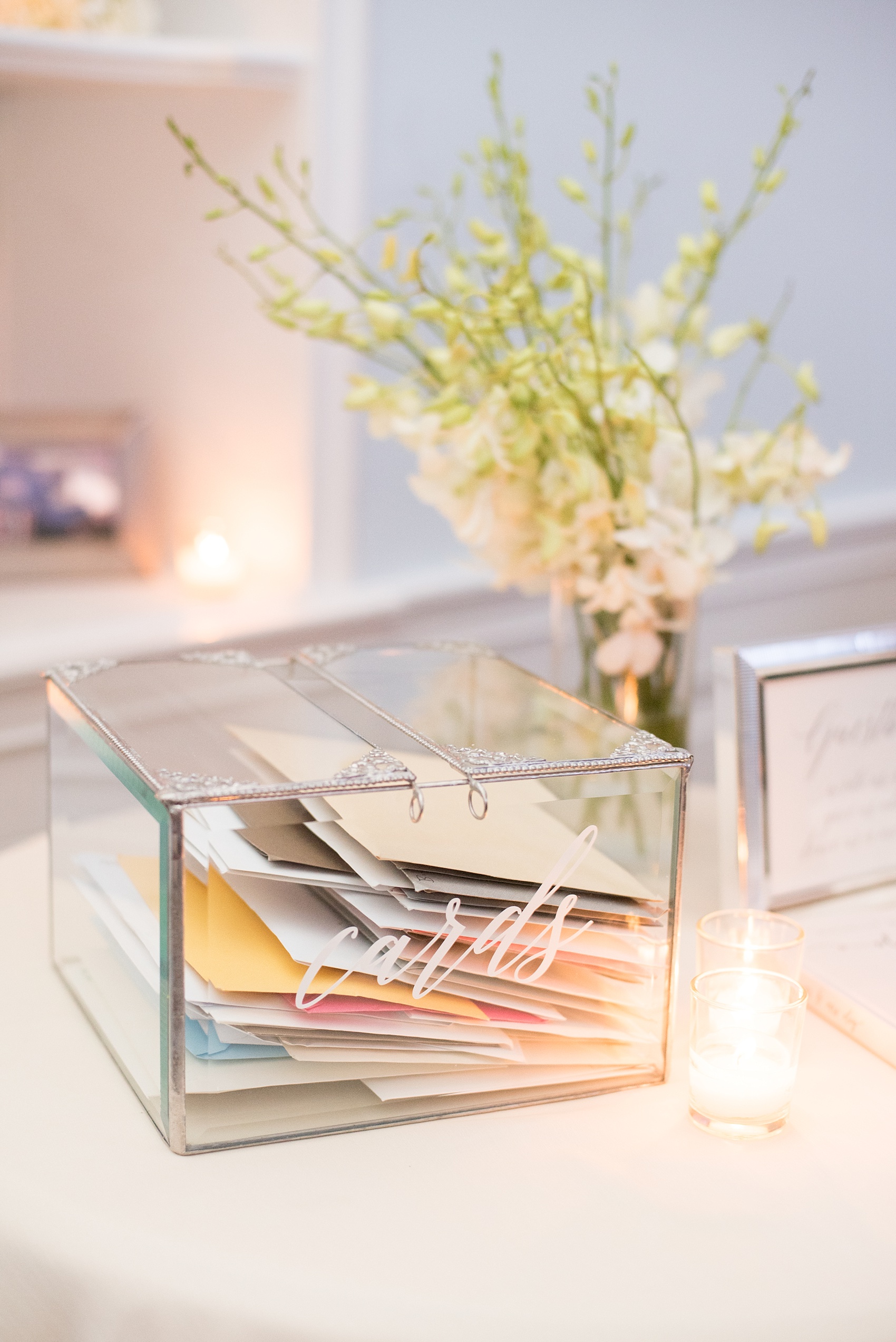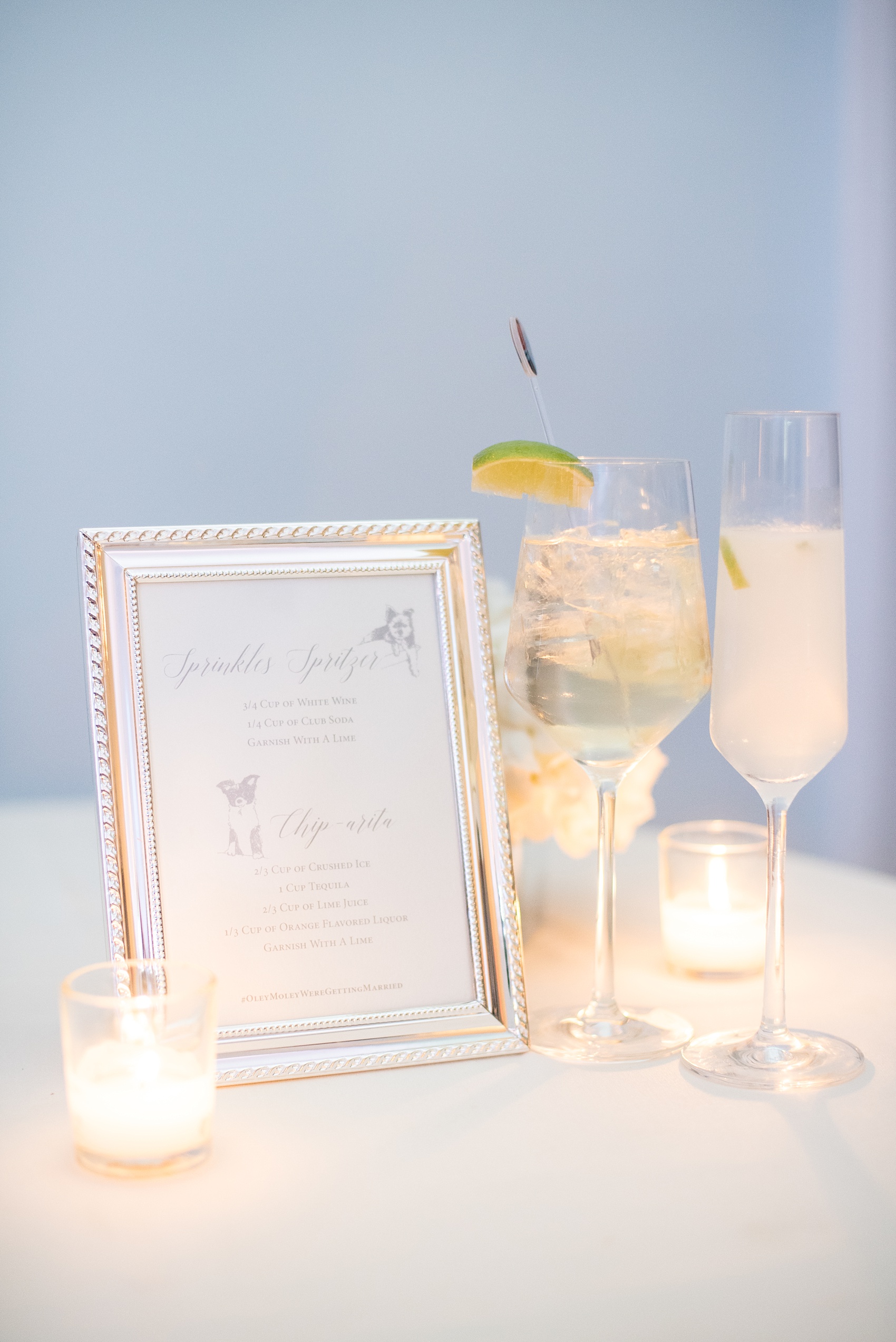 Isn't their signature cocktail sign the best you've seen? Featured drinks of the night included the Sprinkles Spritzer (finished with a photo cocktail stirrer with a photo of their cute Yorkie on it, of course) and the Chip-arita! And a gray "Today Is My Favorite" cocktail napkin to finish it off, of course. They also had napkins with their initials and wedding date in off white.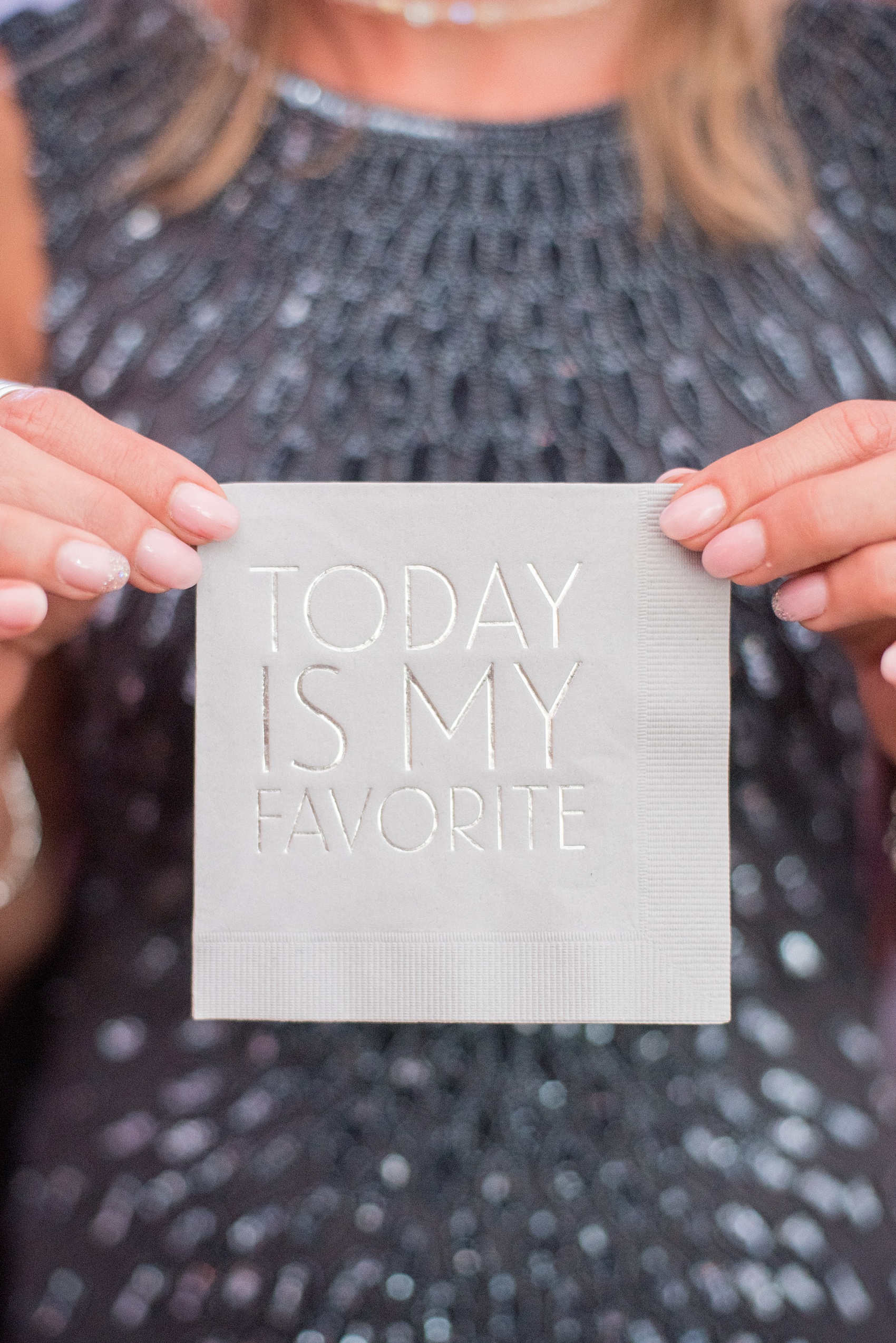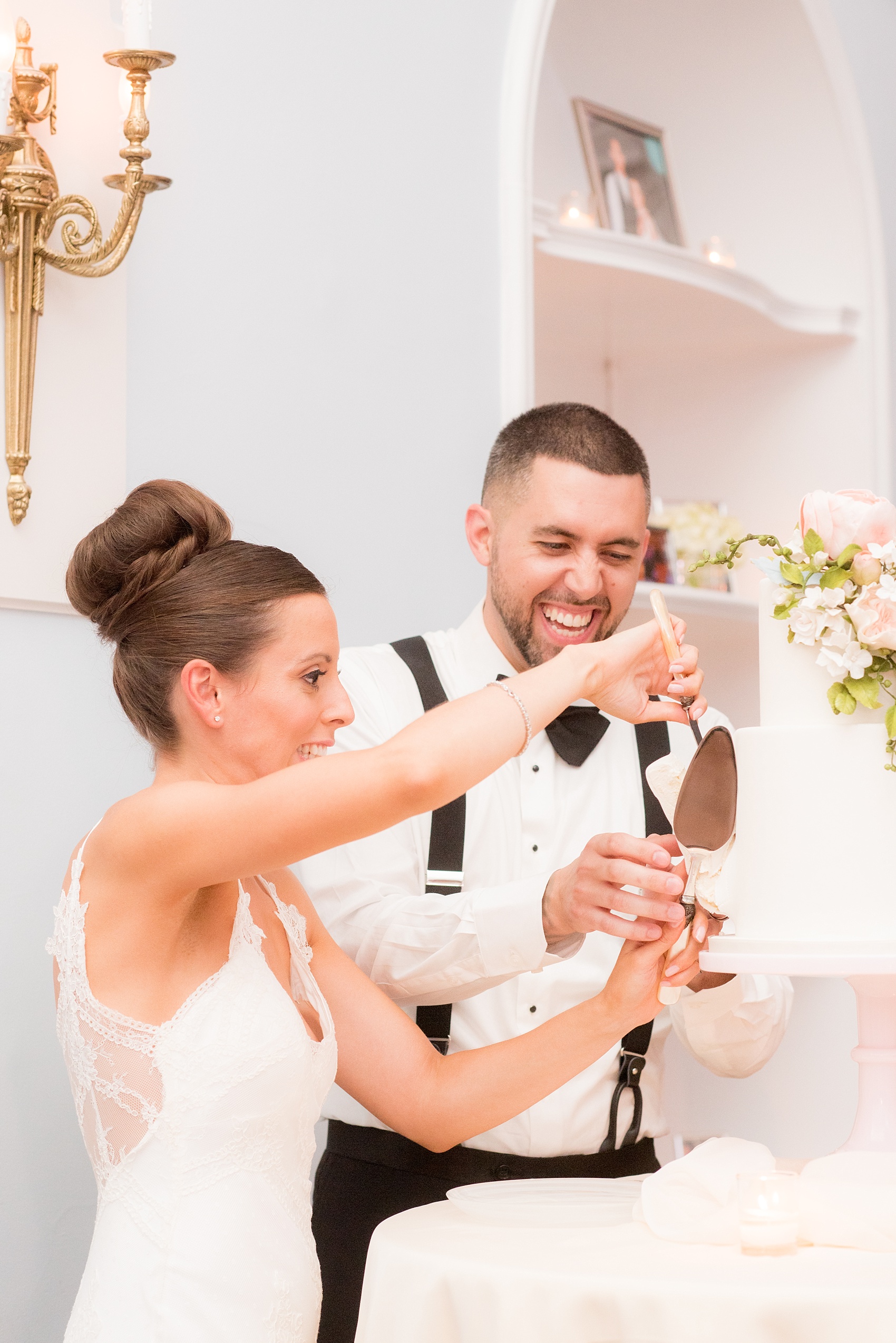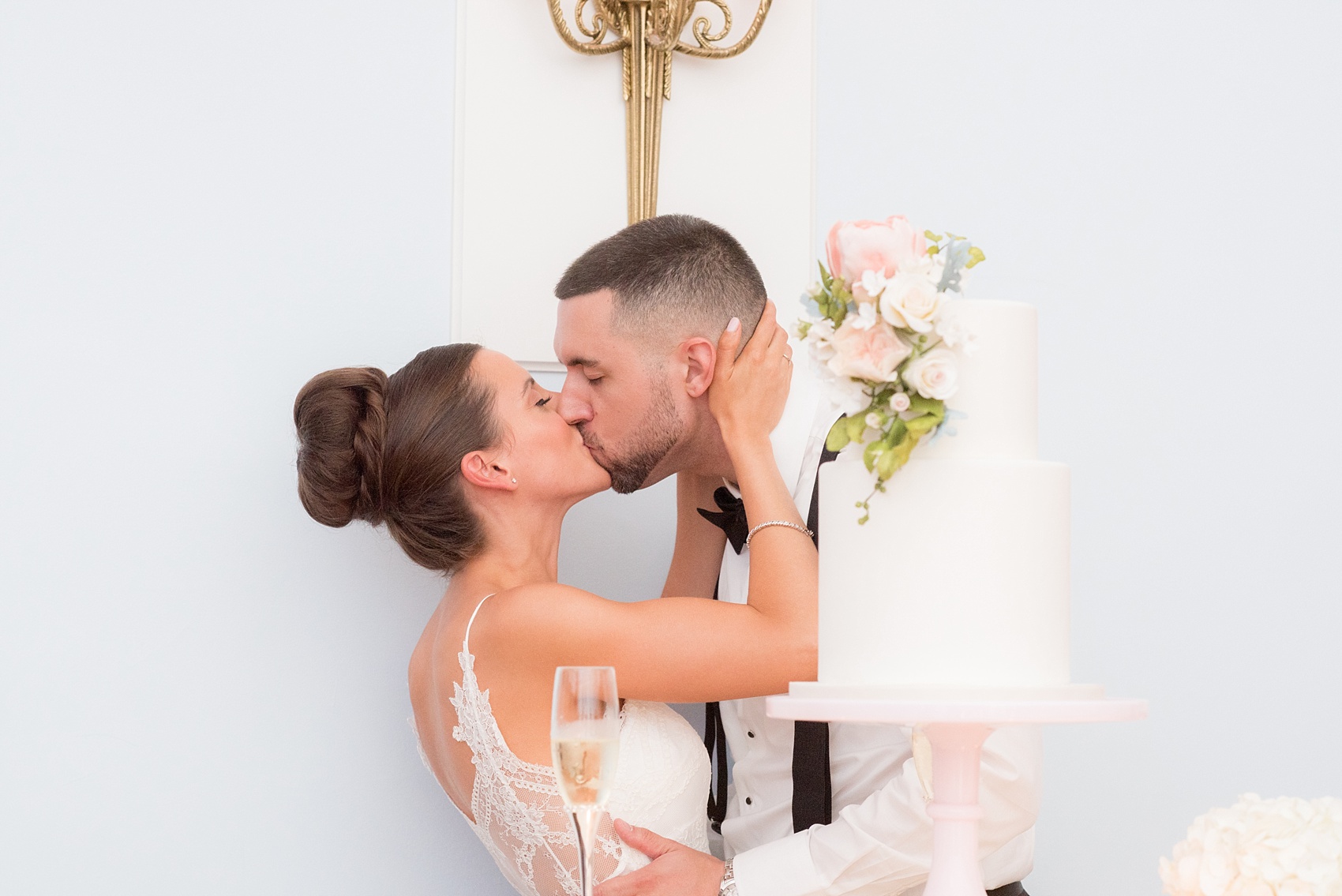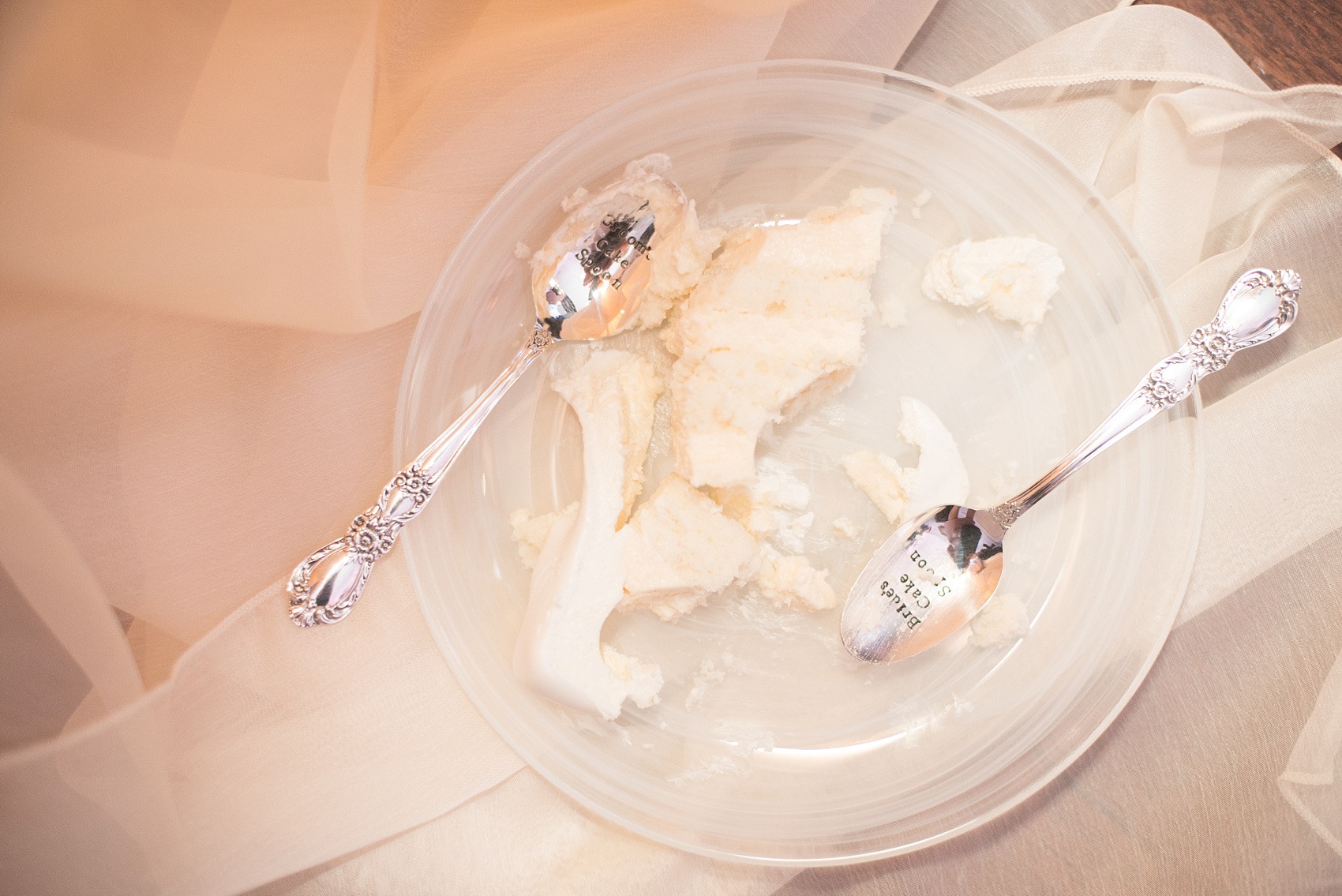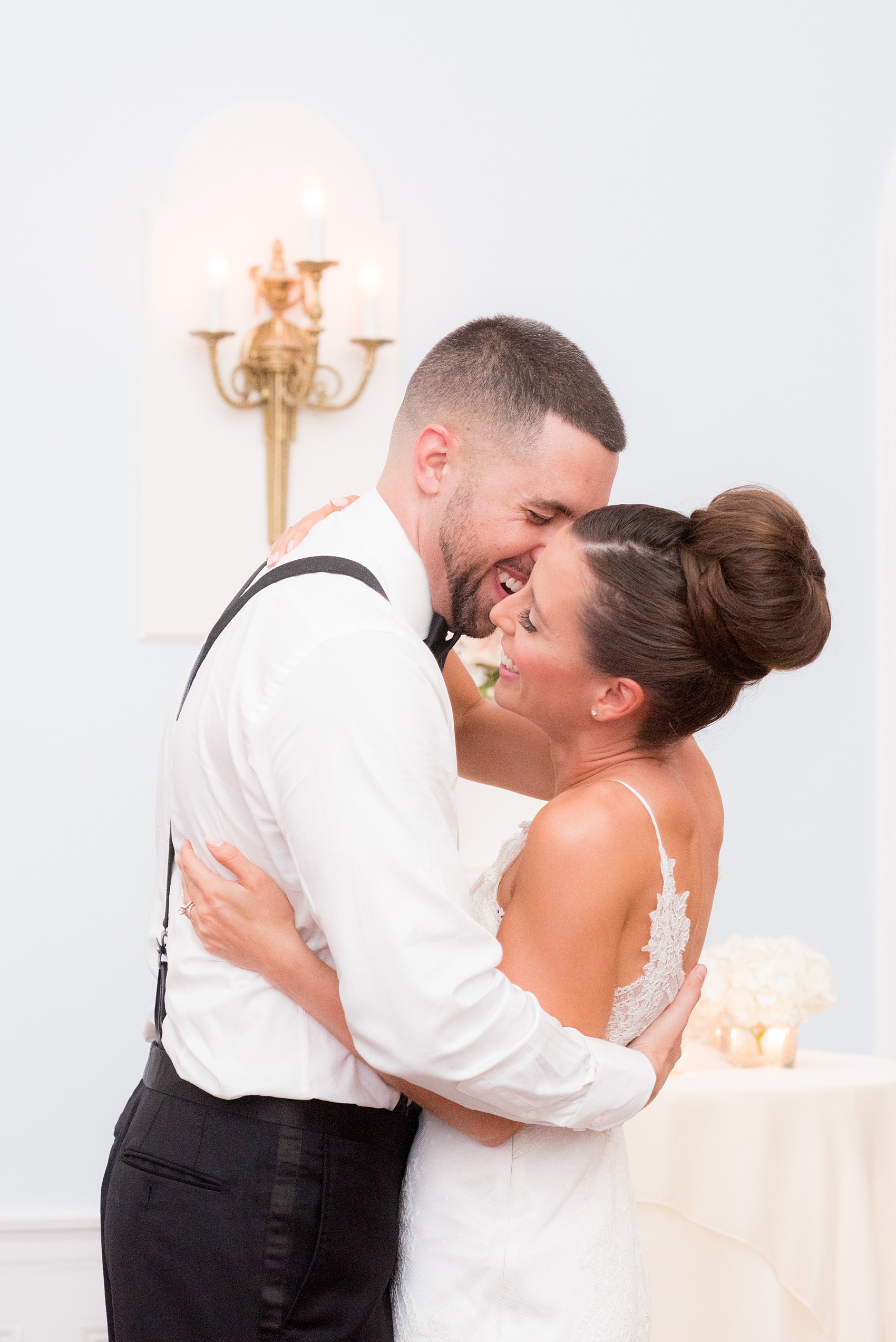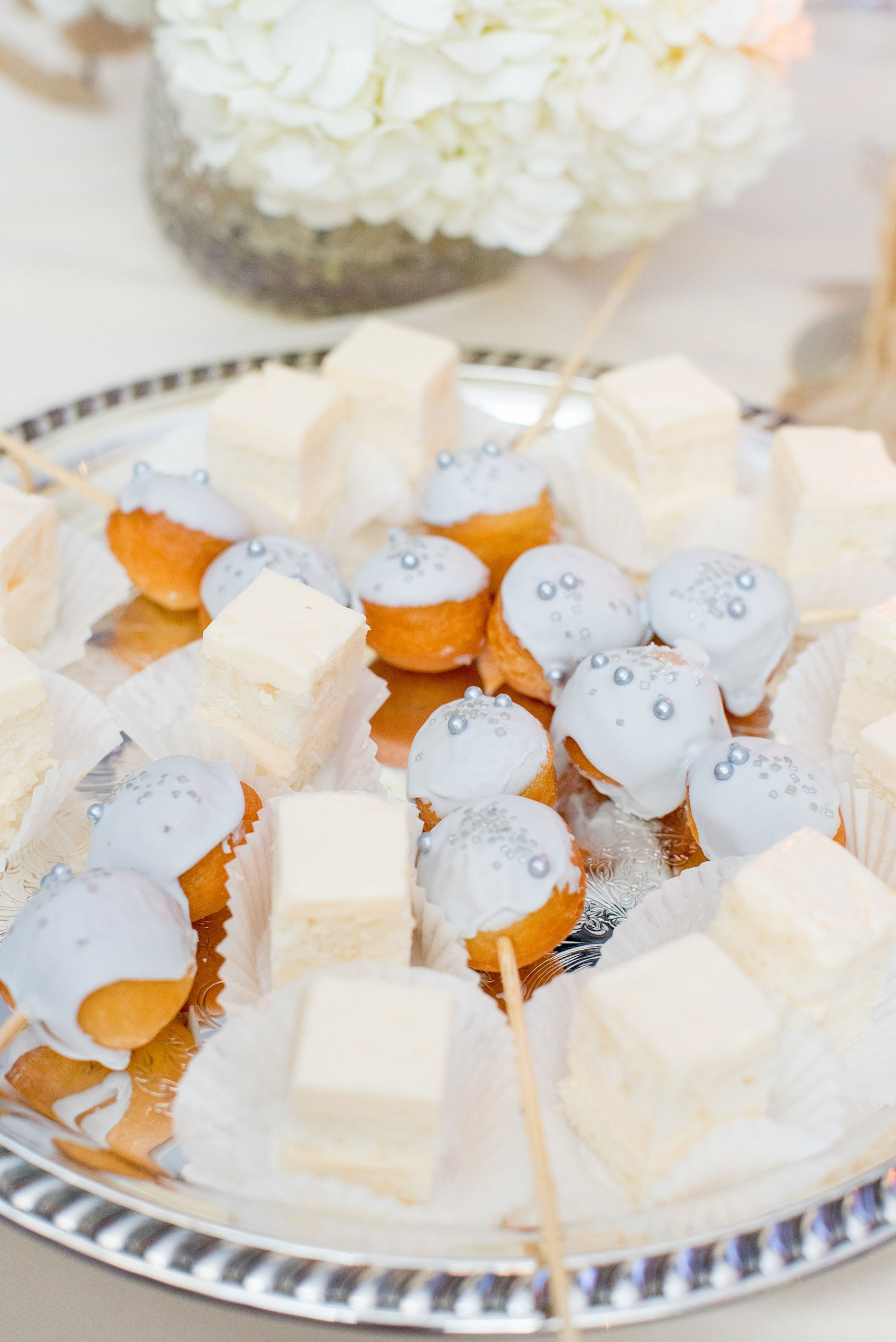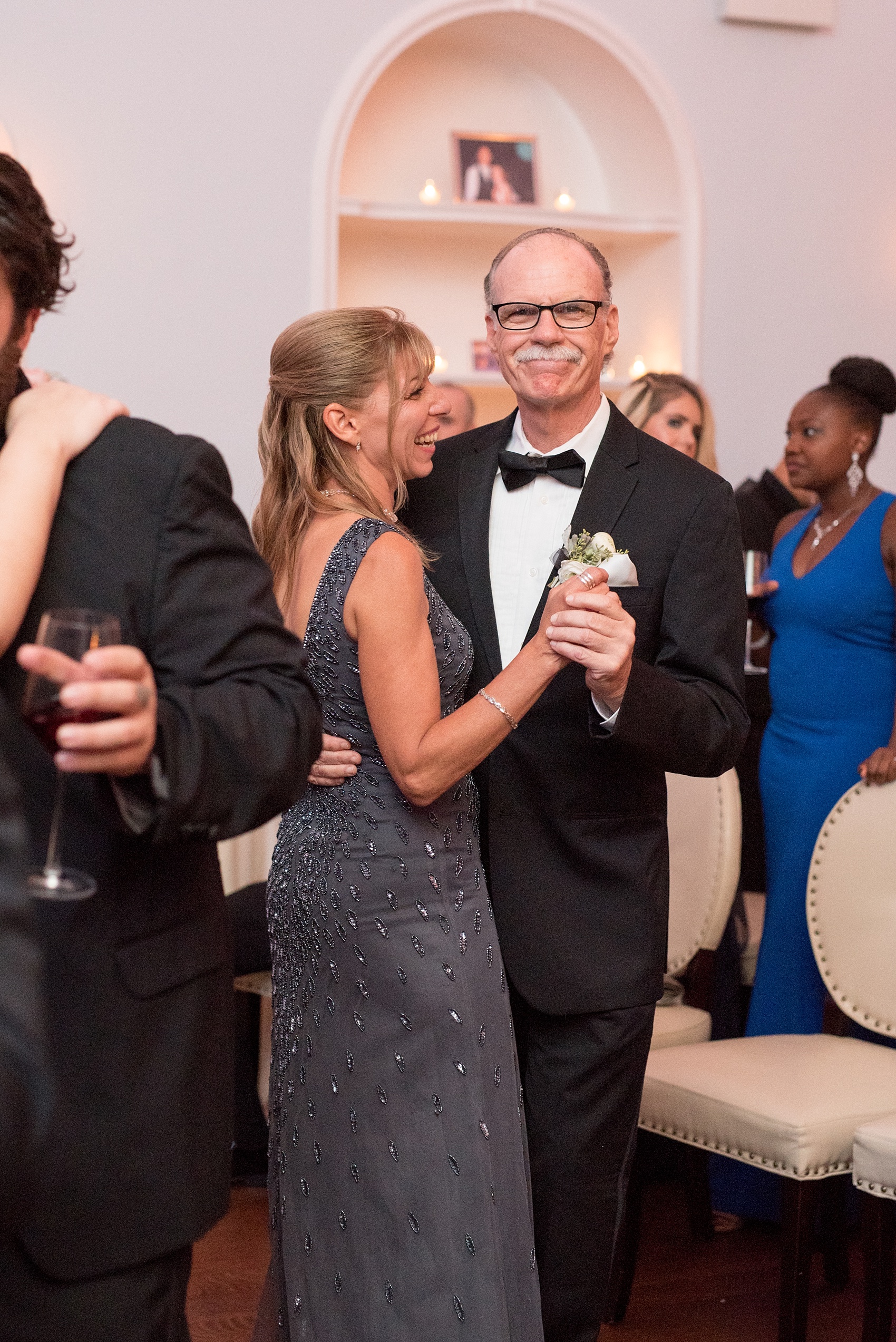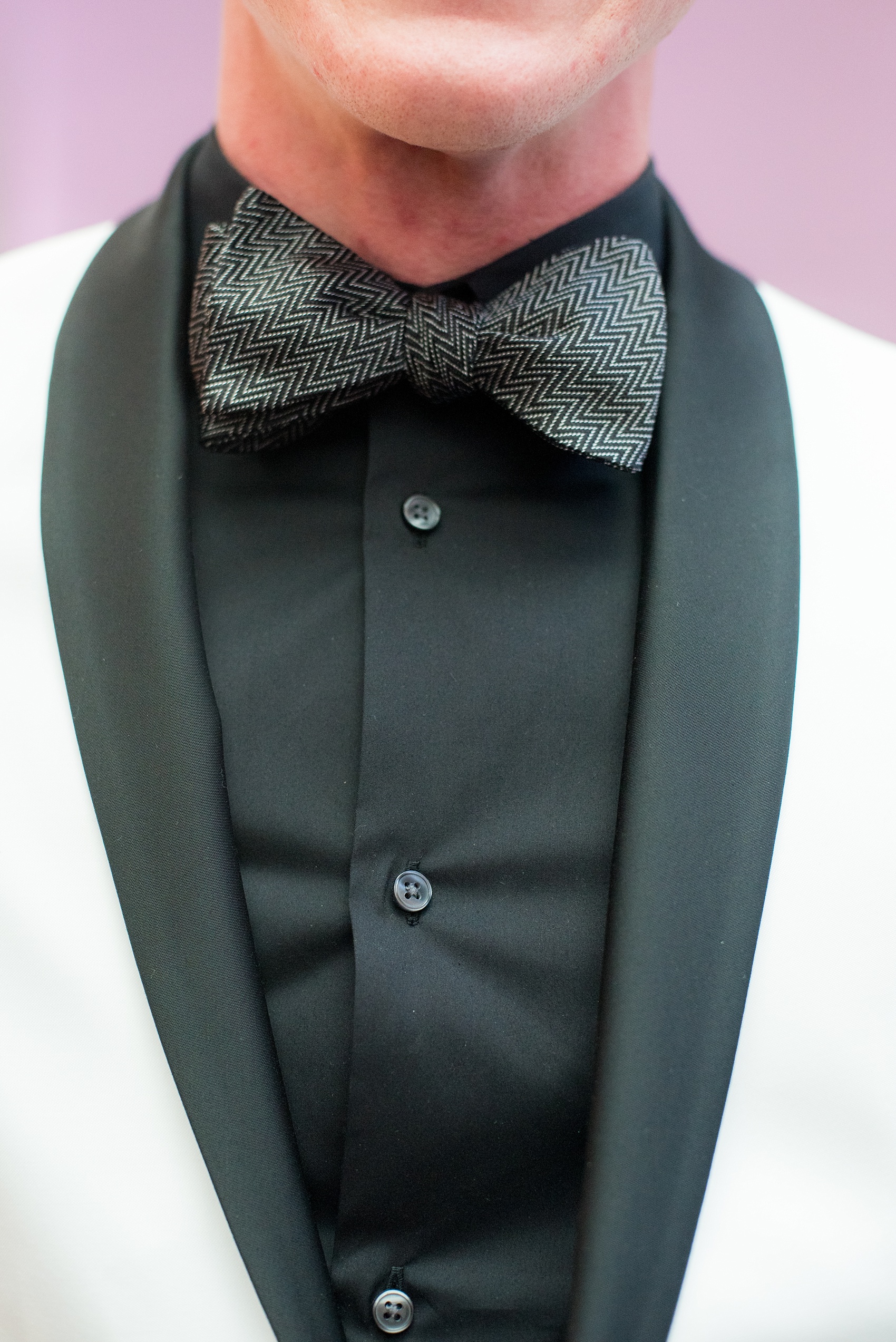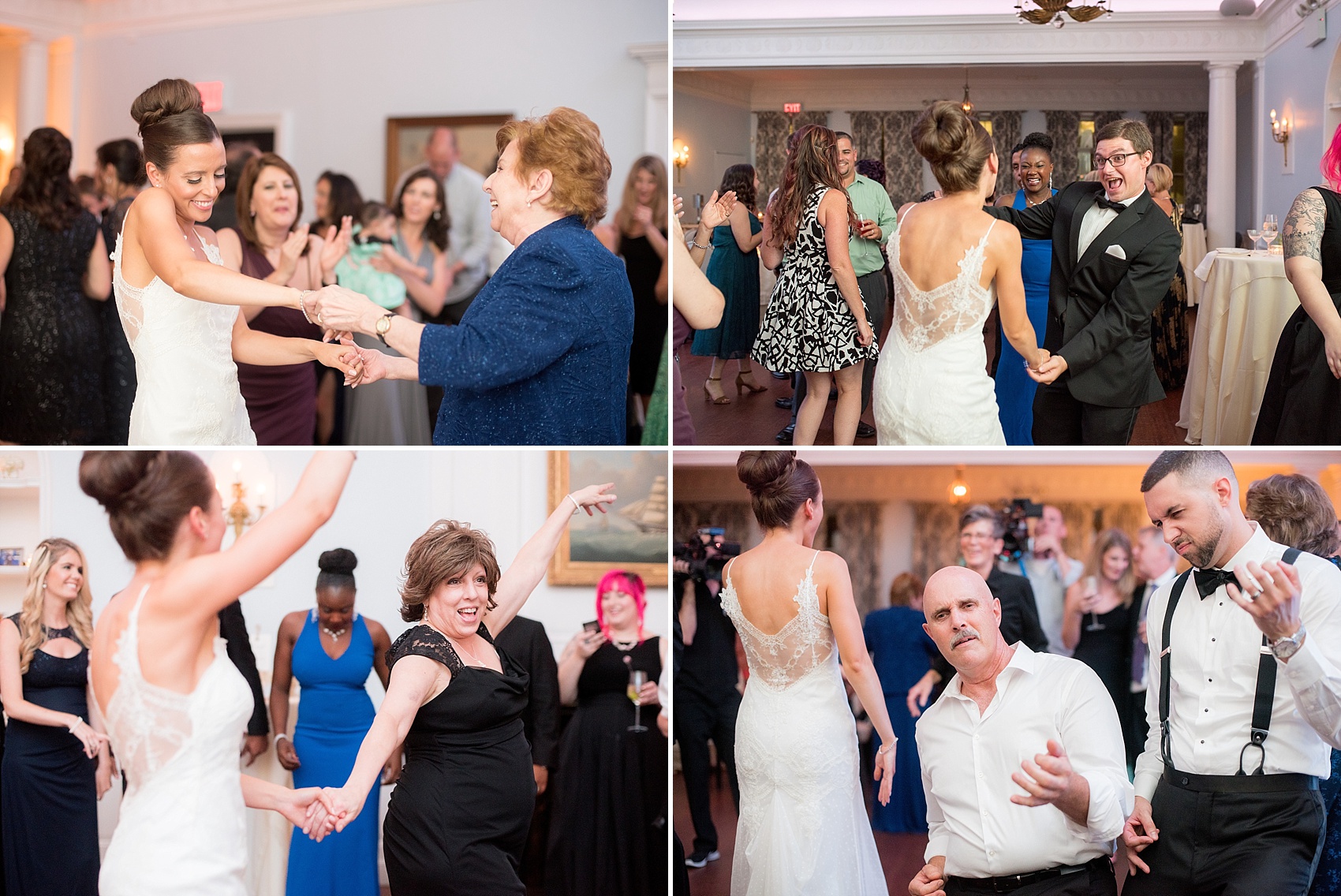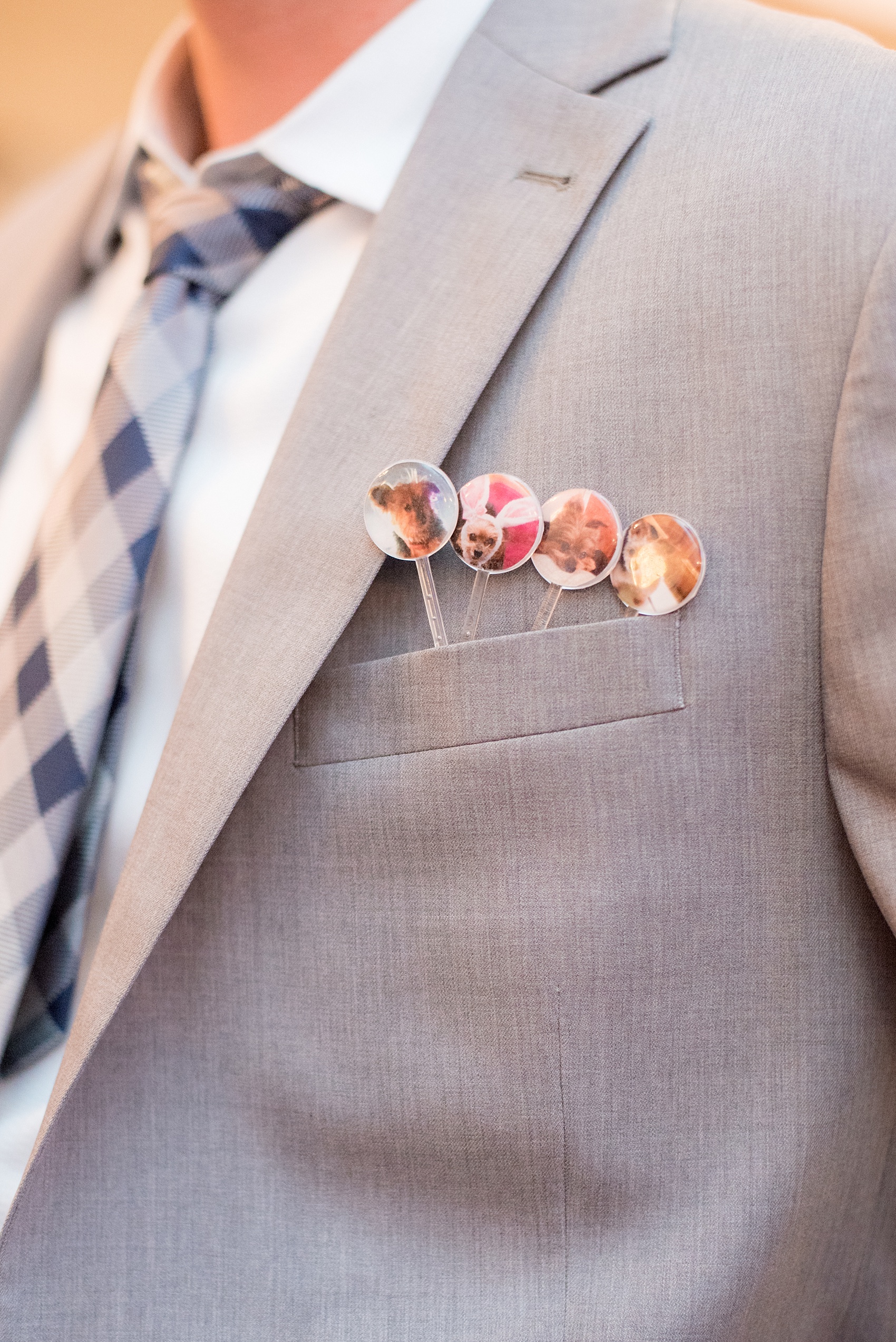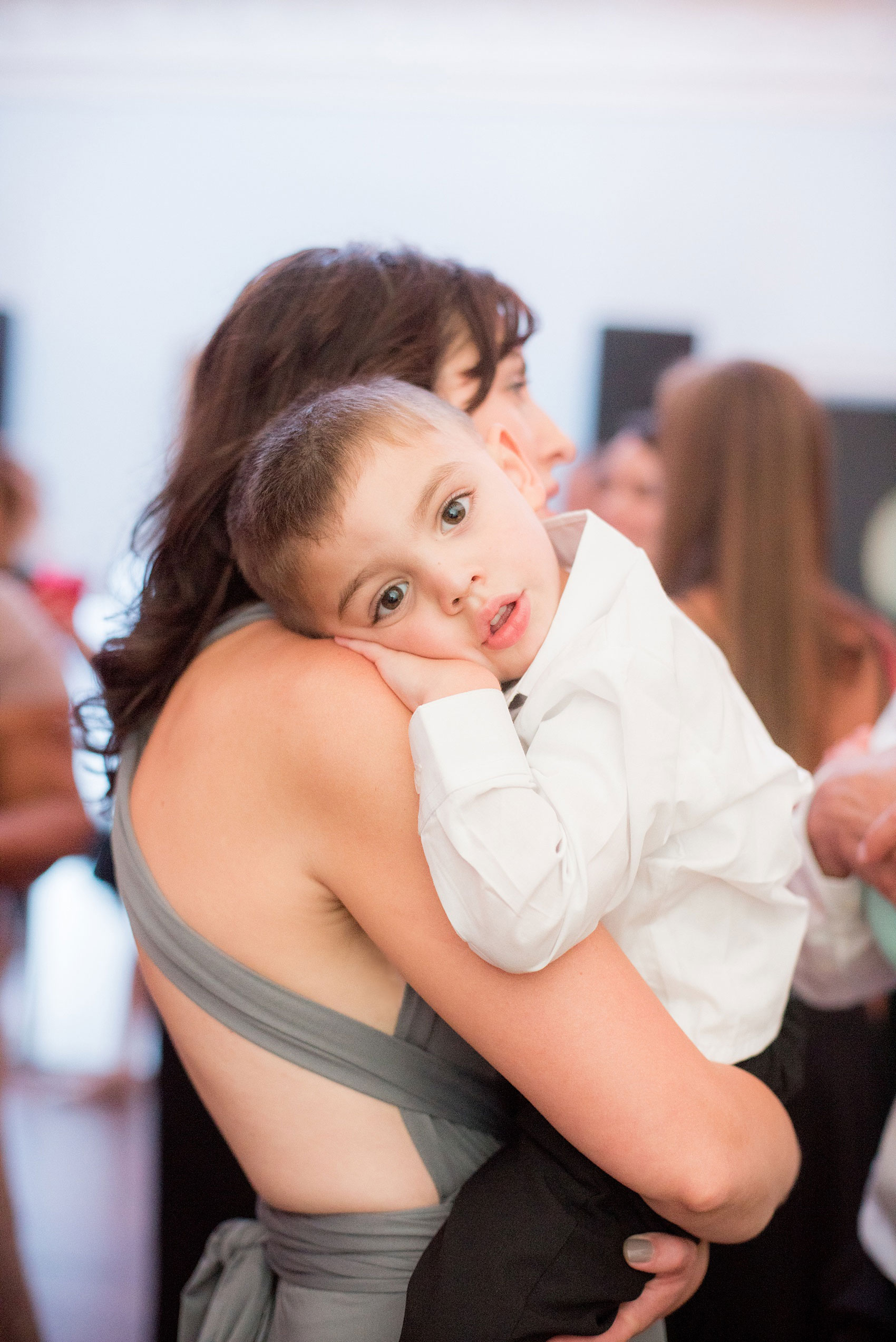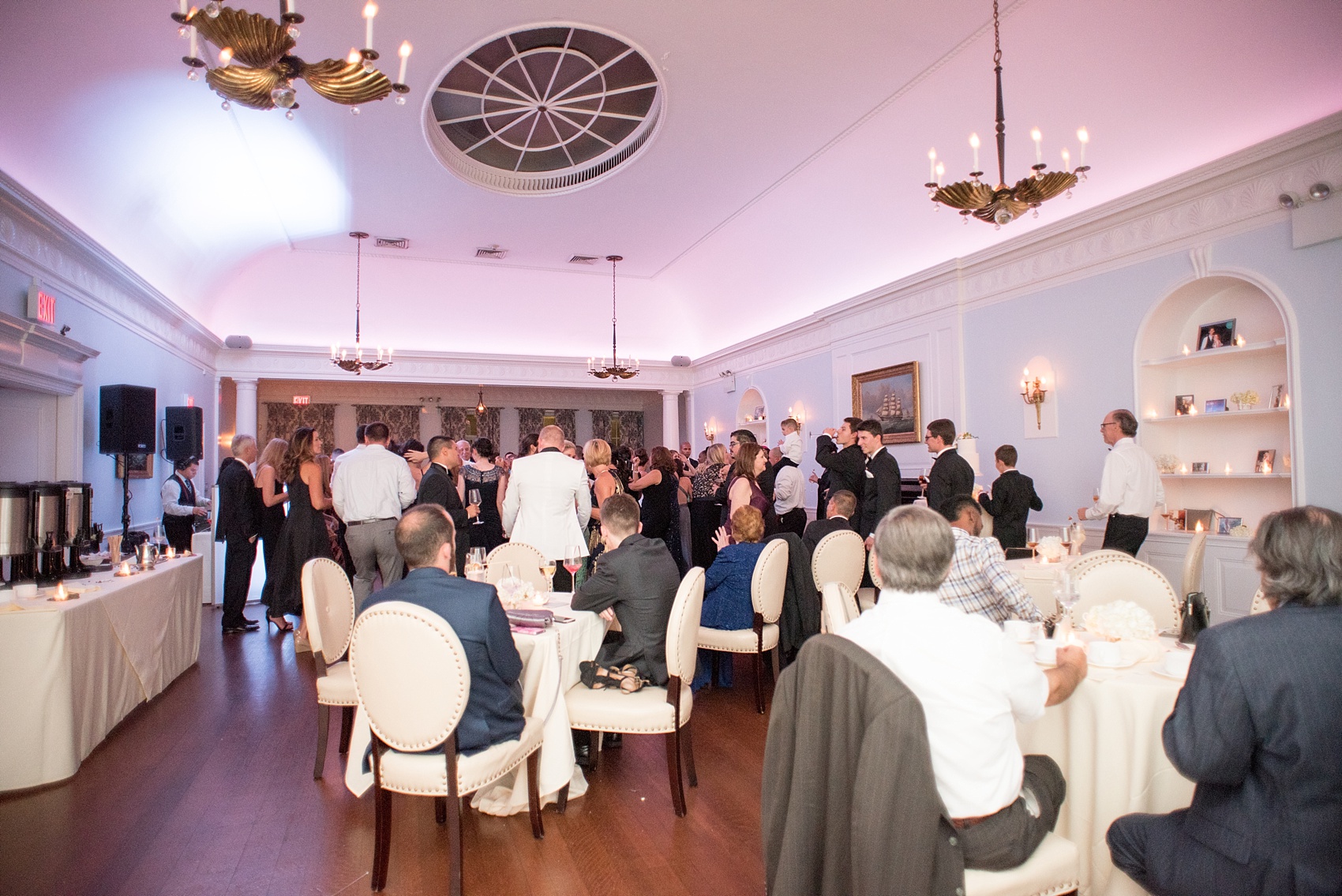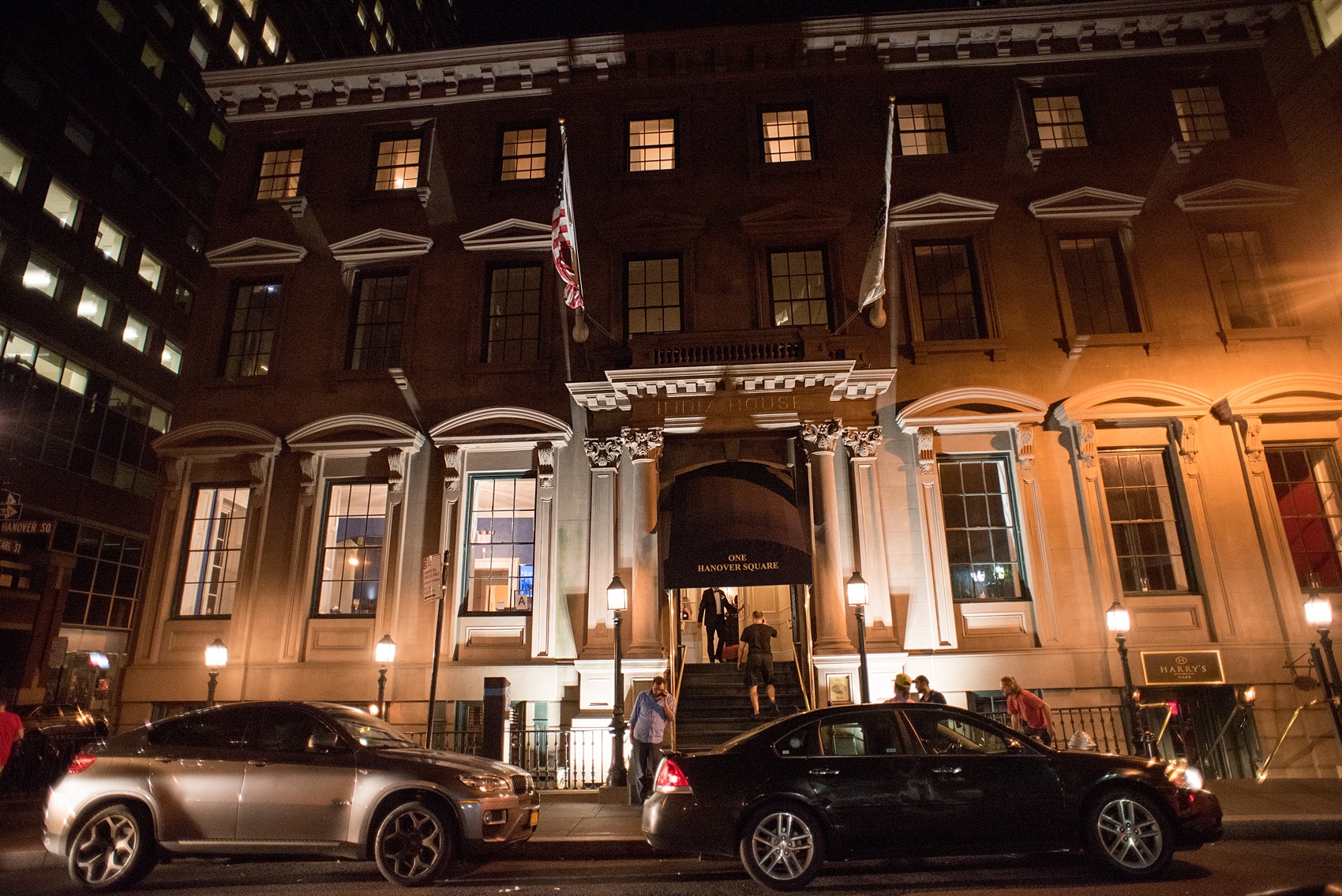 A very detail of the evening was the passed donut holes and cake slices served on silver platters. Isn't that smart? Then guests don't have to travel to the dessert – it comes to them!!!
One of the very last guests I saw at their reception, even after the lights went up and the staff began to clean up…was grandma! And one of the last photos I took of the evening was this beautiful urban view of India House at night, after I had enjoyed the most wonderful day celebrating this fairy tale pair. Congratulations – not just to an awesome couple, but to awesome friends!
Getting ready location: The Marlton / Reception venue: India House / Hair and makeup: Victoria Elizabeth Makeup / Gown: Kleinfeld Bridal, designer David Fielden / Ring box: The Mrs. Box / Ring dish: BHLDN / Bridal shoes: Emmy London / Suit: Robbie & Co. / Videographer: NST Pictures / Furniture: Two of a Kind / Cake: Madison Lee Cakes / Taxi cookies: Eleni's Cookies / Flowers: JR Floral Design / DJ: Finer Touch Entertainment / Stationery: Paper Studio / Calligraphy: Eliza Gwendalyn / Planning, coordination and styling: Michelle Elaine Weddings
There's always additional photos, and more to love, on Facebook and Instagram so don't forget to check those out too!