I knew I adored Elizabeth's bubbly and enthusiastic personality from the moment we met on the phone. She sounded like she was full of life and a color-lover from our conversation, and I knew not only was my style of photography a great fit but my personality was too!  Her and Michael found me through Sweet Sarabelle, and I couldn't be more grateful Sarah recommended me or happier to be photographing this dynamic pair in the fall at Chatham Station!
Liz and Michael met while they were attending grad school at Meredith College, about ten minutes from where we took pictures. They wanted to take their Raleigh engagement photos at NCMA (North Carolina Museum of Art) because they used to go running there when they. Now they live just about a mile away, too. So capture photos at NCMA, we did!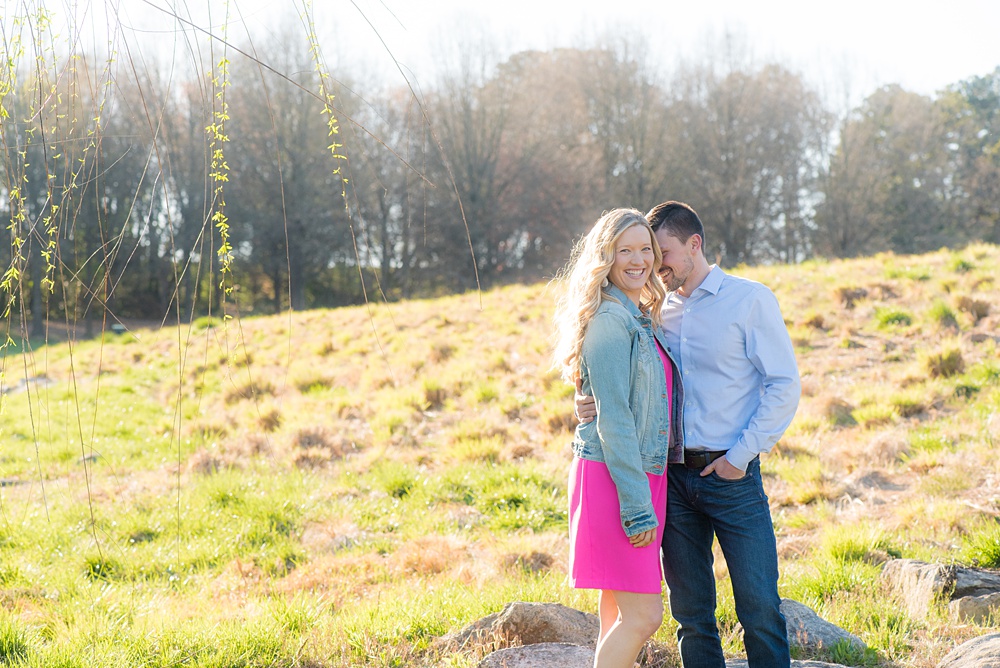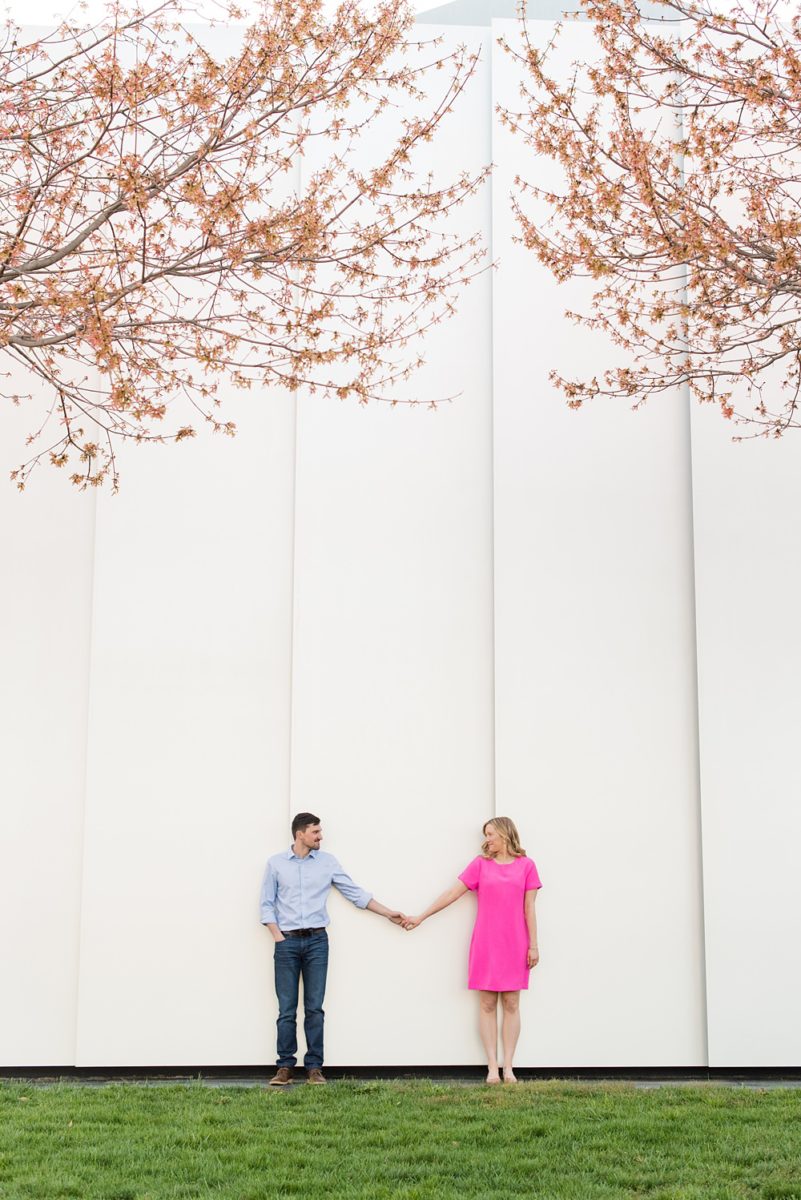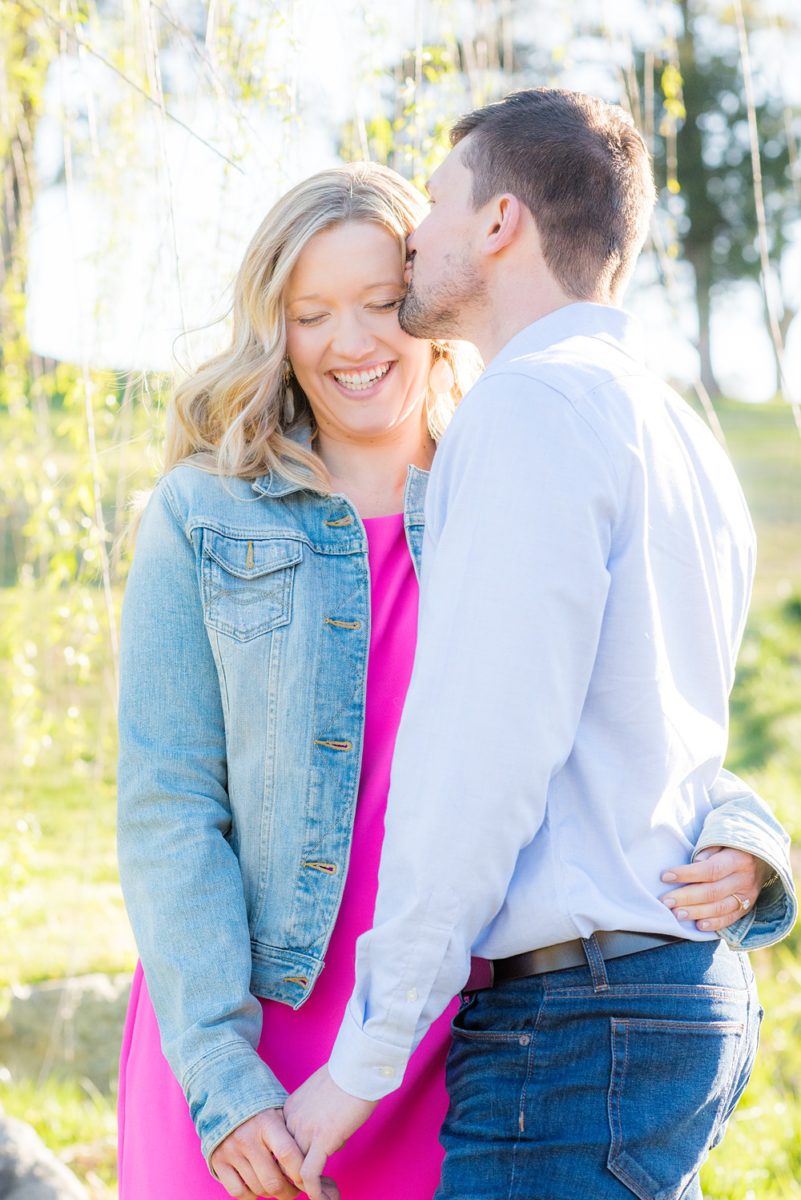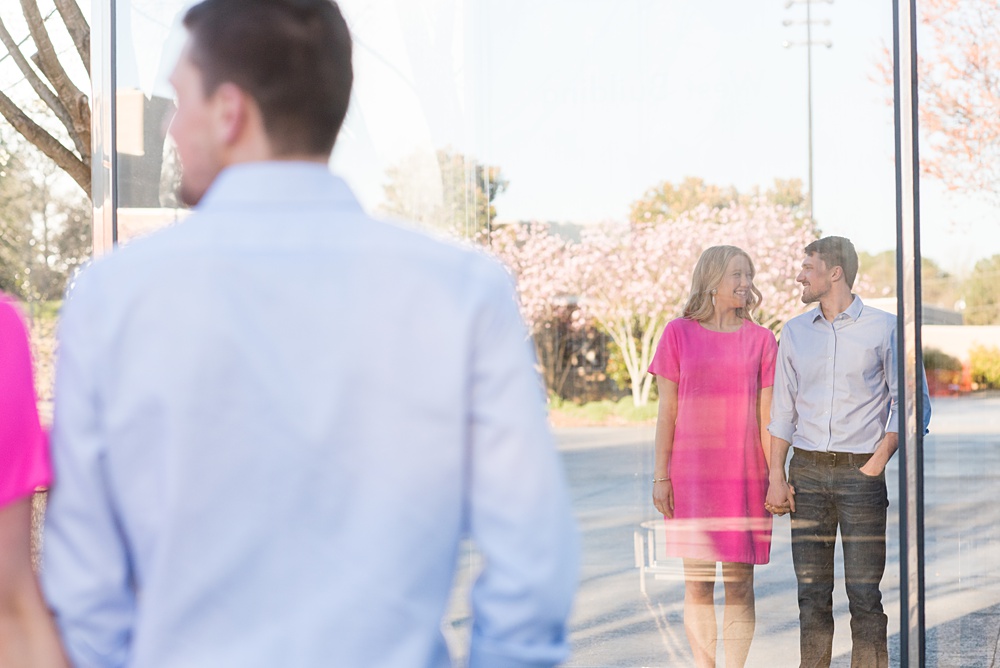 There are so many great spots at NCMA – the photo opportunities are endless. I especially loved any reflective surfaces like the one seen in the photo above – especially because you can see the Cherry Blossoms in the background, which perfectly compliment Elizabeth's pink shift dress!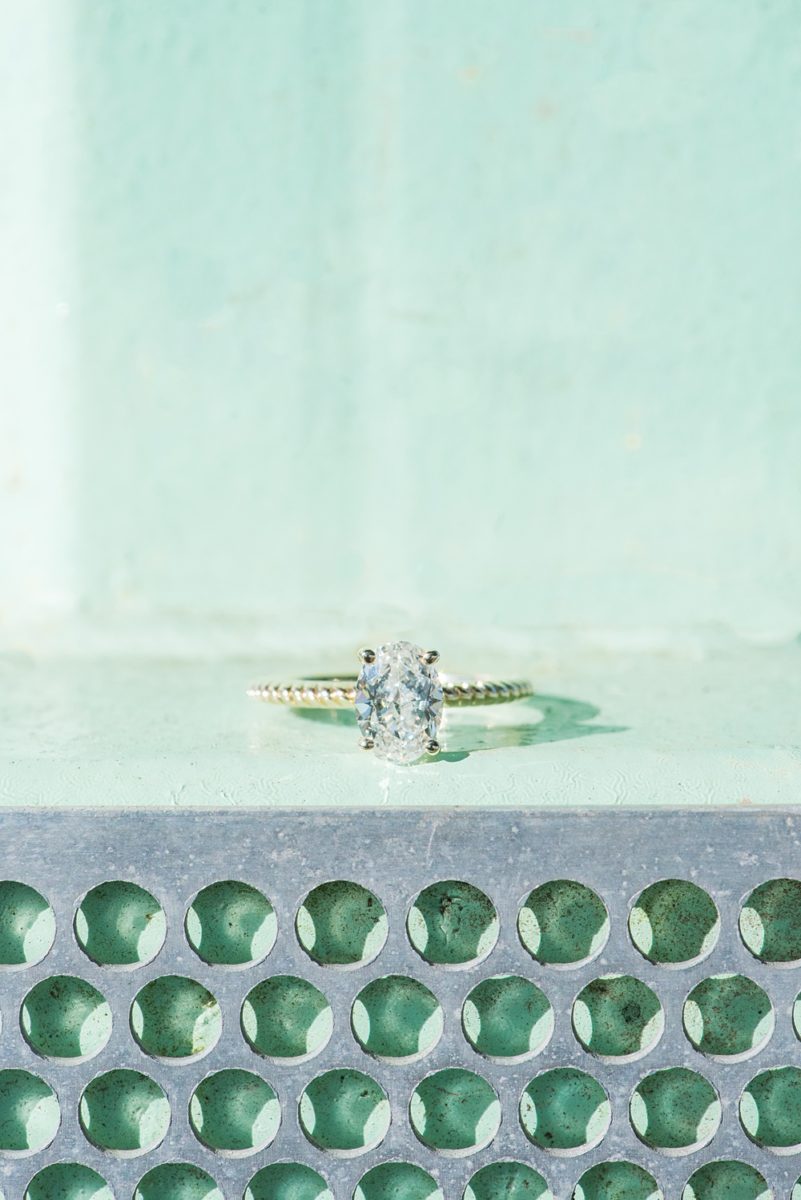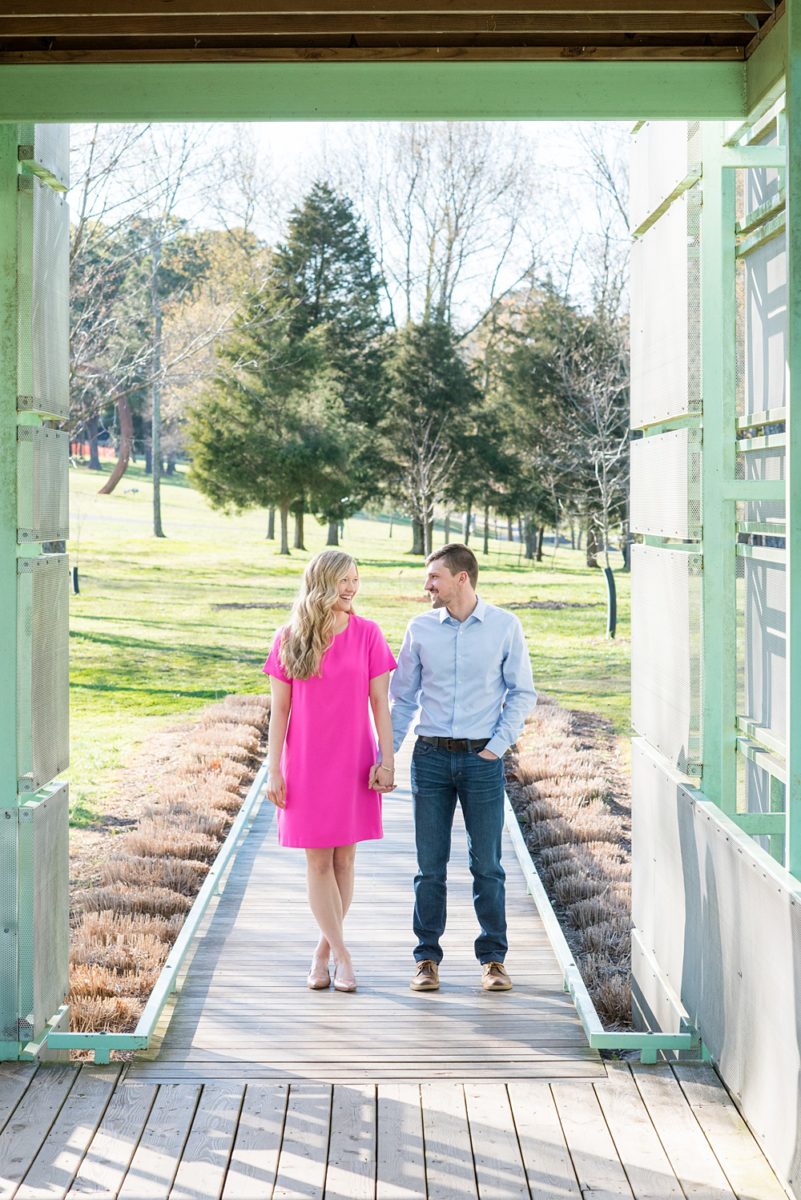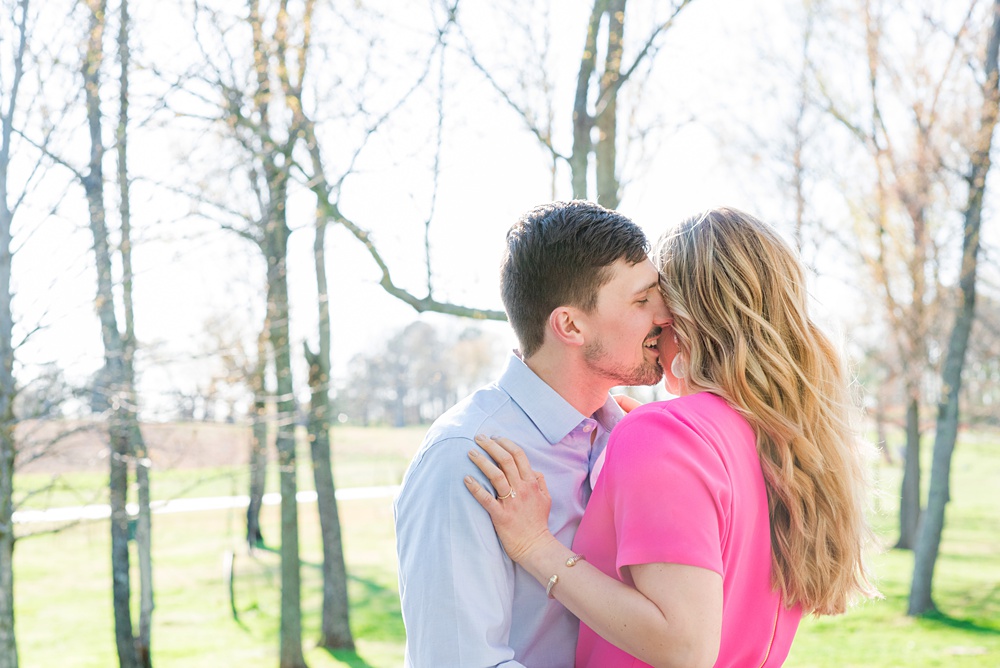 I noticed even subtle details, like how the cable "rope" design on her oval diamond yellow gold engagement ring band matched the David Yurman classic cable bracelet Elizabeth had on. The gold metal was paired with her statement pearl earrings, too, which I adored! Even the exposed gold zipper on her dress matched! Michael looked handsome in a blue button down shirt and dark jeans, keep things classy!
I was so pleased the leaves on the deciduous trees were finally peaking out the third week of March. Liz and Michael don't like the heat – which is part of why they chose November for their wedding – and were okay to do an engagement session with only naked branches. However, I love color! And I know it's one of the reasons Elizabeth and Michael were drawn to my photography so I really wanted an extra pop of color in their Raleigh engagement photos at NCMA for them. My dream came true! The nice thing about NCMA now though is an additional point of interest and art was added to the exterior of the museum months prior for the Georgia O'Keeffe exhibit they had. There are beautiful flowers painted outside their East Building, including southern magnolia flowers and leaves.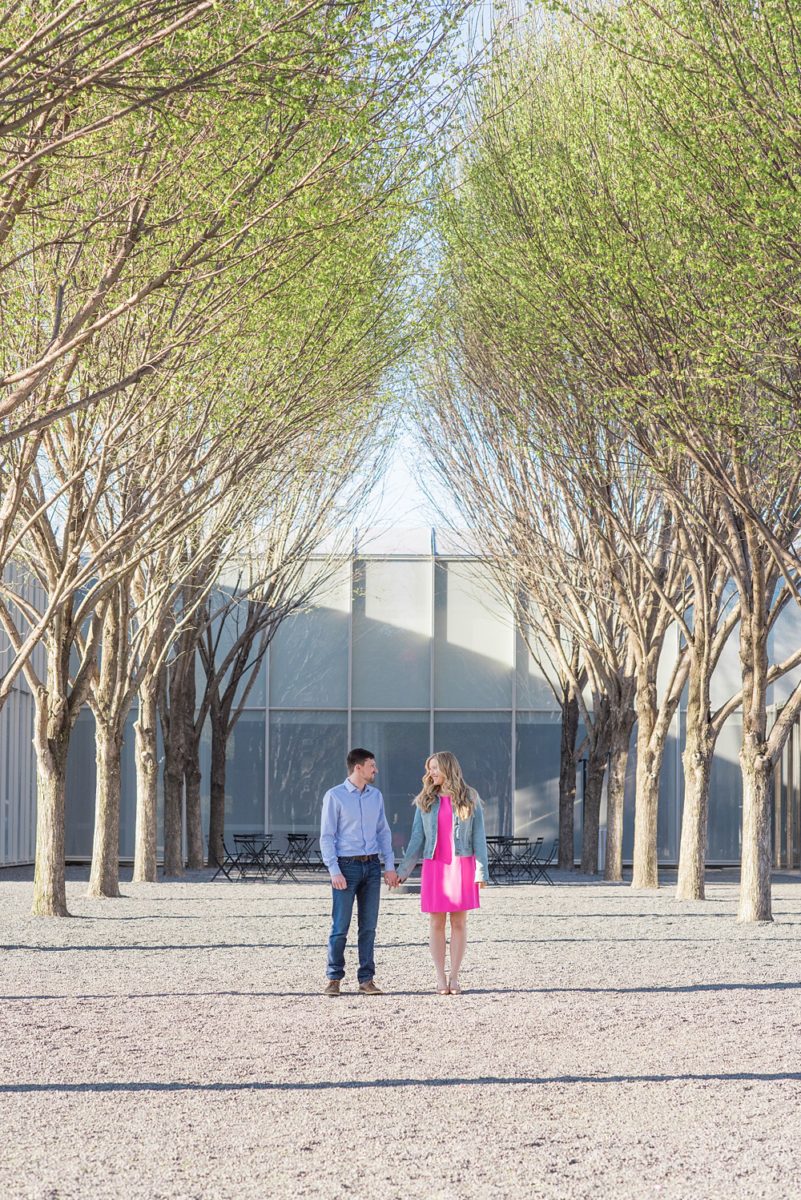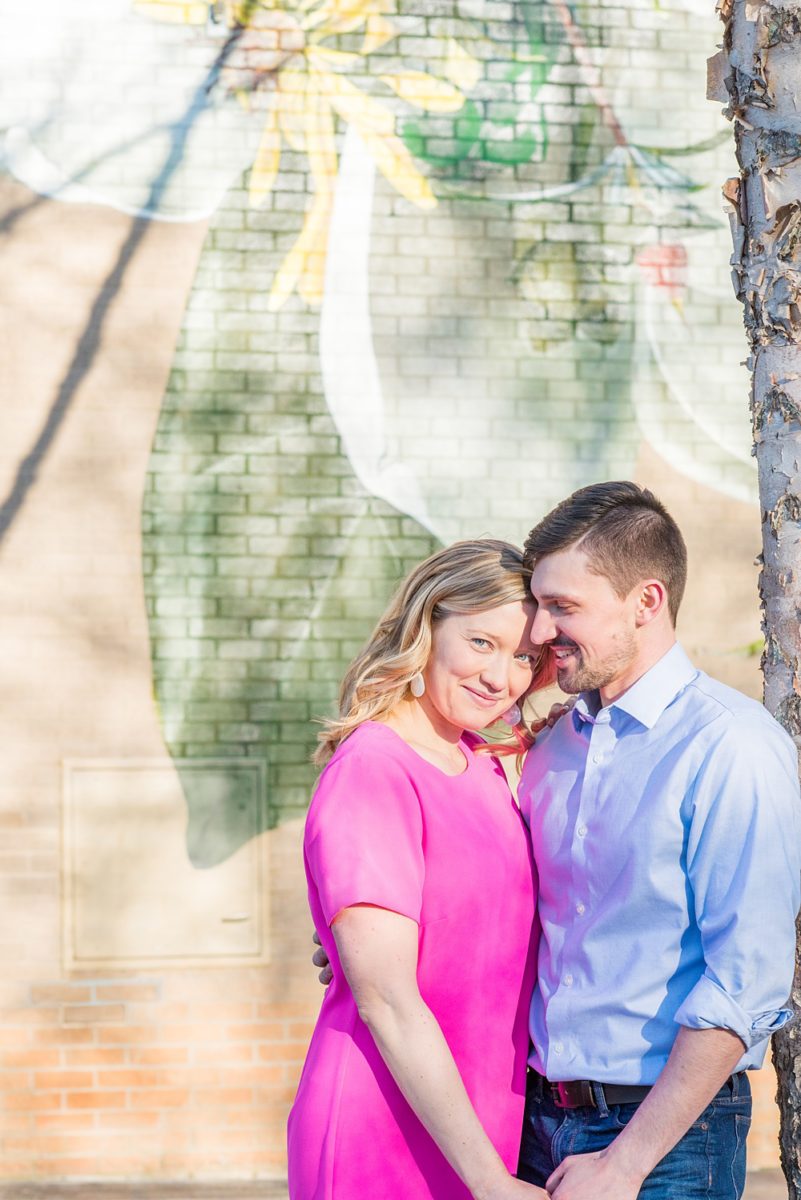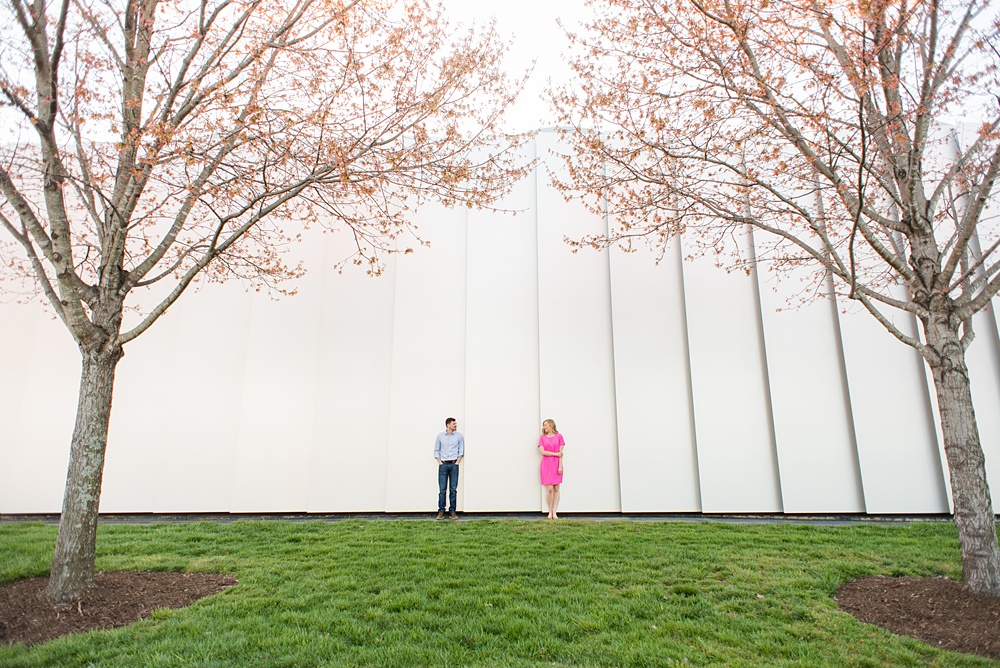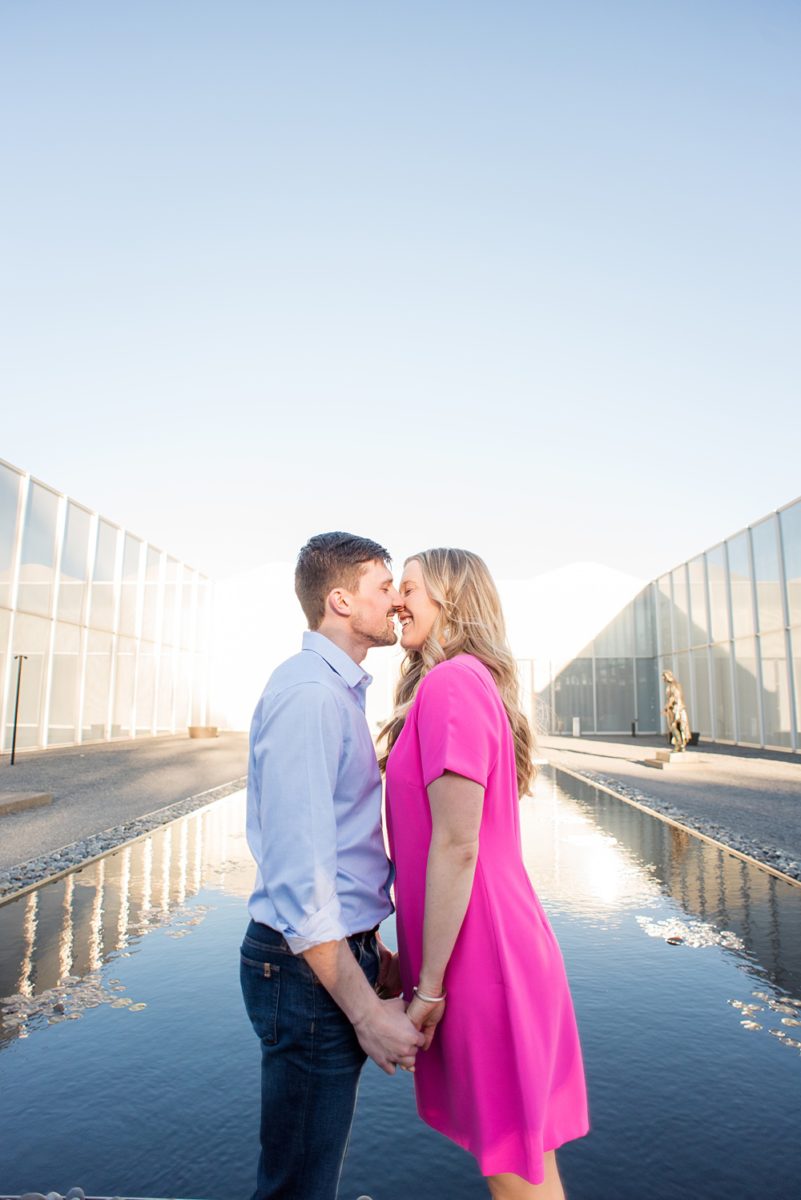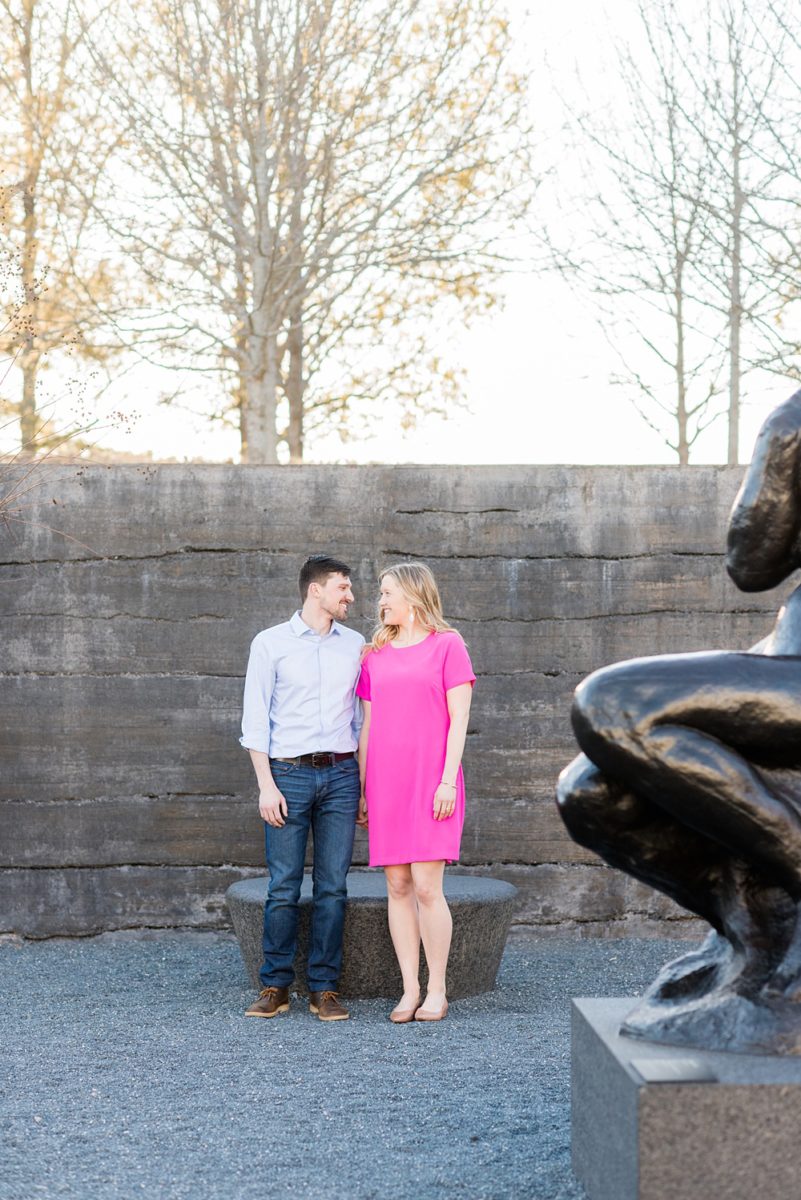 I love these two images of them, especially but that's probably because I love pops of color against a deep contrast, like black. The West Building's outdoor sculptures and reflecting pool were perfect for this contrast. And the knees of the Rodin sculpture pointing to the bride and groom is just the icing on the cake for me!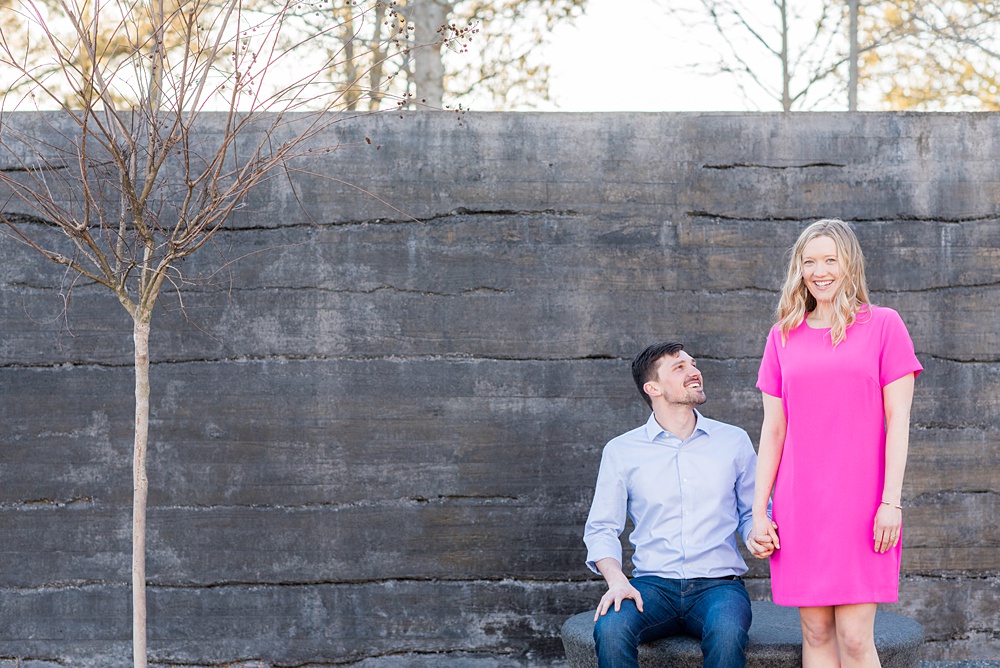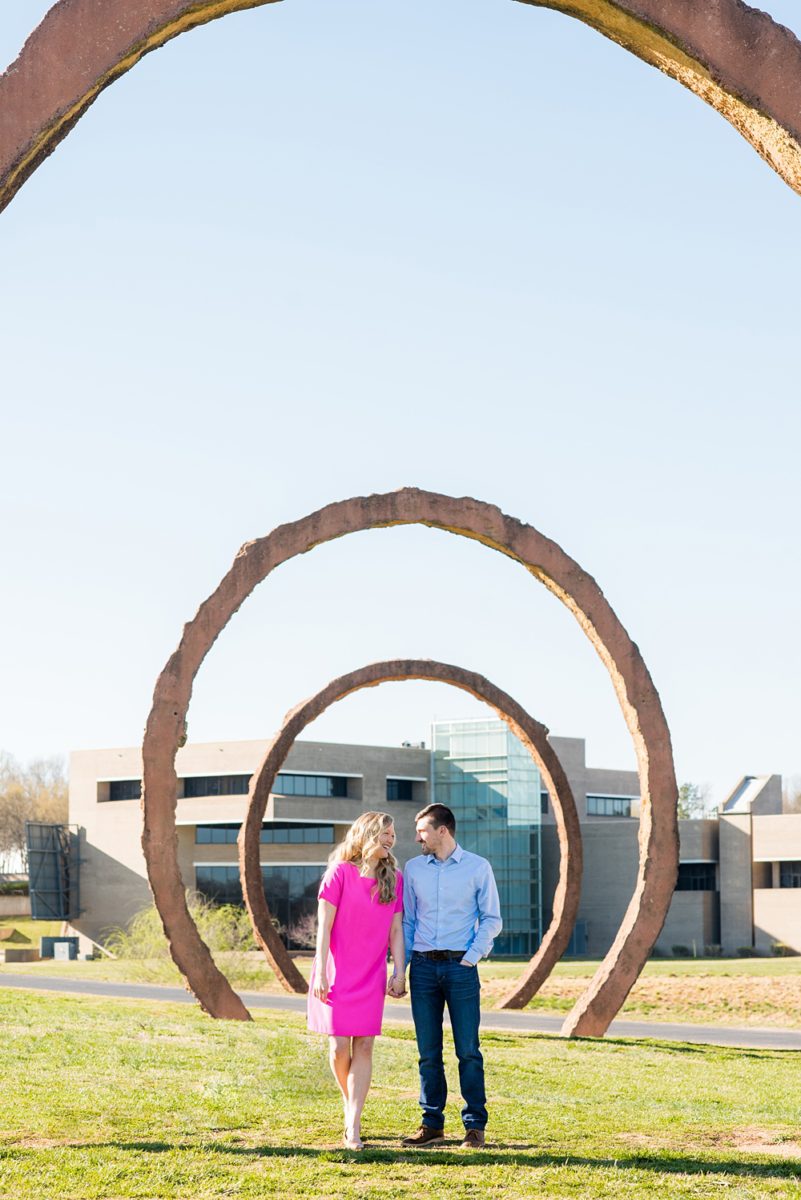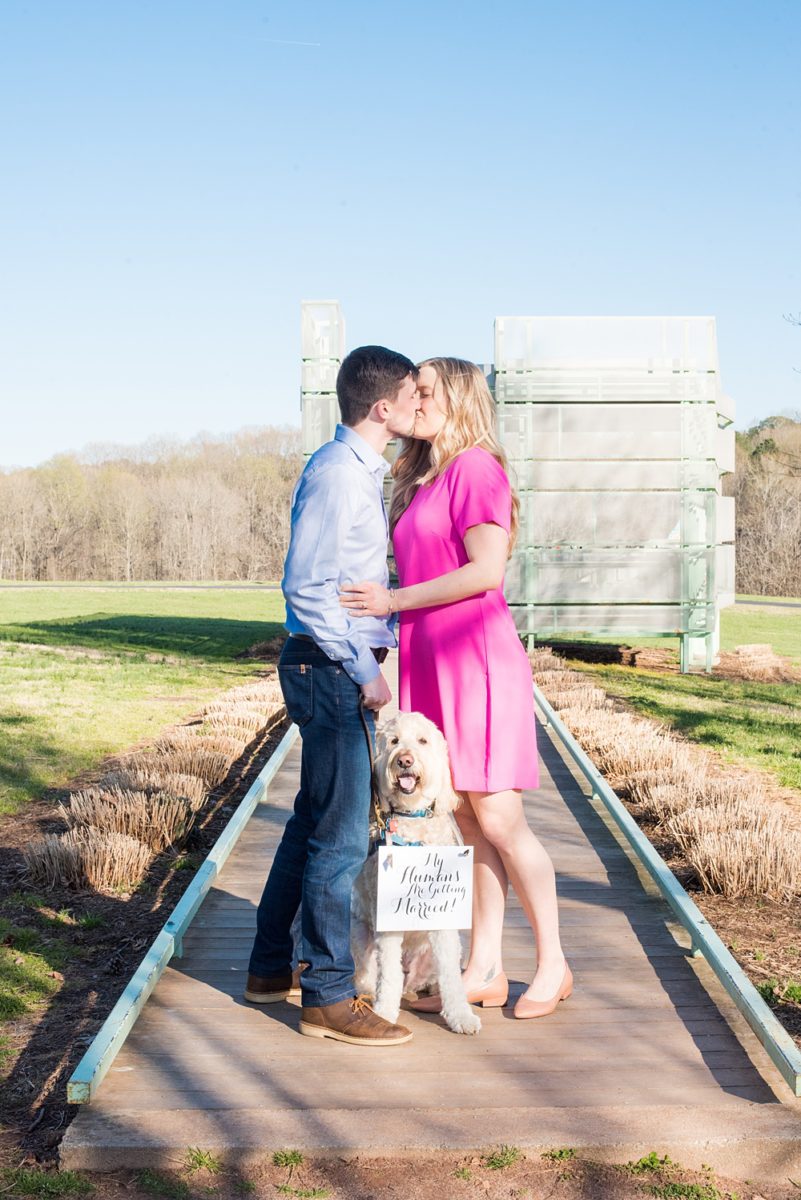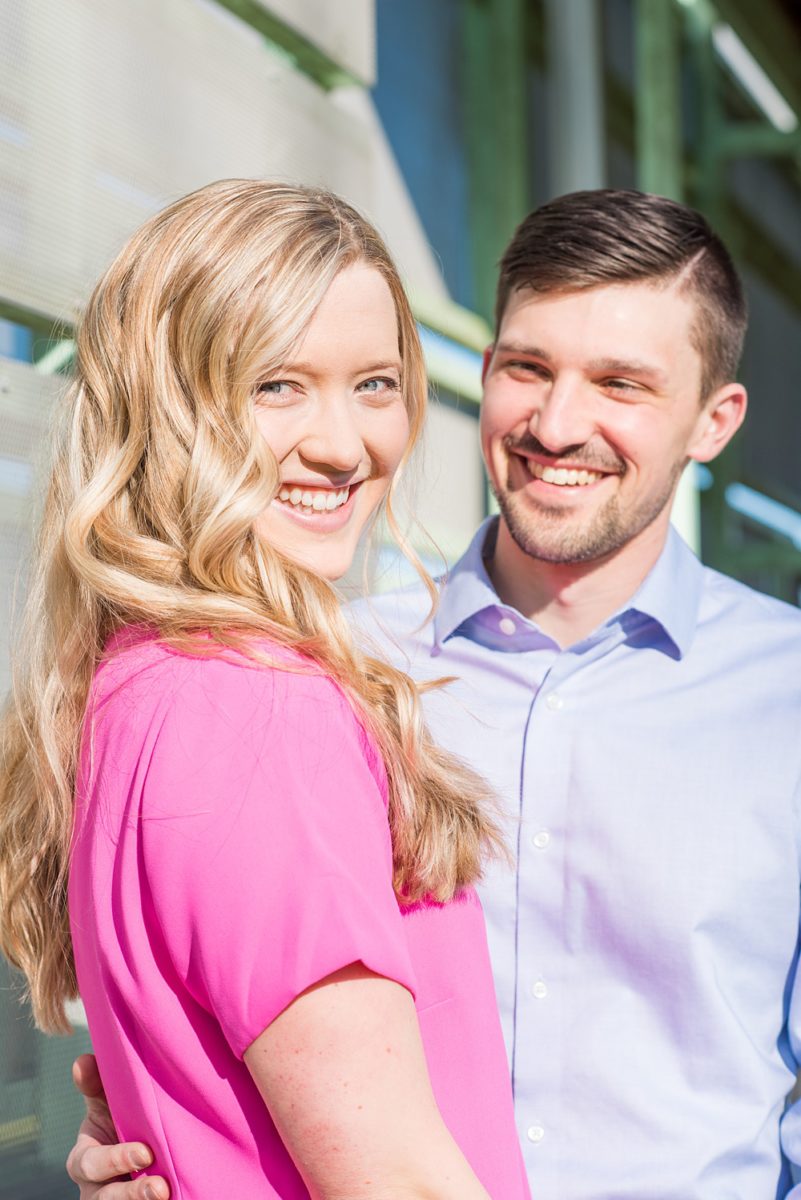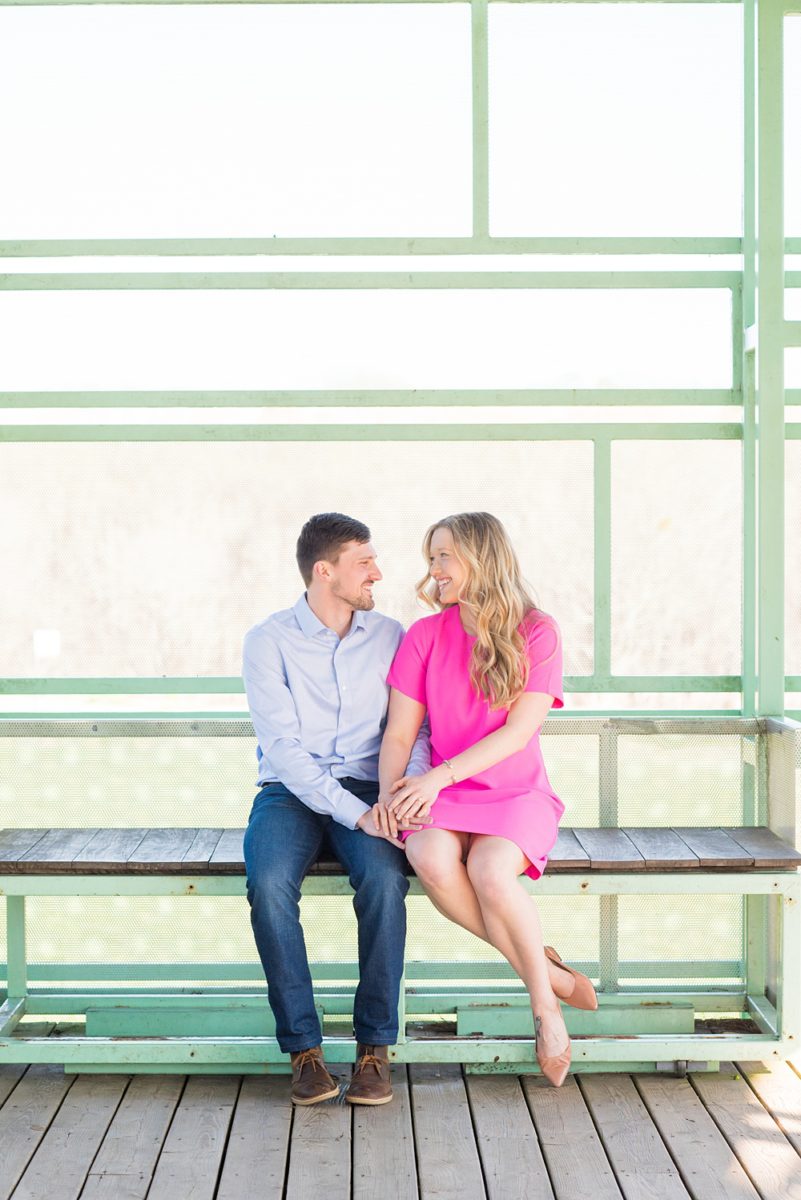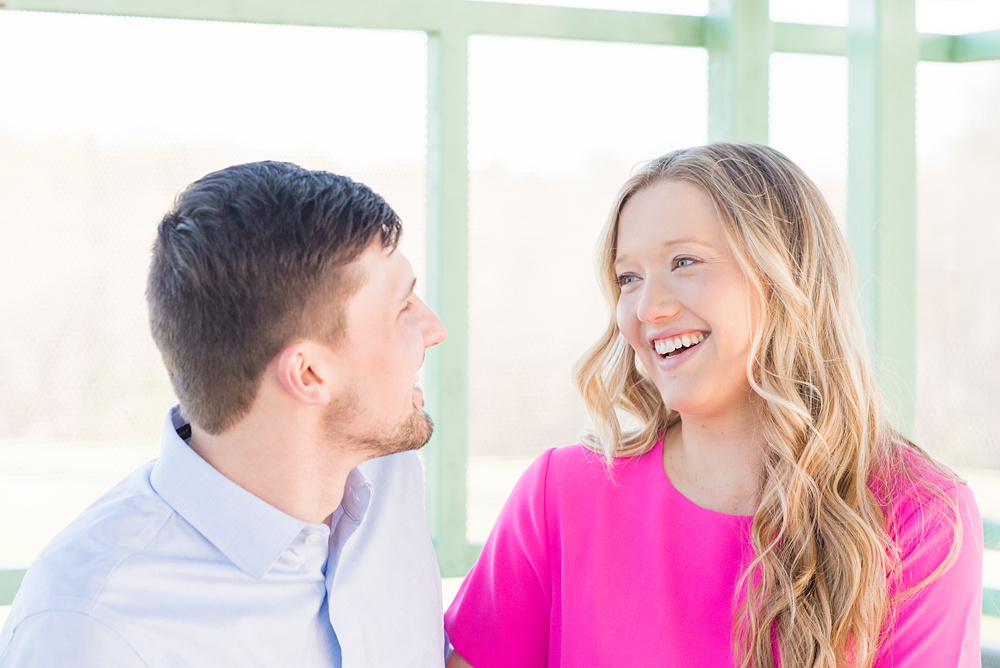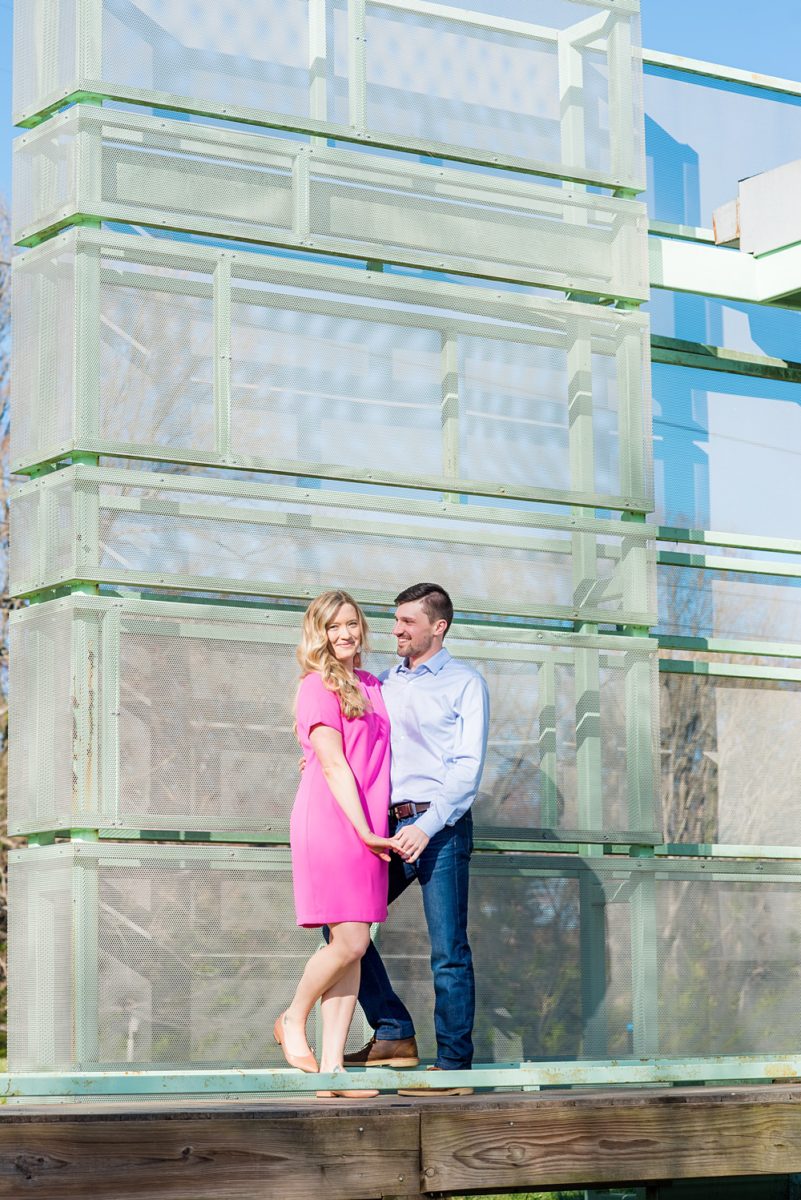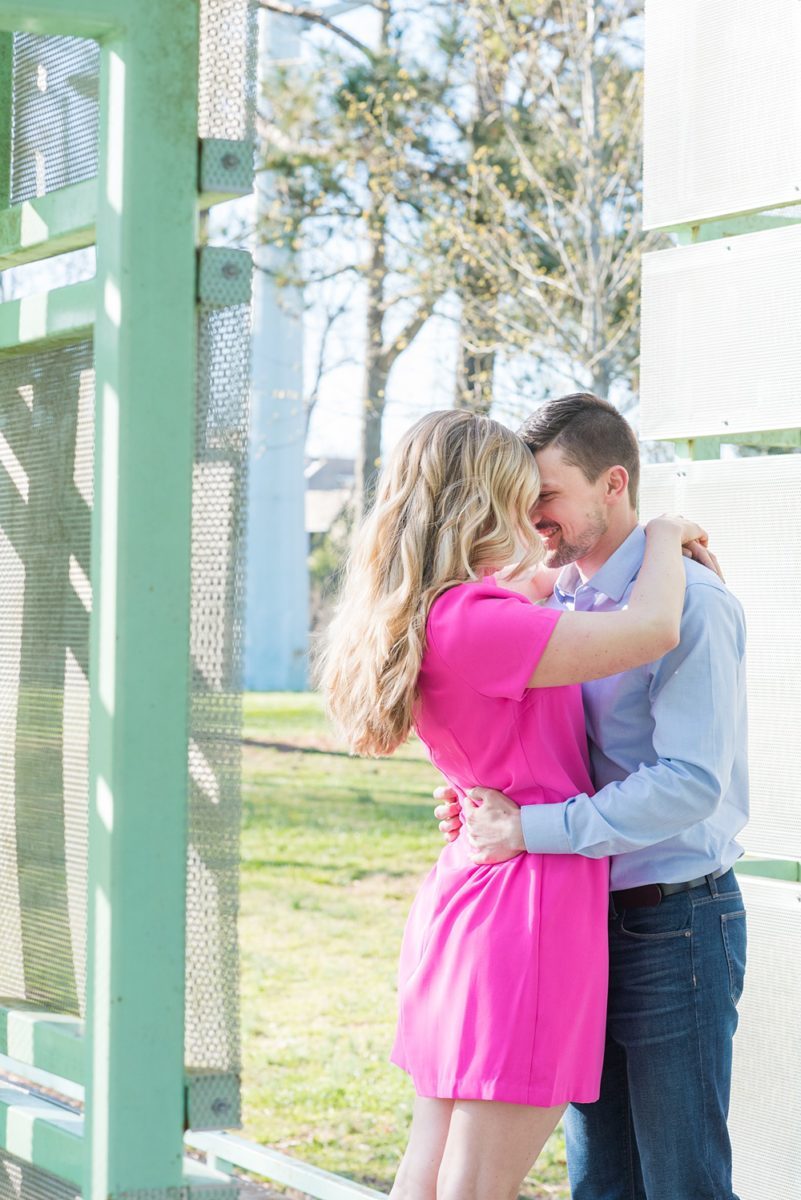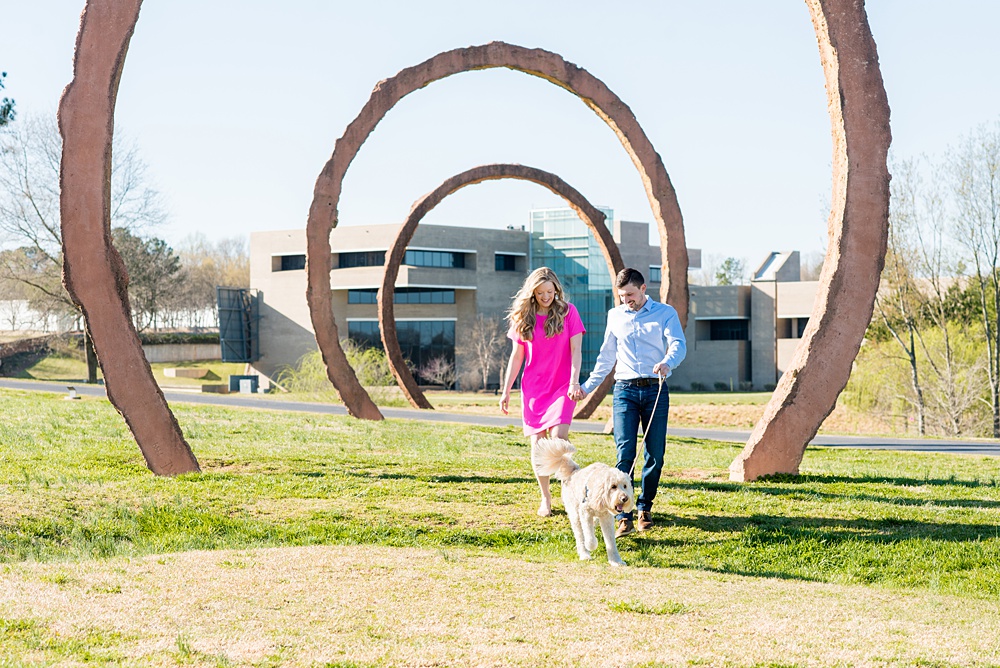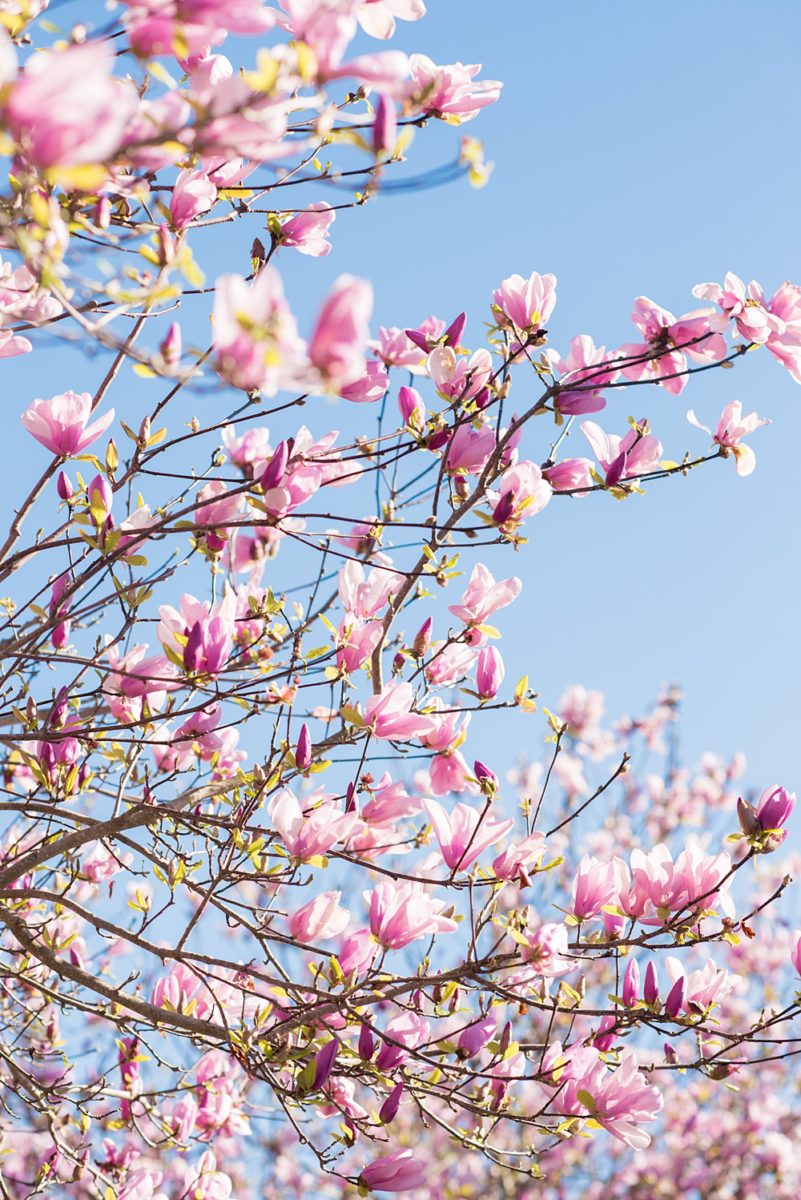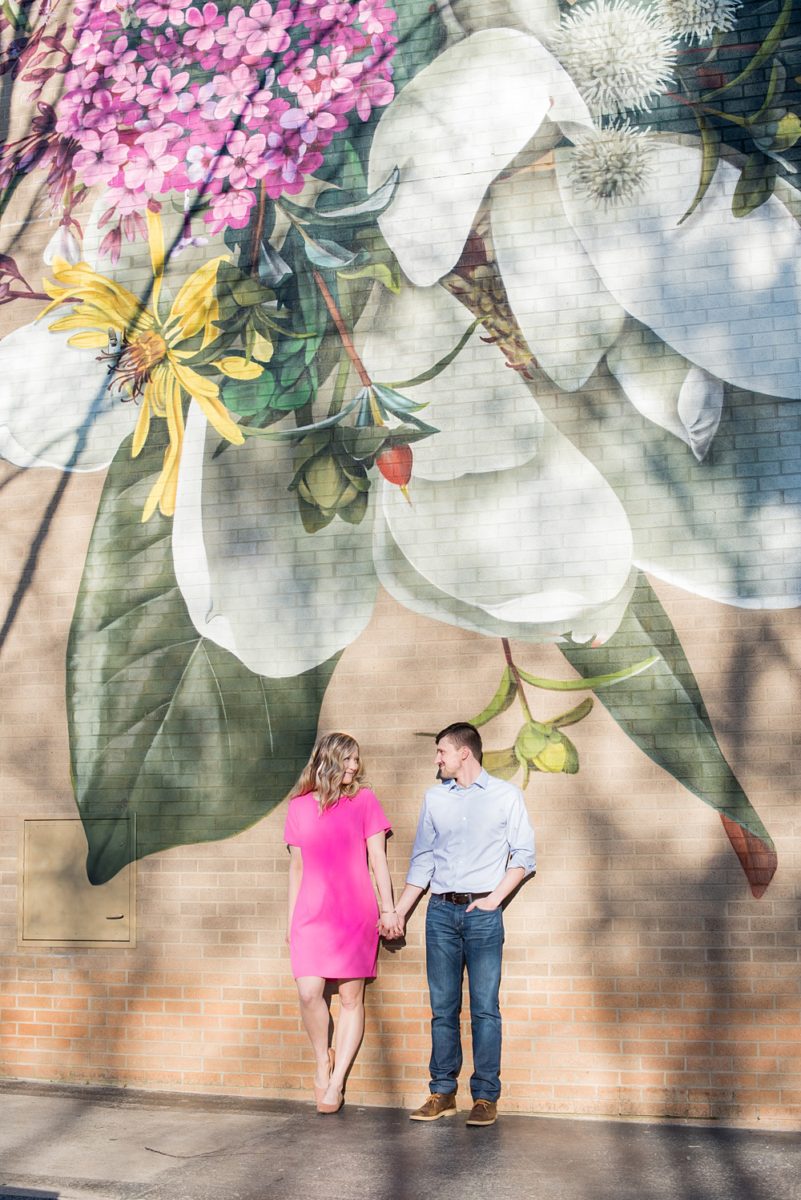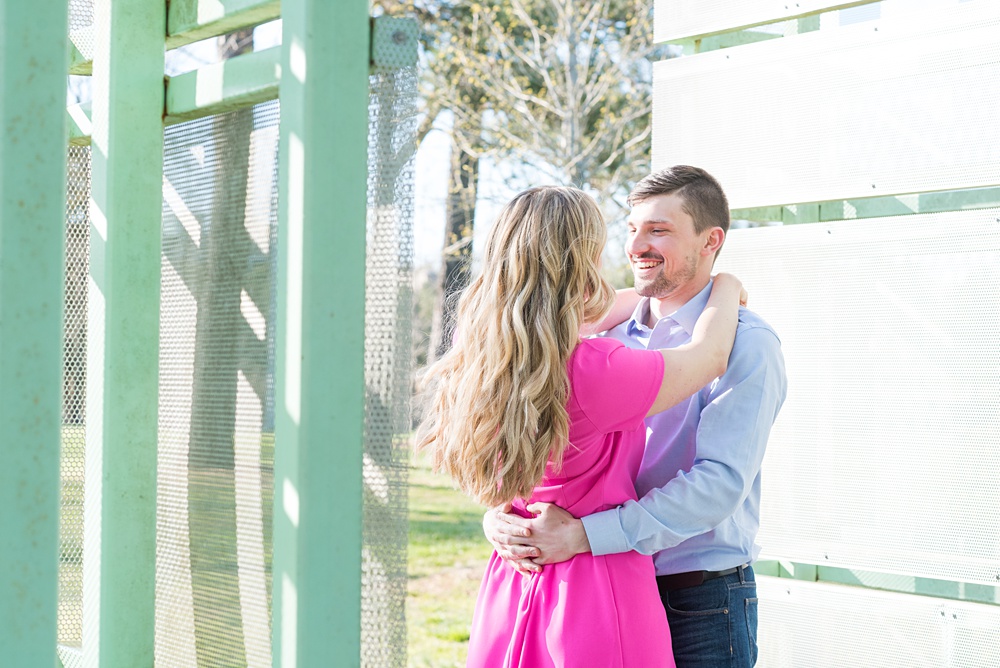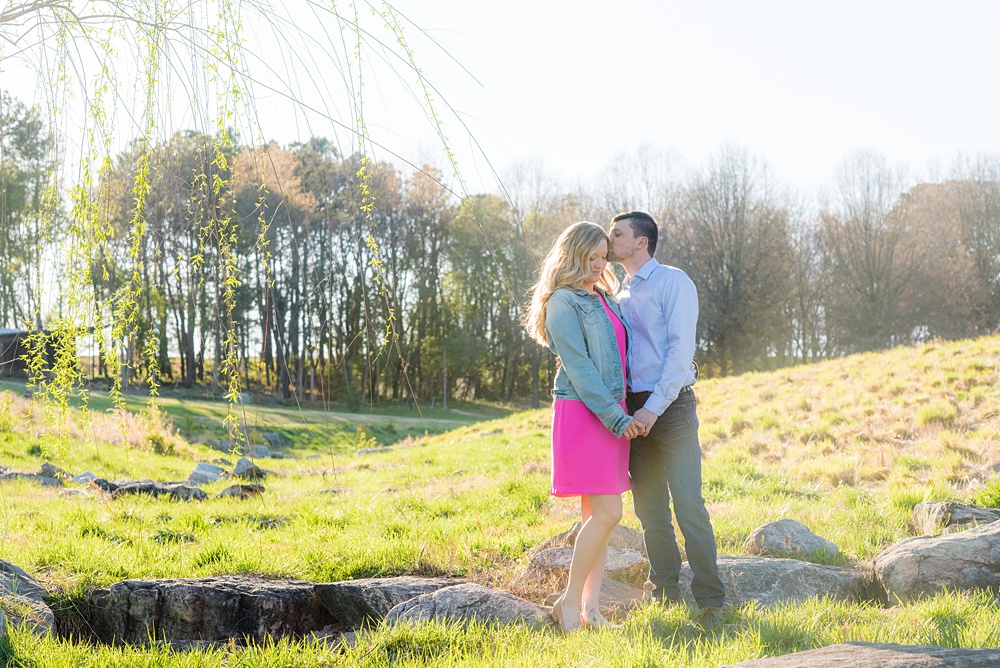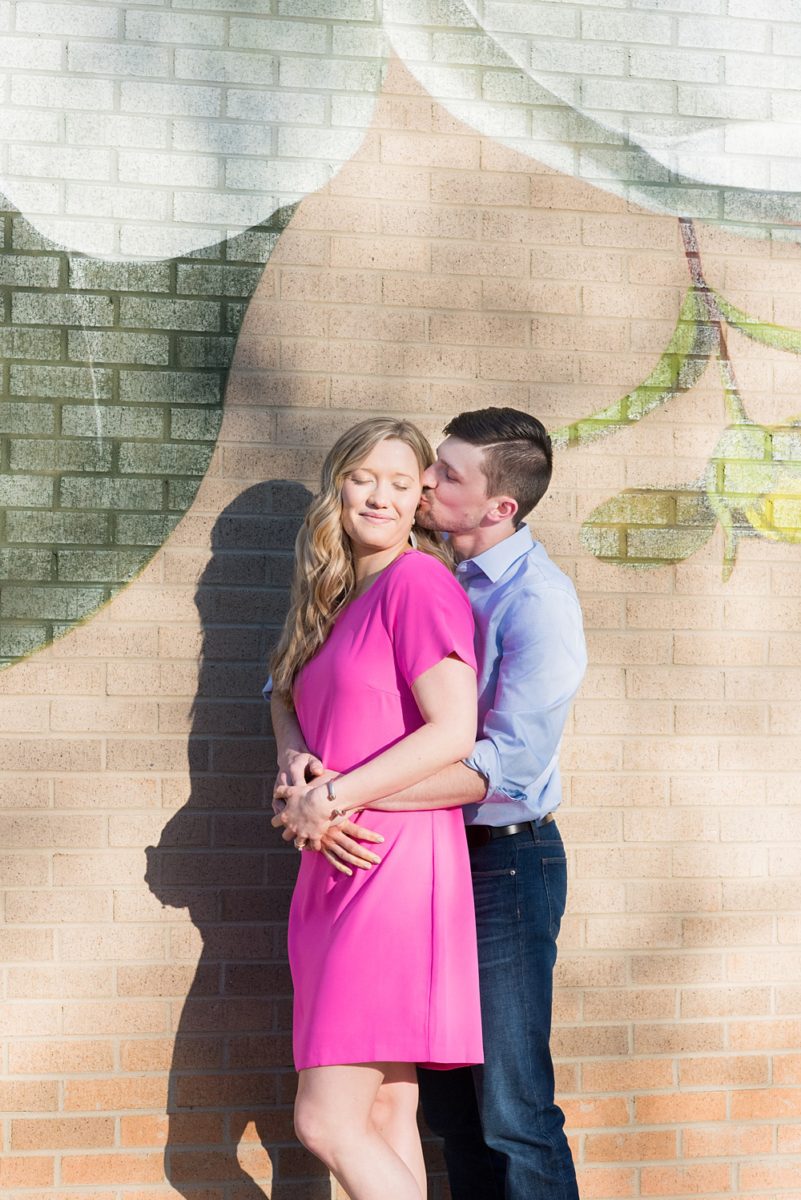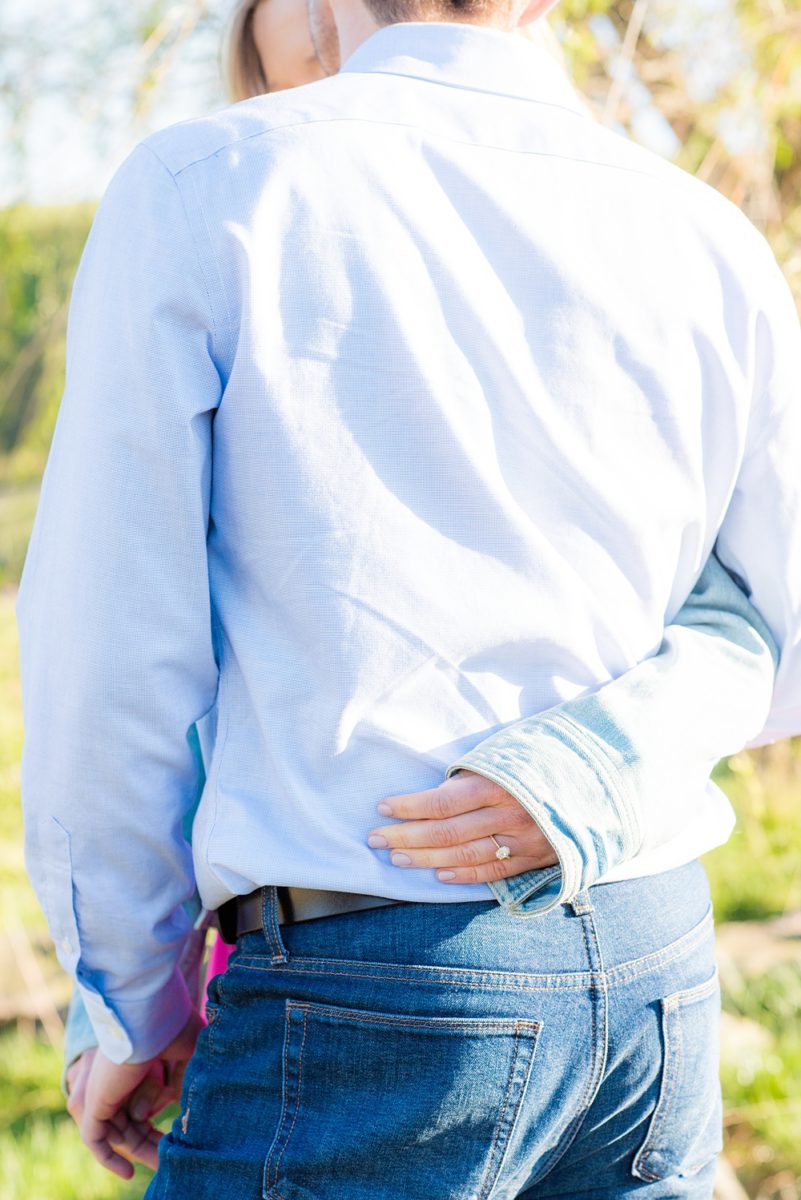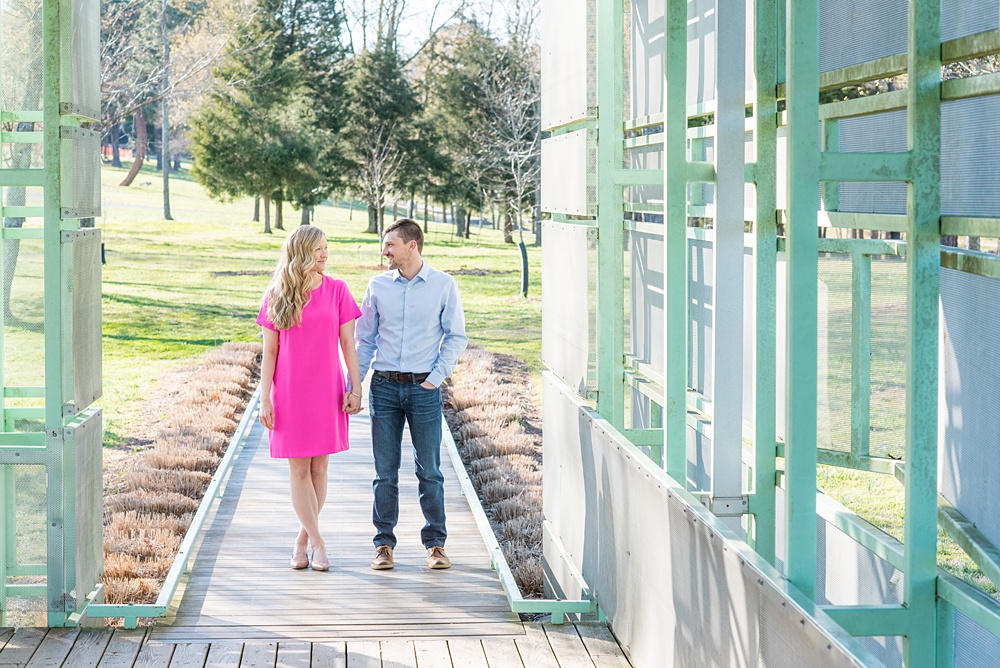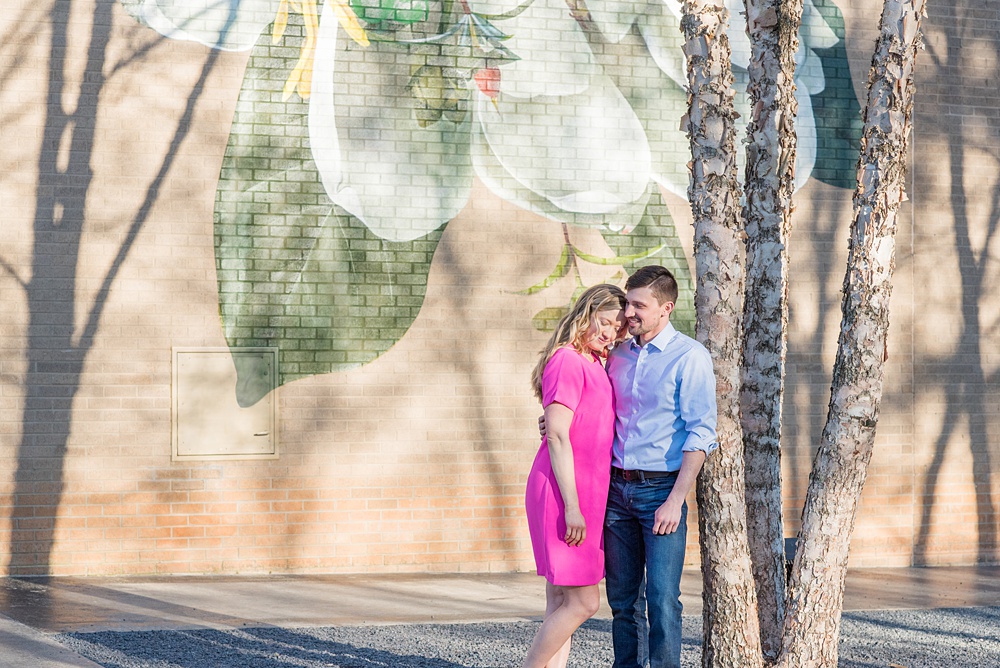 They couldn't have an engagement session without their fur baby, Boone! We were able to capture some great family photos with the help of Elizabeth's mom, Debbie, assisting just out of the camera's view. (Check out our recommendations for bringing your dog to your engagement session!) He's a rambunctious Golden Doodle and I'm pretty sure he was loving life on the grounds of NCMA! Liz even bought a professional calligraphy sign that read, "My humans are getting married!" for him to wear for a few photos.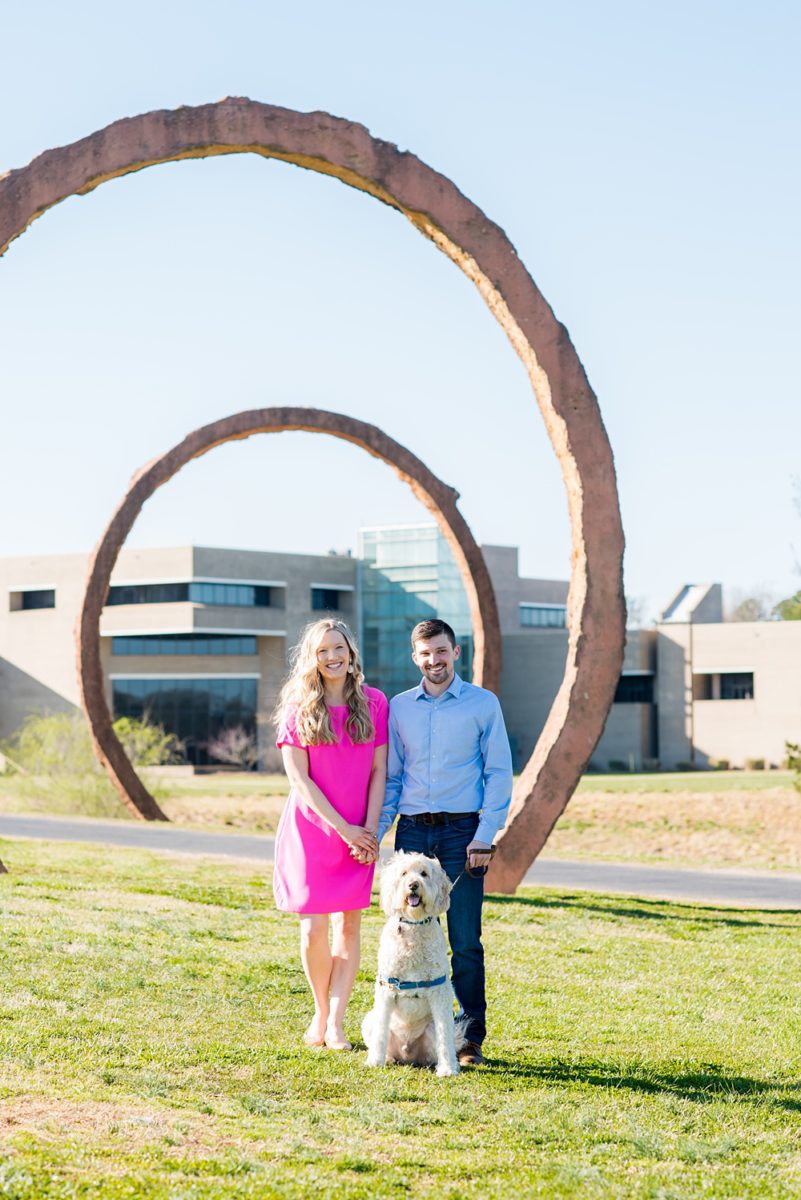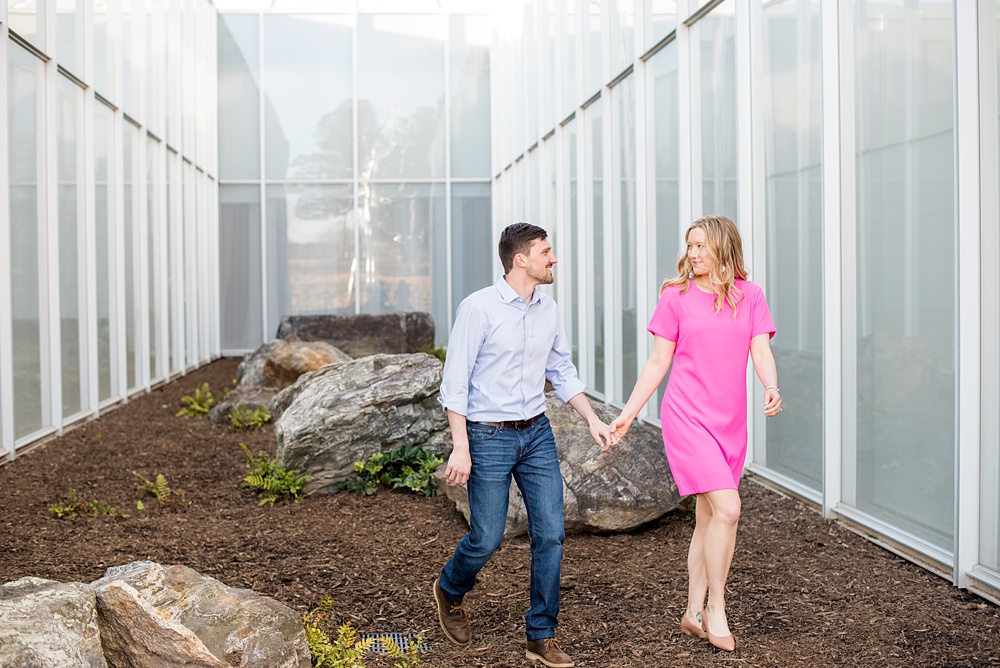 The countdown to their November wedding in Cary continues!
For more colorful engagement session inspiration check out: