I think the number one question newlyweds get asked is, "Does it feel different now that you're married?" Of course people never ask the photographer; after all, he or she is capturing the event, not a part of it in such a capacity as the newly married couple. But I happened to have the unique honor of three roles at this wedding: 1) photographer, 2) sister of the groom, 3) bridesmaid.
And guess what? Now that Danielle and Zach are married it does feel different. I love having Danielle as my sister-in-law already. It feels so wonderfully official she's a part of our family. She makes my brother SO happy and that's all I need to know, as his older sister. Looking at their wedding photos makes ME so incredibly happy and I get giddy of thinking of them sitting together with their new wedding bands, glowing in the memories of it. (Aren't photographs special?) Danielle's a beautiful woman and she's never looked so radiant. Zach looked so handsome in a white bow tie and tuxedo and I can't remember him looking this handsome any time before. Sigh….swoon….sigh….
Danielle and Zach got engaged when he surprised her with a proposal nearly two years ago. She had time to gather amazing details, from her blue-soled Betsey Johnson shoes, to special "Just Married" Kate Spade clutch, to a Mrs. Box for her rings. It was such a pleasure to photograph such a detail-rich wedding! She selected a beautifully beaded strapless David Tutera wedding gown – I especially loved the train and how it fanned out, with buttons all the way down the back.
Zach prepared at home with his dog, Baxter, who even got dressed up for the day in a black bow tie to match Zach's white one. They both looked so handsome!
Danielle was at the venue in the bridal suite getting ready with some of her bridesmaids. Her Maid of Honor, Phylicia, got the girls silk robes in white, lilac and purple. One of the special details was perfume Zach bought Danielle; she told me she had read that you should buy a new scent for your wedding day so every time you wear it you think of those moments. I LOVE that idea! And the perfume bottle was perfect for some close ups!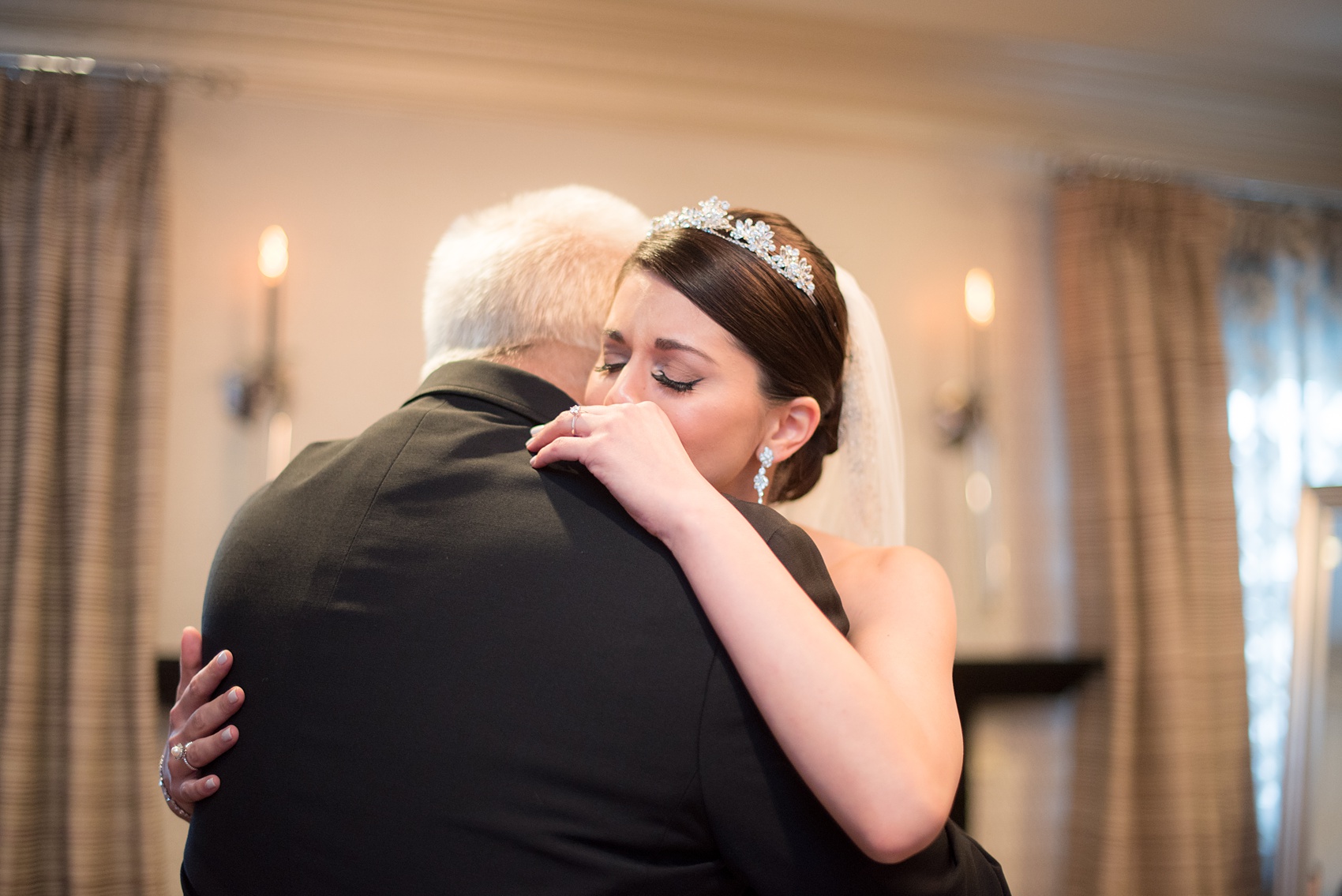 Danielle's first look with her father was very sentimental. Everyone in the room was teary-eyed. When Zach and Danielle saw each other for their first look they were both 100% all smiles and all-around-happiness! Zach and Danielle were so thoughtful to give such generous gifts to their wedding party – one of my favorite moments was when Danielle gifted one of her flower girls, Abbie, a necklace and bracelet. She was SO excited to get such a gift from aunt Danielle, who of course looked like a fairy princess to her!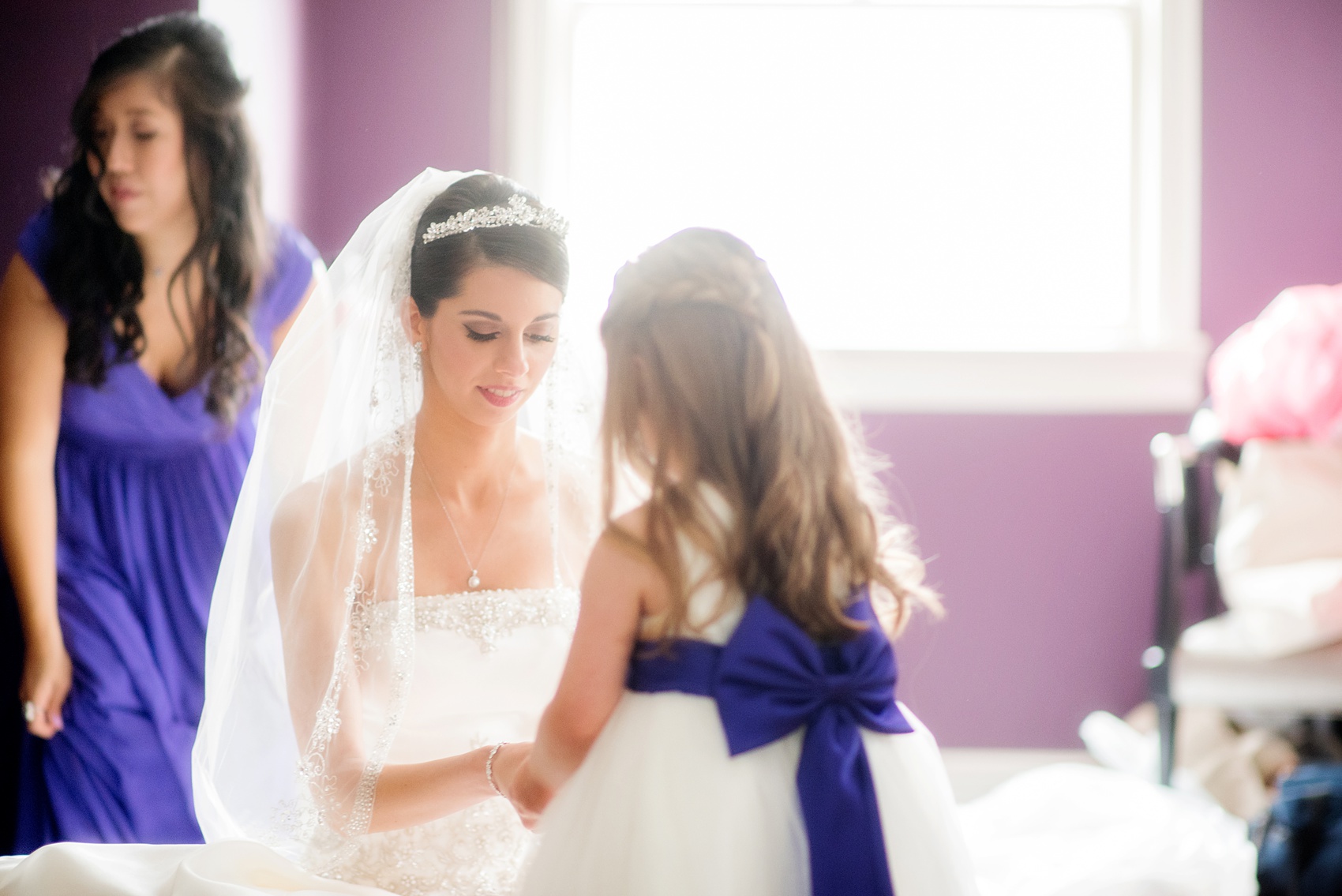 They say rain is good luck on your wedding day, which means they'll have a lucky-in-love marriage. They were troopers and everyone was game to take some awesome photos indoors to stay dry. I love how Danielle's gown cascades down the black and white staircase. Also can we discuss her amazing cascading all-white phalaenopsis orchid bouquet? It's such a classic look and I simply adore orchid bouquets. They're so special.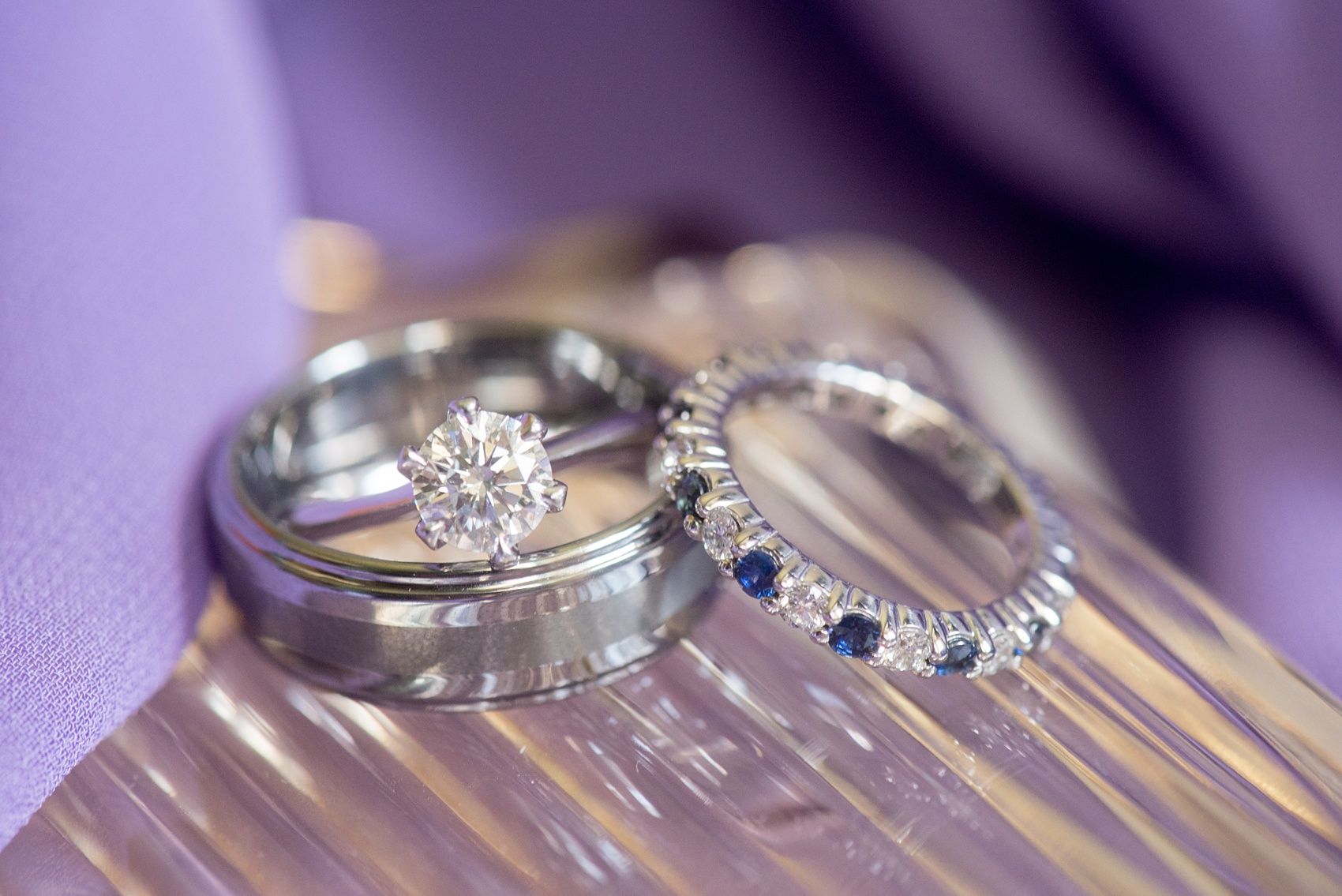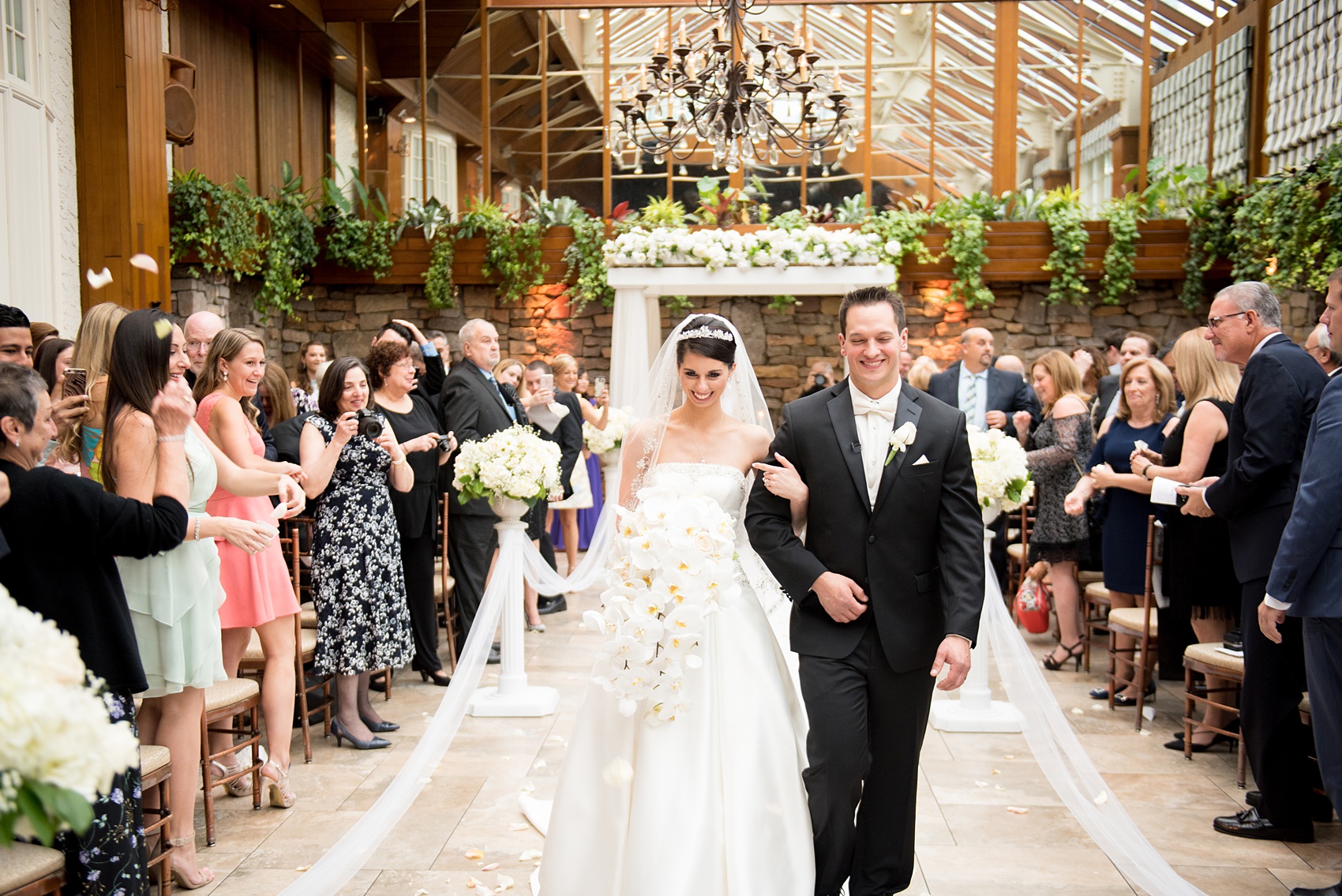 And then….they were…MARRIED! Ahhhhh! Holy crap, I have a new sister-in-law!!!!! WOOHOO!!!!! Let's PARTY!
Reception and Party Time at their Fox Hollow Wedding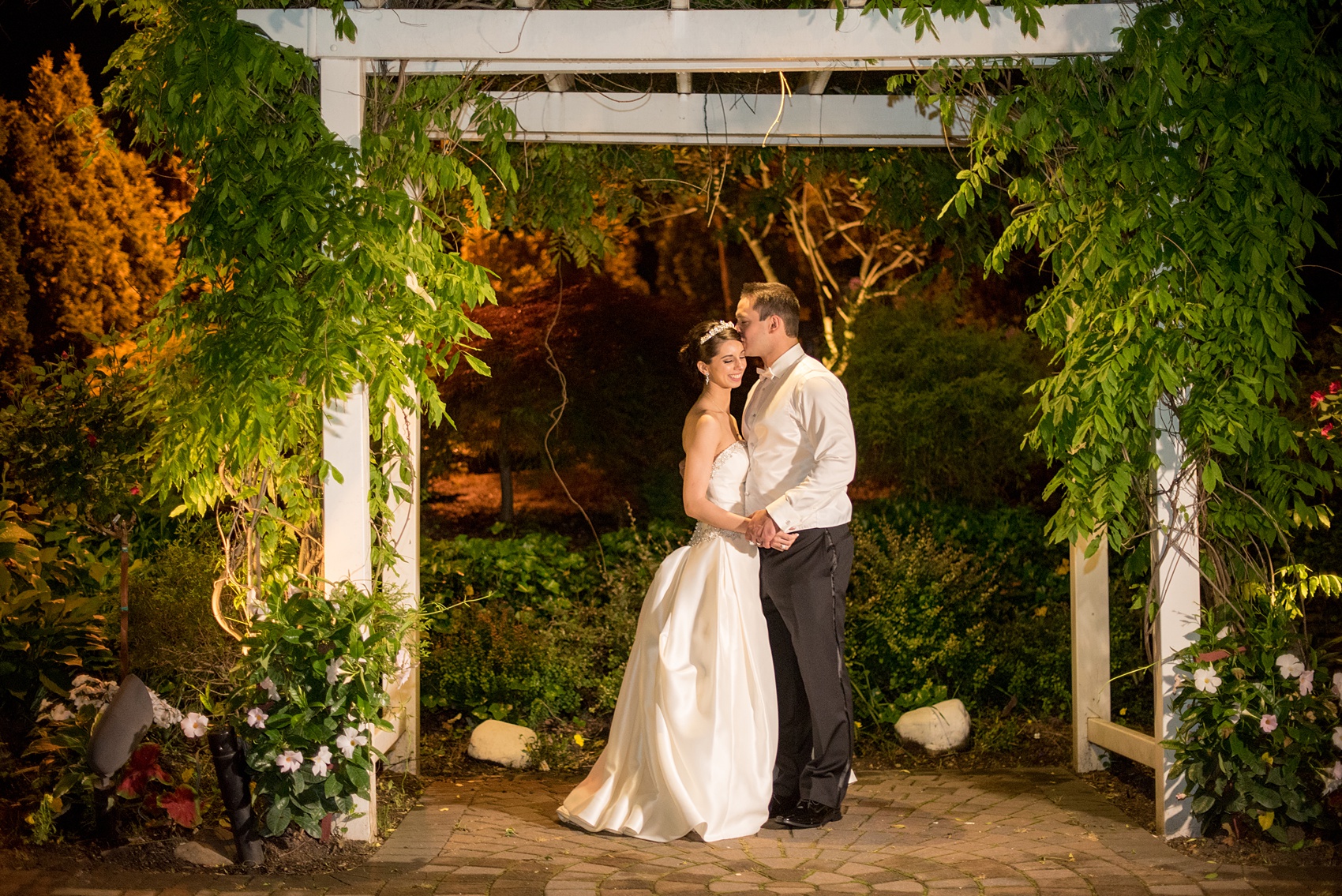 I LOVE so many of their wedding photos and I really couldn't stop smiling the whole time I was creating this. It was so hard to resist sending photos to family, friends and especially Danielle and Zach as I was doing this. But it was so worth the complete picture! Congratulations to Mr. and Mrs. Mihlrad, my new sister-in-law and forever and always little brother! I love you guys! (If you loved this story, check out their proposal story!)
Zach and Danielle's Wedding Vendors
Venue: The Fox Hollow / Hair and Makeup: Salon Novelle, Jen and Josephine / Wedding gown: The Wedding Plaza, designer David Tutera / Bridesmaids dresses: Bill Levkoff / Shoes: Betsey Blue by Betsey Johnson / Officiant: Michele LaRosa / DJ: Body Rock / Flowers: Flowers by Brian / Cake: Francesco's Bakery / Bridesmaids gifts: Swarovski / Groomsmen gifts: YETI
Don't forget to check out Facebook and Instagram, where there's always more to love!
Getting married on Long Island? Also check out: