Alyssa and Ethan's wedding was like a ball of sunshine! Bright yellows and blues are ingrained in my memory as this fun, vivacious couple tied the knot and celebrated with family and friends. People traveled from all over for their June day, locally in North Carolina, from Georgia, Idaho and north in Maryland too, to toast to this dynamic pair.
They met in college when they were both attended a birthday party. Ethan's vows revealed how Alyssa immediately caught his eye with her confidence and beauty. They've made a home together in Maryland, where we were lucky enough to capture their engagement. And this next chapter in their lives started beautifully with a gorgeous wedding at the Durham wedding venue, The Rickhouse.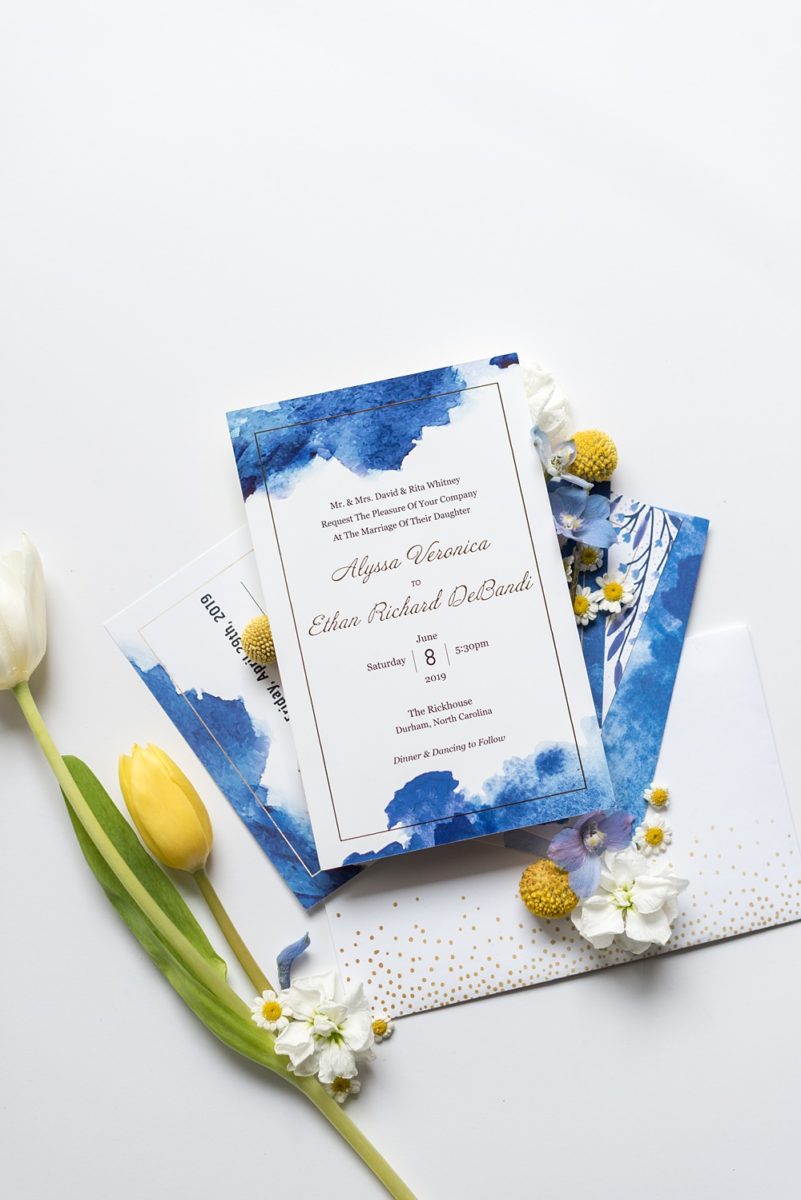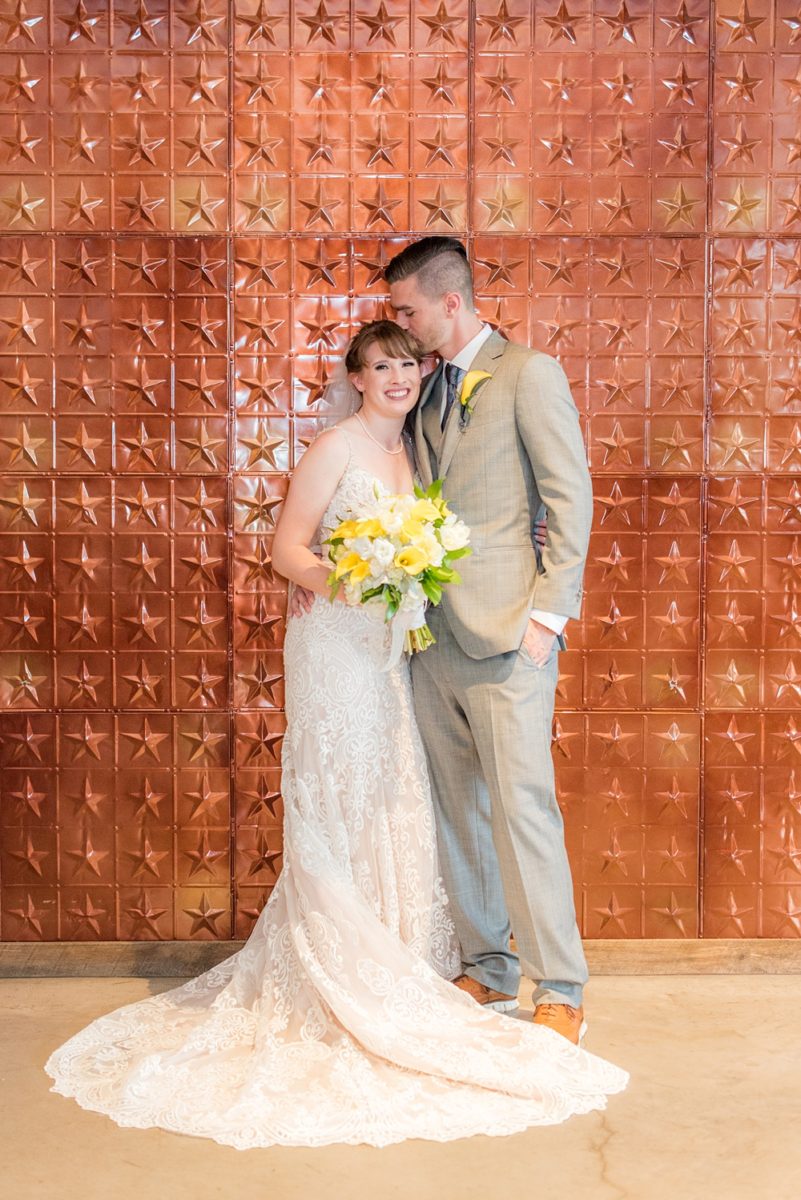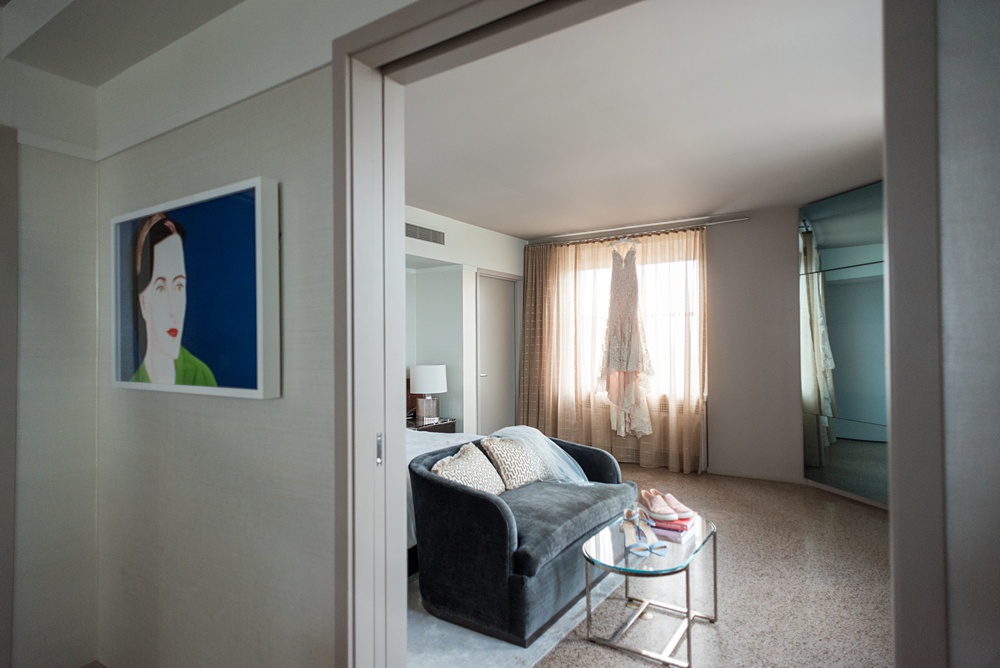 They chose 21c Museum Hotel to get ready in. The suite where the women got their hair and makeup done was especially perfect for a bridal party of ten of Alyssa's best friends, mother and aunt, and her soon-to-be mother-in-law. They gathered there to steam their pretty blue dresses, have some girl talk time, drink mimosas and enjoy the morning. It's also where I photographed her lace gown, her blue shoes, and heirloom pearl necklace, a family heirloom signifying her grandmother was still there in spirit. (Photographed as Alyssa held the pearls on her perfectly manicured blue nails with a fun silver-sparkle nail!)
I knew we'd be a great fit to work together after having met Alyssa, her mom, Rita, dad, David and aunt, Helen at a wedding showcase event at The Rickhouse the year before. So it was great to see her parents and Rita again and capture some fun getting ready photos of the women. The photo of Alyssa, her mom and aunt in their floral robes is one I cherish from their wedding day…and they're not even my family! 😉 It was extra fun to see Helen and congratulate her on her recent engagement in Antartica, where she was vacationing with Dave and Rita, when Alyssa's uncle and Helen's boyfriend, Tom, popped the question. What a meant-to-be family connection, right?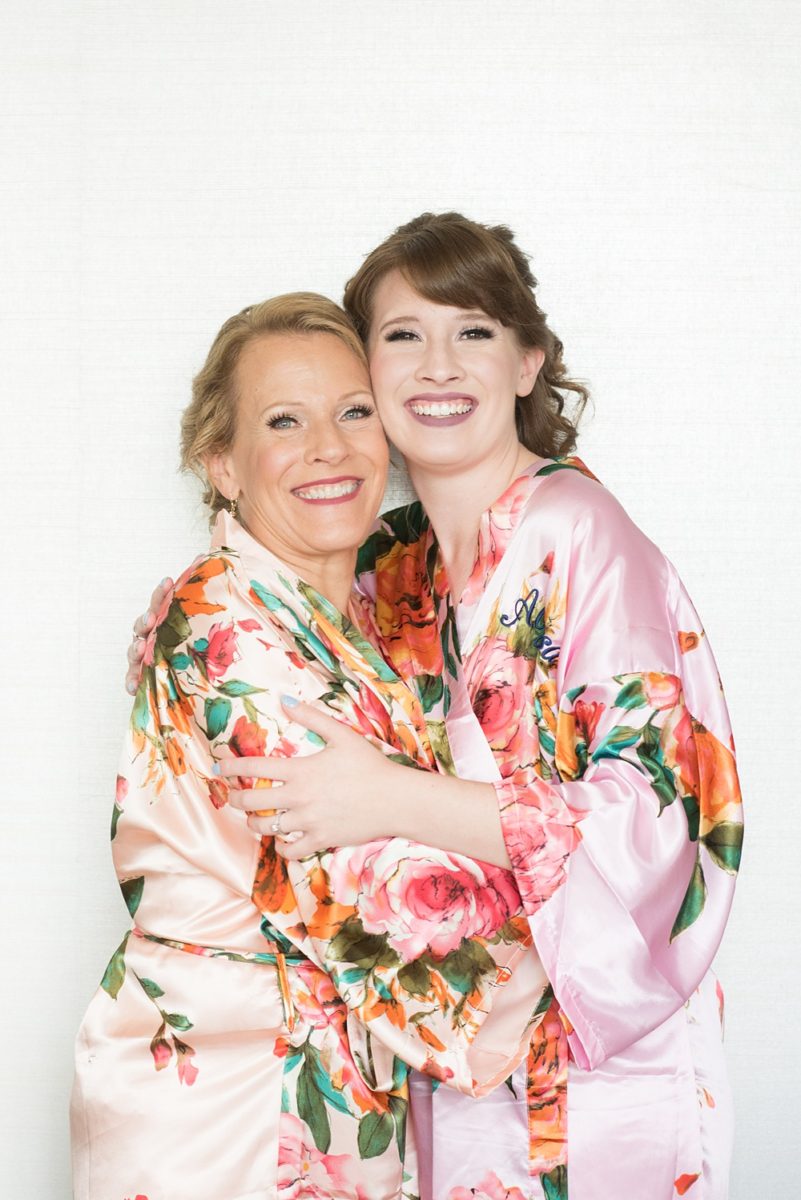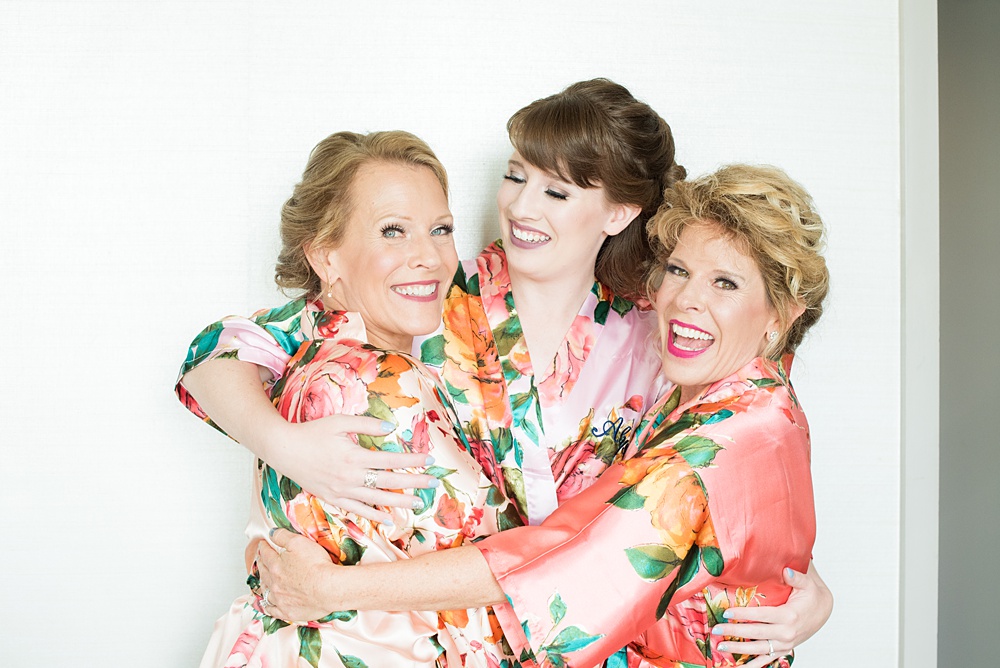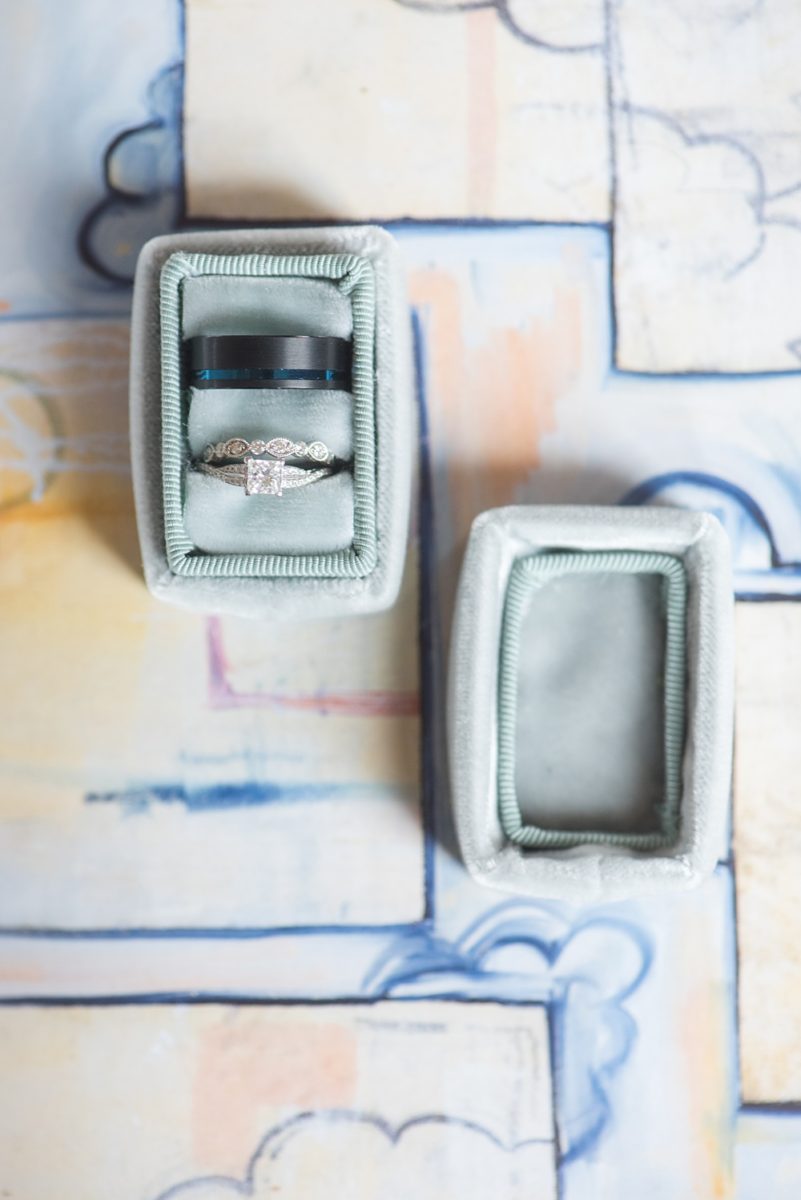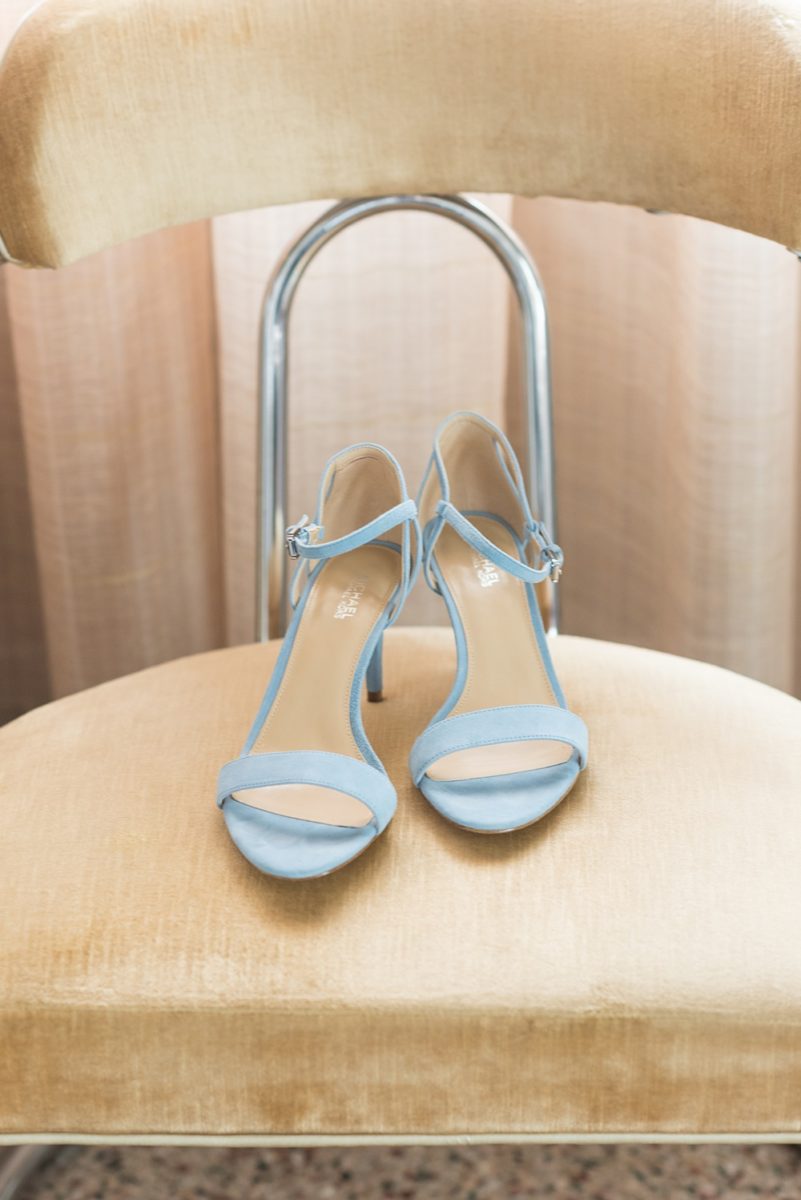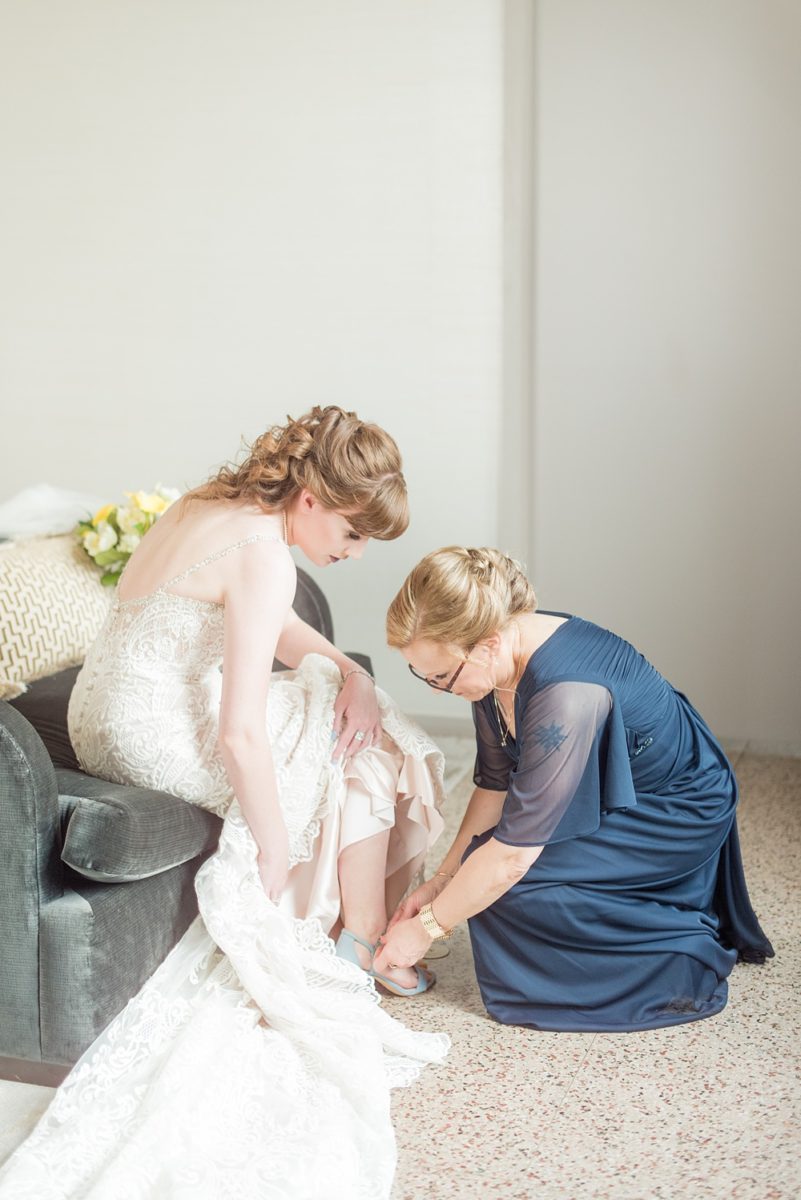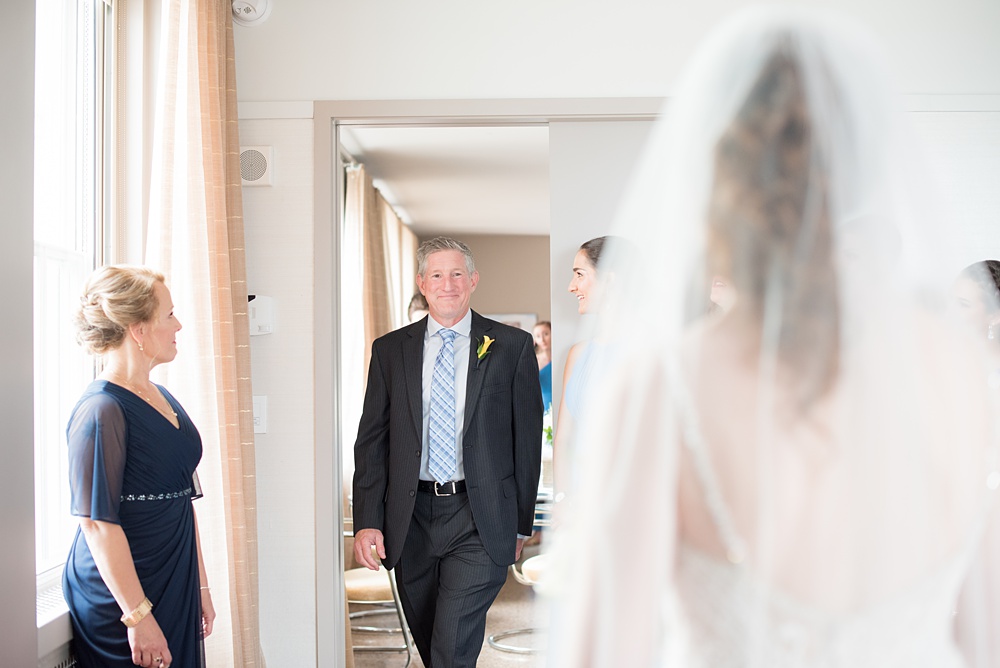 One of the best moments of the day was seeing the look on Alyssa's dad's face as he saw his daughter for the first time that day, dressed as a beautiful bride. The bridesmaids spared no opportunity to ooh-and-ahh over Alyssa too. And why not, because she looked GORGEOUS! Everyone kept saying how great she looked, not just from the front but the back too. It was pure beauty in 360 degrees. Don't you love the scalloped edge on her train? It's so special.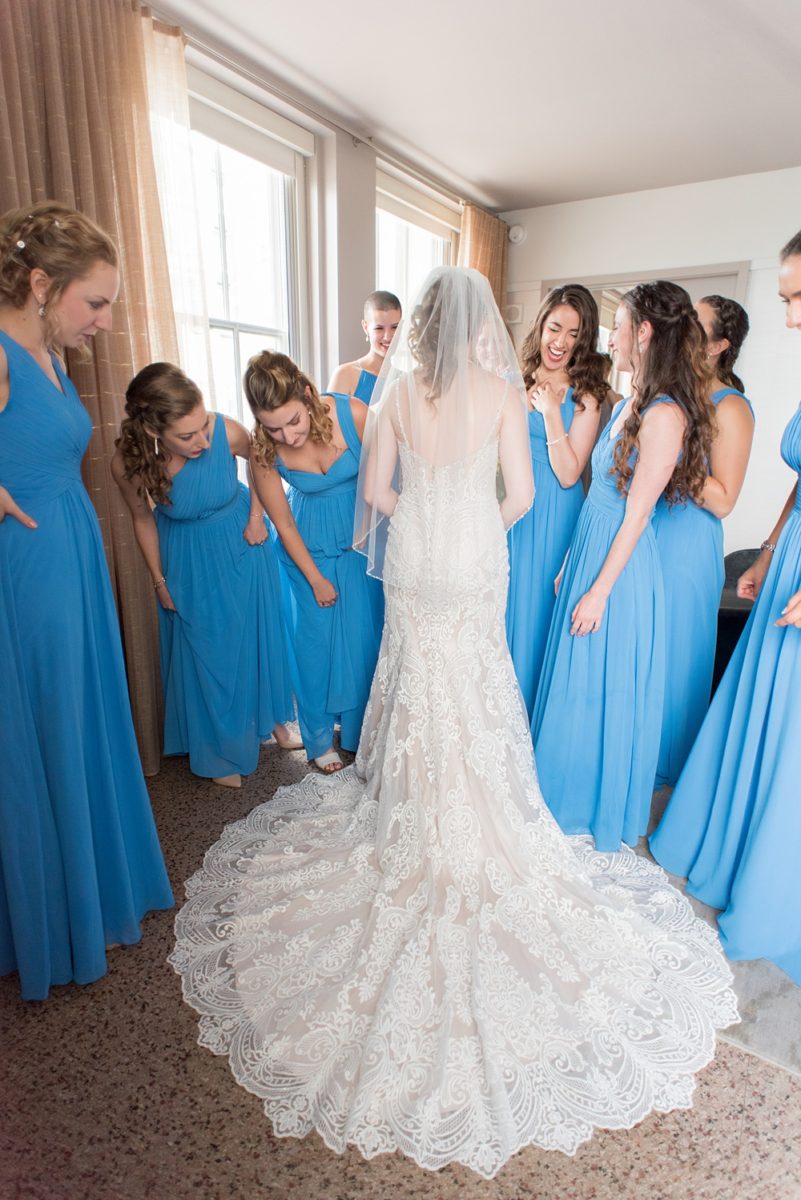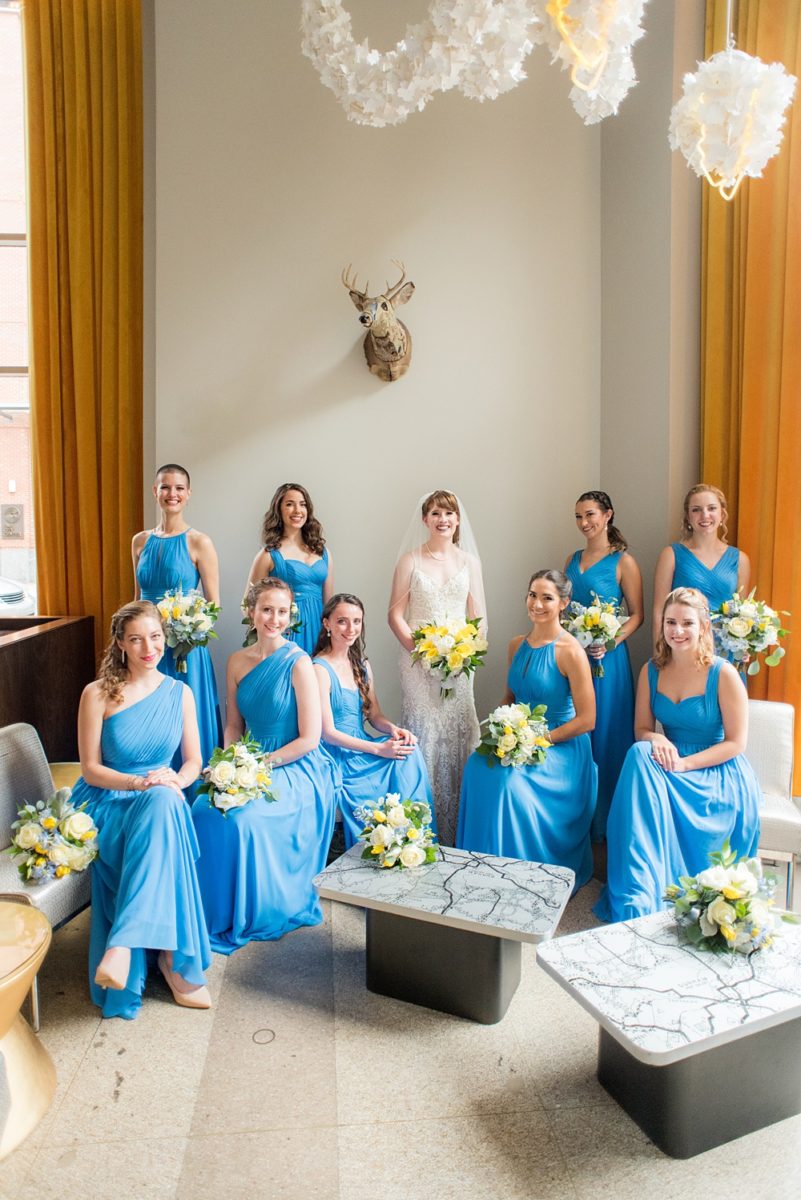 Note that 21c Museum Hotel is just that: a museum and a hotel. So no animals were actually harmed in the making of any spaces there and I have to add the deer on the wall is simply a piece of art, in line with all the other artfully created animals on display in their Counting House restaurant. The furniture just lent itself to some iconic images of Alyssa and her bridesmaids. It was awfully convenient the lush velvet curtains in the lounge at 21c were yellow, too, which I knew ahead of time. How perfect for Alyssa and Ethan's yellow and blue palette!
Alyssa also had a special detail in her bouquet: pieces of her grandmother's and mother's wedding dresses throughout the flowers and the wrap on the stems.
Meanwhile as the ladies headed to the venue for more photos the groom's side stepped outside by the famous Durham bull sculpture and near the hotel for additional pictures. Ethan has a great laugh! We captured some of his details too, like the "Big E" on the lining of his suit (scroll down for that image!) and a watch Alyssa gifted to him. Their song must be "Shut Up and Dance," by Walk the Moon, because its lyrics were engraved on the watch and when the song was played at the reception they went wild in the best way possible. And yes, they were "Bound to be Together"!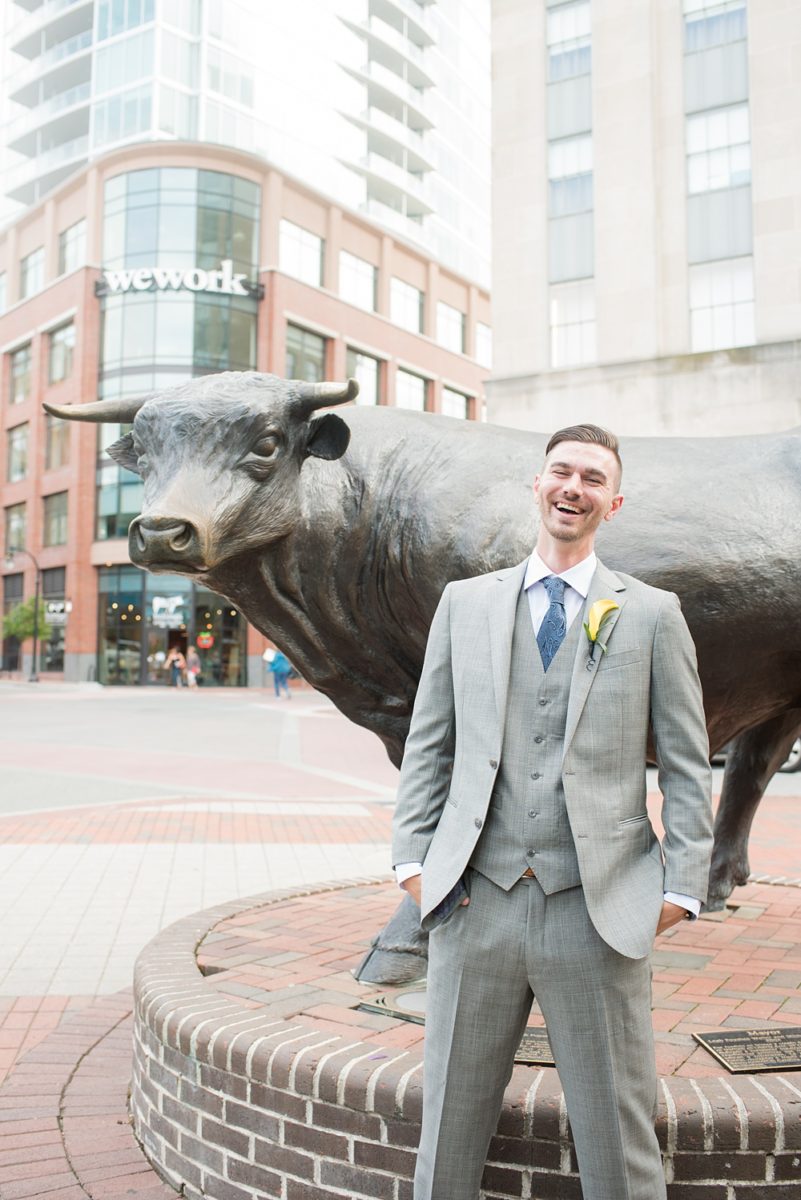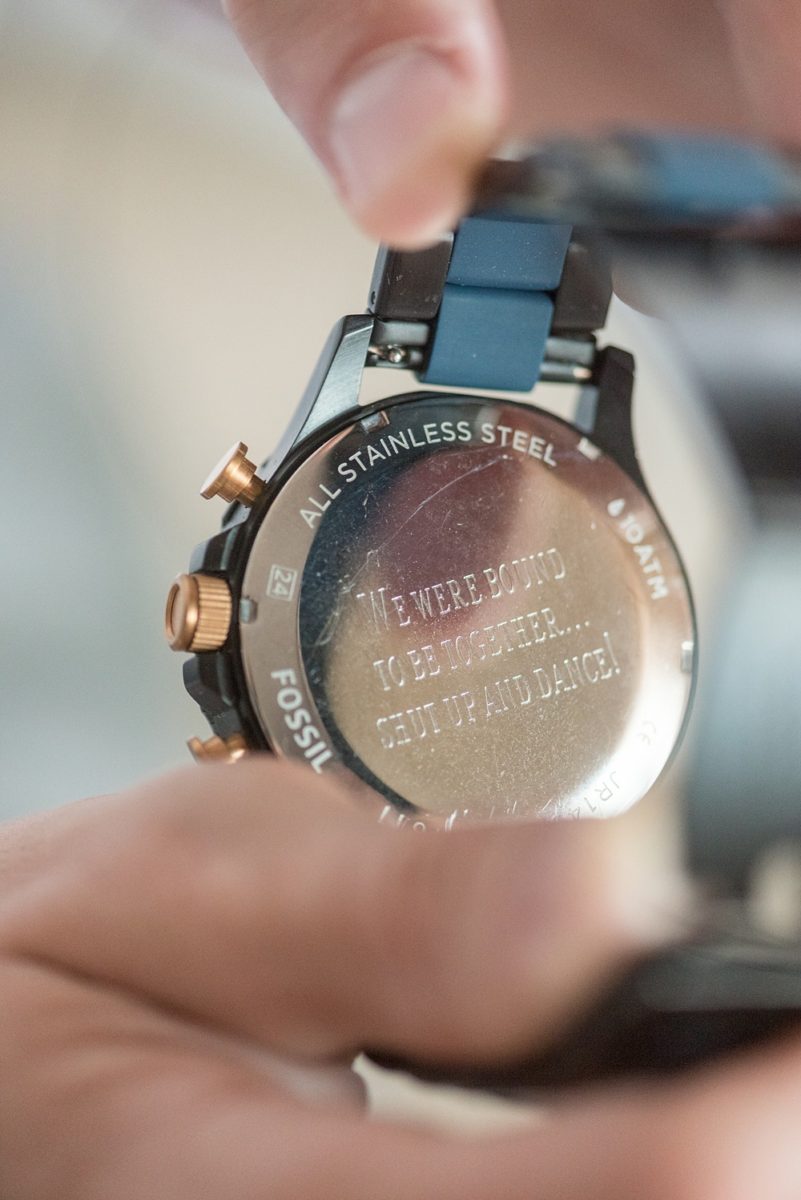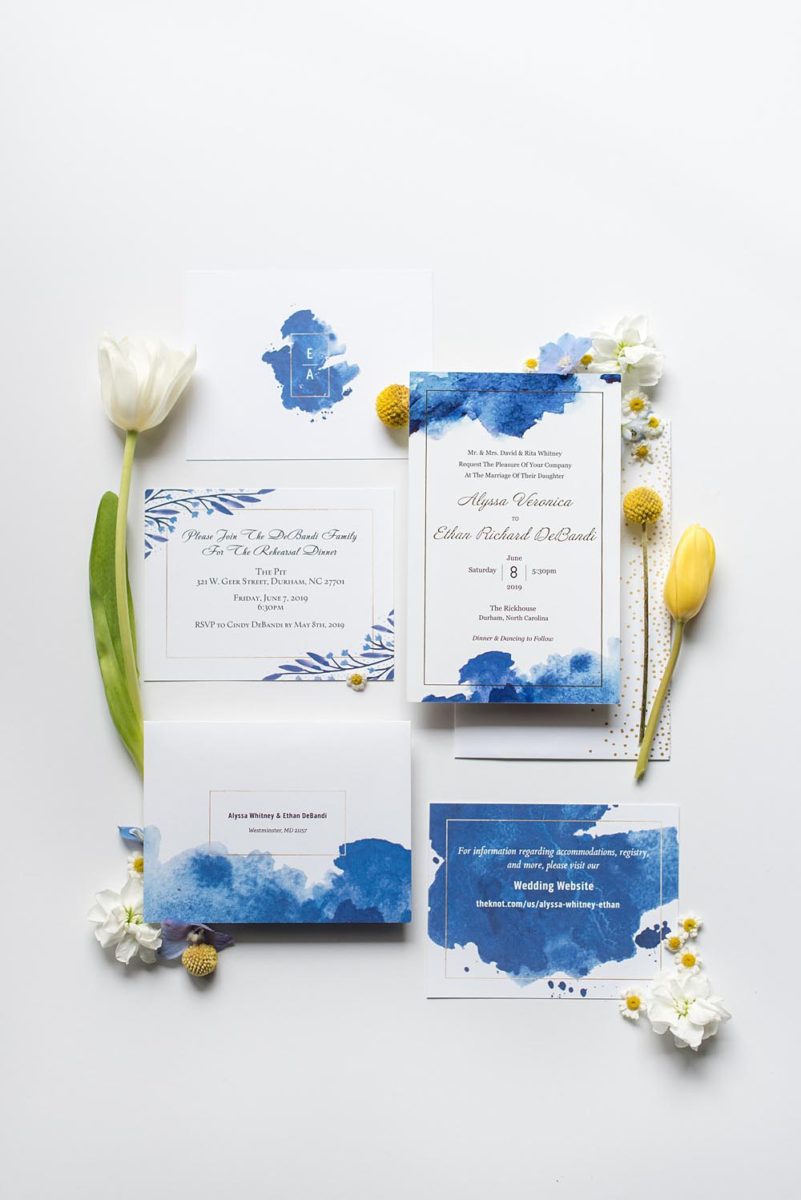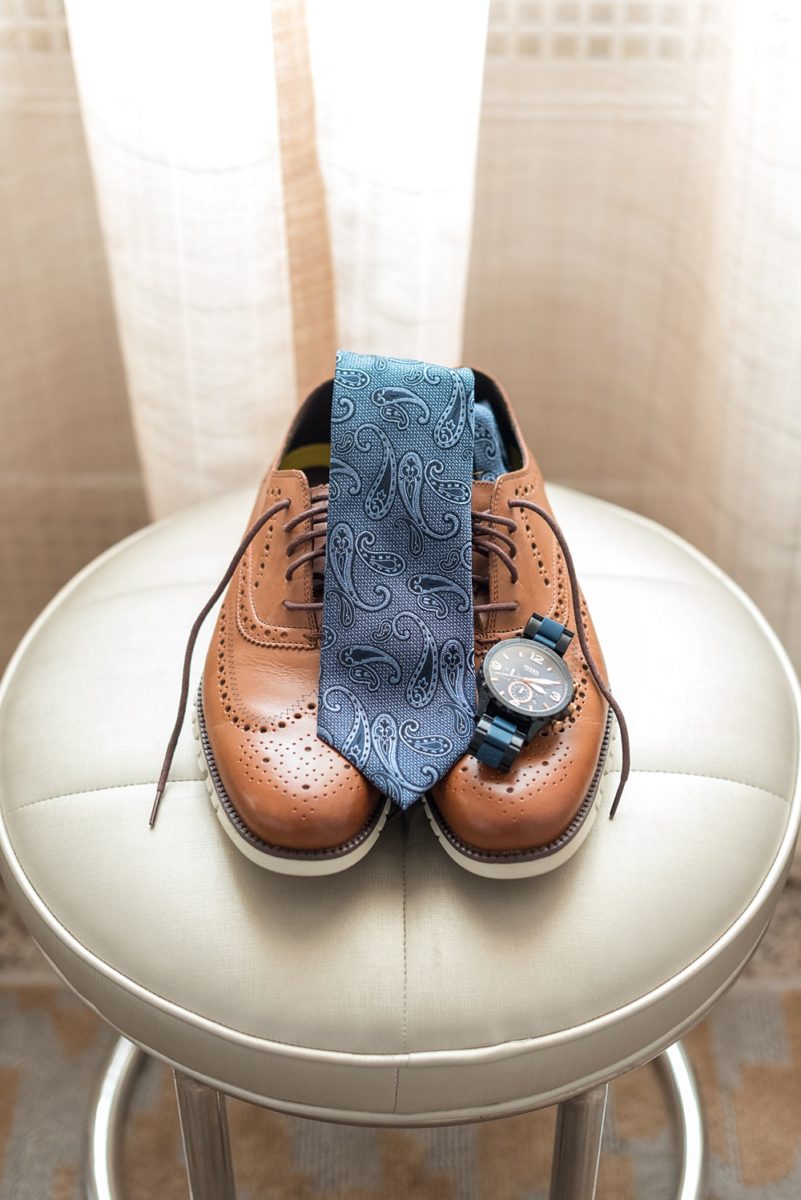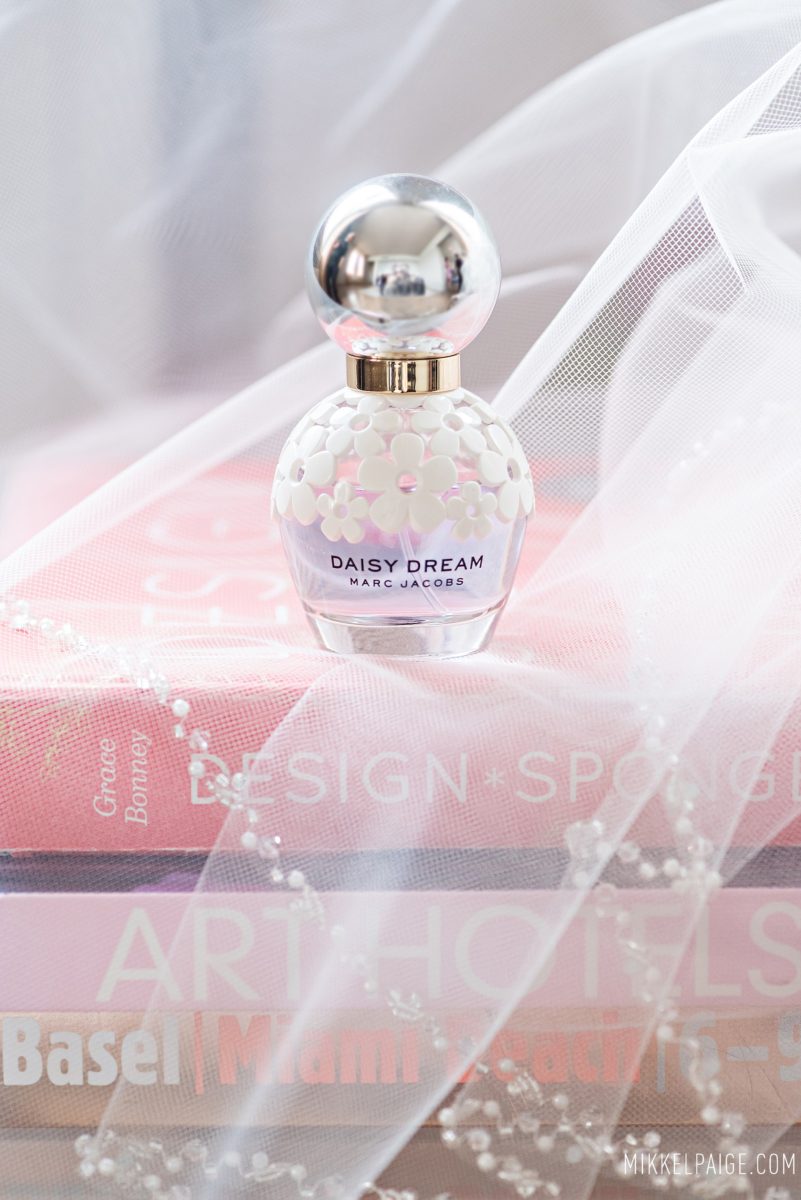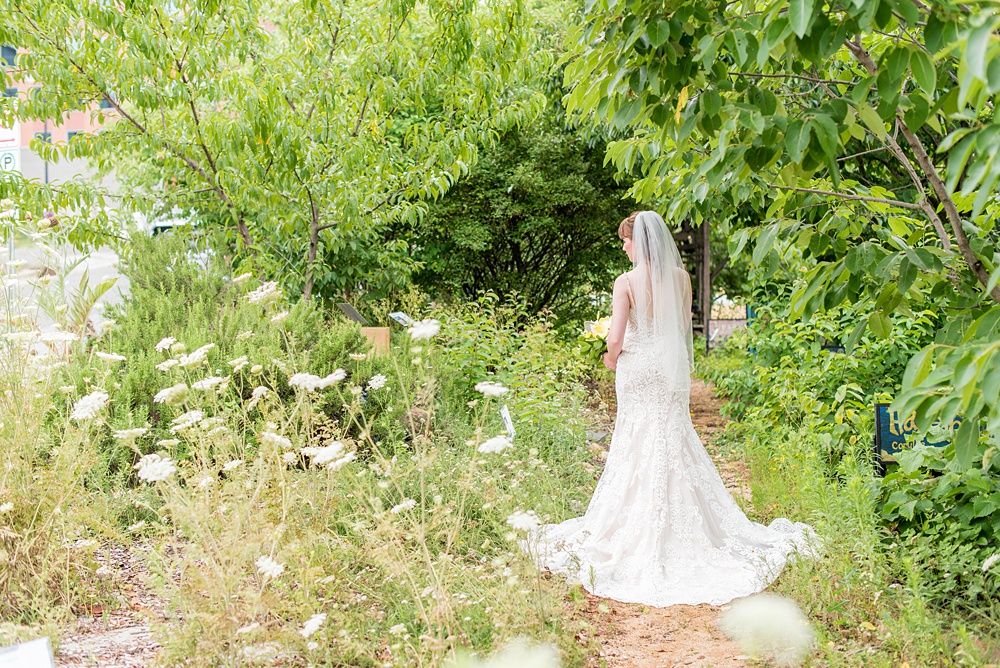 Finding Queen Anne's Lace flowers nearby during their June wedding was a photographer's dream; I immediately knew I had to take pictures of the bride there.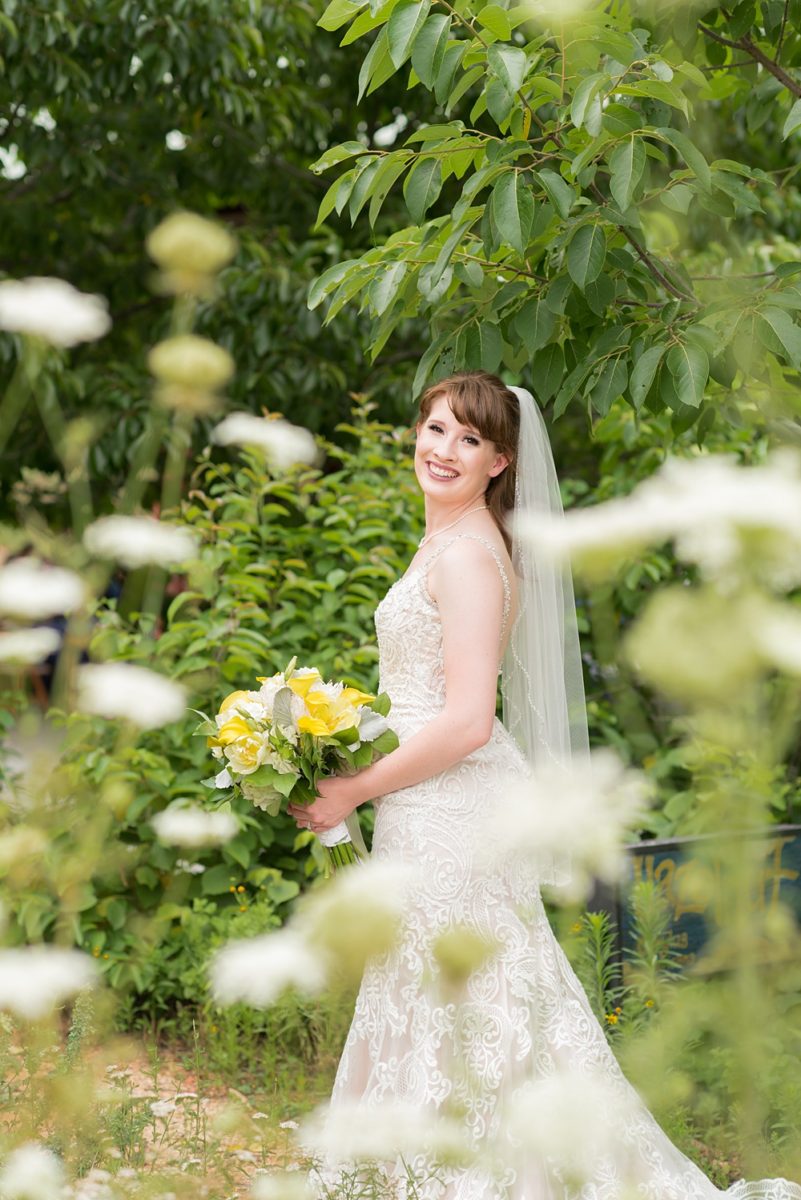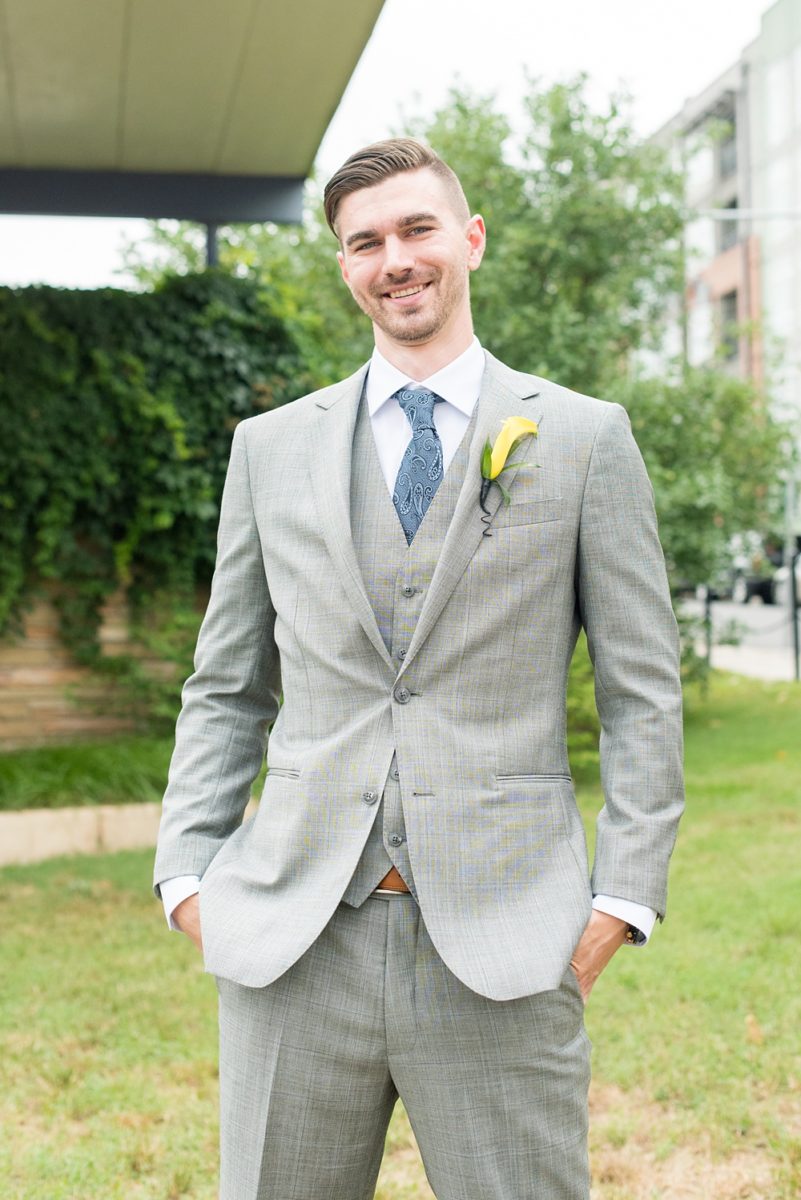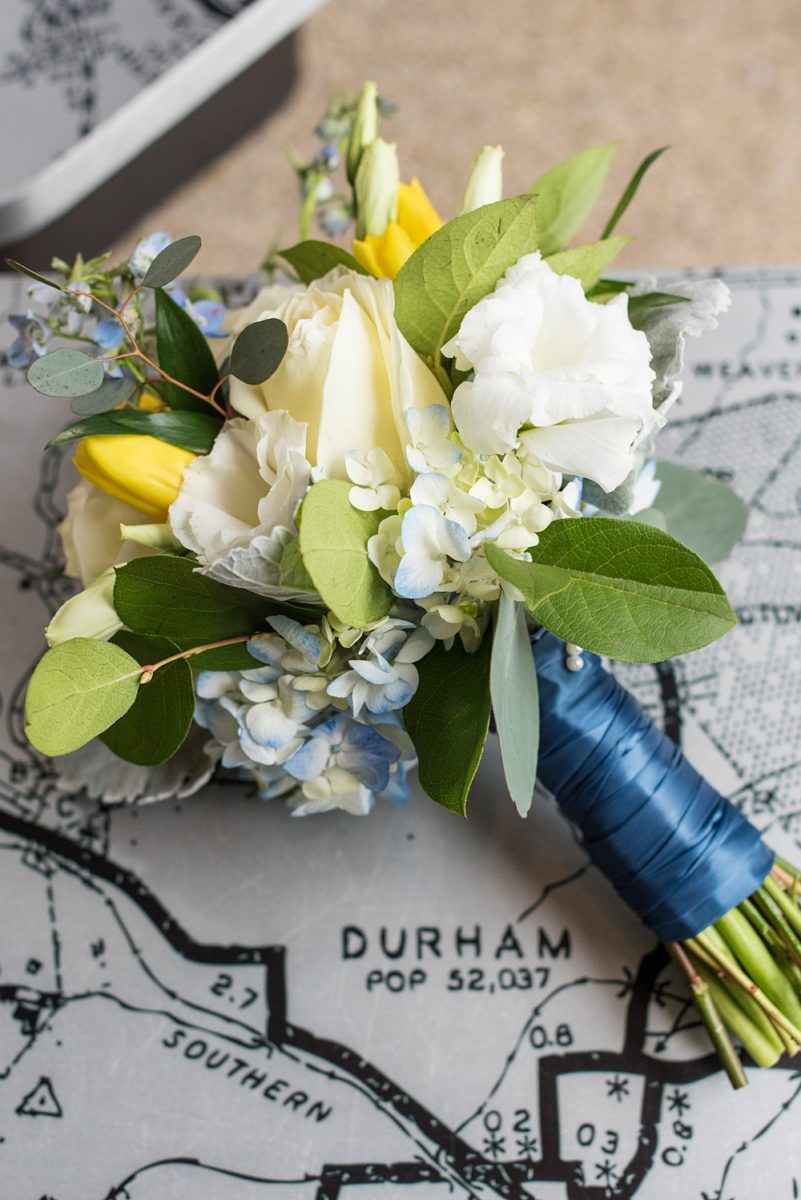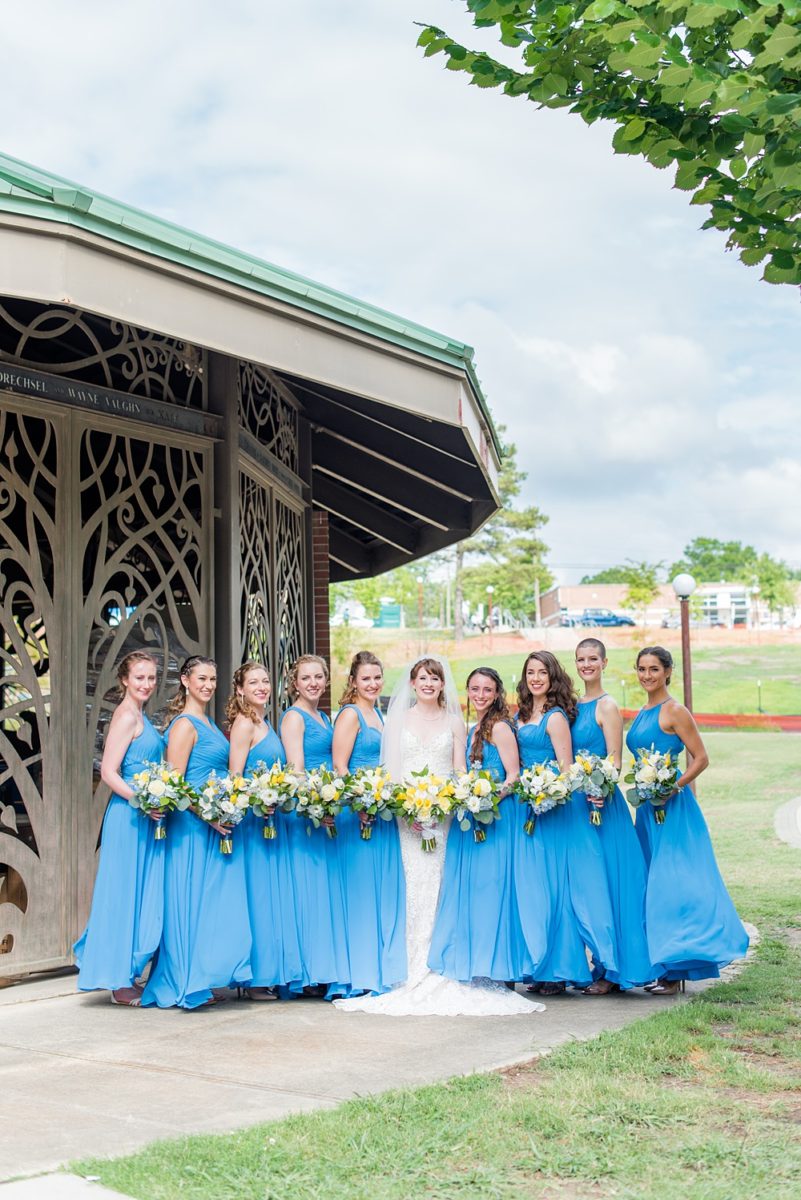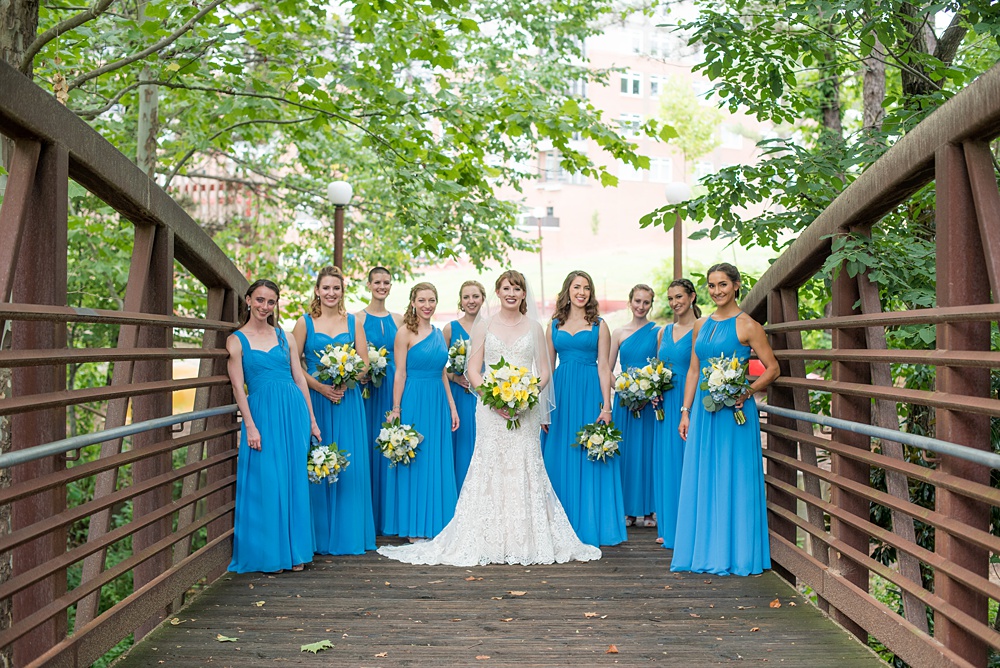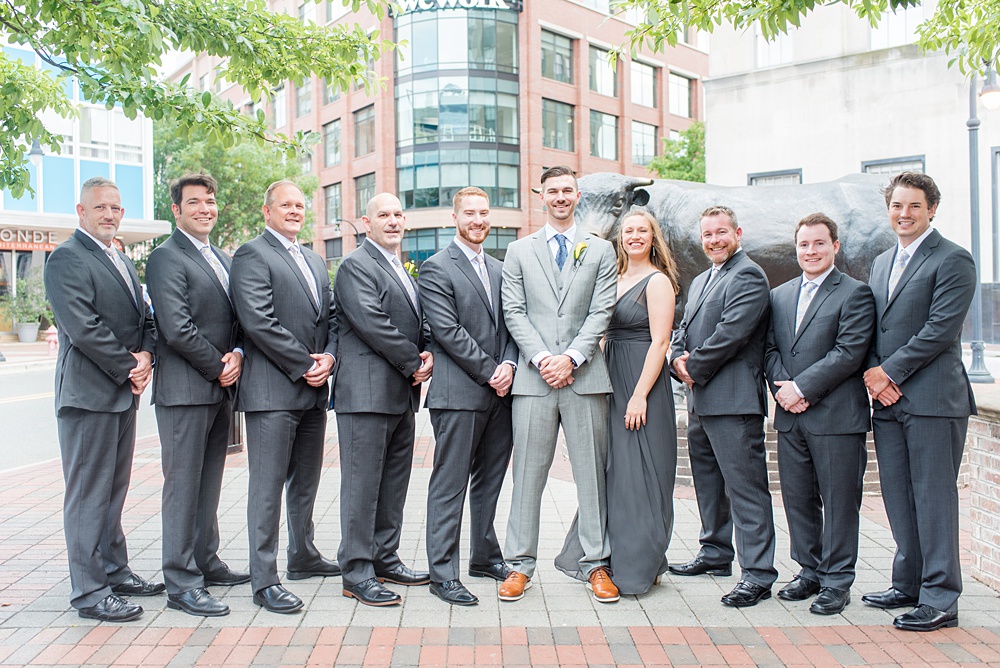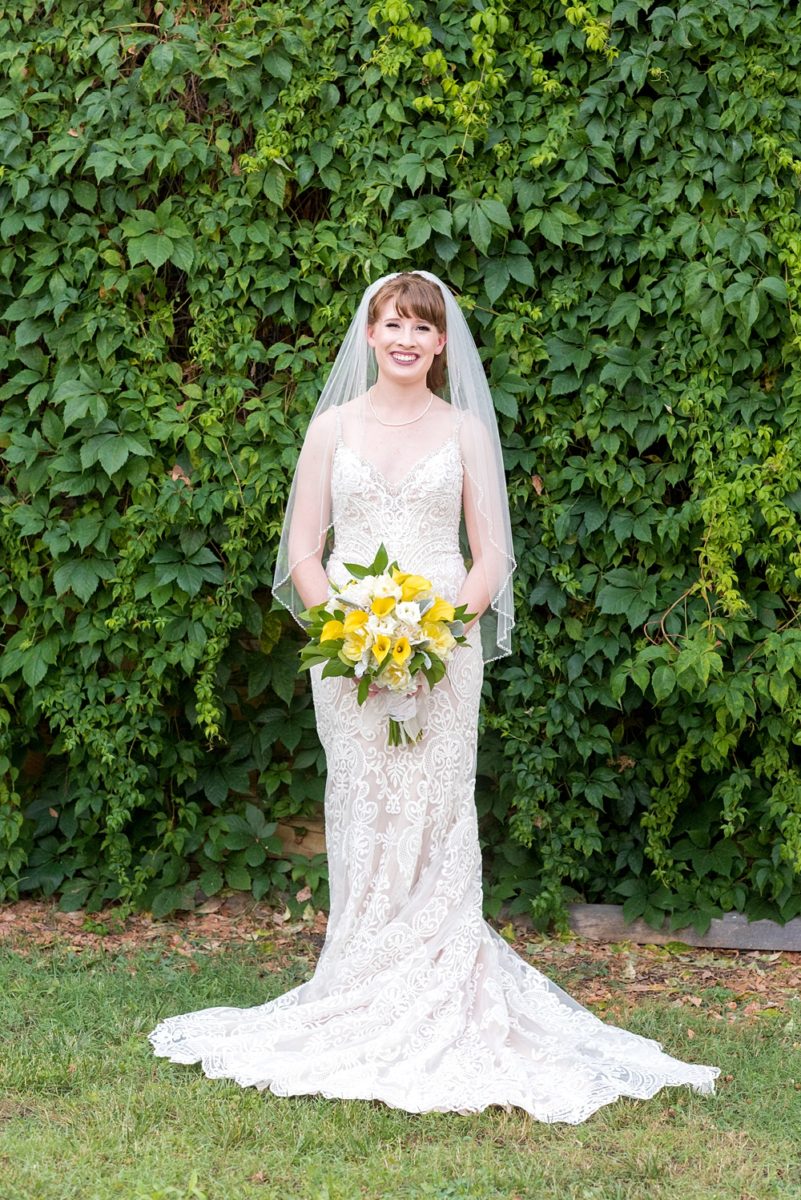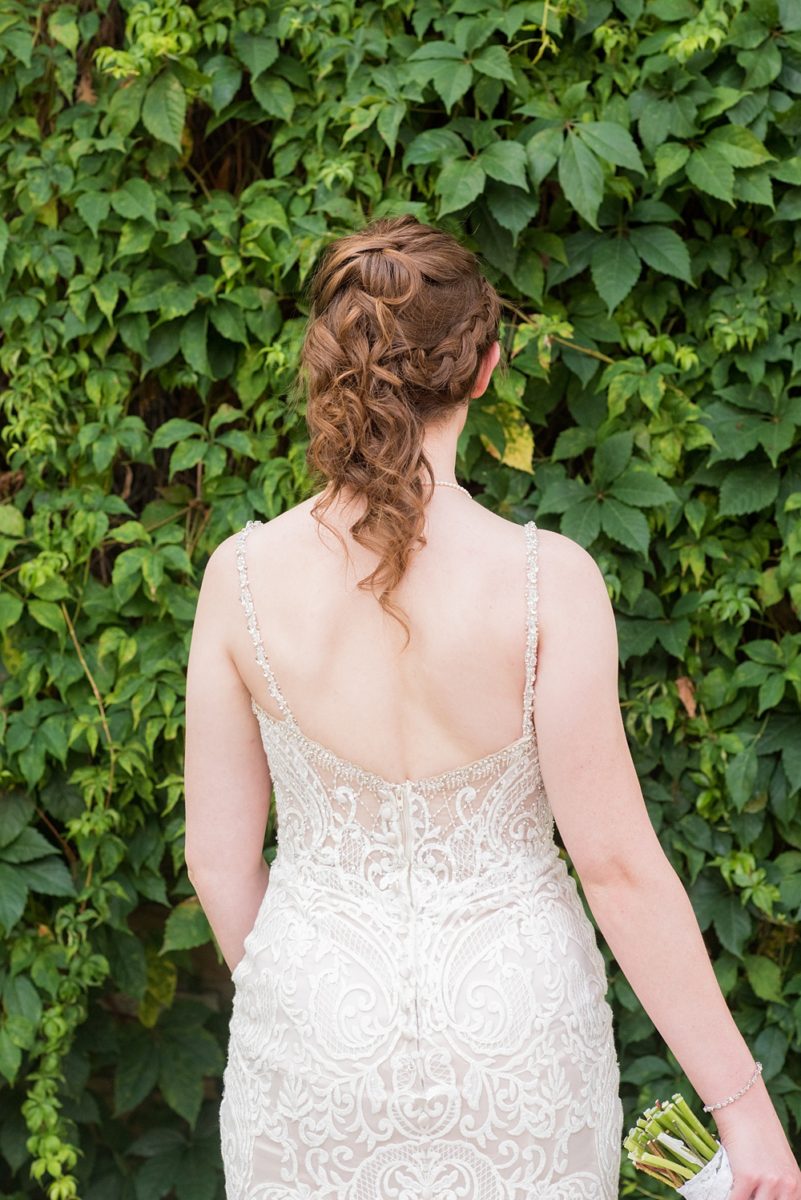 All of the groomsmen picked the liner for their suit jacket. Some chose paisley while others solid blue, and some (including Ethan) a different pattern. It was fun to see all of their selections lined up as they flashed the inside of the jackets for the camera!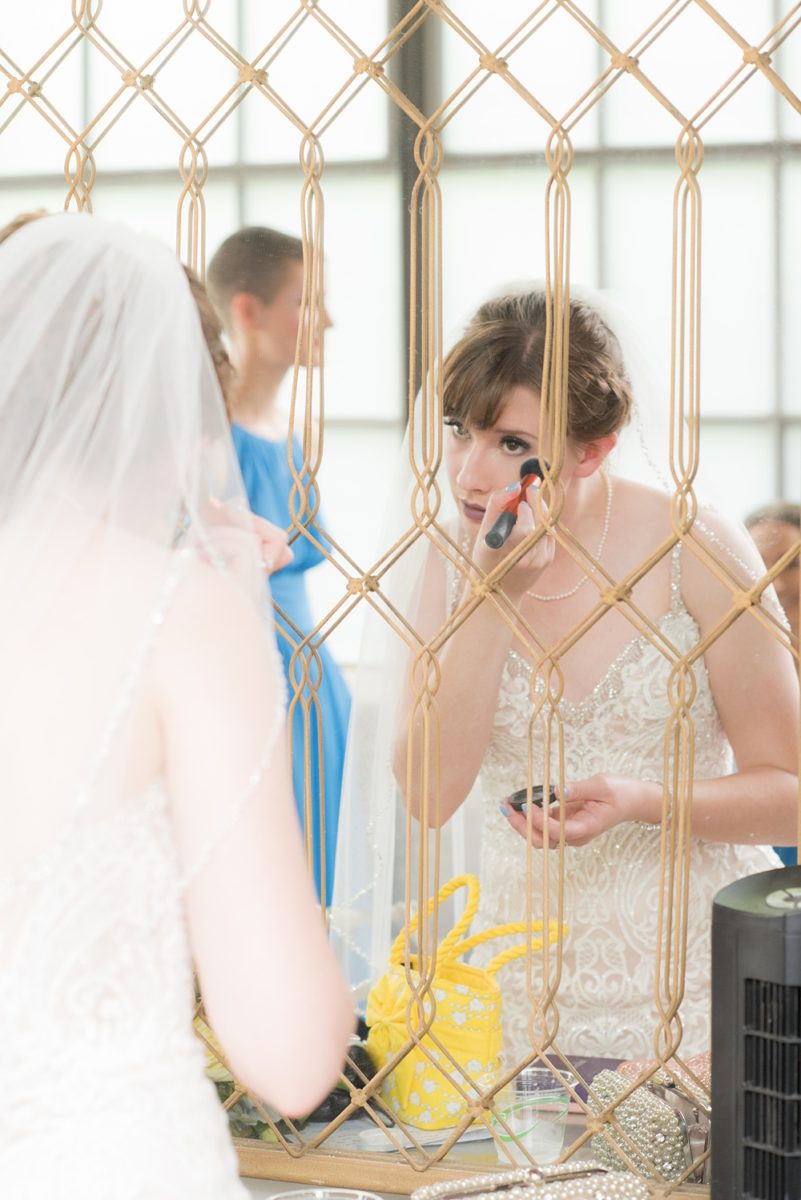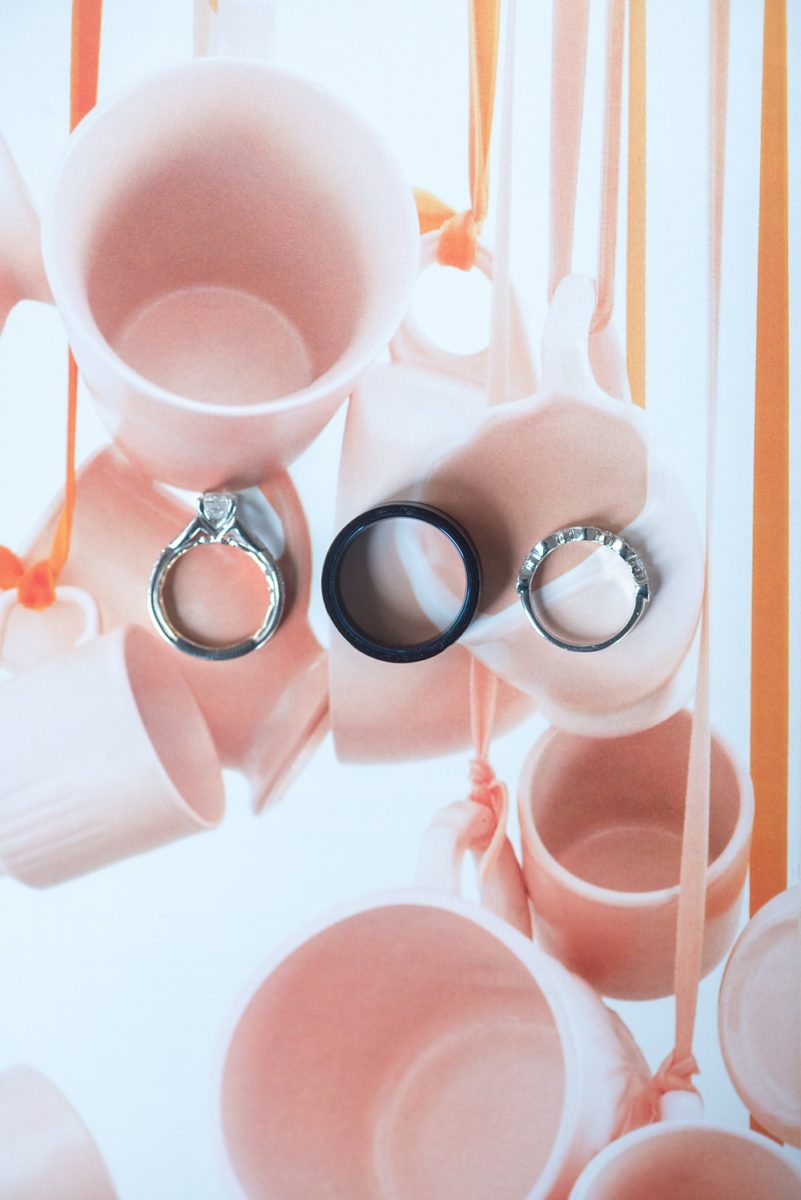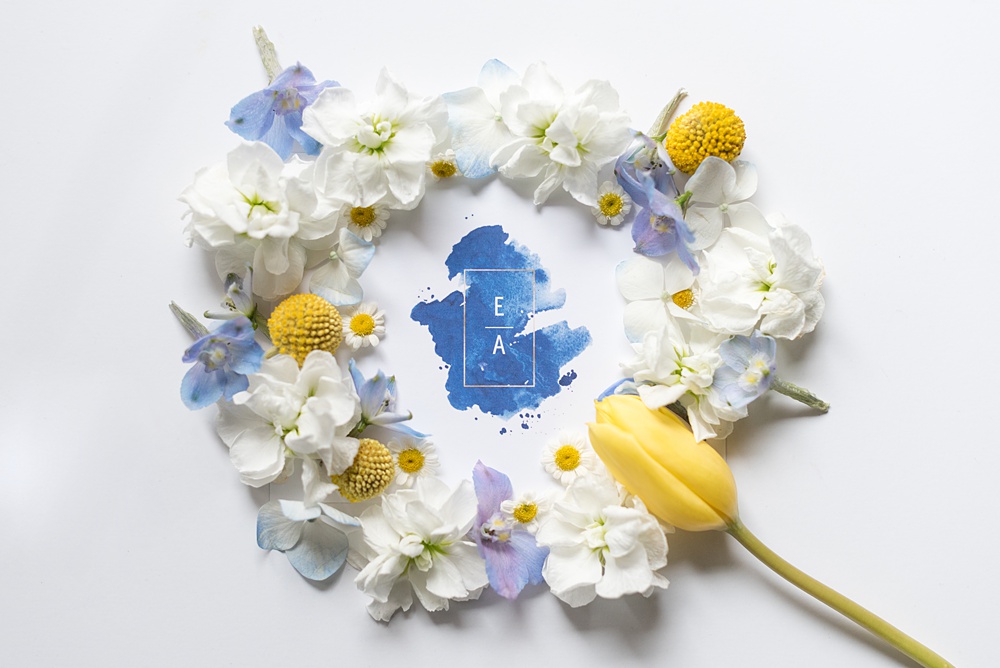 Some last minute touch-ups of makeup from the summer sun and checks in the mirror before it was time for Ethan to see Alyssa for the first time that day as his bride walked down the aisle.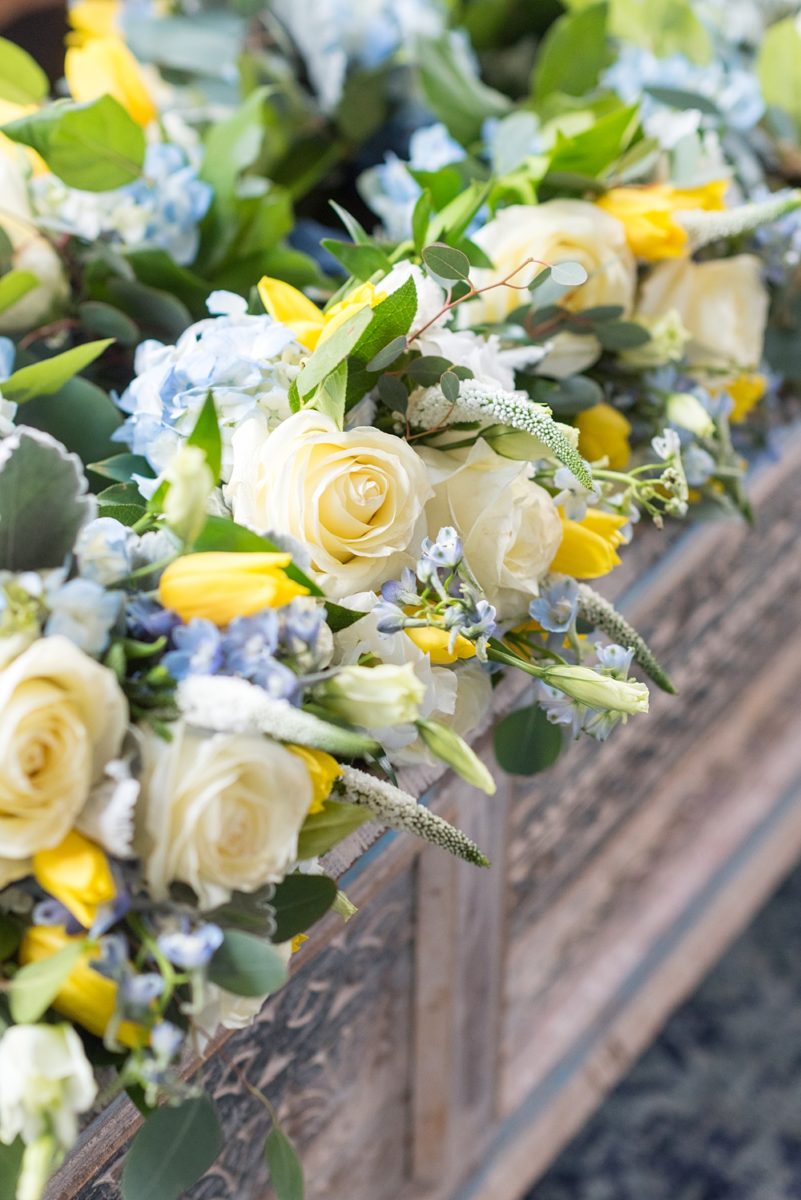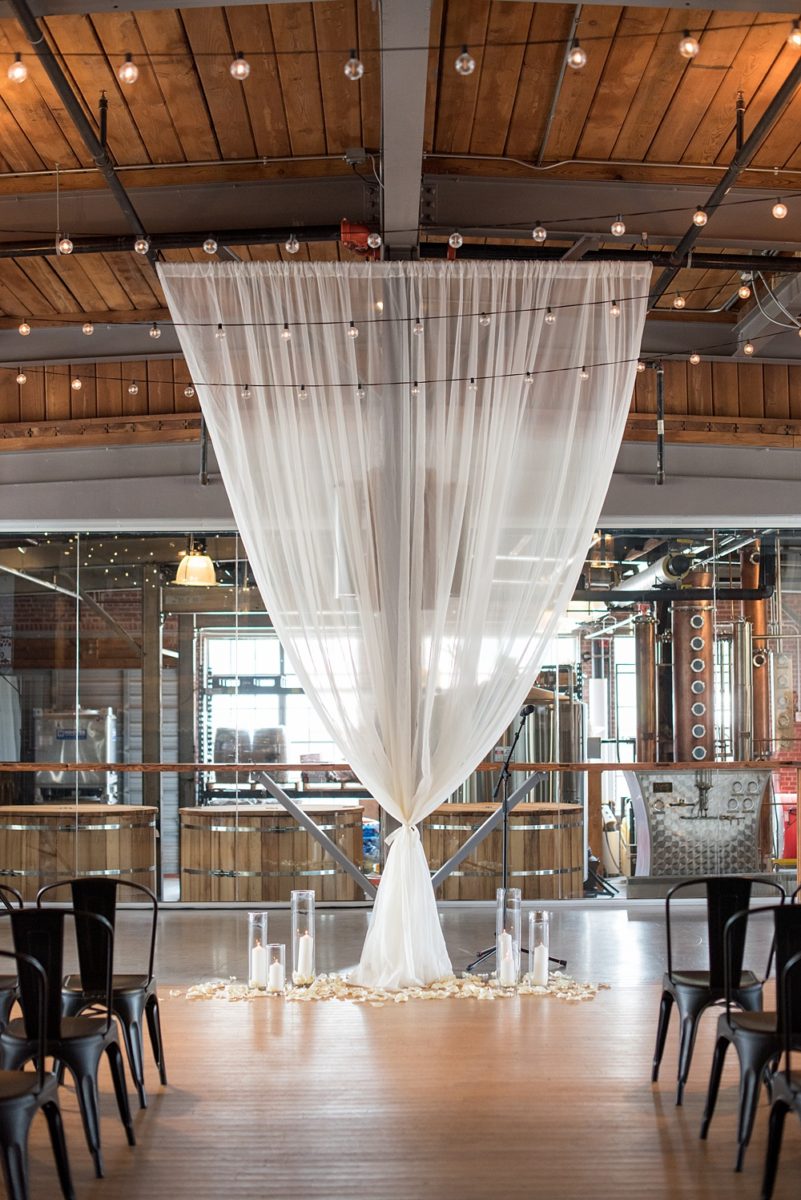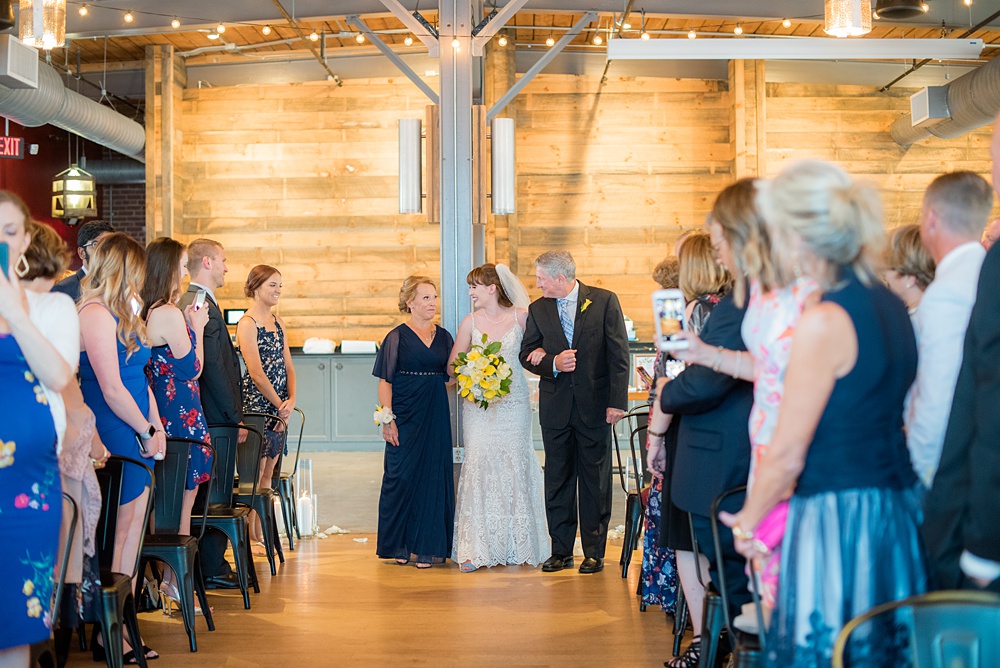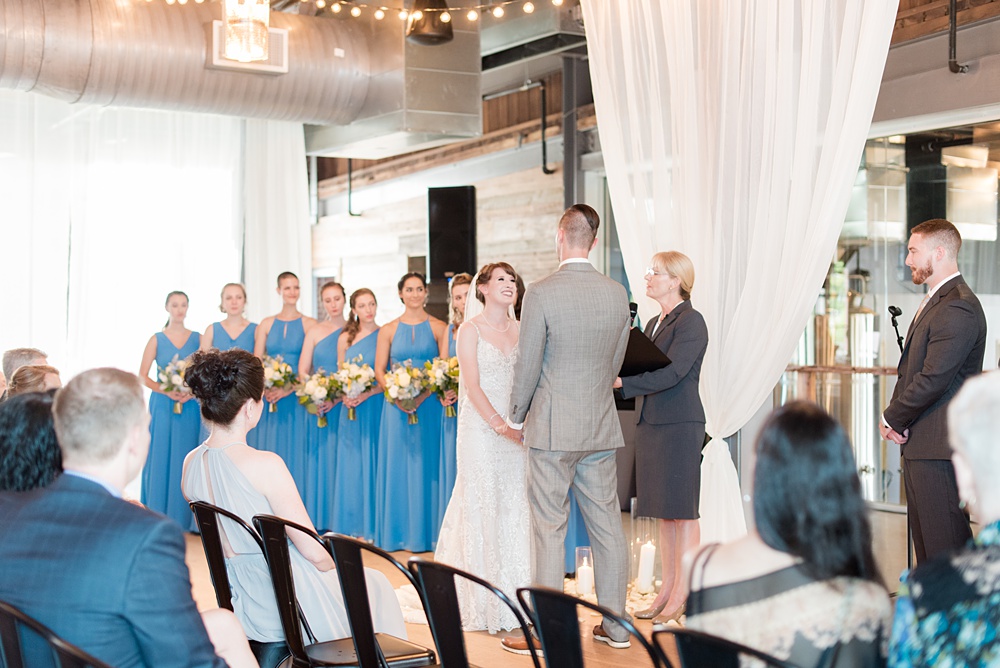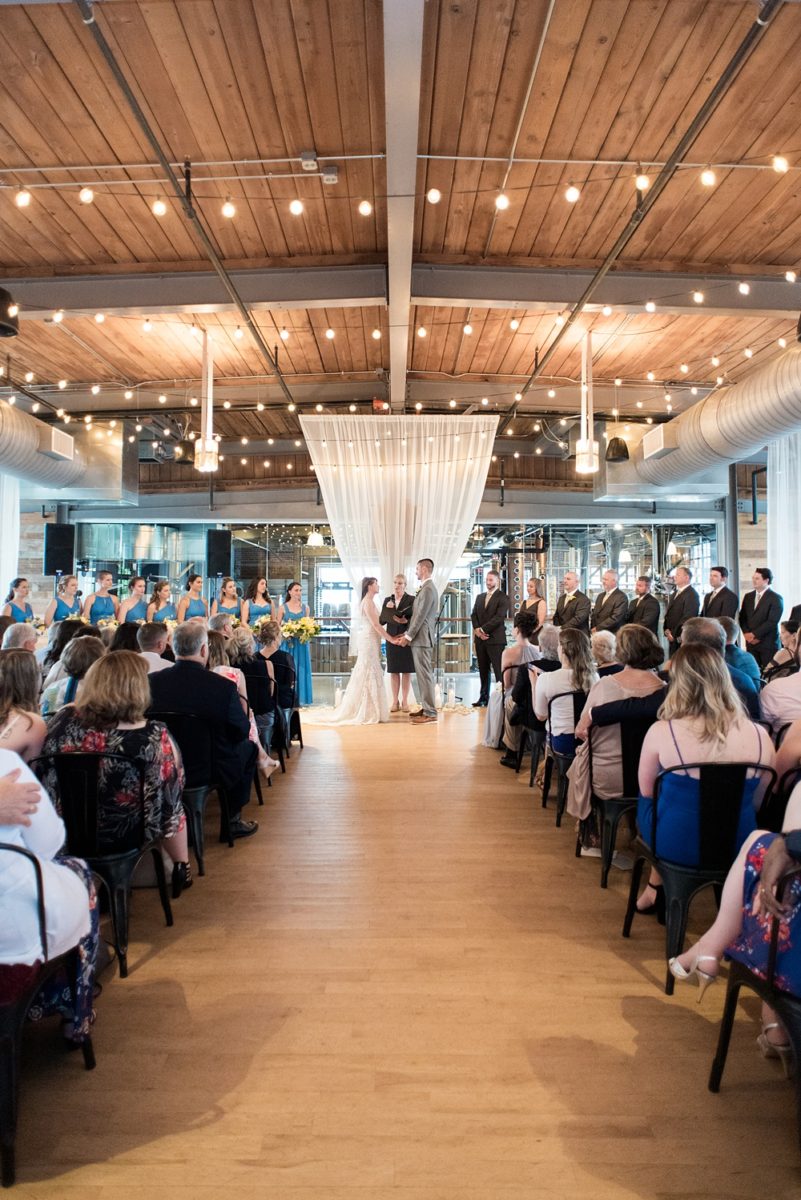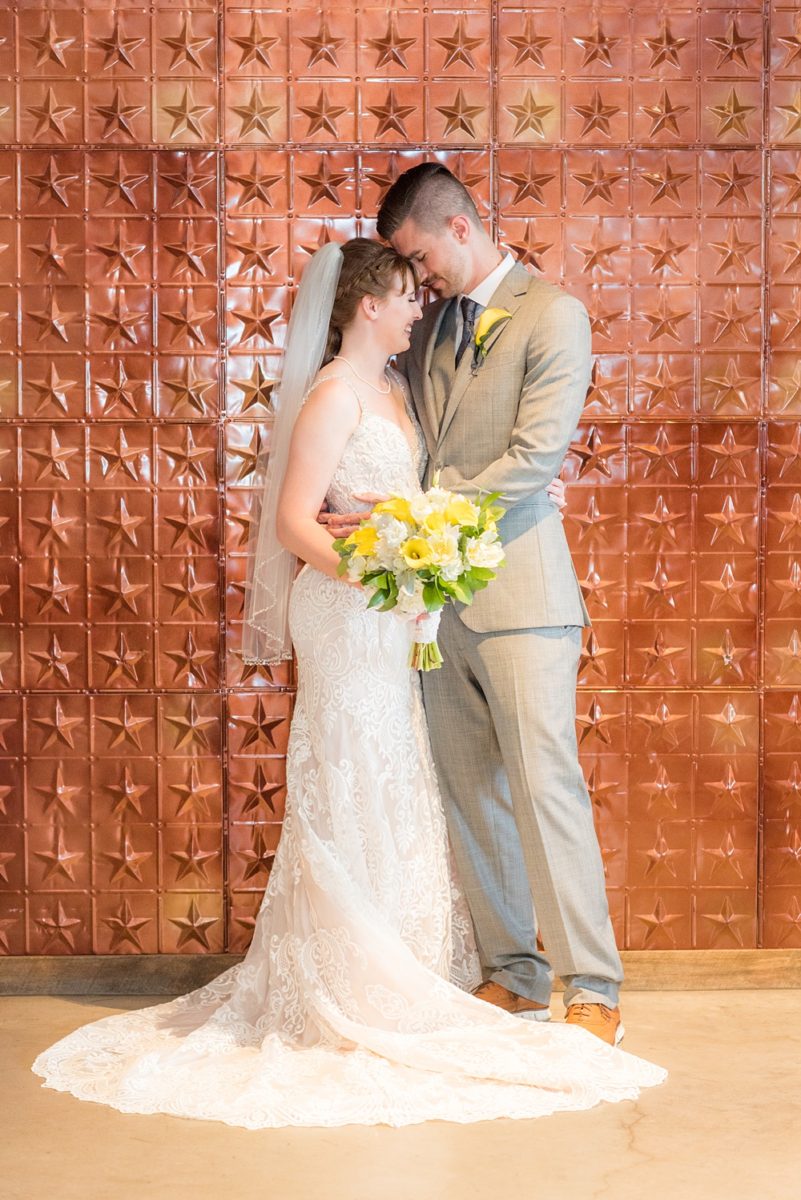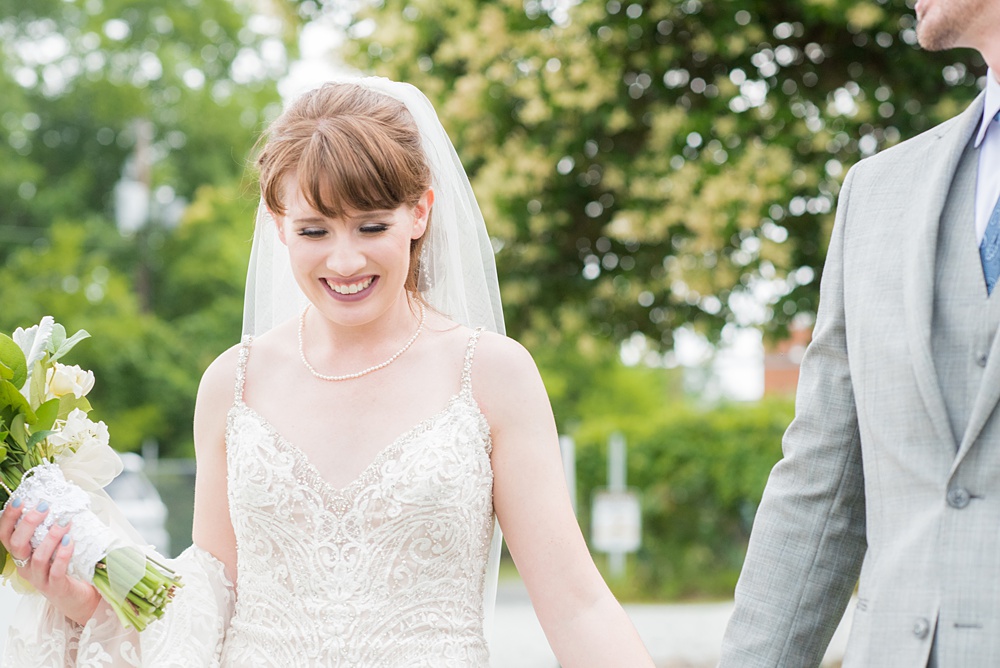 We promptly headed outside after they came back down the aisle so they could spend one-on-one time together and we could capture them as husband and wife. We also called out the entire wedding party for two quick and wonderful complete wedding party photos.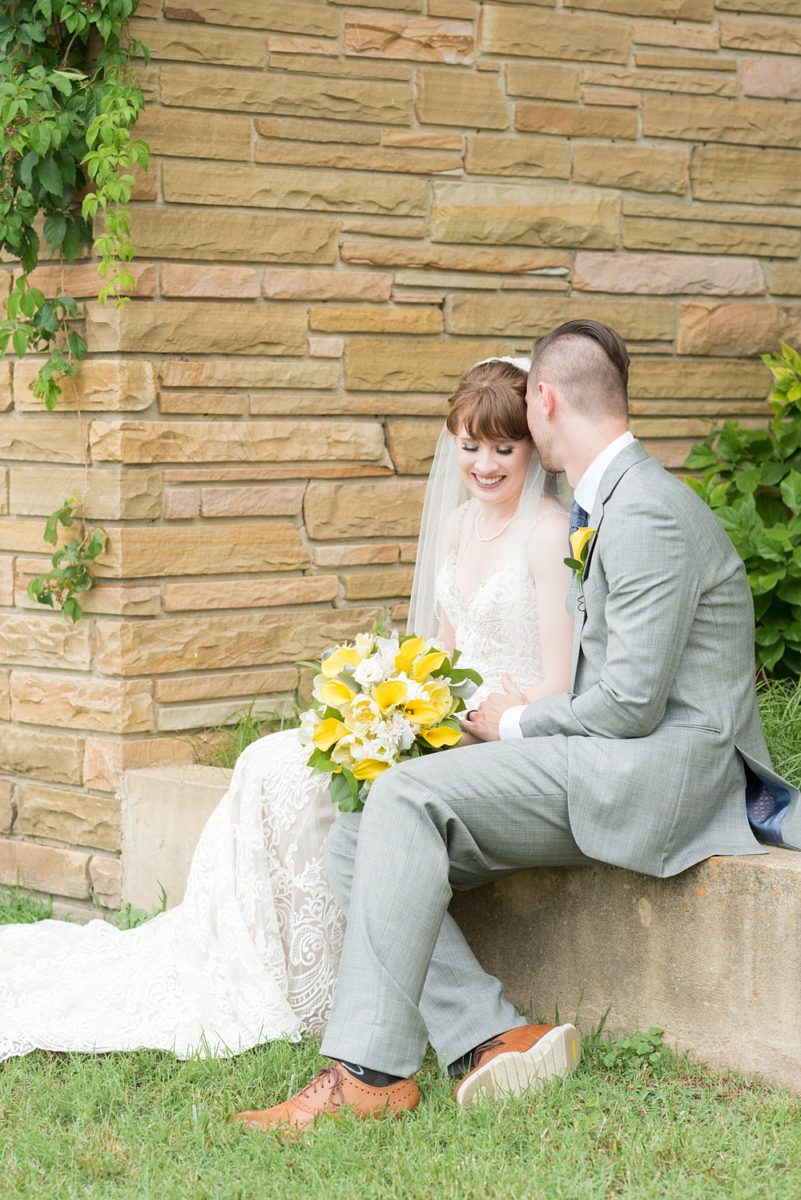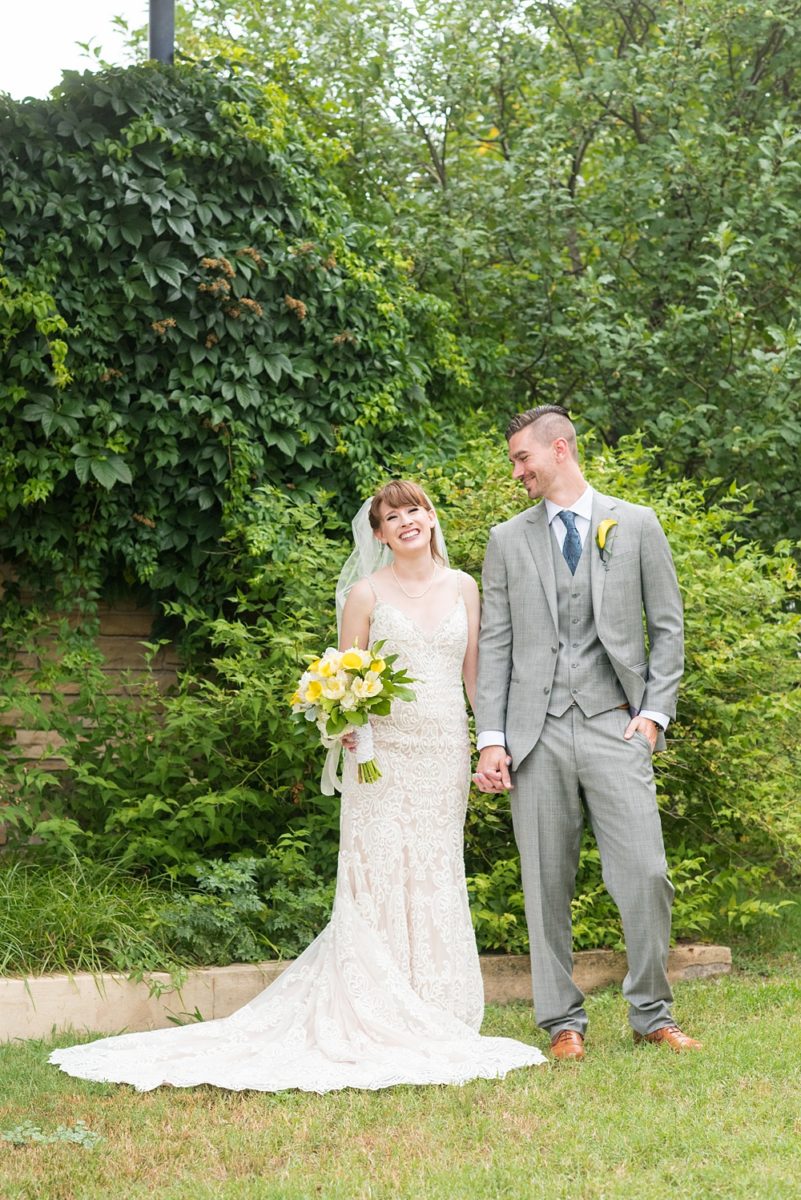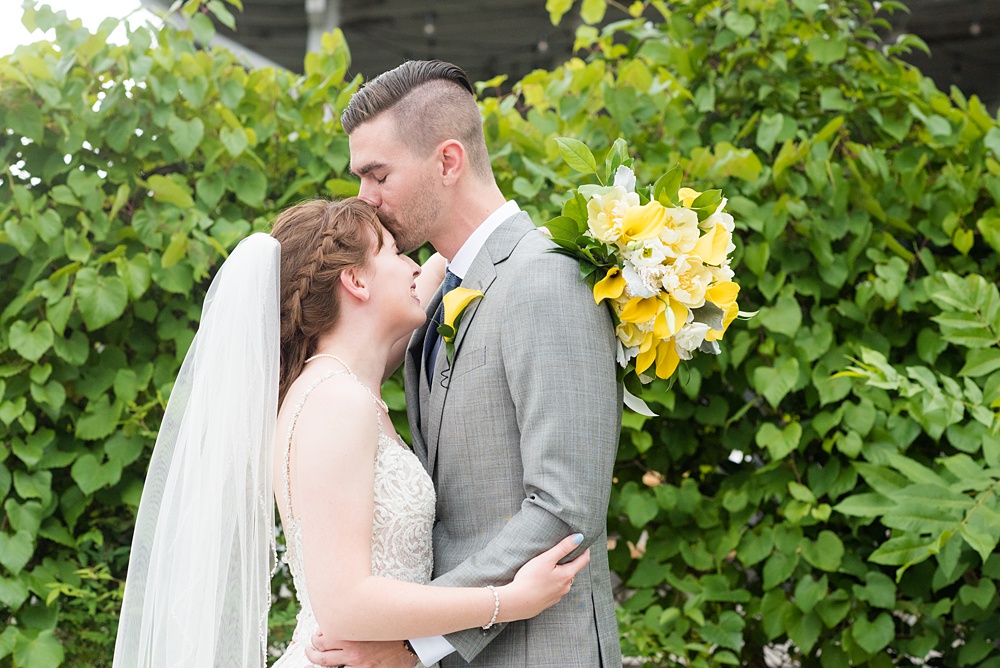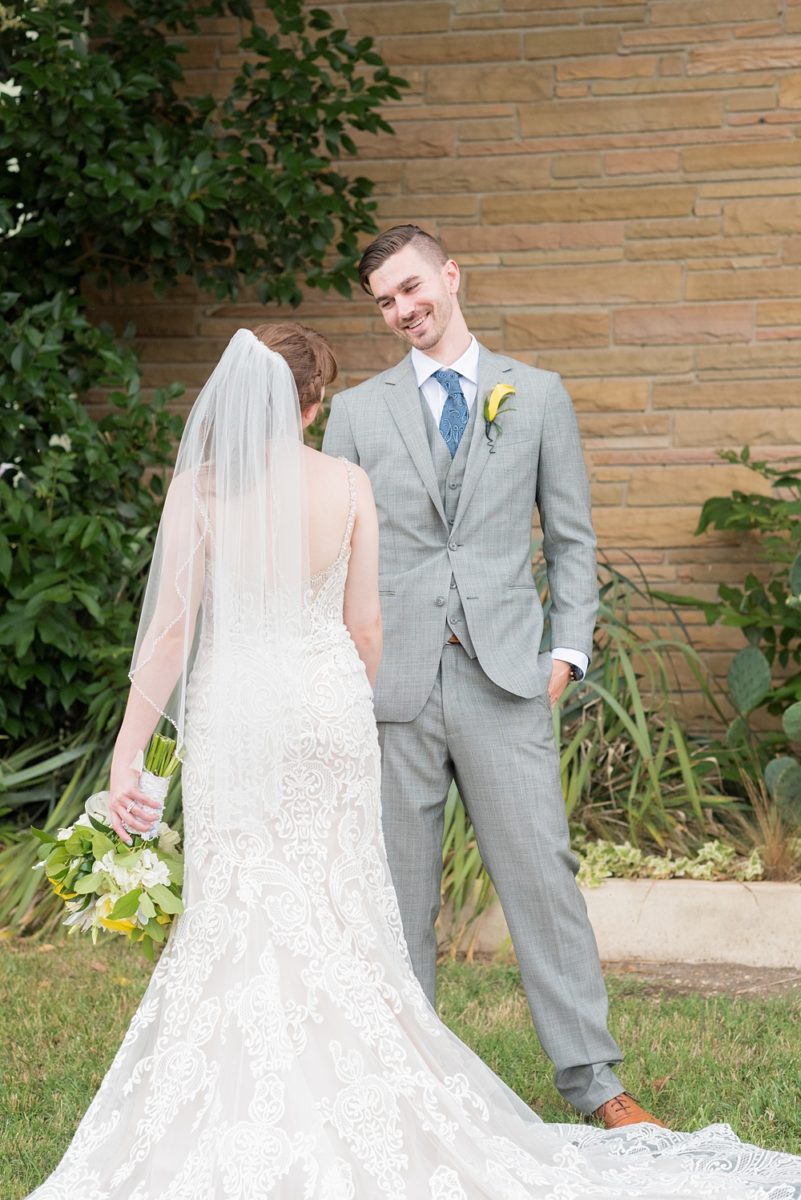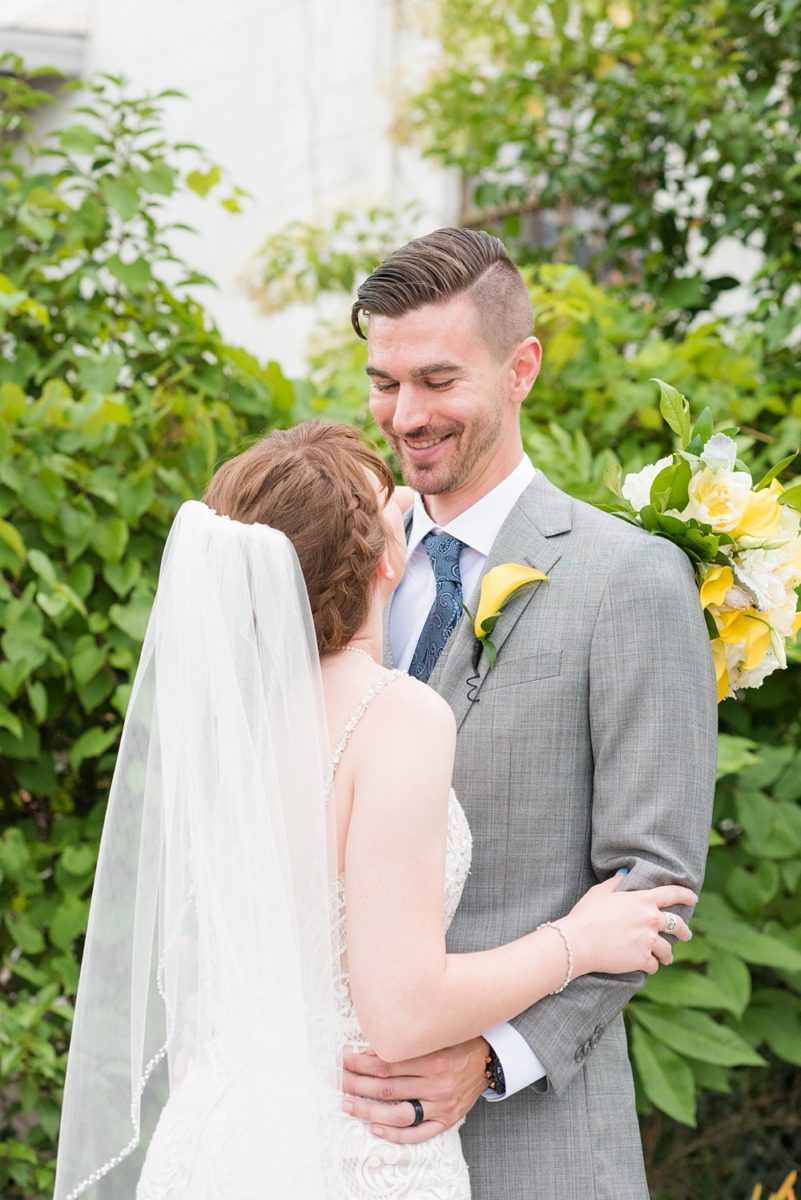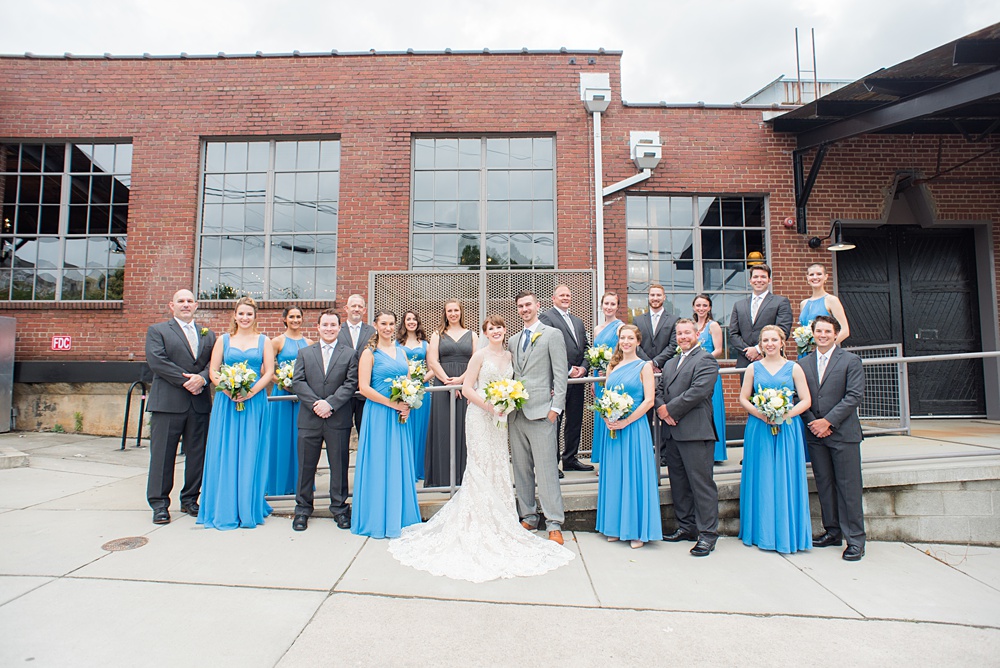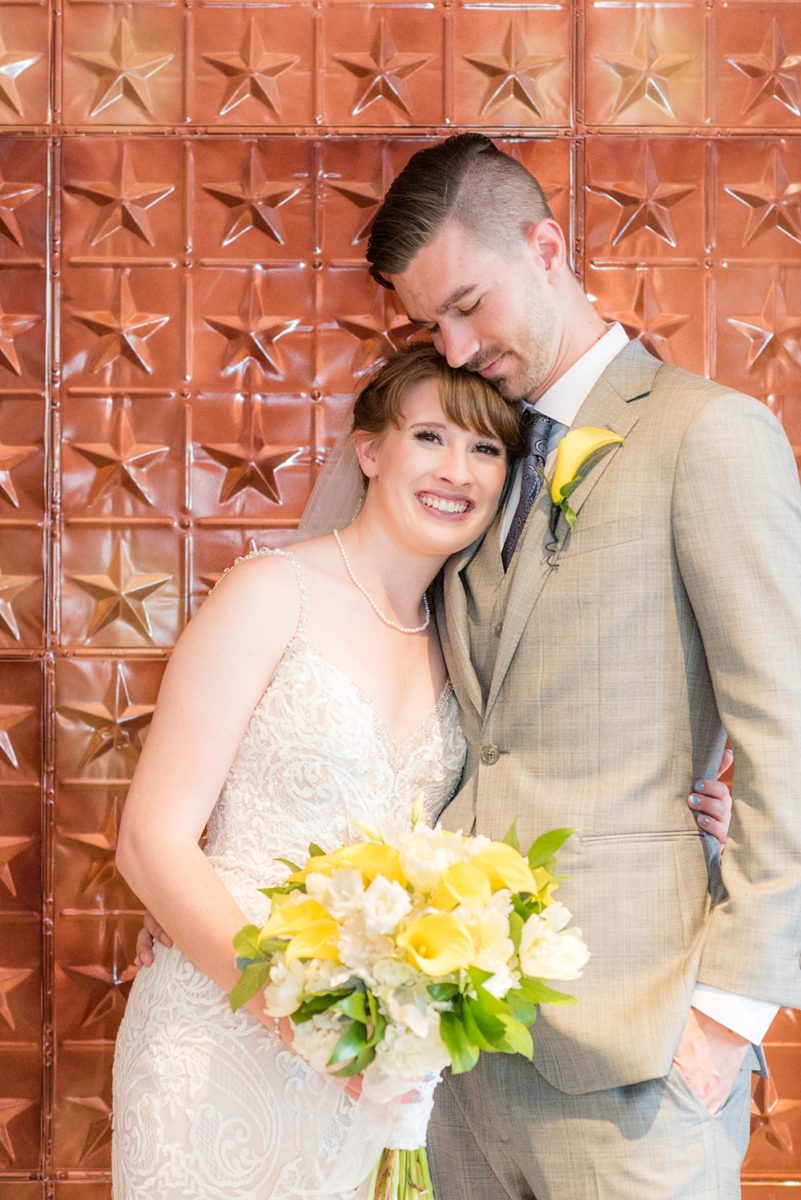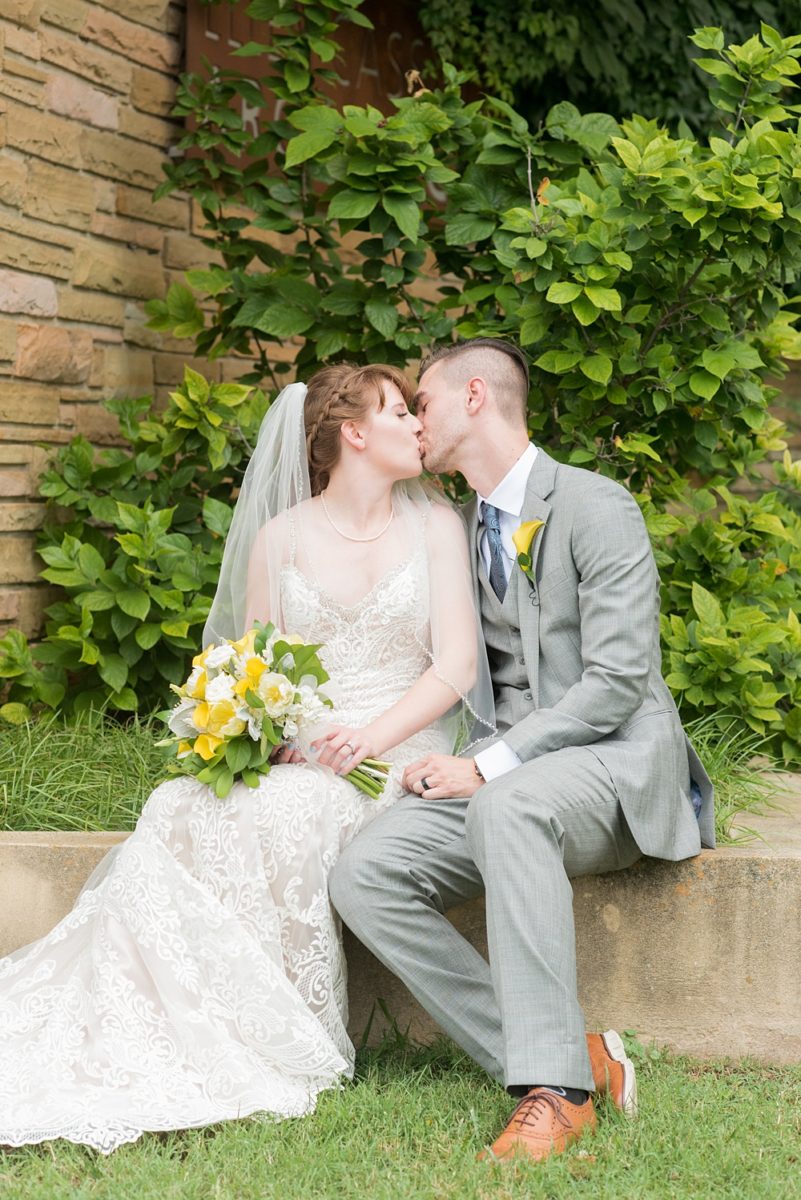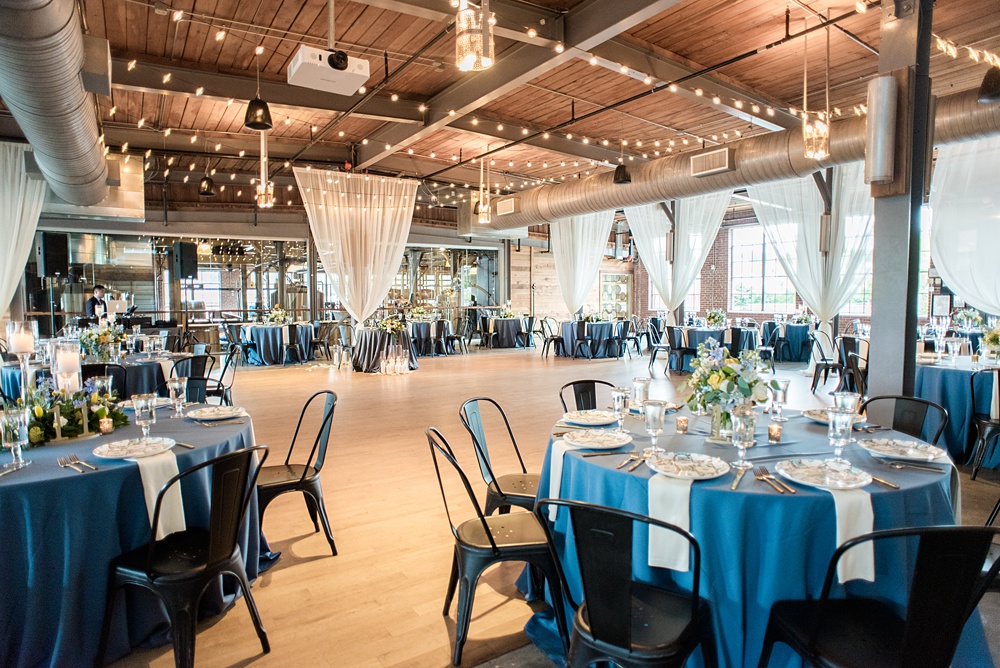 Cocktail hour passed so quickly as we captured their photos outside. It was soon time for dinner! The room looked beautiful in blue linens, gorgeous plates and pops of yellow flowers and candlelight. Draping from the columns added the right amount of softness. They were smart to leave the copper stars wall open, without a bar in front of it as some couples do in their layout, so they could take advantage of it for pictures. It's usually one of the most beloved things about this Durham wedding venue and popular for photos.
Their sweetheart table was extraordinary with a velvet linen, rose petals and candles in front of it.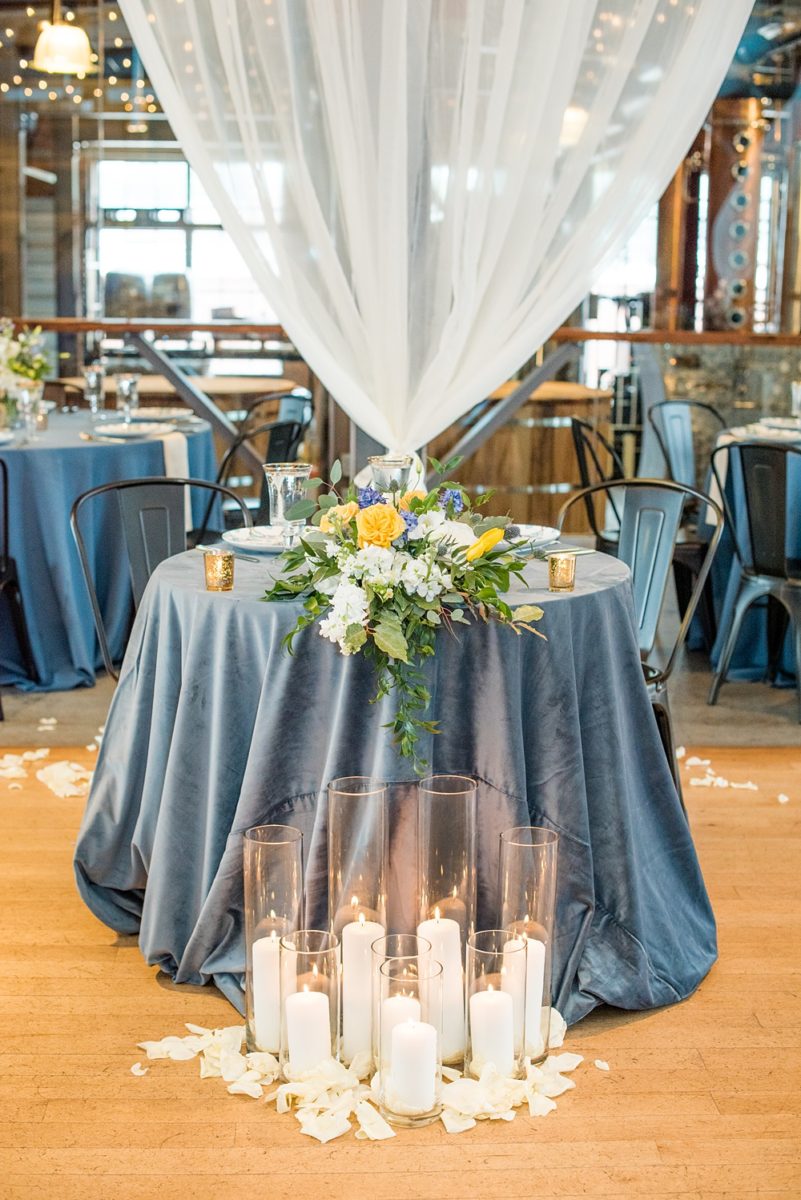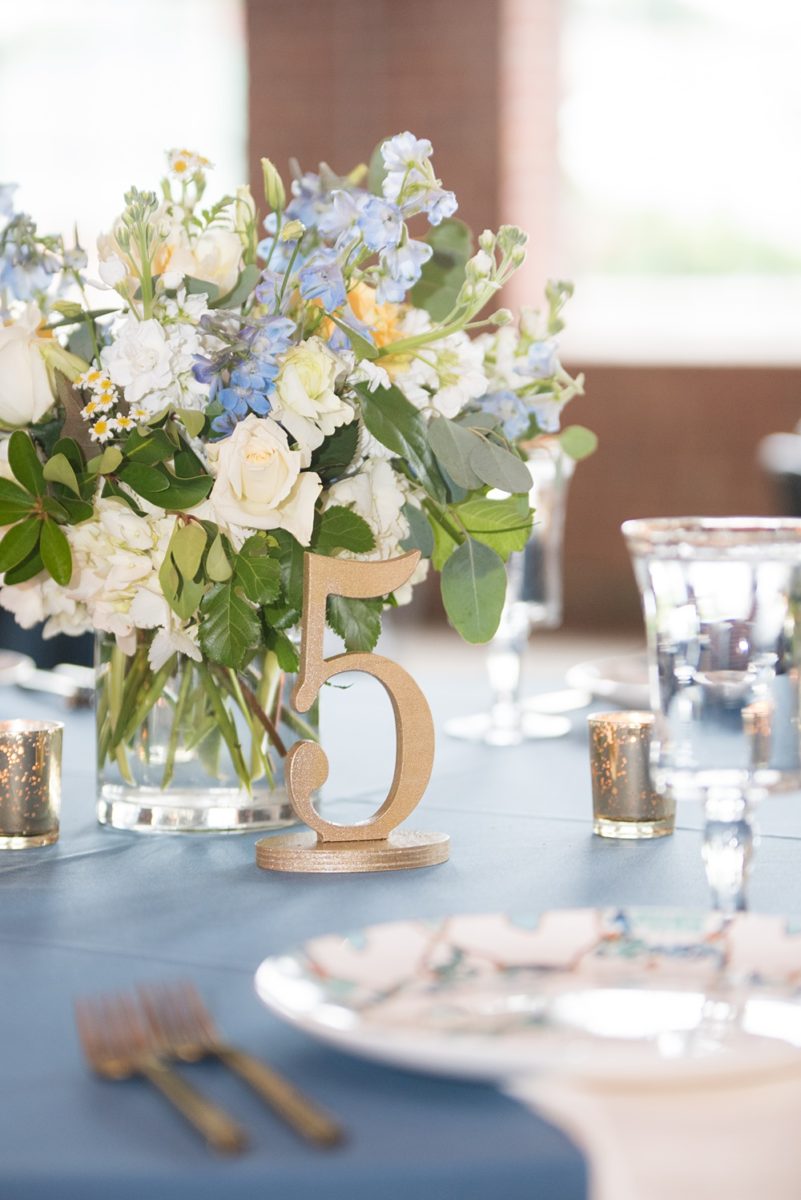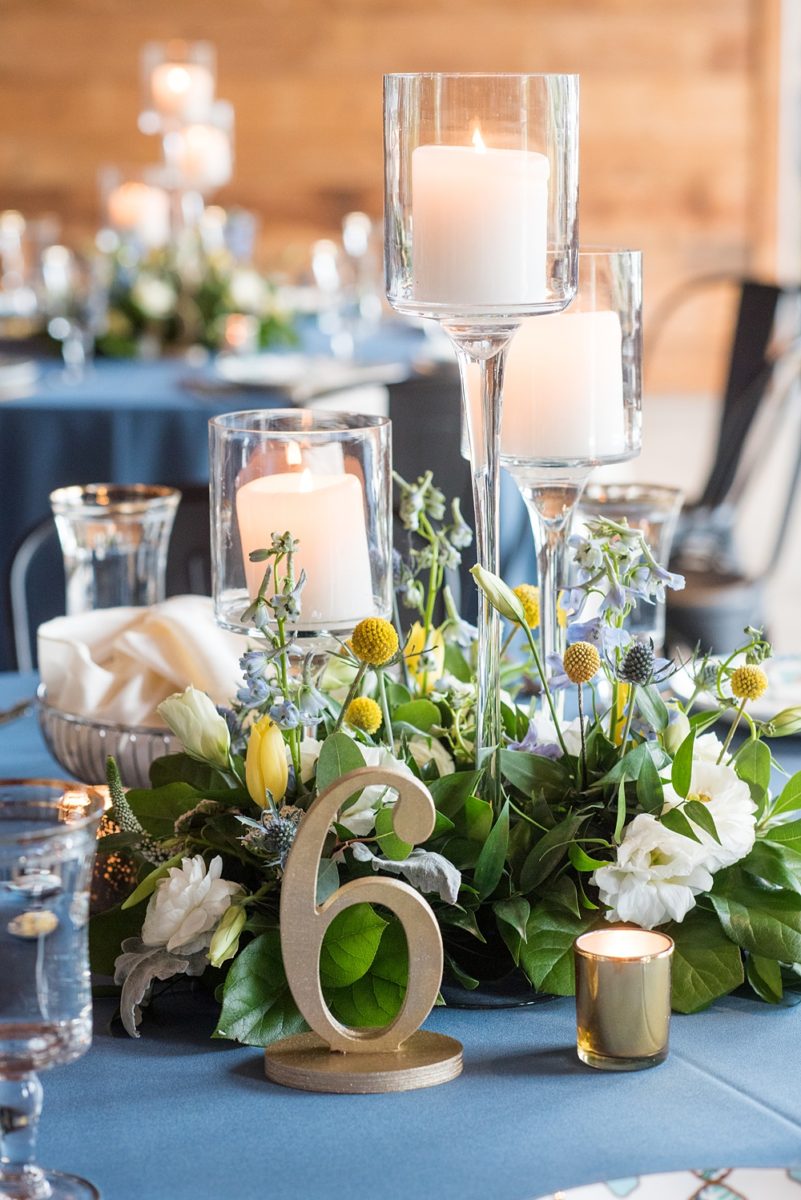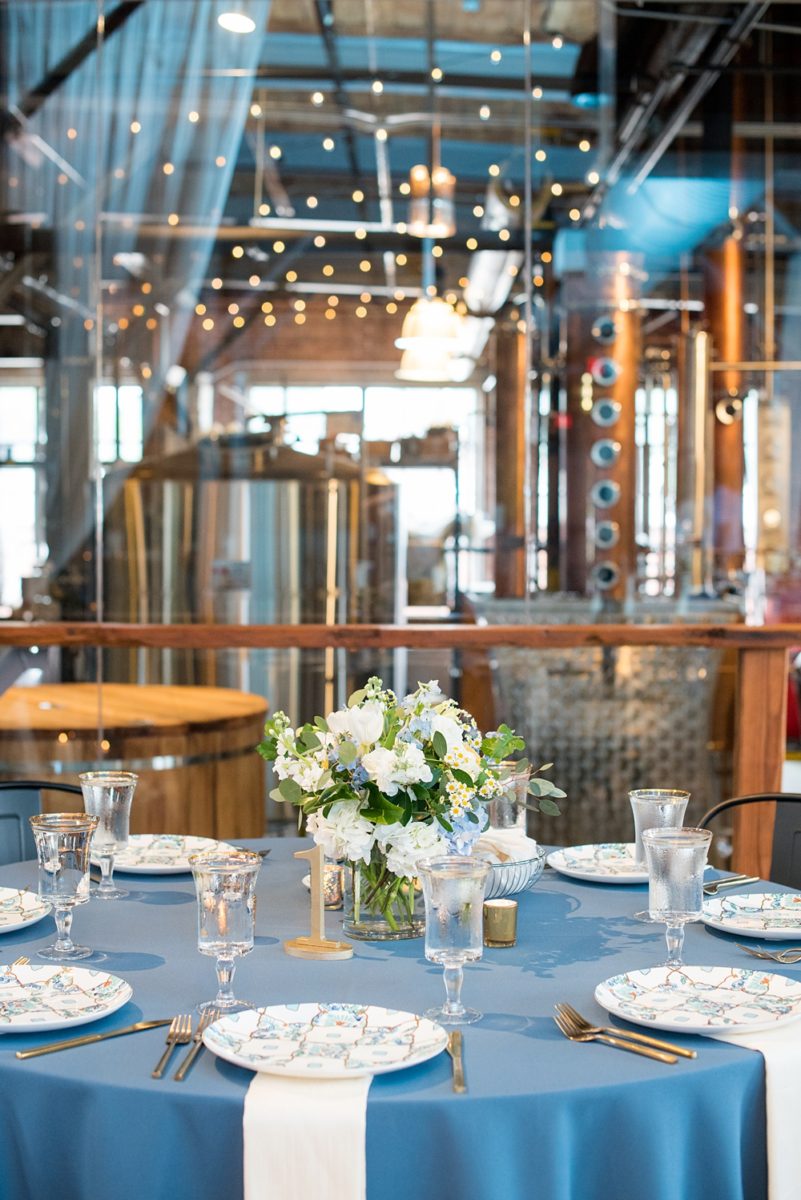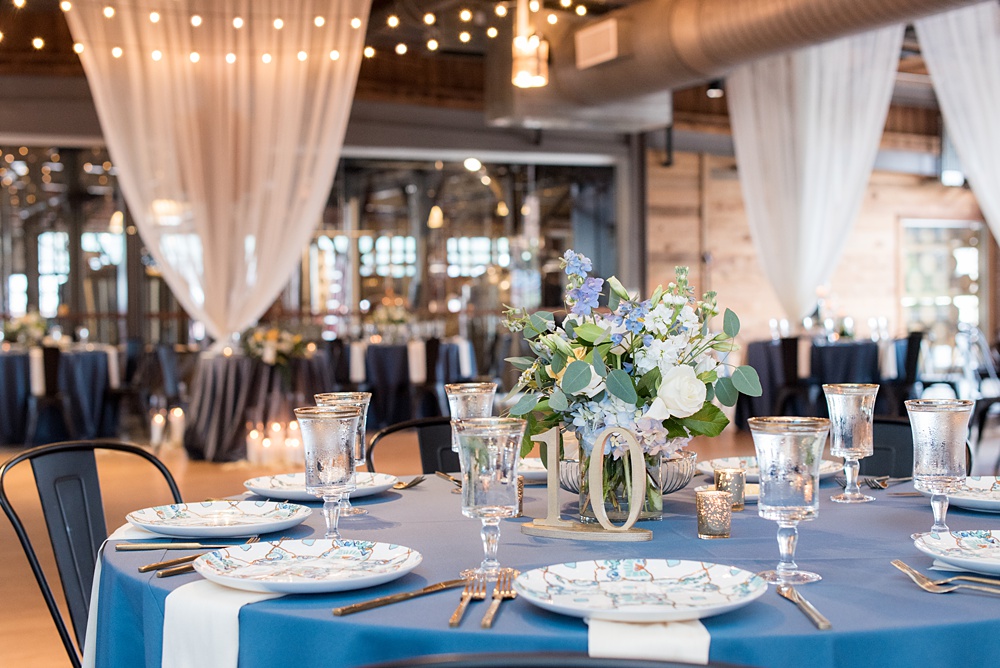 Alyssa is a dancer so I knew there'd be some fantastic dancers on the dance floor all night! It was dotted by a delicious meal by Rocky Top Catering (my personal fave) and great speeches from their best friends.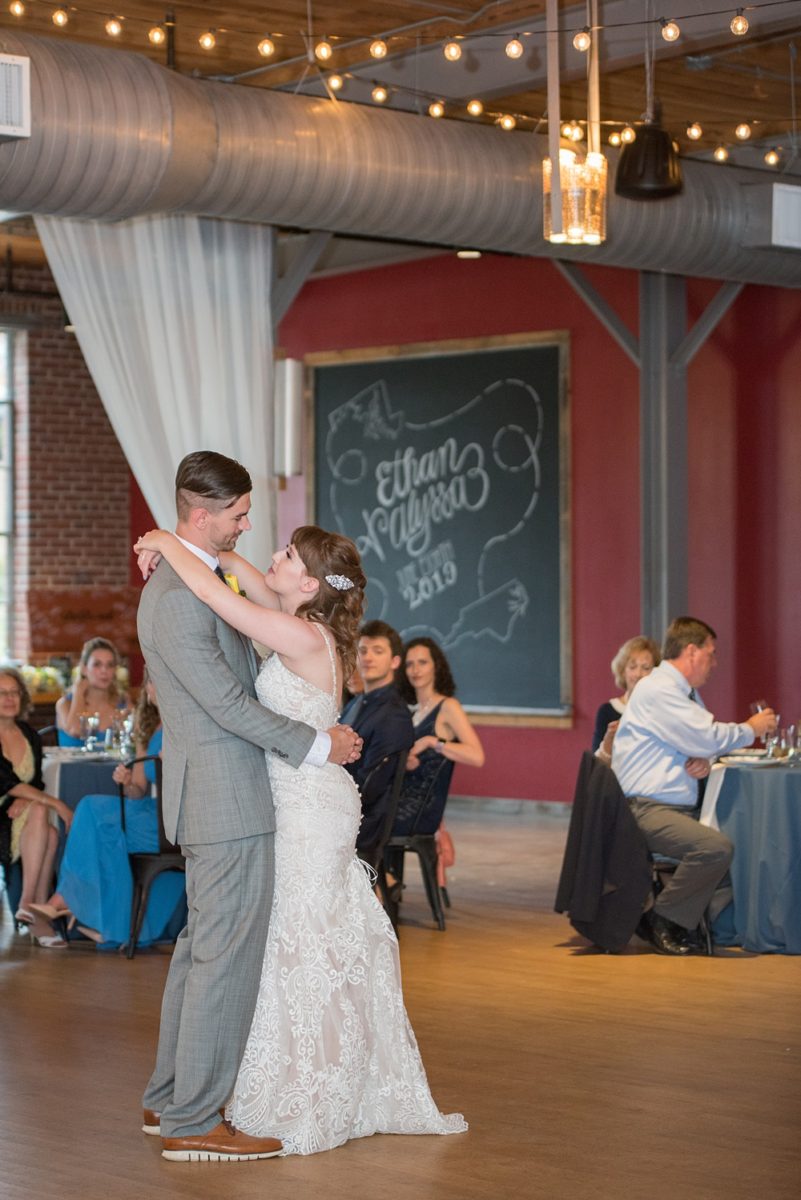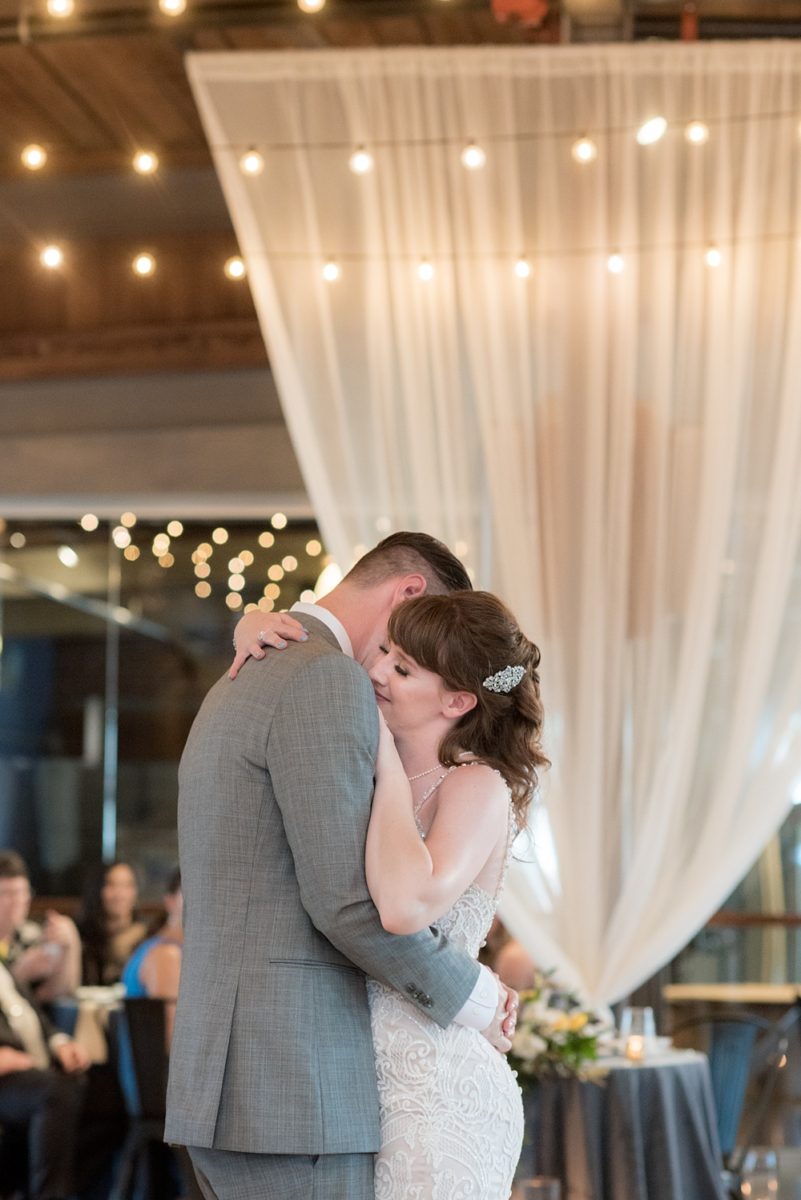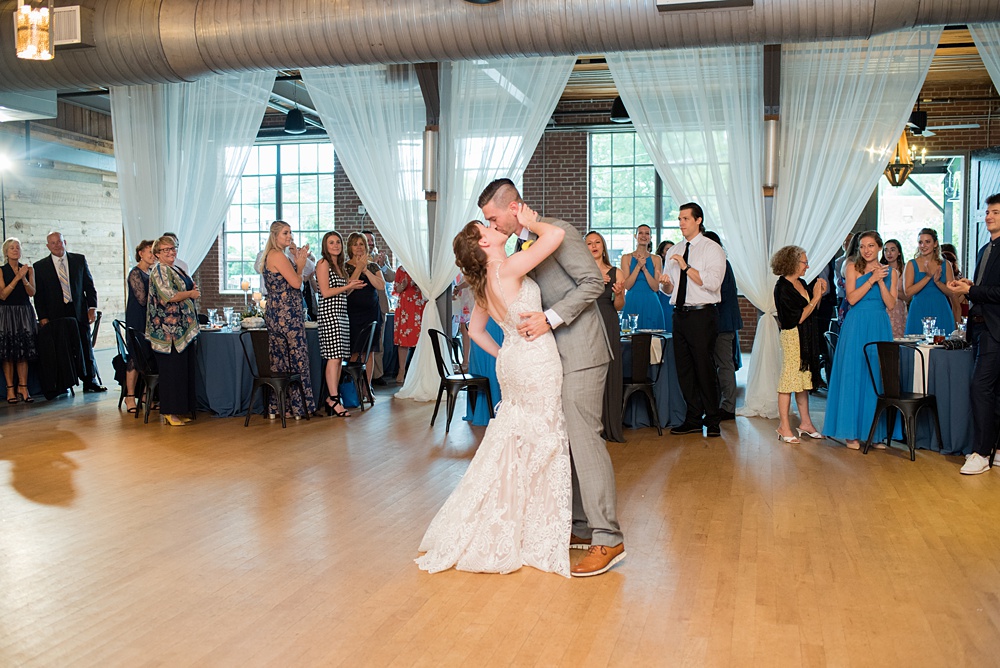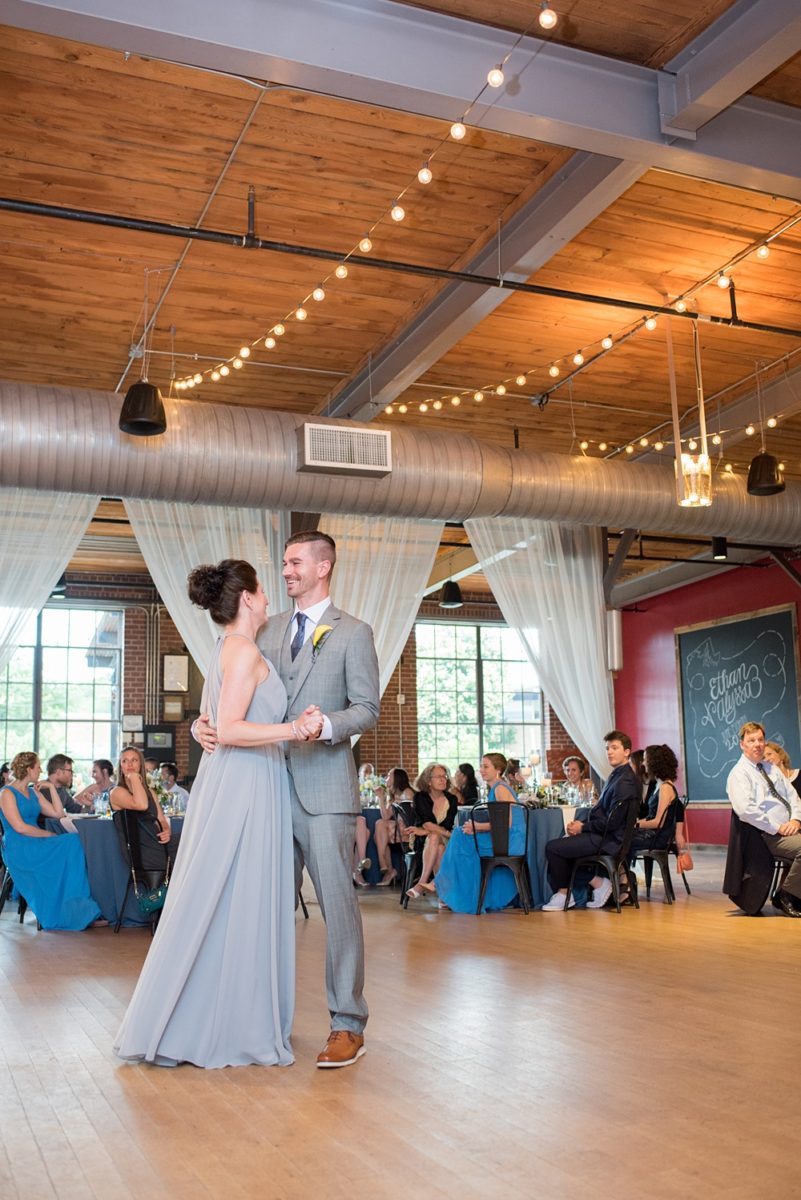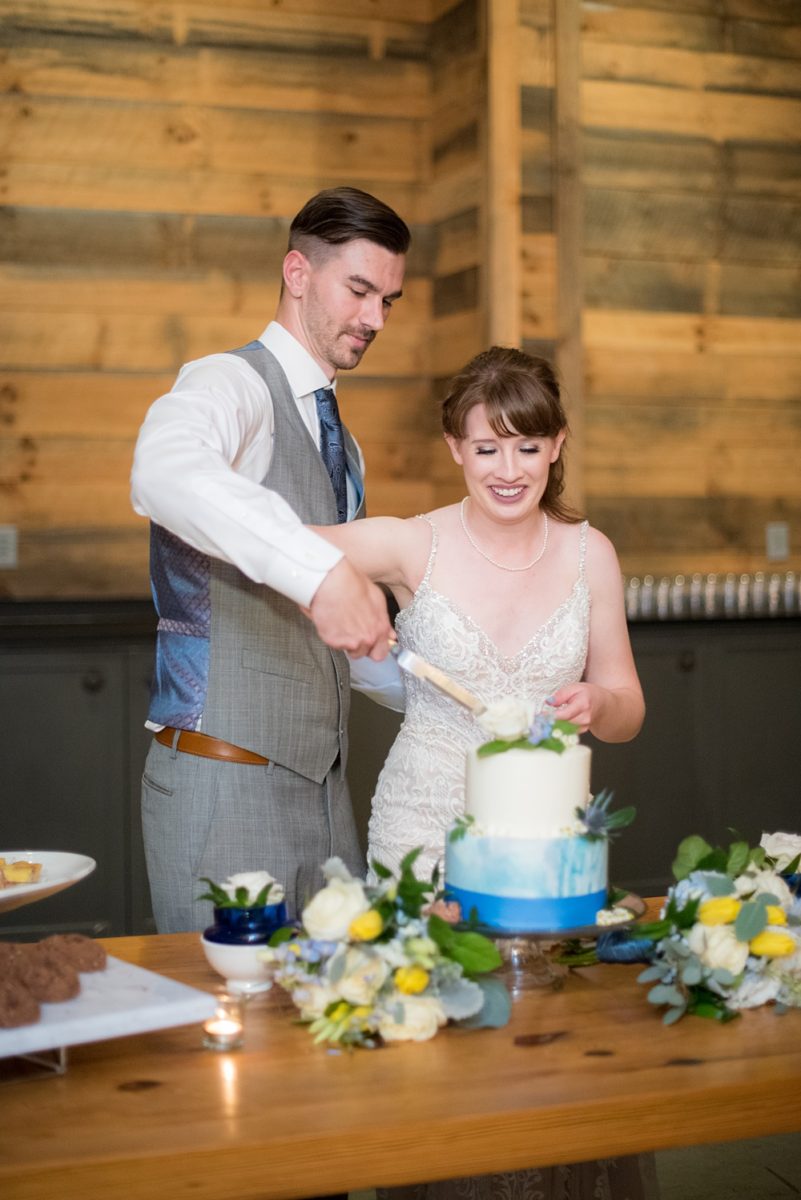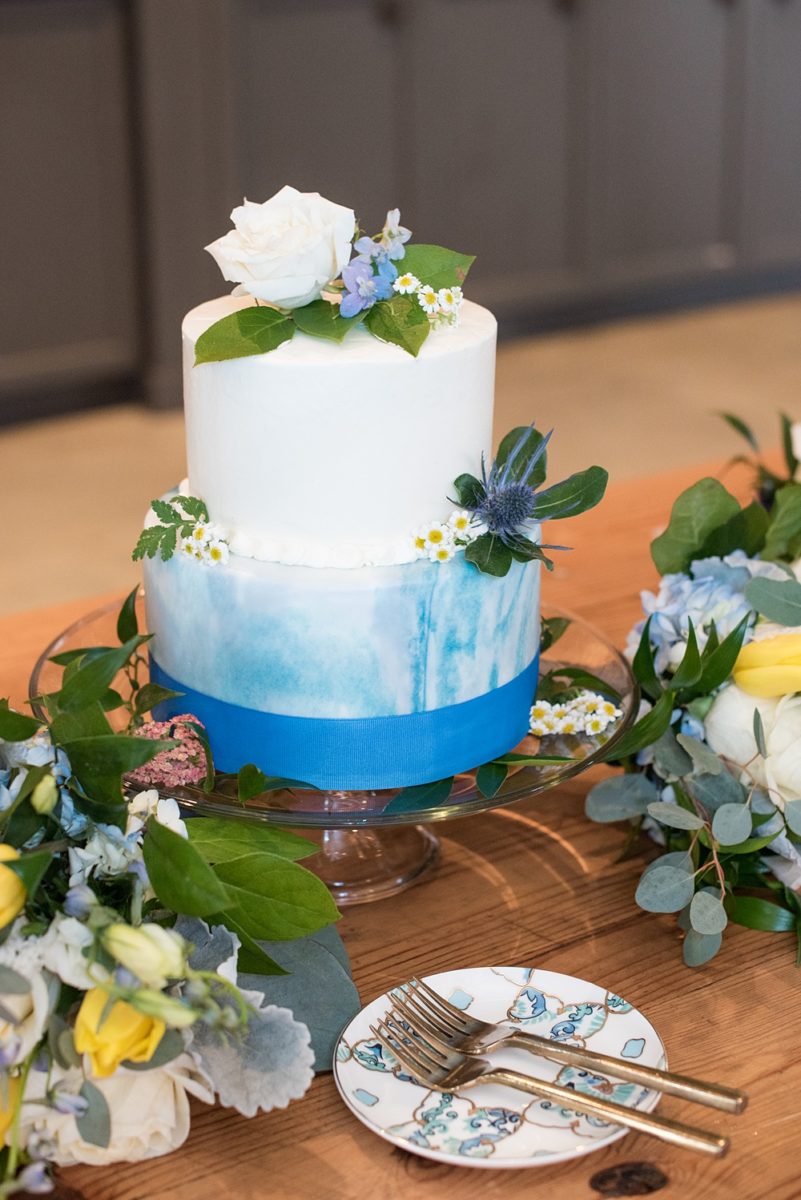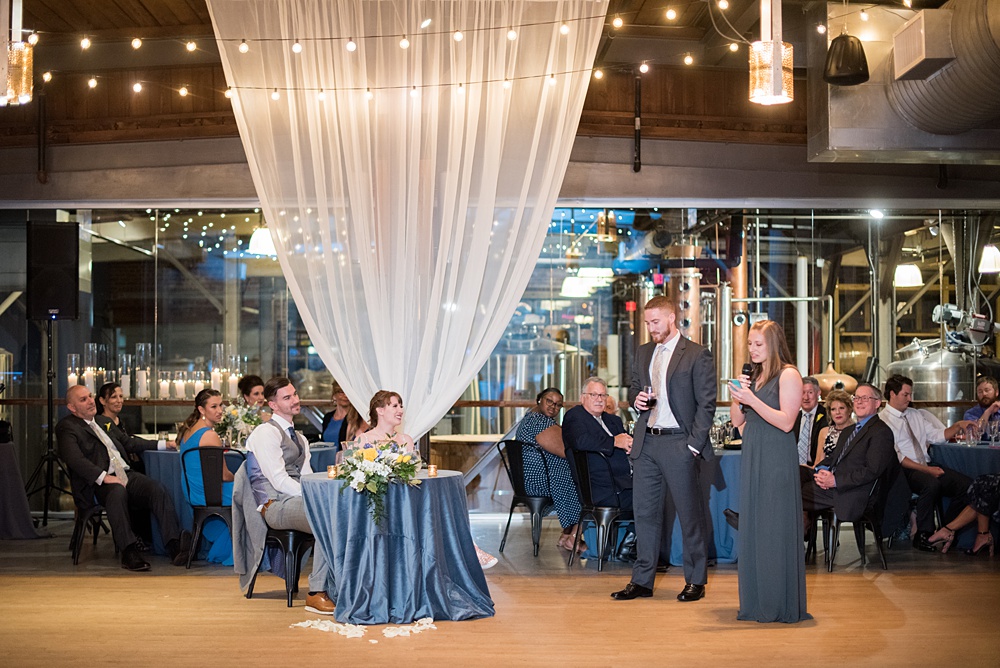 They met at their friend Genevieve's party – she was Ethan's "Best Woman" and it was especially fun to listen to her speech as she recalled the night they met! Another personal favorite moment was capturing Alyssa's bridesmaid, Sally, transform her floral robe from earlier in the day into a skirt. She donned her Goucher college tank top for the ensemble, which was very appropriate since most of them met there, including the bride and groom.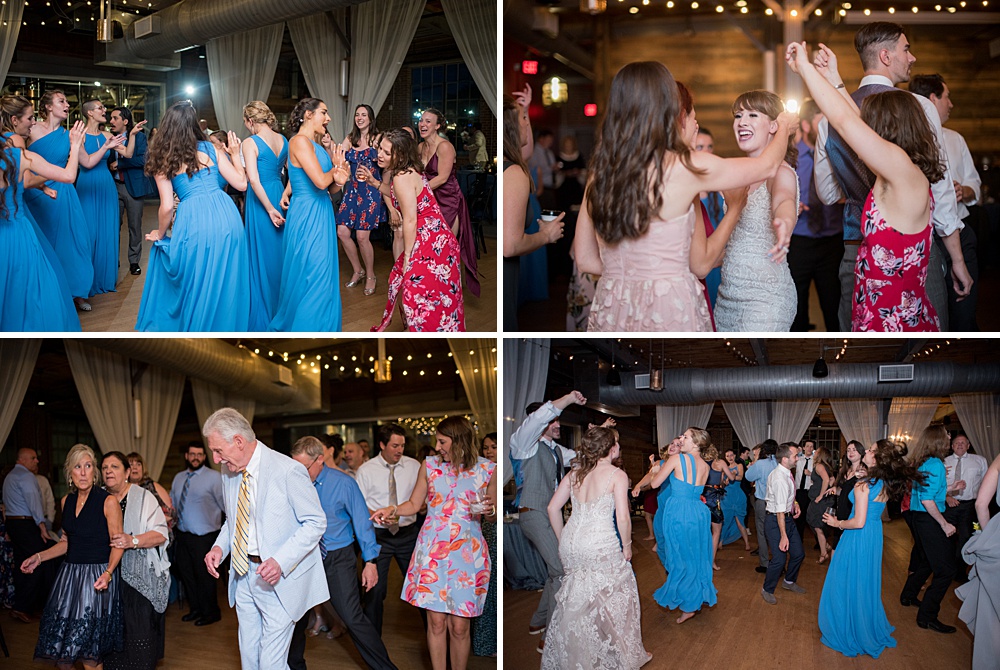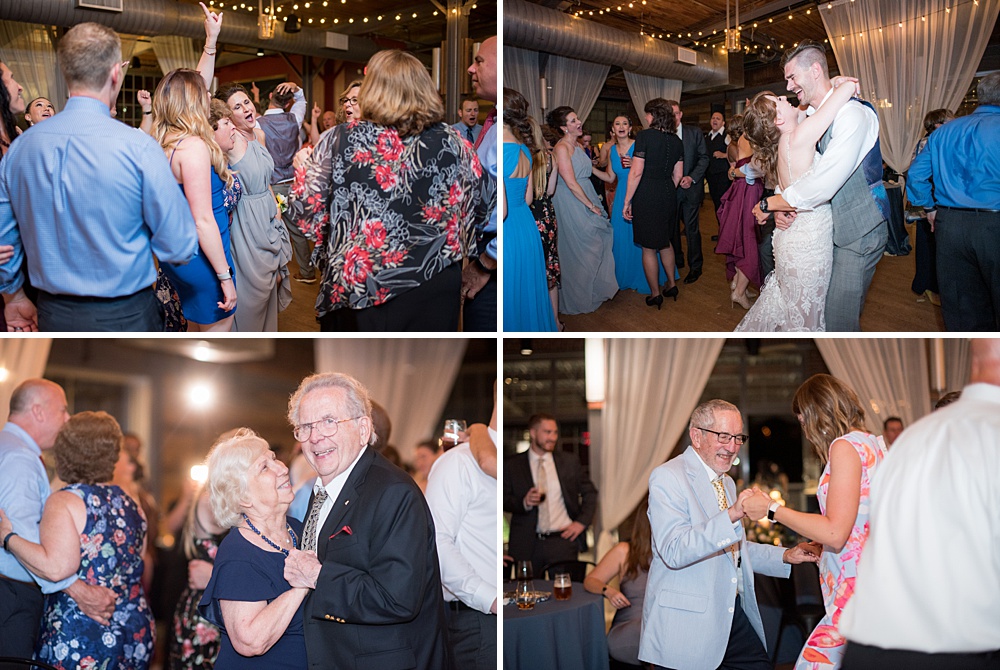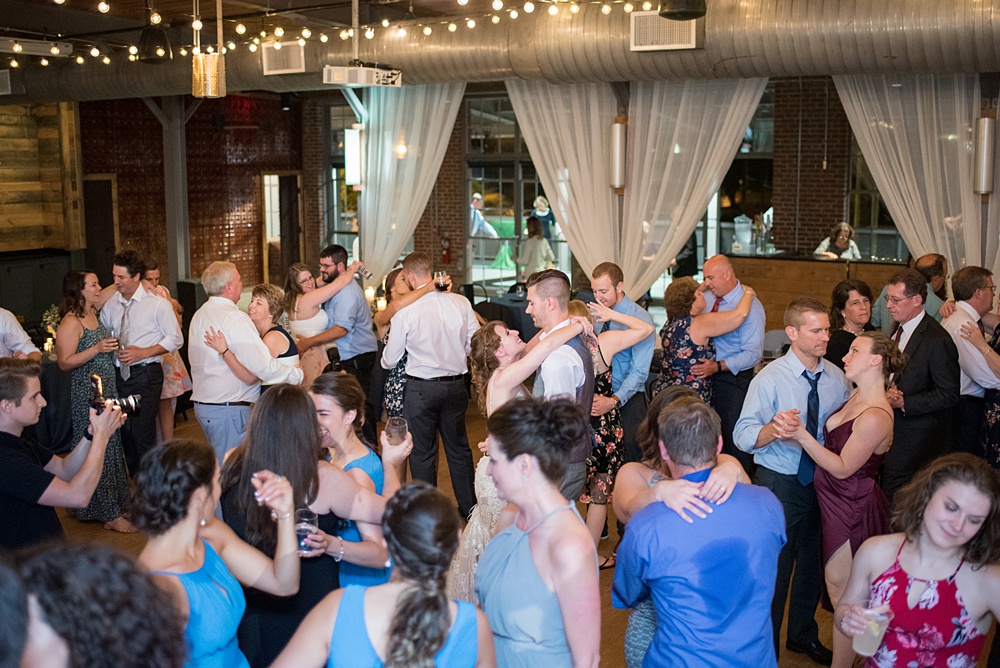 Congratulations, Alyssa and Ethan!
Venue: The Rickhouse / Planner: Viva L'Event / Flowers: Brides and Bouquets / Hair: Michele Plunkert and Sarah Risner / Makeup: Lisa Thompson / Dress: Posh Bridal, designer Allure/ Catering: Rocky Top Catering / Cake: Matta / Officiant: Ingrid Sagula / Bridesmaids dresses: Azazie / Suits: Men's Warehouse, designer Joseph Abboud / Lighting and draping: Vivid Lighting / Rentals: CE Rental / DJ: Vox / Videographer: Oak City Films 
For more inspiration from The Rickhouse Durham wedding venue check out:
Interested in having us capture your wedding? Contact us and secure your wedding date! 🙂