It's said every great relationship starts as a friendship and Deanna and Kevin are certainly familiar with that! They met in high school on Long Island, but it wasn't until years later they'd actually date! And even then they simply fell into love, "attached at the hip," as Deanna said and simply became each other's partner instead of consciously deciding to label the other "boyfriend" or "girlfriend." They've been through so much together, including "6 years 3 houses, 2 dogs and 2 states" as Deanna told when I asked about their relationship. Now, together over seven years, they decided to get married close to their new home they've built together: transplanted New Yorkers living in North Carolina! (Much like myself!) The Rickhouse wedding photos I captured for them recall a day of going with the flow when the weather didn't particularly cooperate (and we captured incredible photos regardless!), lots of smiles from the joy and relief of the day finally arriving and a lot of fun partying at their reception! Coordinated by A Swanky Affair and inspired by a rose gold and pink color palette their day was as lovely as could be!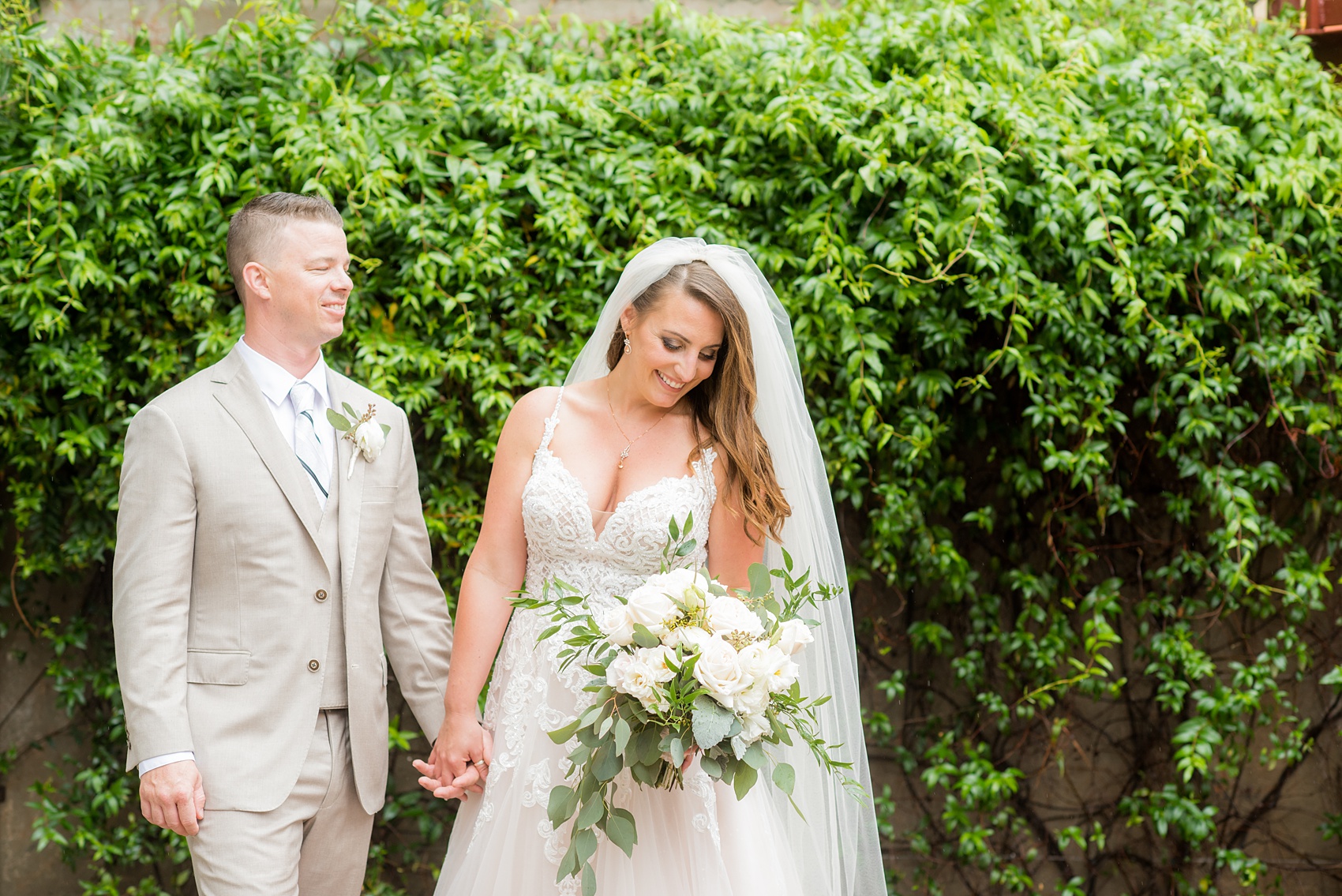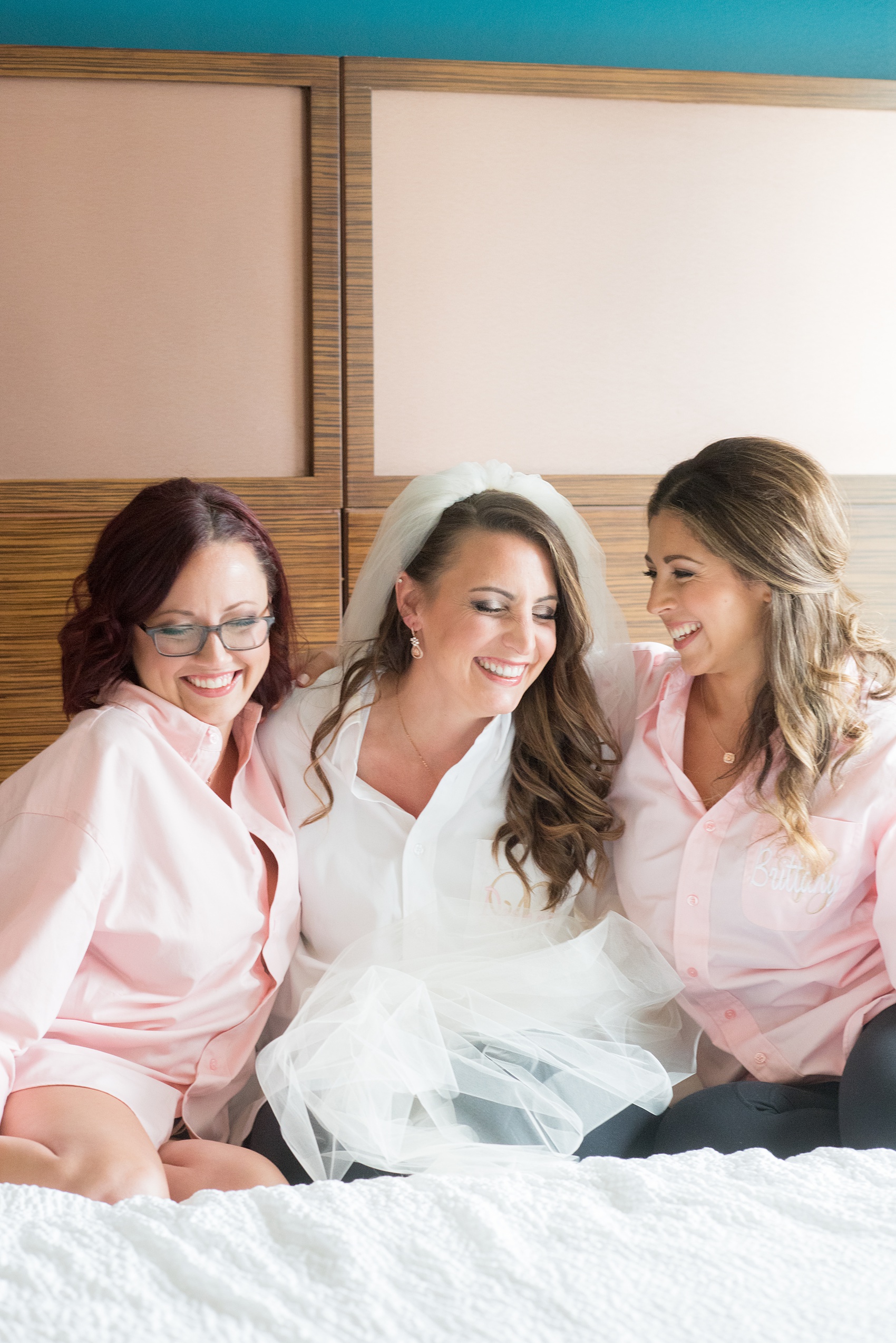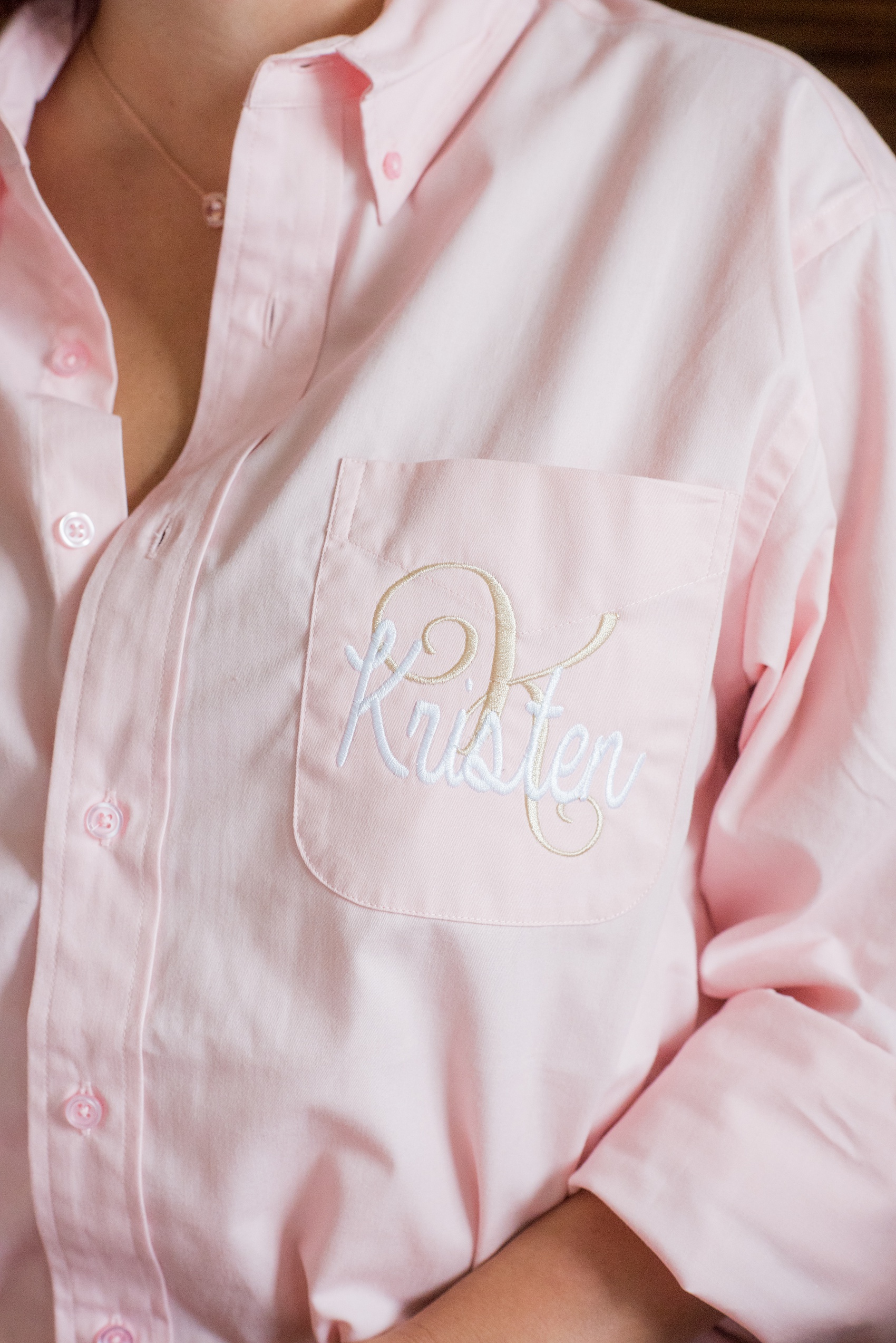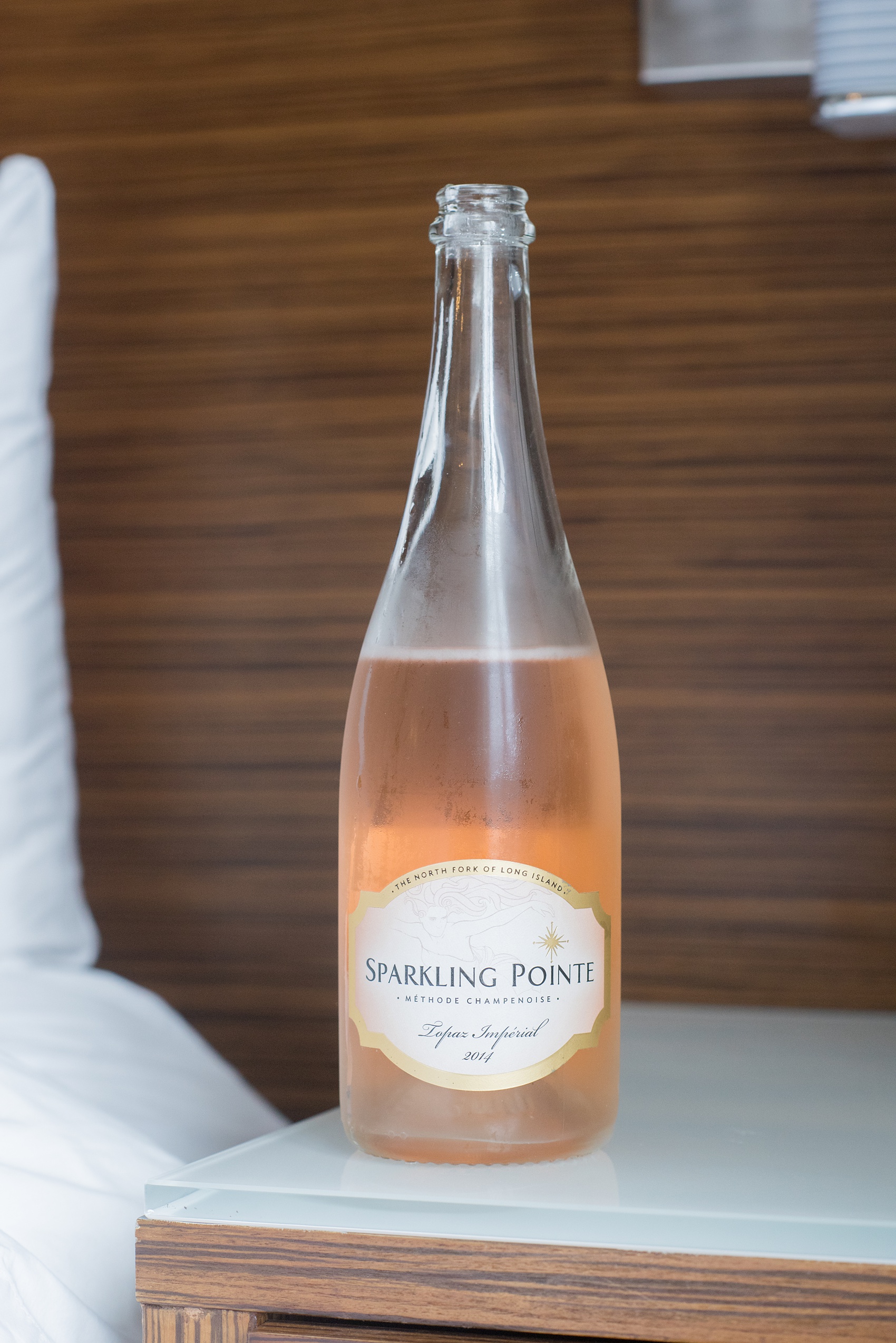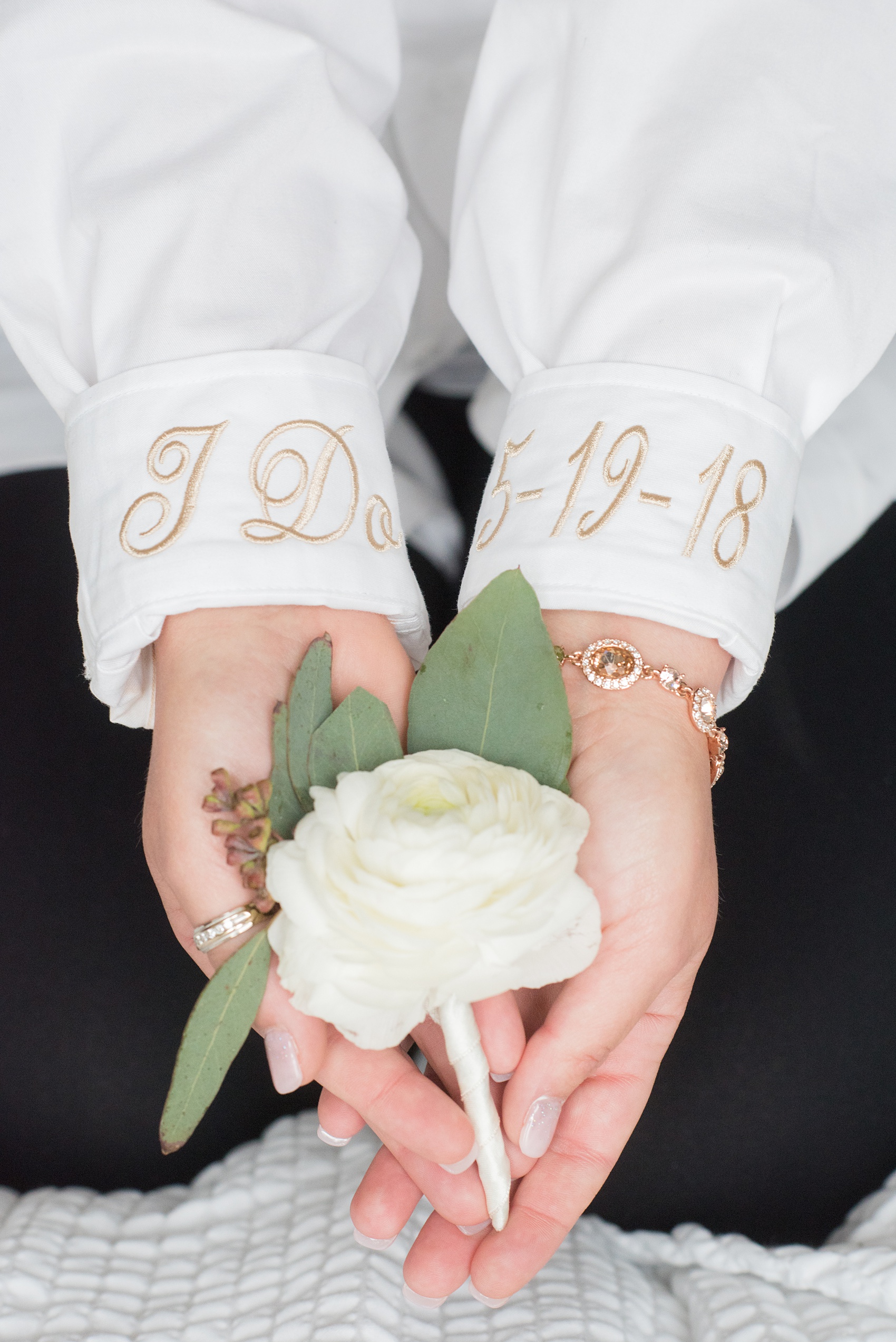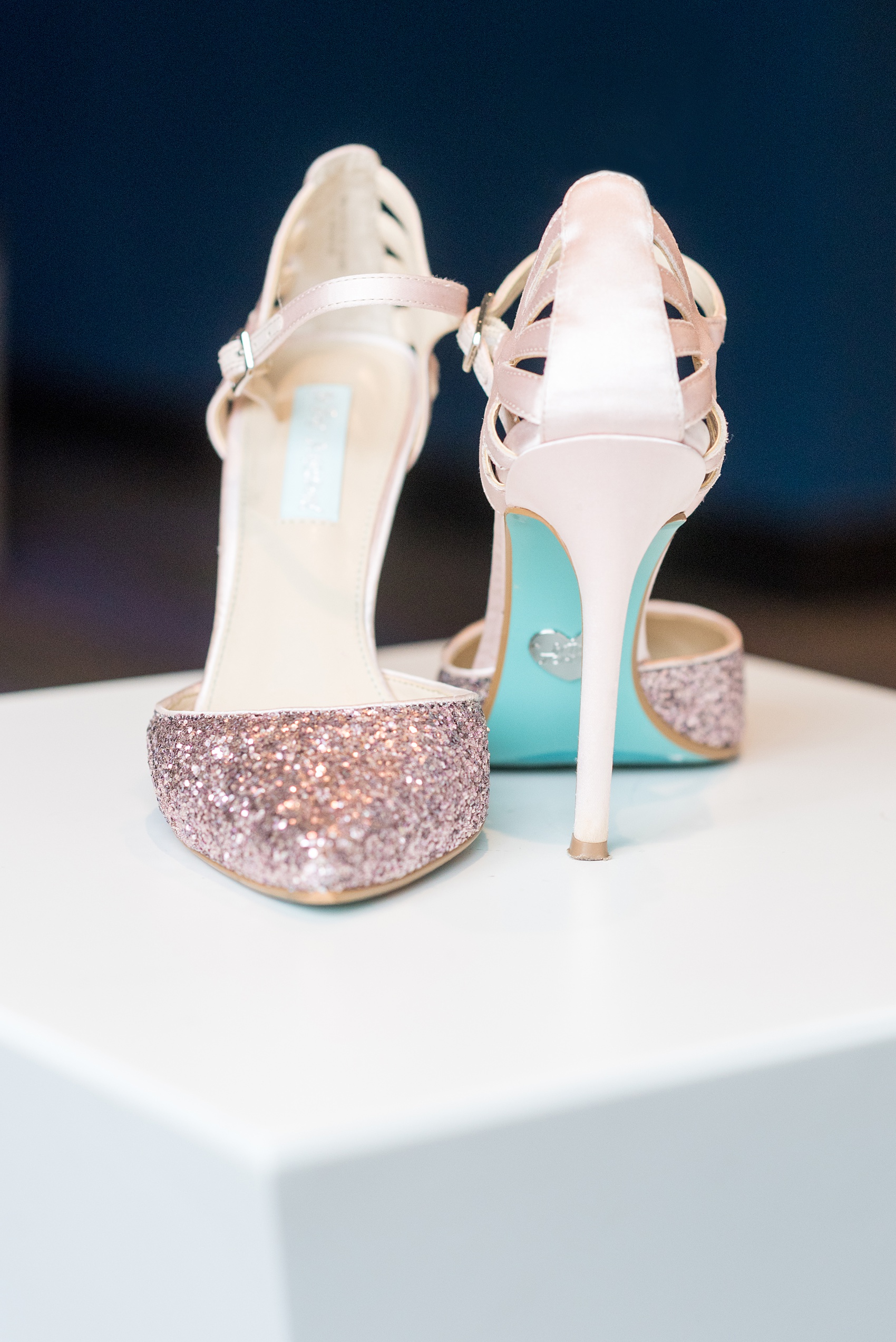 Deanna and her bridesmaids prepared for the day at a nearby hotel, sipping sparkling rose from her favorite New York vineyard, Sparkling Pointe, on the north fork of Long Island. She bought everyone (including her flower girls and mom) the sweetest shirts! I loved the embroidery with their names and first initials. Deanna had a special button-down shirt in white, of course, that also included their wedding date and "I do" on its cuffs. Her wedding dress hanger was one I've never seen before! Her soon-to-be married name was laser cut out of metal and screwed into the hanger and their wedding date hung from a laser cut metal heart.
Everything was rose gold and pink, sticking true to their wedding color palette. She had glitter high heel shoes with a blue sole from Betsy Johnson and a really cool pair of rose gold glitter Keds to wear at the reception. Her beaded Essense of Australia gown had a pink hue to the skirt and her bridesmaids perfectly complimented her in pink gowns with just the right hint of sparkle from subtle lines of sequins on them. Her flower girls dresses matched so all three were wearing the same one. They were all the perfect dresses for a May wedding.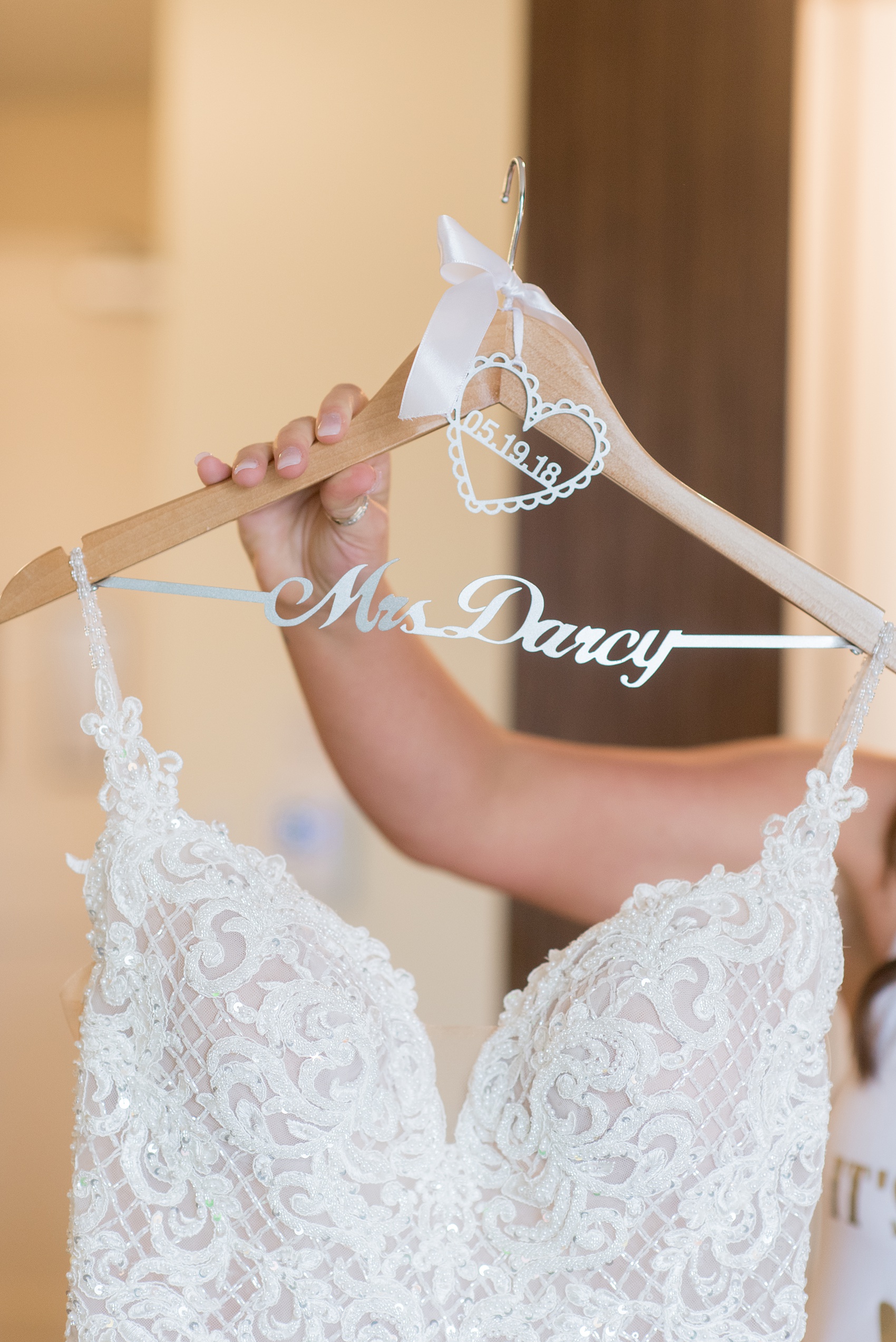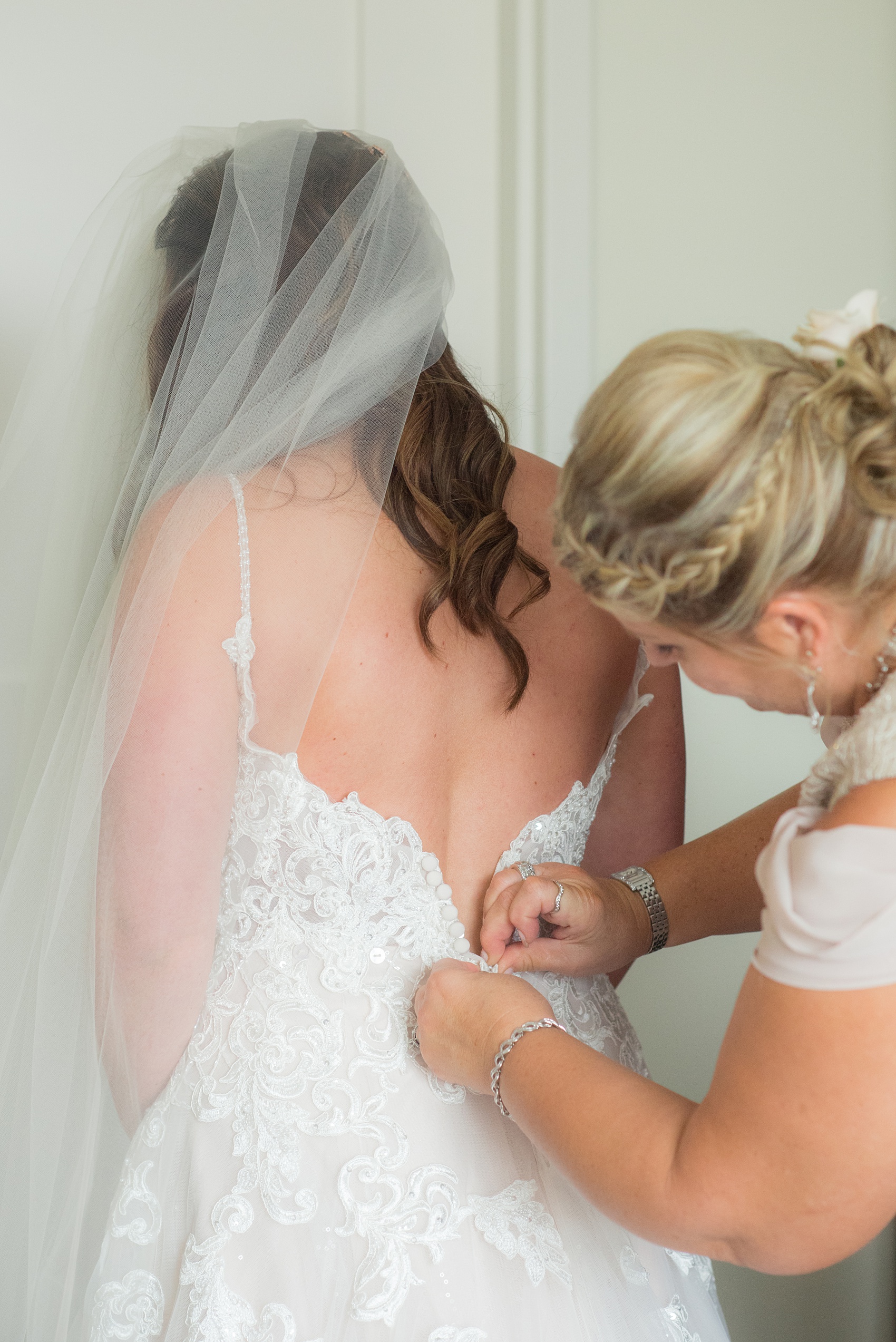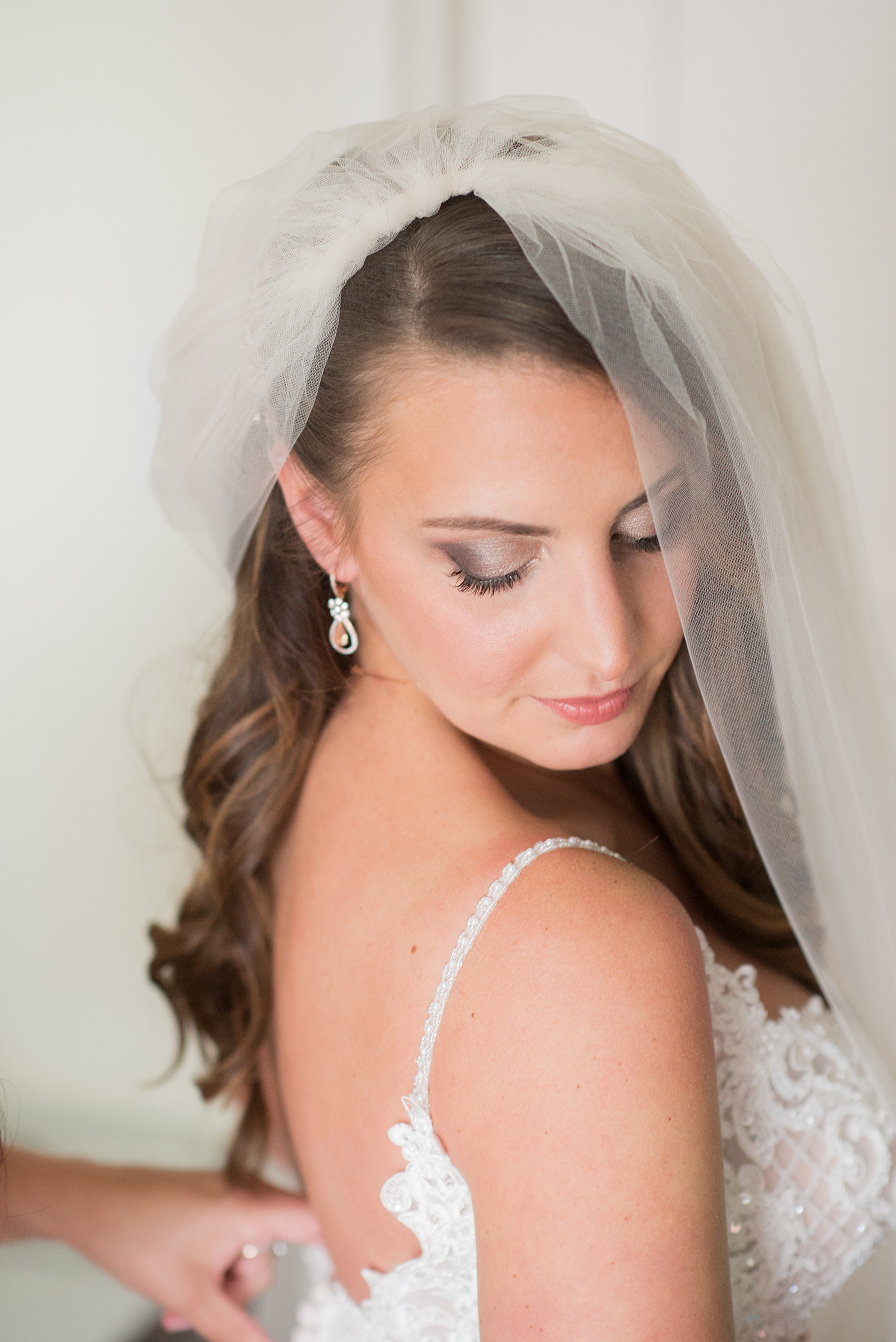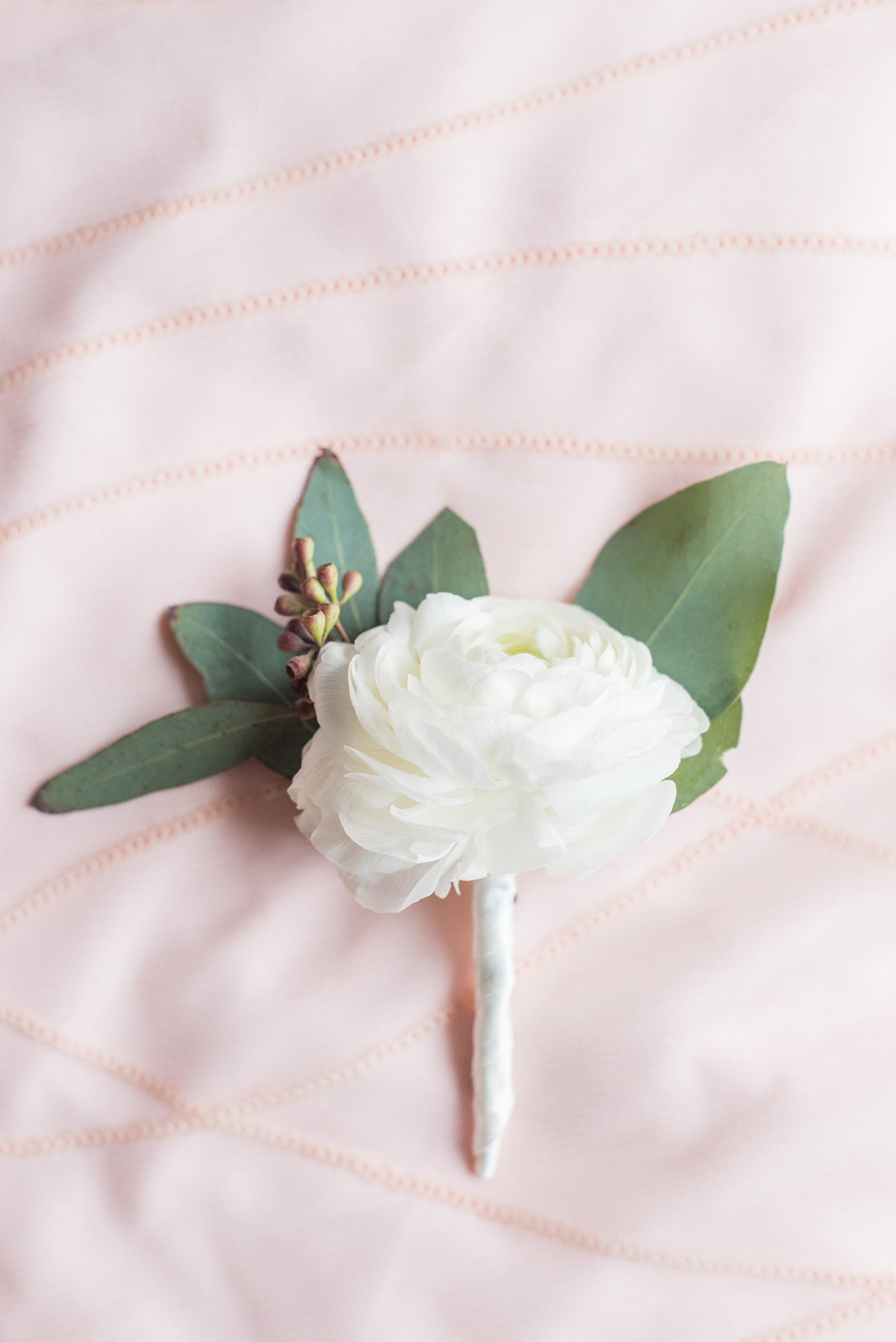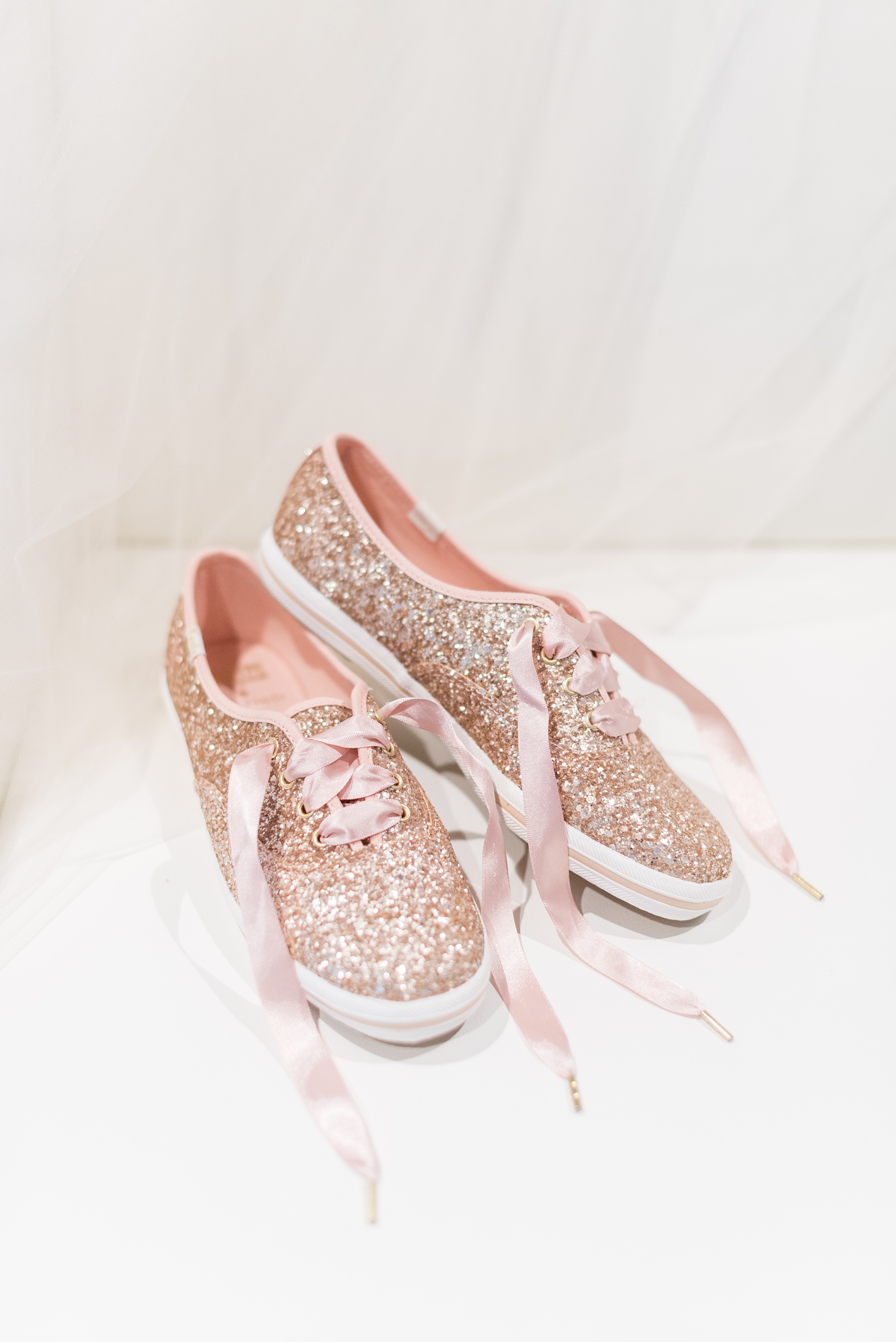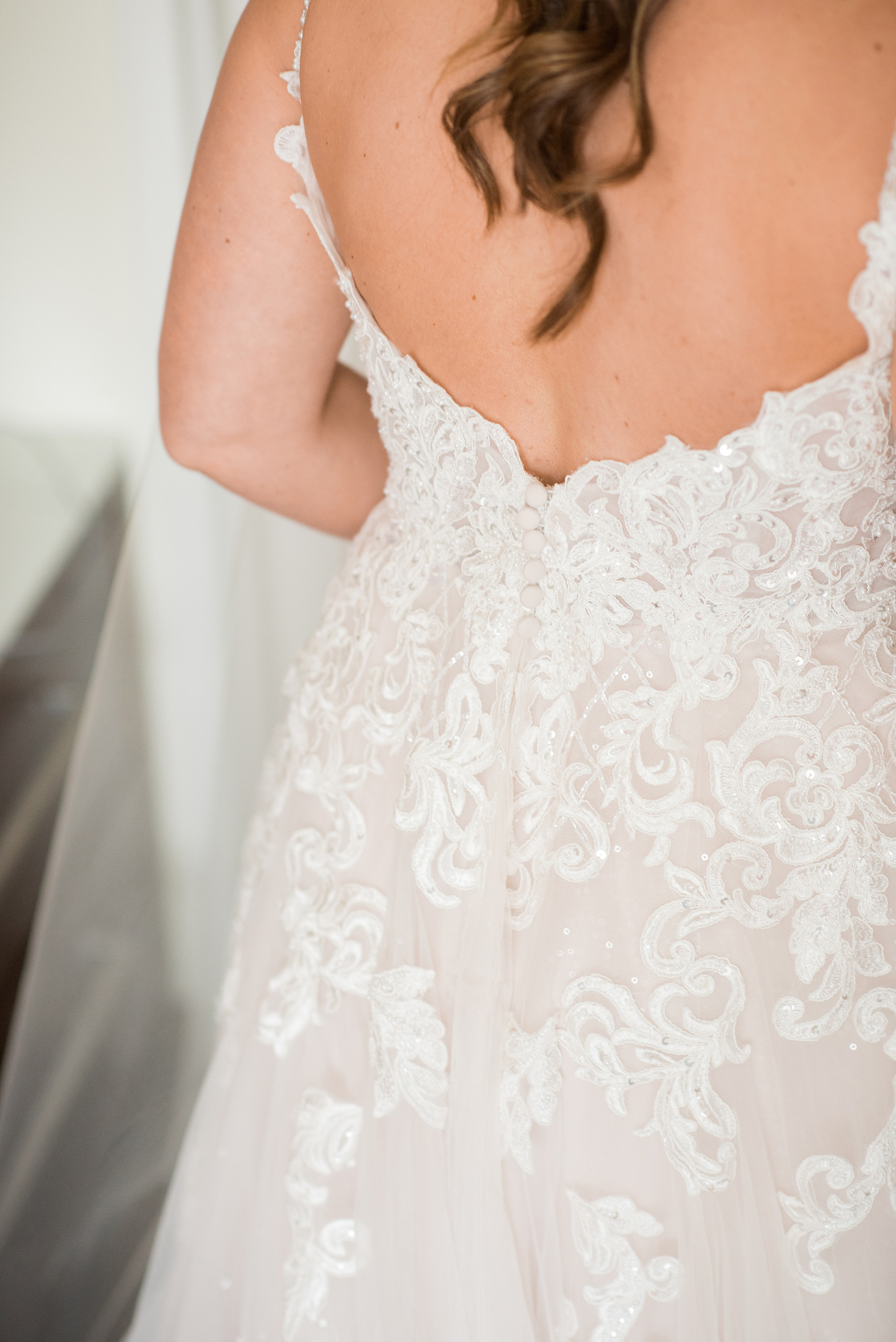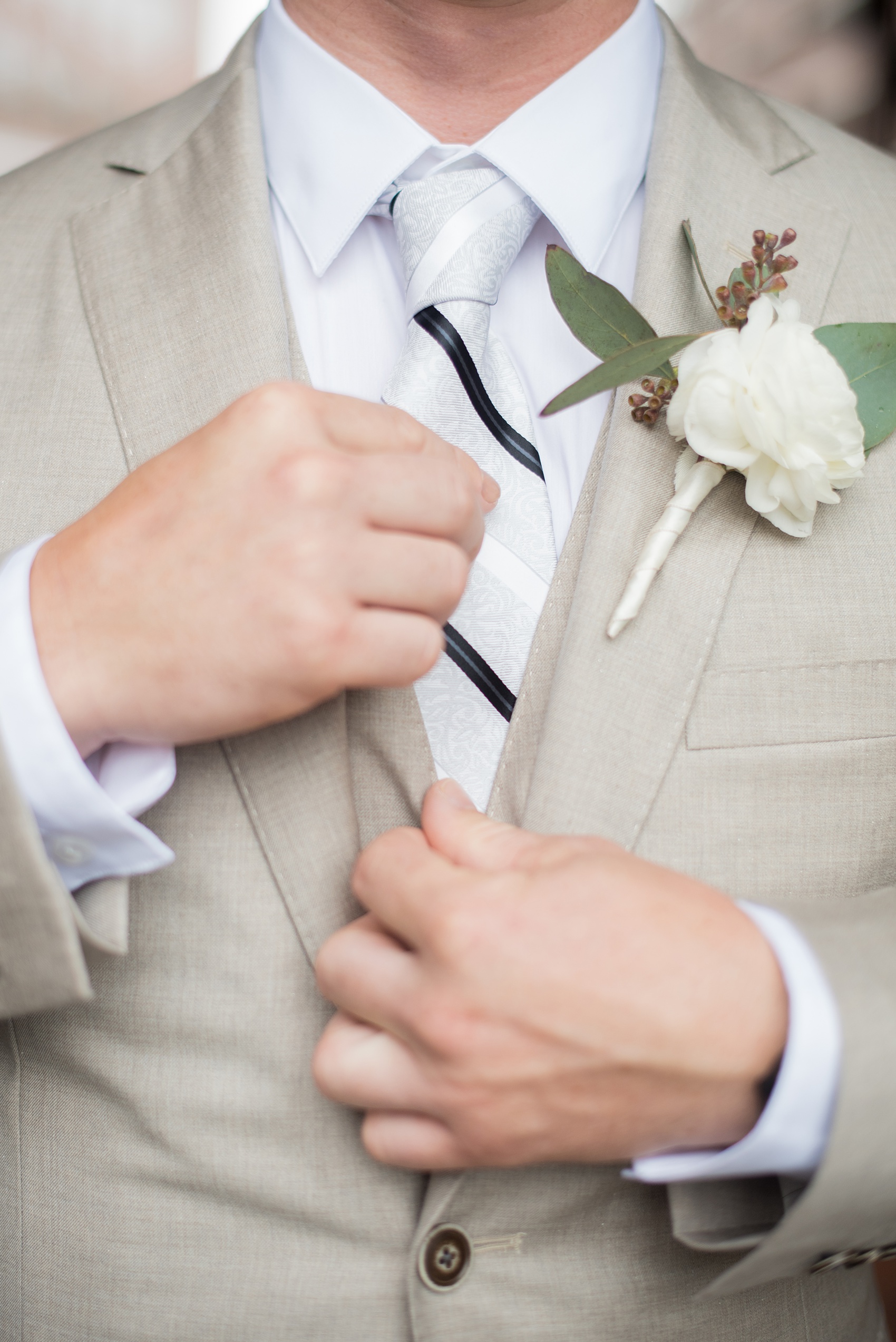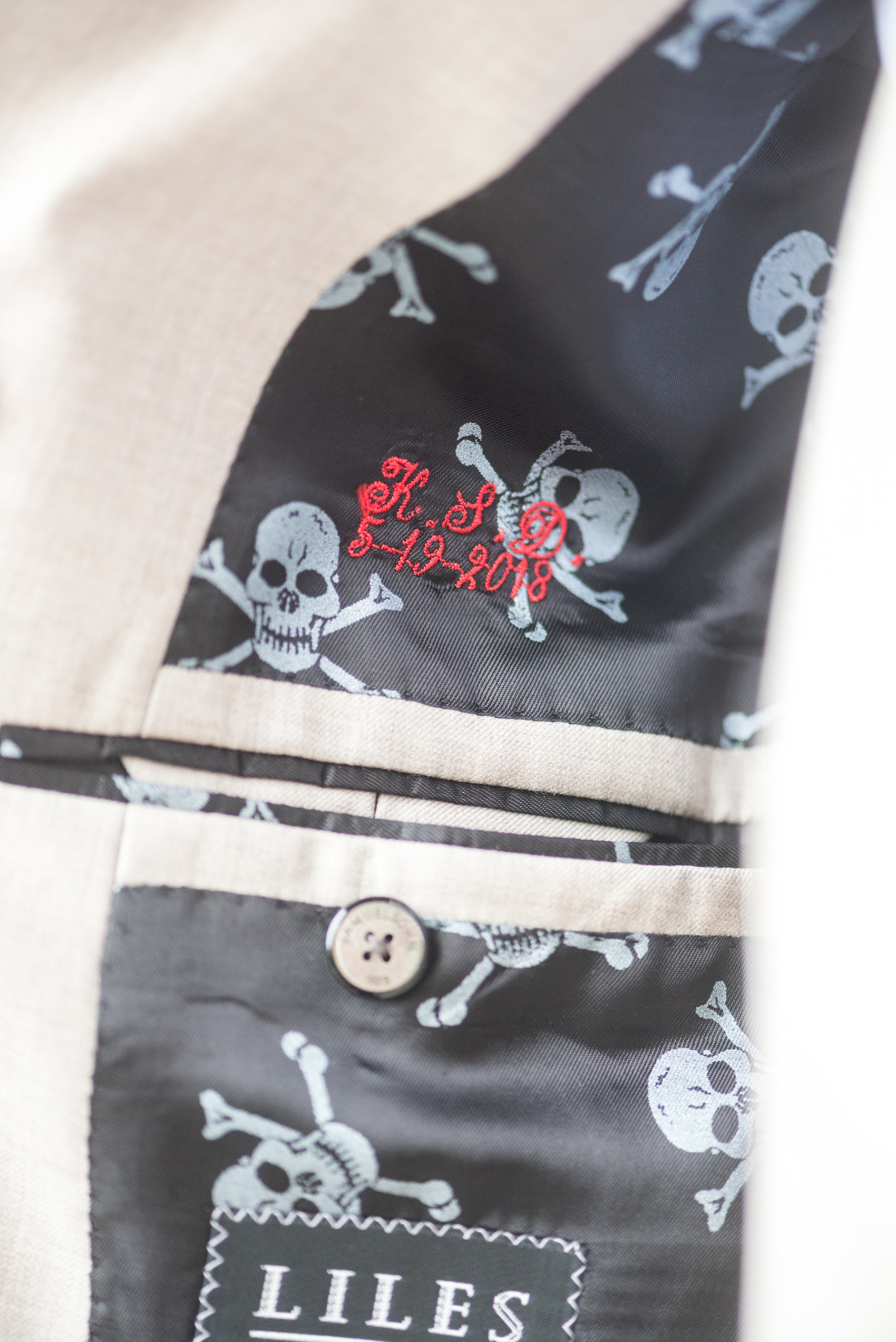 Kevin's suit was awesome! I loved the skull and crossbones lining he chose and the red thread he selected for the embroidery of their initials and wedding date. He kept things extra classy by wearing a vest under the coast of his tan linen suit and finished his look with a white striped tie and ranunculus boutonniere.
Deanna and Kevin were originally supposed to have their ceremony at Sarah P. Duke Gardens but the rain had everyone green-lighting plan B. Luckily, American Tobacco Campus was a wonderful option for photos with a lot of covered spaces to use until the rain subsided…and it did! The rain let up a bit for for the last 15 minutes of photos and allowed us to take pictures in front of the beautiful spring foliage and flowers. I was one happy photographer! That being said, I must admit, I love how cute clear umbrellas look in photos! And we did need them because it started to drizzle again towards the end of those 15 minutes it was clear.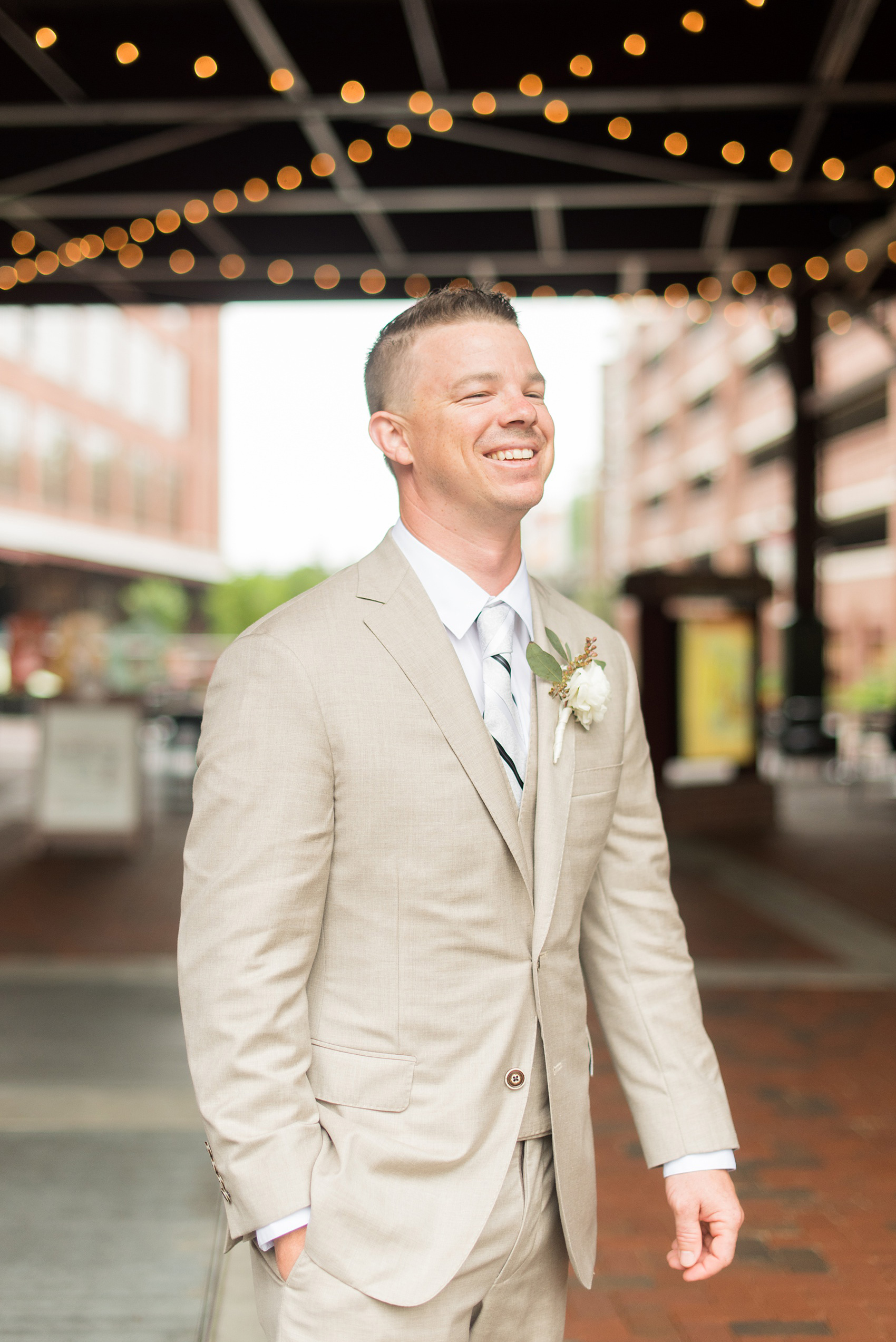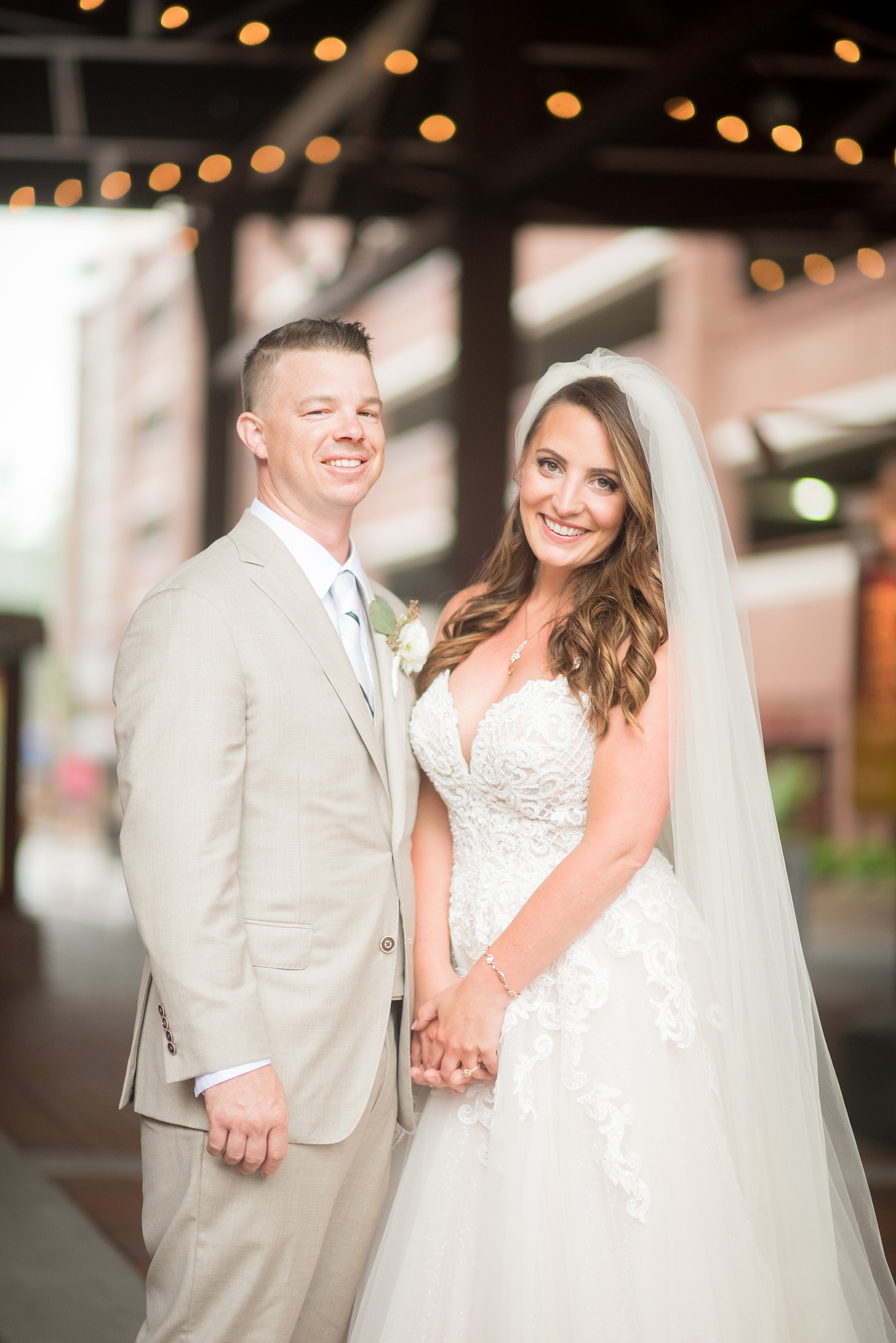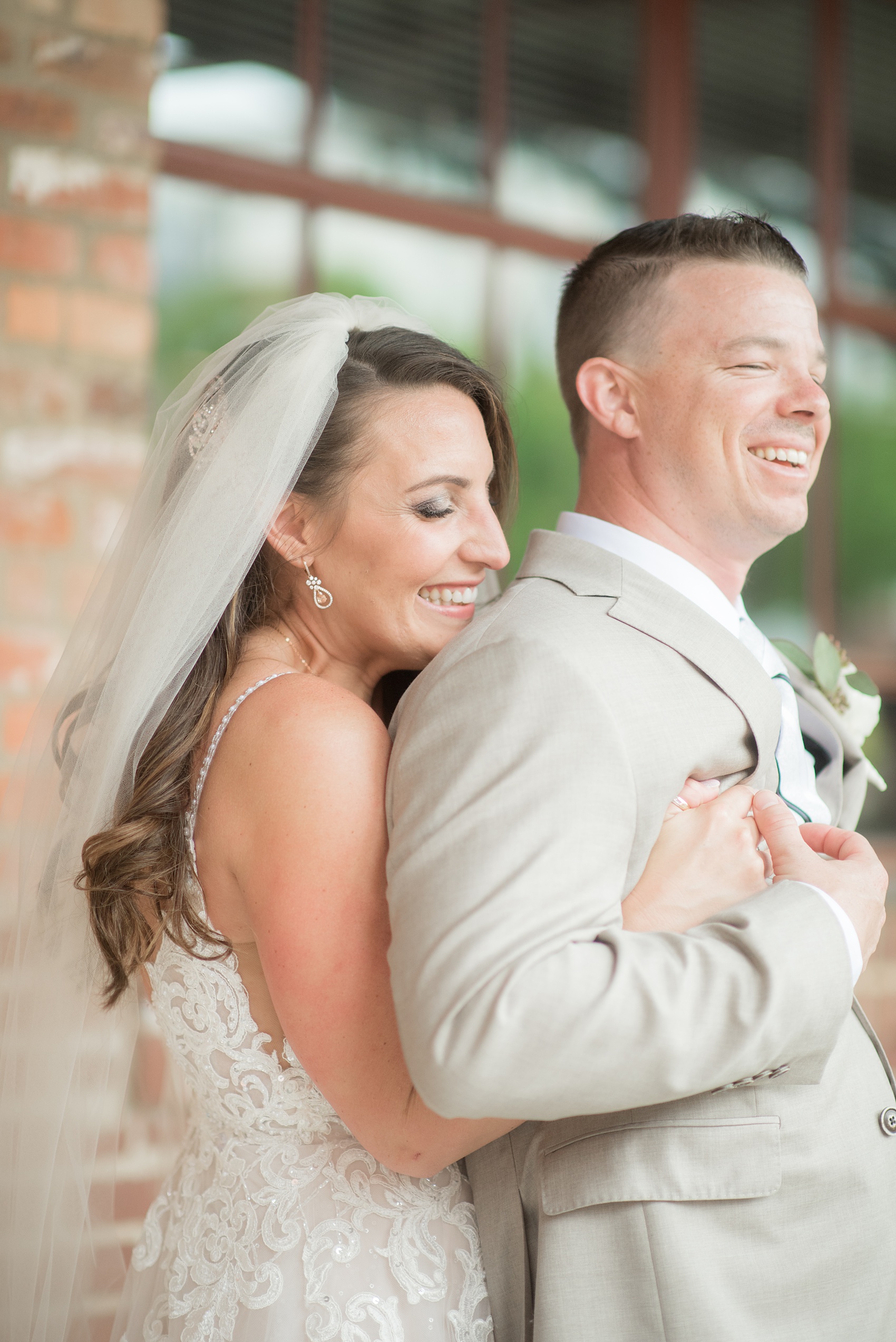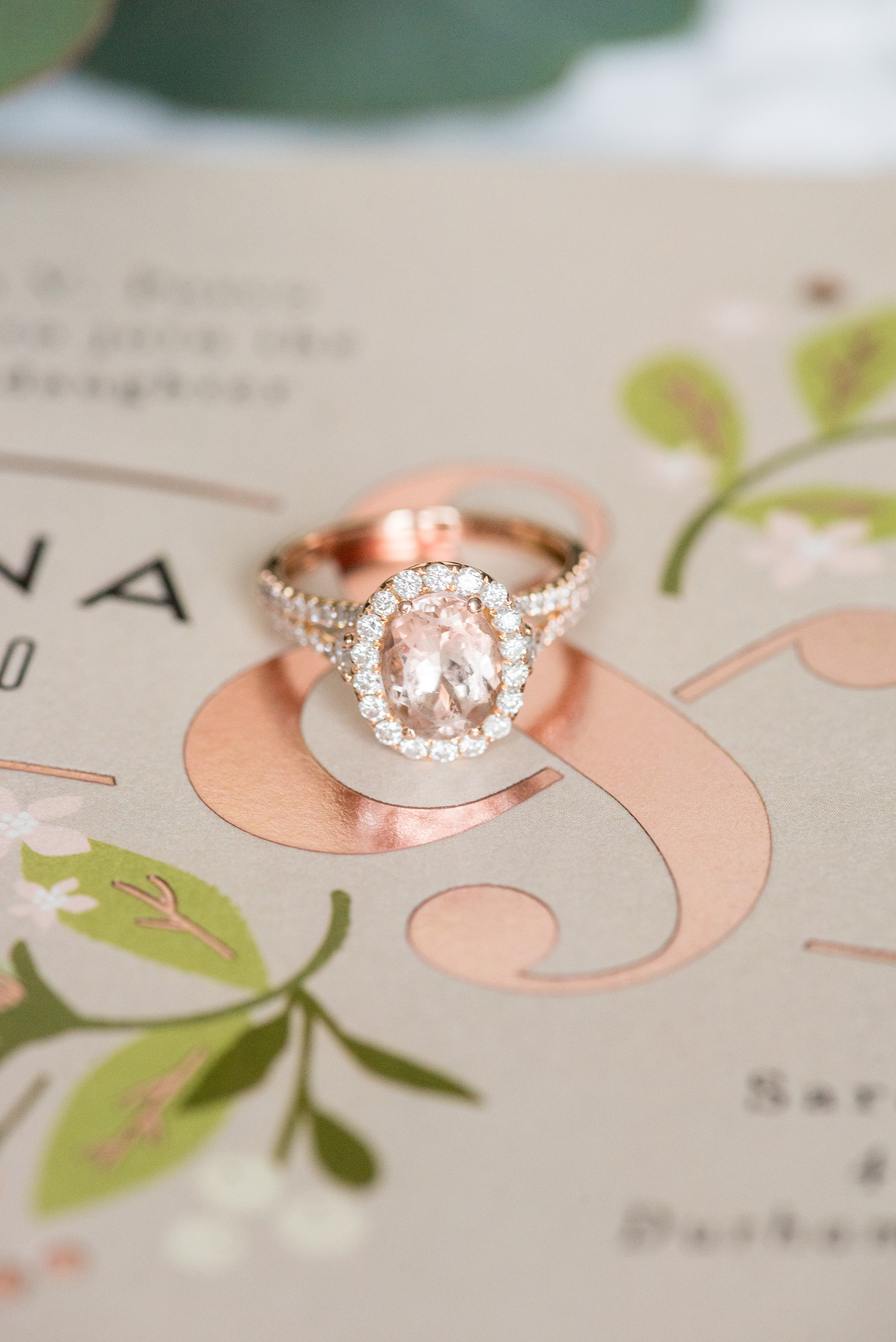 Isn't her morganite and diamond engagement ring insane!??!! I couldn't wait to photograph it! The copper foil ampersand of their invitation was the perfect "background" for it too.
Kevin was not a fan of the camera (which you'd never know from these photos) and not looking forward to photos. But he was a great sport for me and I adore the pictures we captured of them. What do you know – I received a text message from Deanna after their wedding saying Kevin wanted to take MORE photos. I couldn't believe it! Deanna and I were in disbelief but I'm confident I converted him and can now proudly say he doesn't mind photos! At least if I am taking them. 😉 The other thing that made Kevin light up with smiles in front of the camera was their dogs. As soon as we got to The Rickhouse, Deanna's best friend and Matron of Honor, Kristen, had her husband bring Deanna and Kevin's dogs to join us. Deanna dressed Molly and Jack, their King Charles Spaniard and Shitzu, in the cutest little formal outfits. Kevin was elated to see his buddy, Jack, photo-ready! We took really cute photos of them in the bridal suite of The Rickhouse. I love how coy Molly looks on Deanna's lap in one of the photos.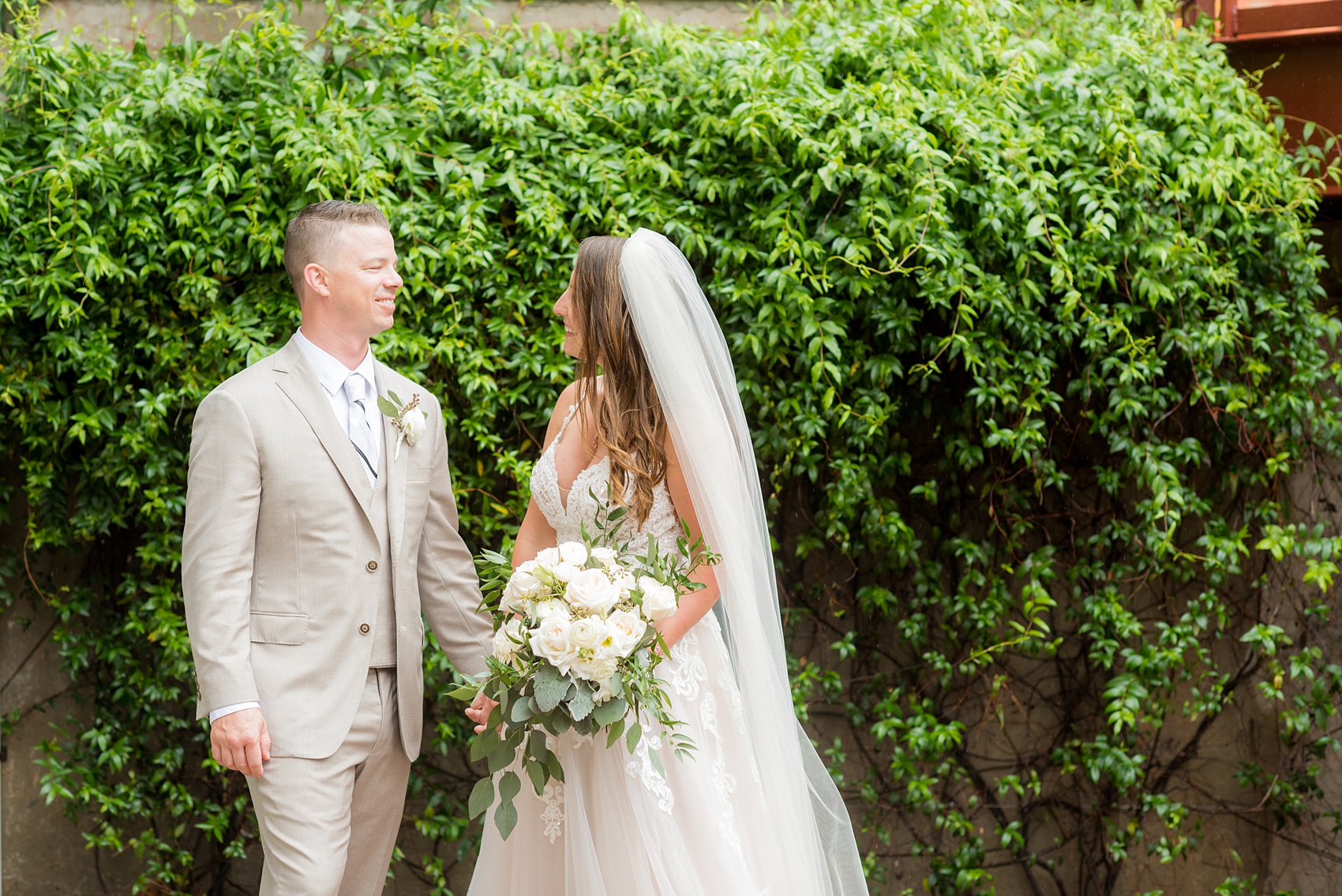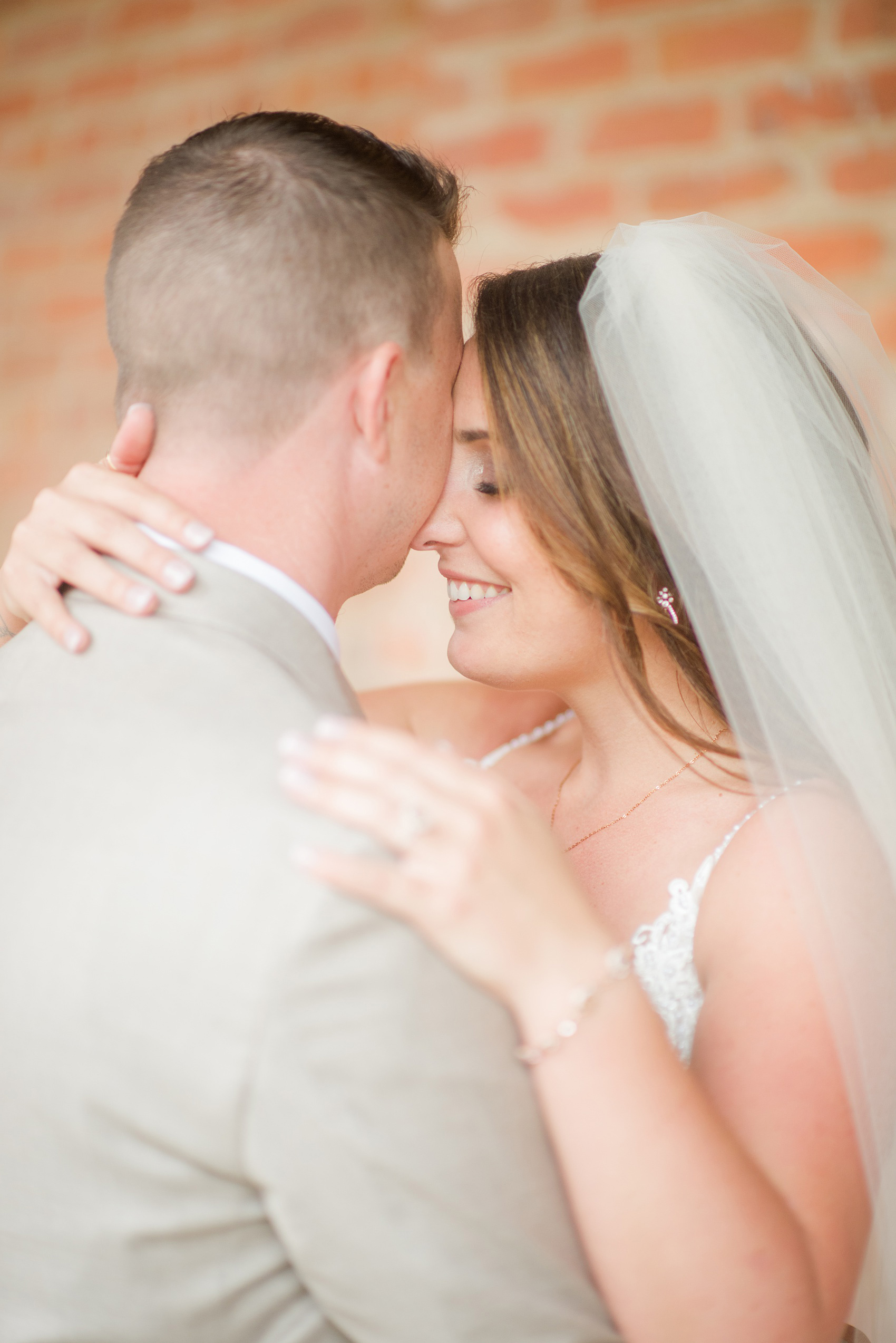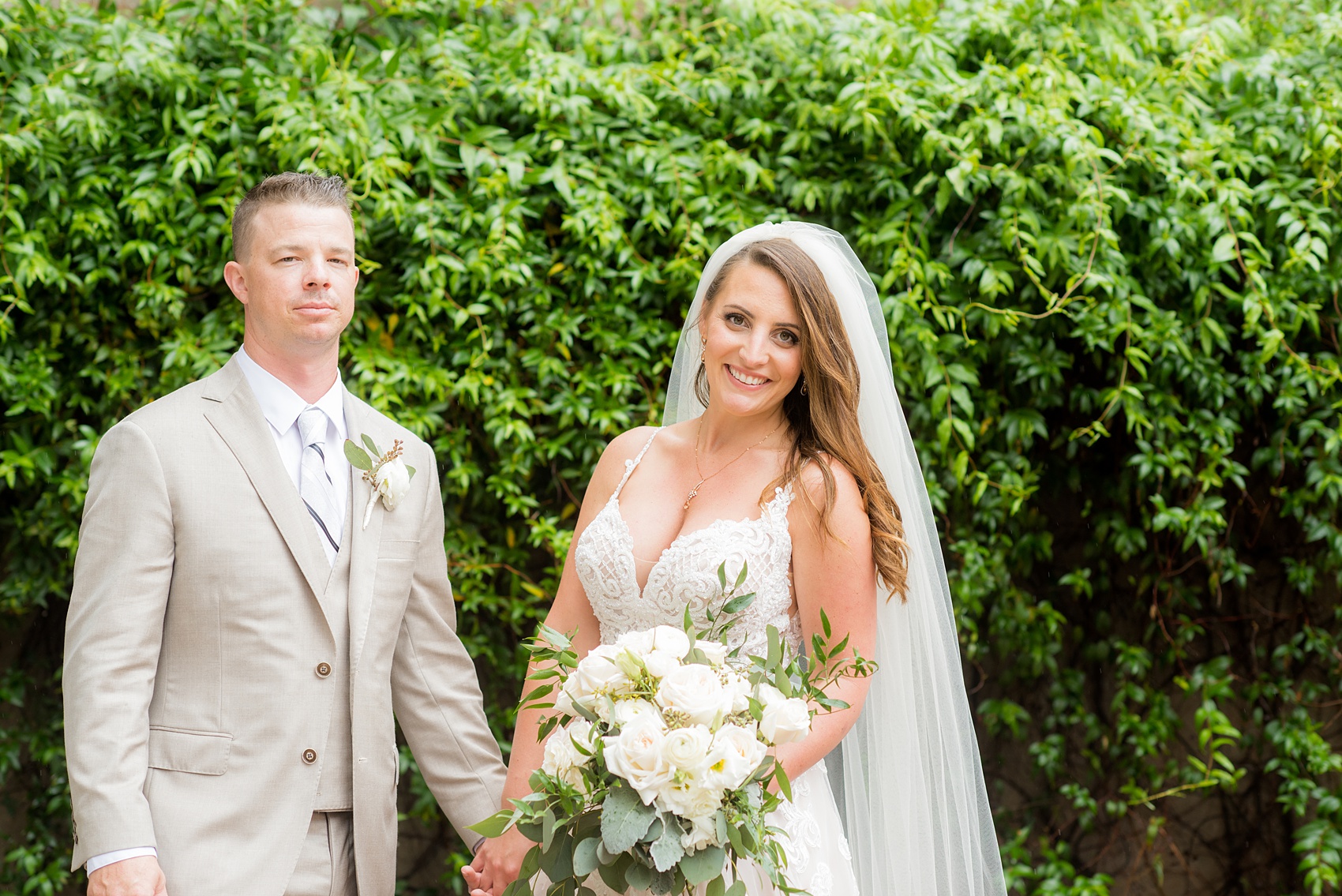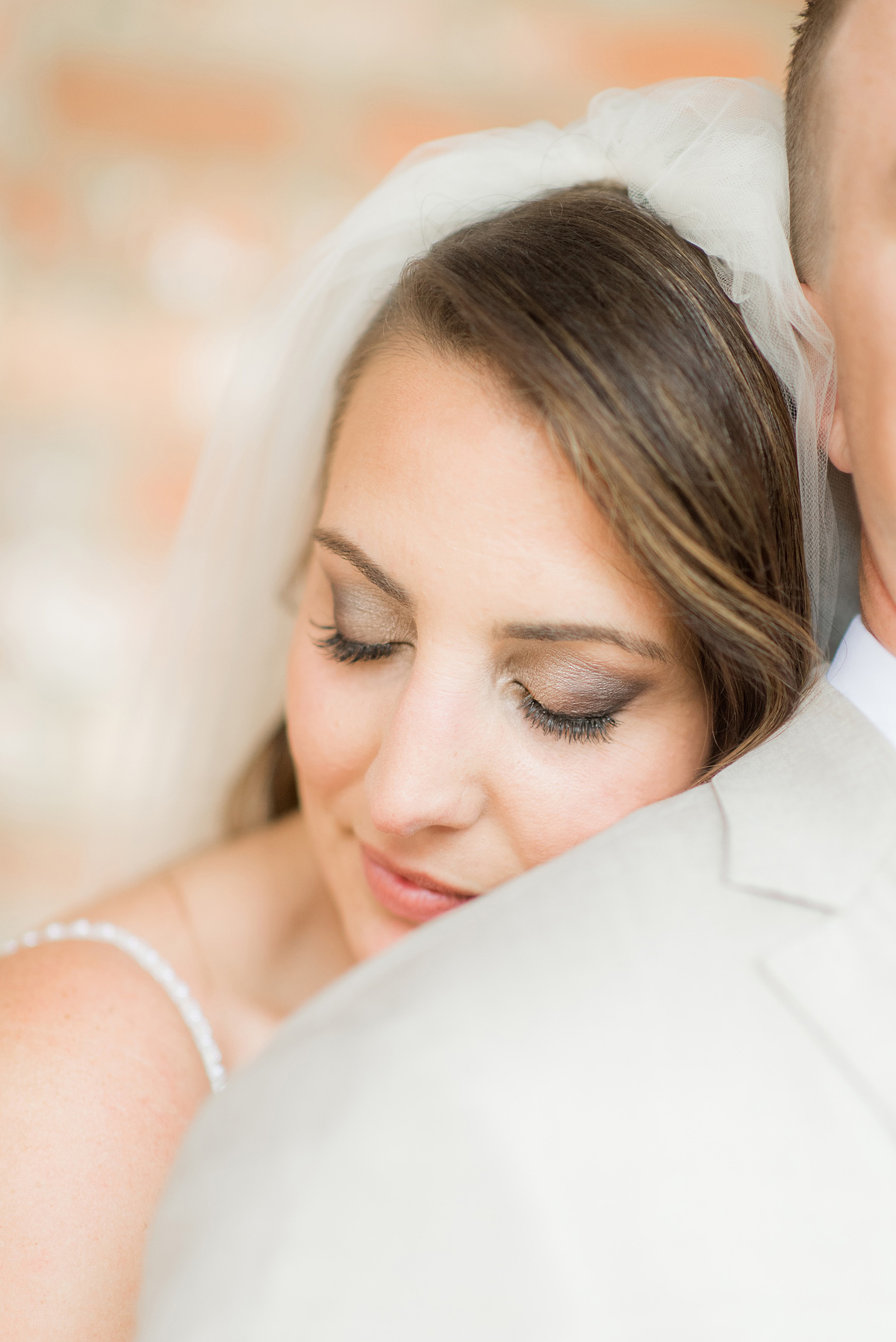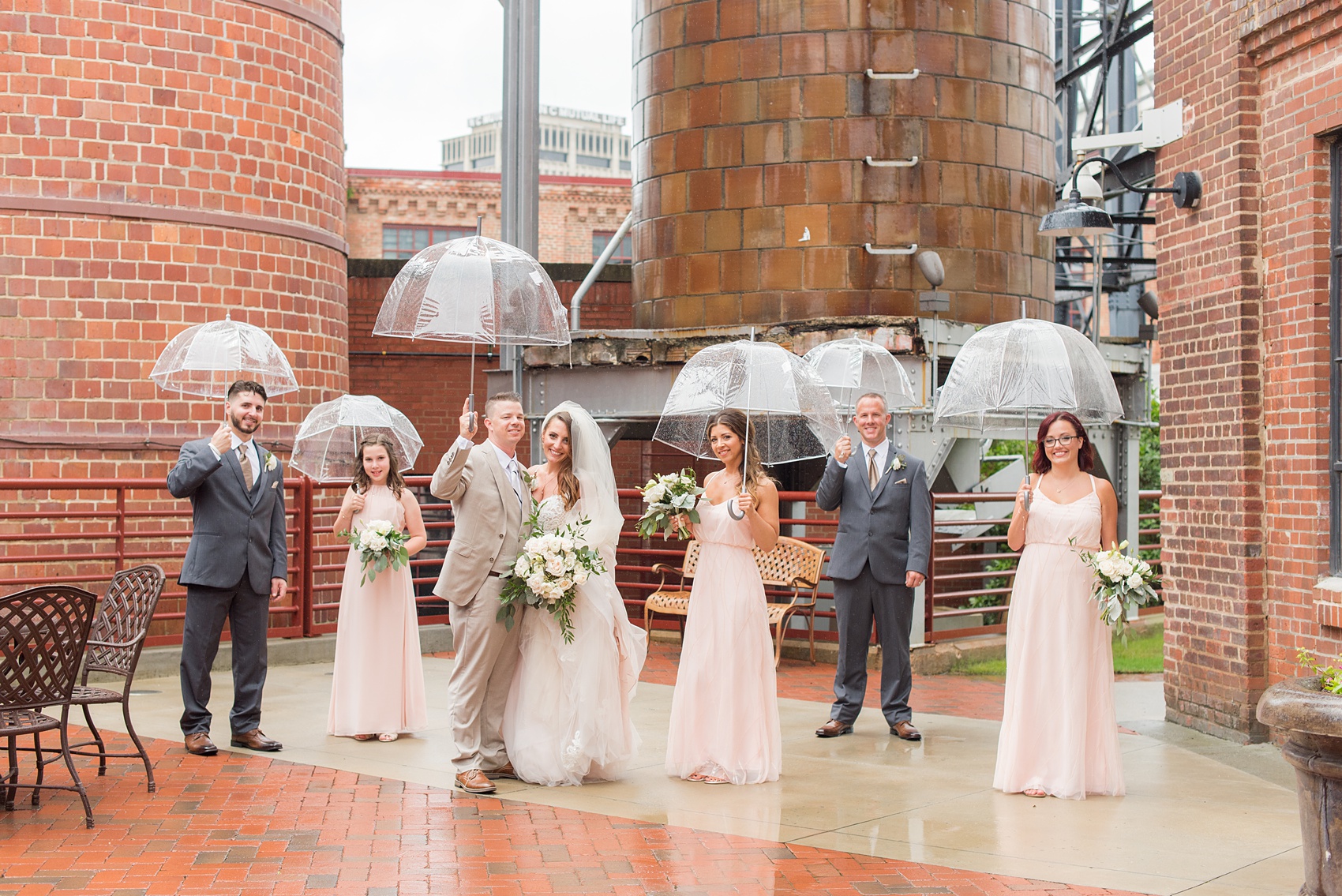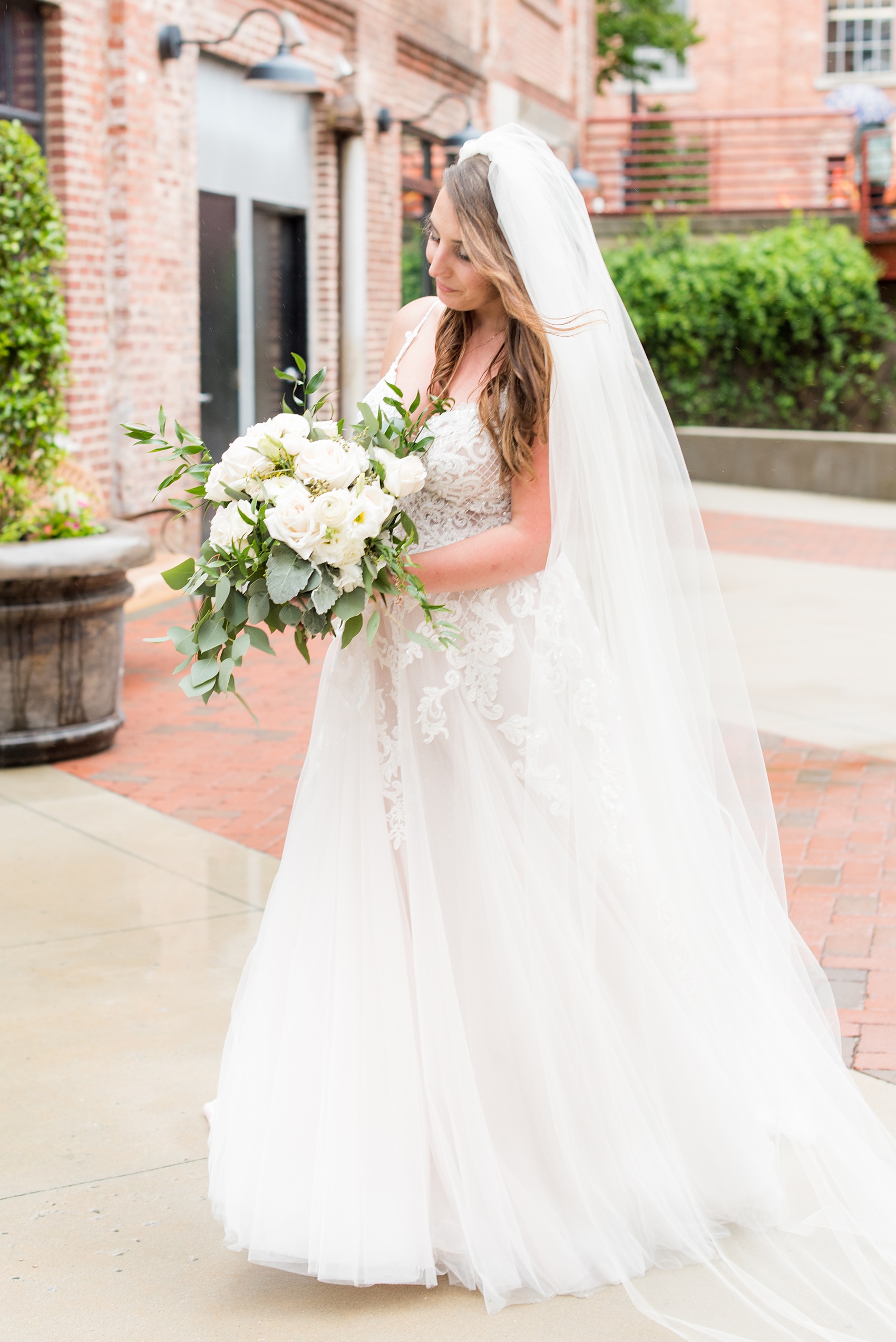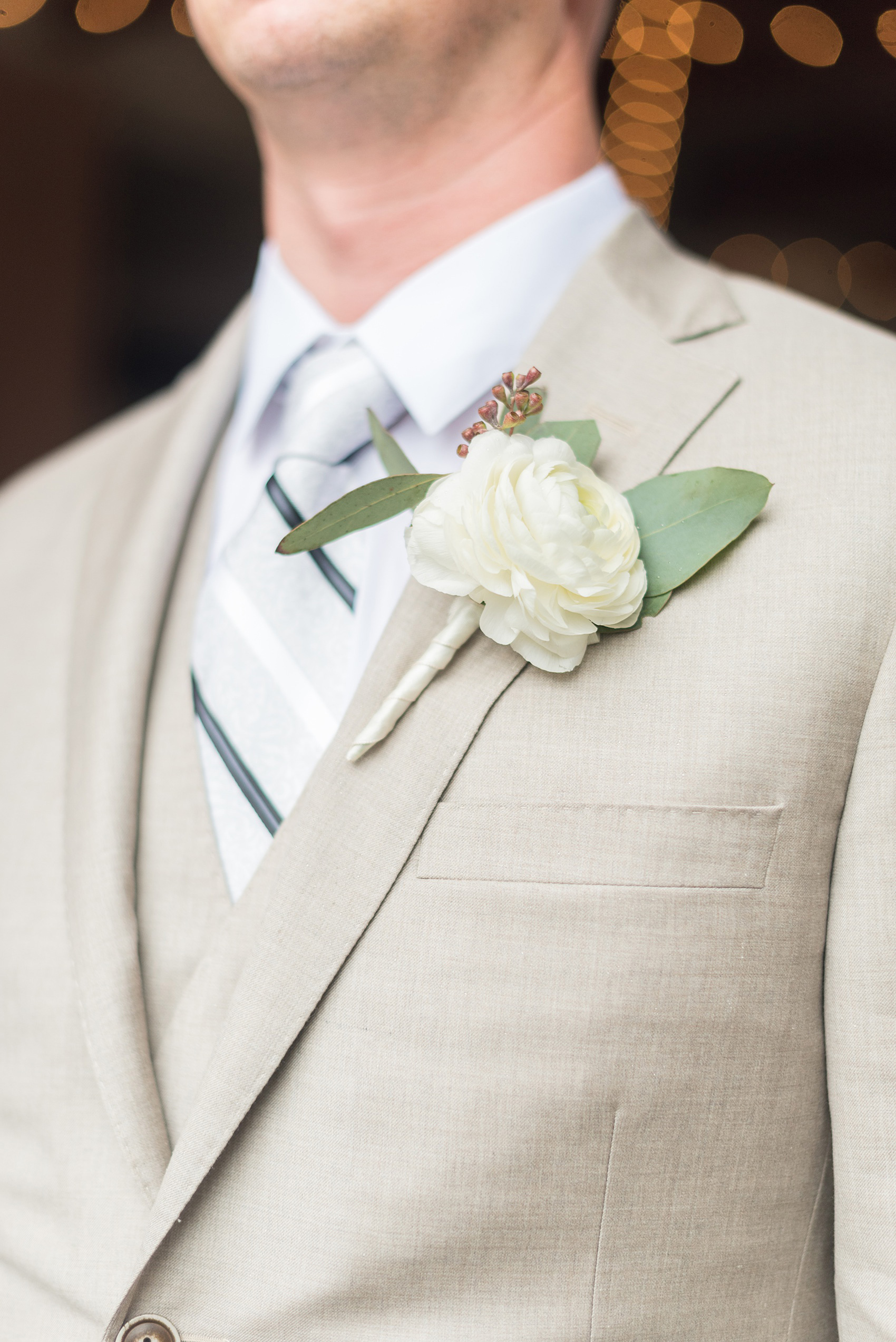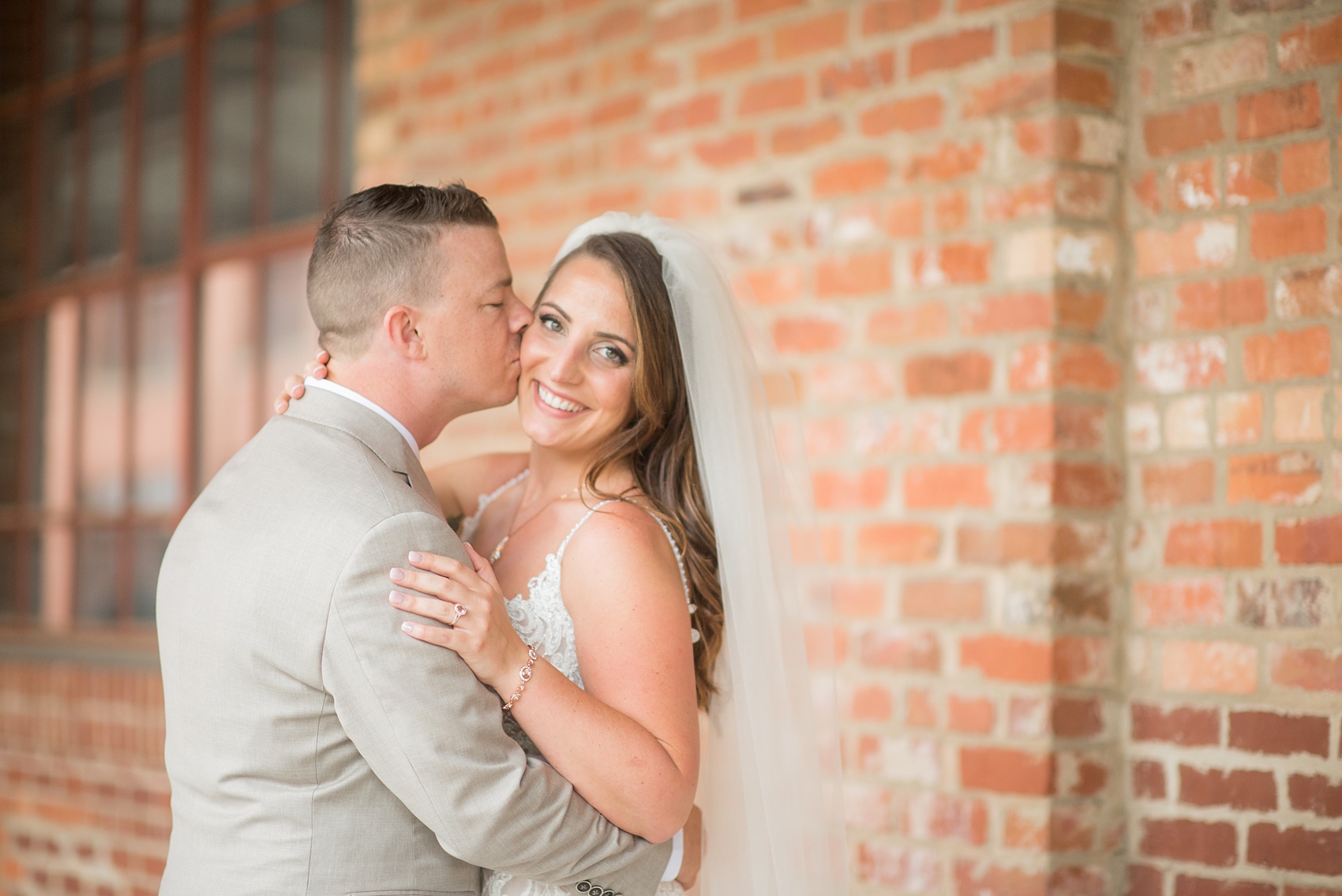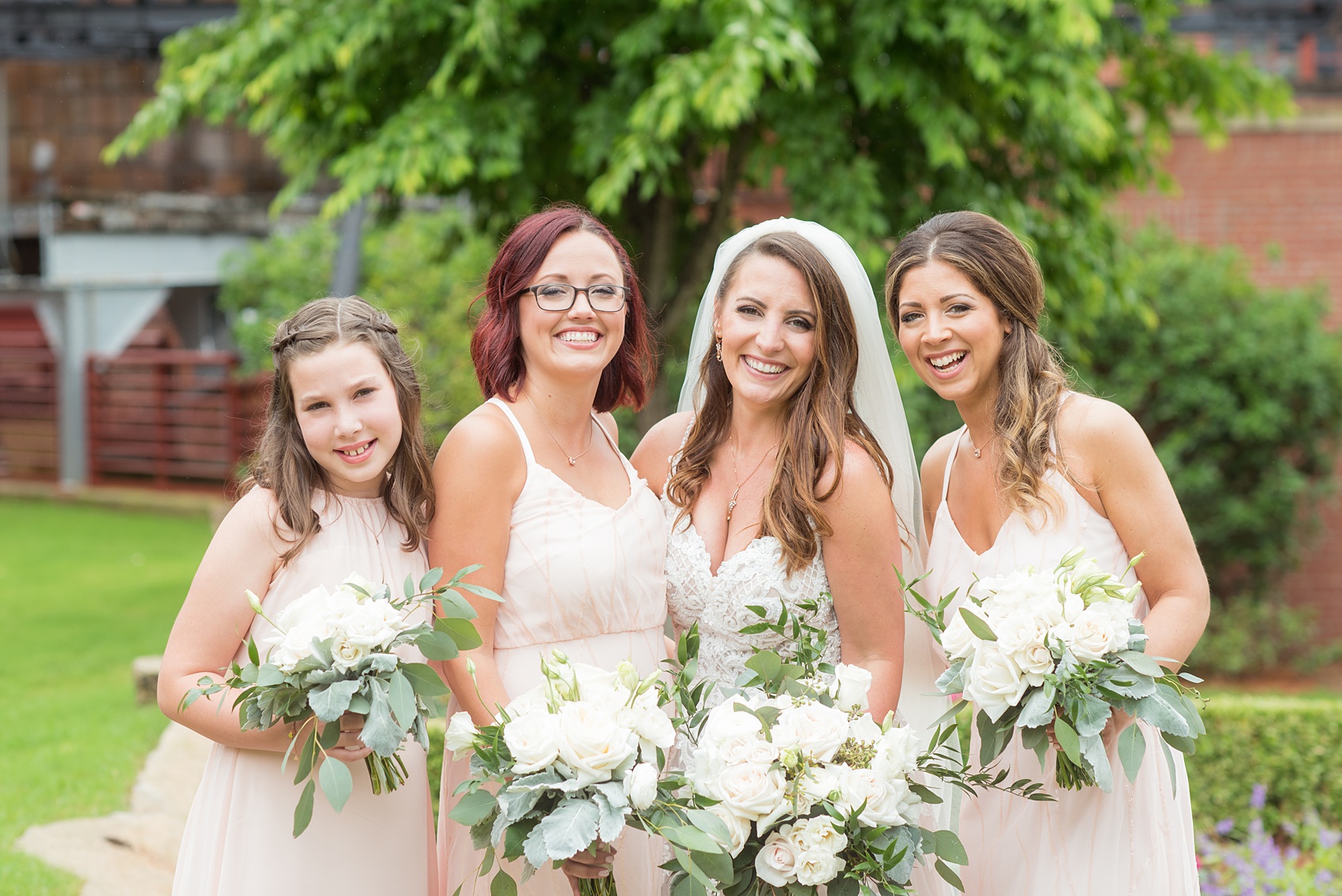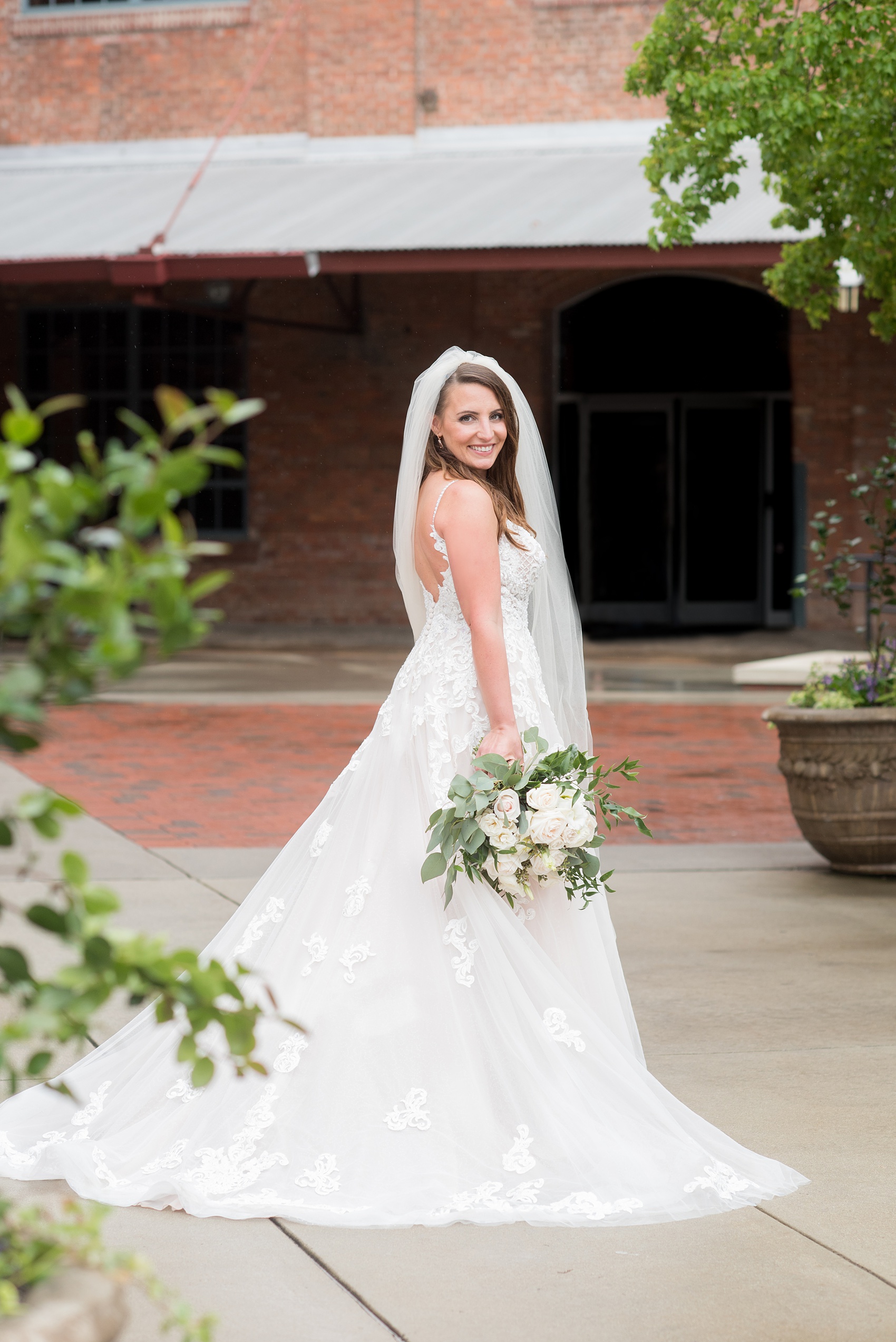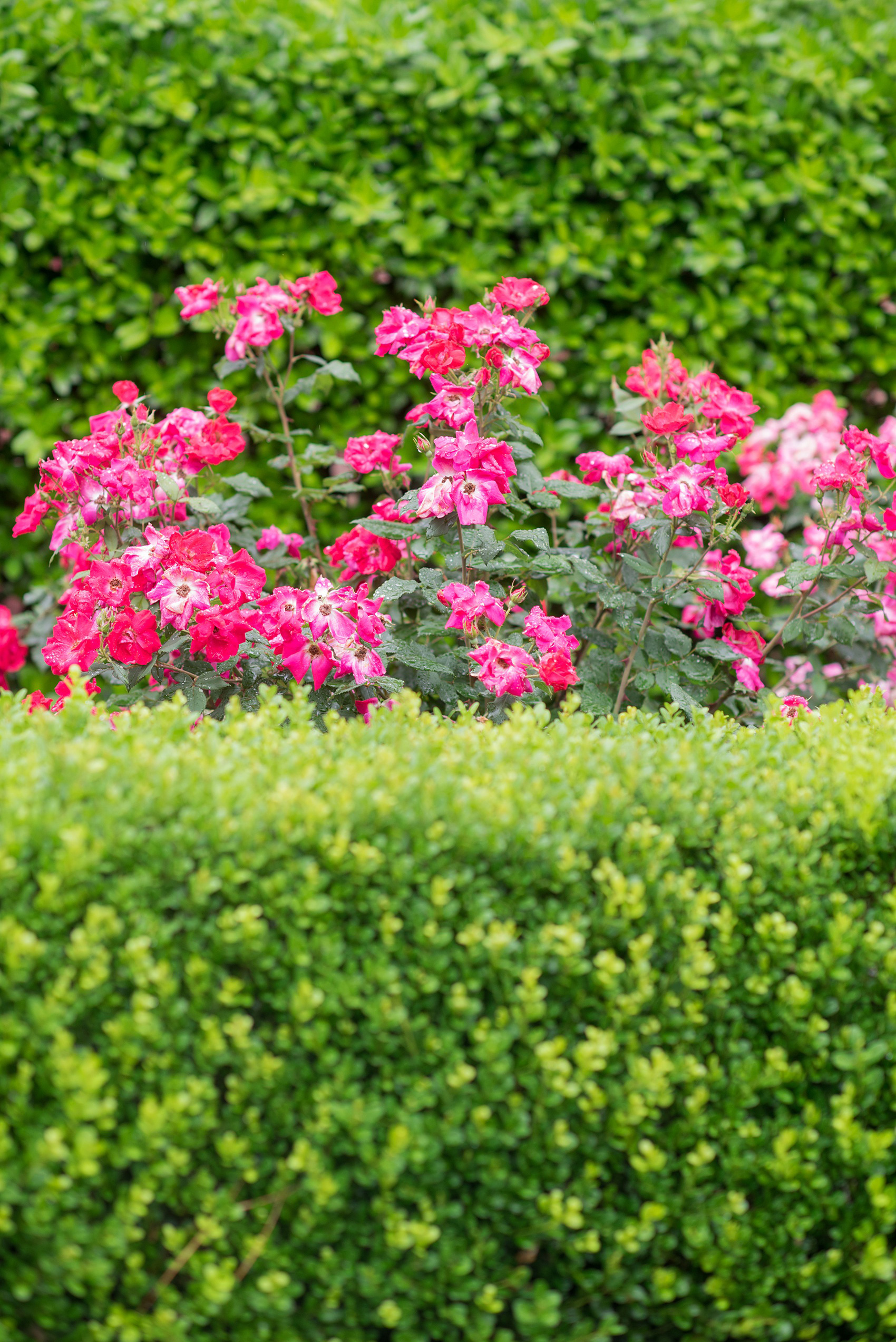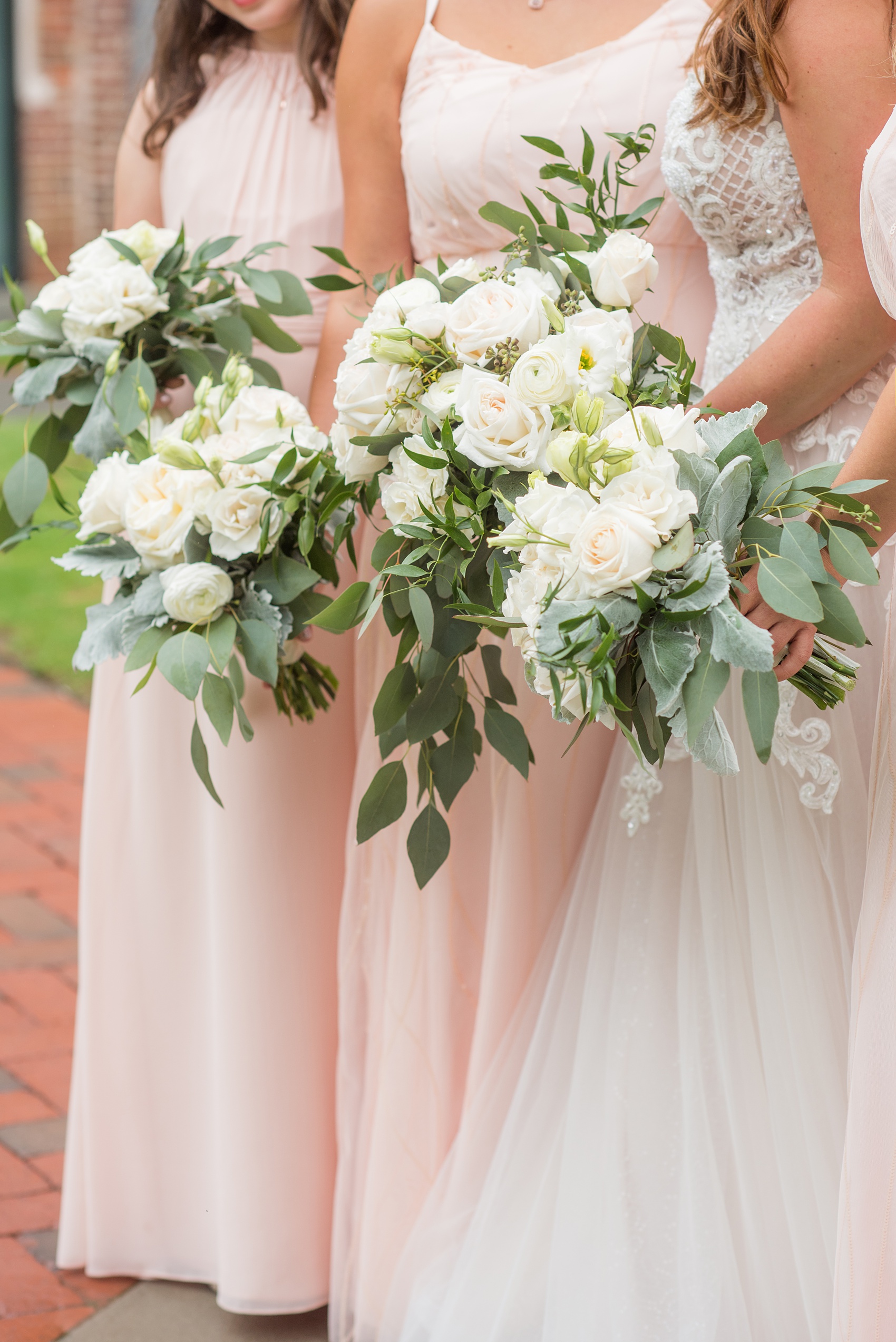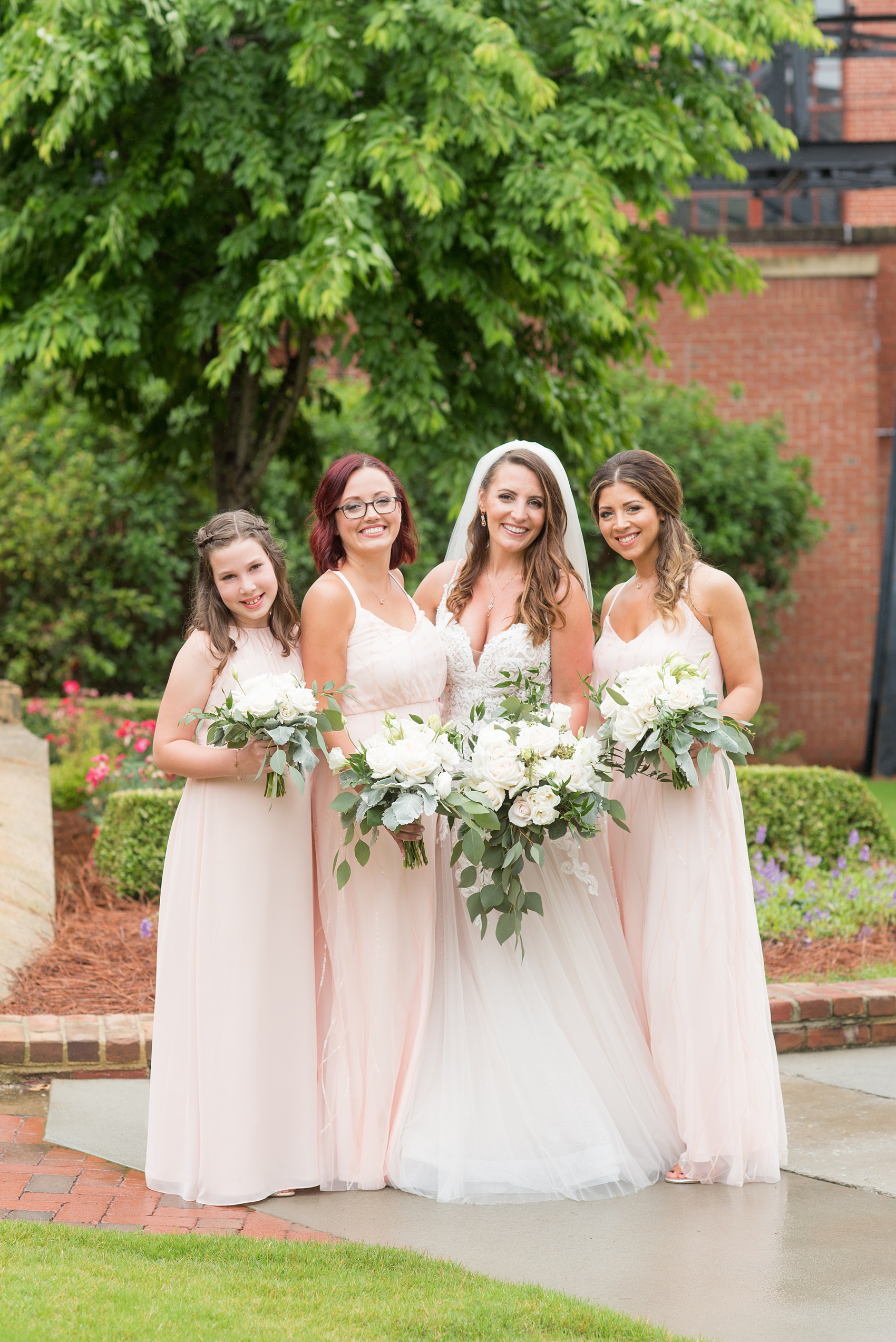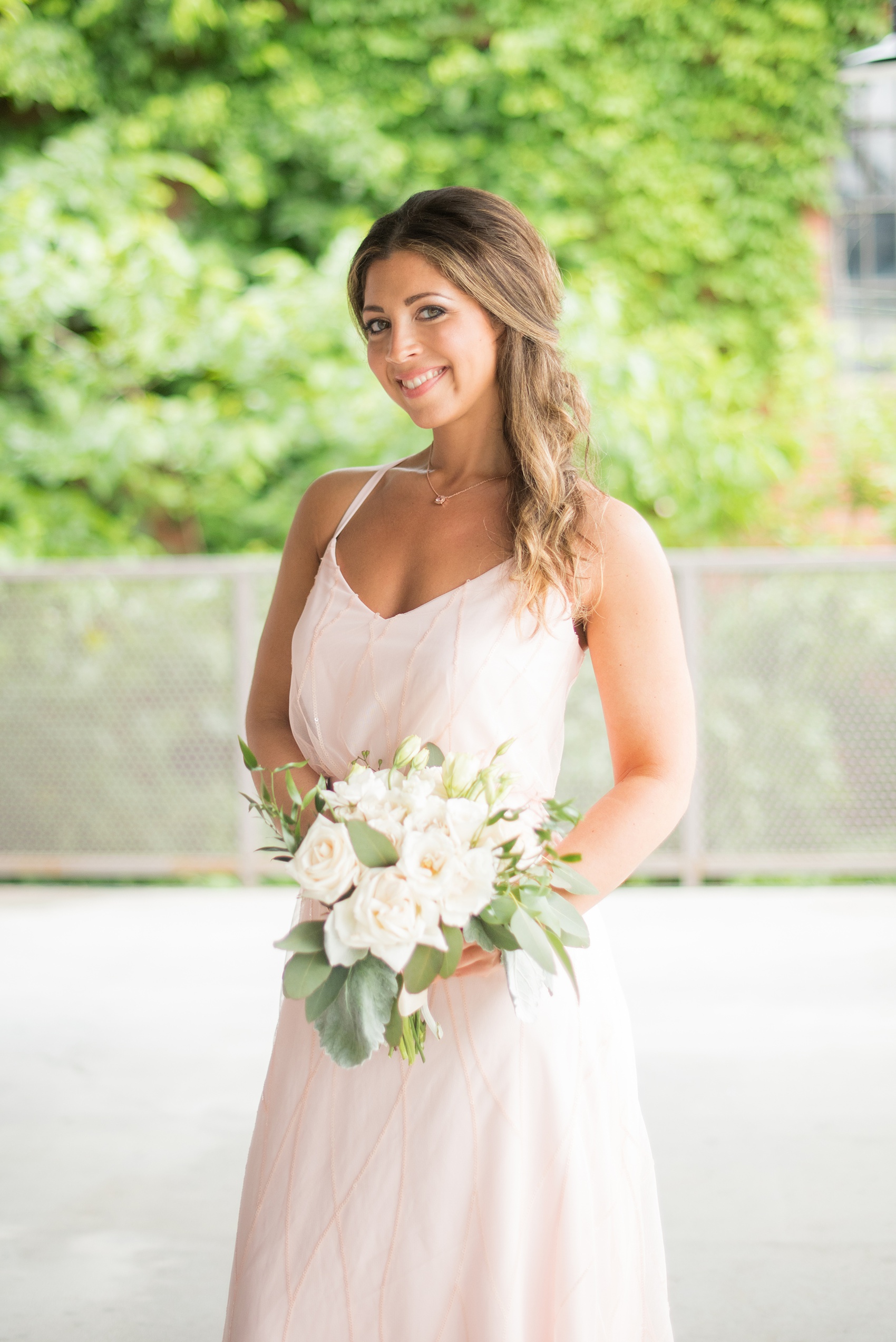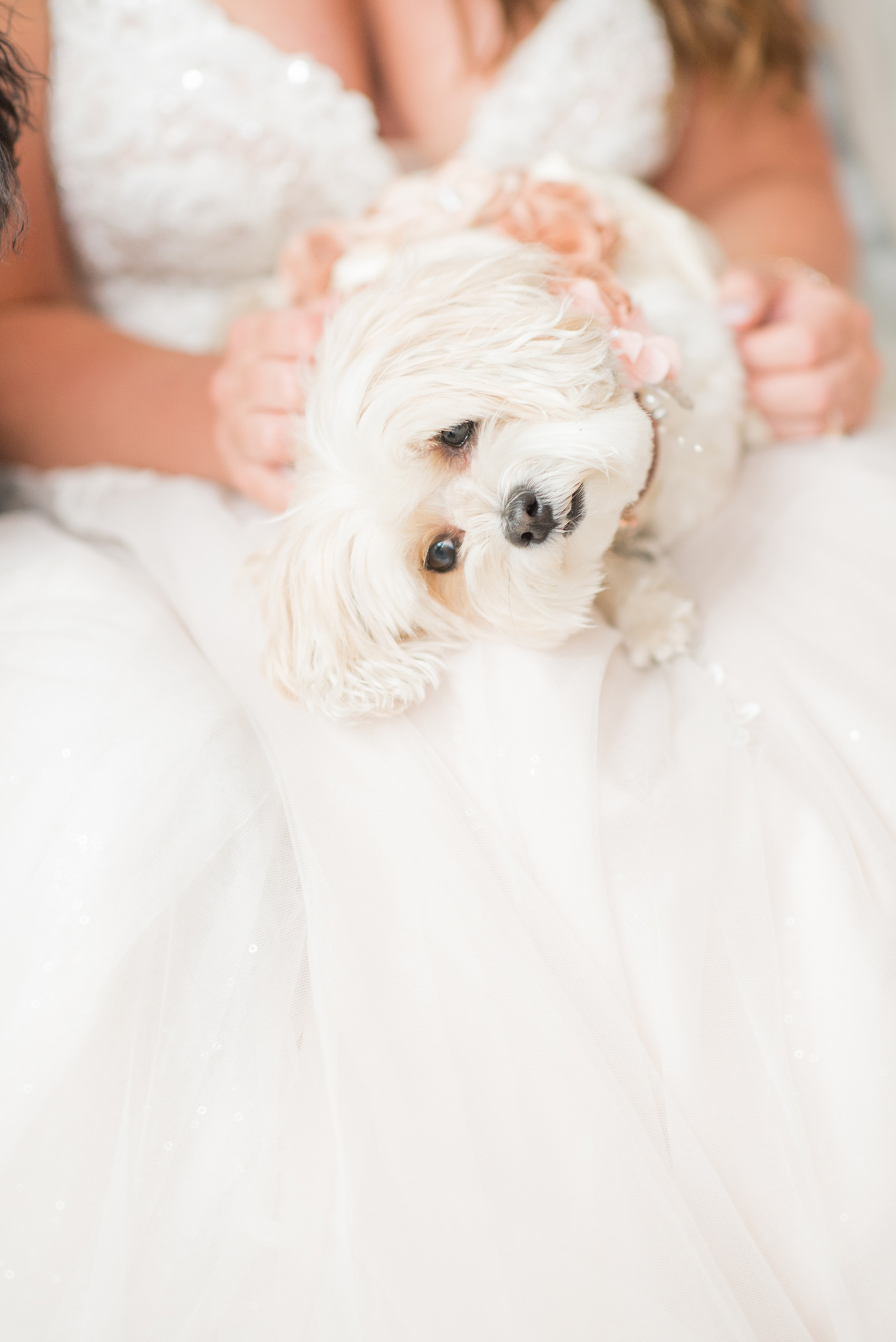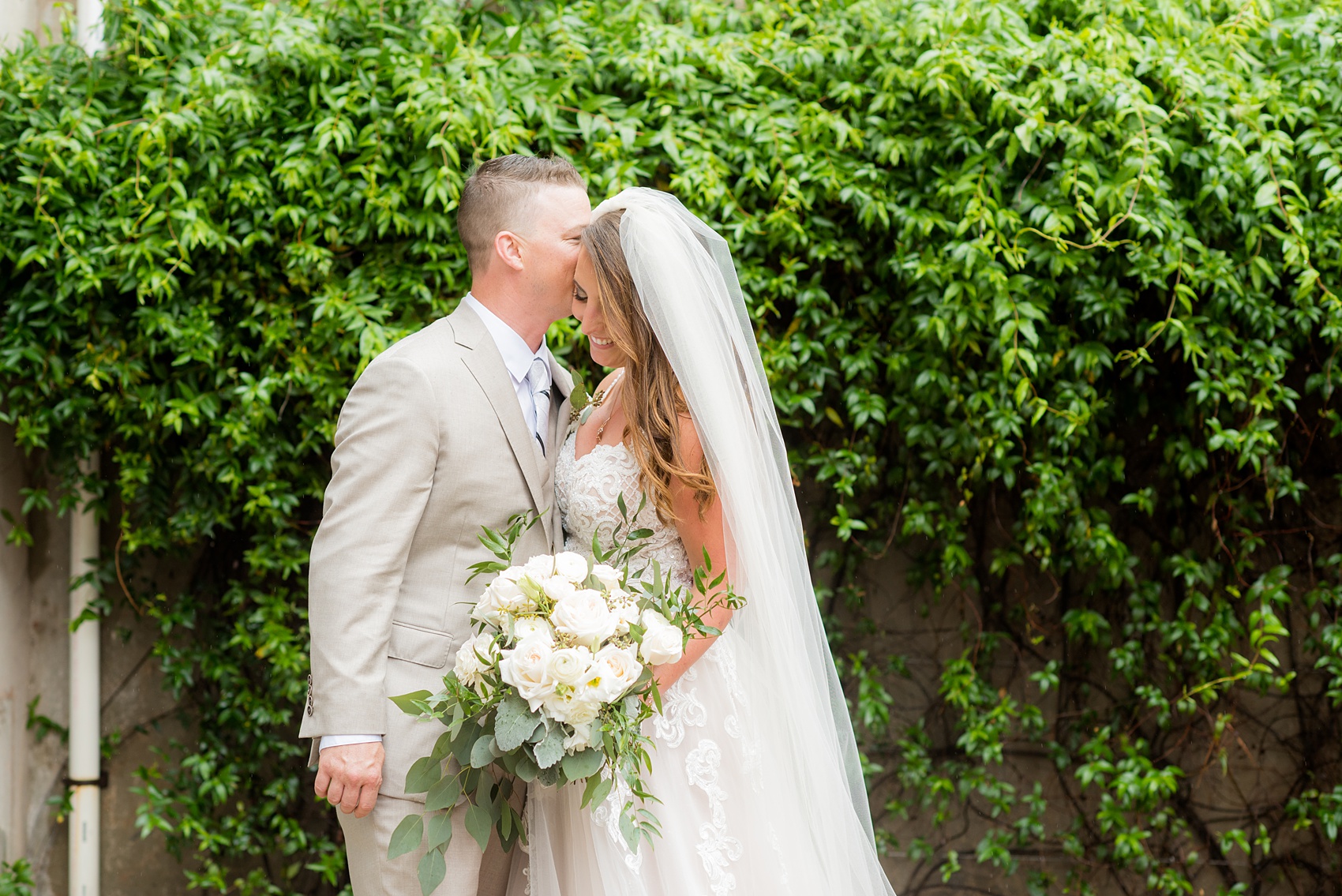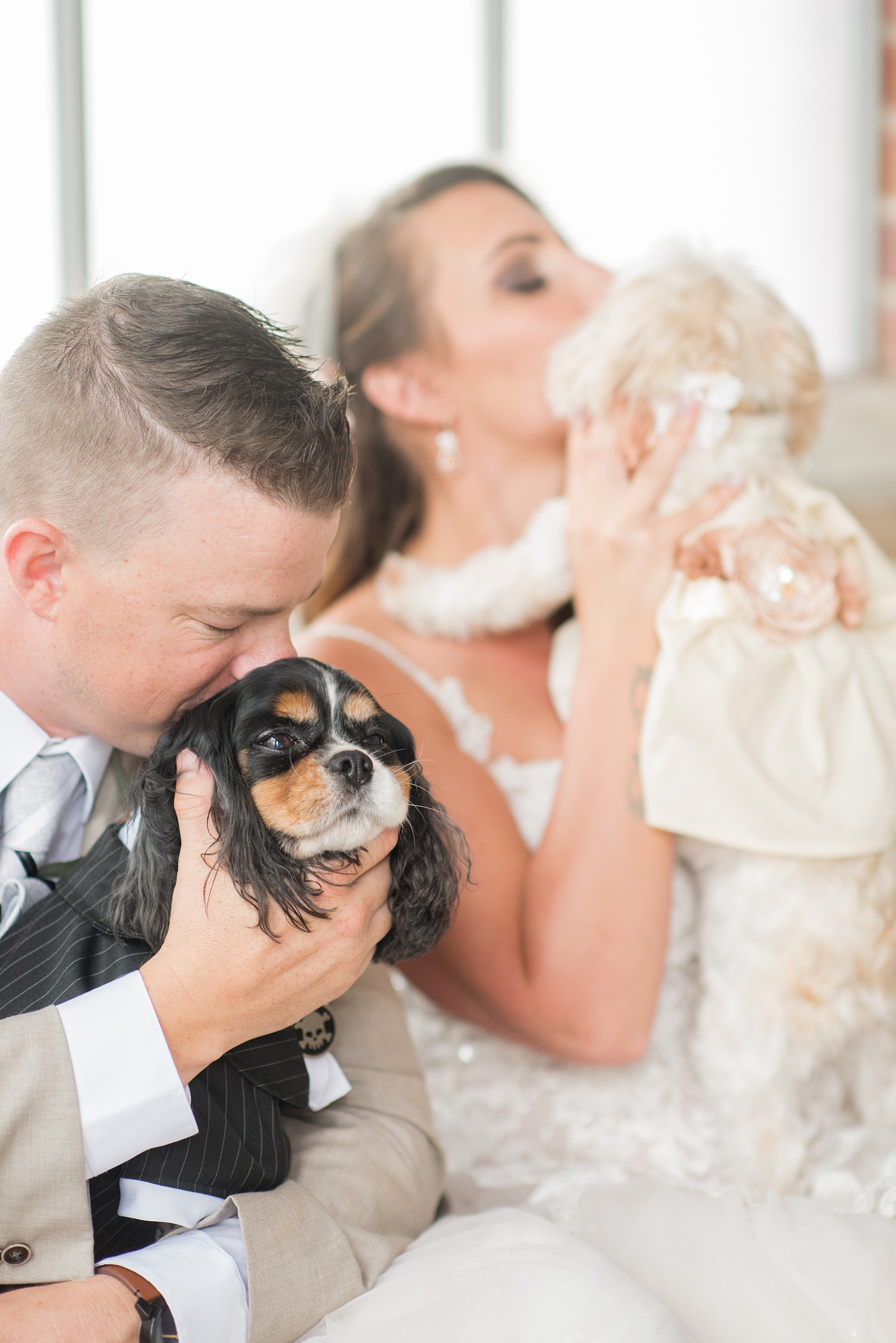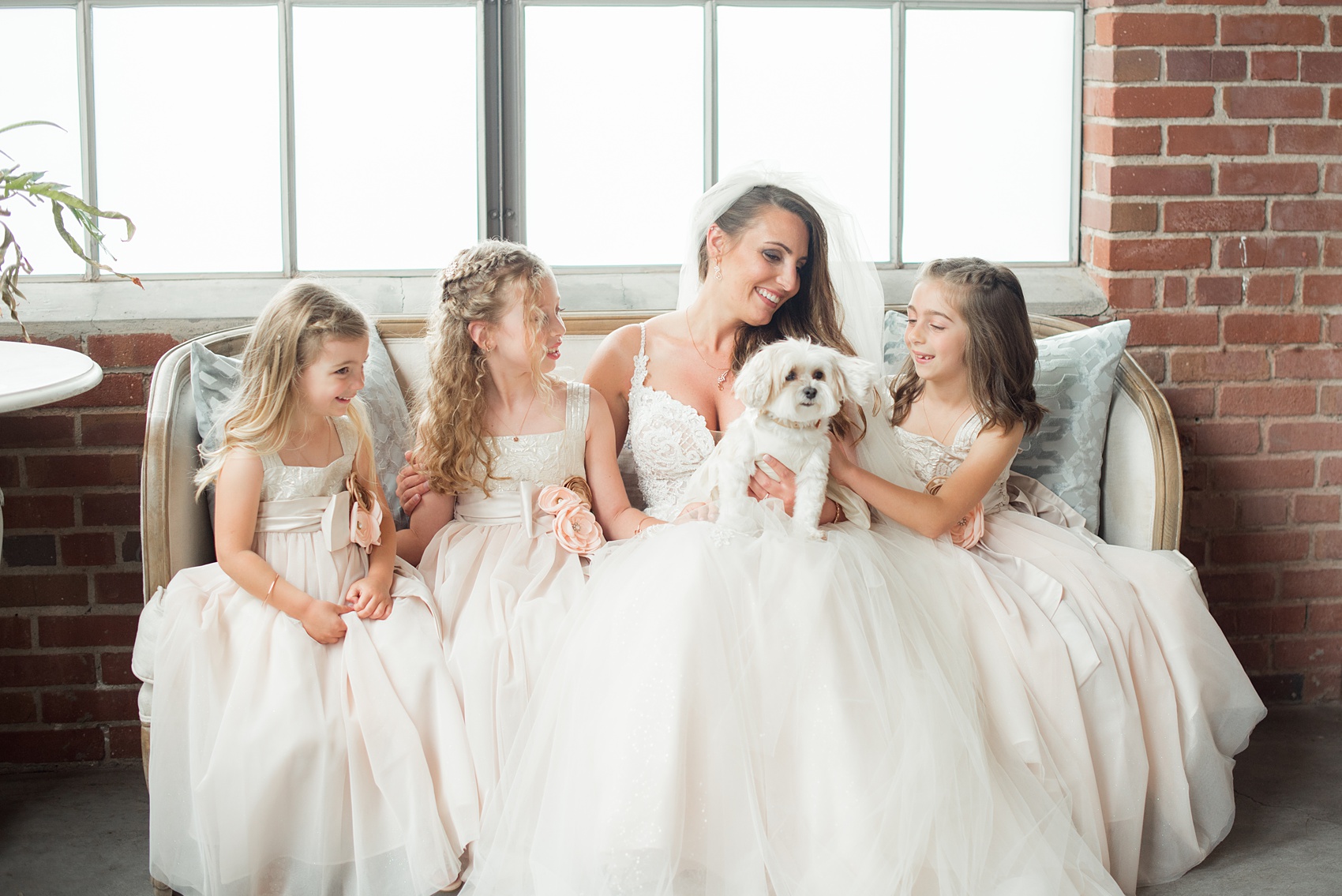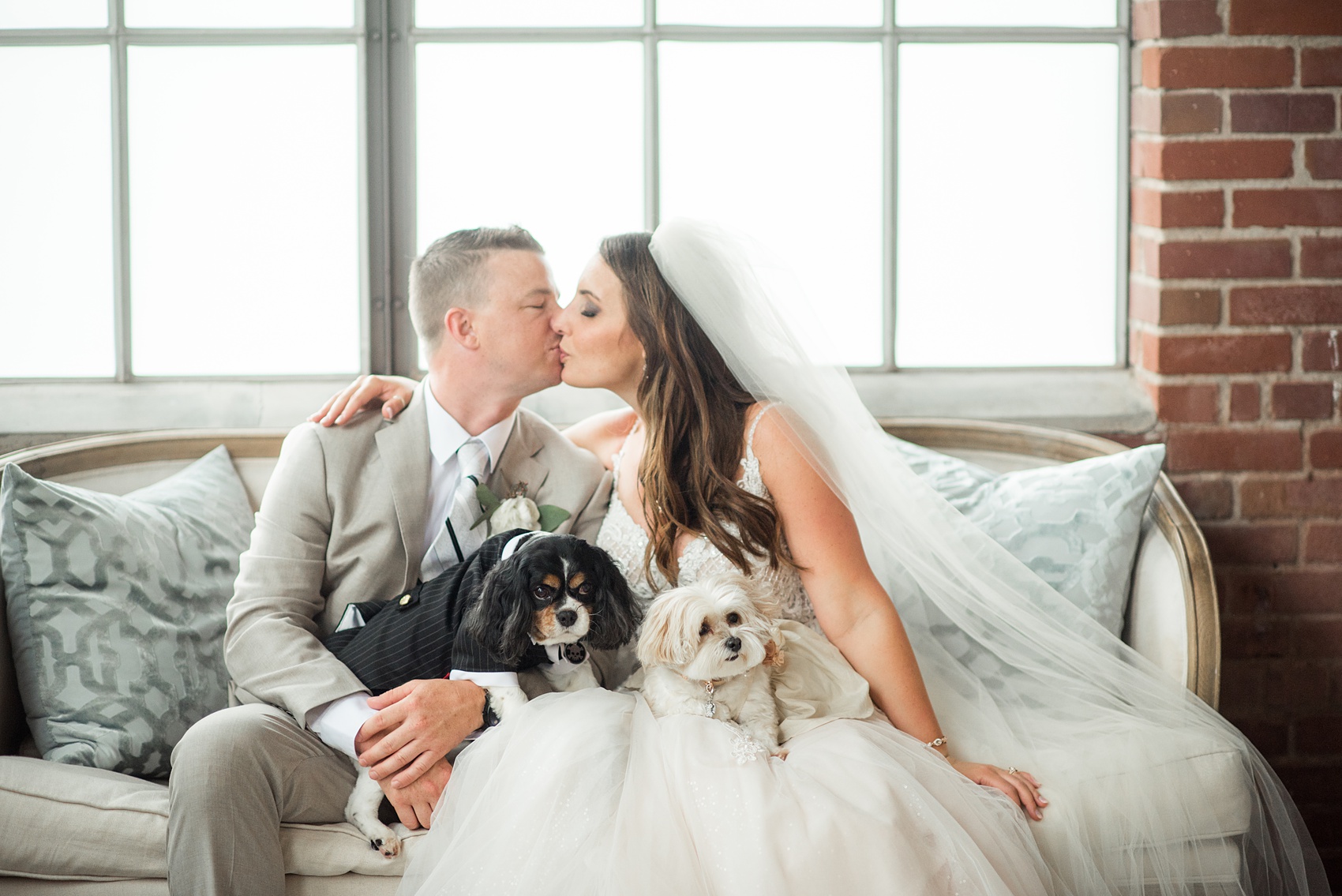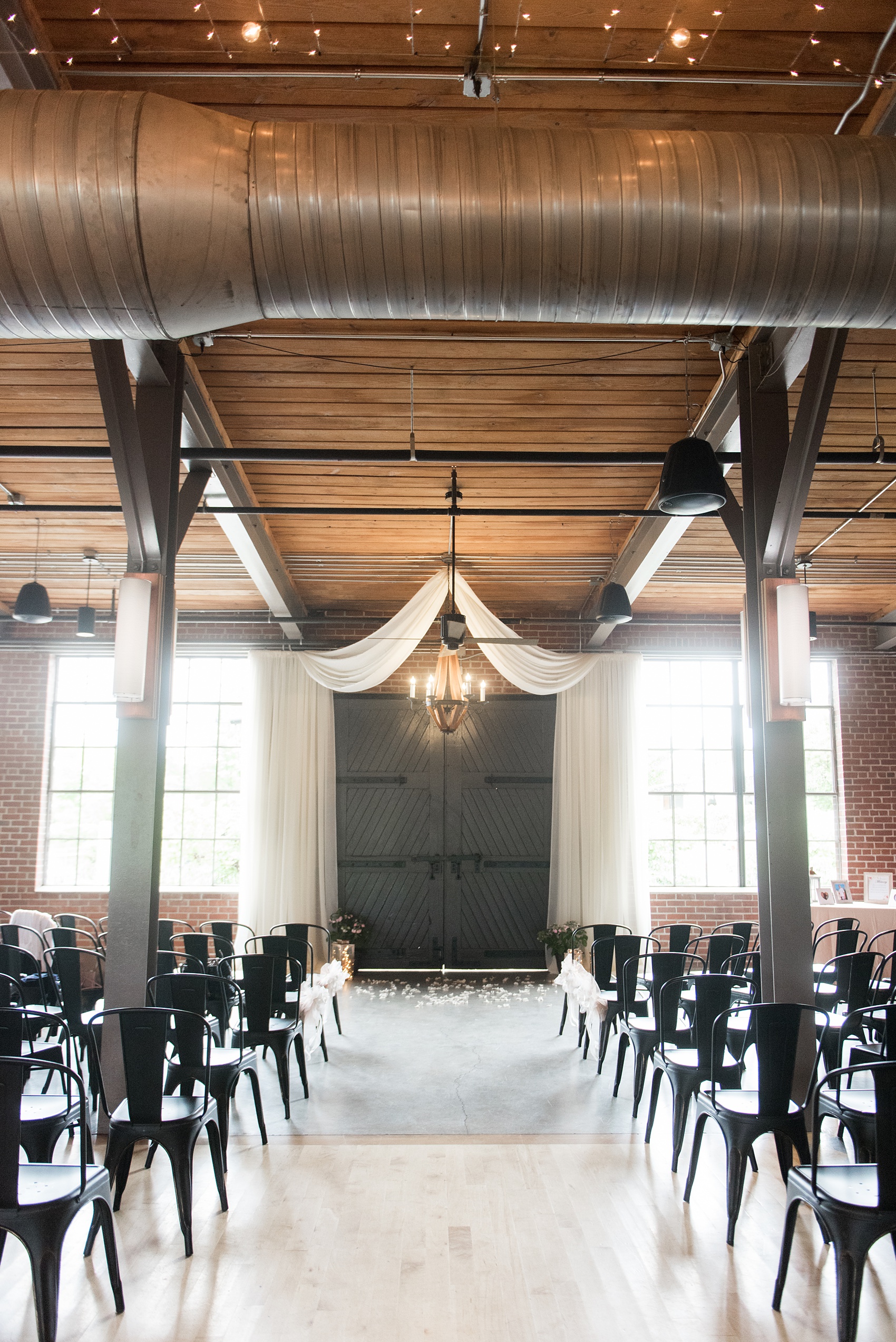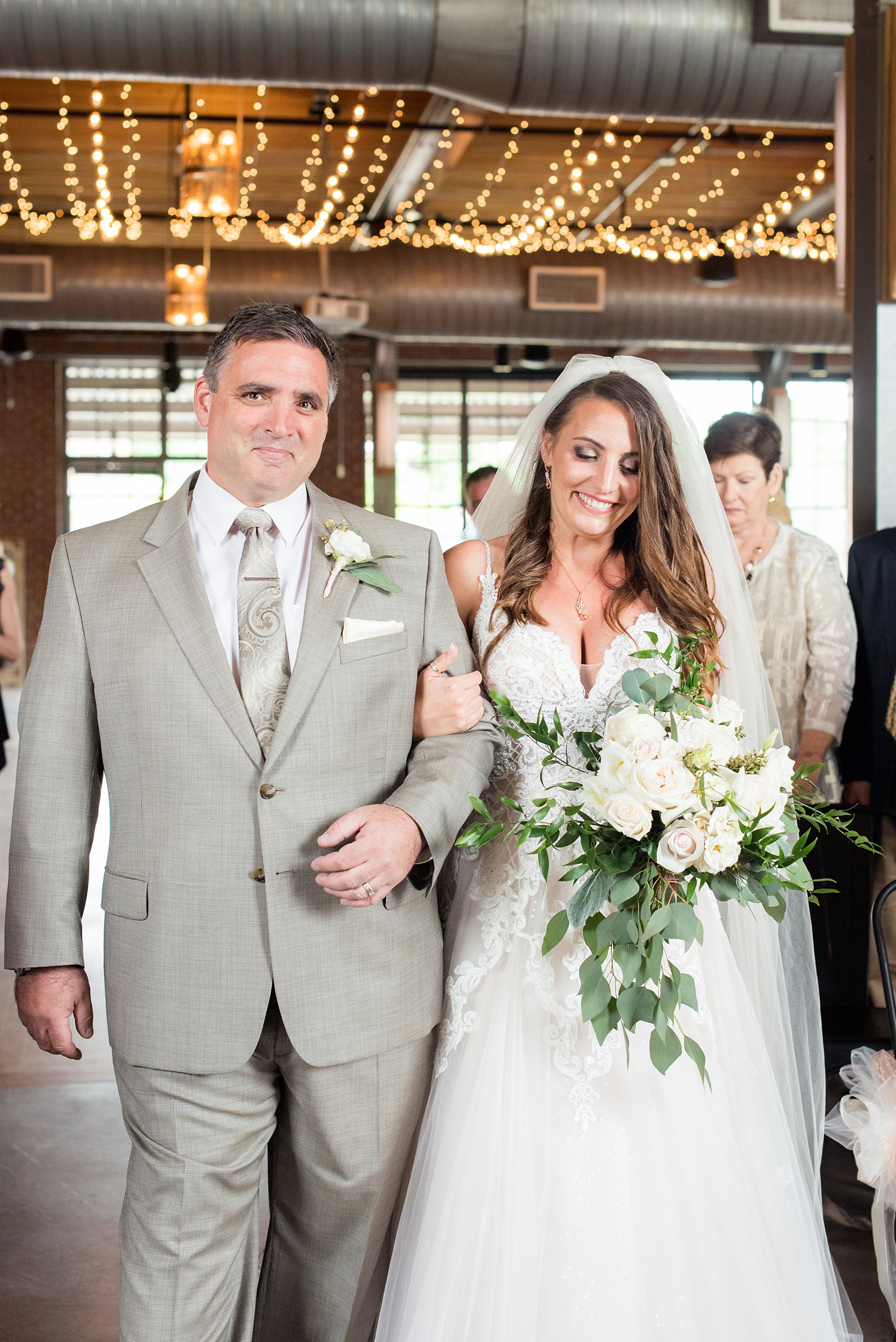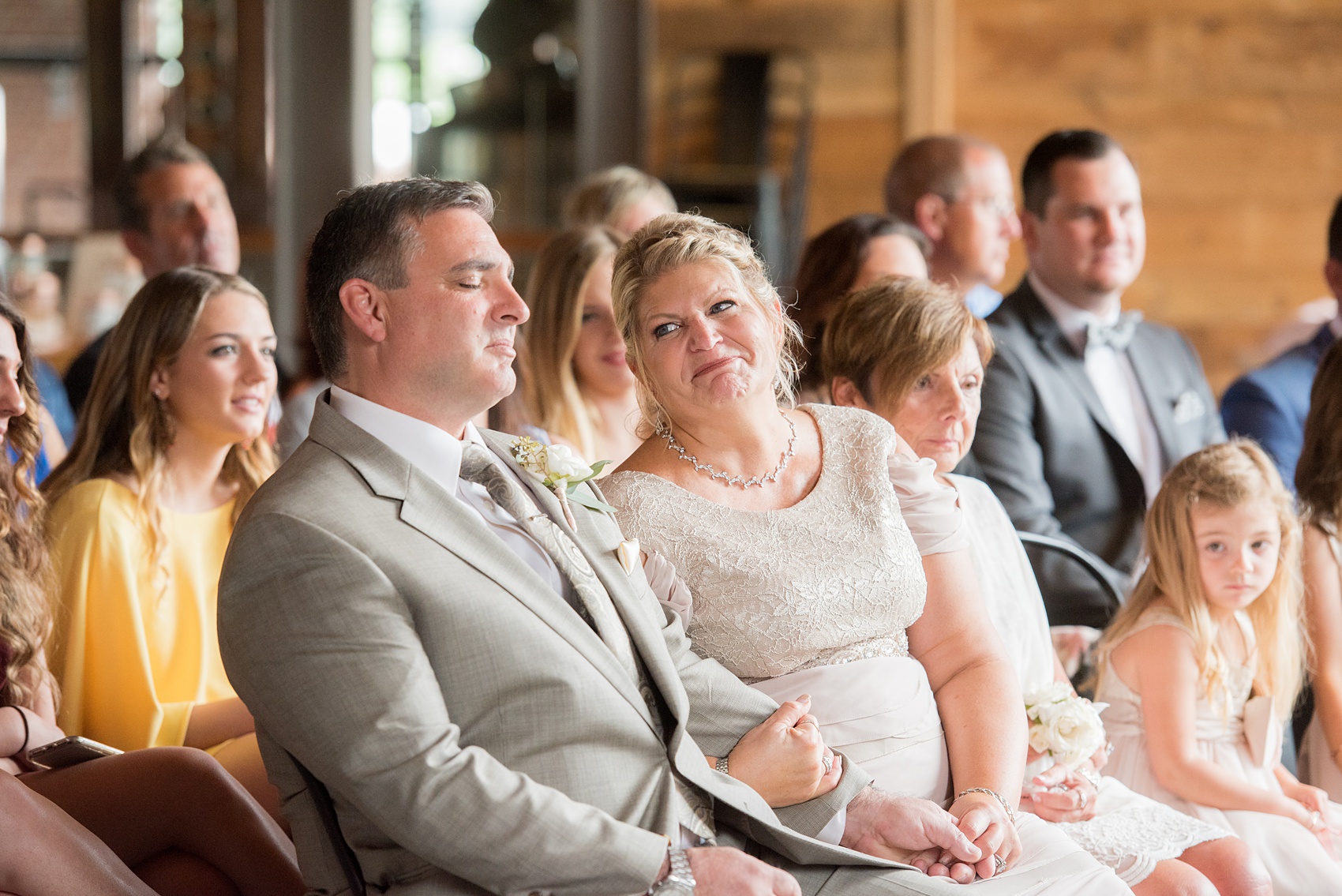 Their ceremony looked beautiful. I've always wanted to photograph a wedding at The Rickhouse where the backdrop is the two beautiful entry doors. It looks incredible with white fabric draping, a chandelier in the middle and rose petals on the floor. Her father, Ralph, walked her down the aisle as tearful mothers and her grandmother looked on. One of my absolute favorite parts of the ceremony was when Deanna and Kevin were reciting their vows. I looked over to Ralph, as his wife and Deanna's mom Dawn help his hand tightly, and he was holding back tears. I can only guess how emotional it was for the father of the bride to see his daughter get married.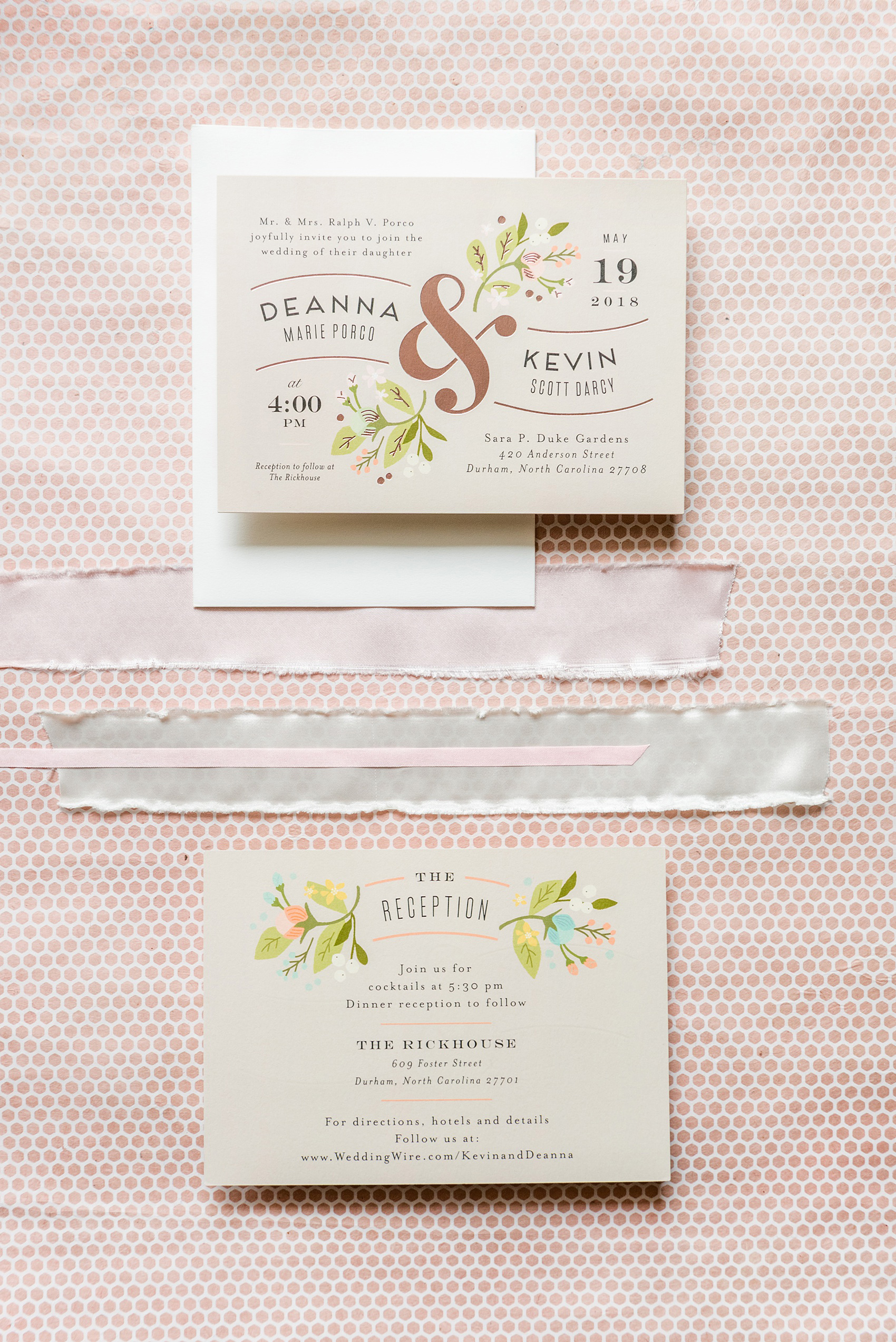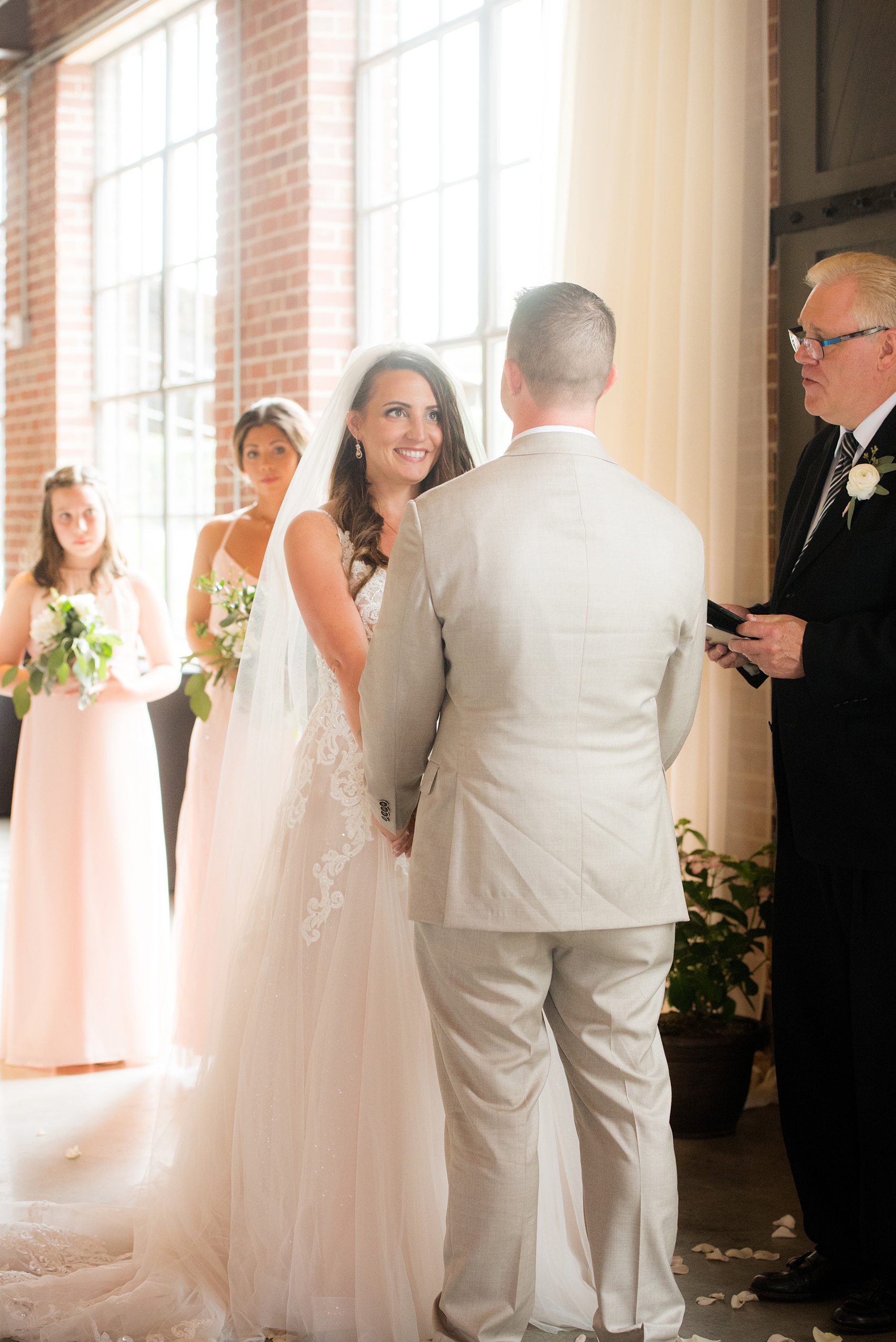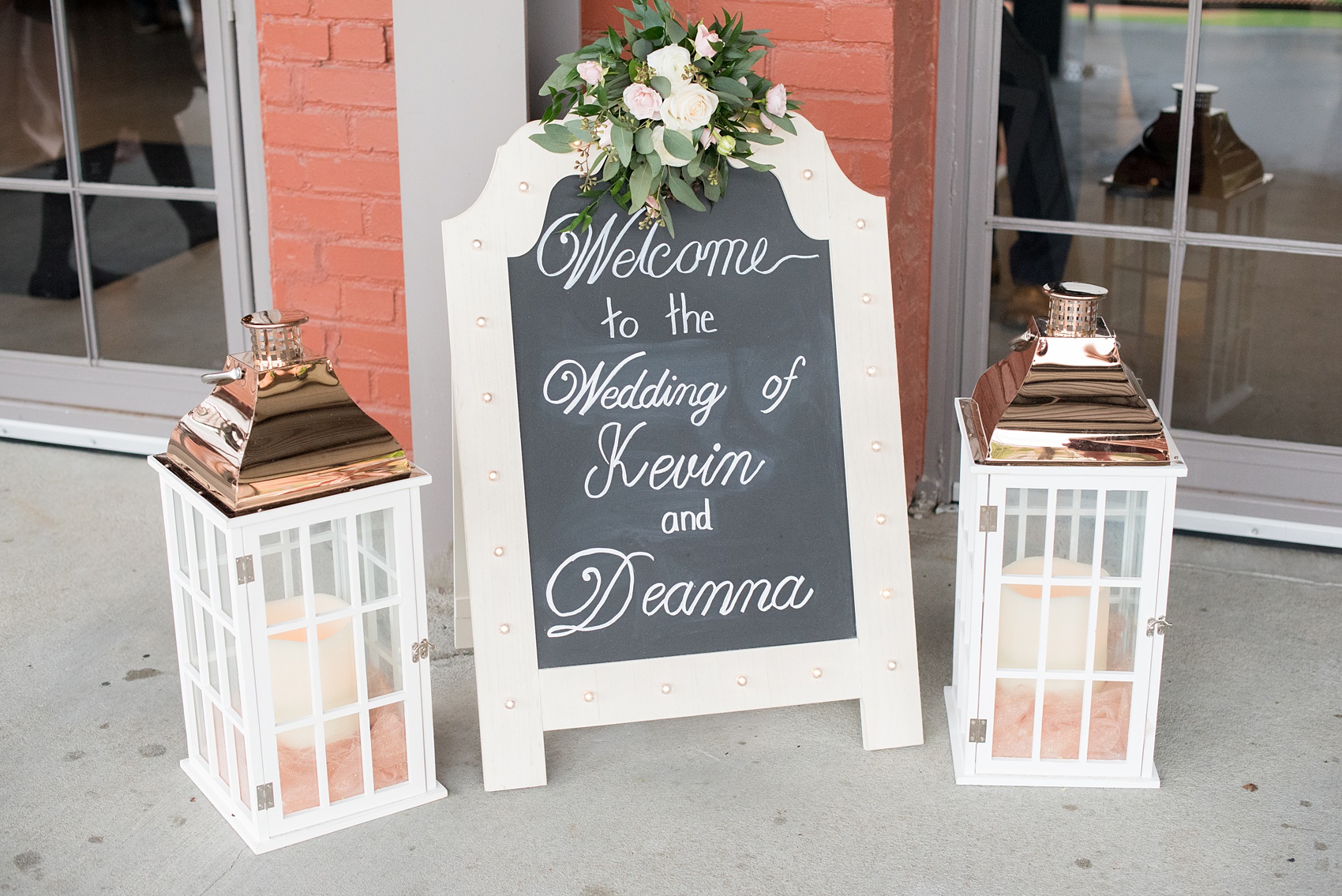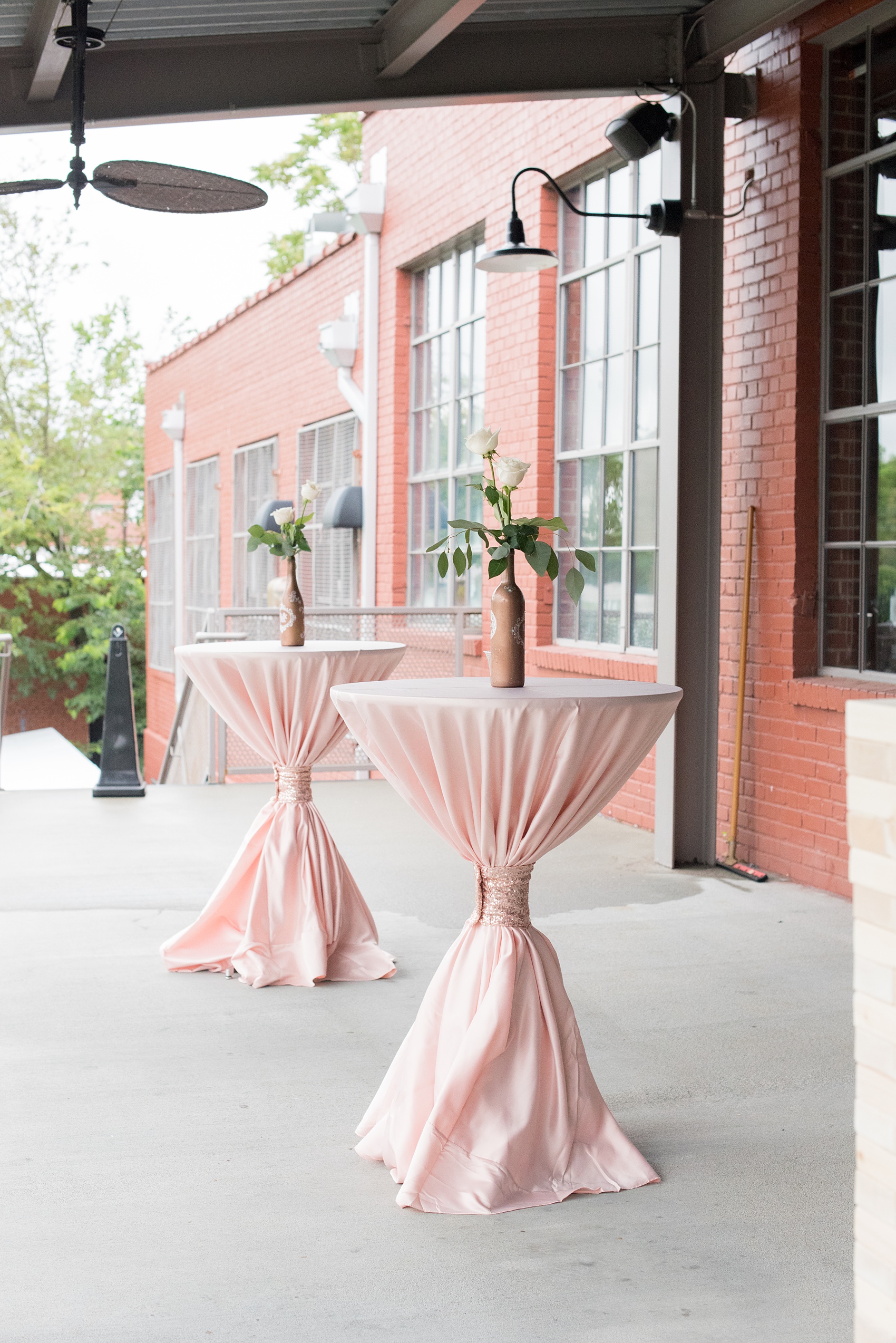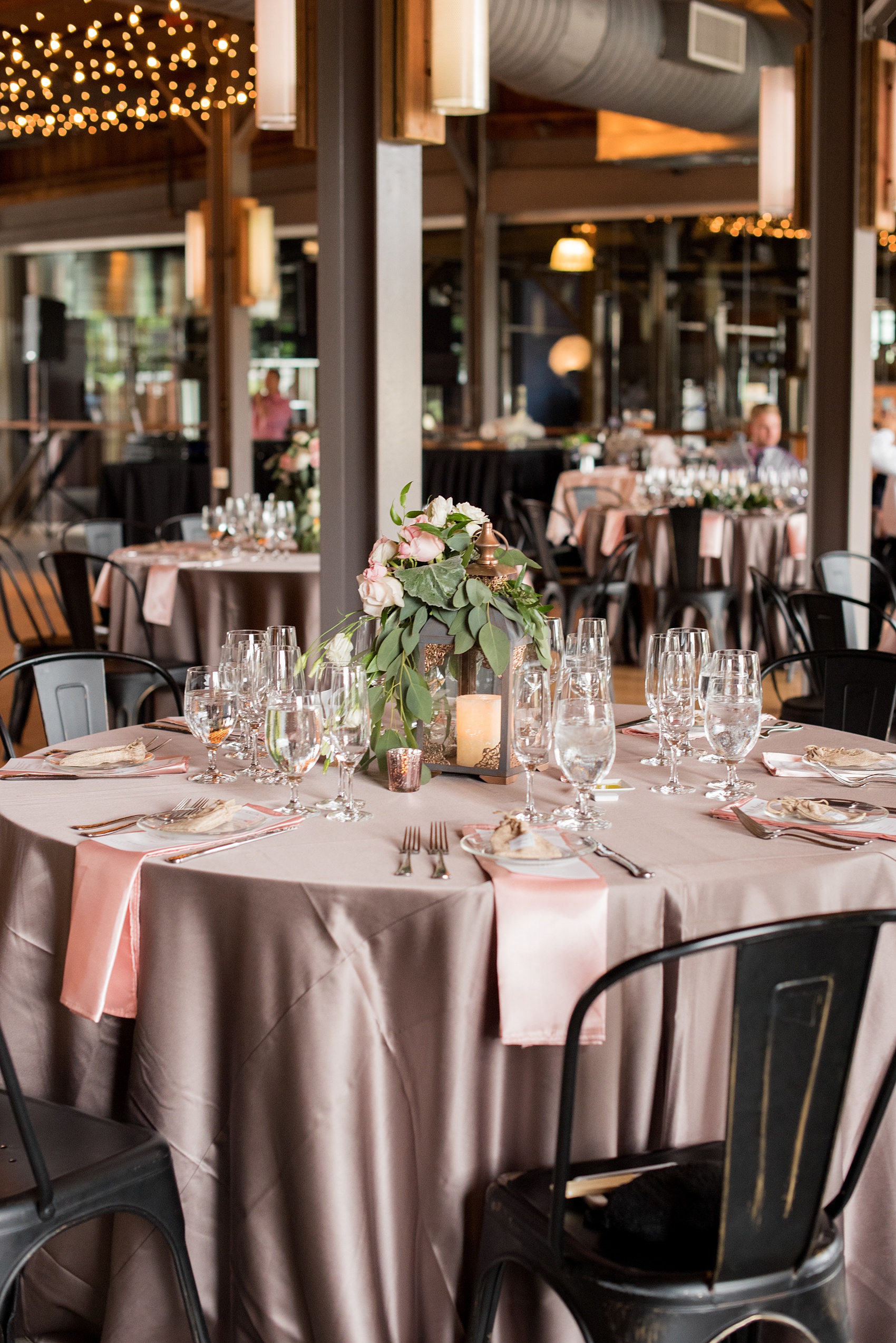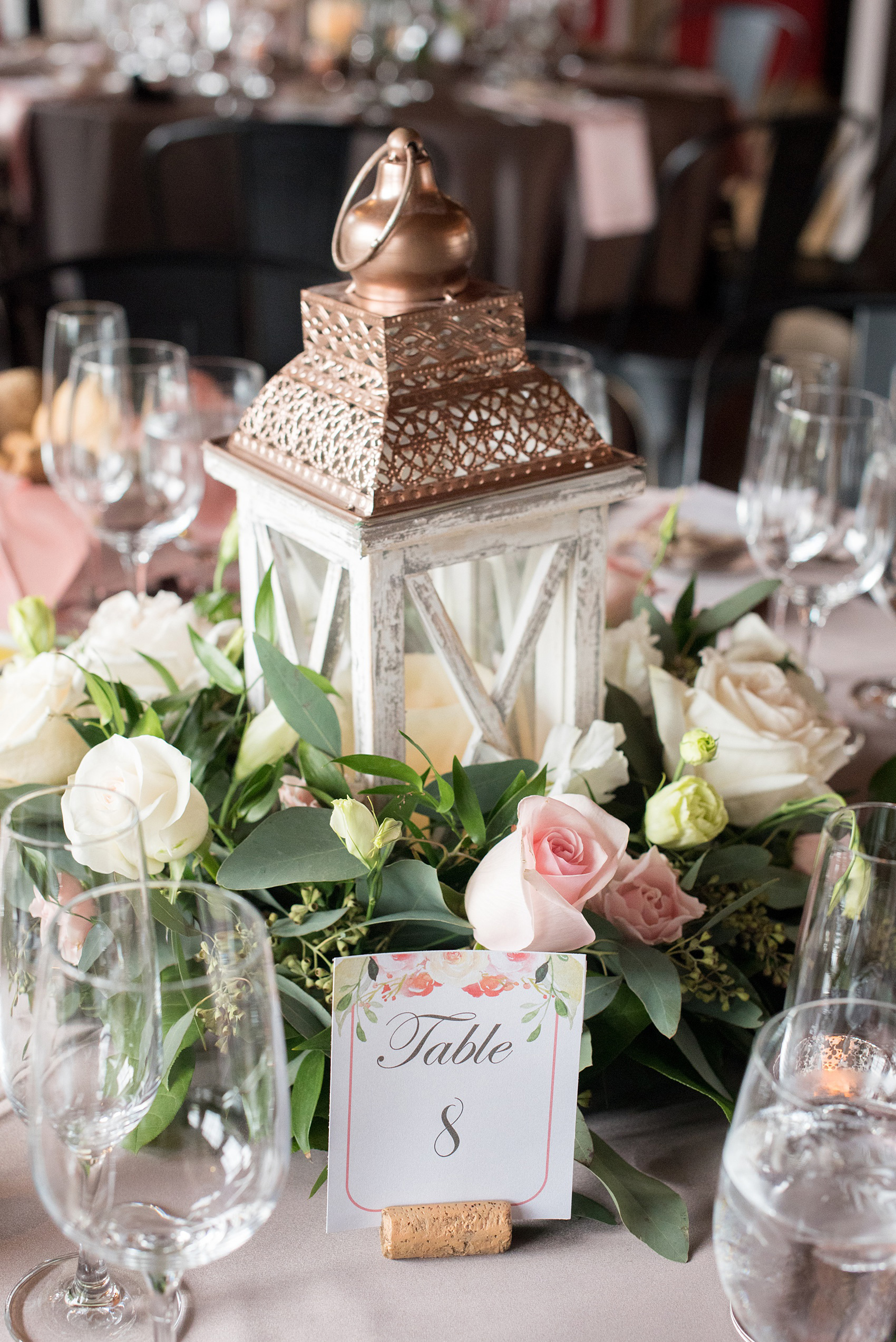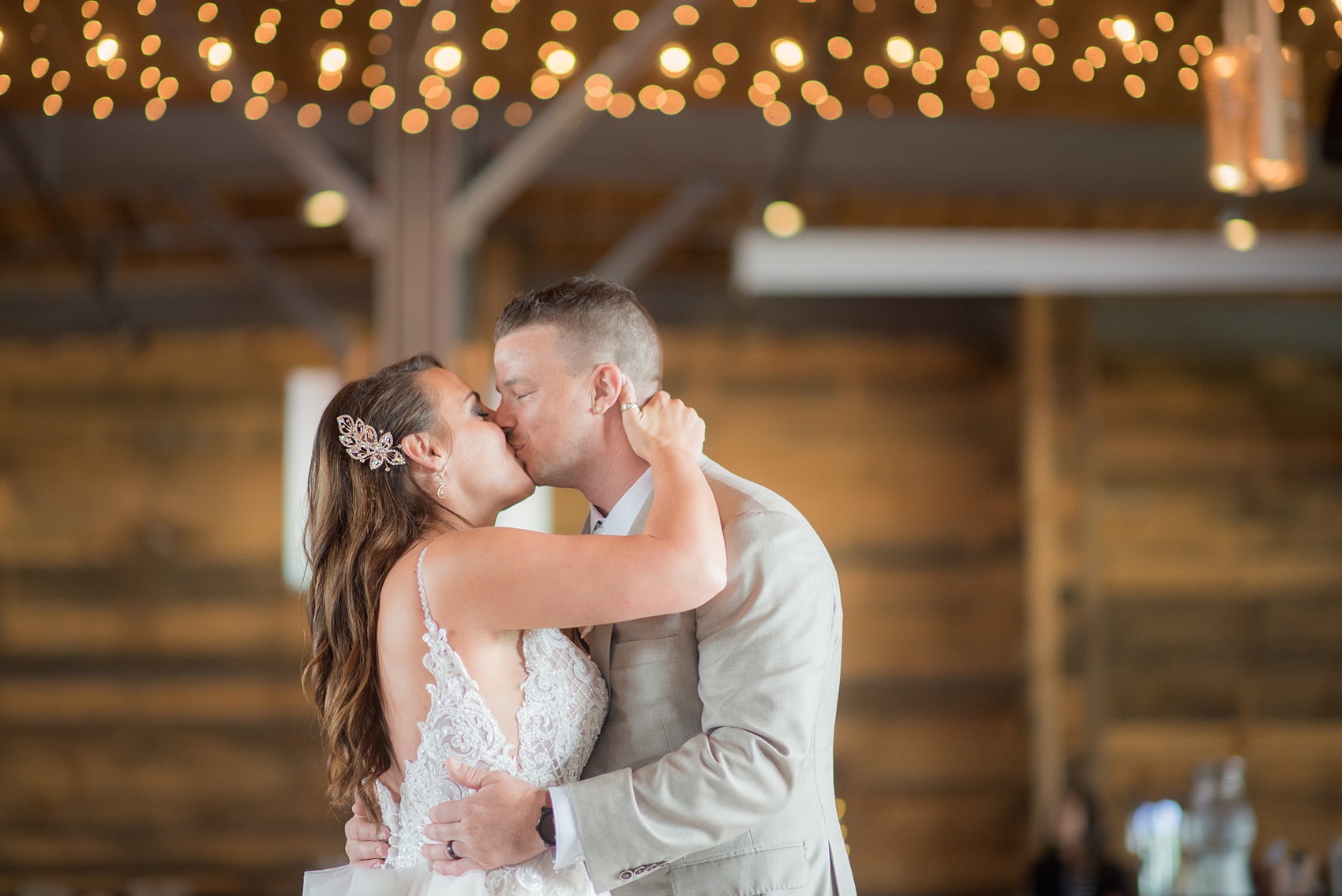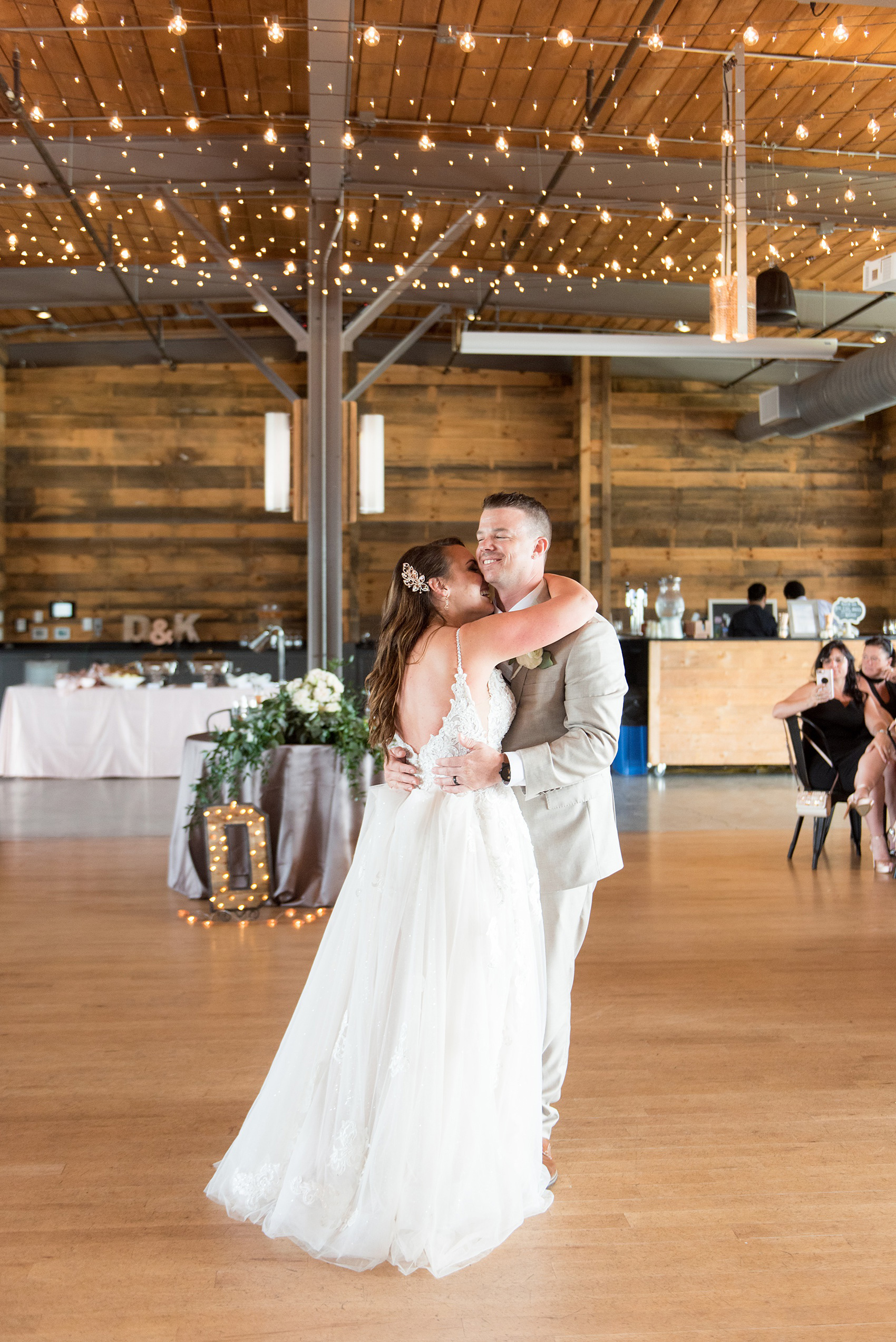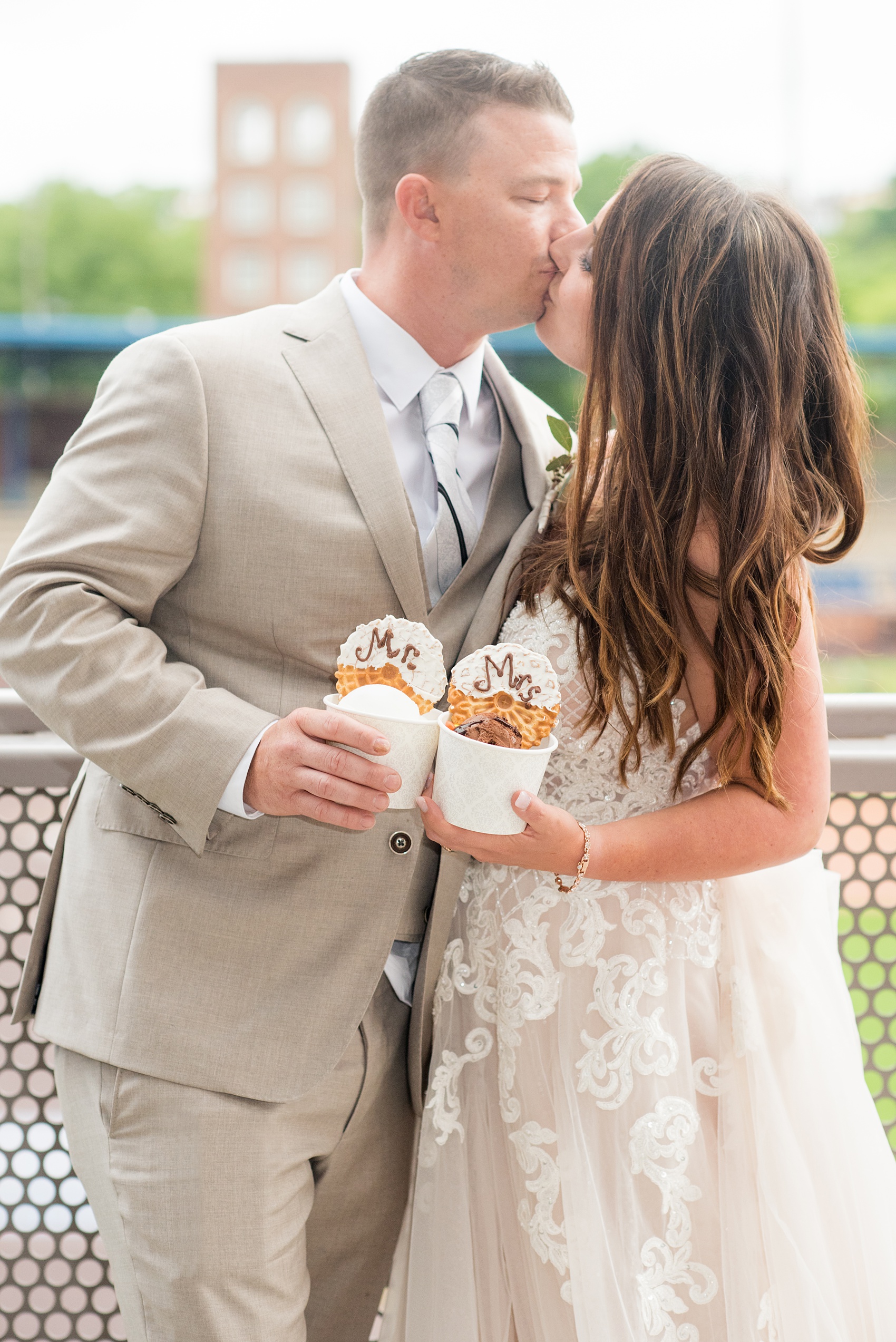 Deanna and Kevin had a ton of customized touches at their wedding. They had chalkboard signs, monogram letters and even a cigar table with custom matches and labels. One of my favorite details, which I was excited about from the moment I met them in person at The Rickhouse open house the year before, was the inclusion of the game Jenga at the wedding. This is because Kevin proposed after a game of Jenga! They had a huge game going on throughout the night outside on the back patio but also included the actual size game inside for guests to sign. I signed a block to congratulate them too. The patio was a great place to enjoy some fresh air, their cigar bar (of course) and also a view of the baseball field where the Durham Bulls team practices. It was also the perfect spot to grab a photo of the bride and groom, Mr. and Mrs., with their custom waffle cone wafers. In lieu of cake they decided to go with Andia's Homemade Ice Cream (the perfect choice) for guests to build their own sundaes!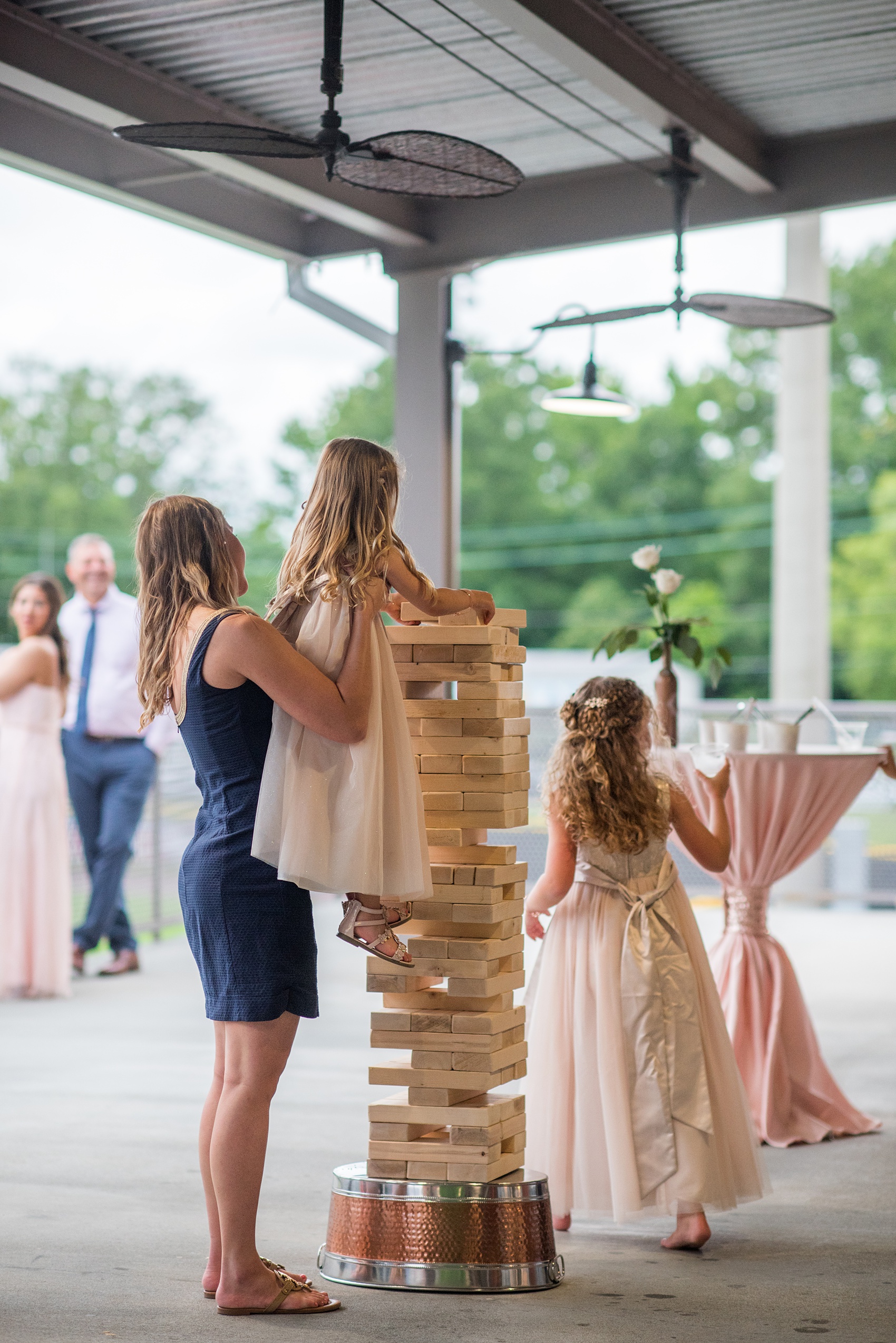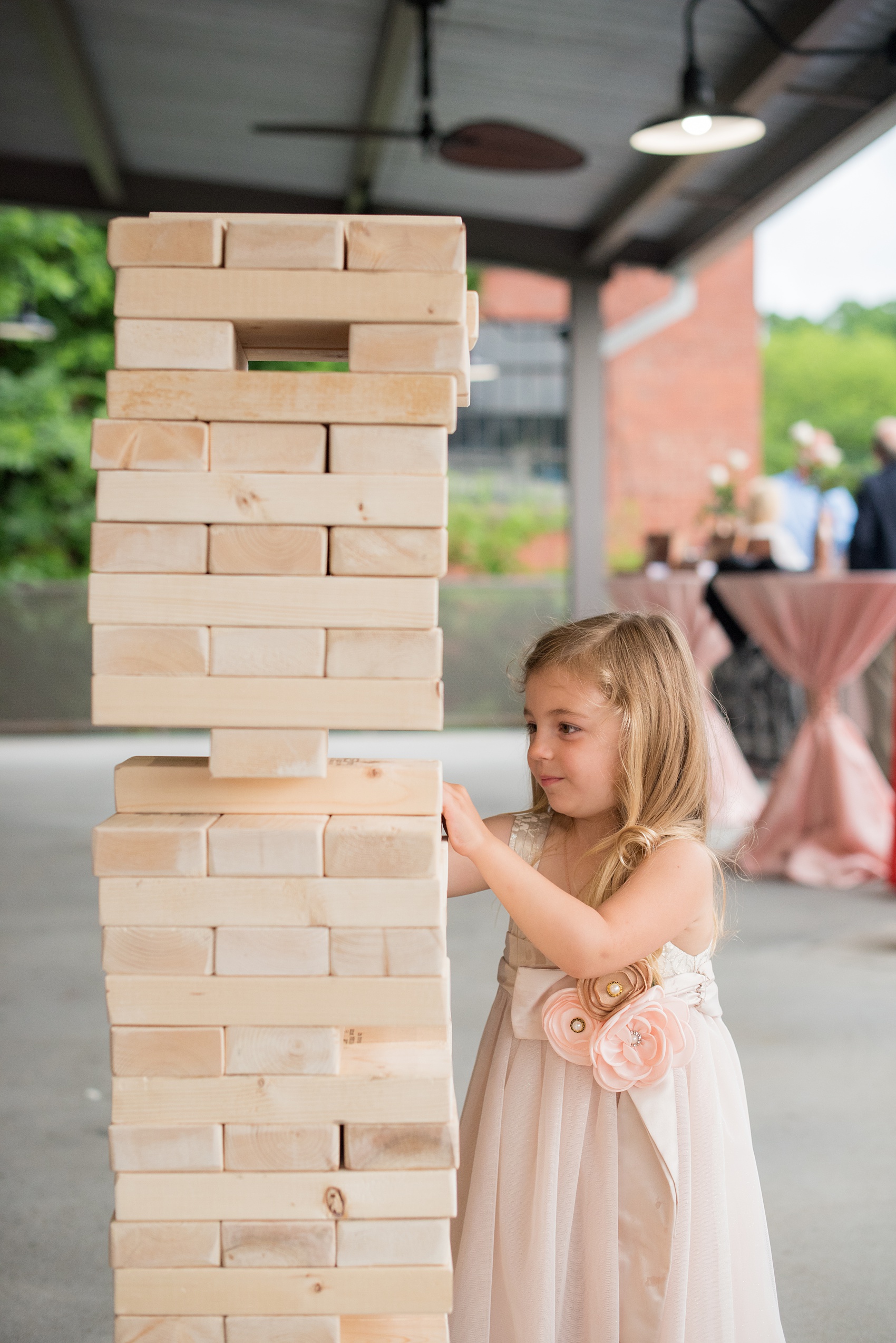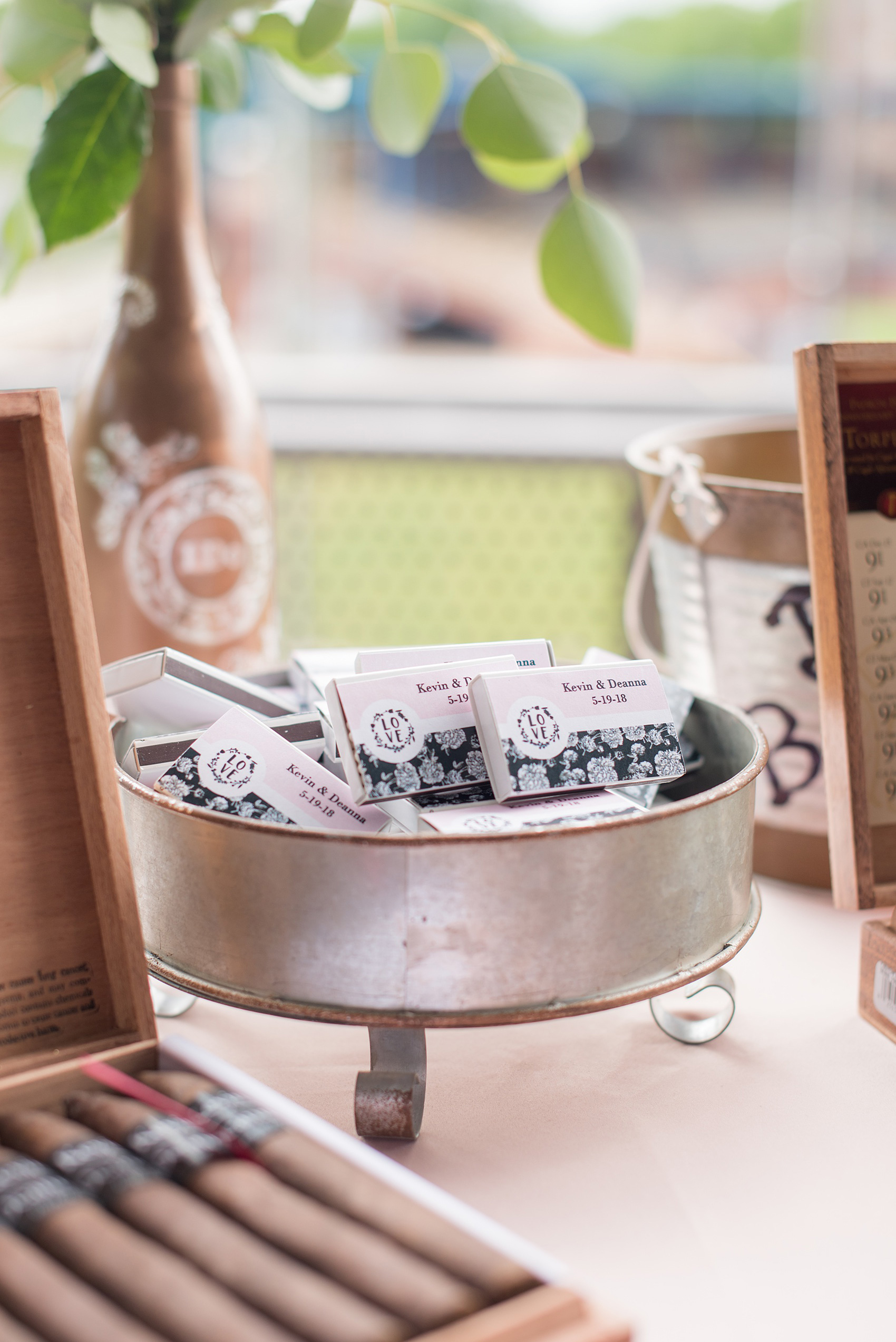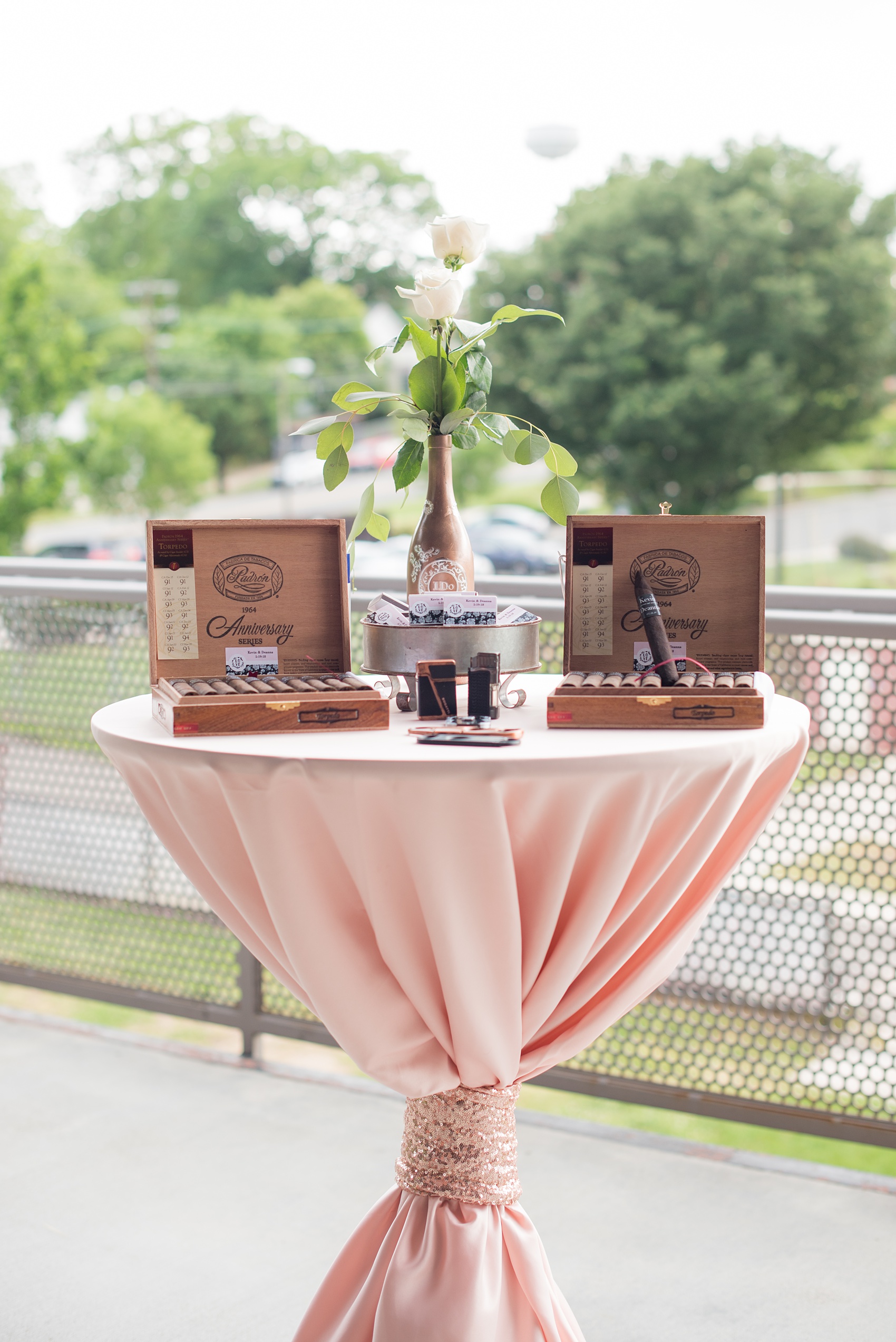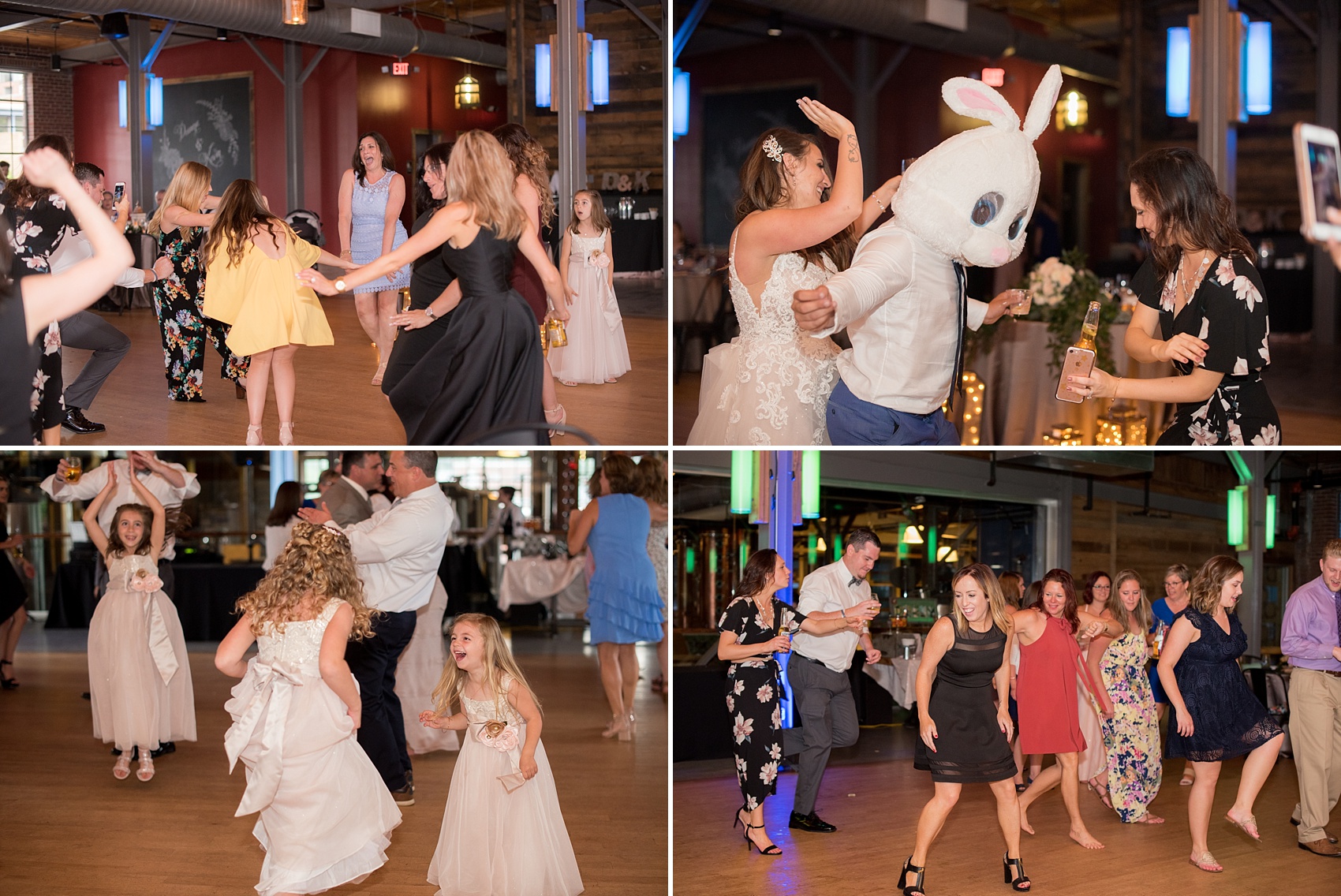 It really was a beautiful, emotional day and even more spirited party. I am SO happy we instantly connected and I was the lucky photographer to capture your wedding day, Mr. and Mrs. Darcy! Congratulations!
Venue: The Rickhouse / Coordination: A Swanky Affair / Draping and lights: Get Lit Special Event Lighting / Flowers: Sanders Florist / Dessert: Andia's Homemade Ice Cream / Linens: American Party Rentals / Catering: Southern Harvest / Engagement ring: Maya J Jewelry / Wedding bands: Diamonds Direct / Custom suit: Liles Clothing Studio / Invitations: Minted / DJ and photobooth: DJ Paradime / Hair and makeup: Salon Hue / Officiant: Pastor Nicholas Seeberger / Wedding dress shop: NY Bride and Groom, designer Essense of Australia / Groomsmen suits and bridesmaids gowns: NY Bride and Groom, designer Michael Kors (suits) and Bill Levkoff (gowns) / Flower girls dresses: Dillards
Getting married in North Carolina? Also check out:
Don't be shy! If you're interested in having us capture your day contact us! We'd love to hear from you.