This pair is PERFECTLY matched. If there are soulmates in the world they're a shining example. Their giggles are in sync, their smiles the same span. I ADORE them.
When I met them I hoped, crossing fingers and toes, they felt a mutual connection and desire to work together. I was over-the-moon when they agreed it was a great fit for me to photograph this time in their lives. I've was joyful when we met for their engagement session, and I was beyond giddy the morning of their wedding. Then something that rarely happens occurred: I was overcome with opposing emotions.
The day was finally here! Their wedding day. I looked forward to it for about twelve months. But if the day was here…I realized it'd soon be over. It was a bit of a bittersweet moment and I'm sure it was for them too. The joy of a wedding though is you have a beautiful marriage after and I love that Chloe and Xander are now enjoying life as husband and wife. I'm so glad I was the "chosen one" who got to be a part of their lives during such a significant chapter of it. I'm so grateful for this loving couple, their family and friends. And, of course, Fionna, their Corgi! (Check her out at @fionnathecorgi.)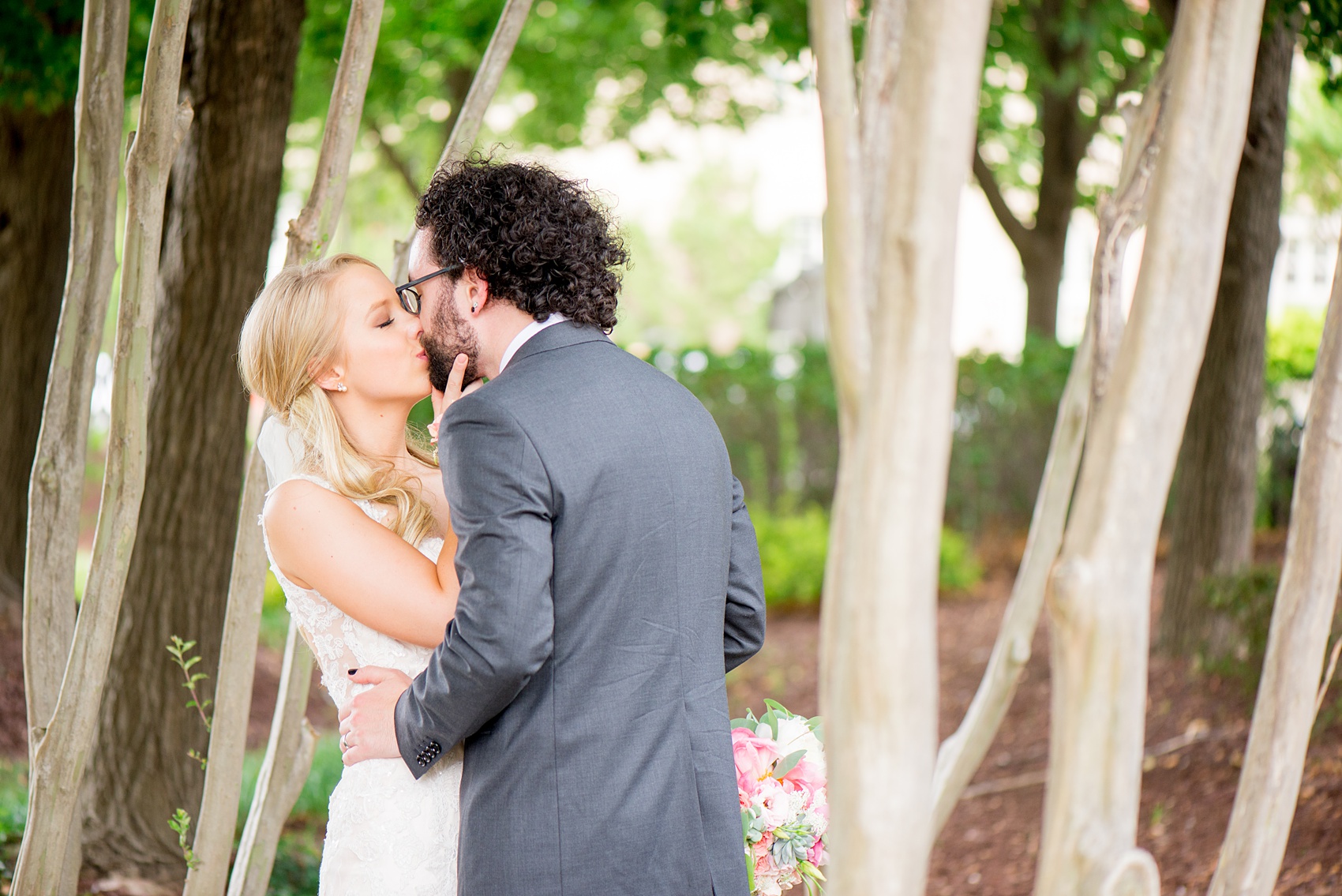 There were so many moments throughout the day I was practically pinching myself I got to experience. When they had their first look we were capturing it. When they kissed around Durham their last moments of being "fiances" we witnessed it. When they said their vows I teared up and when Chloe's uncle Brendan sang, "The Luckiest," by Ben Folds at the end of their ceremony I lost it.
I found it a little difficult to blog this wedding. There were just SO many moments I wanted to post about because every ounce of their day was so photo-worthy. Since I tend to remember moments by photographing them I have hundreds of incredible images to choose from to share with you. Alas, this post would go on forever if I shared moment by moment. Instead, here are the absolutely highlights from their over-the-moon, elating day, starting with the pretty blue, pink and purple watercolor invitation suite they sent to their guests and Chloe's gorgeous lace gown.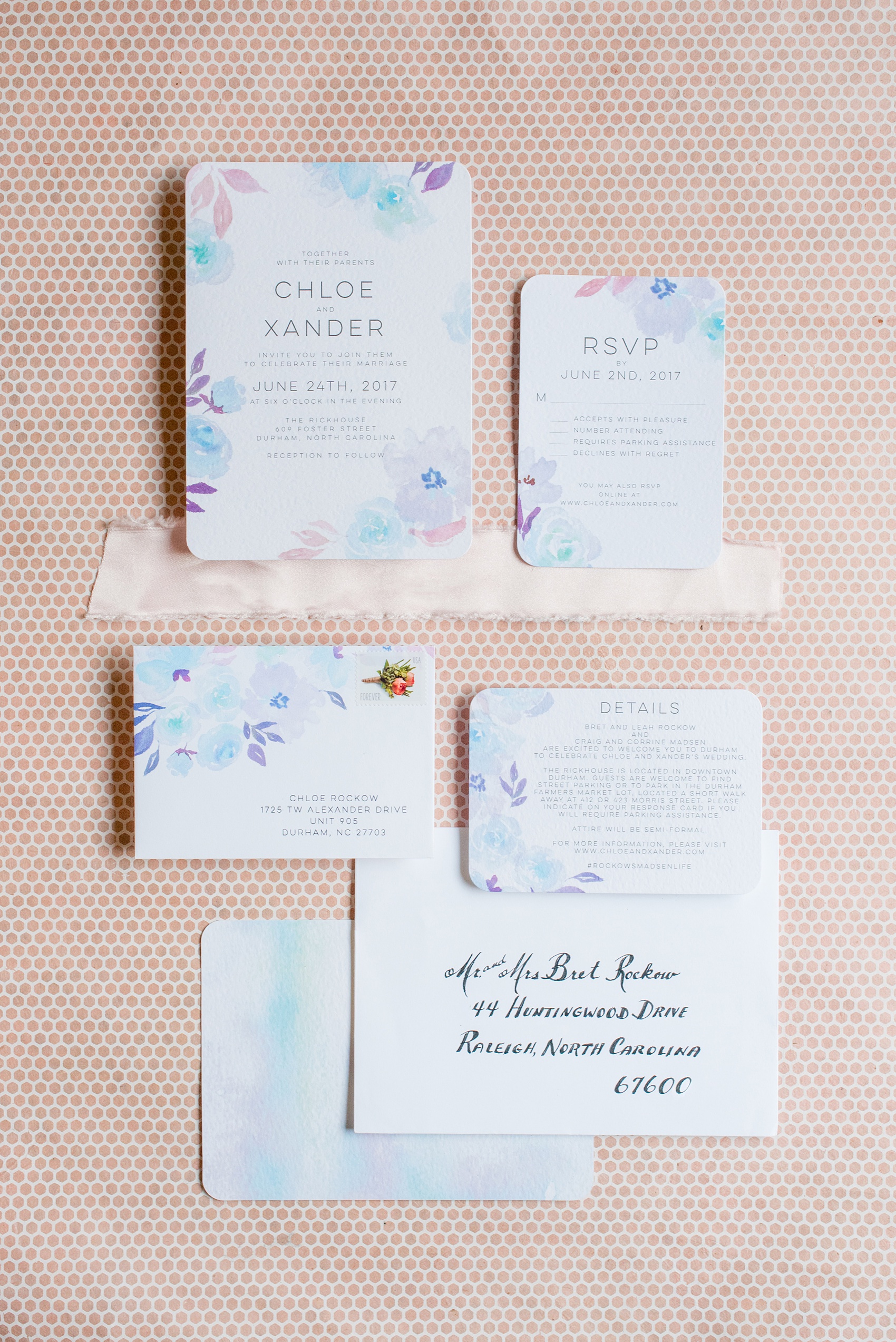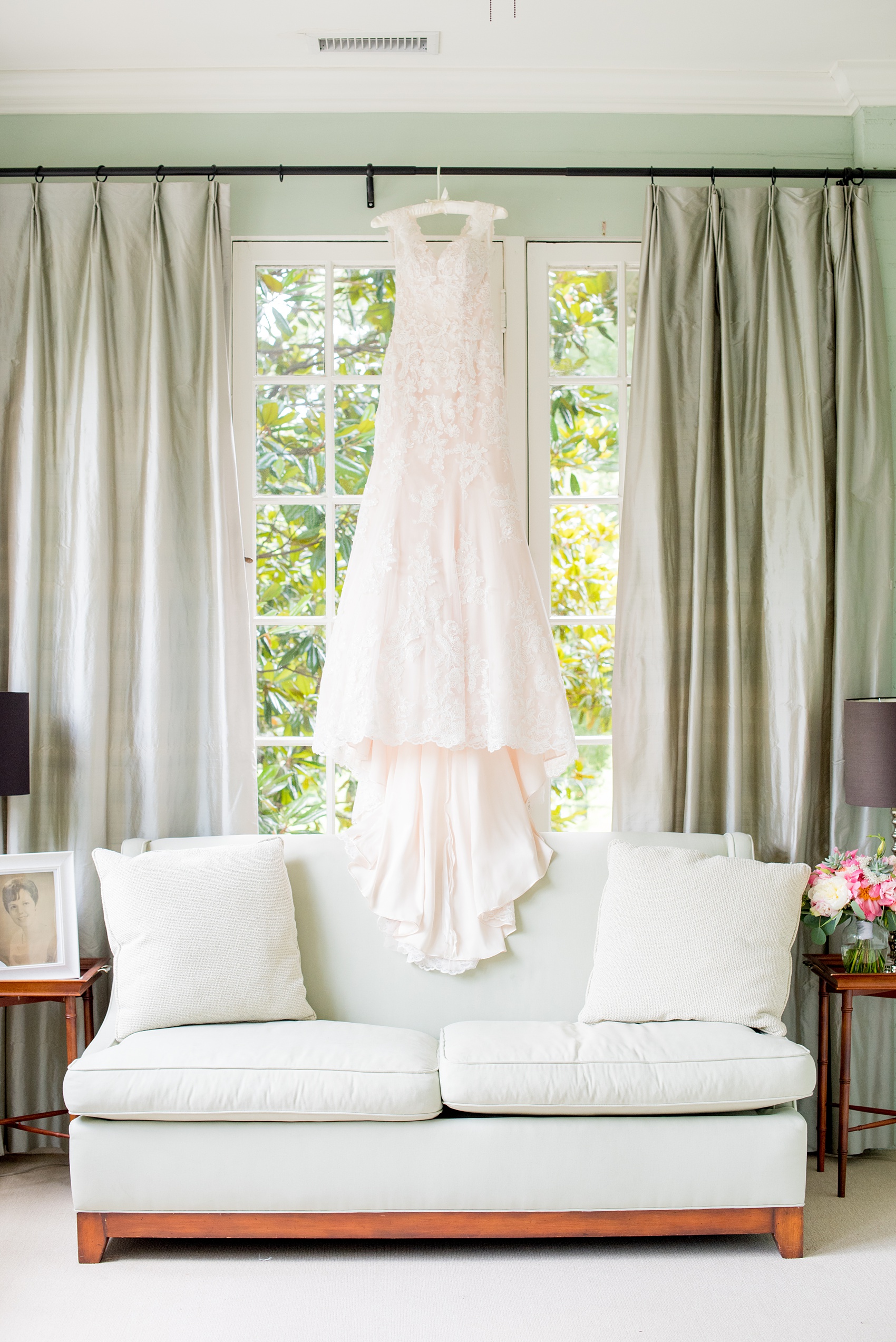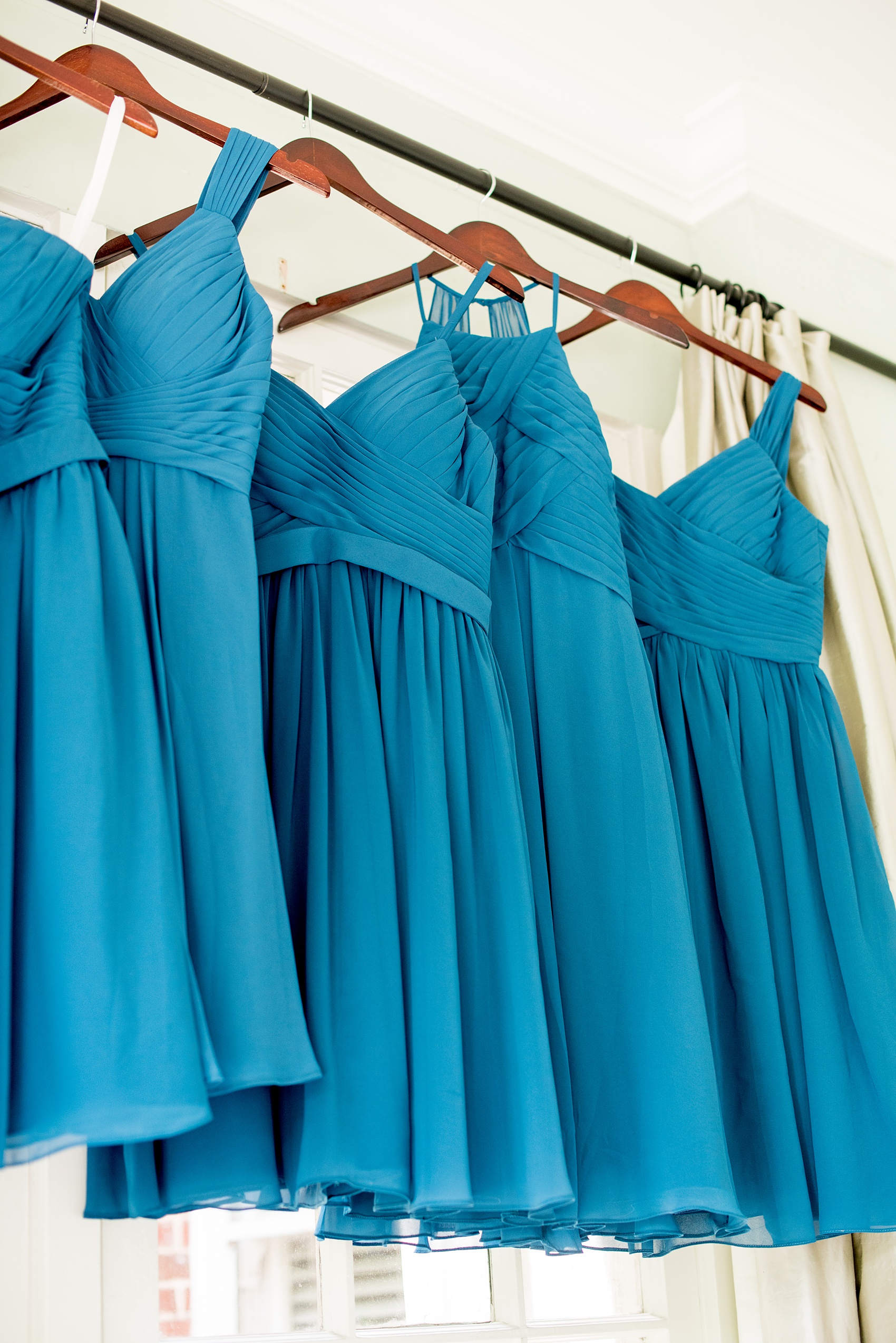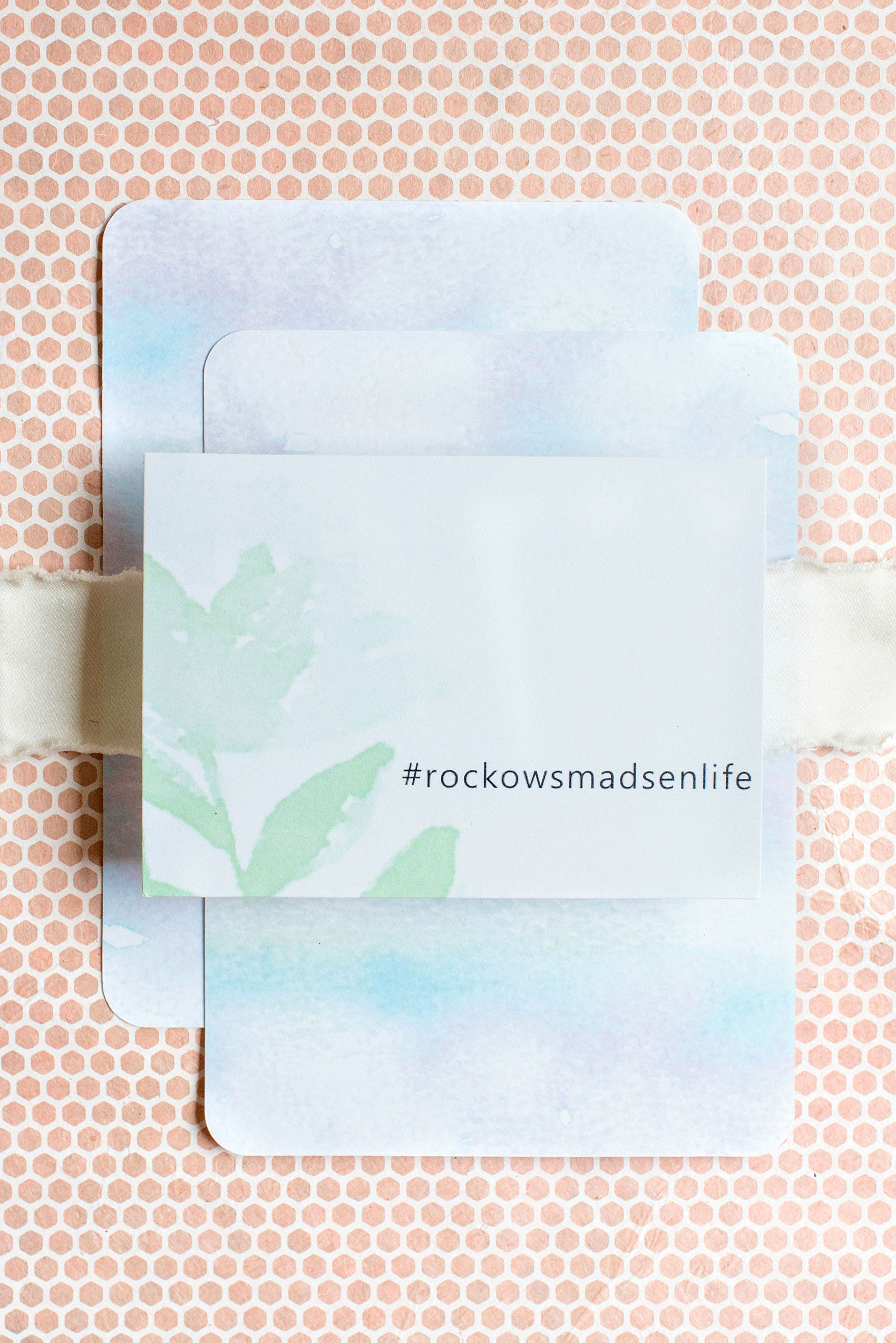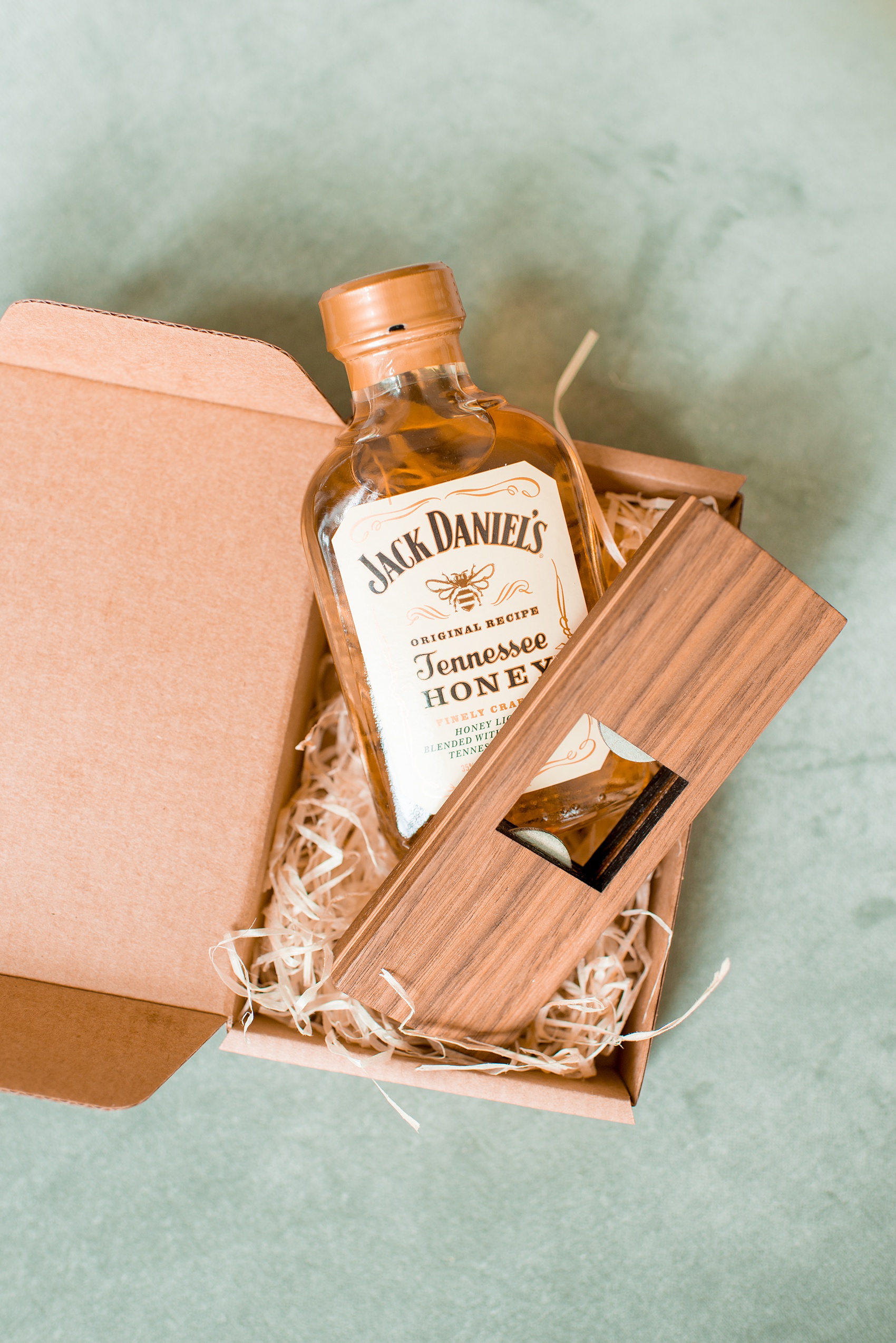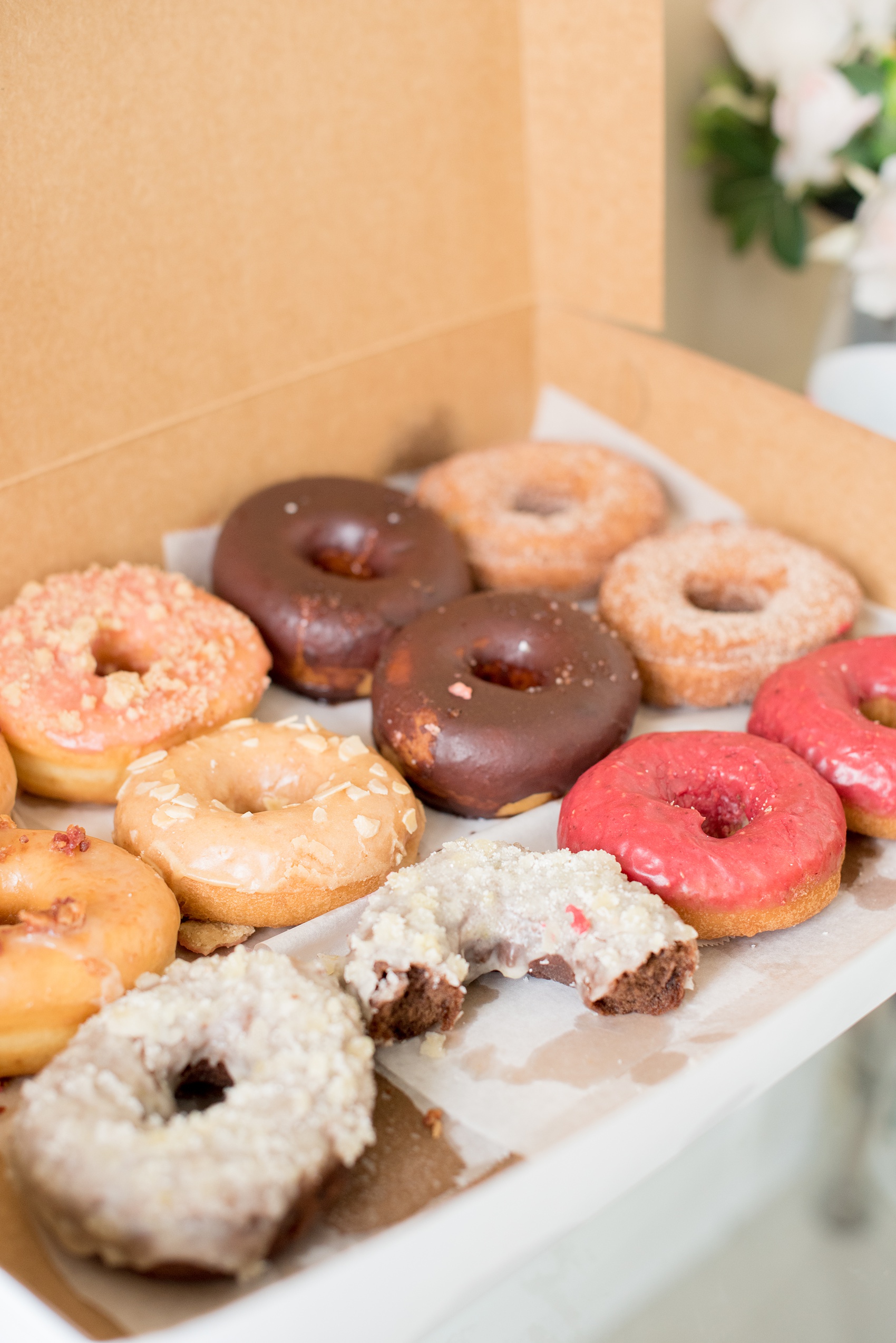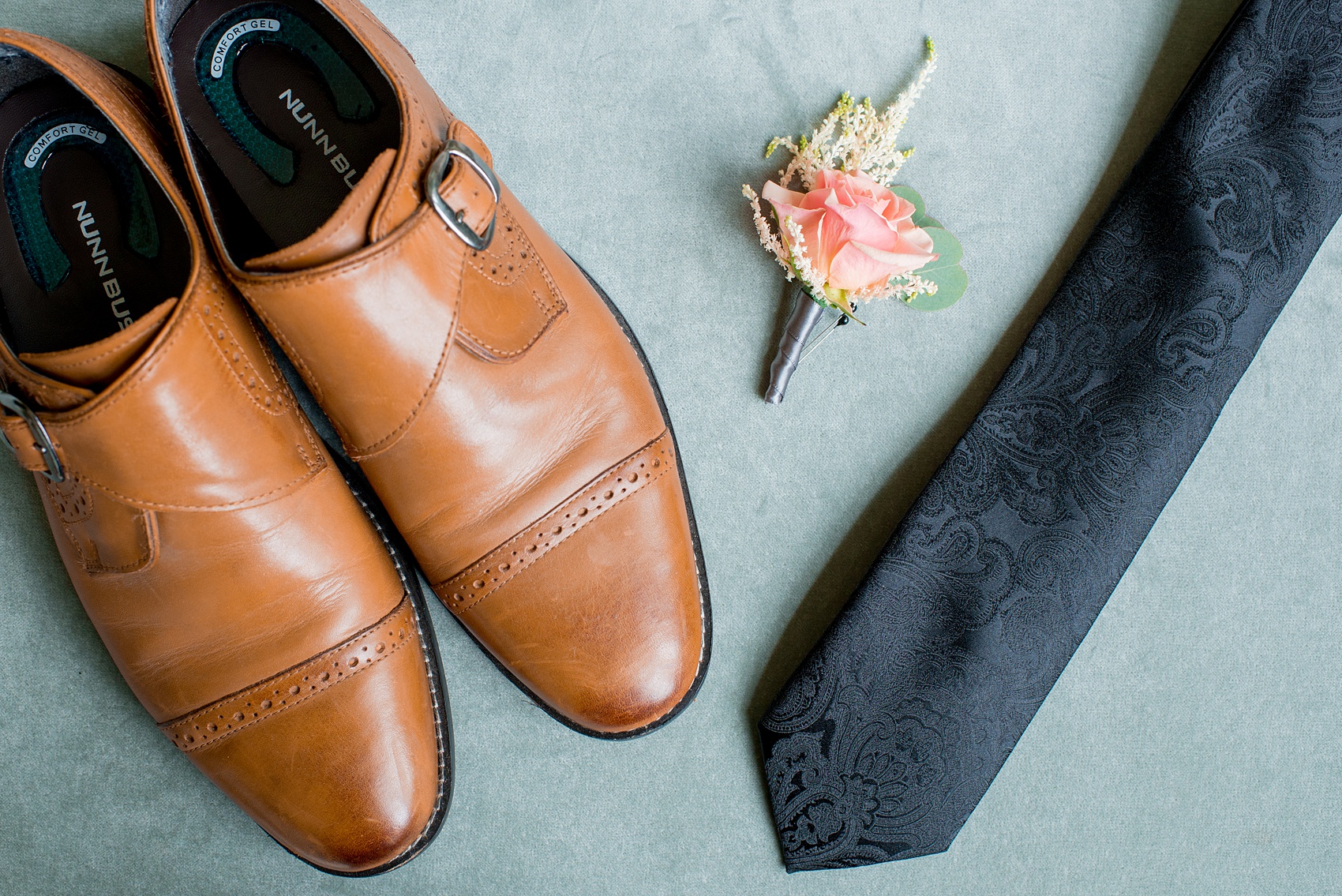 Everyone prepared for the wedding at King's Daughters Inn, which is just a few minutes from The Rickhouse. Their families rented the whole hotel and it became their wedding headquarters for the weekend. It was great to walk into their suites, full of laughter and conversation (even Monuts donuts) and see how excited everyone was to be together. I nearly kissed the bridal party when I saw how beautifully they'd lined up their teal dresses on the curtain rod ready for their "close up."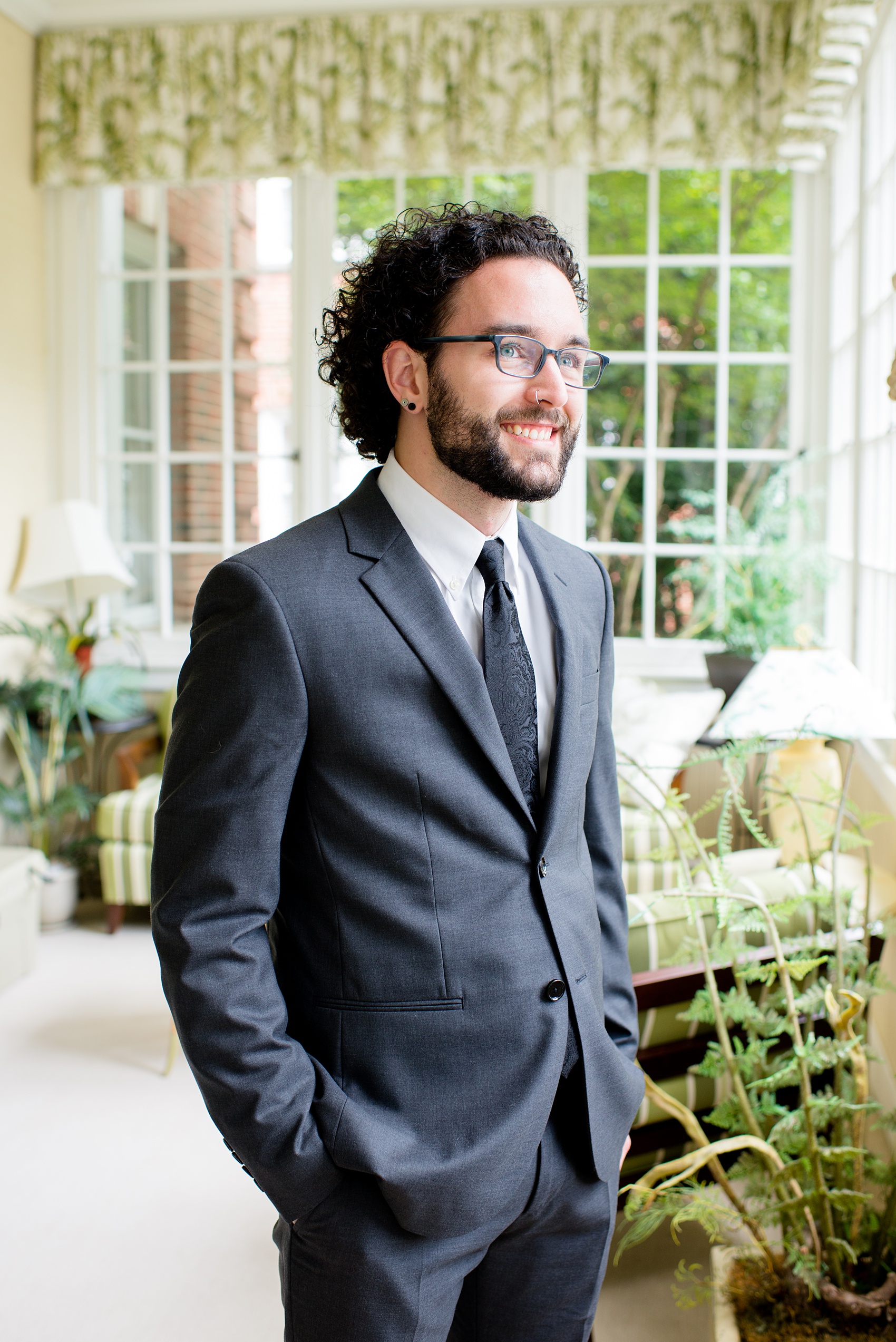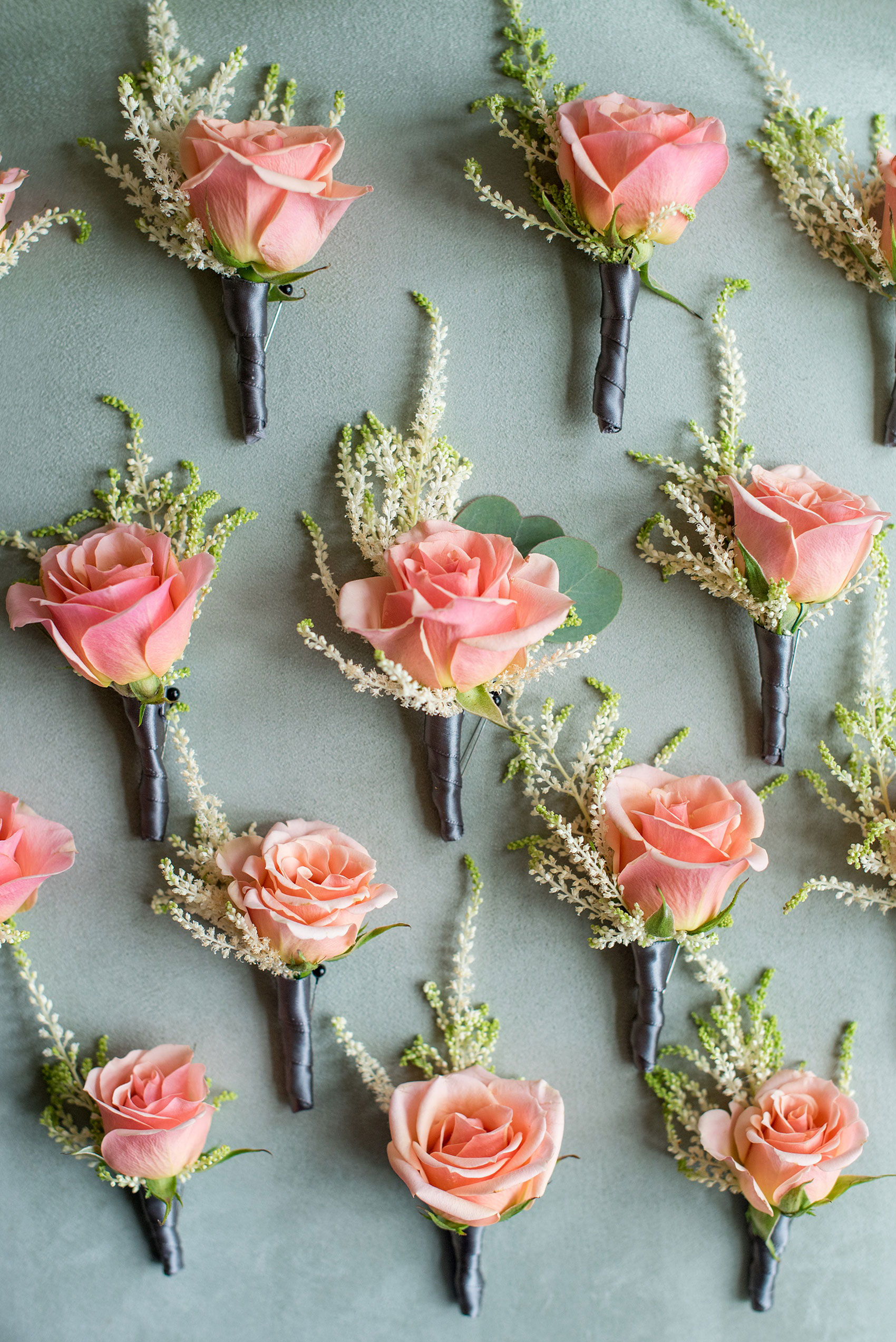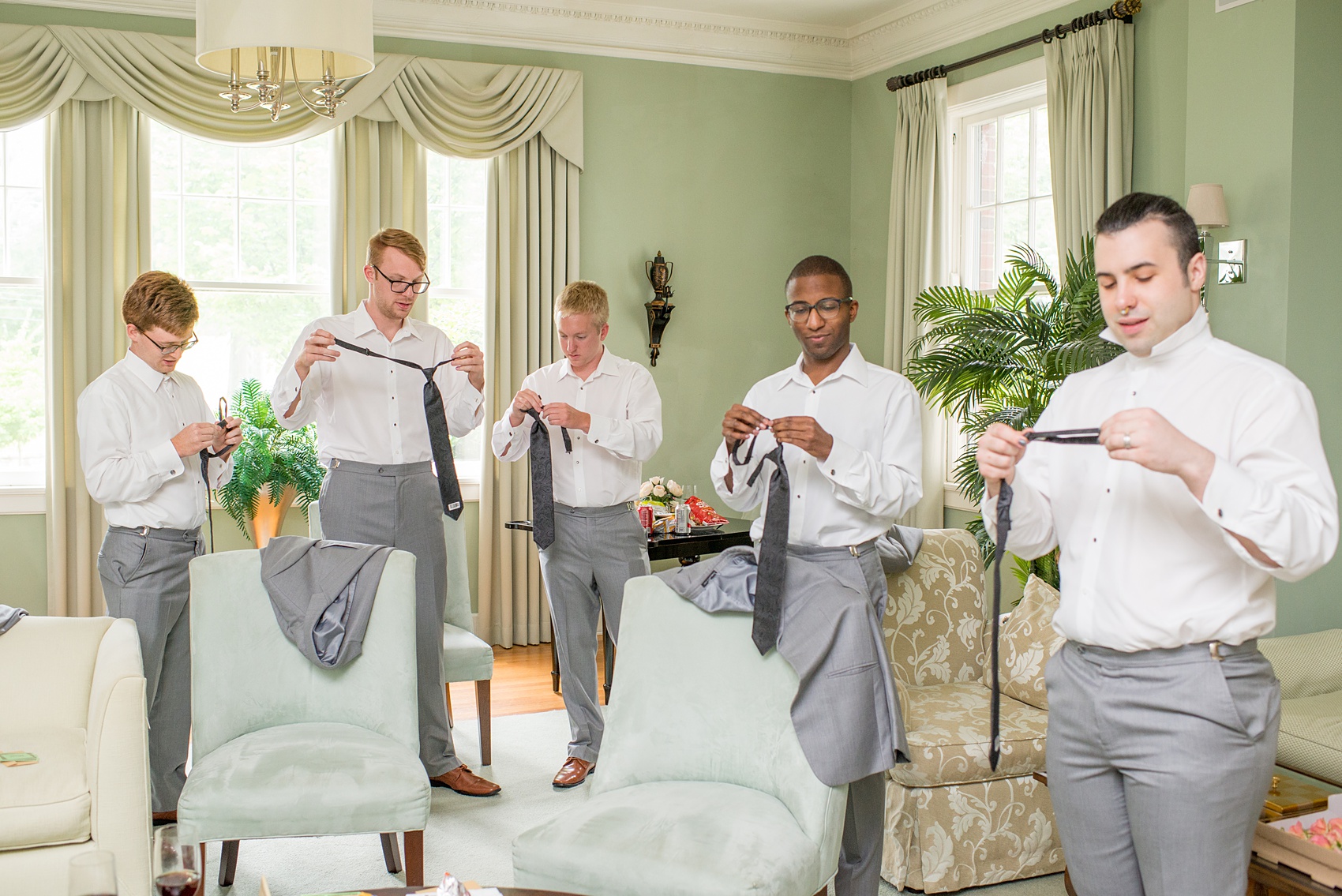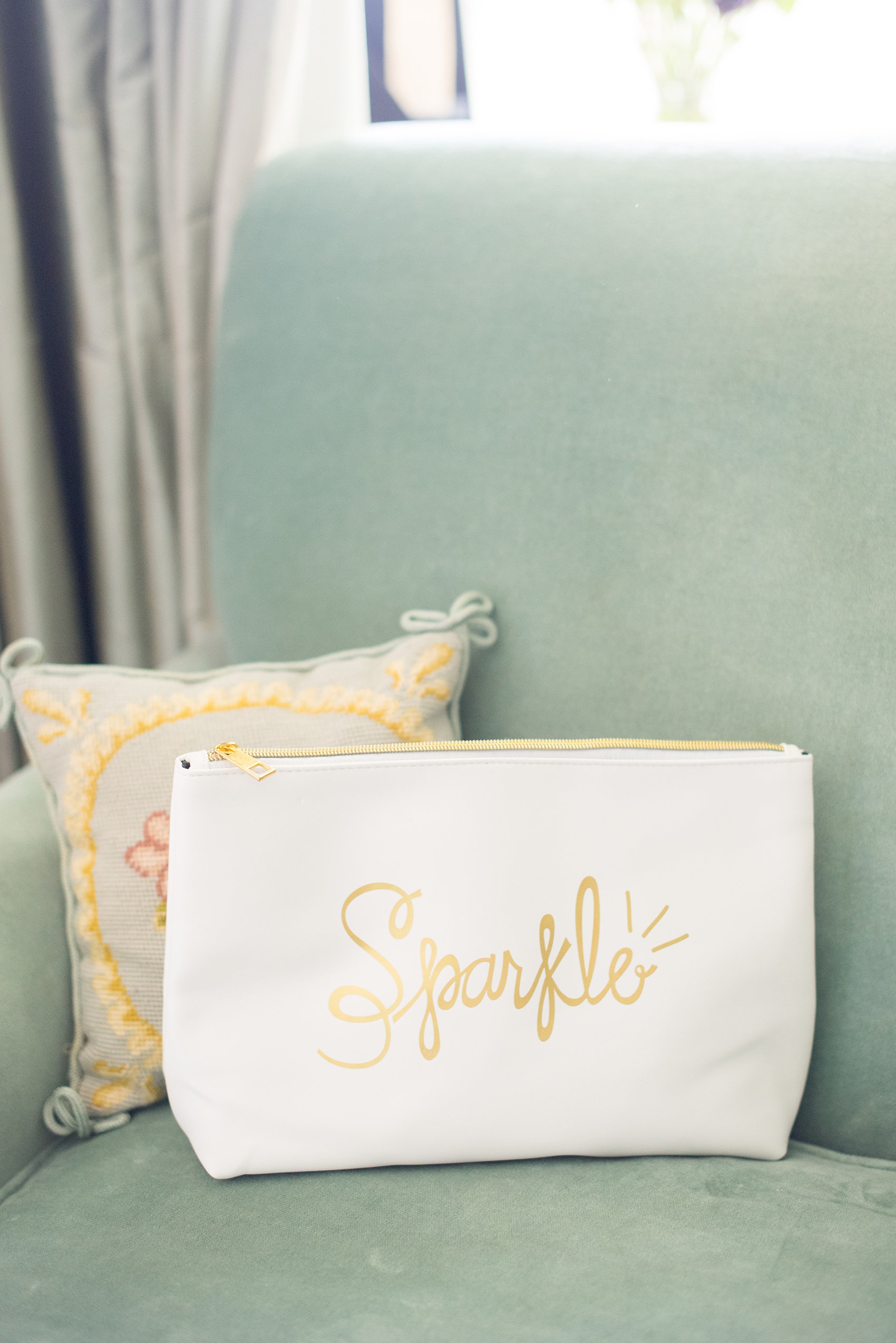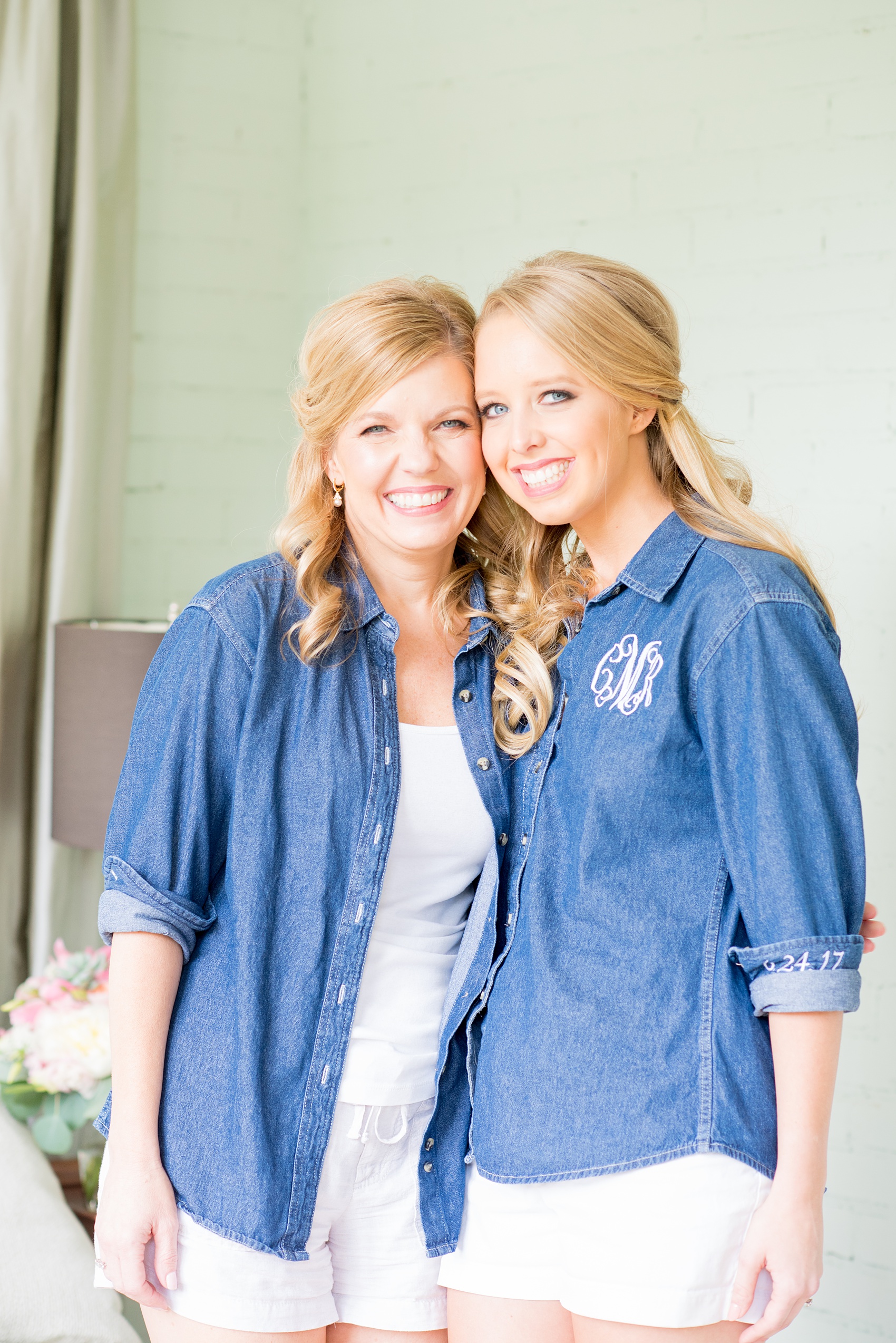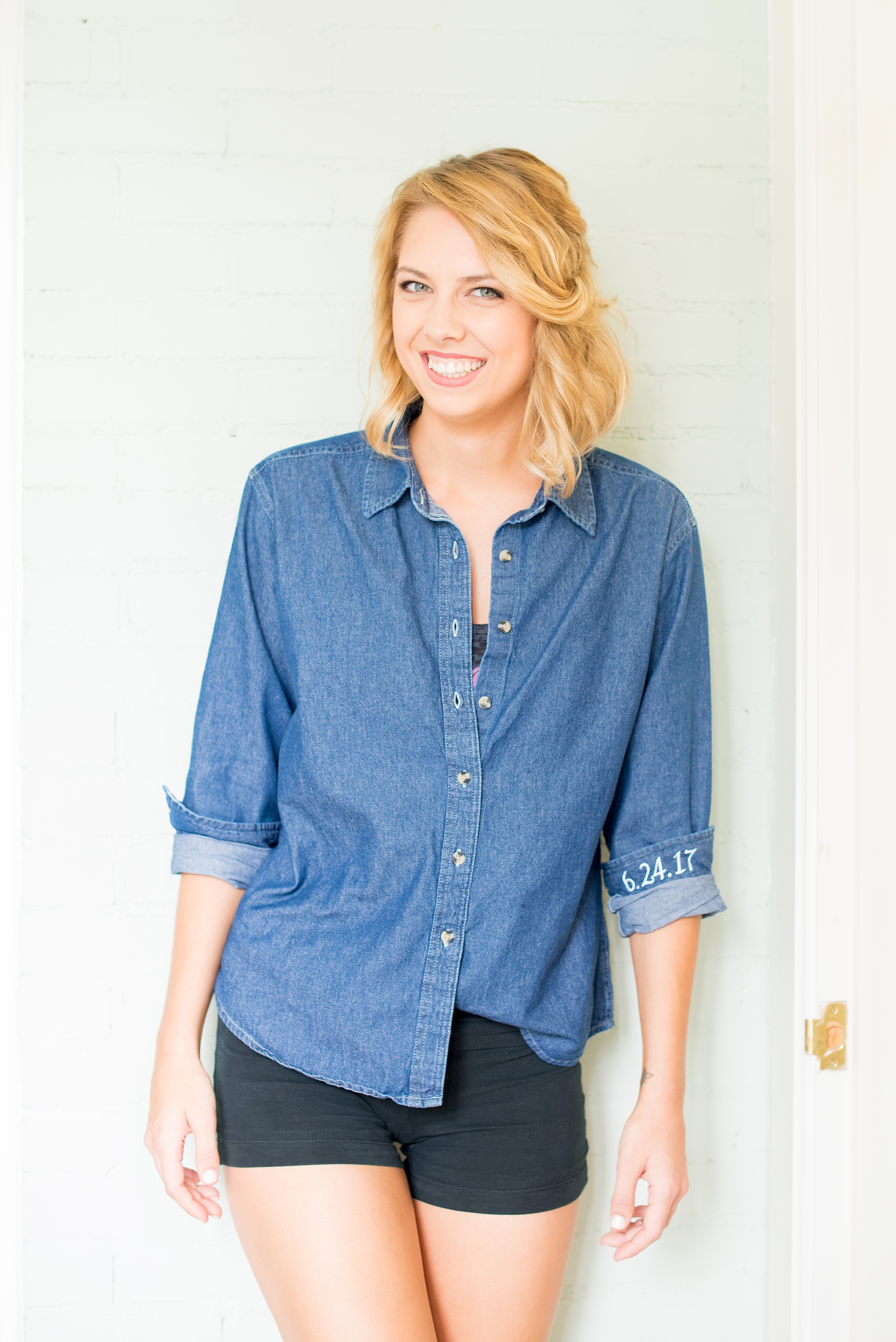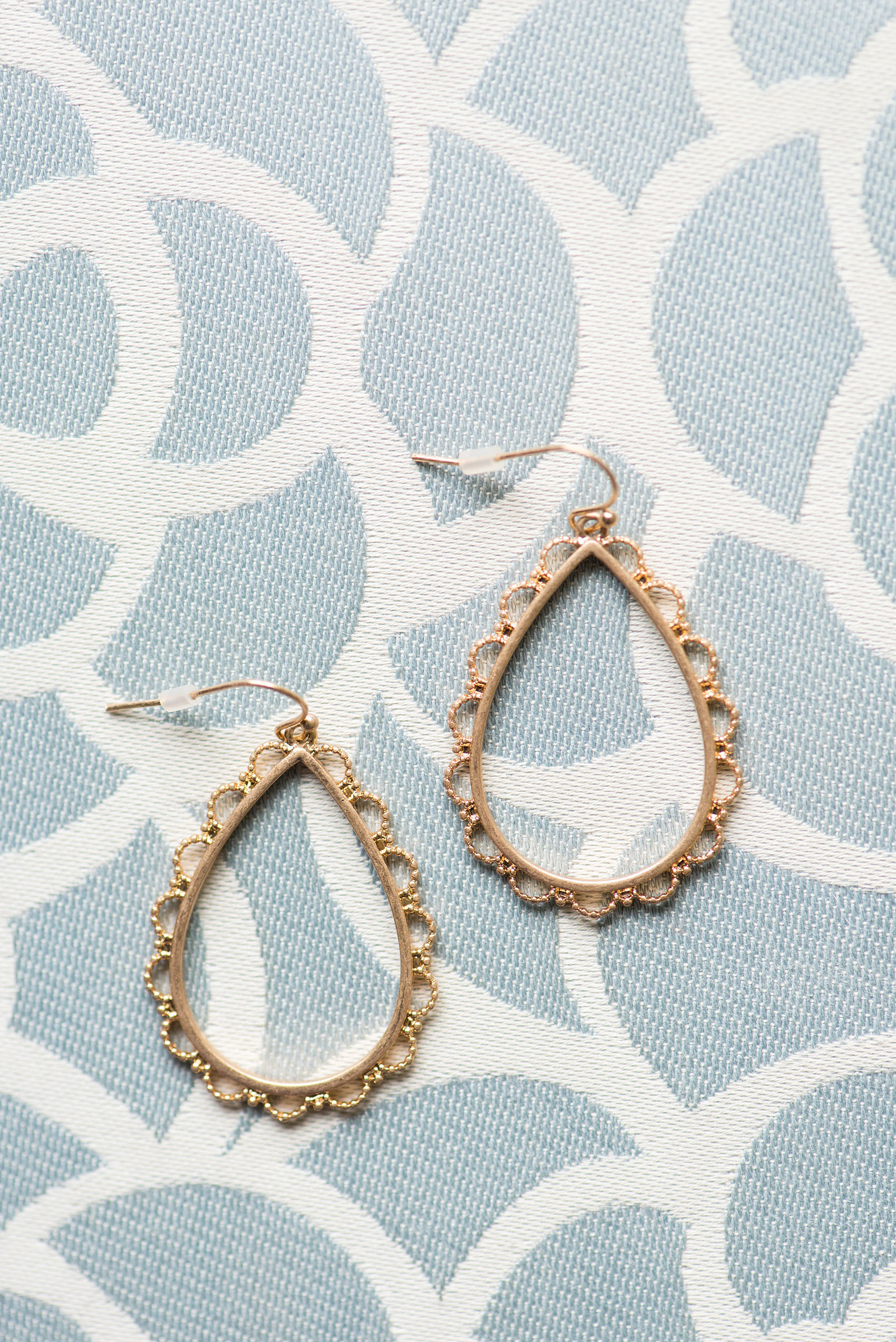 Chloe gifted her bridesmaids fun makeup bags that all had a different design or saying, wedding day shirts to get ready in with their choice of monogramming or wedding date on the sleeve (a favorite personal touch) and pretty gold earrings. Xander got his groomsmen bottles of Jack Daniel's and Danish bottle openers, a nod to his heritage.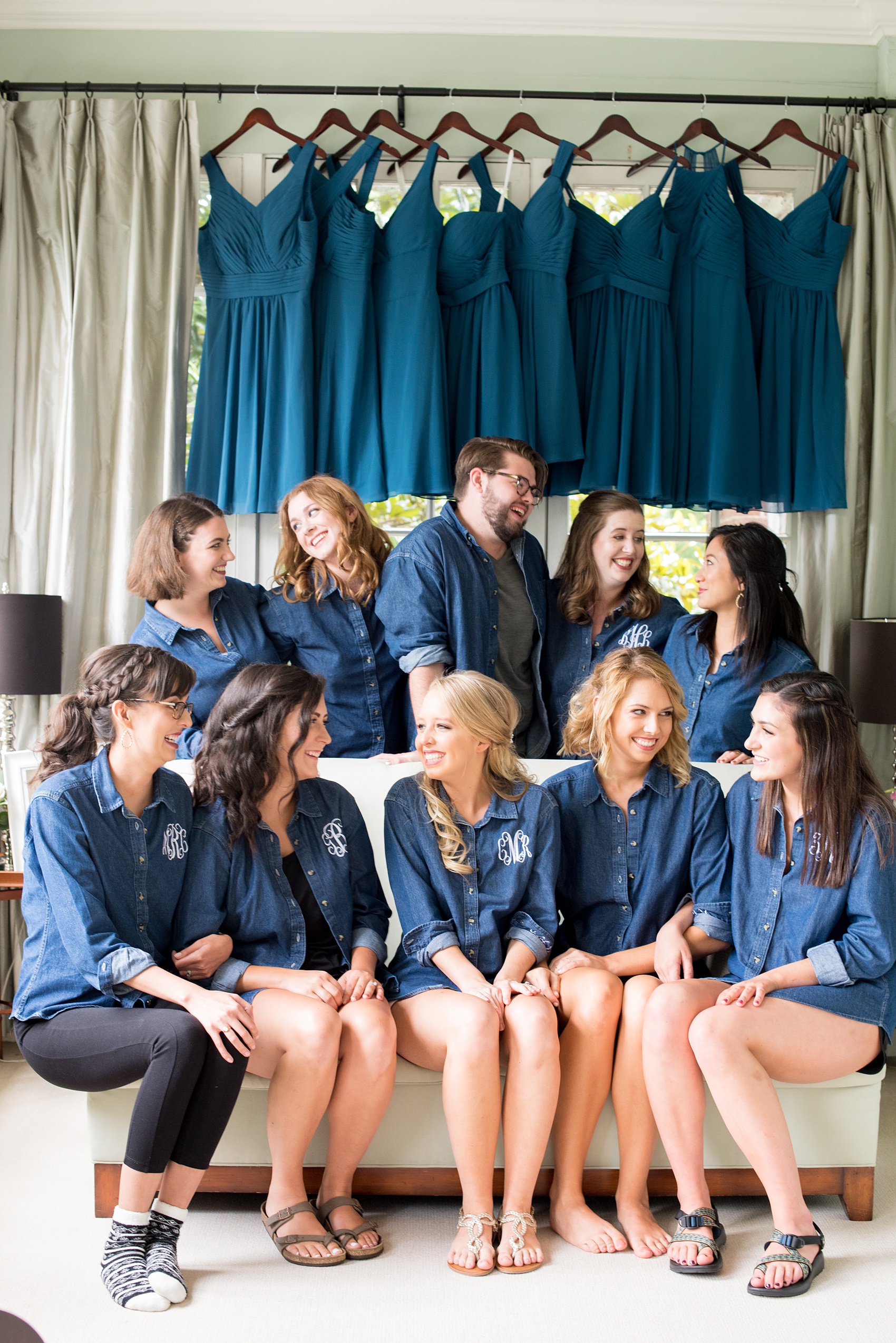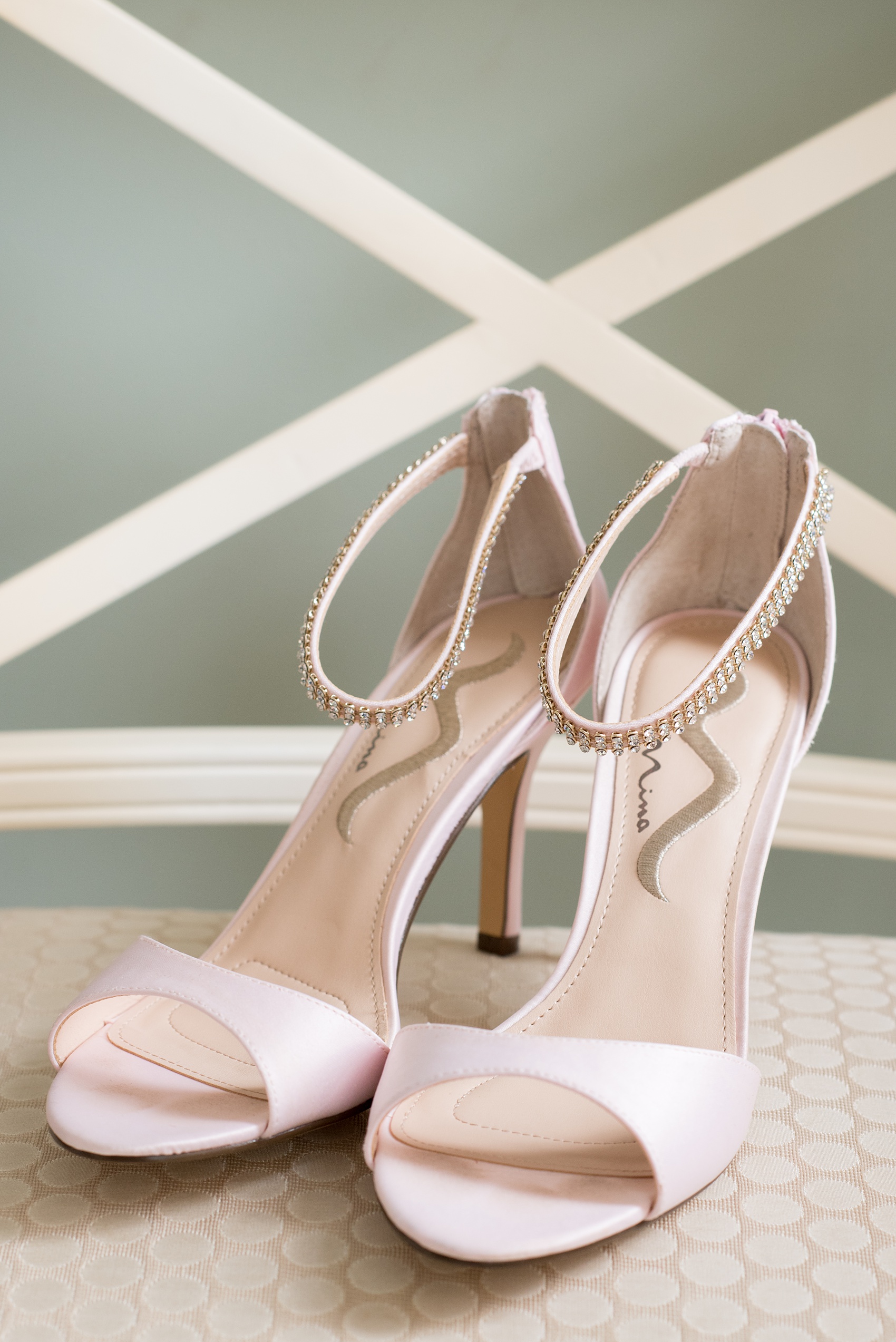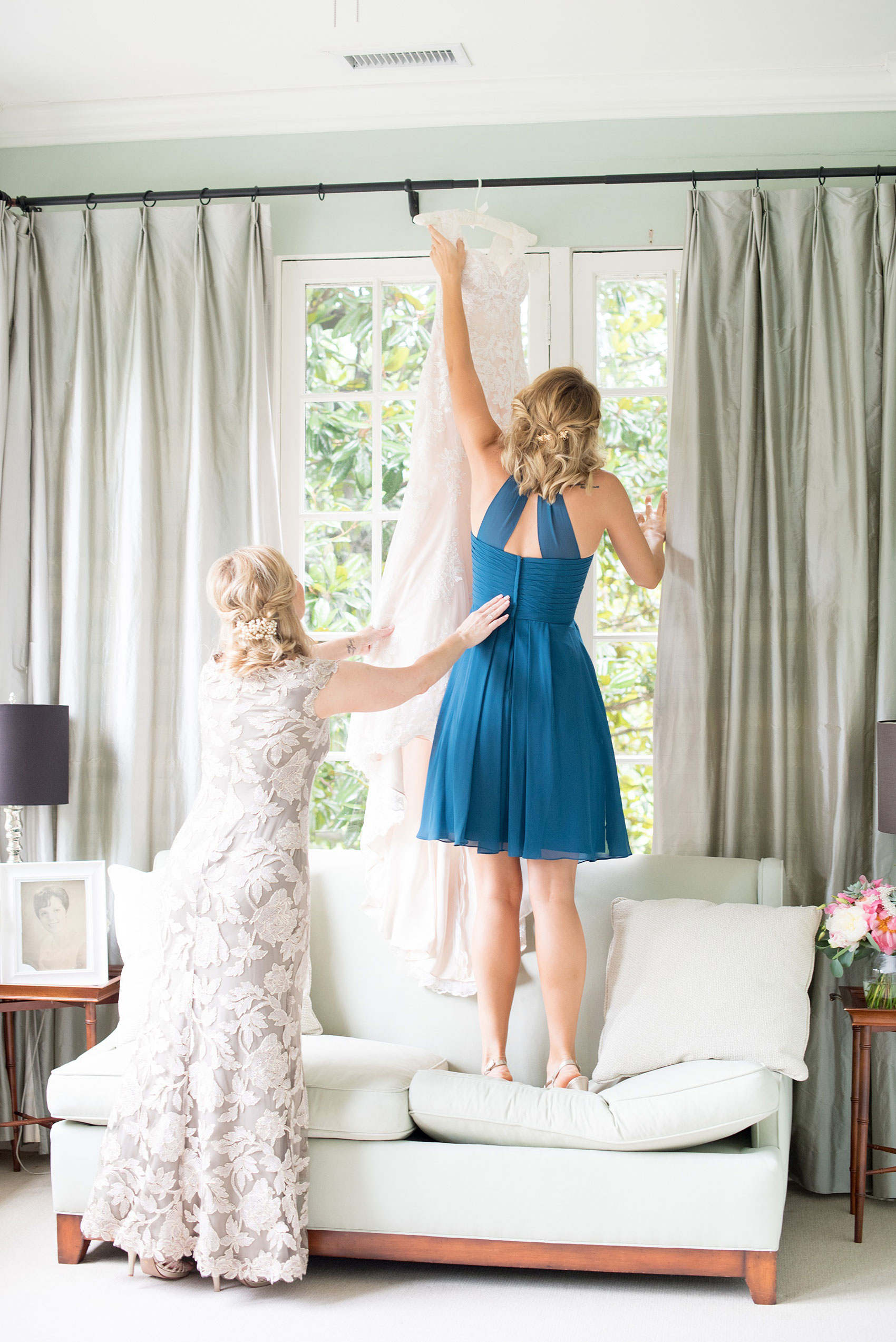 Pink shoes were the perfect soft pop of color for Chloe's wedding day look. Her mother and sister helped her do final preparations including getting into her lace gown and buttoning up the back of it. I immediately noticed her sister Miranda's bee tattoo on her wrist as she was helping her sister get dressed. I knew a lot of Chloe and Xander's wedding day details were a result of her father's beekeeping so it immediately caught my eye when I saw it.
Chloe's earrings are incredibly special to her family. They were the same ones her mother wore on her wedding day, exactly twenty eight years prior to her daughter's wedding day. The pearl and diamond studs were a gift from Bret to Leah, Chloe's dad to her mom. Chloe also carried an heirloom white handkerchief that had been passed down through generations.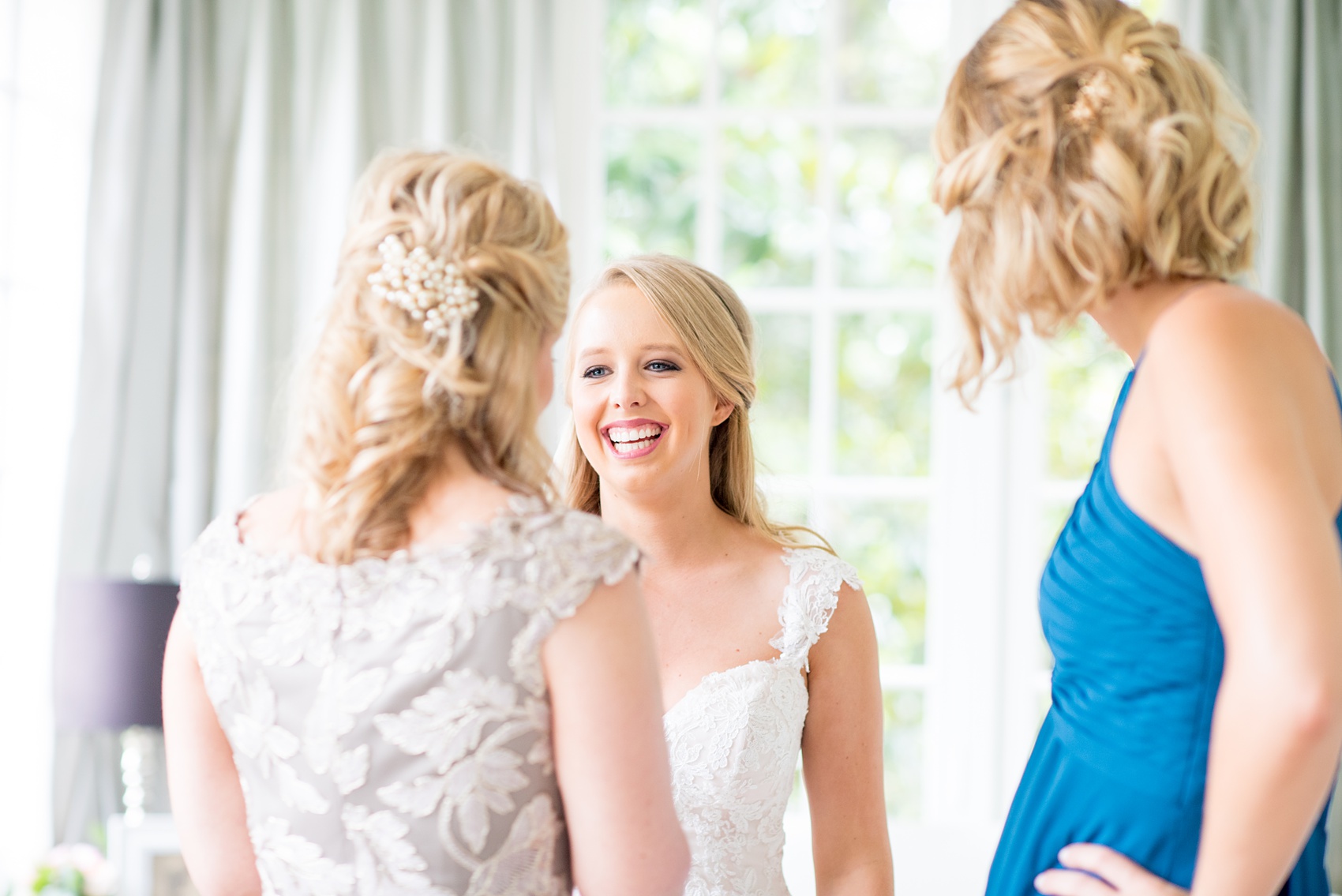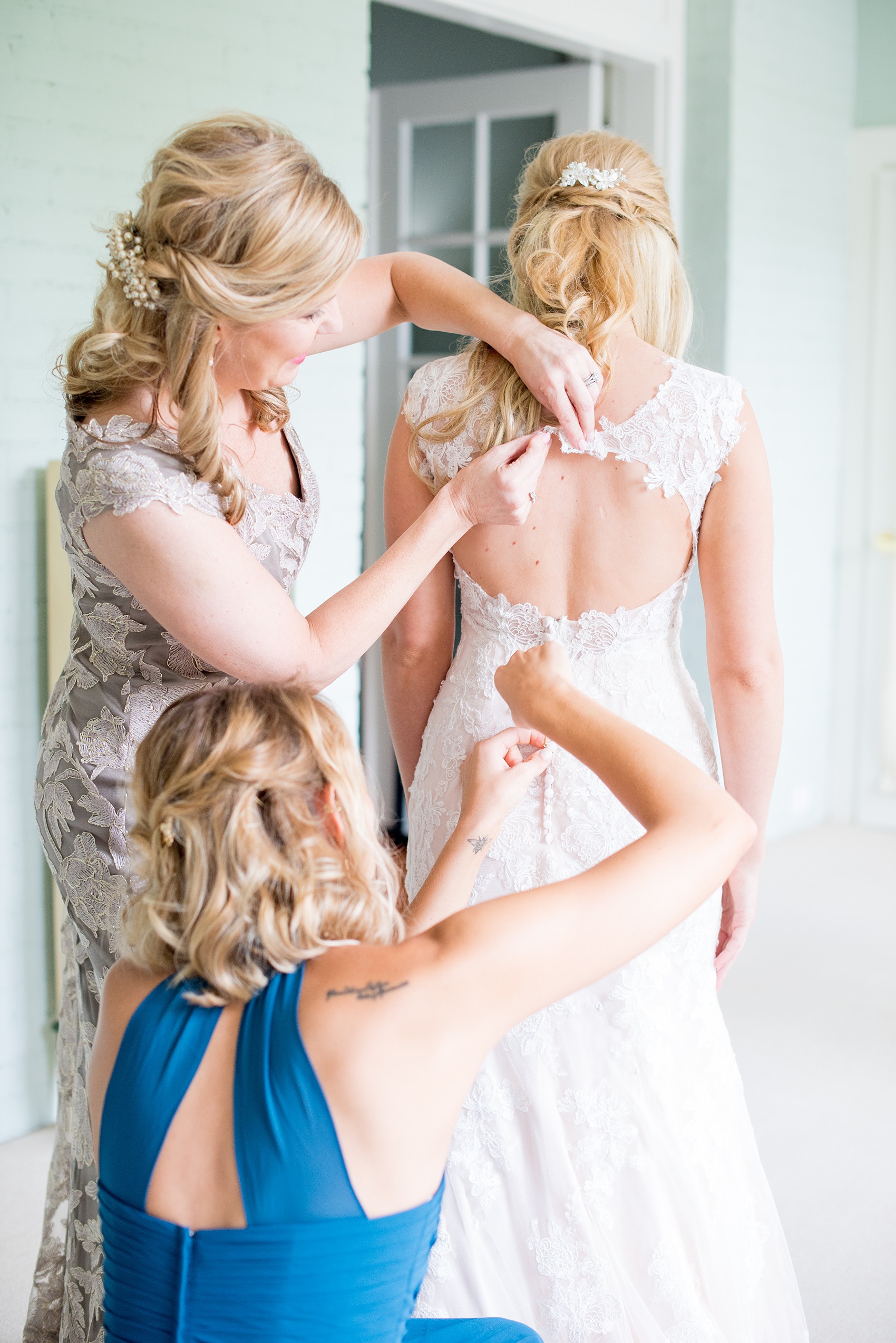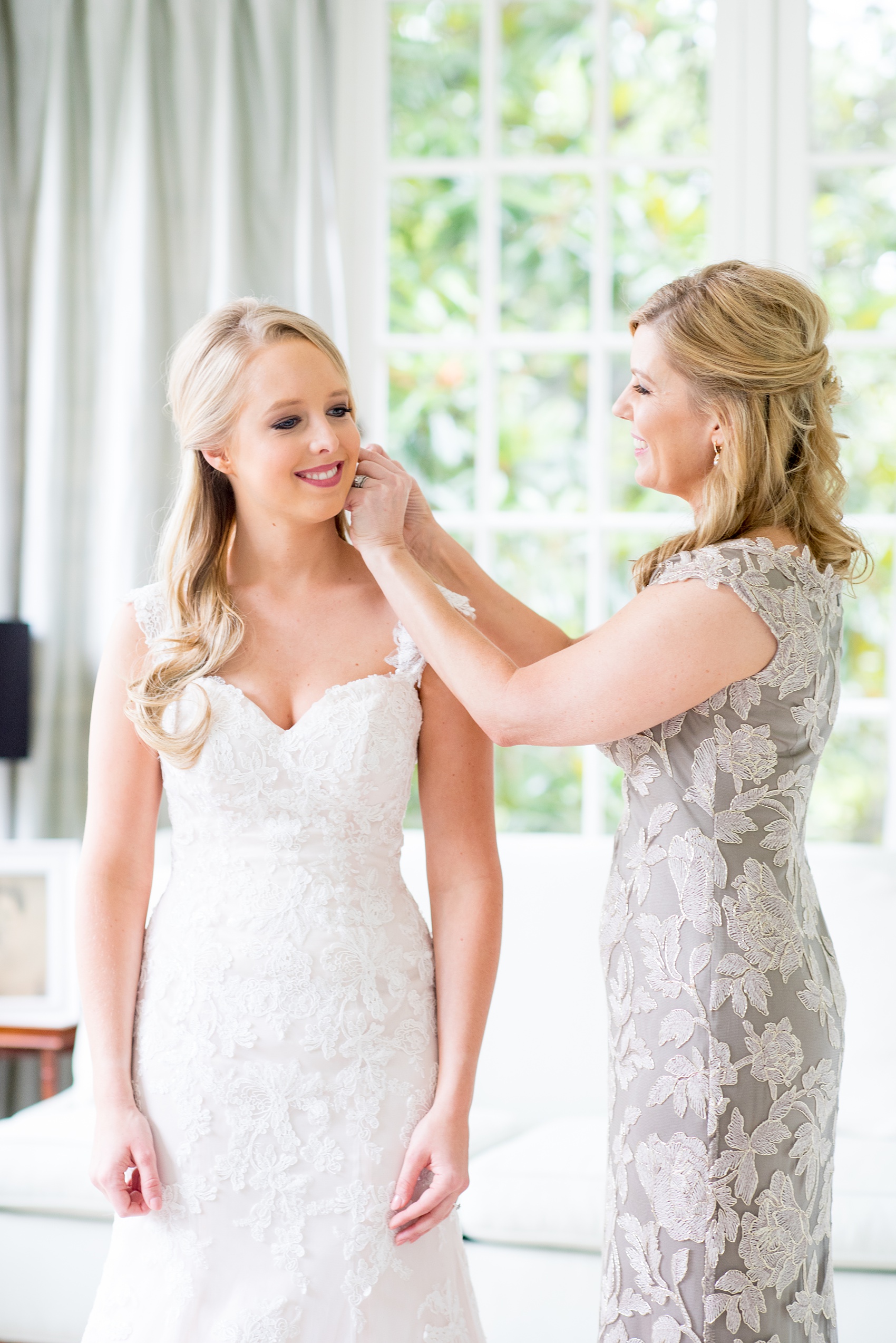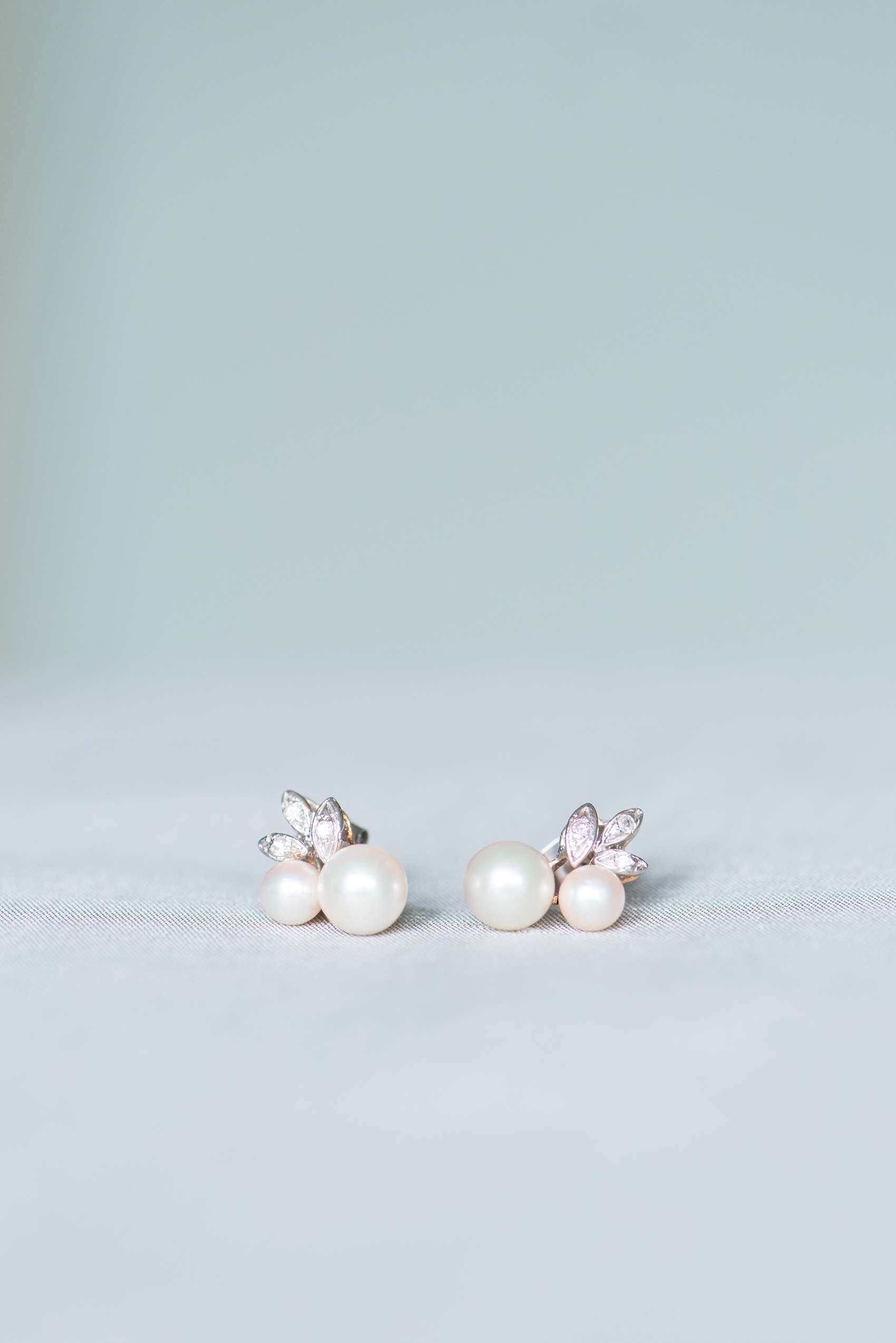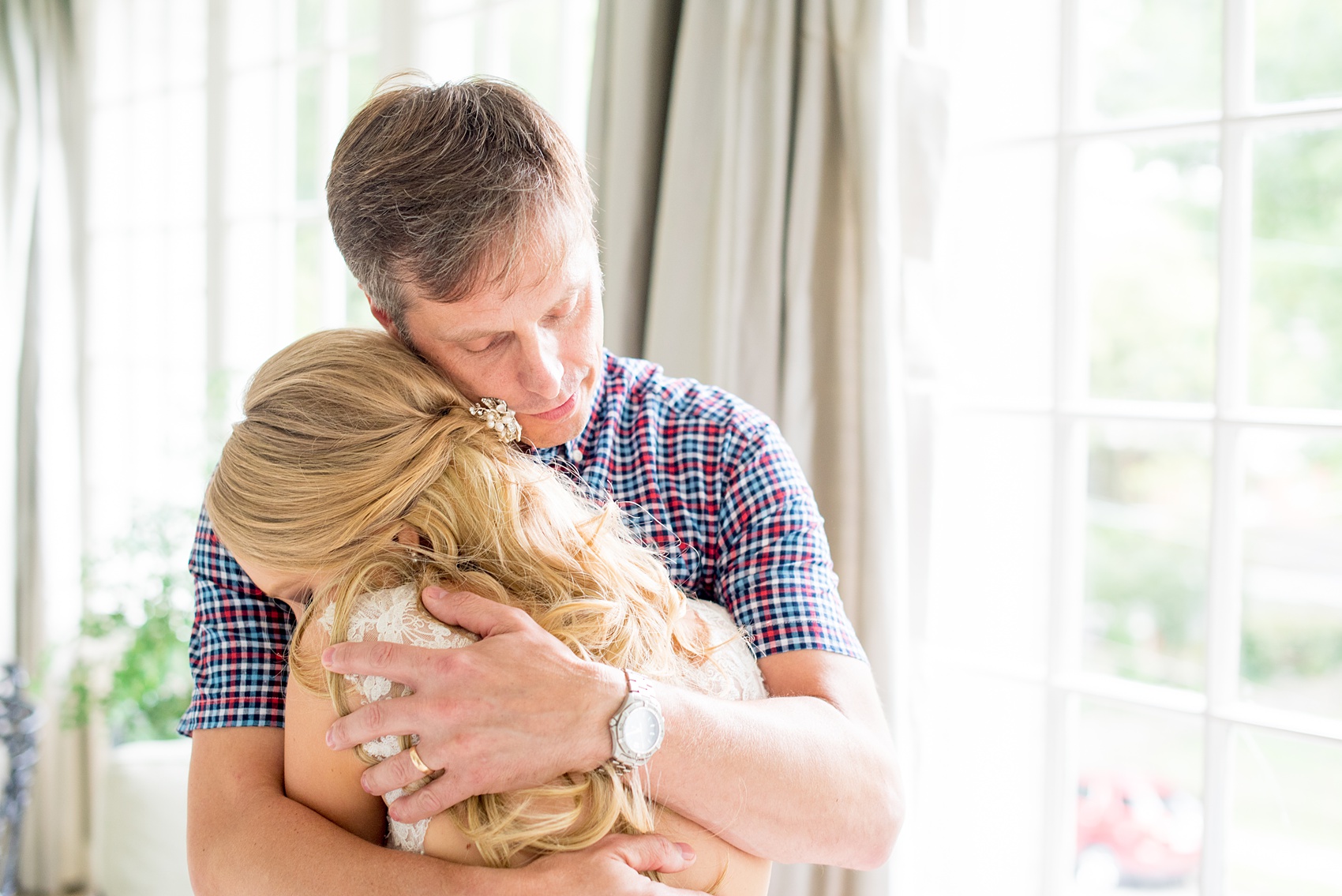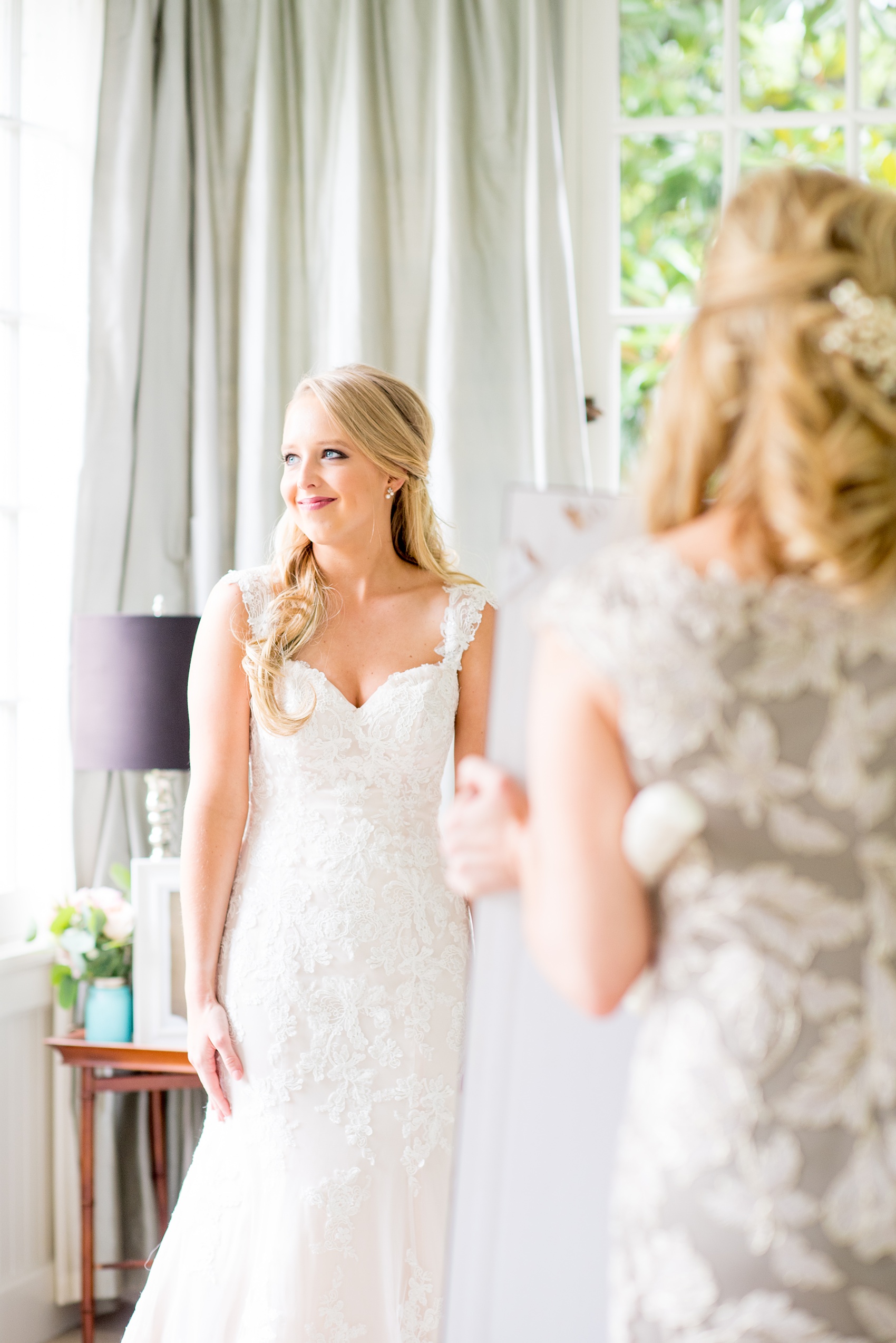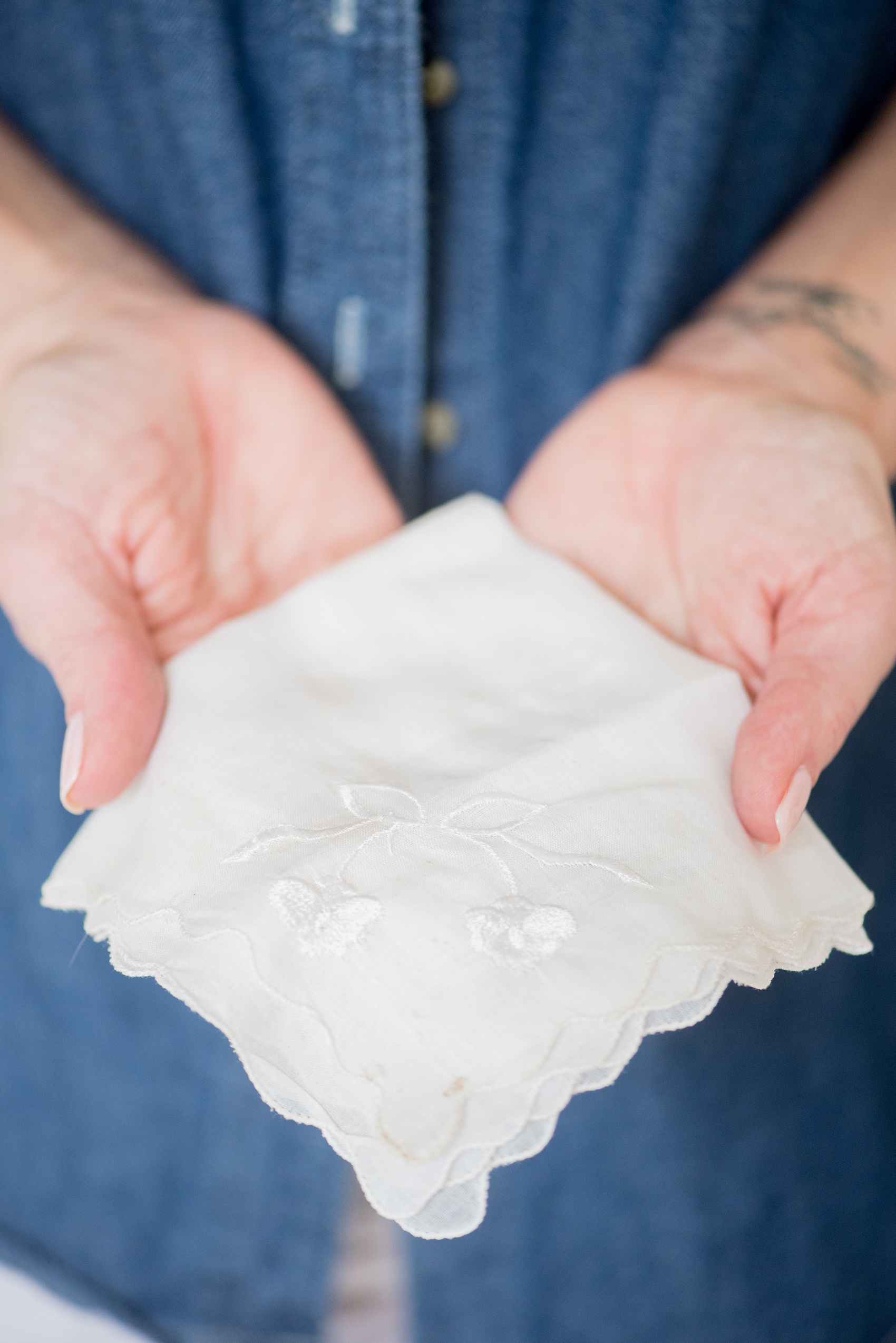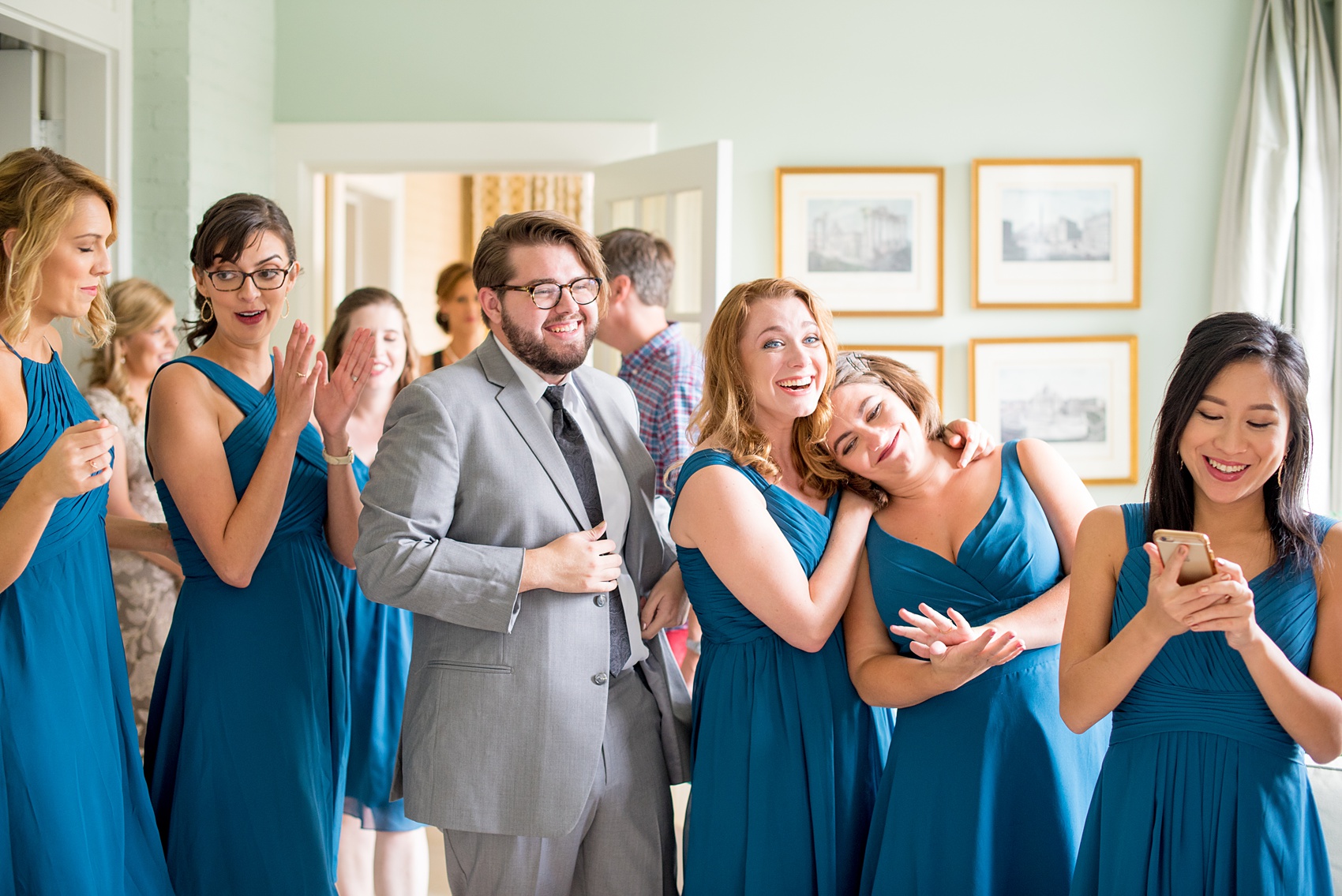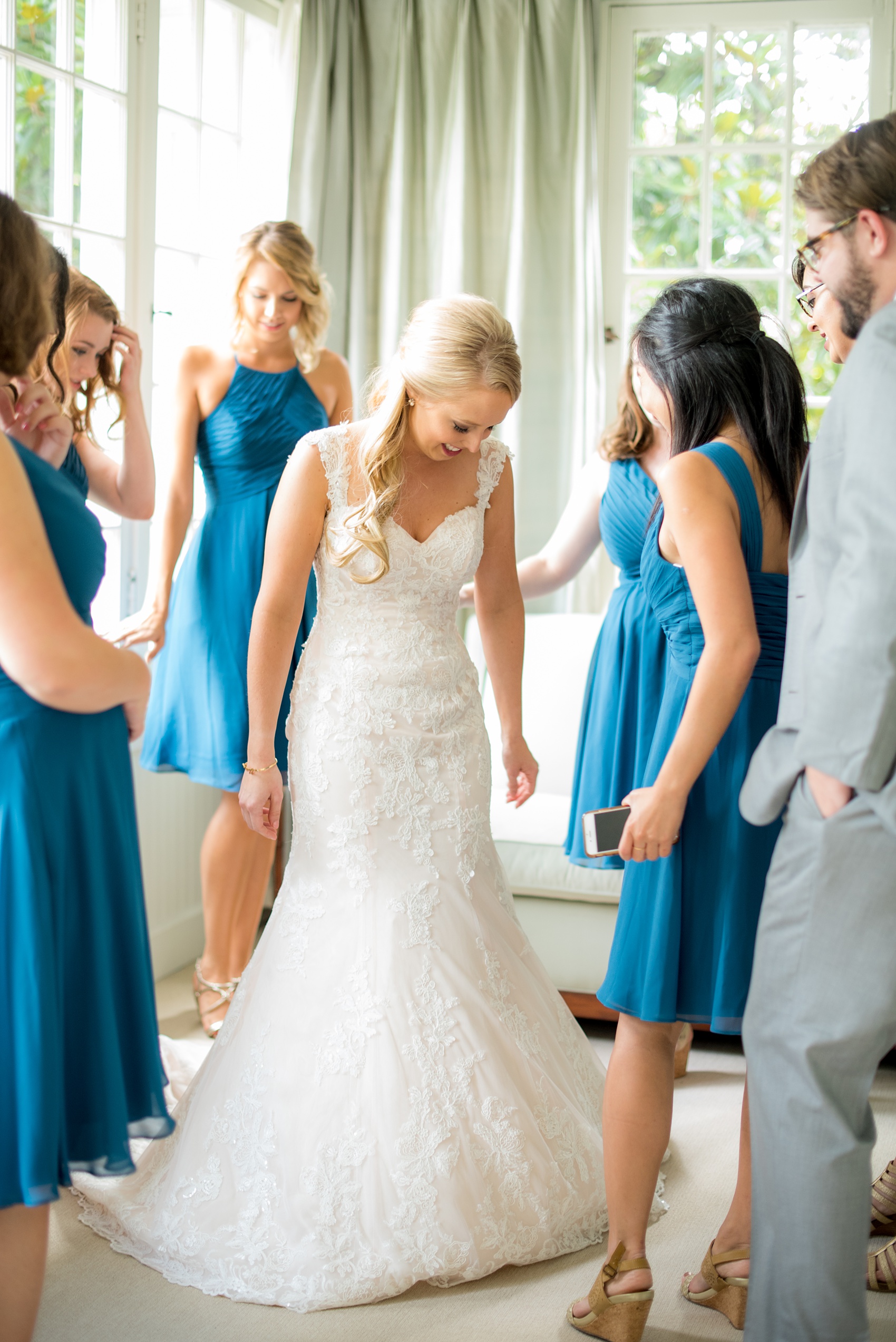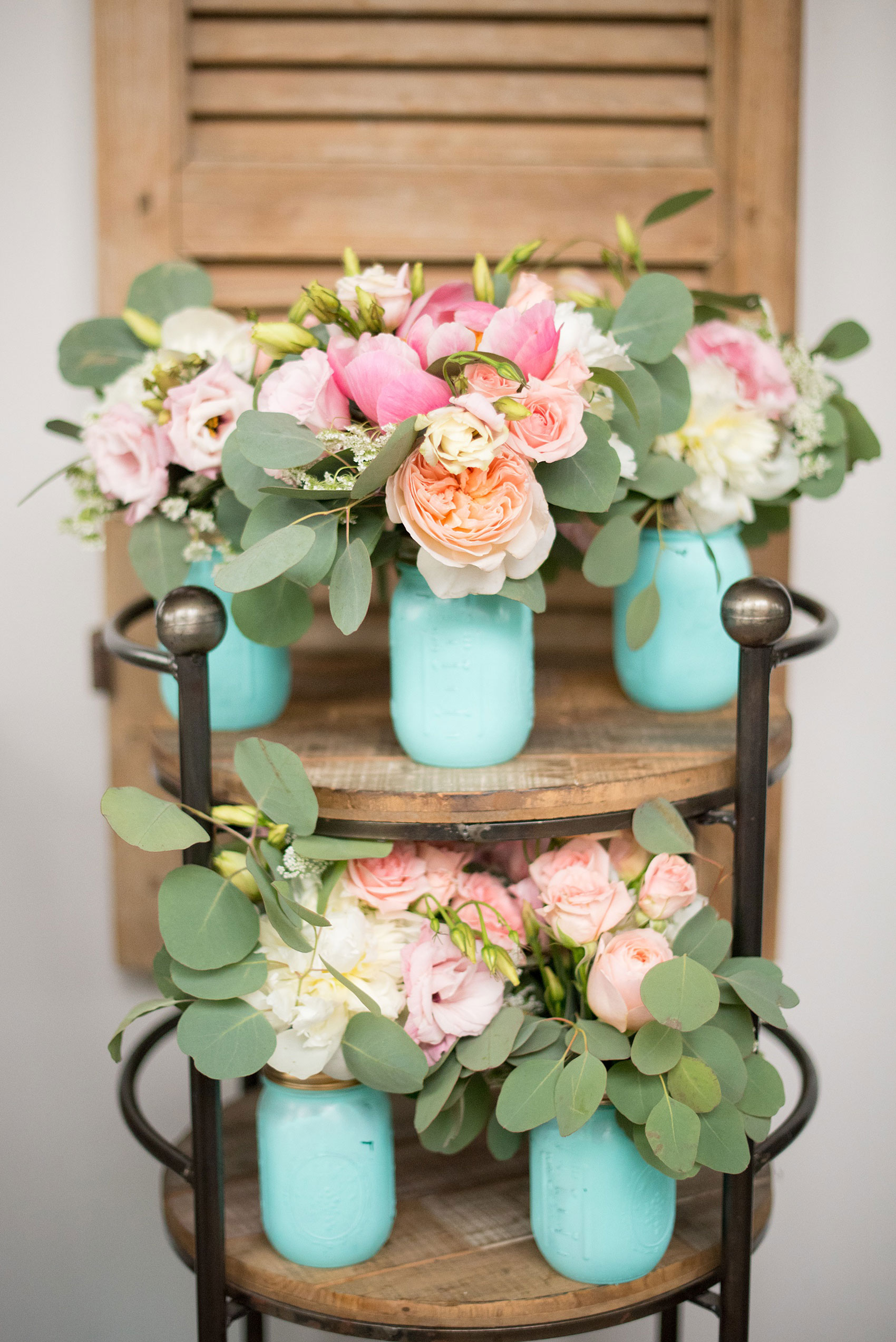 Chloe's dad had a special first look with his daughter after her mom and sister helped her get ready. Then it was time for the rest of the bridal party to see her. Everyone was all smiles and happy tears! Soon it was time for Xander to see his bride!
The two shared a solo, emotional first look in front of the Inn. I always tell couples to forget about any cameras being present during a first look. It's truly THEIR time to live in the moment. We, their photographers, take a step back and let the moment unfold naturally, only giving direction during that time if asked. I posted an image from their first look to Instagram recently and was so happy to read Chloe's comment. She said, "That was such an awesome moment, it really felt like there was no one else but us there."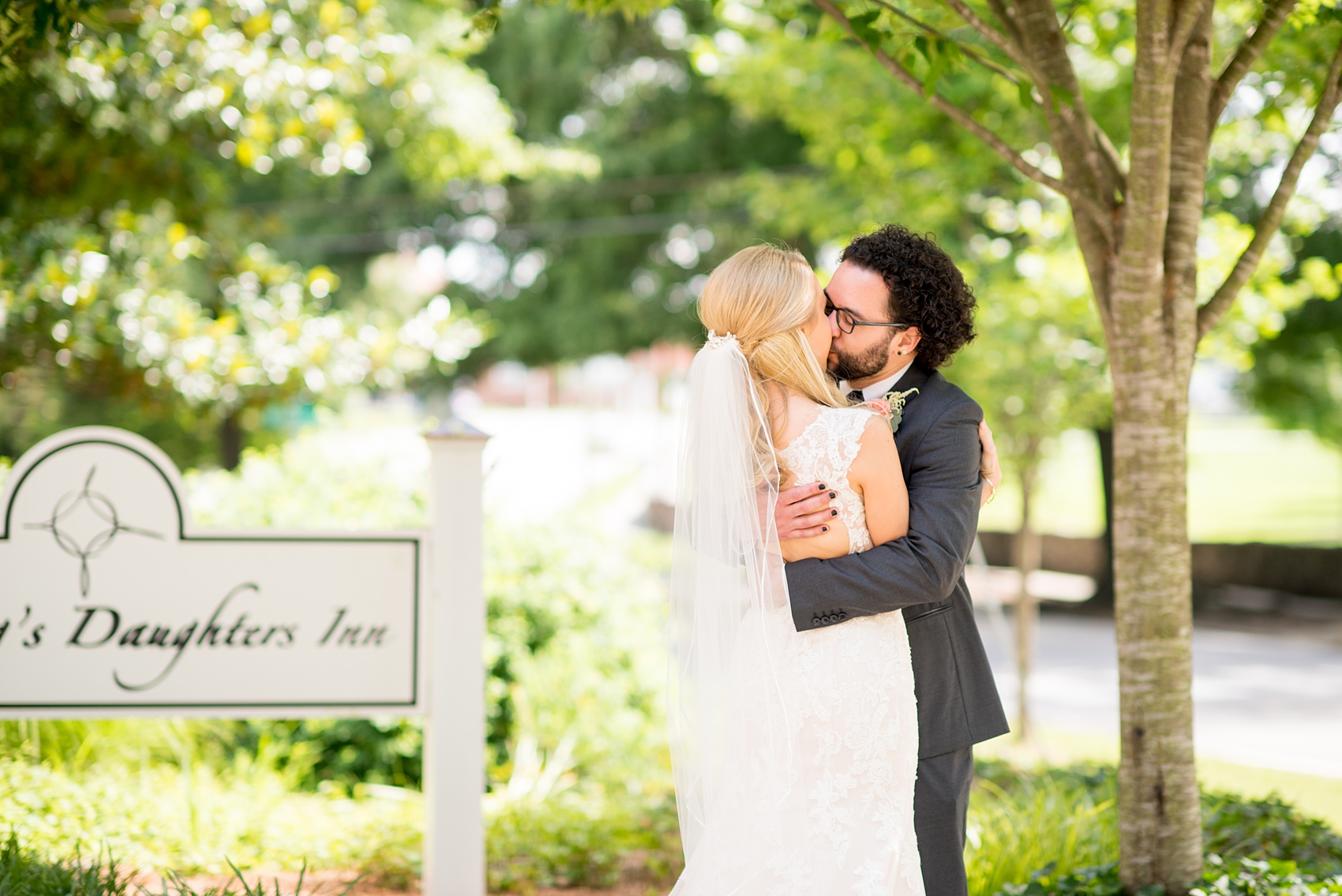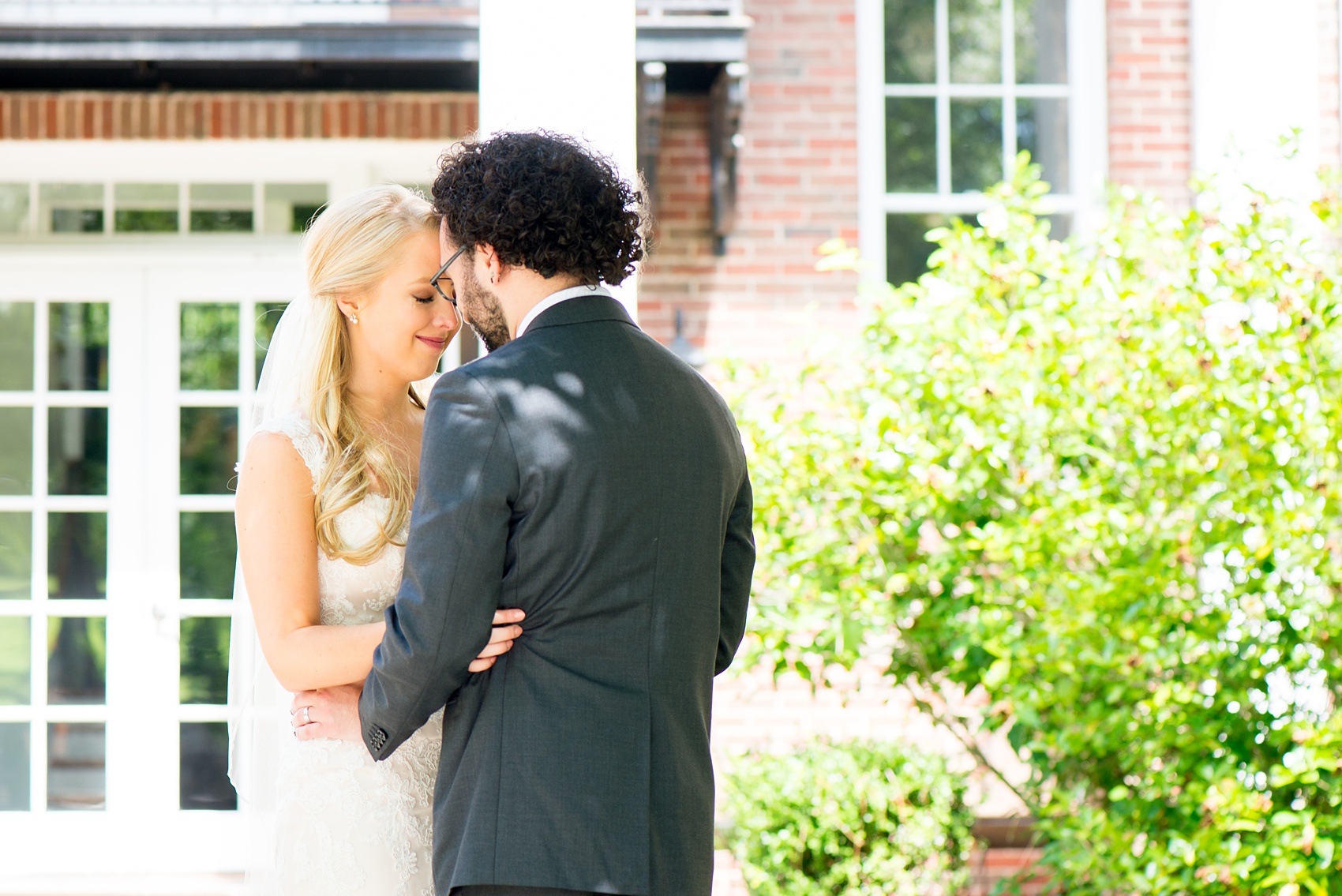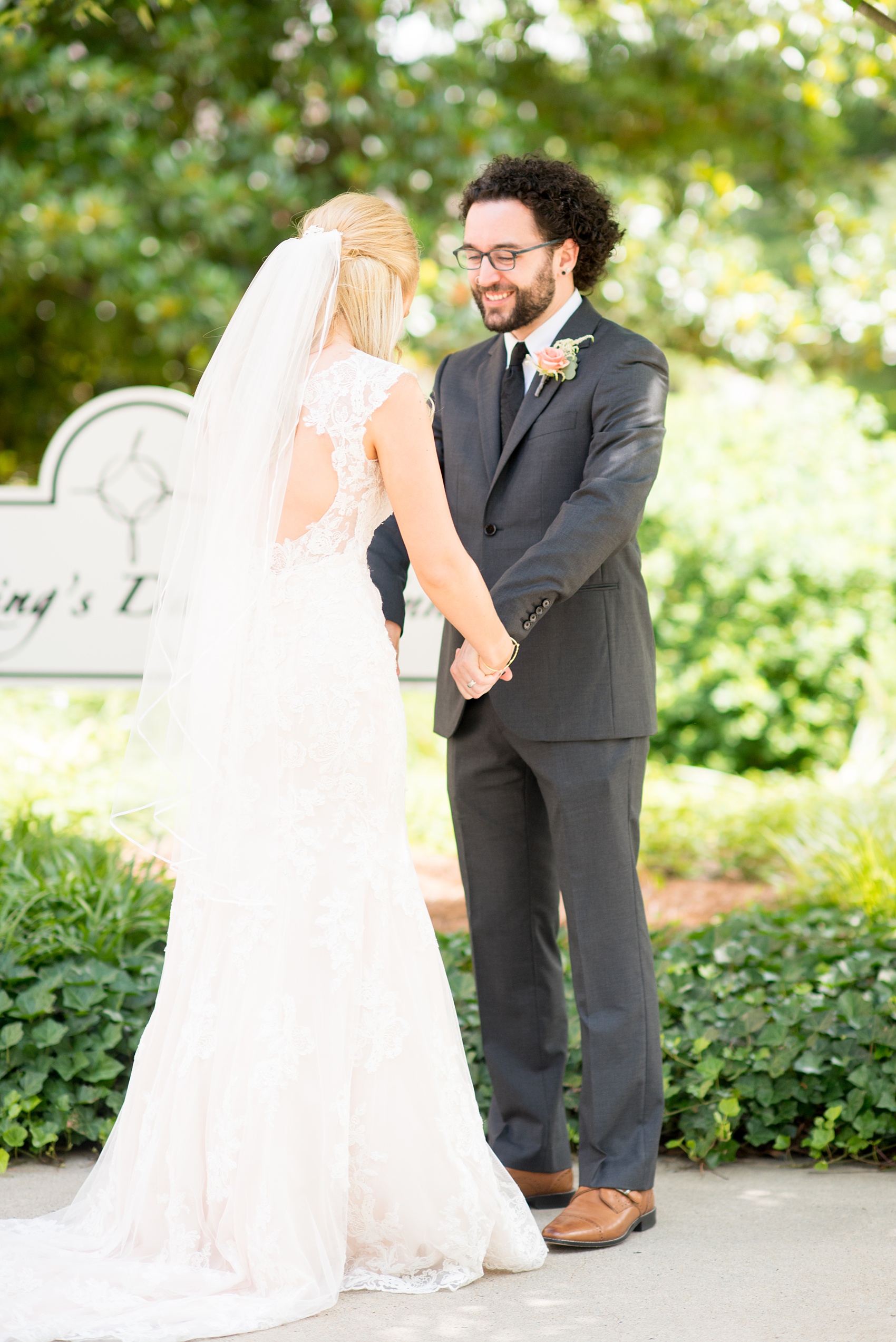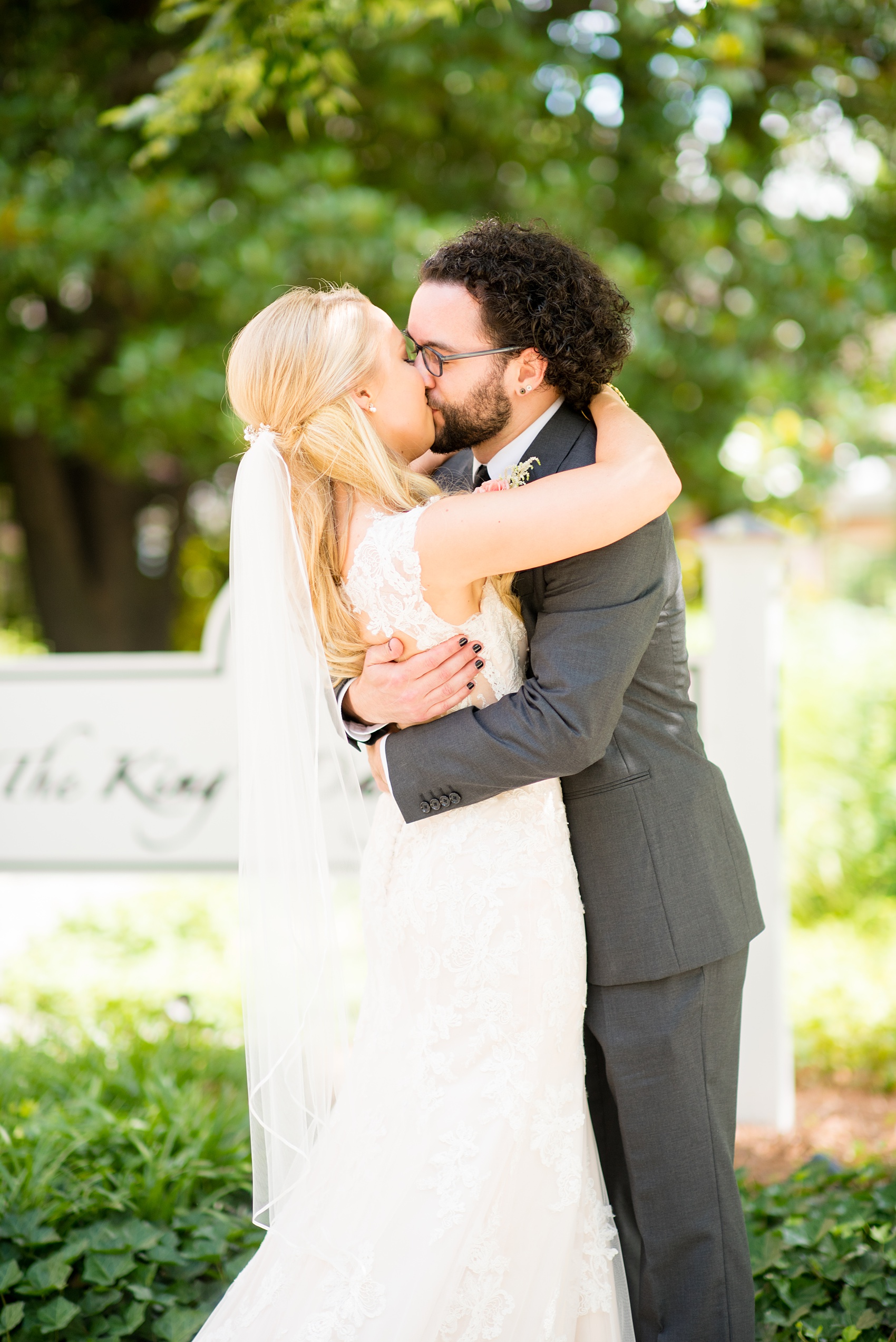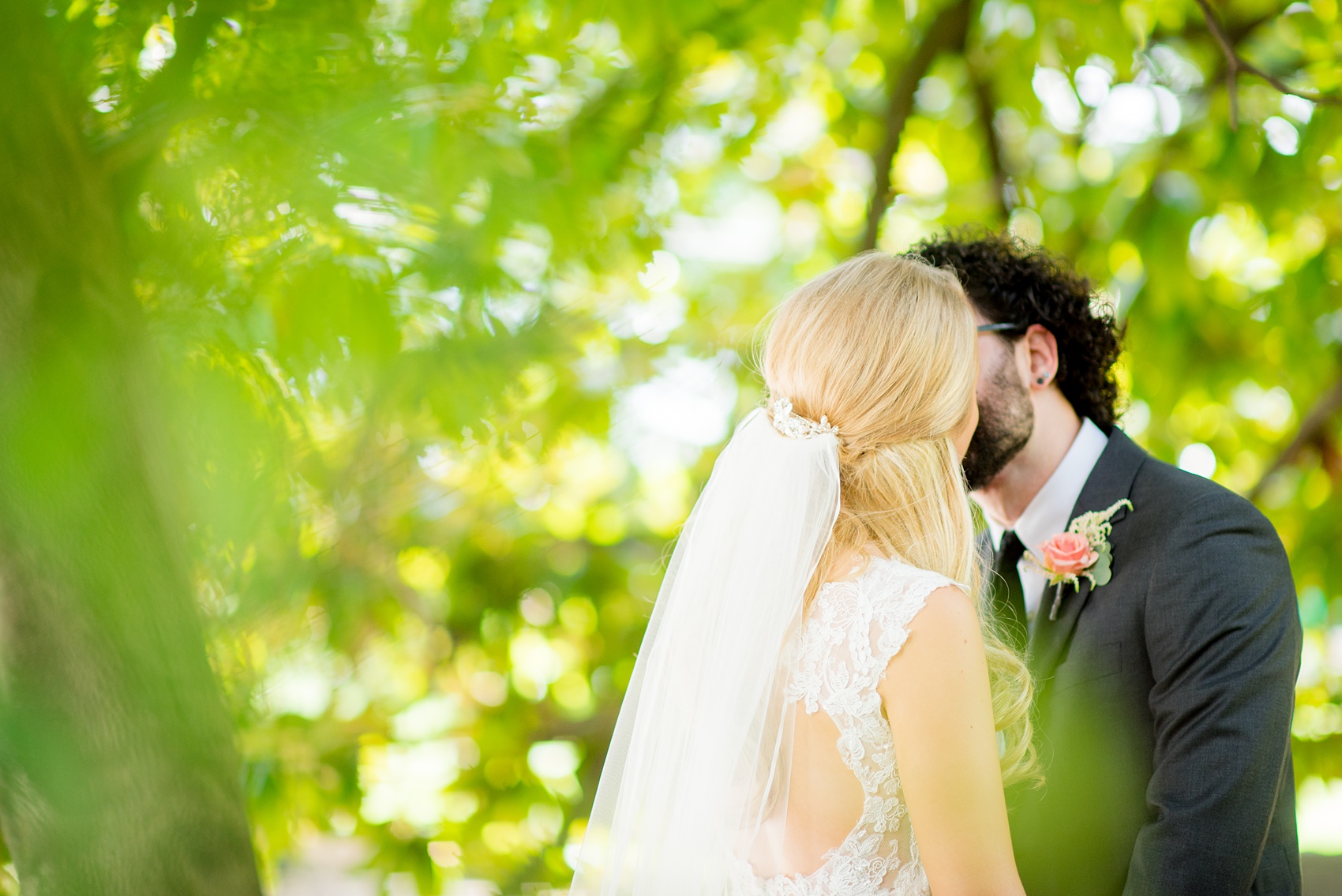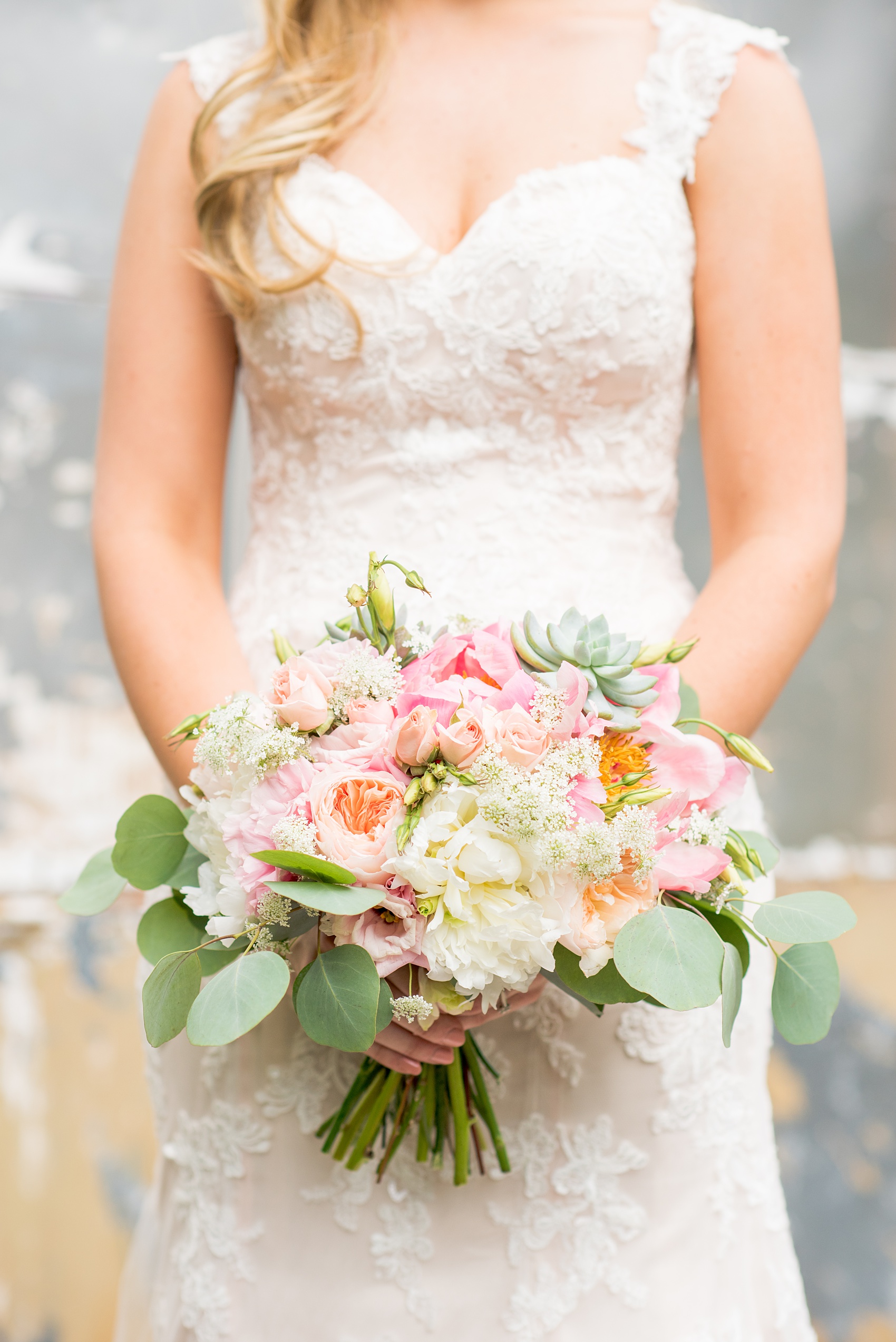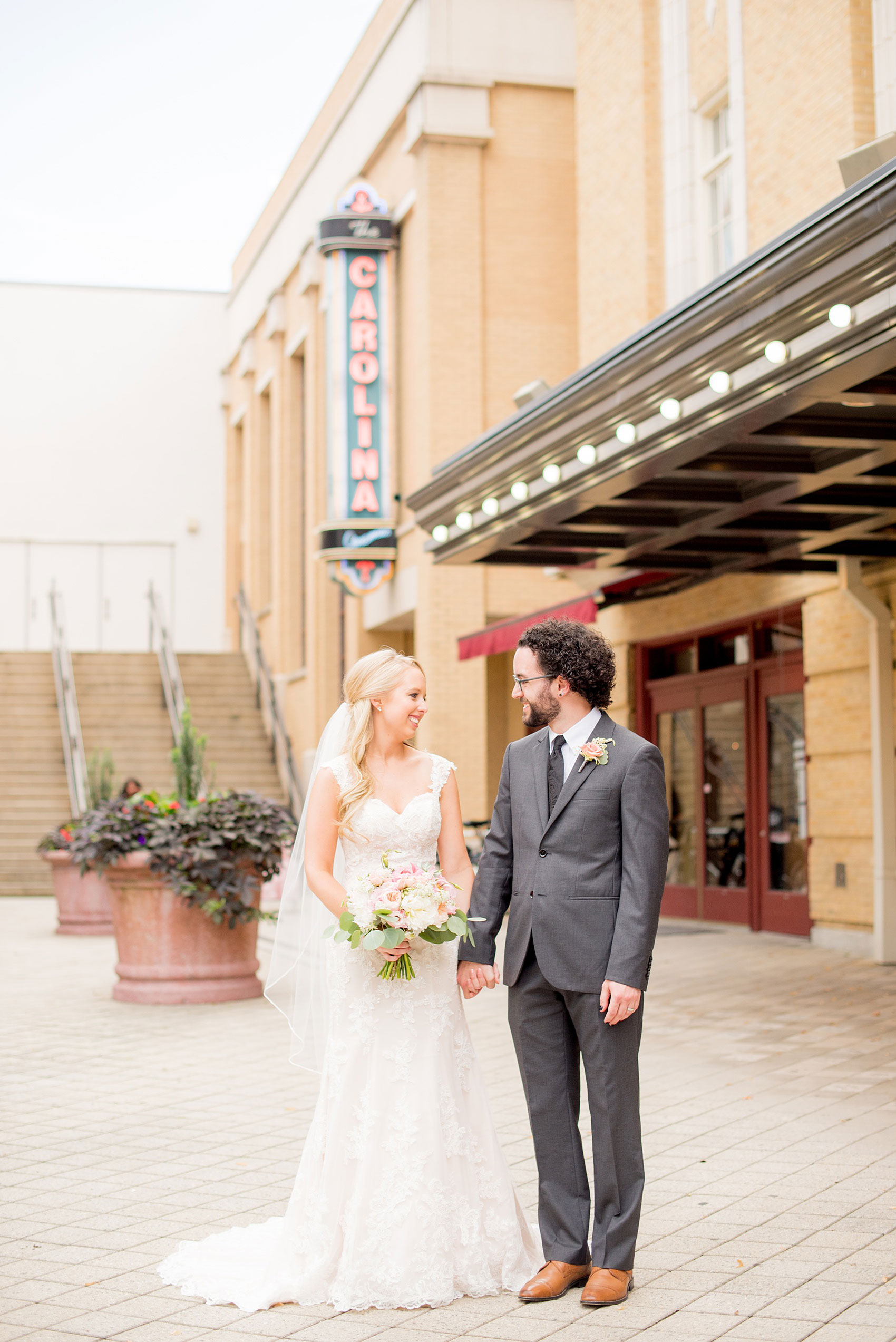 Chloe carried a beautiful bouquet of peonies, garden roses, Queen Anne's Lace, and eucalyptus. There were even three special succulents Teacup Floral added in there! Her bridesmaids carried smaller versions of the bouquet, very similar to hers. The groomsmen wore peach spray rose boutonnieres.
We headed set out downtown to take some awesome photos by Carolina Theater, with its fun oversized chess board and cool urban waterfall, before meeting up with the rest of the wedding party near Durham Central Park for some killer bridal party pictures!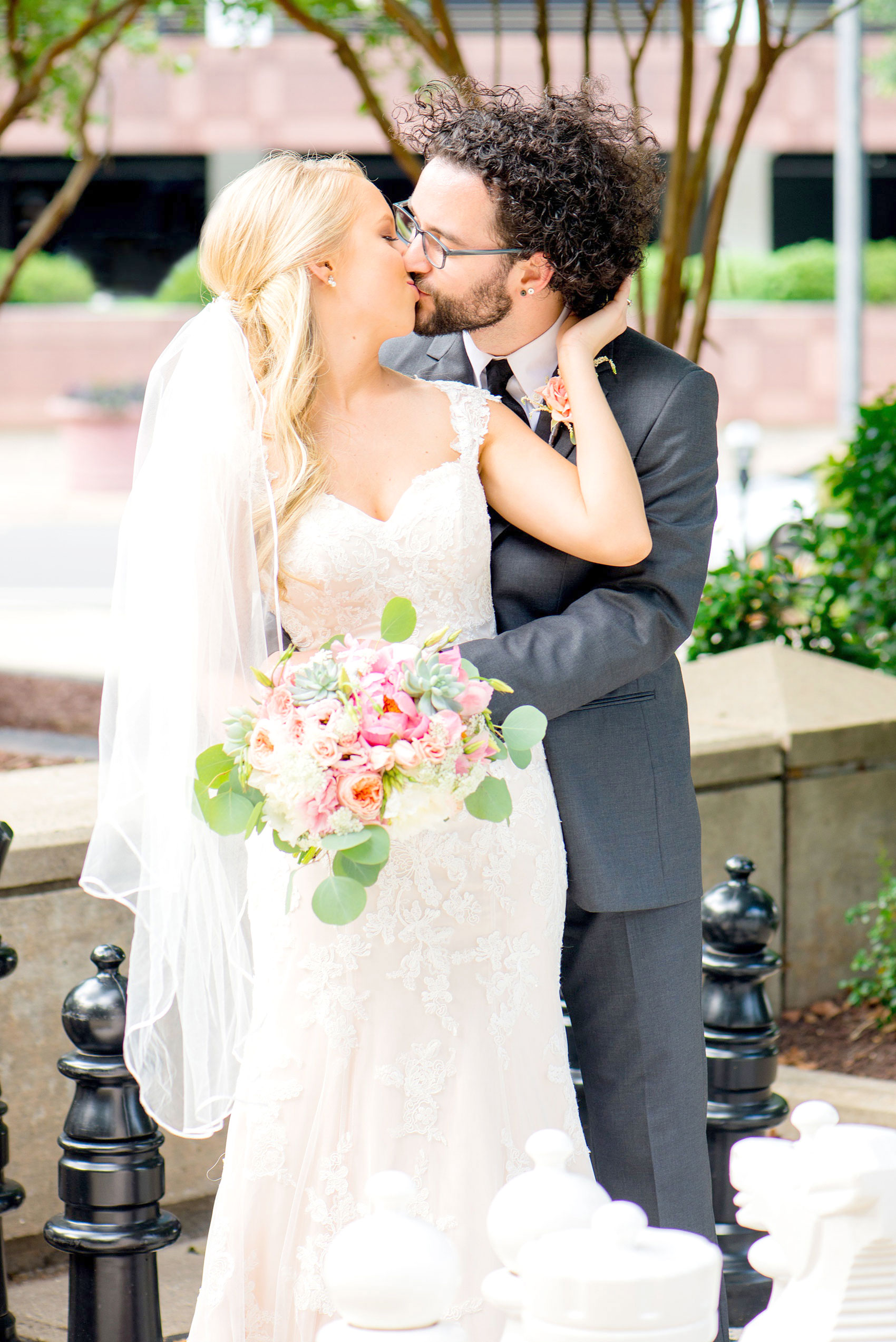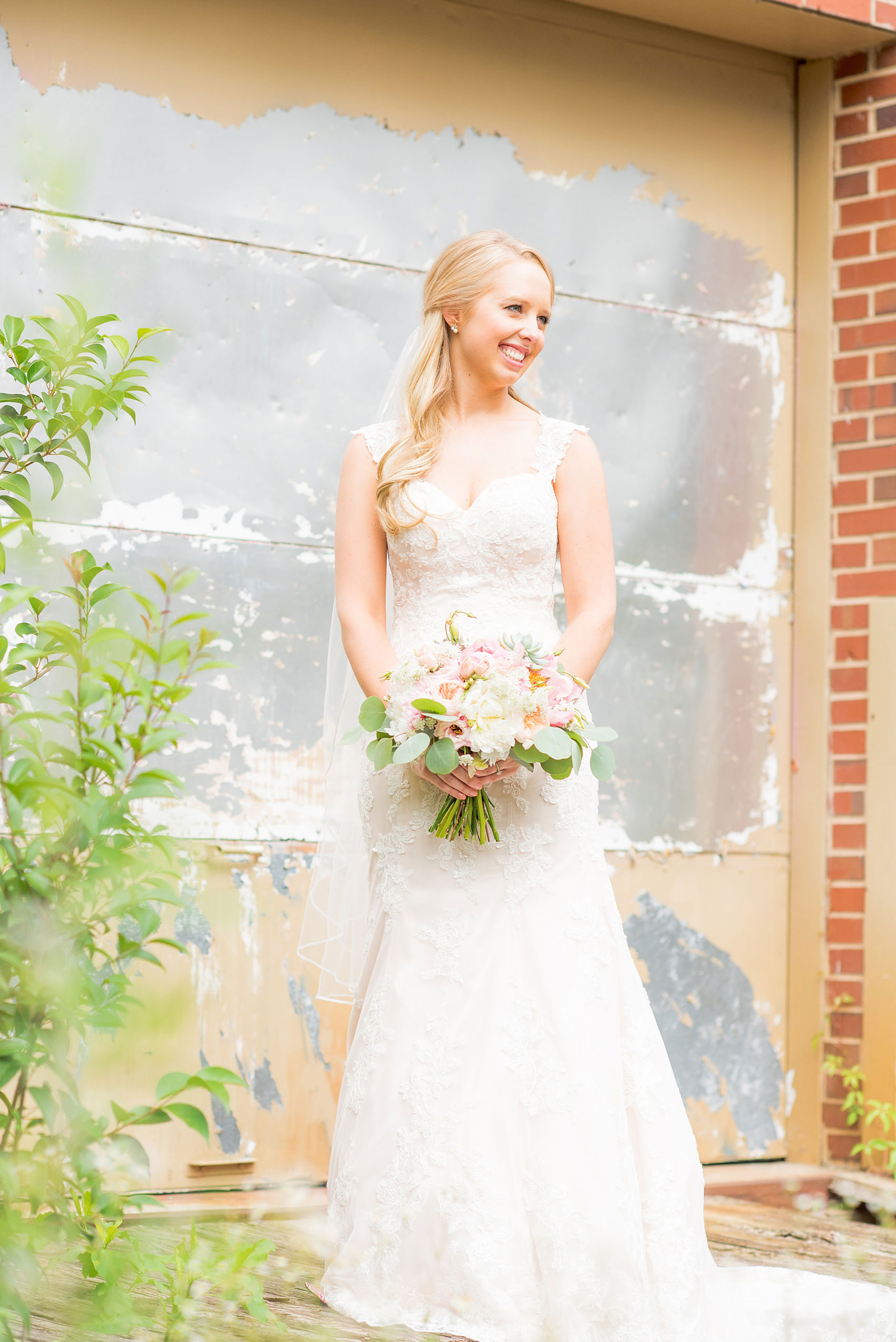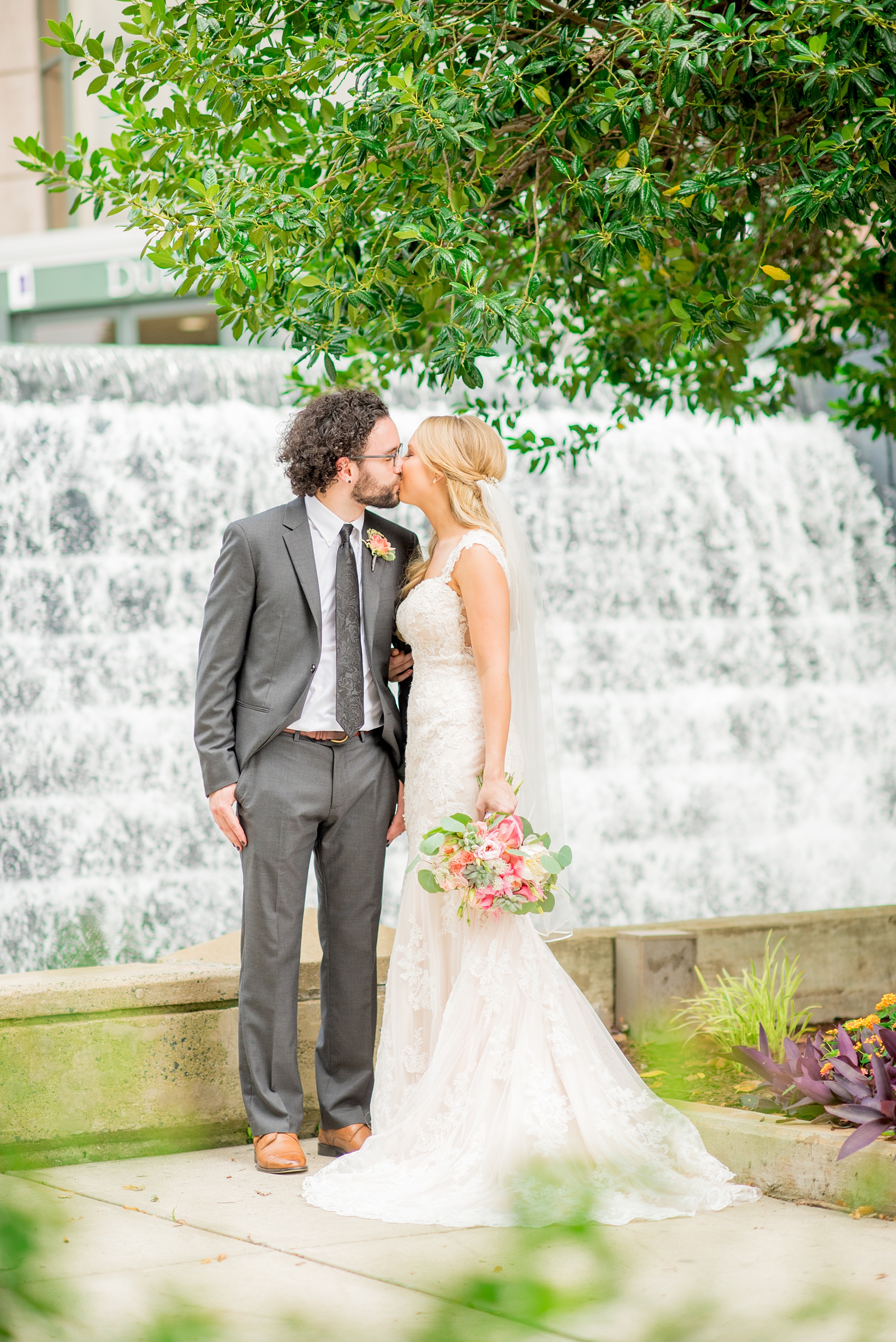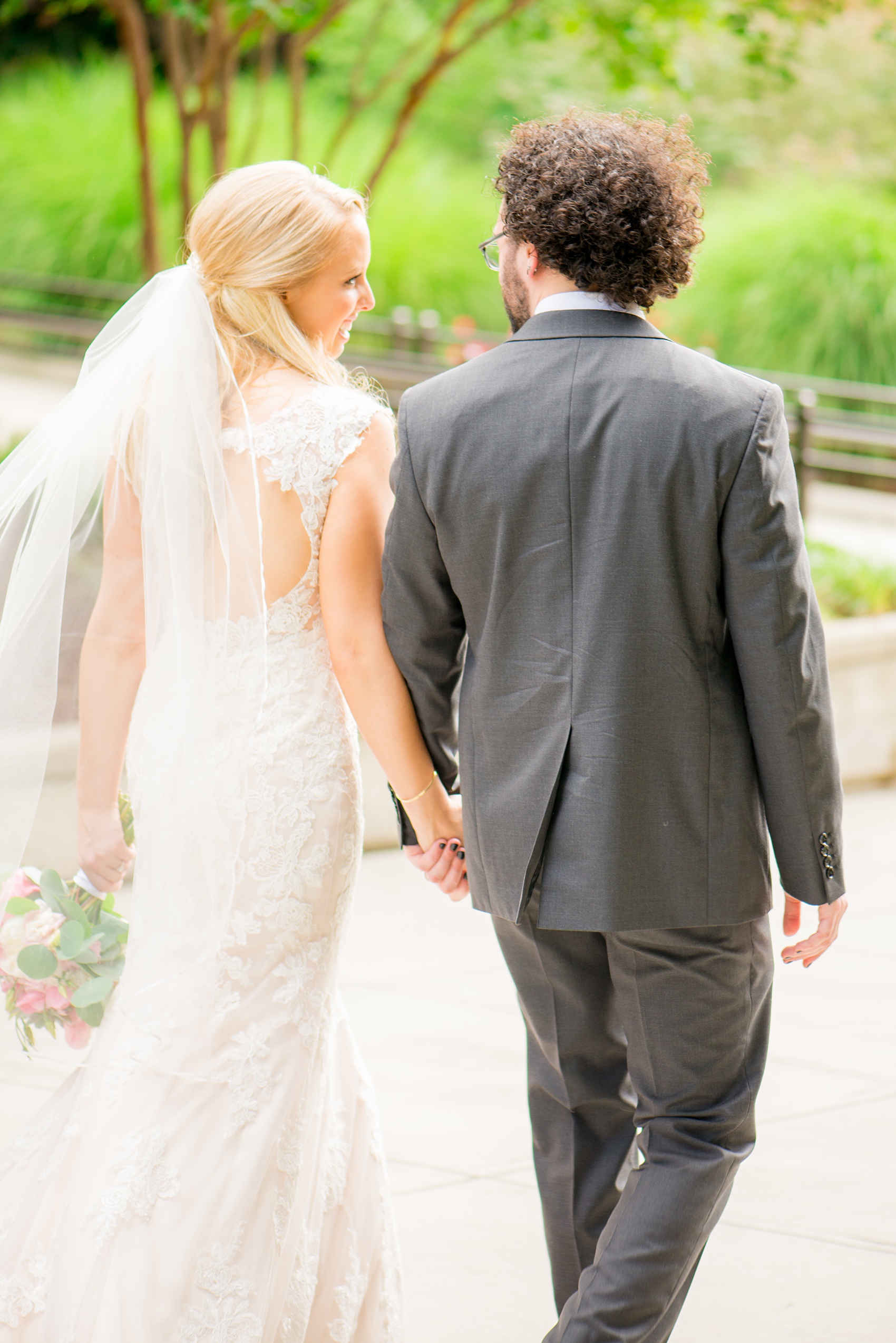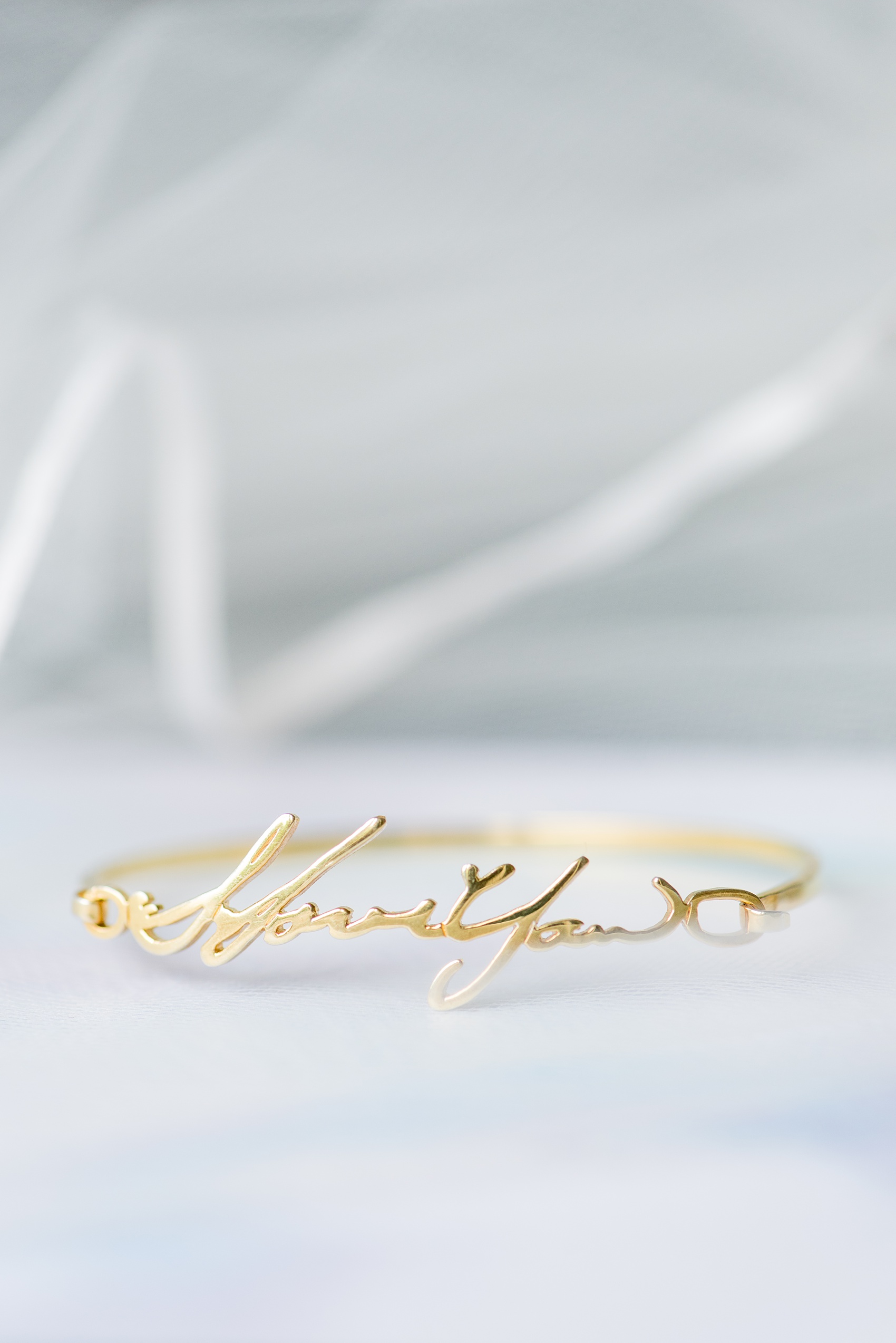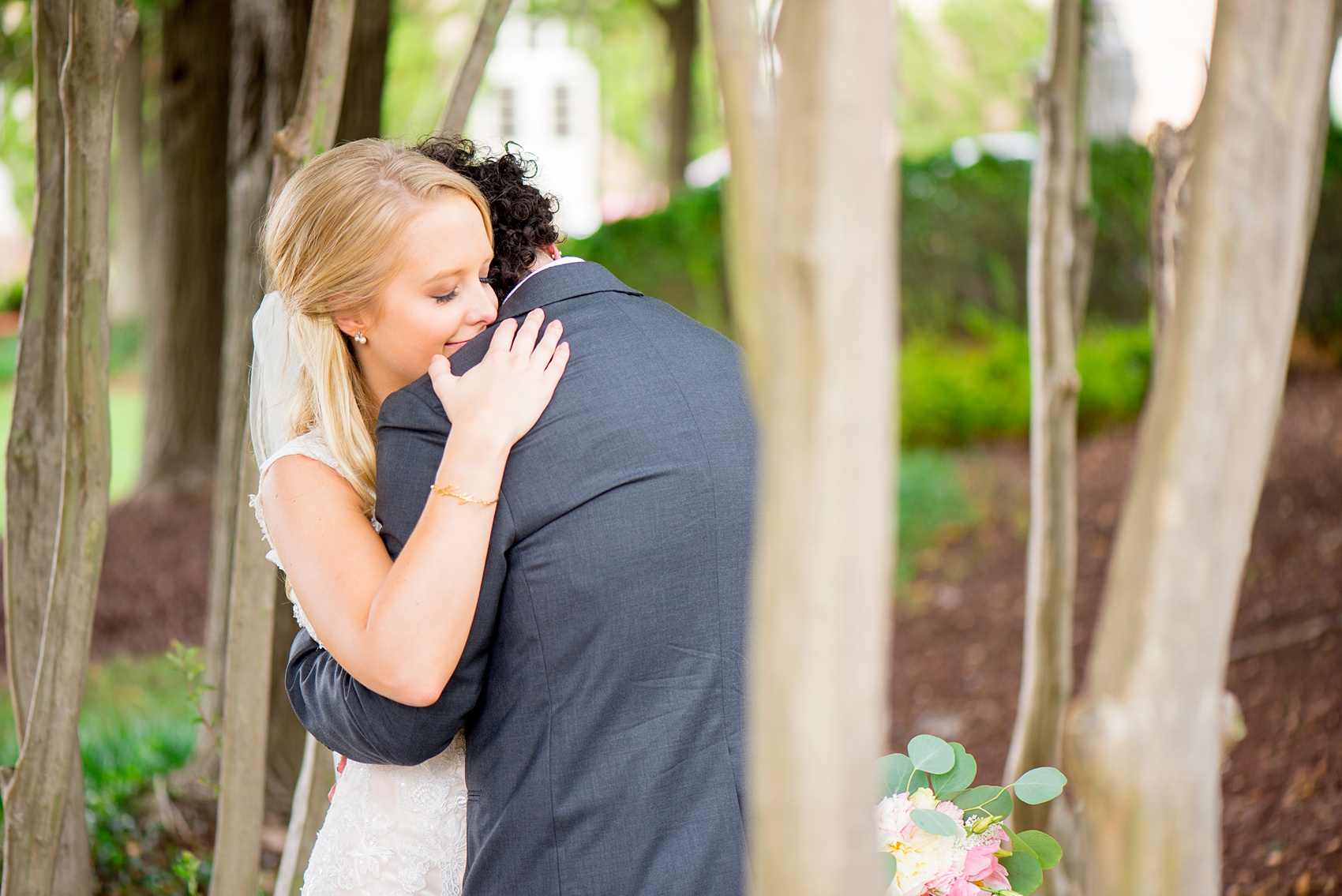 I have to mention the incredible bracelet her best friend and Matron of Honor, Maggie, got her. It was created from a signing of Chloe's grandfather's handwriting, that read: I love you. It was so sentimental Chloe had to hold back tears when Maggie helped her put it on her wrist earlier in the day. Melts my heart! Little things like that are what truly make a wedding day. The best part is Chloe can wear it again and again.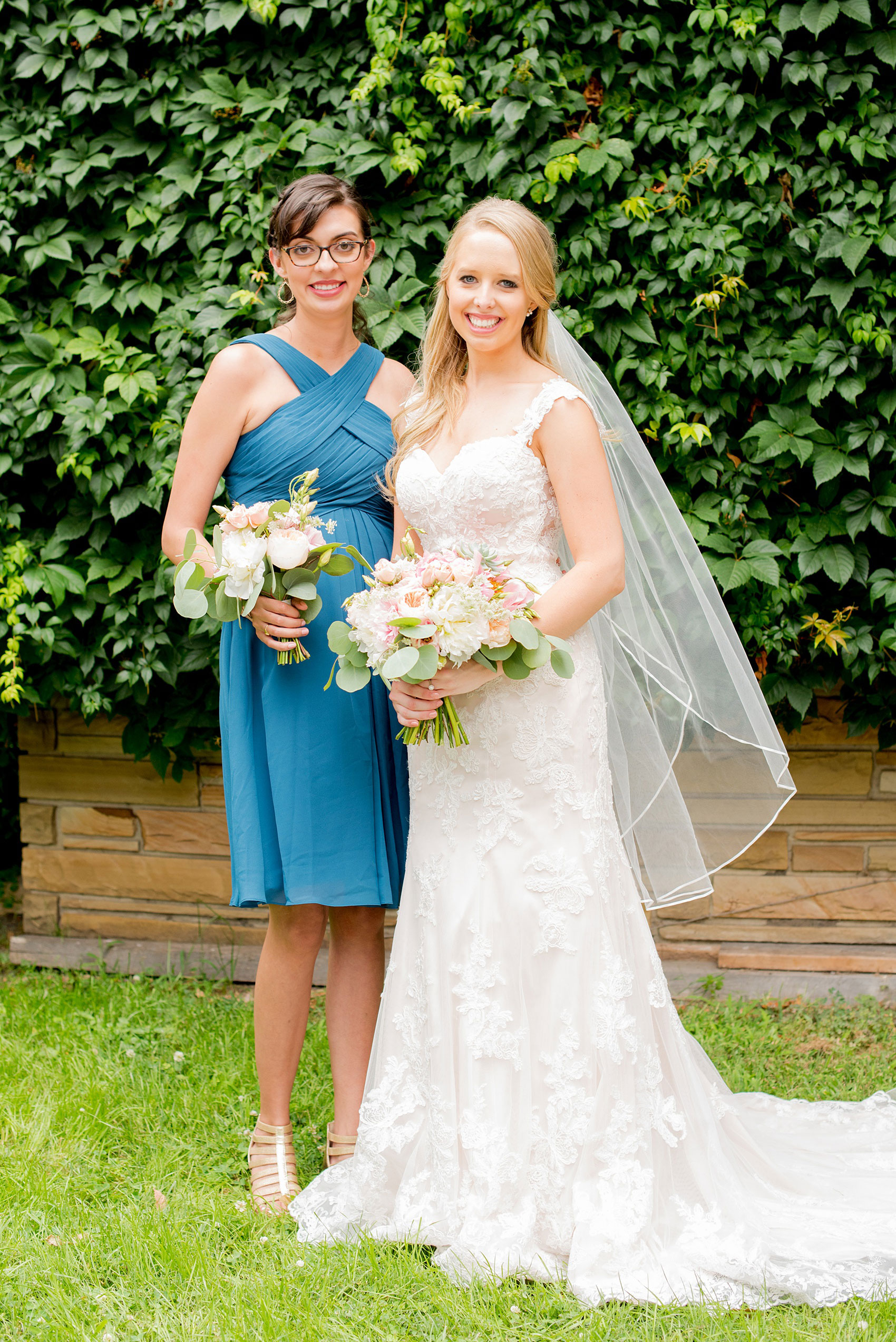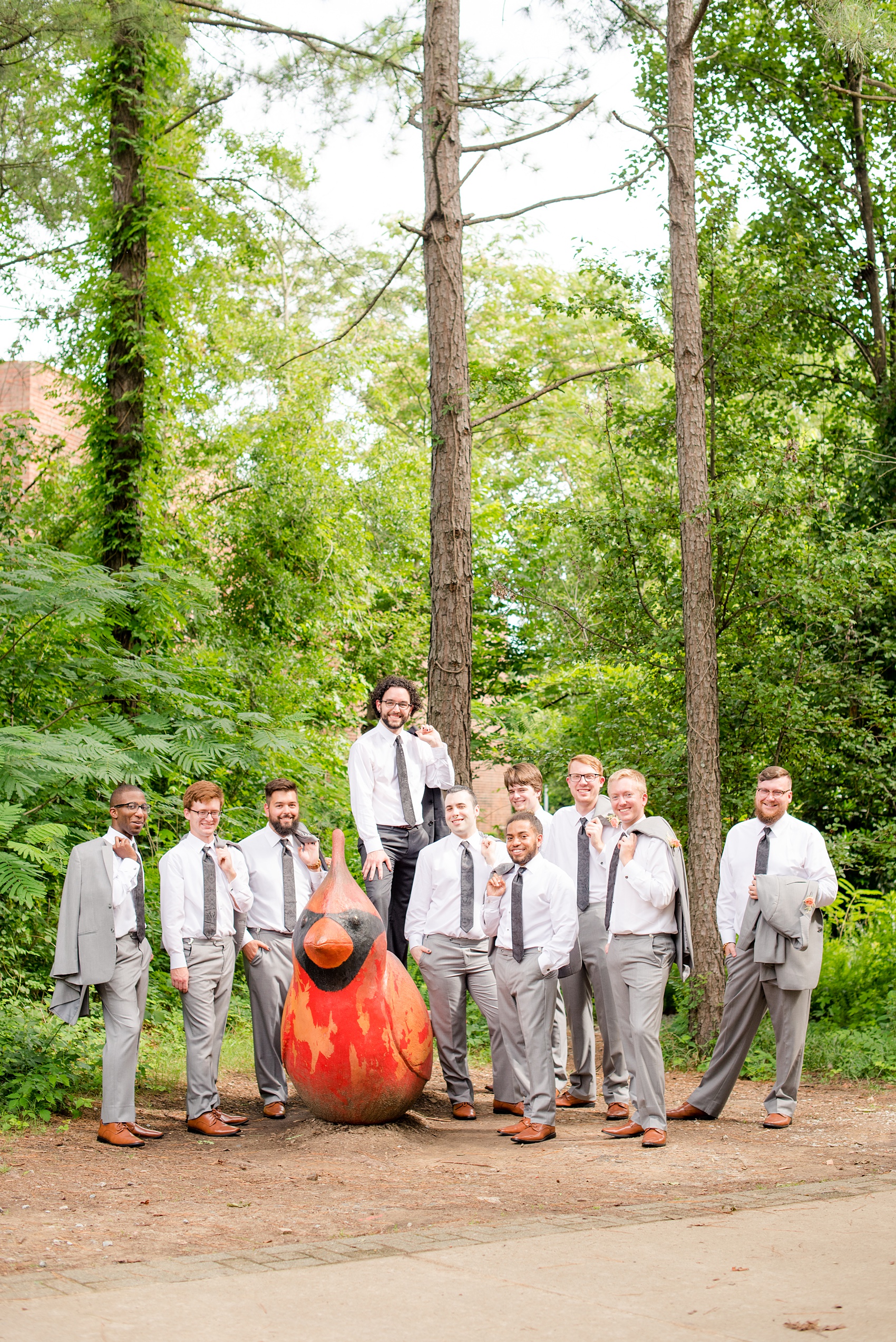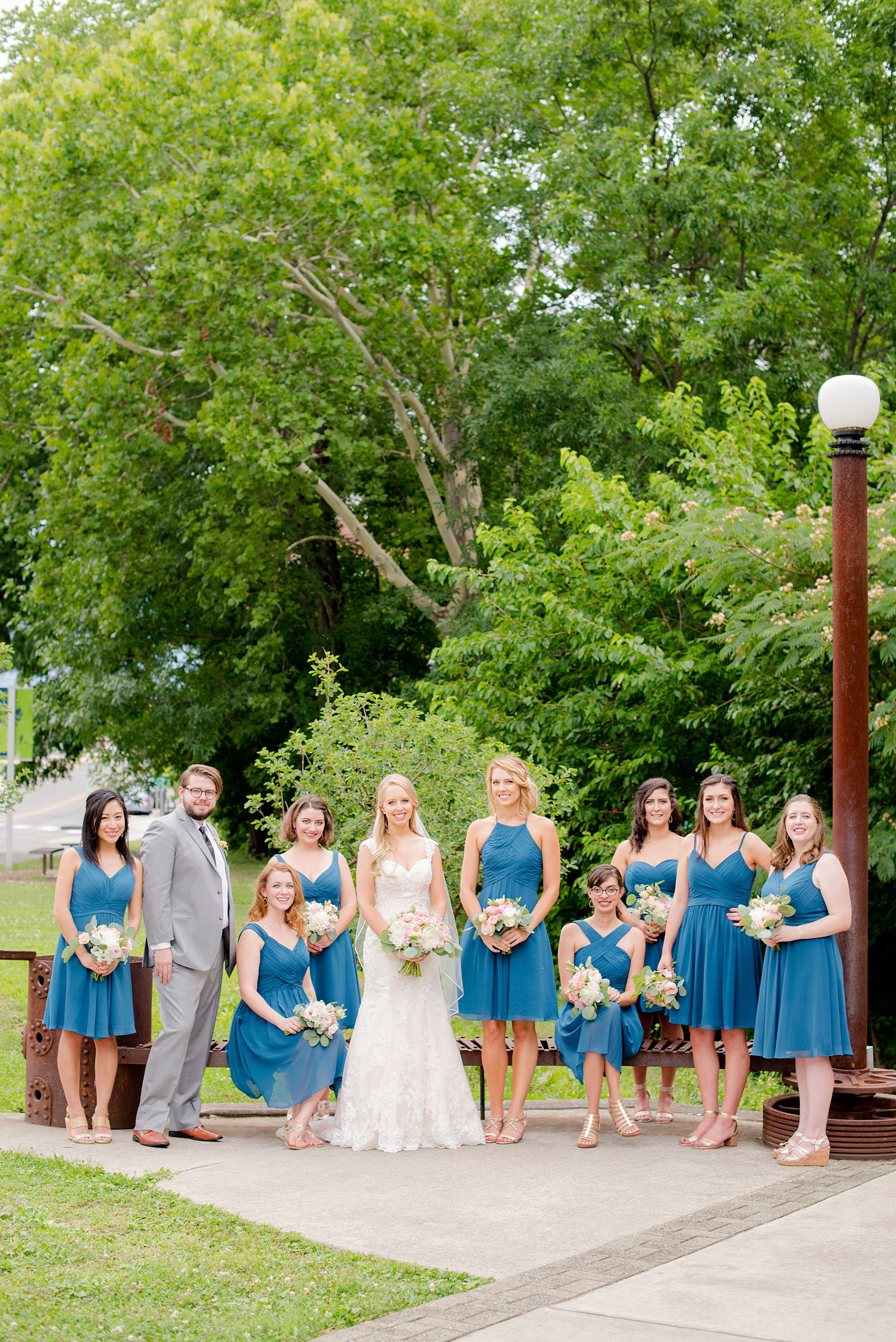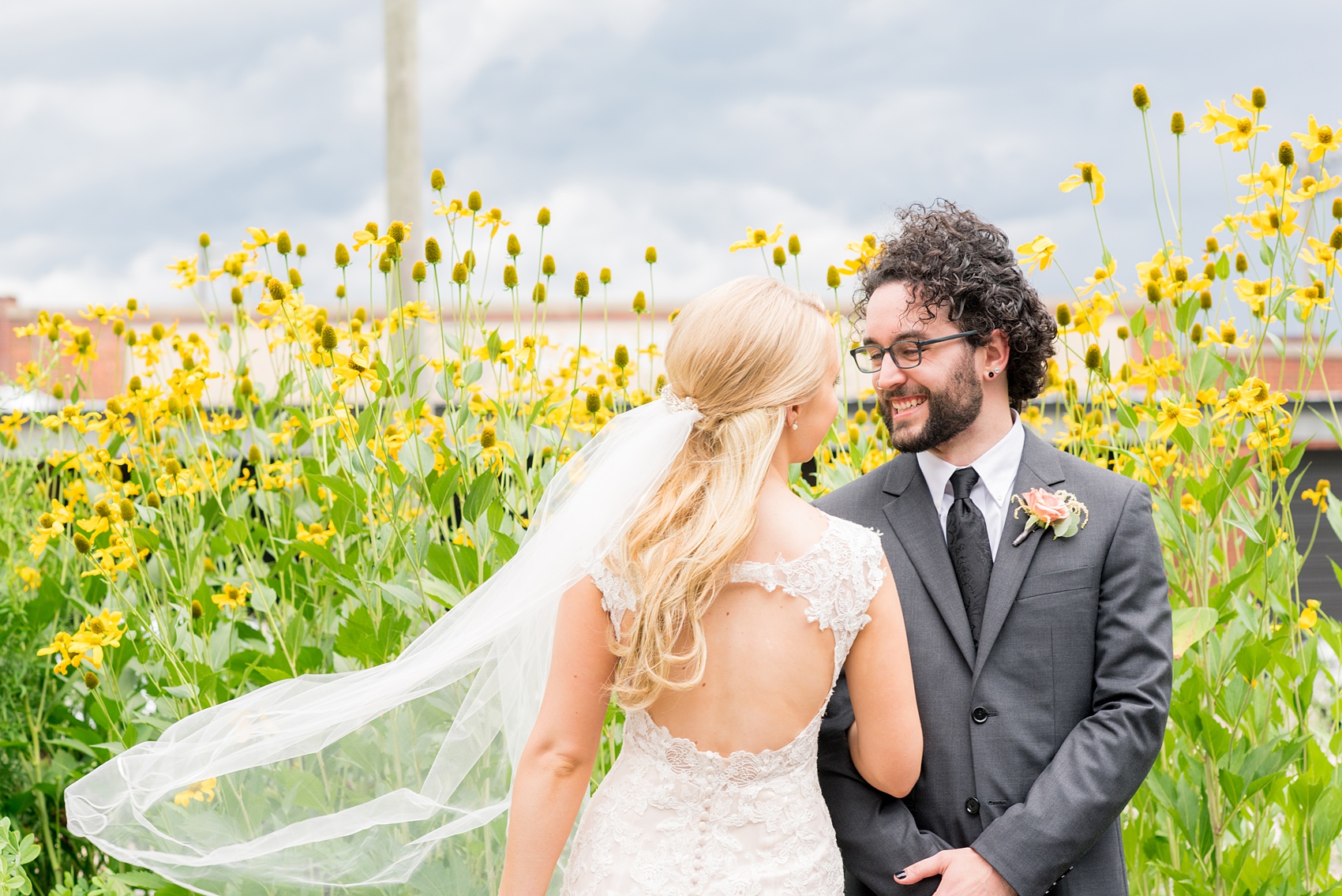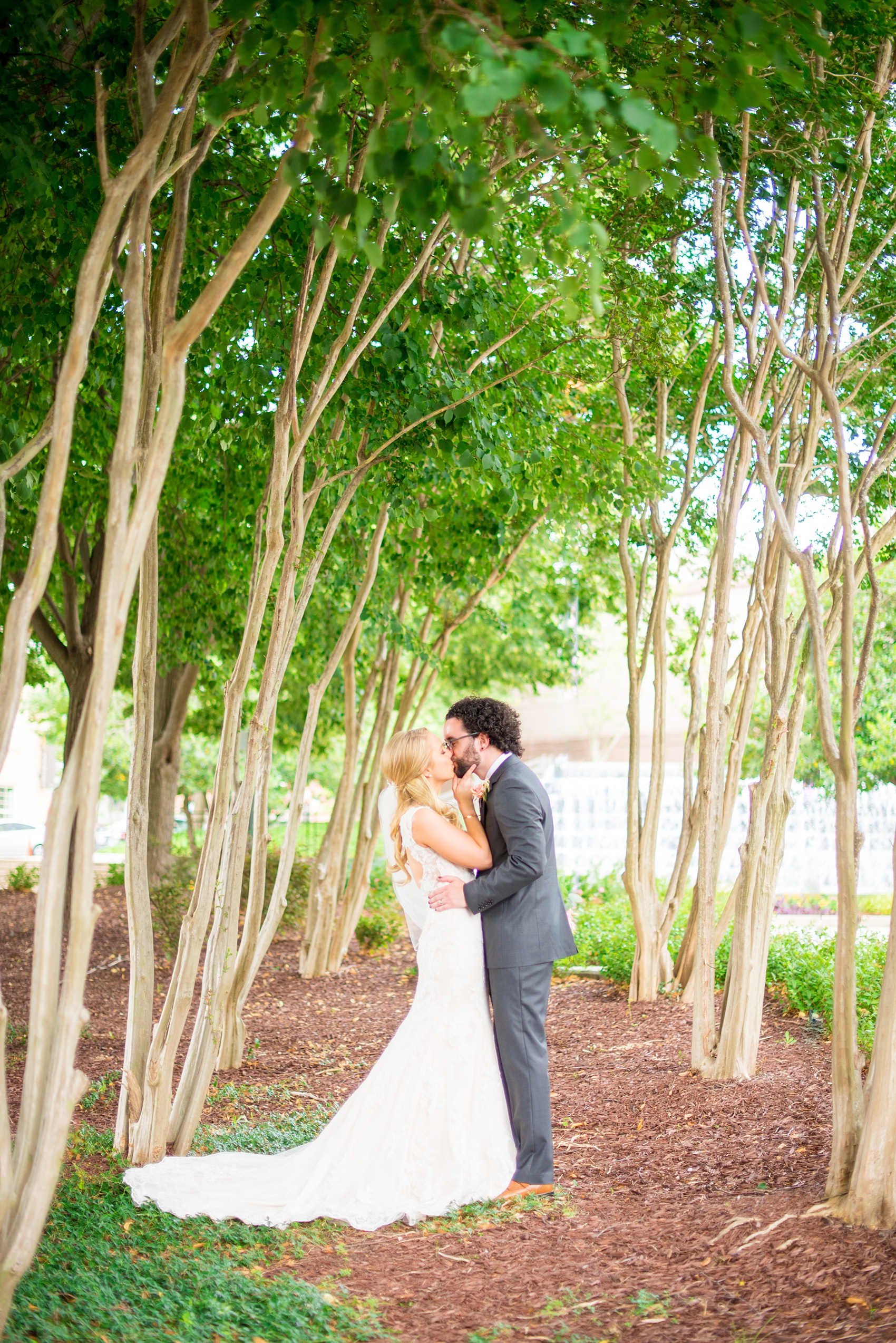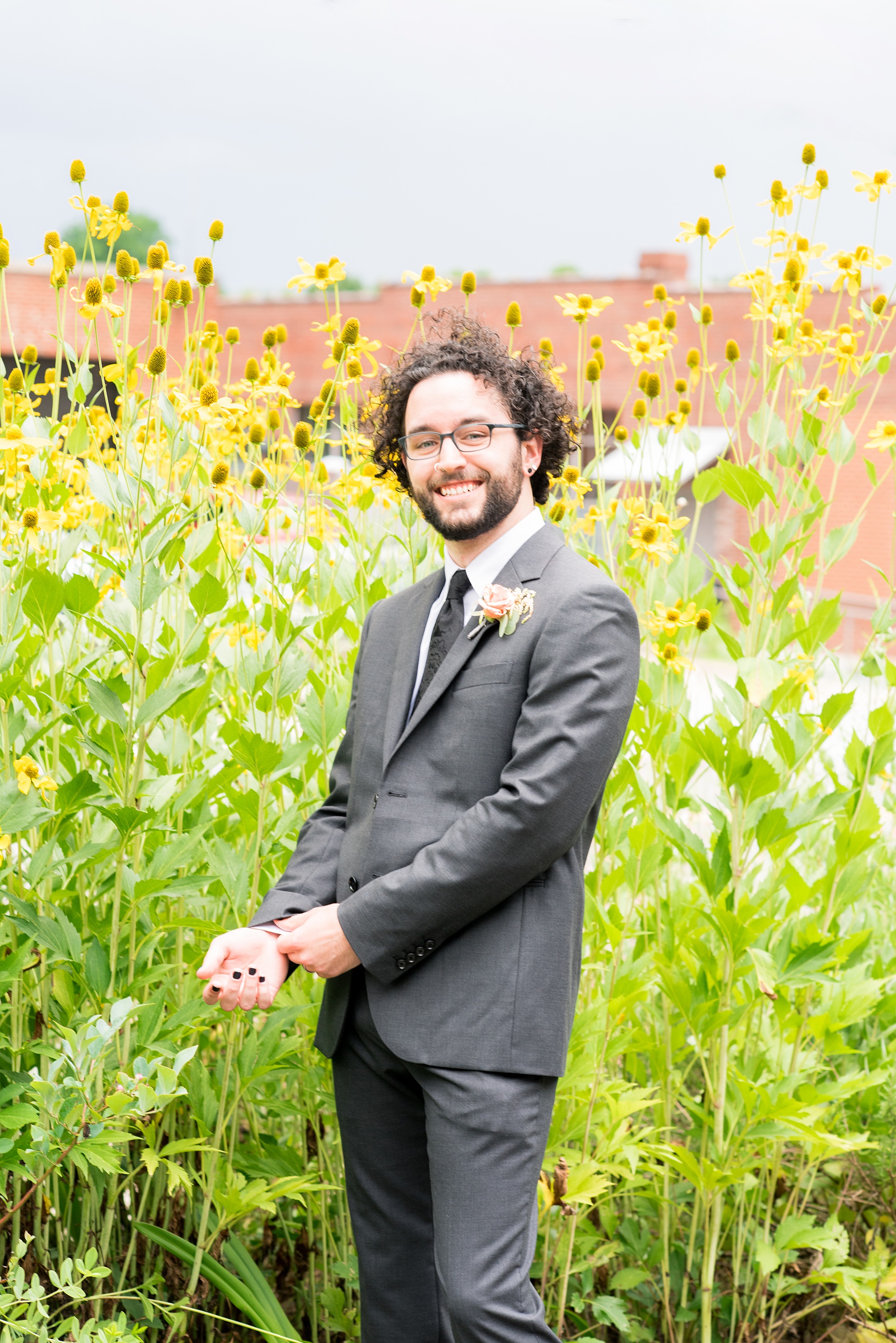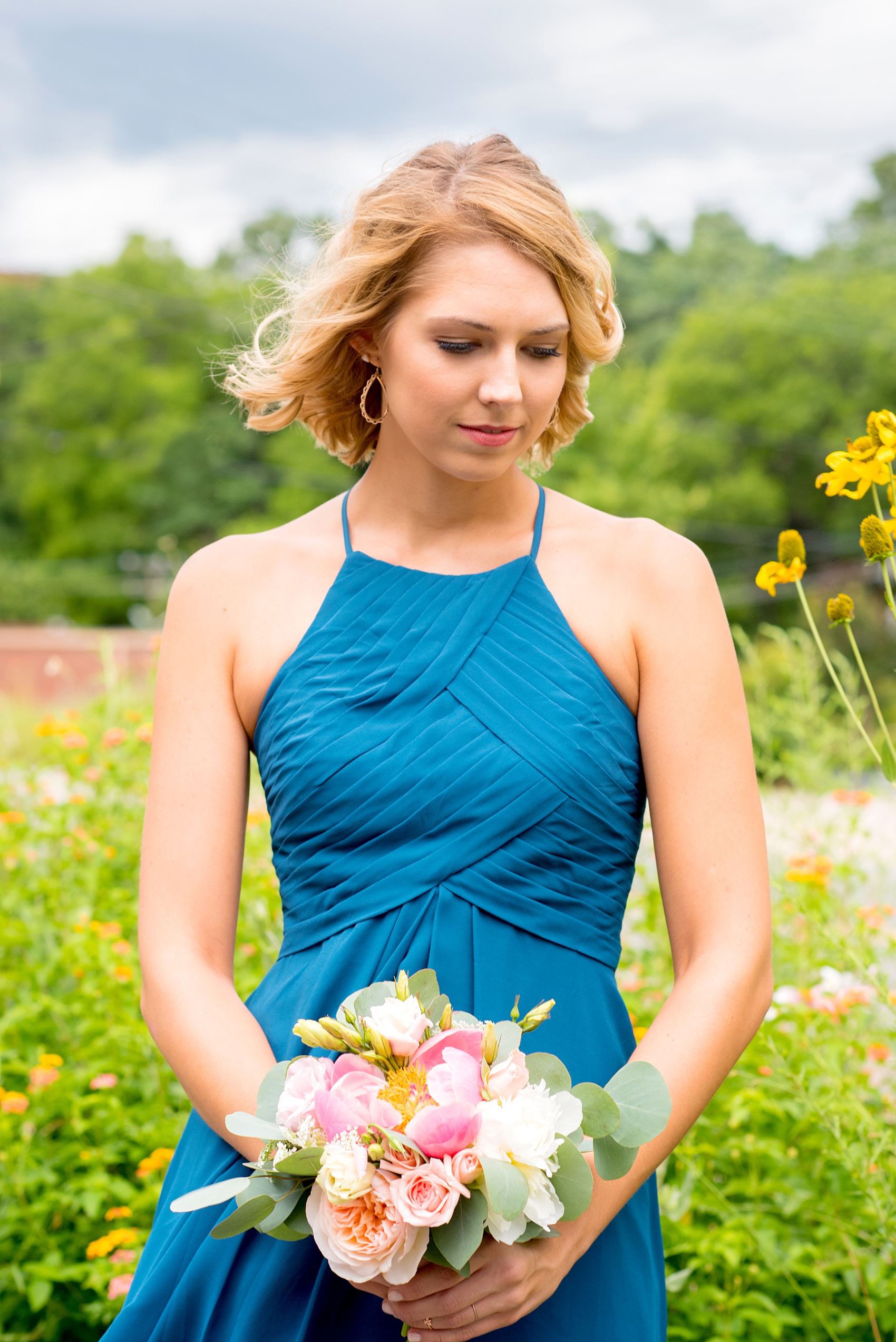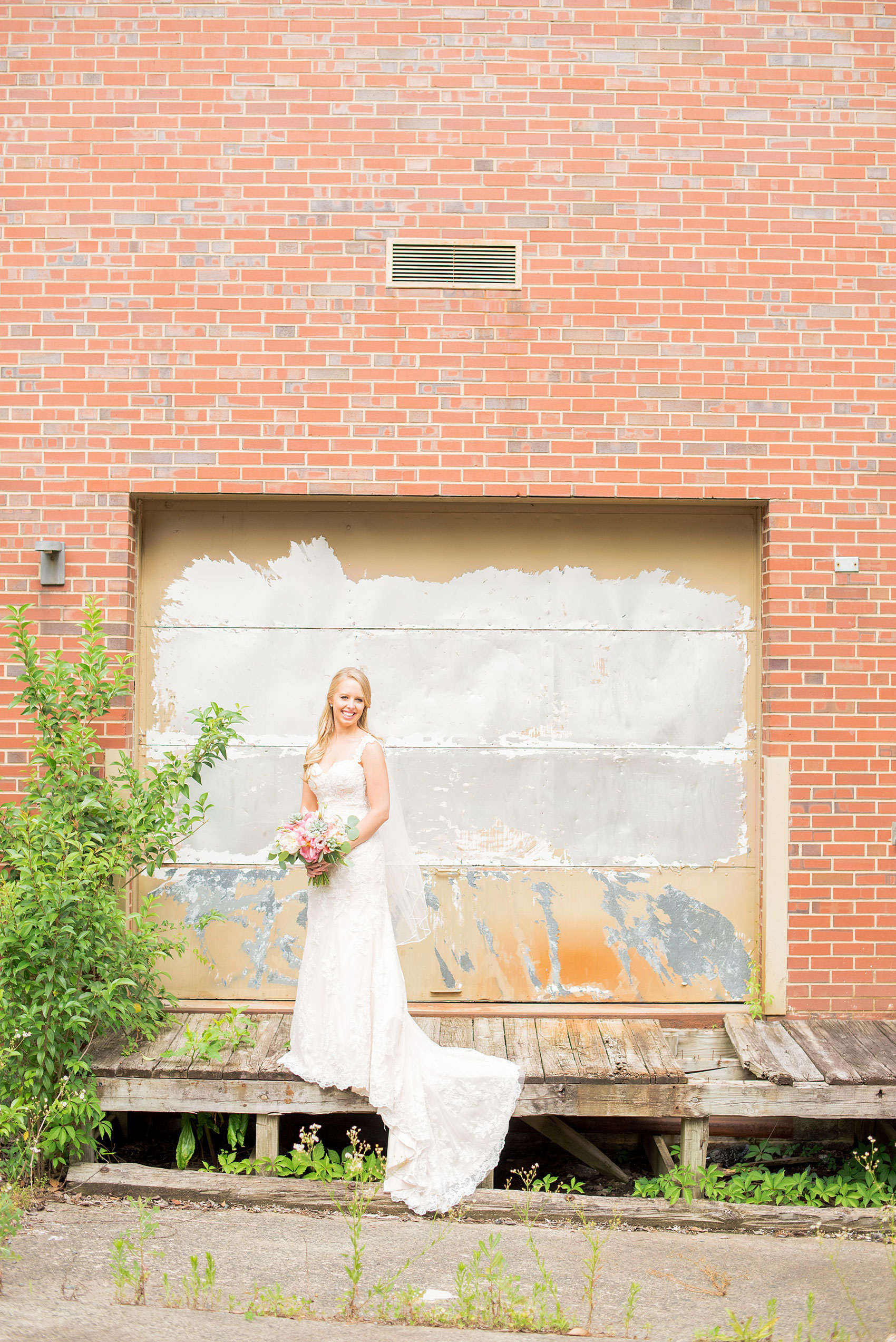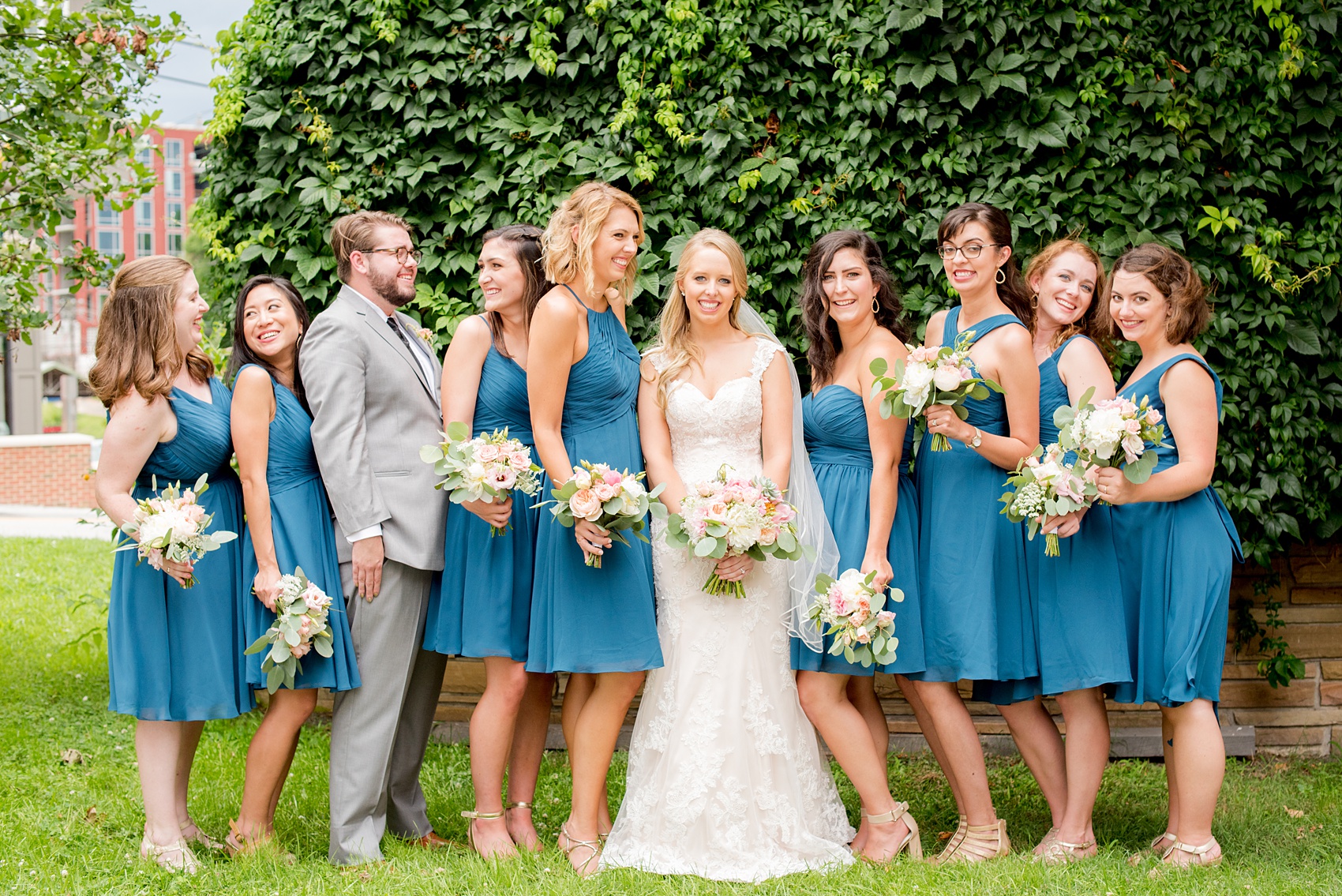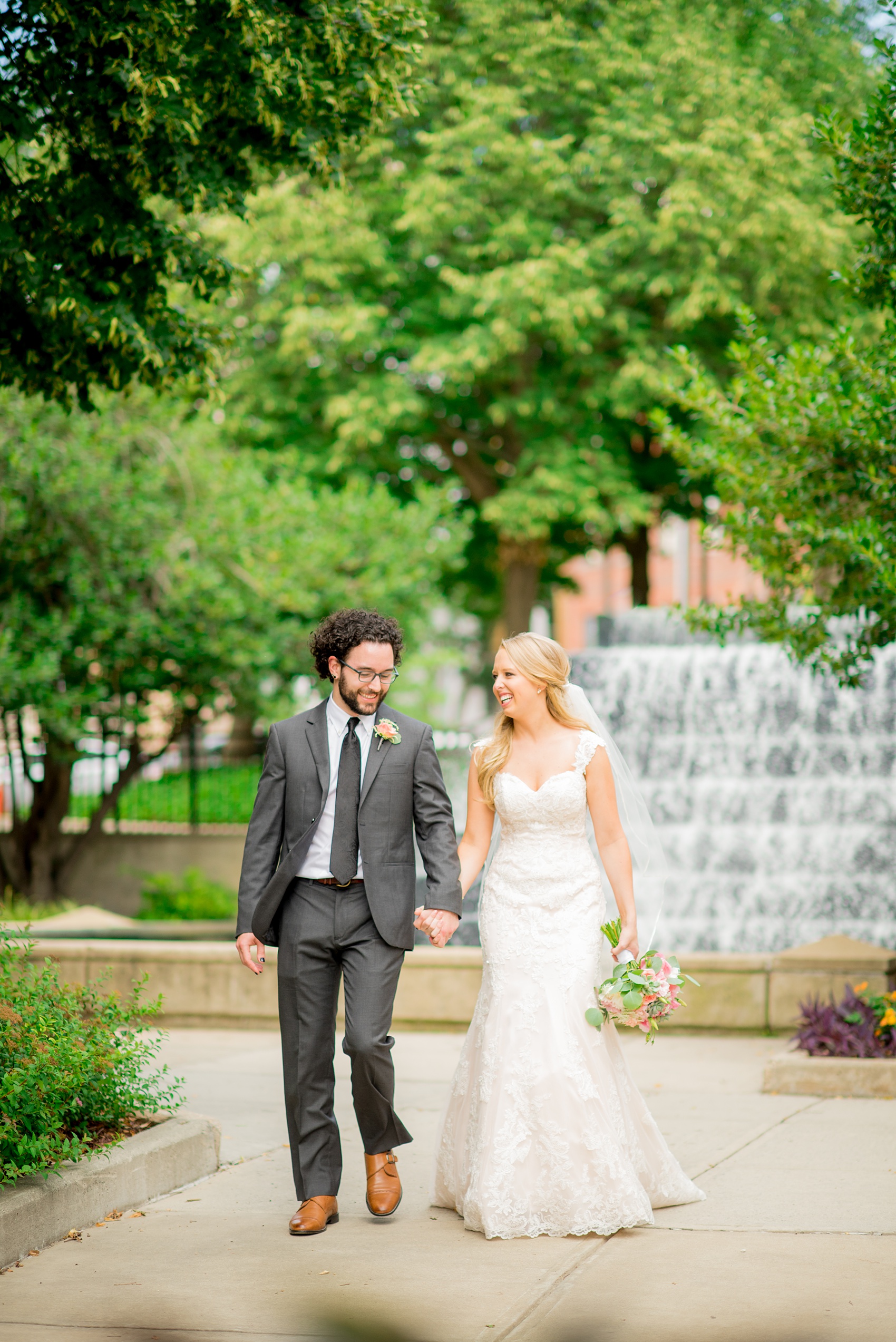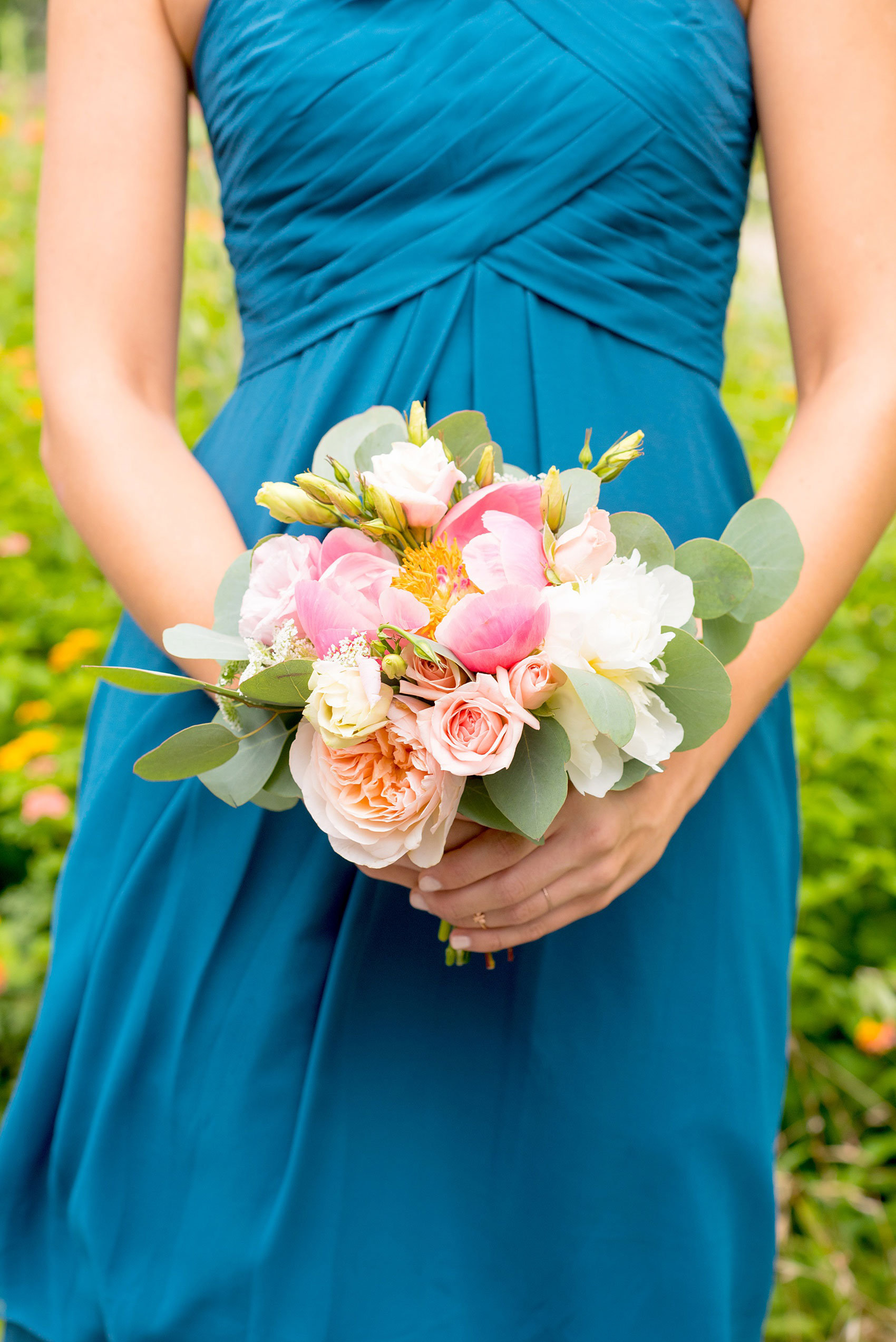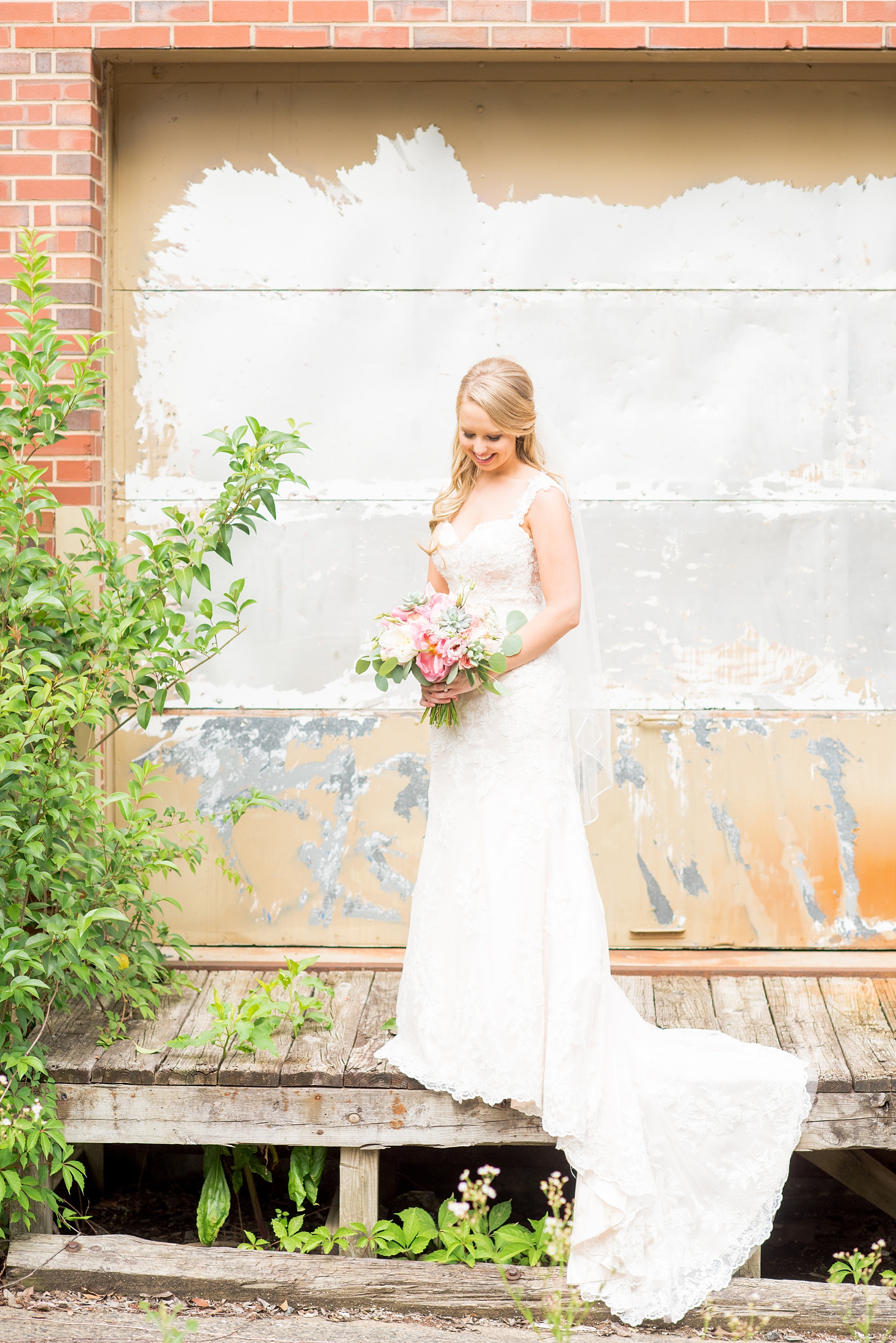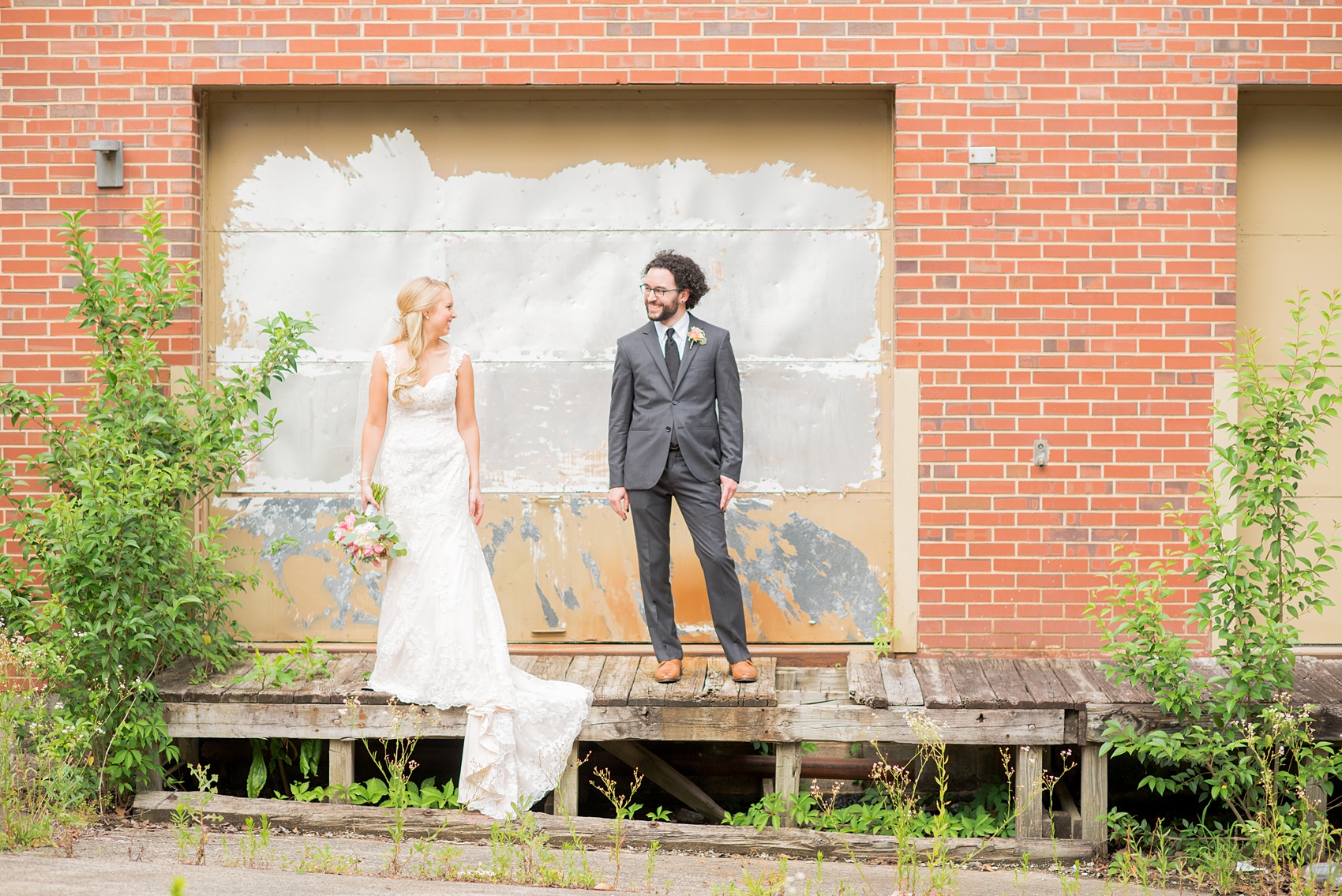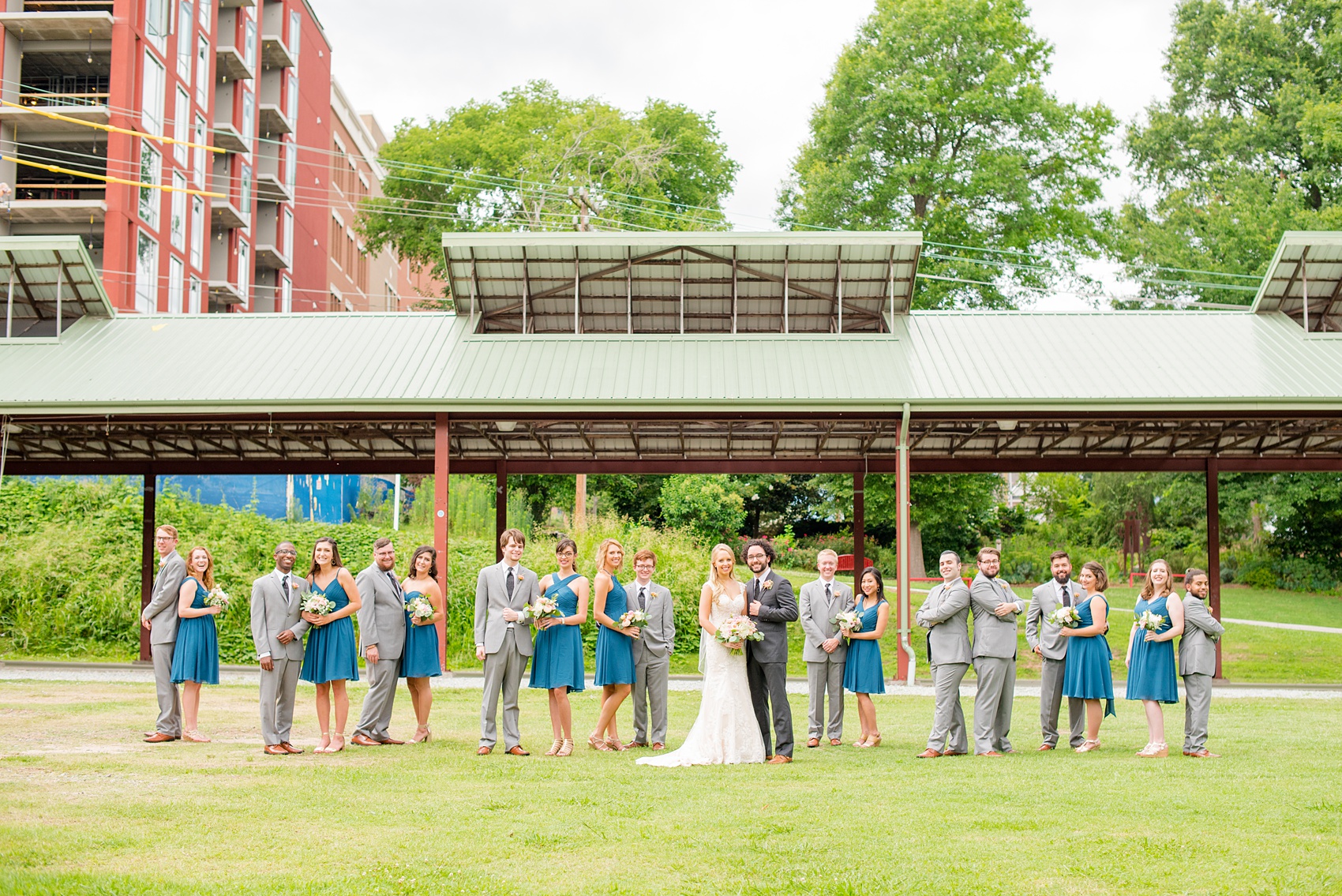 Everyone was incredible on their wedding day. It was a HOT one and the atmosphere was extra humid. I like to think the clouds were holding back the rain just so we could take wedding party photos outdoors before it rained prior to their indoor ceremony. (Thank you, mother nature.) I was EXTRA appreciate of the men being troopers in their hot, long sleeve suits. They were all certainly game when I suggested I take a few photos without their coats on for a more relaxed look!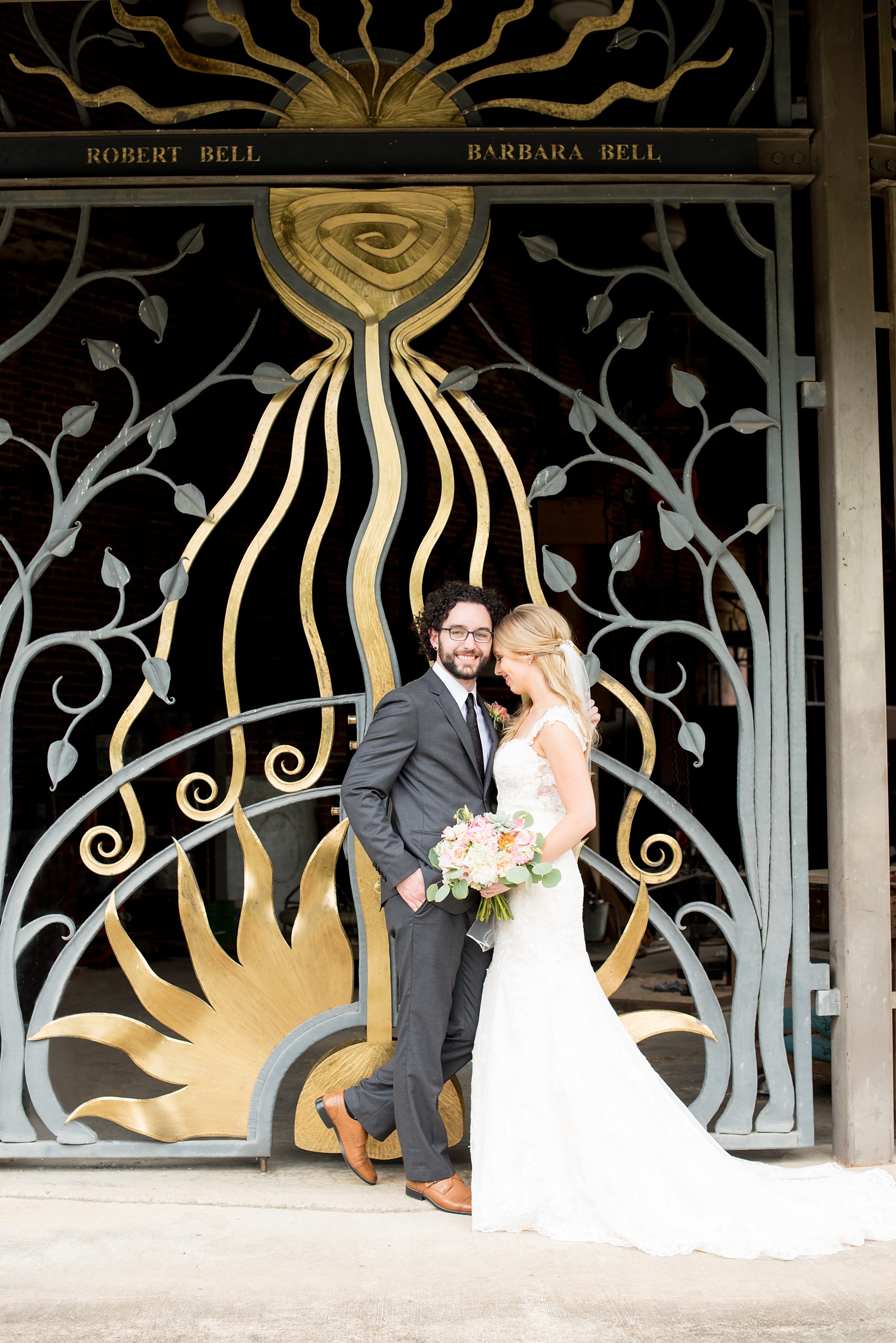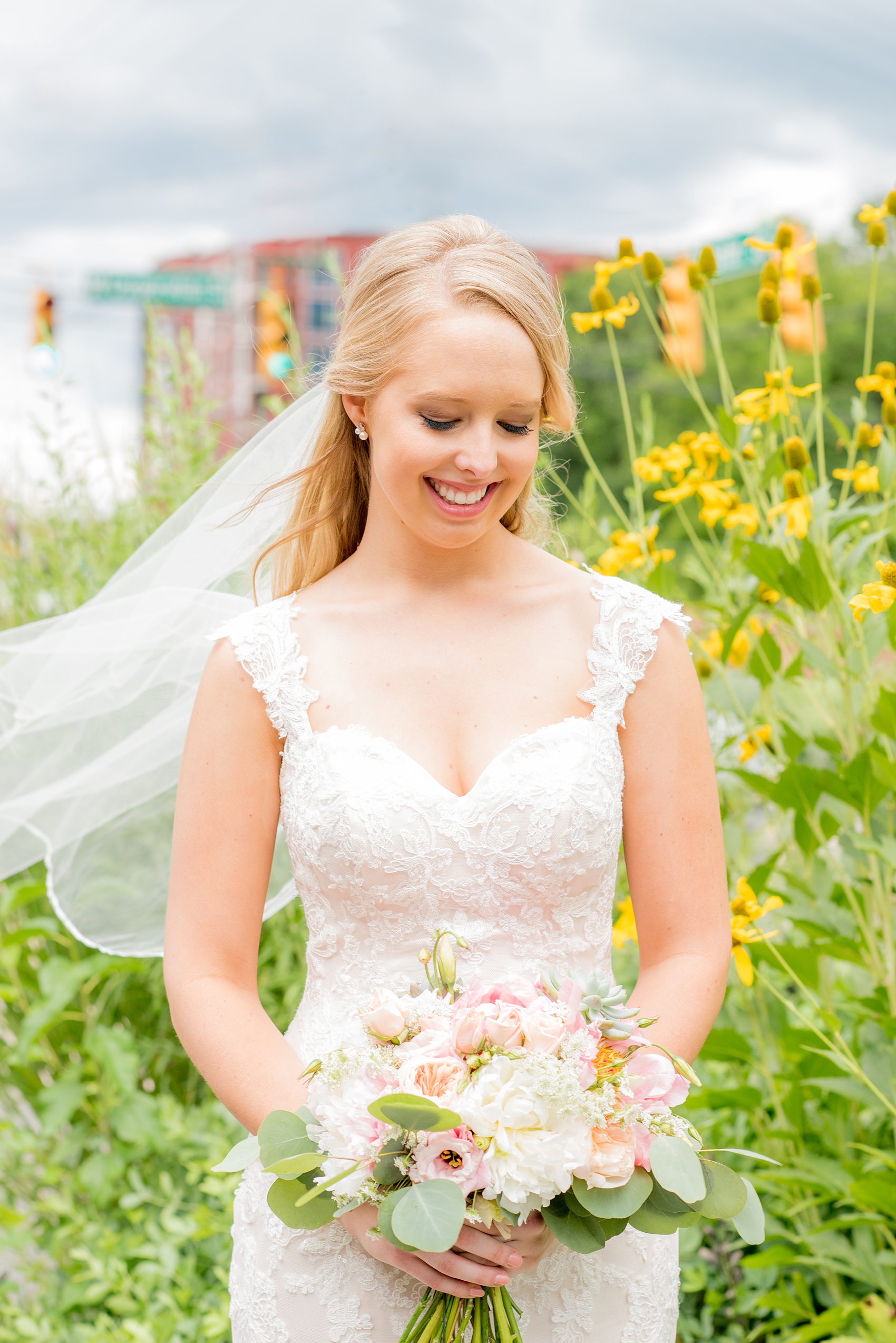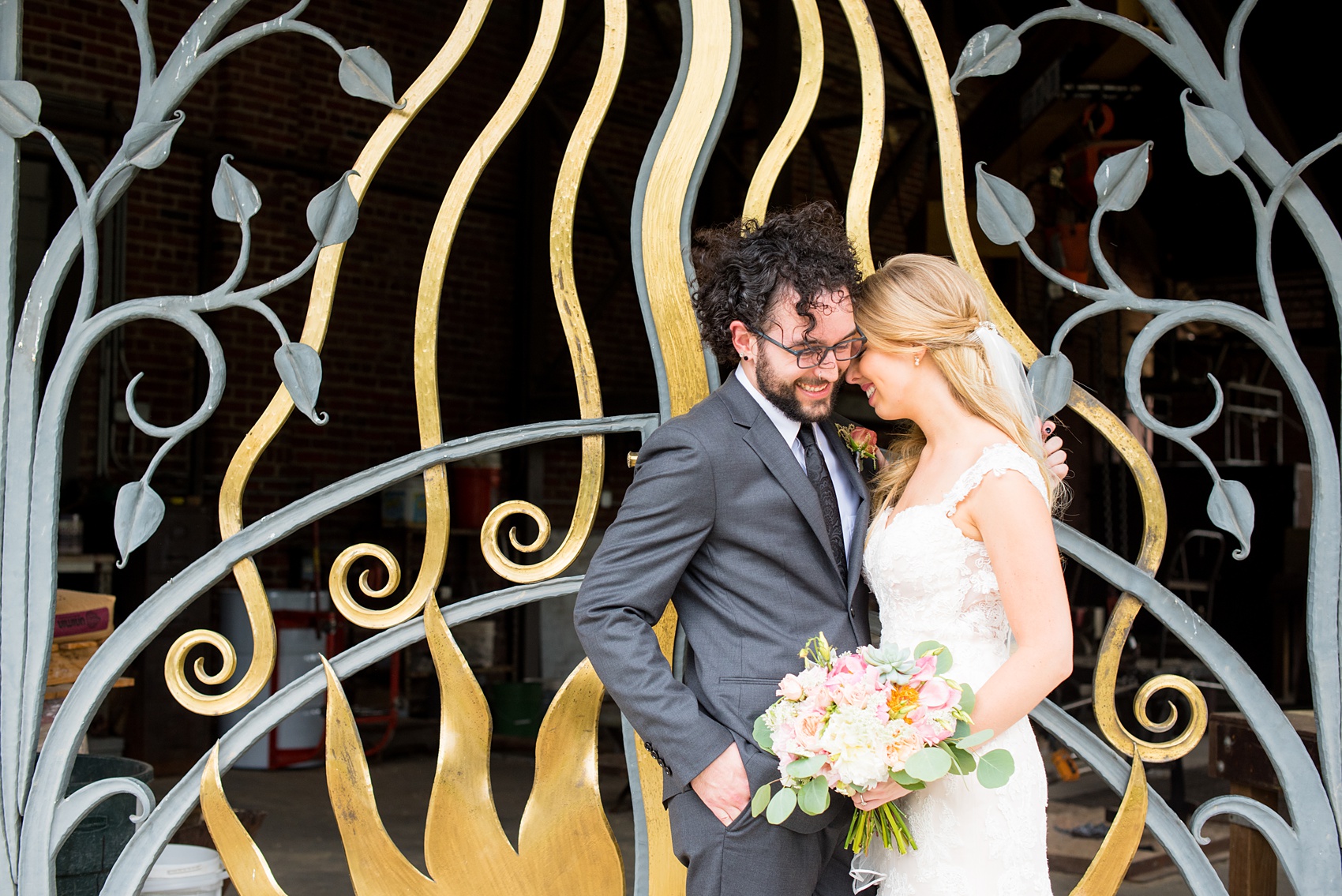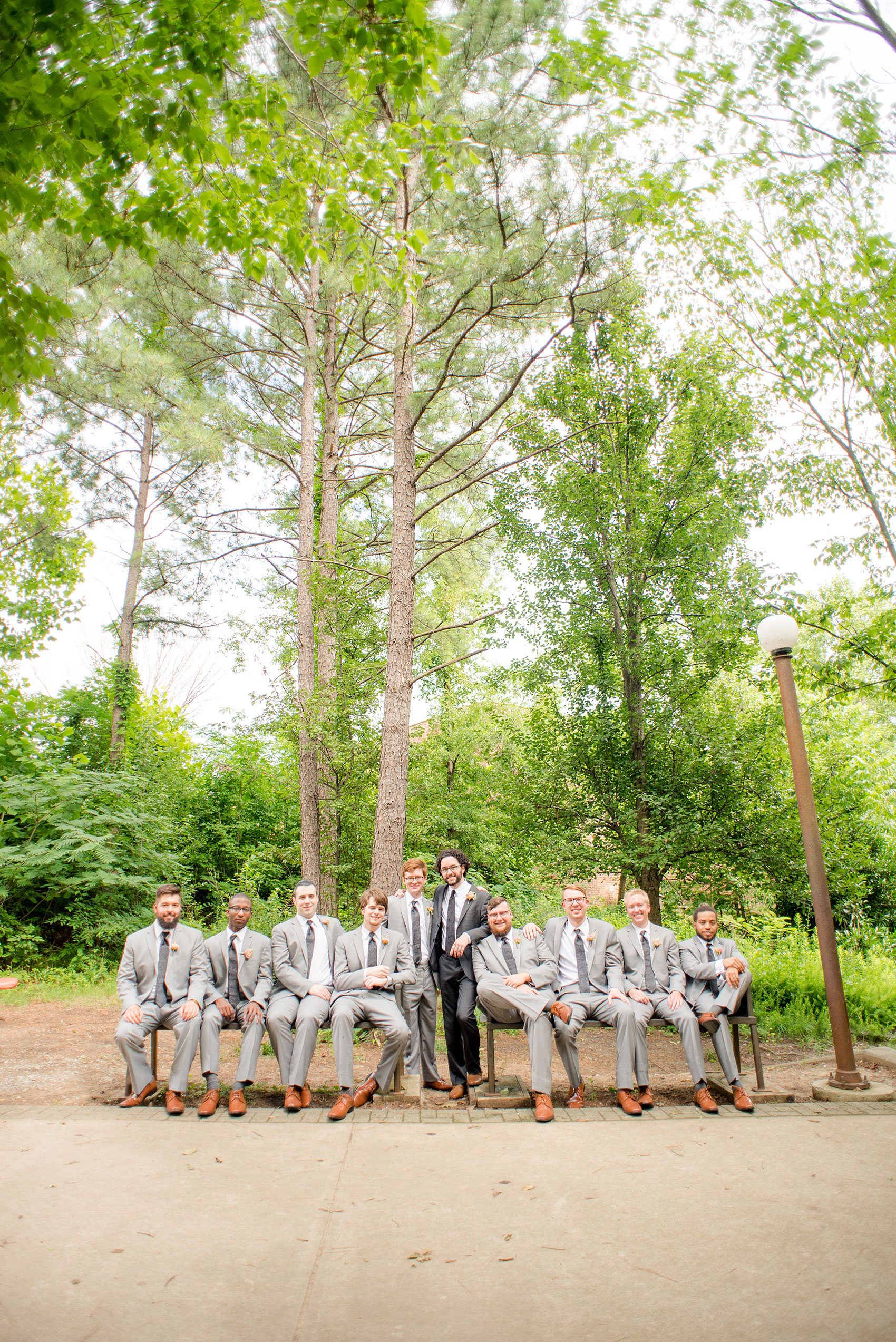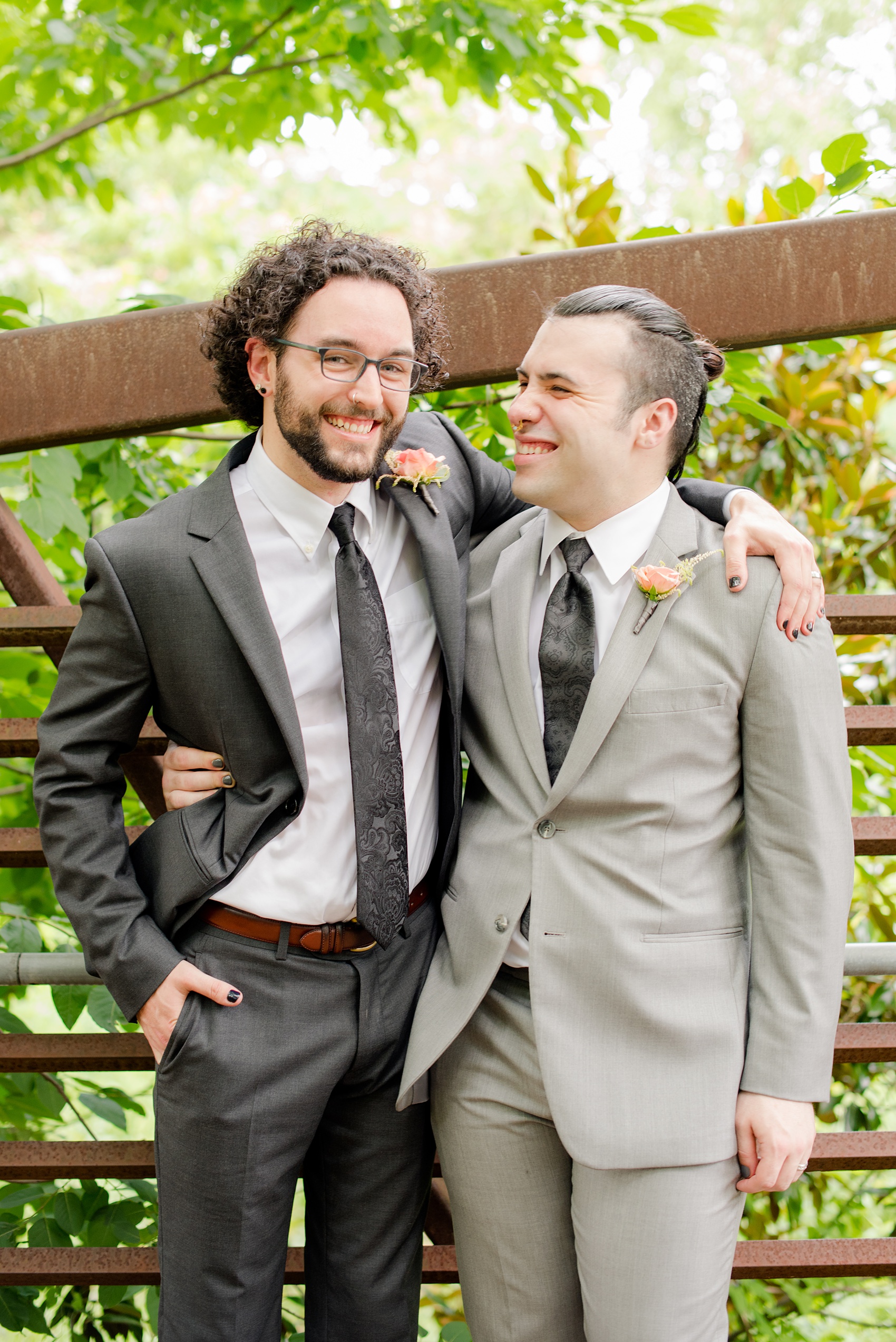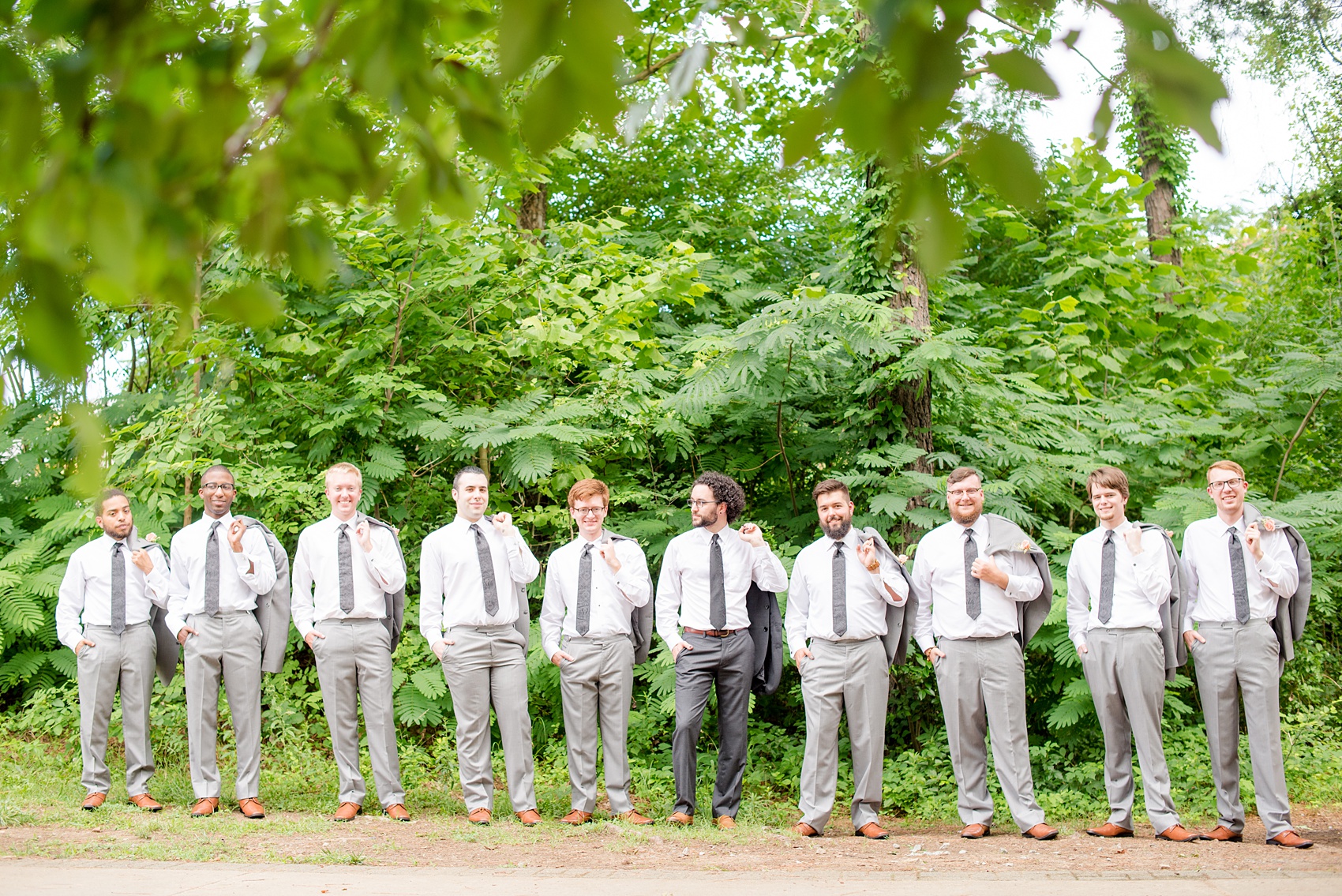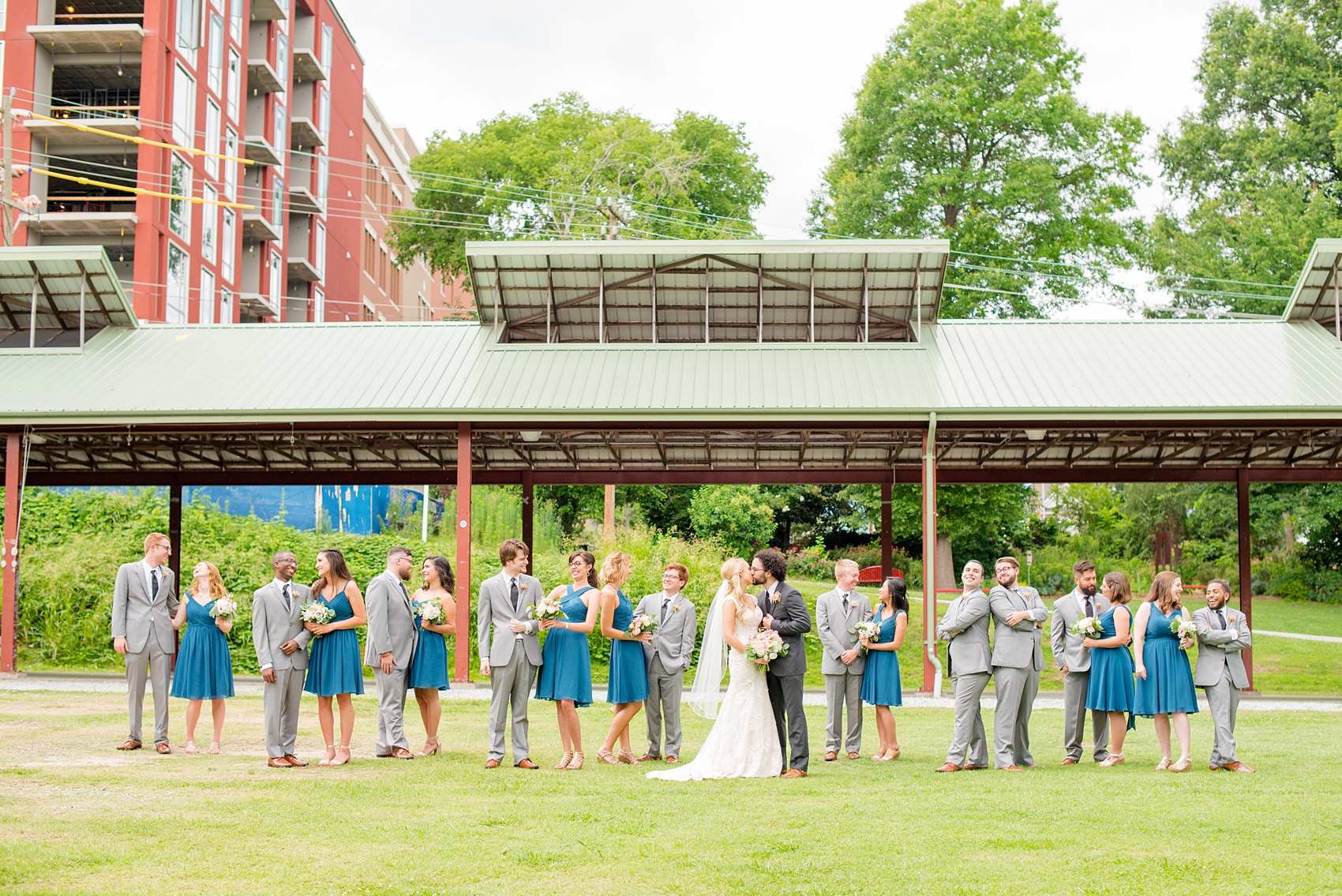 We needed a large open space to take photos of the entire wedding party, with nine people on both Chloe and Xander's sides. (Including one special "bridesdude" on Chloe's side.) Durham Central Park was perfect! It's amazing how many great locations are near The Rickhouse if you just take time to find them. I felt lucky to have found an ivy covered wall across the street and little strip of vibrant daisies growing tall along the road.
Time FLIES during a wedding day and before we knew it we were back inside to capture family photos, which went by in a flash, and start their ceremony. Whew, we escaped the rain!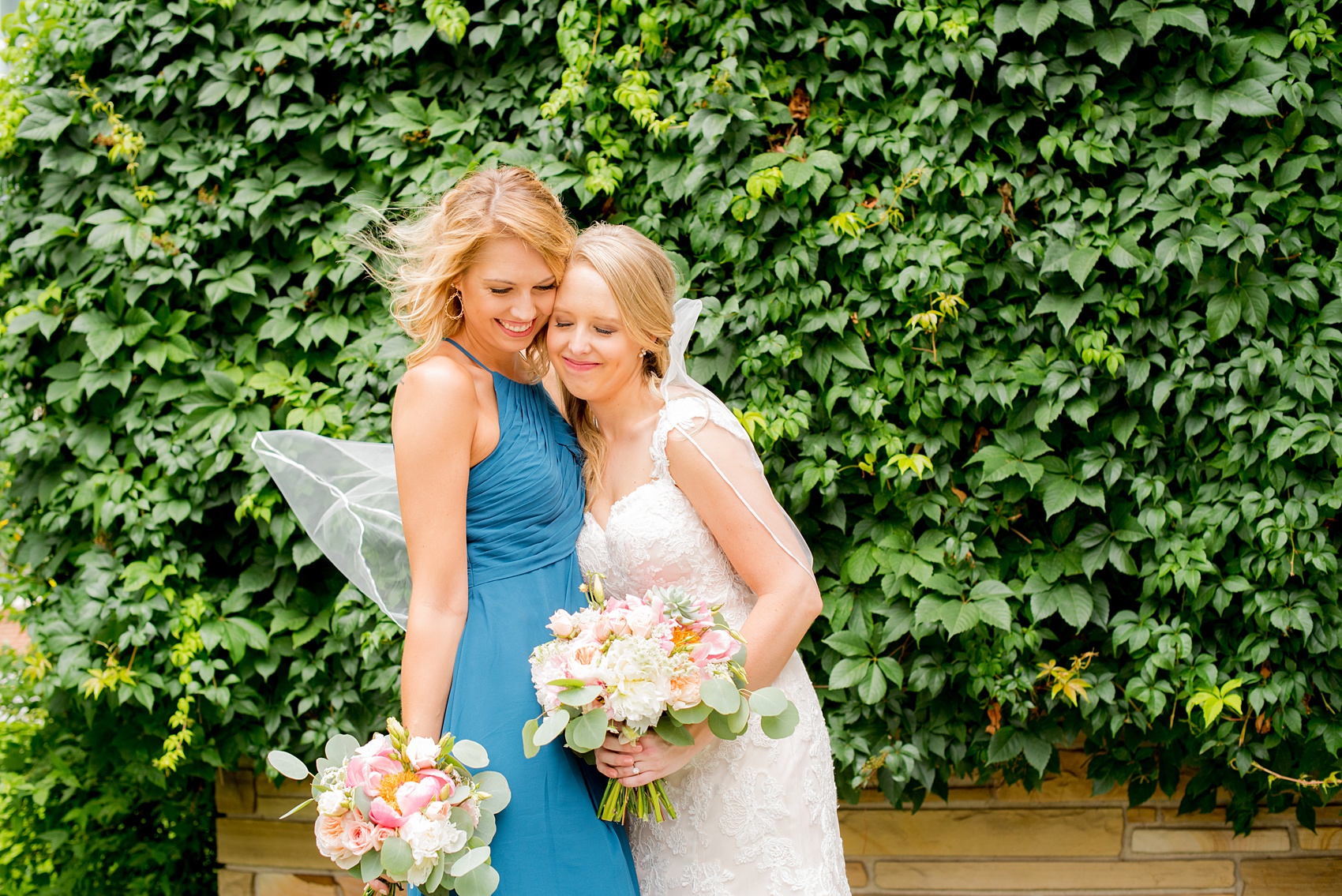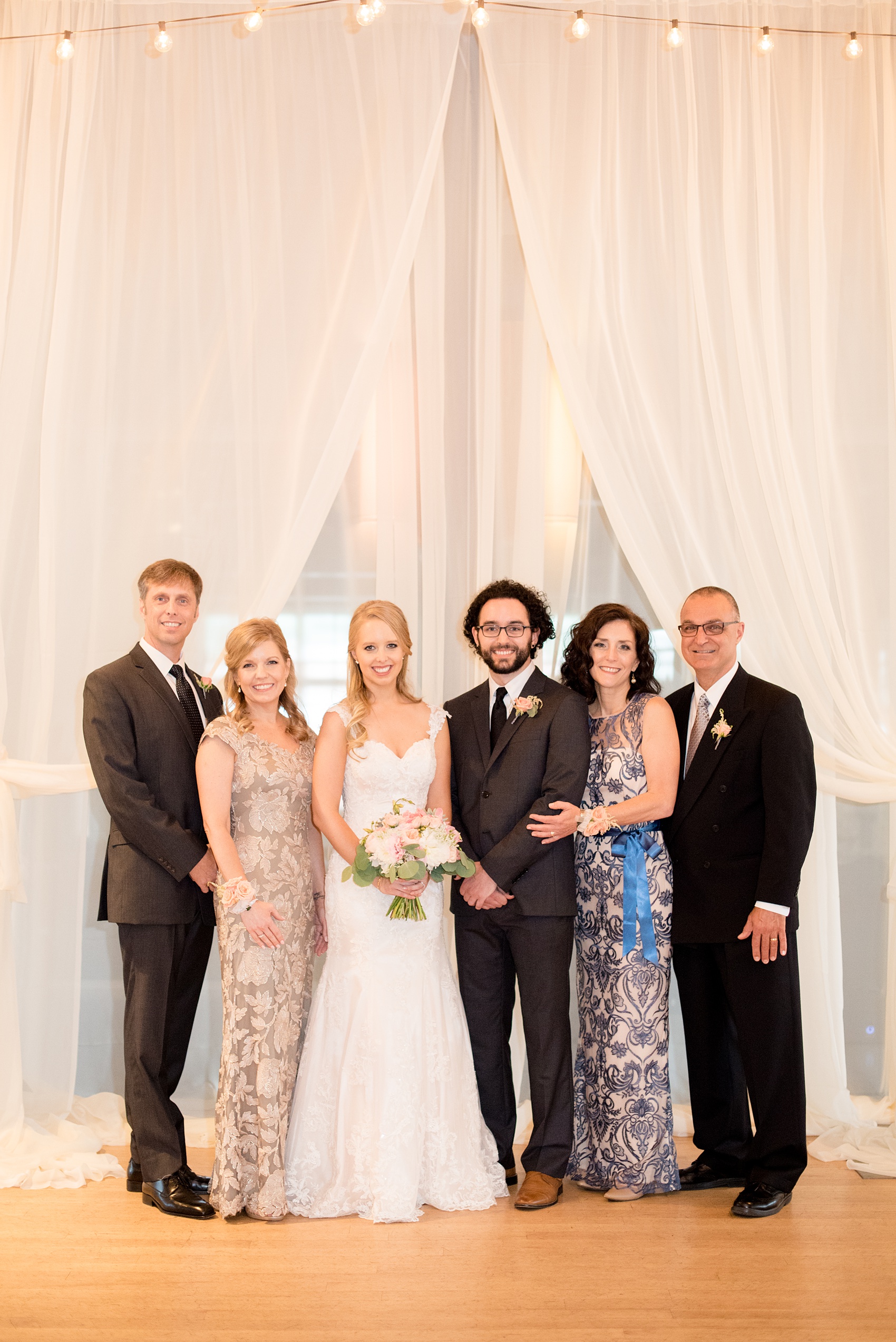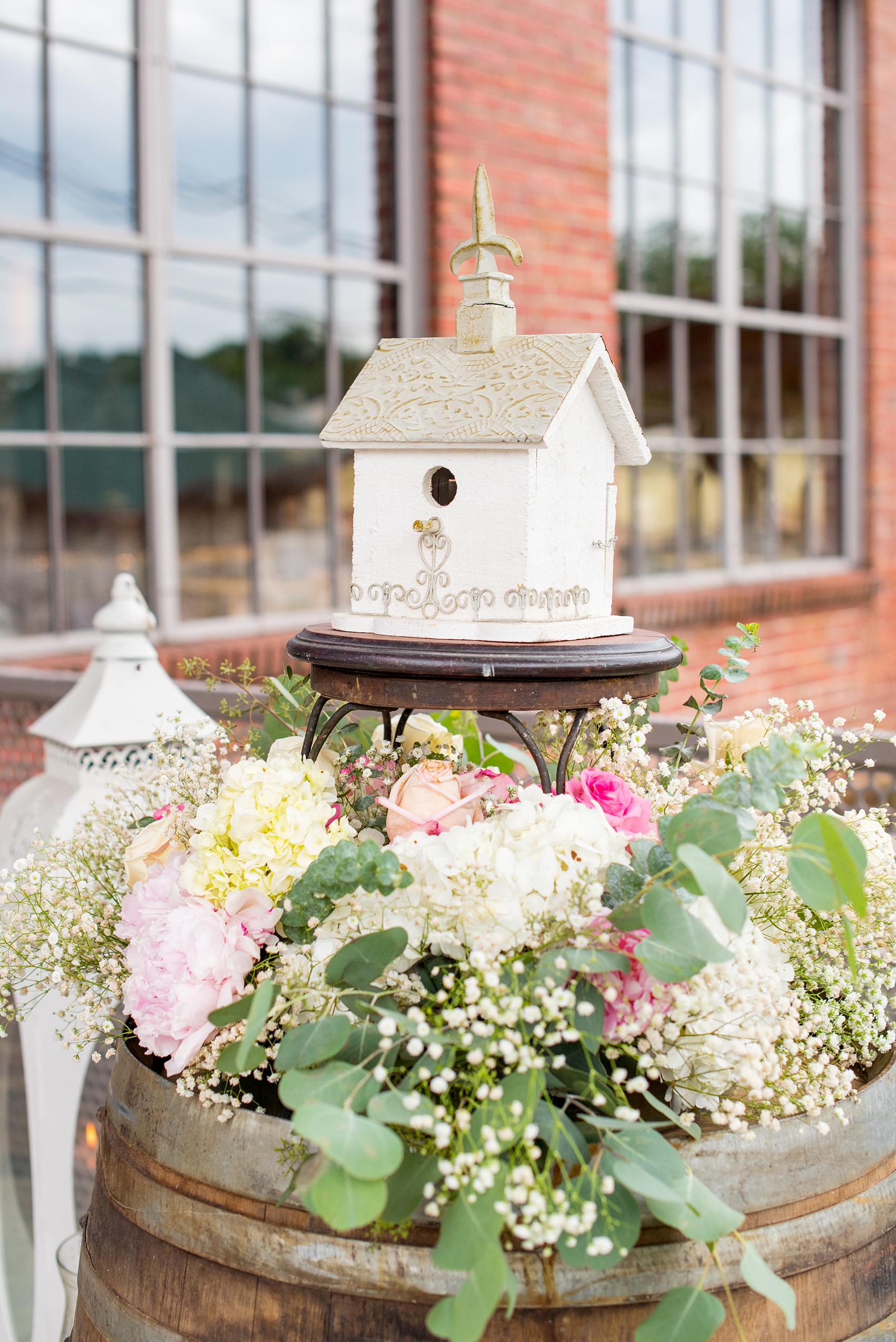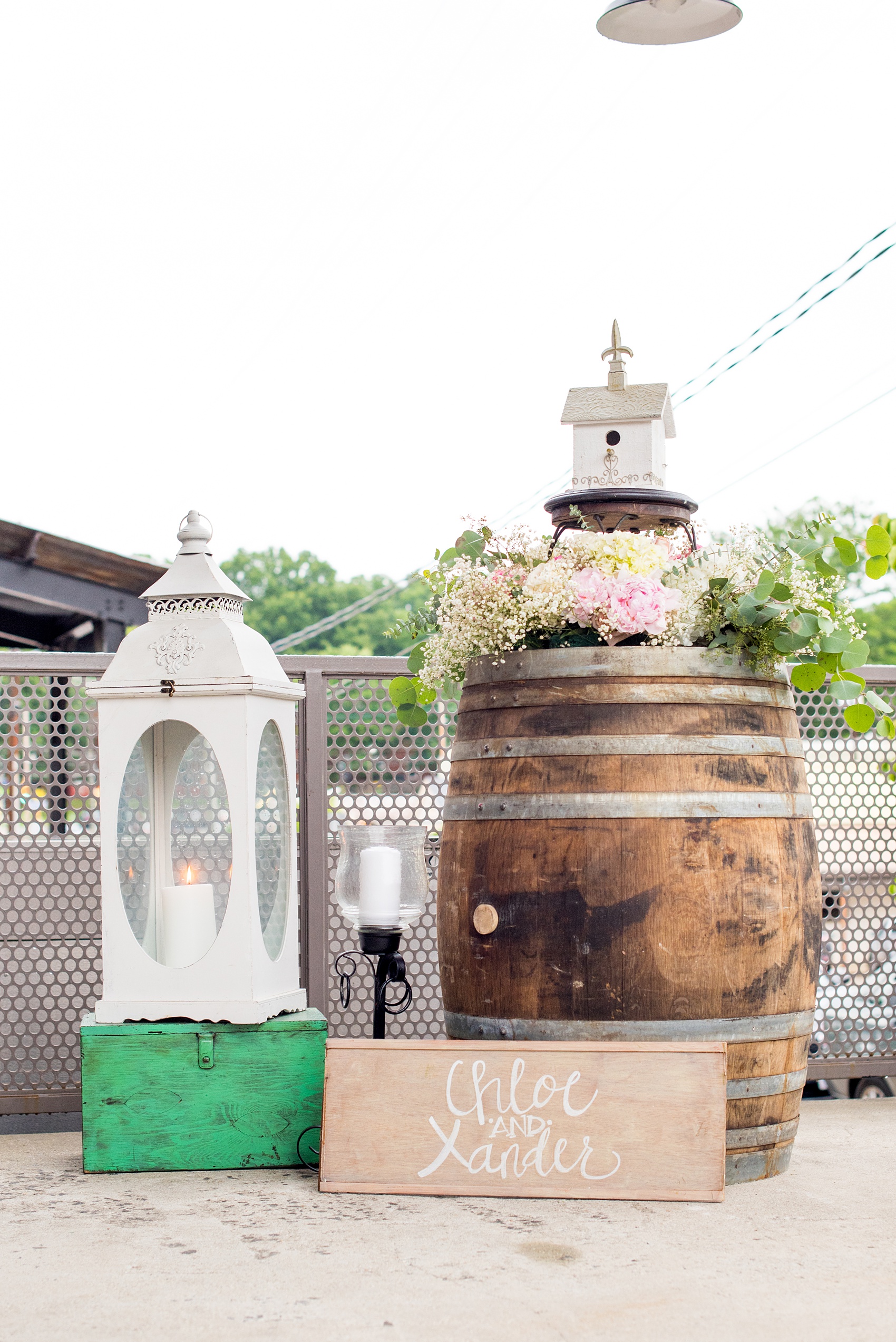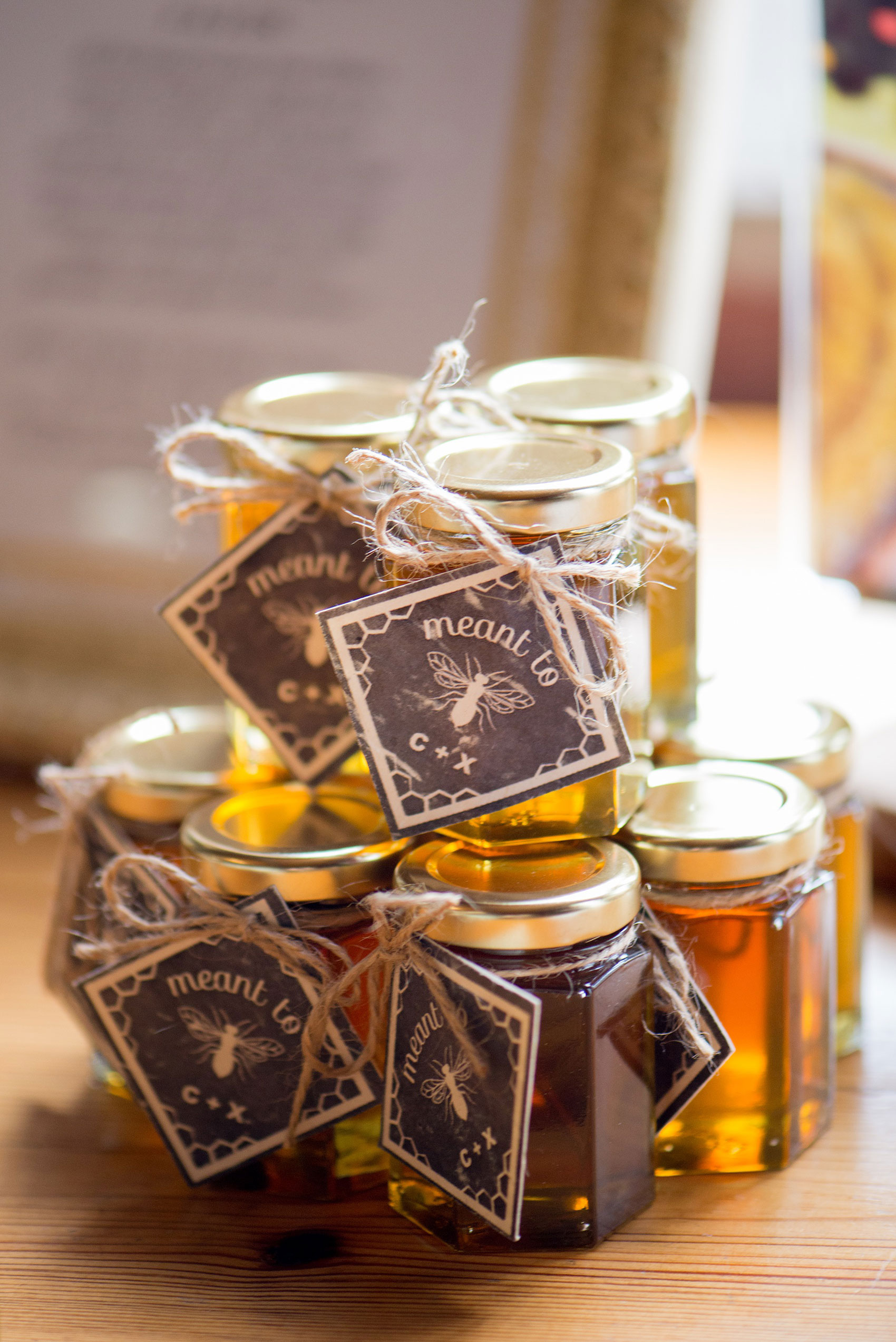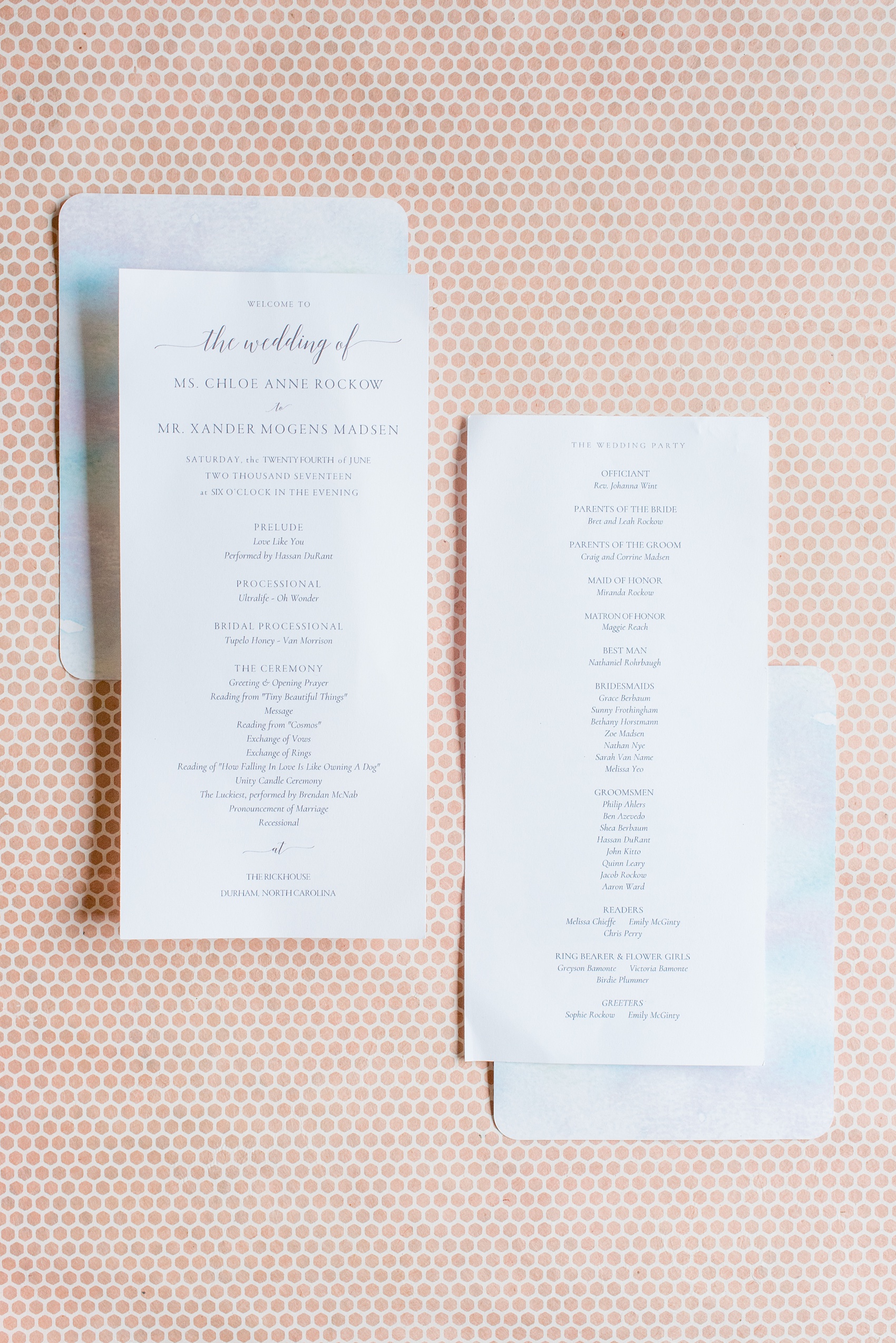 Guests were welcomed to the venue with a barrel and a birdhouse (that must be a special "B&B," right?) and jars of honey from Chloe's dad's bee farm. She originally thought they'd have to add some non-family-farm local honey for all the jars they'd have to fill but the bees turned it out and ALL the jars were filled using family bee farm honey. Go bees! Their unity candle(s) for their ceremony were also made from beeswax. Their signature cocktails were titled, "The Bees Knees" and "Bee Stinger." And just to pull the needle through all the possa-bee-lities 🙂 their drink koozies for the evening read, "How Sweet it is to Bee Loved by You" on one side and their names on the other.
I am in LOVE with this photo of the flower girls and ring bearer hanging out on the back deck before the ceremony began. They're obviously seasoned pros! Calm, cool and collected.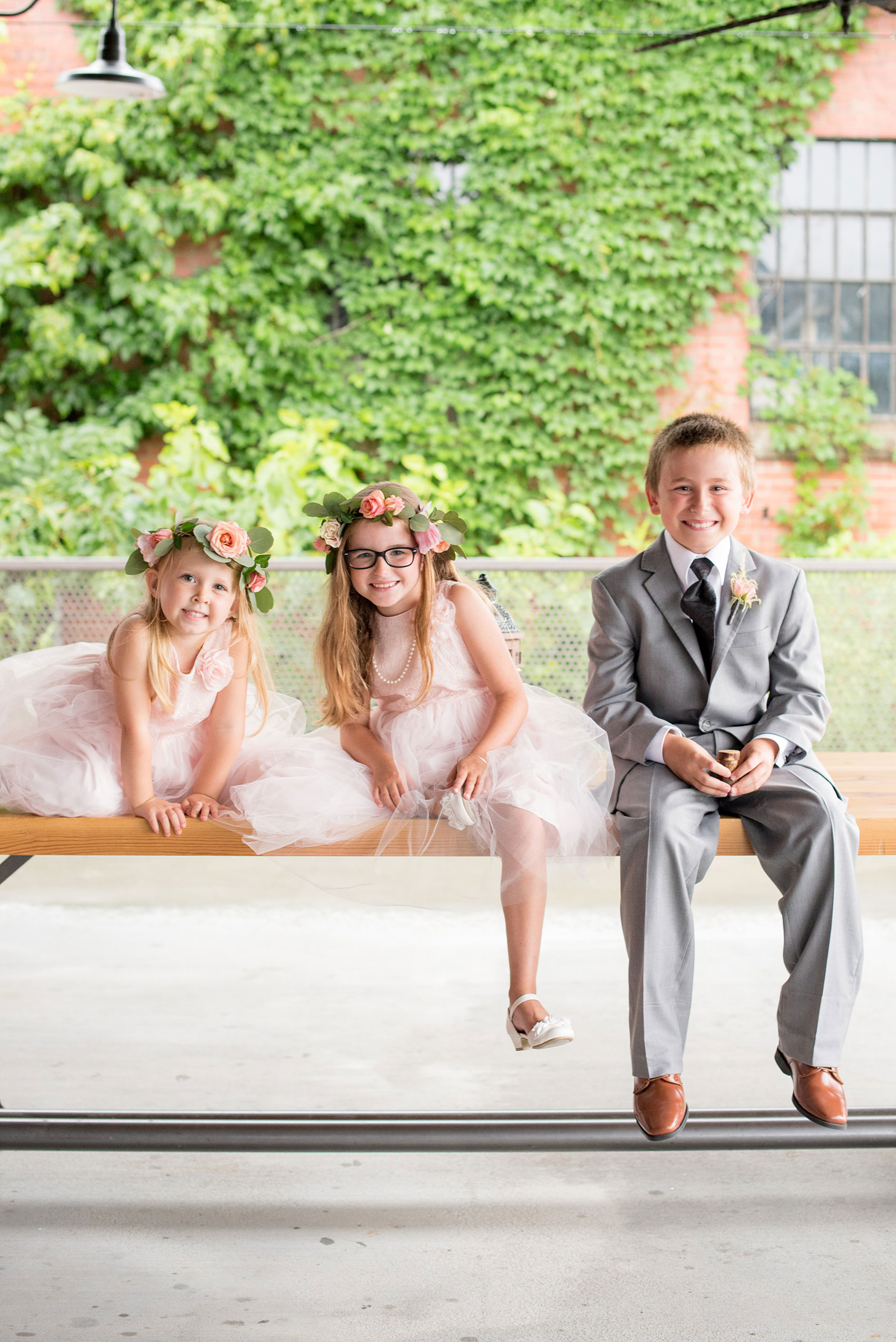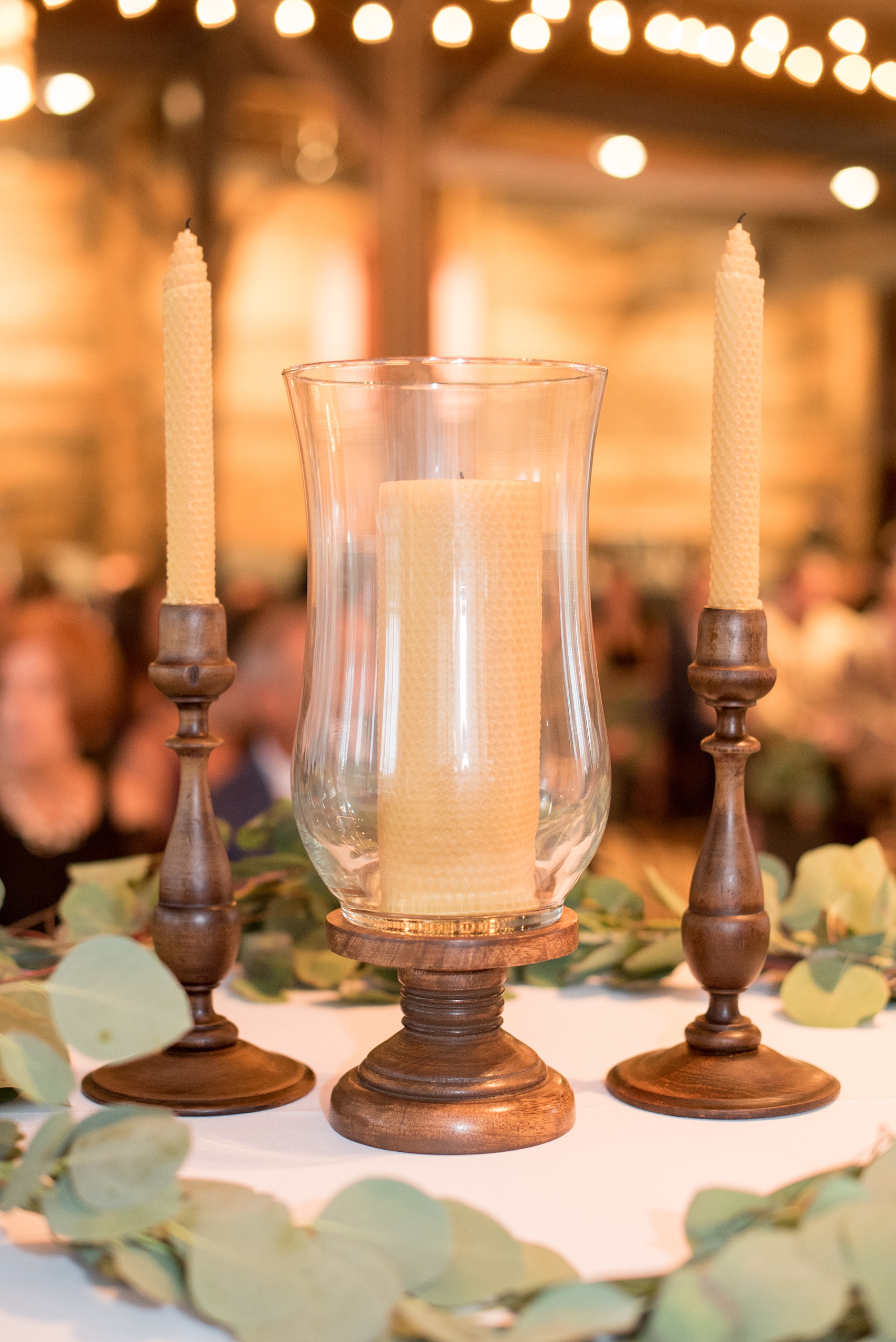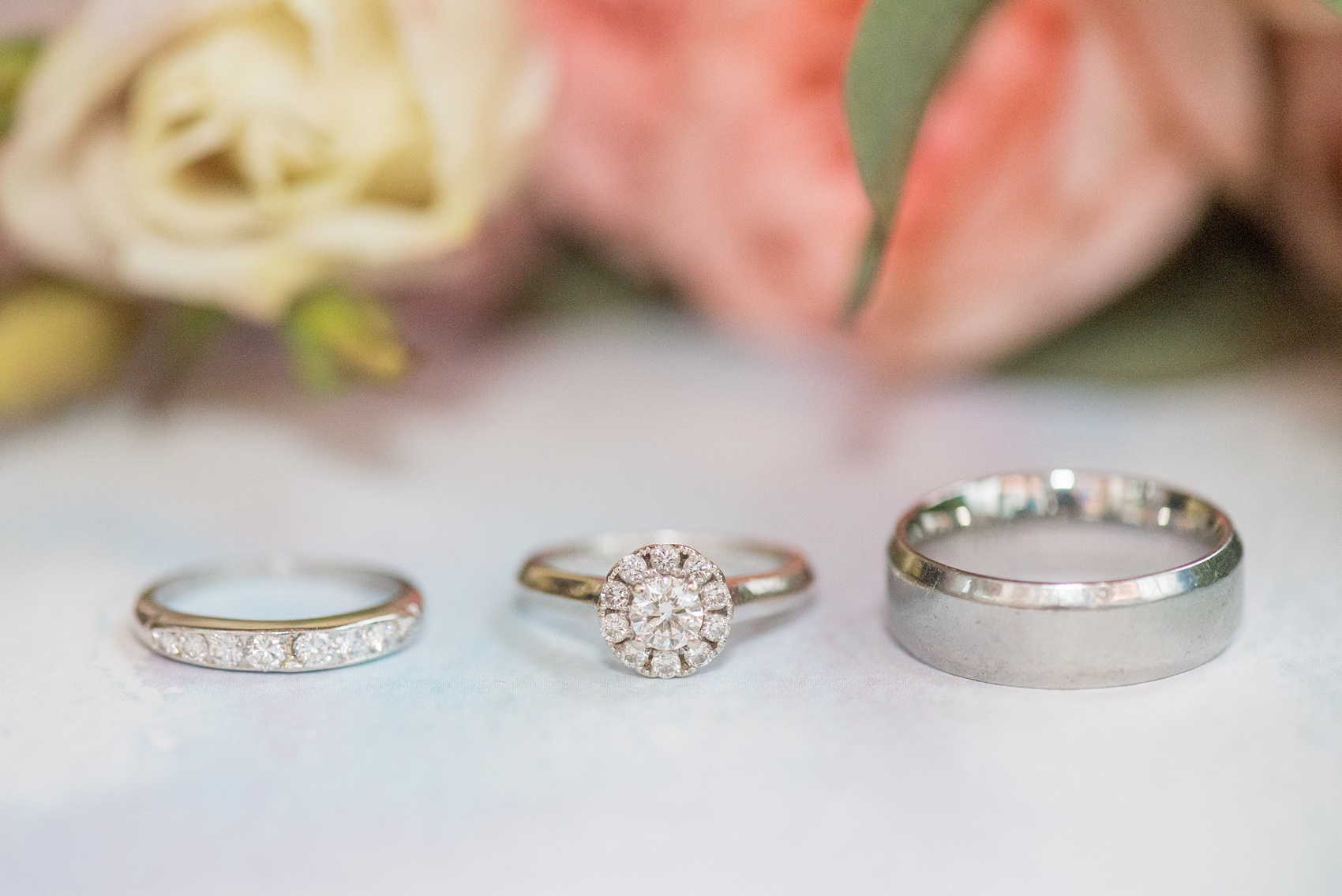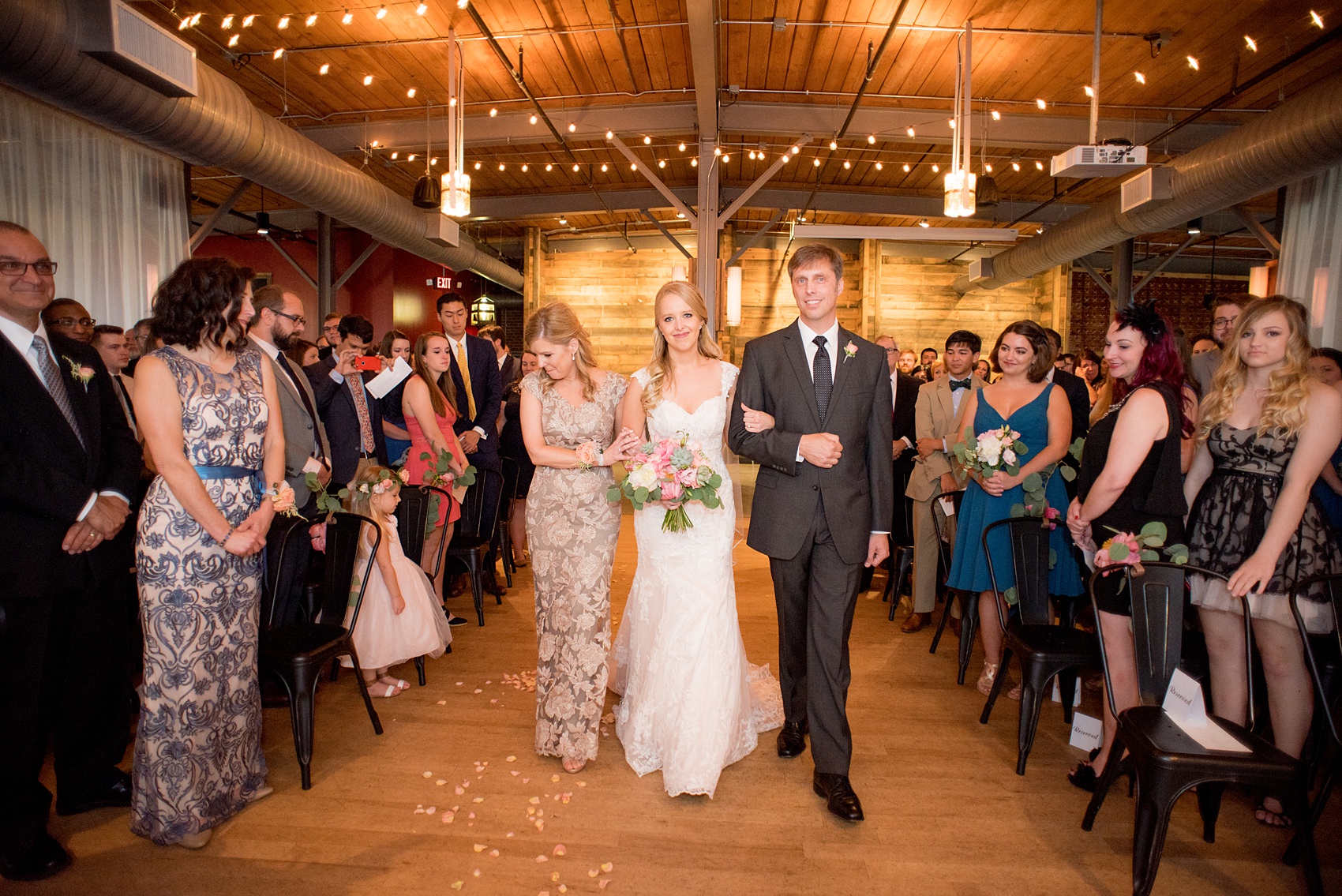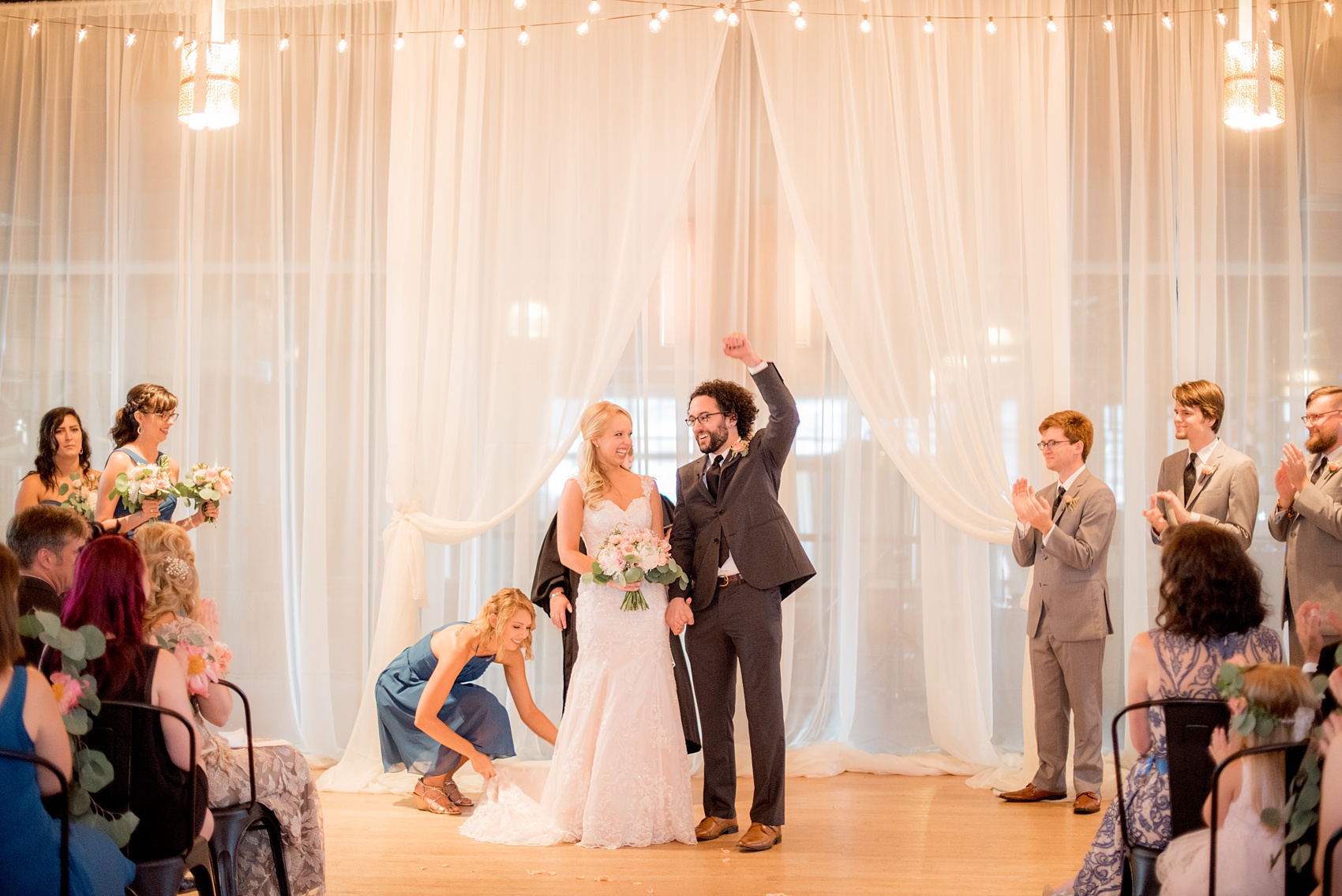 These two were then officially MARRIED! They exchanged rings in a meaningful, heartfelt ceremony. (Chloe's diamond wedding band was her great aunt's, now passed down to her.) Their officiant flew in for the weekend – she's a long time friend of Chloe's family. Just in case anyone wasn't emotional enough already, as I mentioned earlier in the post, Chloe's uncle Brendan sang the most gorgeous version of "The Lucky One," by Ben Folds Five, at the end of their ceremony. I suddenly felt tears streaming down my face and had to give myself a pep talk to keep it together so I could prepare to photograph their first kiss. (Candidly, I barely ever cry at weddings.) But enough joyful crying talk…it was time to PARTY! Everyone was happy to participate!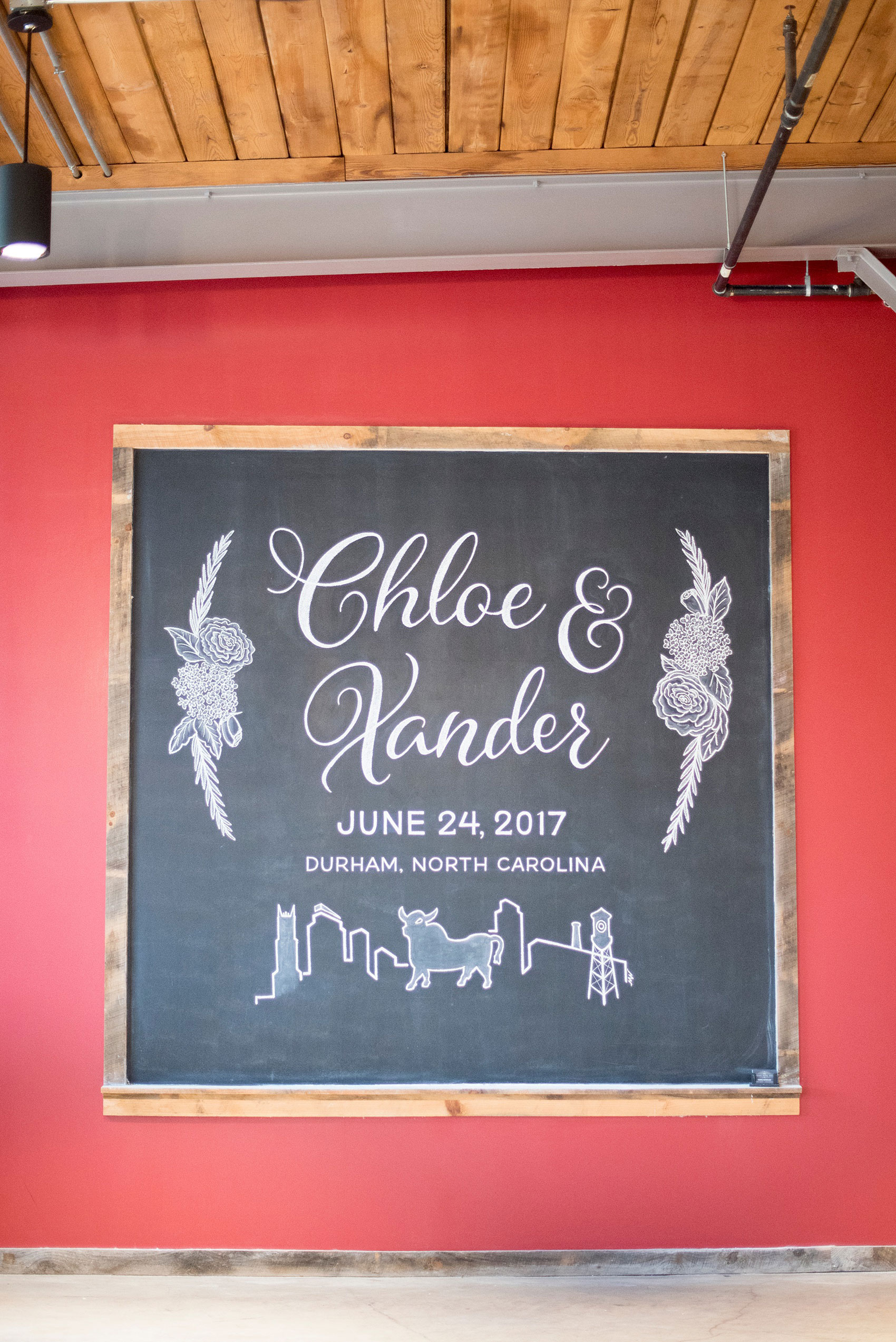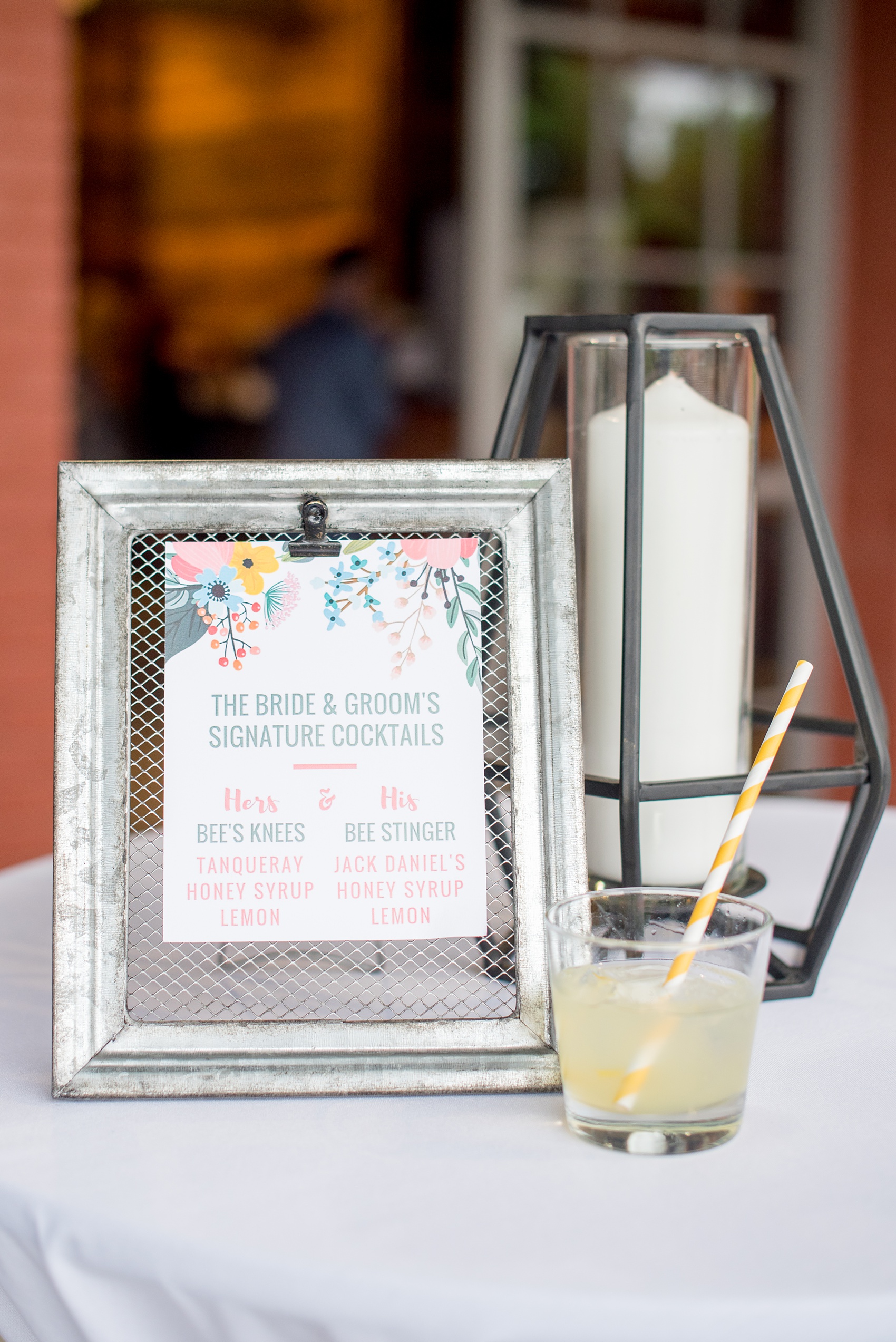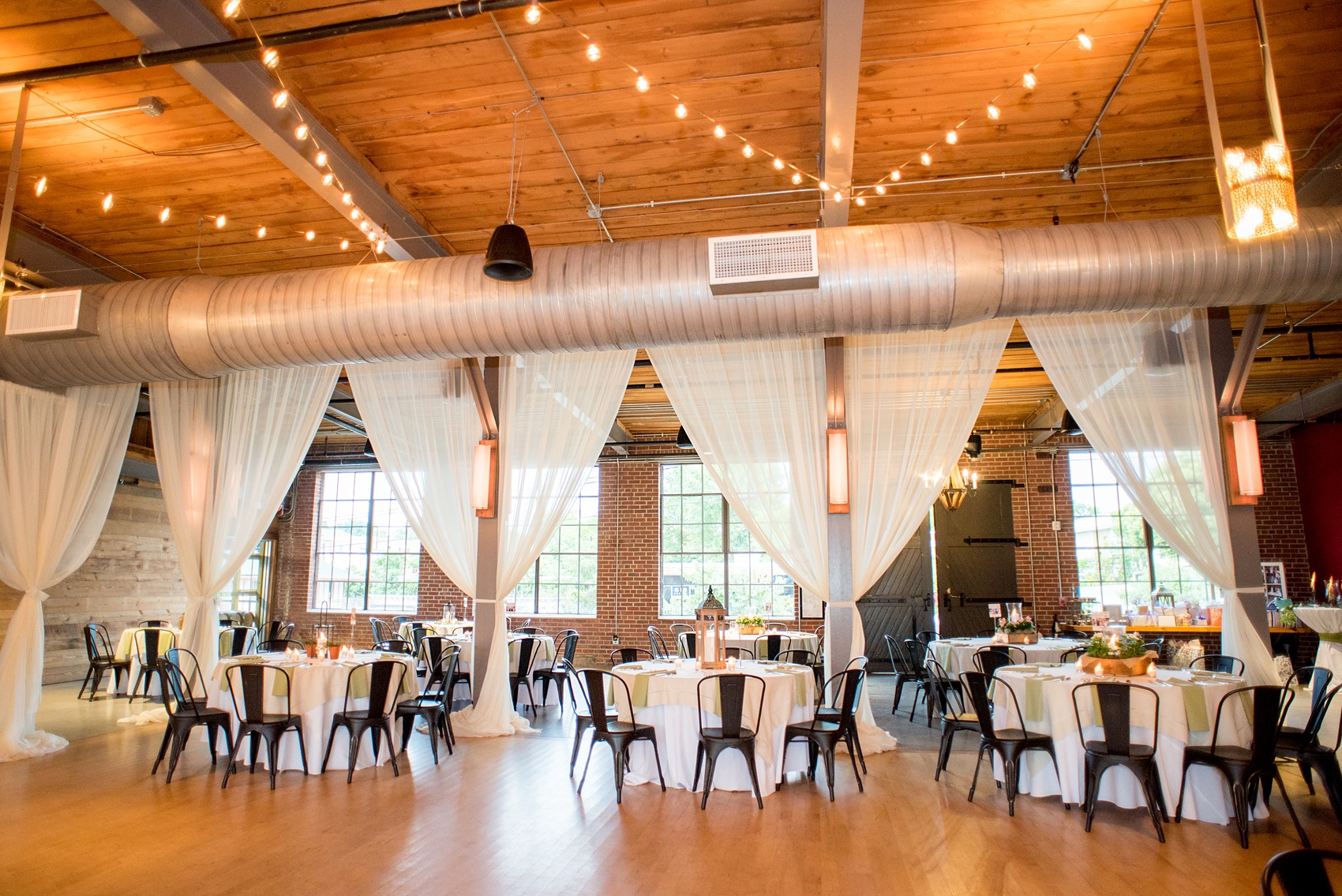 The room looked beautiful after a quick flip and transformation following their ceremony. A cousin, who owns an antiques shop and has a knack for great design, helped to create beautiful centerpieces. Each table had something a little different, created from lanterns, flowers and assorted greenery, and candles. Table 1, the bride and groom's, had a special centerpiece. The box holding the flowers was a wooden crate from Spinney Run dairy where Chloe's great grandfather worked. Chloe patiently created every table number herself. Each number displayed four photos of her and Xander, which corresponded to the age in life of the table number. In other words, Table 18 had photos of them as teenagers at age 18. How cute, right? I don't think I've photographed any other wedding with as many family connections as theirs. It was really special.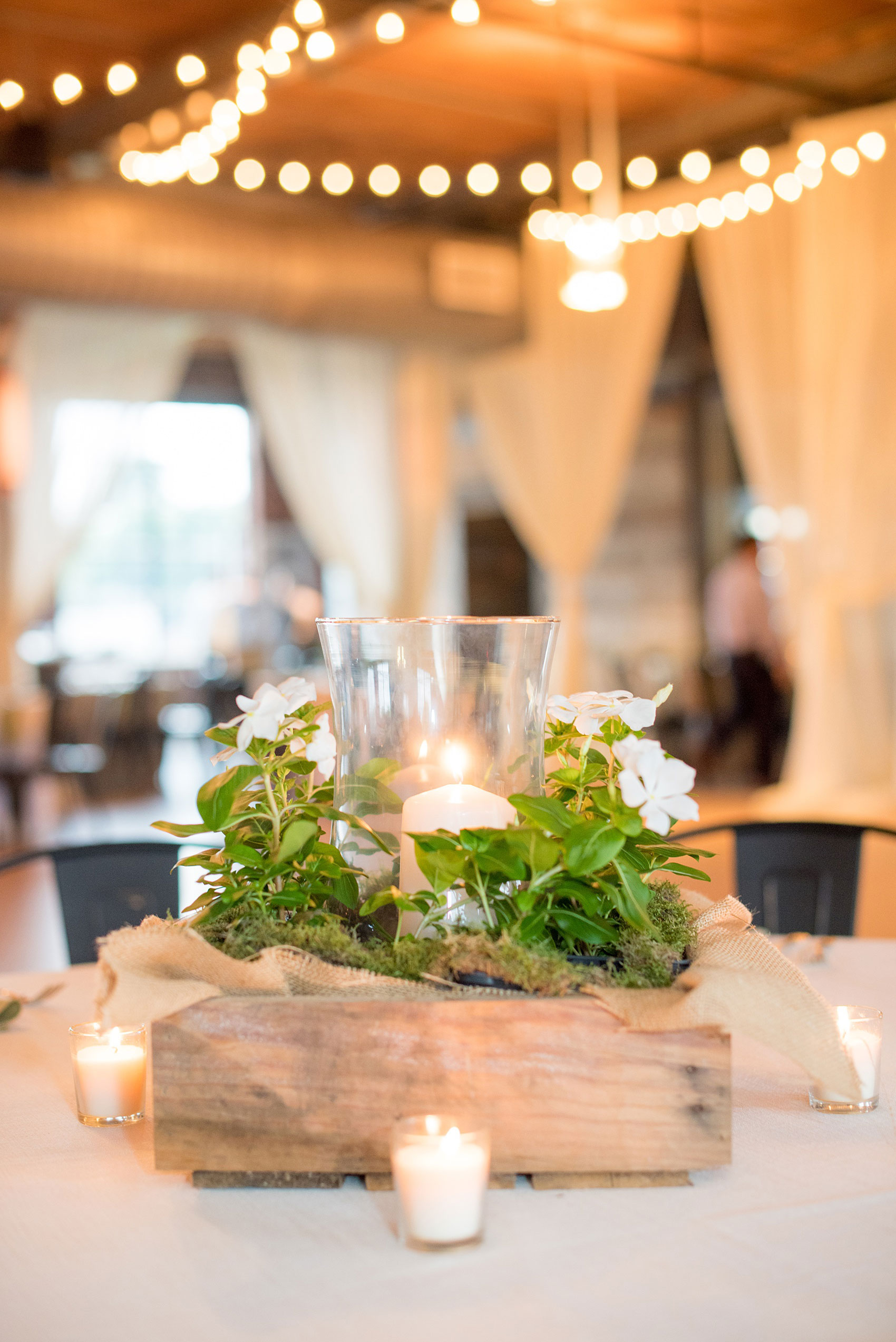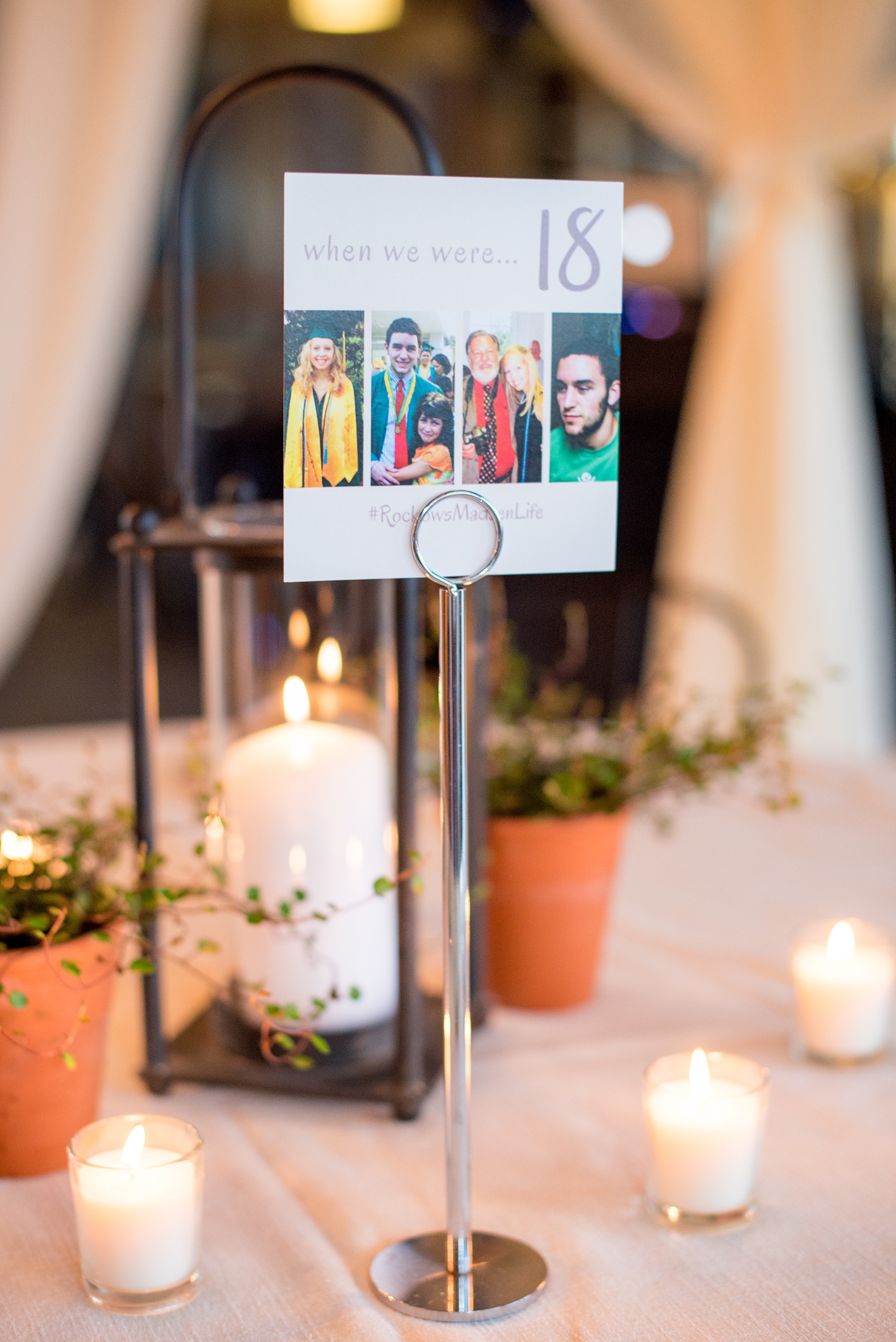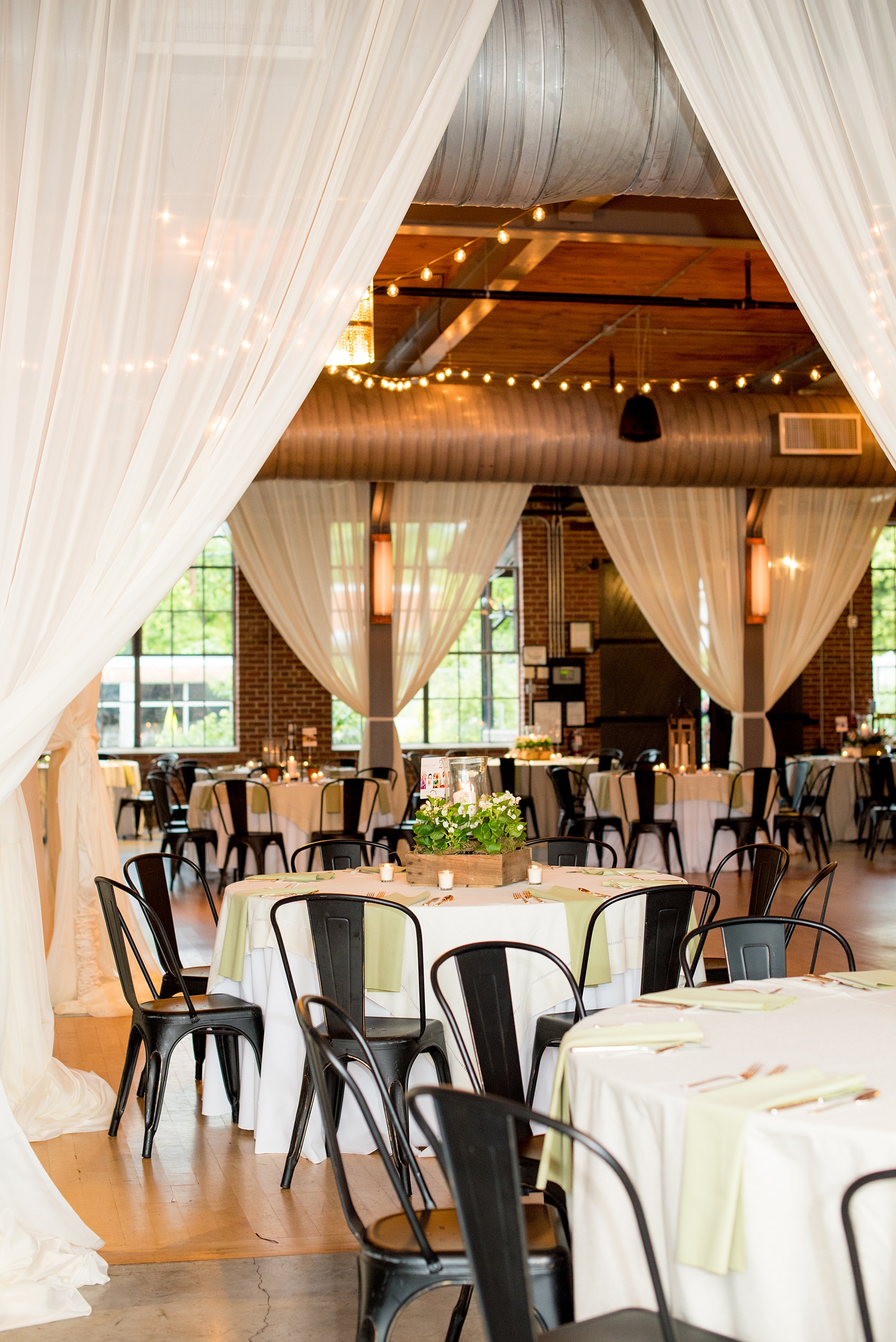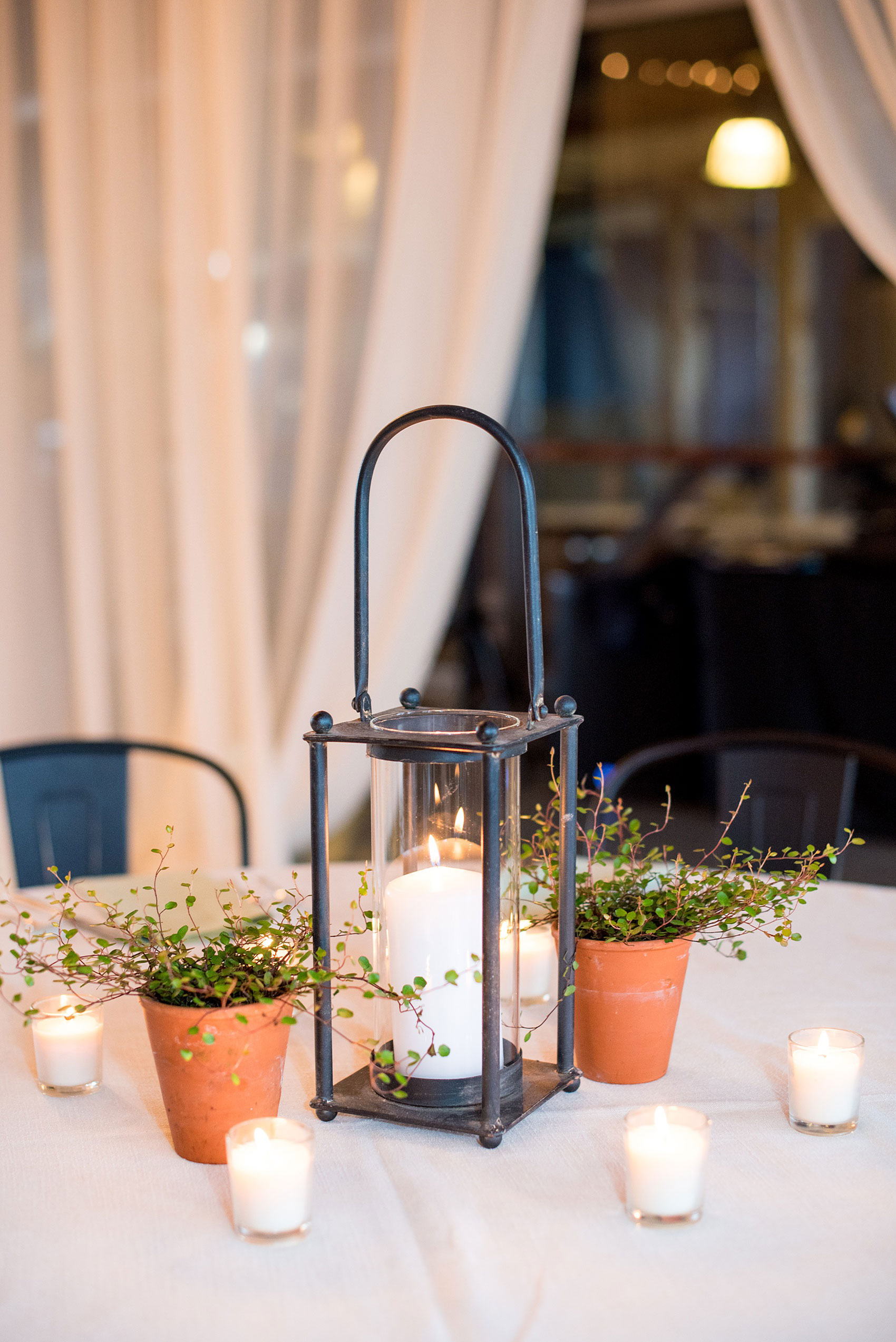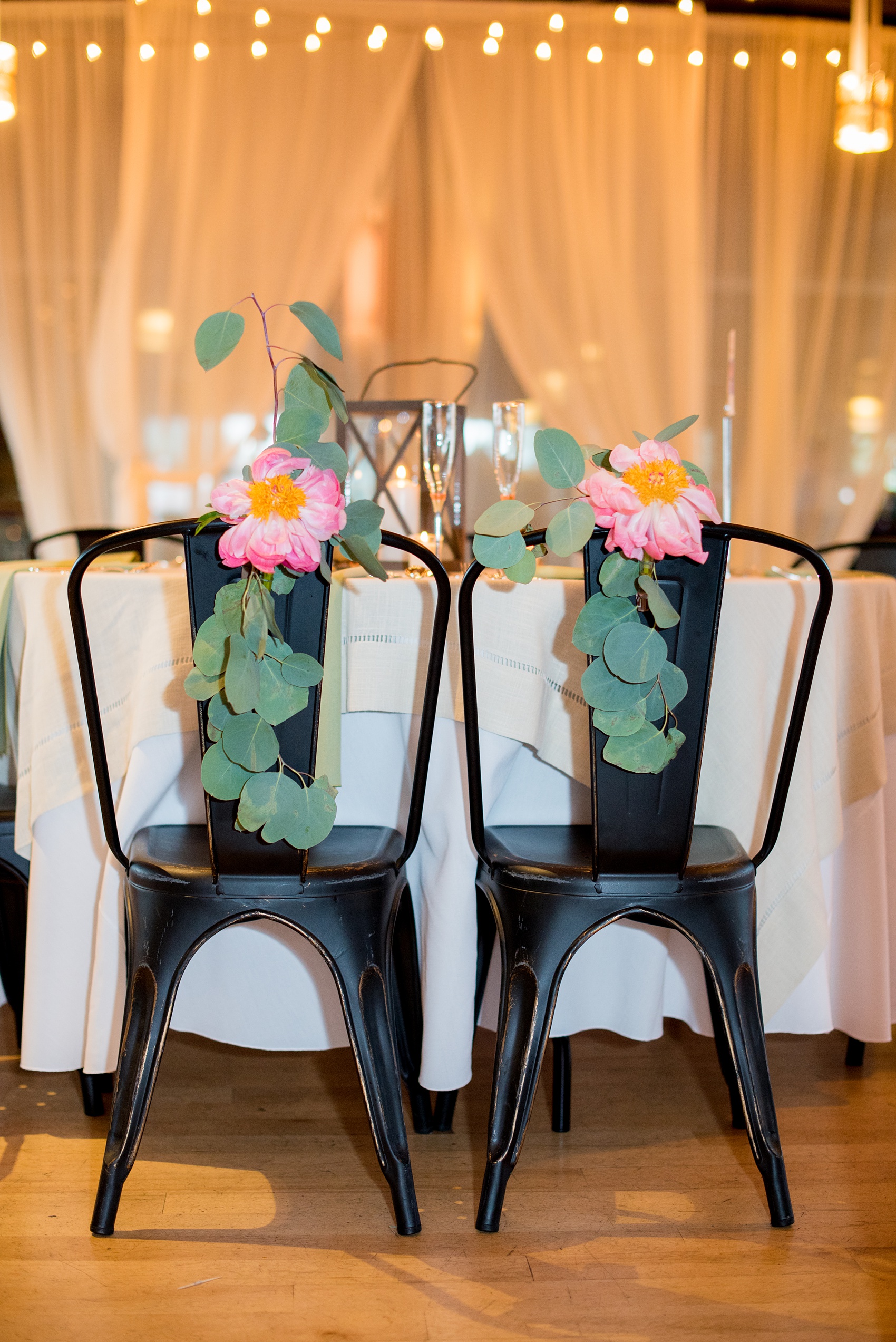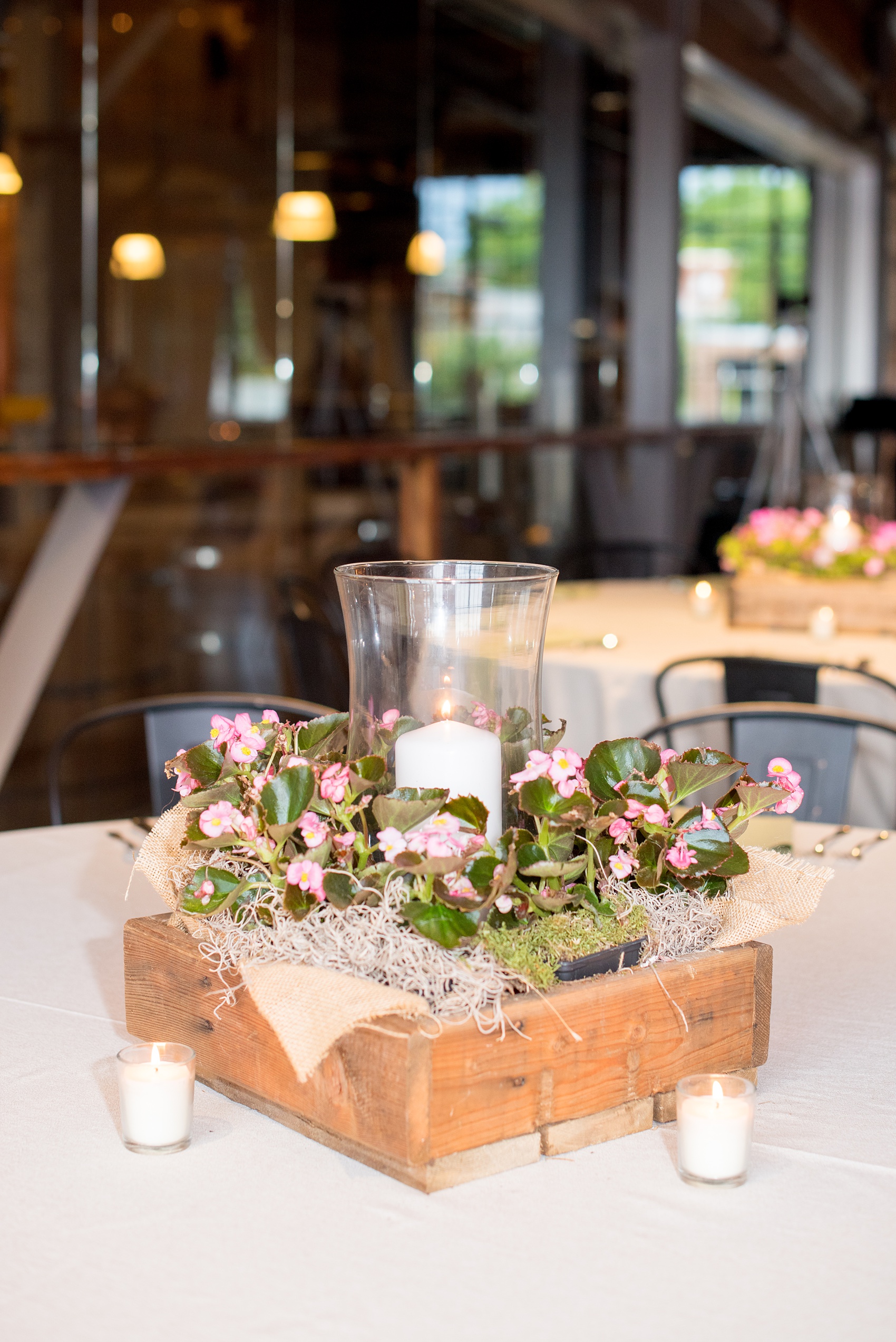 The bride and groom's chairs had peony and eucalyptus flower ornaments repurposed from the ceremony seats. Soft sage colored napkins were placed at each setting ready for guests to enjoy a delicious buffet dinner. The room was aglow with candlelight as the newlyweds danced their first dance to "How Loud Your Heart Gets," by Lucius. It was a close second highlight moment to a surprise serenade from Xander later in the evening. He surprised his bride by singing "The Weekend," by Modern Baseball. It was an incredible moment.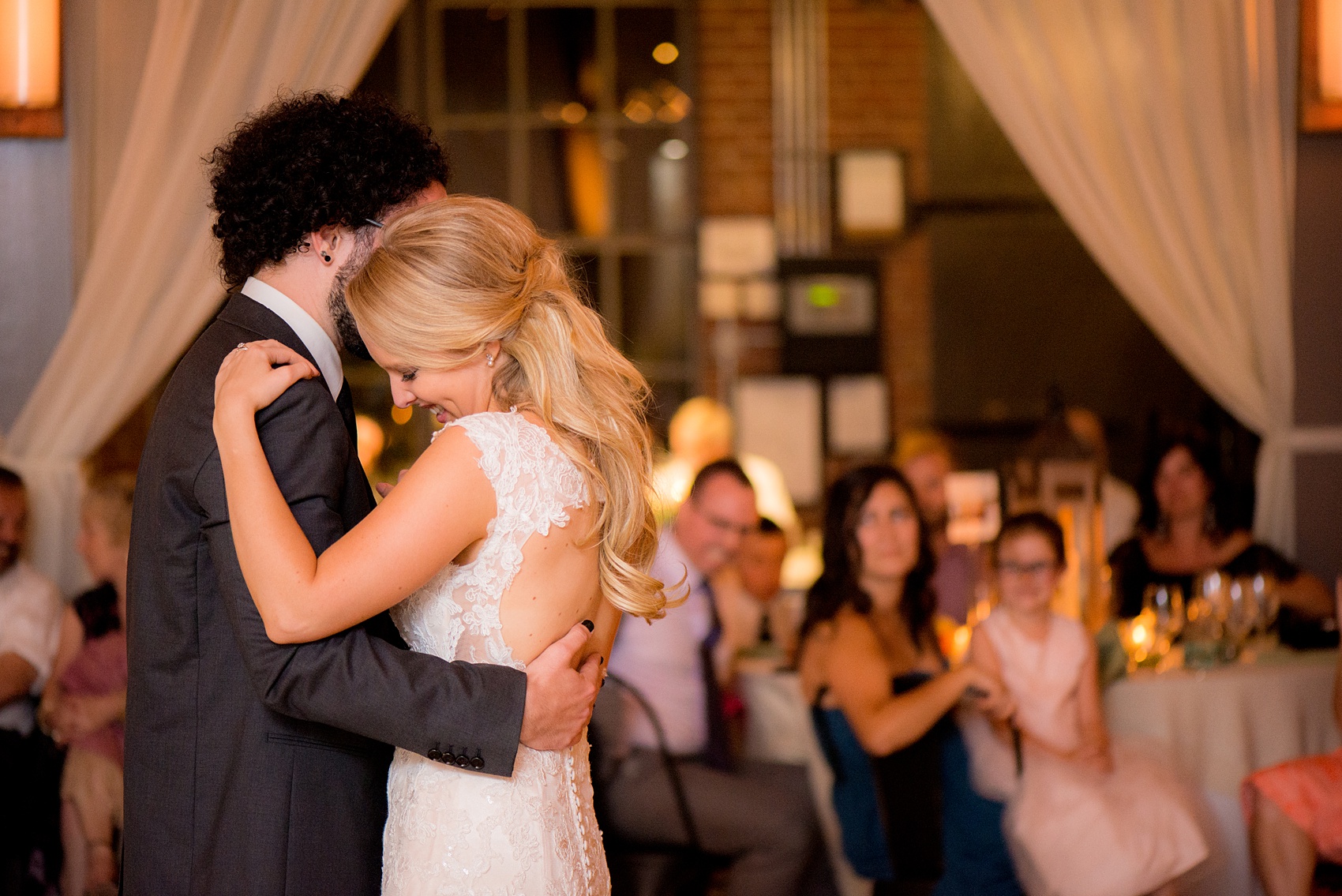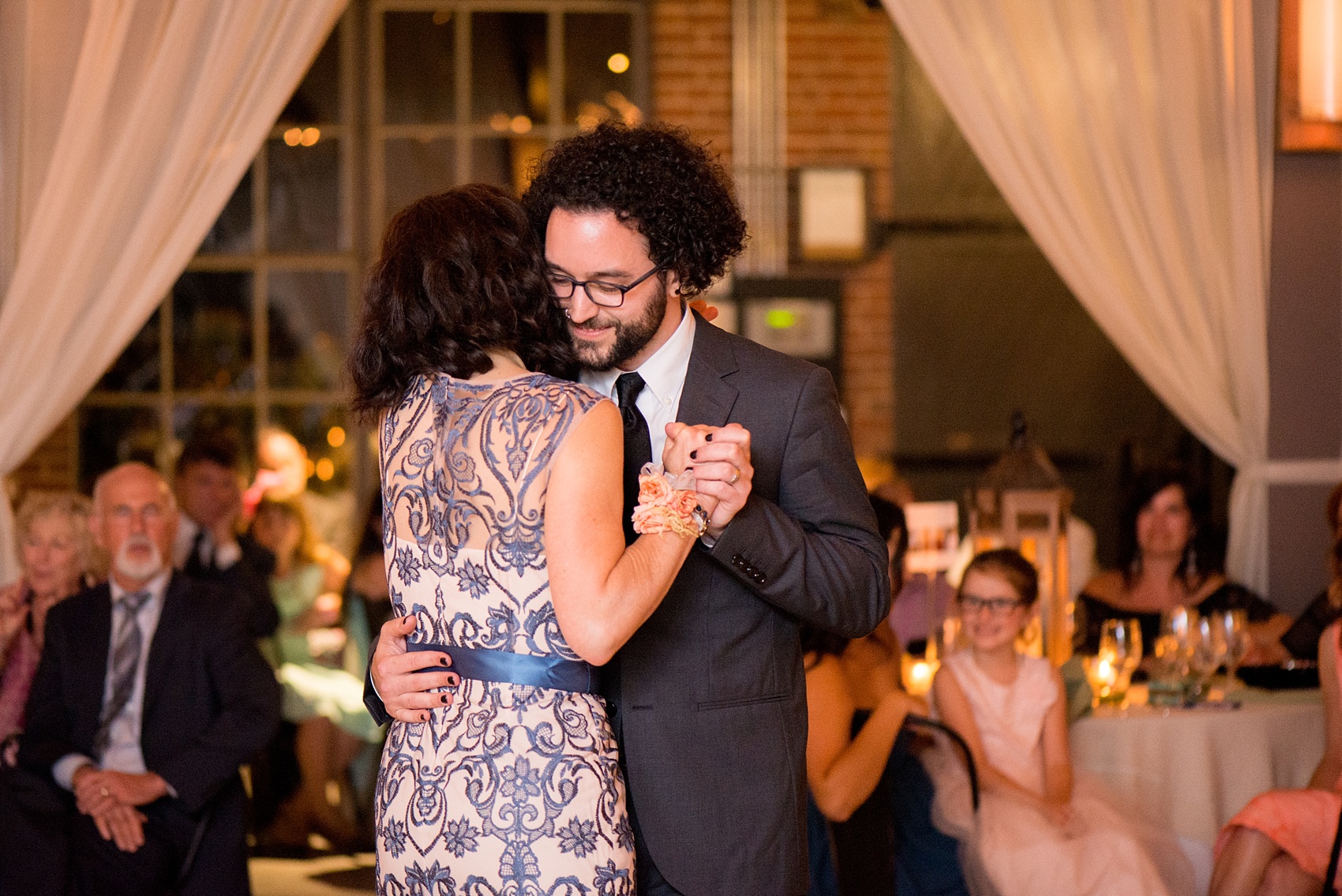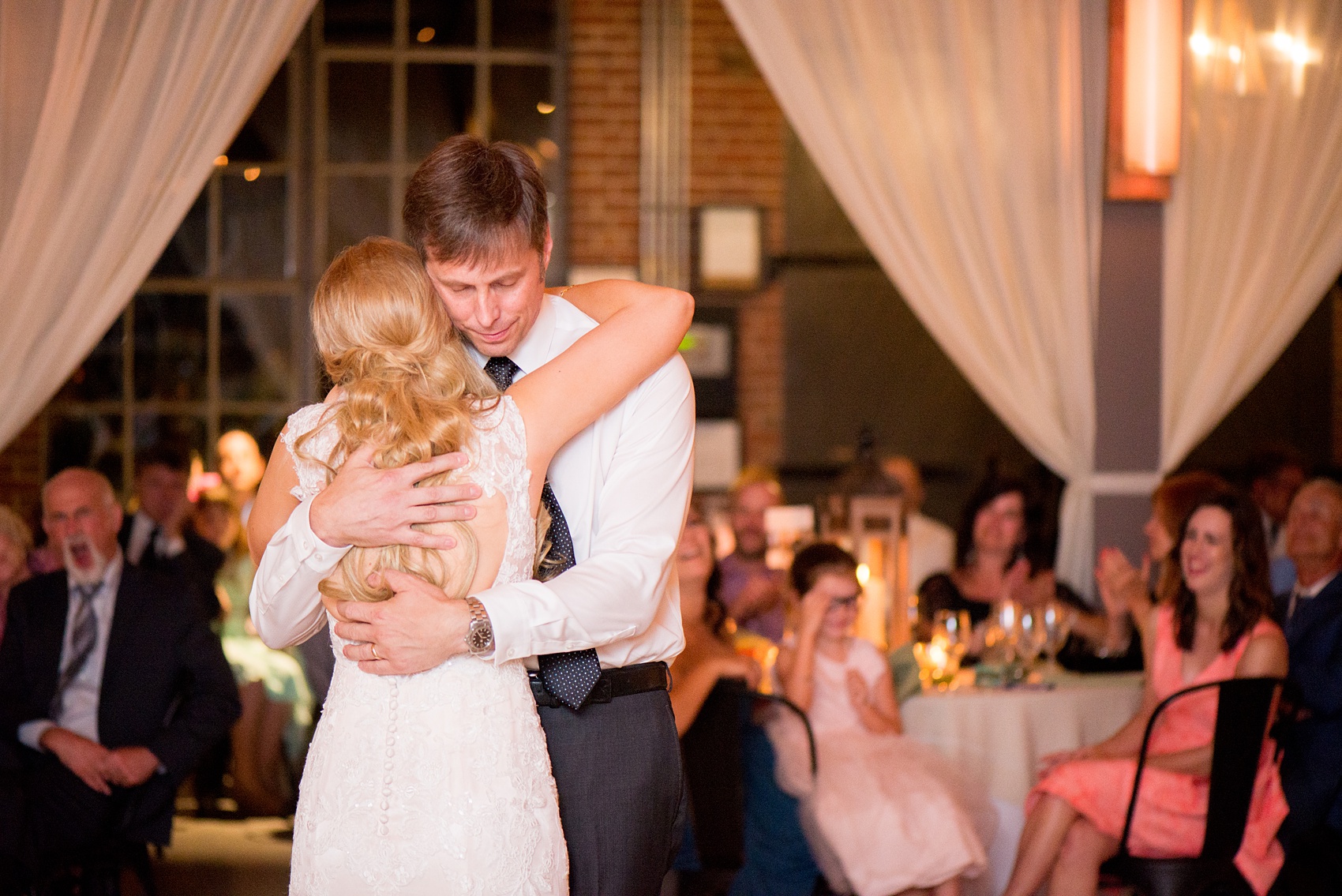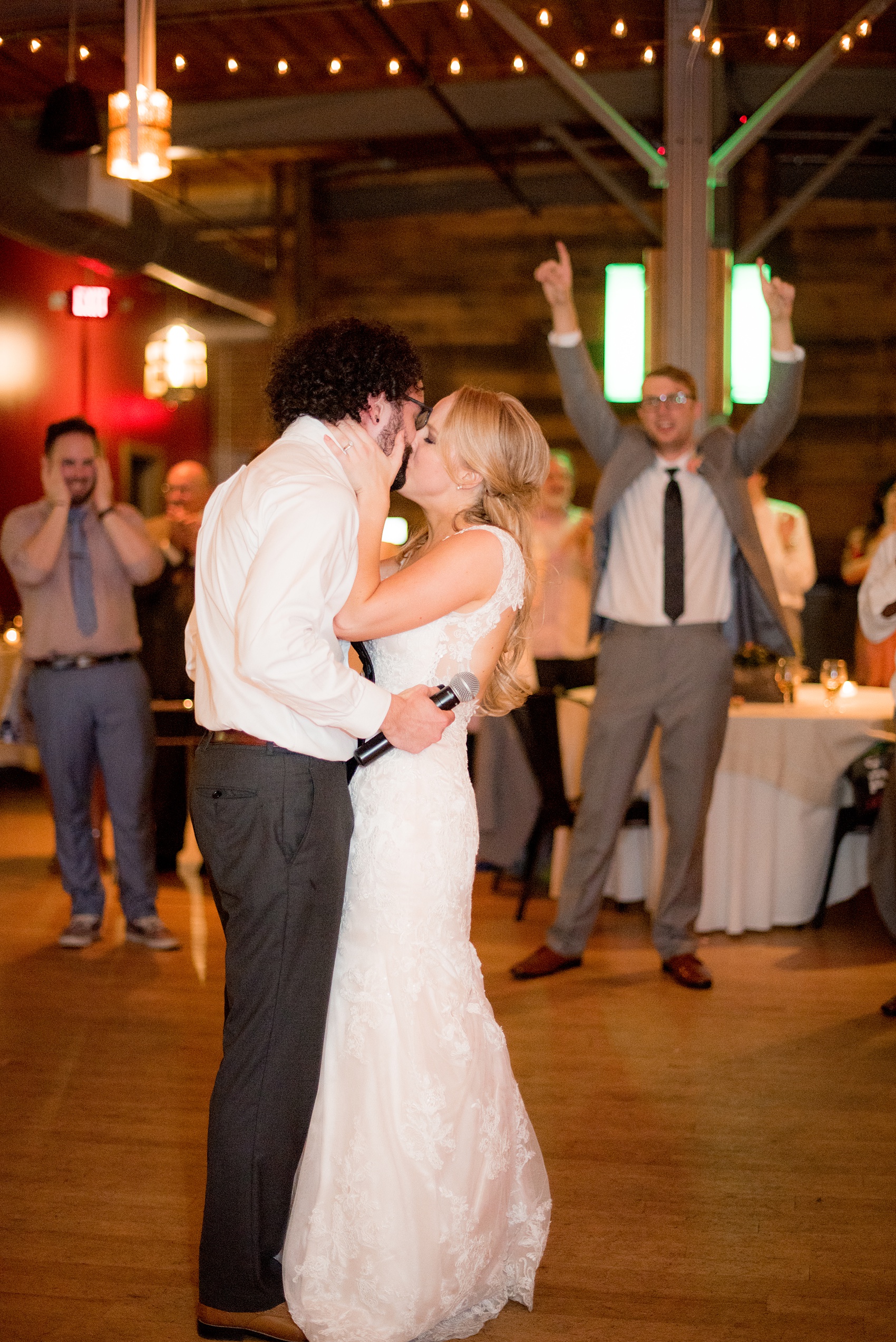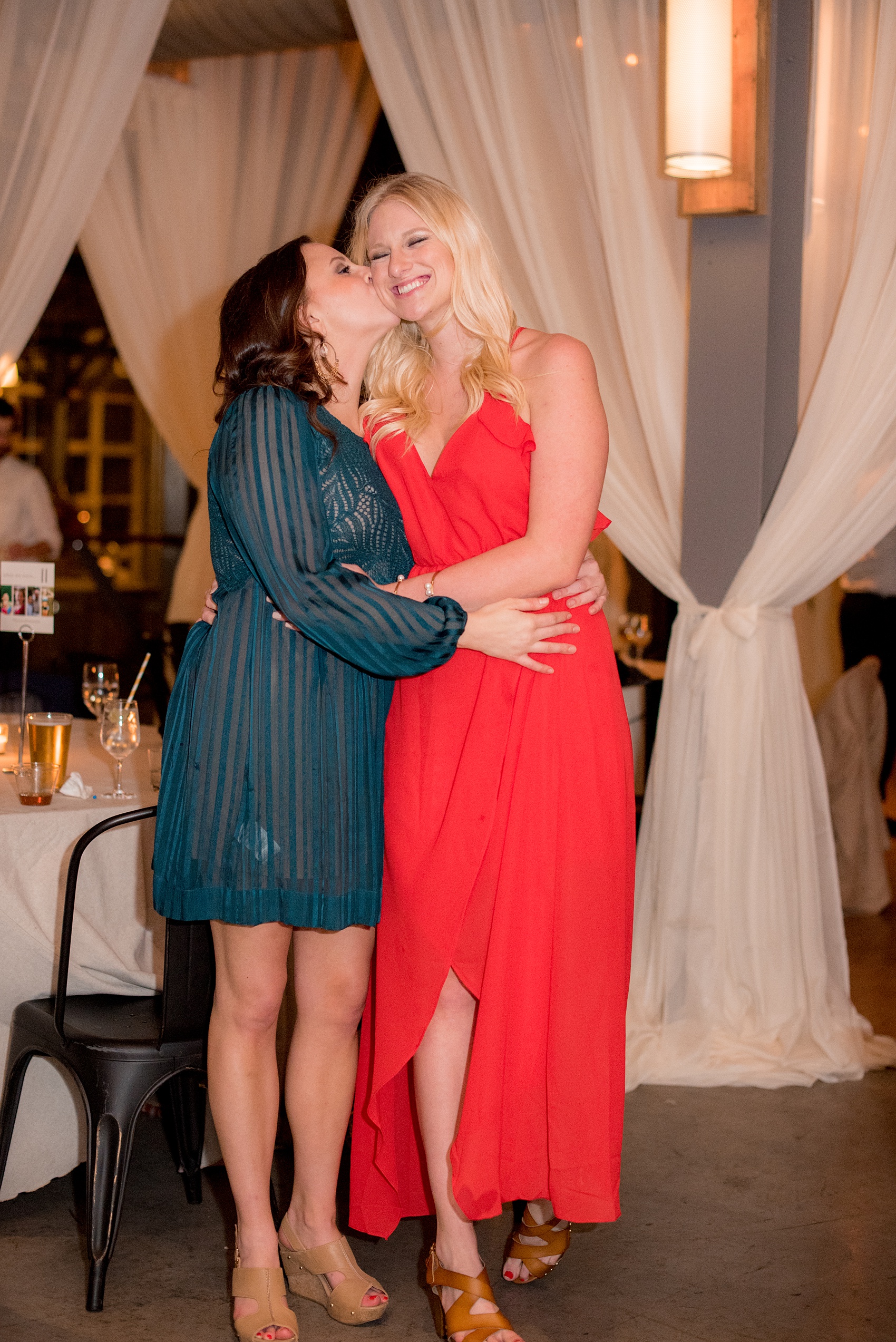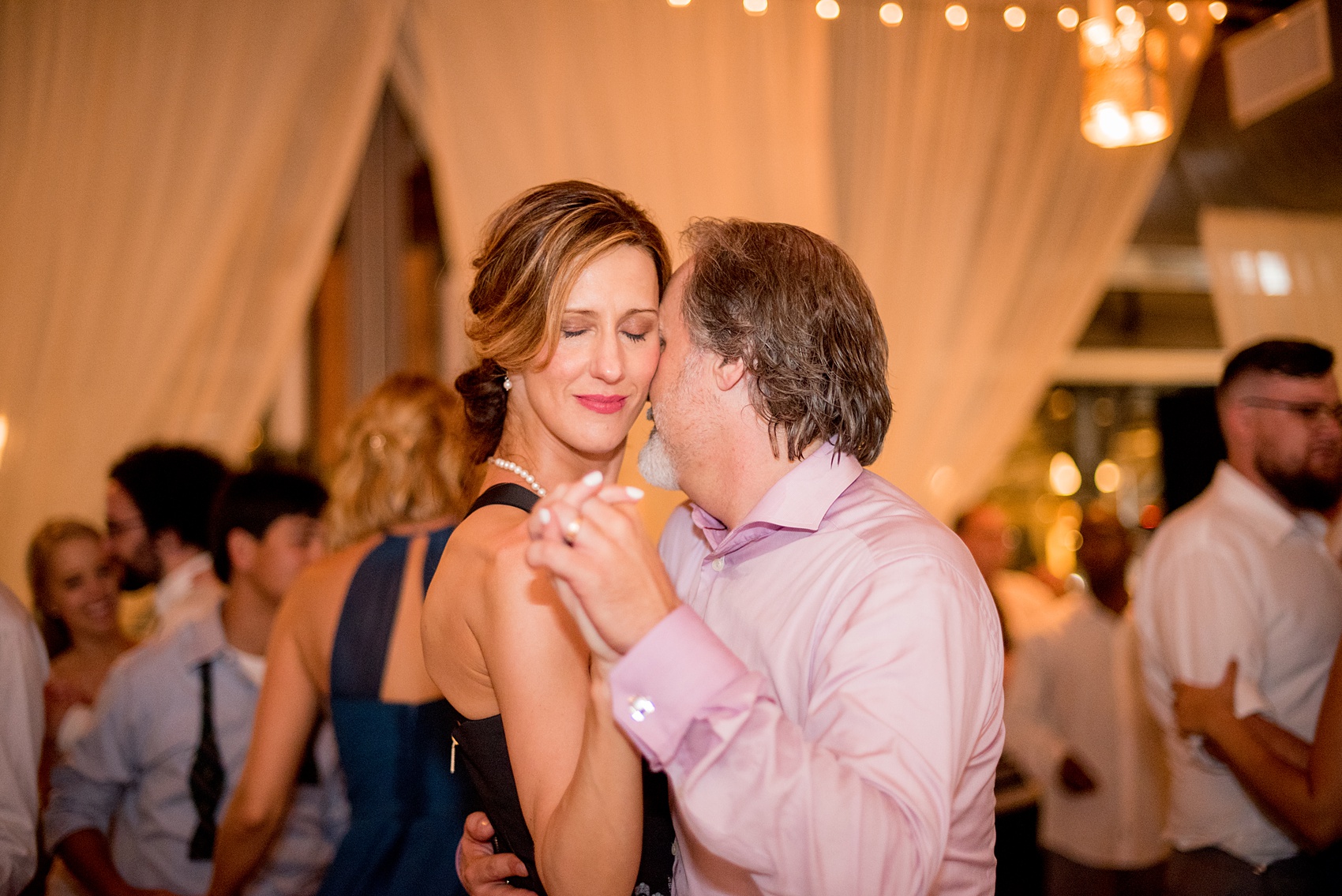 Another thing that makes this couple extra cool was opting for nix a wedding cake. They provided their guests with cold, delicious ice cream. (Perfect for a hot summer day.) They hired The Parlour ice cream truck to serve their guests customized Sundaes. I have to admit I had a bowl. I can't remember the last time I indulged in hot fudge and whipped cream. Yum. (It was worth every calorie.)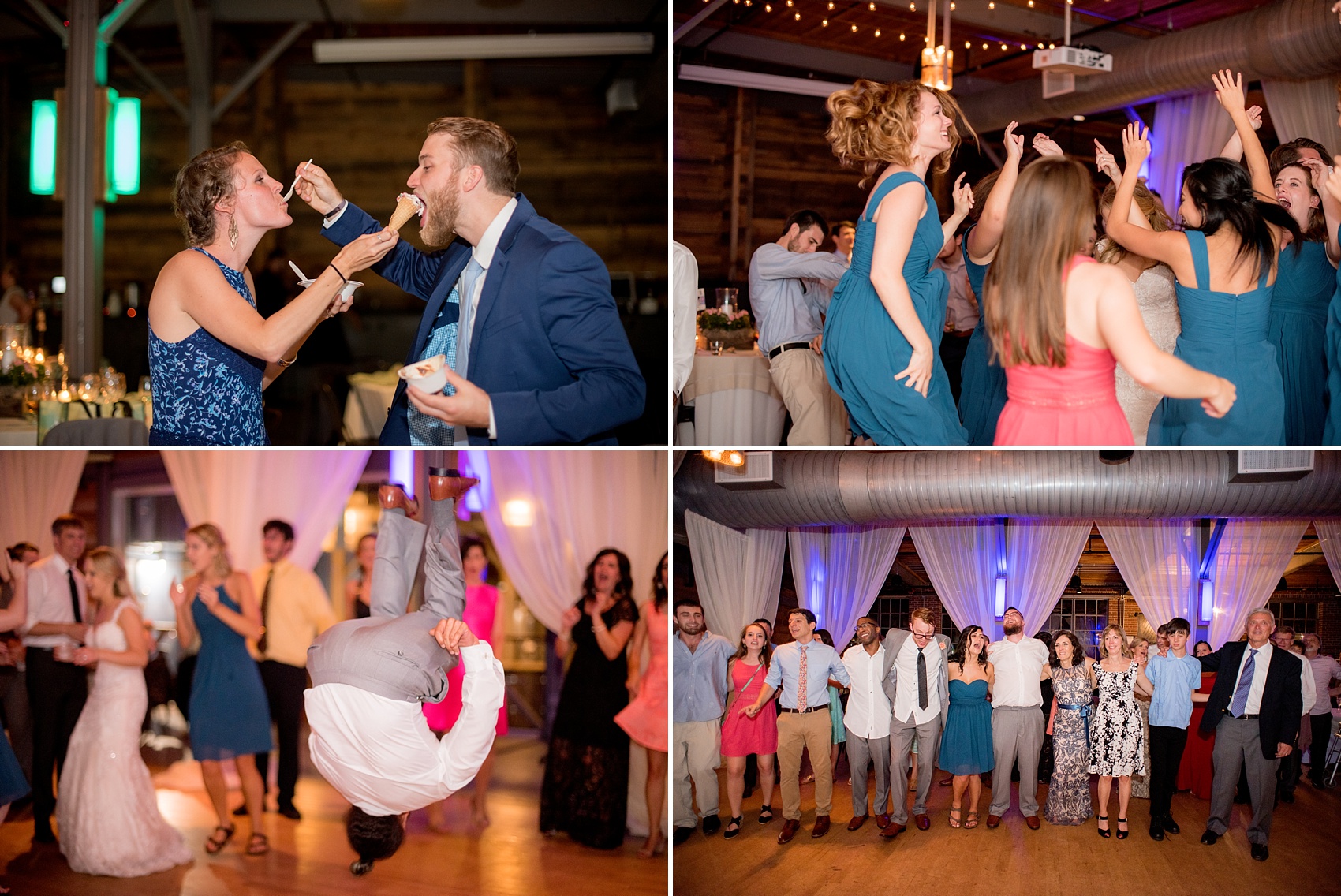 Everyone danced their asses off! (Or flipped, in the case of Xander's groomsman, Aaron, who pleased the crowd (and their photographer) by doing a back tuck not once, but twice on the dance floor.) A favorite moment was when Chloe and her crew of college friends, lovingly named "The Slack," jammed out to Lorde's song, "Green Light." (Play it – you won't be disappointed!) Their glowing sparkler exit led to their getaway transport: a pedicab that led them back to their breakfast cereal after-party at The King's Daughter's Inn. Pure genius!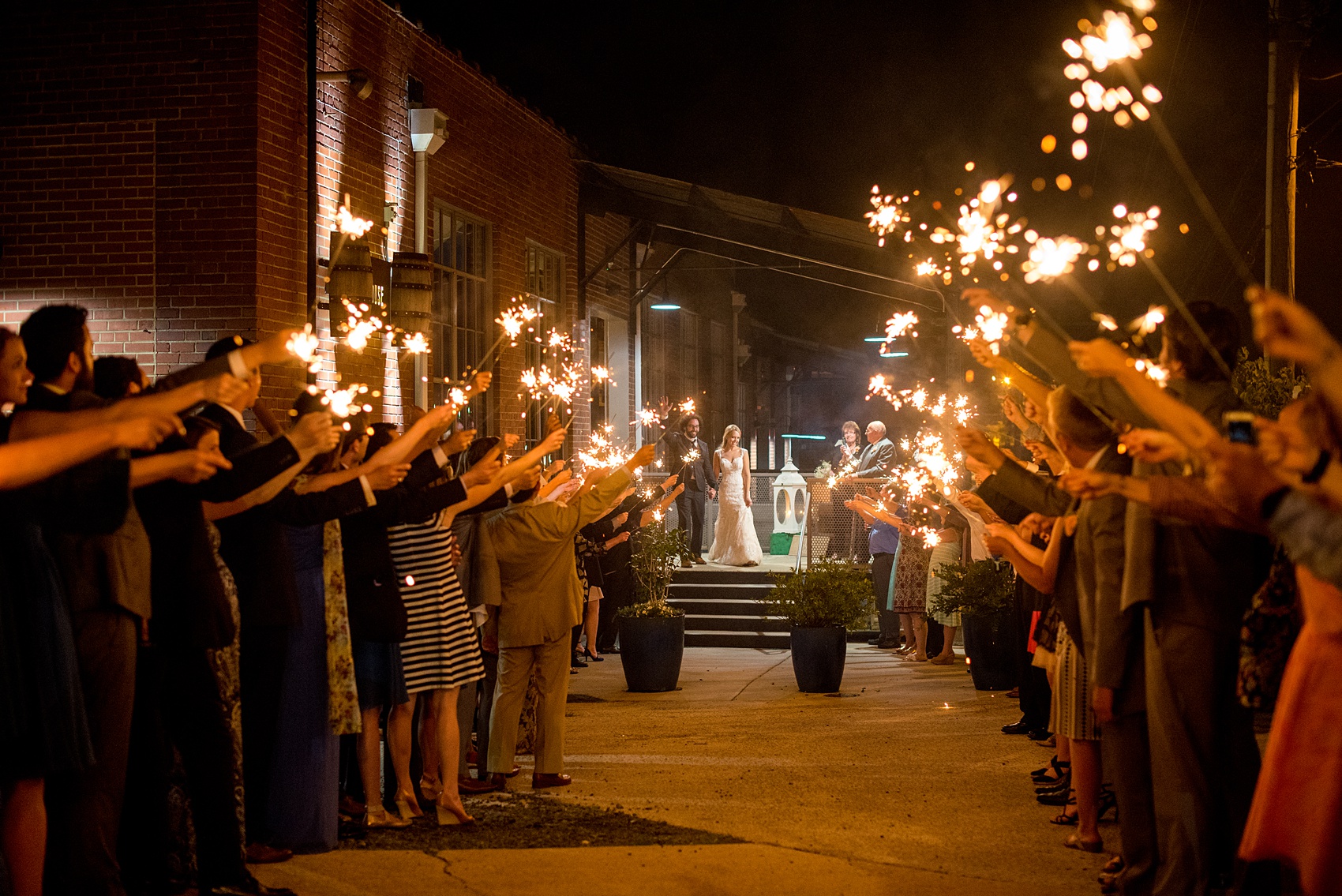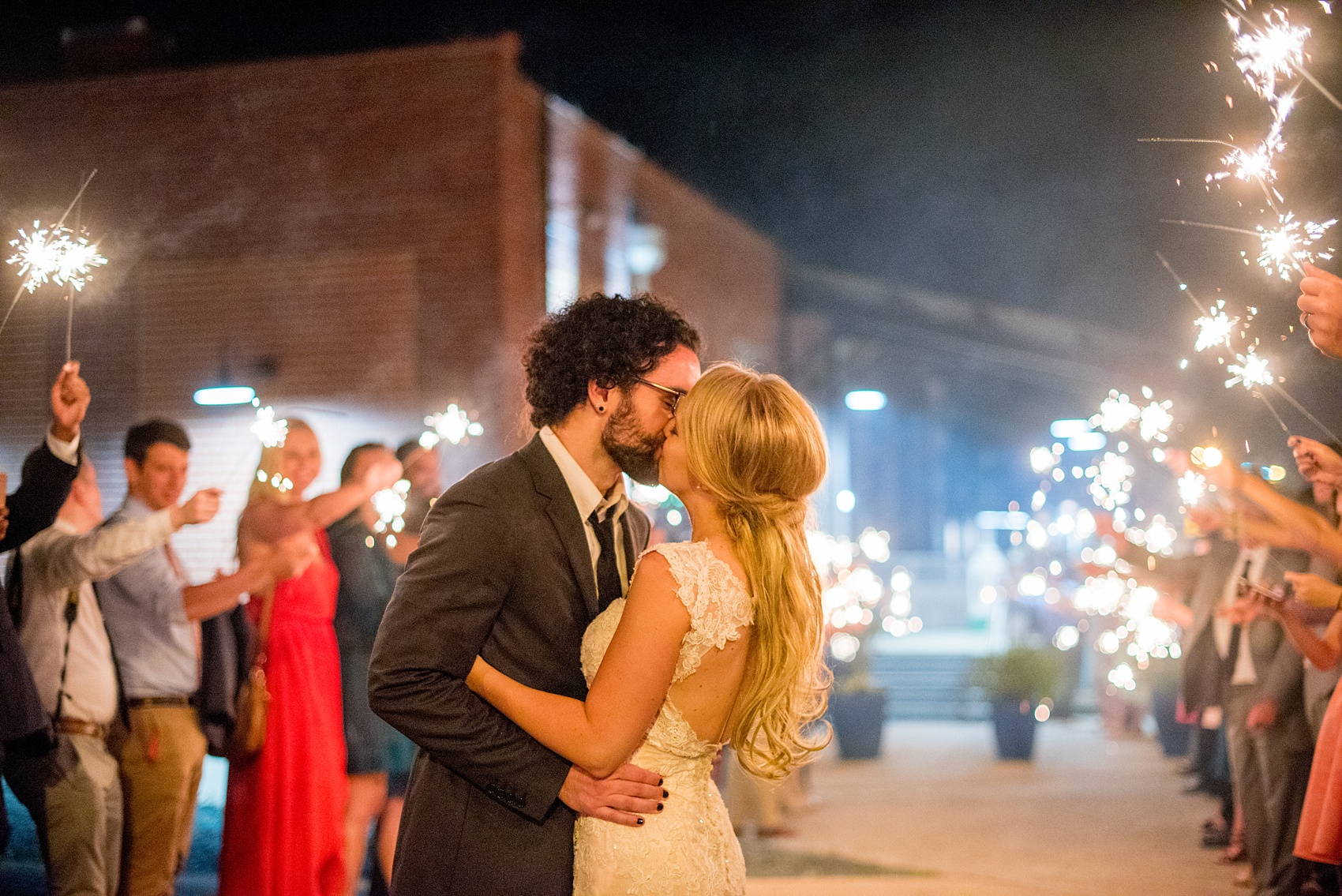 Does it get any better than their wedding day?
Congratulations to one of the most delightful, fun couples I know, who I absolutely LOVED being around whatever the occasion. Including their rad, Durham engagement session, but especially their wedding!
Venue: The Rickhouse / Getting ready location: King's Daughters Inn / Month of Coordination: Redbird Events / Bouquets and boutonnieres: Teacup Floral / Videographer: AK Focus / Invitations: Wedding Paper Divas / Wedidng gown: New York Bride & Groom of Raleigh, designer Simply Bridal / Bridal party hair and makeup: Wink Hair & Makeup / Bride's hair and makeup: Becca McNab / Officiant: Johanna Wint / Bridesmaids dresses: Azazie / Groom's suit: Indochino / Groomsmen suits: Men's Warehouse / Engagement ring: Jewelsmith / Groom's wedding band: Zale's / Lighting: Get Lit Special Event Lighting / Linens: American Party Rentals / Groomsmen and bridesmaids gift: Etsy / Ice cream truck: The Parlour / #rockowsmadesenlife
Getting married at The Rickhouse? We love working with awesome couples getting married there so contact us!