Amanda and Craig's smily, giggly faces match their delightful personalities and warm, caring hearts. They met through mutual friends during college and even though they were "peripheral friends" afterwards, as Amanda describes, they reconnected years later at Amanda's apartment warming party in the city. Luckily he crashed on her couch that evening; Amanda sent him a text the next day to ensure he made it home okay. The texts kept coming and they started to talk more and more…and date! And one day when Amanda's father was in town from the Phillipines, Craig asked for his blessing to propose to Amanda. (Who would say no to Craig?!) He proposed at the Tidal Basin in Washington, DC and a few months after they started to plan their wedding at Crabtree's Kittle House in Chappaqua, New York. Queue Mikkel Paige Photography!
It was a true joy to work with Amanda and Craig. They kept in touch with me through Instagram from the time we met until this day, which I absolutely adore. I have especially loved getting private messages from them on Instagram stories. I had to laugh when one of them would message me, to find an additional message in my Instagram direct messages from the other with a similar note! We had a blast at their engagement session in Brooklyn Bridge Park, and bonded over a shared love of food – fresh pasta in particular – as we walked back to the subway and they were on their way have a nice dinner after at an Italian restaurant.
Their October wedding at Crabtree's was filled with lots of greenery, pops of red, and beautiful traditions for Craig's Jewish heritage and Amanda's Filipino background. And would you believe that the Rabbi ALSO married Craig's parents years ago? How special is that? Here's all the beauty that overwhelmed me that day…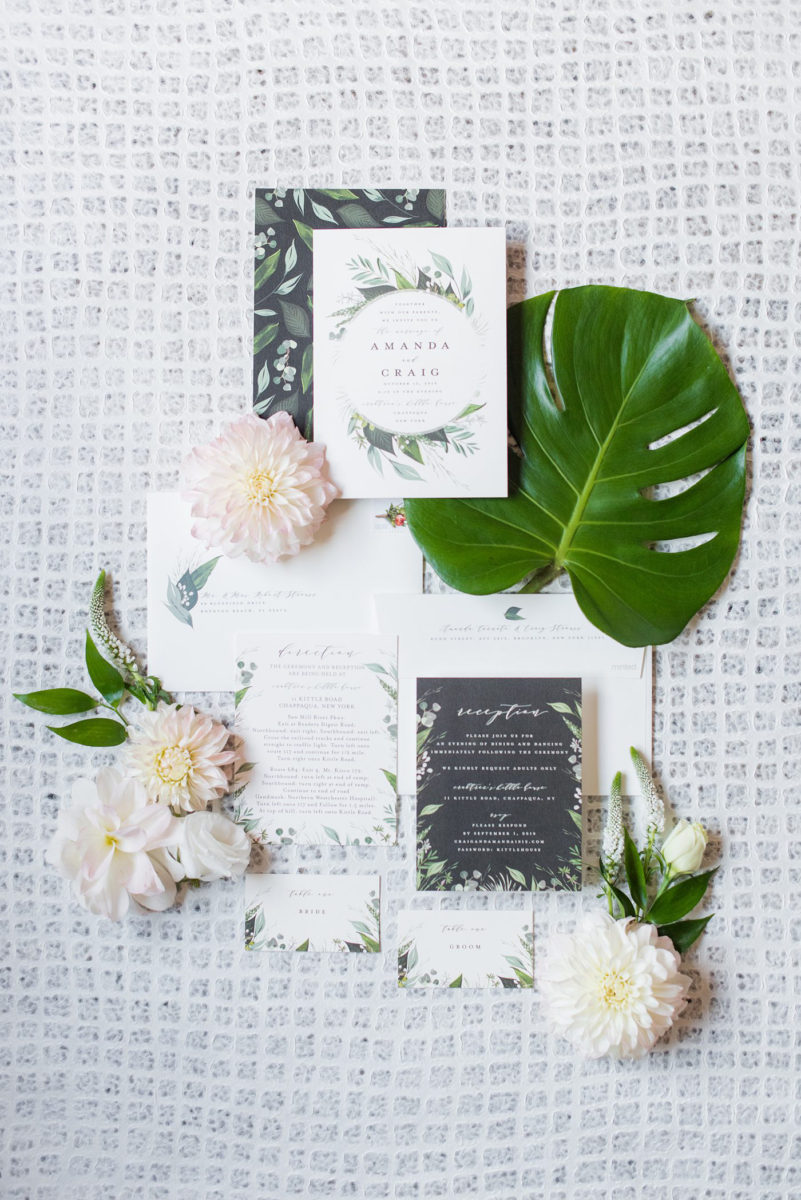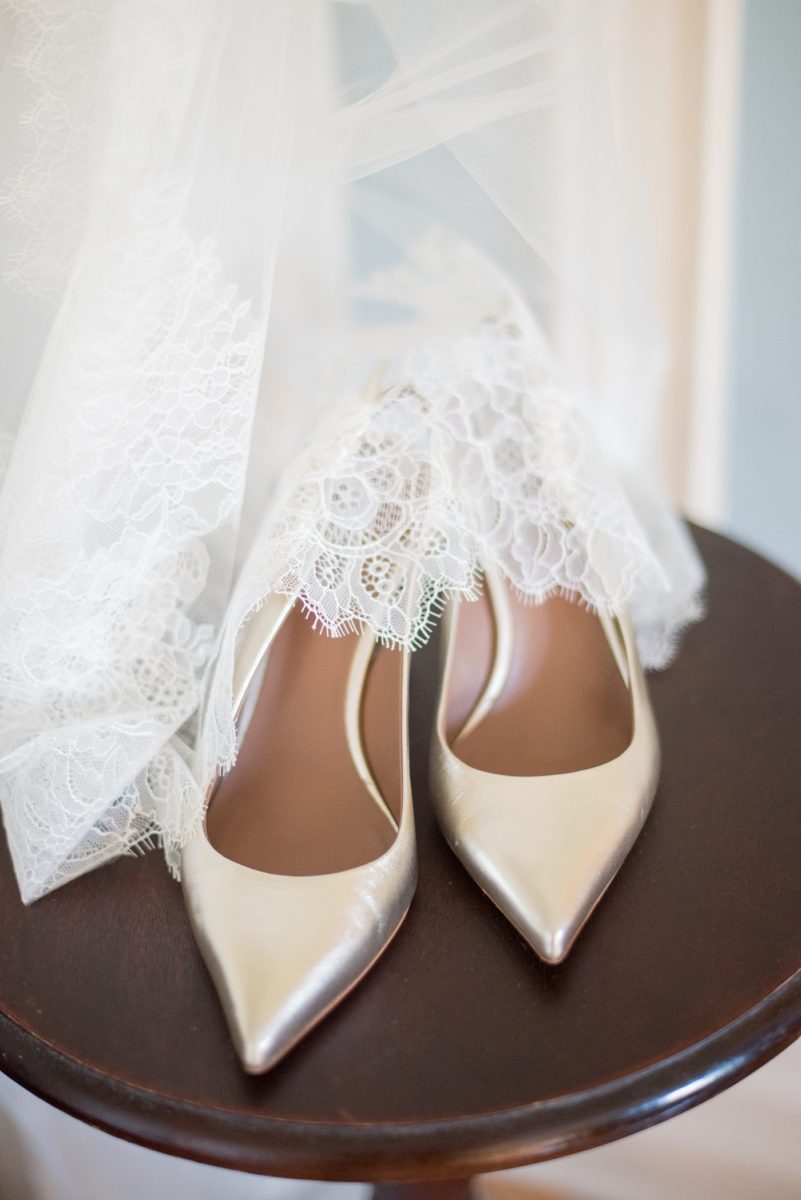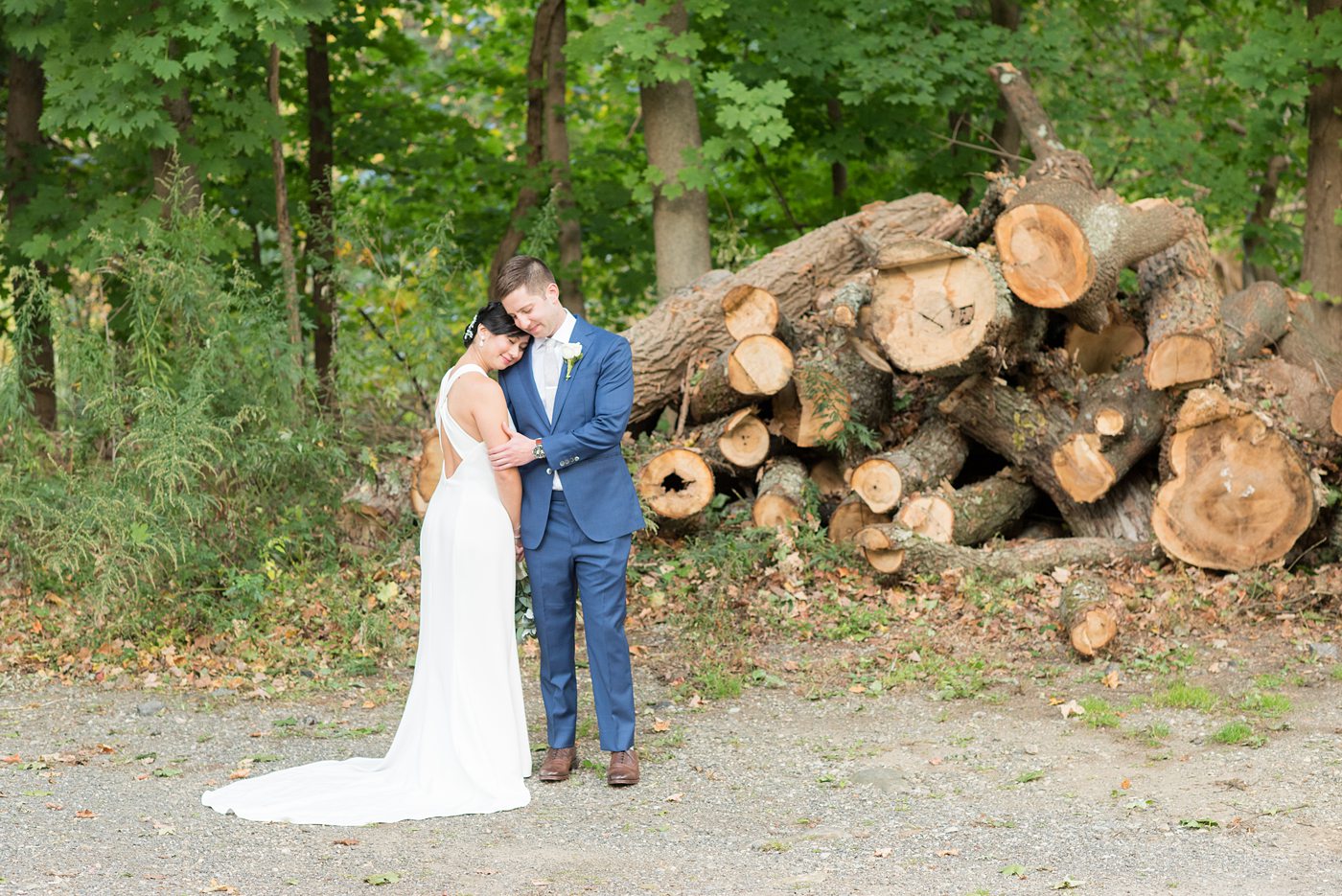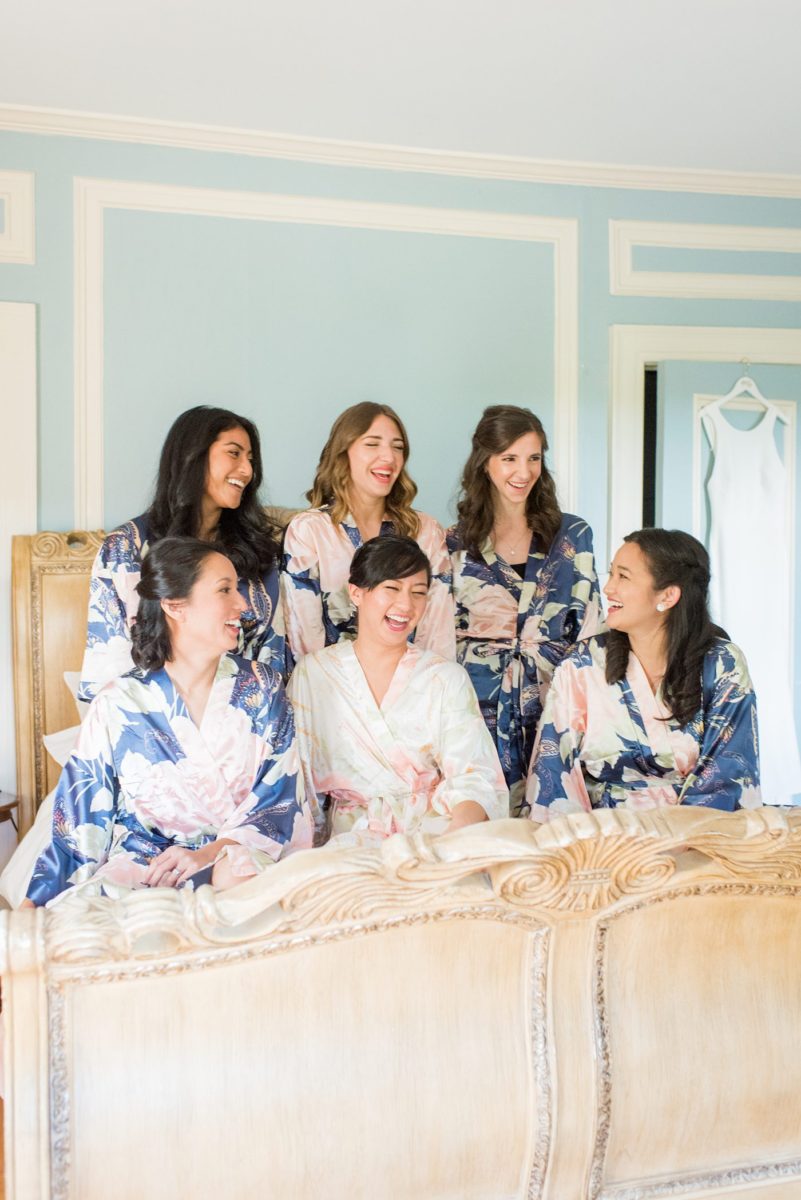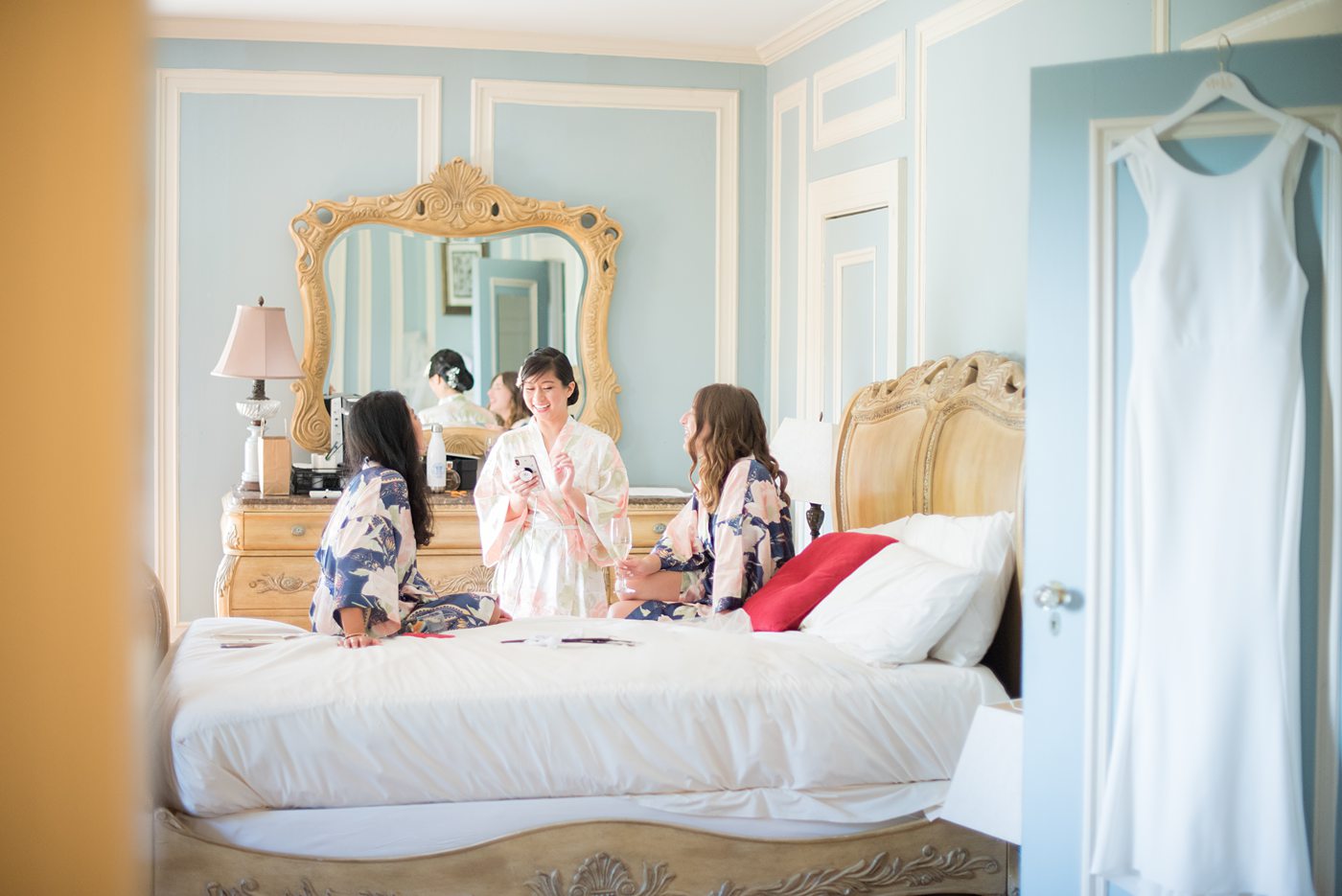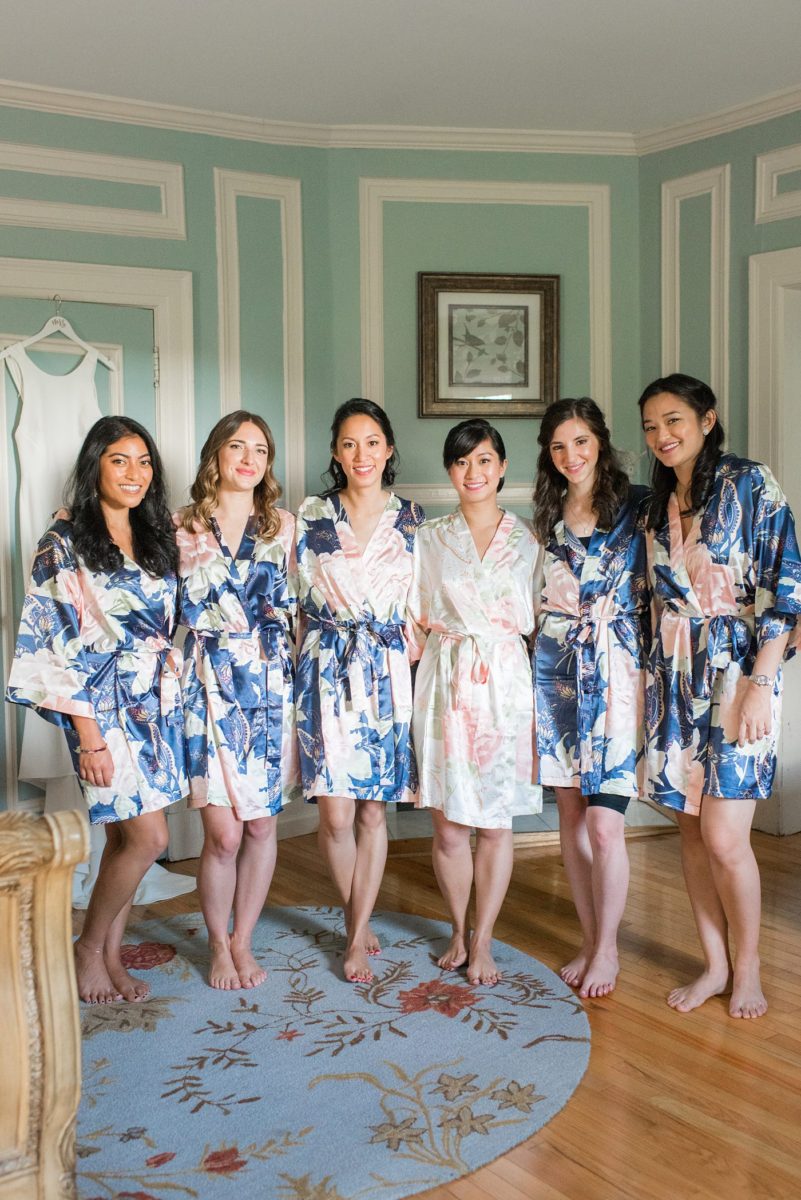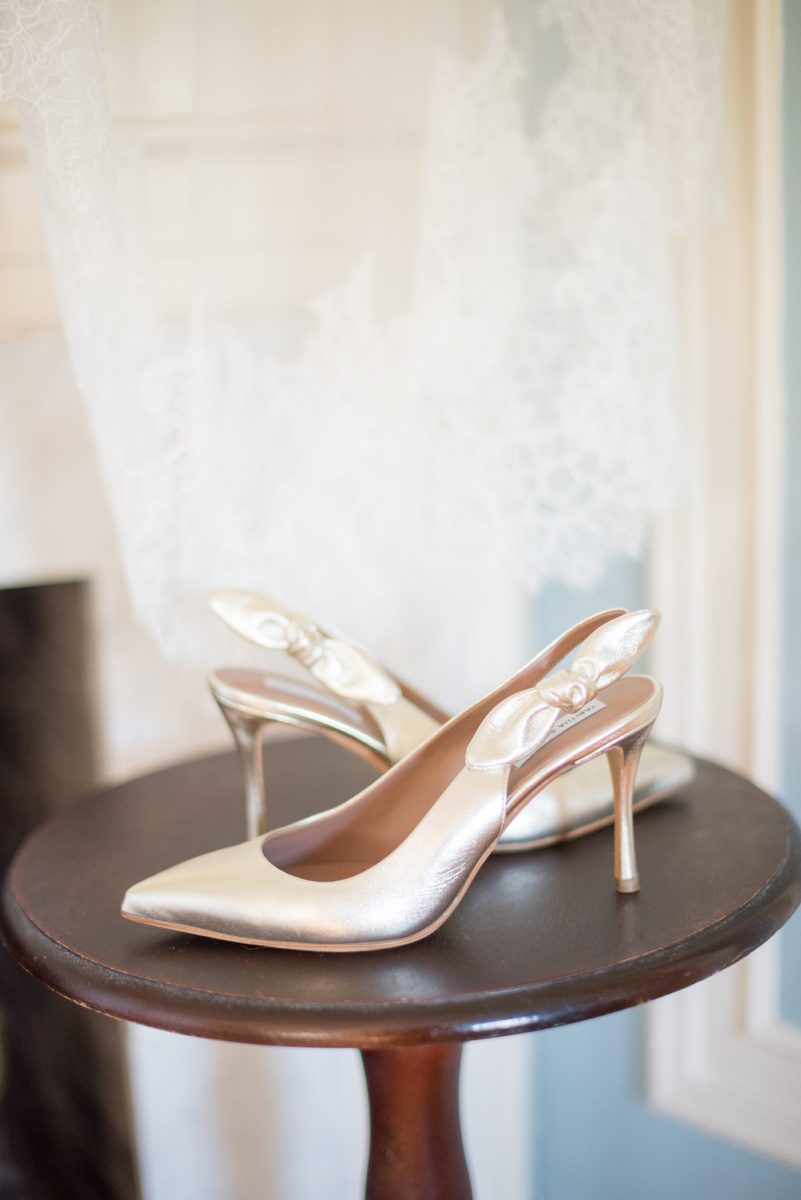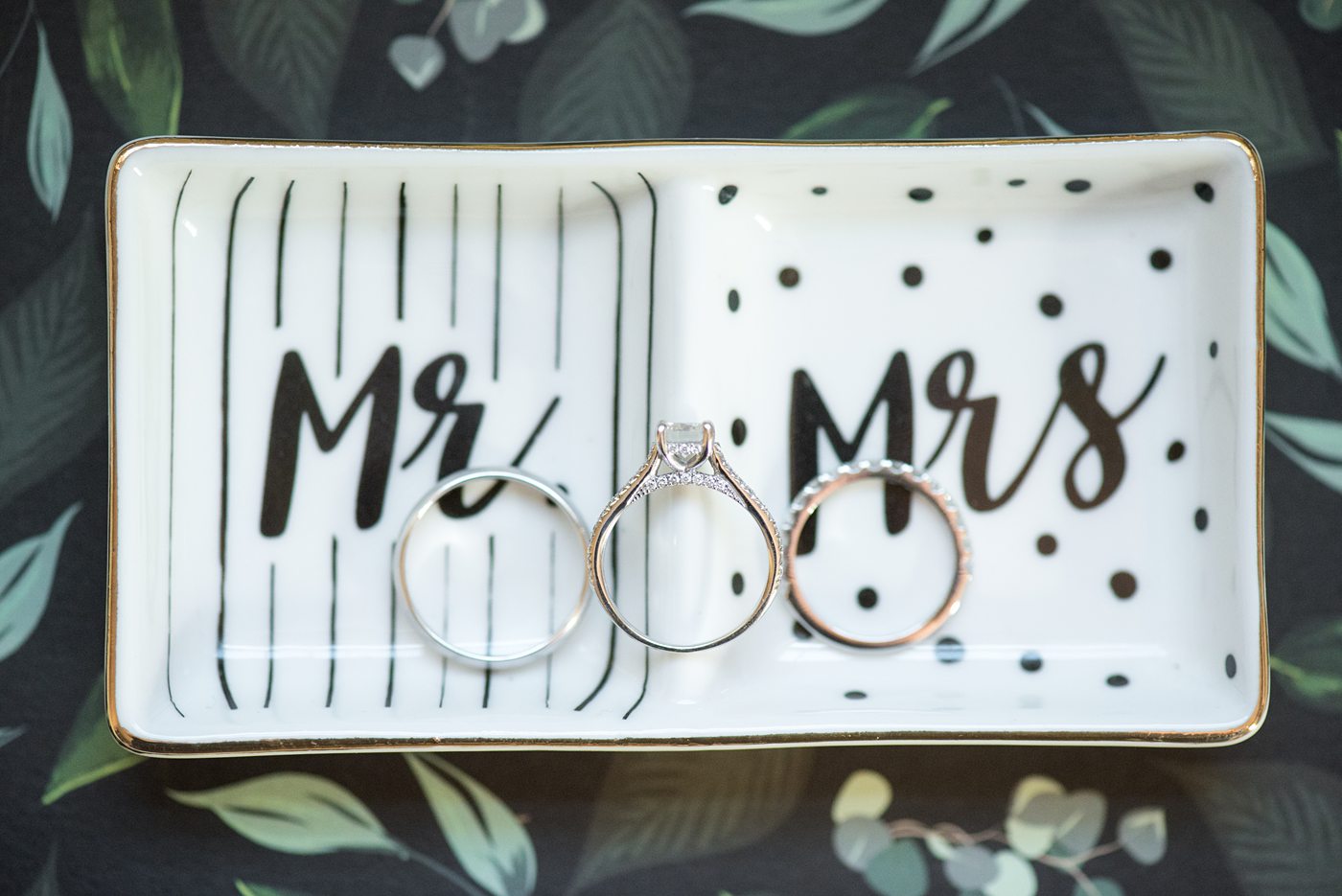 Amanda had a few special elements to photograph details with like their Mr. and Mrs. dual ring dish. A highlight was the custom embroidery hiding in their attire that day! Amanda had their names and wedding date underneath the skirt of her wedding gown. And Craig had their date embroidered underneath his suit collar. He also had his initials on his shirt cuff and his signature embroidered in red through in his jack and pants.
They were very generous to their best friends and wedding party. Amongst other things like a pill box from Venice (Murano glass!), floral robes and a cute tote bag she gave them initial necklaces. And Craig gave his groomsmen (also among other things) bottles of Woodford Reserve. They may or may not have had fun filling flasks with the quality liquor before they headed out for photos!
They exchanged gifts and were both very touched by the other's card. Amanda got Craig a Shinola watch with his initial stamped into the leather band along with their wedding date. He got his bride diamond earrings.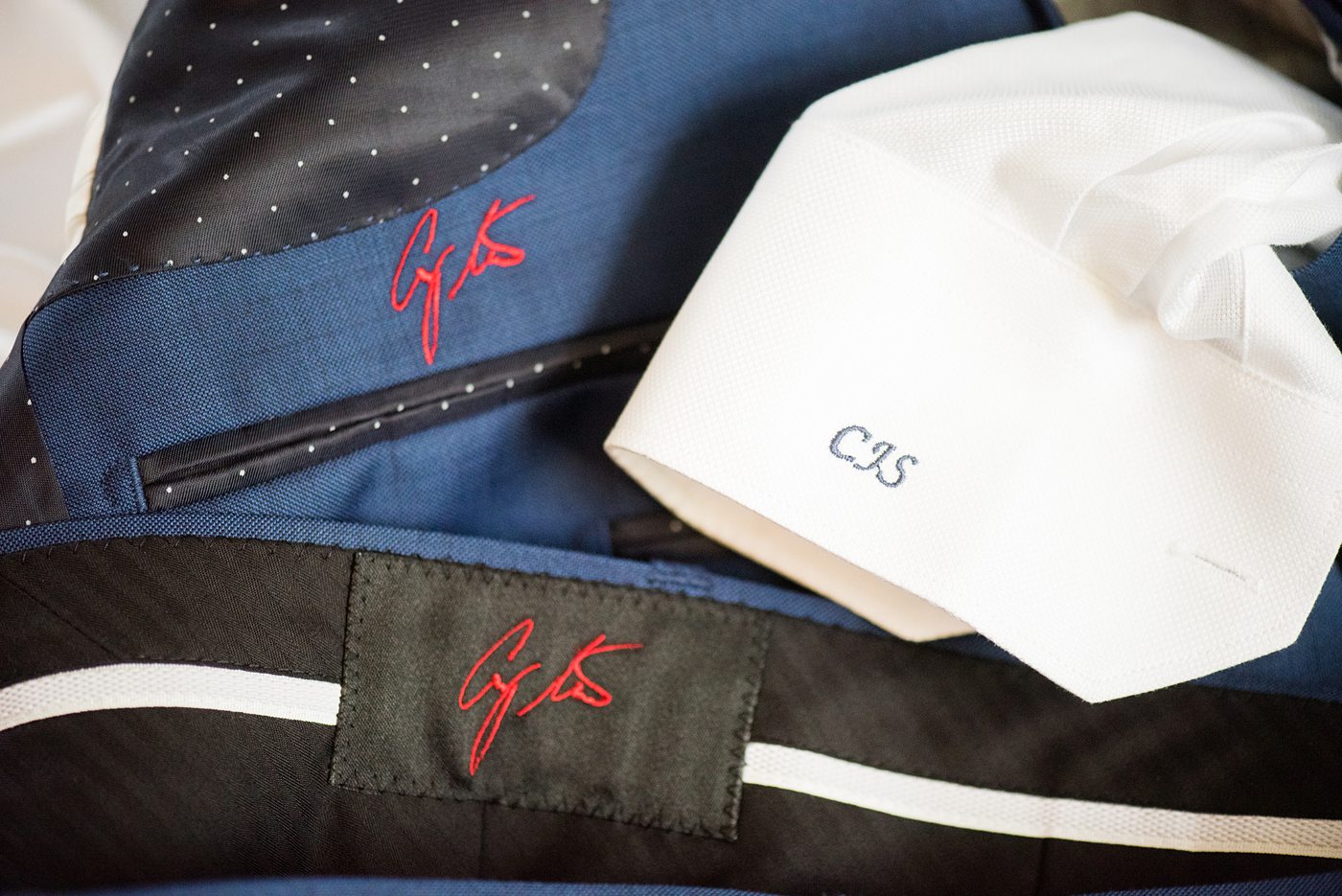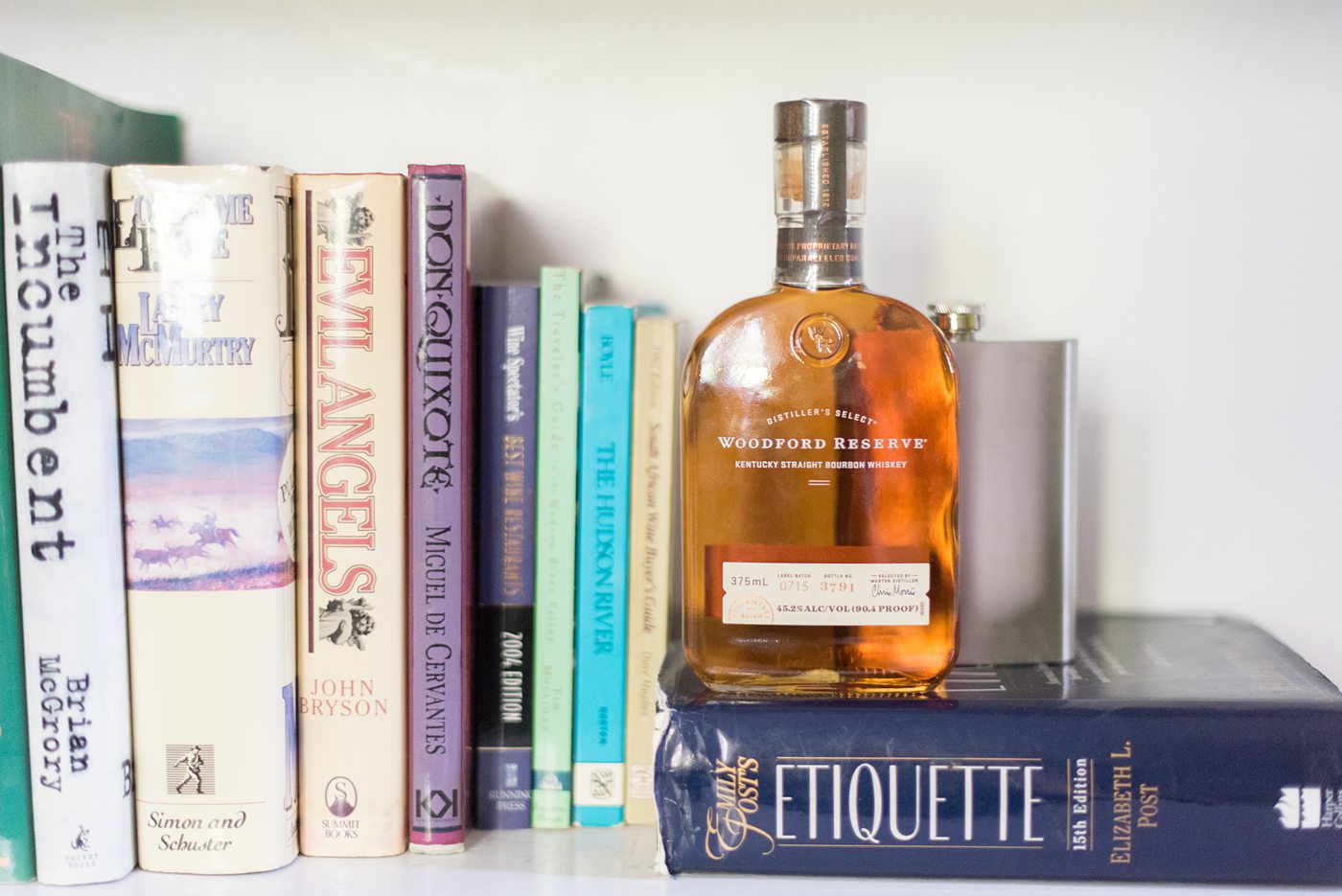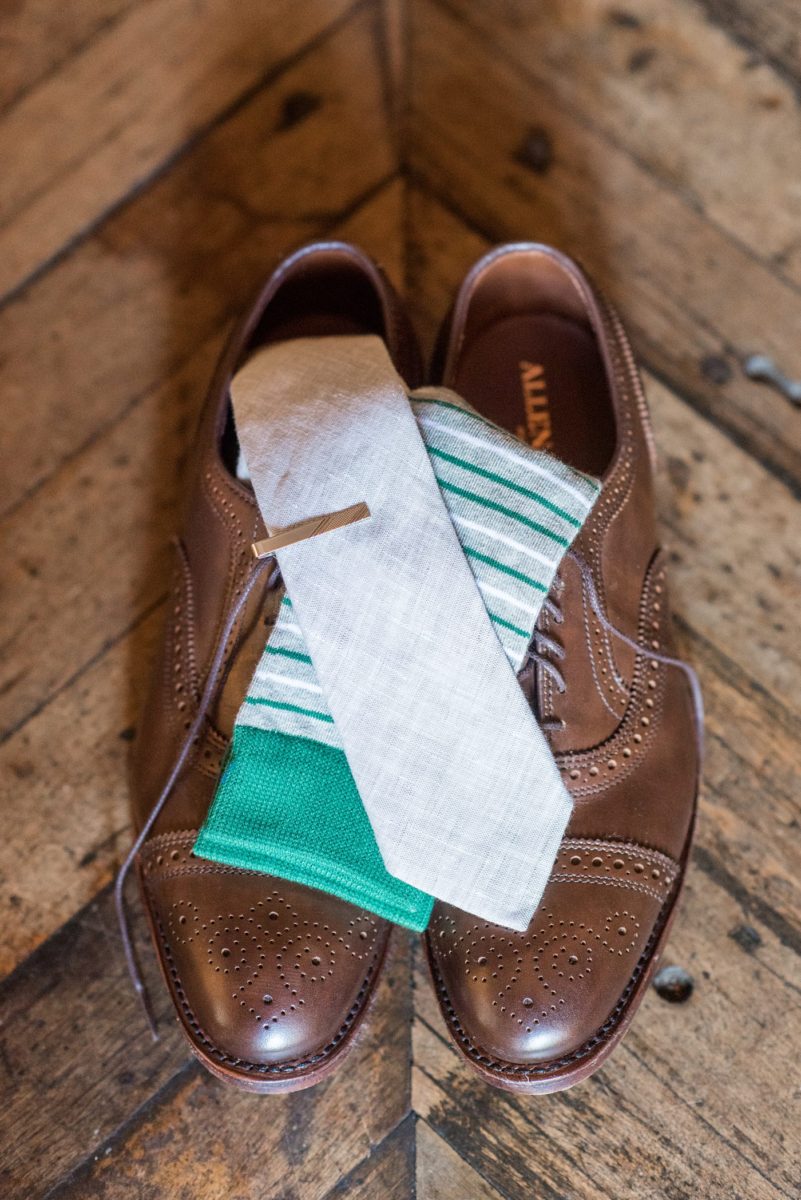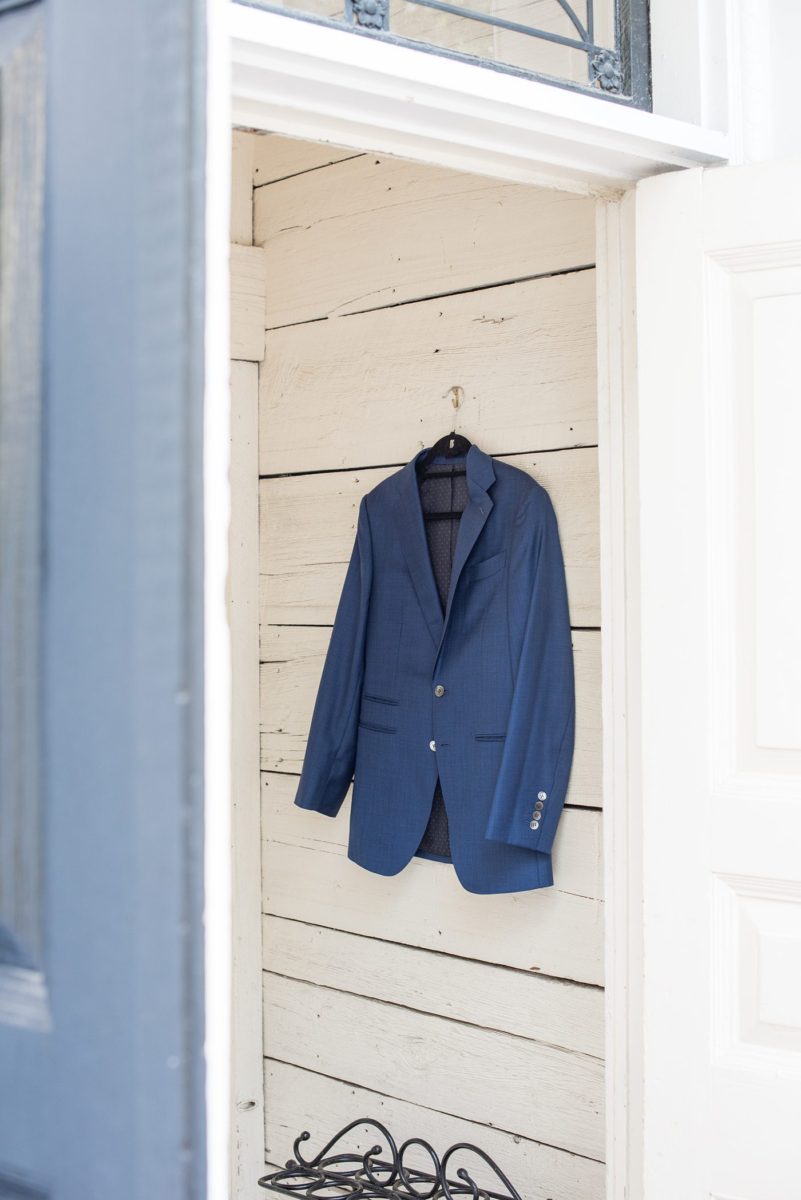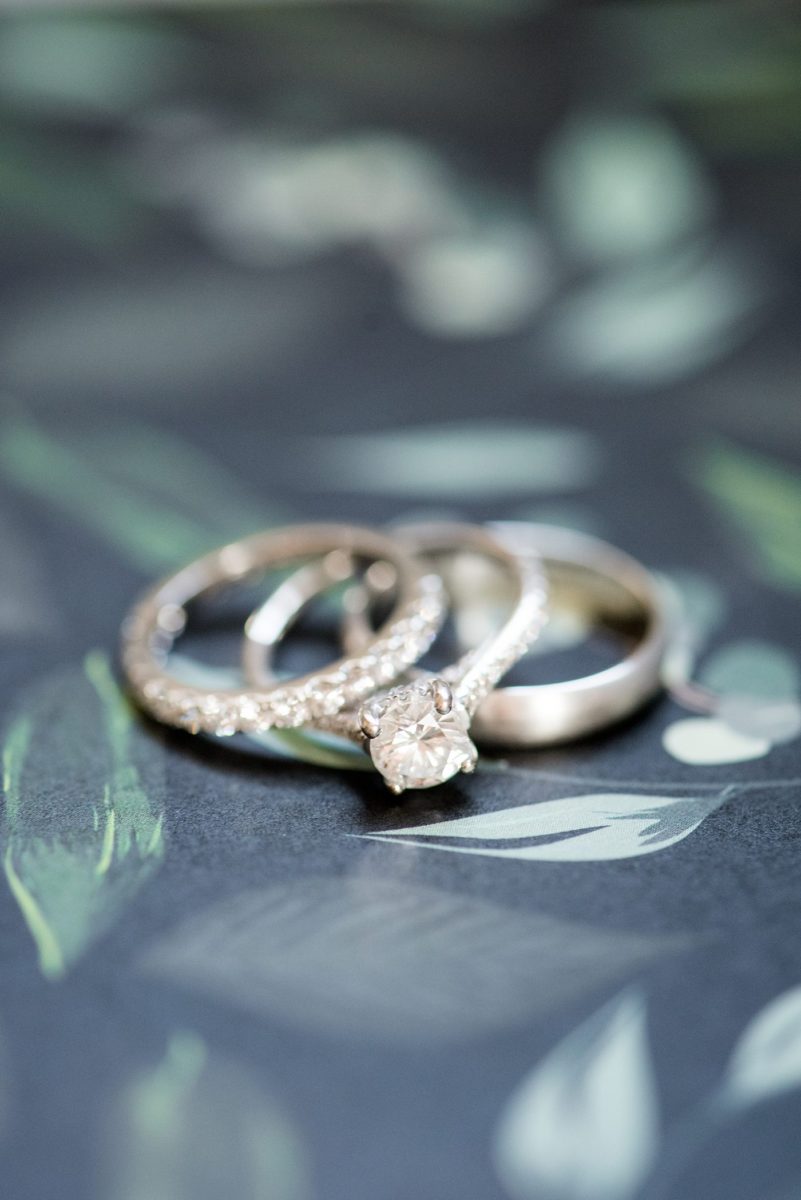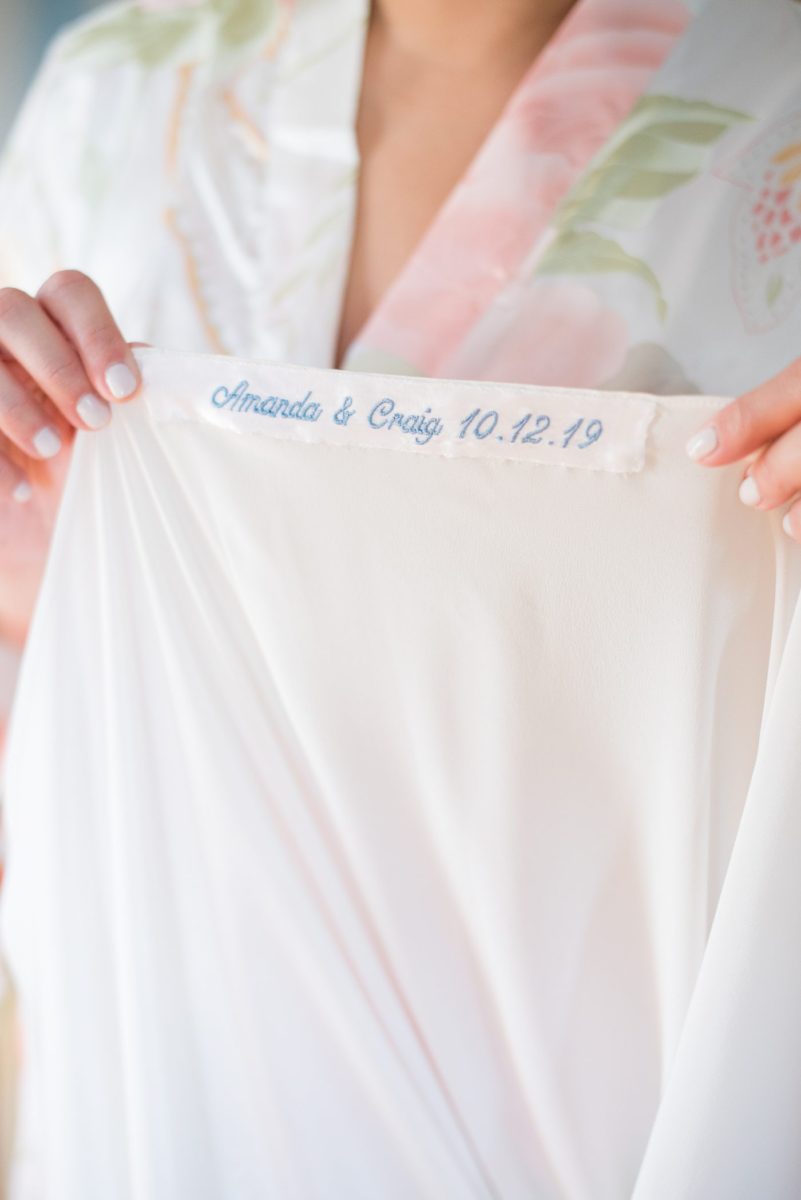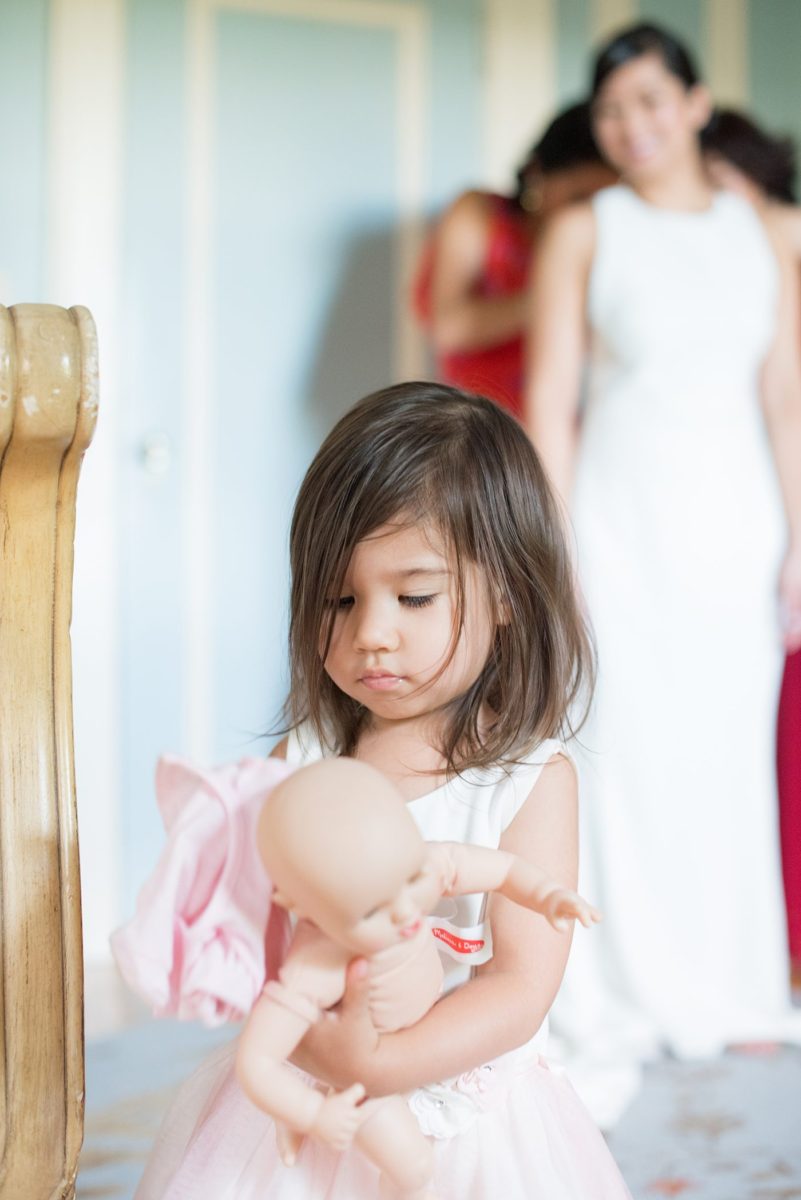 As Amanda's mother and sister helped her get ready, her niece couldn't help but get her baby dressed! I love this photo of Olivia dressing her doll as her aunt Amanda gets ready for her wedding in the background.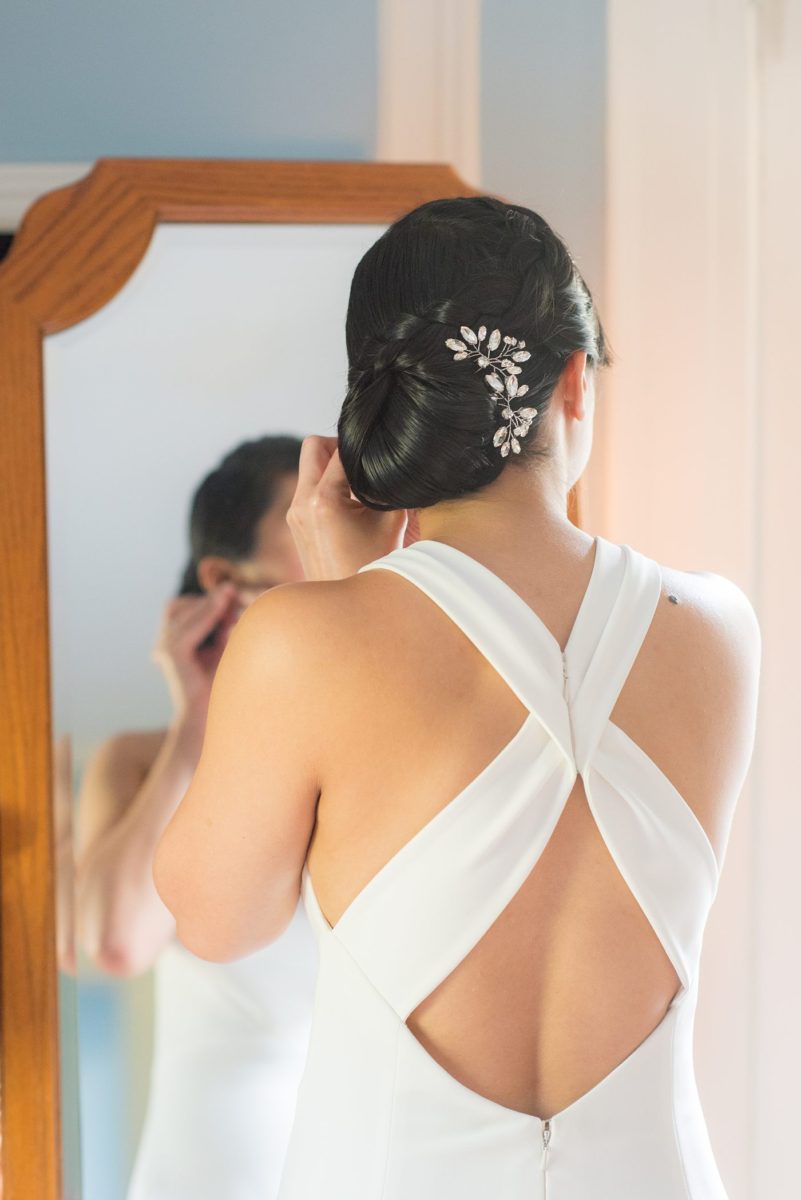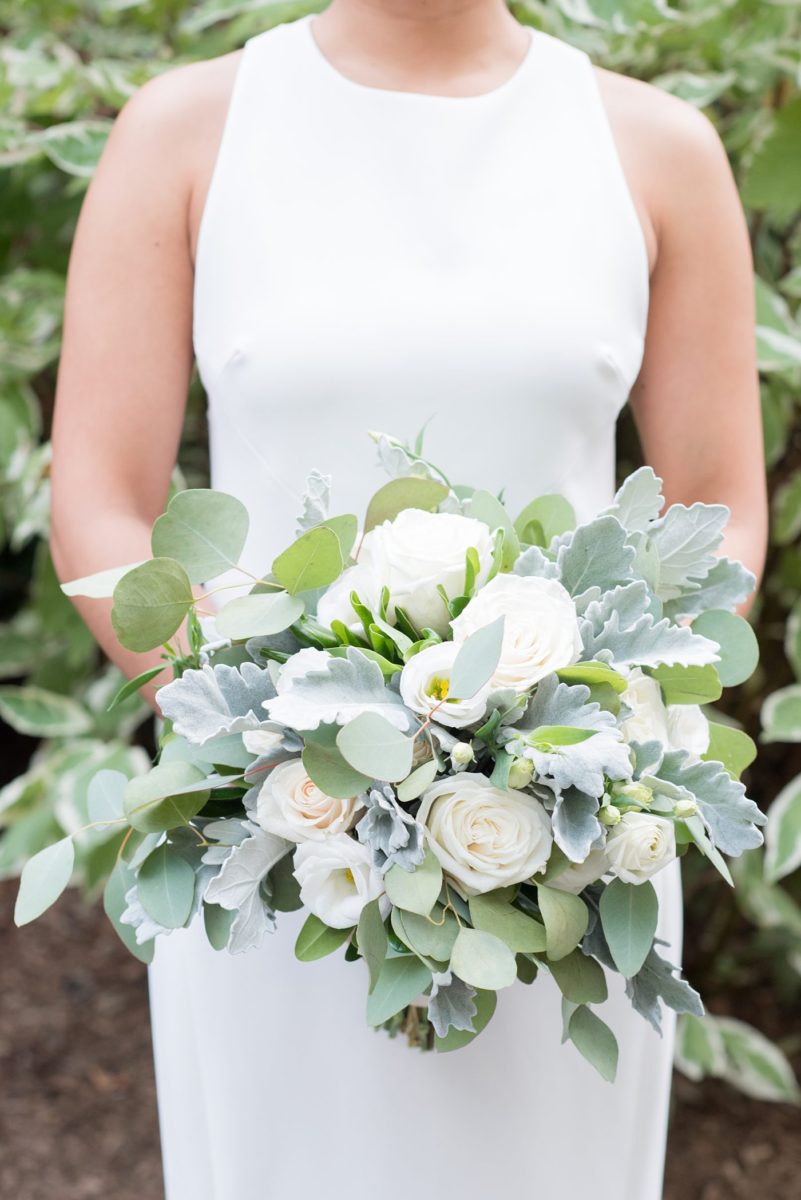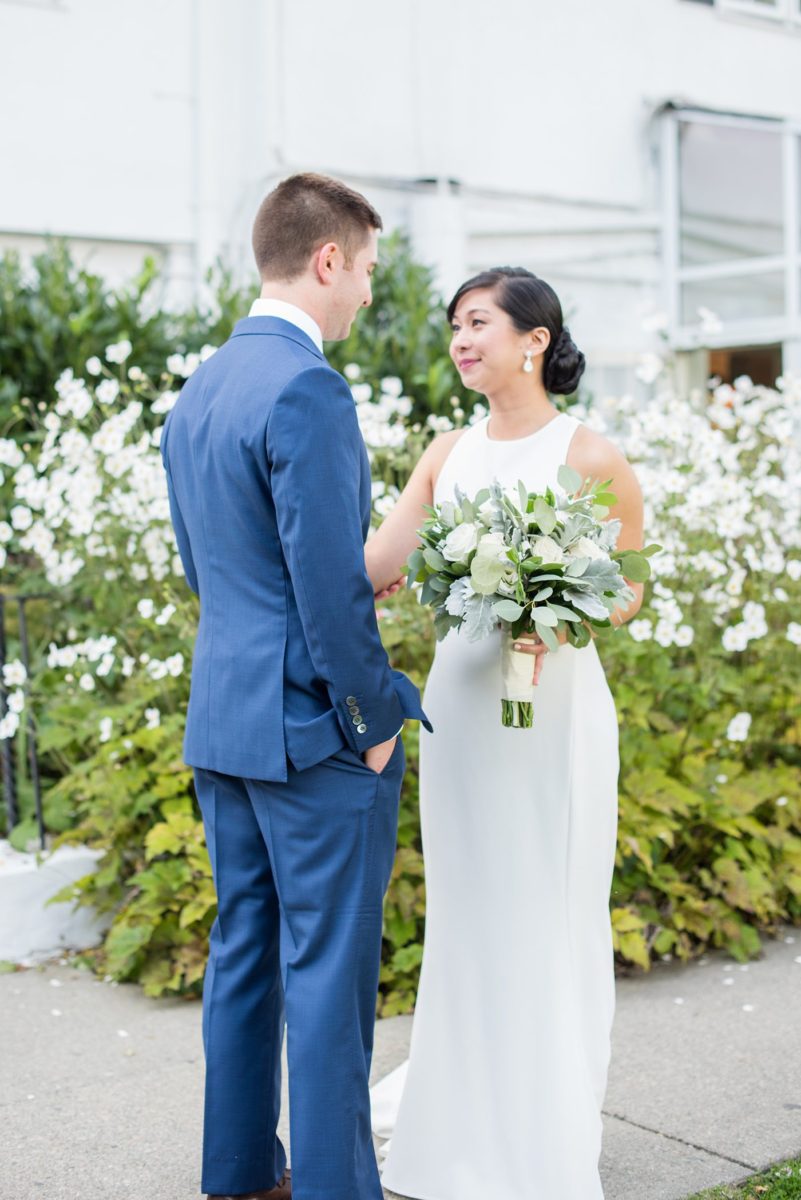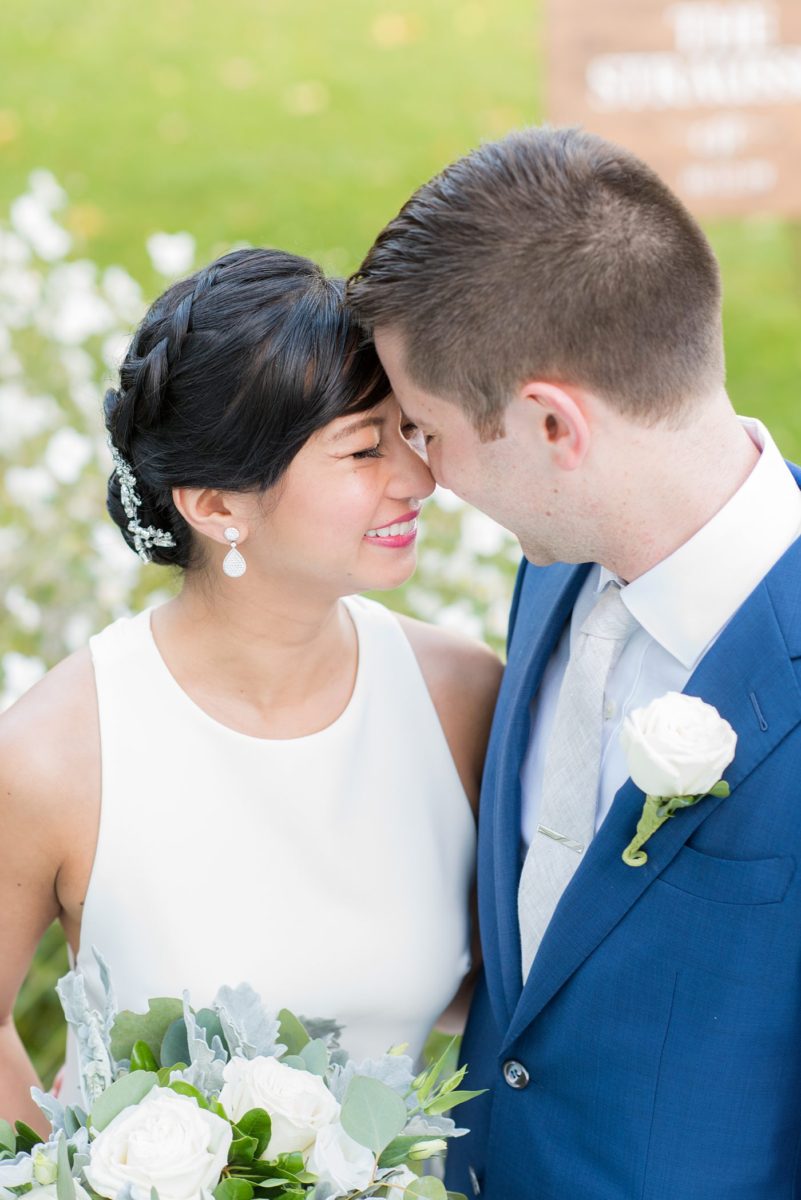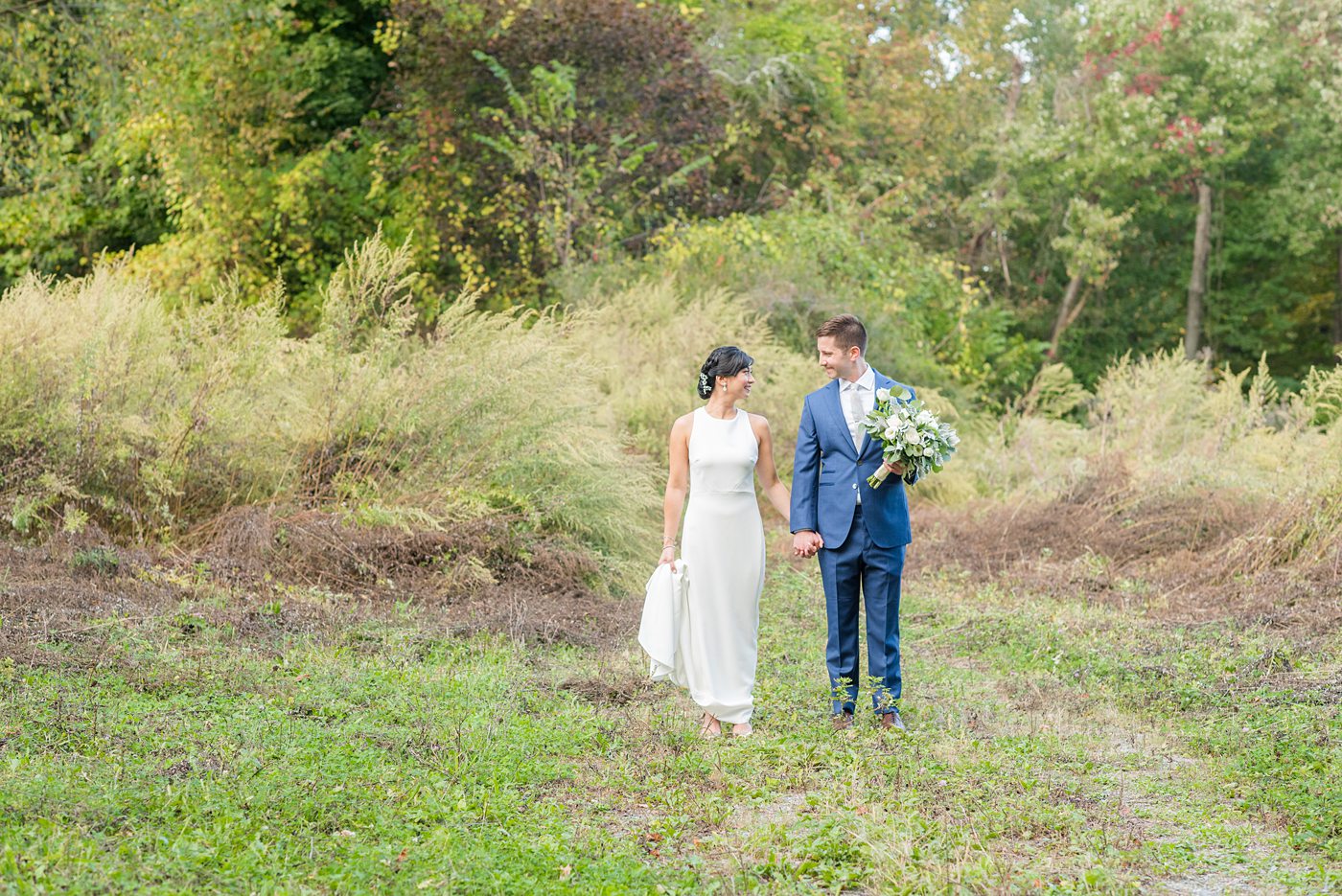 Their first look was outside by the grand staircase at Crabtree's Kittle House…because I just loved the white flowers with yellow centers behind them and it was the perfect place to start before walking around the property. The three of us walked from the stairs to a grassy area behind the venue (which looks like a wonderful wild field) to various trees and vantage points I love at this Westchester County, historic venue. There are really so many favorites I have of them – whether it's them looking at each other, Craig at Amanda, or Amanda at Craig. And if there was ever a bride who brought "sexy back" to a wedding day, it's Amanda! From her "X" back on her sultry gown to her incredible hair do of a braid flowing into a low bun. It was so sexy!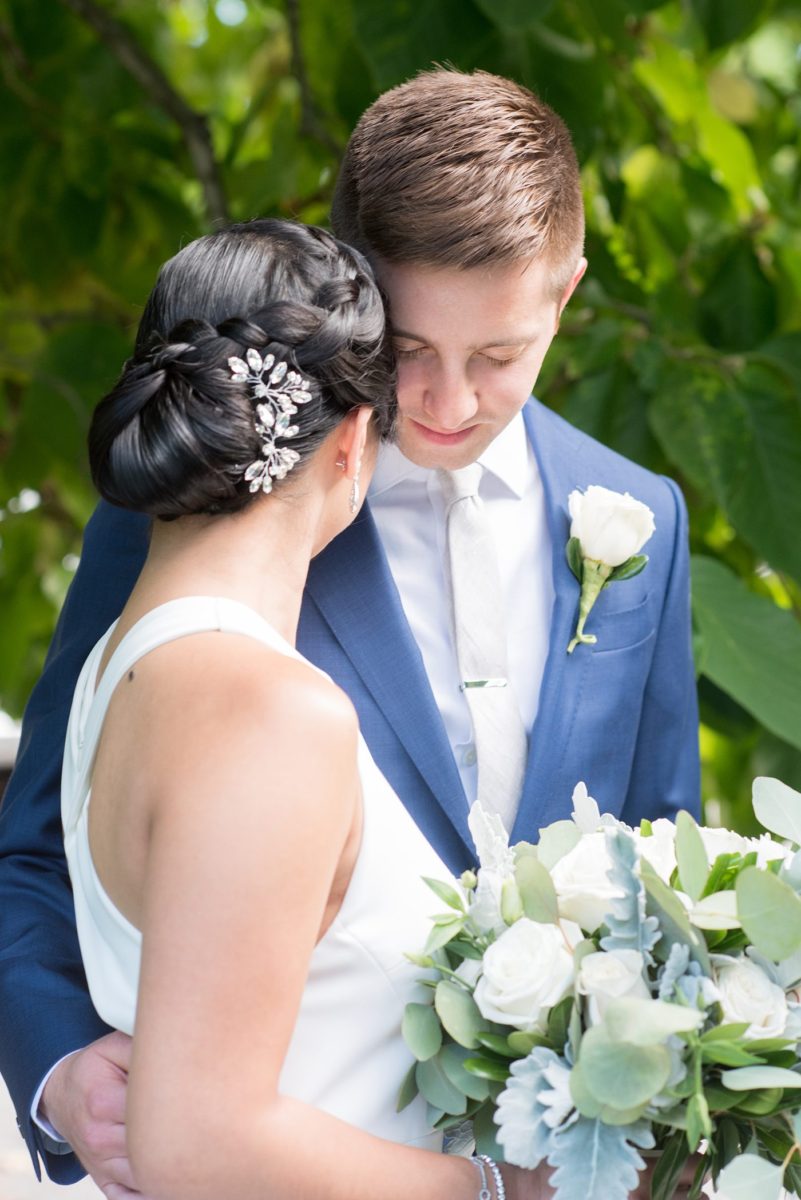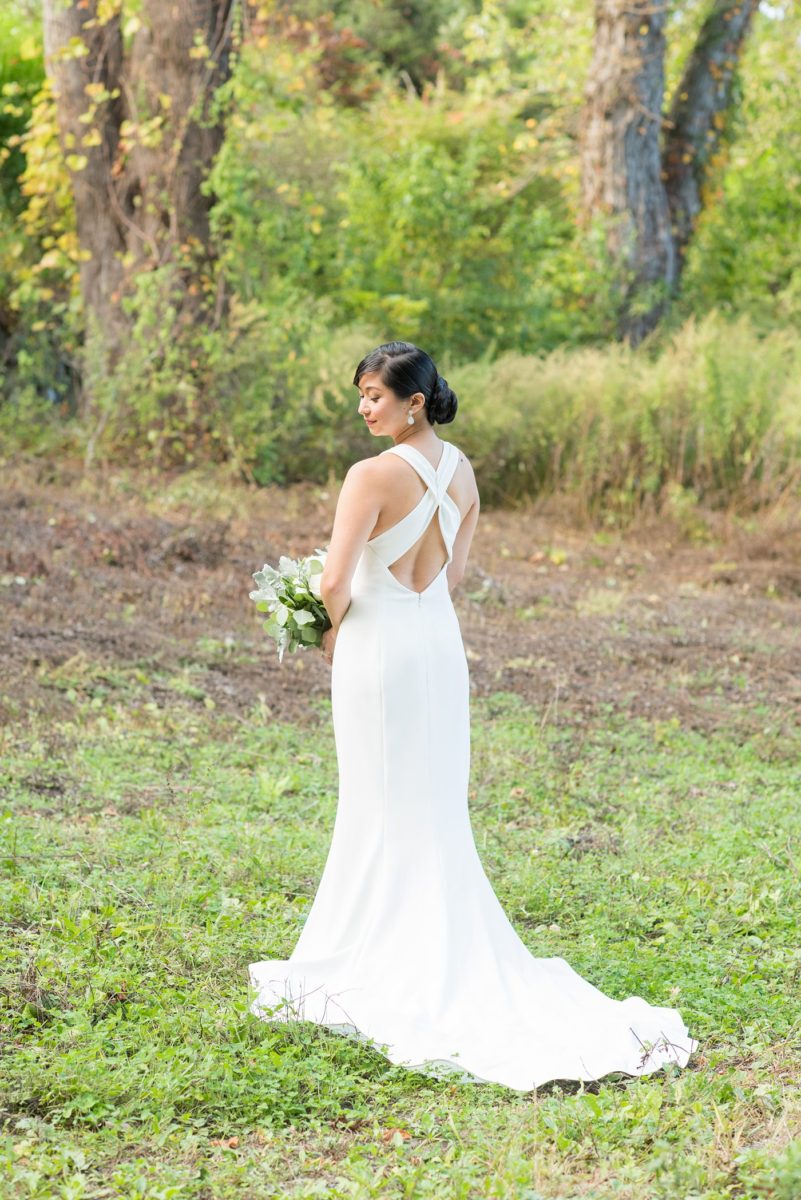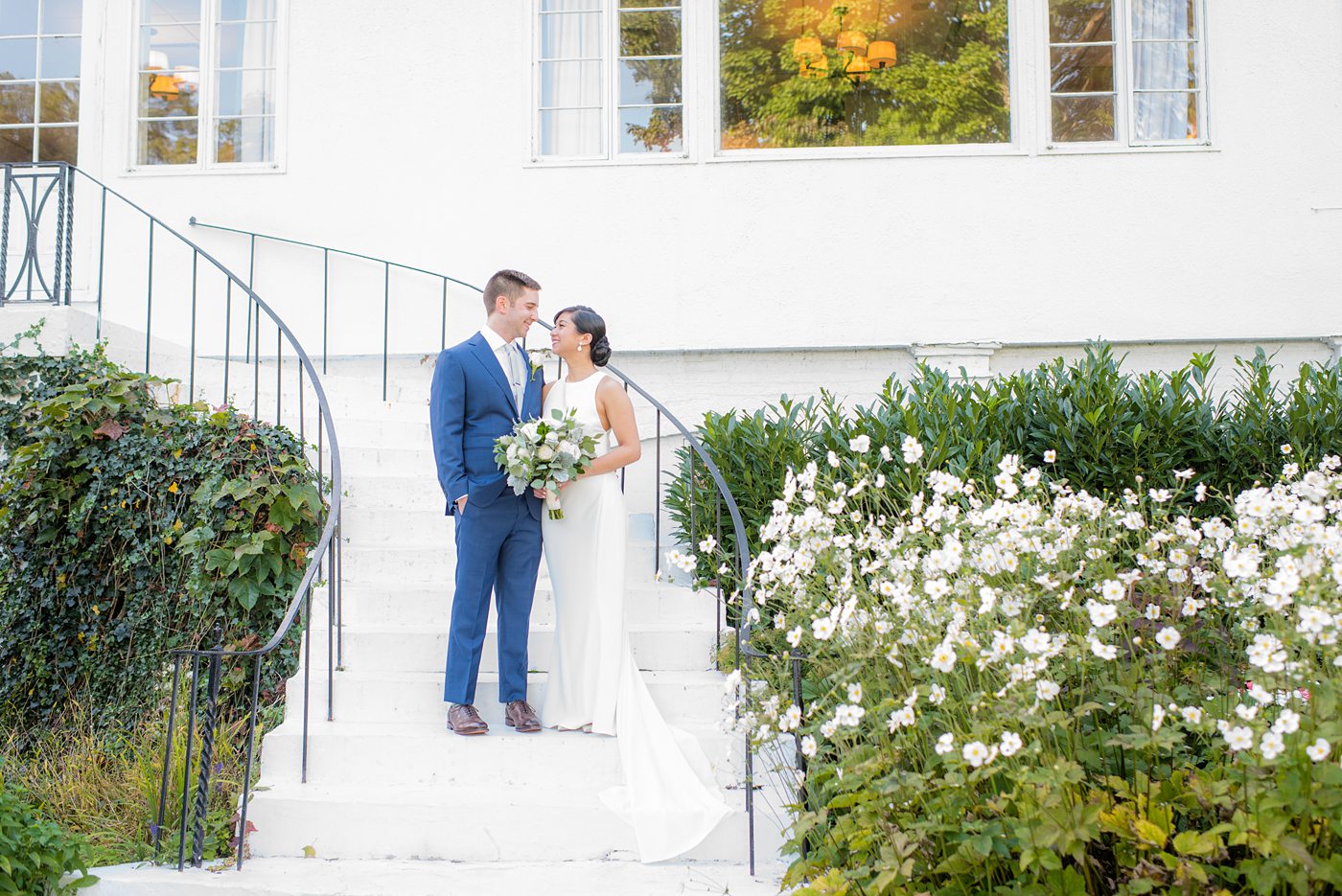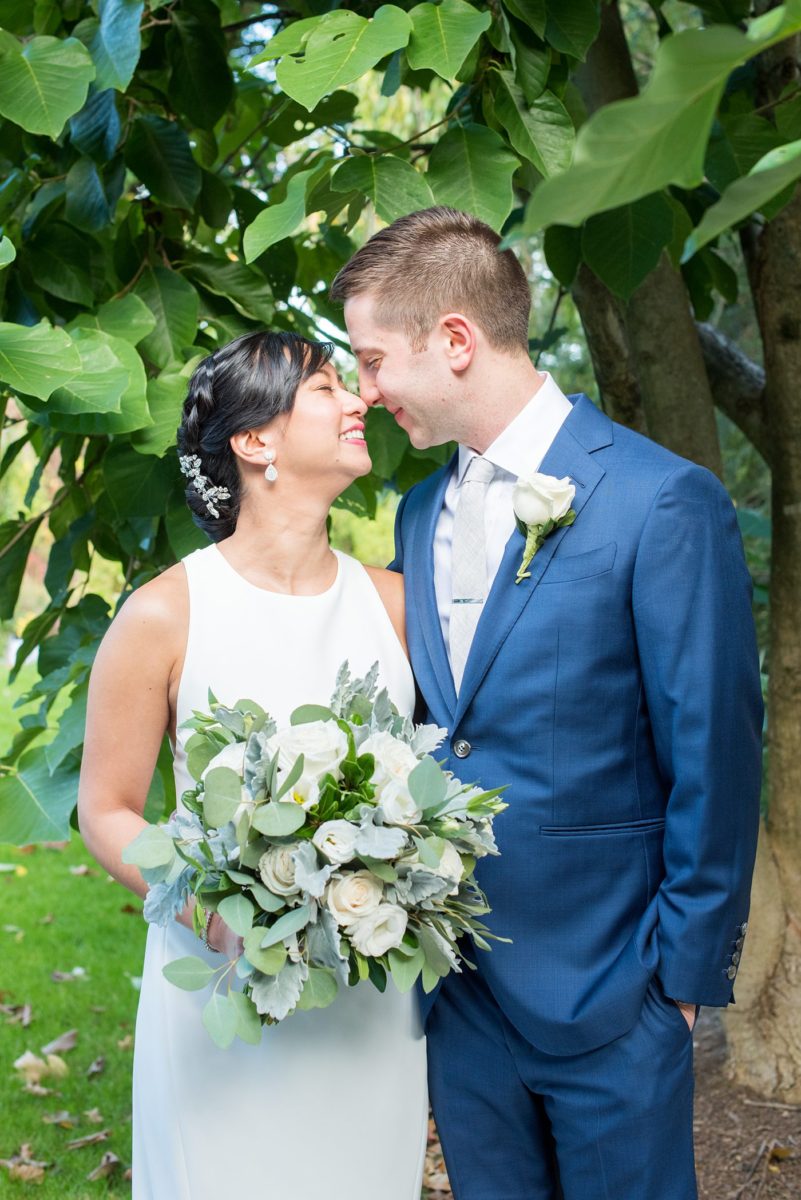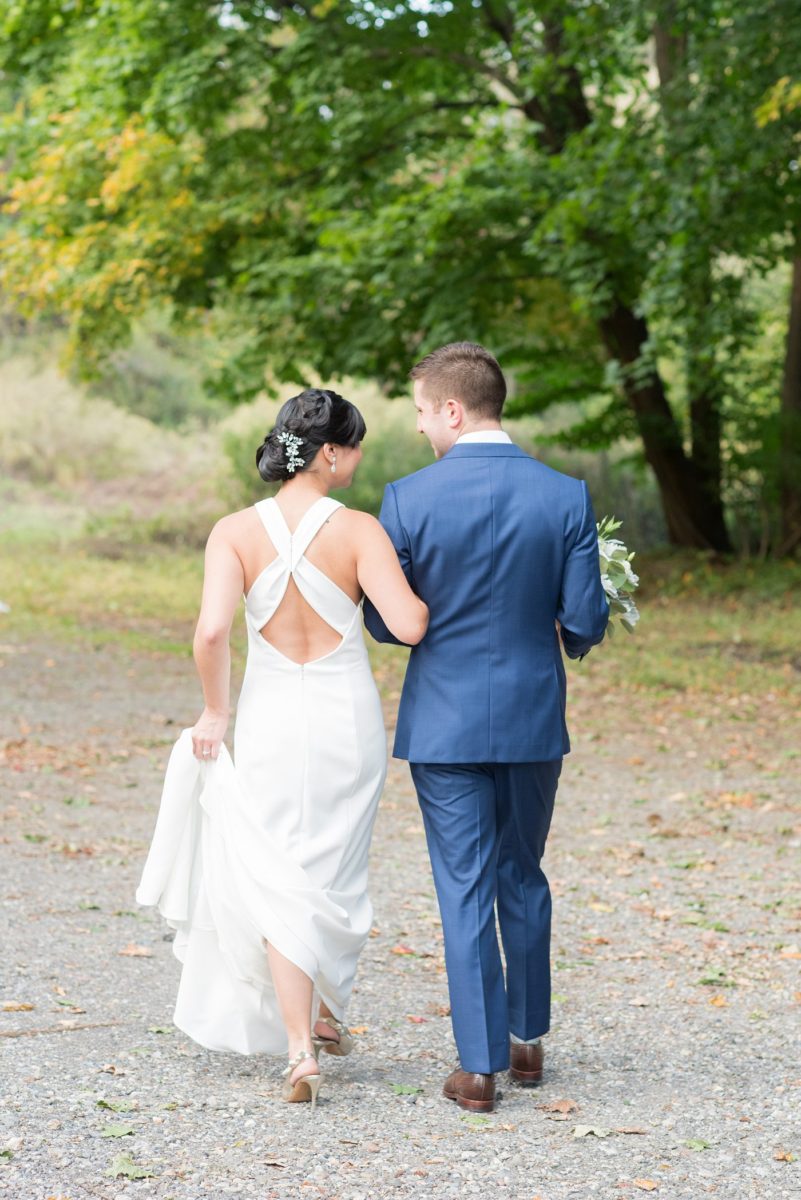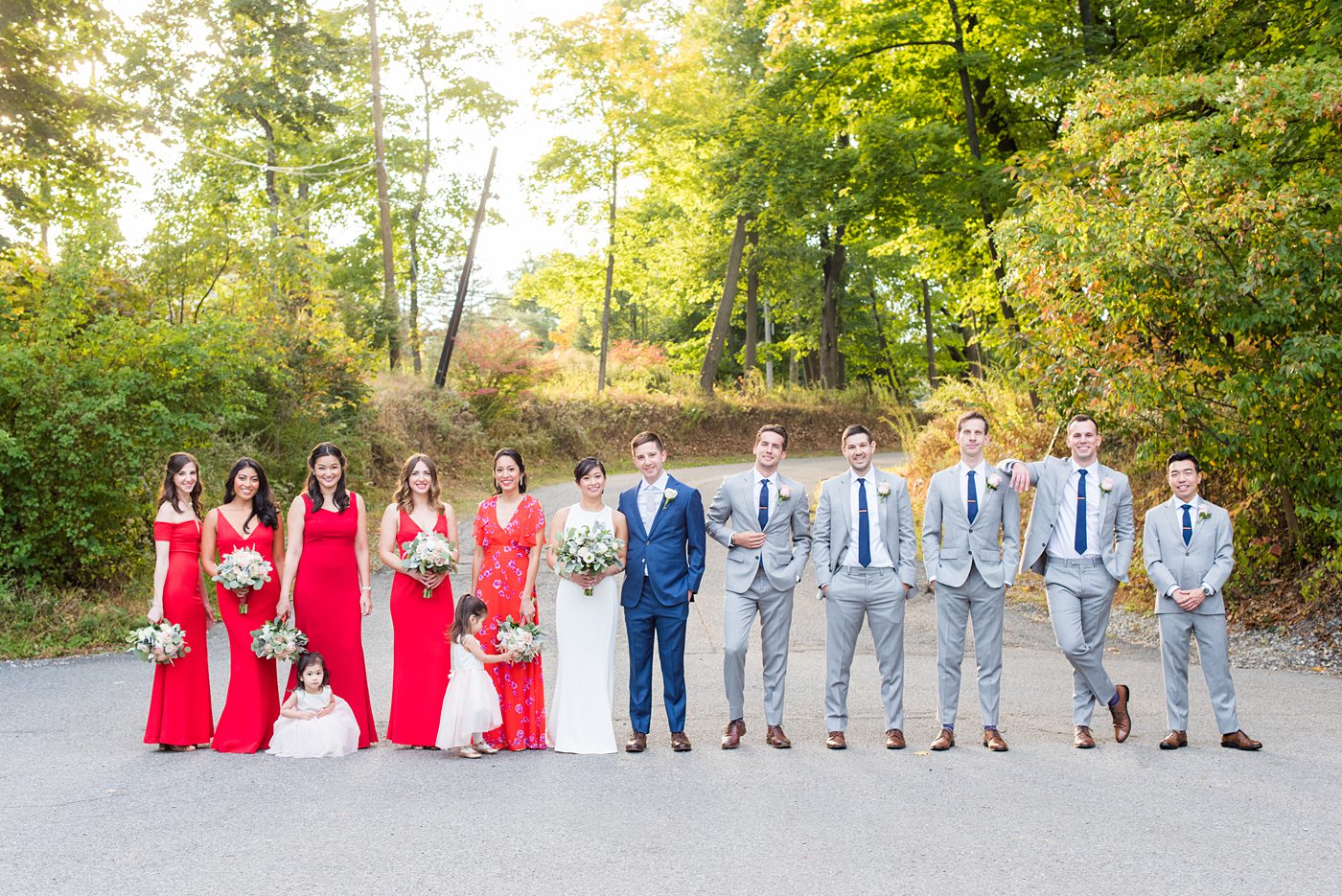 This is one of the most perfect wedding party photos in my mind! Amanda carried a bouquet with roses, dusty Miller, silver dollar eucalyptus, lisianthus and roses. Craig and the groomsmen wore rose boutonnieres. While the bridesmaids wore red gowns they chose for themselves, her sister and Matron of Honor, Rita, wore a gown I instantly adored, red with butterfly sleeves and pink flowers on it.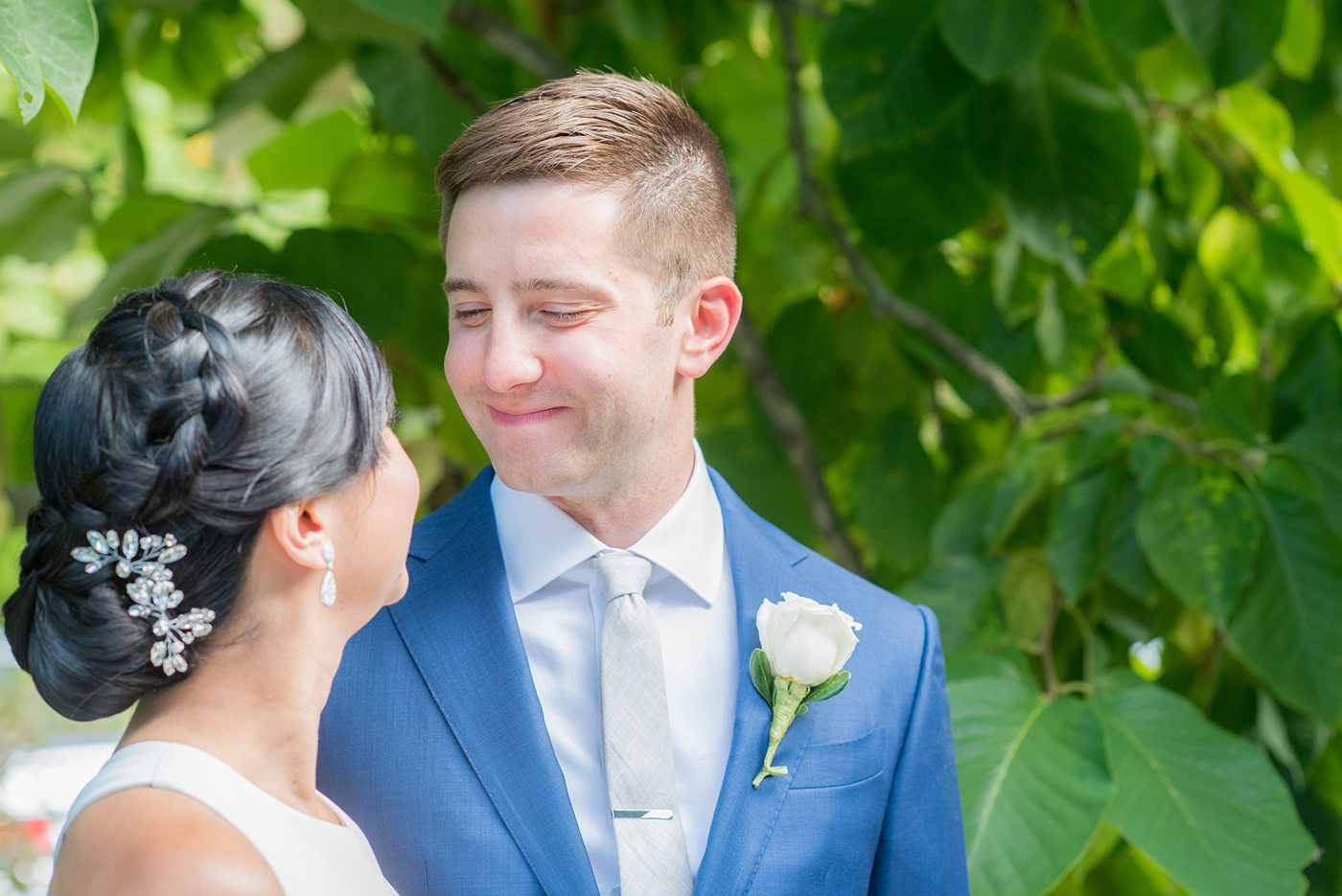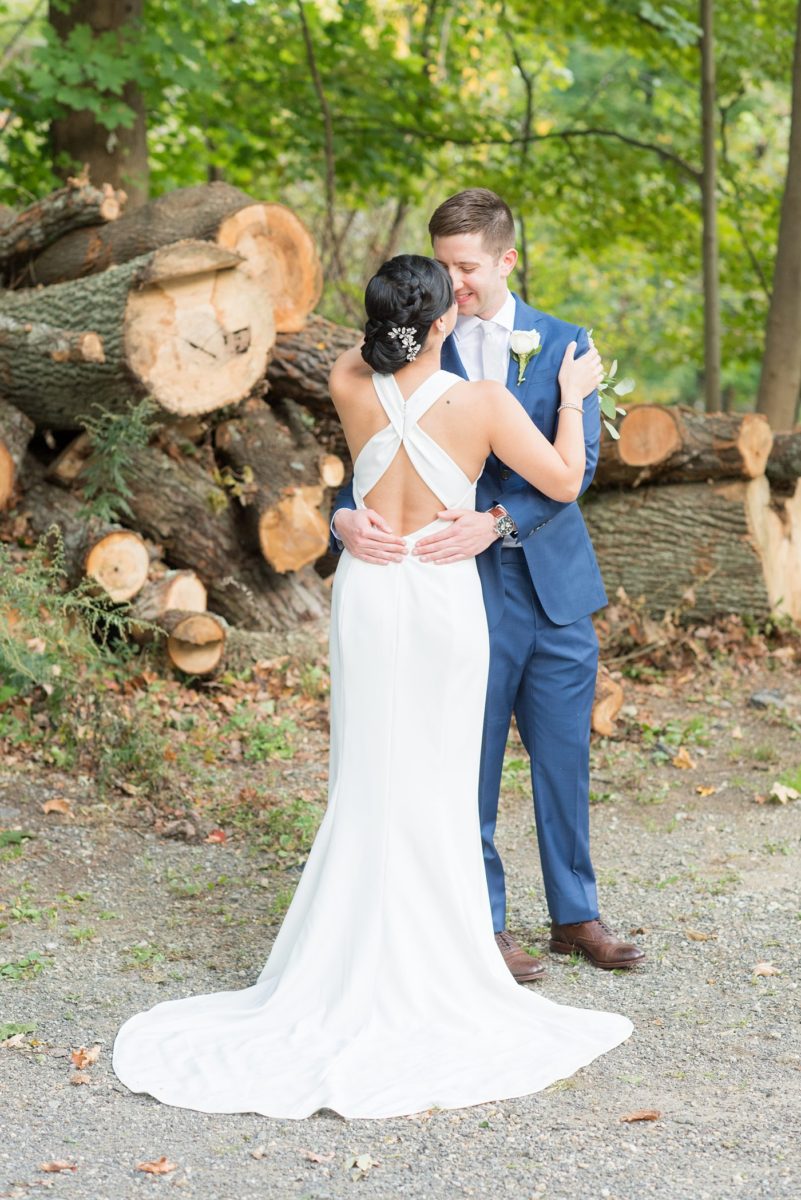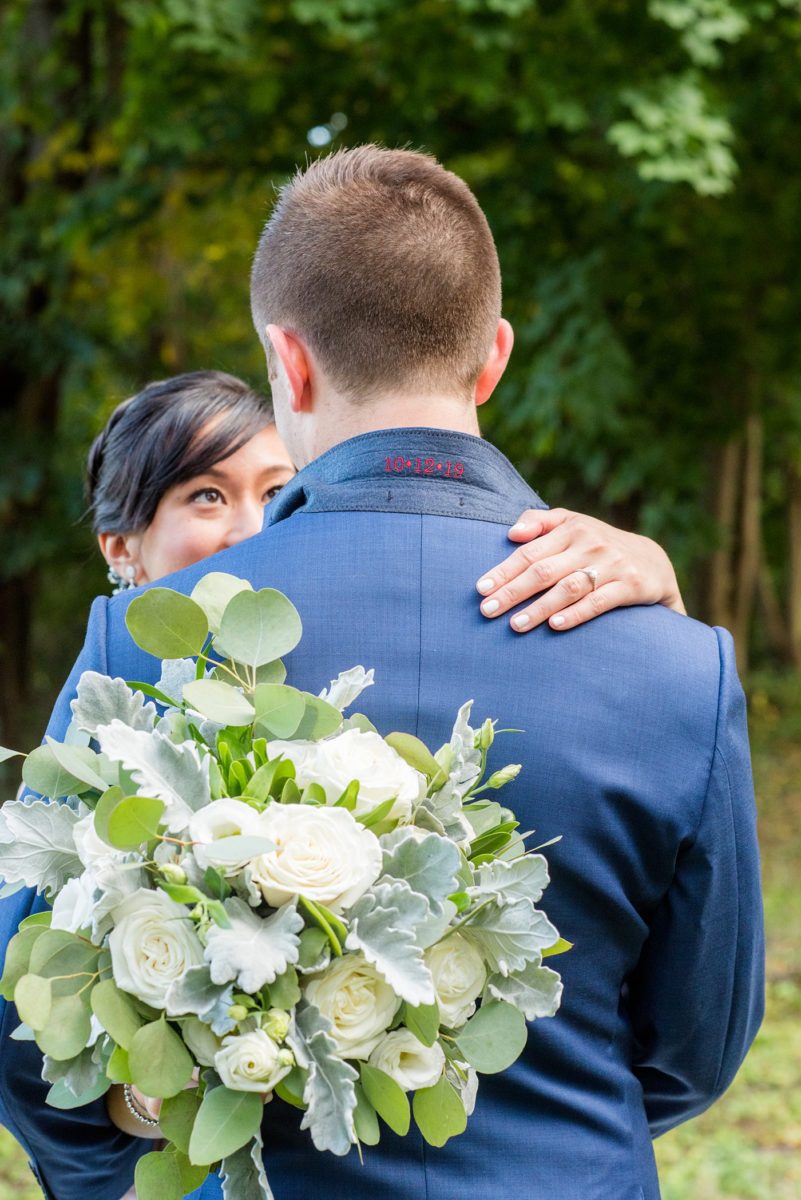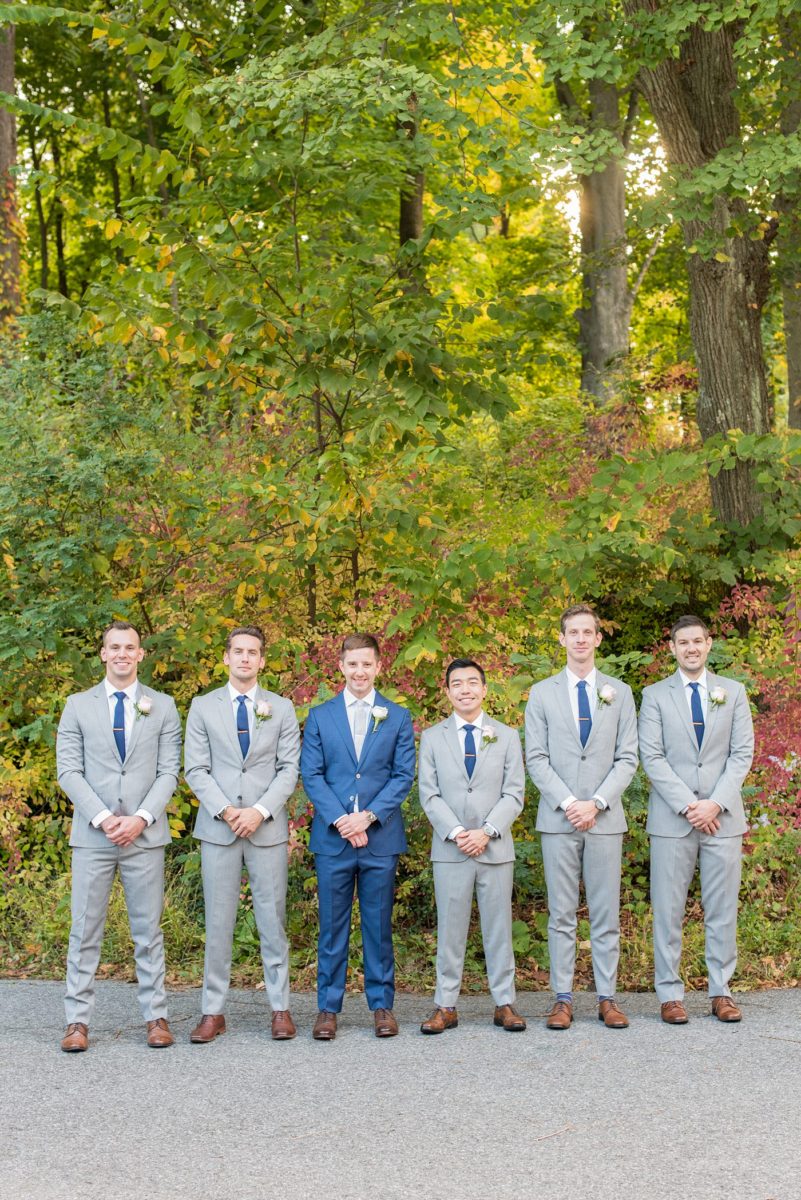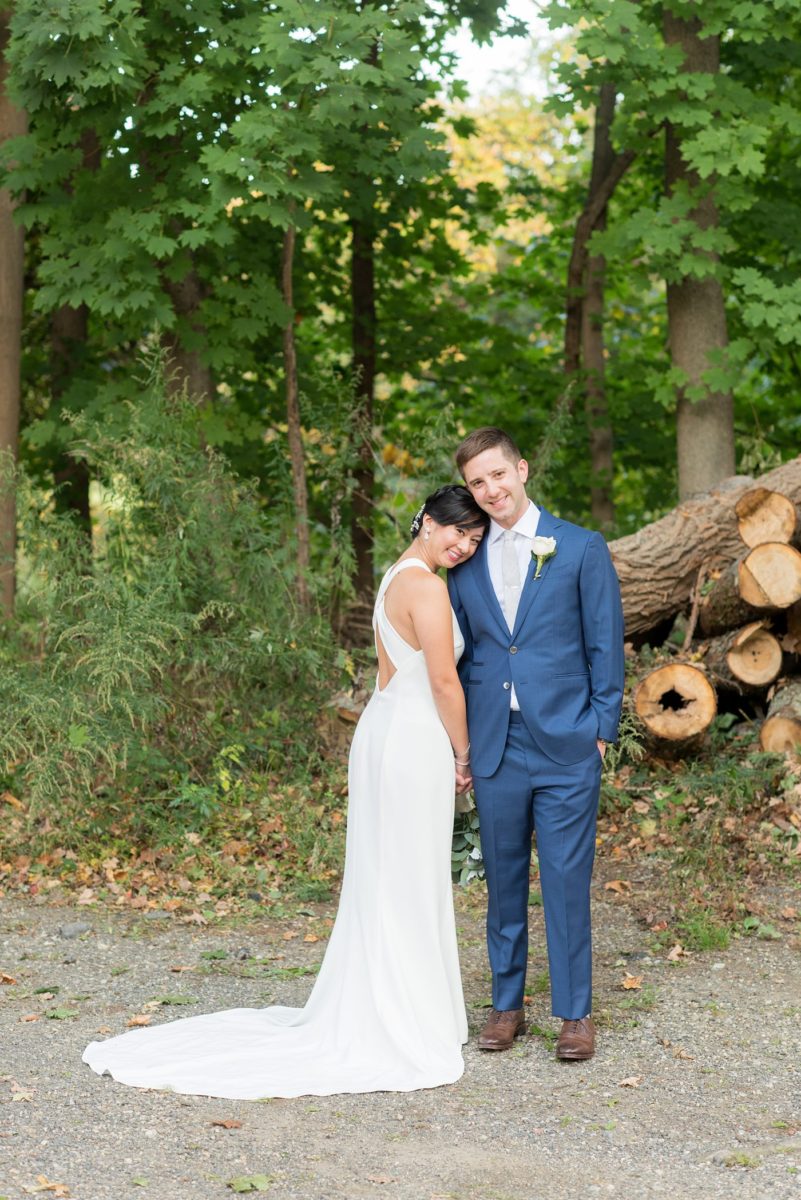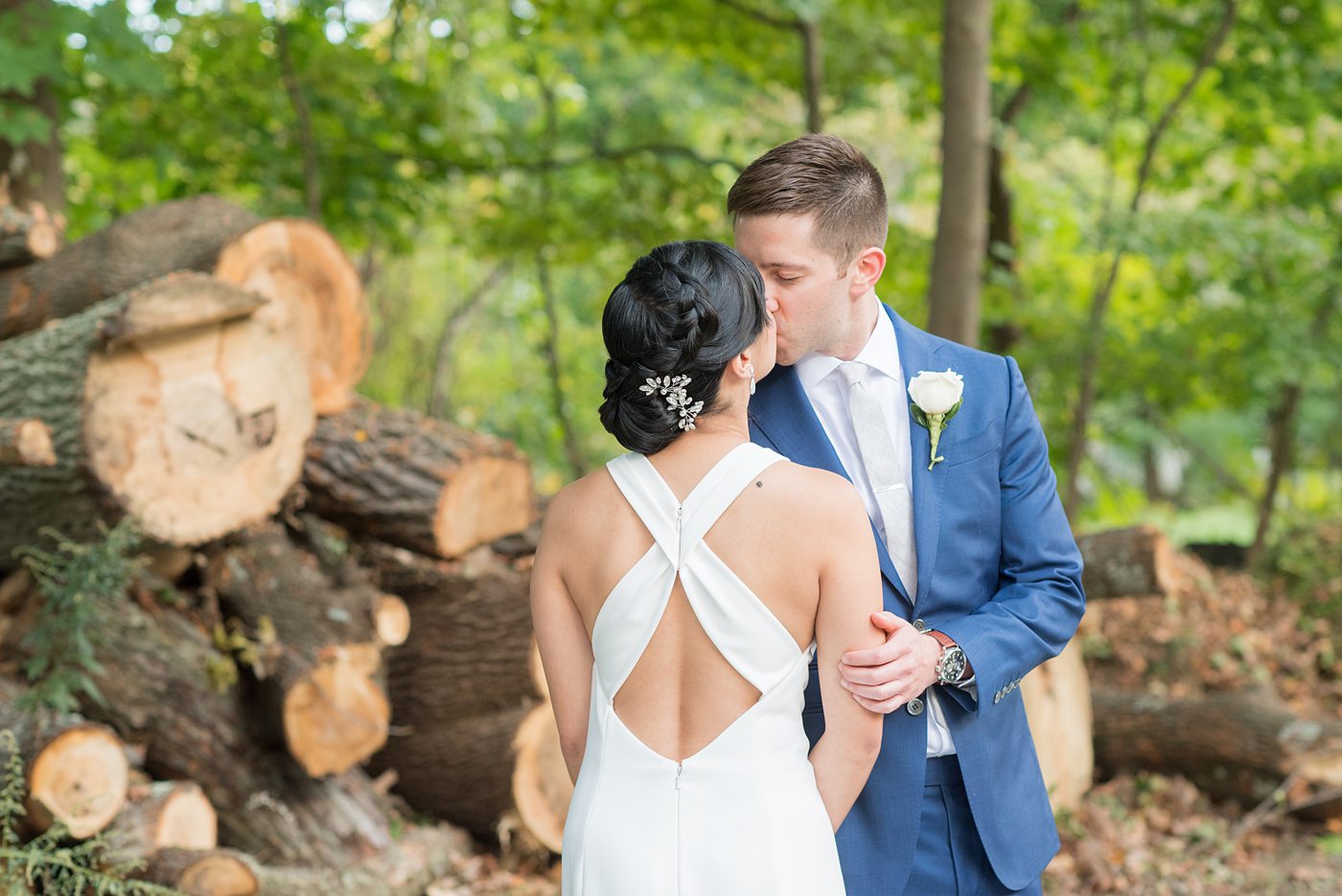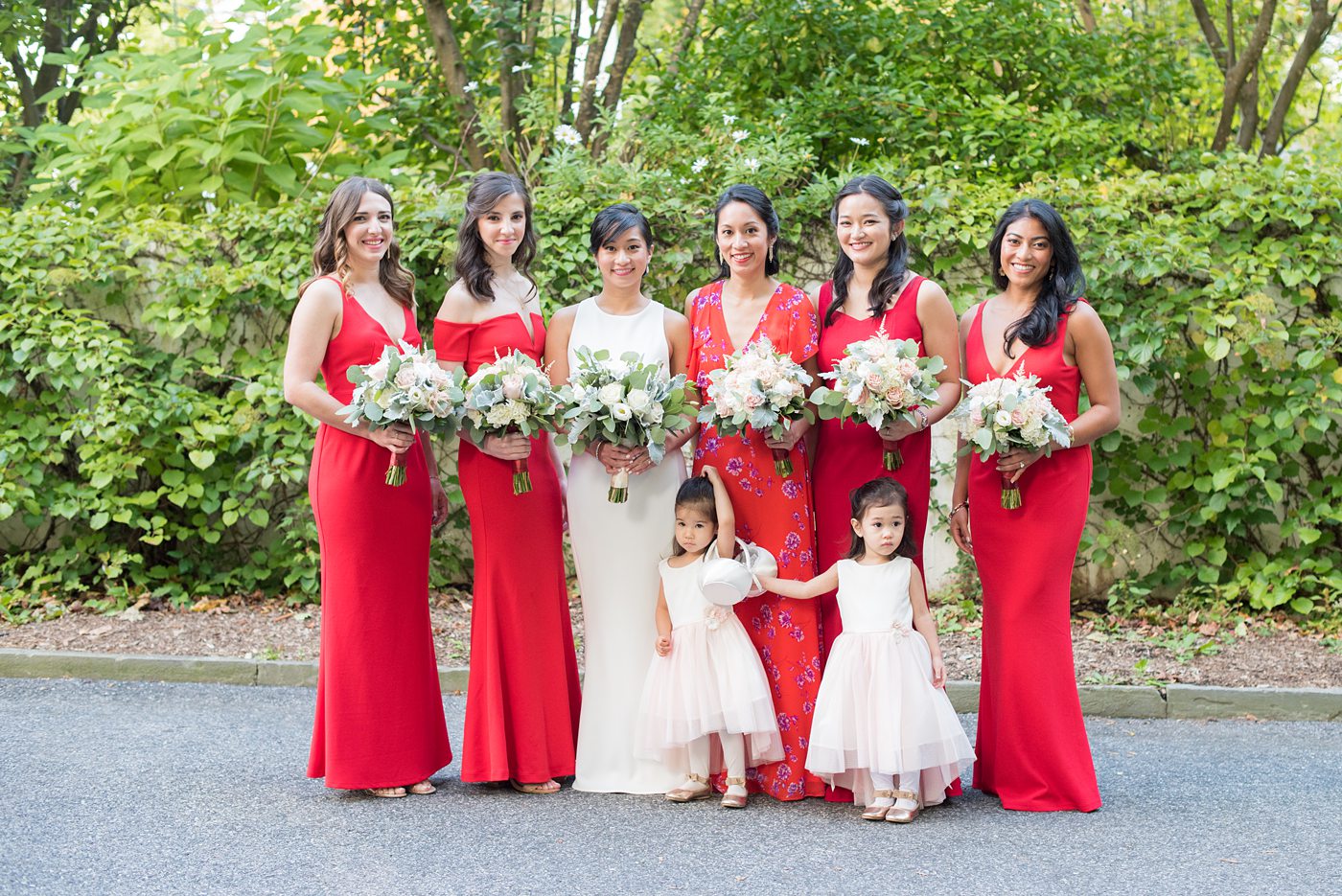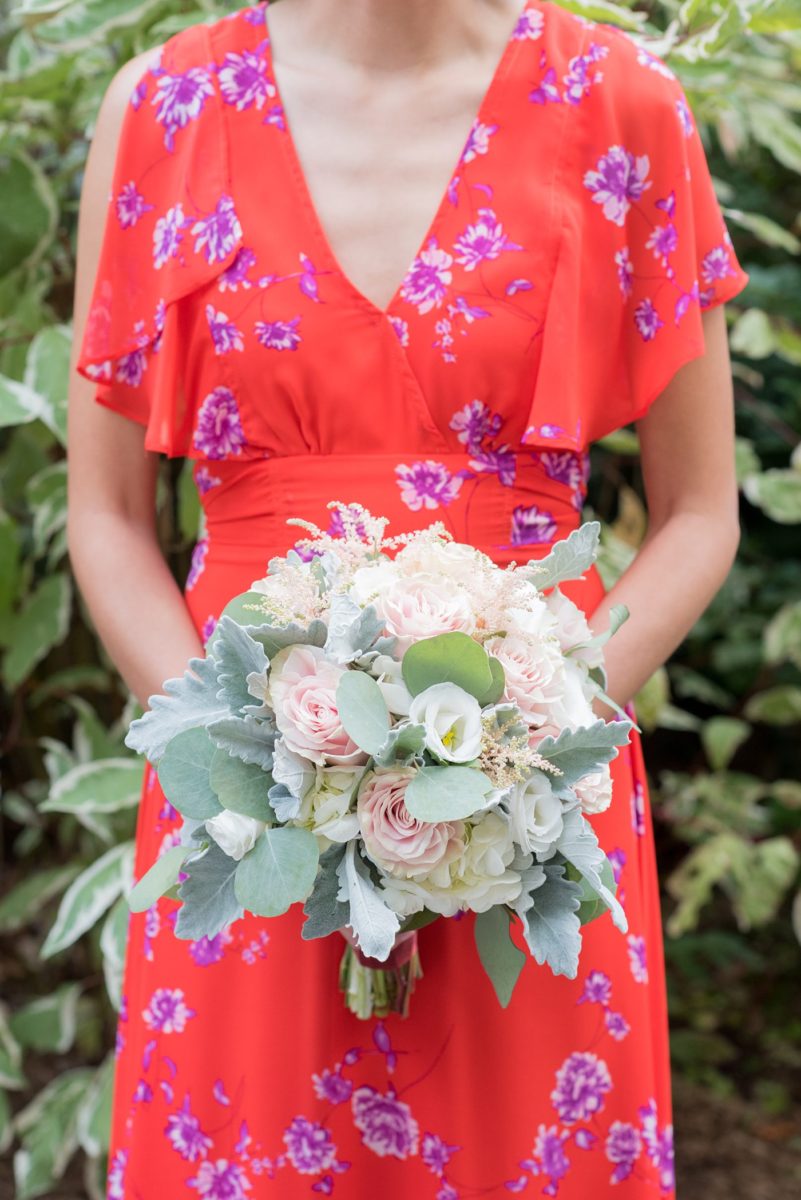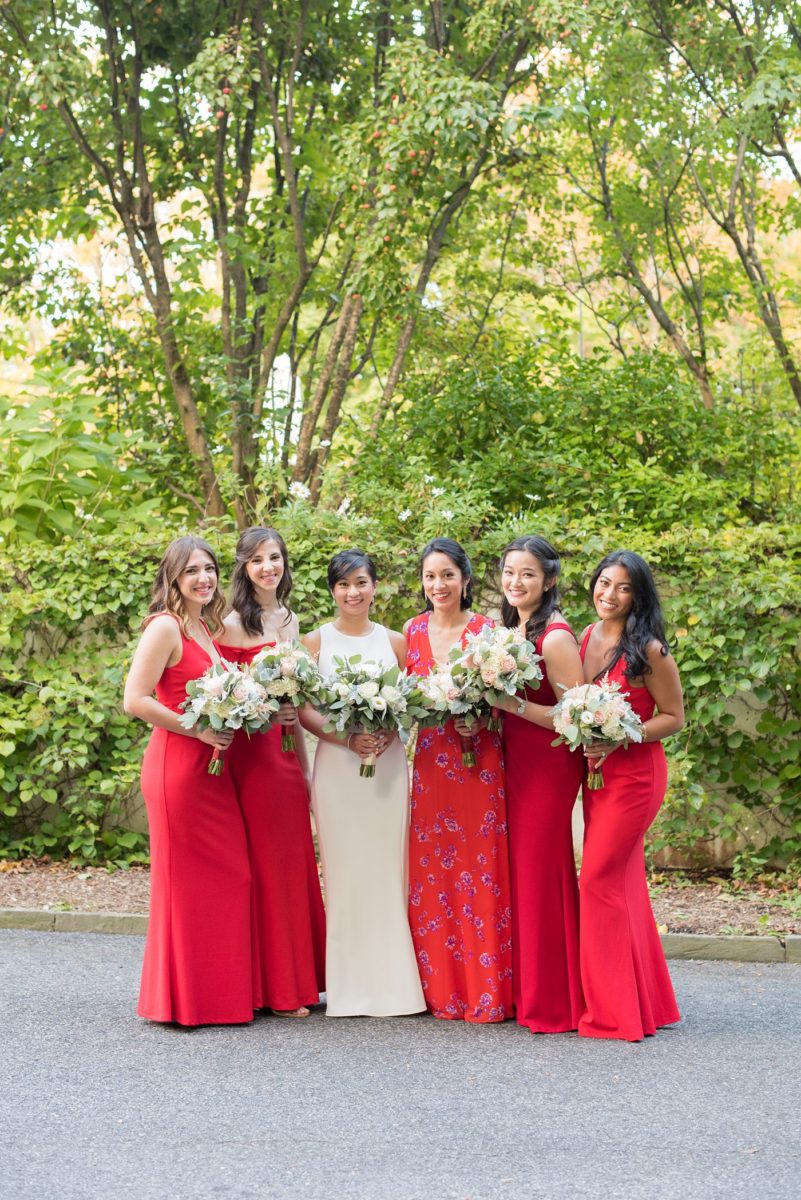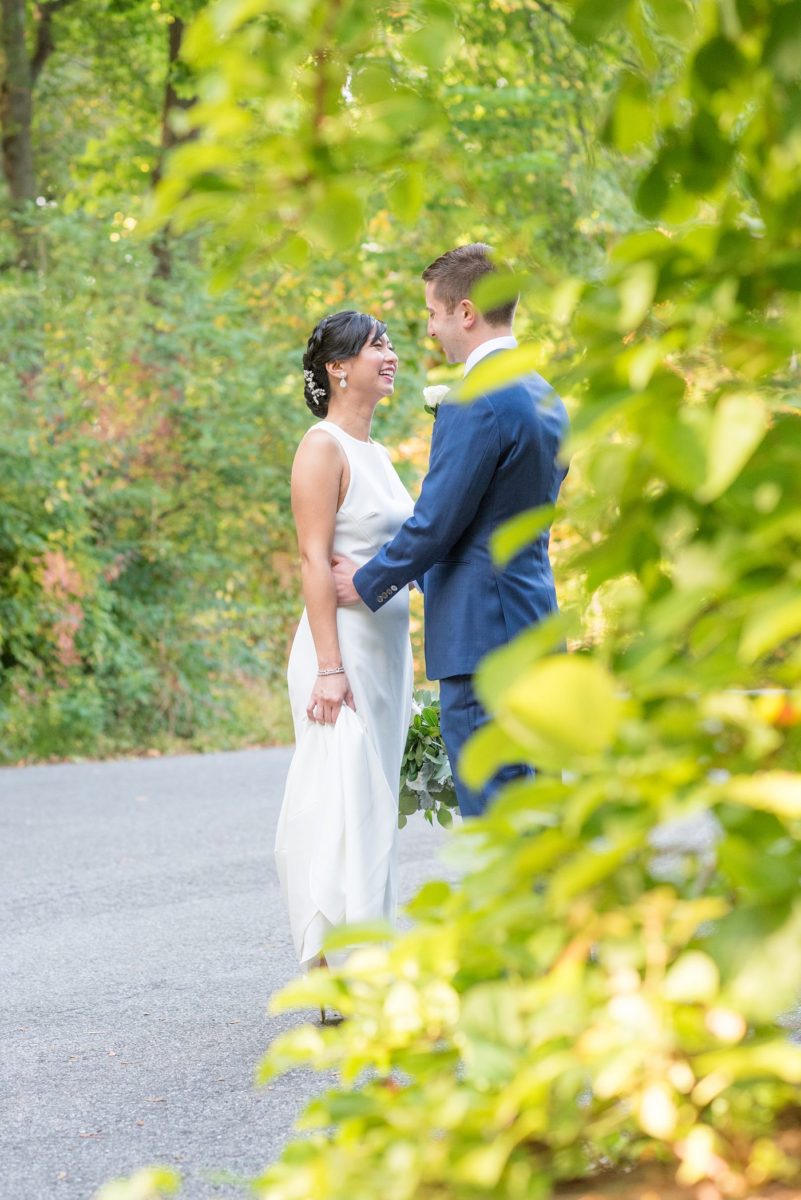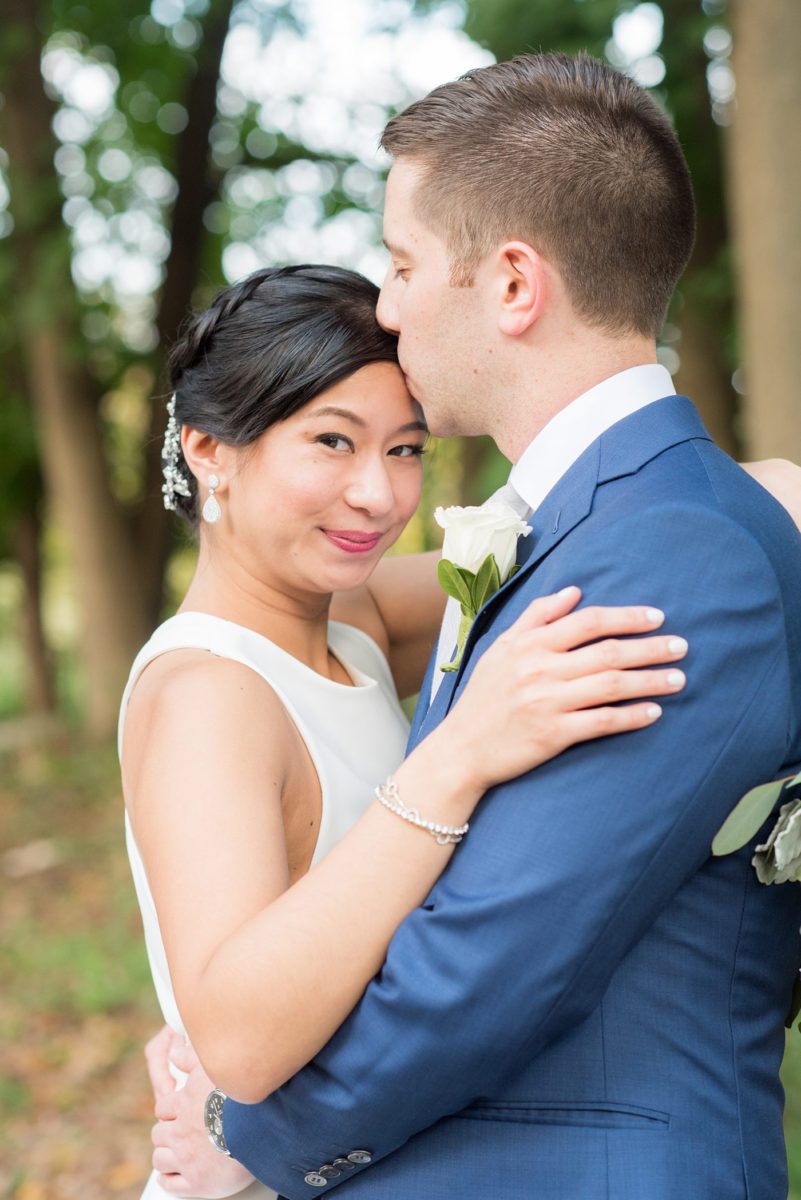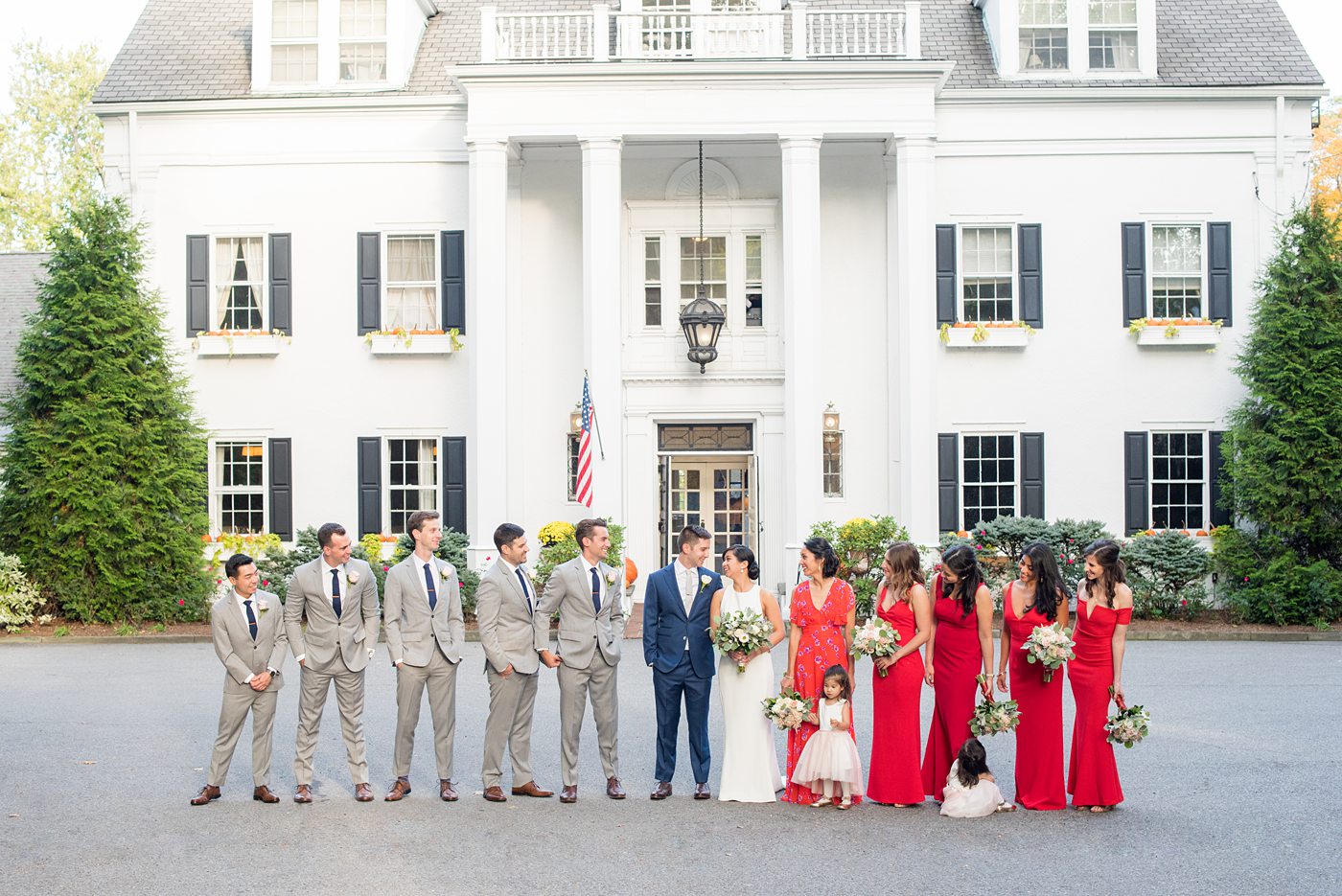 The Crabtree's house is always a beautiful backdrop to any photos at Crabtree's Kittle House. It's that literal "home" vibe that makes this Westchester venue it extra singular and cozy.
Amanda's friend painted their ketubah. I was in awe of how beautiful it was! They had a small outdoor ceremony off to the side of the house with family and close friends, while the Rabbi performed the ketubah signing ceremony. Their ceremony with all their attending guests was just afterwards. They had an outdoor ceremony at dusk performed by both the Rabbi and Priest. They included the Filipino tradition of wrapping a cord or veil around the two of them and the traditional Jewish breaking of the glass to conclude things.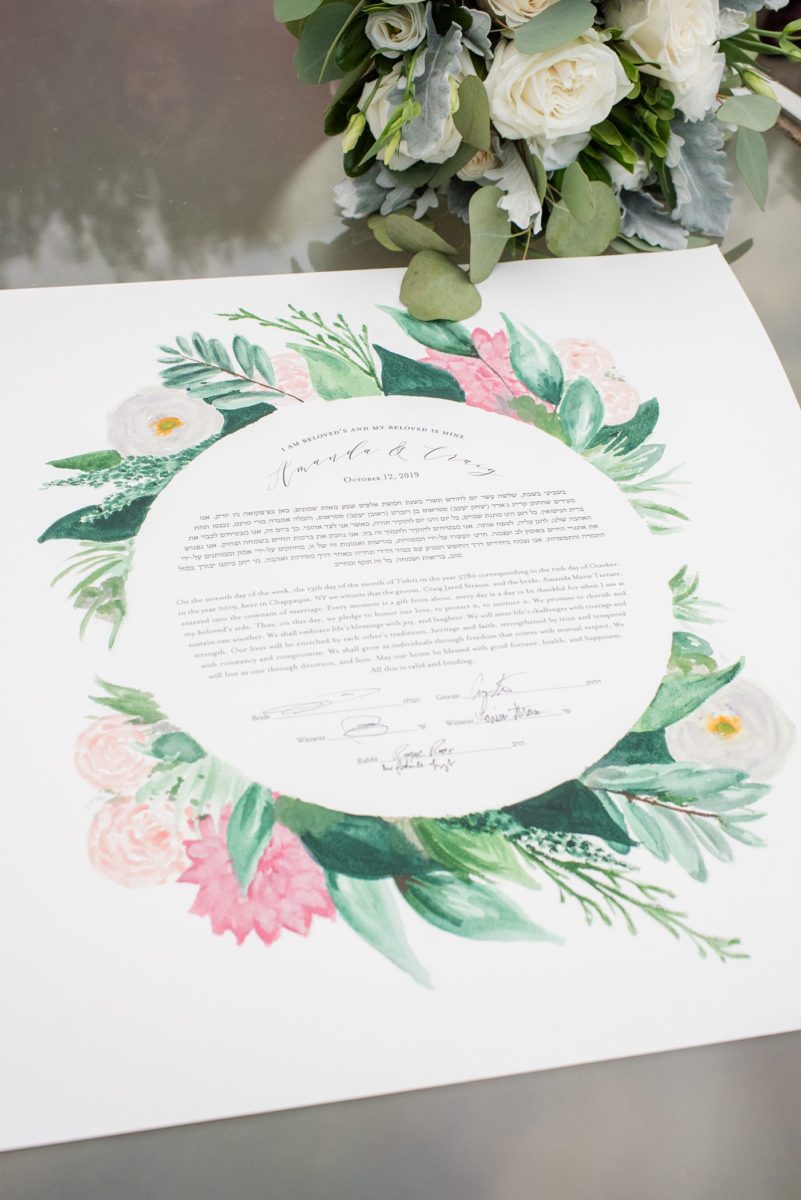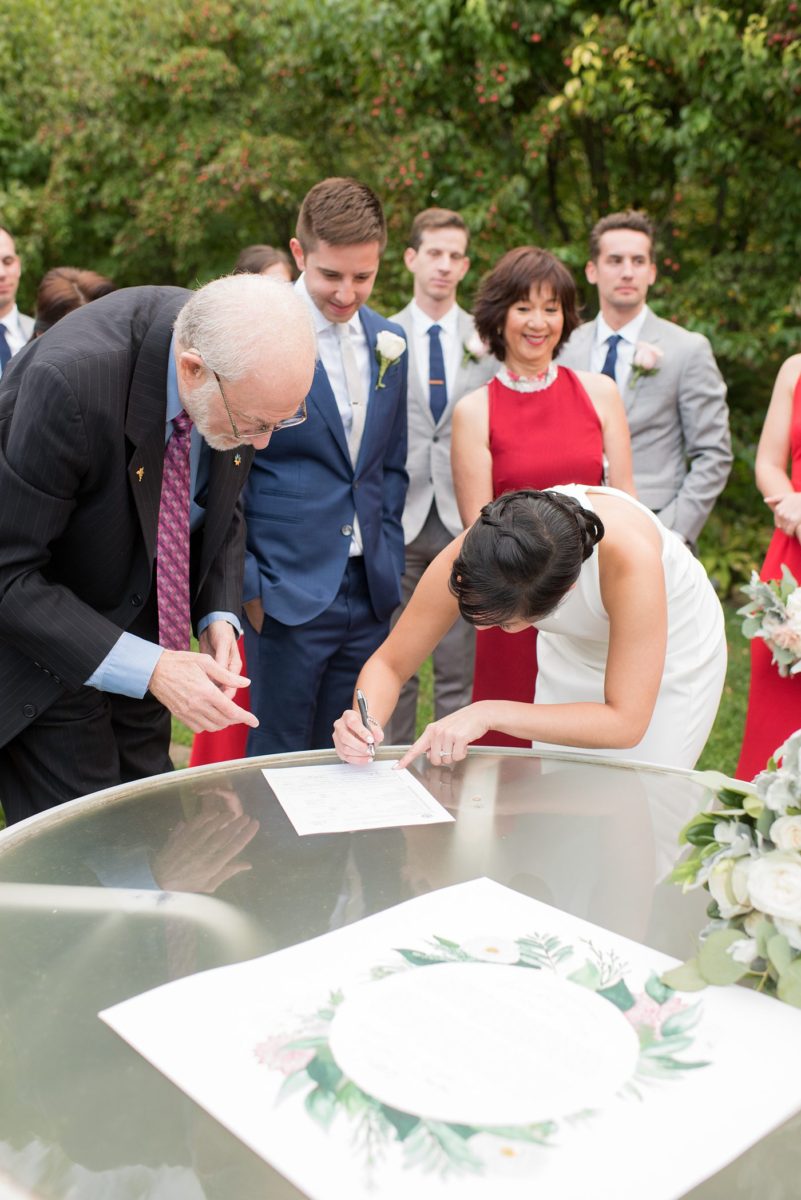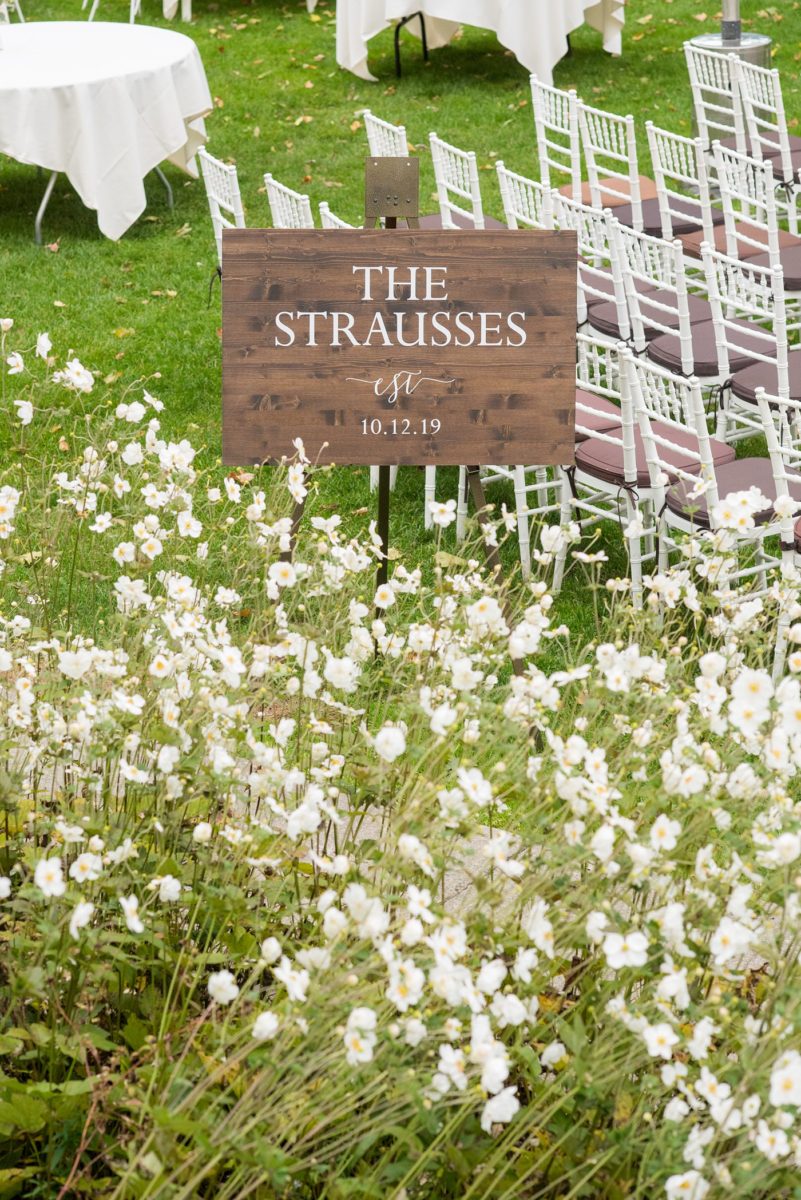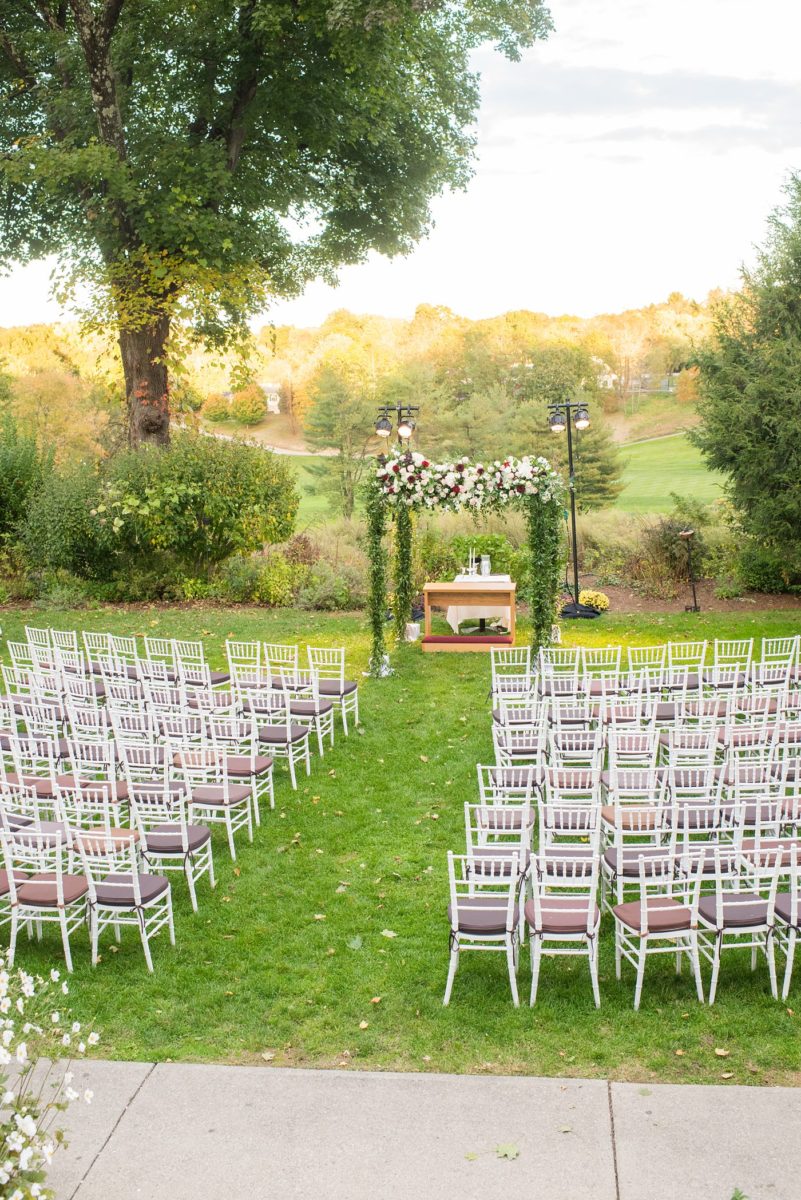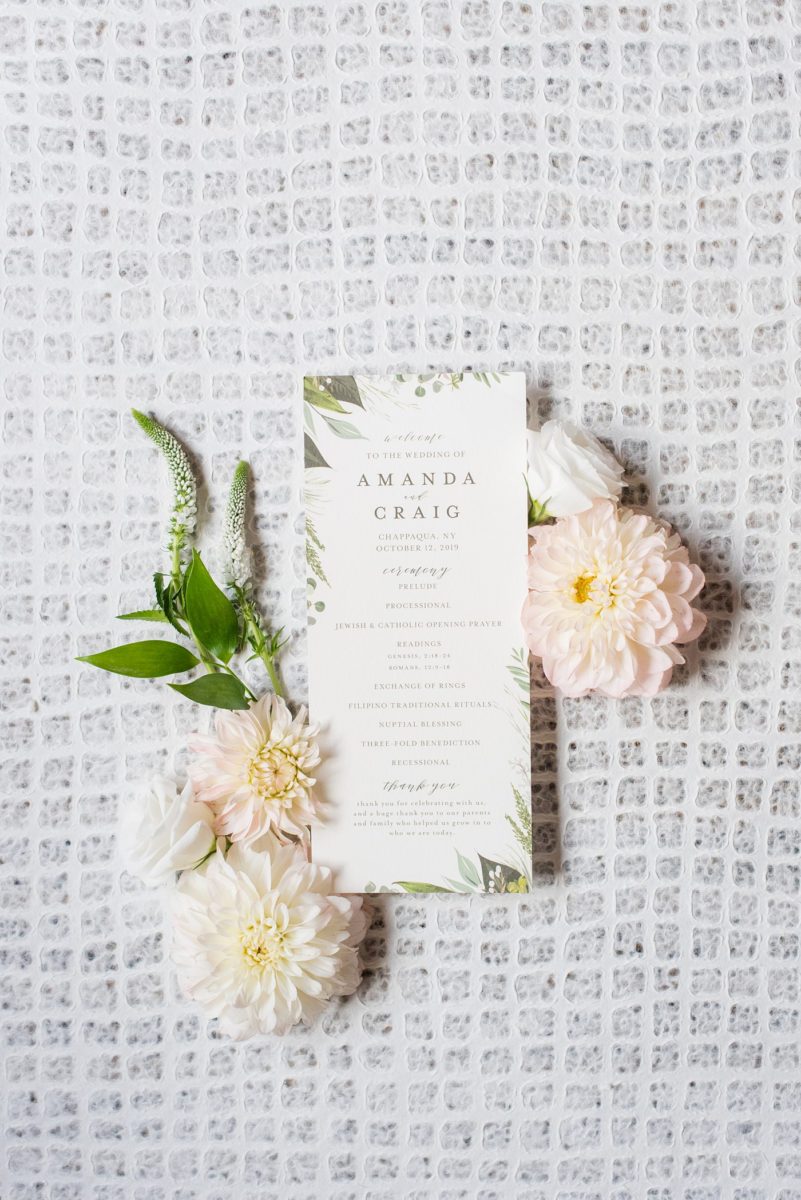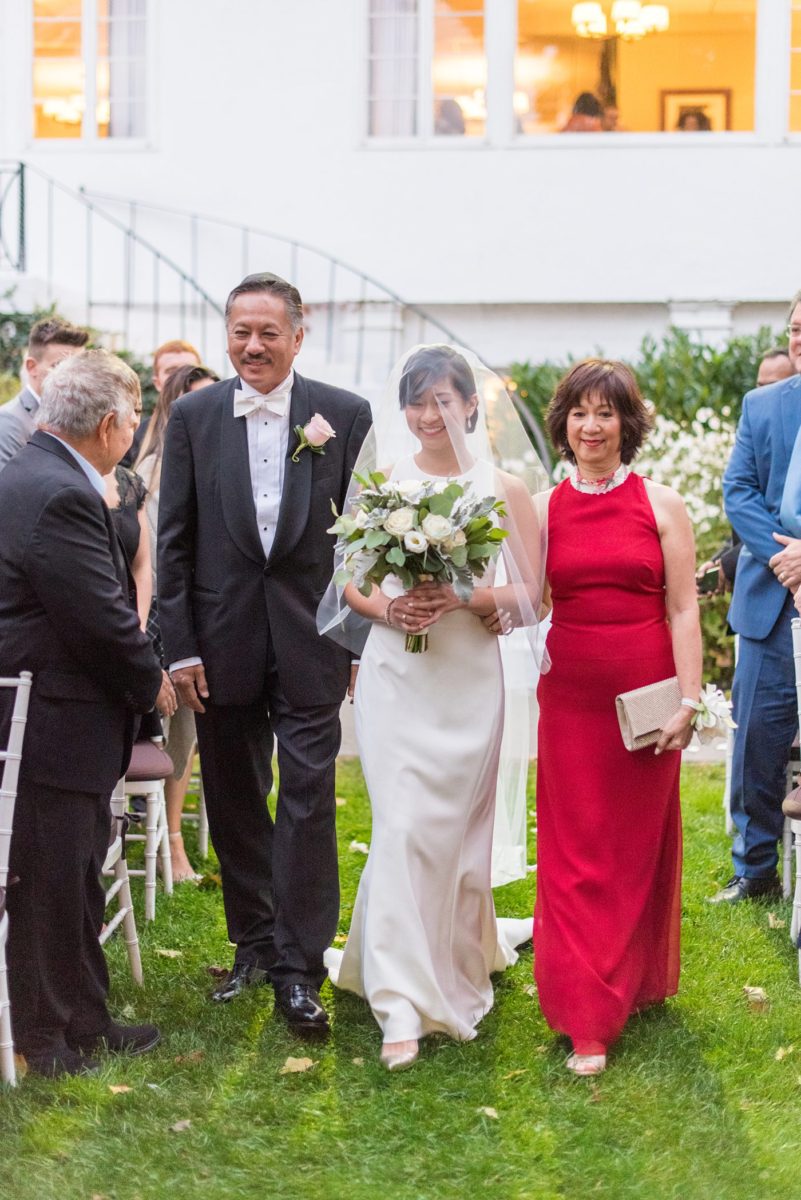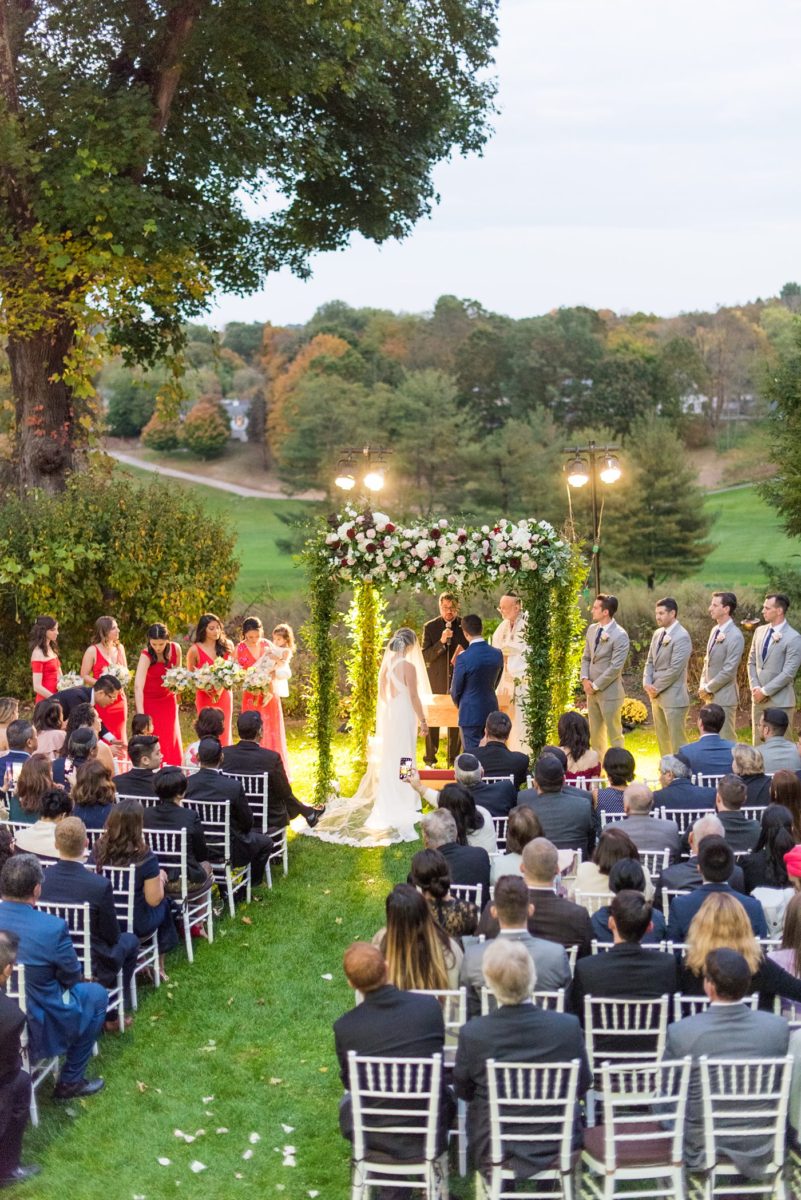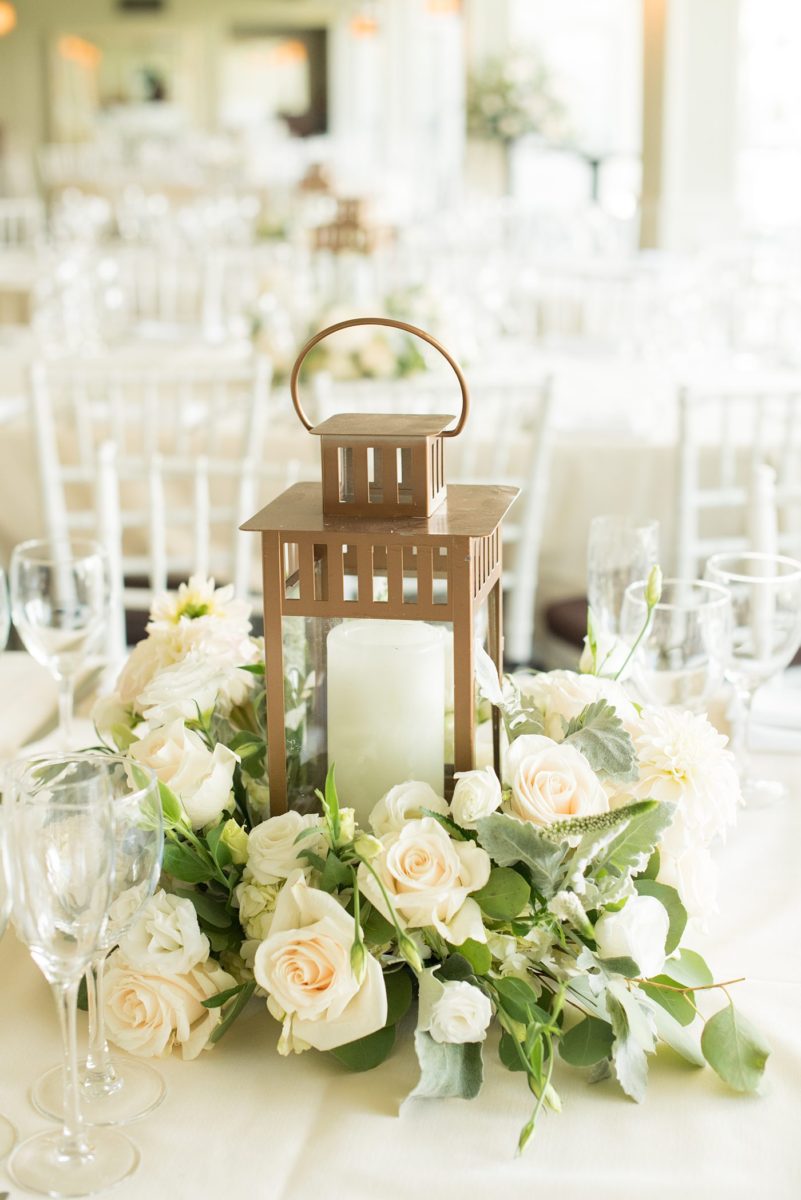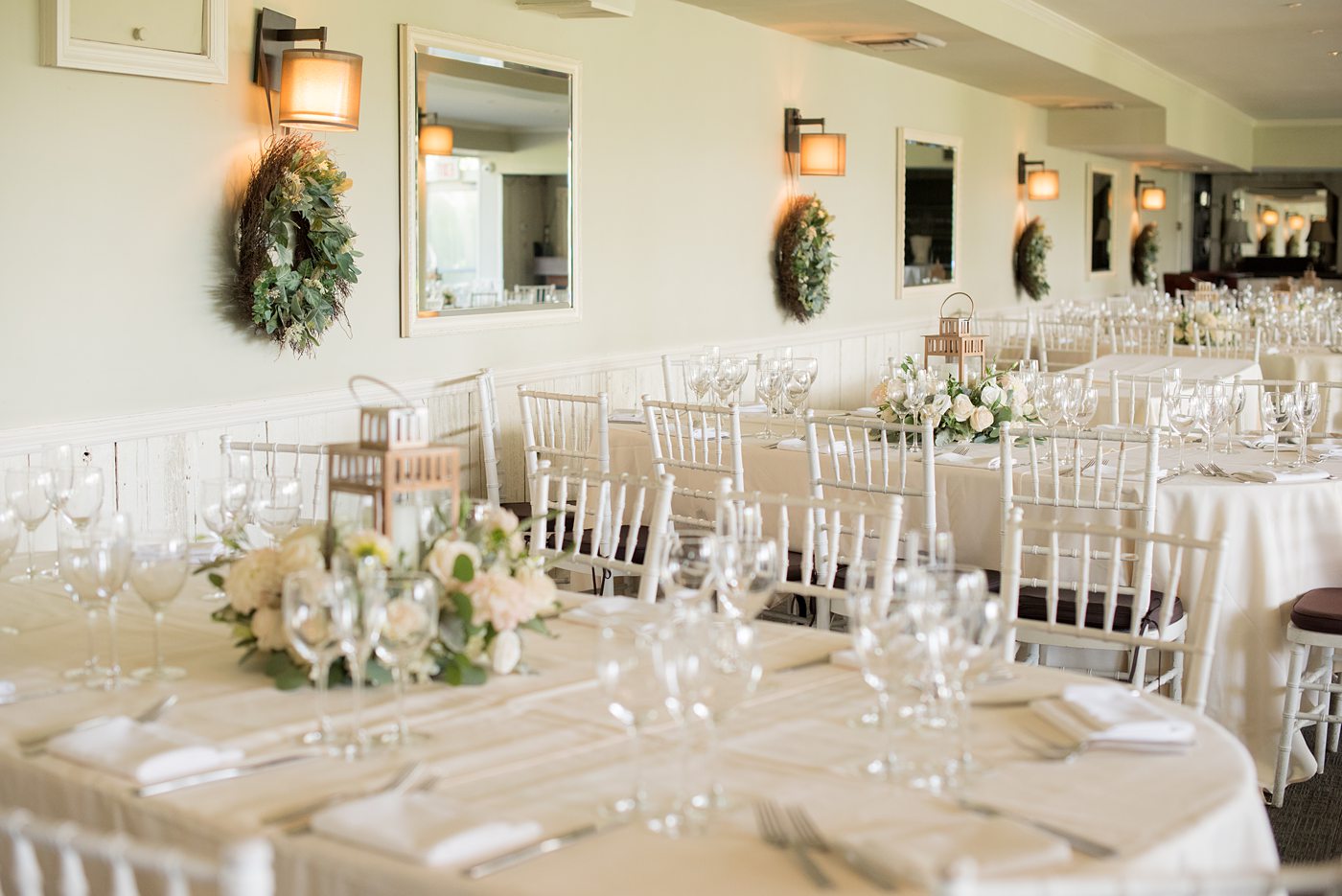 Their reception was covered in roses and lisianthus floral centerpieces with a lantern illuminated by candlelight as its focal point. Wreaths hung on the wall and guests were treated to "the perfect blend" of tea for favors. The food is always phenomenal at Crabtree's Kittle House! Passed hors d'oeuvres started the evening with a delicious cocktail hour (and custom signage for signature "his" and "hers" cocktails I might add – bourbon for Amanda and rum for Craig) followed by a scrumptious dinner. Guests were able to take selfies on Fuji Instax cameras and sign their names next to photos in their guest book and take home a bag of tea. It was "the perfect blend" of Amanda and Craig, of course!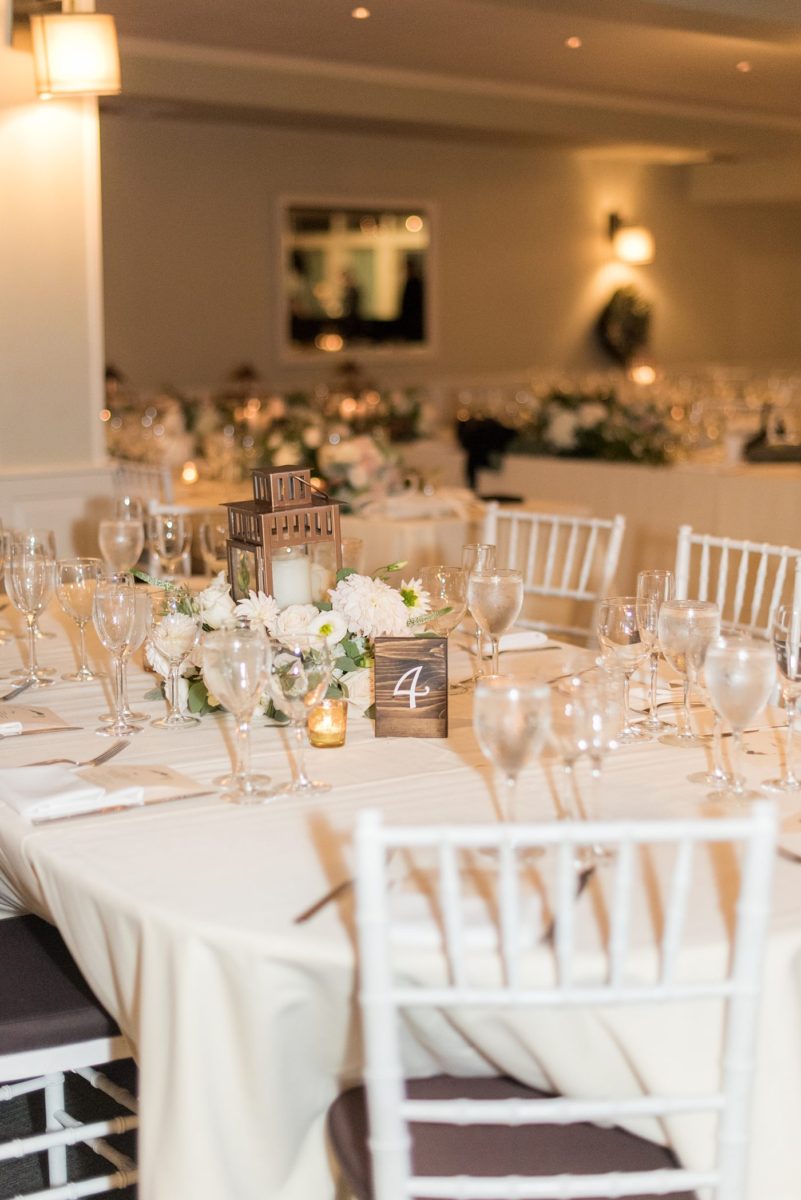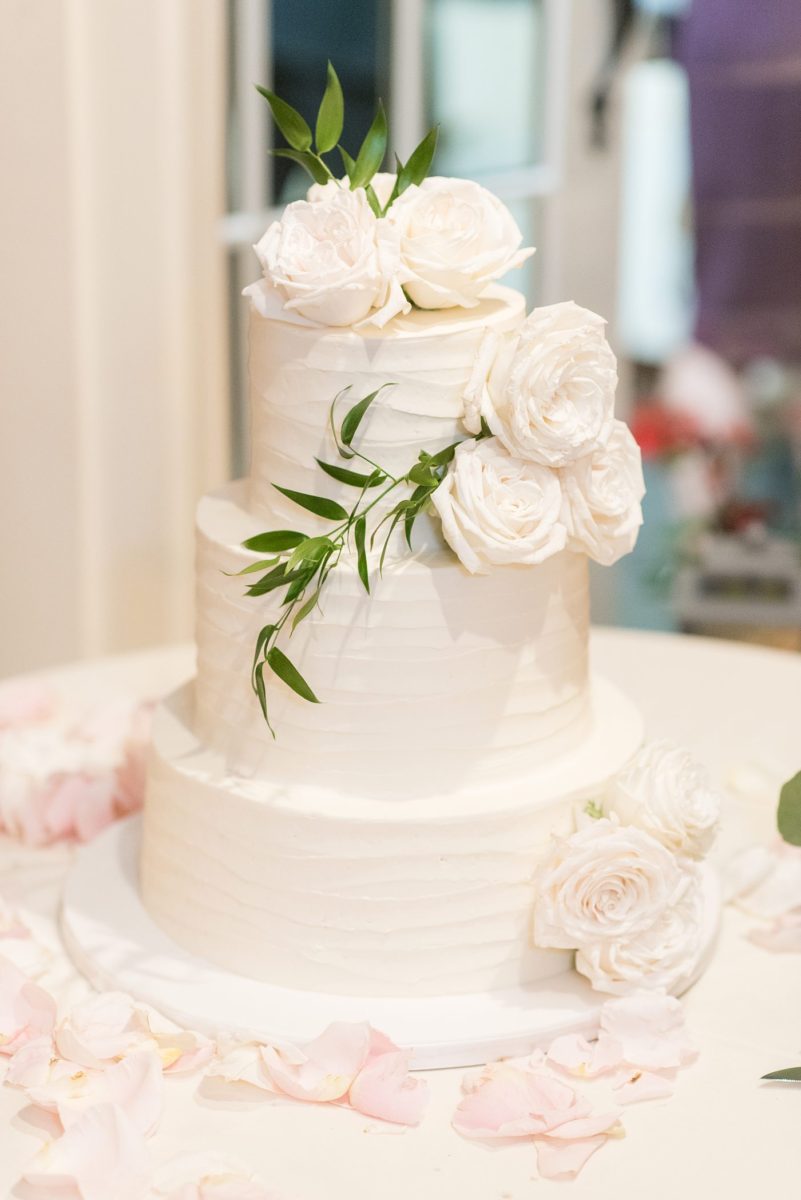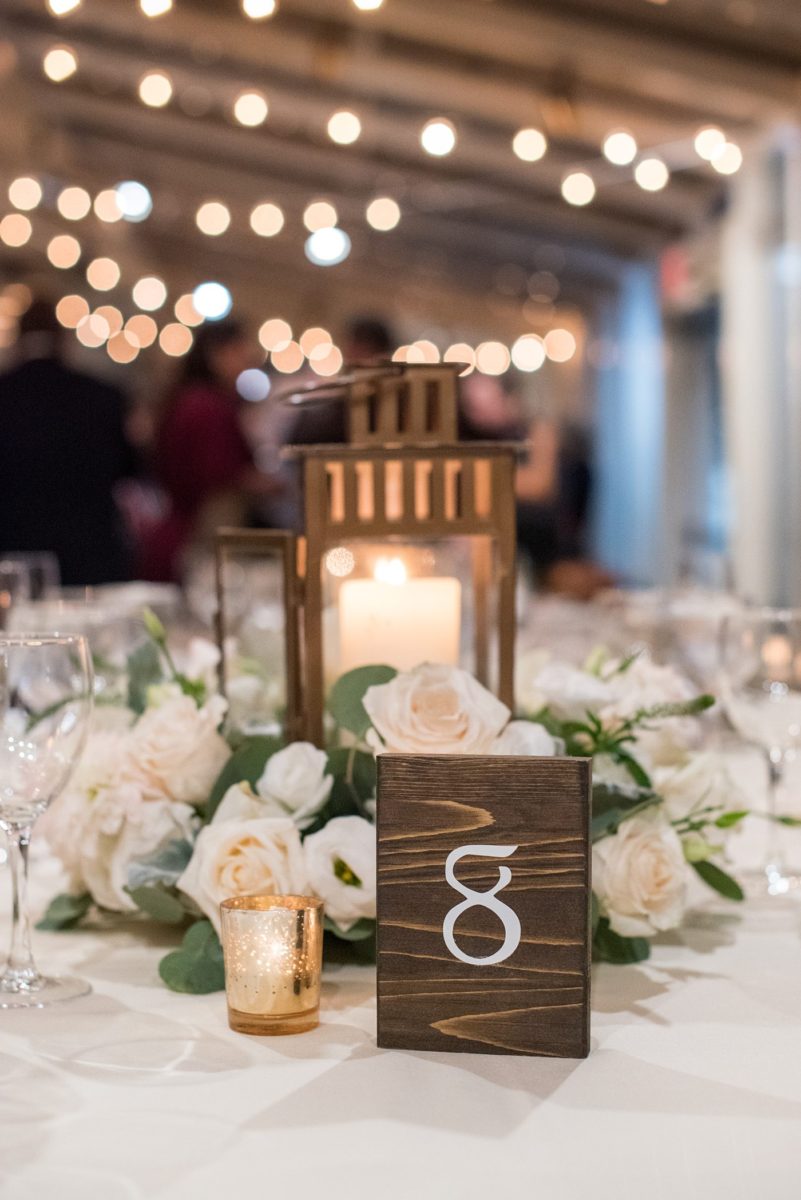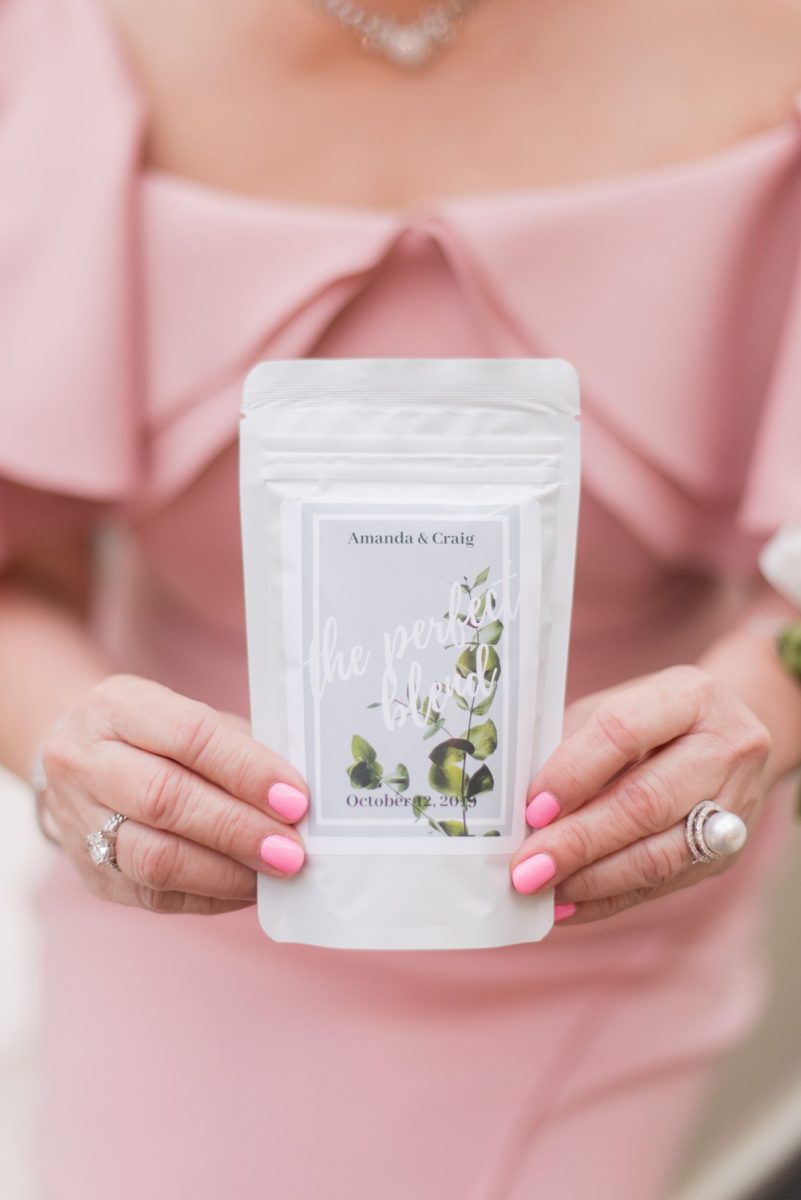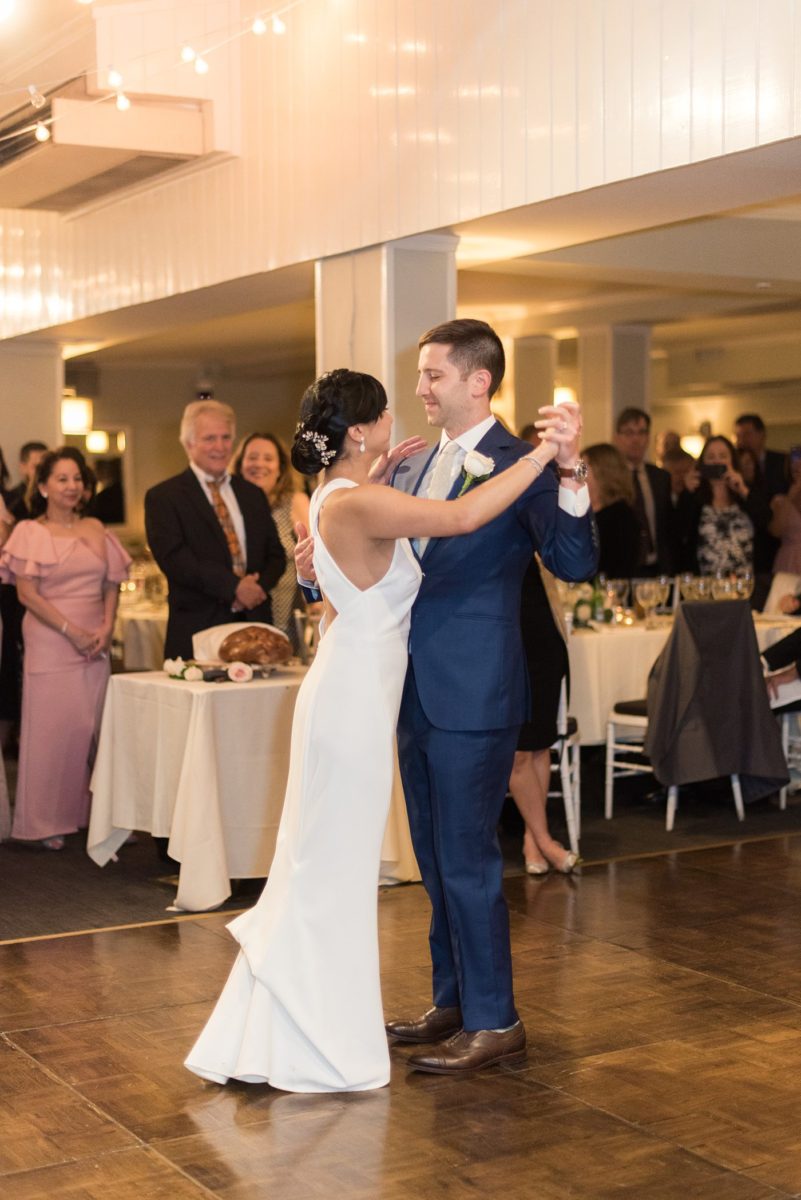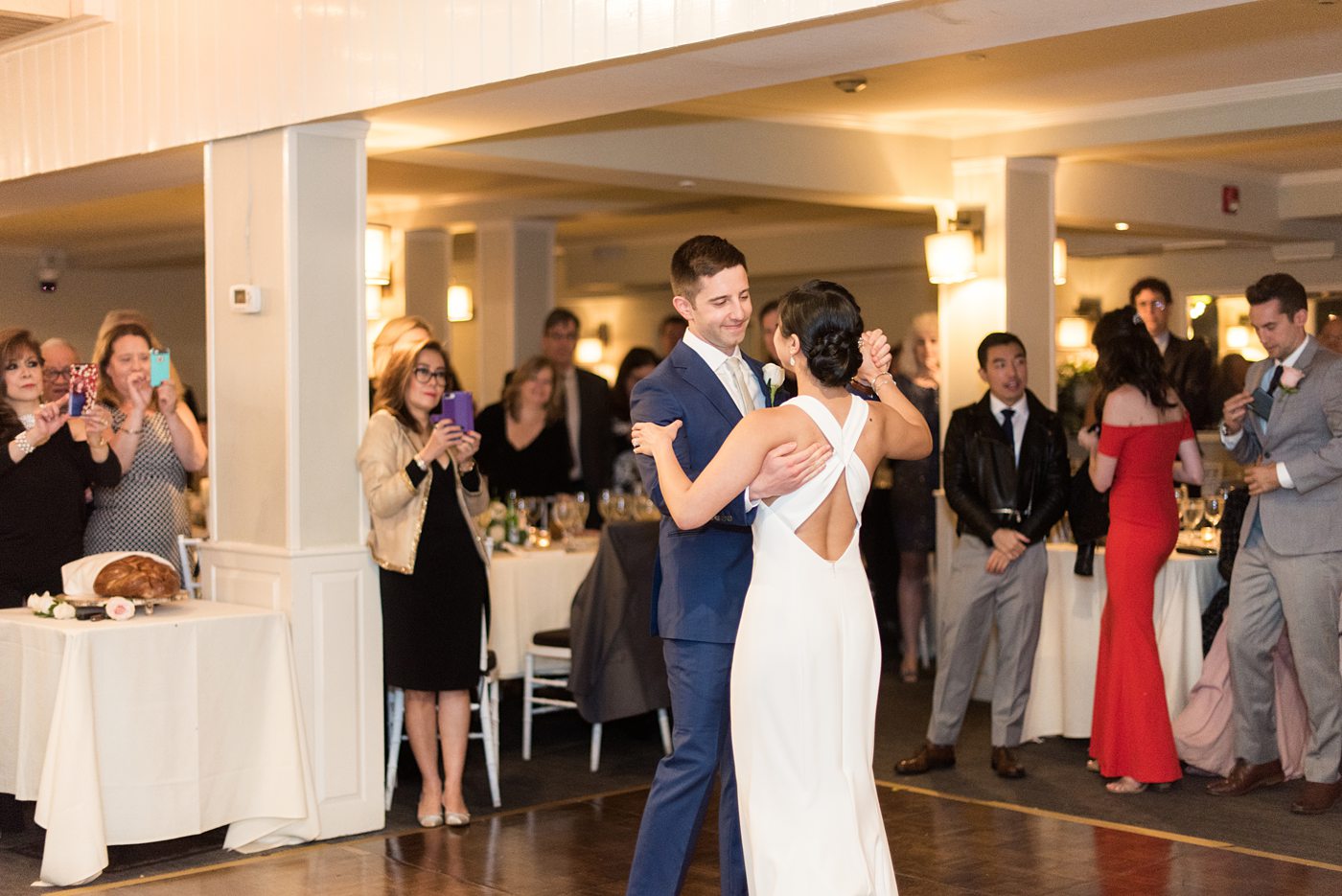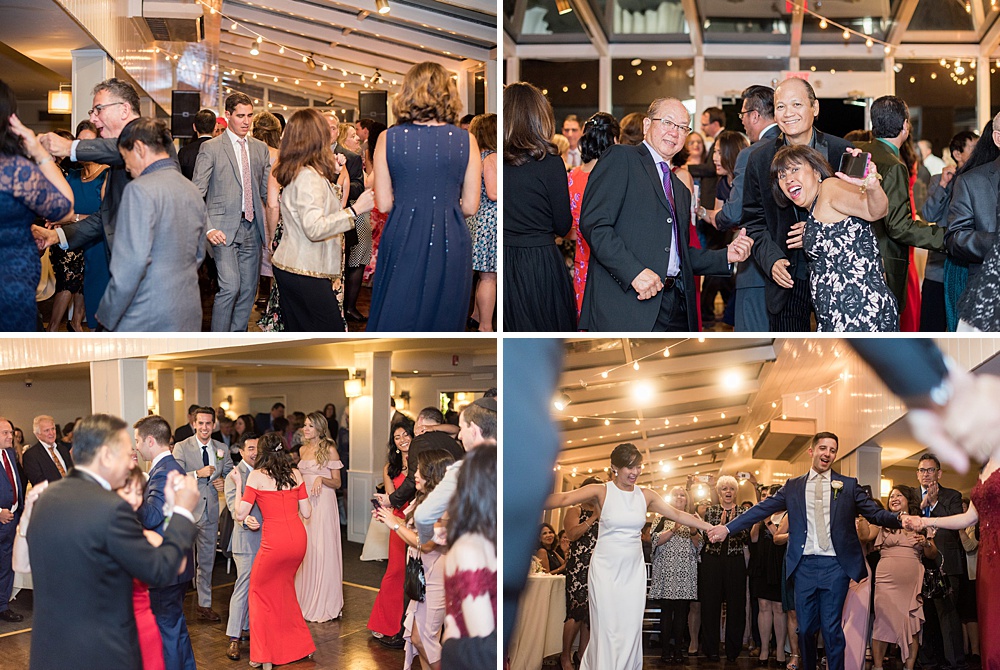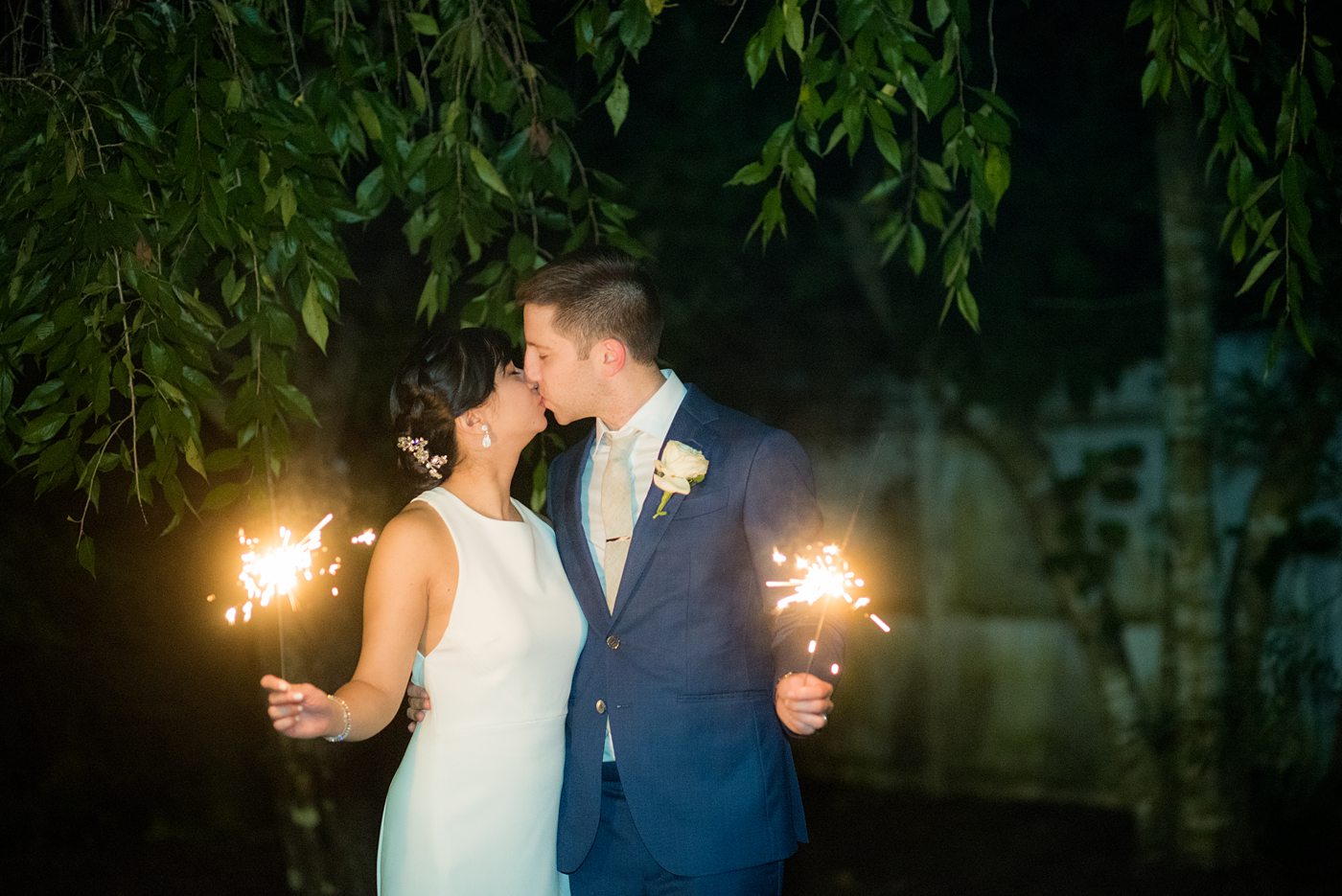 Dancing the evening away to a live band was the icing on the cake to some sparkler fun and a beautiful fall evening. Congratulations, Amanda and Craig!
Venue: Crabtree's Kittle House / Band: Hank Lane / Hair and makeup: Truly Happy Beauty / Ceremony: Rabbi Roger Ross and Father Patrick Longalong / Flowers: House of Flowers / Cake: Lulu Cake Boutique / Wedding gown: Saks Fifth Avenue, designer Amsale / Custom suit: Knot Standard / Rings: J Sampieri / Invitations: Minted
Craving more wedding inspiration from Crabtree's Kittle House? Also check out:
Don't be shy if you want to inquire about photography – we'd love to hear from you!