The sweetest weddings happen at this Chappaqua venue, just about 45 minutes outside of NYC. And of course Elise and Colin's day was one of the memorable marriages here. I like to think their Crabtree's Kittle House wedding photos do their beautiful, sweet day justice! They met many years ago in high school and have grown together into adulthood, persevering many years together through college and continued education. They both chose to go into medical professions, Colin as a nurse and Elise in acupuncture. They share a love of caring for and healing people which I'm sure is helpful when they need to talk about their work over dinner! Their upbringings pre-high school may have been slightly different. Elise was born in China and moved to the United States at a young age and Colin was born in the United States but has an Irish background. Yet they harmoniously honored their cultures in beautiful ways for their wedding day.
They are admittedly "shy" in front of the camera (I've heard that a few times before!) but luckily the camera melted away and let their love shines in every way. There were so many great memories from their Saturday celebration, from watching Elise and her mom put together the card box for the reception before she put her dress on, to Colin's reaction as he turned around during their first look to see his bride, to Elise's mother's amazing speech providing some wonderful inspiration and insight into Elise's childhood and their relationship. Here's the story of their day in photos (with some narration to provide context)!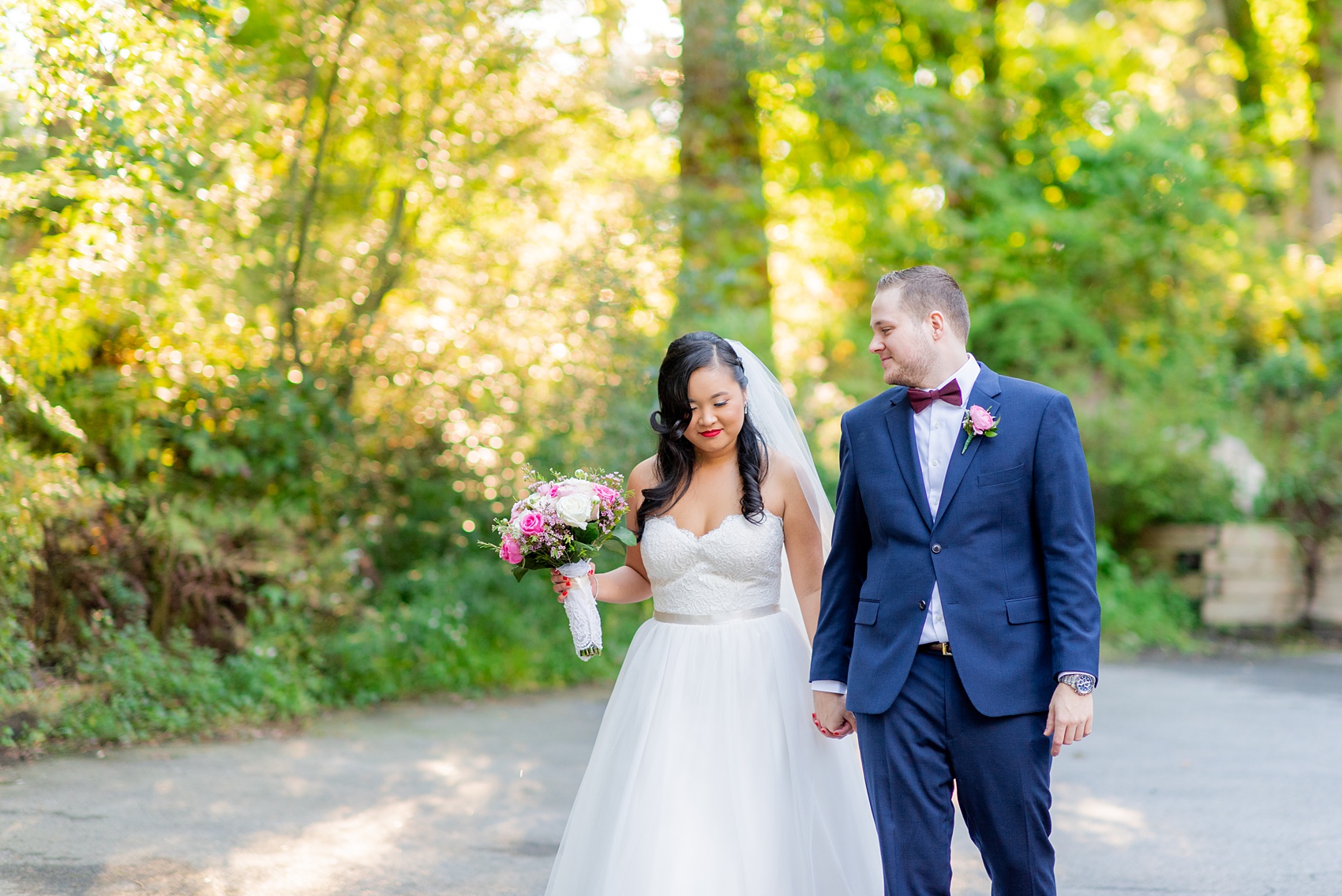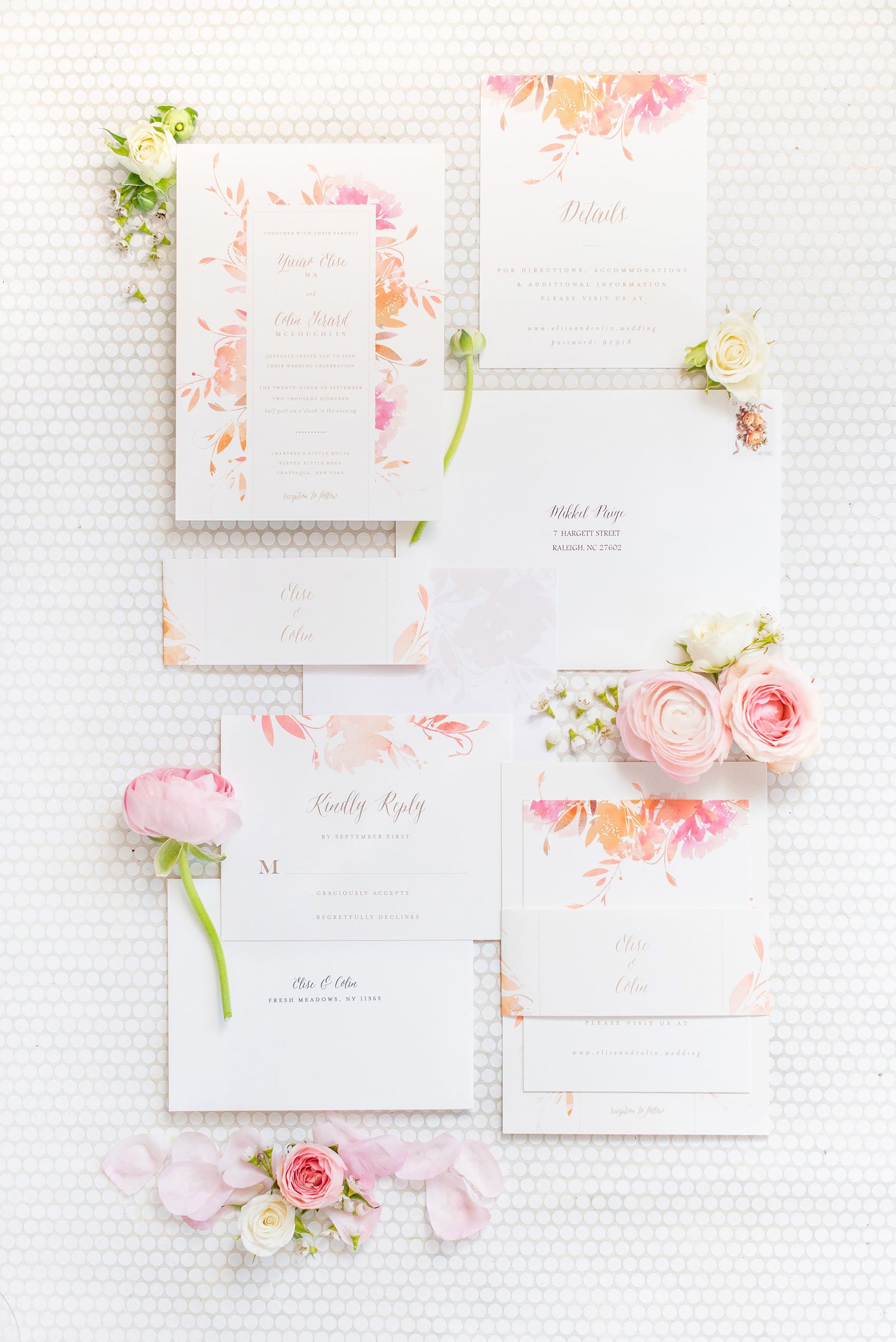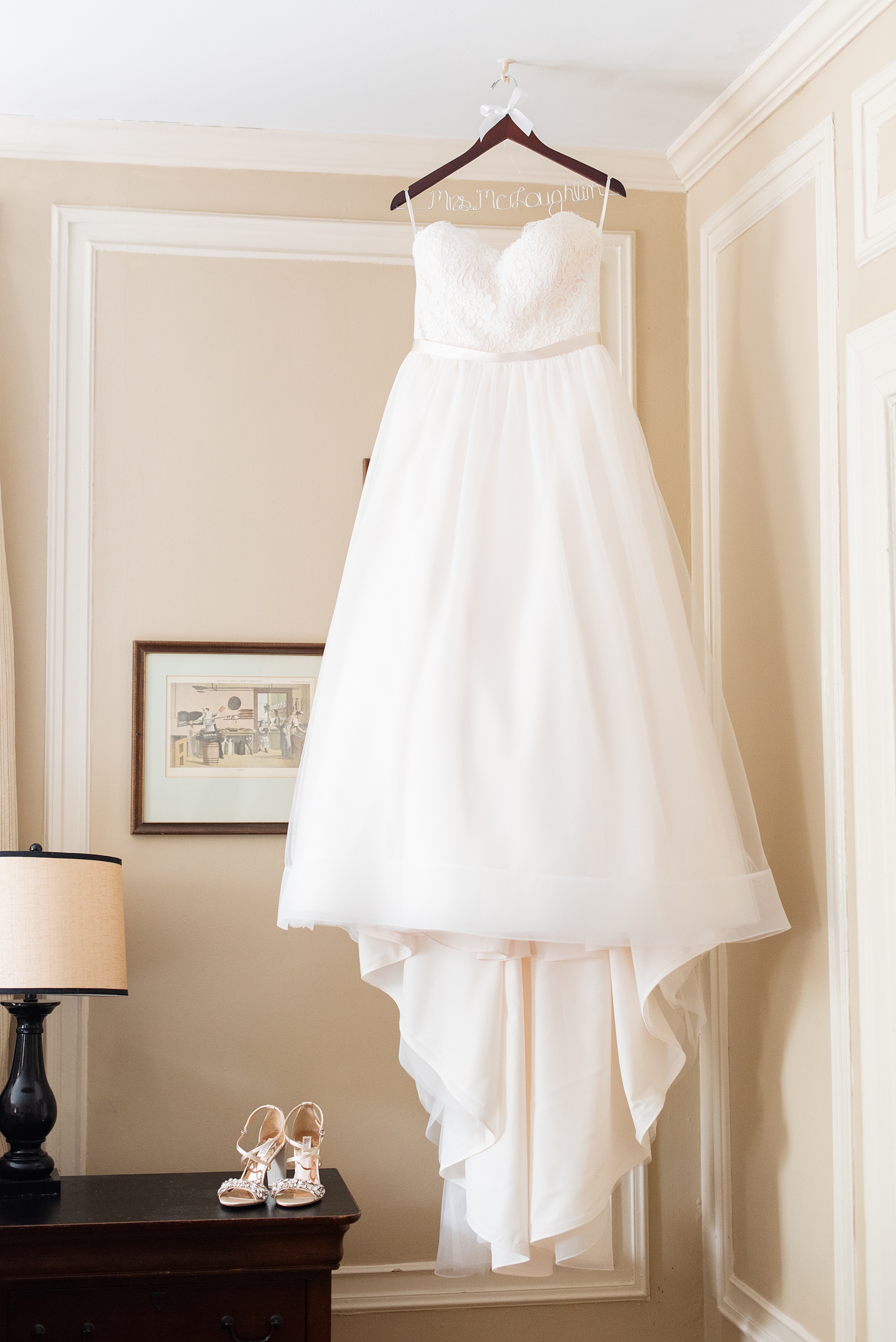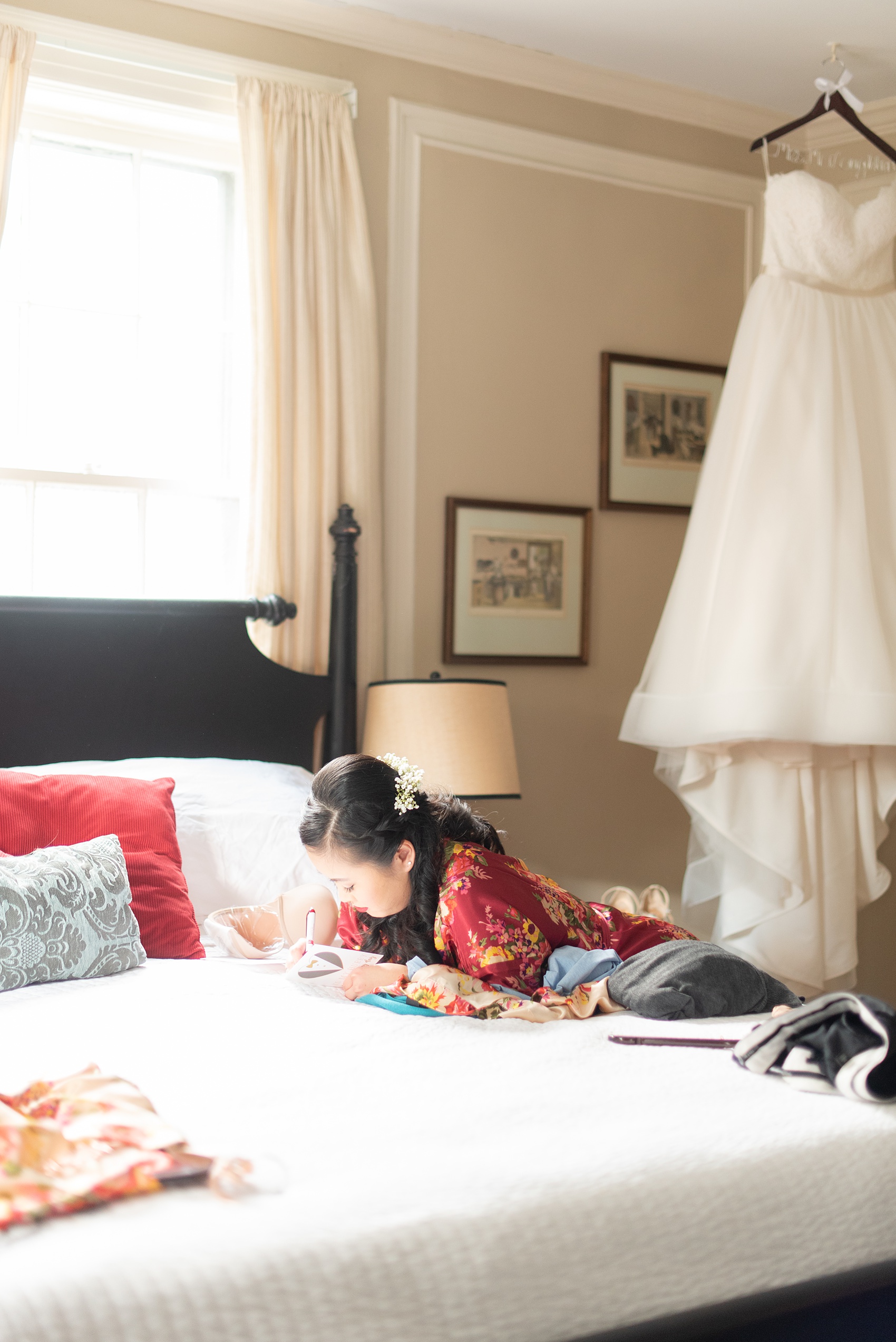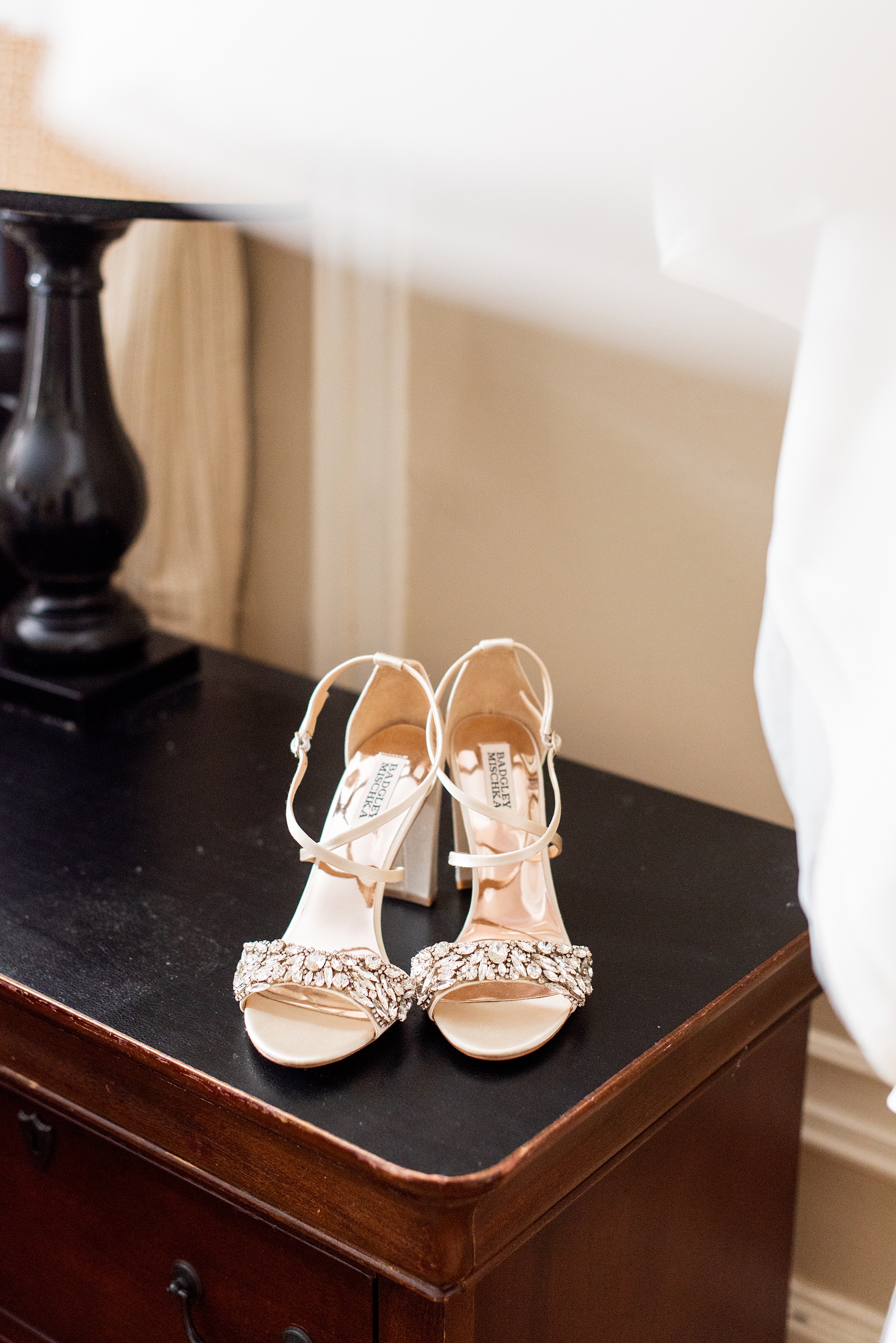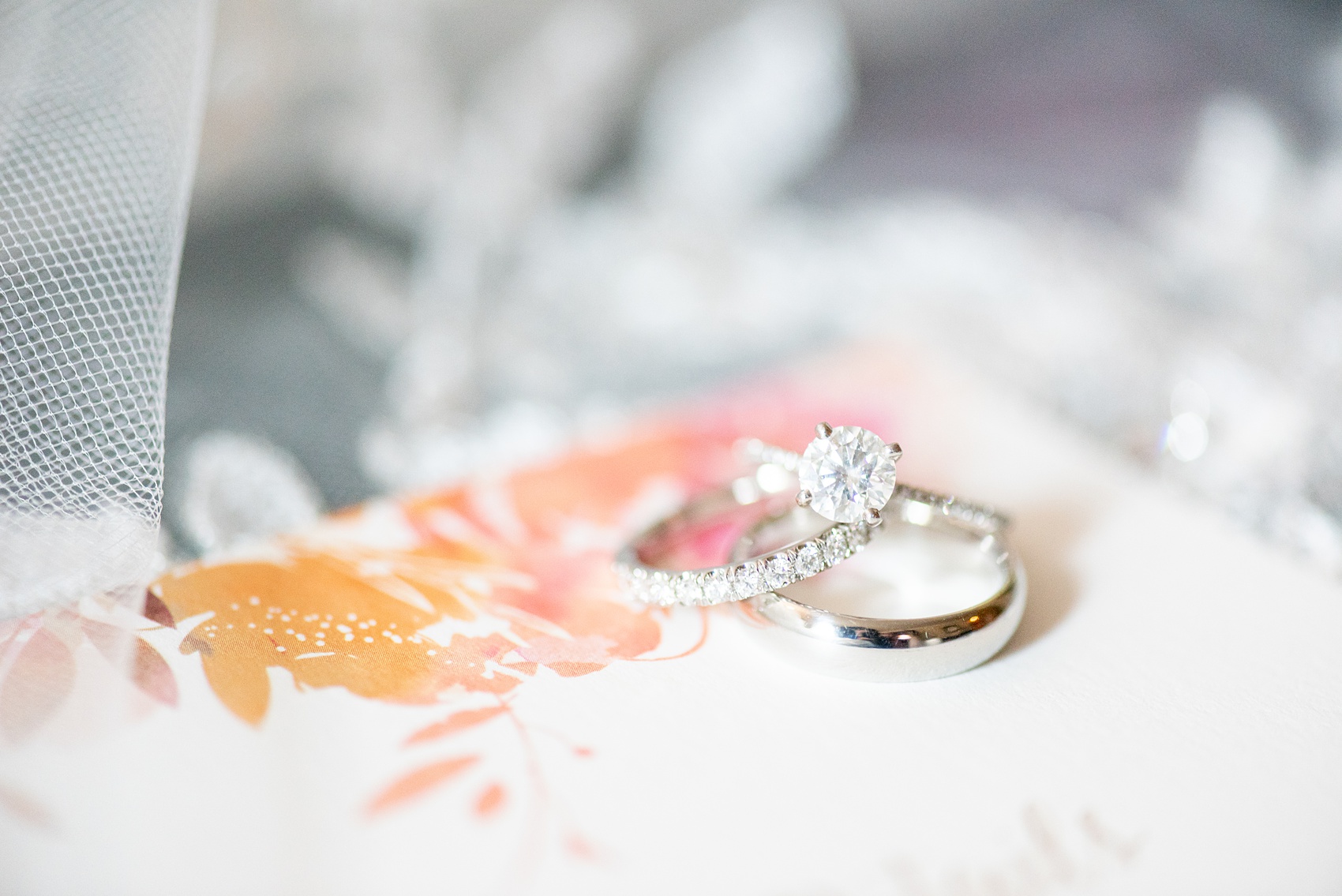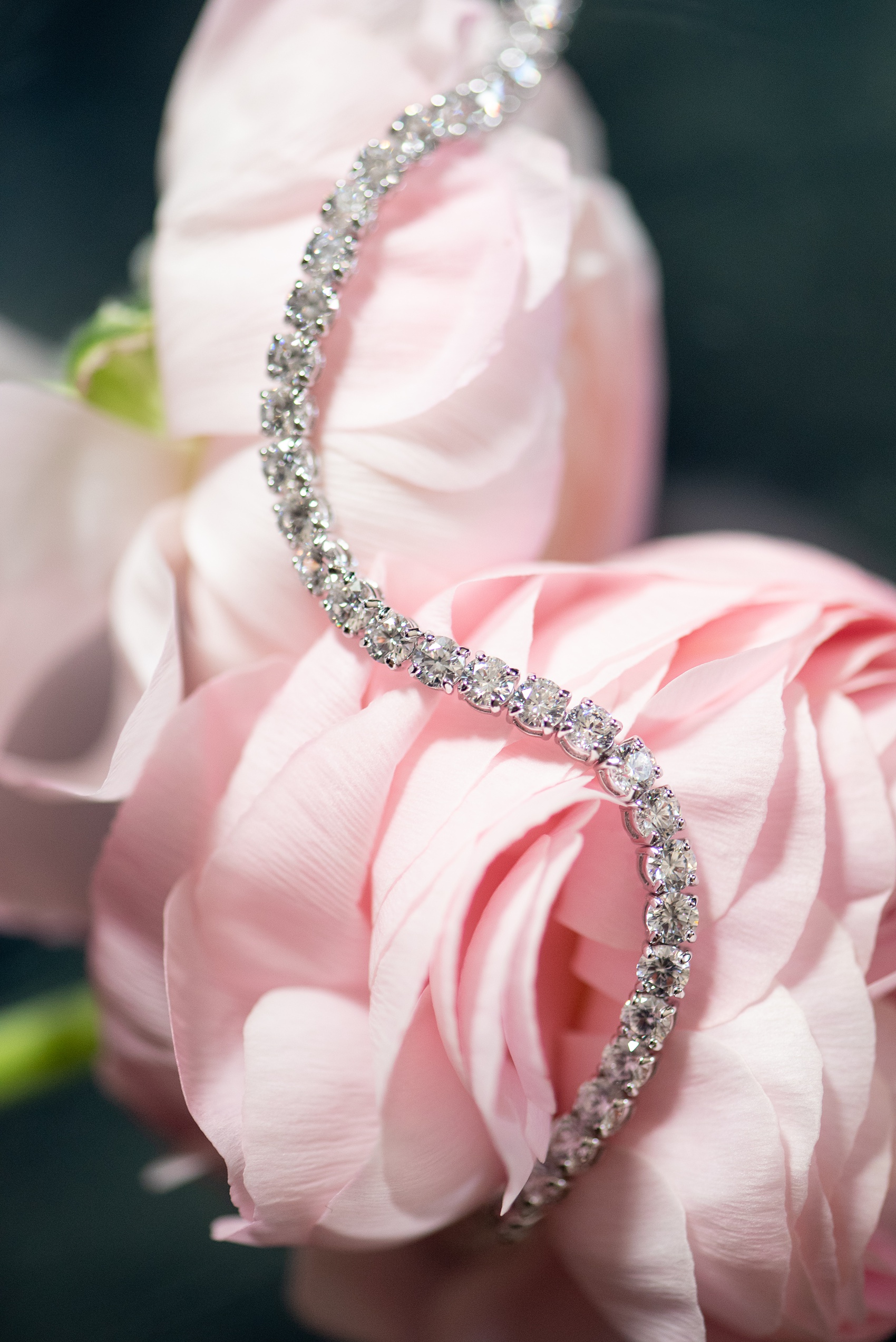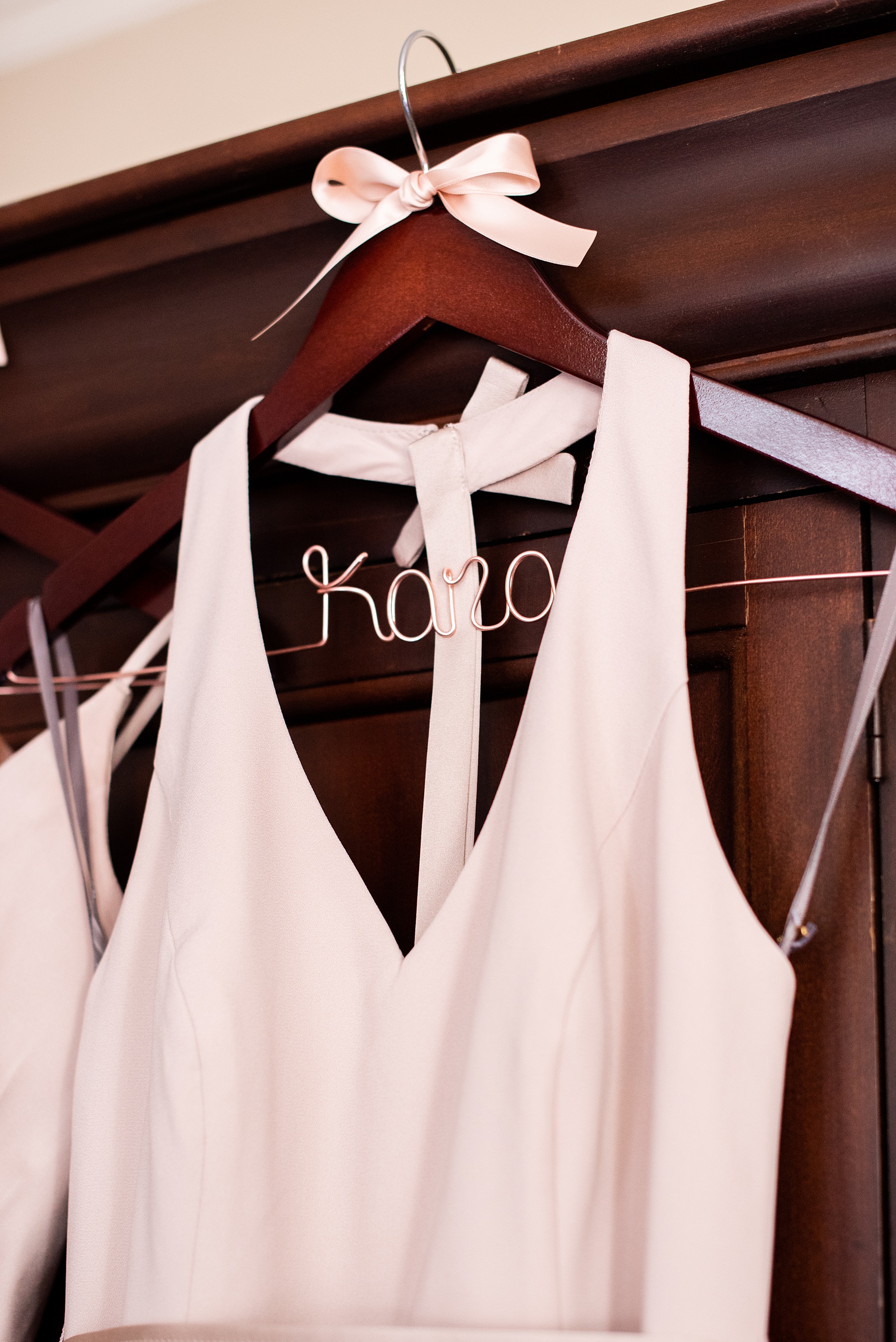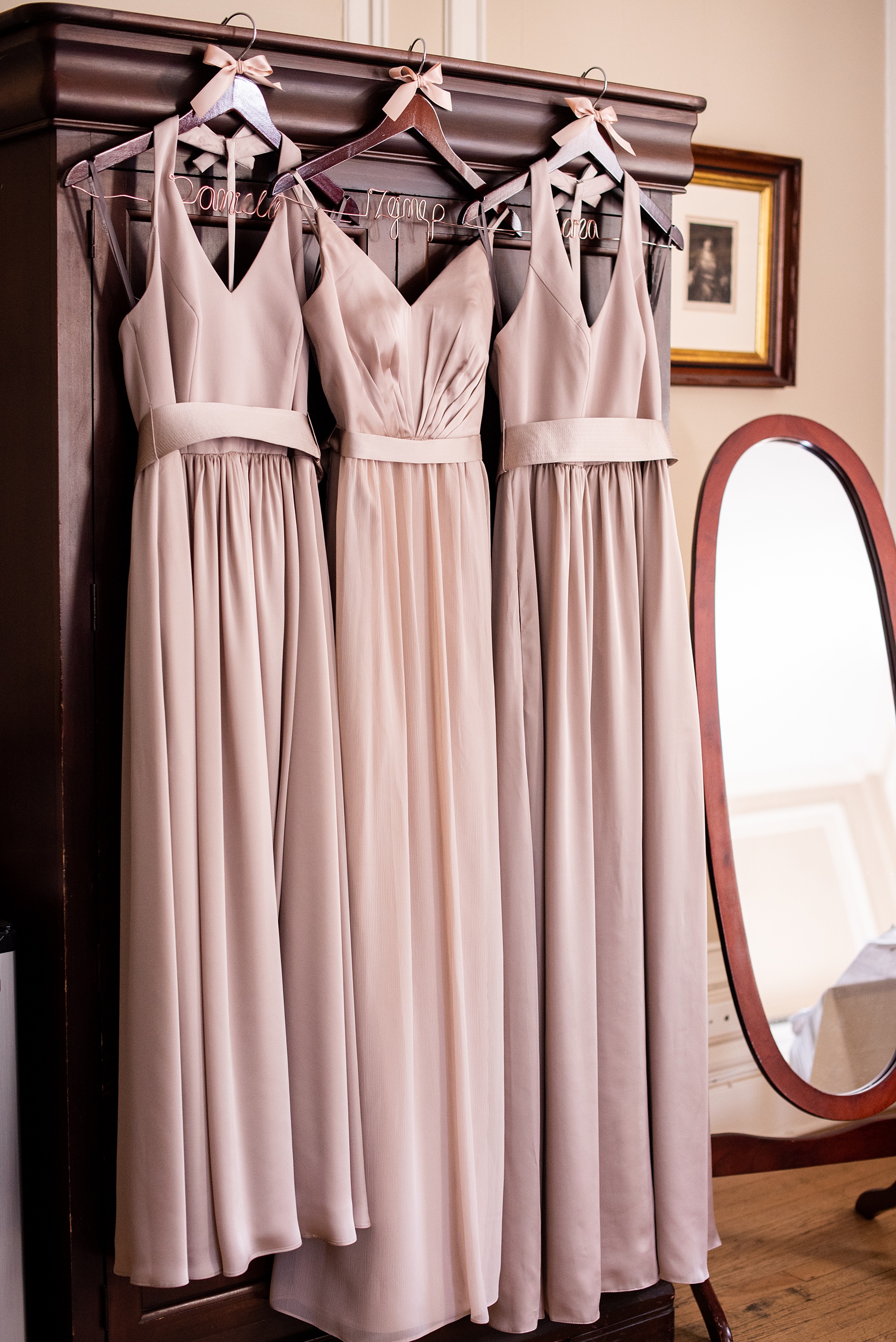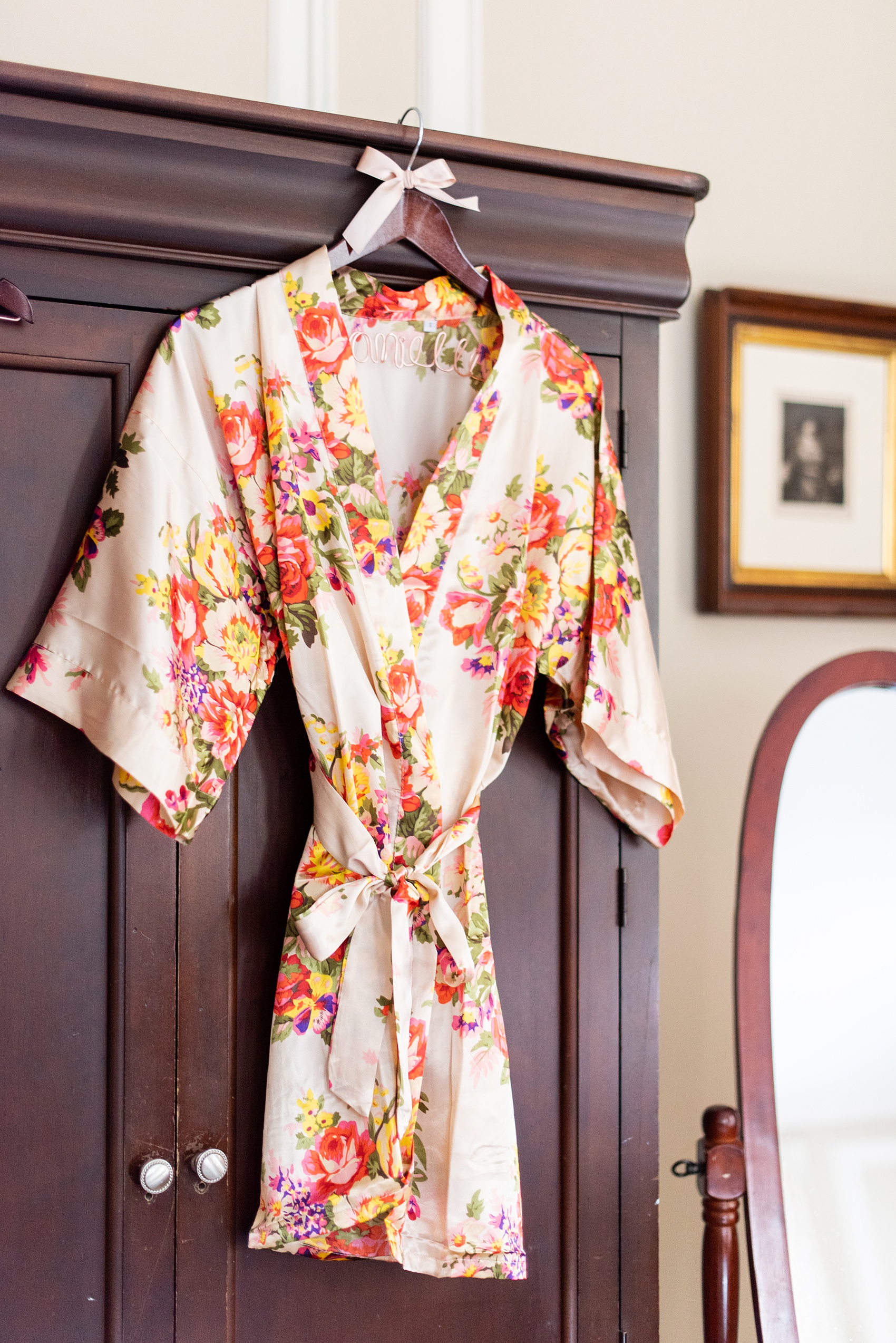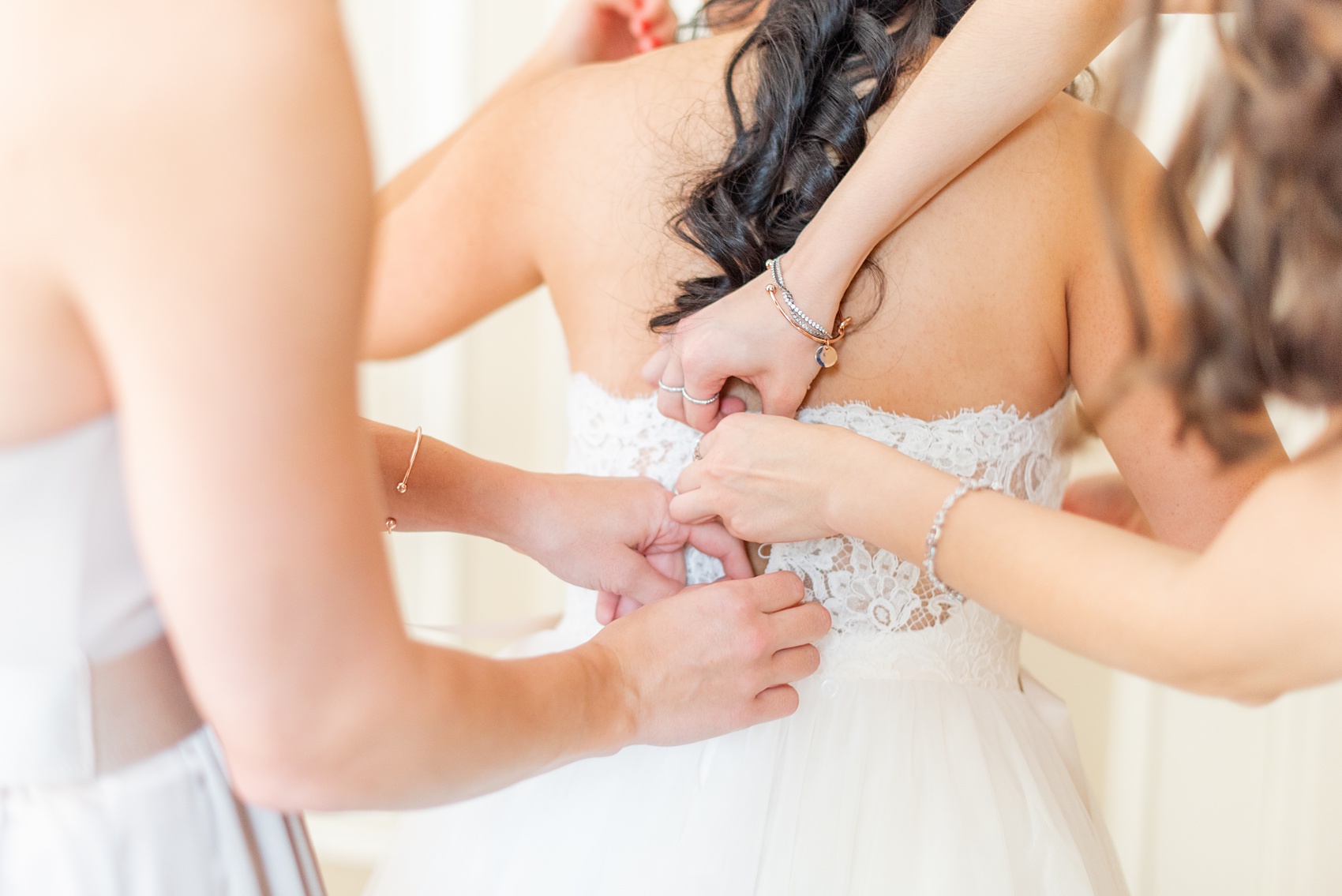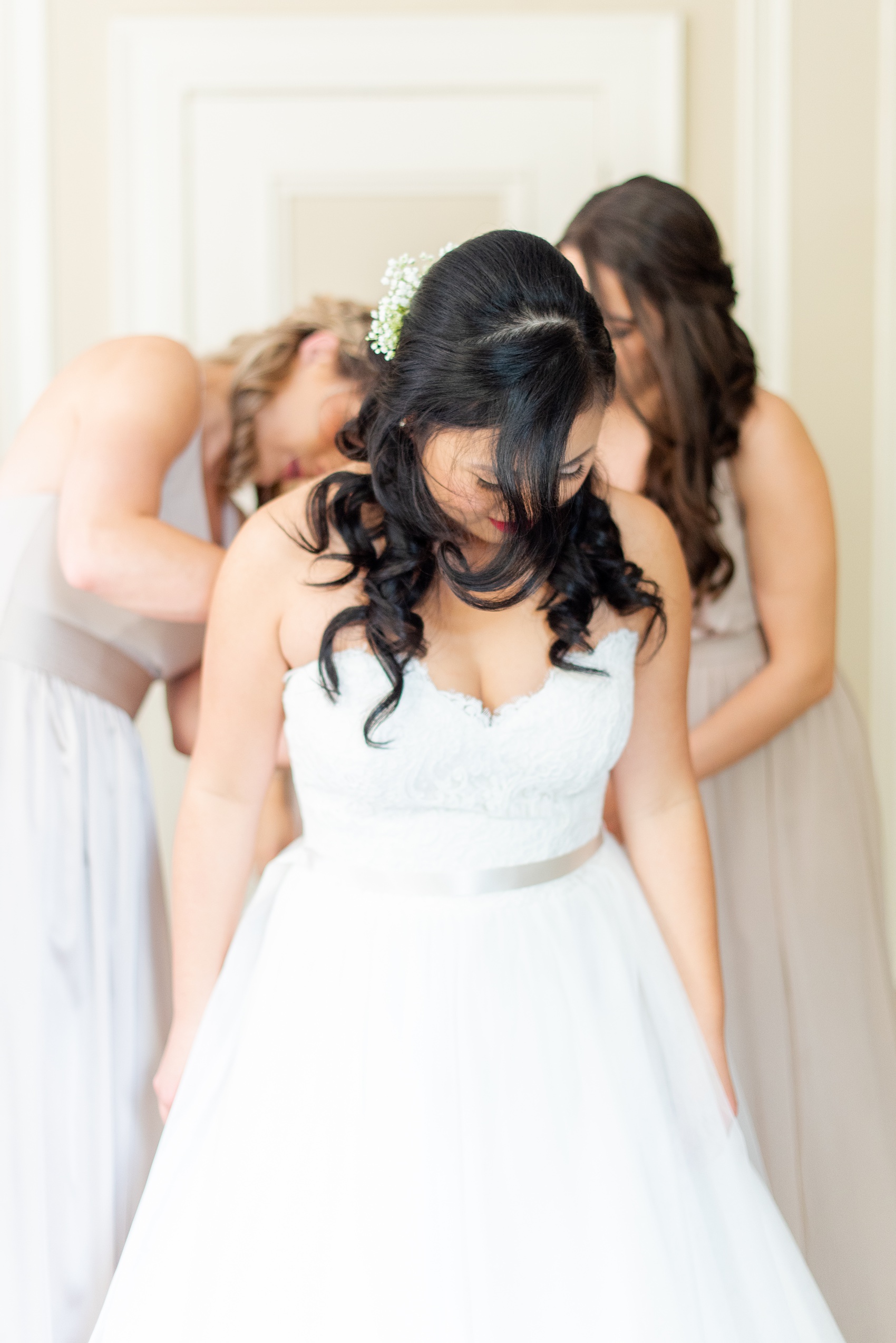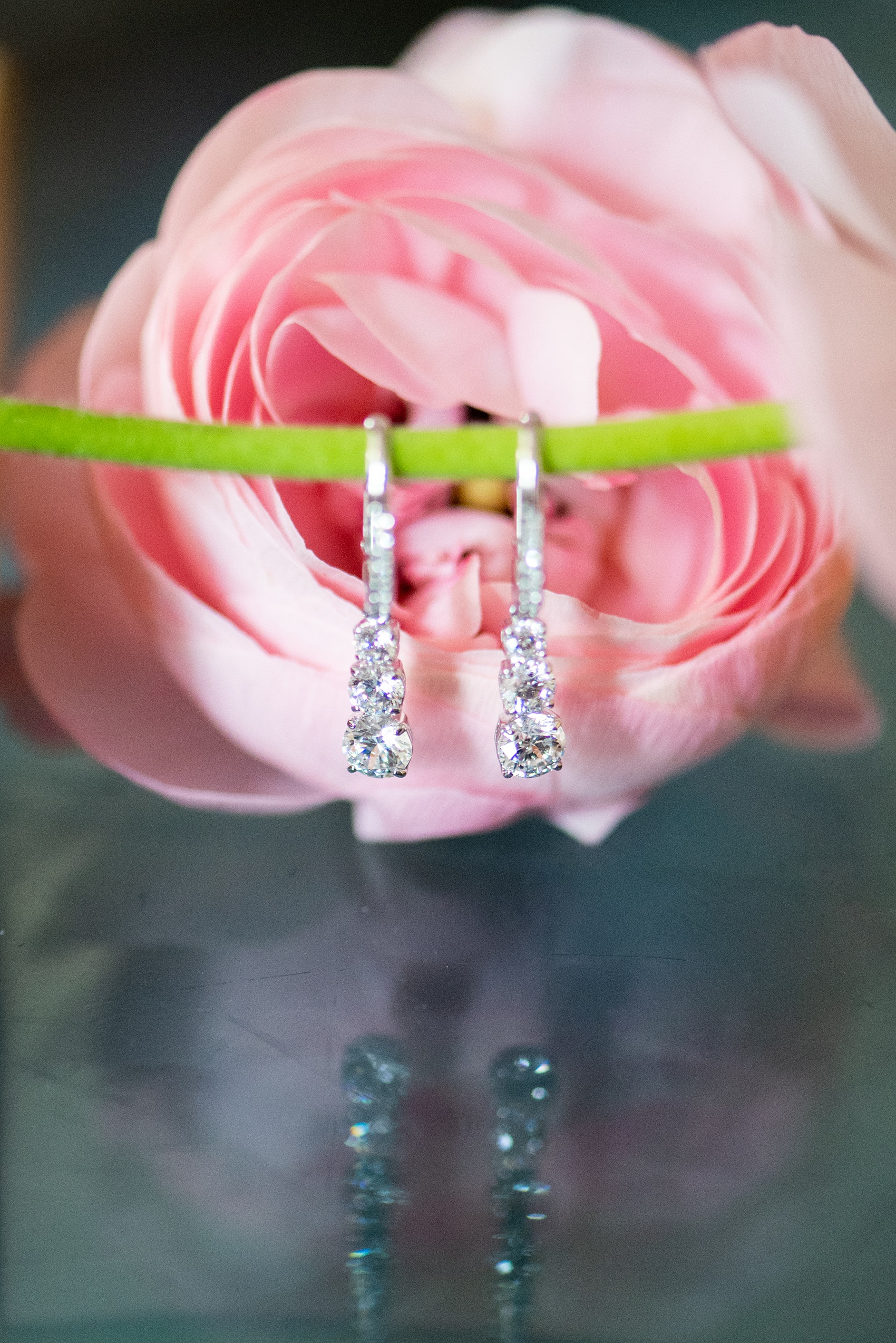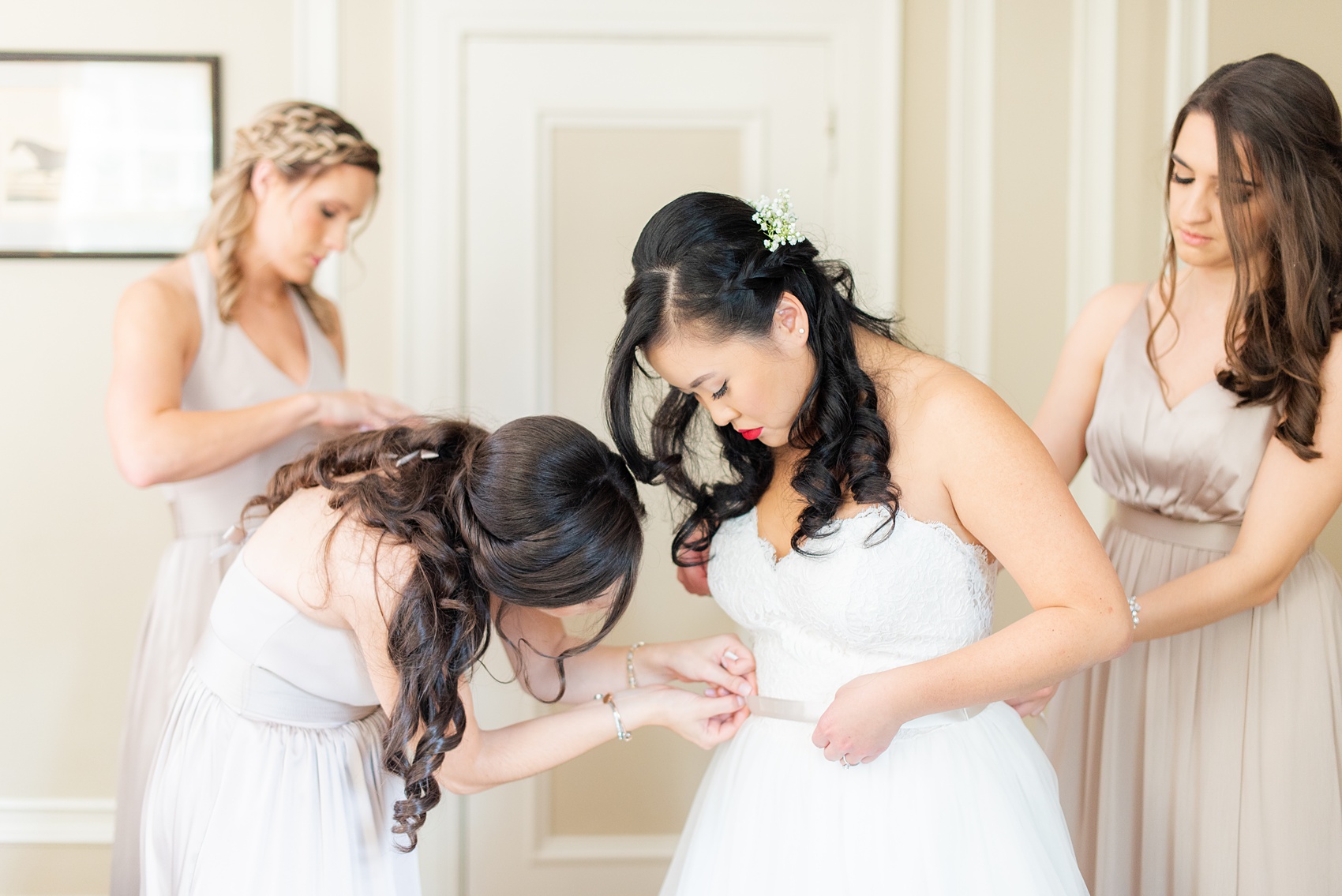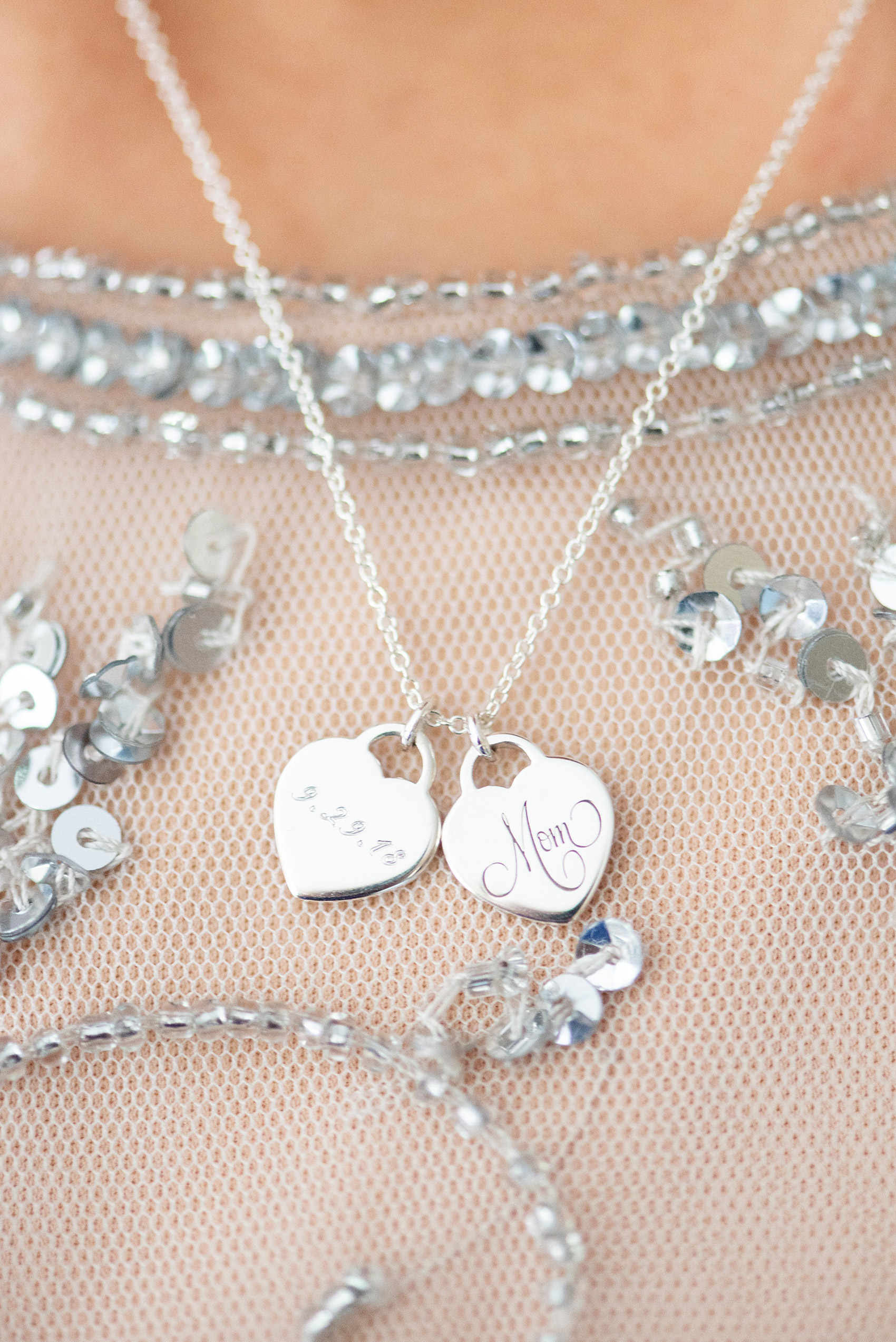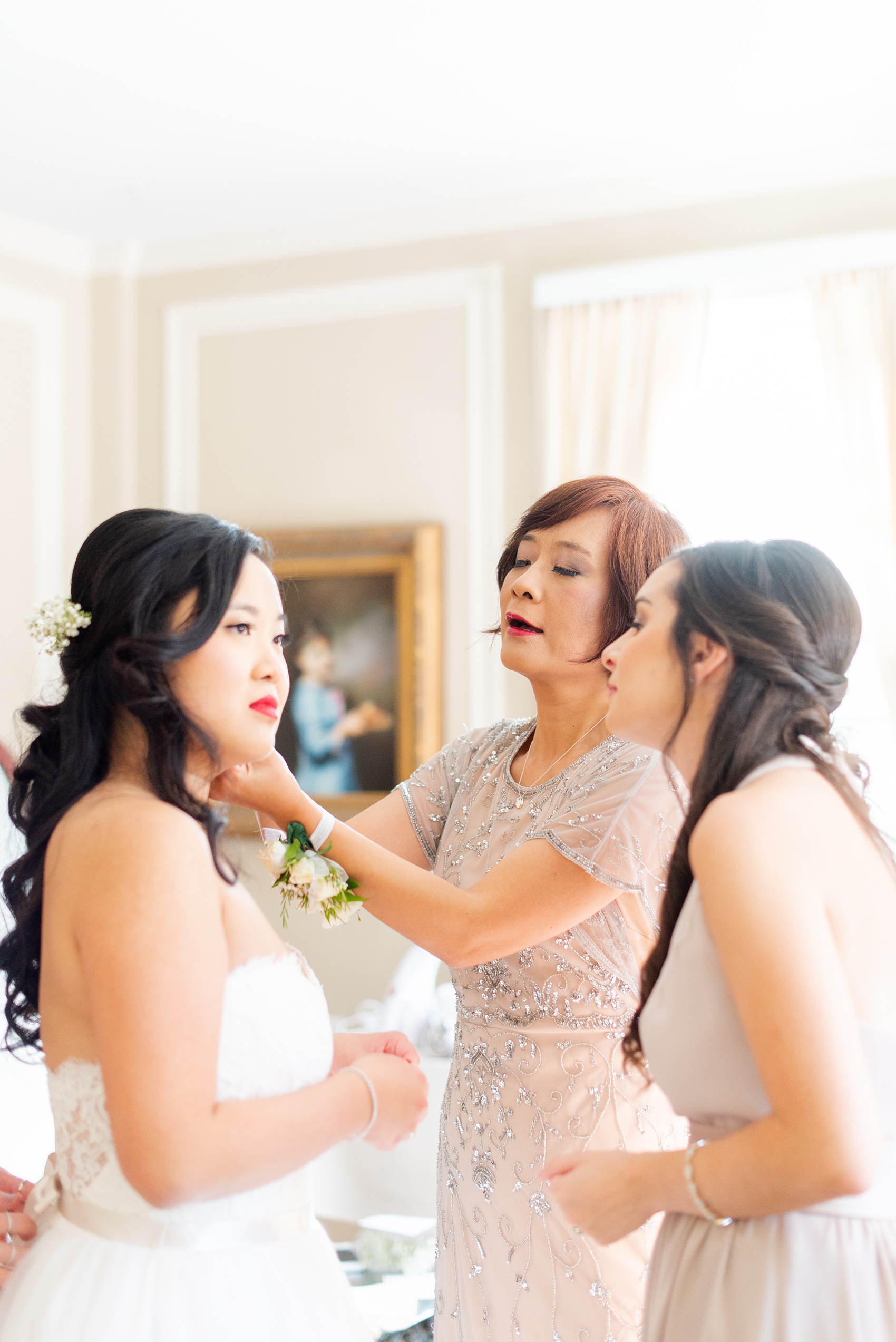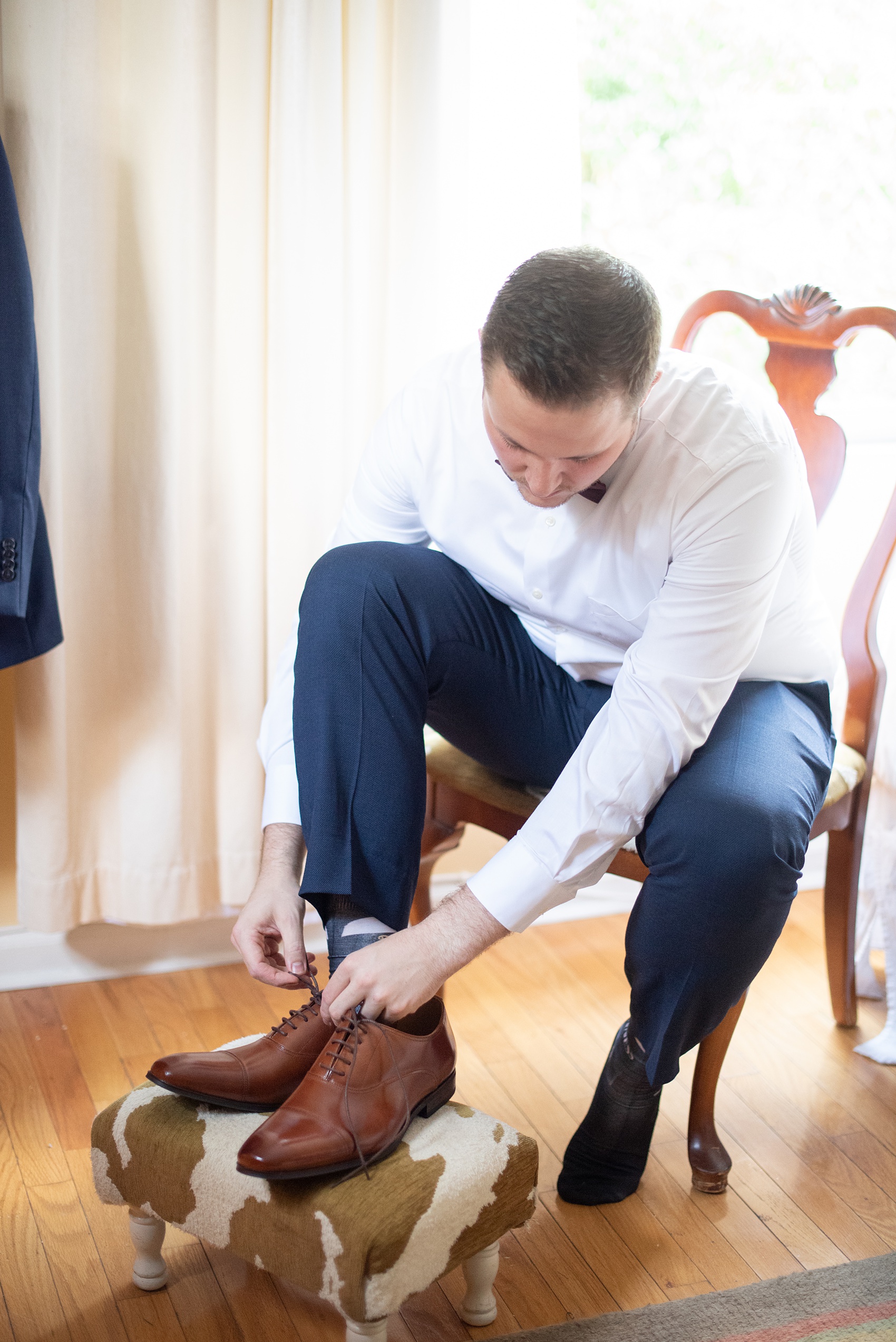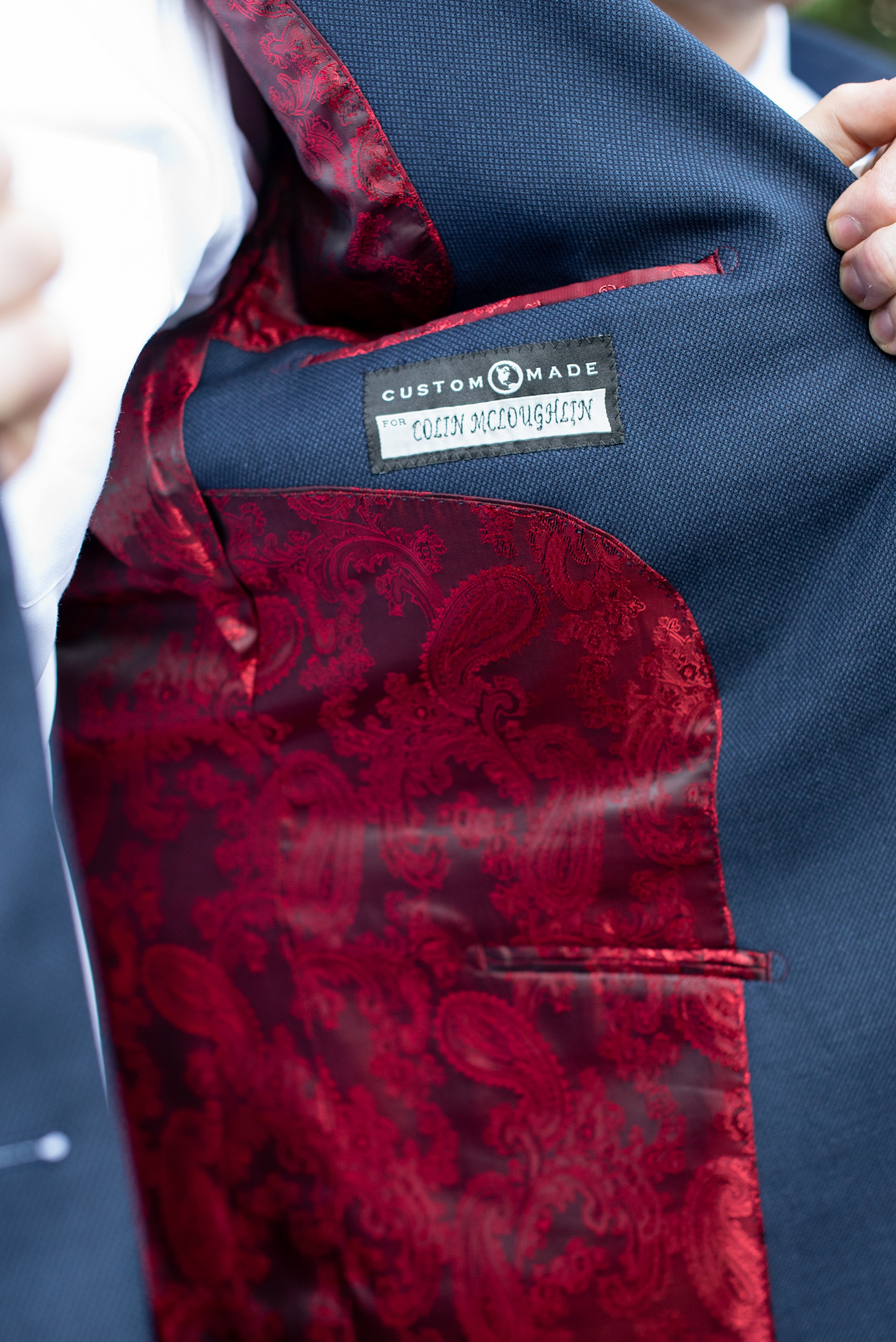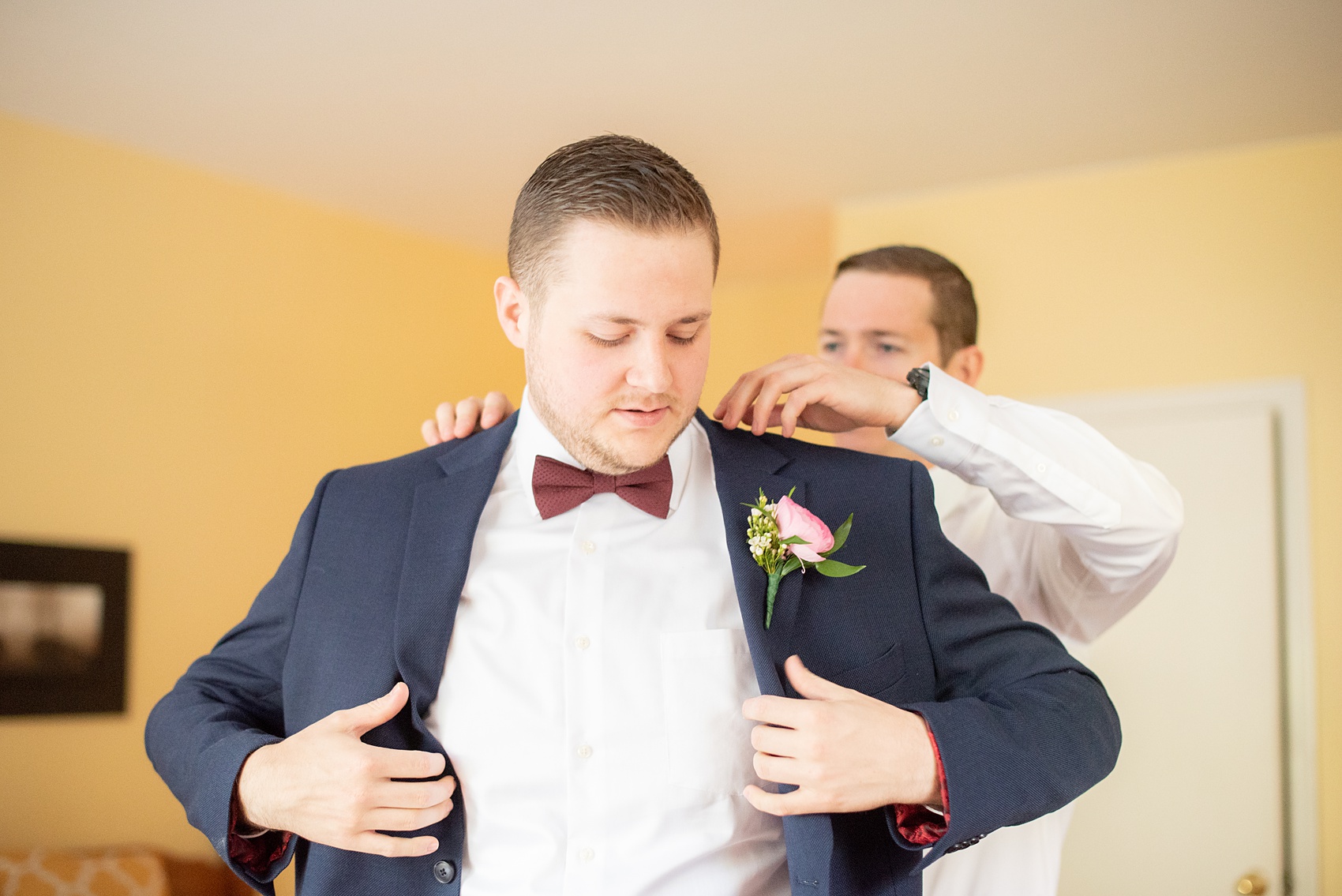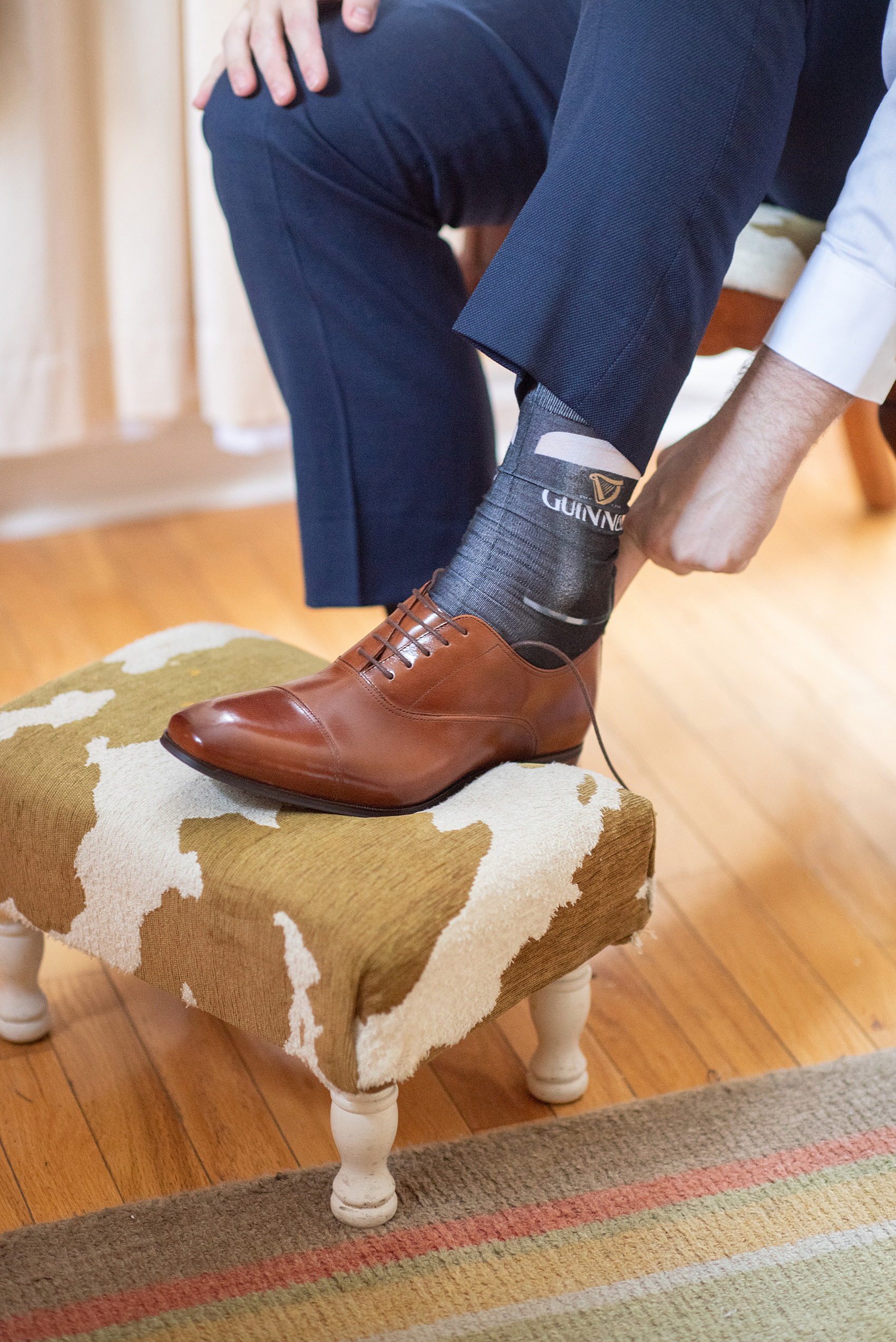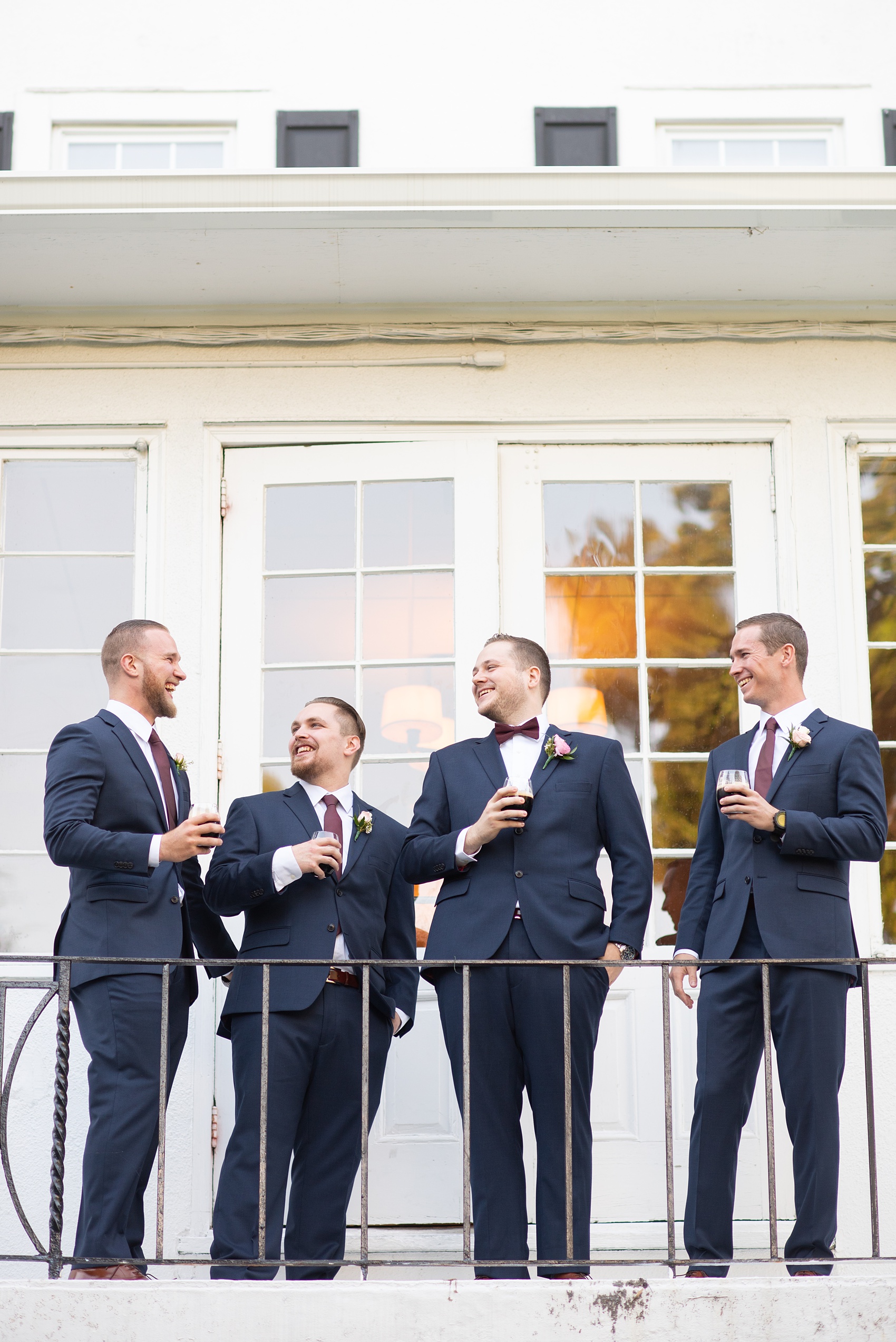 The guys celebrated some Irish heritage with Guinness! By drinking it and proudly wearing the socks Colin gifted them and wore himself from the Guinness Storehouse in Dublin, Ireland.
One of my favorite moments of the day was their first look. Elise elegantly walked towards Colin through the pretty arch seen in their Crabtree's Kittle House wedding photos below. And it was simply a beautiful moment of joy which is so evident on the photo of Colin's reaction!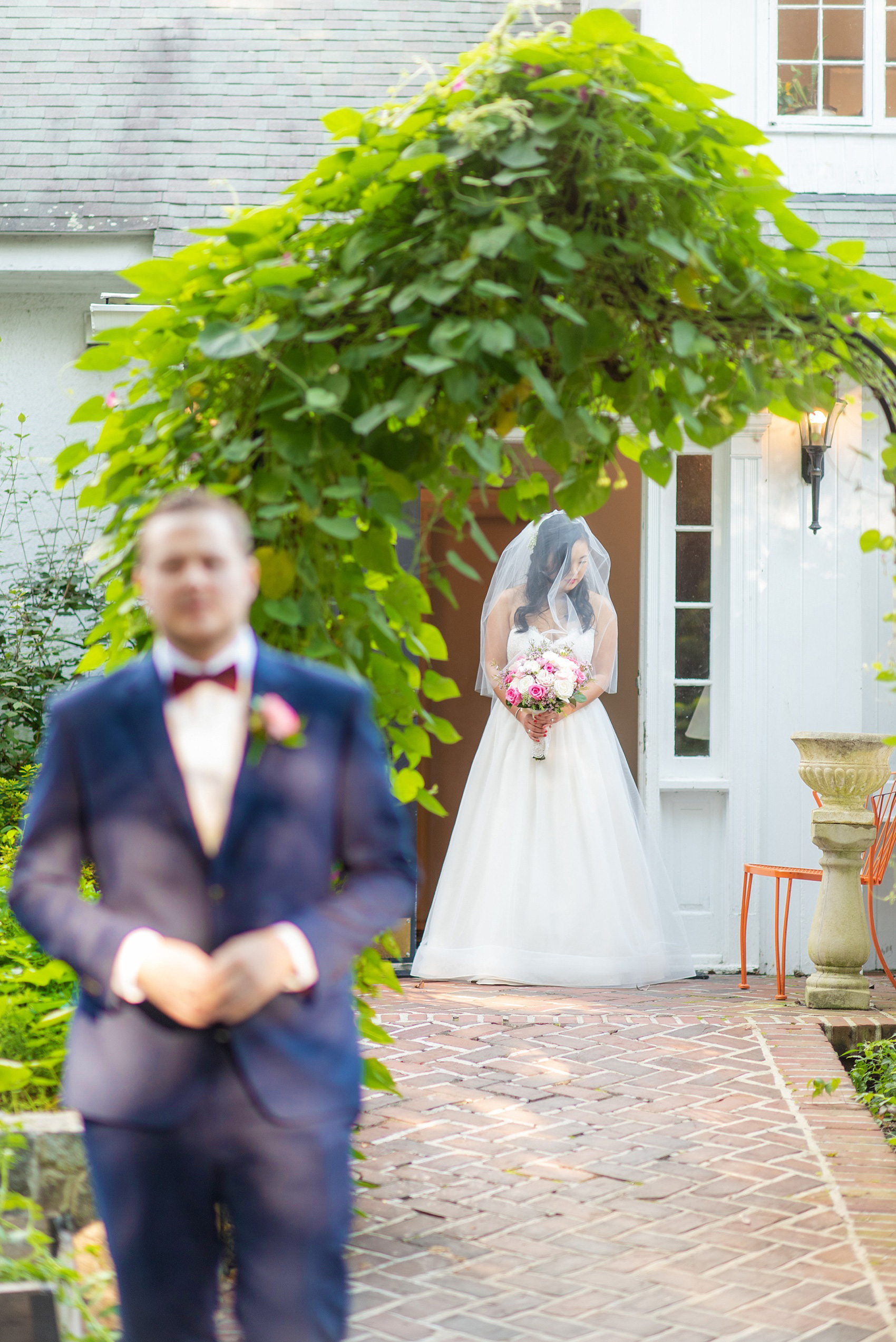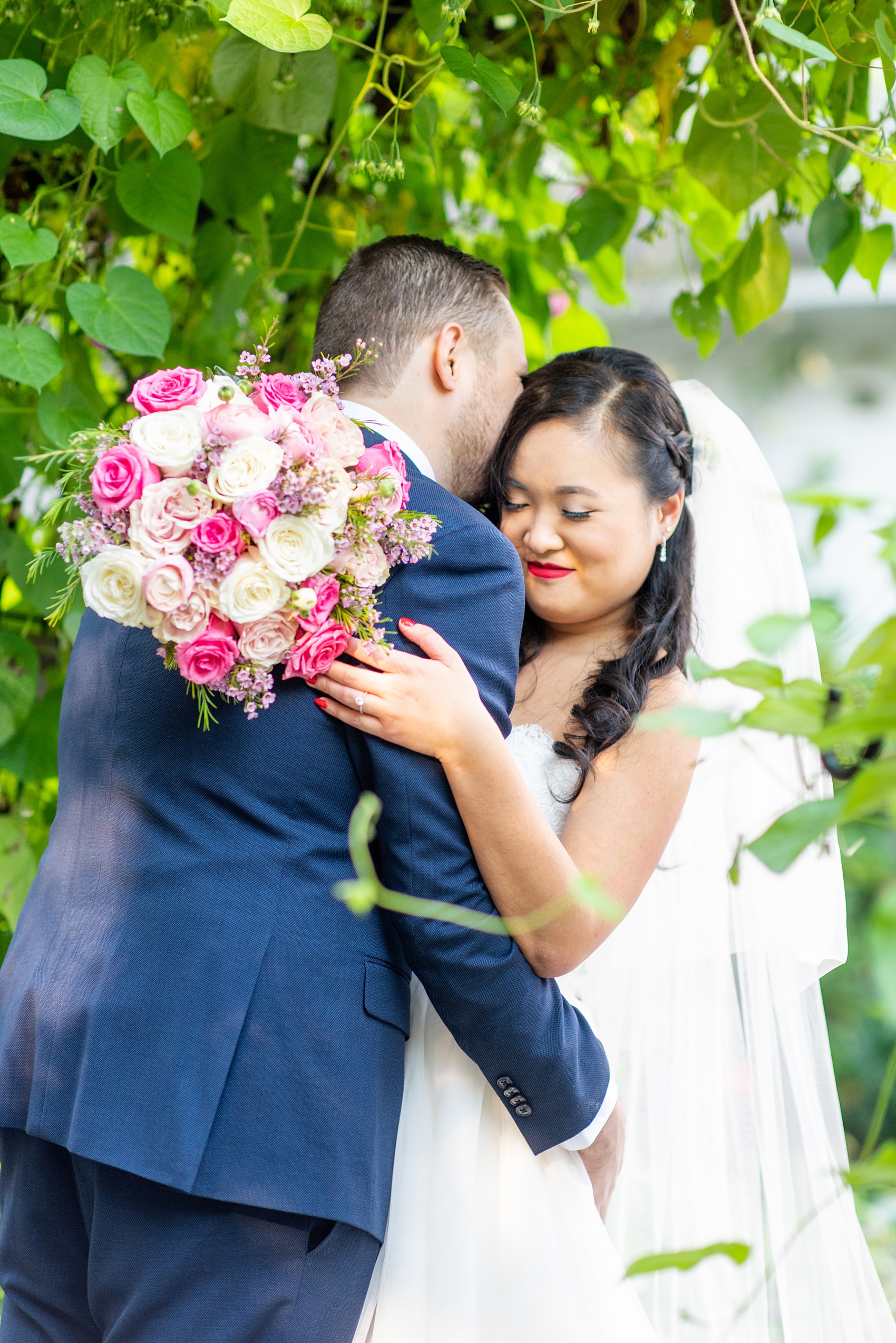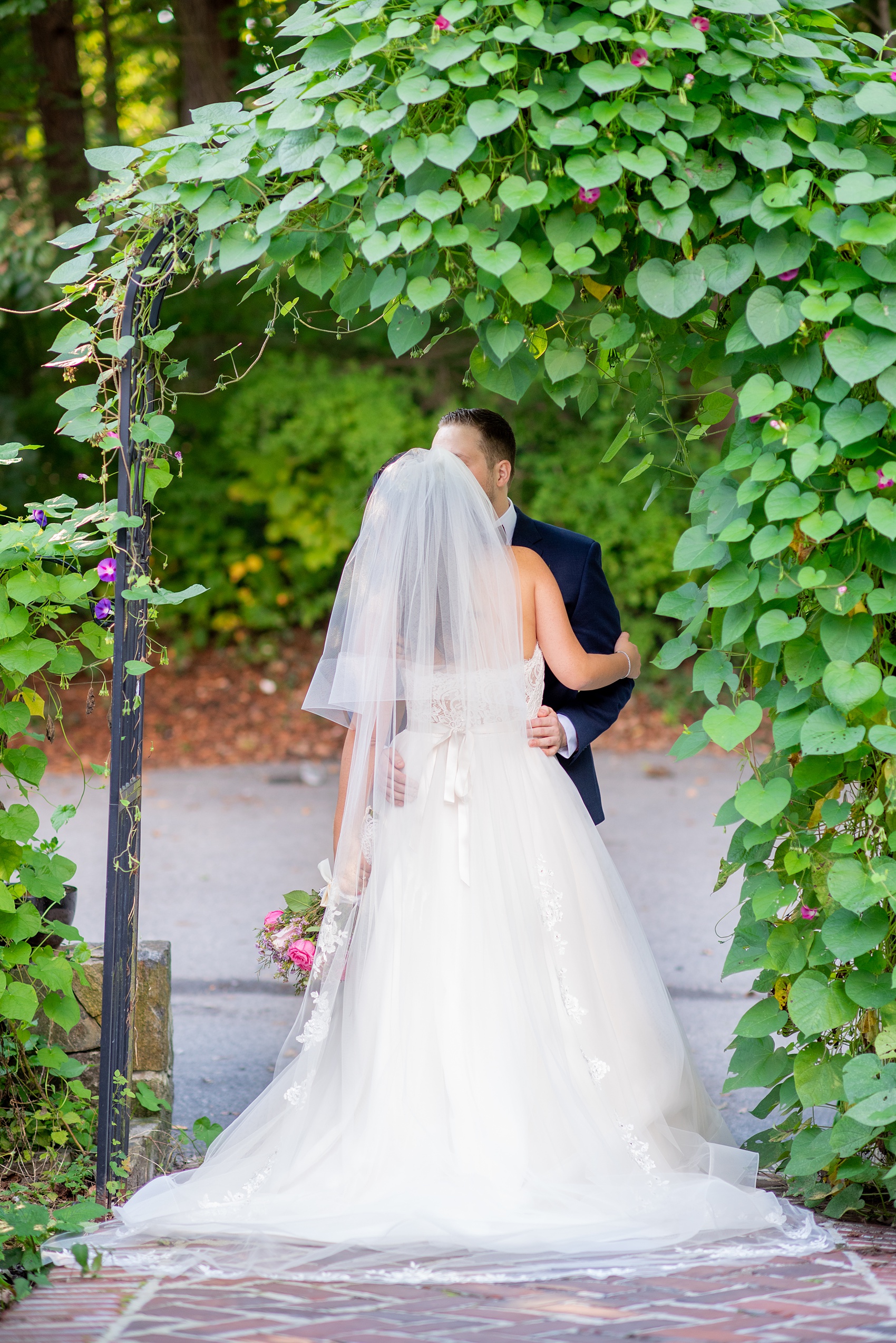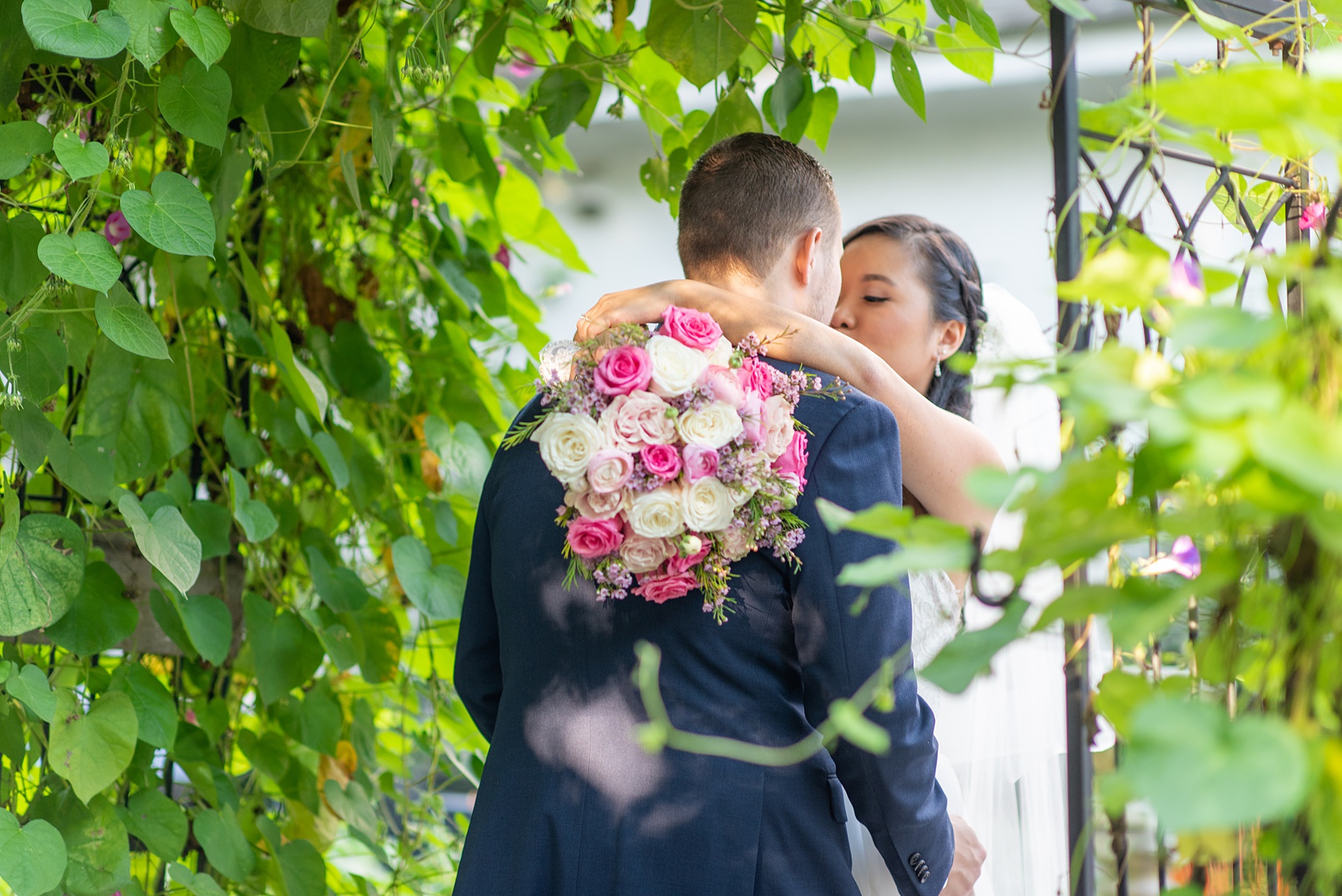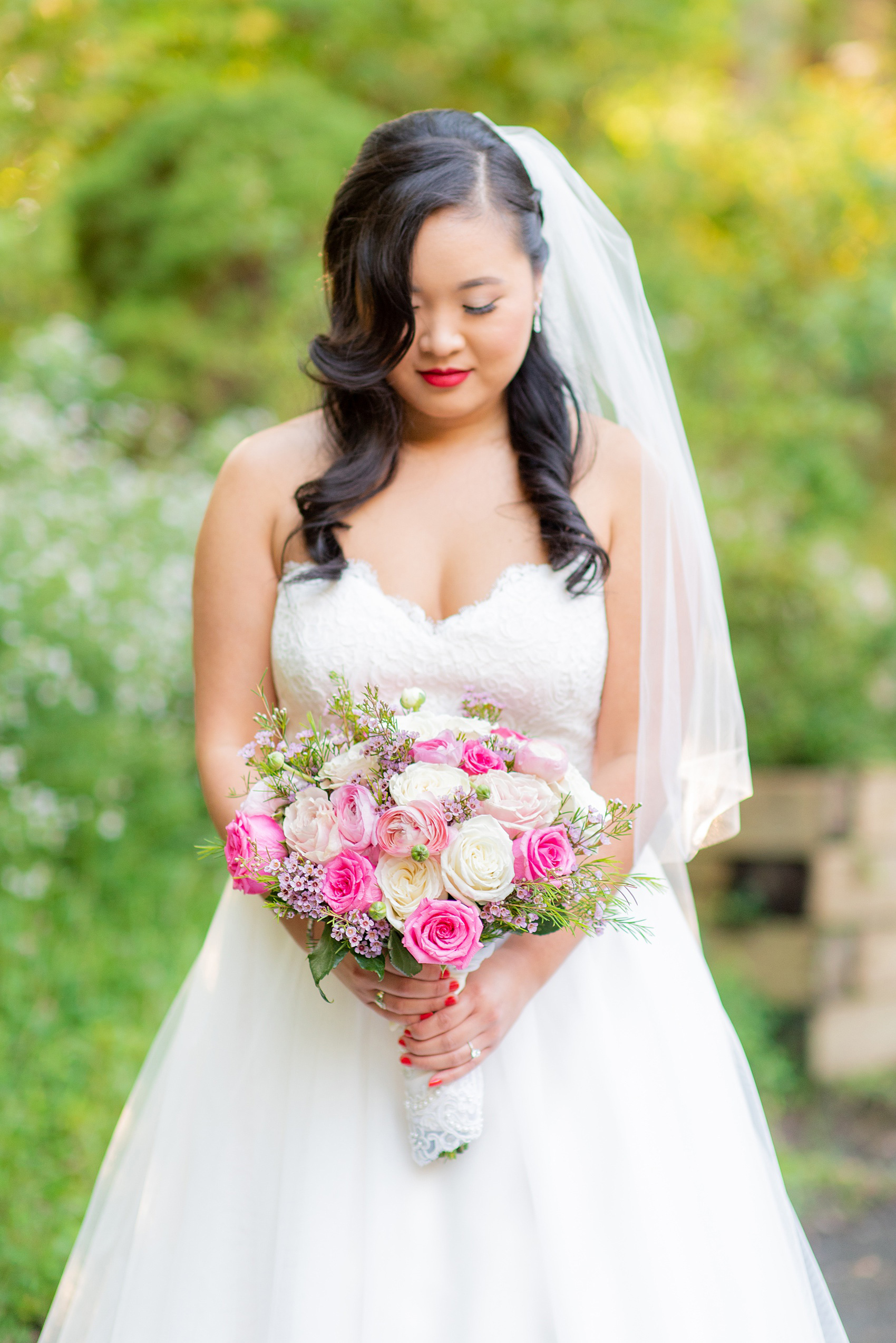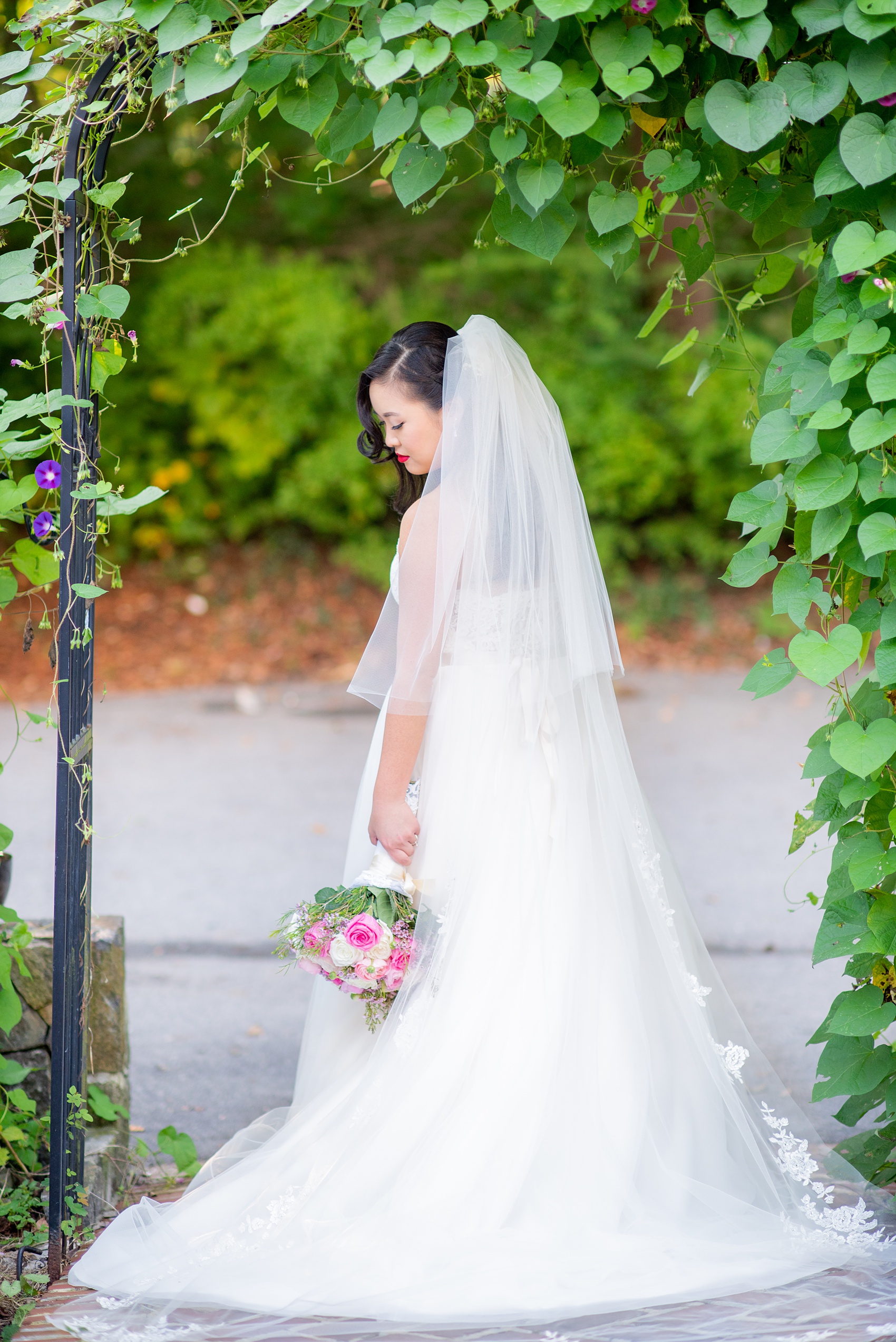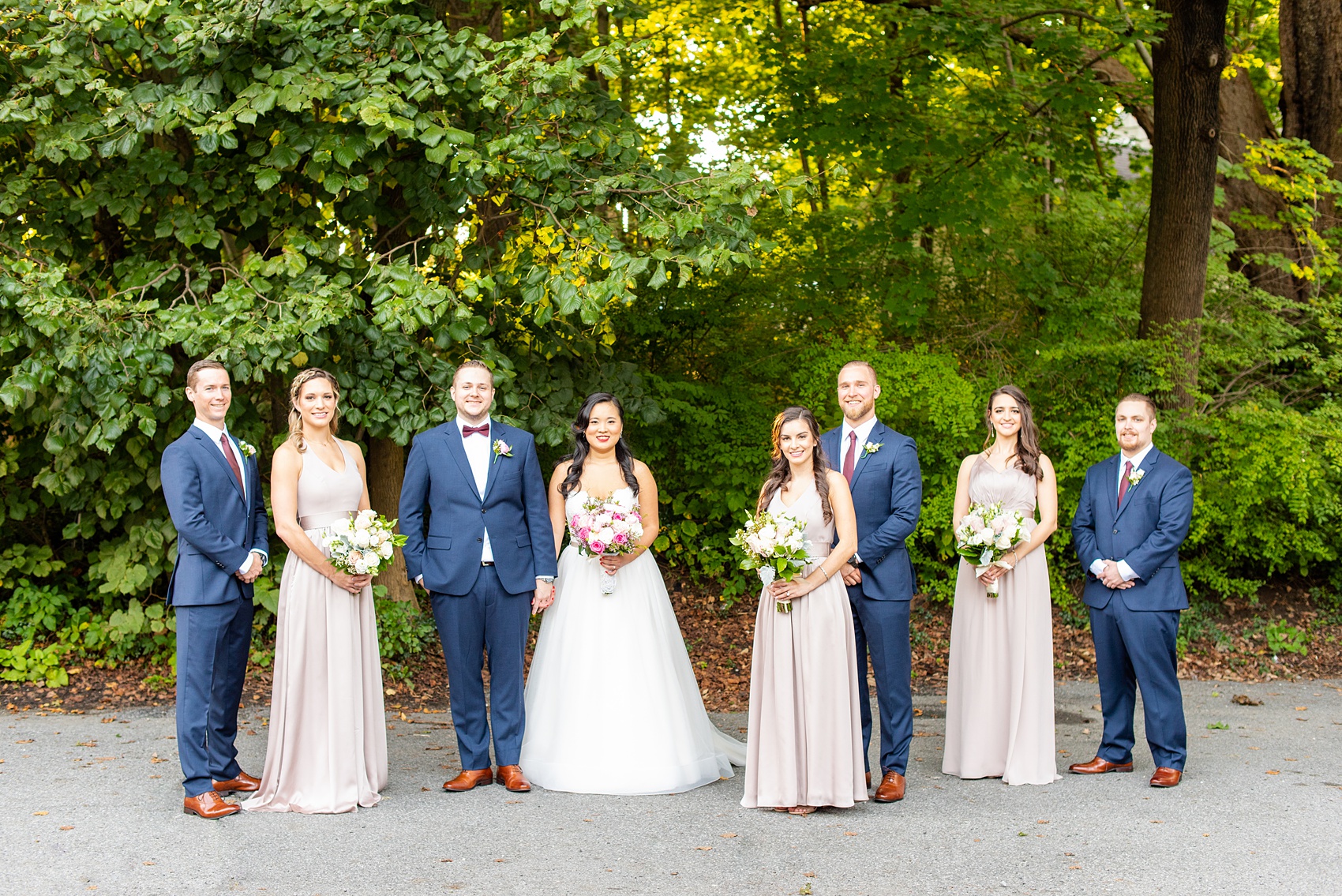 Their bridal party was the perfect size to move around the small venue quickly, capturing some amazing photos during golden hour on their fall wedding day. I loved that the men wore matching blue suits, all customized with their names embroidered inside. And ties to compliment the groom's burgundy bow tie.  Their pink sweetheart rose boutonnieres also complimented Colin's colorful ranunculus boutonniere. The bridesmaids wore two different style of a dusty rose, satin fabric gown and carried white, peach and light pink rose bouquets.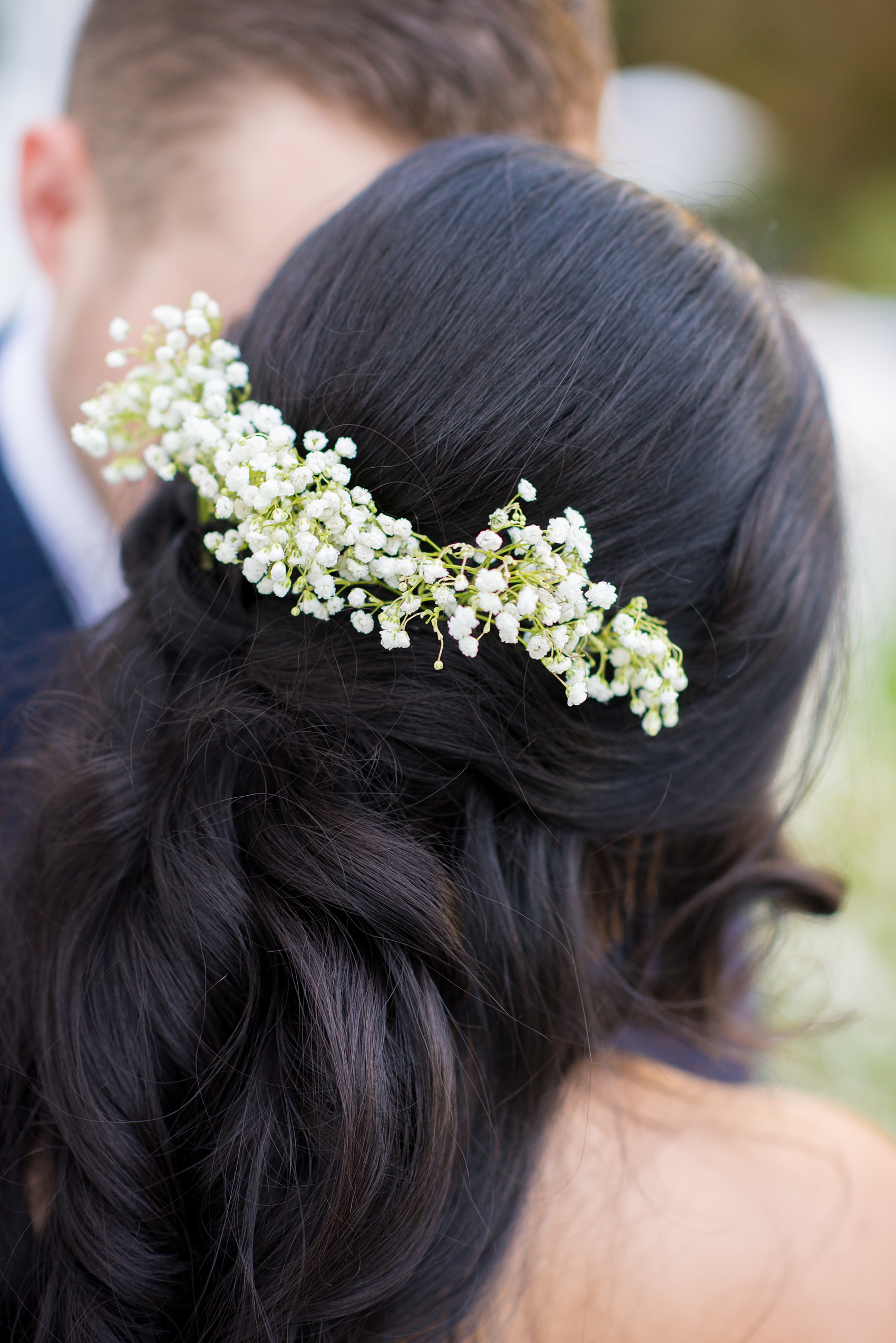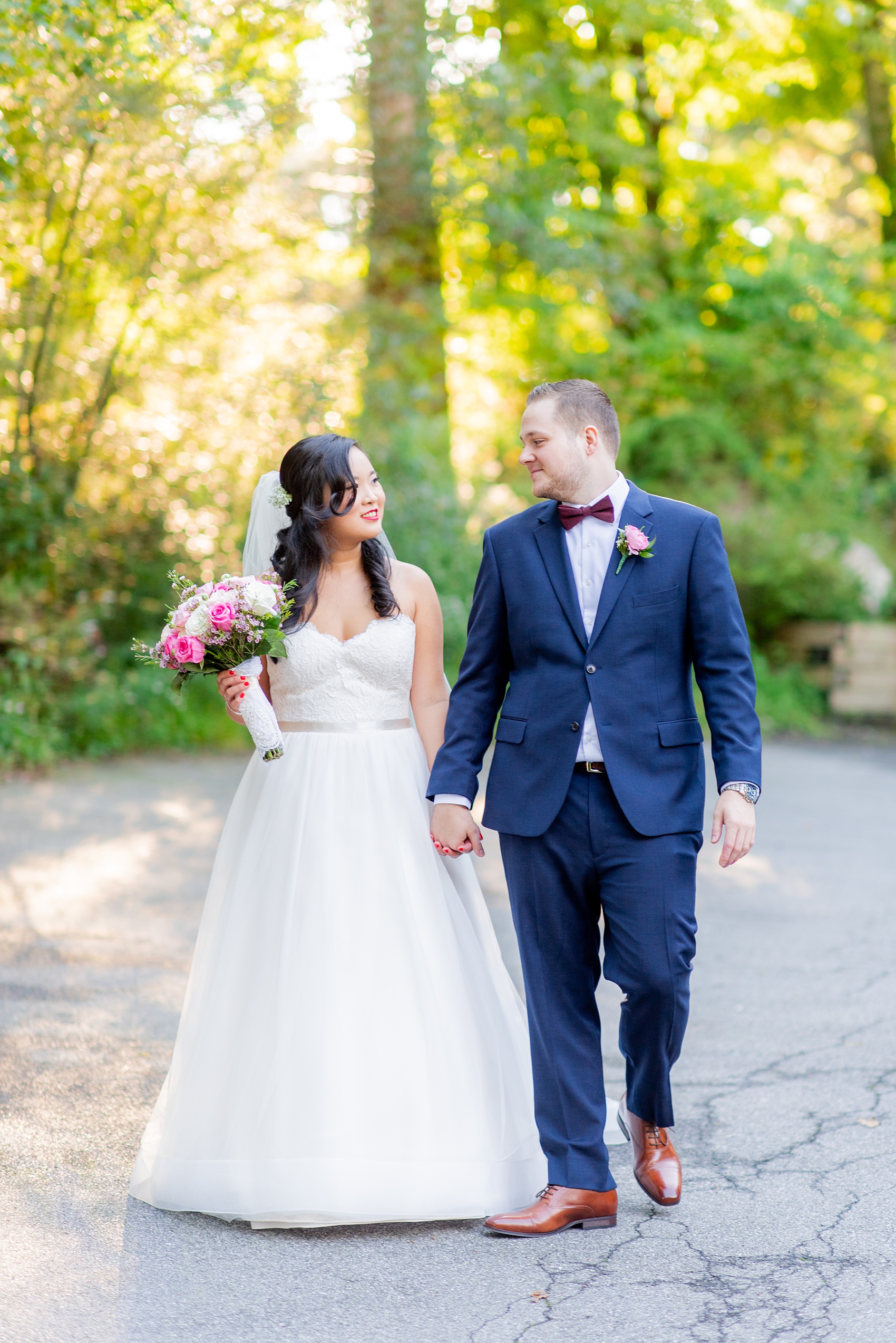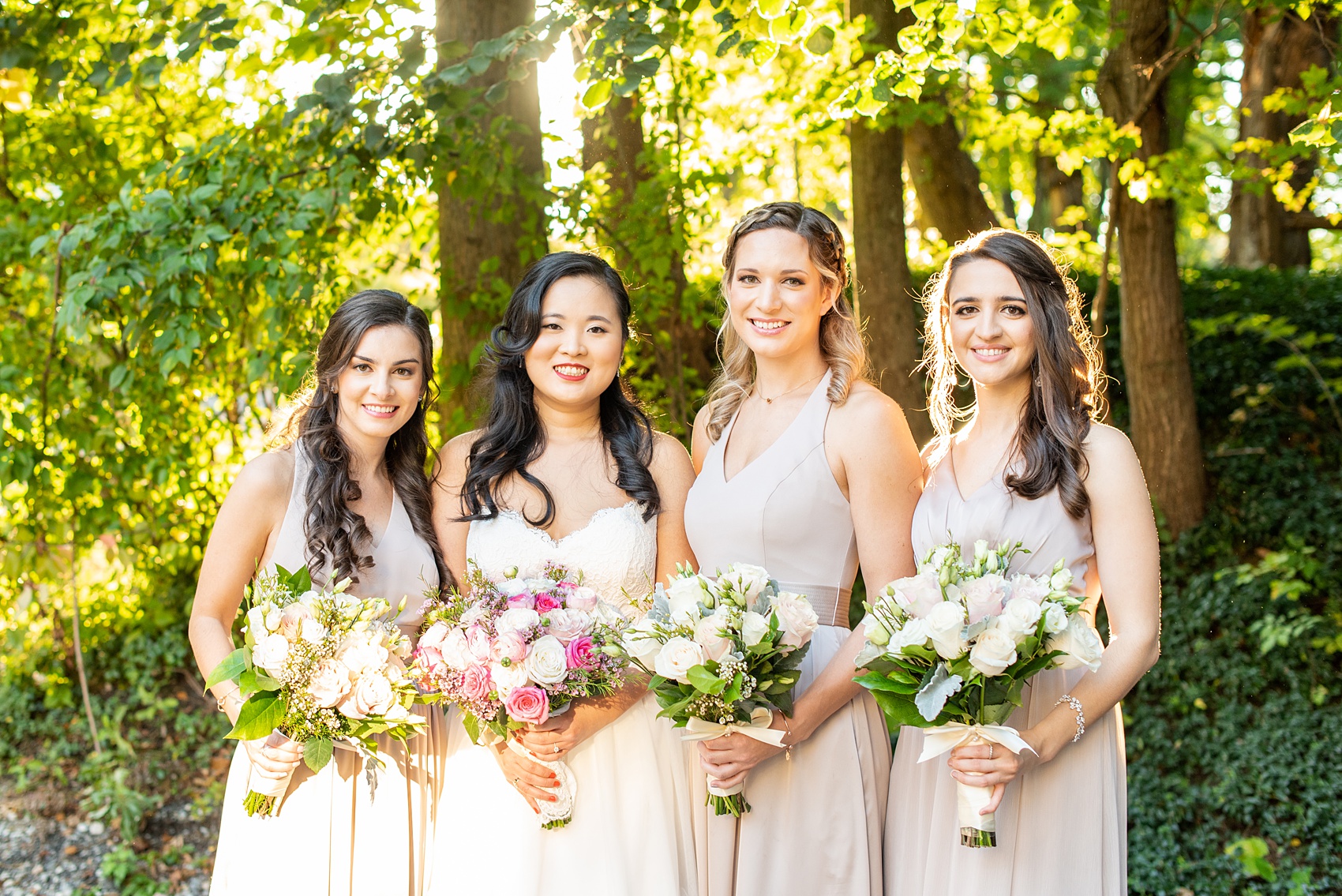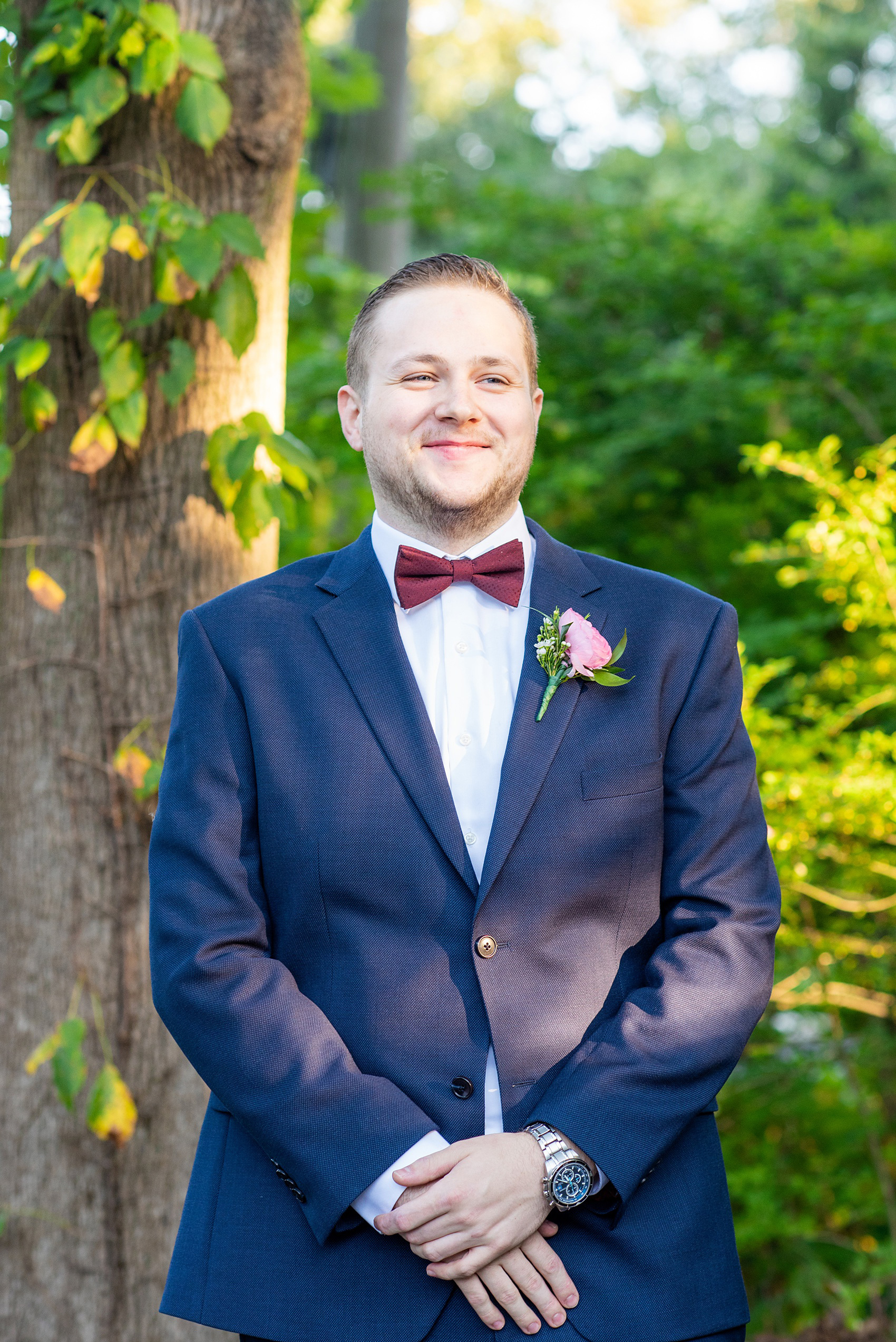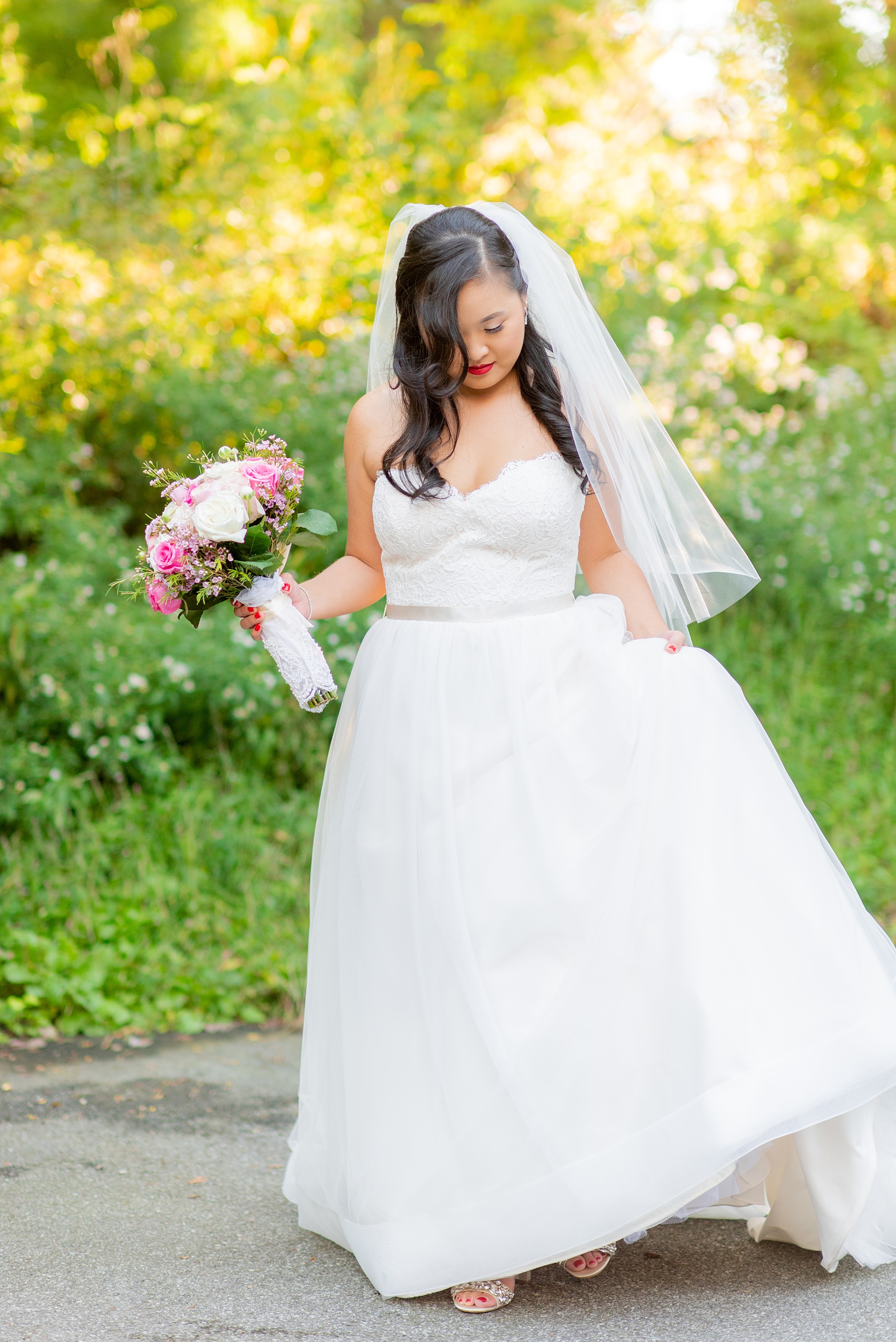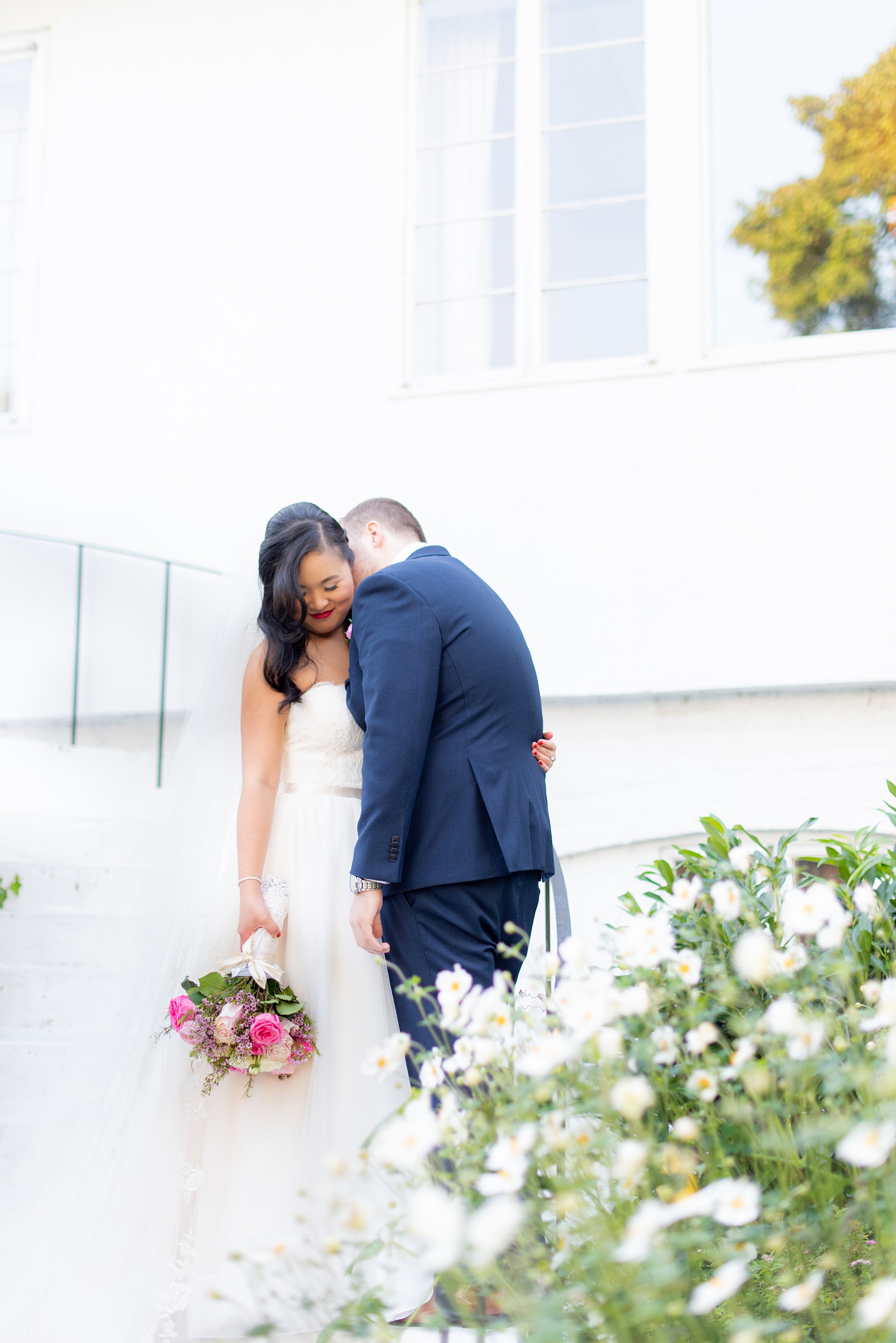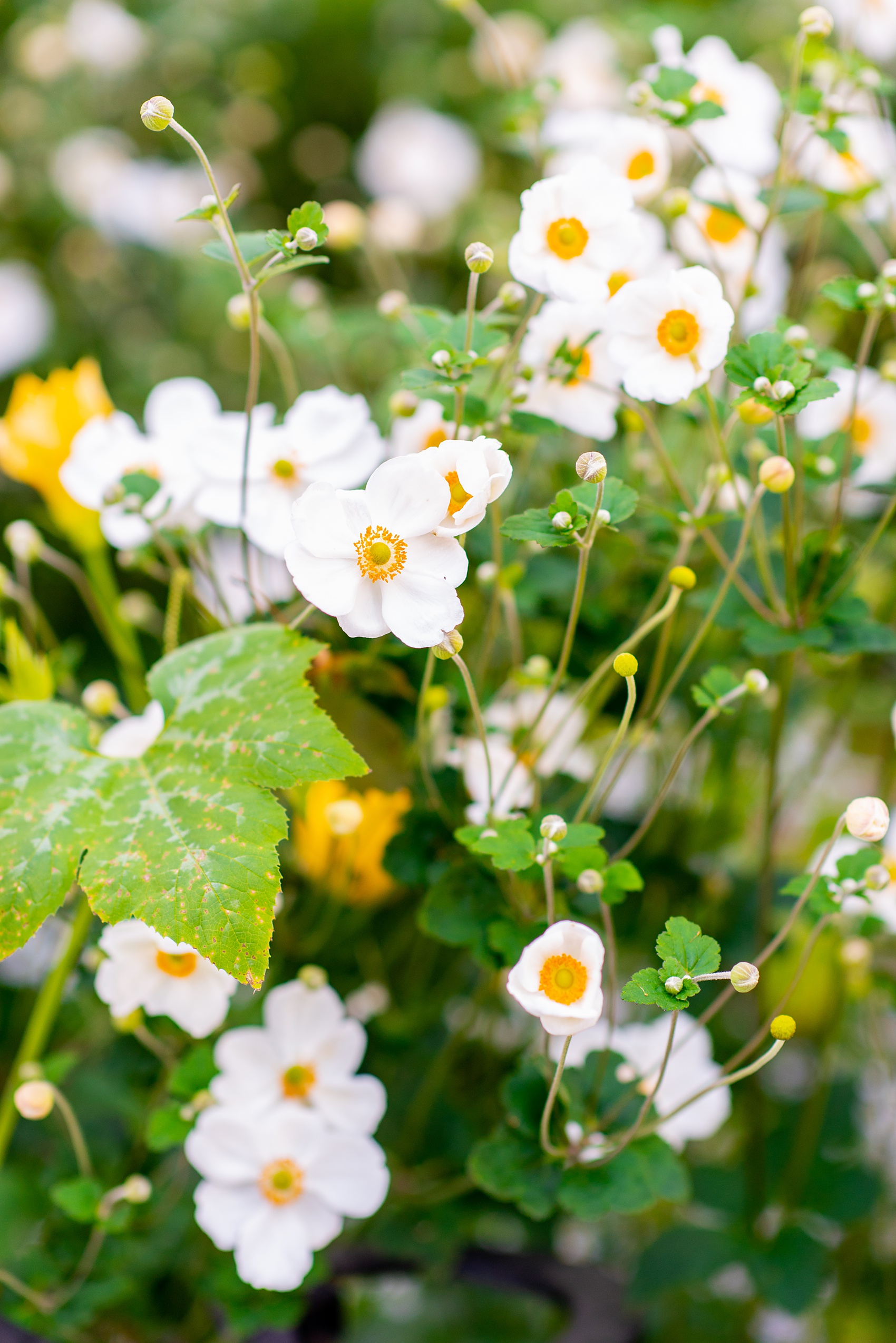 Elise chose to pull her hair half up and place sweet baby's breath in it. It looked perfect with her lace and tulle strapless gown. Another favorite detail of her wedding day style was the transparent lace back to her dress with decorative clear buttons.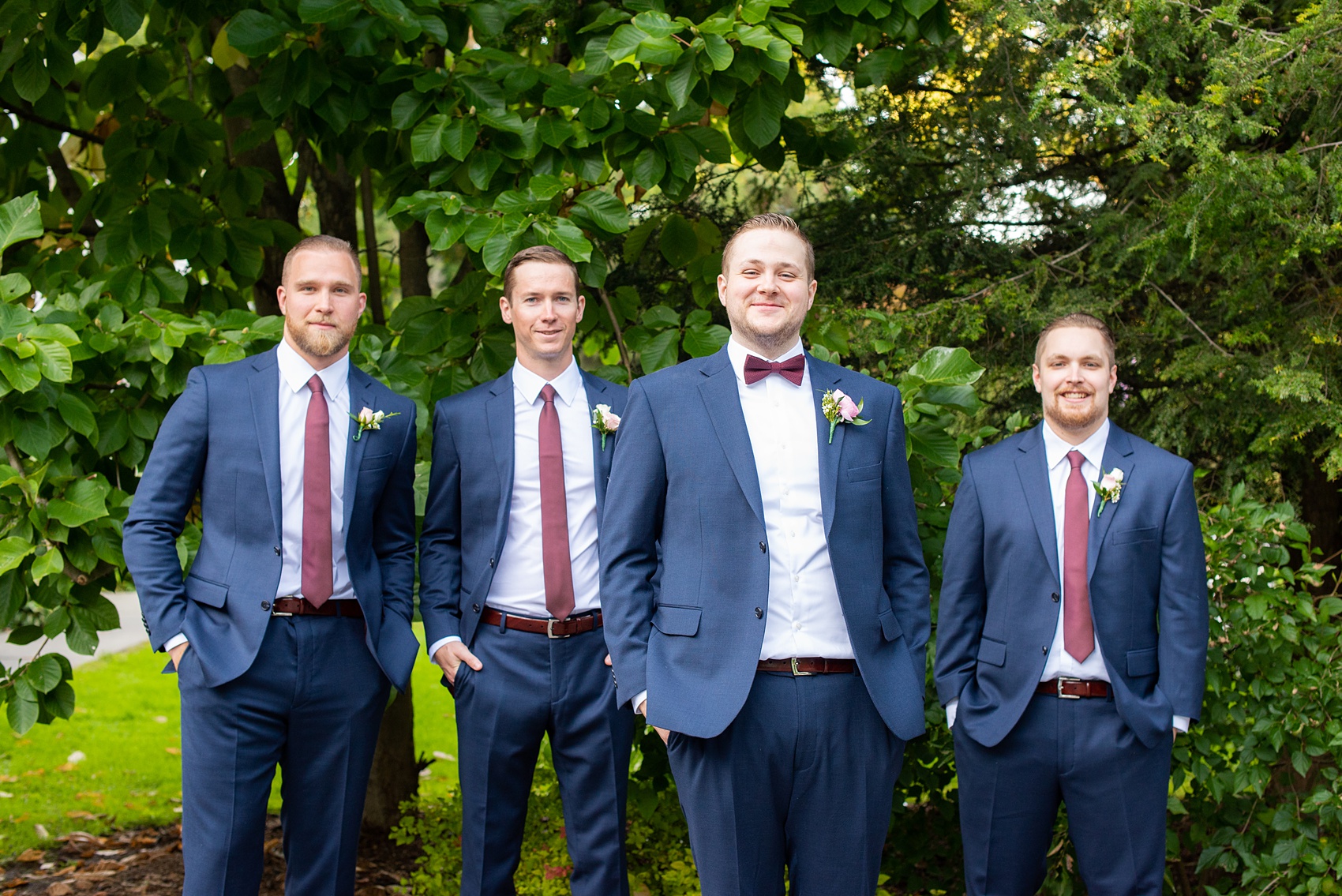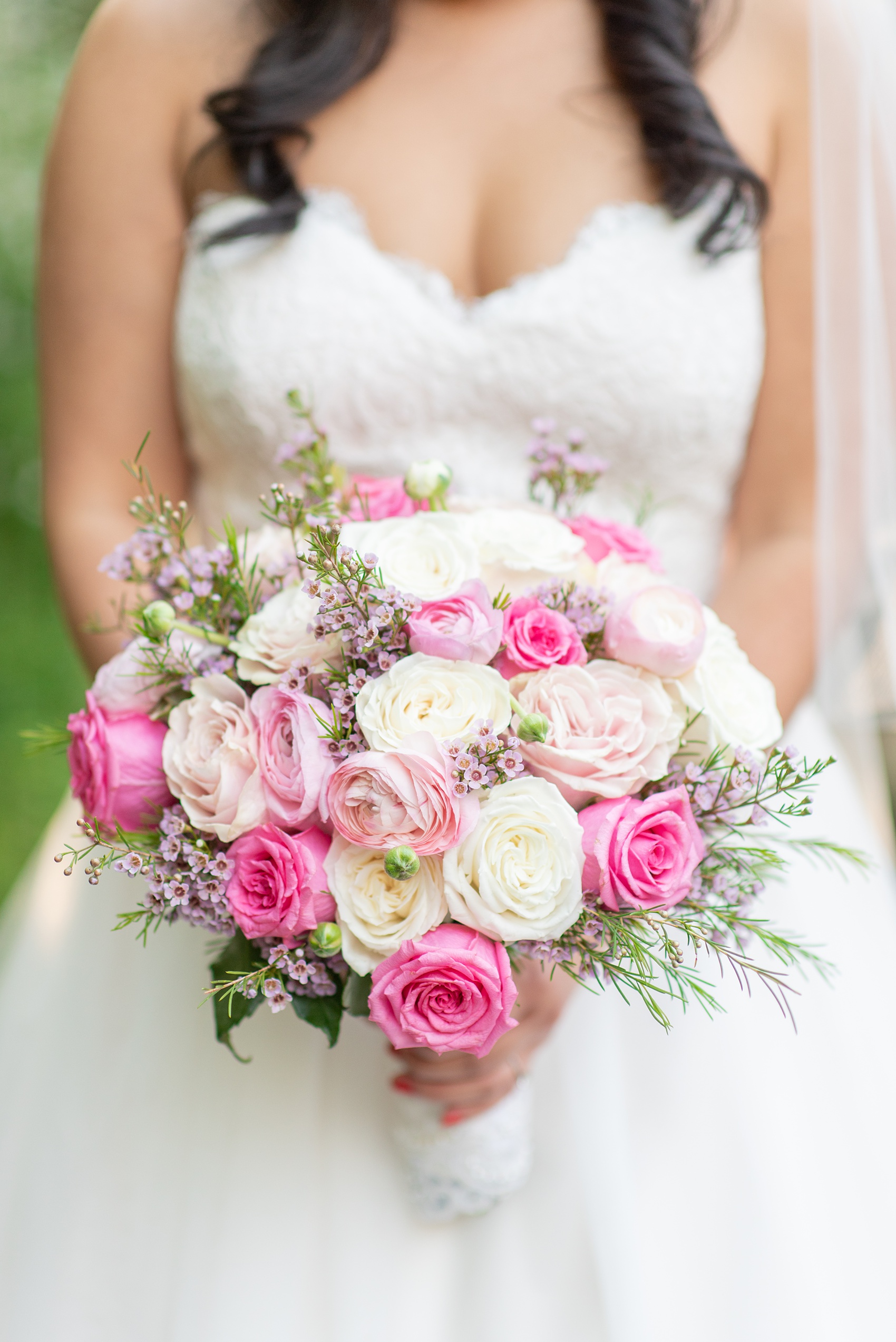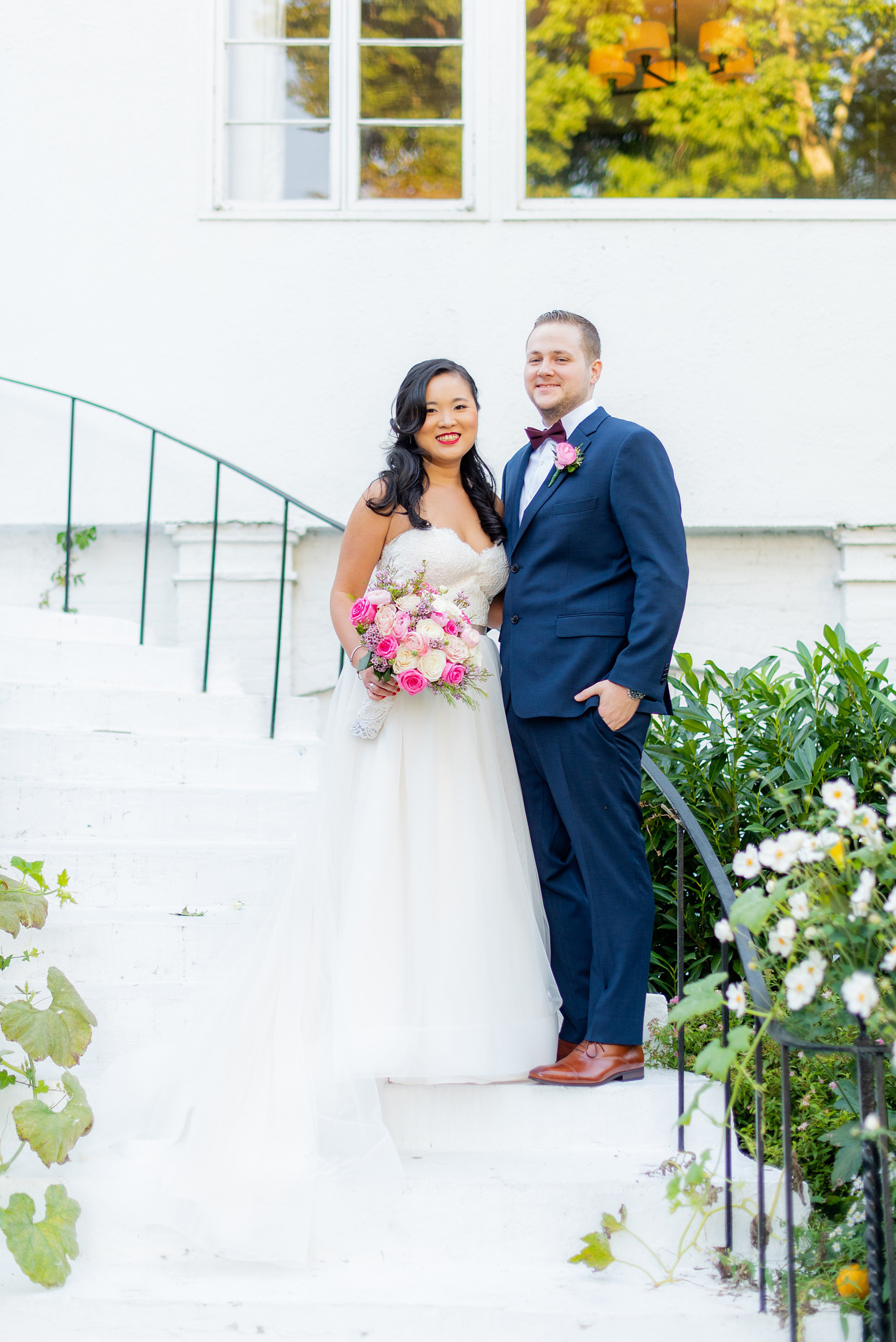 Elise carried a bouquet of roses in a variety of pinks with a hint of purple that had pink wax flowers scattered throughout. I loved her pops of color in her bouquet and with her sexy red lipstick! We moved around Crabtree's Kittle House being sure to hit gorgeous locations including the sweeping white staircase in the back of the house. The same staircase Elise would walk down just under an hour later to meet her groom for their vows.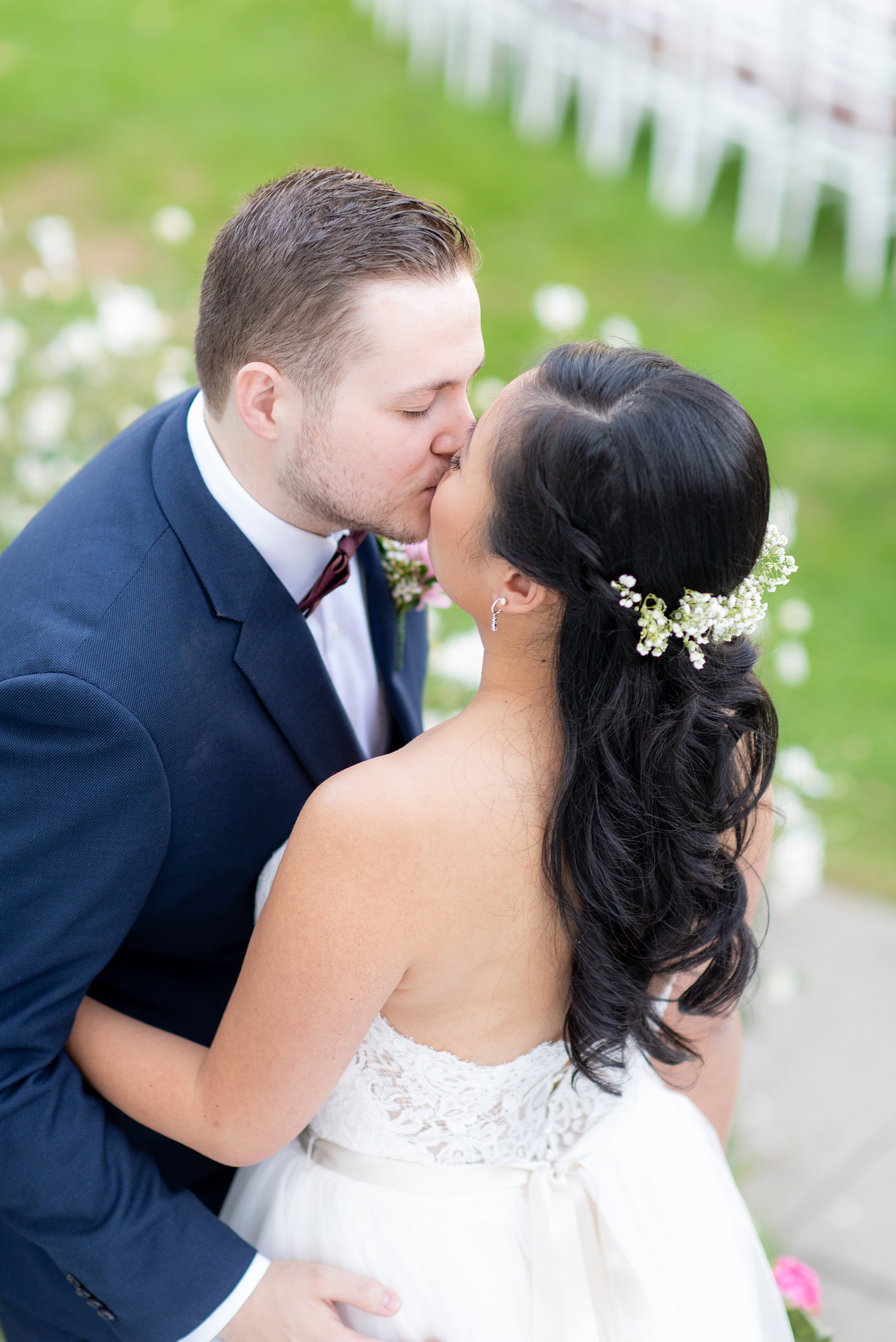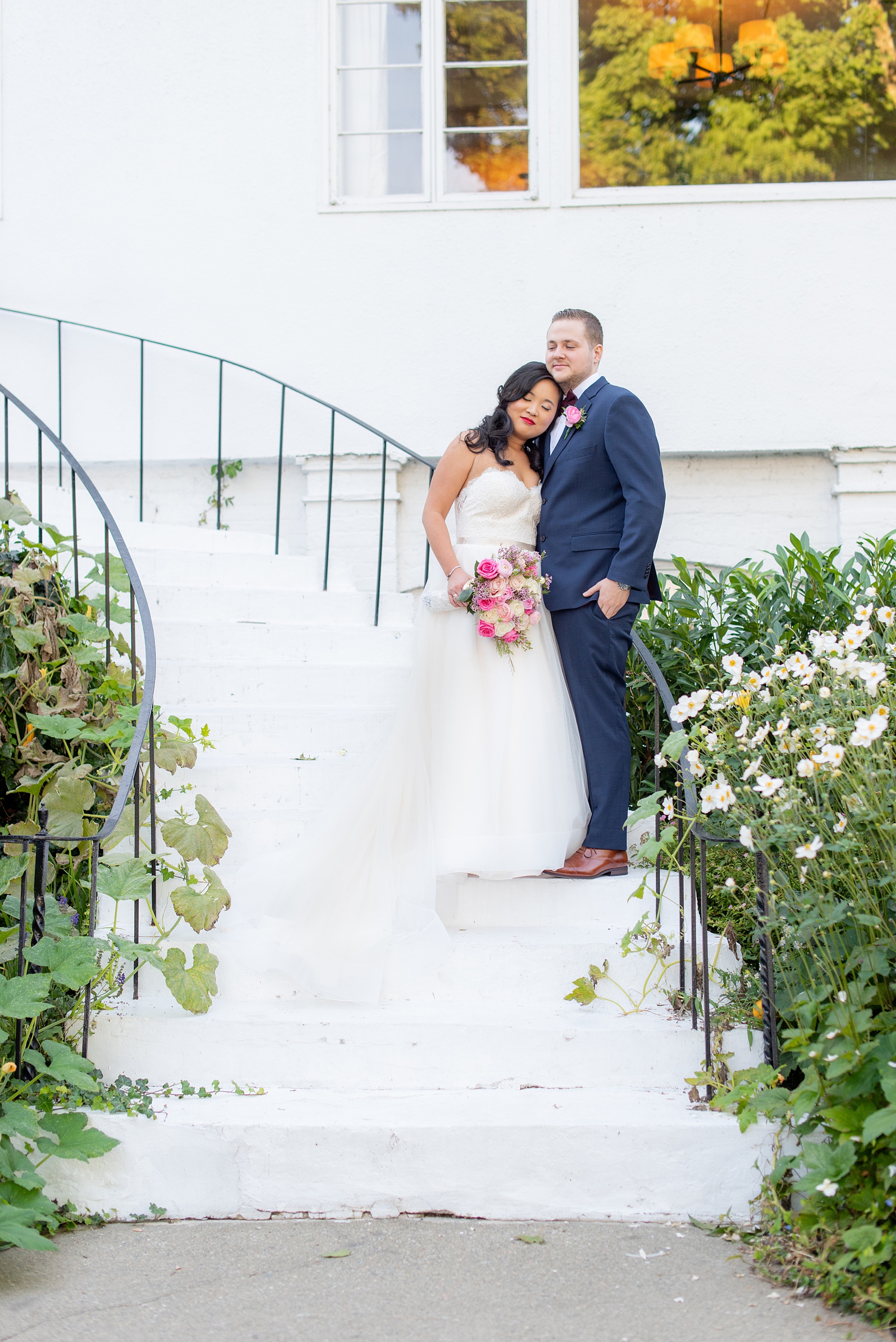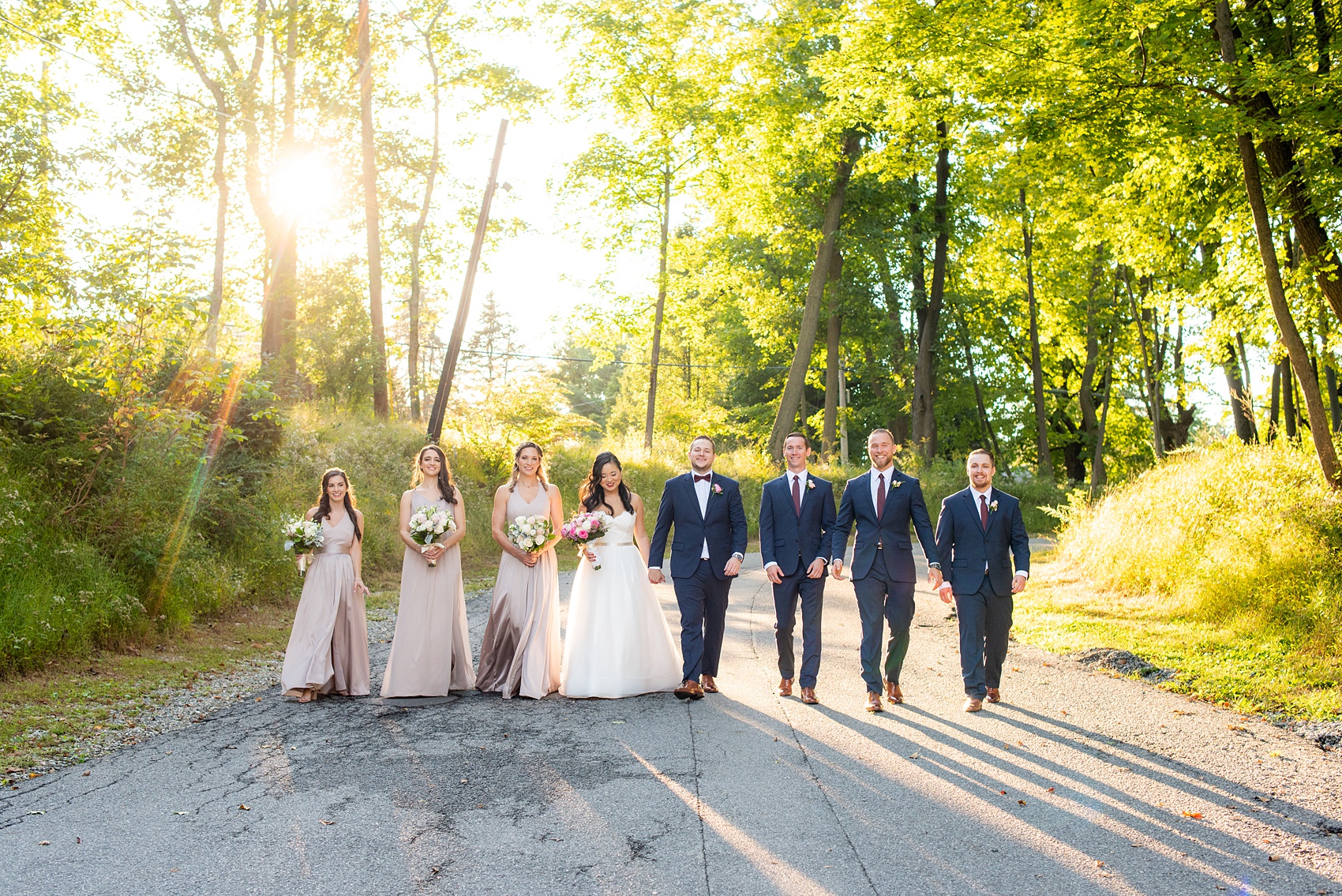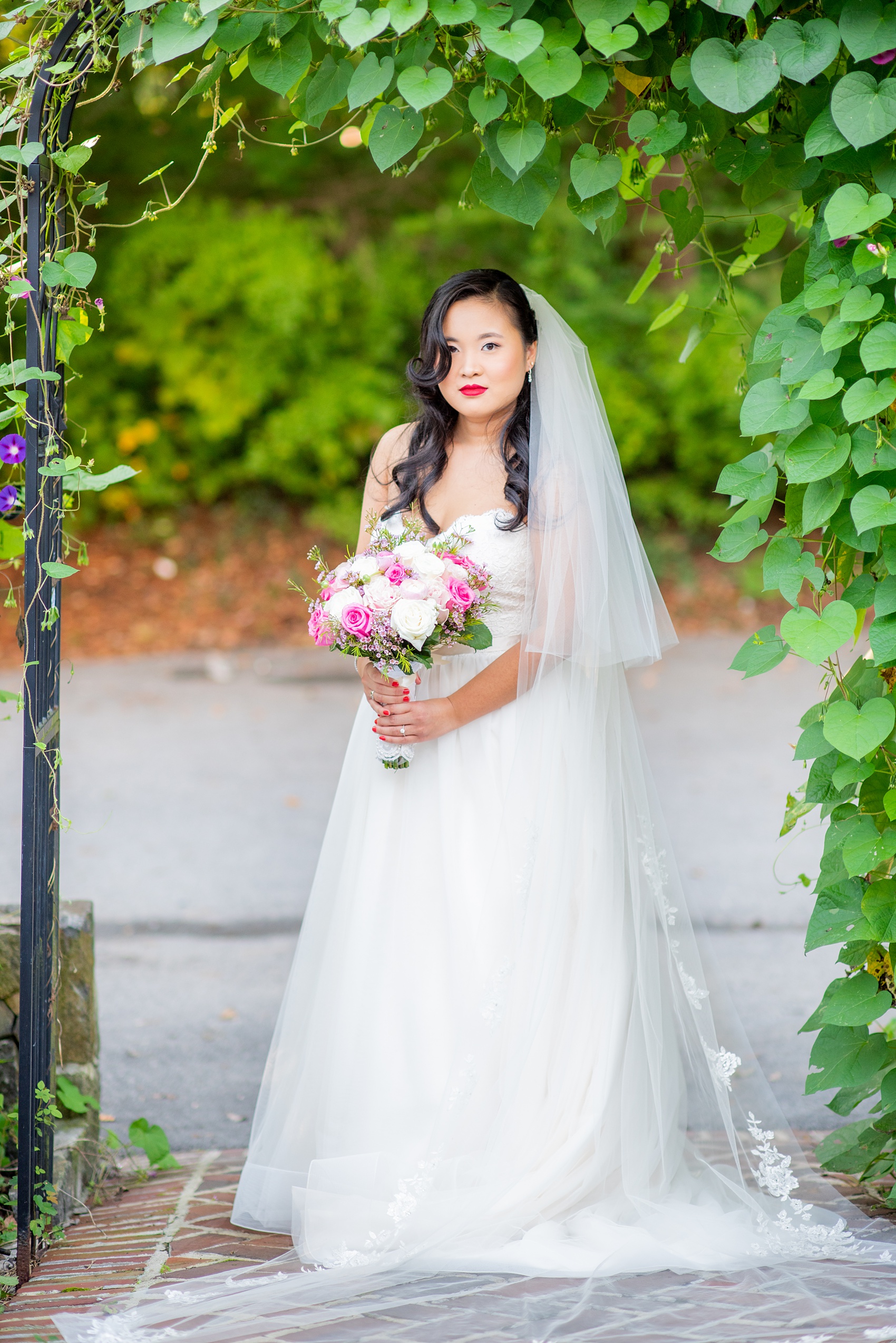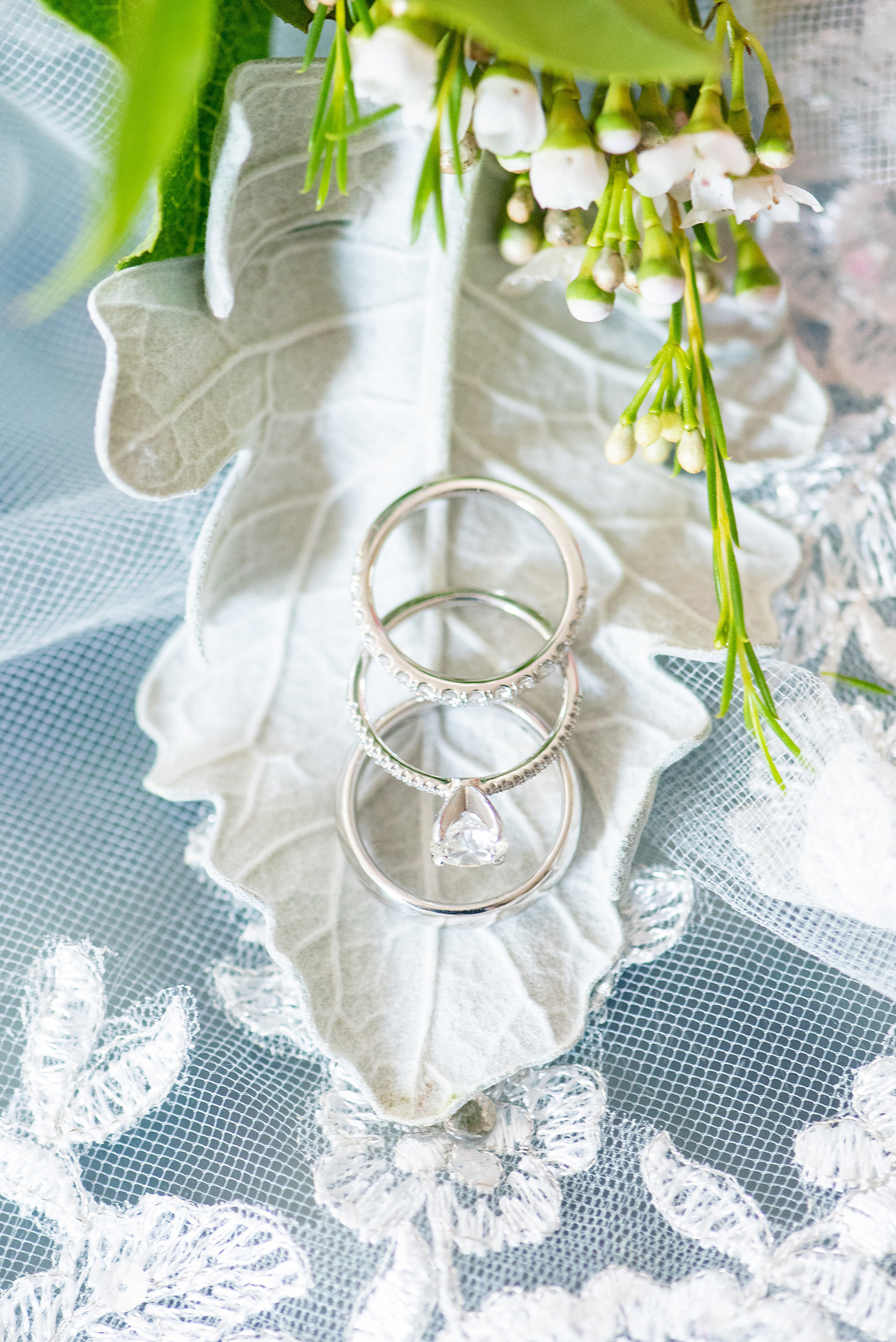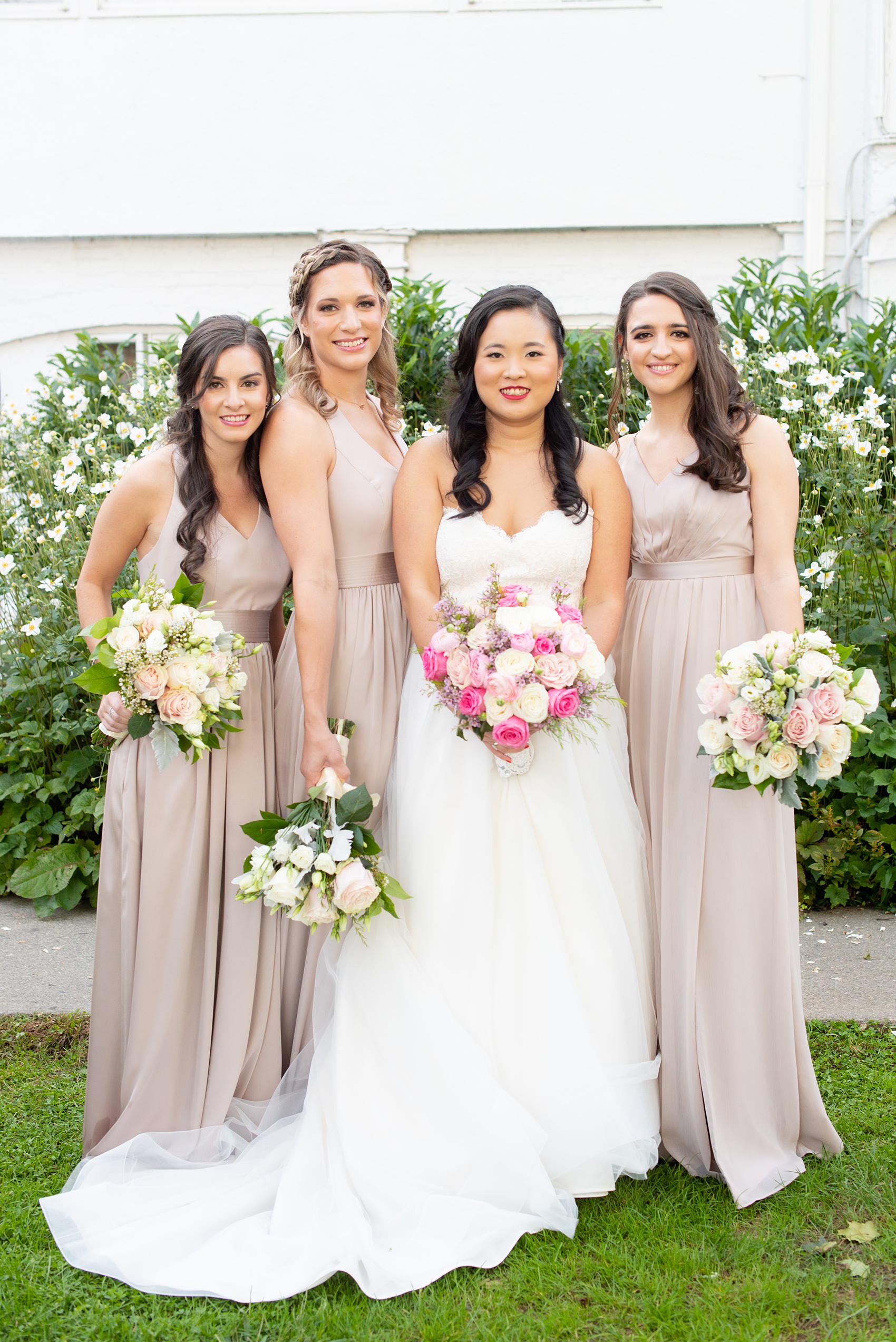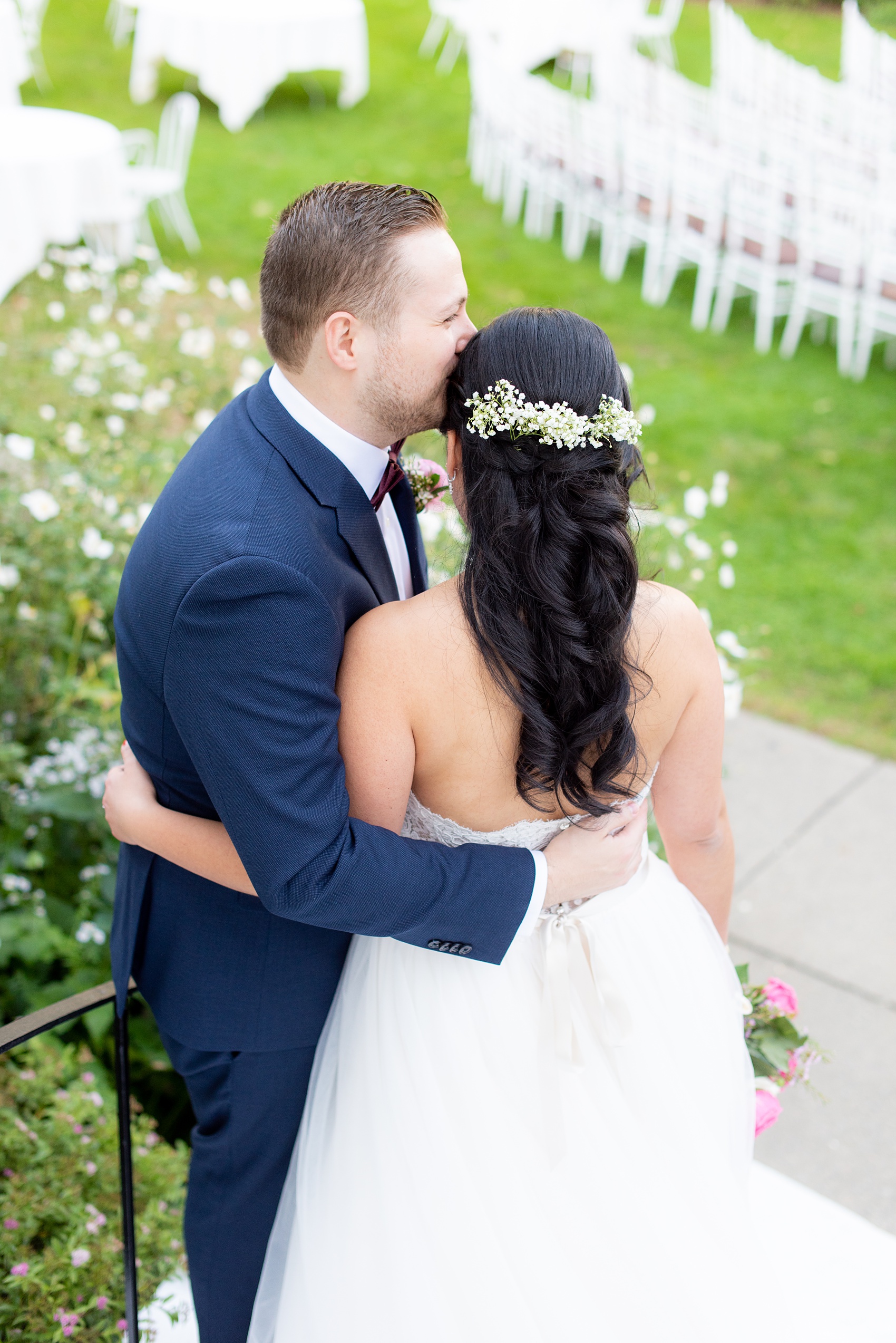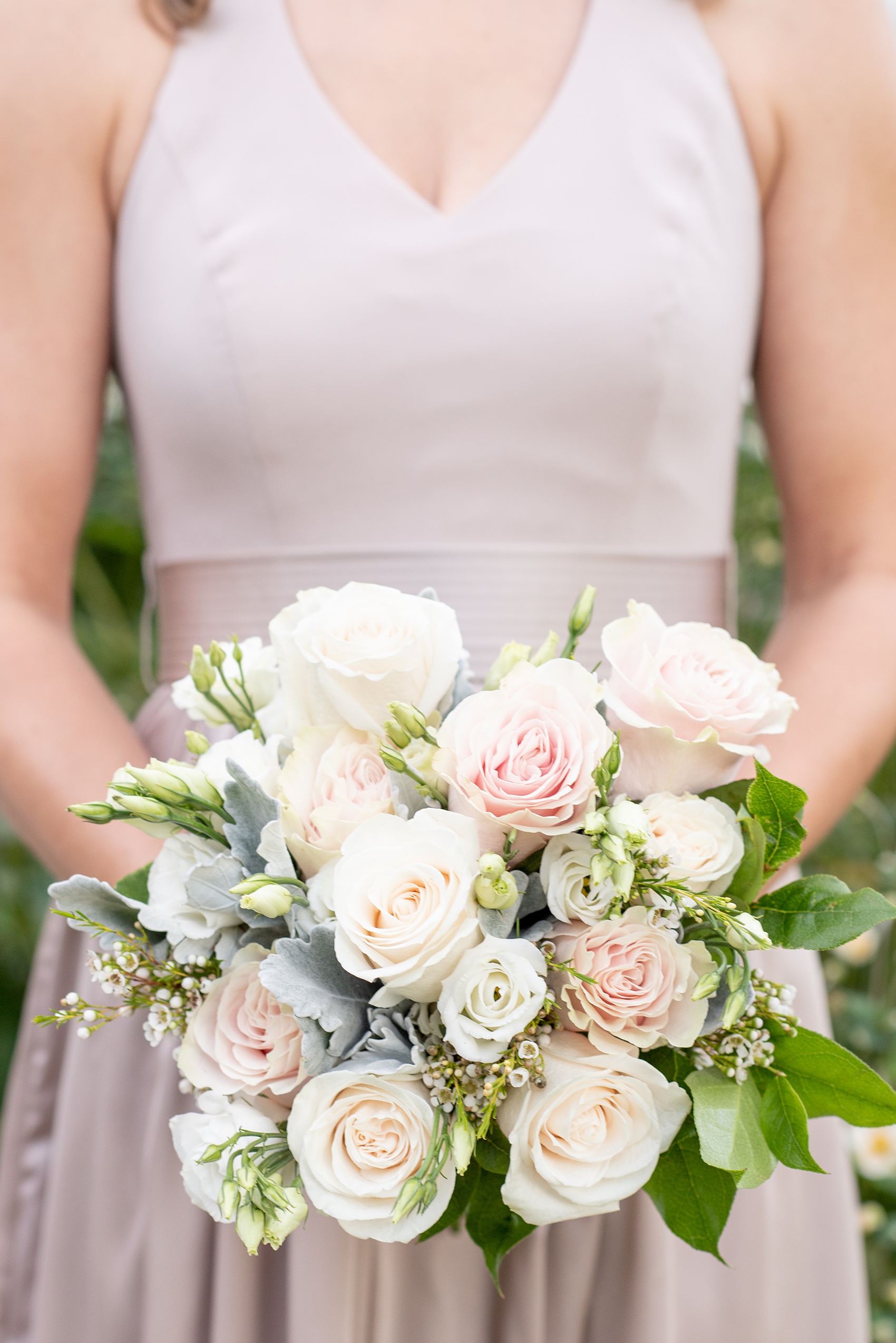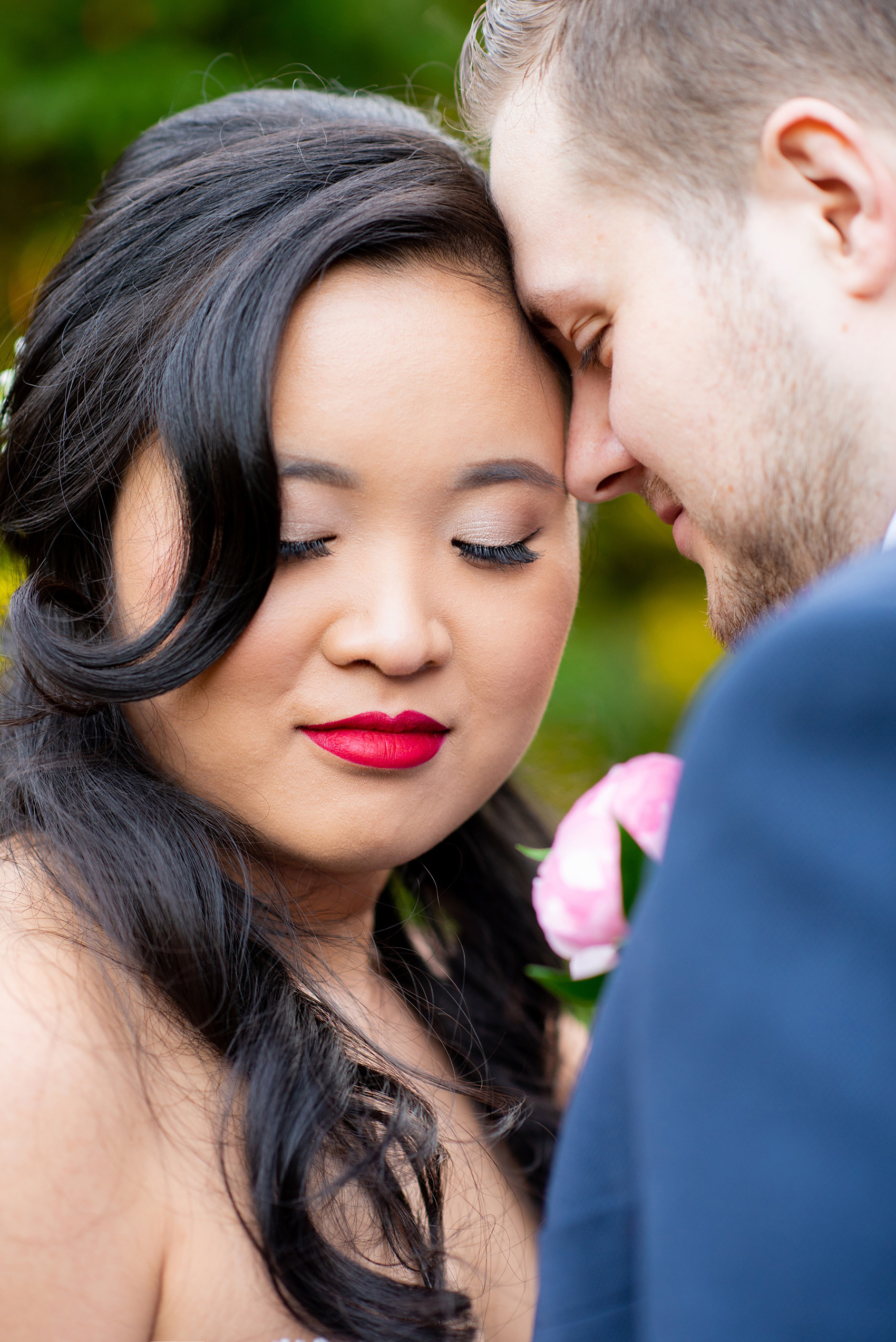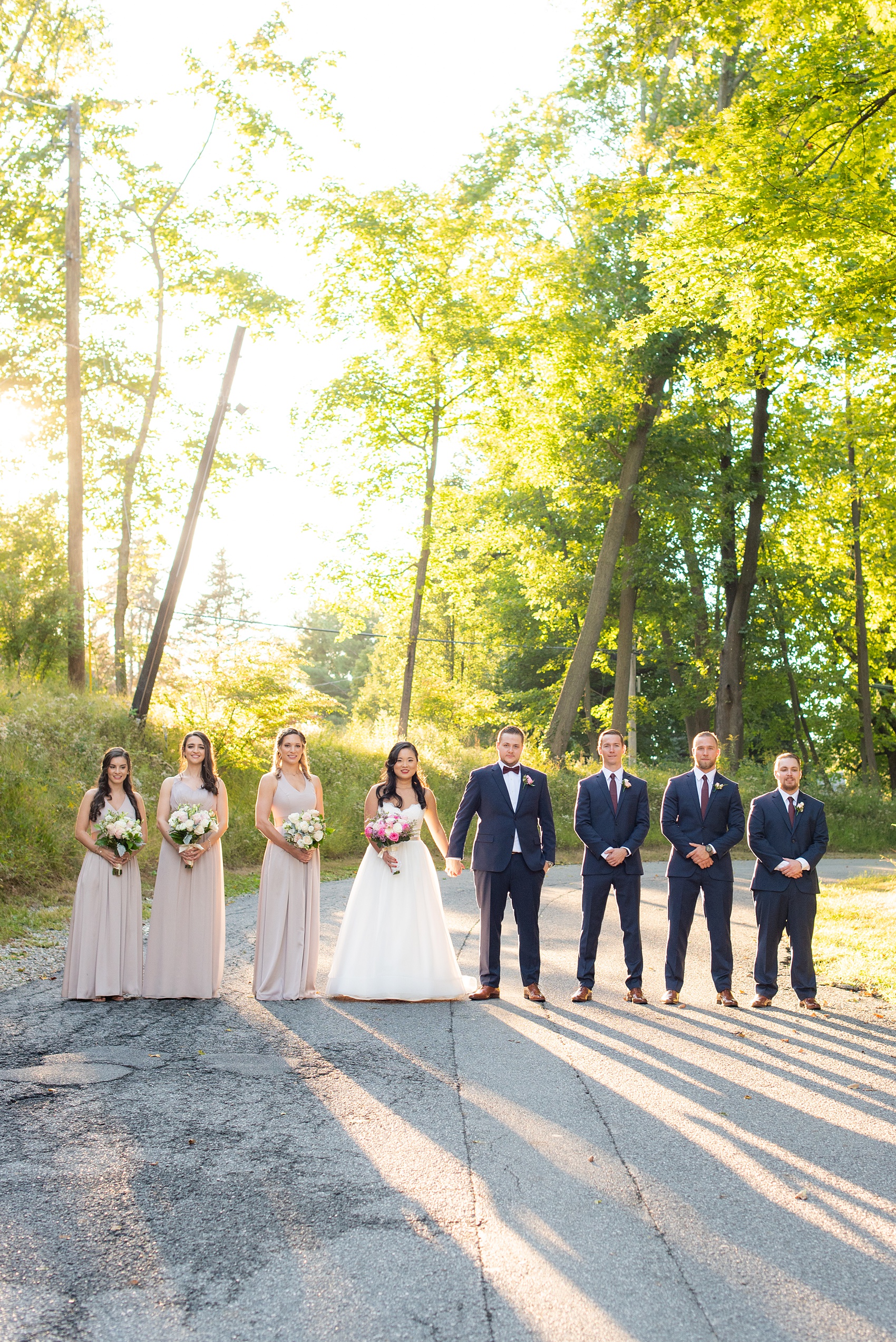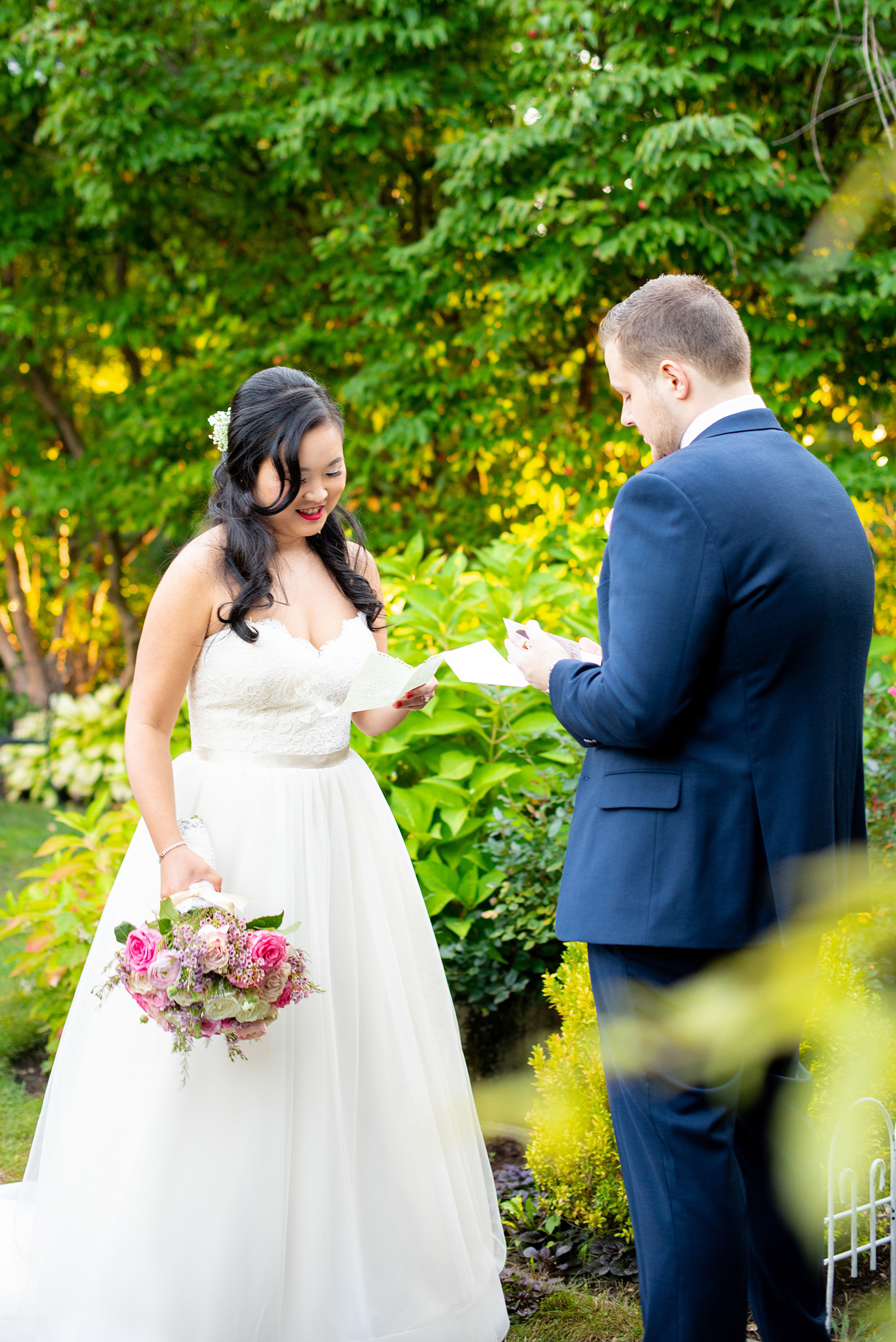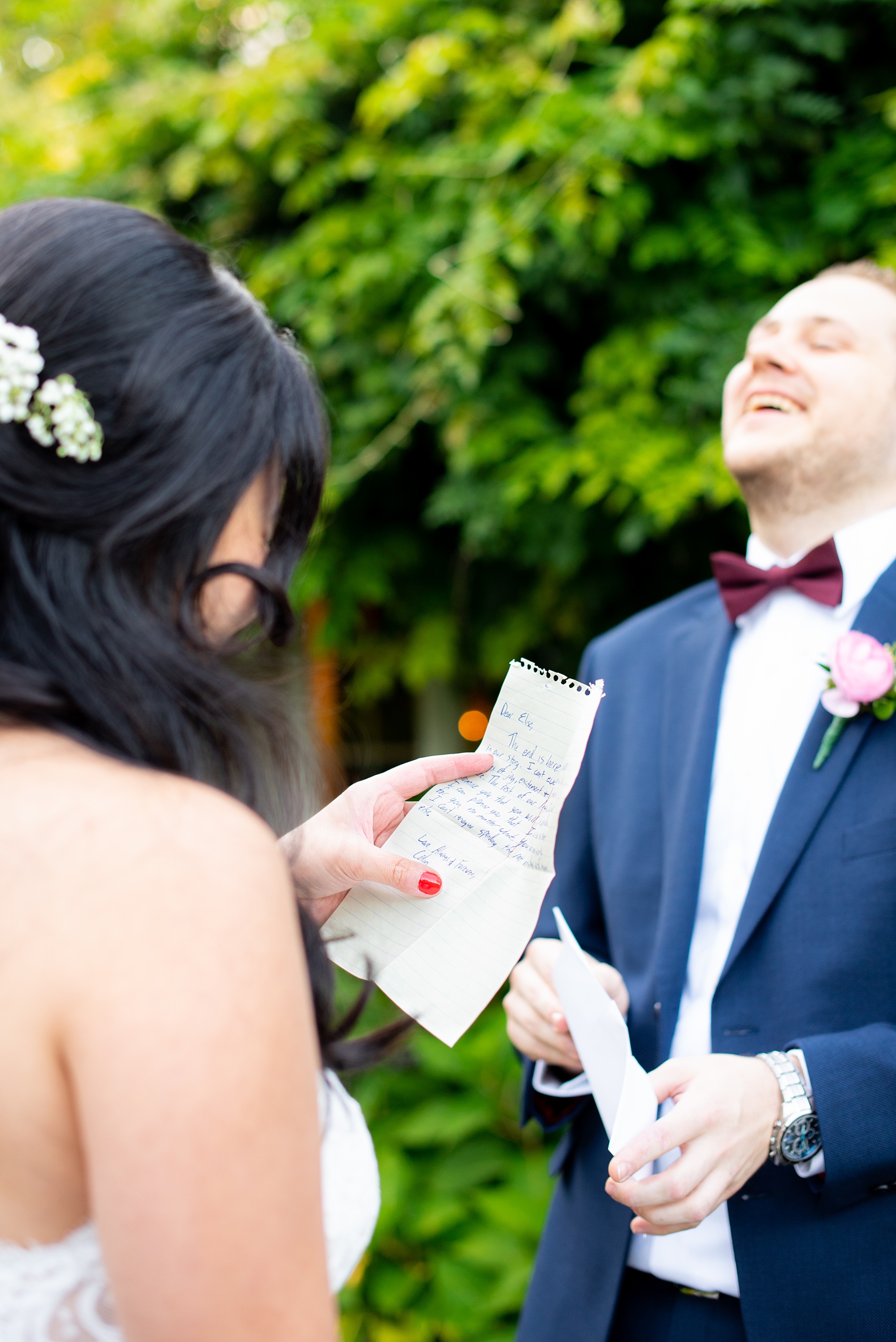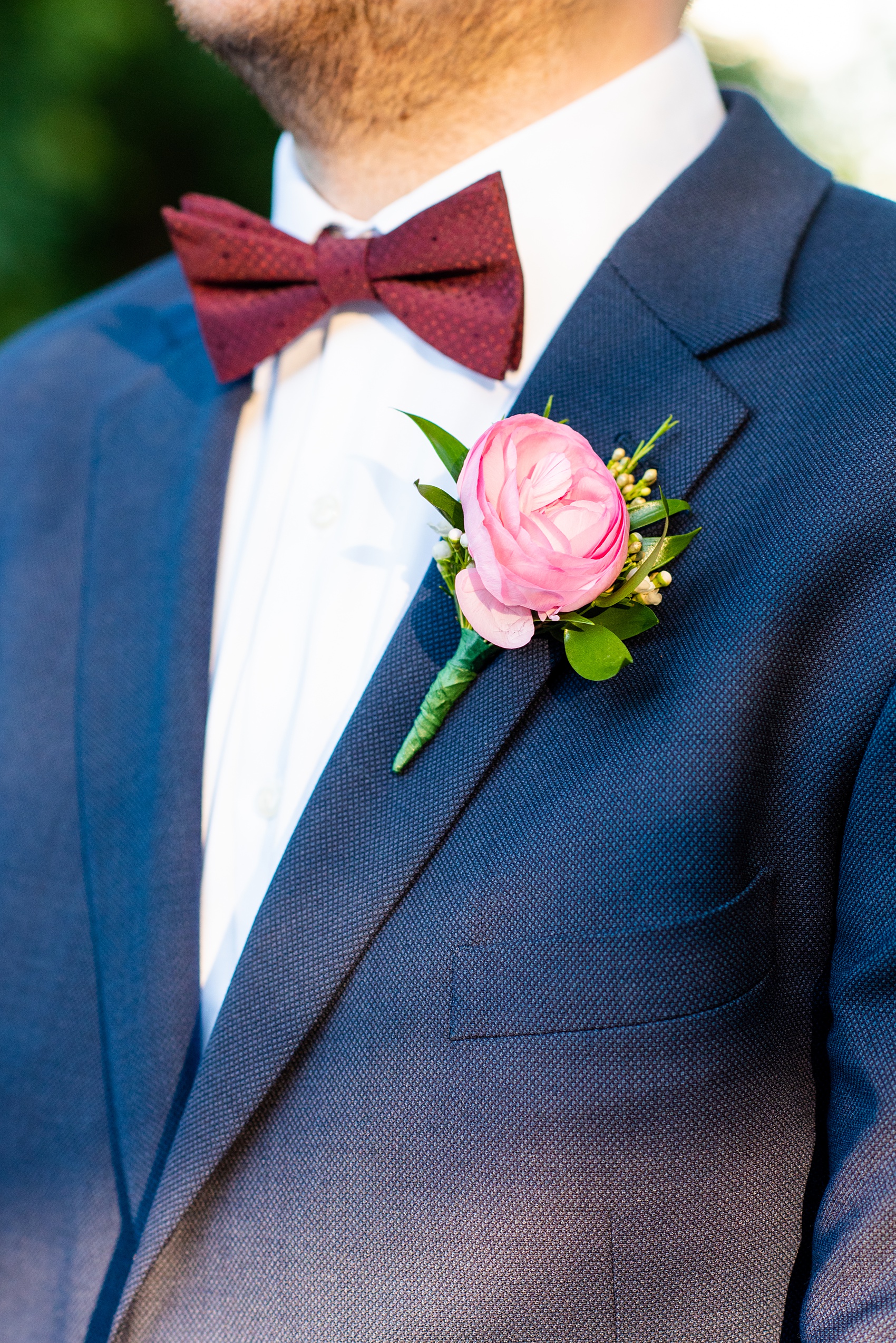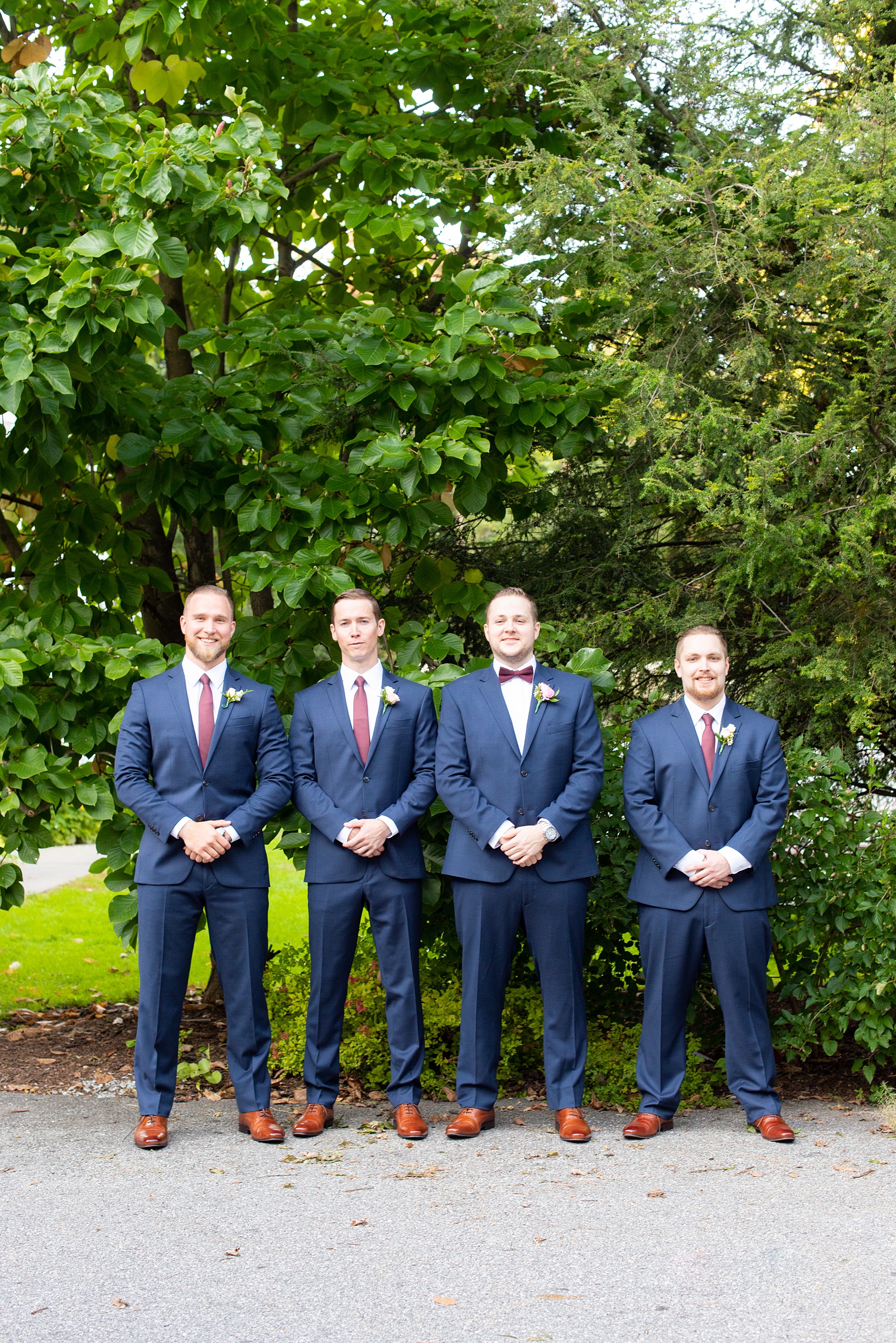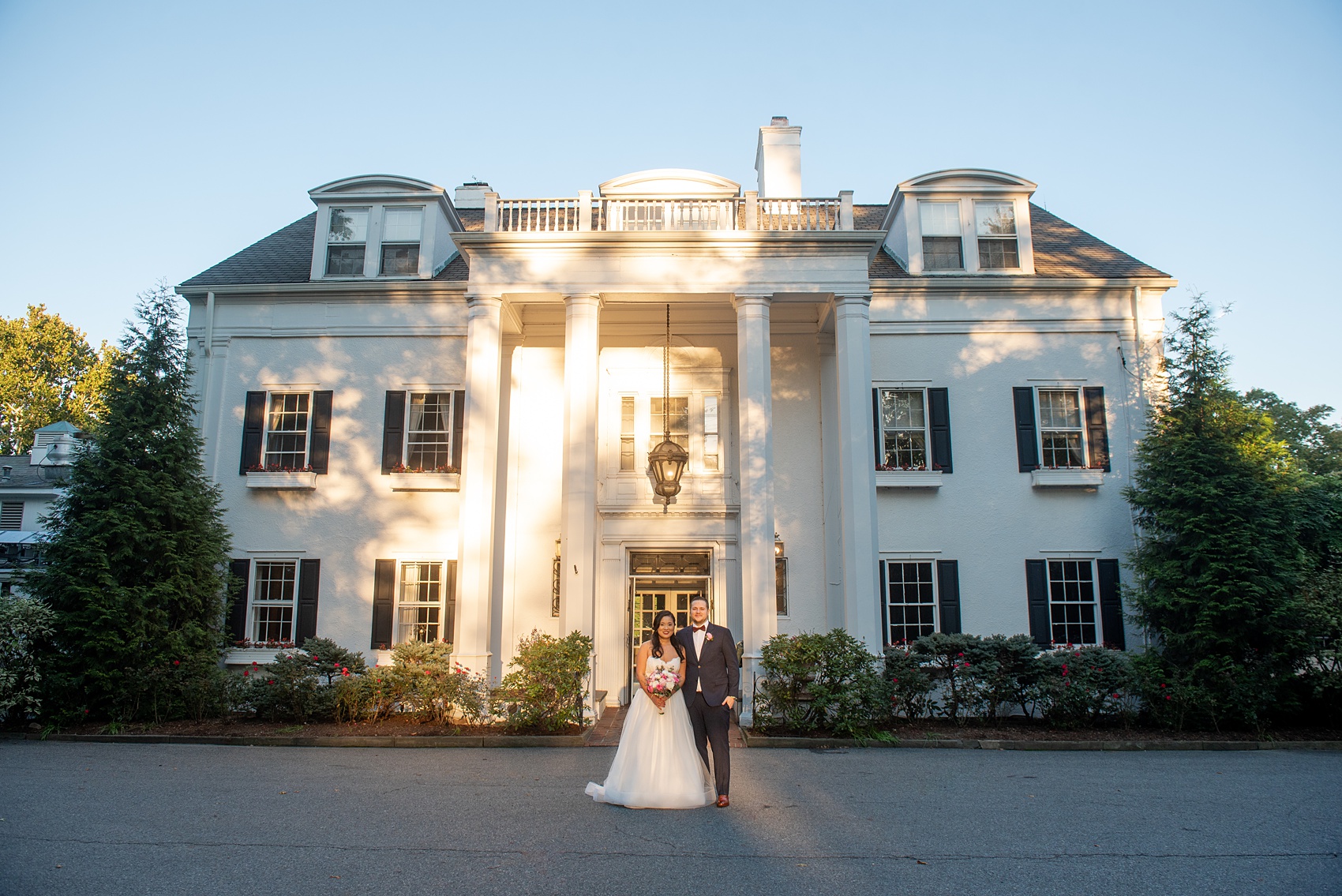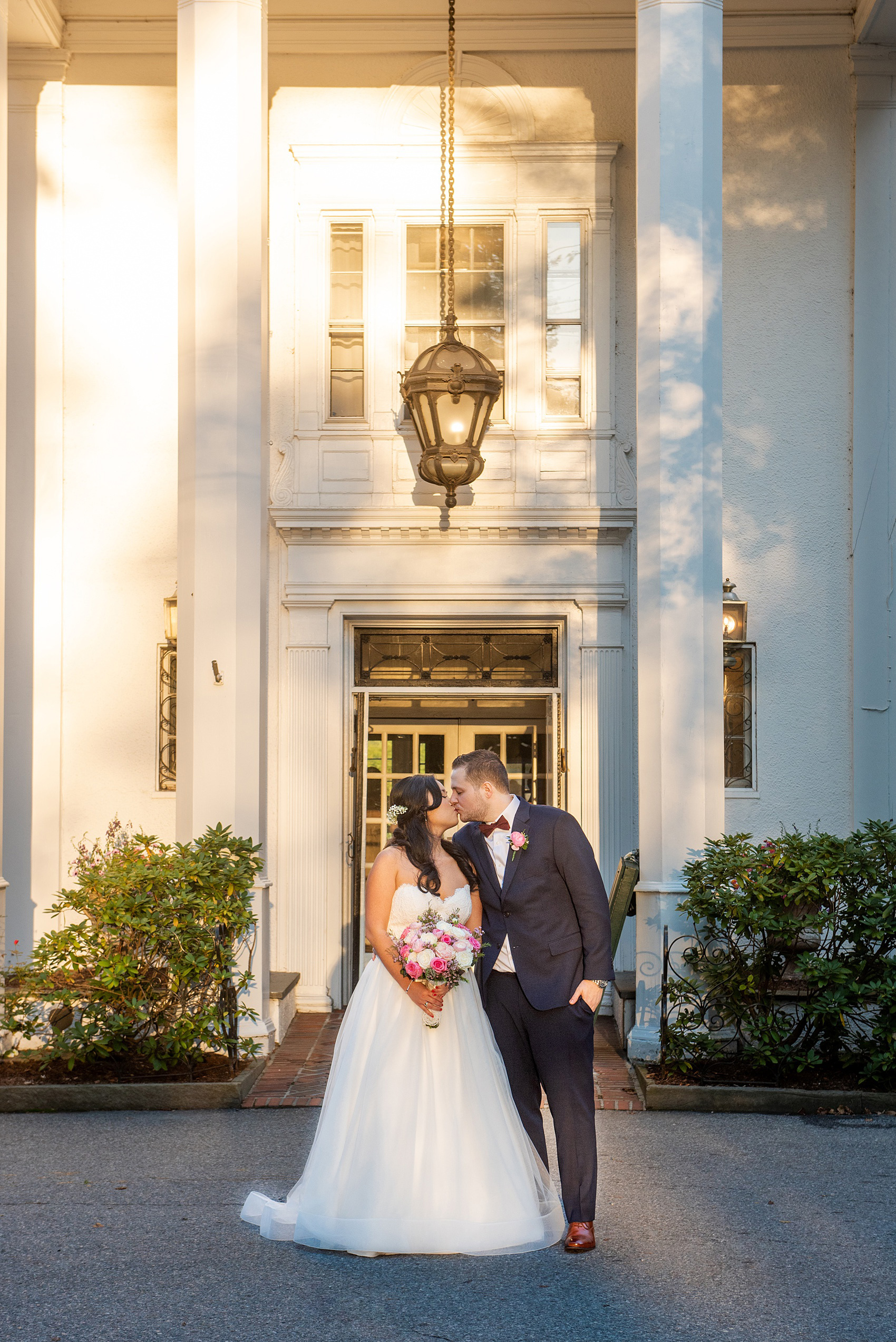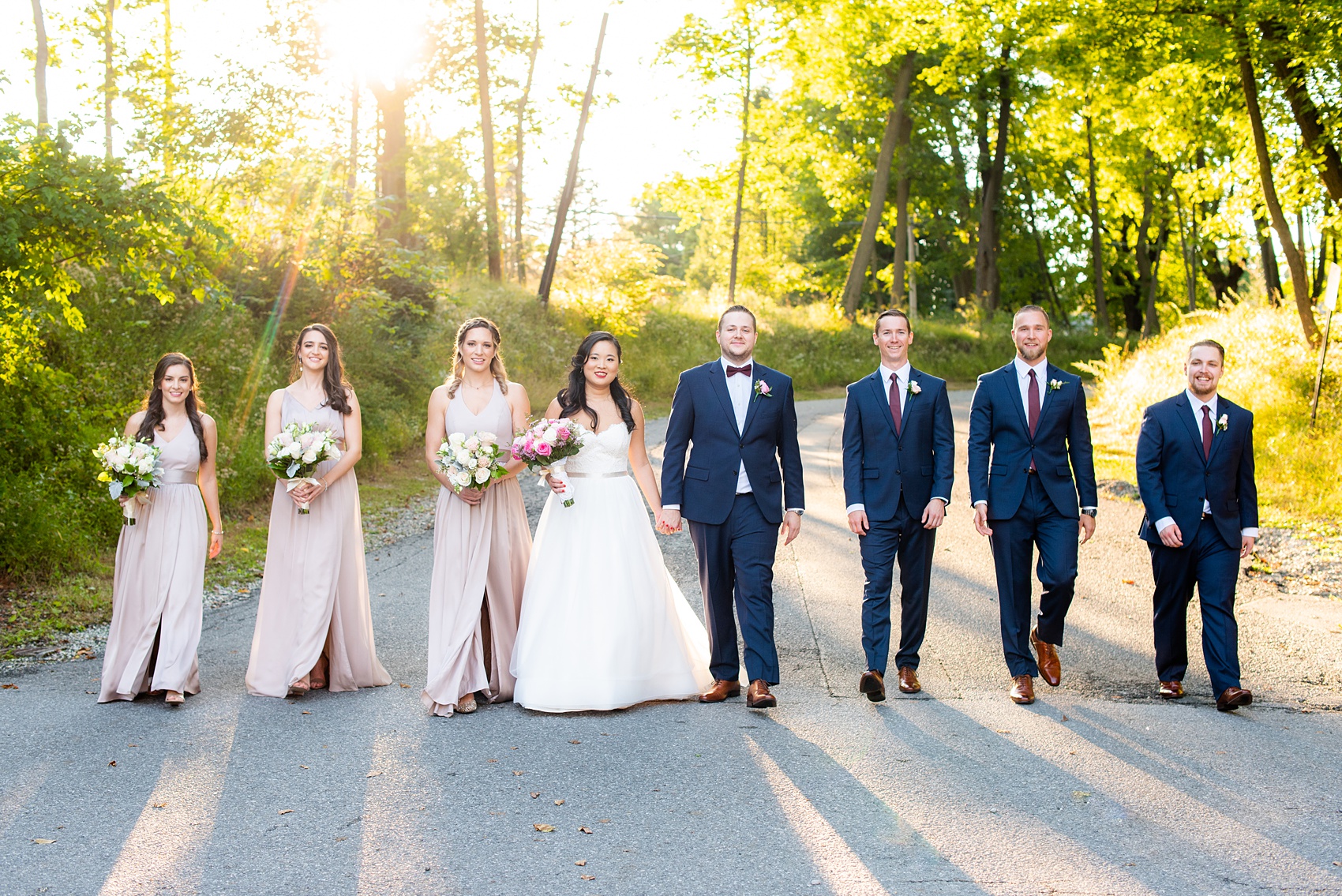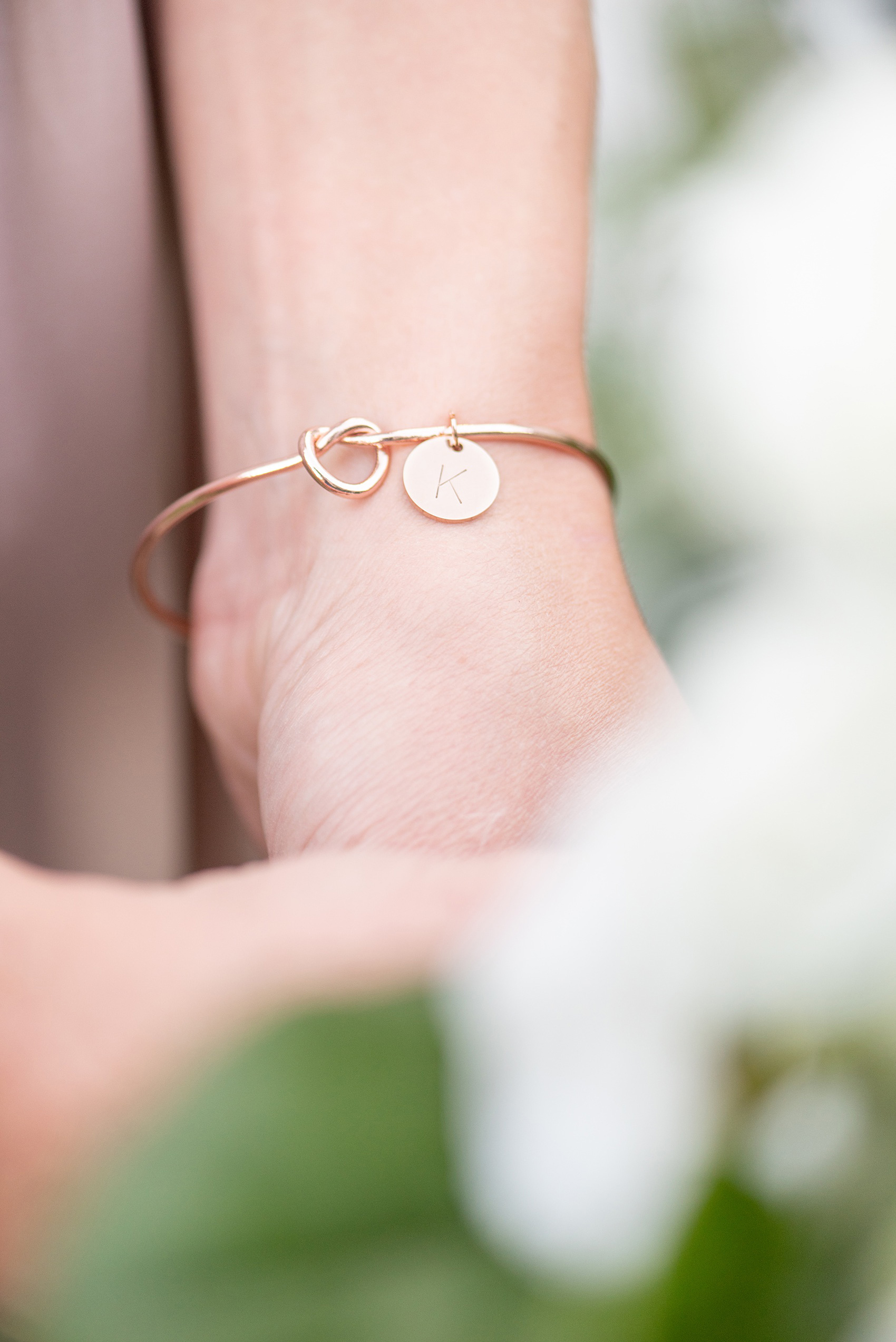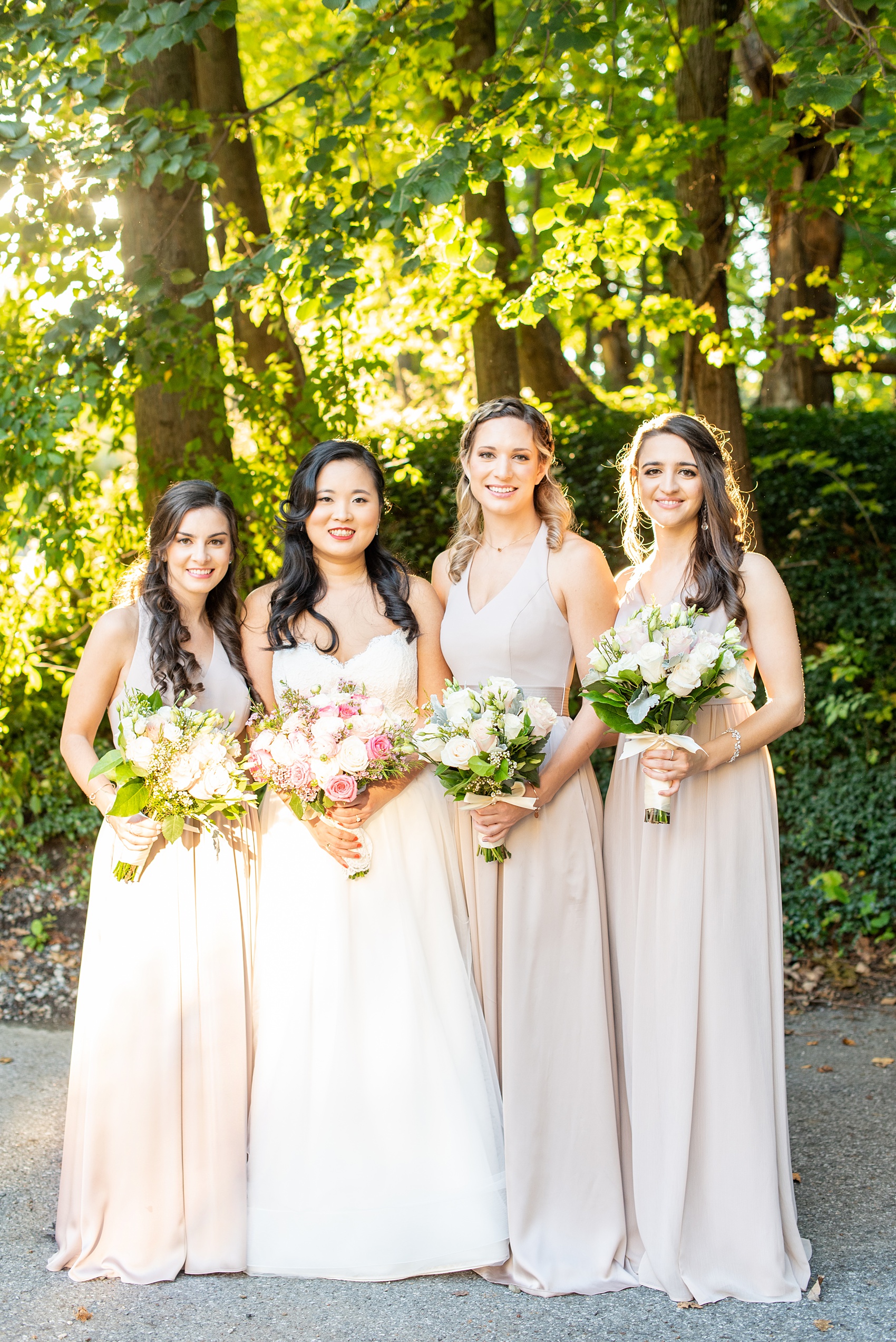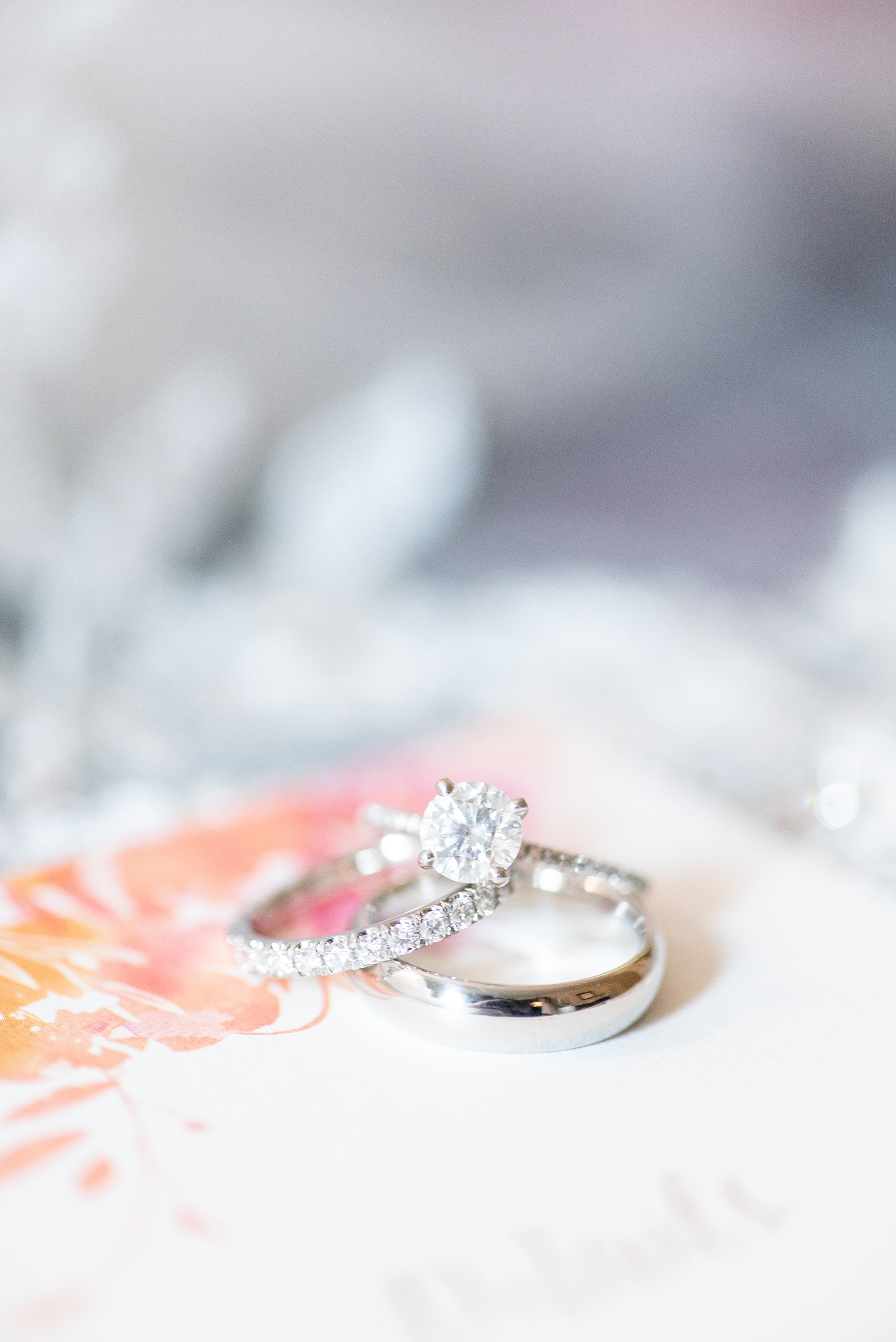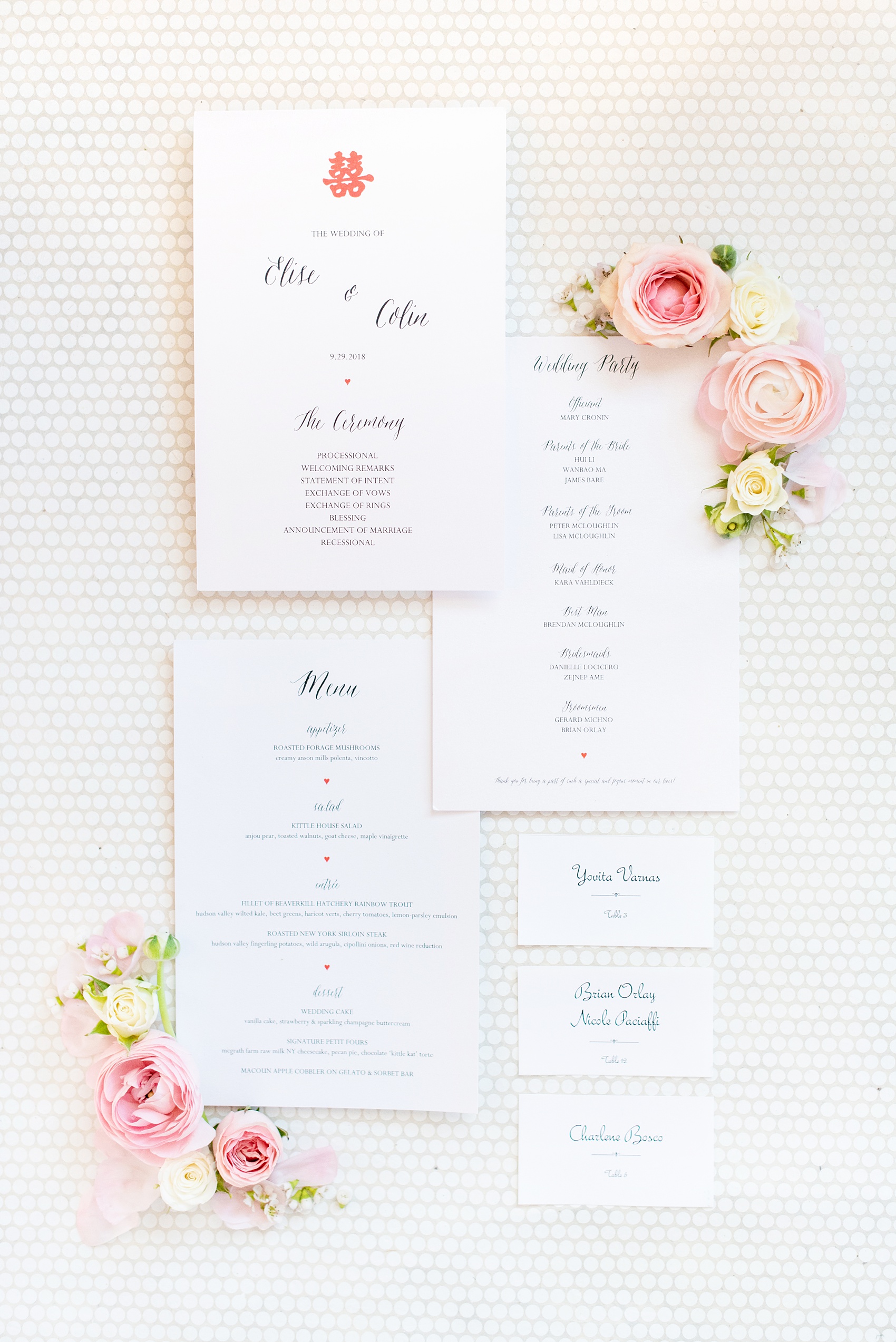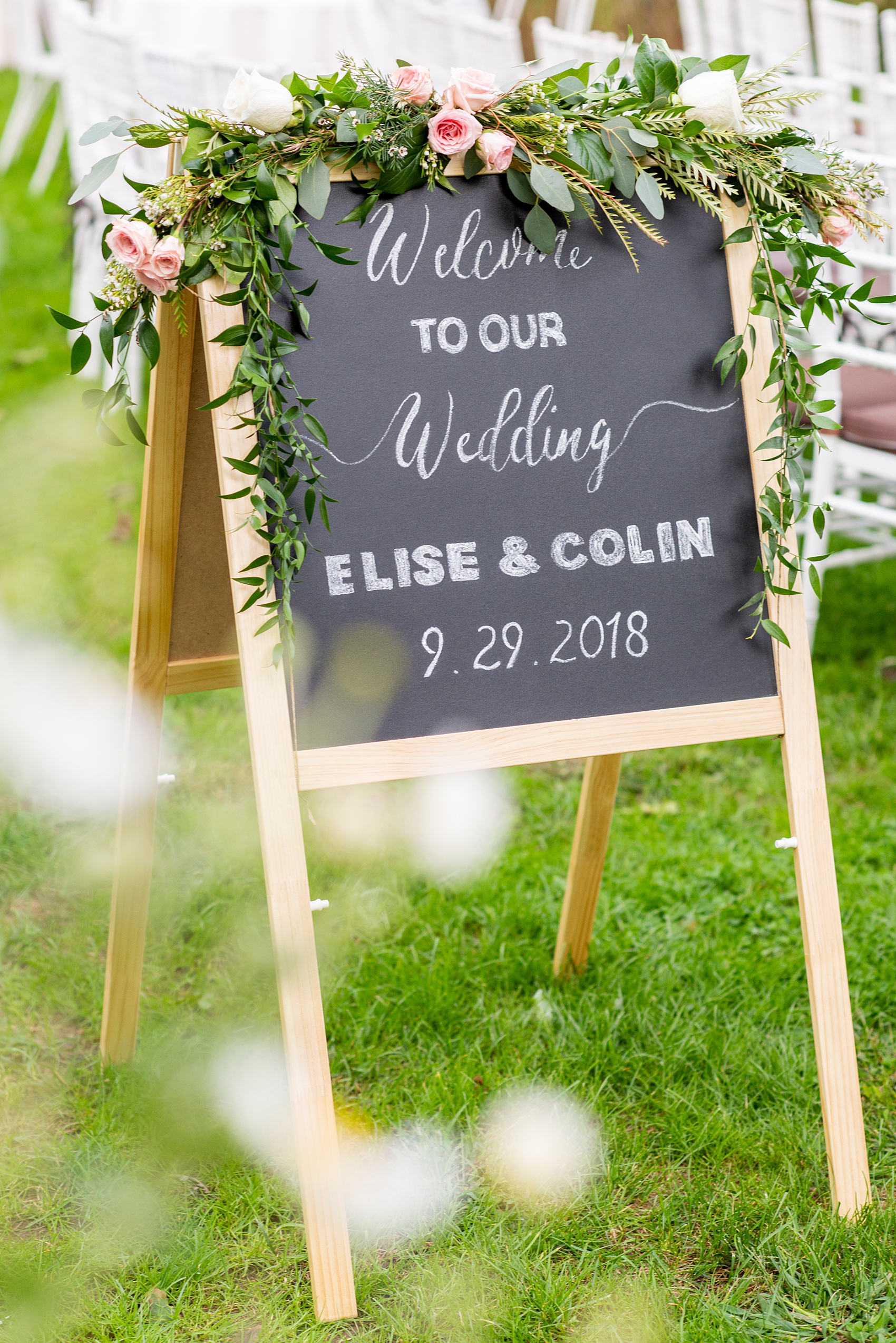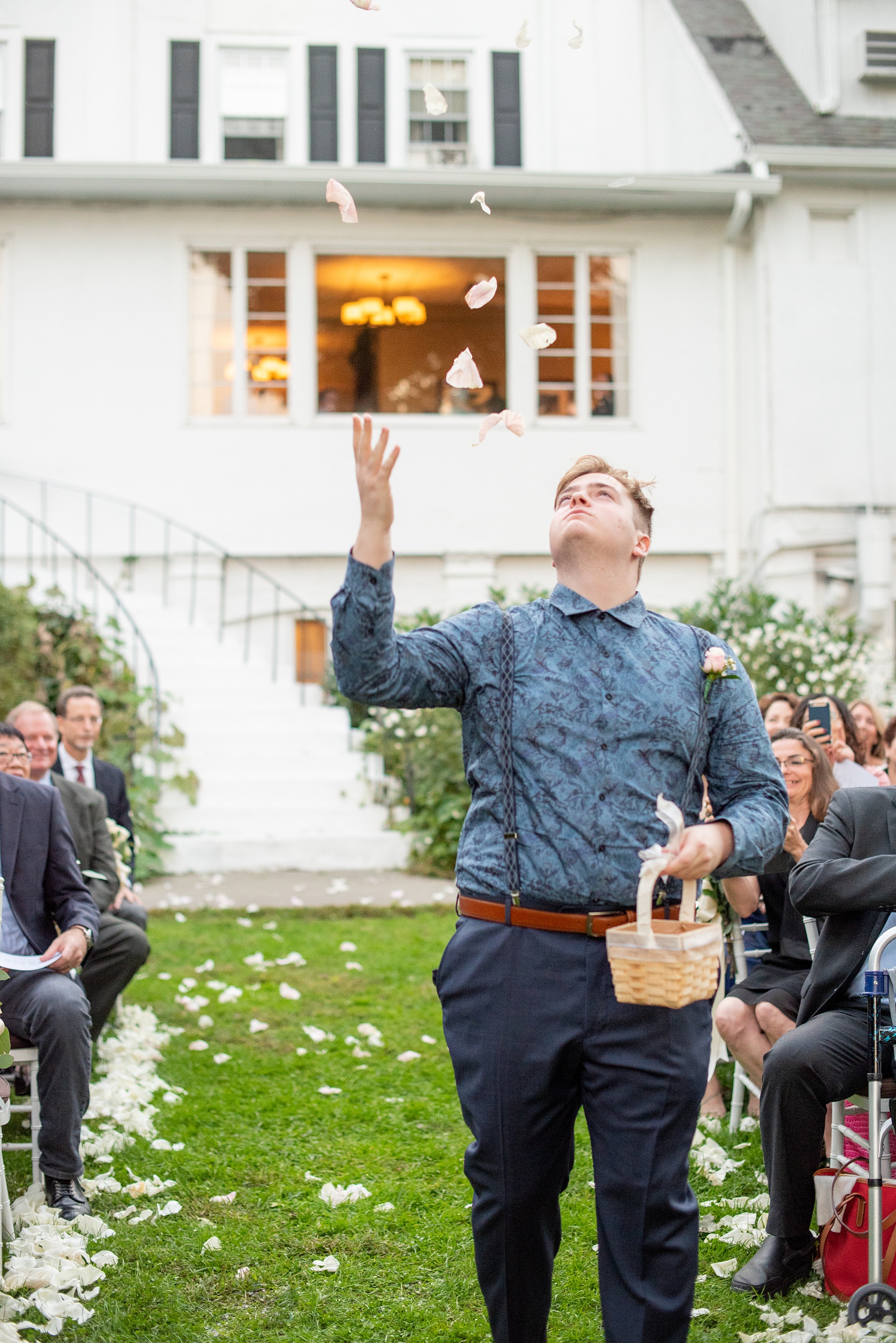 I absolutely loved that Colin's younger brother, Quinlan, was the "flower boy." It was truly the best flower petal tossing job I've ever witnessed. His performance made everyone smile – he really took the job to heart and did the best job for his leading the way with flowers for his future sister-in-law.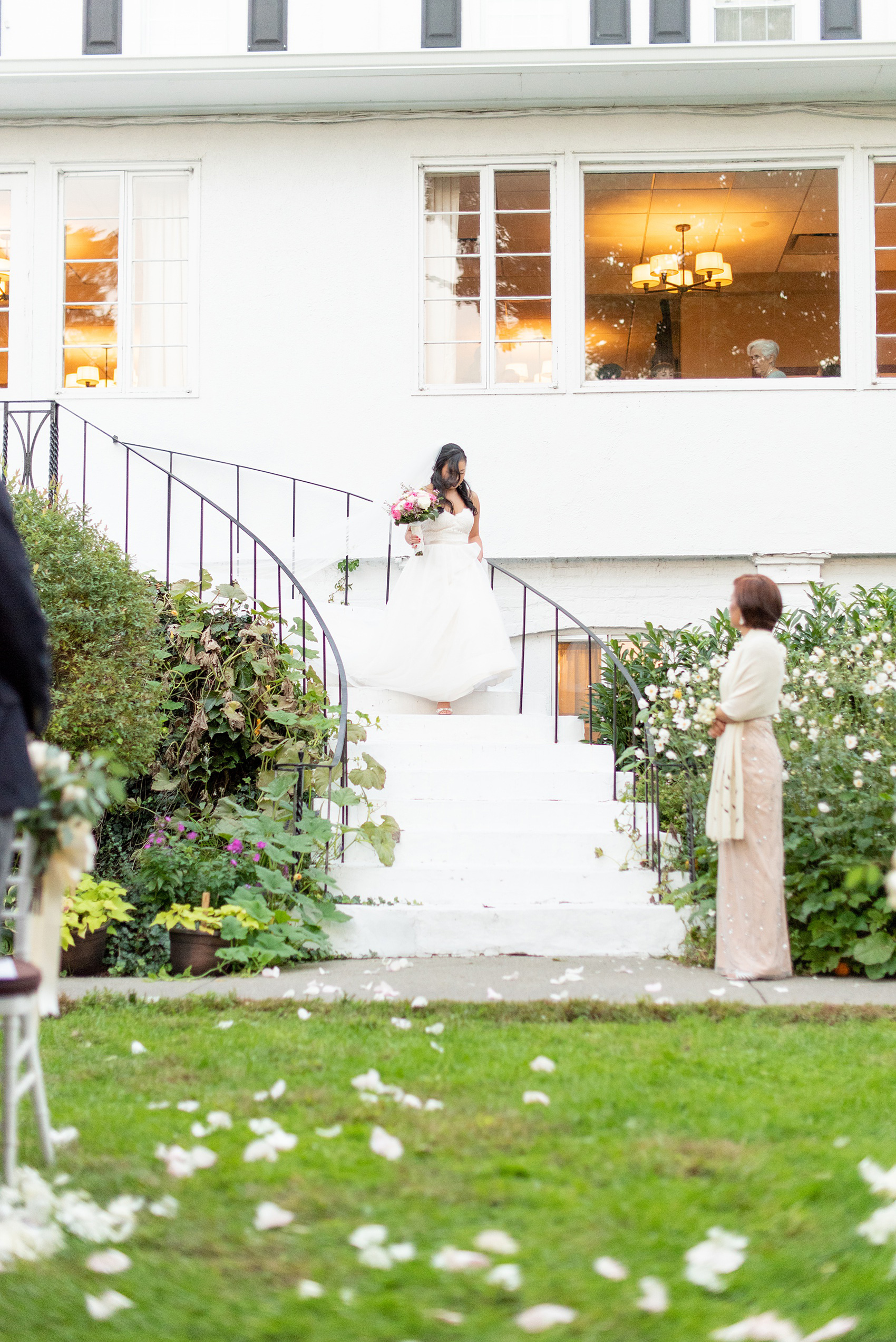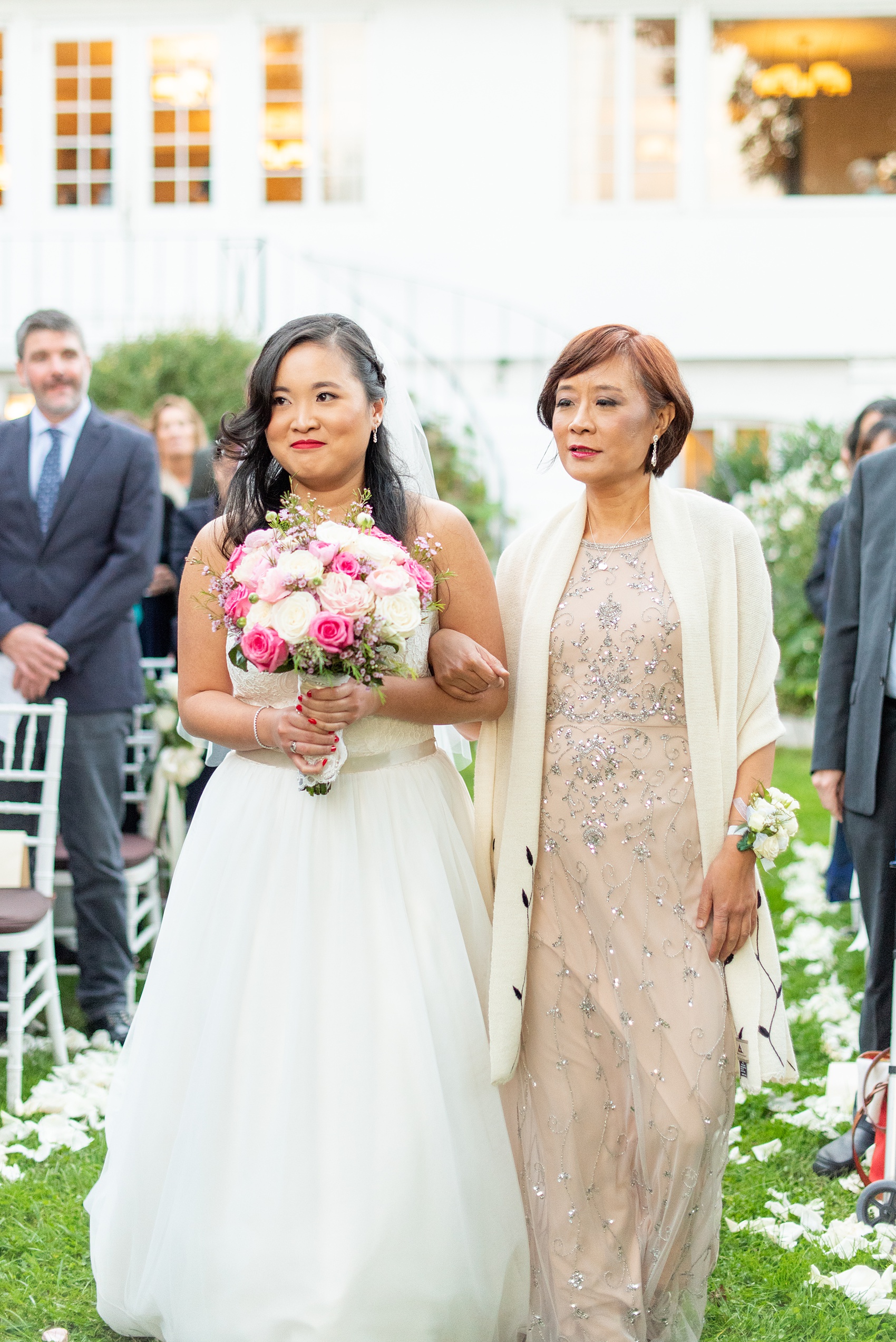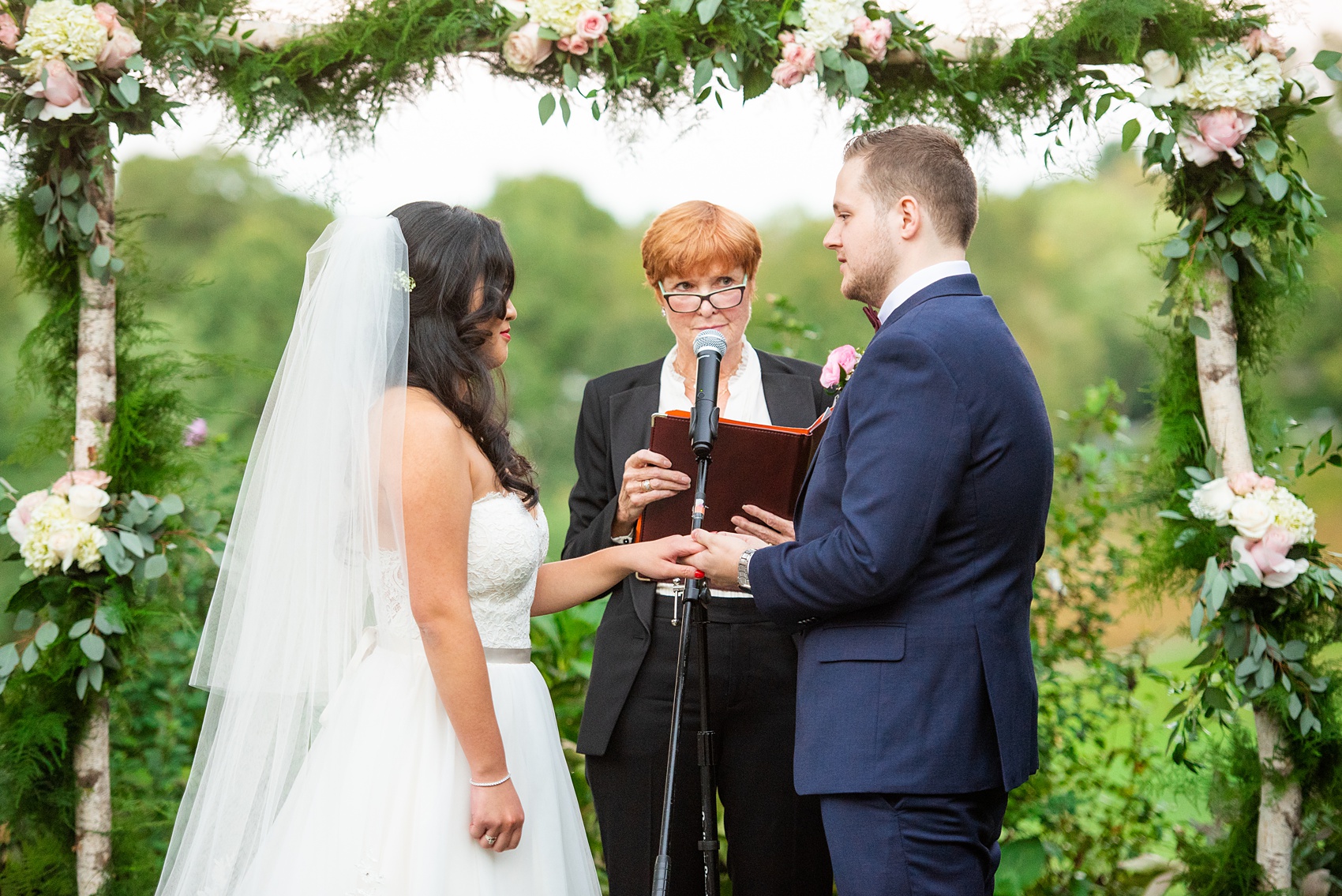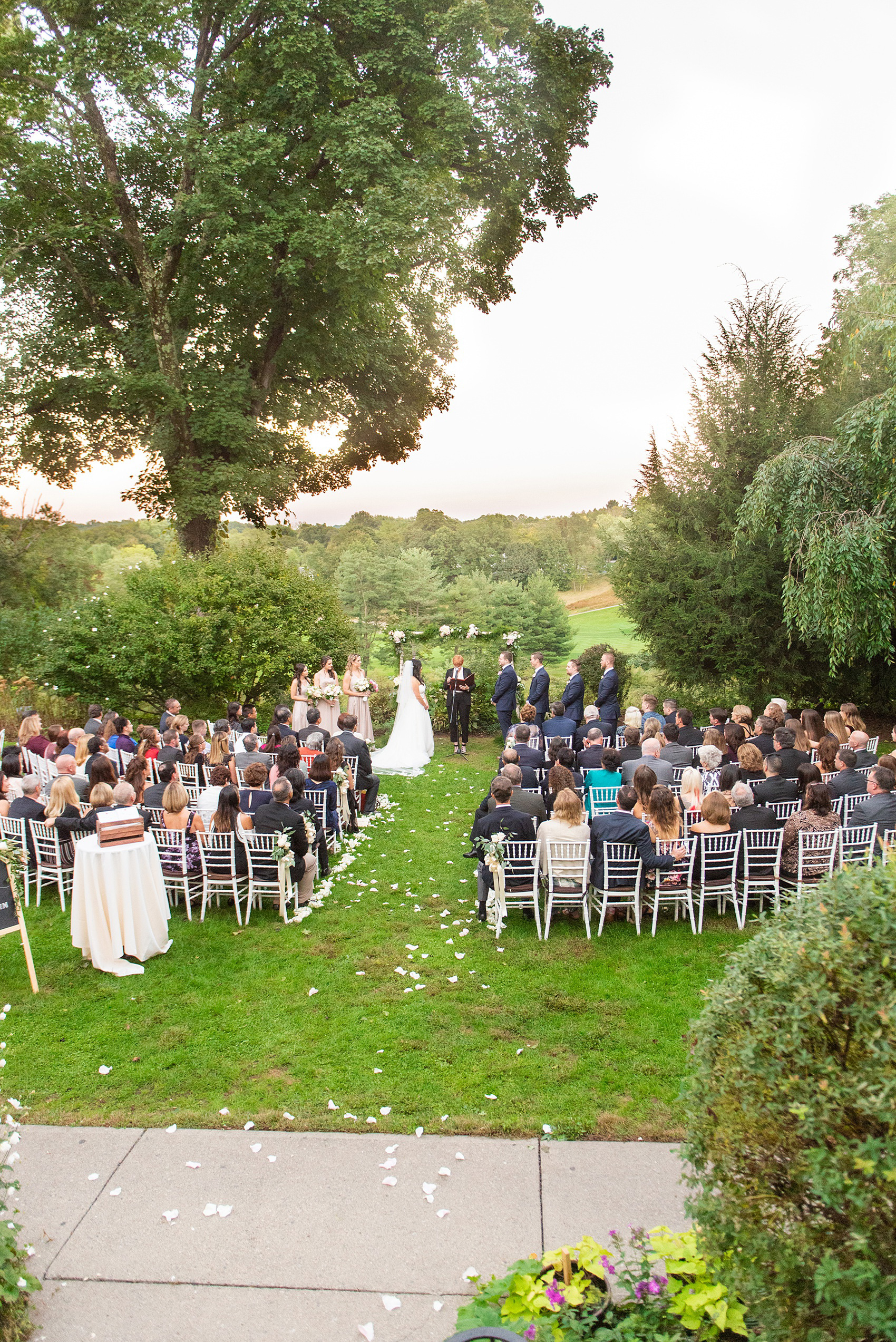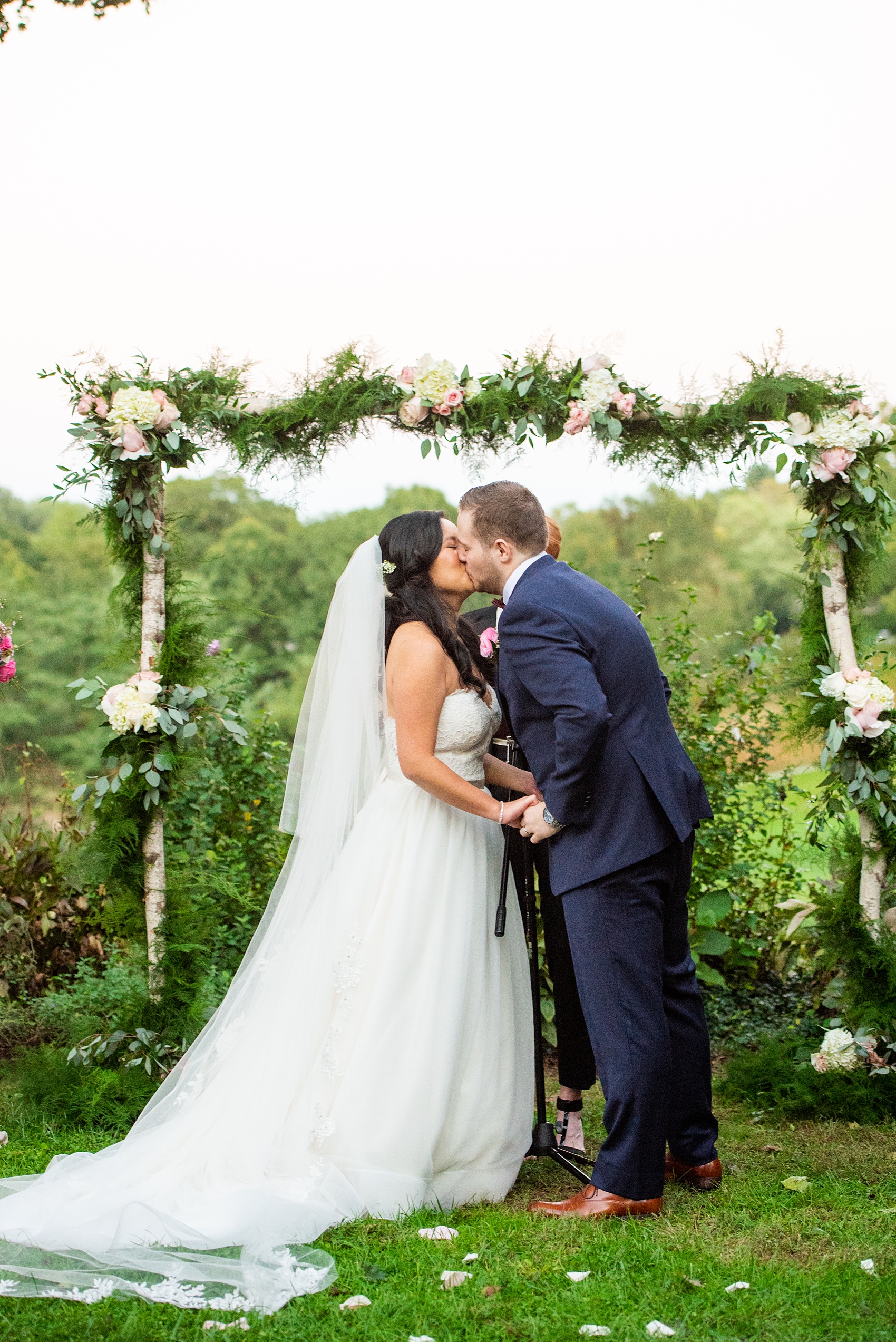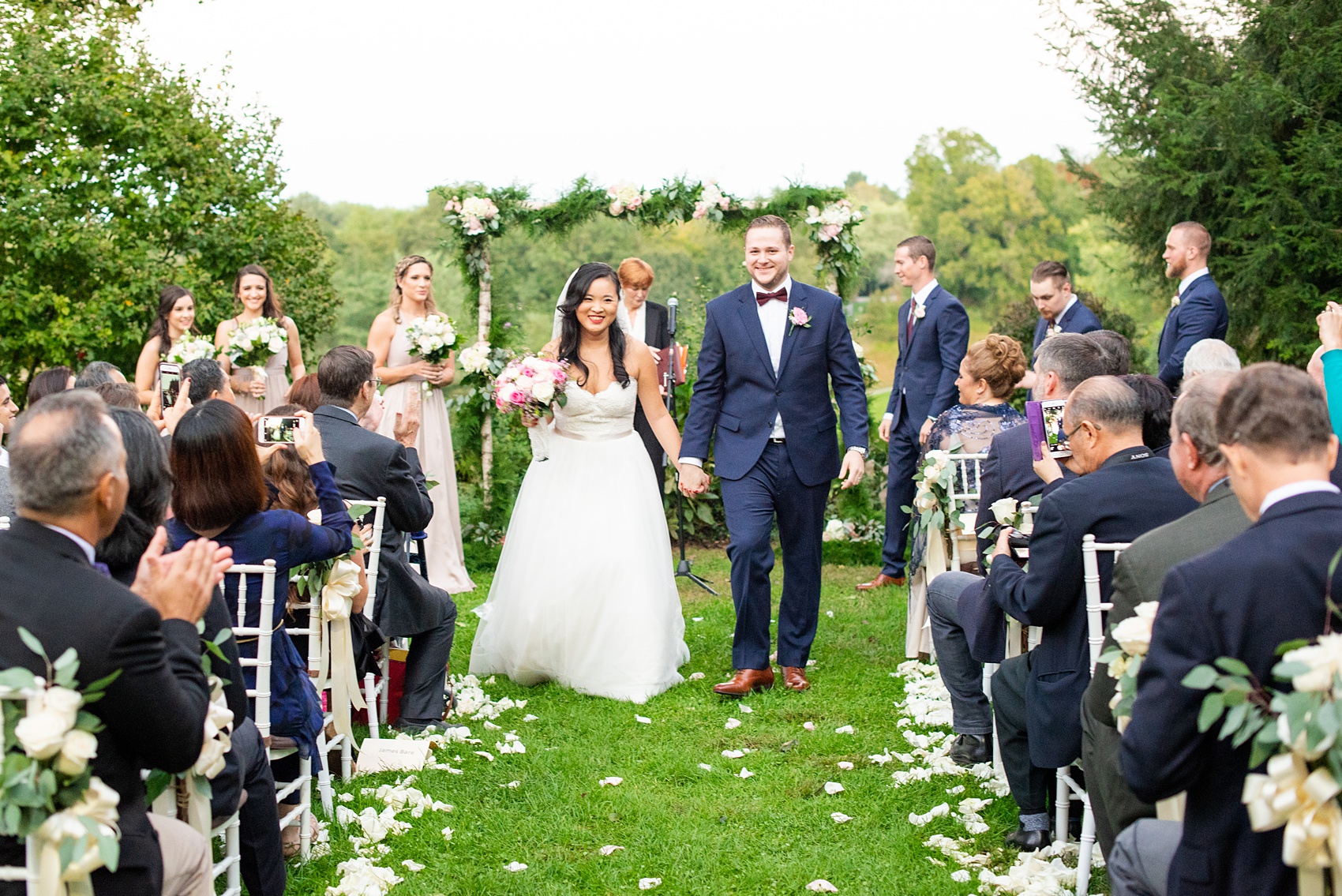 Their ceremony was gorgeous. Elise's mother walked her down the aisle and they finished with an Irish blessing to honor Colin's heritage.
It was a short walk to the cocktail hour, right next door, where guests dined on delicious food from Crabtree Kittle's House in-house catering, including ceviche and grilled kebabs.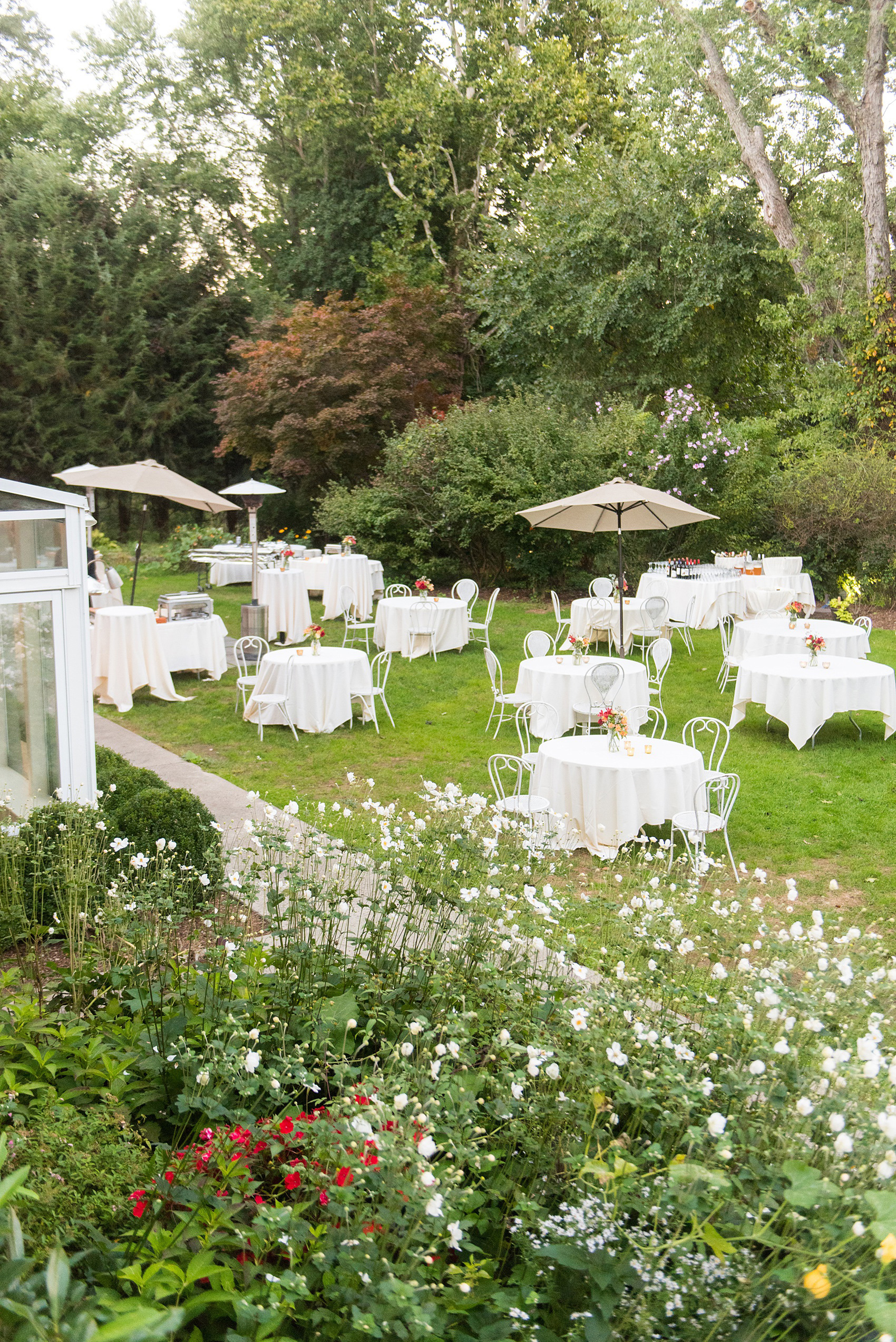 Their reception dinner was set up with neutral colors with touches of soft pink in the floral centerpieces. Gold table numbers were written in script and added the perfect detail to the dinner seatings. Guests found their seats on simple white escort cards with black calligraphy font.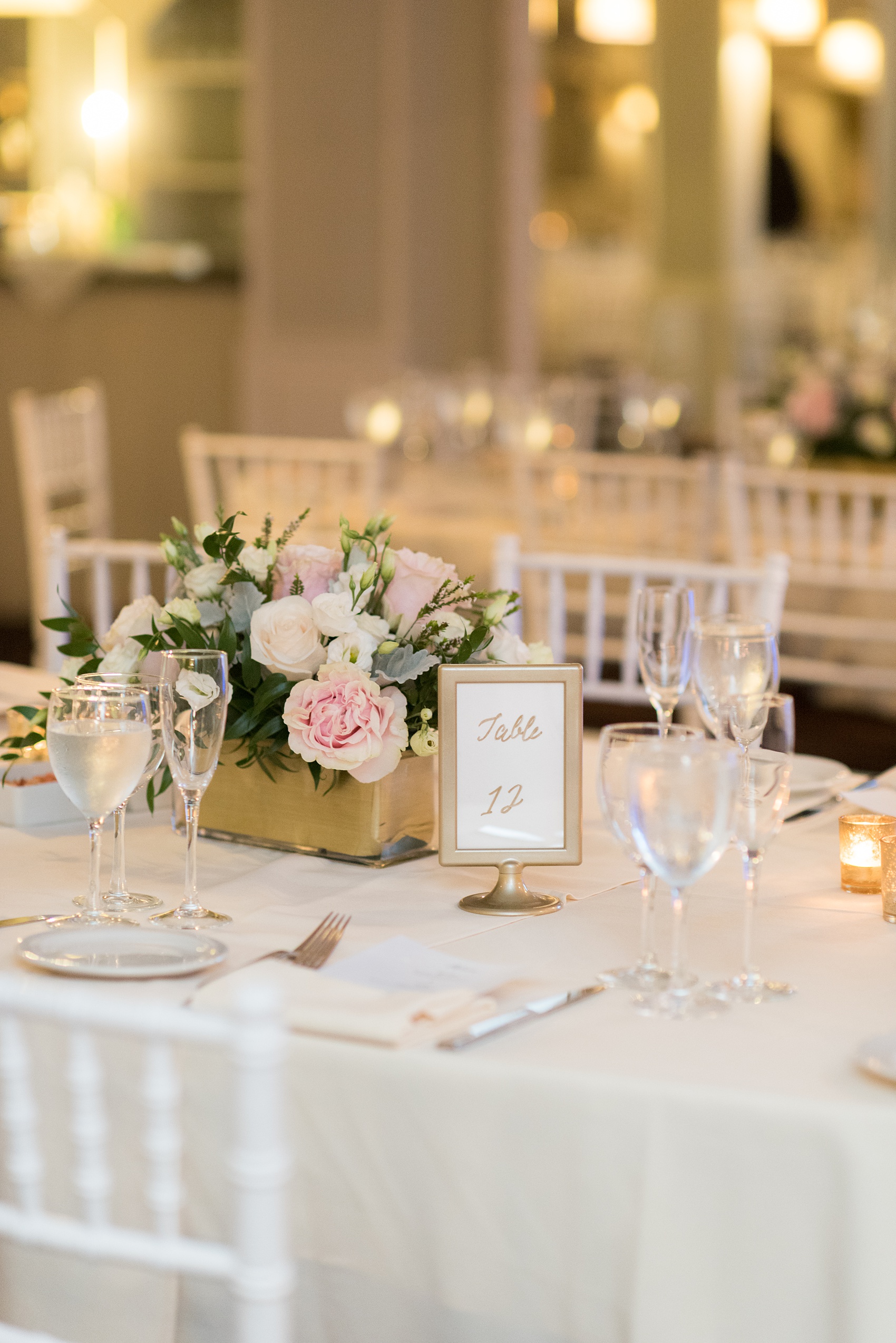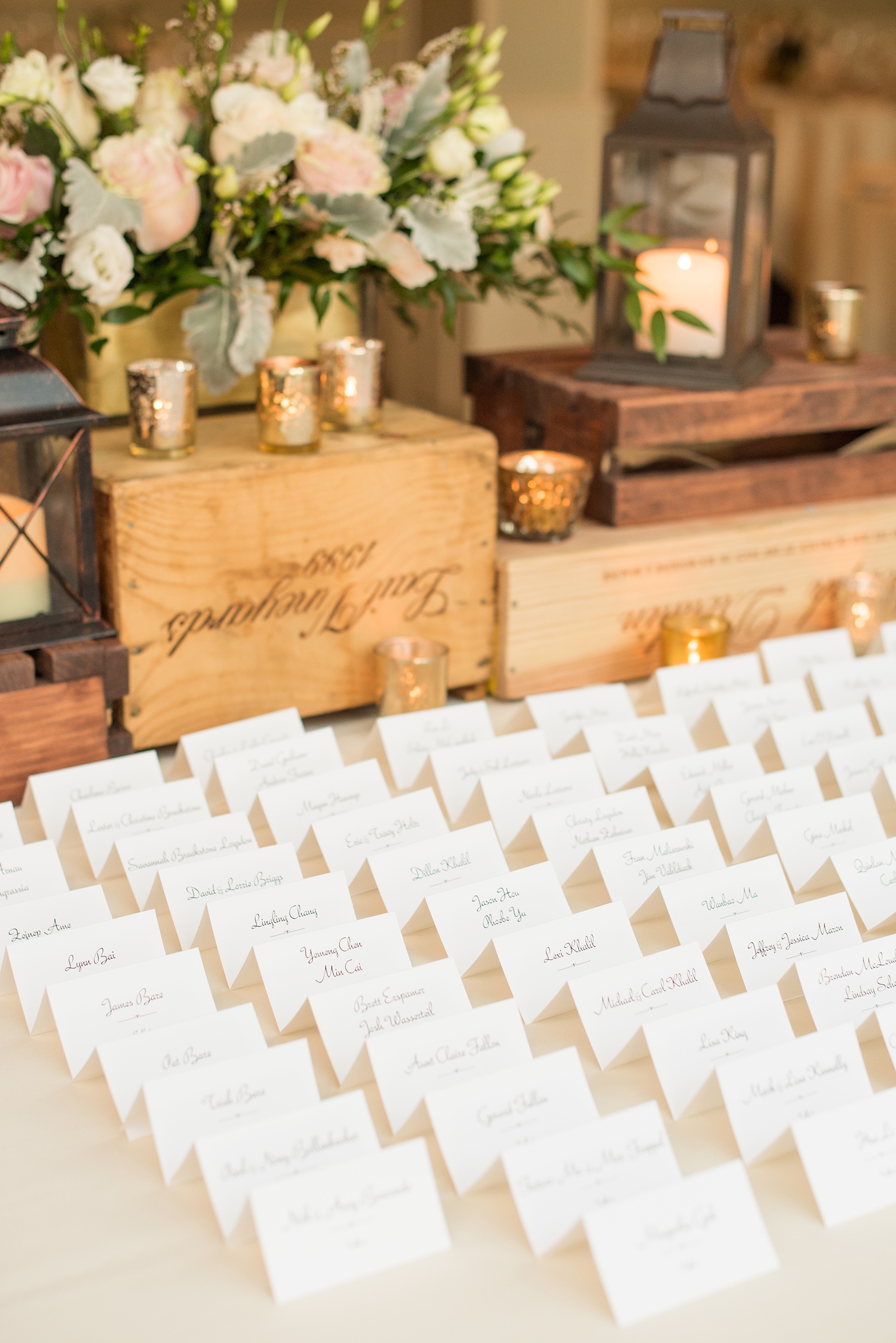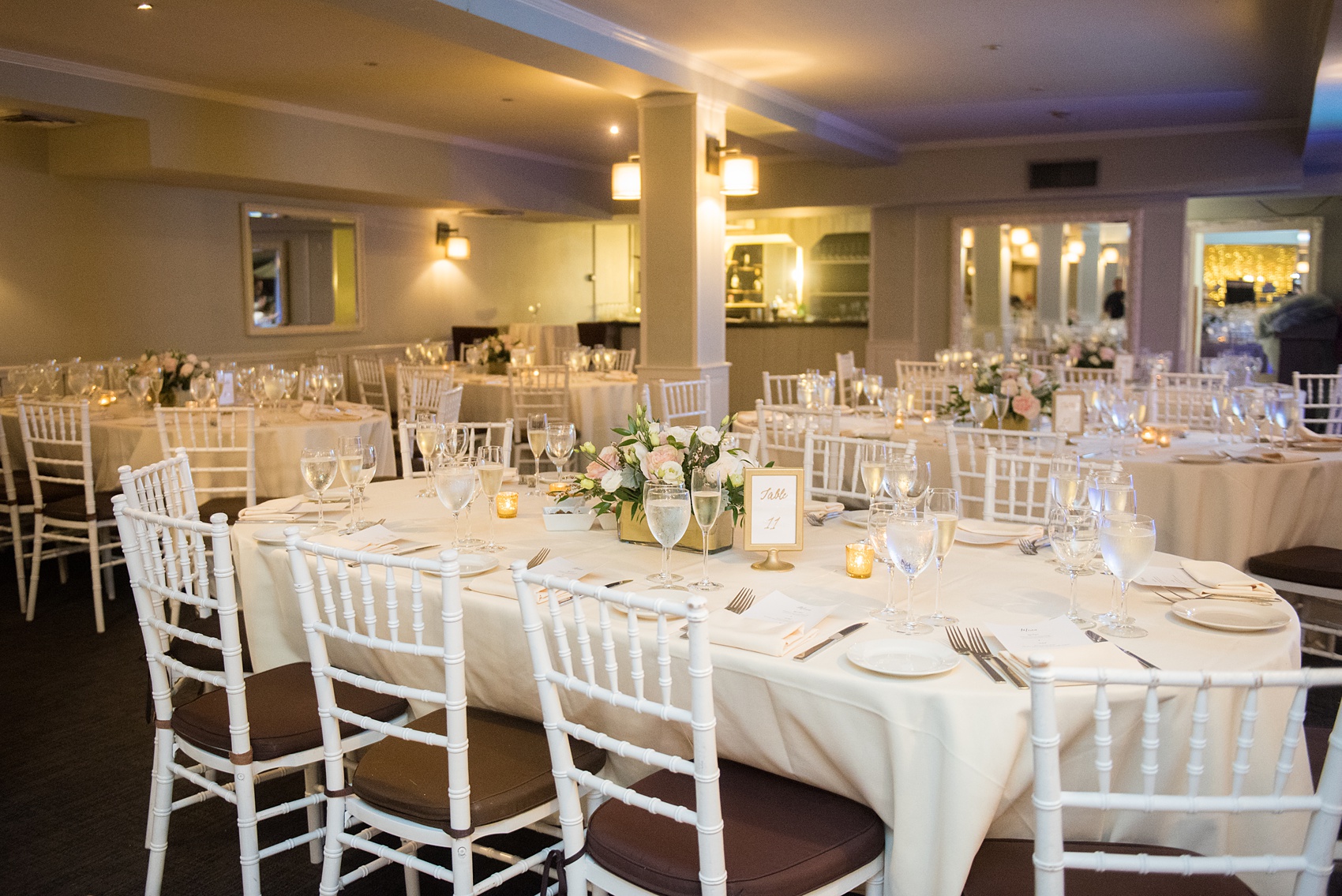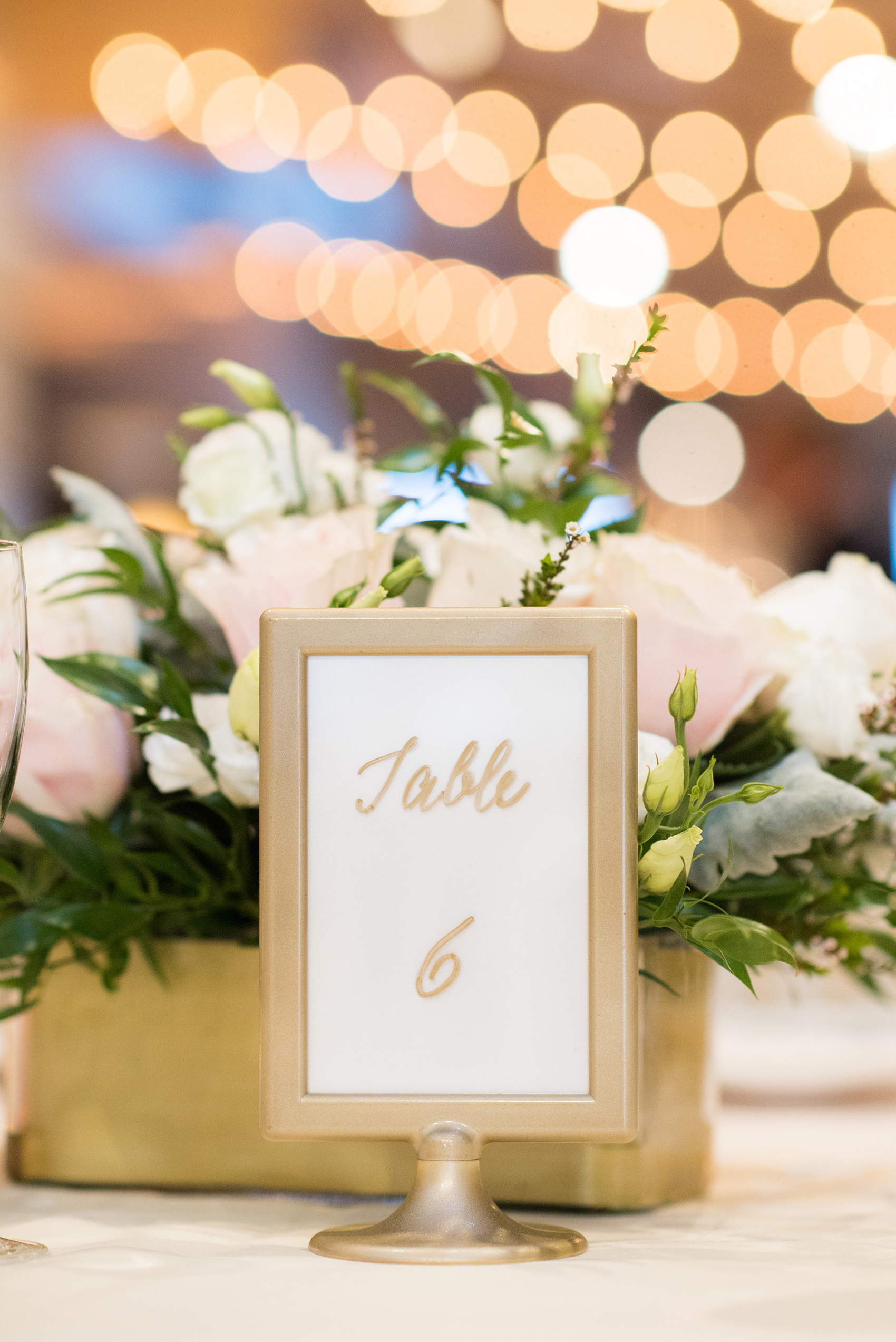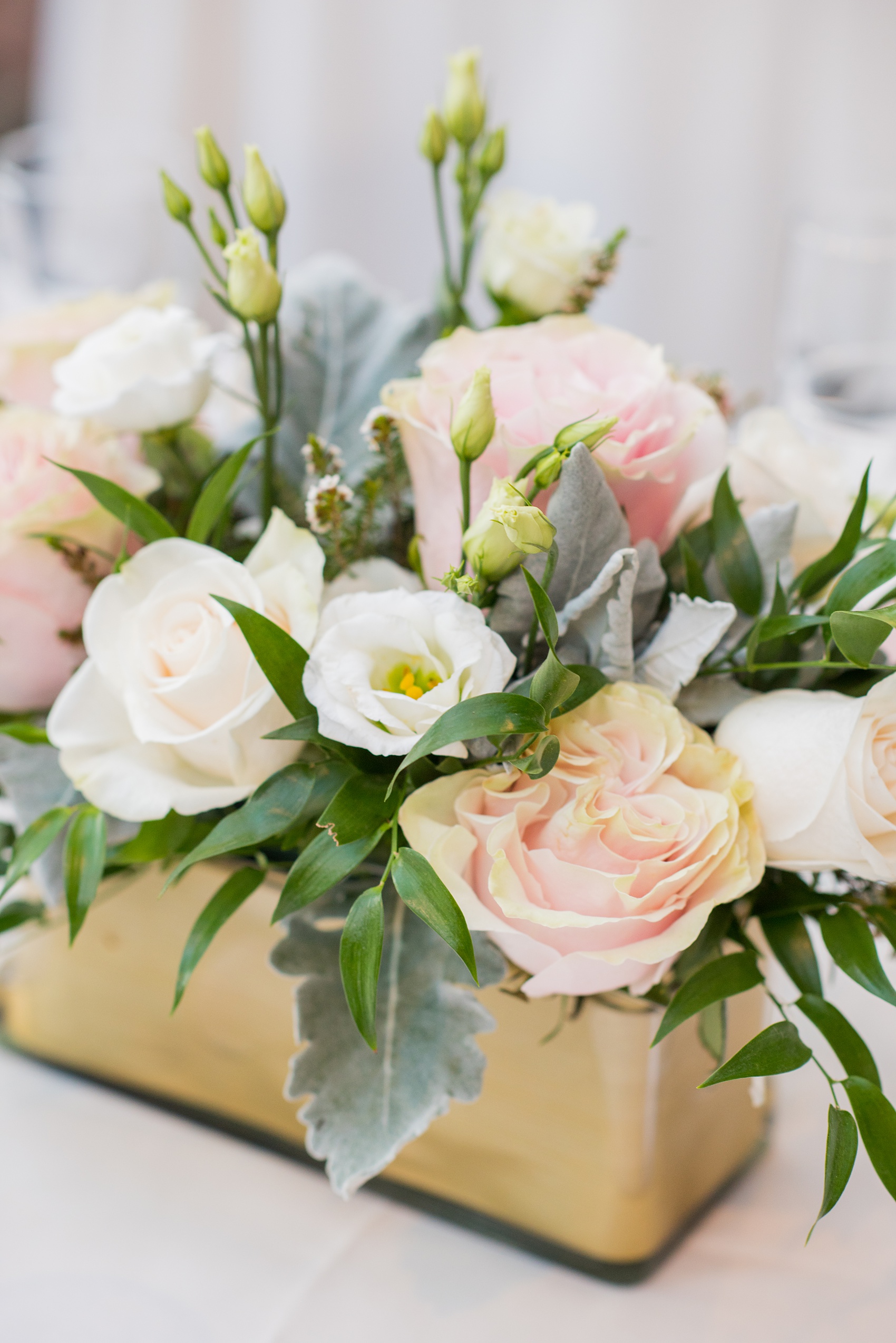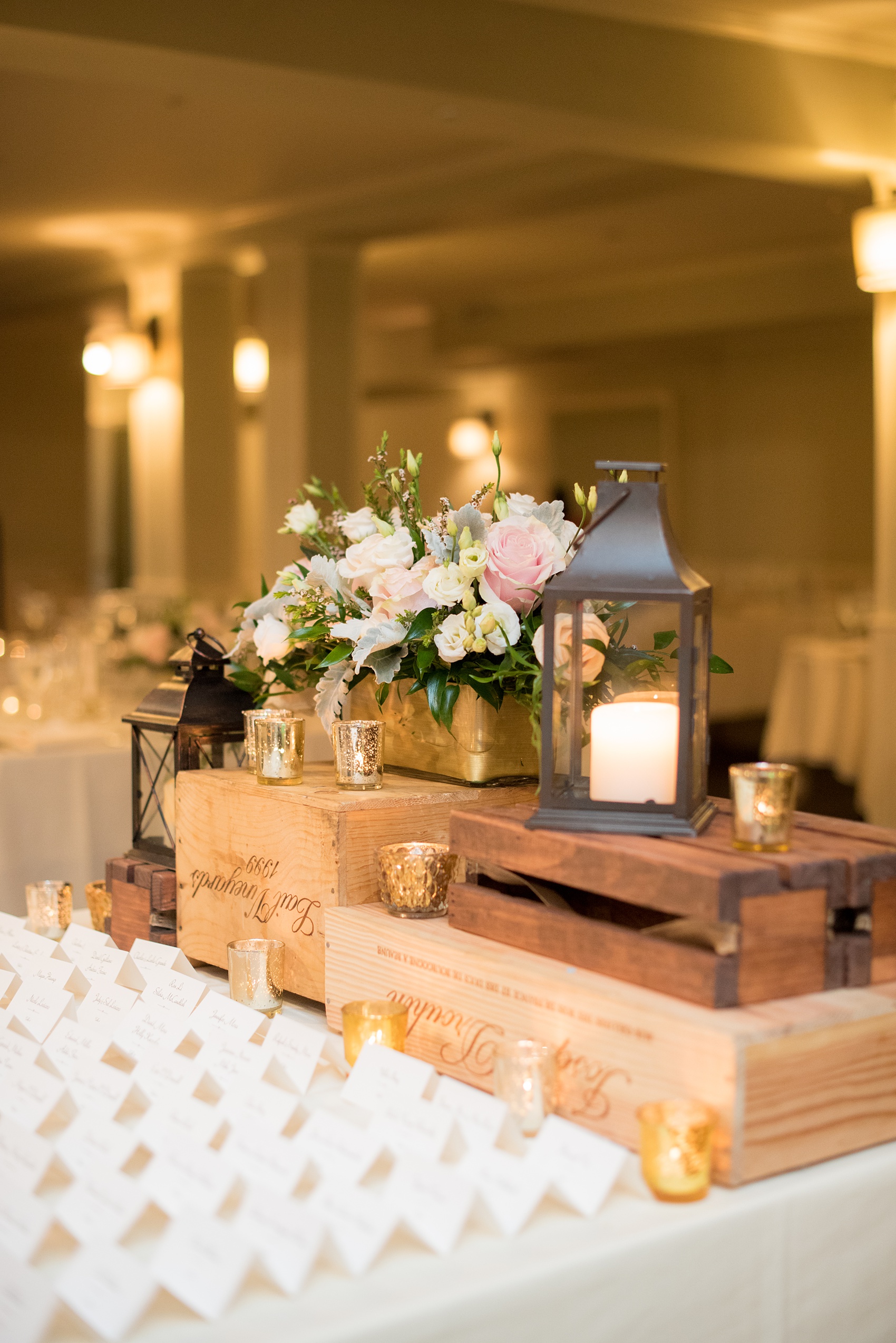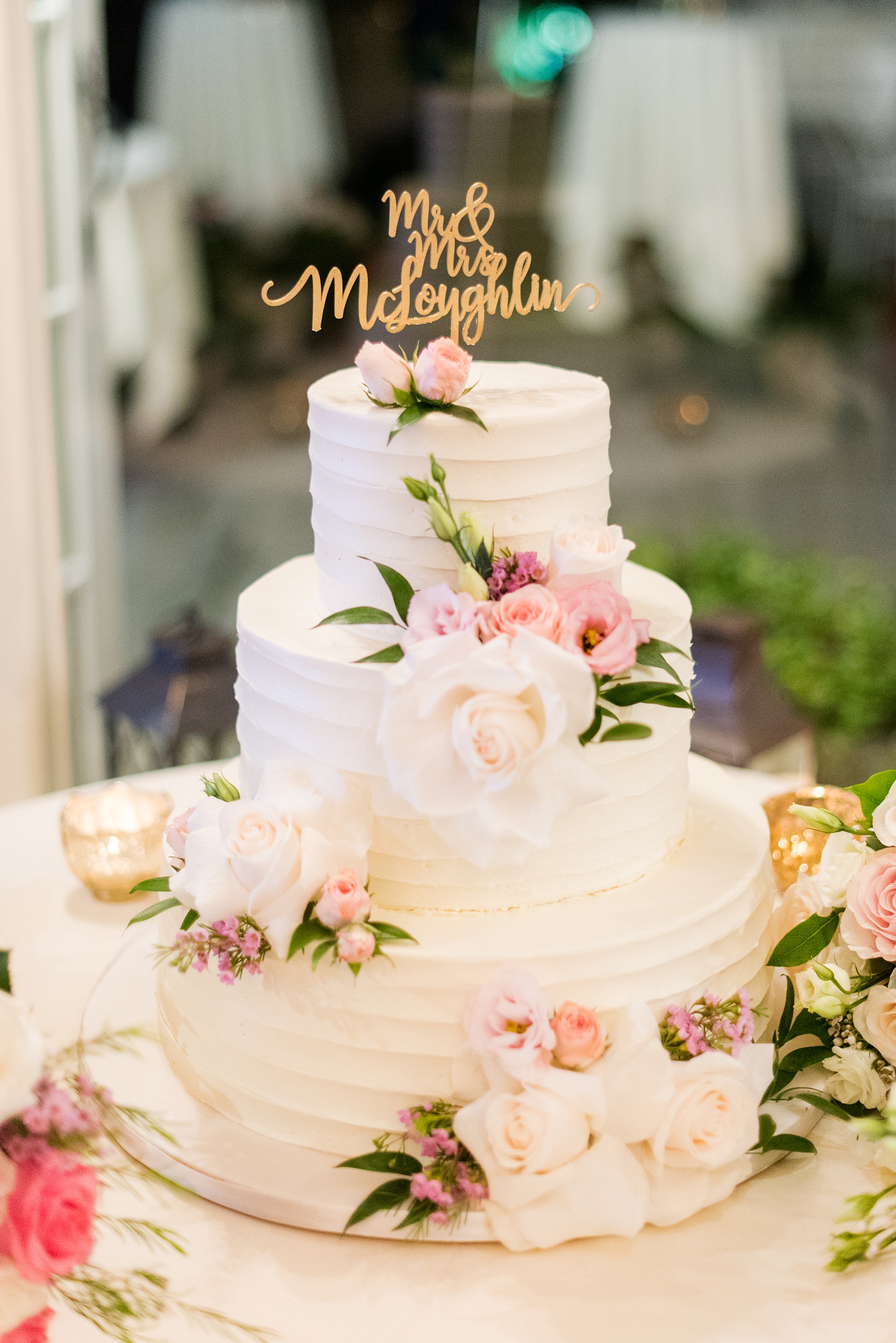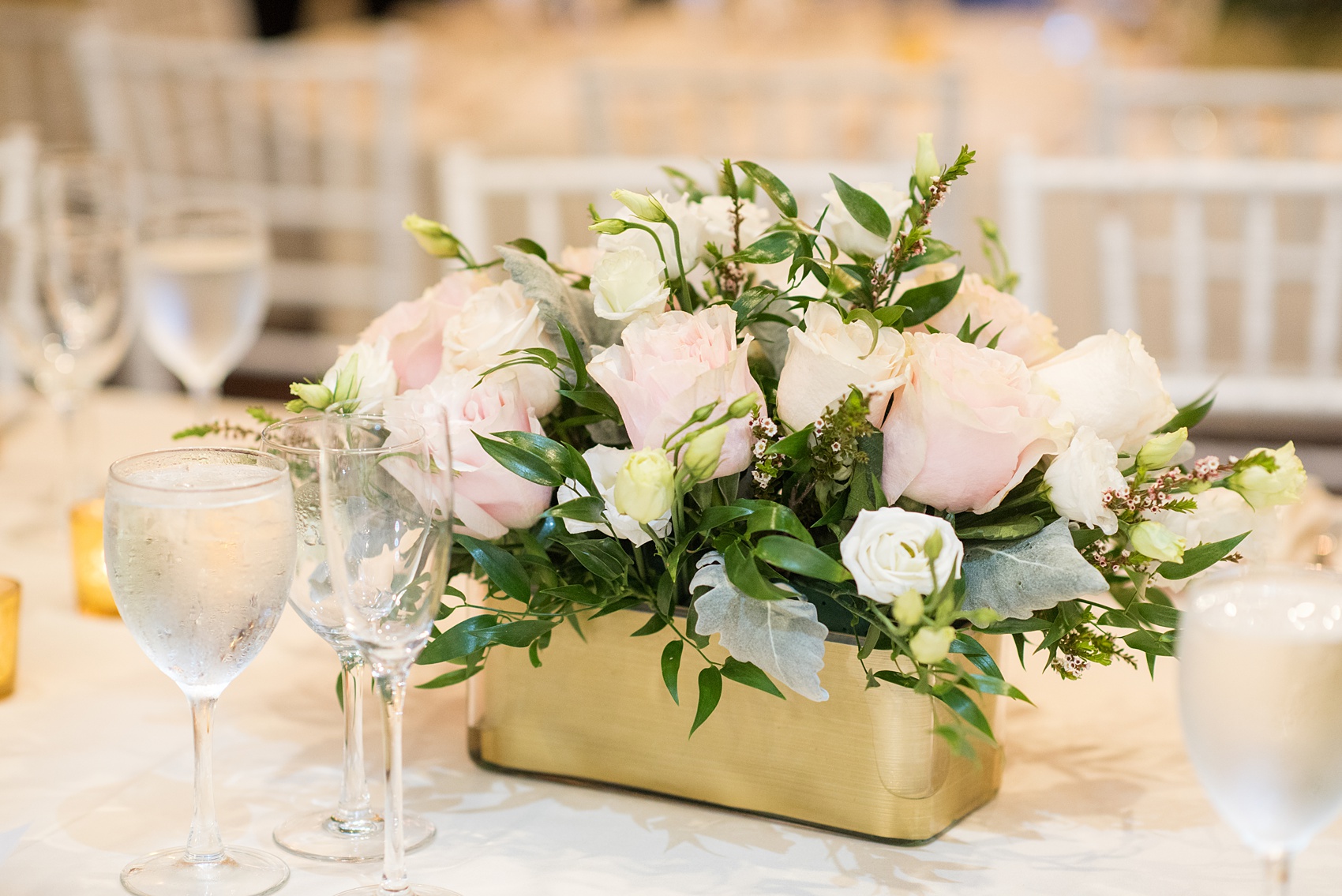 Shortly after Colin and Elise were introduced they danced their first dance to "You're the Reason," by Calum Scott featuring Leona Lewis. It was so nice they chose a duet and it was another favorite moment of mine from the day. Elise teared up and Colin was constantly giving her little kisses!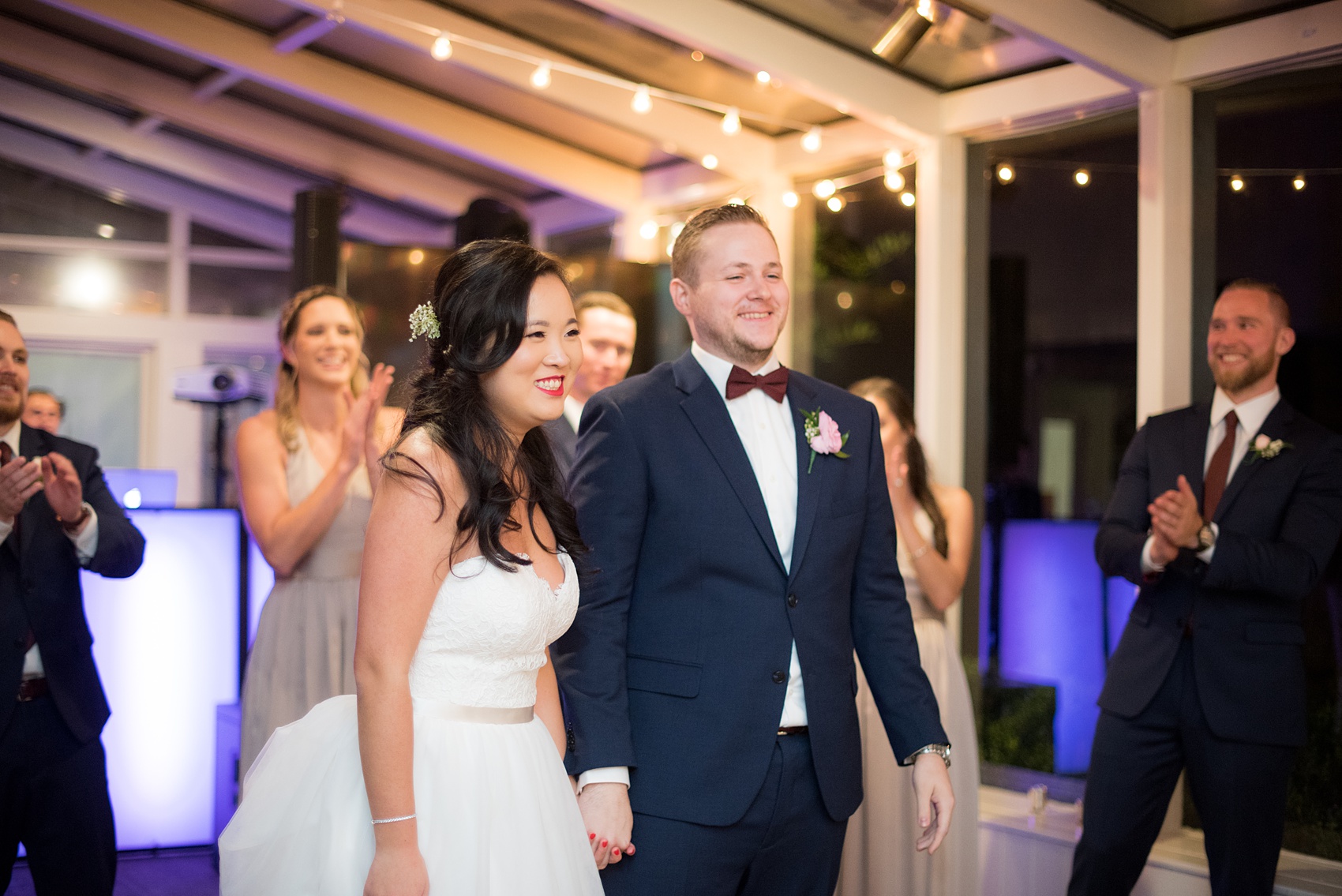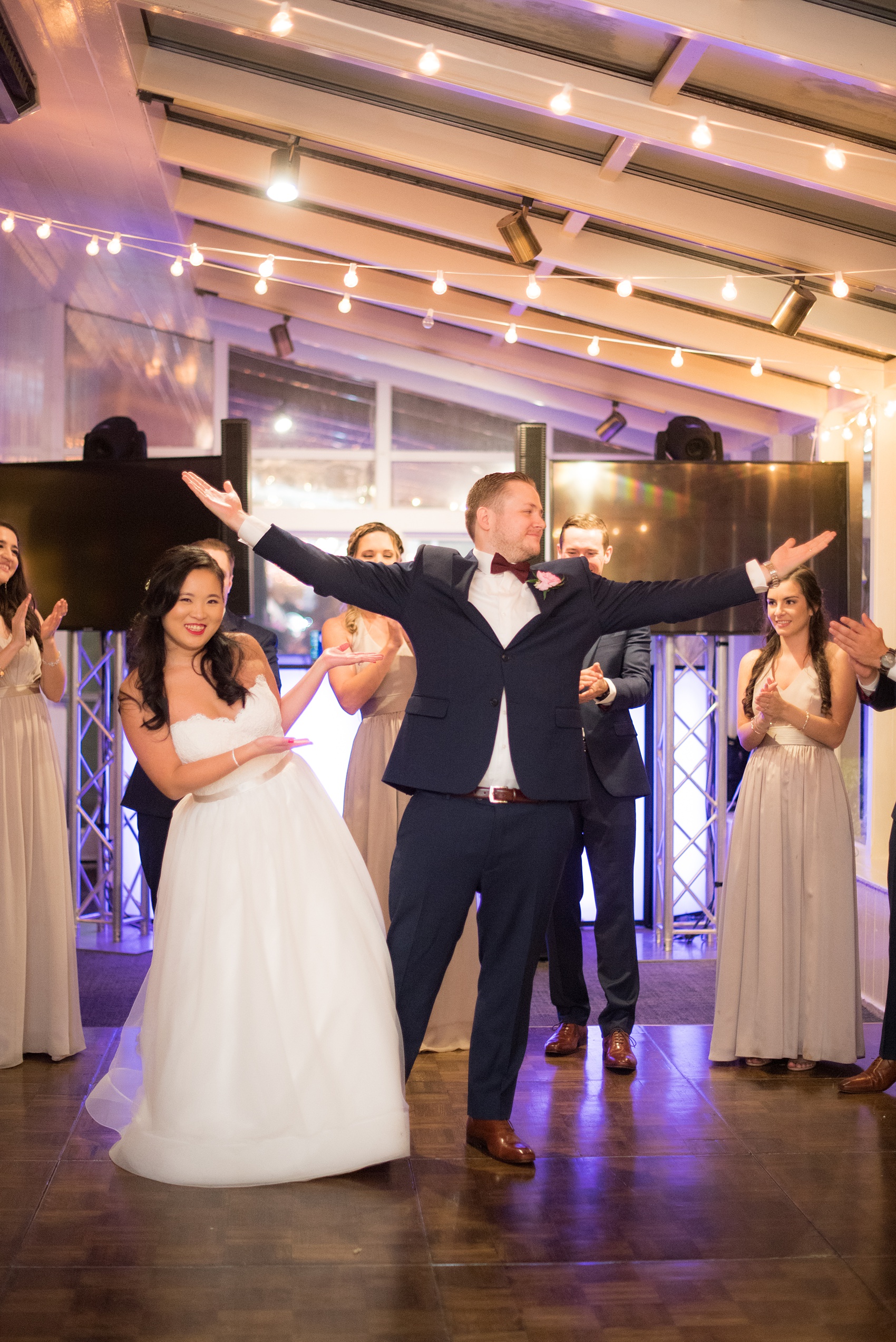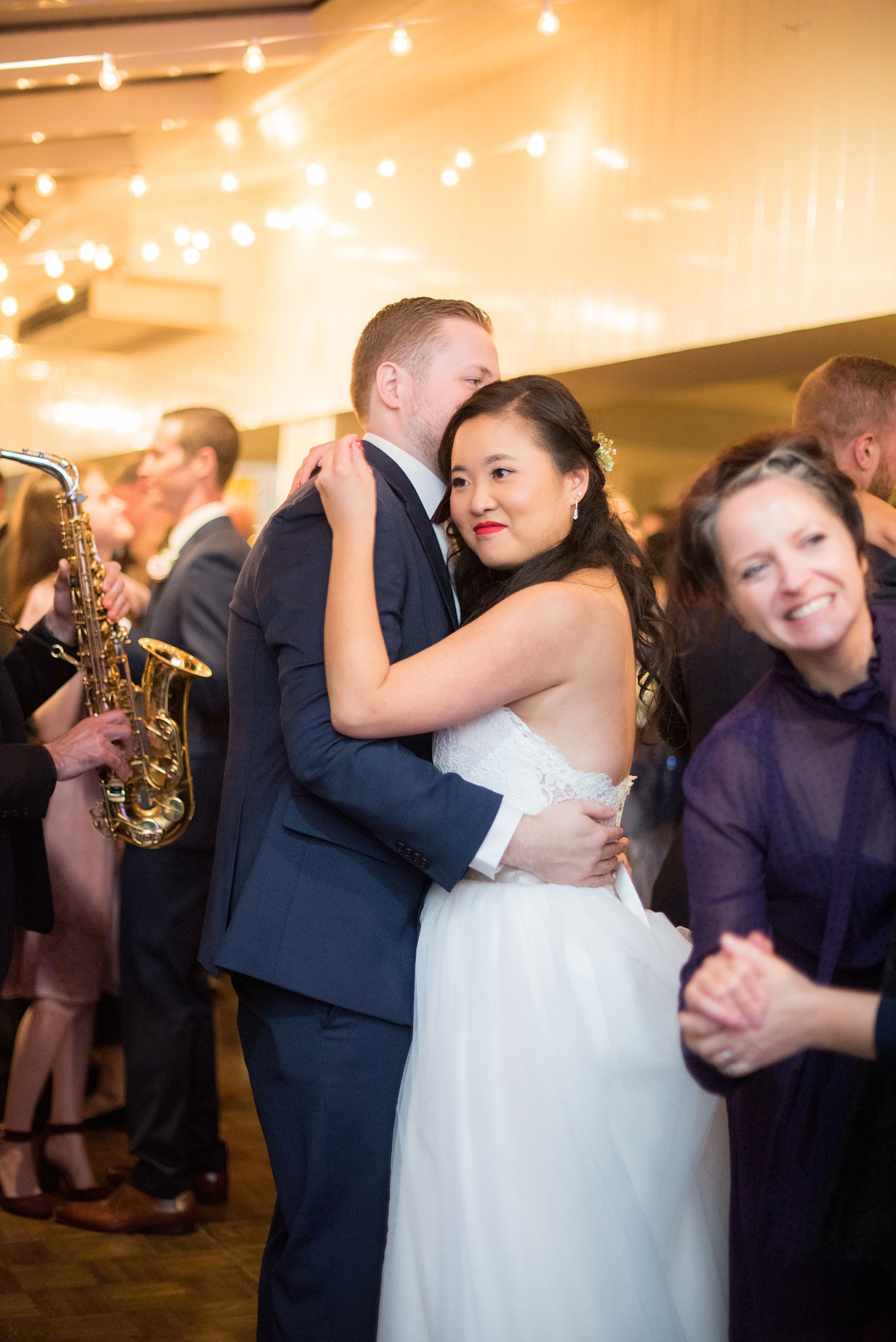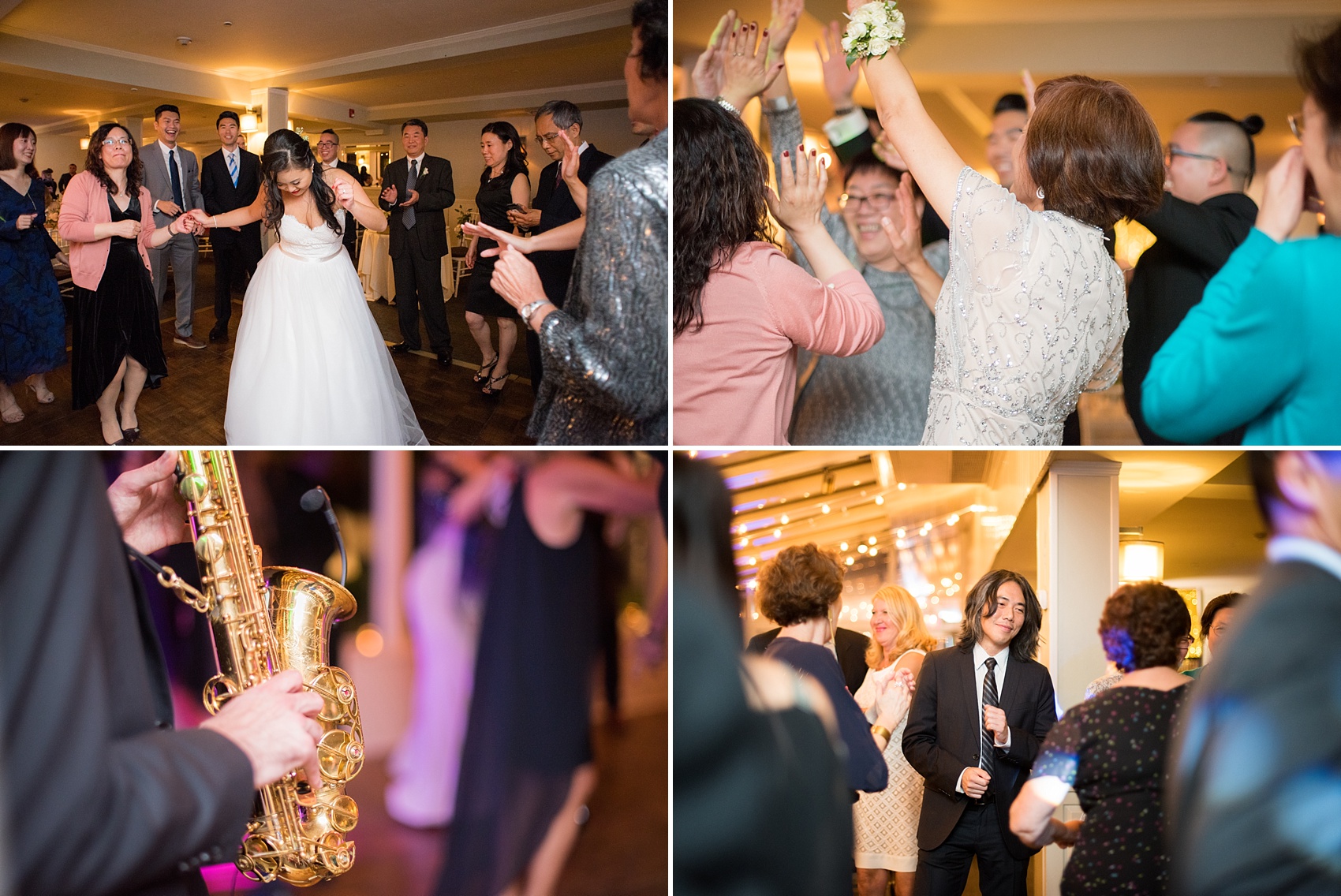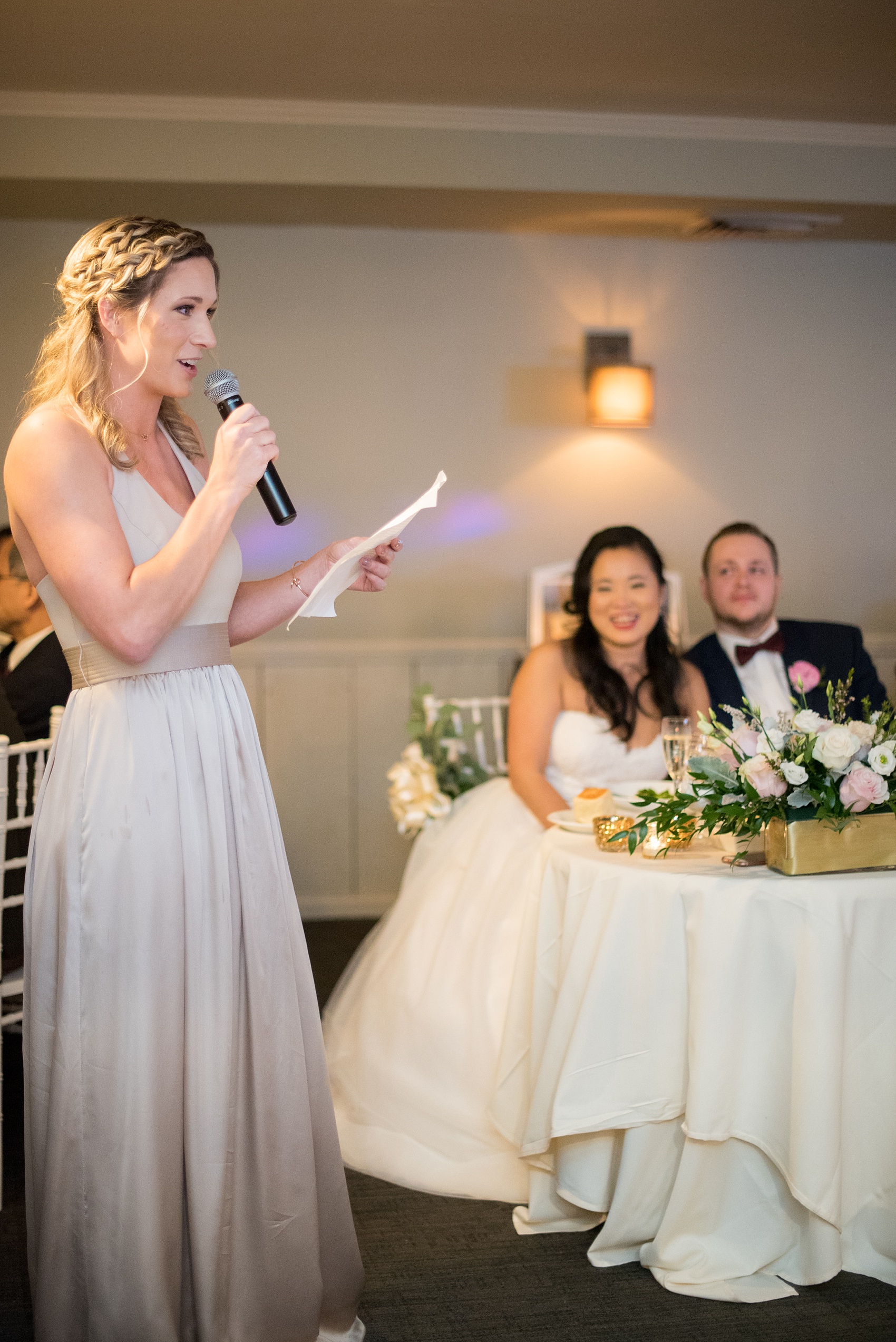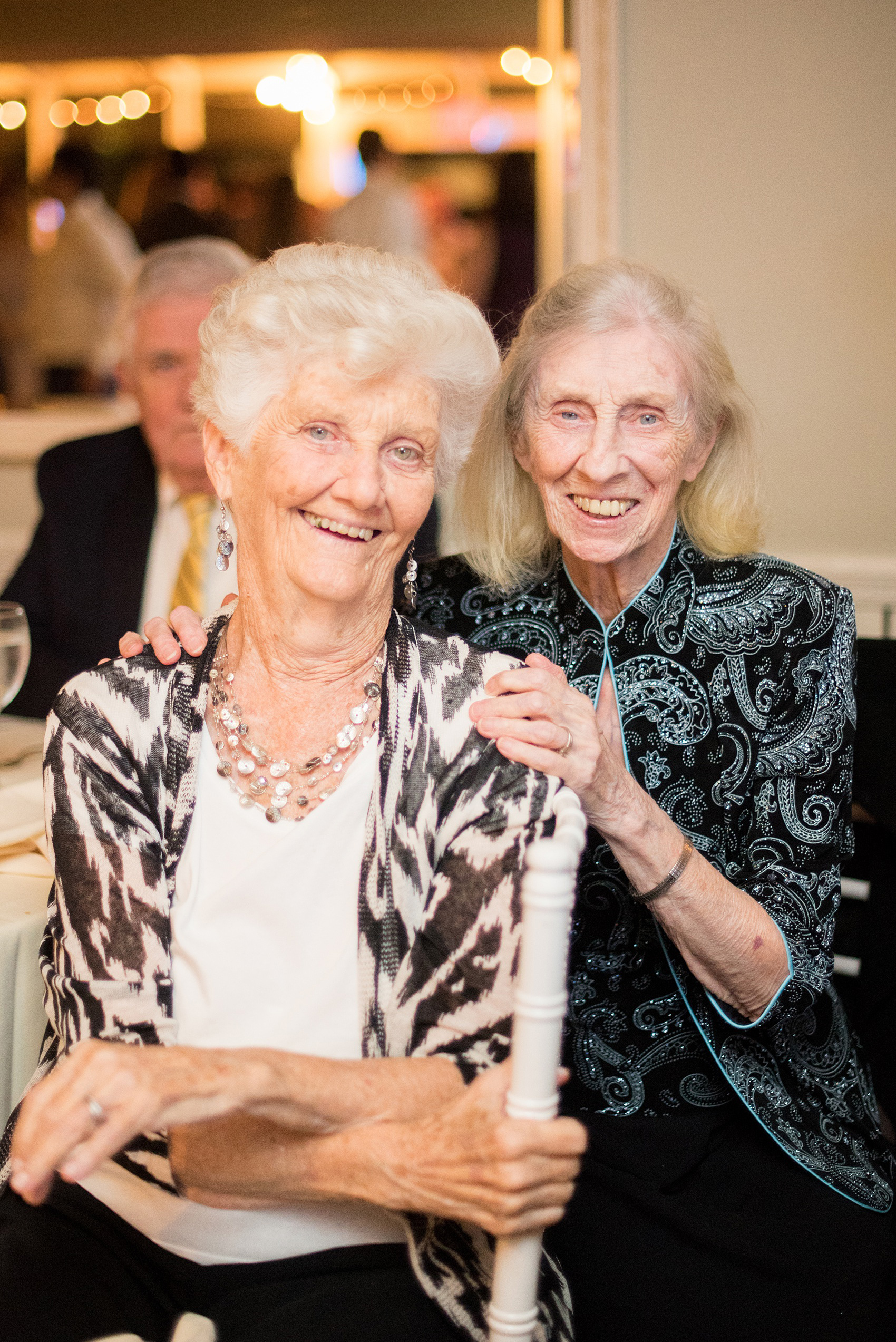 This photo of Colin's grandmother and great aunt is a personal favorite from the night. They were definitely dancing but took breaks here and there. I was able to capture this photo that I hope they cherish forever! The sisterhood it shows really resonates with me!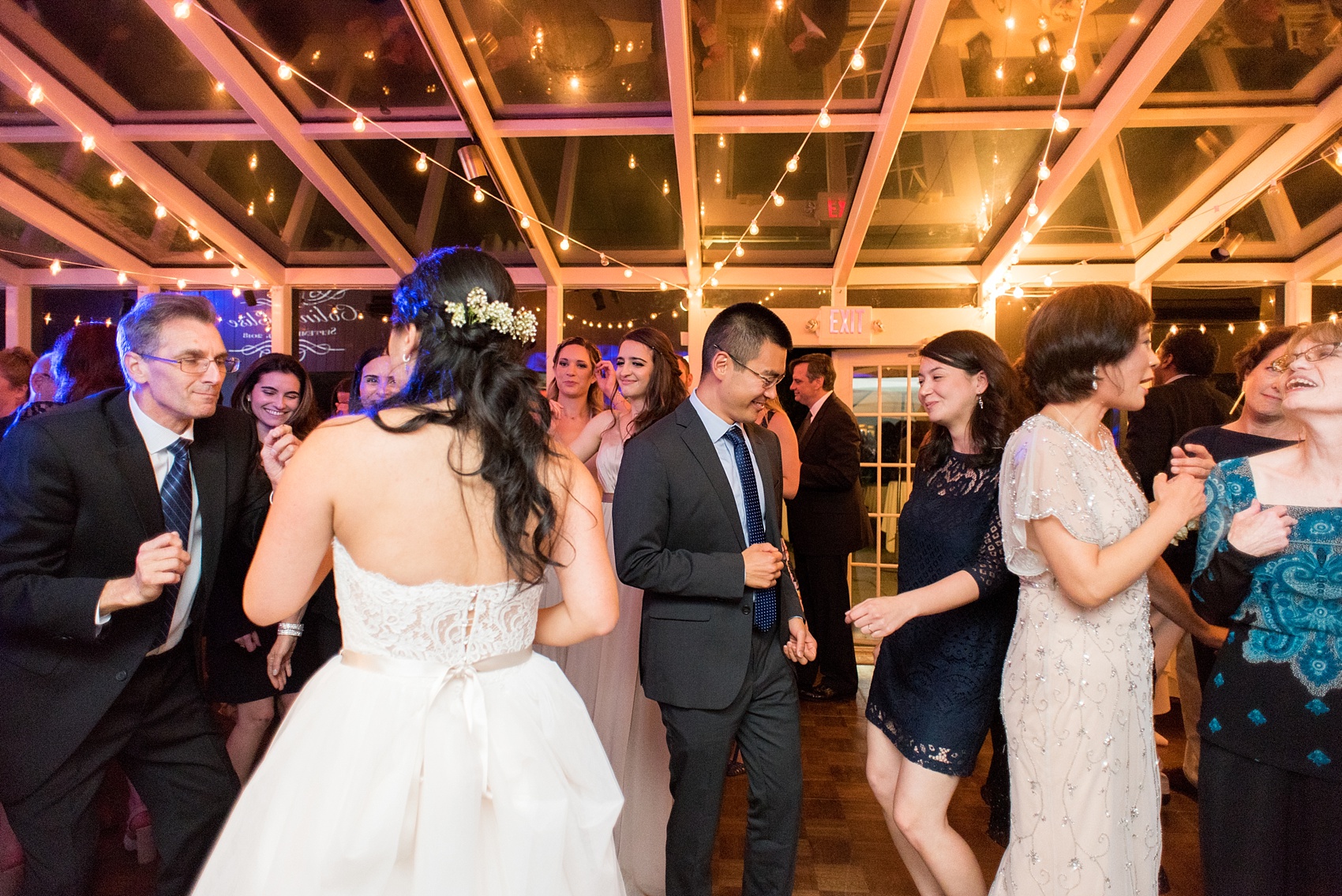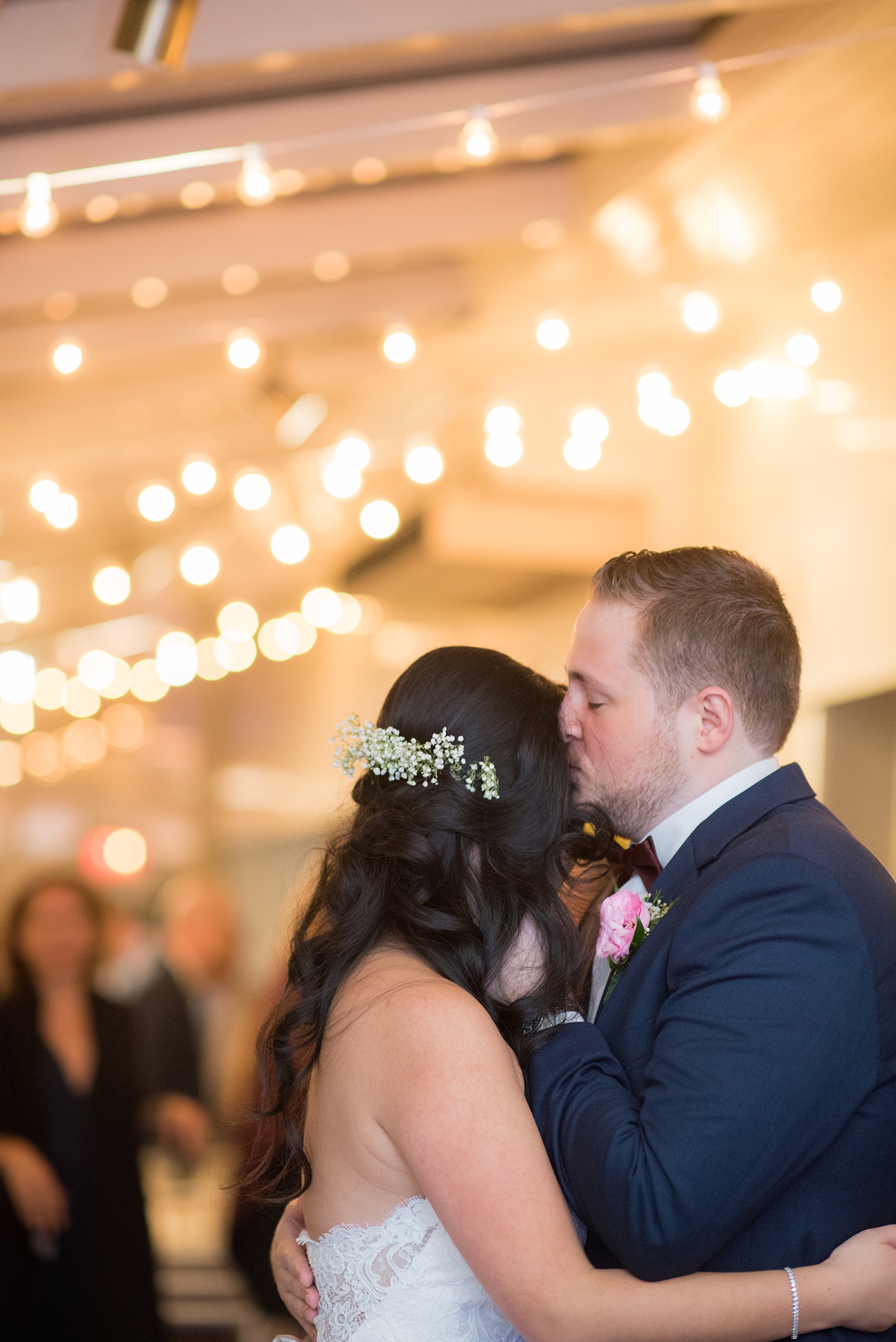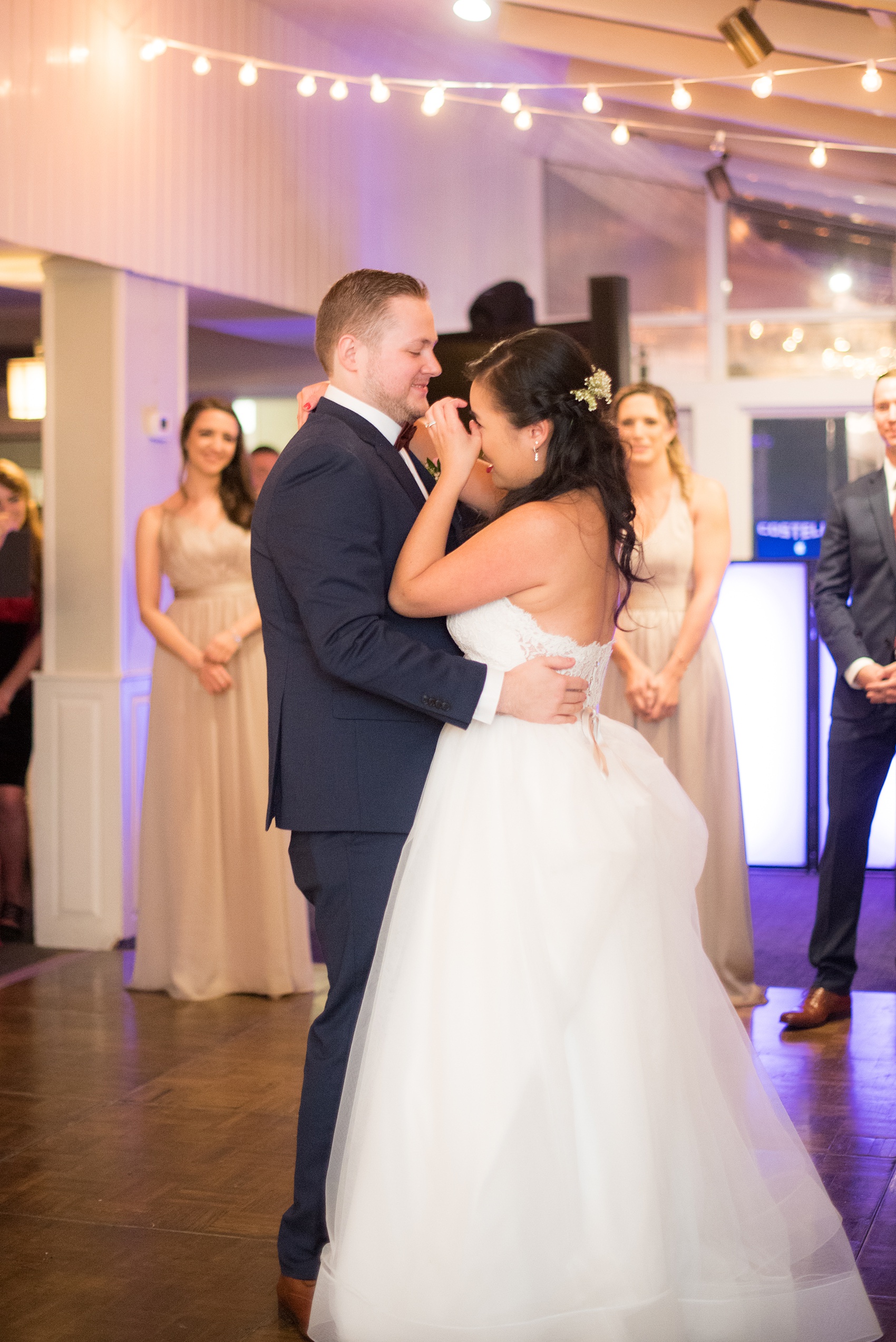 Congratulations Elise and Colin!
Venue: Crabtree's Kittle House / Stationery: Minted / Wedding gown: Bridal Reflections, designer Paloma Blanca / Hair and Makeup: Ashley Lauren Beauty Lounge / Wedding dress: Bridal Reflections, designer Paloma Blanca / Bridesmaids dresses: David's Bridal / Suits: Mens Warehouse / Hair and makeup: Ashley Lauren Beauty Lounge / DJ and Photobooth: Sound Active Events / Cake: Lulu Cake Boutique / Flowers: Joseph Richard Florals / Officiant: Mary Cronin / Wedding rings: Blue Nile / Wedding bracelet: Swarovski
Interested in having us capture your day? Contact us! 
For more wedding inspiration check out: