The opening of a new North Carolina wedding venue in the Raleigh, Durham, Chapel Hill Triangle is always an exciting time. And it was this way for The Graham Mill in NC too.
It's the promise of joyous occasions that will happen within its walls. Photographs that will be taken on it grounds and amongst it's pretty landscaping. And moments that will impact lives of people who visit. Memories will be made here, which warmed my heart to know walking around for the first time.
We started to make memories at The Graham Mill with a visit to its opening event. I was delighted when Michelle, of Magnolia and Grace Events, invited me to join her.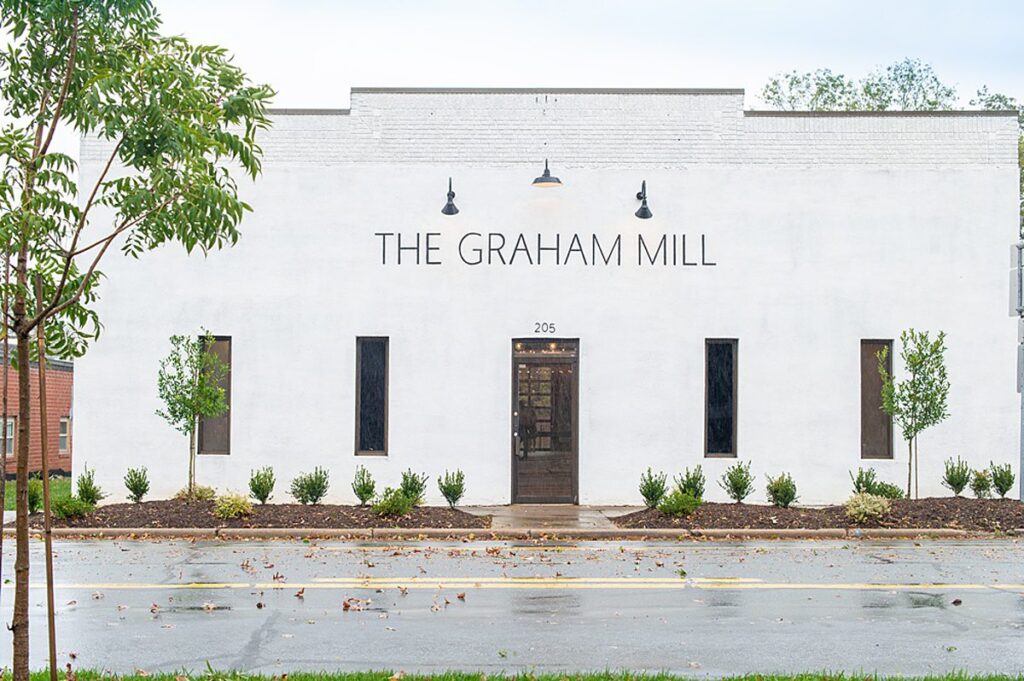 Location of The Graham Mill NC
We drove together from Raleigh, a little over an hour to the destination. It's in Graham, just over an hour from downtown Raleigh. It's a very easy drive and the town of Graham is super cute. The venue is just two or three streets from the heart of the quaint center of downtown.
It's just past Chapel Hill and Carborro, which are both north of Raleigh.
History of The Graham Mill
The space that The Graham Mill occupies was formerly an office for the hosiery mill next door. There's something poetic about having brides get ready in the venue today, with a connection to a product created for women's beauty in the past during the 20th century.
Graham Mill Owner
Aneesa Glines, of Harmony Weddings & Events, is the venue owner. She is a total sweetheart! She's really like a spoonful of sugar – all smile, hospitality and warmth all the time. She is a wonderful person, business owner and planner.
Here she is on the left, in a photo with Michelle of Magnolia and Grace Events:
Details of the Graham Mill Wedding and Event Venue
Aneesa has thought of so many special details as the owner of The Graham Mill. Not just because she was a part of the redesign and reinvention of the historic space, but because of her years as an experienced wedding and event planner.
Here's a few details we noticed:
Bridal Suite and a Groom Suite, with a door that can be opened in between for the rooms to co-mingle after the first look (and to expand into a bigger space if needed).
Coffee maker in the bridal suite that's a light grey color with pretty creamer and sugar containers next to it.
A cart with women's essentials in the bridal suite, including Band Aids and lotion.
Vanity with tall chairs in the groom's suite and bride's suite.
A place for bouquets and coats before you enter the bridal suite, near the doorway.
The women's restroom is also thoughtfully stocked, with Q-tips and Tampons and Bobby pins.
Though guests and a couple at a wedding or event may never see this, there's a vendor room. This is especially important for photographers and videographers, because there are tons of outlets in there to recharge batteries. It's such a thoughtful inclusion and Aneesa cared enough to pay attention to this in a great venue space. Woohoo!
Church across the Street from The Graham Mill
Graham Presbyterian Church is right across the street from The Graham Mill. It's a beautiful church with spectacular stained glass windows, beautiful grounds and a striking arch-framed doorway.
I know a ceremony space and church depends on a couple's denomination but it's a nice option for Presbyterians.
Photo Locations in and Near The Graham Mill NC
There's beautiful options at The Graham Mill for photography. It's bridal suite, white washed brick inside, it's barn doors, its rolling "garage" door, and grand windows inside (just to name a few). Then of course there's the beautiful lawn, stairs and garden in the back.
There's also terrific photography spots in Graham blocks away. This includes the turret of the historic hosiery factory. The brick wall just in front of it is pretty fantastic too, depending on the vibe of photos you're going for. (The town actually reminds me of Goldsboro, NC a little bit, which is an hour south of Raleigh.)
Alamance County Historic Courthouse reminds me of pieces of the capital building in downtown Raleigh, with its towering columns and white stone facade. There's also some cute spots on Graham's Main Street. Press Coffee shop is there and is painted a dark blueish grey color. It could be great for photos.
The southwest corner of N. Maple Street and W. Harden Street (where The Graham Mill is) is part of Graham Presbyterian Church. Even the public sidewalk at the corner has a pretty background, though we imagine you shouldn't really go onto the property without permission.
It was a lovely visit and I'm looking forward to hopefully photographing a live event there one day!
Getting married in North Carolina? Also check out: