Liz and Michael meeting at graduate school in North Carolina was perhaps fate. They were both in a program to become dietitians at Meredith College, in Raleigh. And years after dating and knowing it was simply "right," as they believe everything happens for a reason, Michael proposed on Liz's birthday last October. Just about a year later they'd tie the knot at Cary wedding venue, Chatham Station, and hire their planner, Sarah of Sweet Sarabelle. Who, lucky for me, recommended me to them!
Their wedding was sun-kissed. It was a brisk fall afternoon (which was exactly what they wanted!) with warm sunlight providing just enough relief from the cold by day. Pinks, blues, and greys filled the space with subtle pops of color and their smiles and laughter is what truly completed it all. Liz looked like a super model with her gorgeous hair swept up into two braids and a low bun wearing silver and blue glitter ombre high heels. Michael was ever-so-handsome. And, might I add, knew exactly what he wanted to wear from before we even met and I knew I'd be photographing him! He stuck to his vision and wore a blue suit with gold details and brown leather shoes. Here's more beauty and details from their day…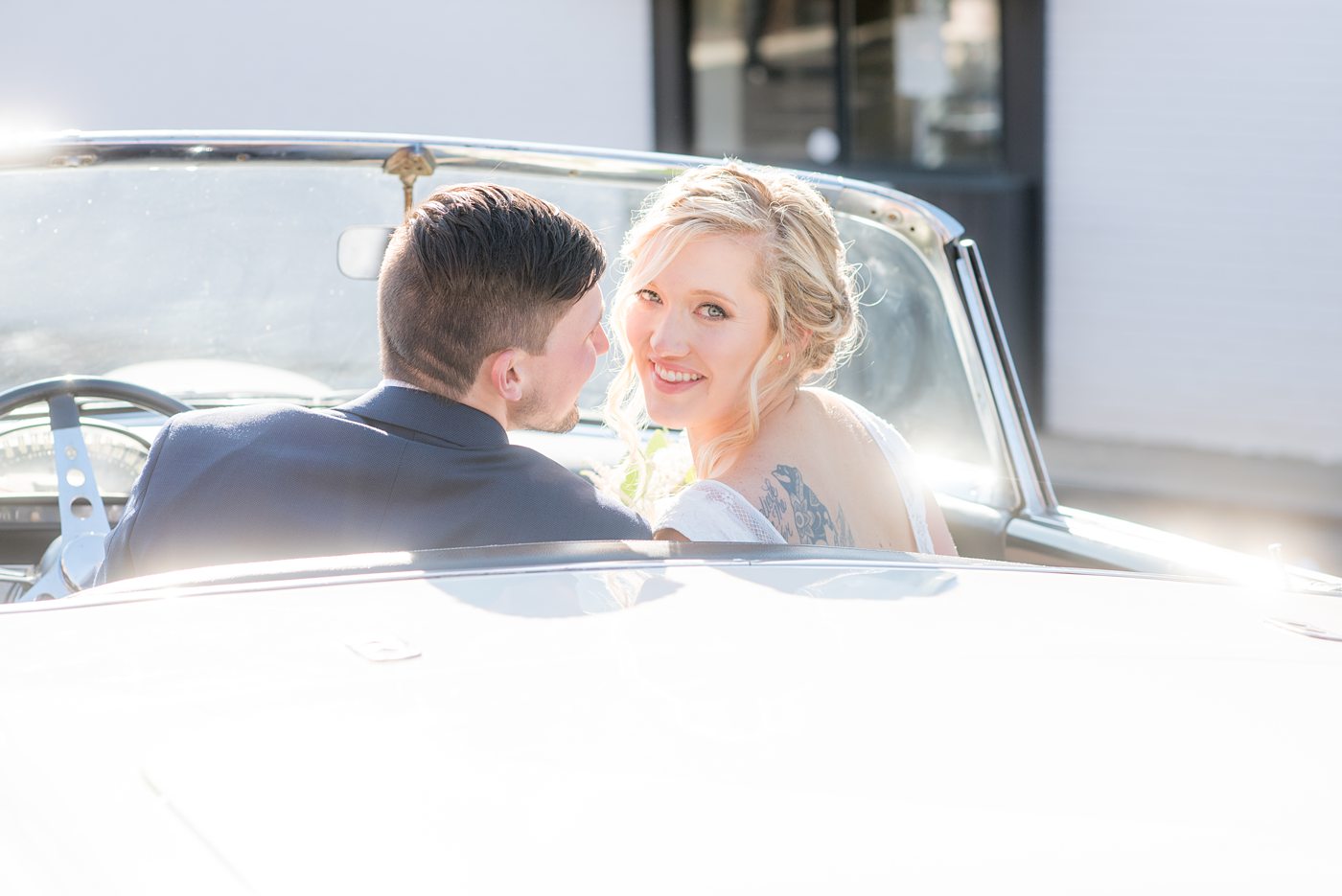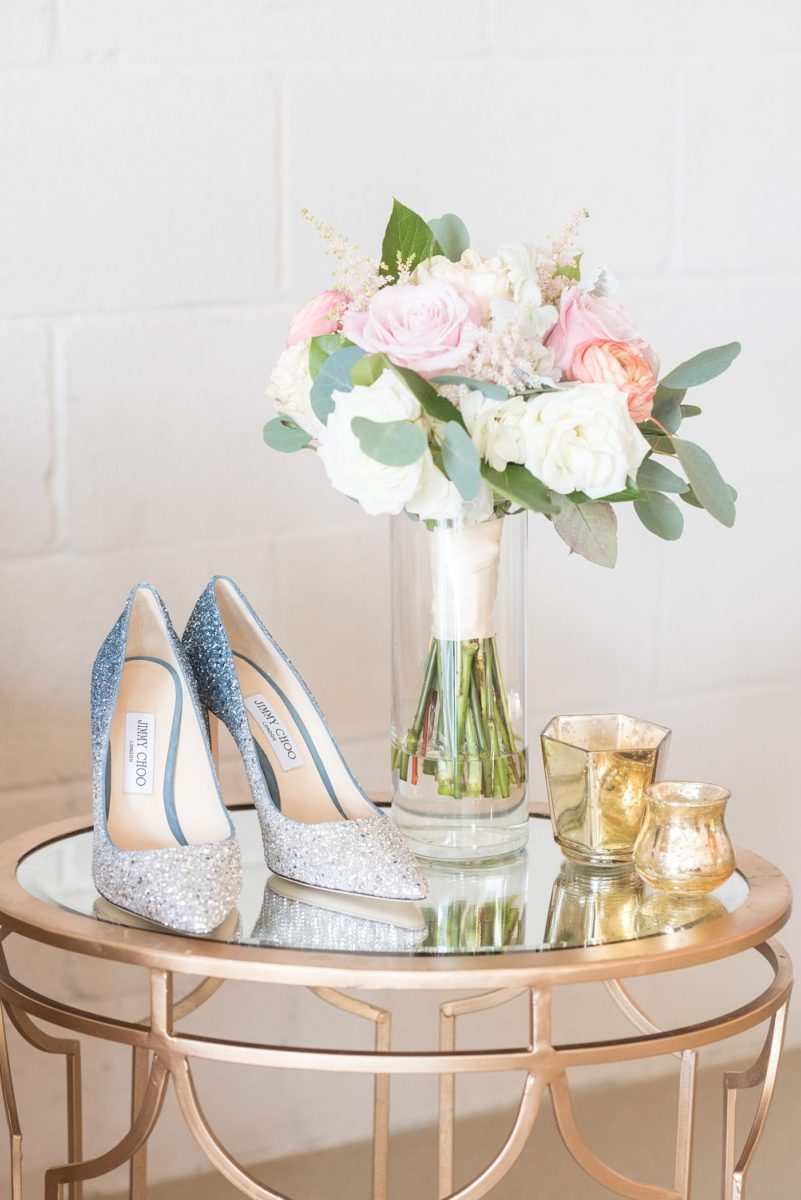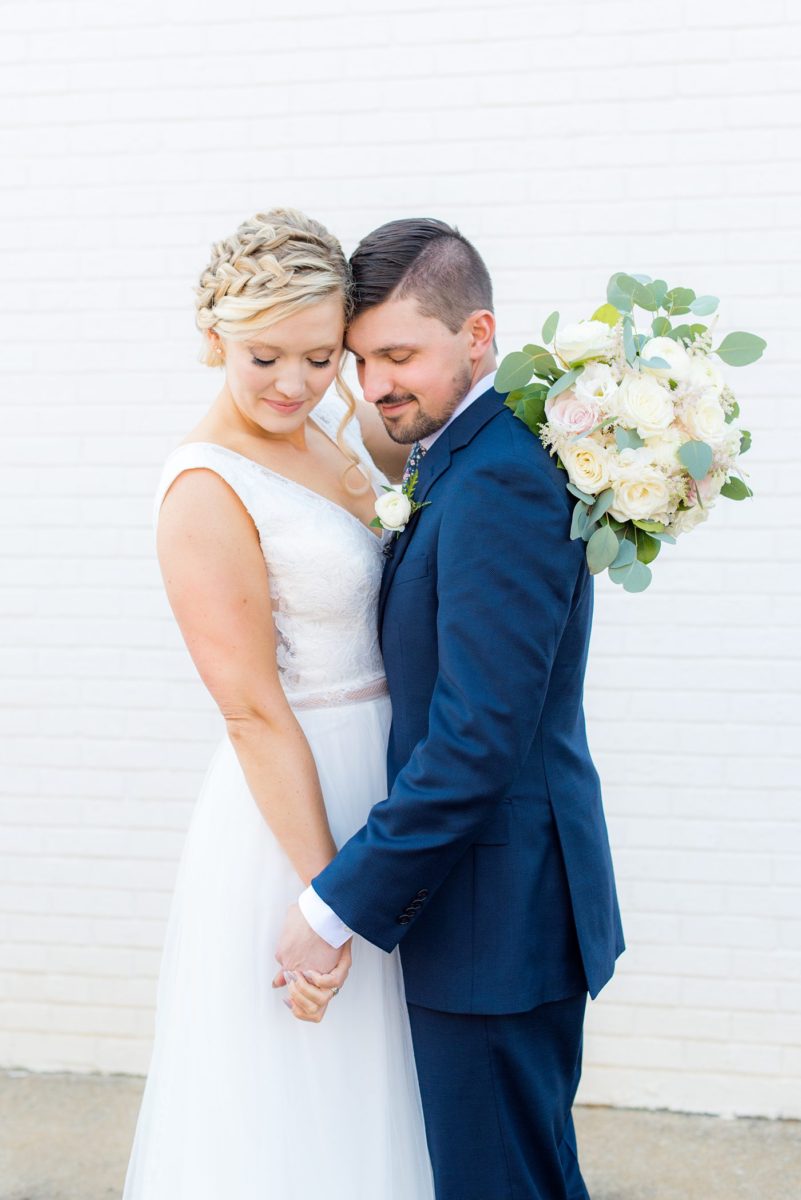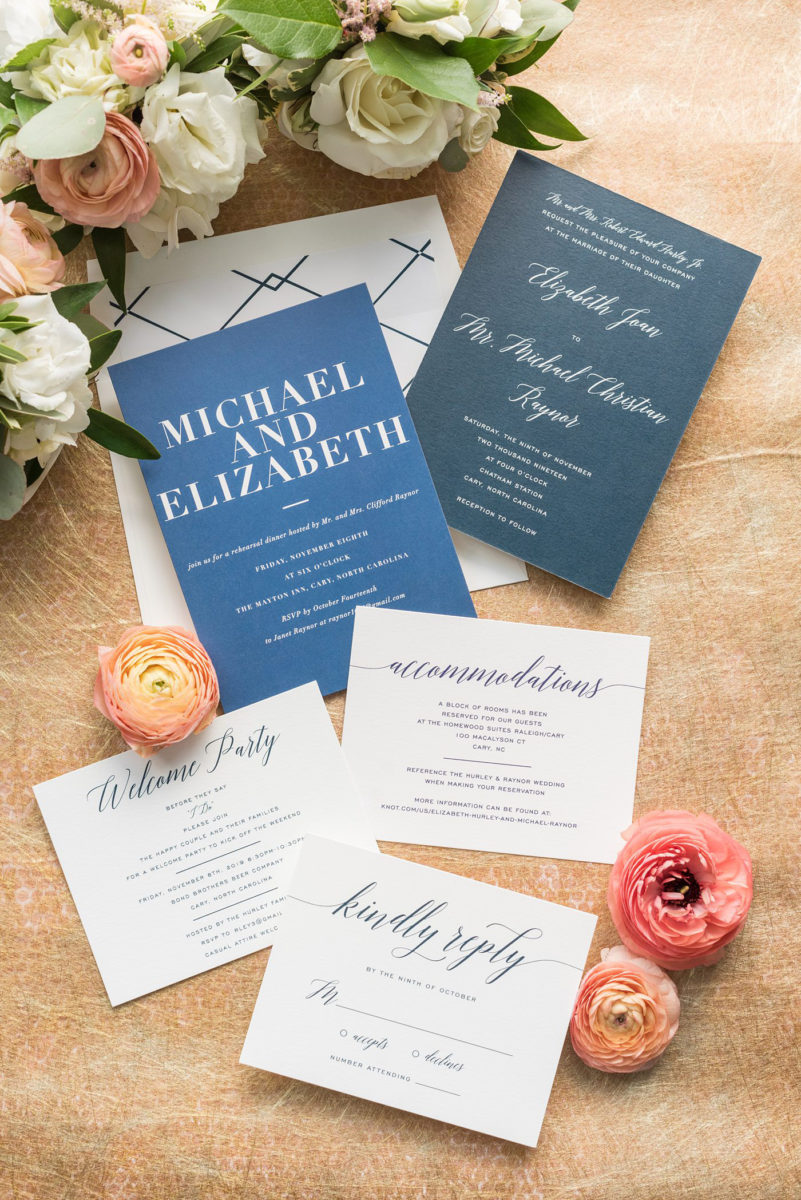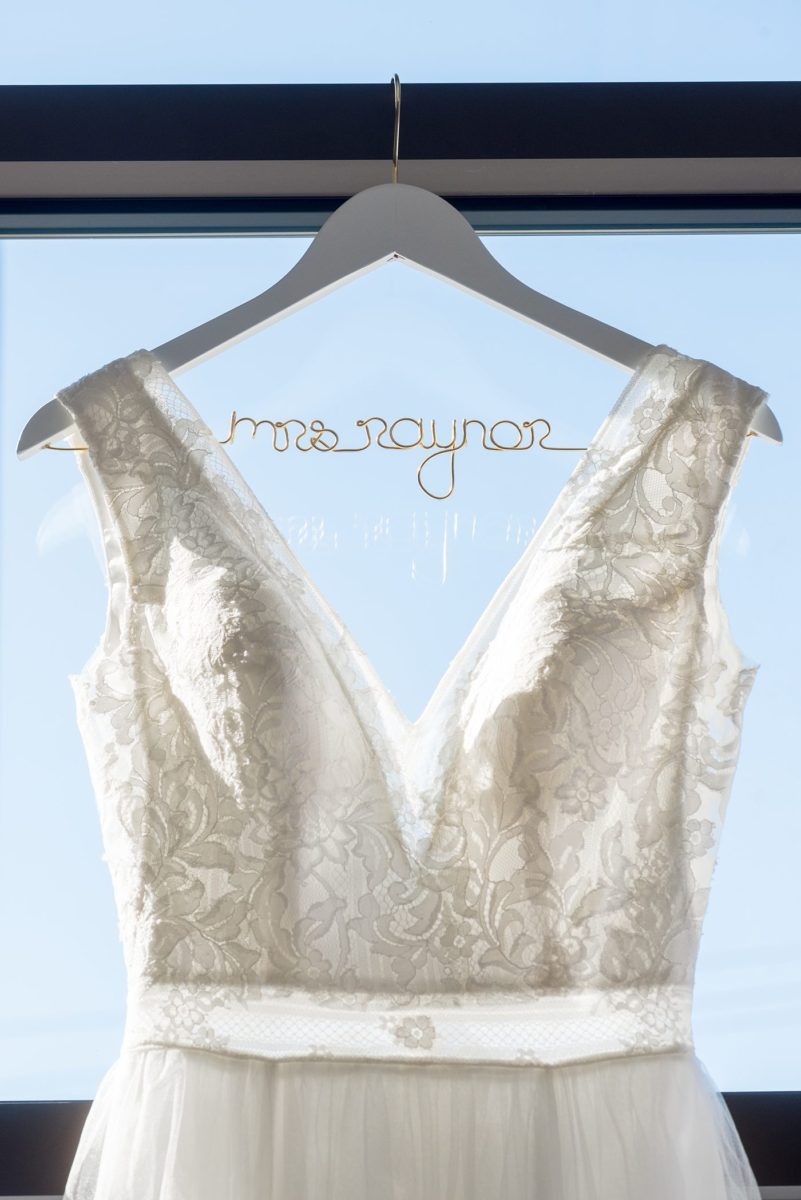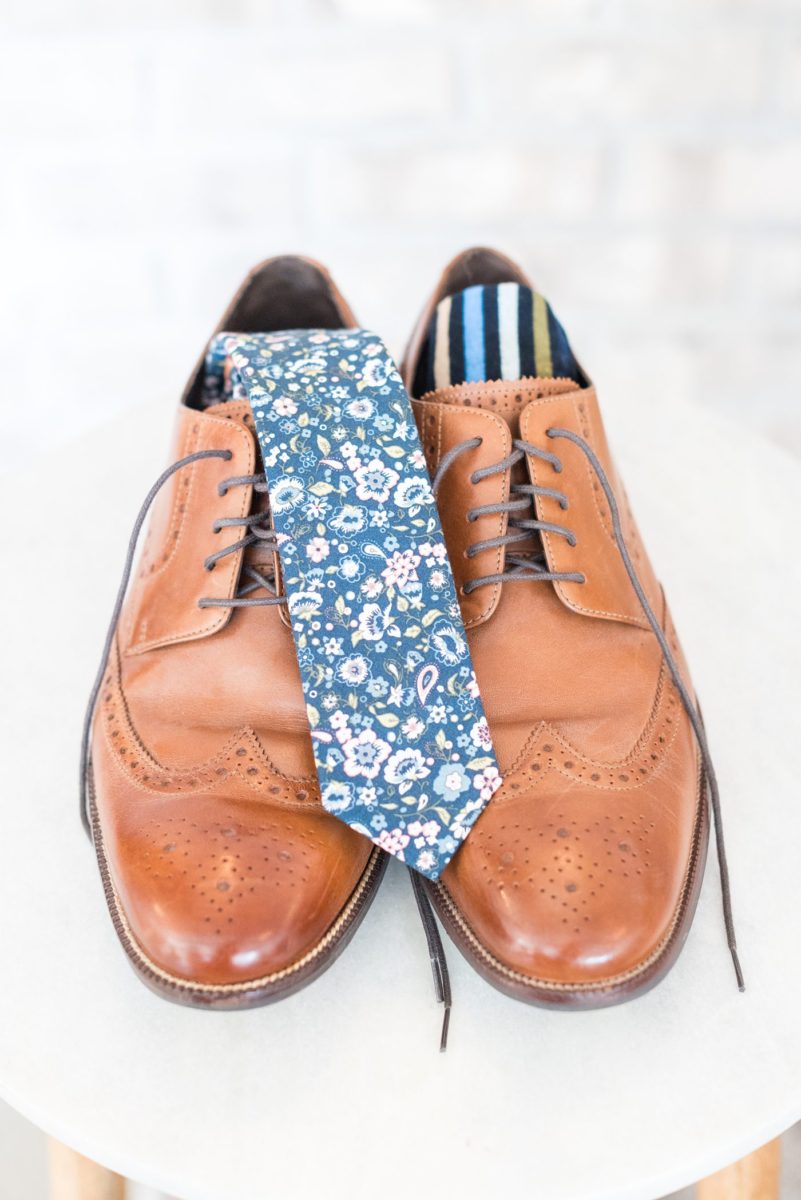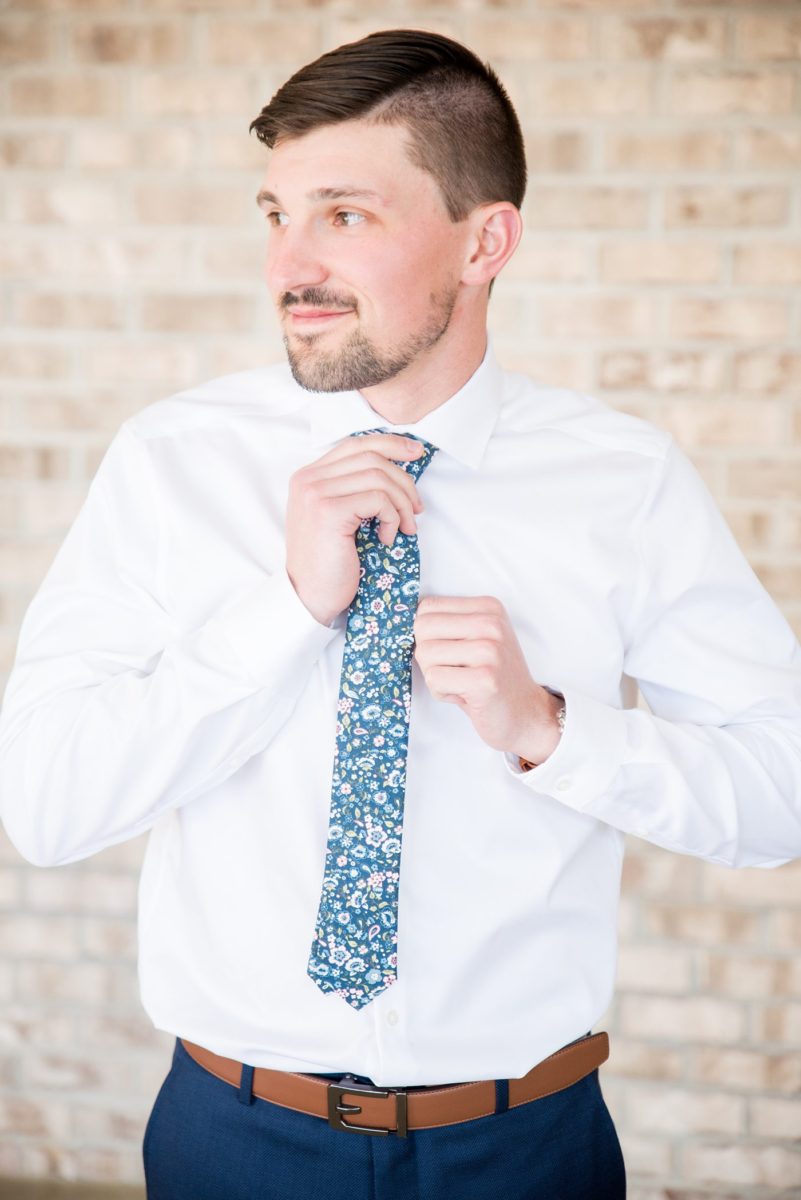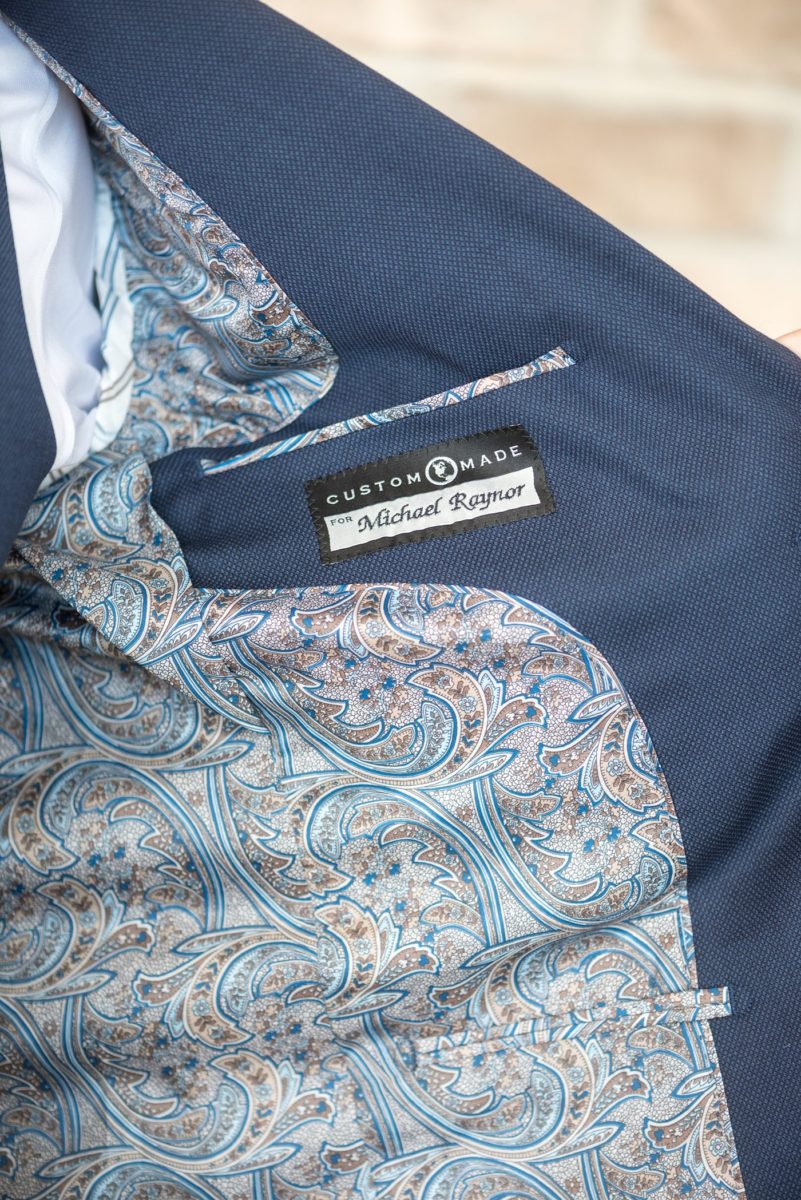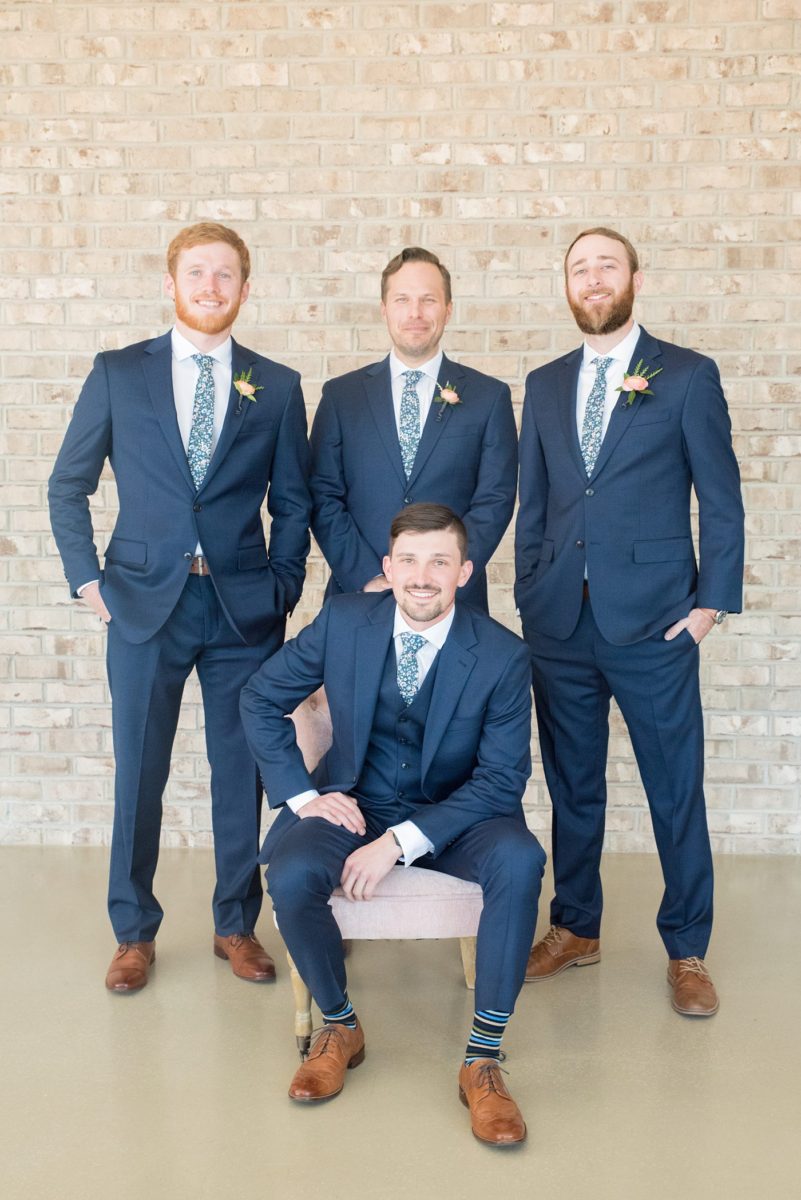 There are two suites inside the venue. In this case they were used one for the bridesmaids and bride and the other for Michael and his groomsmen. I was busy snapping away details in the light-filled reception area and using the cool glass garage doors they have for her dress. And I couldn't resist using the lounge furniture and pillows for assorted details at this Cary wedding venue, Chatham Station.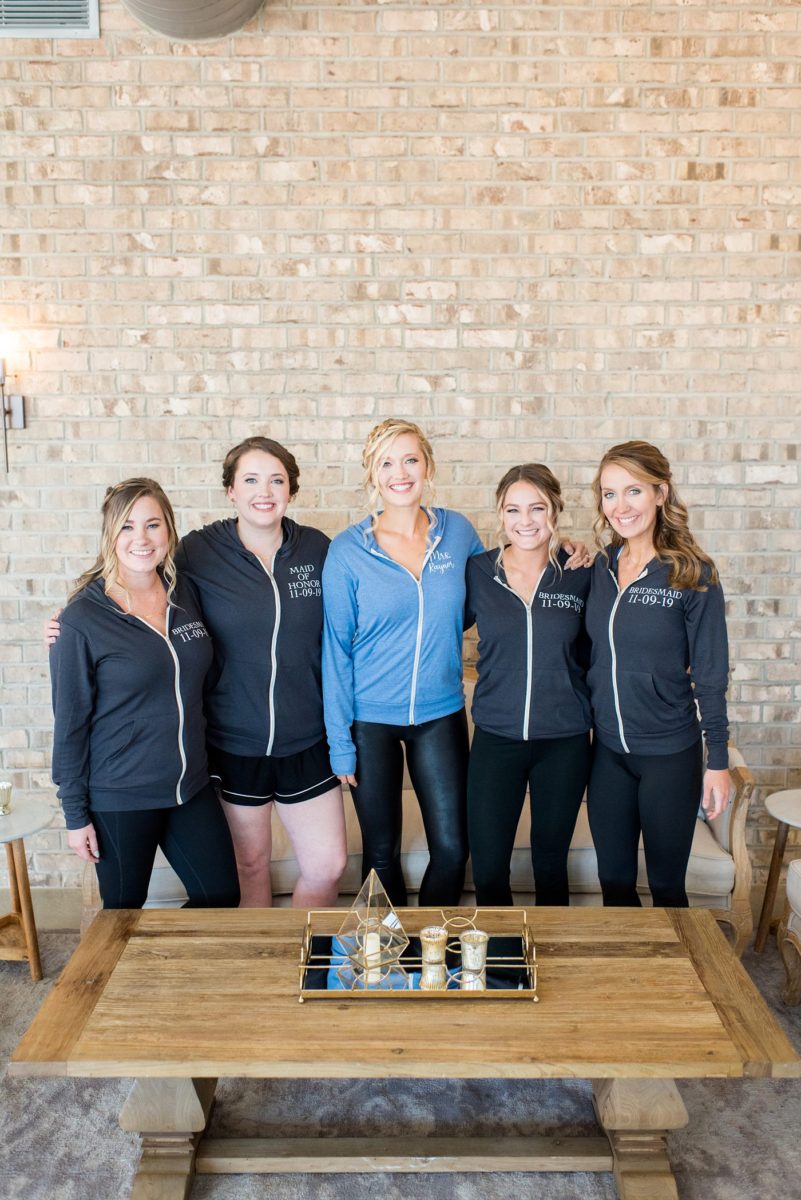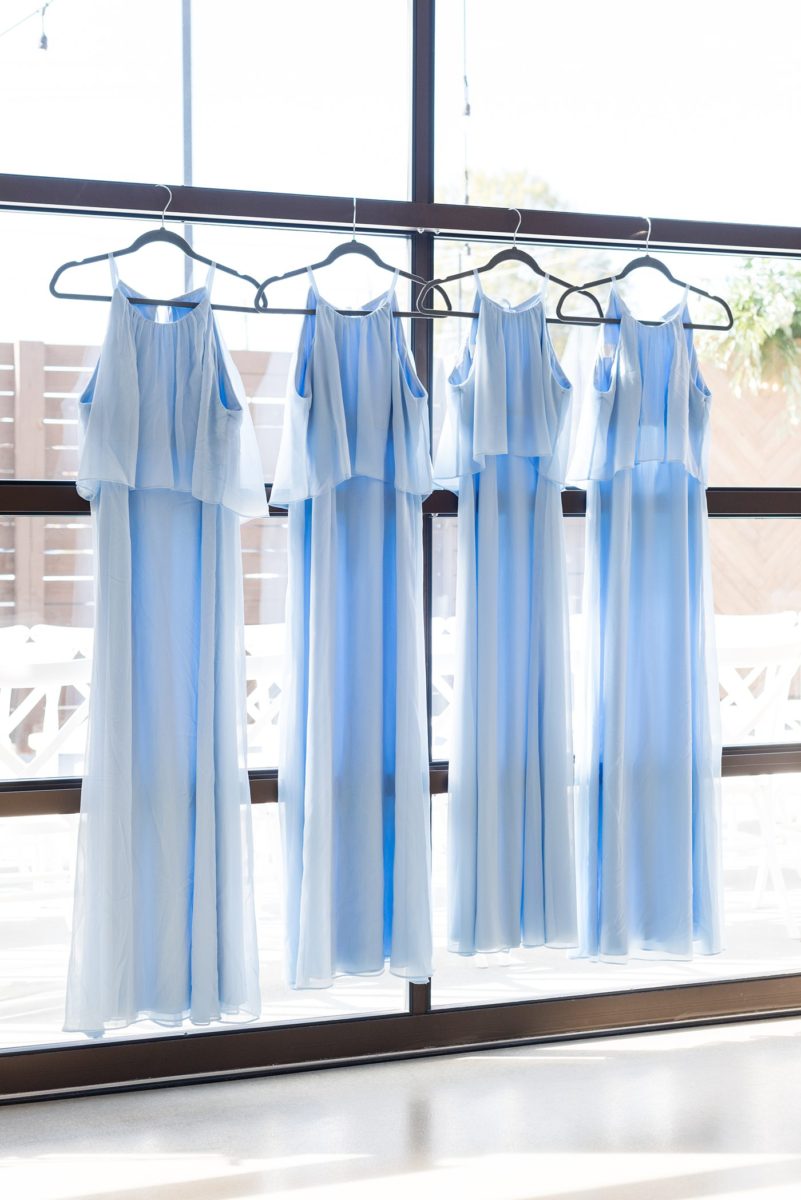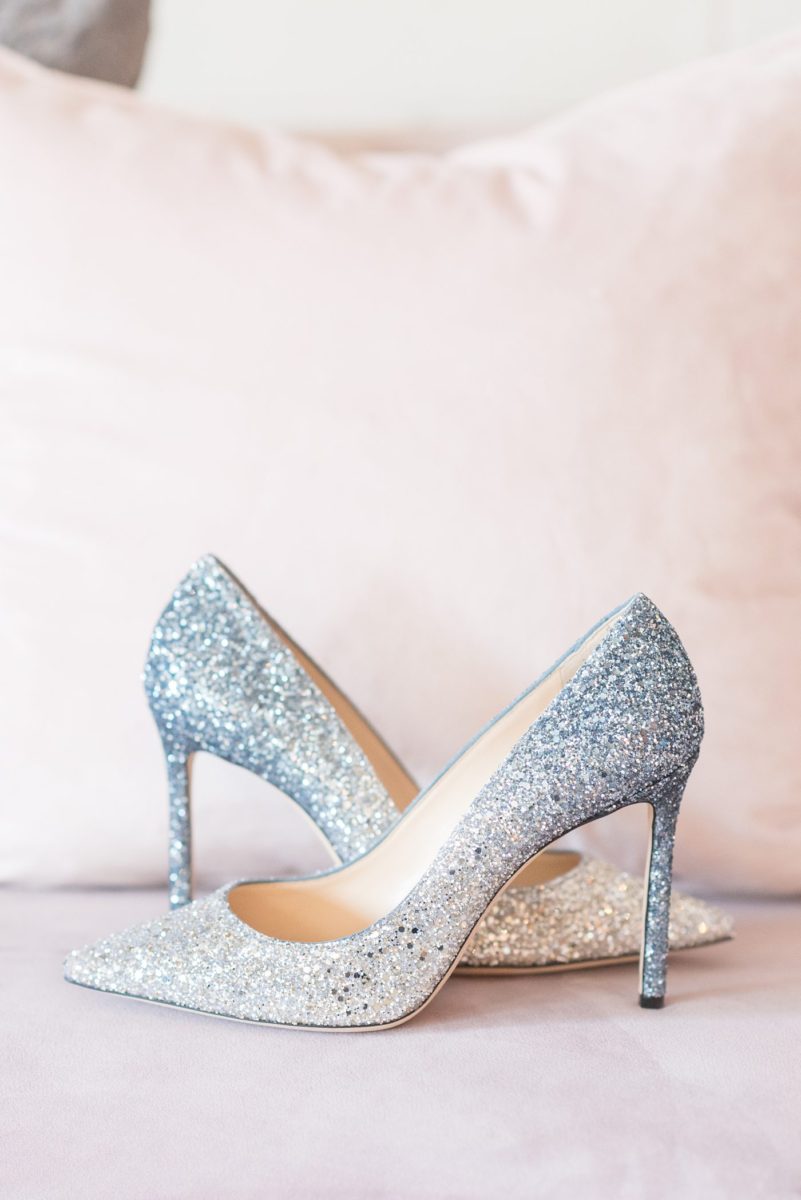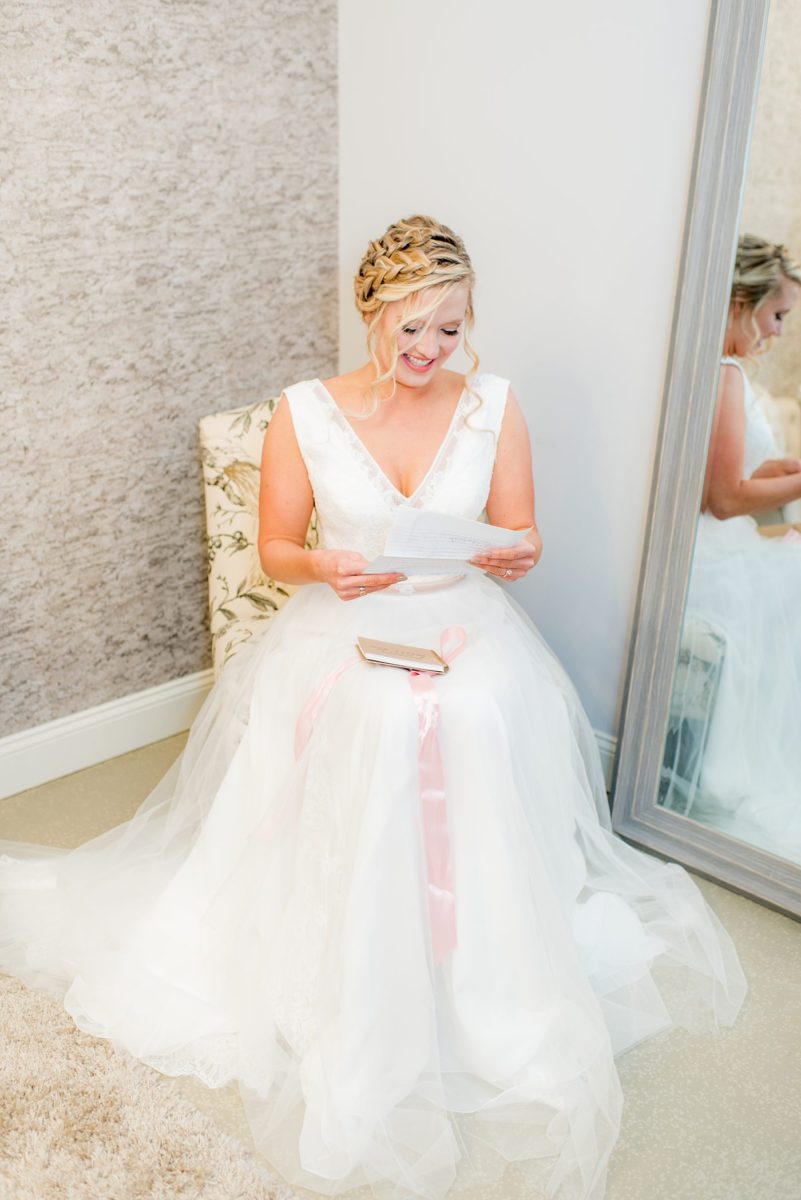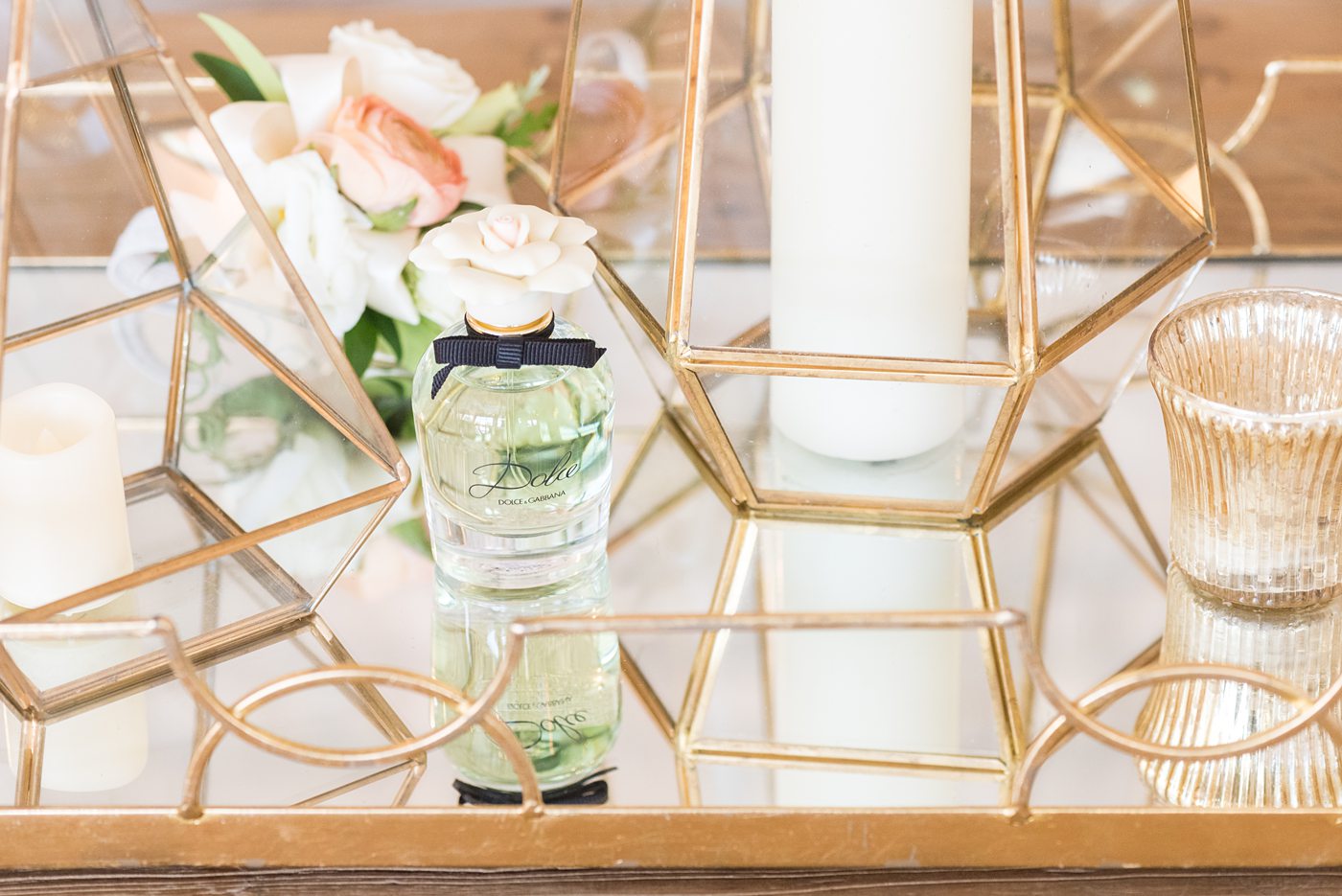 Michael and Liz exchanged gifts and wrote letters to one another. In addition to this, they had written books containing "Reasons I Want to Marry You" for months and exchanged those on the wedding day too! They also both wore special new scents for the day, perfume for the bride and cologne for the groom. May they always remember their perfect wedding day when they wear them!
They had a heartfelt first look indoors. They loved the white-washed brick inside and I did too! Afterwards we went outside for very special photos with Liz's father's white vintage car. This Thunderbird has been in their family for many years – Liz's mom even showed me a photo of her daughters standing beside the car as children. We recreated that photo on Liz's wedding day!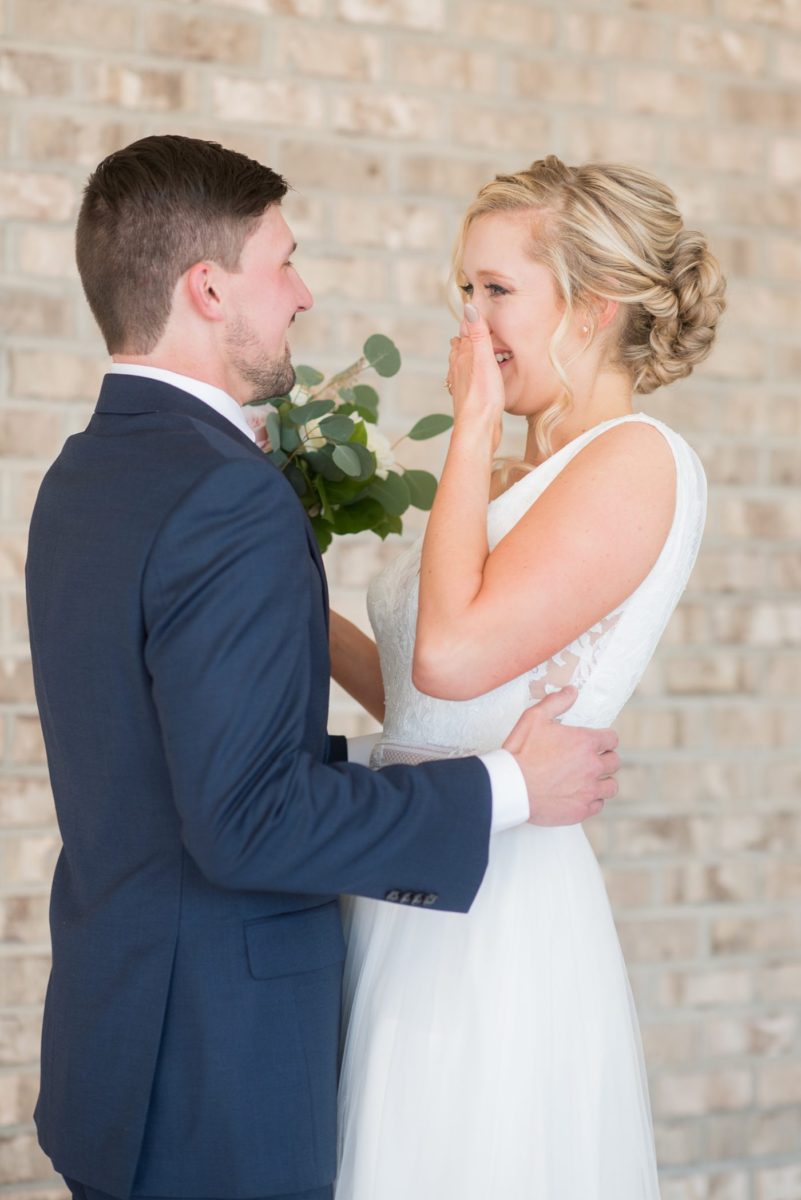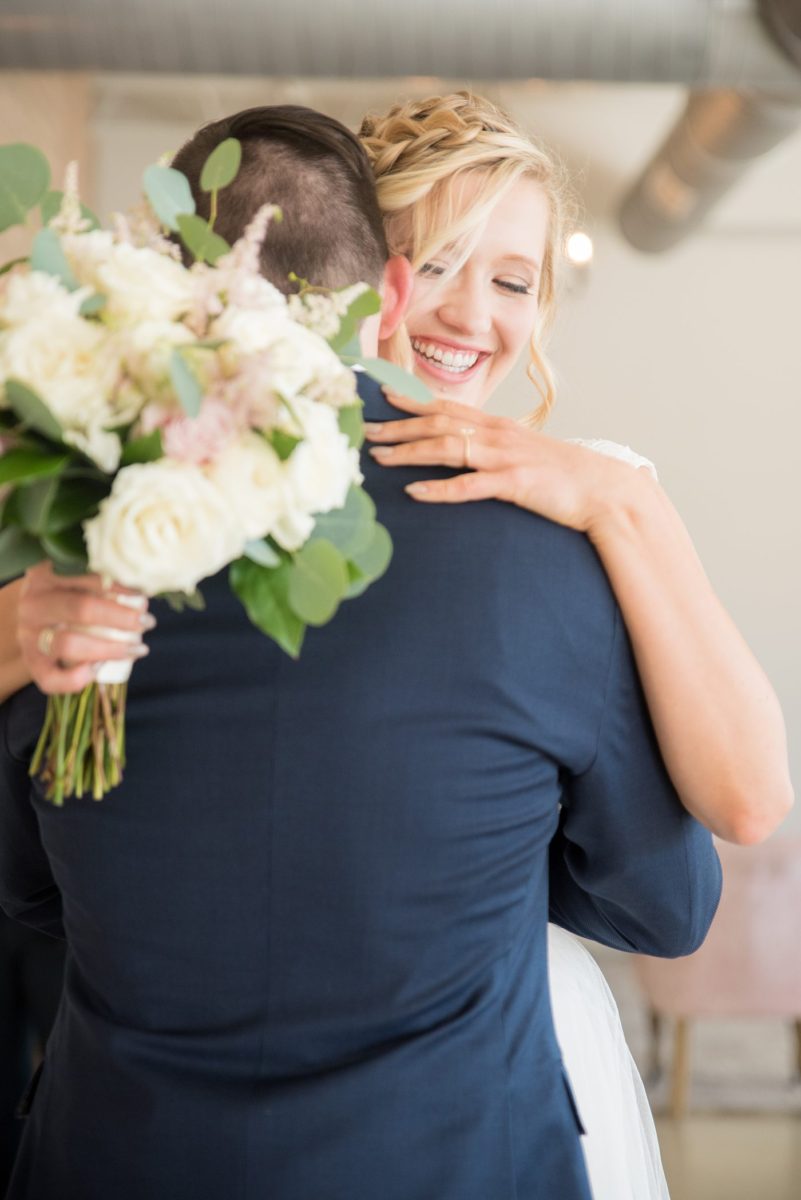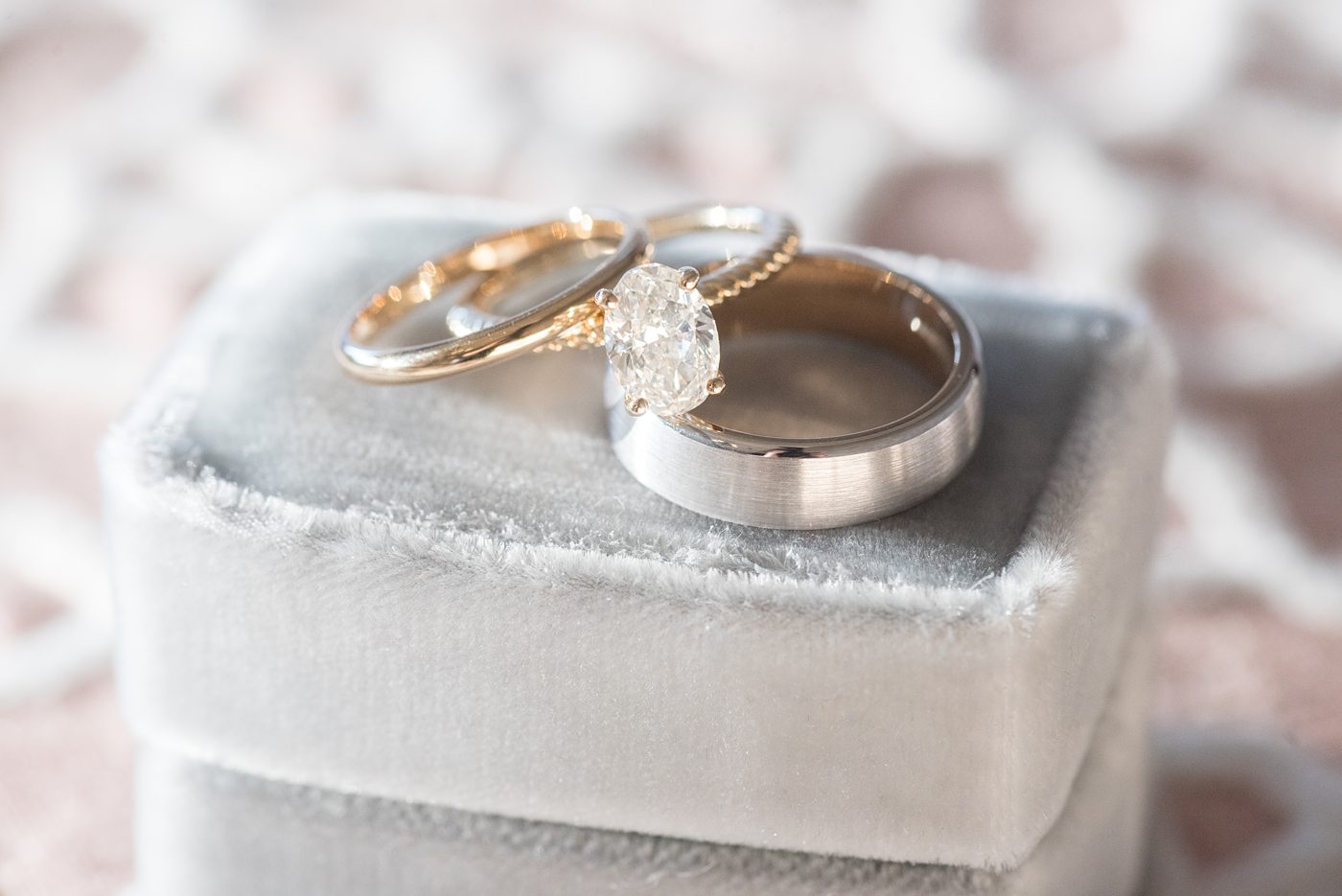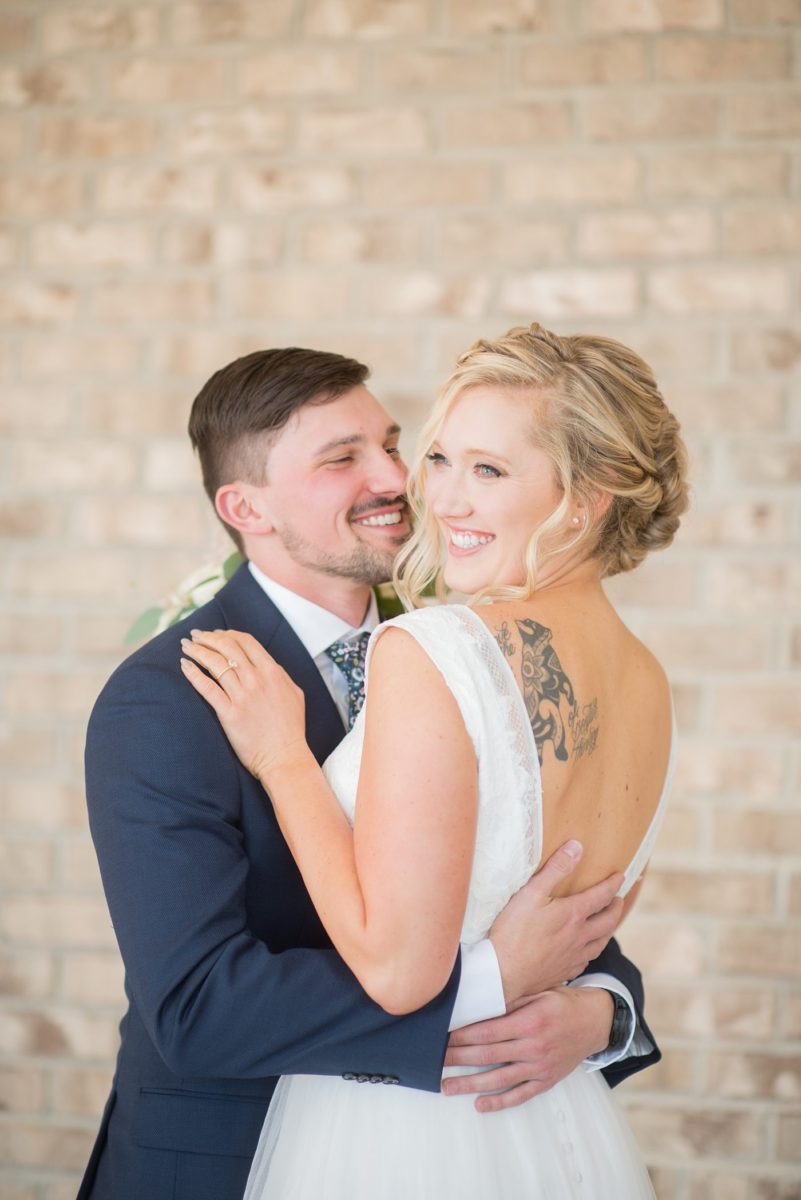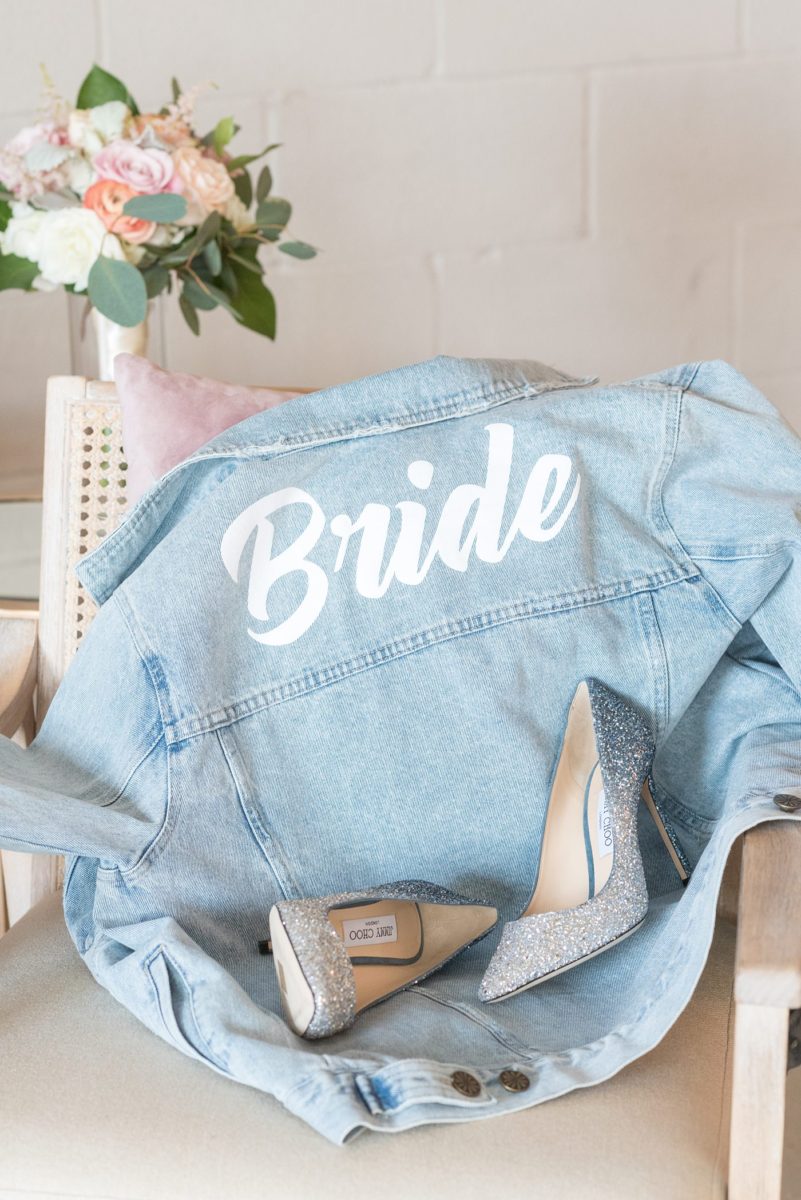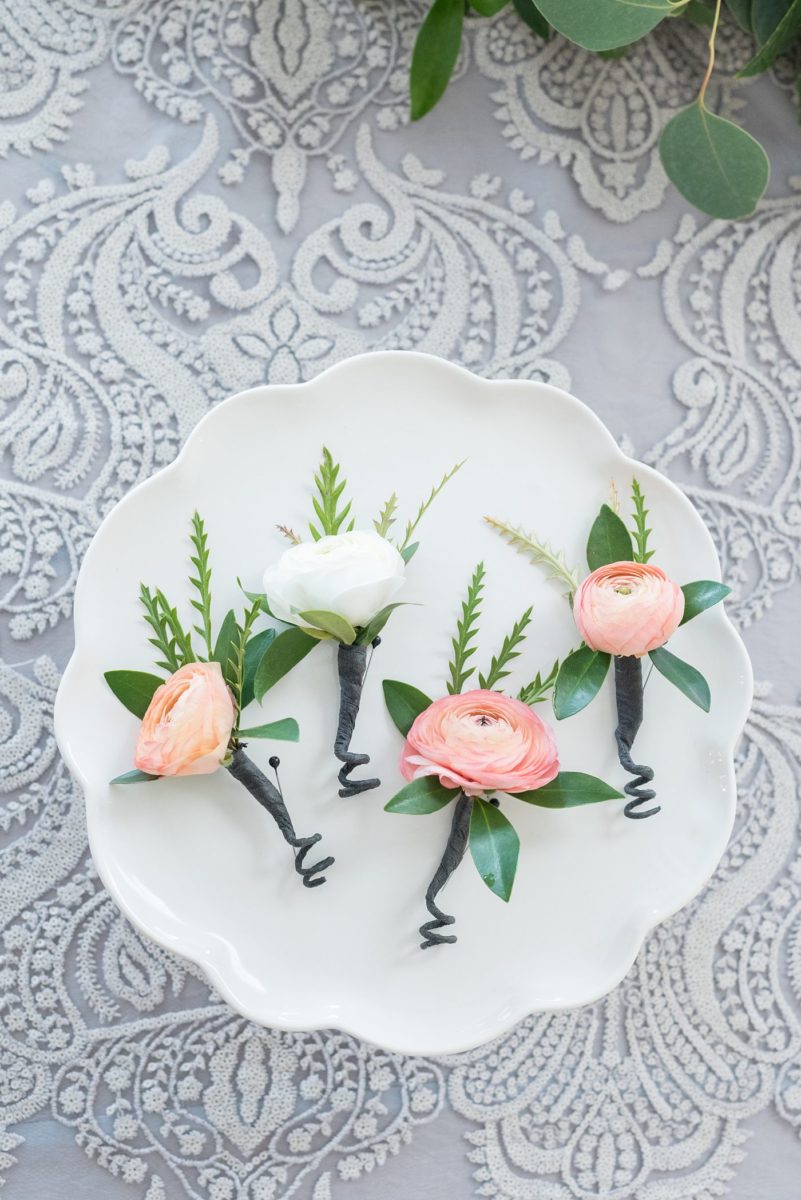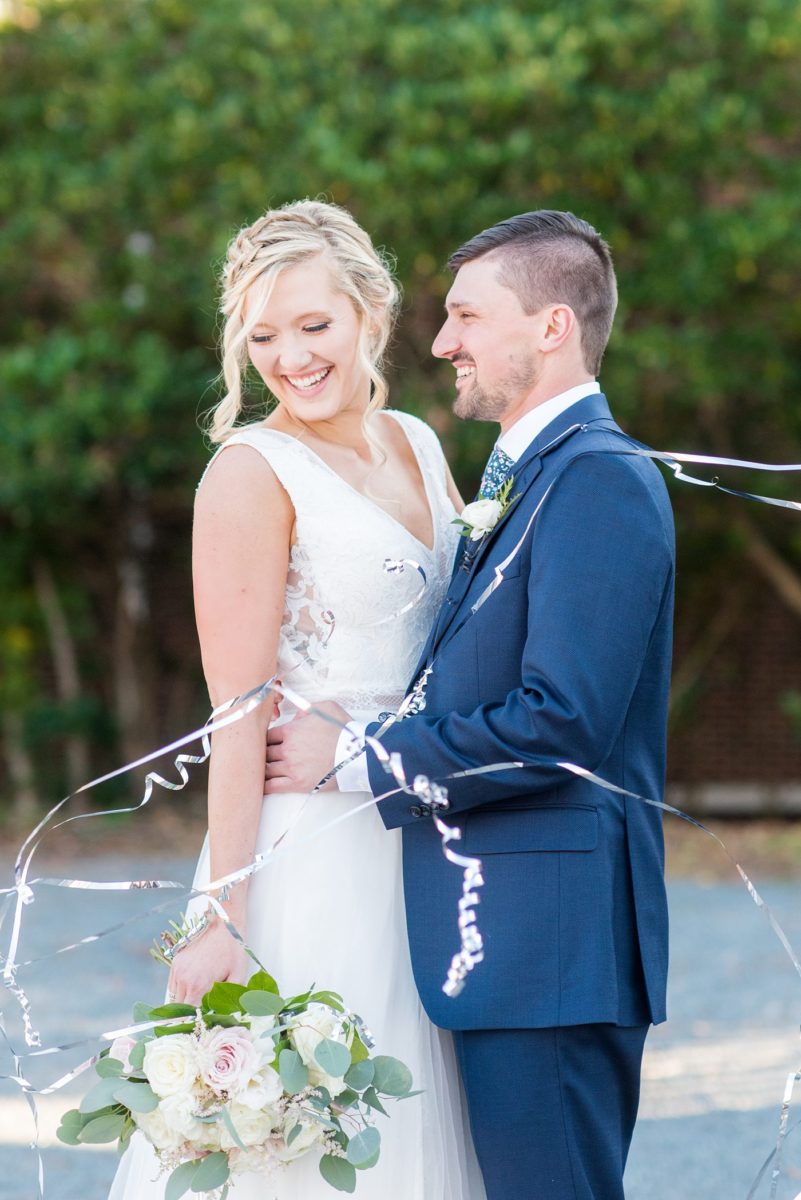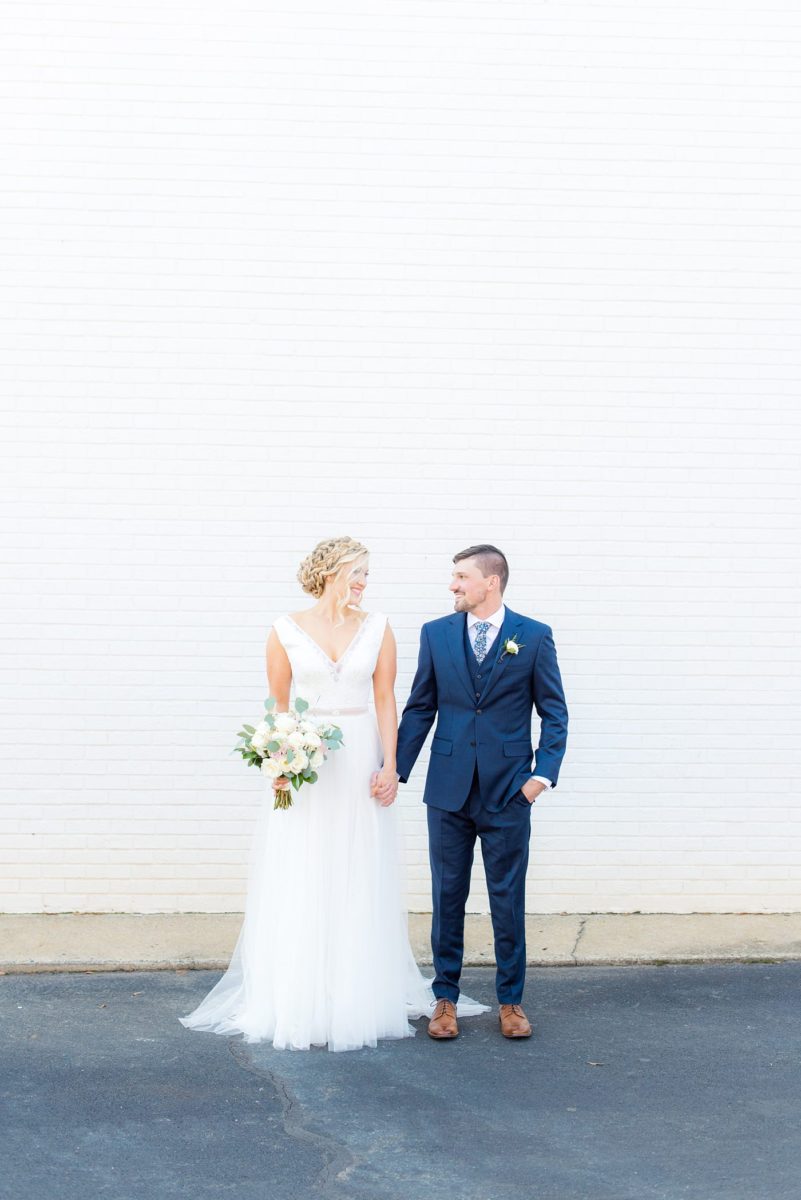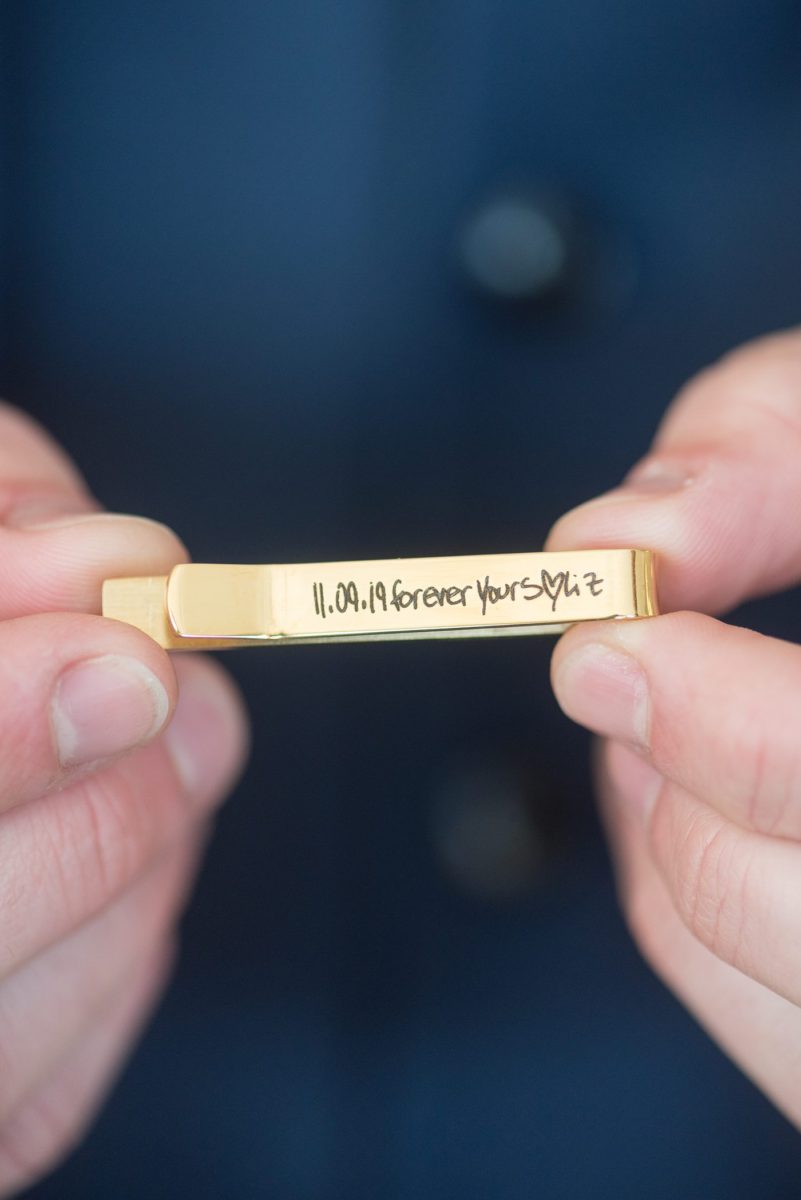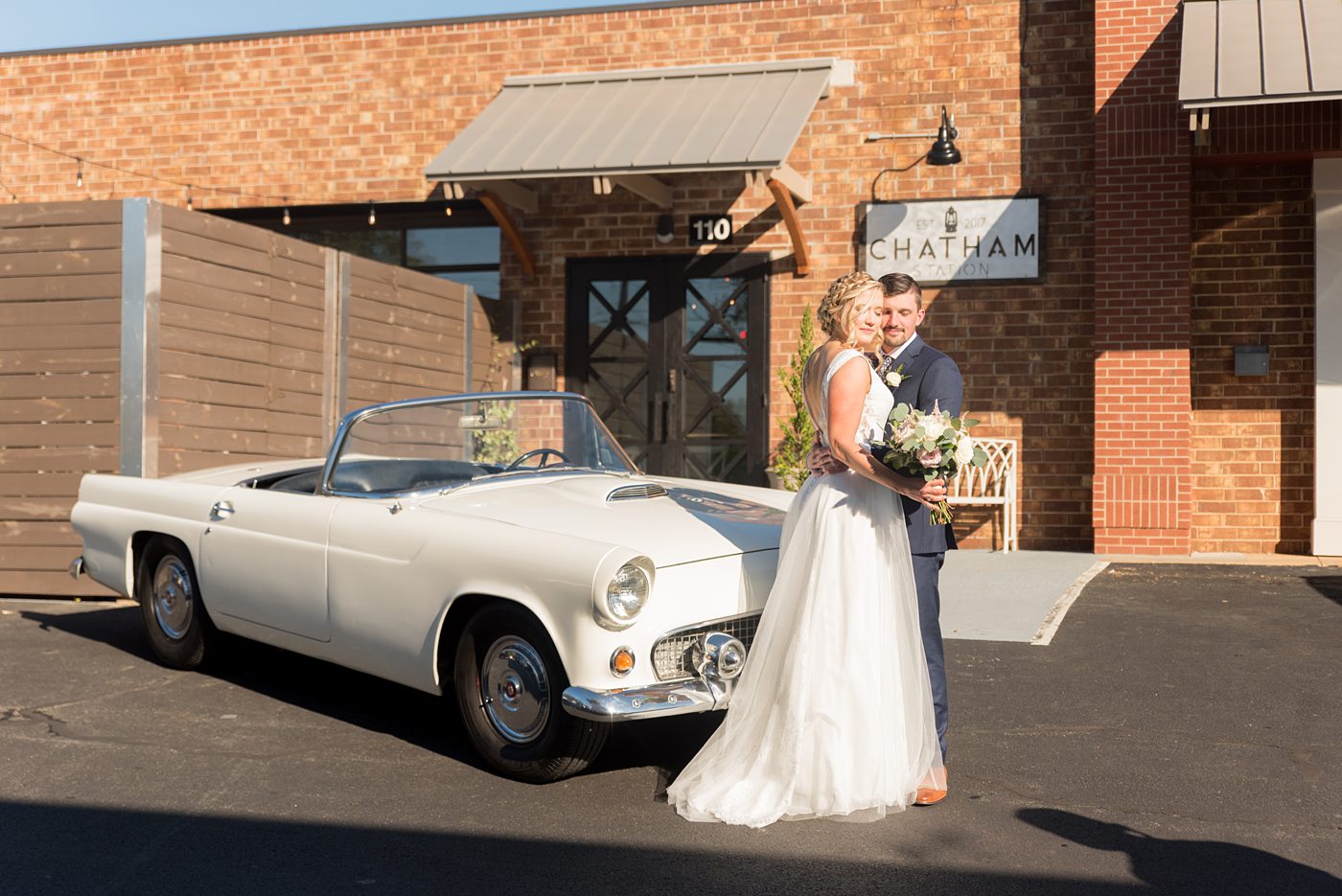 Liz also gifted a tie clip to both of the most important men in her life: one to her husband and one to her father. She found an Etsy vendor that was able to engrave her own handwriting on it!
The bridesmaids wore light blue chiffon gowns and carried eucalyptus and rose bouquets that complimented Liz's, filled with pink and peach flowers. The groomsmen wore blue suits and everyone wore ranunculus flower boutonnieres. Some of my favorite photos of the day were from a parking lot just across the street that provided really cool locations. One was filled with a backdrop of greenery and the other just next to it with stacks of tires. Liz shared that Chatham Station was formally an old auto-body shop so this was very much appropriate to the history of their wedding venue. And of course I love any time we get to play with confetti so popping silver confetti streamers was another favorite time during their fall celebration.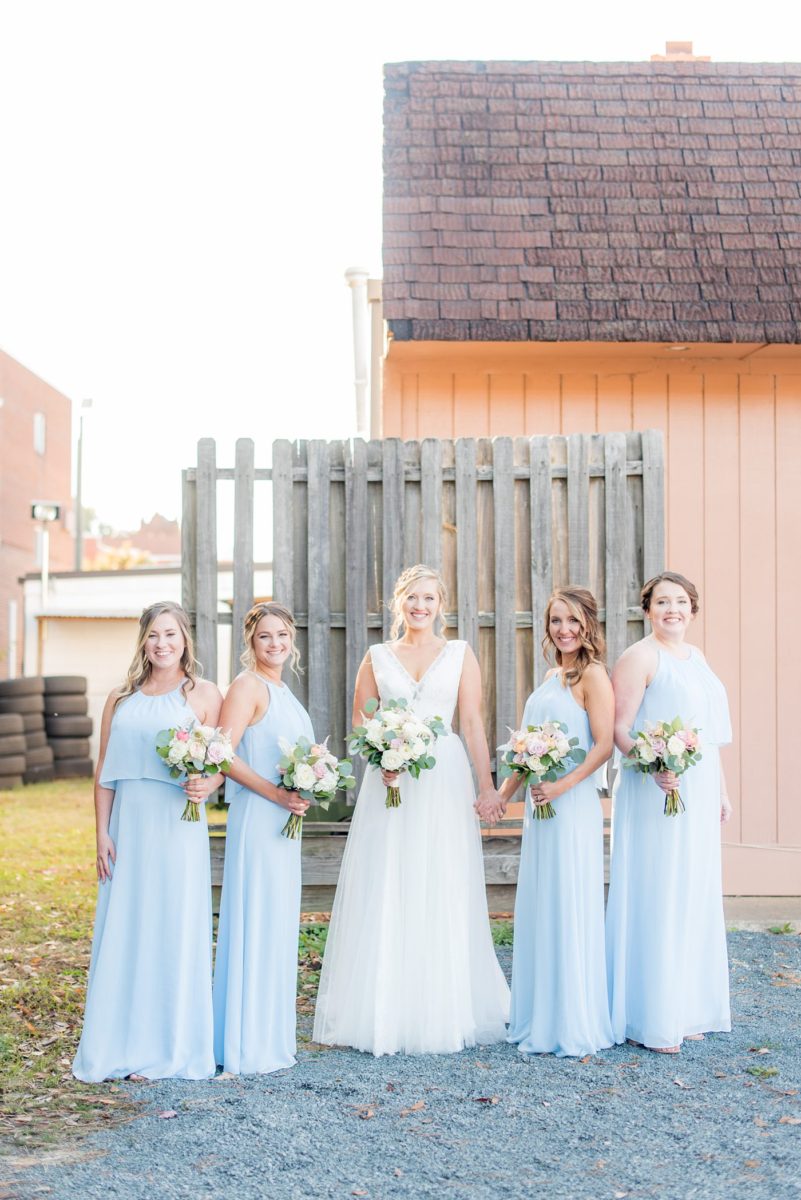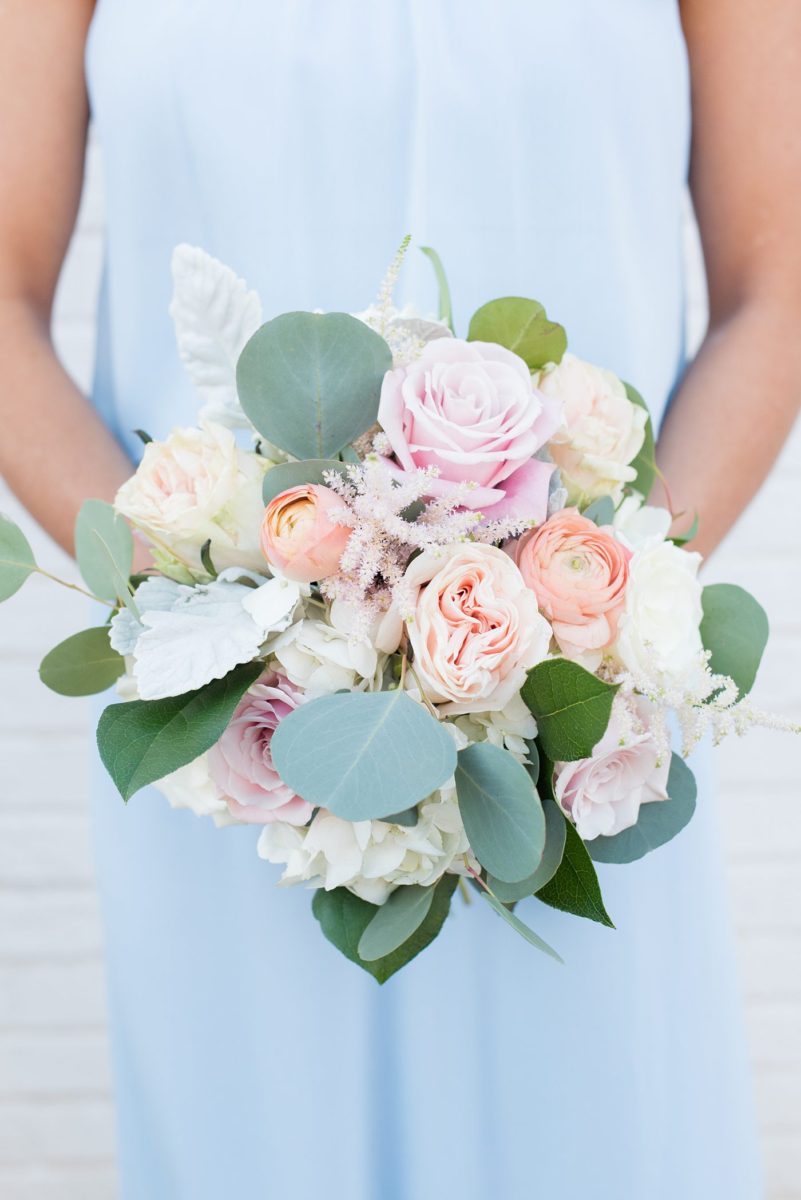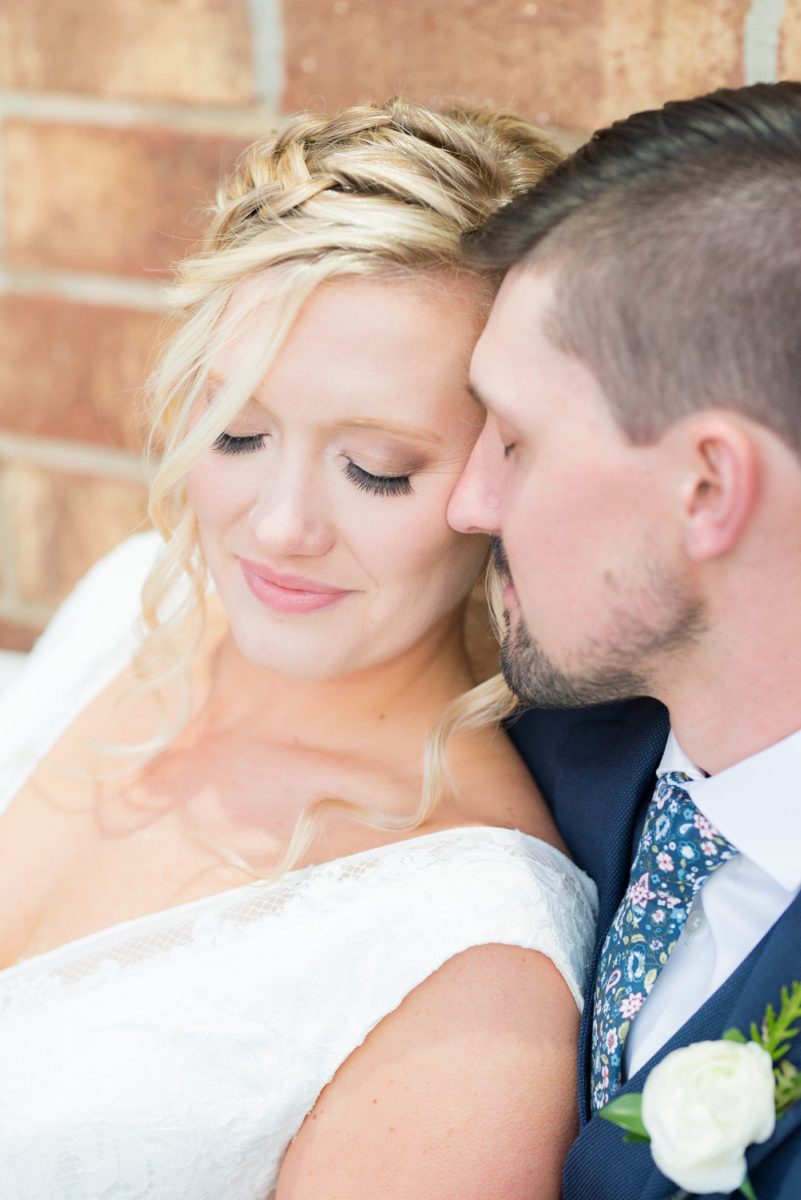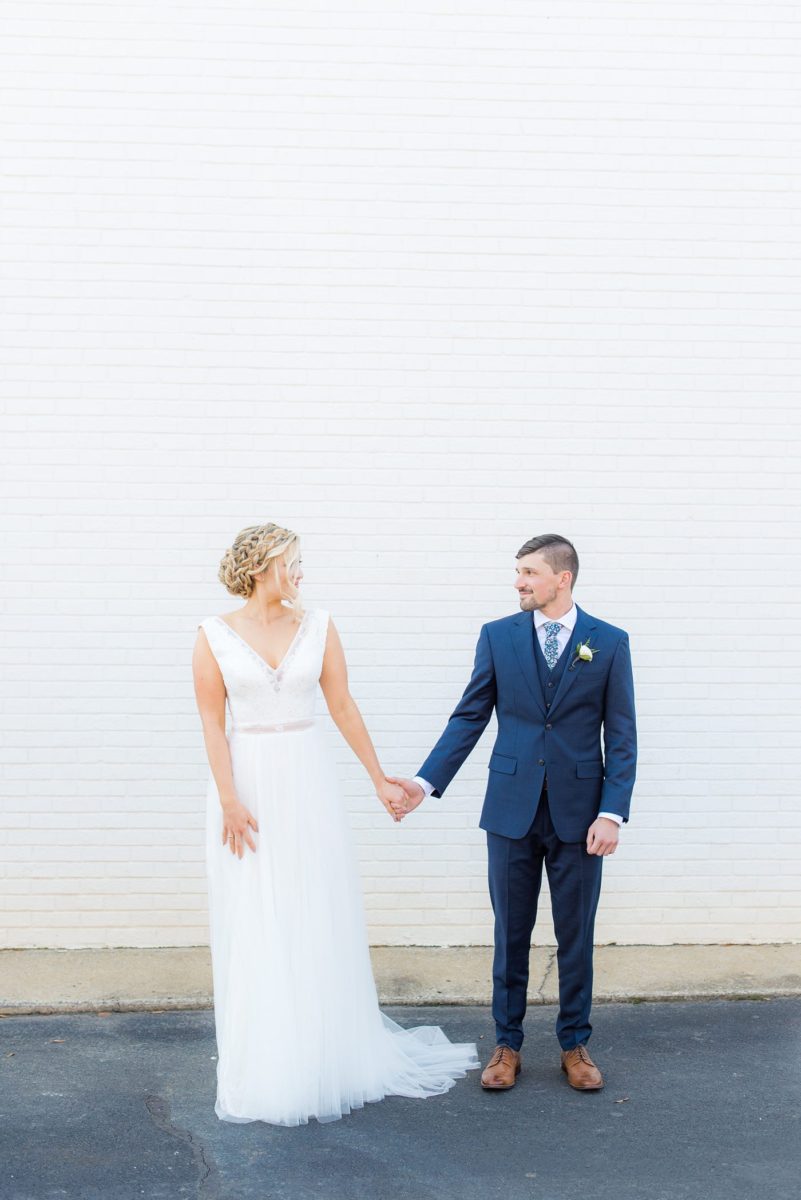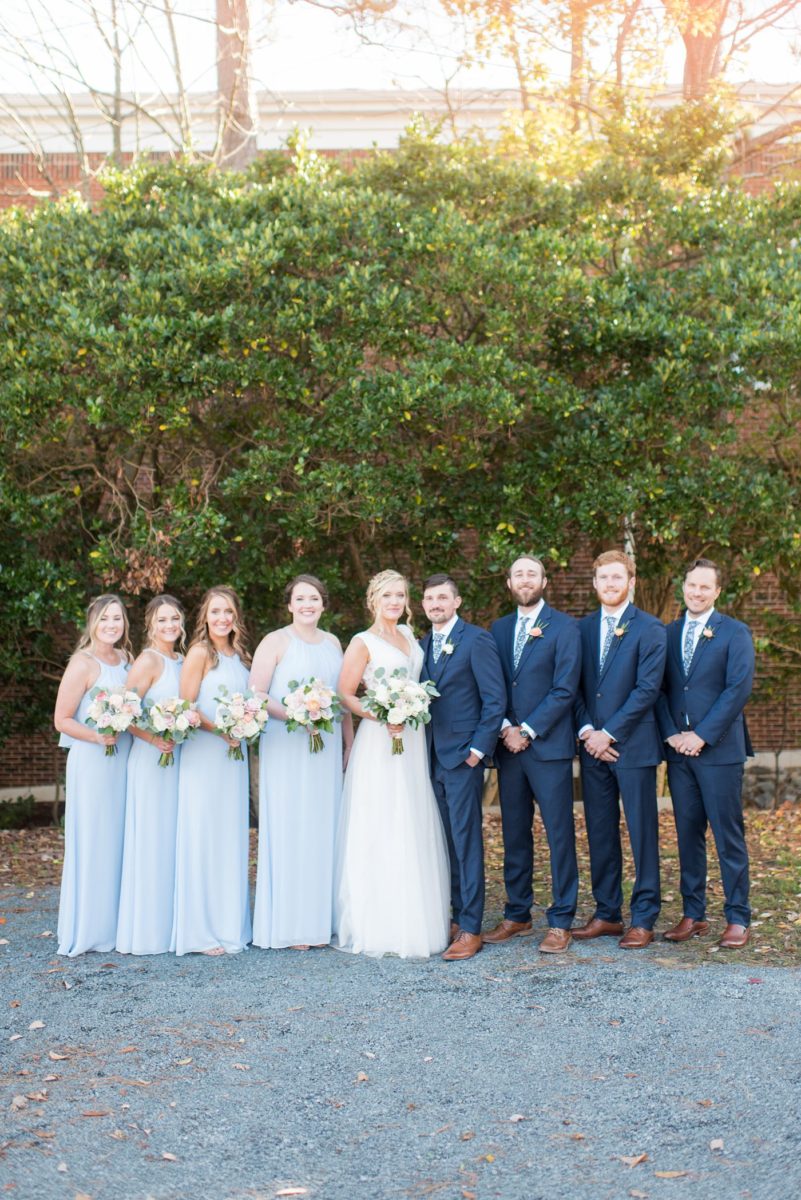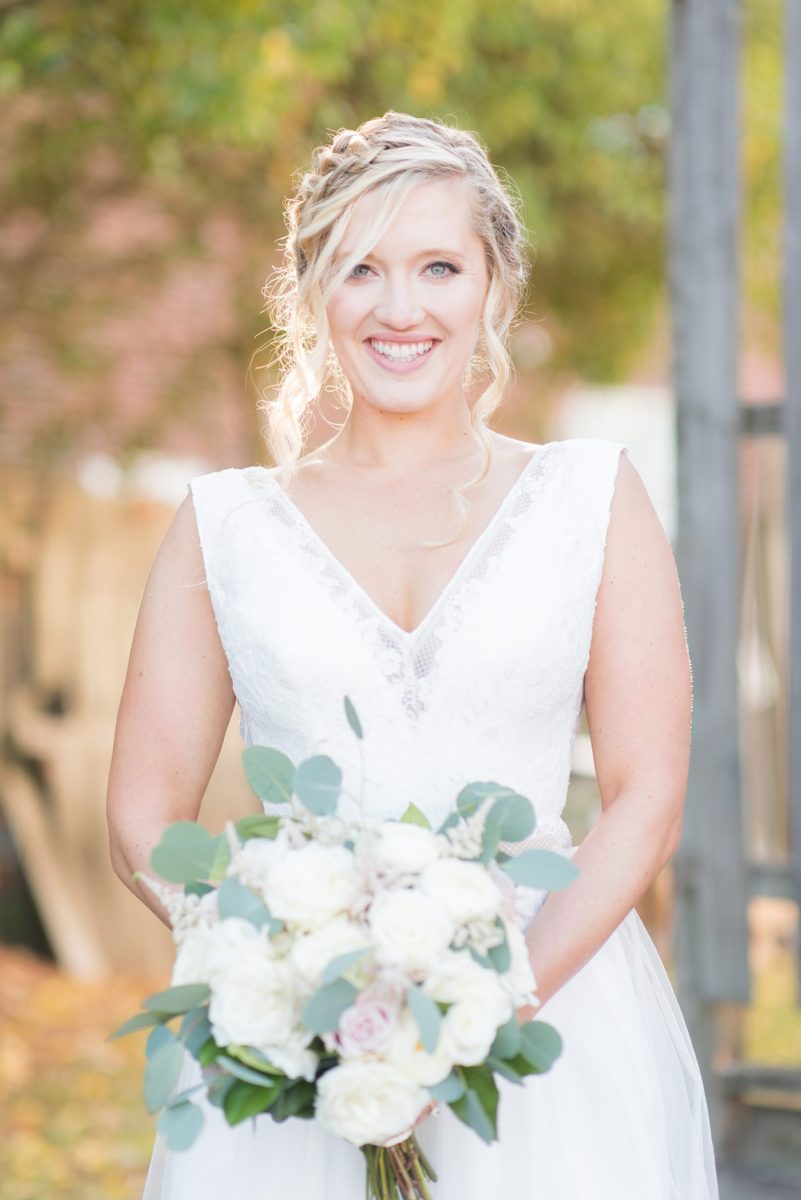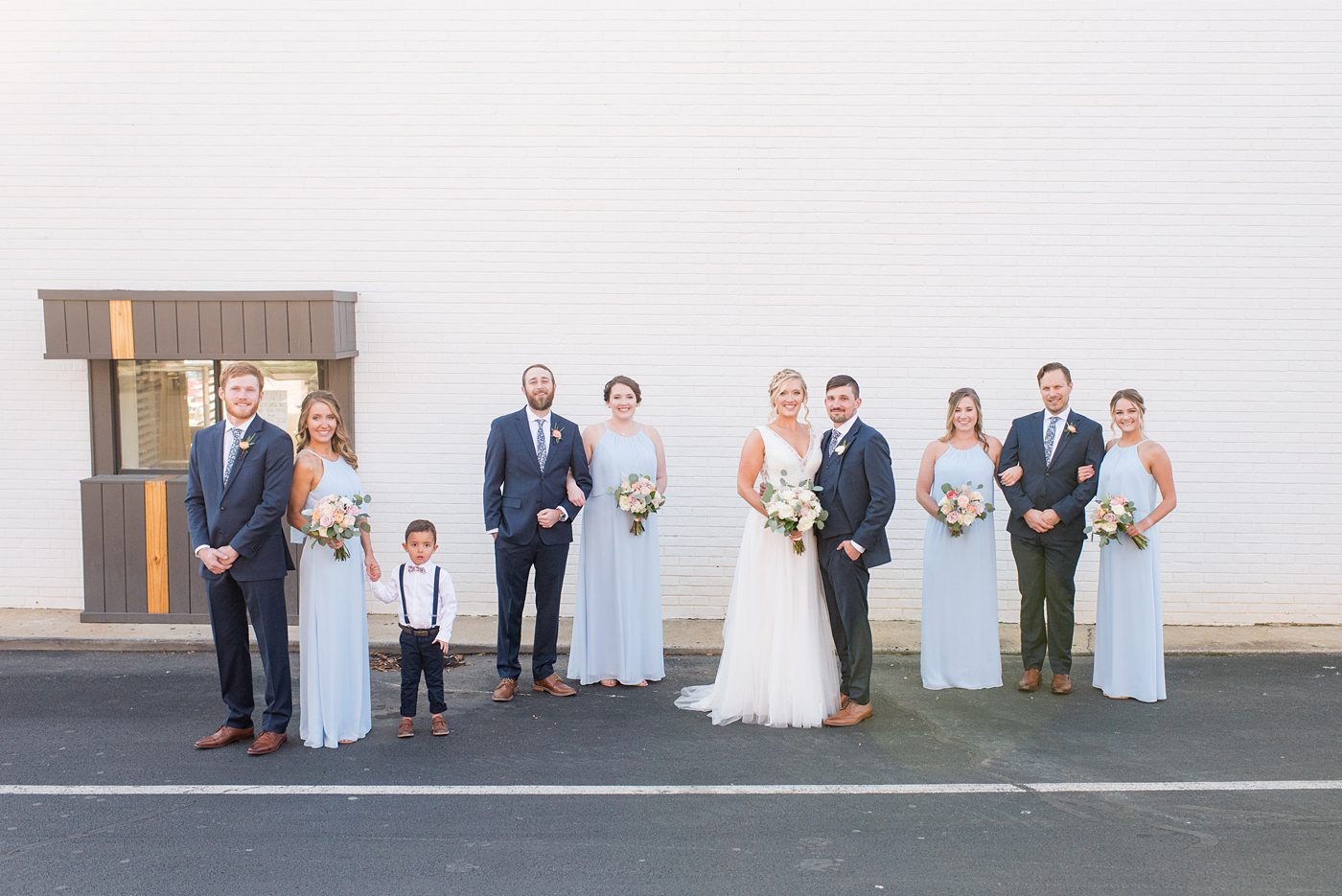 That golden light was shining down on us that day! Don't those navy and baby blues look awesome? I also loved the floral ties all the men wore. They have such personality! (As did their cute ring bearer, Atlas, and their dog Boone. Their Goldendoodle reprised his role as "best dog" after their engagement session success!)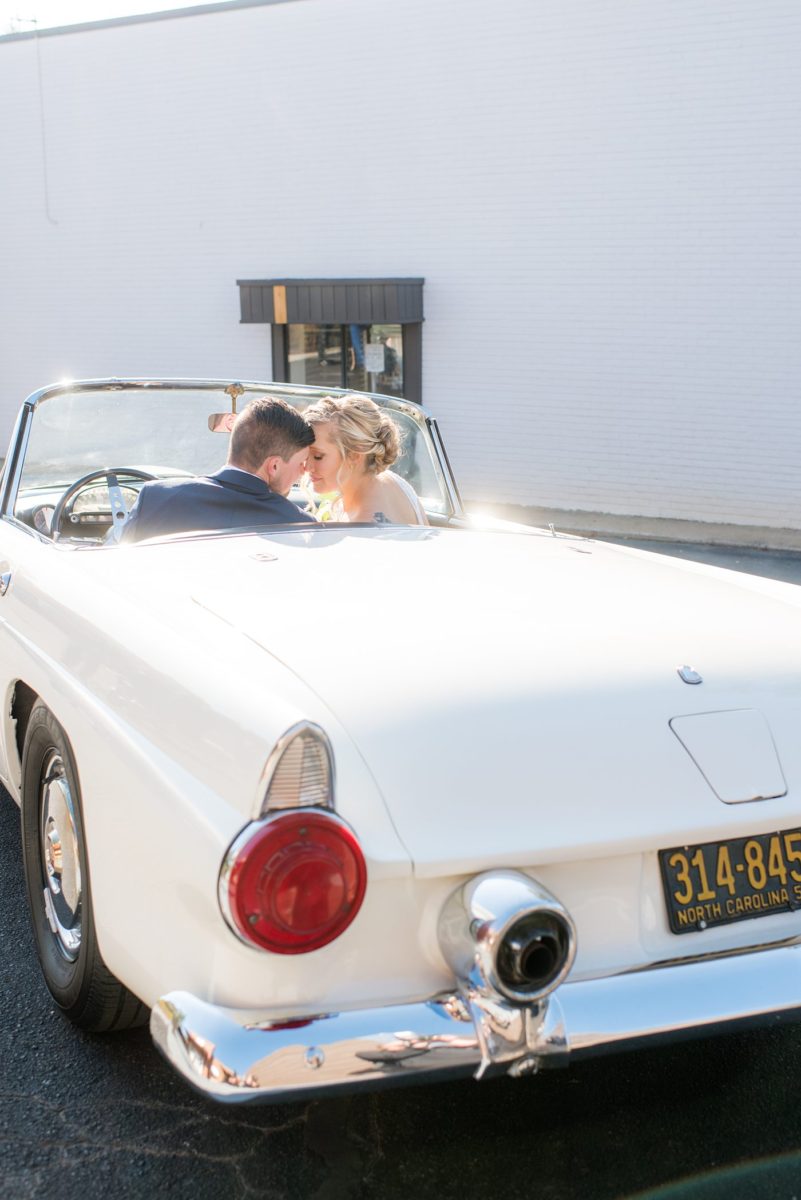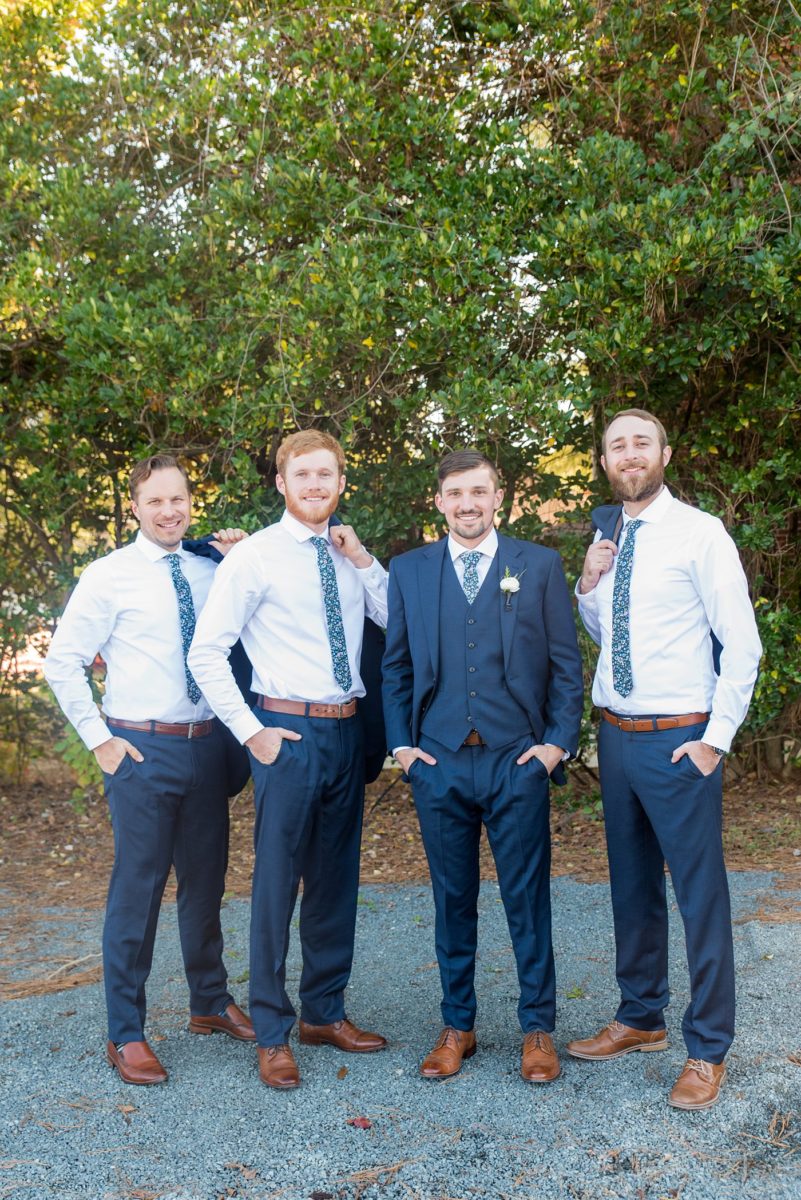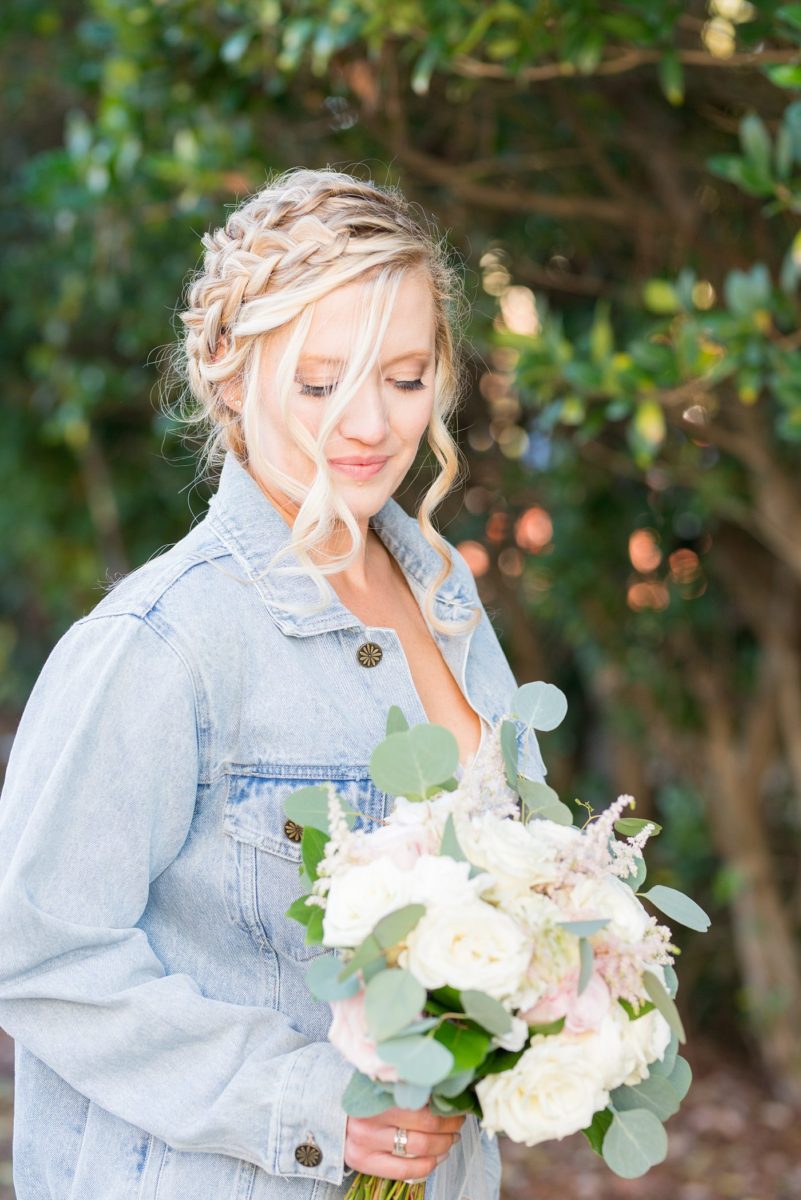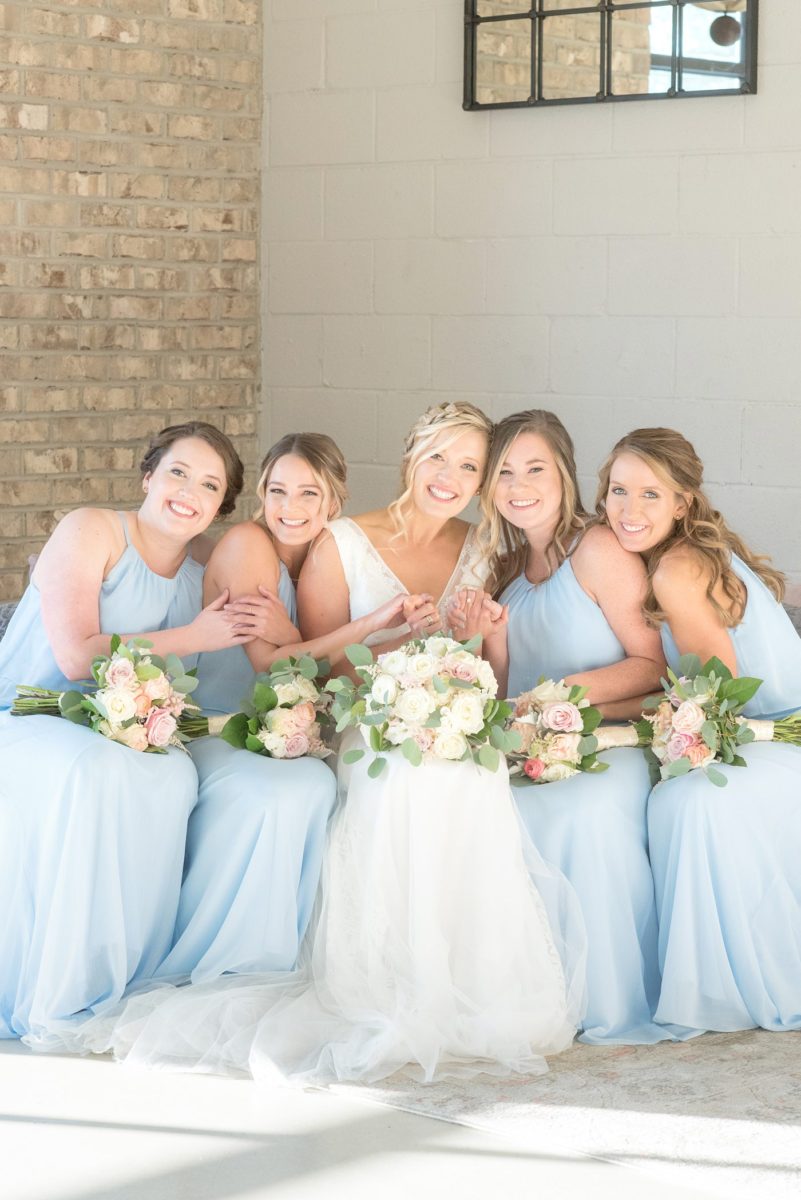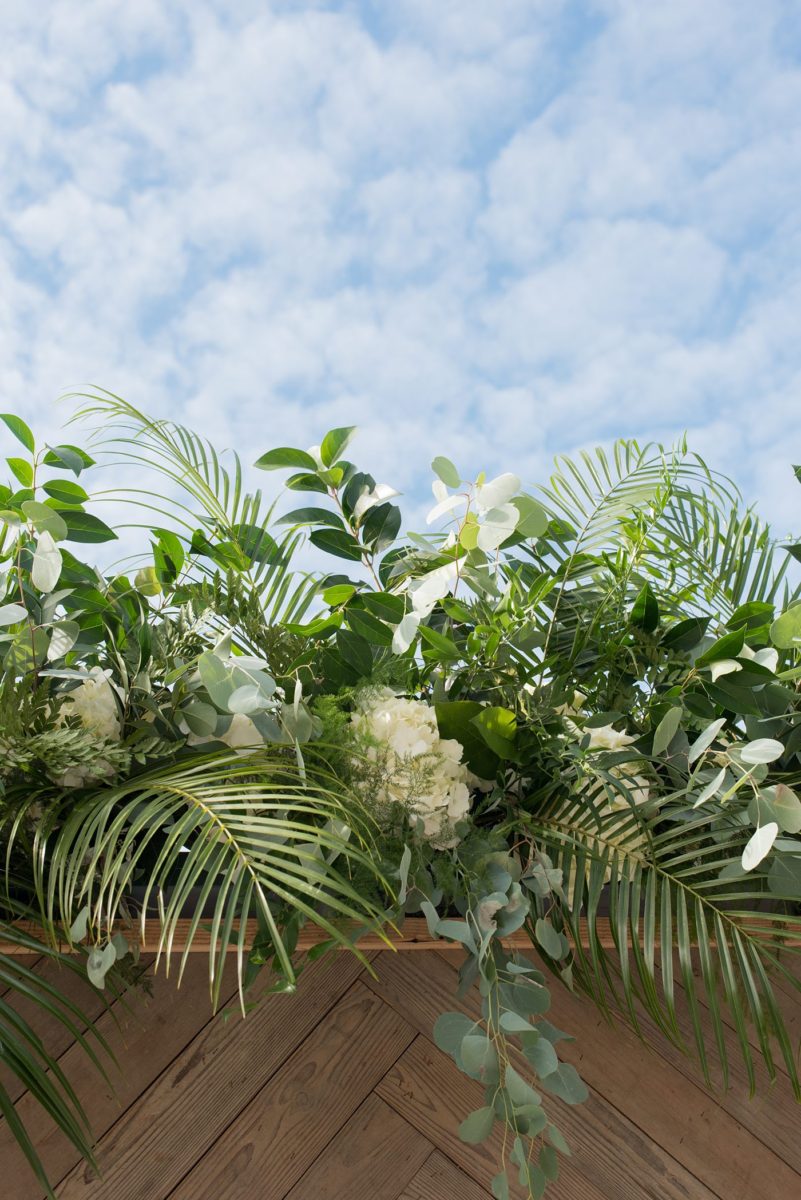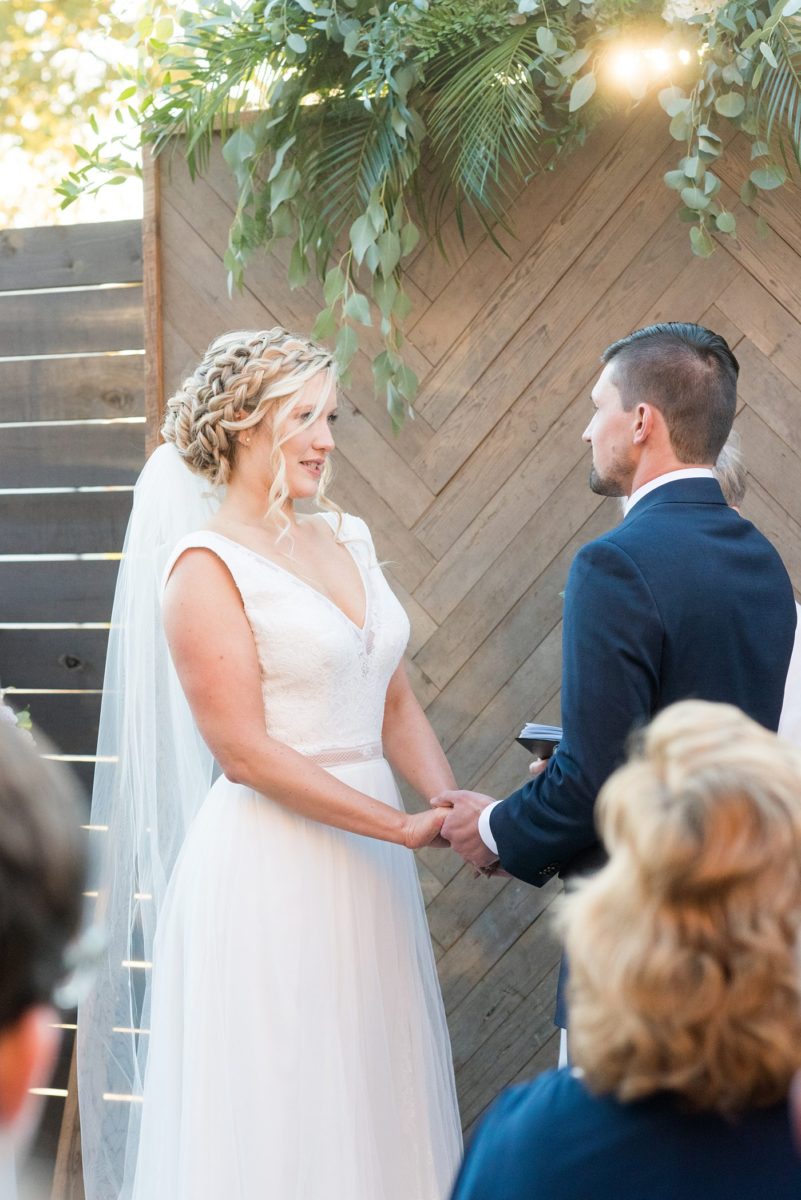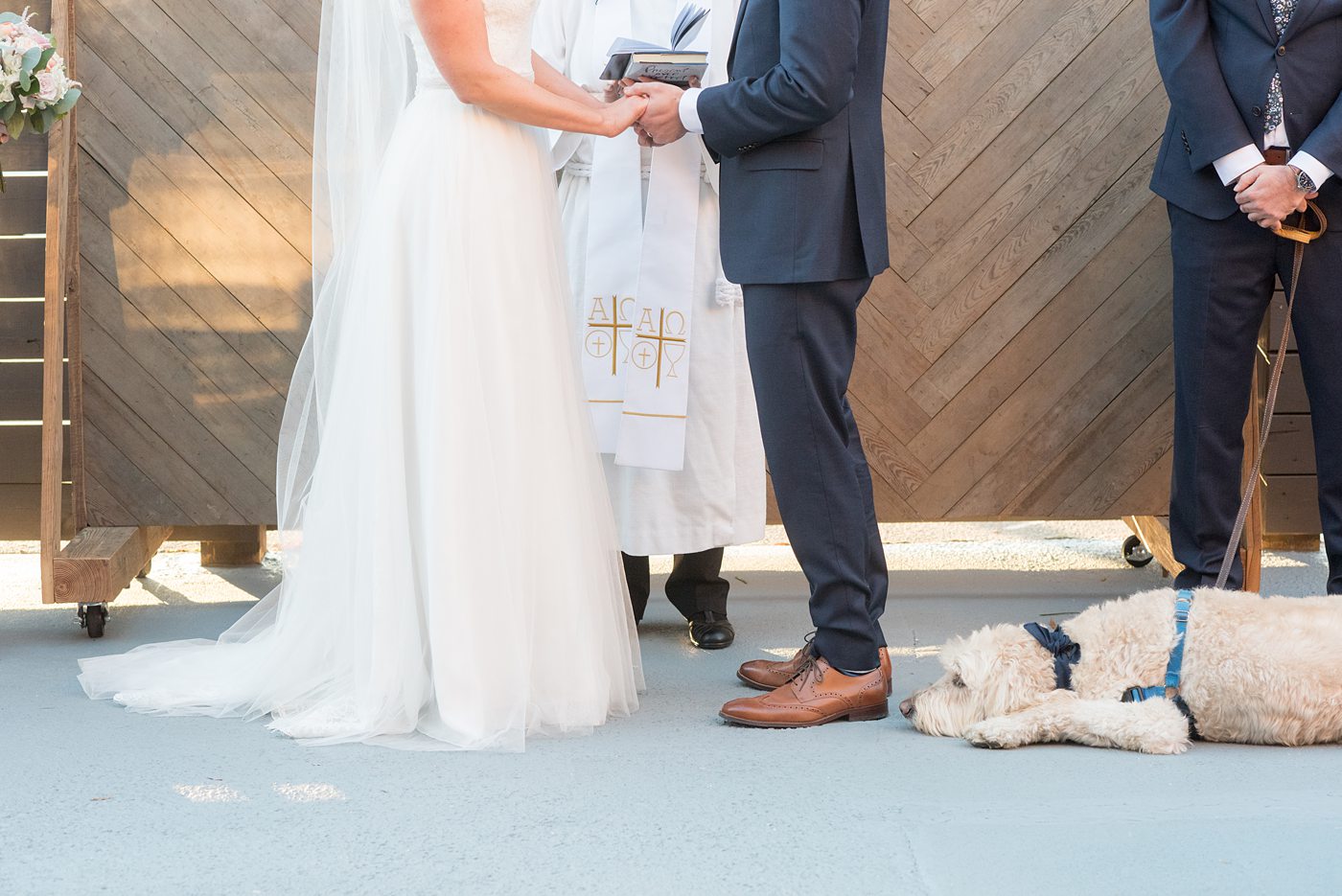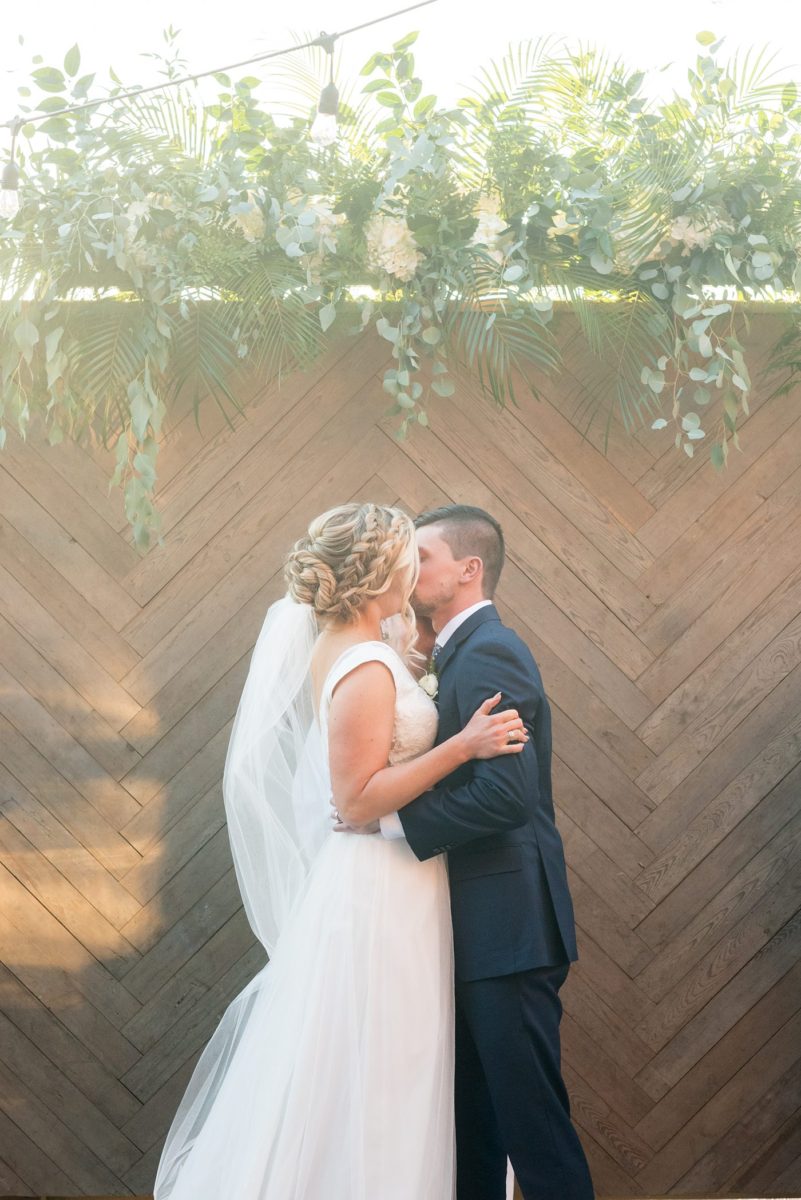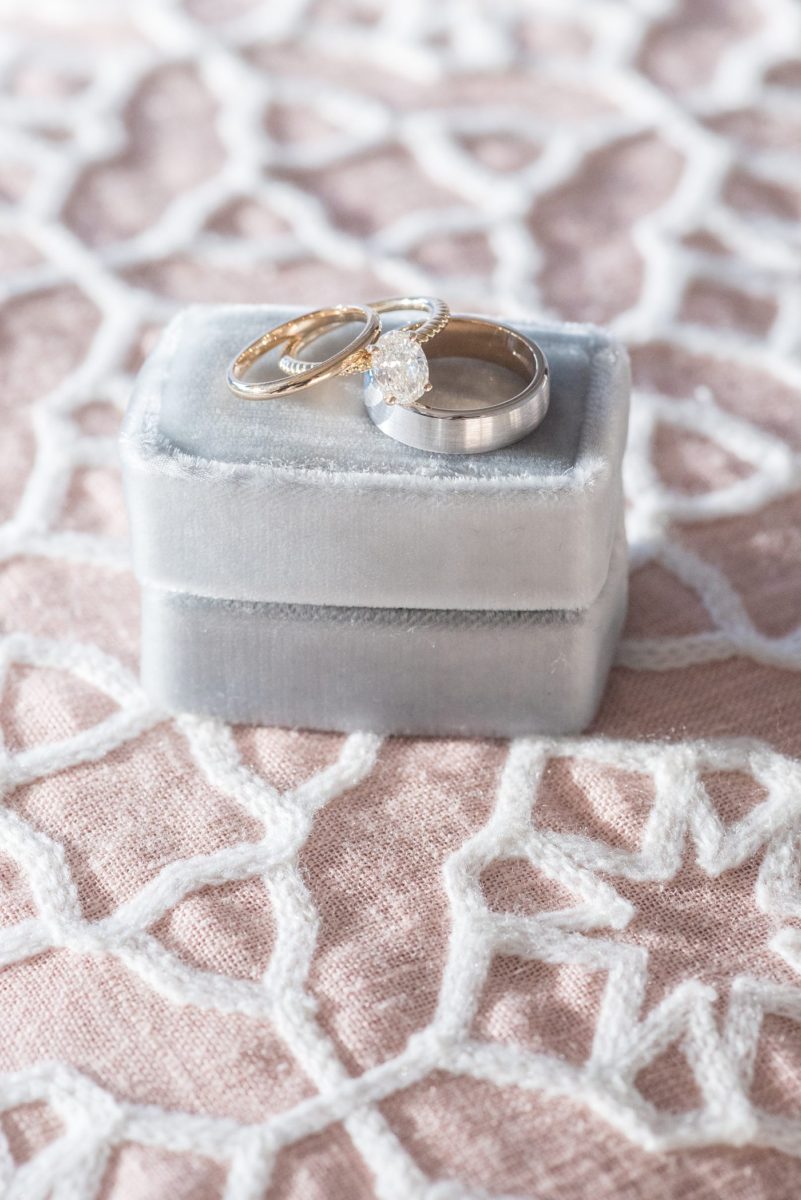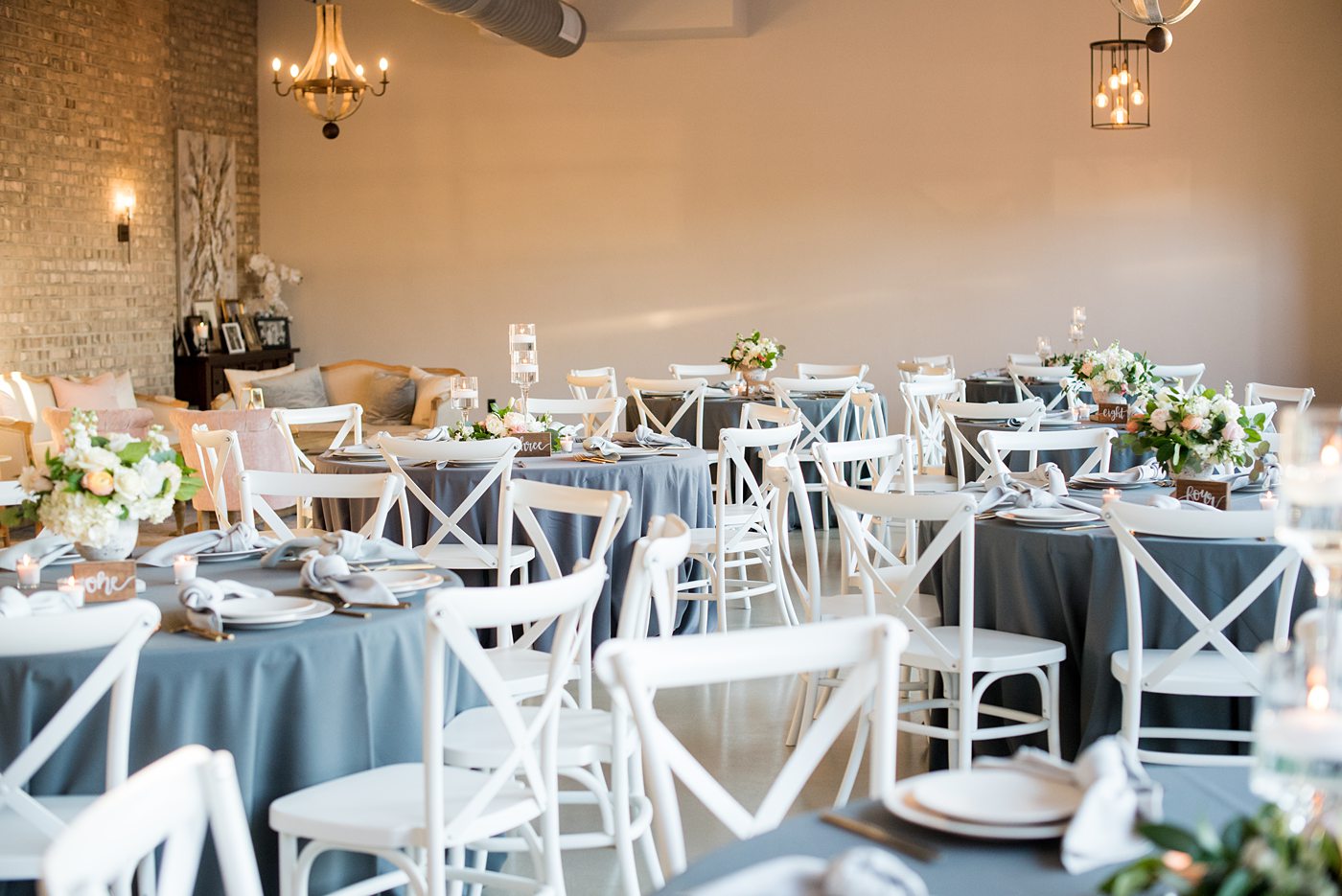 They were married outside as the sun set, Boone rested, and all their guests witnessed them exchange vows in front of a wood backdrop adorned with tropical leaves. The reception space inside was set with white cross-back chairs at place settings around tables with grey linens, candlelight and flowers on top. Each table had a wooden table number block with white script indicating the table number.
Their beautiful dessert bar was filled with miniature cupcakes of various flavors, including cappucino and pumpkin spice, and they had a perfect round cake covered with frosting, dripping with pretty chocolate drops. On top of cake-topping flowers a "Mr. and Mrs. Raynor" completed the dessert.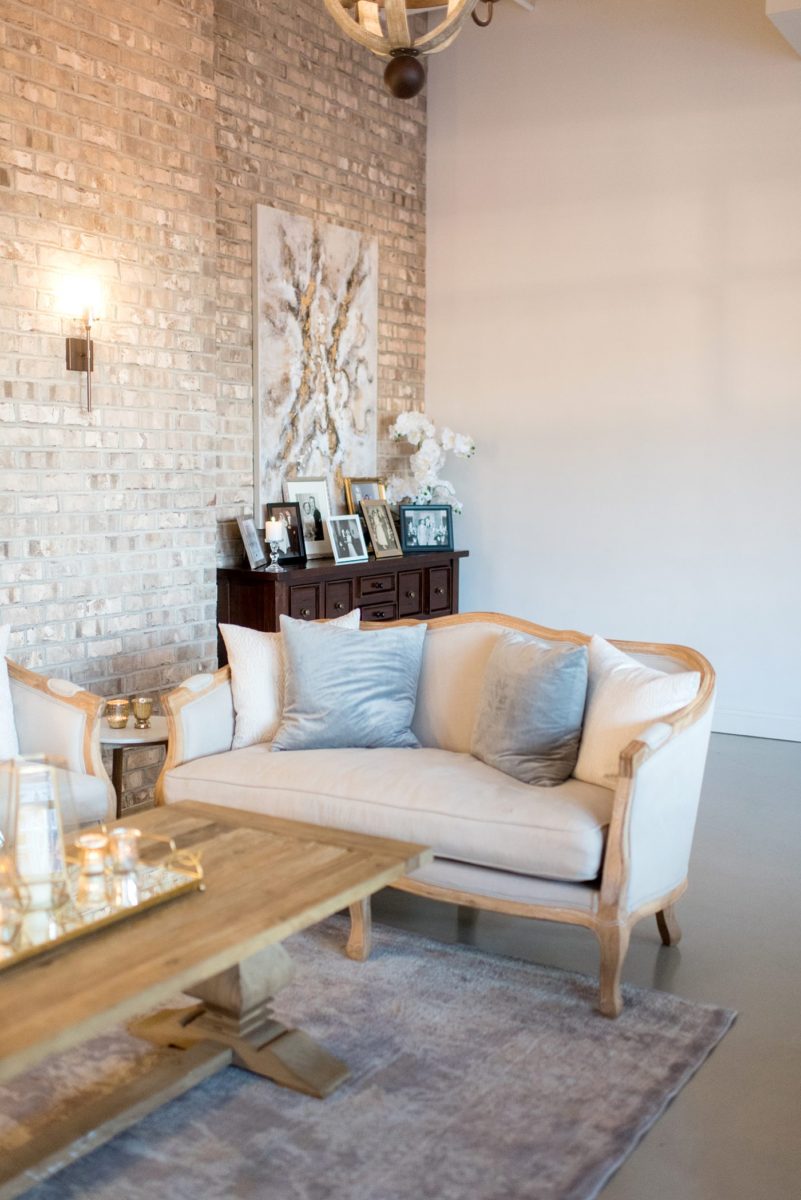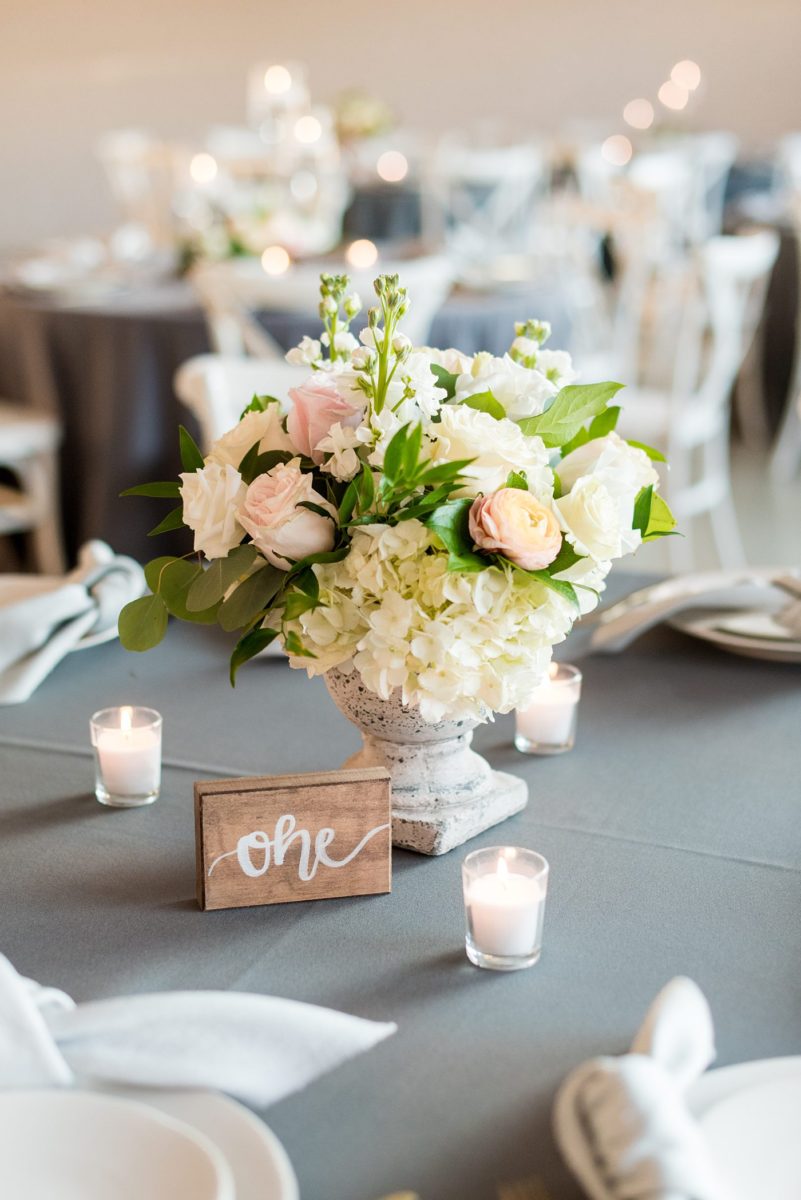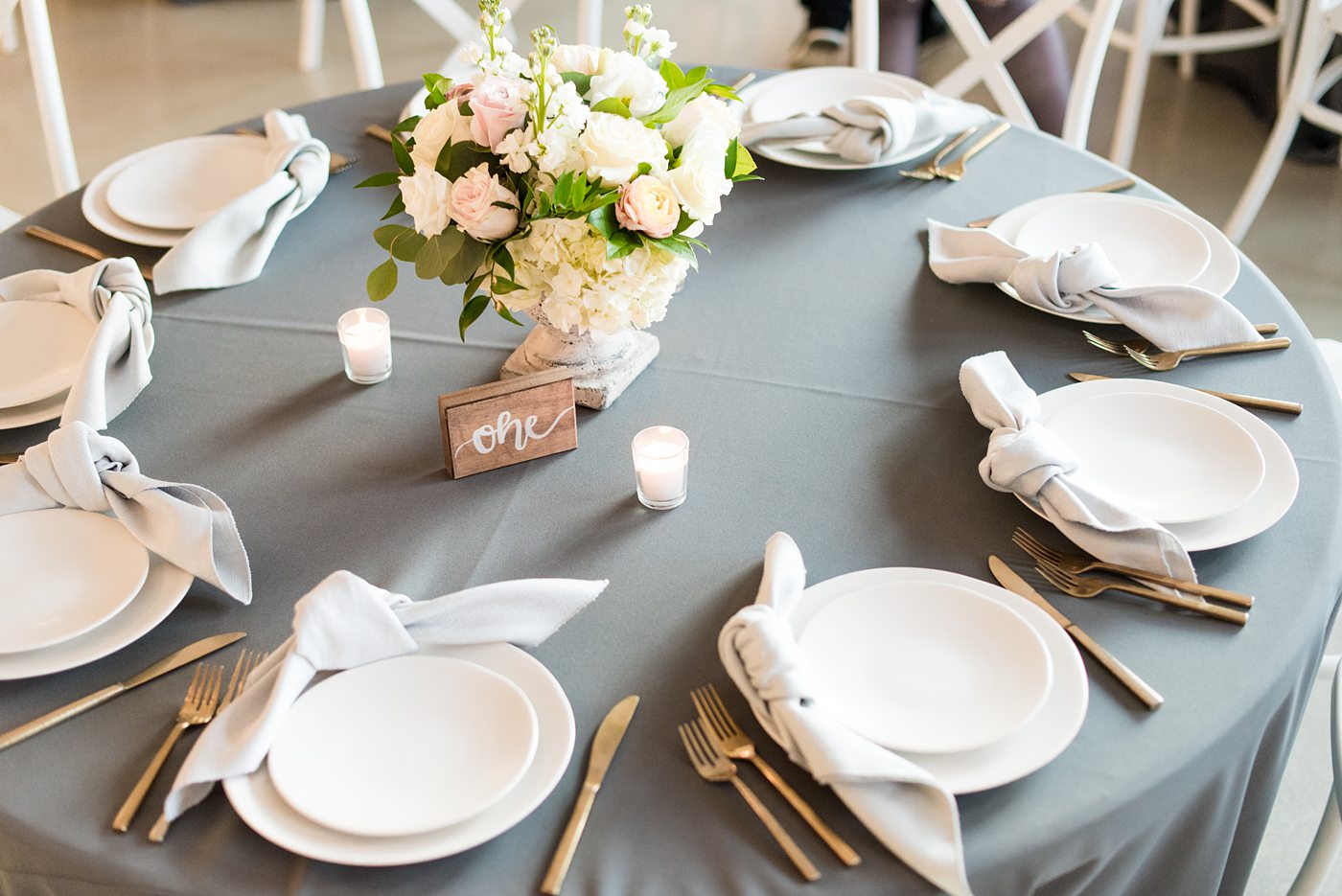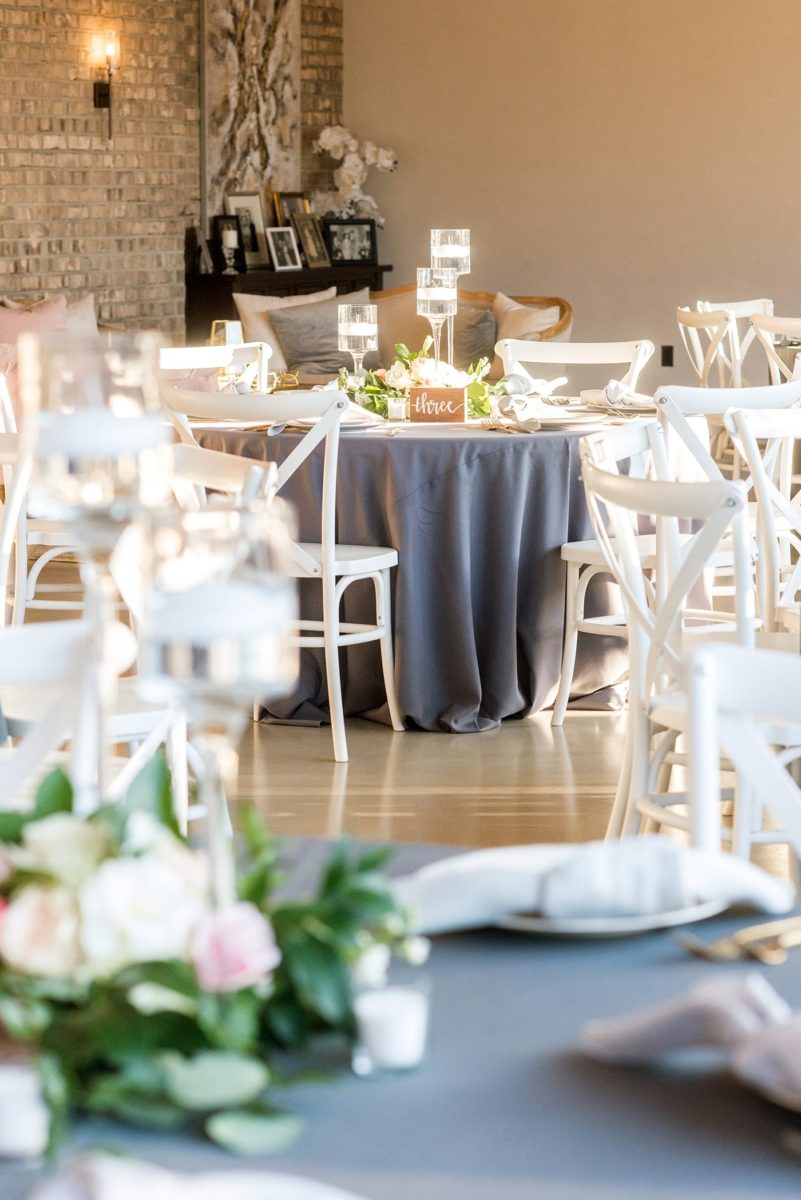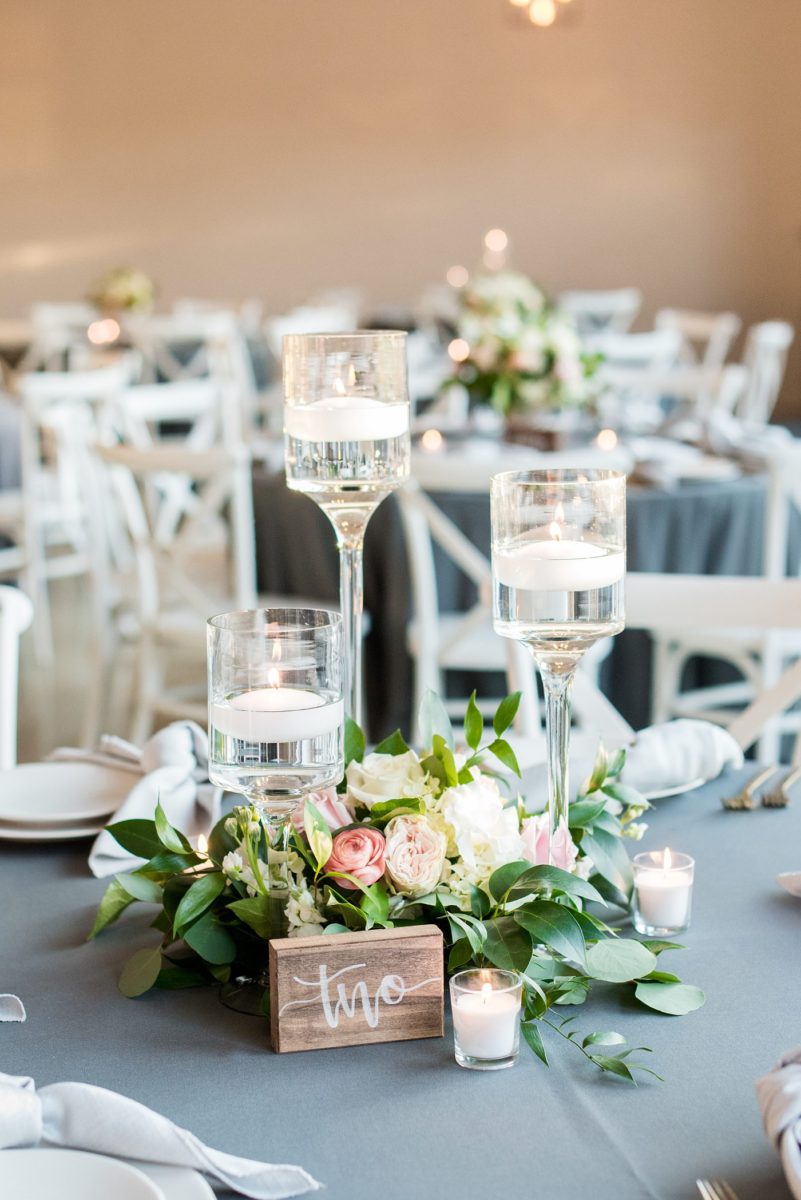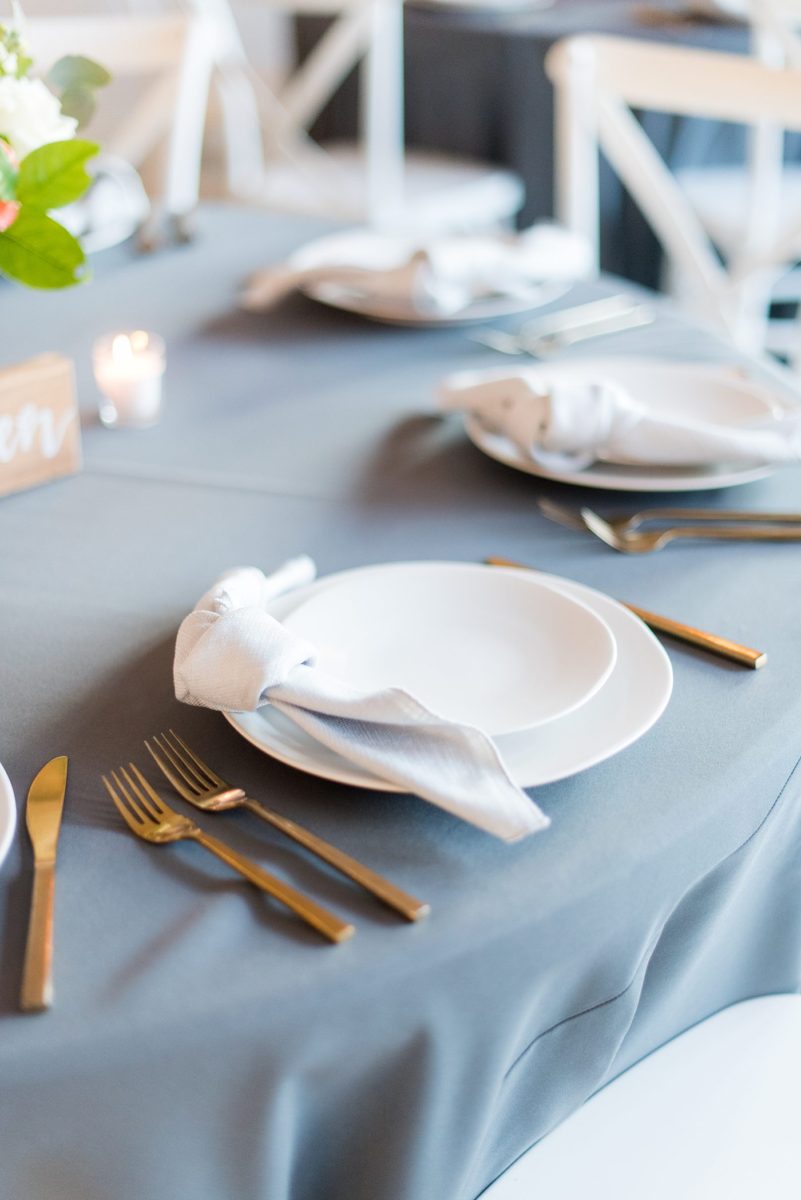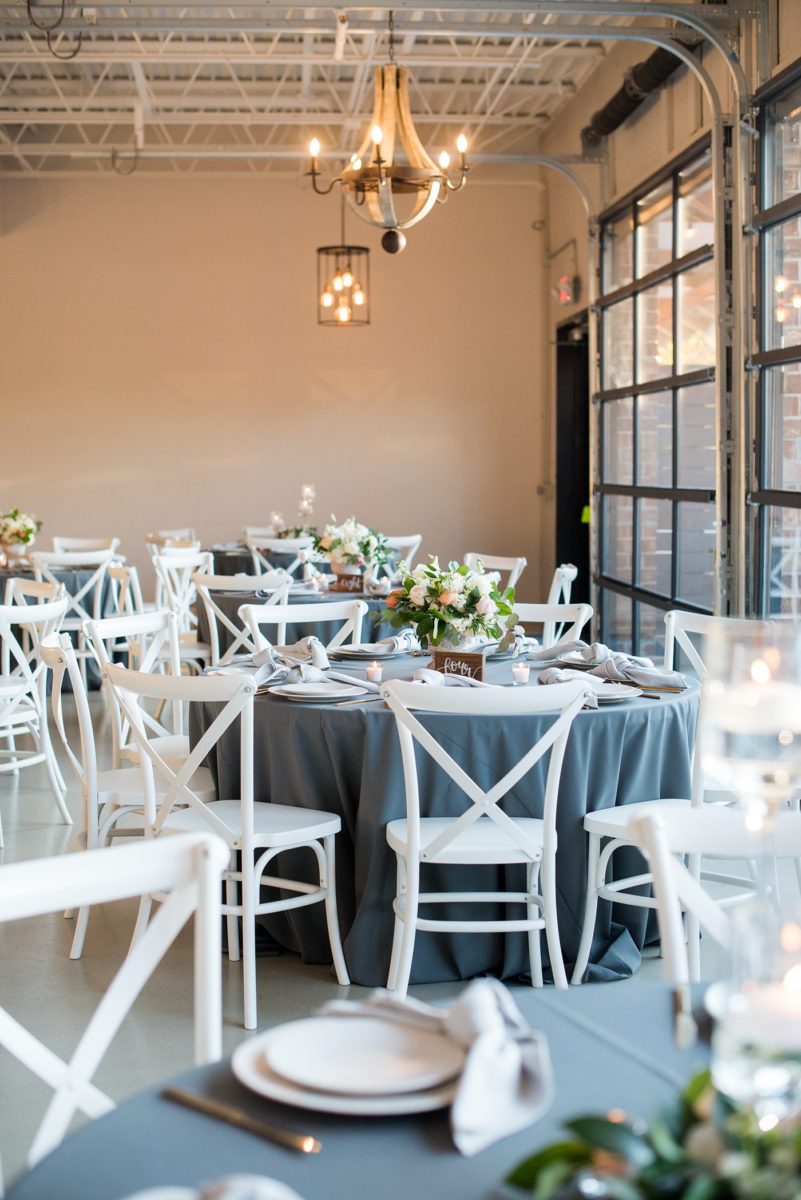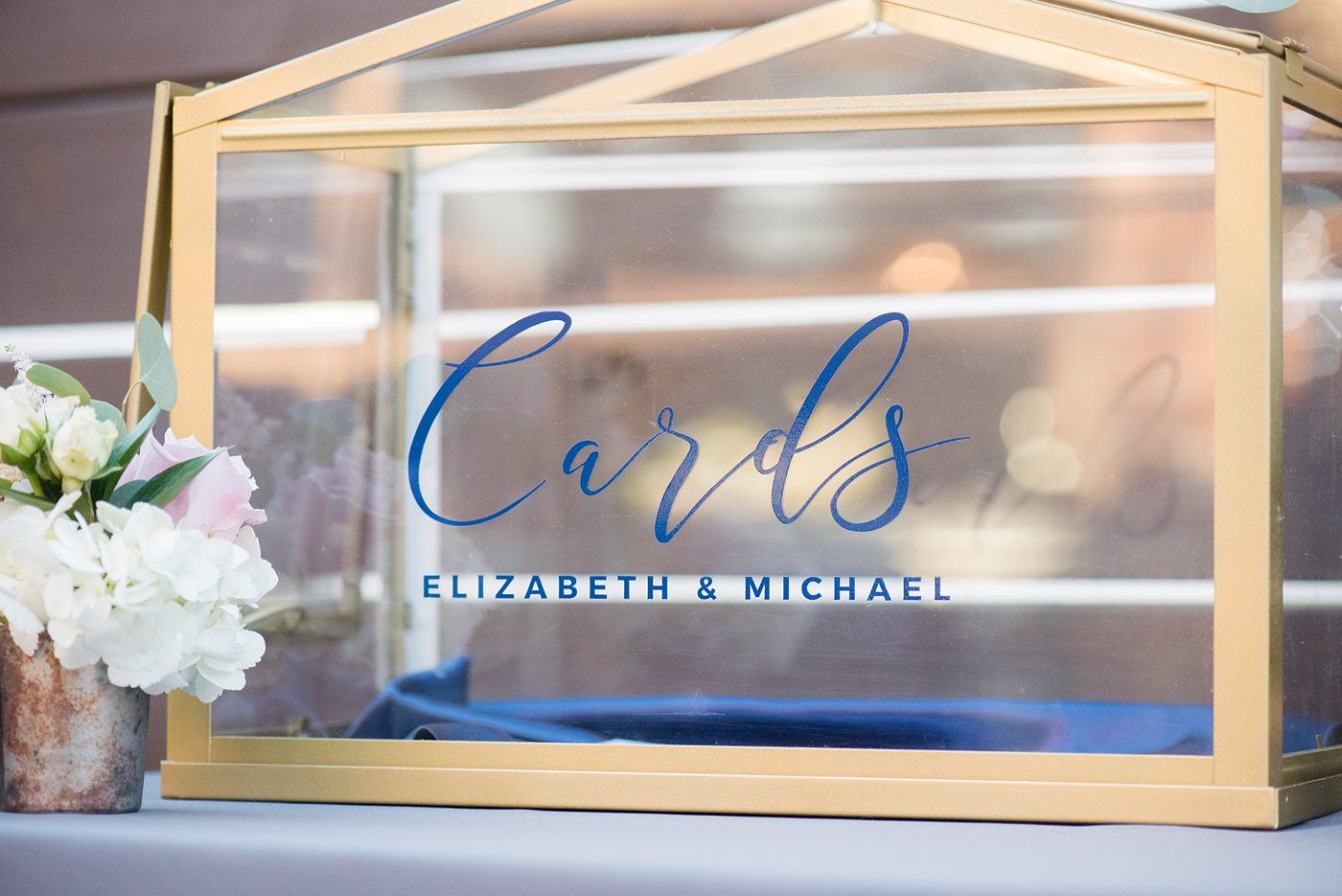 We set out just before the sun set for good that evening with her dad to capture him with them – it was his car, after all! Then it was back inside to start the toasts, first dance for the newlyweds and parent dances with Michael and his mom and Liz and her dad. And of course, plenty of coffee for this coffee-loving couple! Bags of coffee also served as guest favors.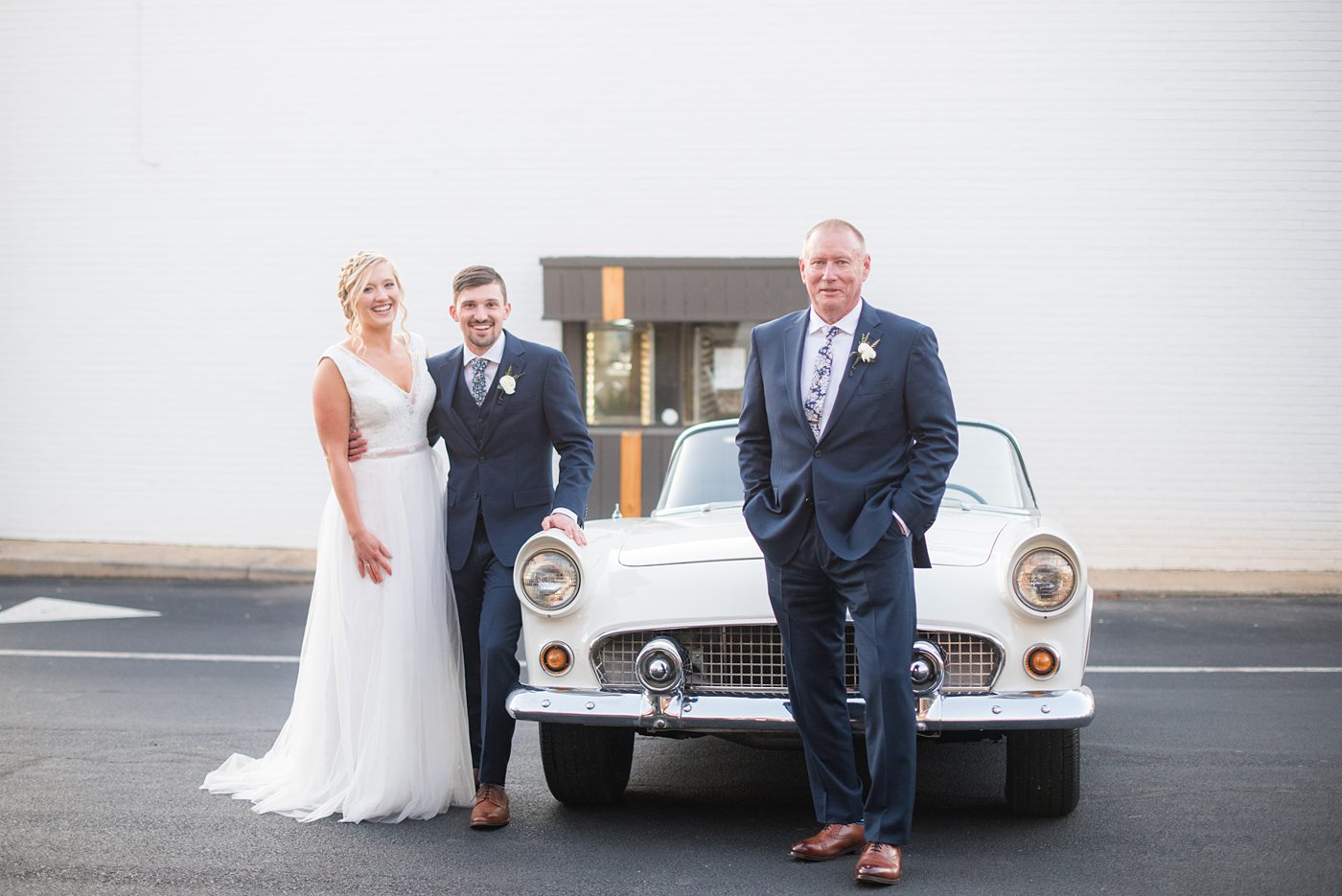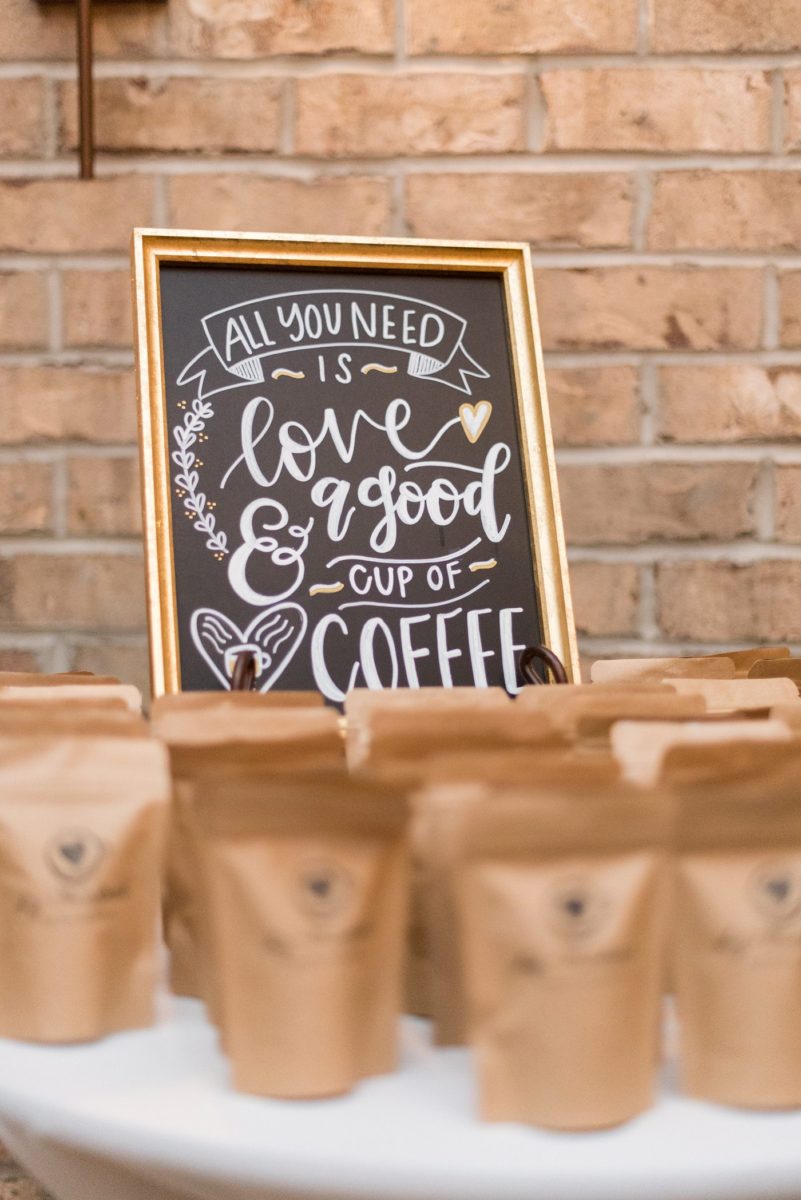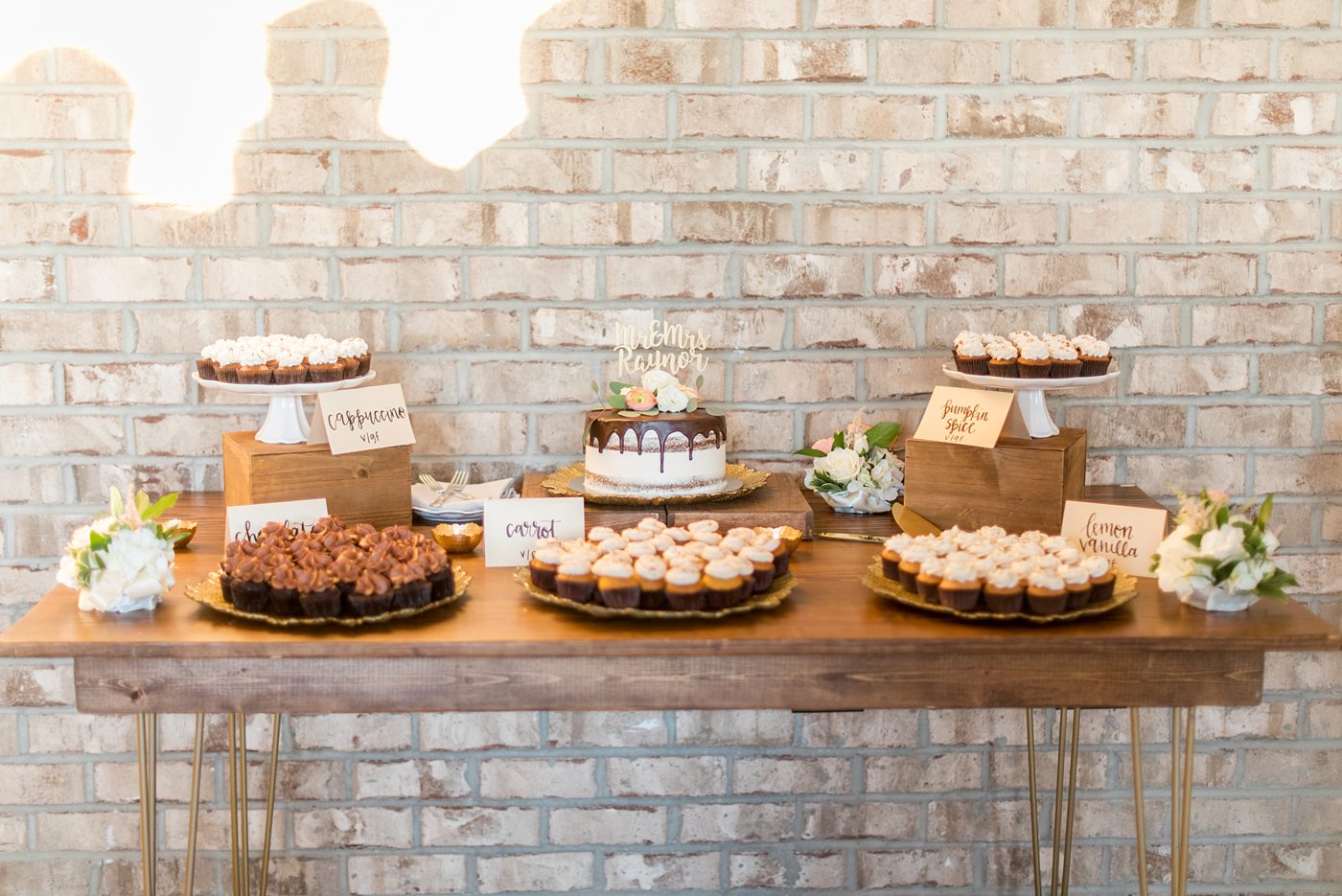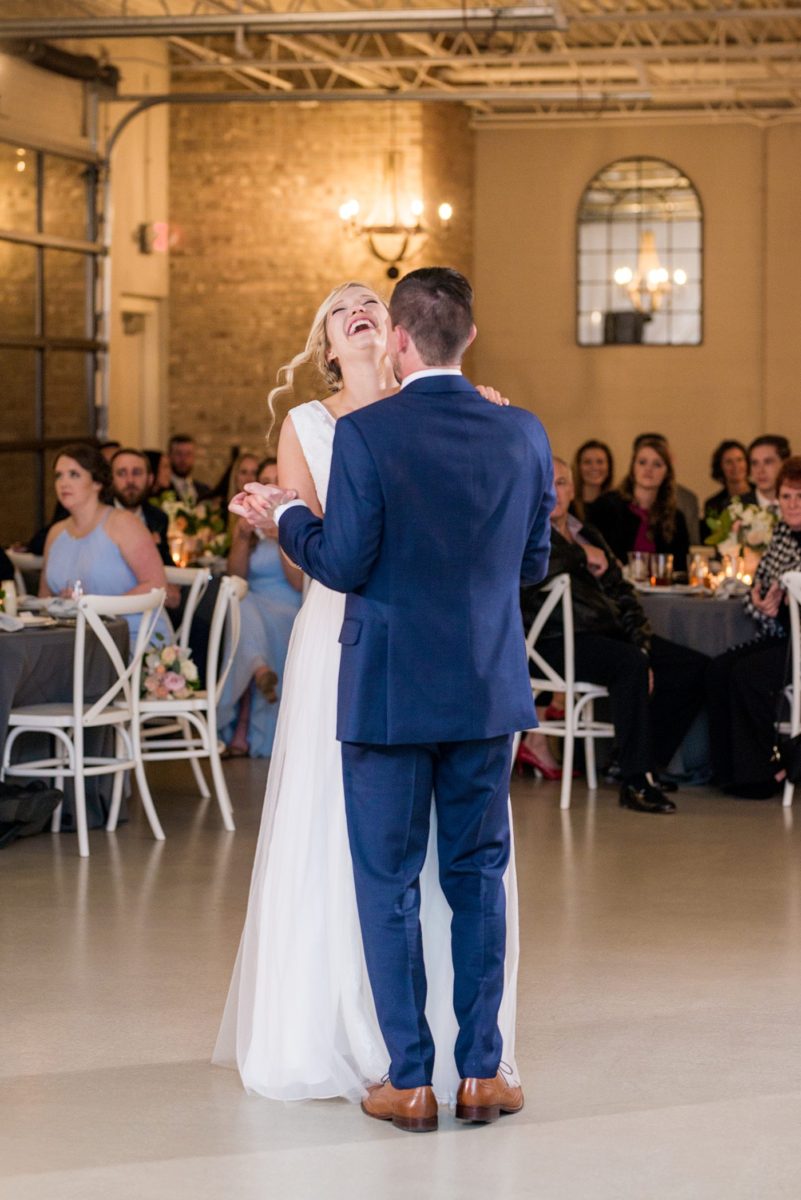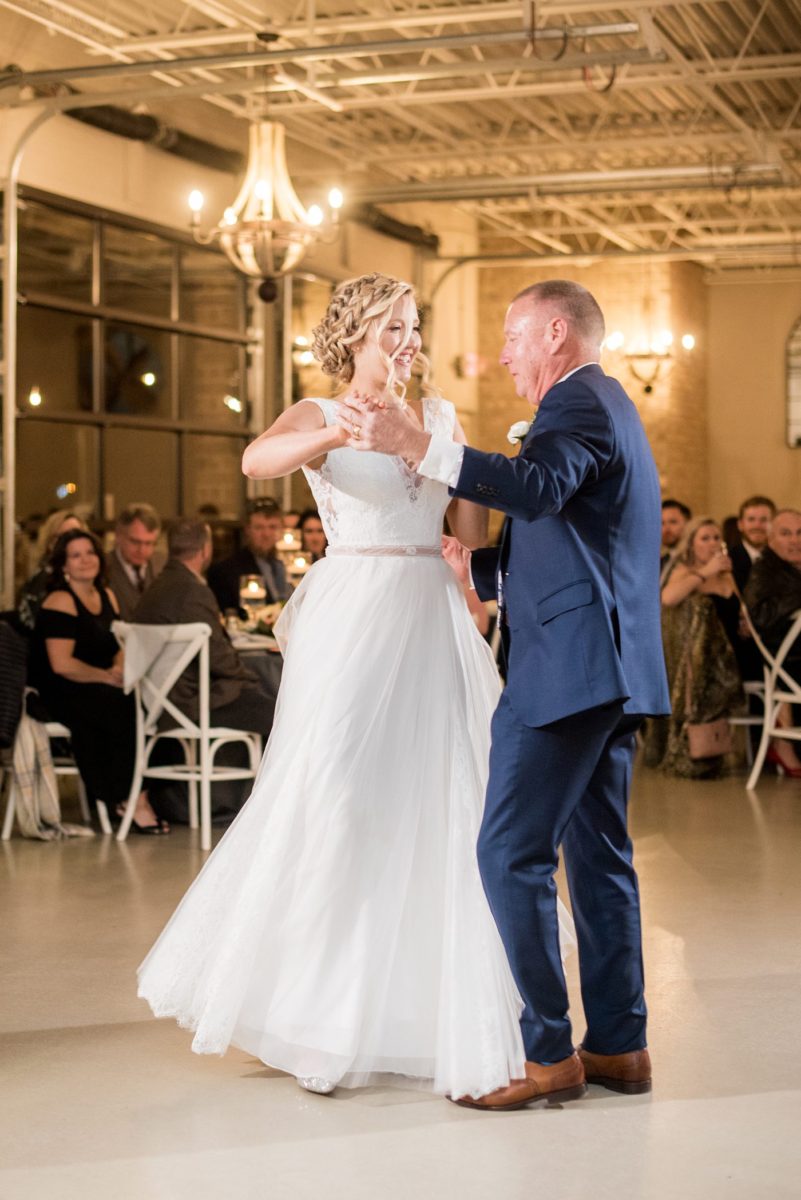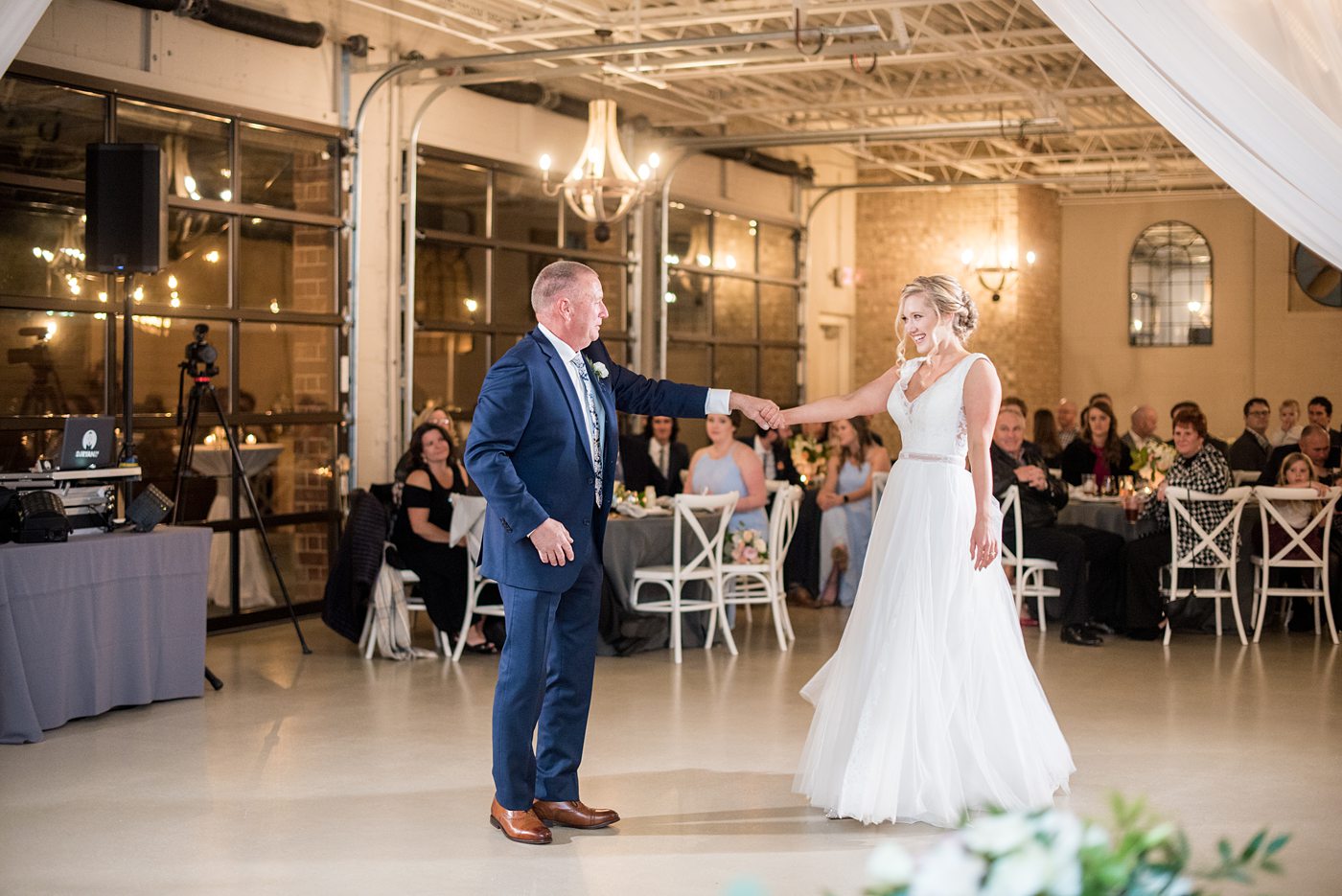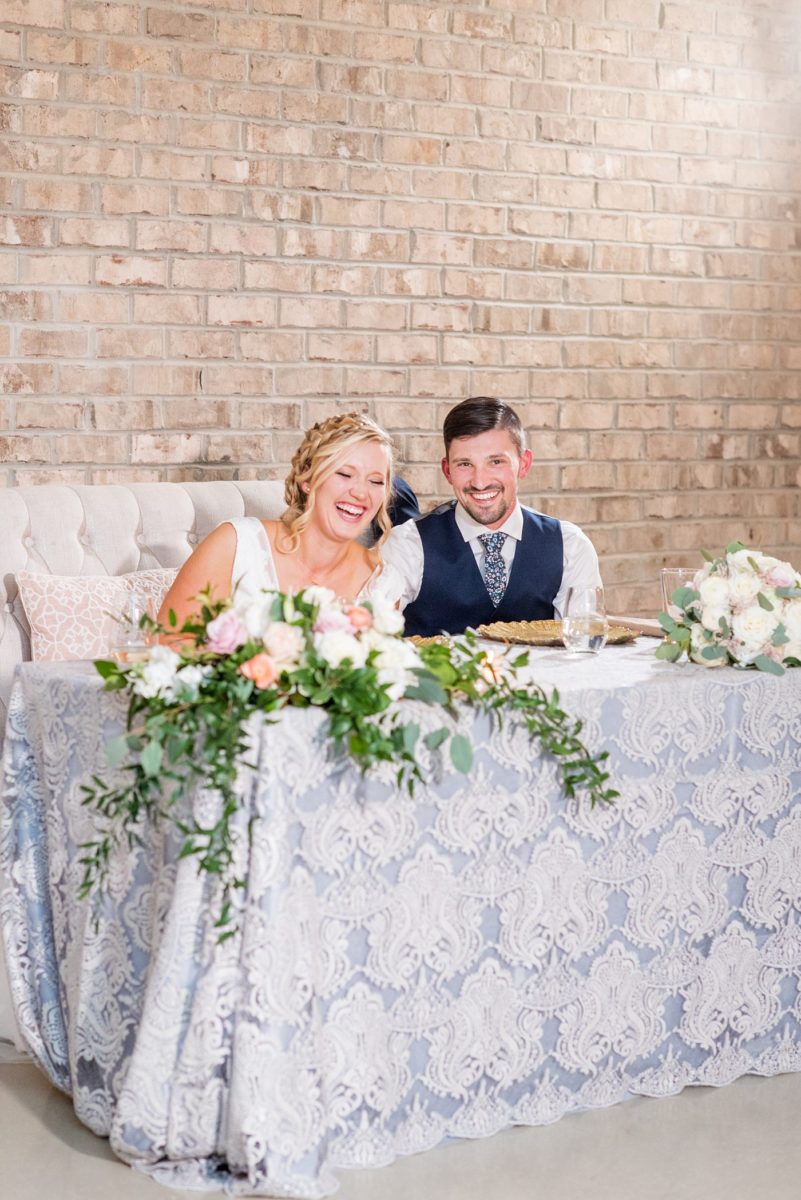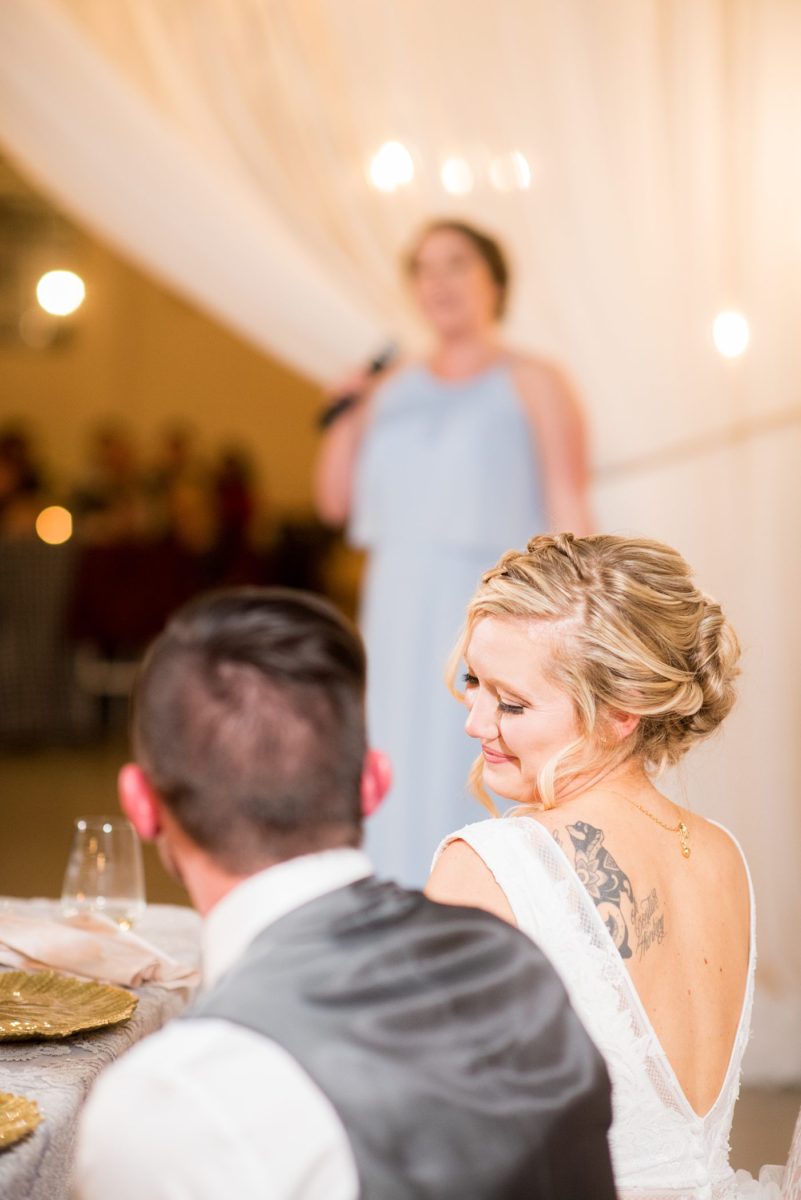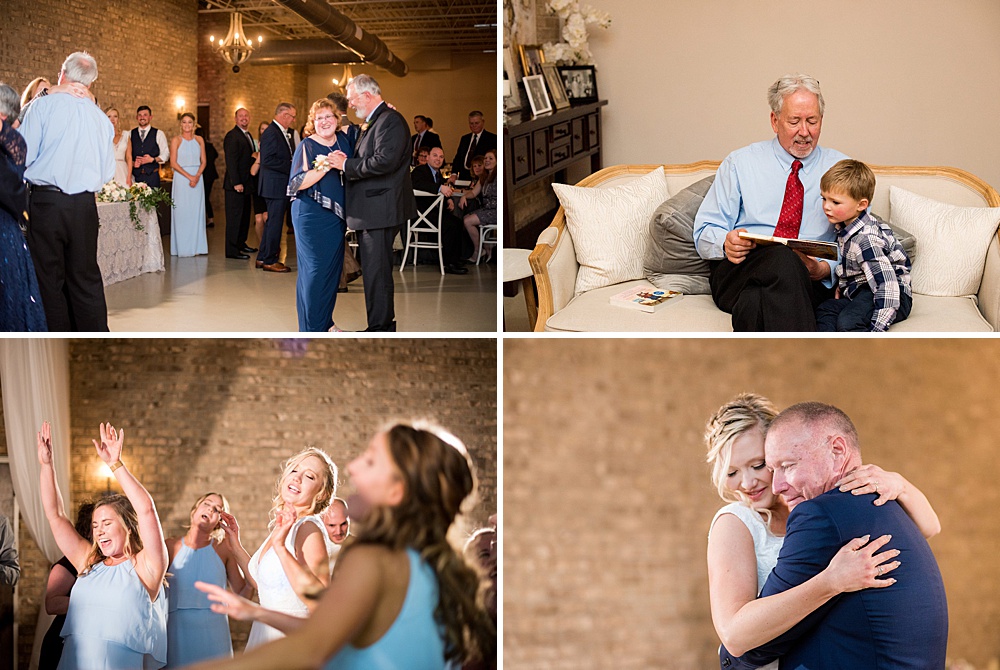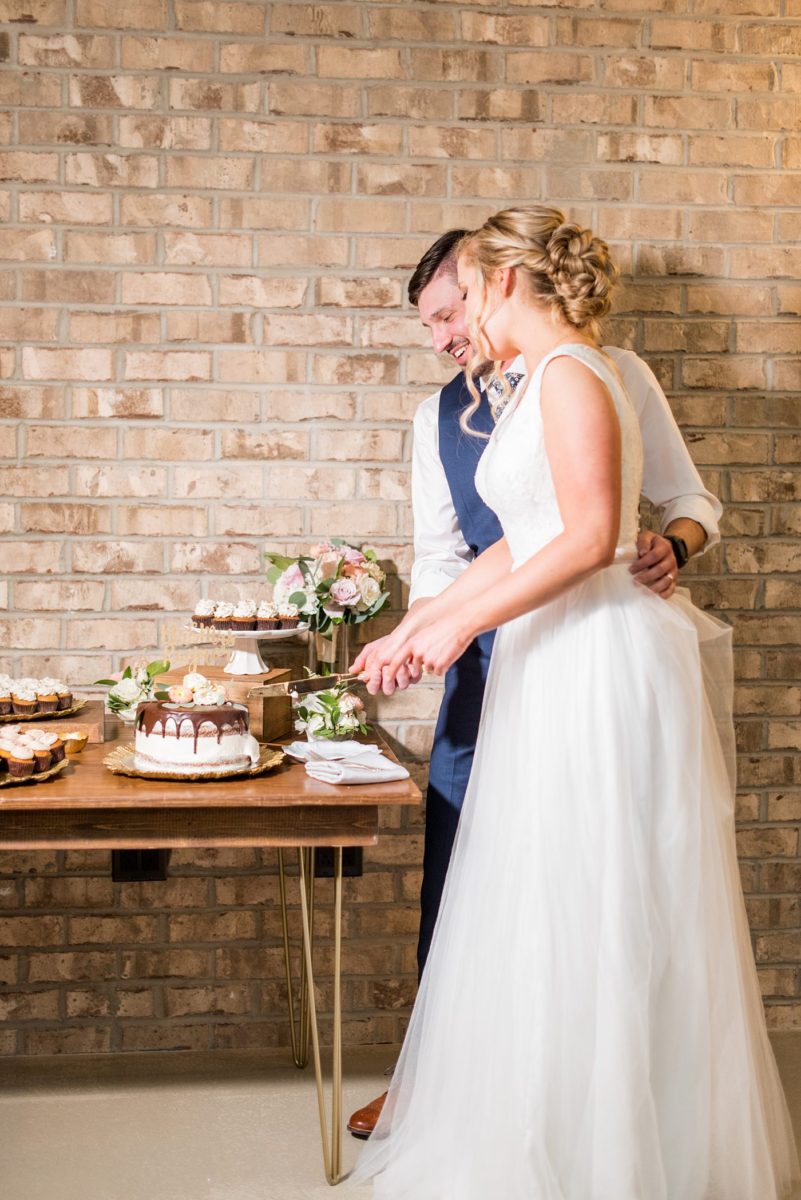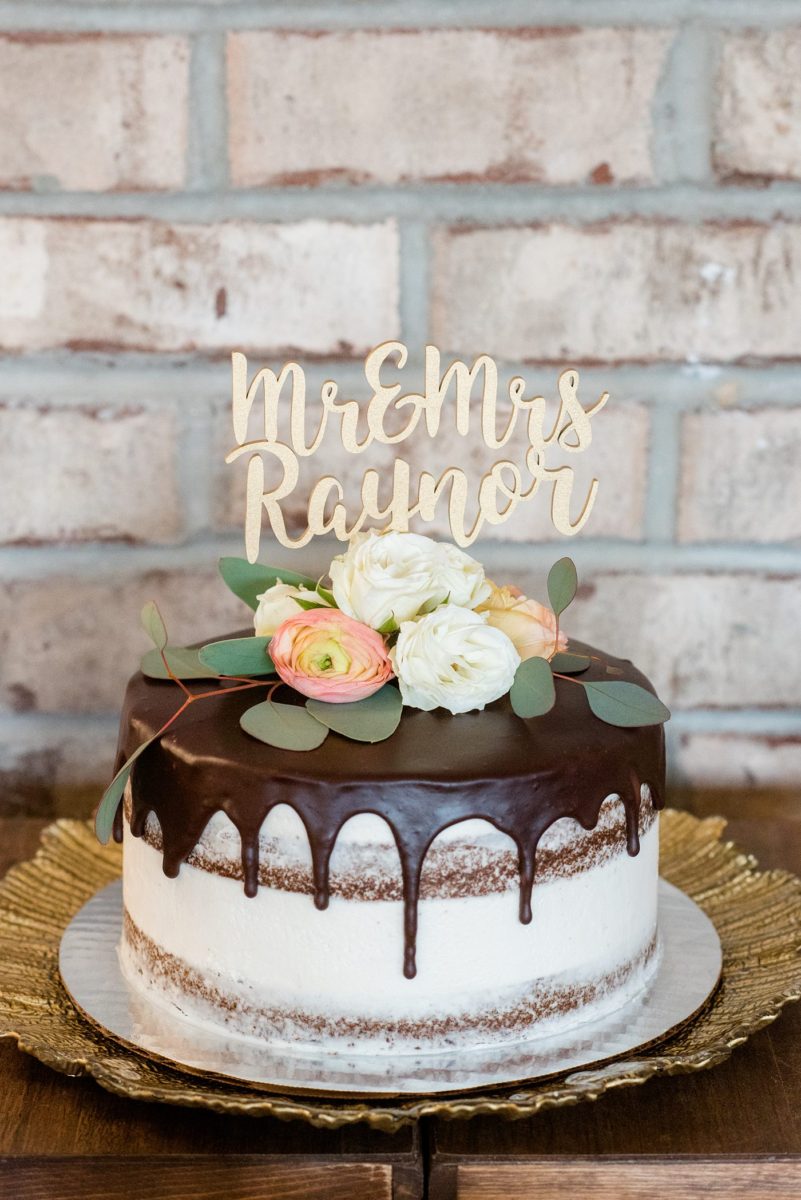 Working with Liz and Michael, two absolute sweethearts, was a true honor. Capturing their day is something I'll forever remember and I know they'll fondly look back at each special moment captured and smile! Congratulations, Mr. and Mrs. Raynor!
Venue: Chatham Station / Wedding planner: Sweet Sarabelle / Hair: Jade Marion / Makeup: Ashley Prins / Flowers: Brides and Bouquets / Videography: Silver Fox Productions / Furniture rentals: Greenhouse Picker Sisters / Rings: Diamonds Direct / Dessert: Fresh Levant Bistro / Cake topper: Rawkrft, Etsy / Officiant: Julia Webb Bowden / Floral ties: Dazi / Bridesmaids custom name necklaces: Gold Personalized, Etsy / Dog's bandana: PeetPrints, Etsy / Tie clips: TheSaltyHut, Etsy / Coffee: Oak City Coffee / Linens, chairs, etc.: CE Rental / Catering: Catering Works / Invitations: Minted / Music: DJ Ryan the DJ 
For more inspiration in the Triangle area of North Carolina, check out:
Interested in having us capture your wedding? Contact us!