Megan and Kyle met at the University of North Carolina in 2008. Ten years of dating brought them to this moment, a decade later, as they became husband and wife on an October day. It was a beautiful event filled with white flowers and green touches, orchestrated perfectly by Alyssa of A Southern Soiree.
I remember instantly connecting with them when we initially spoke. They are North Carolina natives, who live in the financial district of NYC, and I, too, split my time between New York City and Raleigh, the capital of North Carolina. Megan also studied abroad in Seville, a city I instantly fell in love with when I visited Spain last year. They are both one of three children, like myself. Also in a "it's such a small world" twist they knew Carolann and Tripp, who I had taken engagement photos of years before and would be guests at the wedding (and one of her bridesmaids!). We were a great match and I felt so lucky they chose me to photograph their day!
Both of their families live in Cary, North Carolina and Megan had already known Kyle's younger brother when they met her freshman year. Flash forward many years to Kyle booking a trip to visit Megan in 2016, while they were enduring long distance after she moved to the city for a job a few years before. They had brunch at the famed Sarabeth's restaurant then went to the Plaza Hotel at the south end of Central Park. December was cold but, unbeknownst to Megan, Kyle was sweating from nerves! A walk outside seemed perfect in NYC's romantic Central Park, which is where Kyle surprised Megan with a proposal! Little did she know he had enlisted the help of her best friend Erin, an accomplish to pulling off the proposal plan. Erin was by her side on their wedding day as a bridesmaid, which of course was at the University of North Carolina at The Carolina Inn. (It's the best place for two alumni to get married!)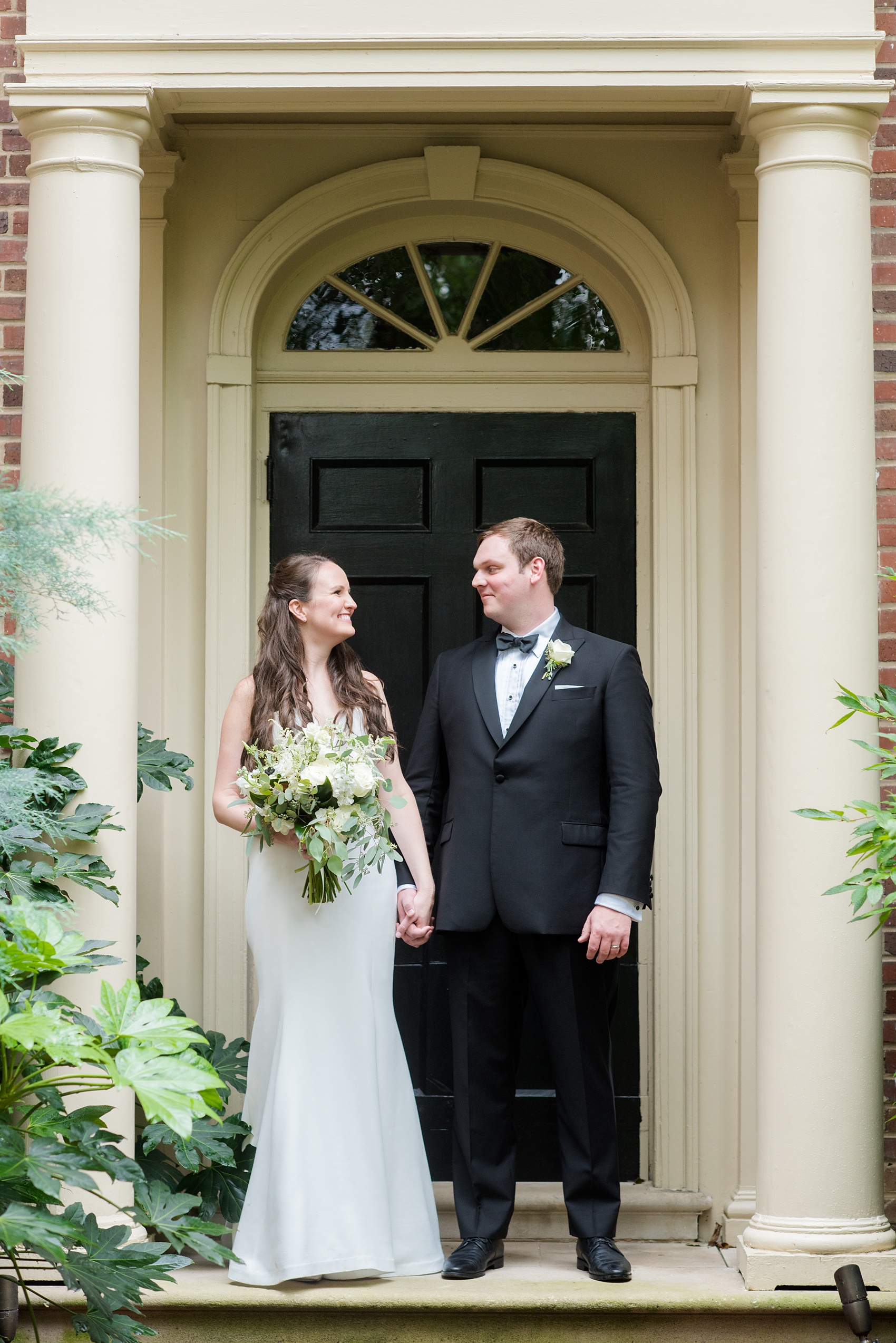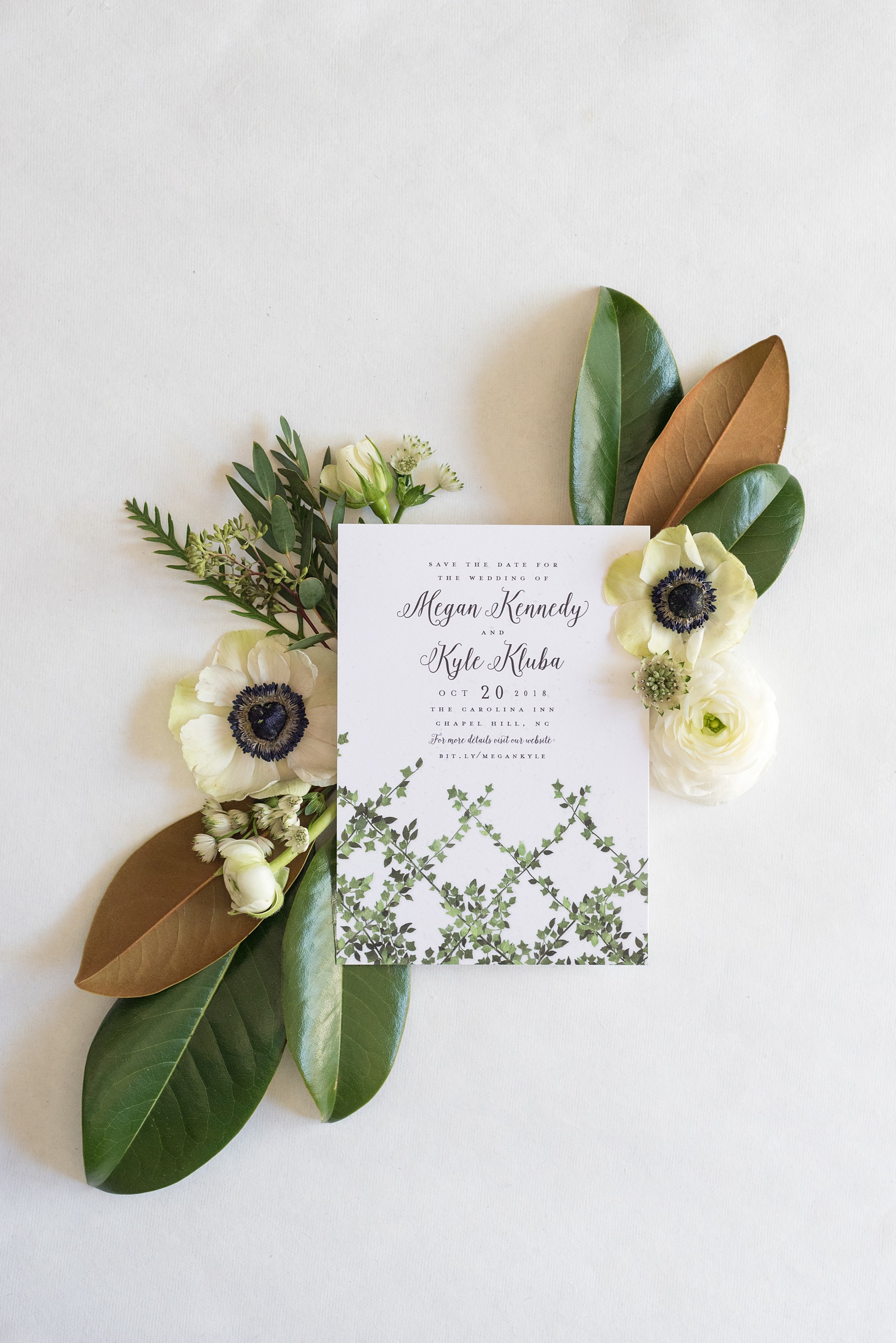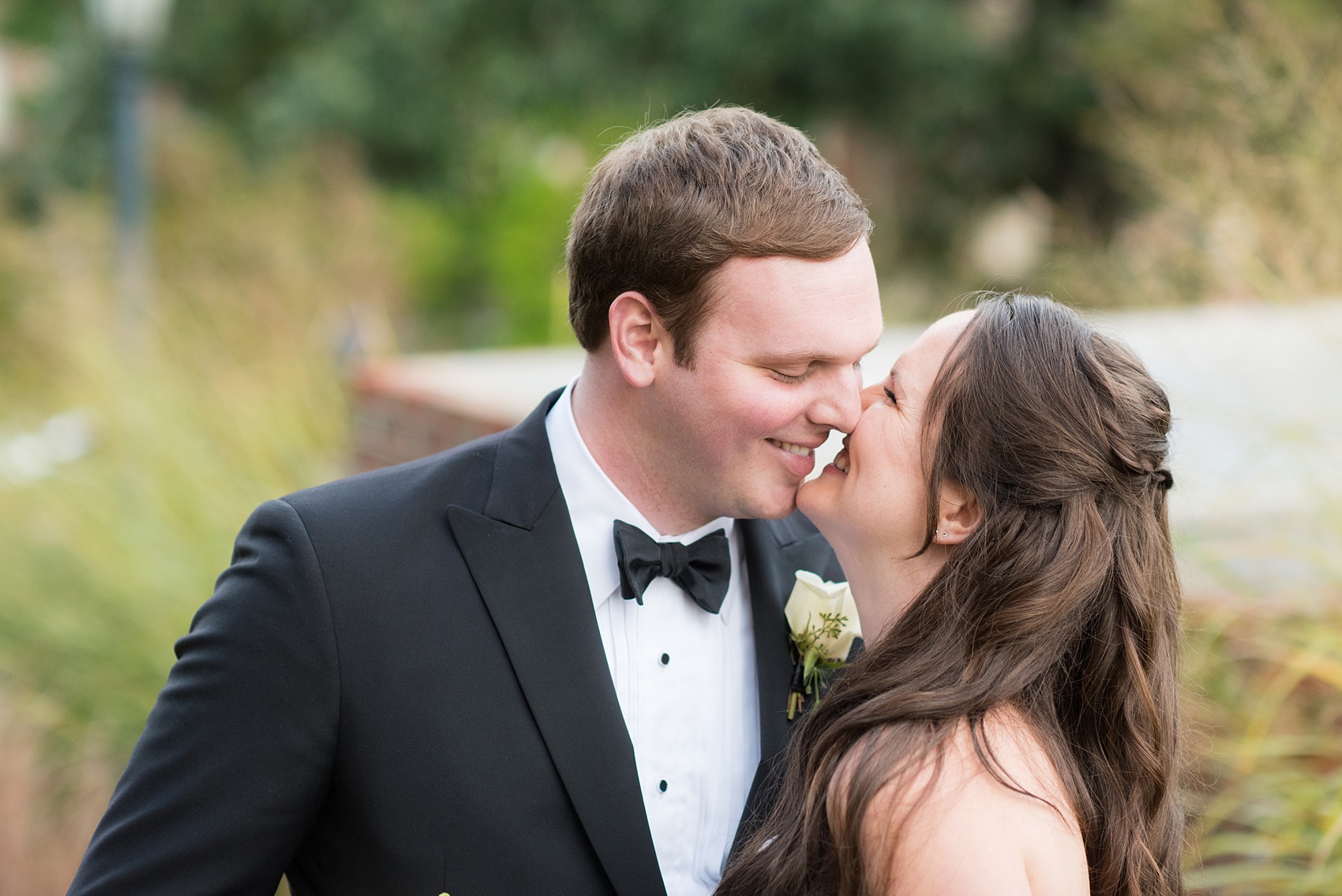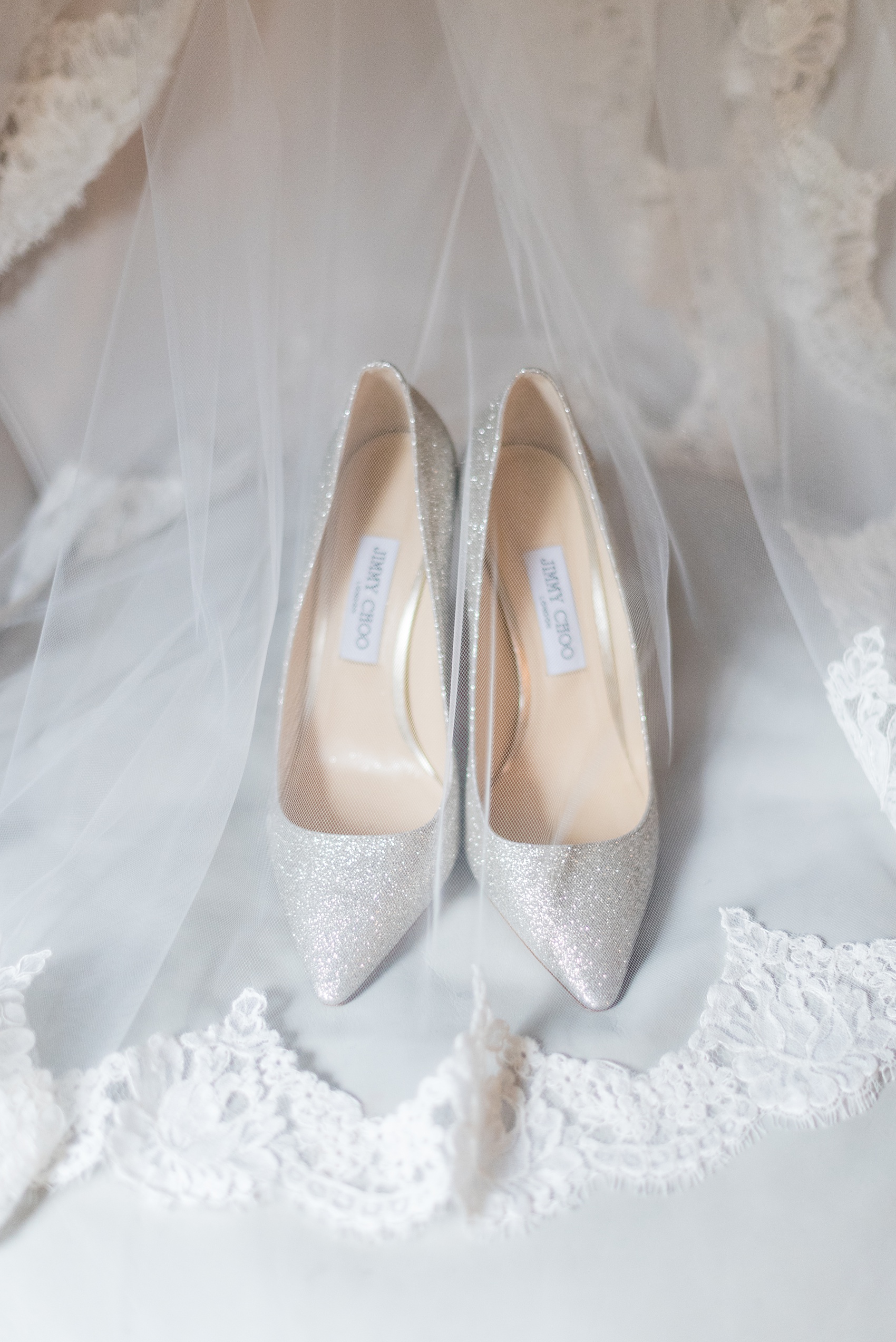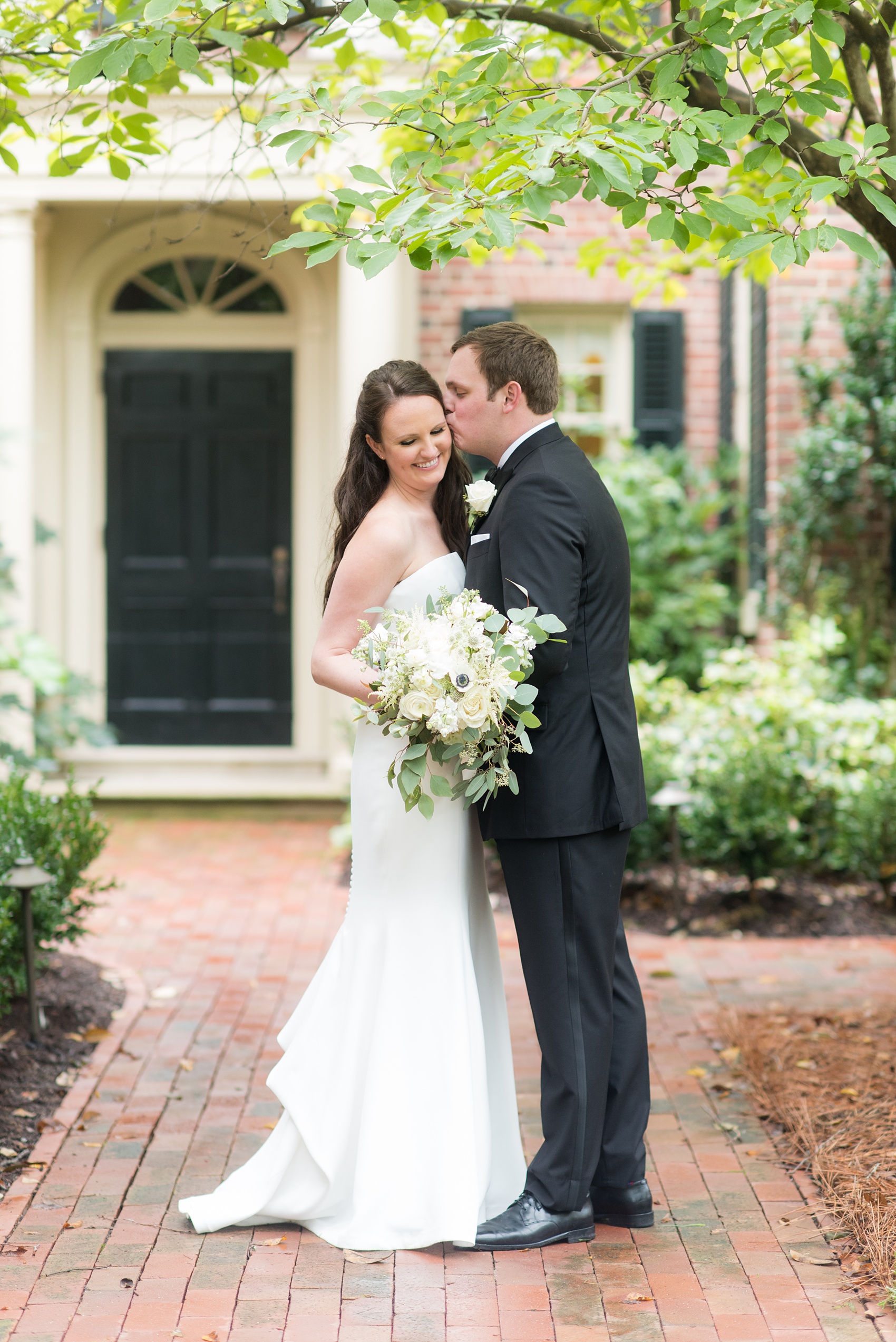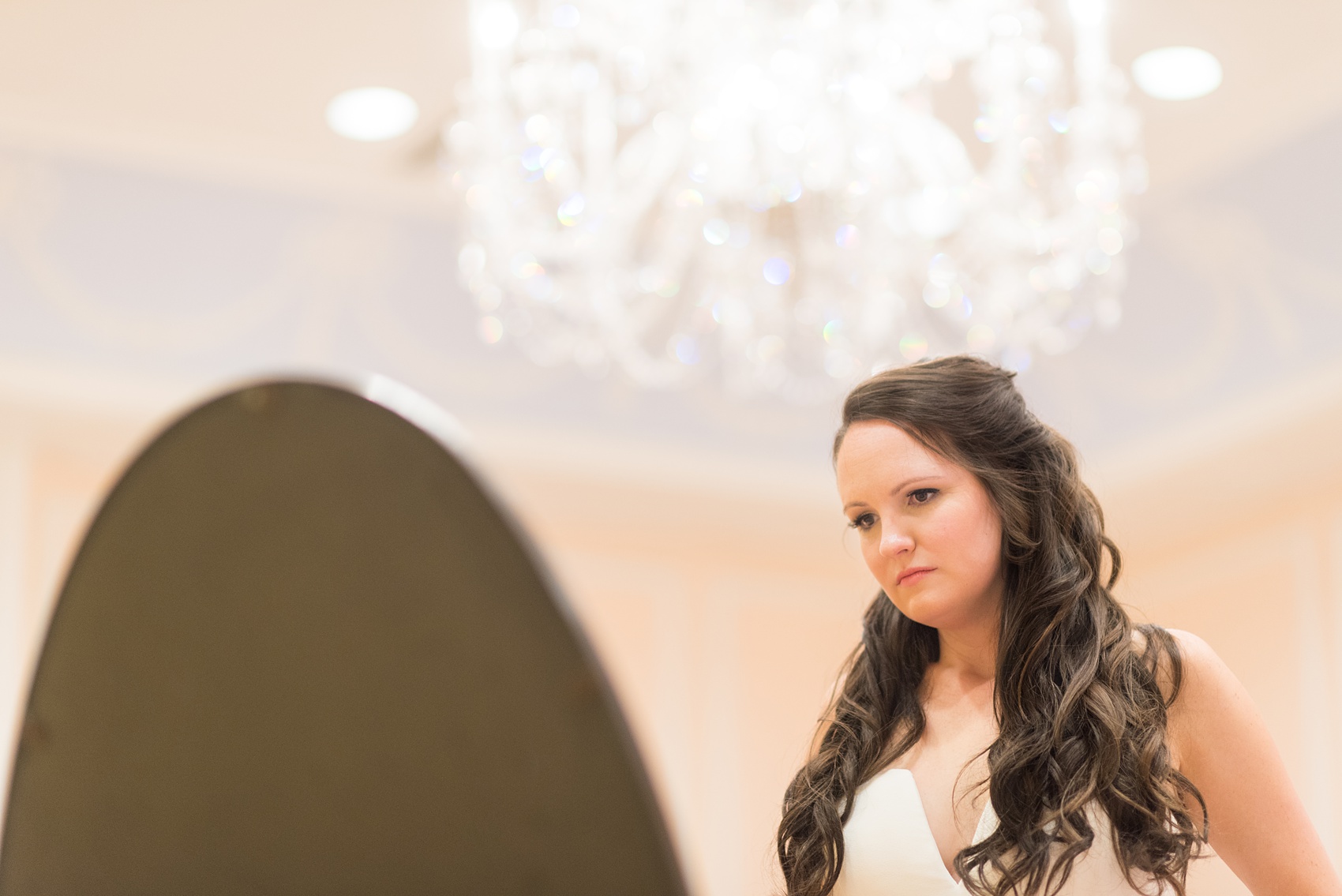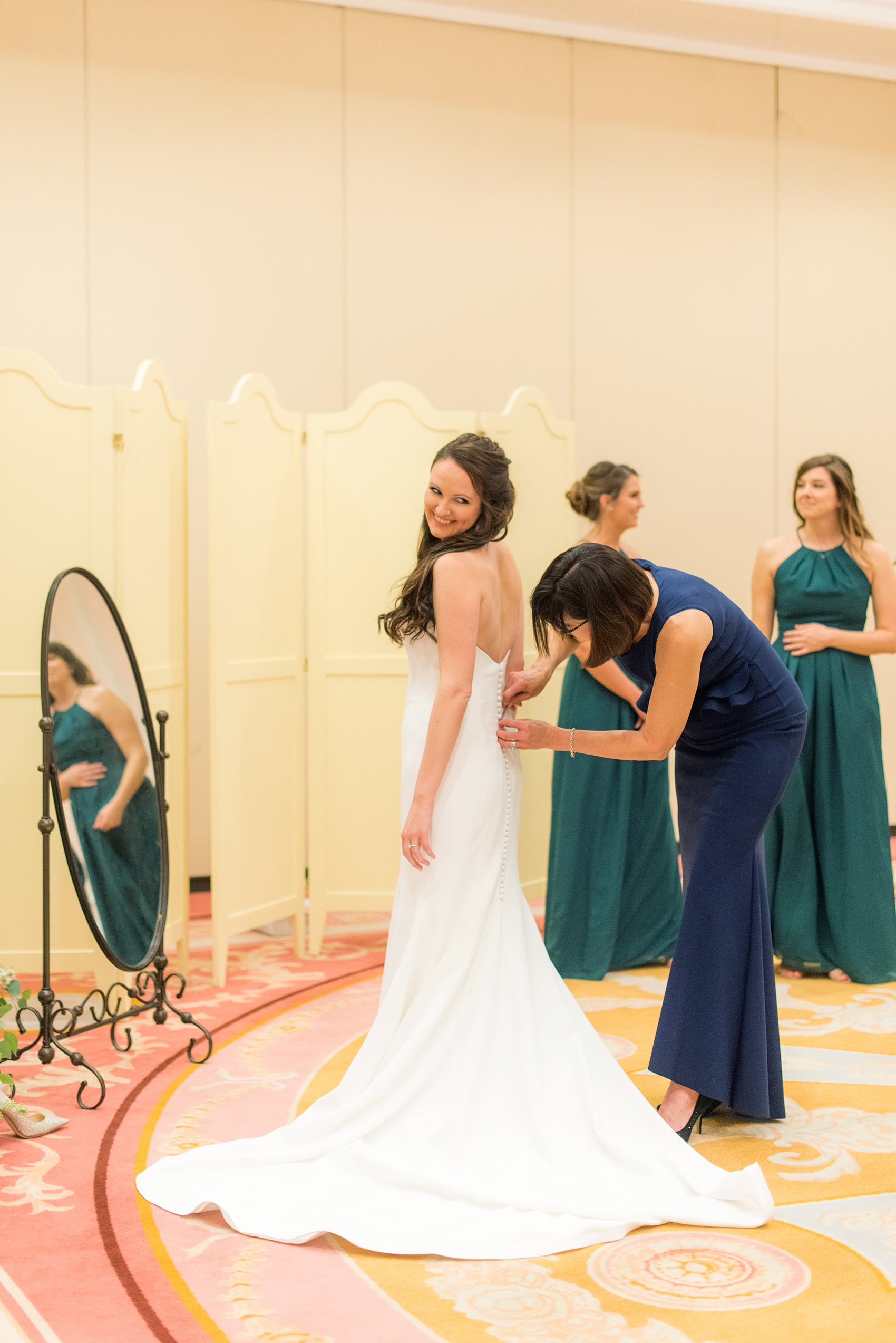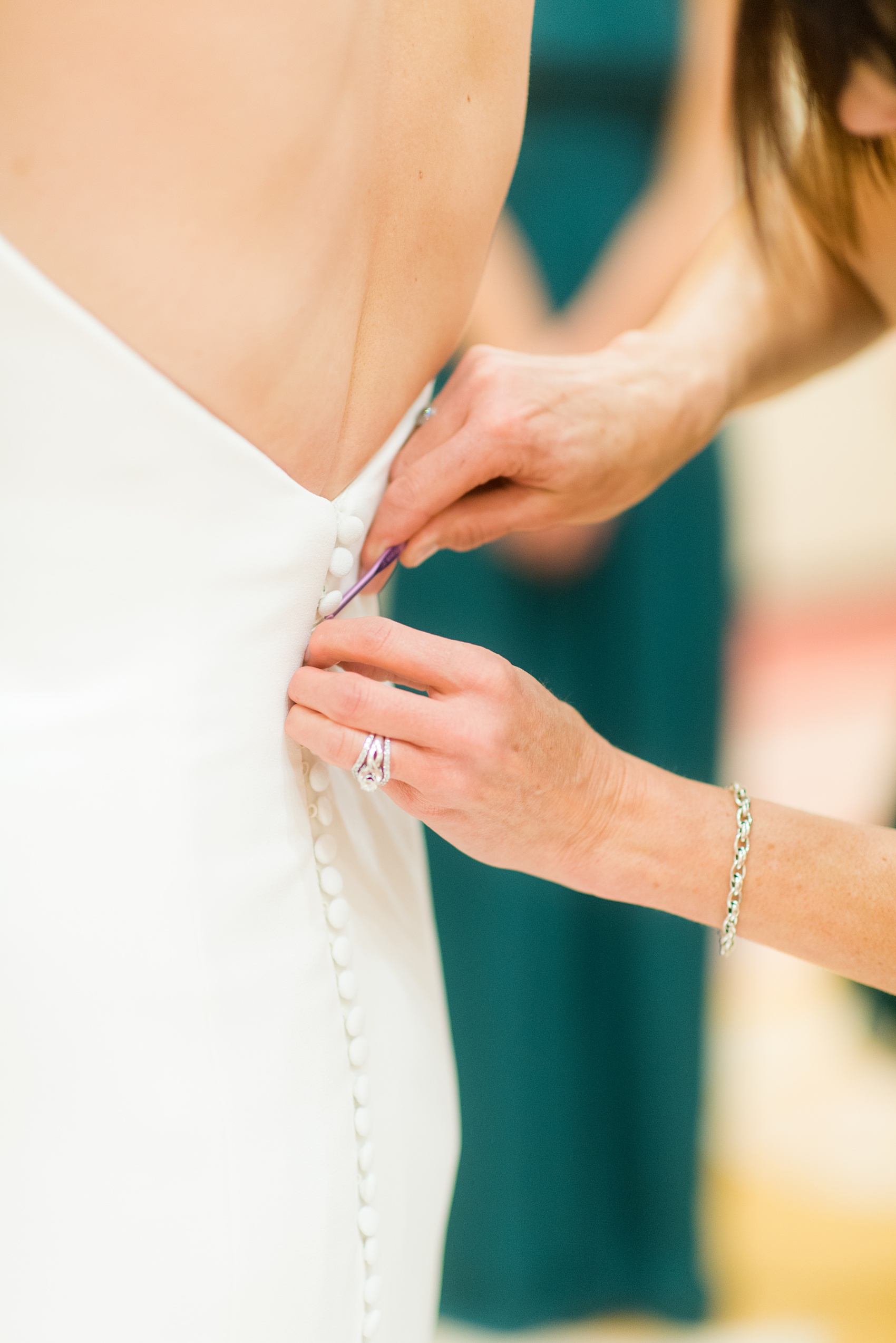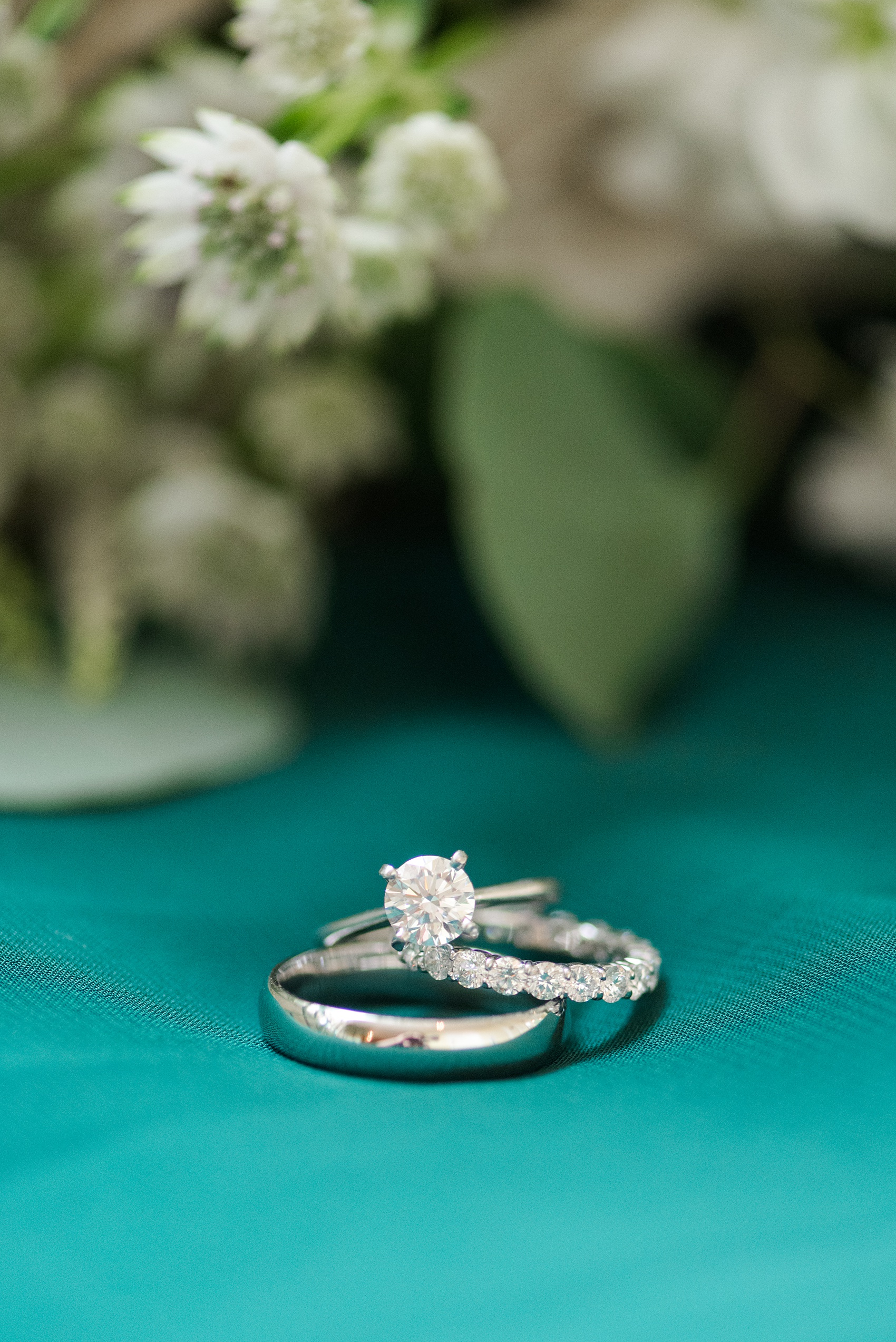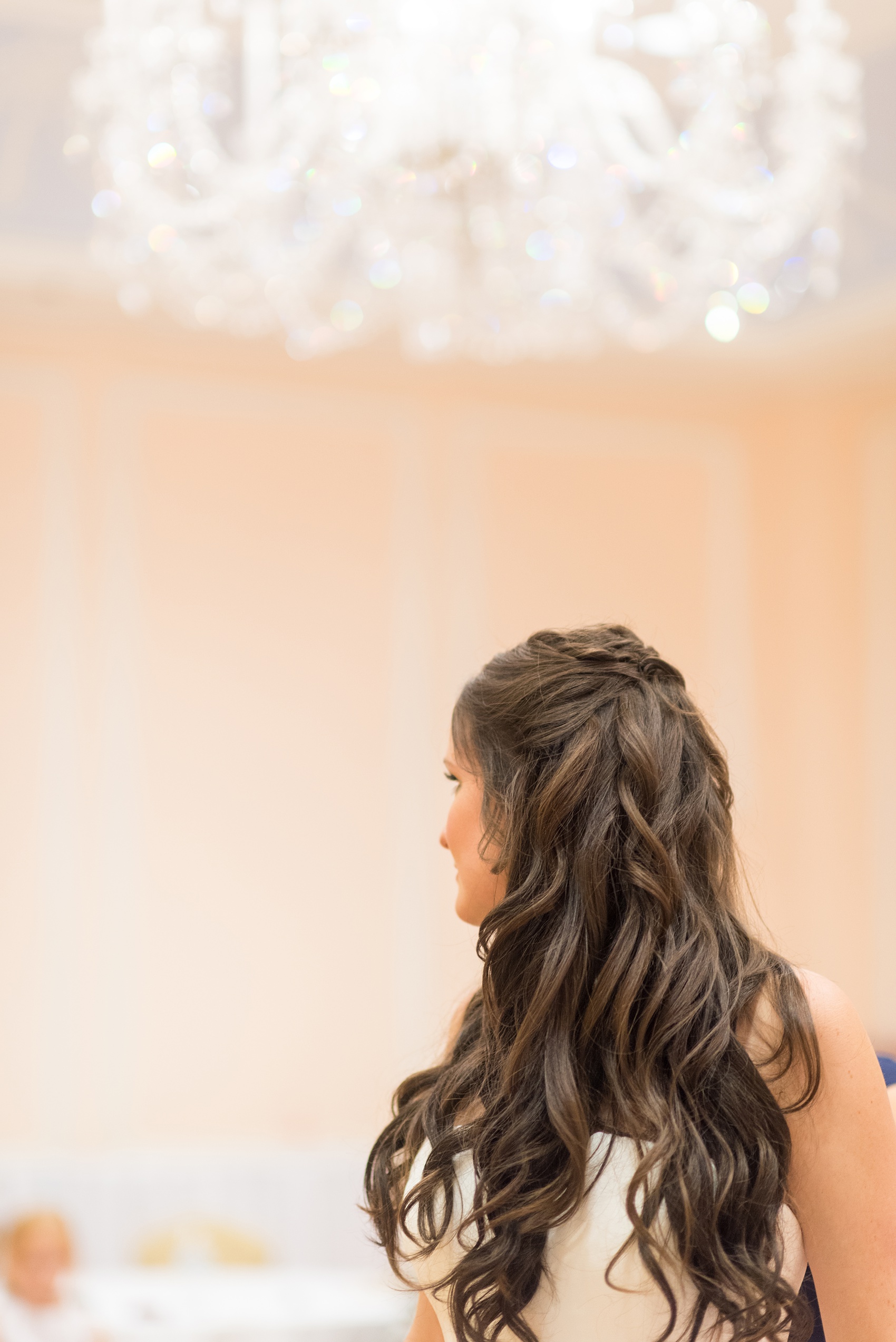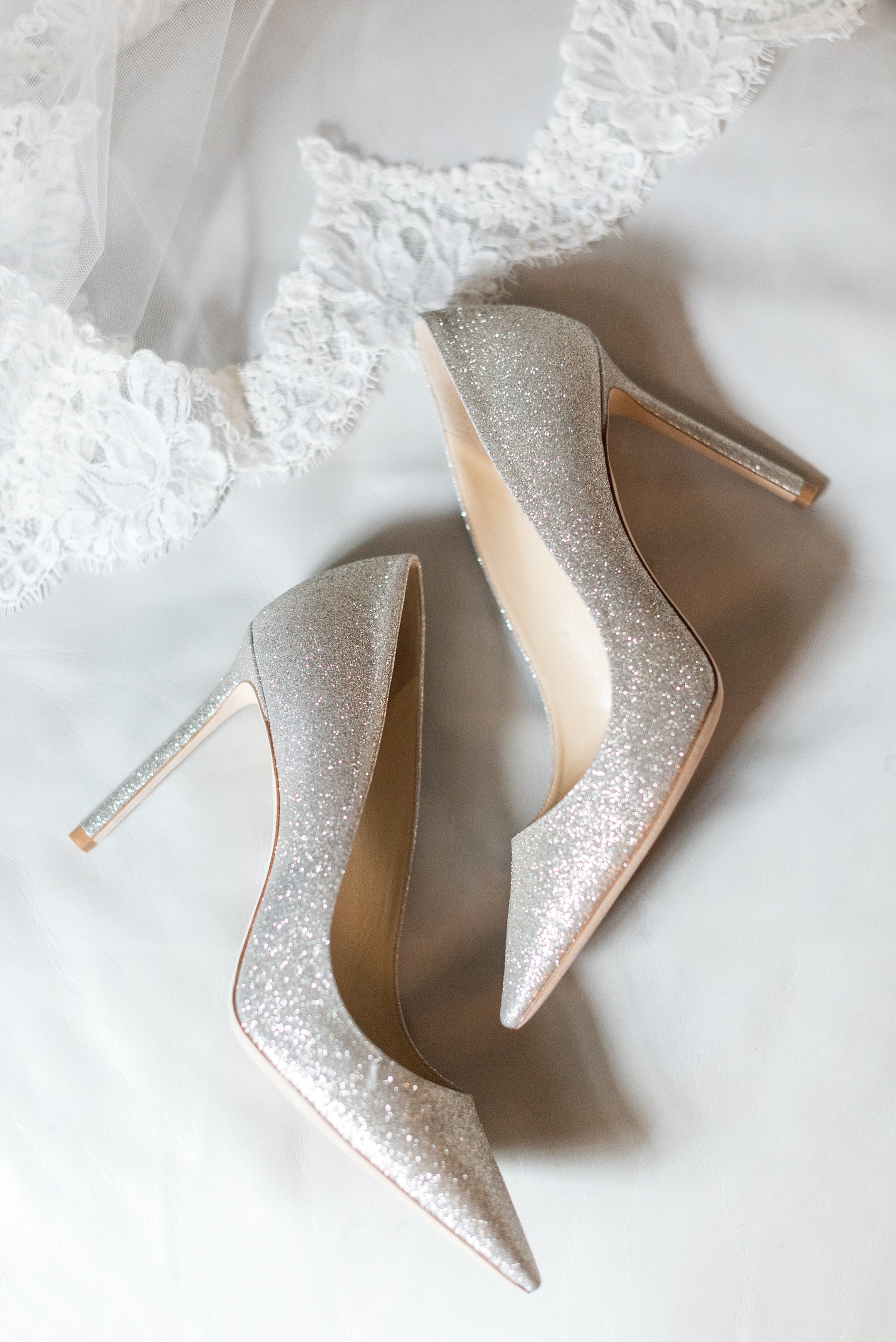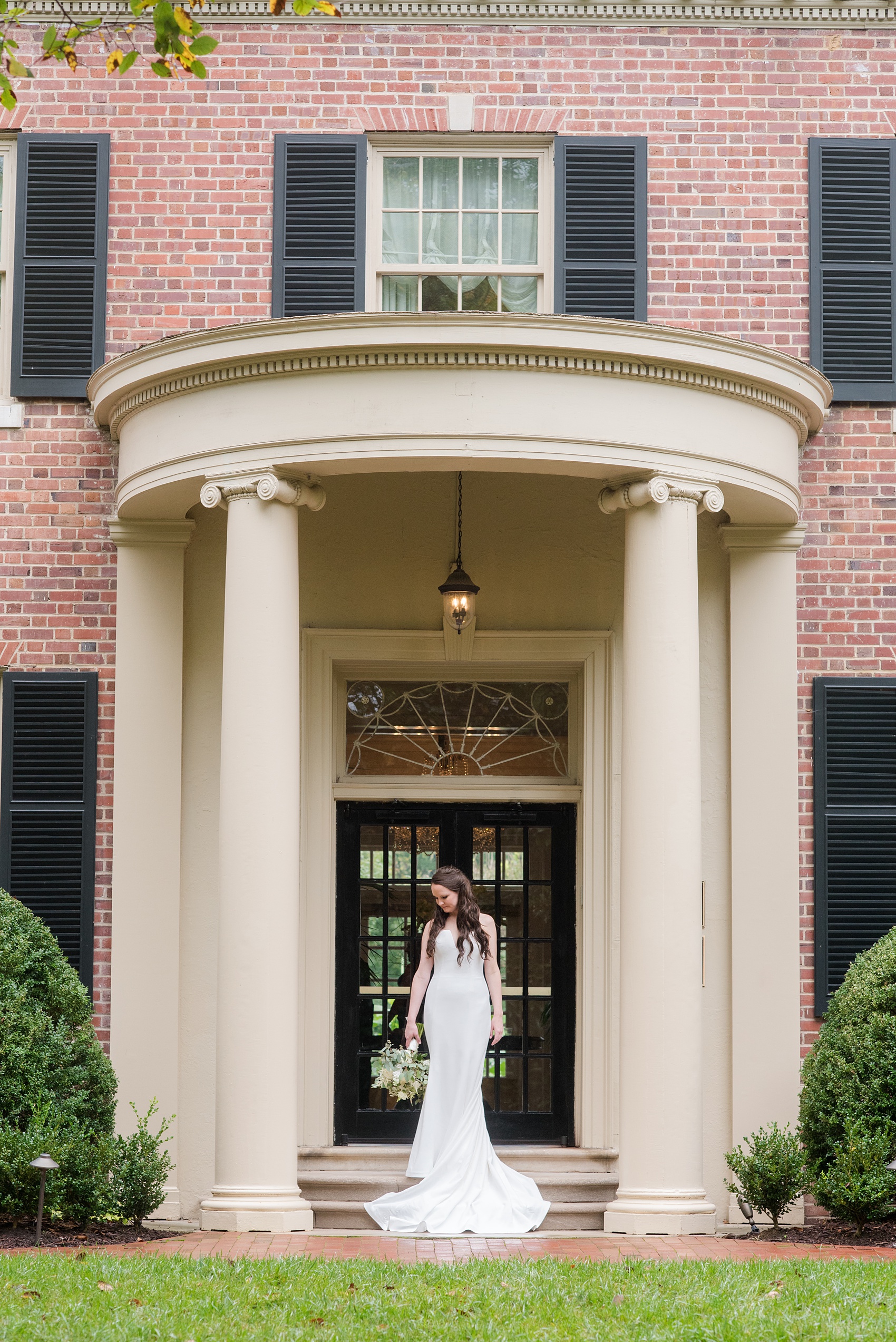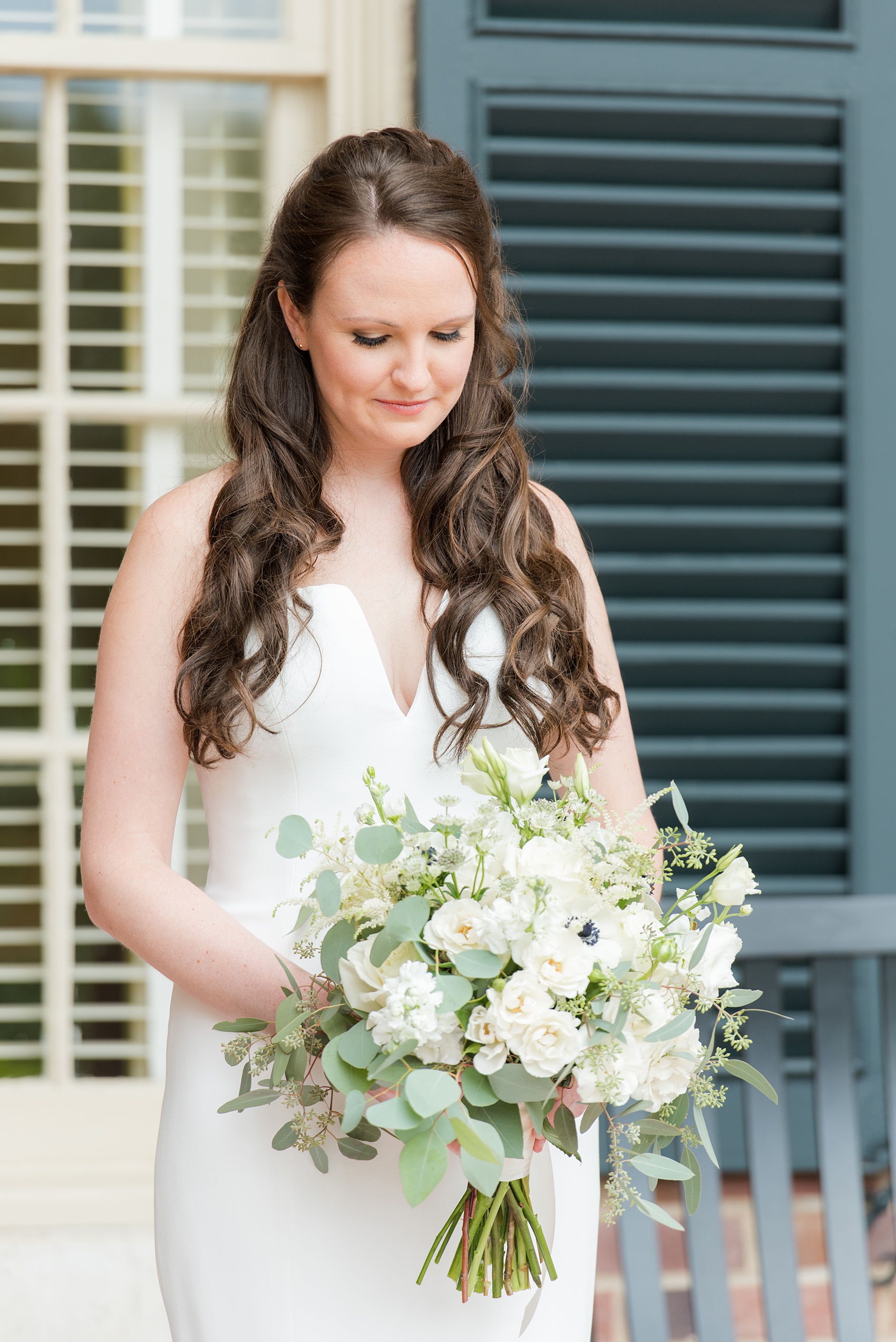 How stunning is Megan? I absolutely loved her entire look. She was the epitome of an elegant, timeless bride who wasn't overdone. Her true beauty shined through with her v-neck cutout, strapless Vera Wang gown from Alexia's Bridal, and hair in an effortless half-up do with beachy waves. She carried a bouquet of Lisanthus, anemones with a purple center, three types of Eucalyptus leaves and roses. Her bridesmaids carried complimentary bouquets with southern magnolia leaves added.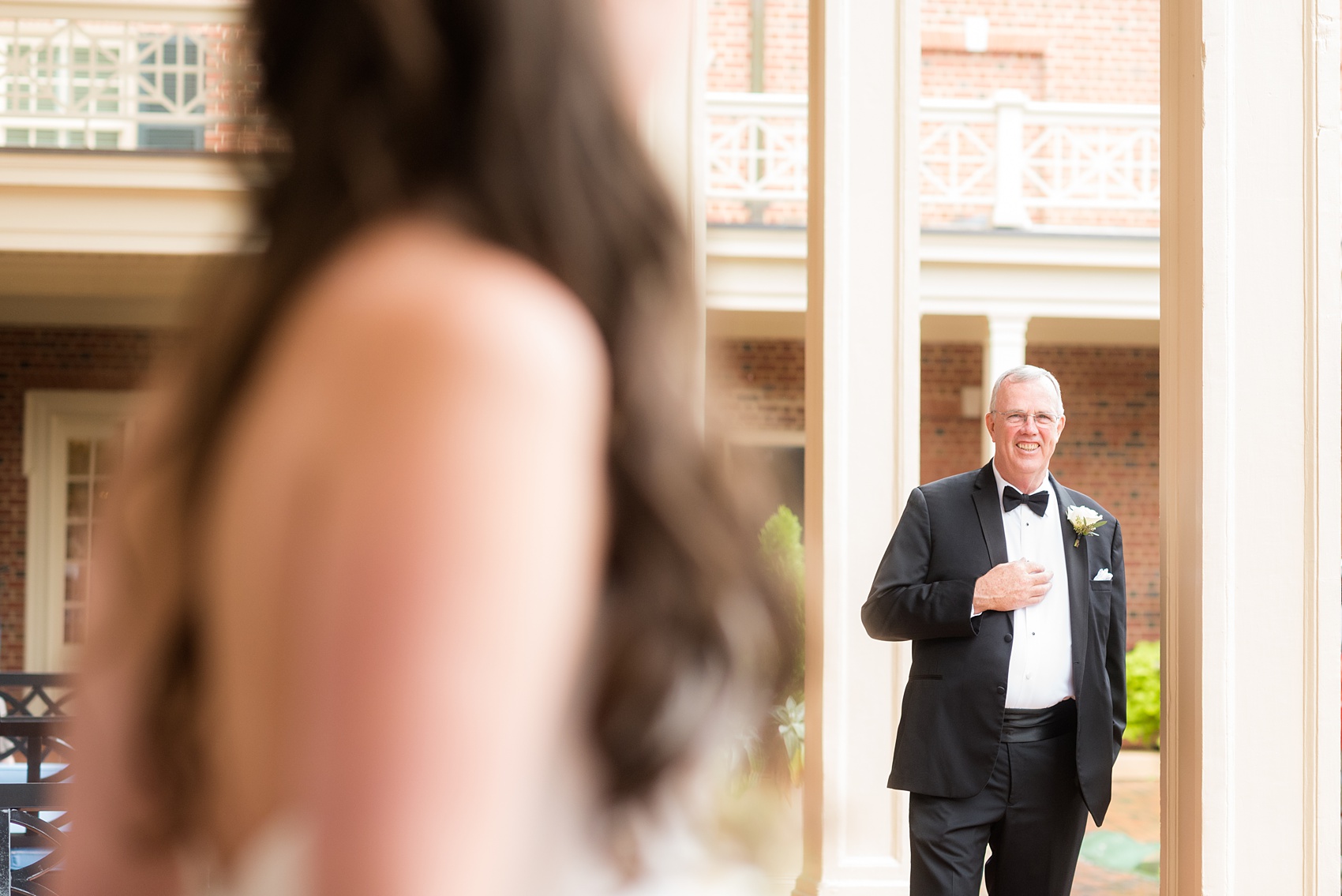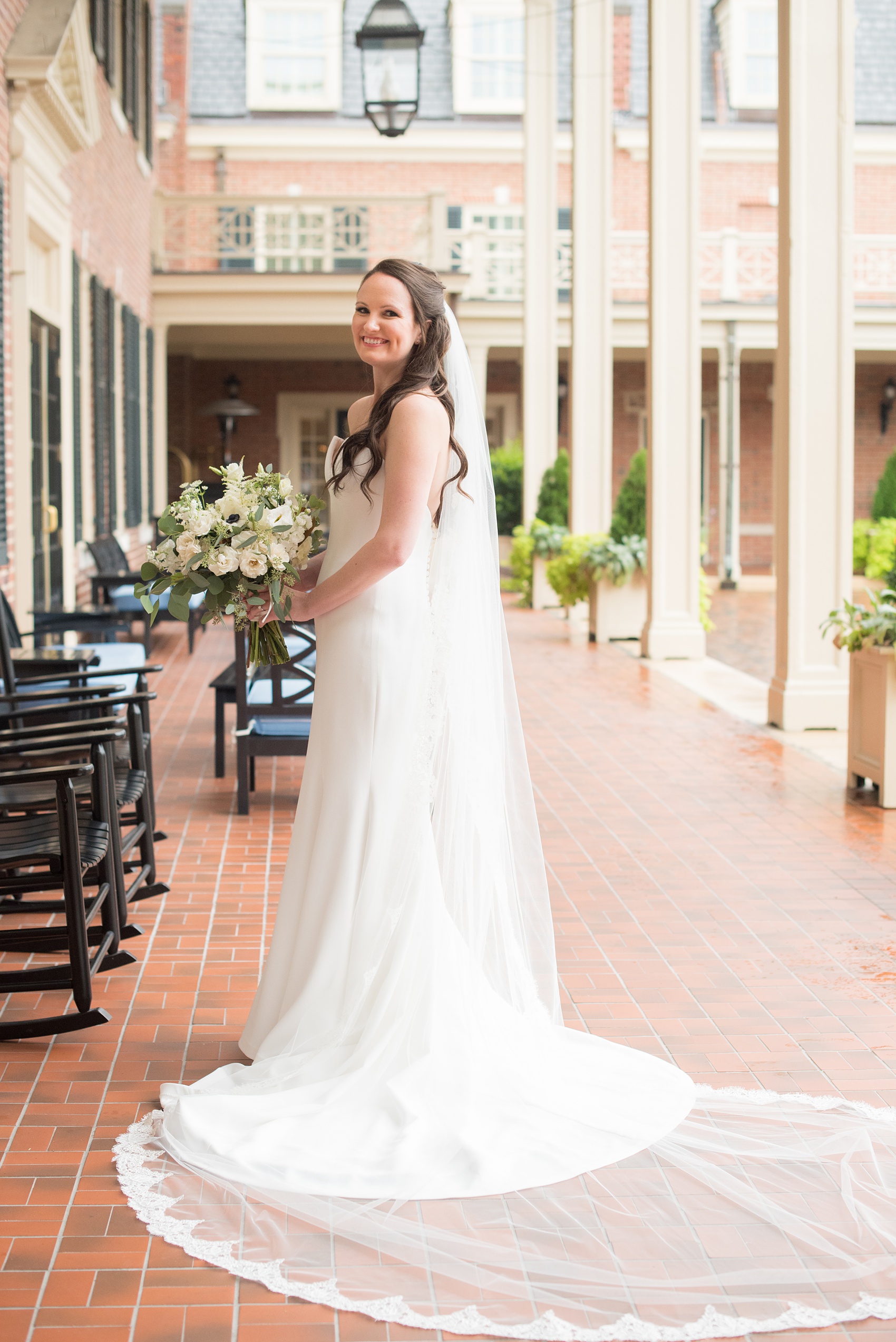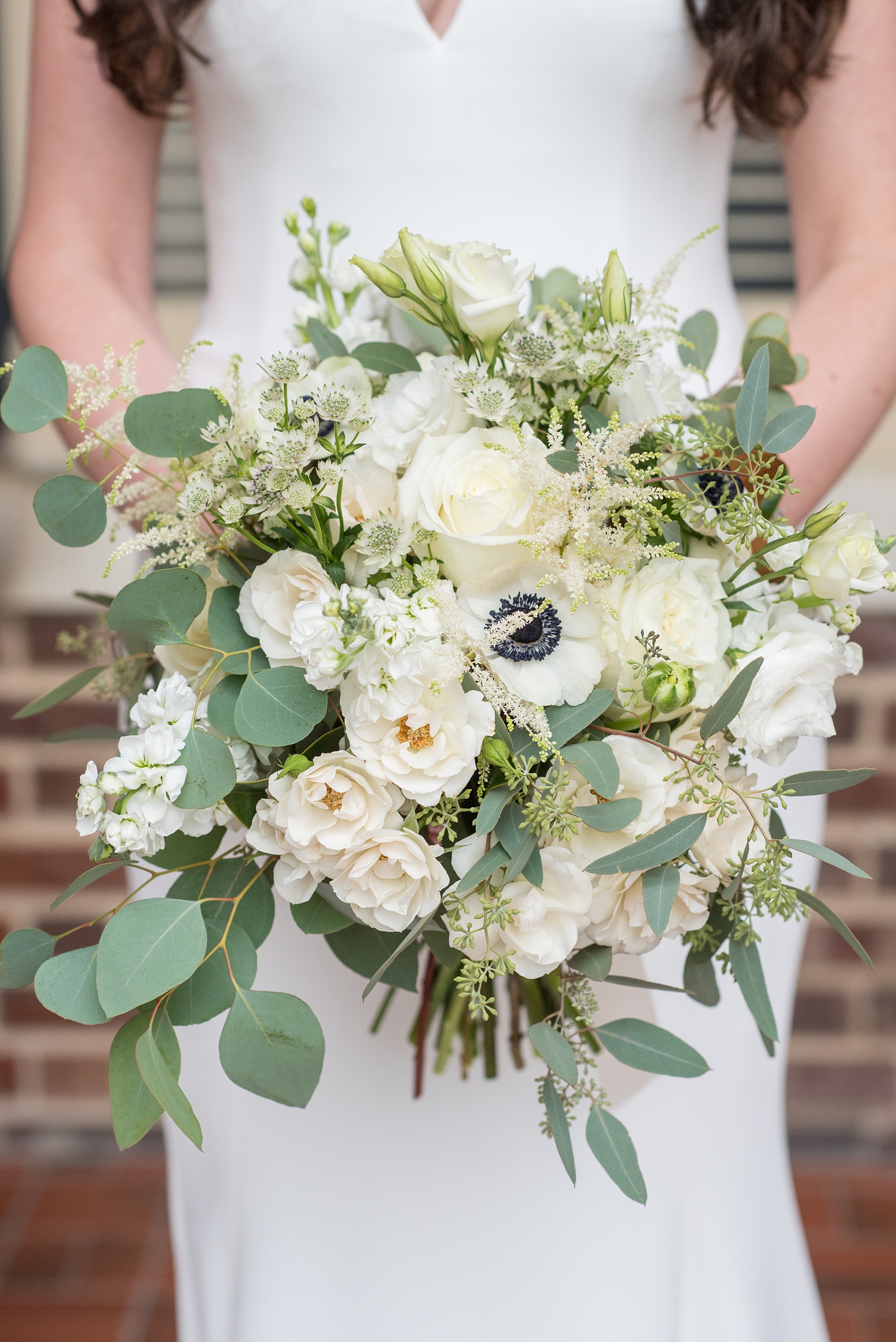 One of my favorite little details, that most people at the wedding probably had no idea about, was the blue sapphire ring Megan wore. It was her mom's engagement ring and her something blue and borrowed. (I loved that her mom was wearing blue too…and she was such a HUGE help on the wedding day!) I photographed it on one of the ring dishes she gave her bridesmaids with the letter "K" for Megan's new last name initial.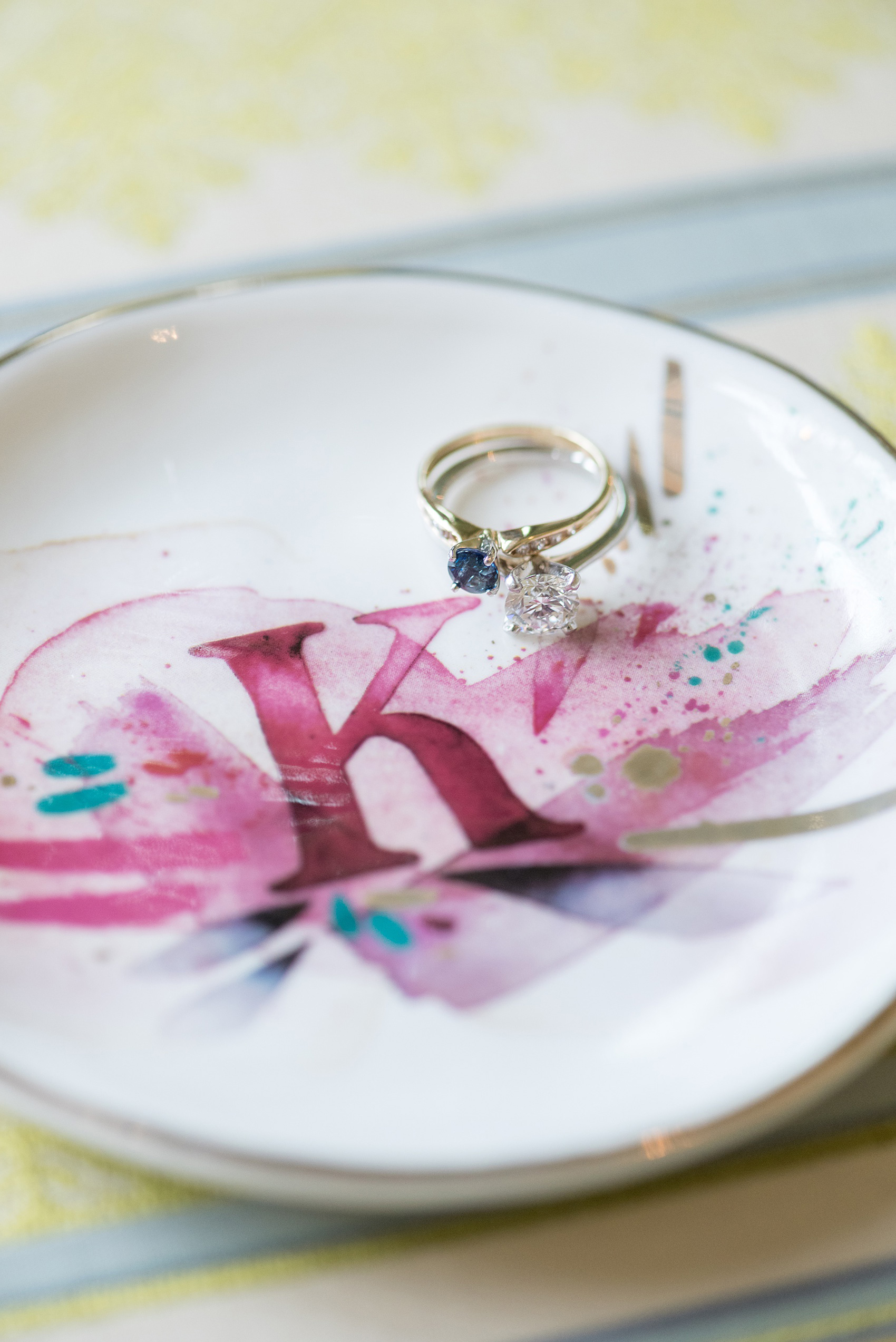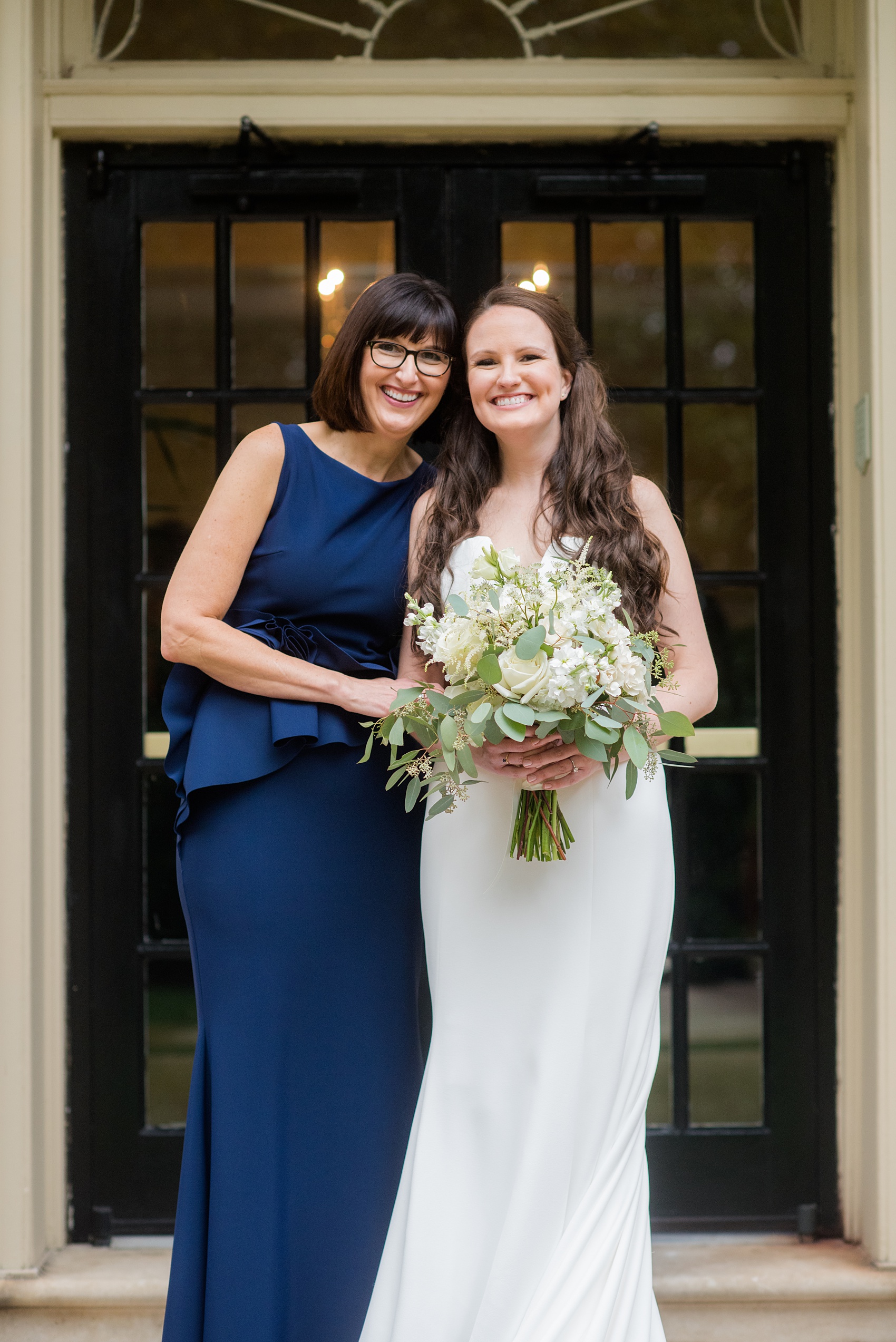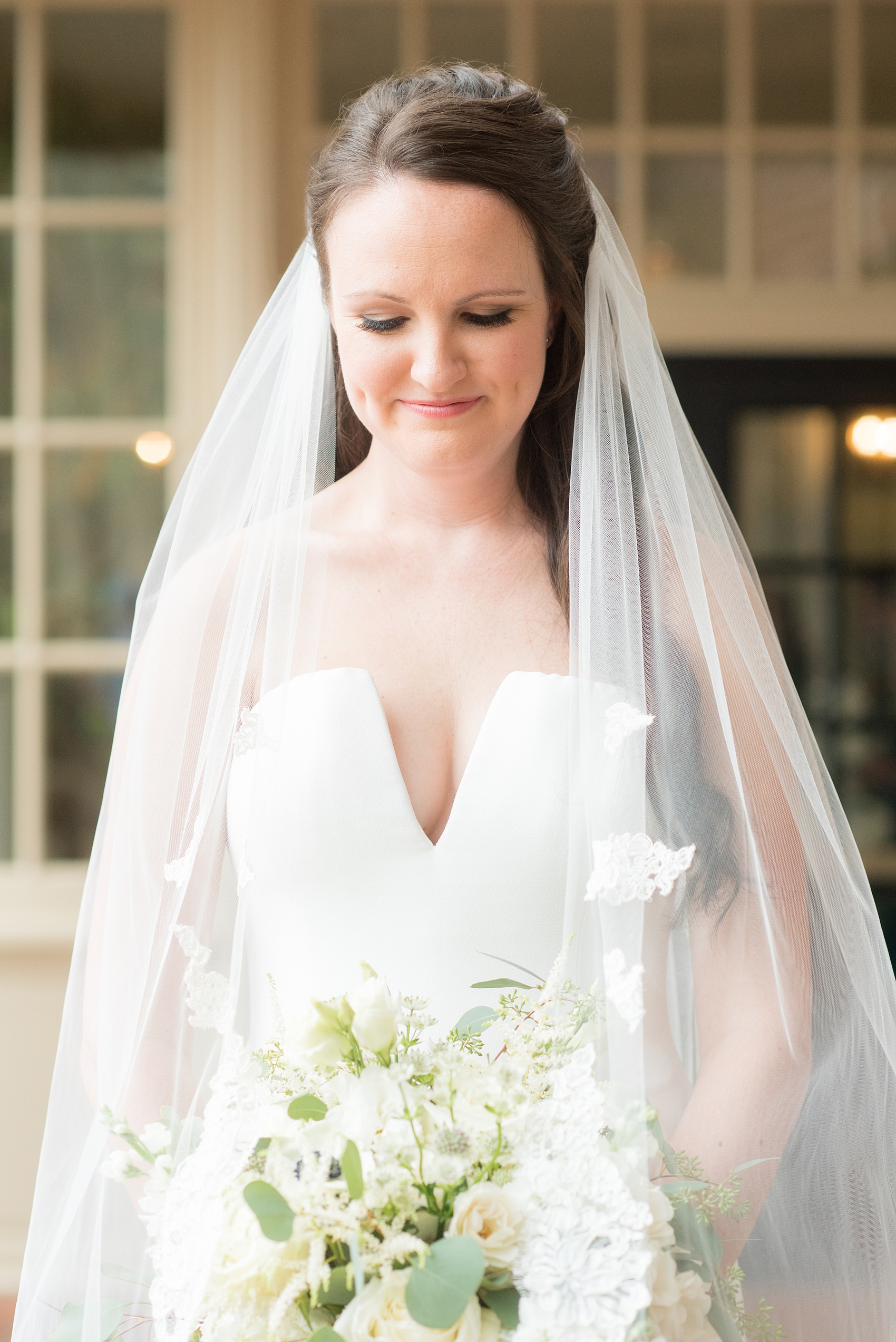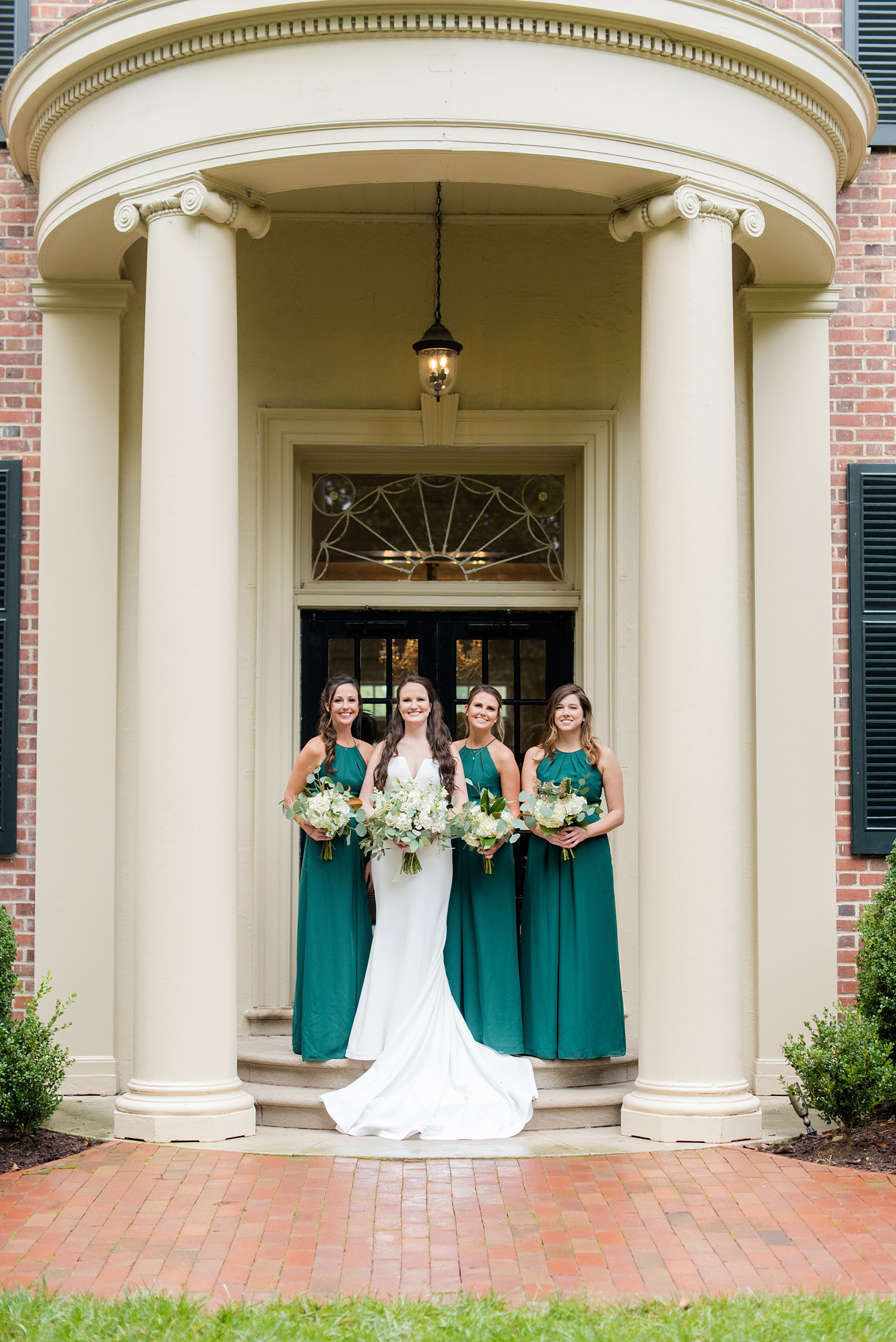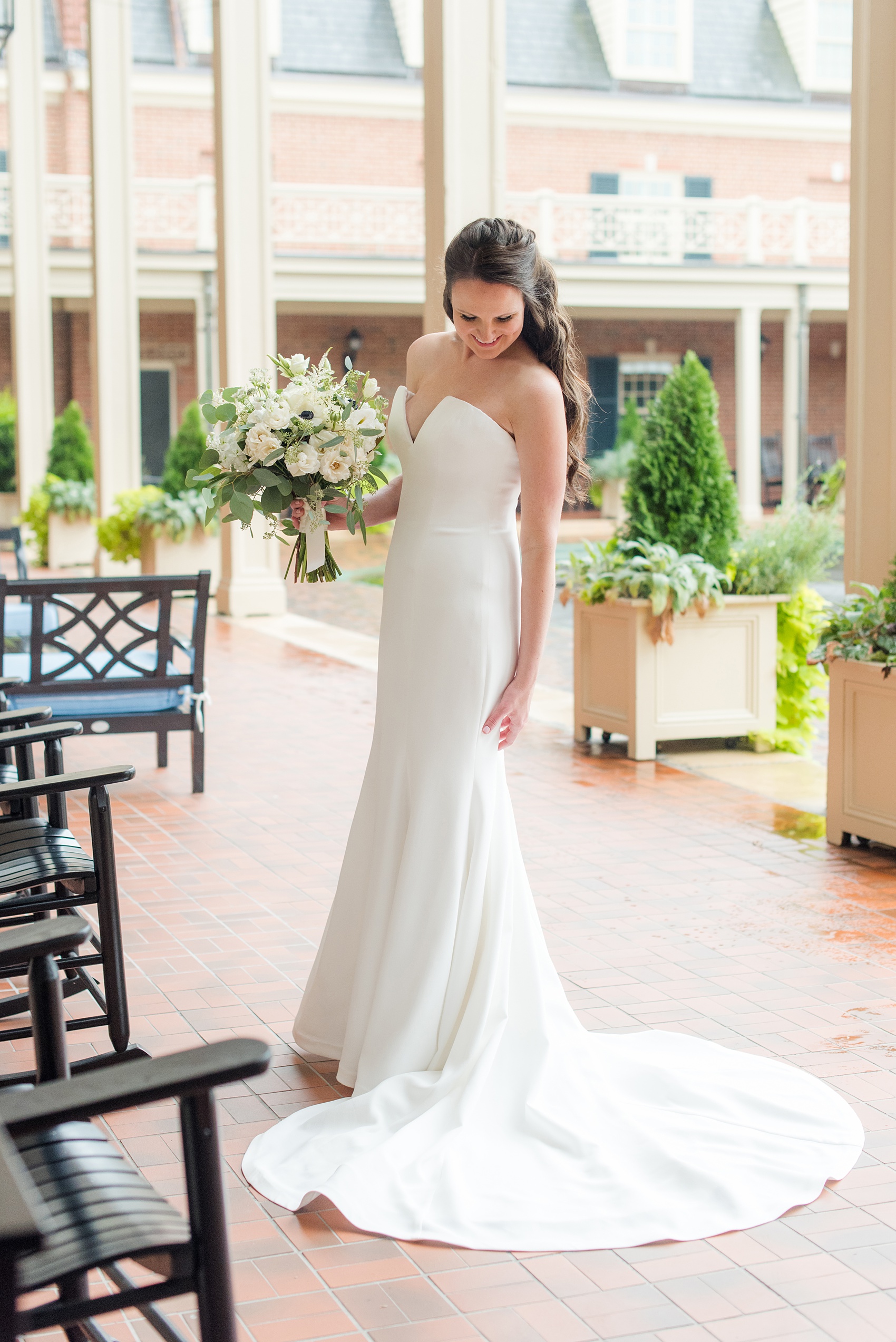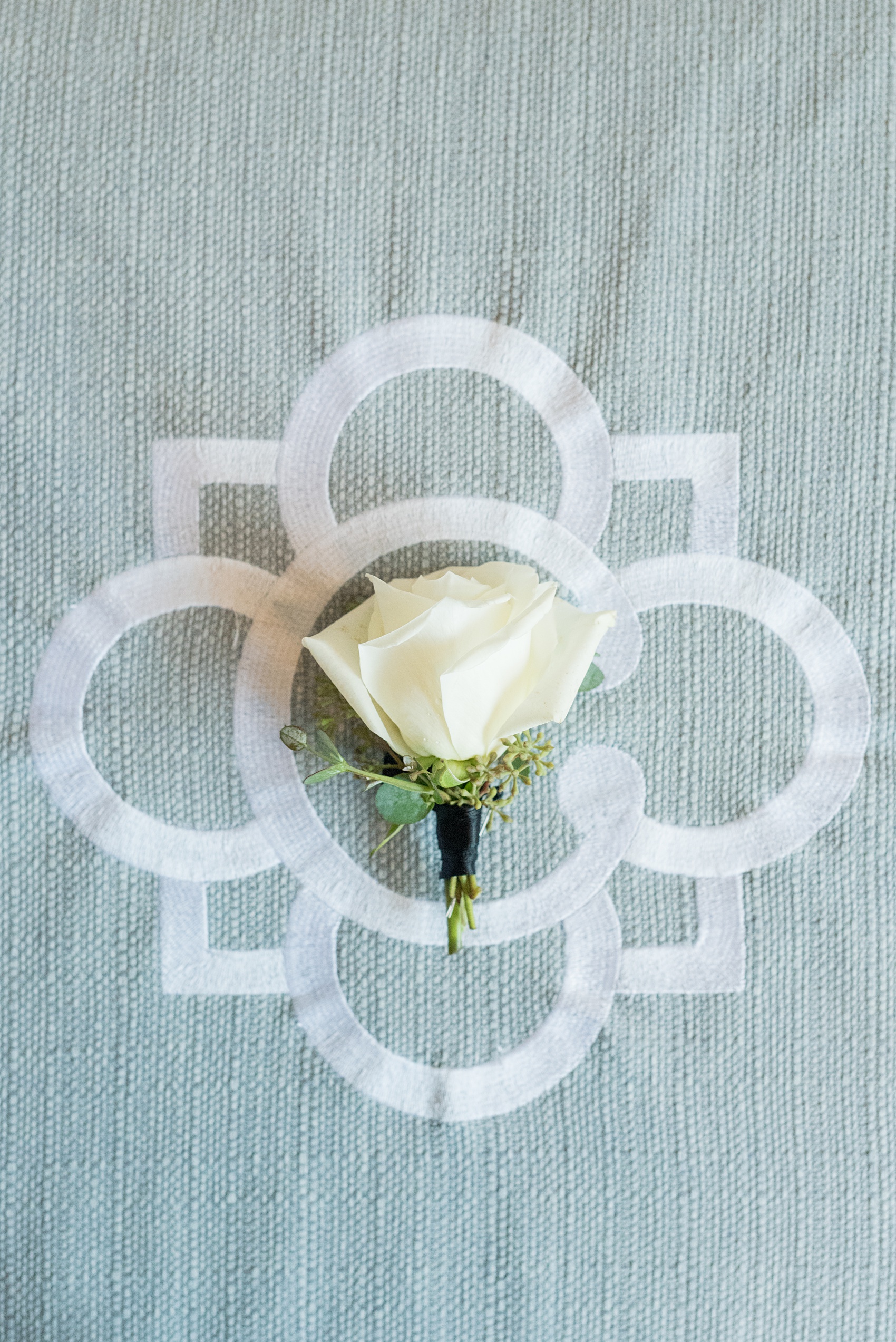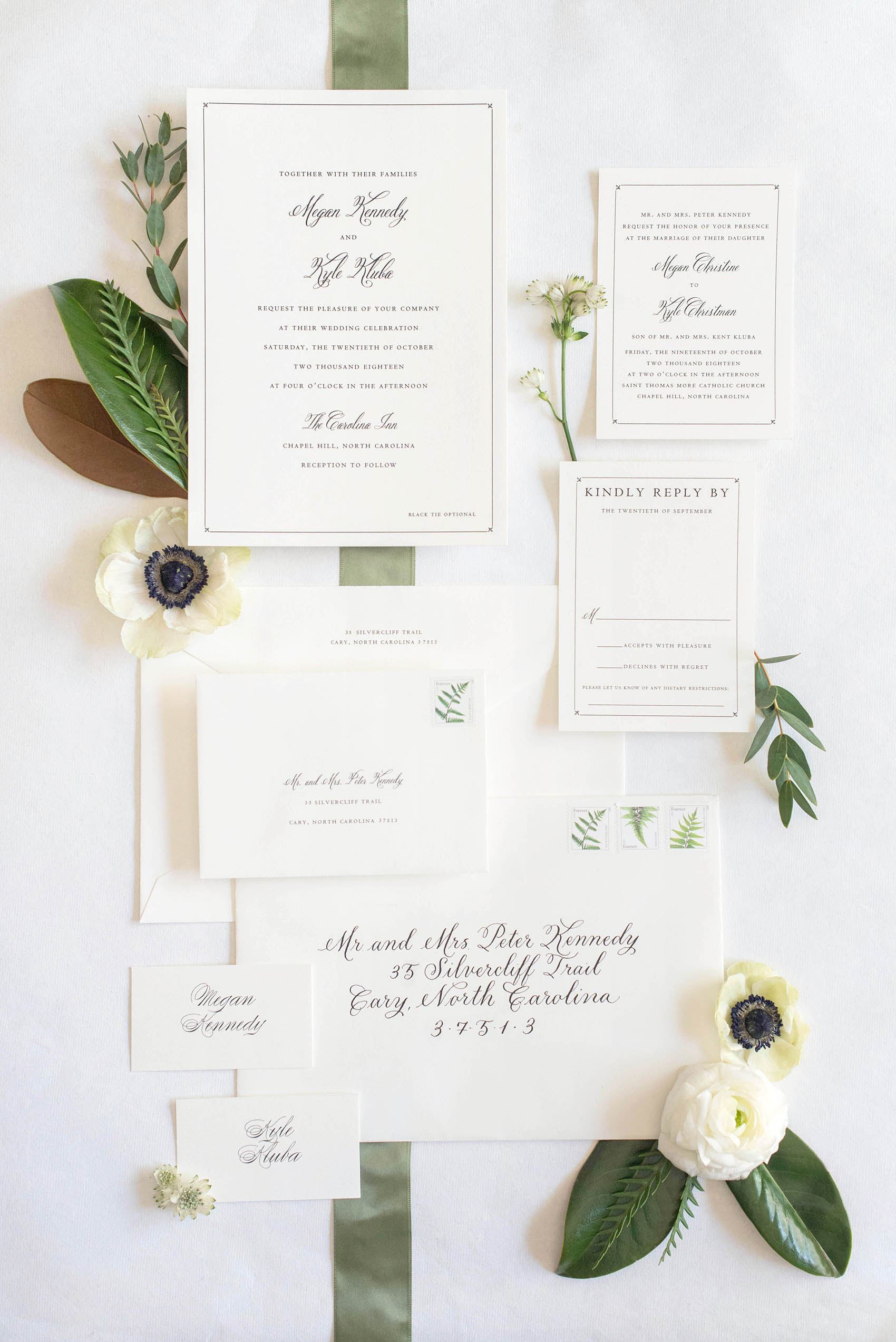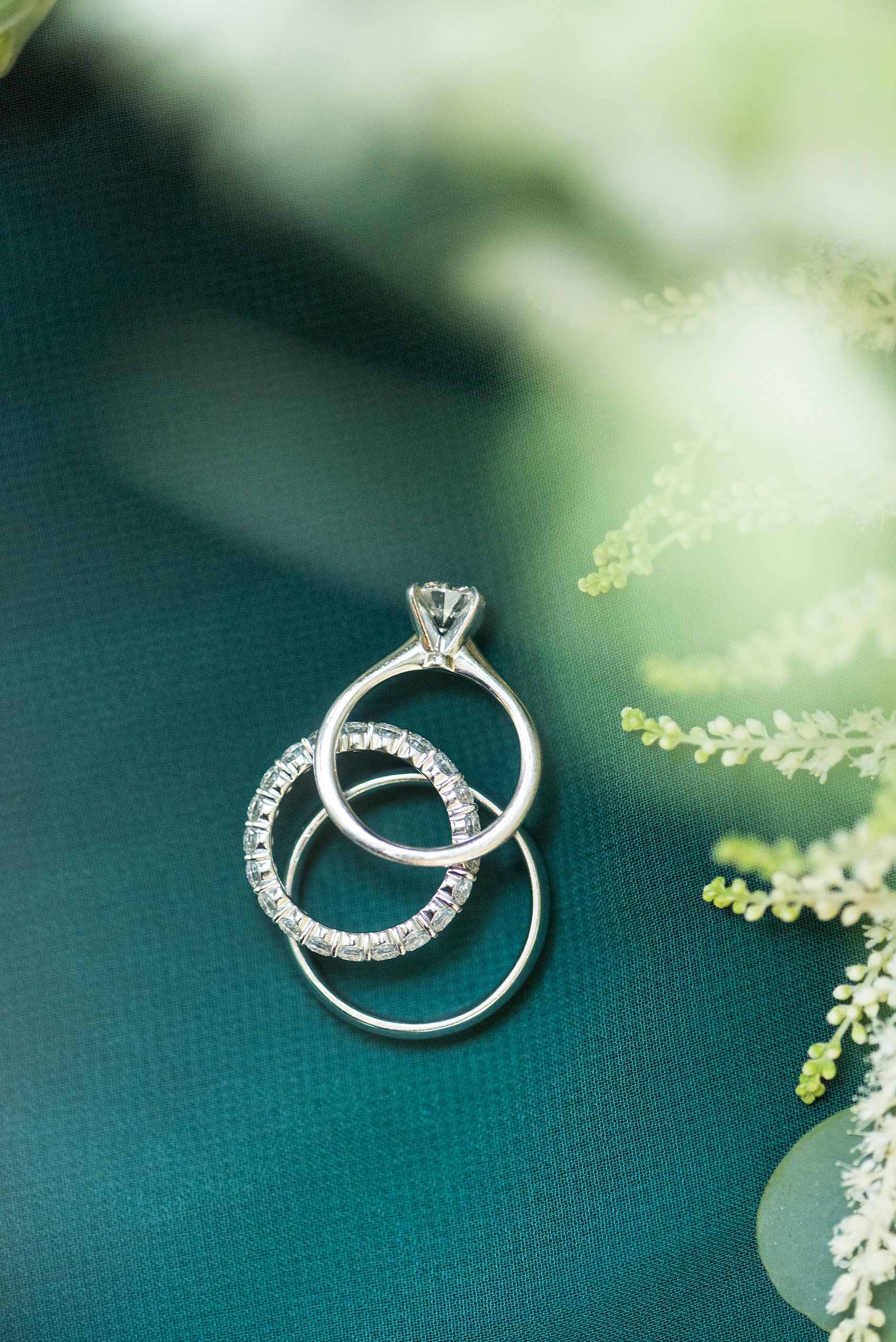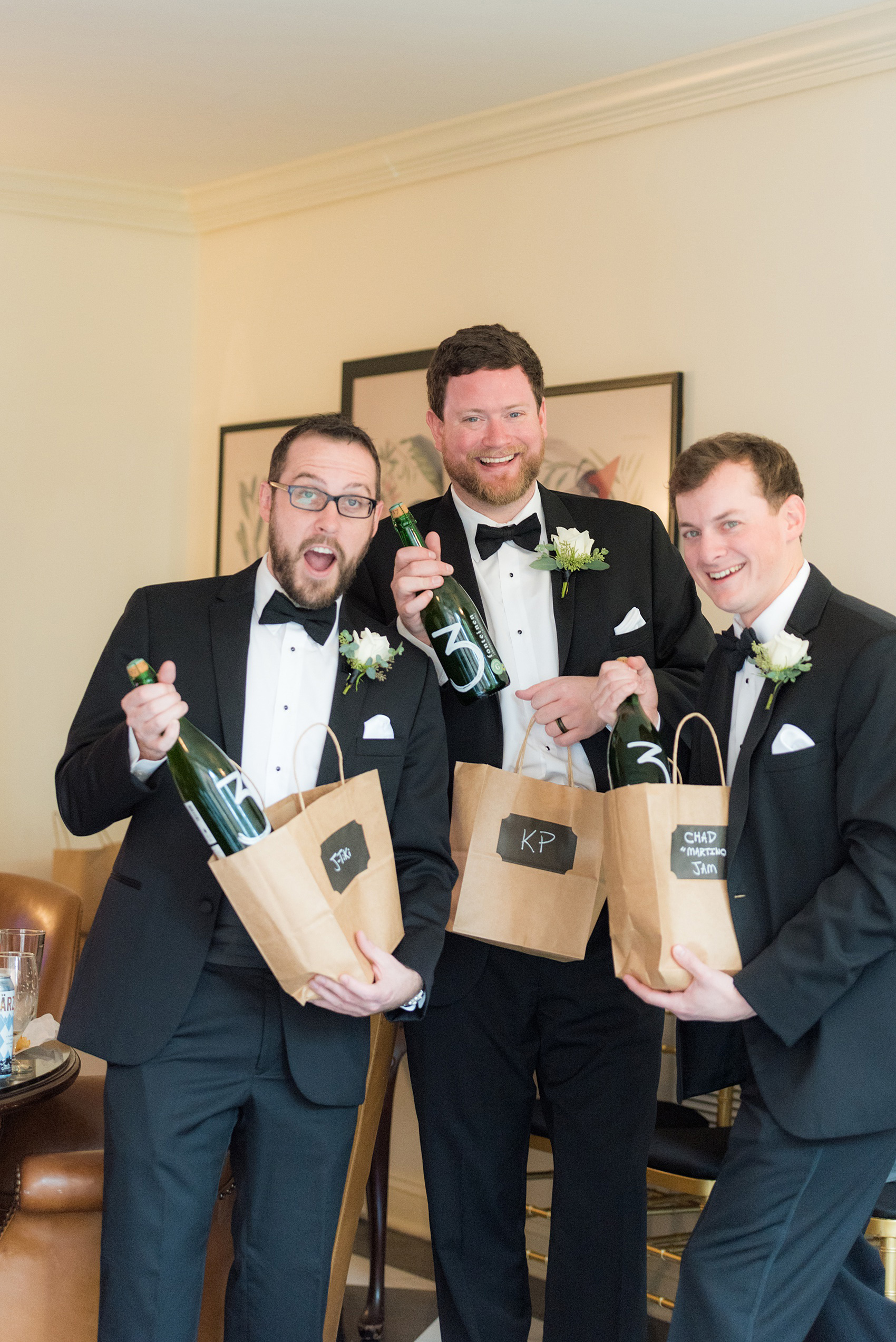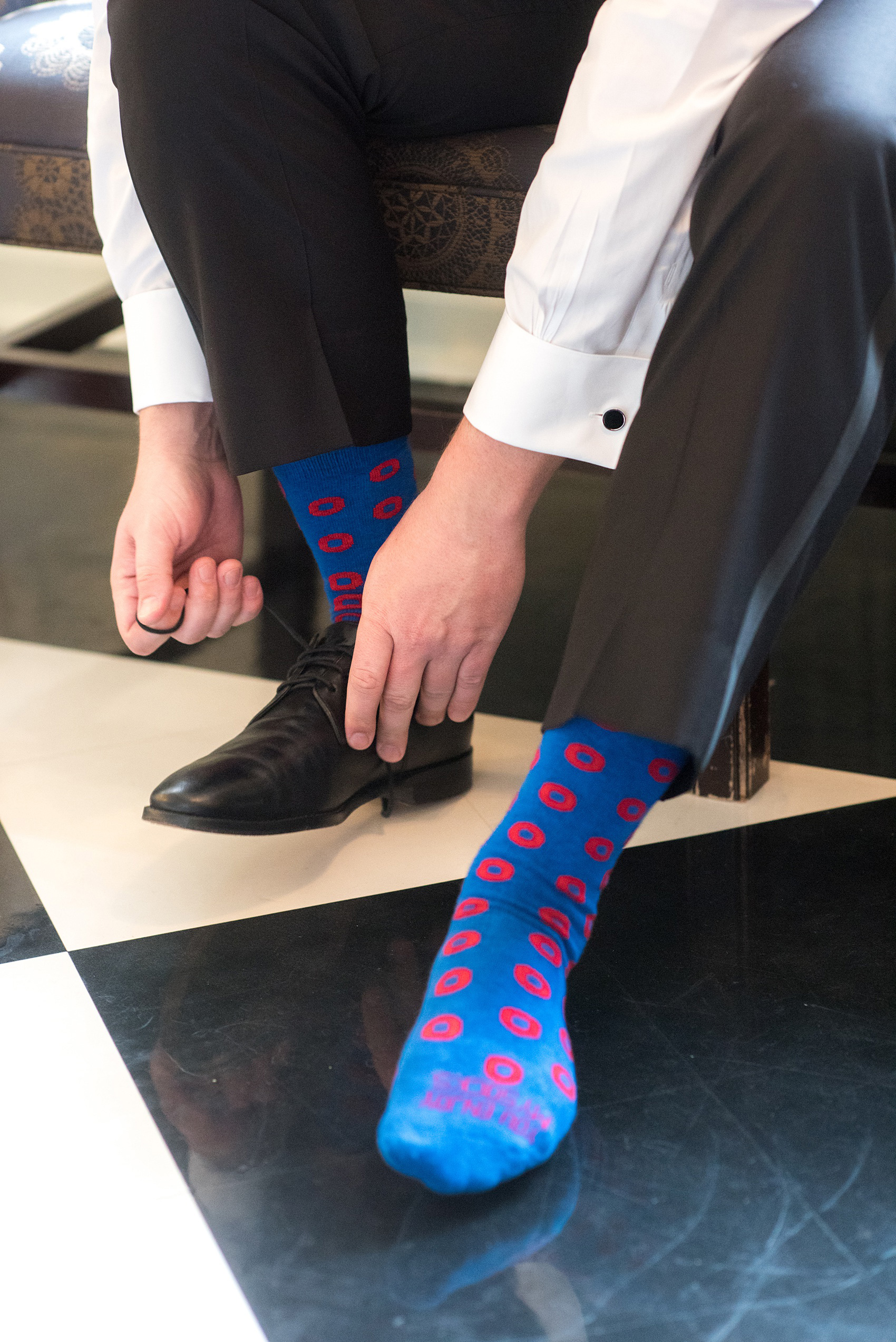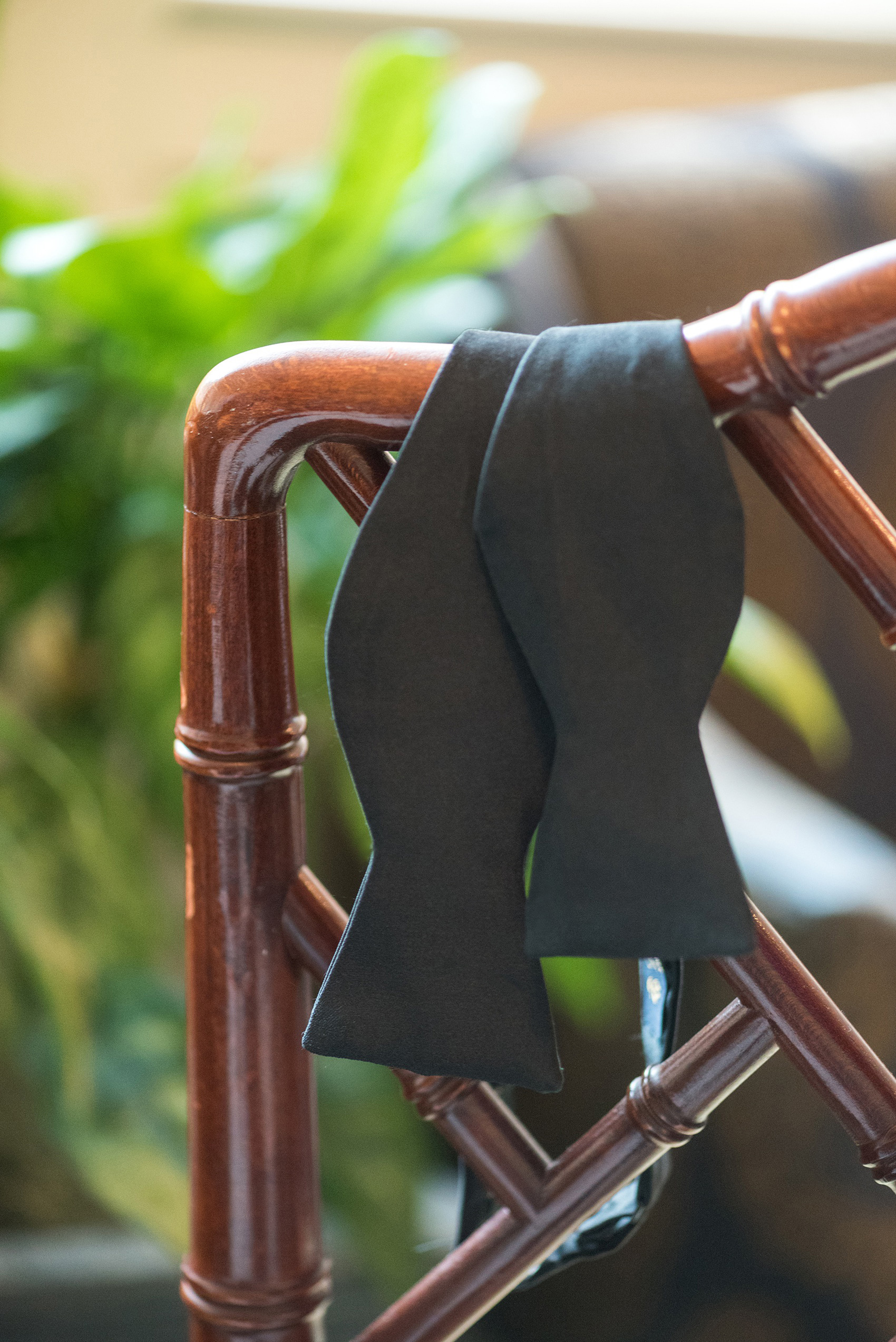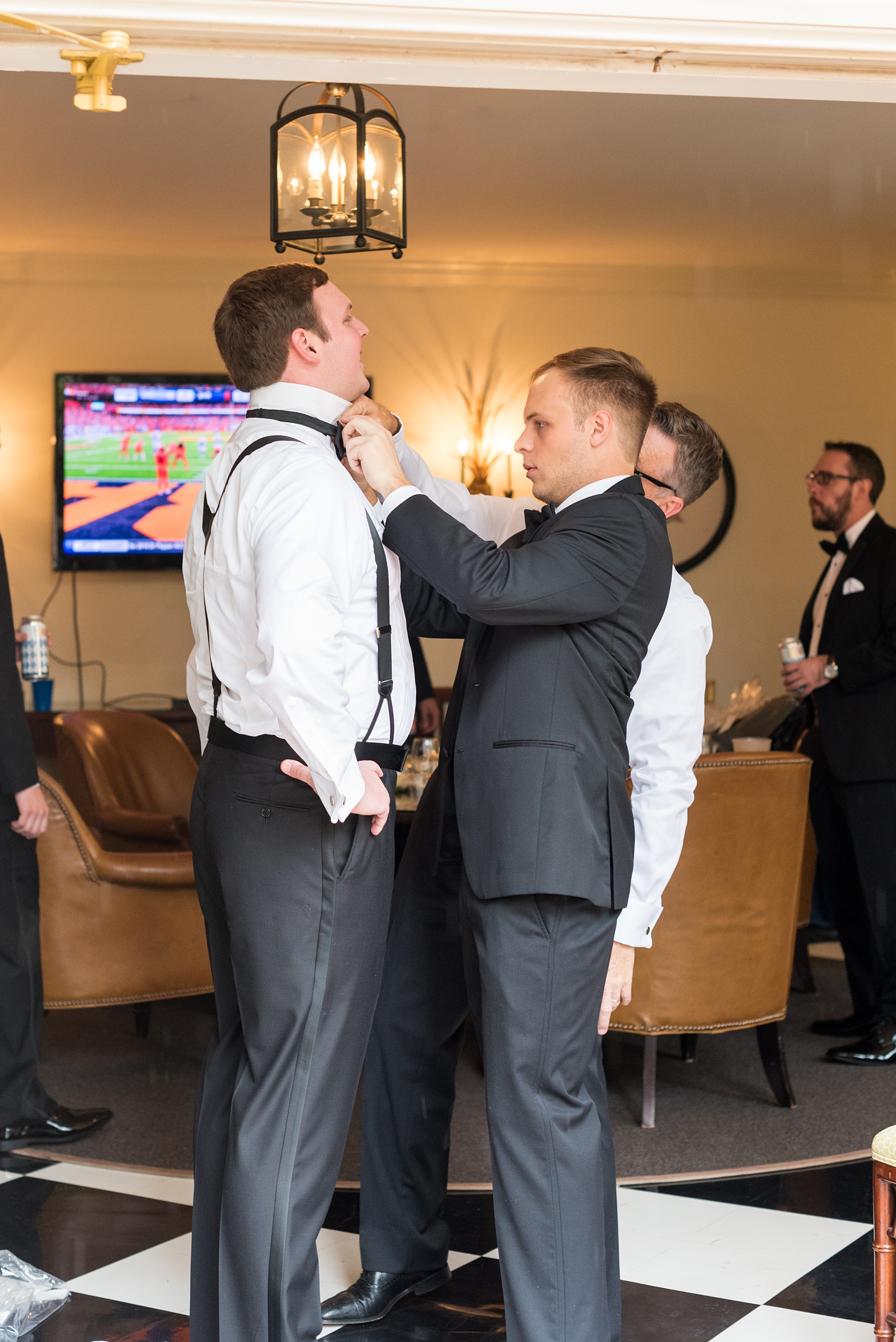 The guys were gifted presents from Kyle that they wore and enjoyed that day! They all wore red and blue Phish socks, as big fans of the band. And got Yeti beer can holders as well as some craft beer Kyle picked out. (He loves quality craft beer!)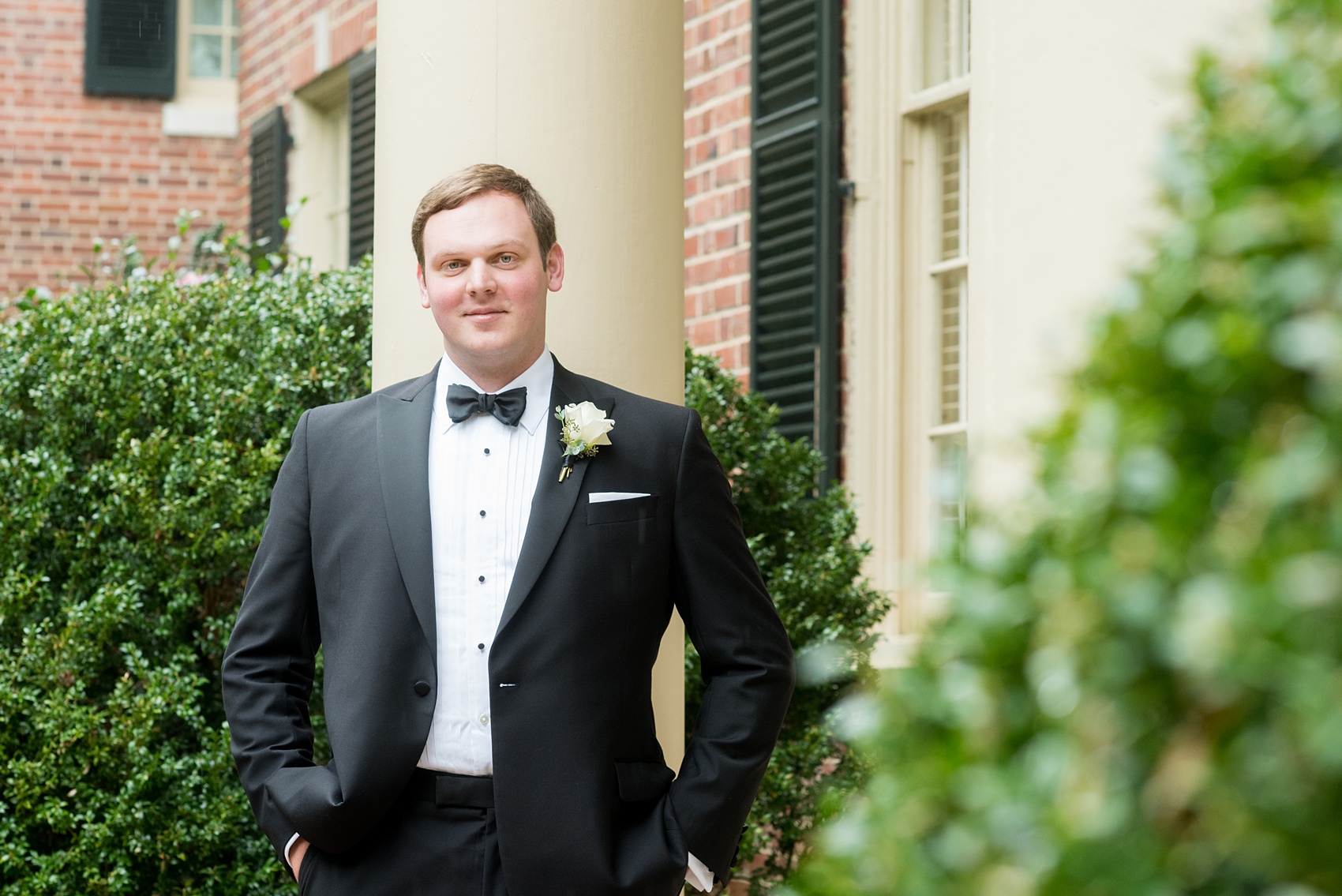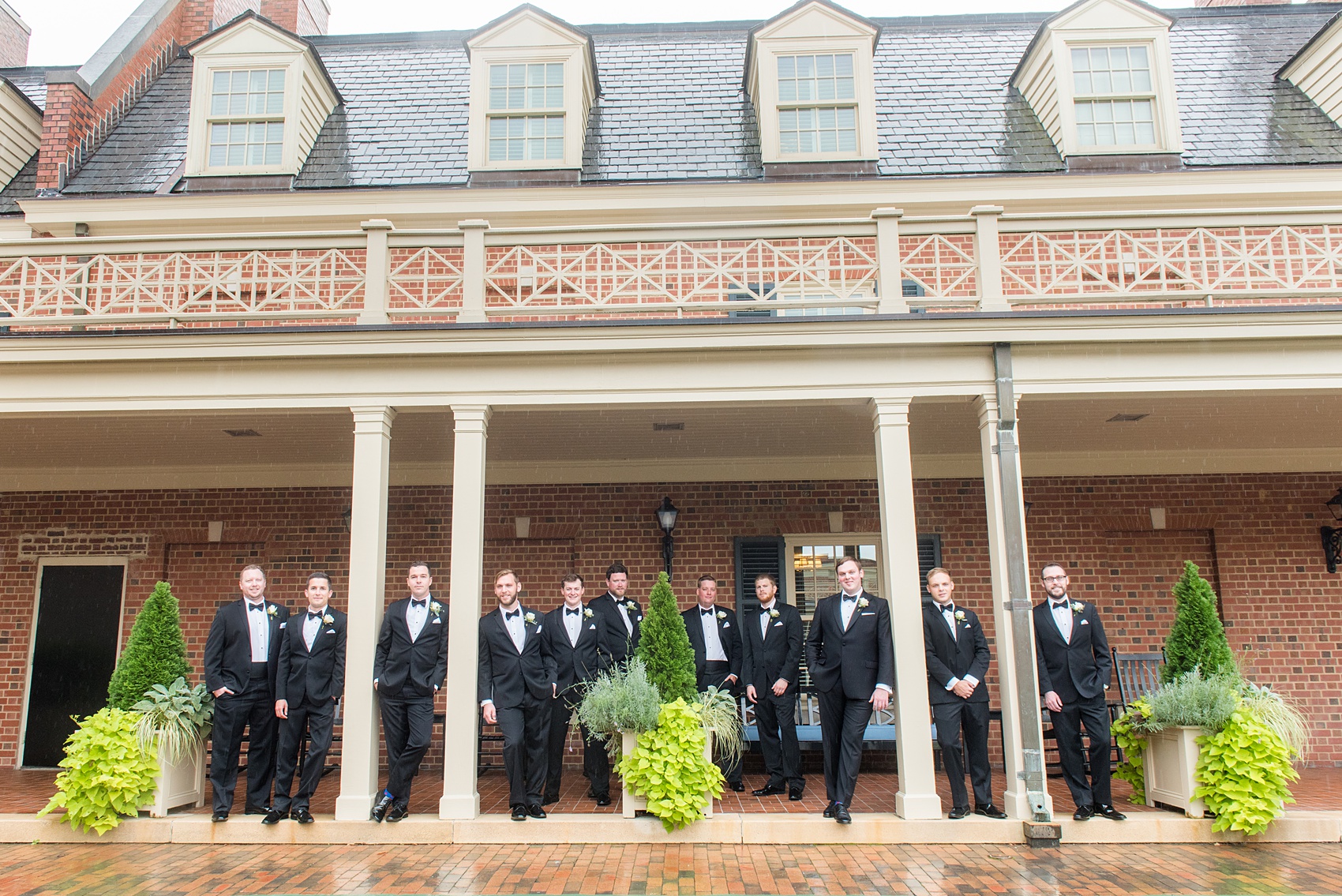 Don't the groomsmen look so debonair, in their classic black tuxedos and white rose boutonnieres?
Seeing Megan's dad's reaction as he looked on viewing his daughter as a bride, the oldest of three girls and first to get married, was heart-warming. I had a flash forward moment when I photographed Megan's second cousin, Kennedy, inside with her dad. I told him, "One day you'll use this photo at Kennedy's wedding!" Queue the tears!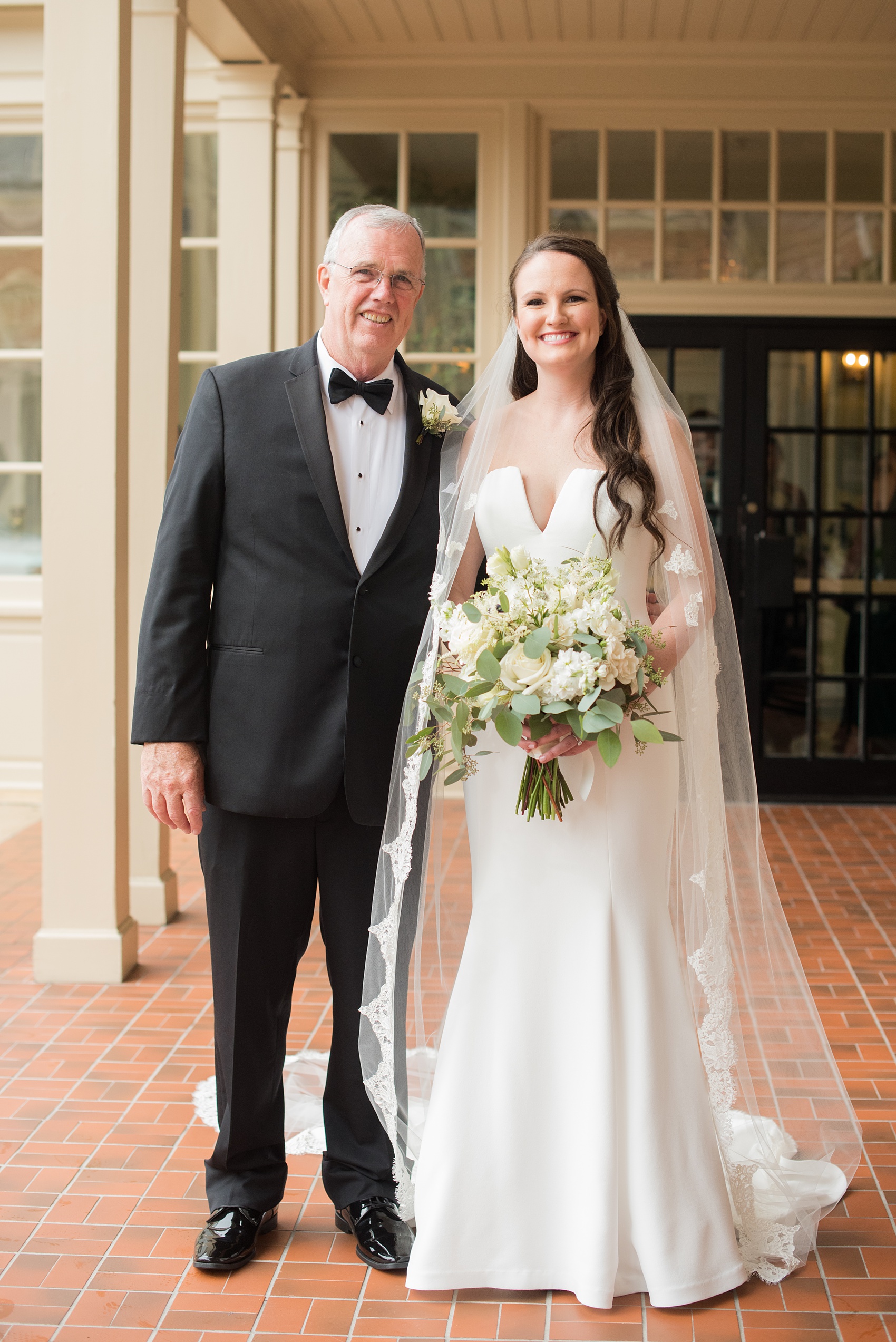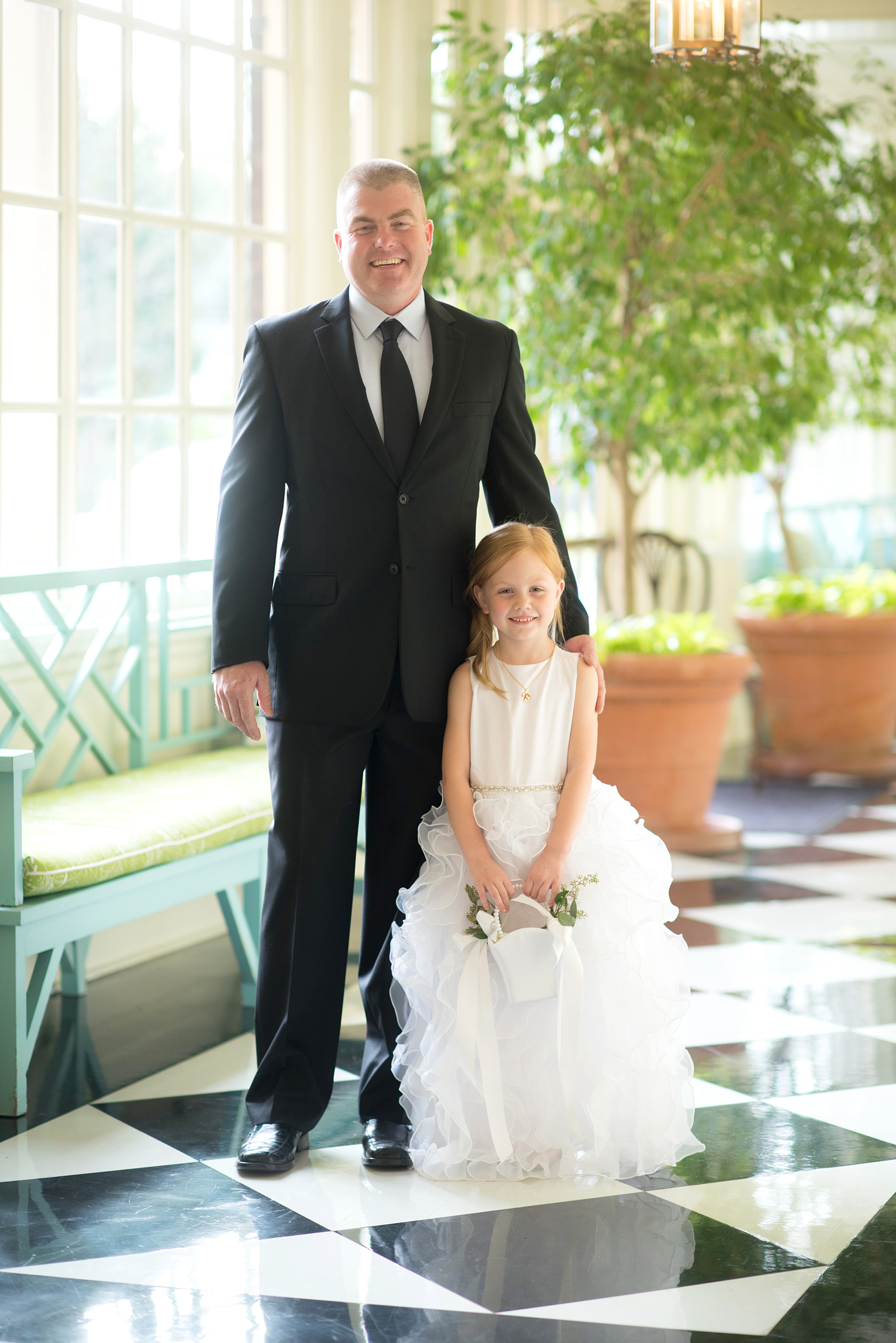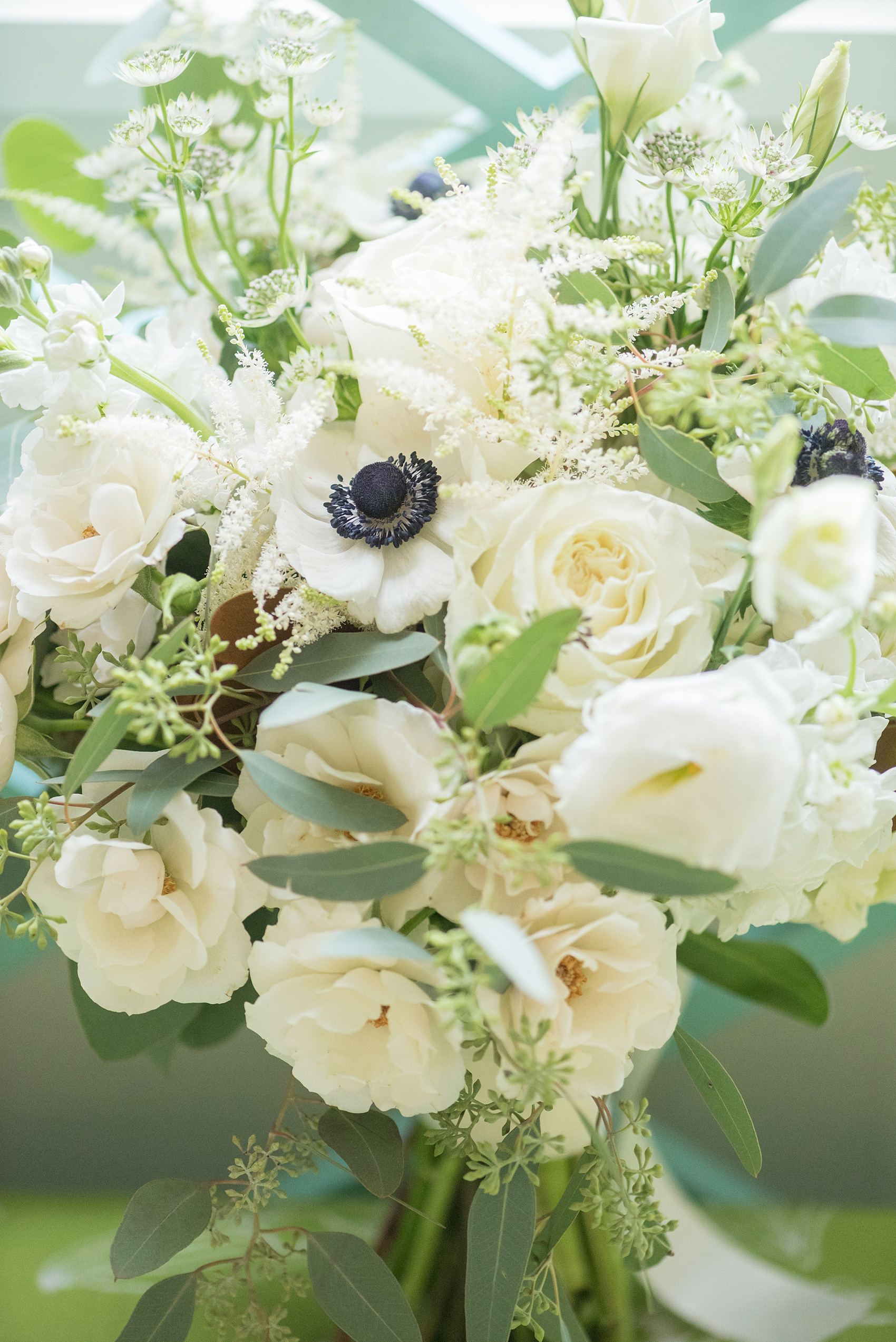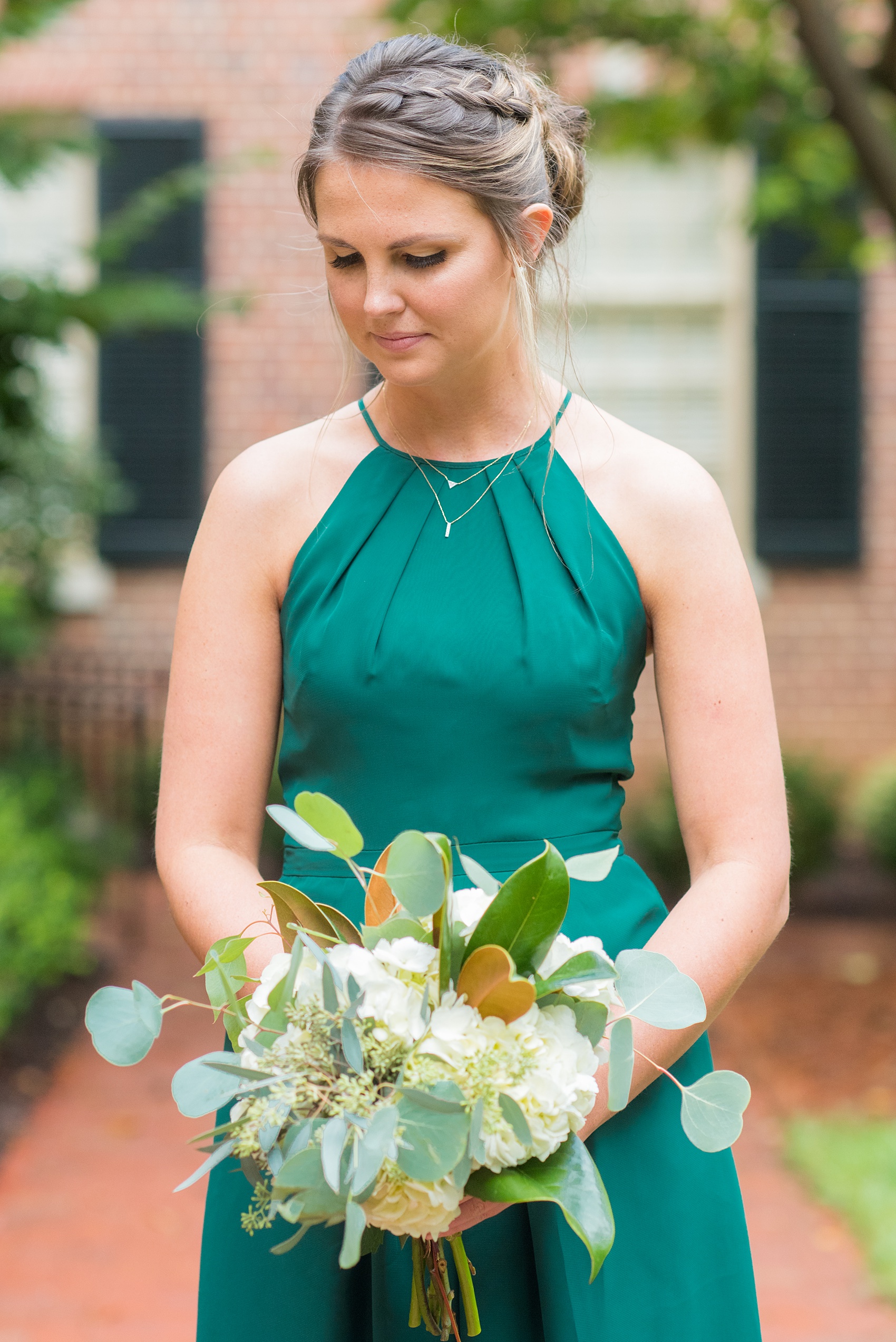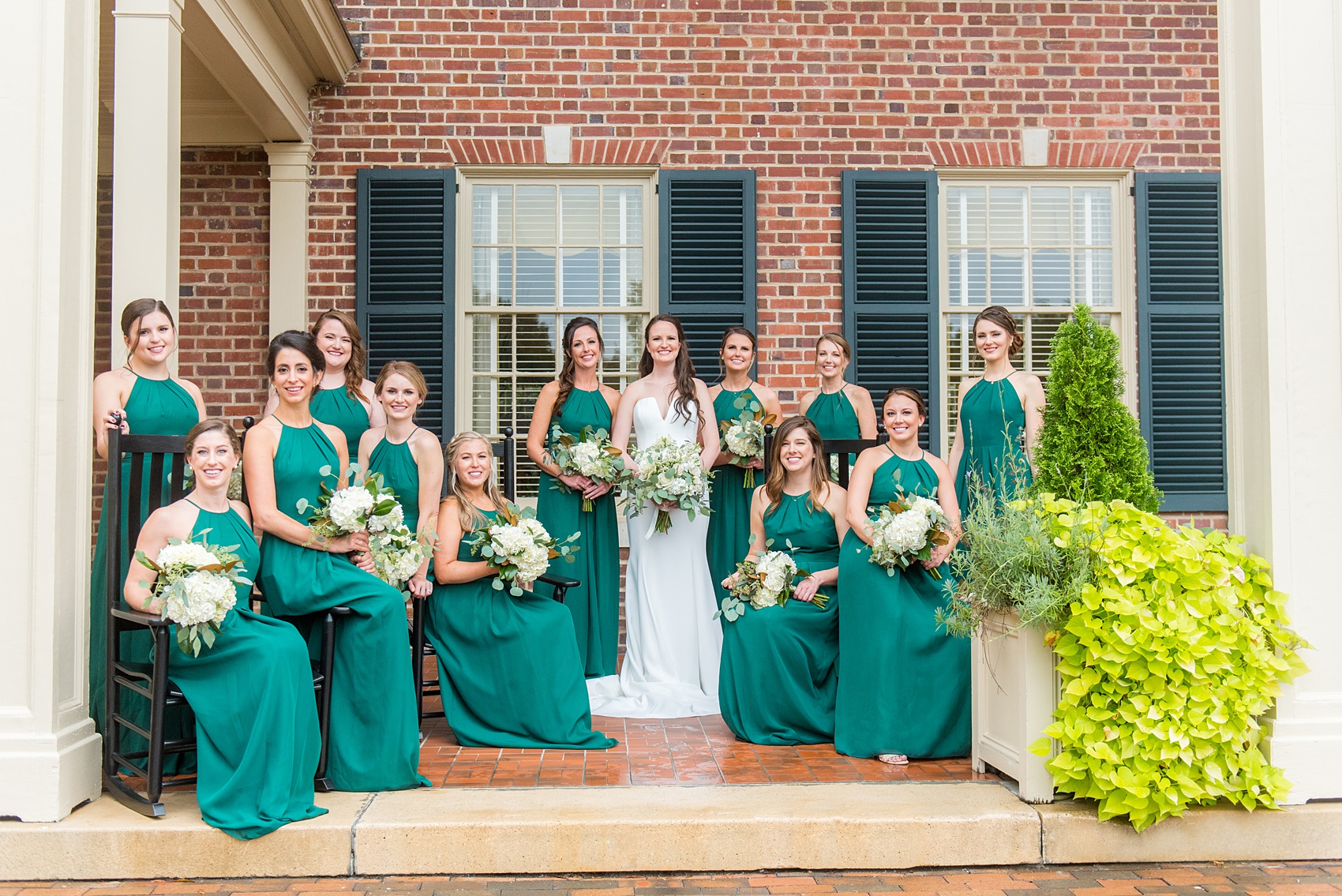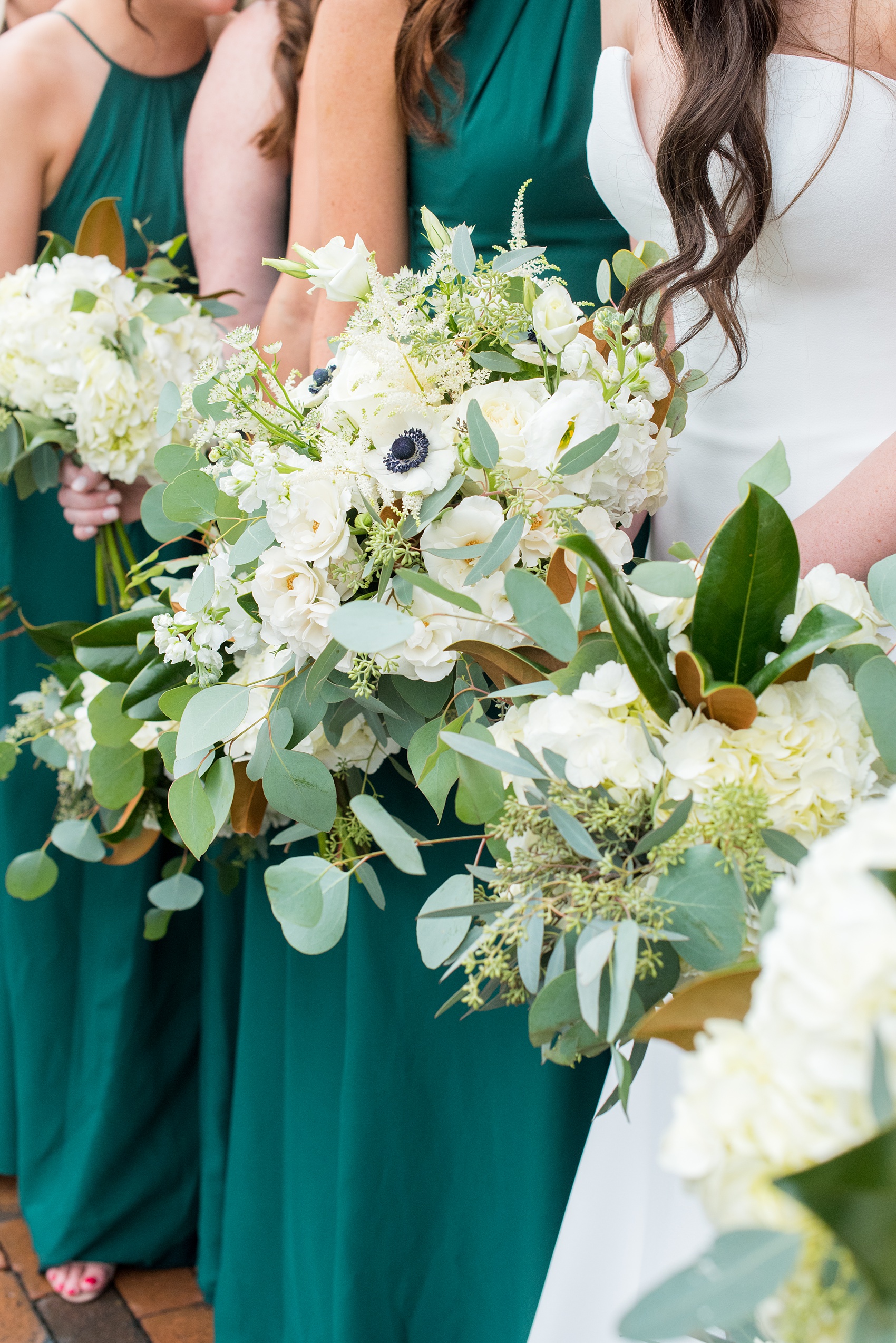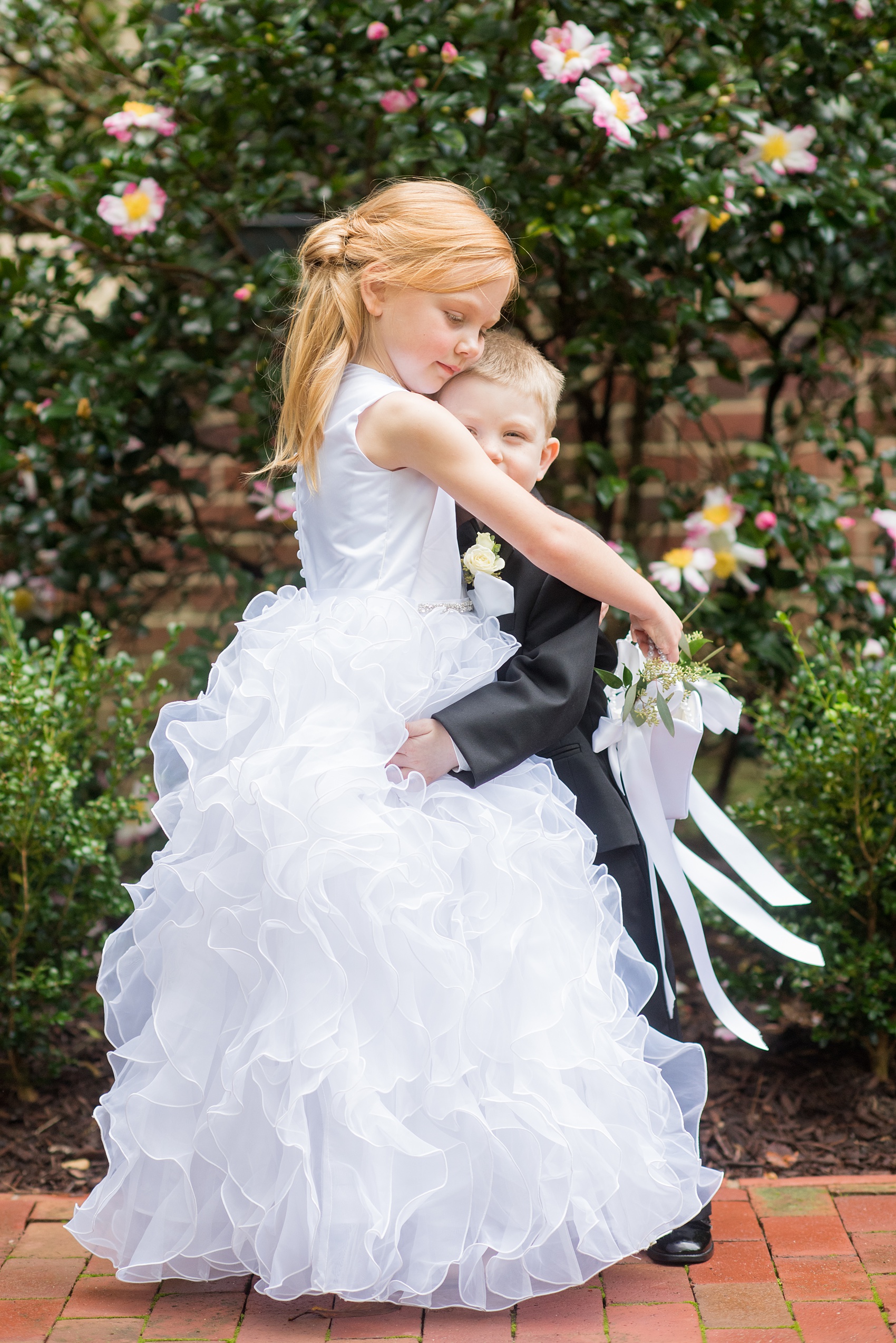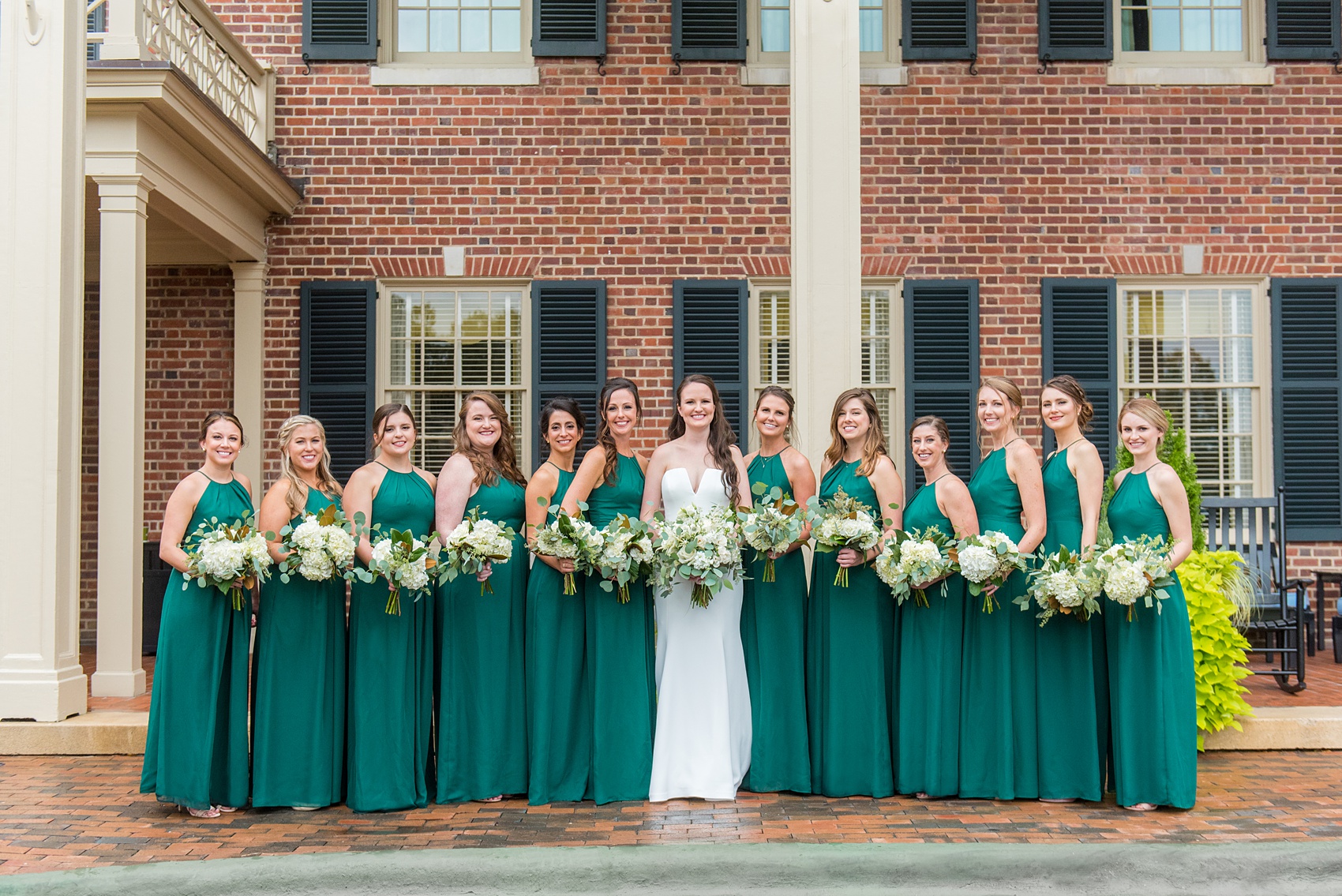 Megan and Kyle opted to wait until their ceremony to see each other. Instead of a first look, we made the most of the time before the ceremony by photographing the bride with her bridesmaids and groom with his groomsmen. The rain limited our location options but we lucked out with a light drizzle that allowed us to use the covered areas of the front porch.
There were some very special personal touches at their wedding family and friends made happen! A few of those included Save the Dates and wedding programs for their ceremony at The Carolina Inn by their friend Carolann, of Pink House Press. And a ring pillow hand crafted by Megan's grandmother. (A keepsake they'll surely treasure for years to come!) Their friend Erica, of Lone Oak Woodshed, also created the custom hand-lettered mirrored seating sign outside their reception.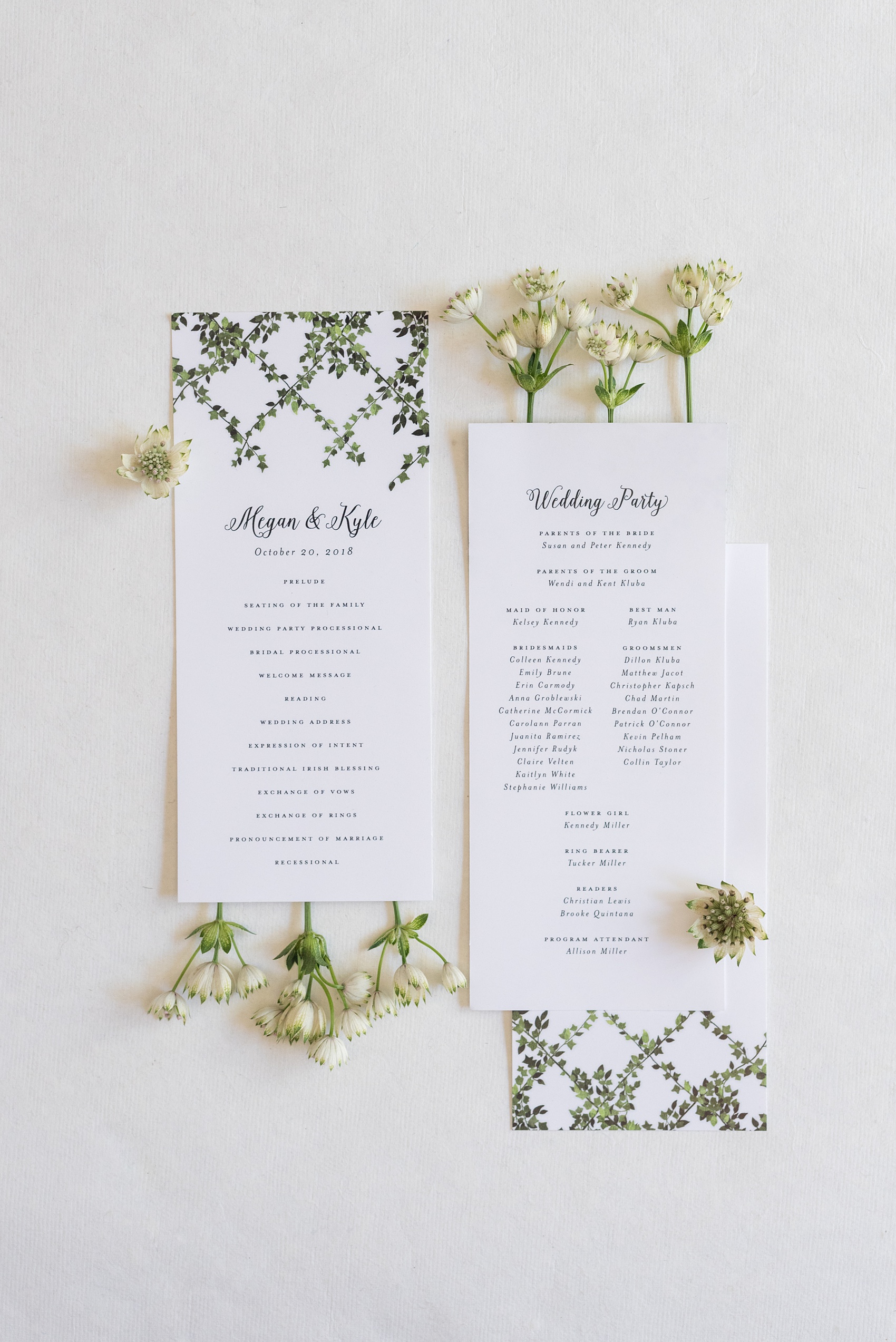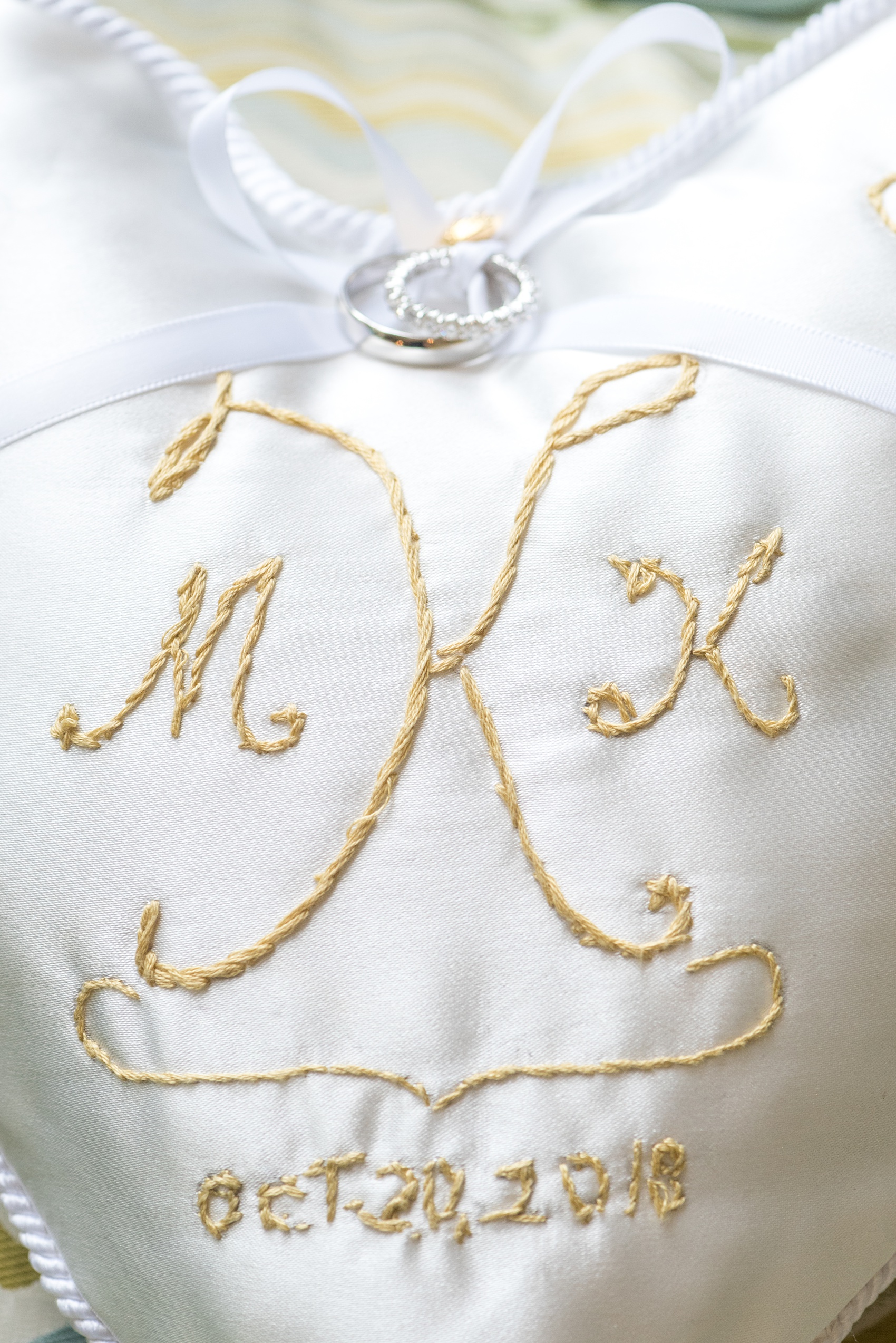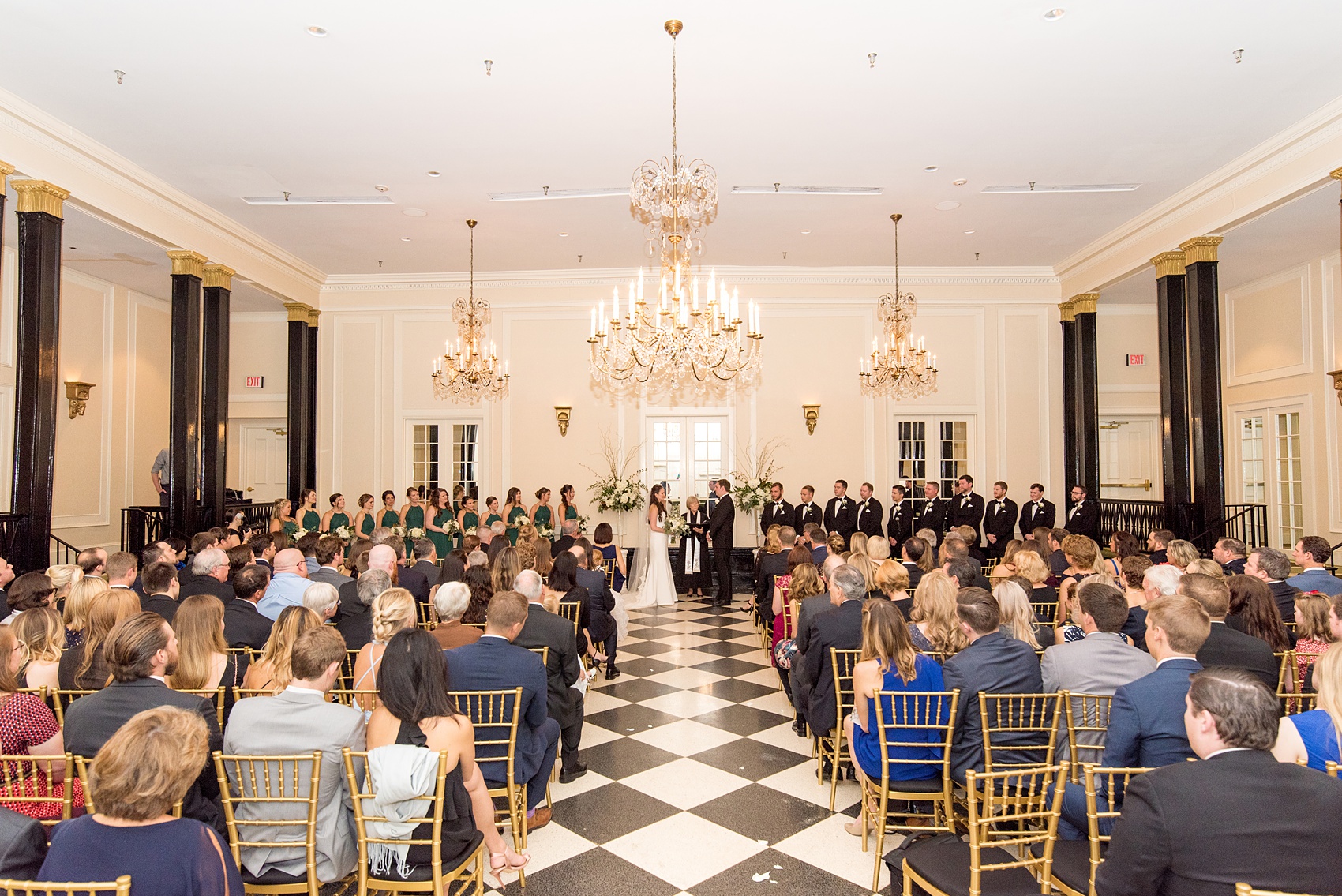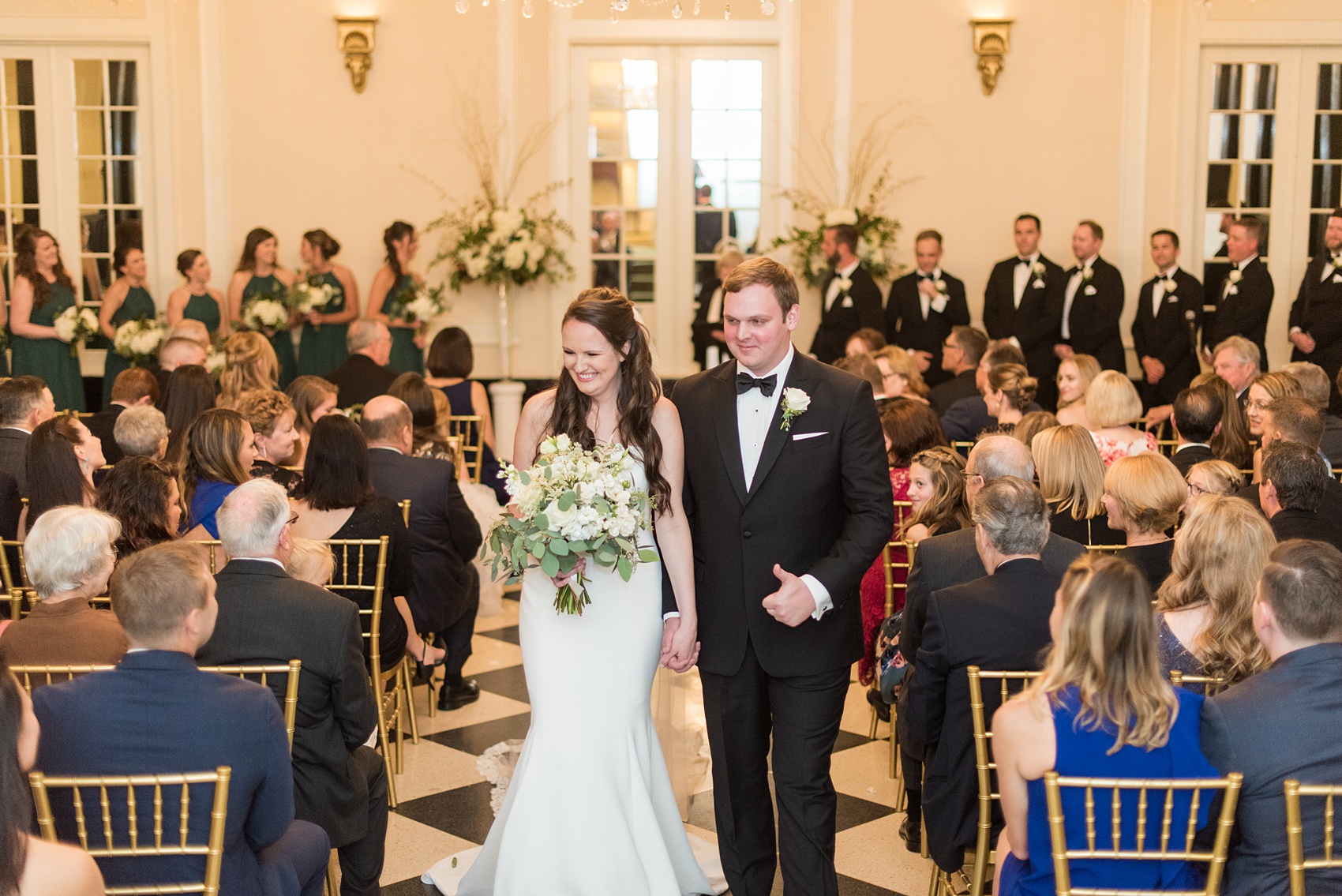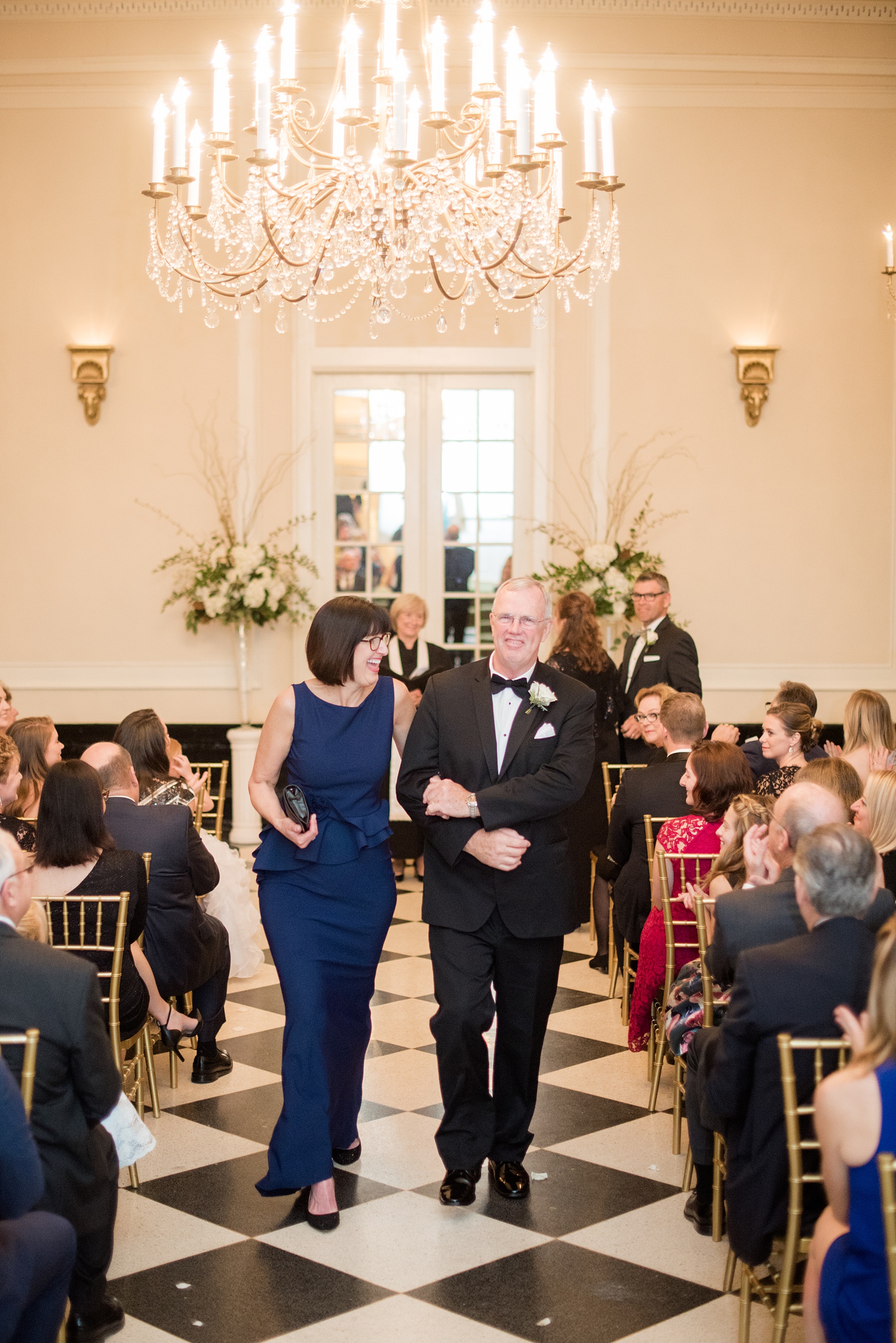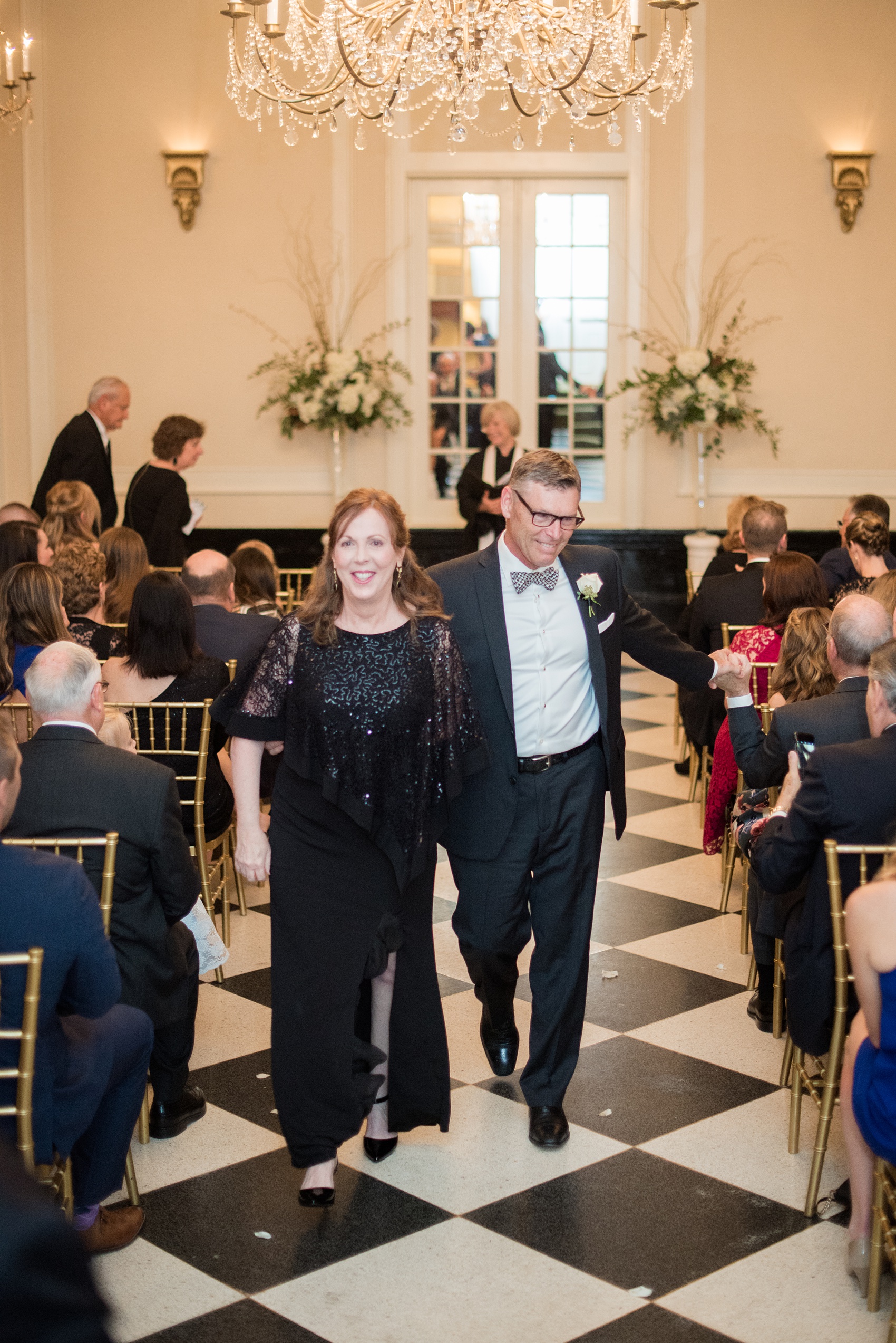 The checkerboard floor of The Old Well room at The Carolina Inn was an iconic place for them to say "I do". Some of my favorite ceremony photos are of all the smiles on the faces of the bride and groom and both sets of parents as they all headed back up the aisle. And of course Megan cuddling her cousin Kennedy right afterwards too as her mom and sister bustled her gown before family photos.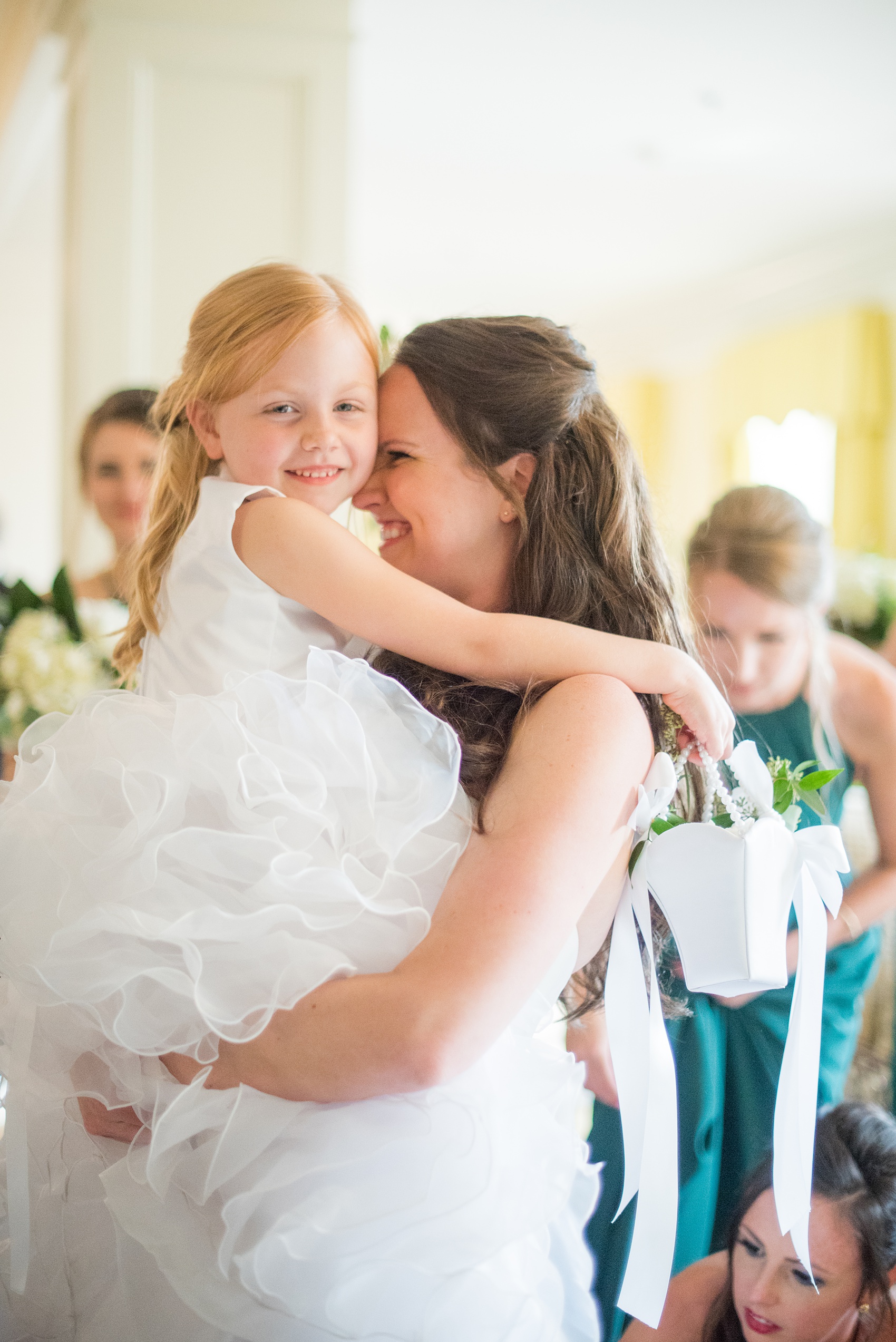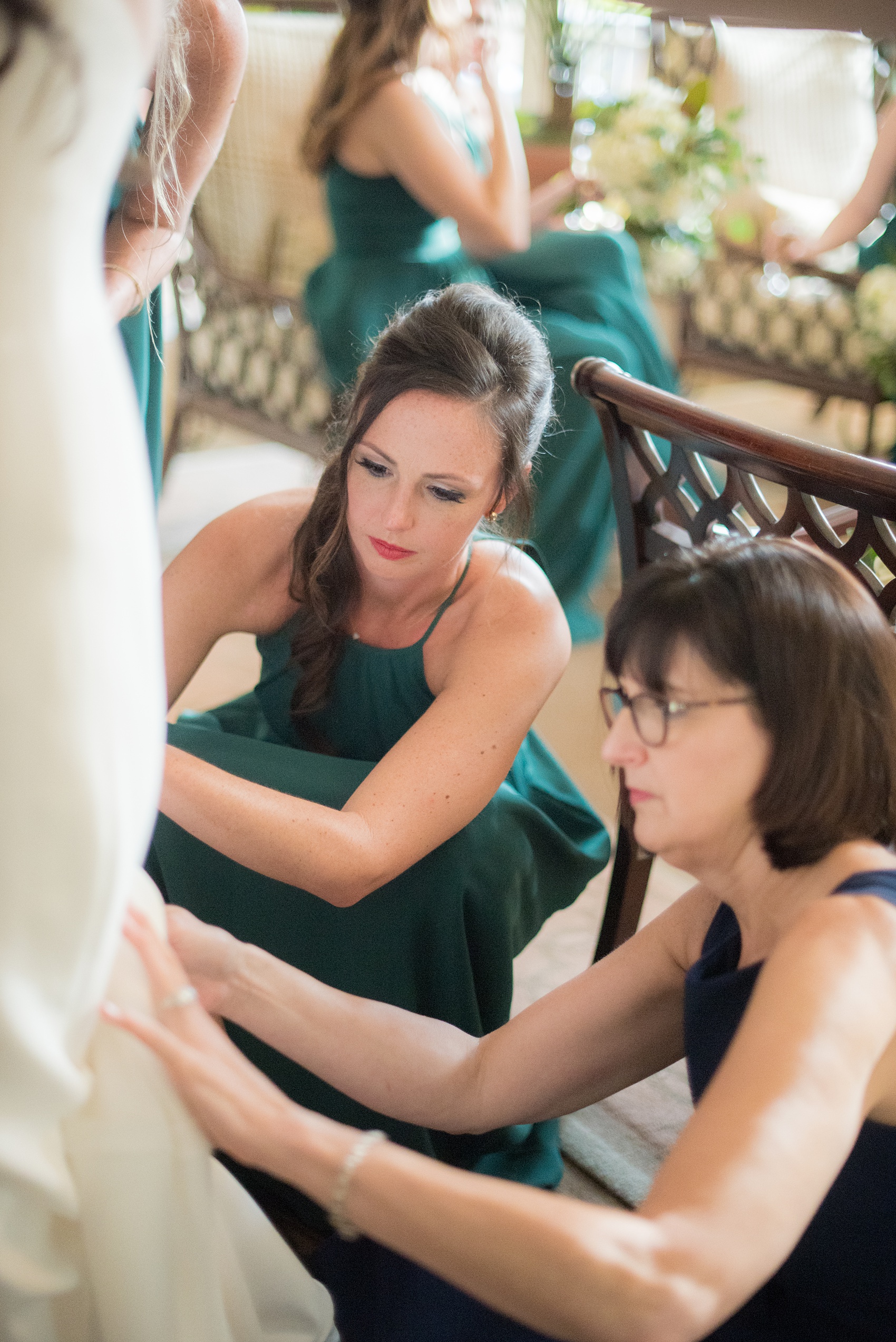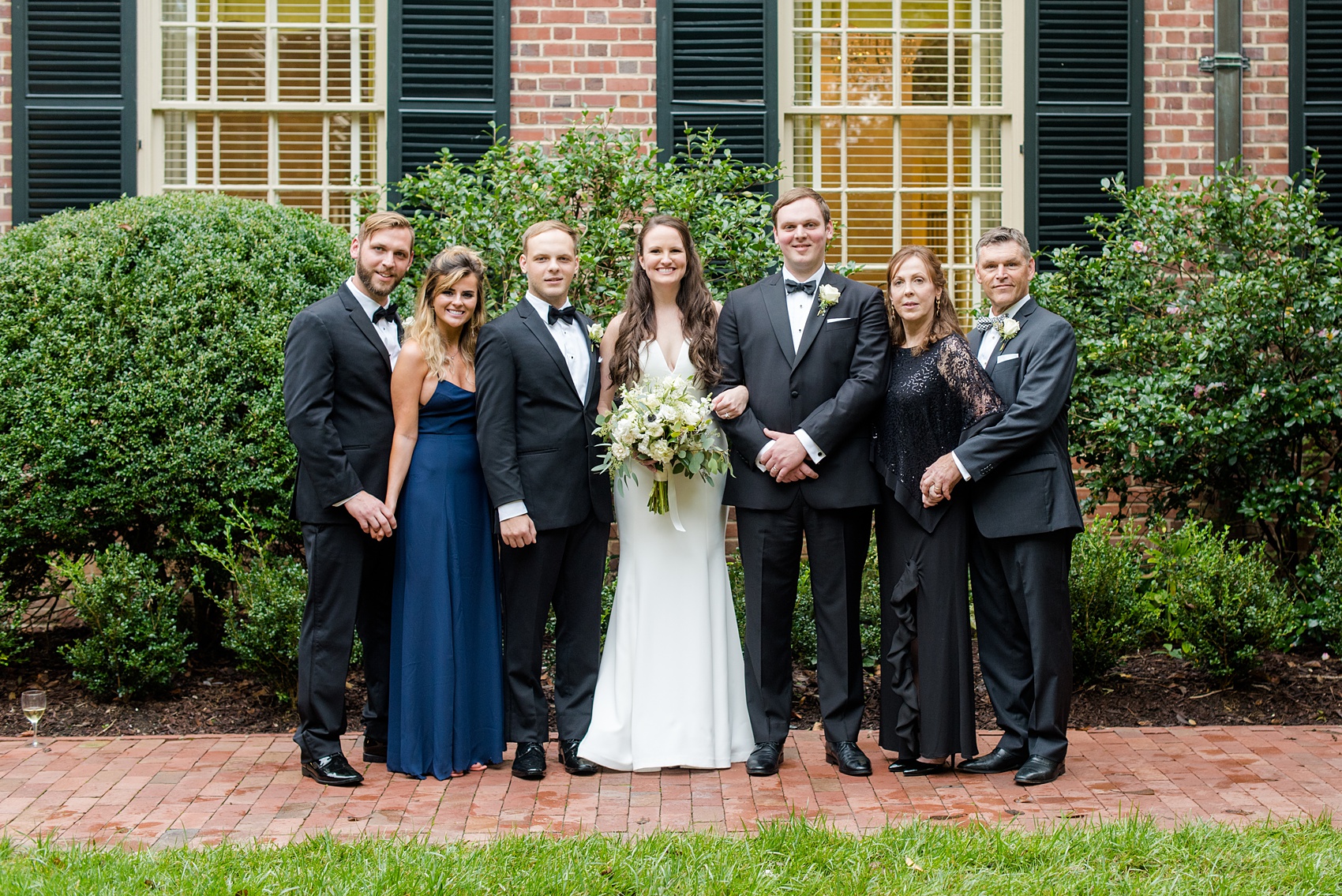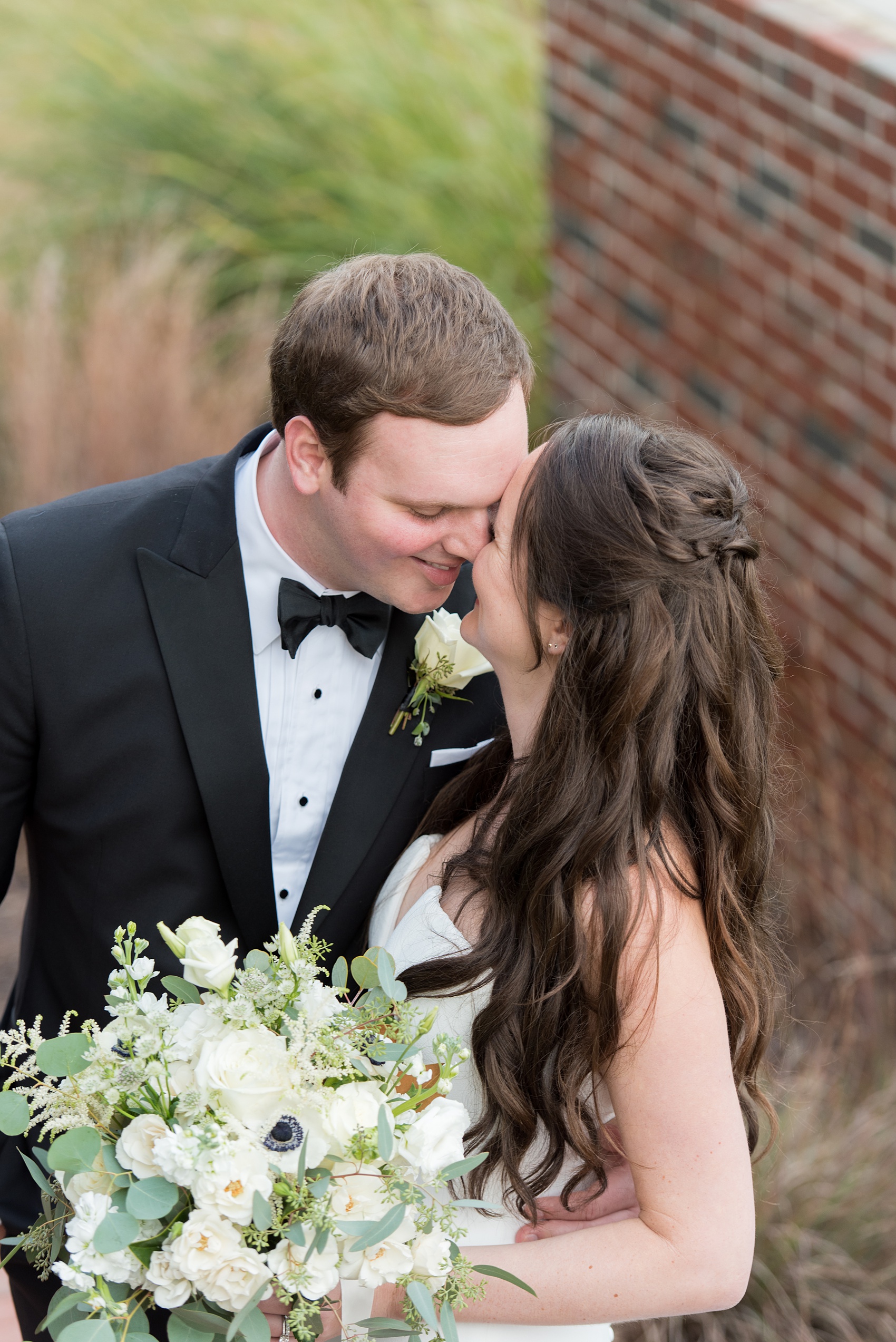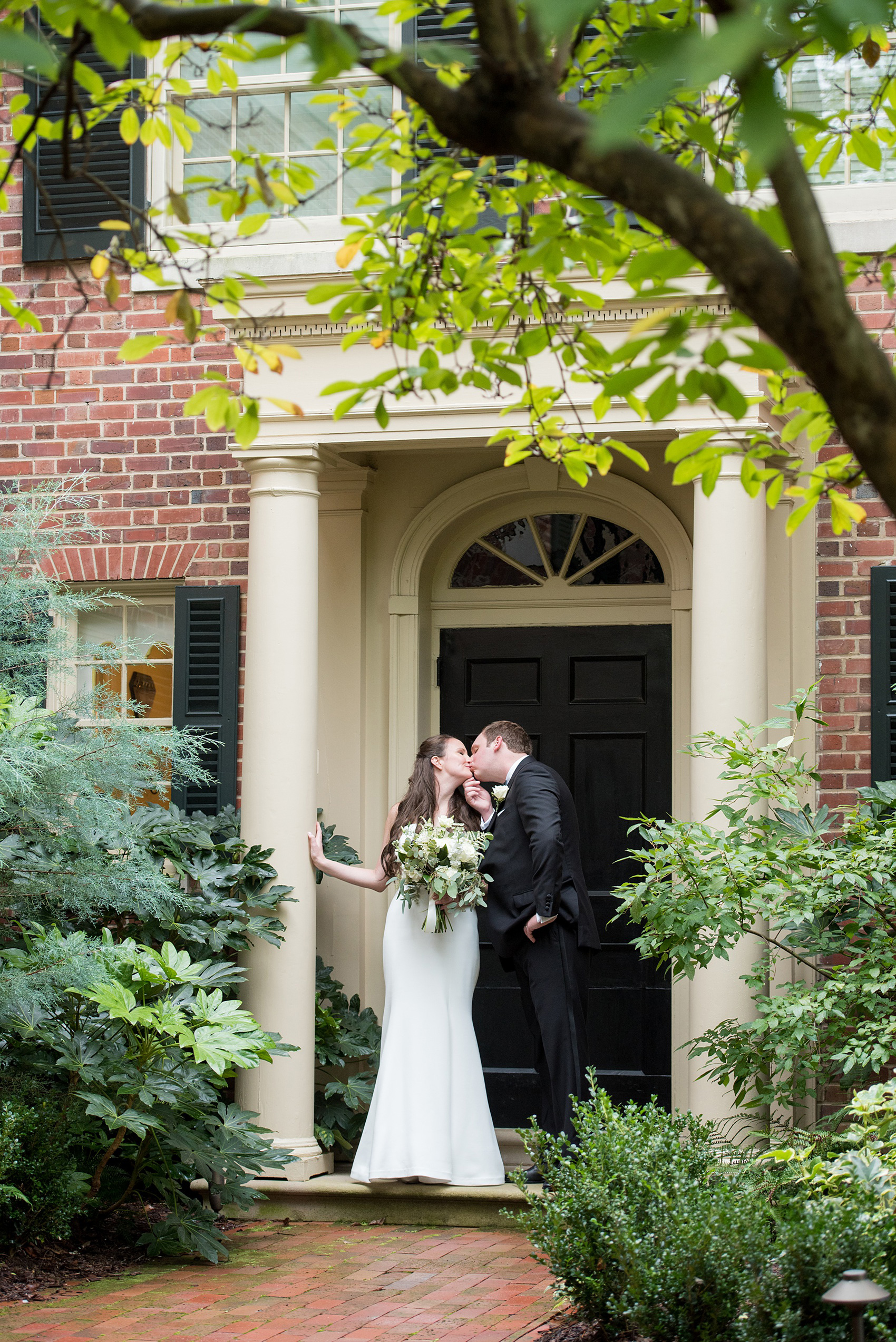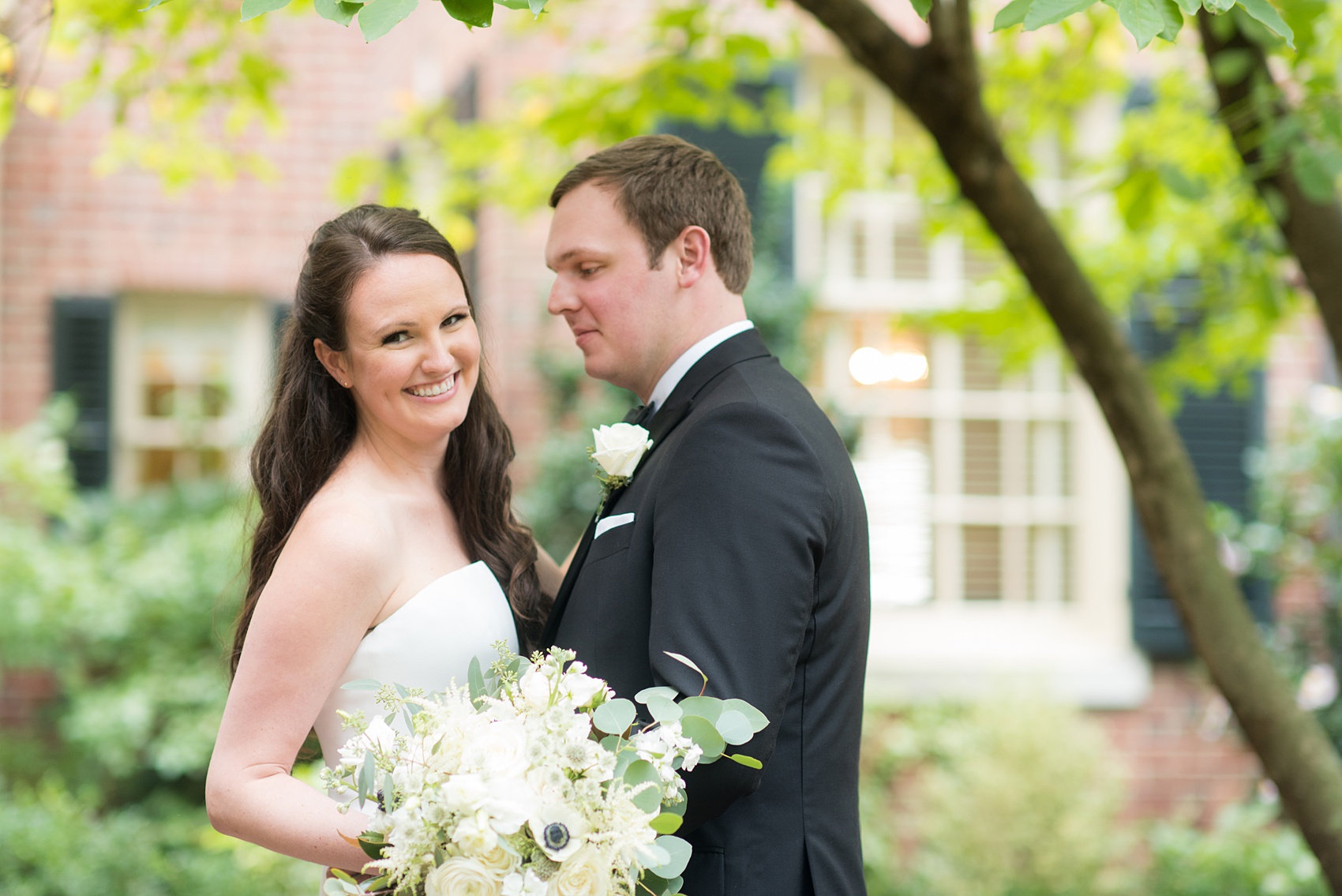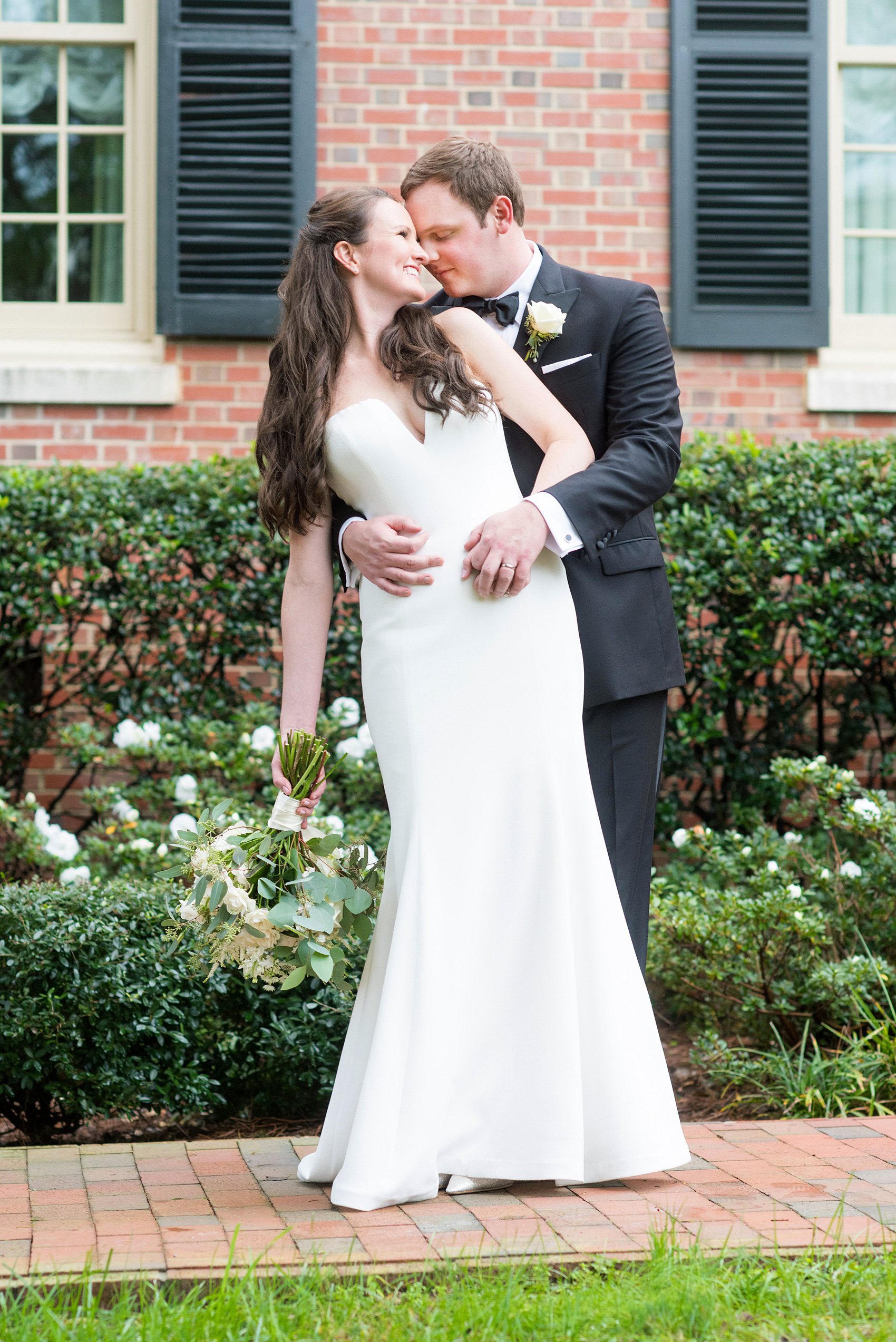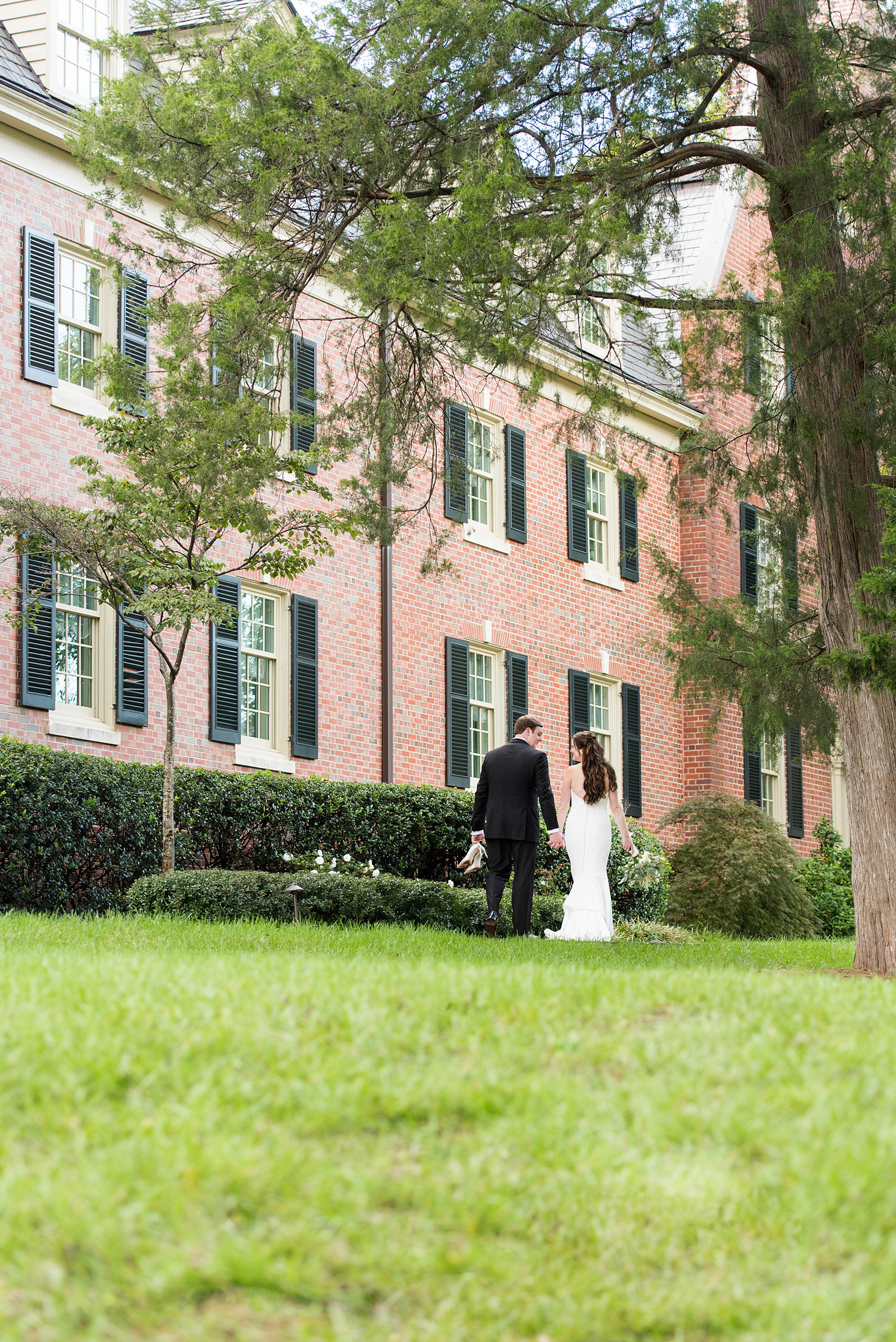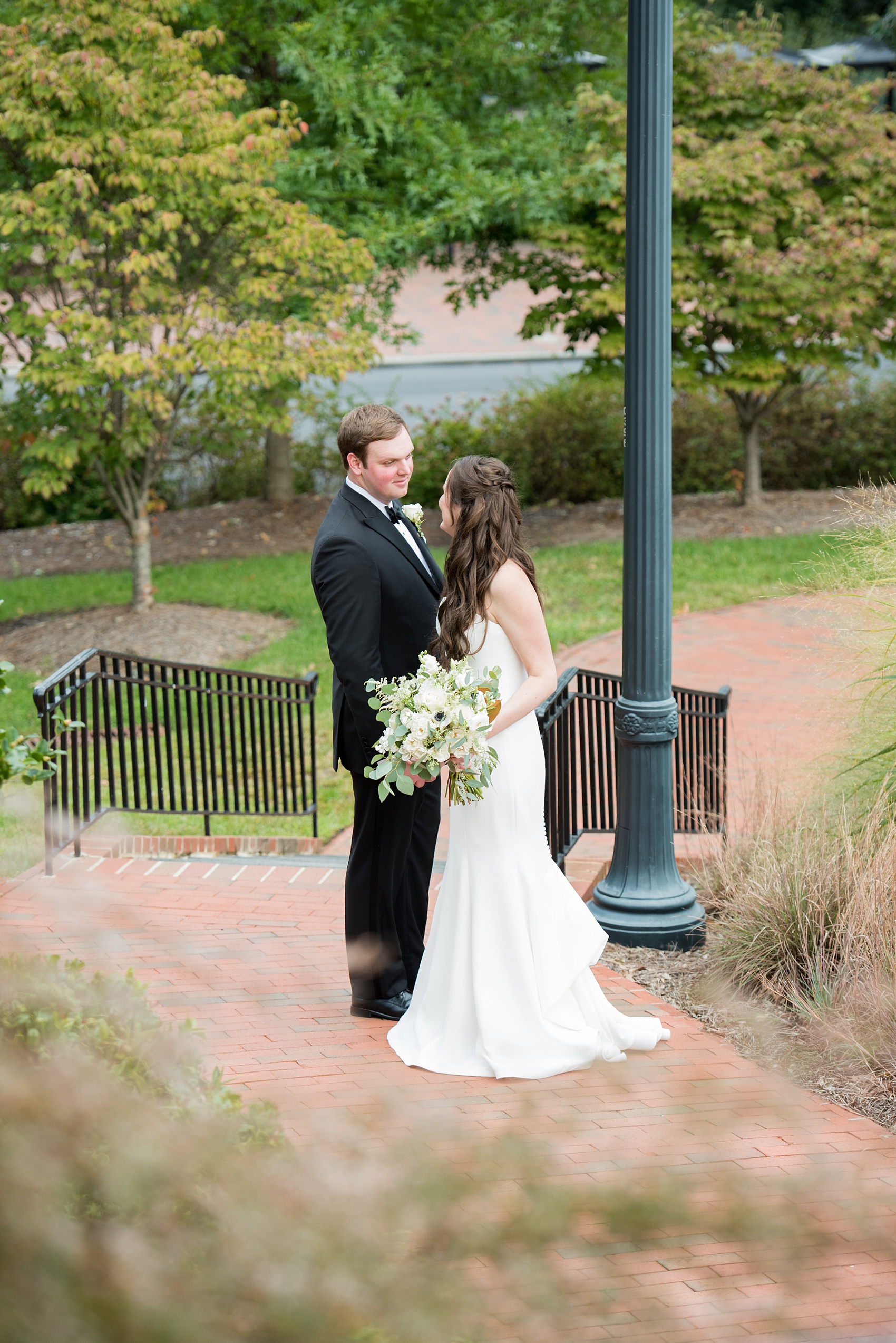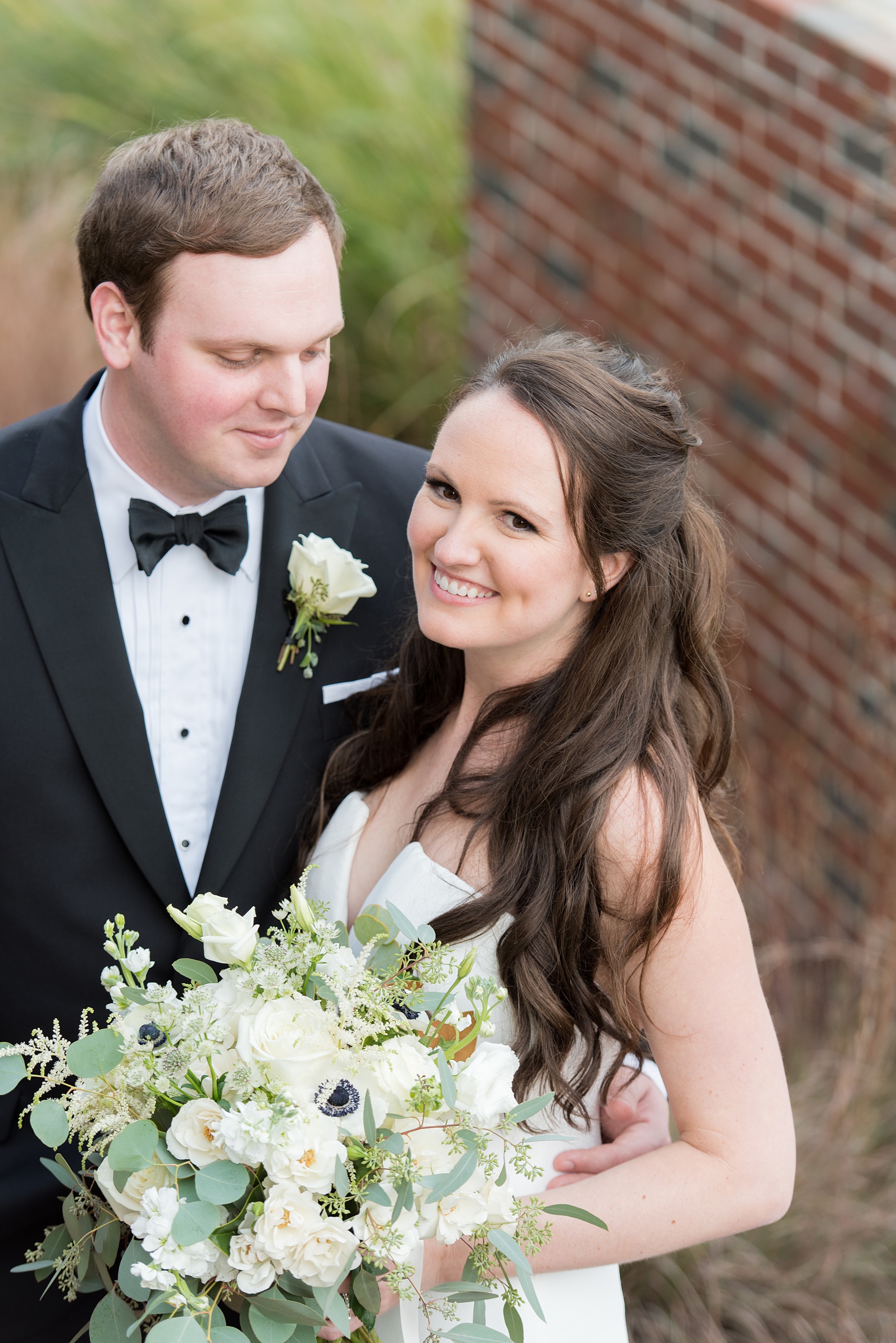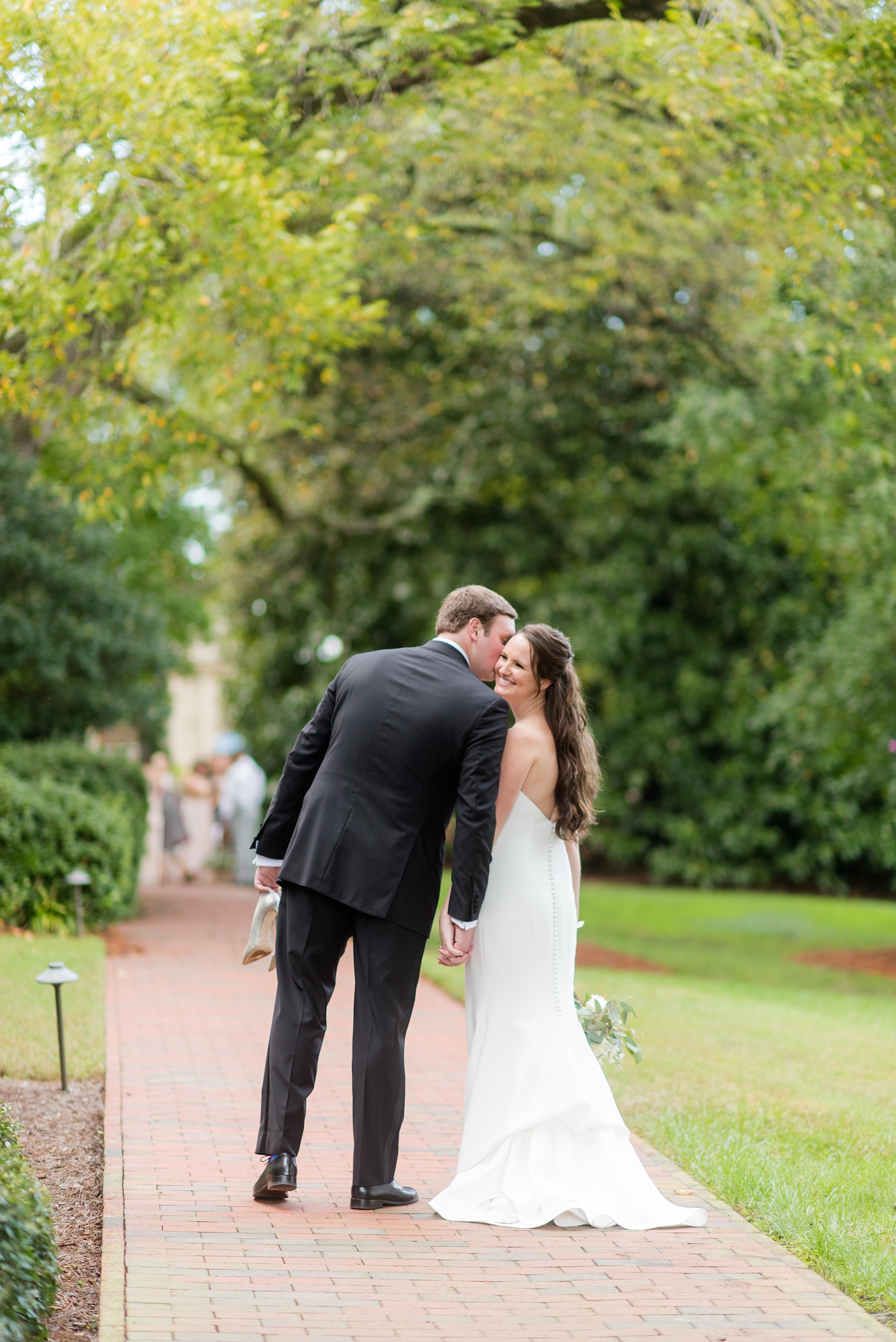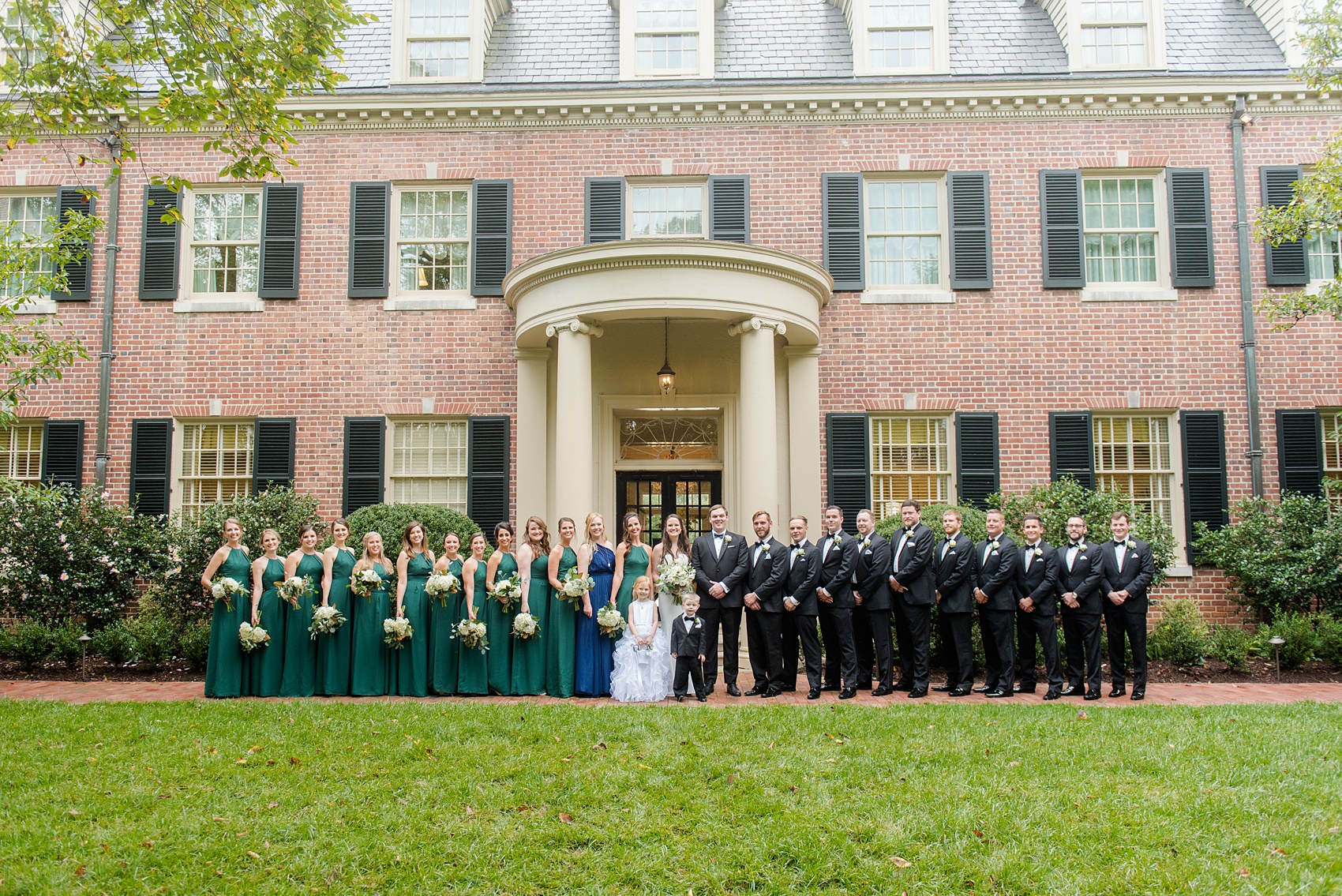 They had a wedding party of 22 people, not including the flower girl and ring bearer, the children of one of Megan's closest friends and cousin Allison, in the blue gown. It was fun to see it all come together in a complete wedding party photo in the courtyard at The Carolina Inn.
After their family photos, wedding party pictures and photos of the bride and groom around the property it was time to go inside and party! (Special thank you to Mother Nature, for allowing rain-free photo time after their ceremony!)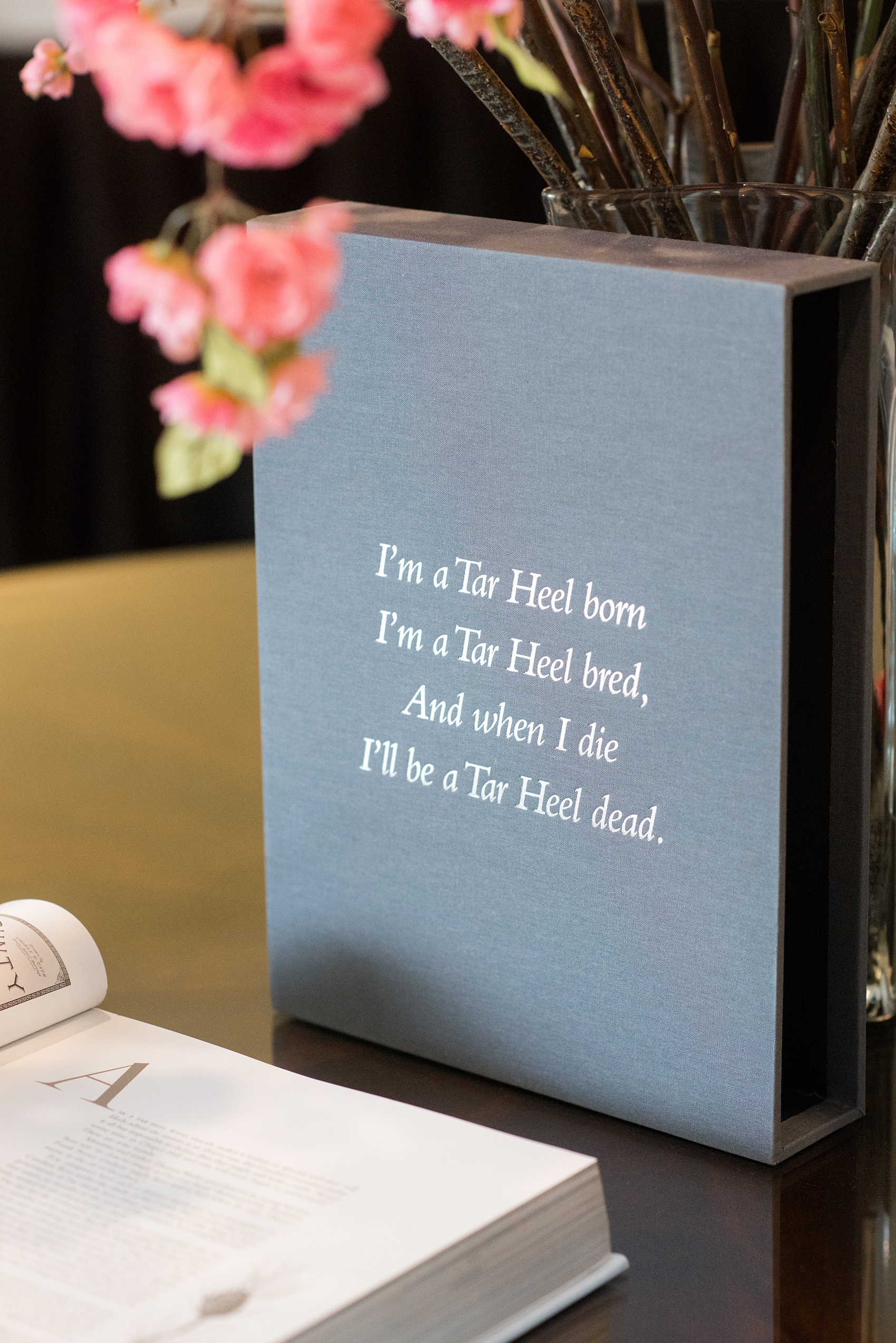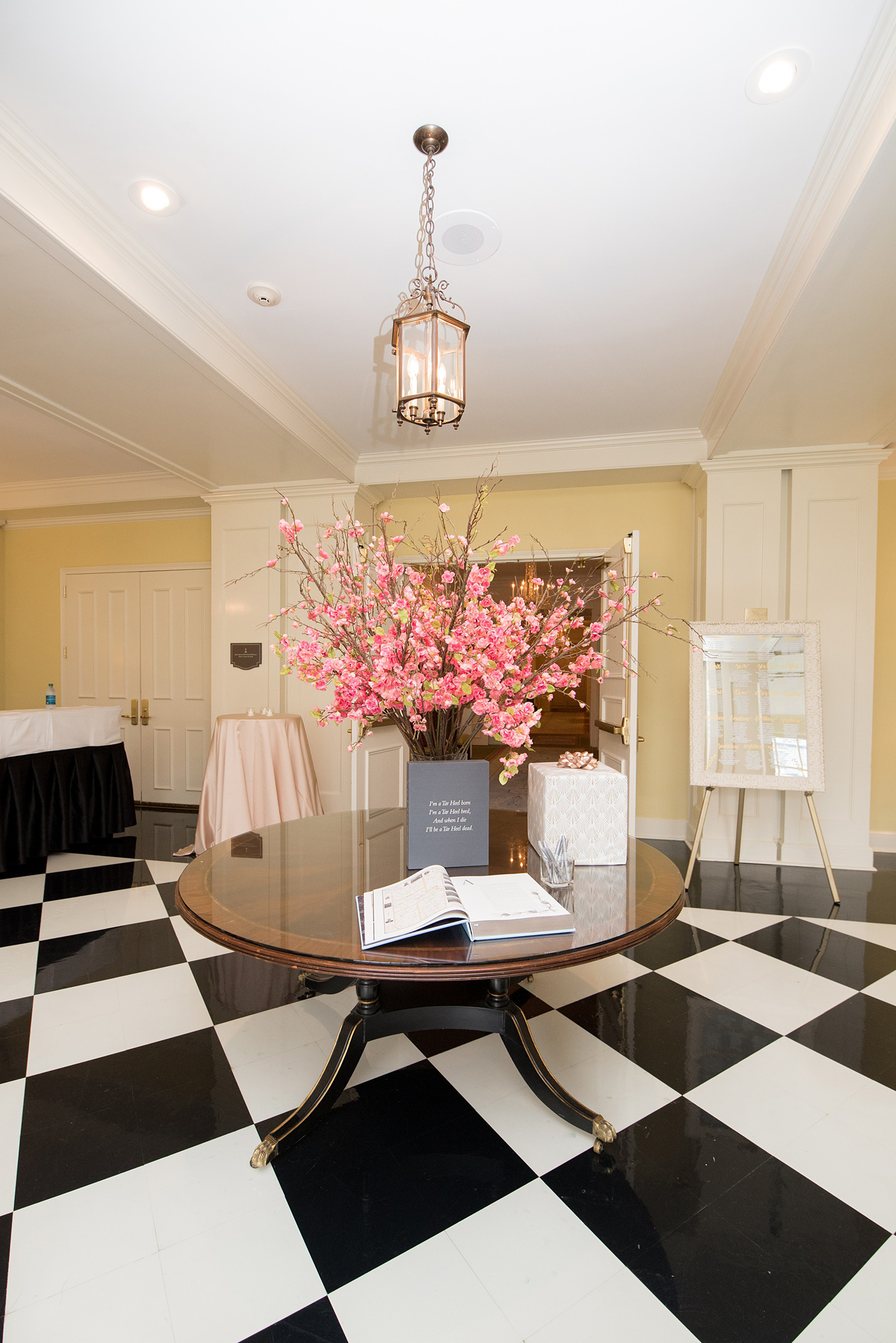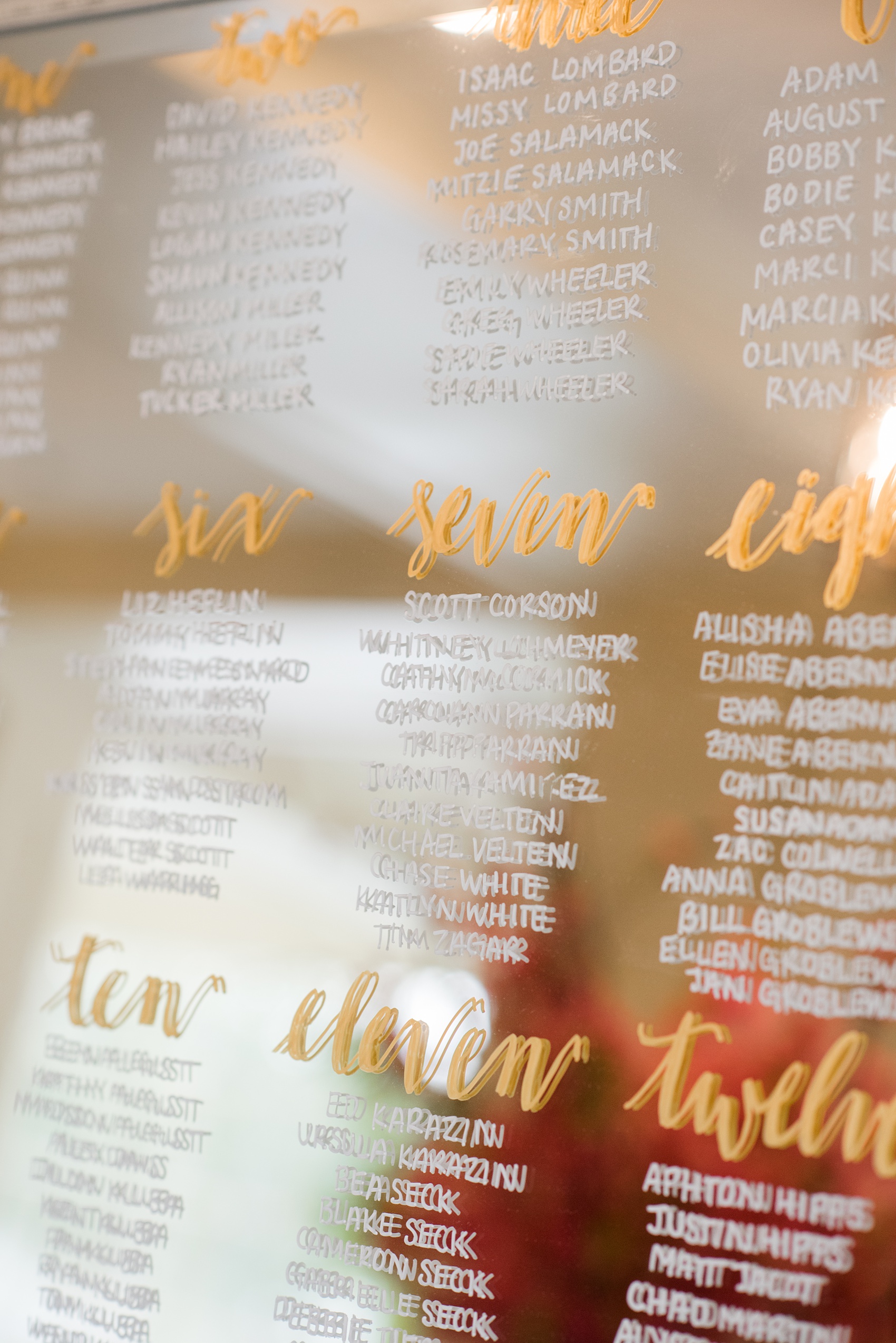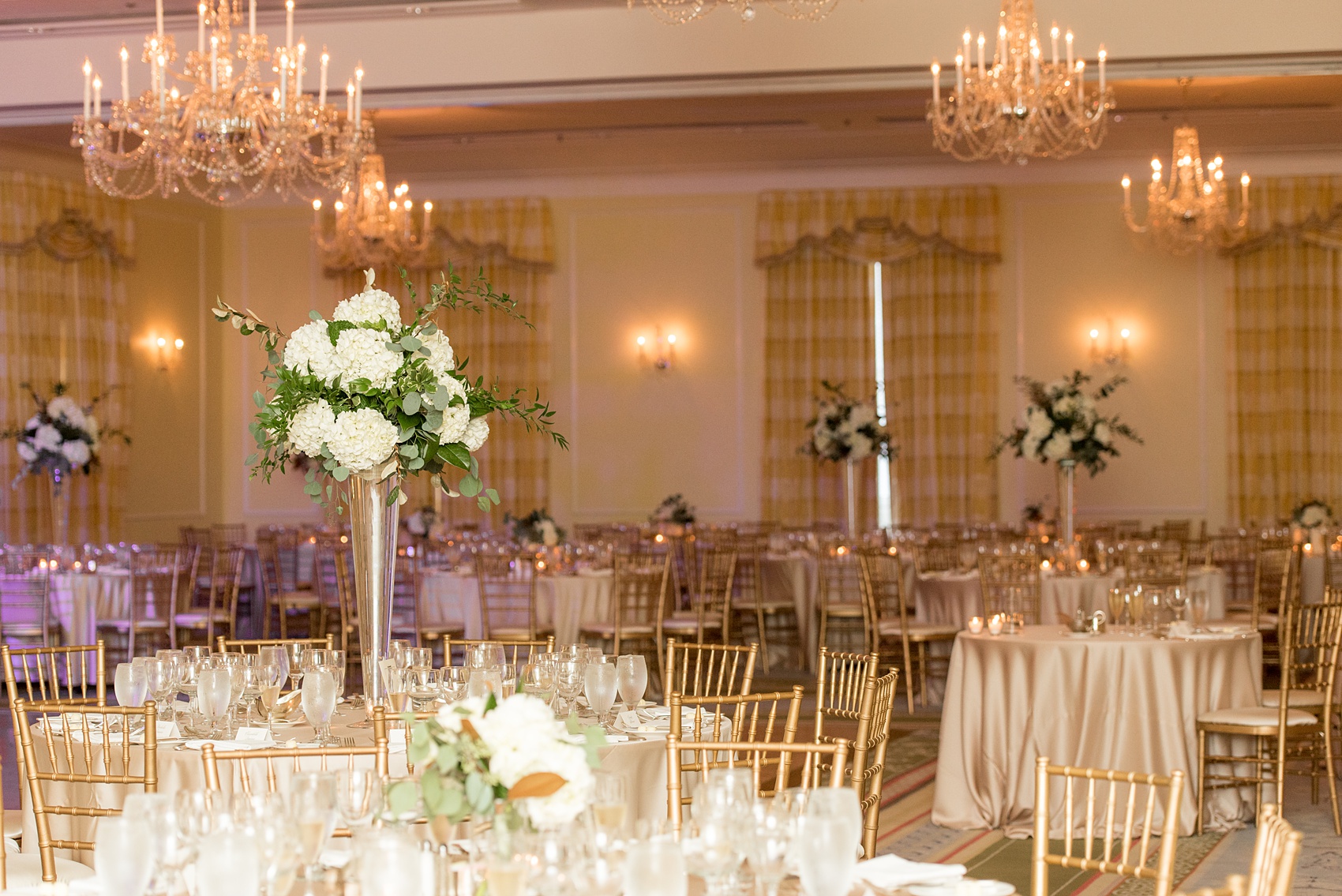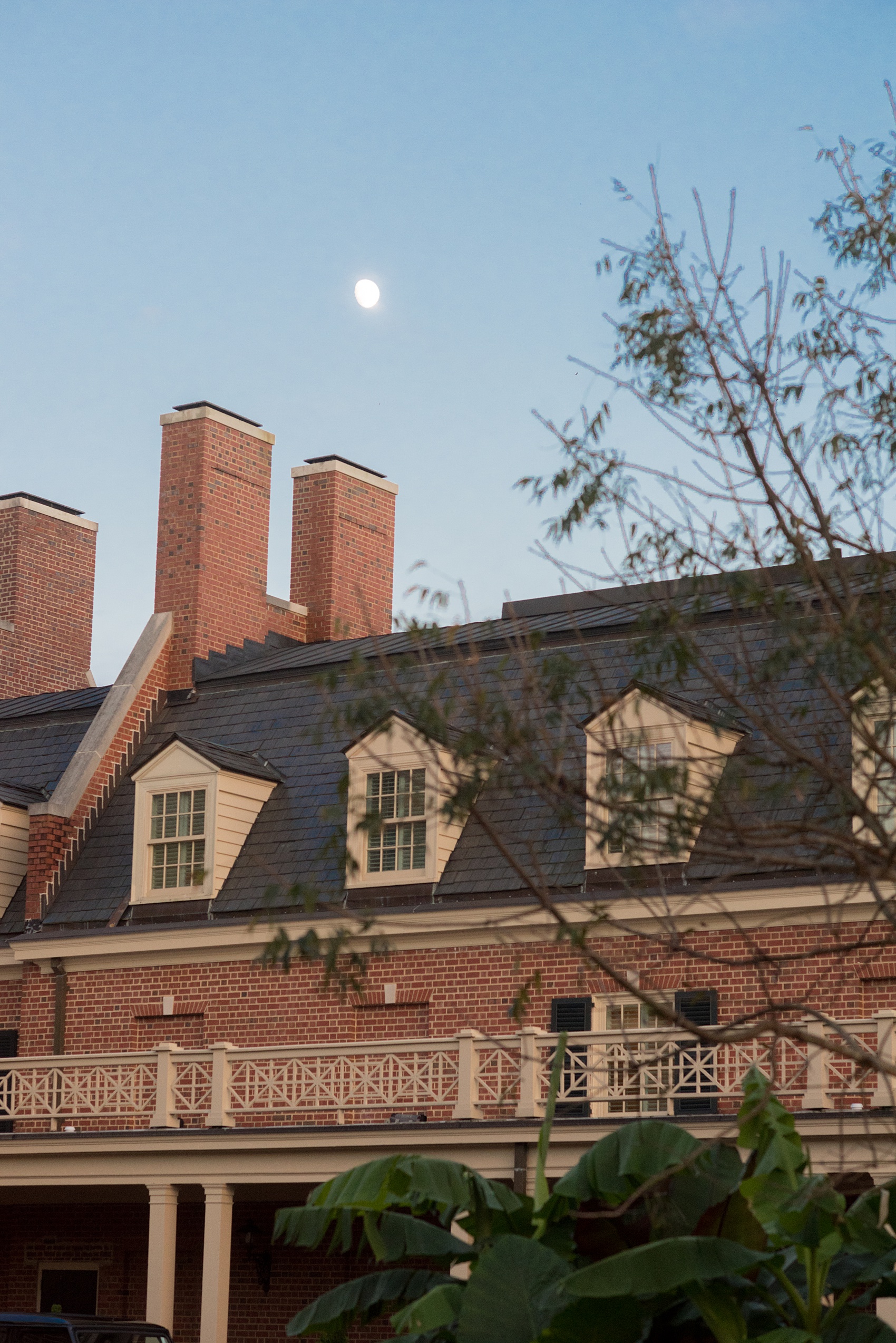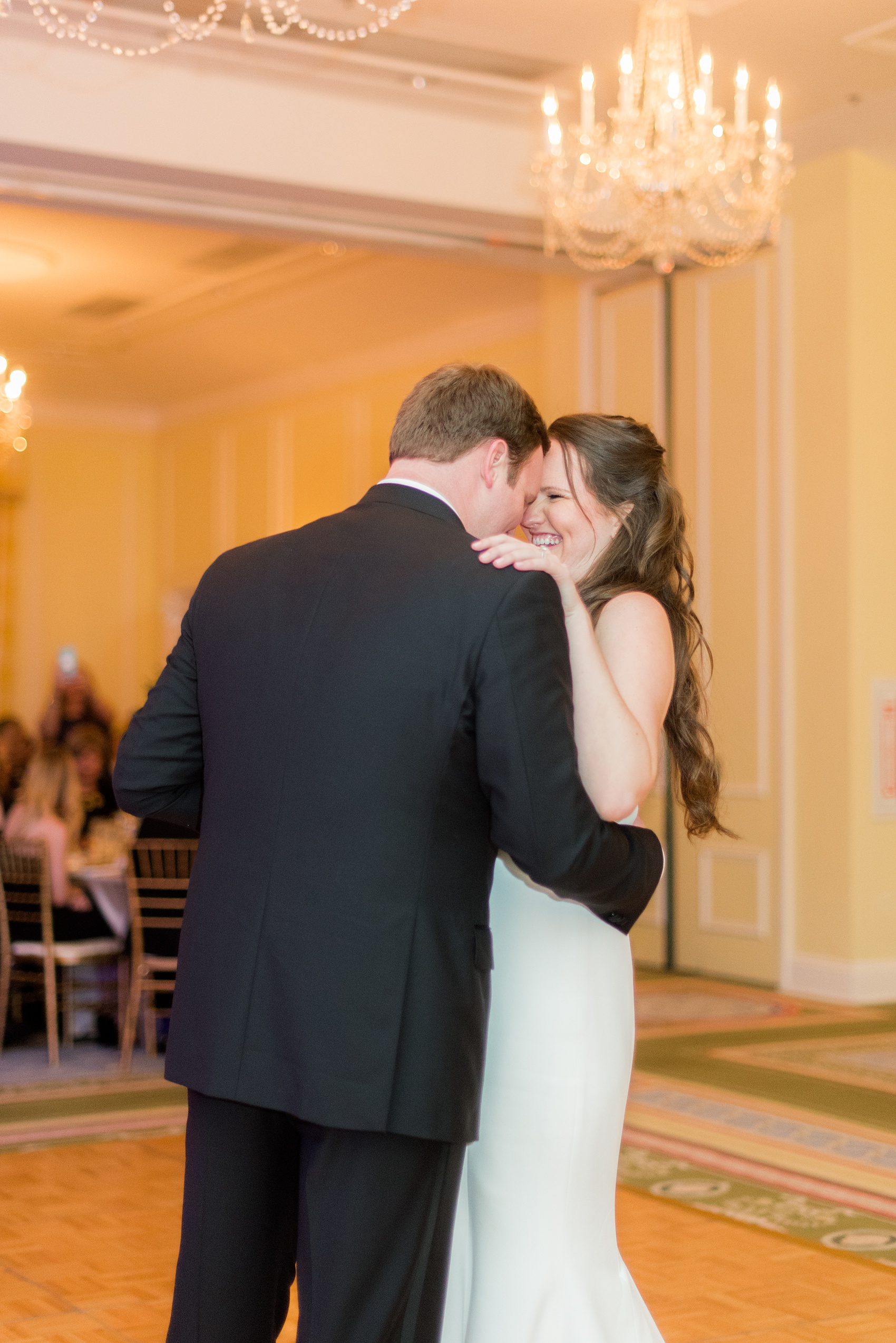 They were so cute during their first dance, which was to "Crazy Love" by Van Morrison. They danced as the moon rose above the venue outside and as their family and friends looked on with admiration. Guests dined on a smoked salmon appetizer and surf and turf options of crab cakes and steak before dancing to a live band all evening. Highlights also included heartfelt speeches by Megan's sister and Kyle's brother, awesome parent dances where both the father of the bride and mother of the groom laughed and smiled the entire time, and watching their friends dance moves all night! And of course their stunning white tiered buttercream cake by Ashley Cakes, with beautiful cascading flowers. (They had a custom monogram cake cutting set and beautiful champagne flutes for the cake cutting.)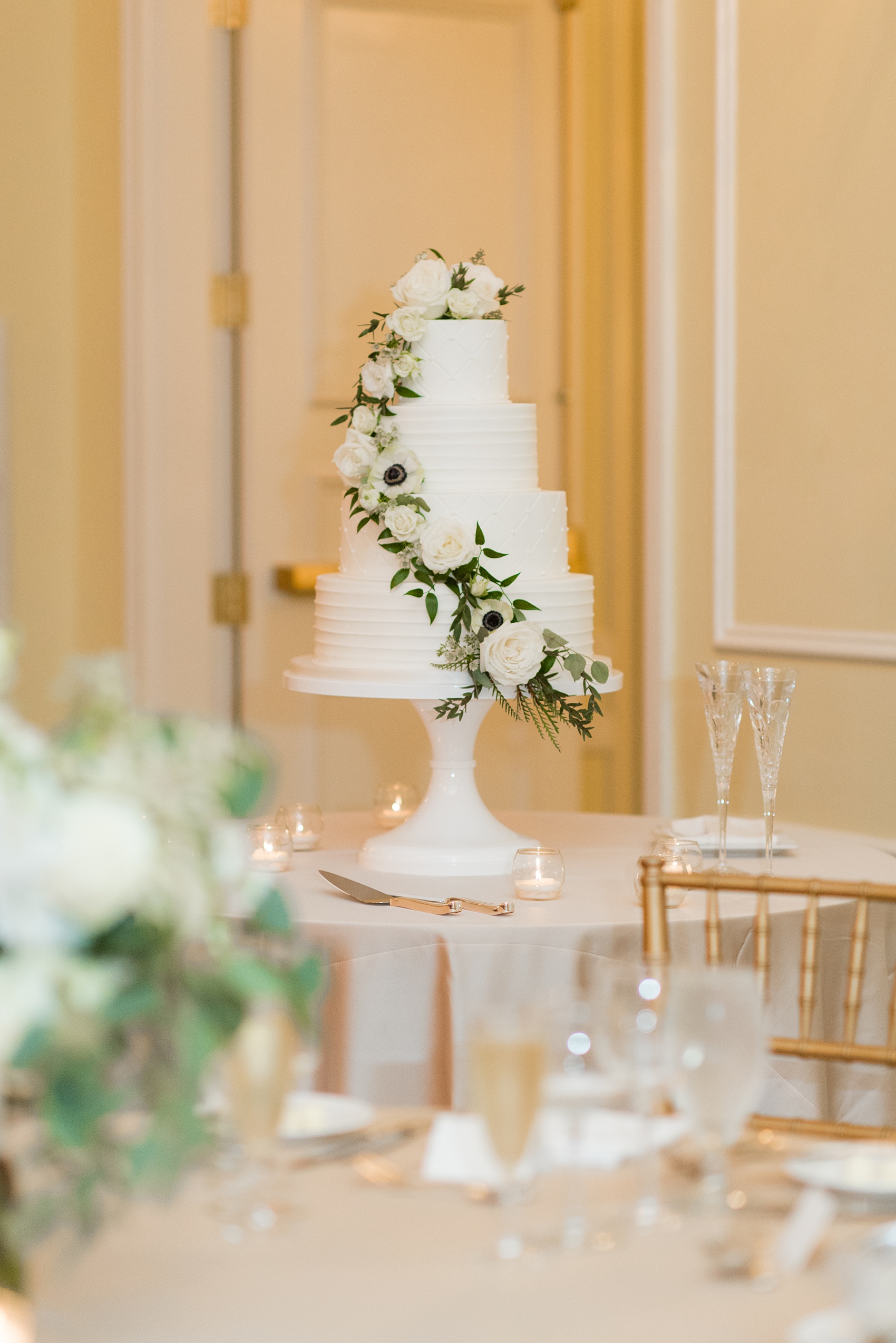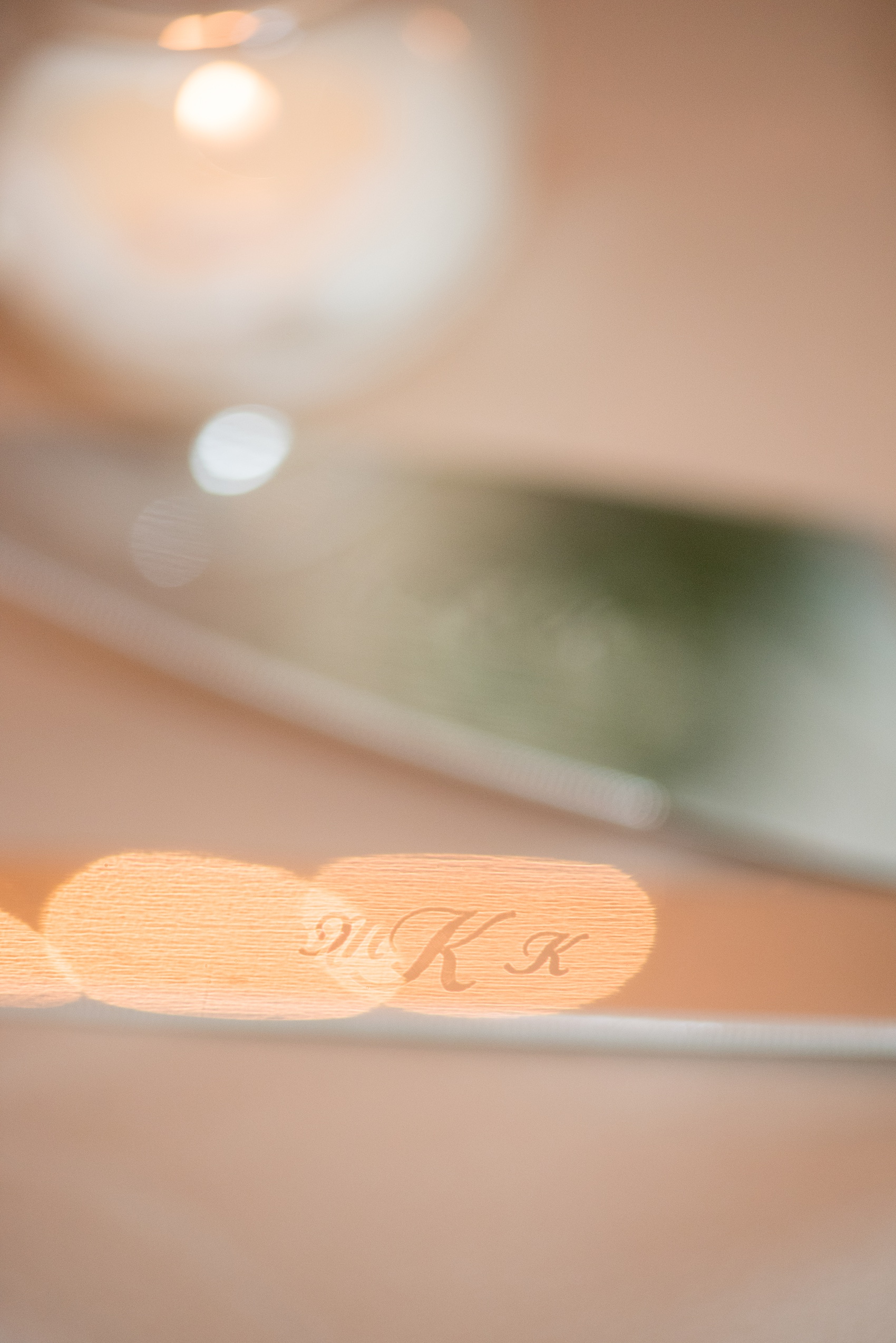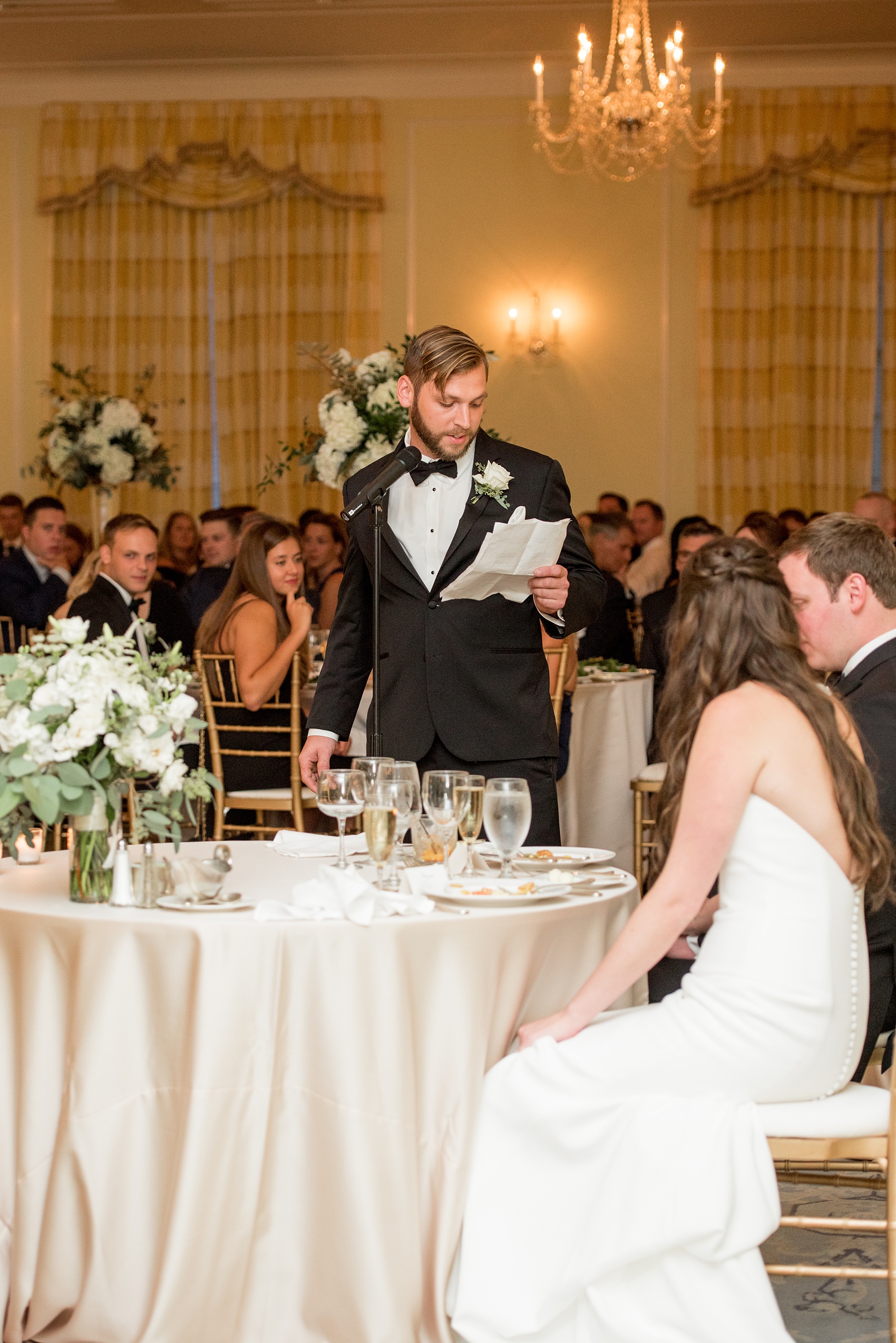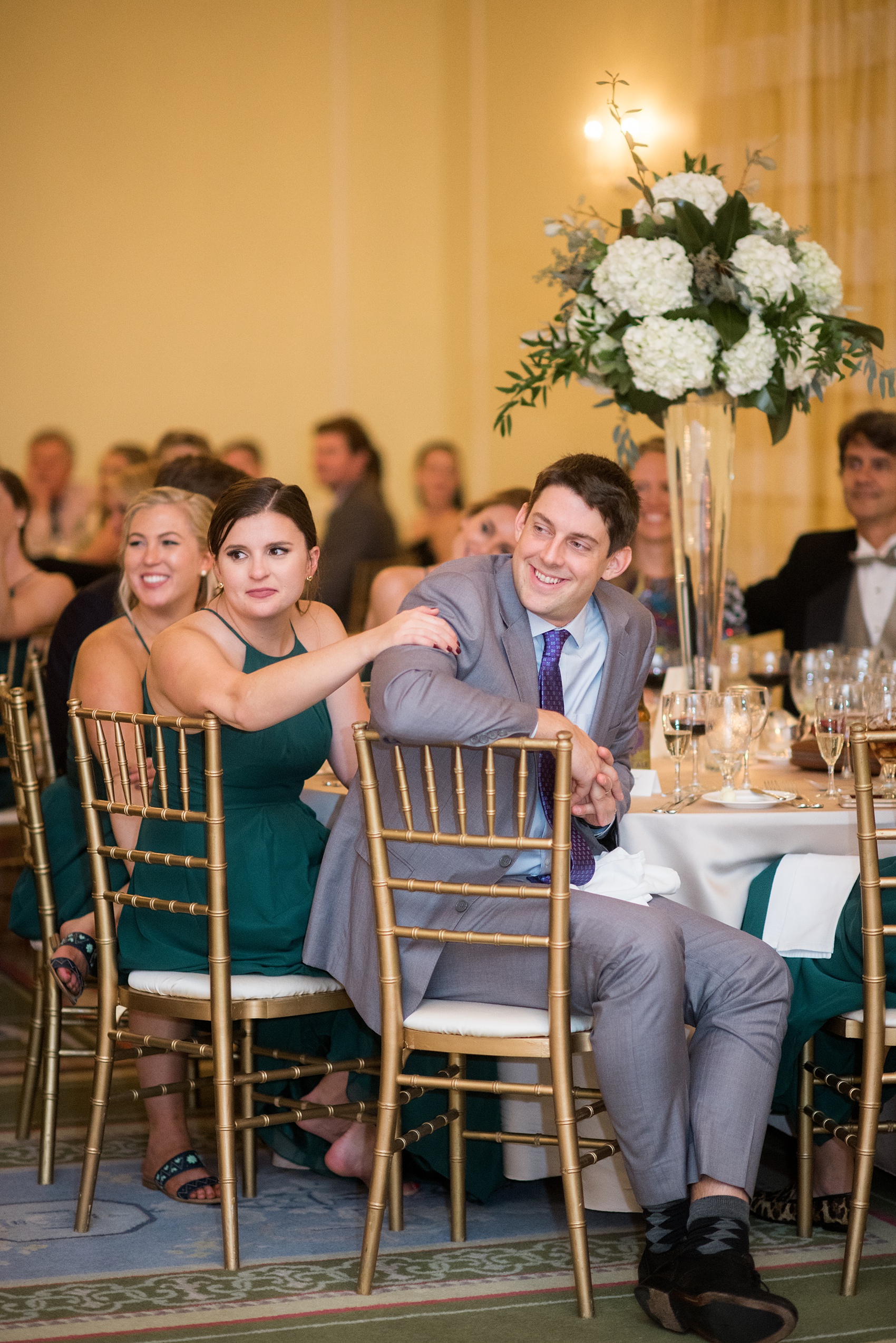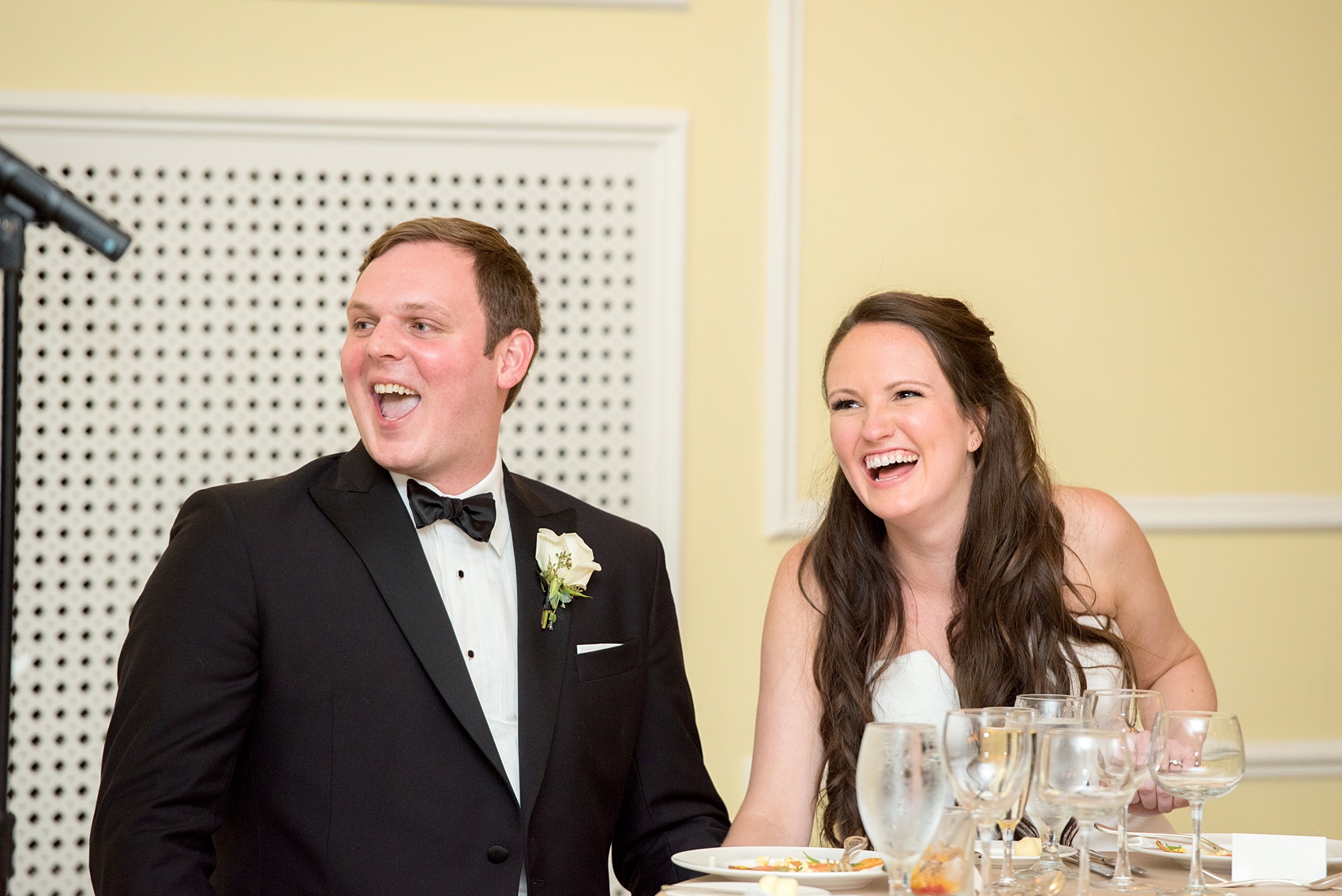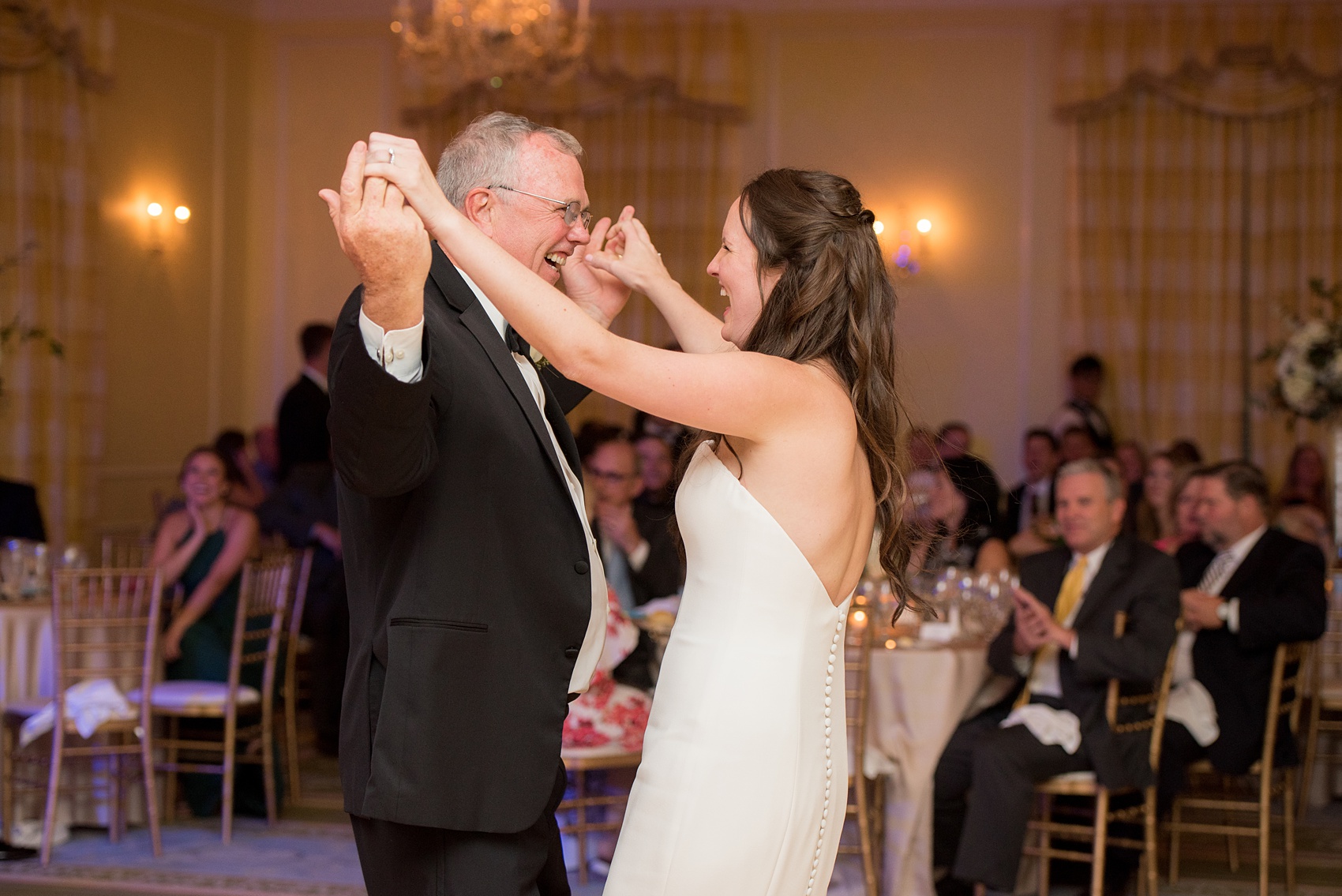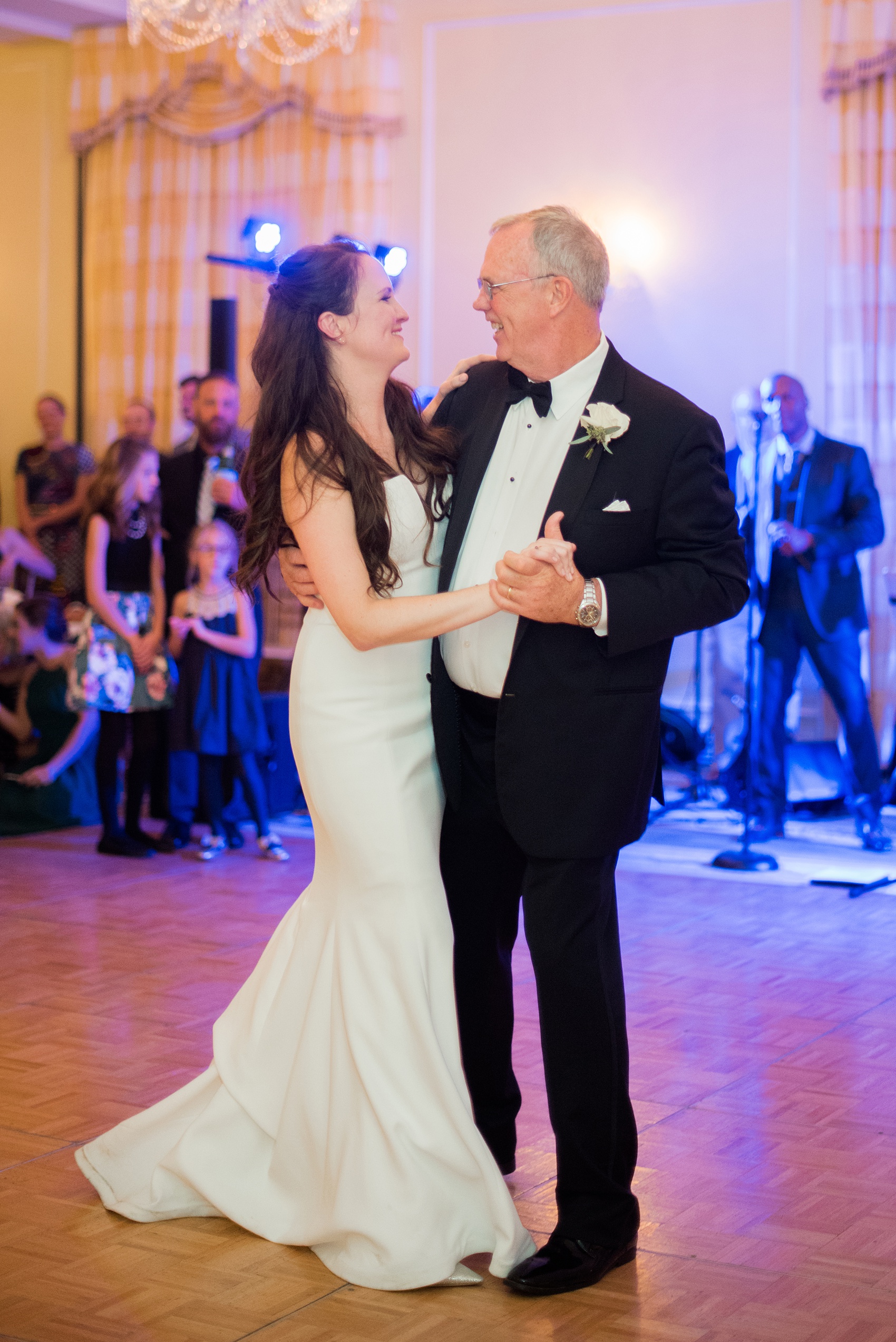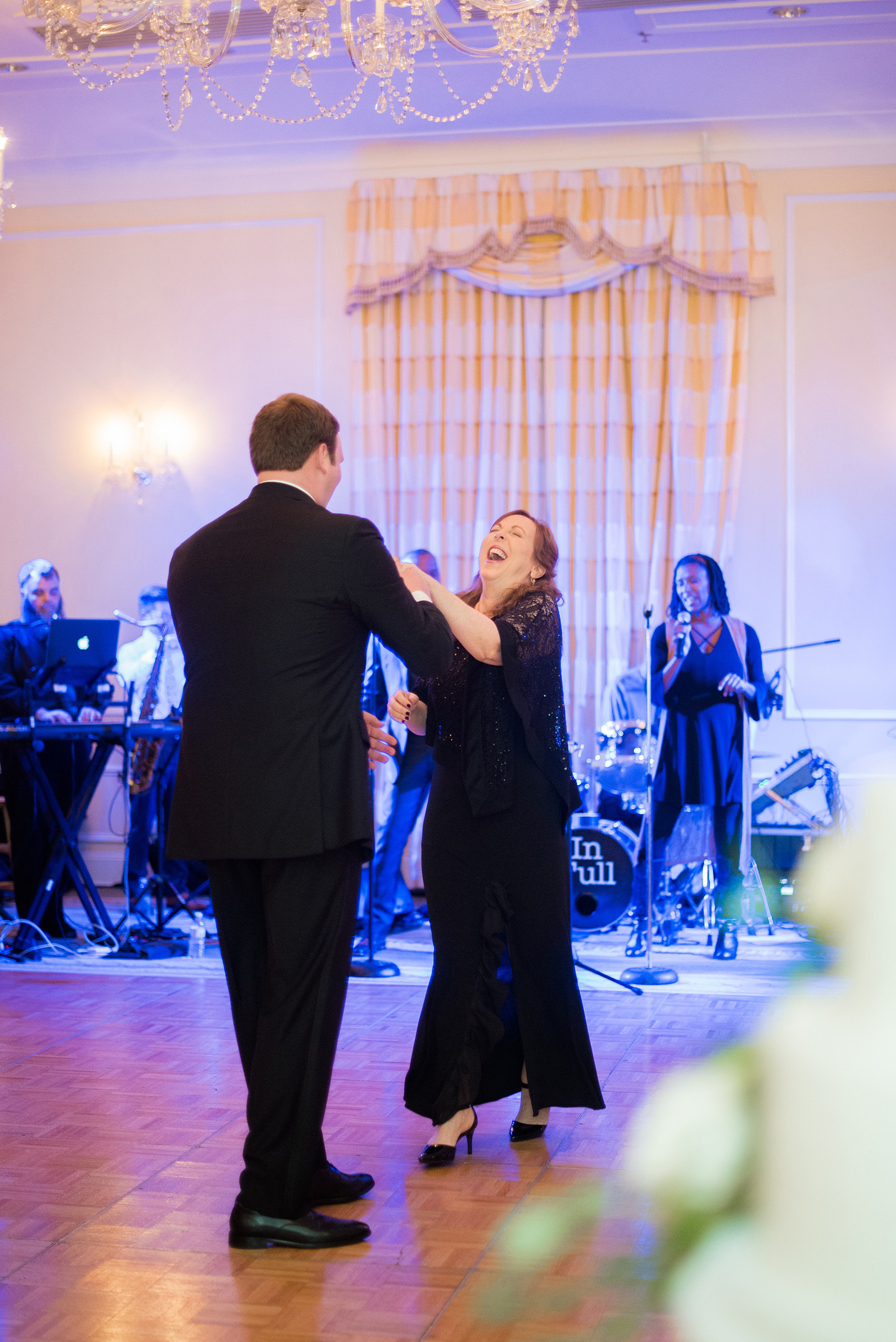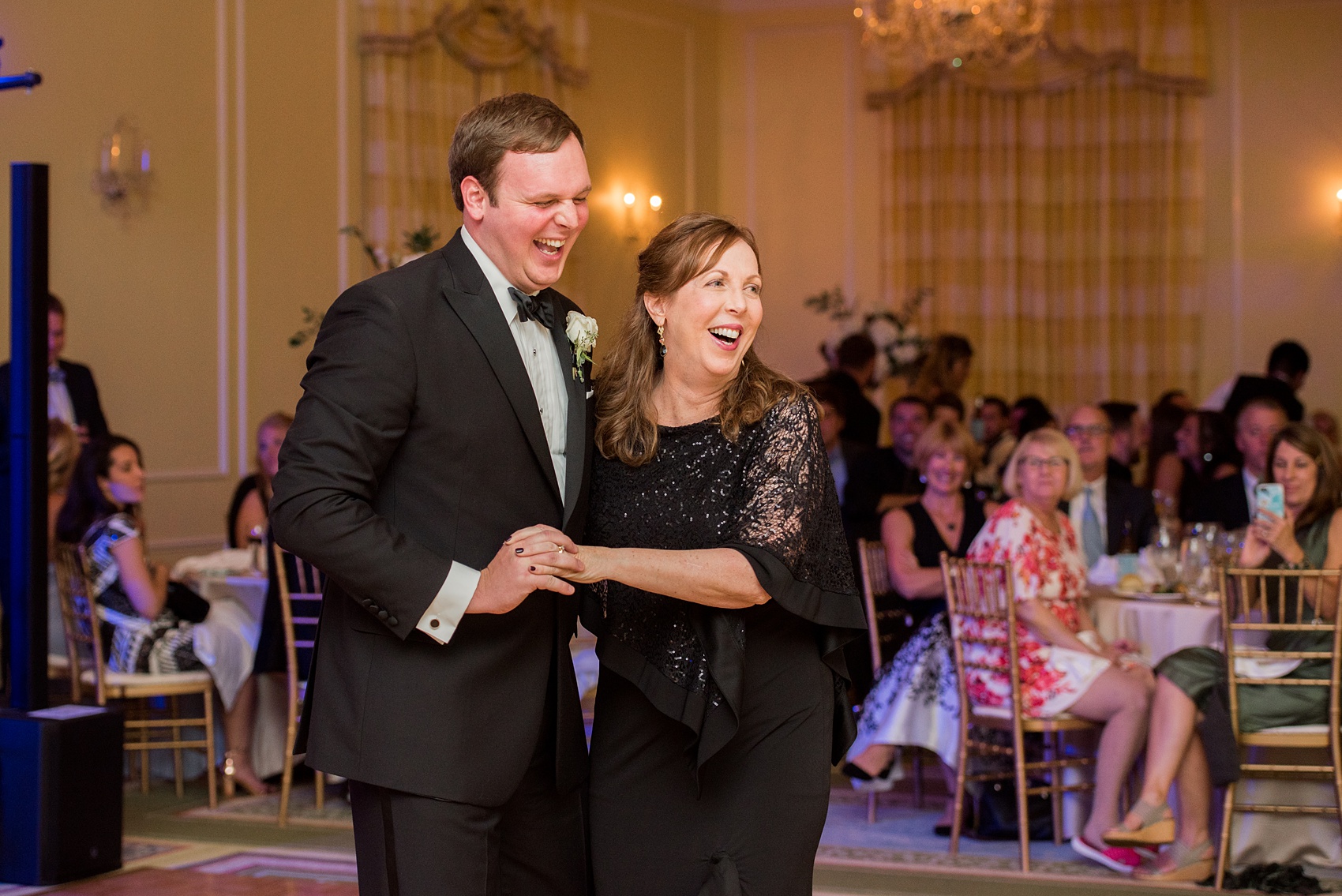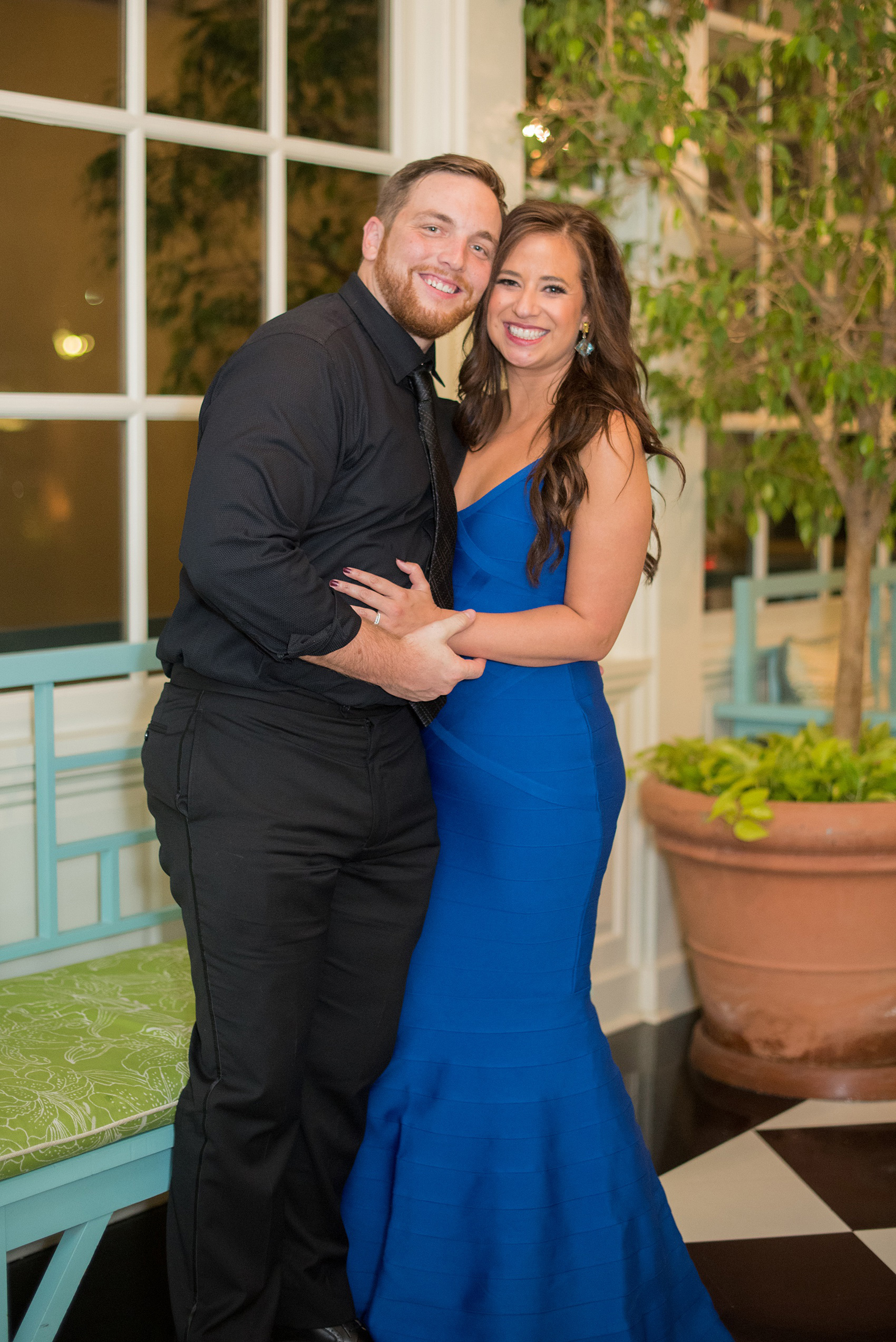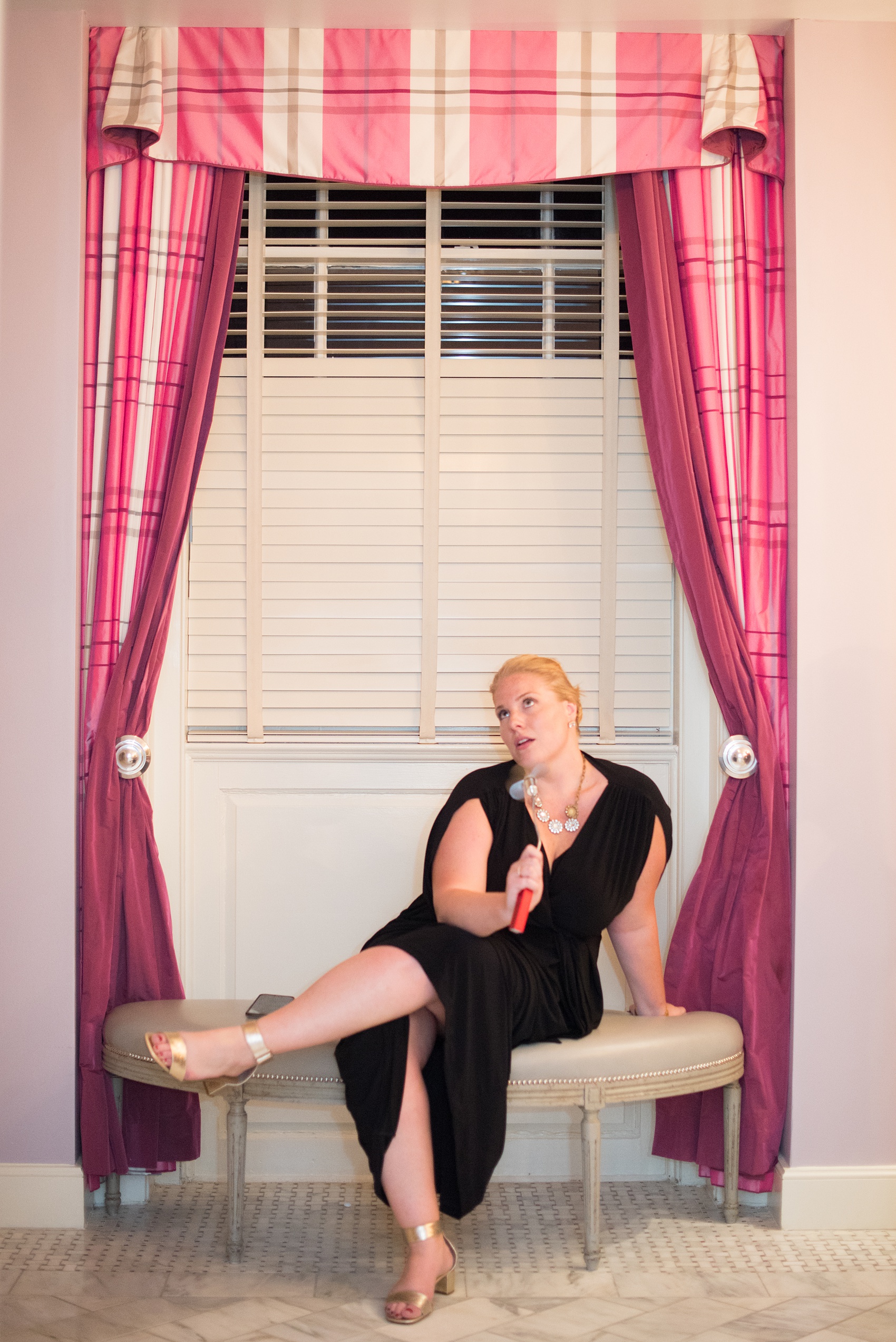 They had some awesome guests there wearing beautiful dresses and suits! I have to say one of my favorite moments was when their friend took a break from partying to relax on the bench in the bathroom. I know this may sound odd but every time I go into the pretty pink and grey bathroom at The Carolina Inn I think what a great place it is for photos because it's so well decorated. Thank you to Megan and Kyle's friend for making my dream come true as you fanned yourself from working the dance floor!!!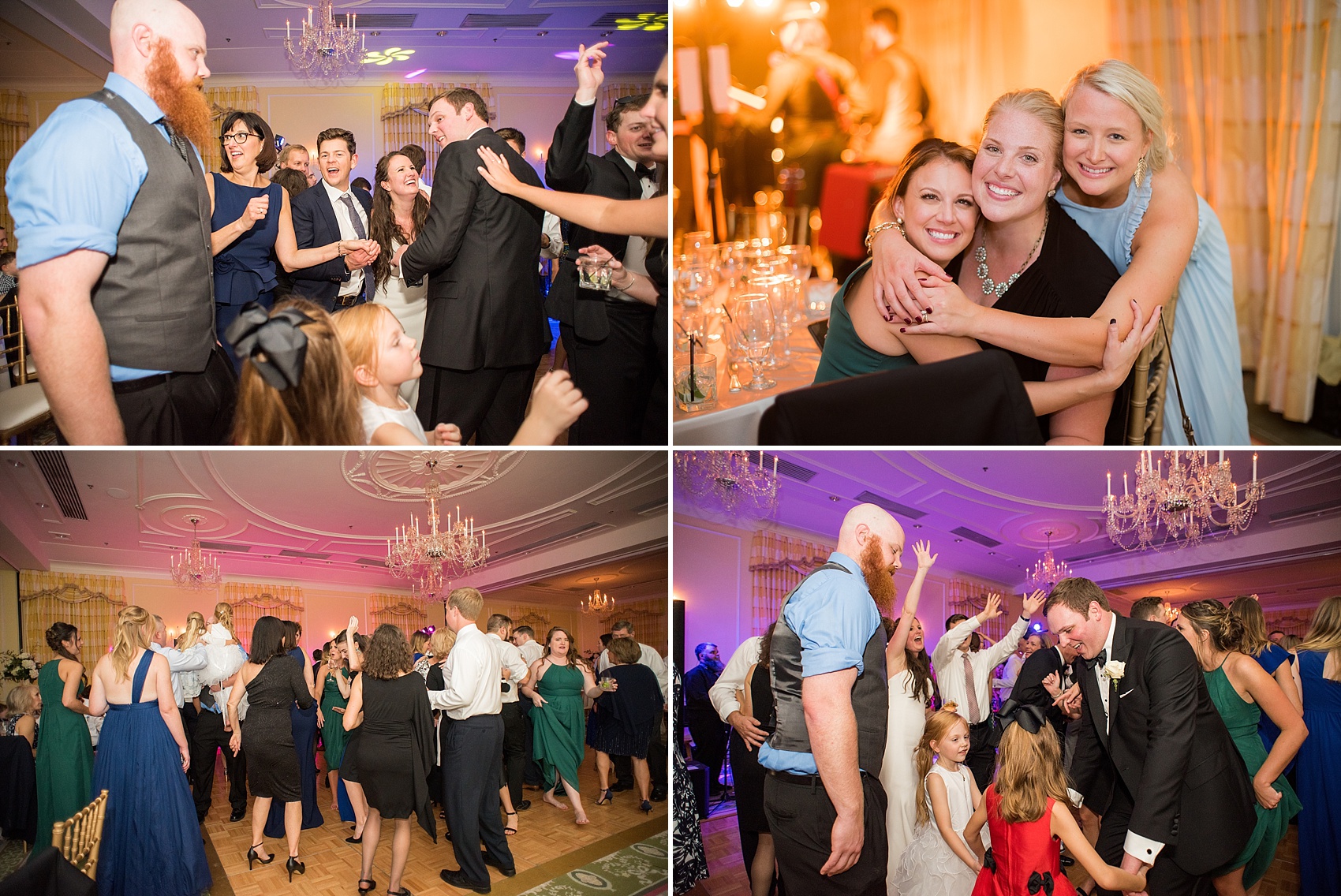 What's a southern wedding without a classic sparkler exit?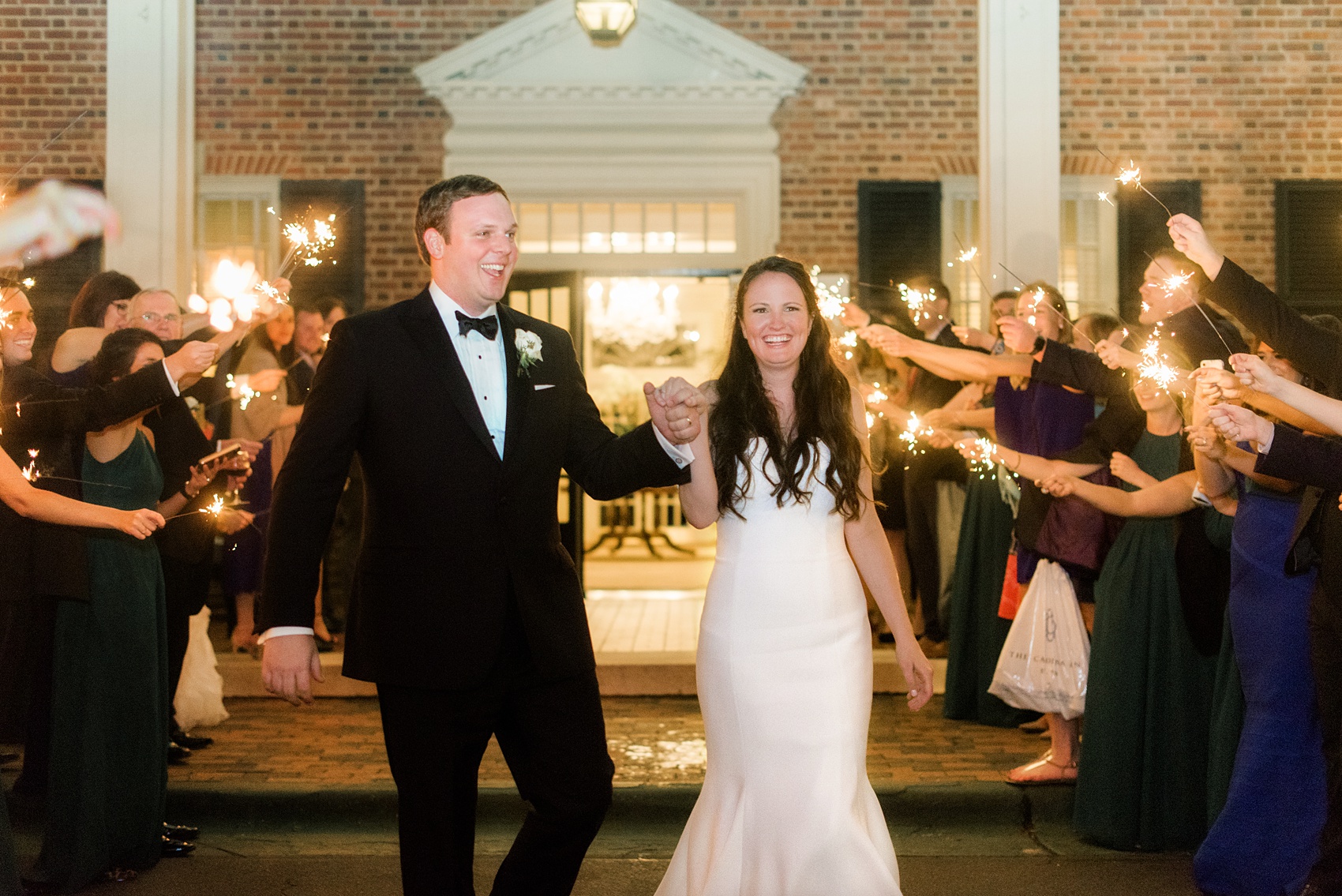 Congratulations Megan and Kyle!
Planner: Alyssa, A Southern Soiree / Venue: The Carolina Inn / Flowers: The Flower Cupboard / Save the Dates and programs: Pink House Press / Mirror seating sign: Lone Oak Woodshed / Cake: Ashely Cakes / Band: In Full Band / Officiant: Barbara Lodge / Tuxedo: Joseph A. Banks, Vera Wang / Wedding gown: Alexia's Bridal, Vera Wang / Bridesmaids gowns: Weddington Way / Makeup: Glow Beauty / Hair: Alisha Abernathy / Wedding invitation: Lion in the Sun / Wedding rings: Josh Levkoff
For more Chapel Hill love check out:
Interested in having Mikkel Paige Photogrpahy capture your wedding day? Contact us!