Lacey and Rob's art deco inspired Bay 7 wedding photos emulate the romantic from that day. It was filled with an abundance of personal touches that made it all unforgettable.
Some favorite moments was a rainy first look followed by umbrellas in wedding party photos, seeing their reception room come together with amazing black chandelier and twinkle lights a-plenty, board games at cocktail hour, the look on Rob's face when he realized Lacey was singing their first dance song, and a wonderful sparkler exit. This incredible day was planned by none other than Amanda of A Swanky Affair, who was thorough in every way possible and a pleasure to work with.
Their art deco theme was complimented by romantic touches. I loved how well it was incorporated to their stationery and paper pieces, the gown Lacey chose, the style of her heirloom jewelry from her grandmother and great grandmother, and even her hairstyle.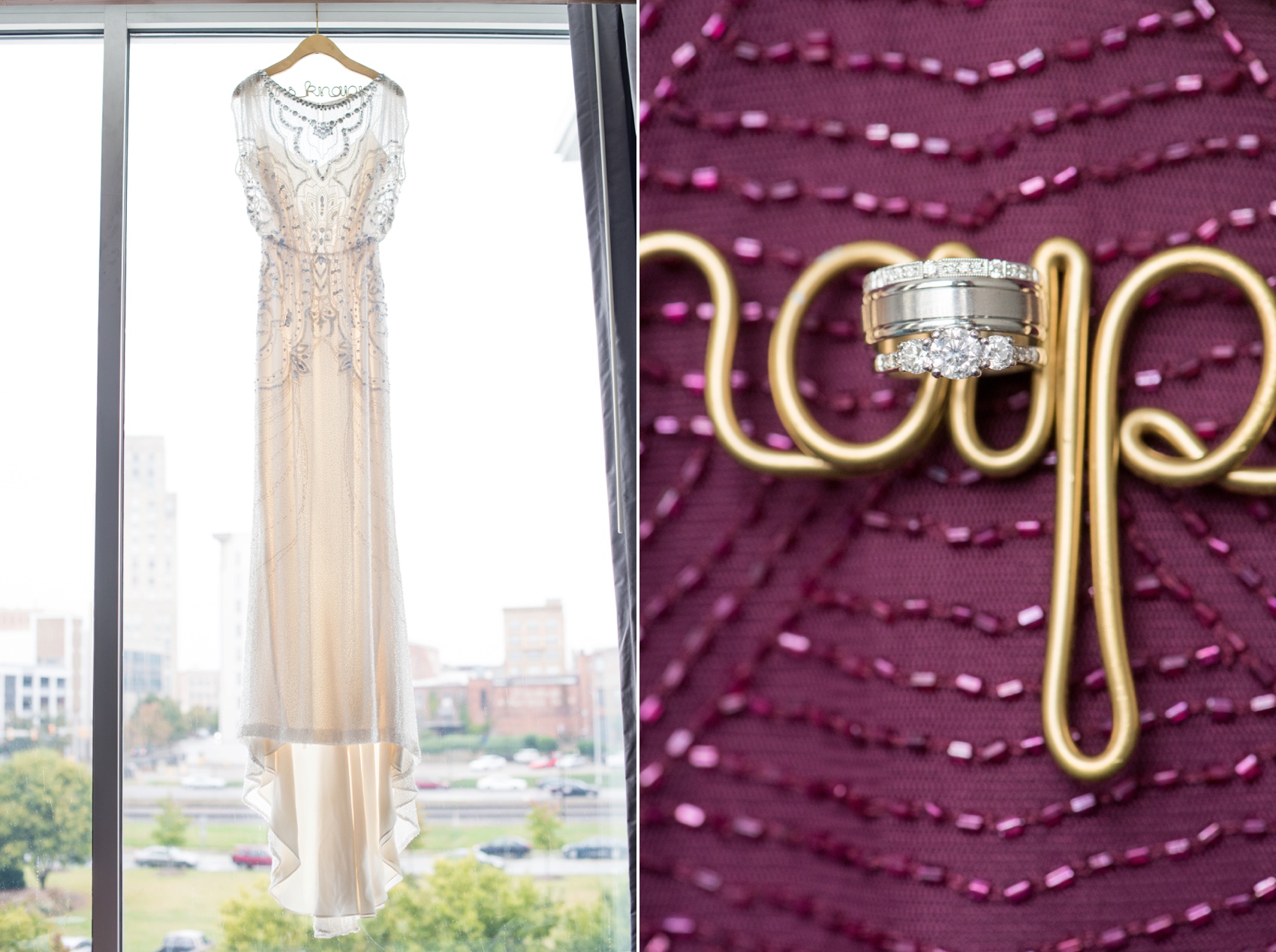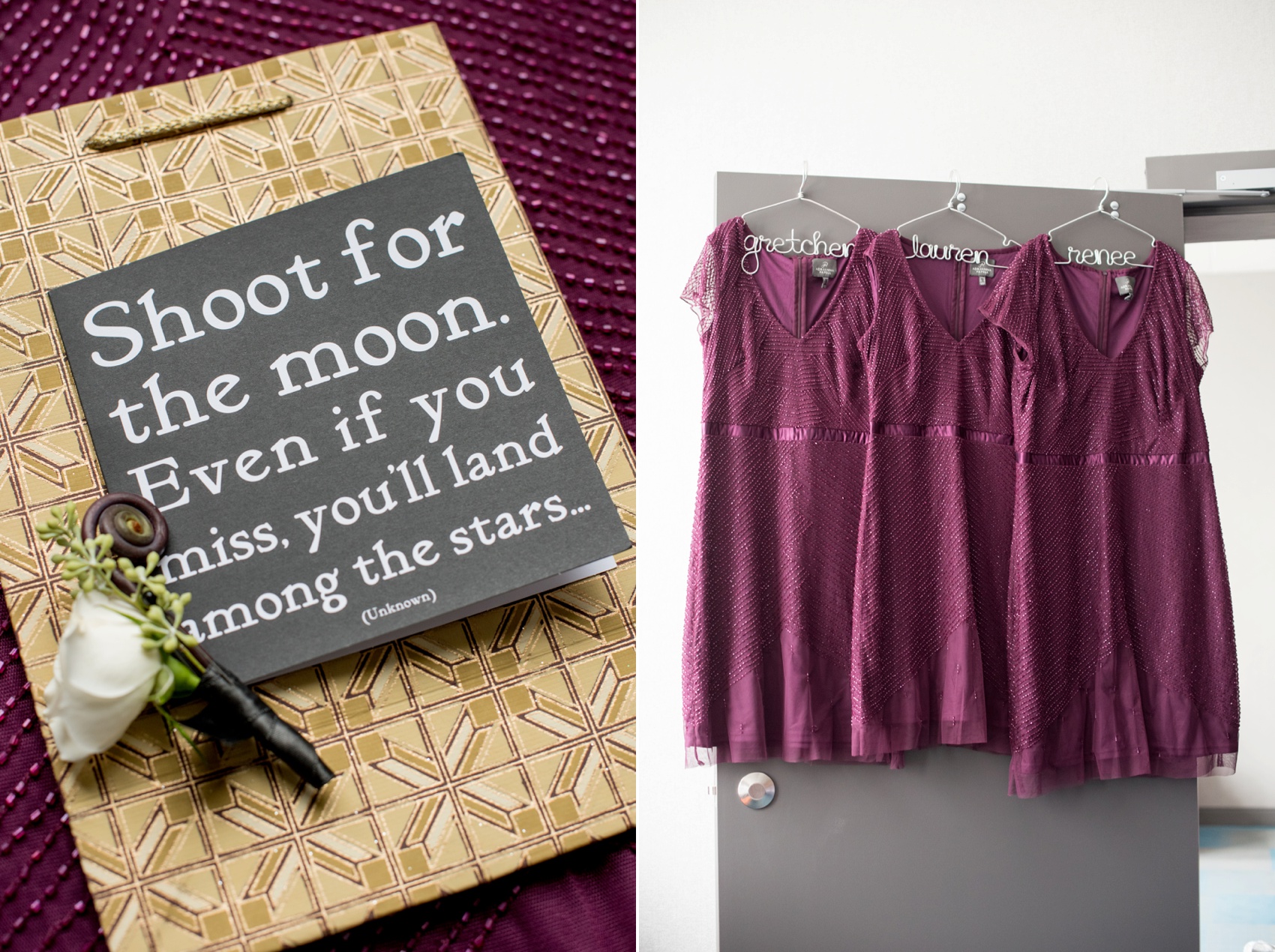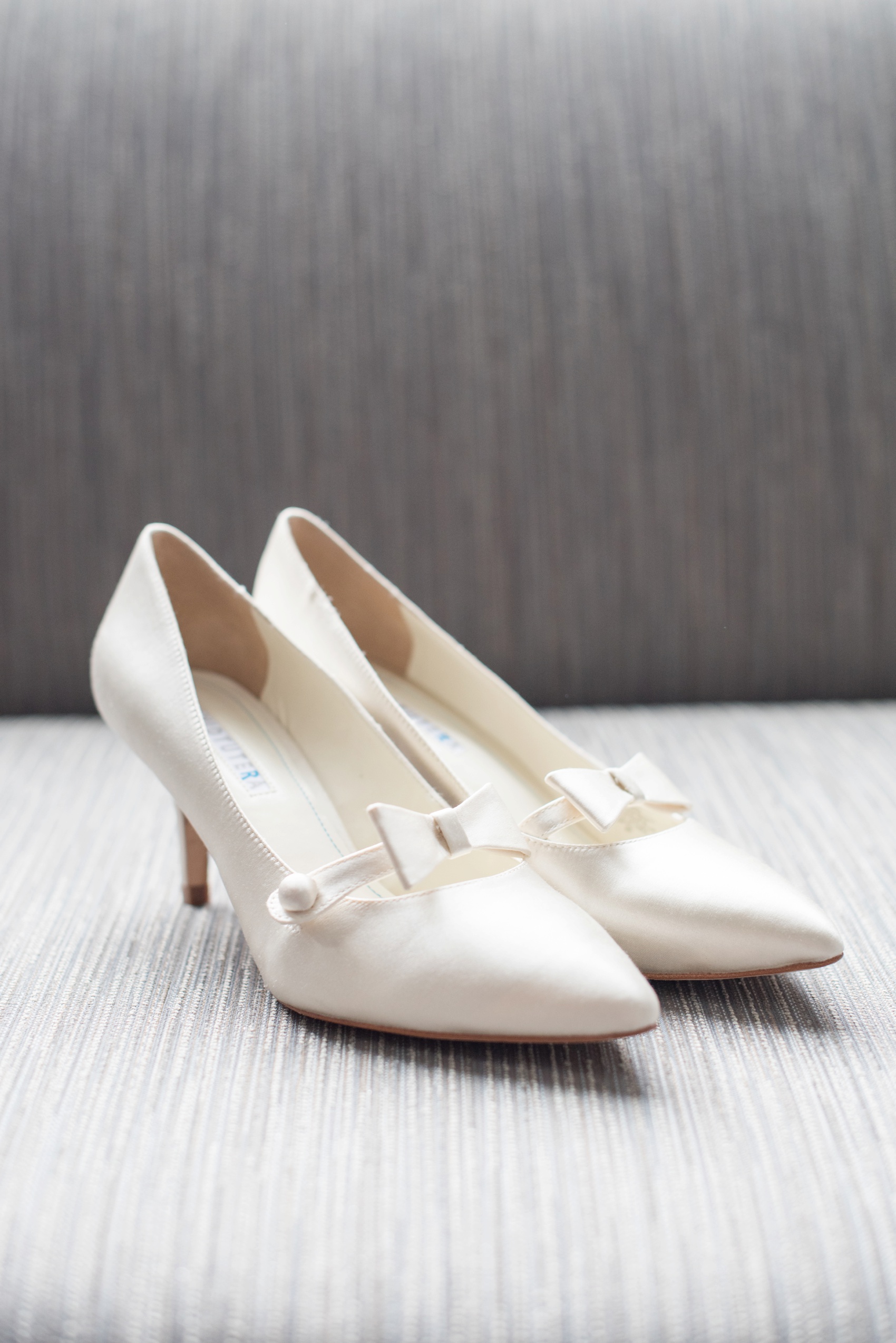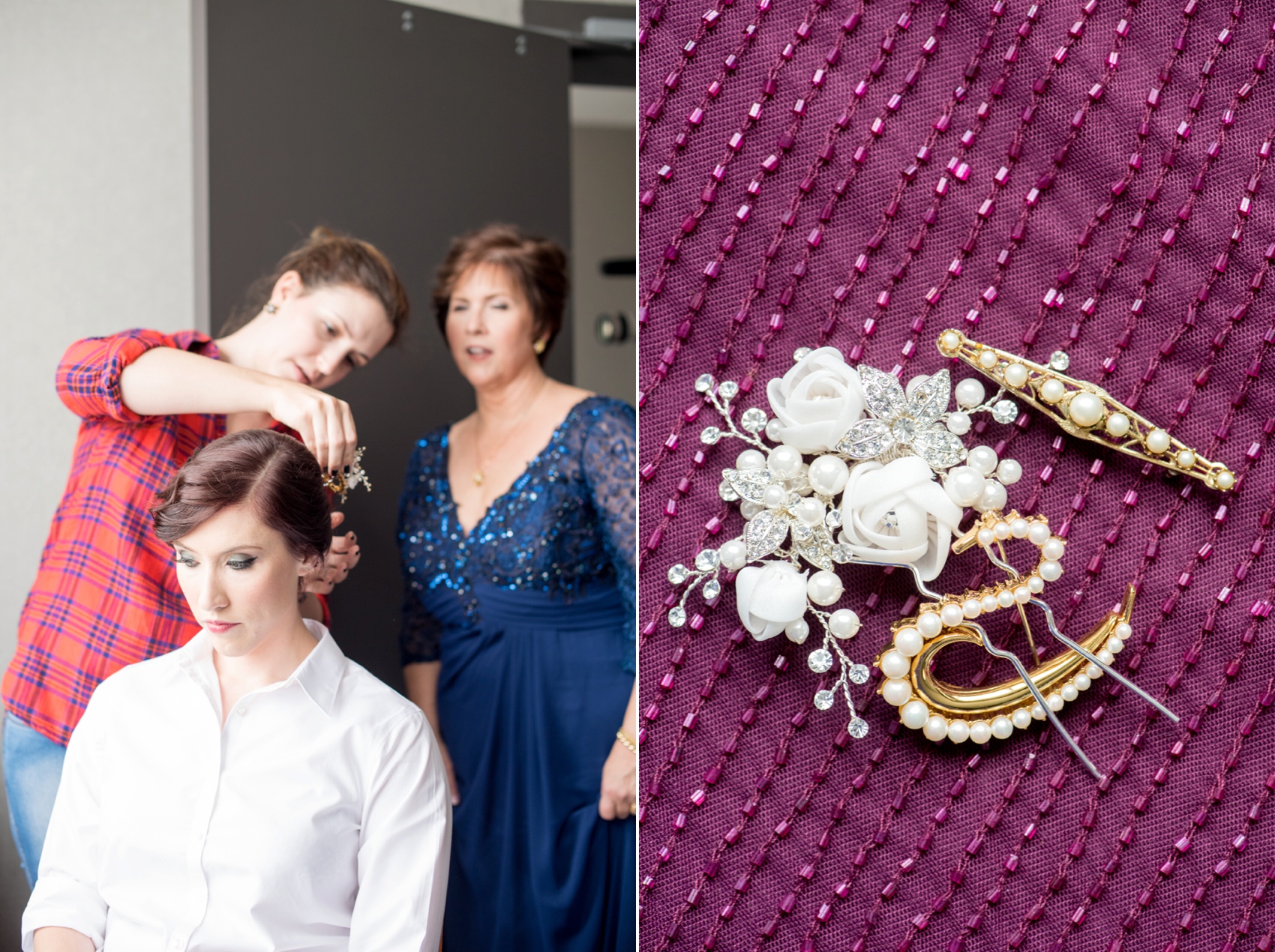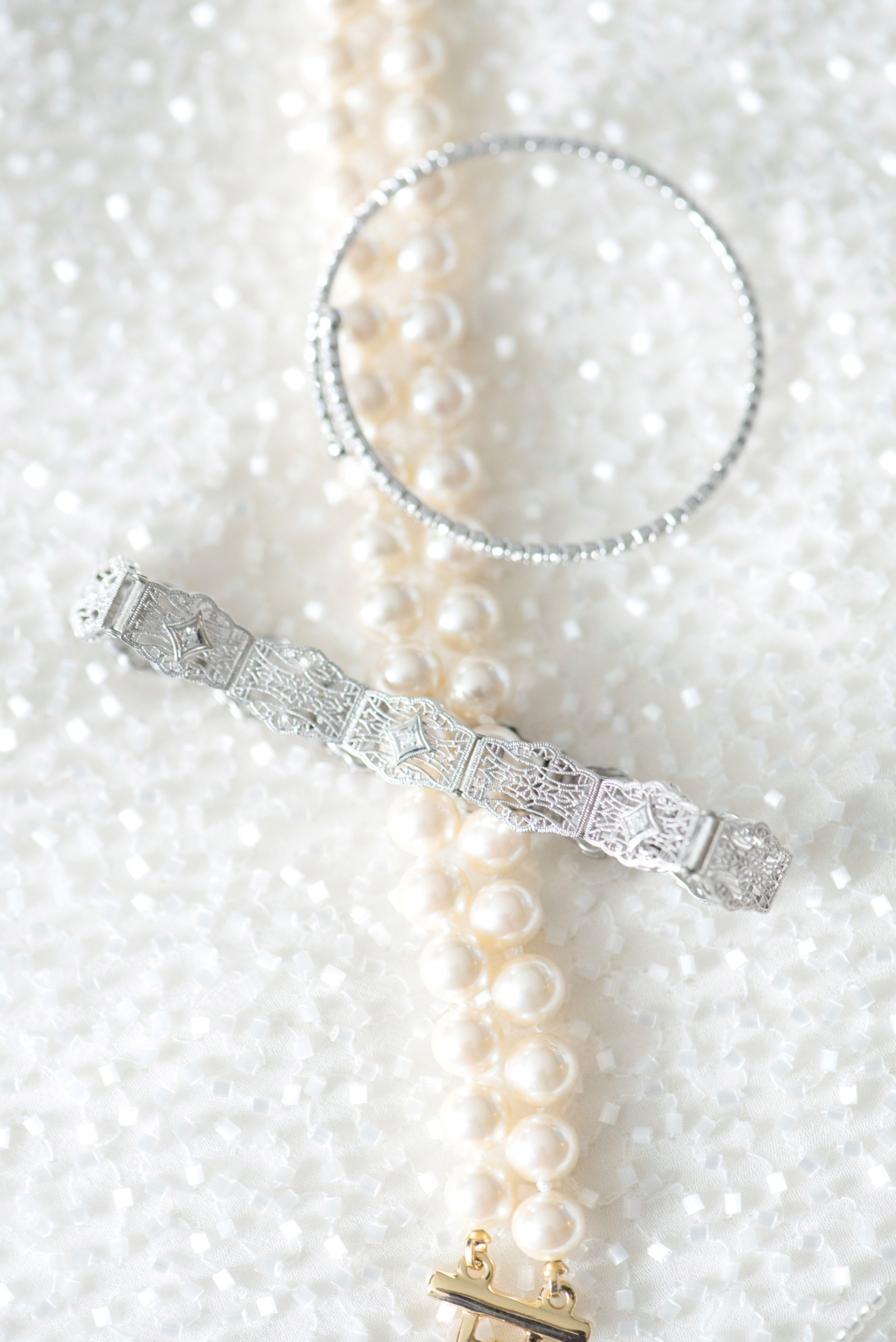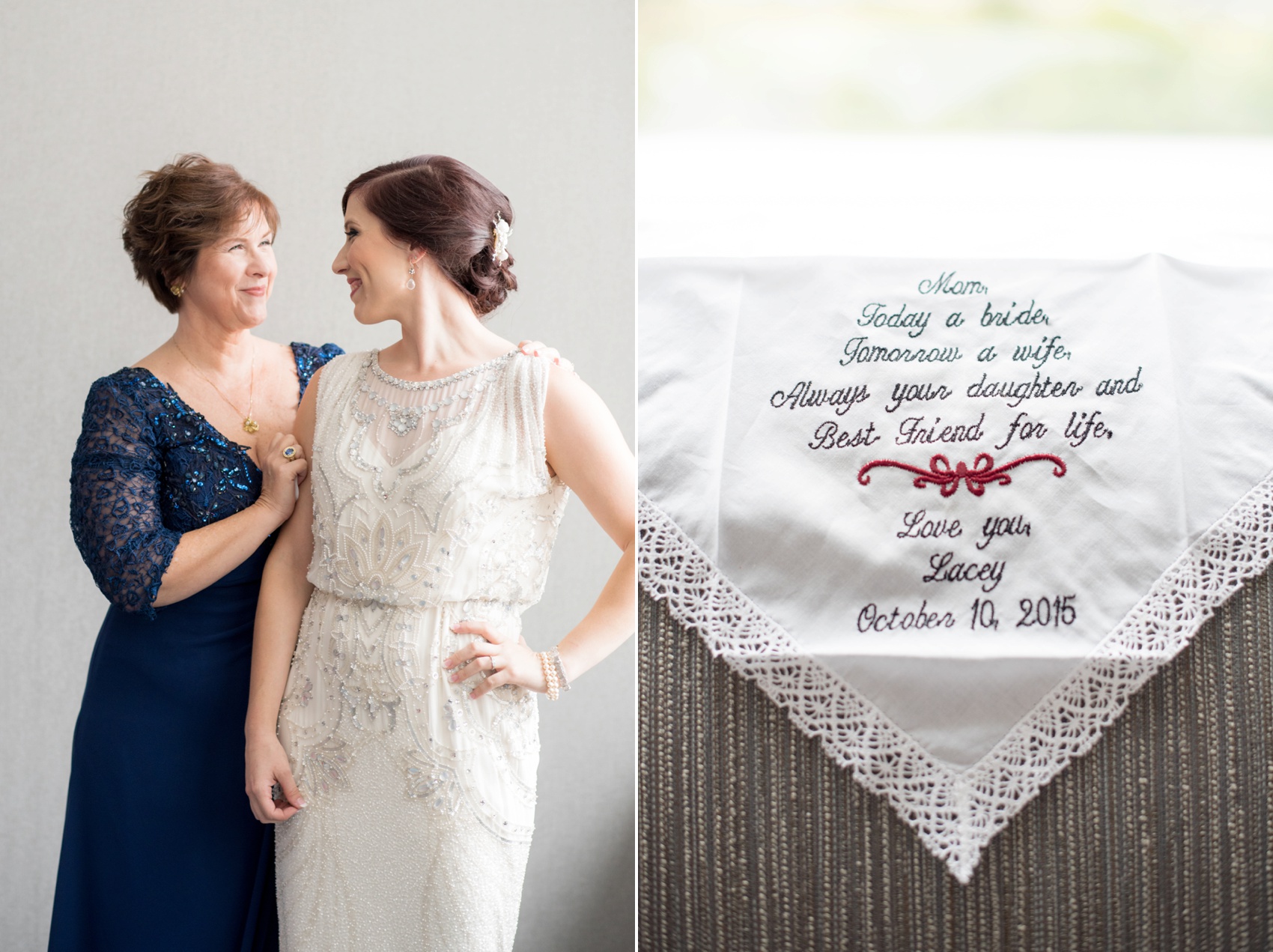 I love that Lacey and her mom, Robin, are best friends. Lacey gifted her this special handkerchief and the "Shoot for the Moon" card above is from Robin to her daughter on her wedding weekend, also a nod to Lacey's amazing bridal session with a key shot of Lacey swinging on the moon and stars.
Lacey opted to do a first look with her dad too, which was just as quirky and silly as the two of them!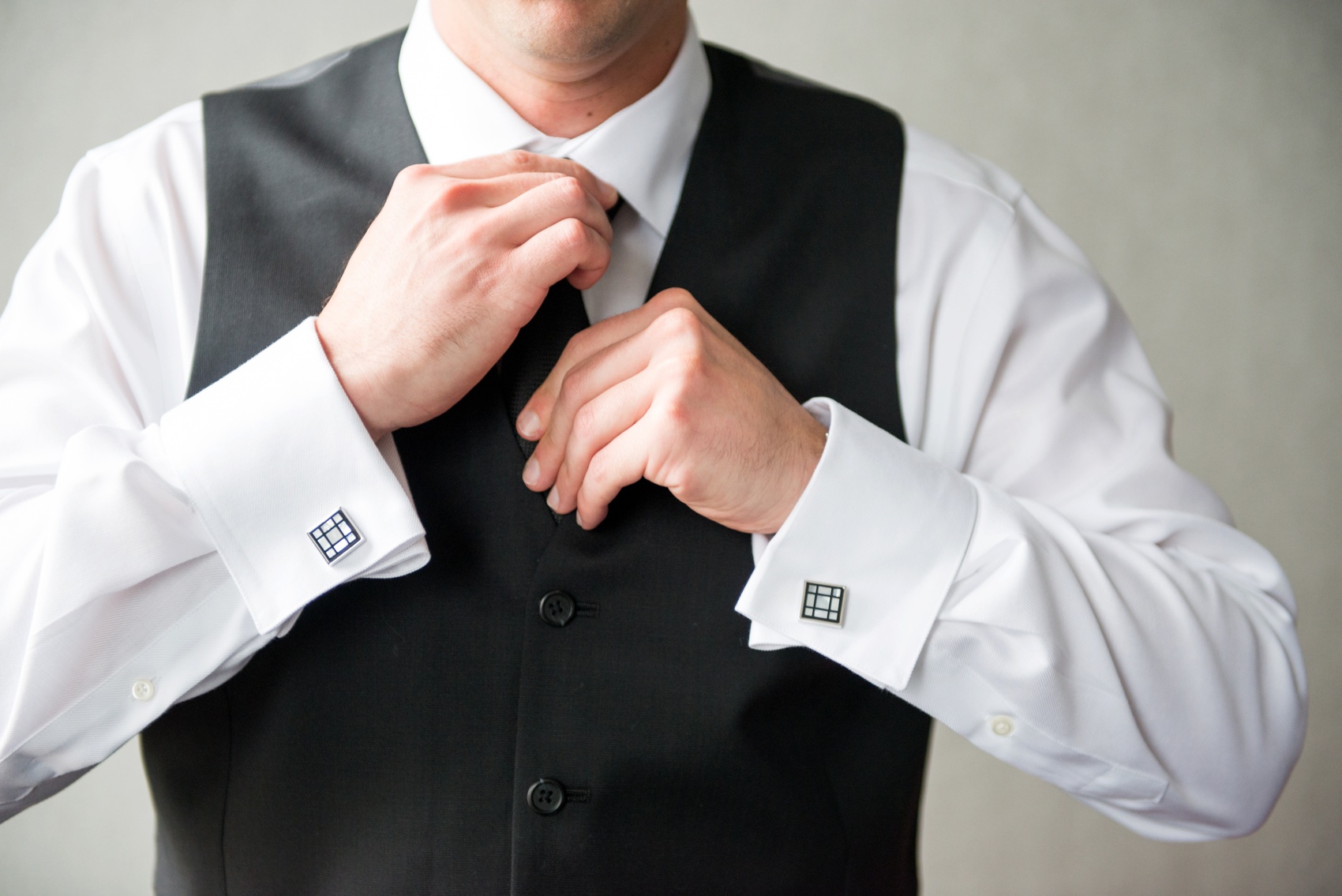 This necklace below is one Robin handmade for Lacey's Maid of Honor, Renee. HOW COOL IS THAT?!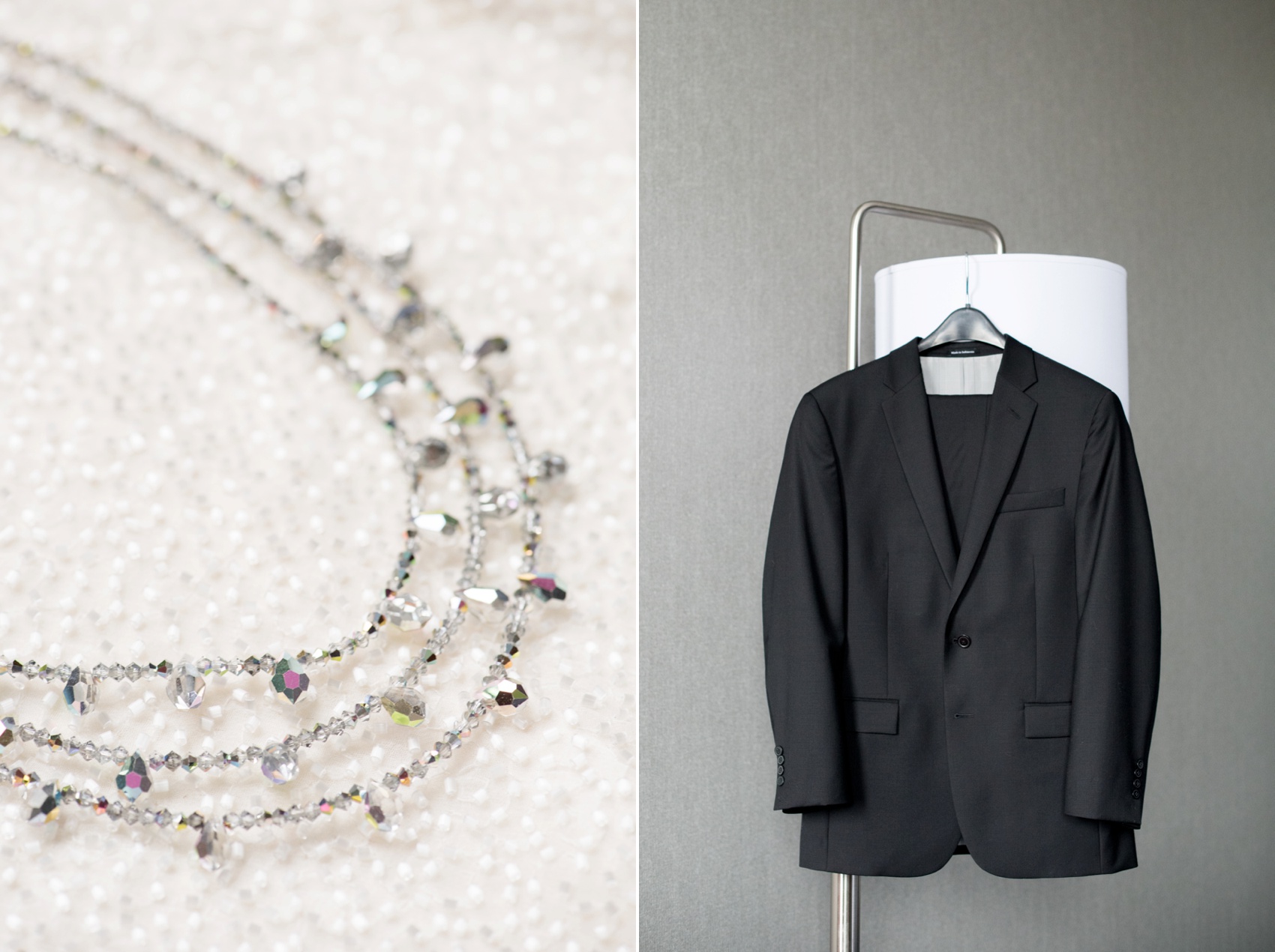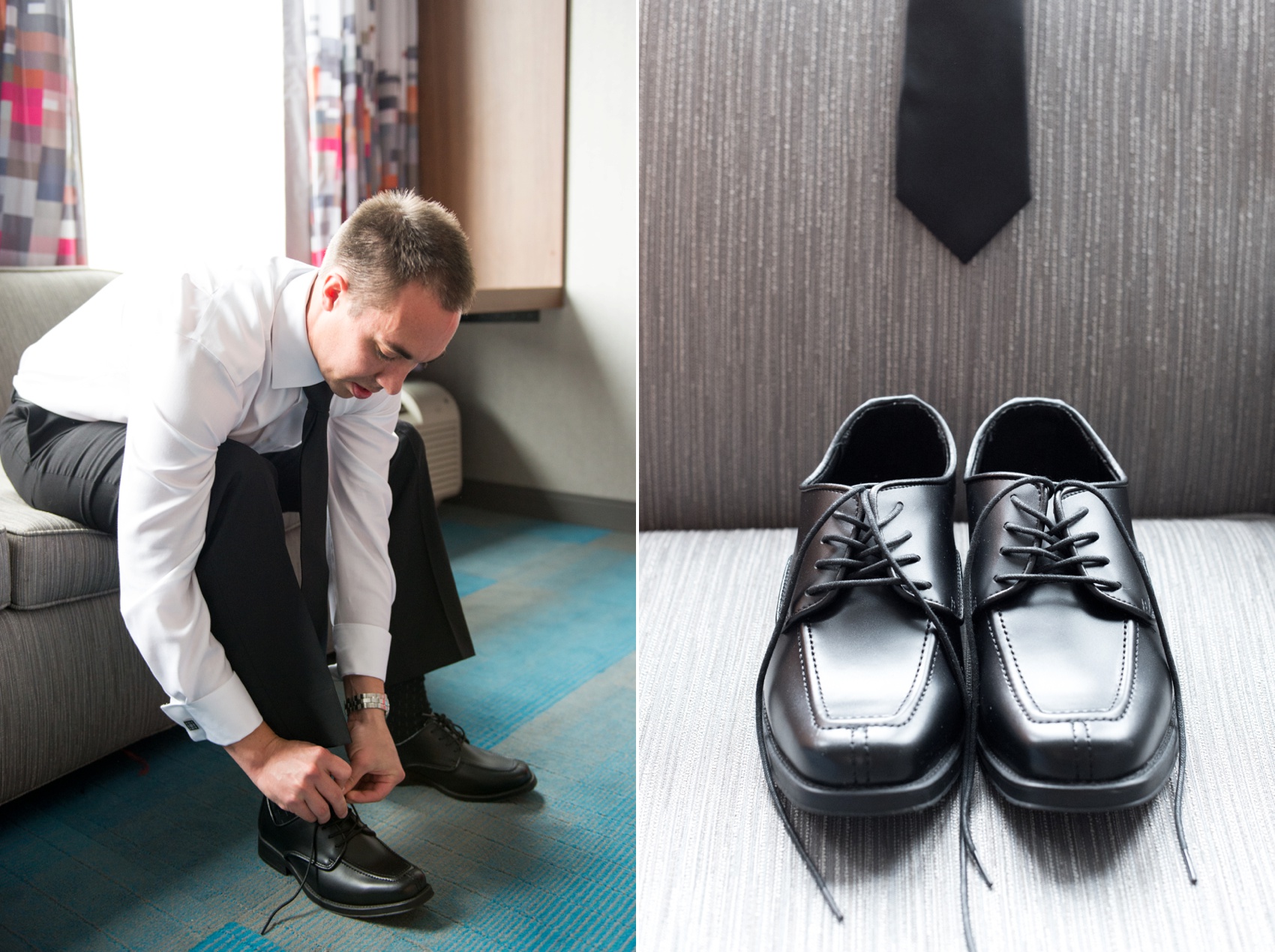 I love a groom with great cufflinks!
Some portraits….a boutonniere fastened on…I think this couple's about ready for their first look! The rain ain't no thang, especially at American Tobacco Campus. I love all the options for photography, even if it's a bit wet outside. And hey, when a wedding planner is so prepared as to have umbrellas for the entire wedding party that match the color palette of the day, we roll with it and enjoy the weather no matter what the forecast.
I was especially excited for them to see each other because I knew how much Rob was looking forward to seeing Lacey in her gown. I also suspected he had no idea how fabulous and unique his bride's beaded art-deco inspired gown was.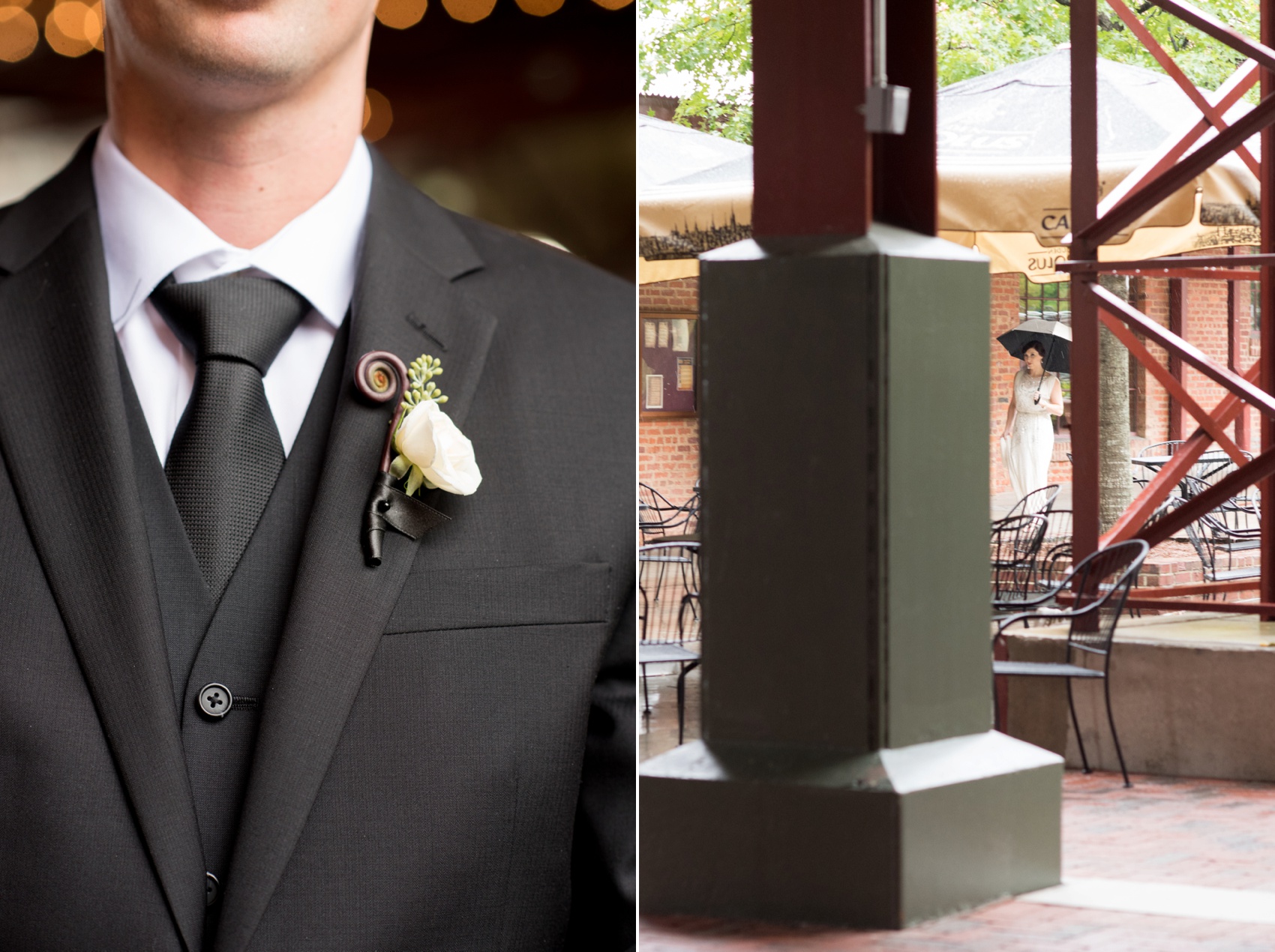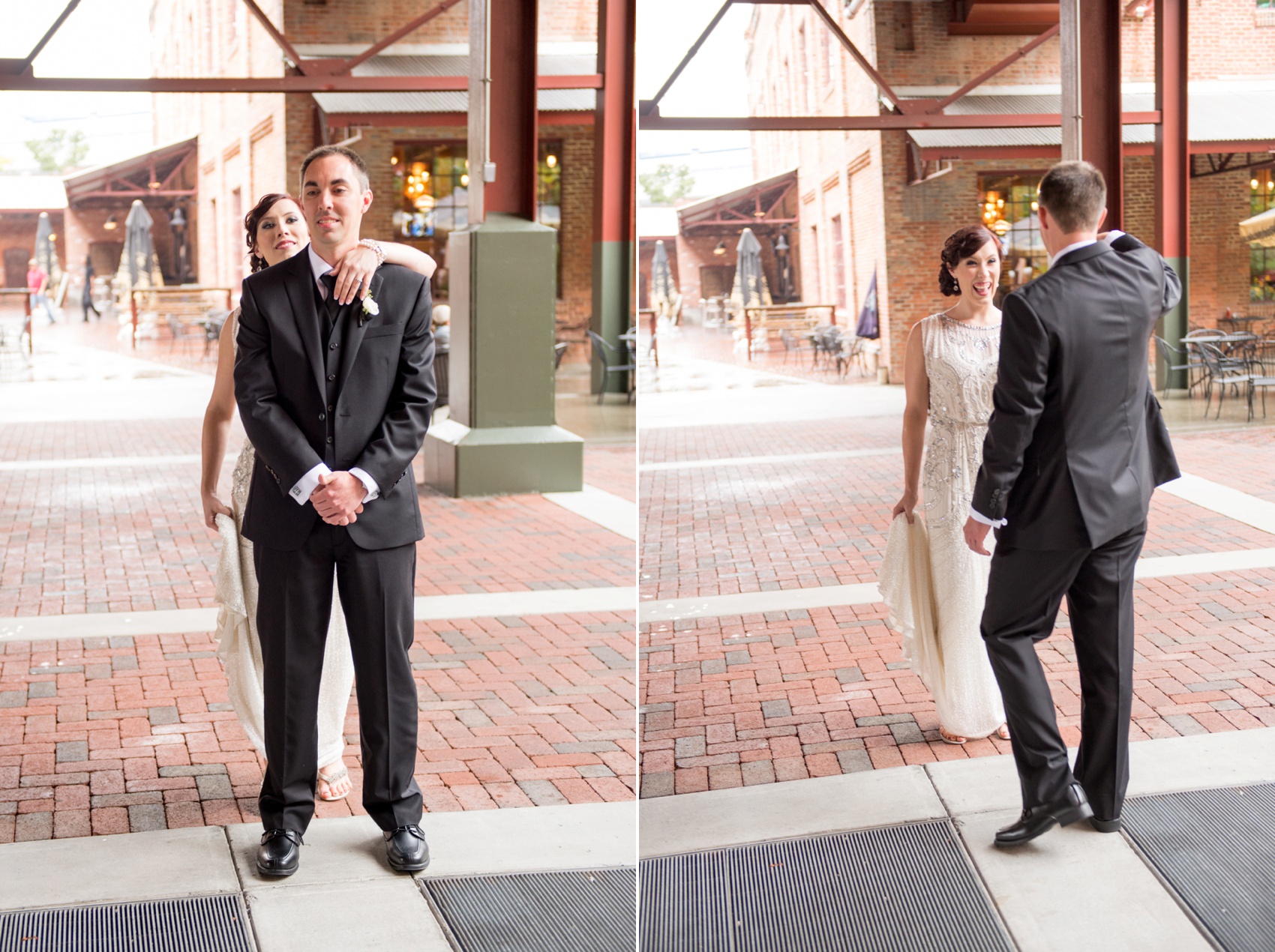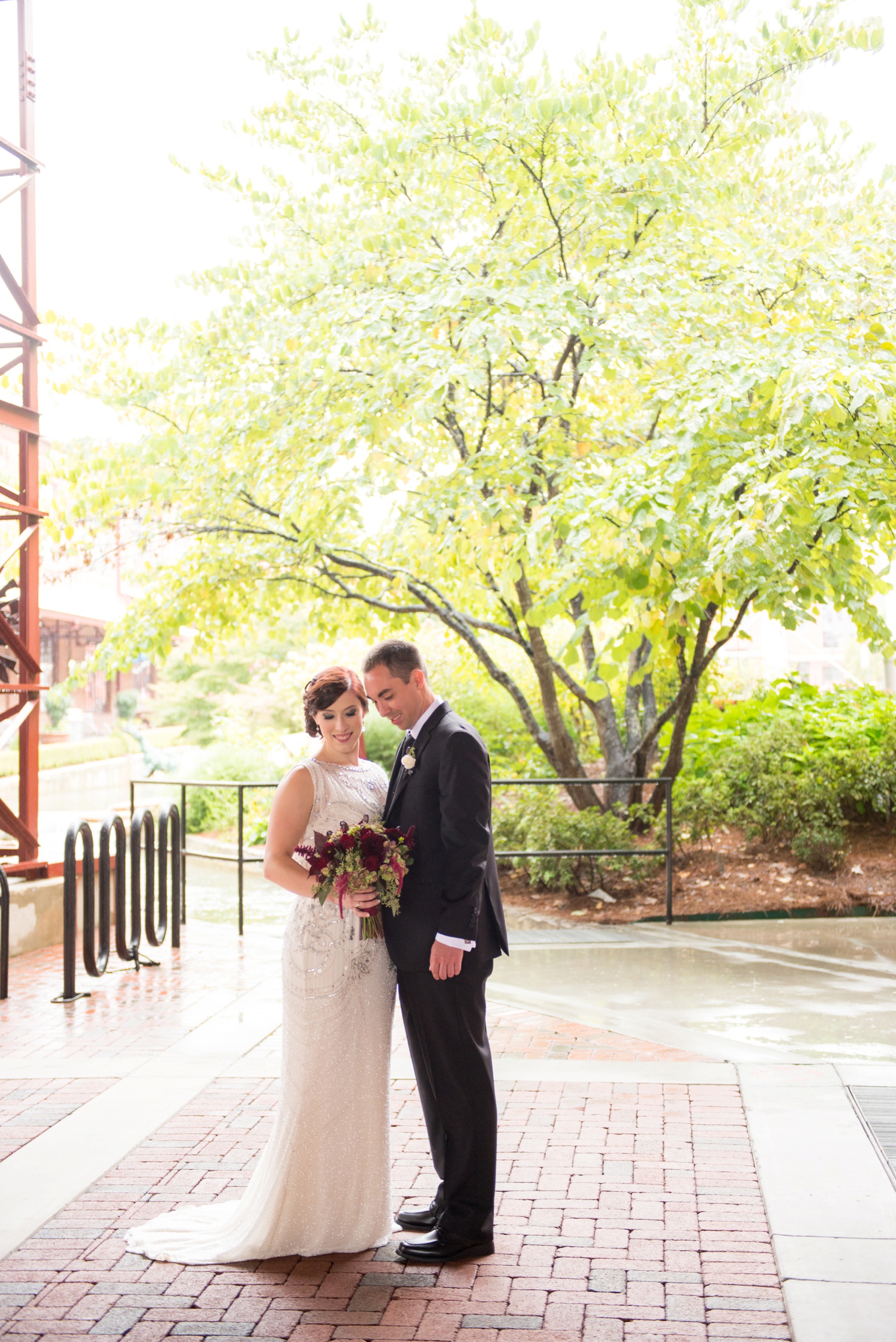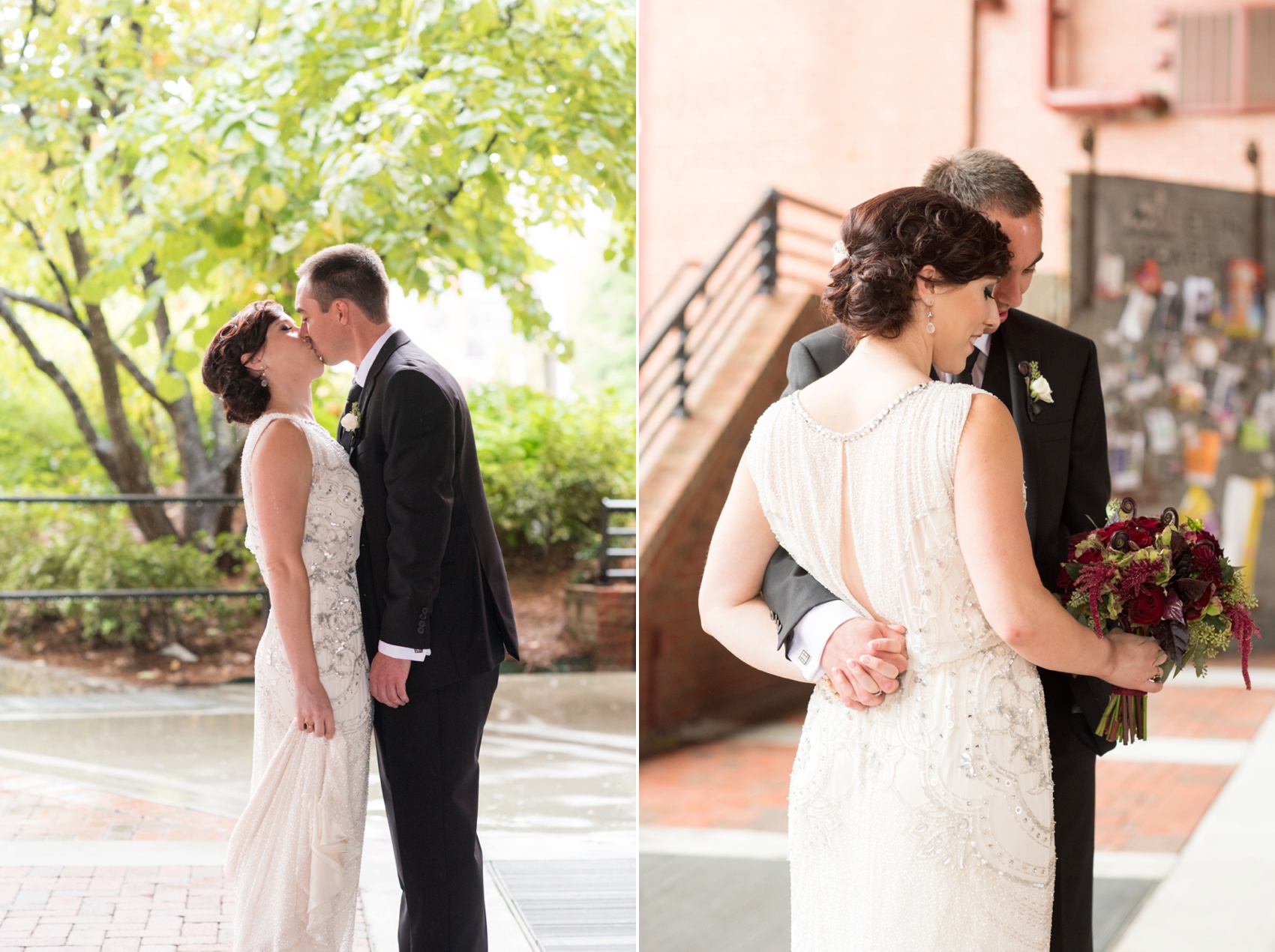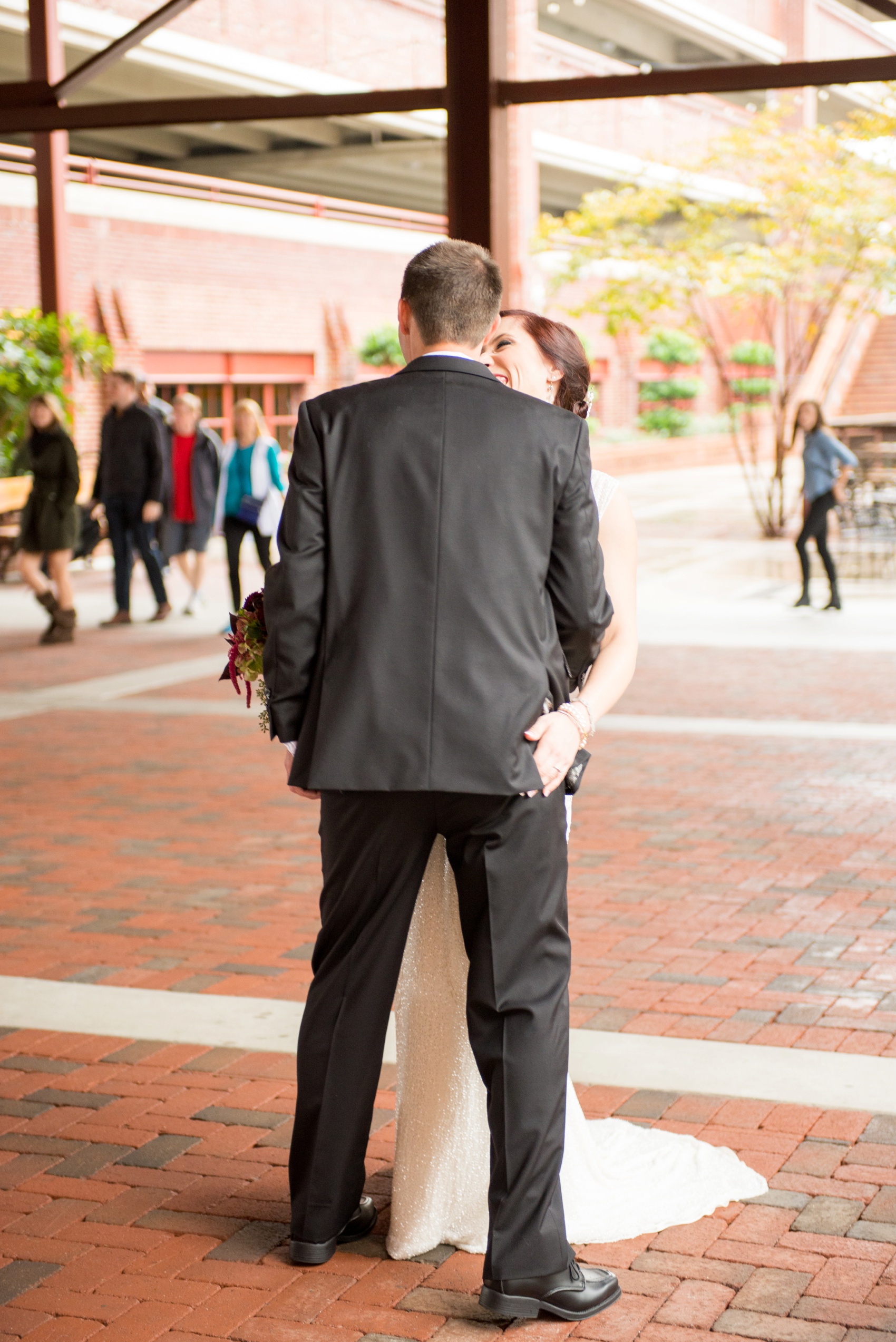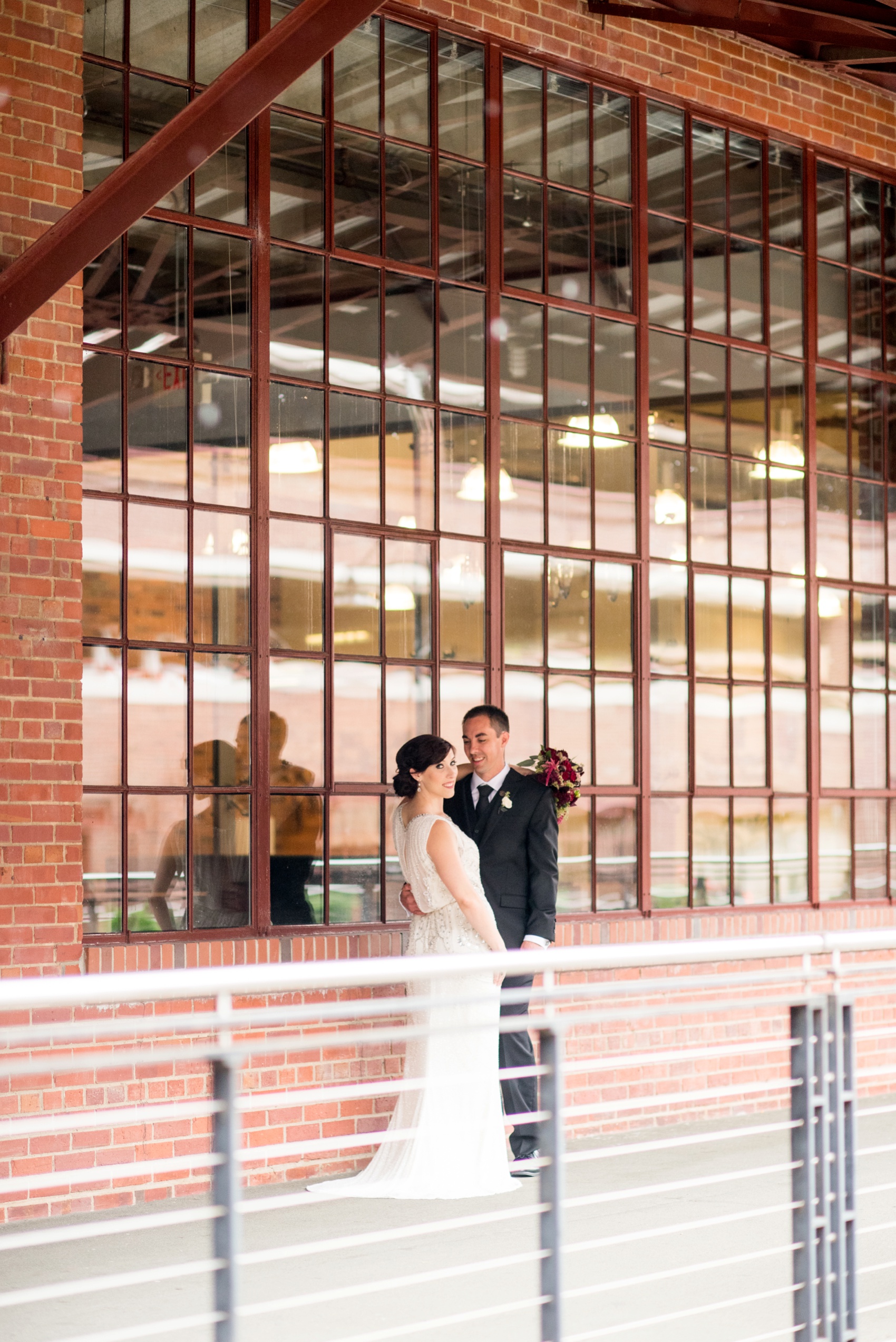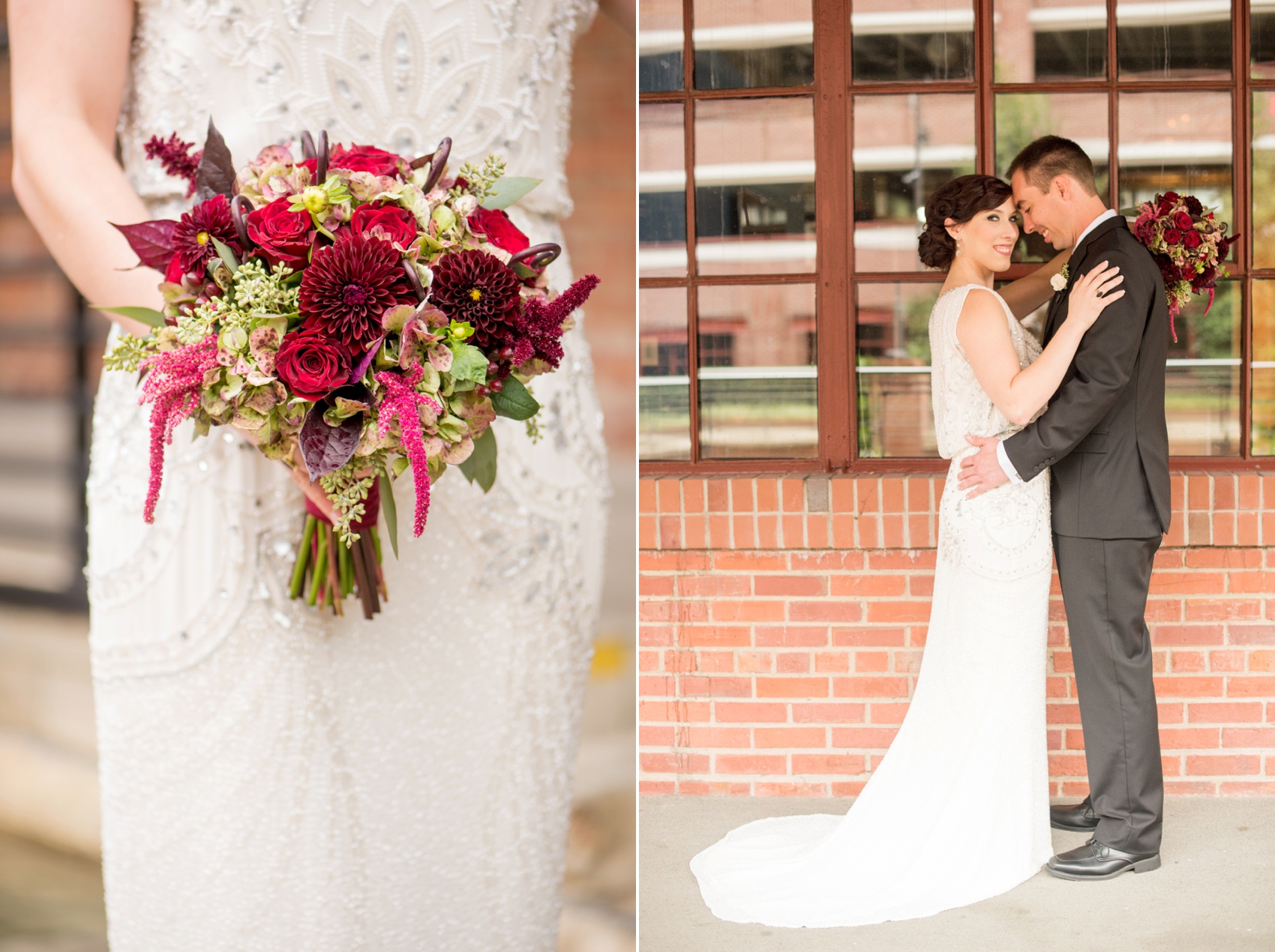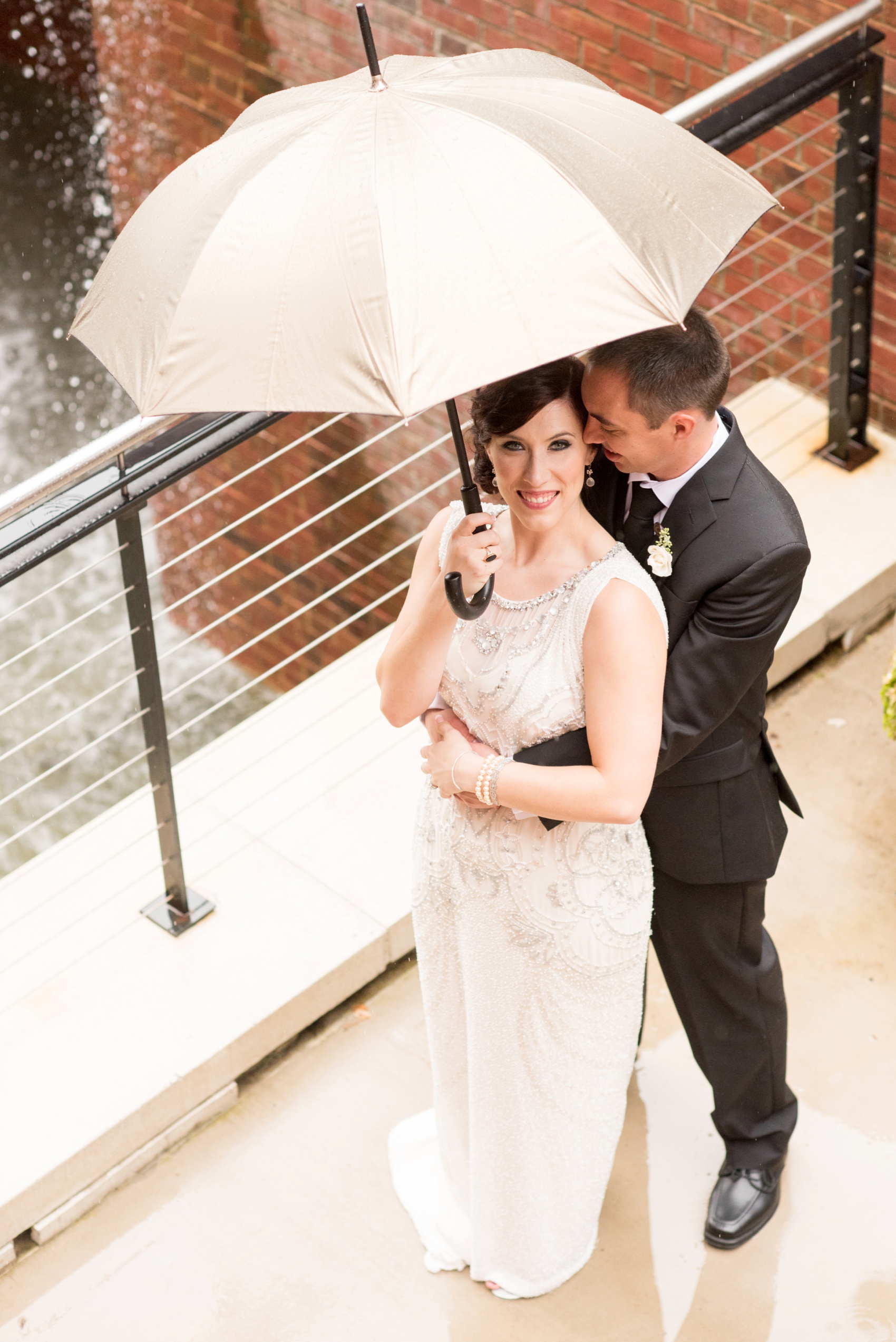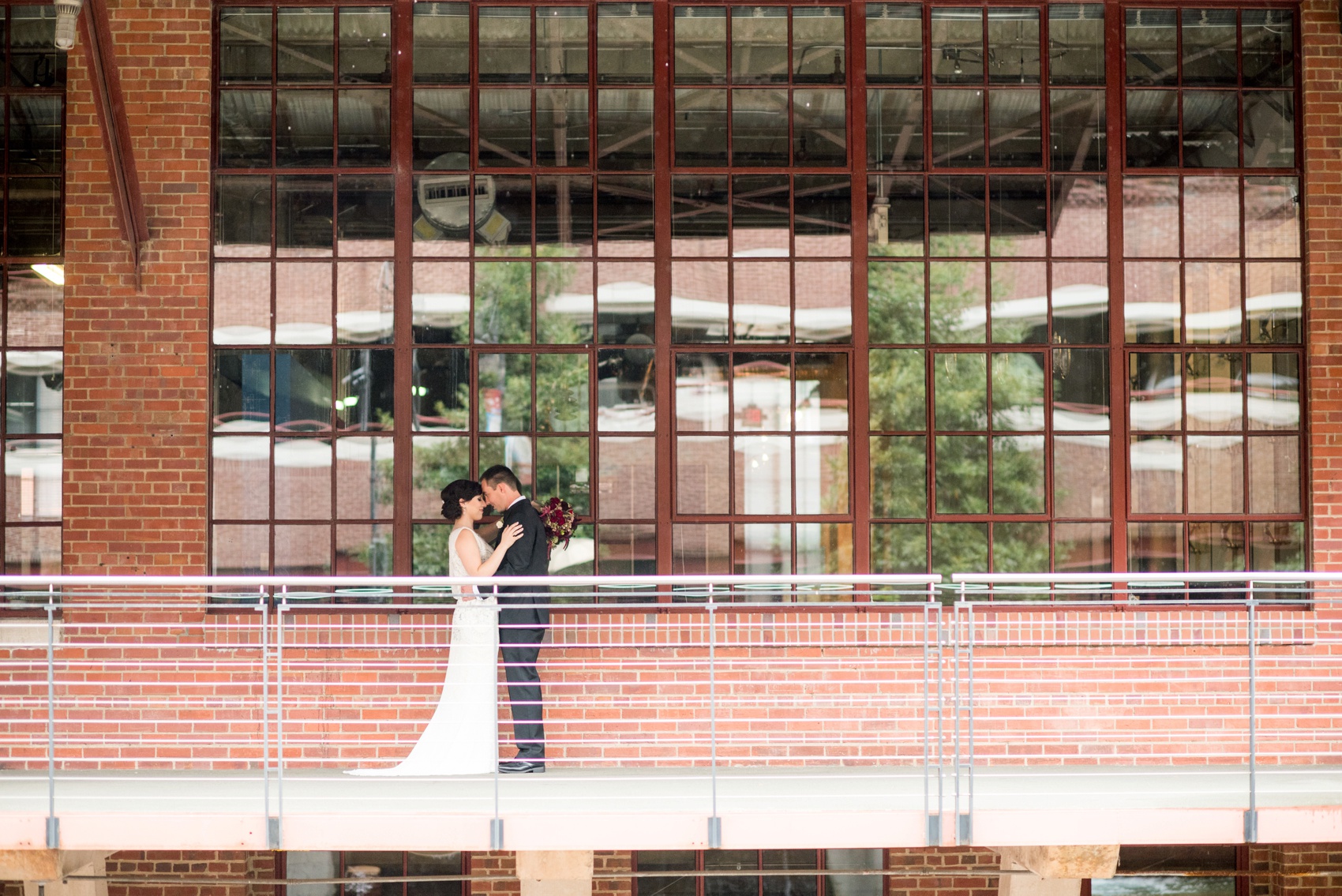 I LOVE this photo of Lacey! STUNNING.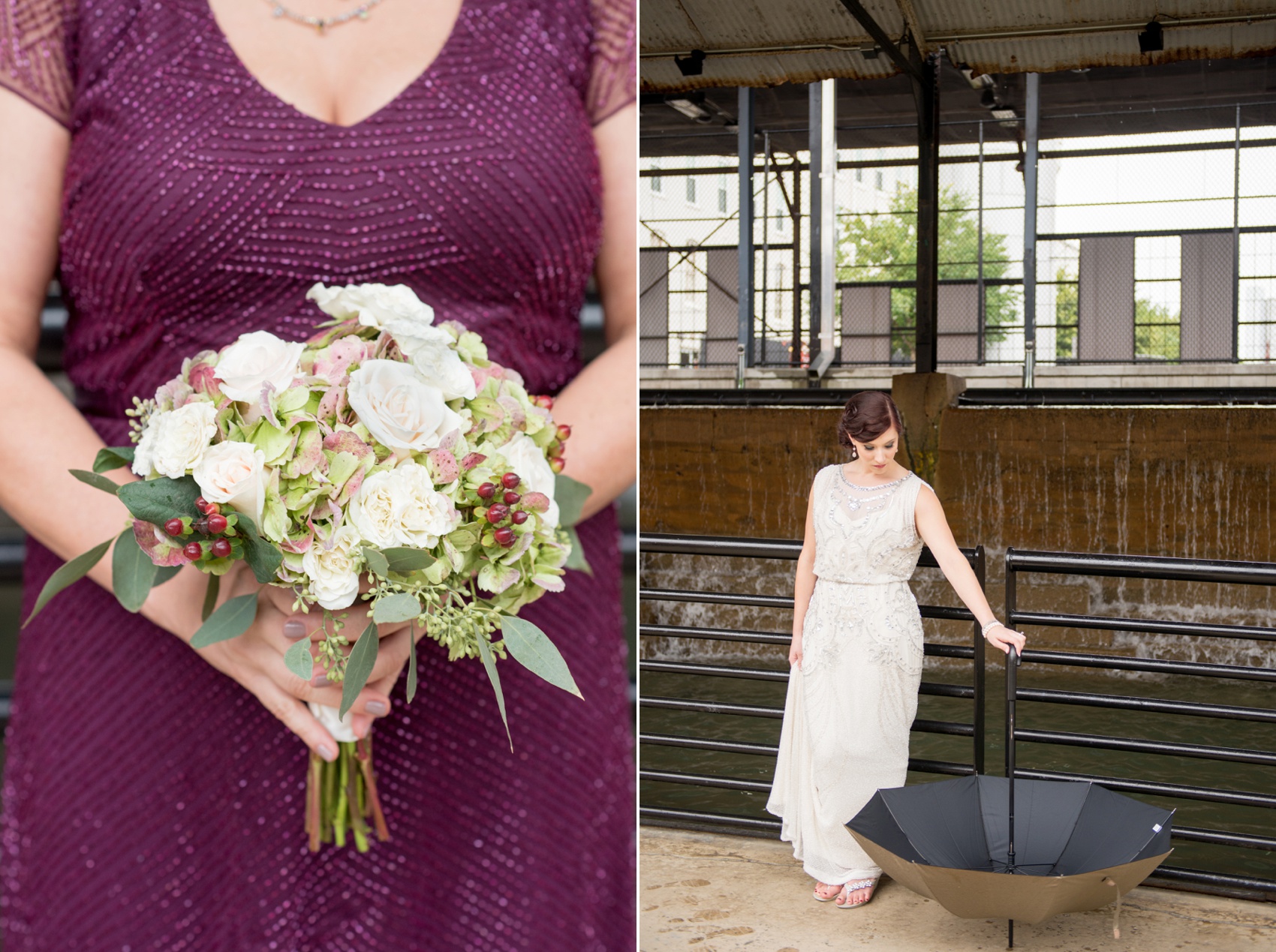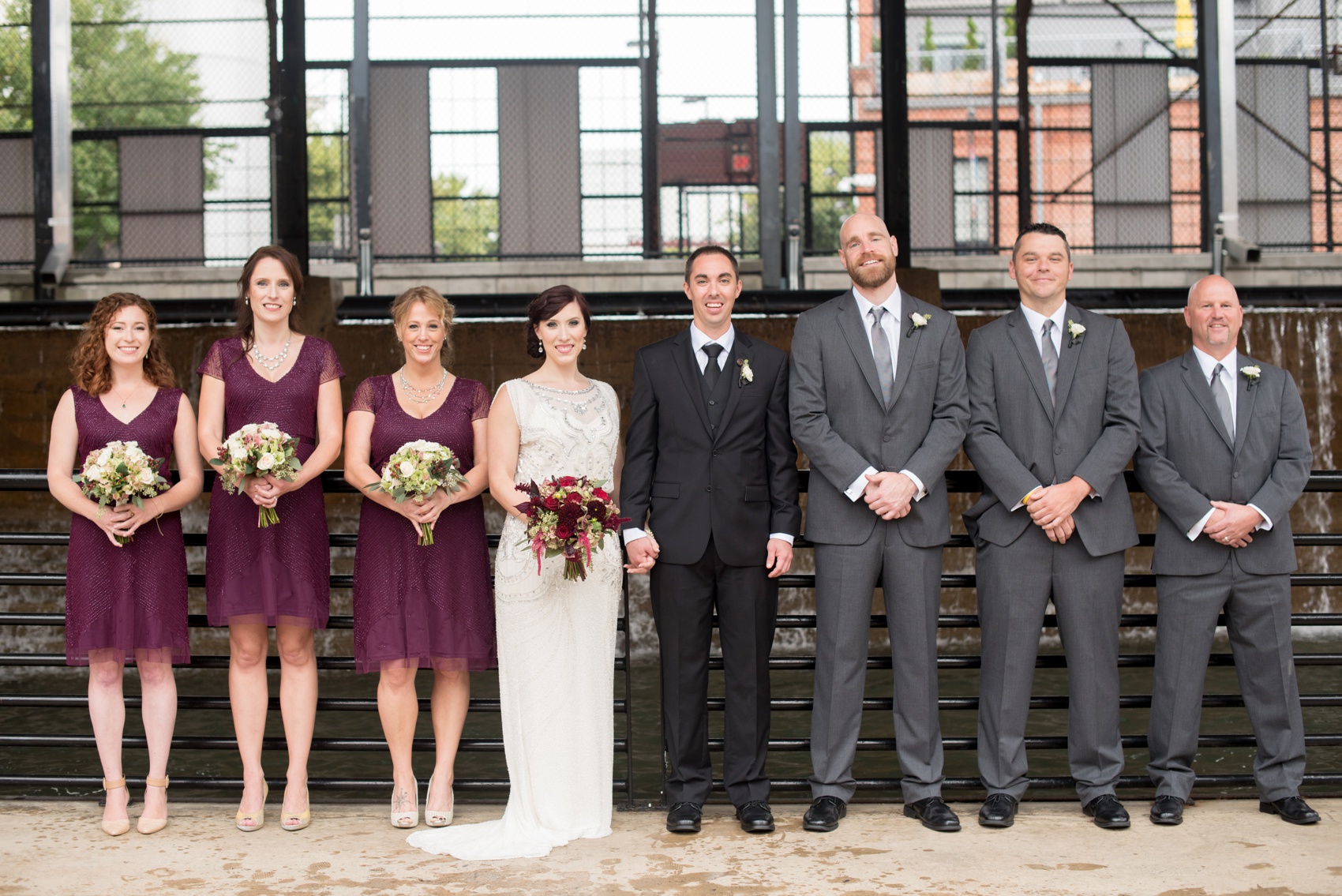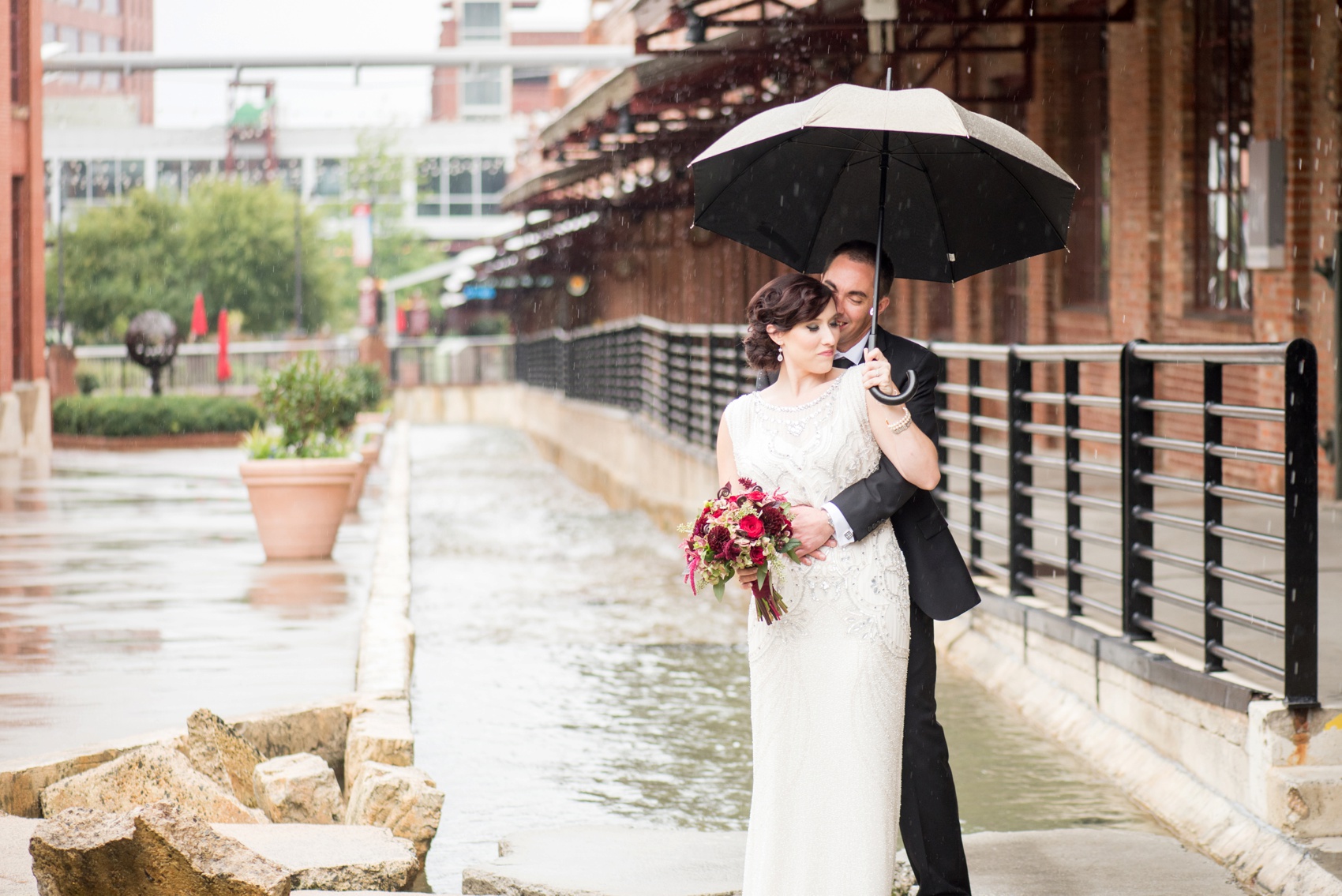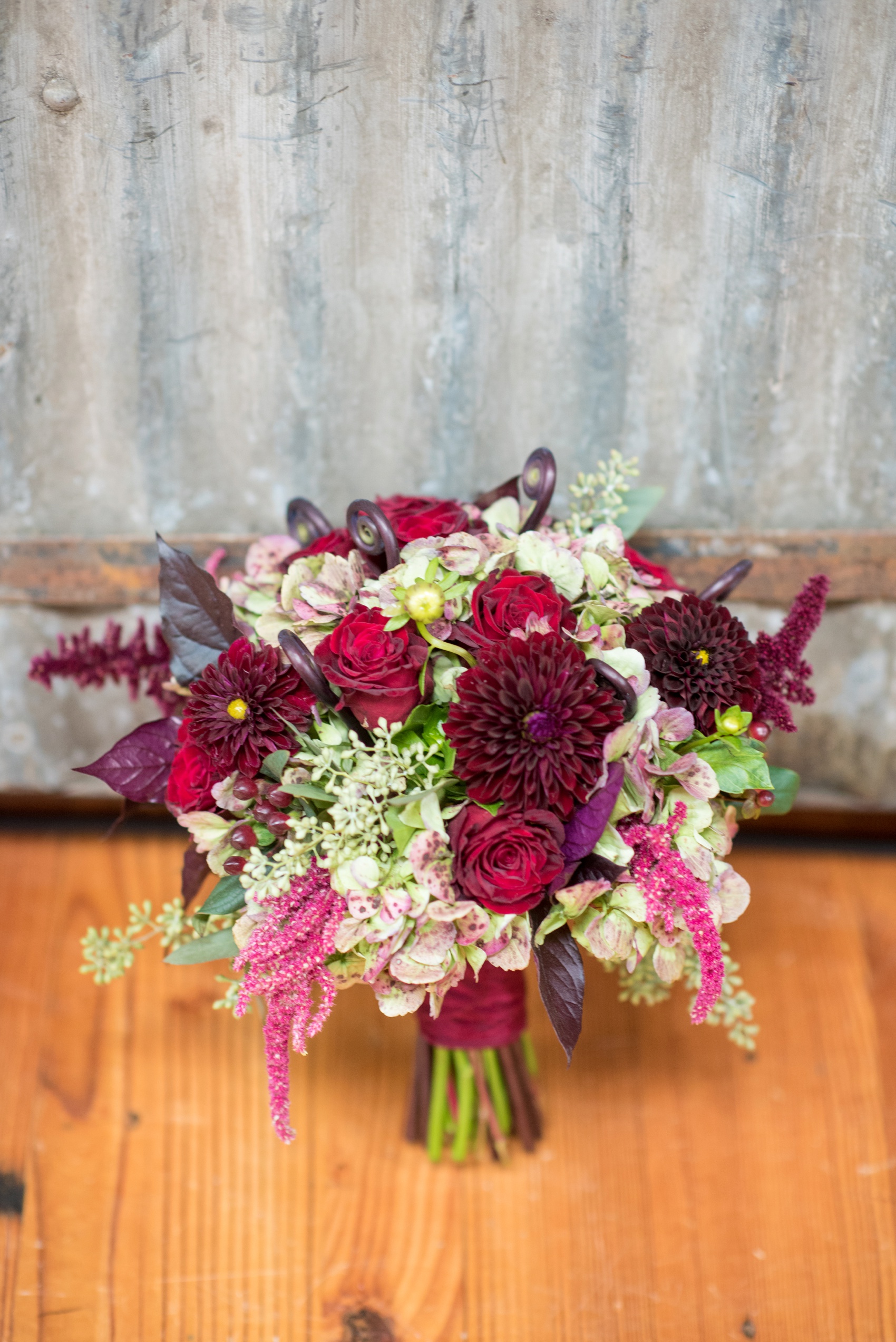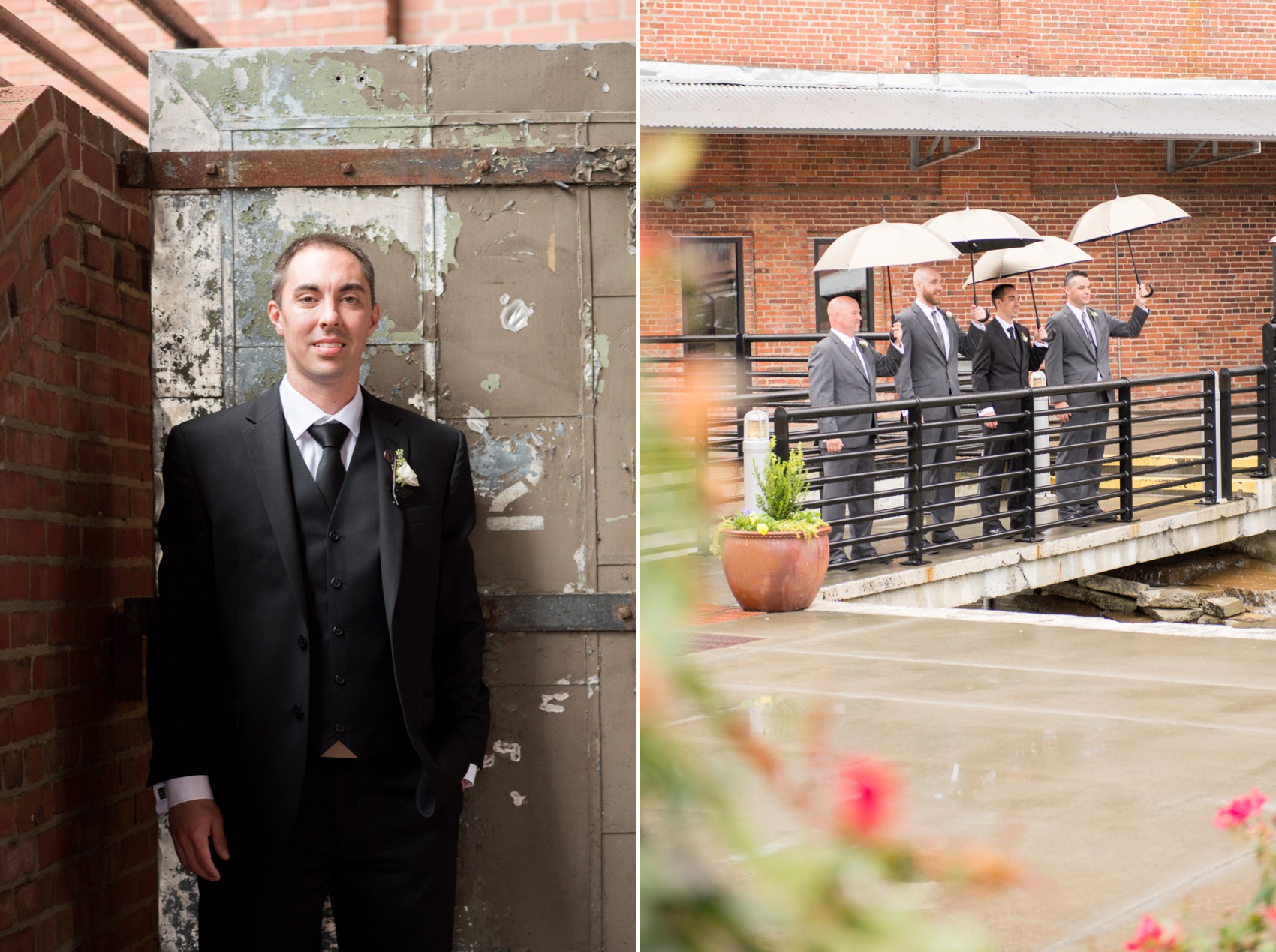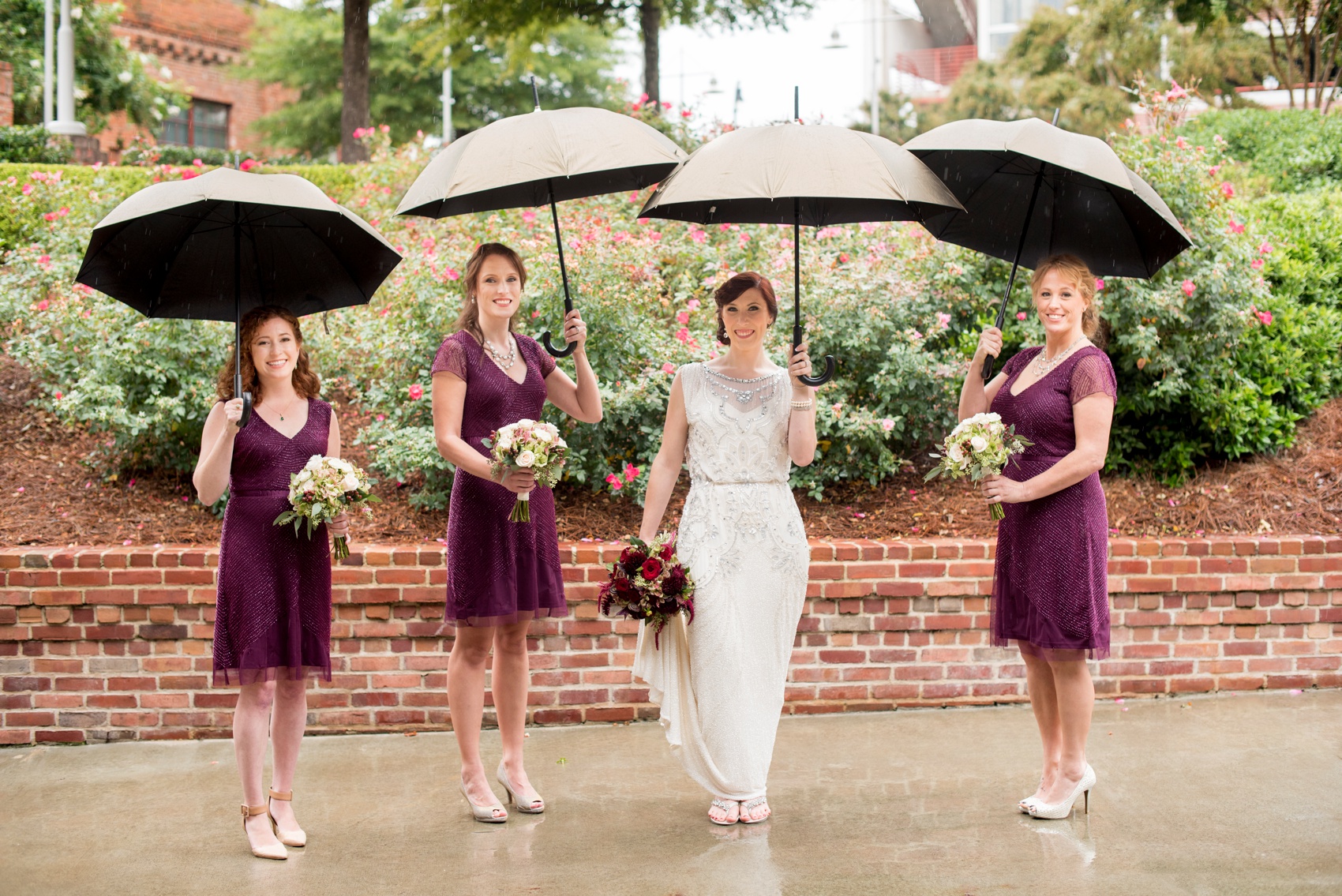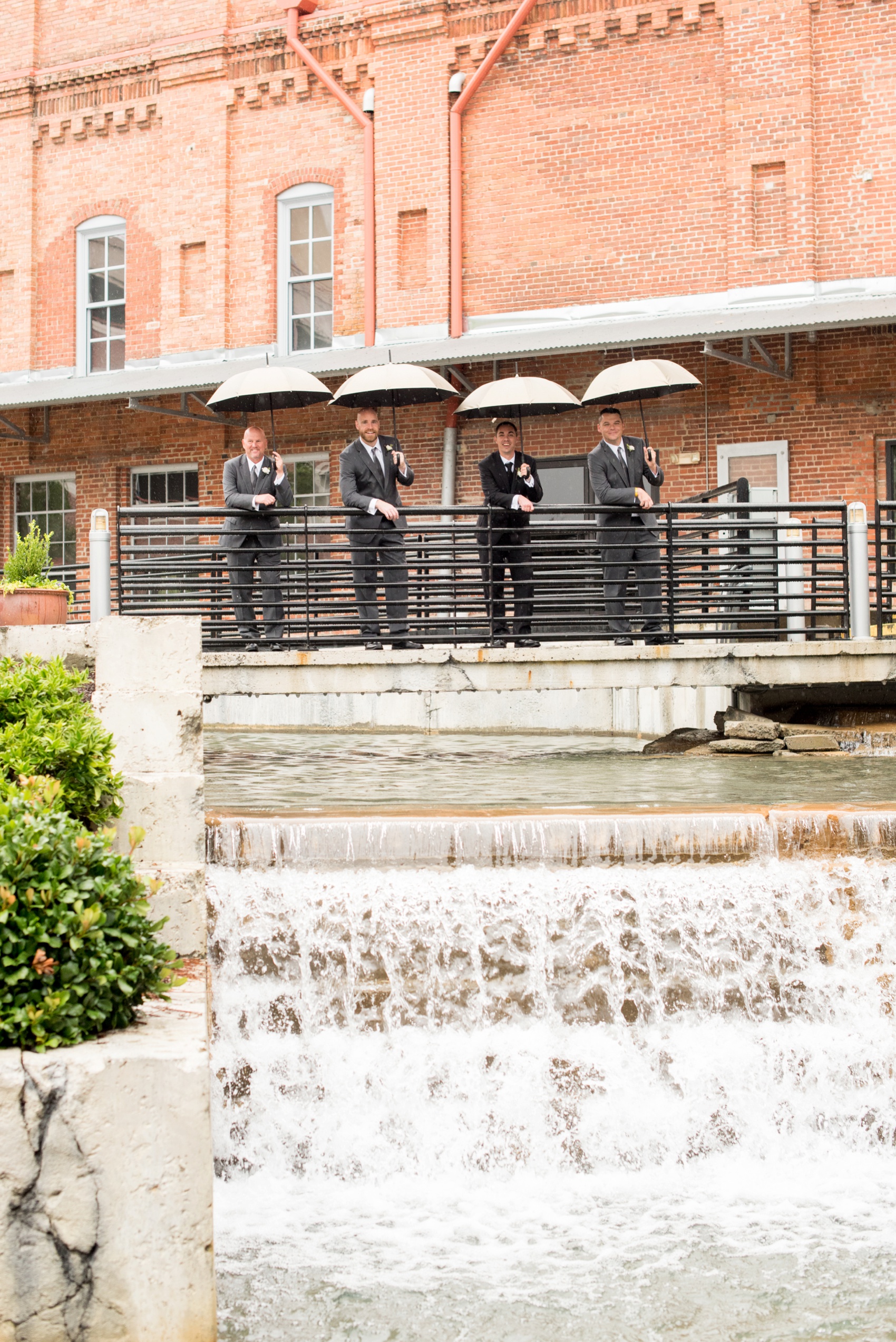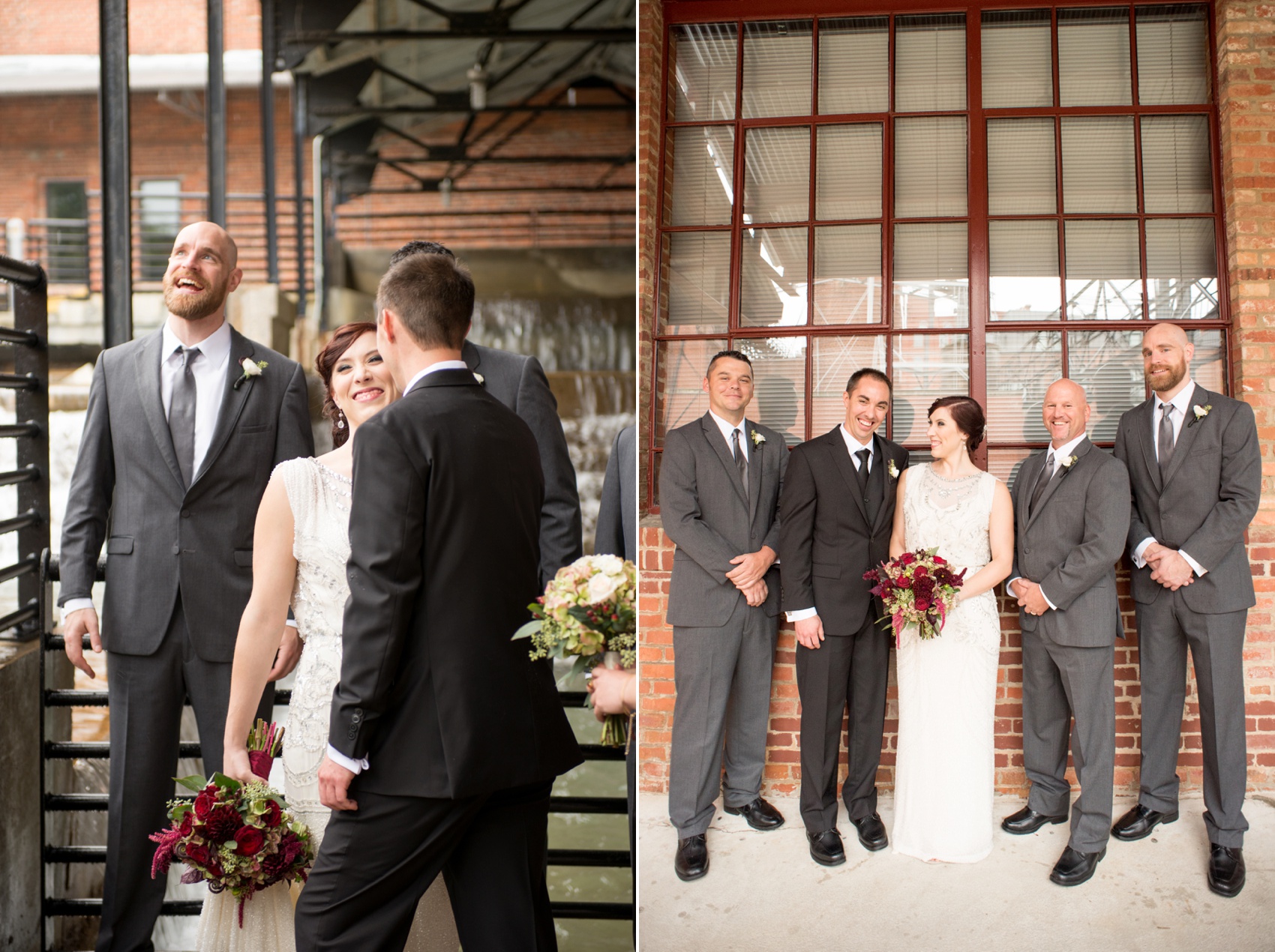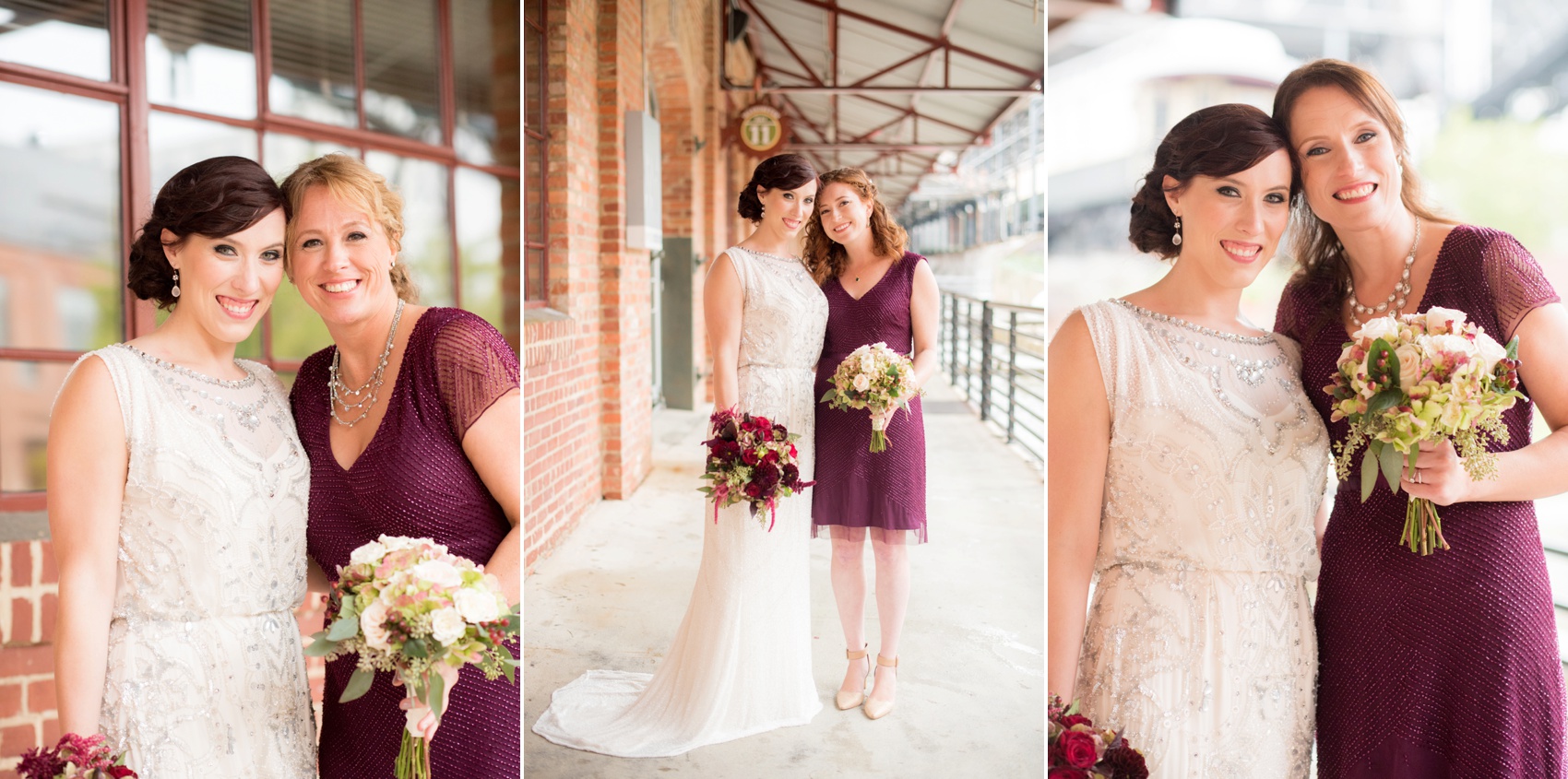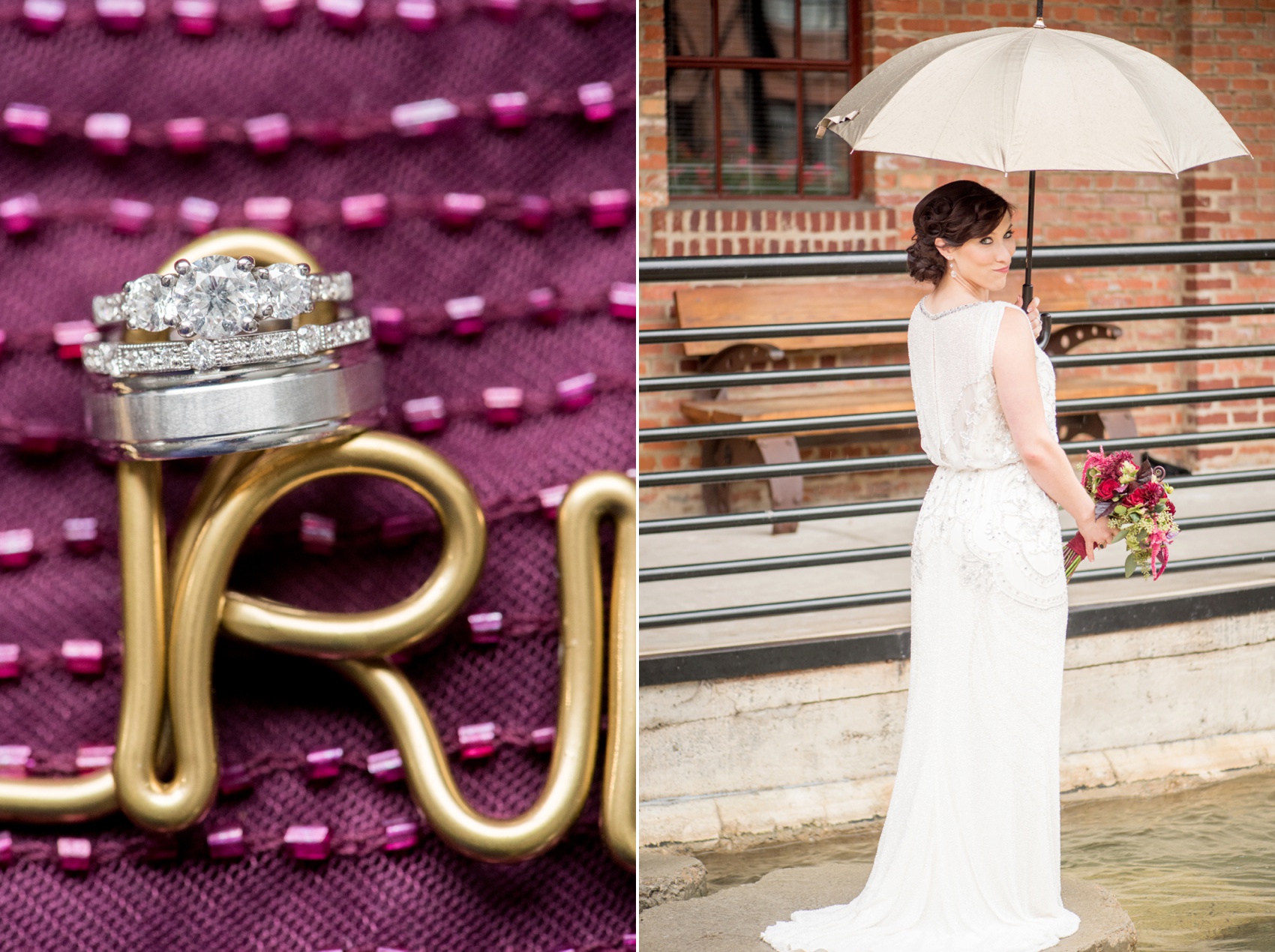 Alright you two…I think it's time to tie the knot, eh?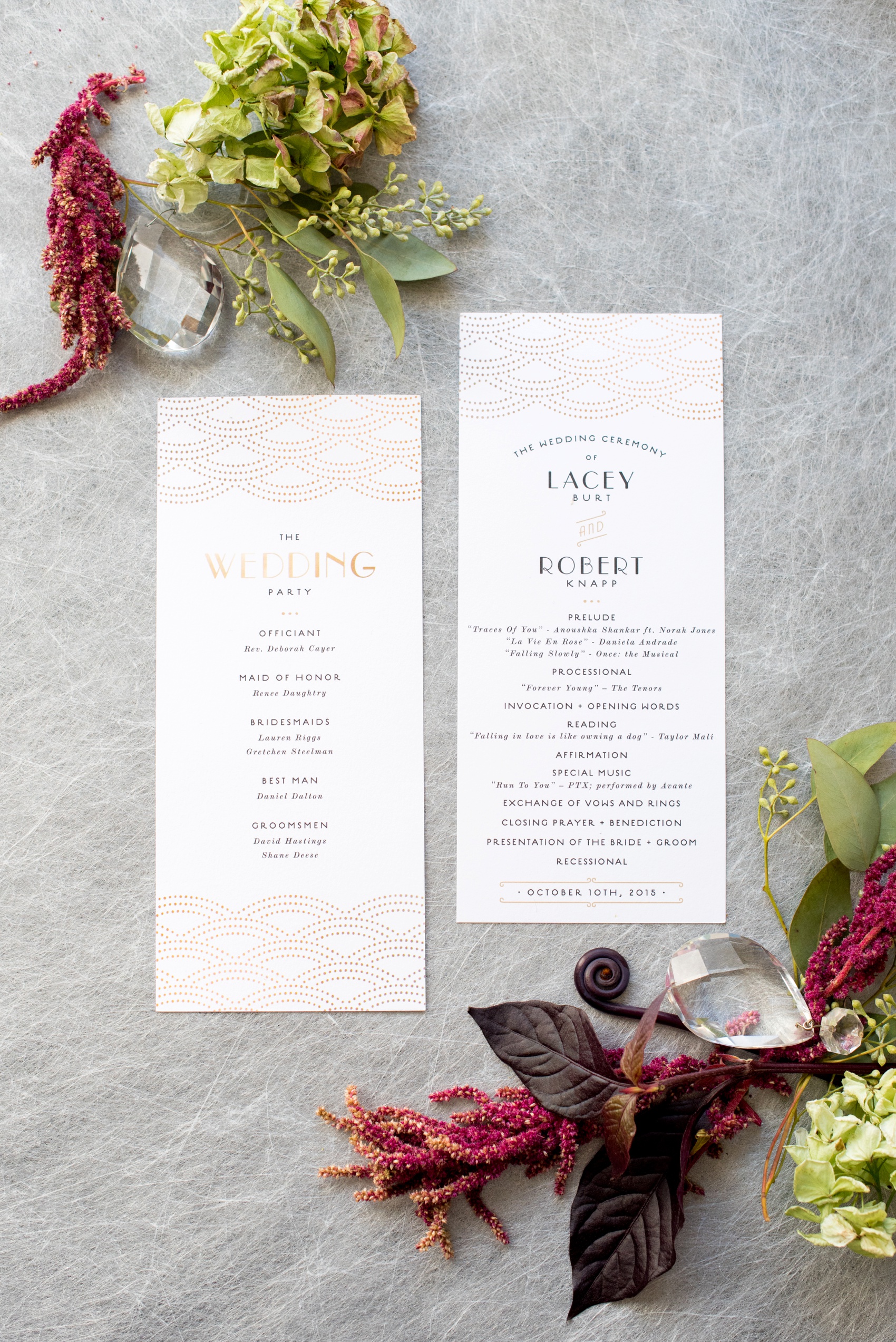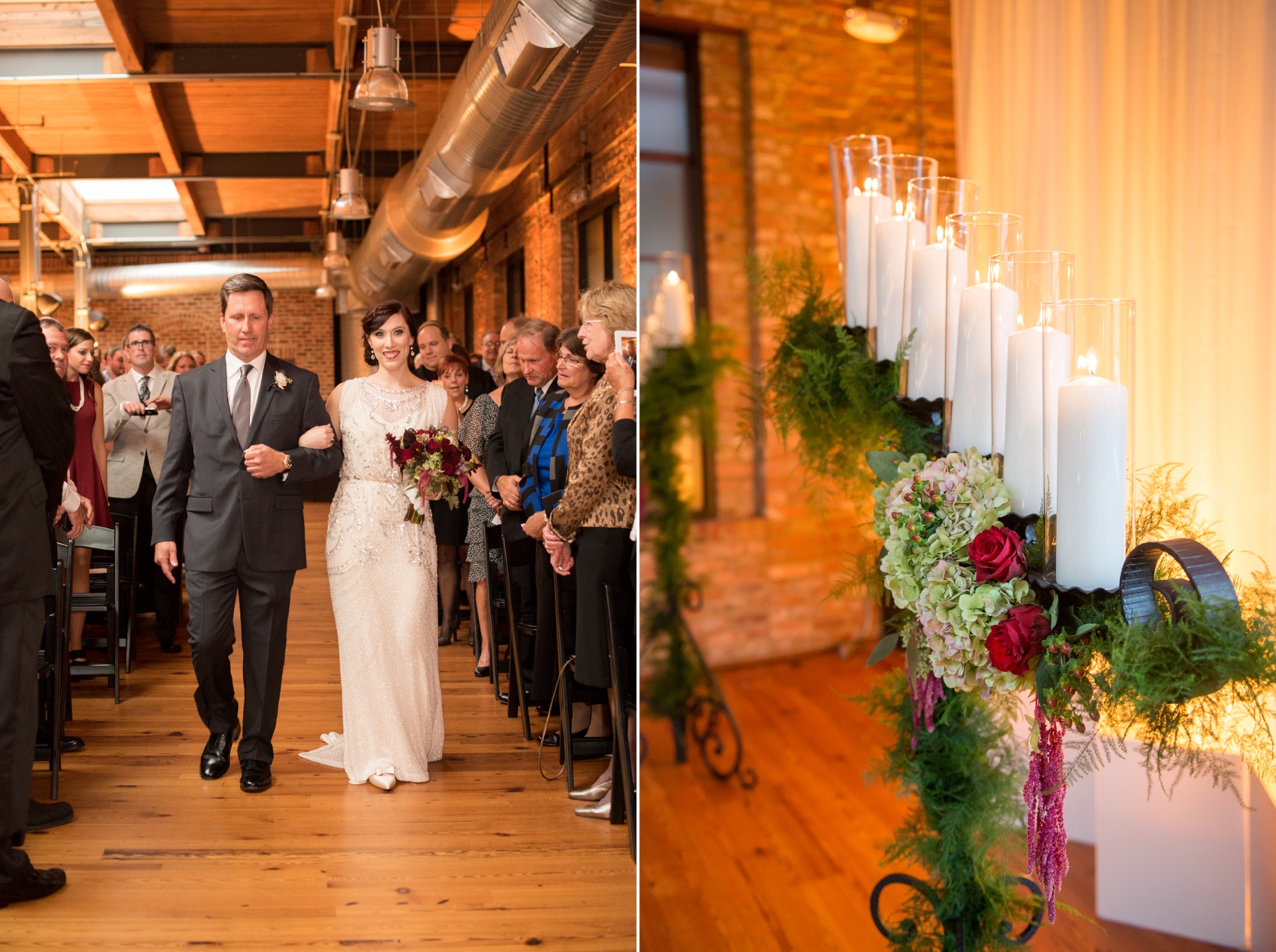 Their ceremony was highlighted by Robin and Lea, high-fiving each other when Lacey was "given away" to her groom and Lacey's a capella group, Avante, singing a song to the couple. It was so touching. I think everyone teared up.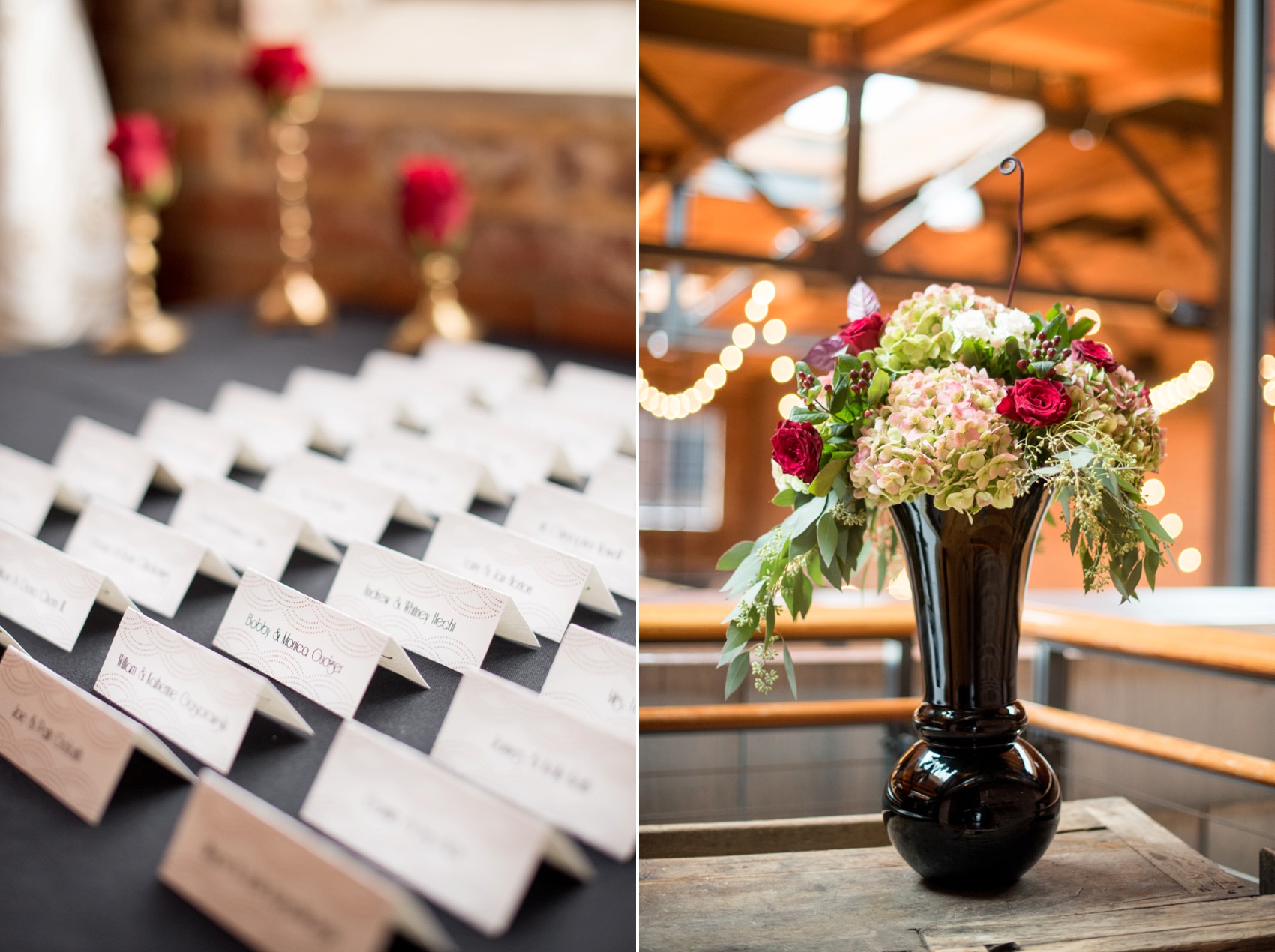 The reception room was jaw-droppingly incredible. I was nearly speechless. They had special lighting installed, black vases and candelabras to die for, and flowers spilling onto gold linen topped tables. I loved that their head table fit their best friends and wedding party and their family.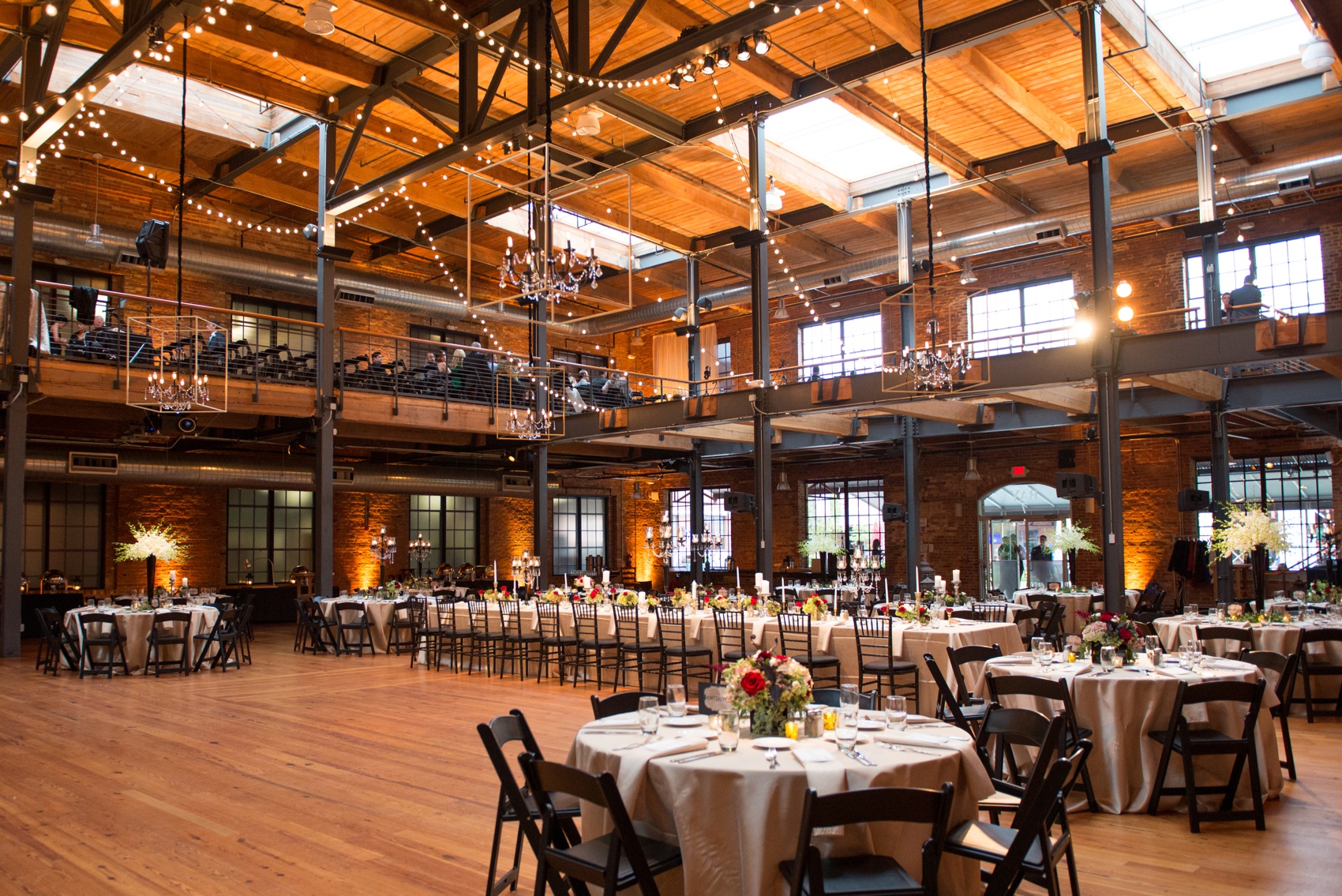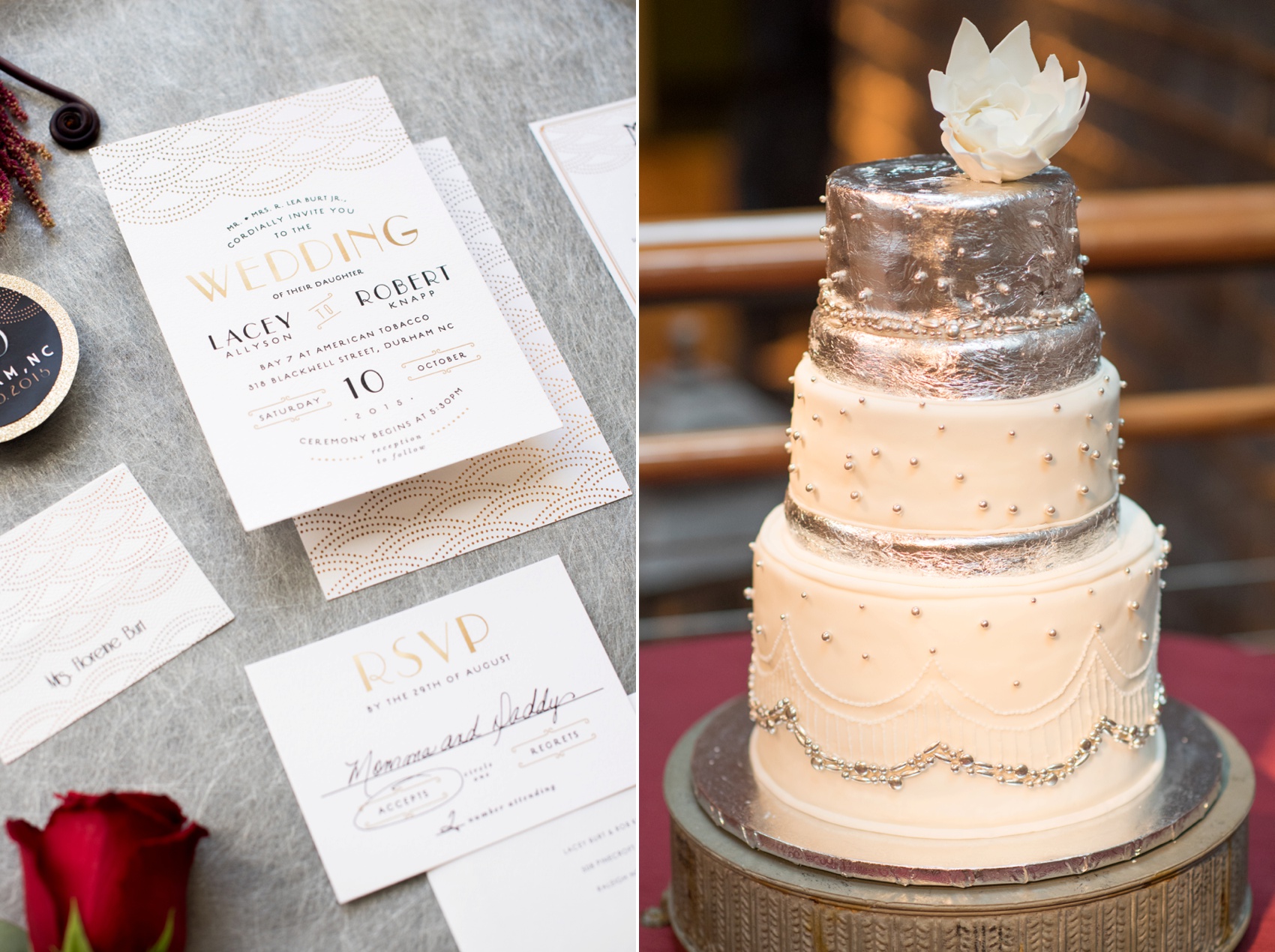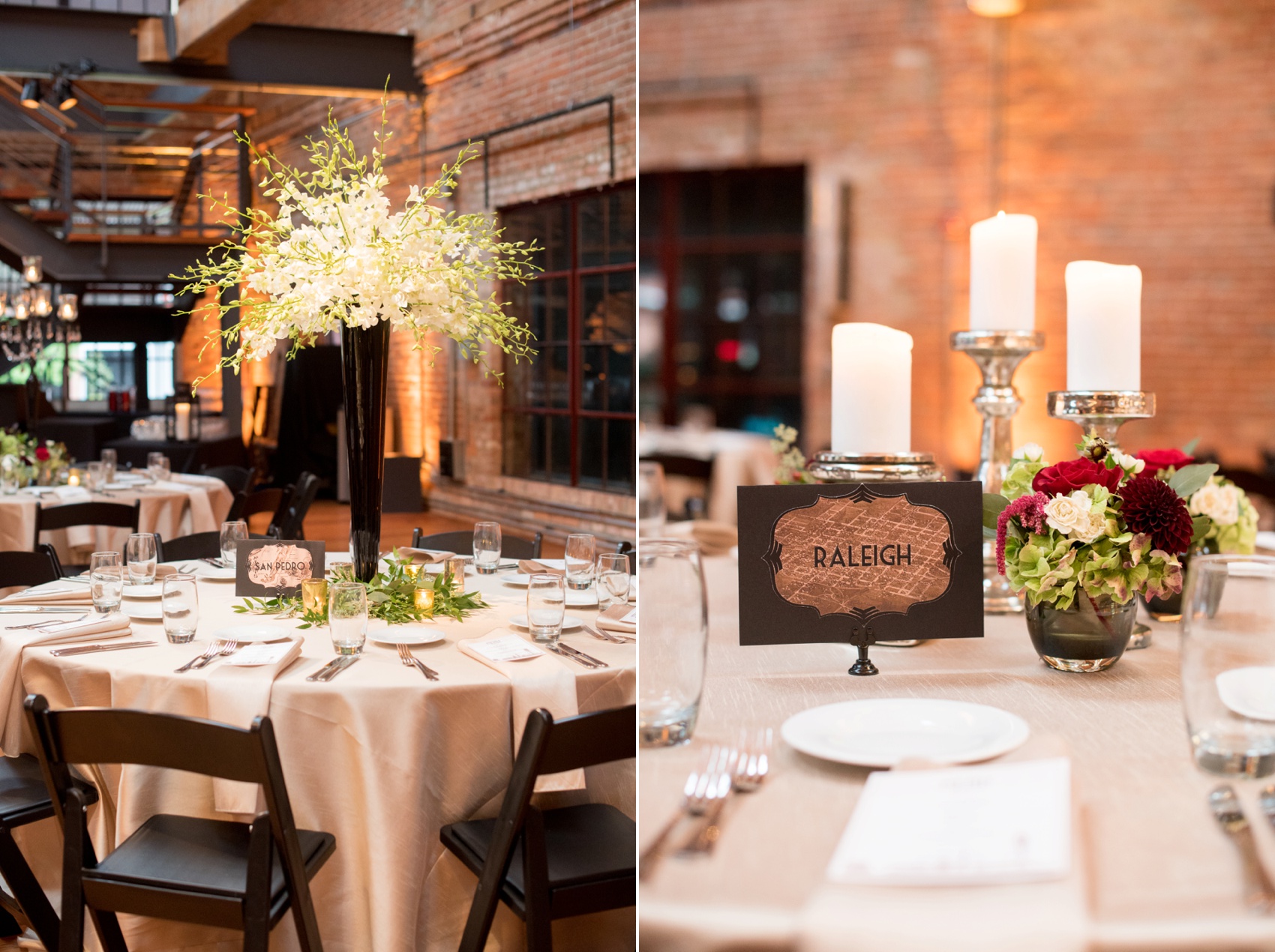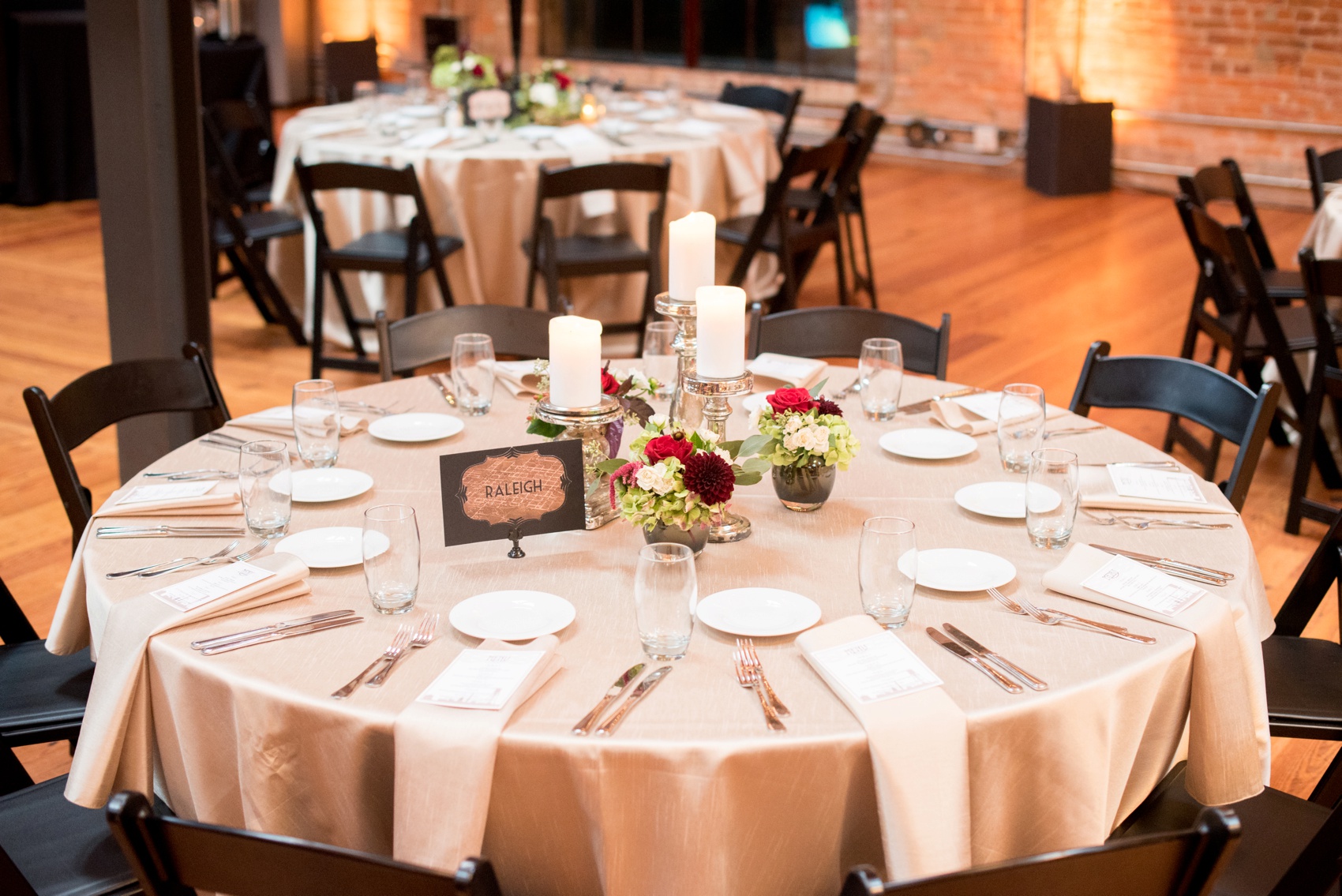 Can I get an amen for wonderful table identifiers in lieu of plain jane numbers? Hallelujah!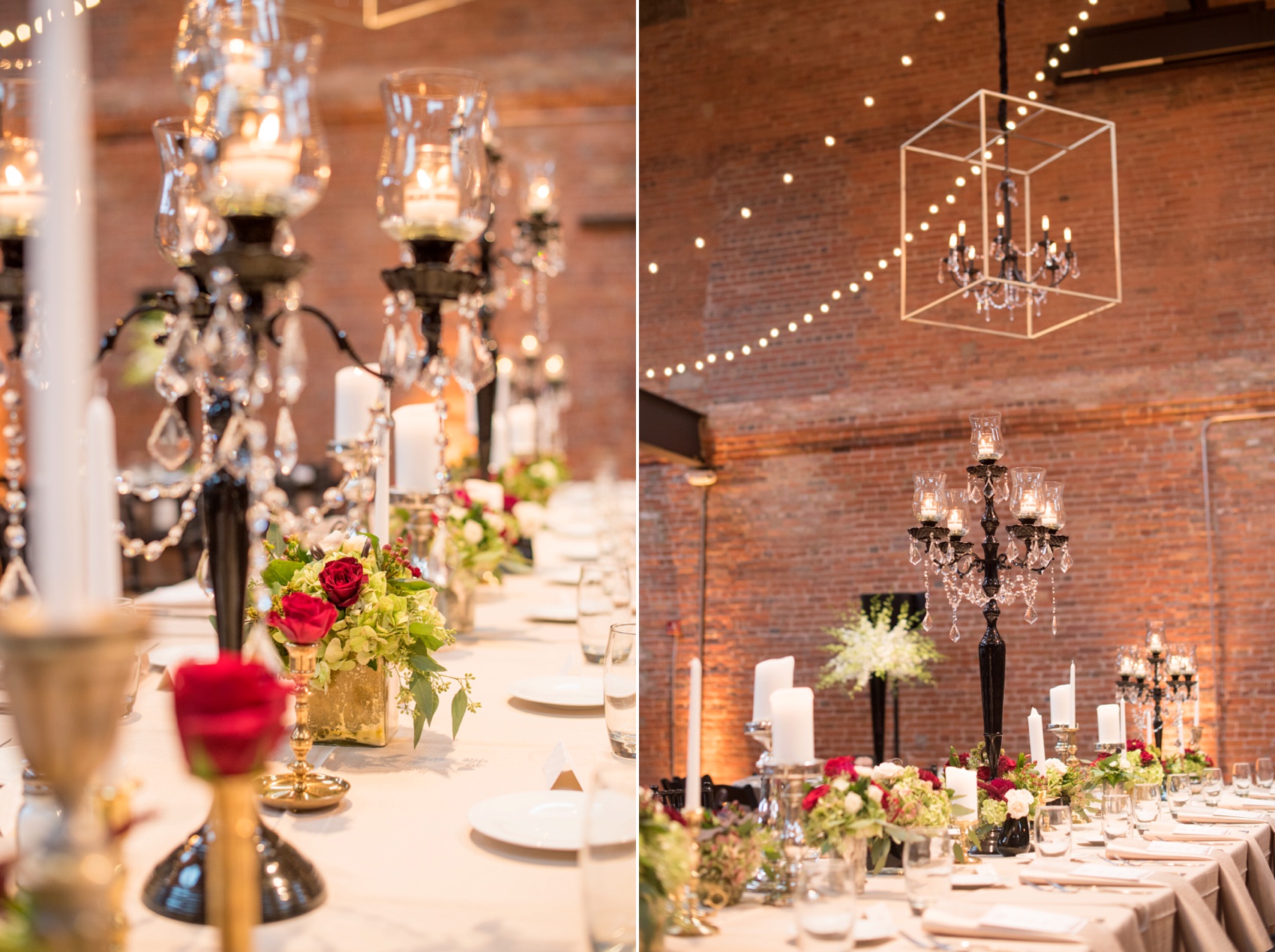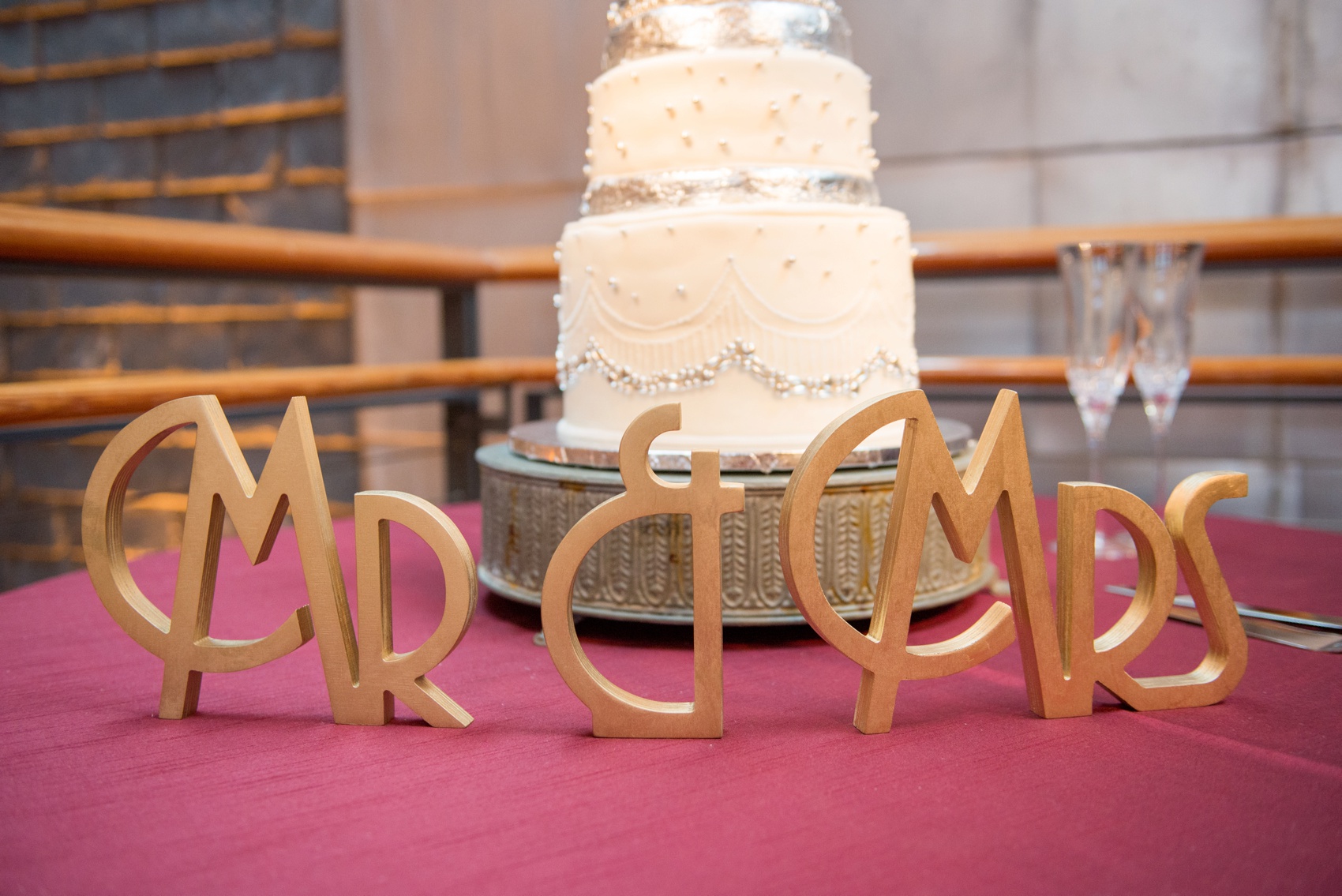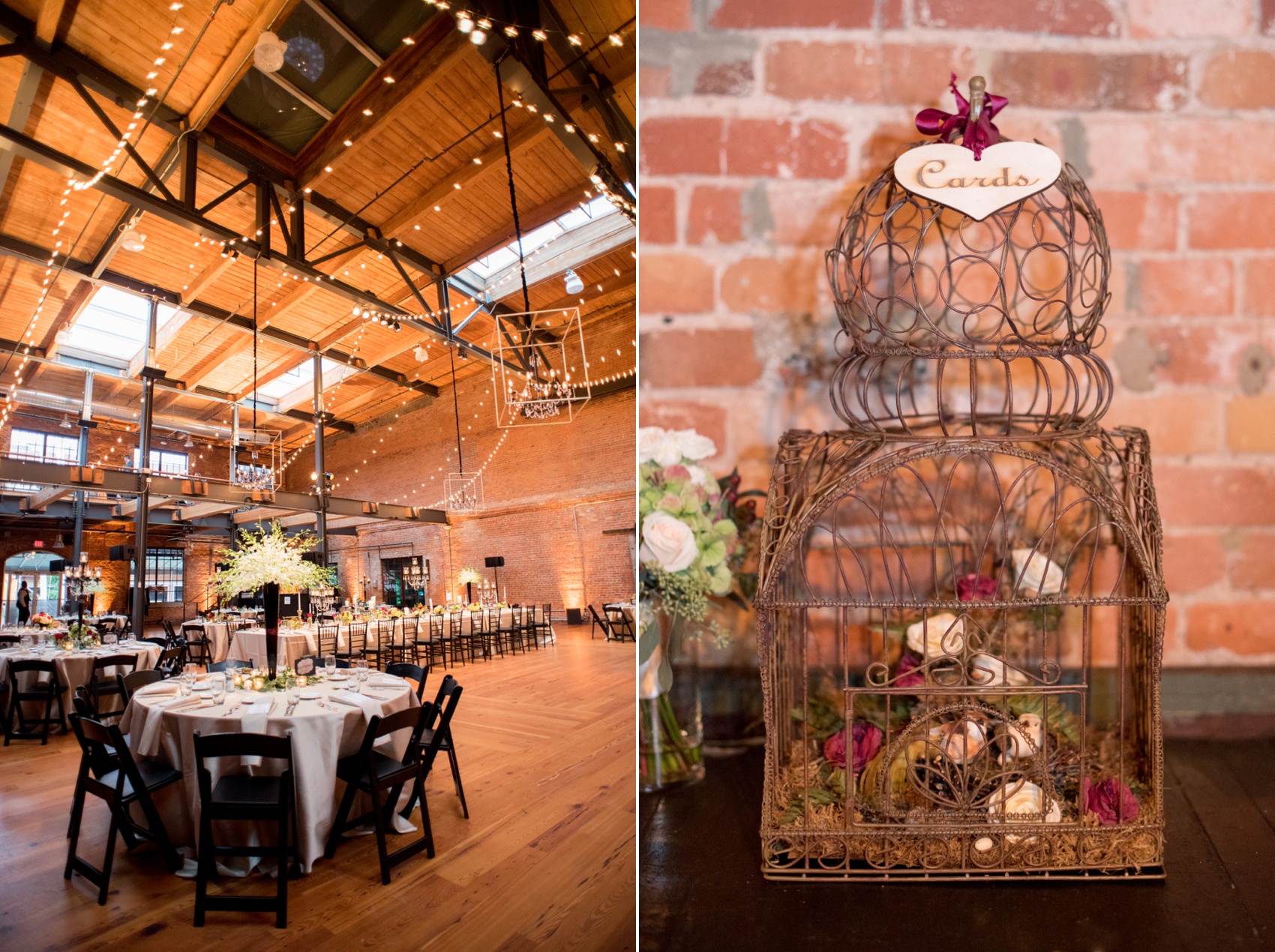 They had one of the greatest things at their cocktail hour I've ever seen – I will talk about this forever: board games. I mean, how genius is this? Why not sip an adult beverage over some Hungry Hippos or Jenga? I'm a multi-tasker, if nothing else. Seems my favorite guests at the wedding were too! 


As the cocktail hour was well under way upstairs, an artist Robin hired for their wedding, as a surprise to the newlyweds, was setting the foundation for a live painting downstairs. He painted this from start to finish from the ceremony to the last dance at the reception. It was such a highlight and so great to see guests watch him throughout the evening and talk to him about his craft.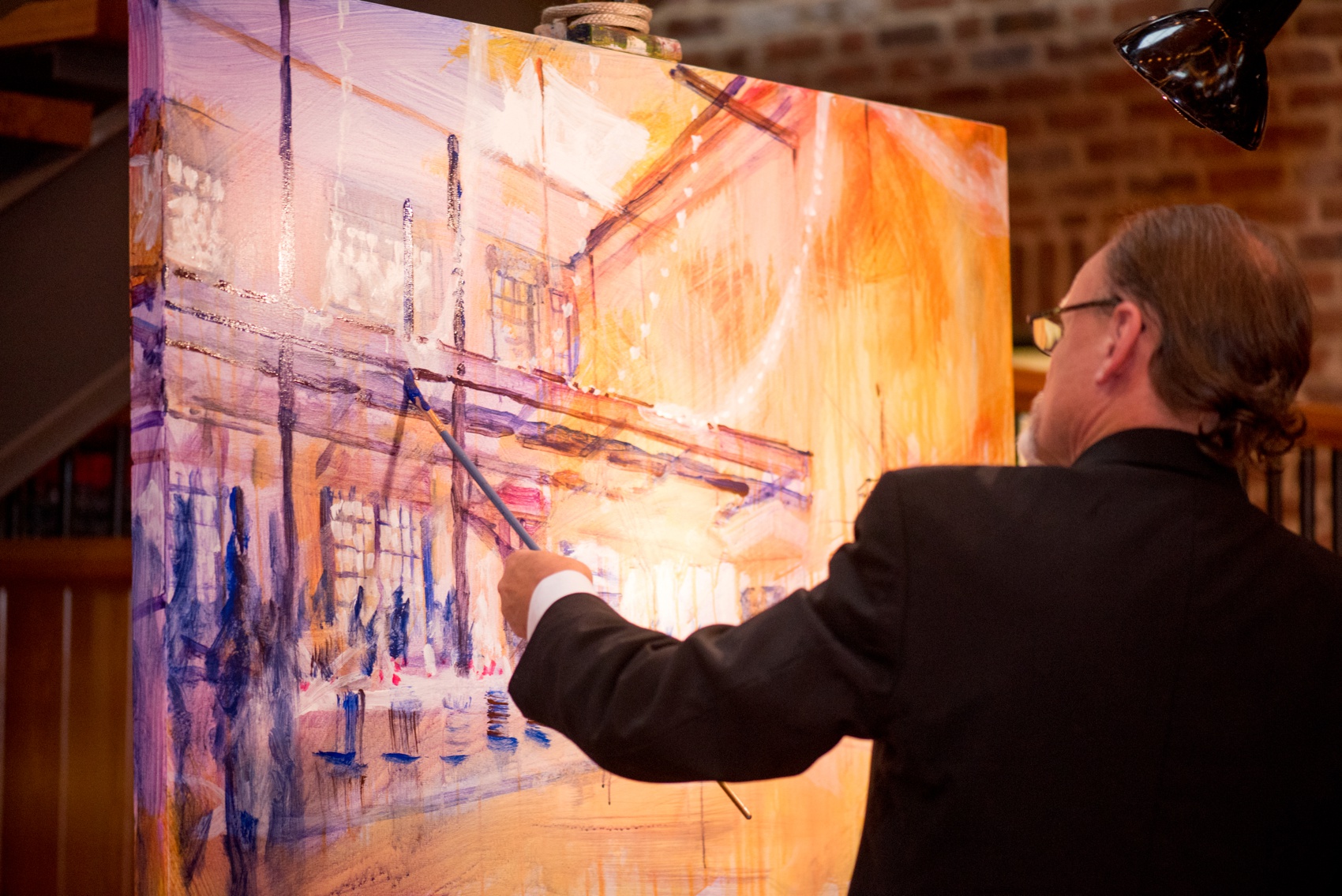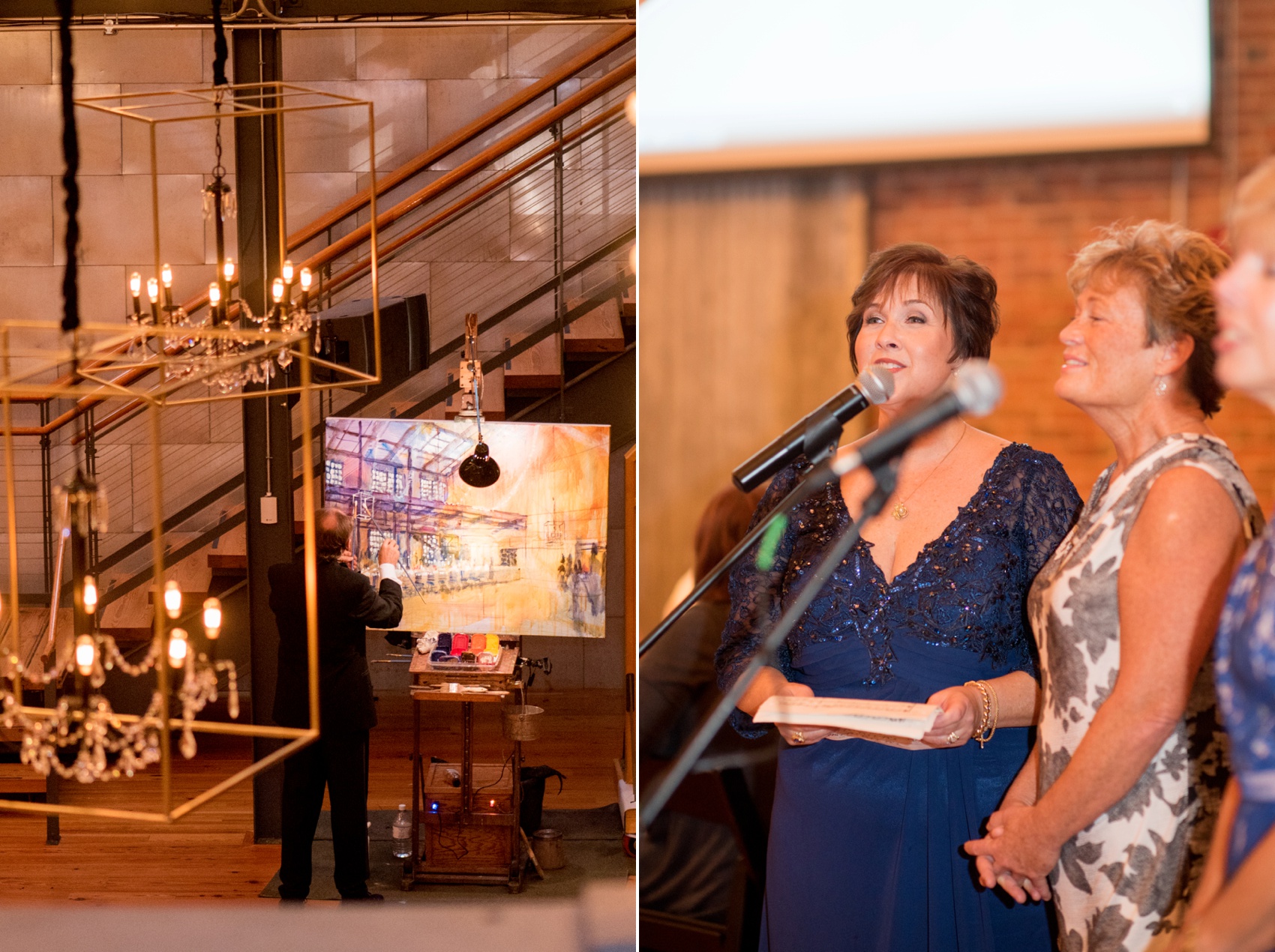 Highlight alerts: Lacey and Rob's photo montage of growing up from childhood and their time together as a couple, with her mother's a capella group singing a live song in the background. Does the talent in this family end?! I hope not; I think not!
Ready for this, because Rob had no idea! Lacey and Rob chose "Feels like Home" as their first dance song. See Rob's face below as shock came over him when he heard his wife's voice recorded singing the song. He had no idea she did this special treat for him. I LOVE a good surprise!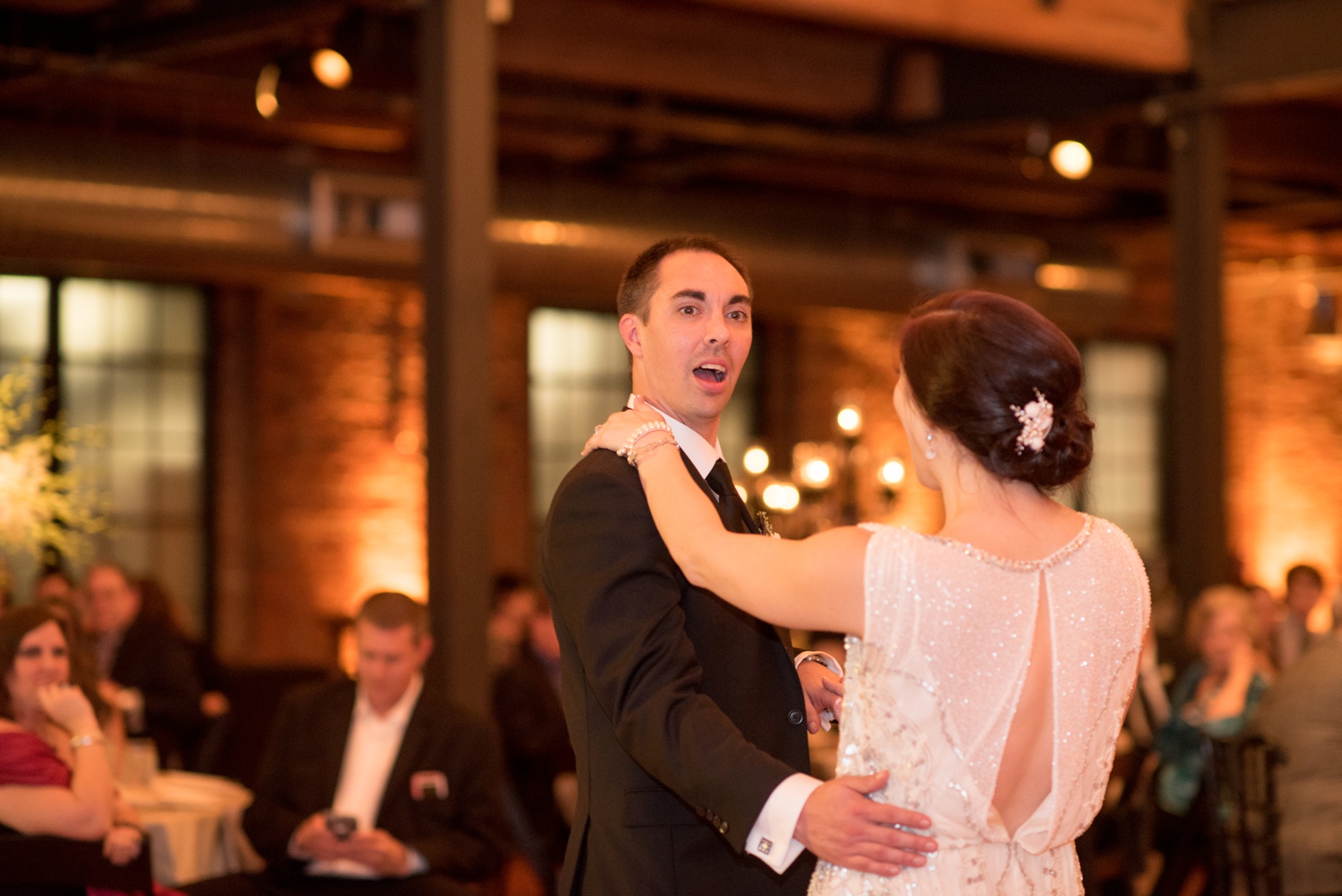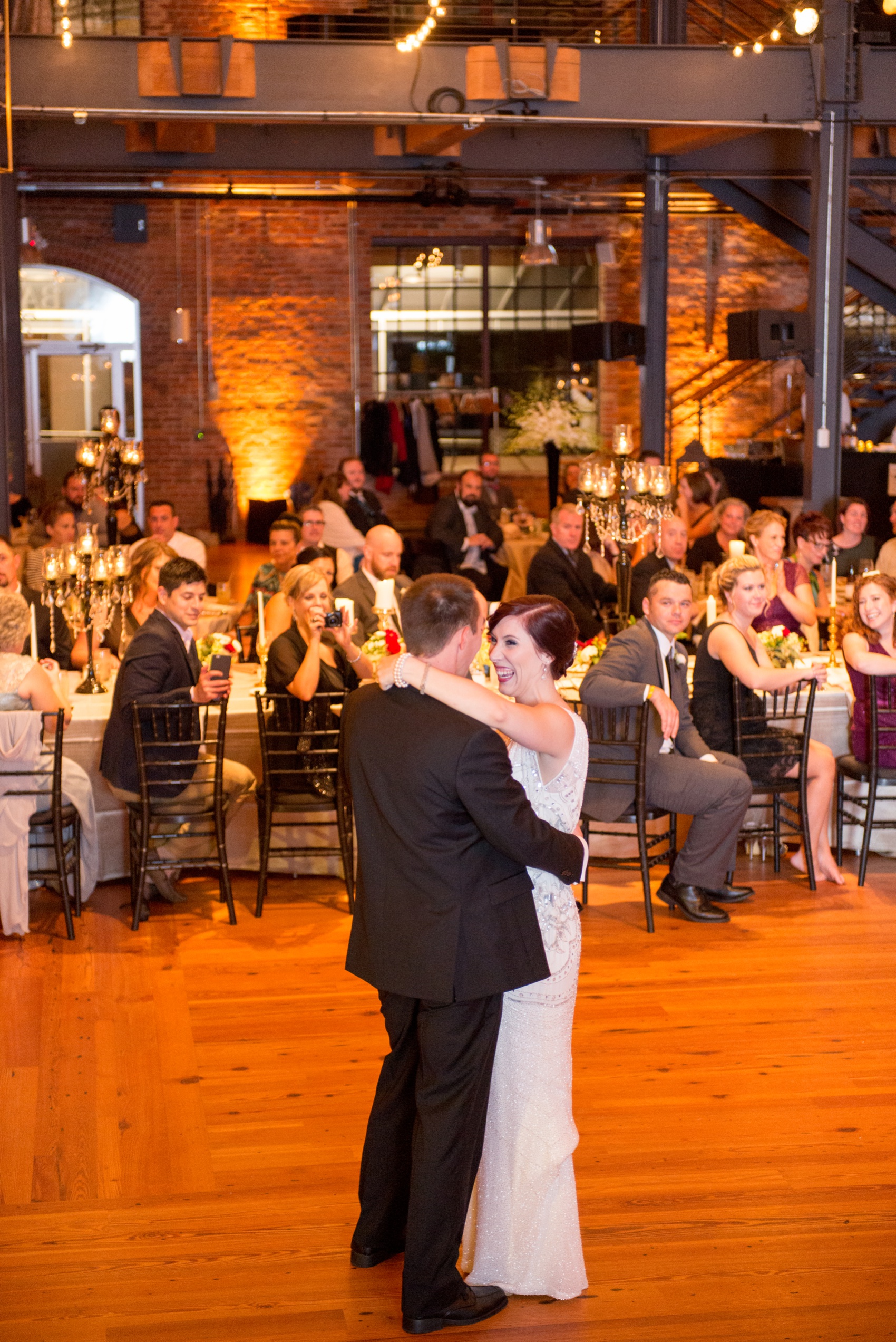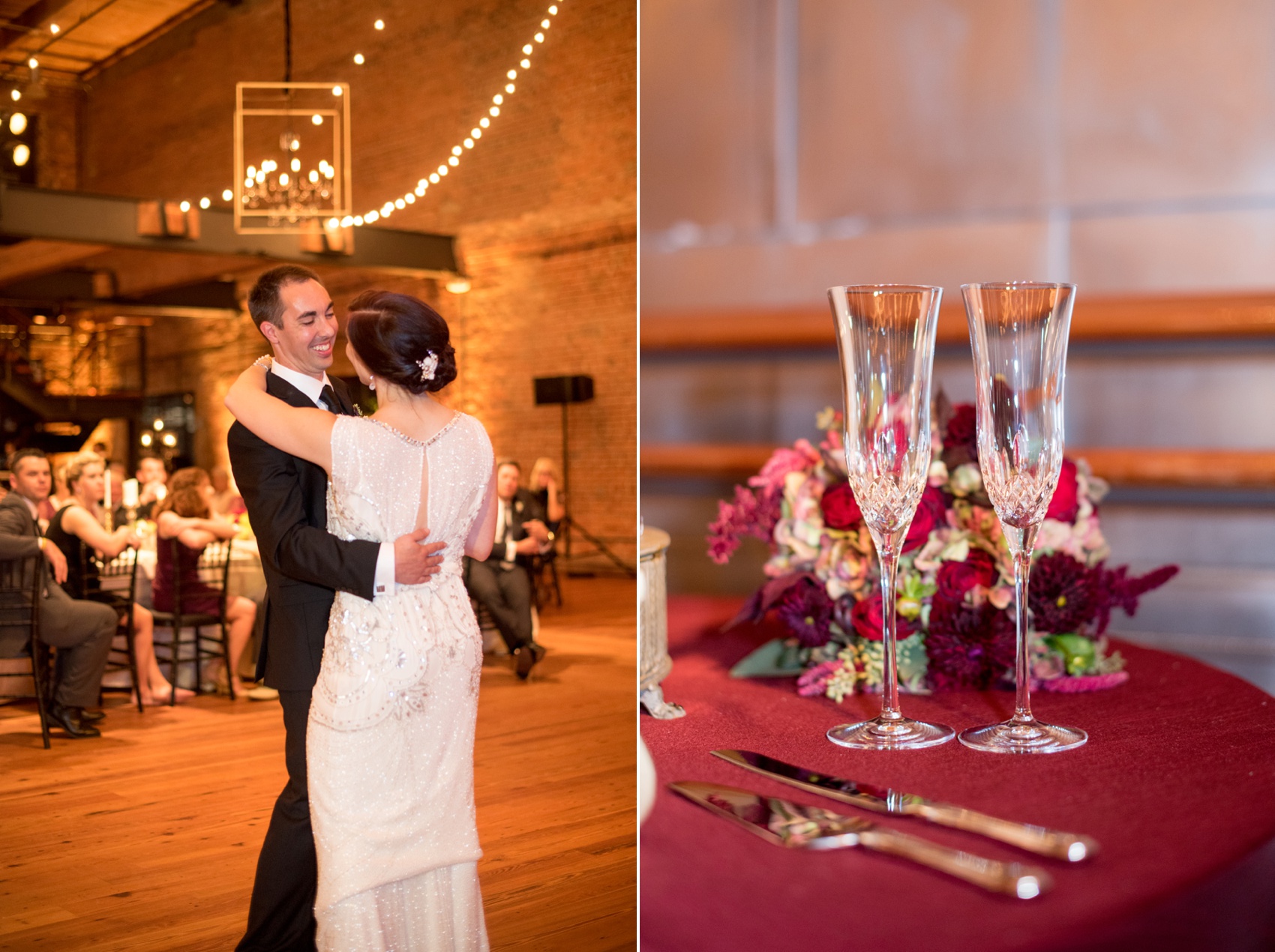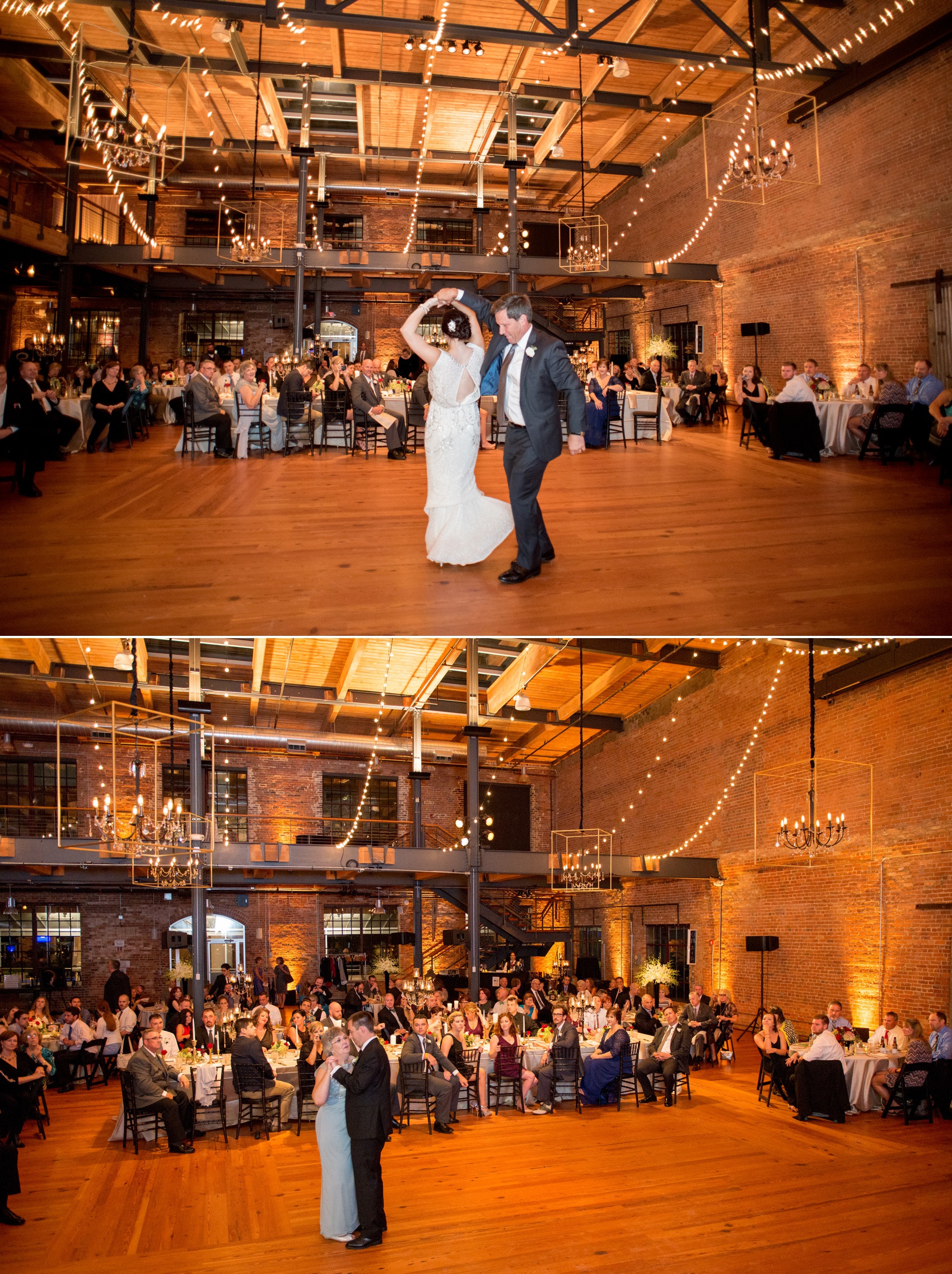 Both parent dances were super sweet, and I loved that Lacey and her dad, Lea, choreographed theirs. Later on Rob's dad wasn't to be outdone by his son's dance moves centerstage and the two participated in a friendly dance-off!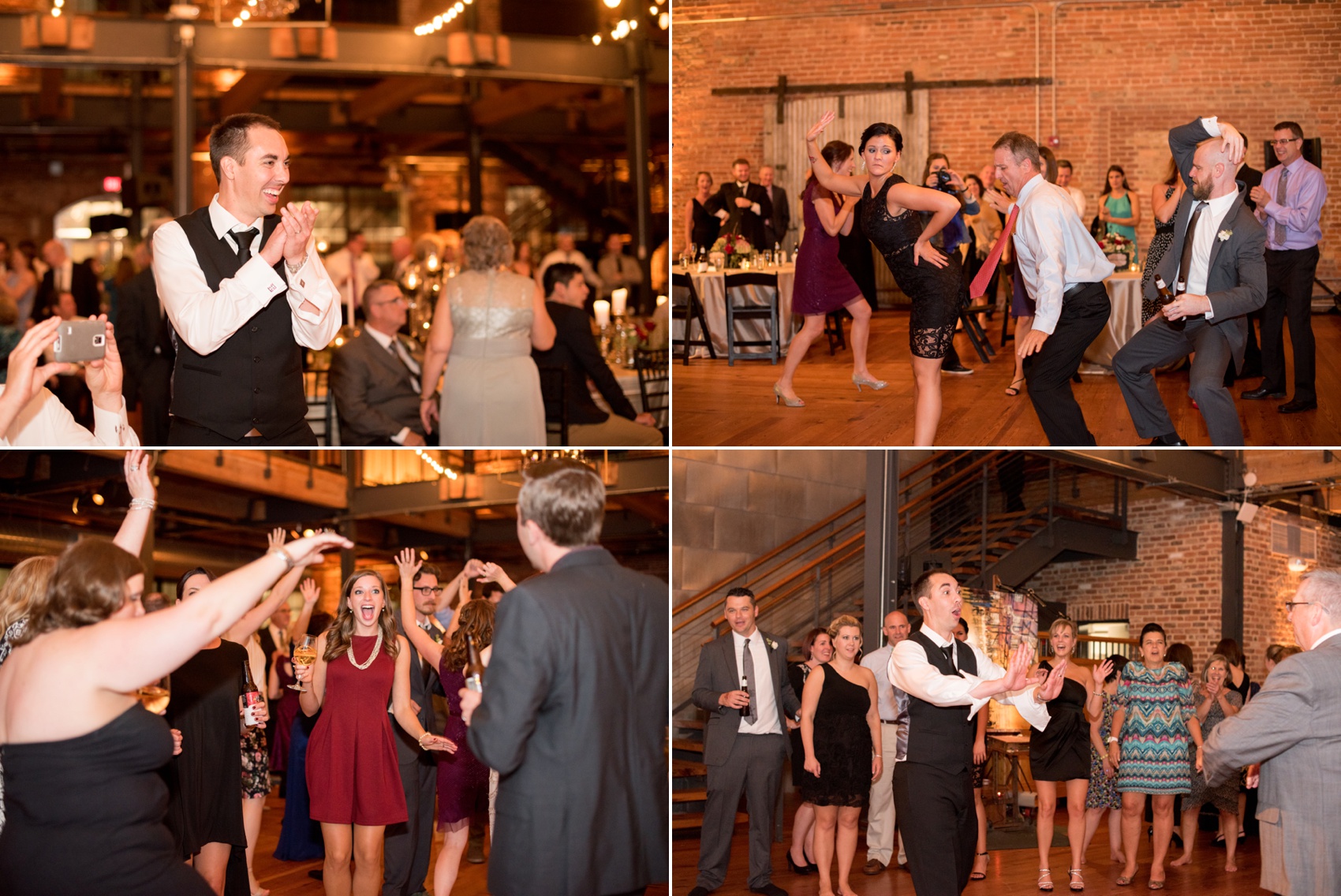 Really, nothing was overlooked! How cute is this quote from Elizabeth Taylor that was framed and placed in the women's restroom with some temporary tattoos with the couple's names nearby? Of course those were a hit!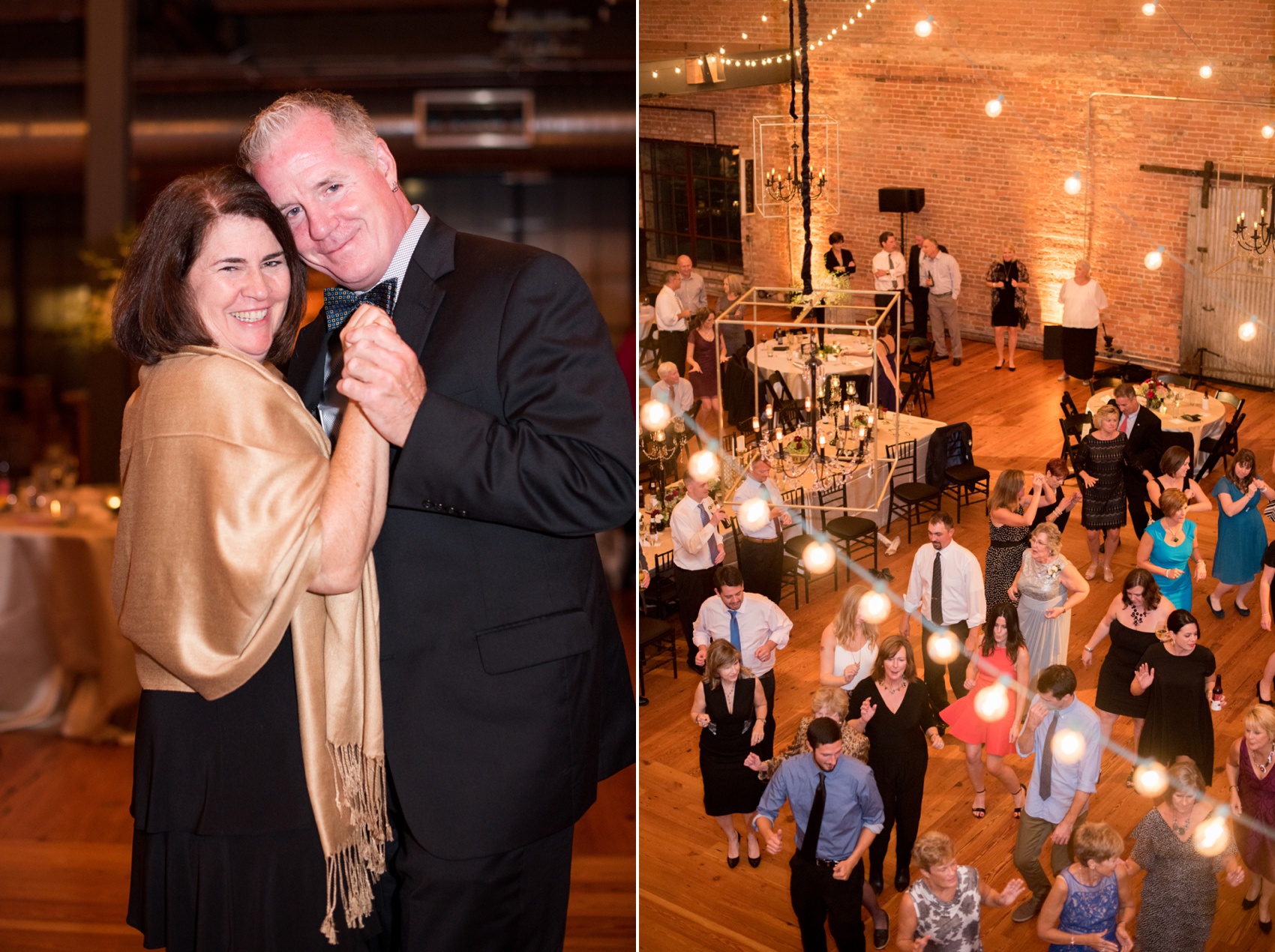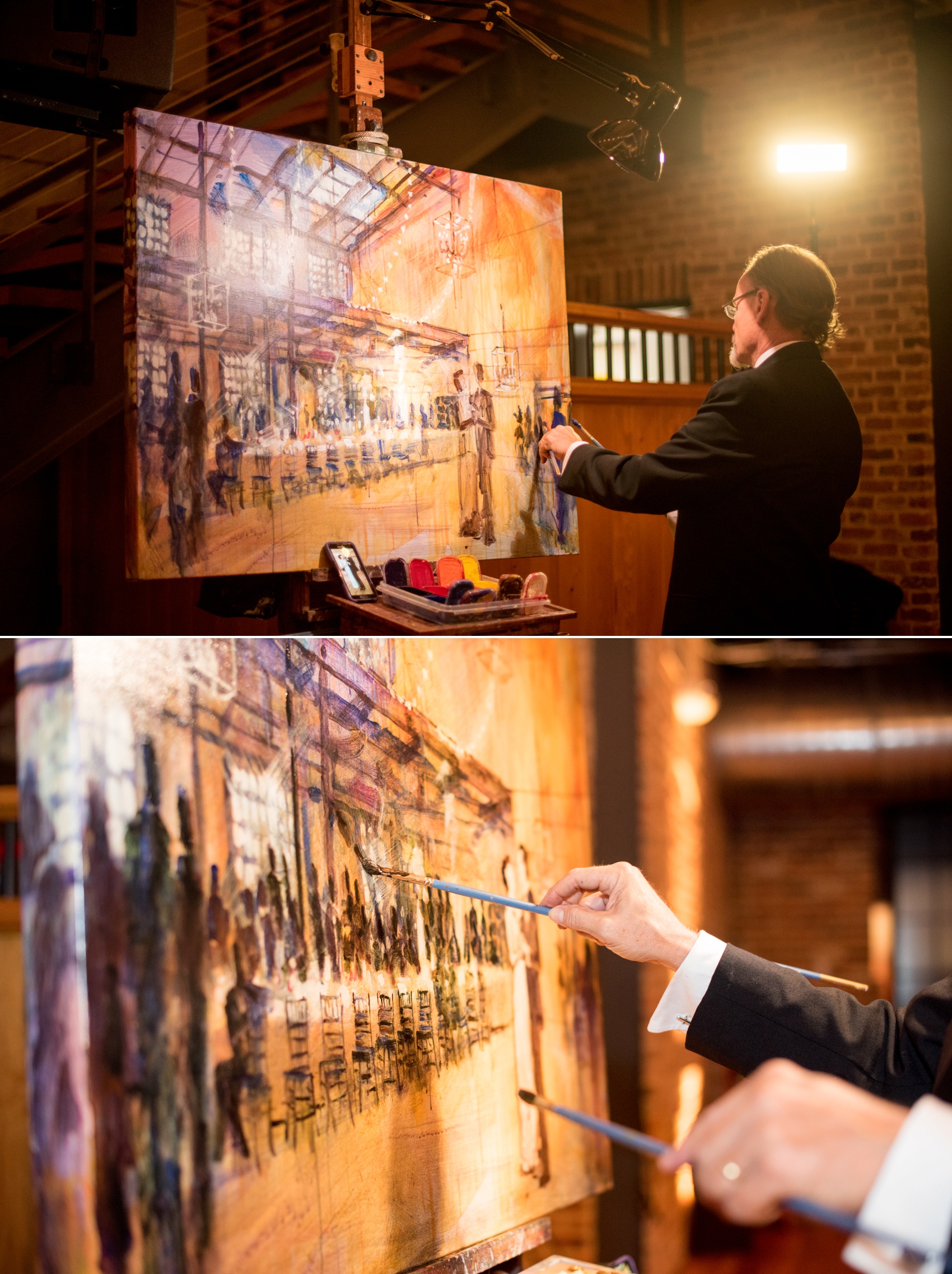 Now Lacey and Rob have this canvas and original art hanging in their apartment! Art's such a great investment, especially when it's completely personalized.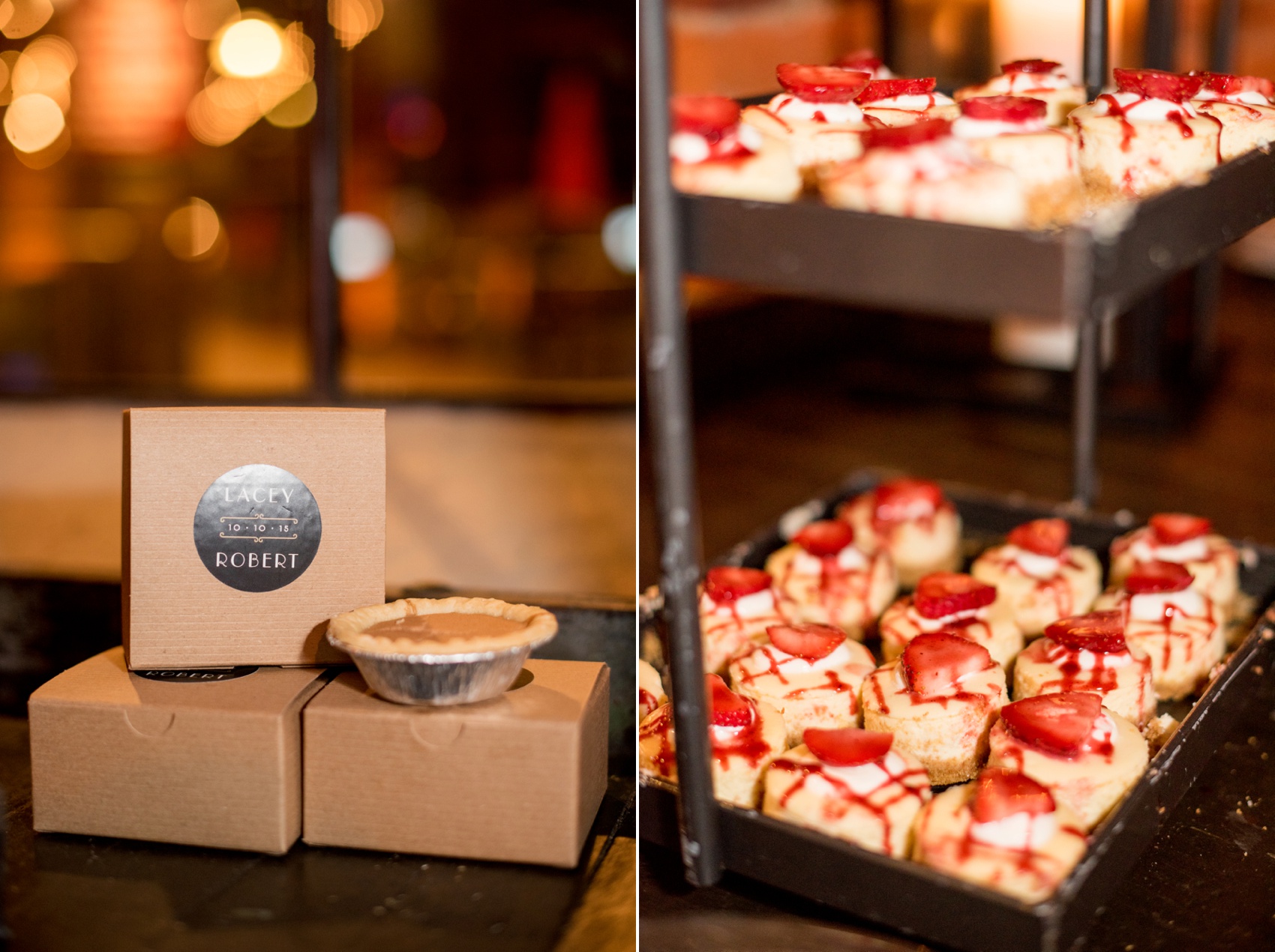 Their wedding flew by! I'm not sure Lacey and Rob, ever-so-busy on the dance floor, noticed the cute chess pie guest favors and strawberry shortcake cakelettes put out with coffee and tea after they cut their cake.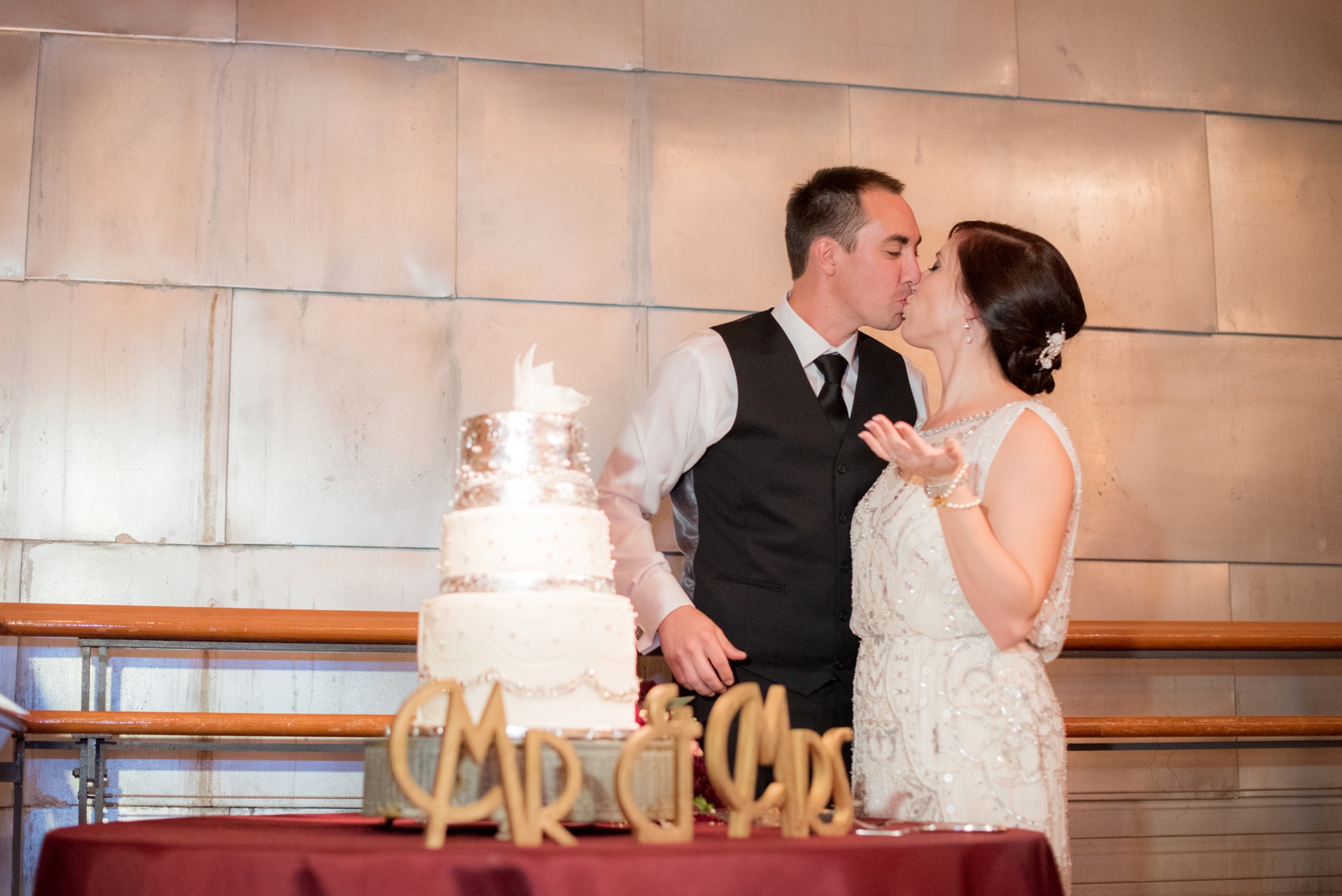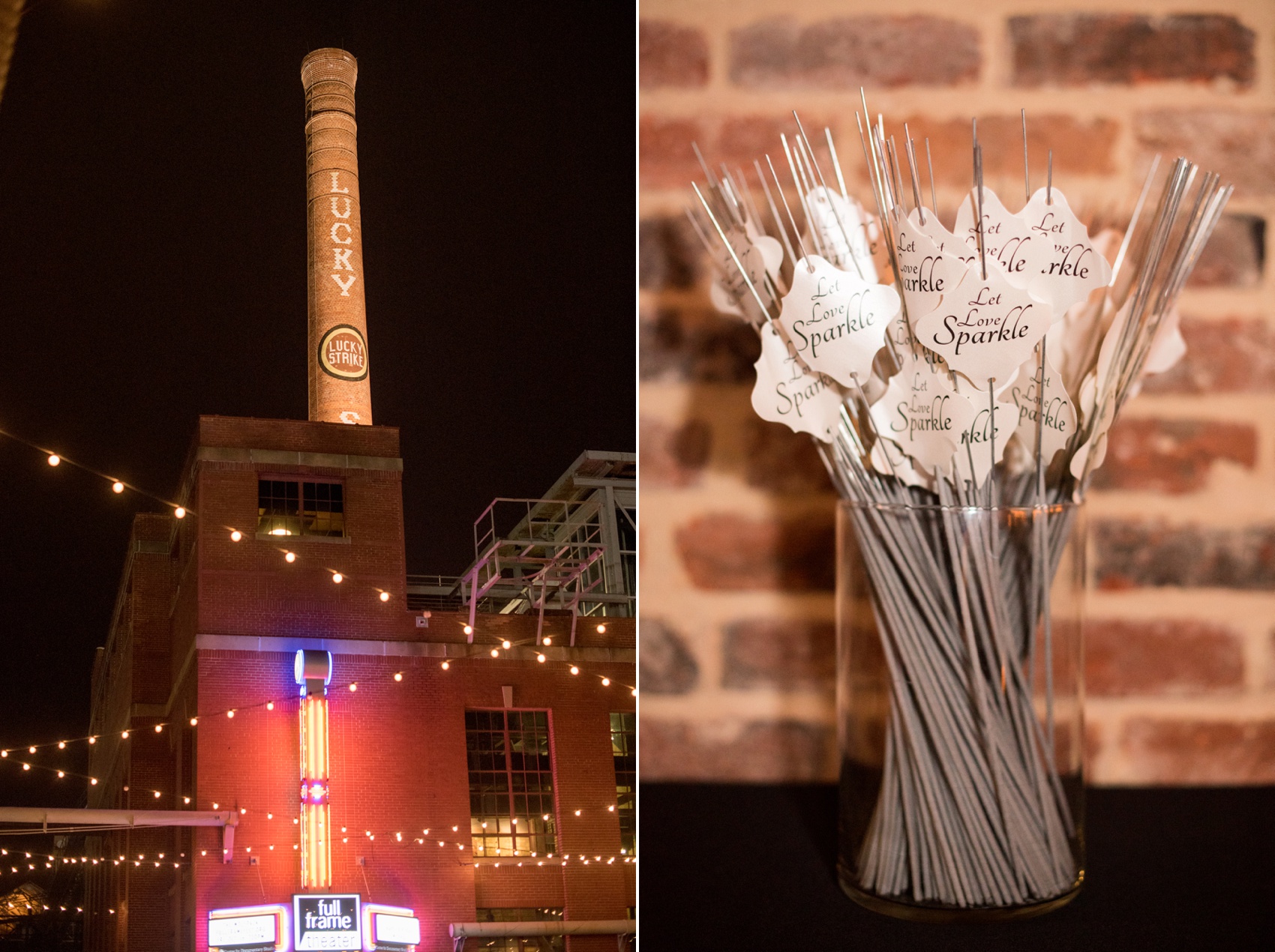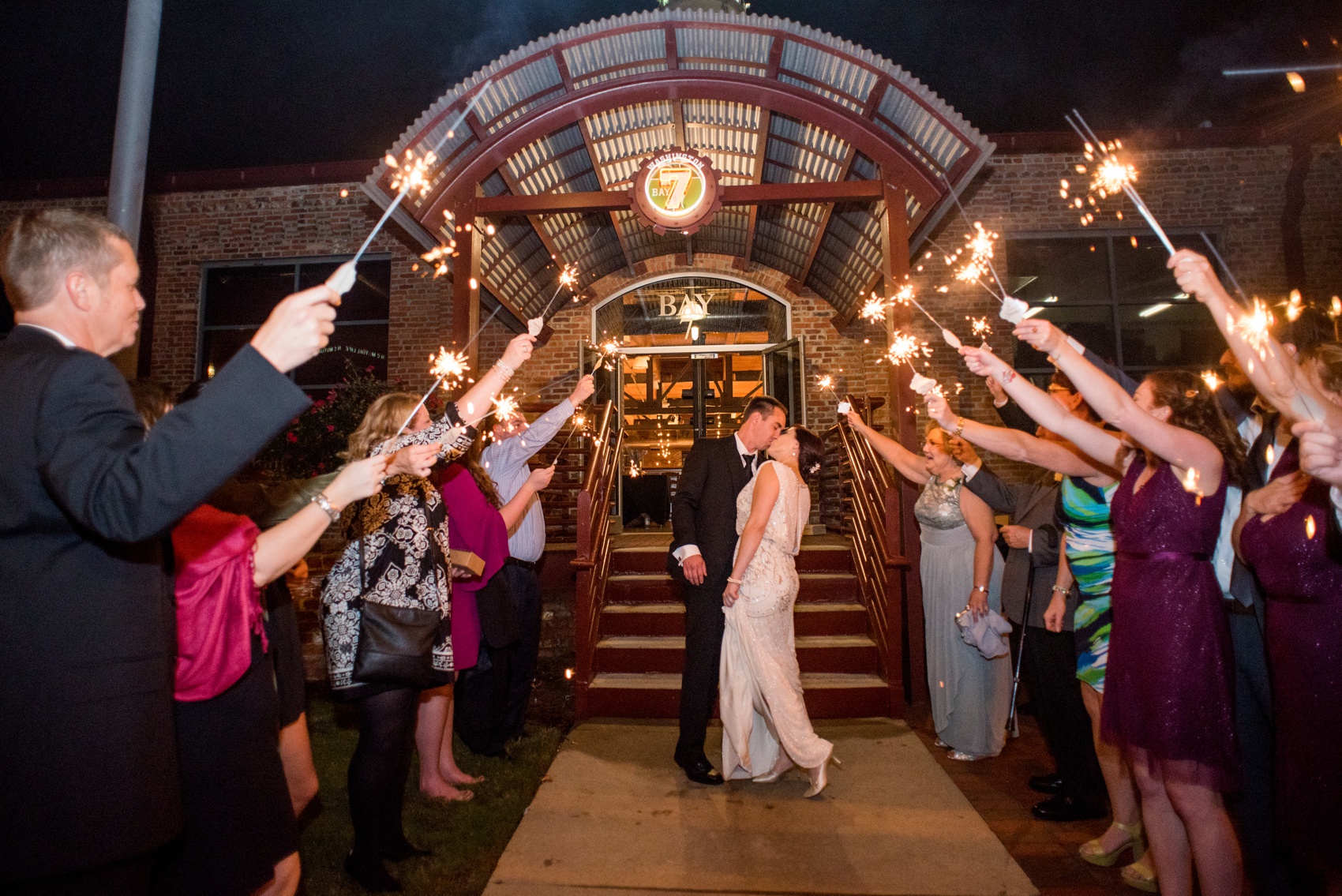 A dazzling way to end the evening for this energetic couple. Congratulations Mr. and Mrs. Knapp! I was proud to be #burtknapped right alongside y'all!
Wedding Planner: A Swanky Affair / Venue: Bay 7, American Tobacco Campus / Floral designer: Tre Bella / Getting ready location: Aloft, Durham / Videographer: The Reel Weddings / Cake: Details Cake Design / Cake table Mr & Mrs wood signs: SunFla / Invitation: Elli / DJ: Kent, Bunn DJ Company / Bridal gown: Tre Bella Bridal, designer Jenny Packham / Bridesmaids dresses: Ideel, designer Adrianna Papell /Bridesmaids dress hanger: Lilafrances / Hair: Allison Thomas / Makeup: Thuy Lawler / Groom's suit: Egara / Groomsmen suits: Allure / Embroidered handkerchief: Elegant Monogramming, Etsy / Officiant: Reverend Deborah Cayer / Signage: Printable Pixels and KatsPrint, Etsy / Guest signing print: Define Design 11, Etsy /  Linens: CE Rental / Candelabras: Table of Contents / Lighting: Get Lit Special Event Lighting / Painting: Dan Nelson
Interested in checking out more love in Durham, NC? Also check out: