Emotions overwhelm me as I look at Becca and Kevin's W Hoboken wedding photos. I feel warmed by the romantic colors of the day and embraced by the love they share and spread to others. I'm pinching myself I was a part of it and that I'm a part of their lives, in some small way.
I know the bride, Becca, through her sister. And Jodie, her older sister, and I came to be friends in college. As fate would have it, Jodie's two amazing sisters are as kind-hearted, genuine, beautiful and smart as she is. I instantly felt a kindred spirit when I met them years ago. (Way before Becca and Hannah were ever in college!) Though we've been geographically distant throughout most of the past years we pick up where we left off when I see them again. And there I am, welcomed into the Swirnow family over and over: a loving, gracious and generous family. (Especially years ago for Jodie and Brian's wedding, which was the second wedding I ever photographed as the lead photographer!)
As fate would have it technology and a dating app brought Becca and Kevin to one another. Their smiles, laughter and great jokes kept them close. Their chemistry was evident from Date #1 and, as they say, the rest is history. They had found each found their "bashert," or destiny.
One of the most memorable impressions from their wedding day wasn't simply the love the bride and groom shared but the love between BOTH sides of the family. I felt like Becca was gaining a second incredible mother as much as her new mother-in-law felt like she was gaining the jackpot of all daughter-in-laws. (Her reception speech confirmed my belief.) Their parents truly enjoy being in one another's presence. The moms are buddies, the fathers were kidding around with one another and all the siblings seemed to simply fit together quite nicely as a new combined family when I took their family portraits. (Kevin has two brothers making both sides 3 + 3.)
I could go on and on about the love the Swirnow and Swartz families share that make the entire Hoboken wedding one I'll never forget. Yet it's evident photos are often my strength when words will fail to capture what my photos can show you! From start to finish this was a romantic, love-drenched, sexy, sleek and timeless celebration of an inspiring love I hope everyone experiences in their lifetime.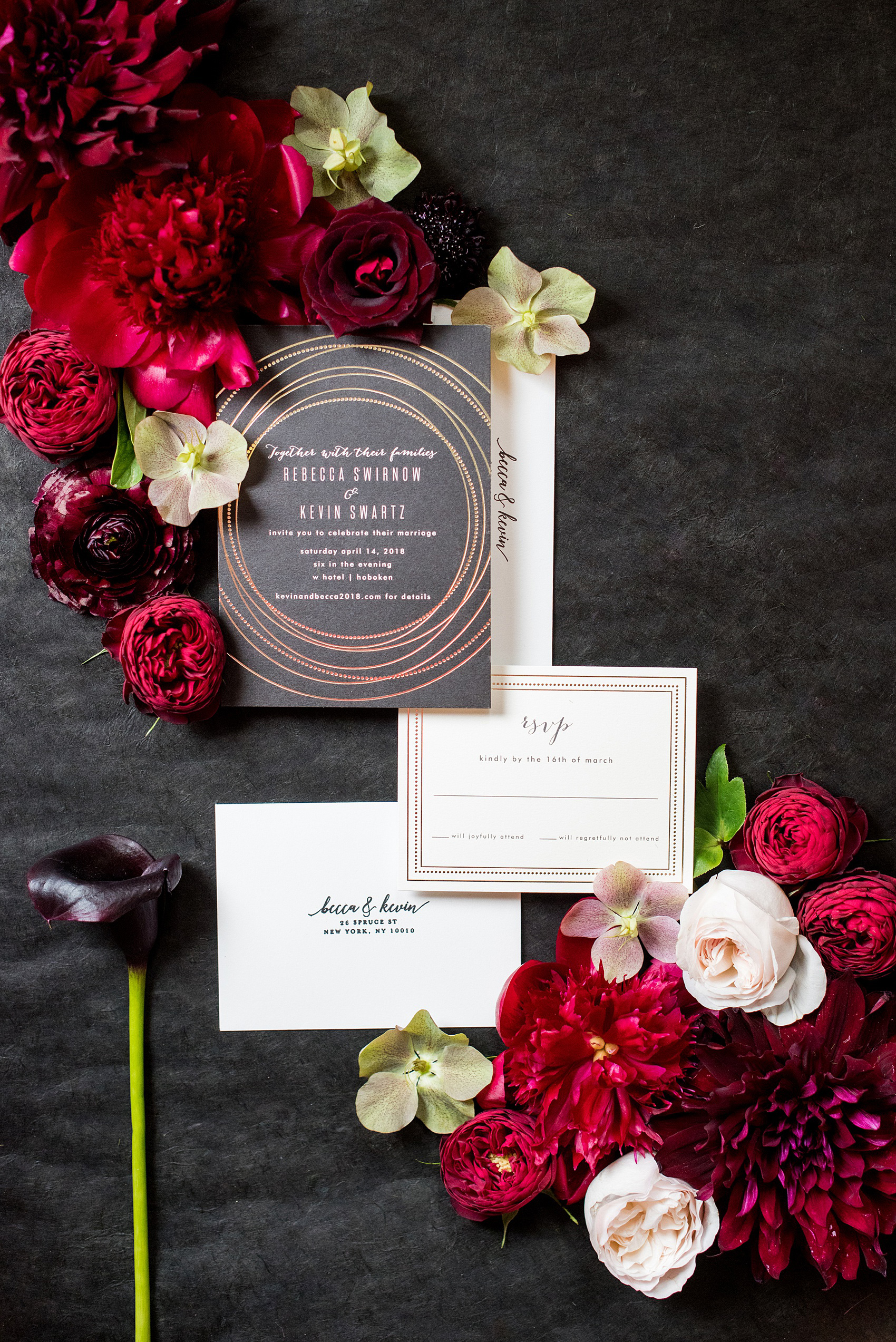 Guests were invited to Becca and Kevin's wedding with a black and gold invitation that set the tone for the "black tie optional" affair. The women prepared for the day in Becca's bridal suite and the men in groomsmen rooms and the downstairs W Hoboken hotel lounge. There was toasts with rose champagne and whiskey galore!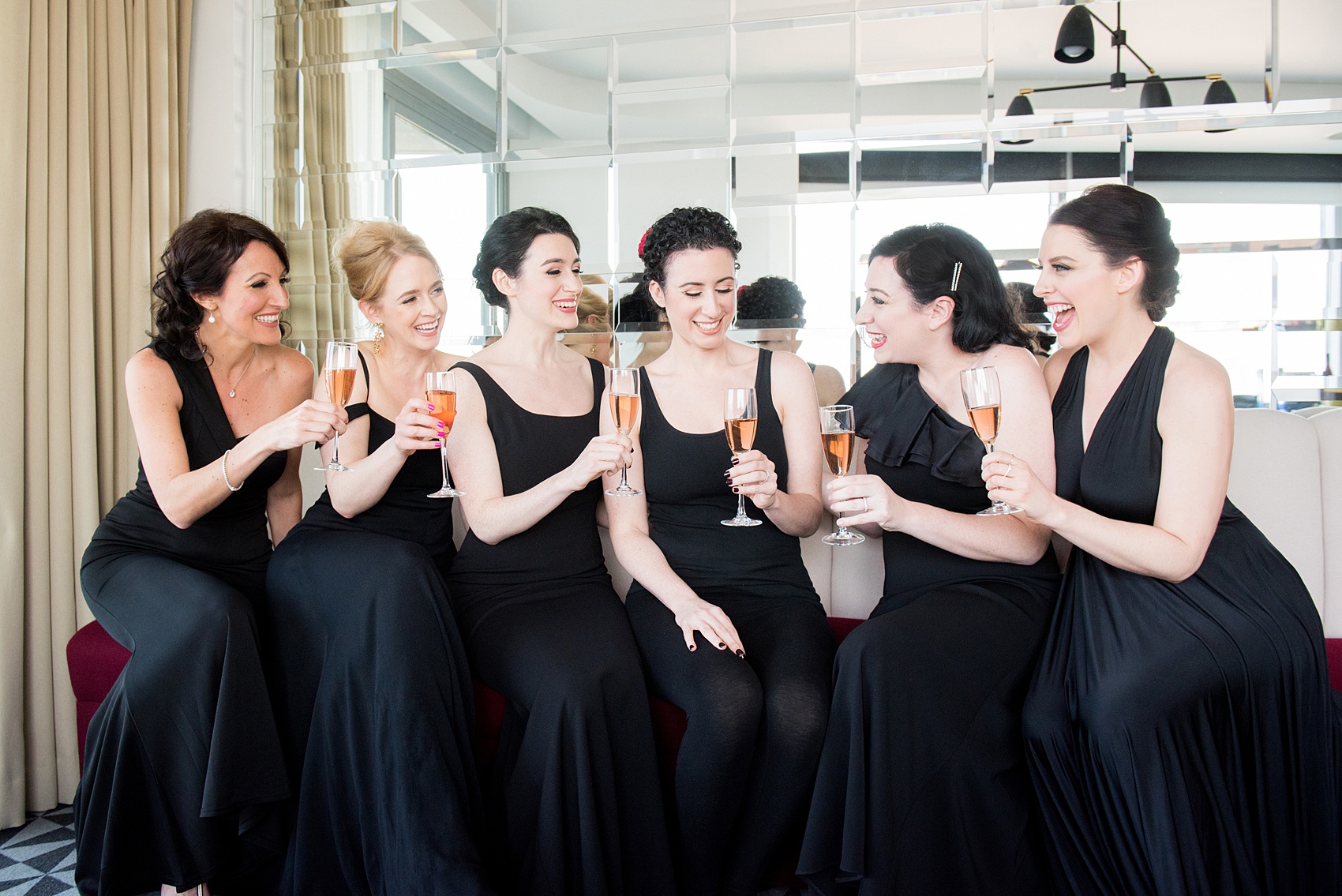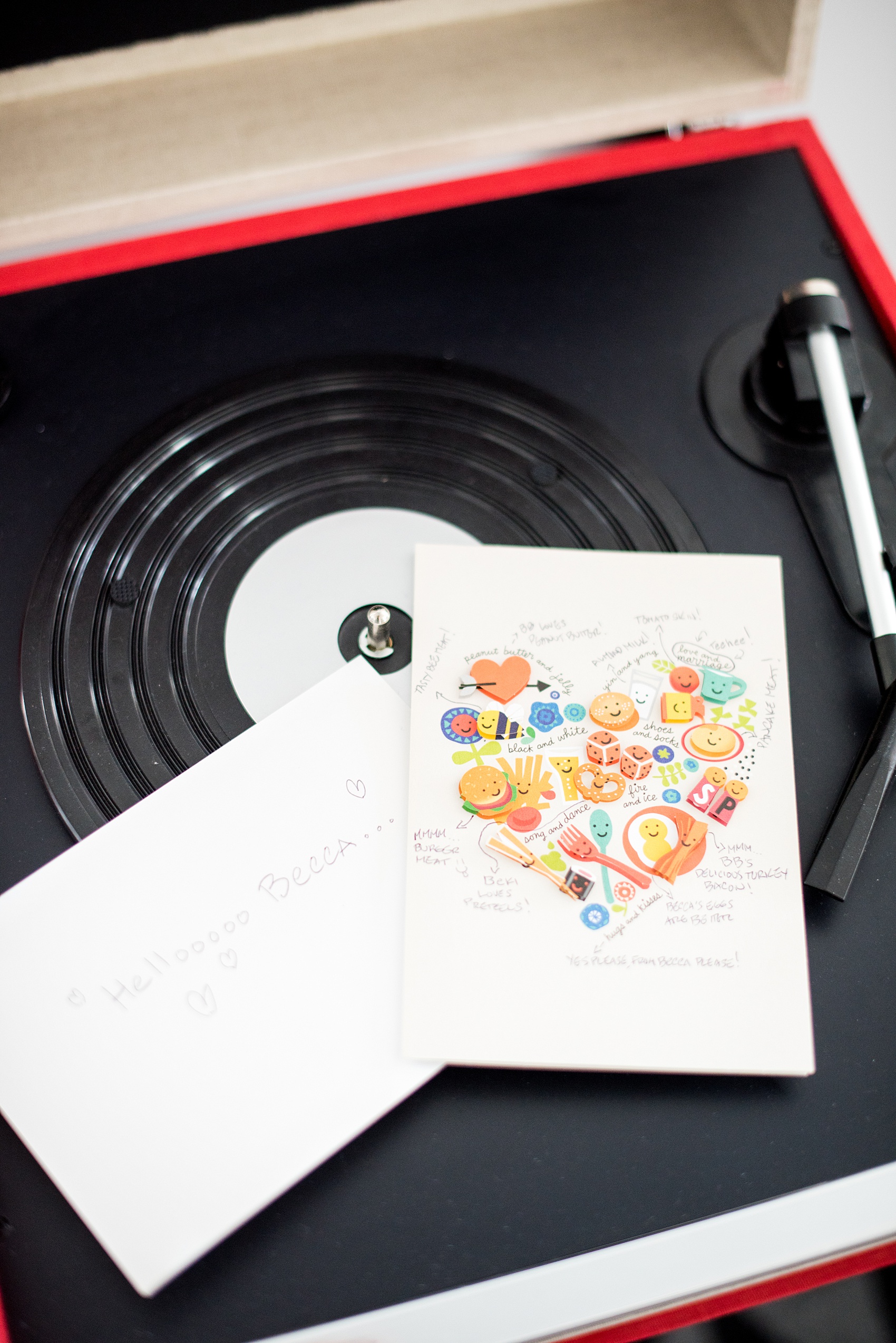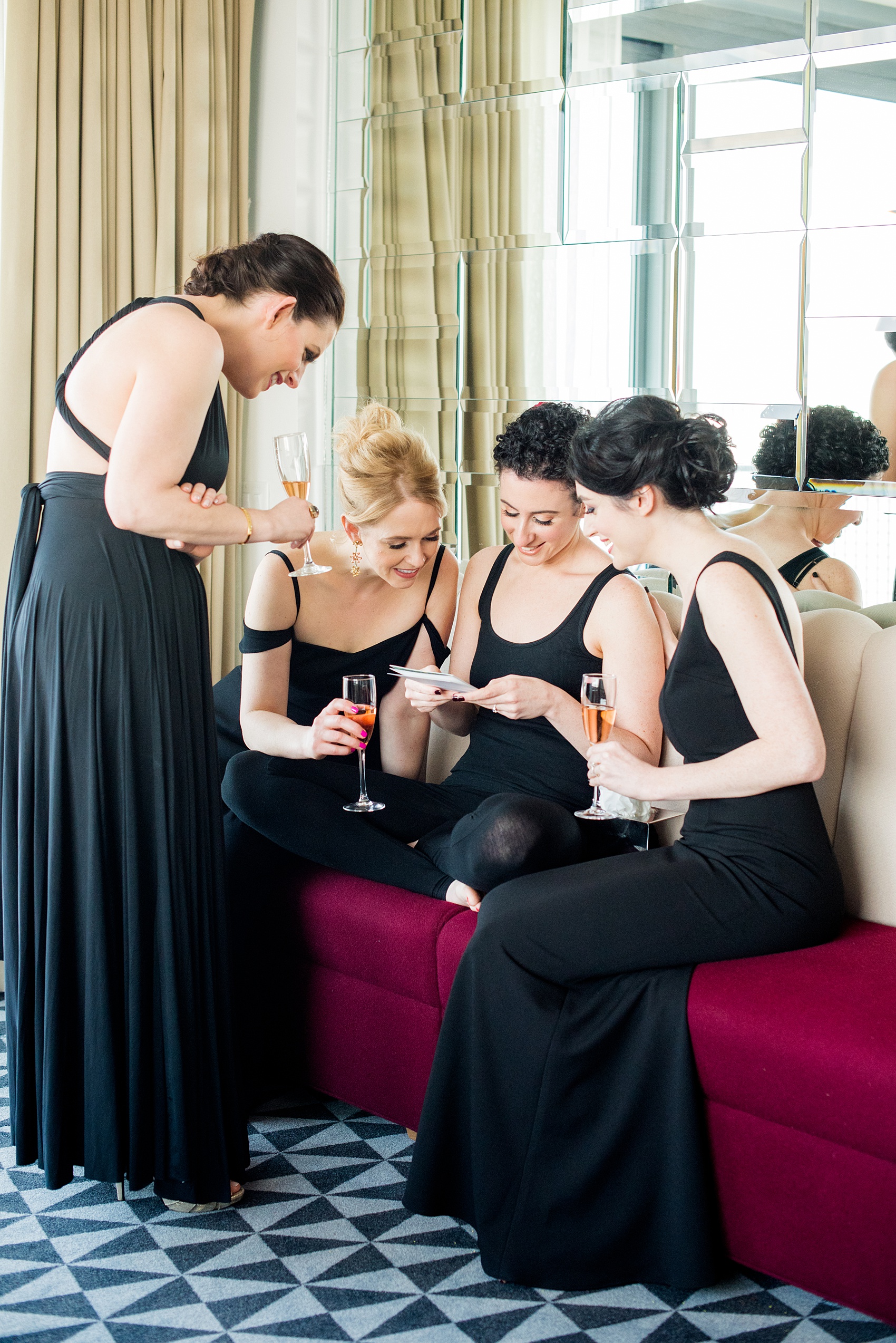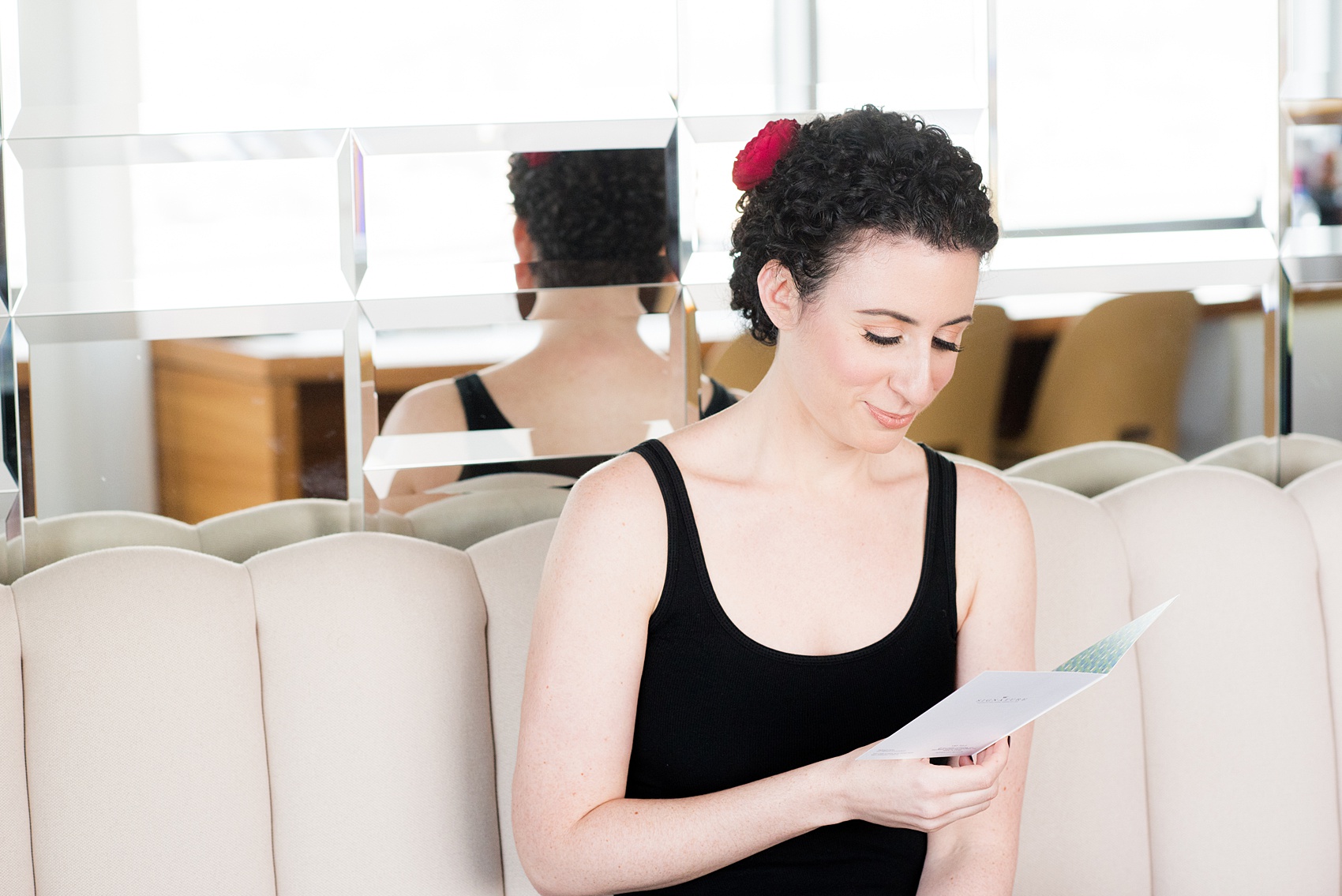 Becca and Kevin opted to exchange cards on their wedding day. Becca read her card in silence and quickly grew tearful. Her bridesmaids came to the rescue with tissues and hugs as Becca read her favorite part of the card aloud.
Kevin's brothers and groomsmen were assisting with finishing touches in a nearby area and helping tie the real bow ties and pour each other more celebratory pre-wedding drinks. (Yay! I love a real bow tie!)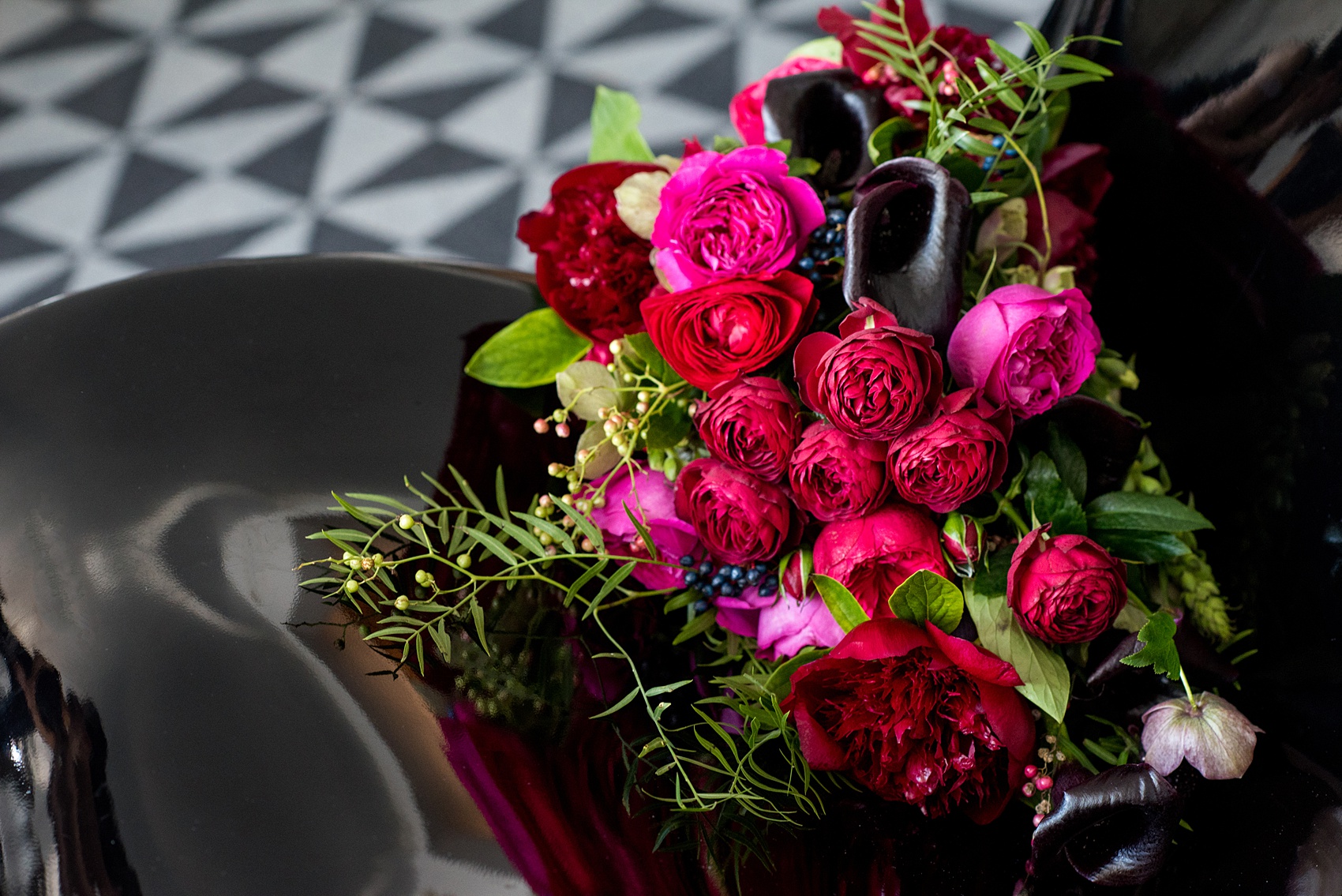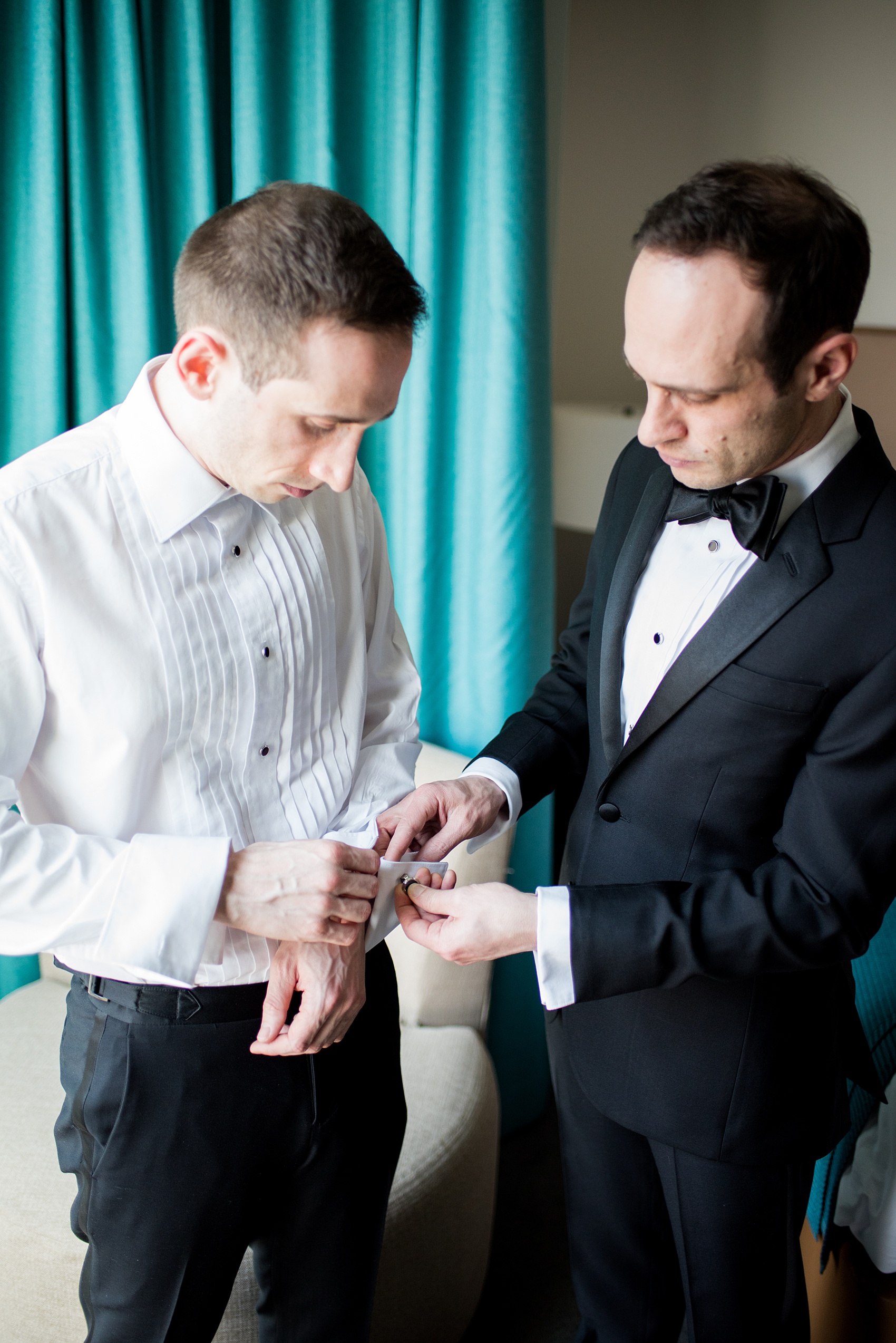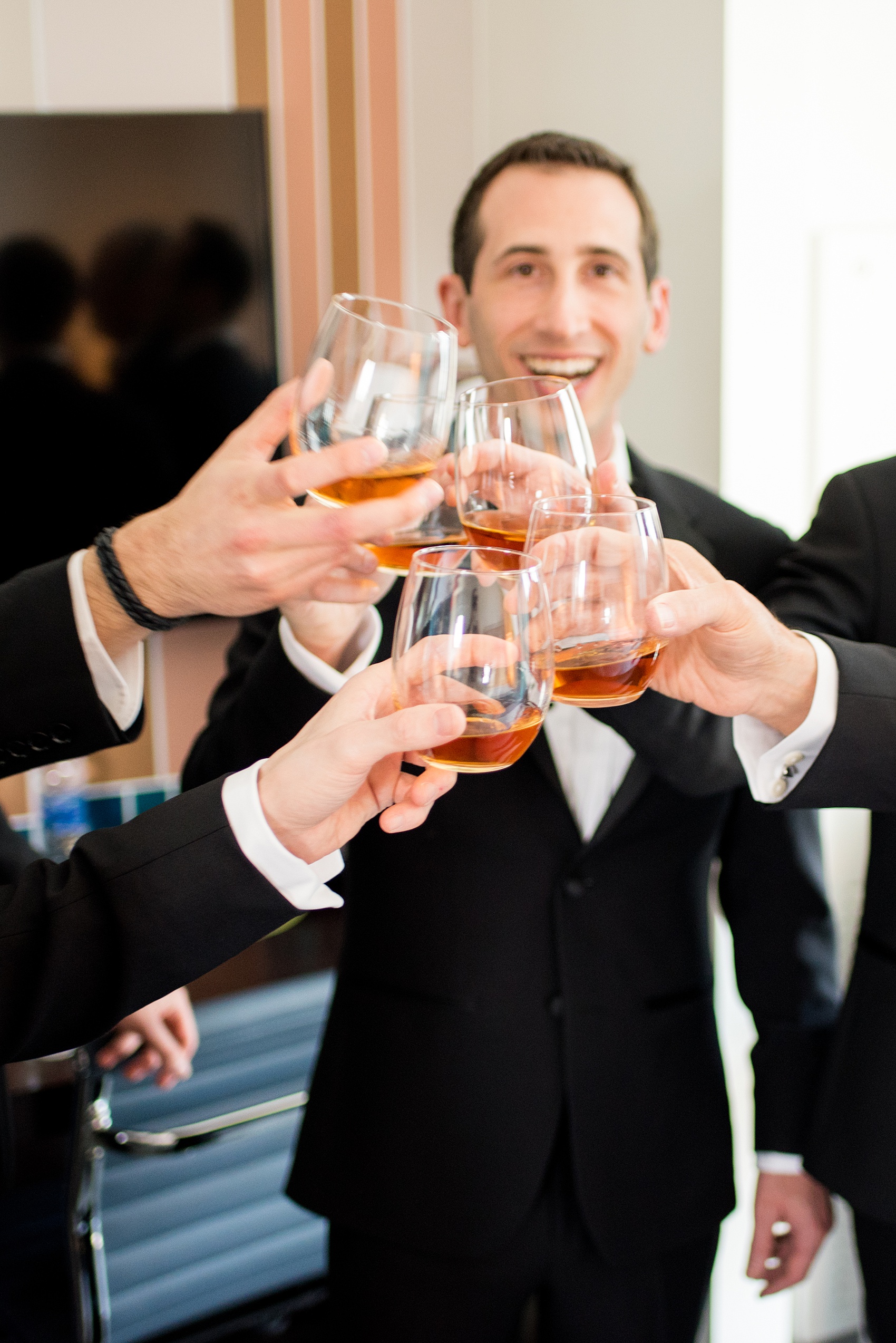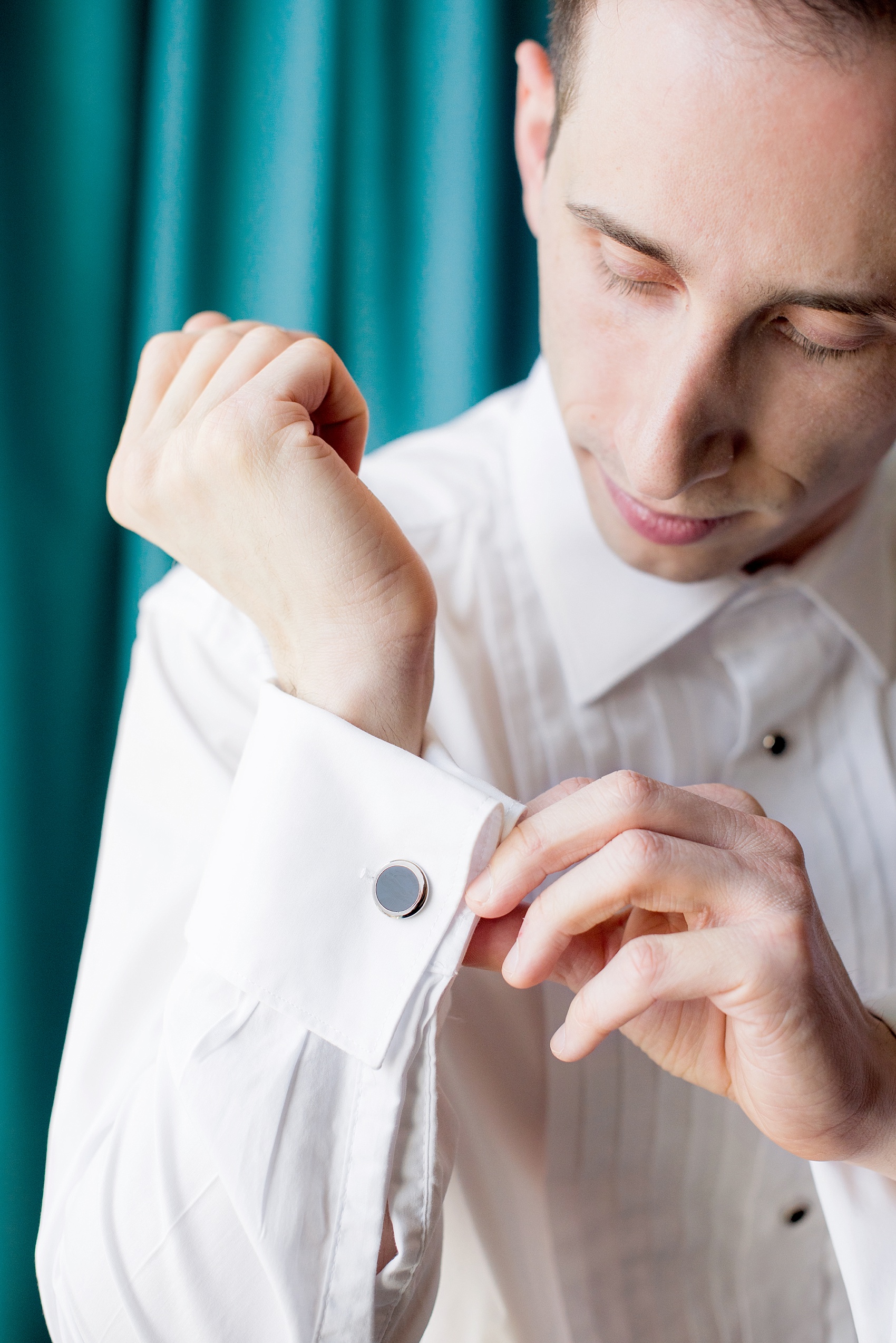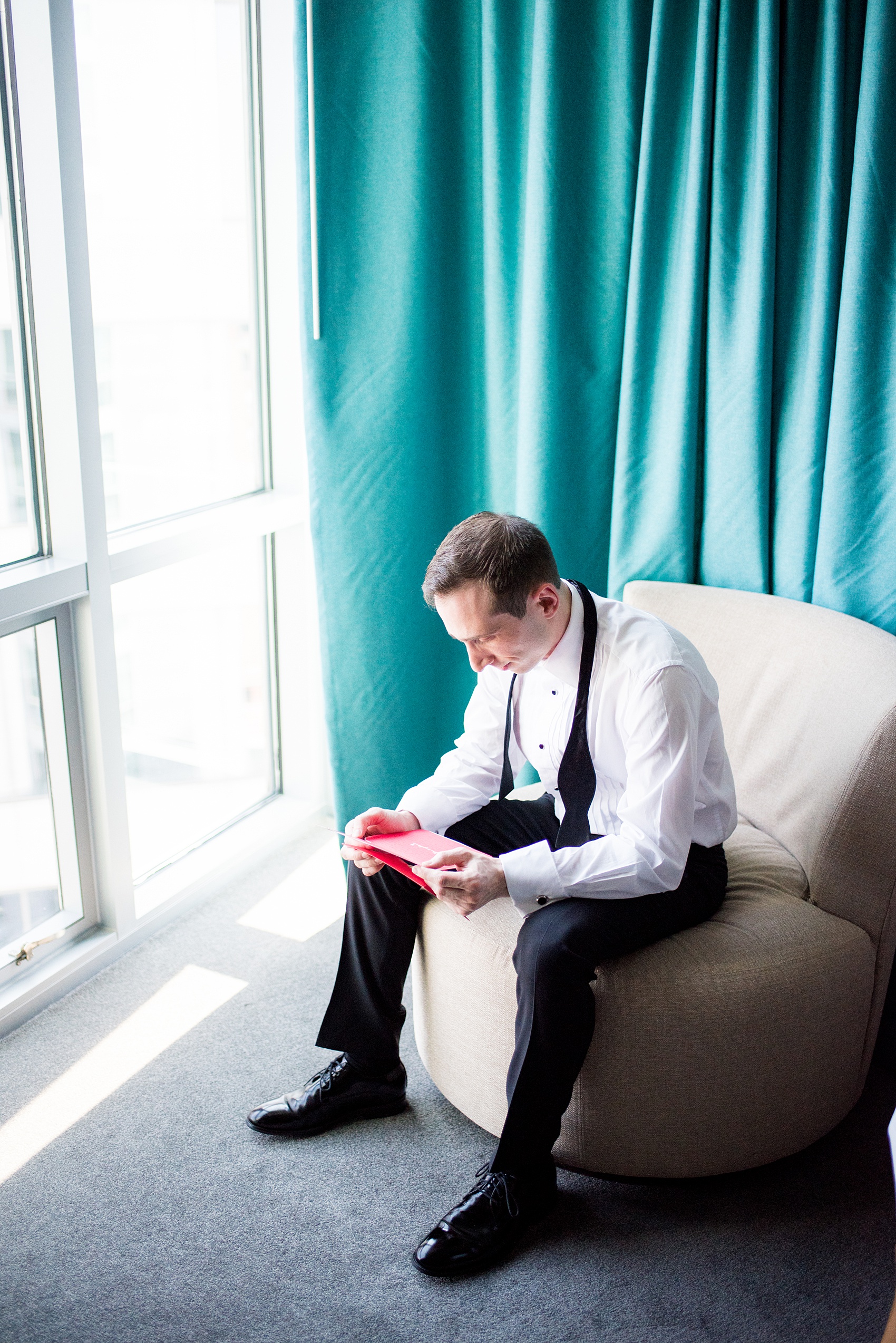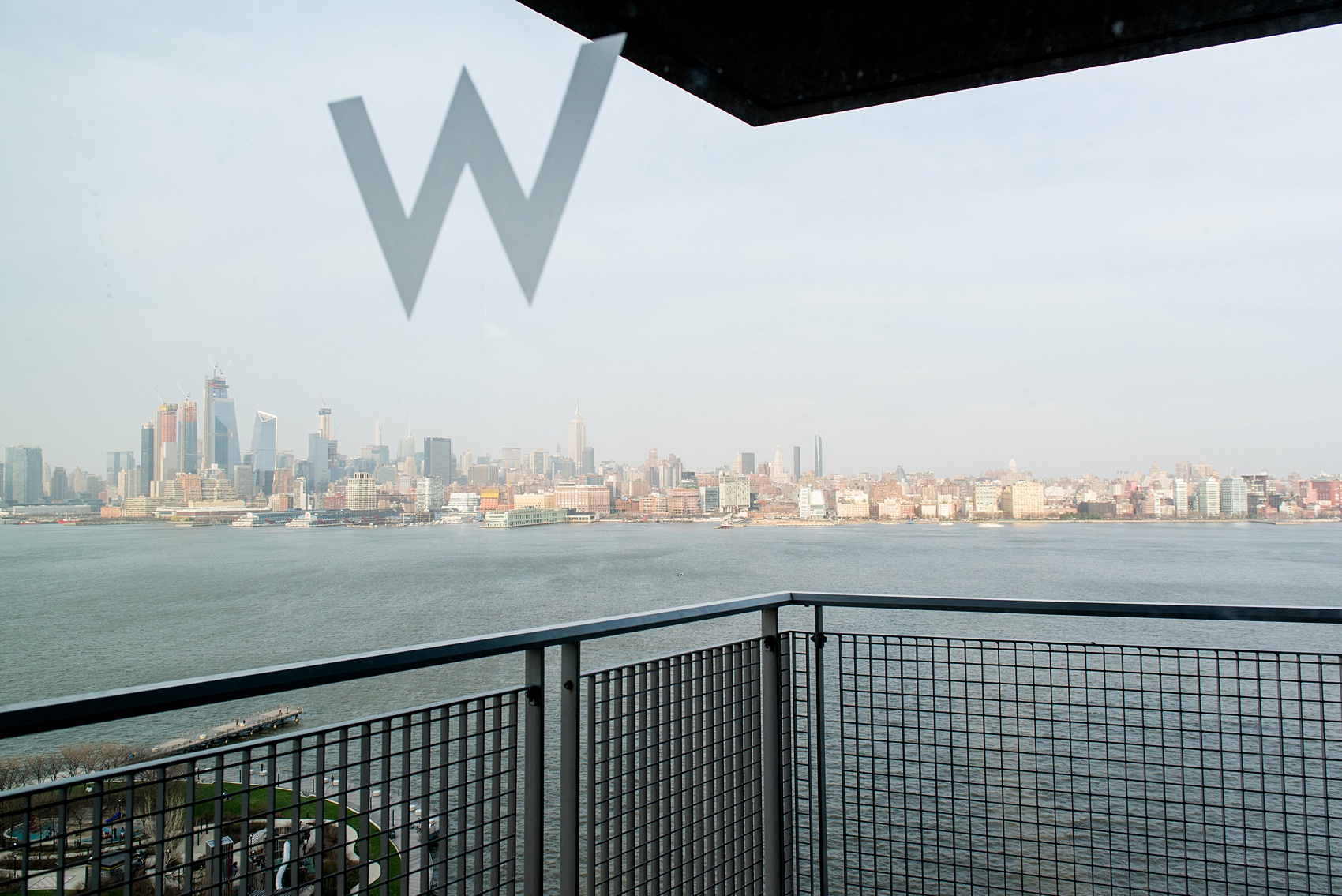 The view of the Manhattan skyline from Hoboken is always supreme but it was extra special from the 16th floor of the W Hoboken hotel.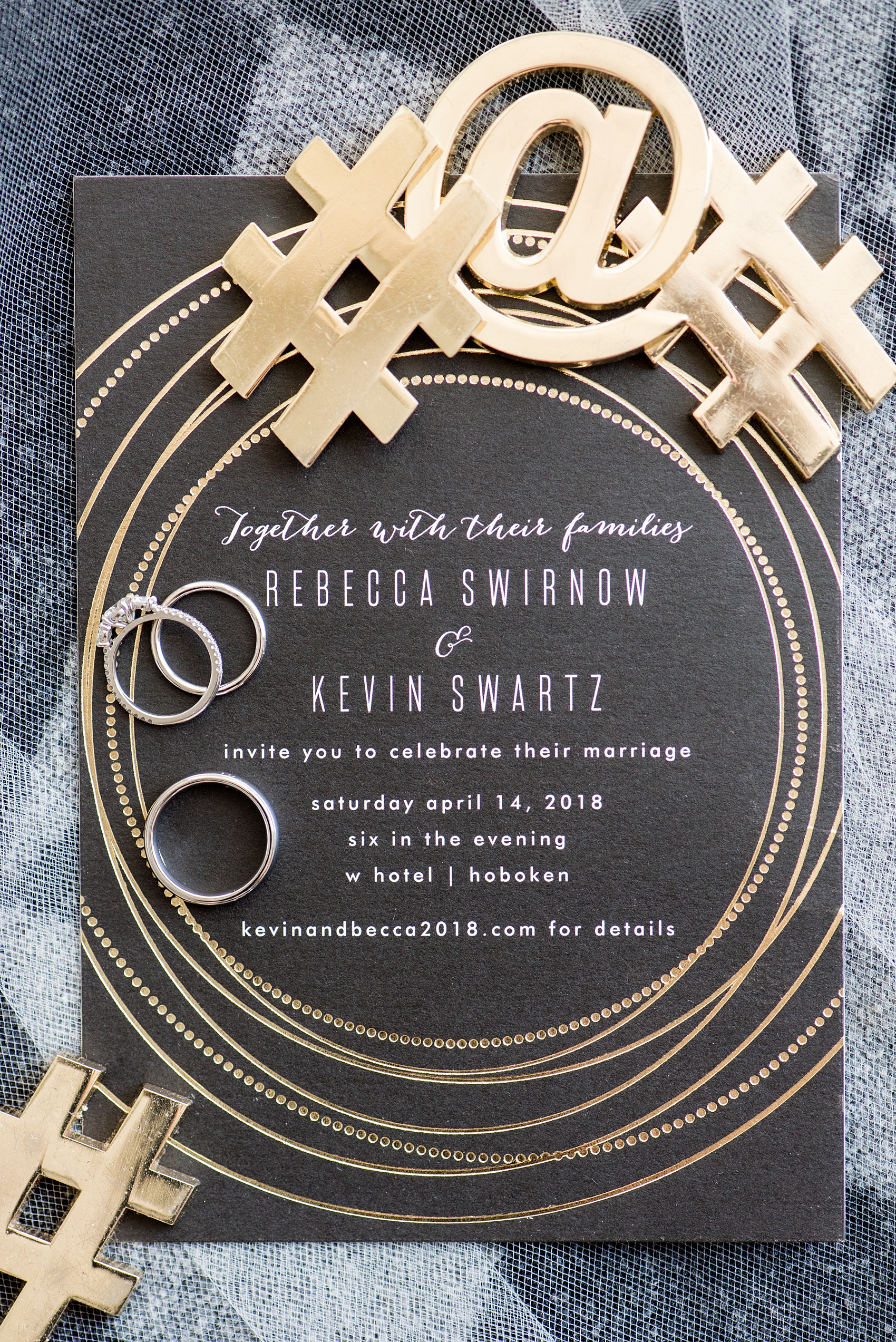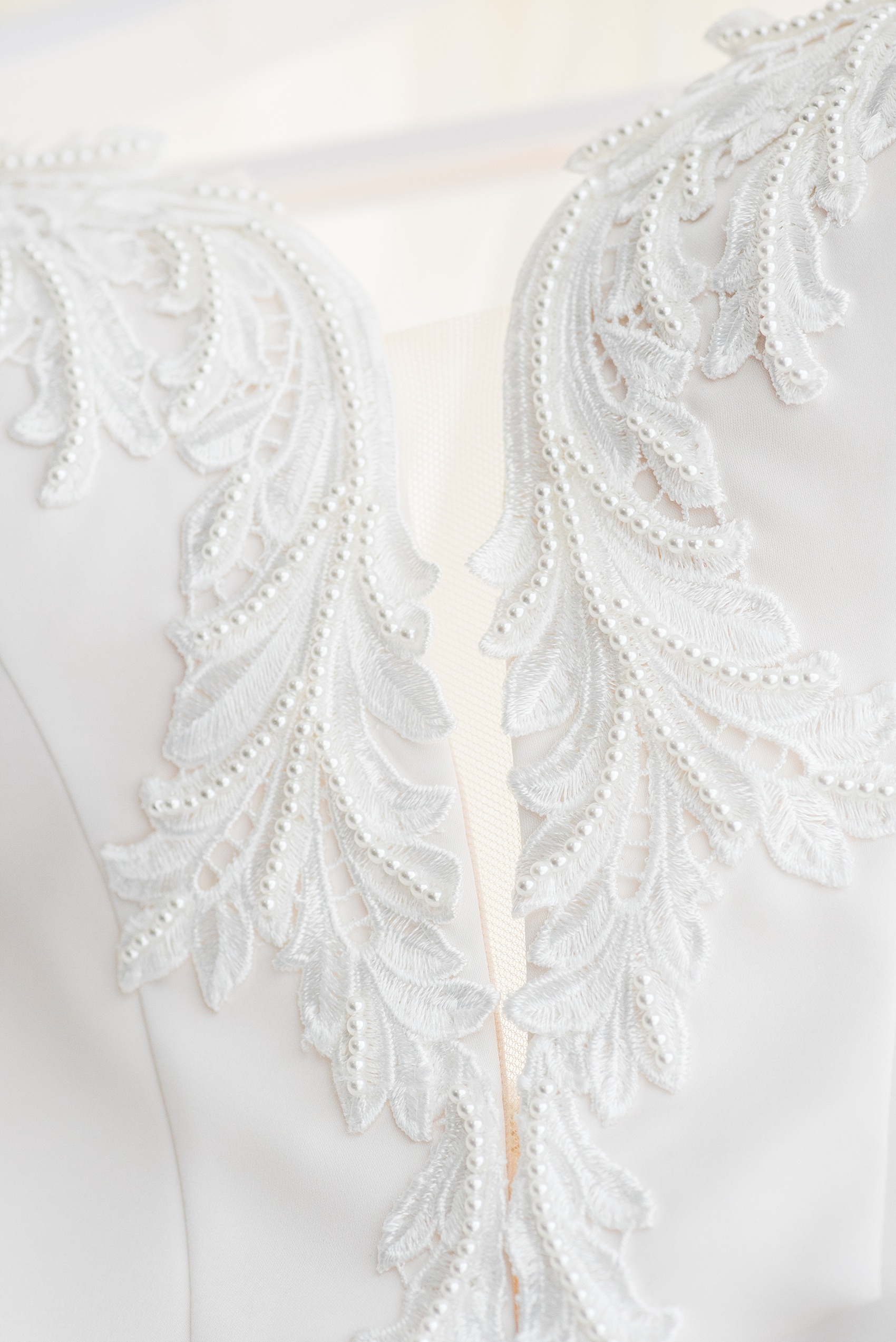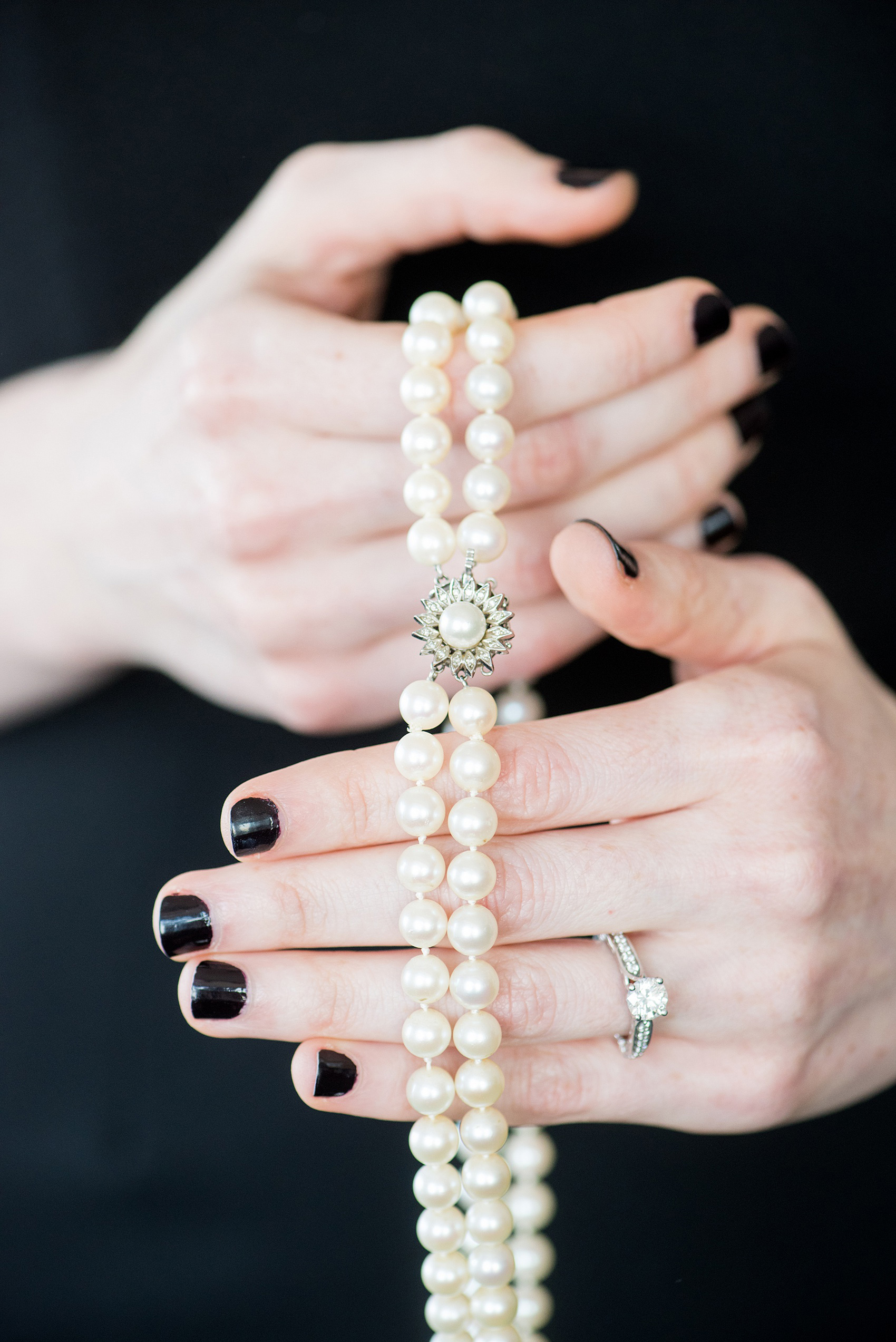 Becca's sister, Hannah, wore their grandmother's pearls so they would be nearby for the wedding day.
The beads on Becca's strapless, form-fitting gown were the perfect amount of adornment she needed; she opted for simple jewelry. She wore "infinity" shape diamond earrings and a single flower in her hair. The rings were the most important gold of the day, anyway! (Photographing her three-stone diamond engagement ring was a lot of fun during their cute Manhattan engagement session too.)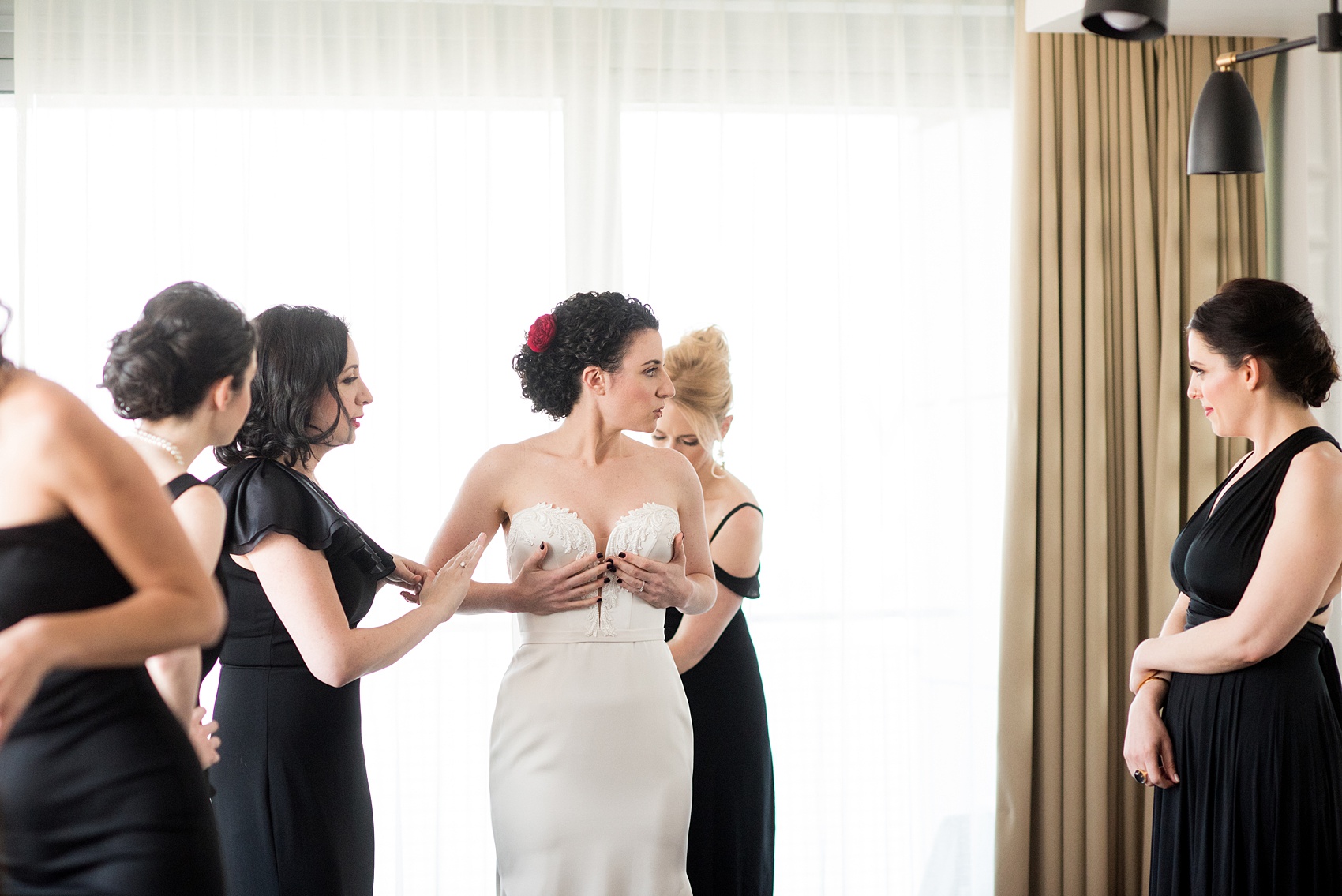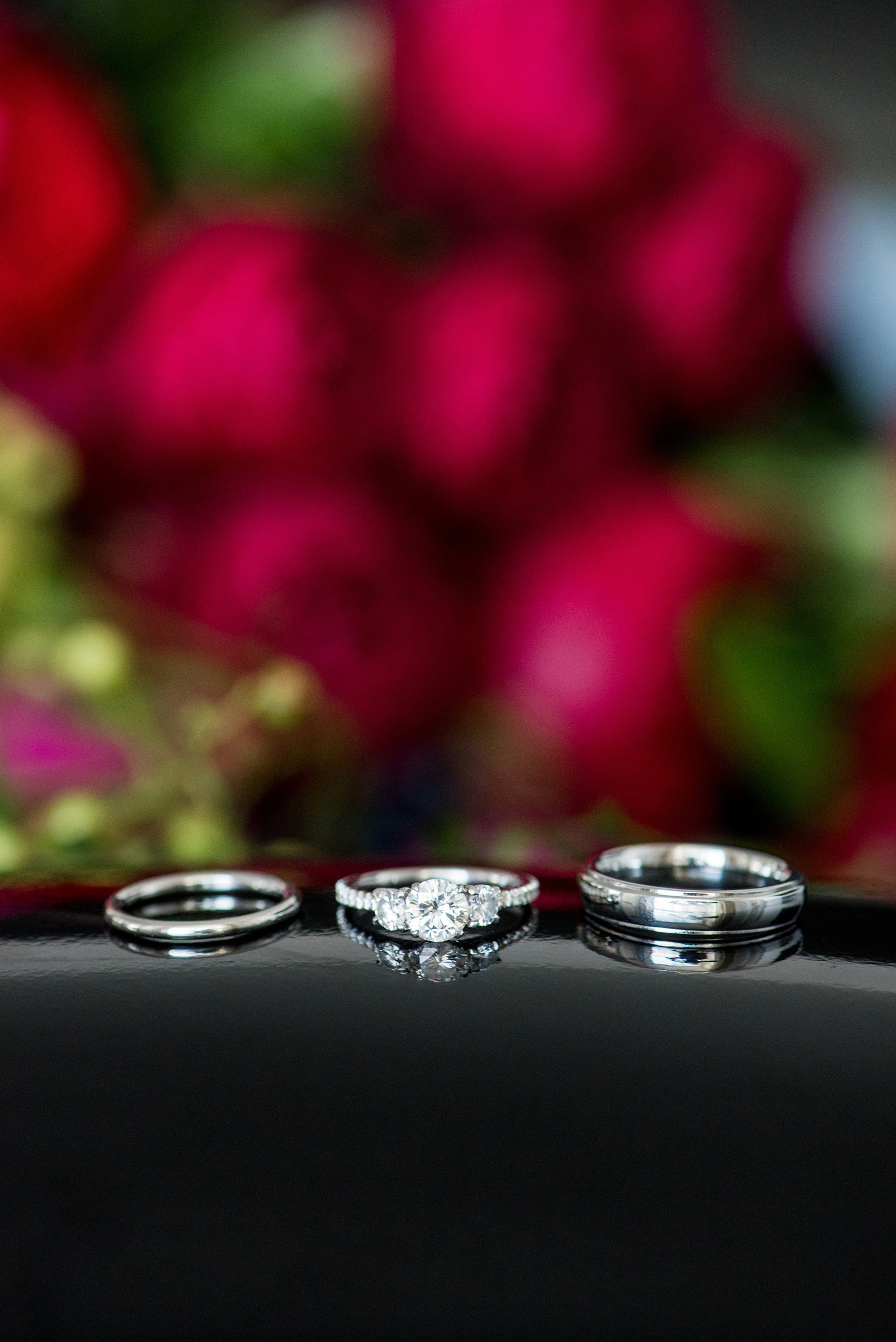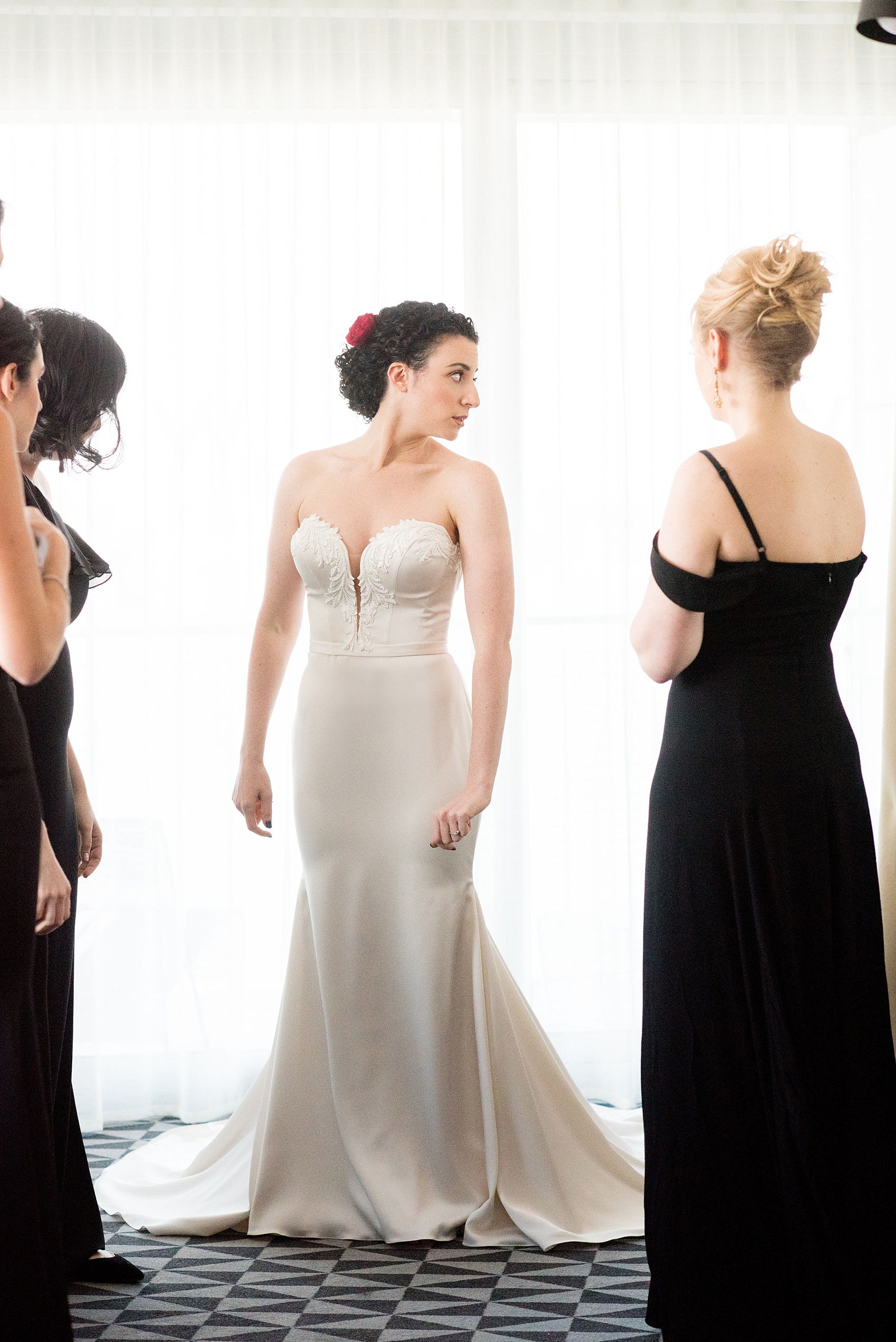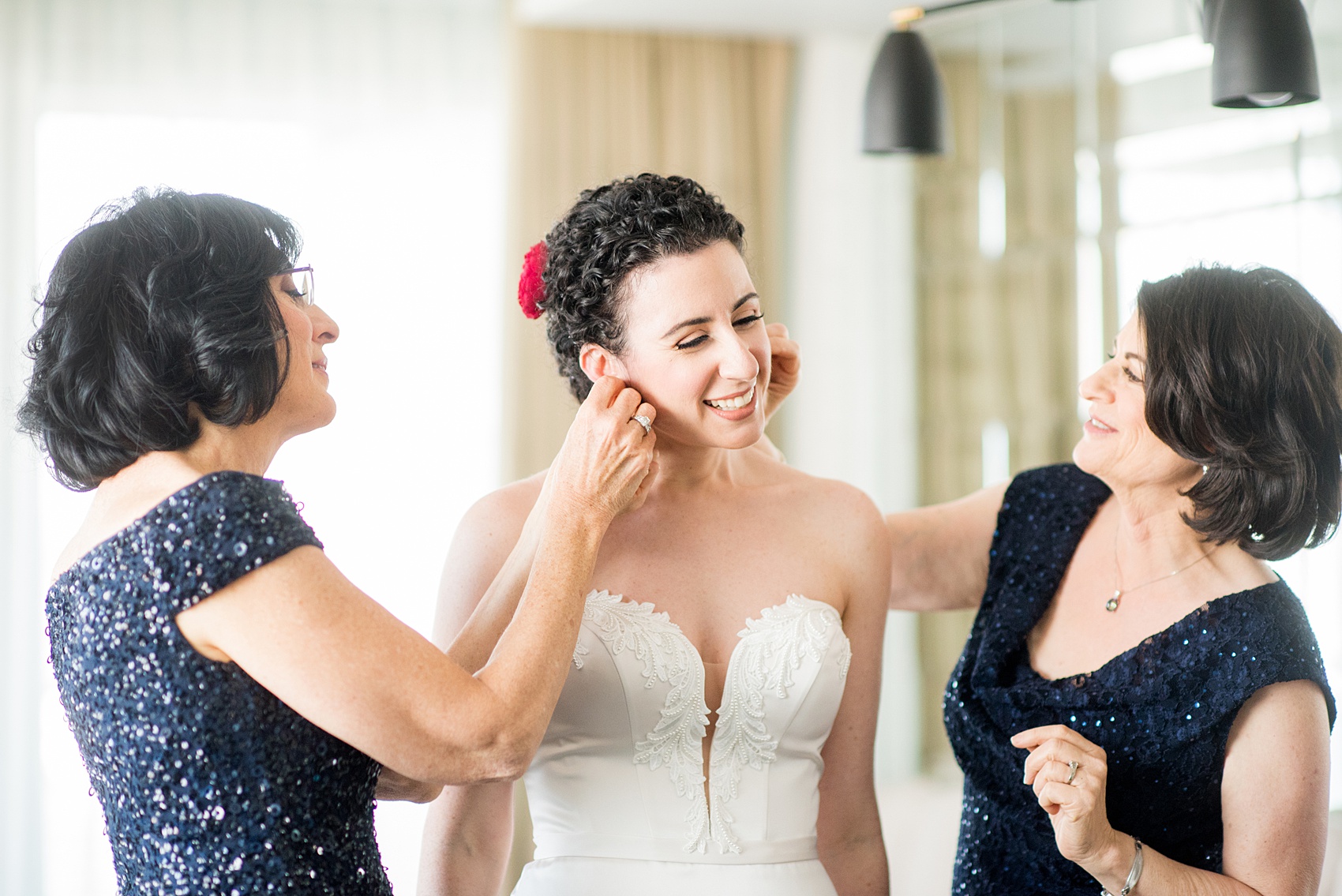 Earrings are a two person job. (Well….maybe not necessarily yet the more the merrier!) It was so thoughtful when Becca invited her soon-to-be mother-in-law, Joan, to help her mom, Linda, put her earrings in.
Kevin was nearby having finishing touches put in place too. His father helped pin his boutonniere on him. The groom's was a special pink and white ranunculus and the groomsmen had assorted different boutonnieres that matched the bridesmaid's bouquets. I love that they were different yet cohesive.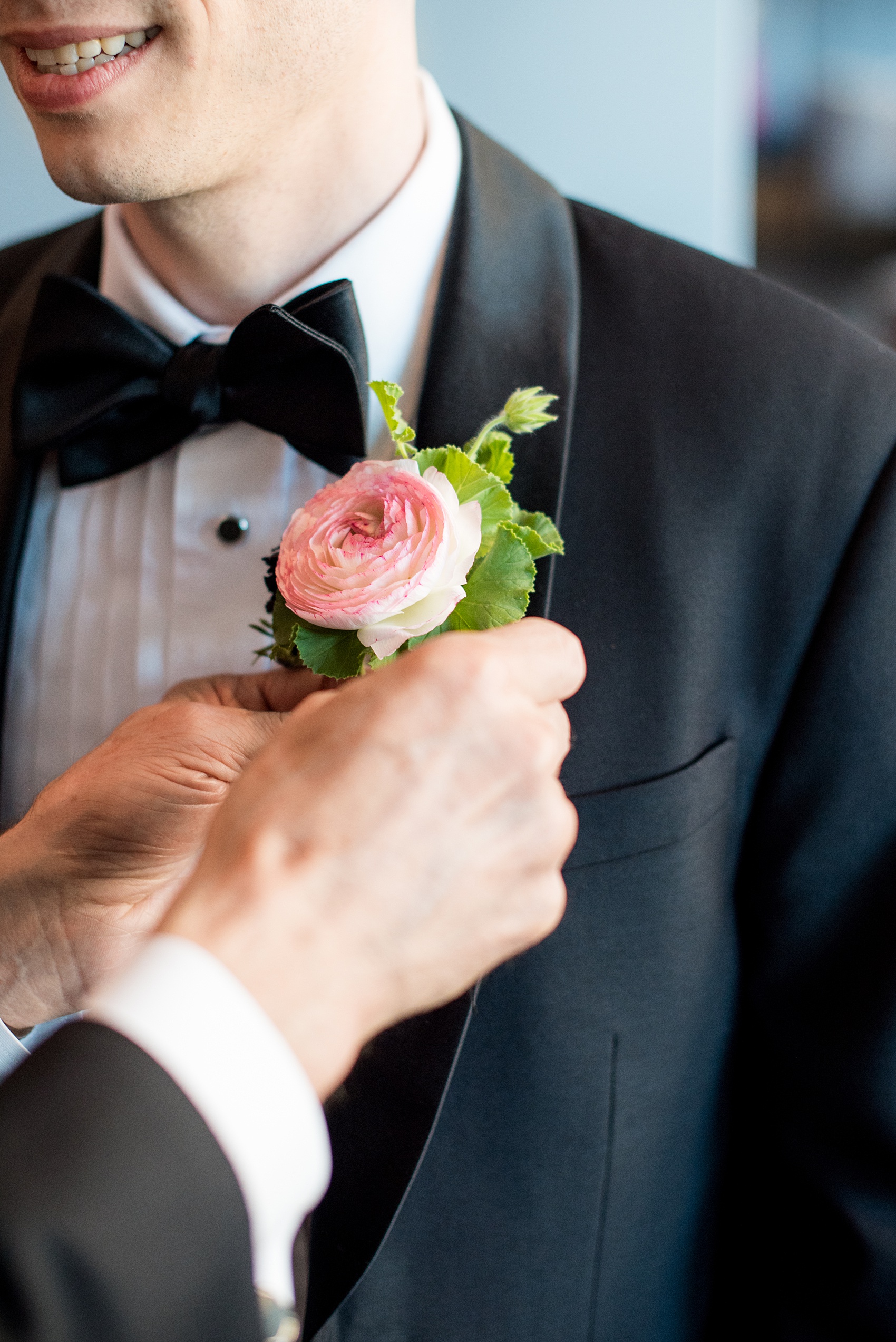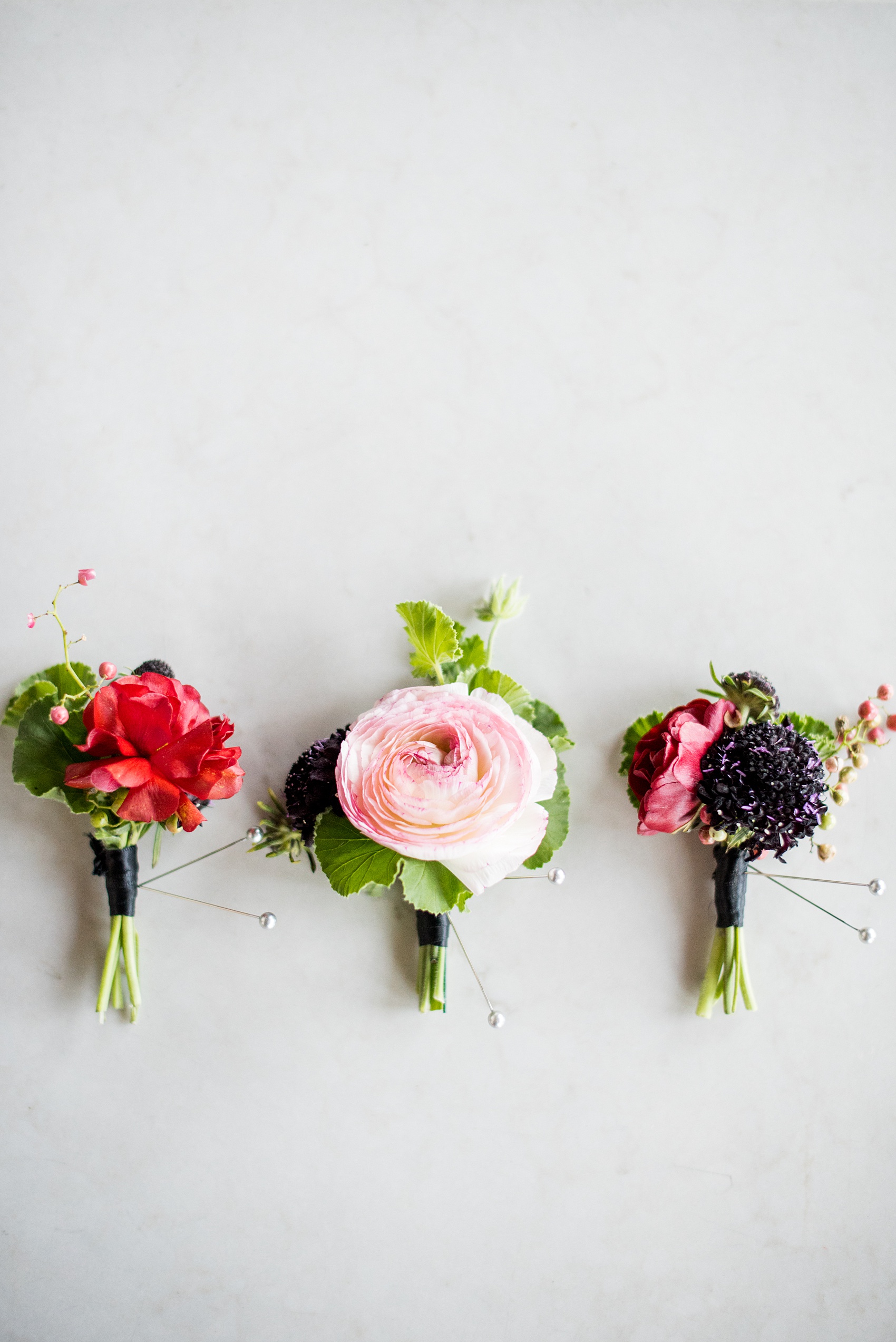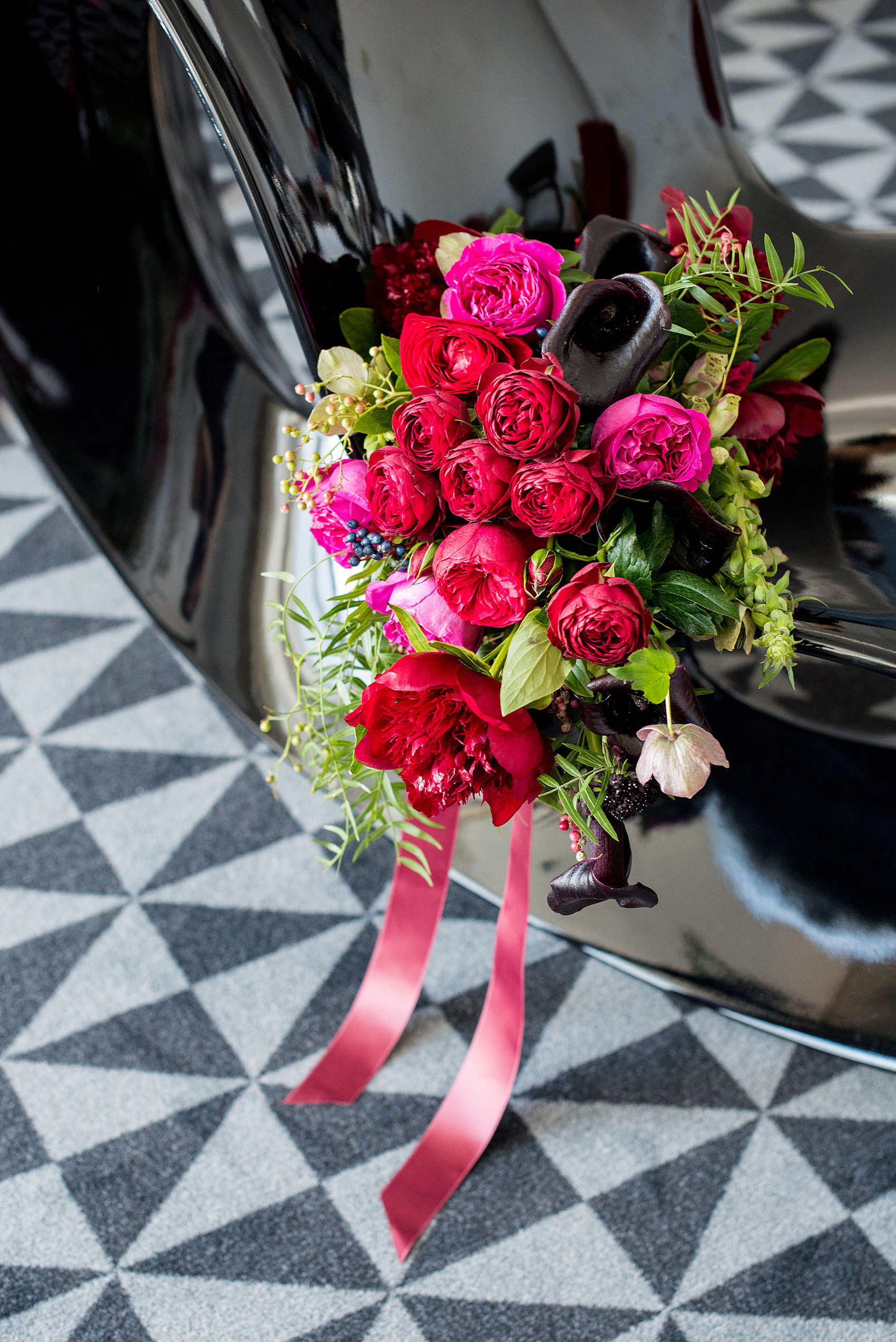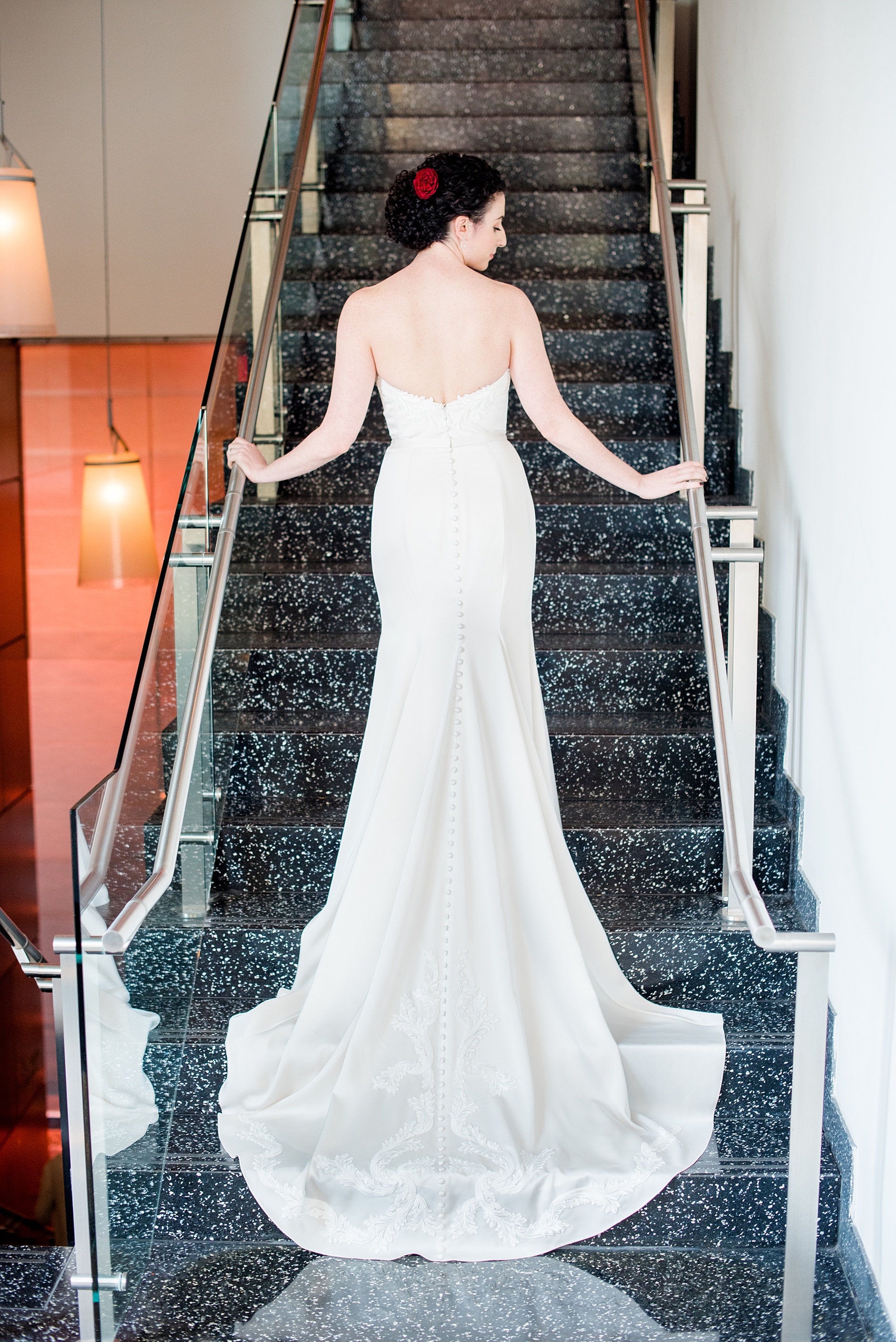 The cascade of Becca's gown was just as gorgeous as the incredible bouquet she carried. Sachi Rose Designs knocked it OUT OF THE PARK with the killer creation she made for Becca! It included Foxglove, imported Japanese roses, ranunculus, pink and fuchsia roses, small blue berries, deep red peonies and calla lilies, purple and green Hellebores, and greenery. It was tied with long satin burgundy ribbons. It was sweet and romantic with lots of sex appeal: just like the bride!
Outside Kevin awaited his bride's arrival to their outdoor first look. While we waited for the whole wedding party to congregate and look on from a close distance we captured some stunning portraits of the bride. She had one last "hoorah" as a legally single woman as she posed with…BATMAN. (You cannot make this stuff up, people! Only in NYC, right? Or across the water, in Hoboken, anyway!) It's one of my ALL TIME favorite photos. Becca + Batman is one of the history books…but it is certainly second to all of the amazing W Hoboken wedding photos of Becca and Kevin.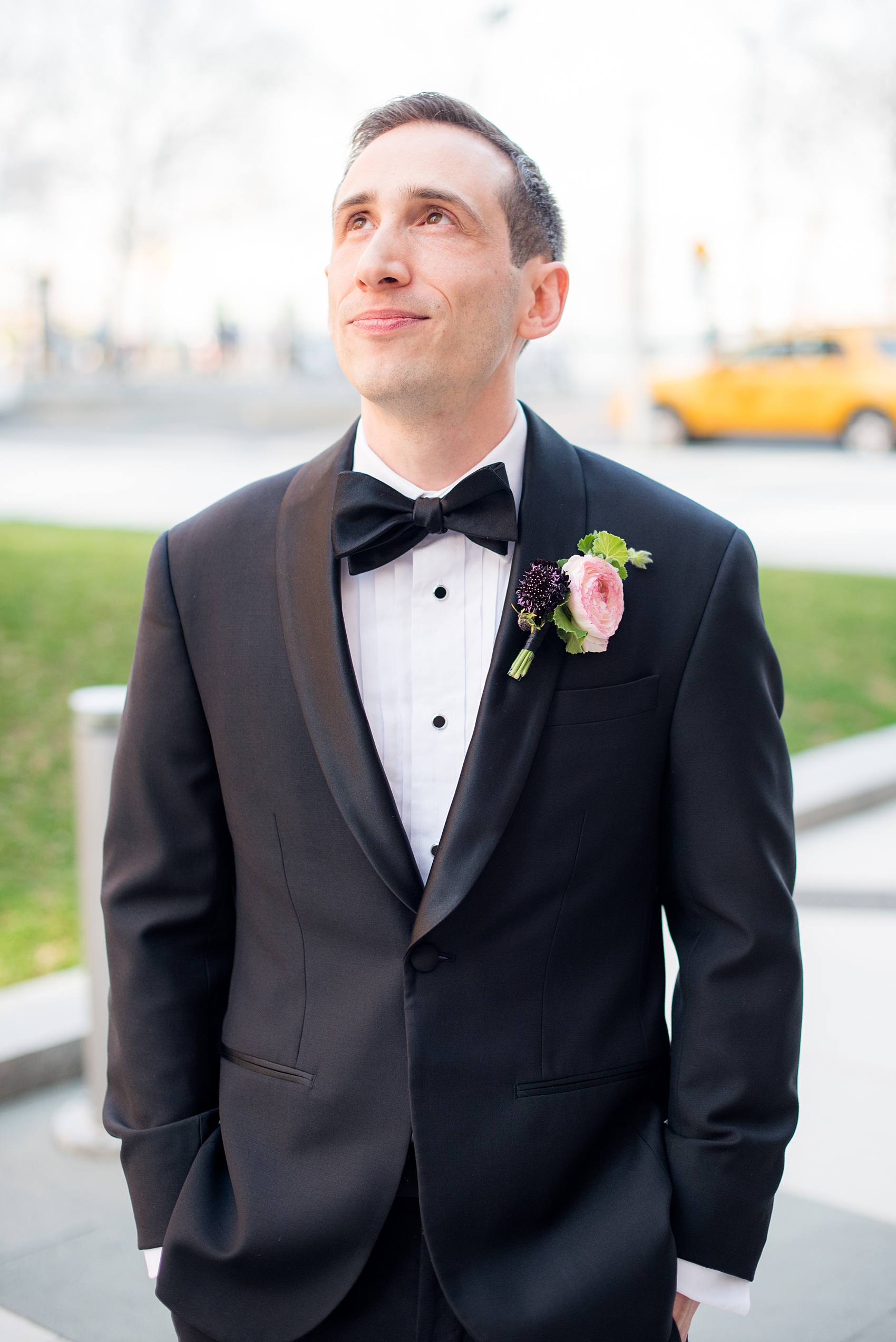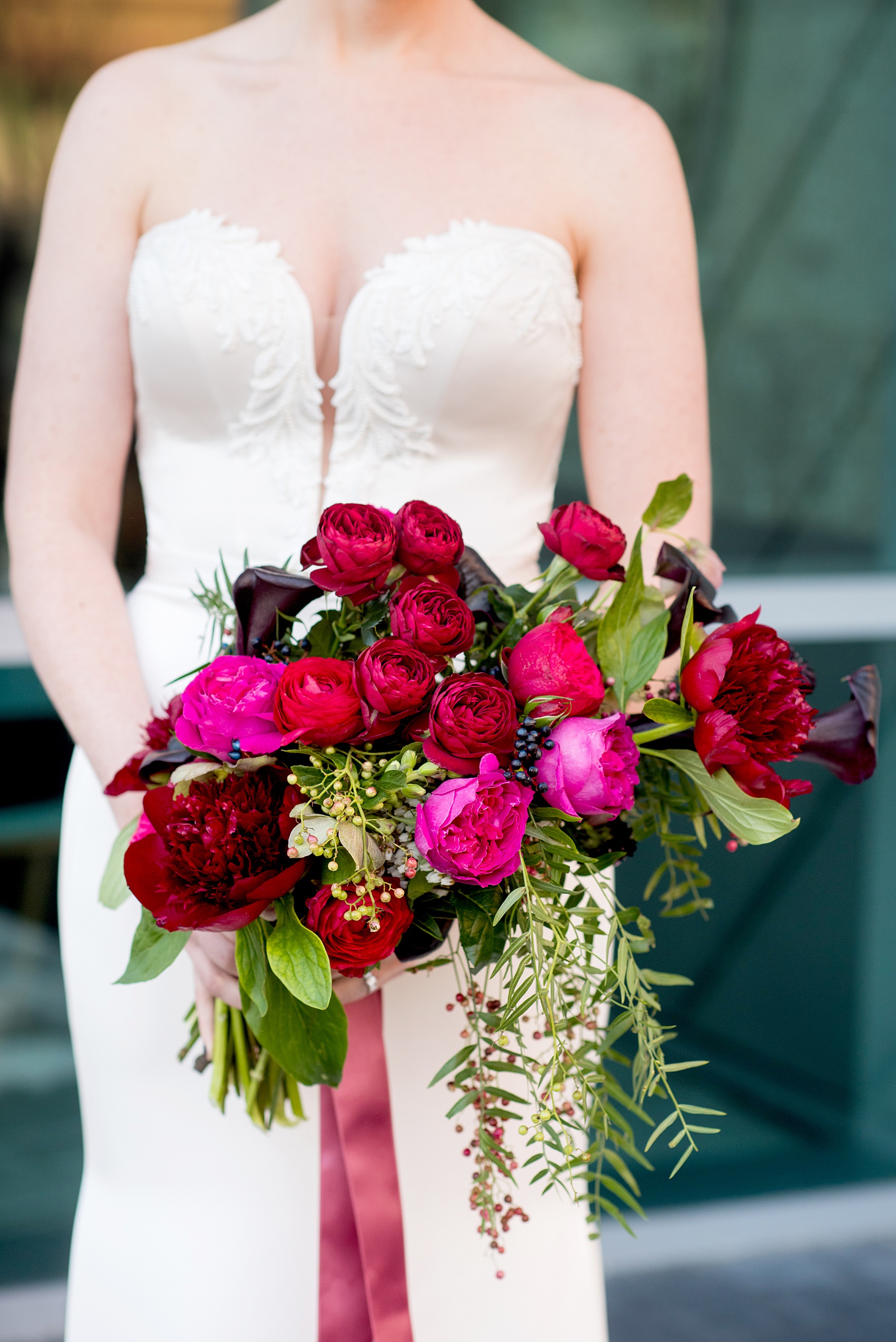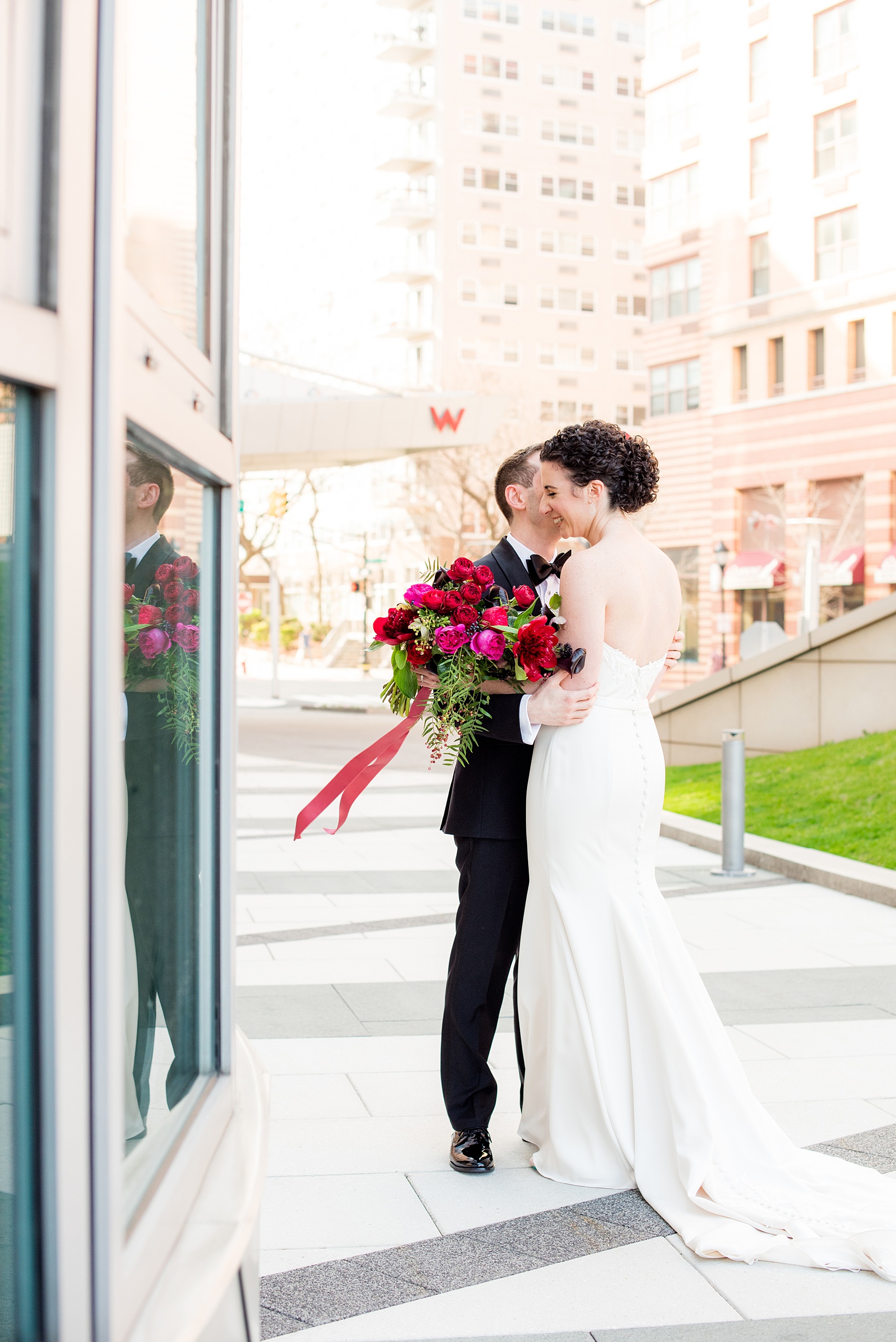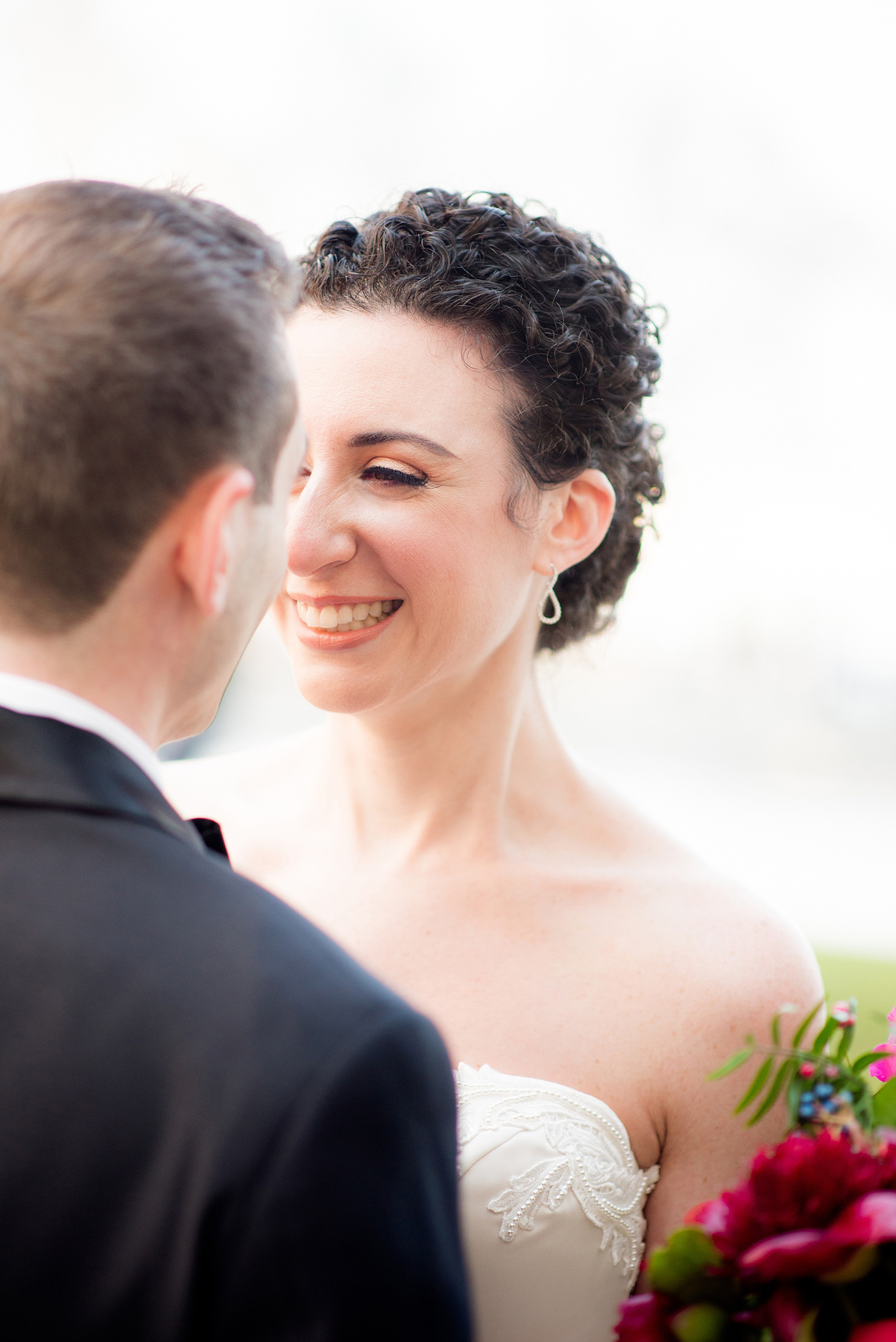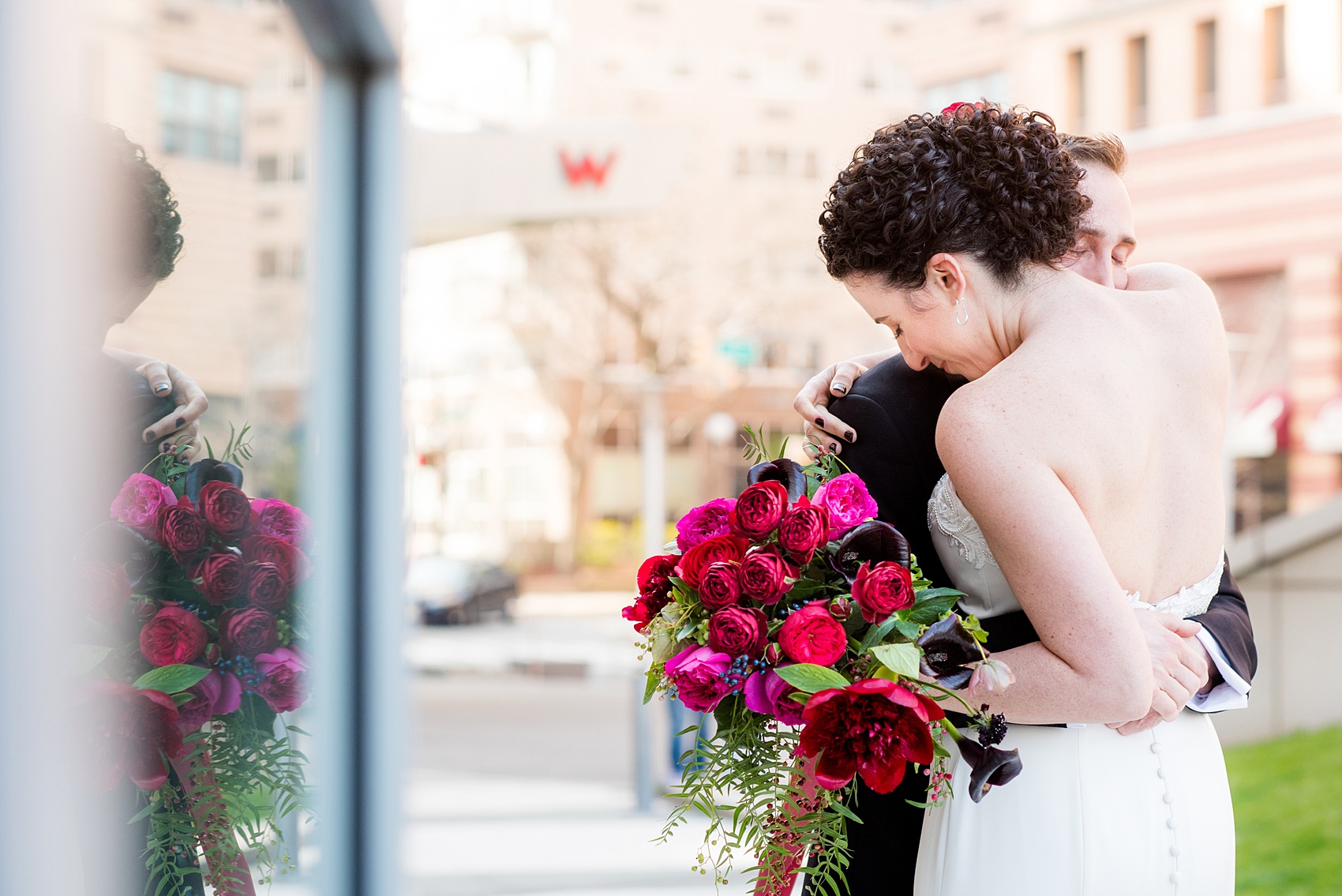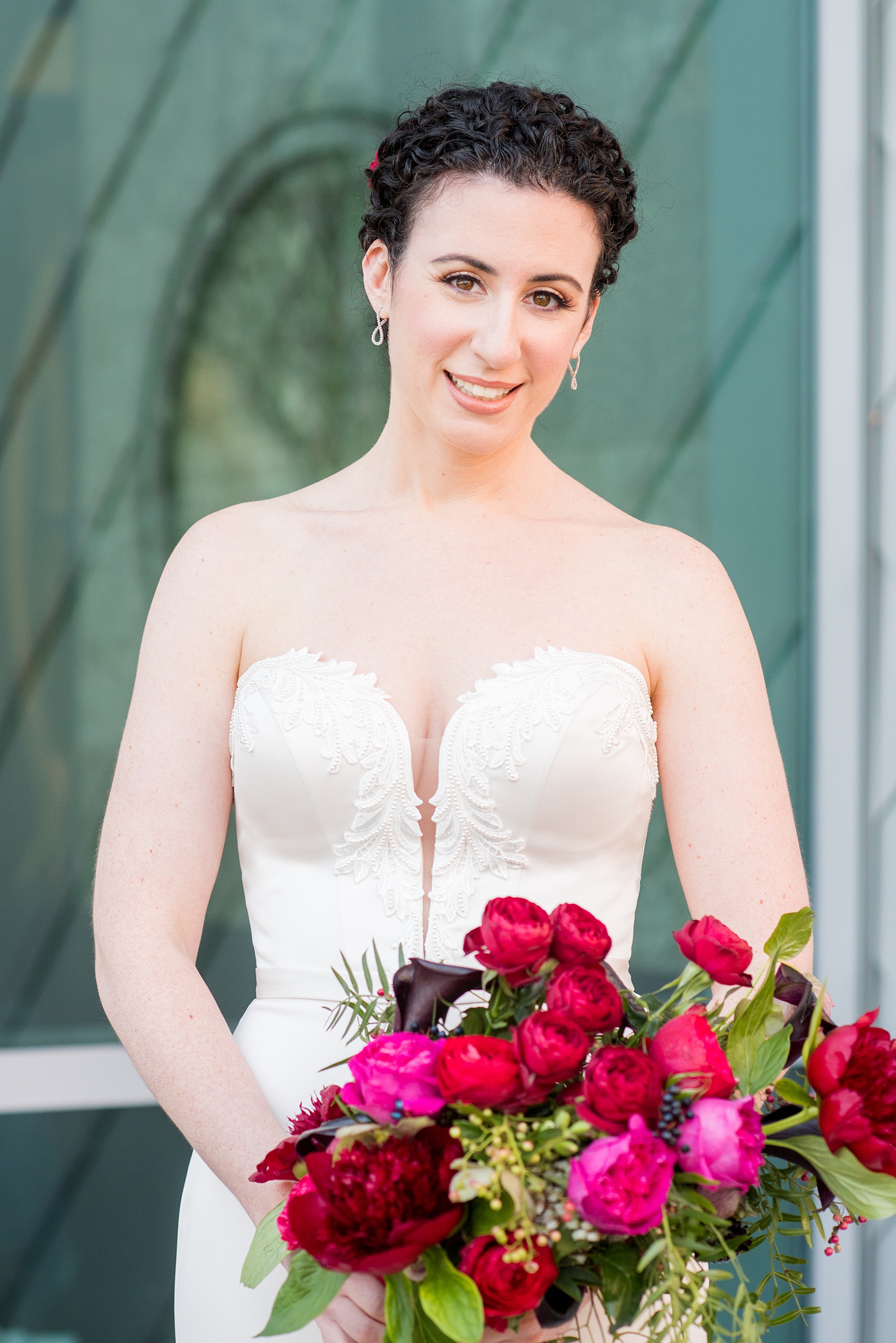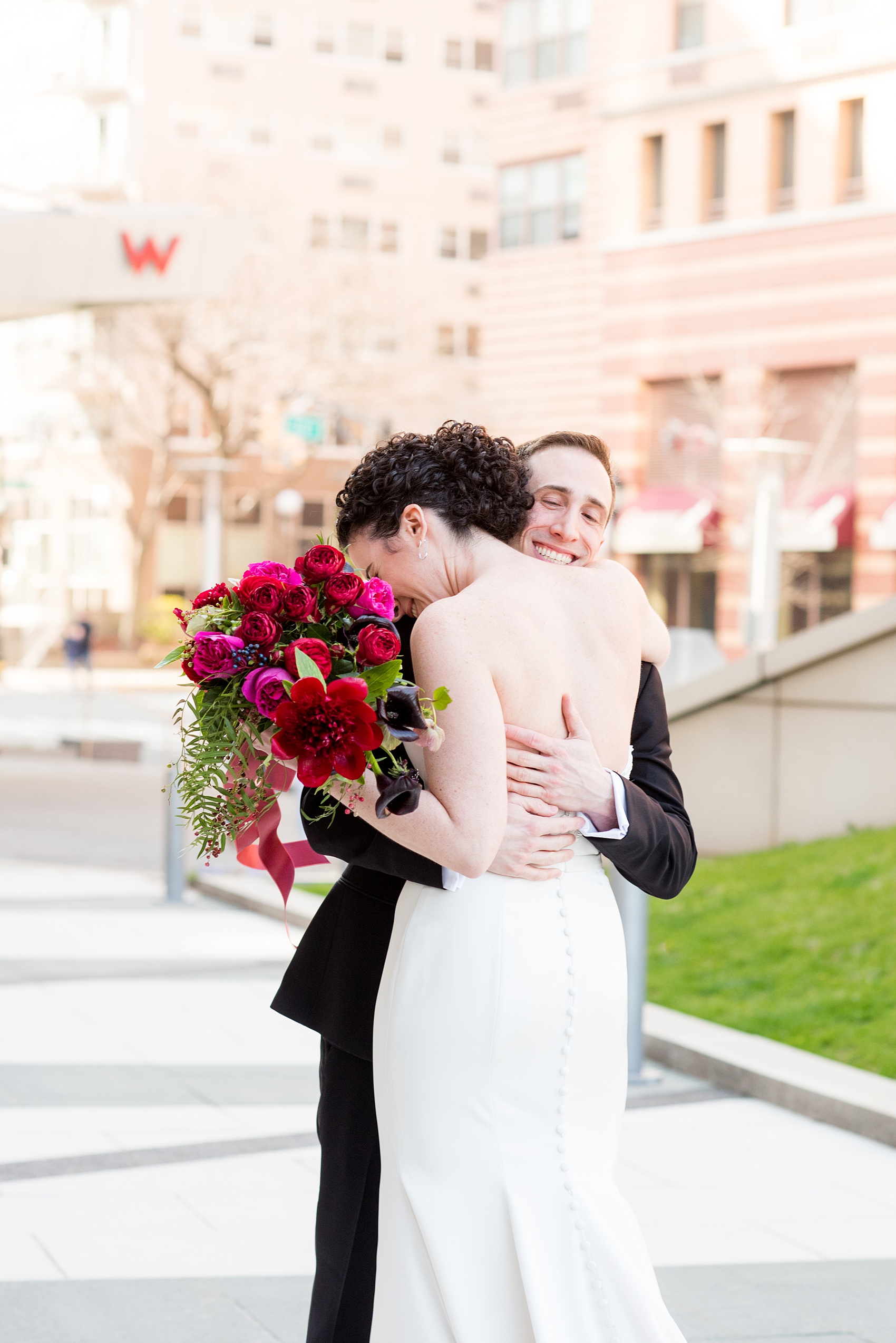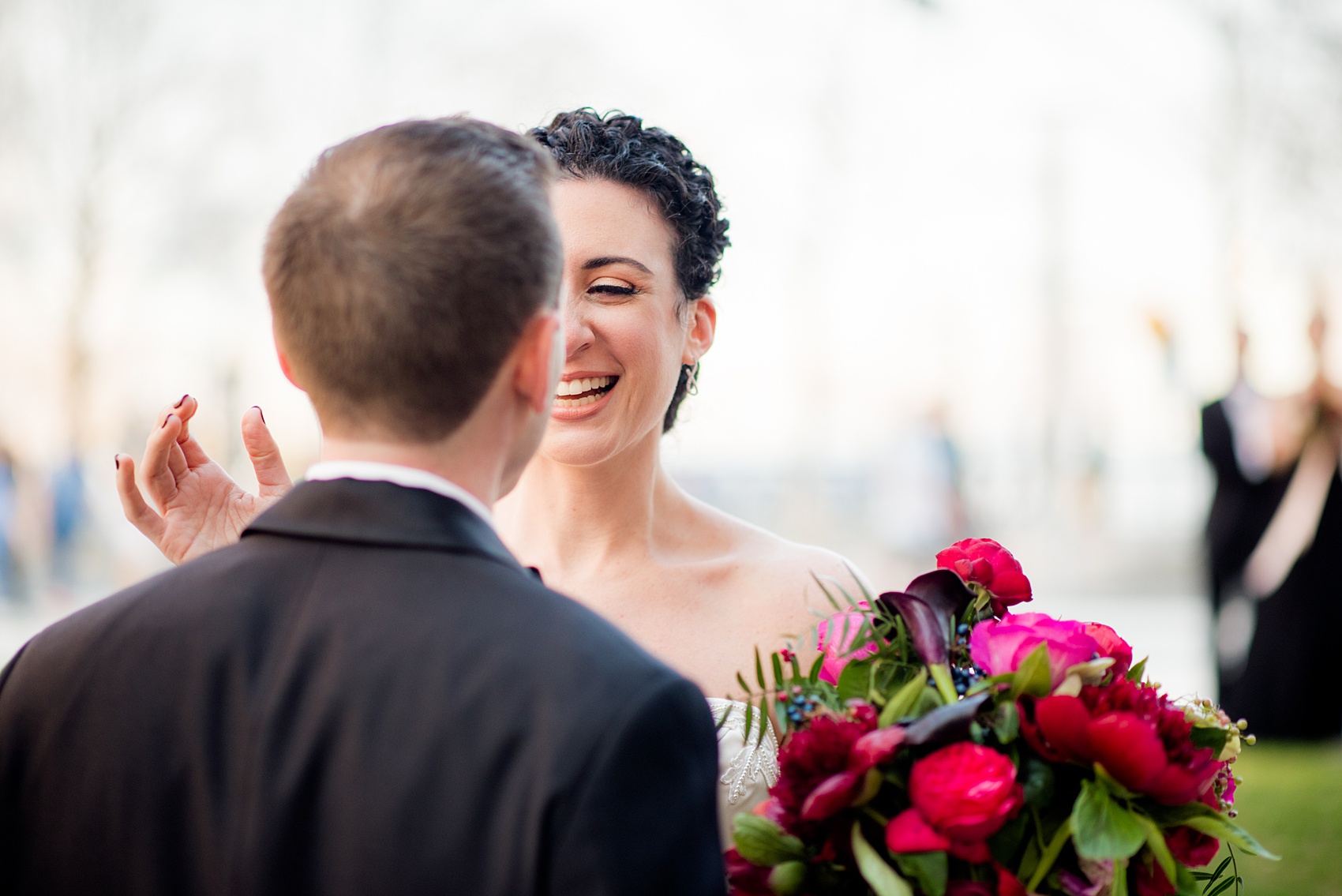 First look SUCCESS! When a couple has their first-look moment my favorite thing to do is simply step back and observe it all through my camera lens. Capturing these moments is literally freezing time and enabling the couple to relive the happiness over and over again for a lifetime. (Have I mentioned I love what I do?)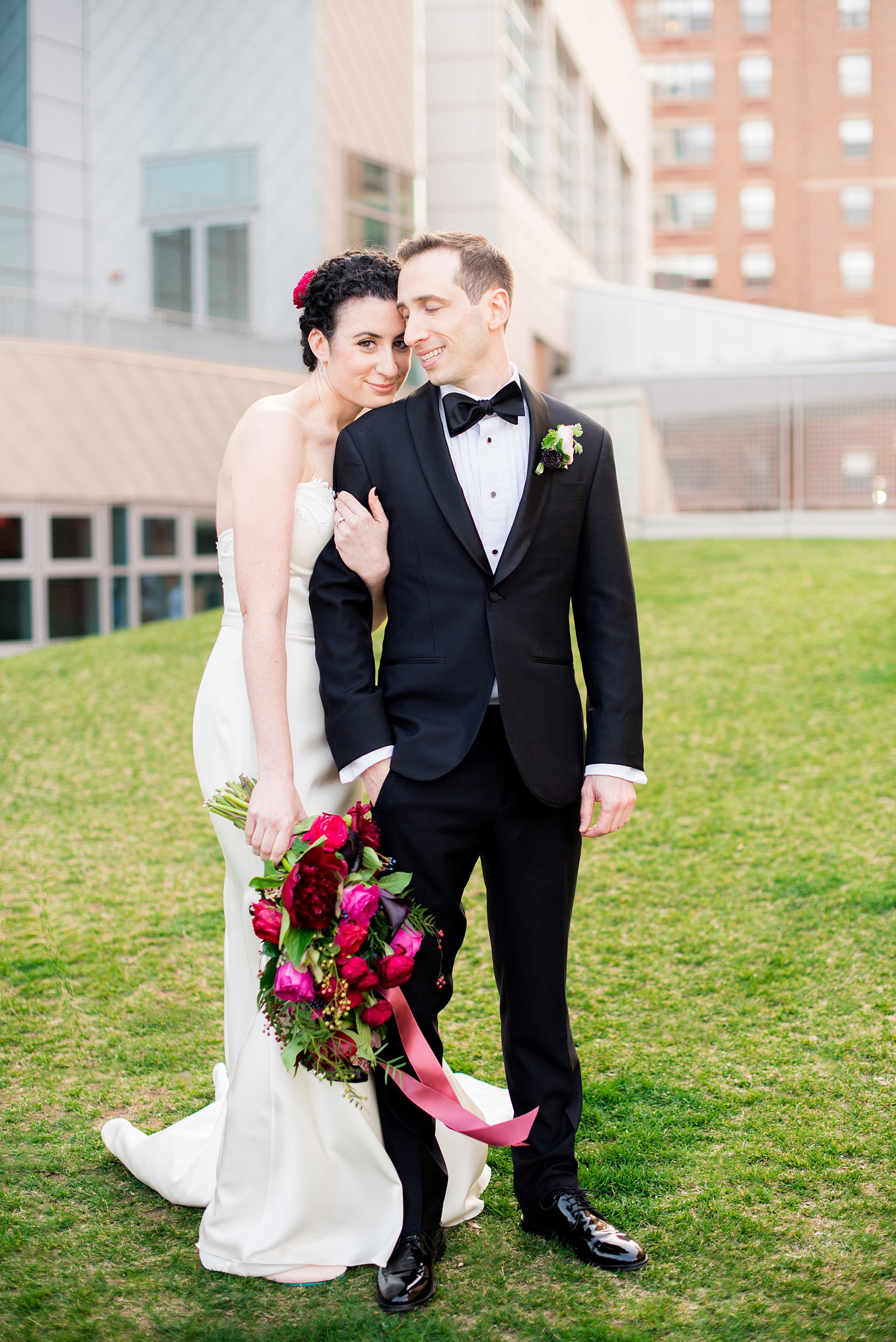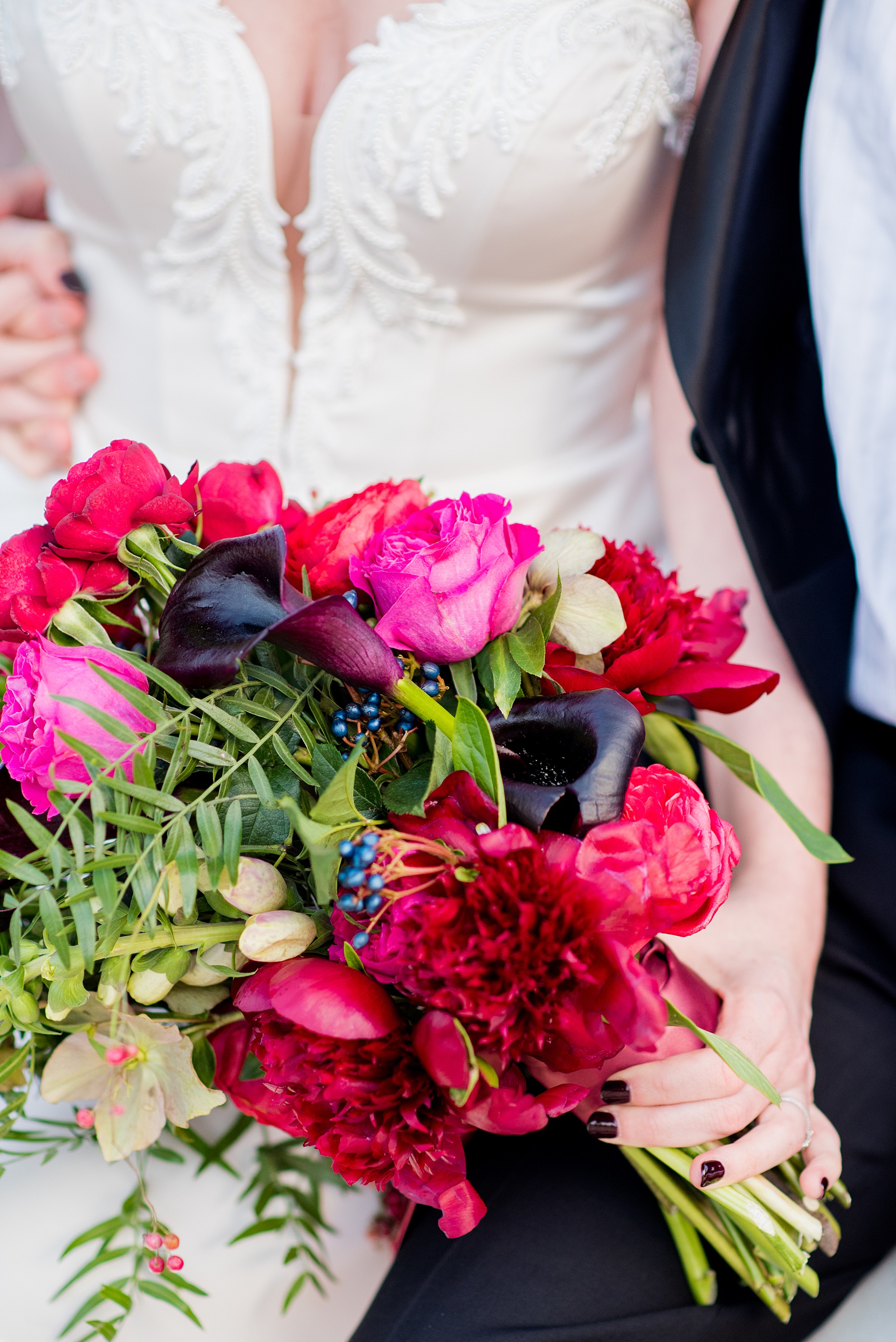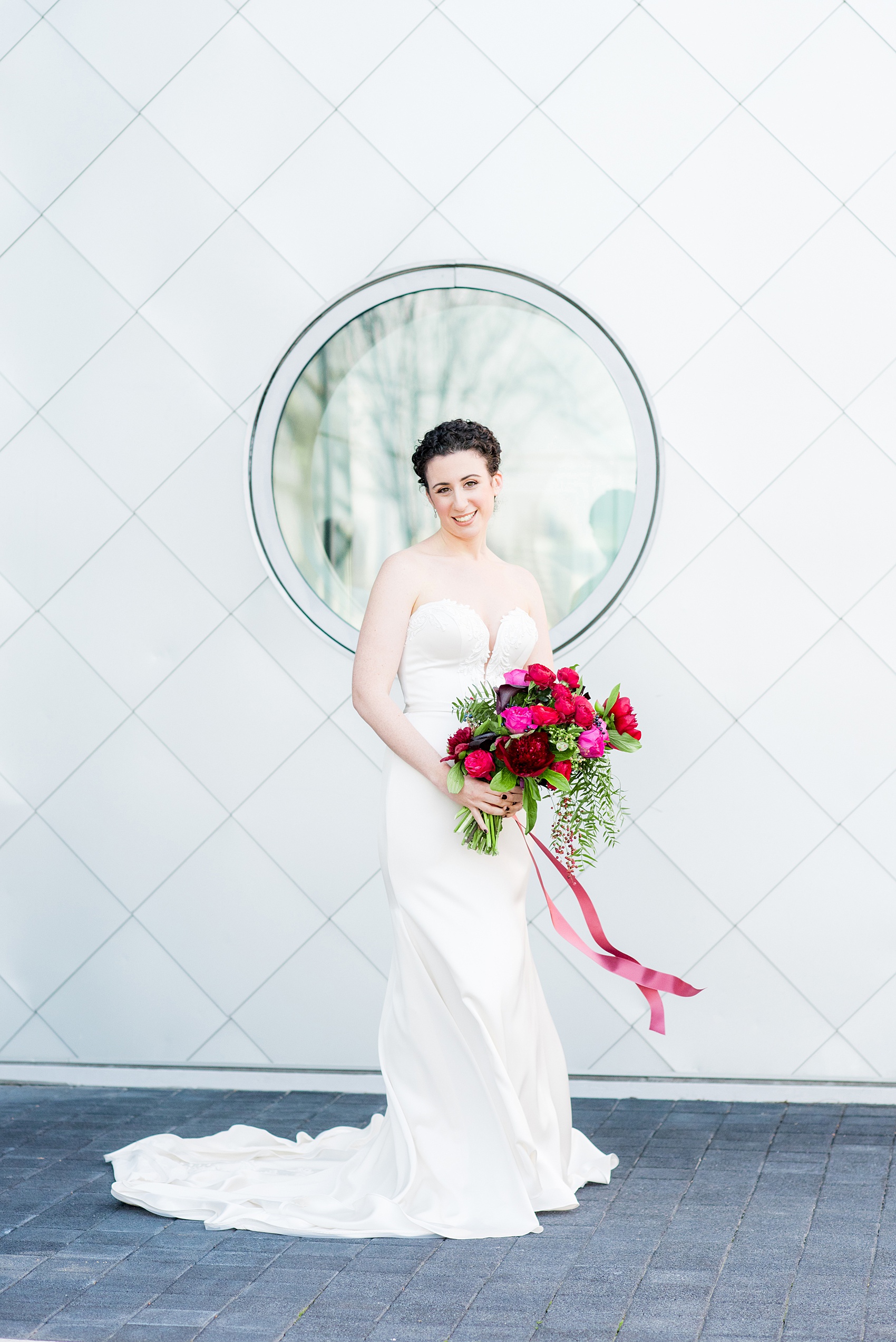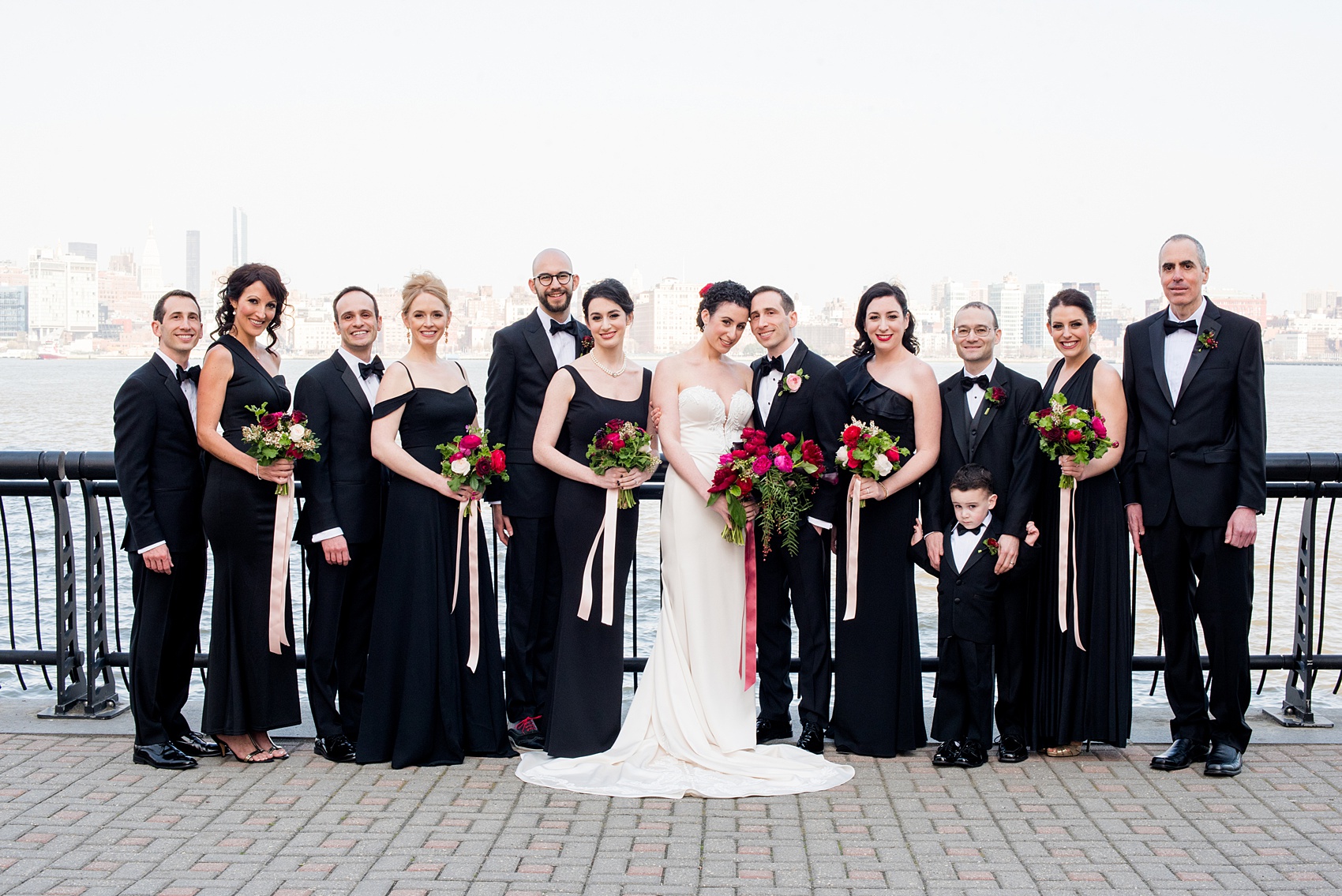 Becca and Kevin were saints when it came to their wedding party choices. They opted for simple, classic black tuxedos and bow ties and allowed the women to choose their own black gown. The pink, burgundy and fuchsia flowers with long flowing ribbons (light pink for the bridesmaids) added the perfect pop of sensual color to the scene. I love that Sachi Rose Design added Japanese Andromeda to the bridesmaids bouquets. It's a personal favorite.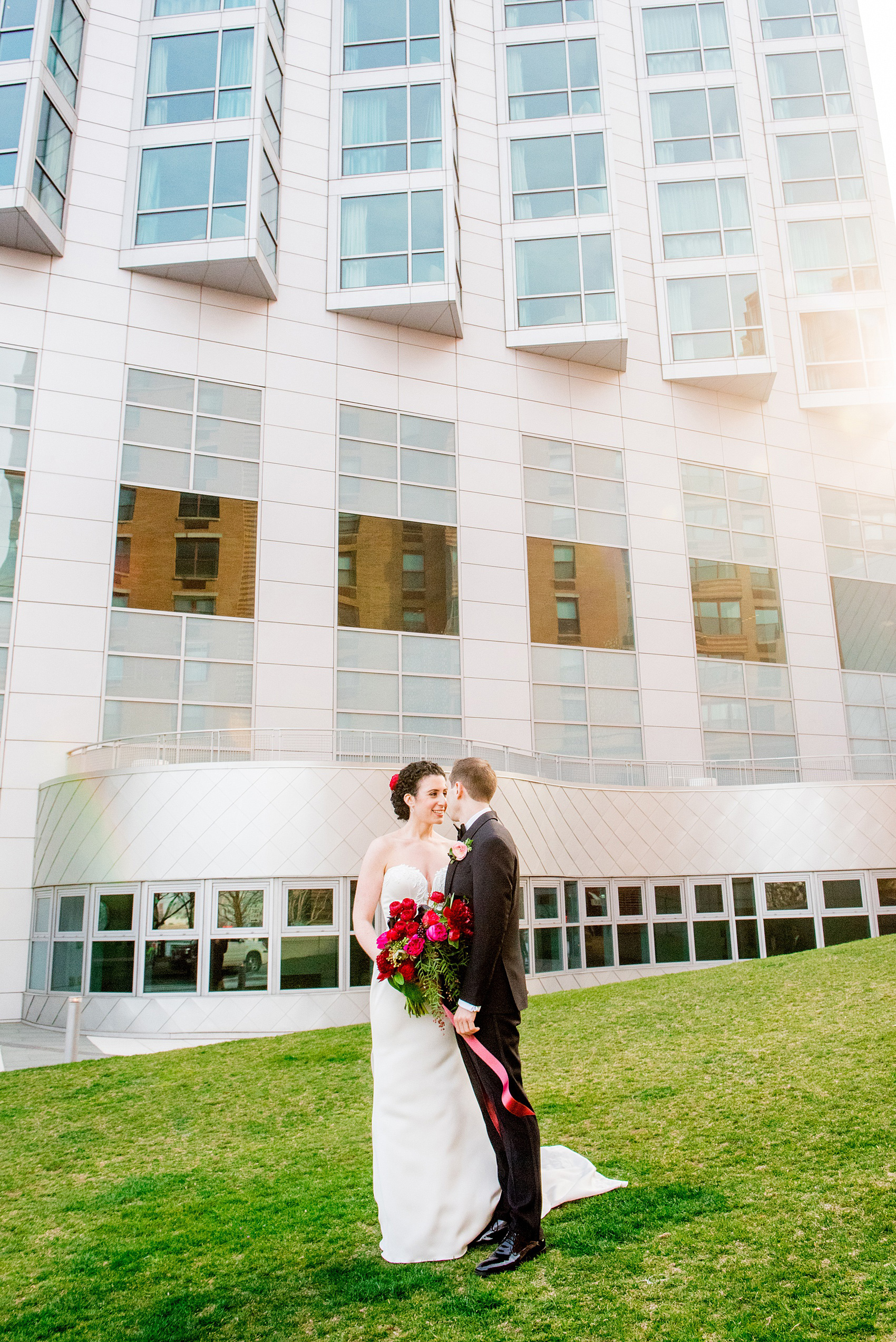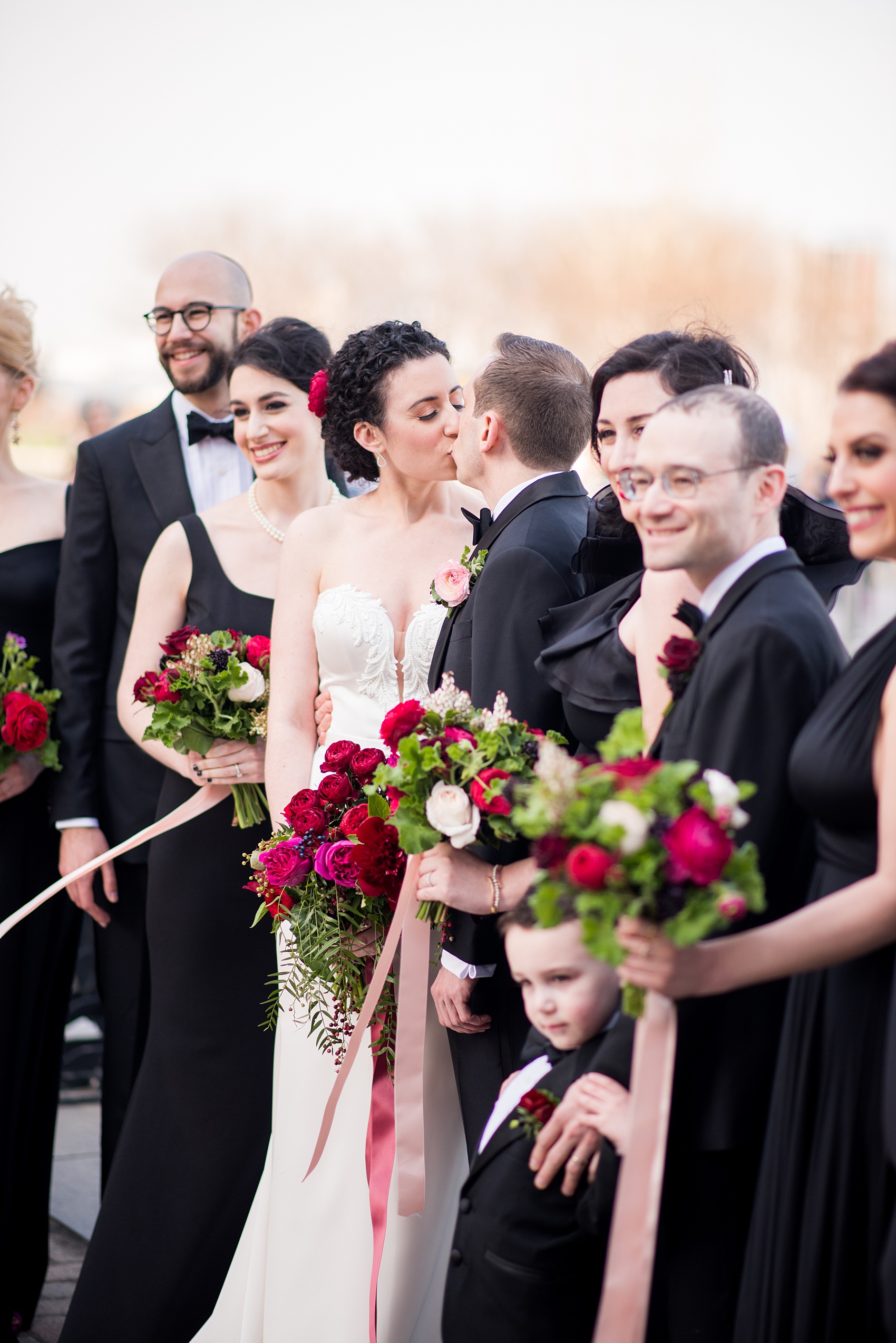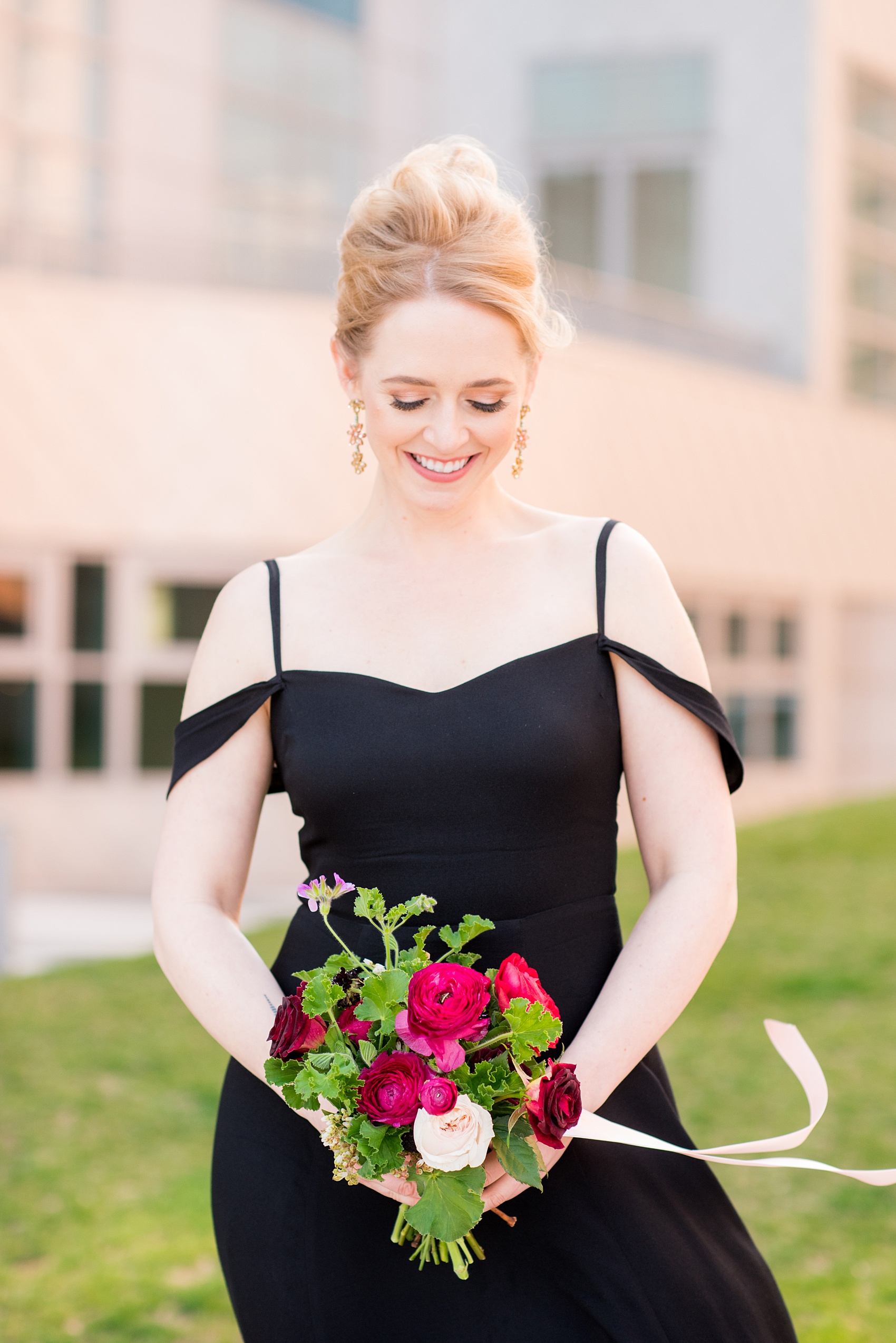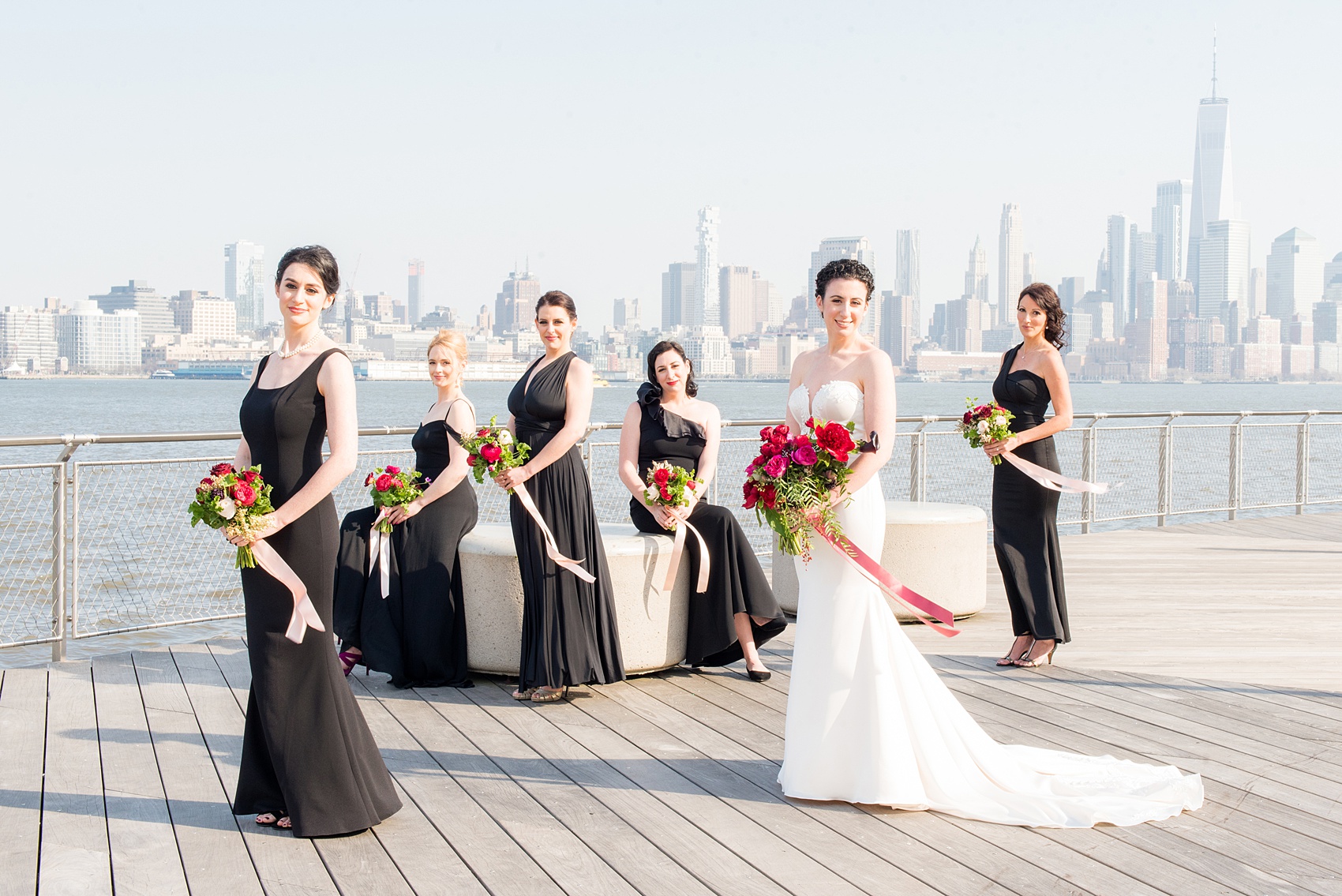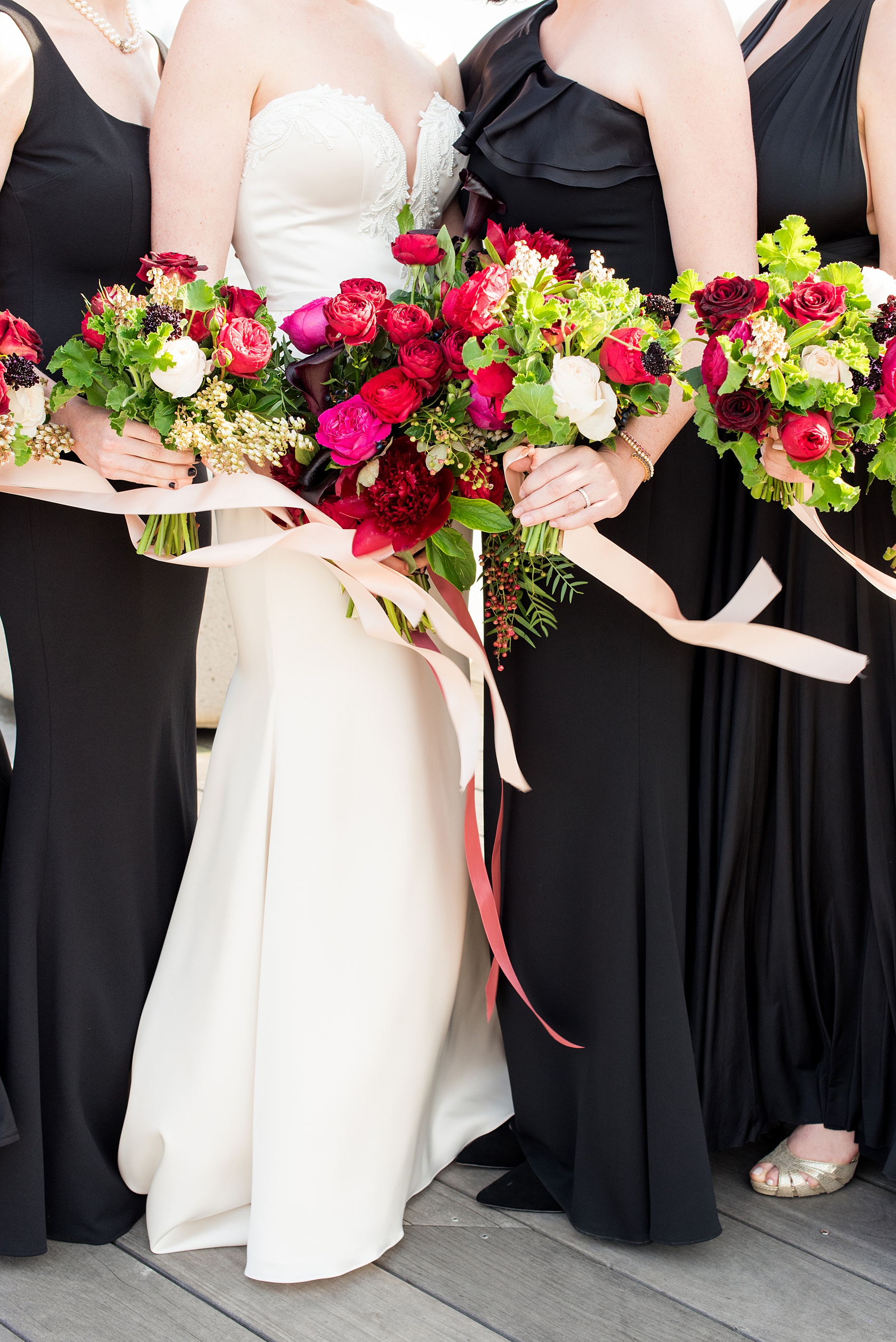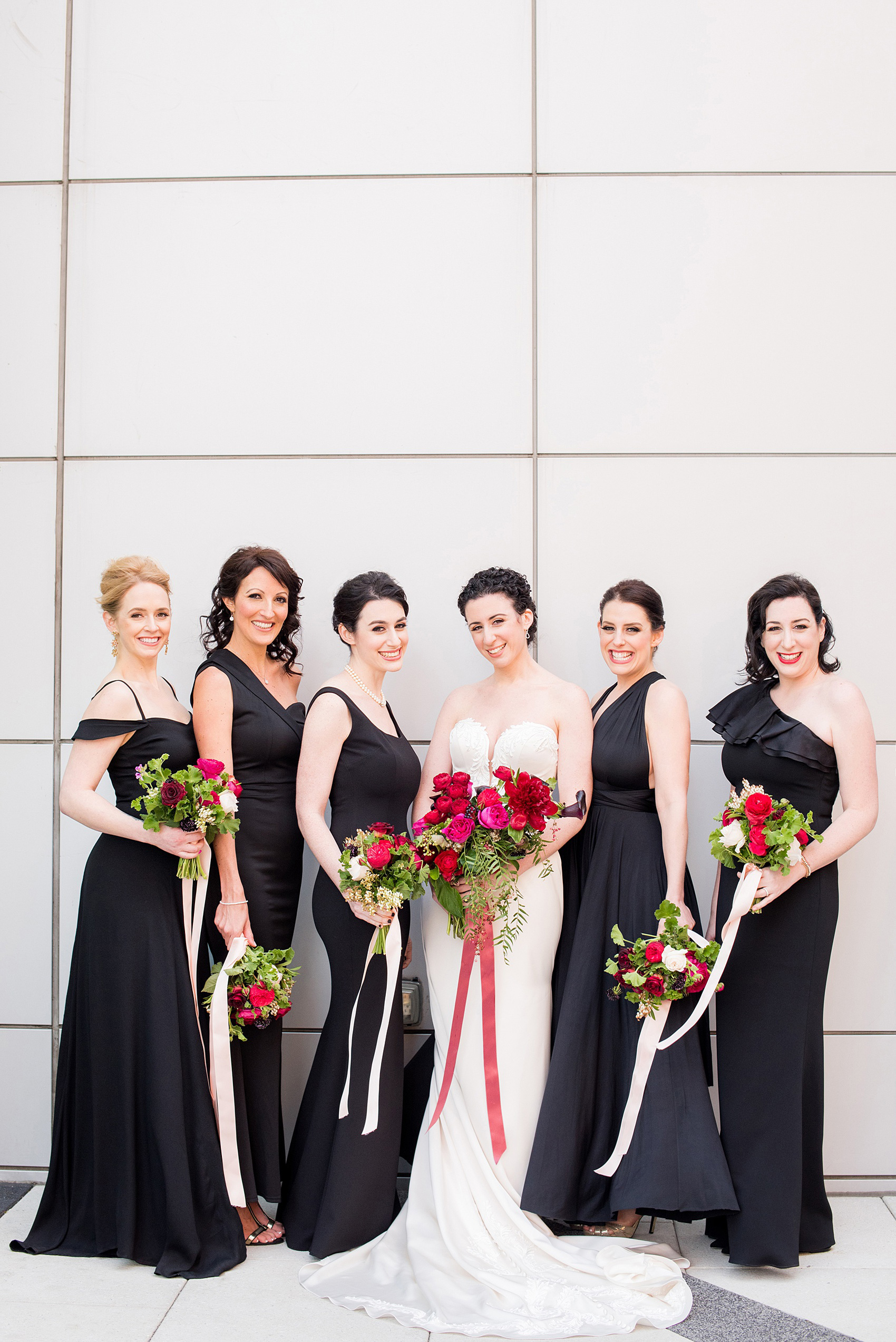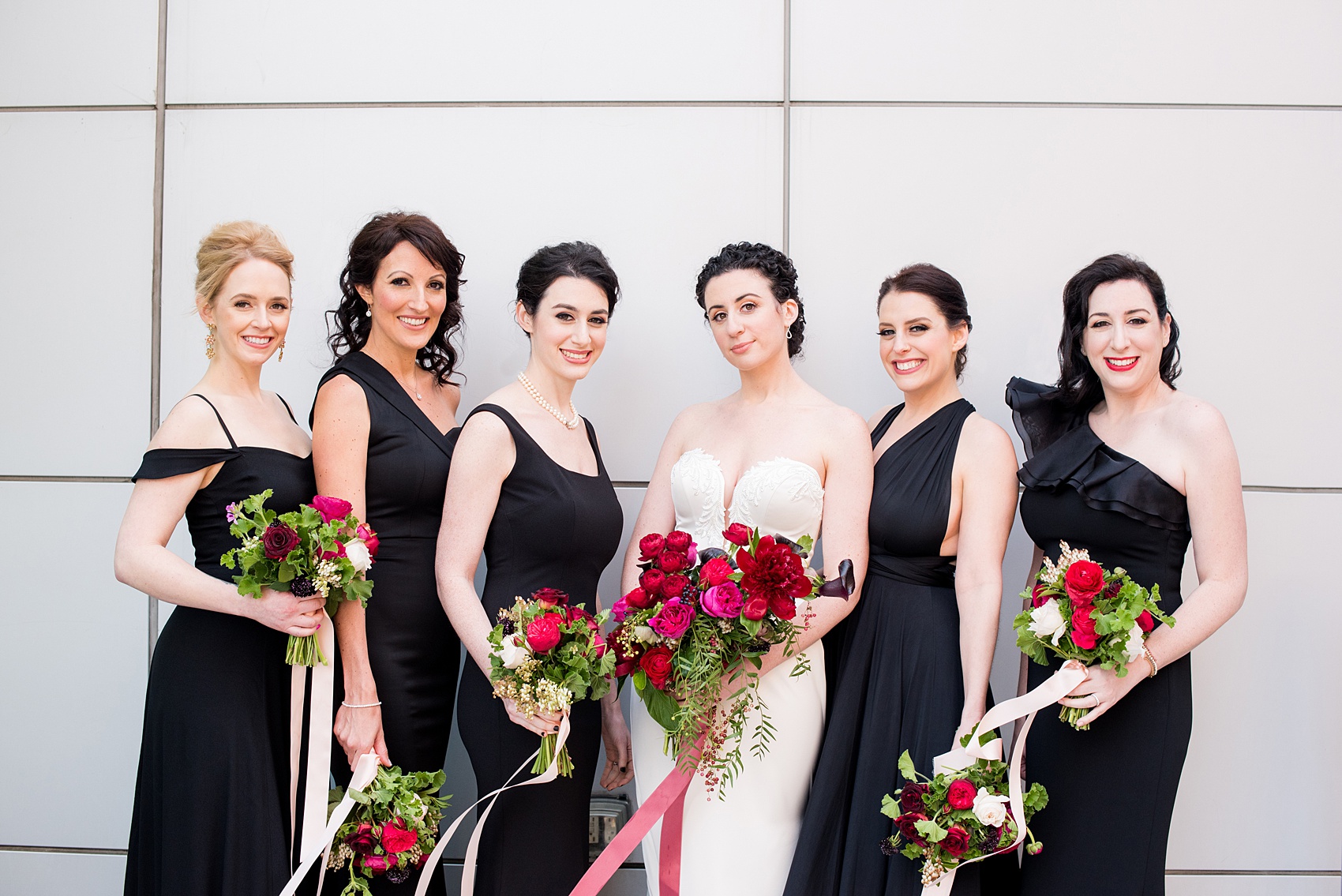 Look how hot these women are! Becca's bridal party, with Carrie, Elizabeth, Hannah, Beth and Jodie (left to right, excluding the bride in the middle) were all special. Her sisters of course are family. Elizabeth is soon-to-be family (she's marrying Kevin's twin brother soon!) and Beth and Carrie are lifelong friends. Carrie was her roommate in NYC and Beth has been friends with her since they were toddlers! I loved that Beth's whole family was there too. It's always a sign of a very special family in the bride's life.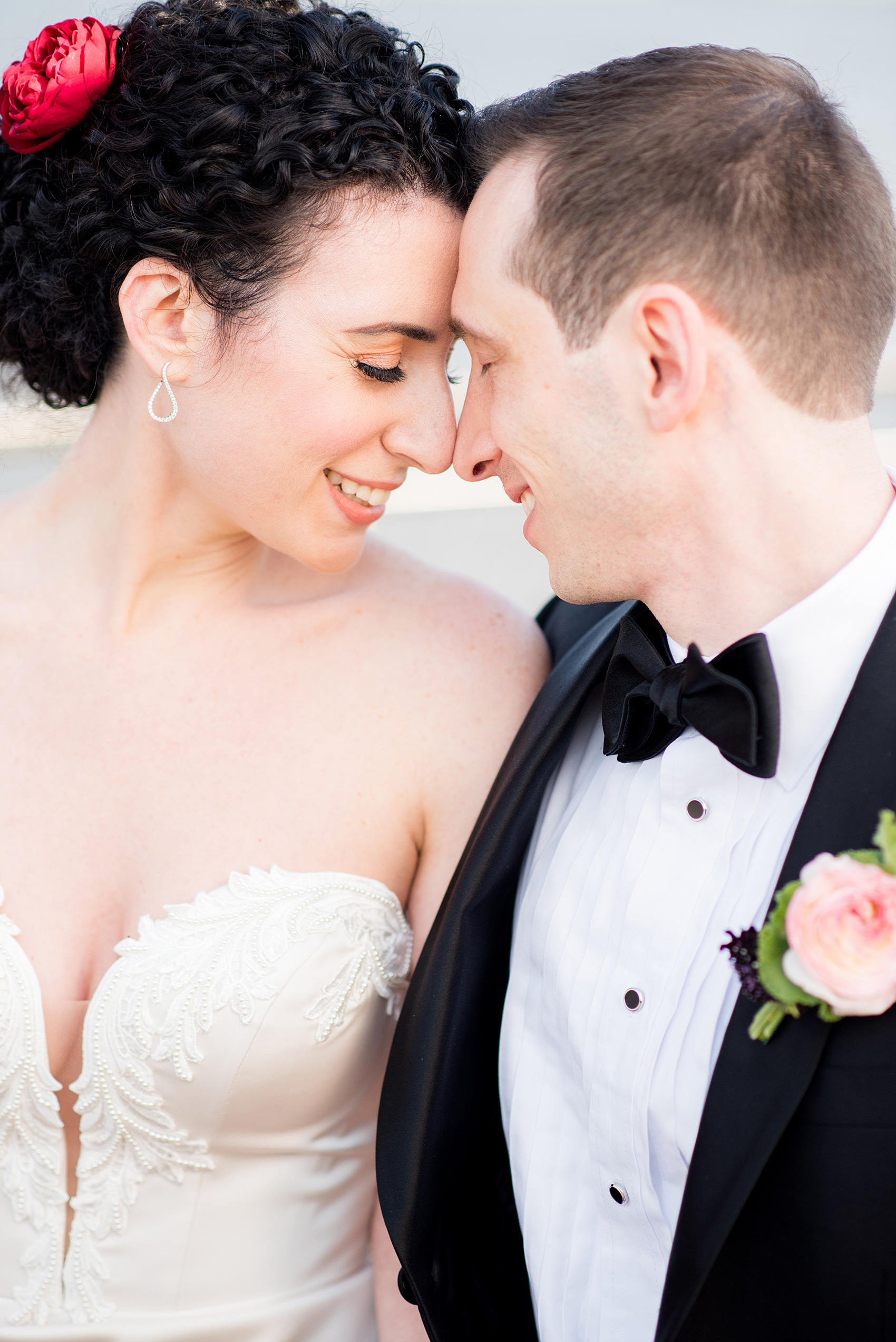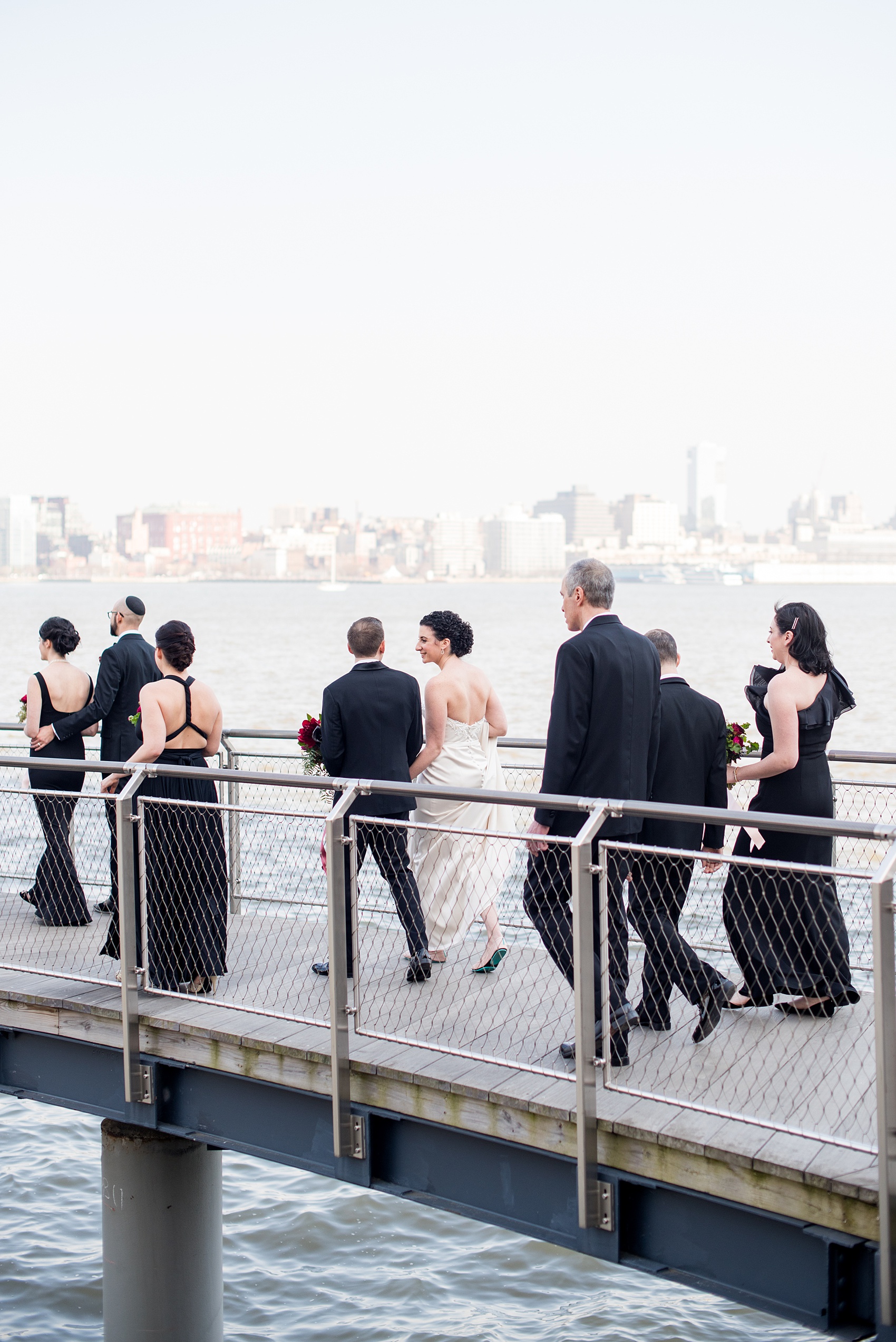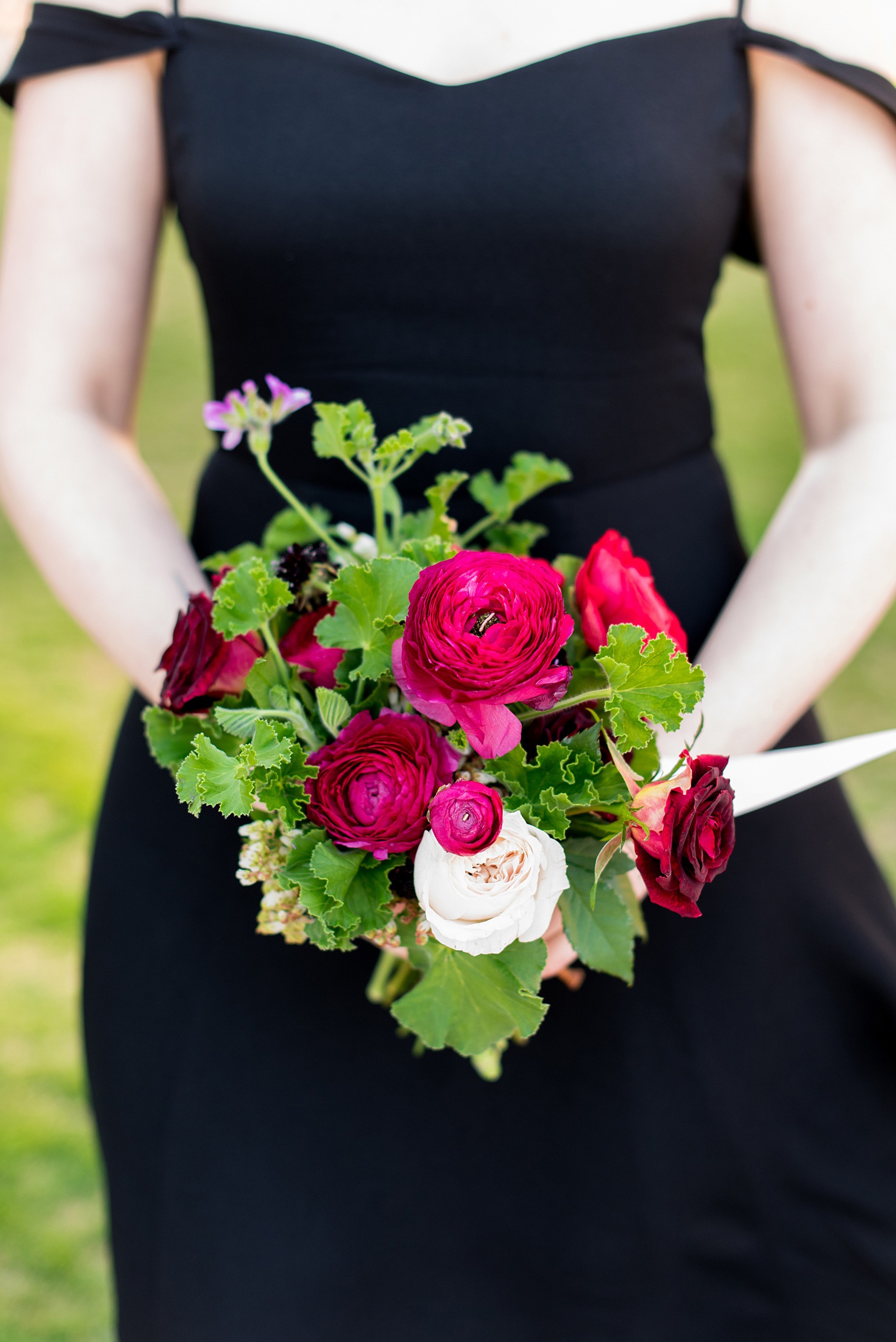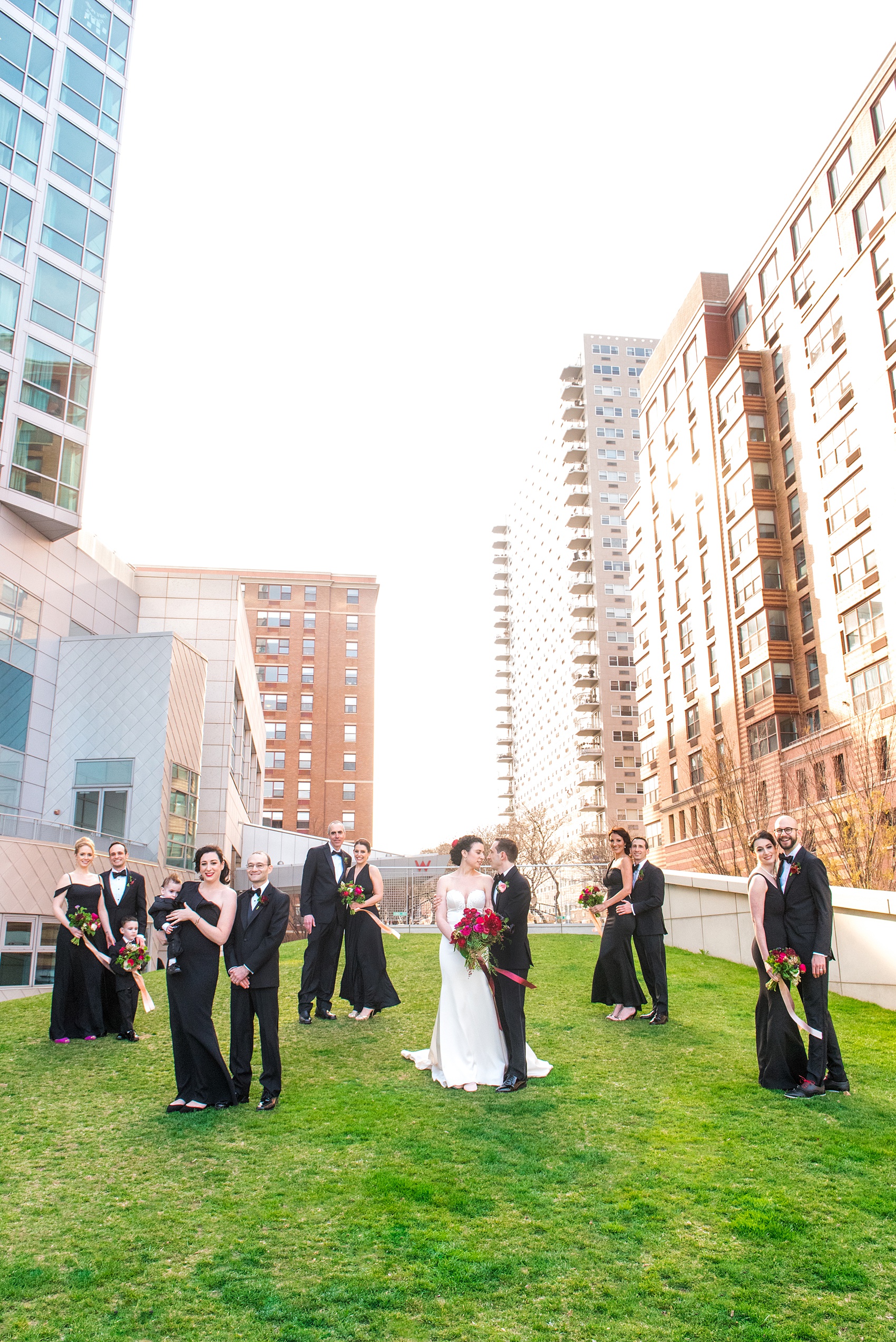 I cannot resist a great Vogue-like wedding party photo even in the wind of April. It's an iconic W Hoboken wedding photo by yours truly! And the wedding party was fantastic and cooperative even with a spring chill in the air.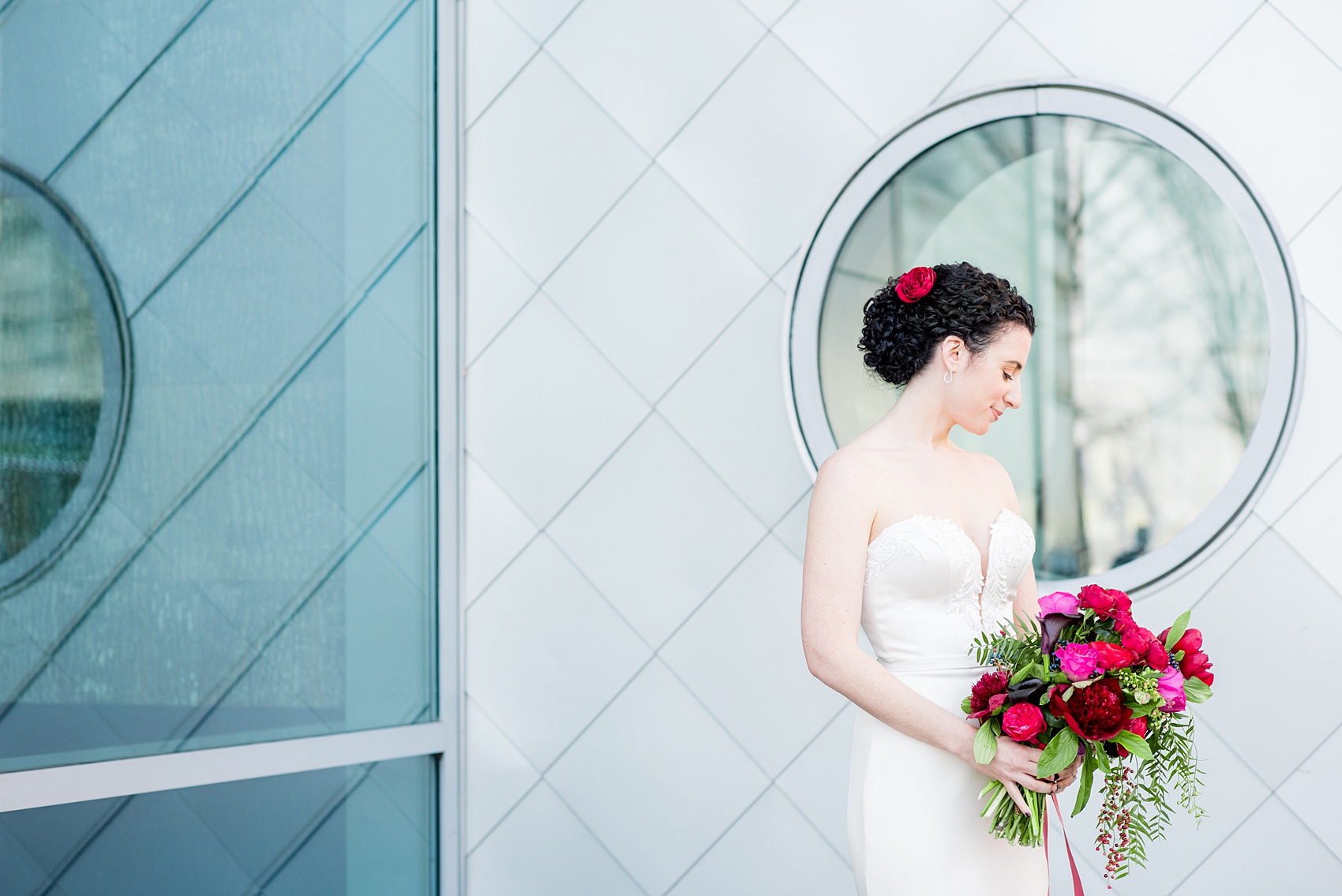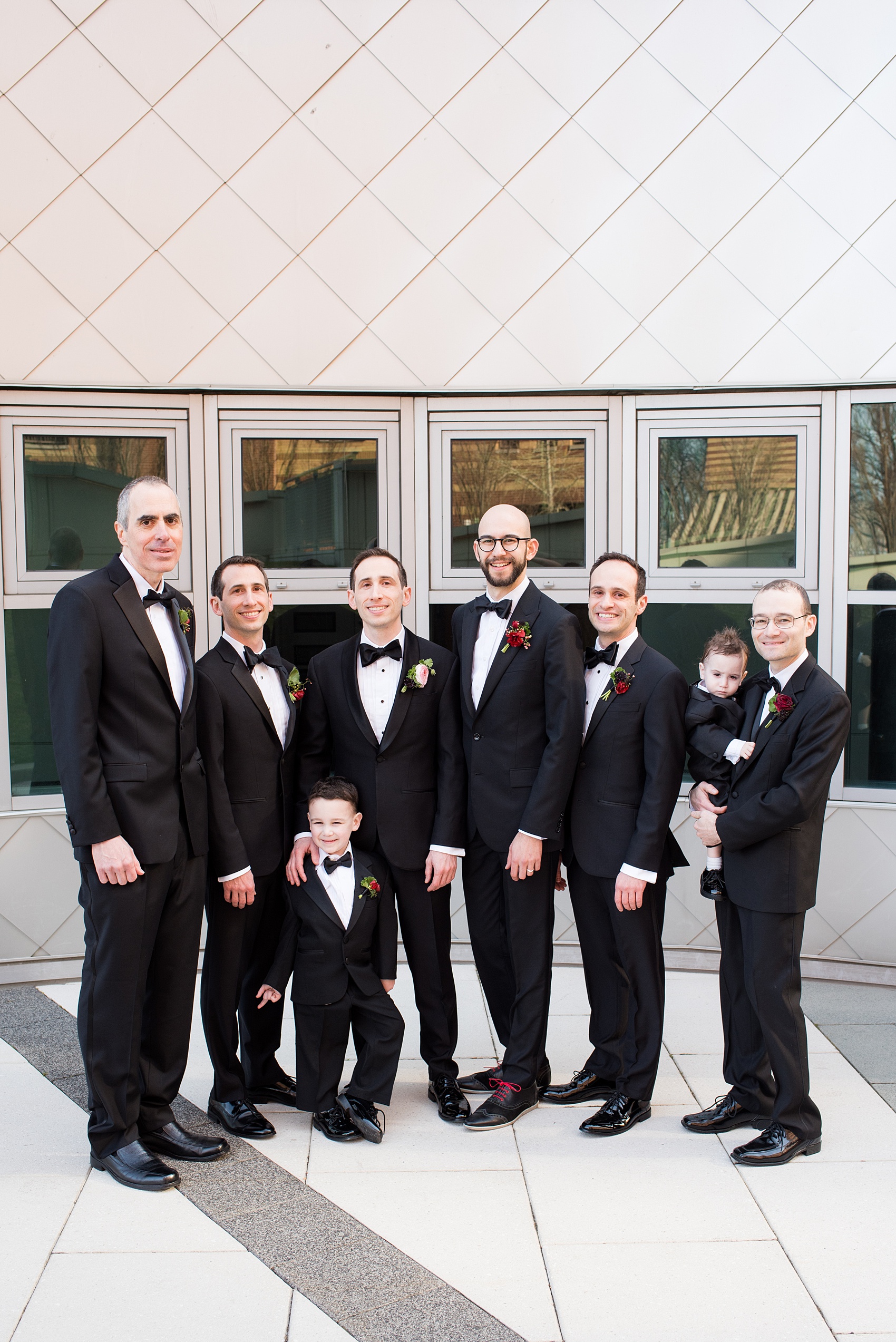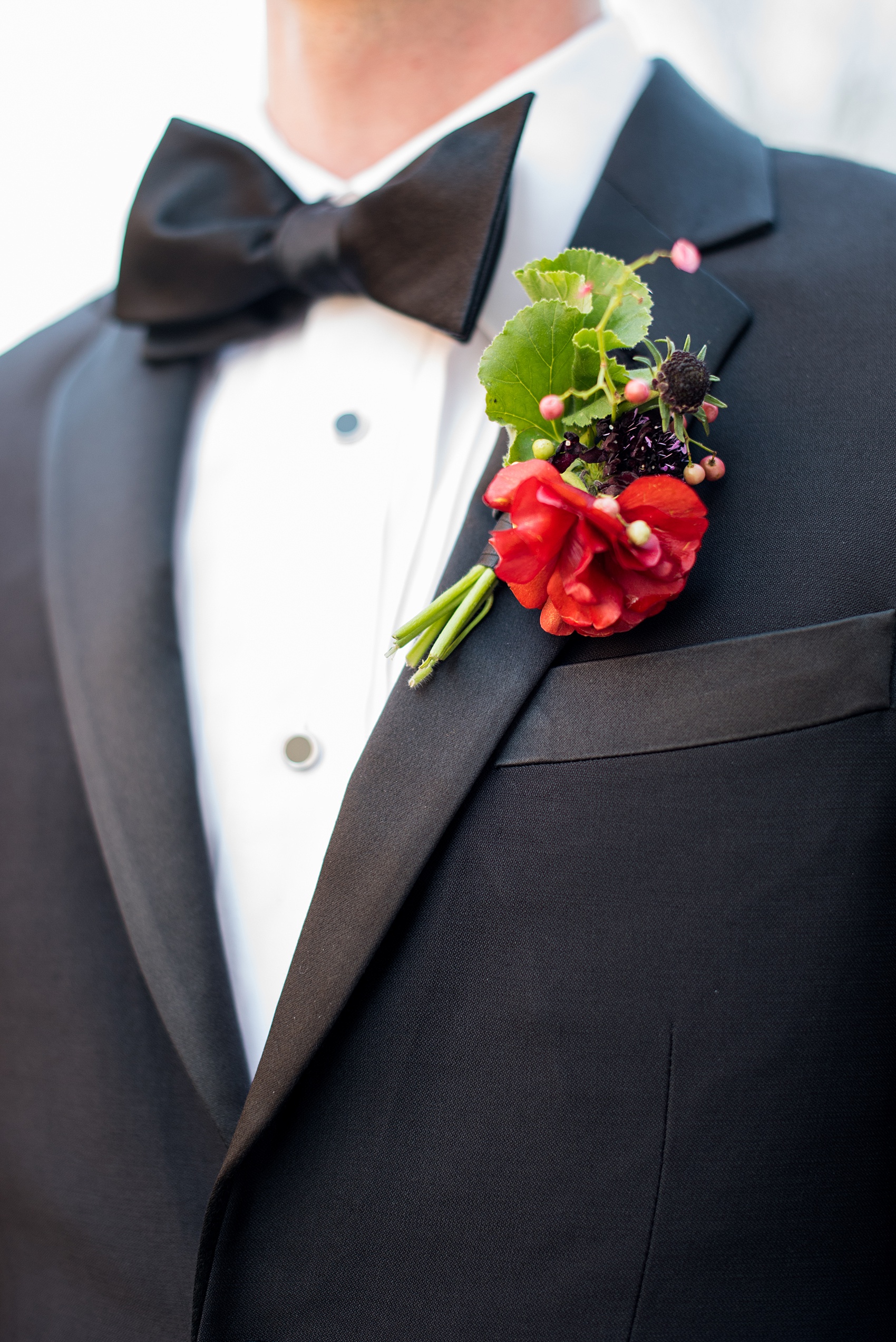 Kevin had his twin brother, Steve, old brother Jordan, brother-in-law Brian, Brian's cousin (and Hannah's fiance) Jonathan and Becca's special "Unckie" uncle, Dave, surrounding him. They had two VIP young members: Becca's nephews, Ezra and Benjamin. (They were the "flower boys" and I must say, Ben did the most thorough, best flower-petal-dropping at a ceremony I've ever seen.) The young boys' formal attire had everyone smiling.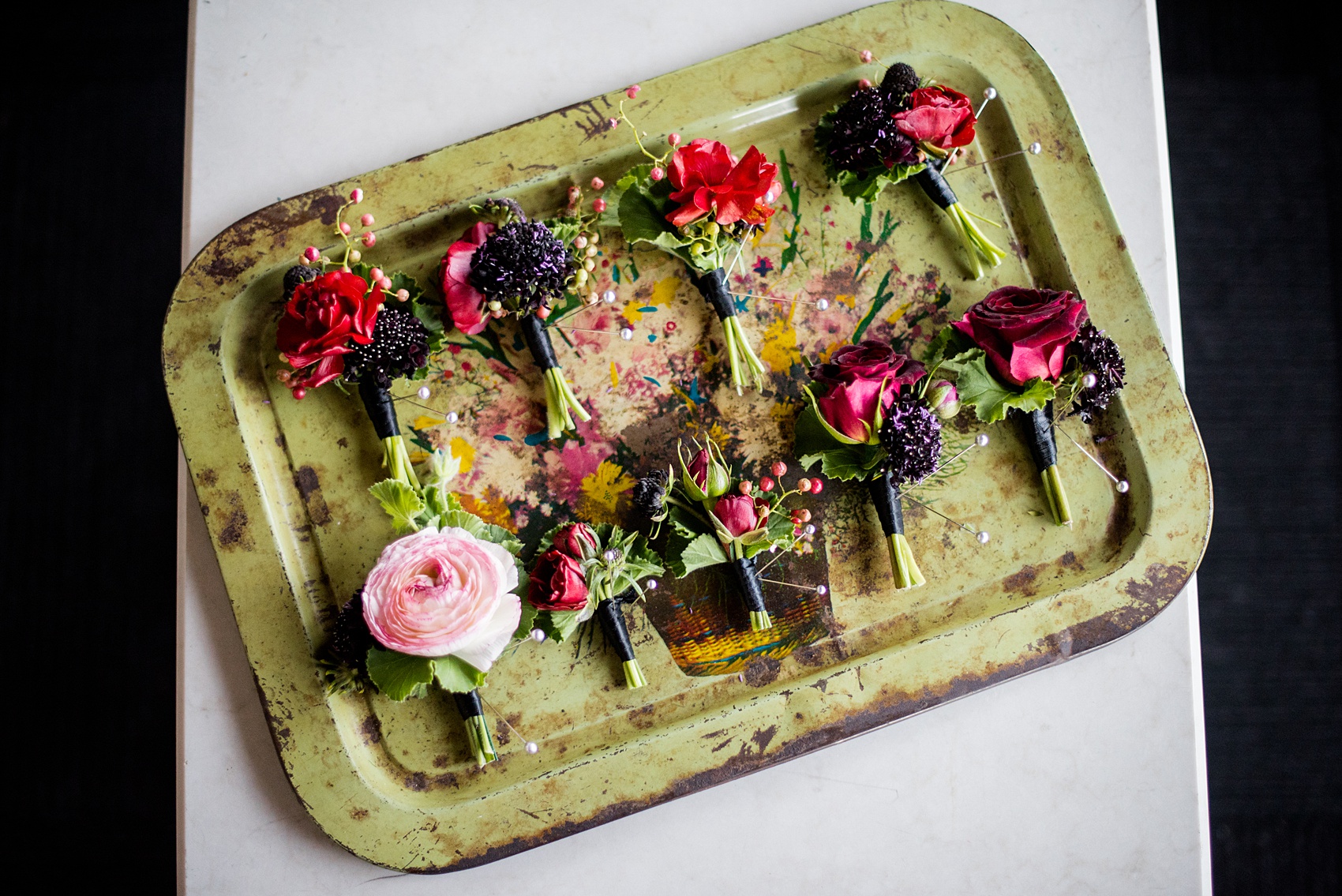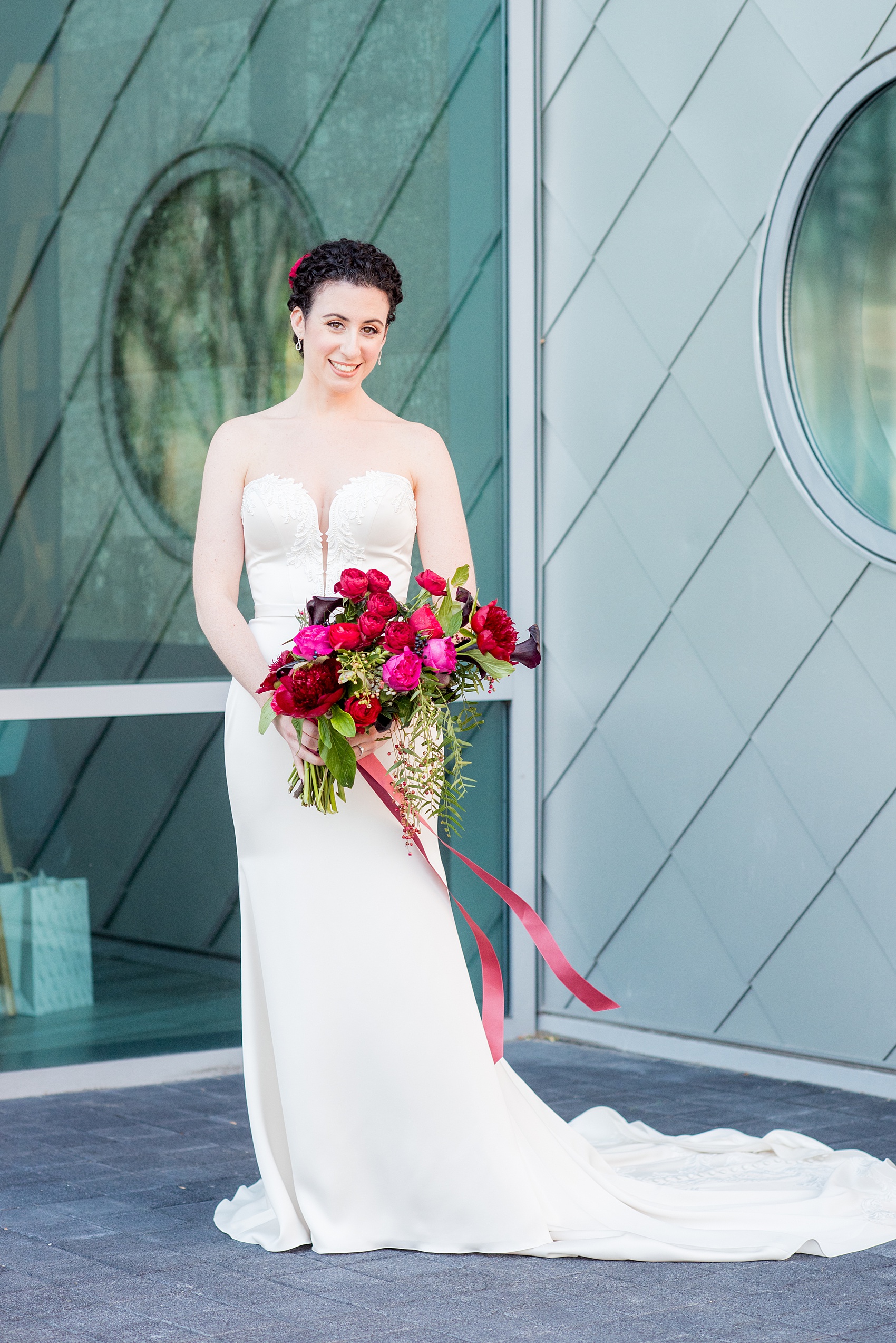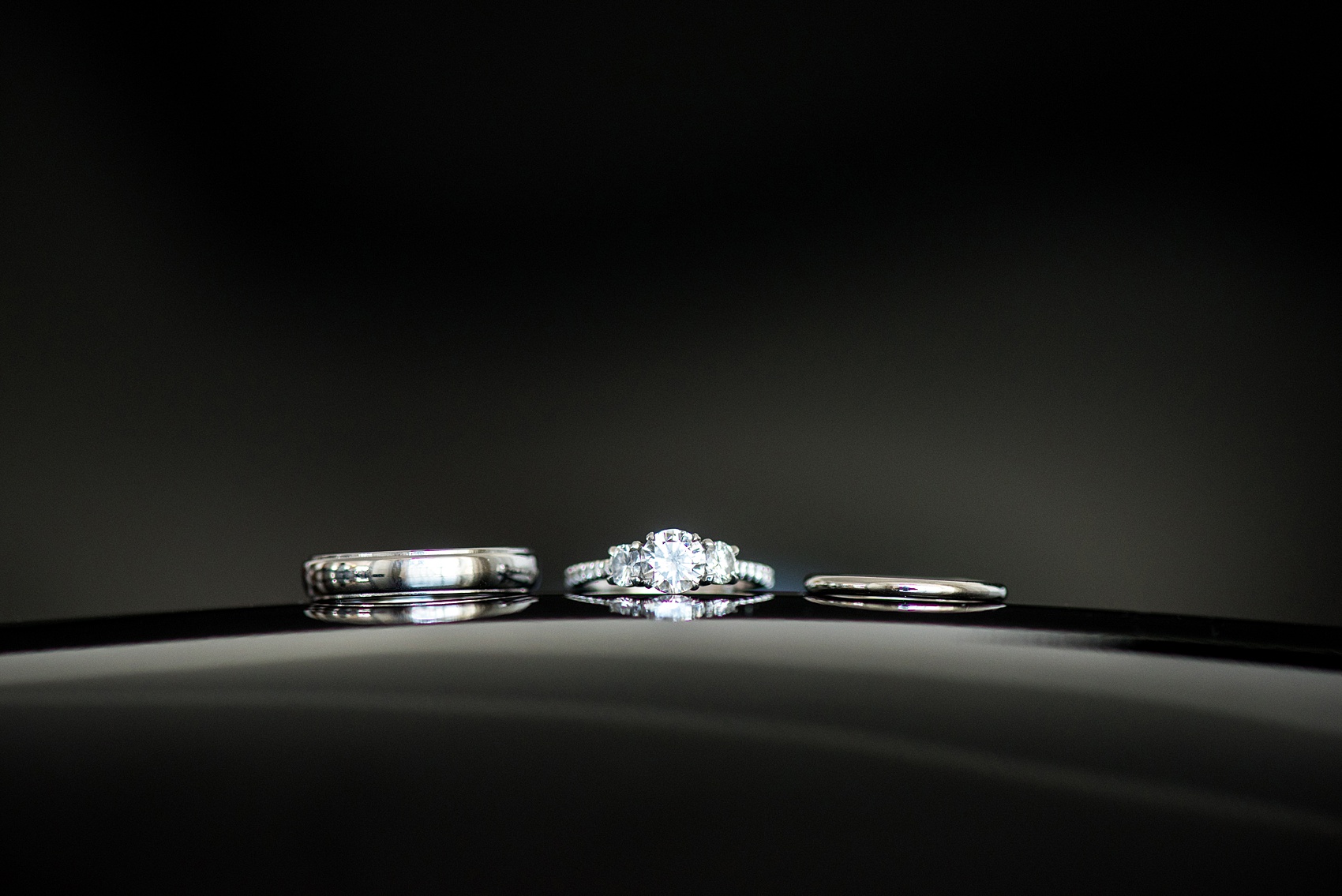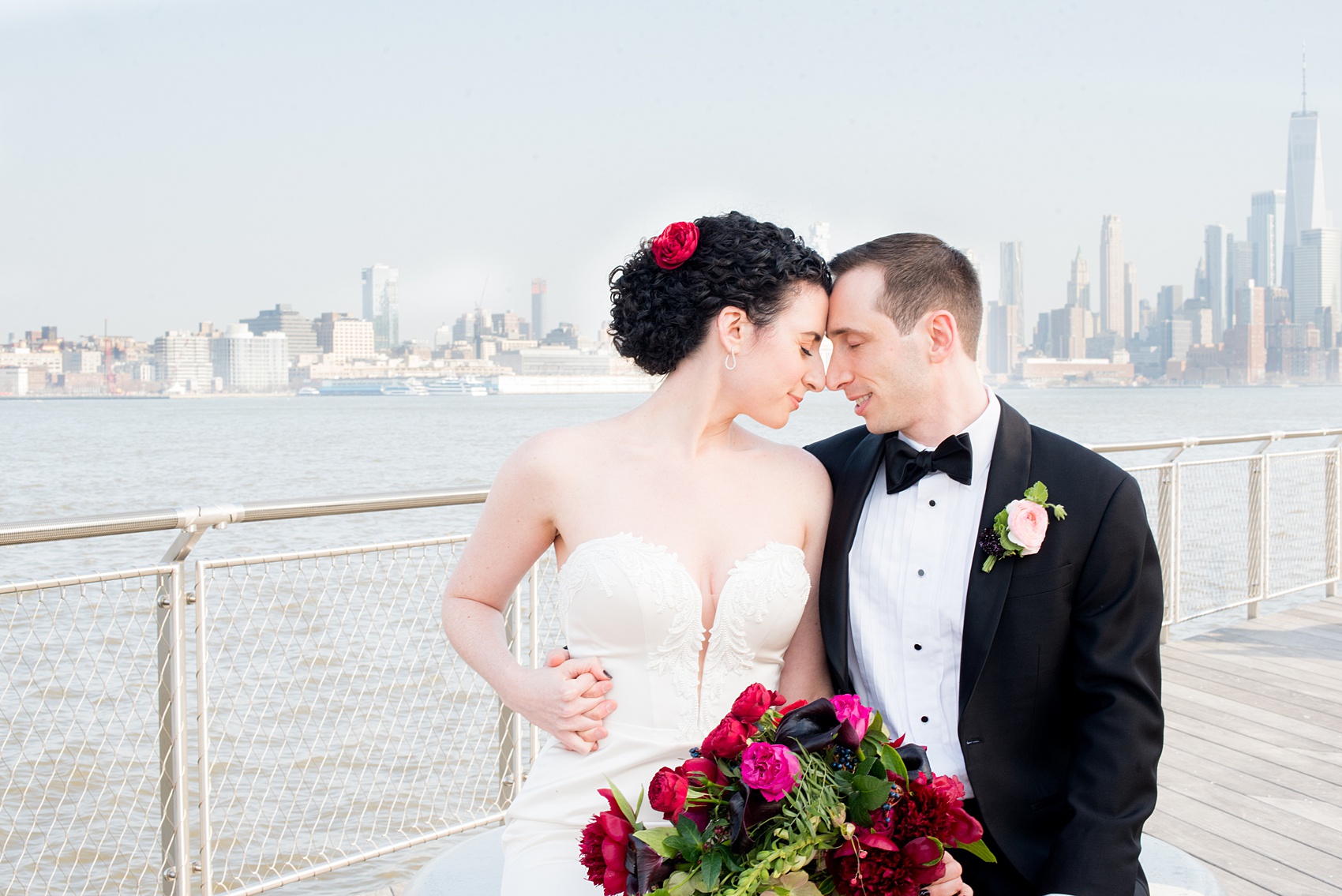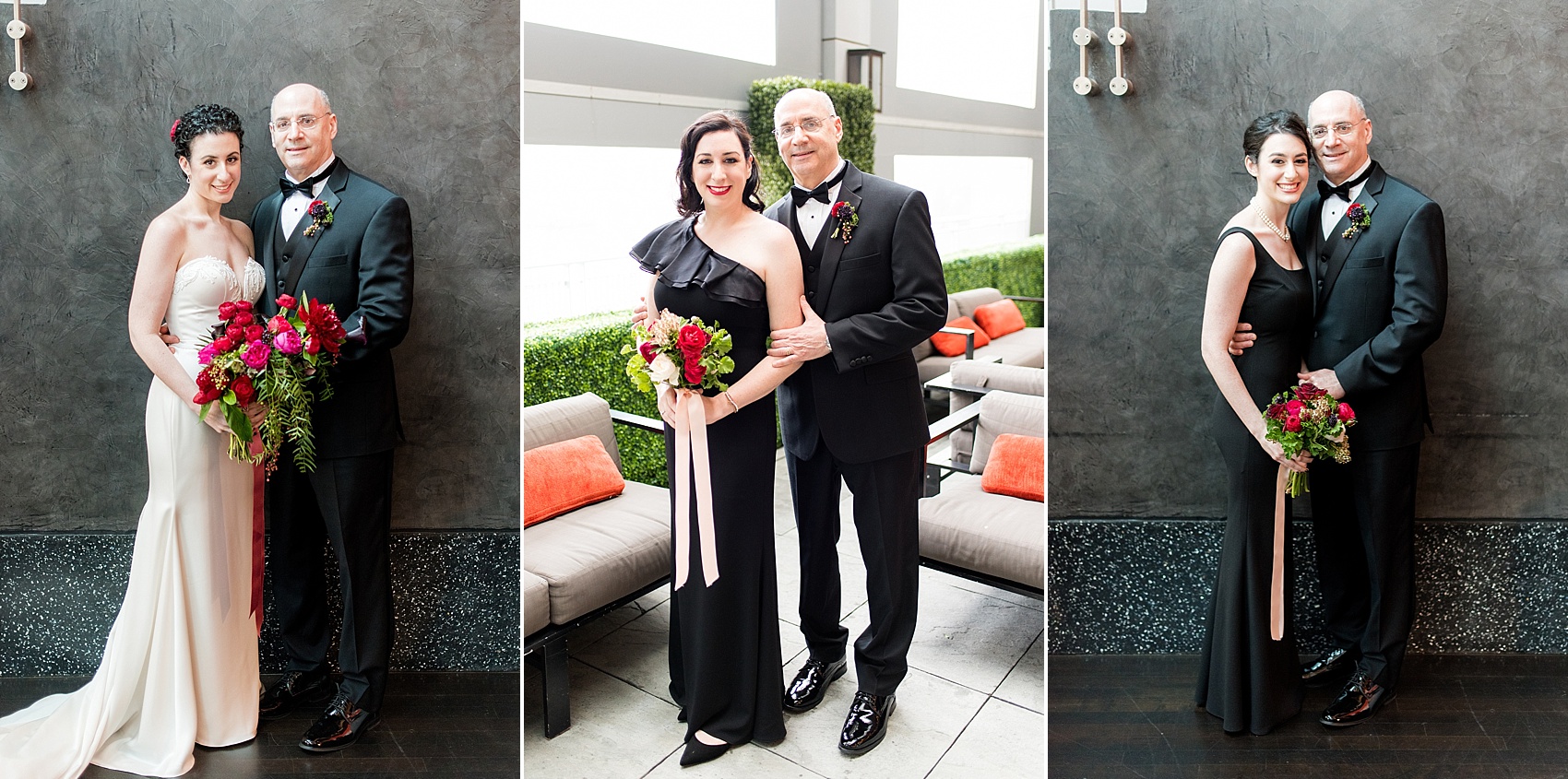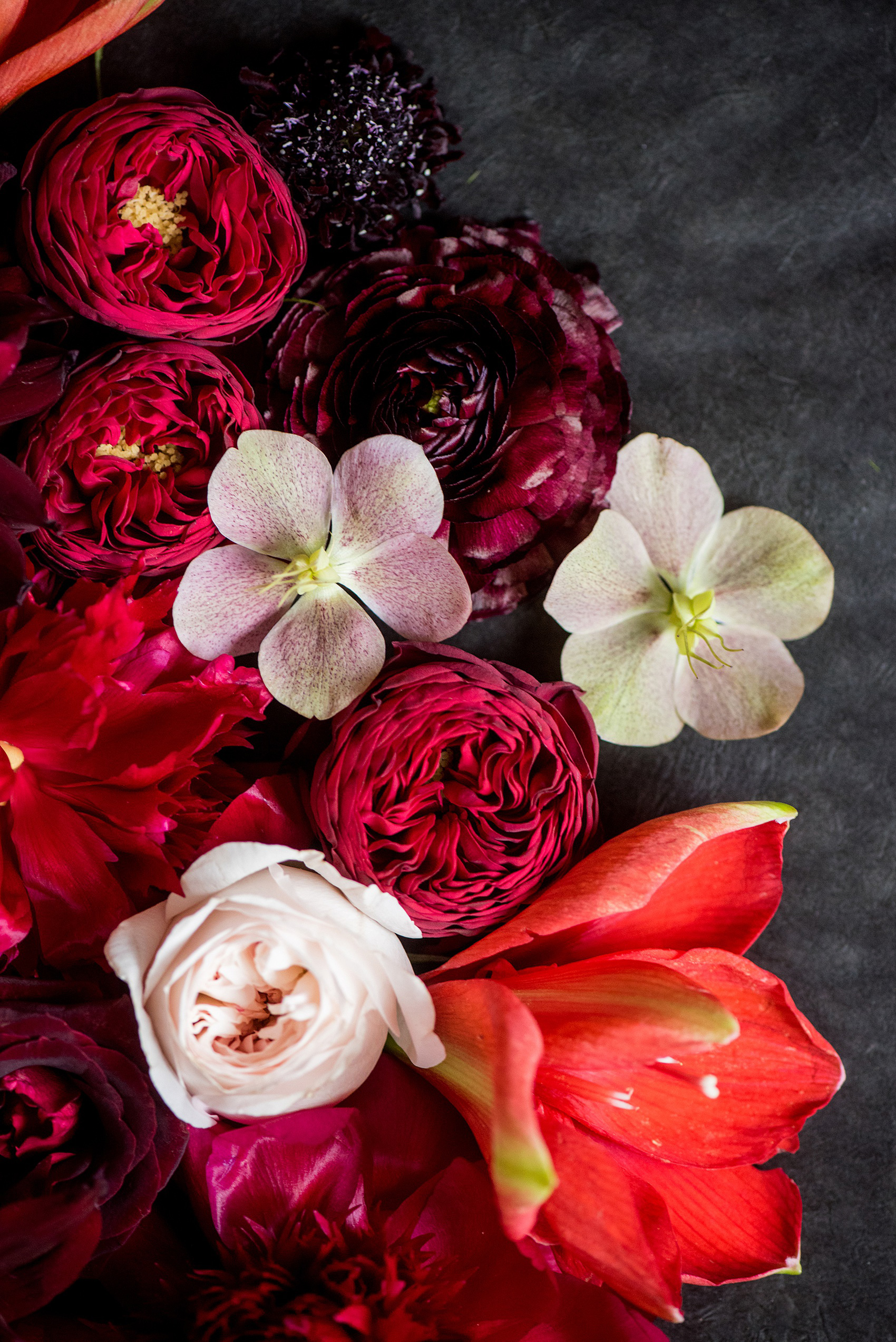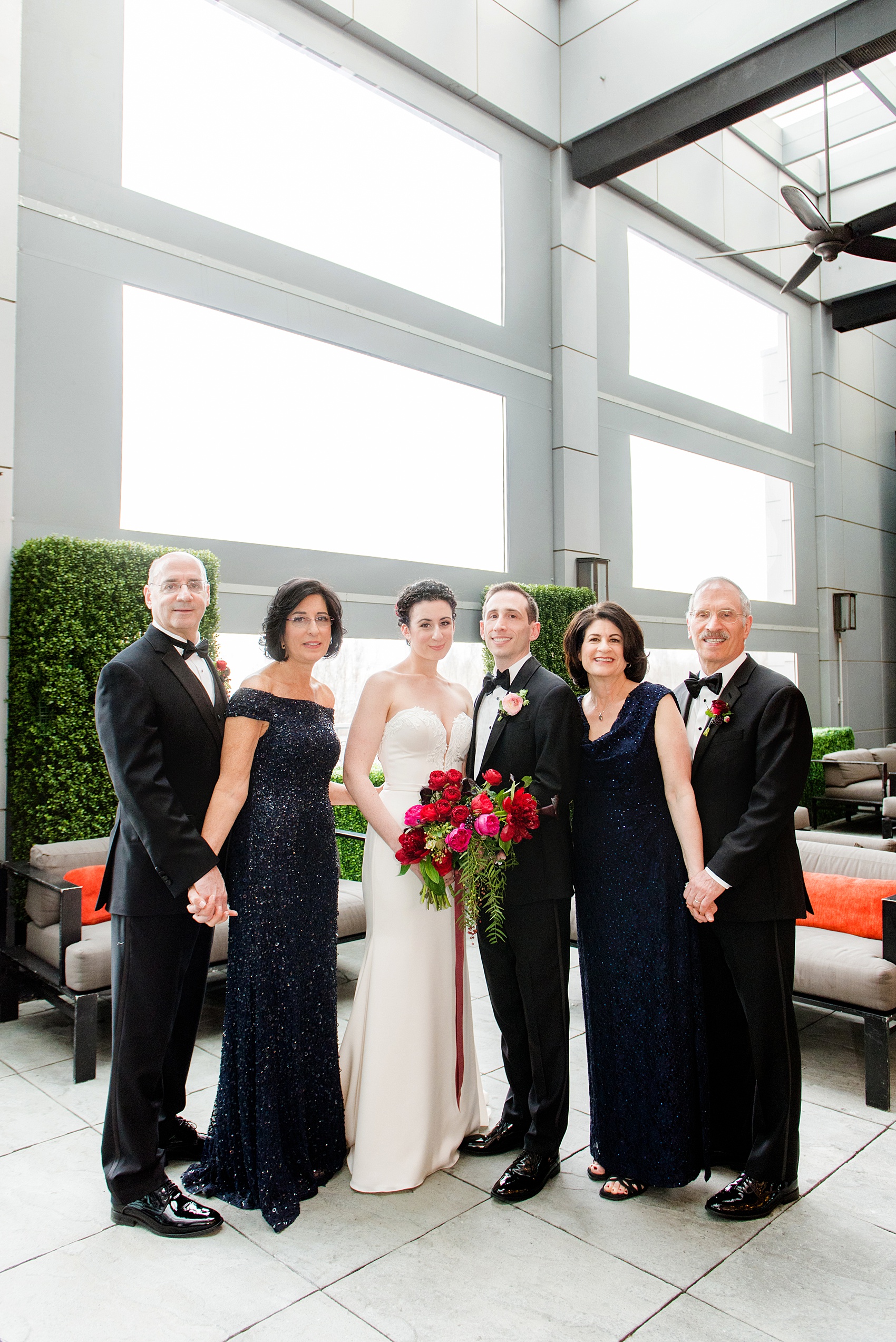 They requested many special family photos that day, including photos of the bride and groom with both sets of parents (that get along famously, which I adore). But one of the most special was of Wayne, Becca's father, with each of his daughters. Hannah's wedding in August will complete the Swirnow daughters' weddings!
With the bulk of their W Hoboken wedding photos captured by 6:00pm it was time to get the ceremony started. The official marriage license in the Jewish religion is signed during the ketubah ceremony. Their friend, Steven, who is in rabbinical school, beautifully officiated. The vibrant watercolor succulent ketubah was signed by their two witnesses as family and friends watched with love in their eyes. Next up was the larger ceremony in front of their guests. It was held under a beautiful chuppah created with four thin birch tree trunk posts.
With a breaking of the glass and a hearty "Mazel Tov!" they were married and off to enjoy their dusk cocktail hour overlooking the Manhattan skyline.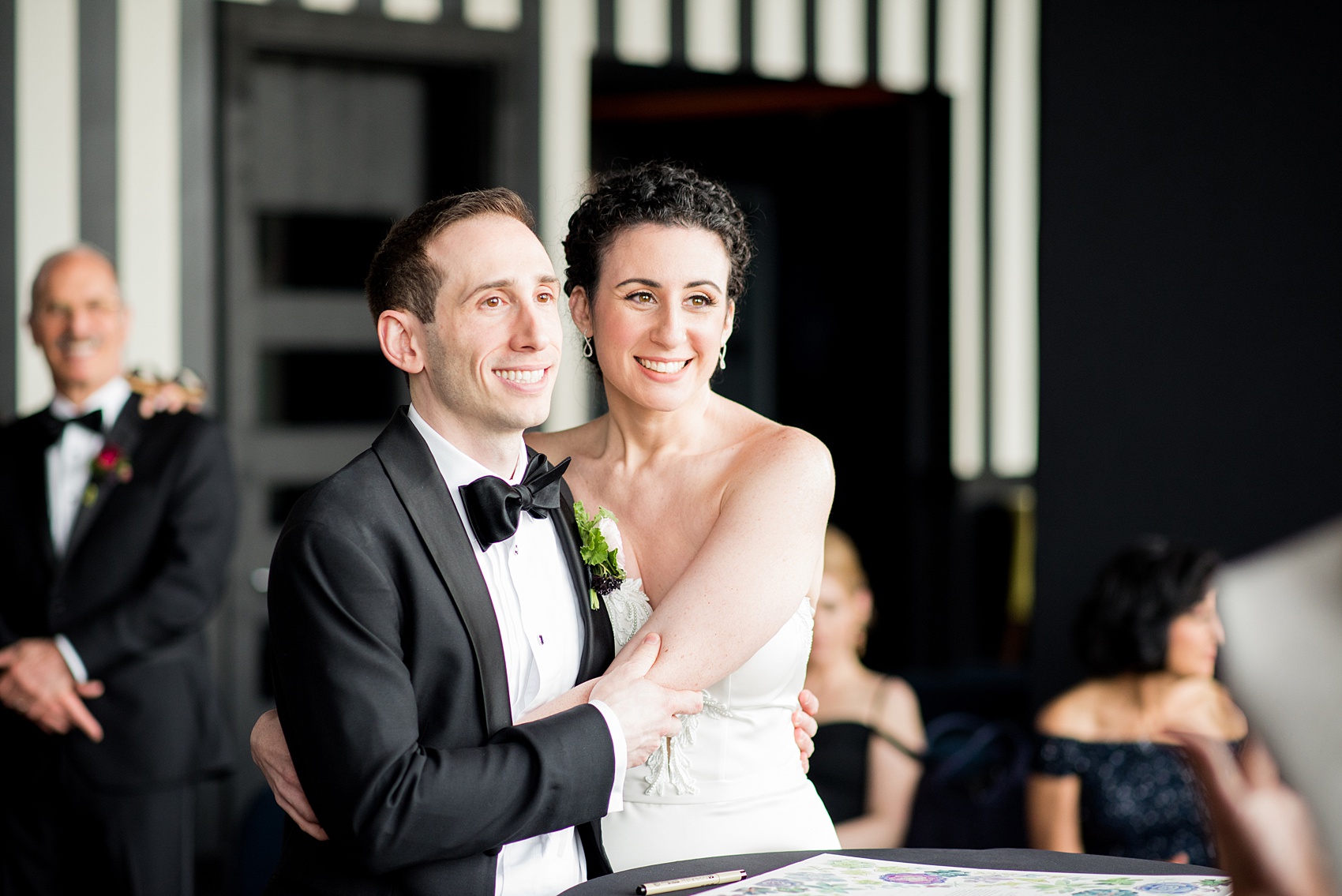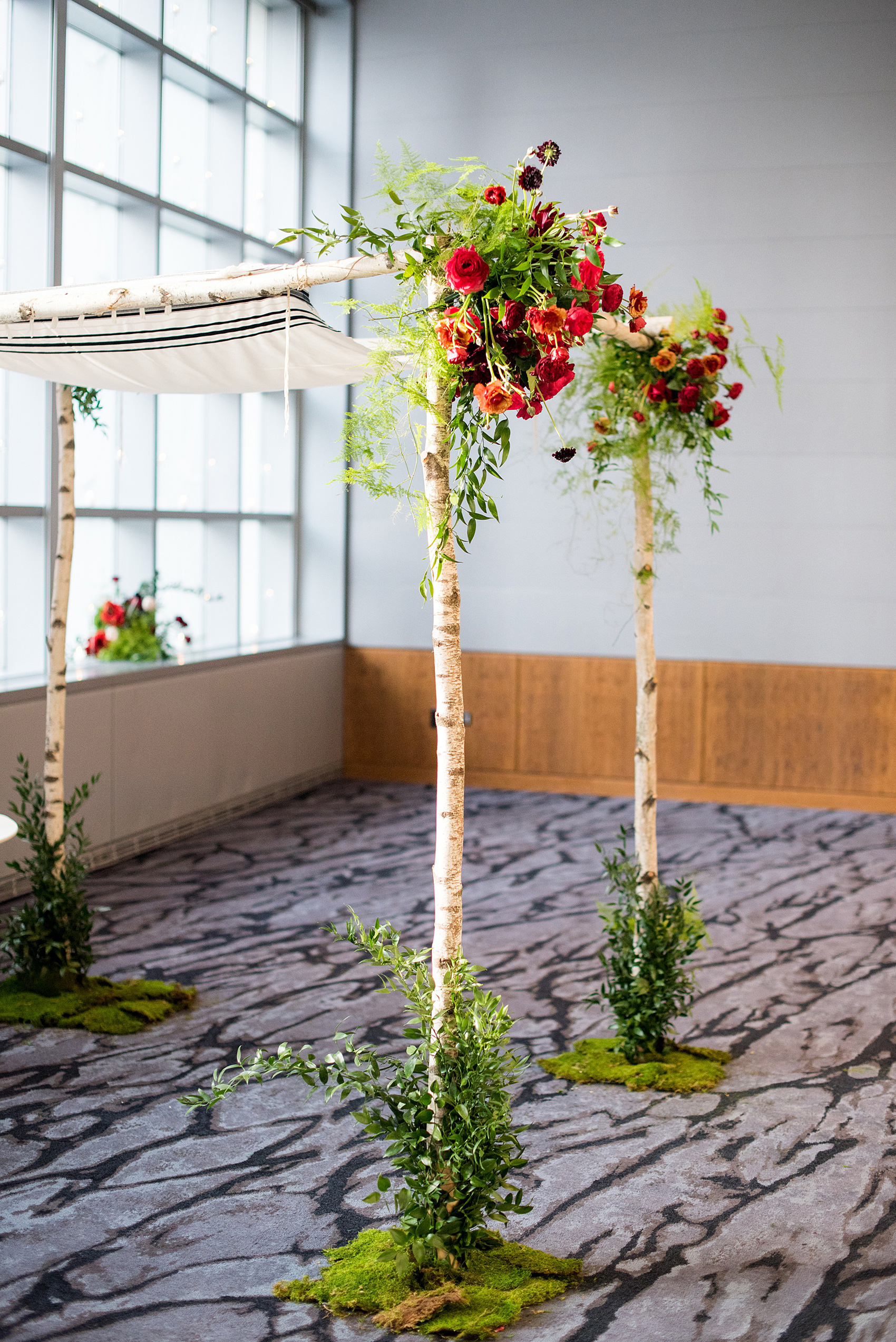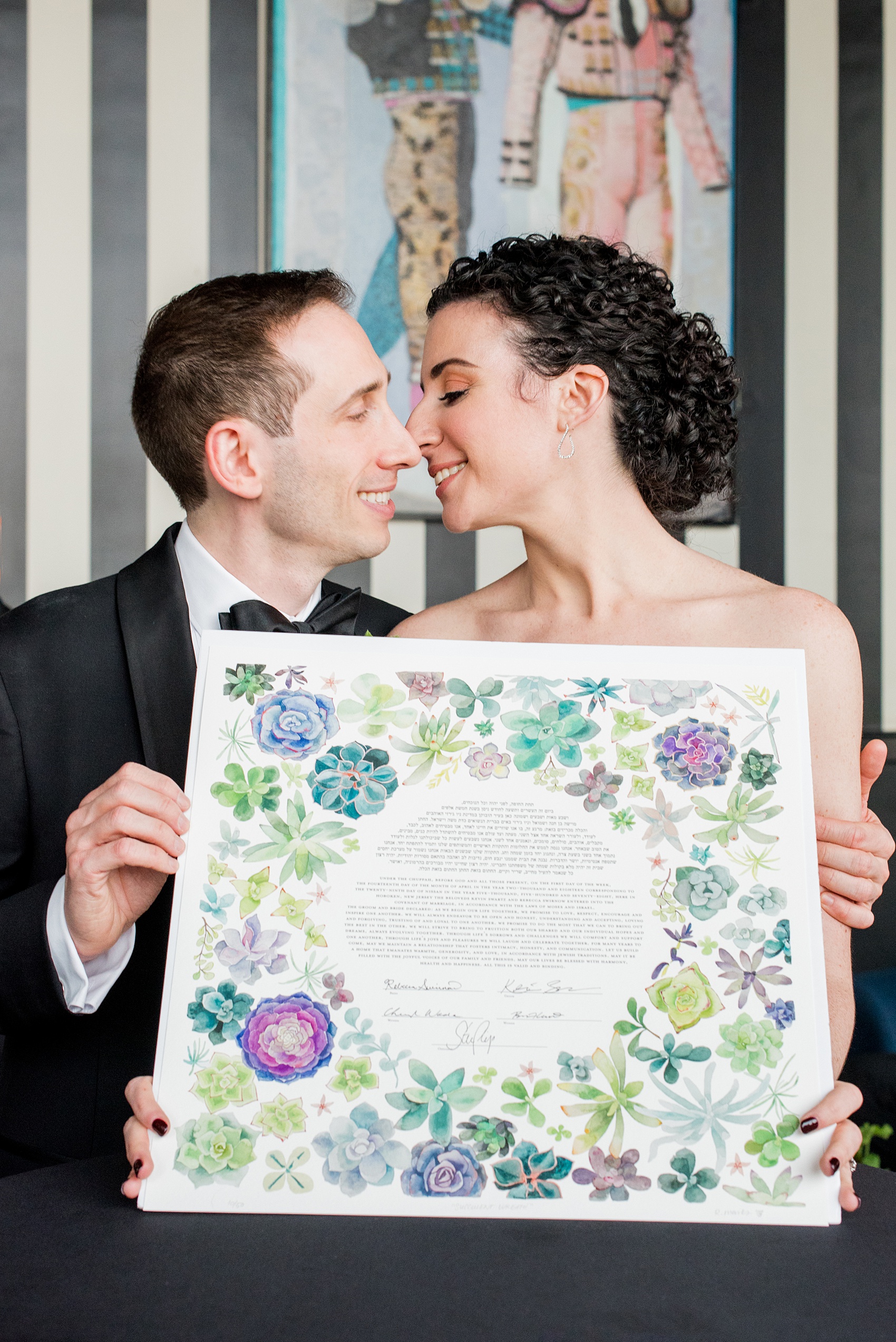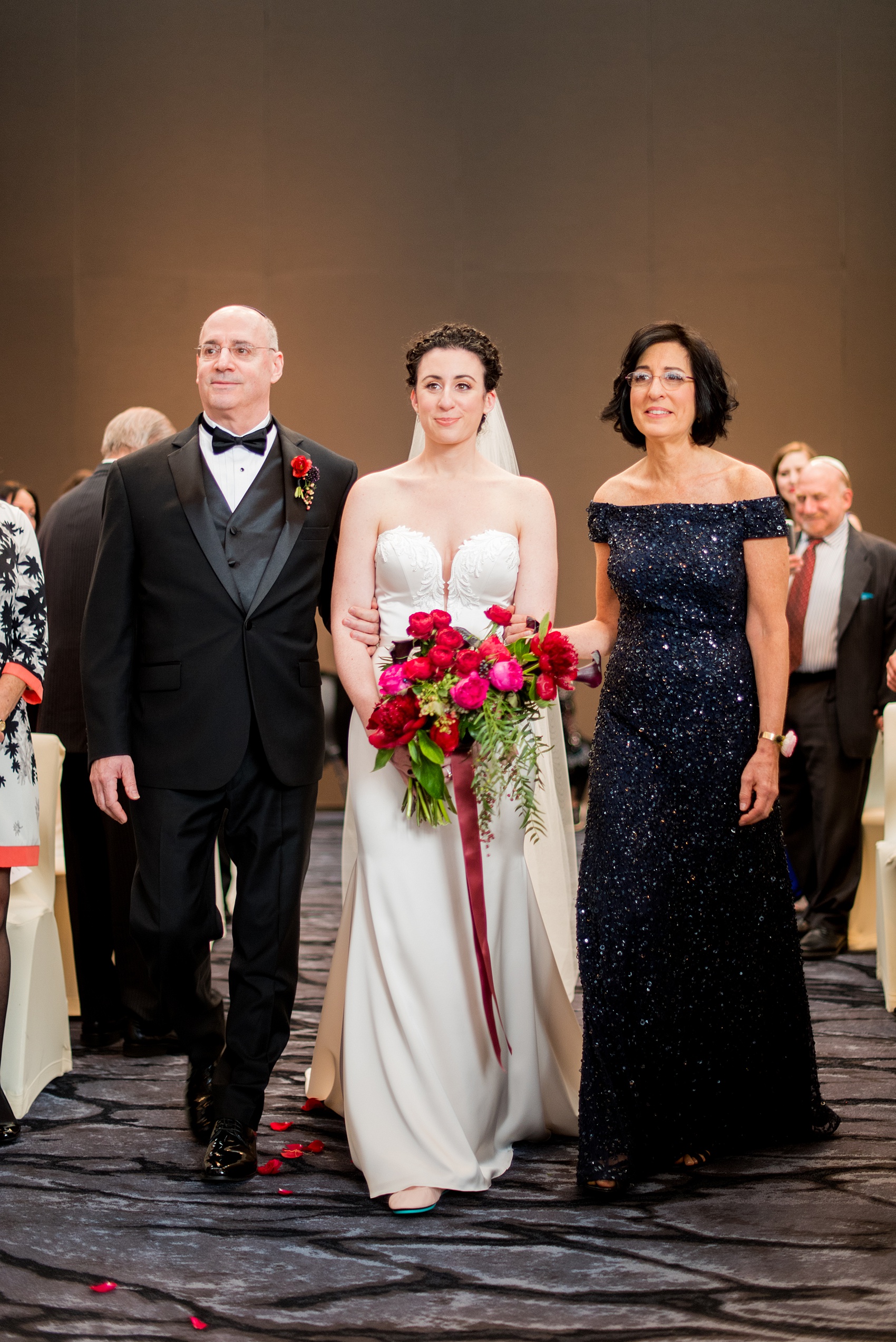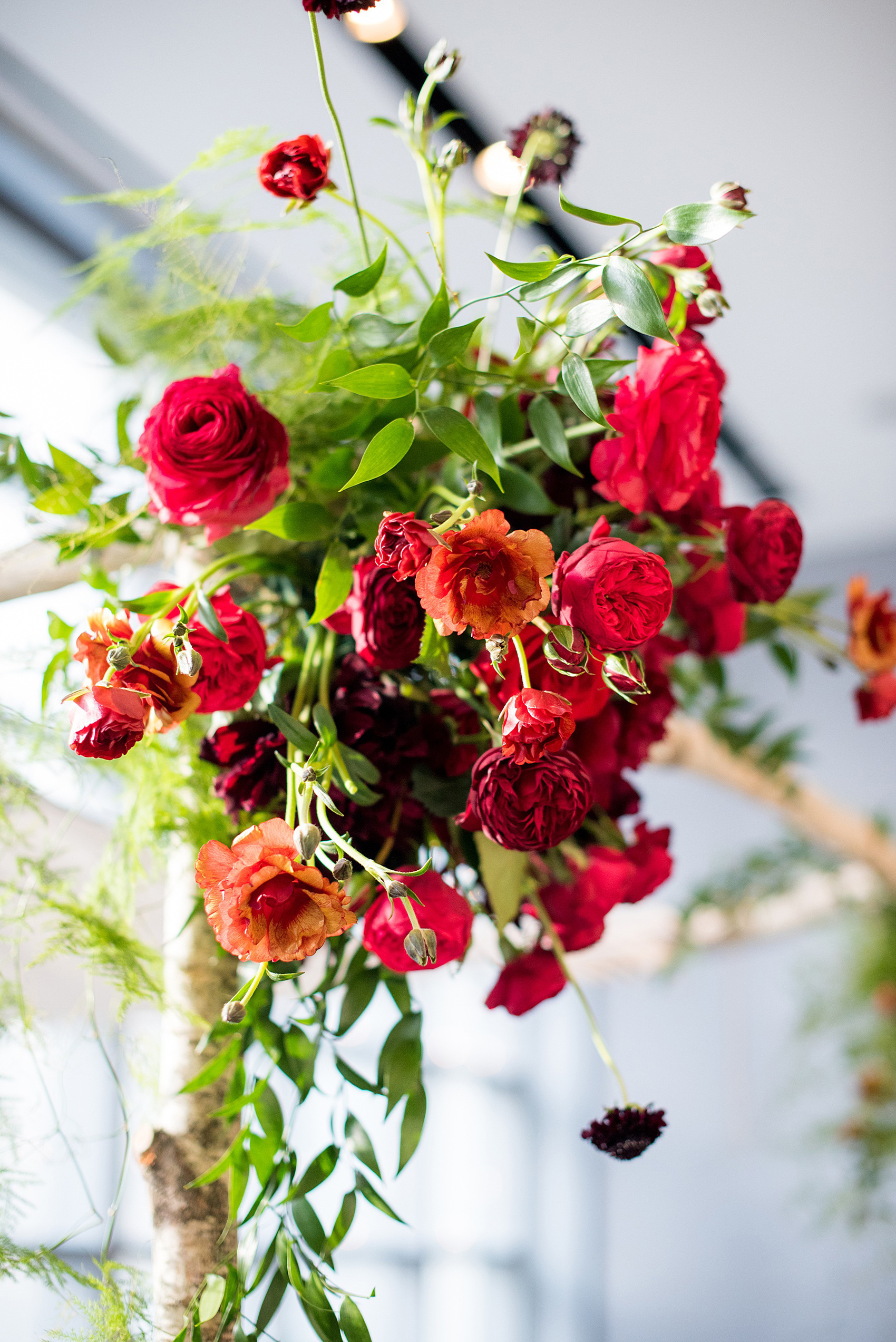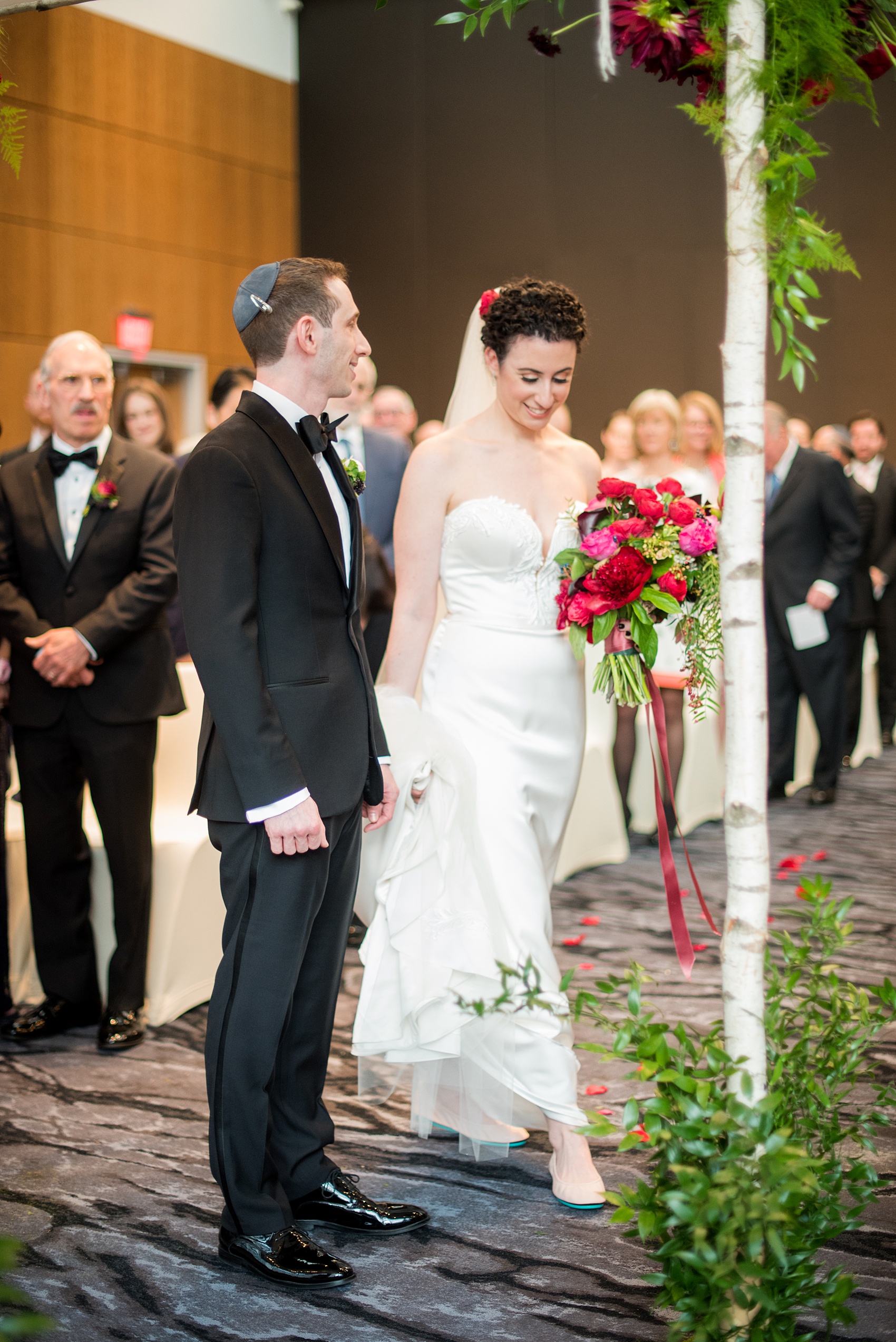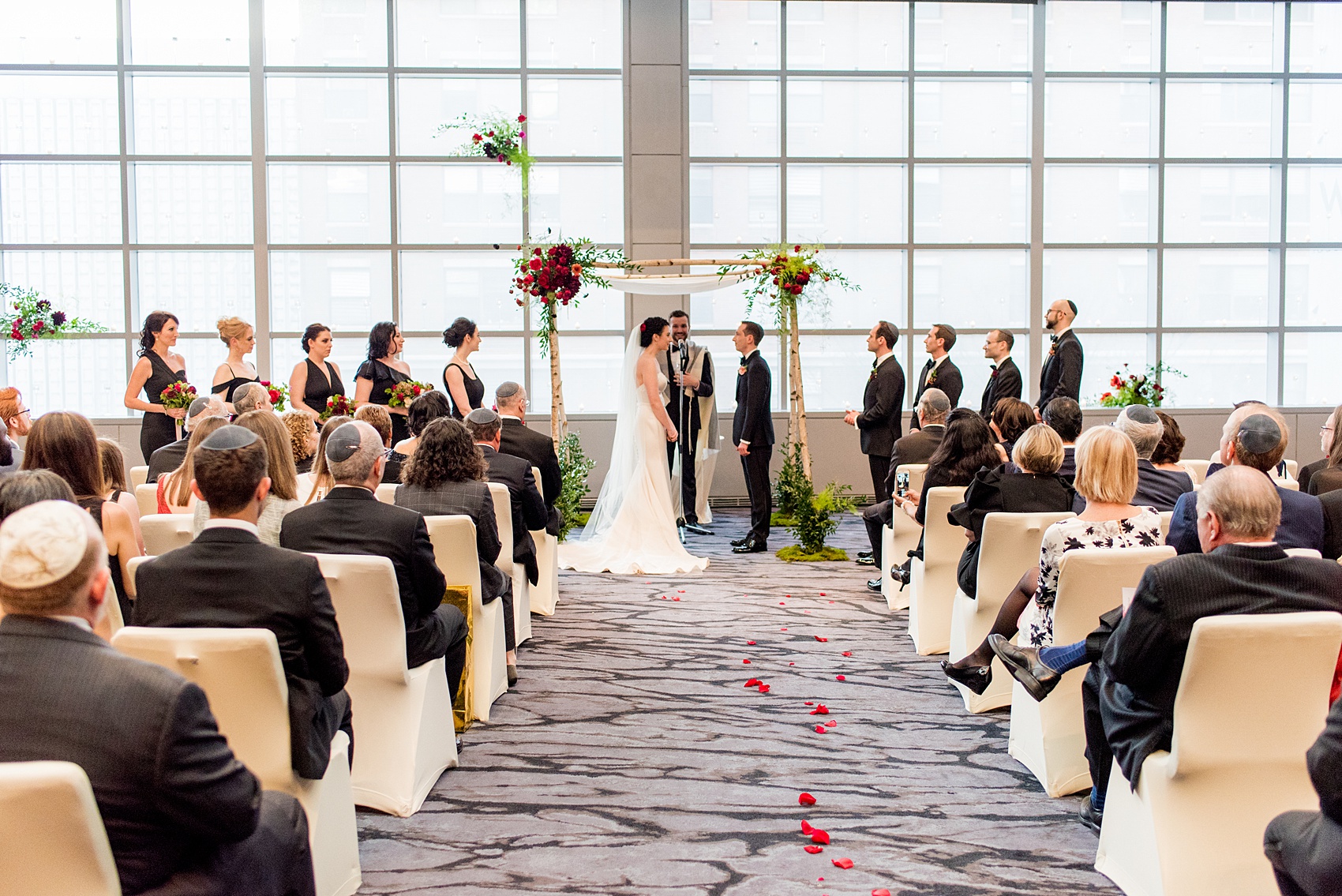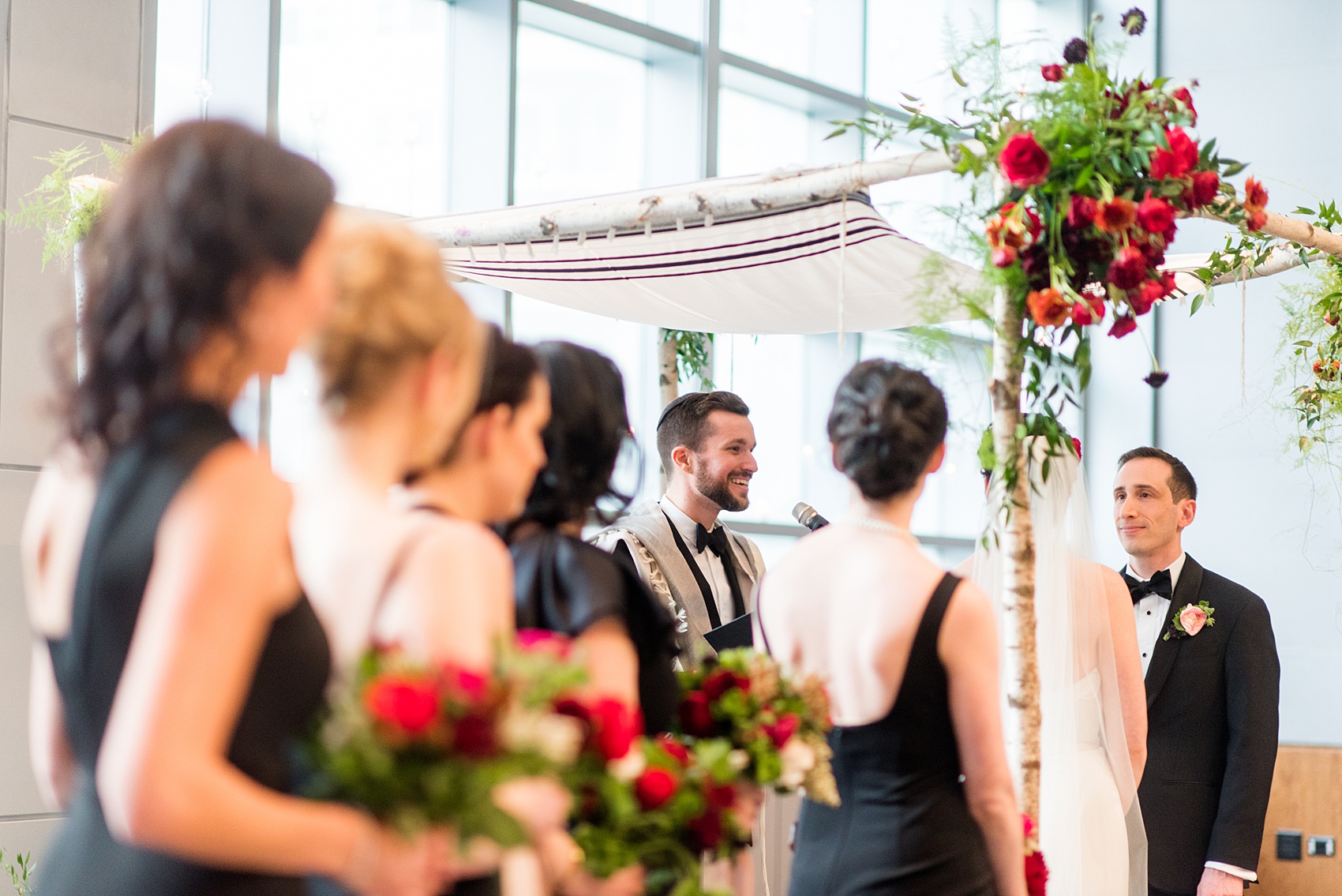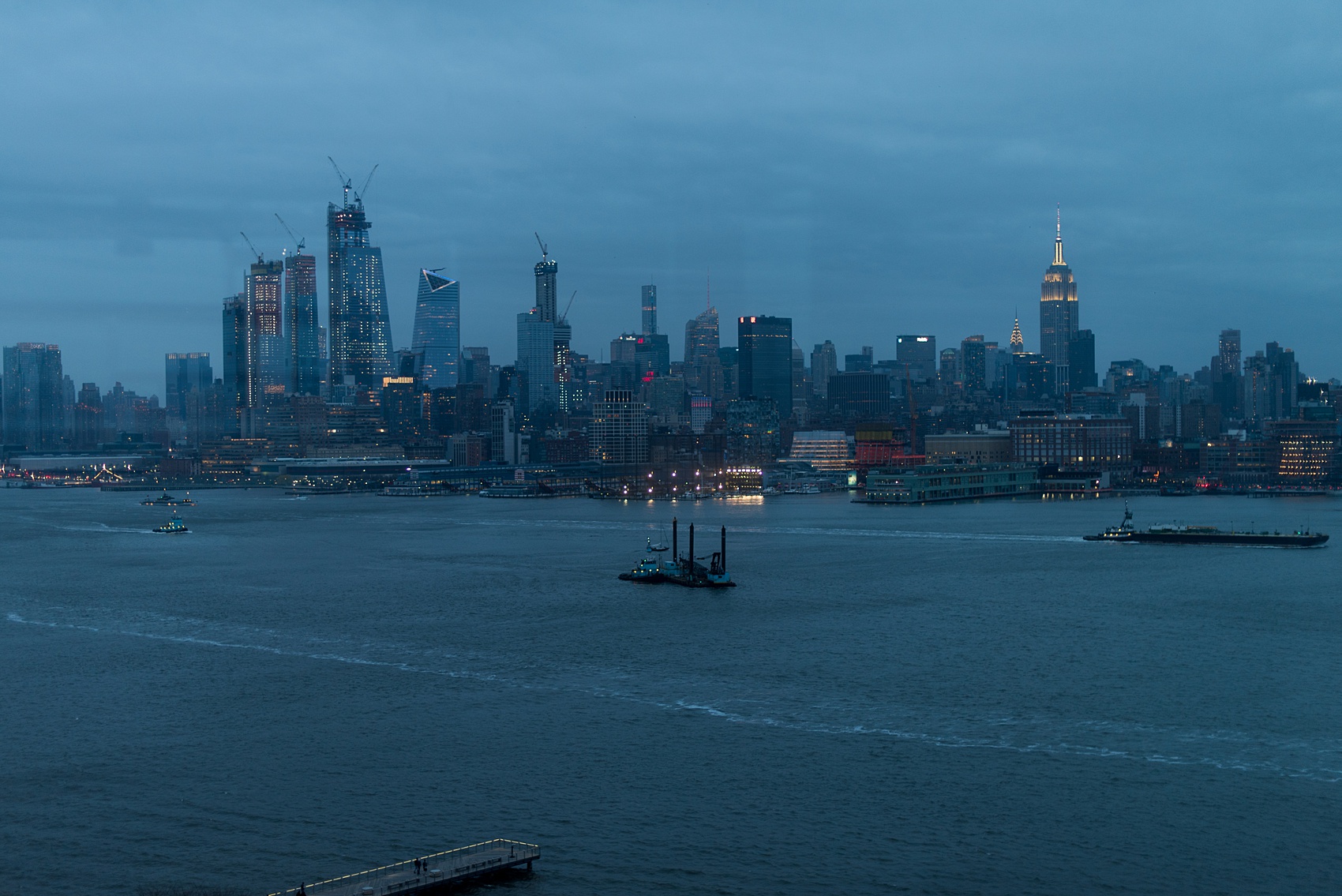 Their reception was held where their ceremony after a cocktail hour at Lulu's nightclub at the W Hoboken.  The transformation was sublime! The chuppah now acted as a canopy above the cake table. Round tables covered in off-white linens were topped with gorgeous floral centerpieces. Gold script table numbers matched escort cards that indicated where guests sat. The candlelight wall was now completely realized as the warm light twinkled throughout the evening.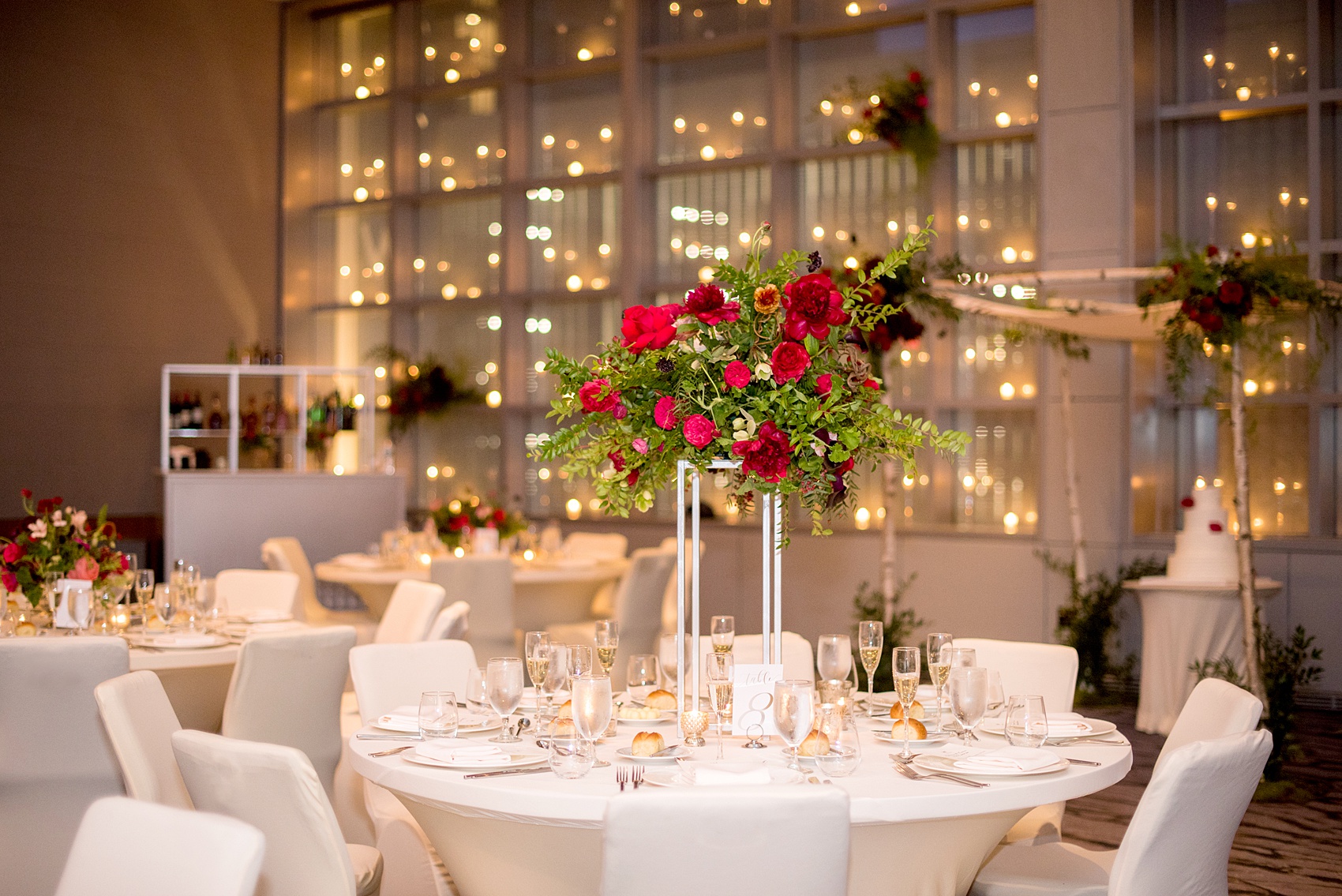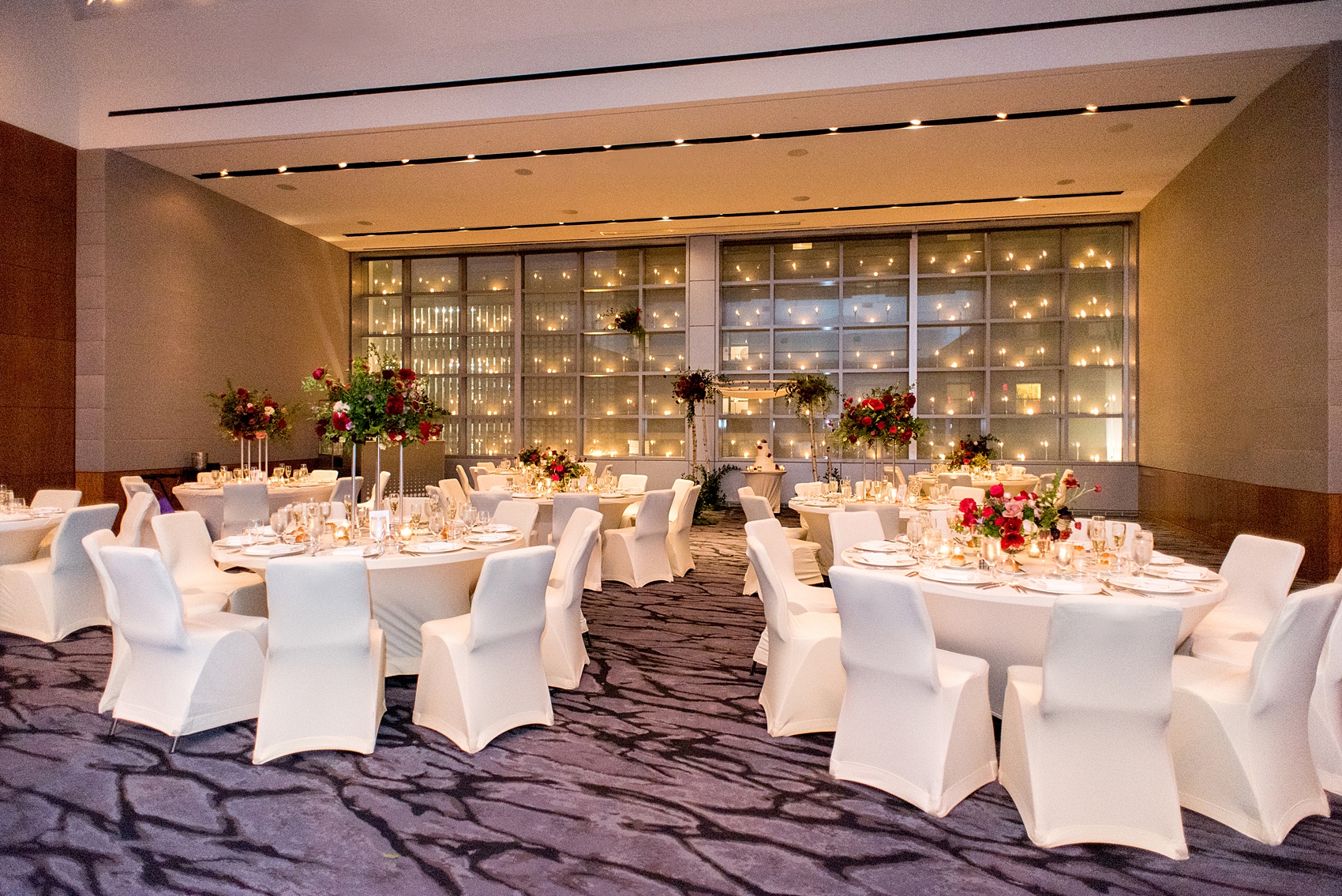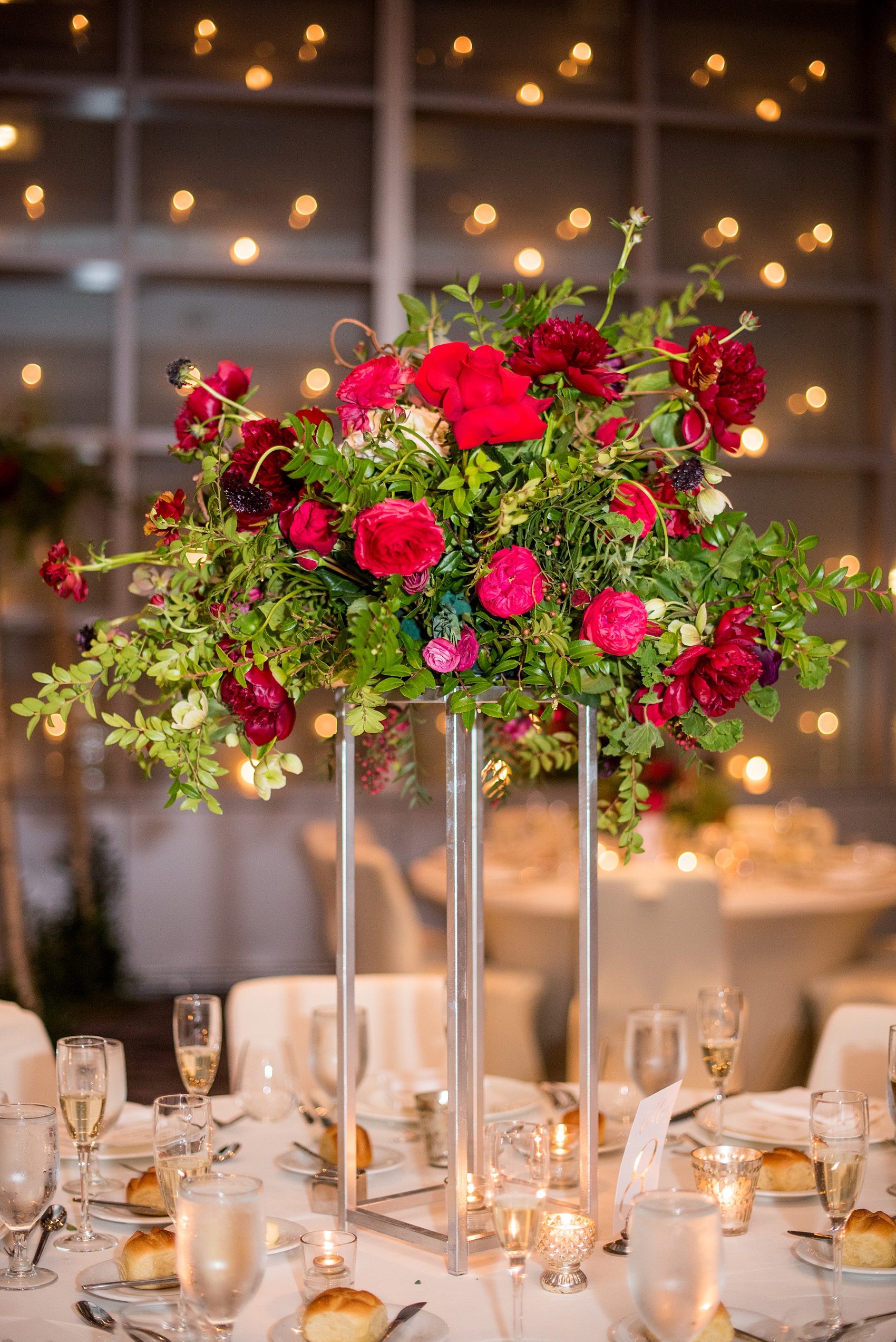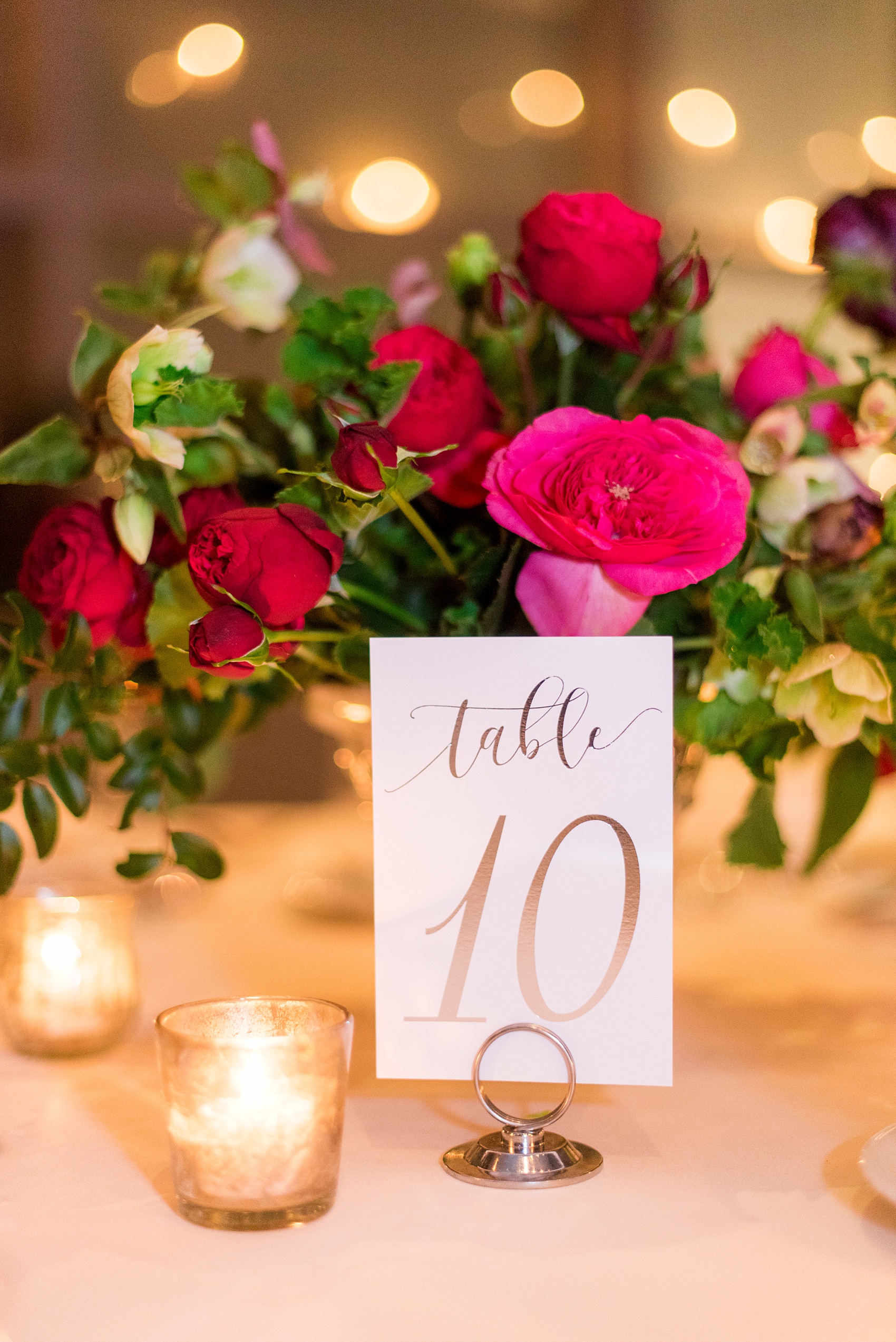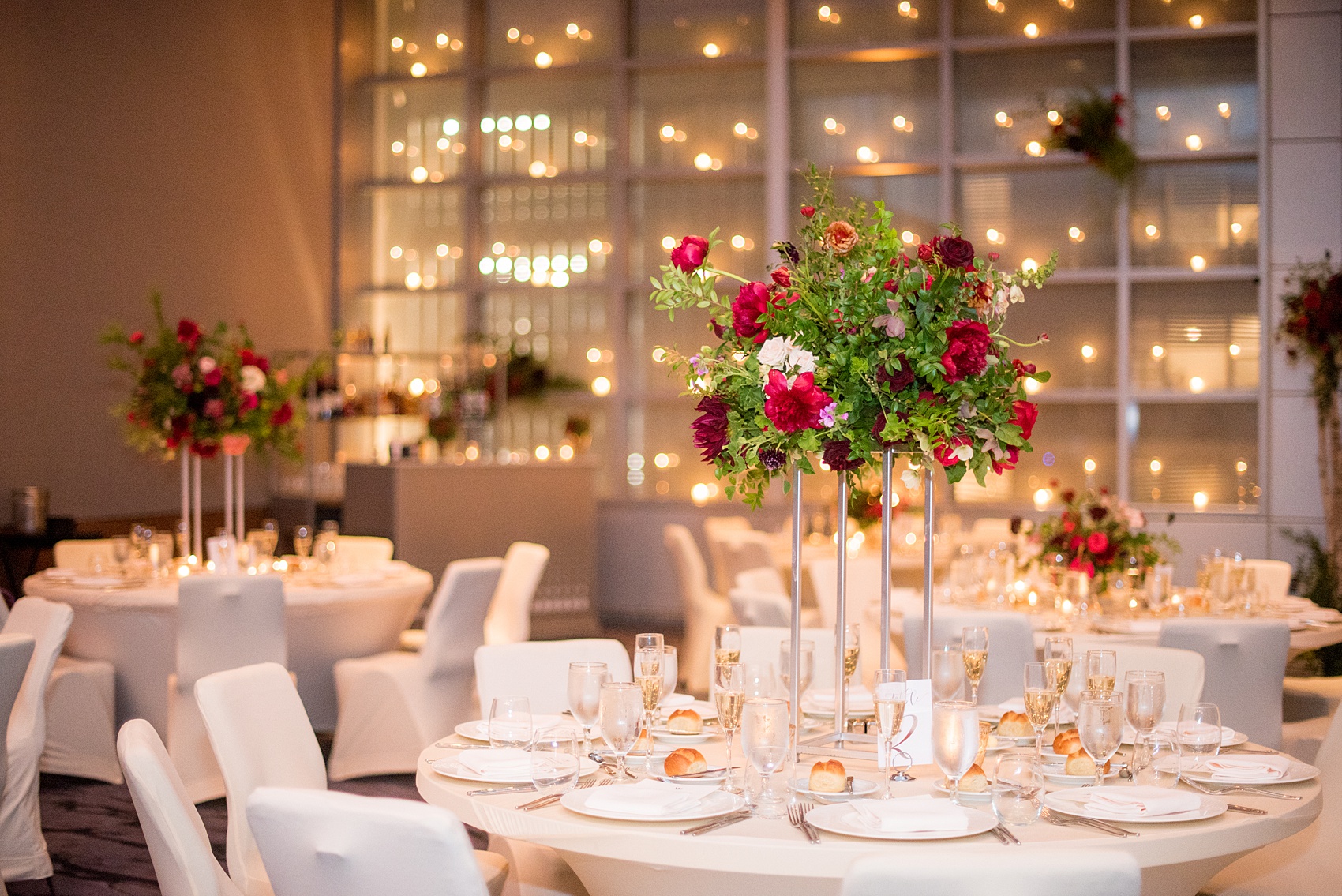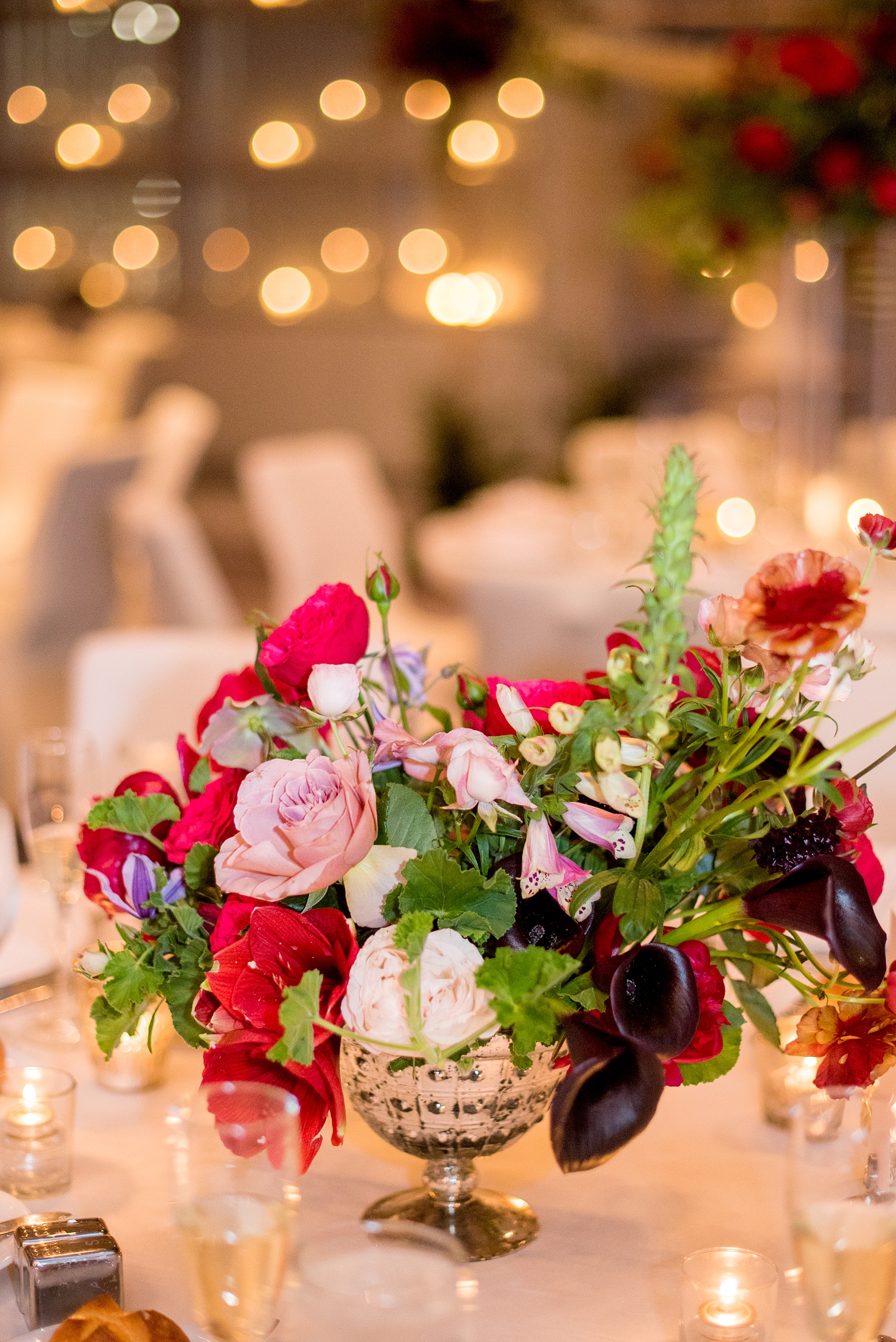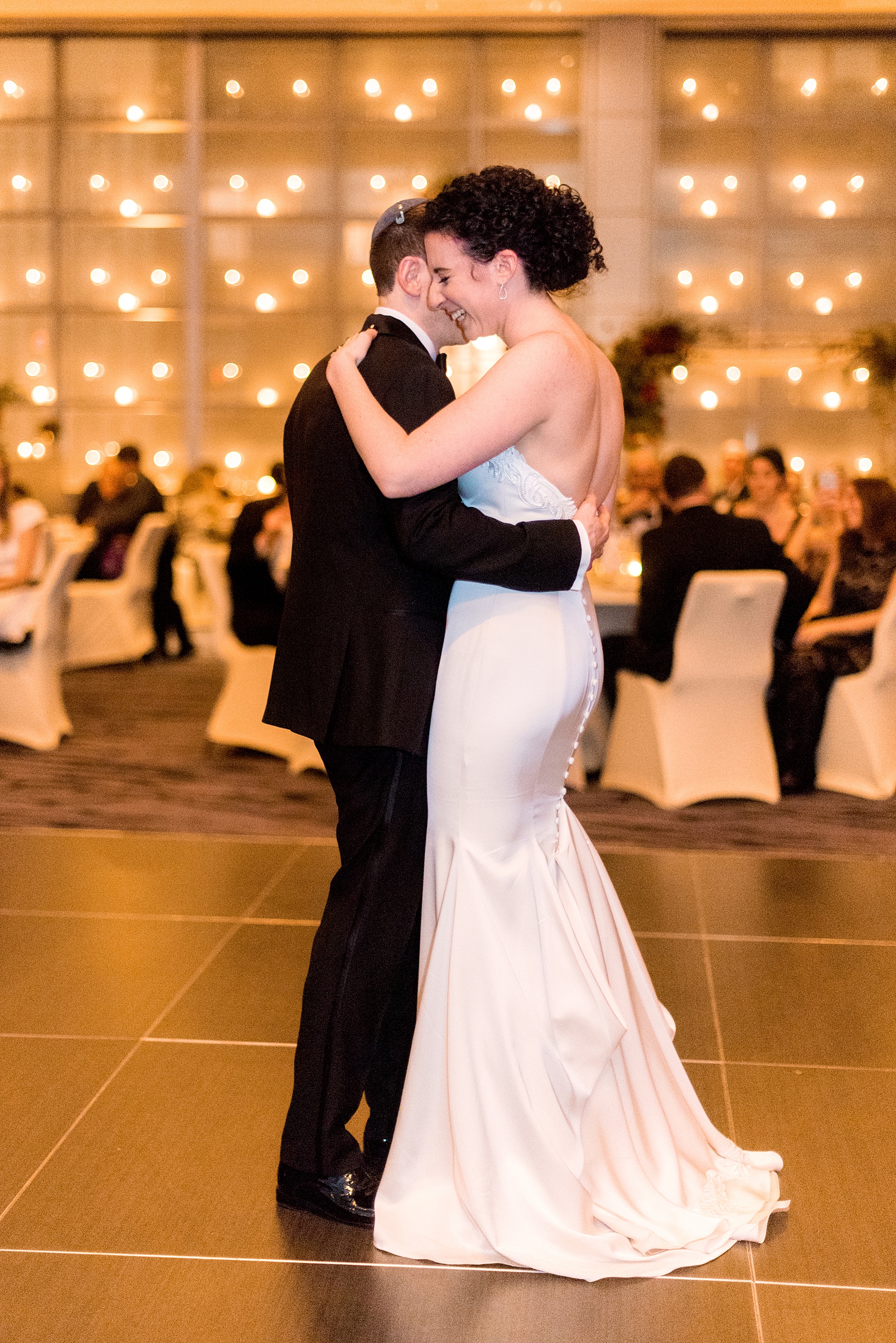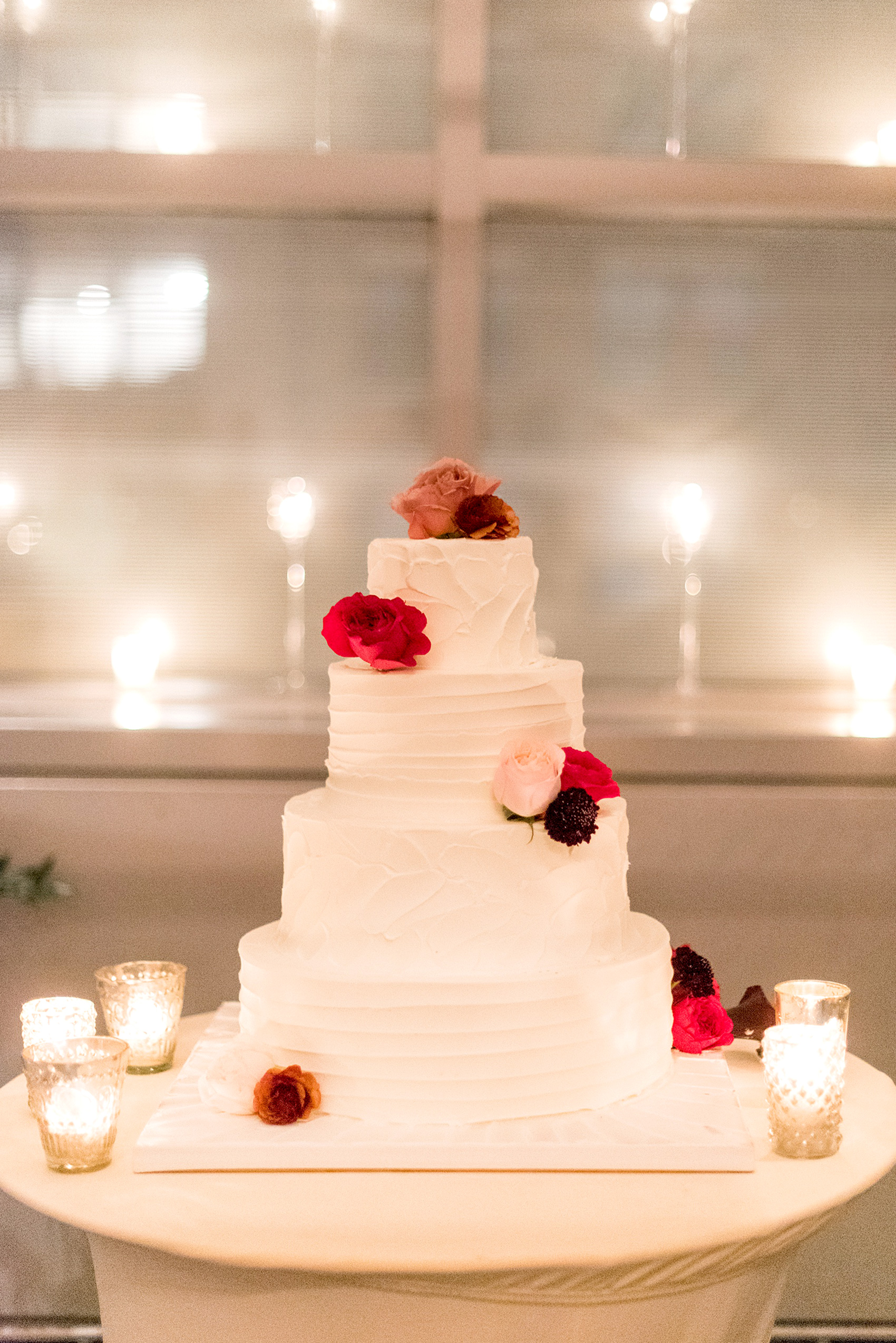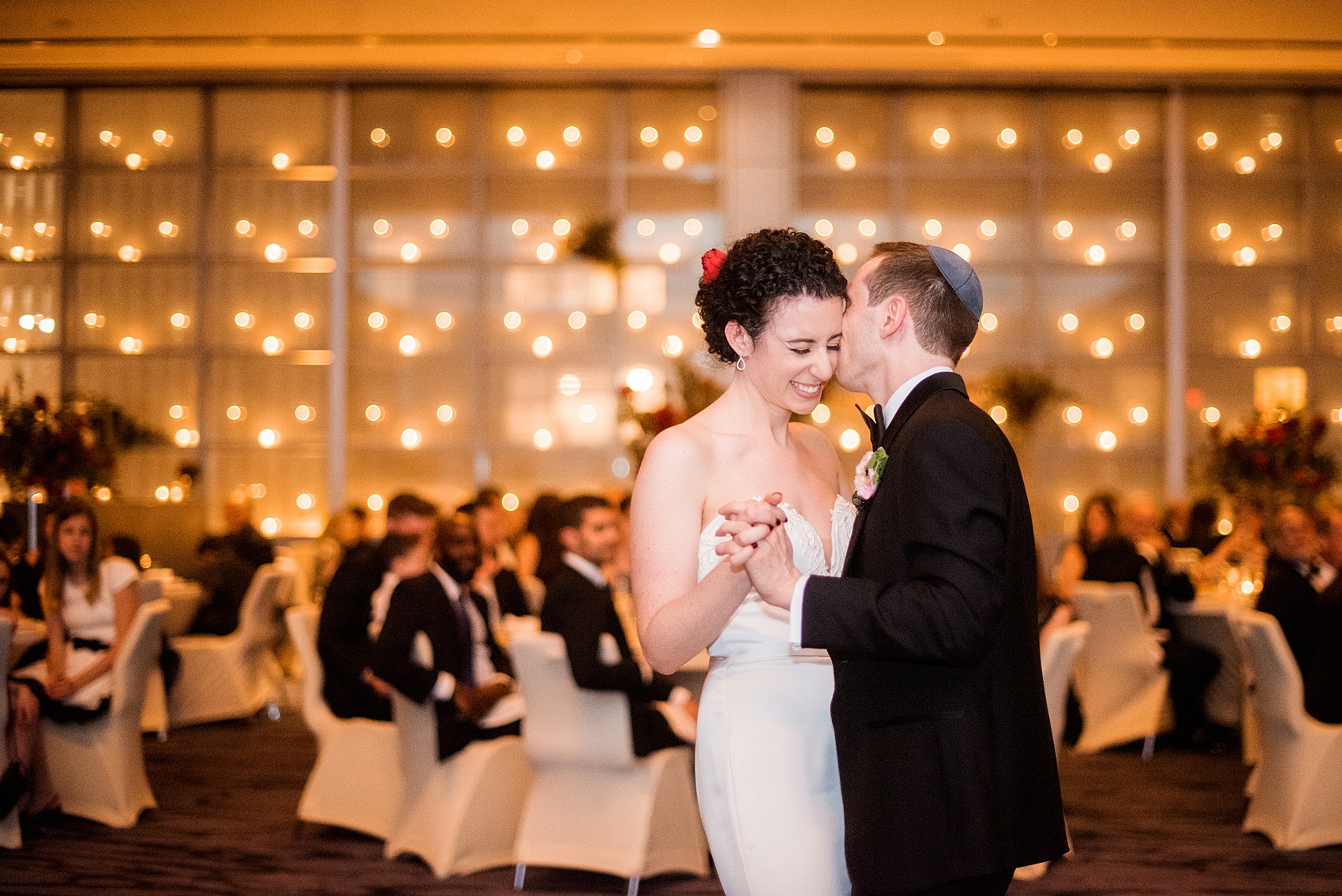 Dances and heartfelt speeches filled the evening between delicious dinner courses. Becca and Kevin continued to amaze me with their warm emotions and radiant love throughout the night.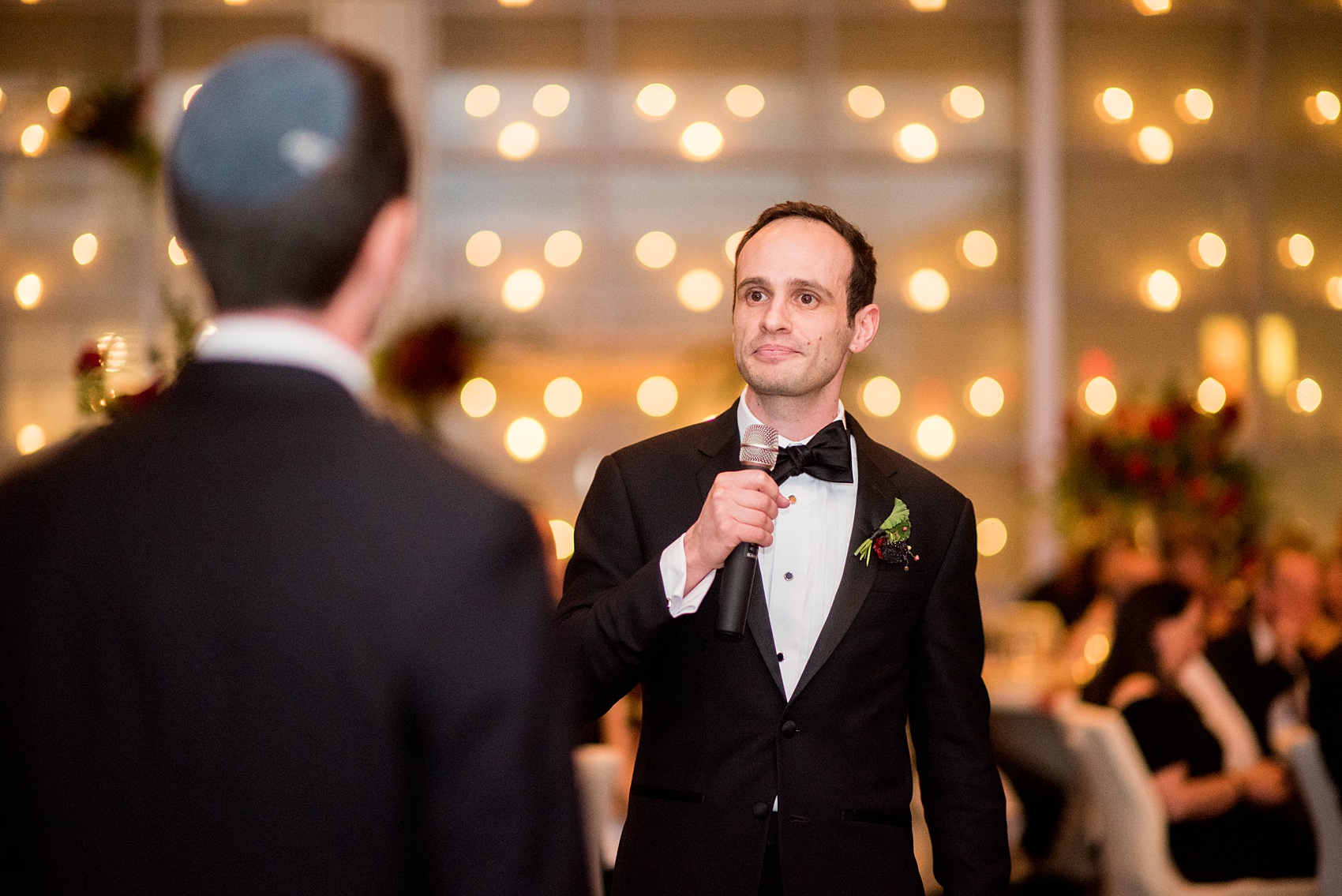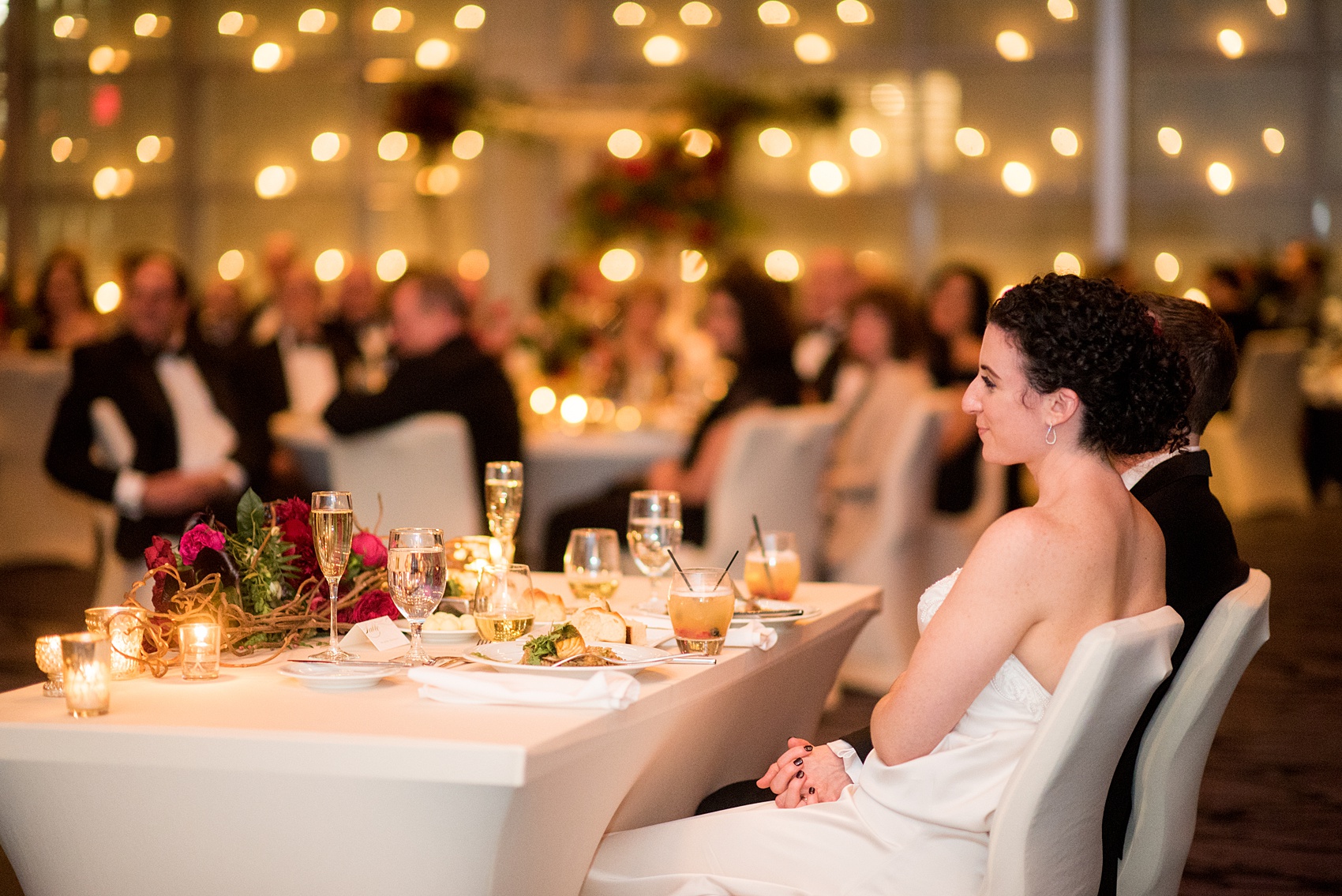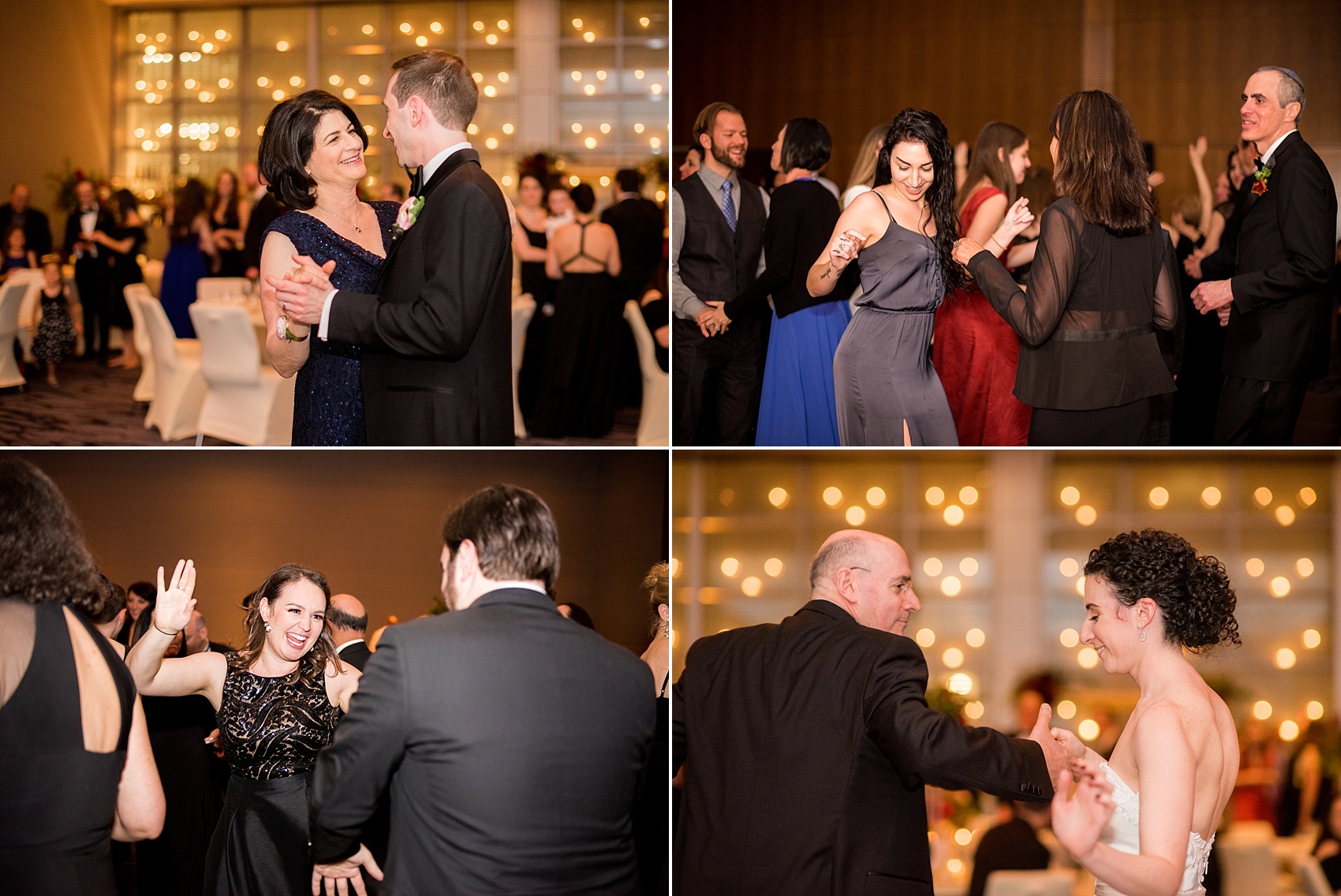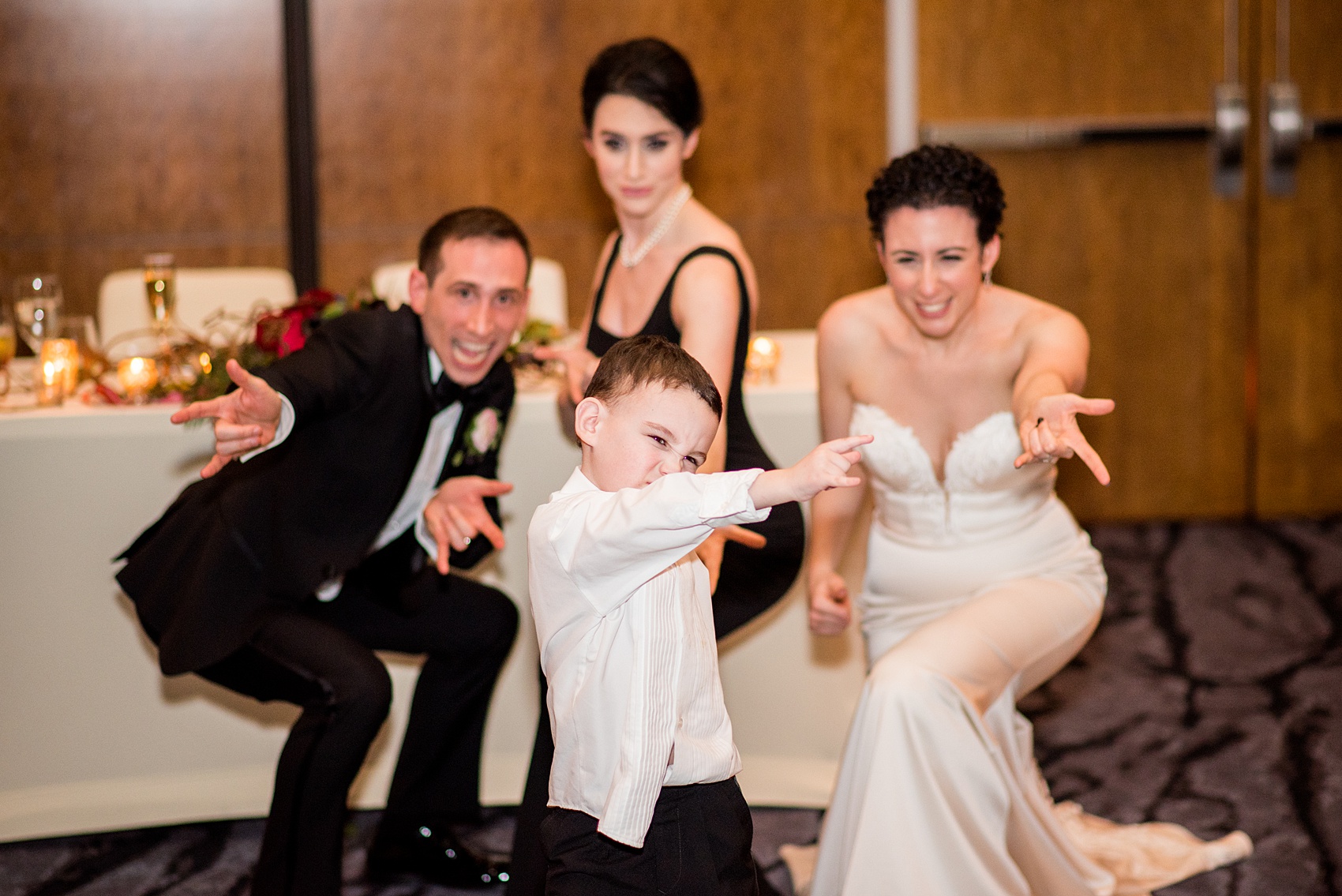 Spiderman was in training as Ben led a Spidey-web photo while some other youngsters danced a romantic little romantic pas de deux. Who knows…maybe their wedding will come in twenty years or so!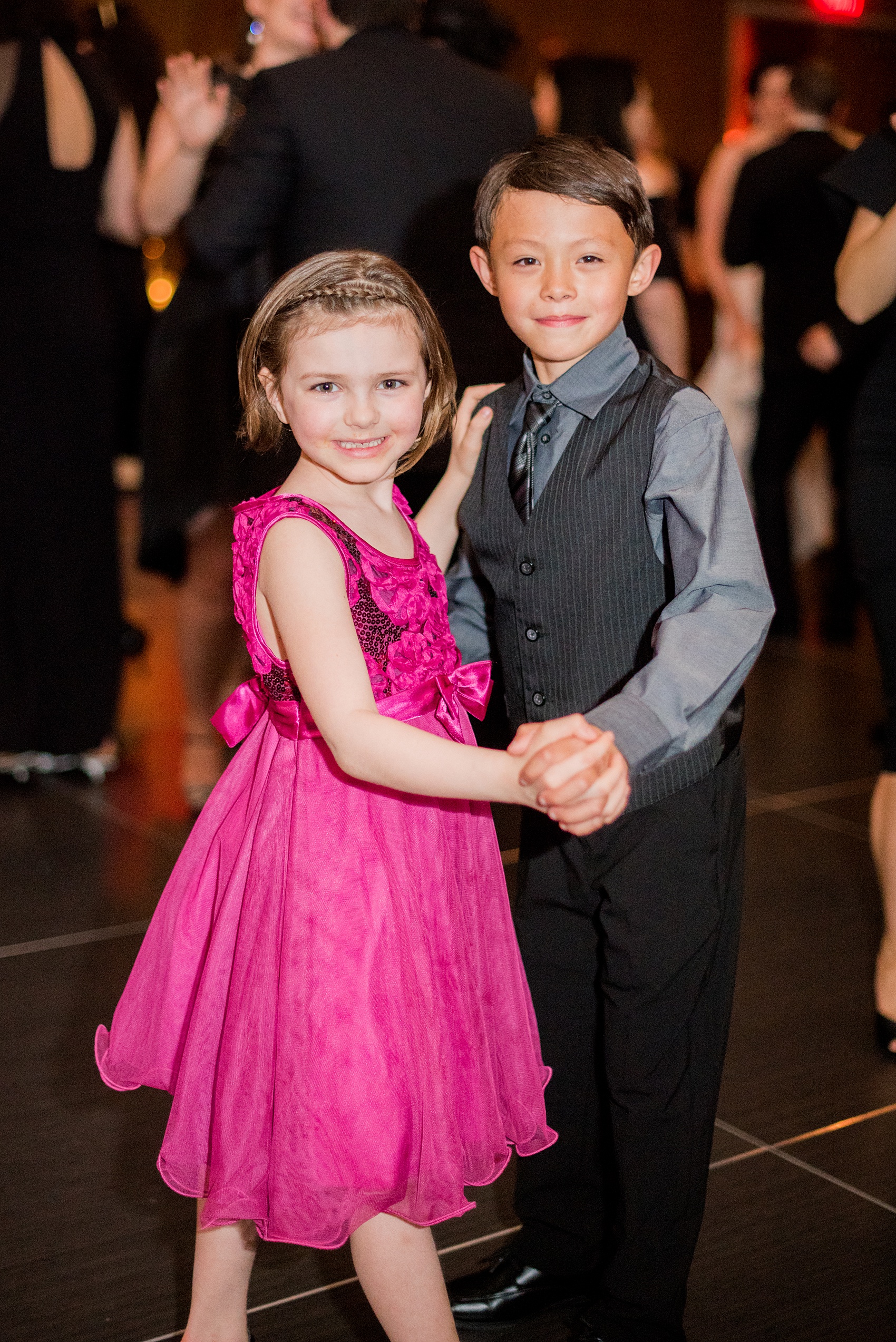 Congratulations to an incredible bride and groom and, furthermore, team. I can't believe I was the LUCKY one who captured your day and gets to gush over these images with you forevermore!
Venue: W Hoboken / Flowers: Sachi Rose Design / Hair: Martha Ellen, HeadChop / Makeup: Michelle, True Butterfleyes / Cake: Palermo's Bakery / DJ: Joel, 74 Events / Officiant: Steven MG Philip / Gown: Angela's Bridal, designer Paloma Blanca / Shoes: Tieks / Tuxedo: The Black Tux / Ceremony and cocktail hour music: Highline String Quartet  / Invitation: Minted 
For more metropolitan wedding inspiration check out:
Having some serious photography envy? Don't because you can have beautiful photos too! Contact us!