This Bay Head Yacht Club wedding had all the elements of a memorable celebration you'd want: a waterfront venue, perfect weather, a sandy beach nearby, great food and music, and the love of the bride and groom.
About Nik and Cara's Love Story and Wedding
Do you know the kind of bond you have with siblings and best friends from childhood? There's a commonality in growing up in the same town at the same time that no one outside that circle and your city can really understand. Unbeknownst to them, Cara and Nik's love was solidified by the bonds of teenage high school days. And years later I'd be the lucky one to capture their Bay Head Yacht Club wedding photos.
Though they weren't high school sweethearts, they fell into a wonderful familiarity and love after being serendipitously re-united while running into each other out one night in New Jersey, just over the Manhattan border. They're currently living in Philadelphia, but their loyalty to their home state of New Jersey coupled with a lifelong love of the beach equated to a no-brainer for their wedding venue: Bay Head Yacht Club, where the groom grew up sailing during each summer as a kid.
Nautical touches were woven in throughout the day, and their romantic, entertaining reception ended with one amazing outfit change and a bright send-off.
Getting Ready for their Bay Head Yacht Club Wedding
They each got ready in nearby homes; Nik grew up going to Bay Head each year to summer at his family's beautiful beach house, so, naturally, that's where they got ready.
Cara and her girls got ready at a rented vacation home just blocks from their venue.
I absolutely love this photo of Cara and her bridesmaids! They were looking gorgeous in their floral blue robes….and came upstairs and suddenly saw her gorgeous pair of metallic gold glitter Jimmy Choo heels looking oh-so-fine on a beautiful white table, posing for a photo sess with me.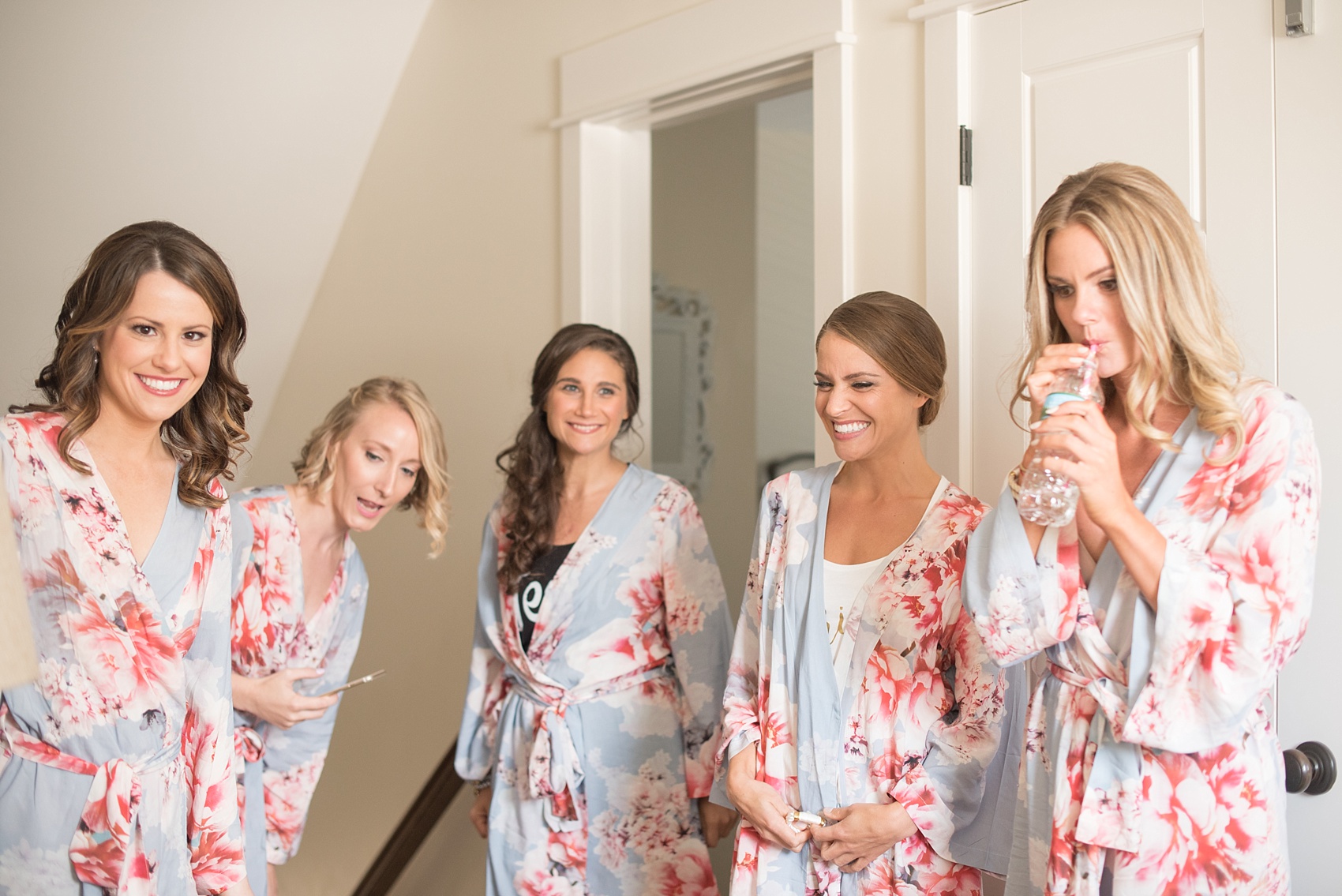 Nik got ready with his groomsmen at his family's home on the beach (complete with nautical flags, too, I might add!). The room the men got ready in at Nik's family home was incredible; it was custom-made for his parents' grandchildren, Nik's nieces and nephews, and had bunk beds, a boat bed, white painted wooden walls, a compass on the ceiling, a porthole door leading into it and nautical rope framed mirrors…just to name a few specials details!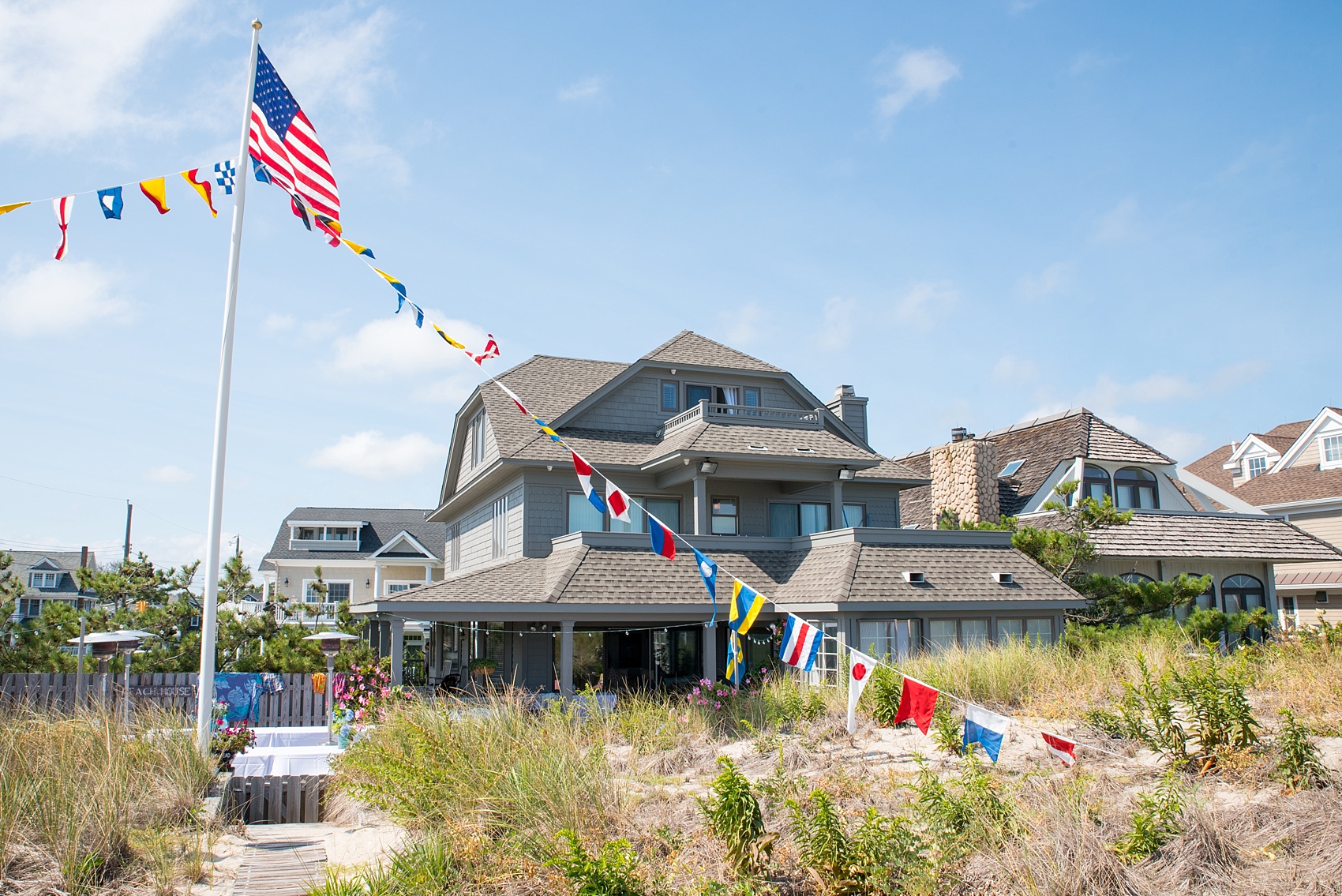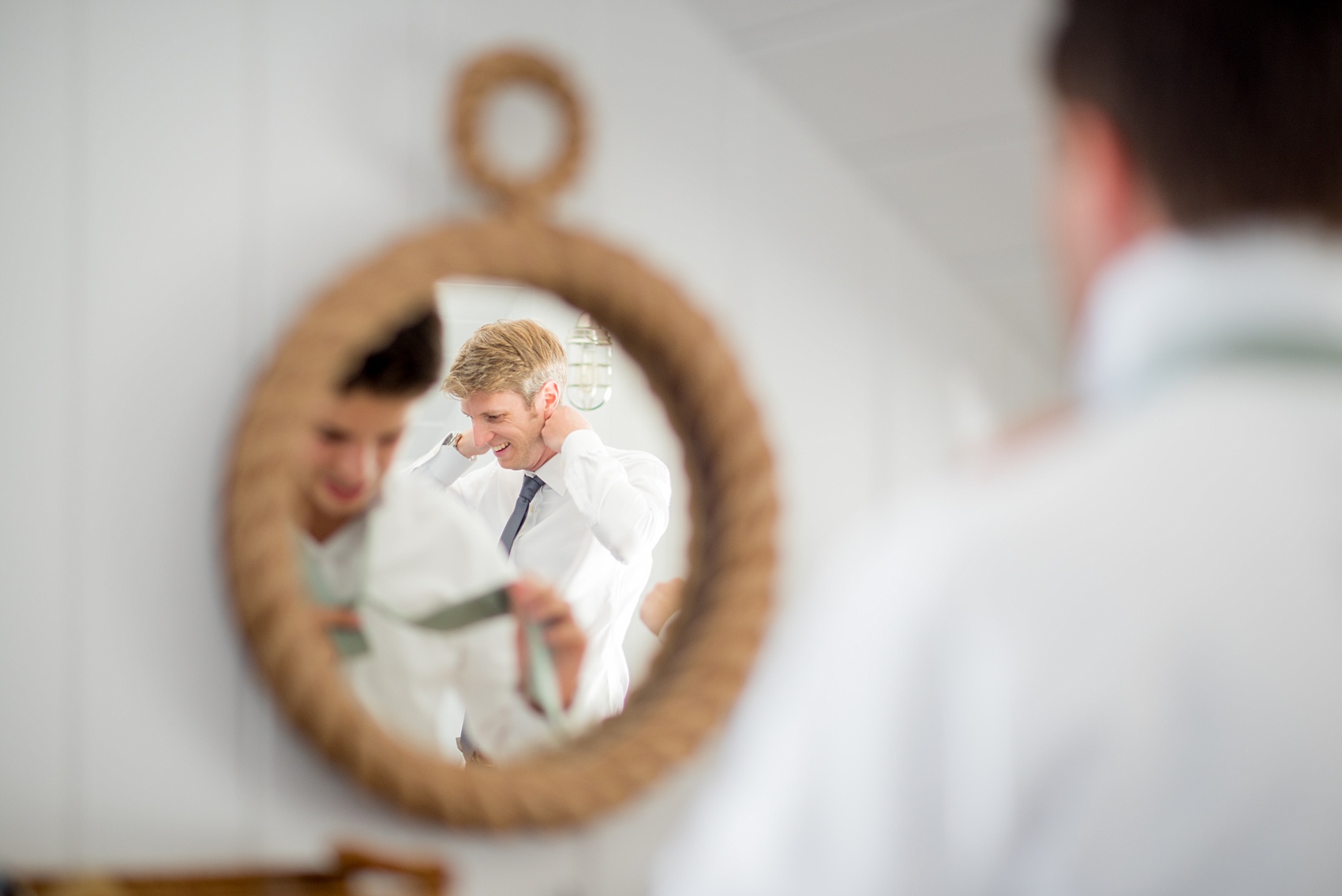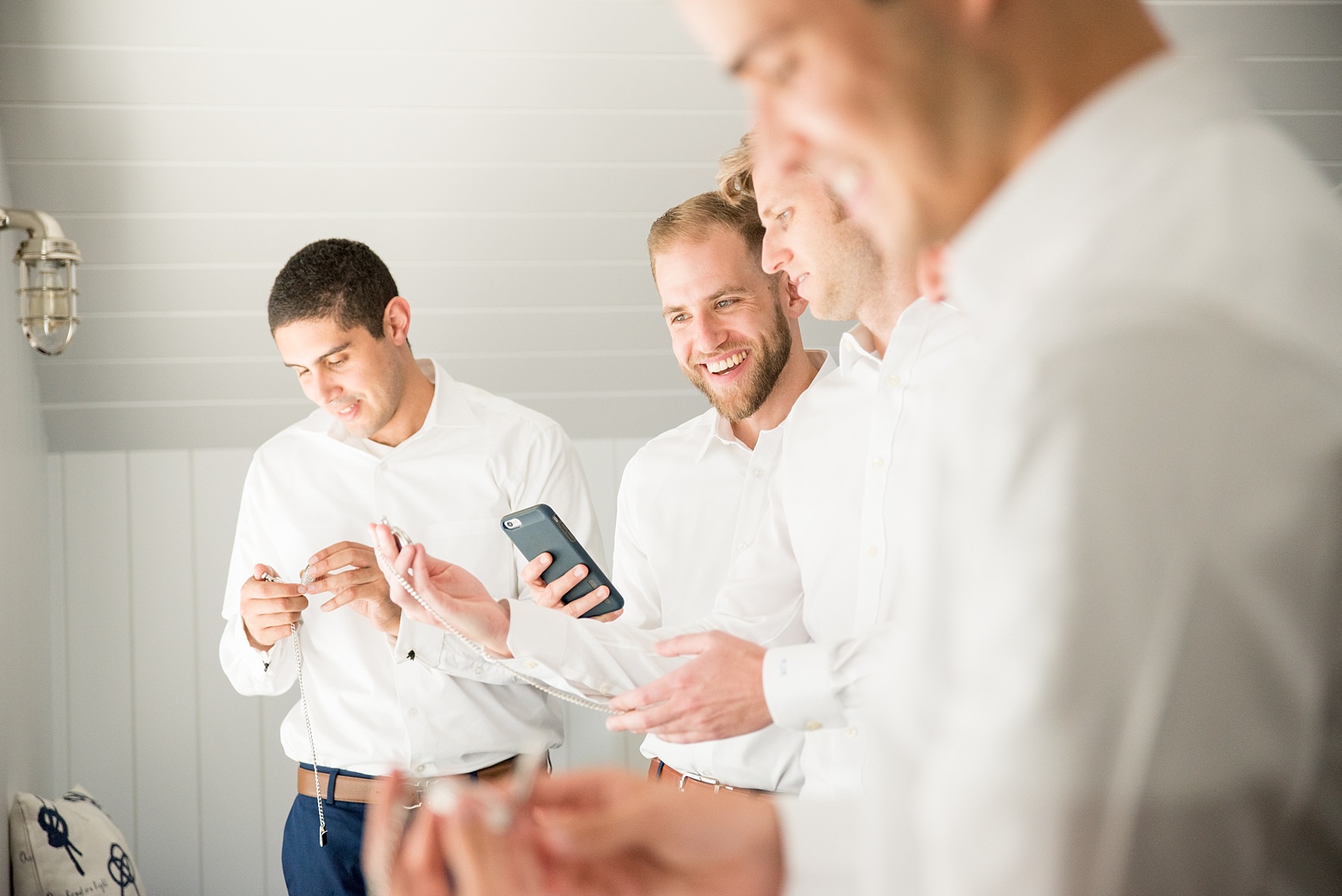 Their Nautical-Inspired Wedding Day Details
They decided to exchange personal sentiments in vow books before the ceremony and to recite more traditional vows in front of family and friends. Cara got Nik special cufflinks with their wedding date stamped on them for a groom's gift.
Soft touches of the ocean were woven into the day from the Ropes bracelets Cara got each bridesmaid (a personal favorite, which I also adored from their engagement session), to their pale blue dip-dyed letterpress wedding invitations, to the colors of the argyle socks Nik got his groomsmen (along with unique monogrammed pocket watches).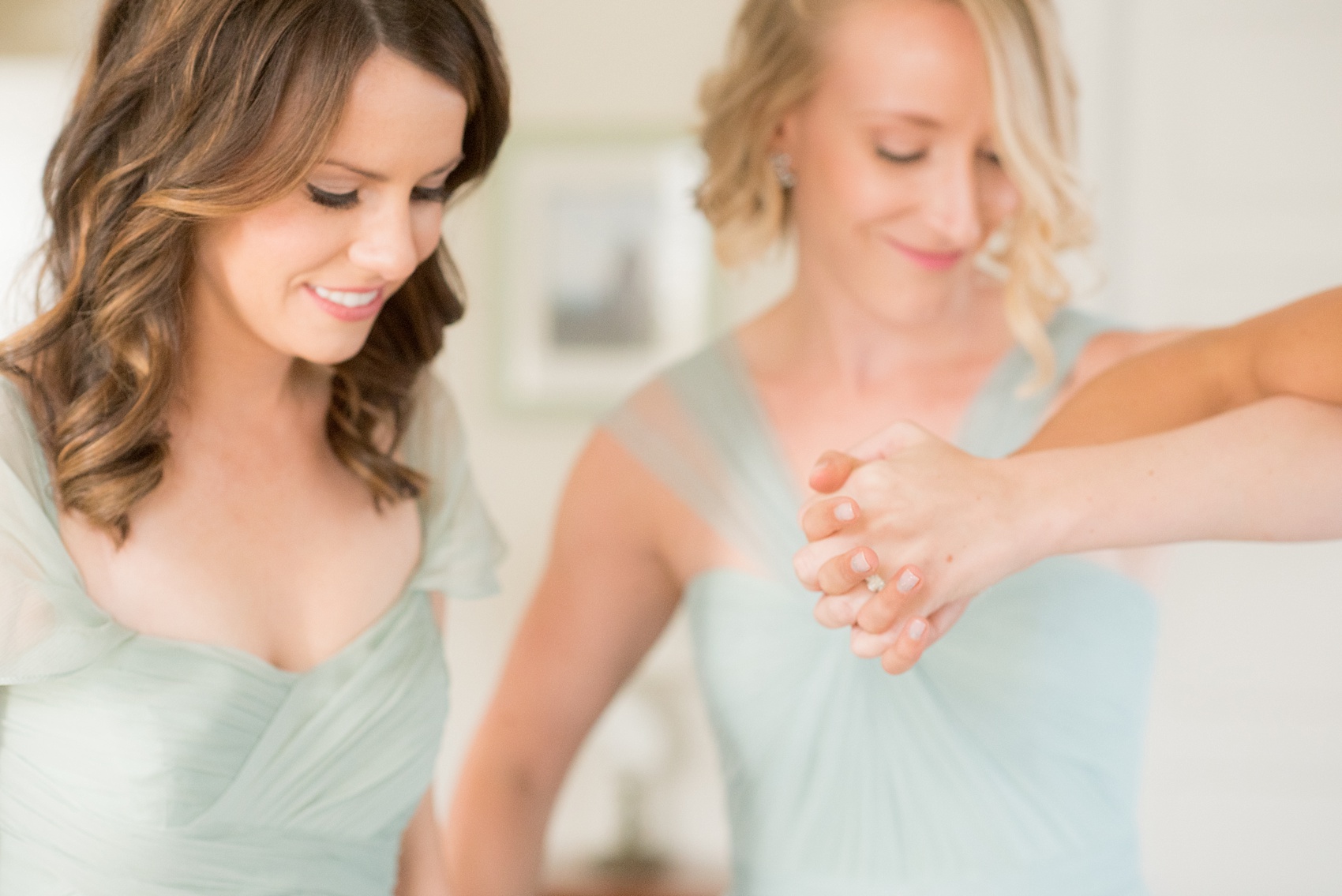 Reliving Cara and her bridesmaids helping her get ready in these Bay Head Yacht Club wedding photos remind me of how dreamy the situation was.
The room was sun-drenched, and their Amsale bridesmaids dresses made me think of green beach glass. They helped her into her sweetheart neckline wedding gown, she tearfully read Nik's vows to her, and we were on our way to Bay Head Yacht Club (with her beautiful gold glitter Kate Spade clutch her brothers got her, which means they're obviously the best brothers!) to photograph some special portraits of her.
Cara wore a skirt on top of her dress for a surprising look for her reception. She wanted to surprise Nik with this second fashion look too, so I took photos of Cara without the skirt before Nik arrived for their first look; we were careful to put the overlay tulle skirt back on before he saw her.
The Bride and Groom's First Look at the Bay Head Yacht Club Wedding
They opted to do a first look (which I always support and encourage), and we headed to the area underneath the yacht club so we'd be shielded from the hot sun. It was perfect and private.
The architecture of Bay Head Yacht Club is tiered. The ground level has these incredible rusted columns I instantly gravitated towards for a good amount of their photos because it was so dreamy. The wooden shingles were also an amazing backdrop, and I love how you can see the water below the structure peeking through in some spots. And we were literally on top of the water.
Beautiful fall-colored bouquets were created for the bridesmaids and Cara; her bouquet added to her complete "bridal" look as she tapped Nik's shoulder to turn around to see her. It had seeded eucalyptus, antique roses, and red dahlias. Her bouquet was wrapped in special rosary beads. White rose boutonnieres were accented with fragrant rosemary for the men.
As Cara walked to see Nik for the first time that day, complete with her low-back gown and low-bun hairdo, I captured a photo of her reflection in the window. It's one of my favorites of all the Bay Head Yacht Club wedding photos from their wedding.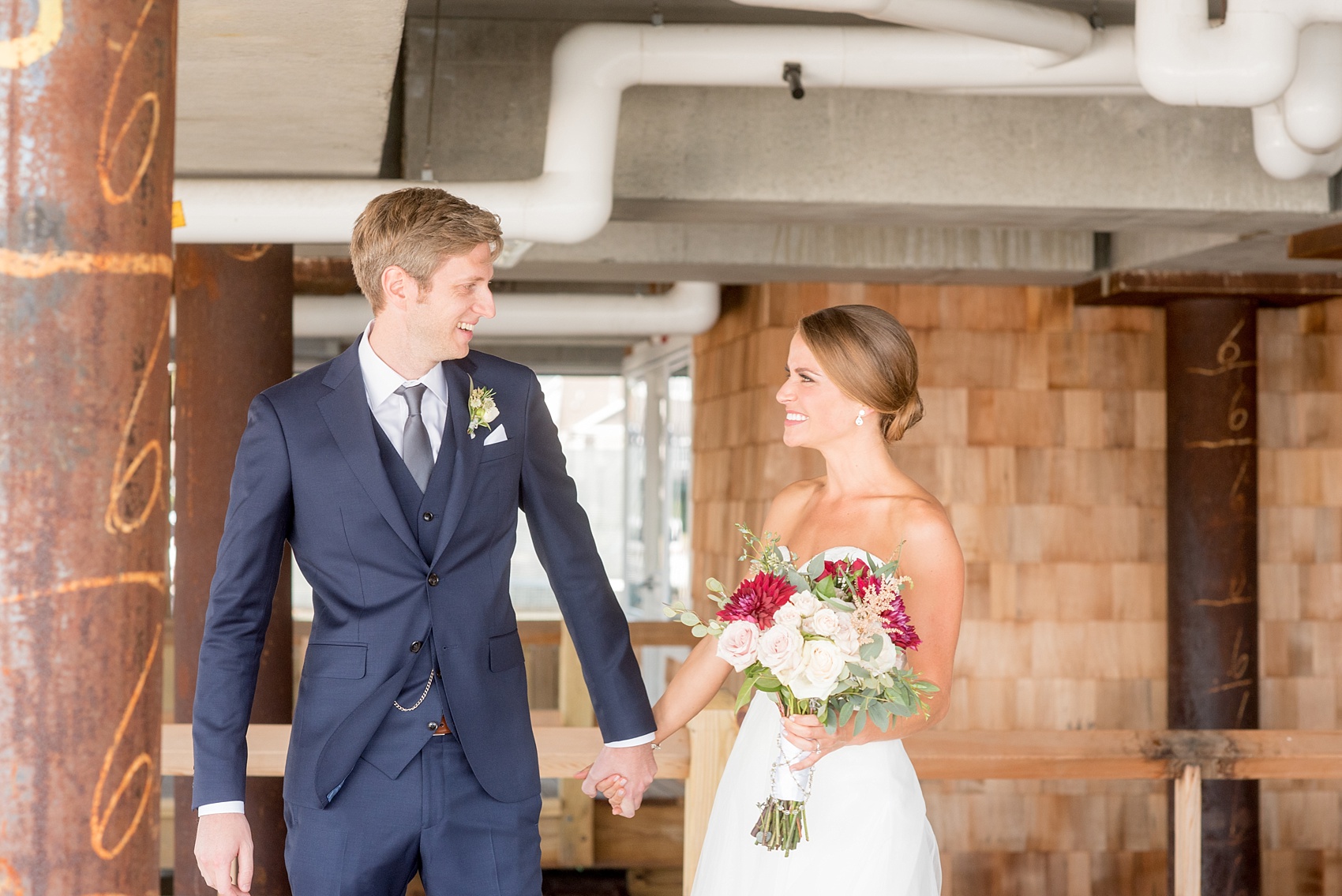 We slowly moved into photos with their wedding party and family, using all the levels and interesting outdoor spaces available for a Bay Head Yacht Club wedding. Everyone looked so amazing! The colors Cara and Nik picked for their wedding were spot on for a fall waterfront wedding in New Jersey.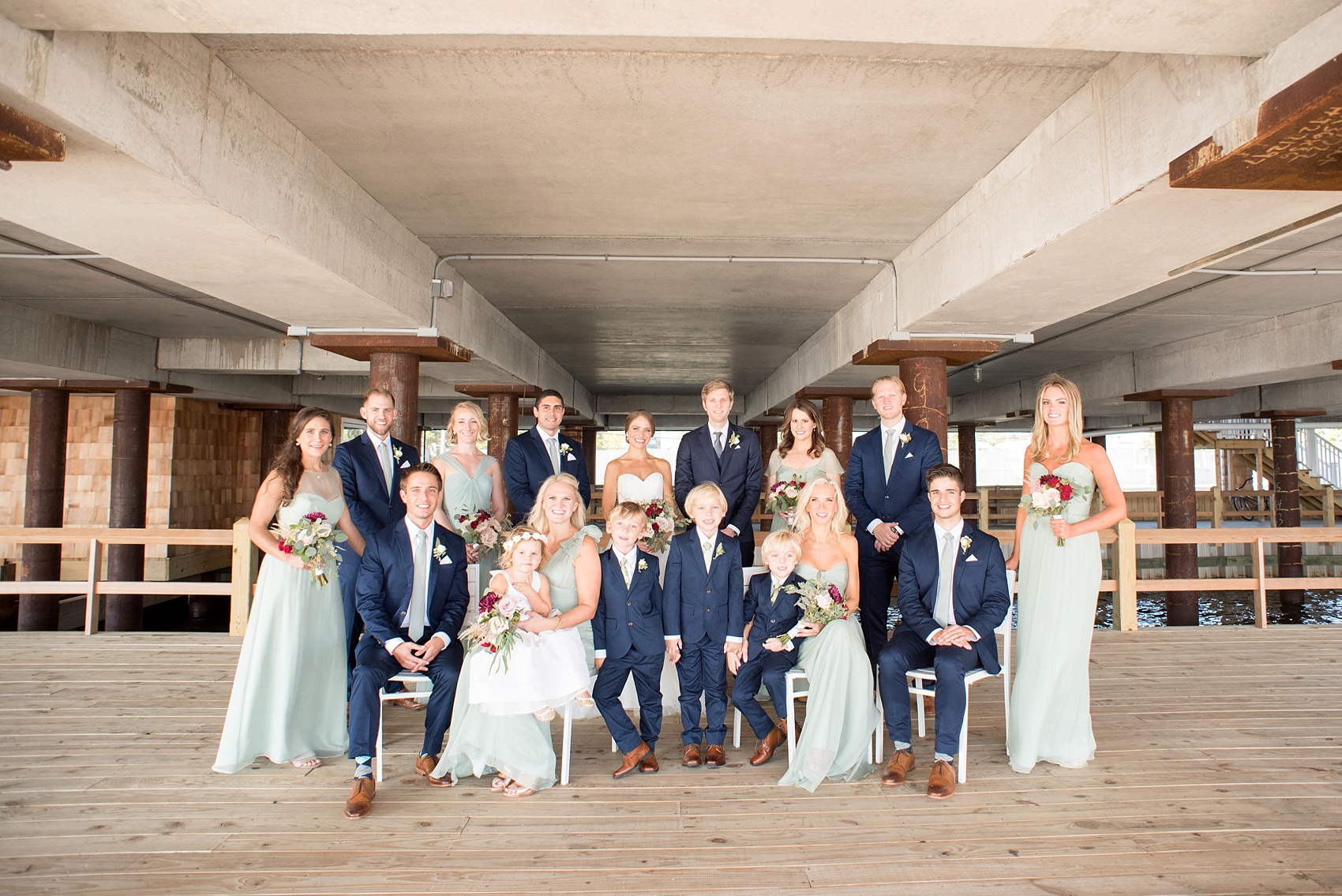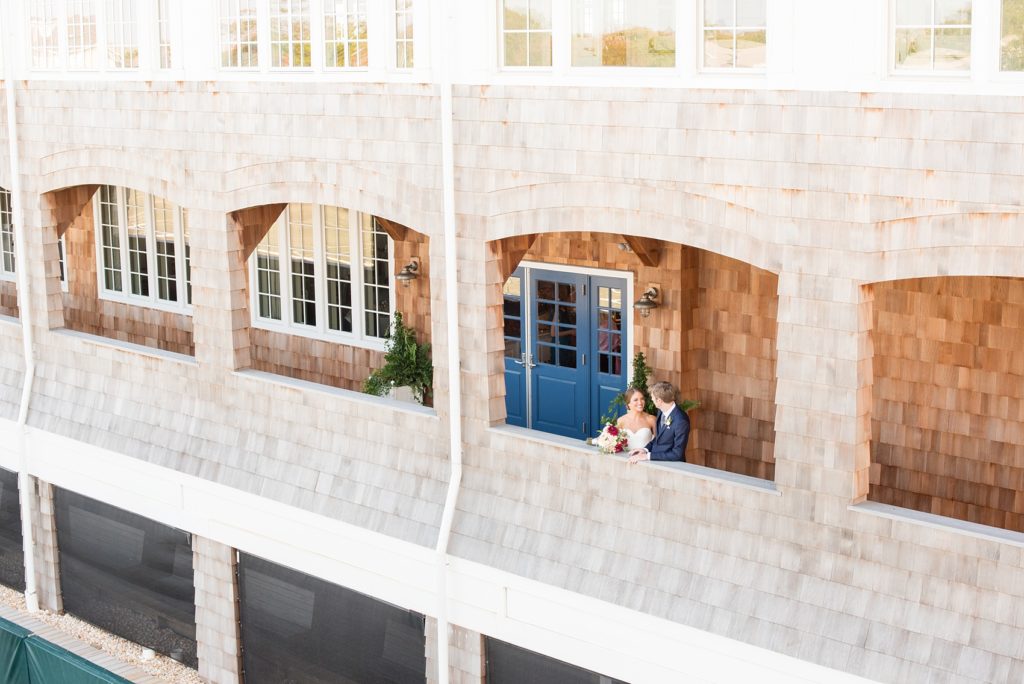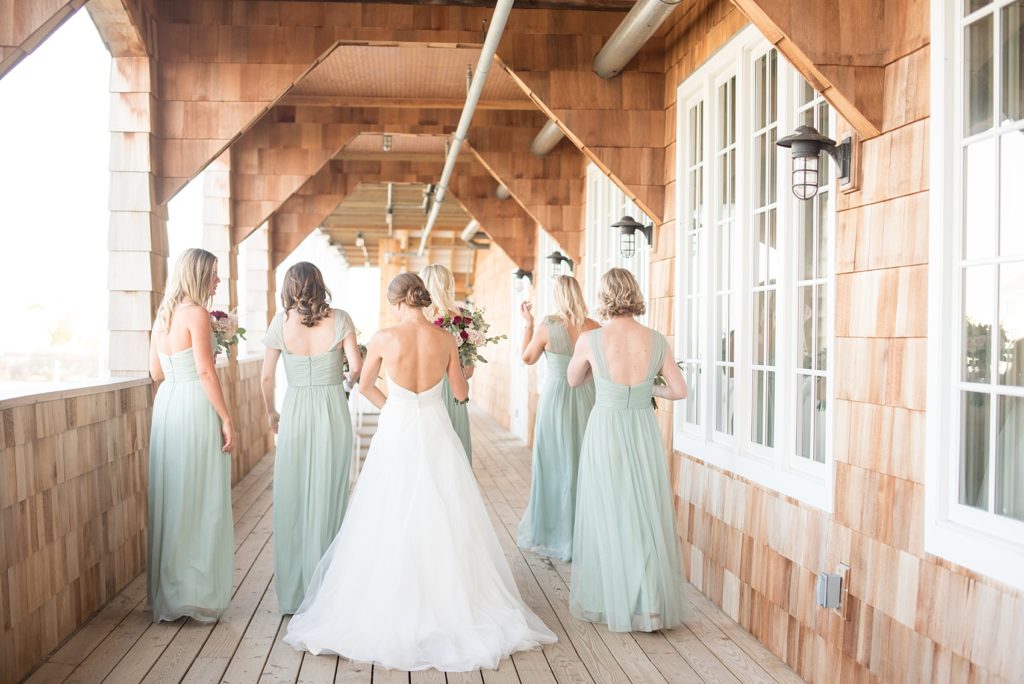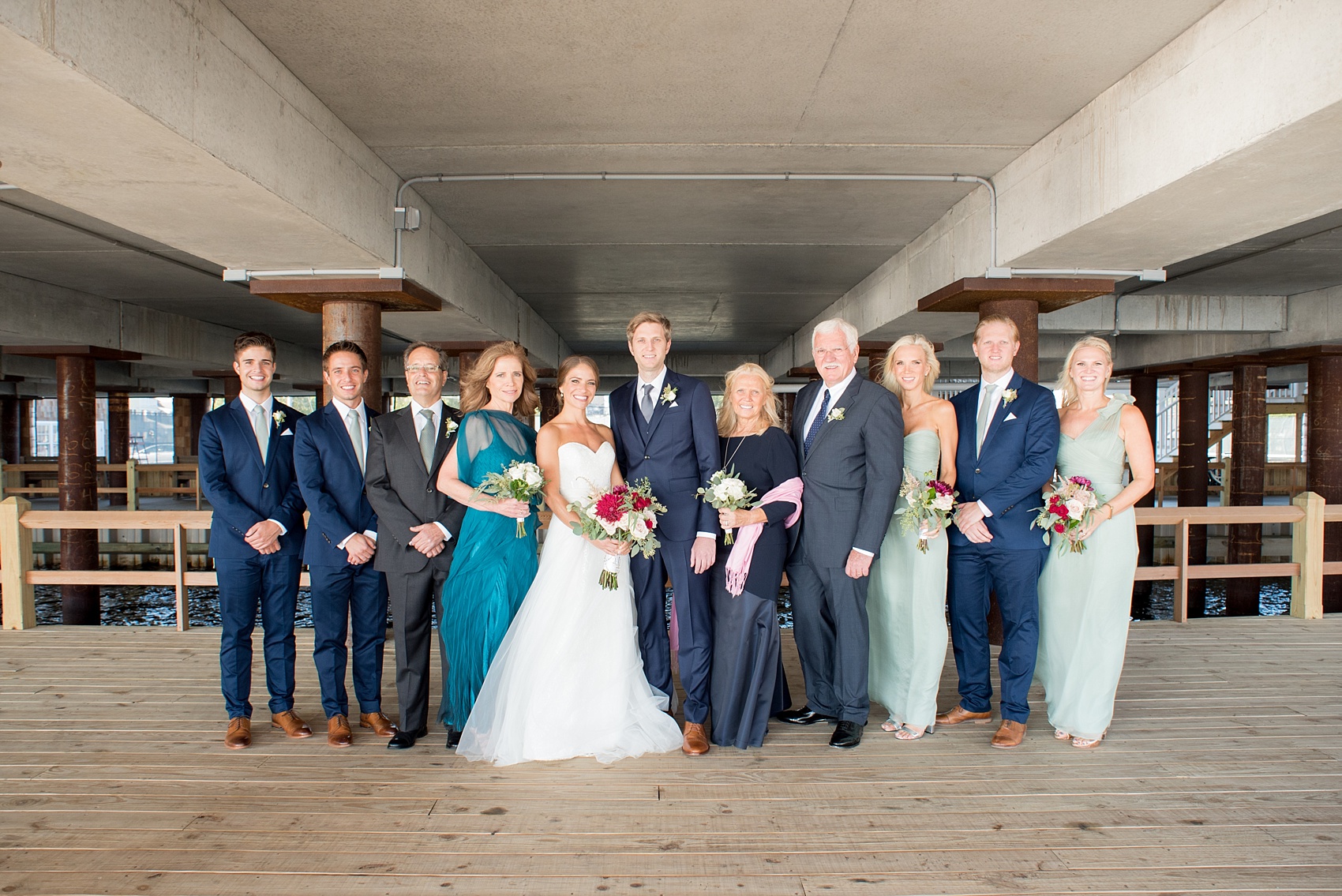 Bay Head Yacht Club Wedding Waterfront Ceremony with a Boat Exit
Bay Head Yacht Club wedding photos mean more than one location! They have the option to hold your ceremony in a nearby waterfront location that literally brings a dock into the space. This is what Cara and Nik opted for.
It was time to walk a short way to the ceremony location after family photos to the "Dale Building," a converted boathouse next to the yacht club. The aisle was spectacularly lined with ficus trees, and a white runner was placed for the wedding party to walk down the aisle.
They exchanged vows as Cara's cousin, Liam, officiated. After they sealed the deal with a kiss, they were on their way to their party in style: a vintage boat from the 1950s (with Captain Perry!) took them to the dock where they would join cocktail hour.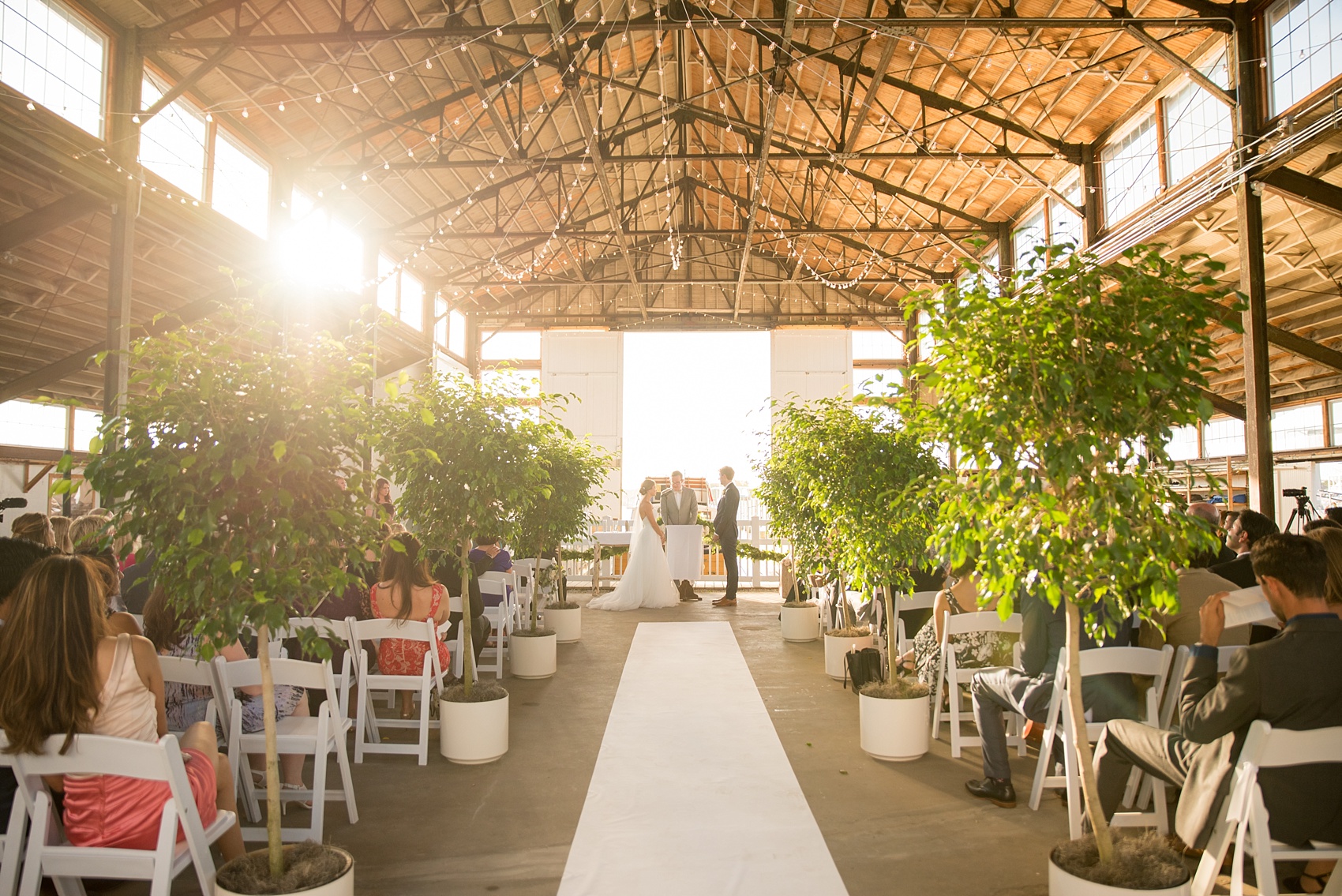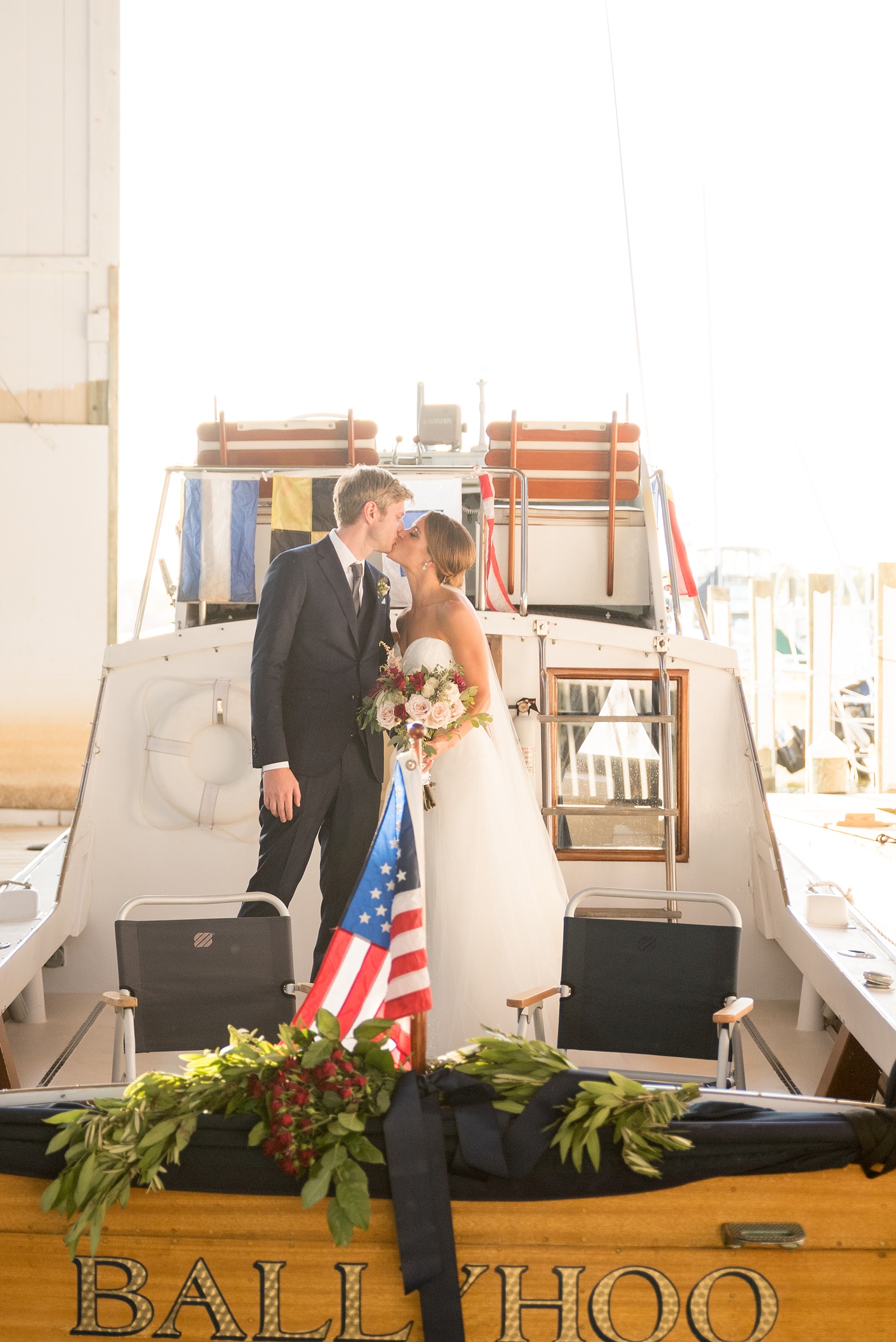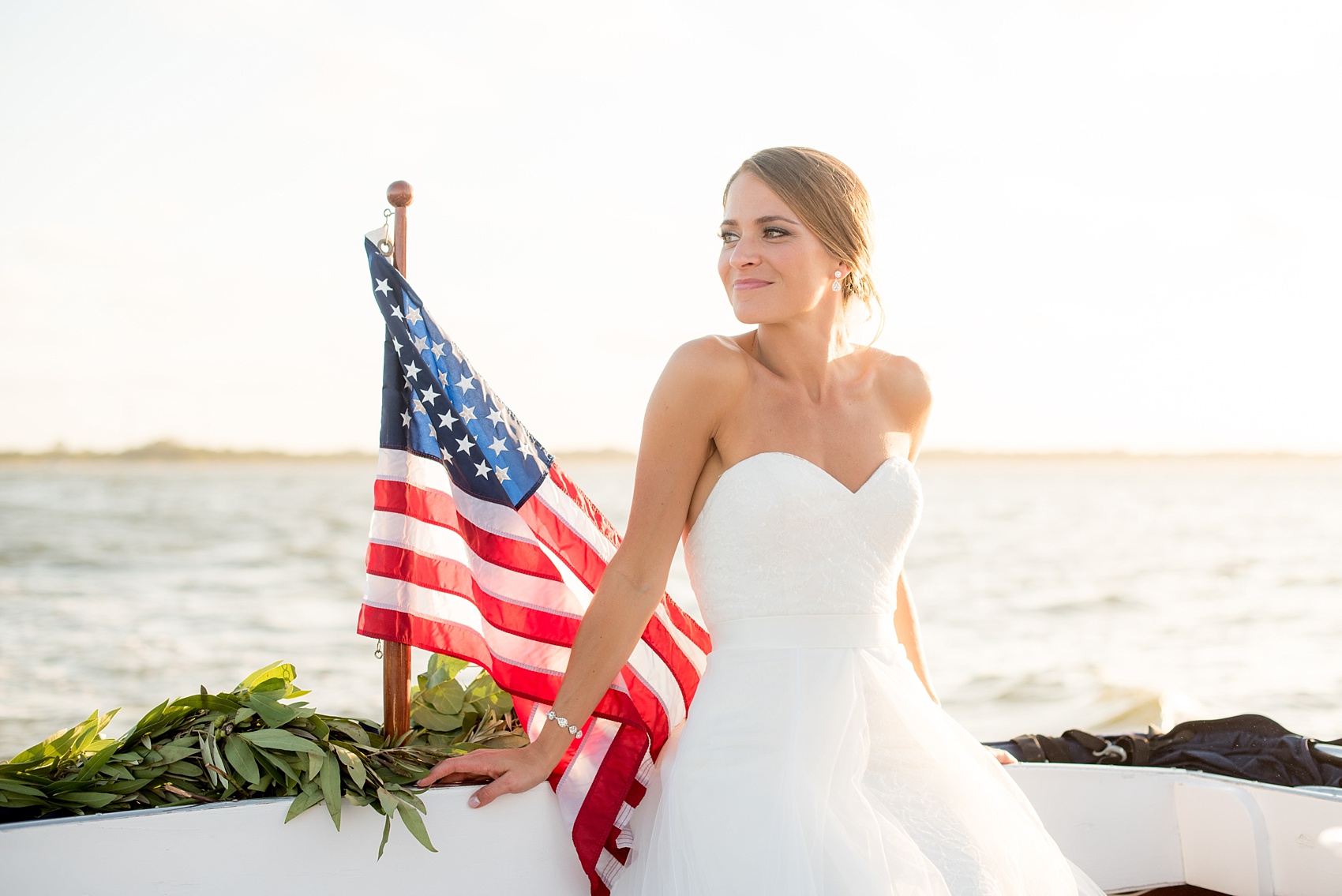 Arriving at their Bay Head Yacht Club Wedding Reception by Boat
As most guests walked from the ceremony location back to Bay Head Yacht Club to start the celebration for the evening, Cara and Nik hopped on a boat to arrive in style!
Their wedding party was awaiting their arrival on the dock and cheering them on as they stepped onto it to join their cocktail hour.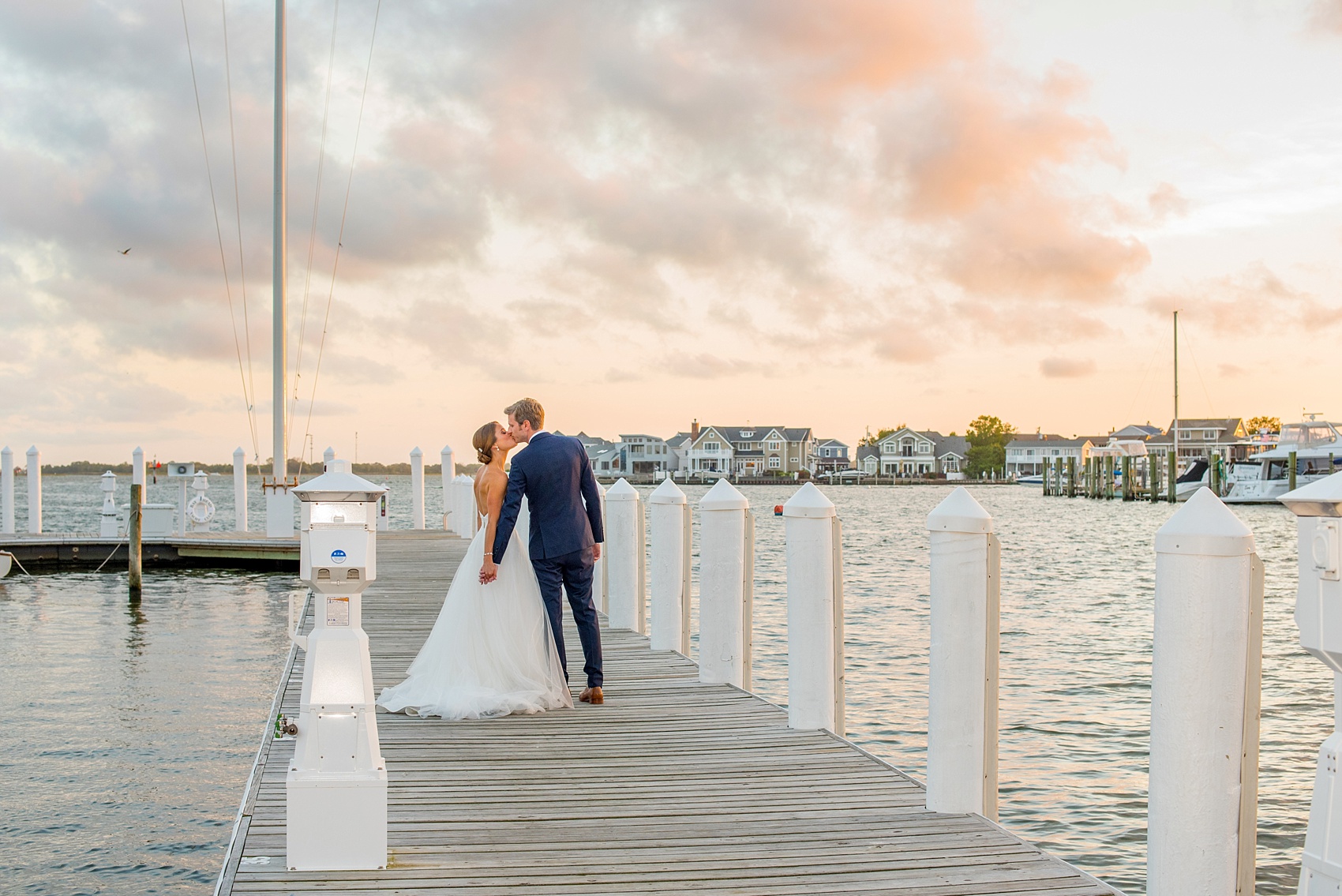 Escort cards double as guest favors – each one had a sea glass wine charm attached to it. Tables were decorated in several fashions: the head table was lined with eucalyptus garland, tall candelabras had fall flowers climbing up its arms, and other tables had low, broad sprawling centerpieces echoing the bridesmaids' bouquets.
There was romantic candlelight everywhere that glows in their Bay Head Yacht Club wedding photos. Nautical white rope balls held gold table numbers that matched their save the dates, with an illustration of diagonal flags. Gold flatware was at each guest's place setting. The icing on the cake, so to speak, was bistro lighting strung across the rafters of the grand hall.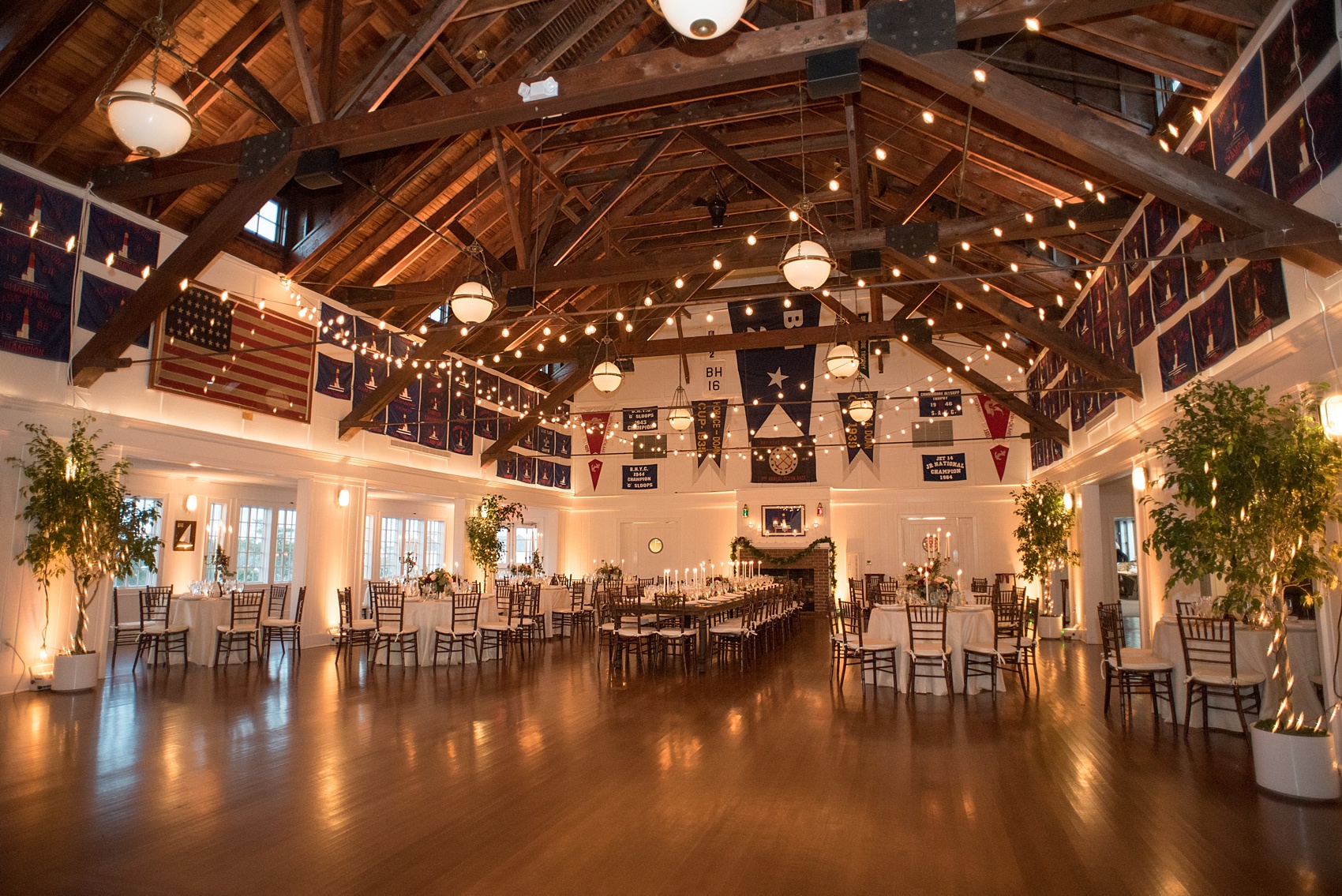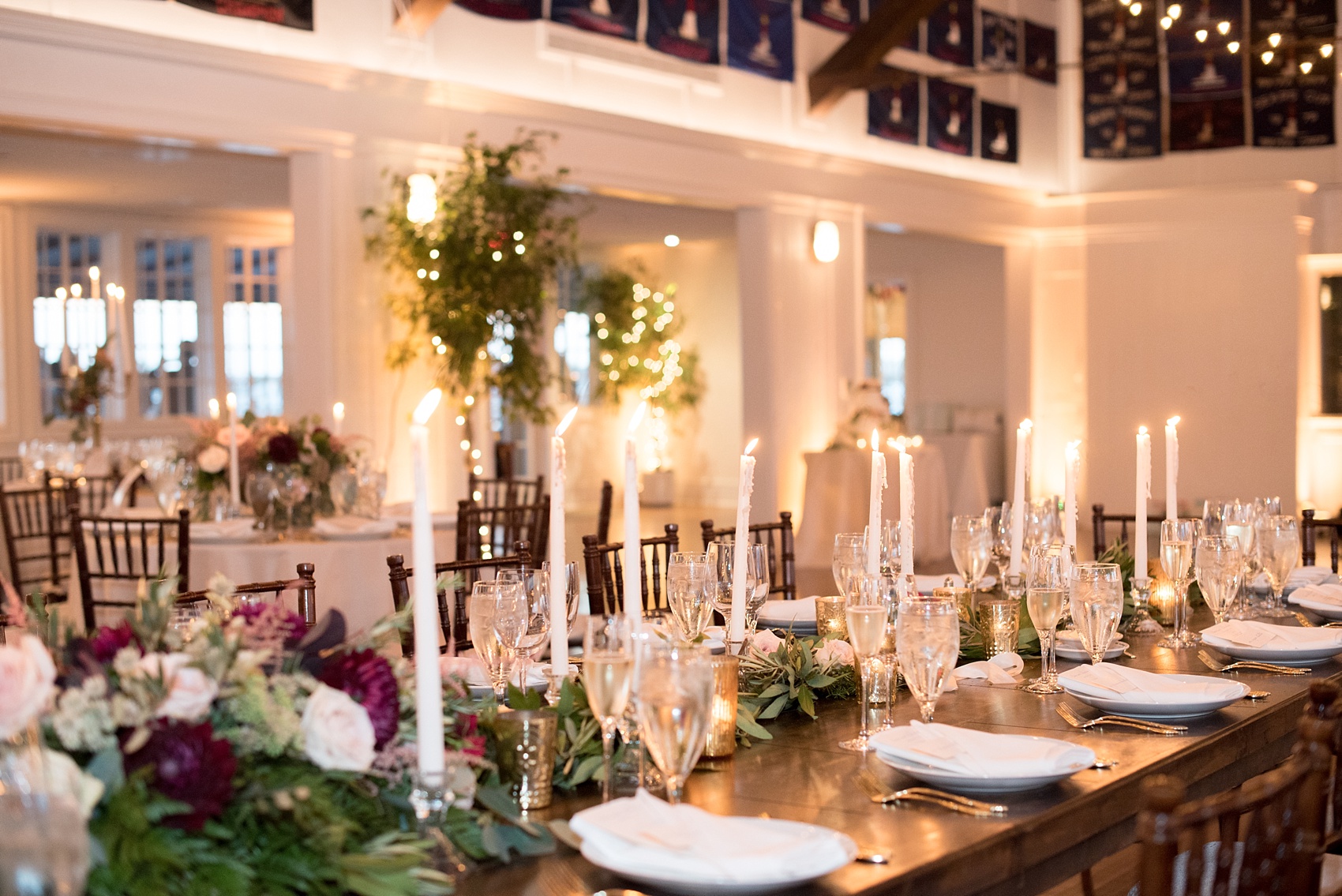 They danced their first dance as guests fondly looked on. (I love that photo of their moms, Joanne and Alva, watching their kids enjoy their reception!) The evening was filled with the love and energy of family and best friends as Nik's siblings served as Toast Masters and performed skits and scripts they meticulously crafted for their little brother's wedding reception.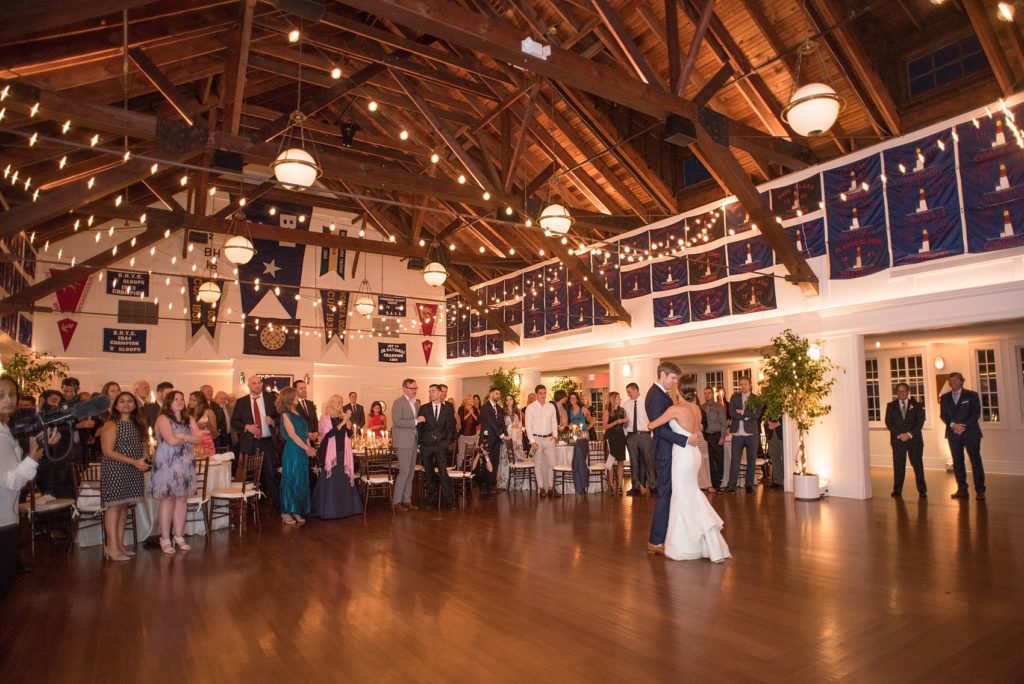 Nik's Swedish heritage was honored as everyone participated in the most well known Swedish drinking song, "Helan Går." And they toasted to love and happiness all night long before a glow-stick exit from their Bay Head Yacht Club wedding.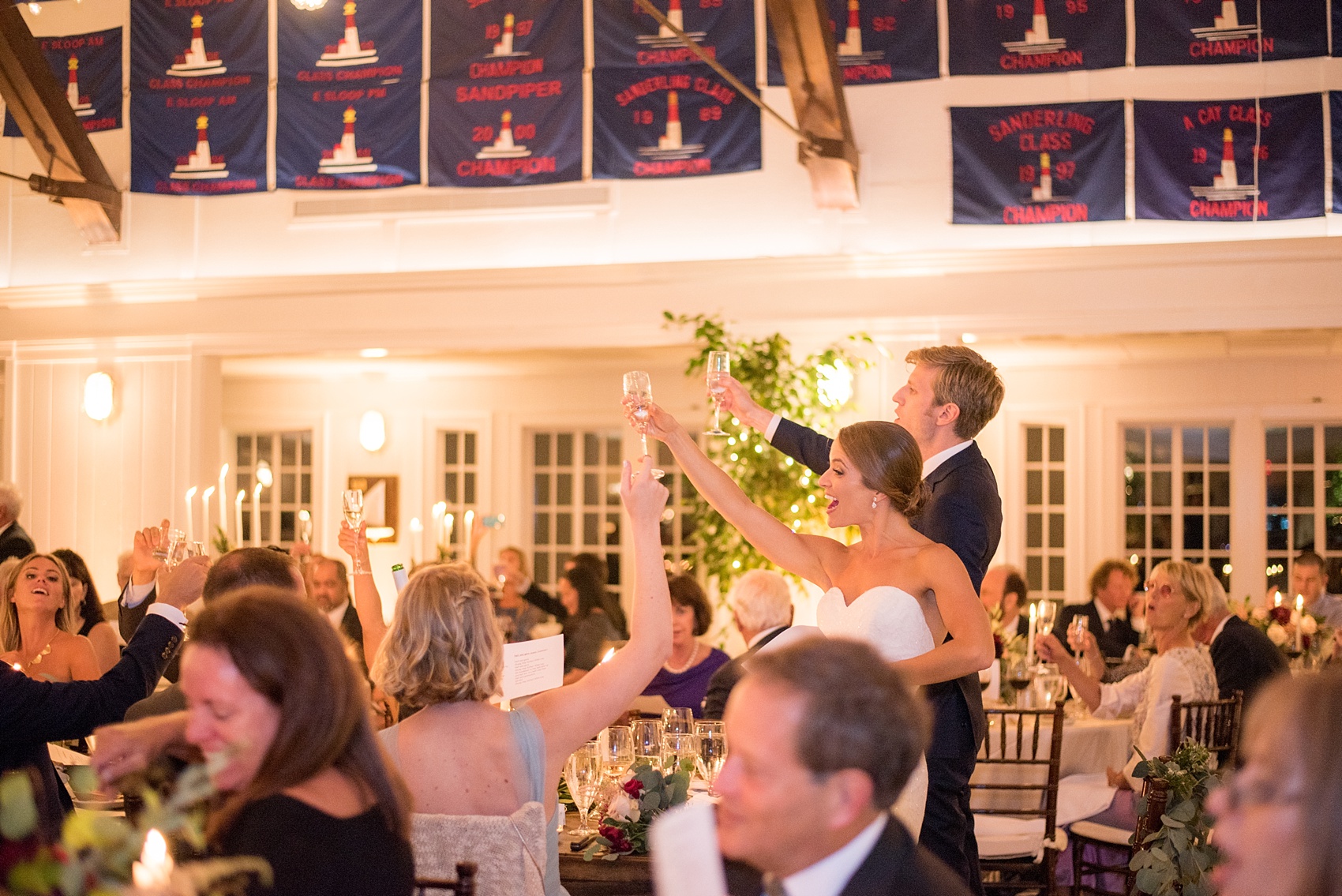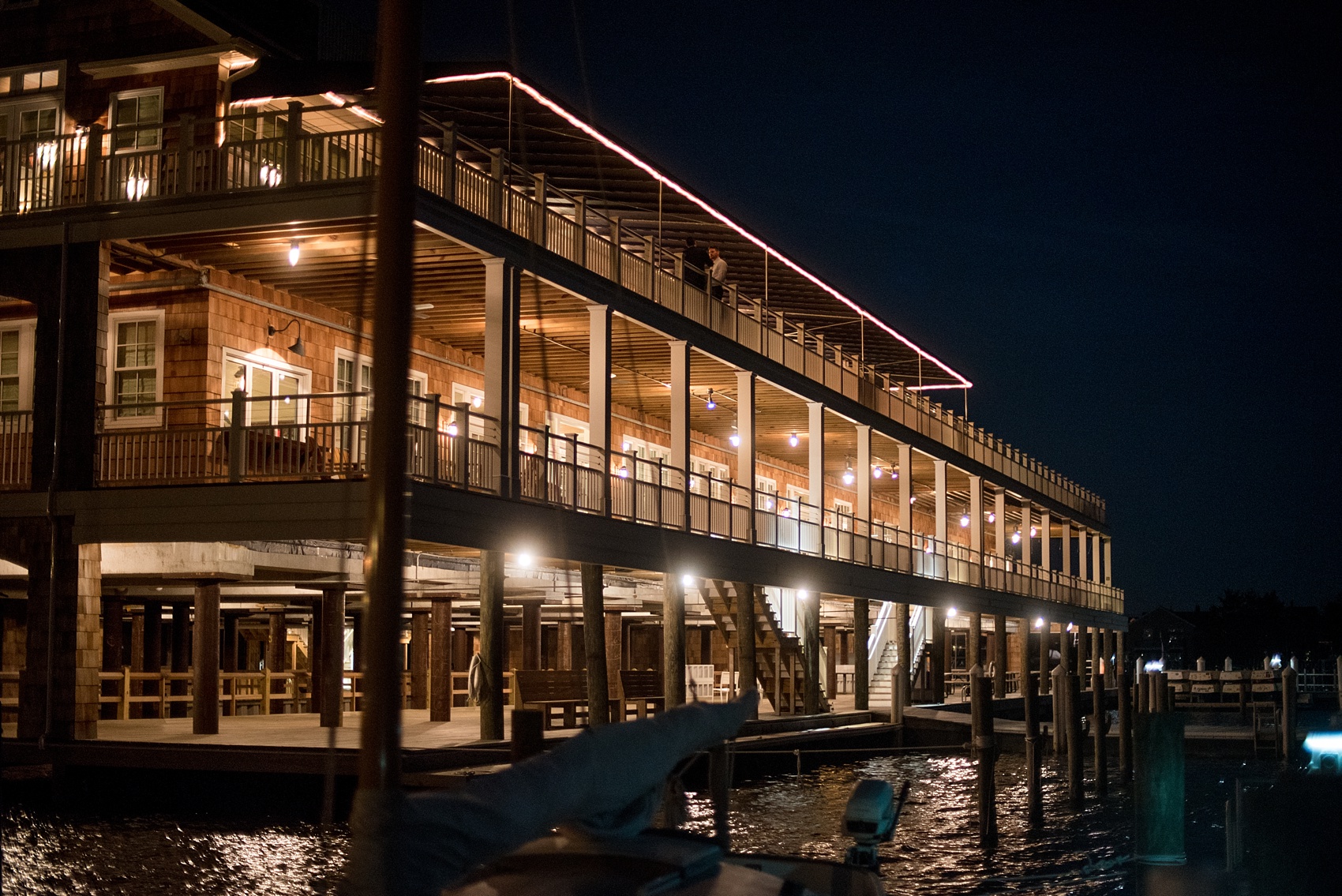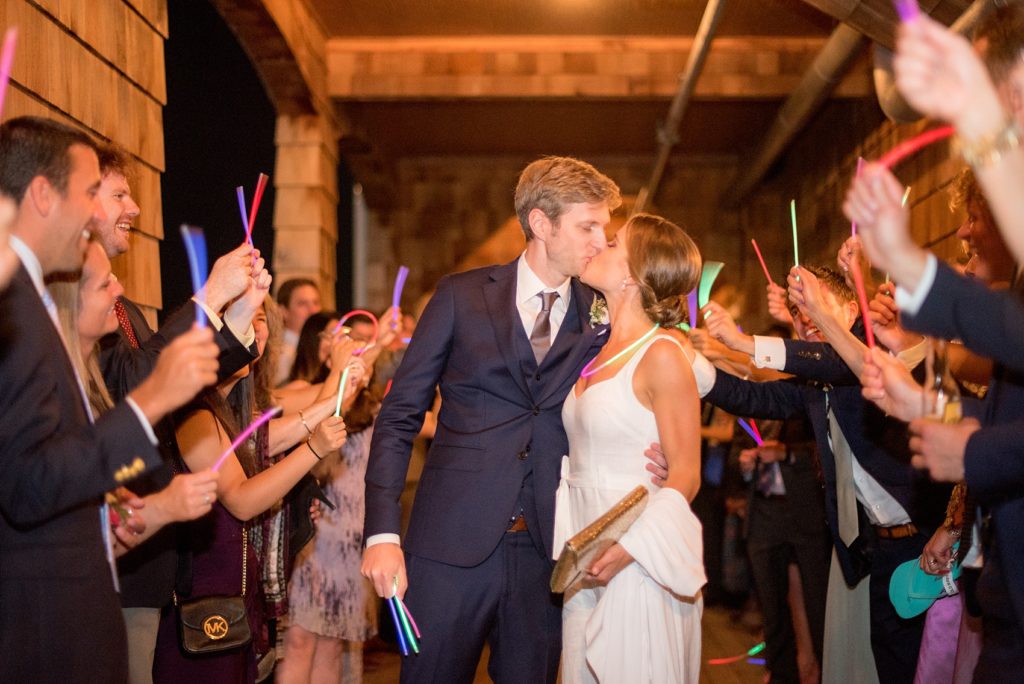 Cara looks great in anything she wears, and I love that she changed into a white romper for a sweet send-off. Doesn't it remind you of early cruise days and the classic black and white photos you'd see of couples waving goodbye to friends on the docks? Well, this picture-perfect, deserving duo was waved away with glow sticks! What a bright getaway.
It was truly an honor to photograph Mr. and Mrs. Kappy's Bay Head NJ engagement photos, then their first day as husband and wife. Meeting their family and friends and working with them along the way was truly memorable. May their marriage always be smooth sailing!
Bay Head Yacht Club Wedding Vendor Team
Venue: Bay Head Yacht Club / Florist: Katydid Floral Design /  Cake designer: Mueller's Bakery  / Invitation suite: Swell Press Paper / DJ: Chris Garrow from Unforgettable DJs / Hair stylist: Jennifer Best / Makeup artist: About Face Makeup by Valerie / Officiant: Liam O'Rourke / Wedding dress boutique: Kleinfeld Bridal, designer Anne Barge / Bridesmaid dress boutique: Bella Bridesmaids, designer Amsale / Videographer: Aiko Roudette / Bridesmaids robes: BHLDN  / Groom's suit: Enzo Custom suits / Groomsmen suits: J. Crew / Lighting: Fabrico Events LLC