Isn't it cool to get a peek behind the curtain sometimes? We live in such a remote, digital world that most businesses are online these days. Gone are the needs to physically go into a store (unless, perhaps, you want the experience of buying a wedding dress in person) and meet with anyone to utilize their services. Yet sometimes our curiosity remains. Like, what's it like at the offices of Martha Stewart? Or how much fun would it be to work at Bravo? (Not that I've thought about it.)
Zola is a company I was curious about as well – I'm a preferred vendor on their site (and proud to be!) and  was yearning to learn more about them. Especially after using them for our own wedding registry. My friend Jennifer, from NST Pictures, and I were able to get an exclusive look behind the scenes at Zola's Headquarters. And it was everything we dreamed it would be!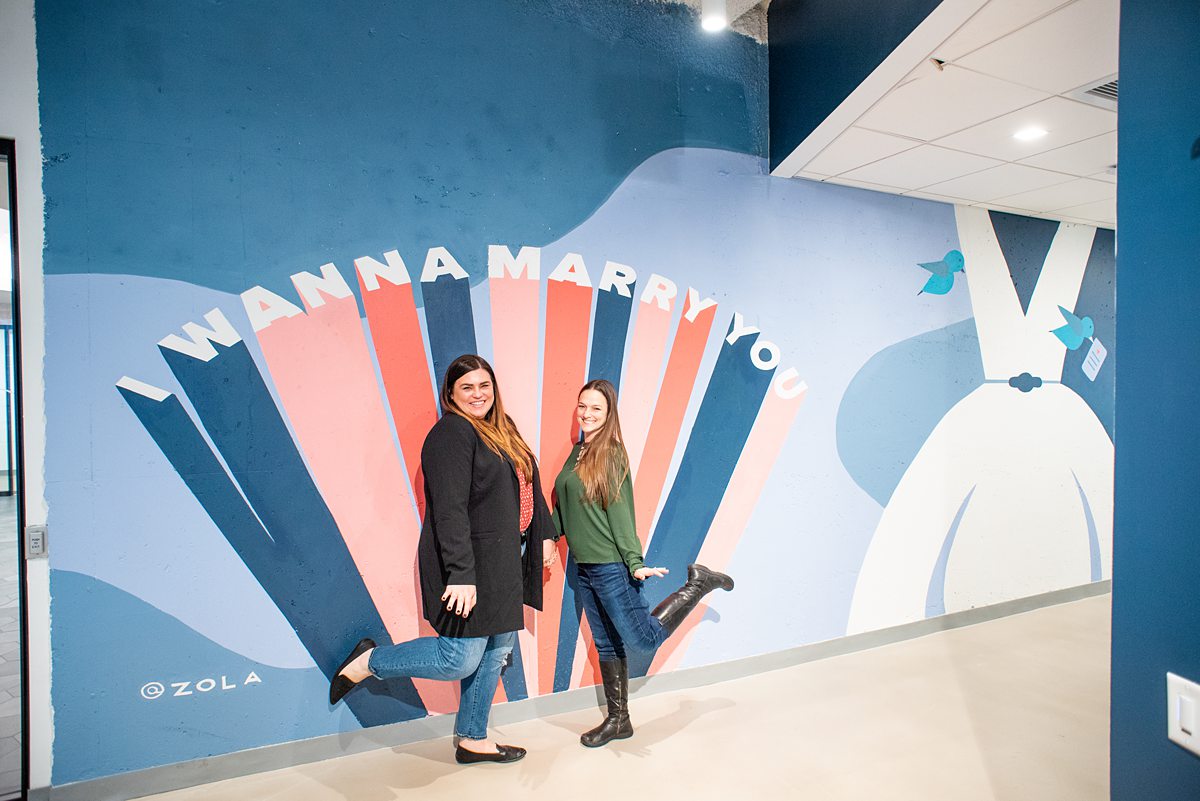 Where is Zola headquartered?
Jen and I got together for a morning meeting at Zola in lower Manhattan on a winter day. Their headquarters are in the Financial District (FiDi) right by the 9-11 Memorial and the Oculus Building, at World Trade Center.
(If you haven't been there, the Oculus Building is a white dinosaur-bones looking structure that rises out of the ground! The impressive sculptural structure houses an indoor shopping mall that's worth visiting, even if just to see the structure from below ground.)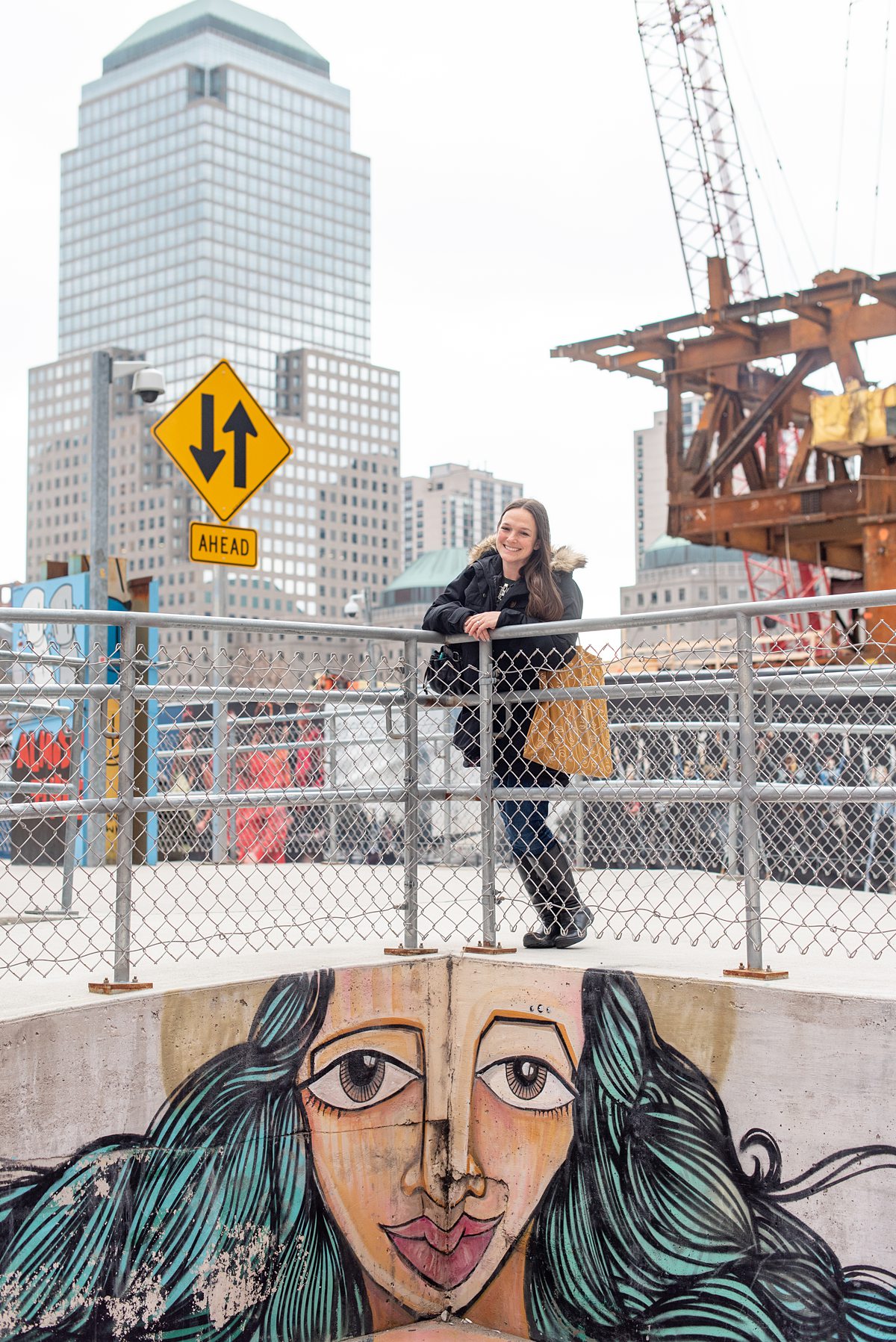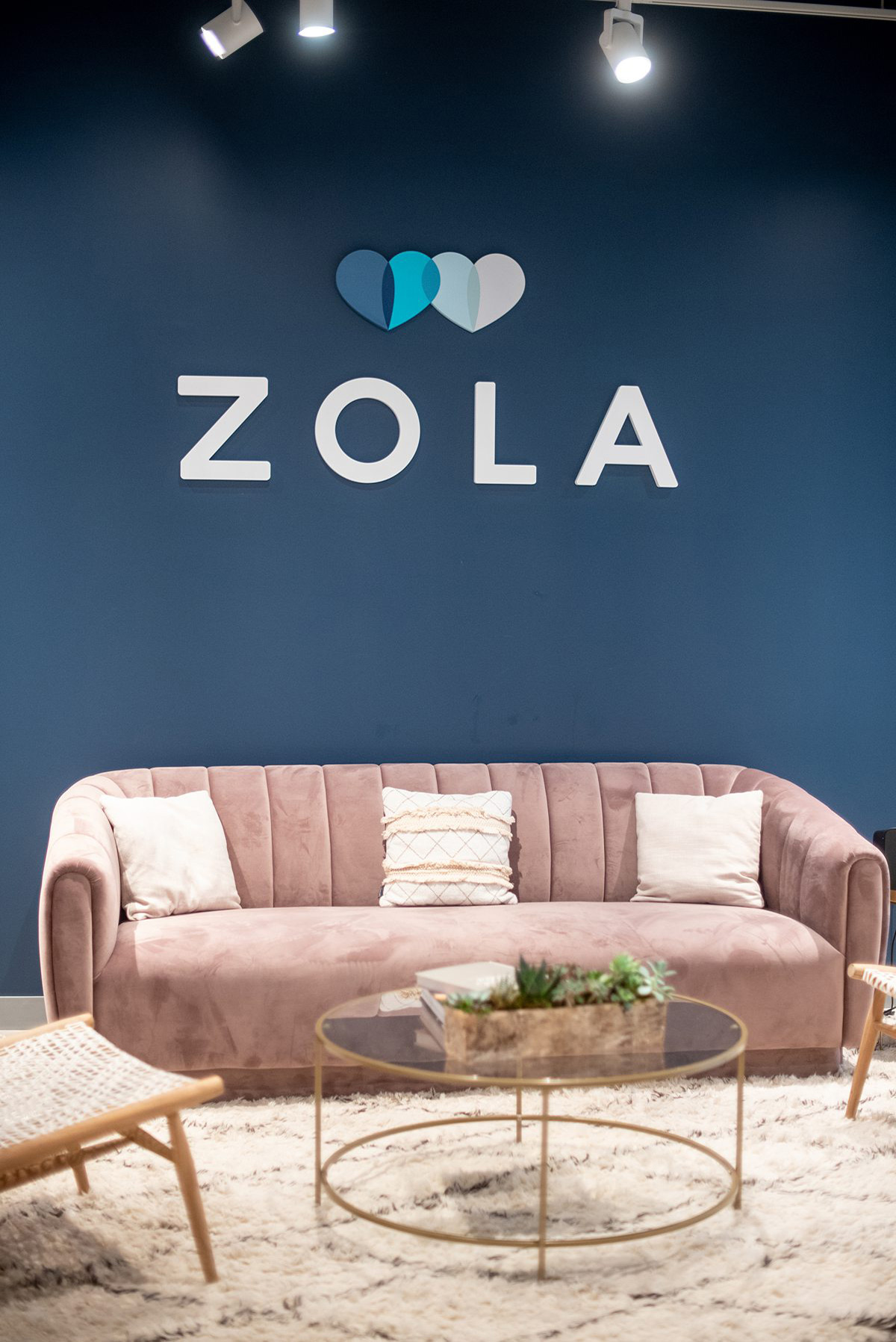 Zola's headquarters are what we dreamed they would be
You walk into the building and already feel like you're in a modern, cutting edge skyscraper. Maybe because you are. We gave our names to the security guard who instructed us towards the elevators. (This is very common for buildings in Manhattan.)
We took the elevator up high into the sky and exited to a dream wedding world. A blue wall read "ZOLA" with their signature, interlocking hearts above it. A mauve colored velvet couch was just the start to me wanting nearly every piece of furniture there.
We were toured through the office with smiles on our faces in awe of the people working there and the decorations on the walls.
One of my favorite elements of Zola's Headquarters was the wedding photos on the walls! Professional, framed wedding photos were placed around the offices from the weddings of their employees. Naturally, this stole my heart.
They also had saying like, "Anything for Love", "No Asshole Policy" and "Per My Last Email," there. I love tried and true phrases like this, no matter the tone! It reminds me of the down-to-earth messaging Chipotle does. Yes, Chipotle. A personal favorite.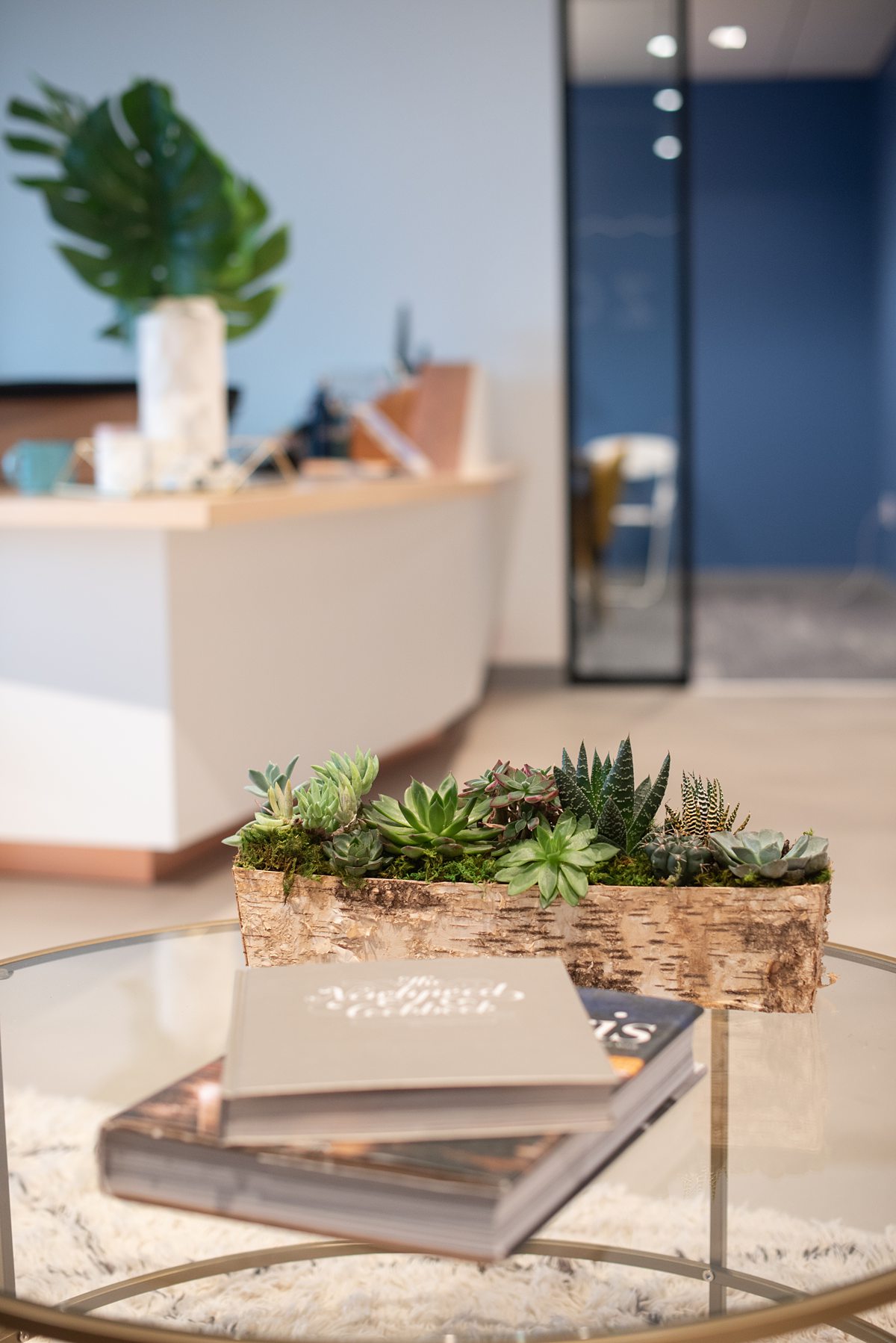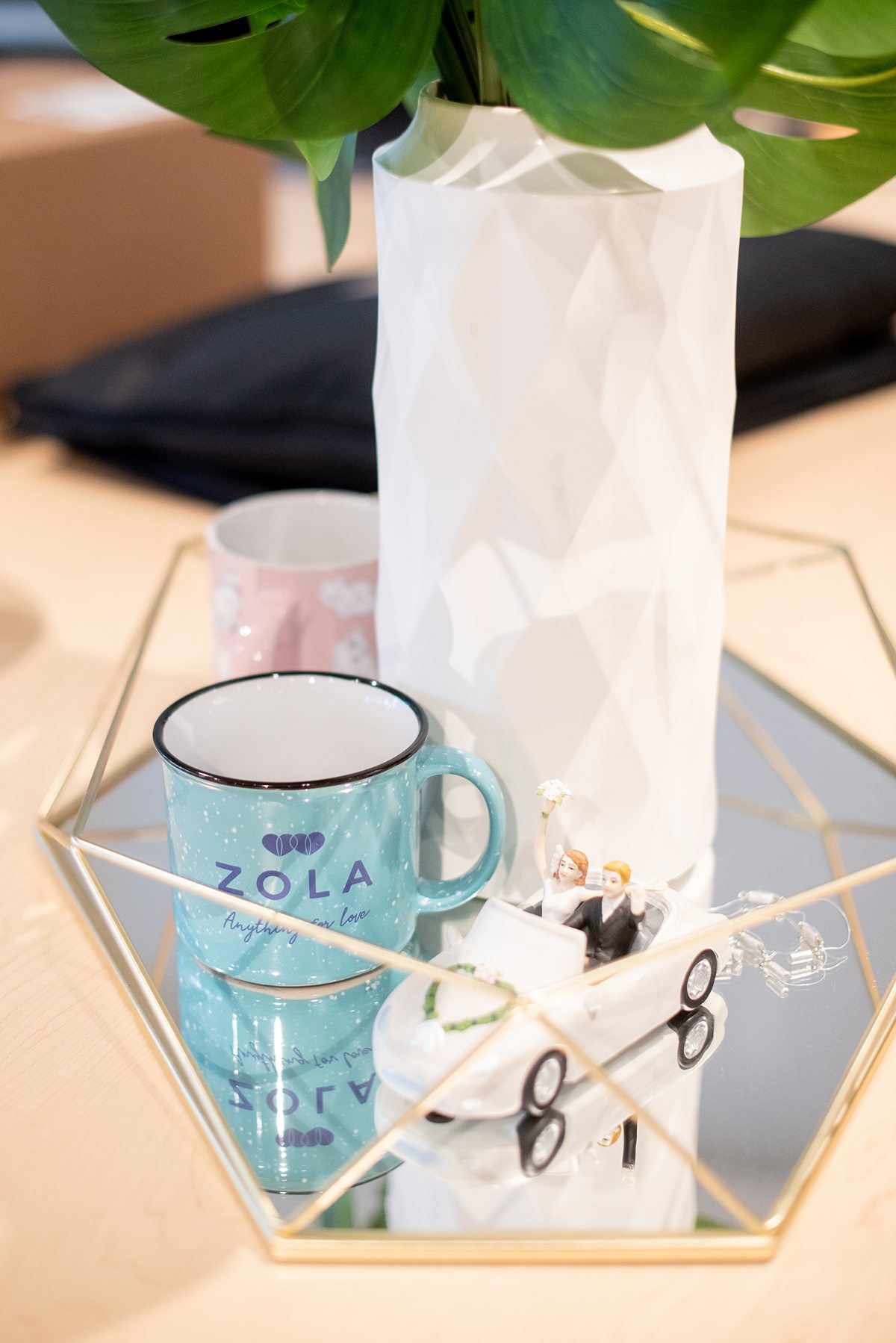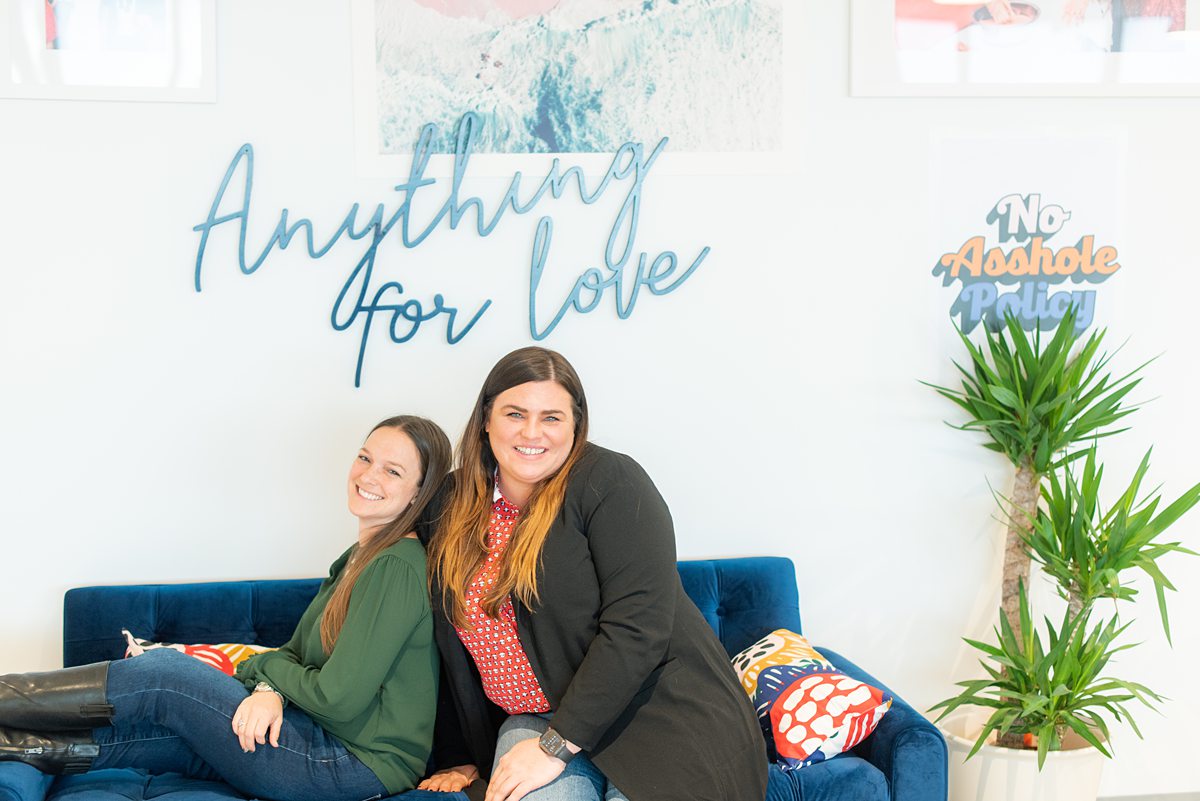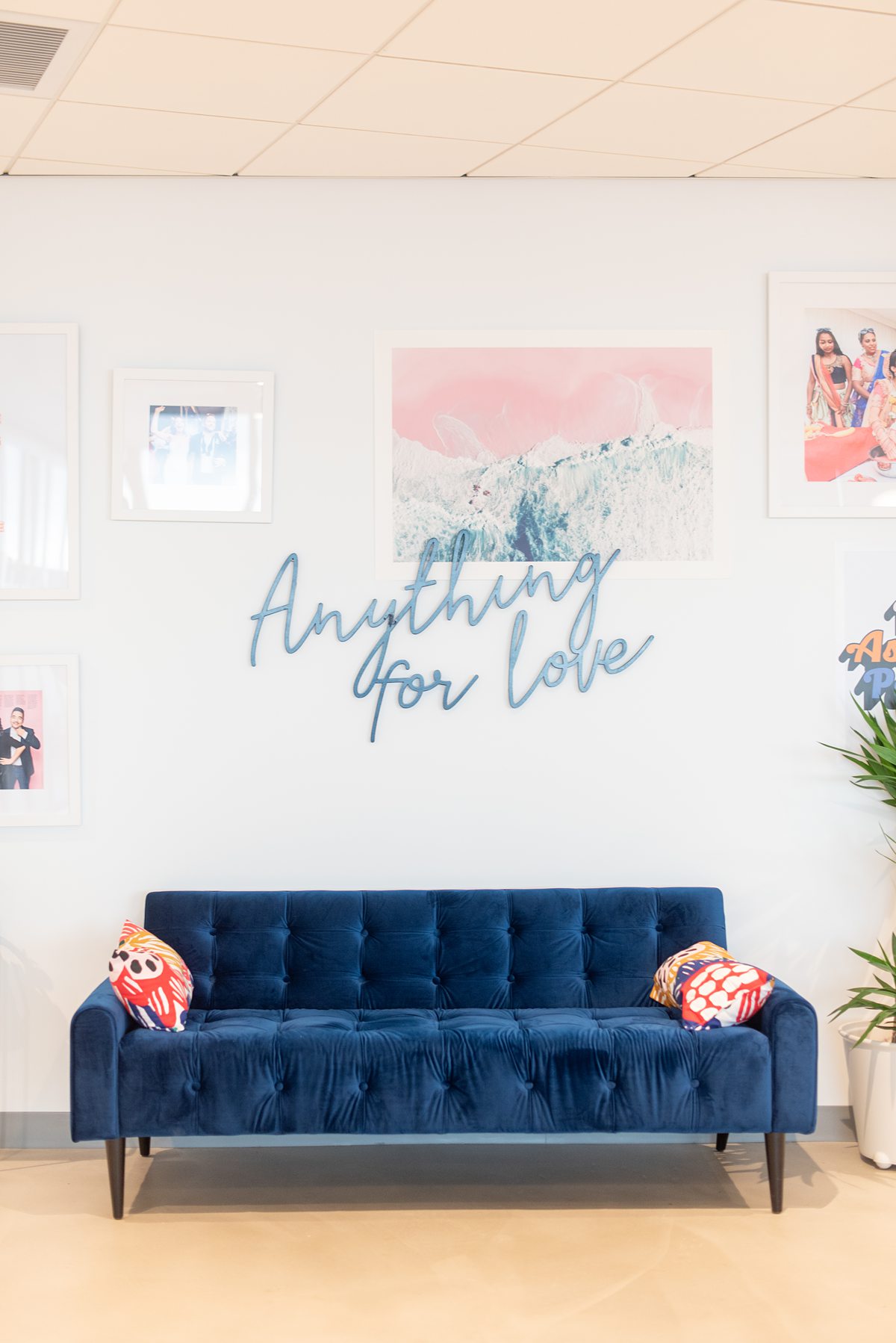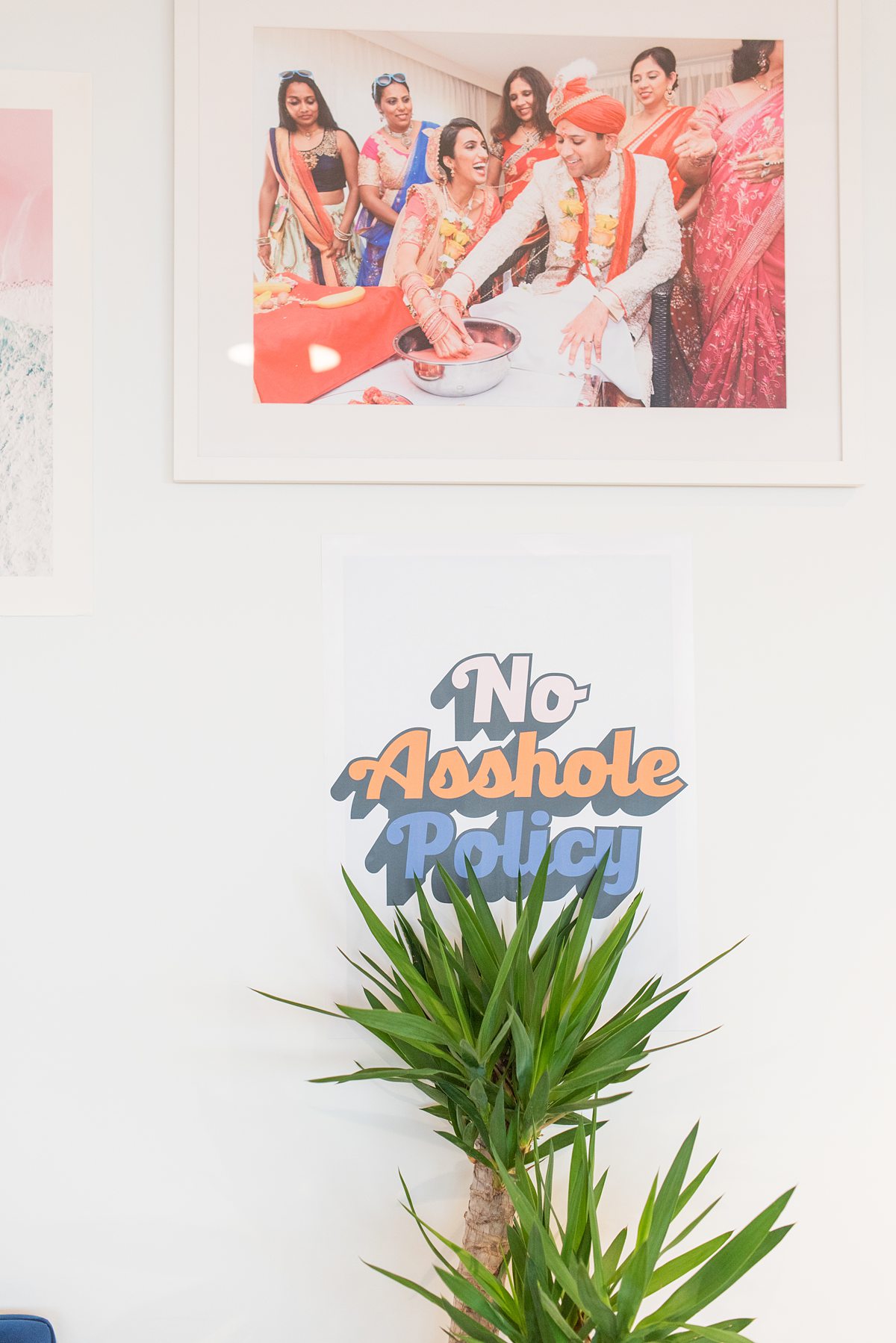 Skyscraper views at Zola for a picturesque work environment
Zola's headquarters takes up the better part of an entire floor at their Manhattan office. So there's more than one view of course. However, right behind the check in area is a demo room and kitchen, where there's a table for employees to gather to eat lunch together, or enjoy a comfy couch to get some work done. And this is the view from there: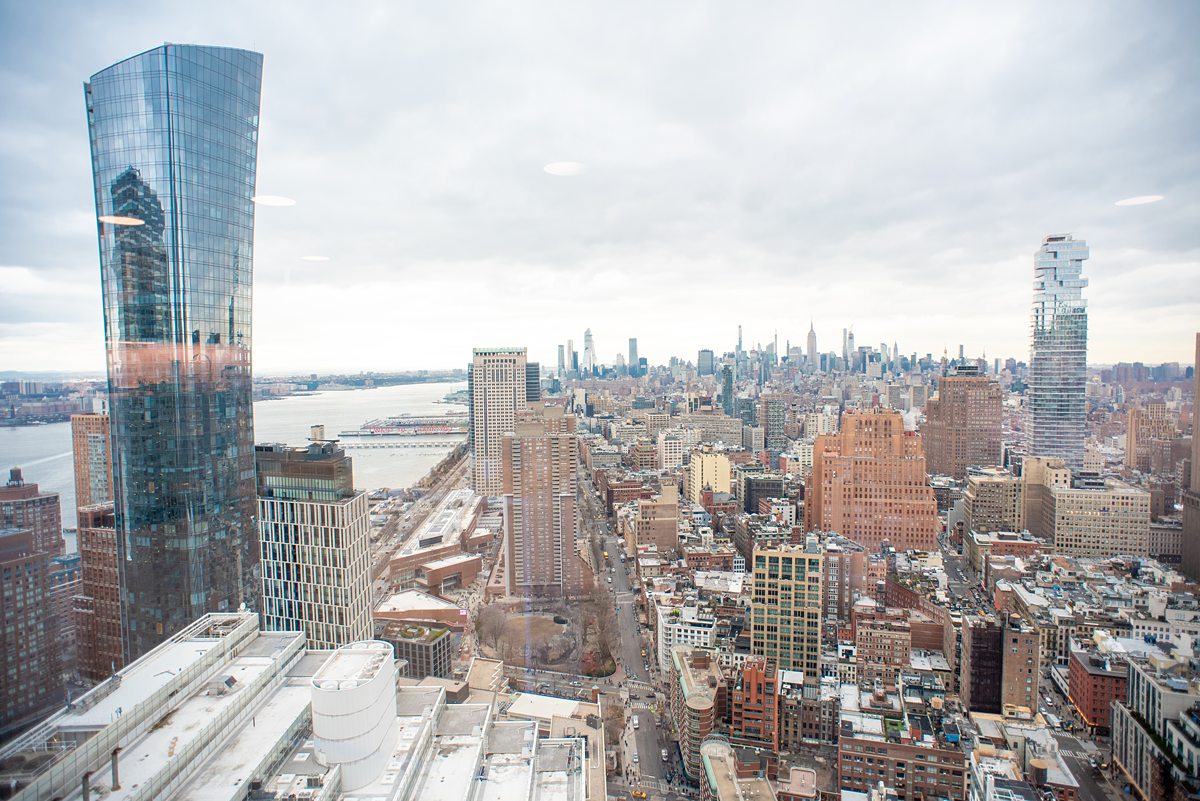 It's looking north in Manhattan (you can see the Empire State Building in the distance) with a view of the Hudson River. I'm sure it's even more gorgeous in the spring. (Reminder we were there on a cold winter day!)
Accounting people, tech teams, app specialists and coders, and more employees than I can probably imagine come together here to make magic happen for the couples and vendors Zola serves.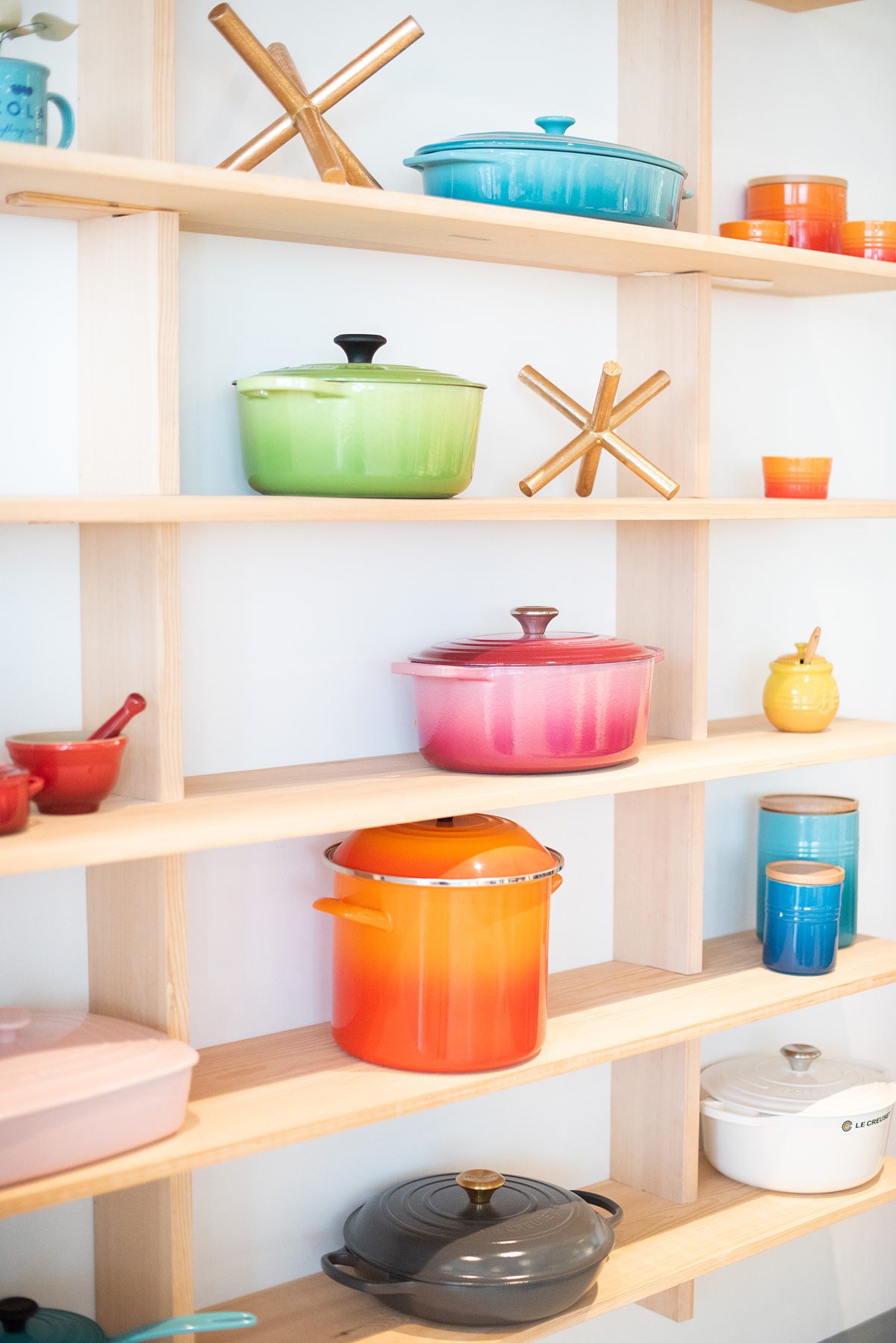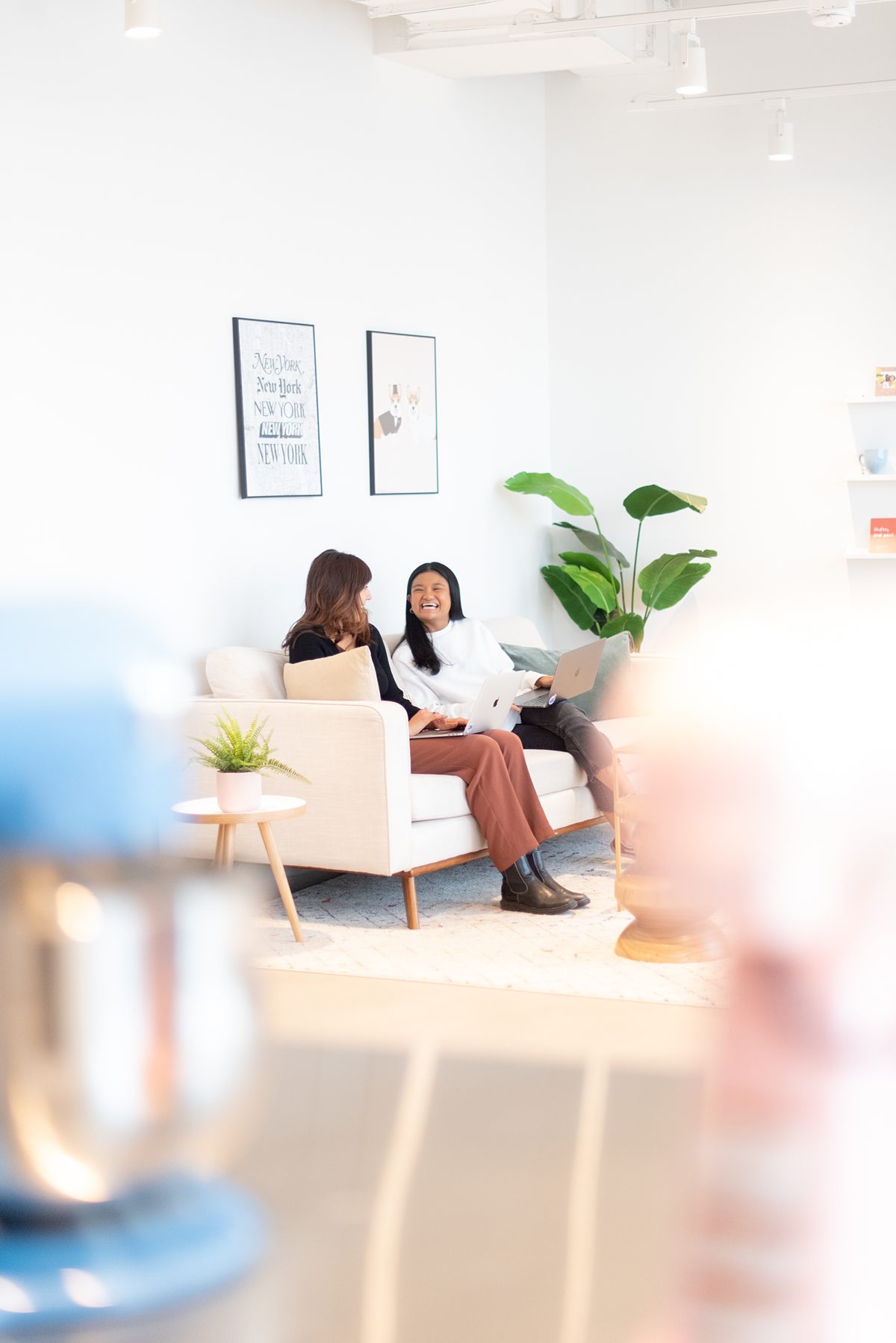 Why I adore Zola: registry, vendor recommendations, stationery and more
Zola is truly a wonderful company. They support all love, which is important to me too. (As in this commercial featuring two brides that made waves when the Hallmark channel banned it…then came crawling back to feature it and apologize with their tail between their legs.) They have a great app for brides, grooms and even their guests. Their registry capabilities instantly had Dan and I signing up for charities our friends and family could donate to.
They also have a platform to find vetted and approved vendors. I'm grateful I'm included as a wedding photography pro on their site. They have one of the most thorough, well organized "storefront" pages for their vendors I've ever seen. (And I've been around for over a decade and have seen my fair share of vendor referral sites.)
And I'm also very happy I can now recommend their stationery to couples who want an affordable option of high quality to purchase for their wedding needs, whether the wedding day, Save the Dates beforehand, Bridal Shower invitations, or the like.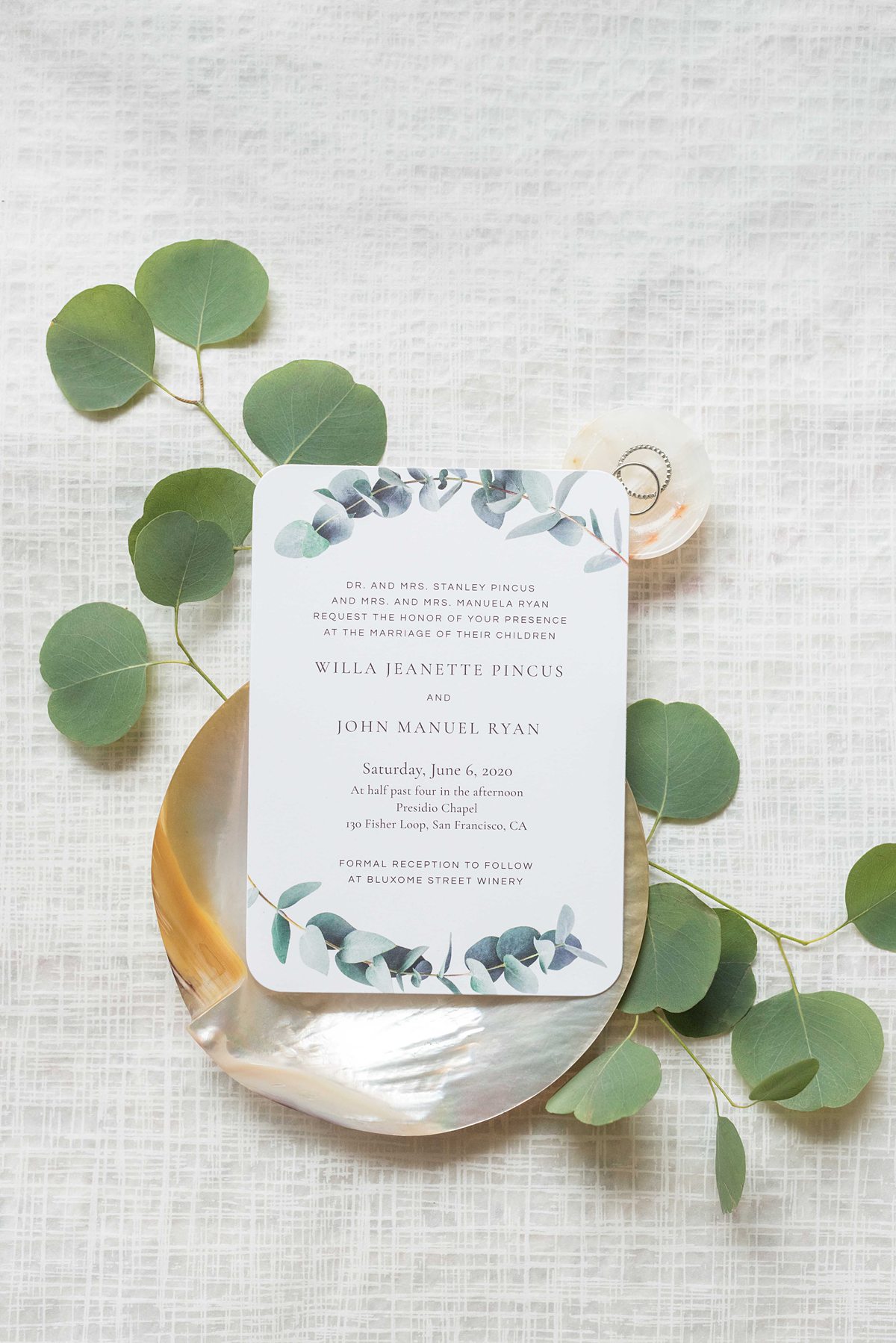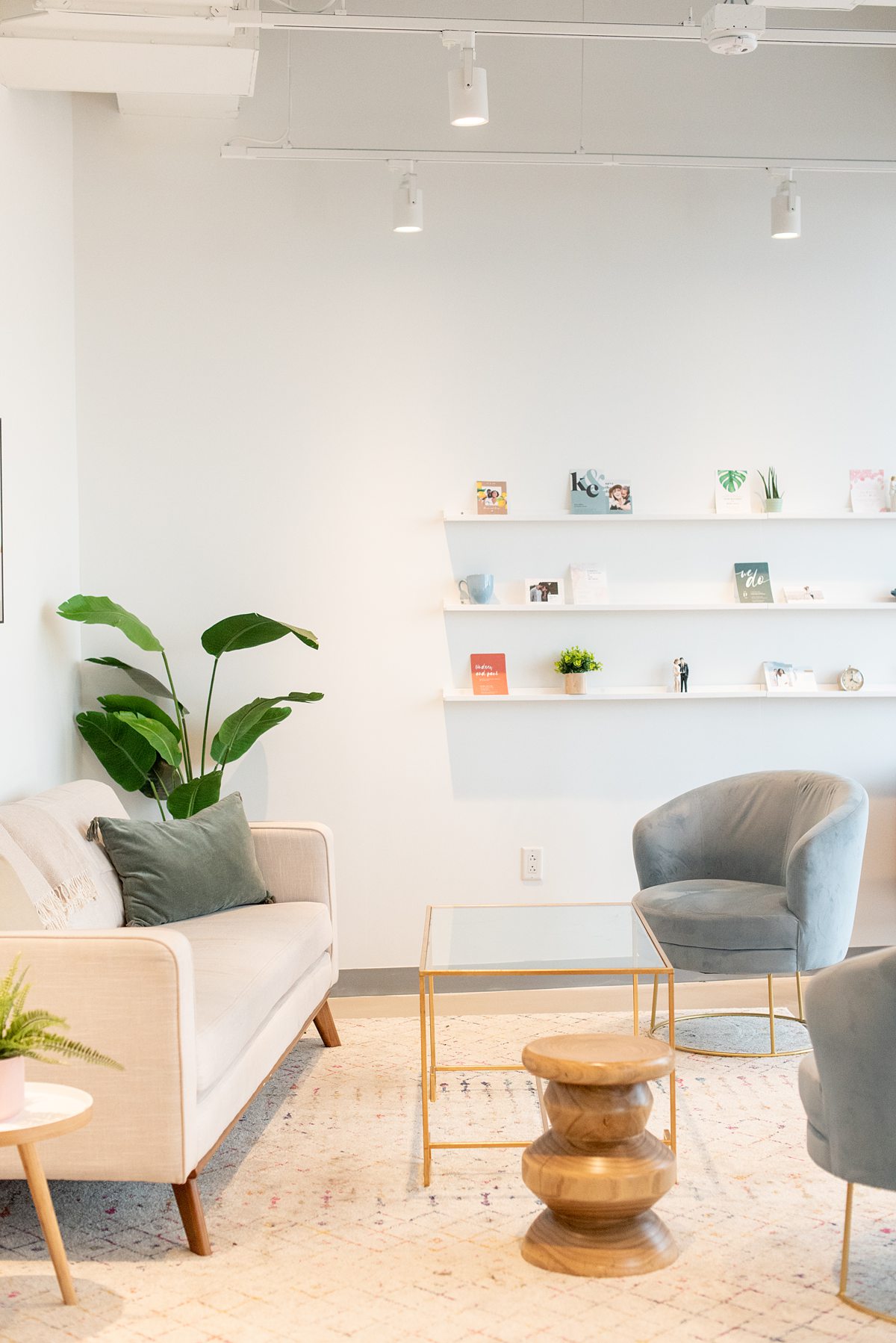 If you have any questions about Zola feel free to ask by either contacting me or in the comments below. It was a lovely visit and I'm so glad that not only could I visit and learn more about the company I already adored and supported, but to bring this peek behind the scenes at this stellar wedding website to you too!
Fore more wedding celebration information check out: