I am so happy to announce that Ruffled Blog (one of my favorite wedding resources) has featured The Glass Box wedding photos today here, highlighting Pantone's colors of the year: Serenity and Rose Quartz.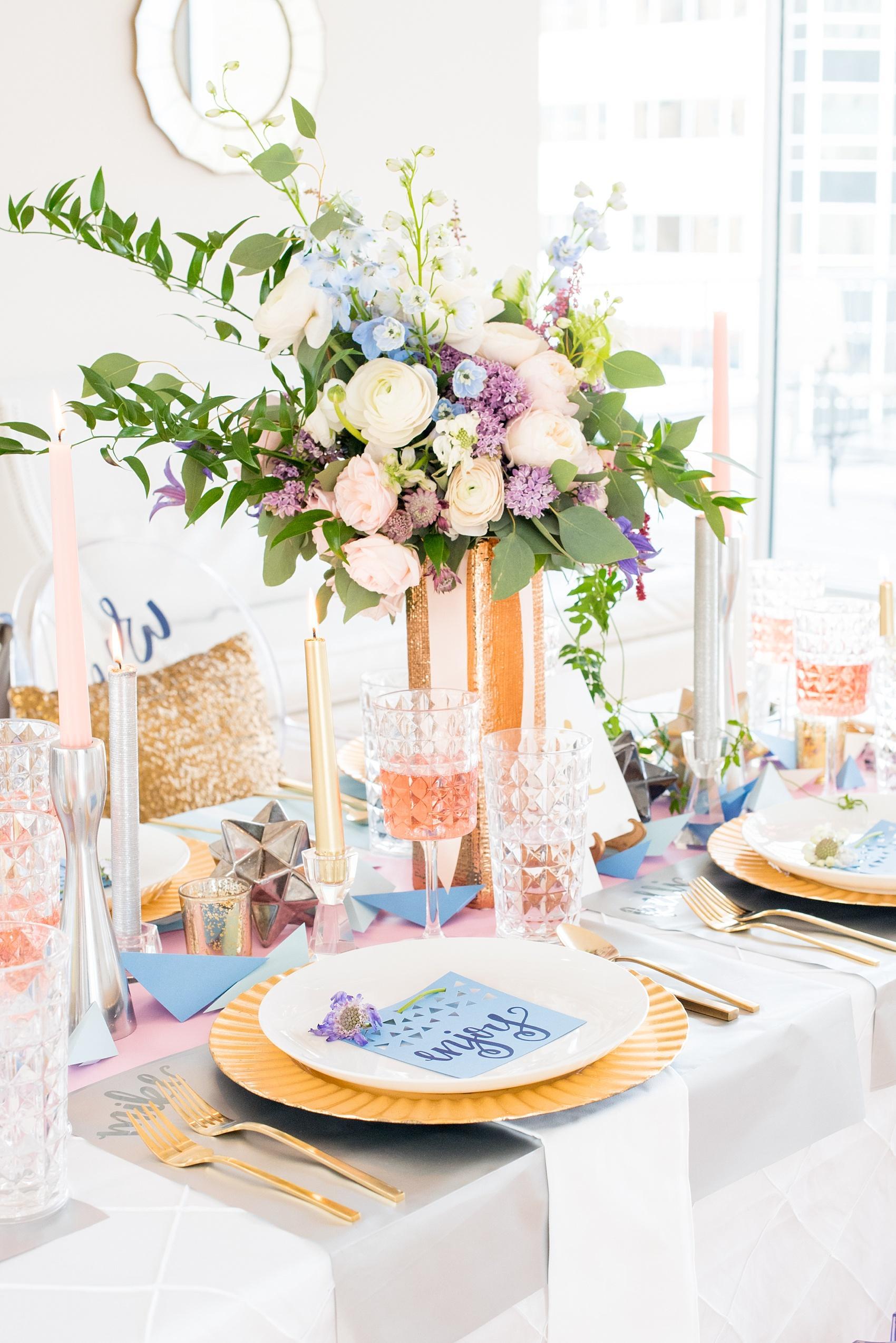 The ranunculus and purple lilac in the floral arrangements were my favorite! The green vines creeping down onto the table drew your eye up the vase to the beautiful bouquet.
I just adored tying in the metallic aspects everywhere from the gold chargers, to gunmetal geometric shapes to the silver candle holders and fans and paper flowers that created the ceremony arch.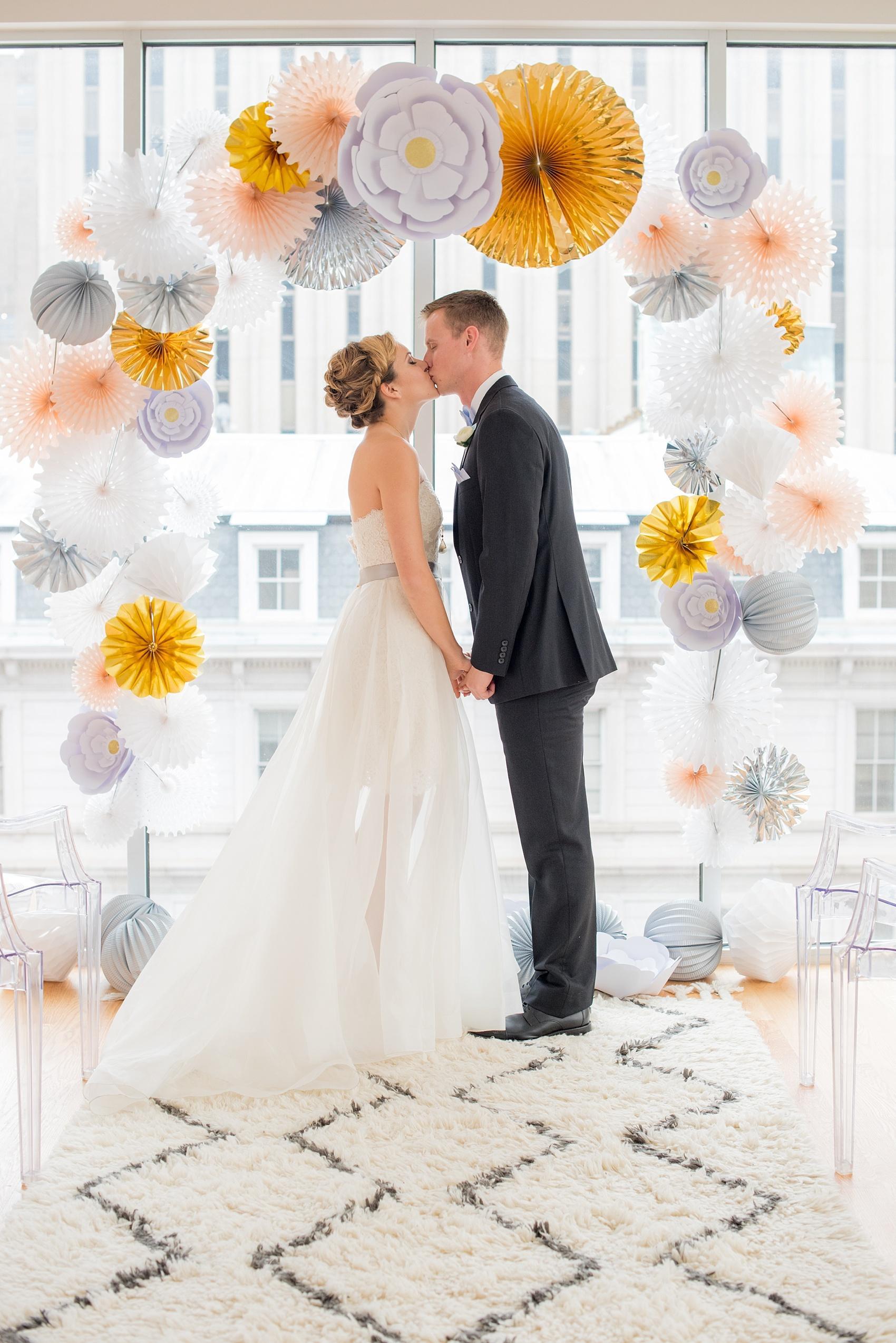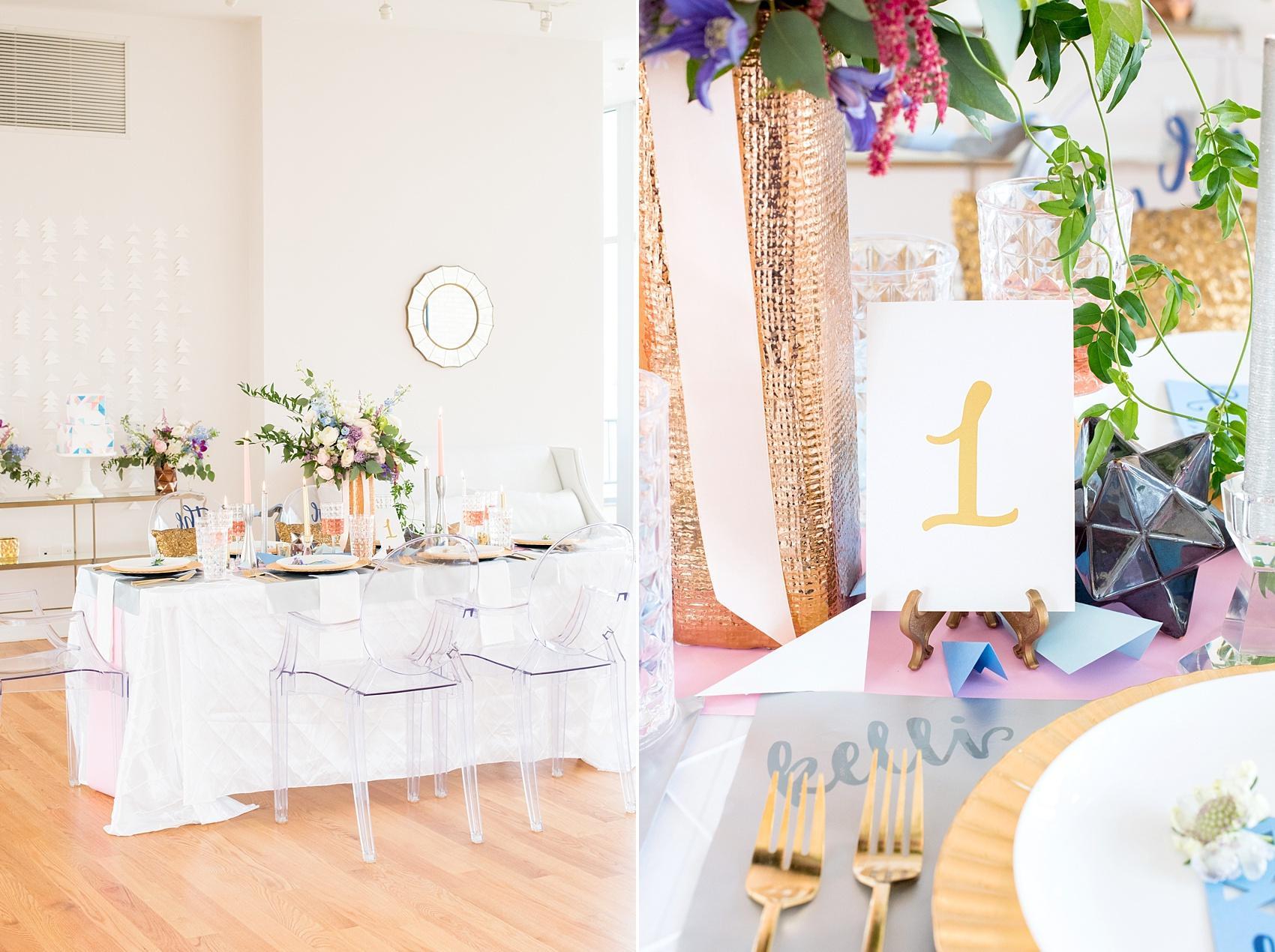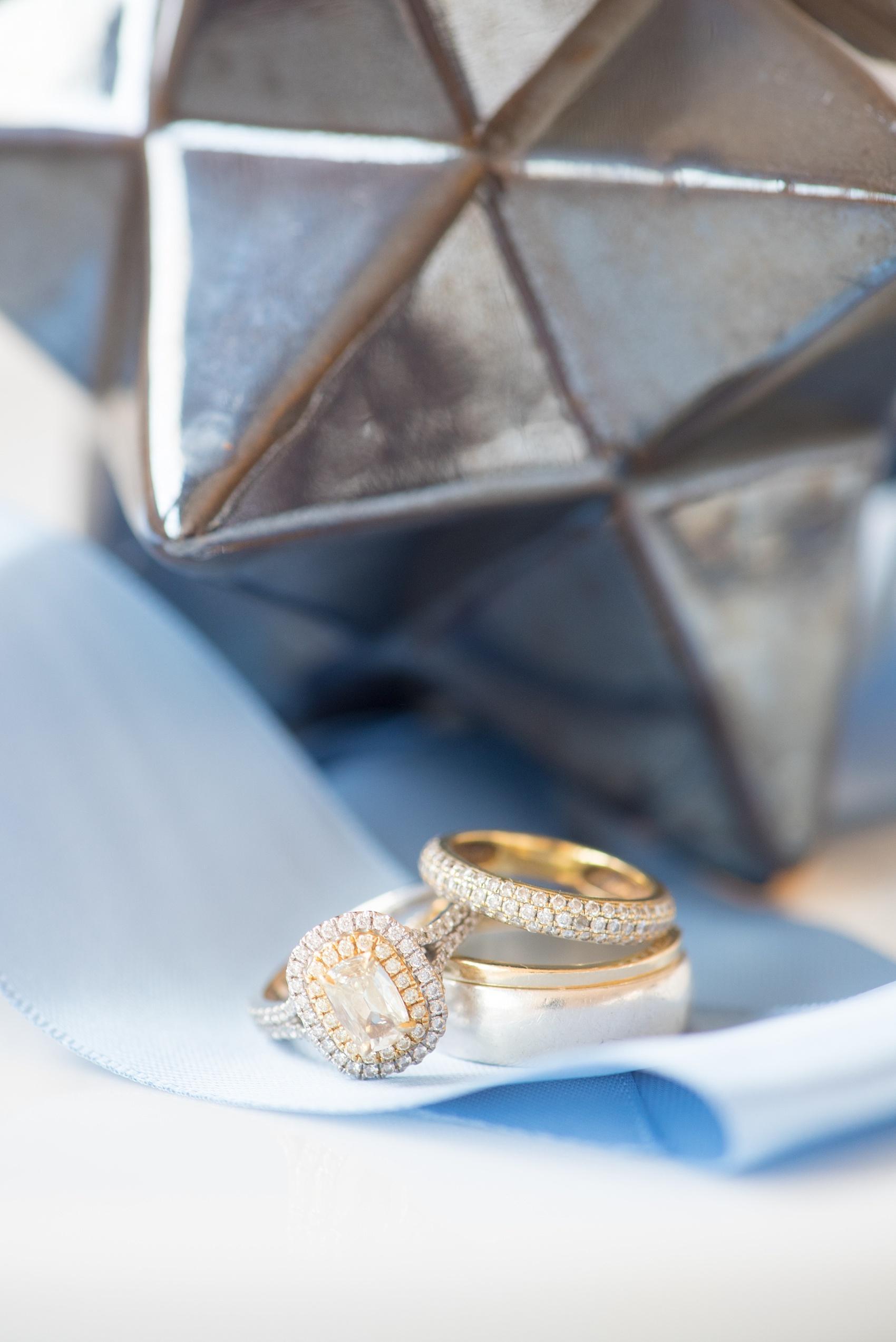 Isn't the bride's engagement ring perfect?! It's so unique and coincidentally perfect matched the shoot.
Geometric glass wine glasses mimicked the laser cut "enjoy" placemats and the ghost chairs even further incorporated the transparent elements. Triangles were carried throughout on the table in 3D paper shapes and as a white garland dessert table backdrop.
To go the extra mile to make the shoot extremely inspirational we decided to do laser cut hand lettering of "we tied" and "the knot" on the bride and groom chairs with satin ribbon connecting the two that was literally tied in the middle between them.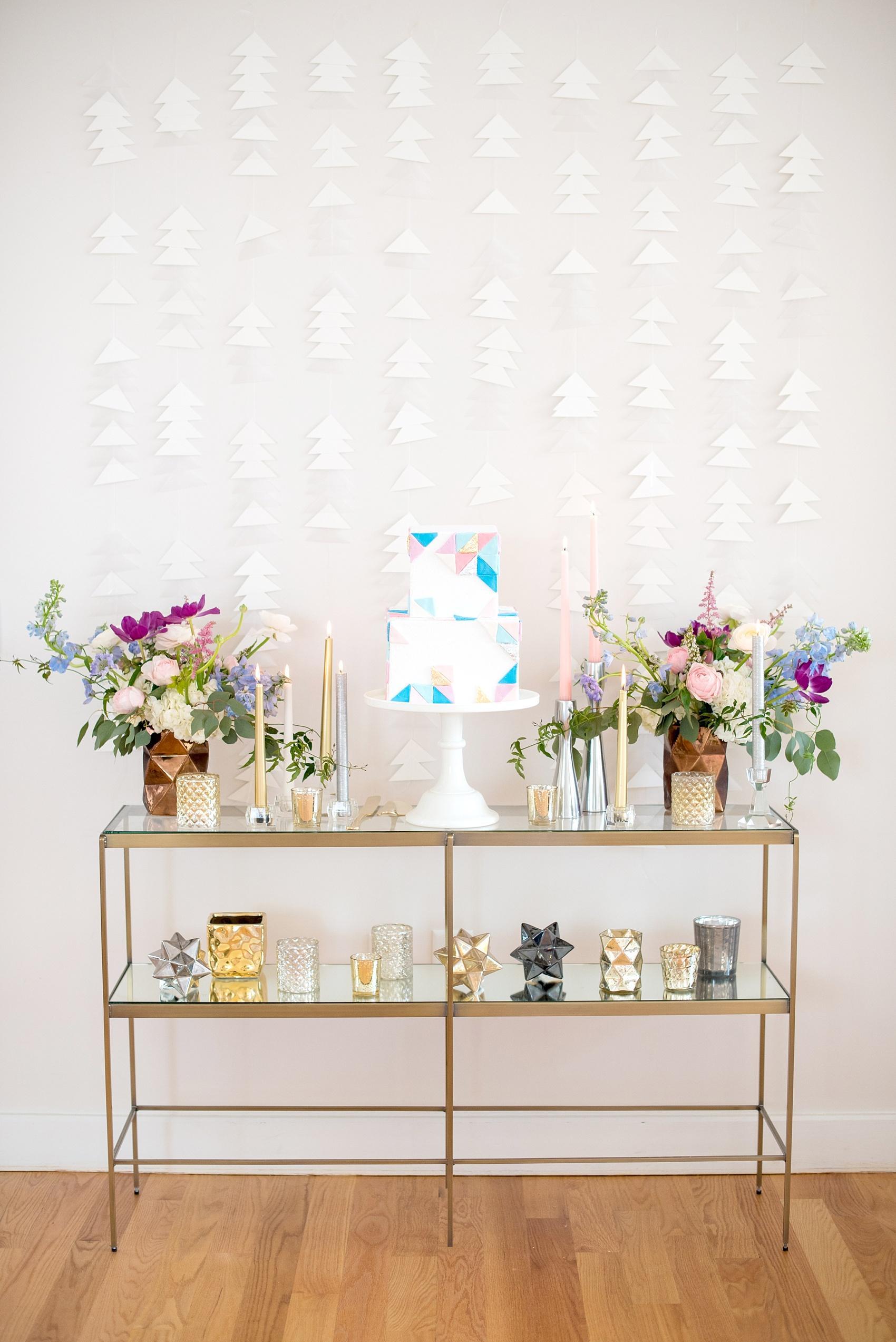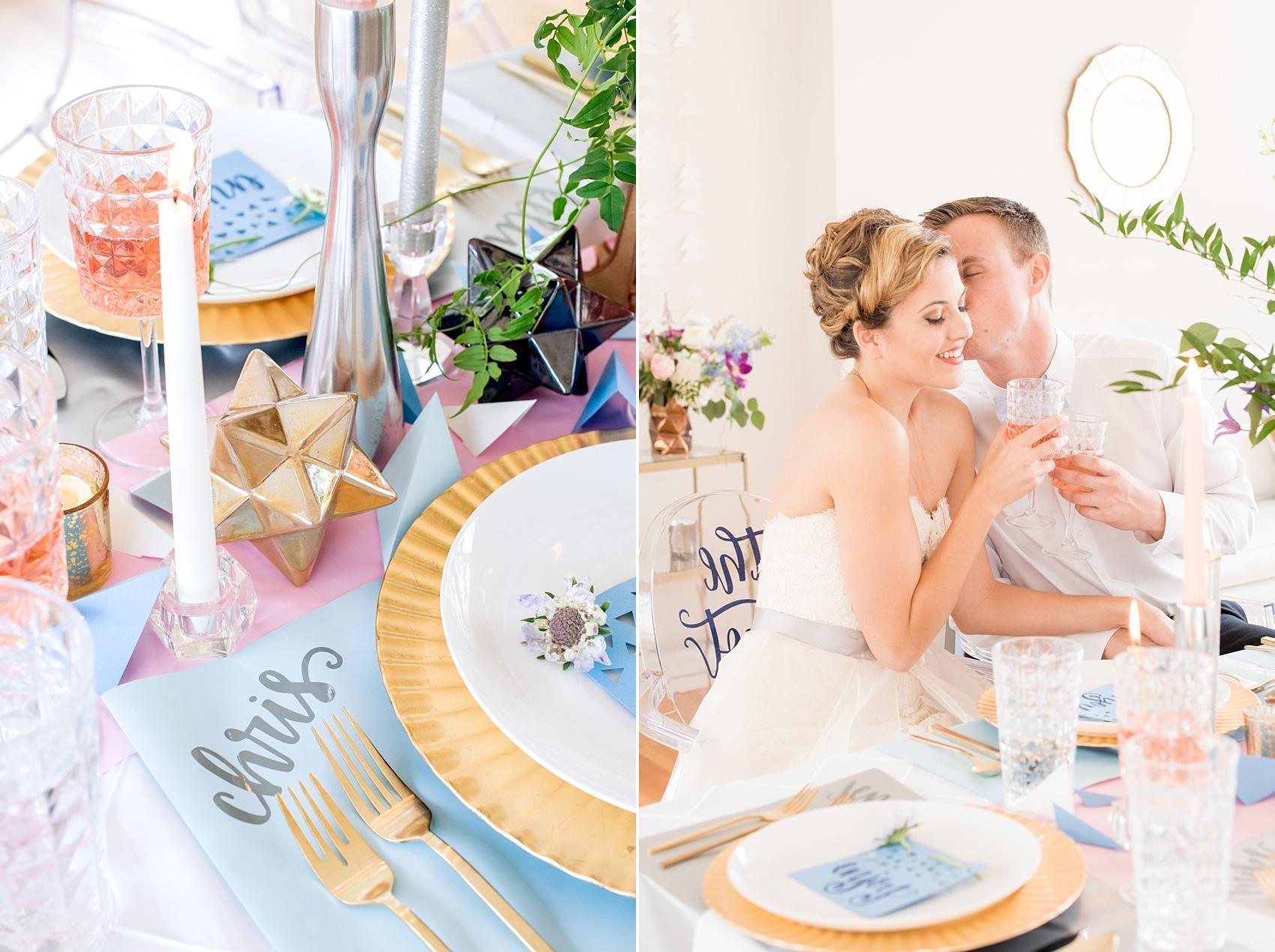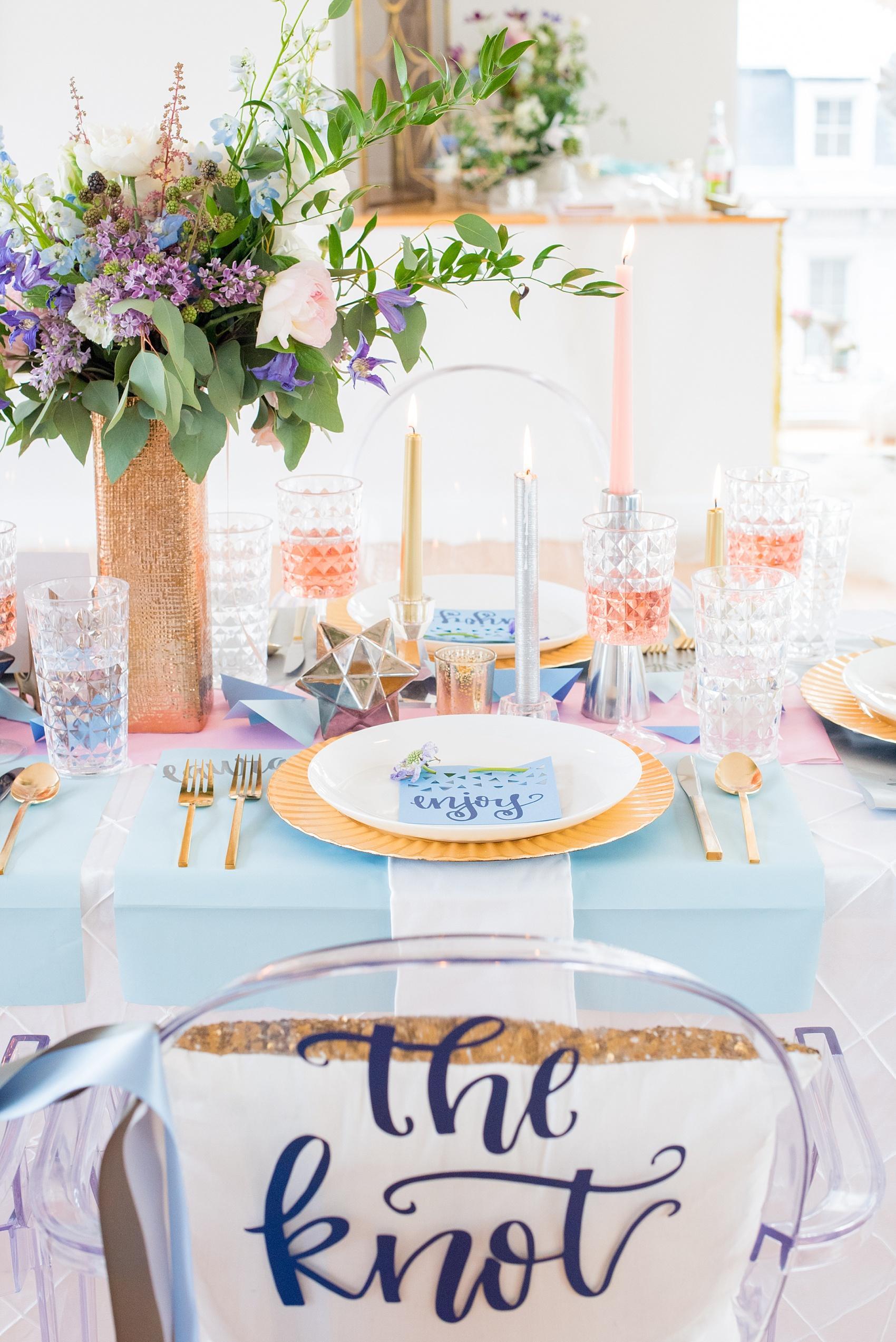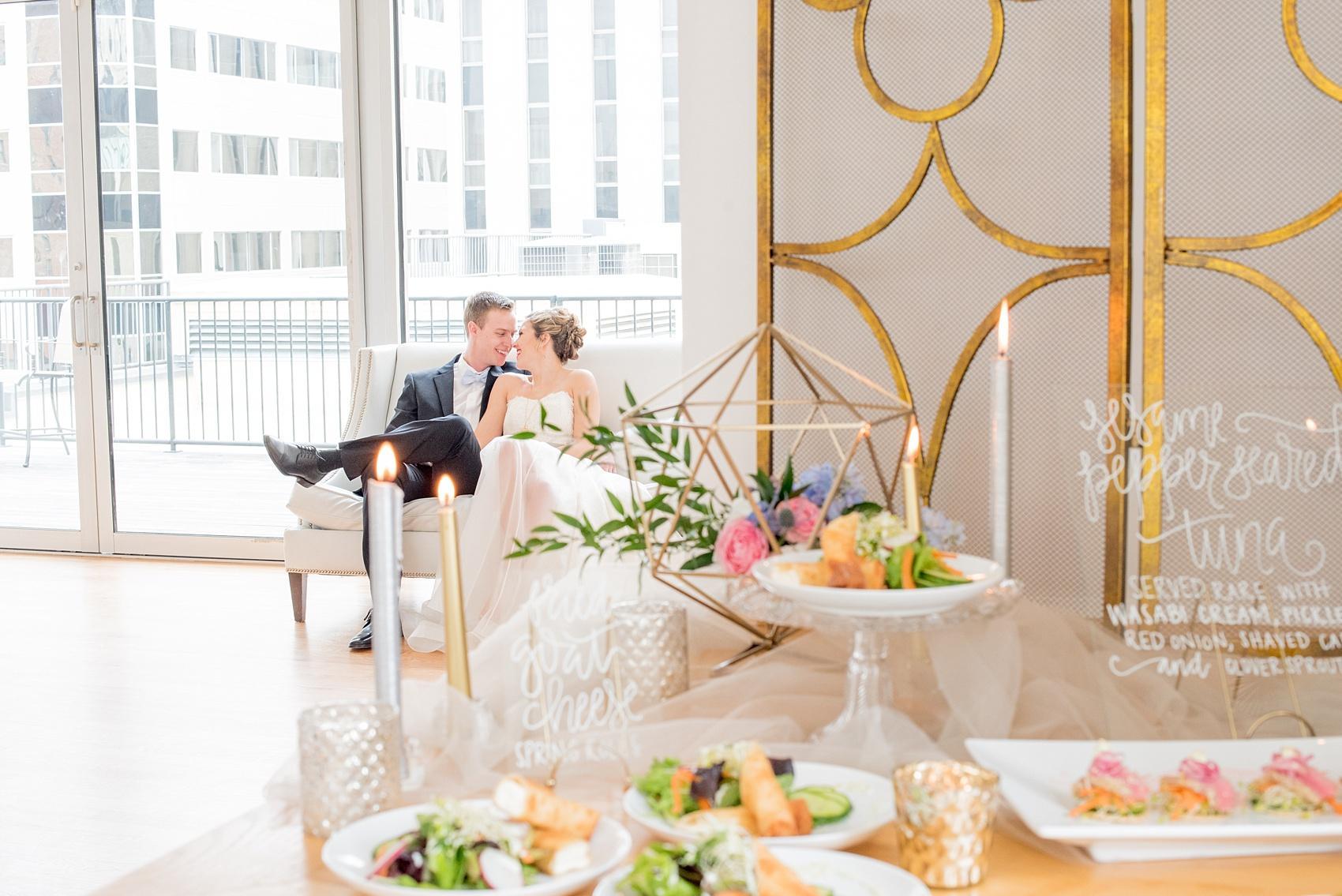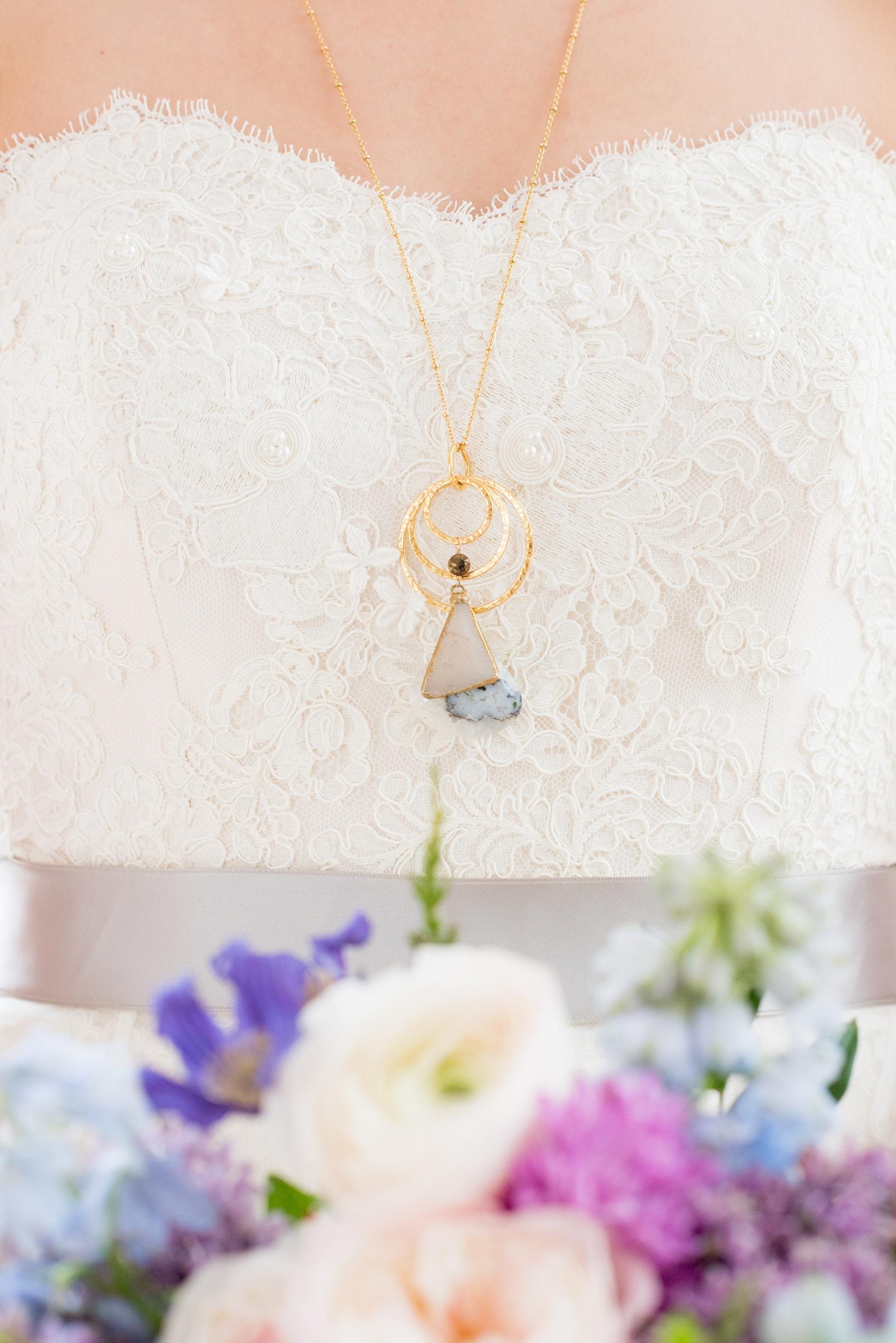 I love that she wore a unique necklace with a grey sash with her lace wedding gown! So different than the norm.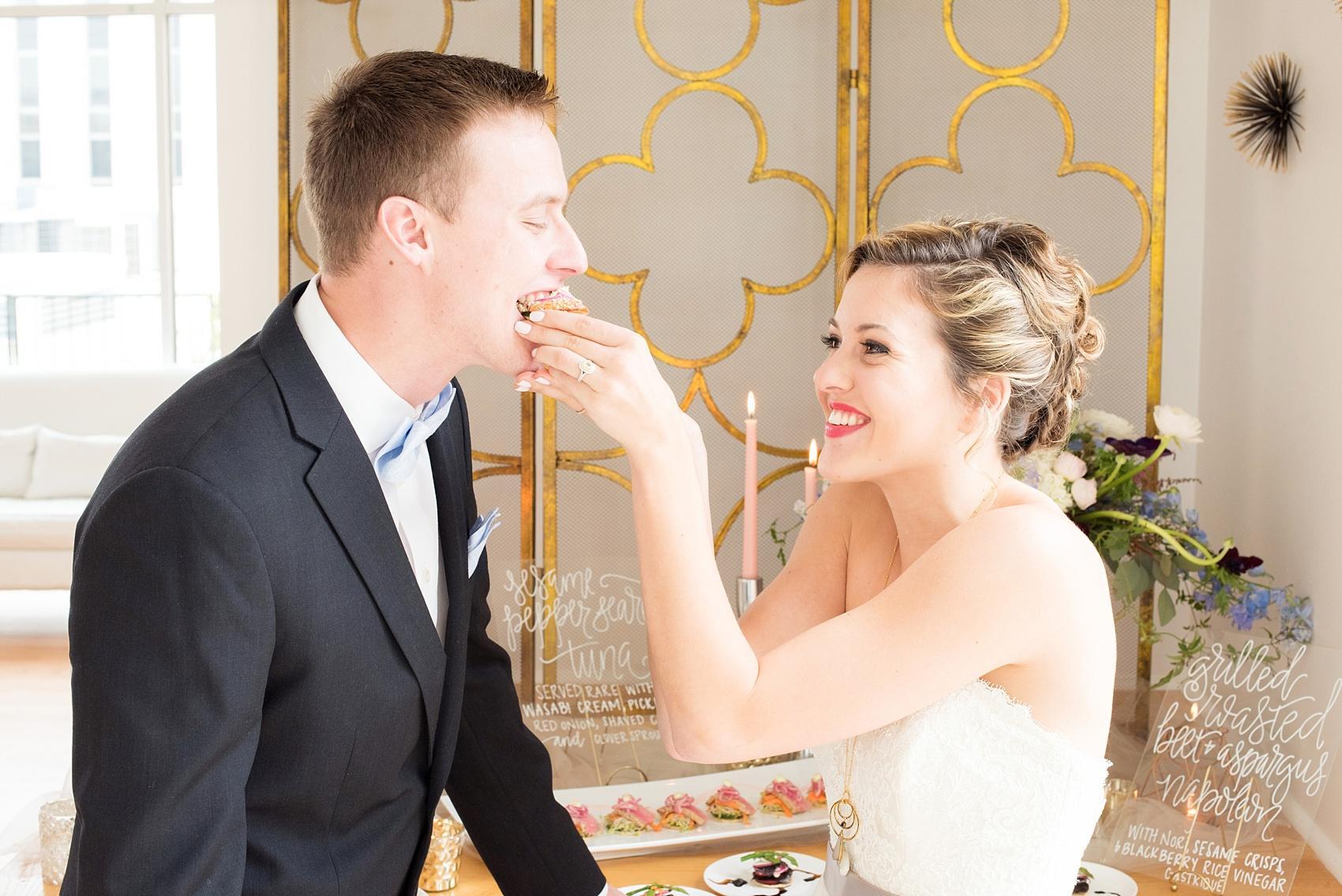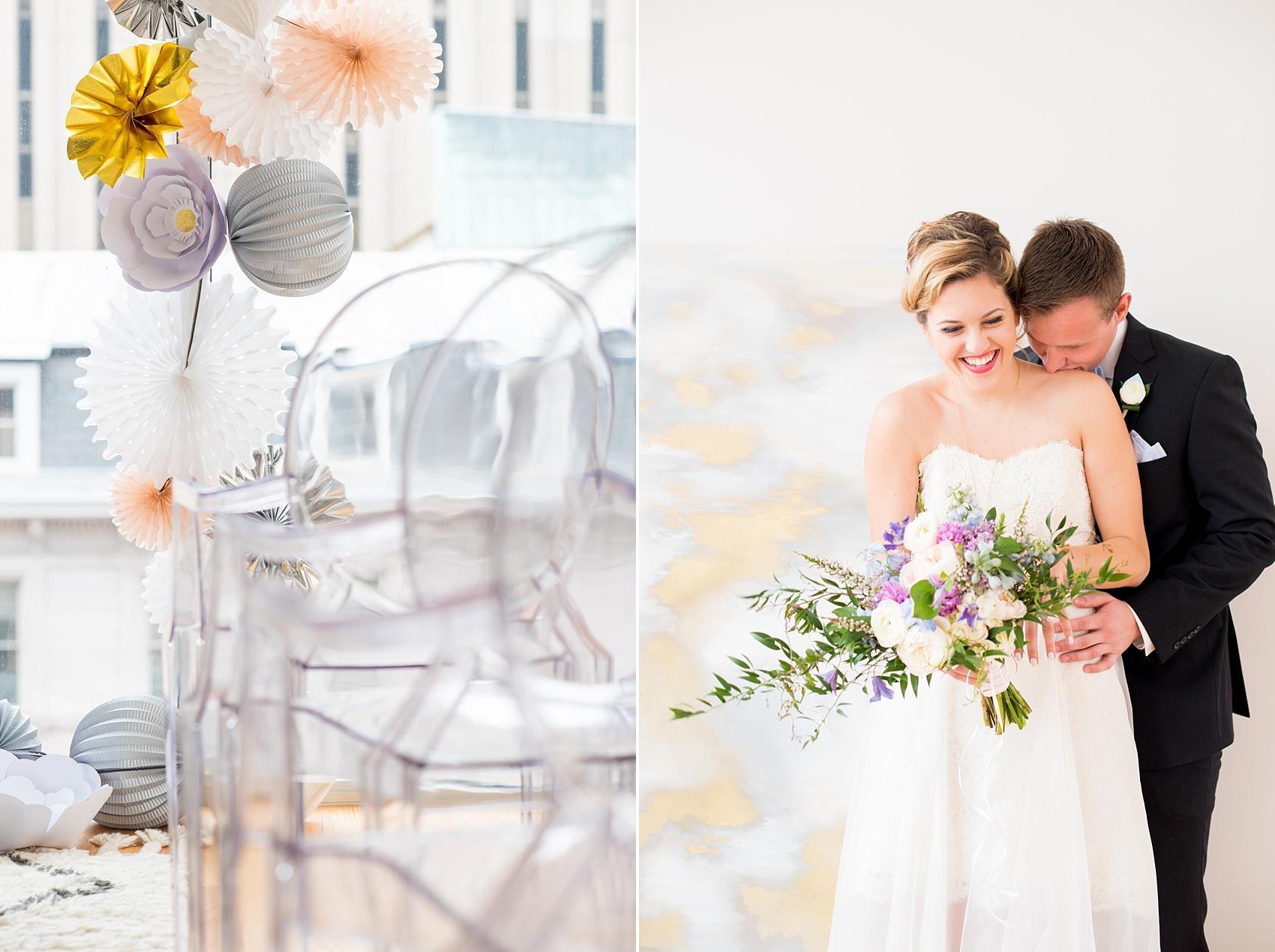 Her up-do is incredible! I couldn't resist posting a photo of the back of her hair.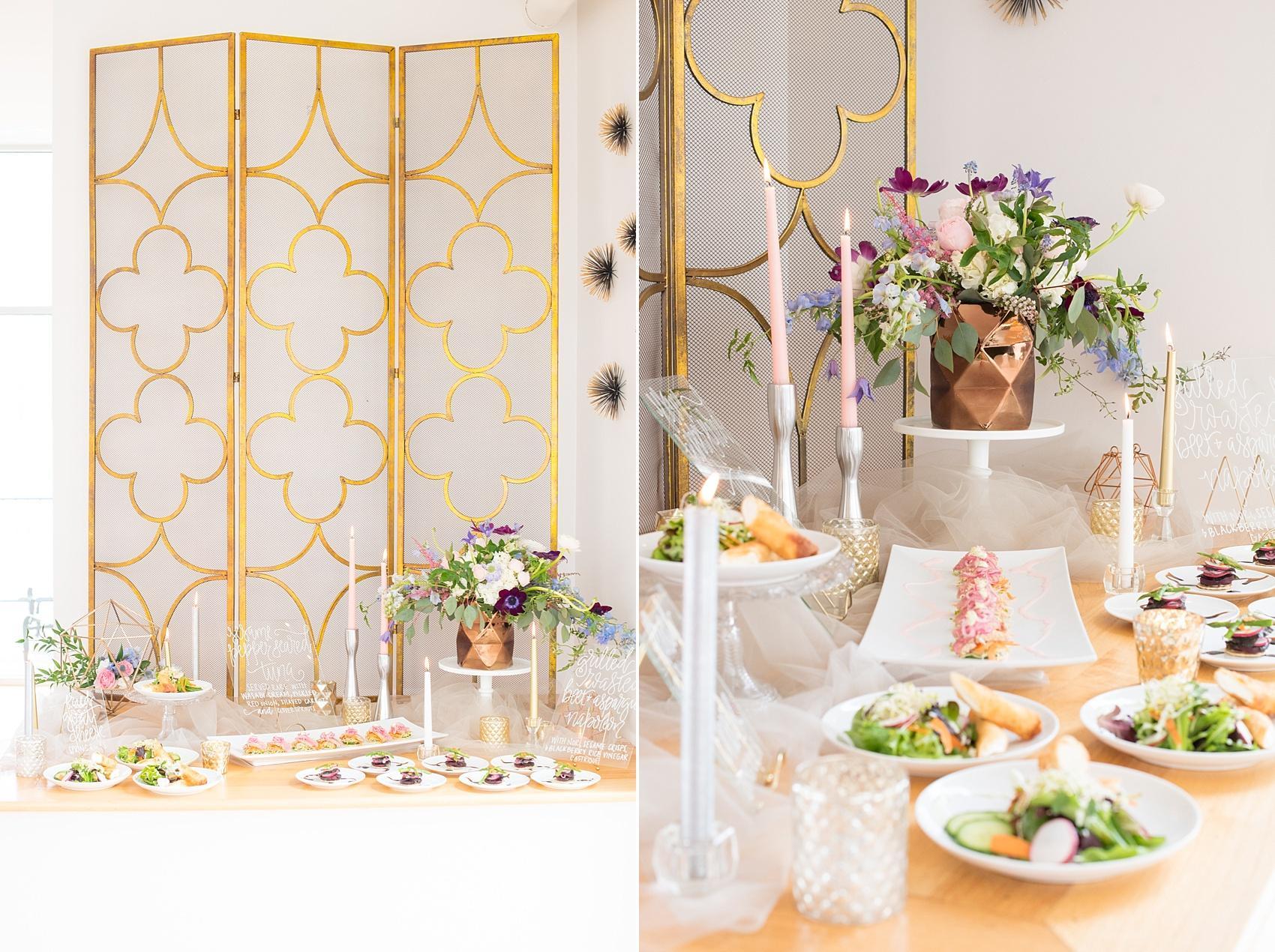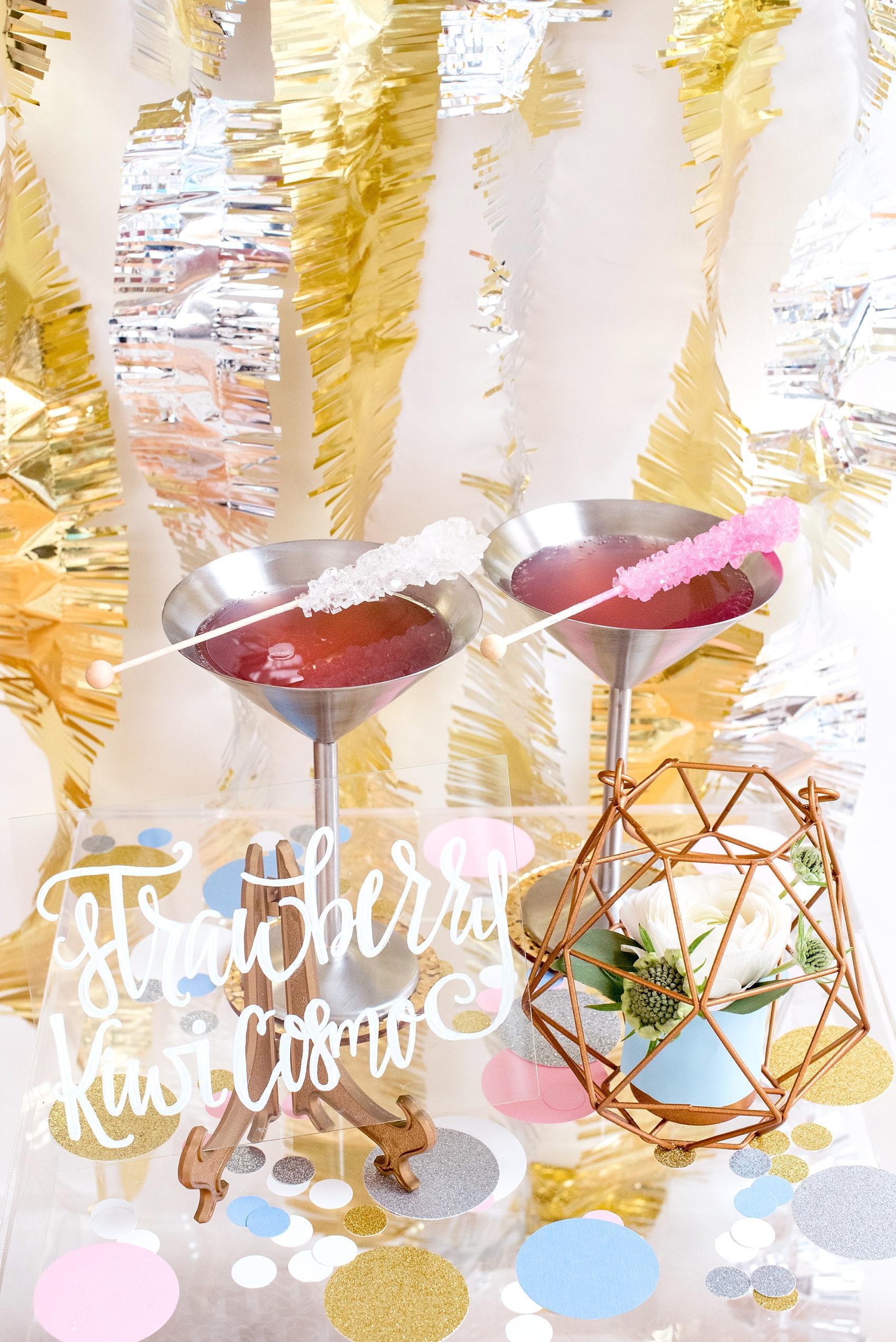 Mmm….strawberry kiwi cocktails with a rock candy stirrer! Appetizing and matched our color palette.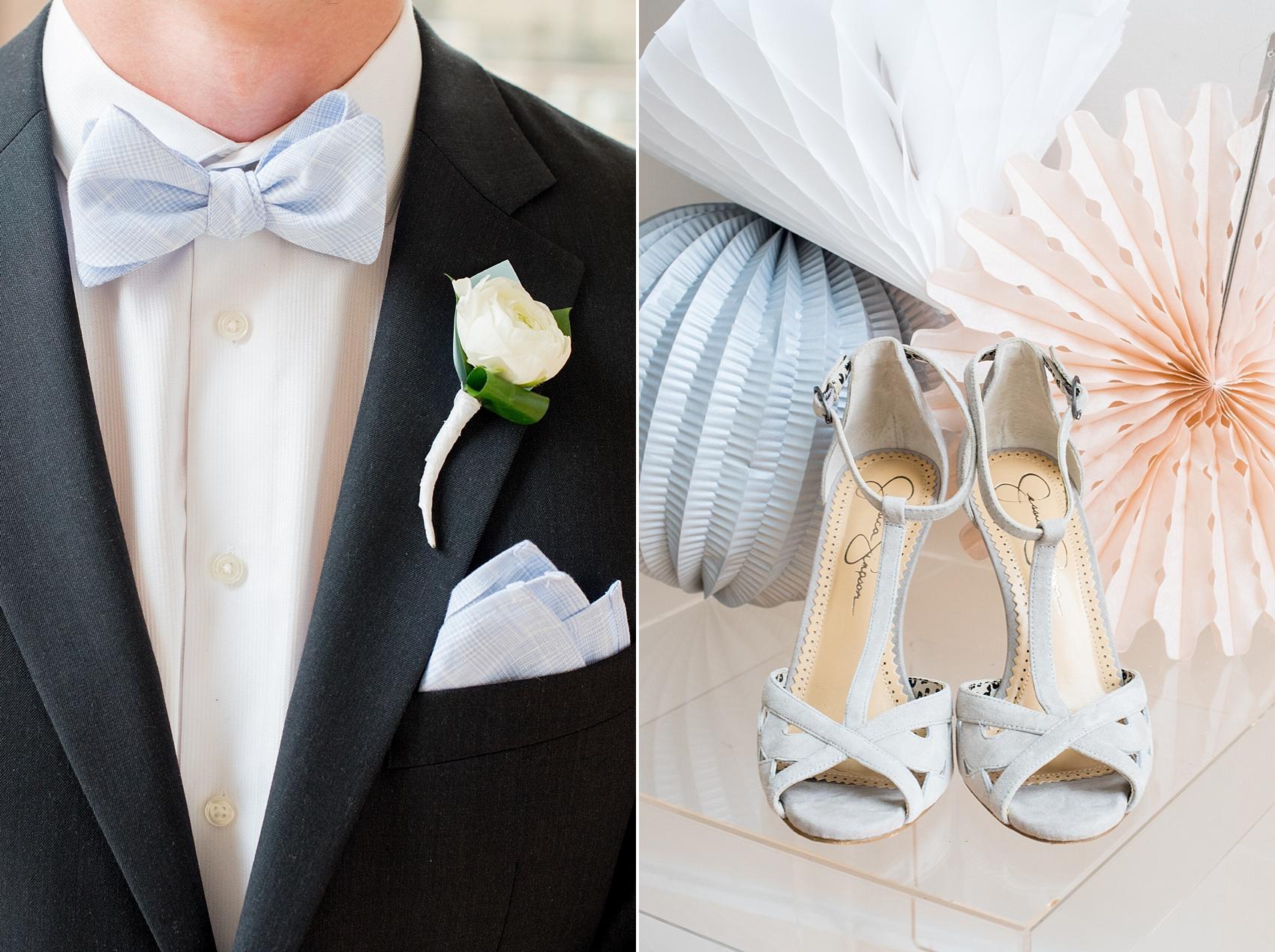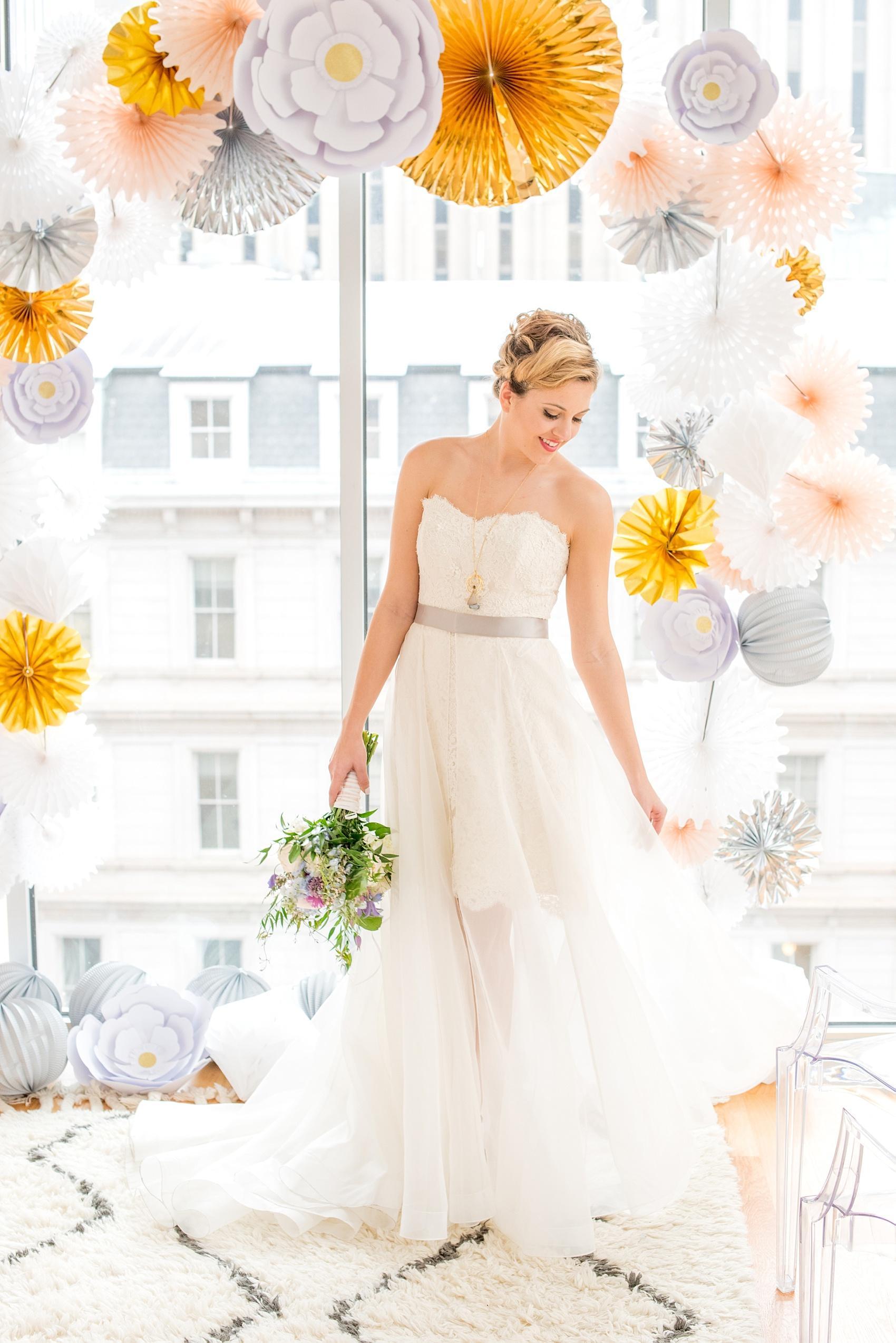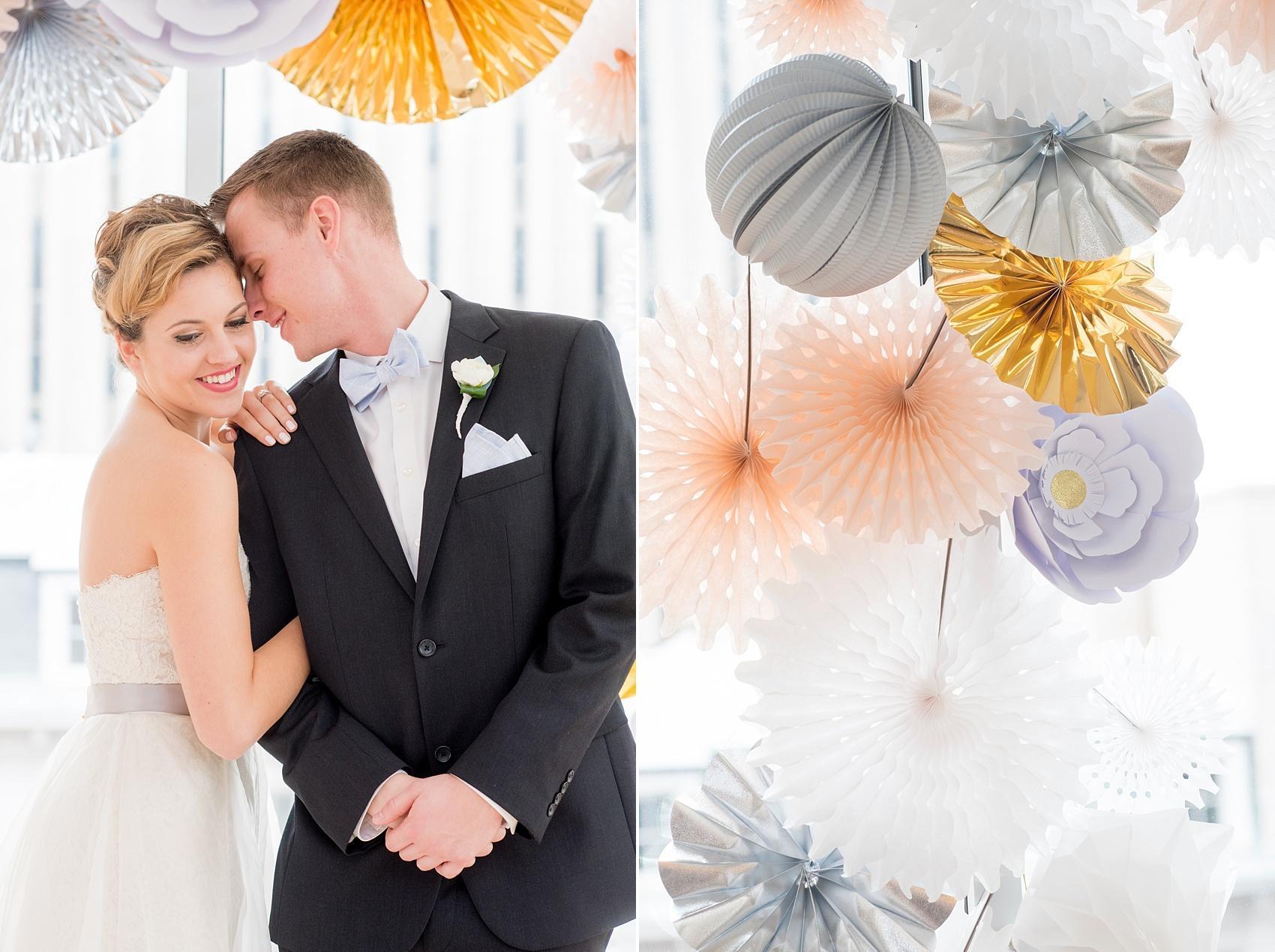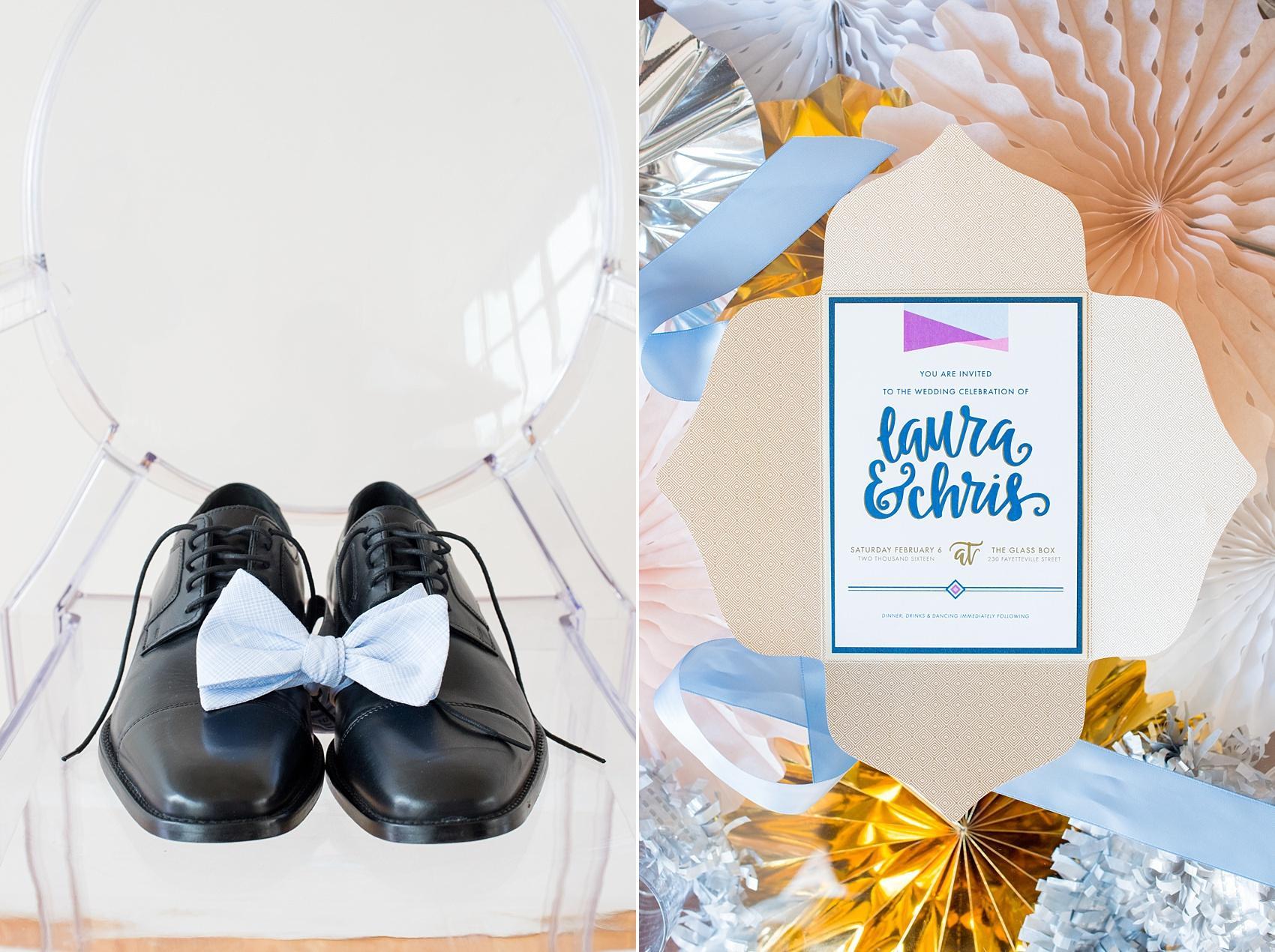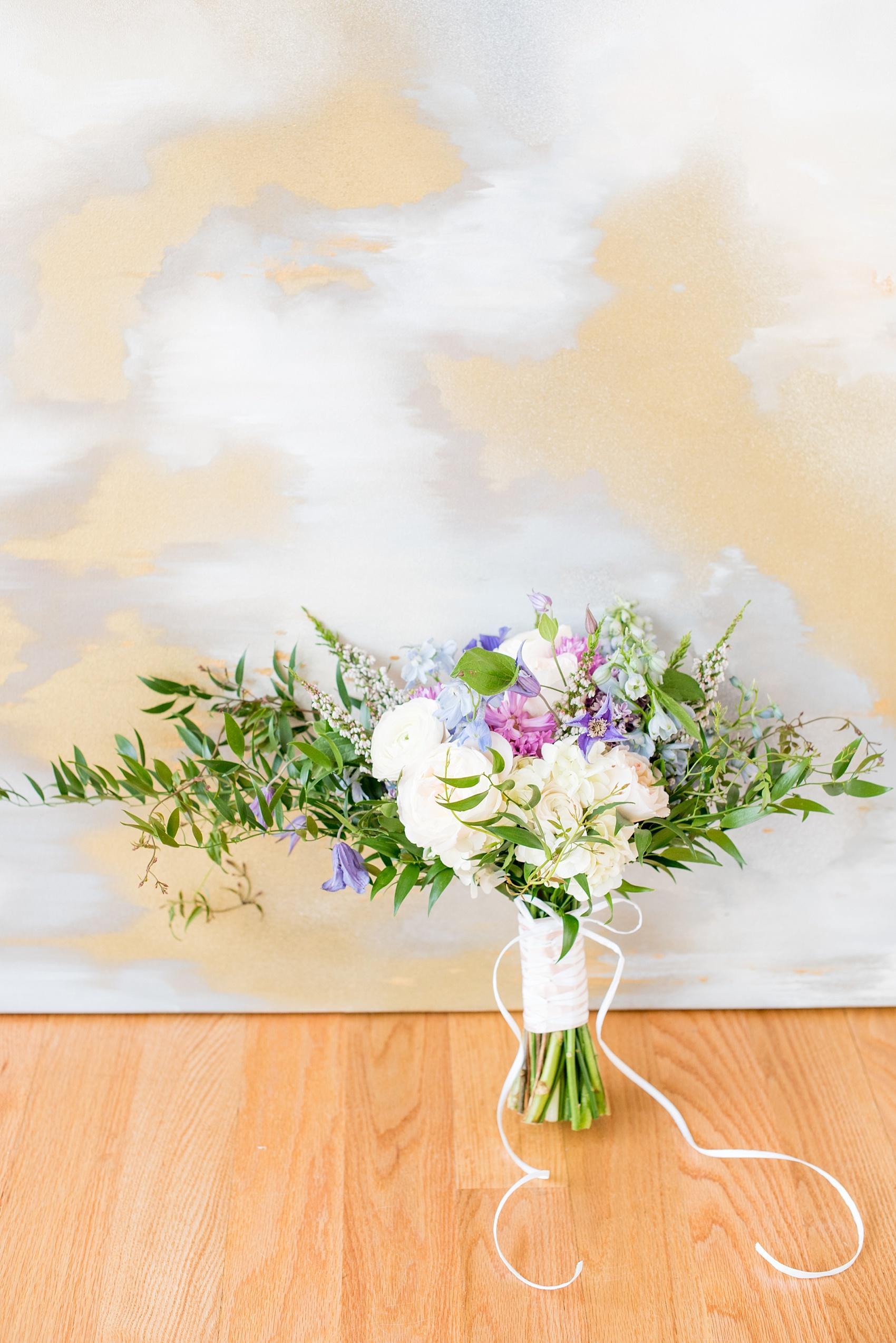 Paper was incorporated throughout the shoot including a paper tied bouquet and paper "YAY" flag with ribbons for the bride, groom and their guests to wave as they left the reception. The bride also had a second "getaway" dress that was custom made by Cali at Traditions by Anna. Sarah of Bella Joviality created the geometric watercolor piece that was transferred onto the white silk shirt.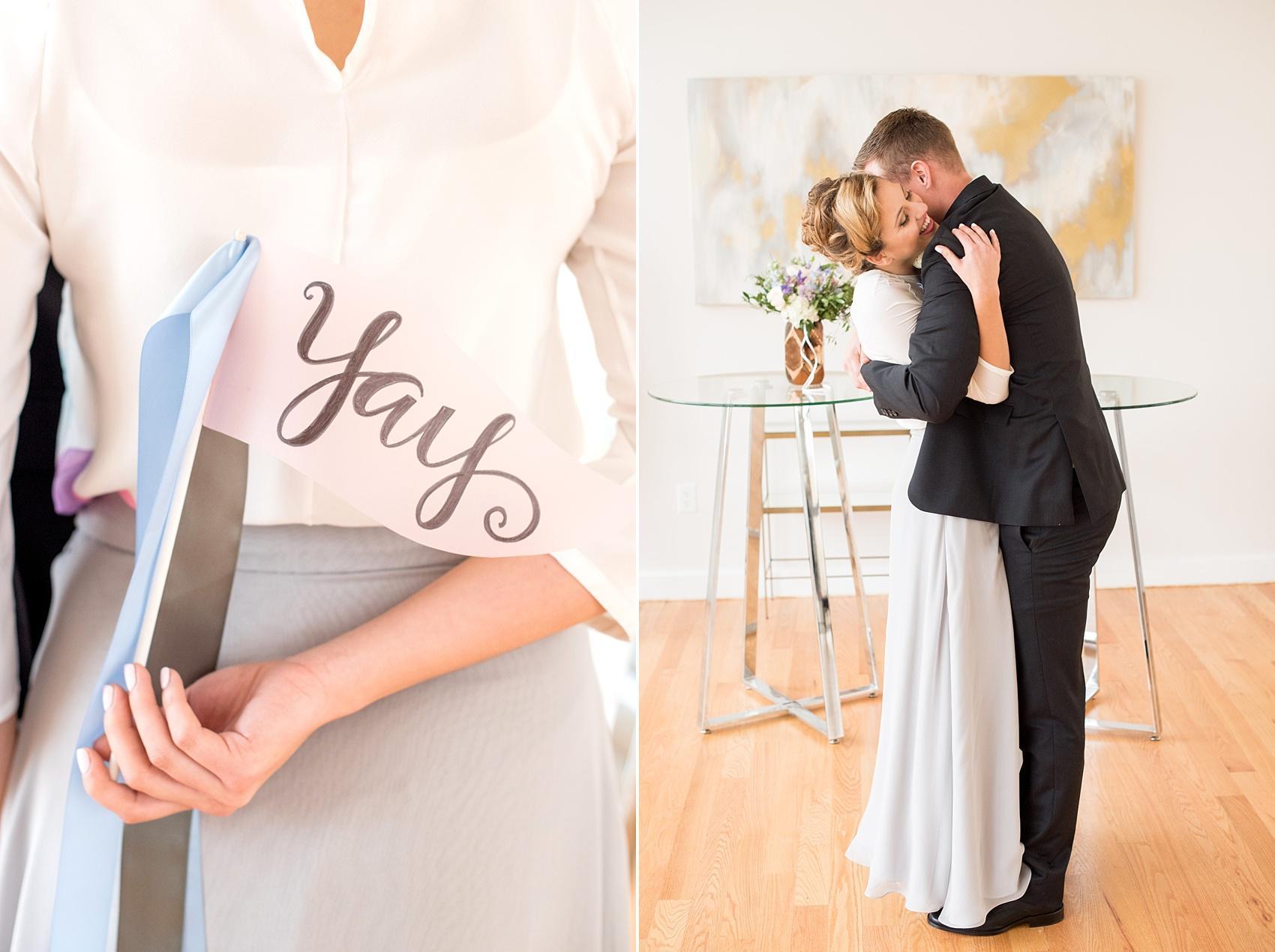 A two-tiered square white cake was adorned with geometric triangles in purple, blue, aqua, pink, silver and gold for an even sweeter end to the day!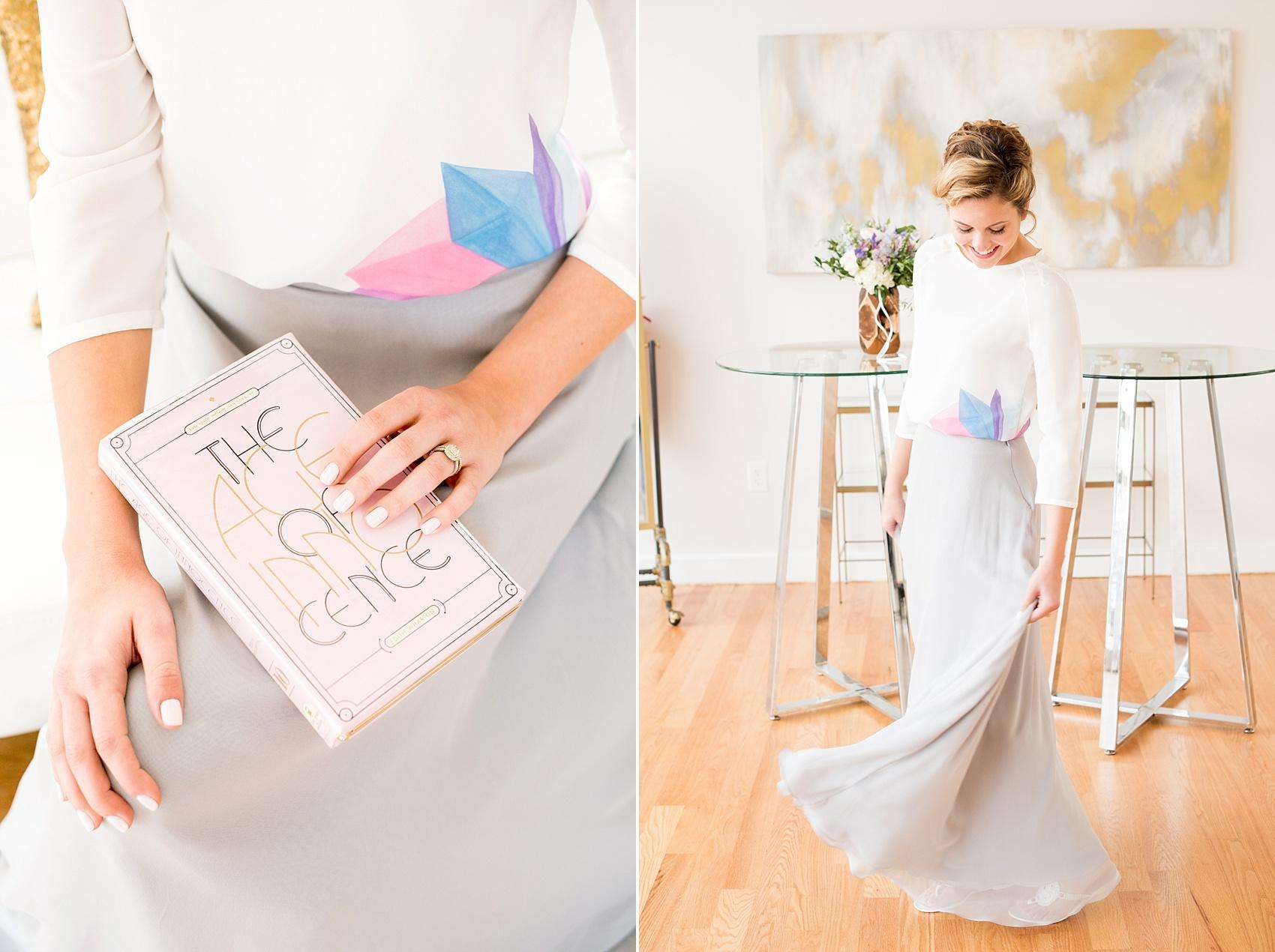 Thank you to the amazing list of vendors who all participated to make this happen! For even more check out the post on Ruffled: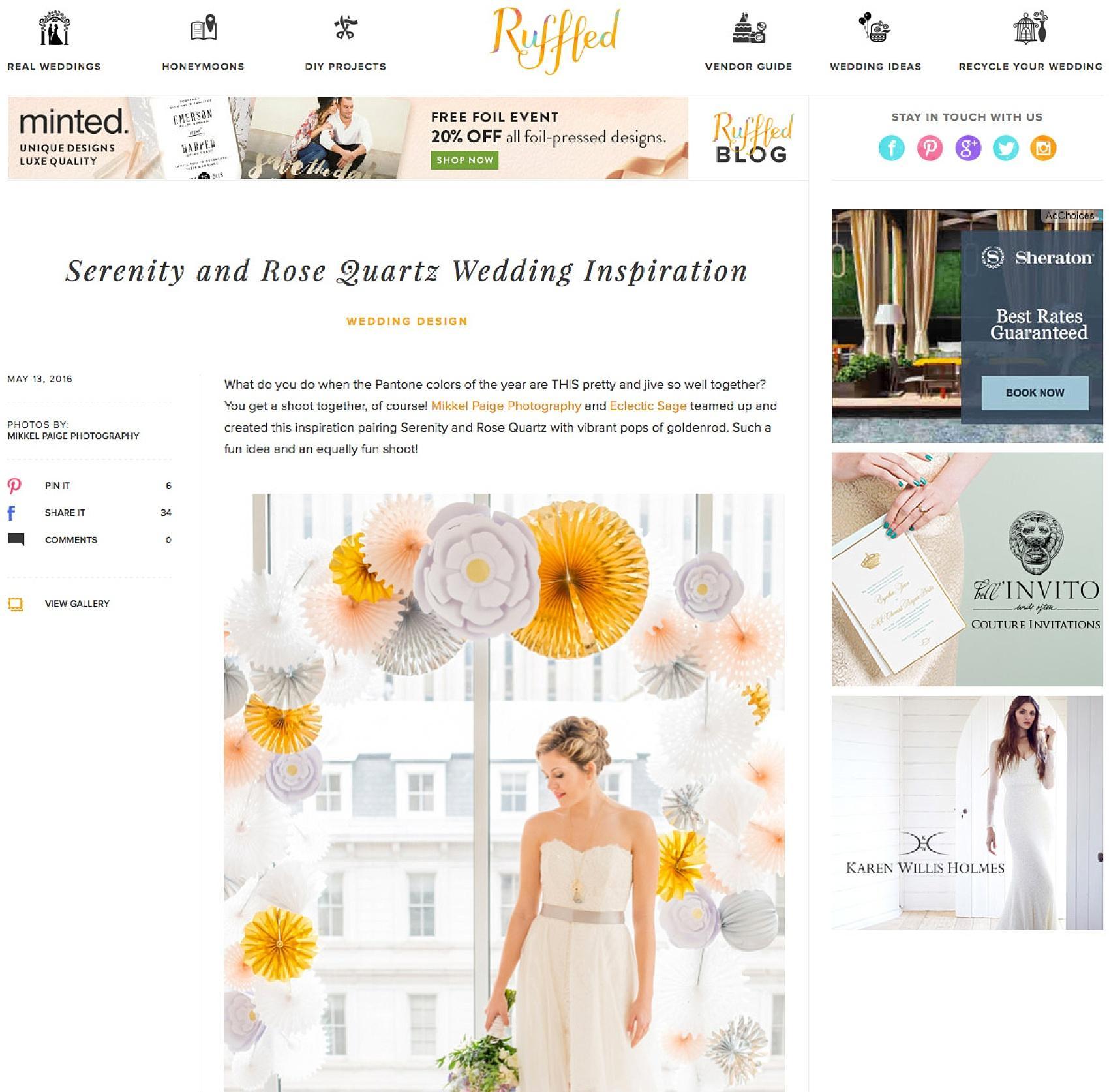 Venue: The Glassbox / Styling: Glitter Inc. / Hand lettering and paper: Bella Joviality / Catering: Belle's Catering / Dress: Traditions by Anna / Flowers: Eclectic Sage / Cake: Sugar Euphoria / Bow tie and pocket square: High Cotton / Hair and makeup: Perfection by Patricia
Happy Friday!