I still feel the warmth of the holiday season as I look at Ashley and Bryan's holiday wedding. I've always loved being a downtown Raleigh wedding photographer, so to speak, since I live and play there. It's an incredible area, which is part of why I get extra excited to photograph a wedding in the area.
Ashley and Bryan's winter wedding was filled with warm colors including gold, green and hues of pink. They've always loved the holiday season and I'm guessing it has to do with the cheer that surrounds it, the twinkling lights, and family and friends that surround you during December.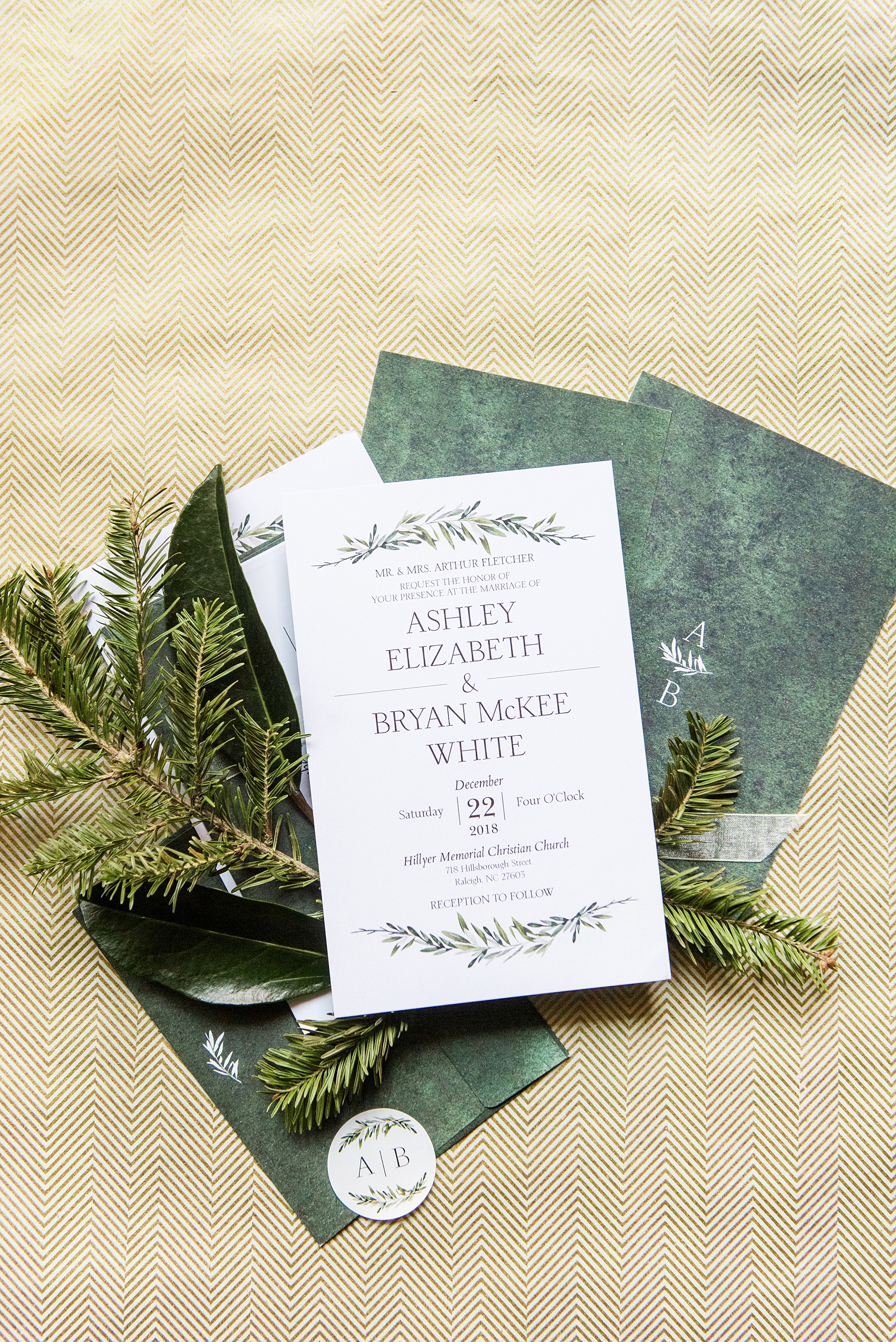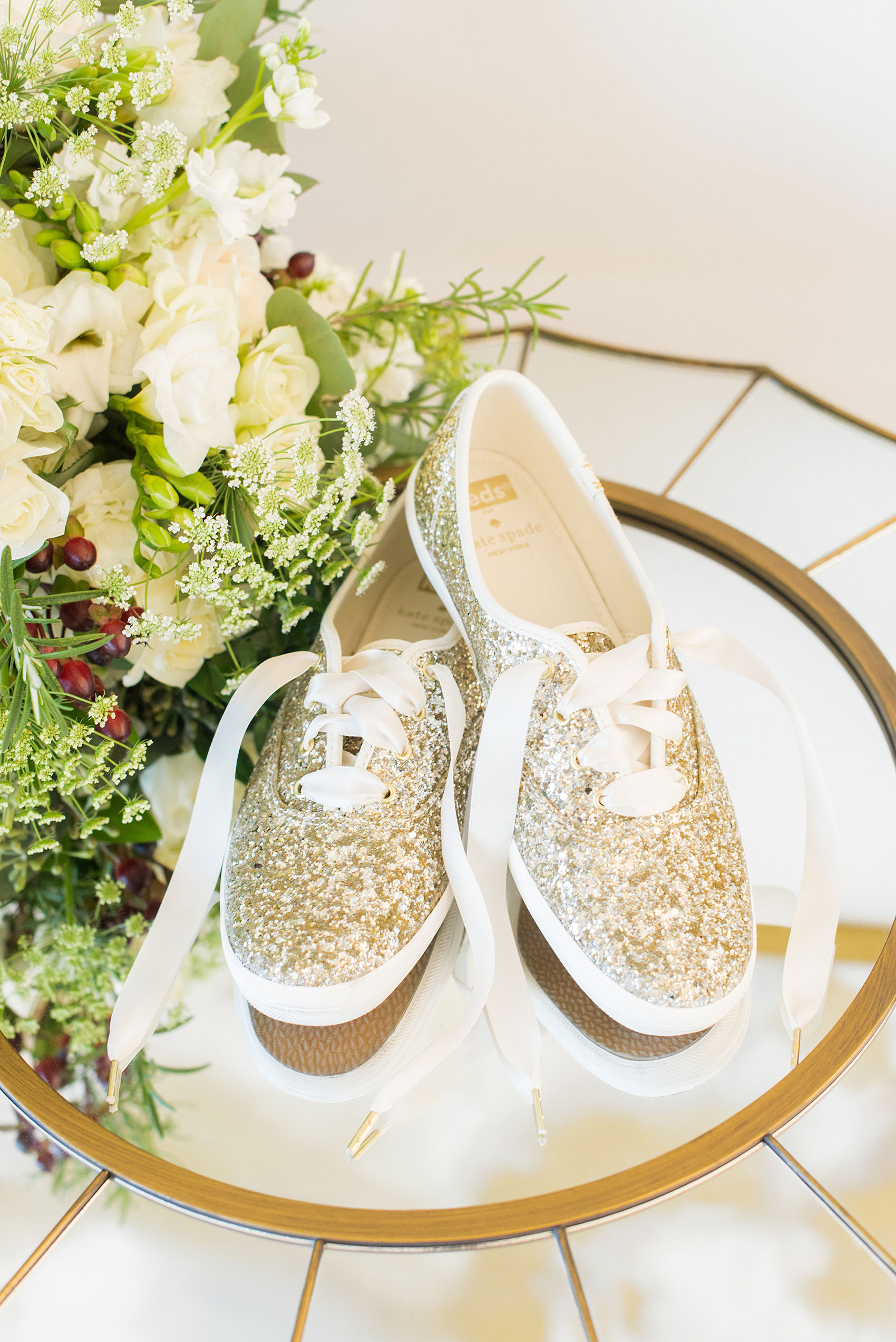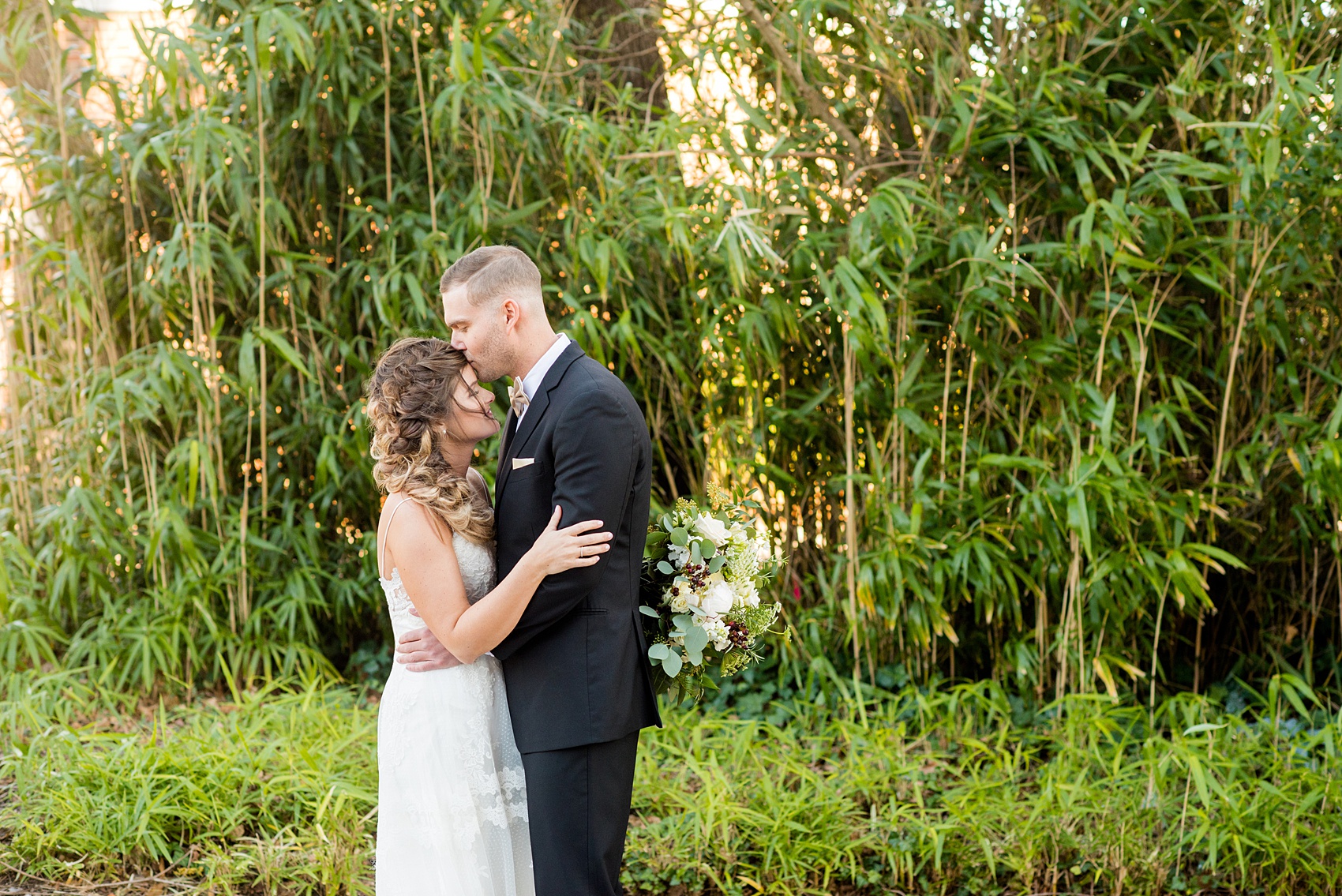 Ashley and Bryan are a couple that started out the way some of the best couples do: as college friends. Their friendship grew into something more that led them to falling in love and finding their forever mate. One of my favorite things from their reception was they donated money to help buy children in Mexico soccer balls, which is revealing of their charitable hearts and love for the sport! They from two different areas – Bryan from the Albany, New York area and Ashley from Raleigh – and live in Charlotte, North Carolina. Raleigh was a great area for their guests to come together to celebrate their wedding.
The bridesmaids, mothers and flower girls came together on a sunny winter day to get ready at The Glass Box. Ashley was getting ready with her bridesmaids in plaid pajamas with monogrammed pockets and adorable Christmas socks she gifted them. I quickly went to work photographing her beautiful details, from their yellow gold and diamond rings to glitter Keds Ashley wore.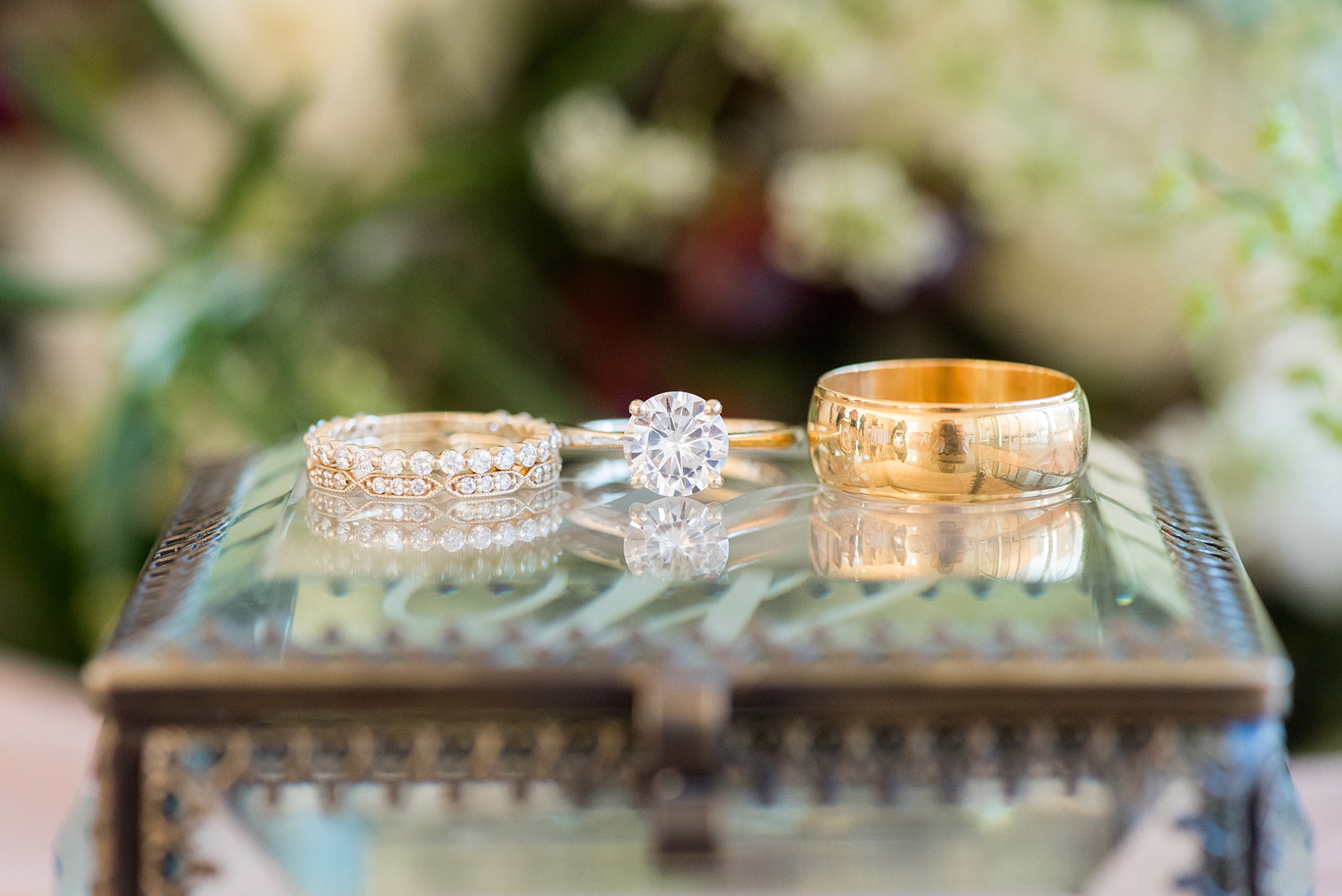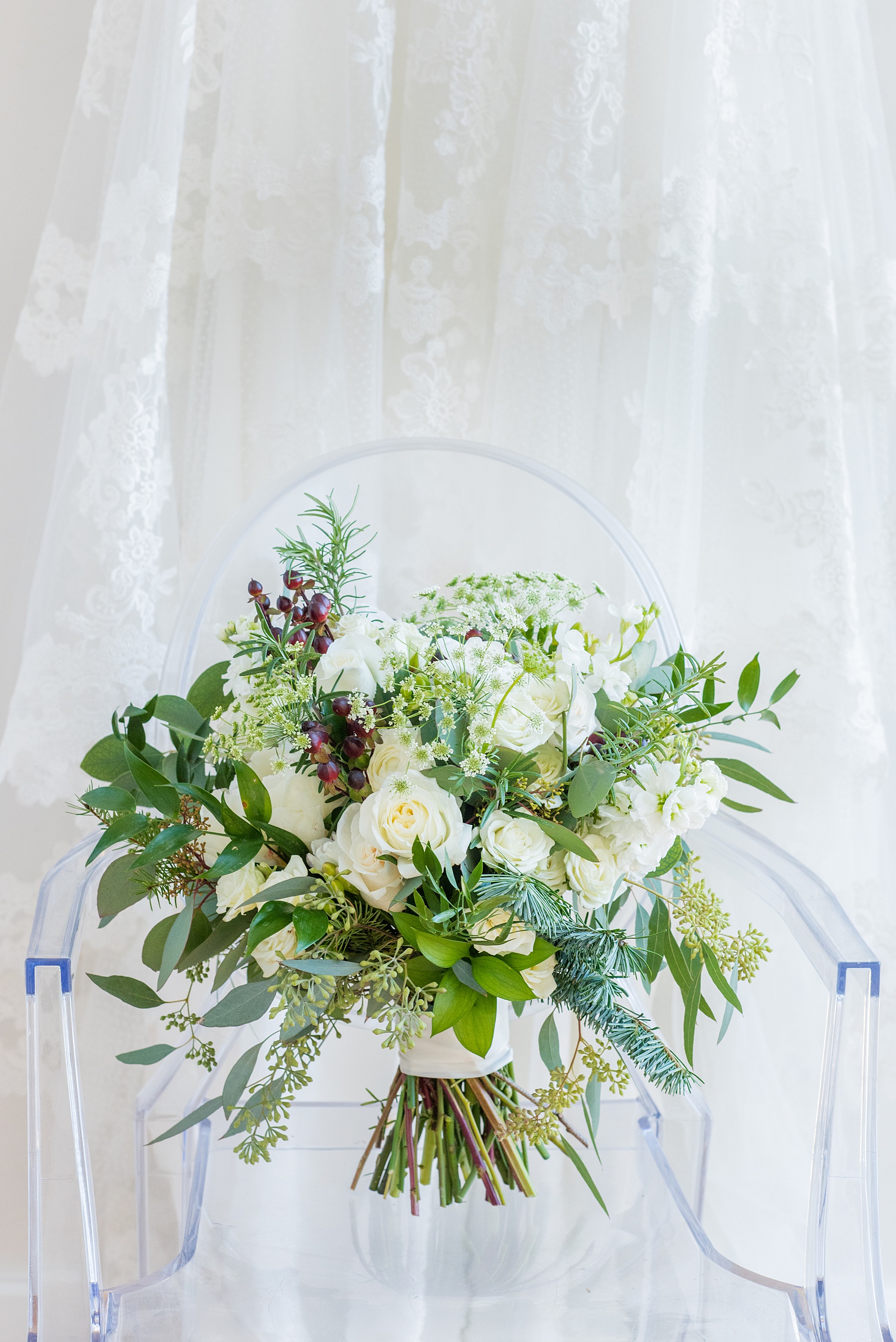 Her bouquet was beautiful but it smelled great too. It contained white roses, white stock flowers, hypericum berries (Magical Universe variety), Queen Anne's Lace, Fraser fir grown in the North Carolina mountains, and Italian and Israeli ruscus. I'm grateful Cydney of the English Garden shared this amazing information and filled in the blanks of flowers whose names I didn't know. My favorite fun fact is there is rosemary in it as well which symbolizes love and romance. (Swoon!)
Ashley was also so thoughtful as to gift each of her close girl friends a hanger with their initials. It made for a great photo of their dresses hung up awaiting their owner before they changed for the rest of the day. And of course the stemless champagne flutes she got them with their names in gold script were perfect for morning mimosas!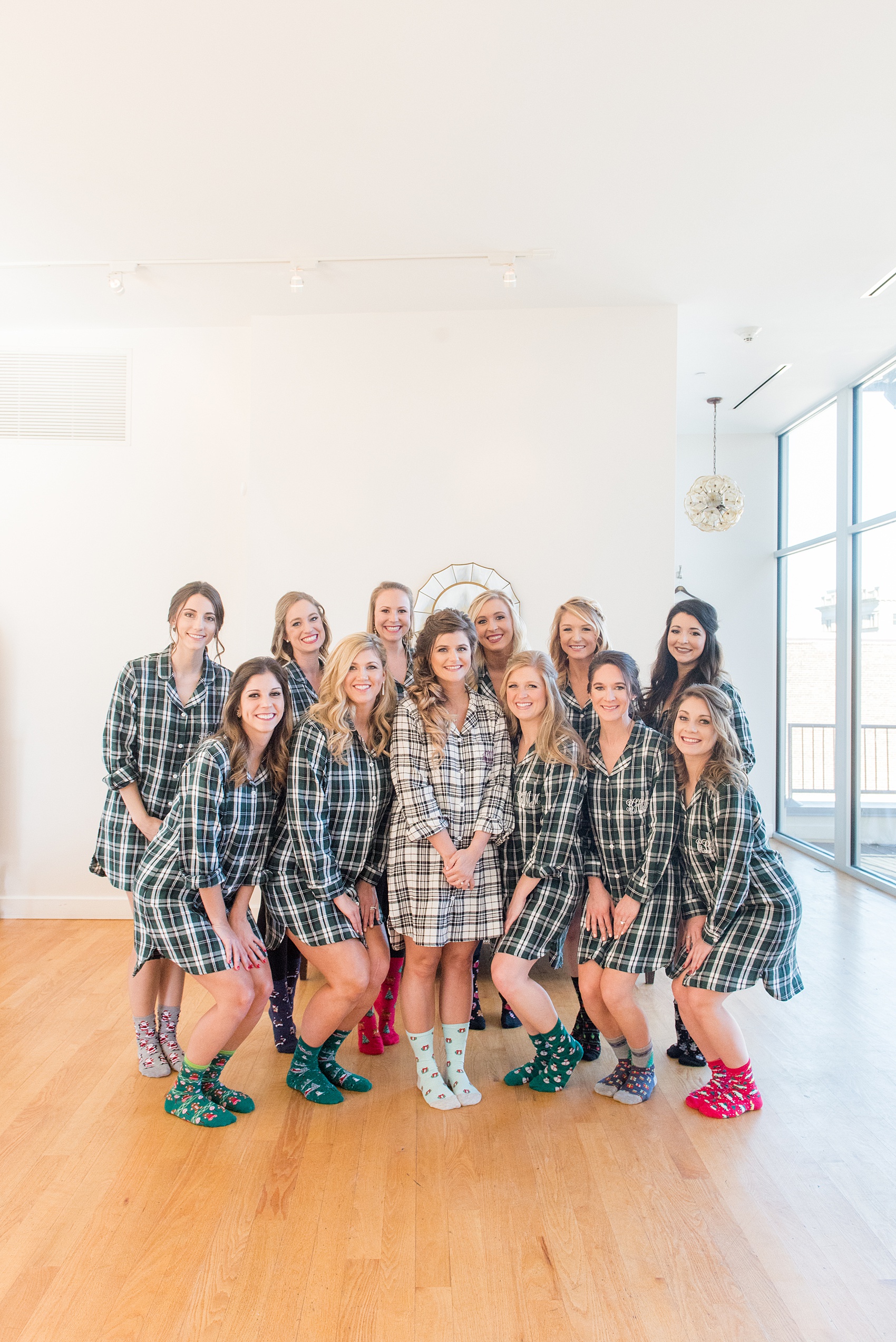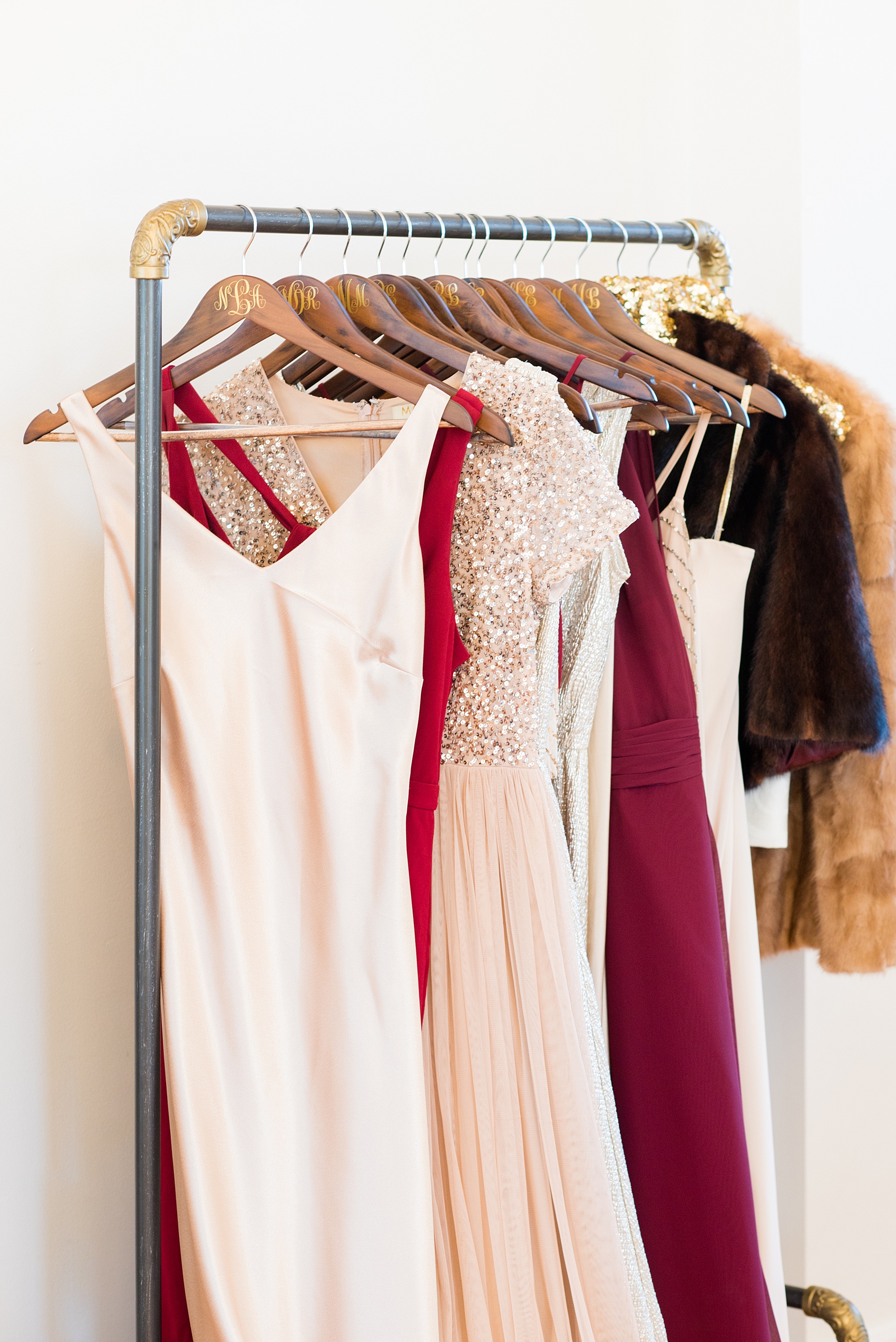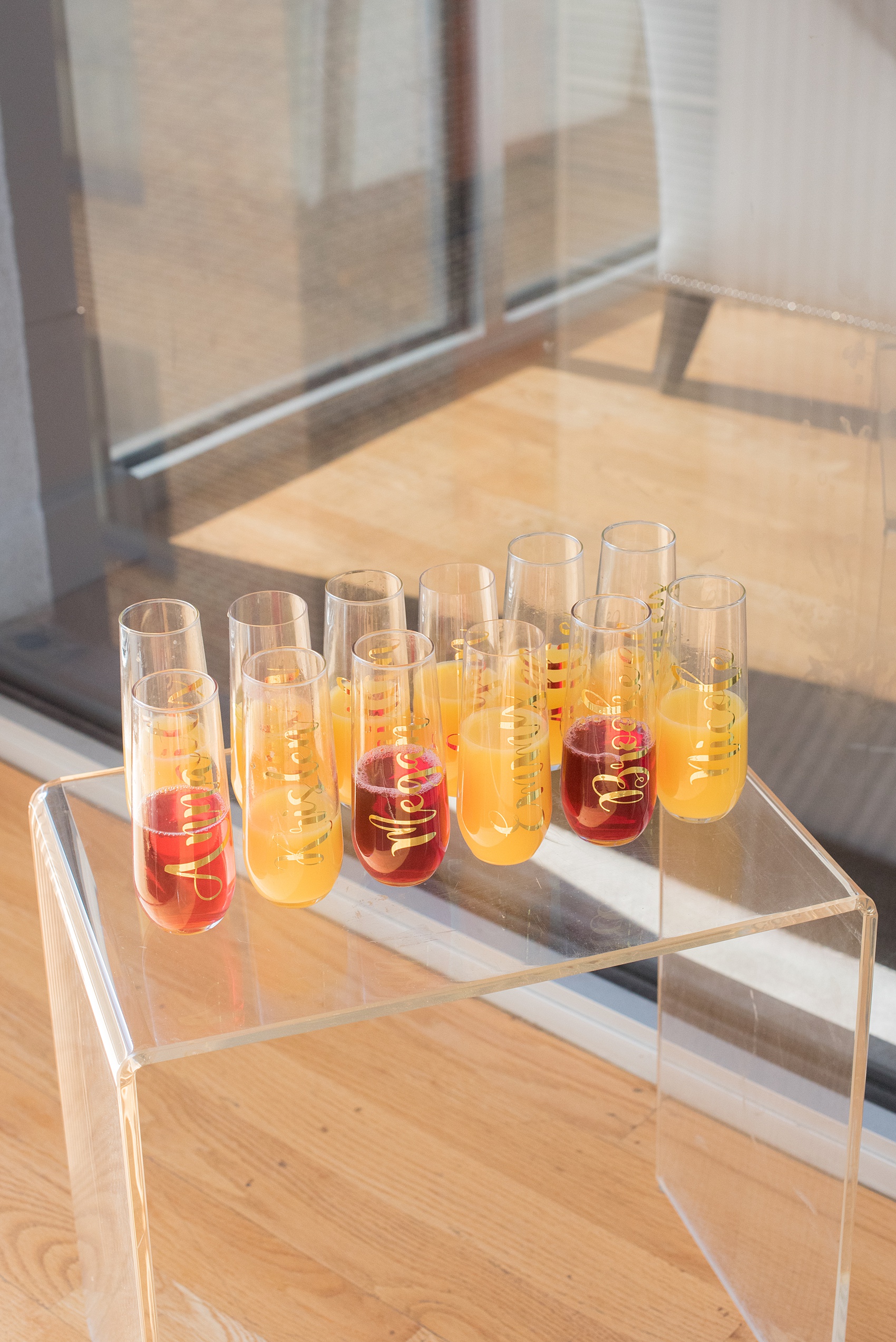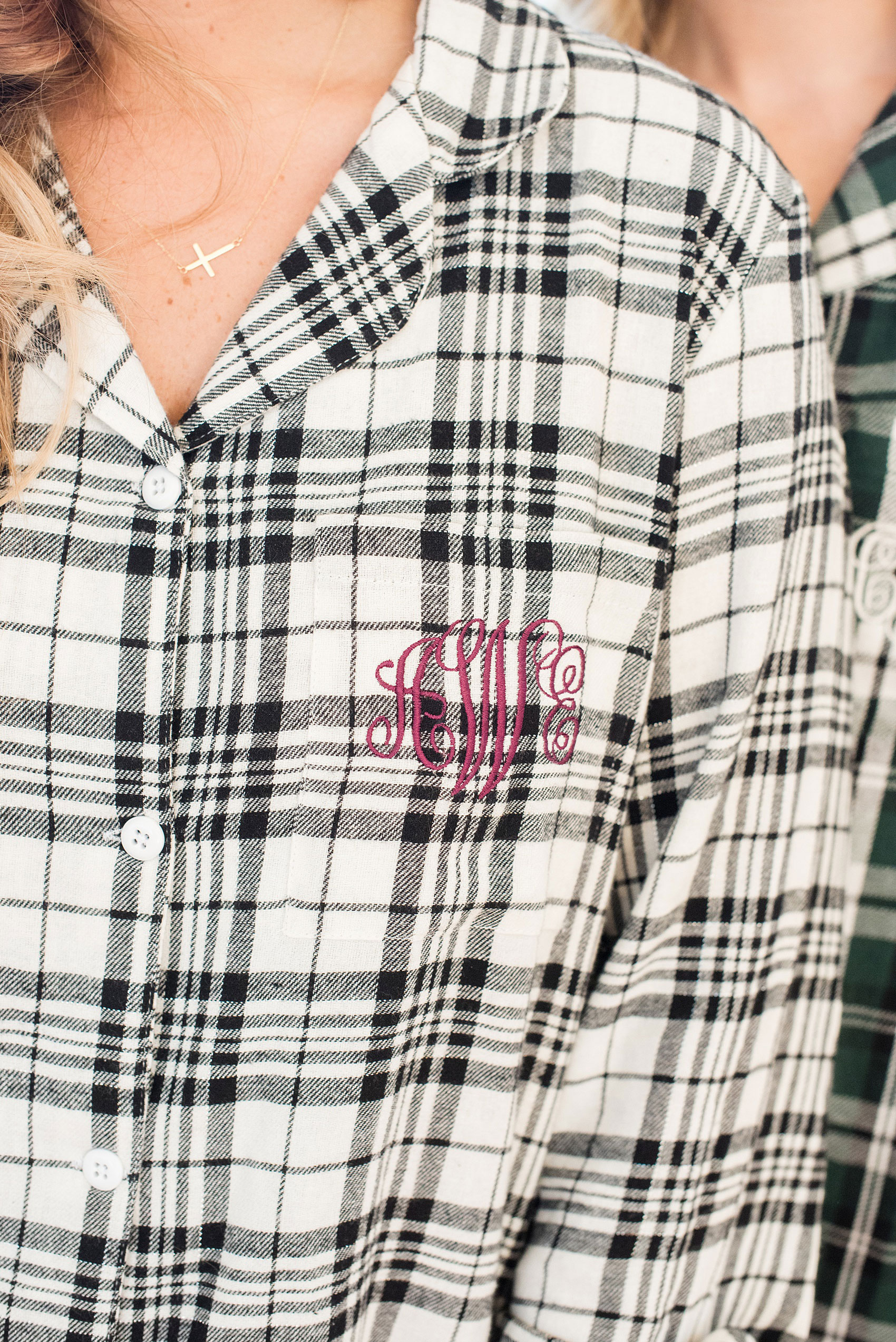 Soon it was time for Ashley to get into her gown. Her Maid of Honor, Caitlin, and Matron of Honor, Kristen, carried her gown over to her. Martha, Ashley's mom, pointed out the blue heart inside before they zipped up the dress: it is a special piece of Ashley's aunt's t-shirt and of course her "something blue" for her day.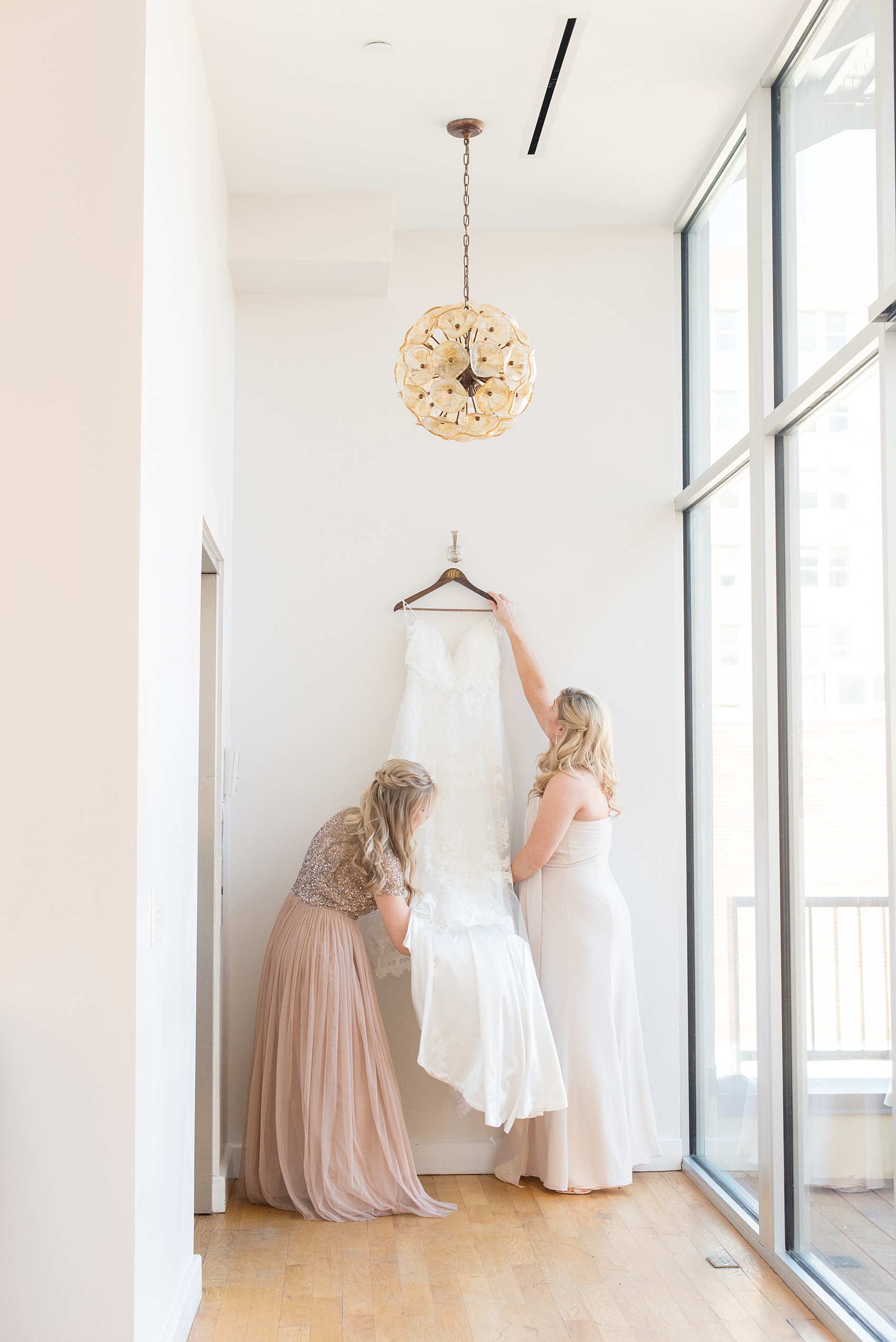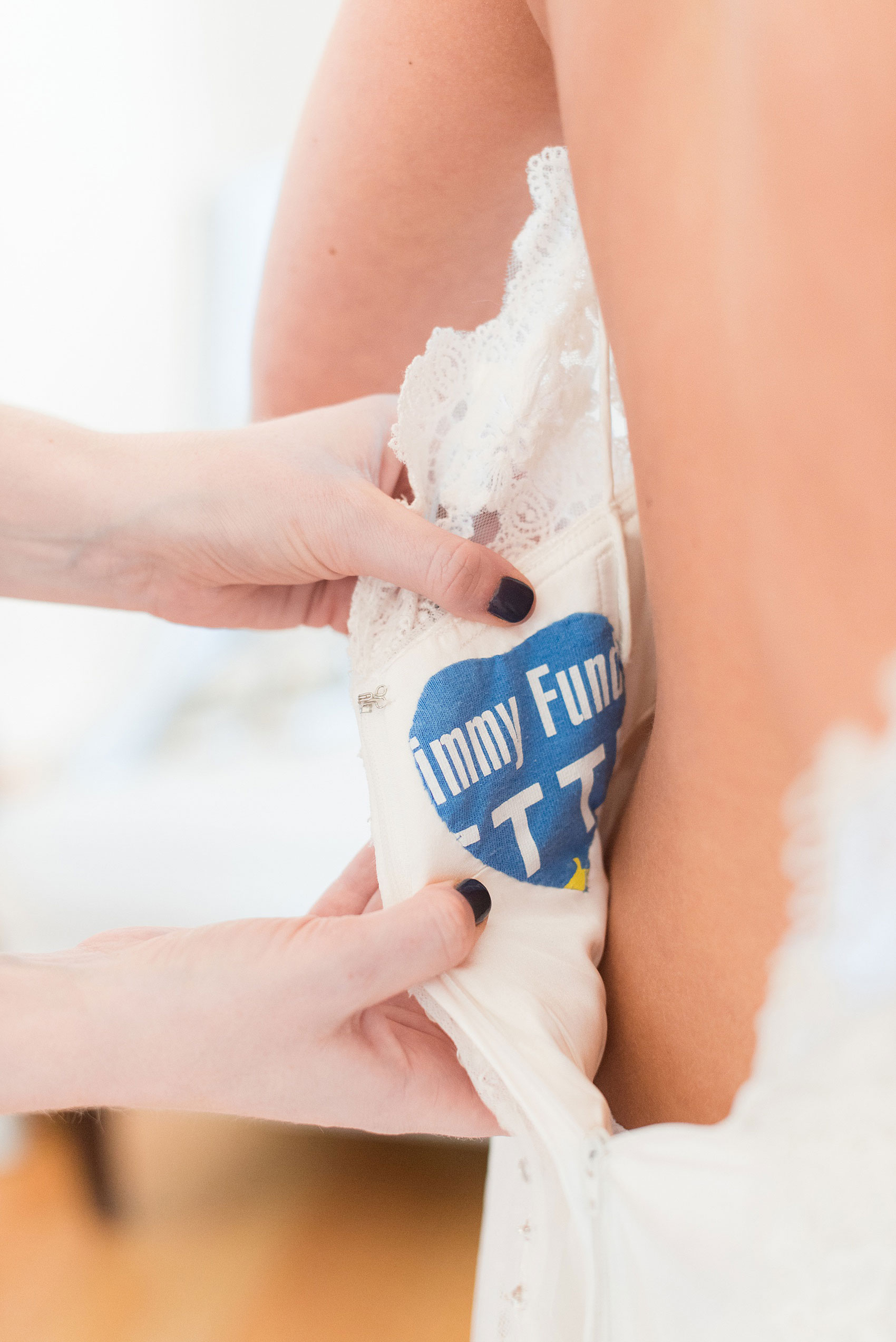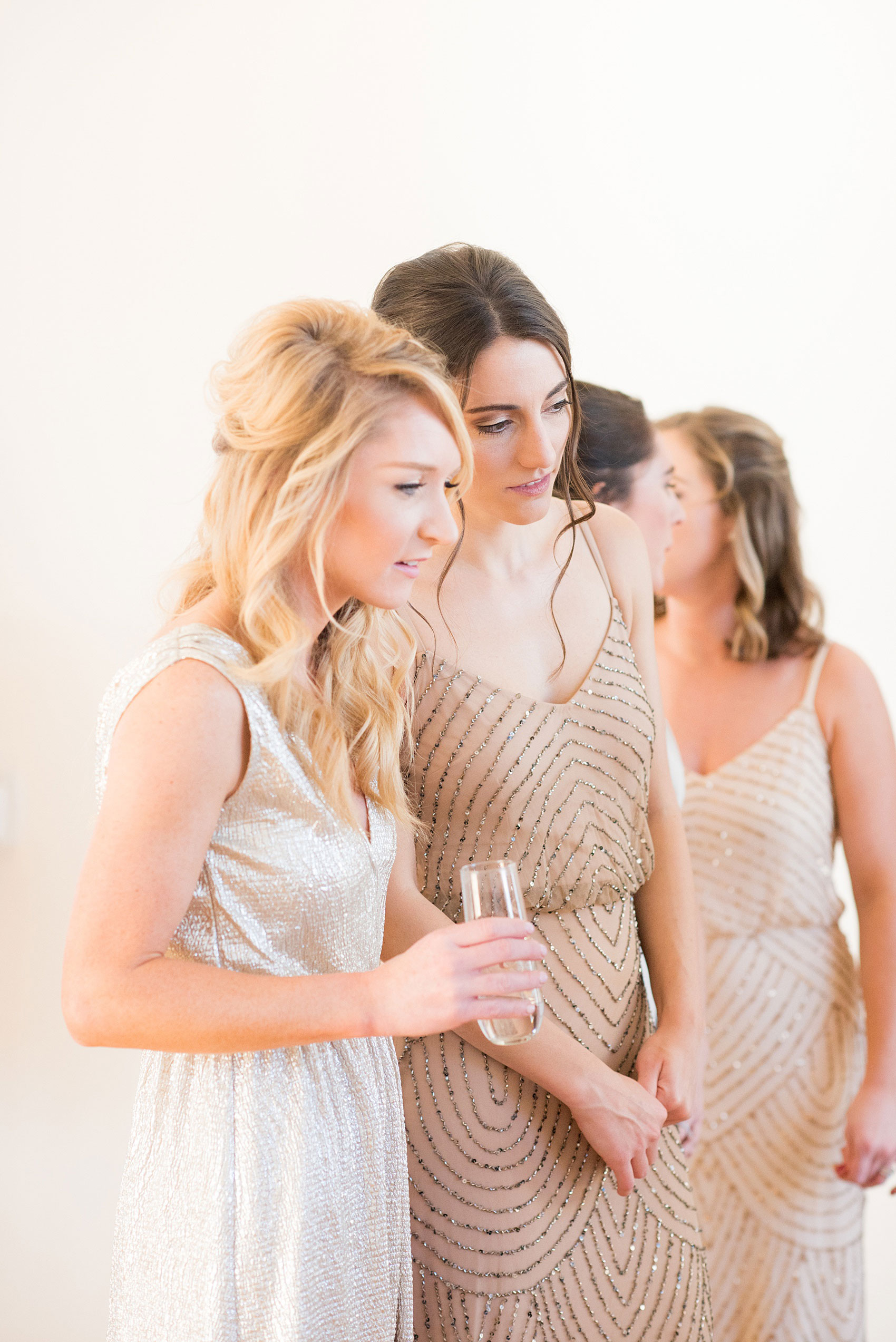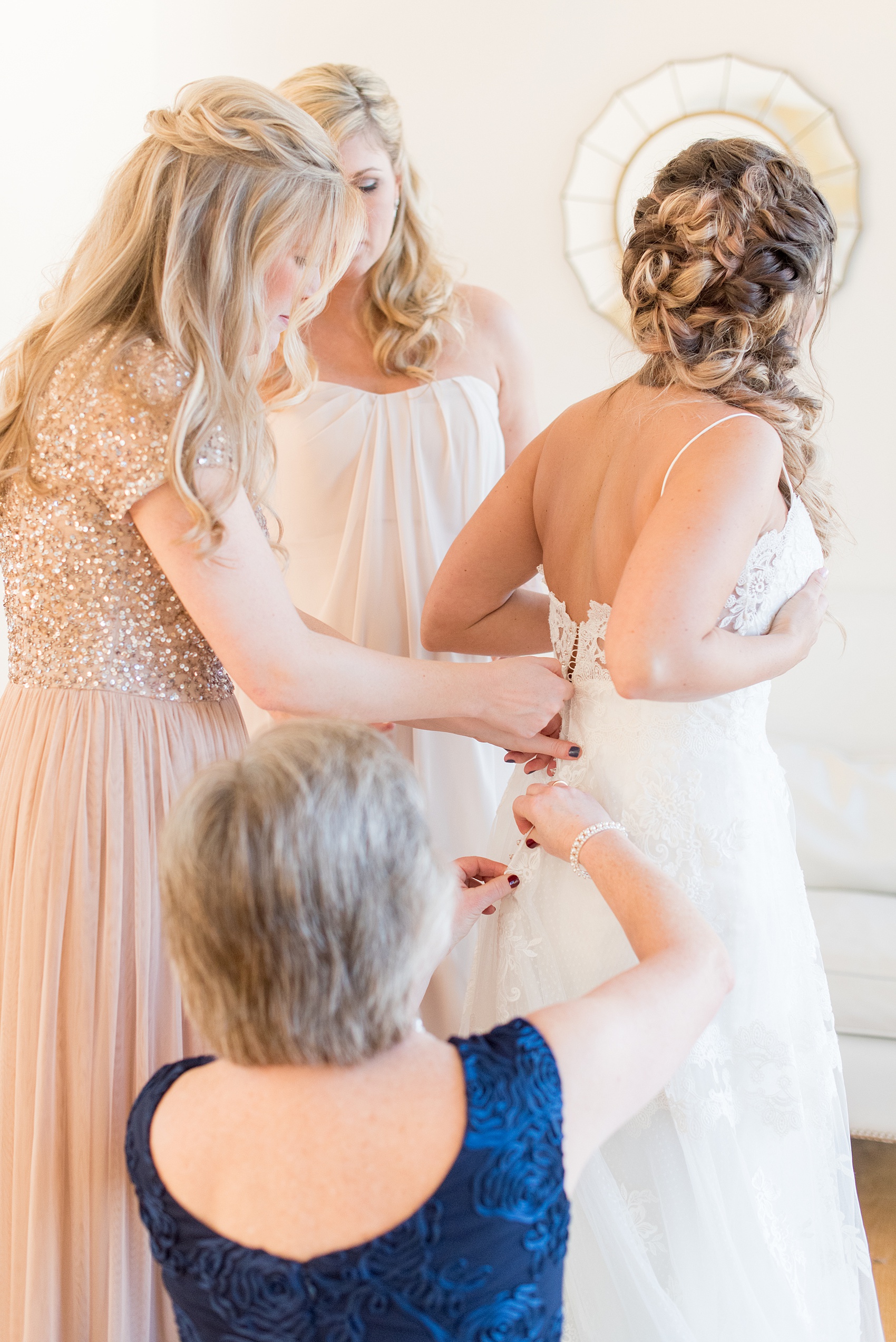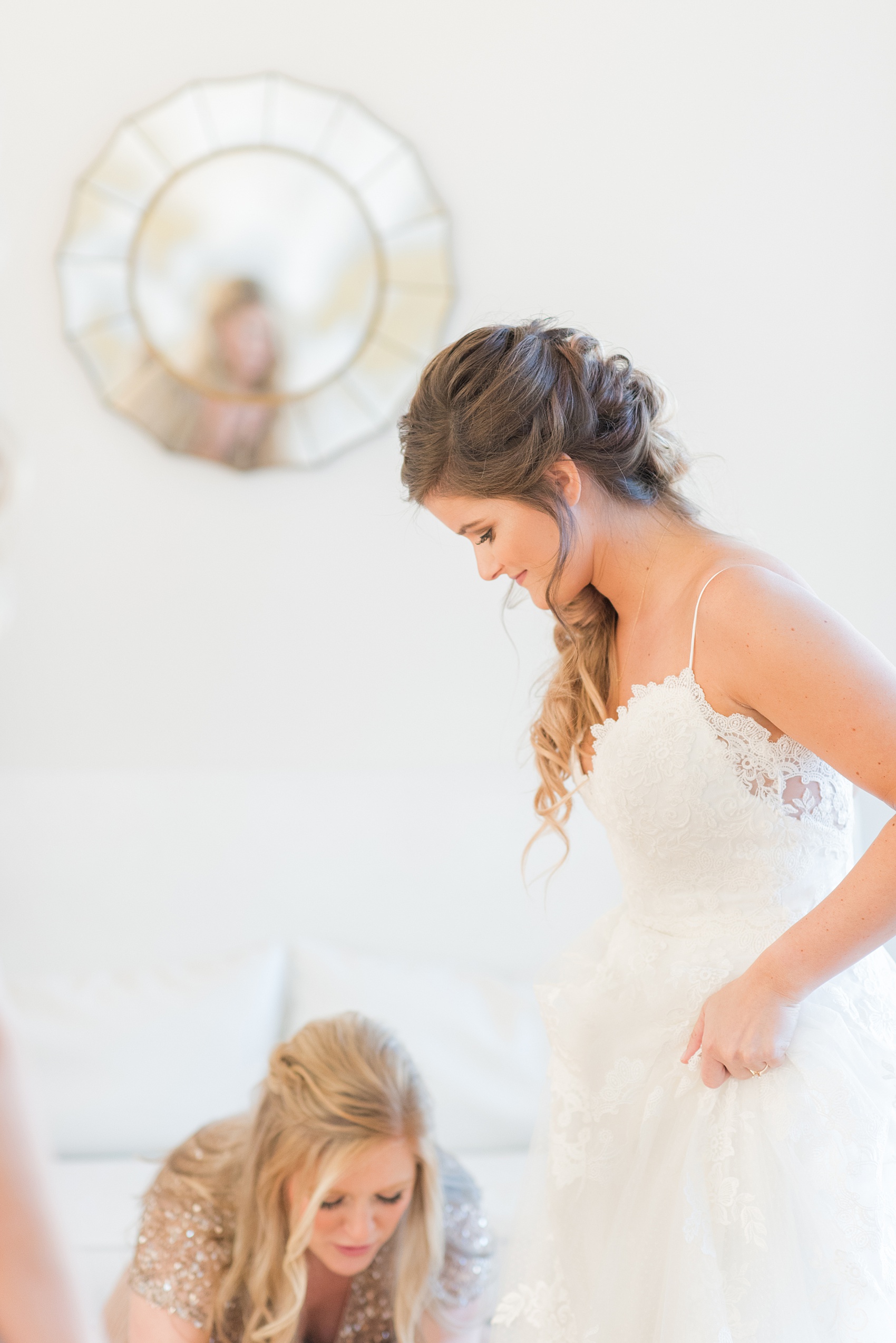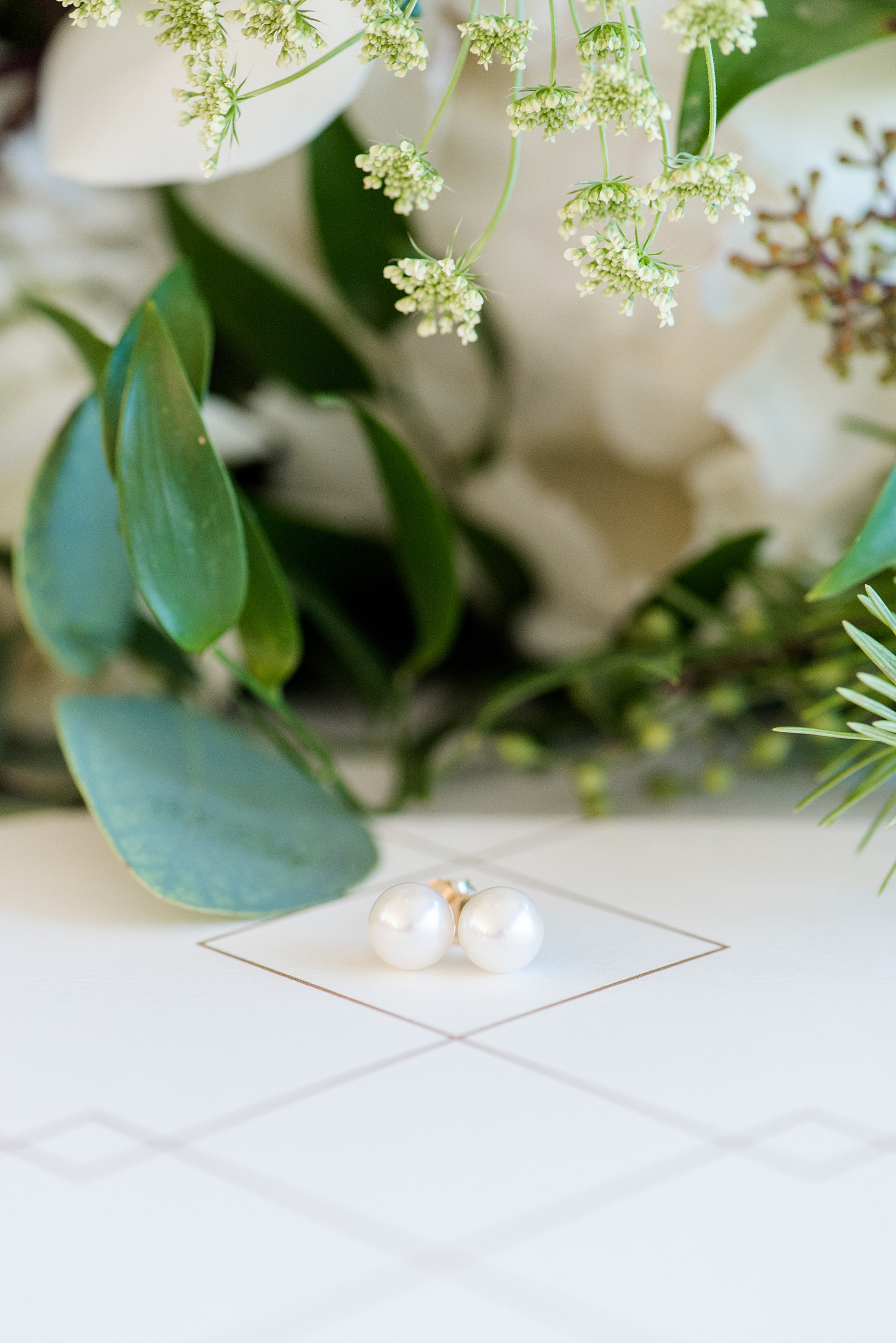 Another fun and subtle special detail of their day were the earrings Ashley wore, which were a gift from her father. I love that she'll always think of him whenever she wears them. (And pearl earrings go with everything!)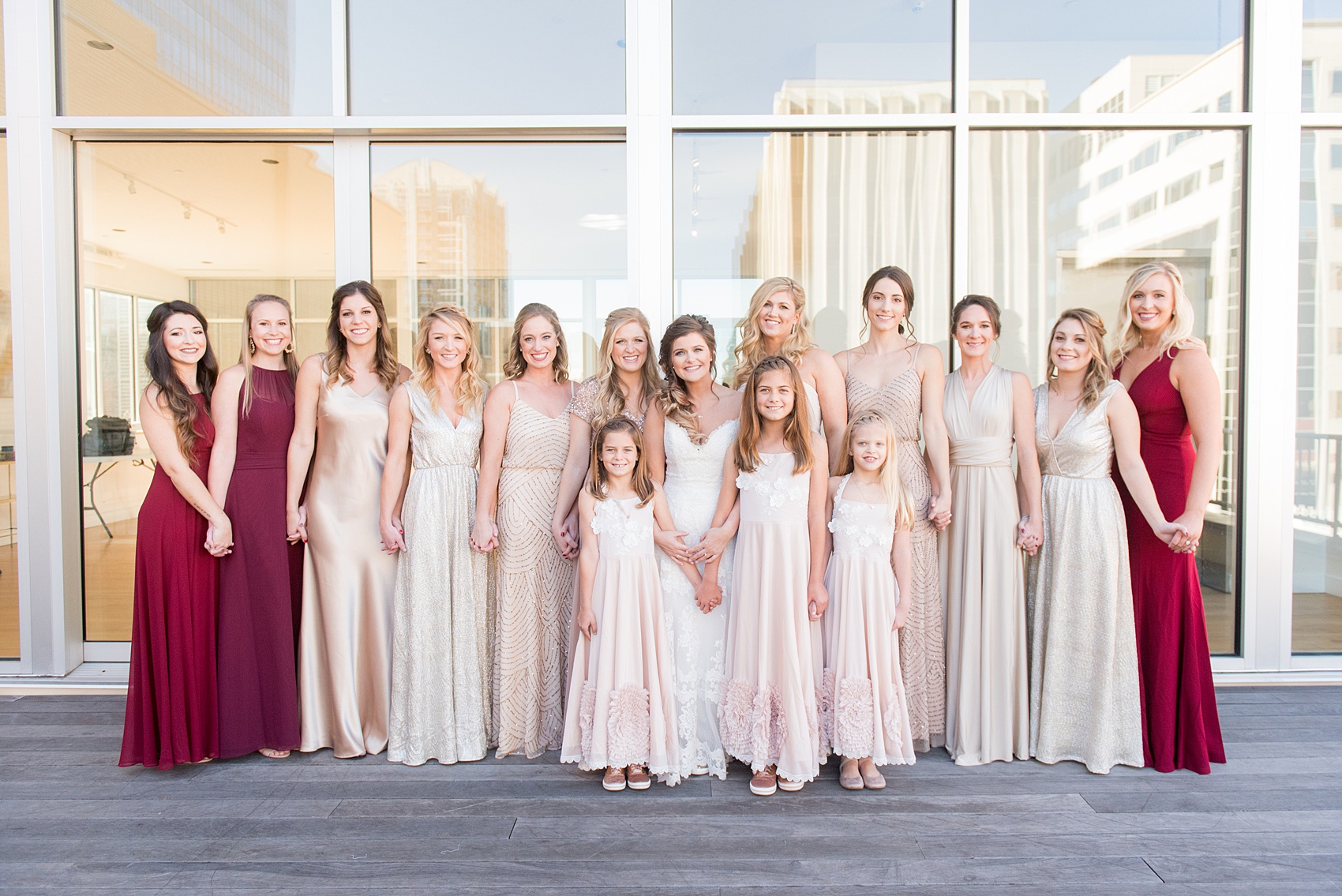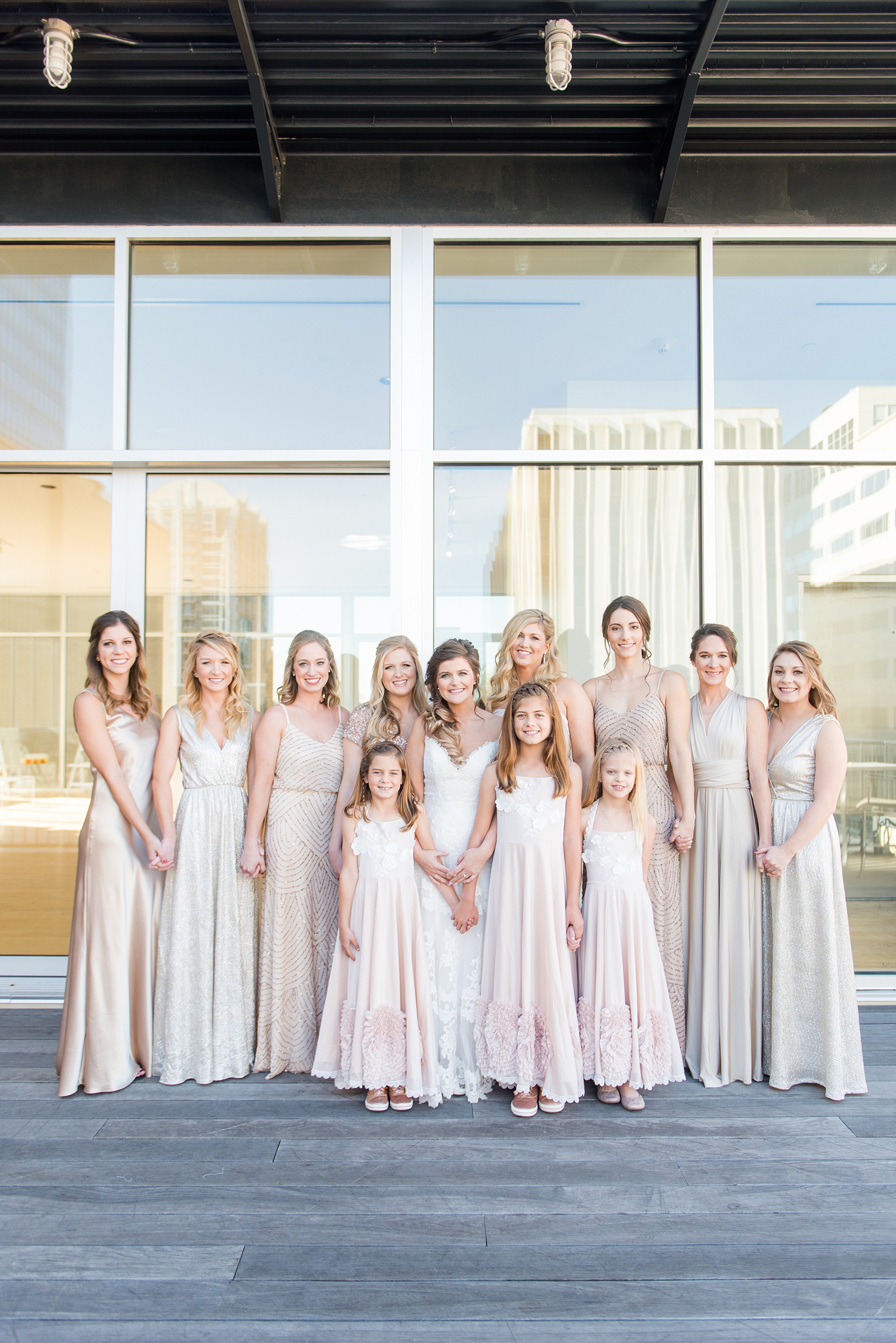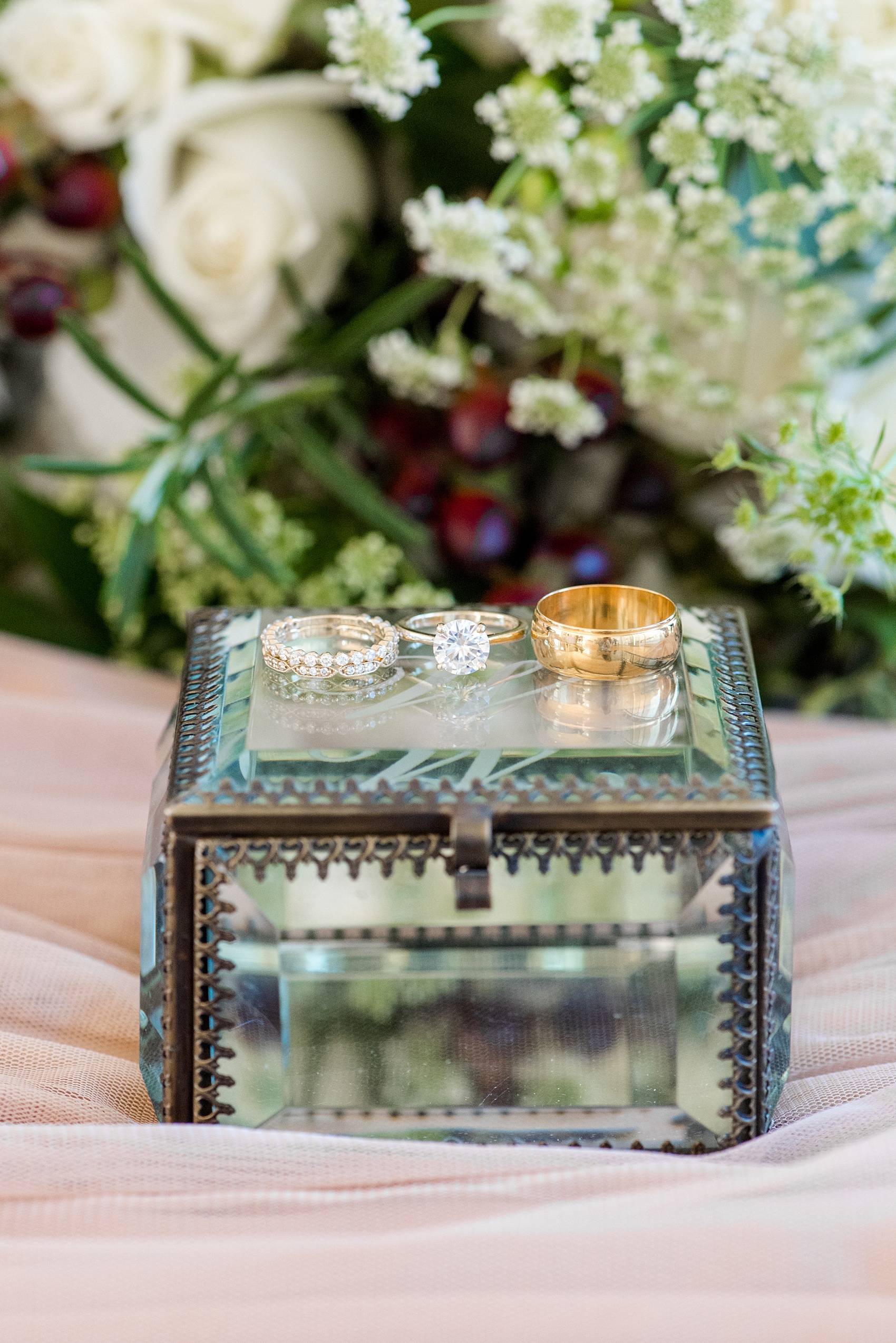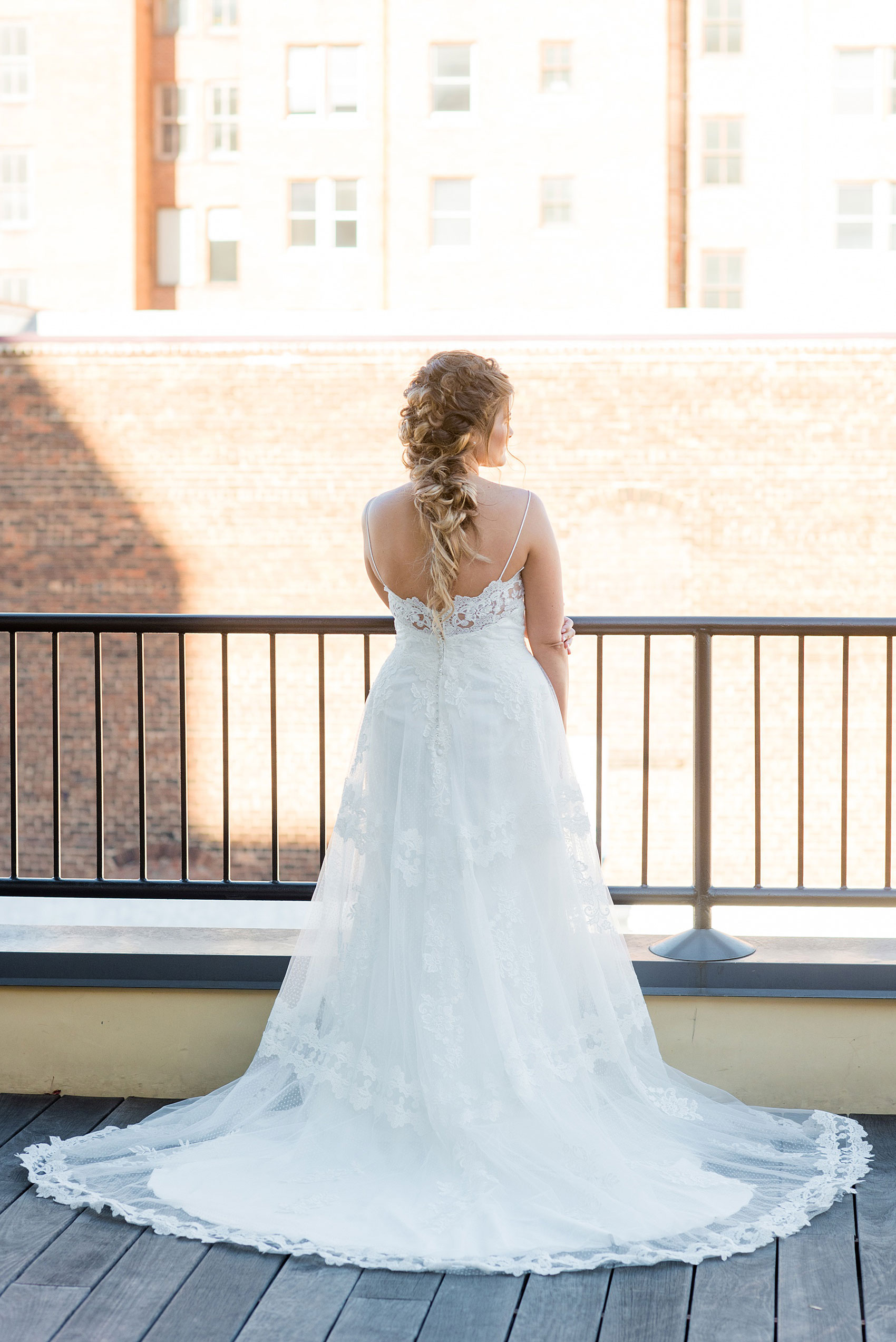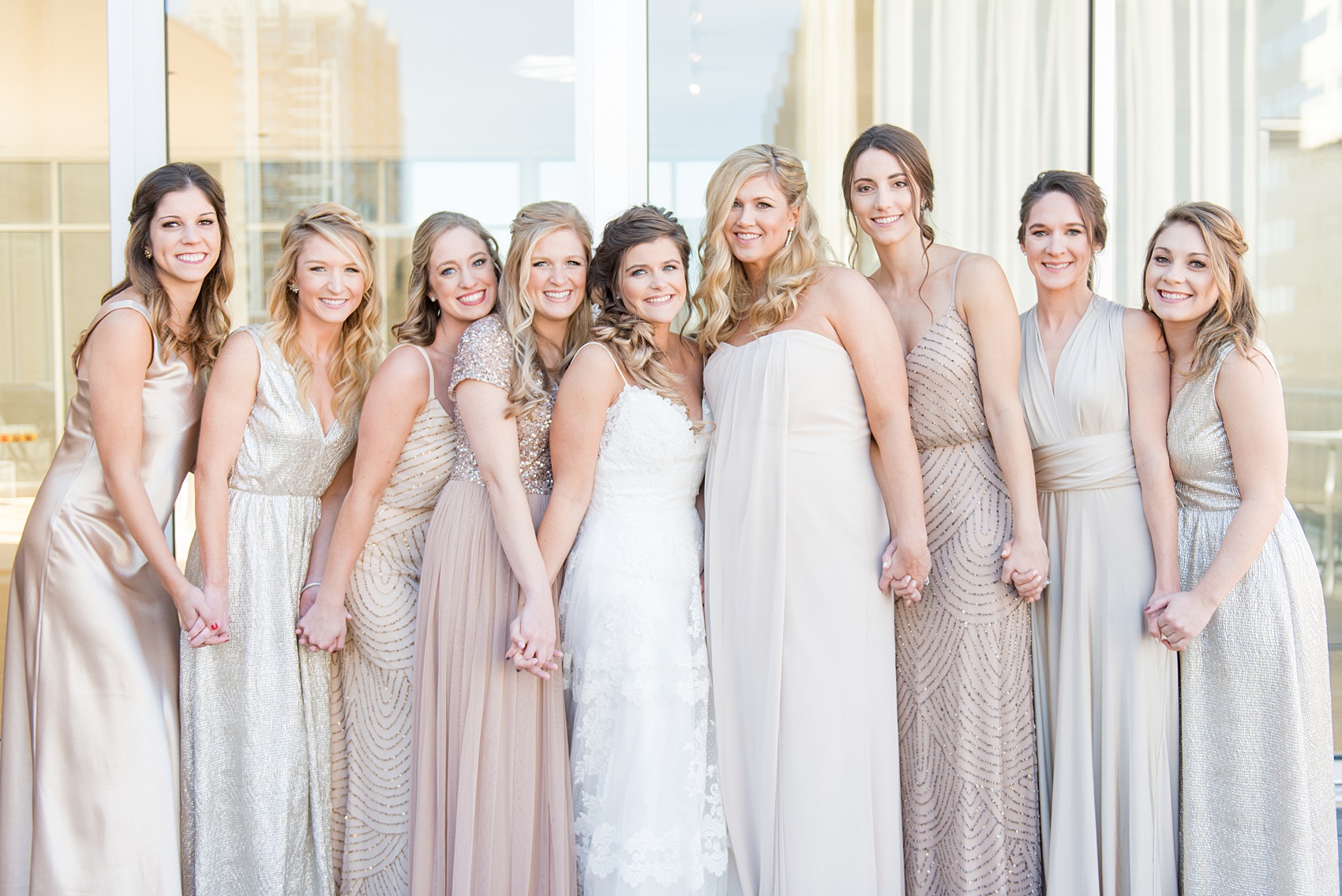 Ashley is blessed with so many close friends she had her eight bridesmaids in hues of pink and tan and three honorary bridesmaids in burgundy red gowns. We snuck some photos in on the outdoor deck of The Glass Box before heading to their church for their first look.
Ashley looked like such a goddess with a purposefully intricate, version of a fishtail braid. Her white gown was dotted with petite circles and appliques meeting a v-neckline top with spaghetti straps. Her incredible blue eyes sparkled in so many of their wedding pictures. Bryan was a handsome compliment, of course, in a classic black tuxedo with a tan bow tie. A white ranunculus boutonniere was a great finishing touch for his jacket lapel, with a sprig of fir and some red hypericum berries.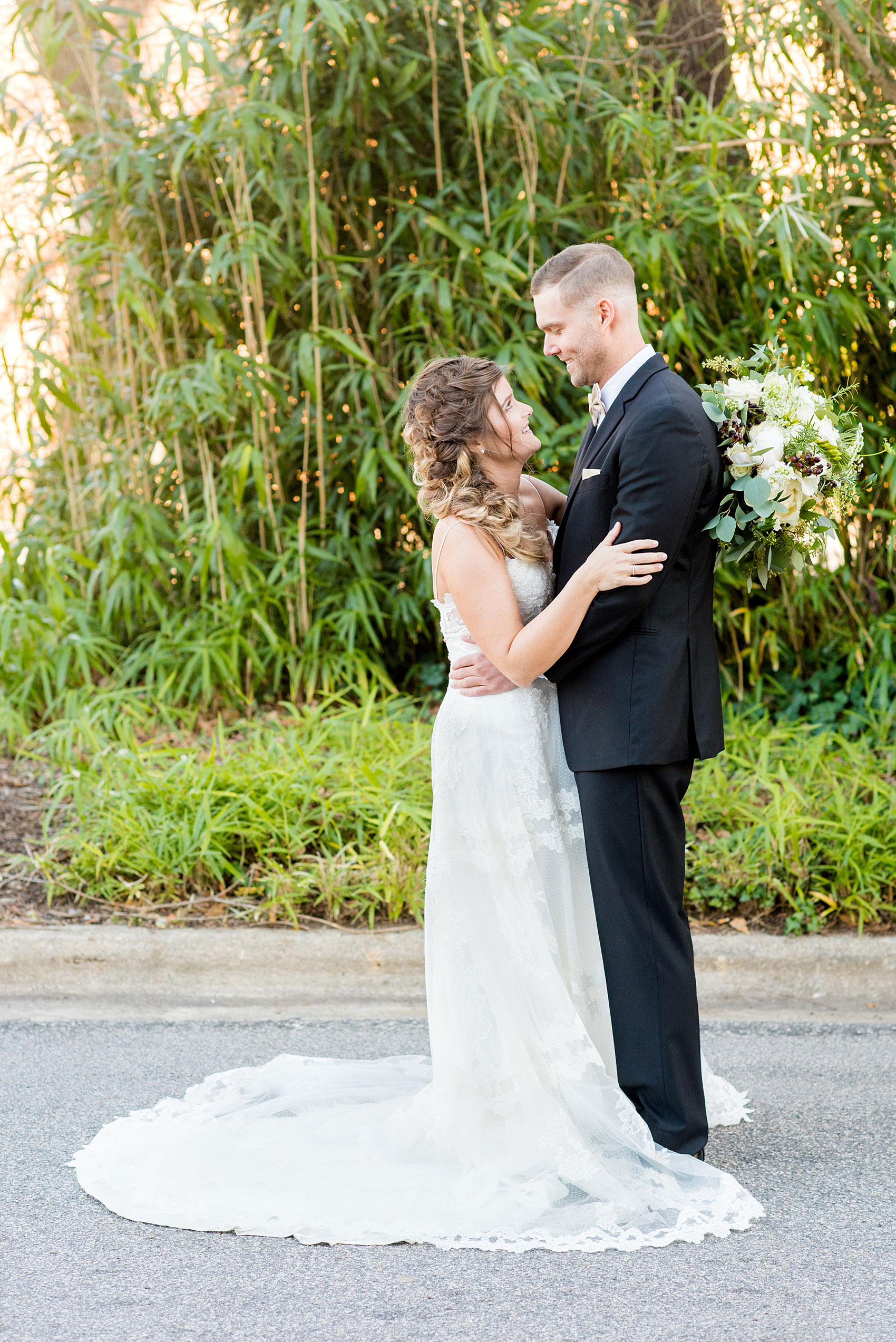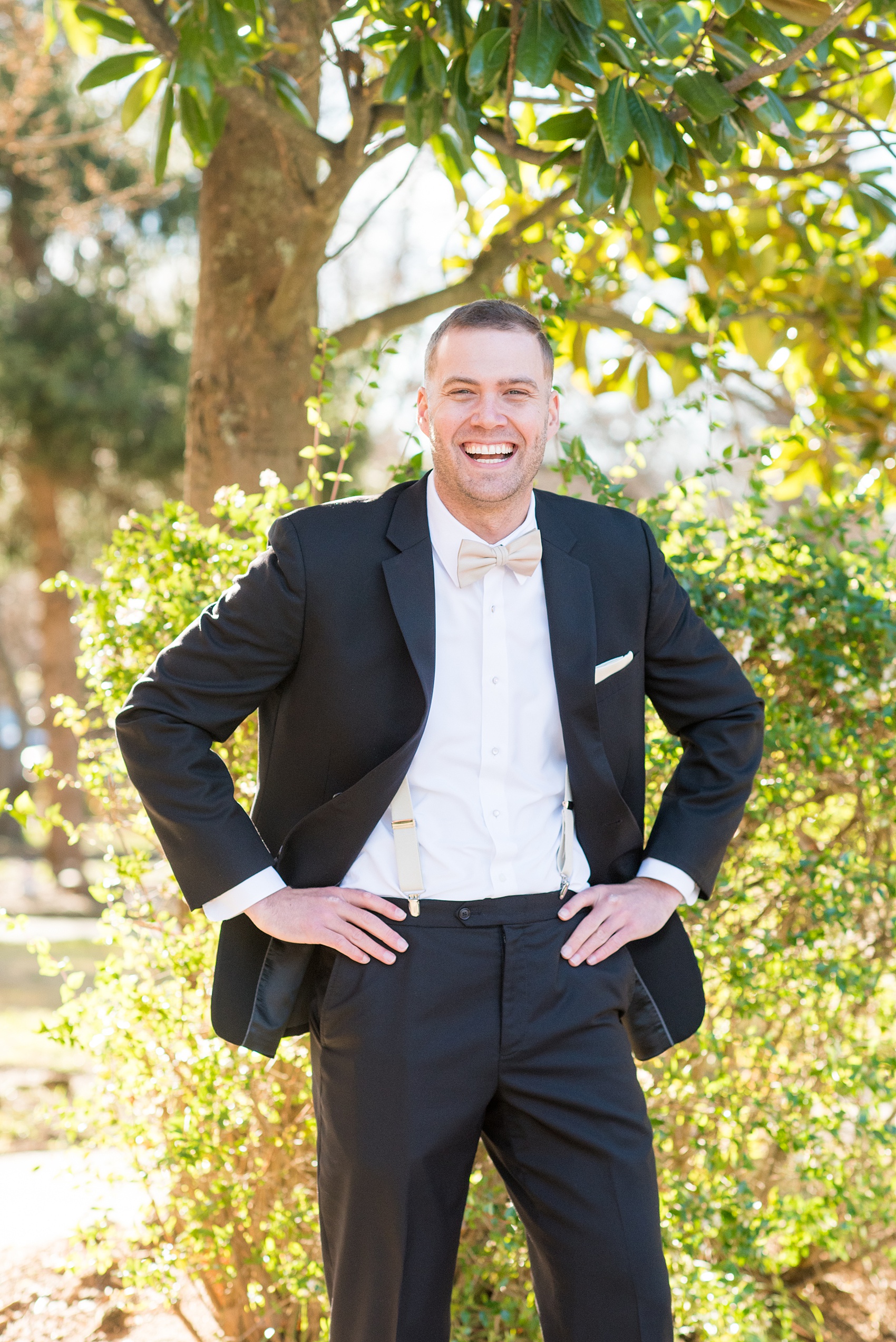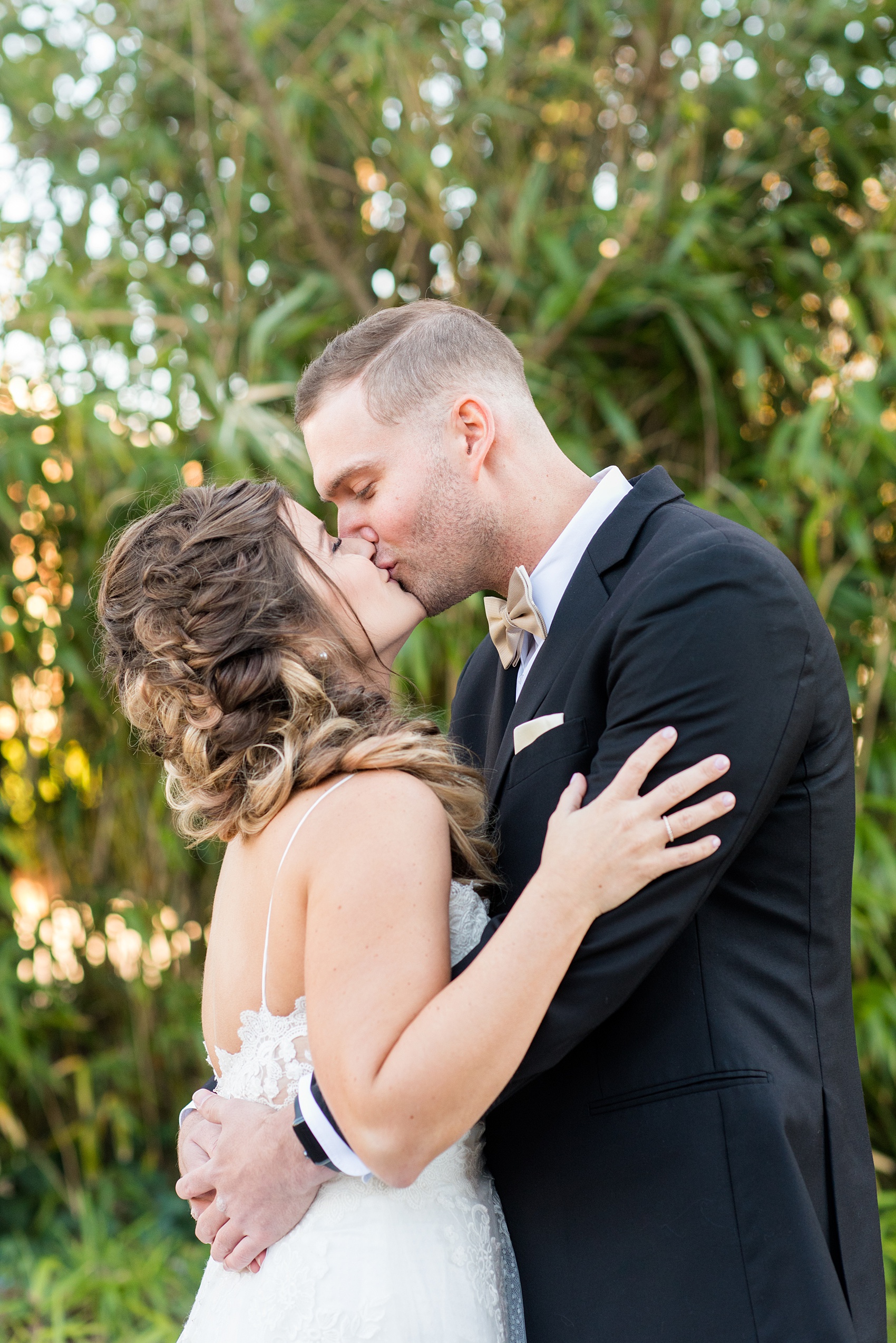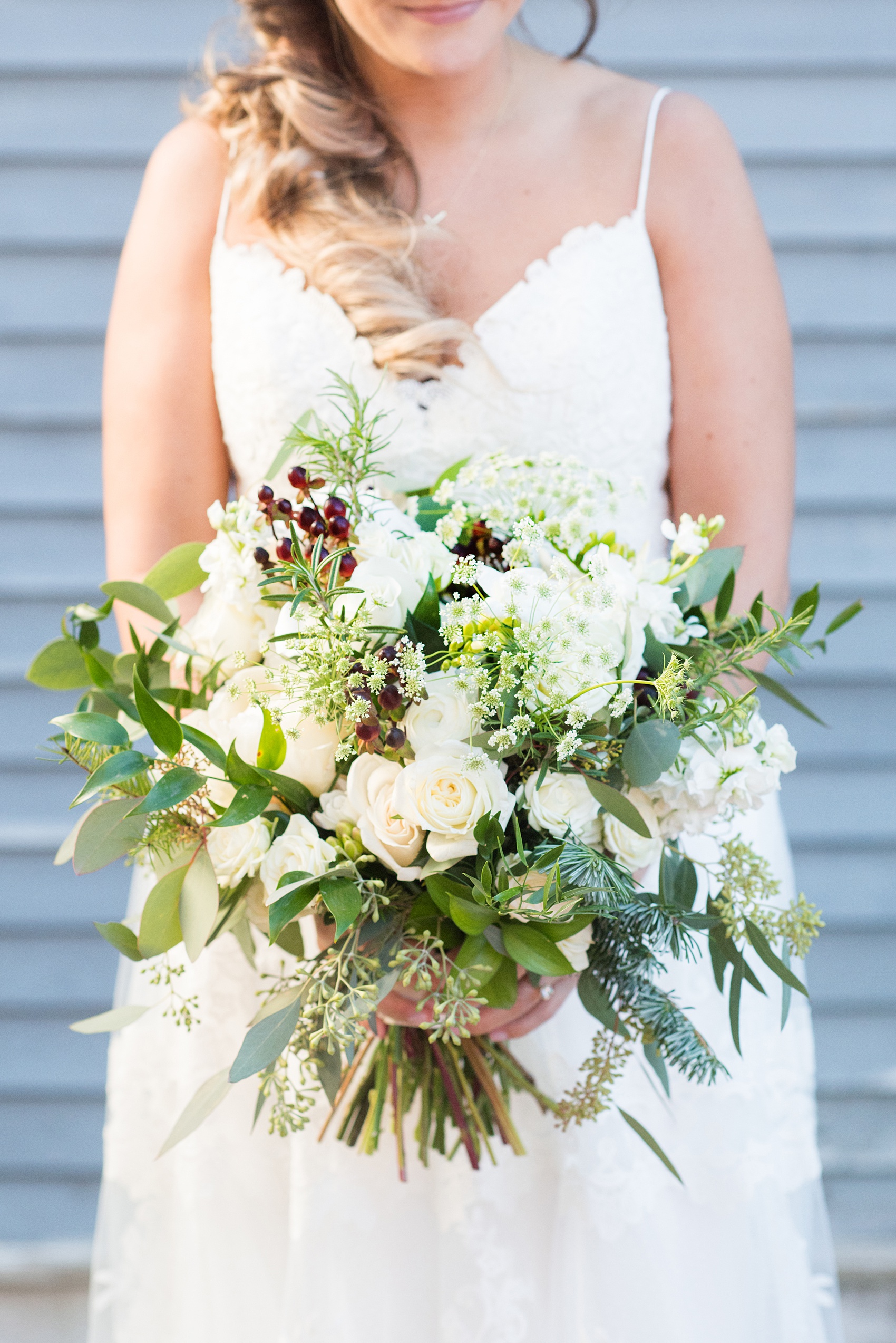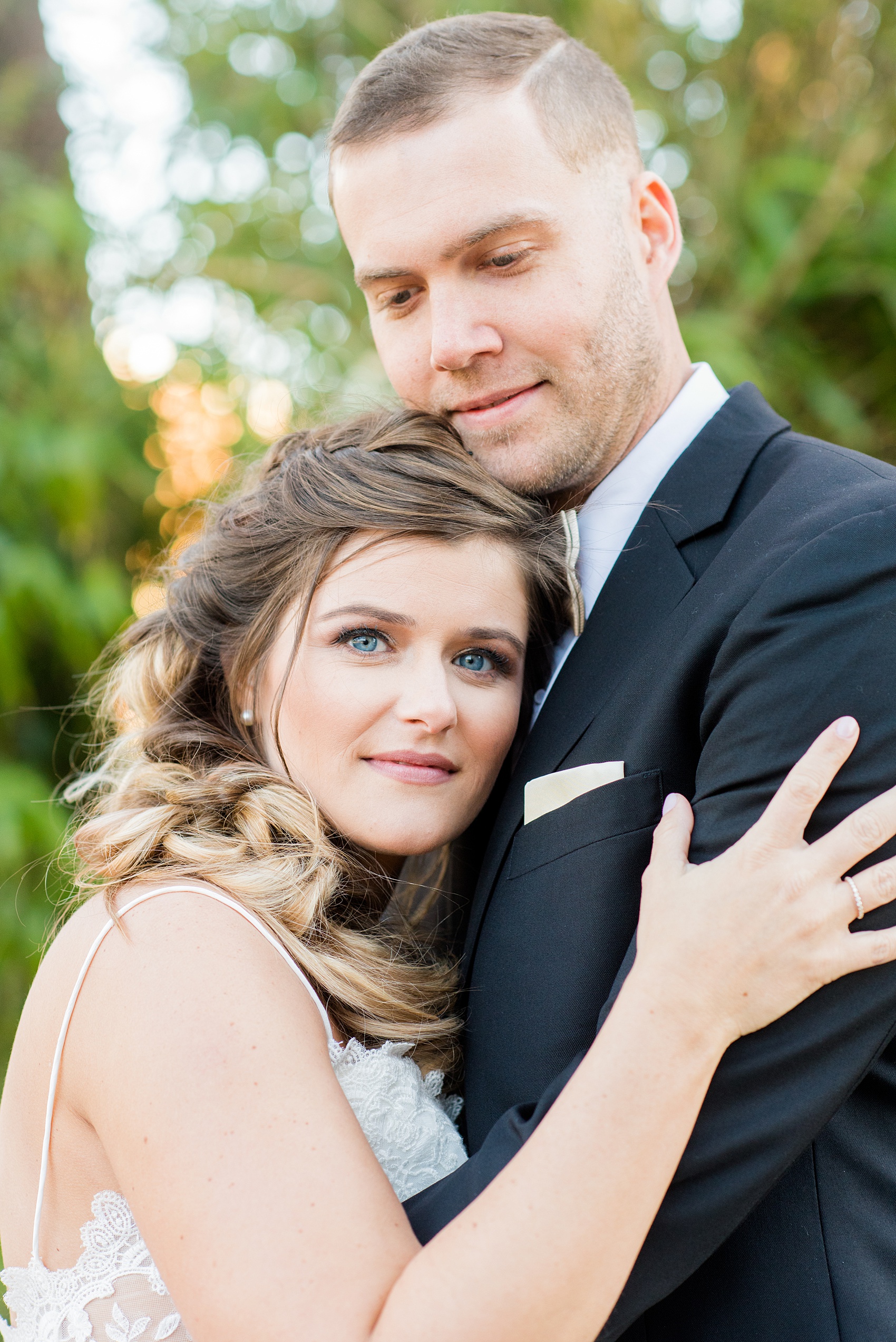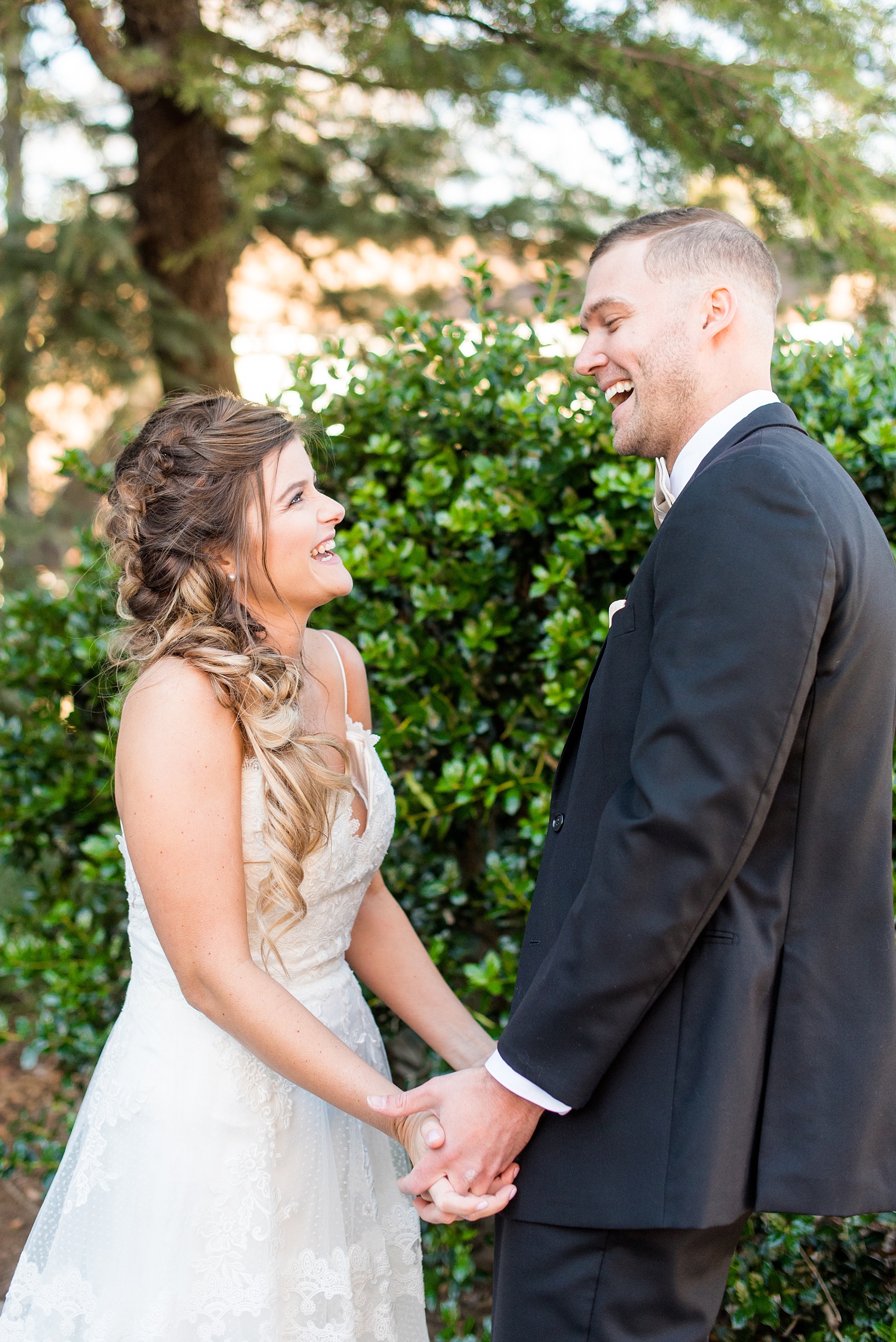 They were so awesome dealing with the cold. Being in full shade is always my preference, because it's much better for photos, but that means it's colder in the shade. They were troopers – as was their entire wedding party – and I love the resulting images. Especially the blue-painted wood siding I found on a house in the parking lot we took photos in. Yes, it's a parking lot! But you'd never know!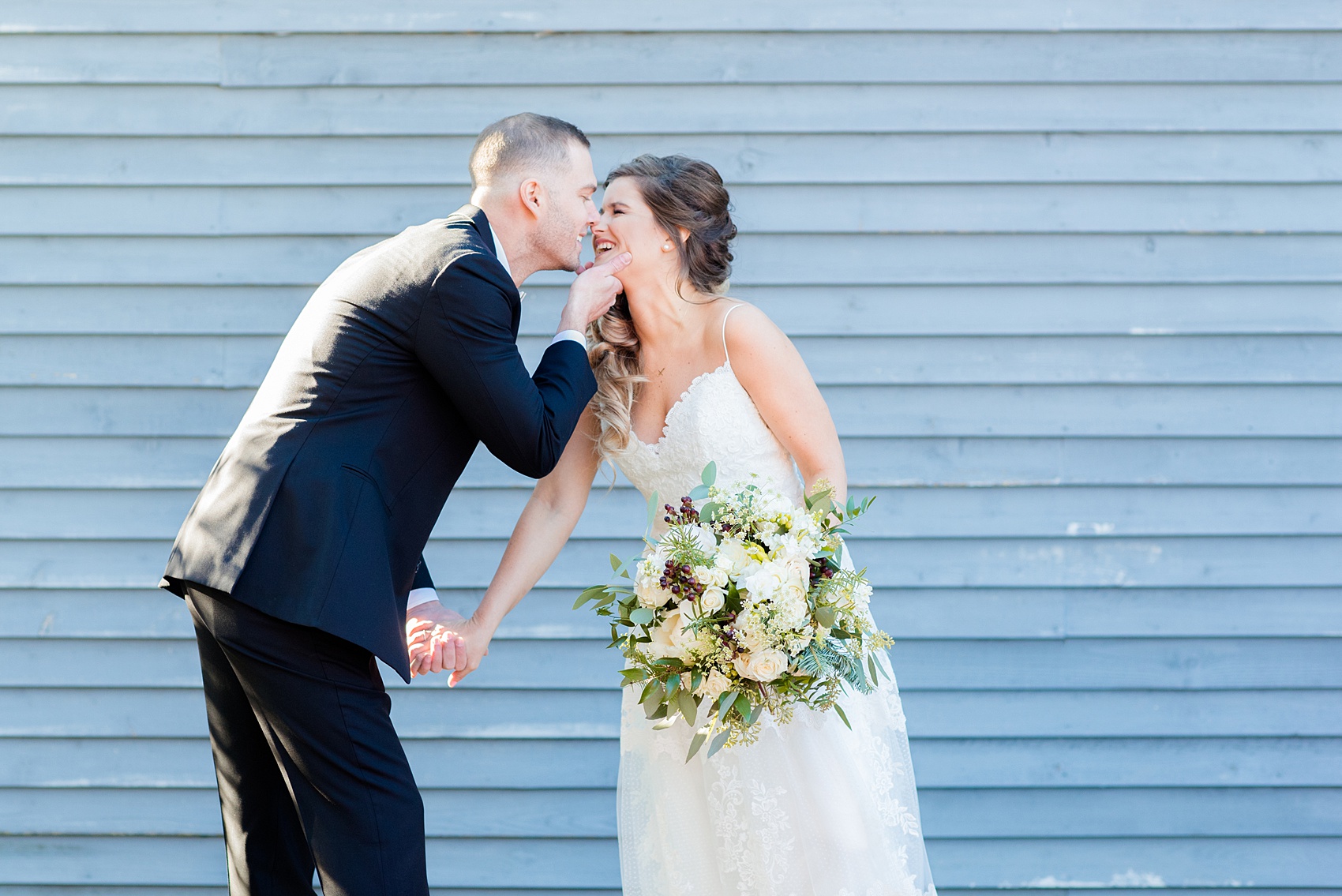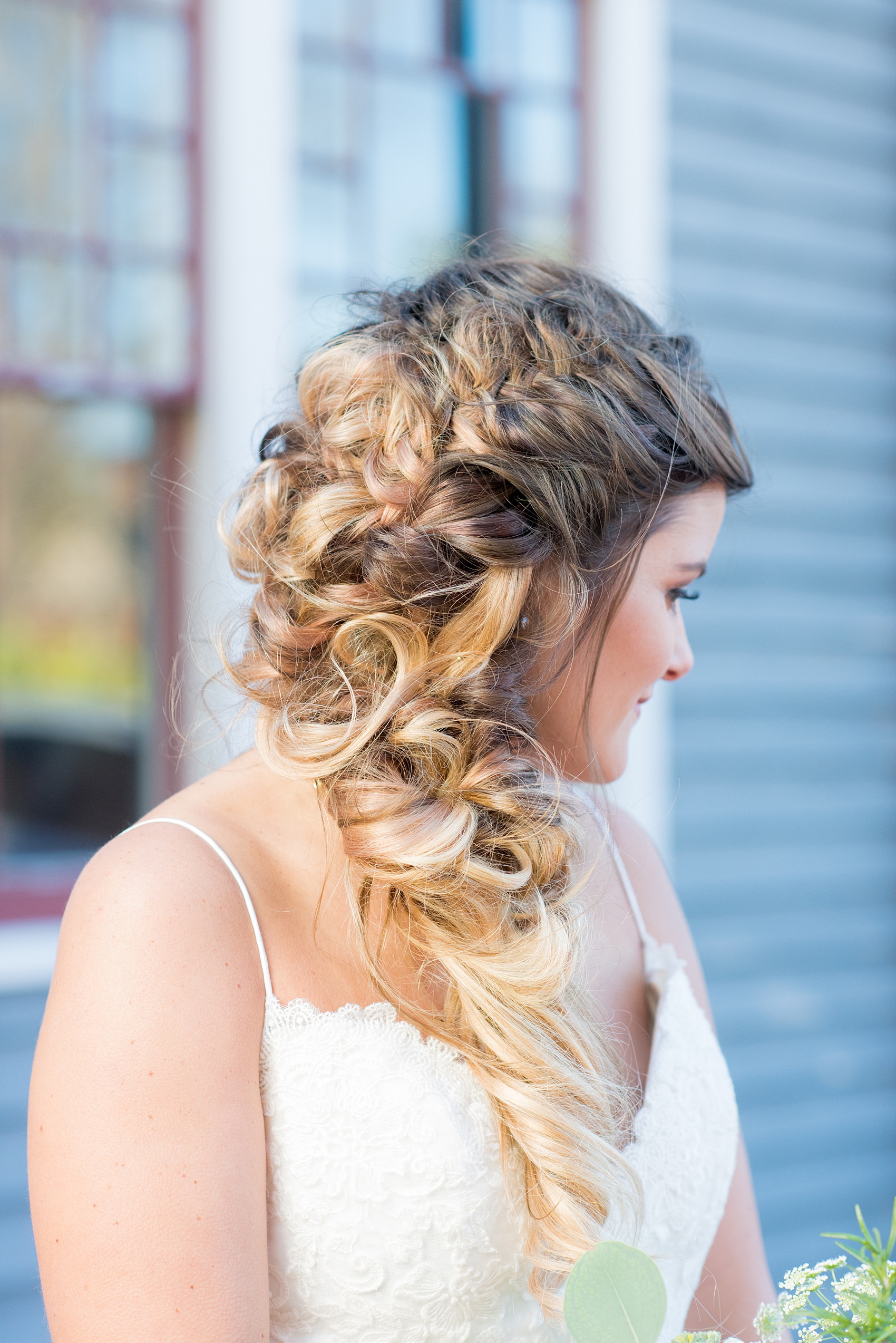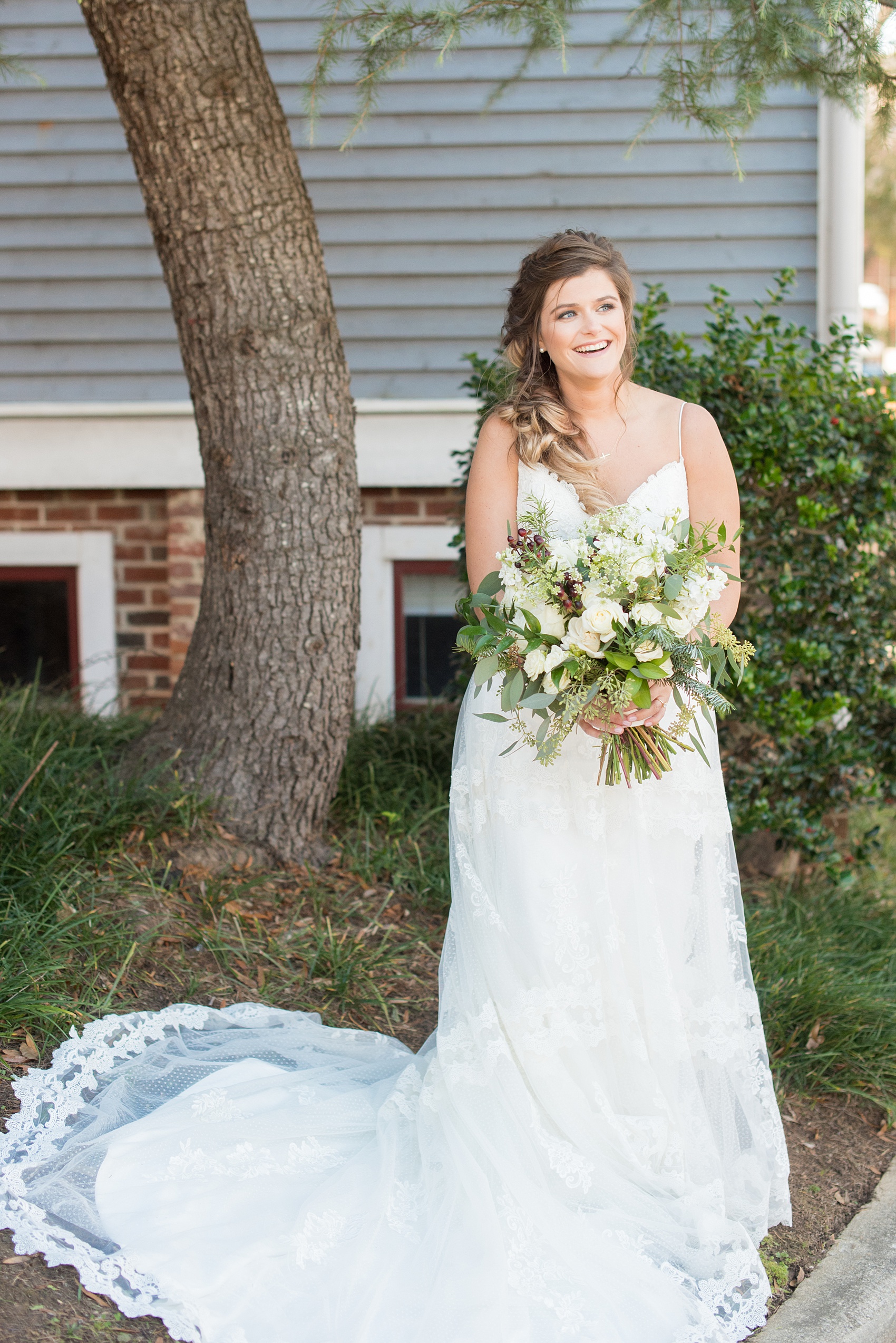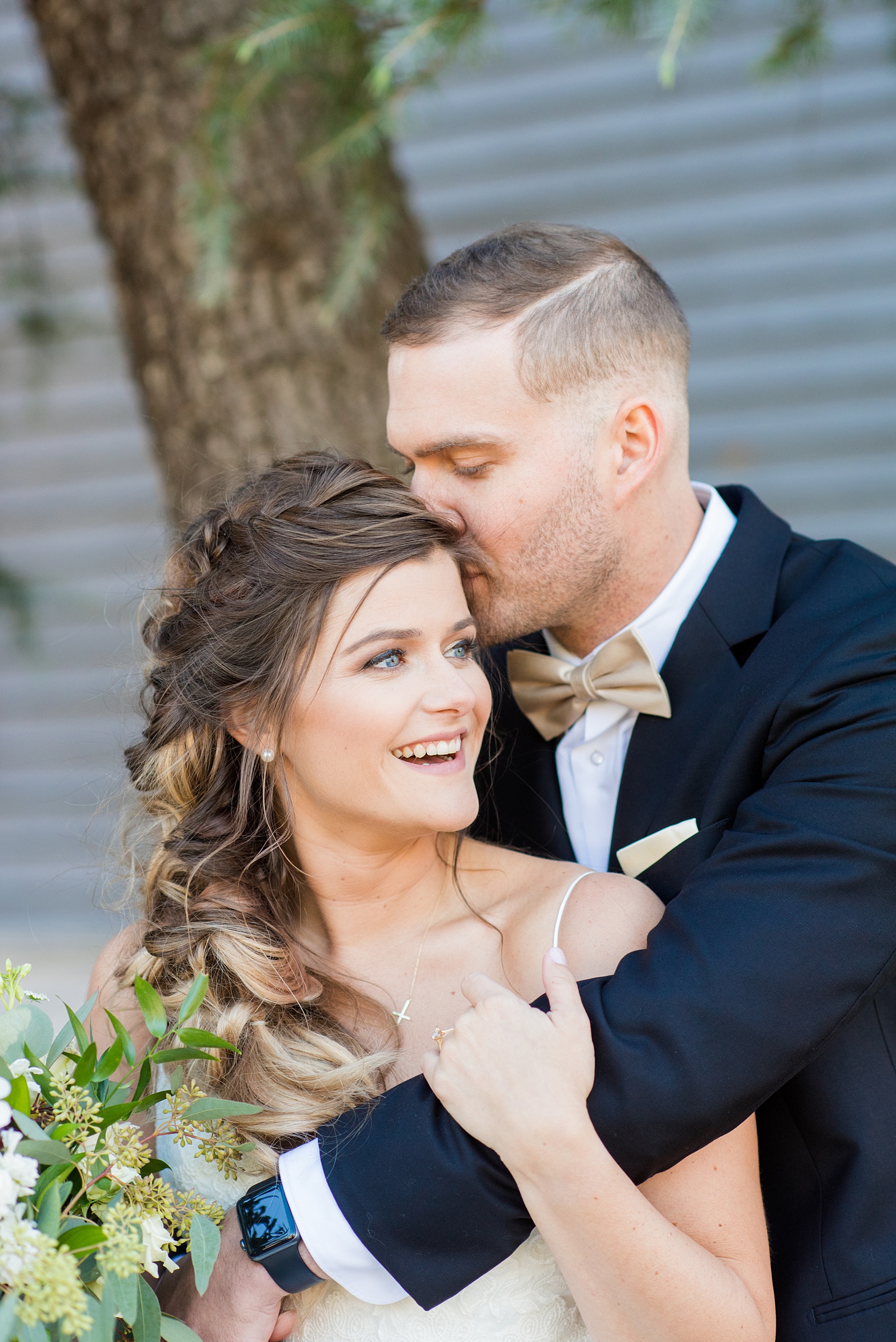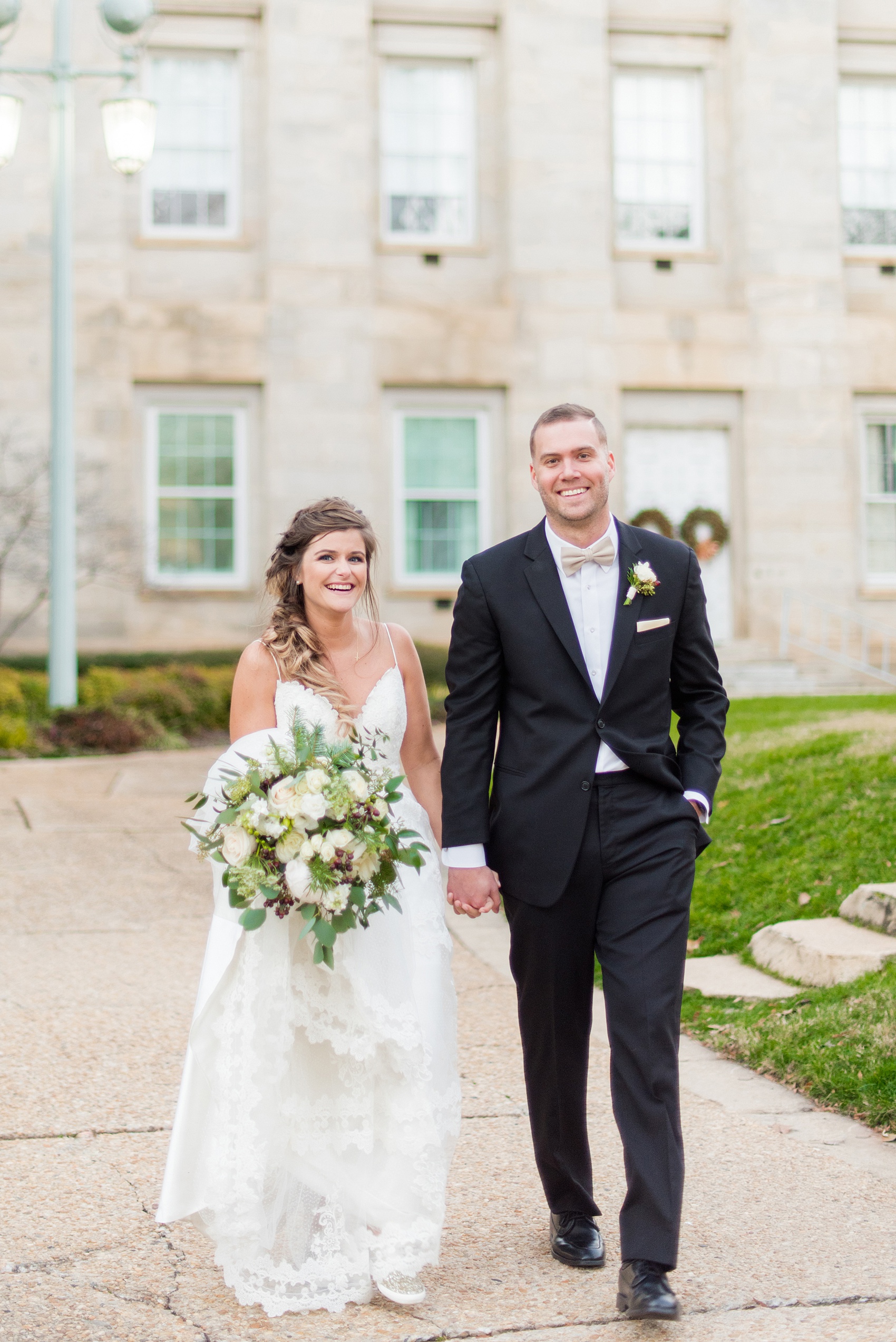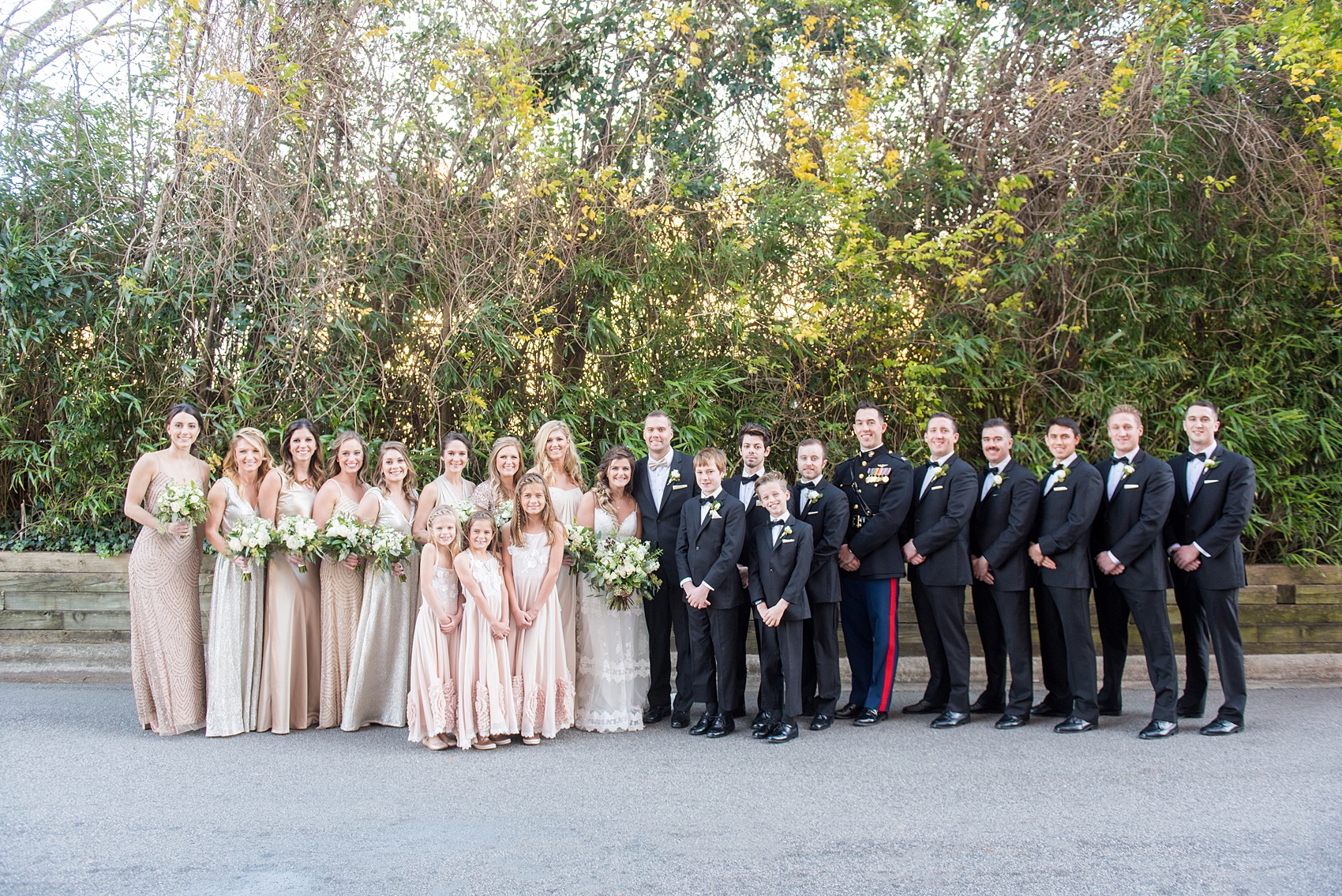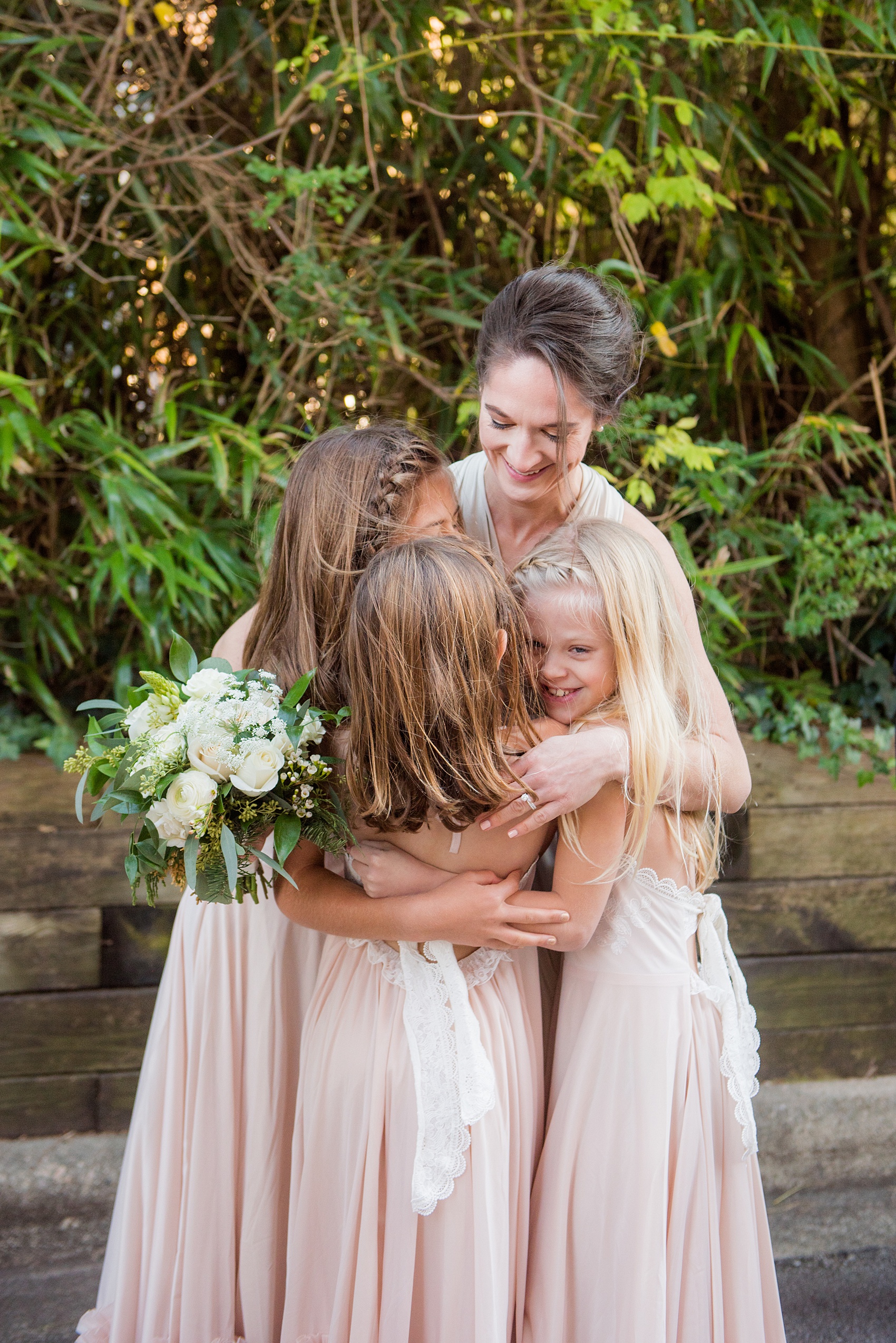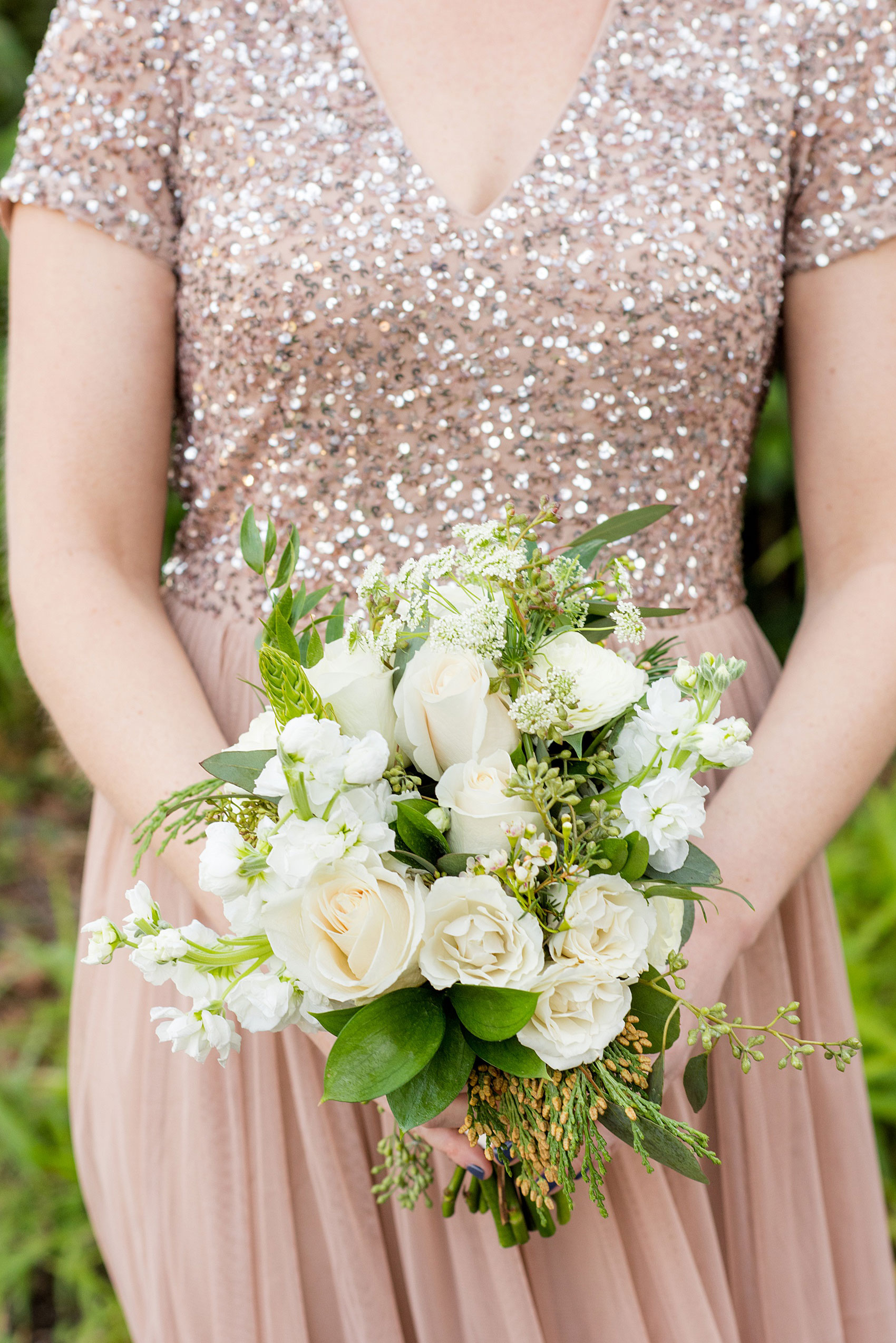 I loved how one of Ashley's bridesmaids was doing her best to warm up the three flower girls that afternoon. It was very cold (the wedding was the third week of December) and very windy. It made for a super cute candid picture. As soon as we were done with bridesmaids and wedding party photos I had the women go back inside for warmth while the groomsmen (who were wearing more layers) stayed outside for some additional pictures.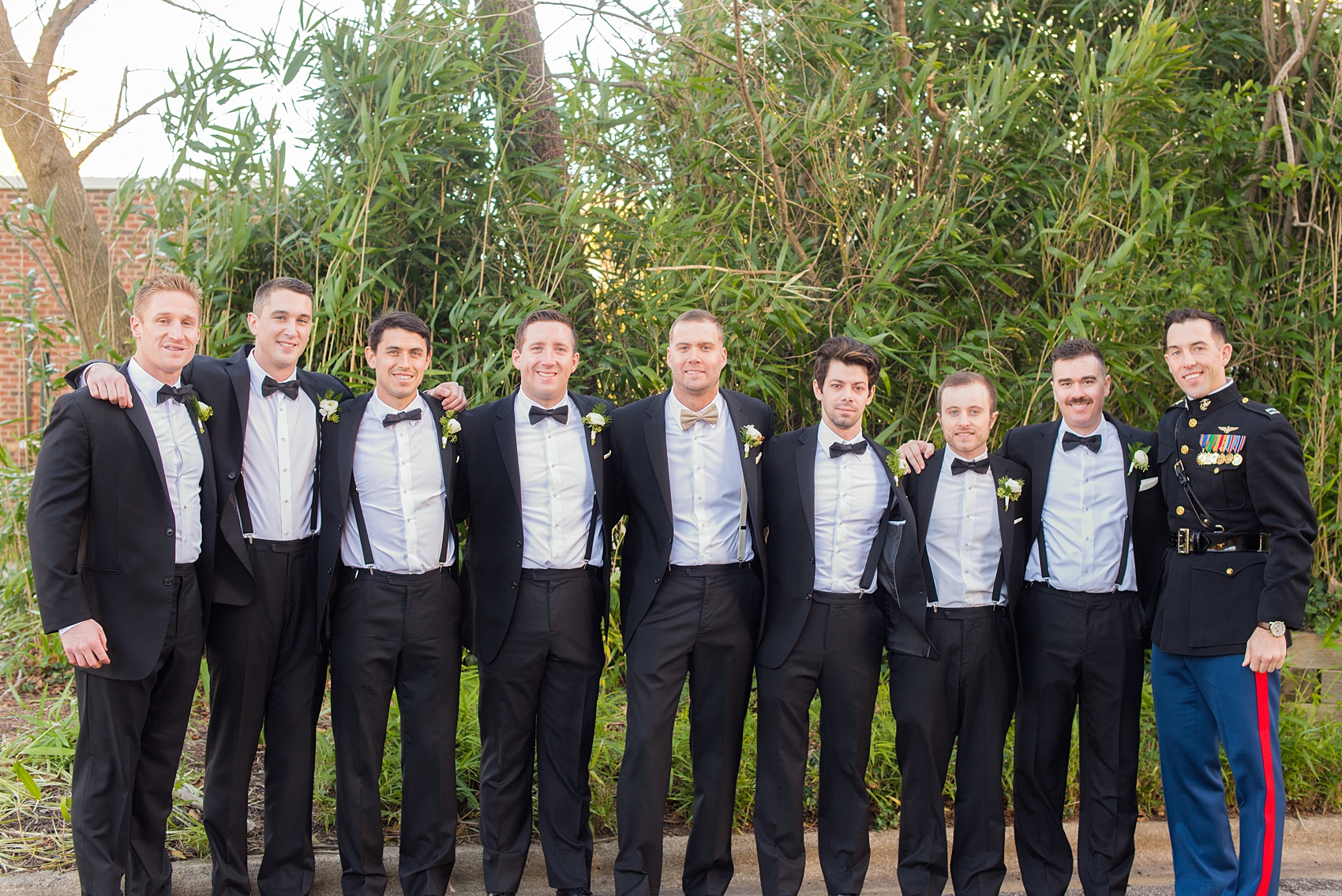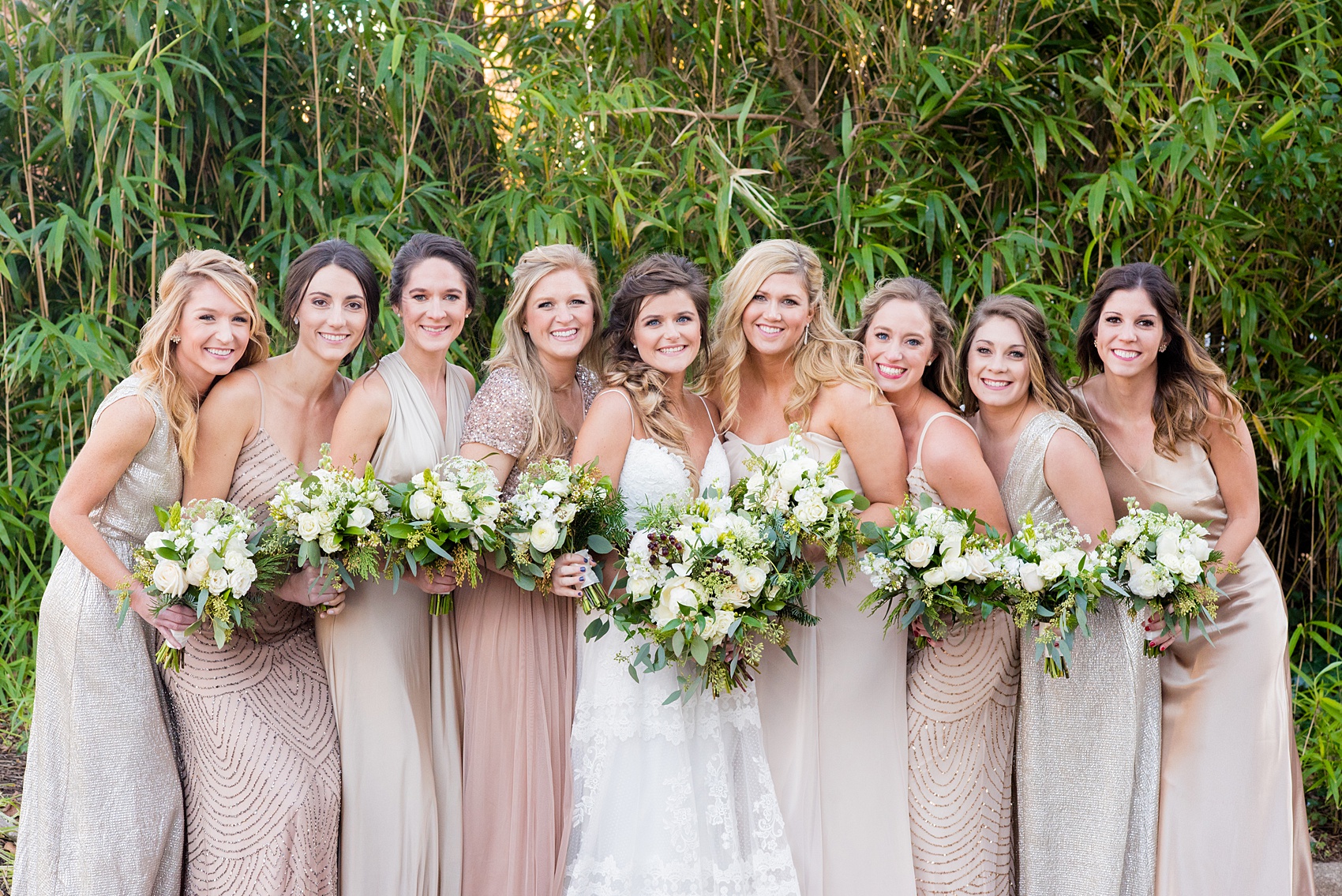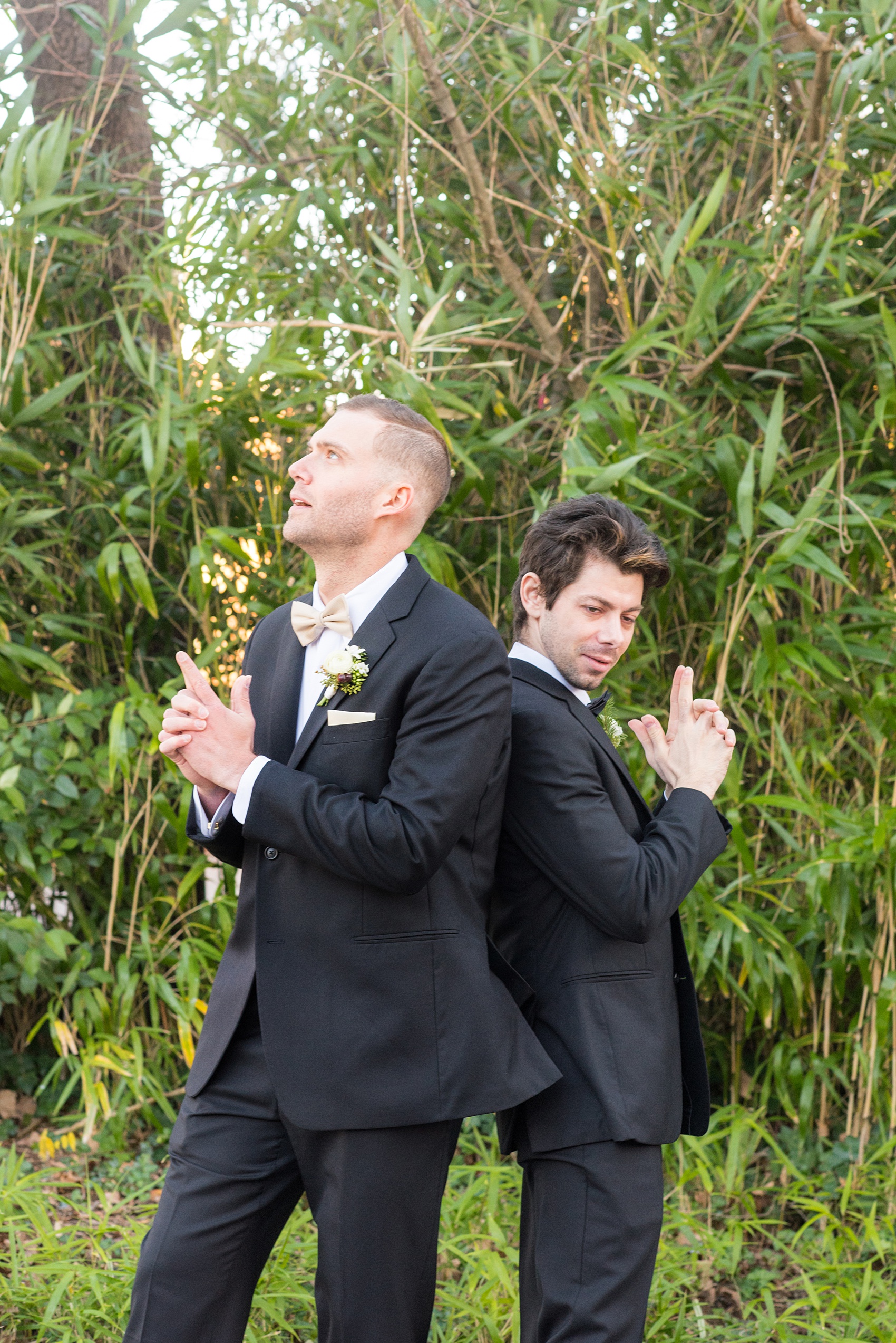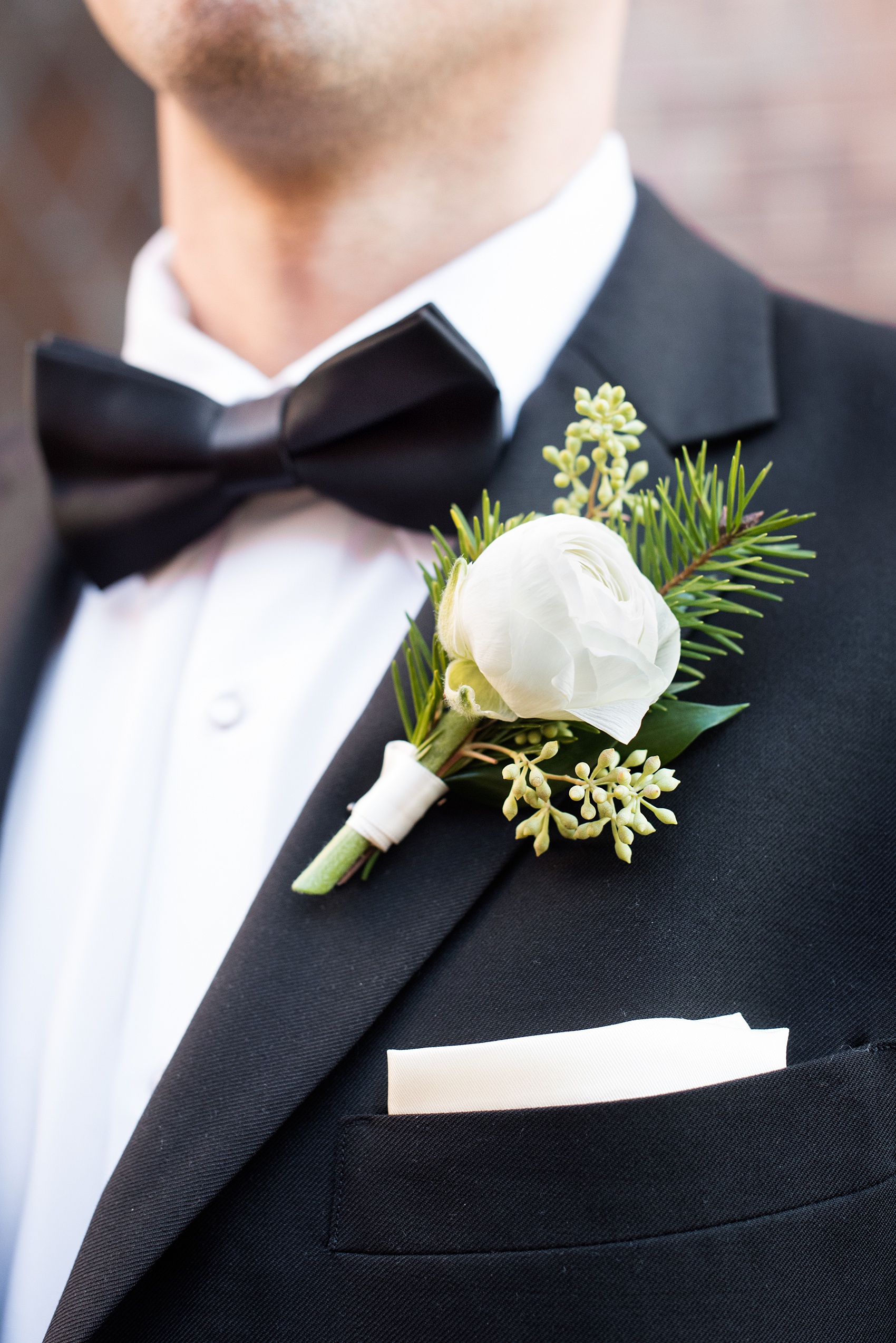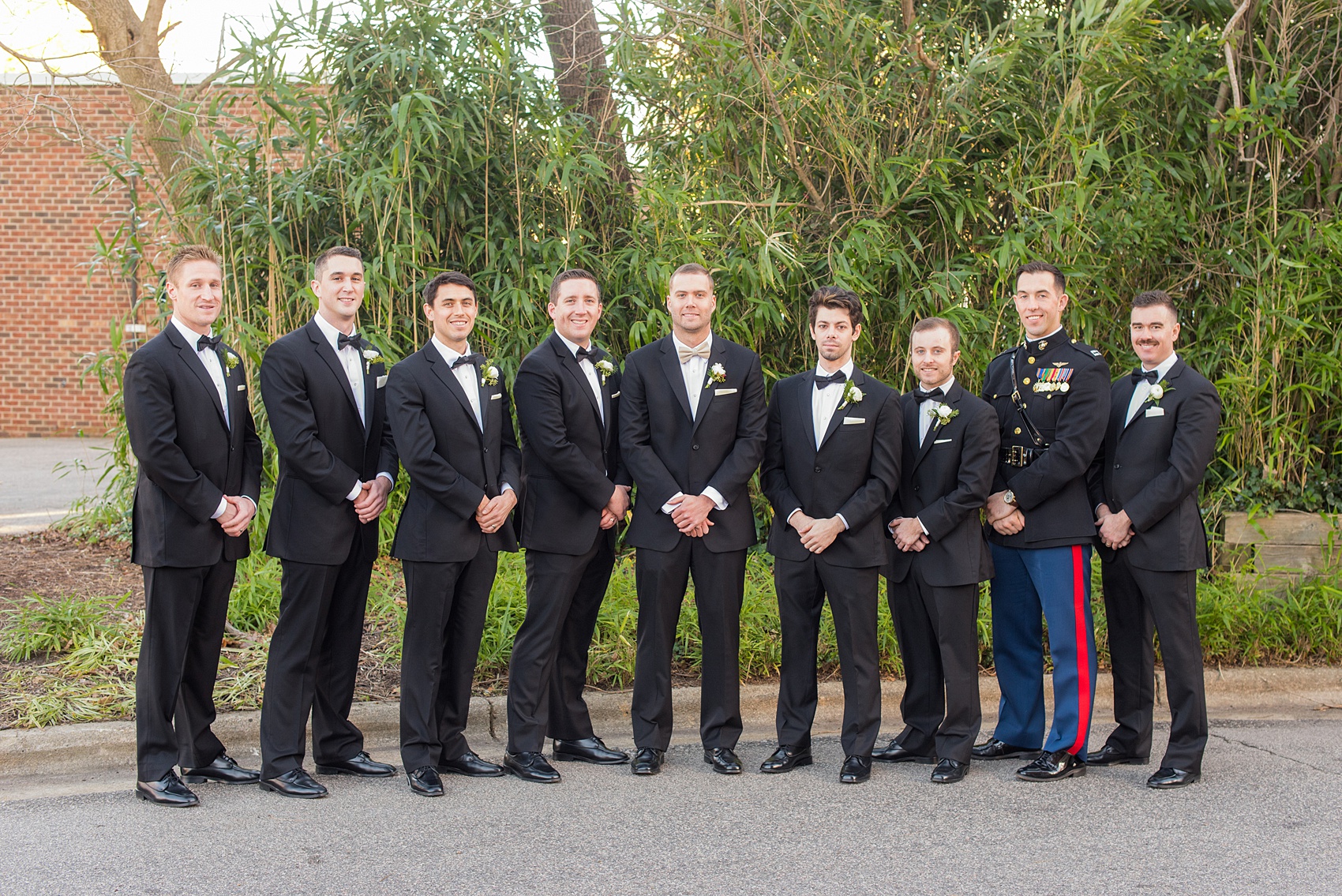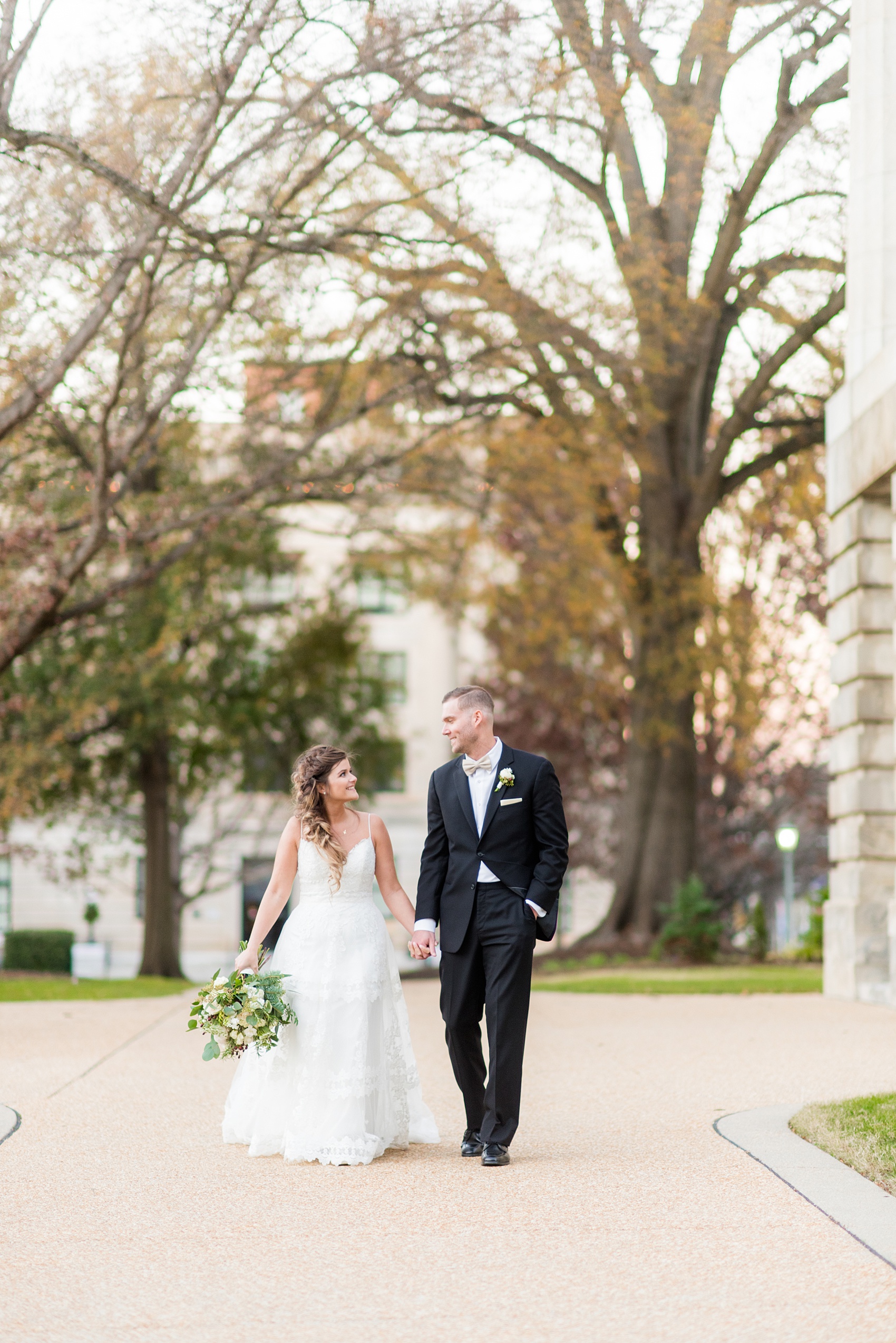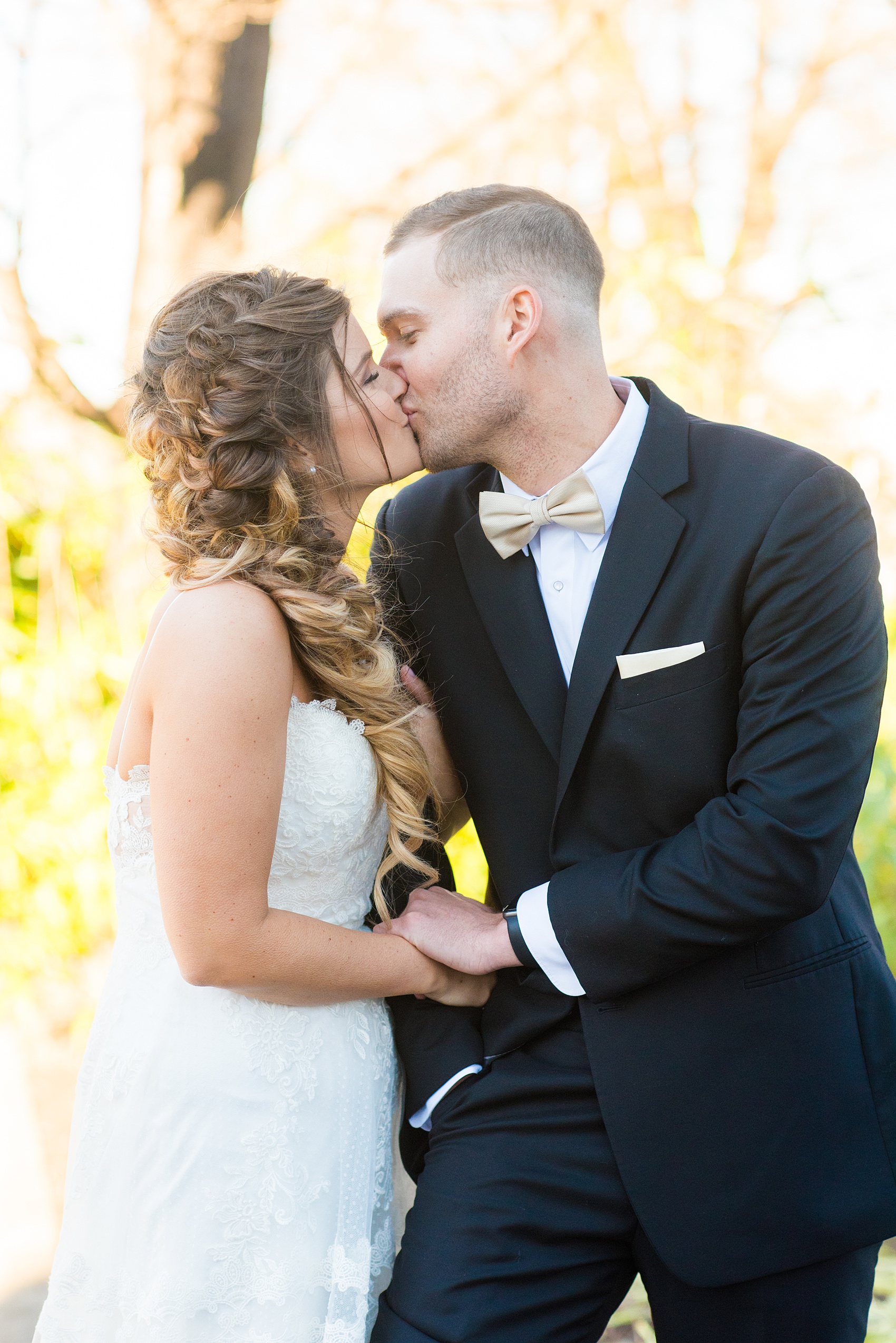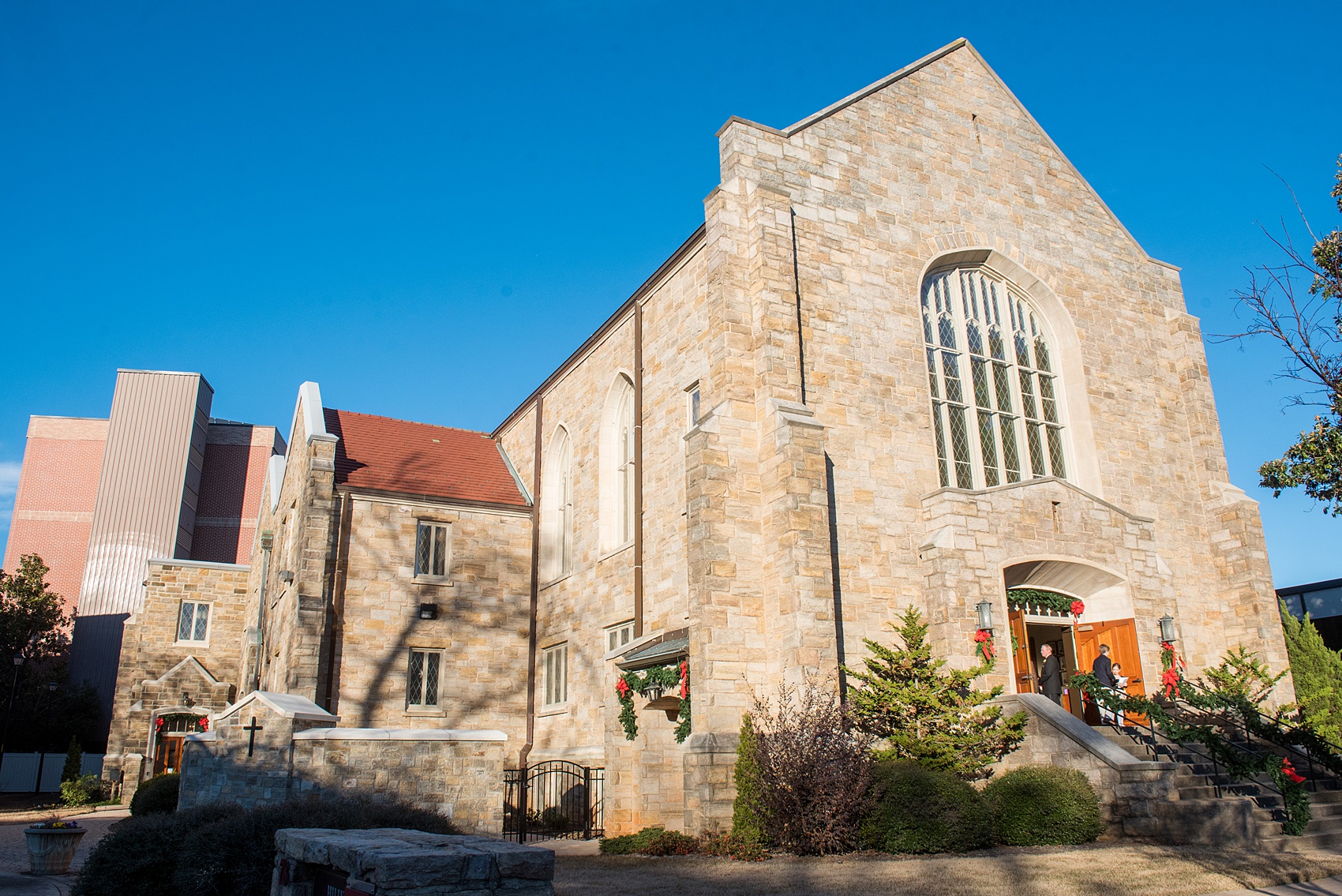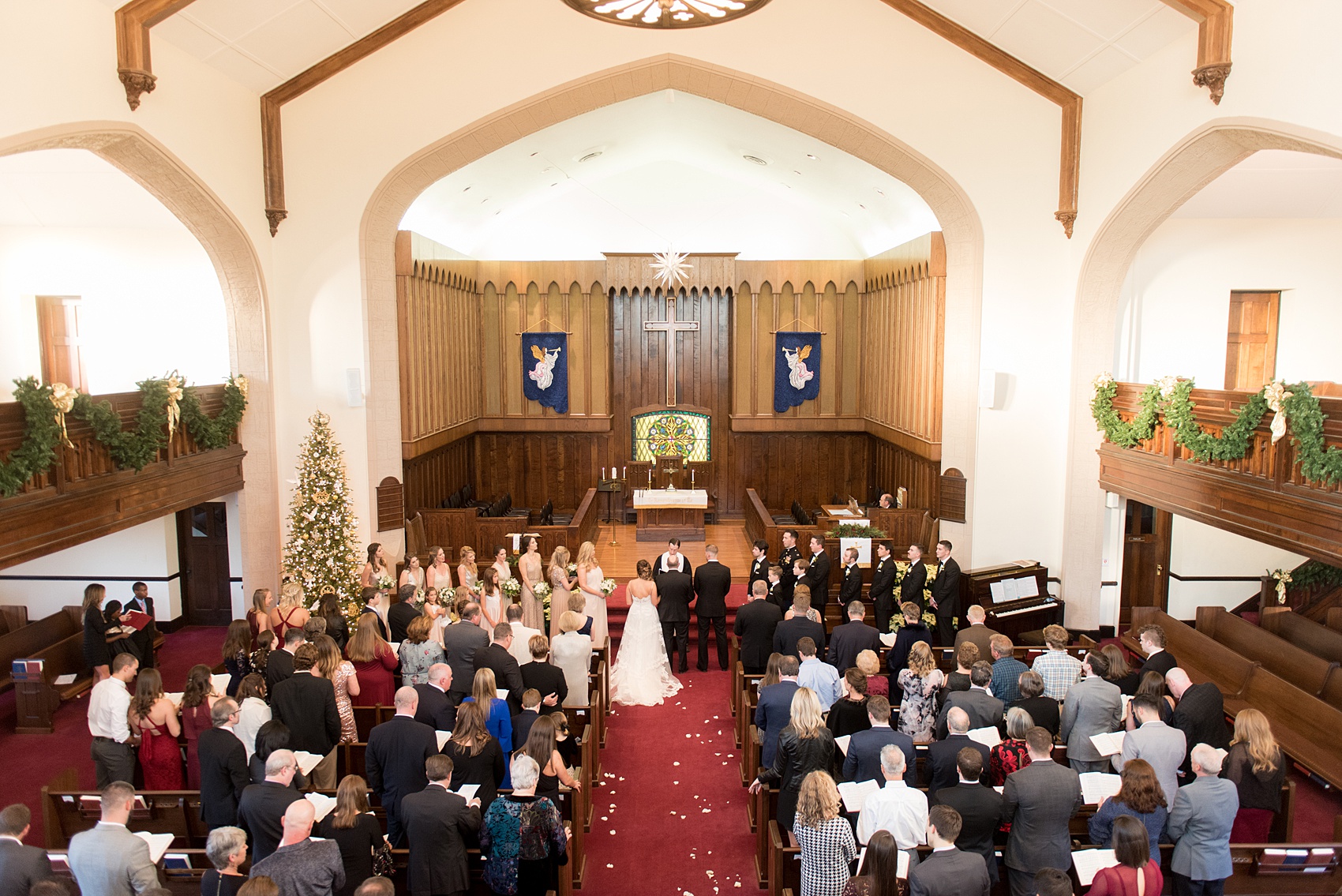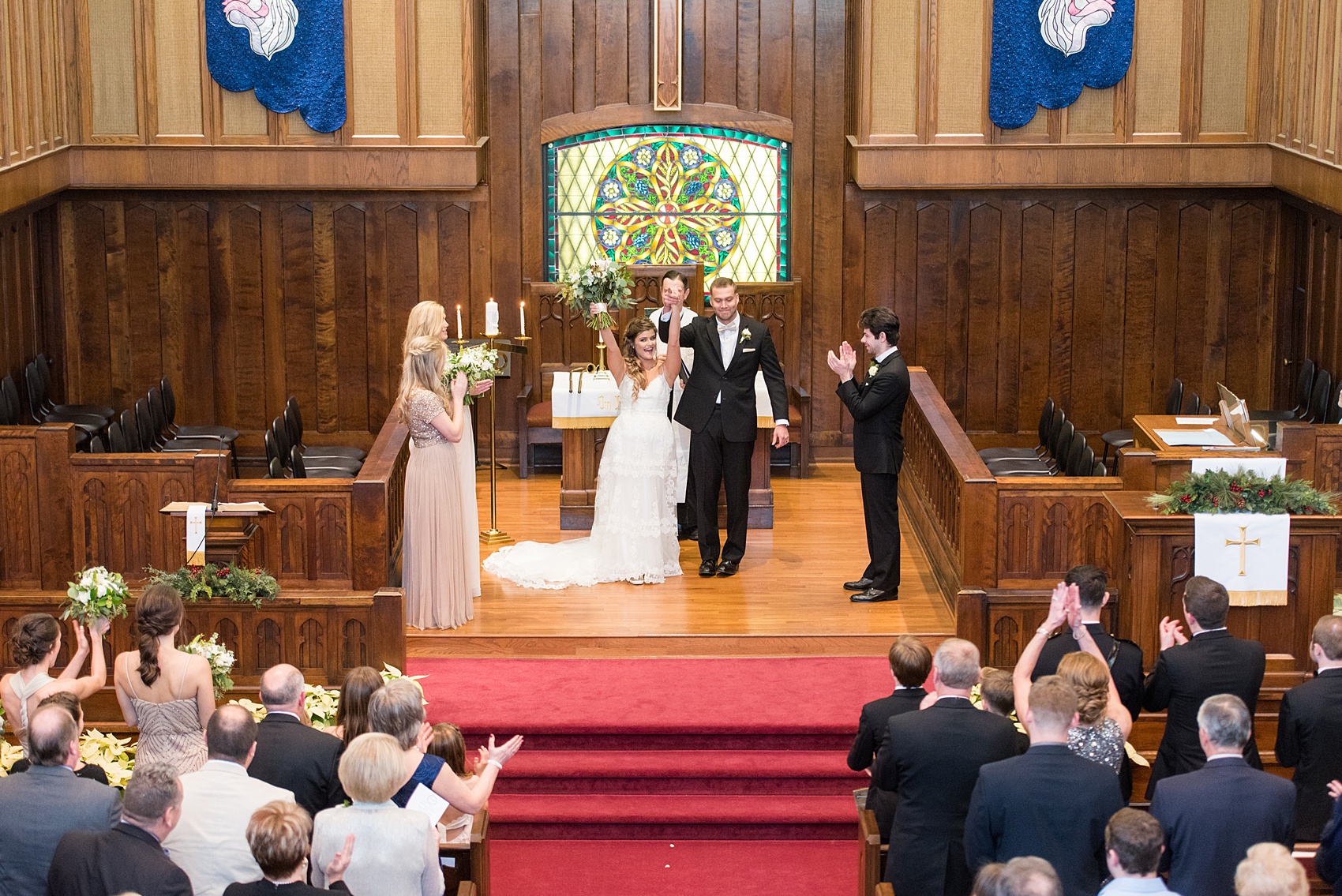 After their reception we took some family photos in the church, then headed a few blocks away to photograph them at the capital. It worked out perfectly – Bryan immediately found a convenient parking spot by the iconic capital building and we headed towards the Christmas tree there.
We were lucky enough to catch the twinkling lights at the perfect time: just before the sun completely set but with enough dusk the lights timer had turned them on. It was also nice to capture and witness them having one-on-one time between their ceremony and reception basking in the happiness of their fresh marriage following their ceremony.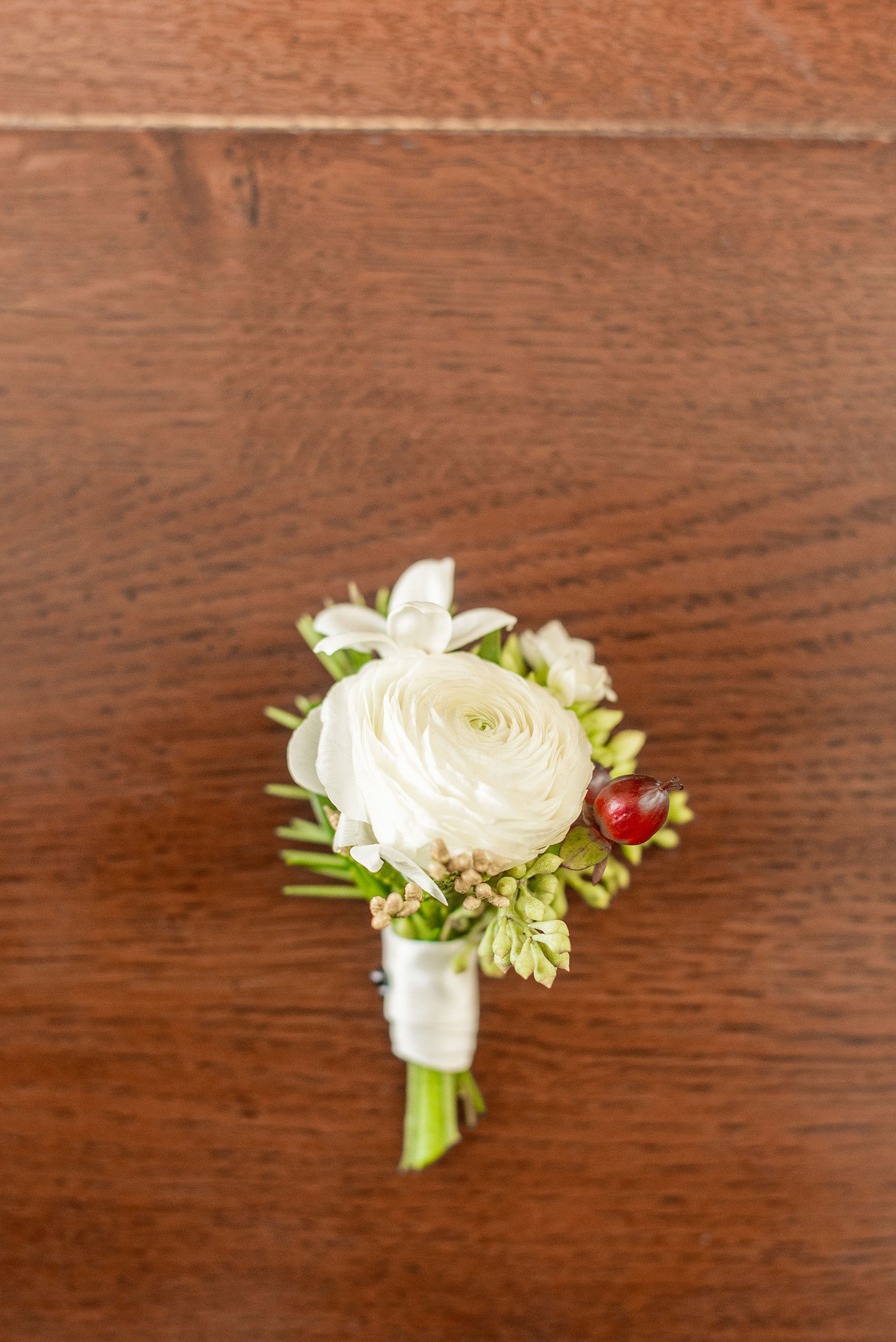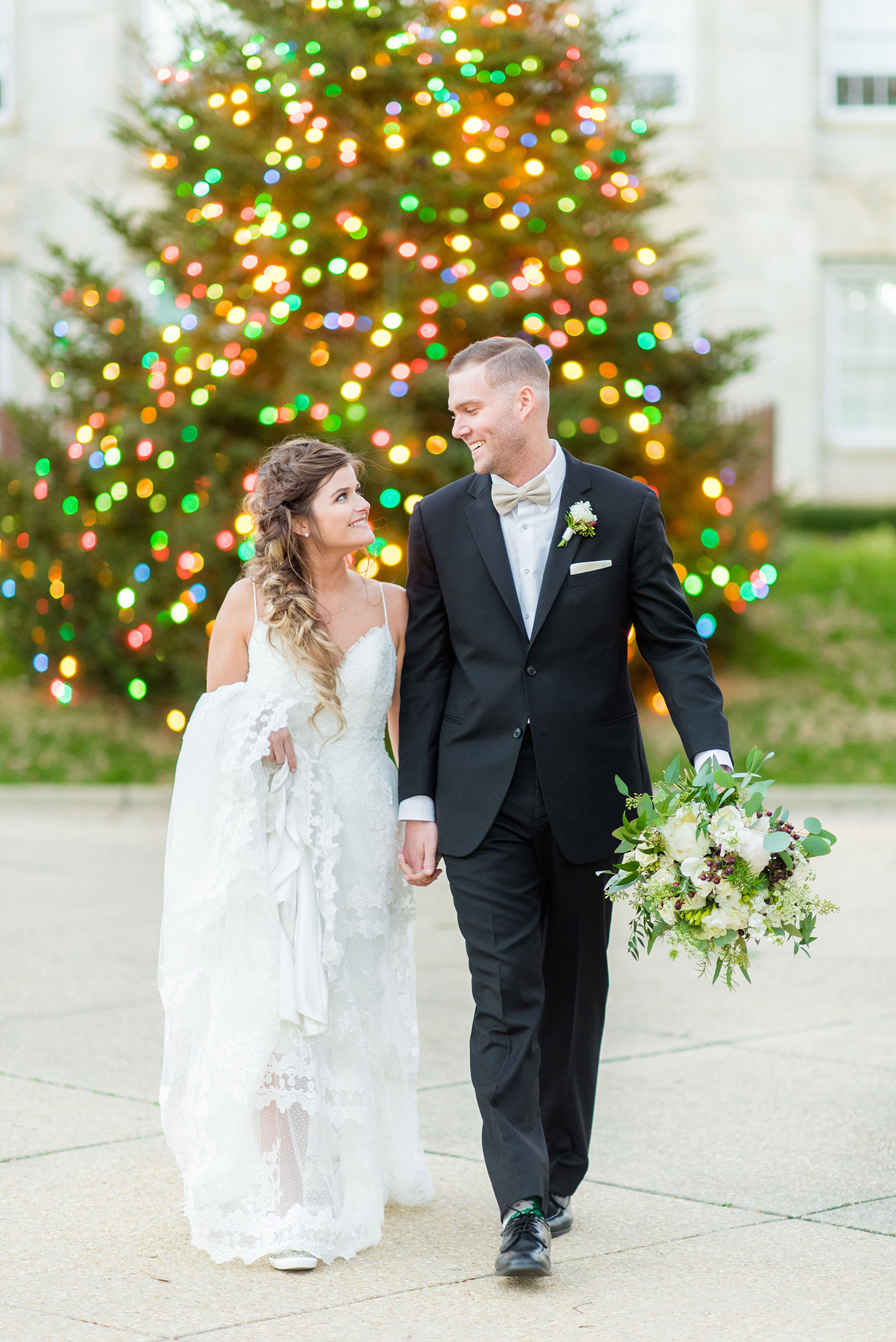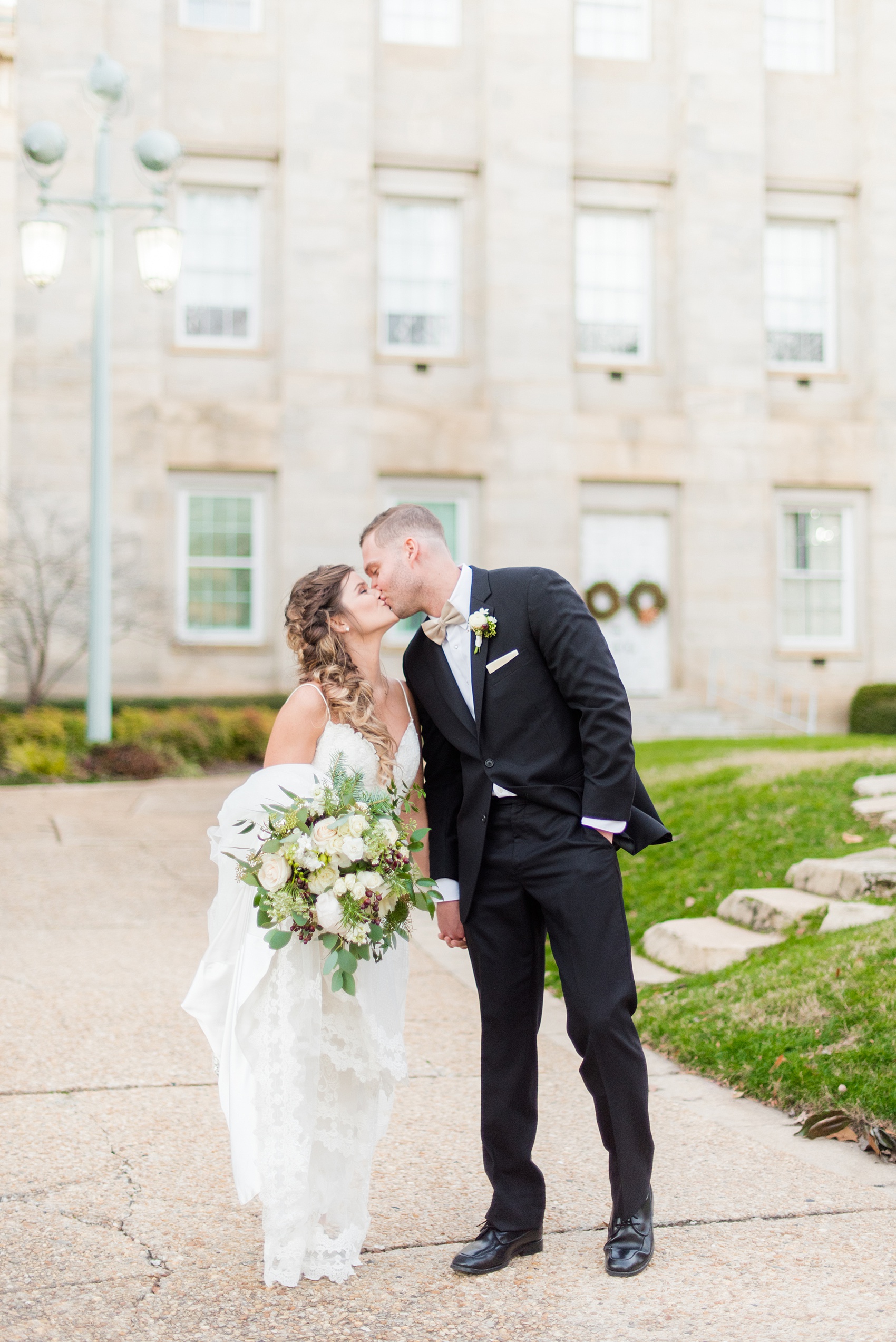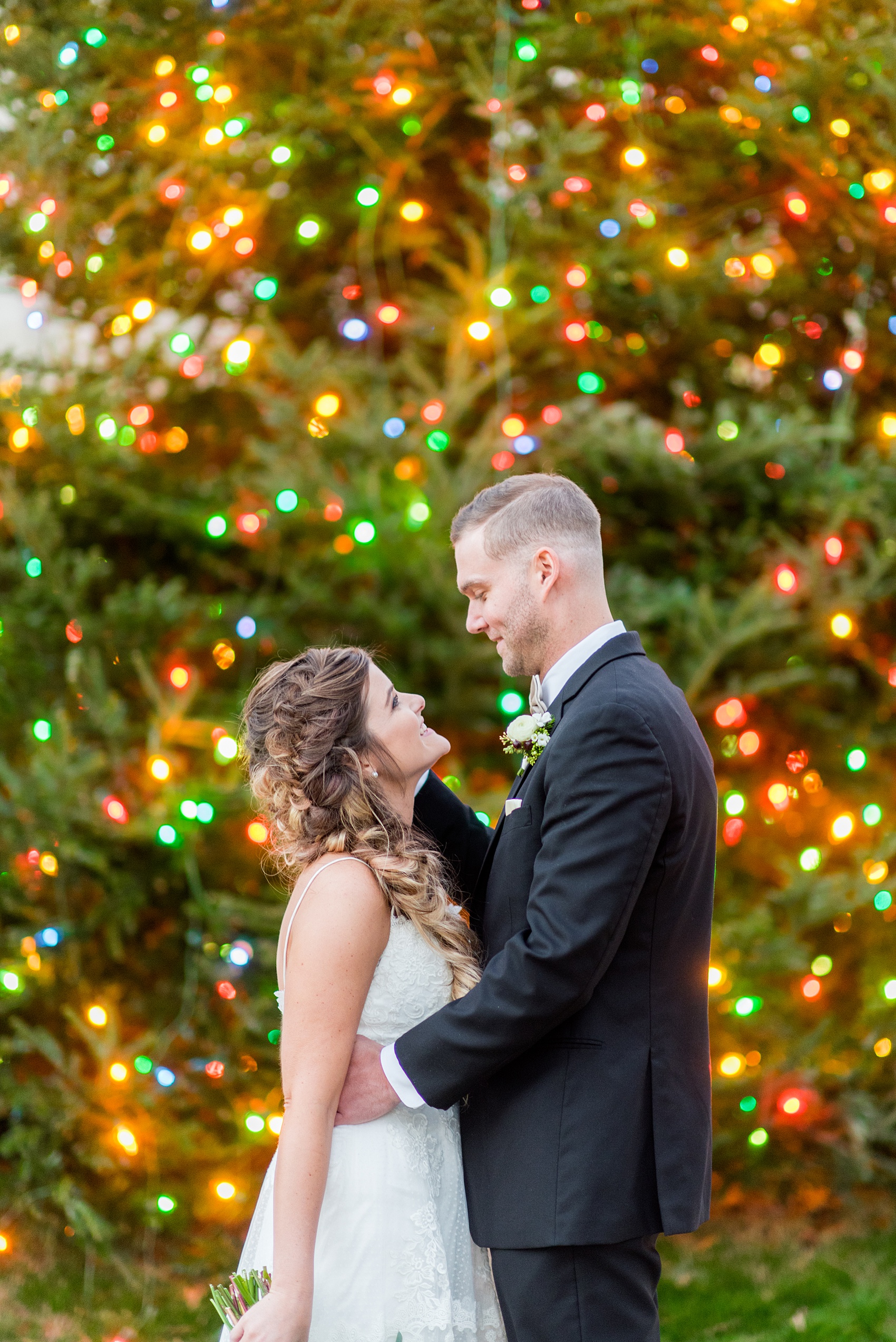 The last event of the day was the big celebration! After pictures at the capital we headed to The Stockroom at 230 where the celebration was in full force.
It makes me so happy when a couple has a special ring box – and Ashley had one awaiting my arrival, with a "W" for her new last name. I love that this photo of the box and a touch of her bouquet, set atop her Maid of Honor's gown, matches the entire day so well, including their reception.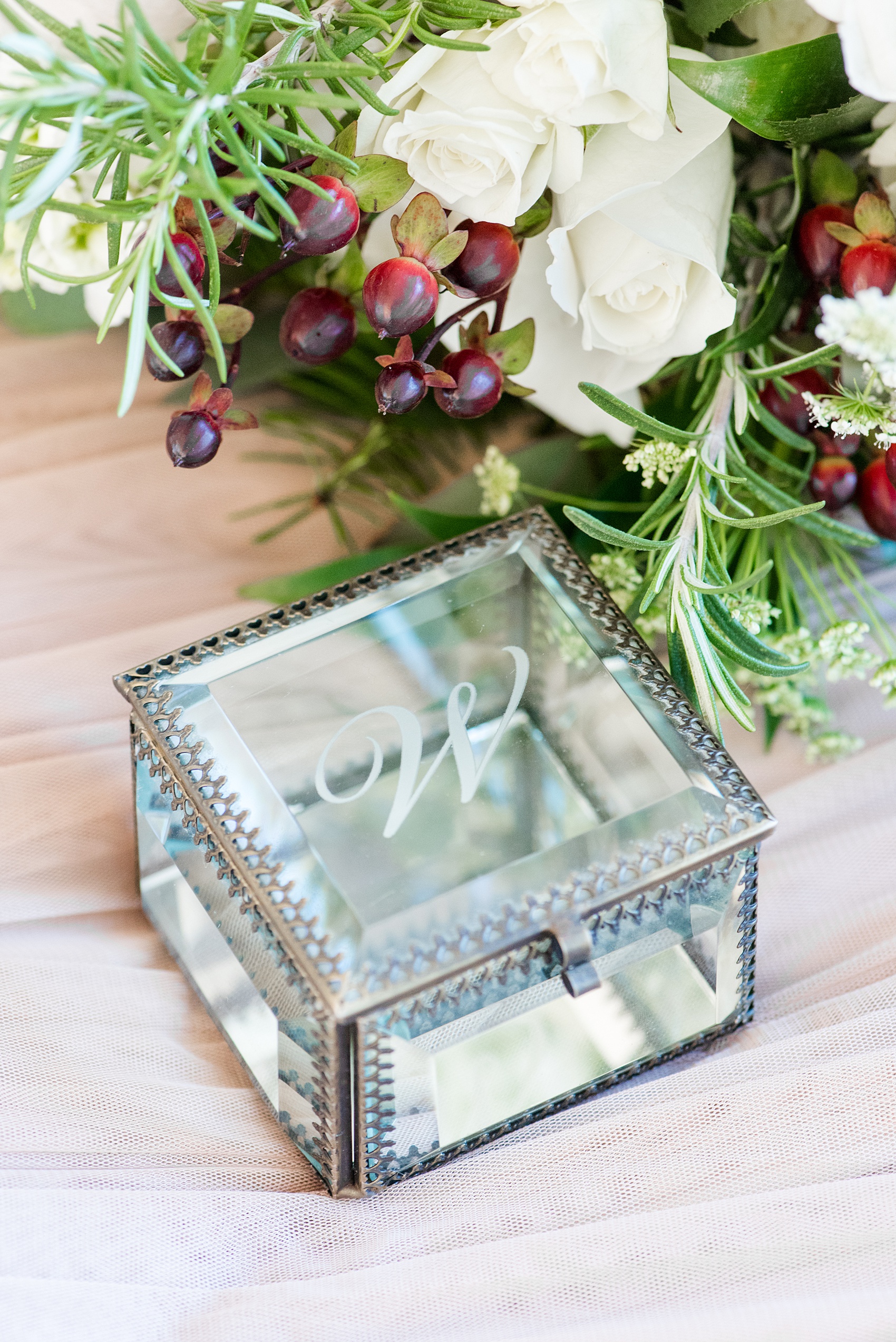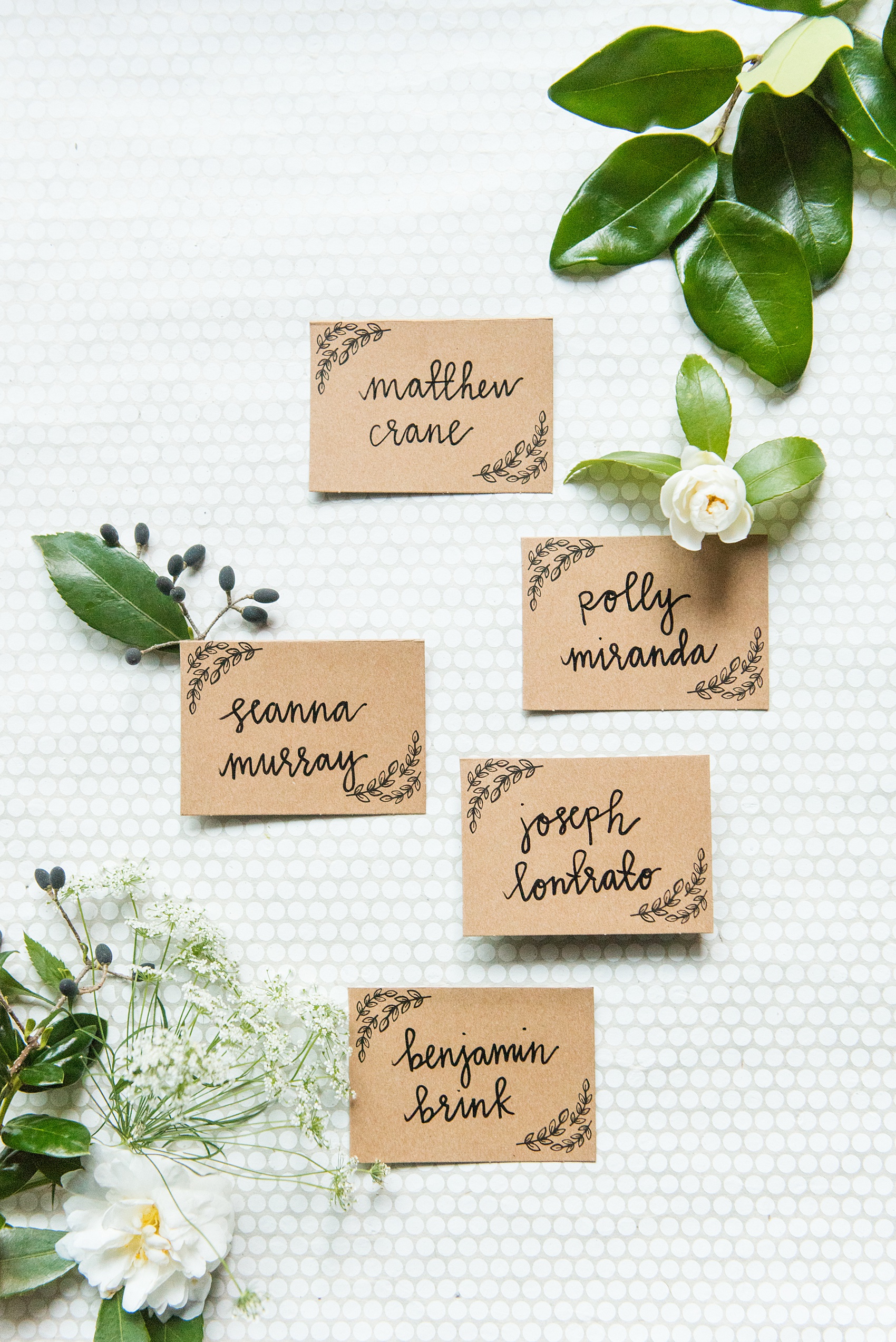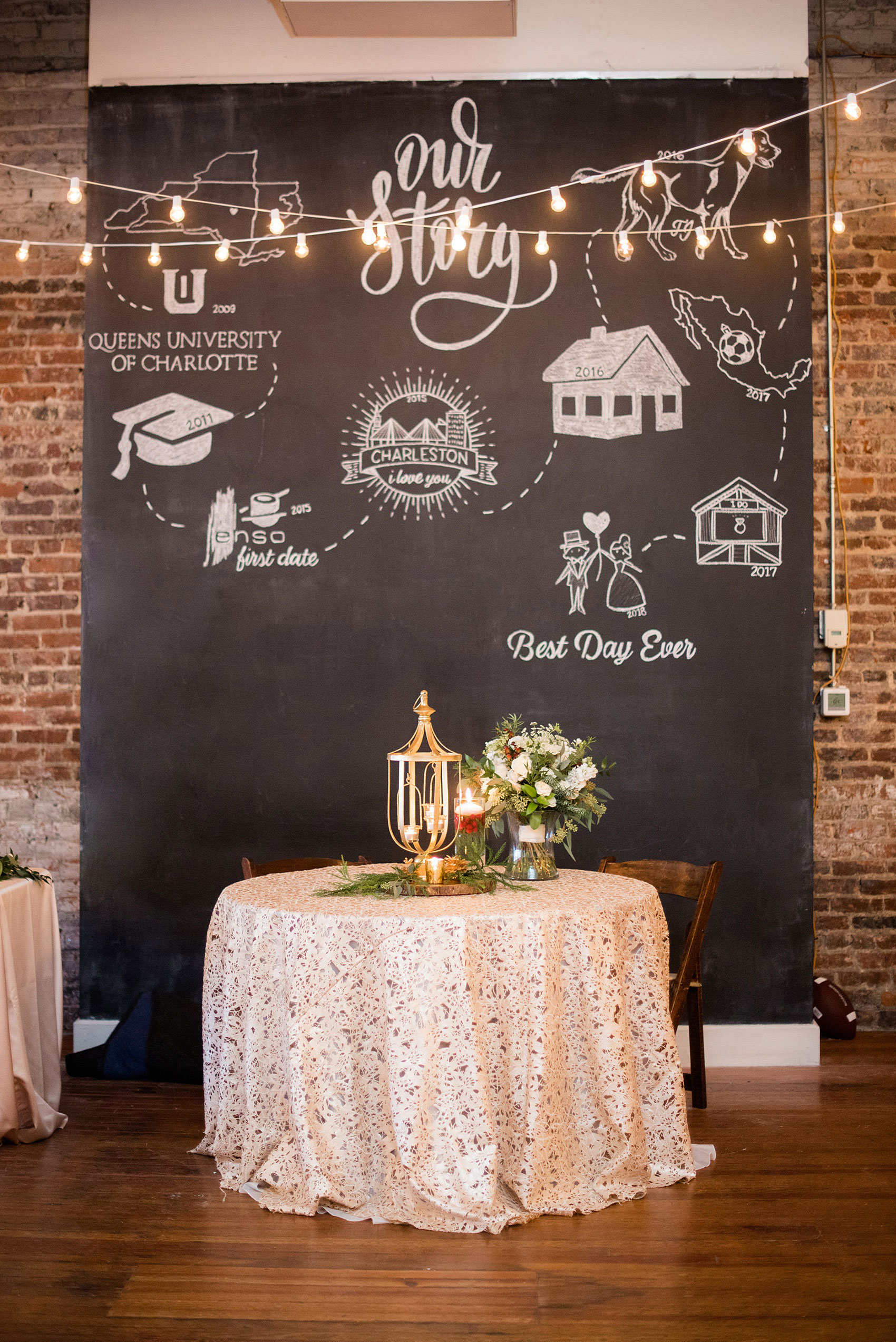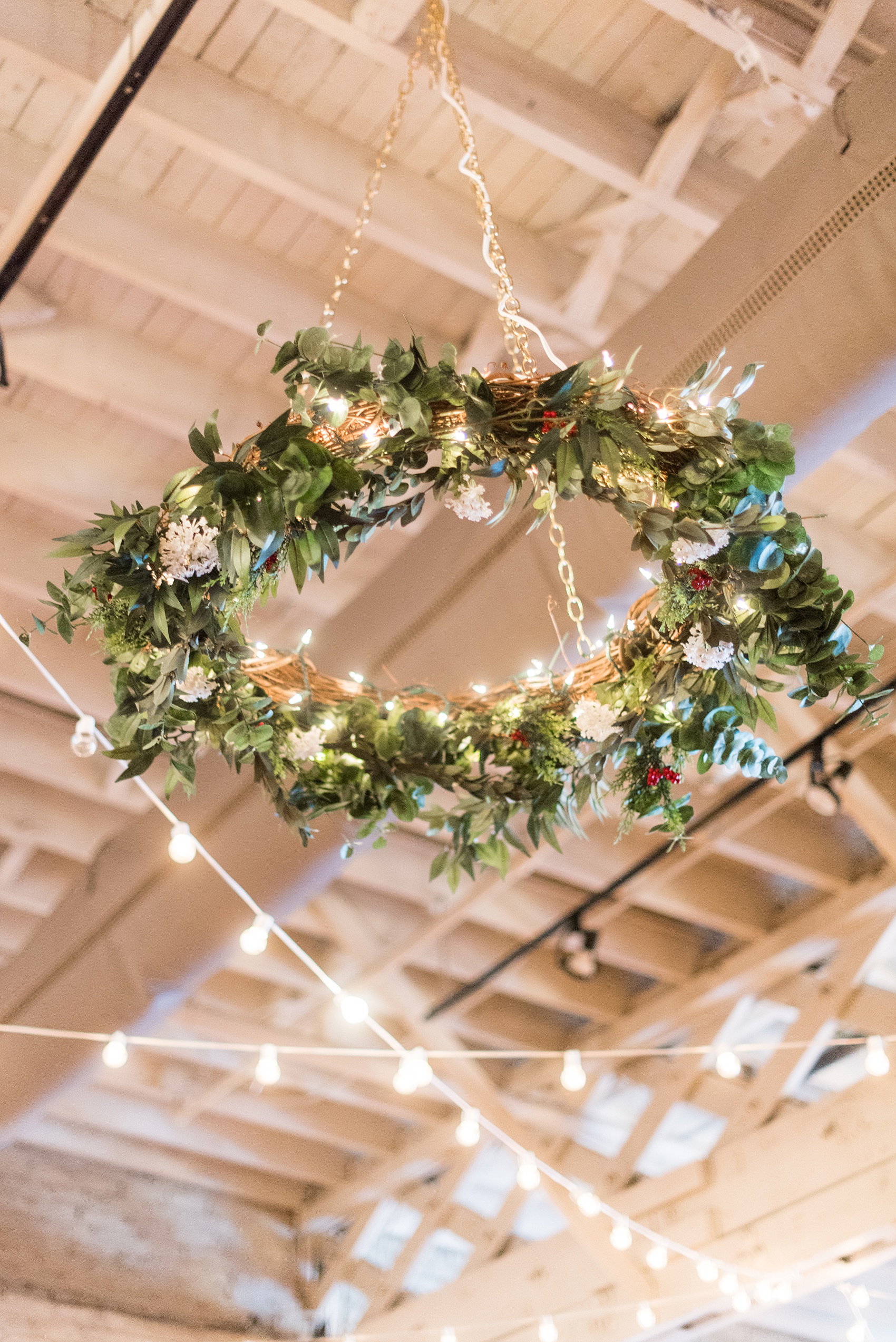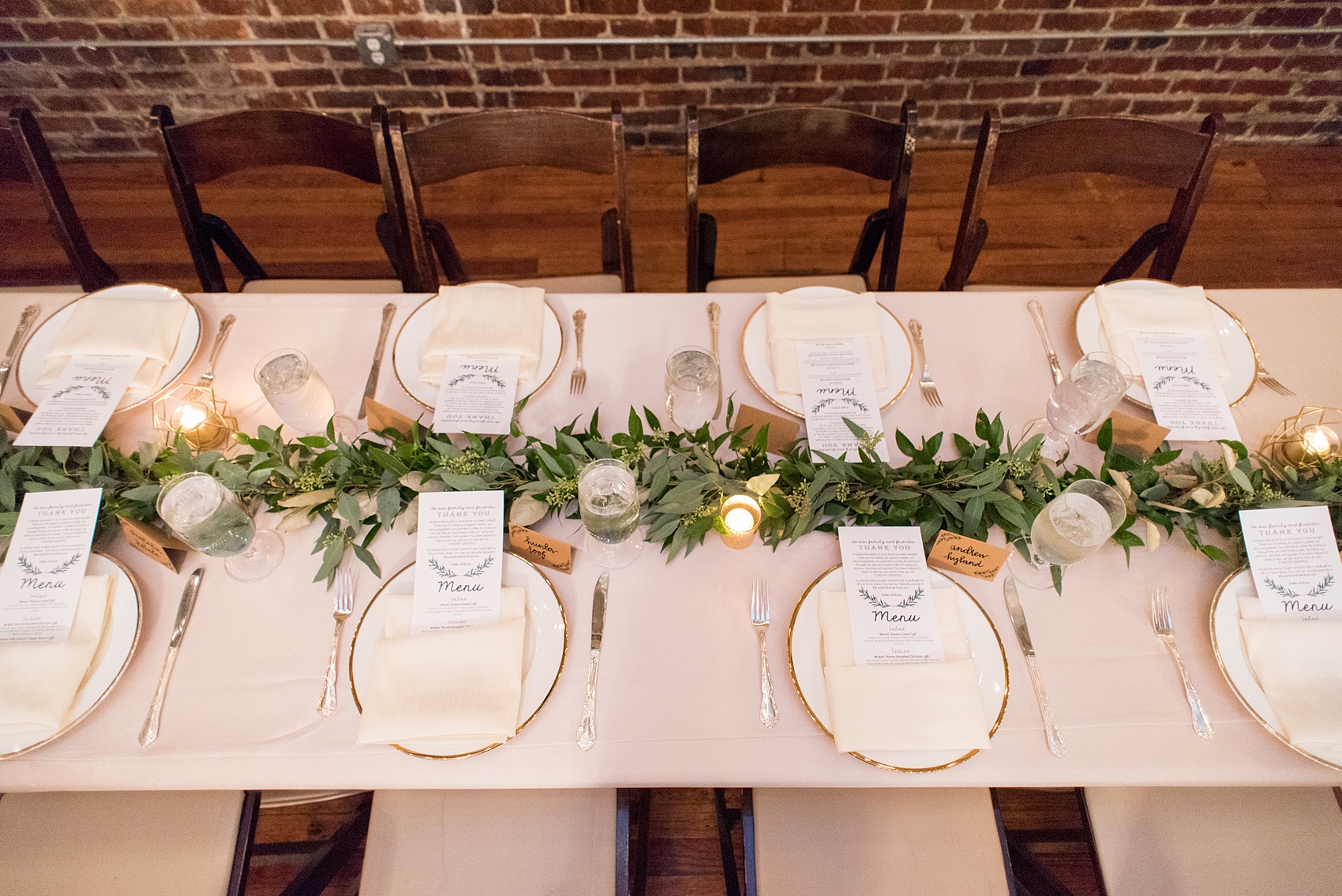 Their love story was so nicely illustrated on The Stockroom at 230's chalkboard wall. From meeting at college in 2009, to saying "I love you" in Charleston in 2015, to their proposal in 2017 and wedding in 2018. I loved that the final drawing was a bride and groom and said "Best Day Ever". So cute!
The room was set with pink linens and candlelight, whether with floating candles in cranberry filled vases or votives in mercury glass. The spirit of the season was alive in The Stockroom of 230 that night! Centerpieces were created by Ashley's cousin, Whitney, with lots of love and attention to detail. The bridesmaids bouquets were repurposed for the centerpieces and sat in vases on top of pieces of sliced tree trunks.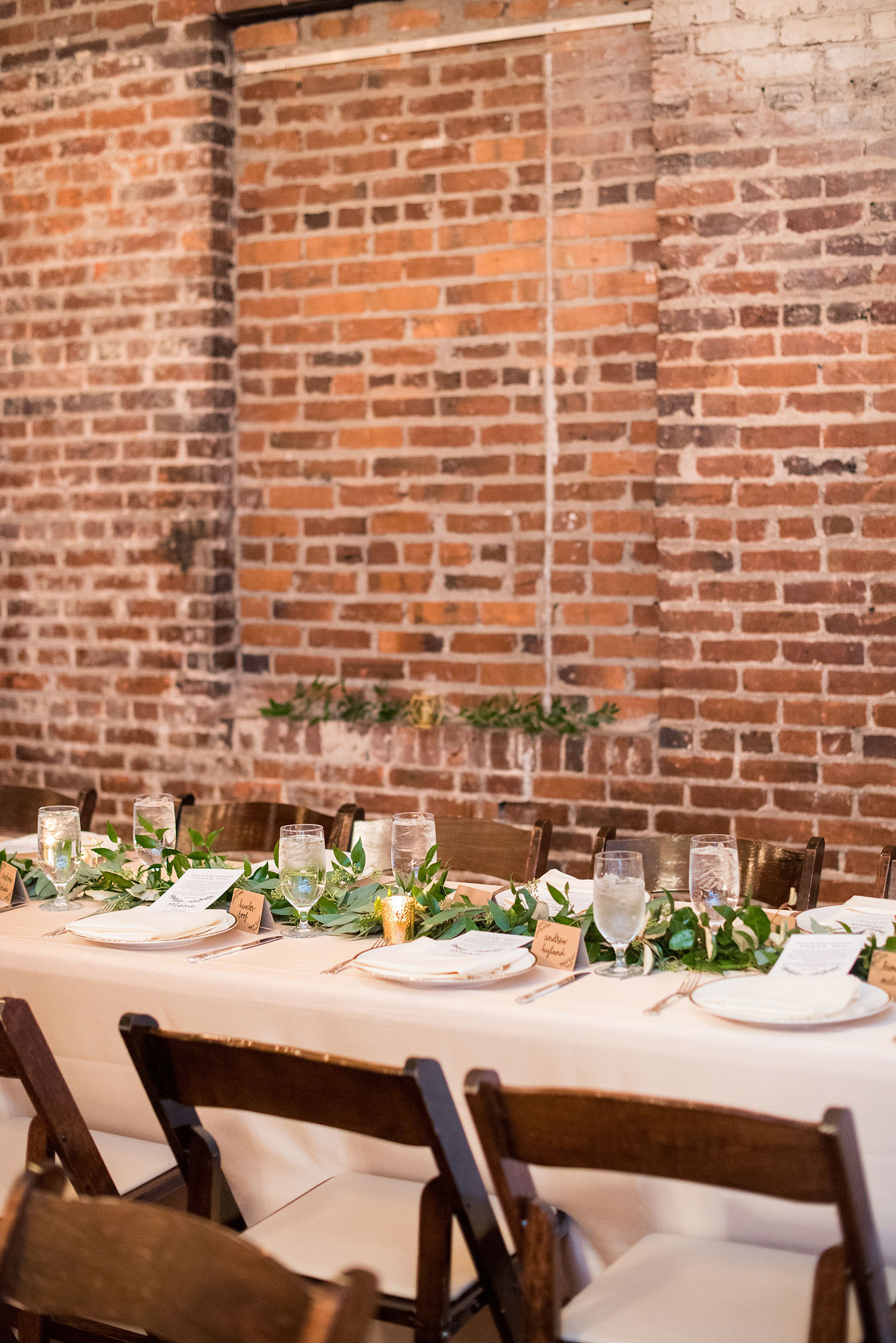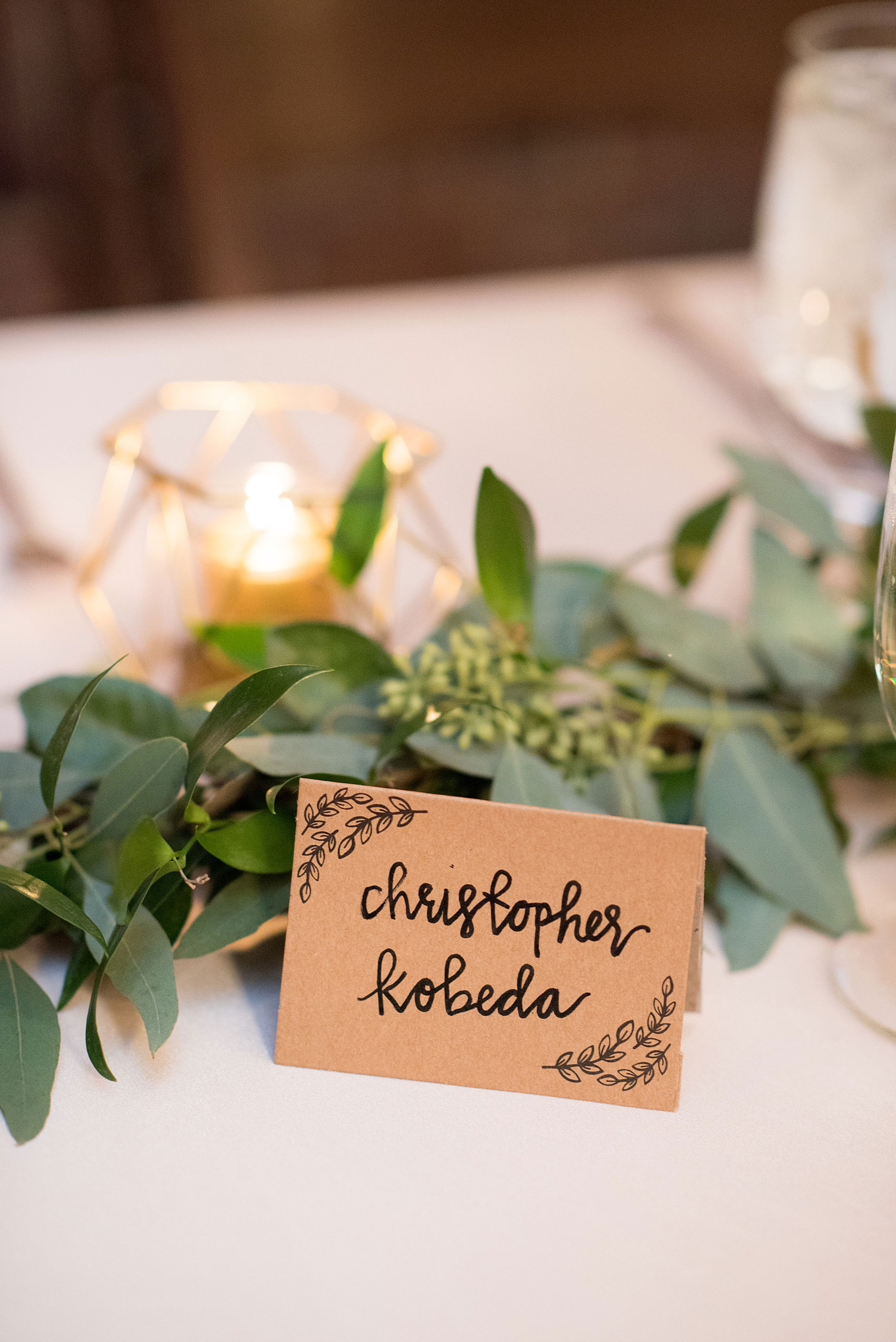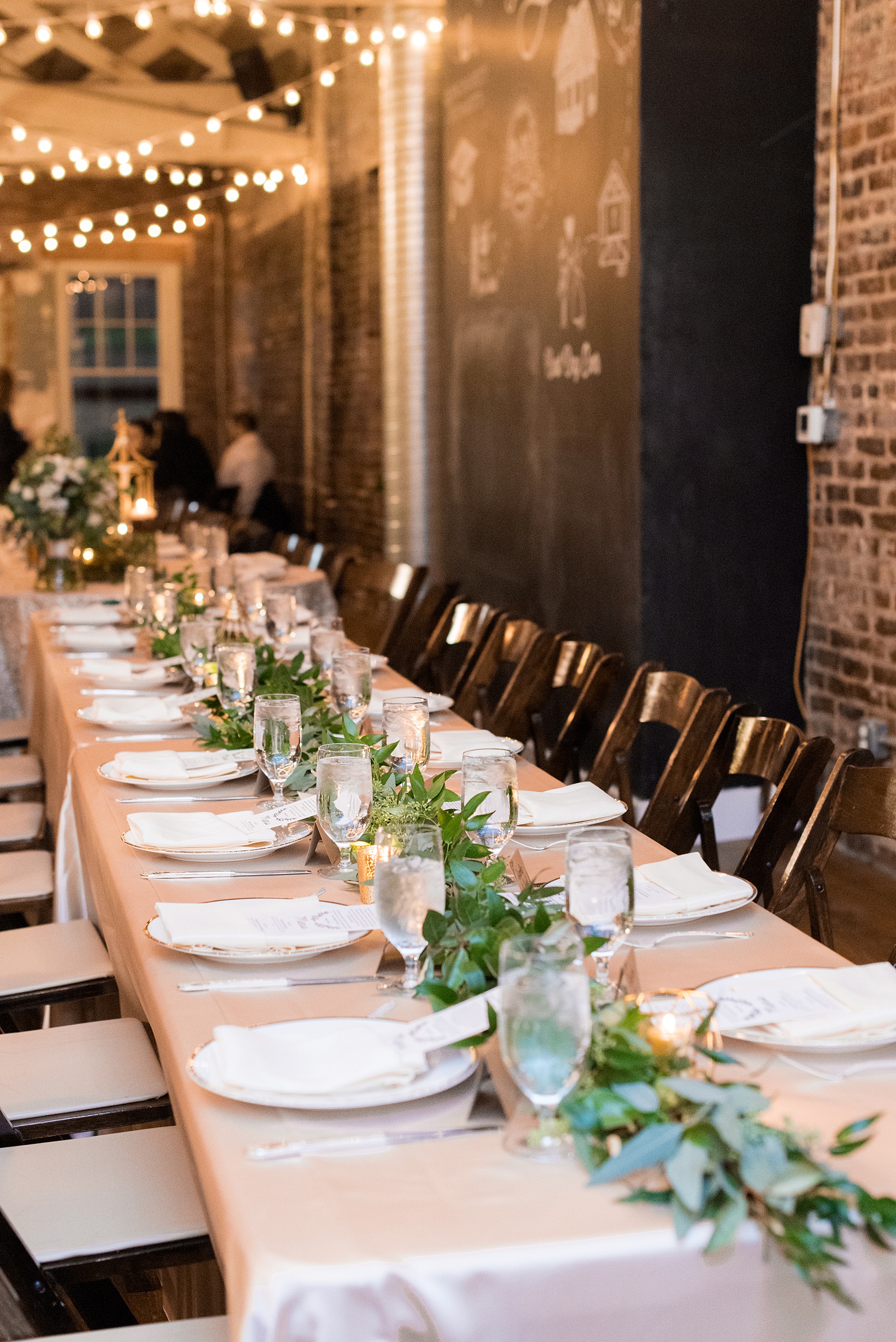 They did something a little different for the wedding party seating to add variety to the room. The bridesmaids, groomsmen and their dates (along with a few additional VIP friends) sat at two long rectangular tables that were situated on either side of the bride and groom's round sweetheart table.
Guests found their seats at The Stockroom reception by looking at mirrors with white writing. Kraft place cards were set at the head tables. Each place setting, including a white plate with a gold edge, was on either side of a runner of greenery set atop a pink linen. They even had a beautiful chandelier, hanging green wreath installation and market lights hung from the ceiling.
Another extra special detail was their wedding cake. It was made by Ashley's family's friends, Gwen and her daughter Anna (also a bridesmaid!). Gwen shared with me that even before Ashley knew Bryan she told Gwen when she got married one day she wanted Gwen to make her wedding cake. And in 2018 that dream was realized! They did a beautiful job on the five-tiered, buttercream coated cake. There was even a gluten-free layer for the bride!
Bryan and Ashley shared their first dance…just before Ashley and her father shared a lovely, emotional father-daughter dance. Dinner followed with amazing speeches by Caitlin and Rob, their Maid of Honor and Best Man, and dancing the night away. But two of the best parts of the reception? Santa Claus made an appearance (yes, THE Santa Claus!) and they had a hot chocolate bar! They were so thoughtful for the dozen or so children they had at the wedding – they had coloring book pages and crayons out for them too. (Ashley and Bryan are great with kids!)
After this beautiful celebration, Ashley and Bryan headed to St. Lucia to warm up in the Caribbean and enjoy a tropical, relaxing honeymoon. Congratulations Mr. and Mrs. White!
Venue: The Stockroom at 230 / Getting ready location: The Glass Box / Church: Hillyer Memorial Christian Church / Officiant: David Mallory / Flowers (bouquets and boutonnieres): The English Garden / DJ: CWDJ Entertainment / Hair and makeup: Kaitlyn Elizabeth Love / Wedding dress: Classic Bridal / Chalkboard: AB Chalk Designs /  Tuxedos: Jos. A Banks / Linens and chandeliers: CE Rentals
For more downtown Raleigh wedding photo inspiration check out:
Contact us if you're interested in having us capture your day; we'd love to hear from you!