Vered and Kevin's winter wedding in Washington, DC was a special day filled with tradition, unique details and memorable moments at The Ritz Carlton. From the day's record low temperatures to the highs of wedded bliss, every moment was wonderfully eventful.
Arriving to their Ritz Carlton Pentagon City Wedding to Photograph them Getting Ready
I anxiously awaited the time to get to the hotel to see the bride! Blue skies were a bonus to counterbalance the chilling temperatures that day. The mood was certainly sunshiny too!
I entered their hotel suite on their Ritz Carlton Pentagon City wedding day to find her mother and sister tending to the bride and getting makeup done, and rounded the corner to see the bride's hair up-do getting finishing touches. We were all smiles and hugs!!!! I quickly noticed a unique detail on her nails – a silver tipped french manicure! Love. We immediately moved into photographing other wonderful details of their day…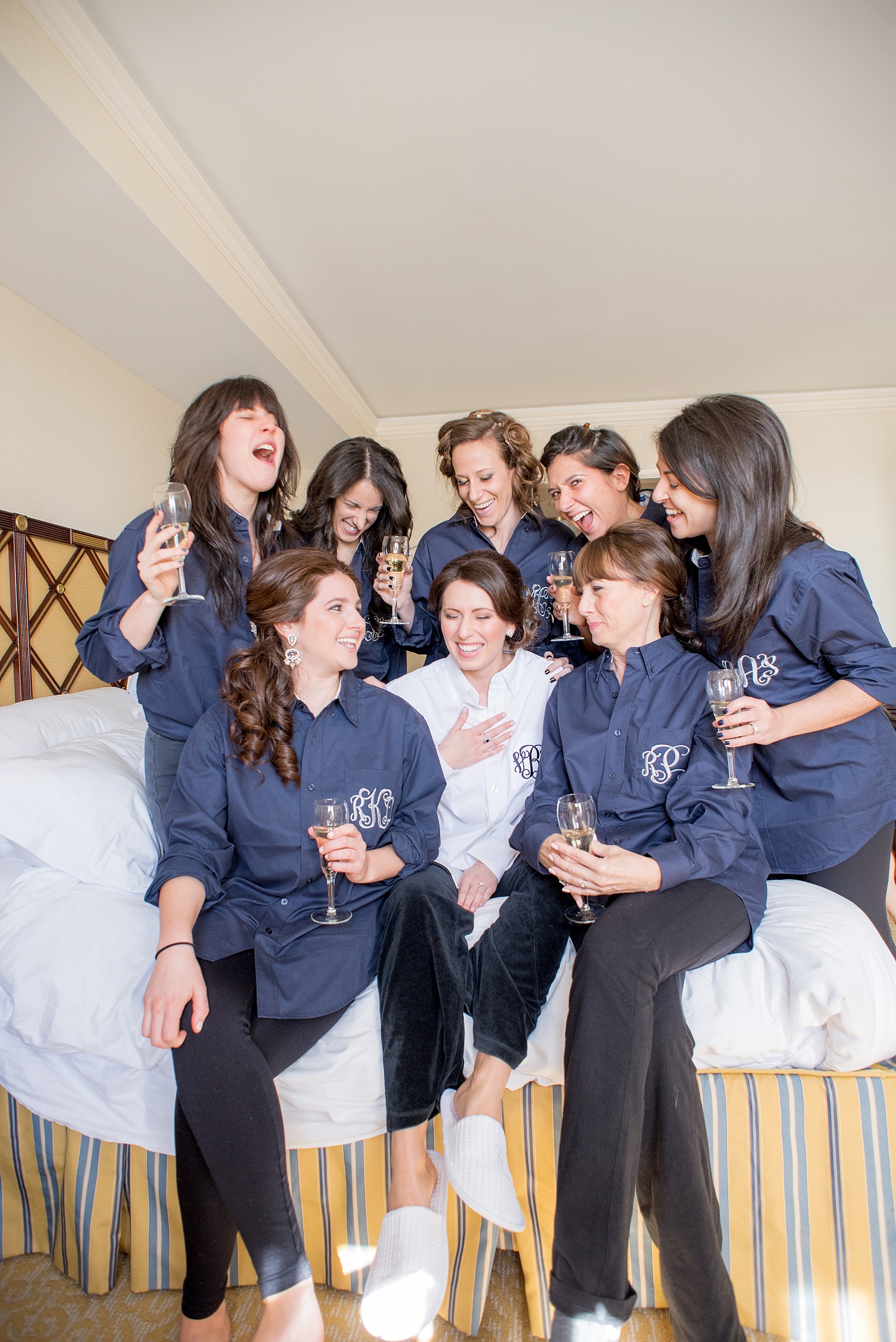 How sweet are the monogrammed button down shirts she gifted her bridesmaids? After a toast and laughter, of course, her bridesmaid Aviah handed her a note and single pink rose from her husband-to-be. And the girls all exclaimed, "Don't cry! You'll ruin your makeup!" 🙂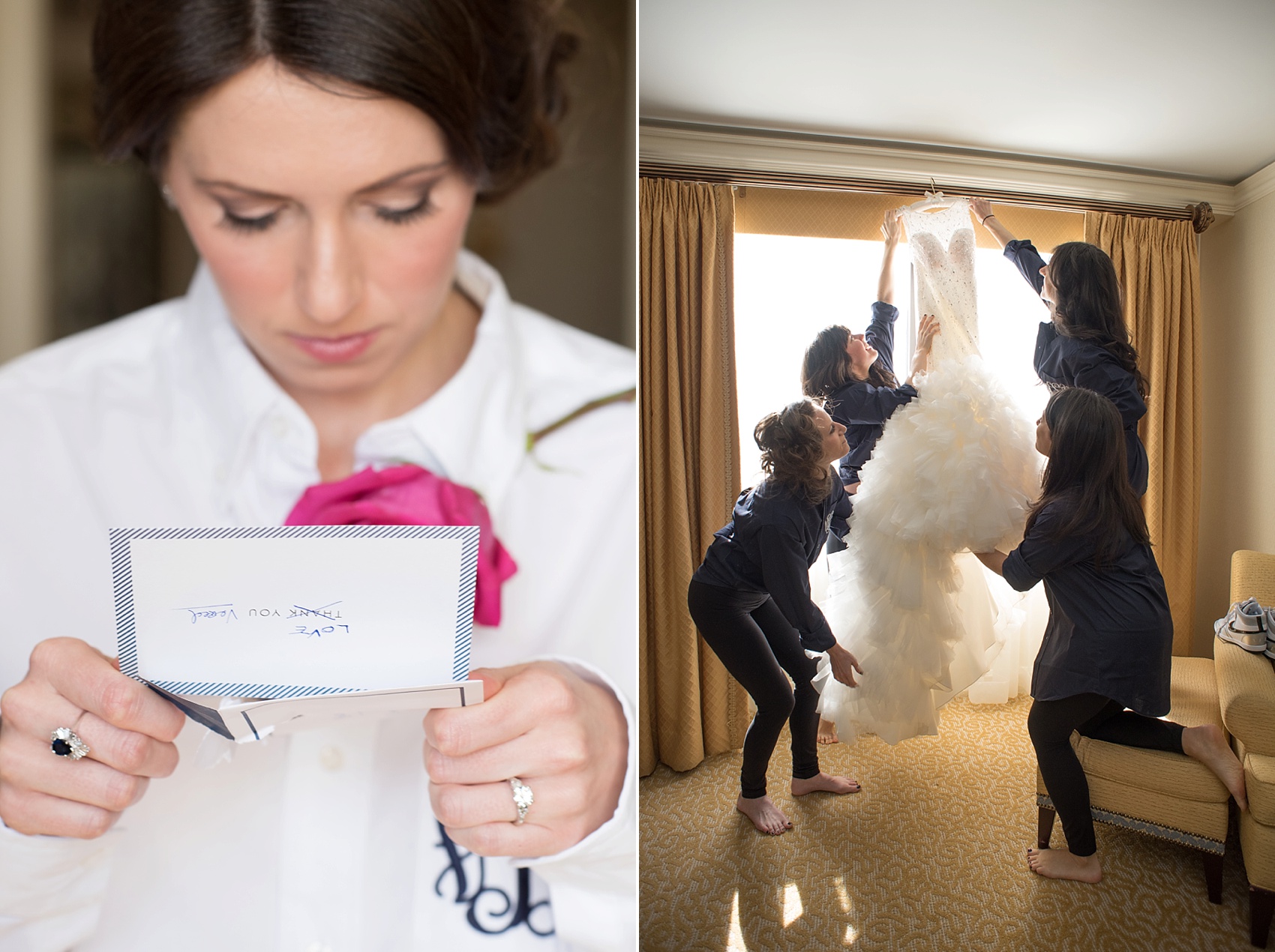 Her sister, Rachel (whose wedding I photographed a few years later), got her these custom Nike Dunks for her to wear during the reception. Aren't they awesome?
I loved photographing her jewelry on that book too – it's a Hebrew written bible belonging to her grandmother. She wore her grandmother's sapphire and diamond ring that day too.
Vered opted for a special first look moment with her father at her Ritz Carlton Pentagon City wedding, as her bridesmaids looked on. Everyone was teary-eyed!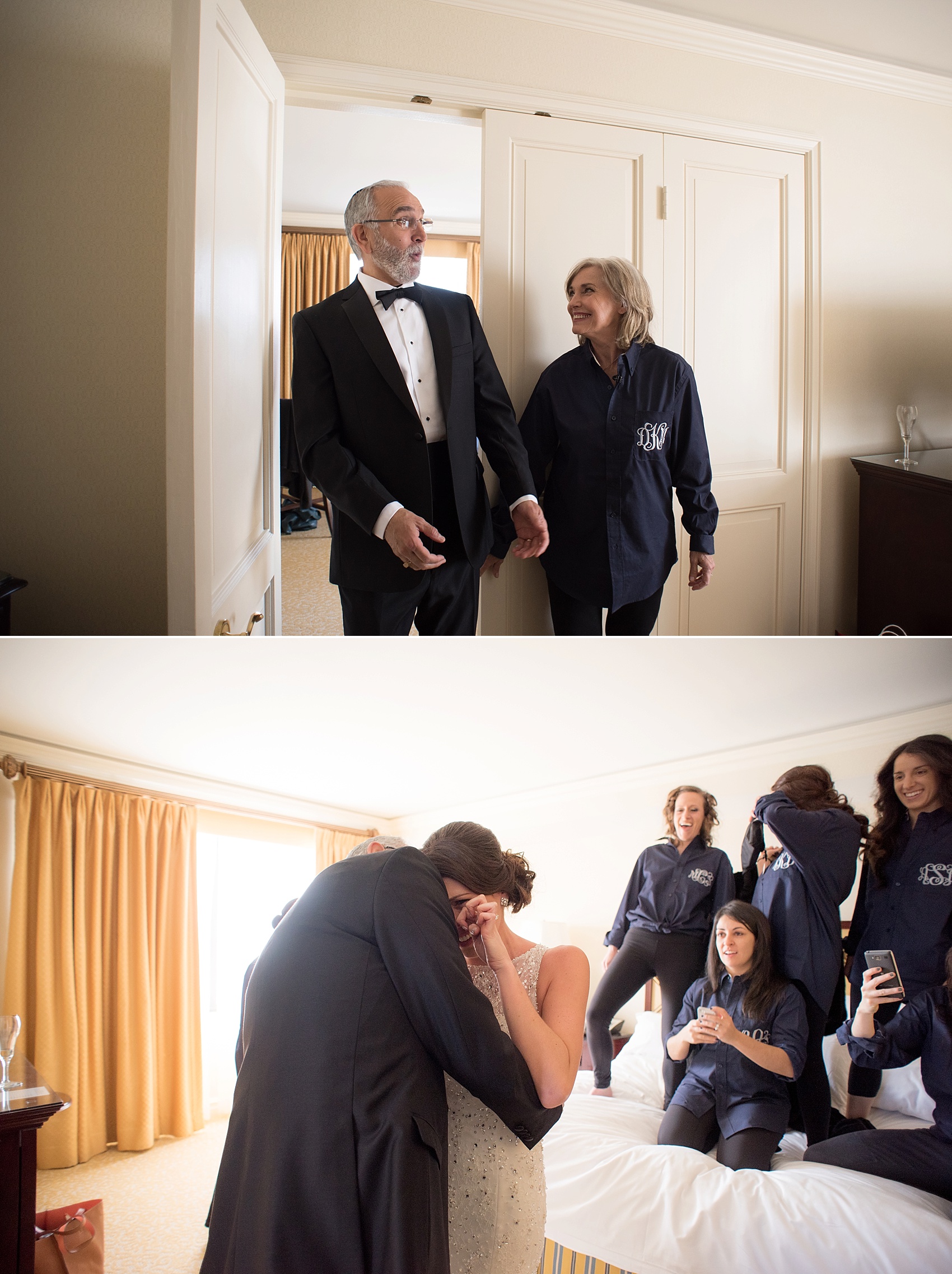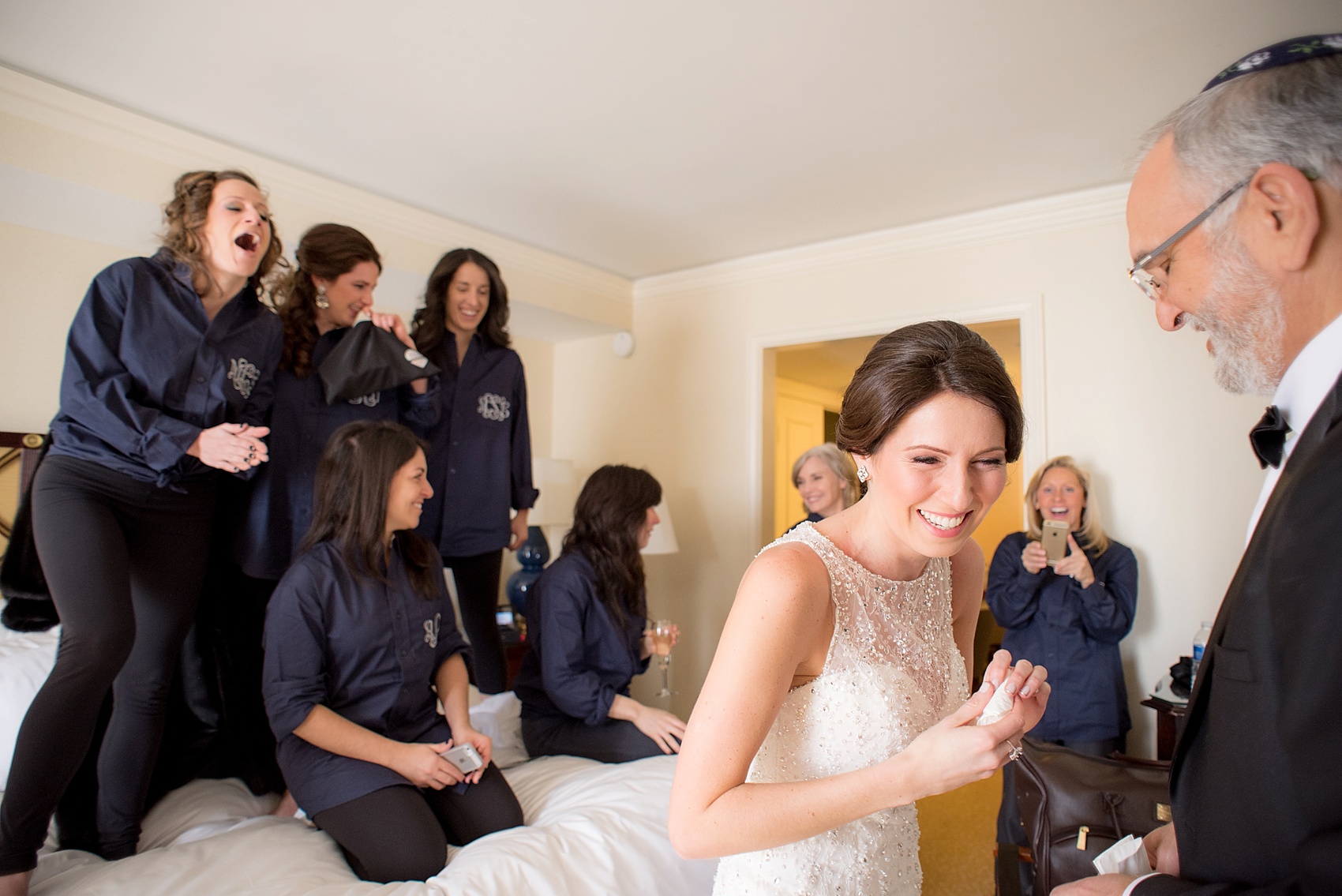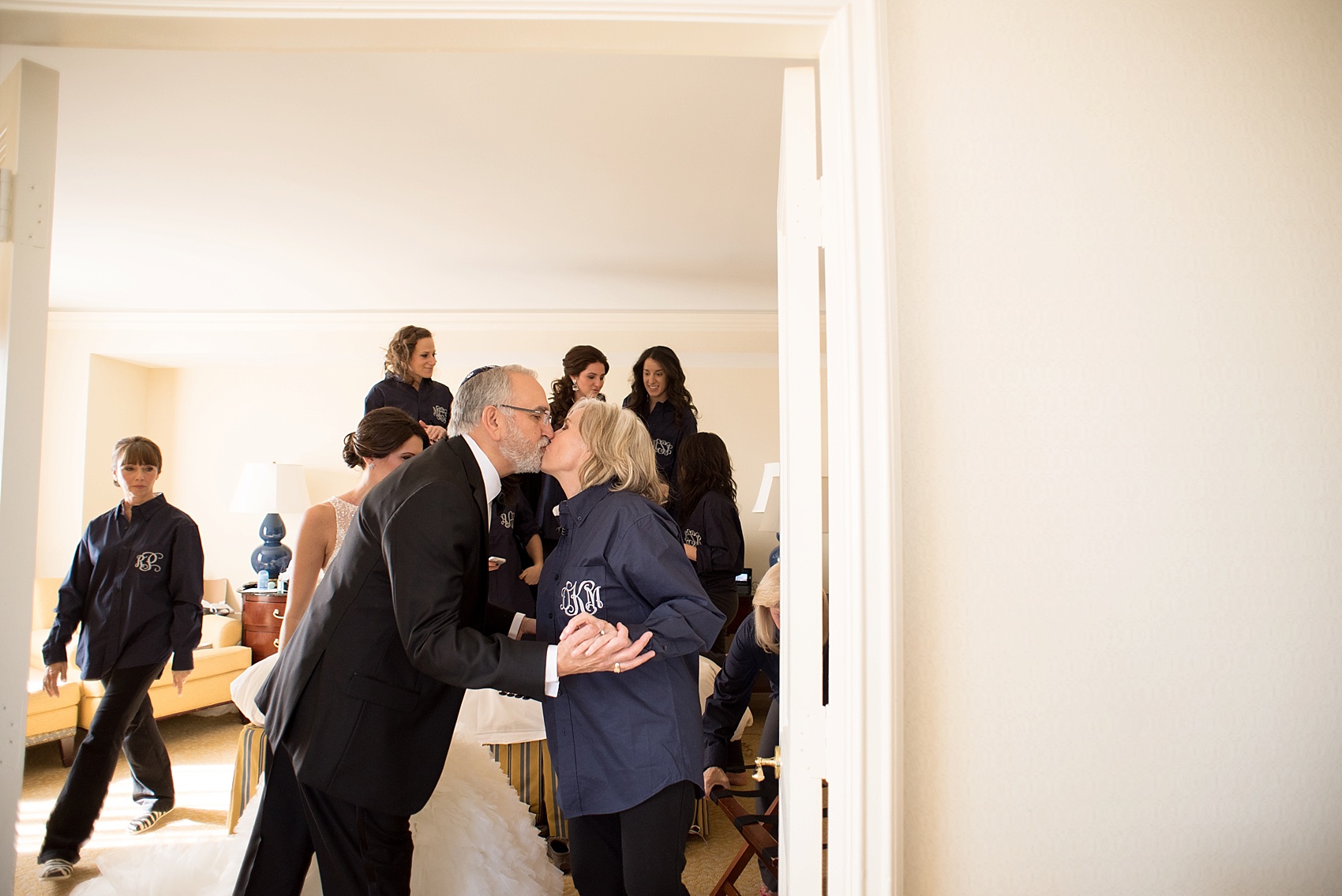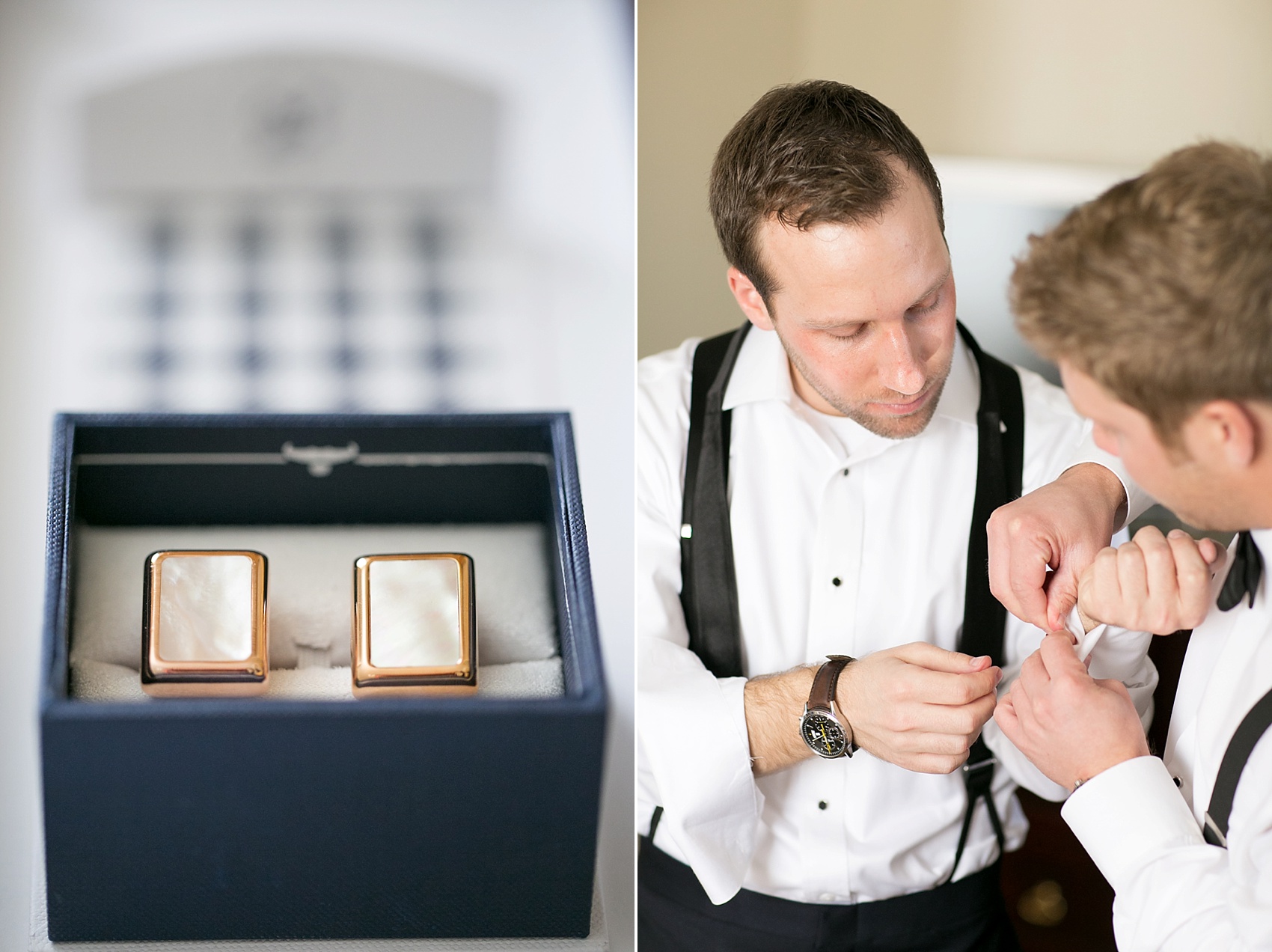 Over in Kevin's room, his brother Michael helped him get ready by fastening his cufflinks on his shirt. Vered got him these designer jewels aptly named "JFK" Mother of Pearl cufflinks with rose gold trim. Perfect.
I totally dig how popular navy blue tuxedos with black lapels are these days. He looks so sharp! He also got these amazing "Honest Abe" Lincoln socks for all his groomsmen. Also awesome!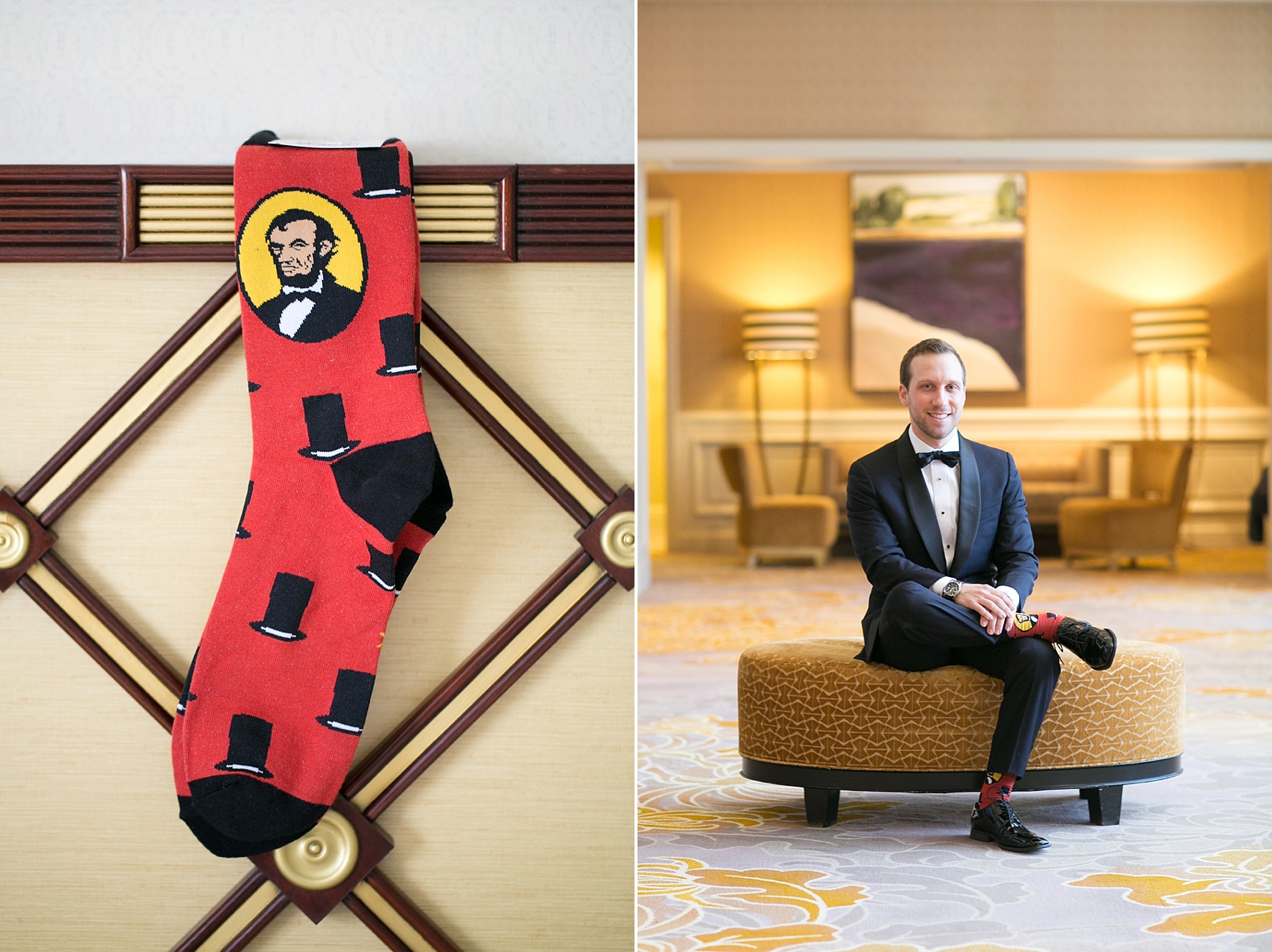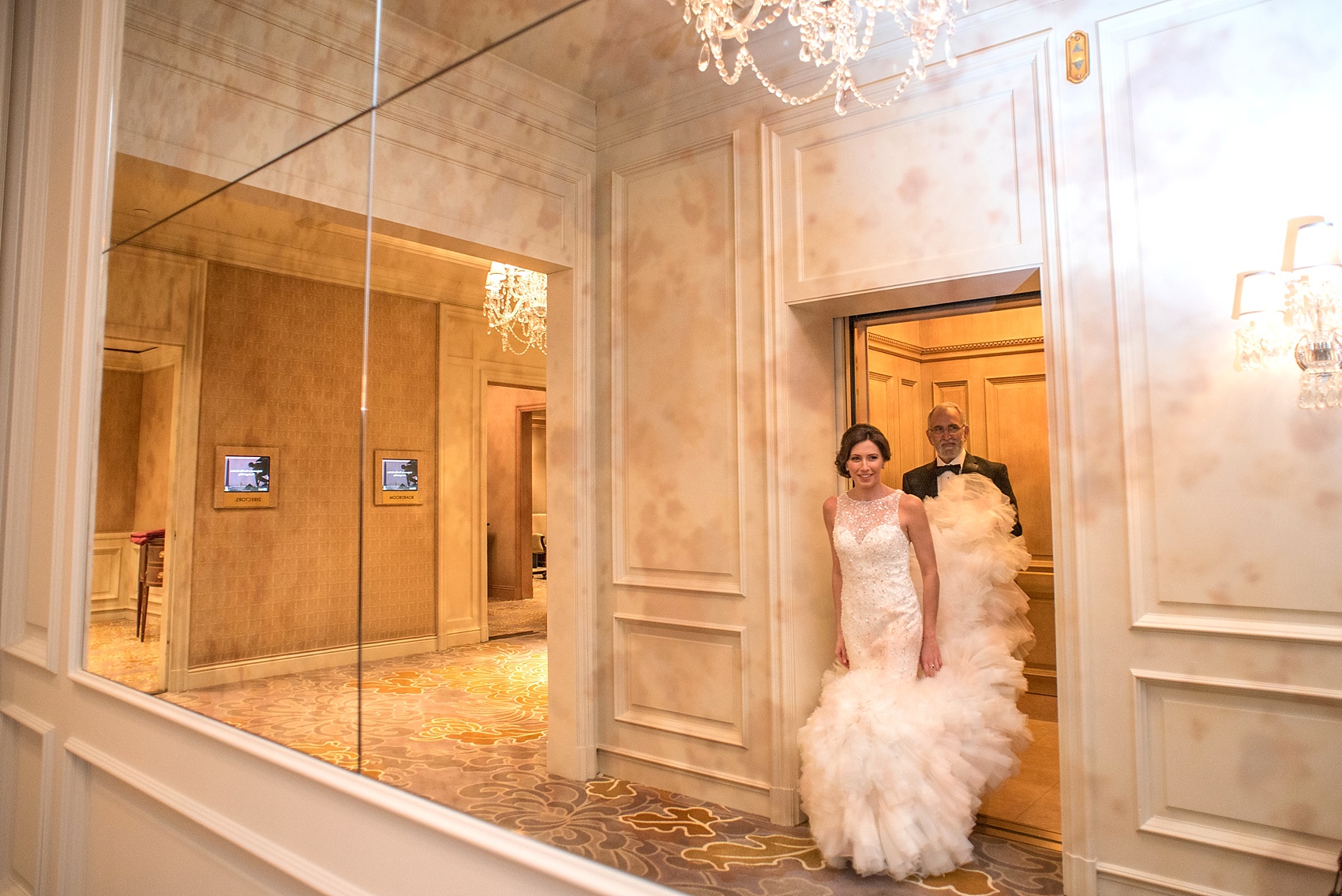 Their First Look at the Ritz Carlton Pentagon City
As Vered's father helped her downstairs for her first look, she approached her groom giggling with anticipation.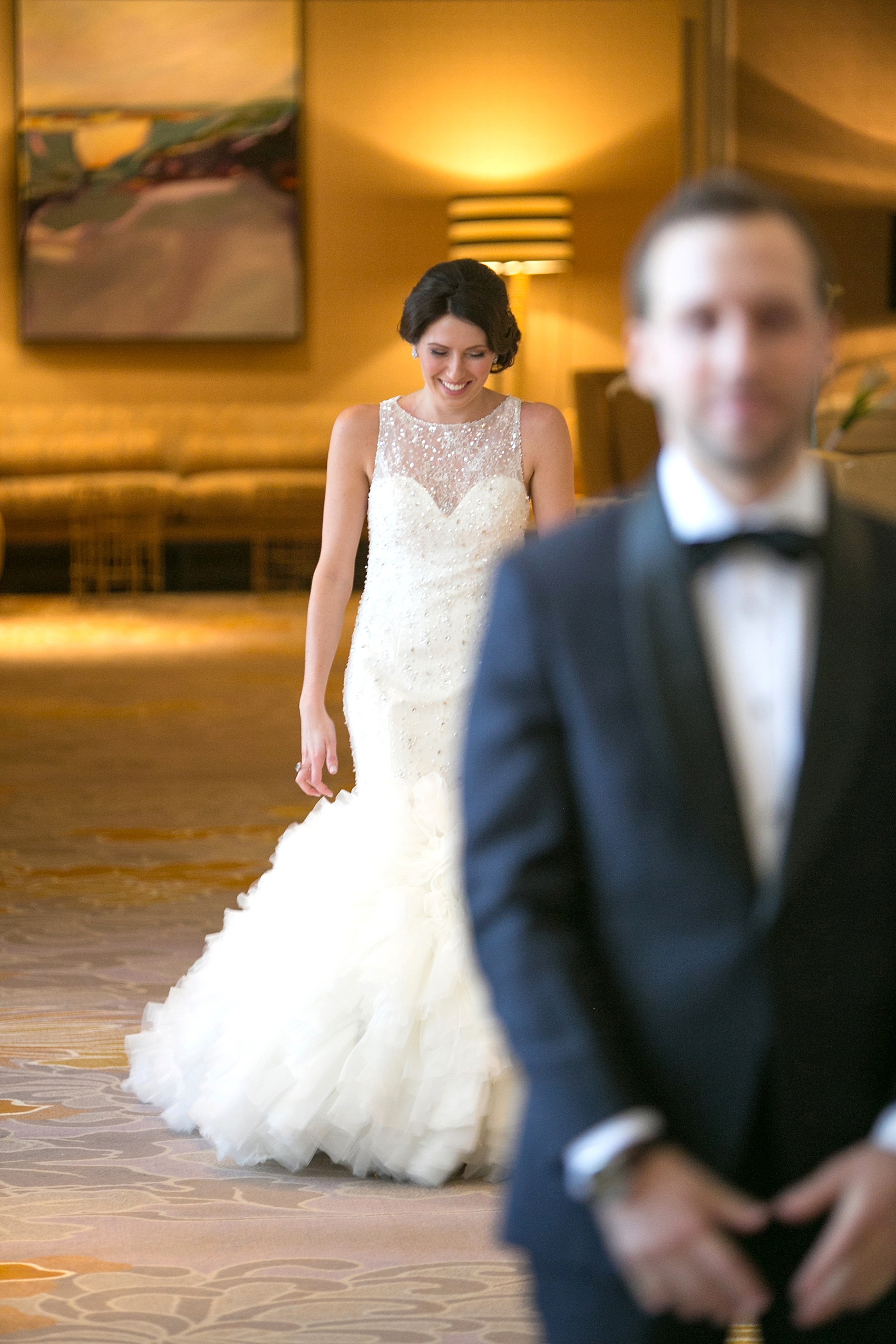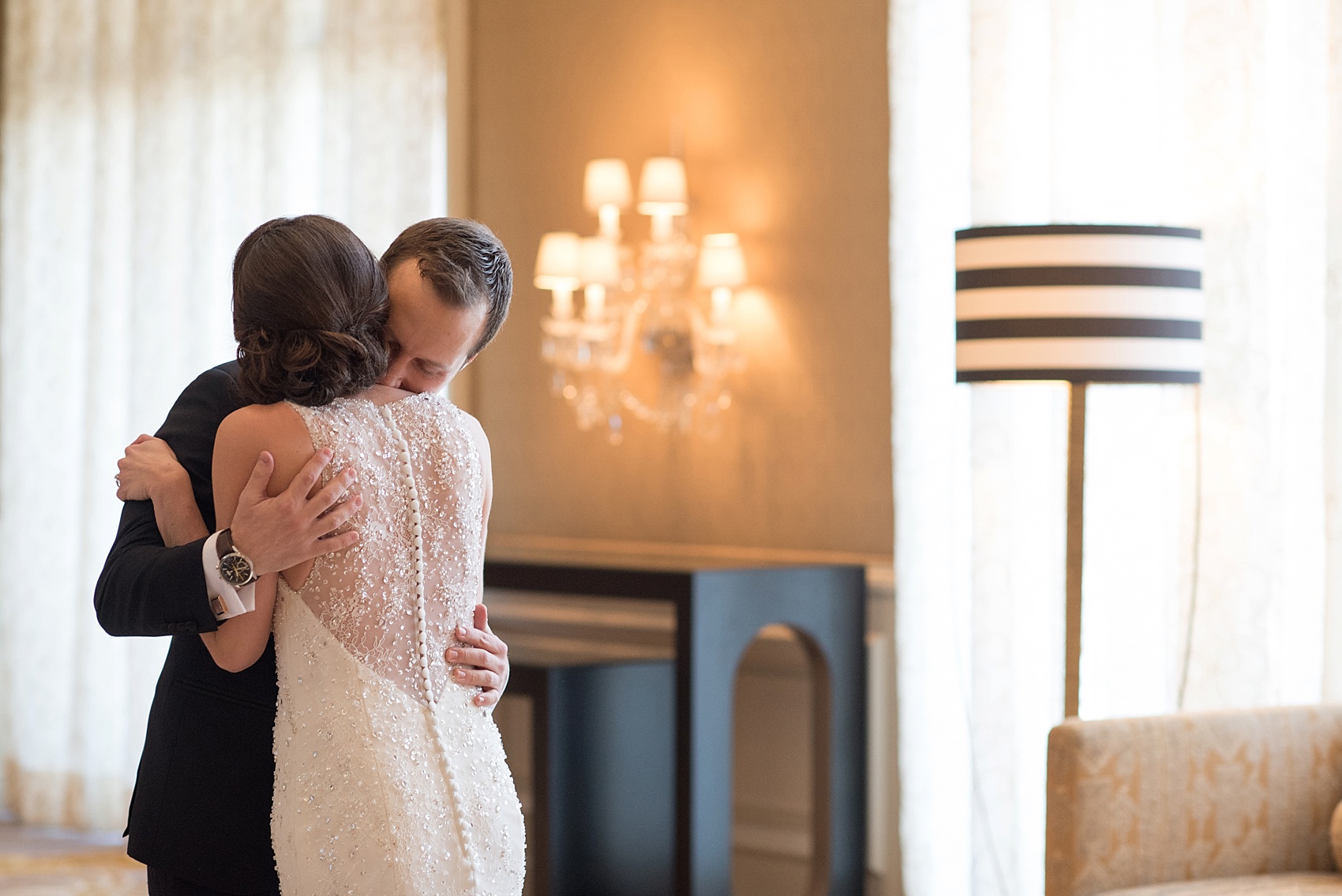 Special things like a custom patch with her new initials sewn in blue thread for her "something blue" really made the day uniquely theirs.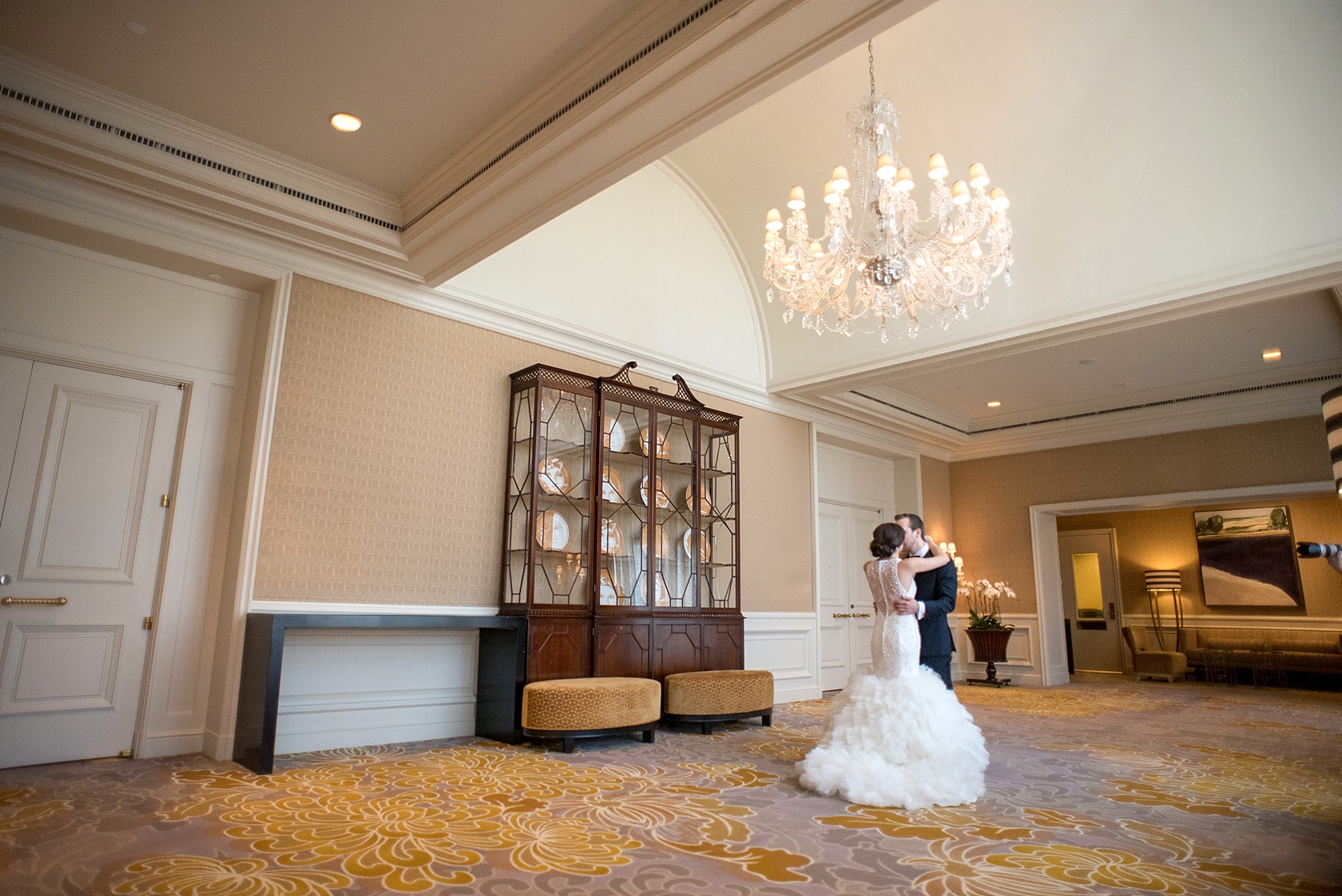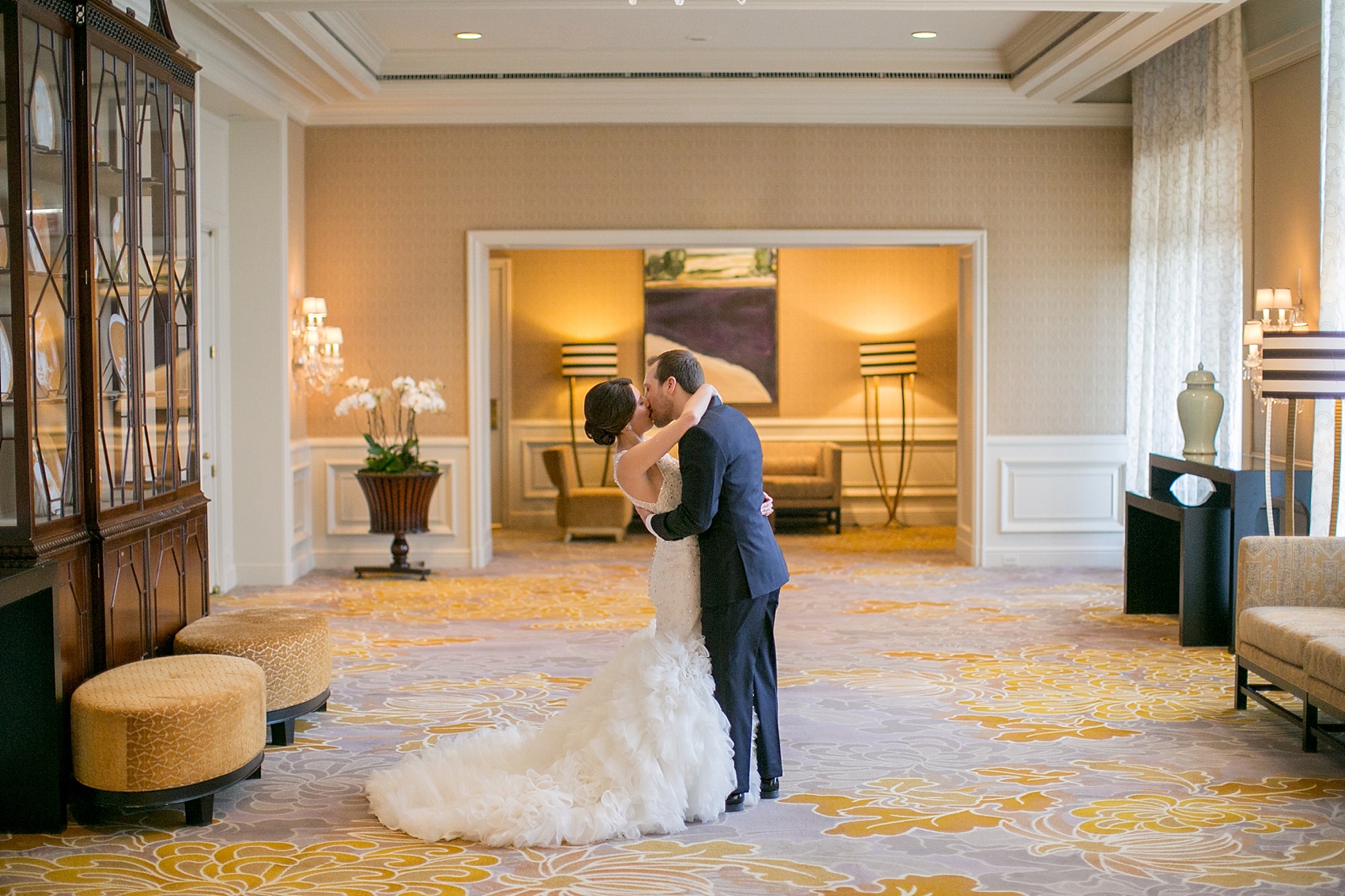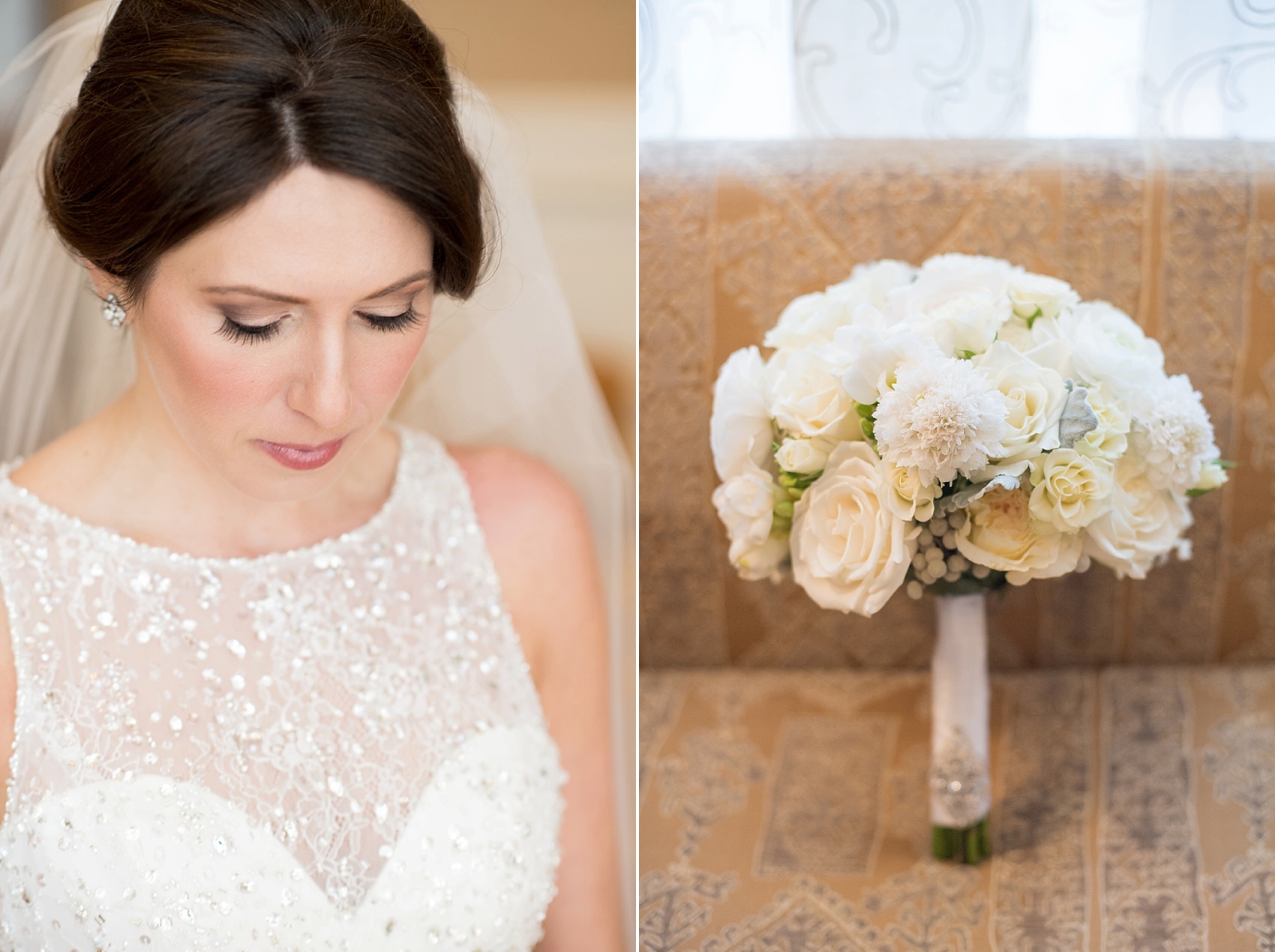 I adored her all white blossom bouquet with varying textures. It was second in beauty only to how incredible she looked.
Taking Photos on the National Mall for Wedding Photos in DC with the National Monuments
I need to take a moment here to recognize how awesome these moments on the national mall are for something you cannot feel through the images: THE TEMPERATURE.
The blue skies are deceiving (albeit gorgeous). Because the Washington Post can describe it better than I can, here's an article referencing February 15th's record lows, their wedding day:
Bone-chilling winds left Sunday's high temperature struggling to reach 20 degrees and turned exposed faces numb within minutes…On Sunday, the 6-degree low temperature at Dulles International Airport beat the 1965 record low for the date, while Baltimore-Washington International Marshall Airport's 6 degrees tied its record low from 1943. Local governments opened hypothermia shelters as utility crews endured high winds and a below-zero wind chill index to restore power to thousands of customers.
Hy-p-o-thermiaaaa people. It was COLD. Really, really COLD. I'm mentioning this to emphasize the fortitude Vered and Kevin had for capturing themselves as a bride and groom, a once in a lifetime experience, in the nation's capital, their home, on their wedding day.
Everyone was really working together as a team to fight the cold to get these photos. From their van driver from The Ritz, to my photography team, and especially them for being troopers under the circumstances!
Extra credit goes to Vered who agreed to take off her fur coat (also borrowed from her grandmother) not once, but three times throughout the 45 minutes at the National Mall.
Back to the Ritz Carlton Pentagon City for Wedding Party Photos
Whew, back in warmth and ready for some wedding party and family photos! I loved that Vered told her bridesmaids to simply select a silver gown they liked and she had her maid of honor and aunt in cobalt blue. It just looks so incredible, doesn't it?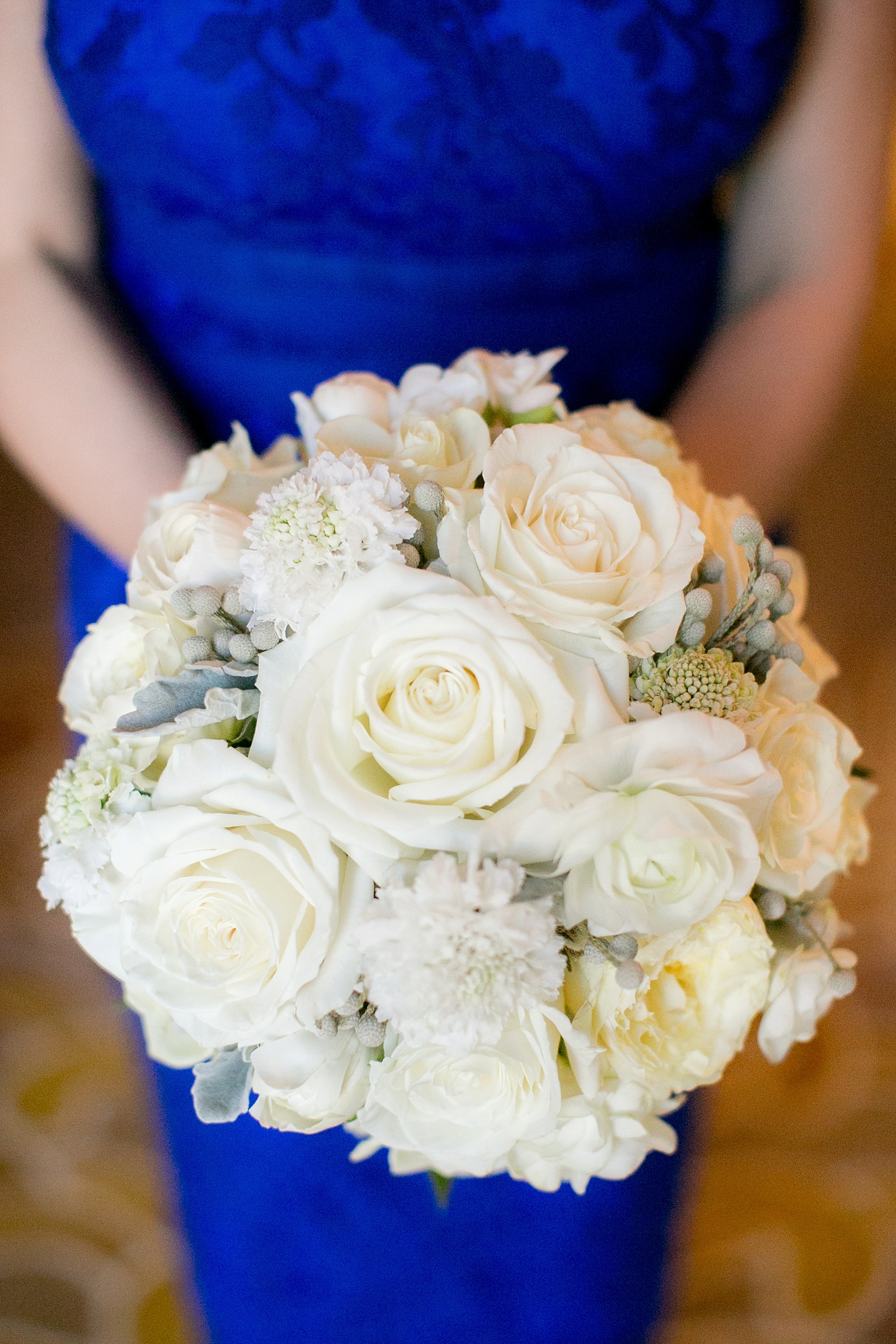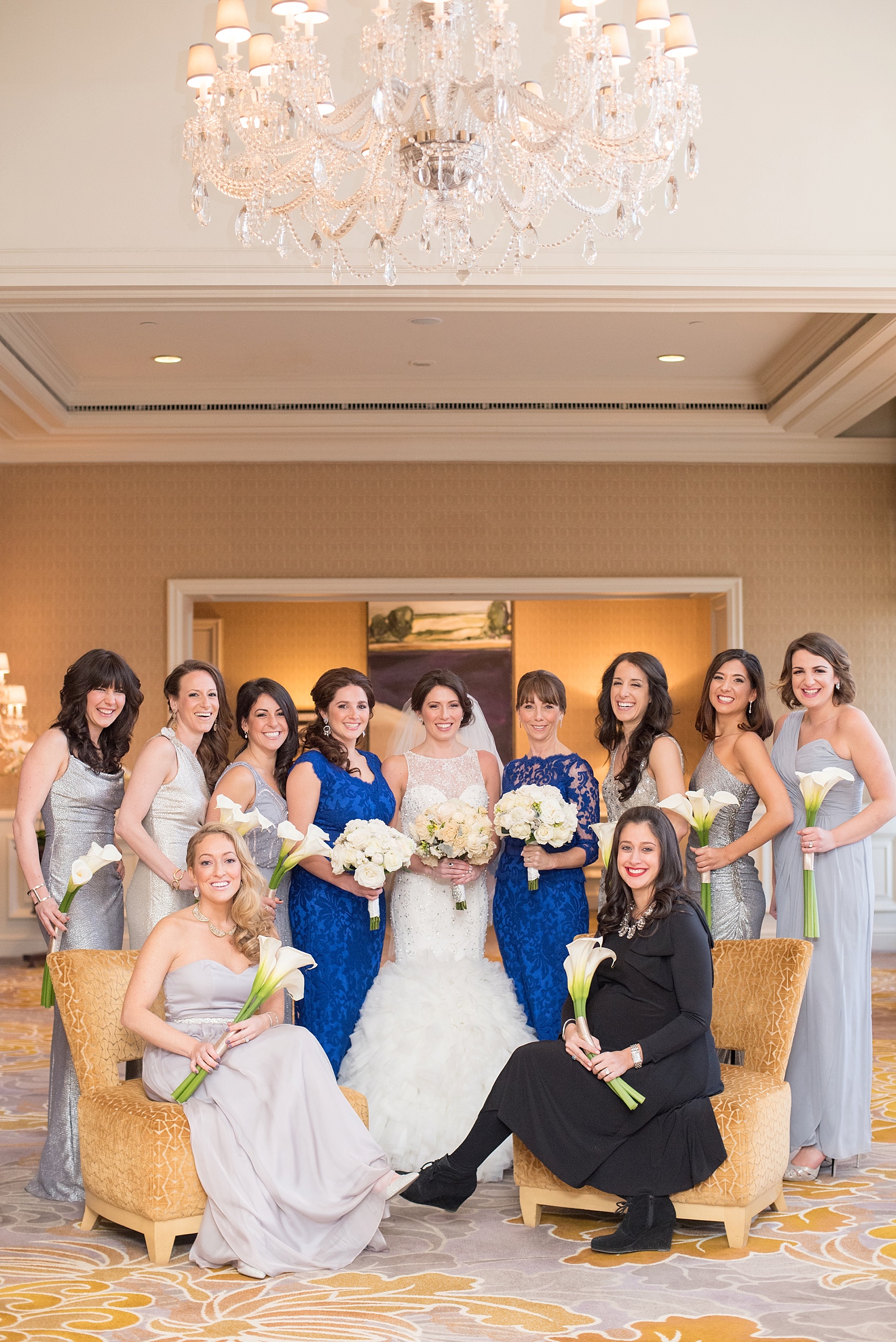 Her good friend Jill is pregnant with triplets!! Yes people, she has a super power and that's cooking up three kids! (Wow.)
She told me she quickly outgrew two silver dresses she purchased for their wedding. Girllll….I give you credit! And she still looked great!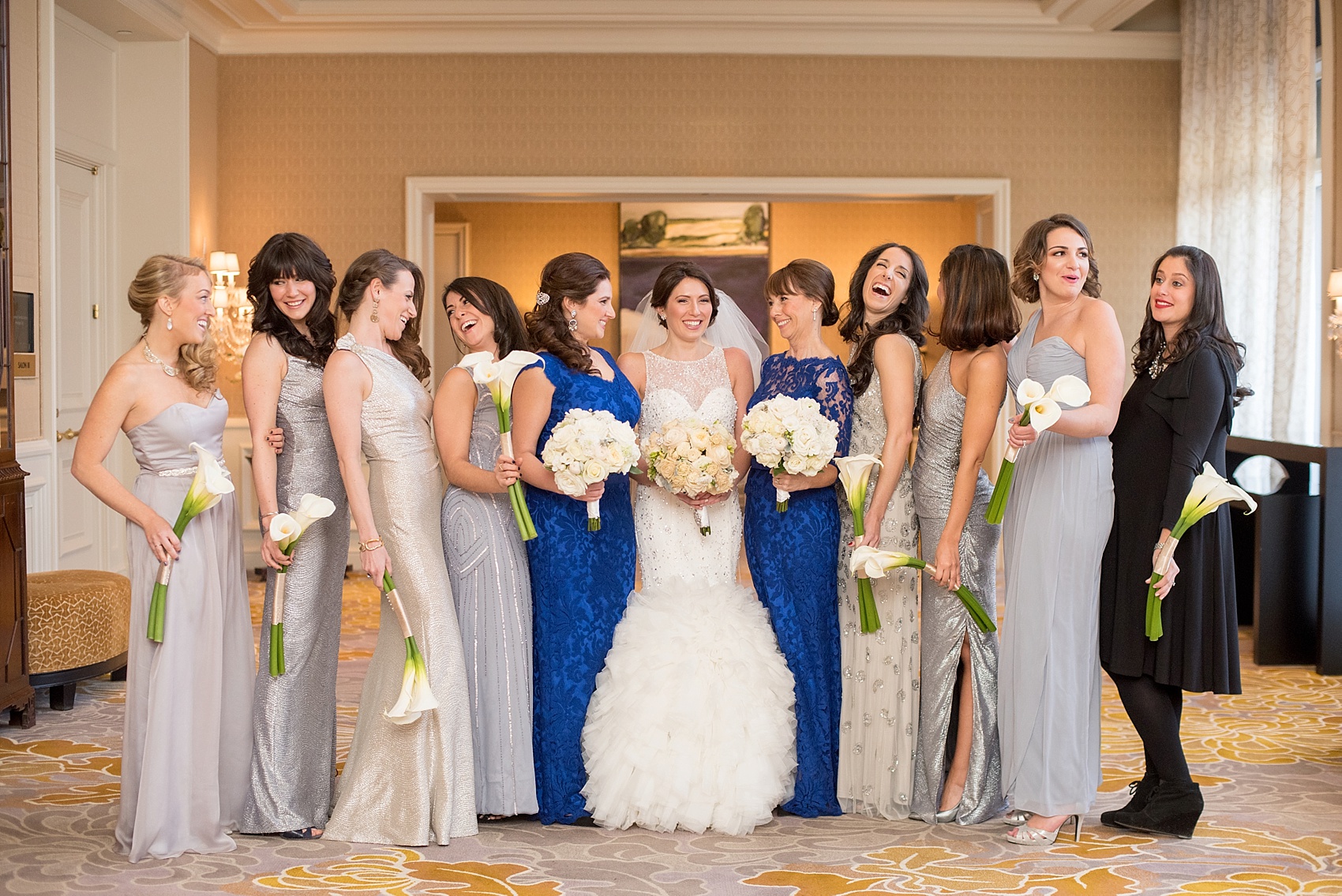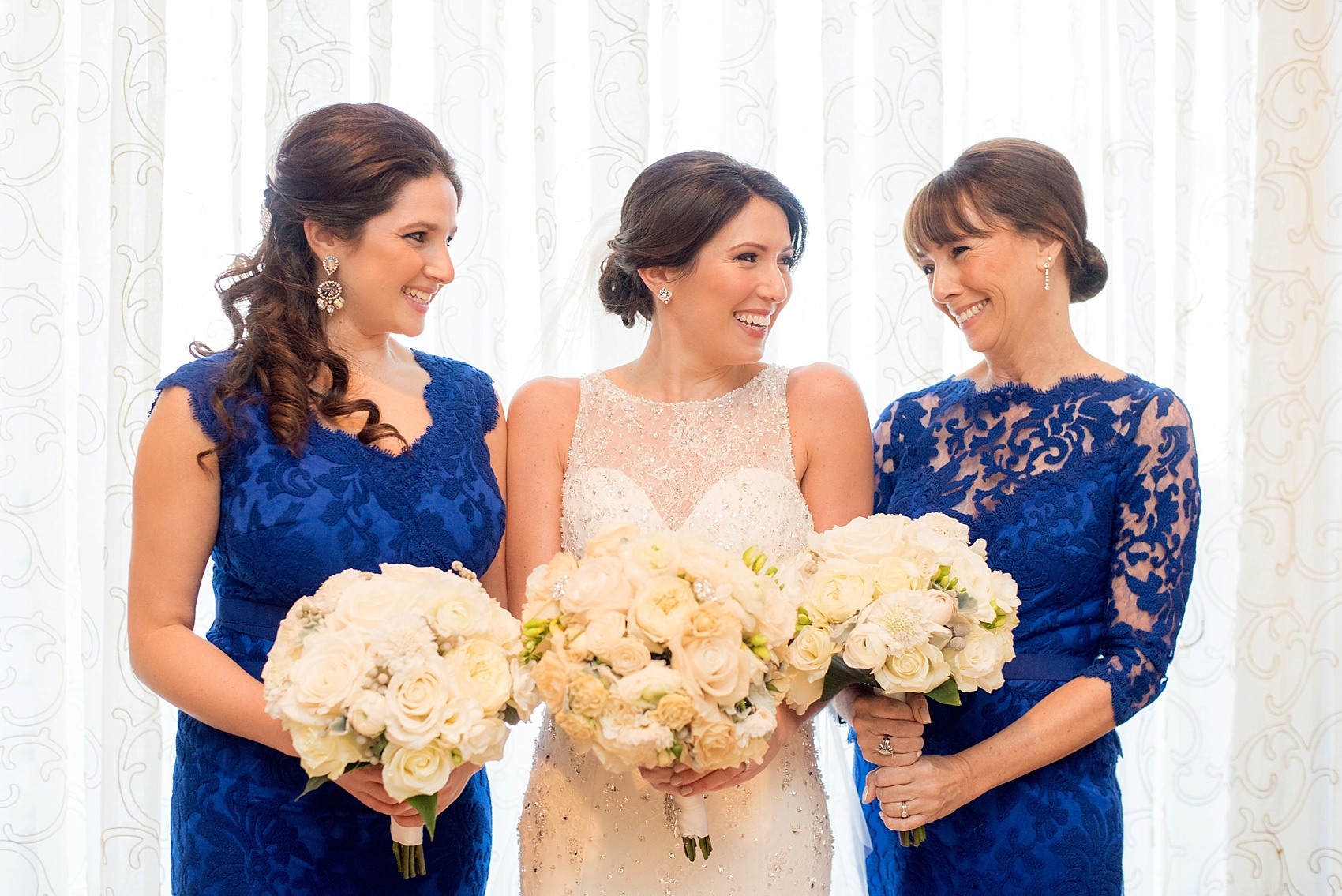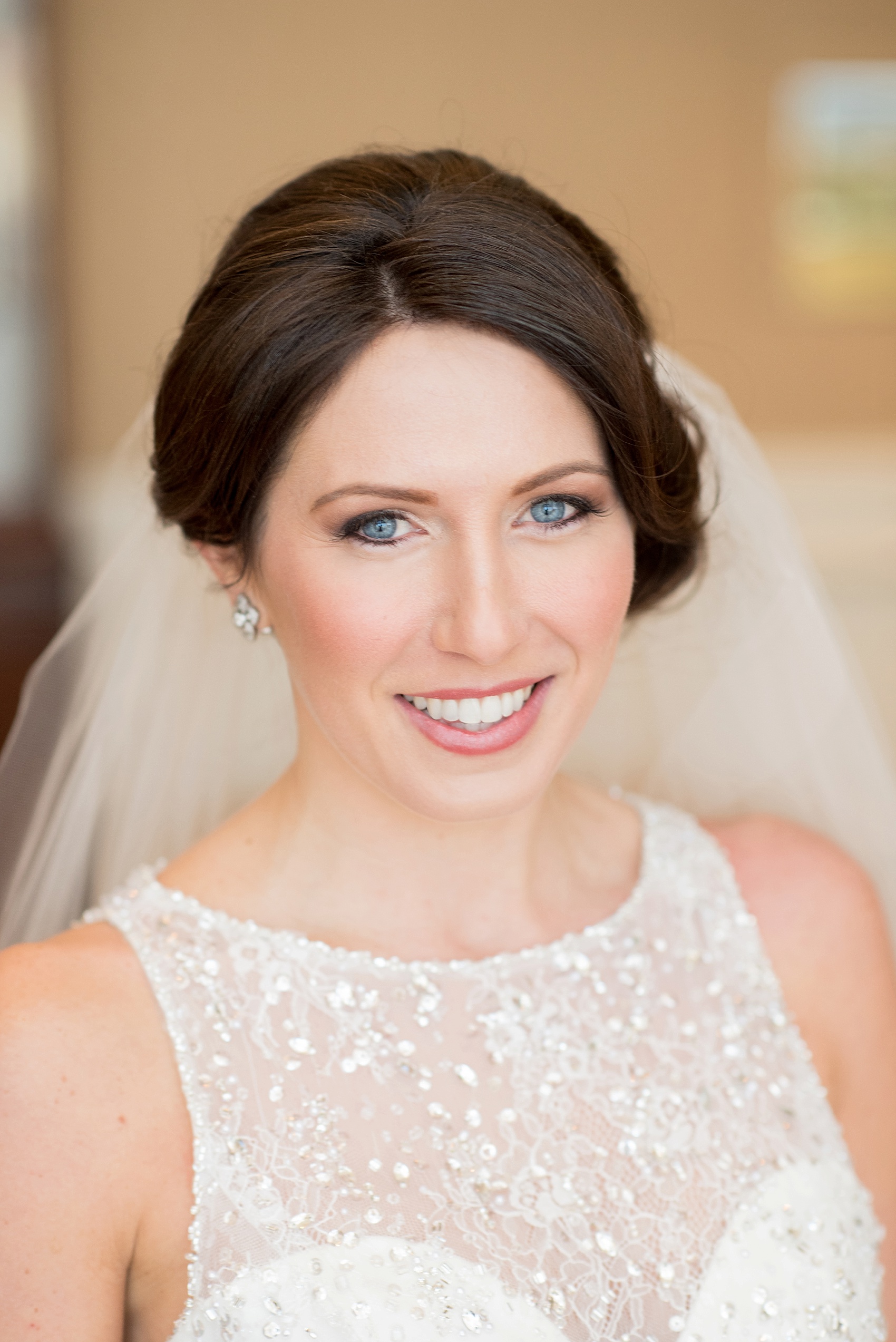 Jewish Traditions at their Ritz Carlton Pentagon City Wedding
Vered and Kevin incorporated a lot of Jewish traditions into their wedding.
At the time of their first look, they actually hadn't seen each other for a few days (a Jewish tradition) and even had separate rehearsal dinners the night before their wedding.
Before the more "public" ceremony at their Ritz Carlton Pentagon City wedding for all their guests, they had a more private one where they signed the ketubah and had a small tisch and bedeken.
Vered was really looking forward to this, especially Kevin lowering her veil over her face, and I have to say it was one of the sweetest moments of the day.
The bride also offers blessings to her guests and it was another memorable moment for me, getting to be a "fly on the wall" documenting such a special moment in her life. With, of course, her vivacious bridesmaid, Lindsay, nearby making us all smile! Lindsay, by the way, is how Vered found me and I'm forever grateful she recommended me!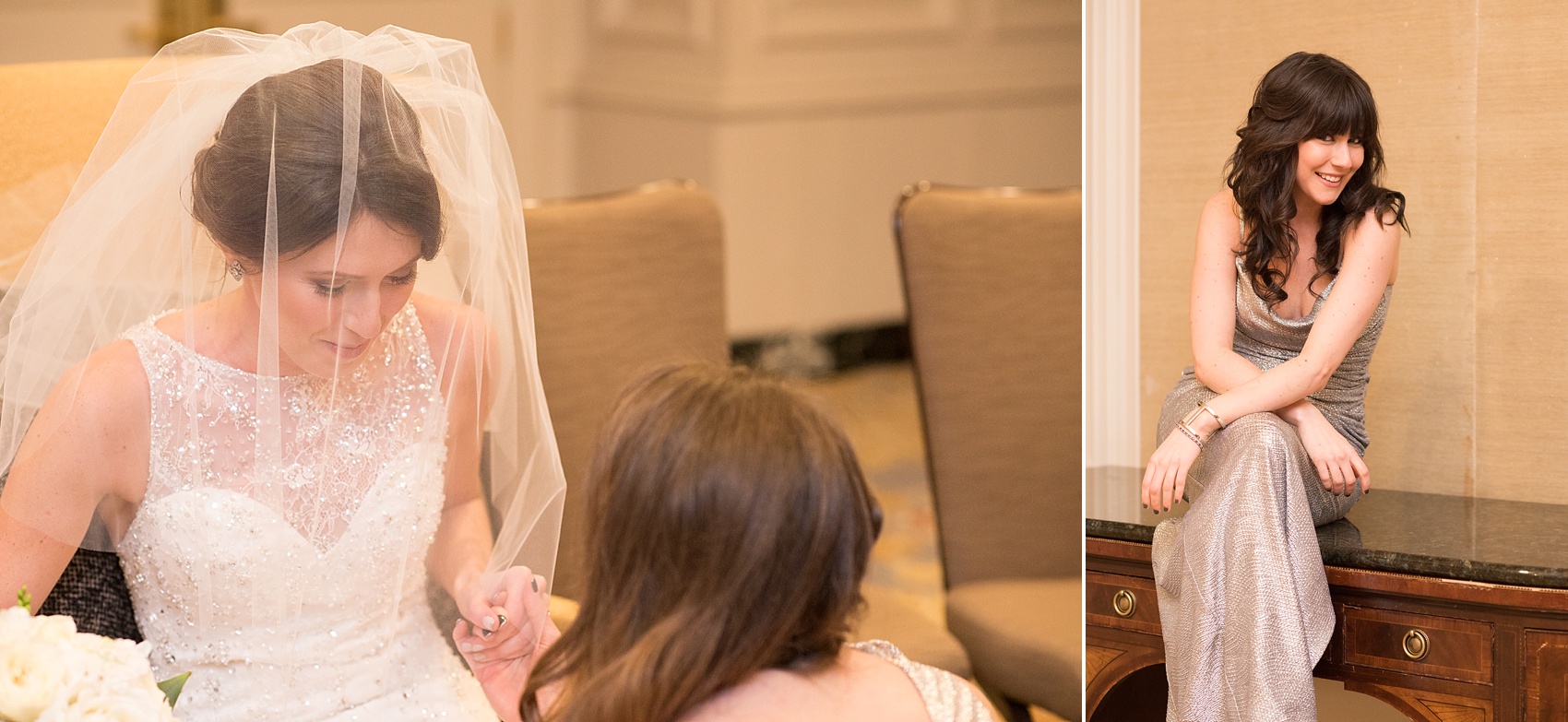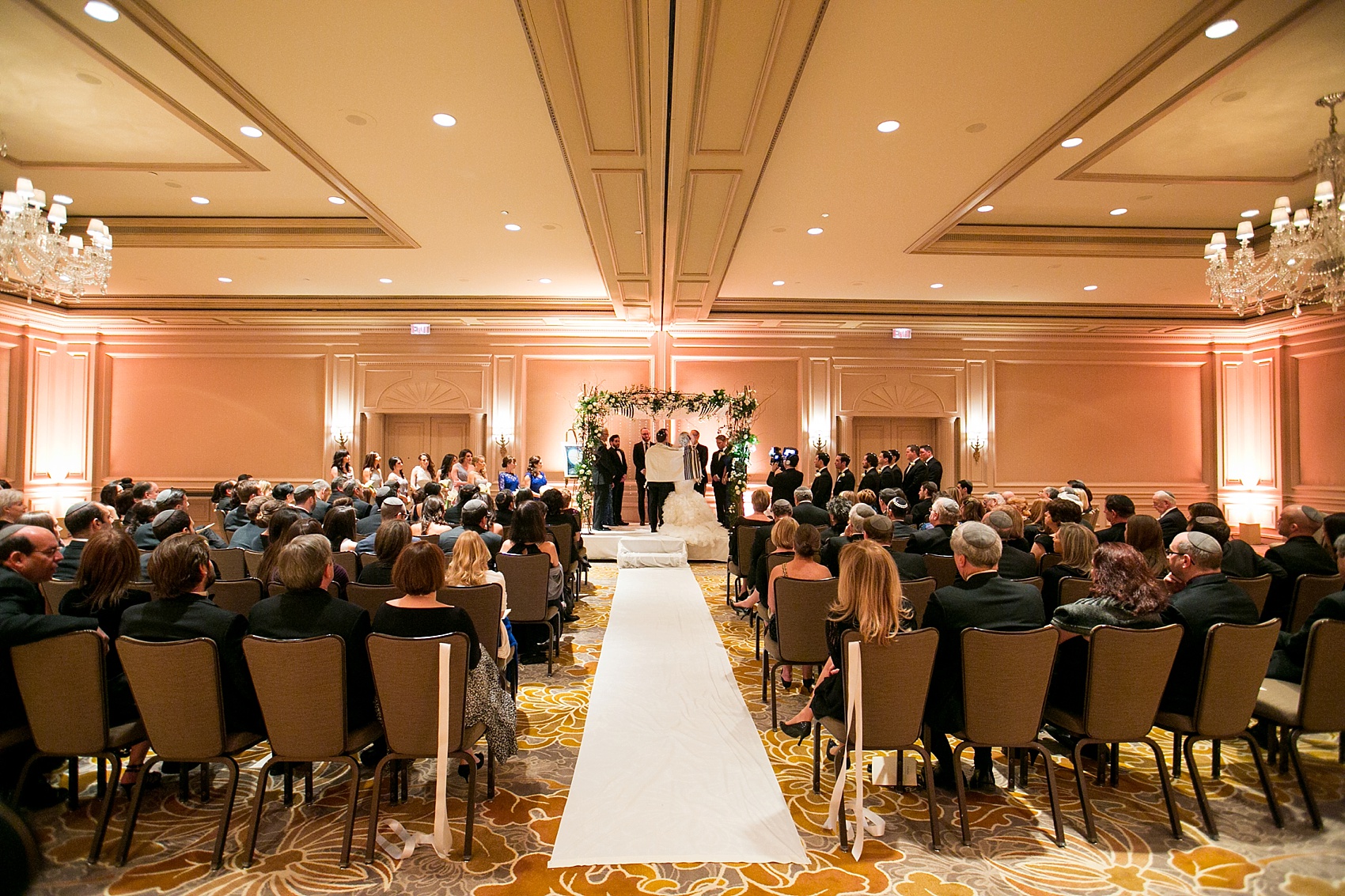 Reception at the Ritz Carlton Pentagon City
Soon enough, it was time to party!
All the tables at their Ritz Carlton Pentagon City wedding were named after presidents instead of the usually numerical identification of where guests were sitting. I have to hand it to the team at The Ritz for creating the table signs upon the couple's request. They are so tasteful and were so well done I actually thought Vered must have gotten them off Etsy. But nope – The Ritz took care of it!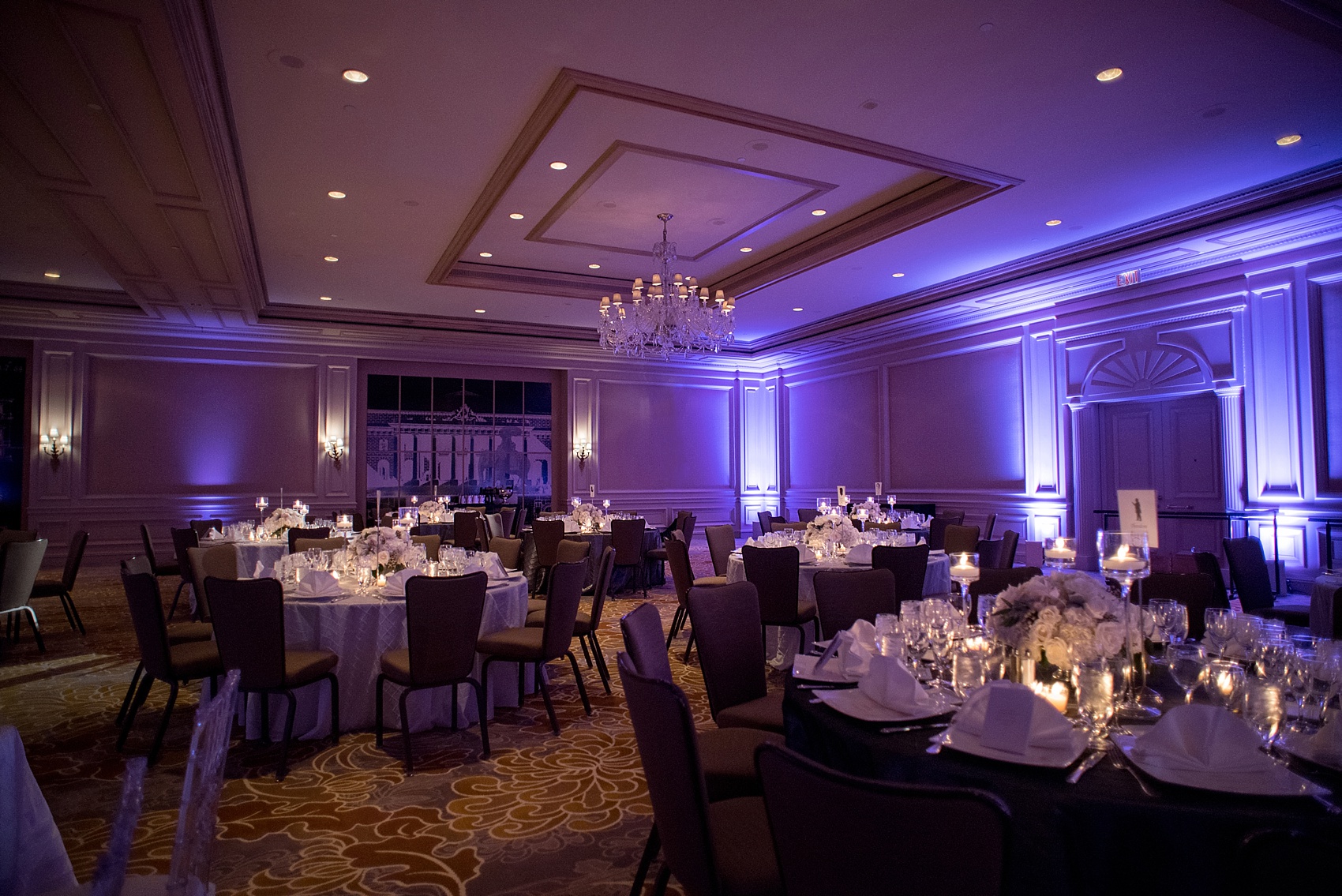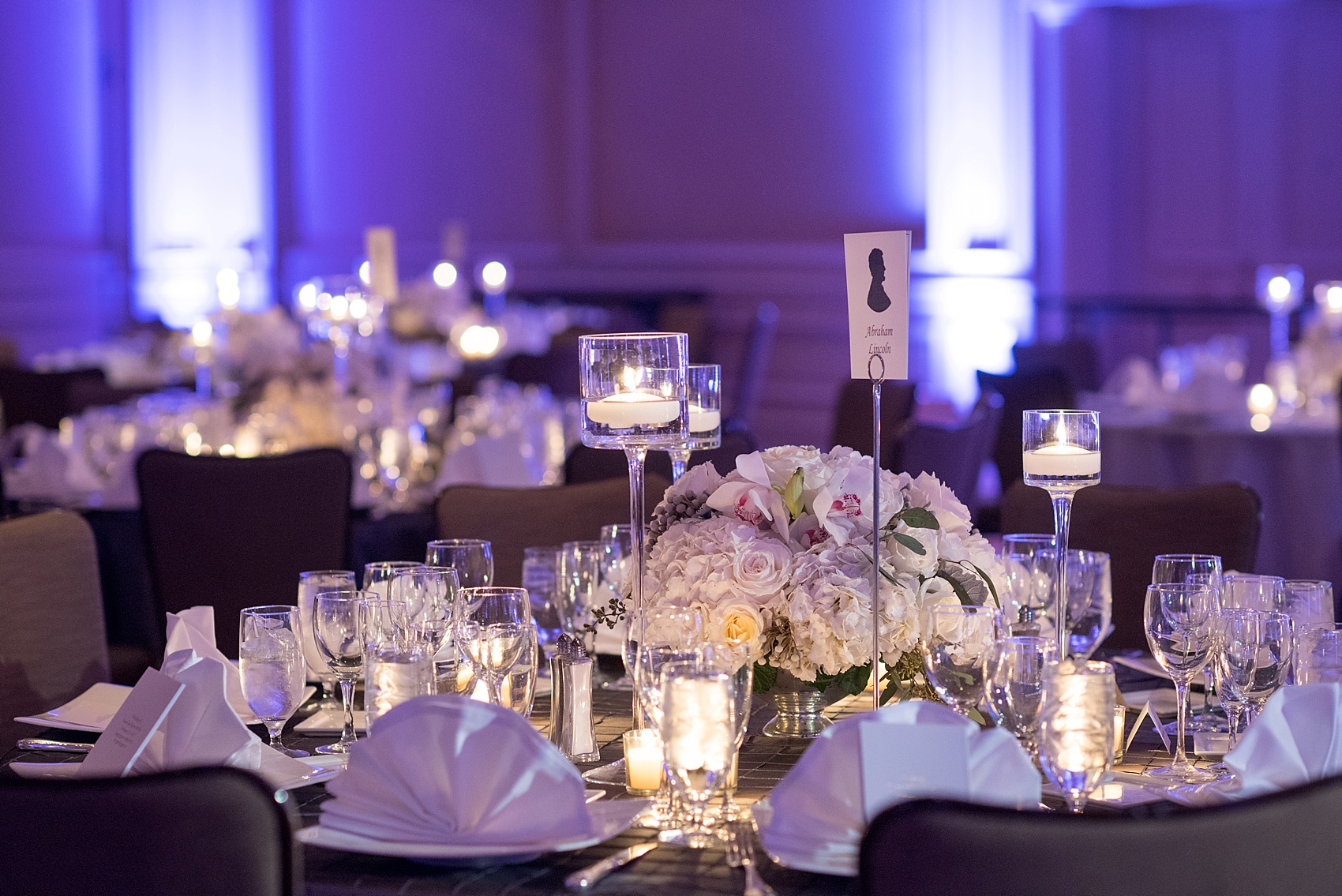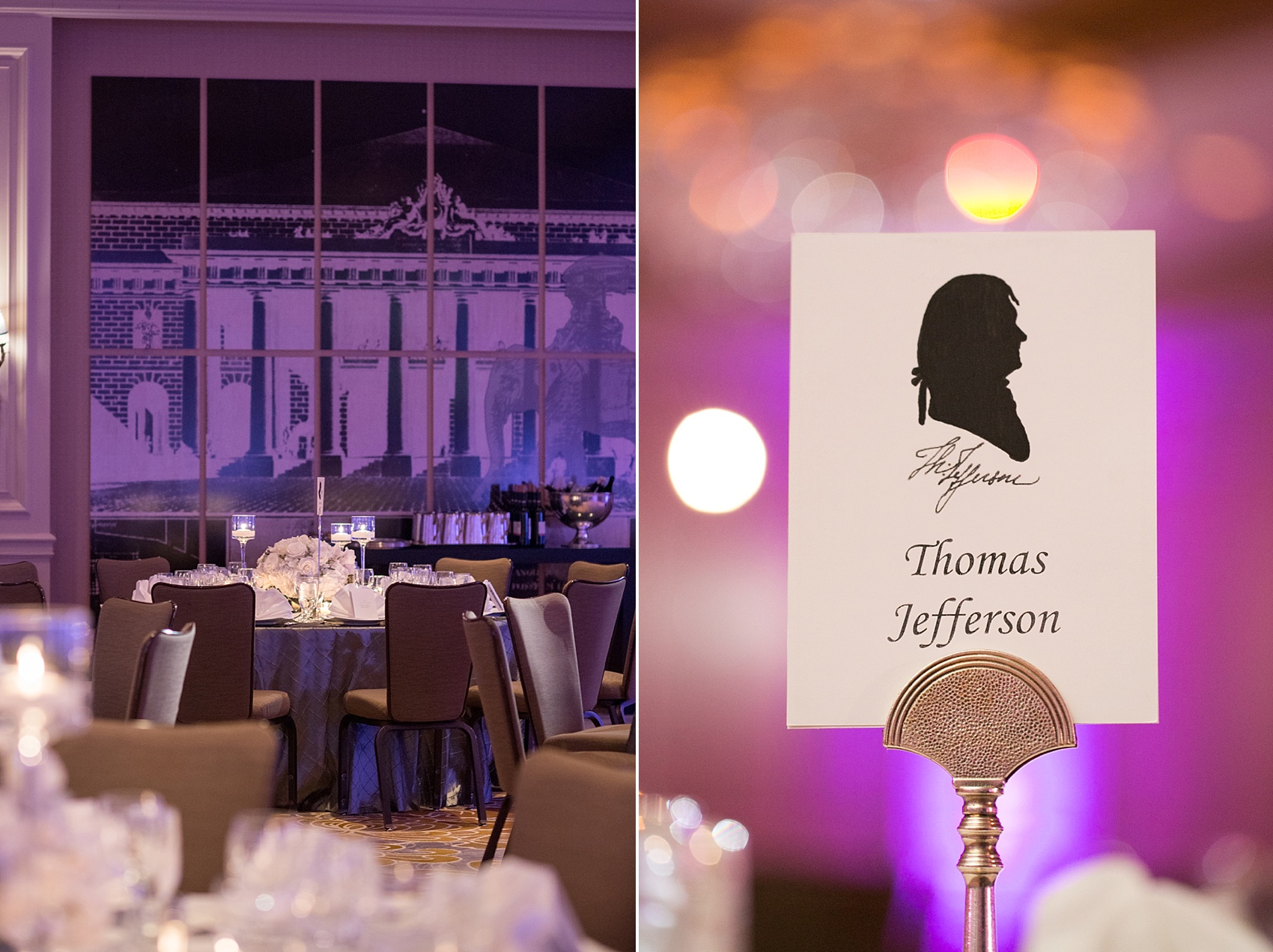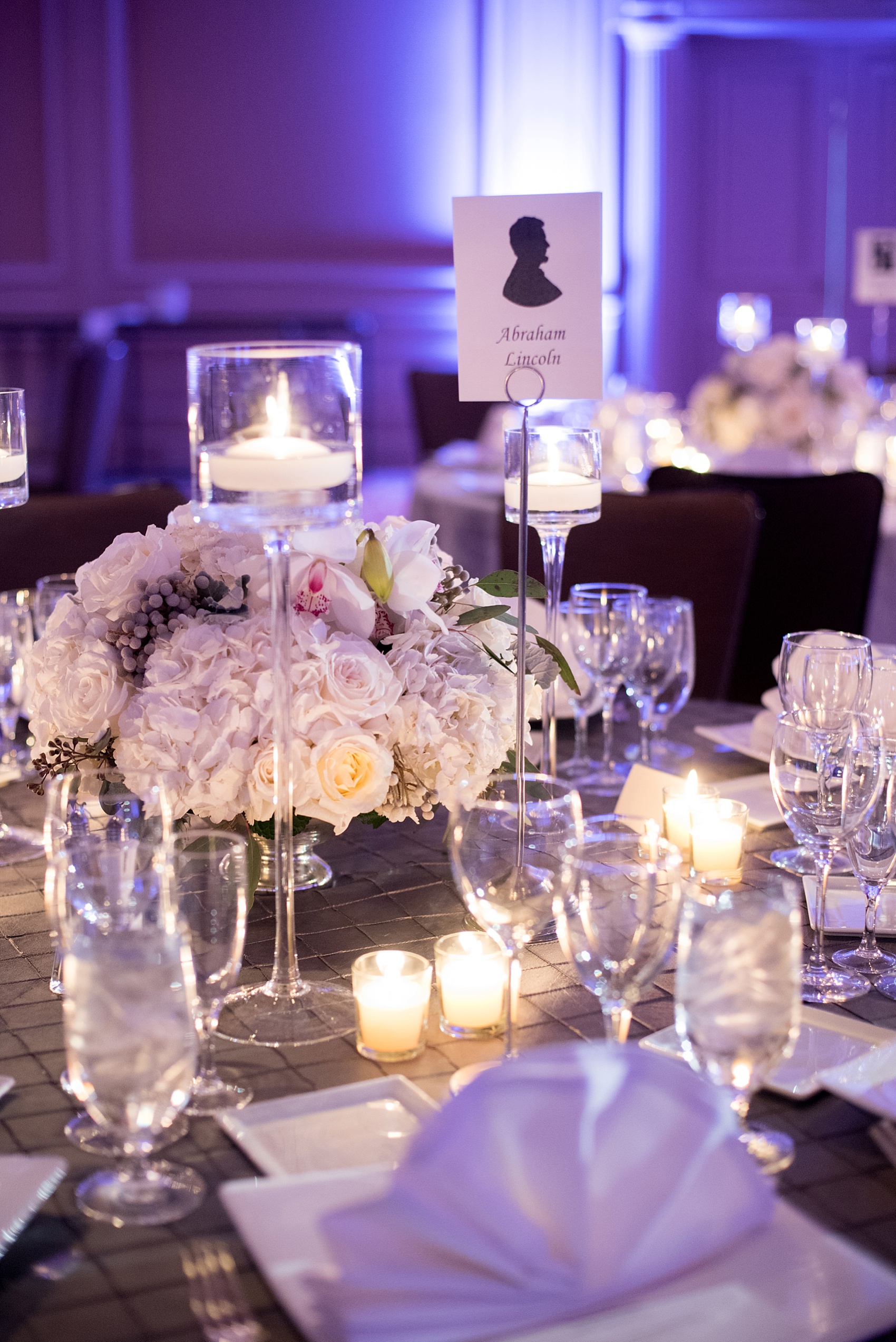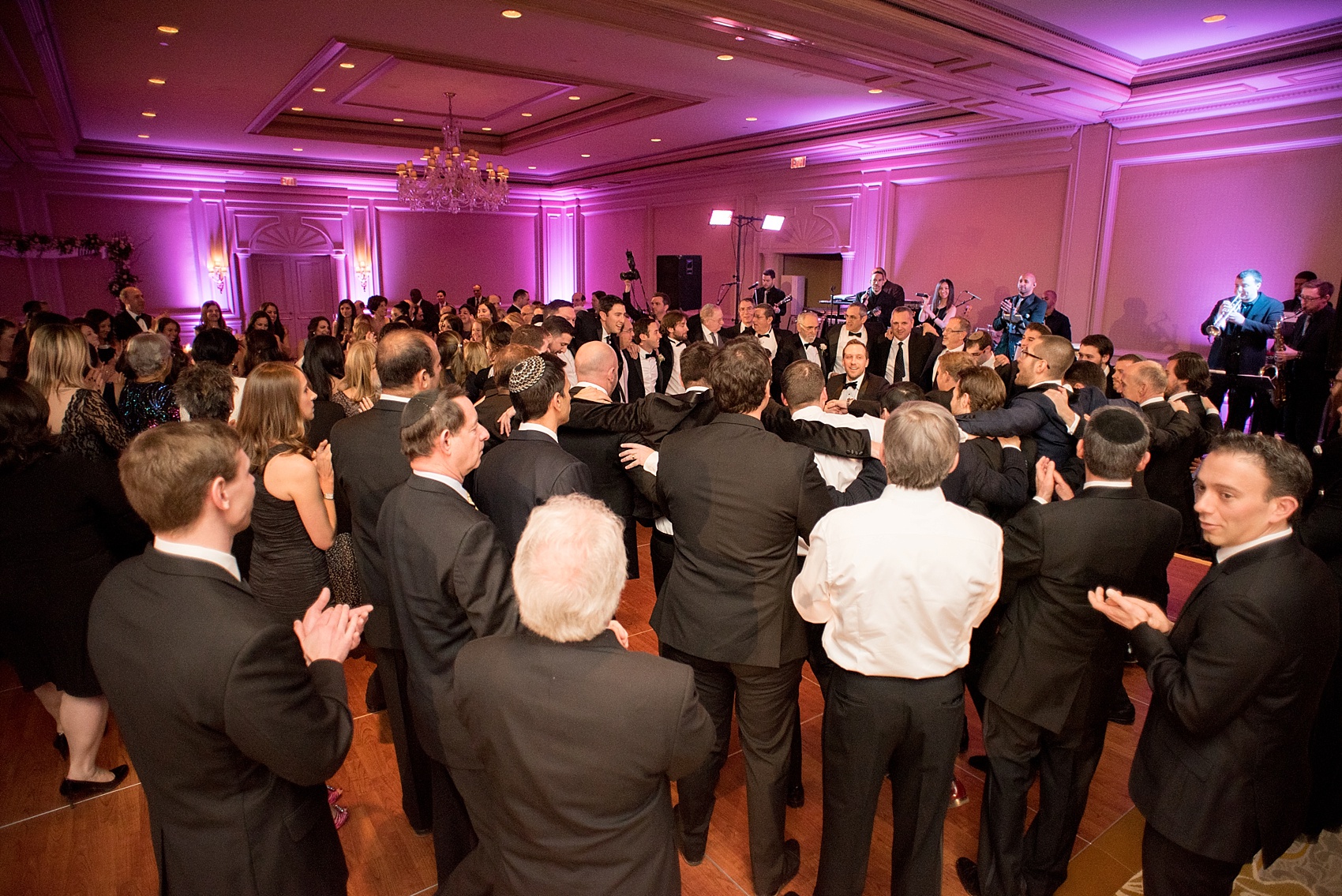 It's also a Jewish tradition that guests entertain the couple. Thus, a few wedding party members celebrated both of their colleges and her cousin and bridesmaid, Hadassah, even brought along this hilarious scary wolf mask! Rawr!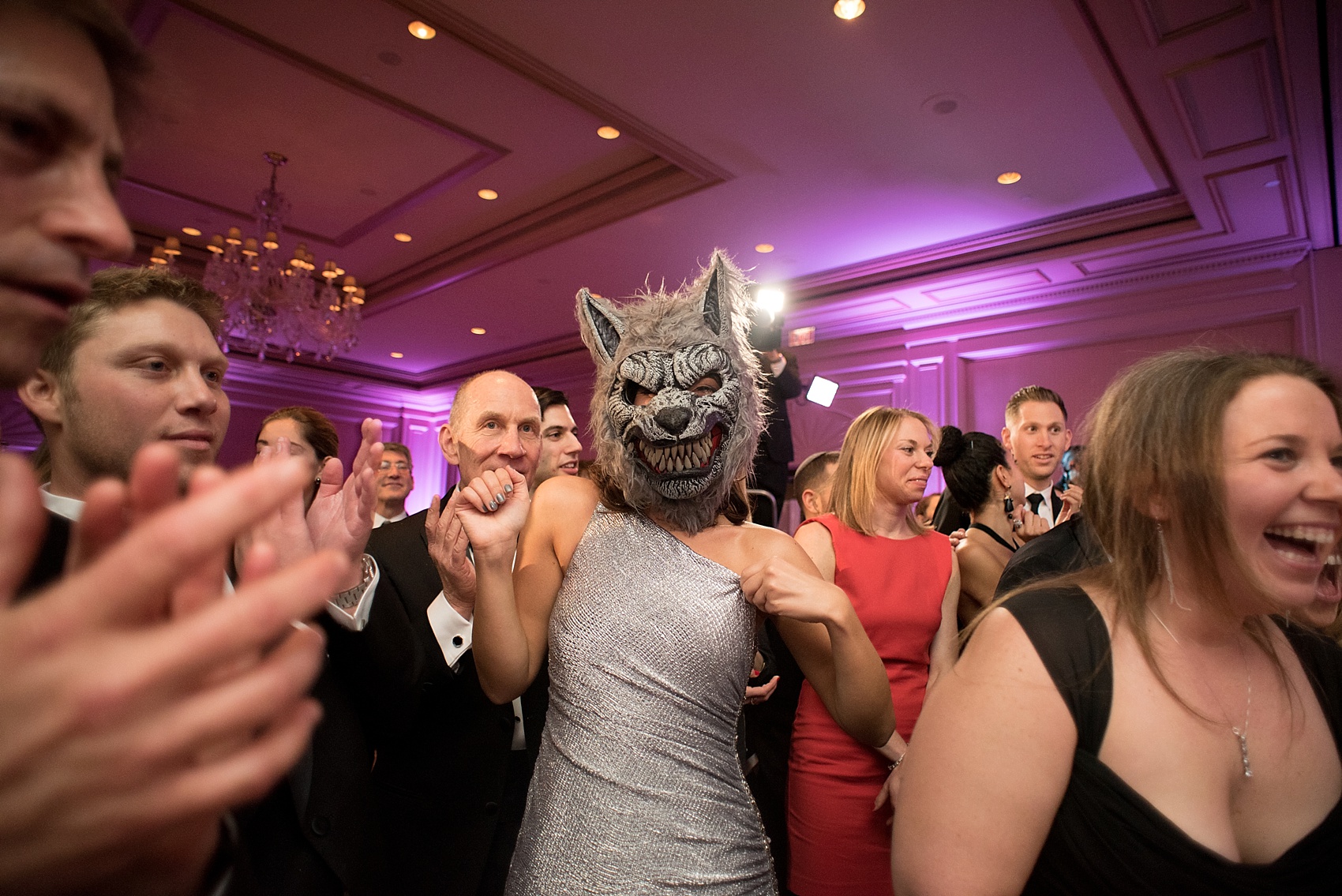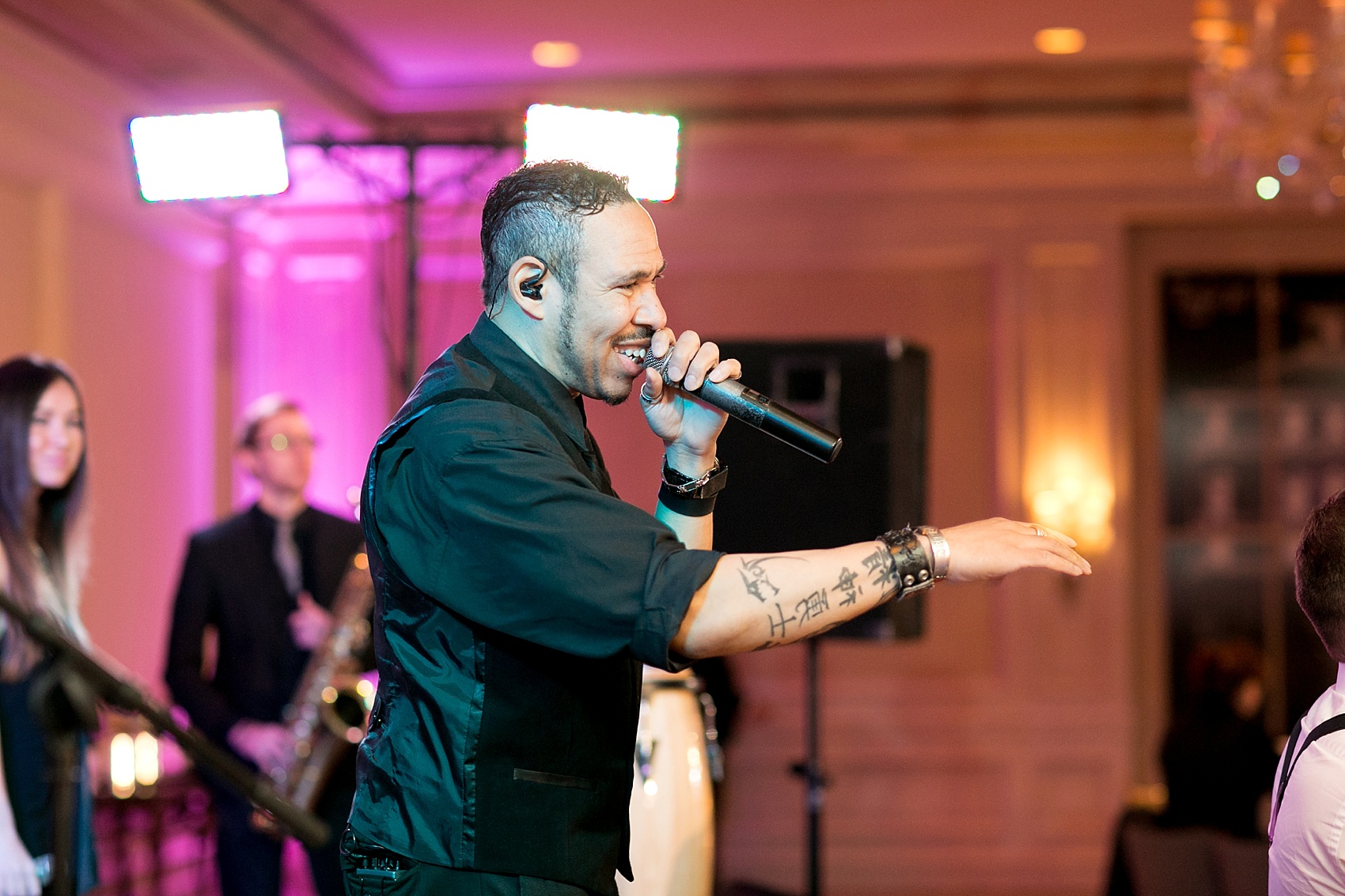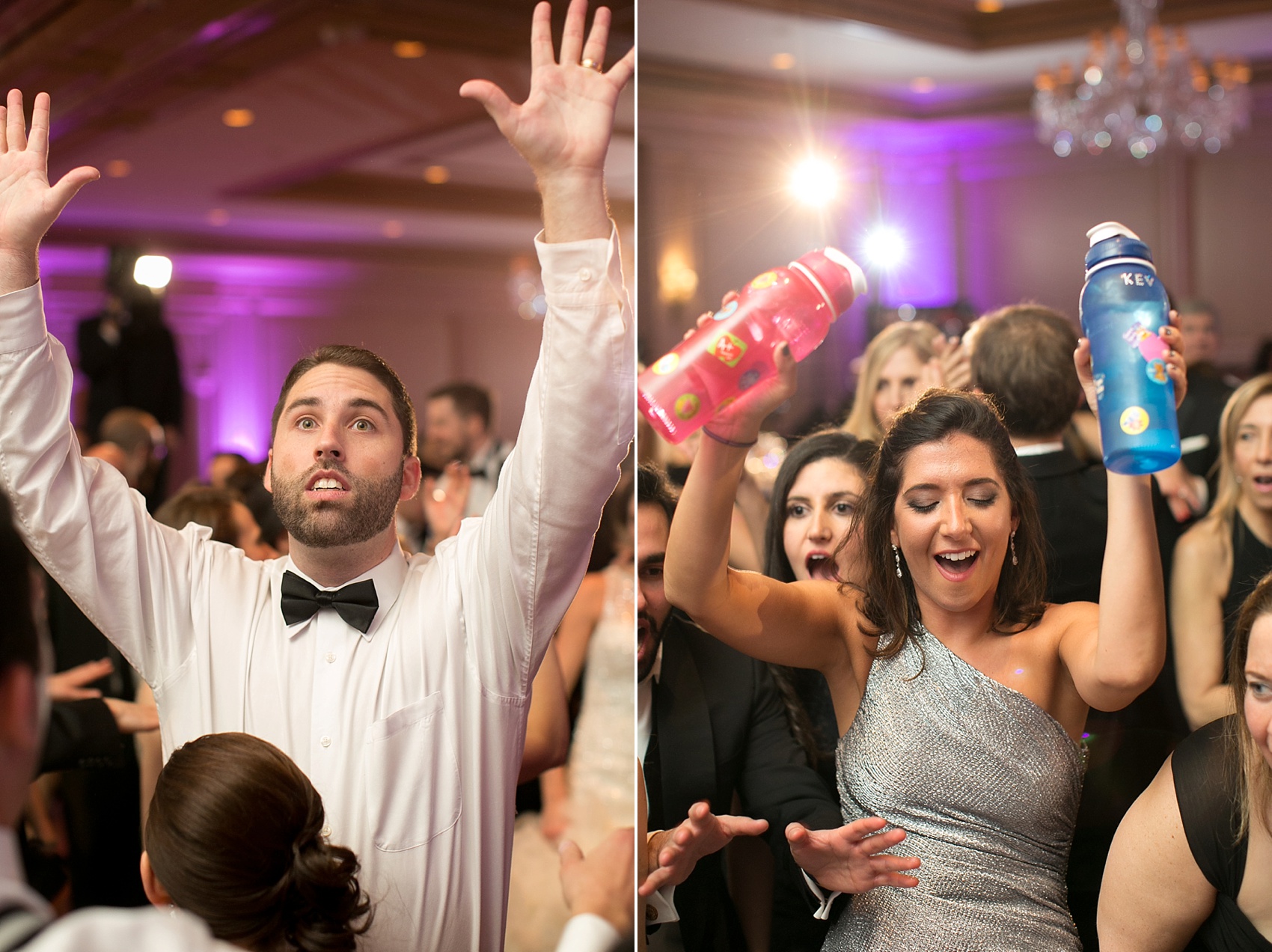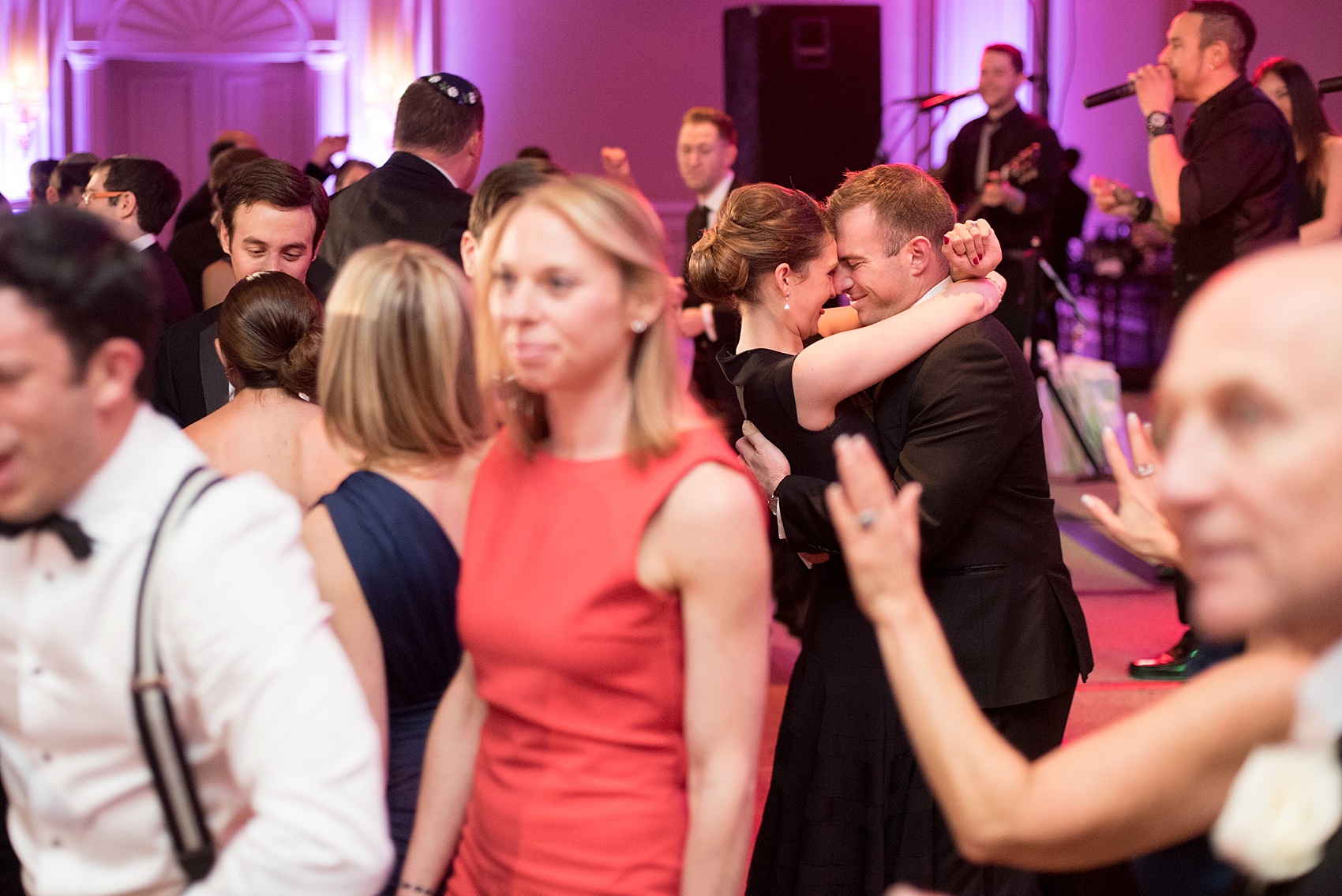 I love me some sweet moments like this!!!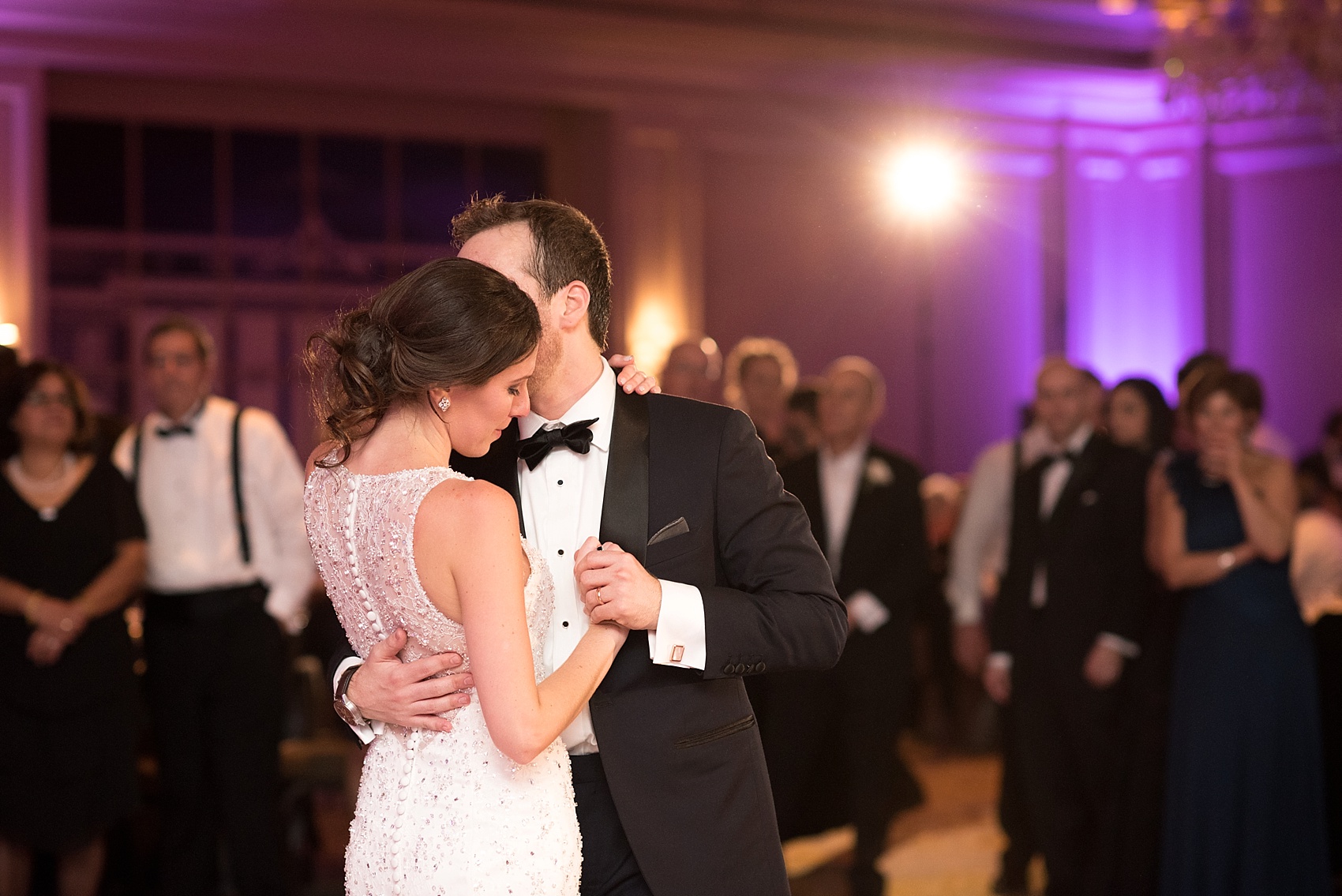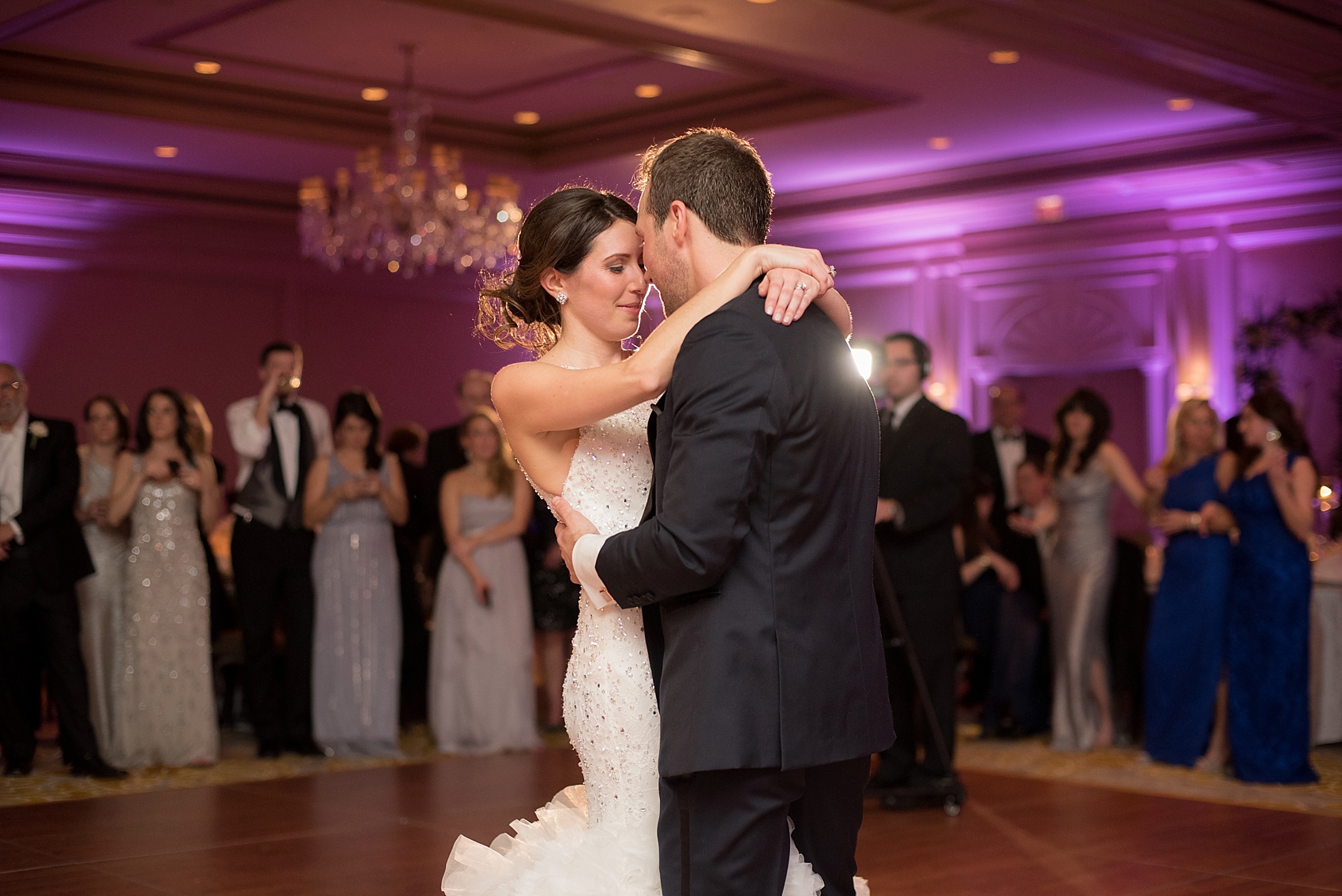 Any man who can sweep his new wife off her feet and twirl her around on the dance floor is good in my book!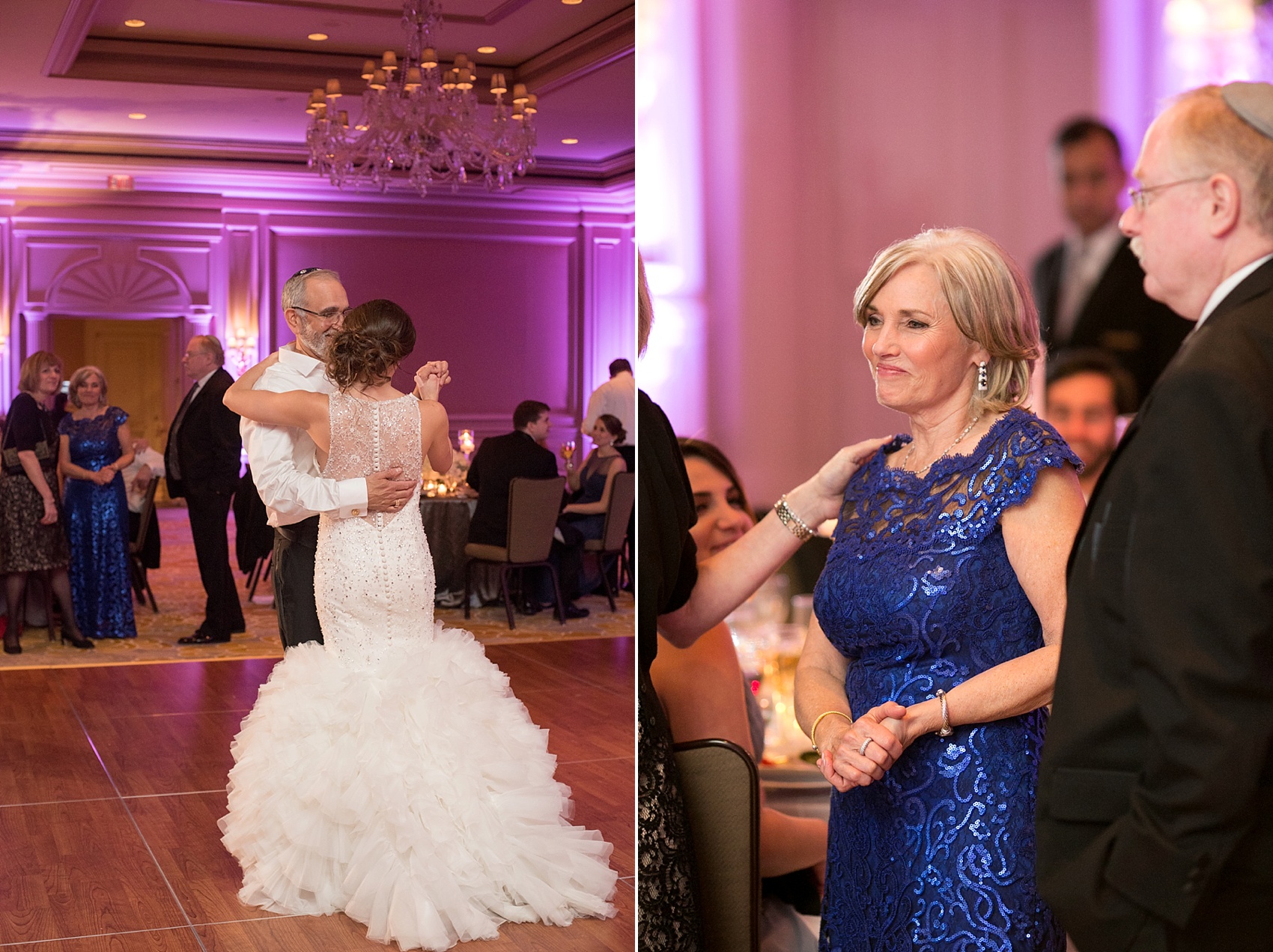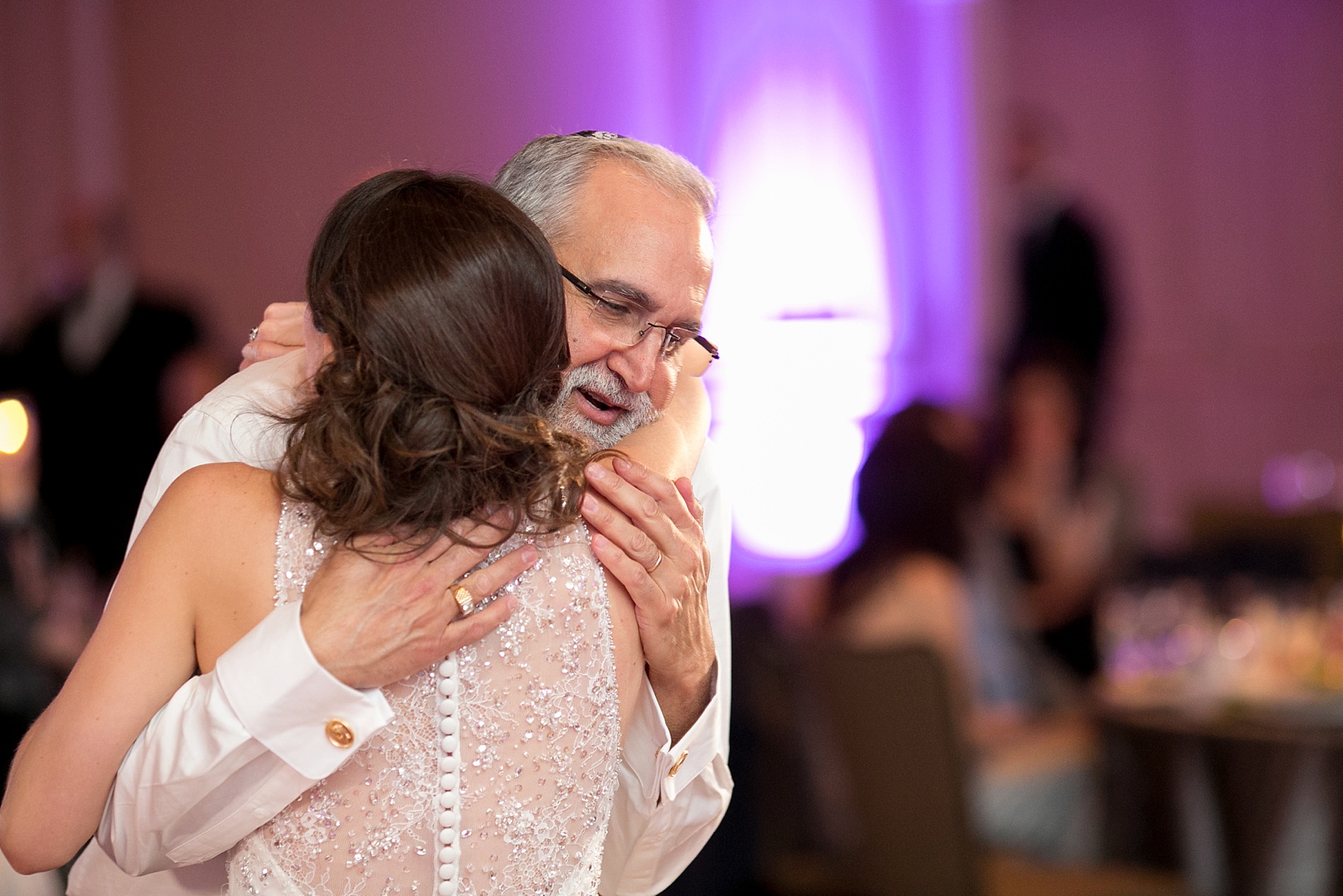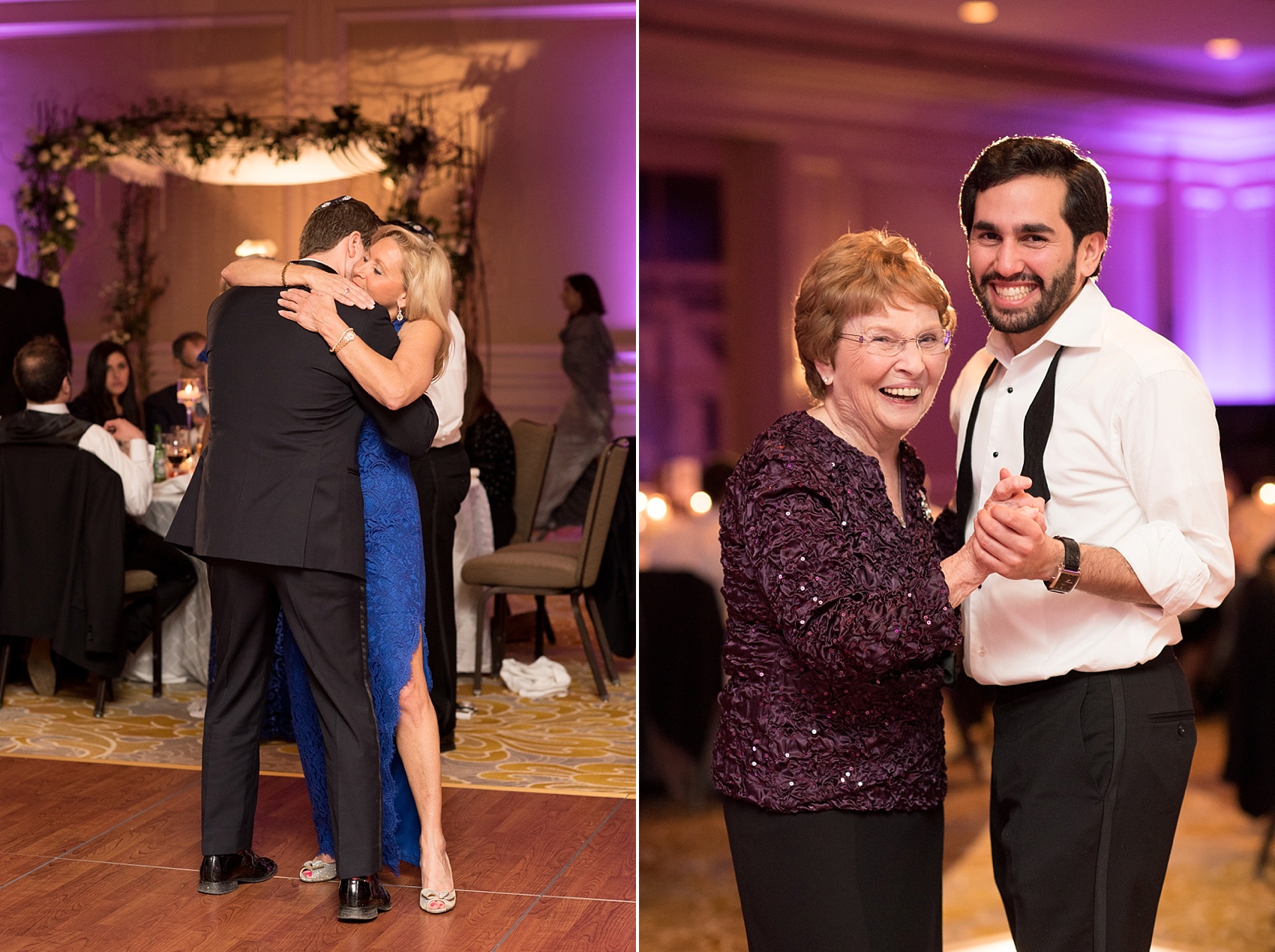 Vered's brother, Daniel, even got grandma up to the dance floor for a slow song. I love it! (I had the honor of photographing Daniel's wedding after Vered and Kevin's too!)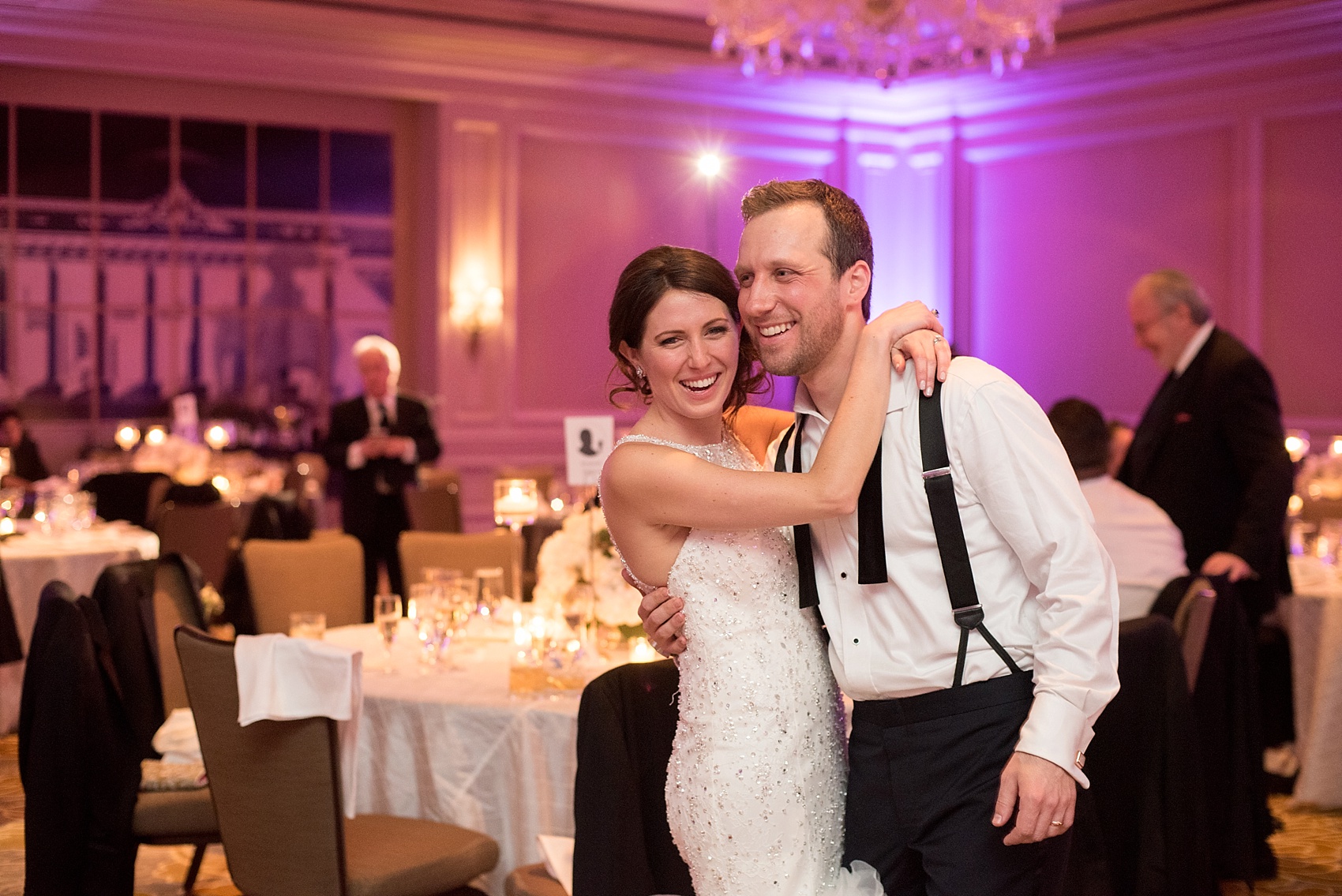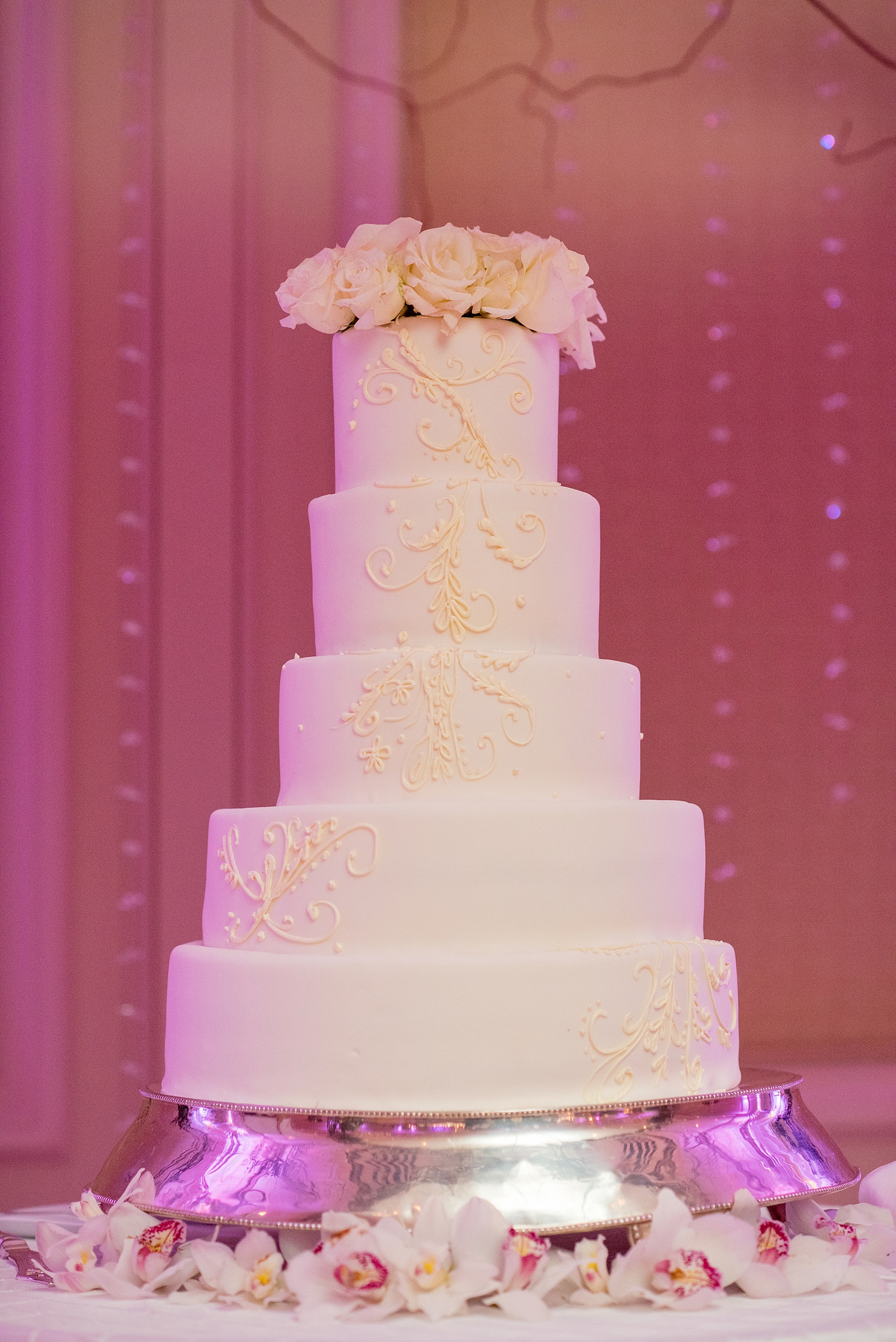 After the cake had been cut and dessert bar set out (and I have to mention one layer of their cake was red, white and blue, also for President's Day) Vered had one more surprise up her sleeves…a New Orleans, jazz styled "second line" for Kevin!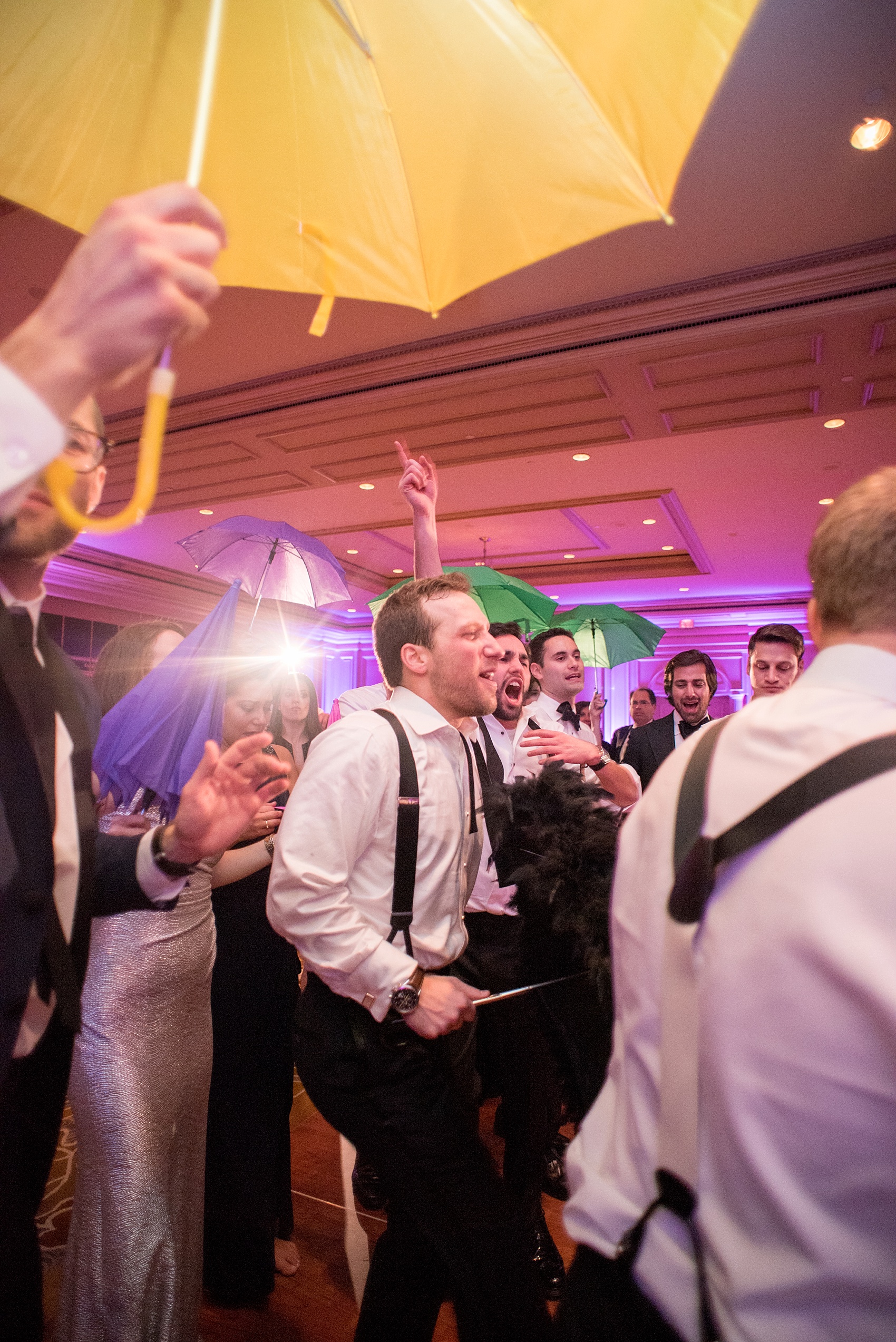 What a fabulous way to end an incredible day. Congratulations you two! I couldn't be any happier for such a sweet, sincere, couple.
Wedding Vendors
Venue: The Ritz Carlton, Pentagon City / Florist: Simply Beautiful Flowers / Wedding Gown: Betsey Robinson, designer Mori Lee / Shoes: Badgley Mischka / Maid of Honor blue dress: Tadashi Shoji  / Groom's Custom Tuxedo: Imparali / Groomsmen Socks: Sock It To Me, Honest Abe / Cufflinks: Ravi Ratan, JFK Mother of Pearl / Monogrammed bridesmaids shirts: Markeza, Etsy / Officiant: Rabbi Lerner / Invitations: Simcha Shop, Baltimore / Table Numbers: The Ritz Carlton / Makeup: Simone, Bogarts Salon / Hair: Perry, Bogarts Salon / Band: Spectrum
Like what you see? Want more? There's a few more photos up on Facebook! Don't forget to "like" and *follow* Mikkel Paige and check out Instagram #verbear hashtag for more from their wedding, too! Posted by me and tons of guests.