Seeing the smiles, sunshine and Florida foliage in Rachel and Ariel's destination wedding photography makes me SO HAPPY! Their short engagement made planning a priority; before we all knew it we blinked and the day had arrived! Their wedding was filled with so many amazing moments, from their first look at the spa (one of Rachel's favorite things about the hotel!) to their bedeken and tish (my favorite part of a traditional Jewish wedding), their gorgeous waterfront ceremony, and a LOT of awesome dancing!
(I've been fortunate enough to capture both weddings of Rachel's older siblings. Their parents, Mark and Diane, friends and cousins have all made me feel like a welcome part of their family every time, so their wedding was extra special to me.)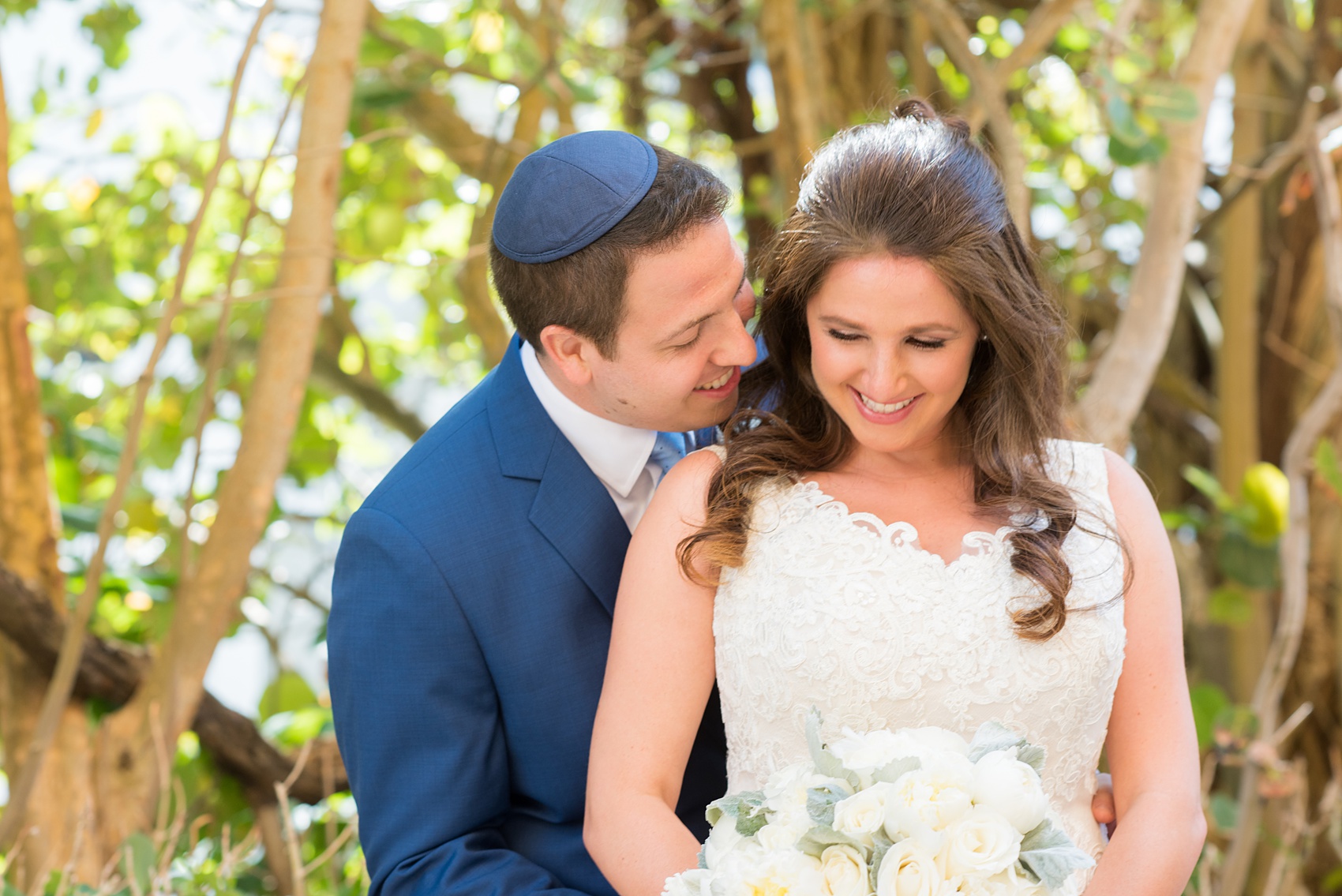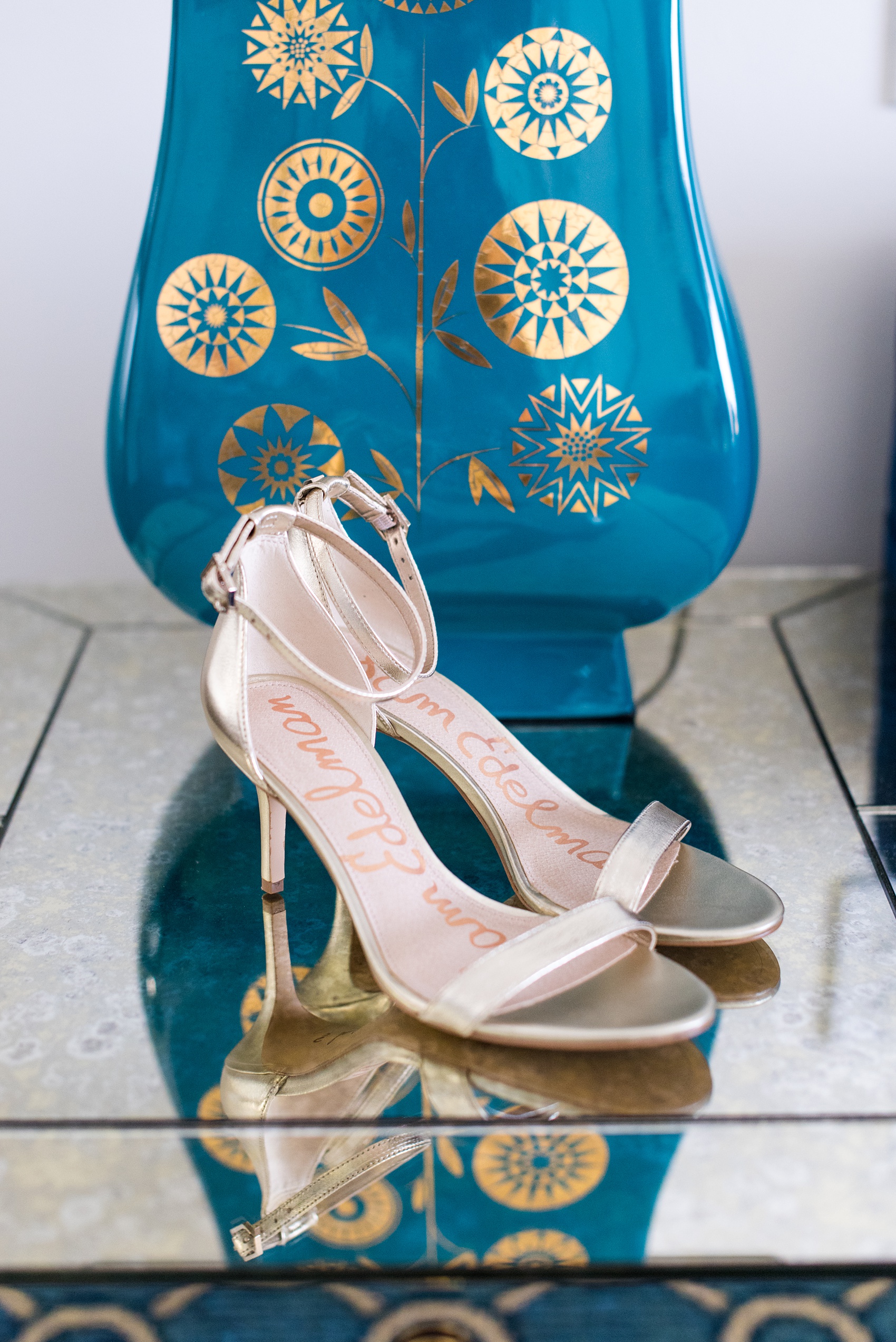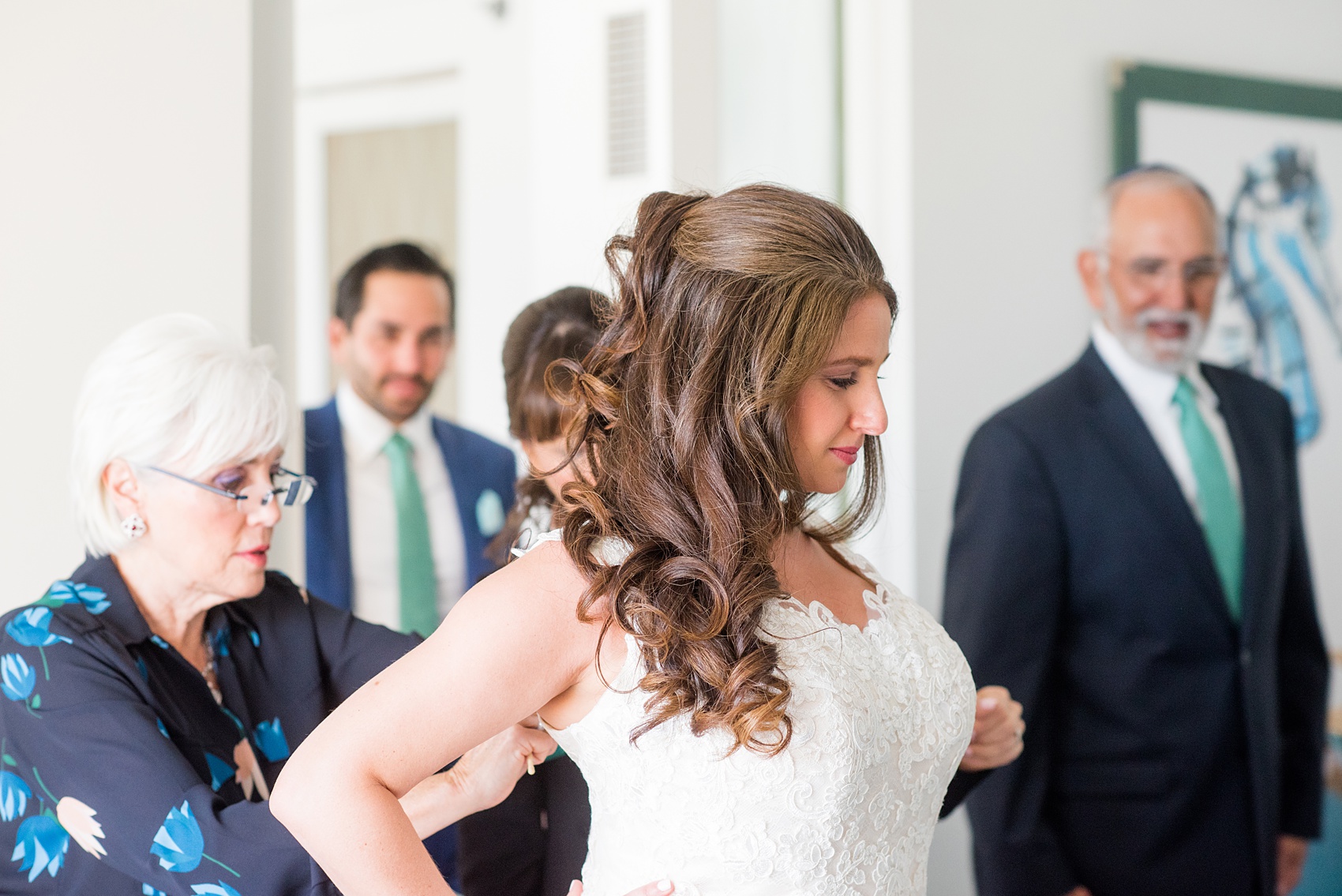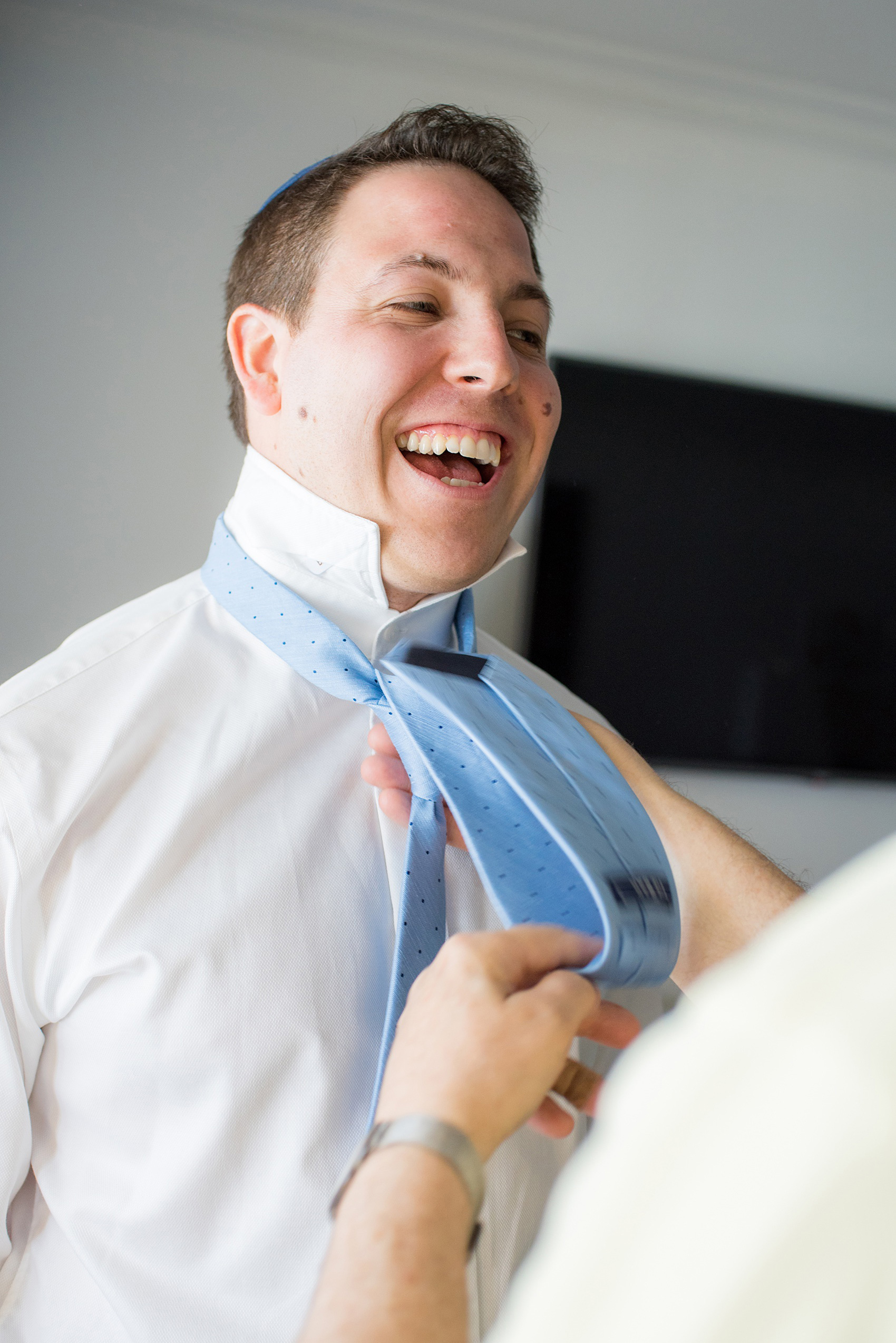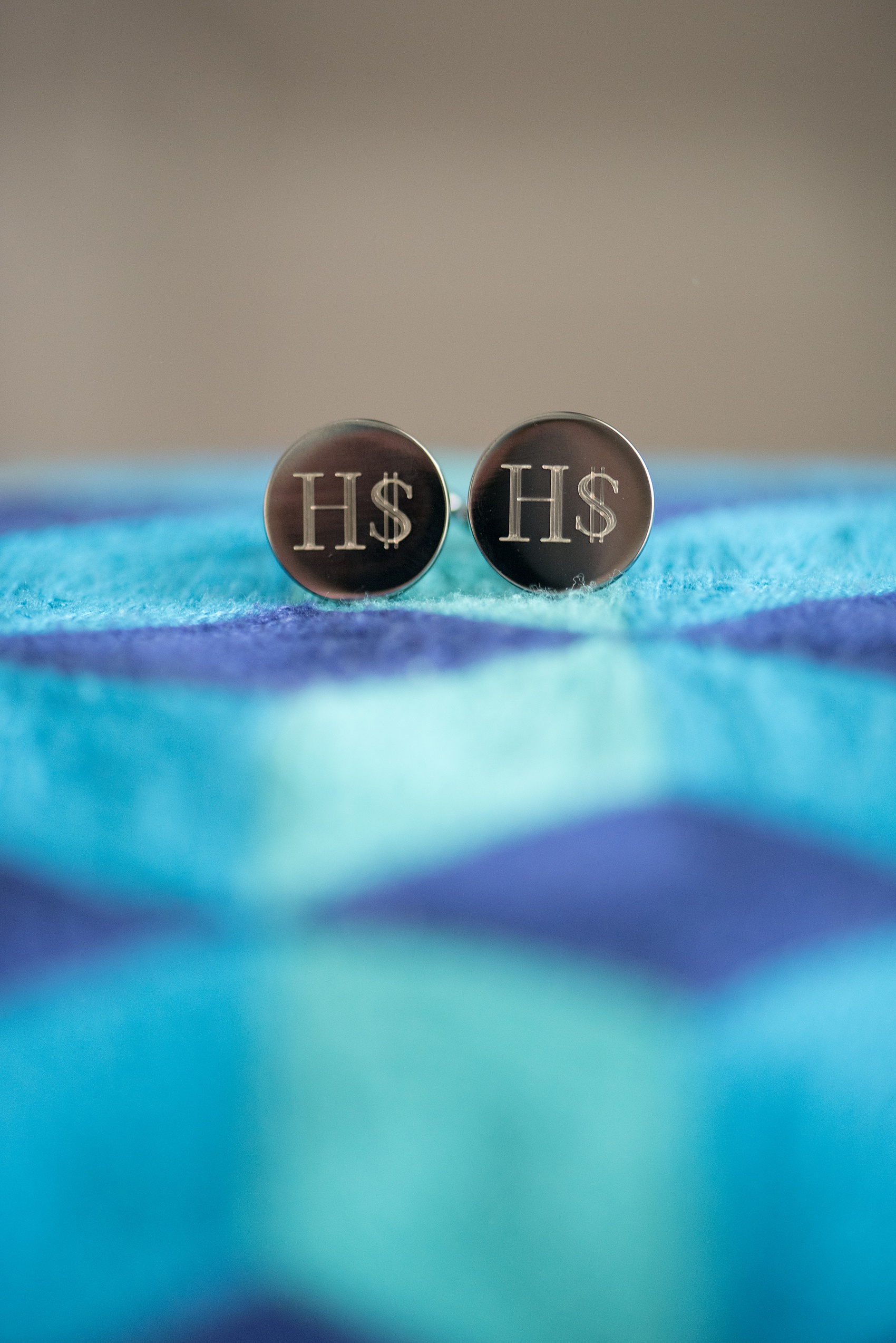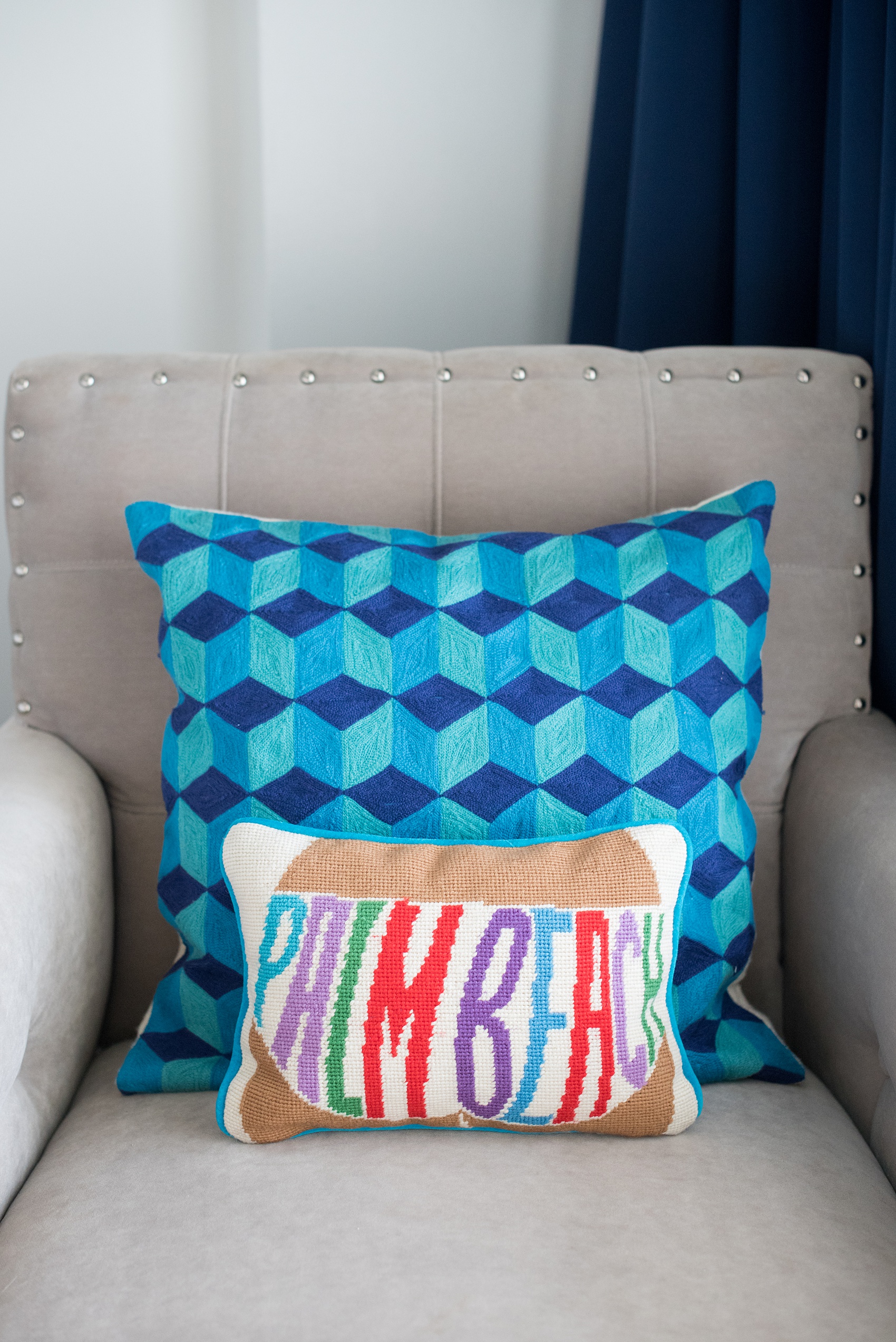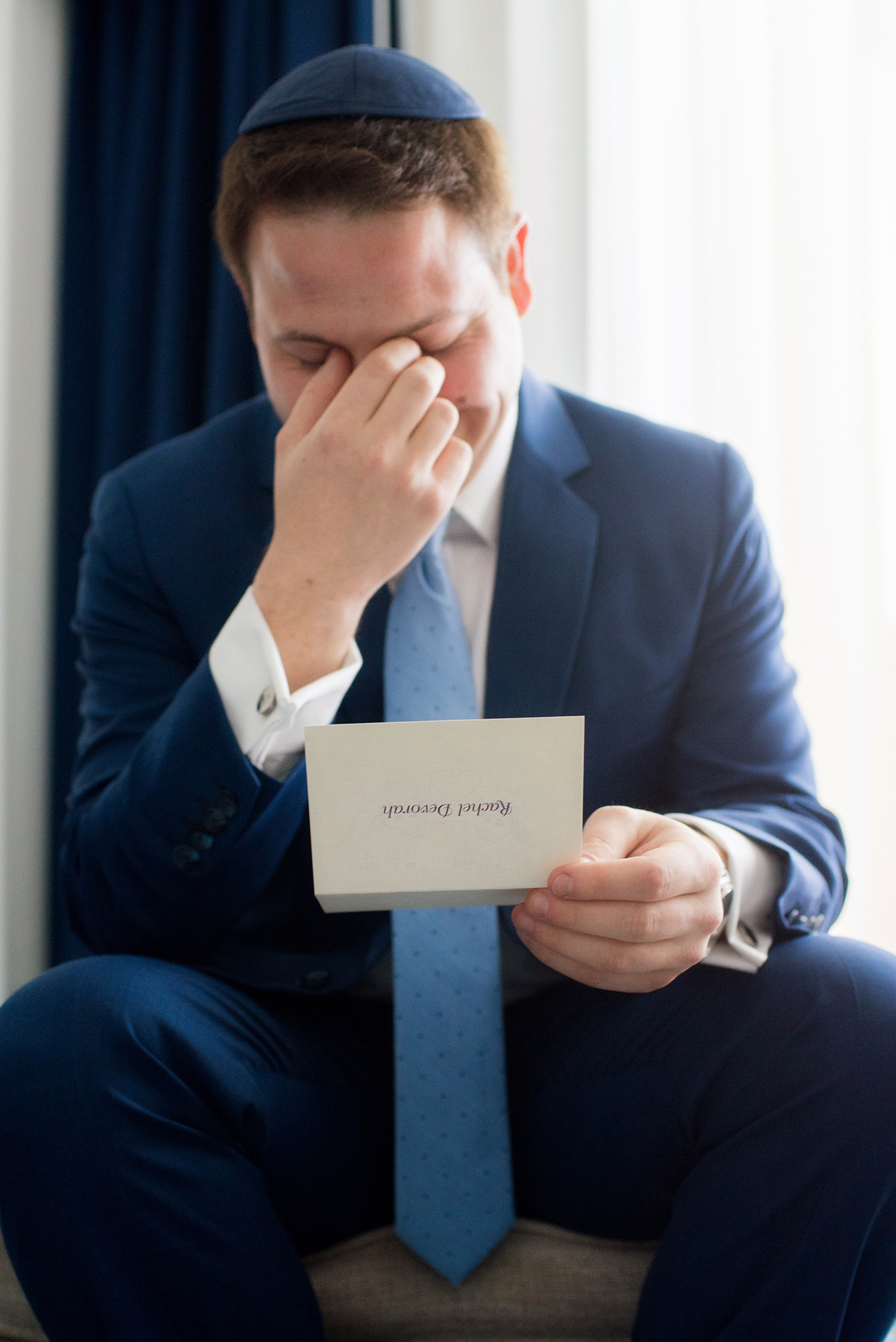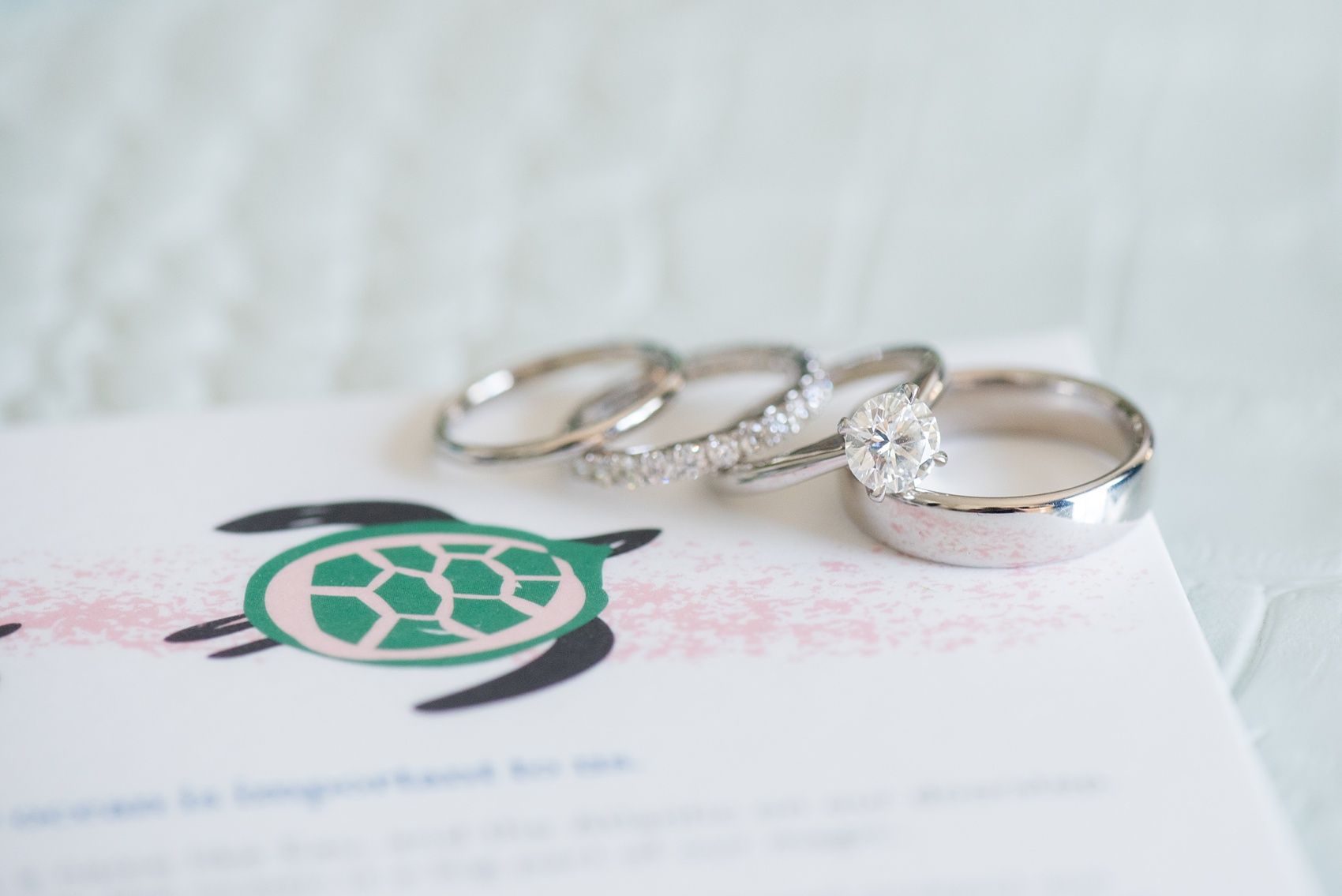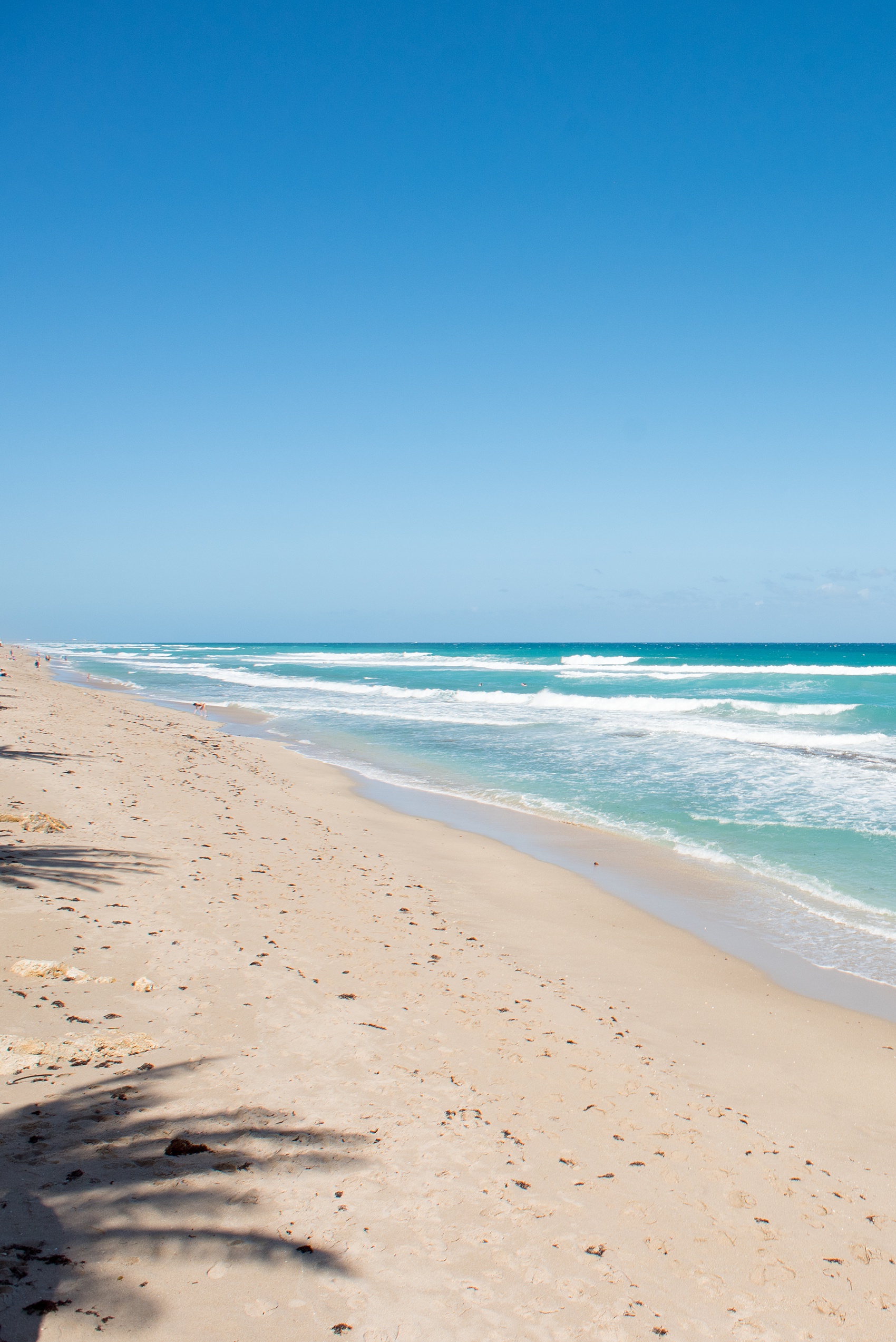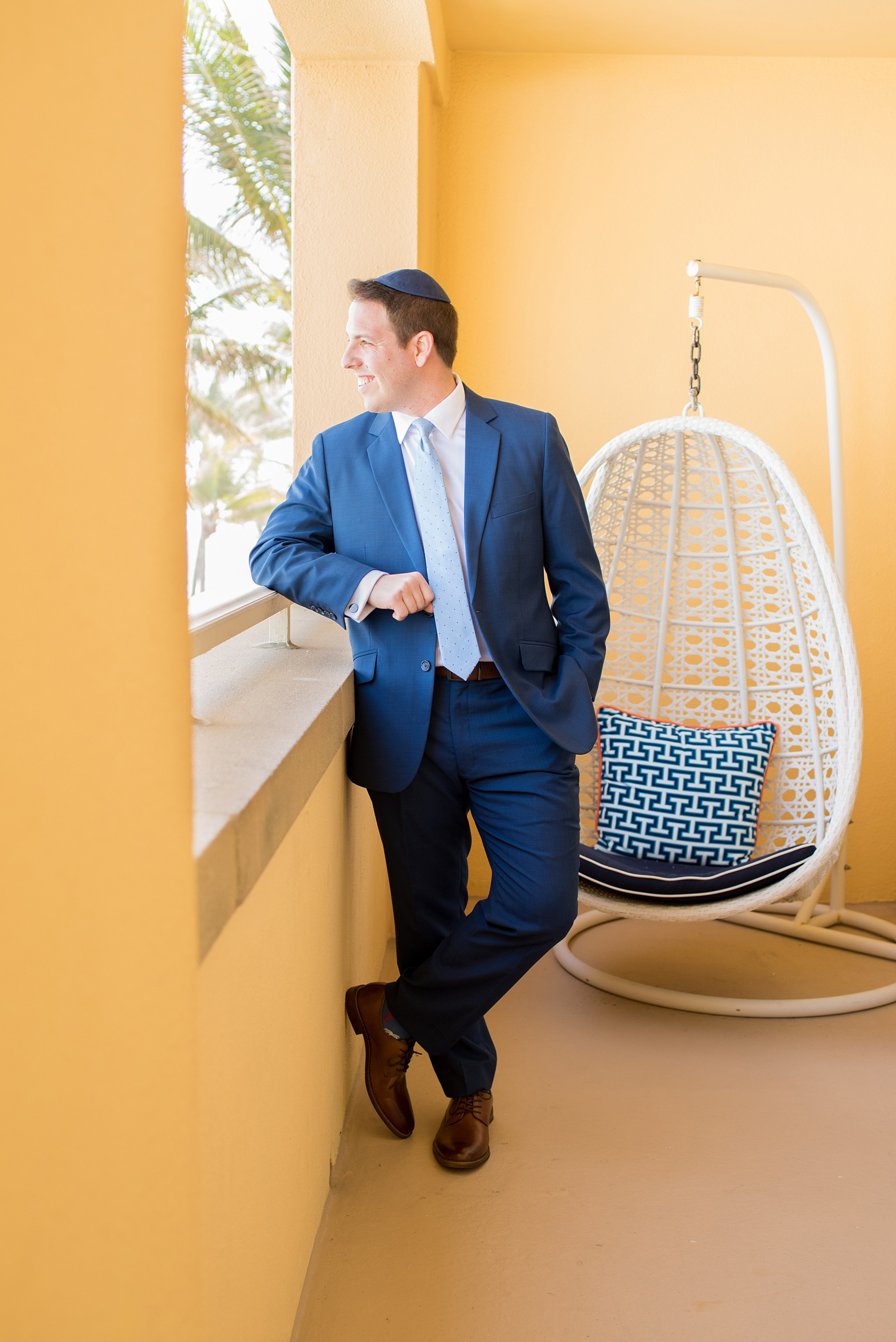 I was in awe of the hotel's incredible details from the moment I checked in. I could not wait to photograph details in that environment, like Rachel's shoes and rings. The printed material in the rooms – including a card with illustrated turtles on it – immediately spoke to me; I knew it was perfect for a ring photo because Rachel loves turtles! The balcony was the perfect location for some pre-first look images with Ariel as he prepared for the day with his father and groomsmen.The fun gunmetal cufflinks Ariel wore (aka: H$) were a special gift from his bride…and there was no reason to resist photographing them on the fun couch pillows in the Jonathan Adler designed hotel rooms! Back in Rachel's room, the mirrored side tables were incredible for some wedding day shoe images. Another fun detail was the blue sky and aqua water echoed in the groom and the groomsmen's ties for the day. (Wonderful planning on the couple's part, I must say.)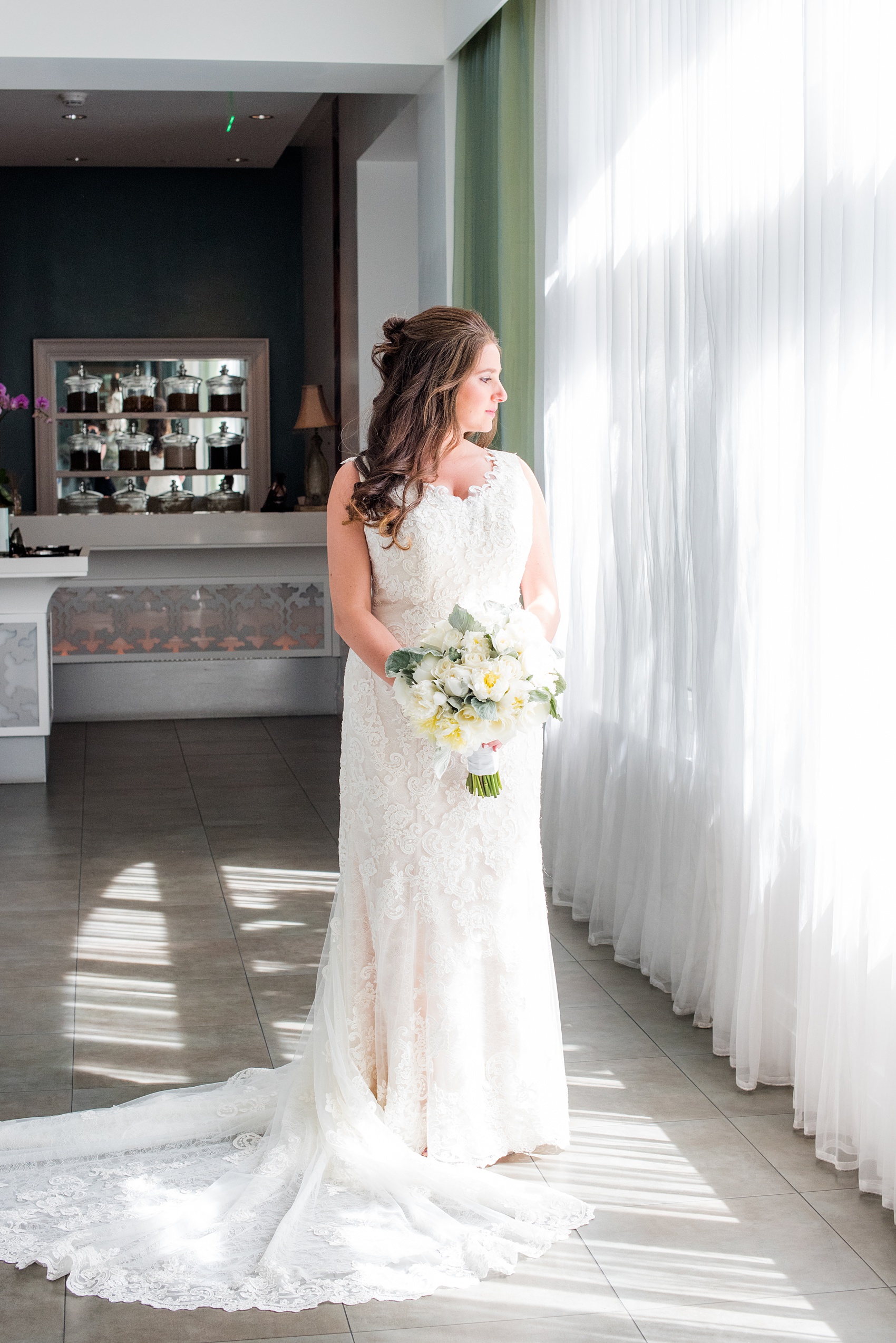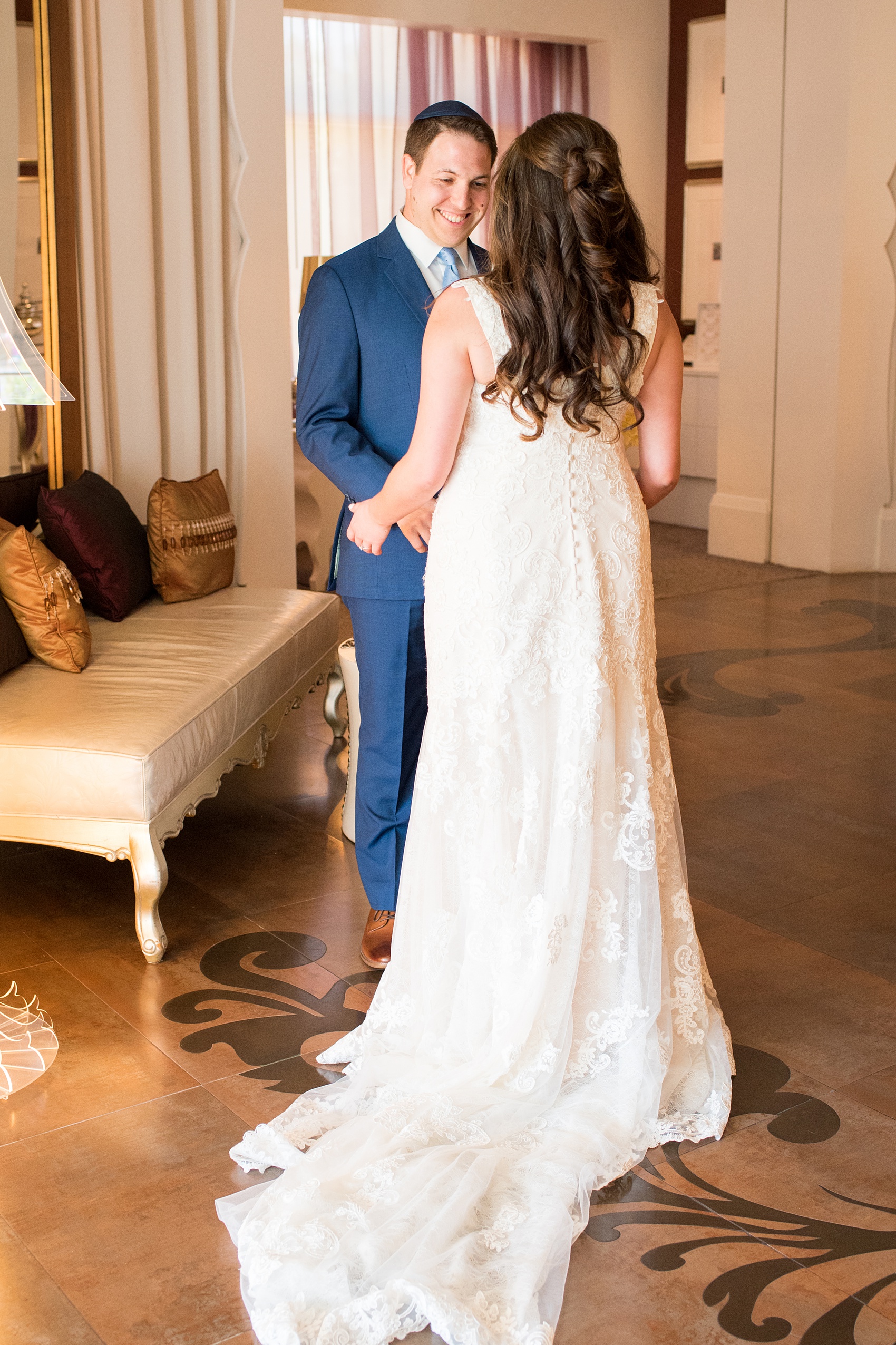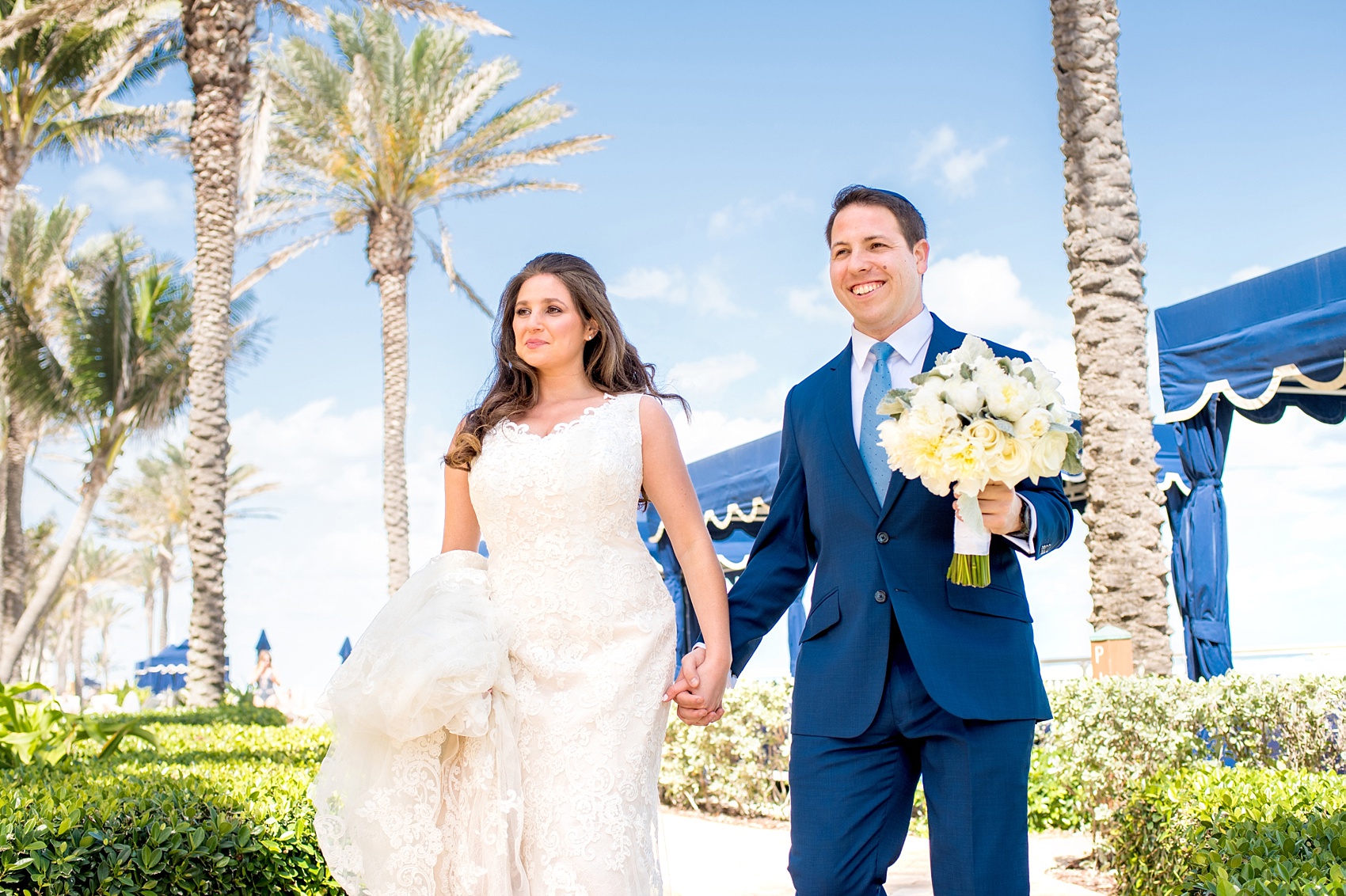 They were lucky enough to do their first look at Eau Palm Beach resort's famous spa (a wedding day wish the spa manager helped make come true!). Then we dashed around the property for incredible photos of them near the ocean (the tide was really high that day, coming up to the hotel walls, so we couldn't go on the beach but luckily you could still see the water, especially during the ceremony) and within the beautiful landscaping at this West Palm Beach wedding resort.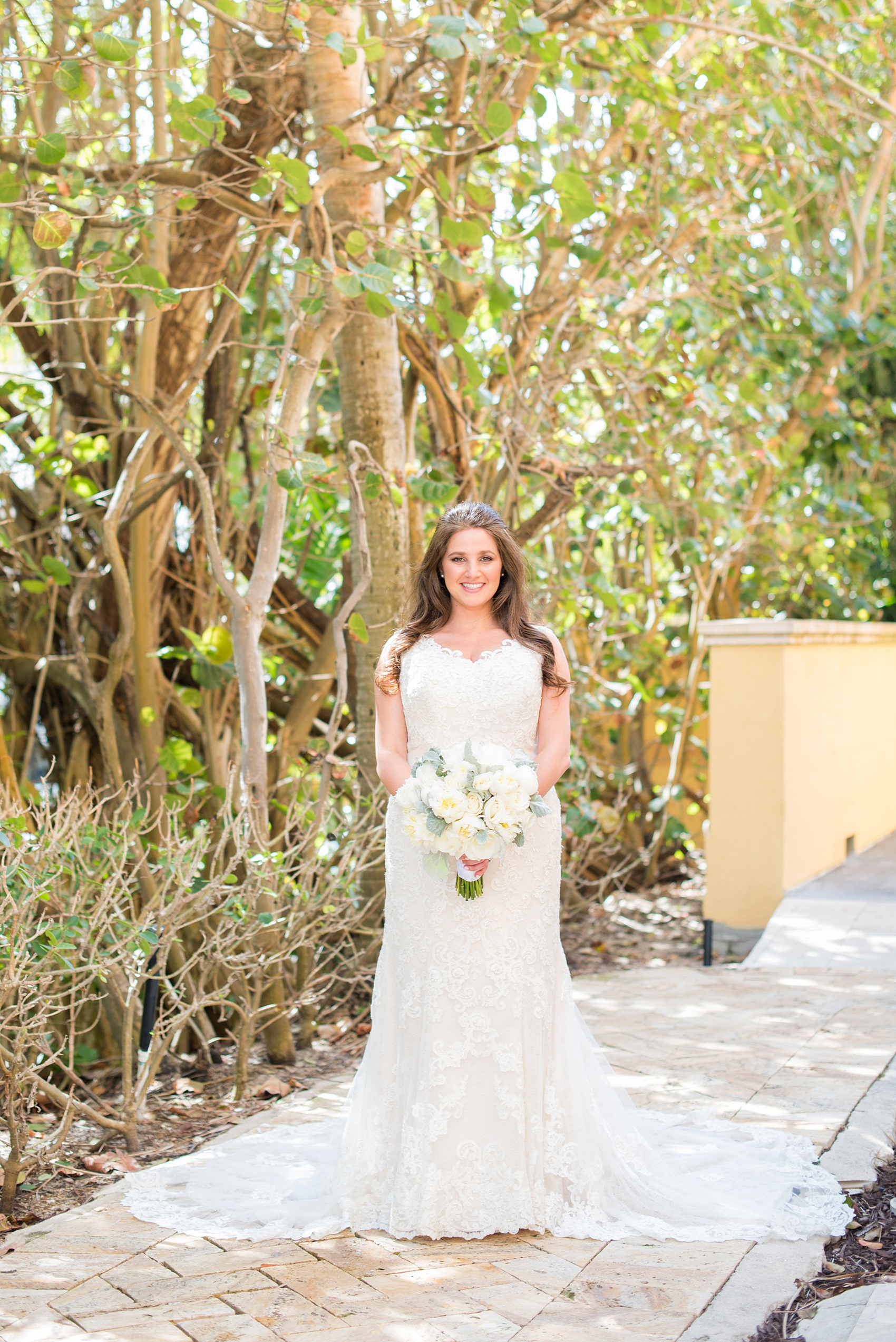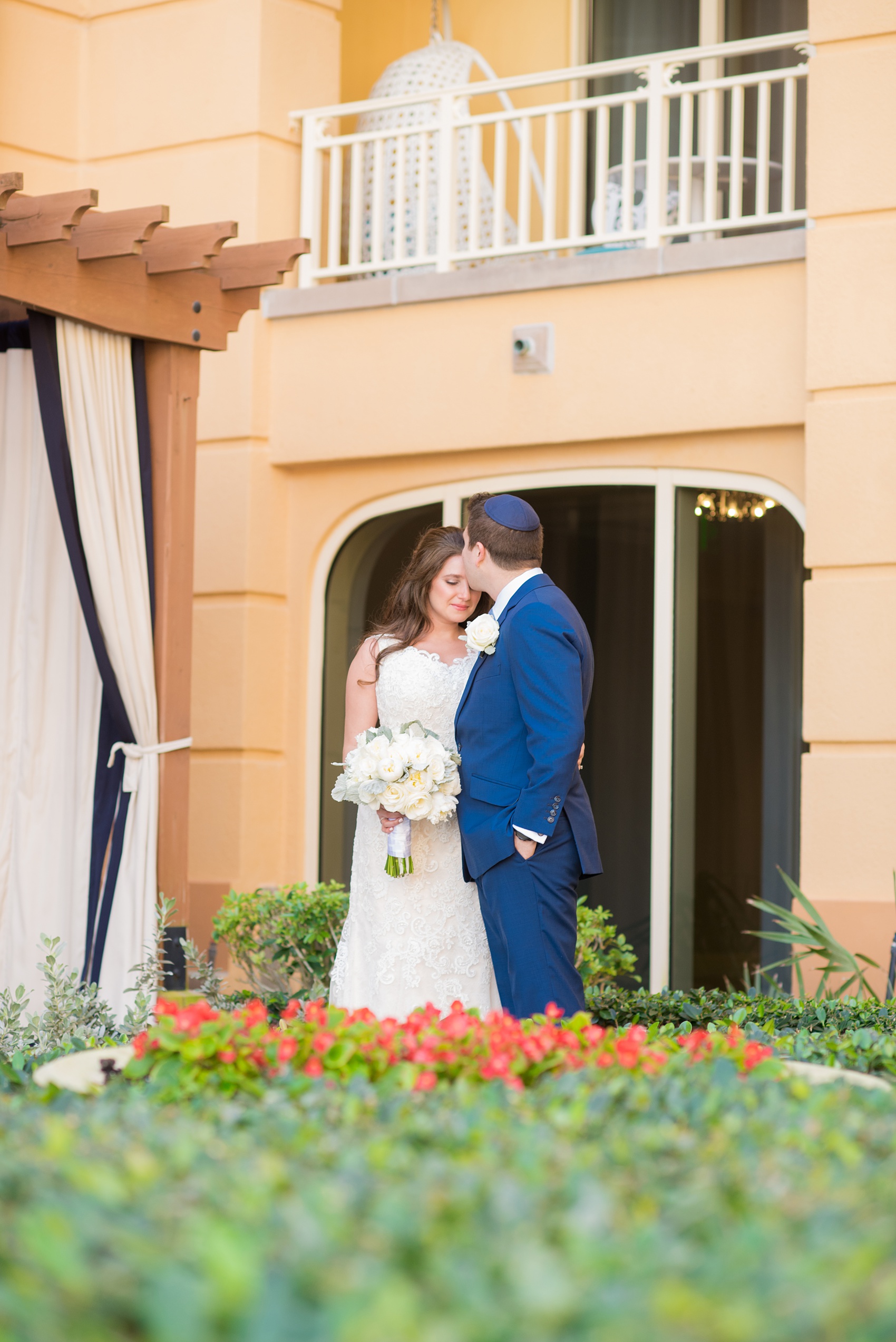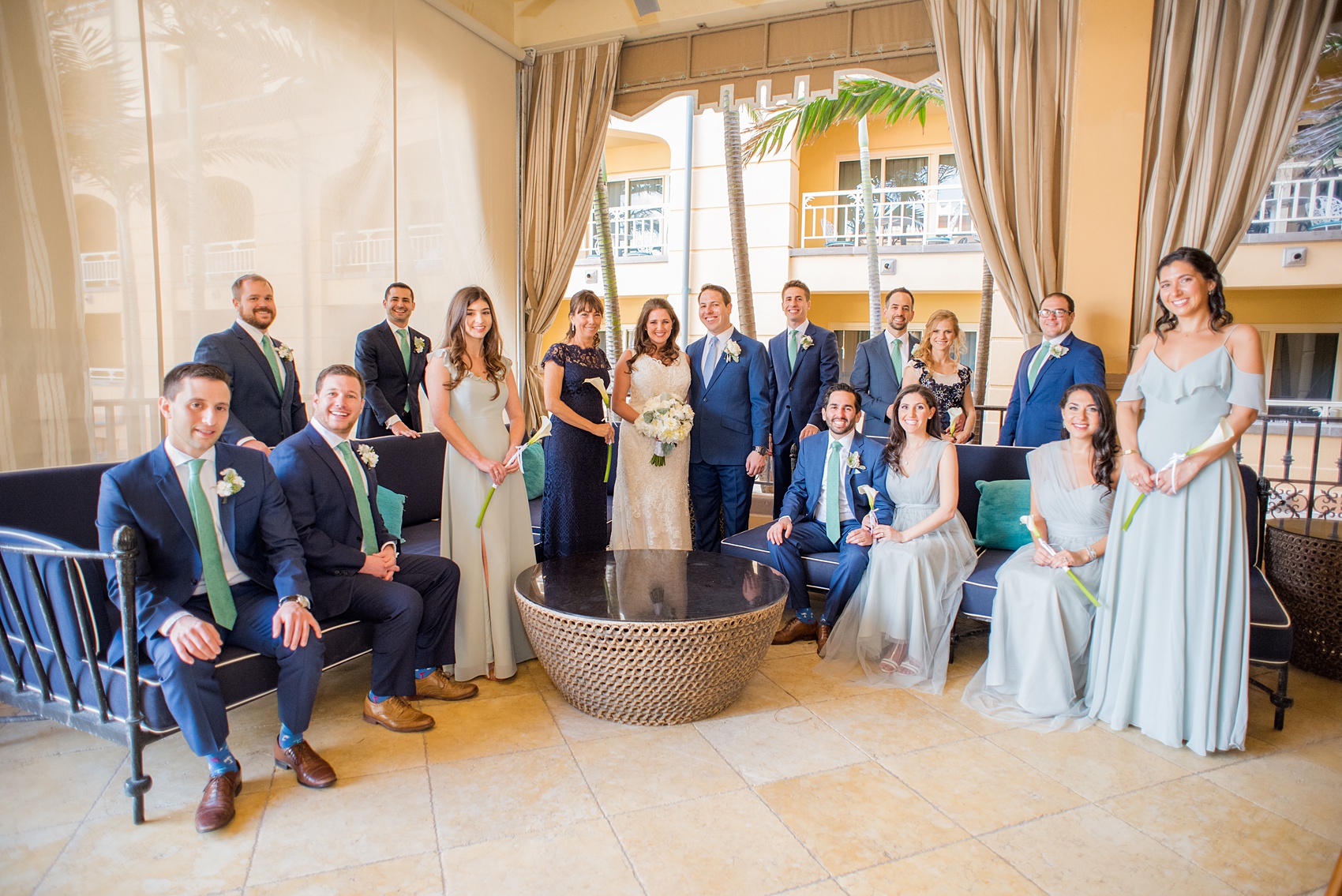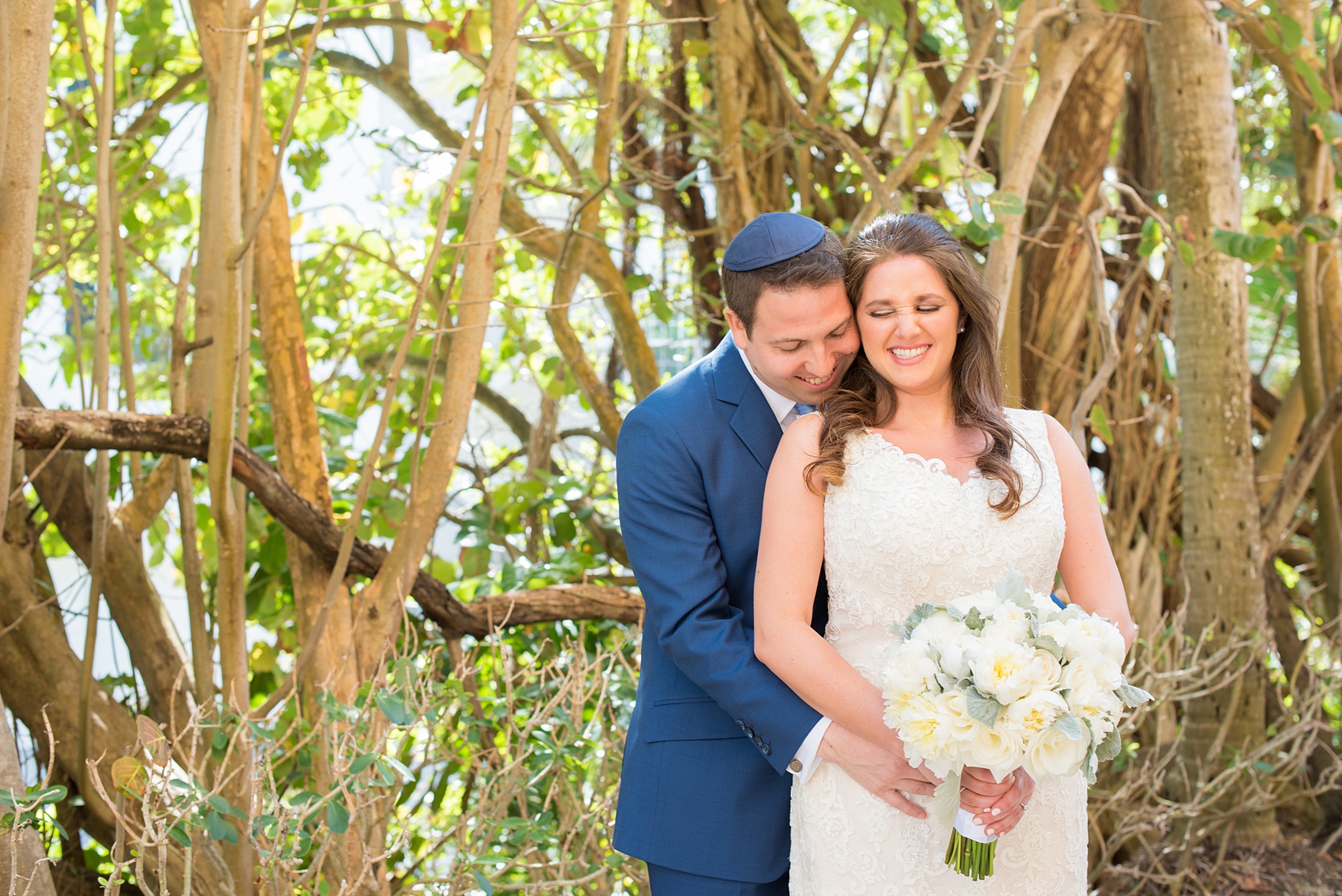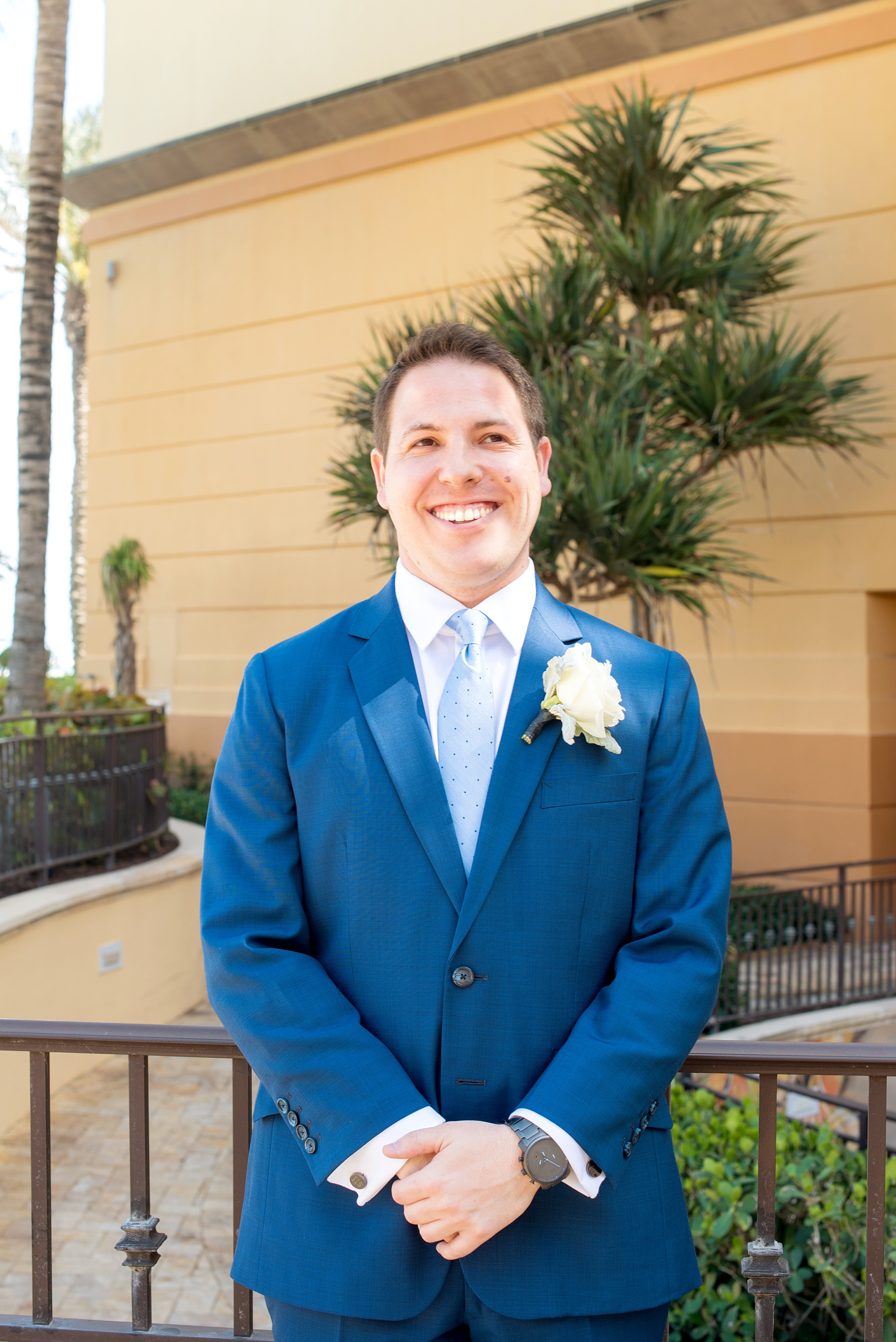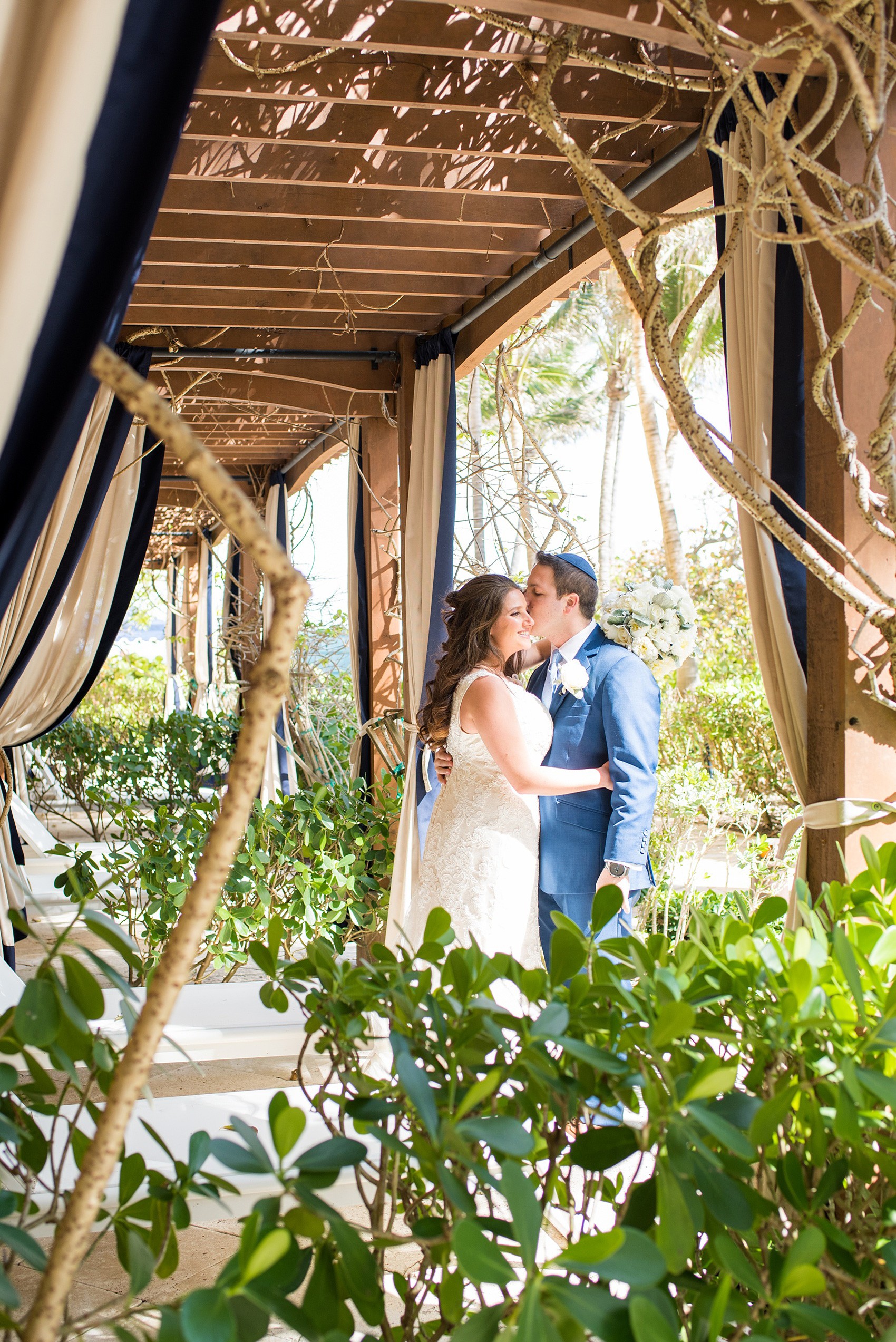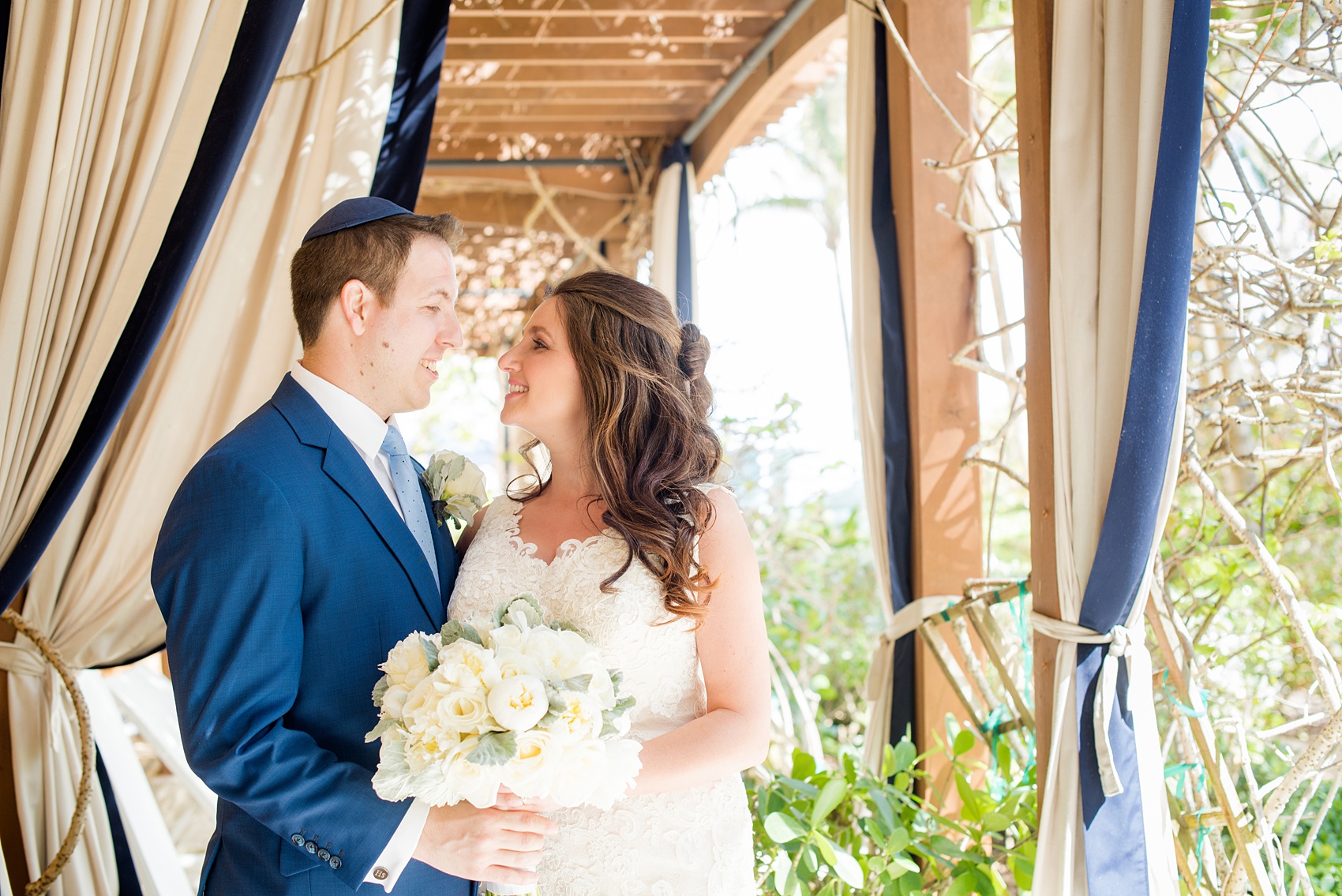 I loved that were were able to sneak away to capture beautiful photos of them in front of the pretty tan and blue curtains at the resort. It was even better to have a little privacy to capture such sweet moments between them without anyone around. Wedding party photos brought us back to the main areas of the resort, and this destination wedding photographer was a happy camper to photograph such a great group of family and friends surrounding and supporting Rachel and Ariel.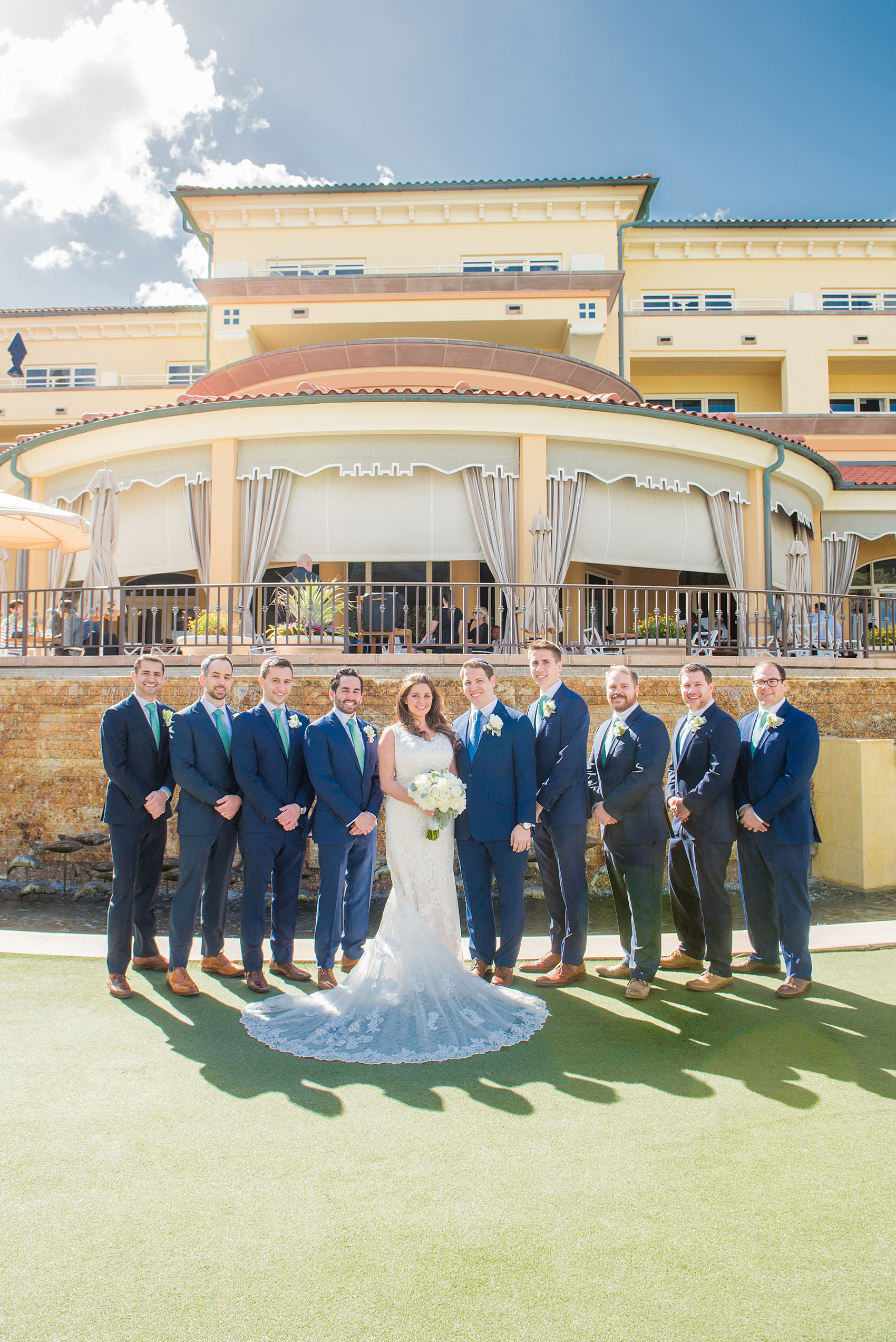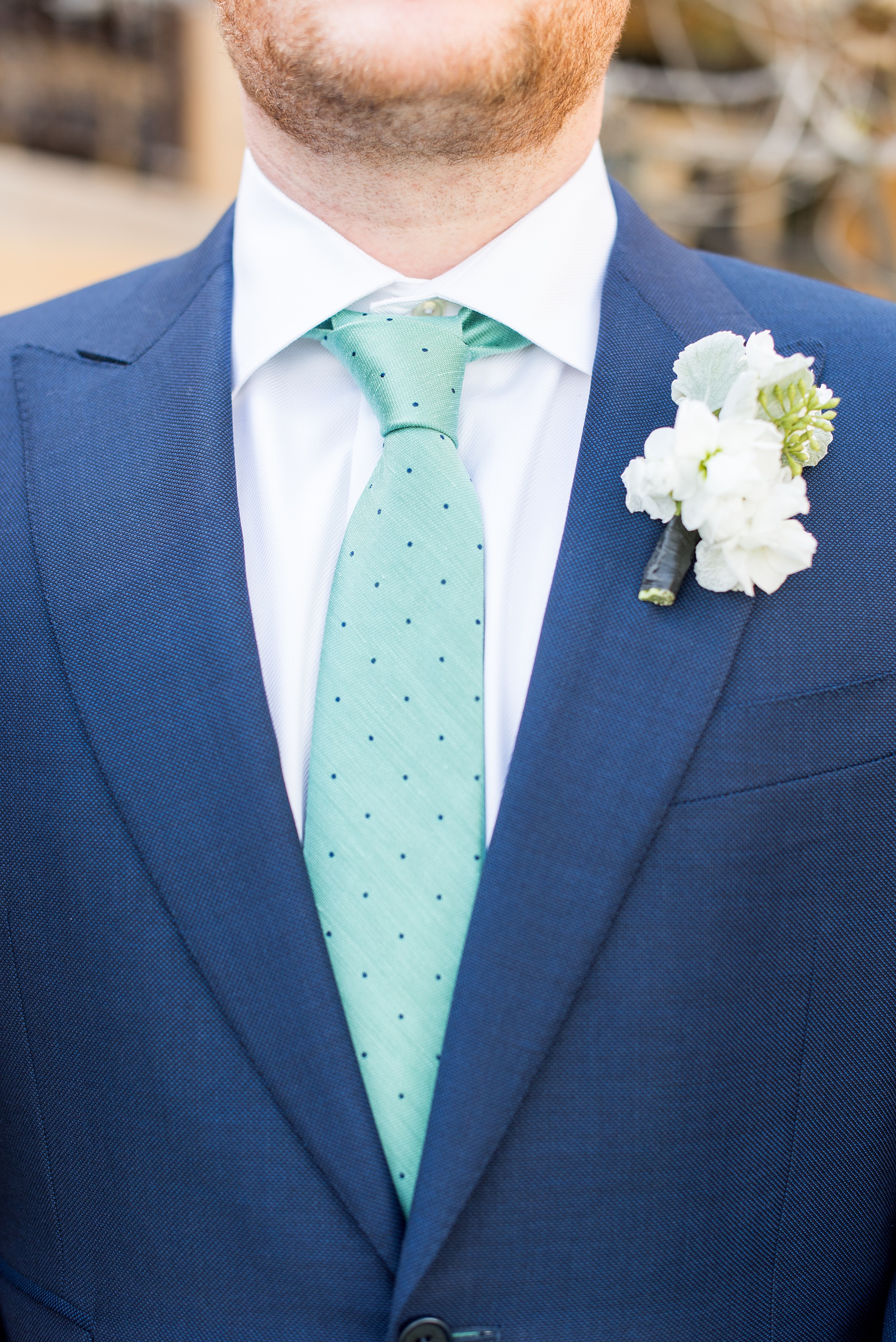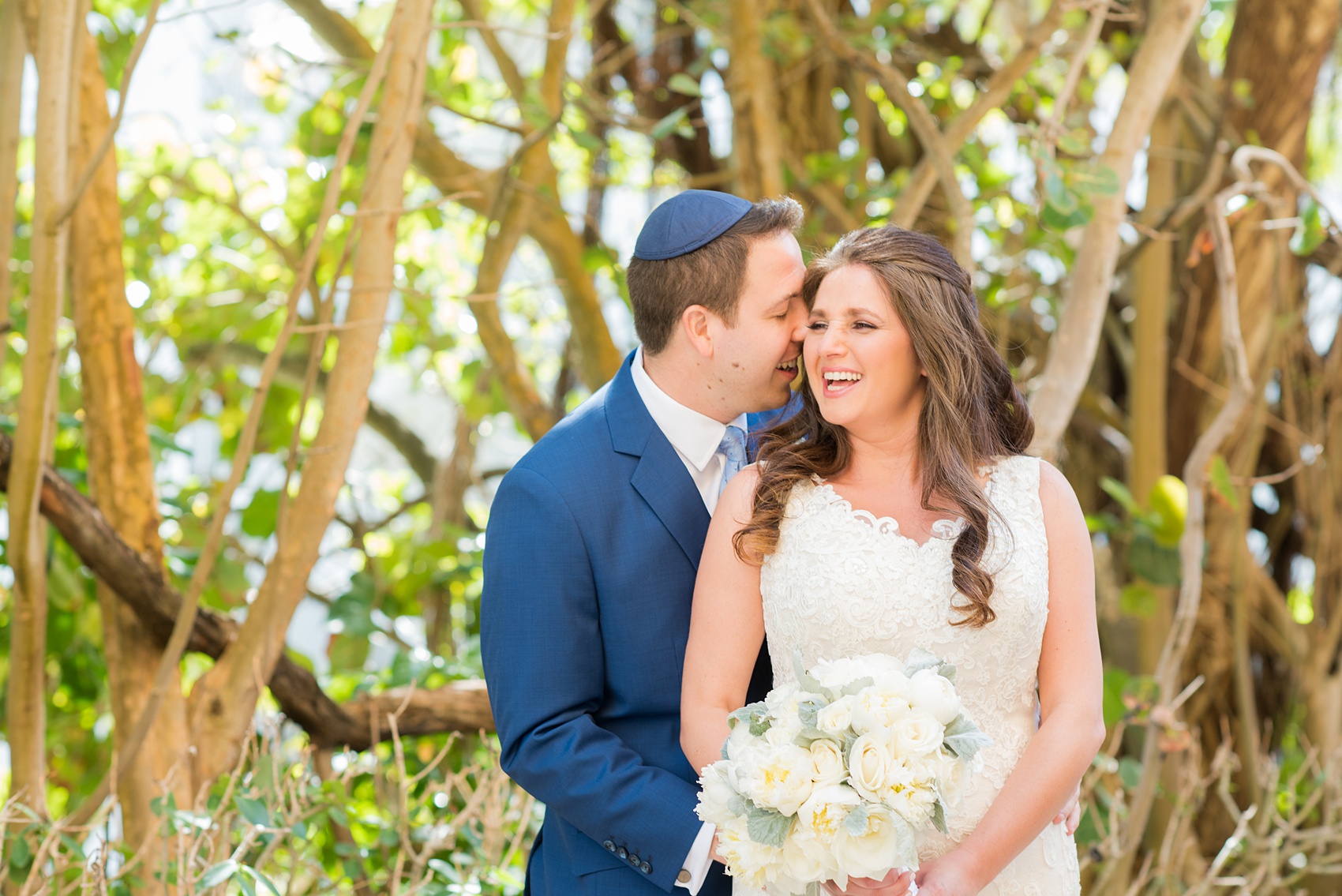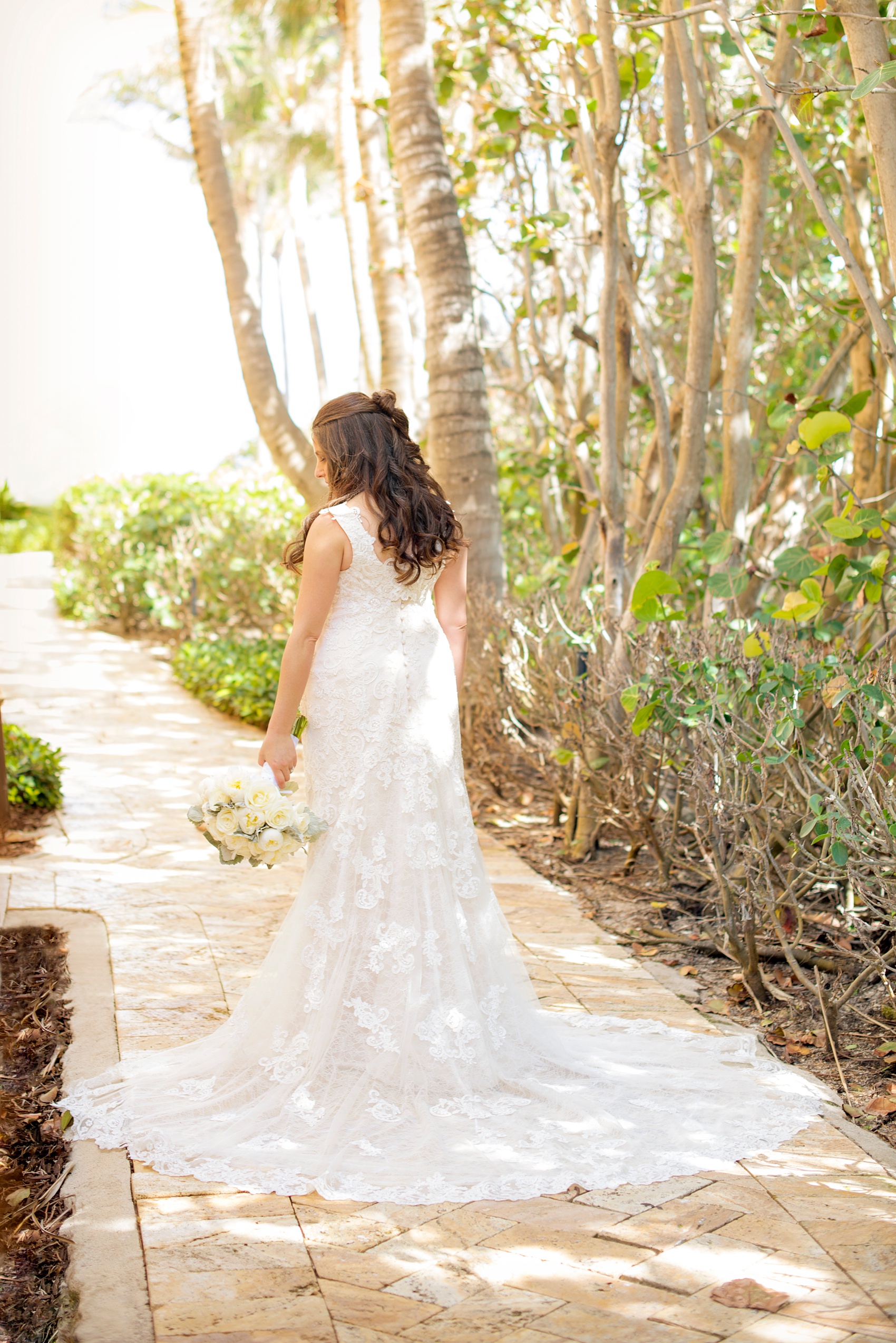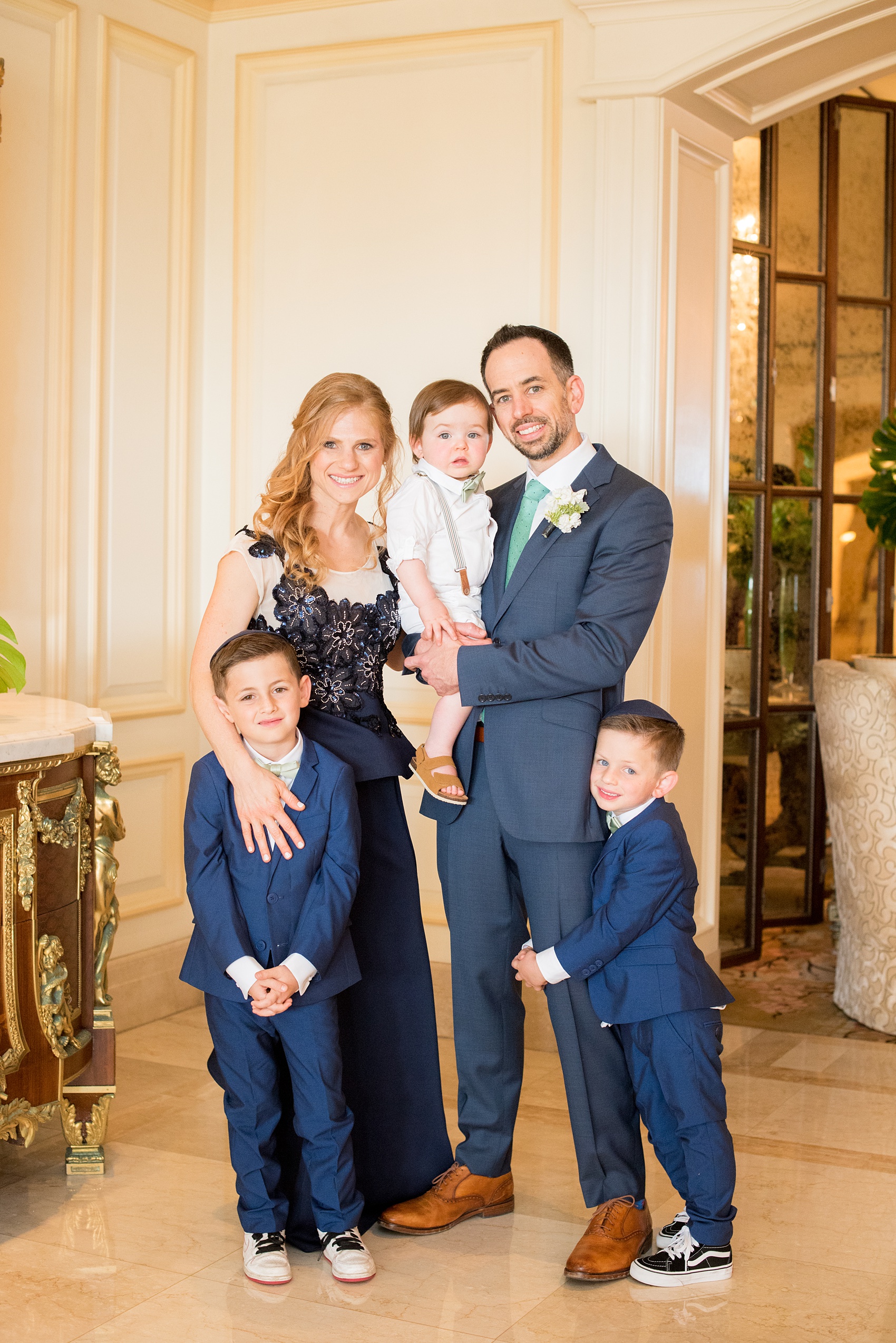 Rachel and Ariel chose navy suits with aqua swiss dot ties for the groomsmen. As the groom, Ariel wore a light blue swiss dot tie and rose boutonniere while his groomsmen wore white snapdragon boutonnieres with a touch of Dusty Miller. Rachel carried a beautiful white bouquet with peonies, roses and Dusty Miller. Even their adorable nephews matched! Two of their three nephews served as ring bearers and walked down the aisle during their ceremony.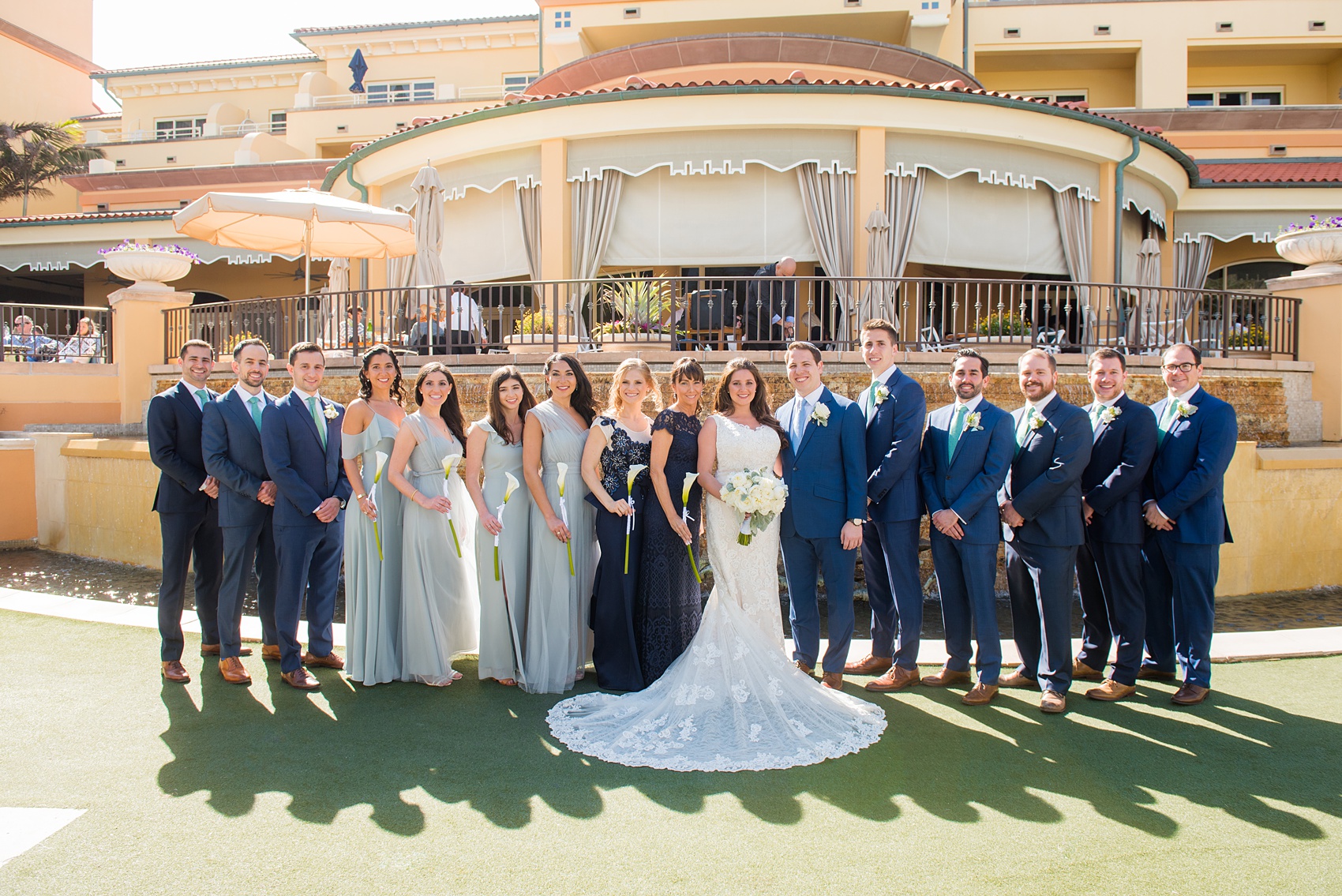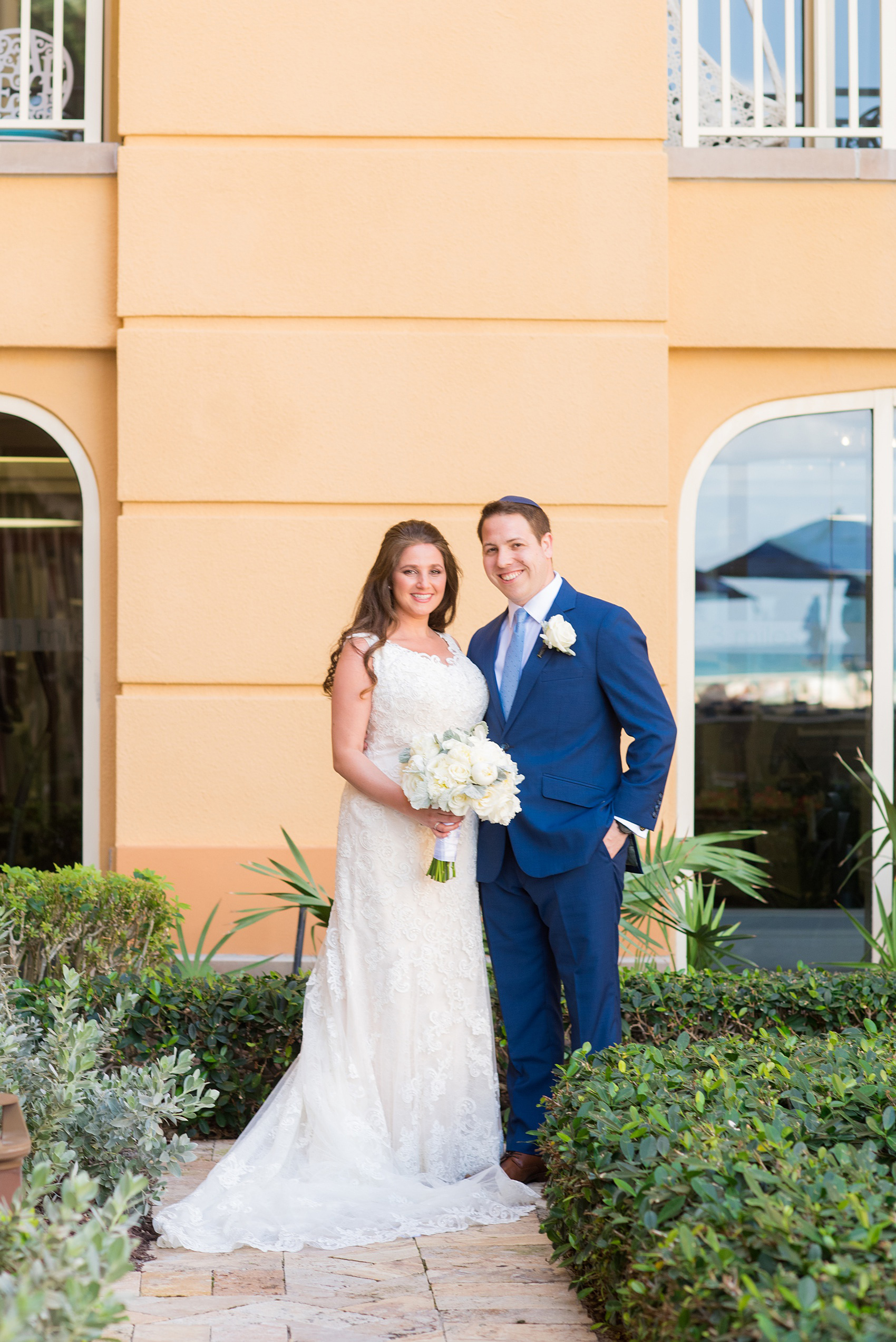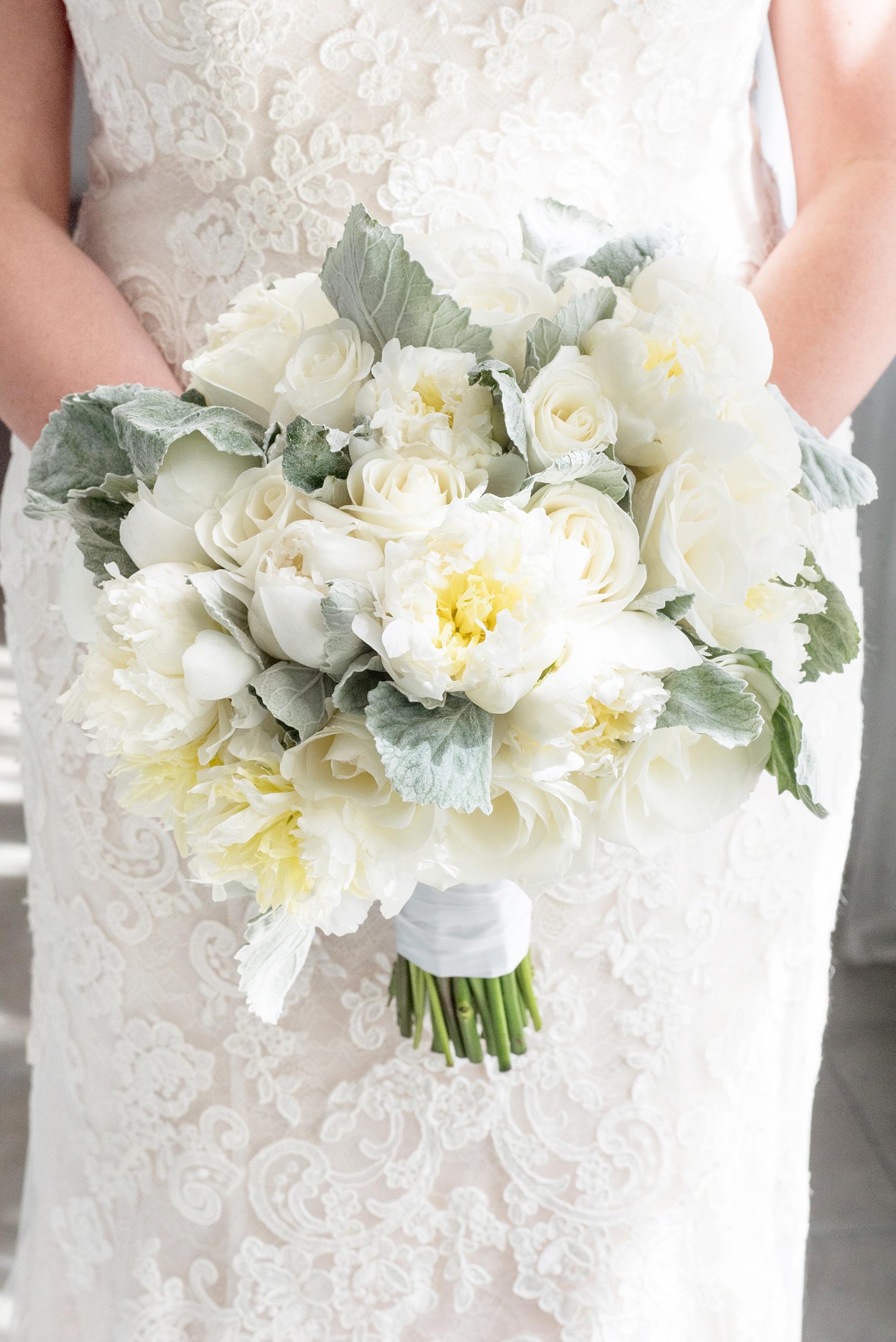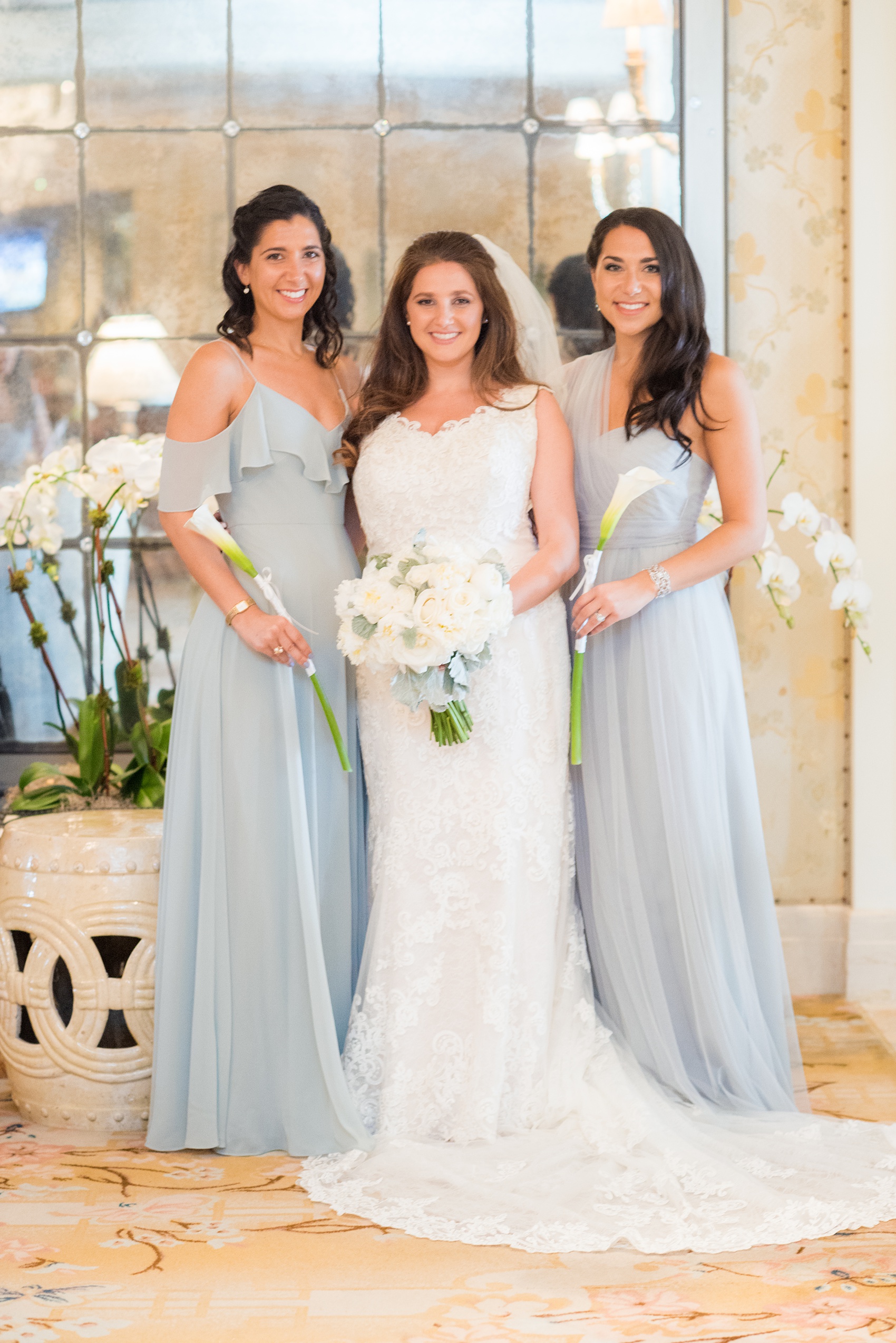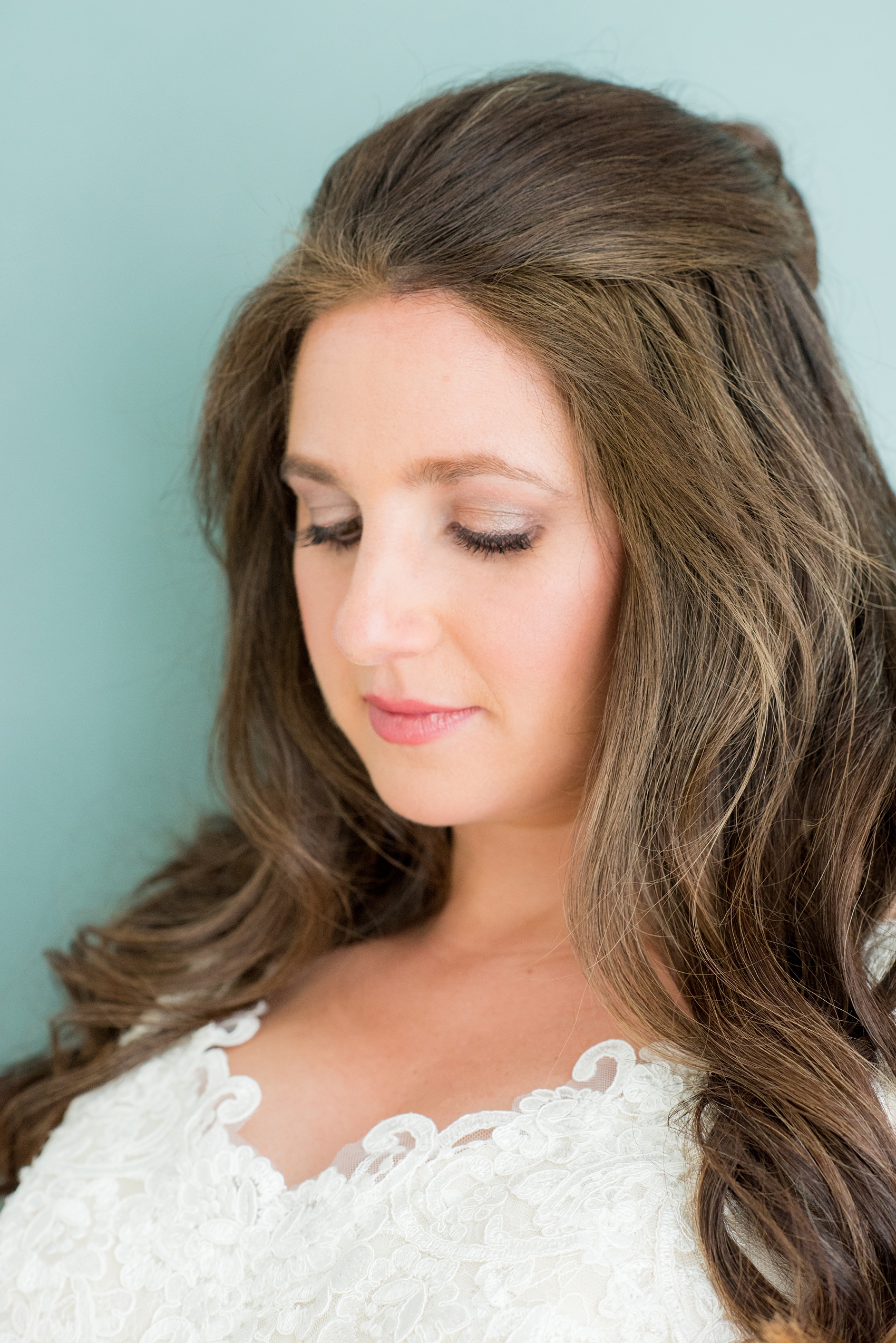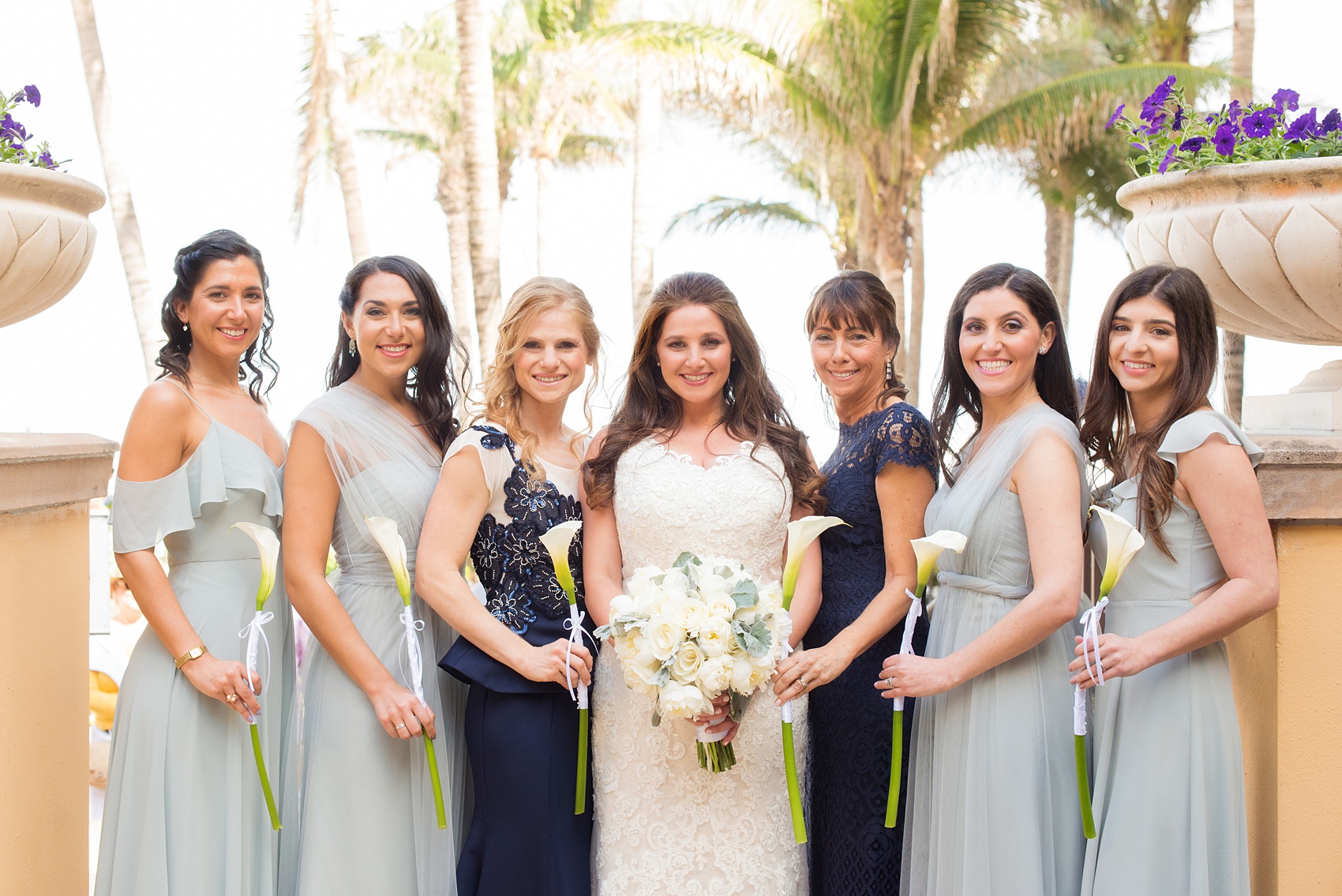 Four of her bridesmaids wore different types of dresses all floor-length and in a light sage color. Two wore navy blue, which beautifully helped tie in the groomsmen's suits. The women carried a single stem, large Cala Lilly.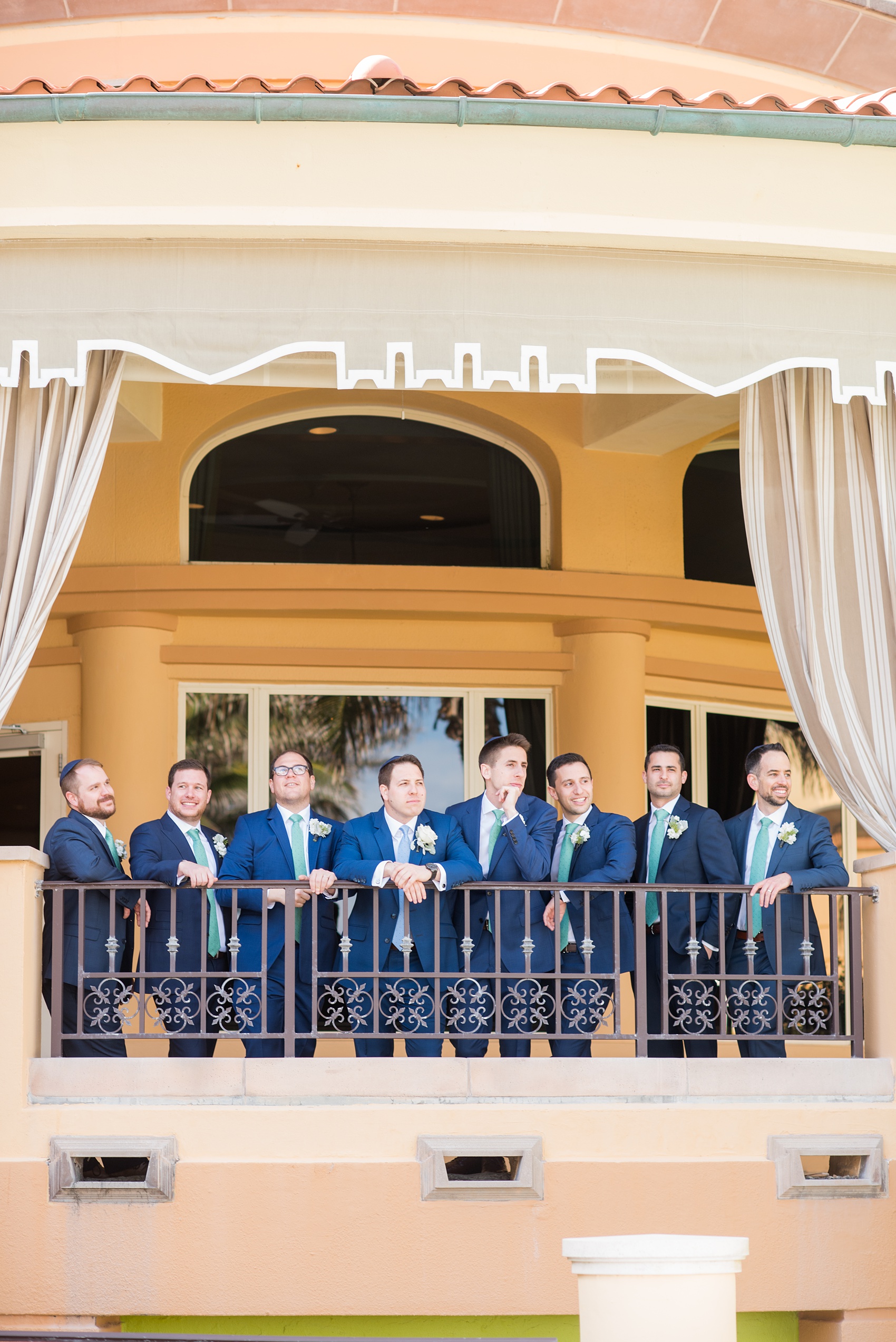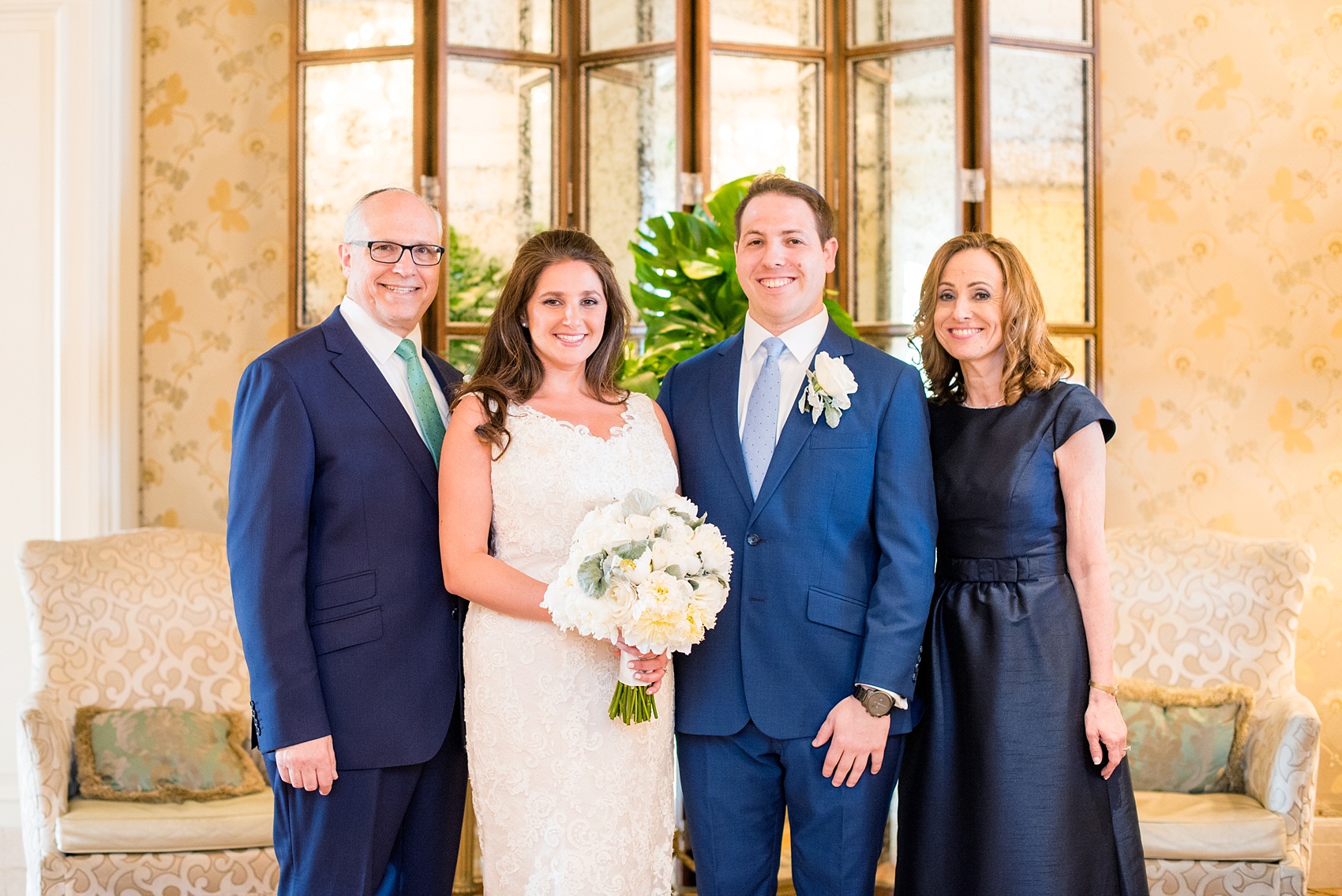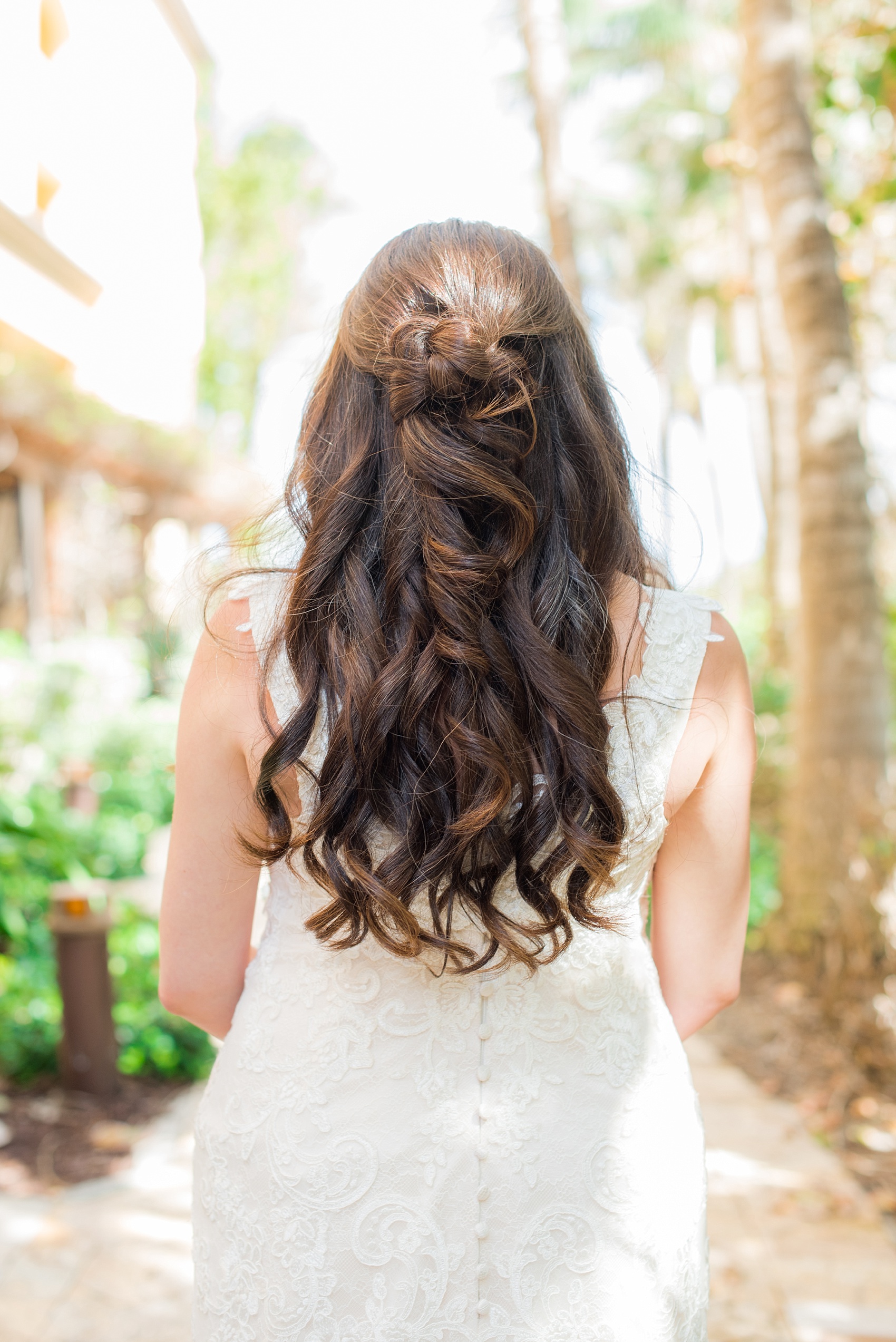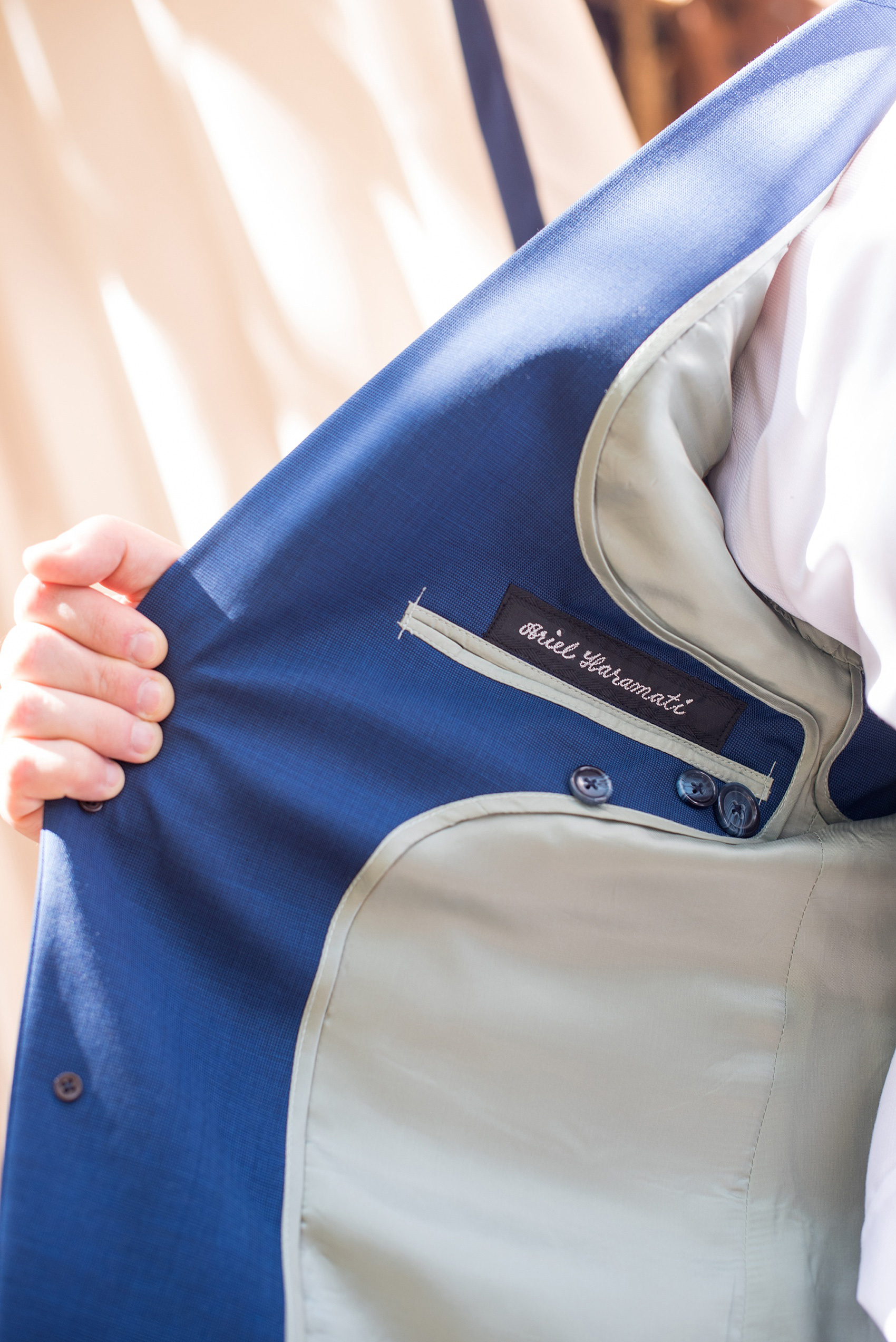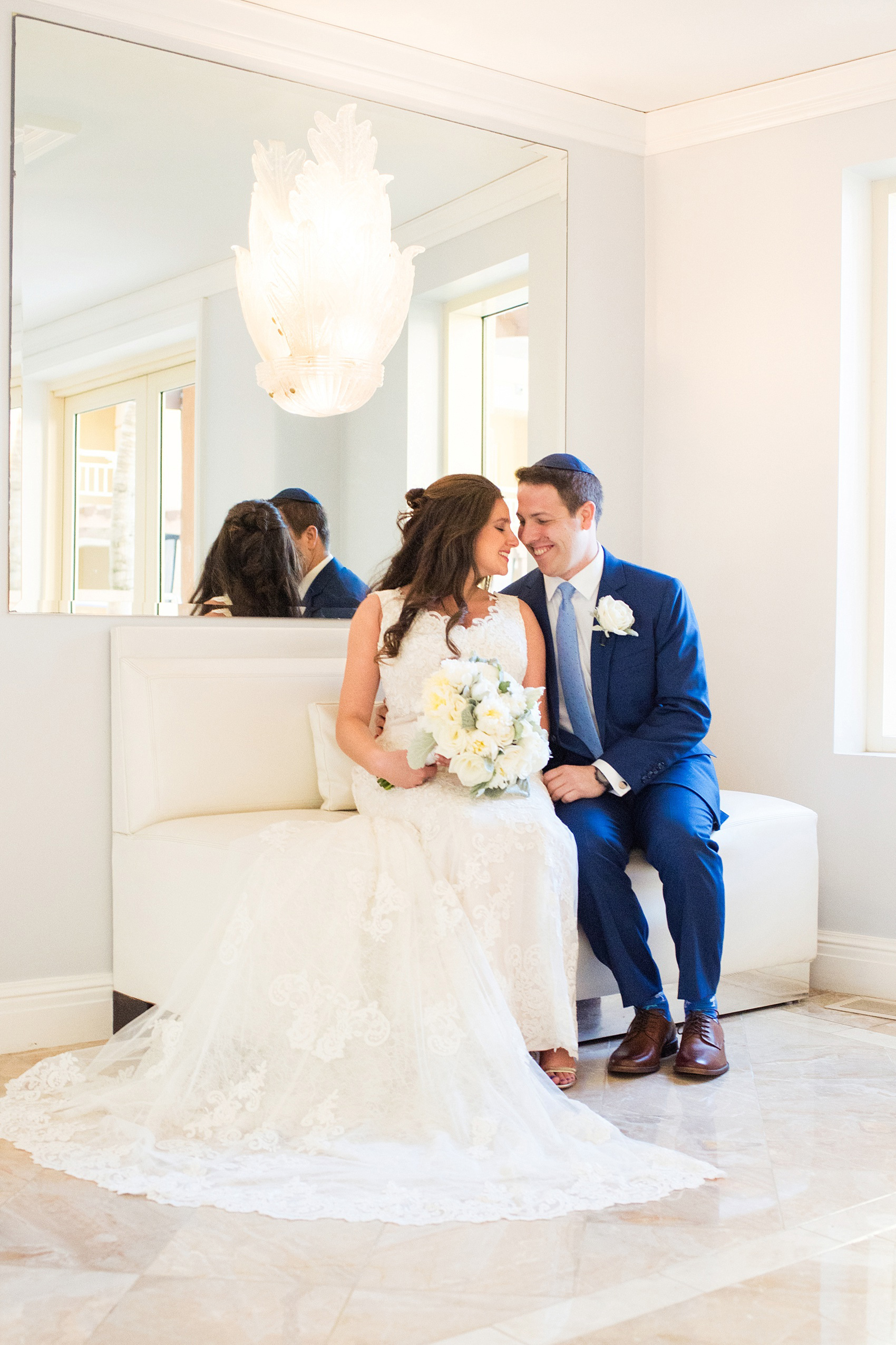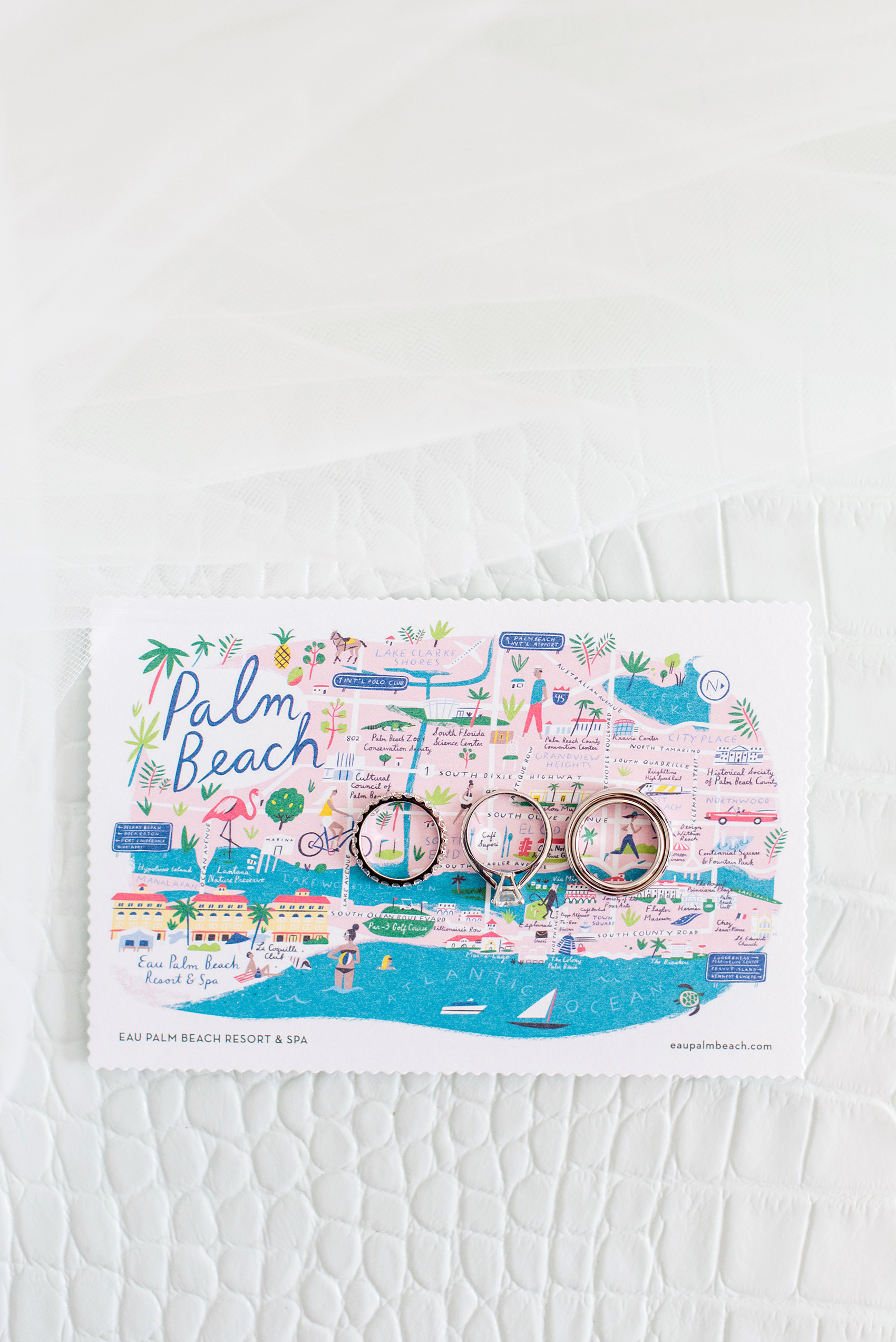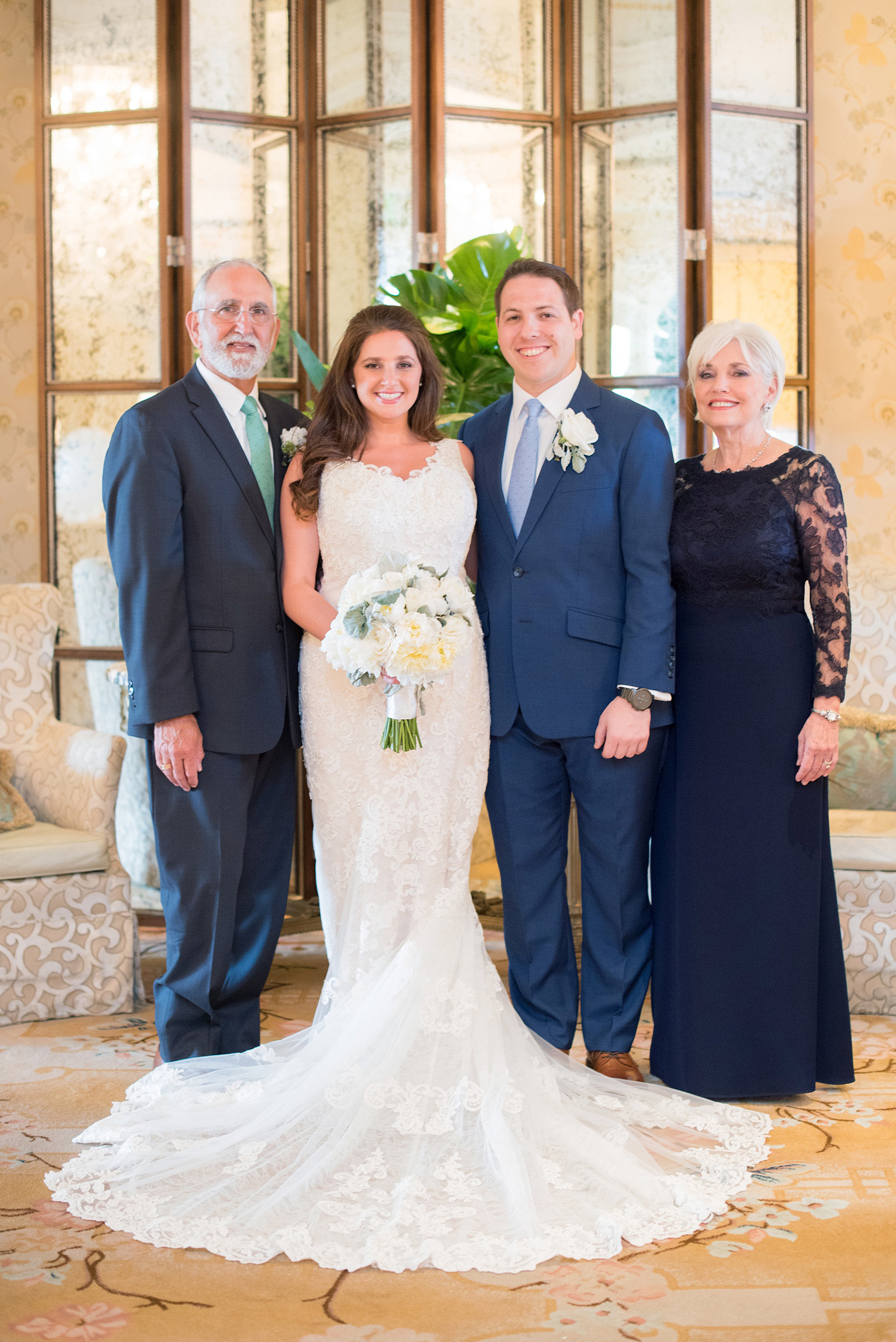 I LOVED the illustrated postcards of West Palm Beach that were in the hotel rooms; of course I immediately grabbed and put it in my camera bag for quick access during their detail photos. It was the perfect photo with a swoosh of Rachel's veil at the top of the image!
Some of my favorite photos from the day are also of their family in the lobby's beautiful atmosphere, with mercury glass mirrors and tropical foliage. I also love the picture of Ariel and Rachel indoors, in a brightly lit foyer on a stark white couch. The white background allows the view to really focus on the most important thing: the bride and groom and the love between them.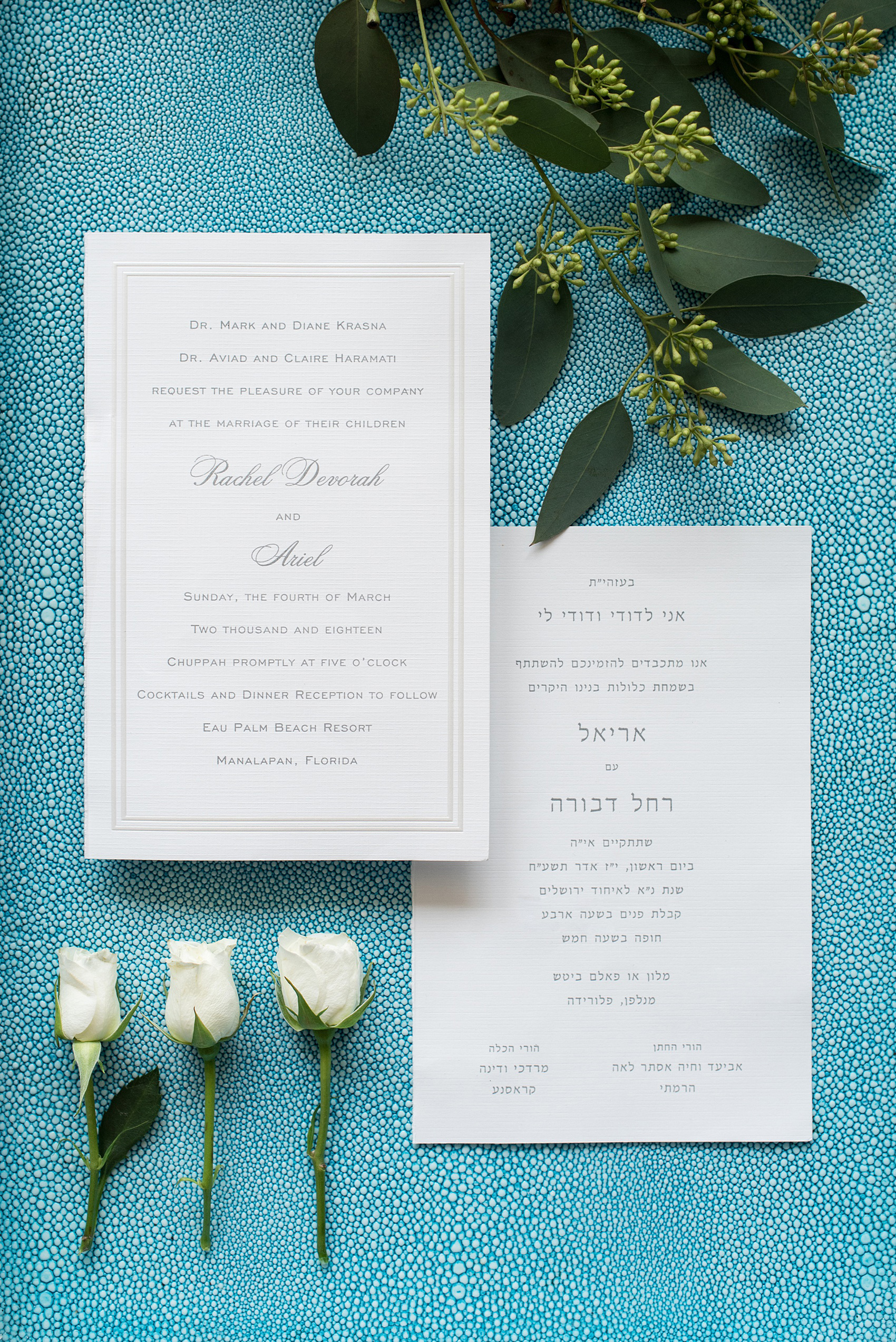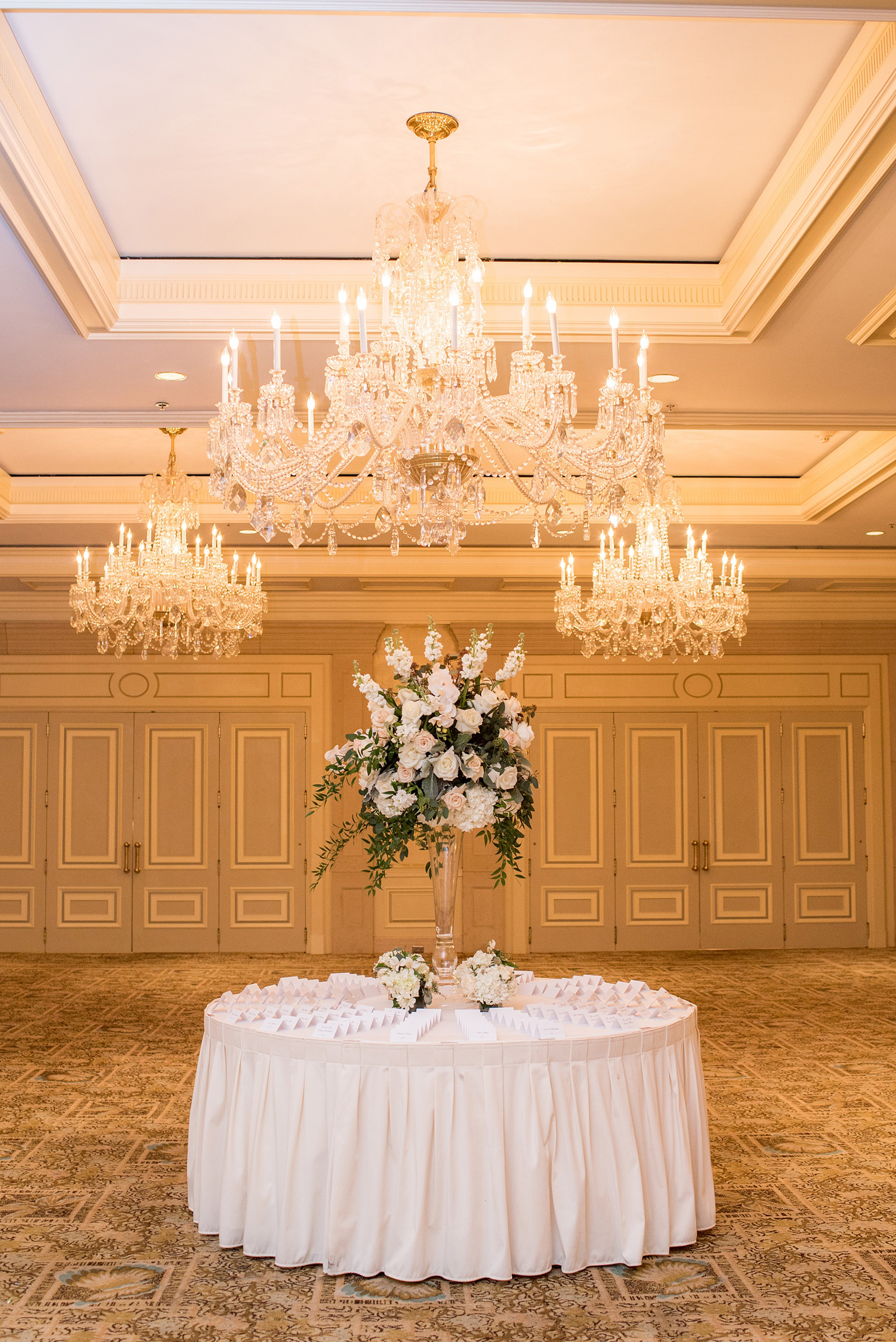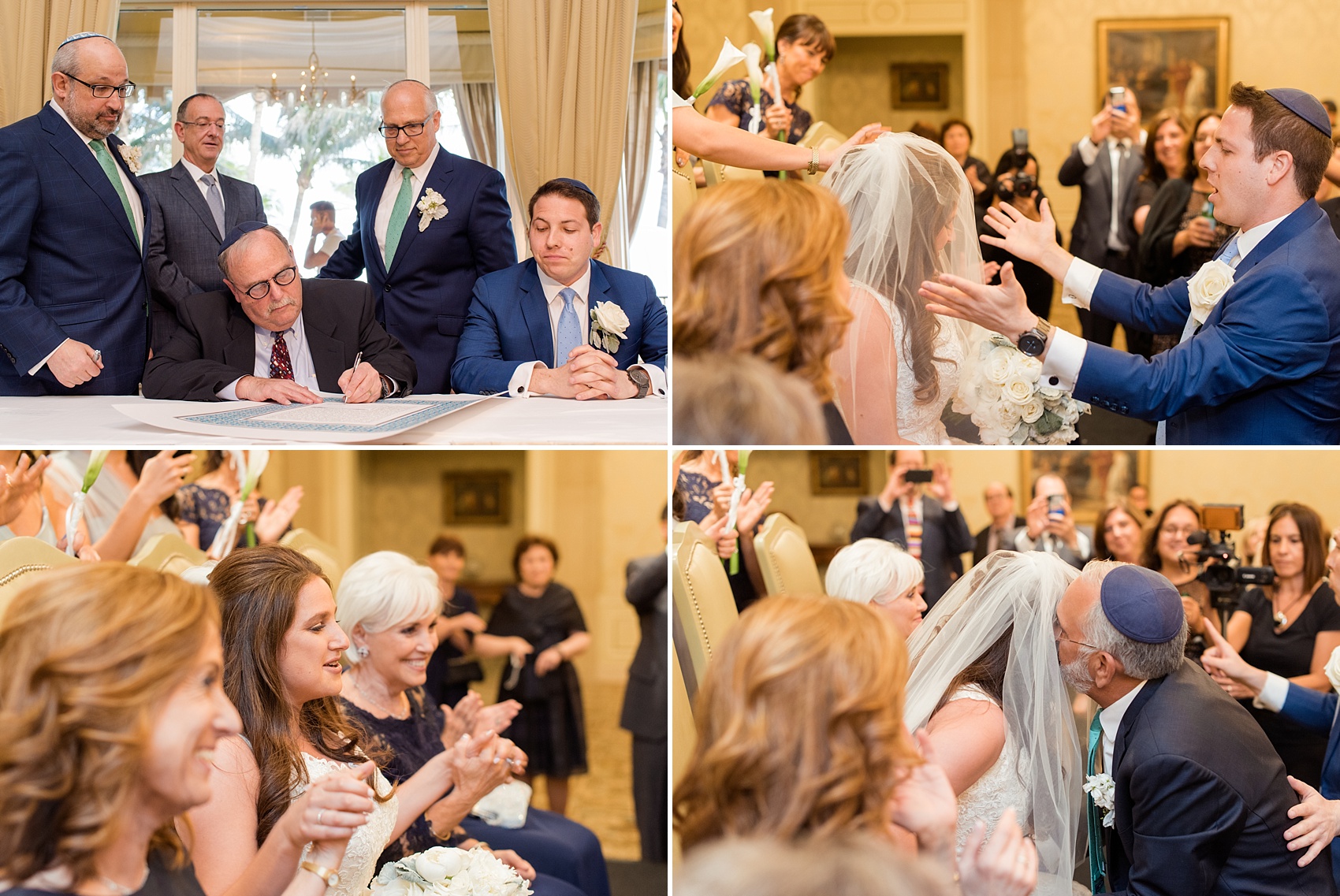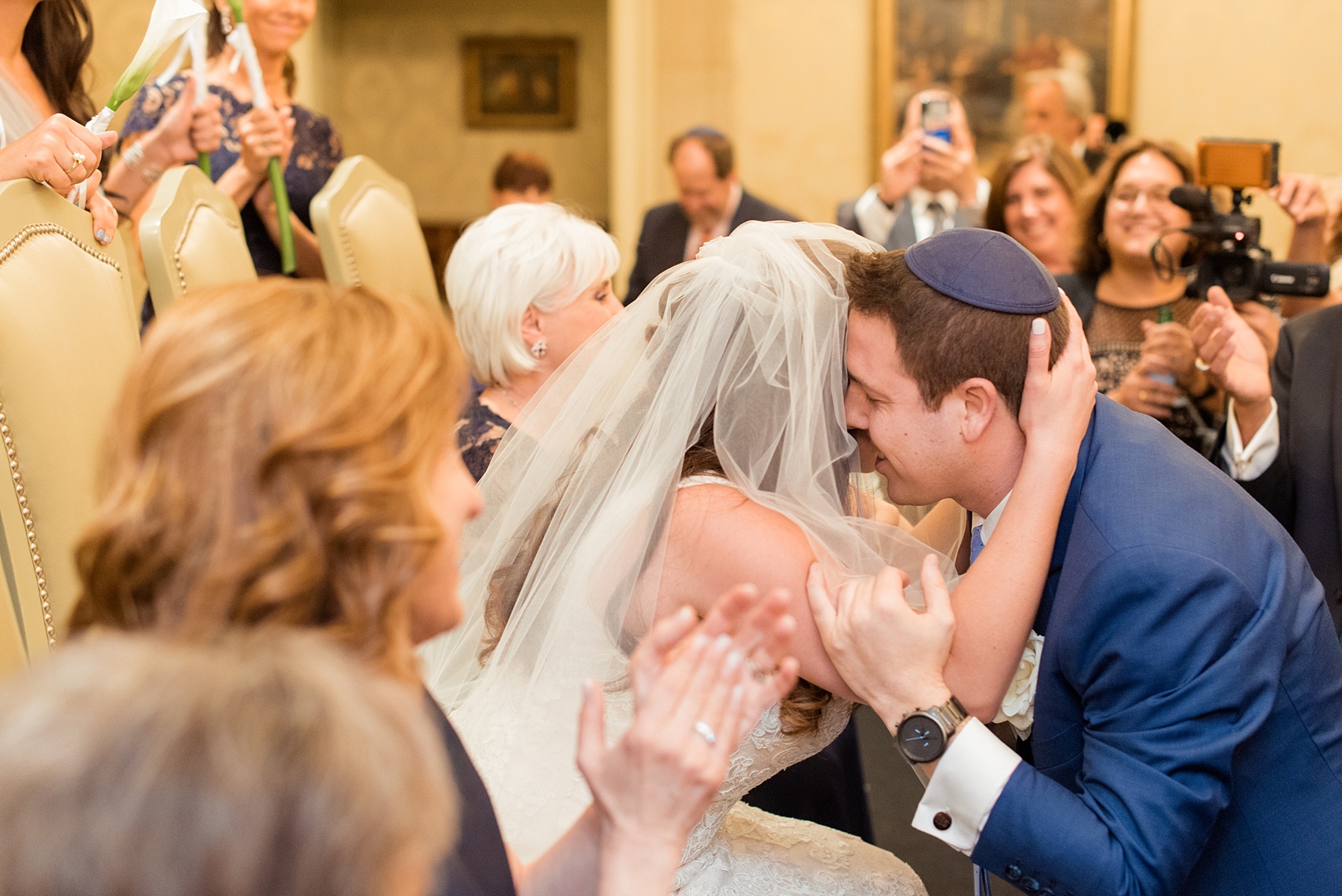 Everything was set for the ceremony and reception. Their timeless white invitation was printed in English and Hebrew and they had a traditional Jewish bedekan and tish. I think many people would agree, that the most joyful, overwhelmingly beautiful part of the ceremony is when the men dance into the bride's room and the groom lowers her blusher of her veil over her face. The fathers also bestow a blessing on the bride during this time and wish her well in her marriage. It's really emotional and I feel grateful I was able to capture these special moments of their day.
This was followed by an ocean front outdoor ceremony. The groomsmen led the way, in their blue palm tree socks, towards a gorgeous chuppah. It was created from four posts of branches, covered in white flowers and topped with family heirloom talits. Ariel's uncle served as the officiant, orchestrating things like the seven blessings with the help of the bride and groom's brothers, and the reading of the ketubah.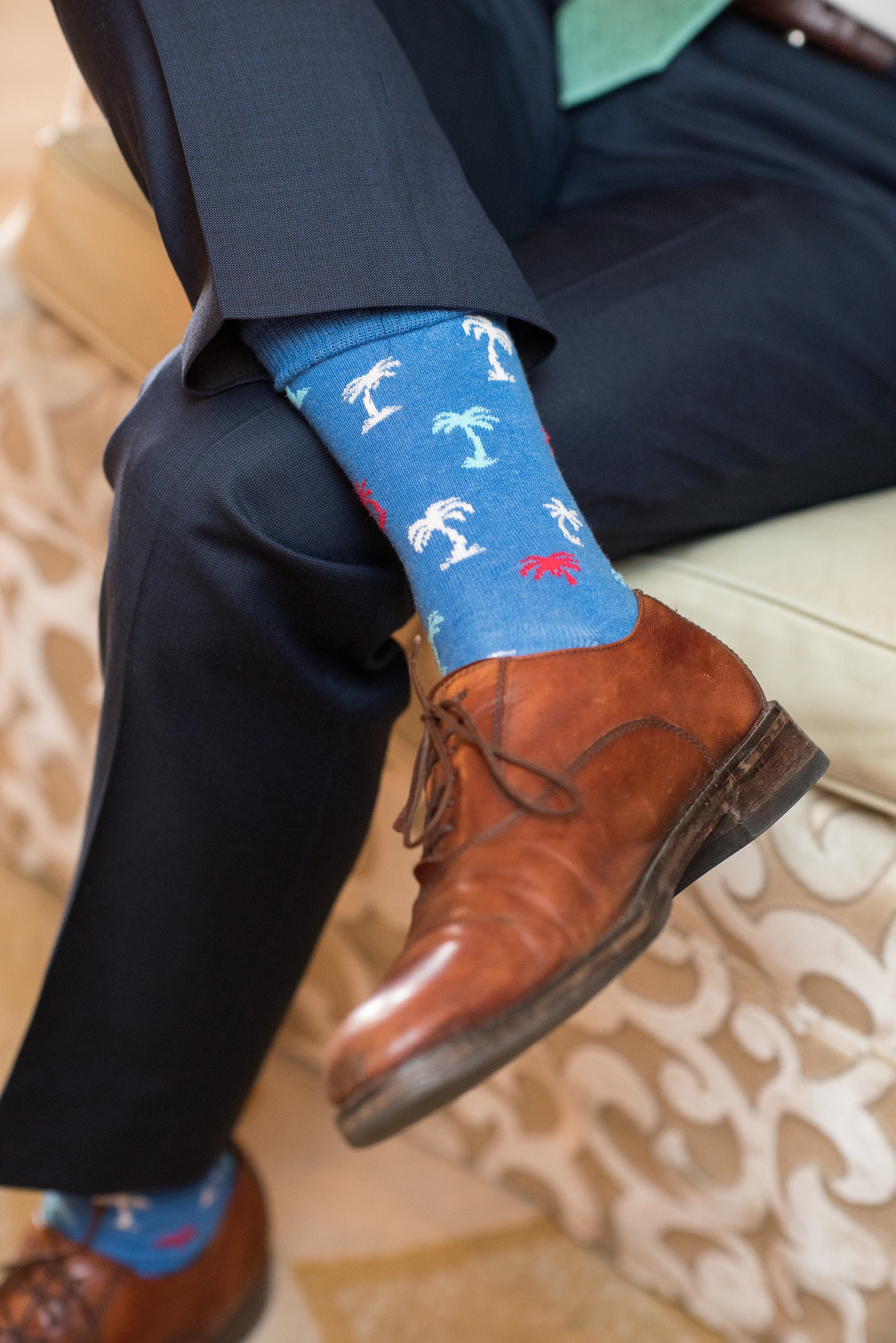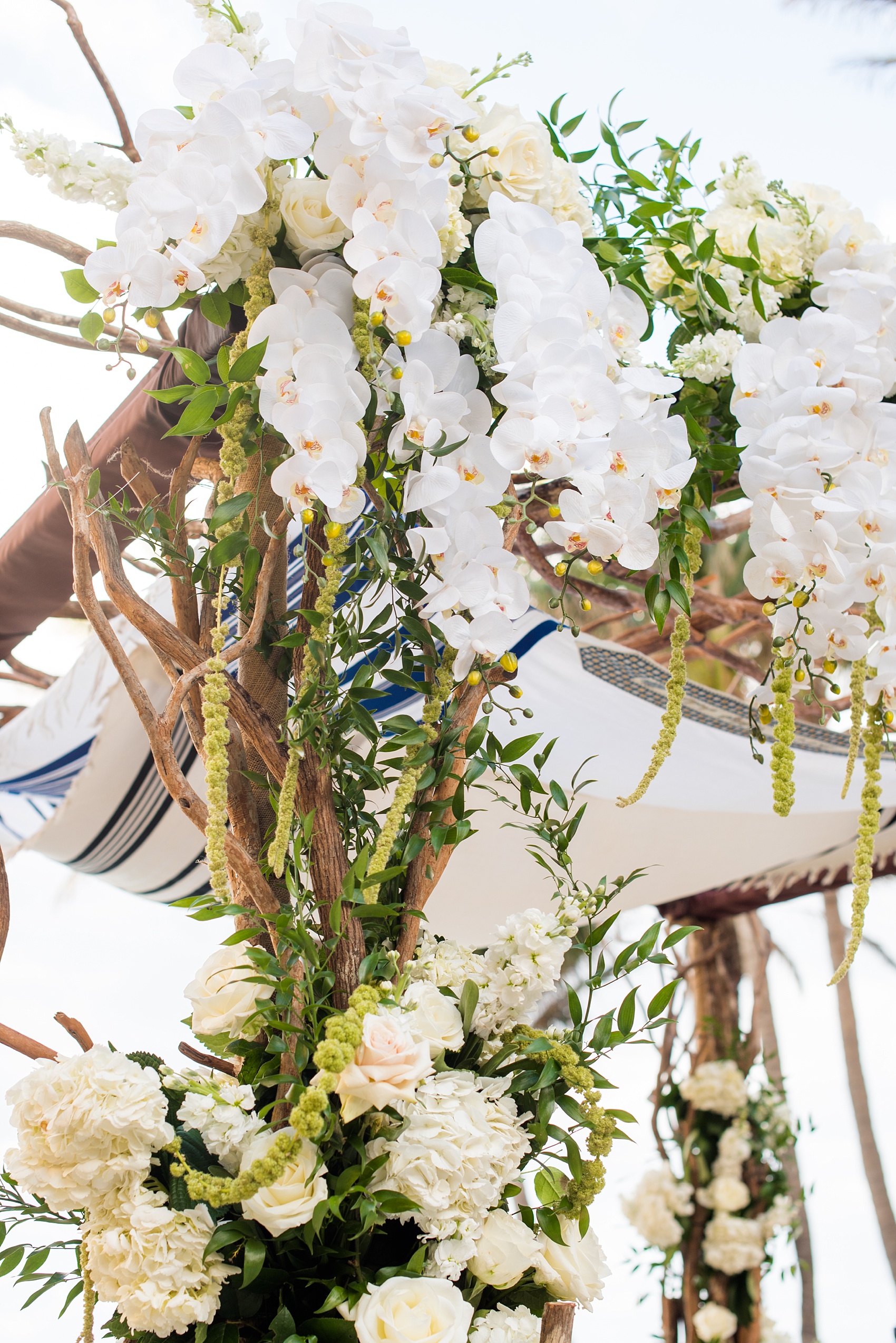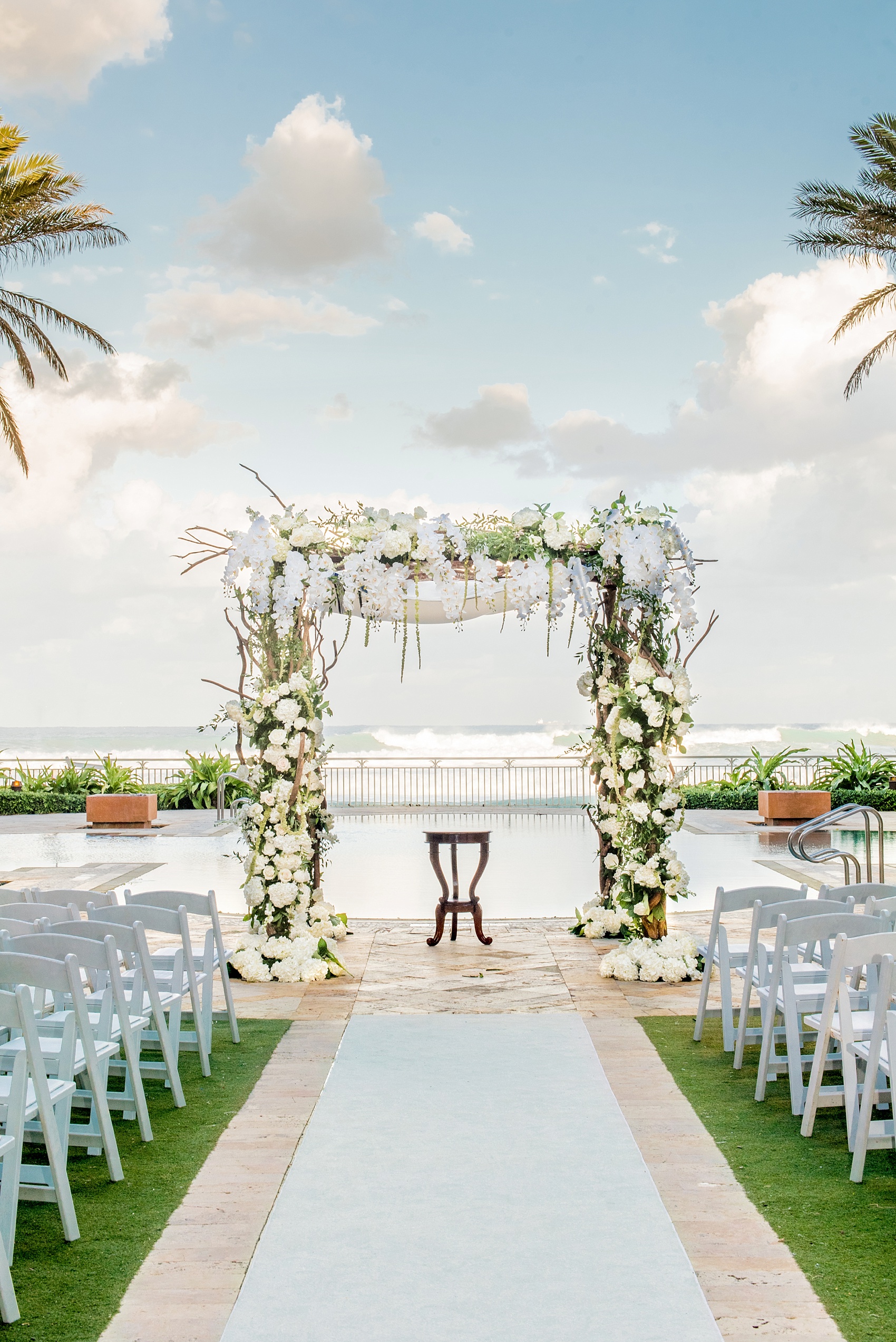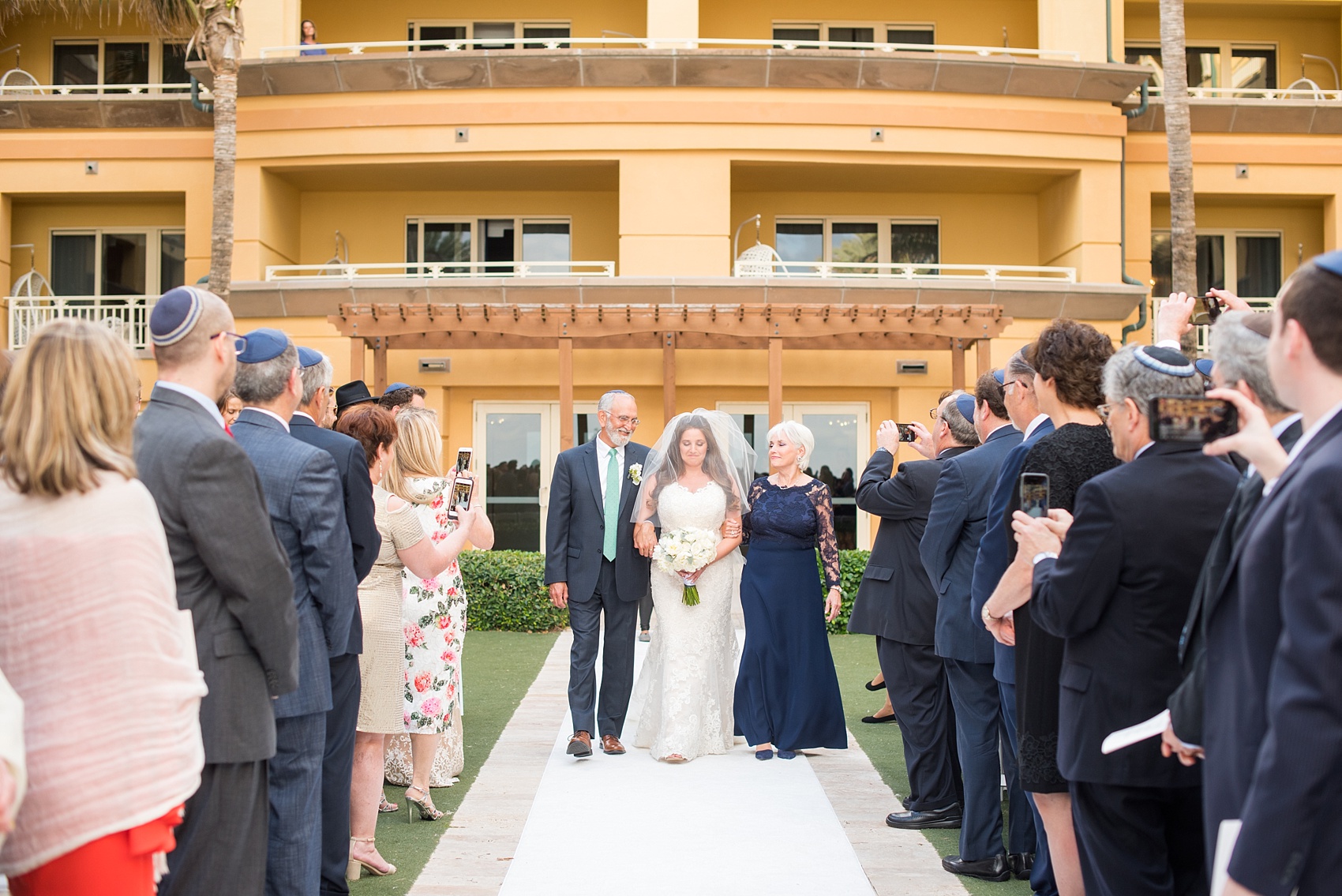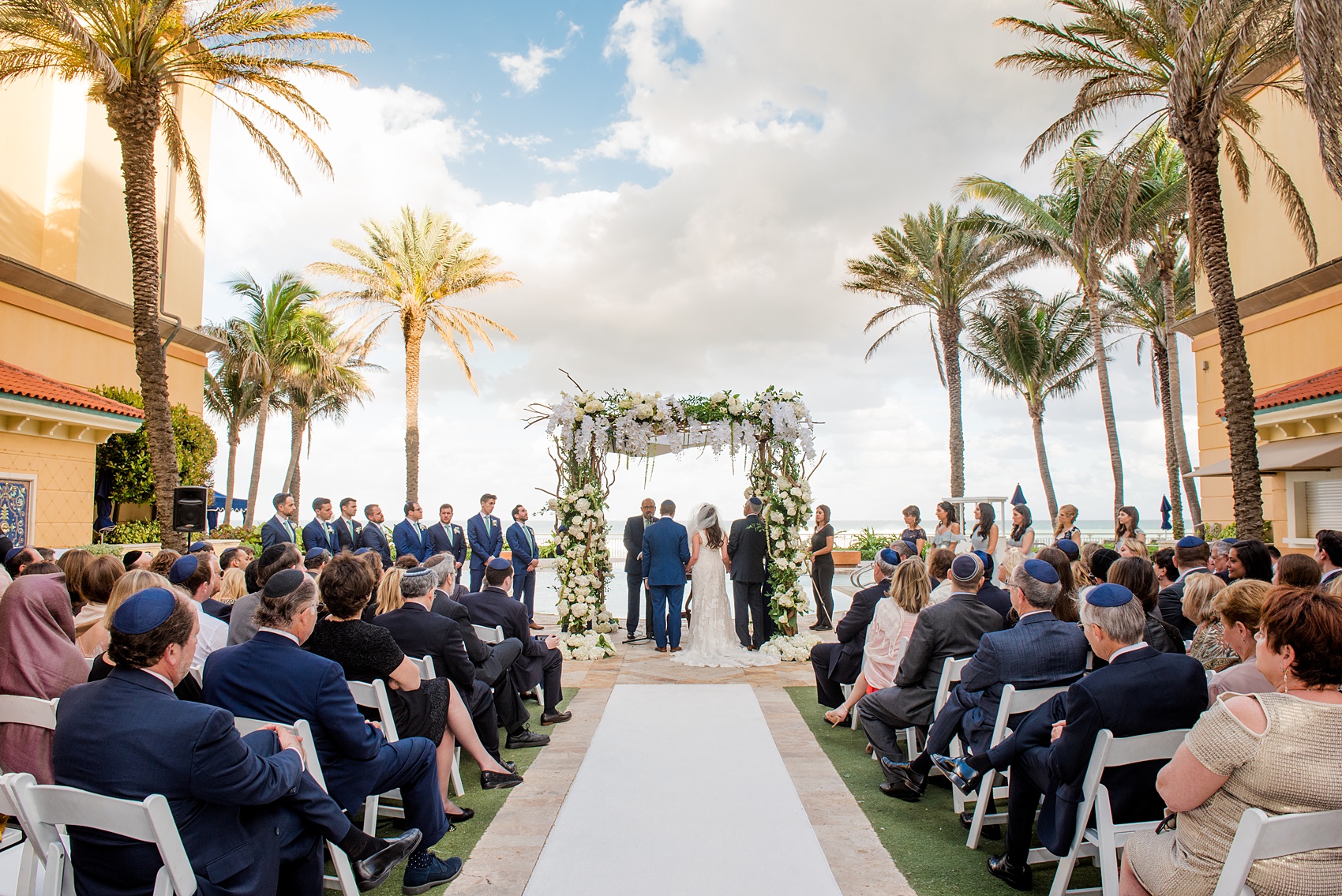 Their stunning ceremony in the Eau Palm Beach courtyard was picture-perfect, complete with palm trees framing the scene. Everyone was excited to keep the party going for several hours following the ceremony with a delicious cocktail hour and amazing reception.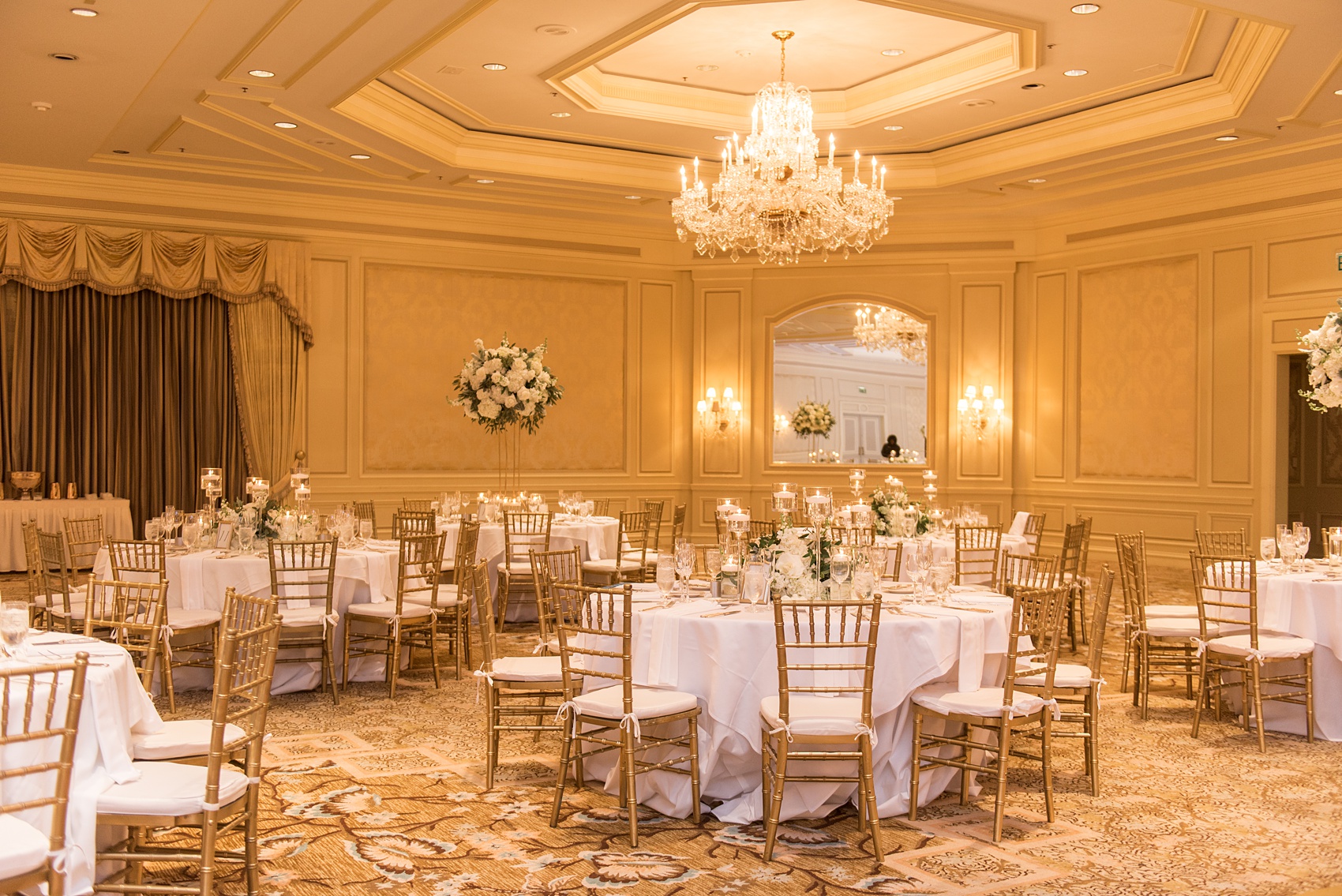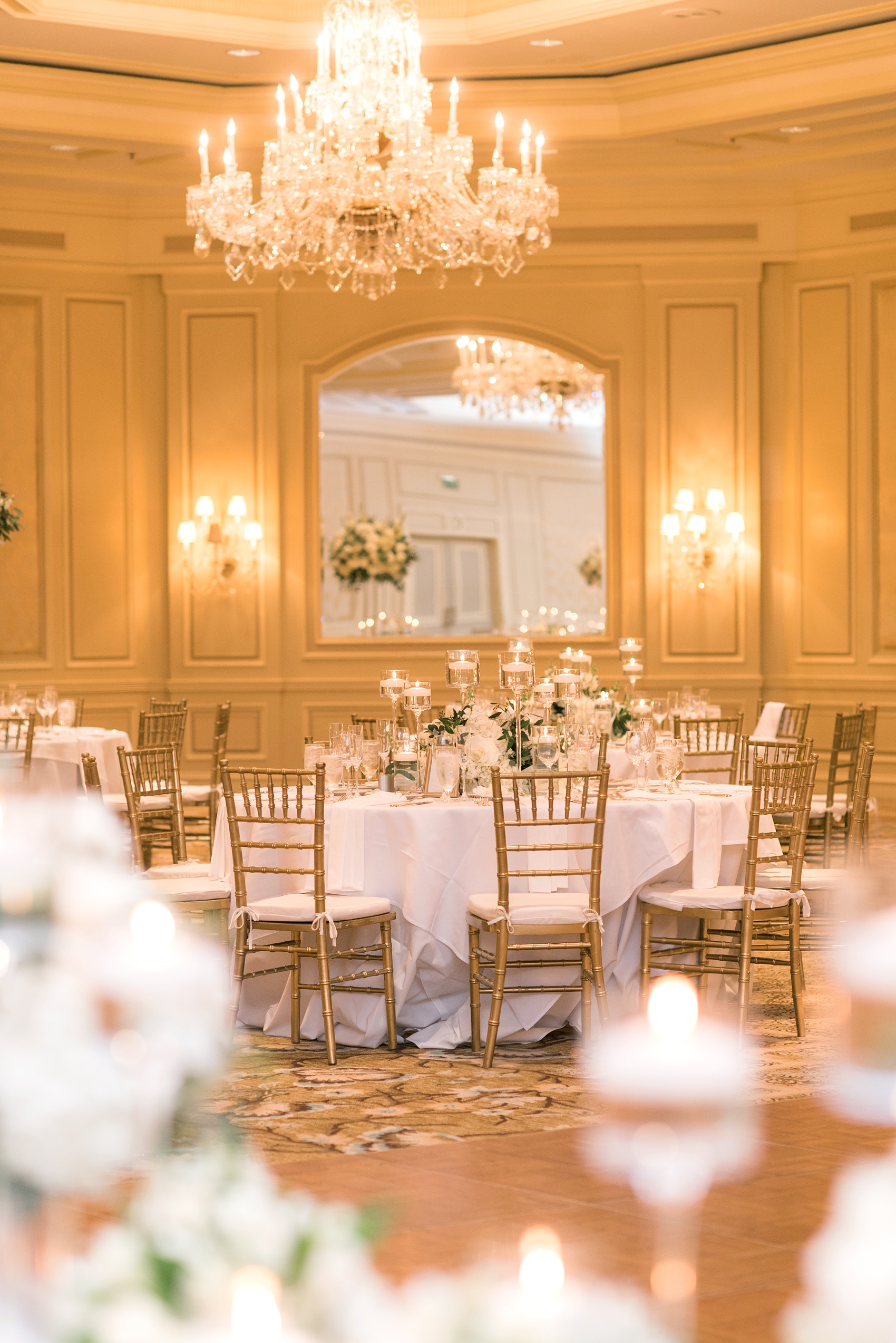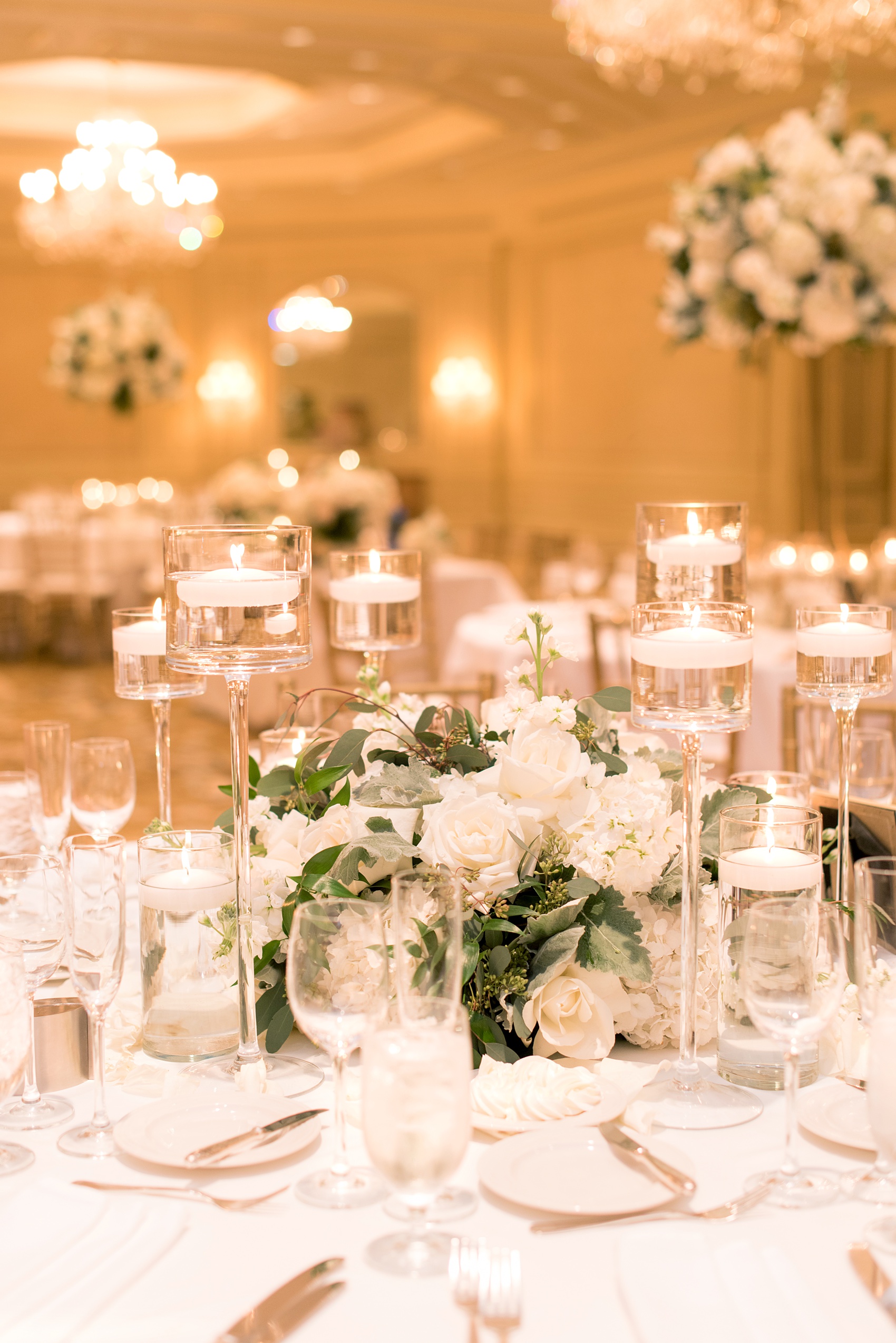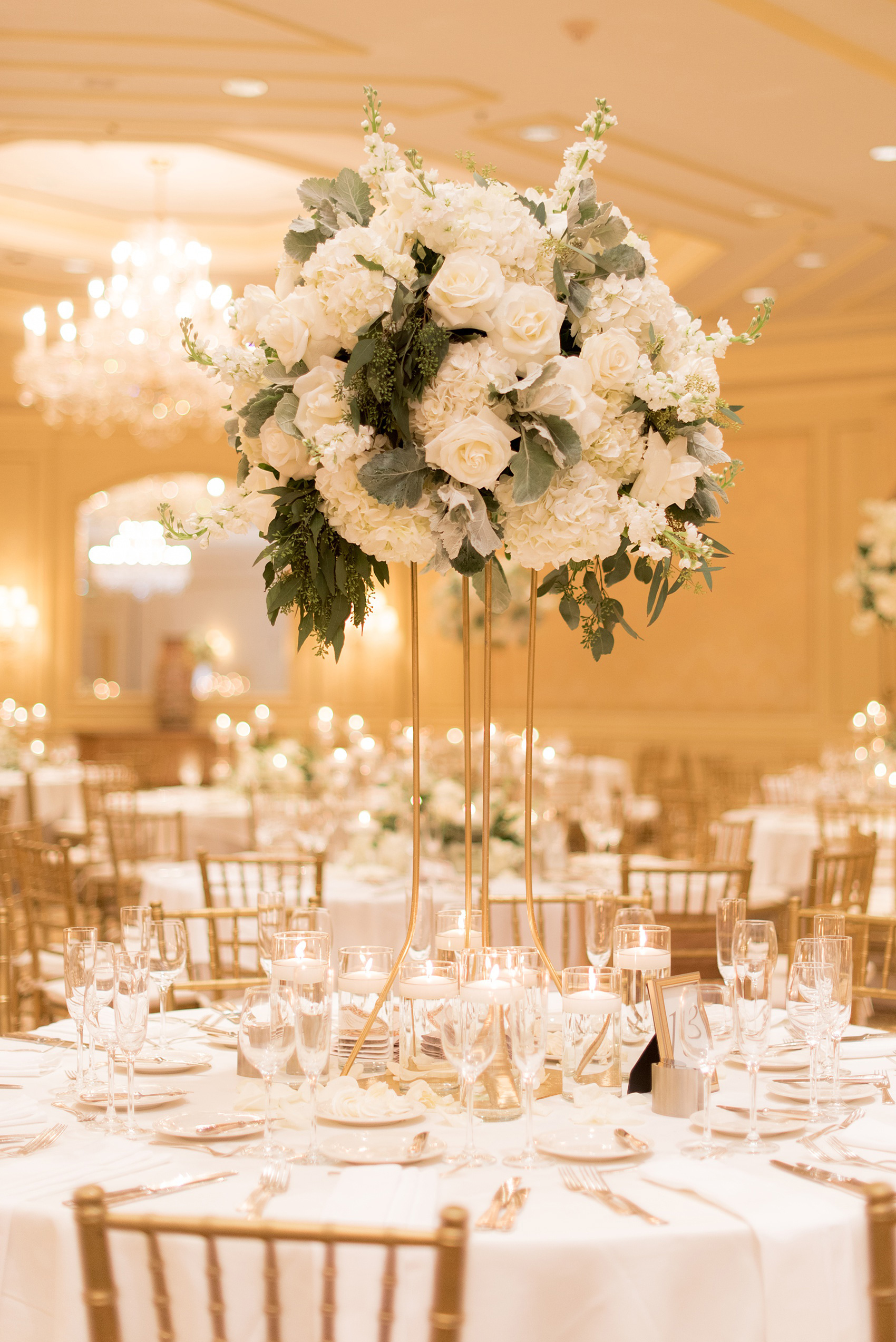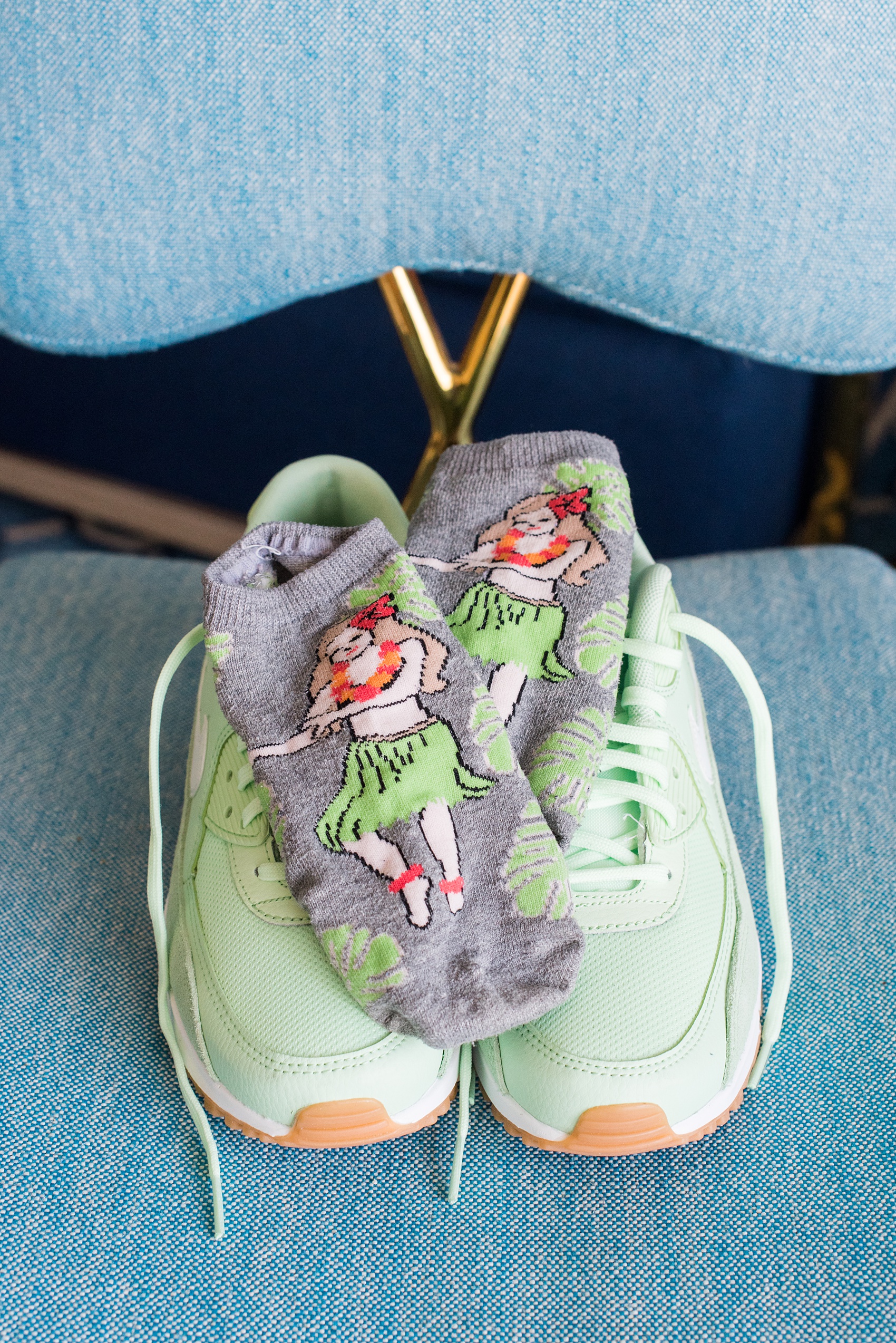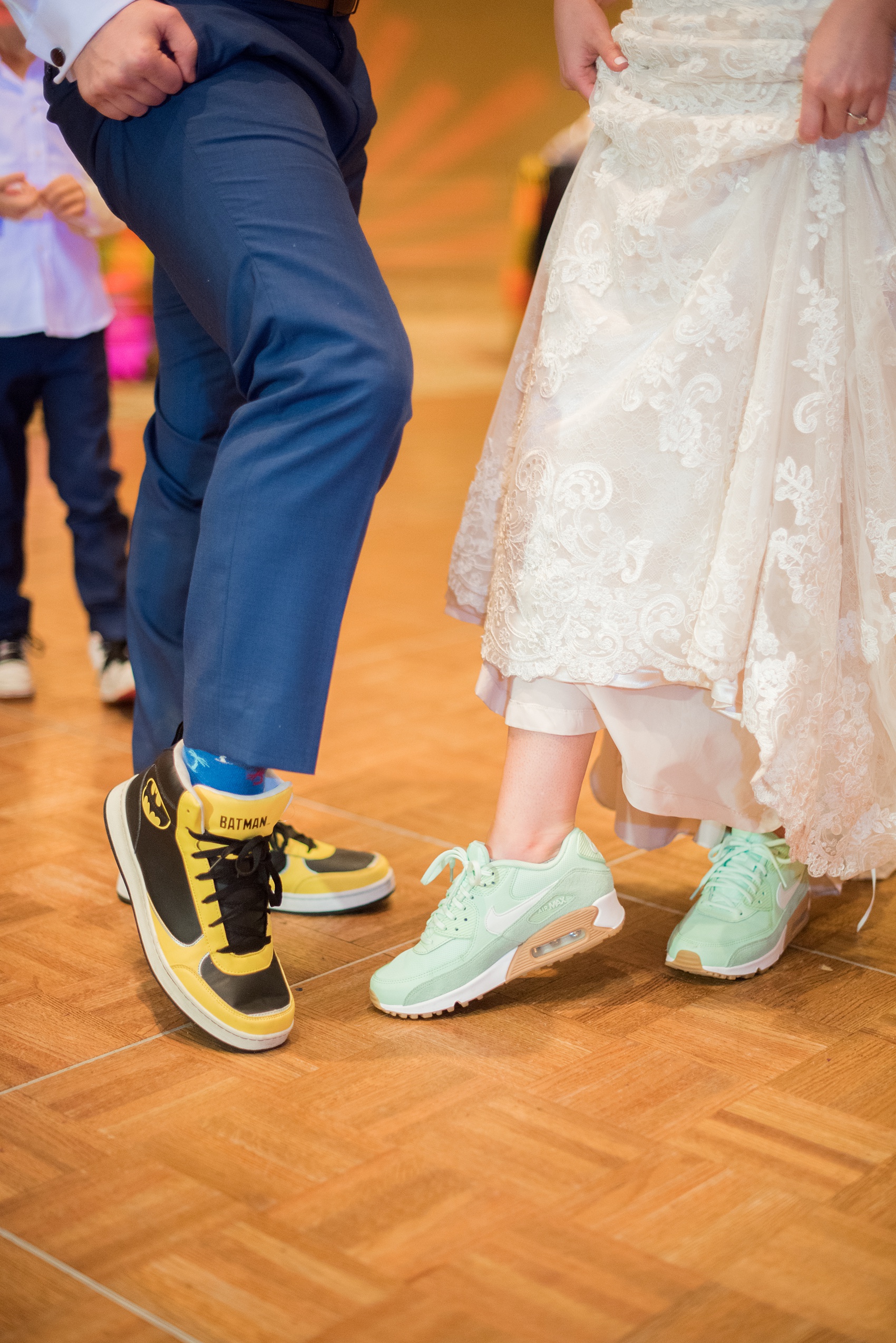 The ballroom was decorated with gold Chiavari chairs and high and low centerpieces filled with white flowers and candlelight. One of my favorite details is always when the bride and groom change into footwear they'll be comfortable dancing the night away in: Rachel and Ariel's shoe choices take the cake! Ariel wore Batman high tops and Rachel changed into mint green Nike sneakers after she slipped on Hula Girl socks.
Another favorite tradition I've seen at Jewish weddings is the time during the reception, right after the hora, when guests entertain the bride and groom. During this time the couple takes a much needed break from dancing and sit in chairs to fully enjoy the "acts" entertaining them. Rachel and Ariel had some of the BEST I've seen!
Their cousin, Hadassa, has brought her wolf mask to all three weddings I've been at in the Krasna family but her and her sister, Jessica, really outdid themselves when they began to "swim" across the dance floor in snorkel masks. I could not stop laughing! I'm glad that even though Rachel's sister, Vered, couldn't be there due to bed rest orders during her second pregnancy, she was able to experience a lot of the day through FaceTime with the help of technology, including this dancing time.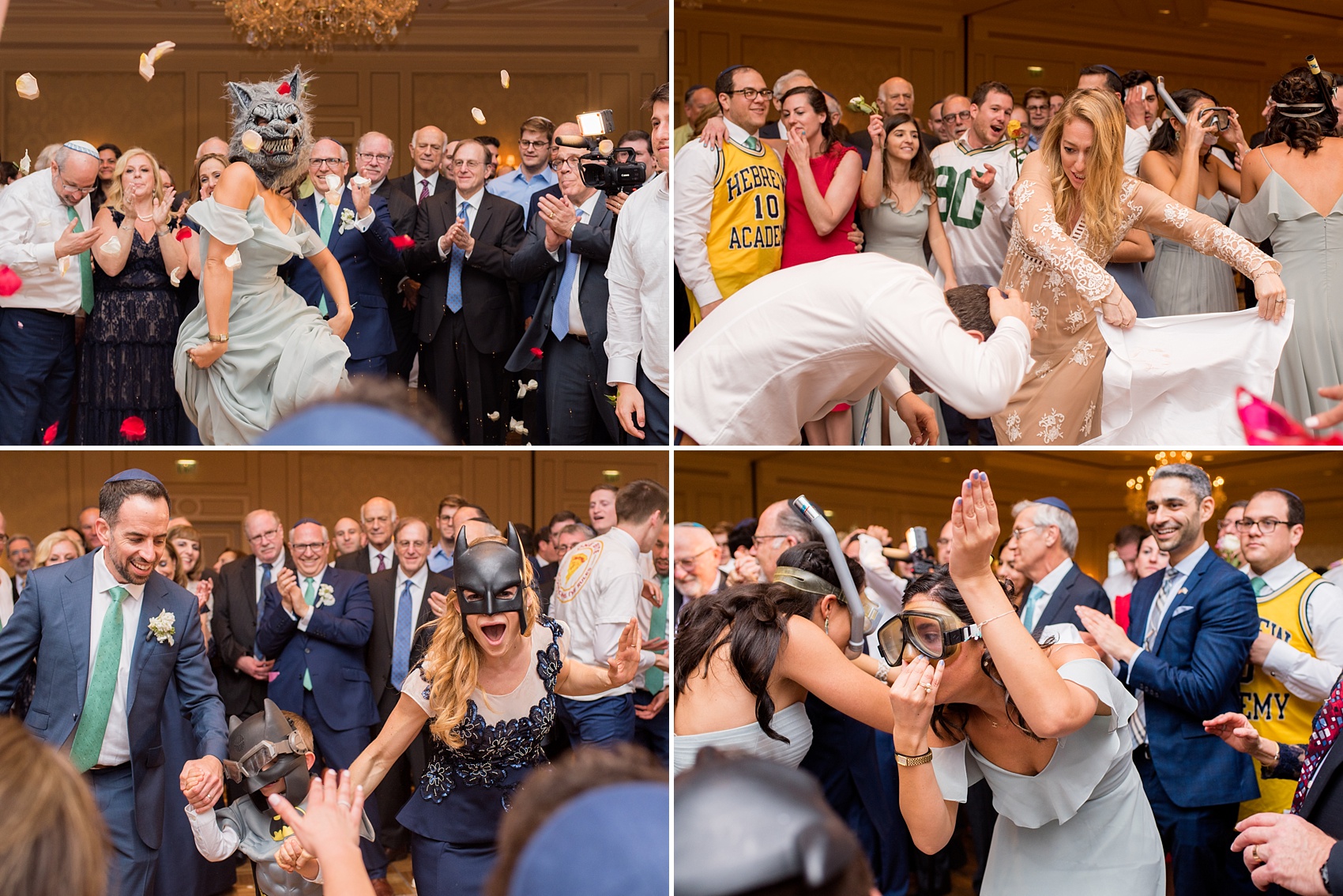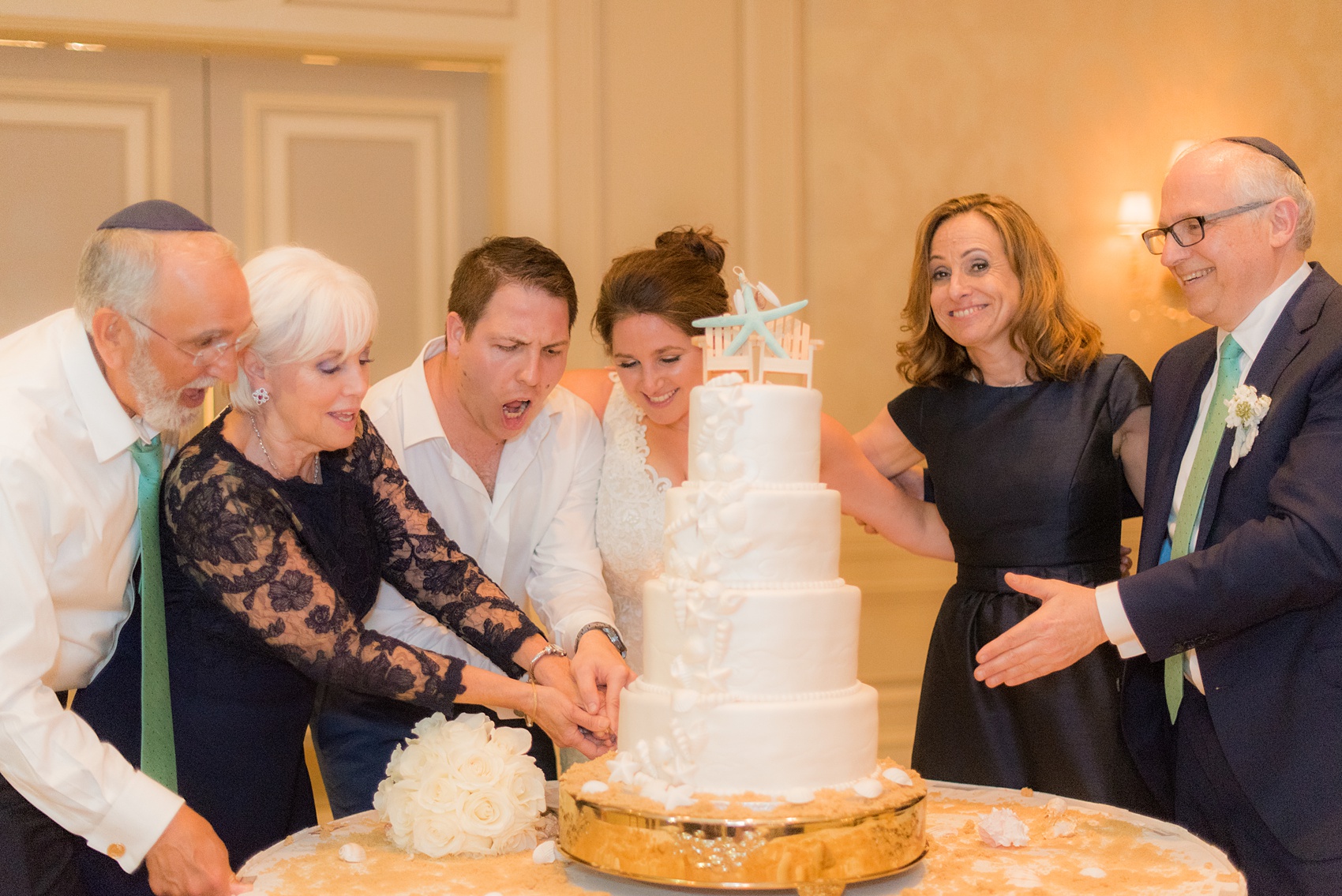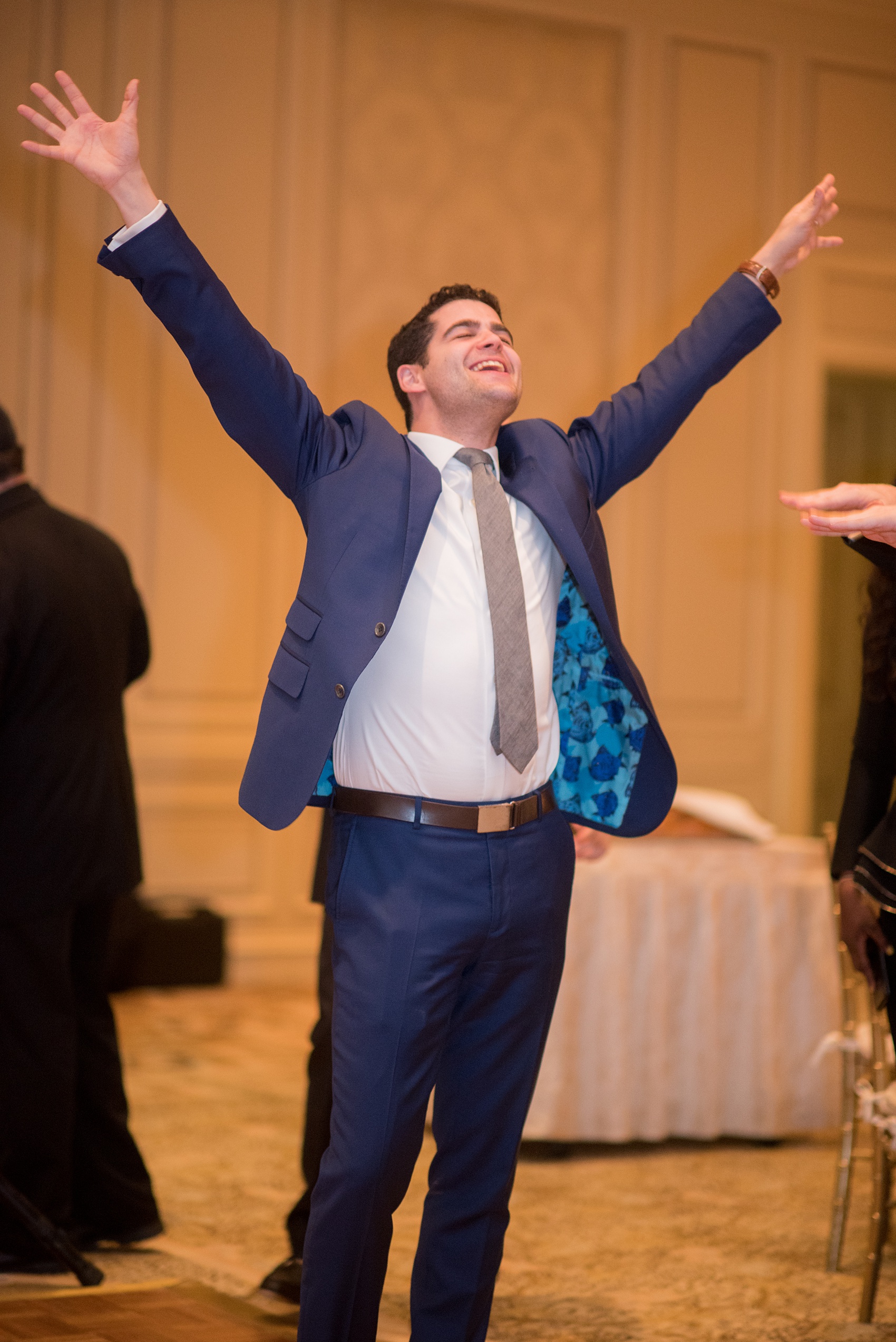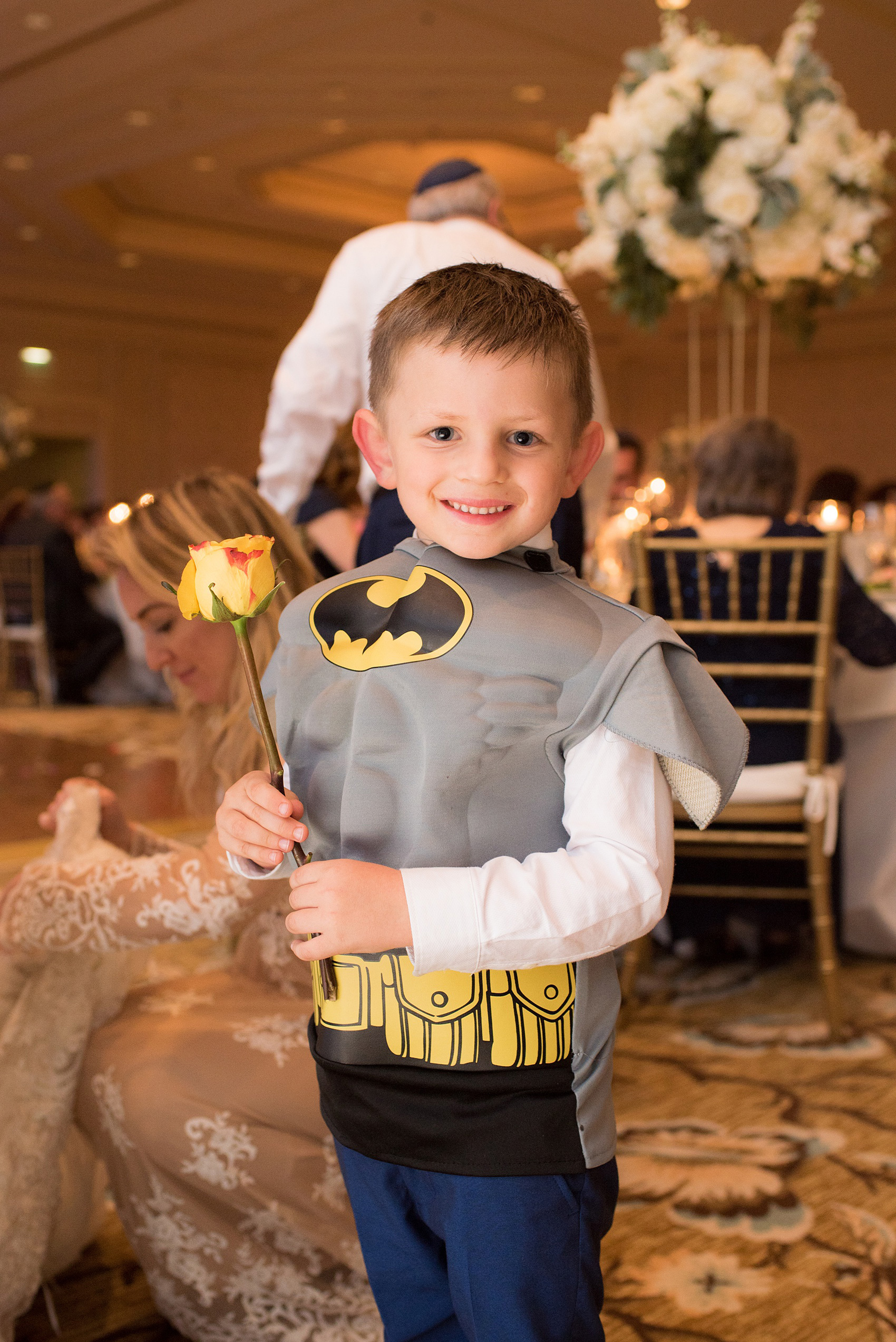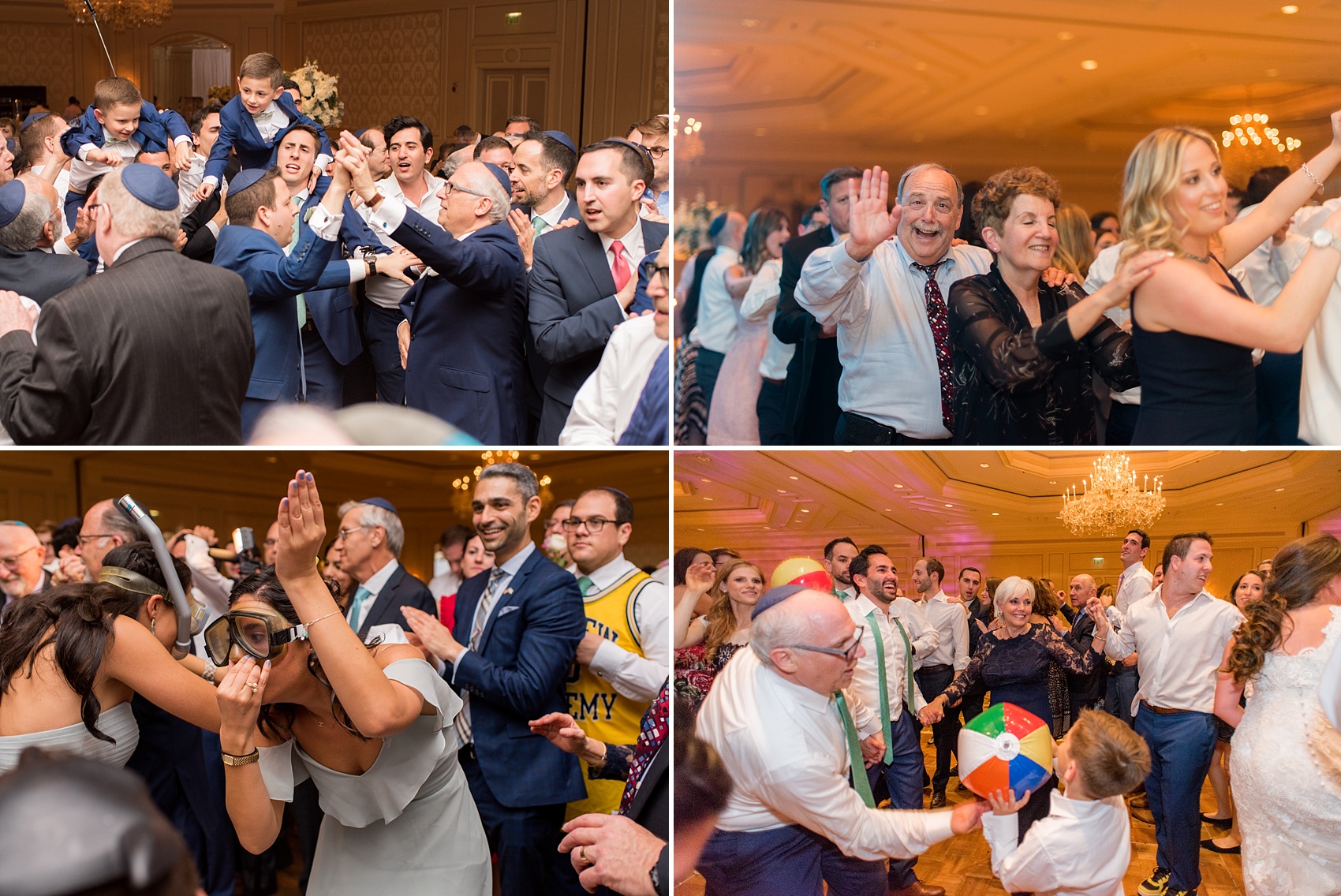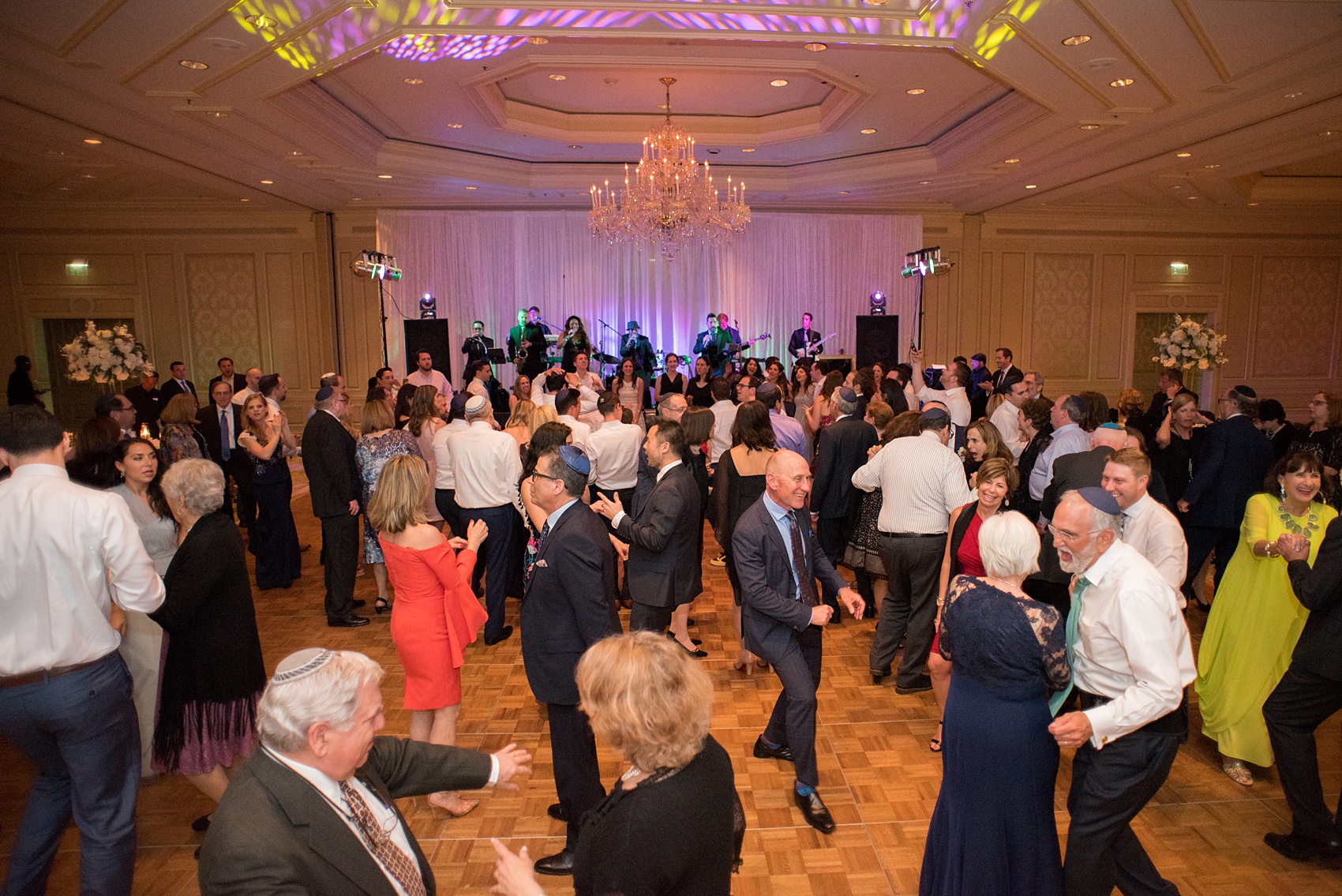 If Batman giving a rose to the bride at a wedding reception isn't one of the cutest things I've ever seen, I don't know what is!
Congratulations Rachel and Ariel! I'm so proud to have been the lucky destination wedding photographer who captured your incredible Eau Palm Beach resort wedding day. It was filled with unforgettable energy, beauty and love.
Venue: Eau Palm Beach Resort and Spa / Gown: Cherry Blossom Bridal Boutique, designer: Essense of Australia / Groom's suit: Imparali Custom Tailors / Hair and makeup: Eau Palm Beach Resort Spa / Bridesmaids gowns: BHLDN and Jenny Yoo, color Morning Mist Green / Flowers: Xquisite Events / Rings: Boone & Sons, and I.D. Jewelry / Invitations: Jane Myer / Band: Heatwave
Craving more photos from the Krasna family? Check out:
Interested in having us photograph your day? Contact us!