We planned for stormy weather, maneuvering locations and timelines just days before their Saturday nuptials. A first look and photos would take place at the bride's parents' beautiful home instead of The Raleigh Rose Garden and we would have emergency umbrellas on hand just in case. Though come Caroline and John's wedding day the touches of blue perfectly weaved throughout the wedding – from Caroline's wedding shoes to her bouquet, her bridesmaids gowns and gifted totes, to, coincidentally, the bride and groom's blue eyes – perfectly matched the blue spring skies and sunshine above. It was beautiful weather for a beautiful couple.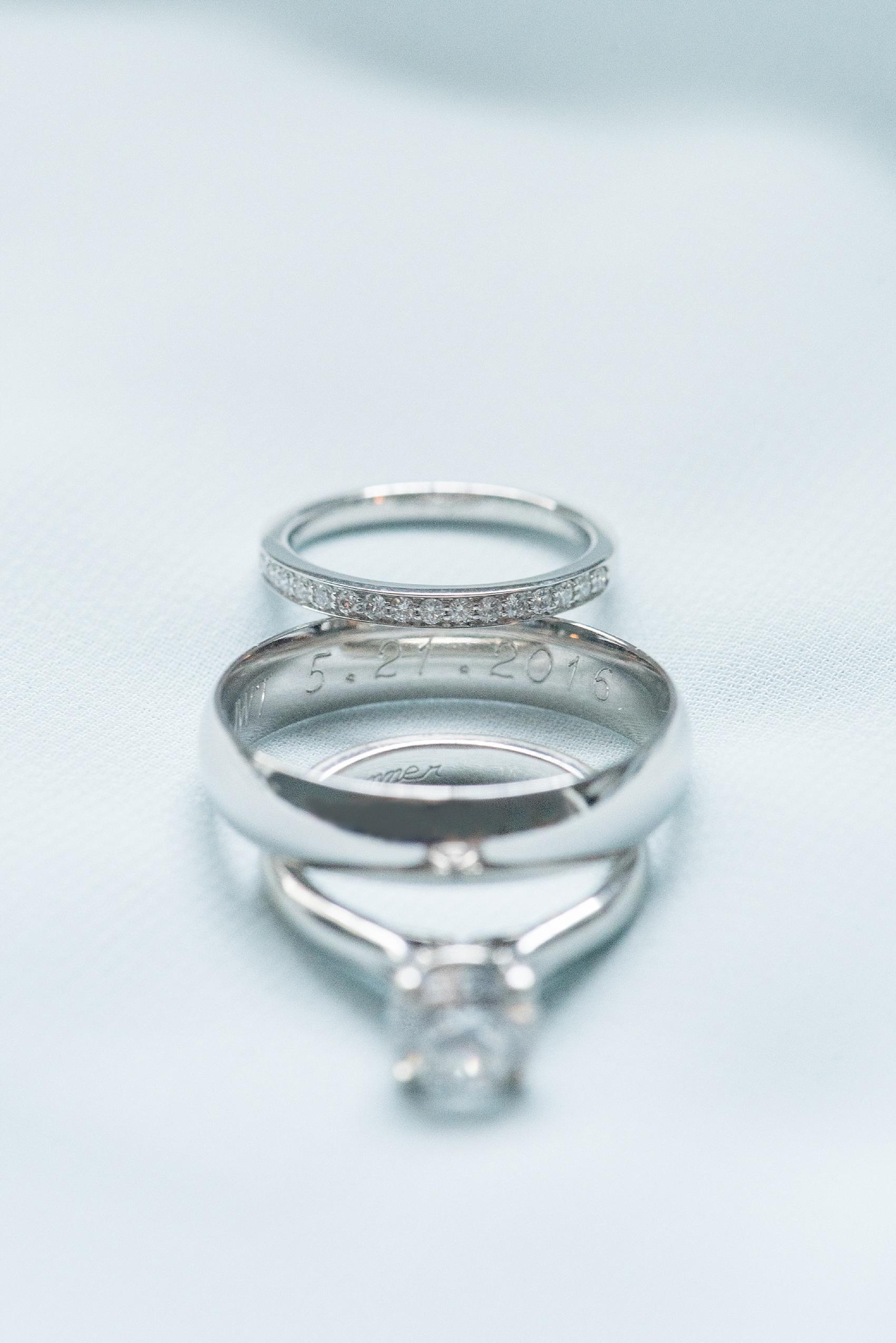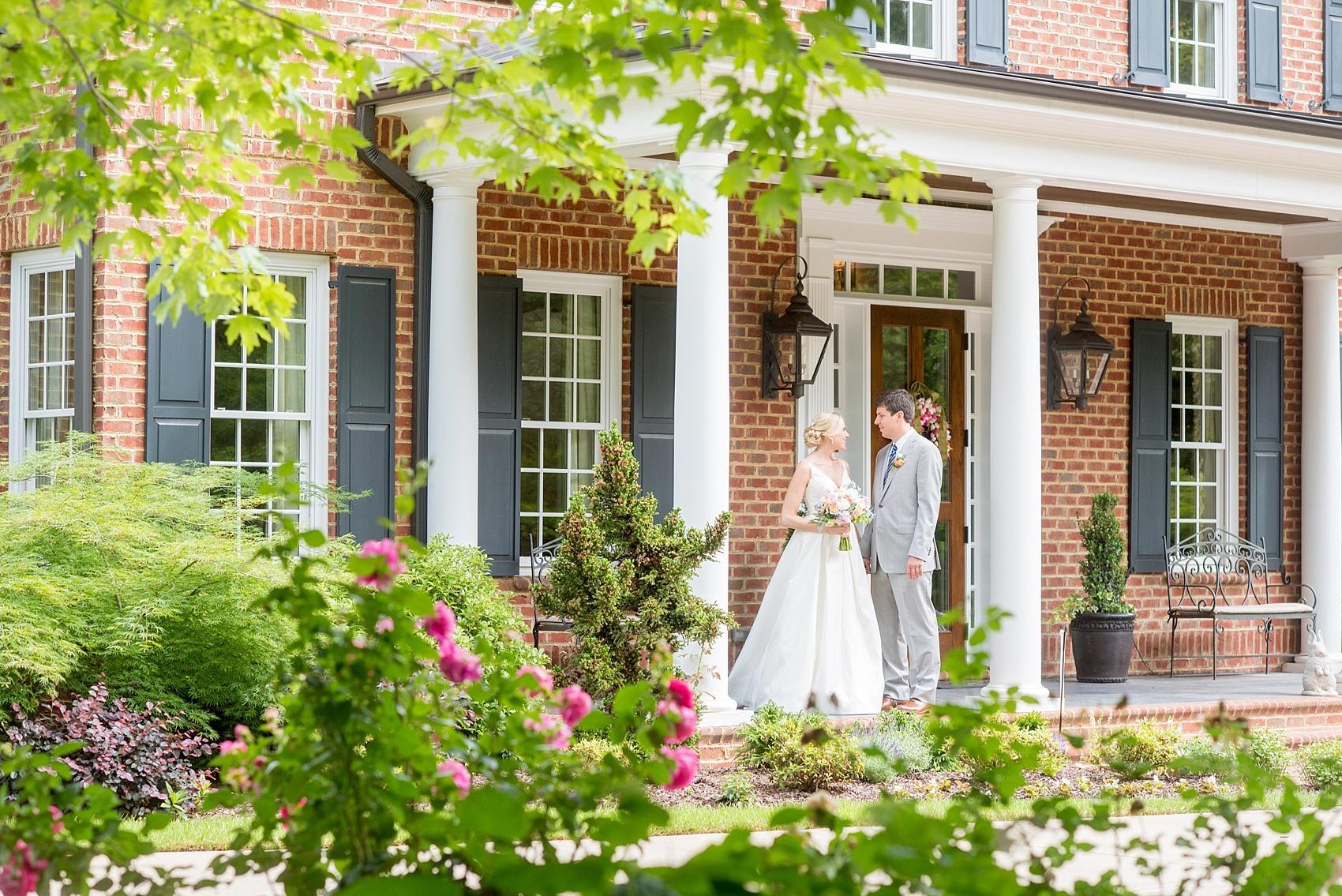 Caroline and John just returned from Hawaii and I asked Caroline, "What were your three favorite things about your honeymoon?" It got me thinking about my favorite moments from their day, which are mentioned in this post between photos!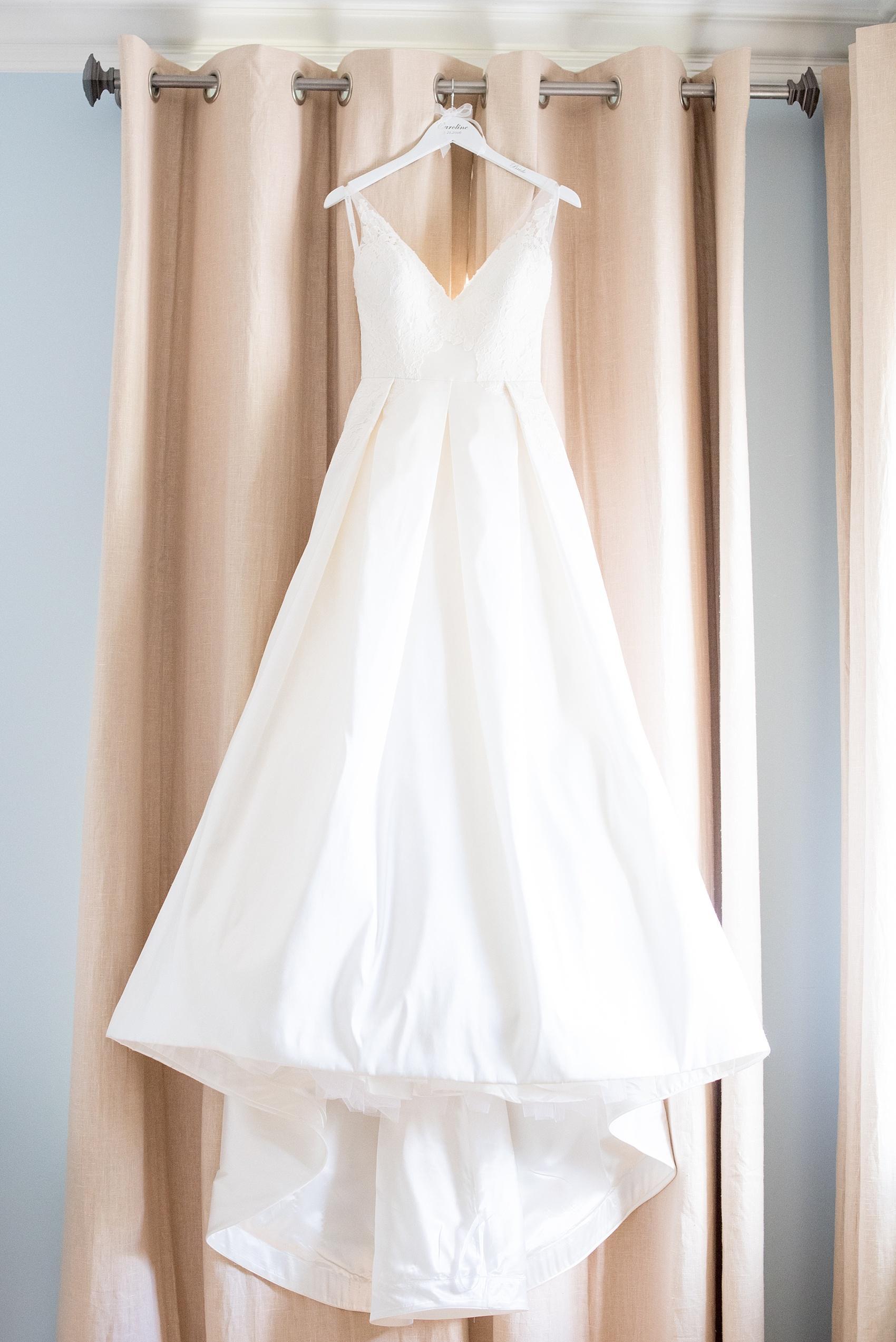 Favorite thing number one: Caroline's excitement and sincerity. John and Caroline are sincere in a way a lot of people aren't (I swear I have a sixth sense about this stuff). I enjoyed witnessing her emotions, especially, throughout that Saturday from her joy in first seeing her completed hair style, to the tears in her eyes as she saw John for the first time that day, to her gratitude at the end of the night when she thanked her vendors for their hard work.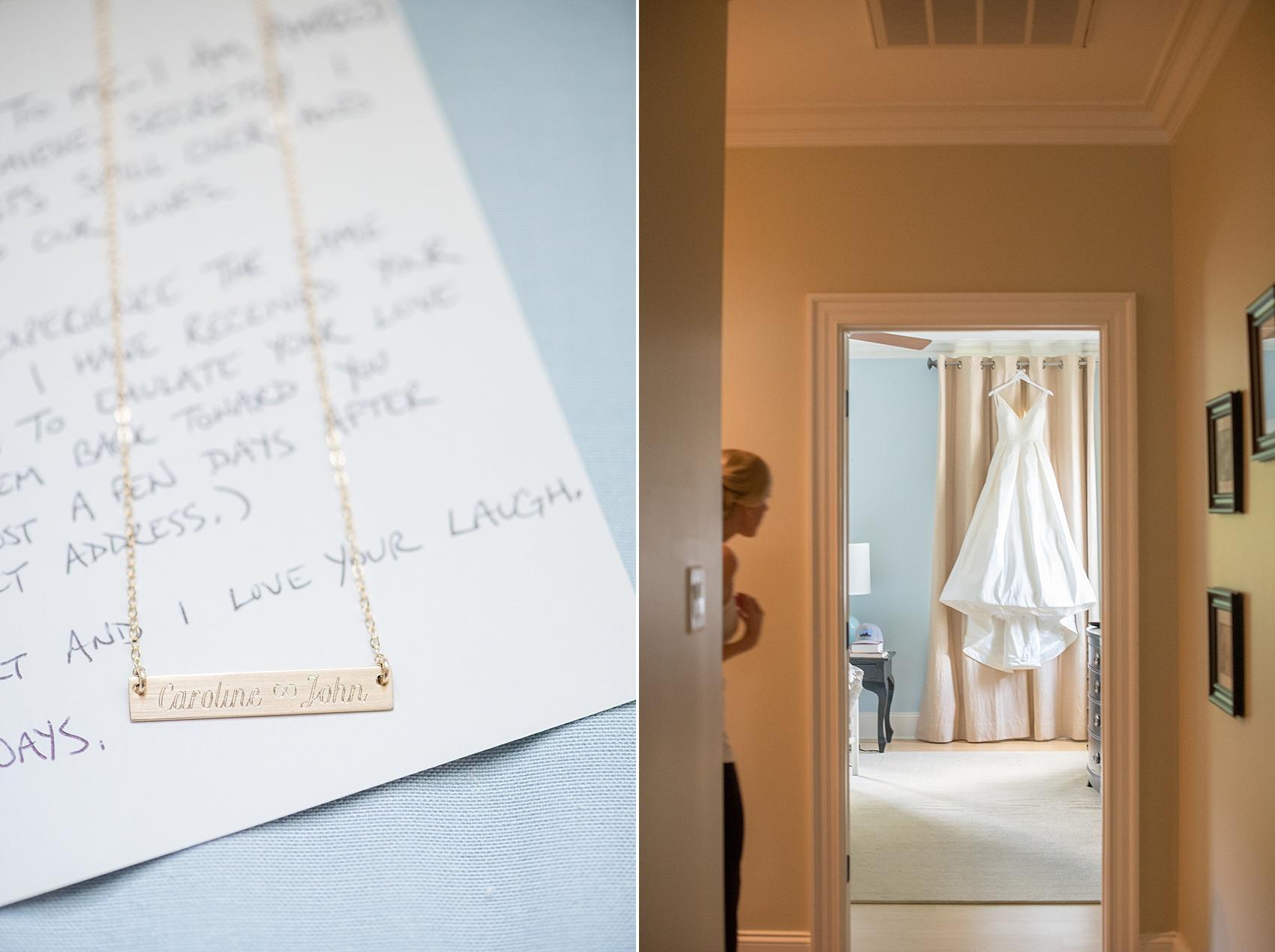 John gave his bride this special custom necklace on their wedding day. As her bridesmaid Katie said, "You can't go wrong with jewelry."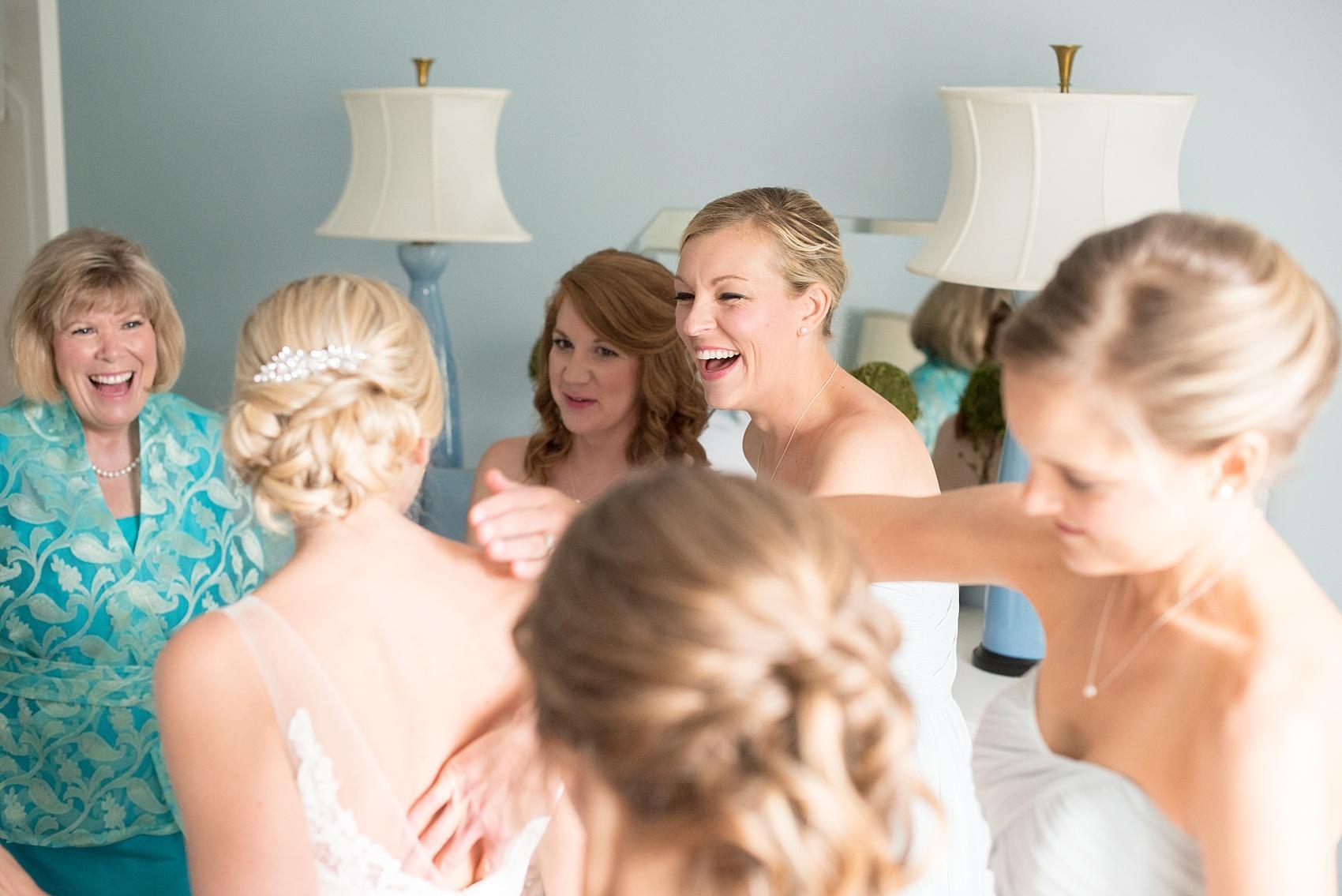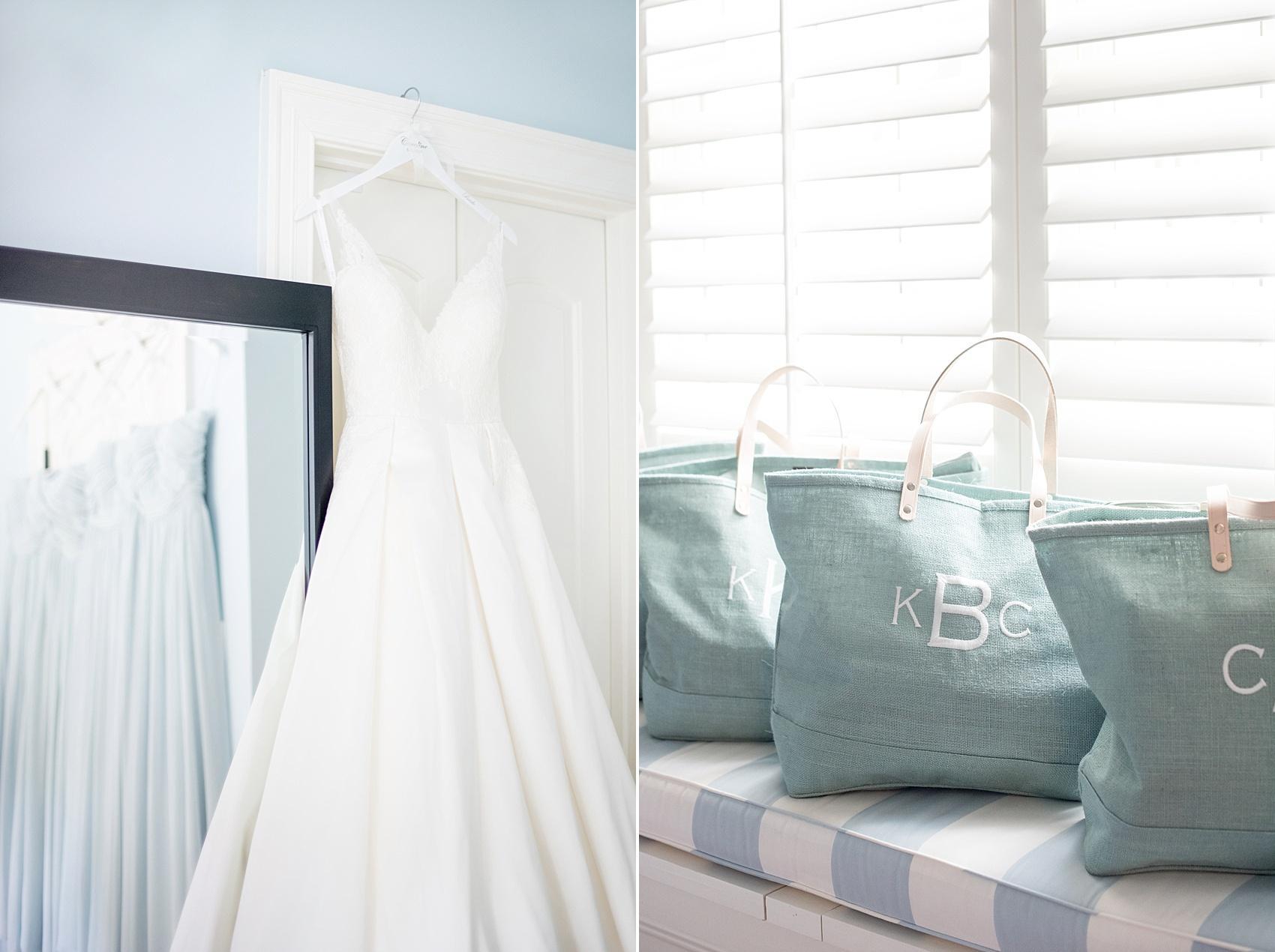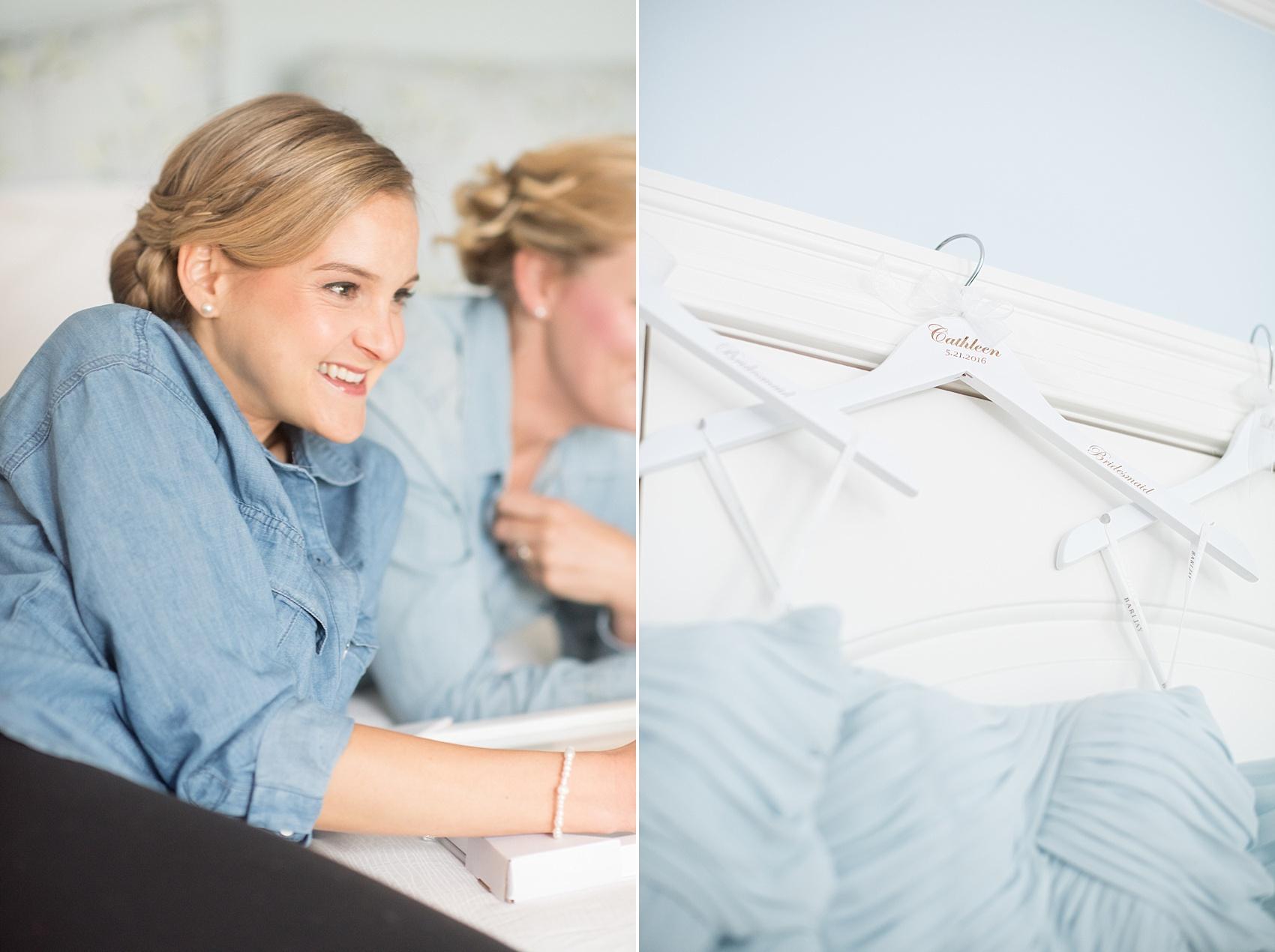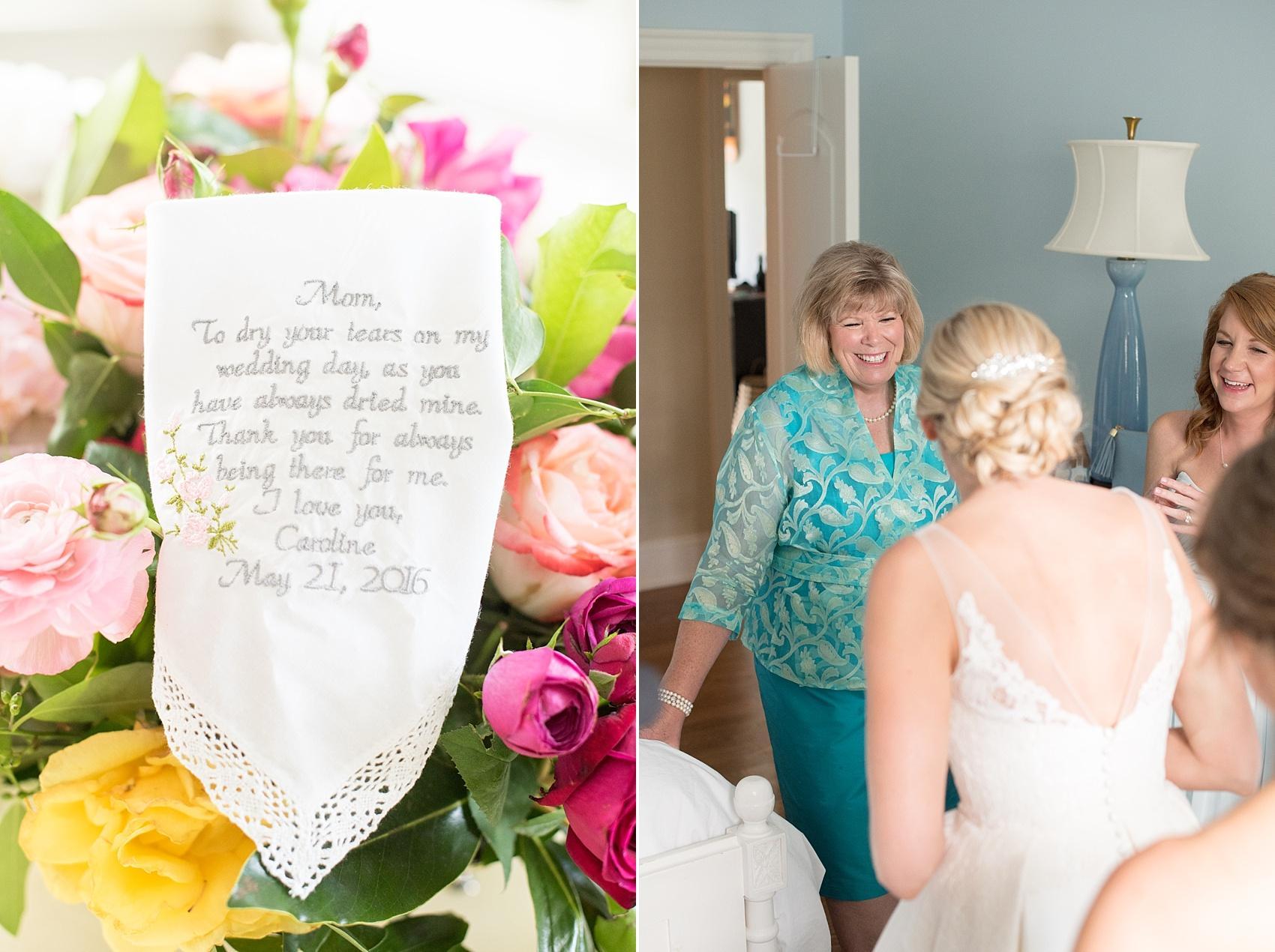 Personalization was all around from the totes and hangers she gave her bridesmaids, to the handkerchief she got for her mom. Even the simple, elegant necklace she wore was a diamond from her grandmother's engagement ring.
It was easy to learn that John loves chess that day. Caroline gave him these whimsical cufflinks in addition to a tie clip and collar stays with their wedding date and initials.
One last check of the dress and grab of bouquets and it was time for their first look in the garden!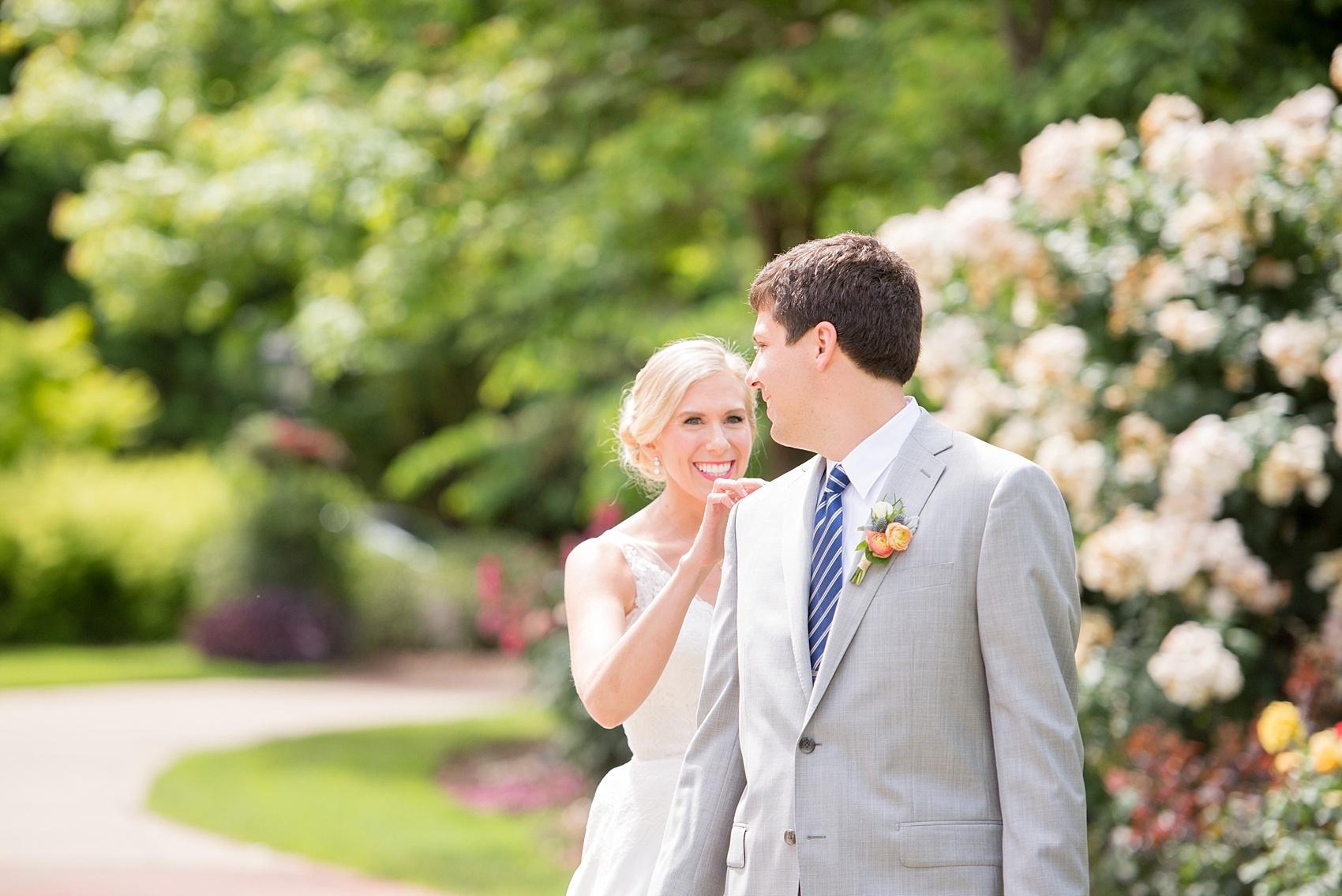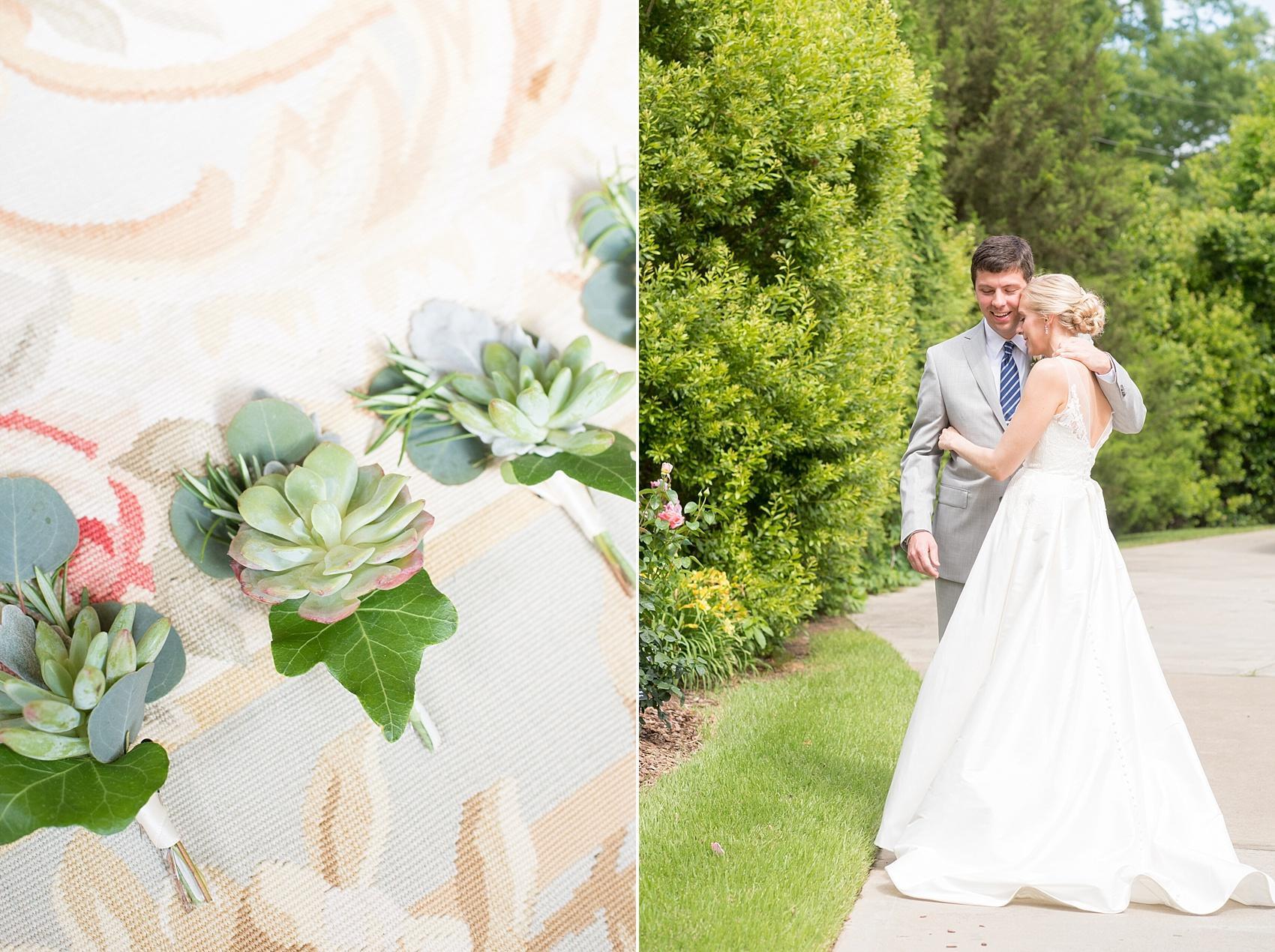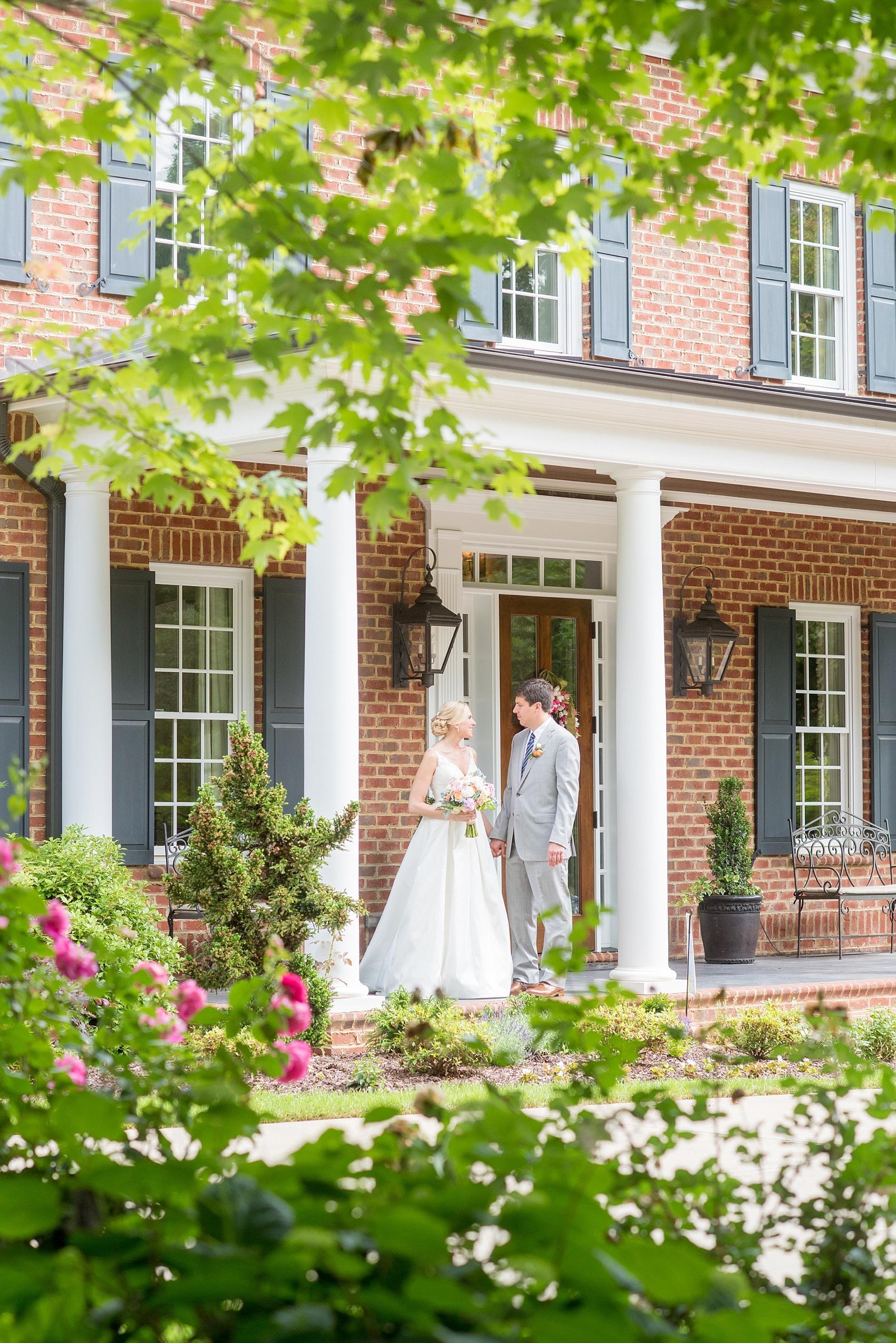 I can't get over how beautiful the gardens are and how perfect they were for the photos. Vicki, Caroline's mom, is truly an impressive gardener; I'm surprised all her fingers aren't green including her thumb…to her pinky! From roses to magnolia trees, to herbs and vegetables in the backyard – I was blown away. I especially loved the rosemary pieces she clipped and dropped off for Cydney, at The English Garden, to incorporate in their centerpieces and bouquets.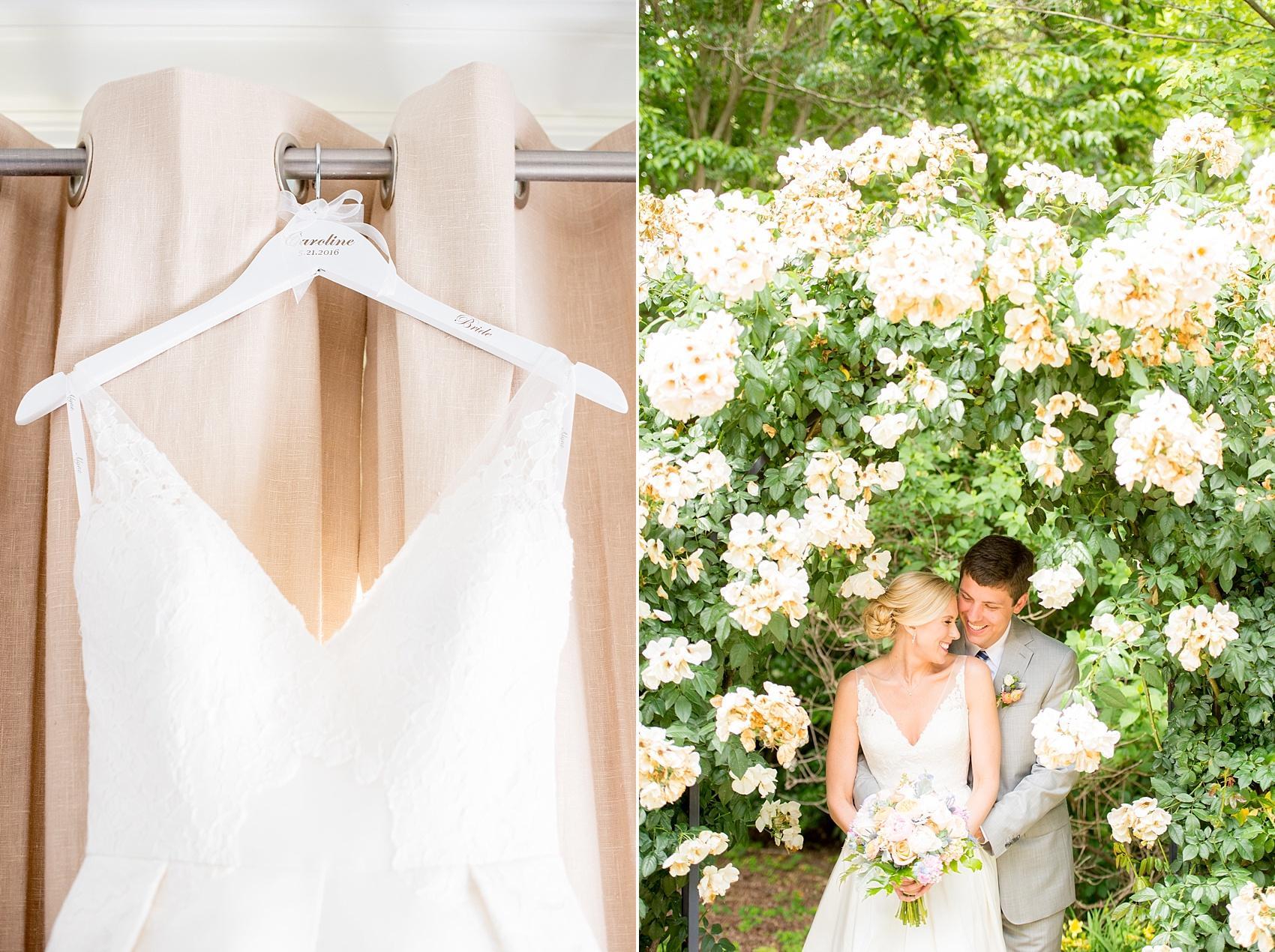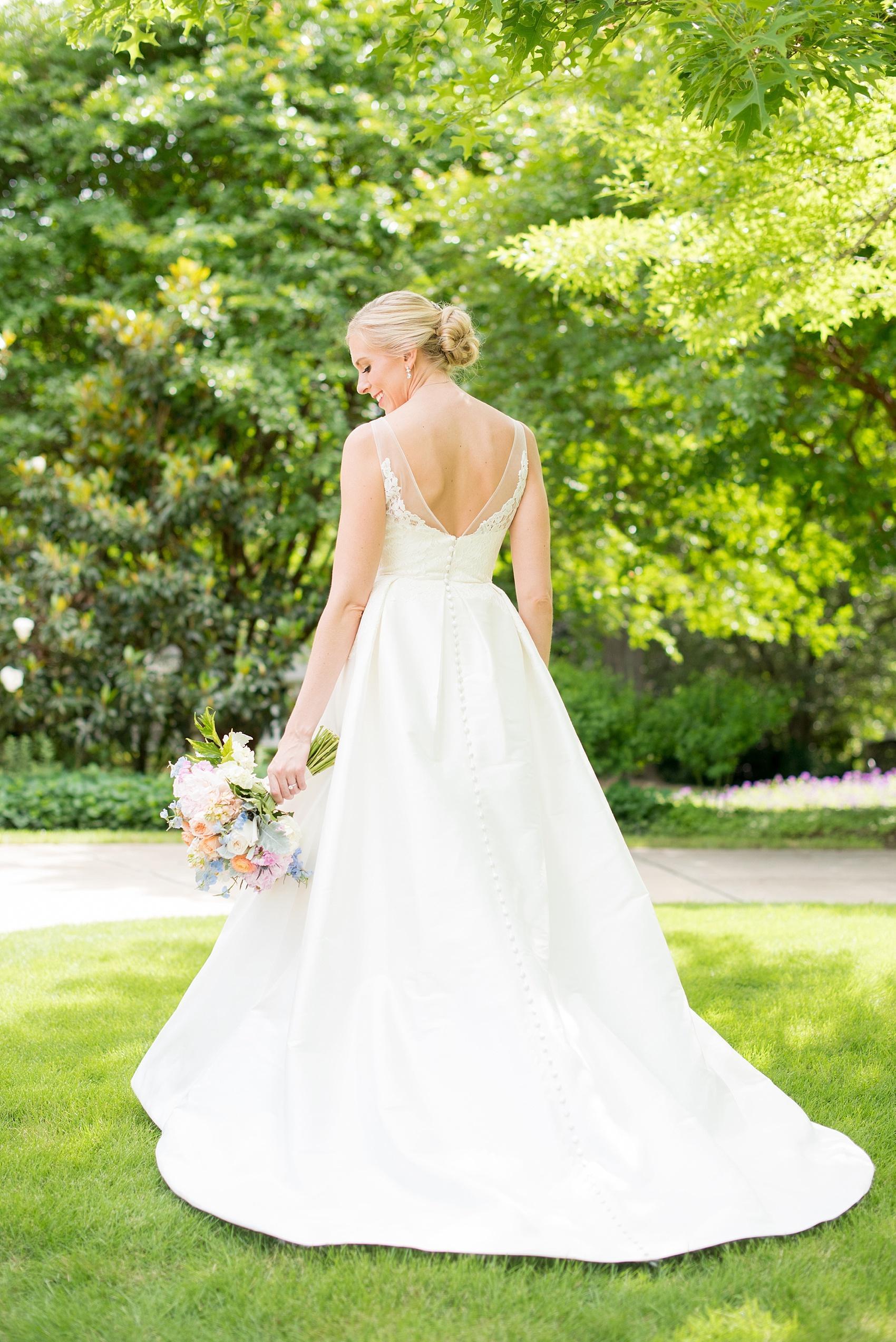 I am in love with this photo of Caroline! The buttons down her back and shape of the back of her dress were so befitting.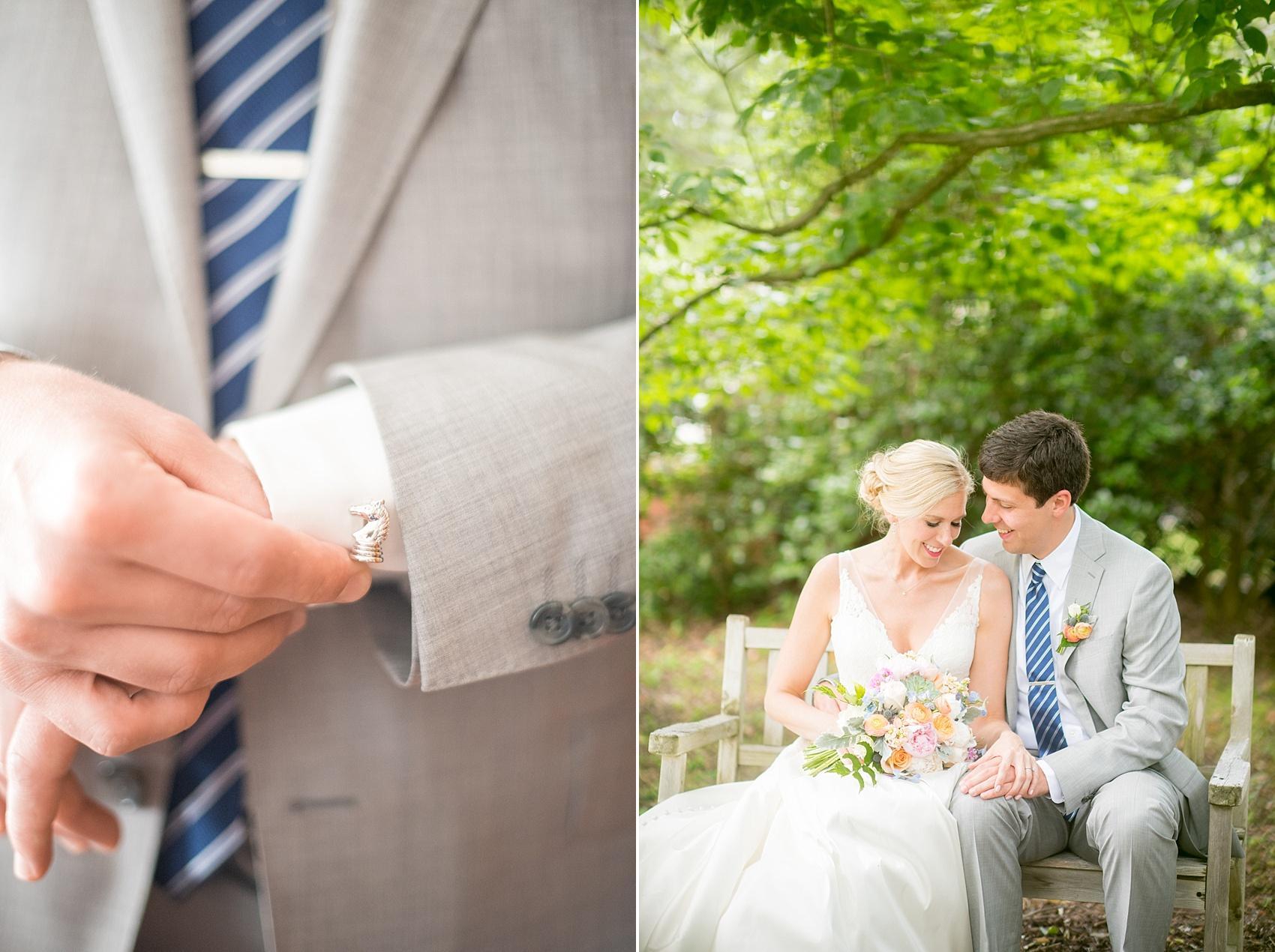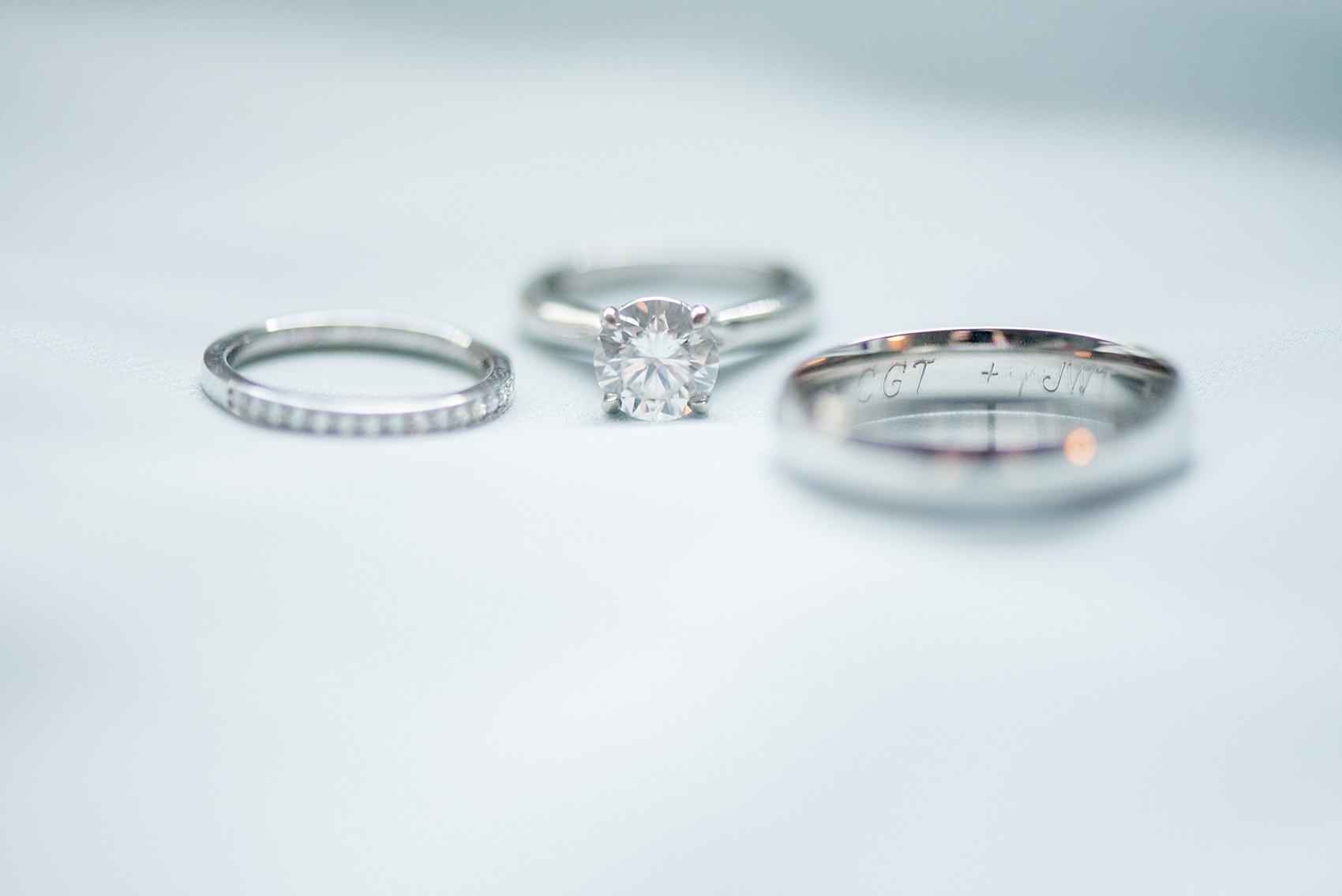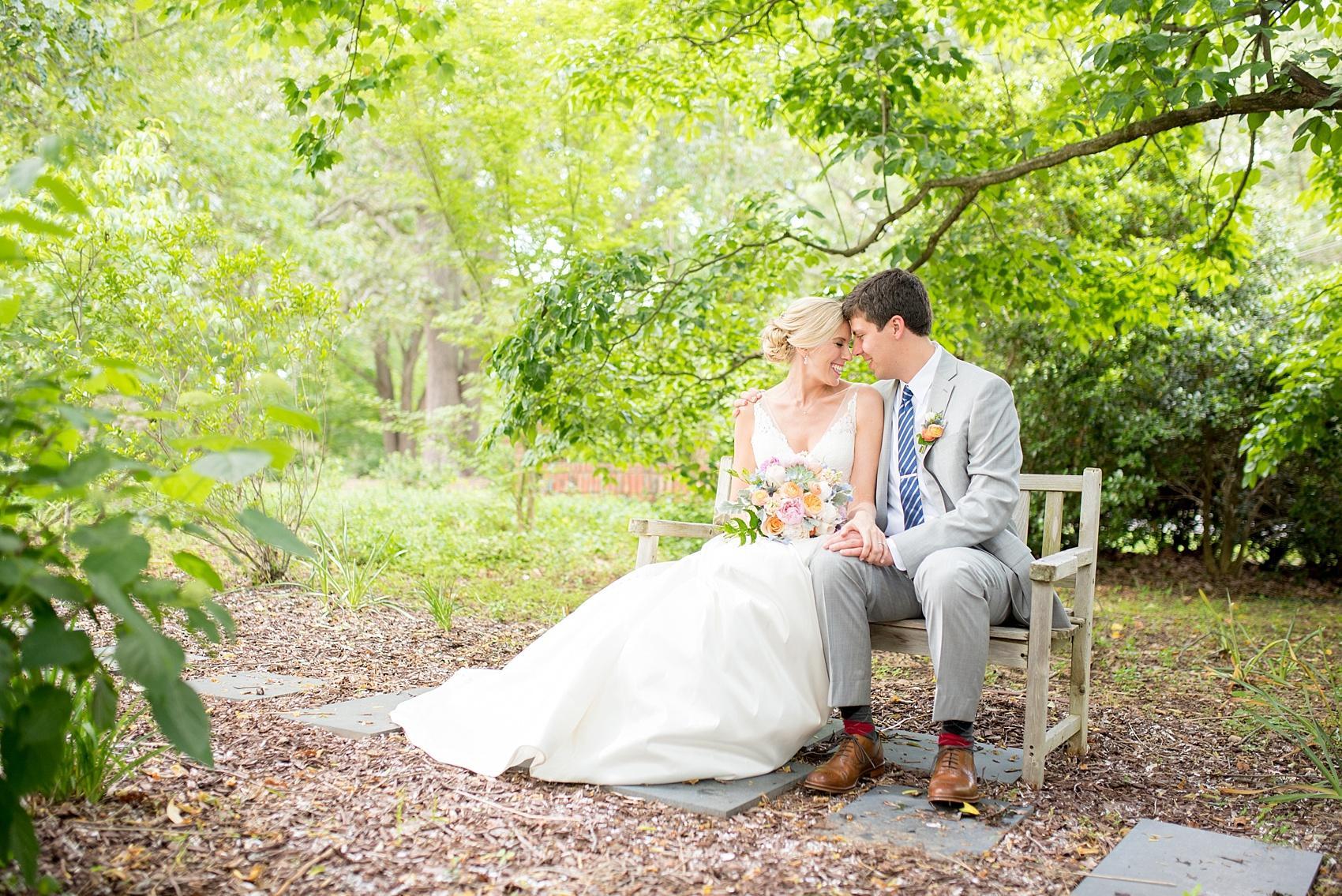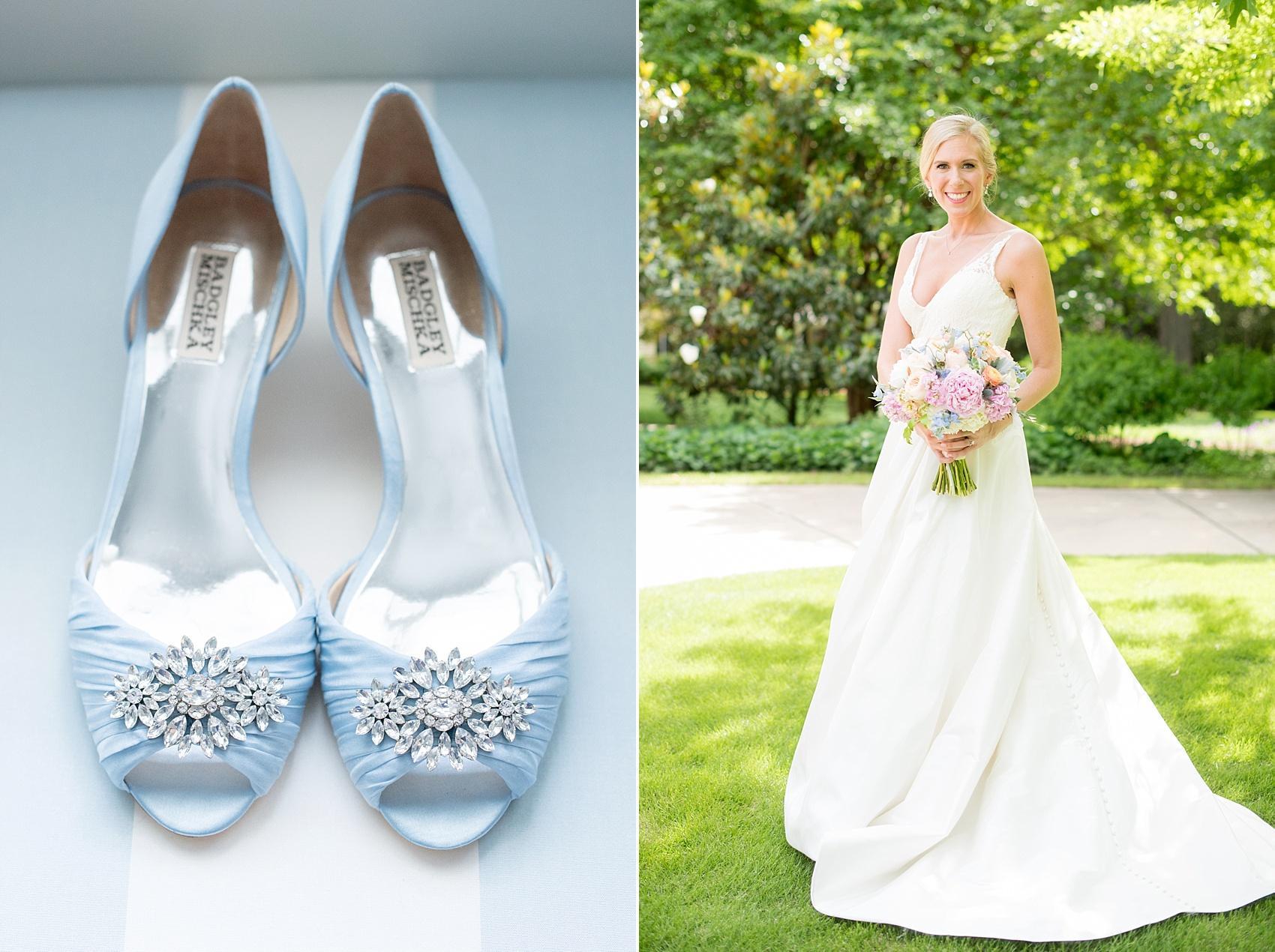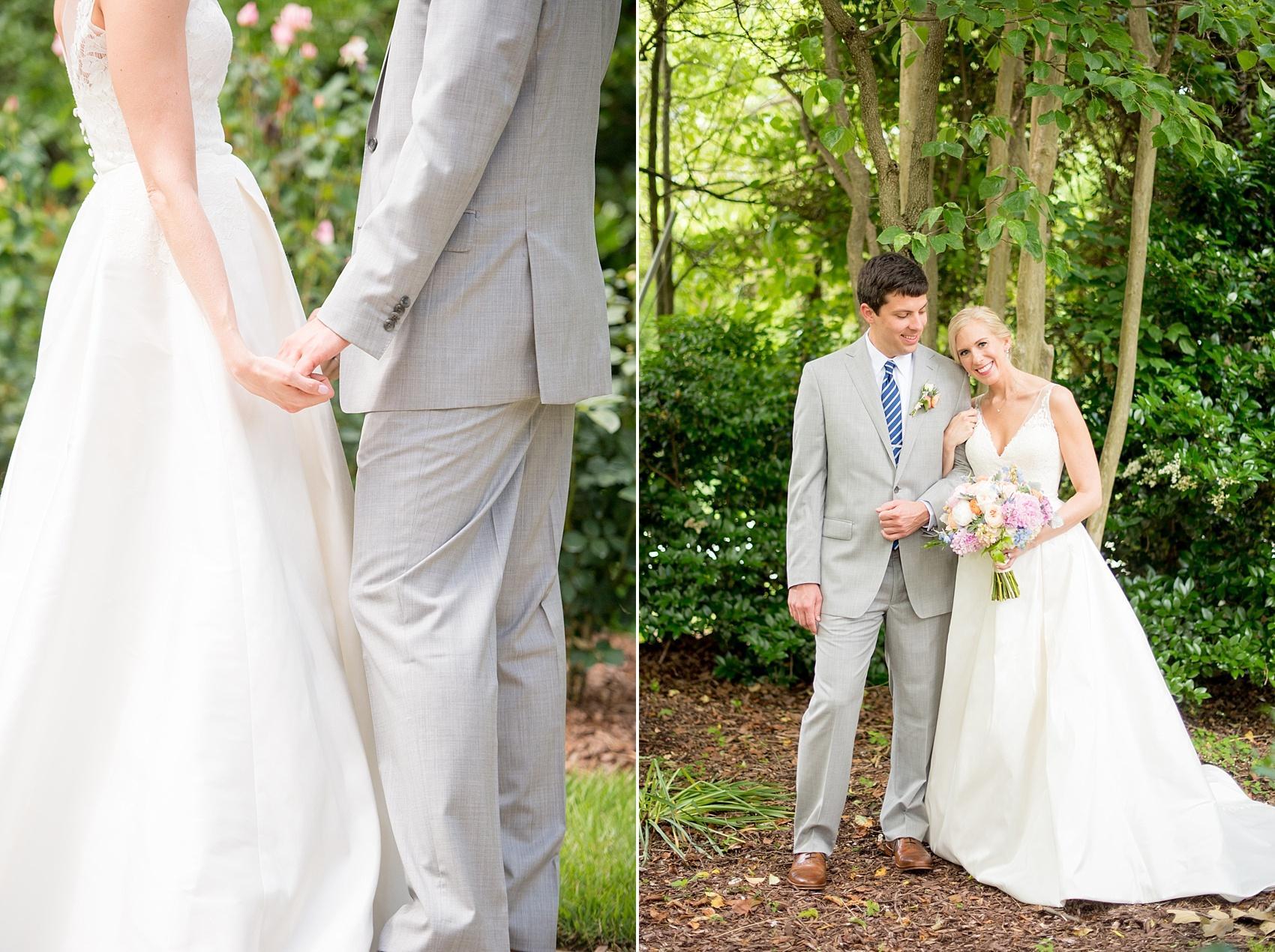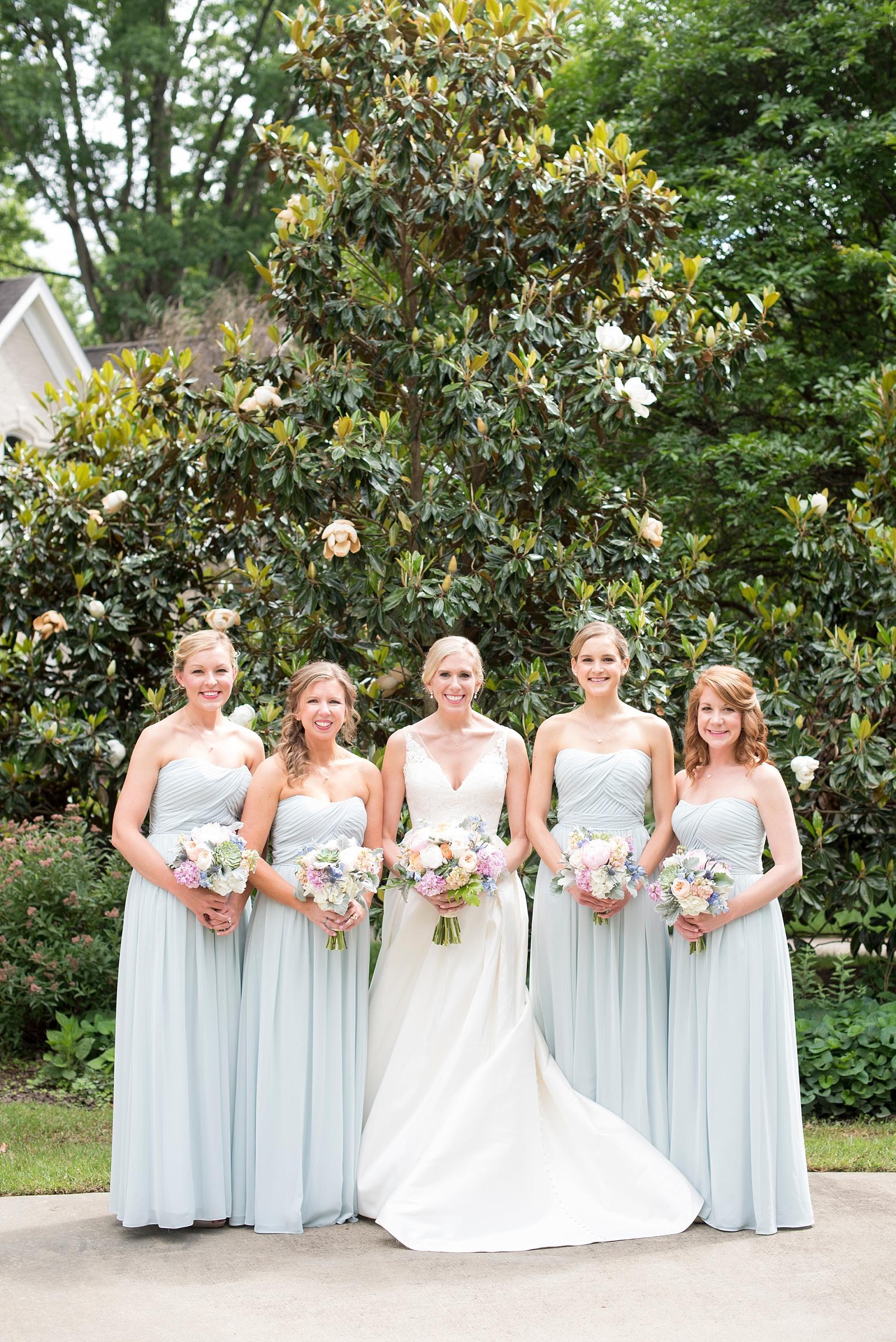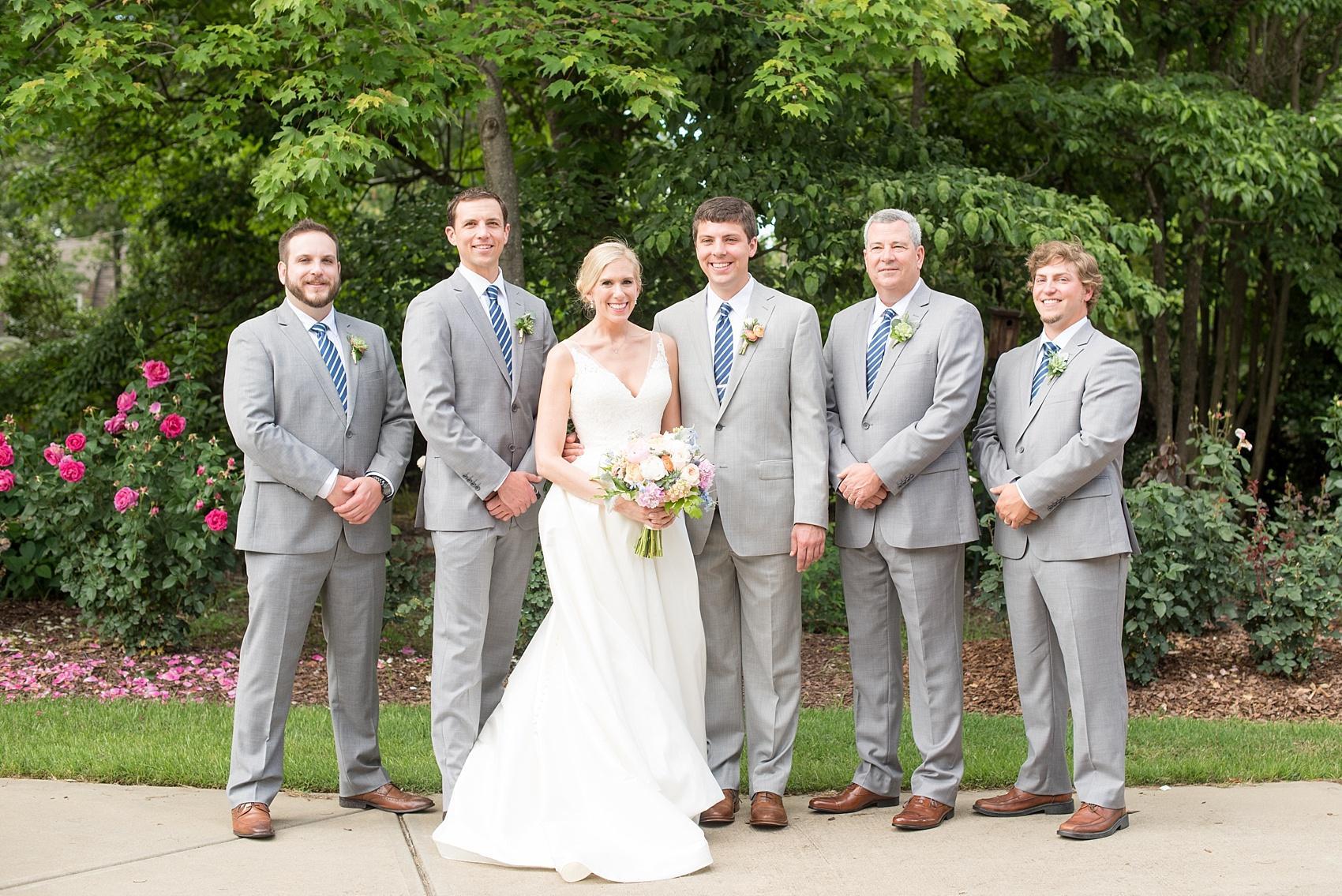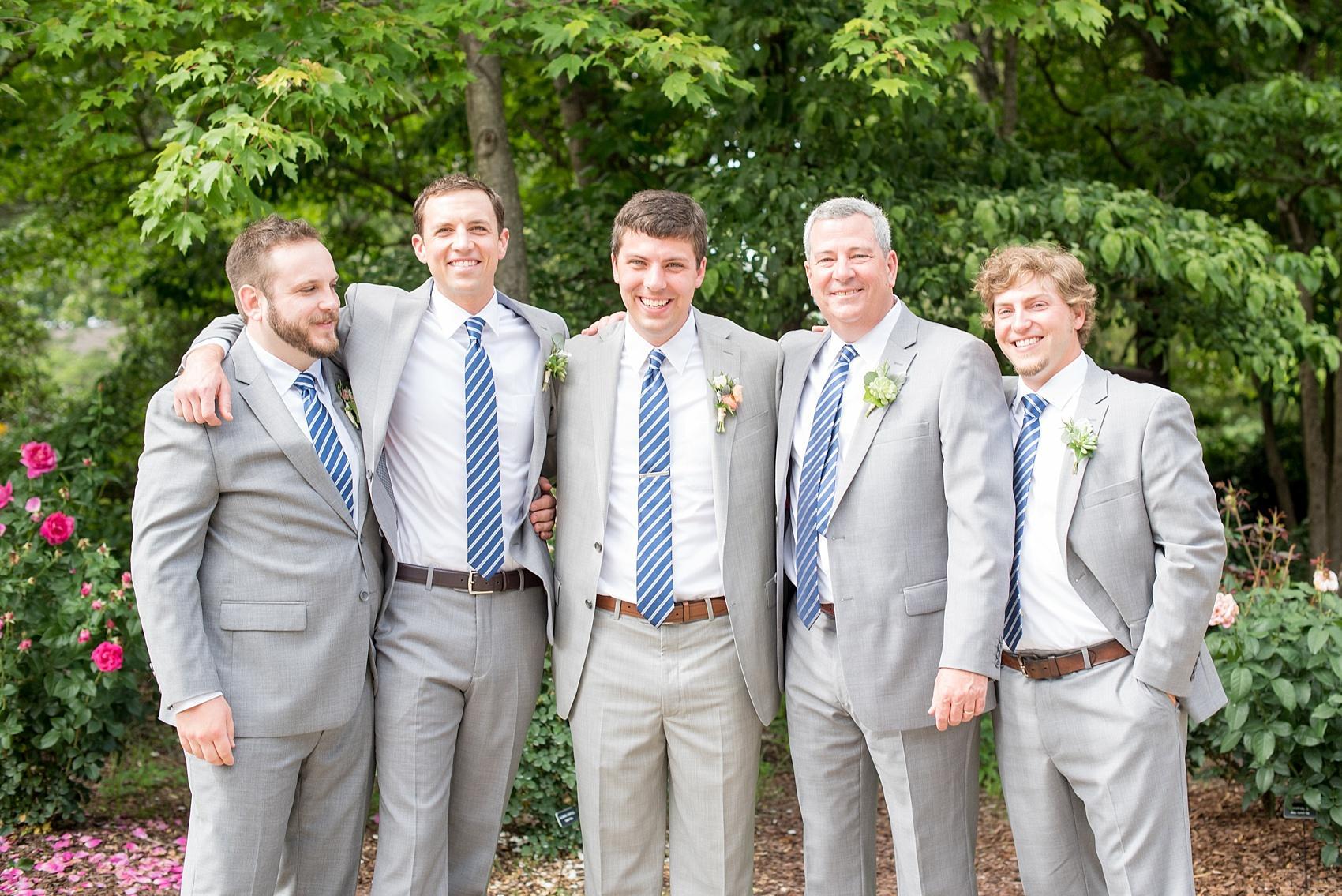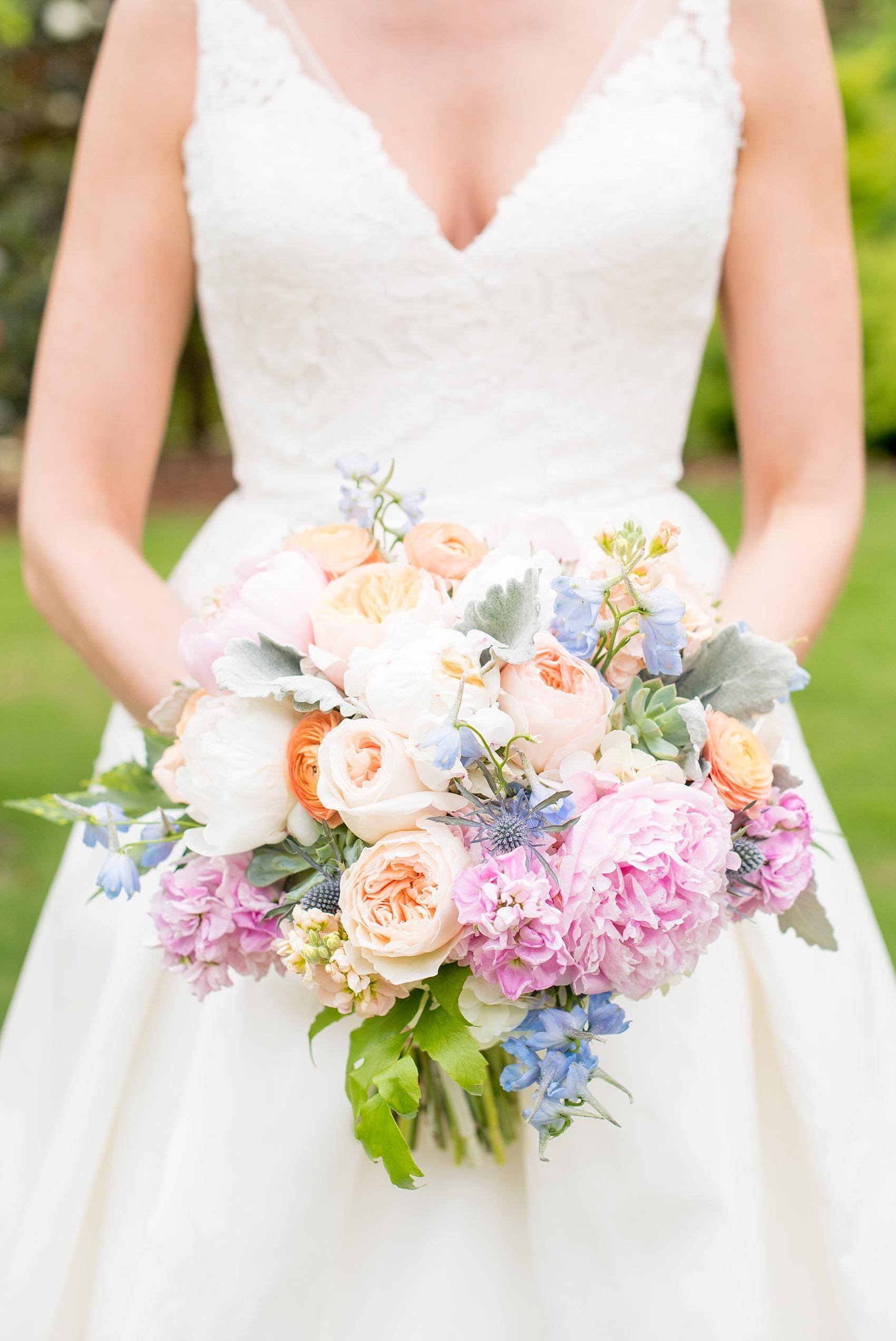 Peach garden roses, pink and white peonies, dusty miller, blue thistle, orange ranunculus and mint green succulents spotted her incredible bouquet and the boutonnieres the men wore matched the ladies' arrangements.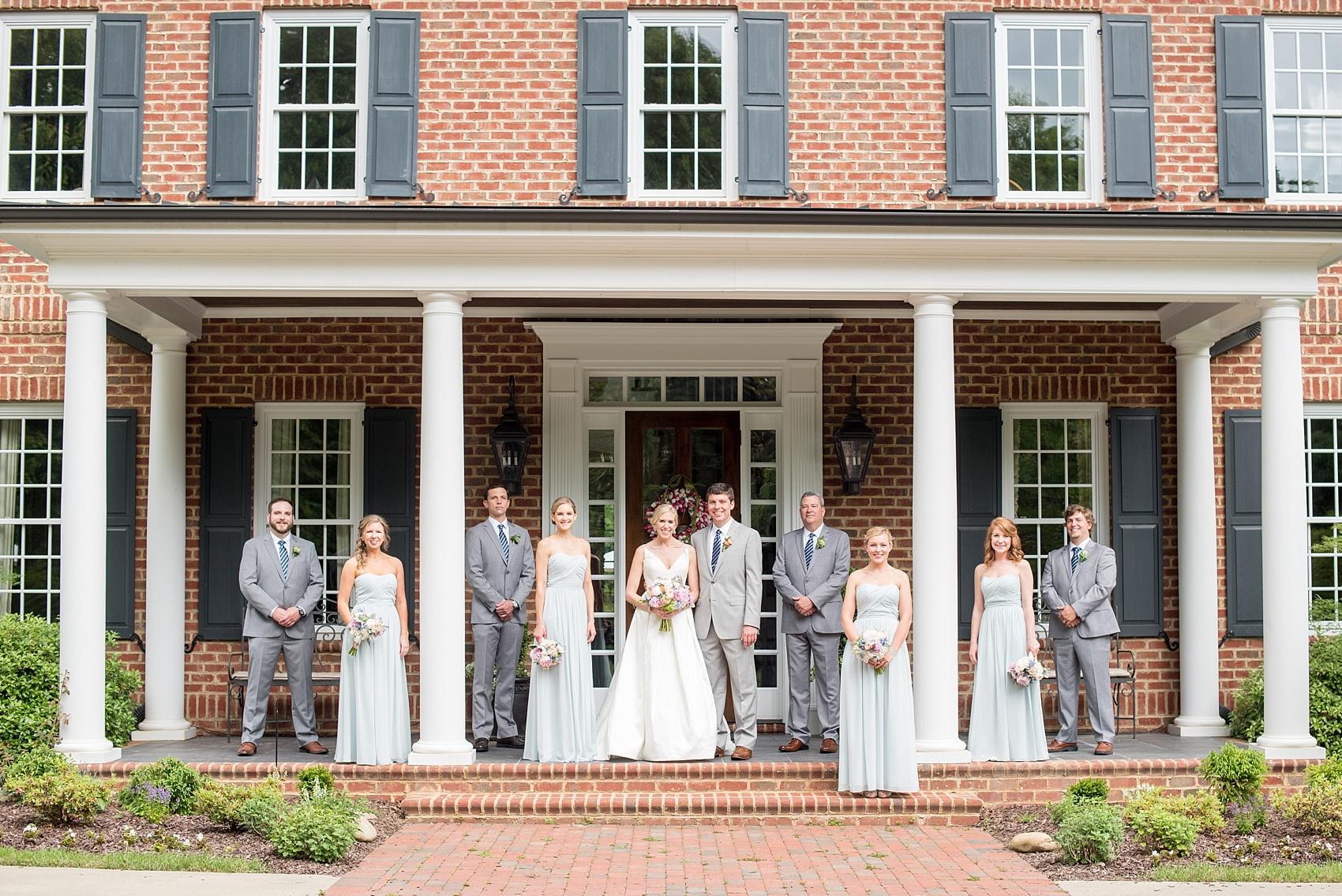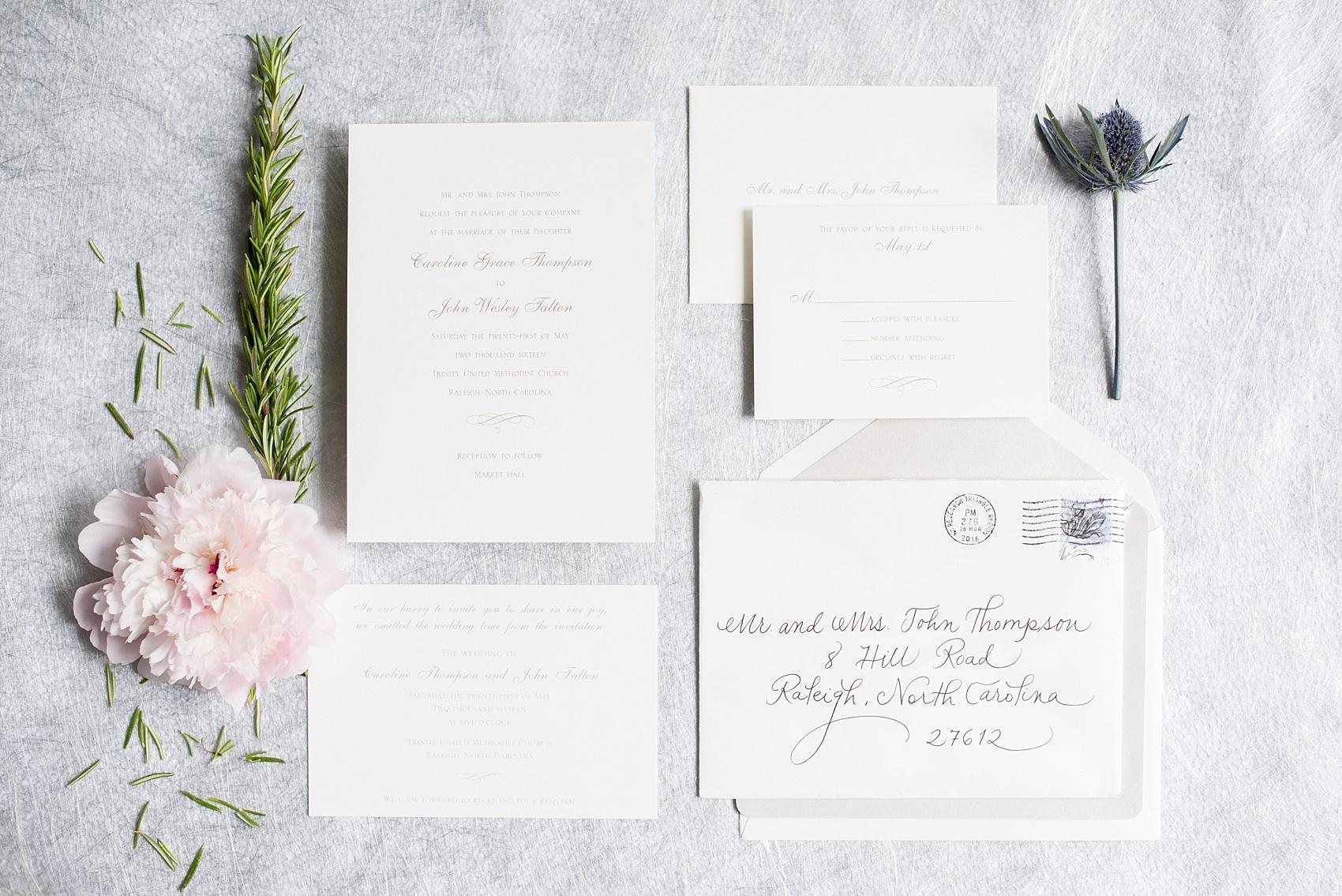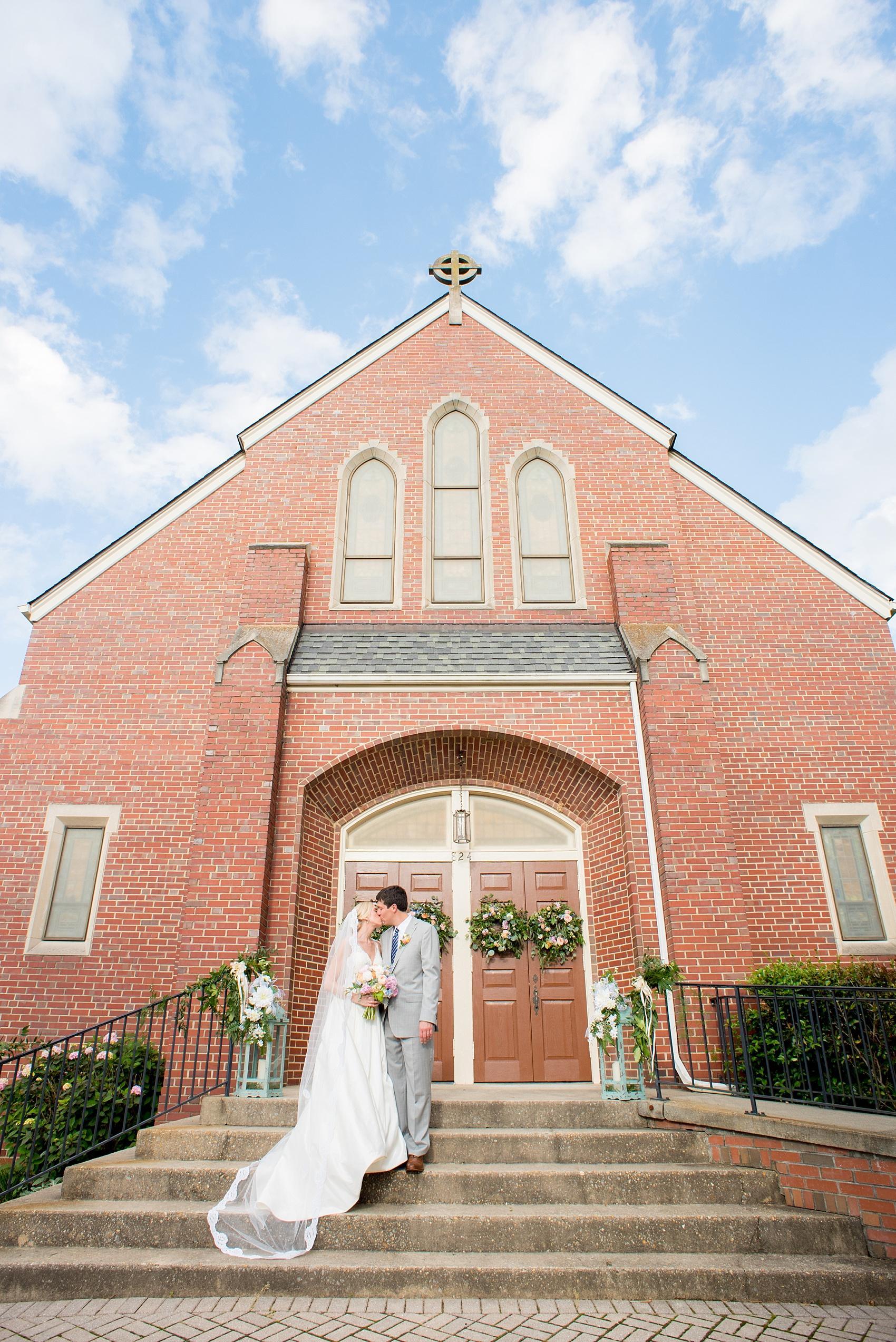 To think we planned for rain – can you believe that utterly perfect sky?!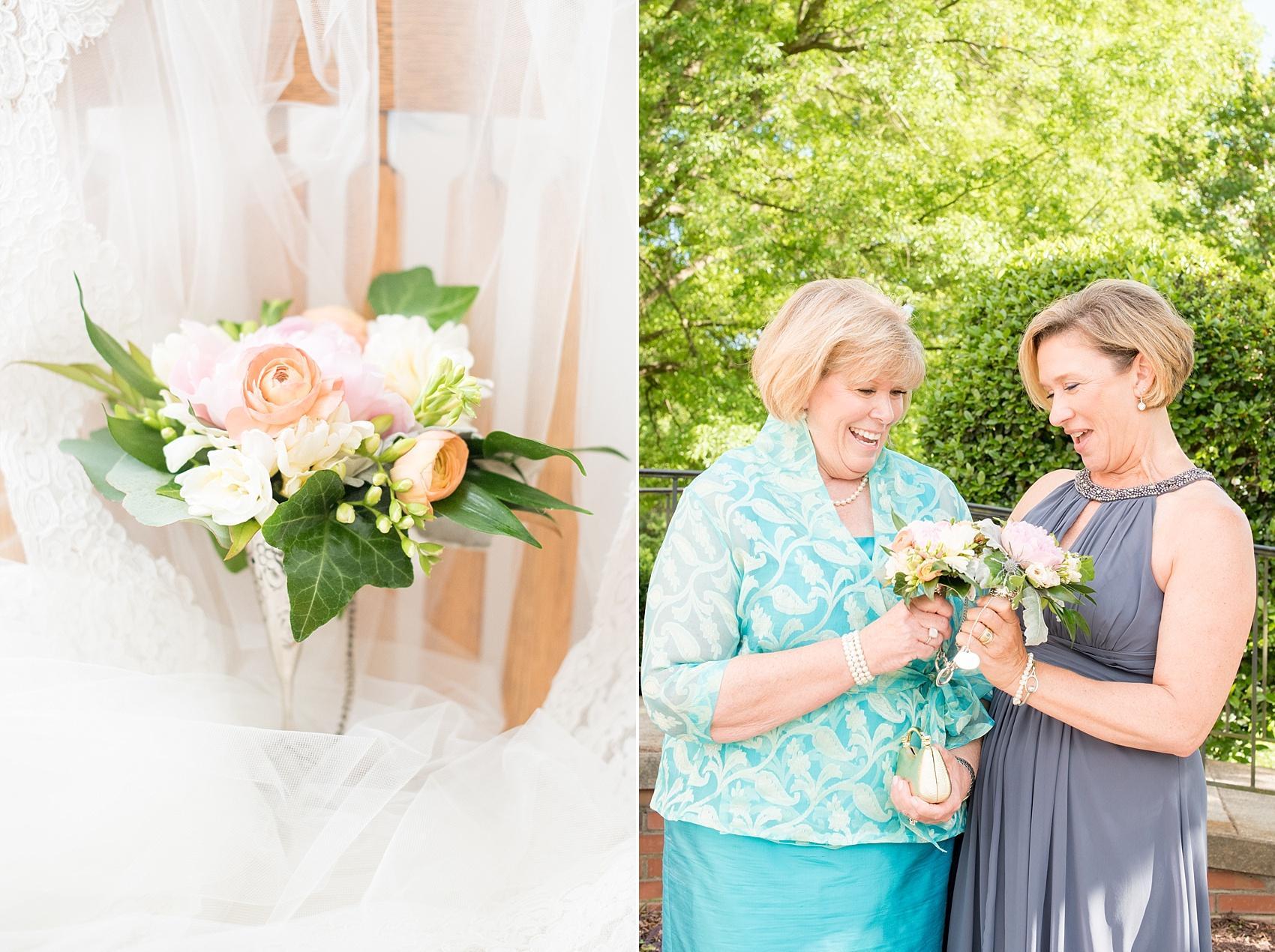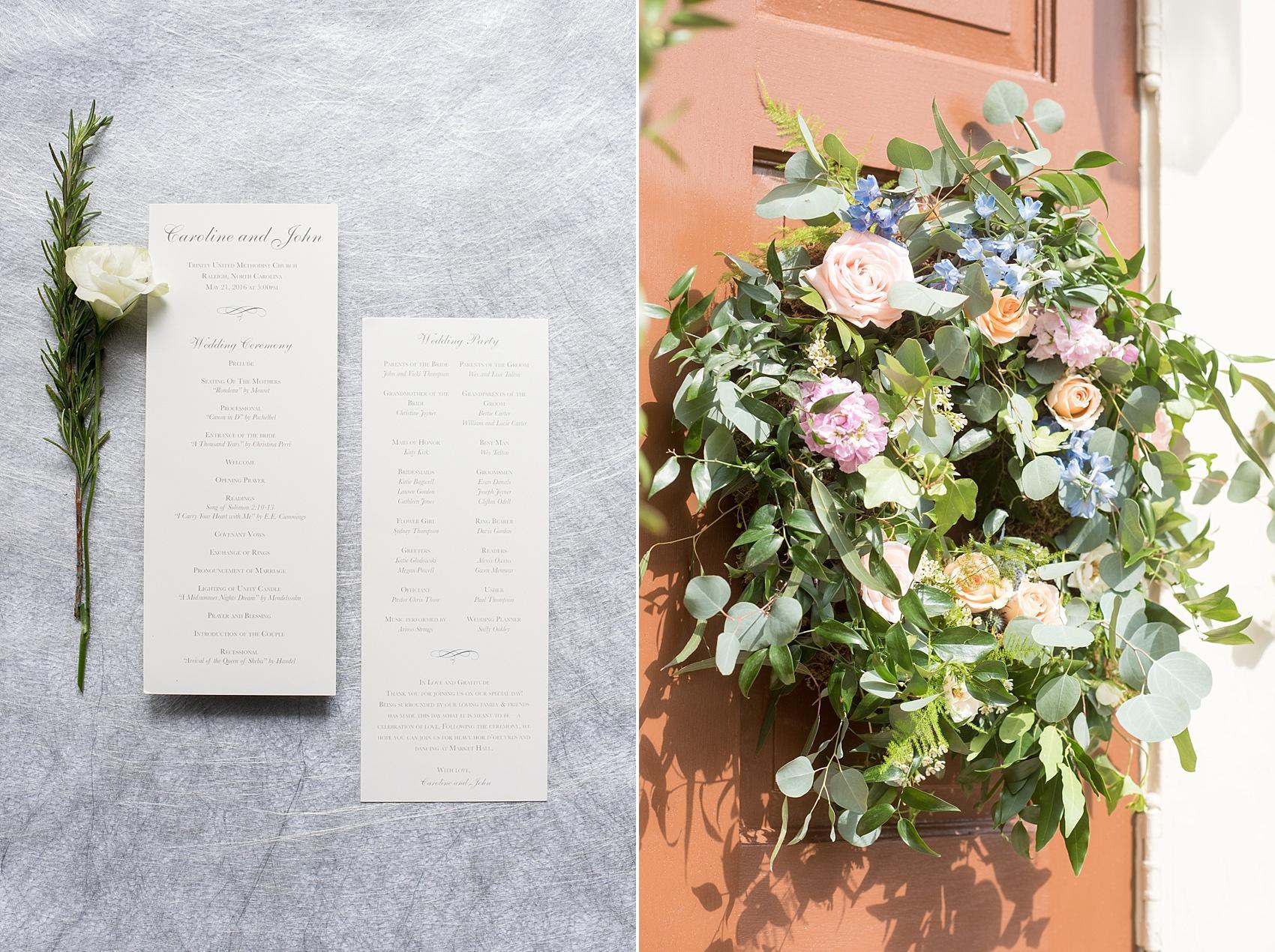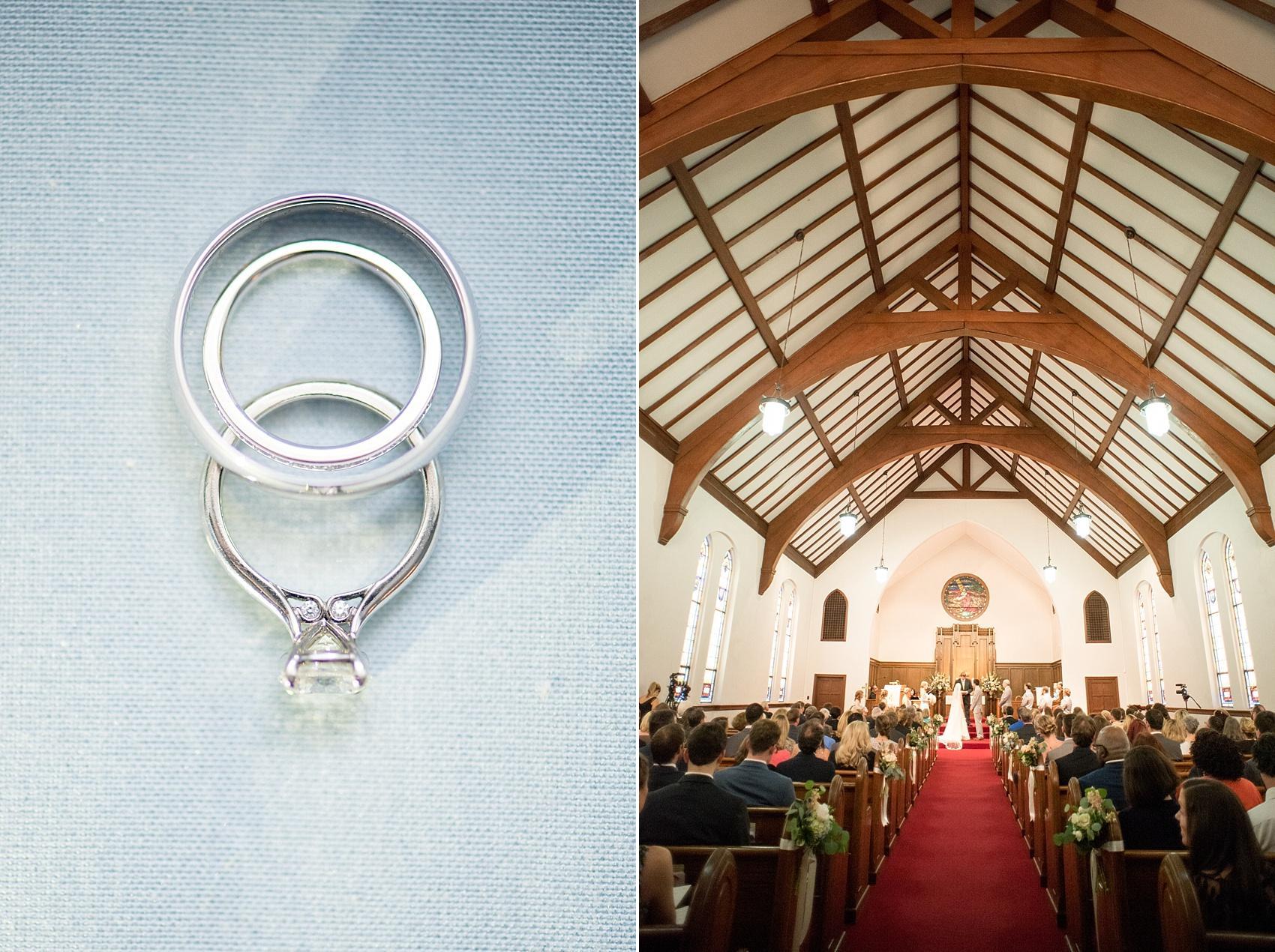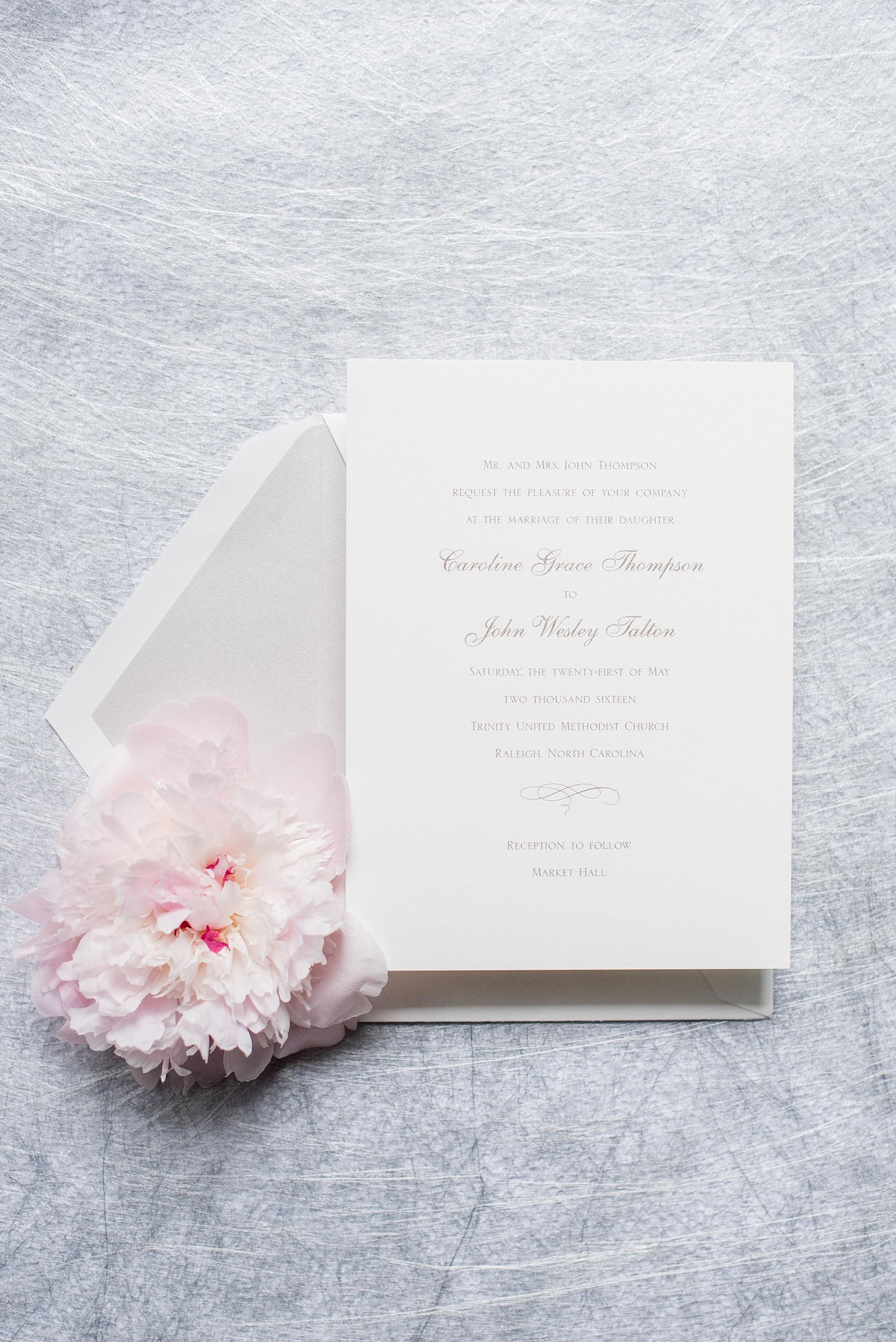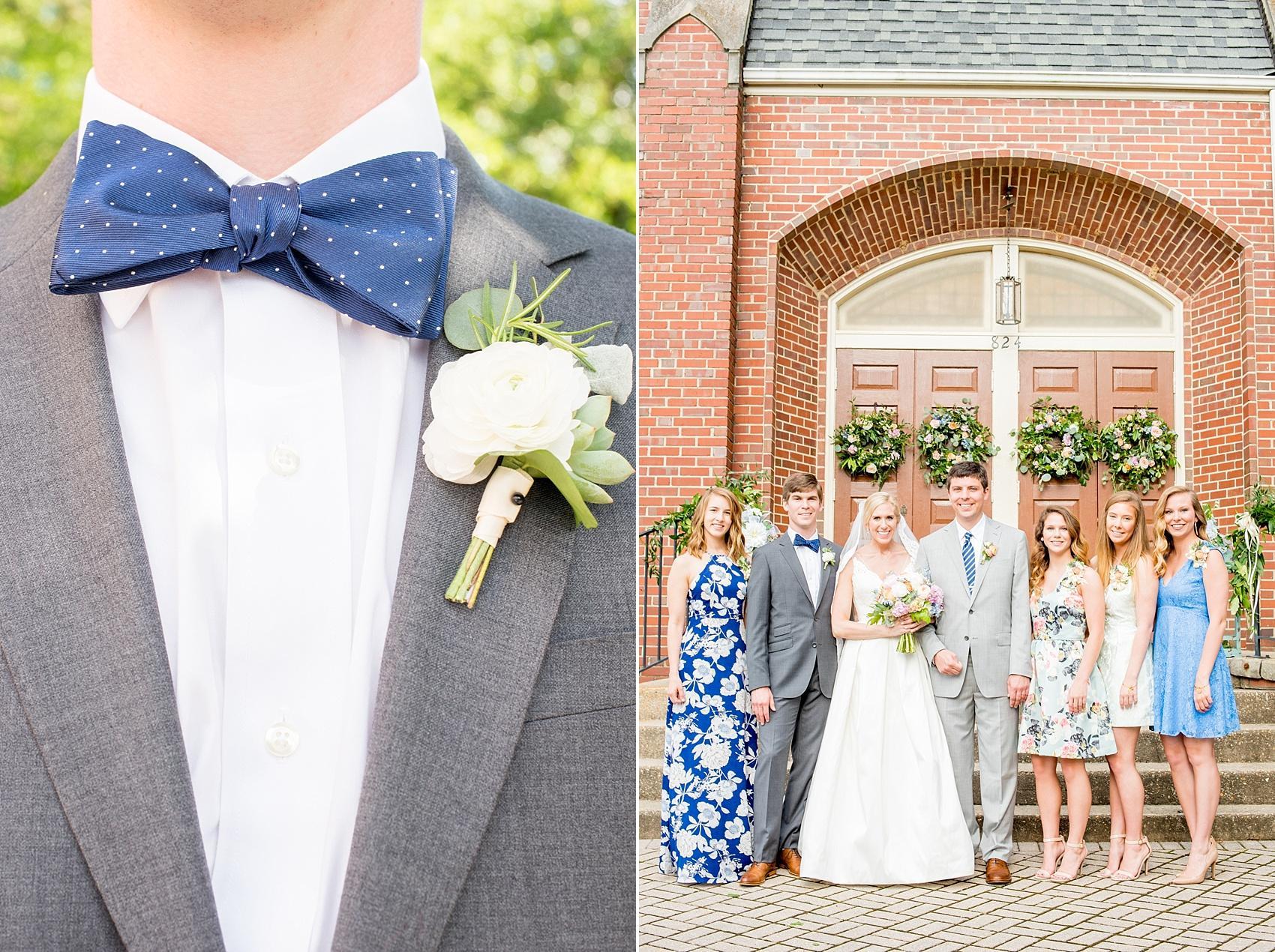 Here's my second favorite thing about their day (though as I type this it's really difficult to rank and only pick three): their willingness to switch things around and go with the flow. You can't change a weather forecast but you can certainly be in control of associated plans. They were awesome about last minute changes that week – even when the sun was blazing down on the church steps when we were trying to get an wedding party picture they understood if we were all patient and hung out for a few minutes the clouds would move and the photo would be worth it. It certainly was!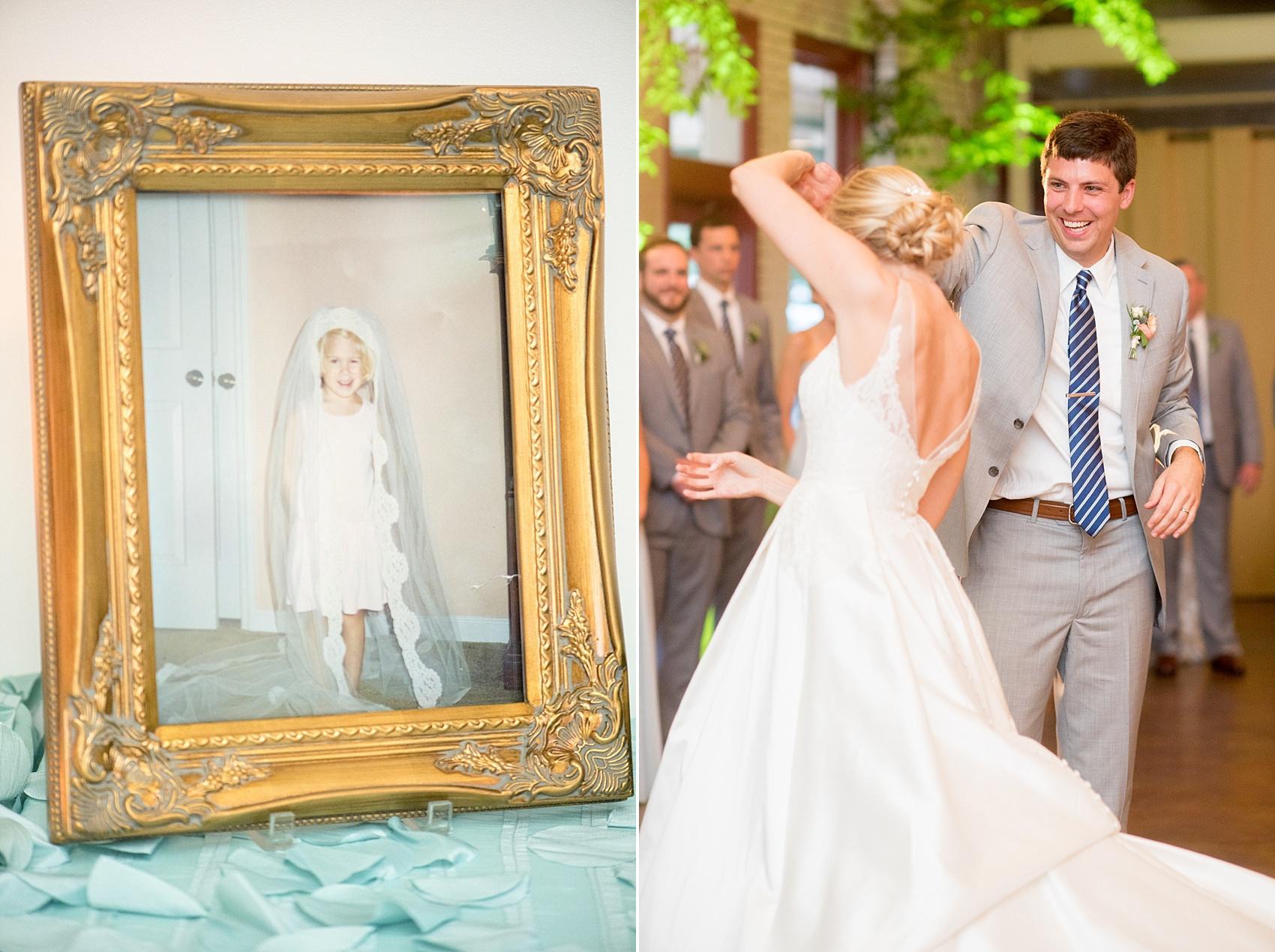 From childhood to adulthood Caroline was a beautiful bride at any age! It was extra special she wore that same veil on her wedding day – her mother's from her wedding day to her father in 1977.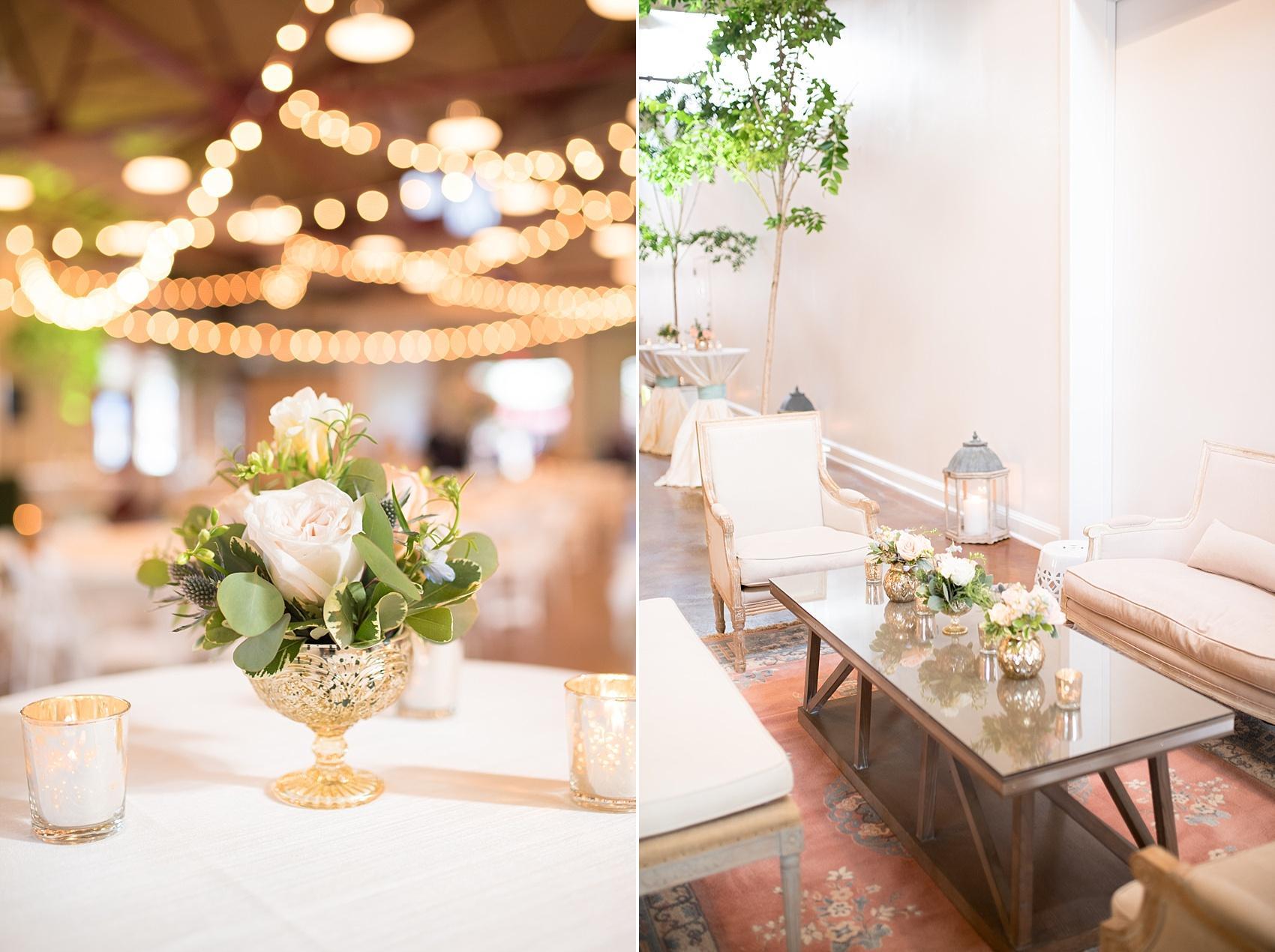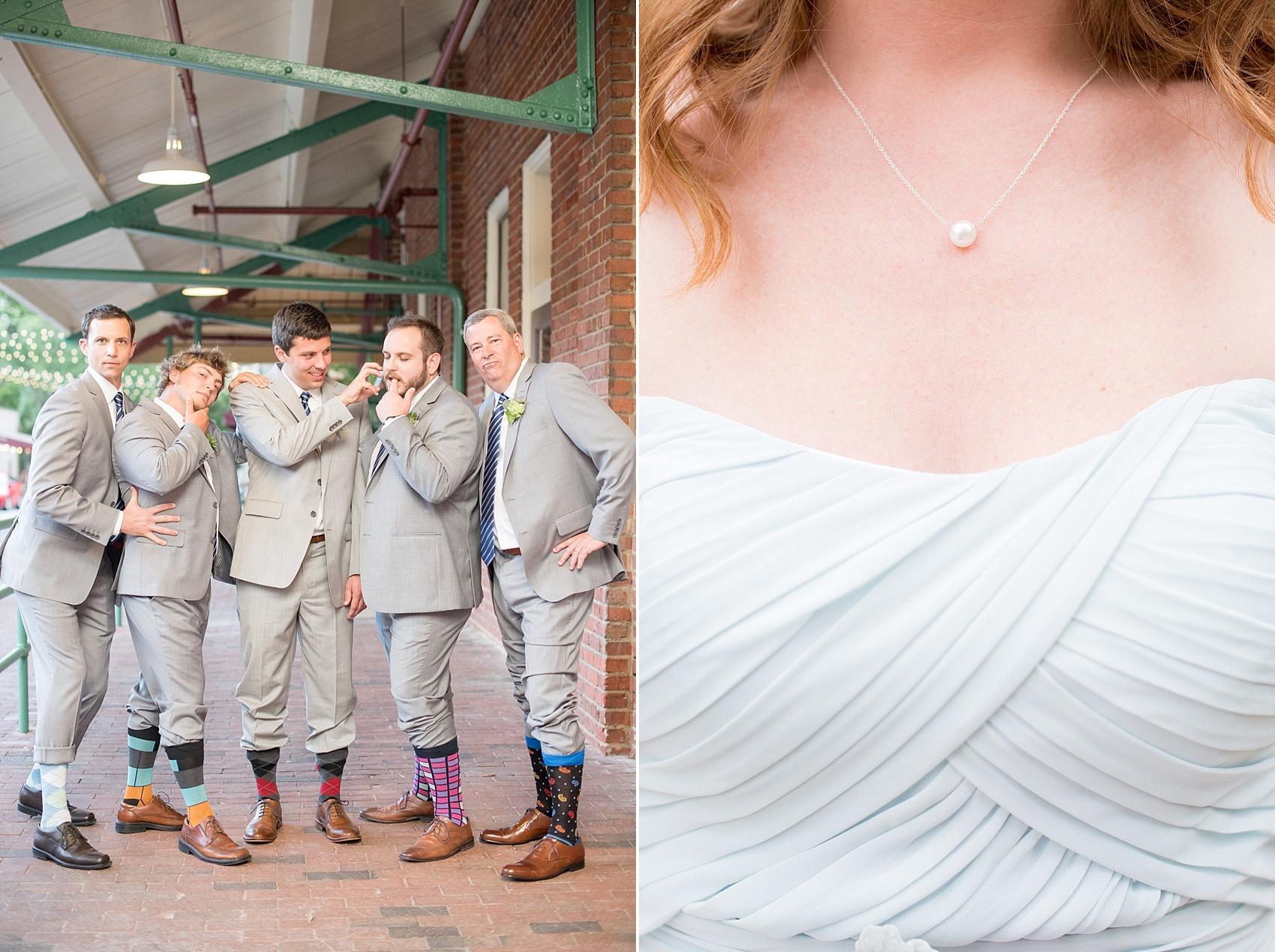 John gave his groomsmen socks to go with each of their personalities and Caroline gave all her bridesmaids a dainty pearl necklace. Boys will be boys! I like when groomsmen get into the groove. 🙂
I adore this sweet photo of Caroline's first dance with her father. A photo truly speaks a thousand words.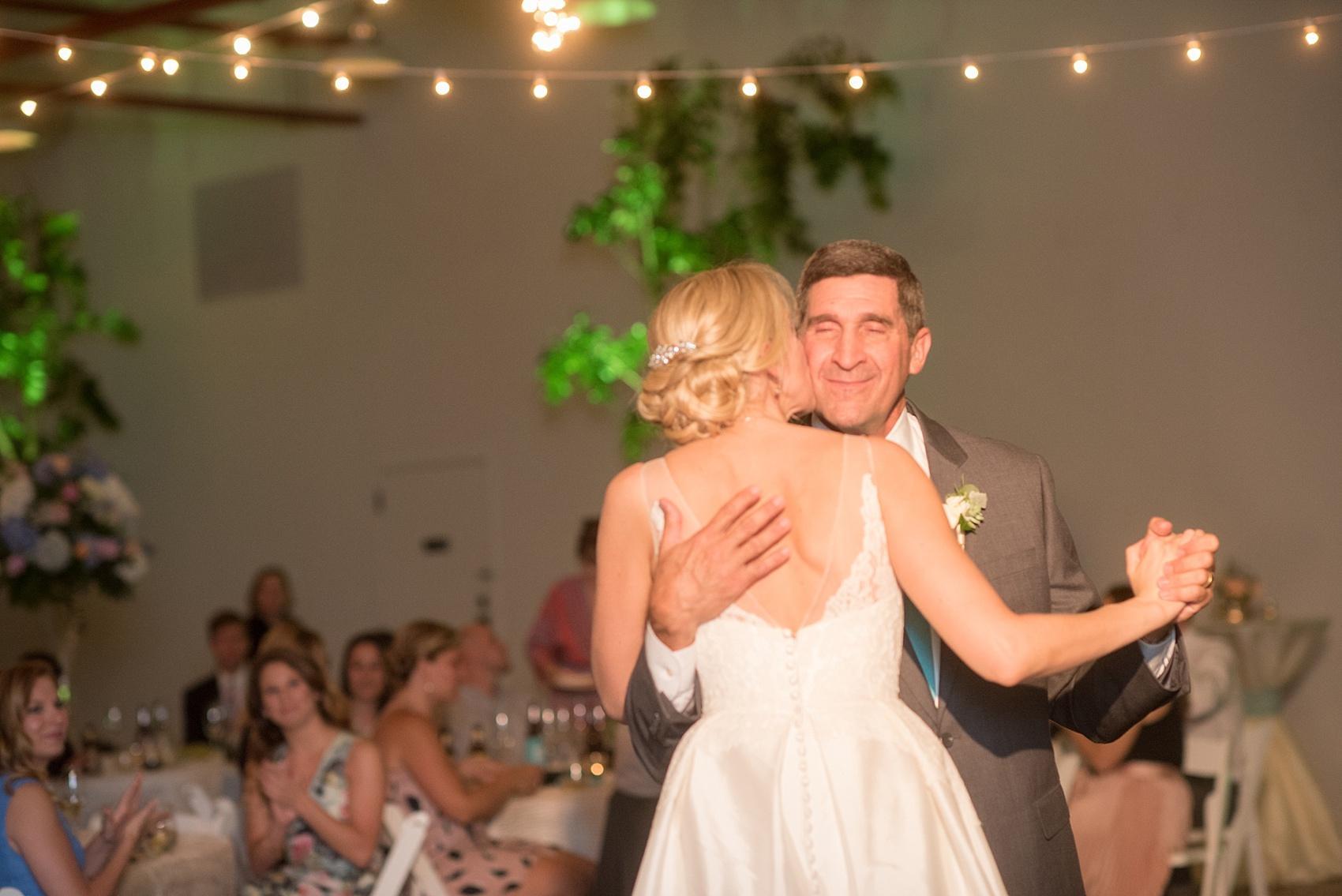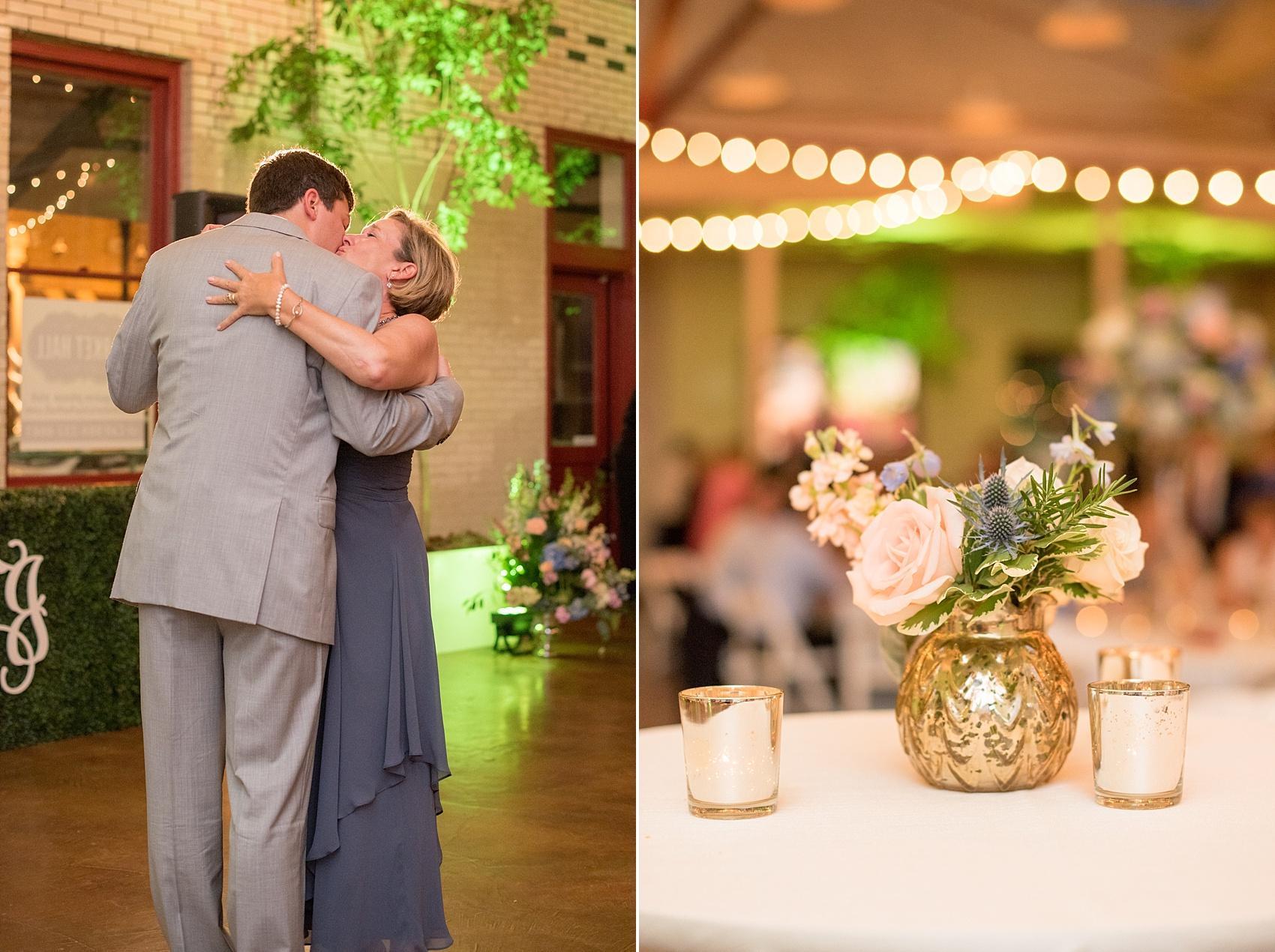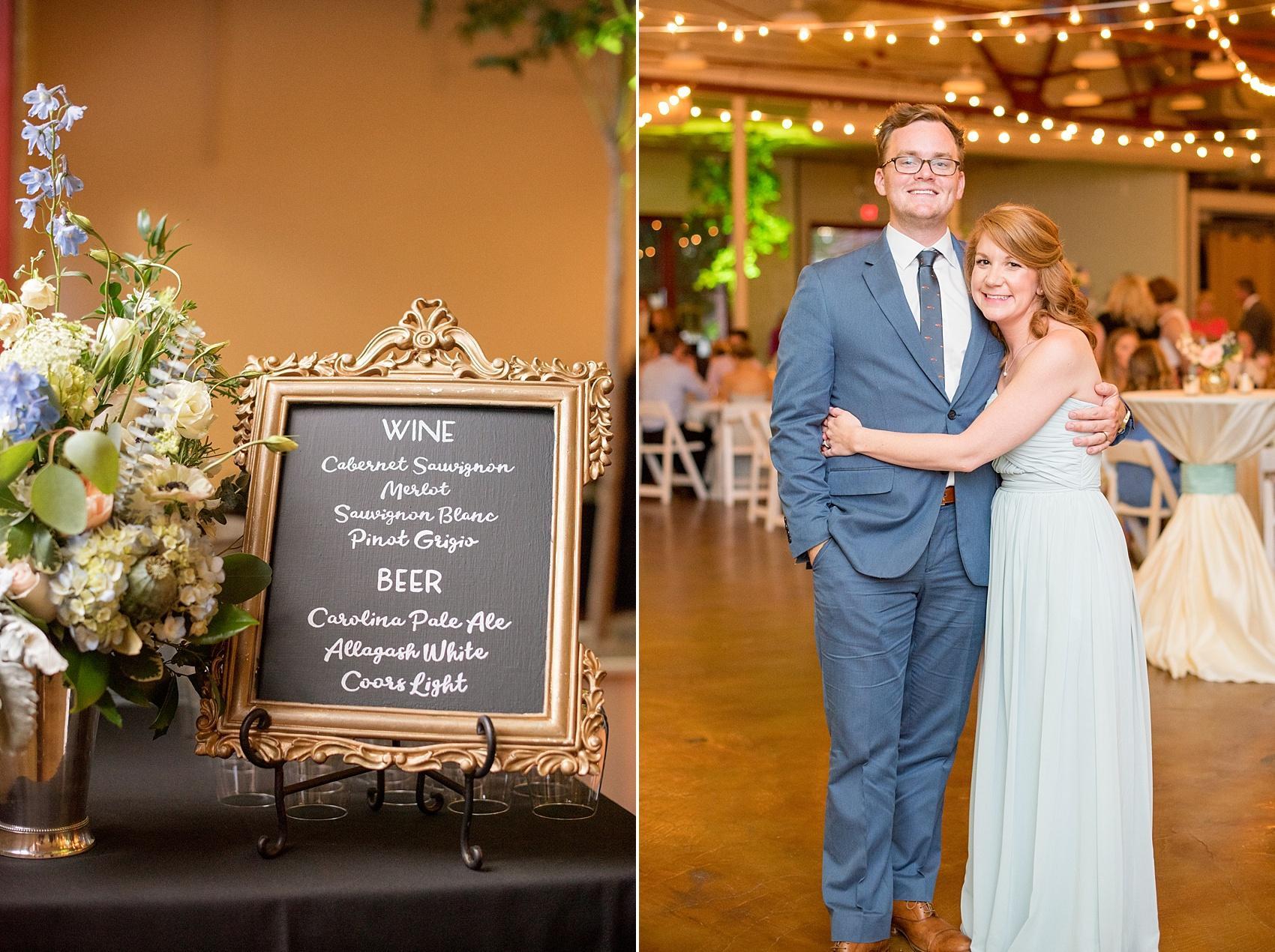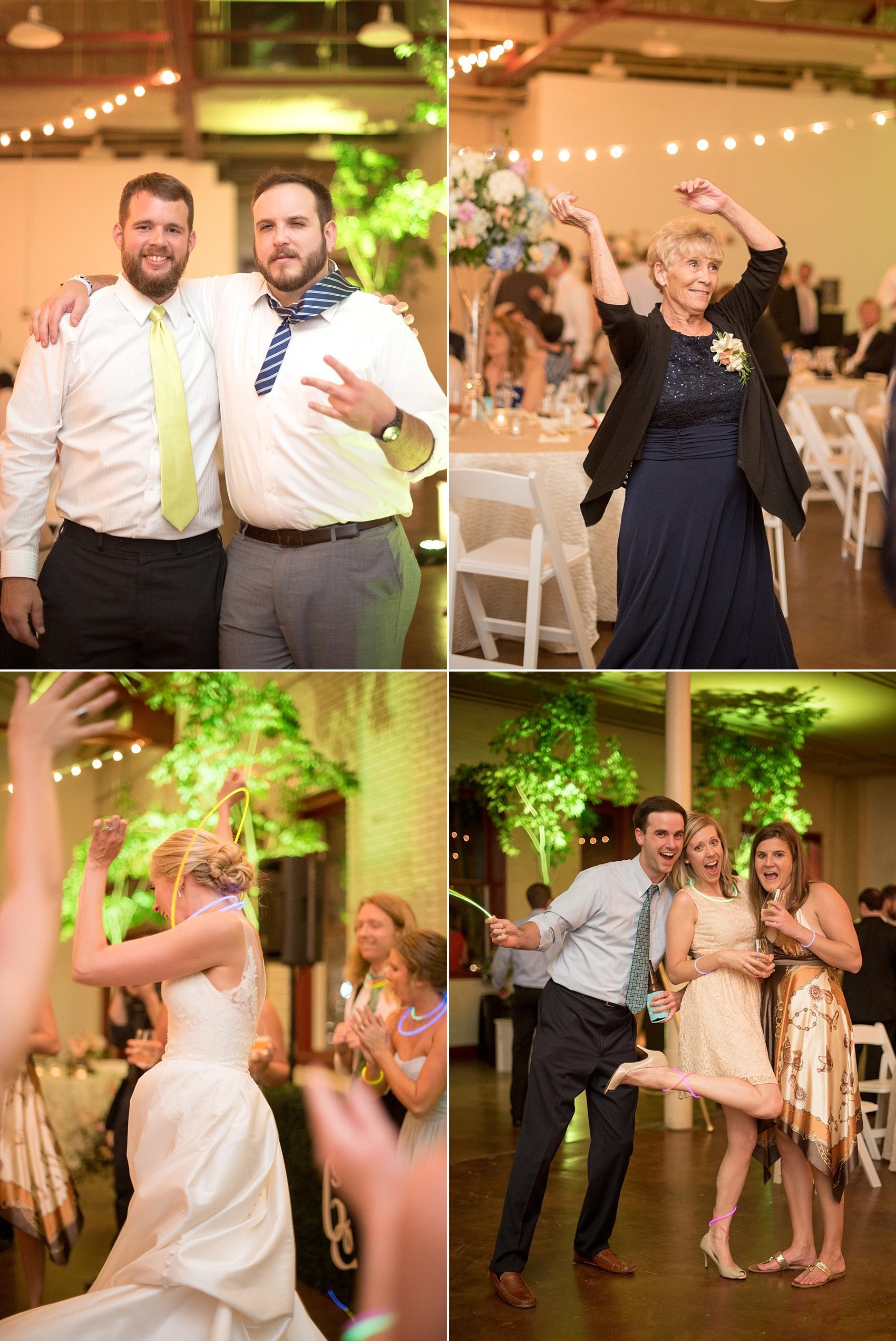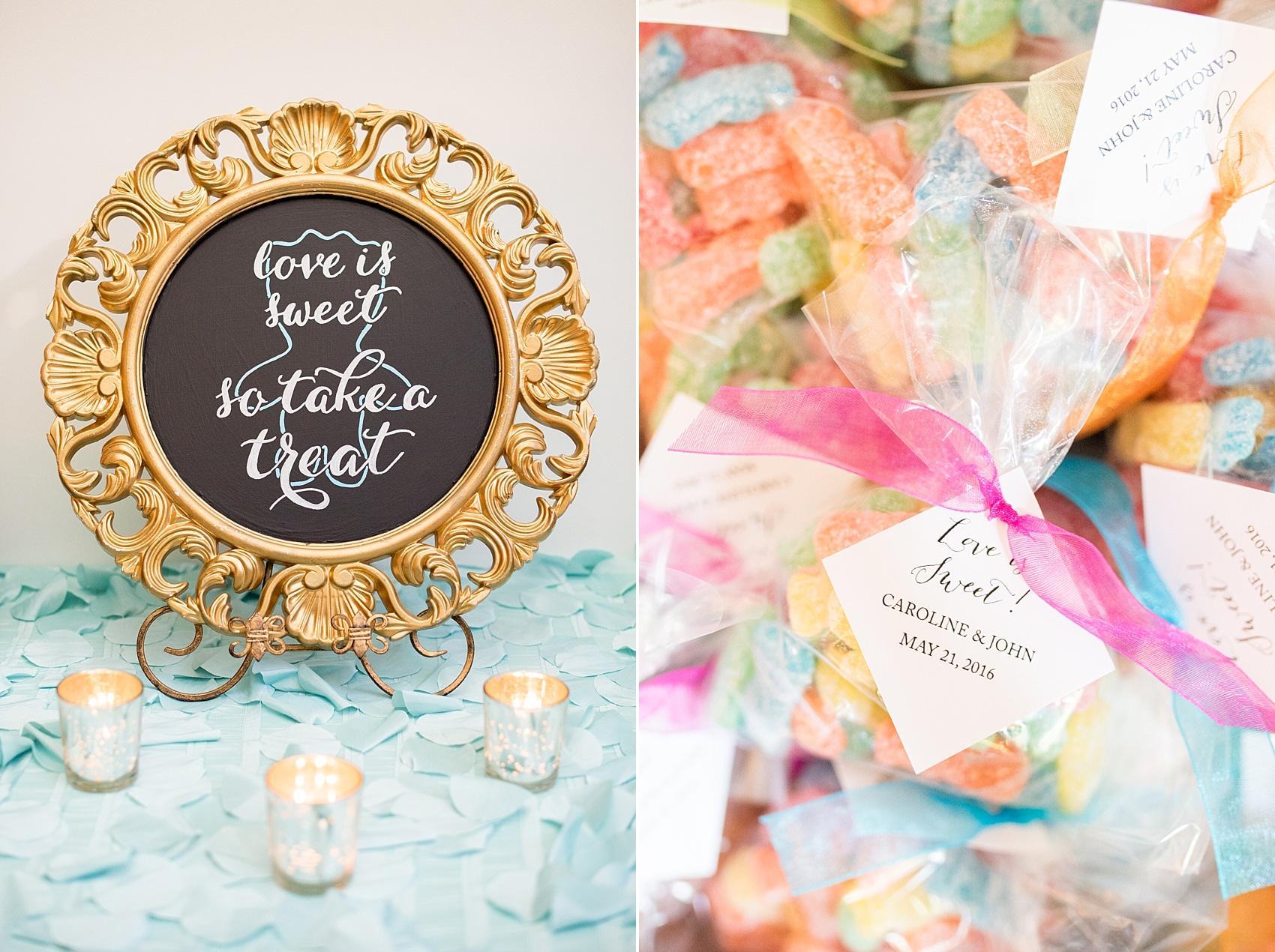 So much planning went into their wedding. Sally Oakley Weddings and Events did a phenomenal job orchestrating it all. Anyone who has planned a wedding knows there is a lot that happens weeks and months prior to the actual event day that makes THE day a possibility. Coordination of delivery times, the hanging of lights, placement of tables, covering them in linens, the final flower touches and lighting of candles – and the room looked beautiful! I especially loved their guest favors – John proposed to Caroline by hiding the ring in Sour Patch Kids (a personal favorite candy, might I add). It was just the right thing for them to package for guests to take on their way out and I adore the sign AB Chalk Designs created to go next to it. (All the signage was impressive.) See the Sour Patch Kid outline in the background?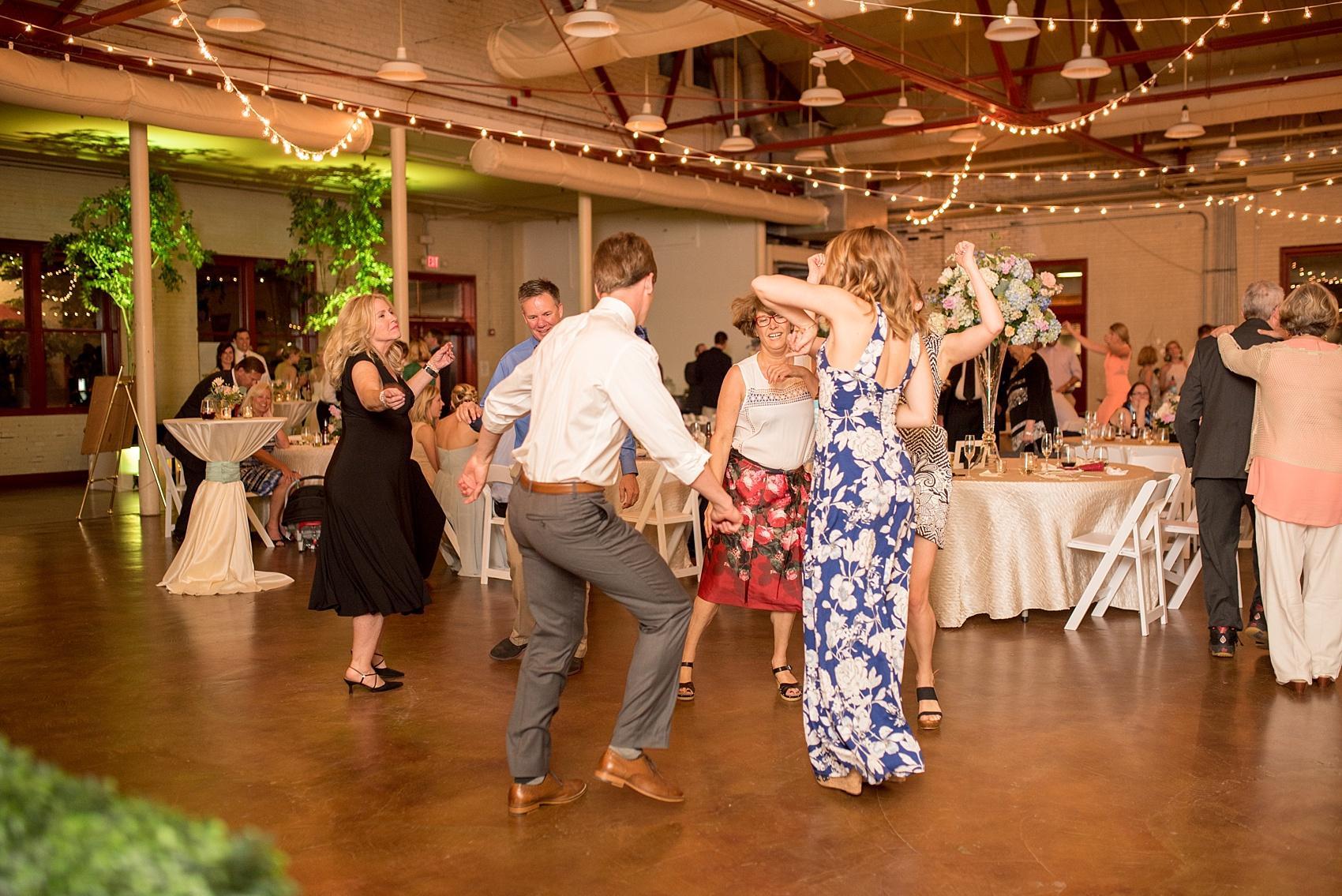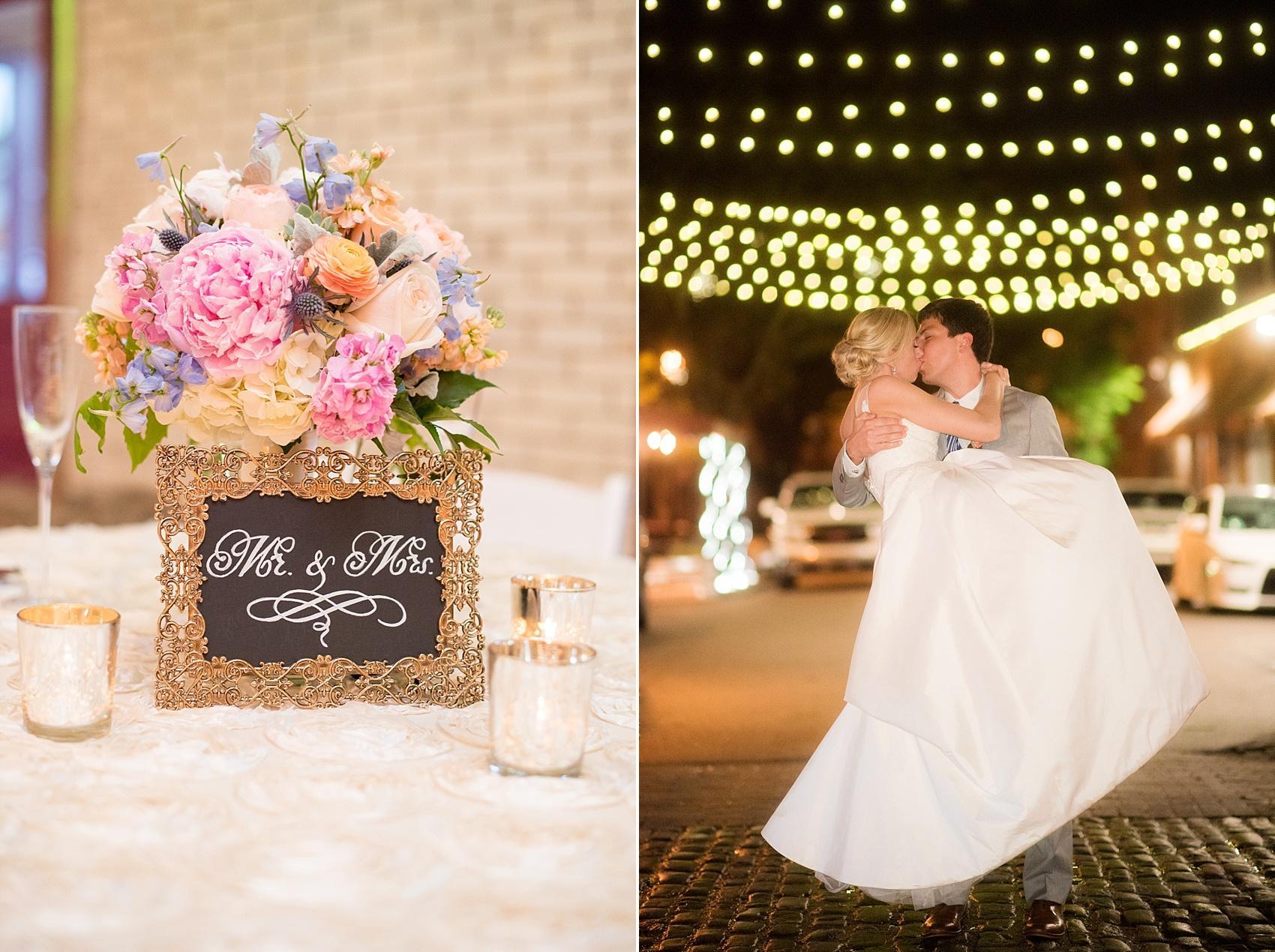 My third favorite thing: this photo of John holding Caroline next to City Market in downtown Raleigh. They took about 10 minutes to quietly break from their reception for some fresh air and to allow us to capture them amidst the cobblestone and bistro lights. He swept his wife up in one fluid motion of love and I felt the world around them disappear…if only just for a few moments.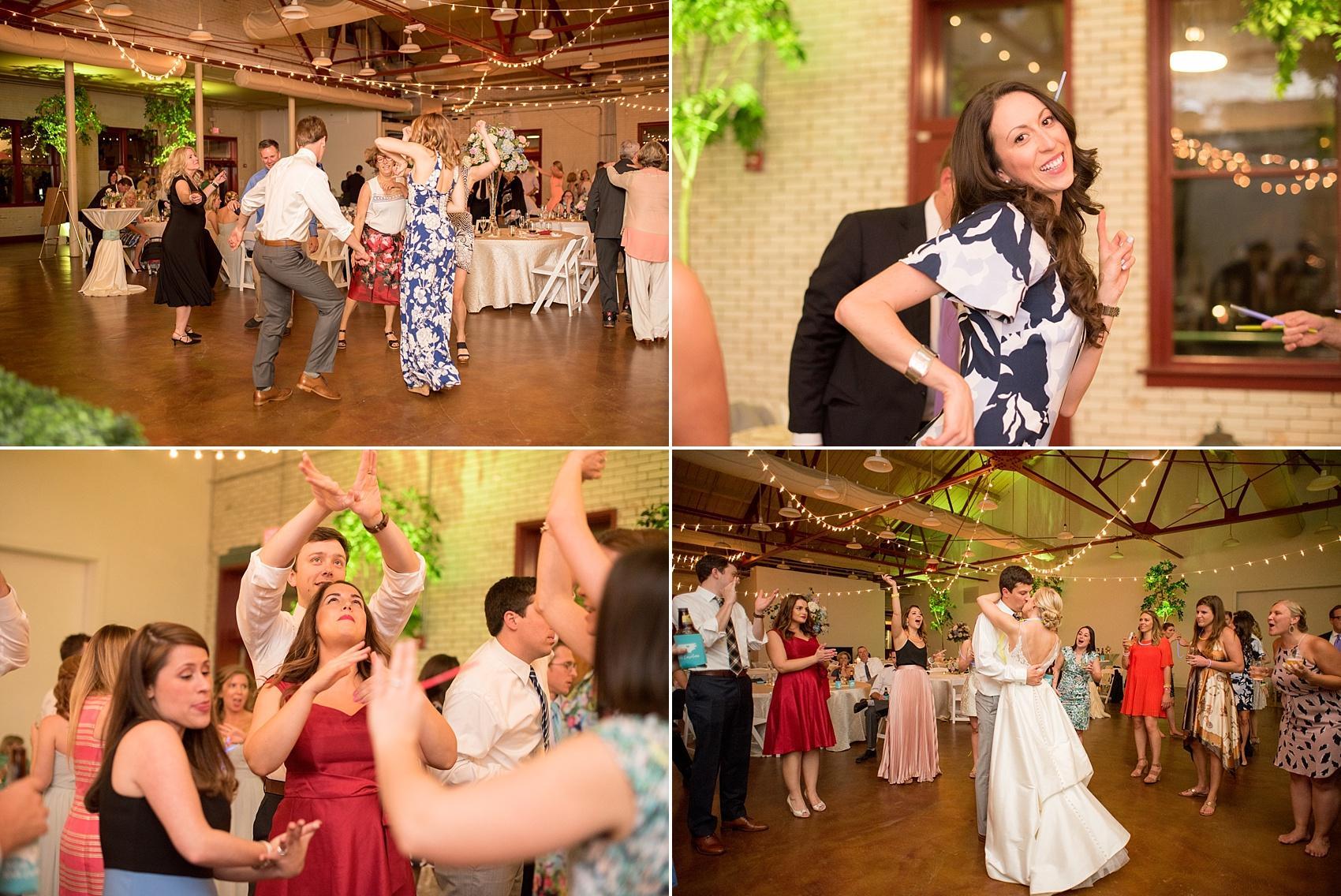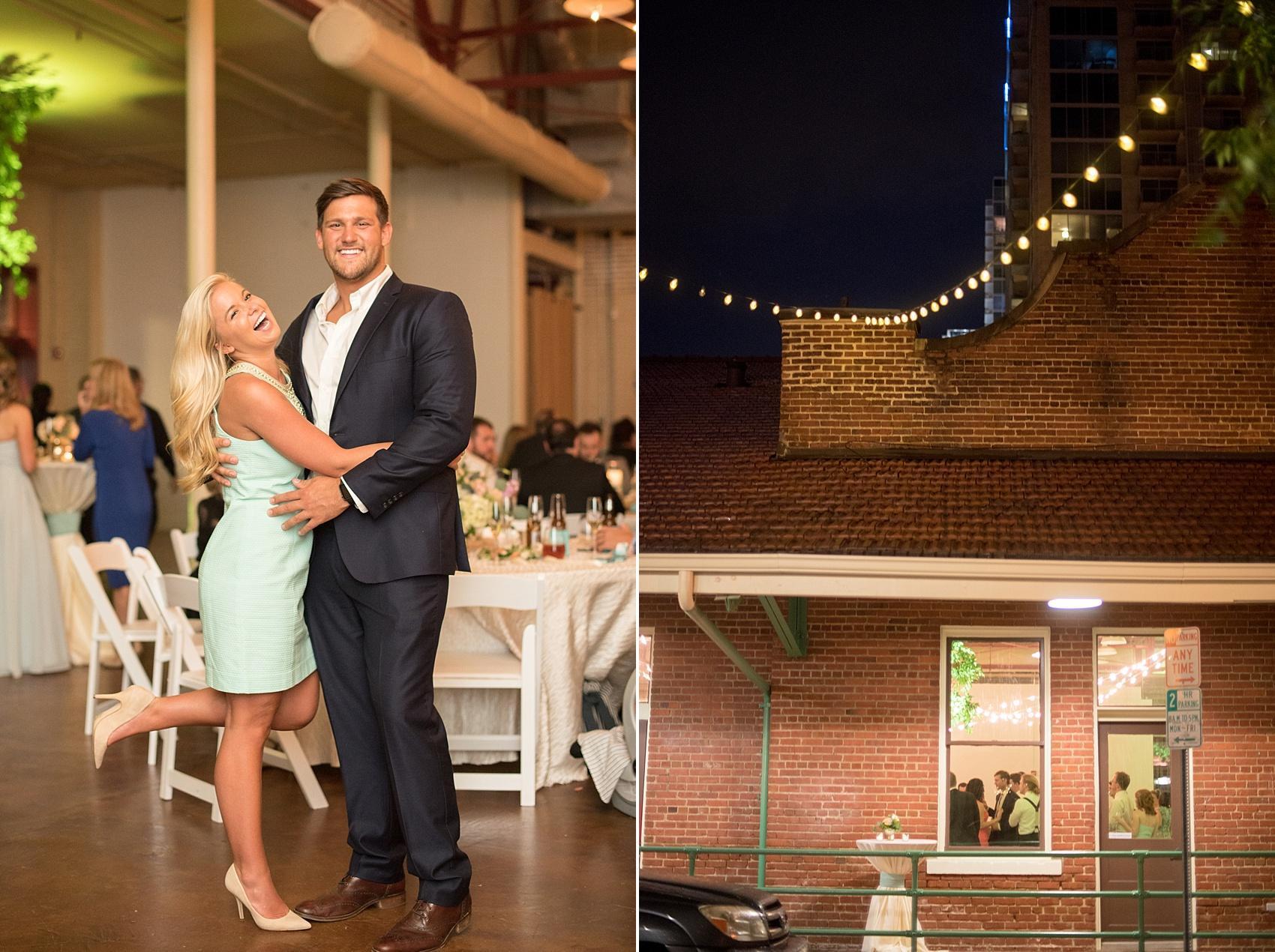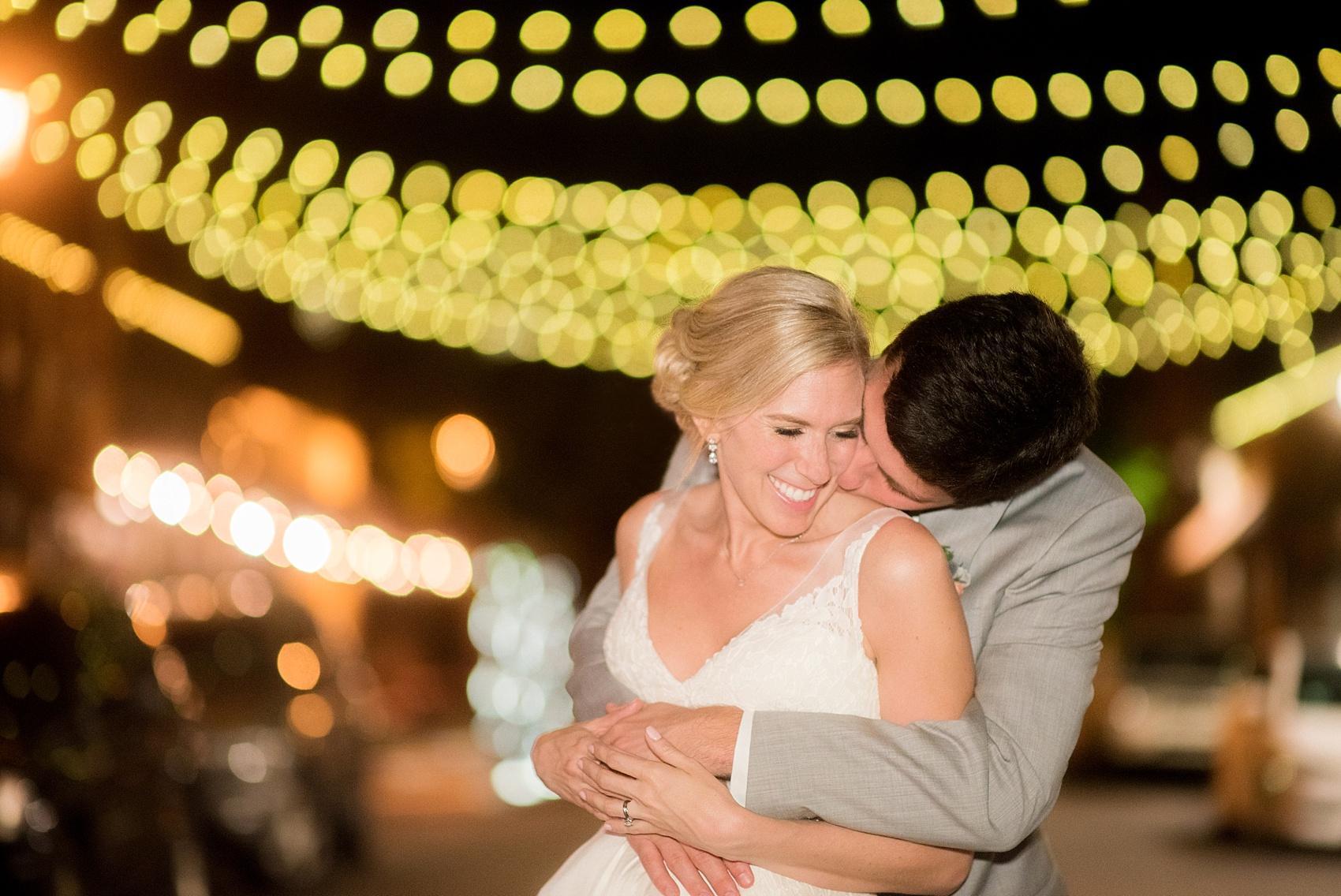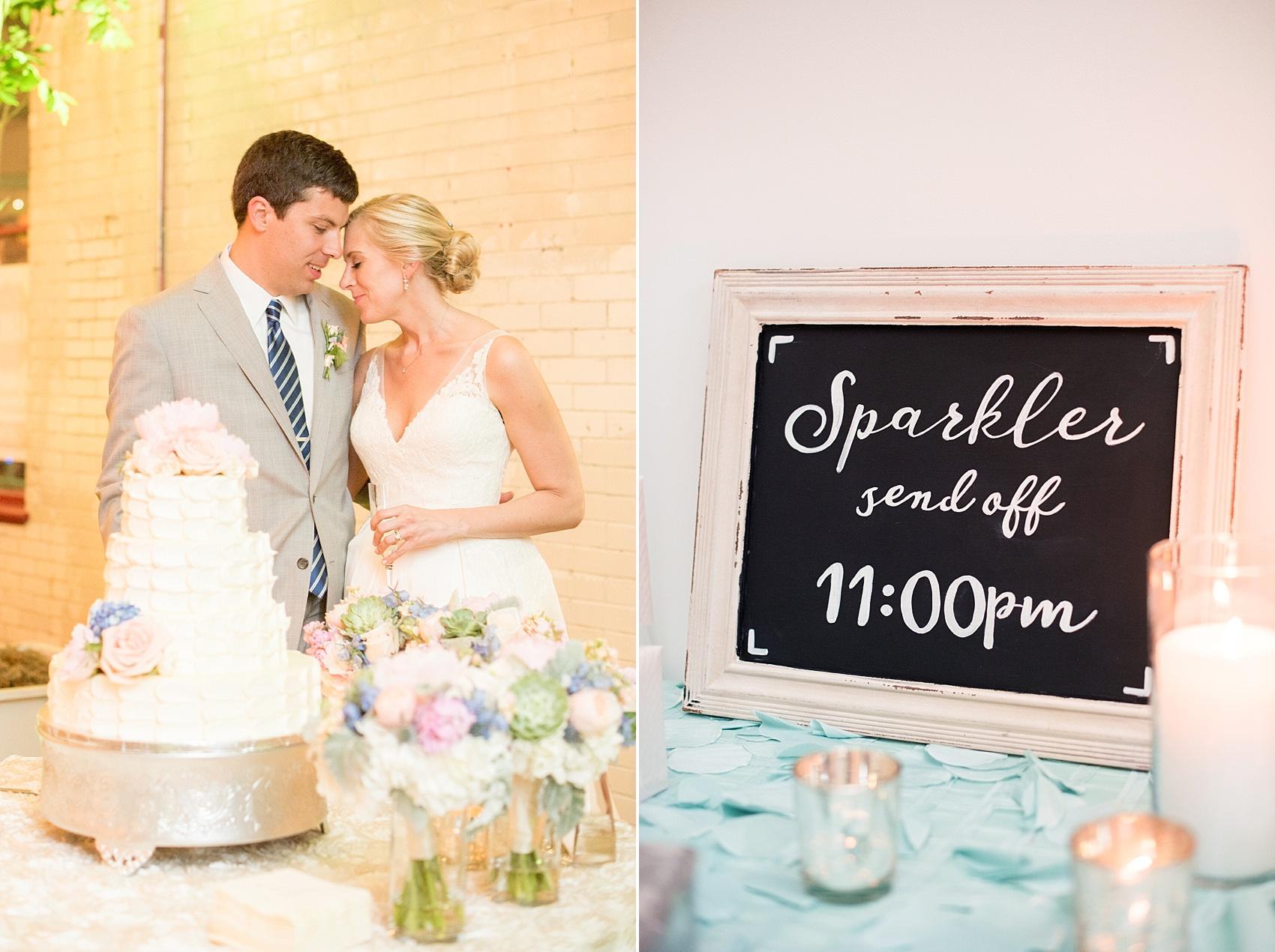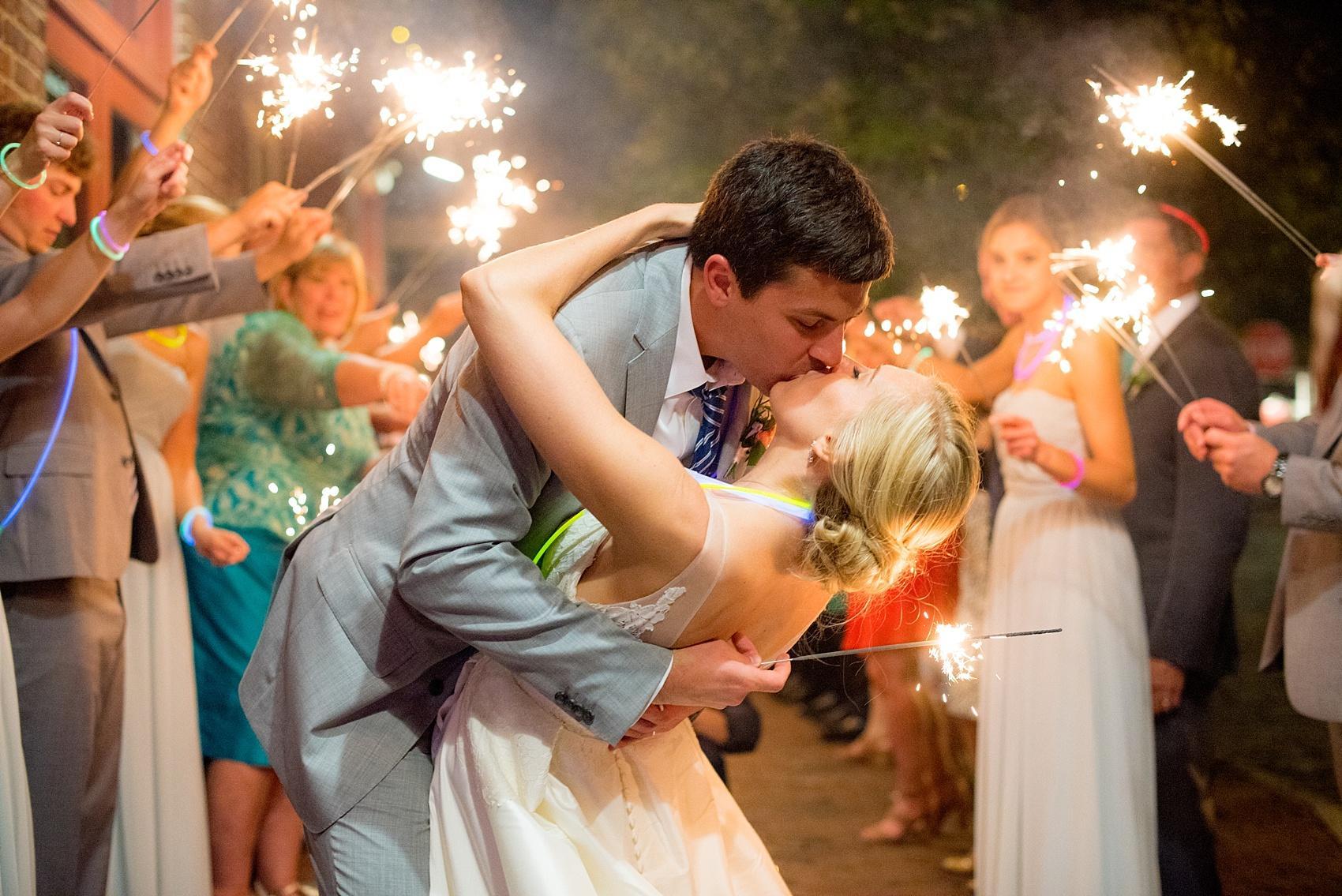 A sparkler send off and one final "official" wedding kiss and these two escaped to enjoy the rest of their evening alone as newlyweds.
I am so glad I was a part of their incredible day and was able to work with them in the months leading to their wedding too. An extra special thank you to Caroline's bridesmaid Katie and her husband Austin for recommending me to them – I'm forever grateful!
Wedding Planner: Sally Oakley Weddings and Events / Venue: Market Hall / Church:  Trinity United Methodist Church / Florist: English Garden / Videographer: Twenty-One Films / Cake: Details Cake Design / Chalkboard Signs: AB Chalk Designs / DJ: Joe Bunn DJ Company, Mitch / Stationery: If It's Paper / Envelopes: Calligraphy by Carrie / Wedding gown: Traditions by Anna, designer Alyne /Hair: Carley Brice / Makeup: Megan Brown / Bridesmaids dress designer: Bari Jay / Suits and socks: Executives Cutting Edge / Wedding shoes: Badgley Mischka / Engagement Ring and wedding band: Bailey's Fine Jewelry / Cufflinks: SirCuffs, Etsy / Hair comb: Allure Wedding Jewelry, Etsy / Bridal earrings: BHLDN / Bridesmaid totes: Ballard Designs / Necklaces: Dogeared / Groom collar stays and tie clip: The Silver Diva, Etsy / Monogram: A Simple Place on Main, Etsy
If you're craving additional photos from their day be sure to check out our Facebook page and Instagram account!
Happy Thursday!