It was one of the first days it finally felt like fall. The air had a crispness to it and wind chased us around downtown Raleigh a bit, but Merrie and Ben's day was filled filled with love between them, the smiley energy of friends and family and great autumn sun. The warmth from the mood of the day was topped off with bright colors, like coral and blue, that made everyone feel celebratory and happy for such a great pair.
I vividly remember meeting Merrie and her mom, Beth, at The Stockroom at 230's Toast and Taste wedding showcase event earlier the year of their wedding. They were lovely and very personable, and I was excited at the prospect of working with them to photograph Merrie and Ben's day, instantly reeling with great photo ideas for them in the downtown Raleigh area. The two met in college at NC State and were engaged in December of 2014, on their four-year anniversary; they were excited to be married at The Stockroom close to their college!
Though they were "camera shy" their engagement photos squashed any general fear they had of photos on their wedding day and I loved meeting their dog, Tucker too! I was SO looking forward to capturing their November wedding, inclduign details Merrie had told me about, like a special embroidered tag inside her gown, and coral TOMS for her bridemaids who wore cobalt blue gowns, and some handmade details, created by her sister and family members for the reception, invitations and more. They also smartly reserved The Glass Box – which helped immensely with getting ready and family photo opps on a cold and somewhat windy November day. But the warmth of The Glass Box quickly shined through…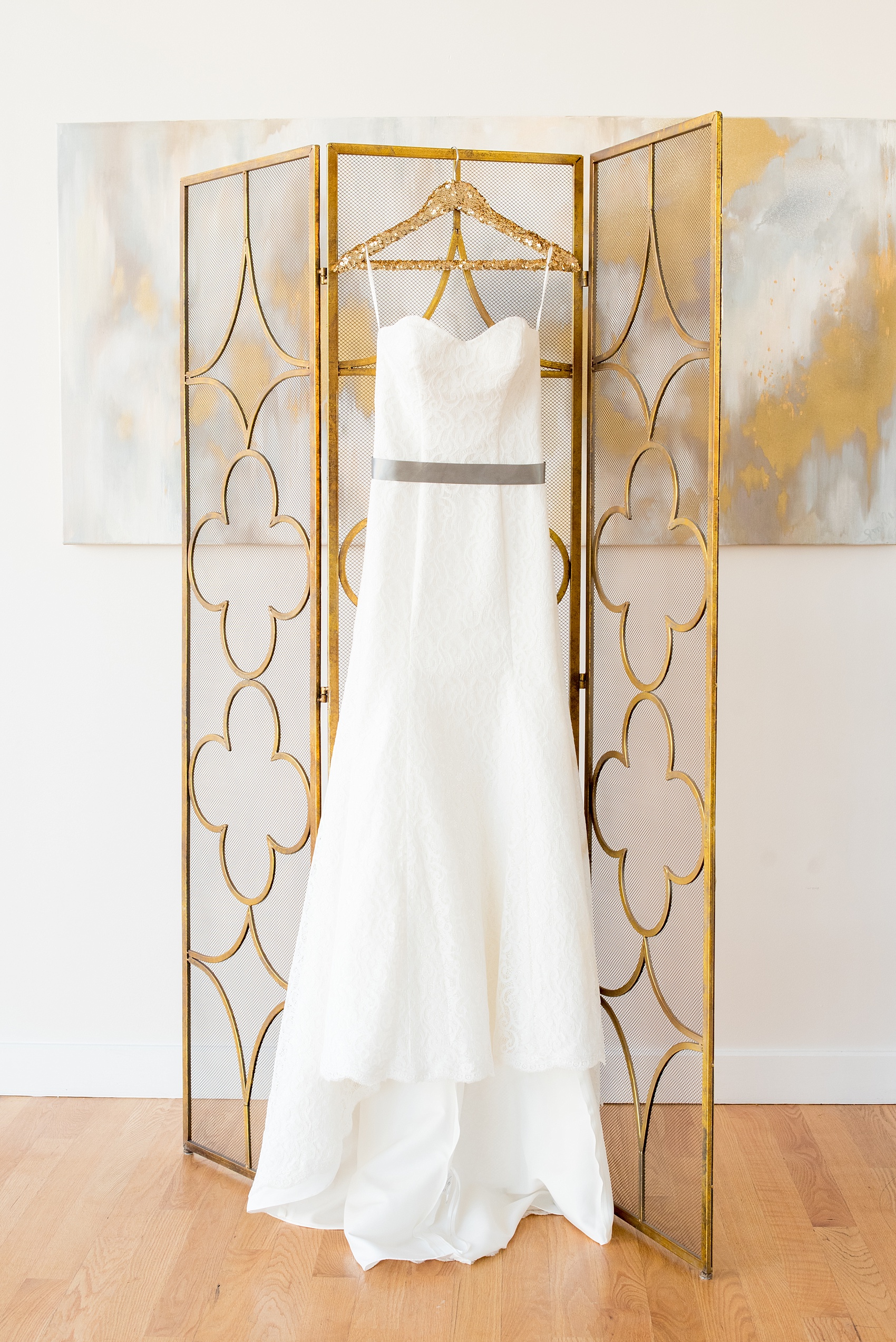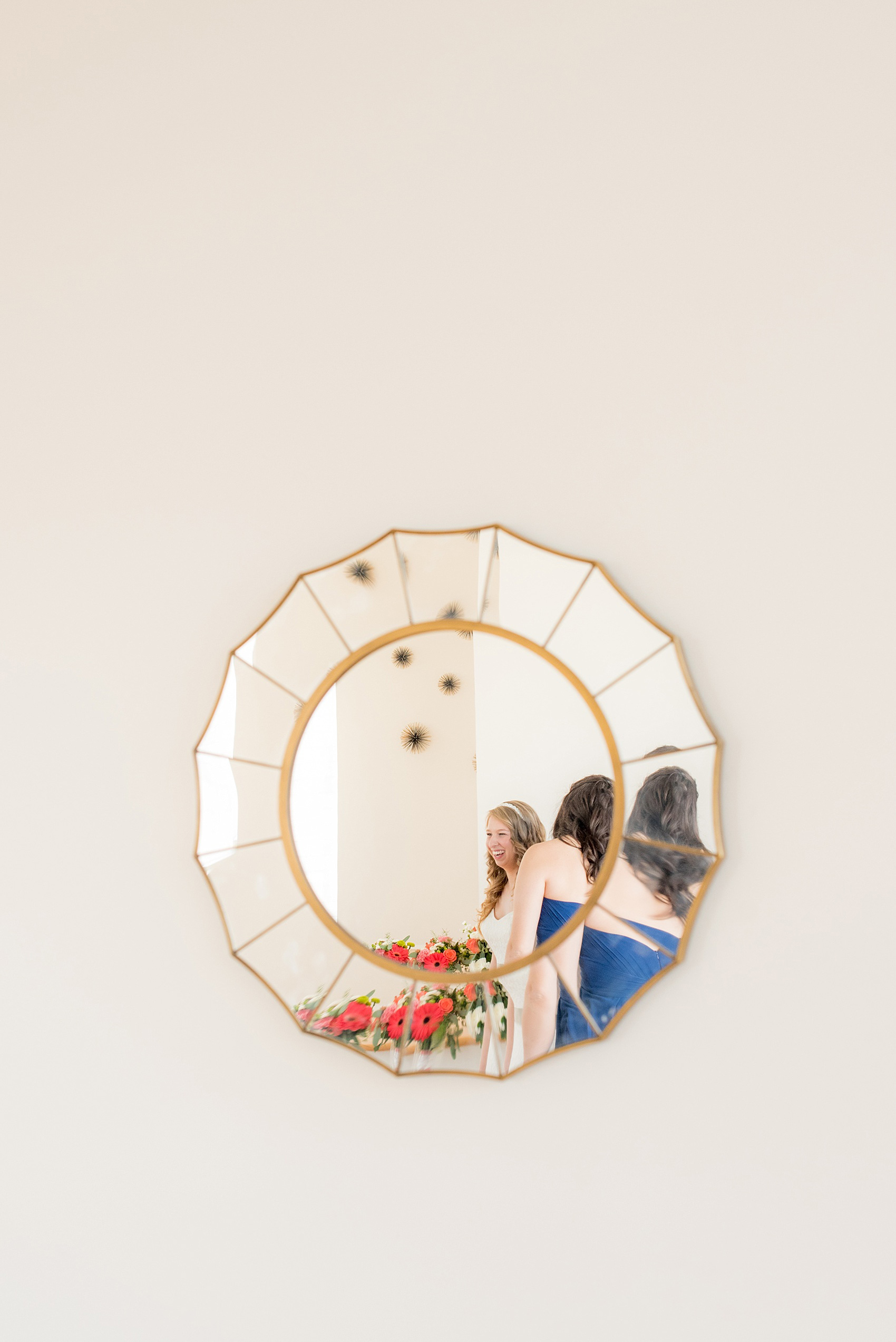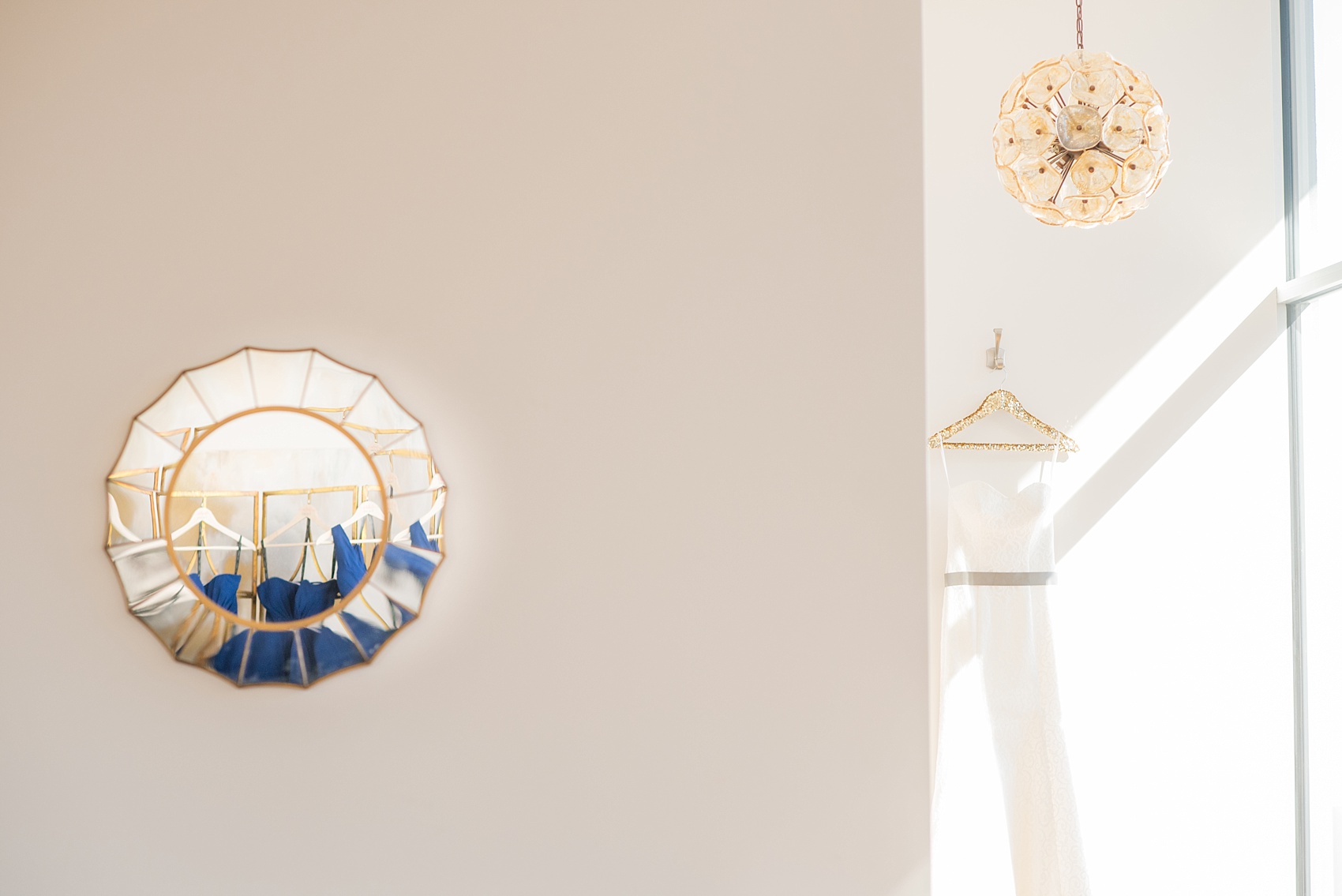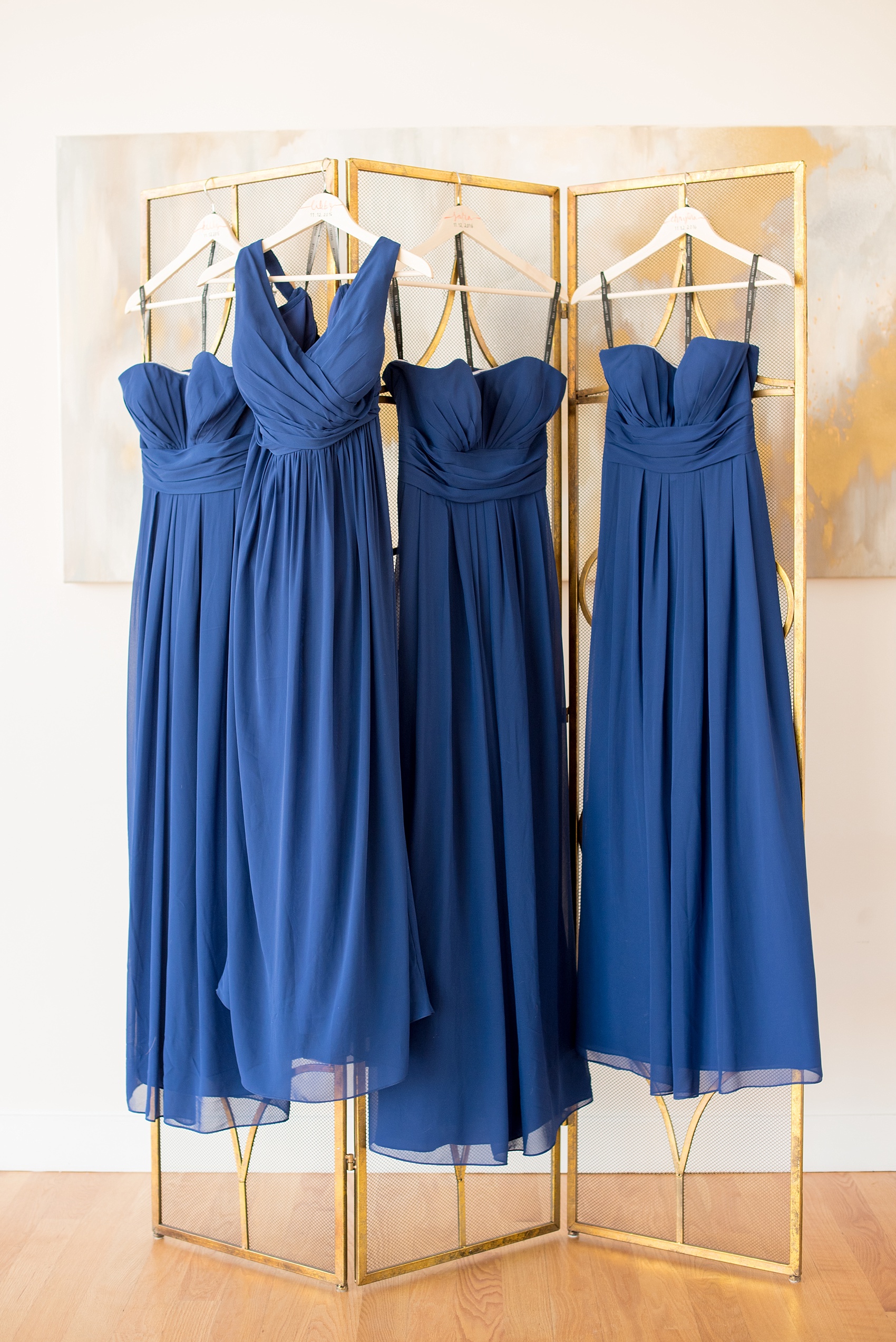 Cobalt's one of my favorite colors and looked awesome against the bridesmaids' bouquets. Merrie wanted a color that had contrast against the flowers and she chose wisely! It looked great with the men's grey suits.
I was secretly looking forward to photographing their rings because I already knew Merrie's three-stone engagement ring was stunning….and it's always fun to see what bands a couple chooses! Theirs had engraving inside too with their initials and wedding date. I was also able to capture Merrie's gifts to her bridesmaids while they were getting ready – their TOMS and custom initial monogram tank tops were so thoughtful of her. Definitely a great way to thank your best friends for being there for you!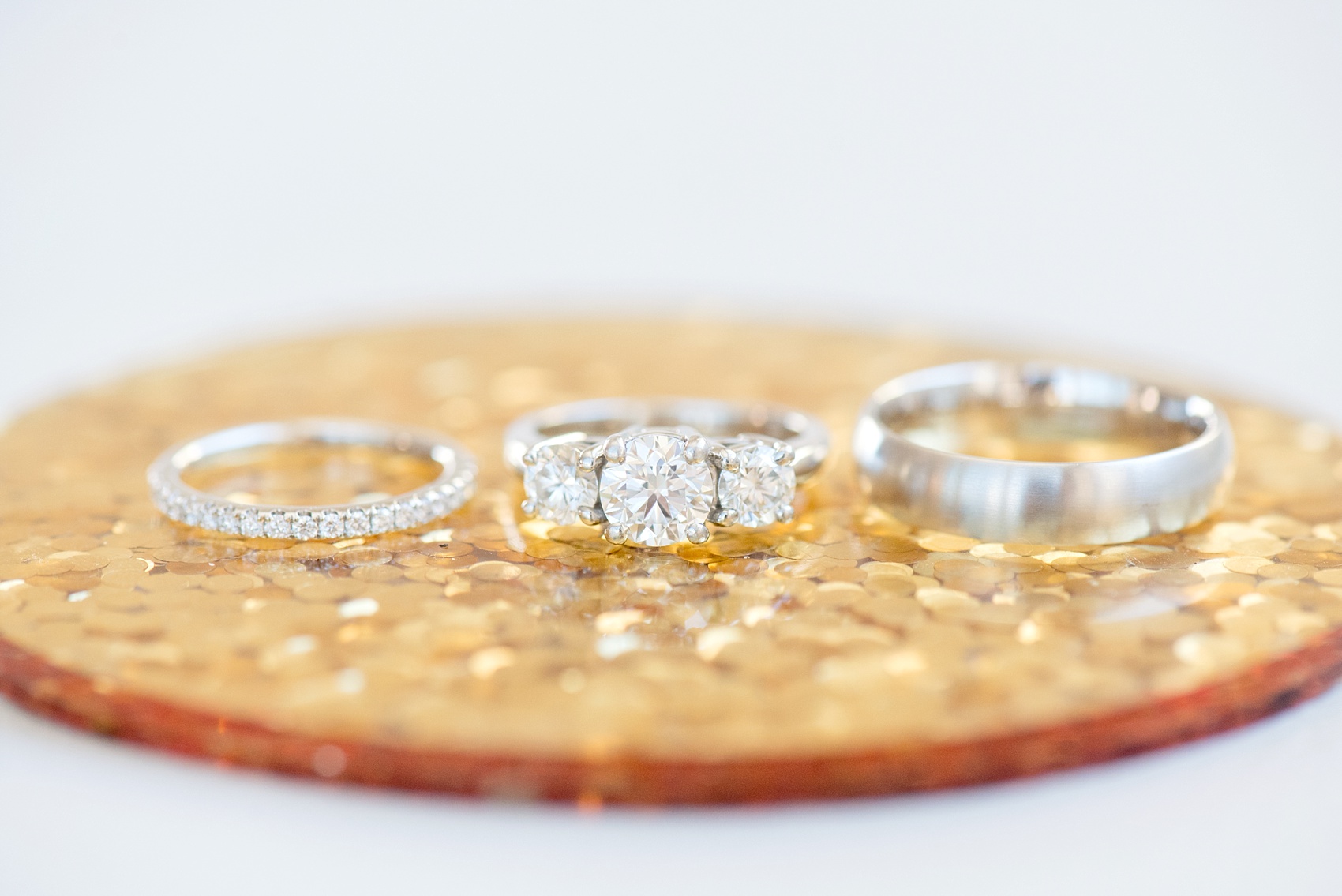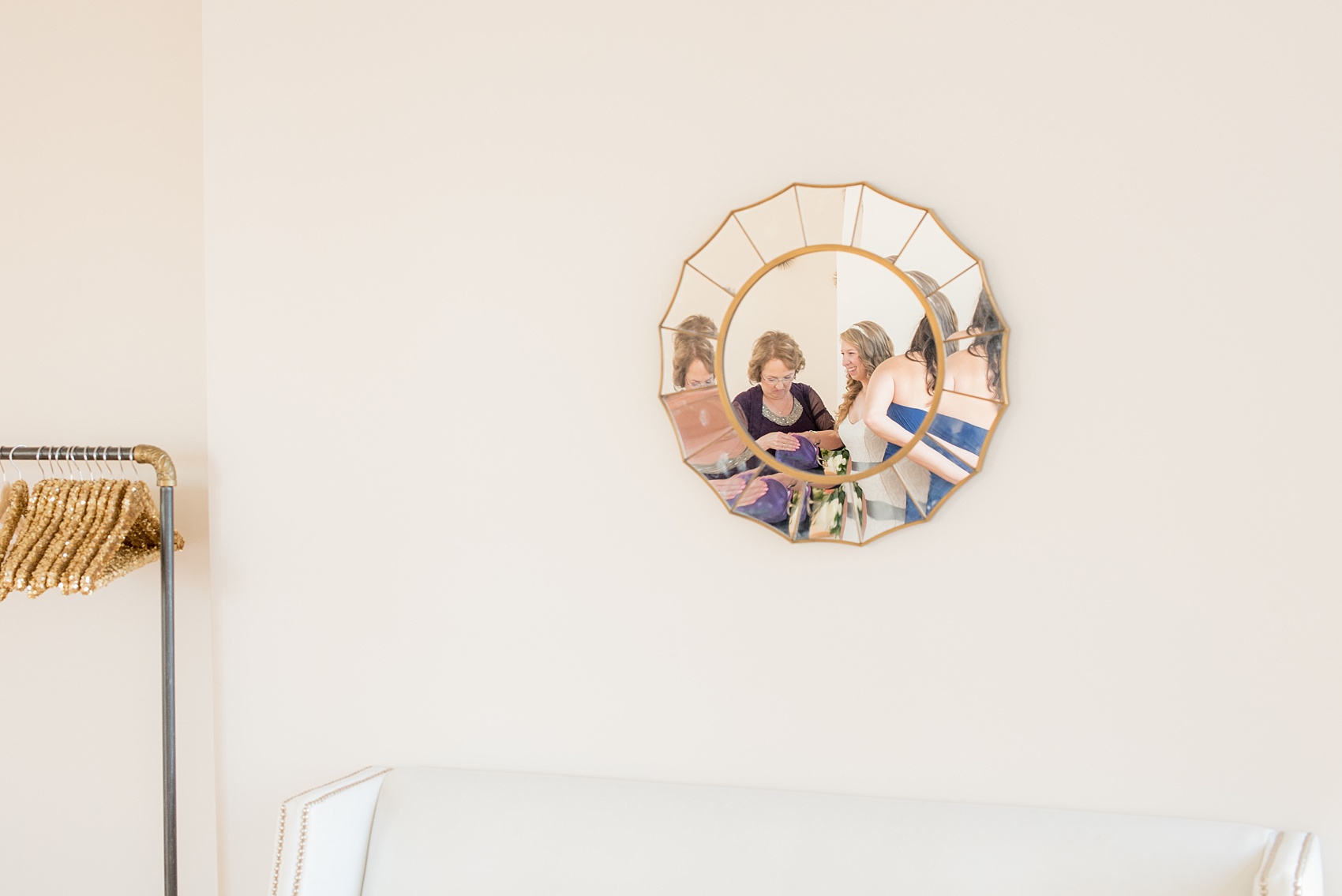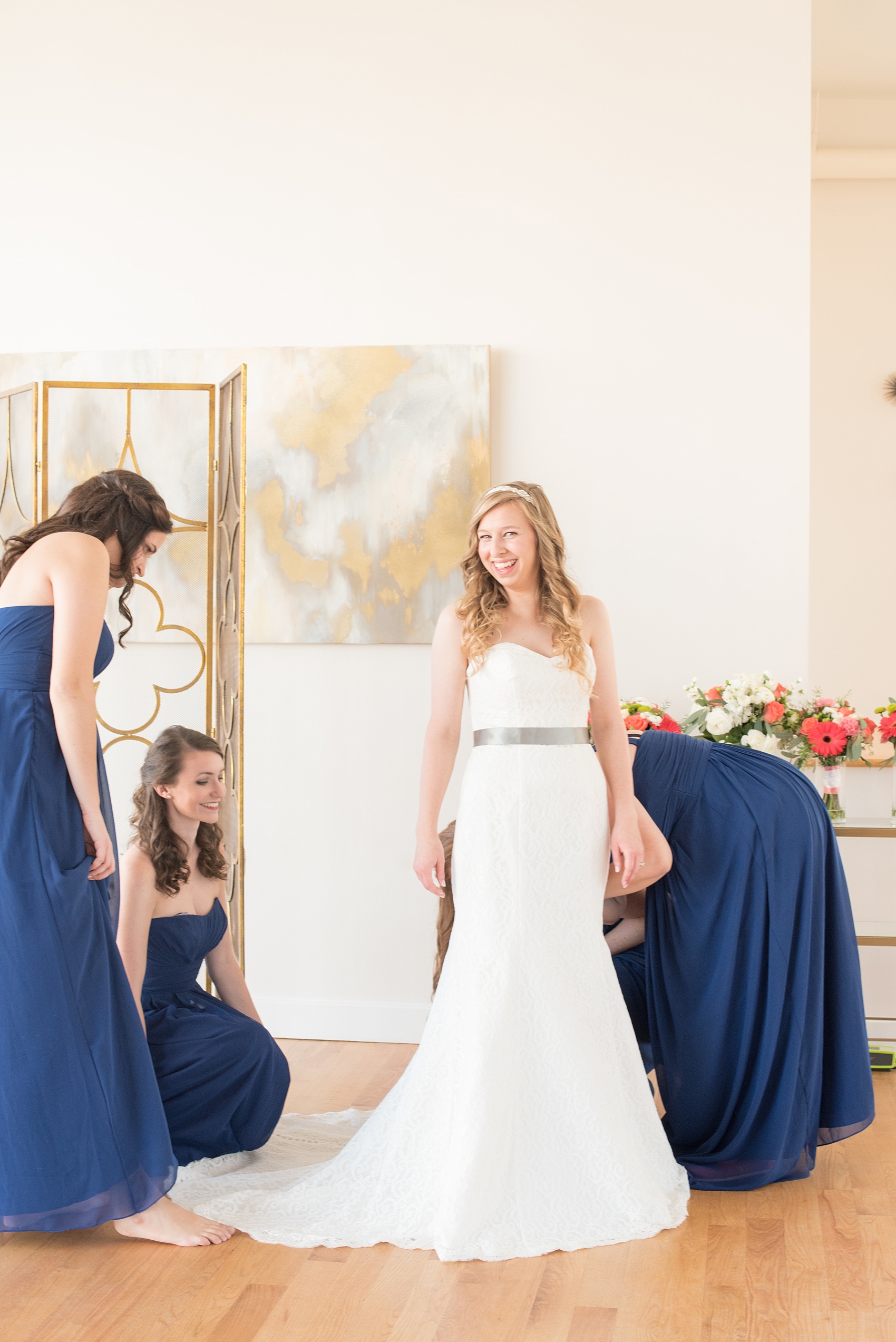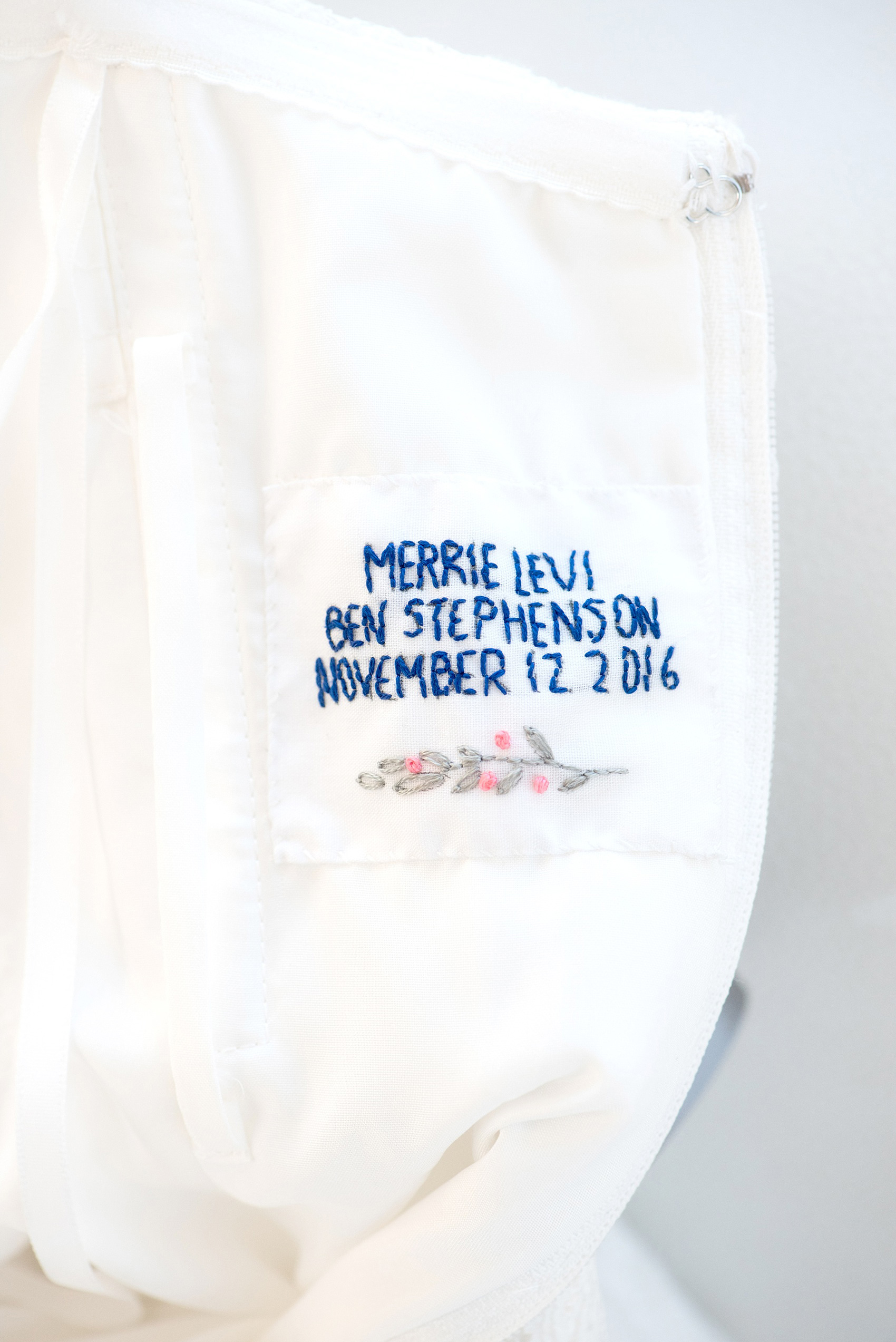 I love a bride who loves and appreciates GREY! 🙂 From her suede heels, to ribbon sash on her dress she really made the tone work for their wedding. And don't you just LOVE the surprise detail in Merrie's dress? Her mother hand embroidered the patch, which had Merrie and Ben's names on it and their wedding date. Even the grey and pink flower embroidery detail matched the wedding.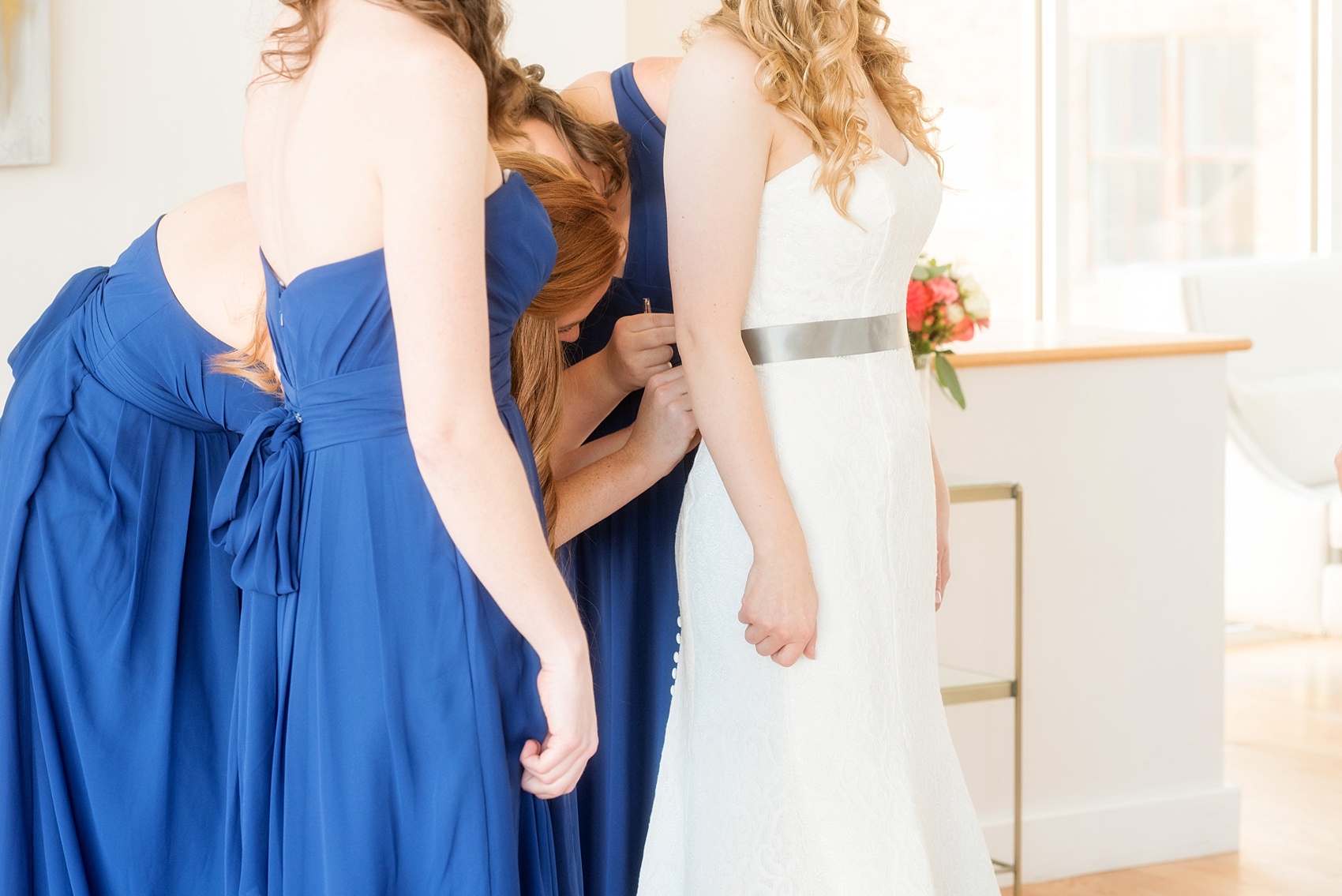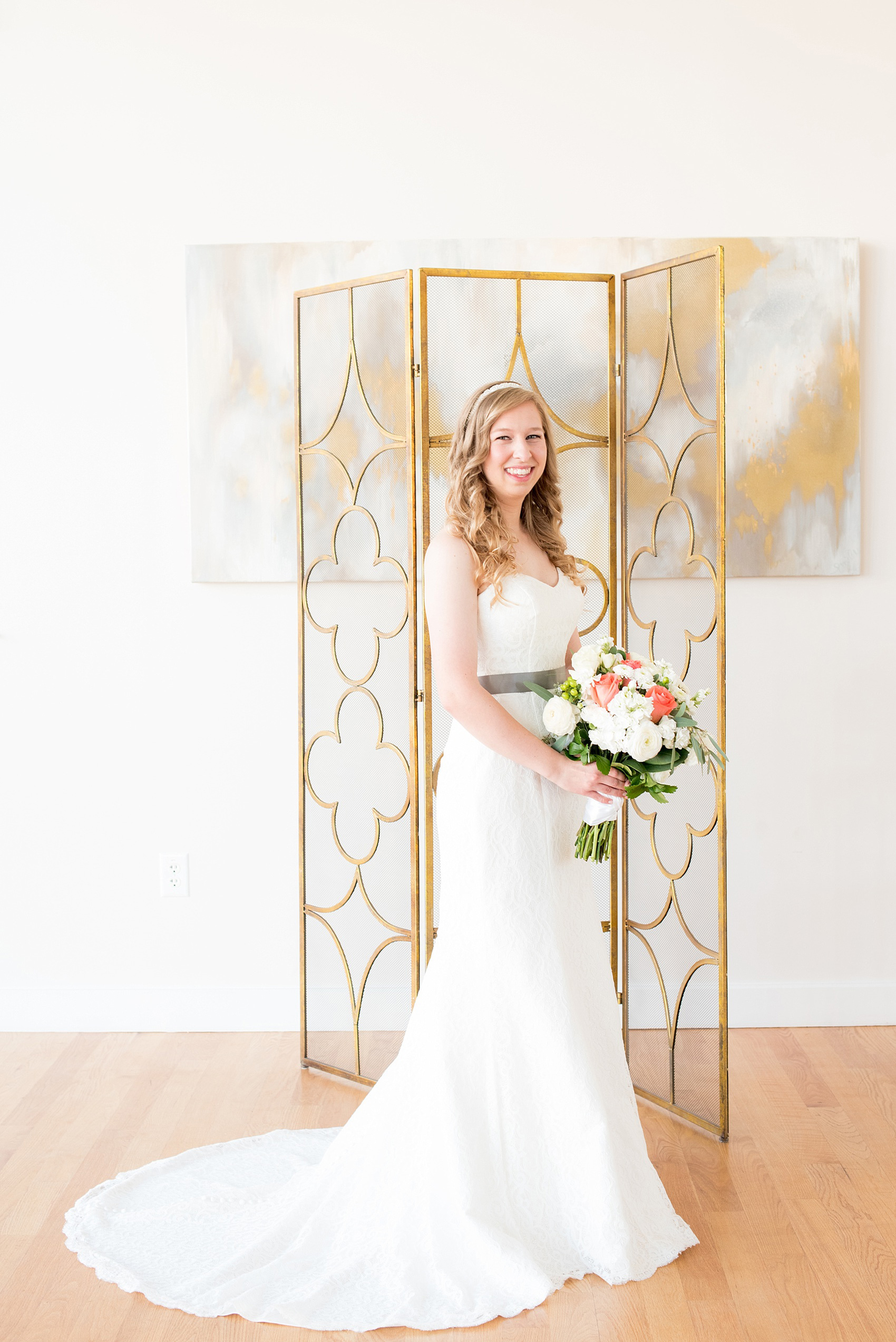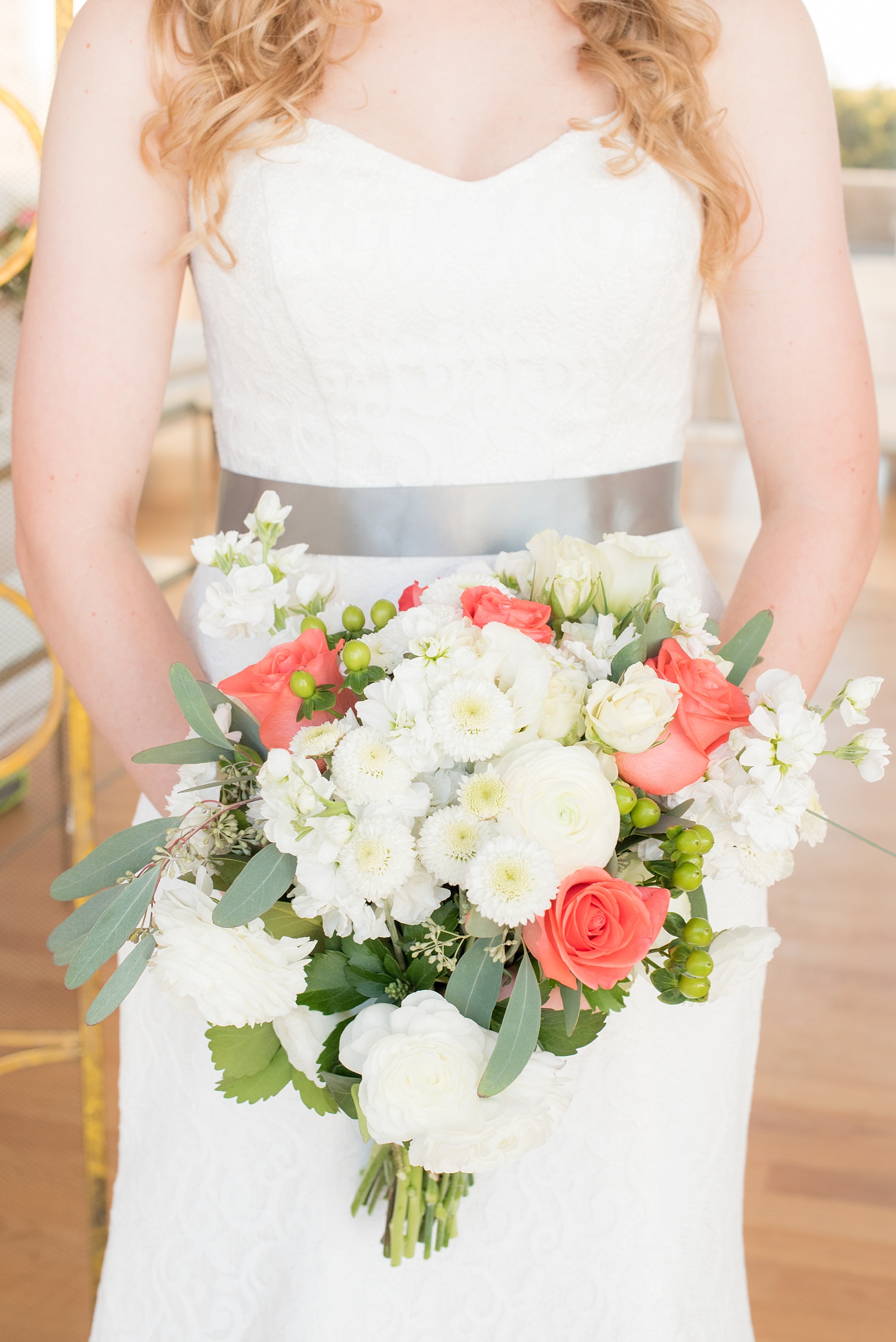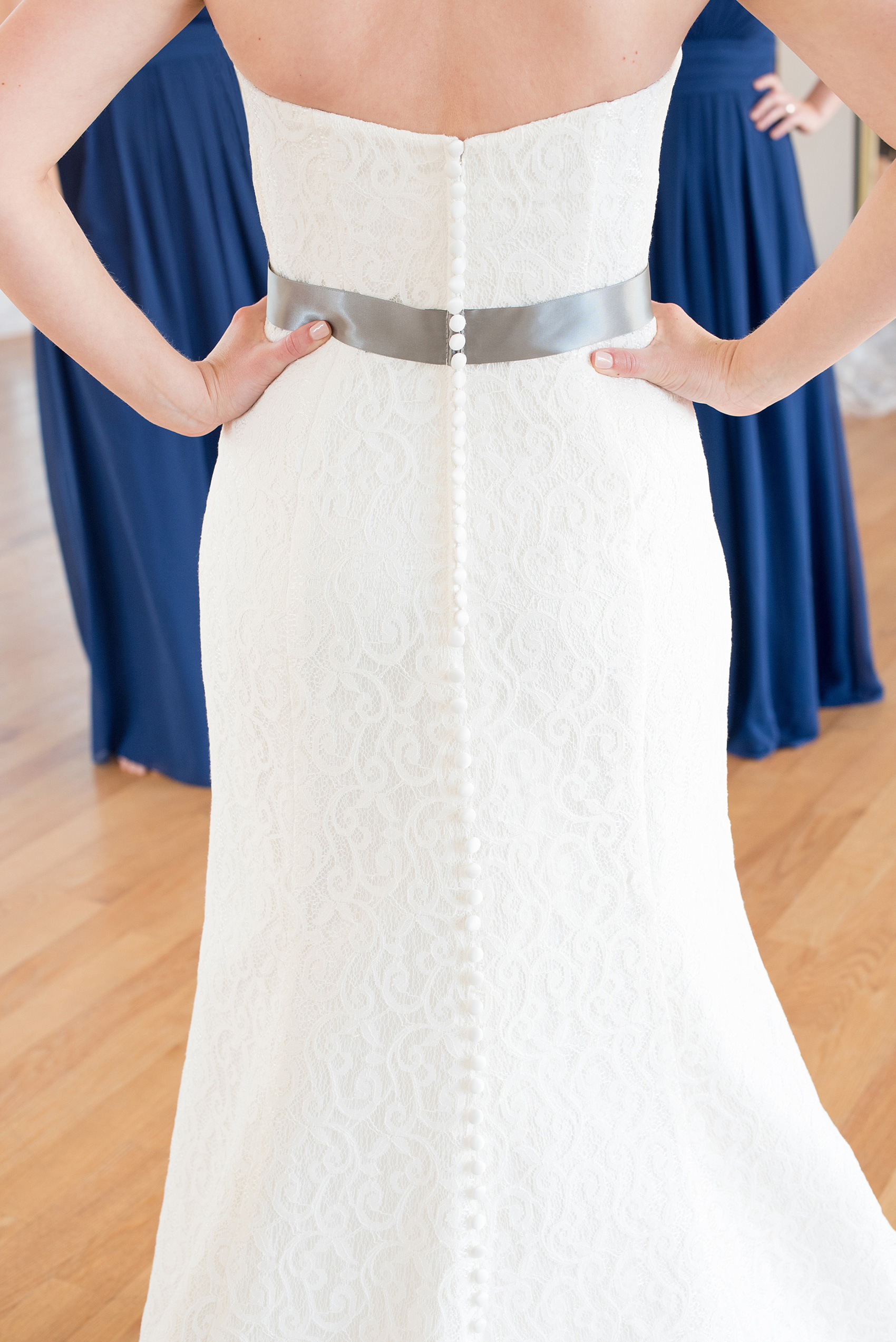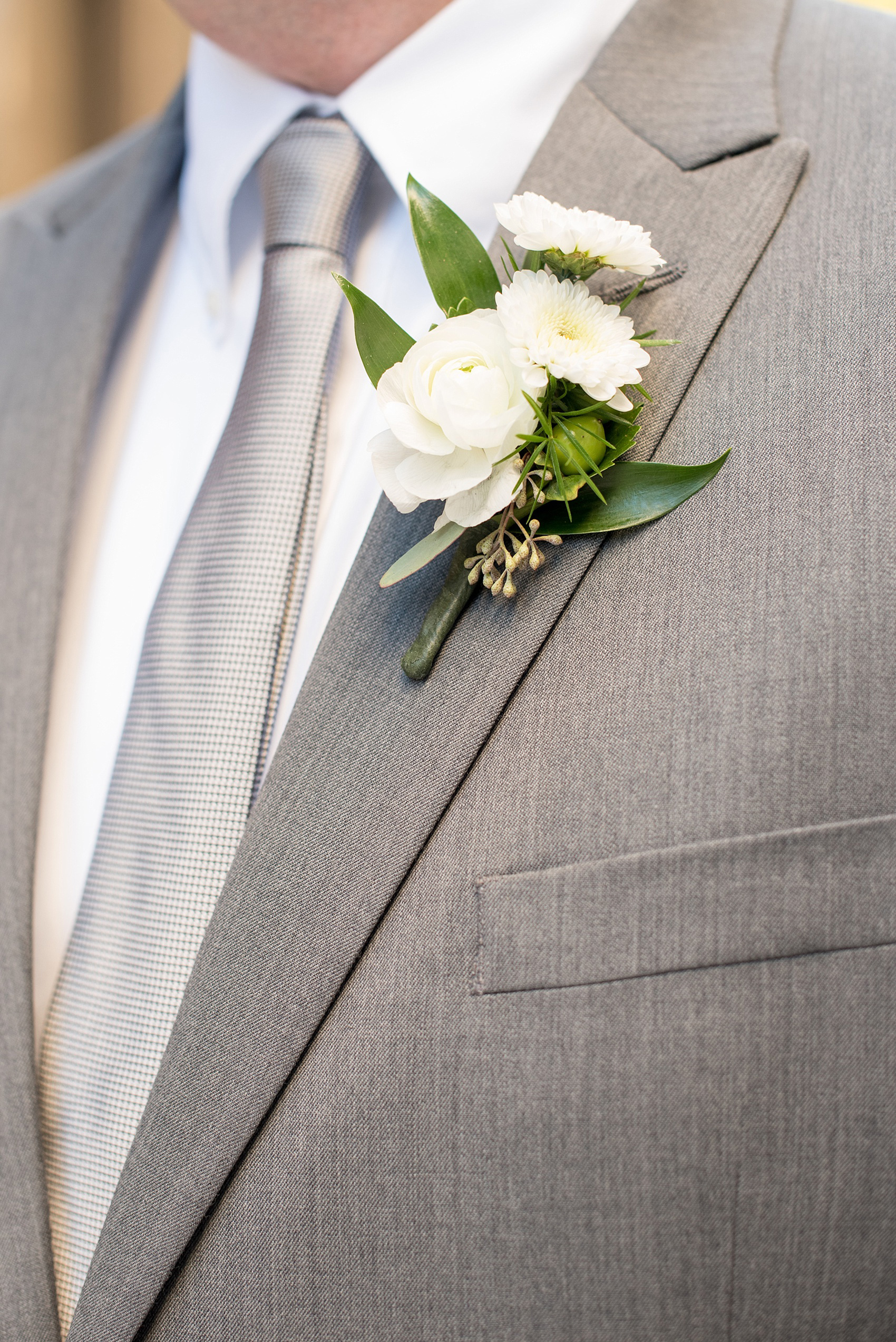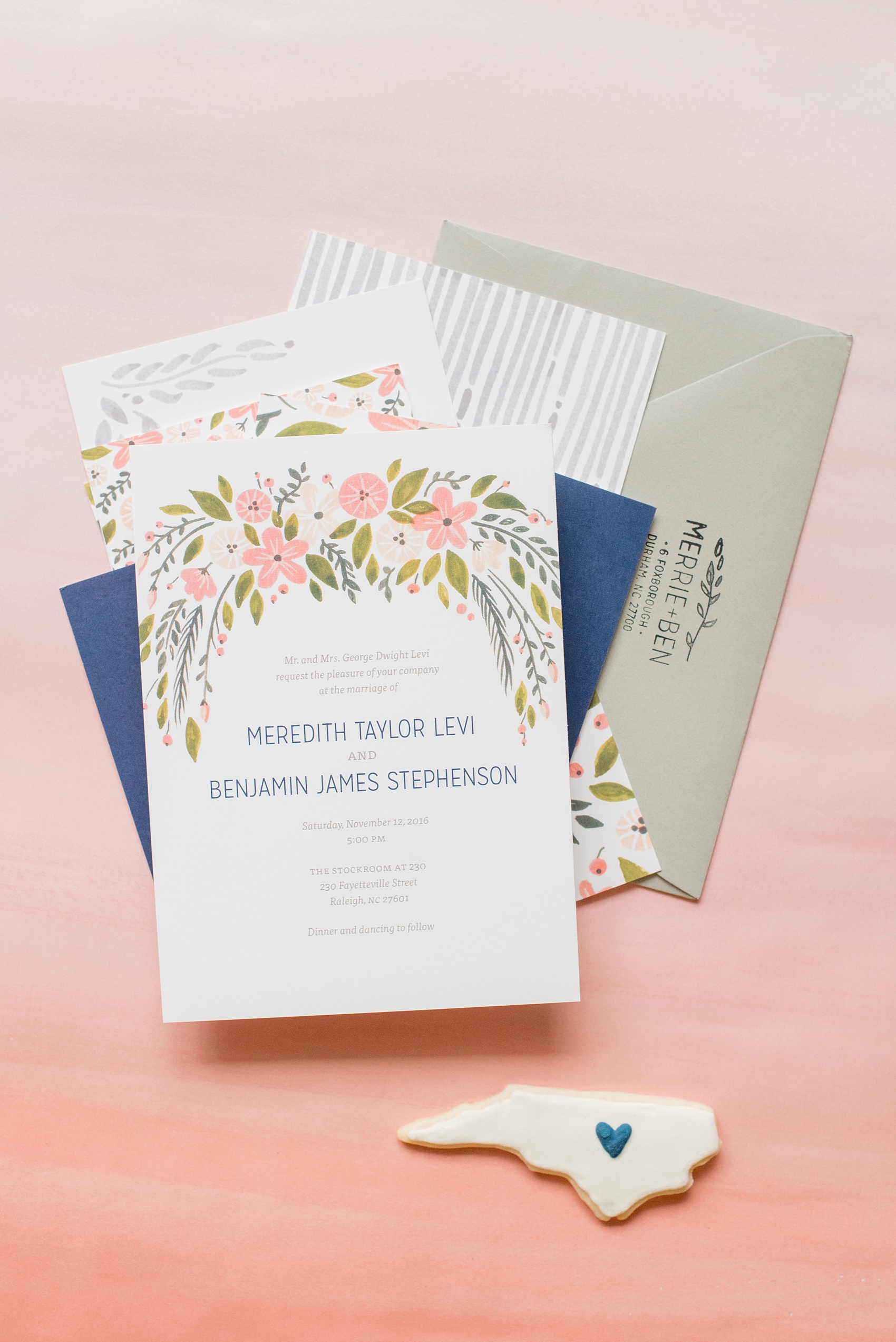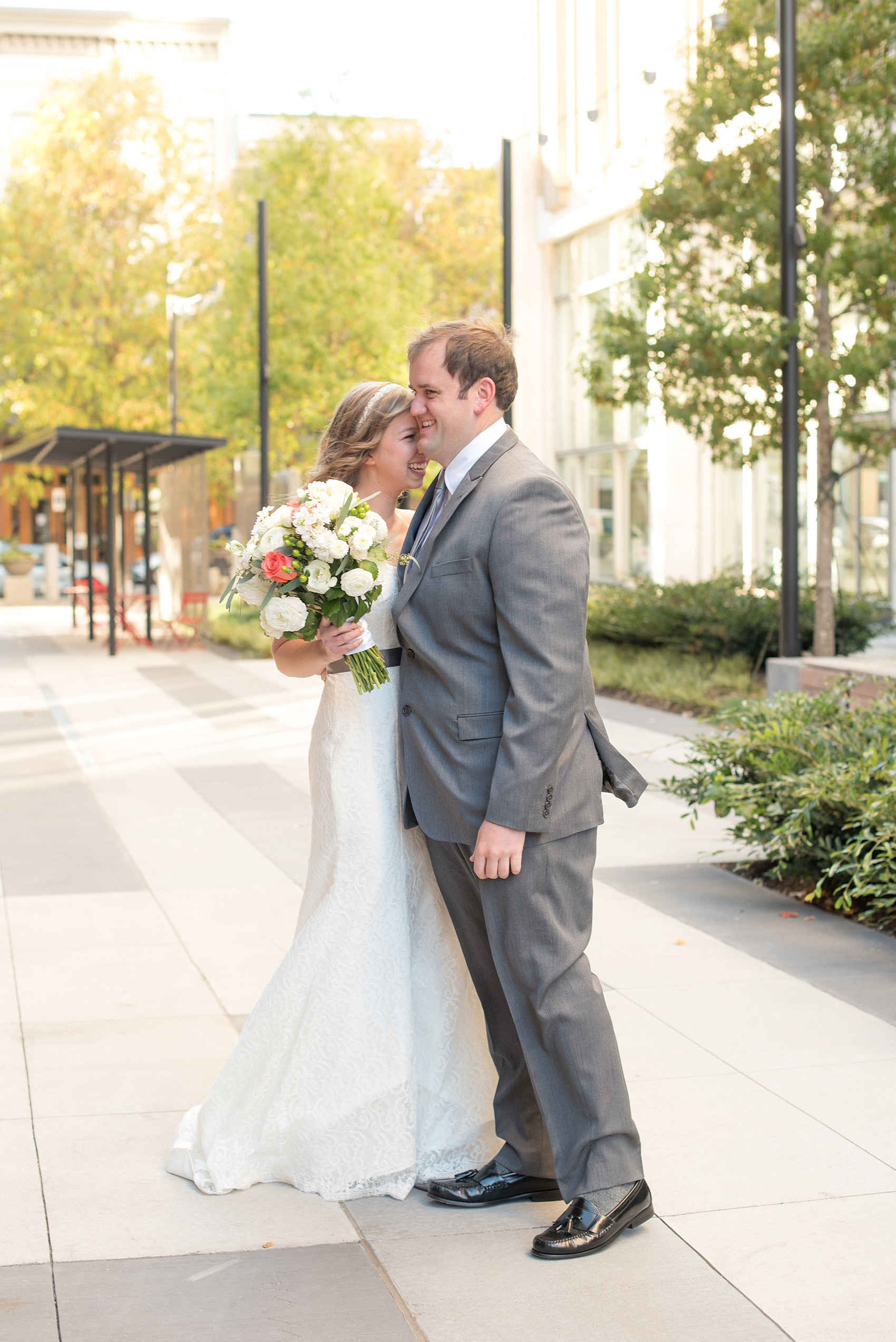 Their first look was all smiles and hugs! Let's please pause, too, to admire the invitation suite Merrie's talented sister, Libby, created for them. Amazing, right? She matched every color incredibly well from grey, to coral, to navy…and the NC state outline sugar cookies were a fun surprise treat at their reception.
Merrie's mom, Beth, had told her about a tradition I wasn't aware of but I instantly fell in love with: a boutonniere became a tradition in part because a bride would take some flowers from her own bouquet and pin it on her groom. We re-created a bit of that on their wedding day right after the first look as Merrie pinned on Ben's boutonniere.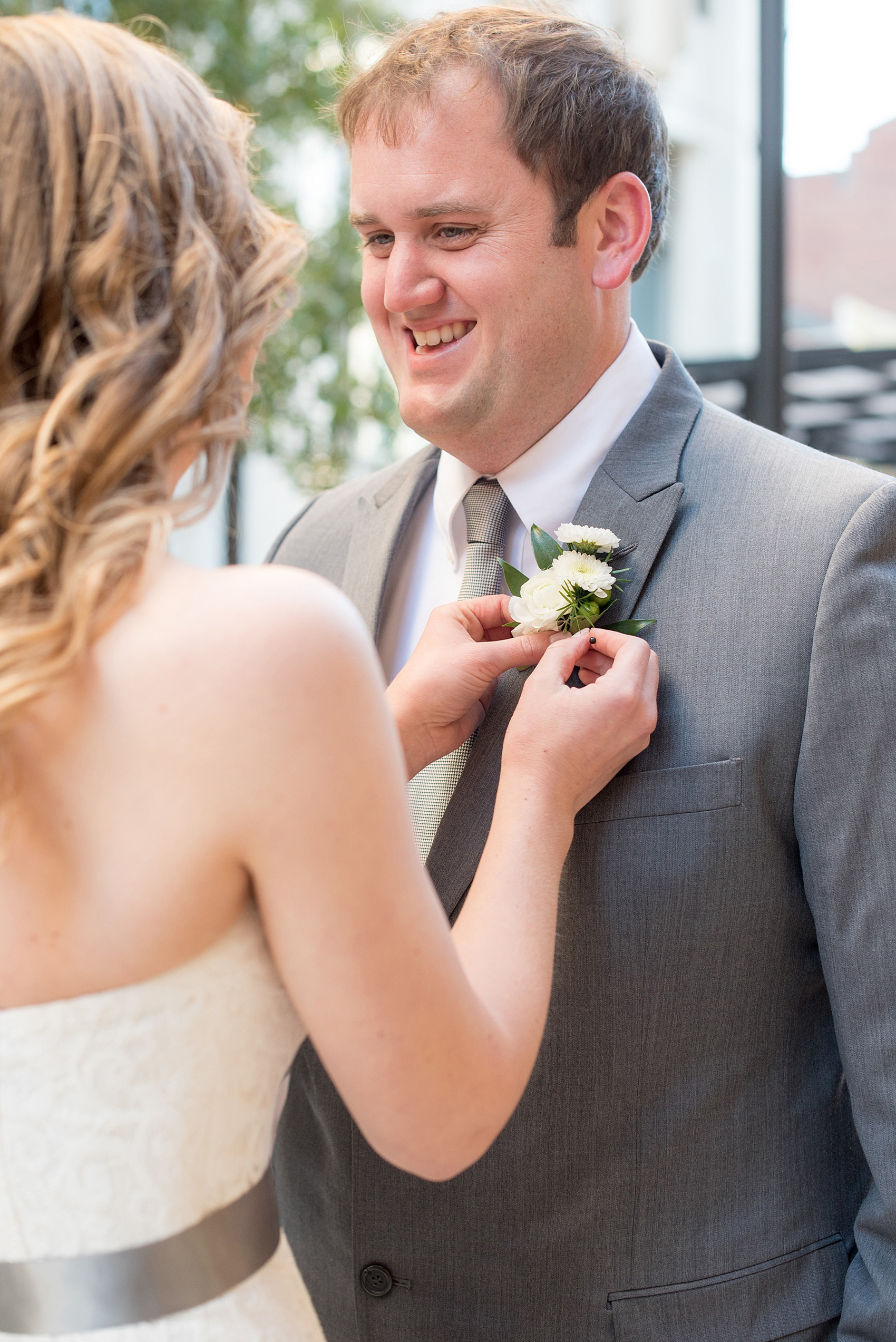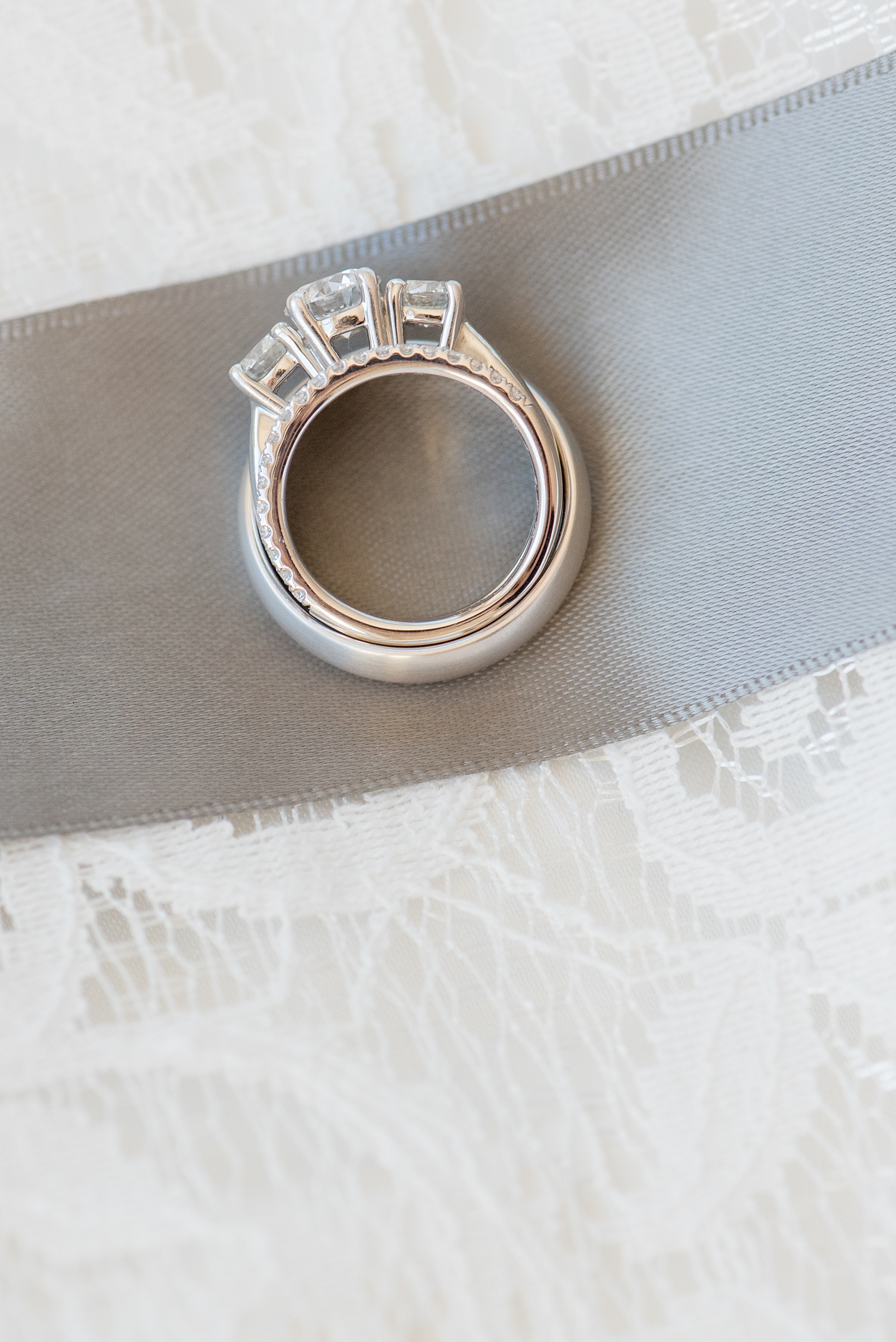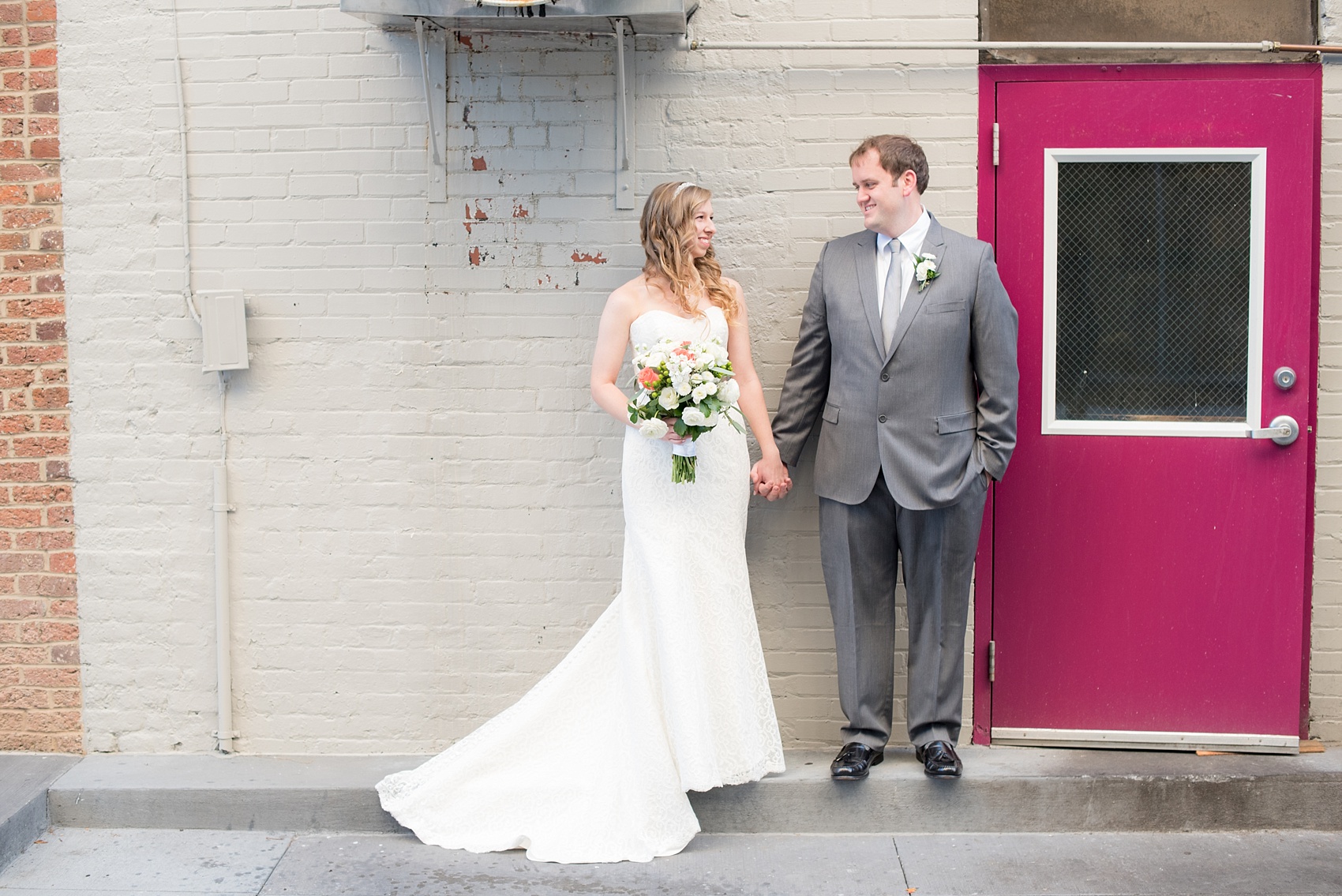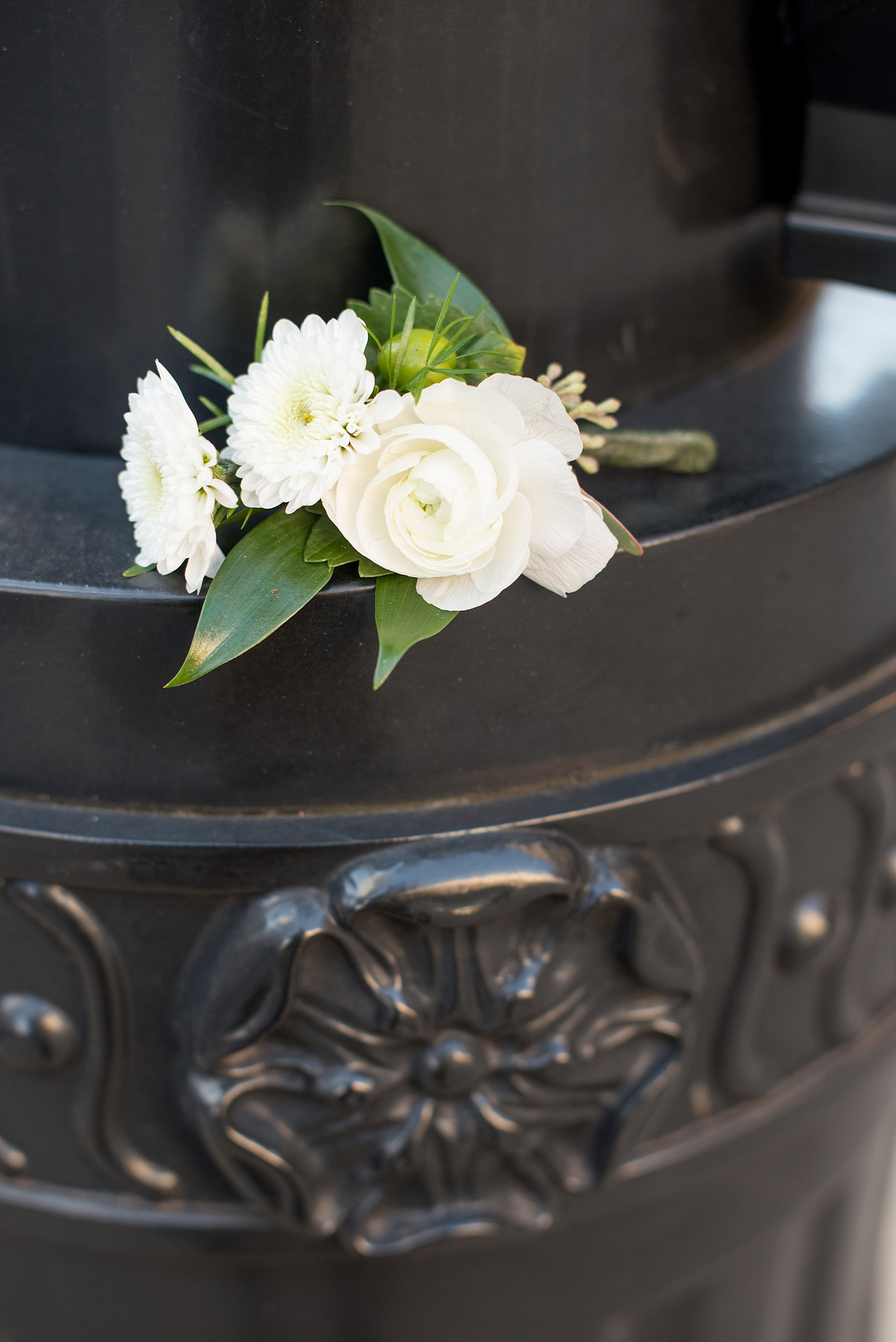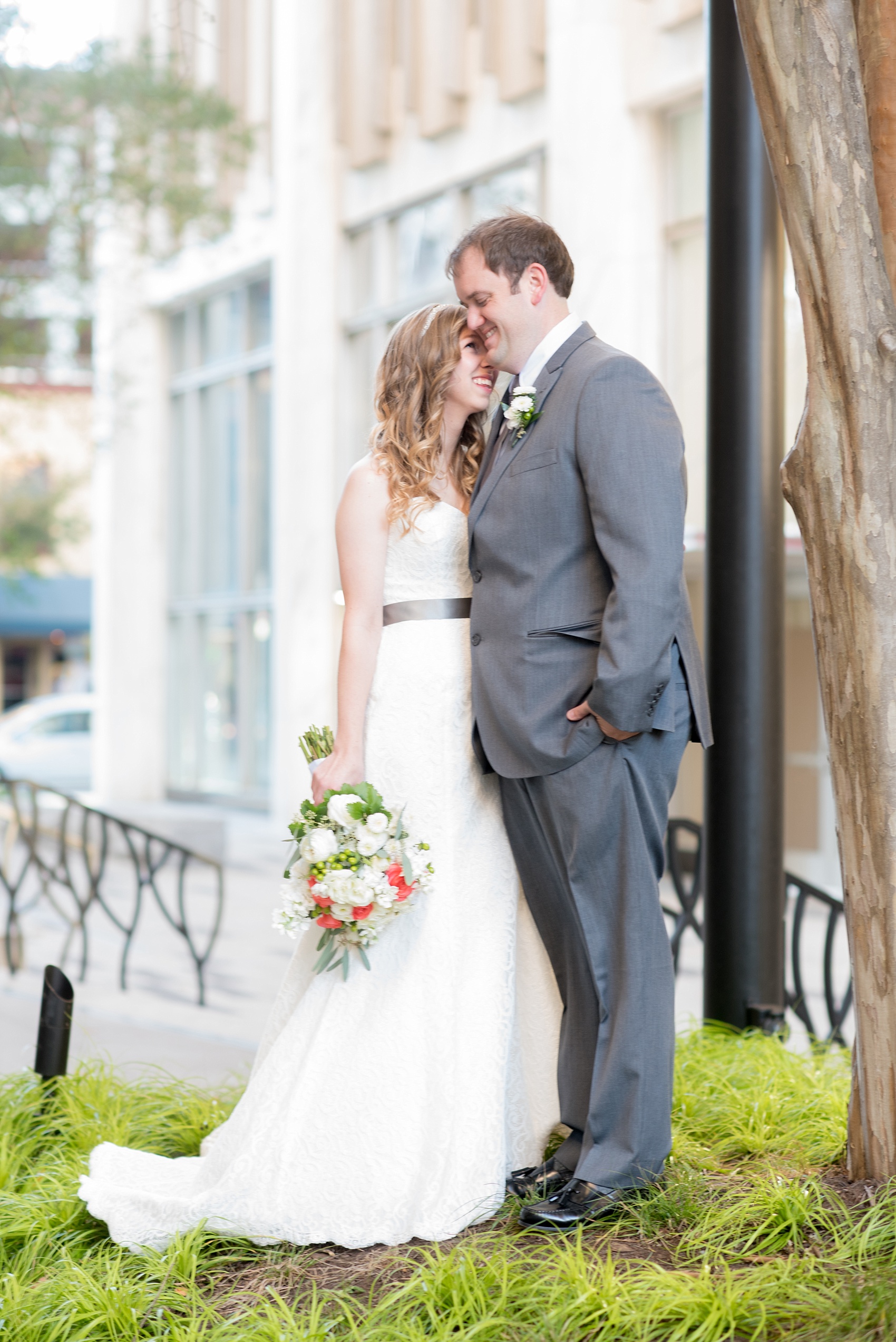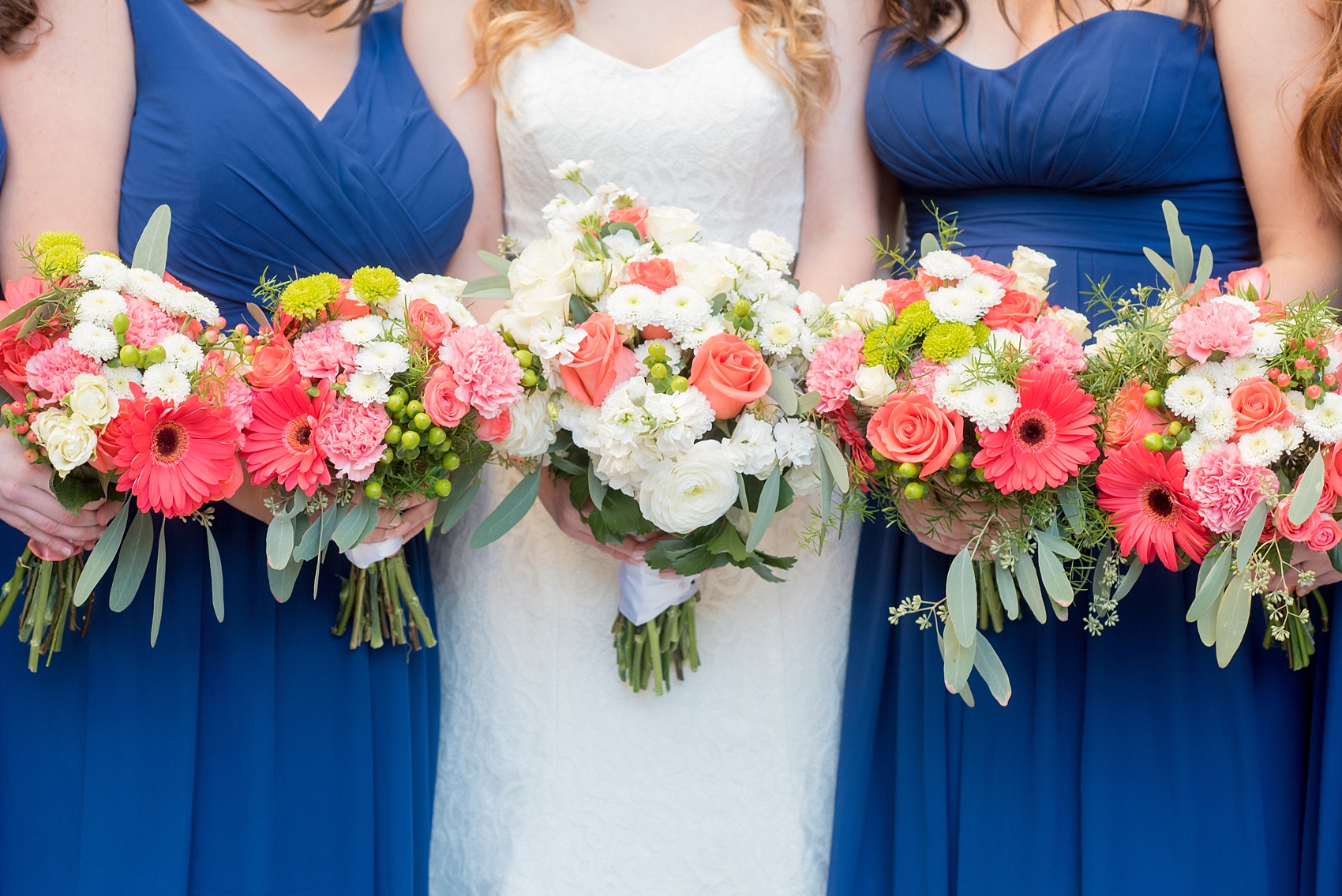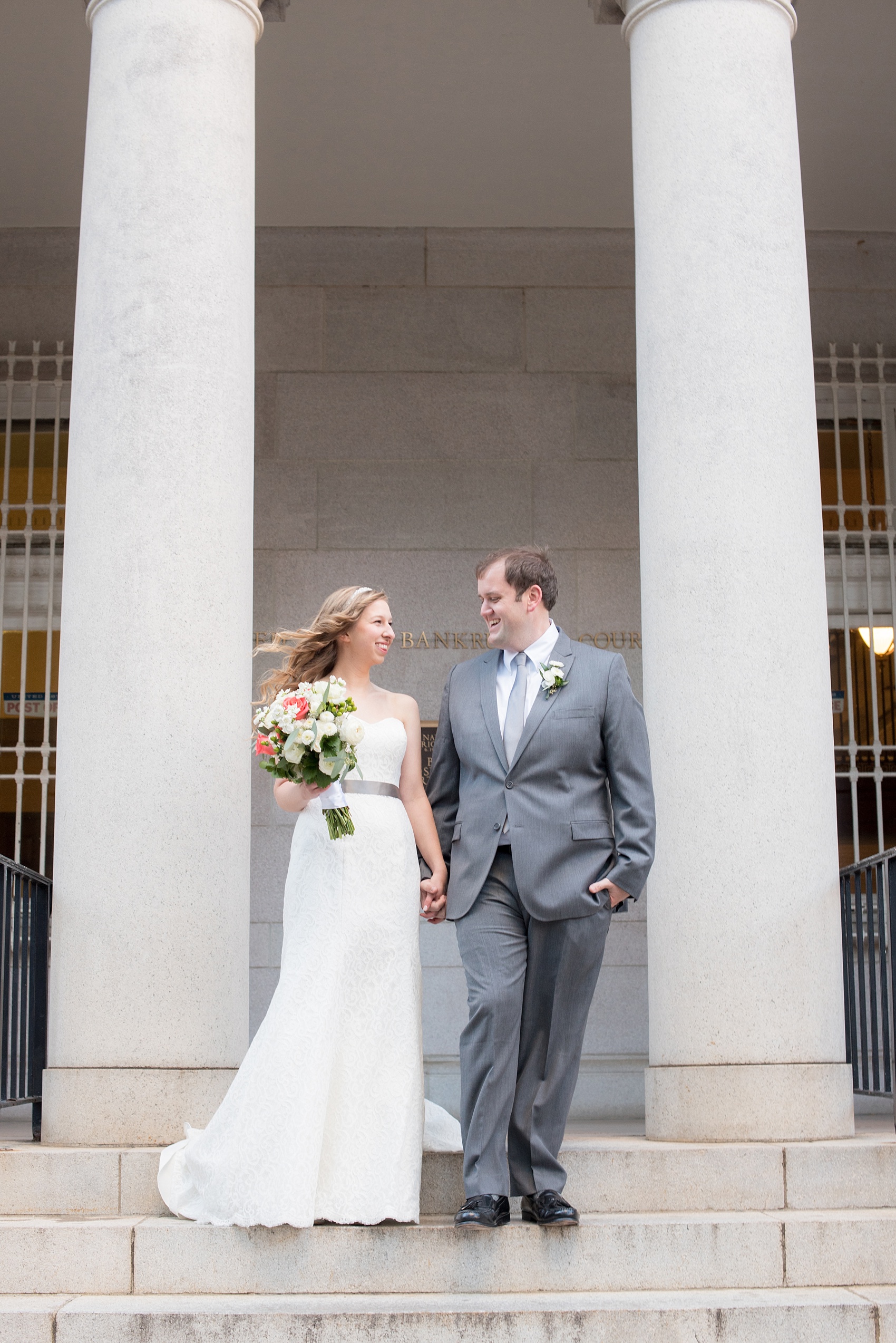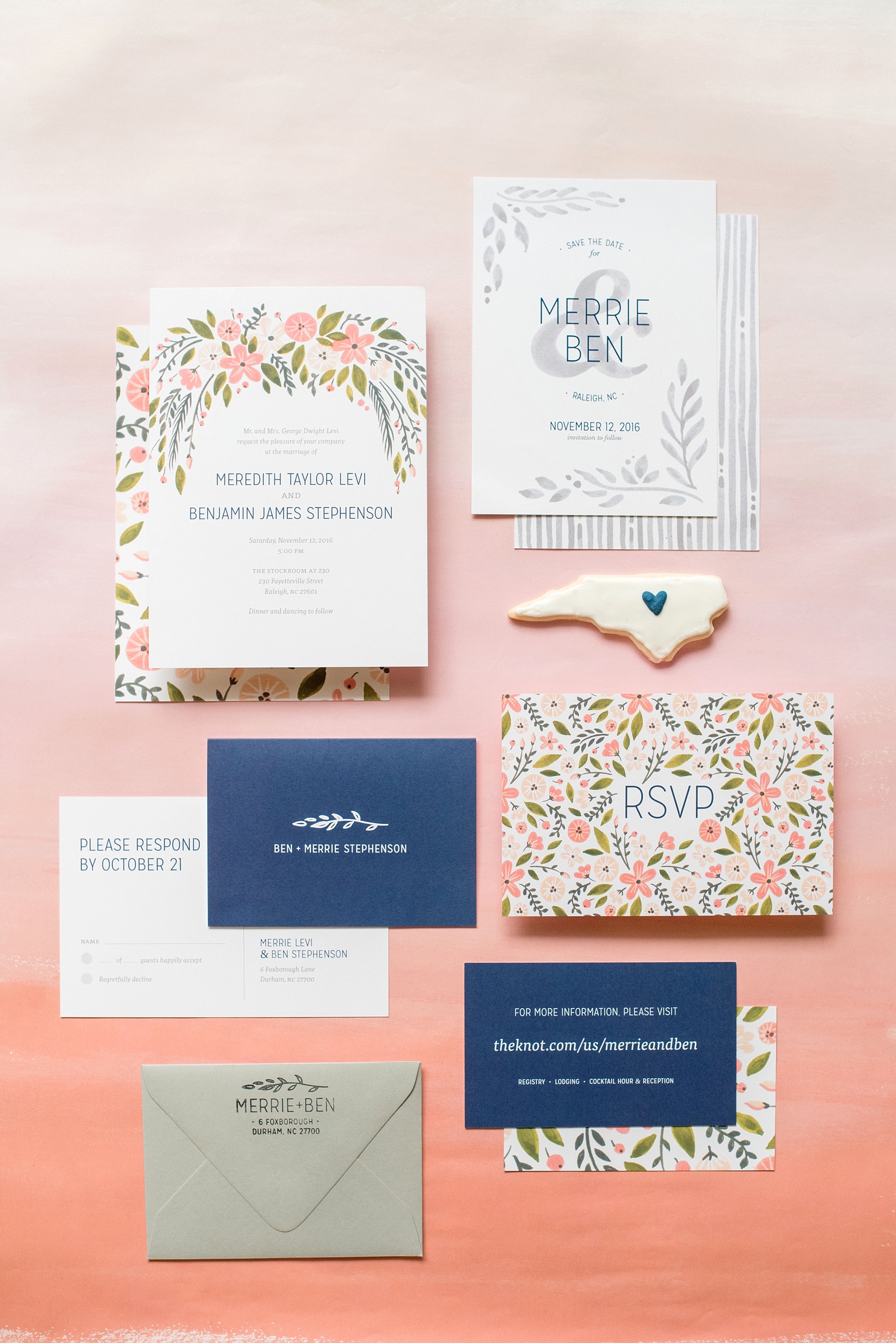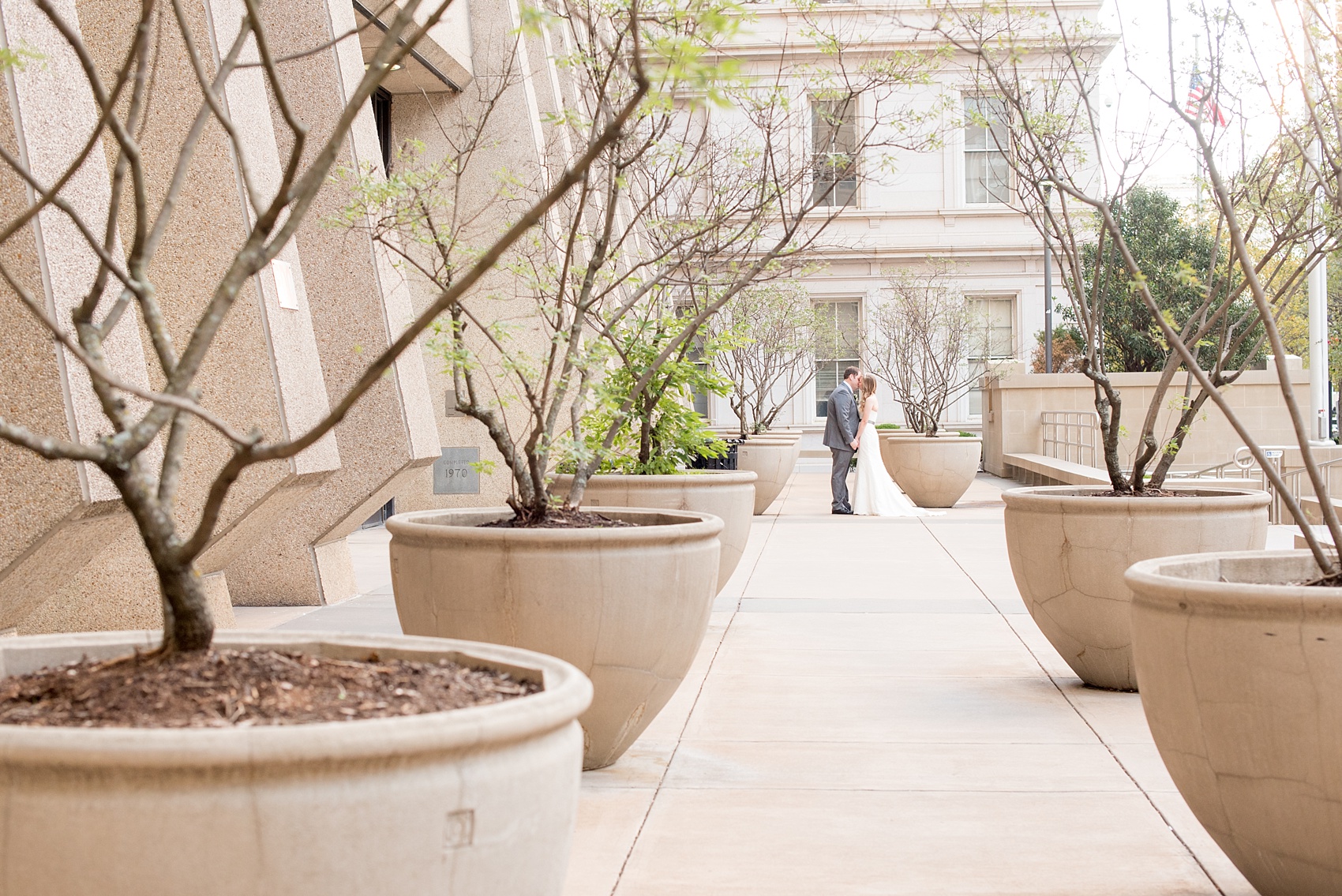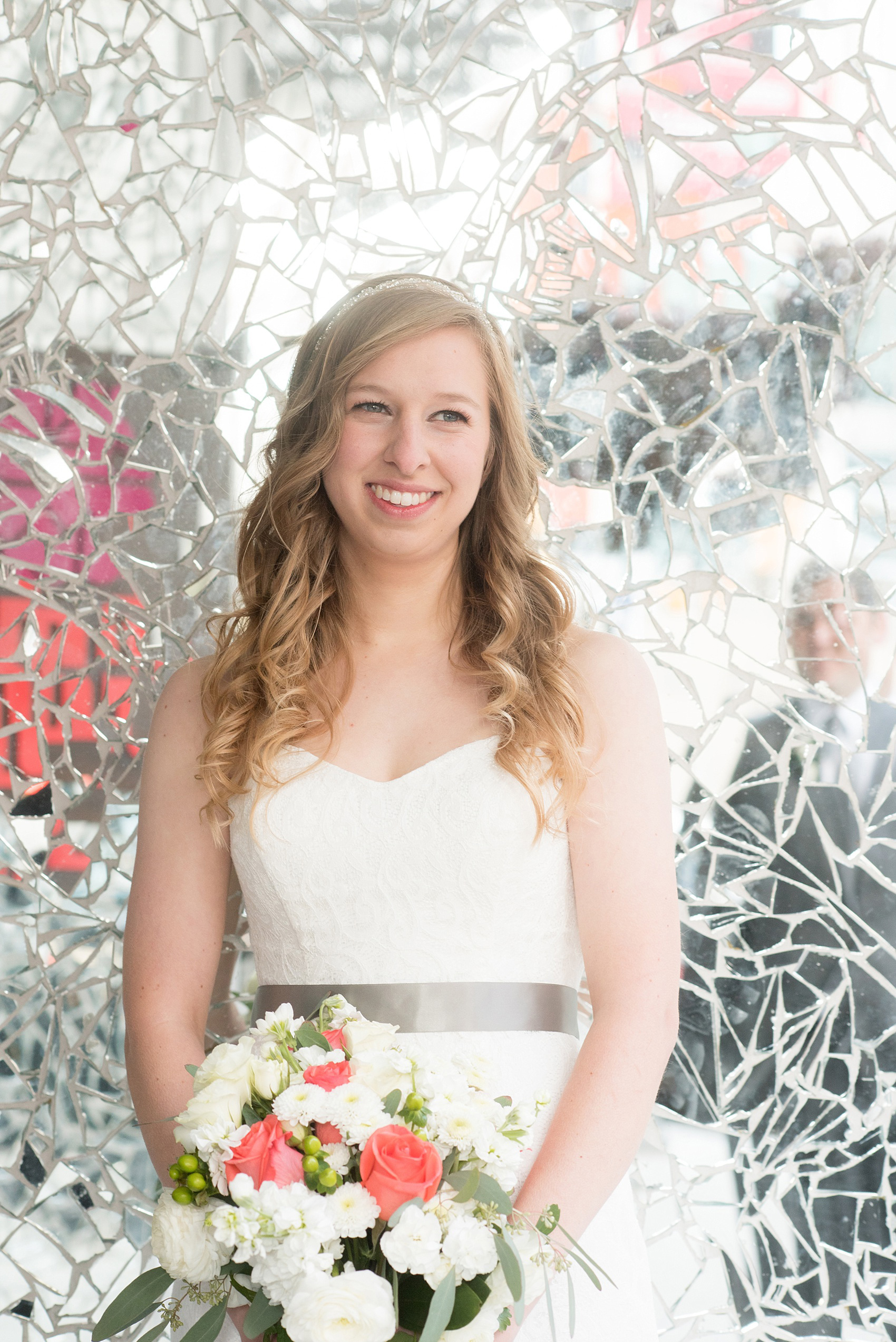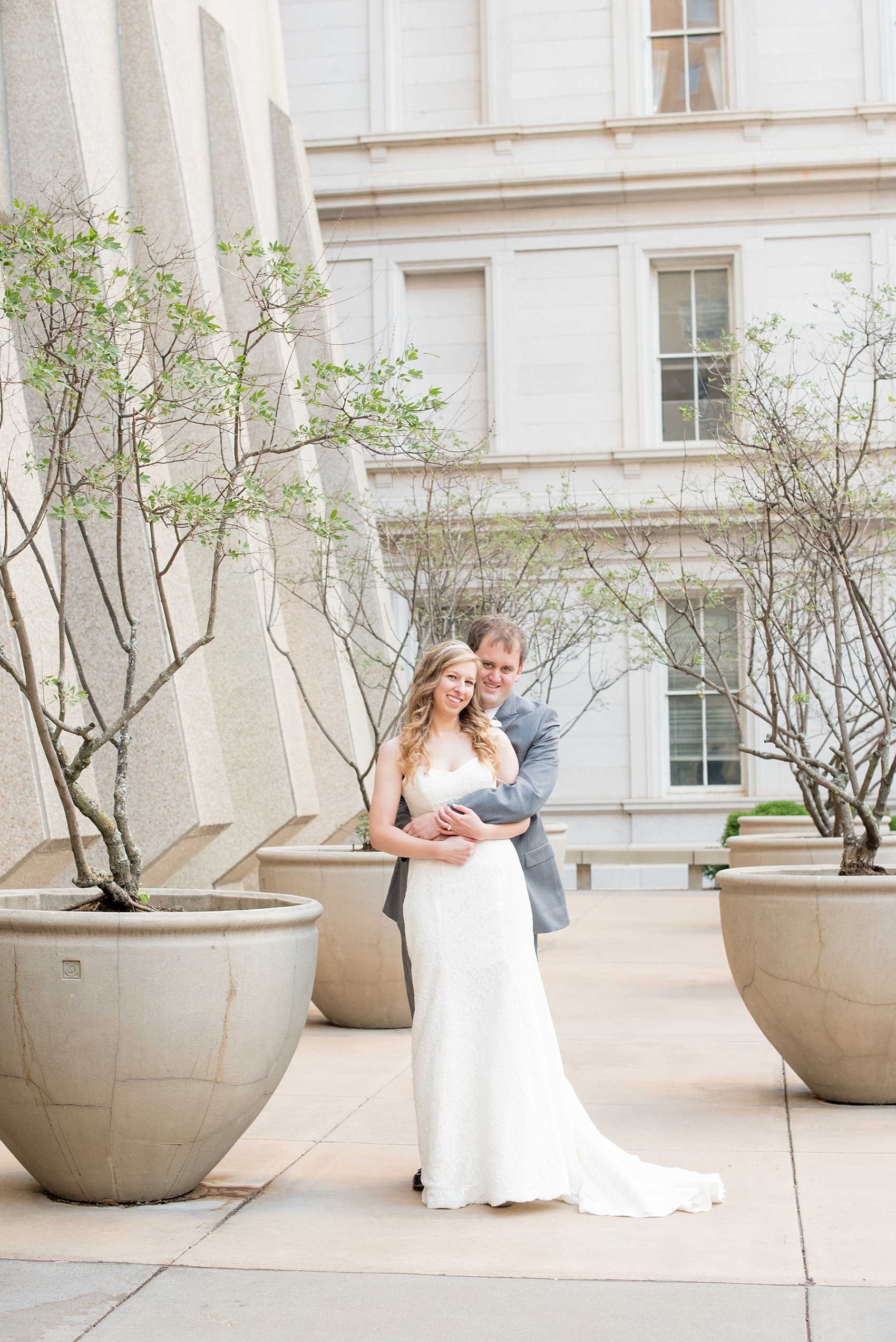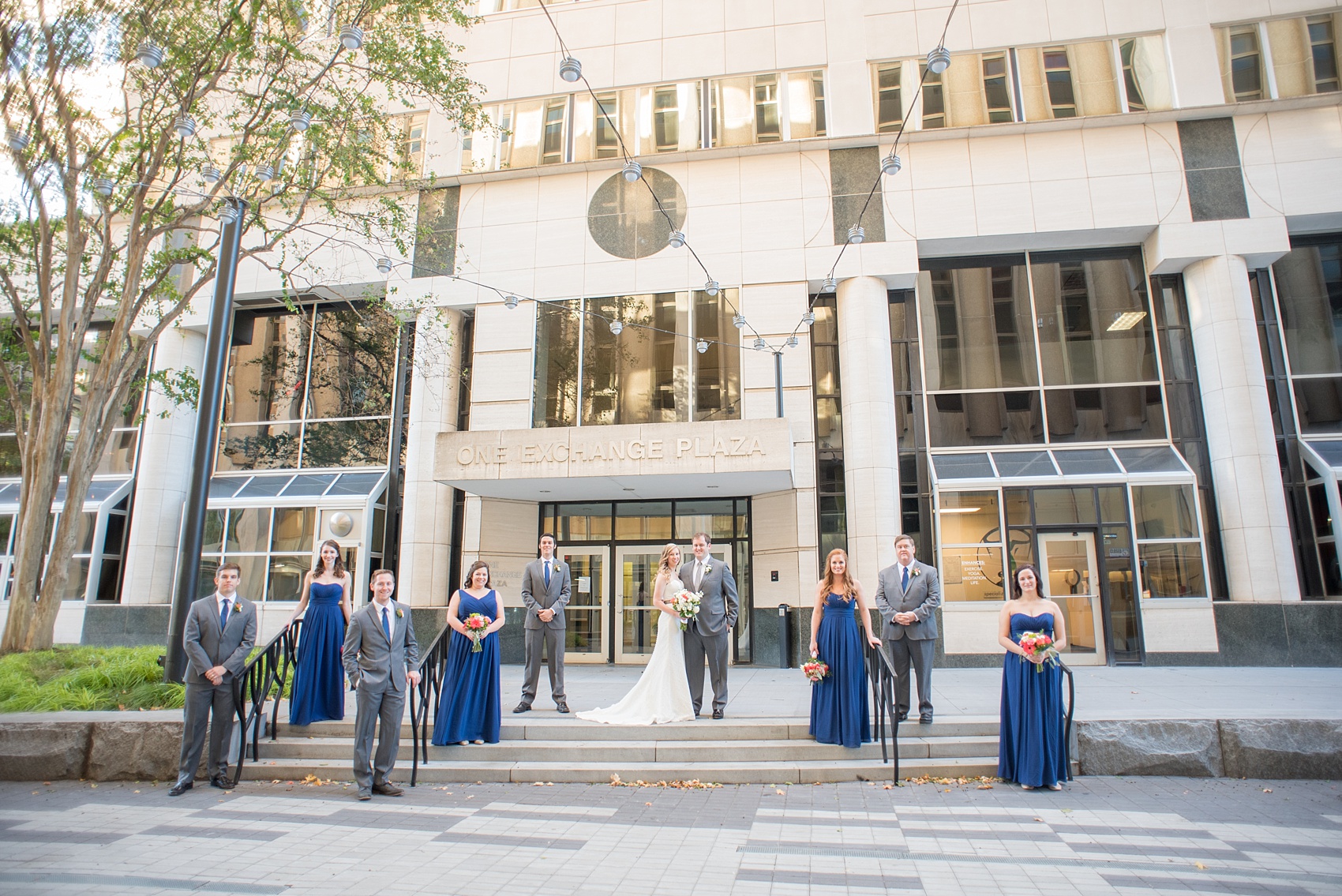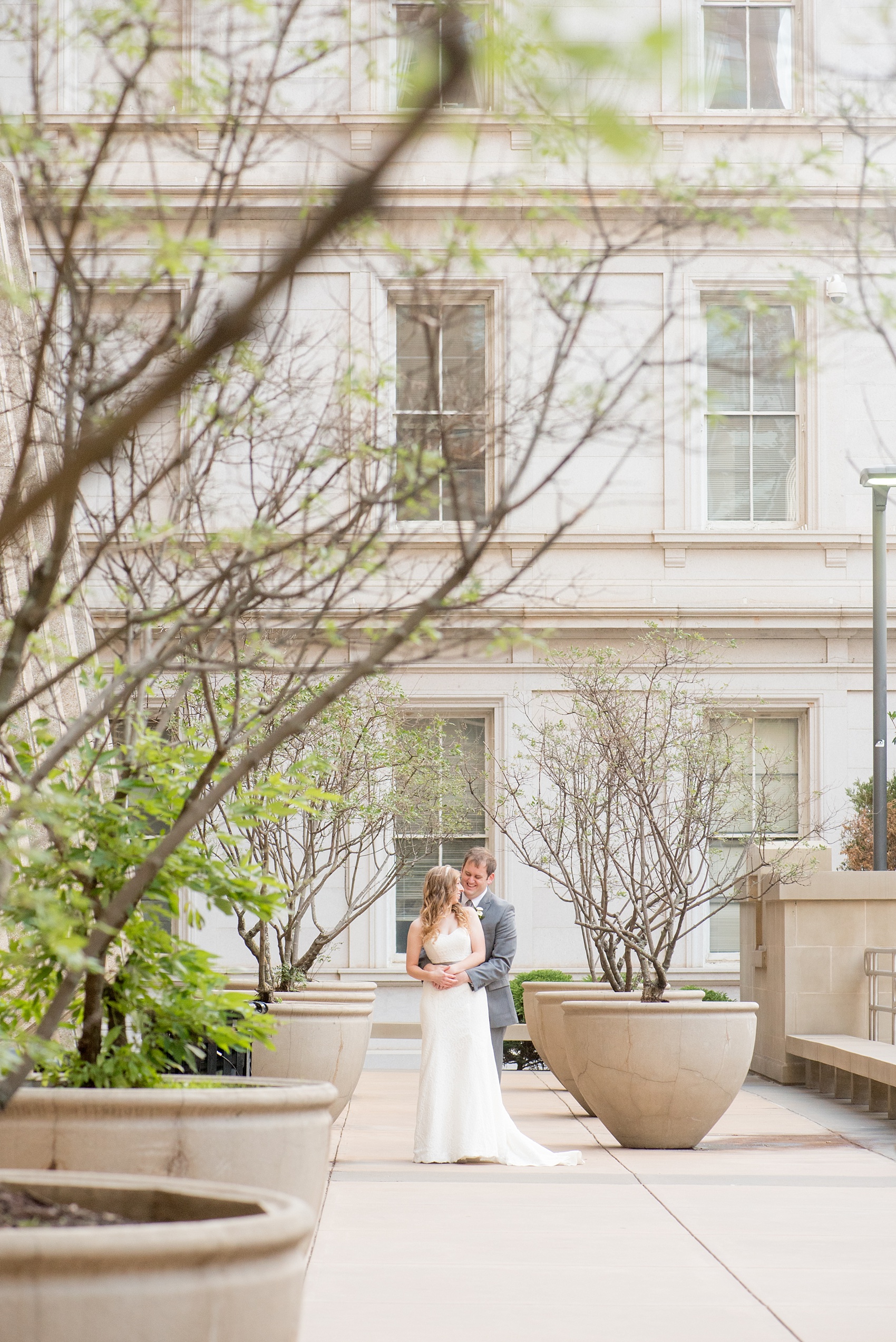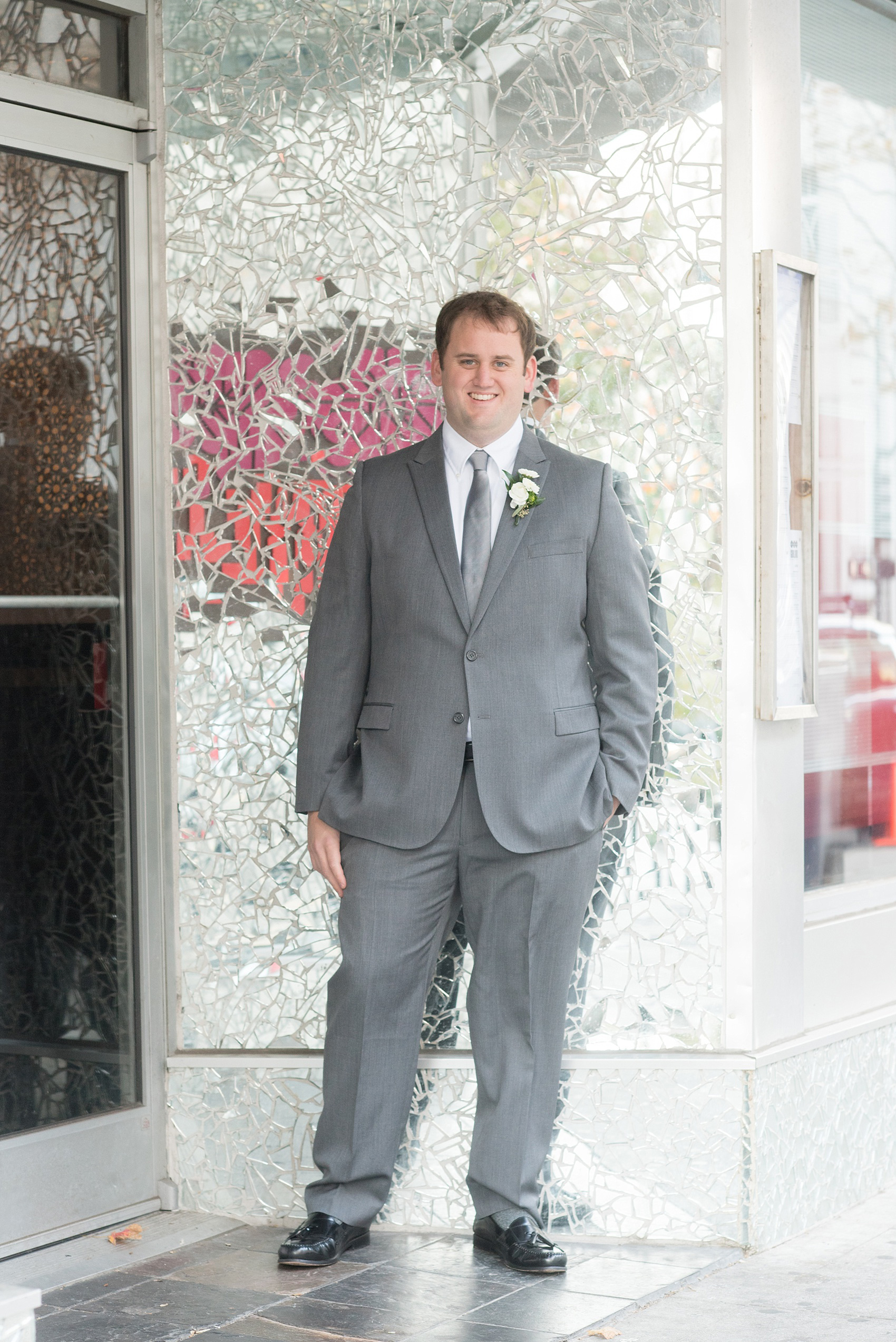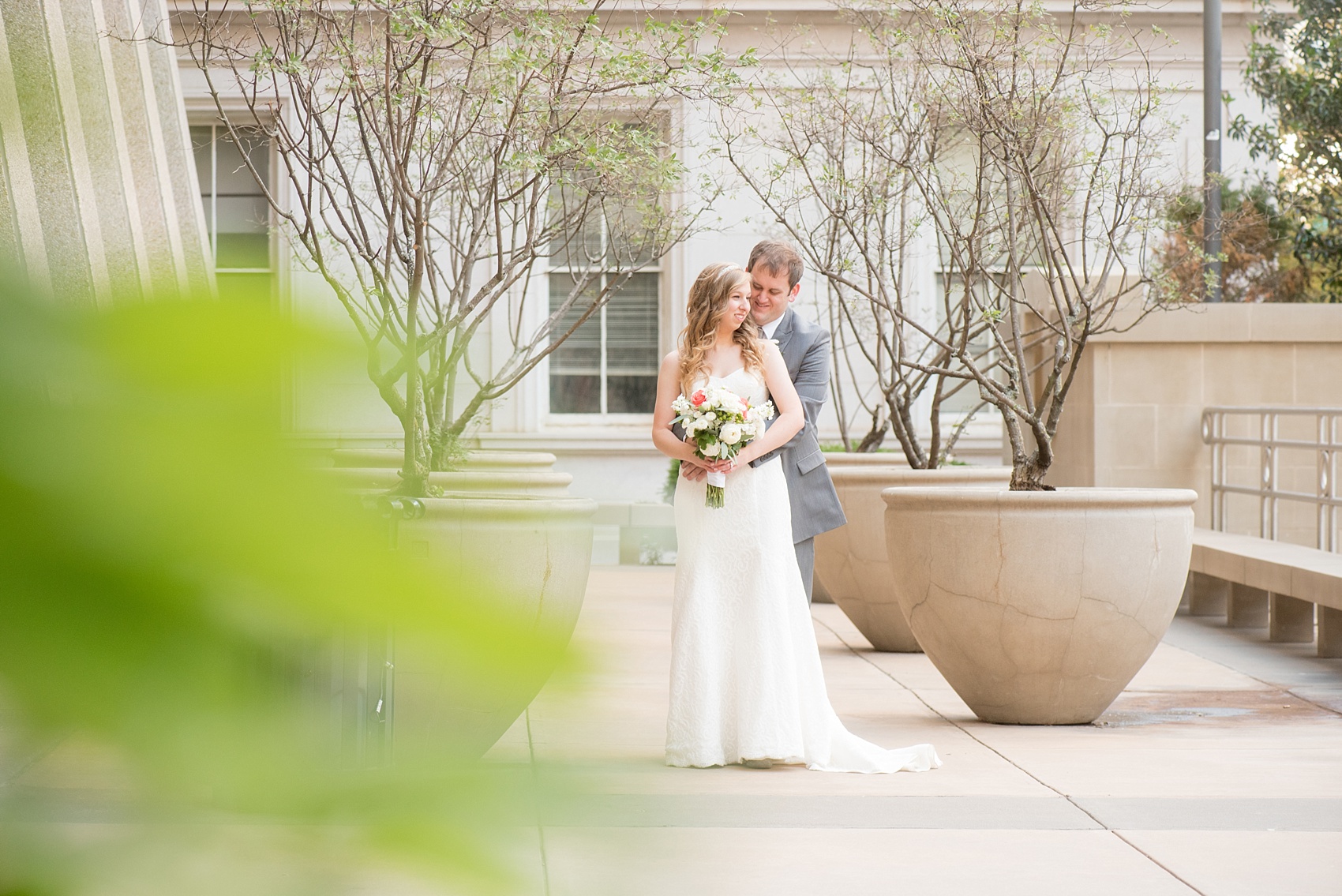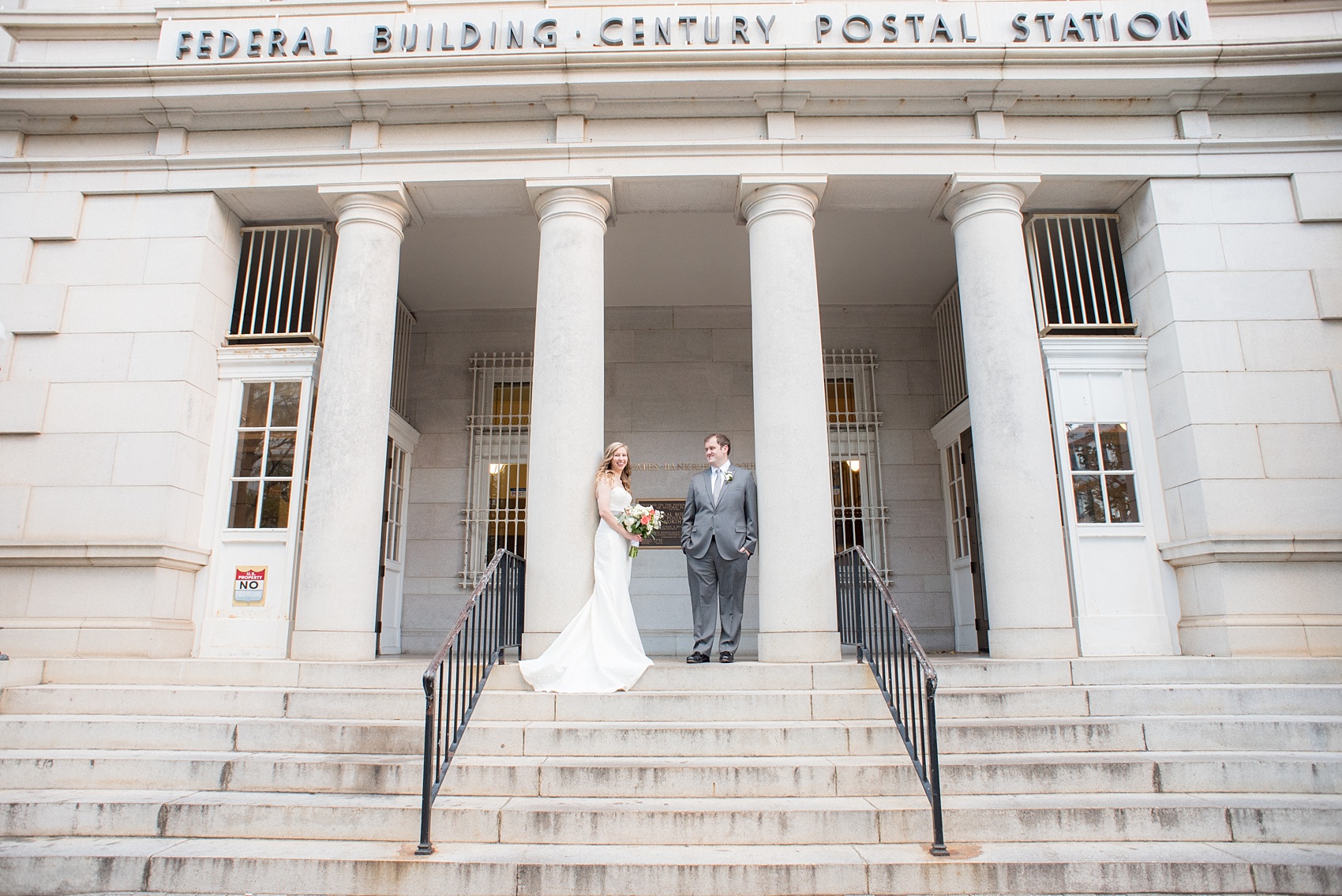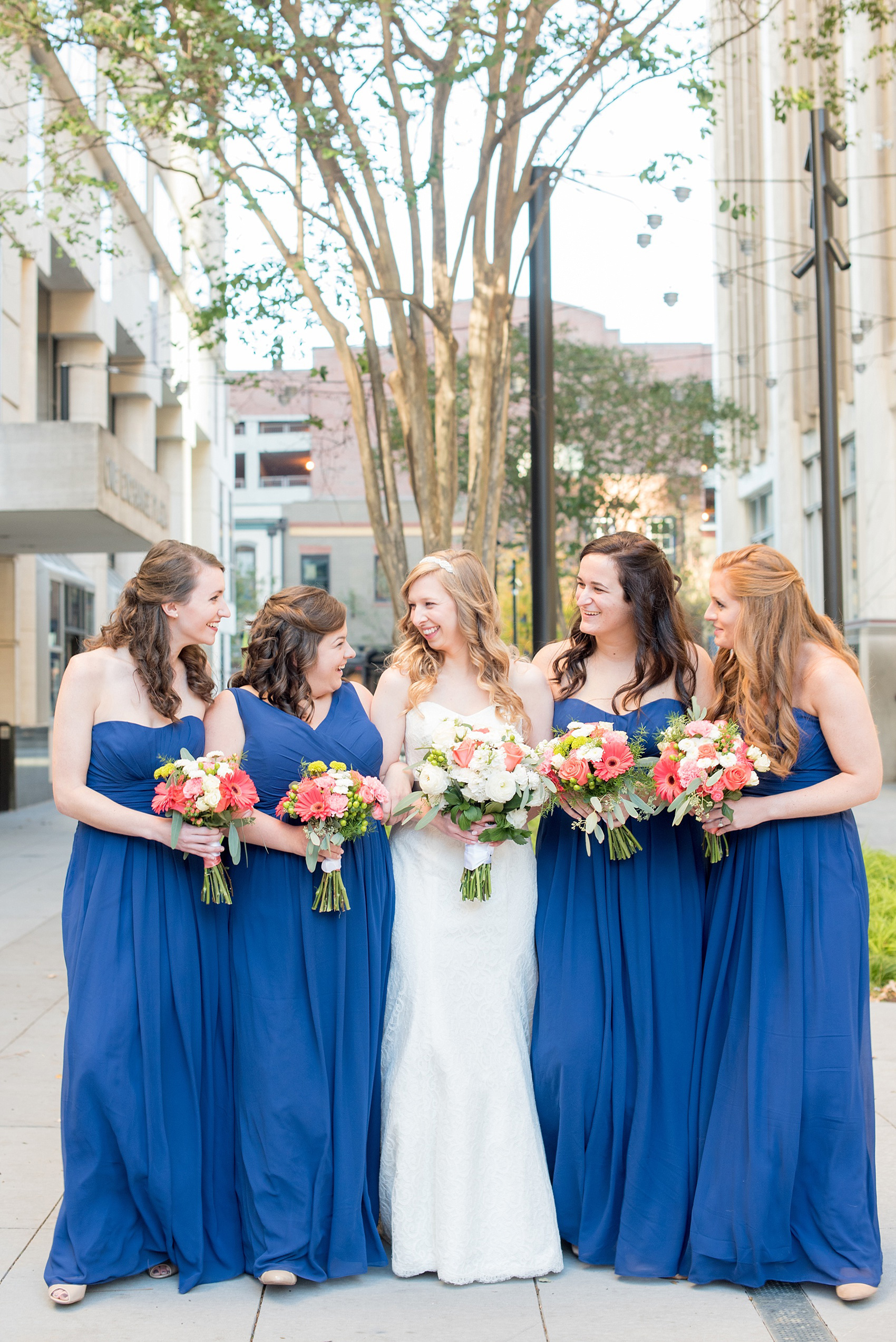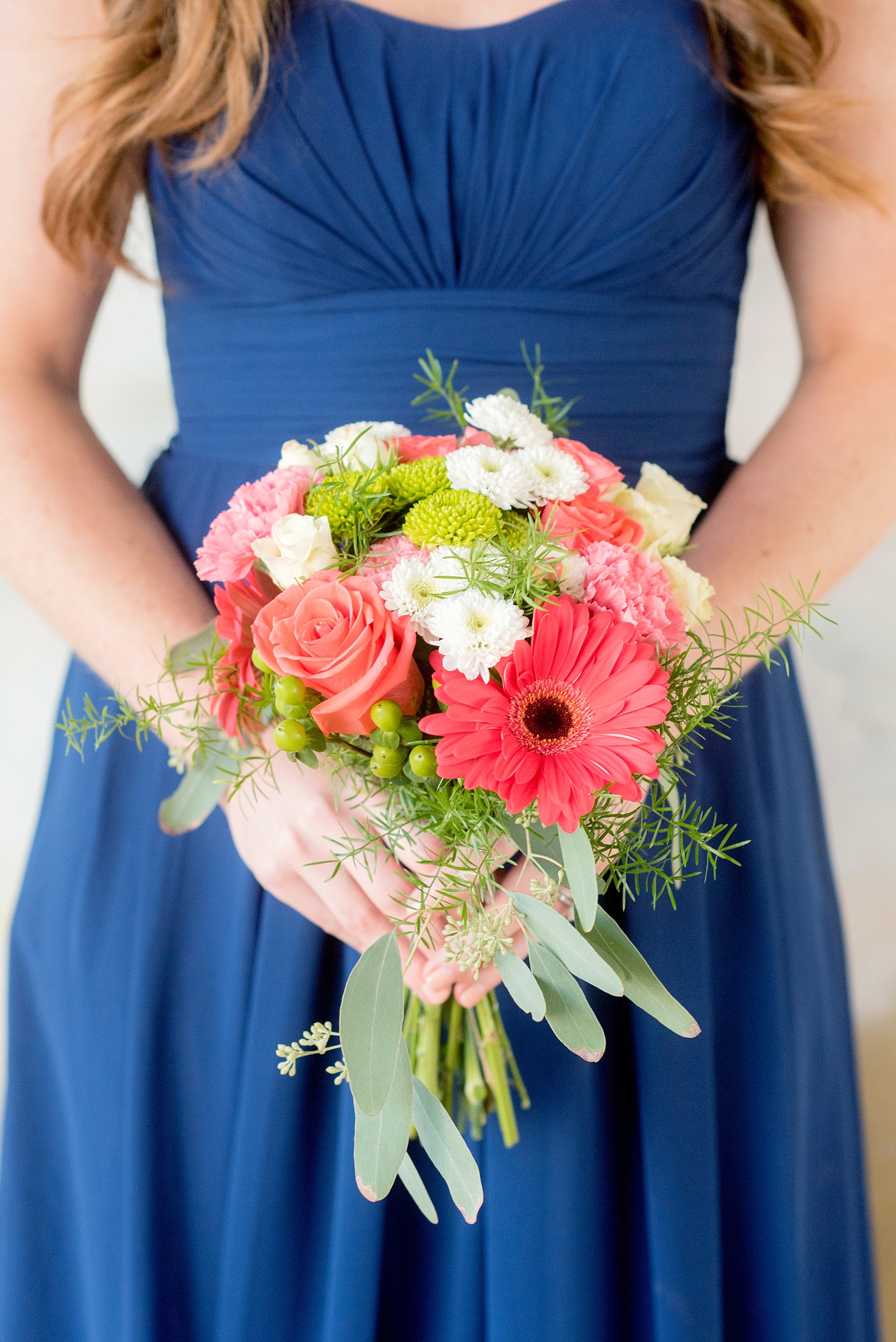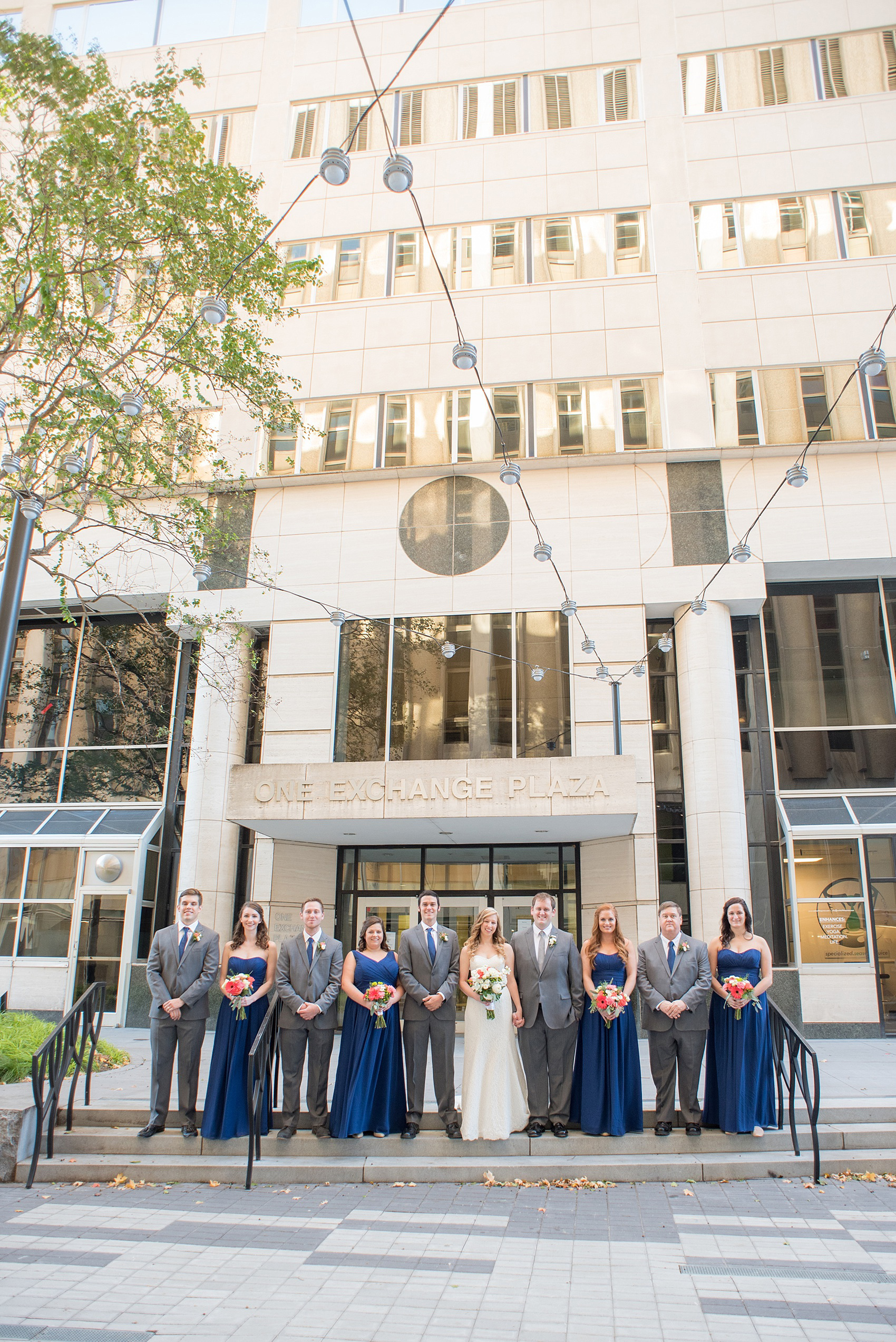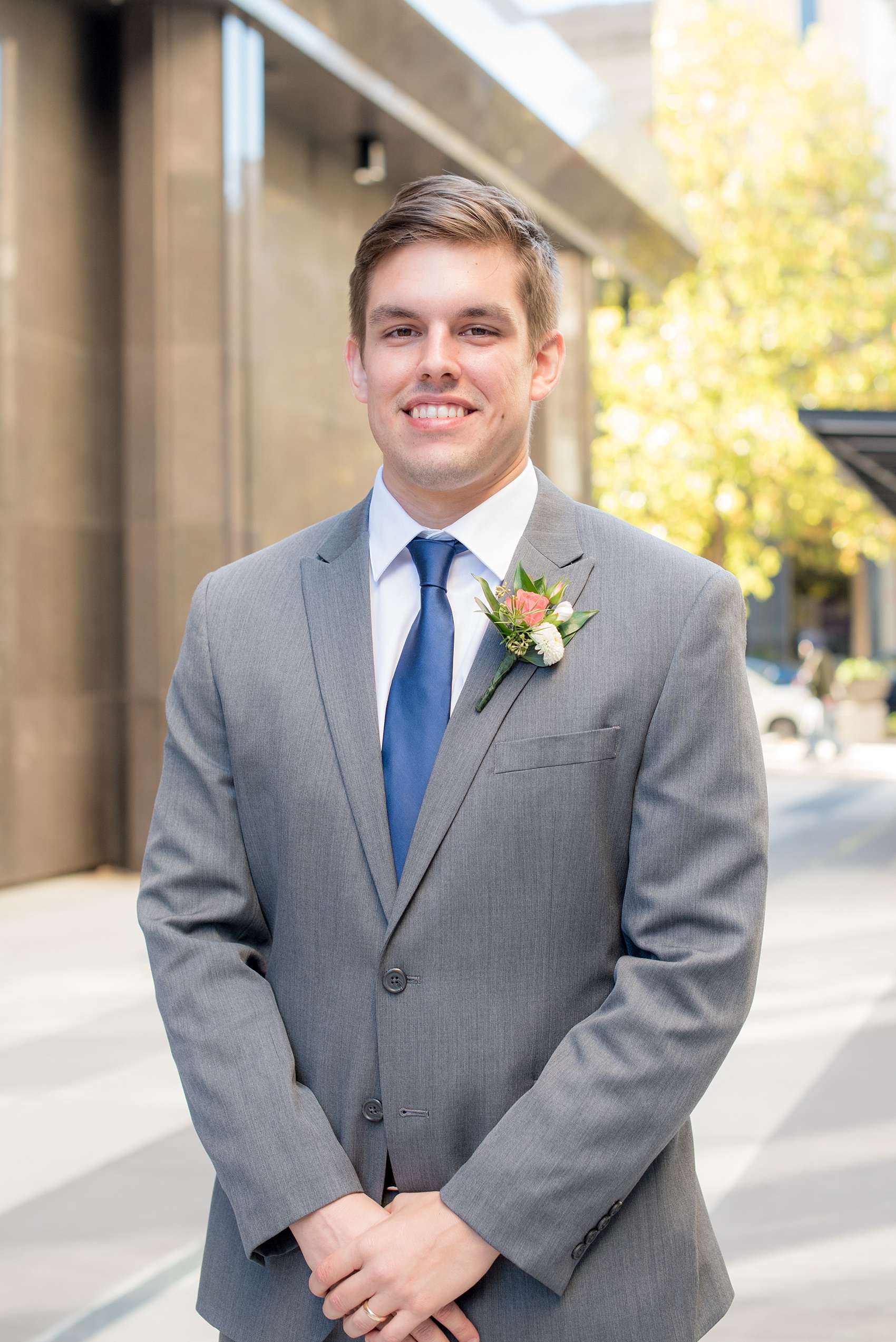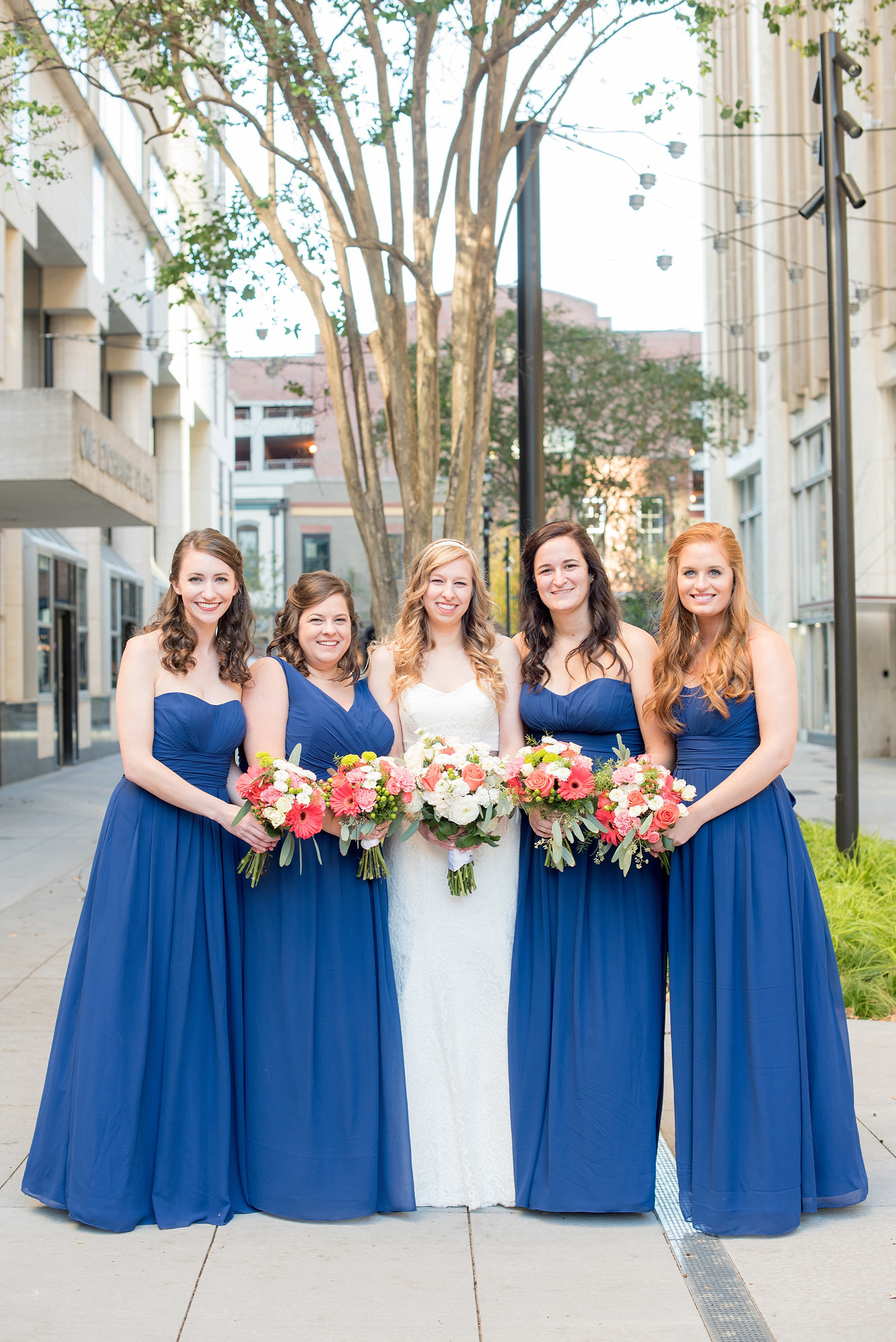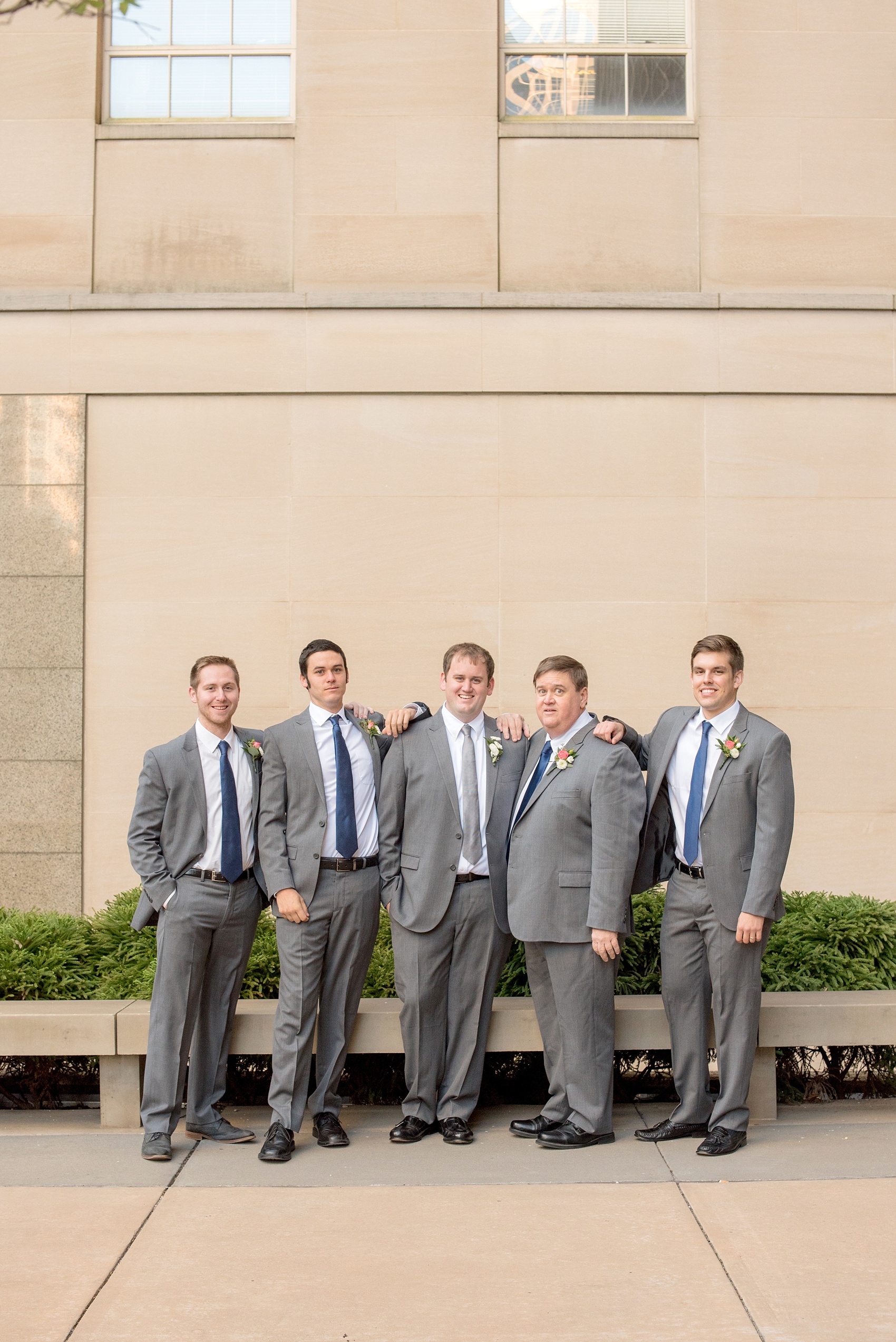 We stayed fairly local to The Stockroom at 230 area along Fayetteville Street because of the November temperatures and I happily took them to sites I'd been eyeing, like the post office's iconic columns, and the incredible mosaic mirror glass wall just around the corner. Even the bare trees created a wonderful frame for the bride and groom.
Boutonnieres with eucalyptus and coral spray roses looked beautfiul on grey suits with navy blue ties. Ben's light grey tie perfectly complimented Merrie's ribbon detail. She opted to wear an elegant beaded headband with her long wedding-day curls.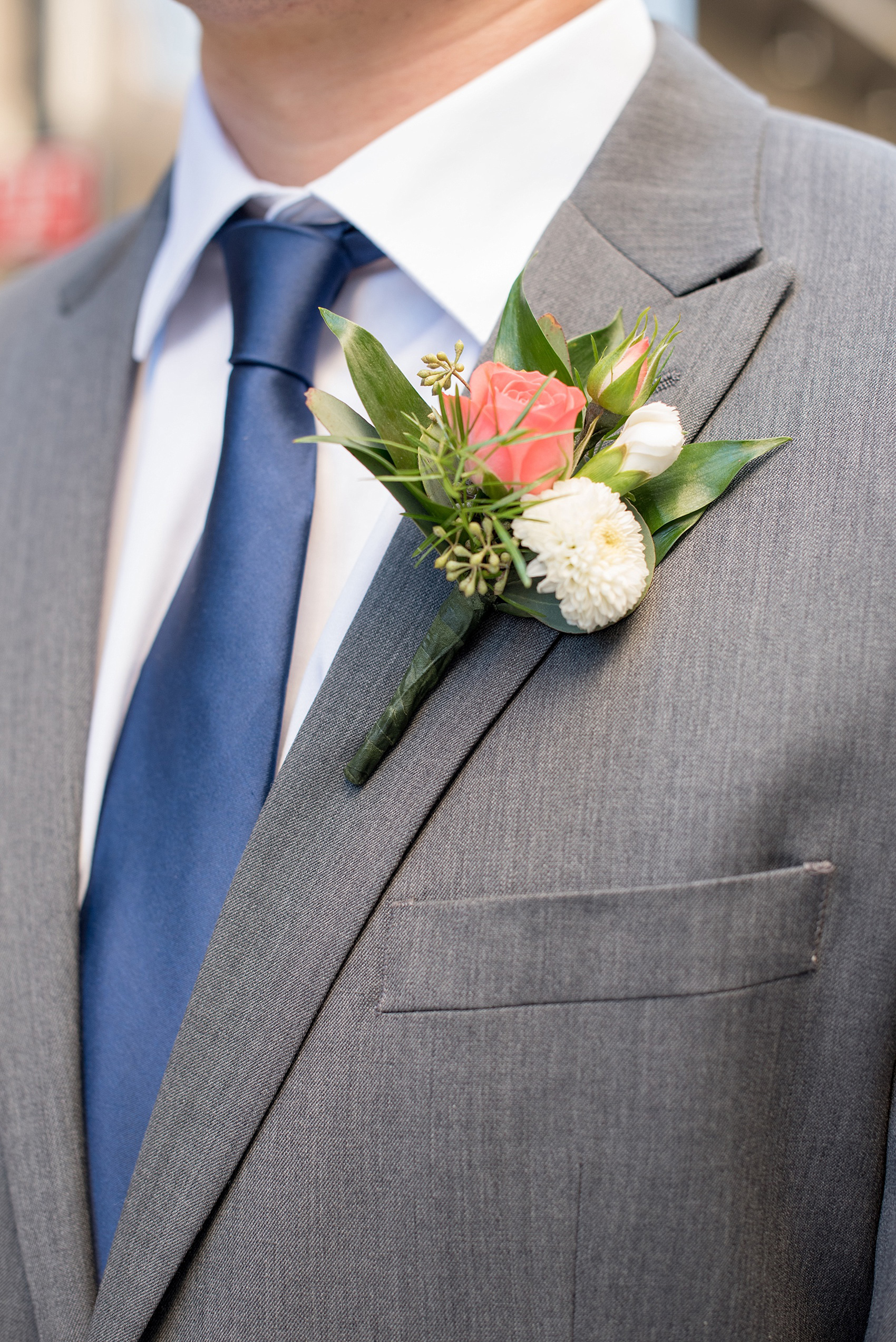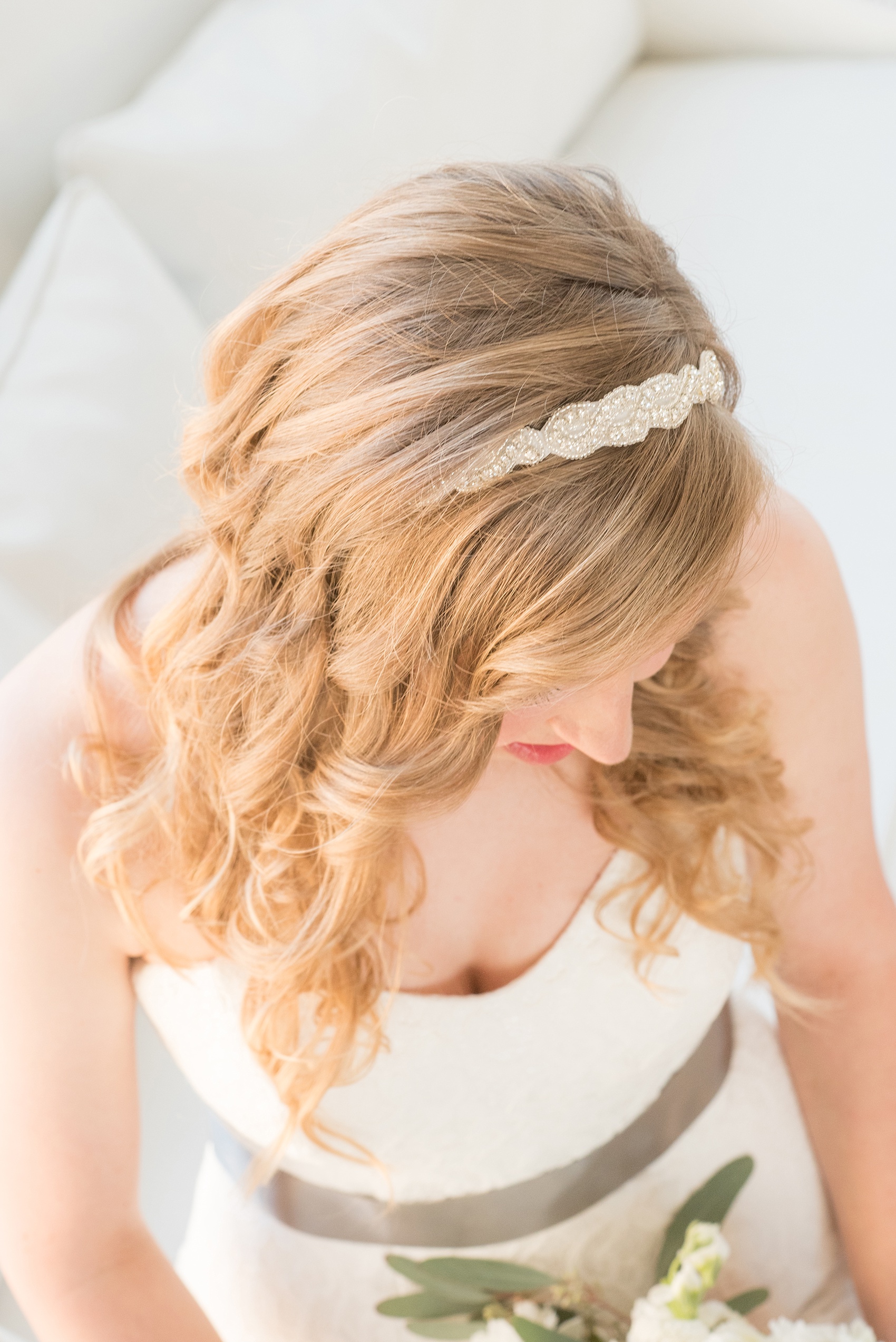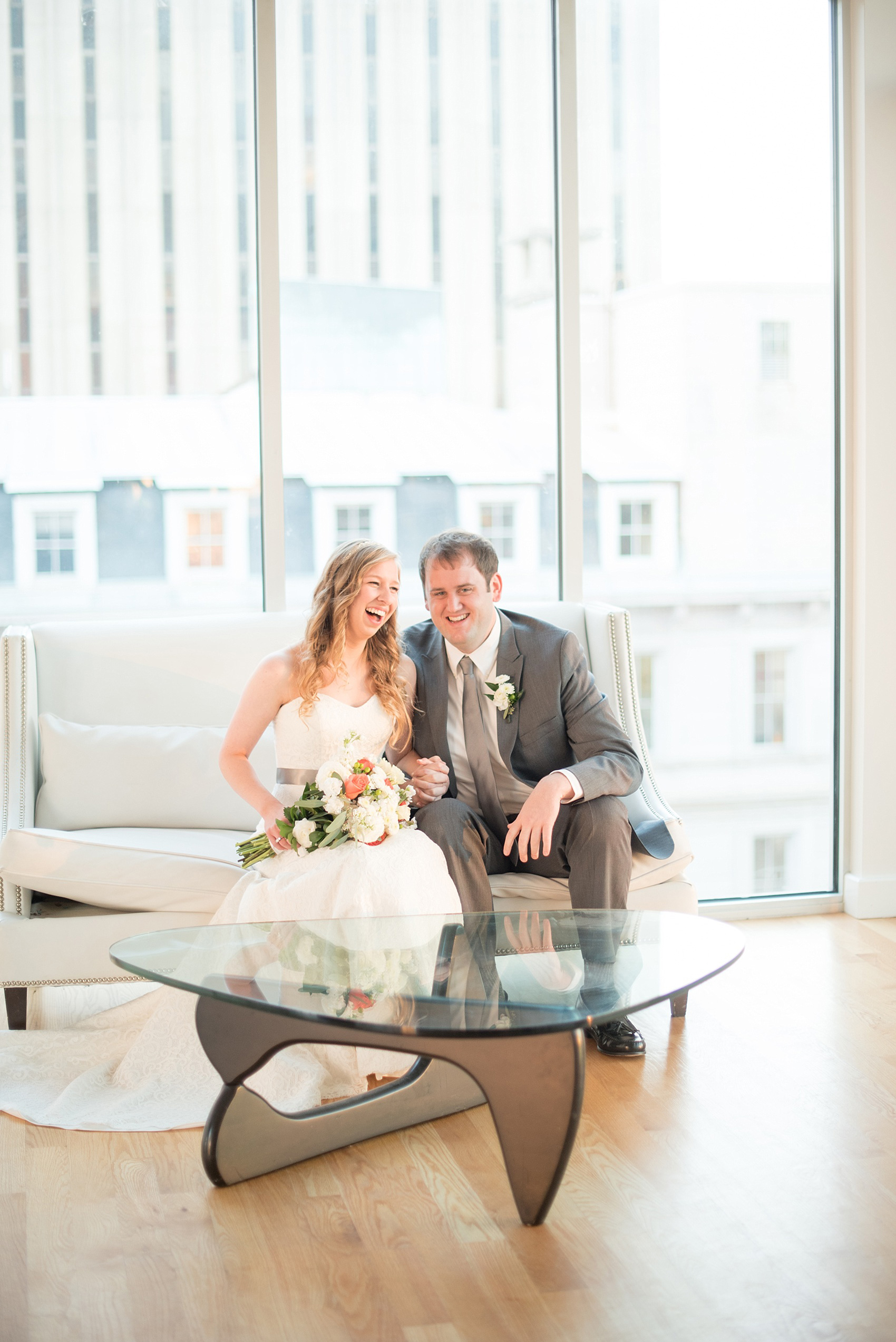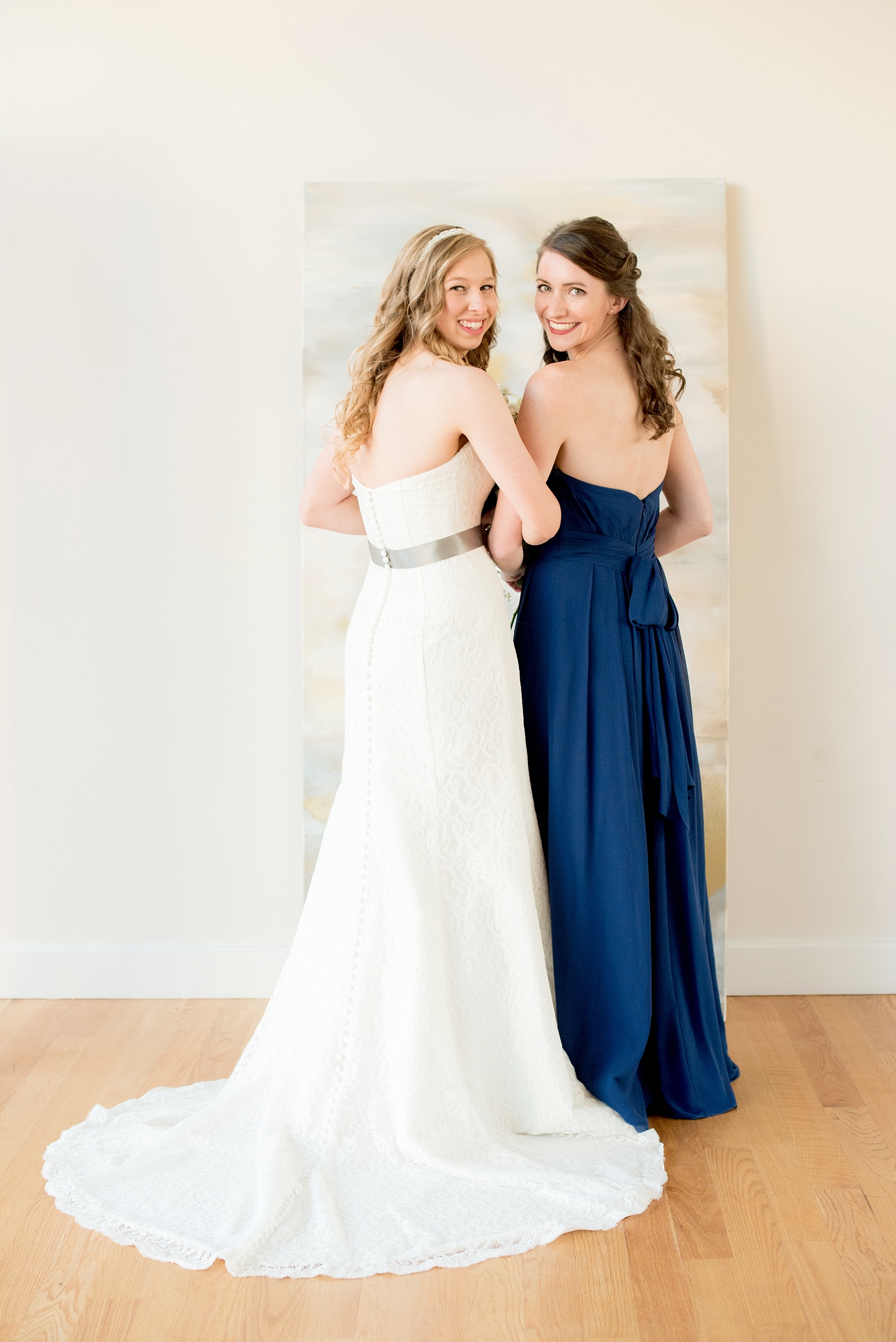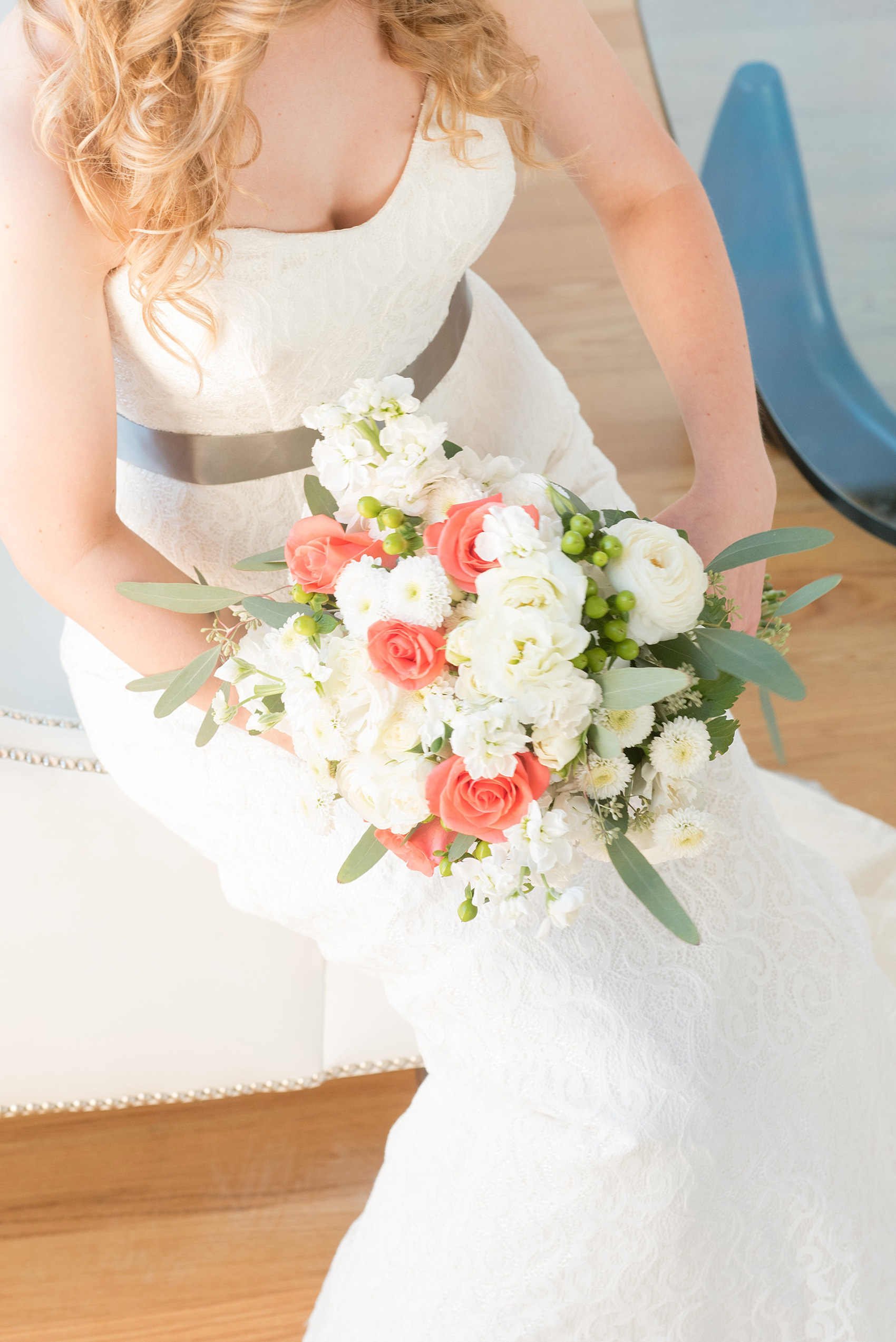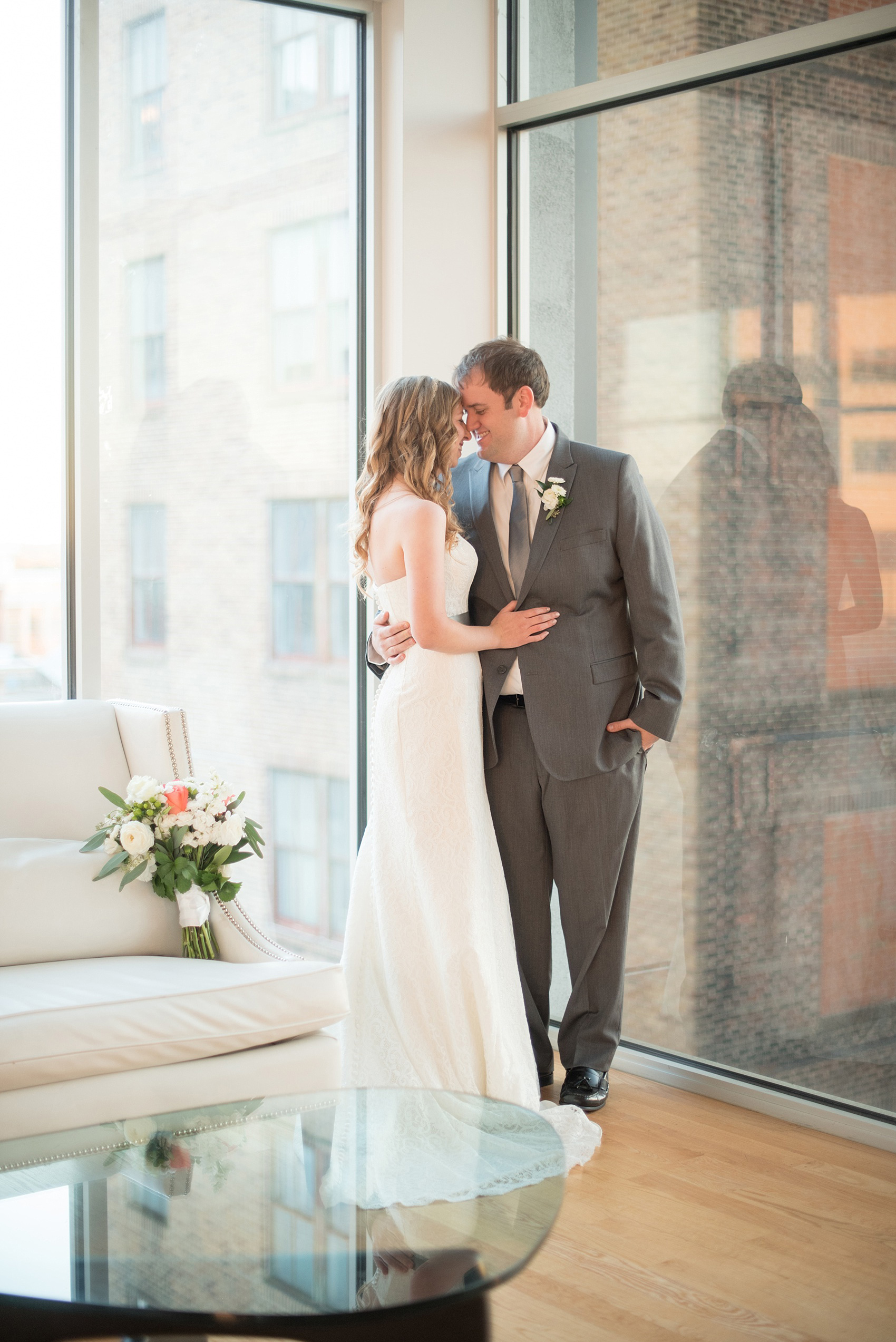 A few more photos before their reception, including taking advantage of The Glass Box's light, reflection and views and we were ready for their ceremony a few floors down from the top level of the building.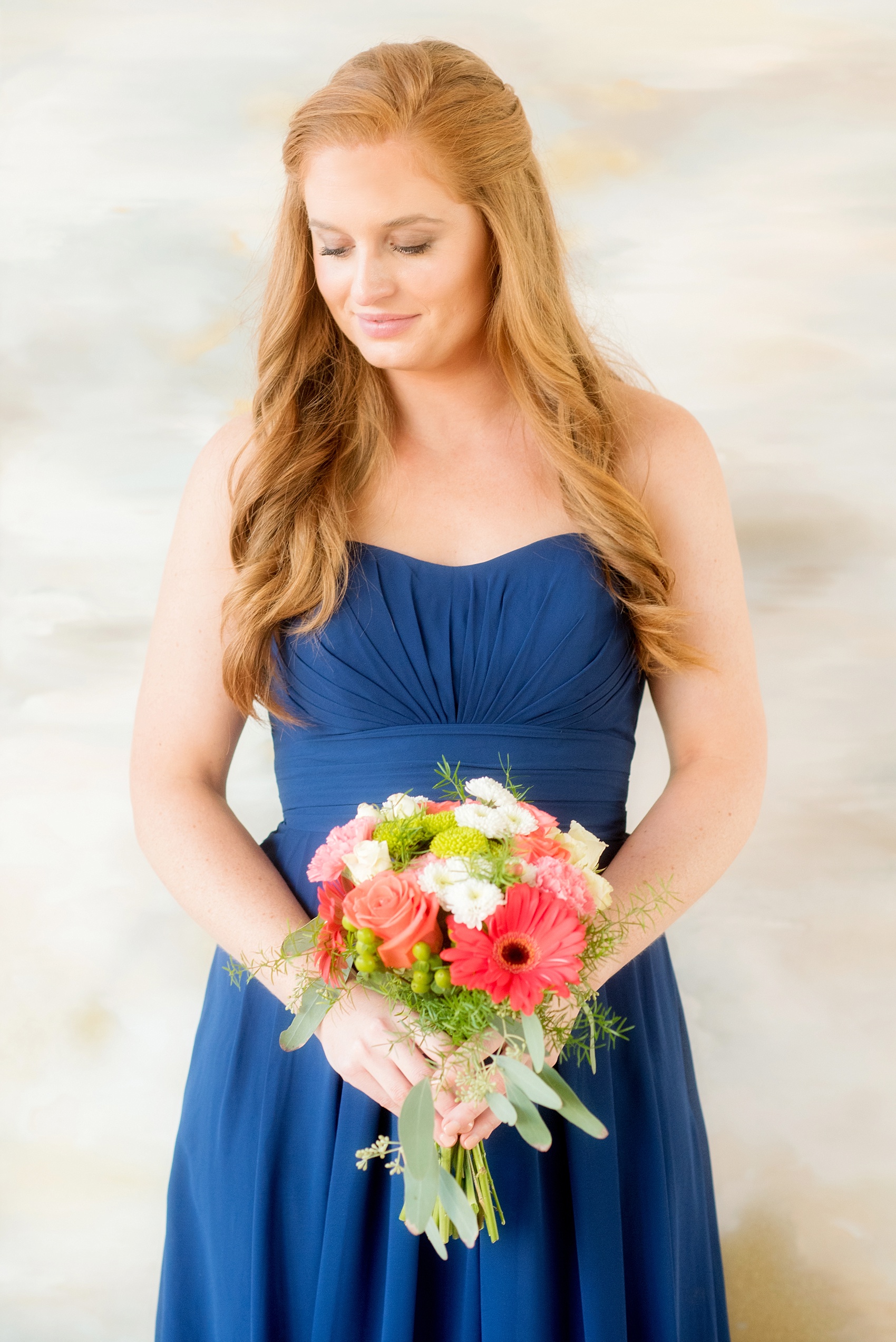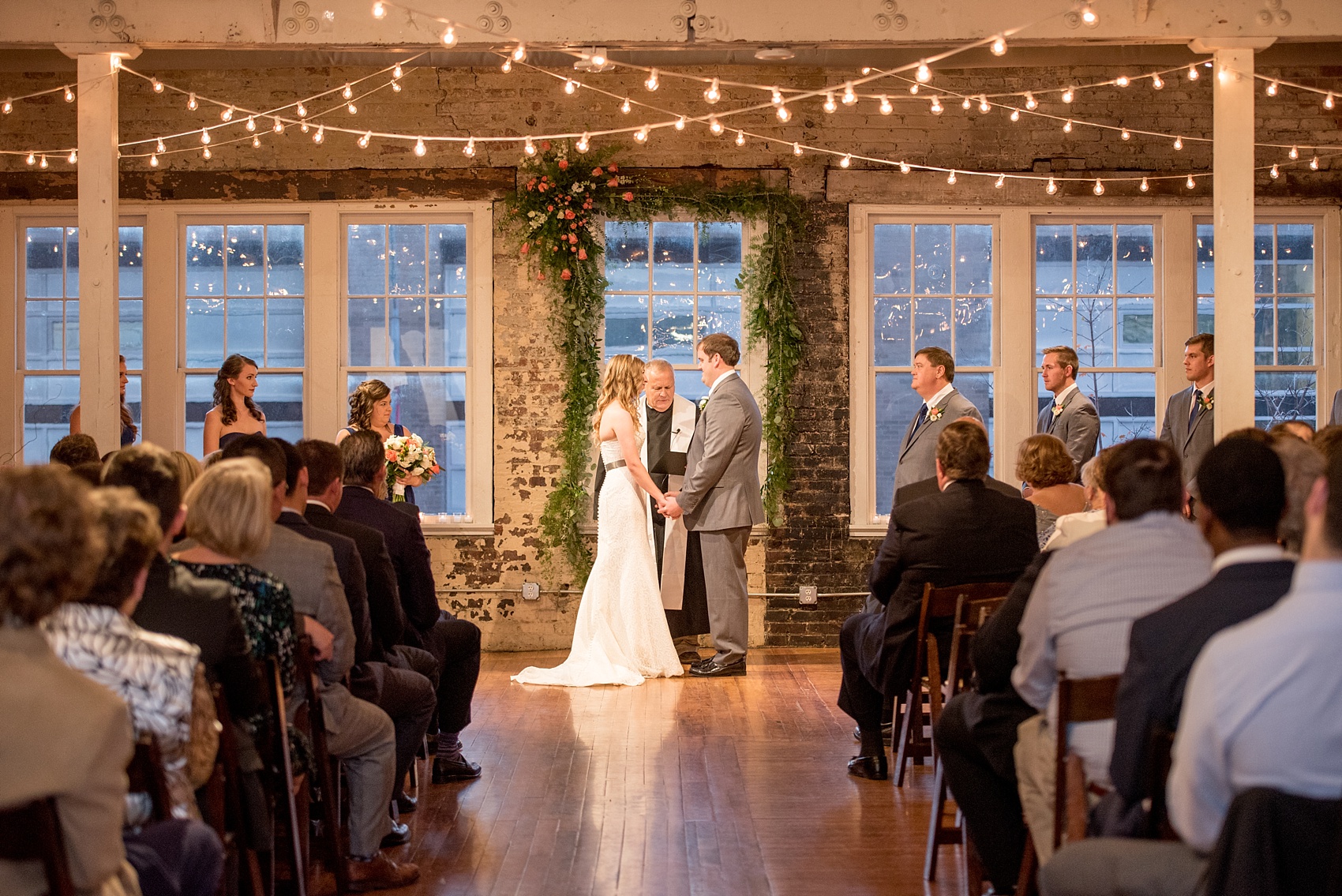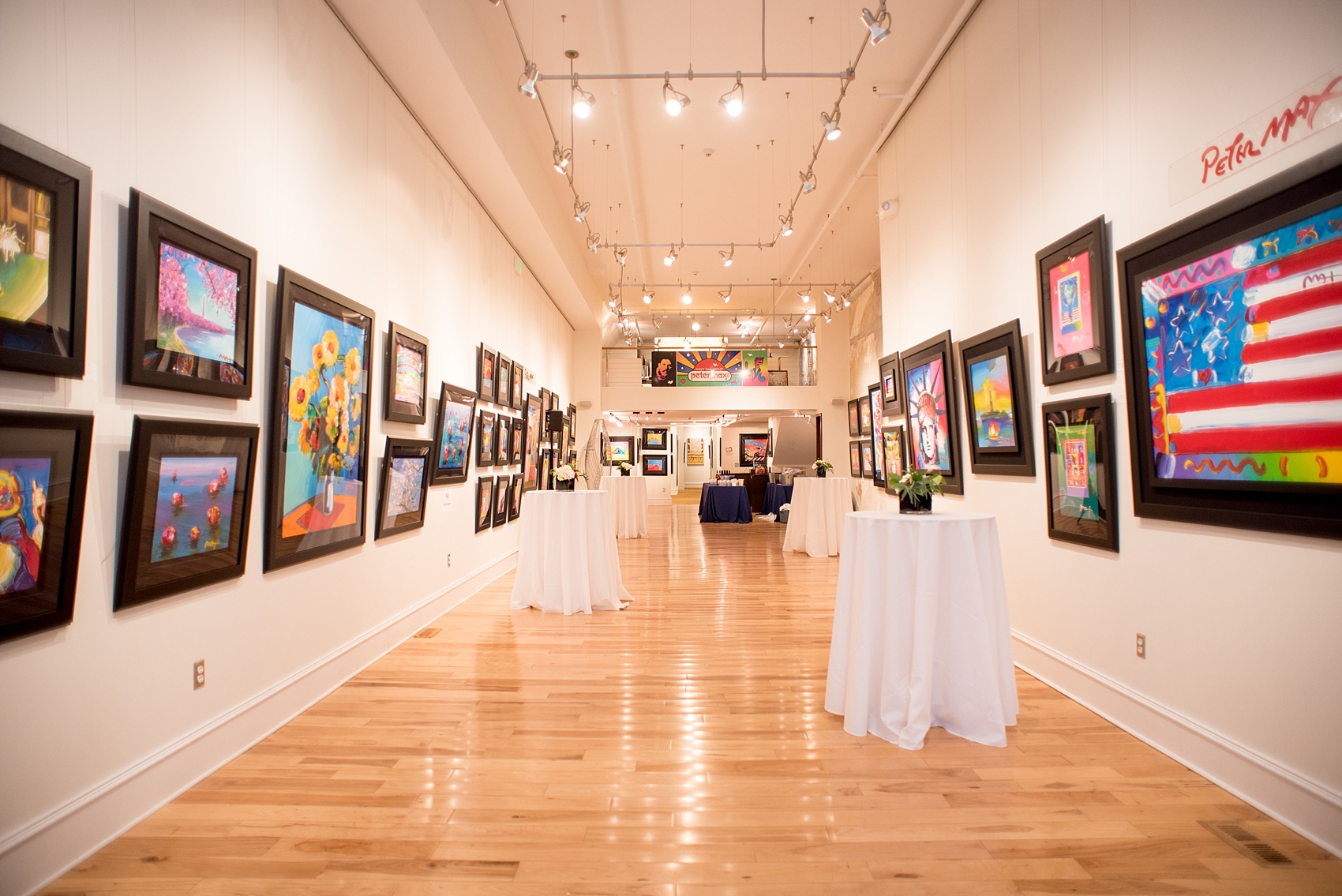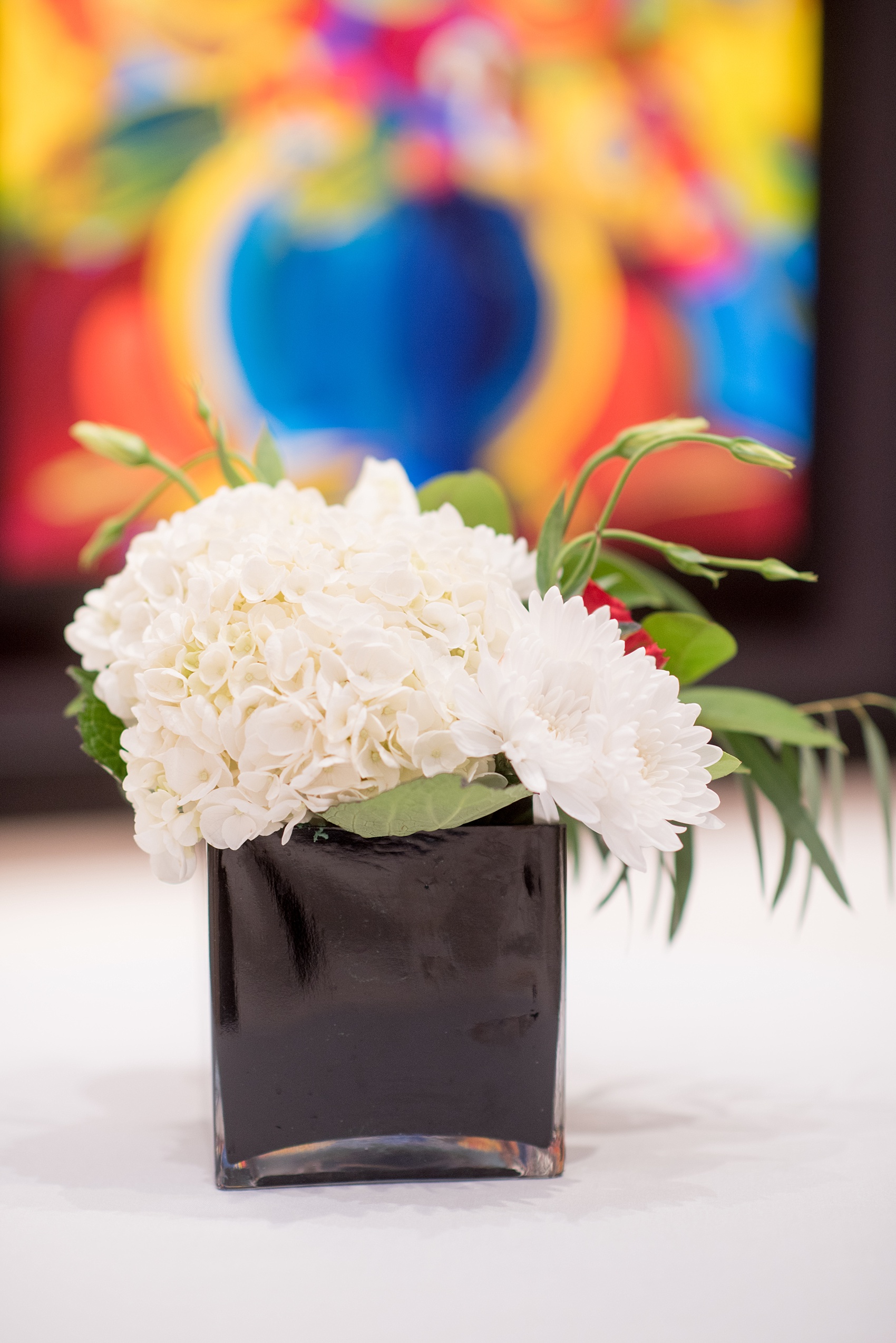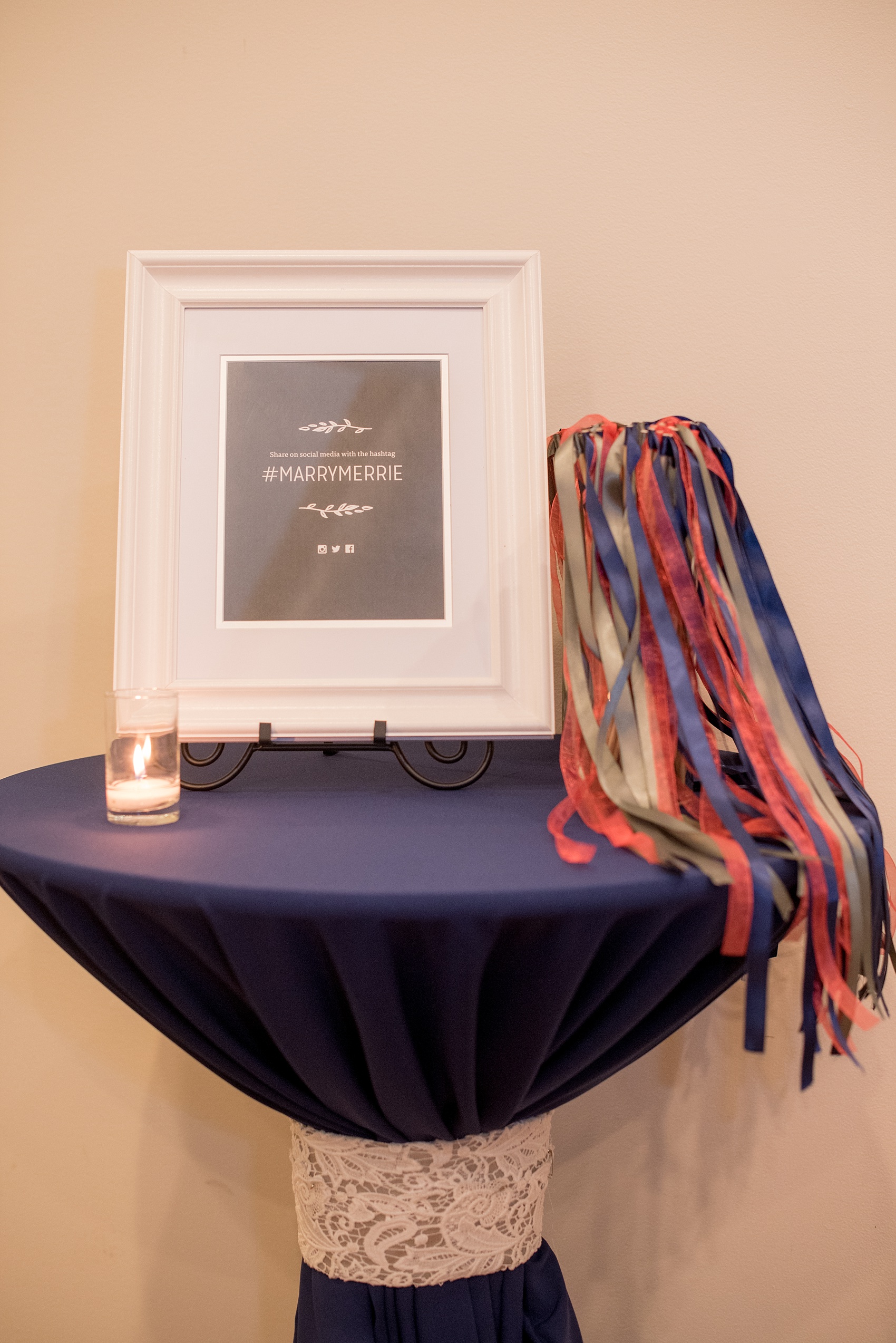 After cocktail hour next door at the Mahler Building, which is home to rotating art exhibits (they lucked out – Peter Max art was on display their wedding weekend!) everyone headed back over to The Stockroom at 230 for dinner and dancing. #MarryMerrie was their hashtag, indicated to guests on multiple framed signs around the venue, like this one next to their evening sendoff ribbon wands.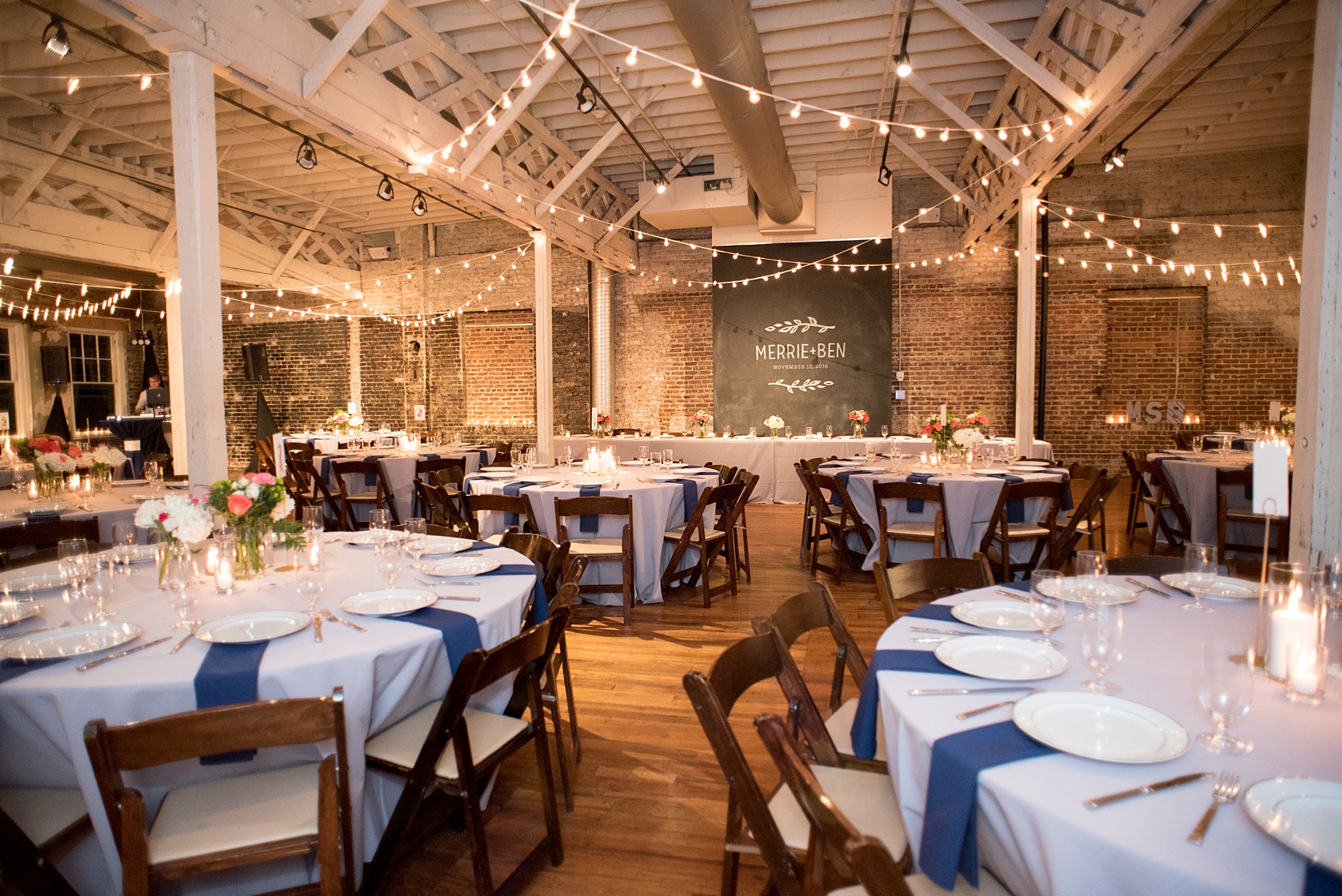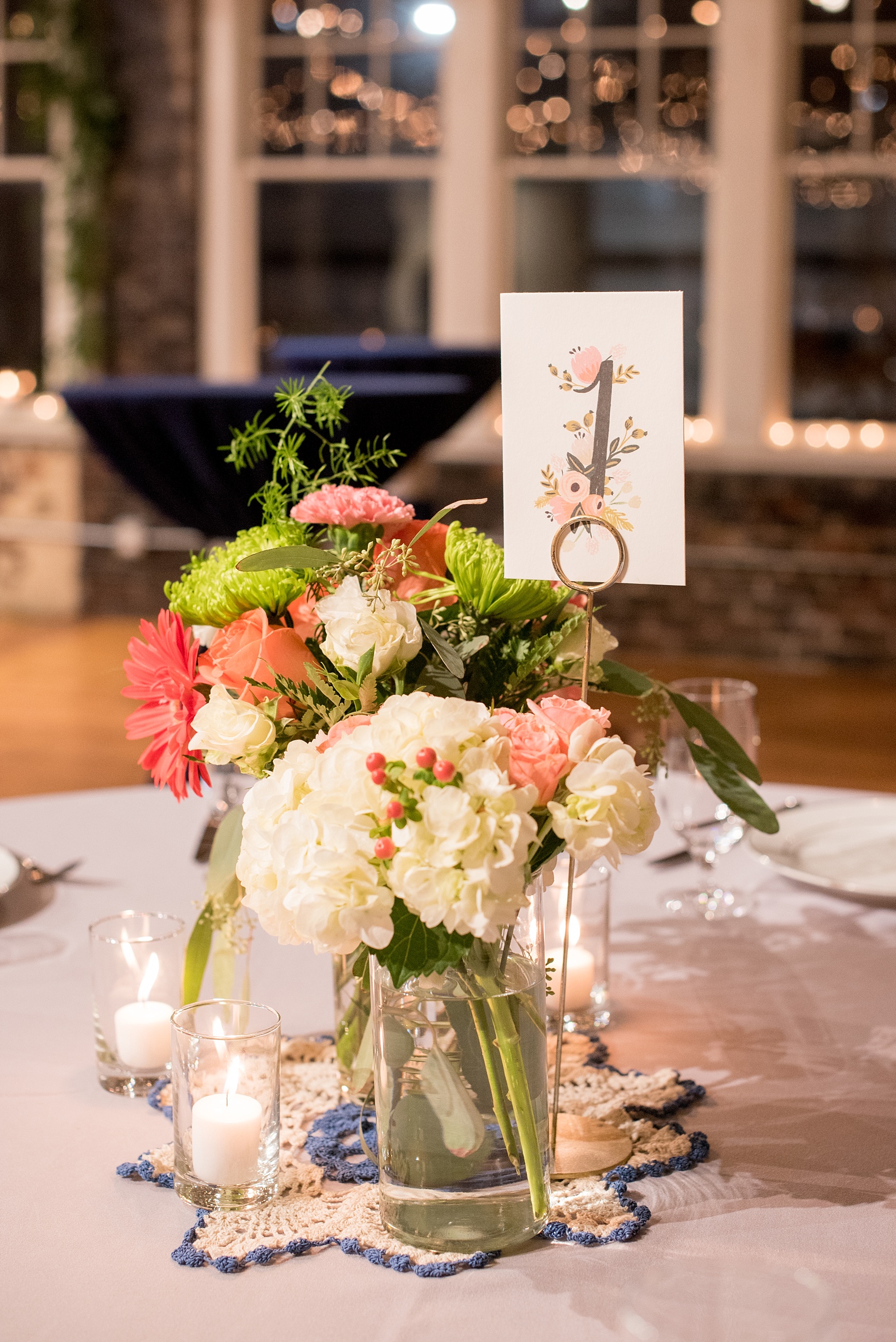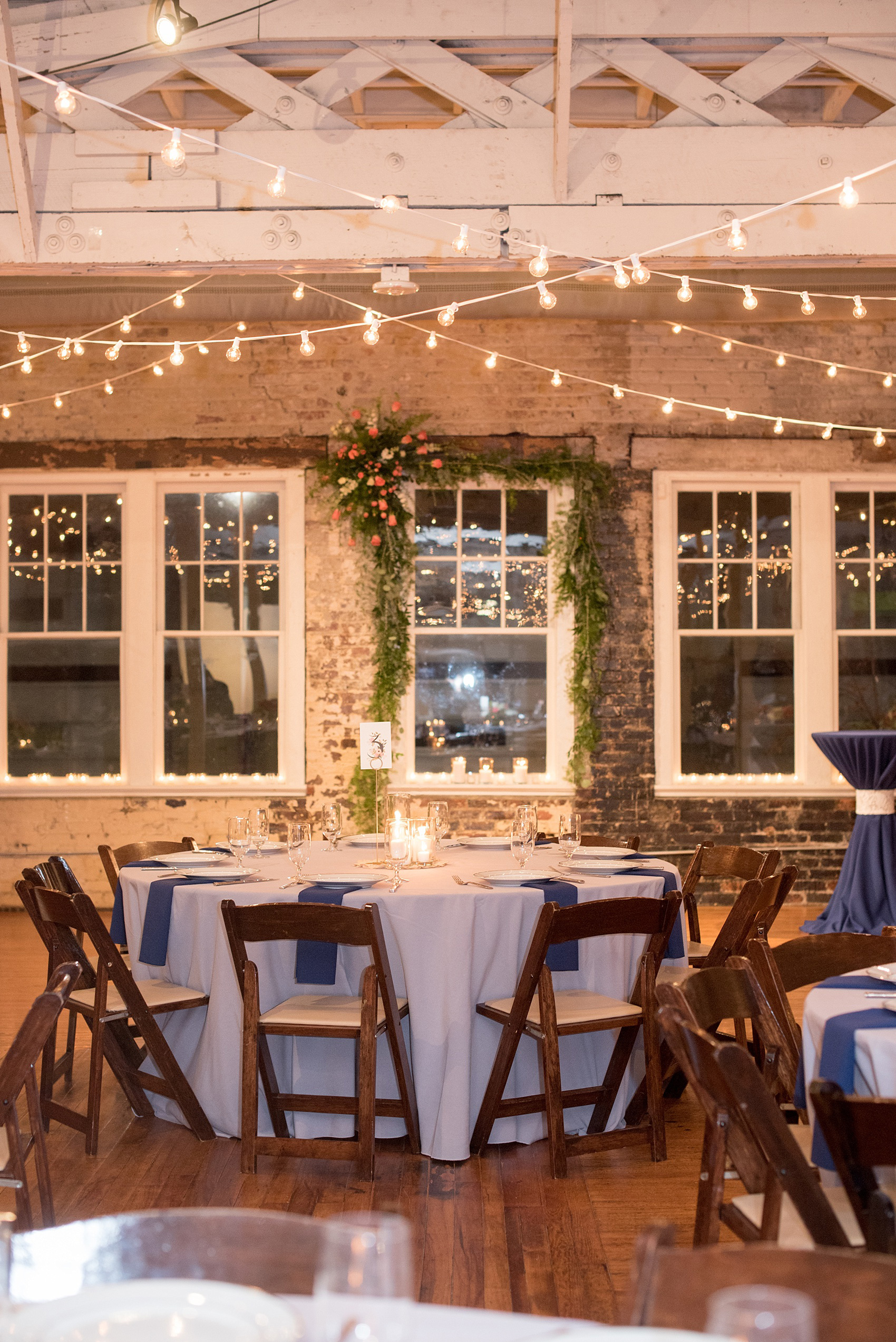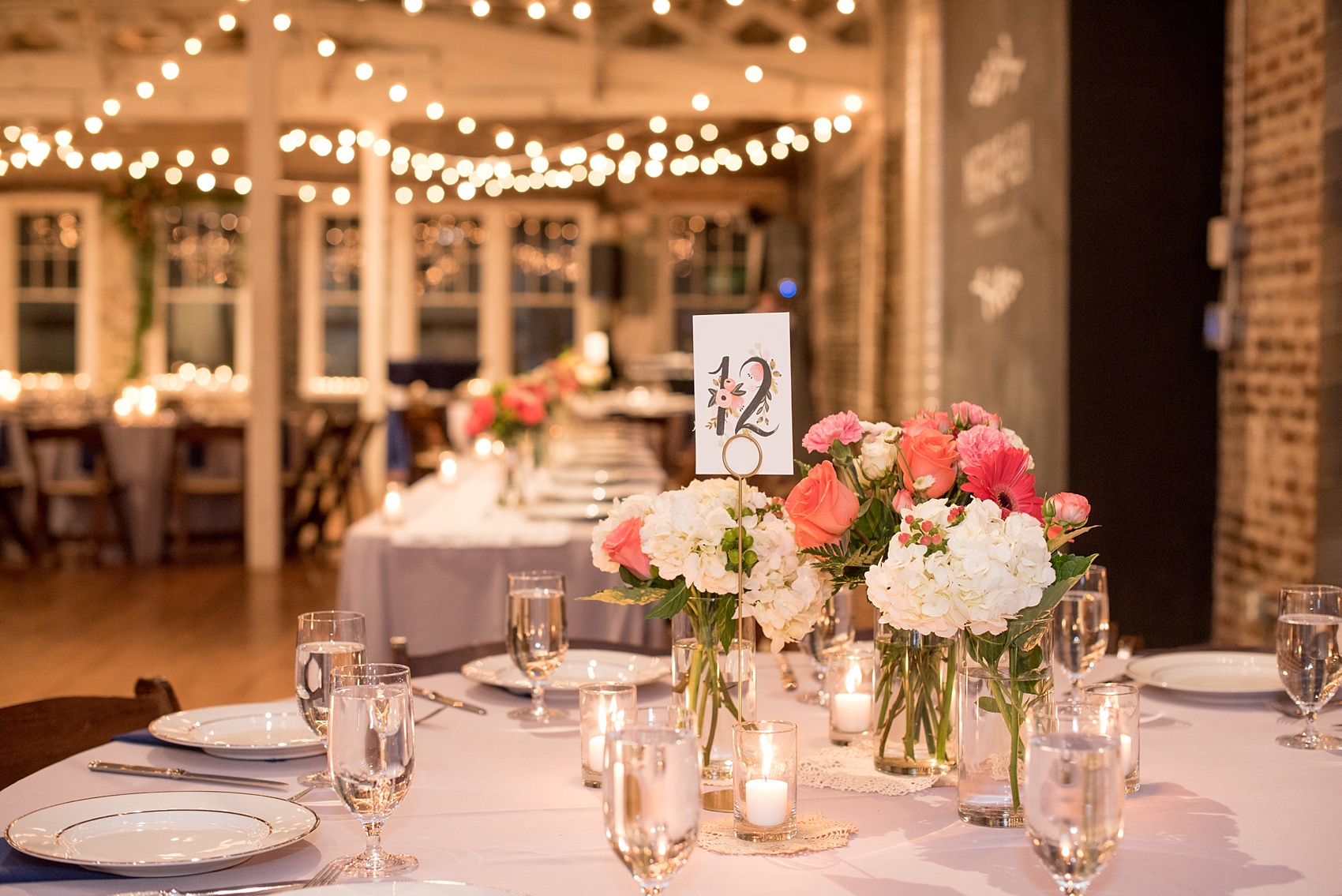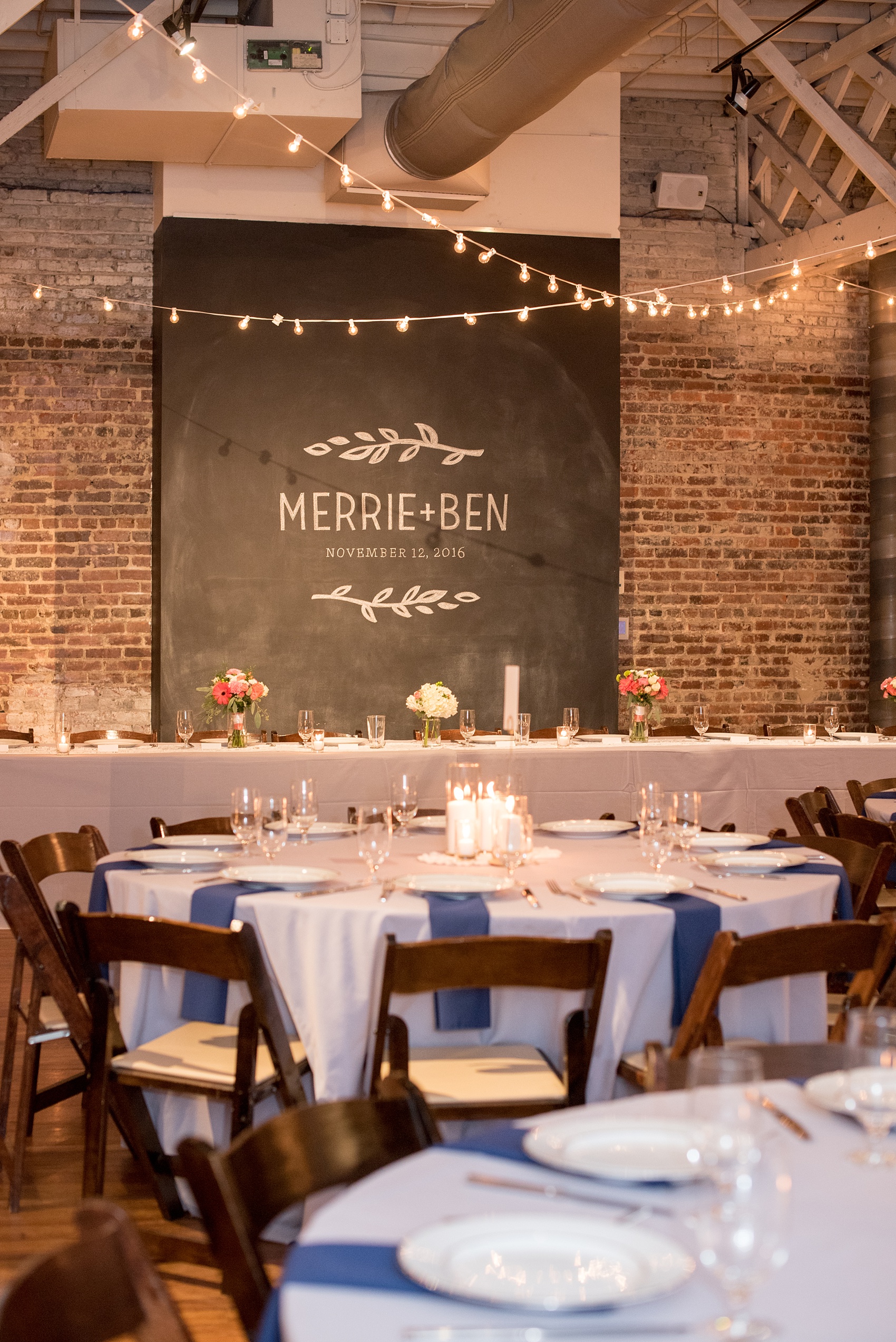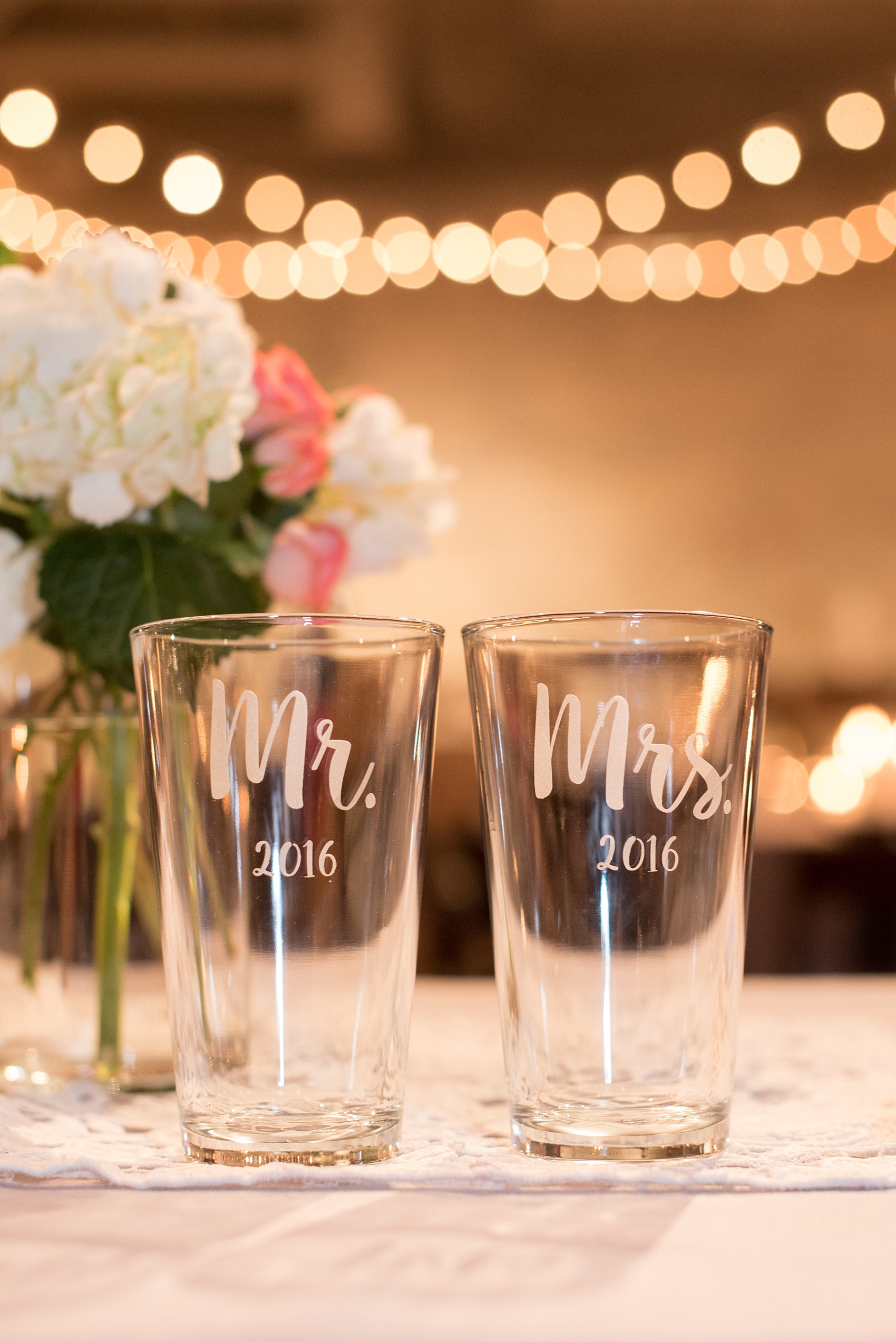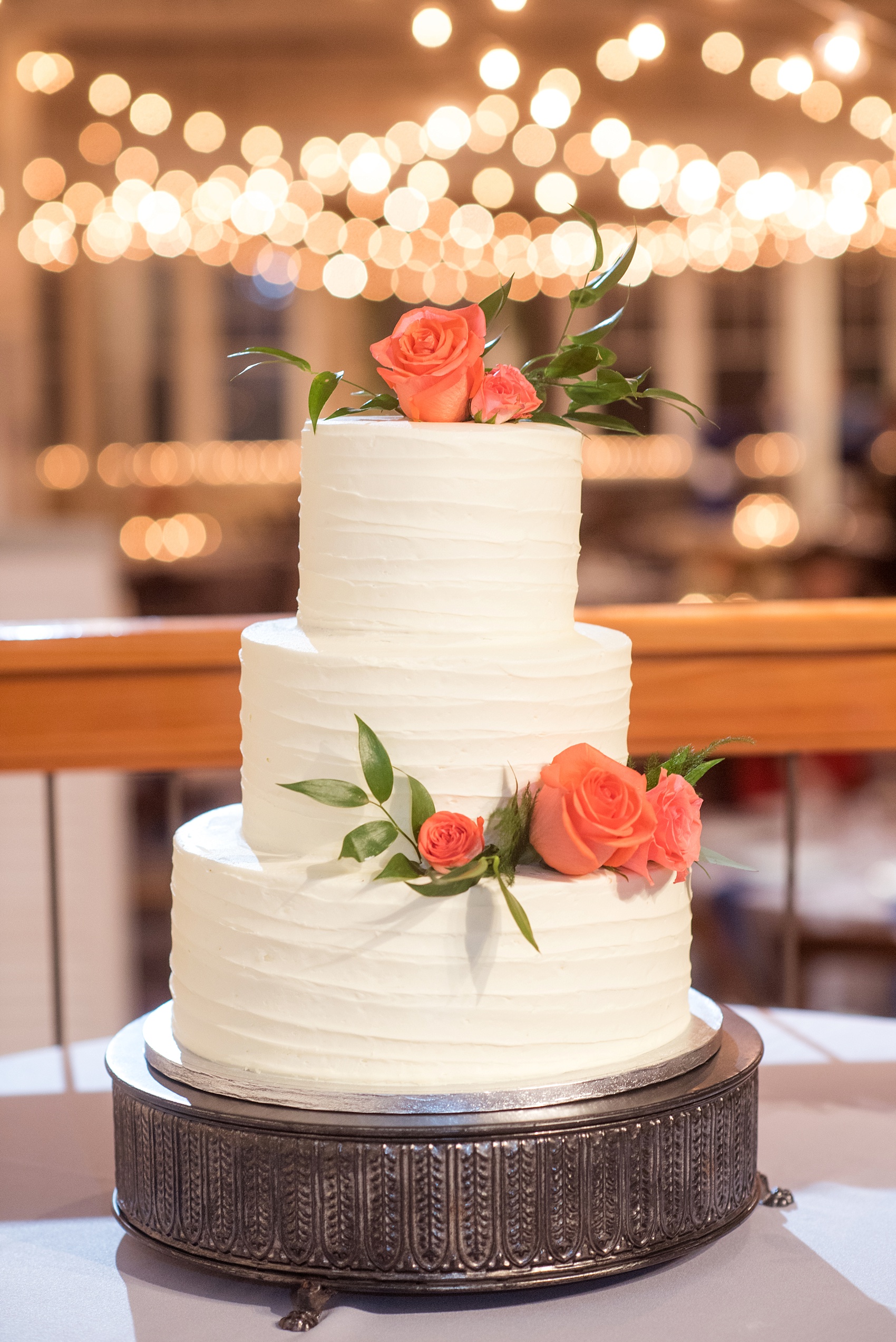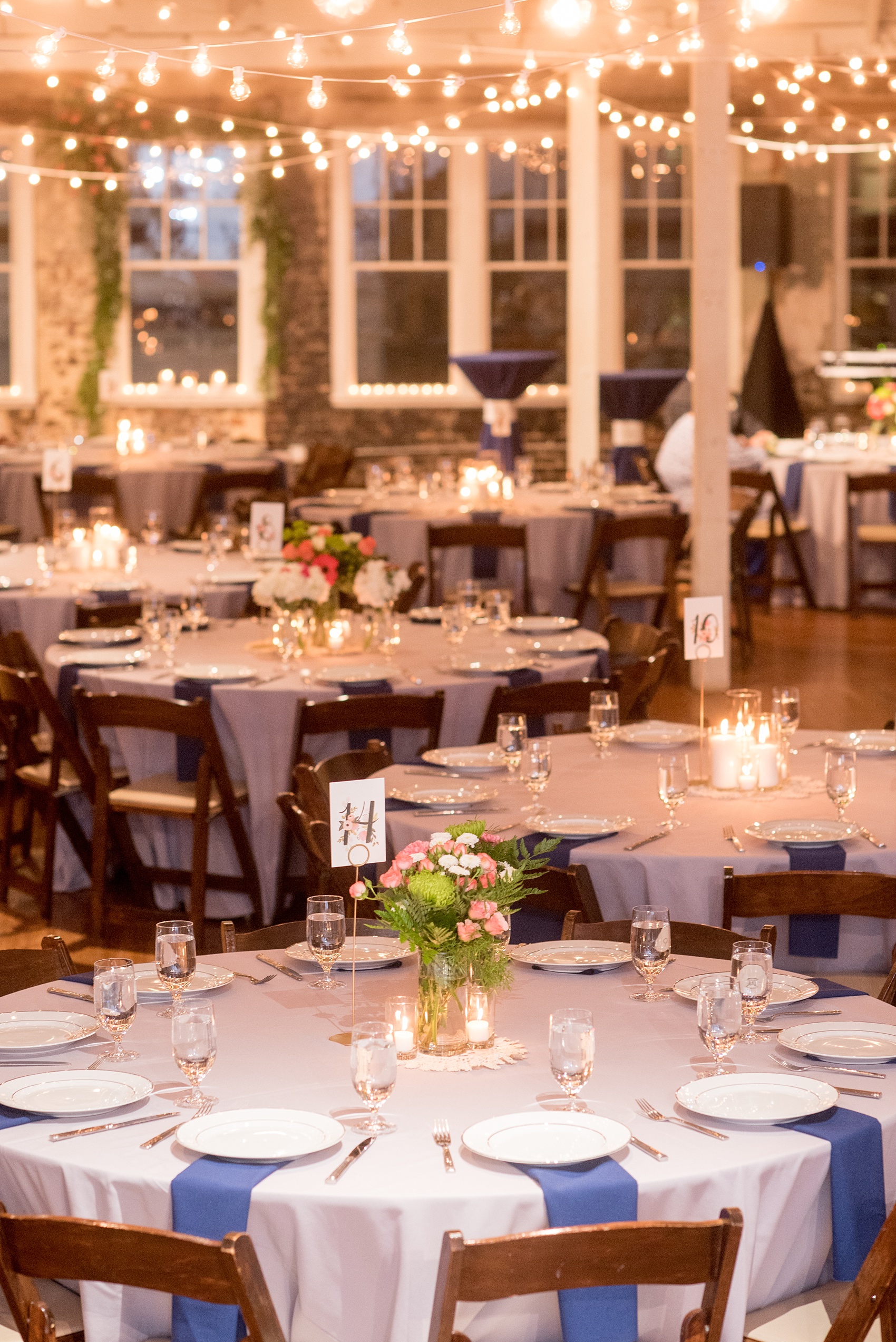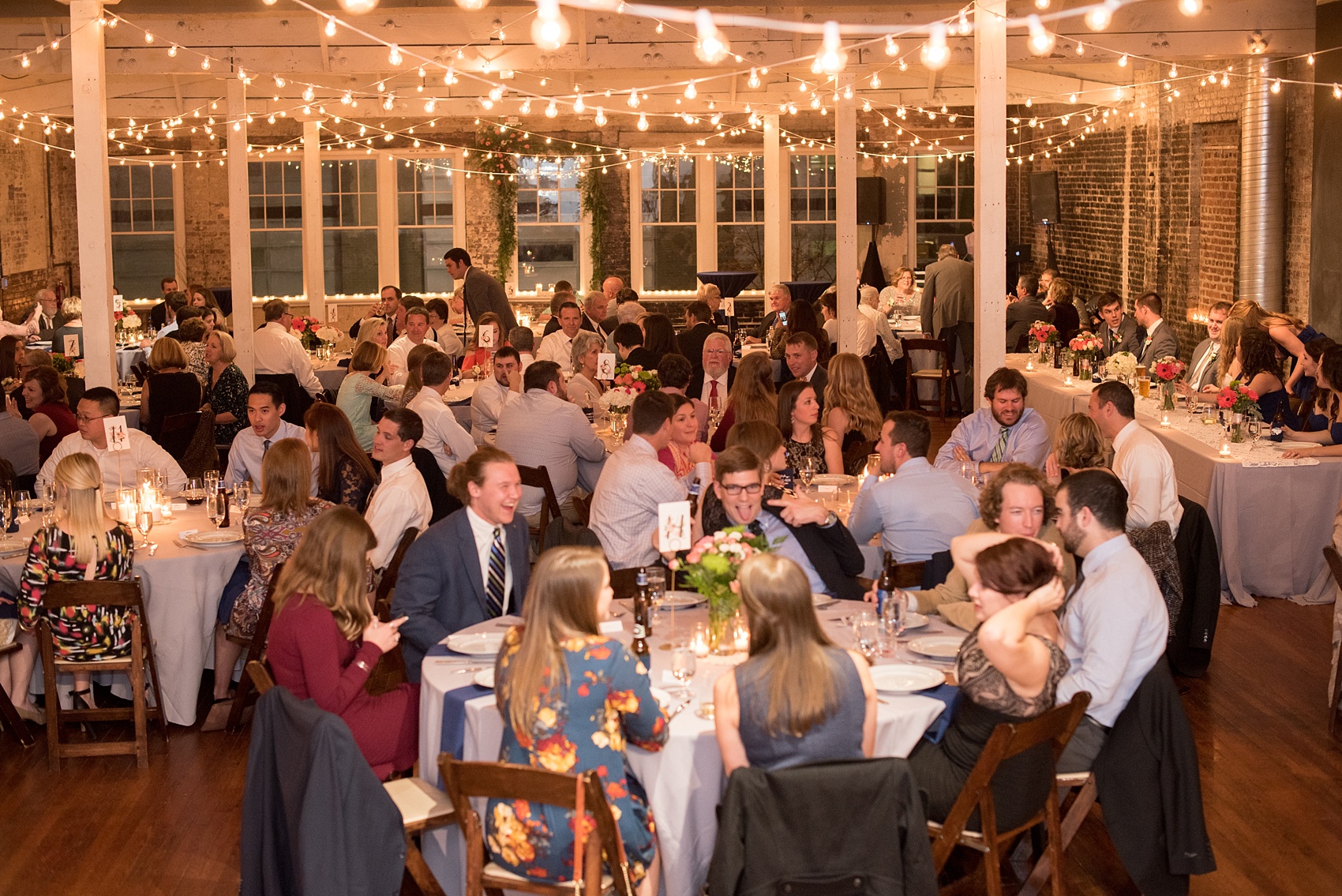 Mixed blue and grey linens were topped with romantic candles, various doiles handmade by family members, and floral centerpieces. Rifle Paper Co table numbers coincidentally matched the custom invitations Merrie's sister created.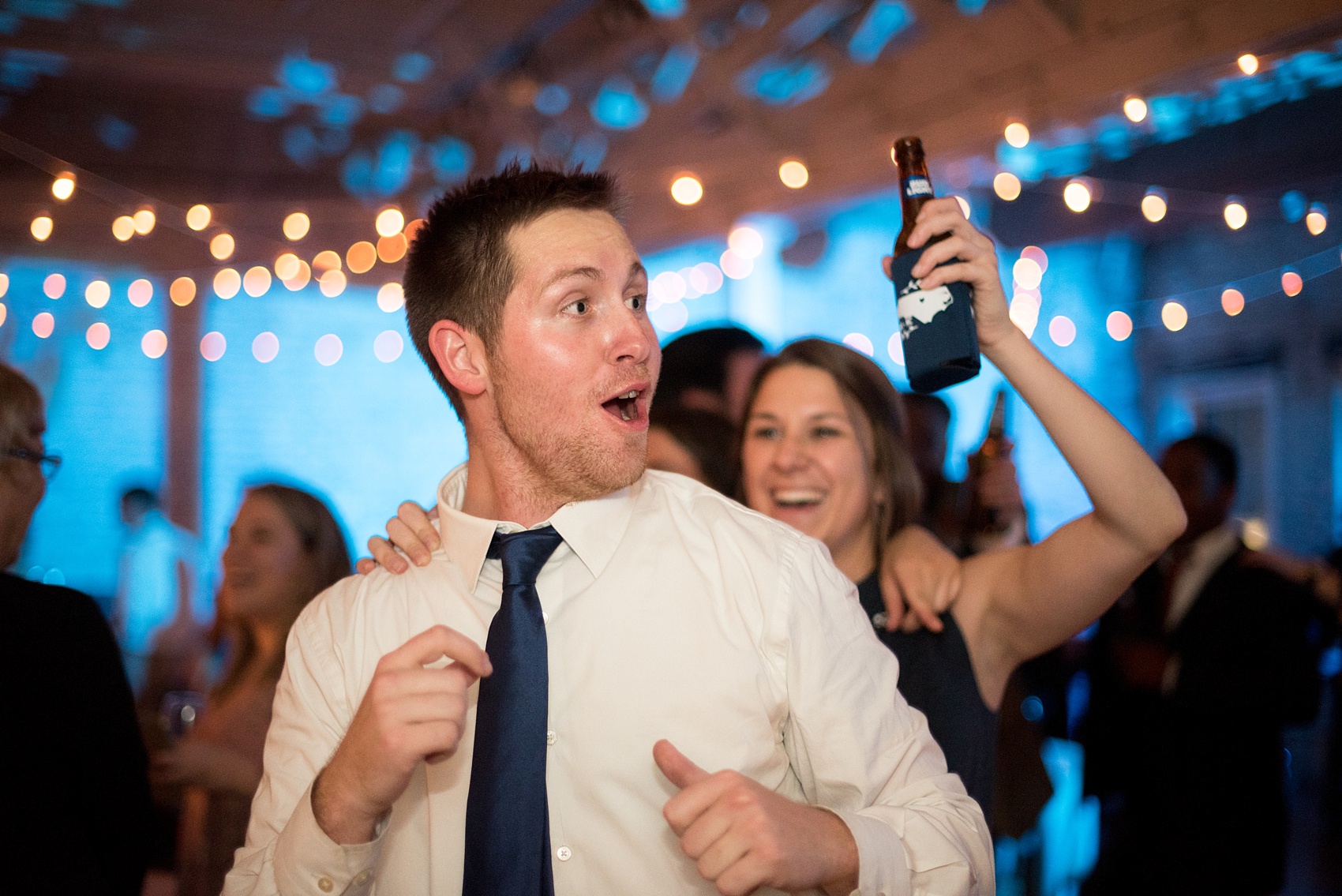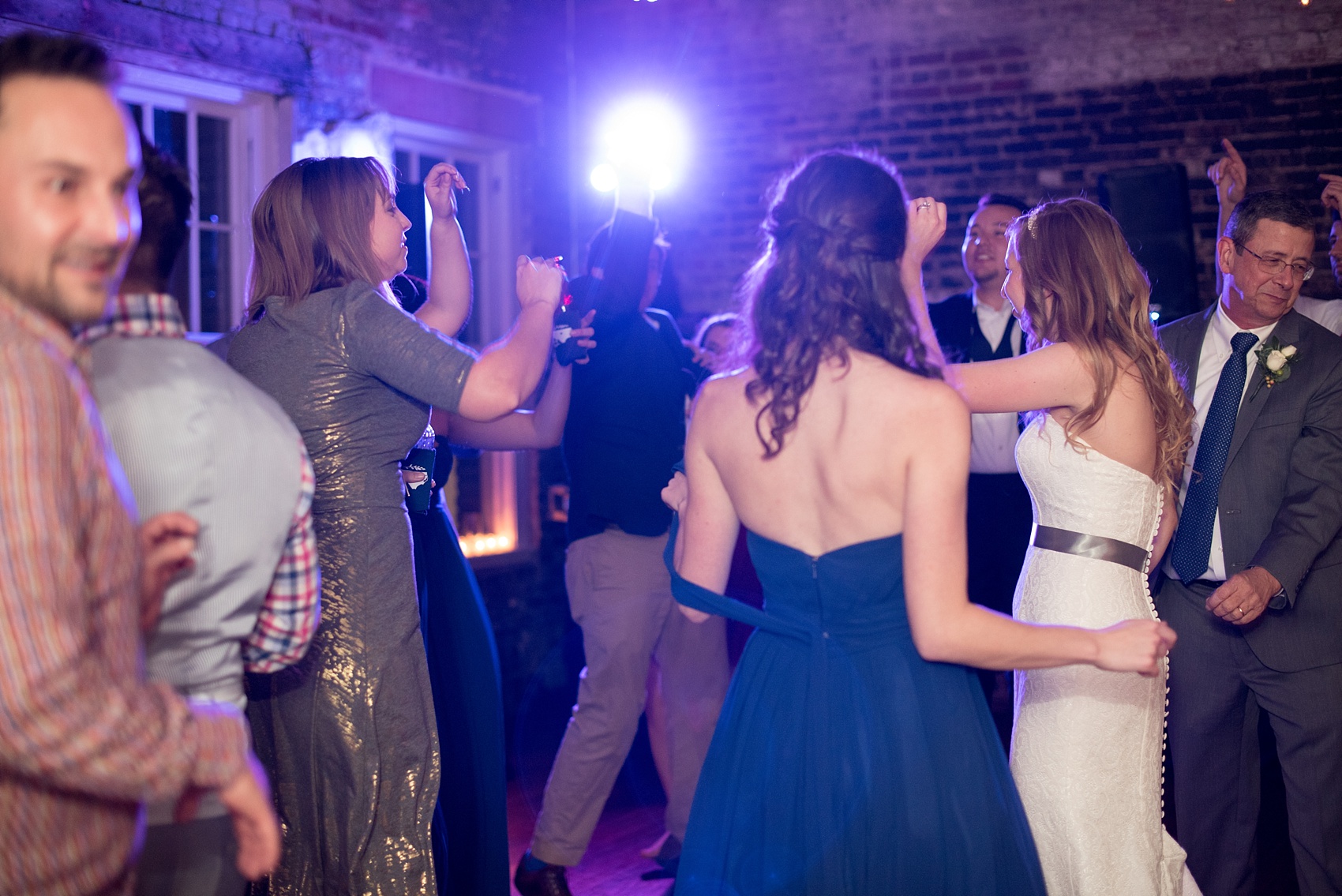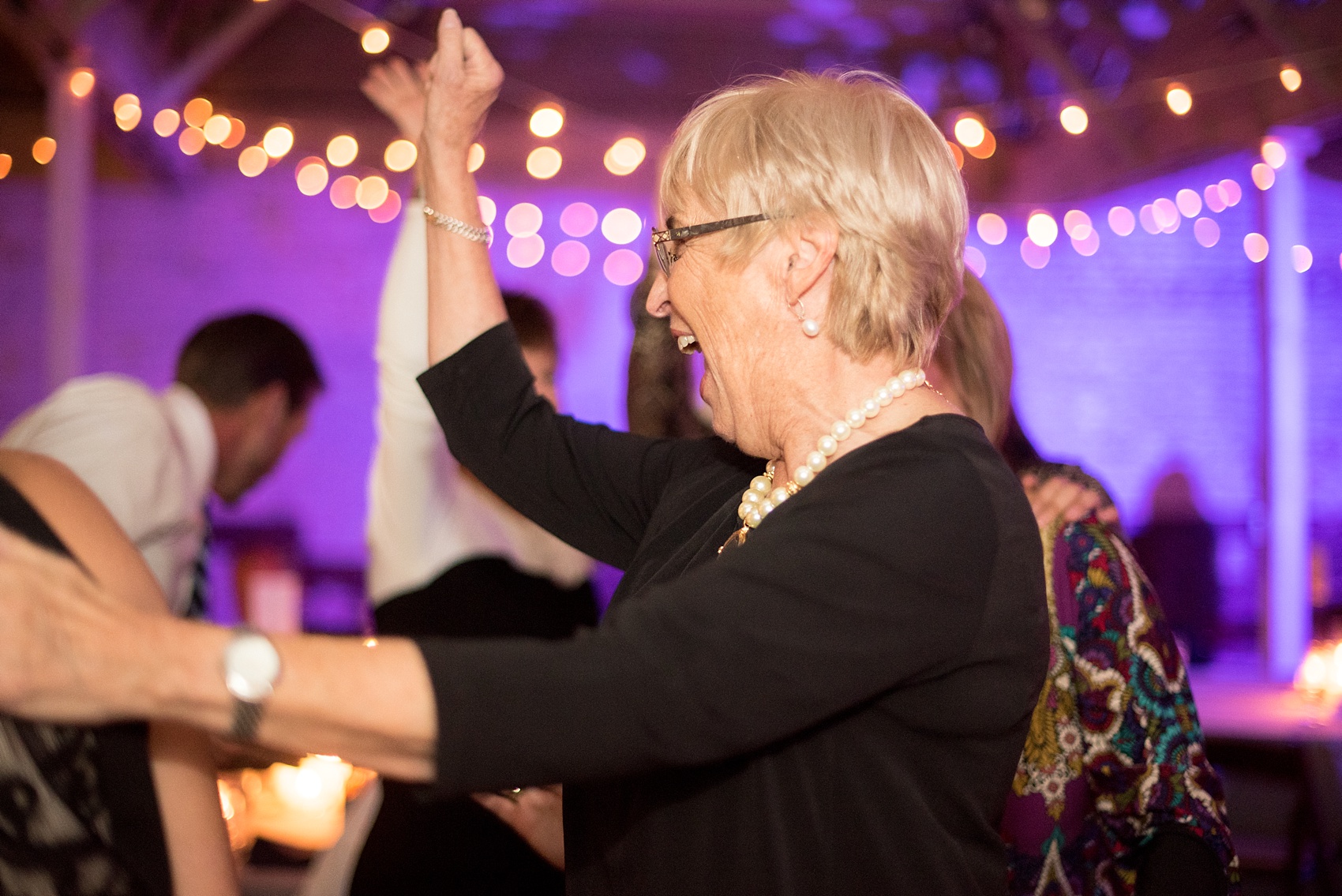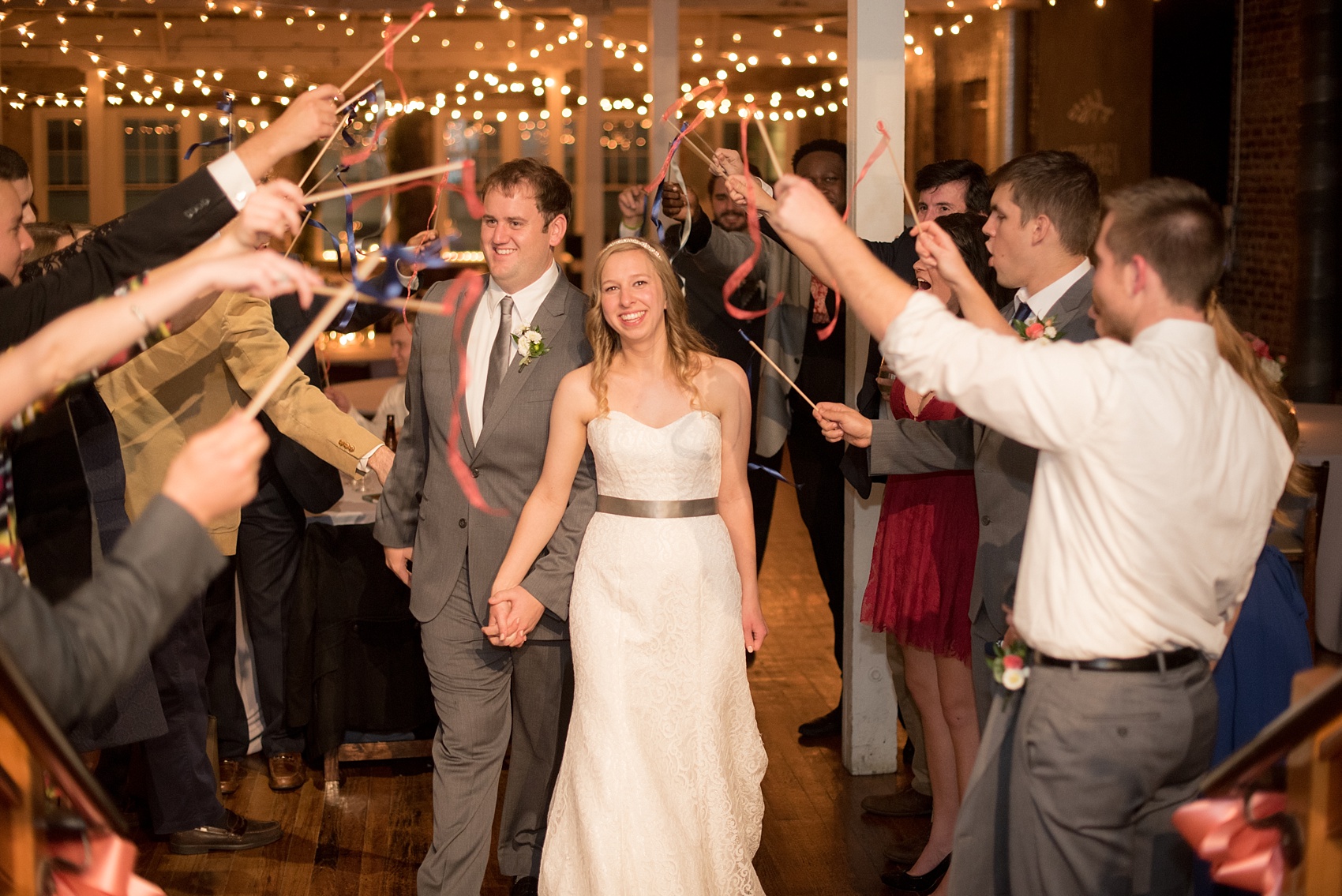 Congratulations Merrie and Ben!!! It was so wonderful to work together through it all, especially on your memorable wedding day. 🙂
Venue: The Stockroom at 230 / Getting ready location: The Glass Box / Wedding coordinator: Tammy Kelly / Flowers: Anna Wilkins / DJ: High Impact Entertainment, Mike Steffan / Hair: John Ward / Officiant: Johnny Branch / Cake: Whole Foods / Wedding gown and bridesmaids dress shop: NY Bride and Groom / Bridesmaids gown designer: Bill Levkoff / Bridesmaids gifts + reception shoes: TOMS / Men's suits: Men's Warehouse / Wedding bands: Bailey's / Linens: CE Rental / Market lights: Themeworks / Table numbers: Rifle Paper Co / Invitations, signage, escort cards and chalk art: Libby Levi
As always check out Instagram and Facebook for more. And if you're interested in working together please contact us!