Florida is one of my favorite places to be and photograph weddings. I'm always interested to see gorgeous venues, and when Alexa Kritis Events told me about Villa Woodbine, and I knew I'd be in the area, I had to see it. I set up an appointment with Stefania on the Villa Woodbine team, who was fabulous to coordinate with and very communicative.
Villa Woodbine History
Villa Woodbine was actually someone's home! It was designed by a well known architect, Walter De Garmo, who also had a hand in the design of Villa Vizcaya, just down the road. His designs often included open courtyards (aka: loggias, if you're fancy) in a Mediterranean style, which were perfect to deal with the Miami heat in the 1930s.
It was originally built as a winter residence to its owners, Mr. and Mrs. Charles Boyd, who would winter in Florida from Wisconsin. Perhaps in connection with the family's paper company, they chose to name the property Villa Woodbine. The street was known then as Millionaire's Row and their neighbors were members of the famed Woolworth family.
Many of the Cuban design choices that Mrs. Boyd made in terms of the colorful interior tile and furniture, handcrafted in Cuba, remain today. The property stayed in the family until the 1950s, and then they began leasing it out to others.
As the Villa Woodbine website states, "Guests have included the Village People, Mary Wilson of Supremes fame and Pavarotti. The walls are silent to the happenings in those days."
Villa Woodbine Location
It took me about an hour to drive from Boynton Beach, Florida, south on I-95 to Villa Woodbine in Miami. I was excited to see this beautifully designed event and wedding venue, rich with history.
The neighborhood it is in is called Coconut Grove. It's just across the street from David T. Kennedy Park along the water, which also has beach volleyball courts and a soccer field. (But great photo opportunities closest to the water.)
The closest main street is US-1, which connects to I-95 just a couple miles away. Vizcaya Museum and Gardens is only 1.4 miles away from Villa Woodbine. Because it's in a neighborhood, and due to zoning laws, there is a stop time of 11:00pm for weddings and events.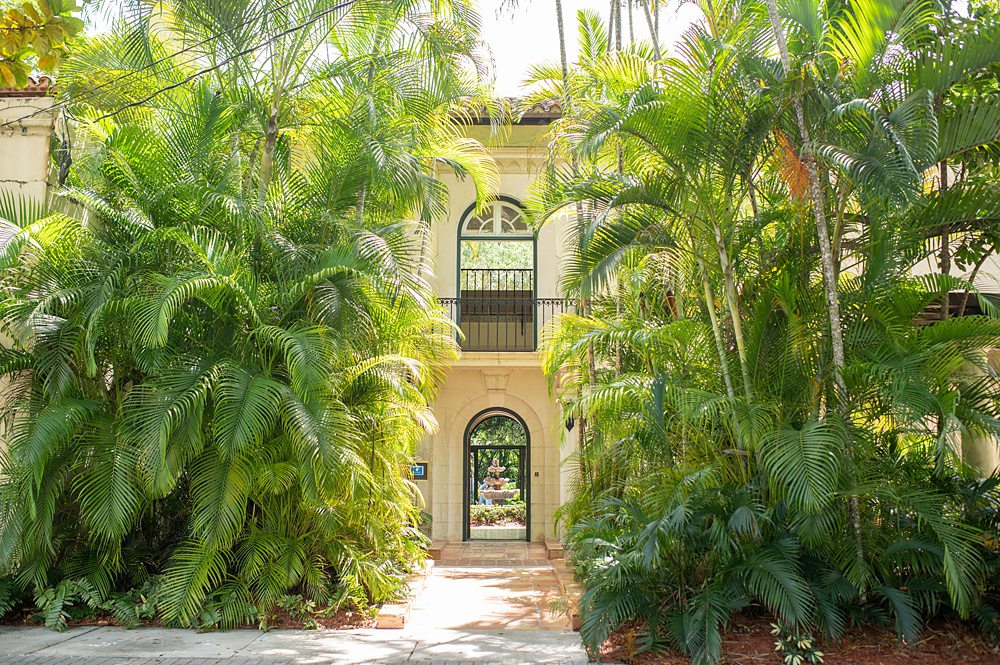 Arriving to Villa Woodbine for a Wedding
If you're driving from points north and arriving via I-95, you make a right into Villa Woodbine for a wedding, off of South Bayshore Drive. You truly feel like you're turning into someone's driveway, because you kind of are! (I love venues that feel like grand estates or homes. They have a special feeling and I adore that they have one wedding at a time going on. How it should be! Like Capen House or Casa Feliz, both wedding venues in Orlando.)
But that's part of what makes it feel like the intimate wedding venue it is, and what makes it special. The images below are some of what you see upon arrival. There's a small parking lot in front of the entrance but you pass what appears to be a side entrance on your drive in. For events, however, they provide valet parking so parking your own vehicle is unnecessary! Simply pull up and they'll park it for you.
Would you believe peacocks where walking around the property when I left? Peacocks commonly roam free in Florida (I used to see them in Orlando when I lived there) so while I was pleasantly surprised I believed it!
The front entrance is framed by beautiful palm fronds and you can see the center fountain before walking through the door. Imagine arriving for a Villa Woodbine wedding and seeing all of this before you even enter the building!
There's even a Juliet balcony above the entry arch and a beautiful little unassuming garden detail fish-fountain by the driveway.
Villa Woodbine Wedding Photo Opportunities
The photo opportunities at a Villa Woodbine wedding are endless. Pink bougainvillea, green vines and tropical foliage abound here. The Spanish roof tiles are complemented by the terra cotta tiles on platforms and terraces. The courtyard's fountain is a centerpiece that beckons to be captured, as do the concentric archways that lead out to the back grassy area. This wide open grassy lawn is also where the ceremony and reception often take place. They can host up to 230 guests for a seated reception.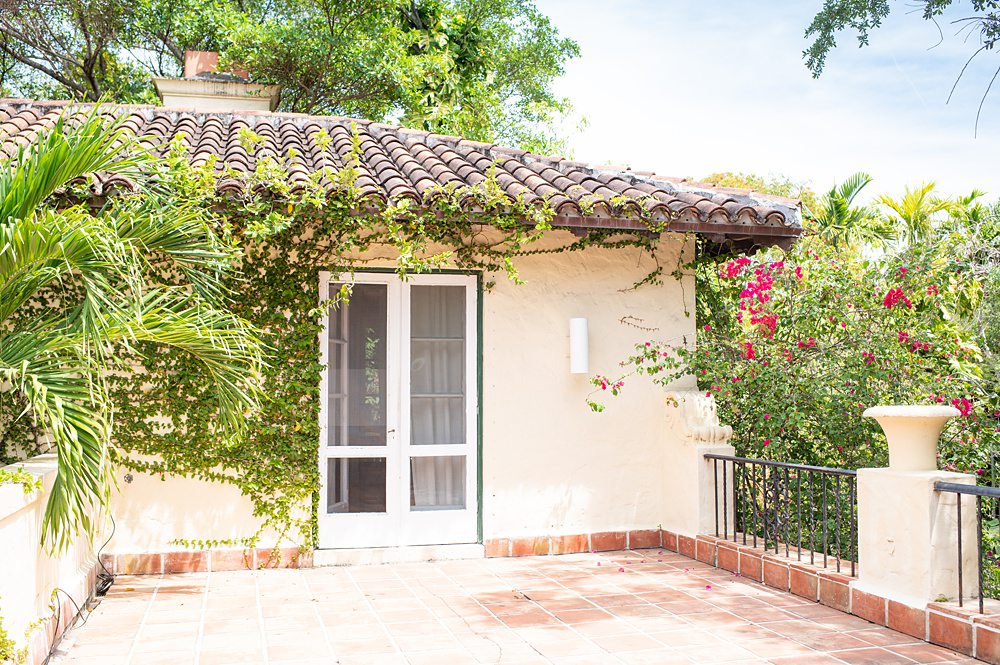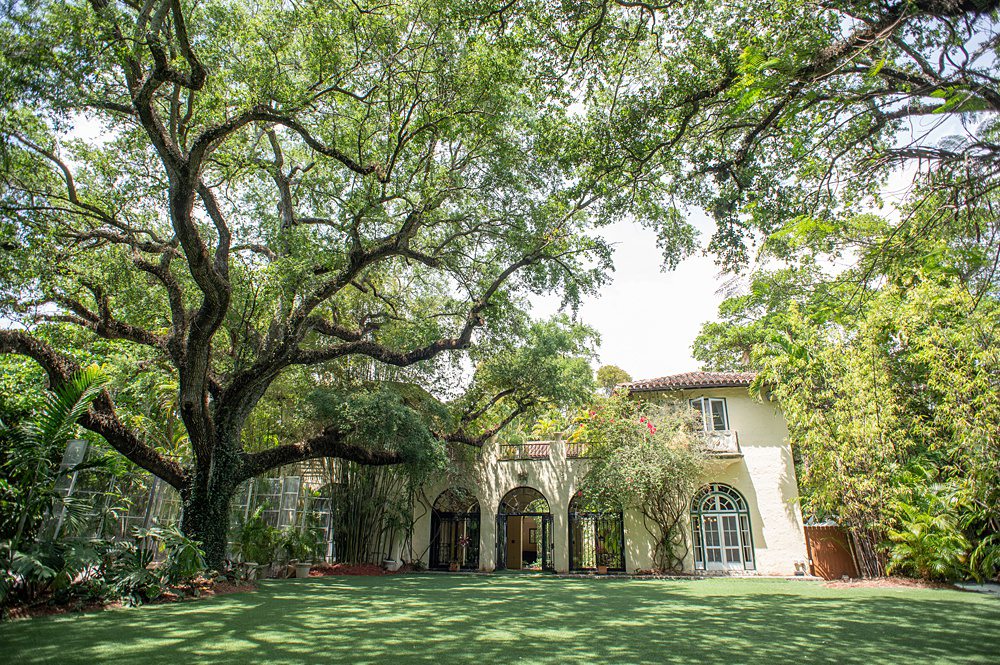 The bridal suite has historic pieces in it as well. The yellow in the pretty floor tiles is enhanced by the yellow velvet on the chairs around the large table. There's an ensuite bathroom in there and a floor length mirror as well. The light fixtures you'll get with a Villa Woodbine wedding are noteworthy too, whether downstairs in public spaces for guests to see or privately in the upstairs suite.
Can you imagine photos on this incredible staircase in wedding attire? I'm gushing over it! Or a first look as you come down the stairs and your partner is in the courtyard, around the corner?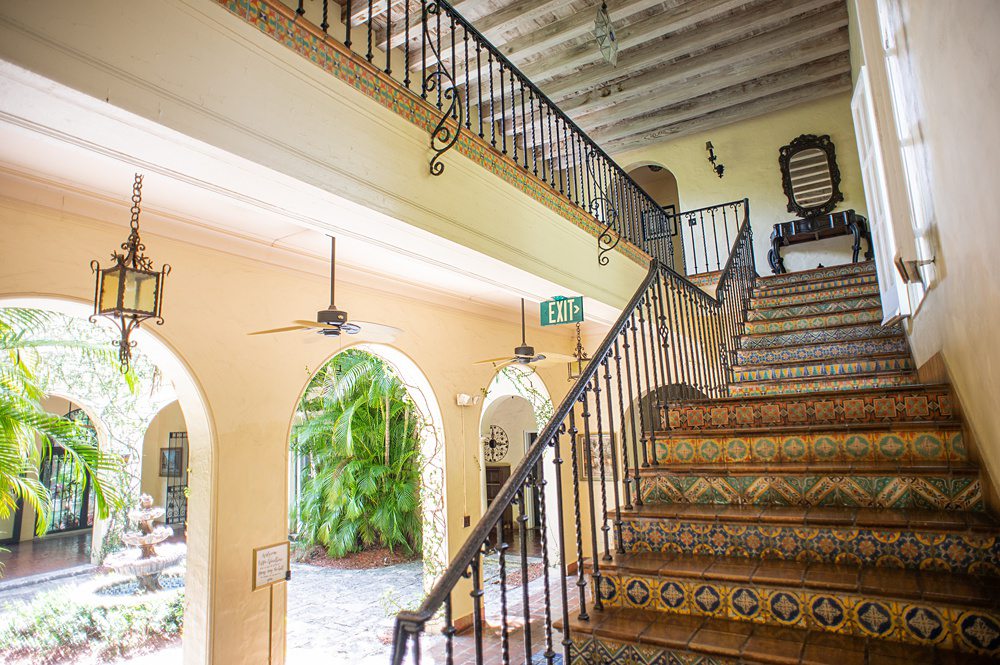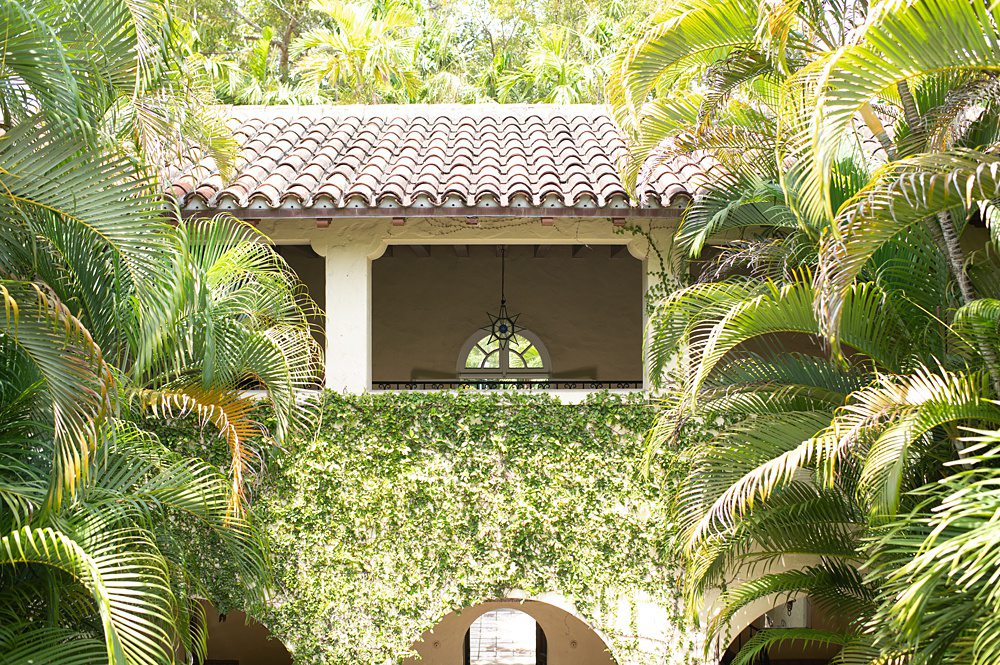 Villa Woodbine weddings are sure to be unique, intimate and memorable. And if you're looking for a photographer with colorful photography who is incredibly personable, don't hesitate to reach out!