Ali and Bryan's wedding at The Carolina Inn was definitely one of my favorites – from the vintage vibe Ali (whose an artist, I should mention!) so beautifully orchestrated in all the details, colors and fabrics carefully chosen, to the rich colors of the romantic palette selected, to the incredible vendors involved (especially their fantastic planner, Amanda of A Swanky Affair), I was so elated to be there capturing it all.  The warm fall weather and pumpkins on this Halloween wedding weekend had everyone even more energized!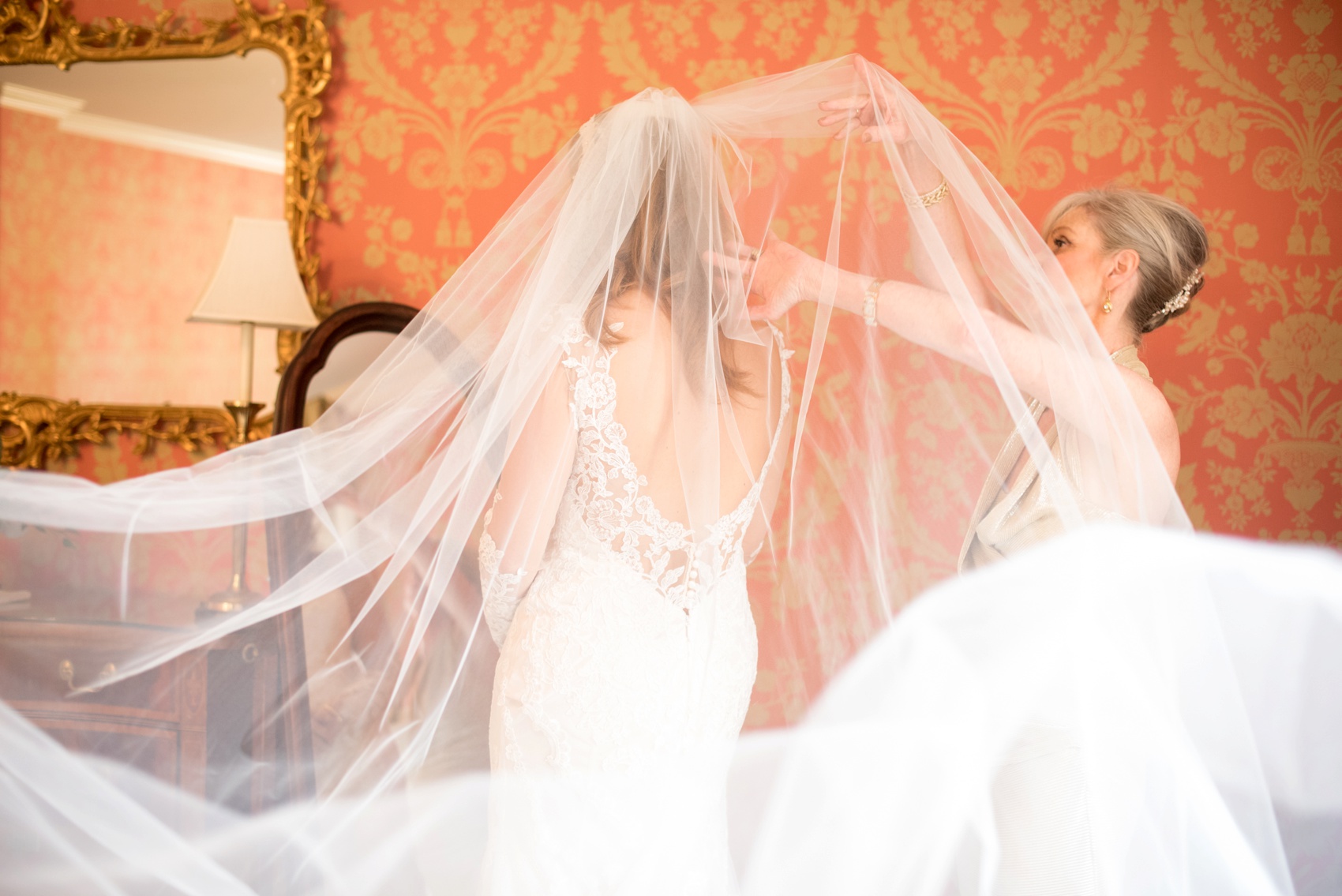 I was so happy to see Ali was getting ready in one of her favorite rooms at the inn – isn't the wallpaper cool? She prepared for her wedding day with her mother and two sisters, especially, who helped her get into her gown and attach her long beautiful veil to her vintage-inspired hair style. She finished her outfit with vintage family-heirloom jewelry. I LOVED how she had cameos attached to her bouquets and tied it into her outfit with the necklace she wore to accent her scalloped lace v-cut wedding gown.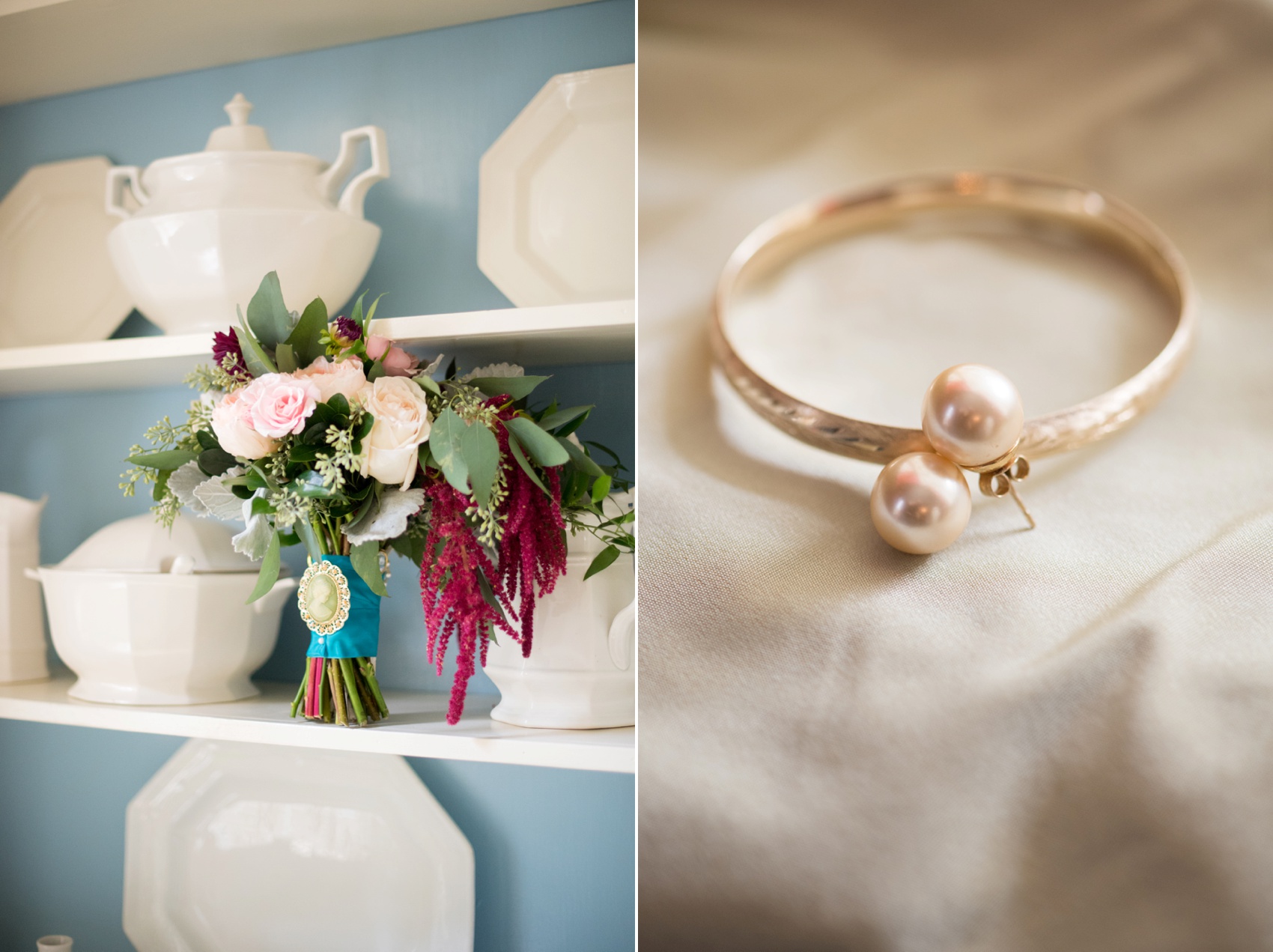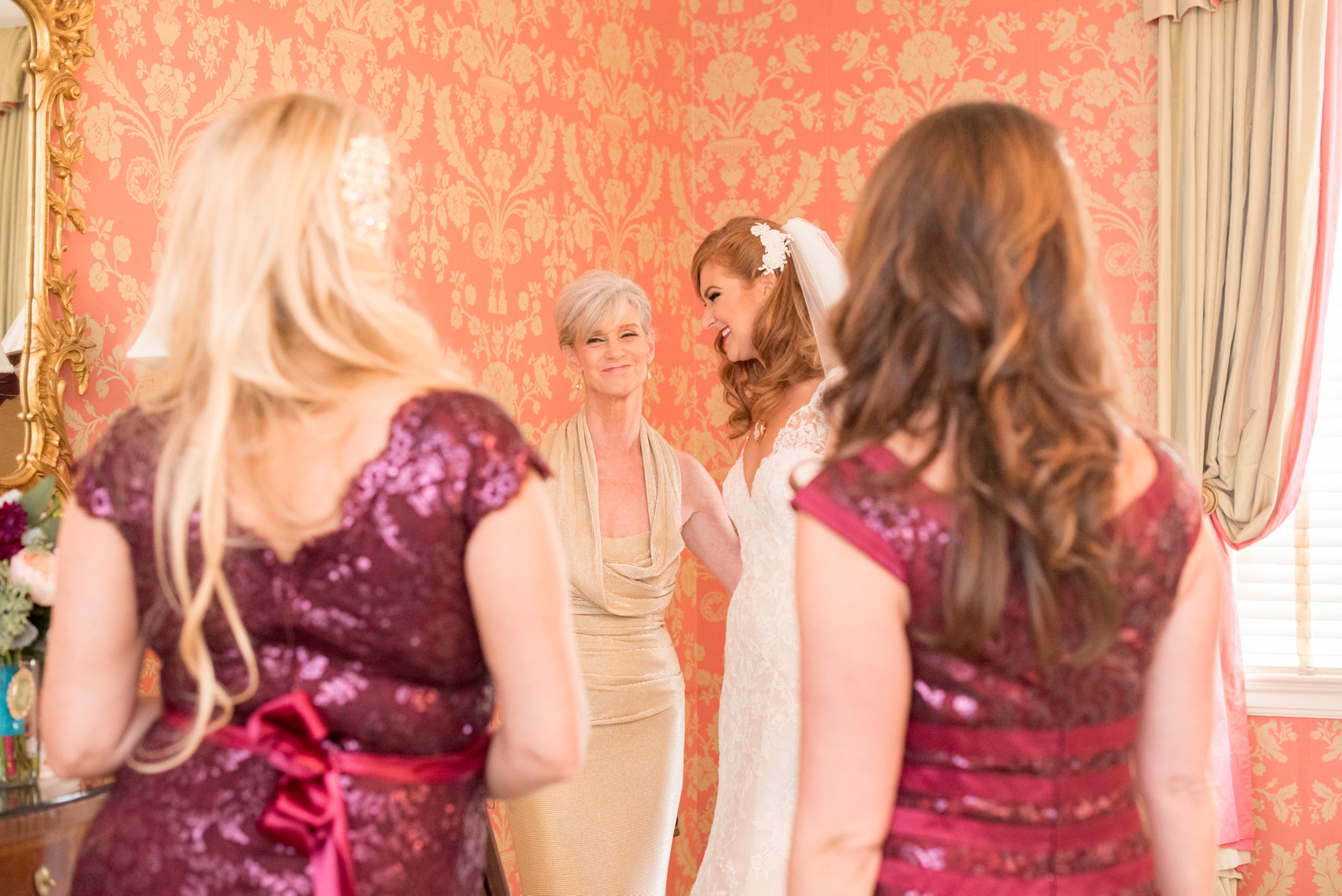 I adore this photo of Ali's mother, Sharon, with her daughters.
The gold-foiled wedding invitation they selected was the perfect match for their elegant autumn wedding.
Bryan got his groomsmen really cool custom bottle openers we just couldn't resist photographing with a couple of bottles of fine wedding-day spirits :-). Ali and Bryan had a Jewish ceremony but to represent his Irish heritage, Mr. O'Leary wore a kippah with a four-leaf clover on it.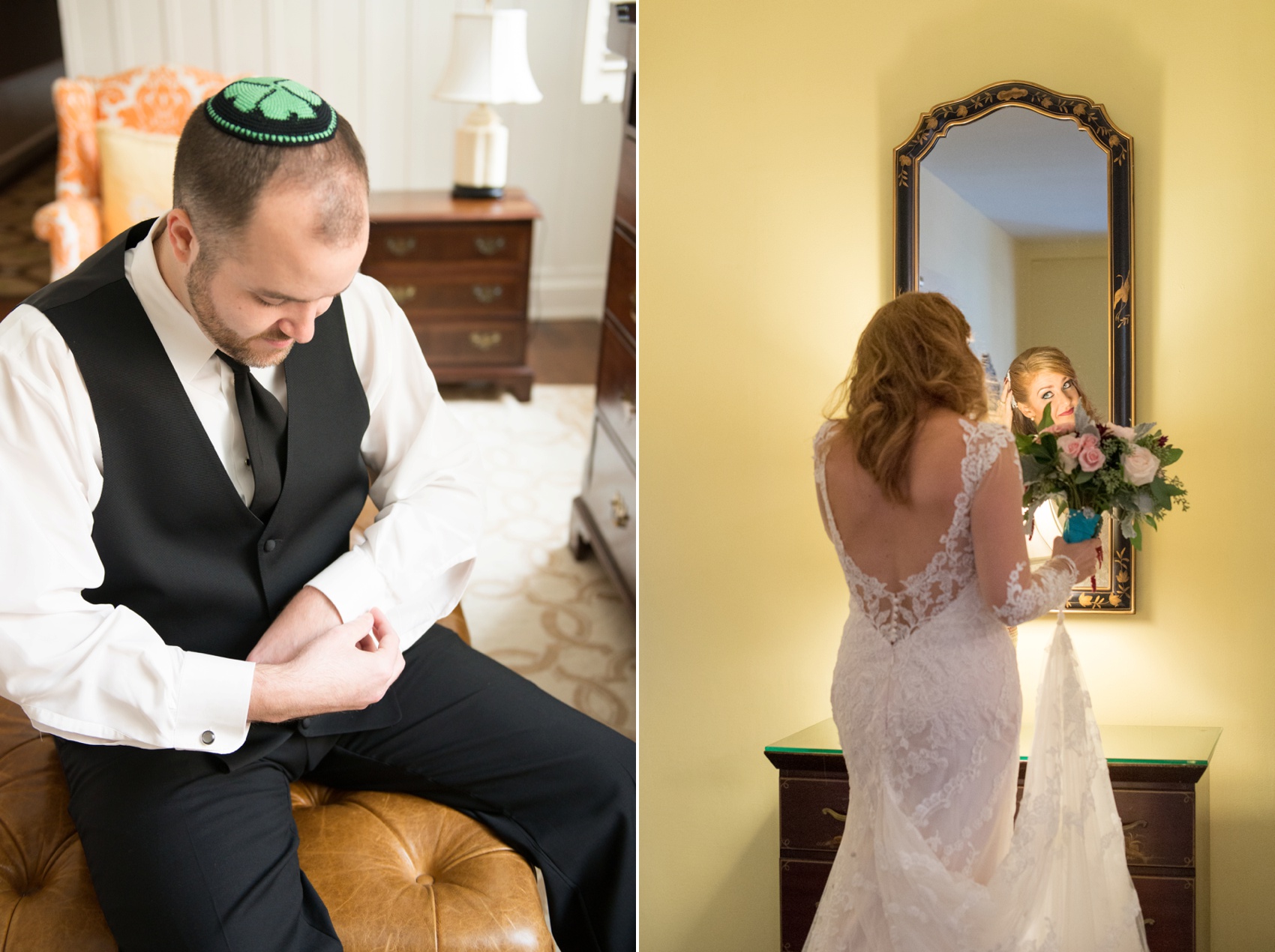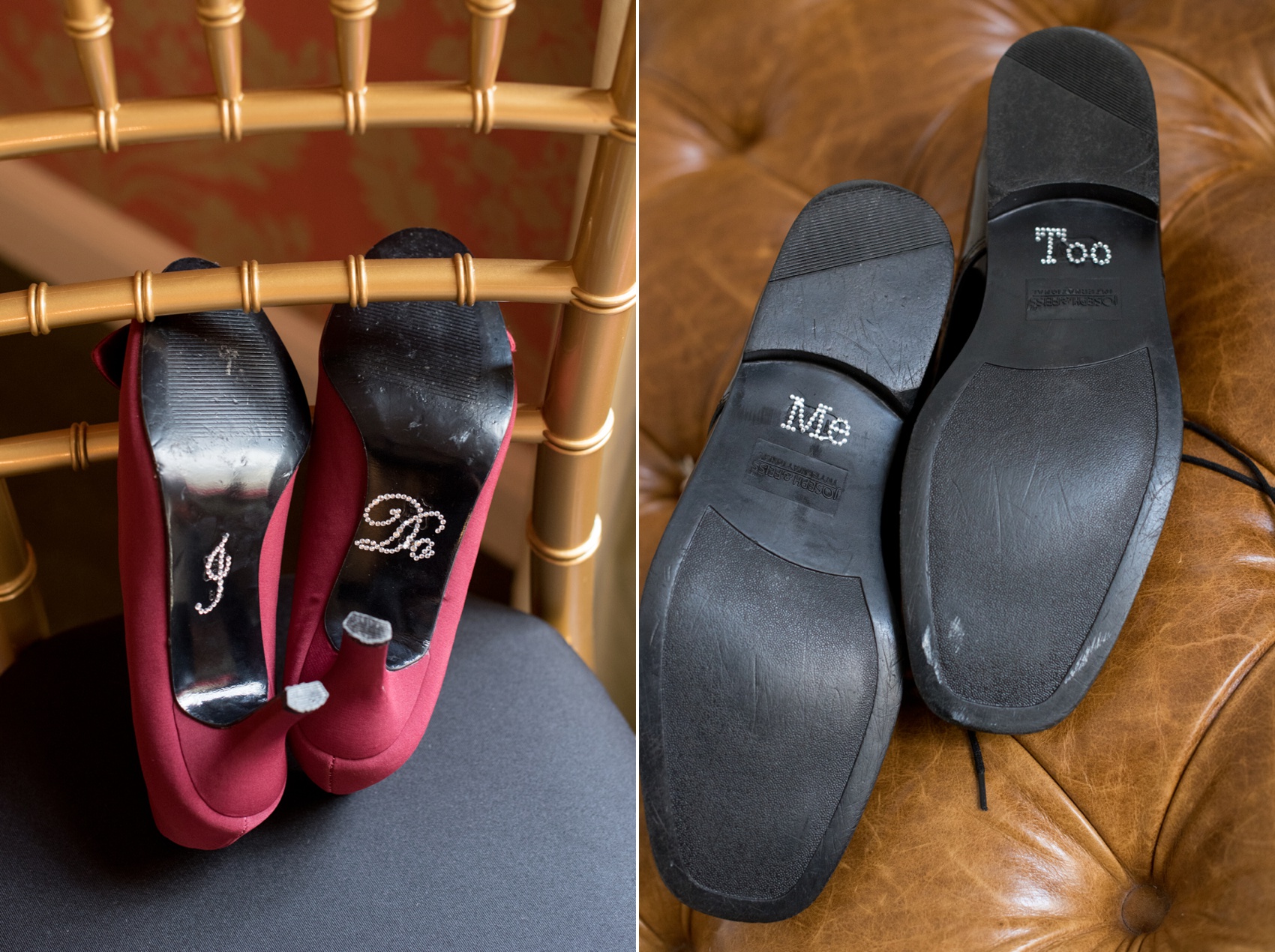 I think Bryan was more nervous and anxious to get see Ali. It was so touching to see how Ali instantly calmed him and they were such naturals together with cameras nearby capturing their first-look and their colorful, sweet wedding portraits.  Bryan described Ali as "creative, gentle and a dreamer" – and I saw it all come out in their first few moments together on their wedding day.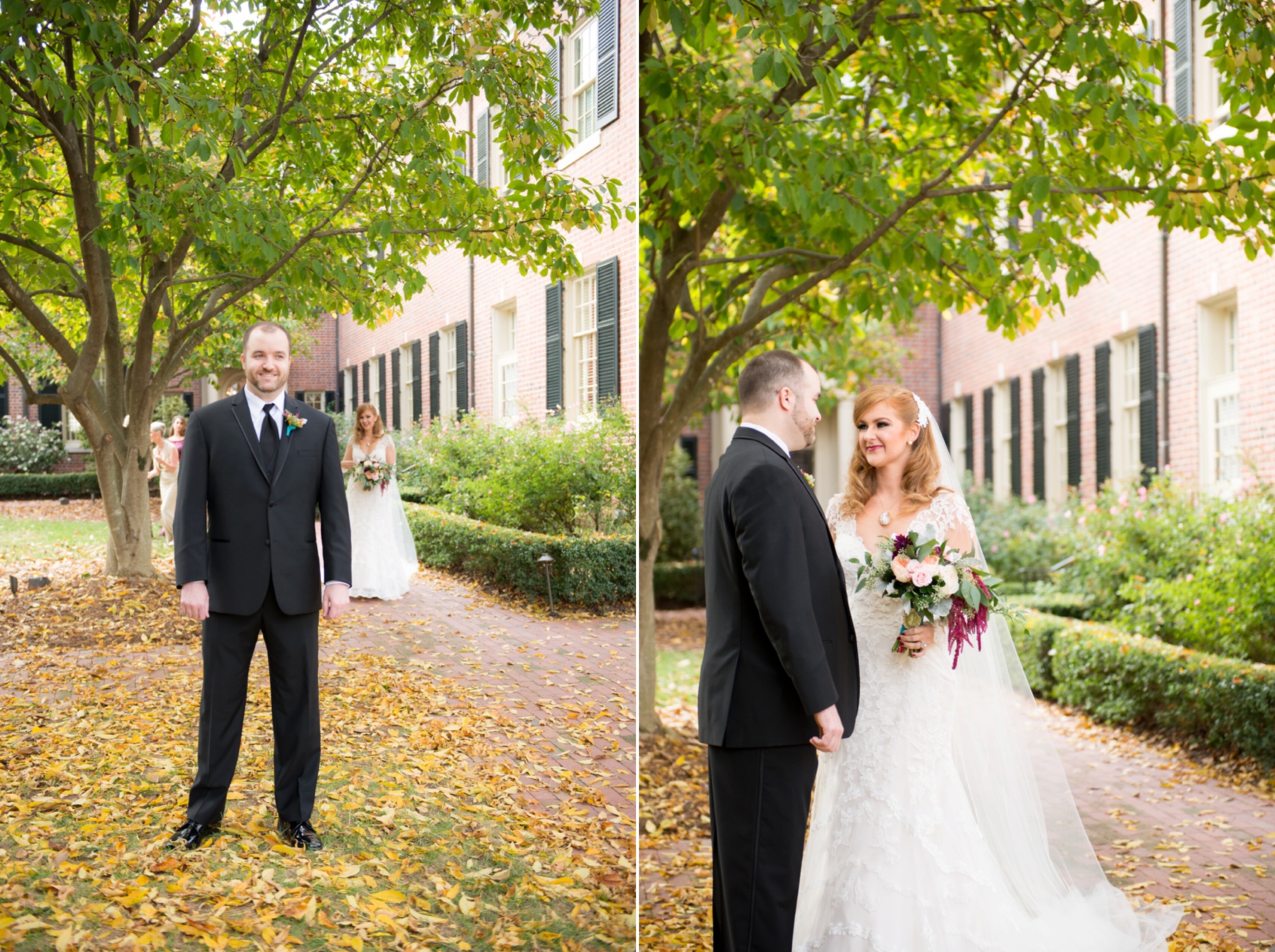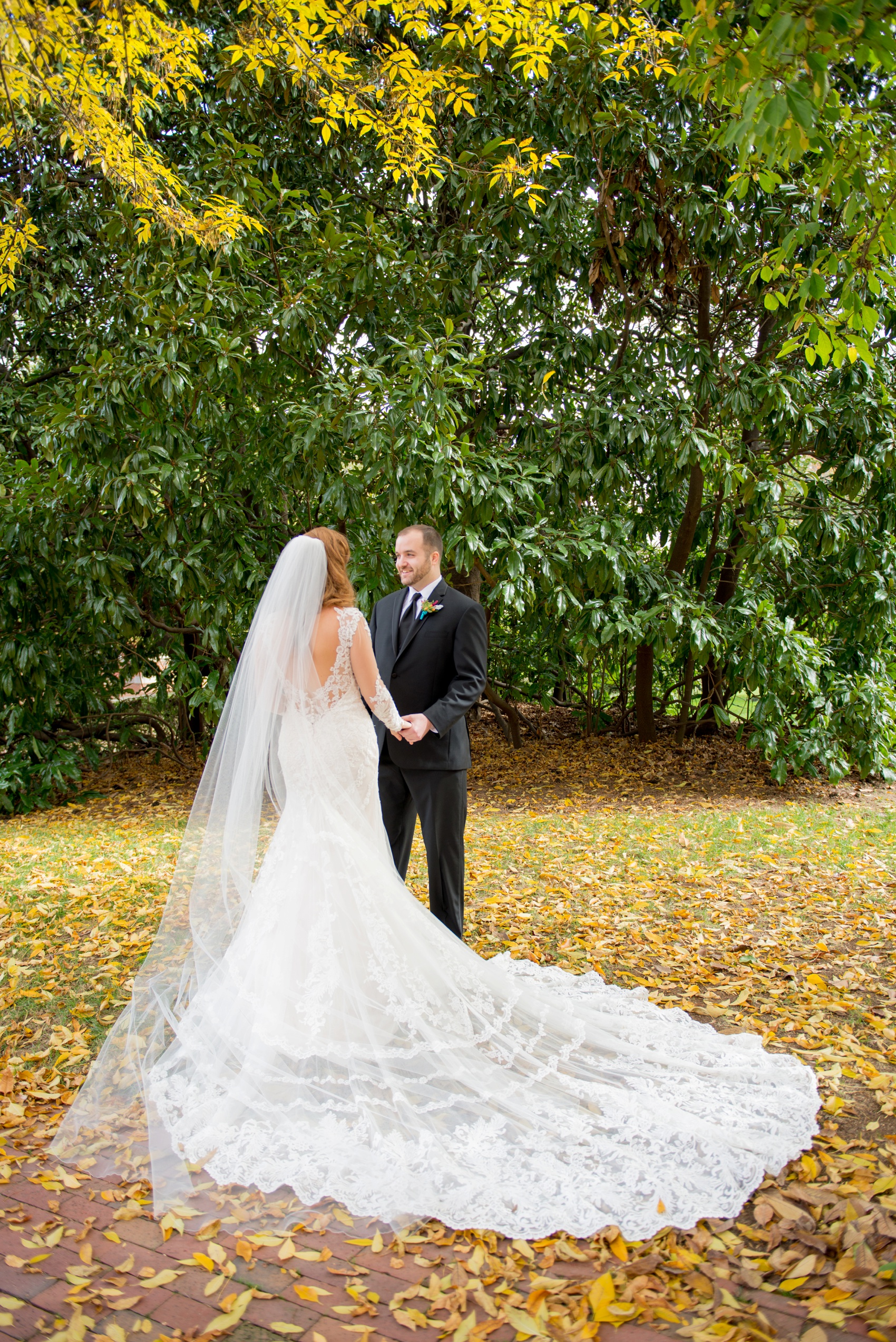 Isn't her train everything!? She also altered her gown to have a detail just for her – the sleeves disconnected from the top shoulders of the dress so it was sleeveless during the reception. Look for it later on!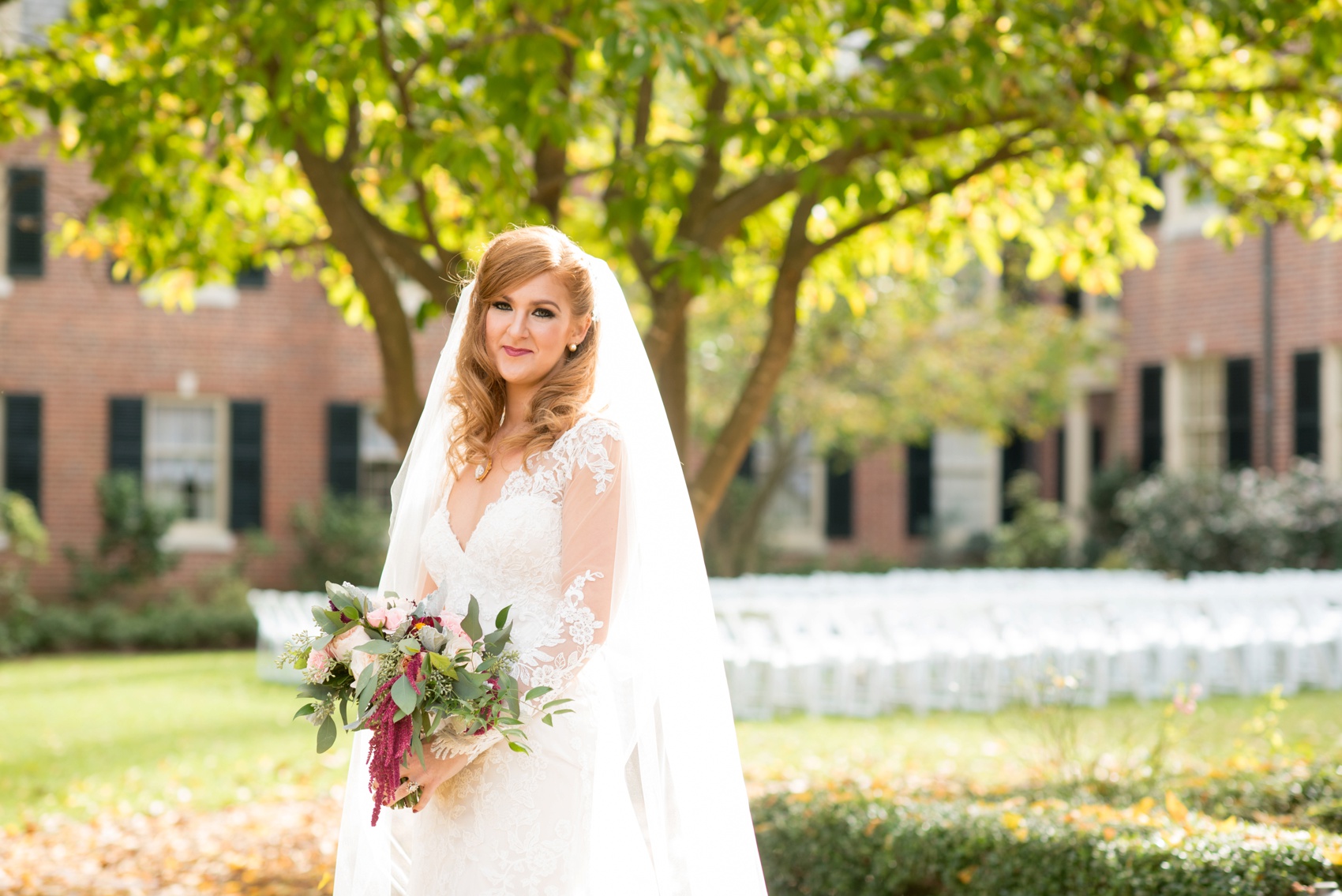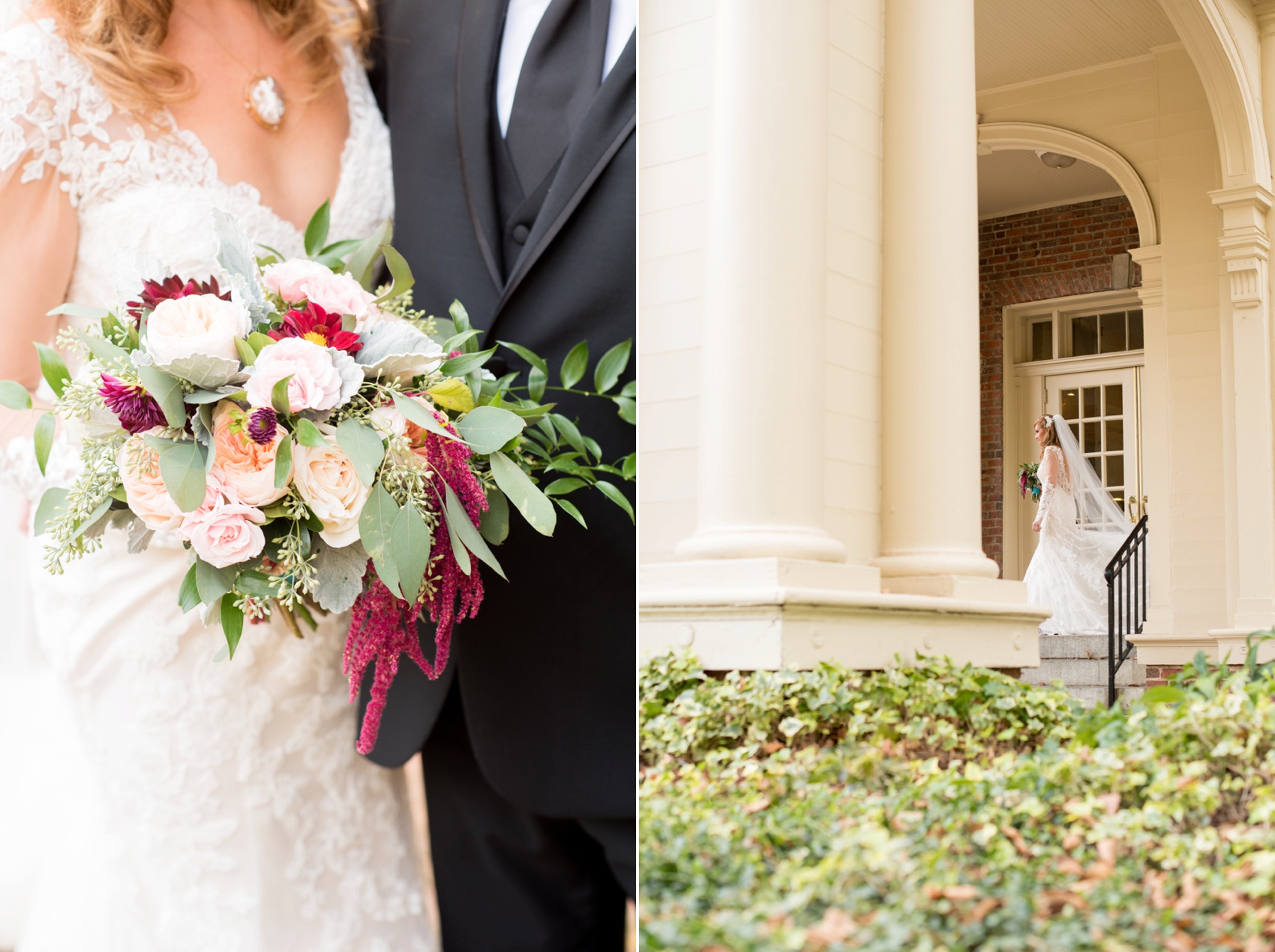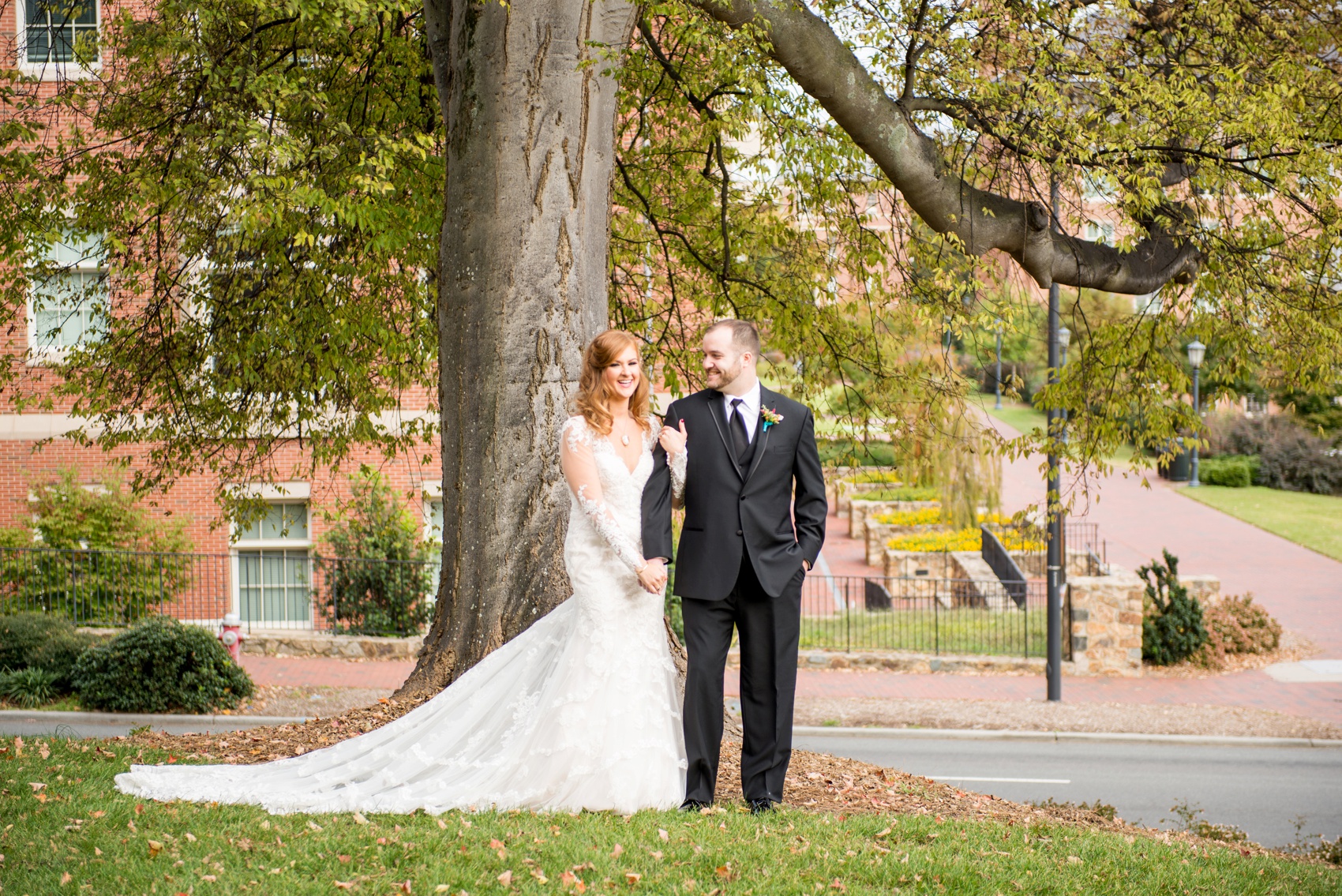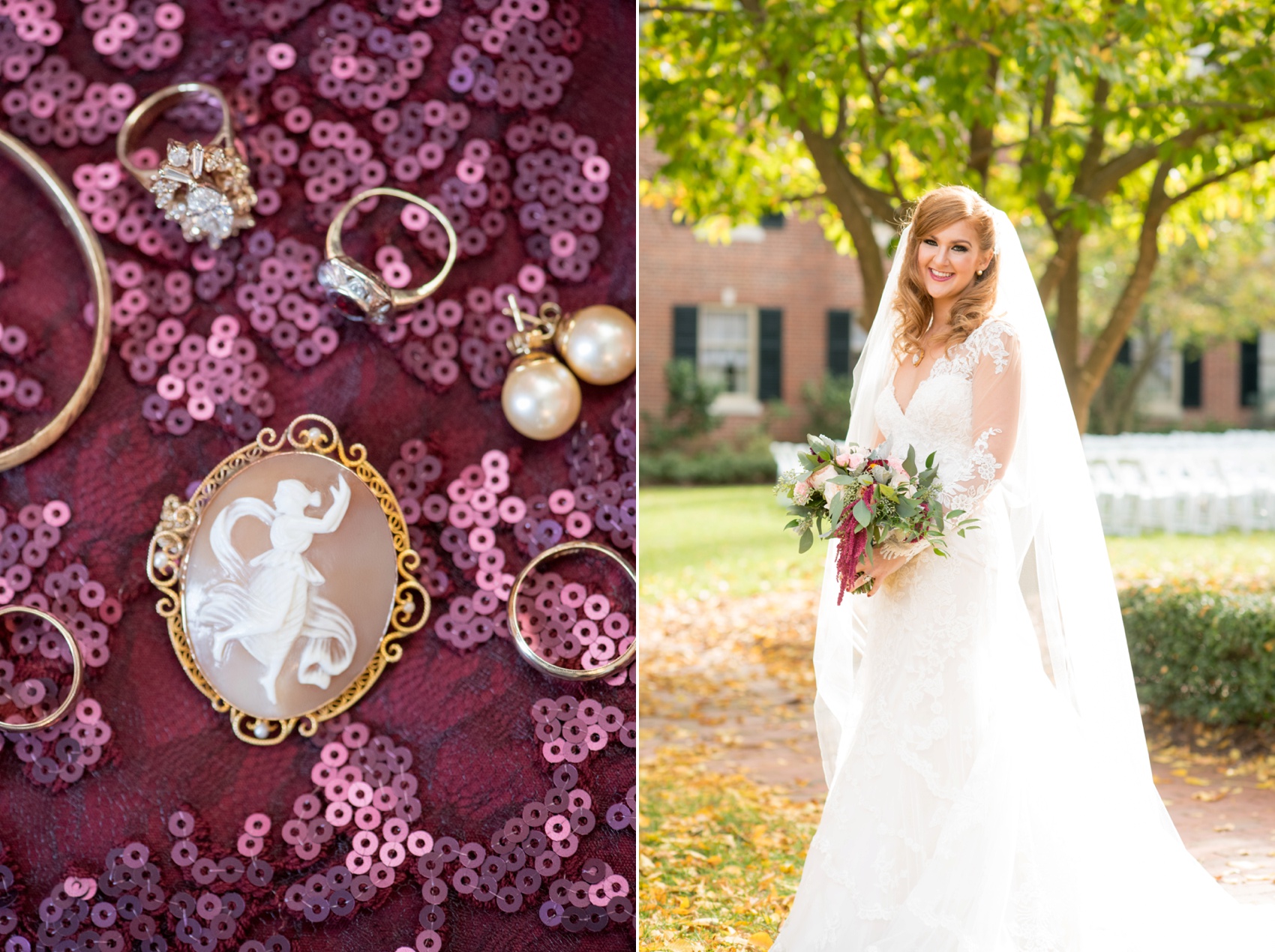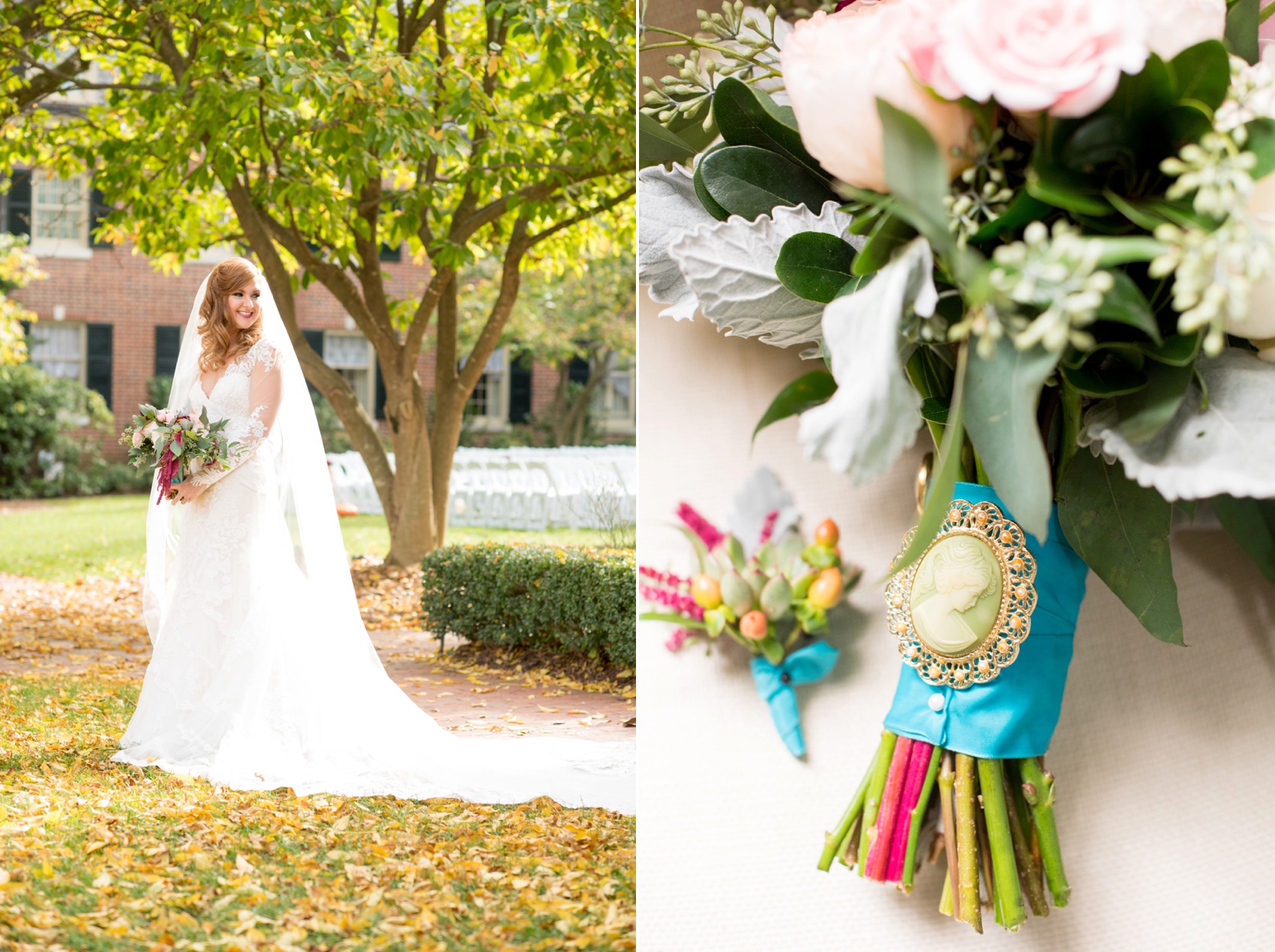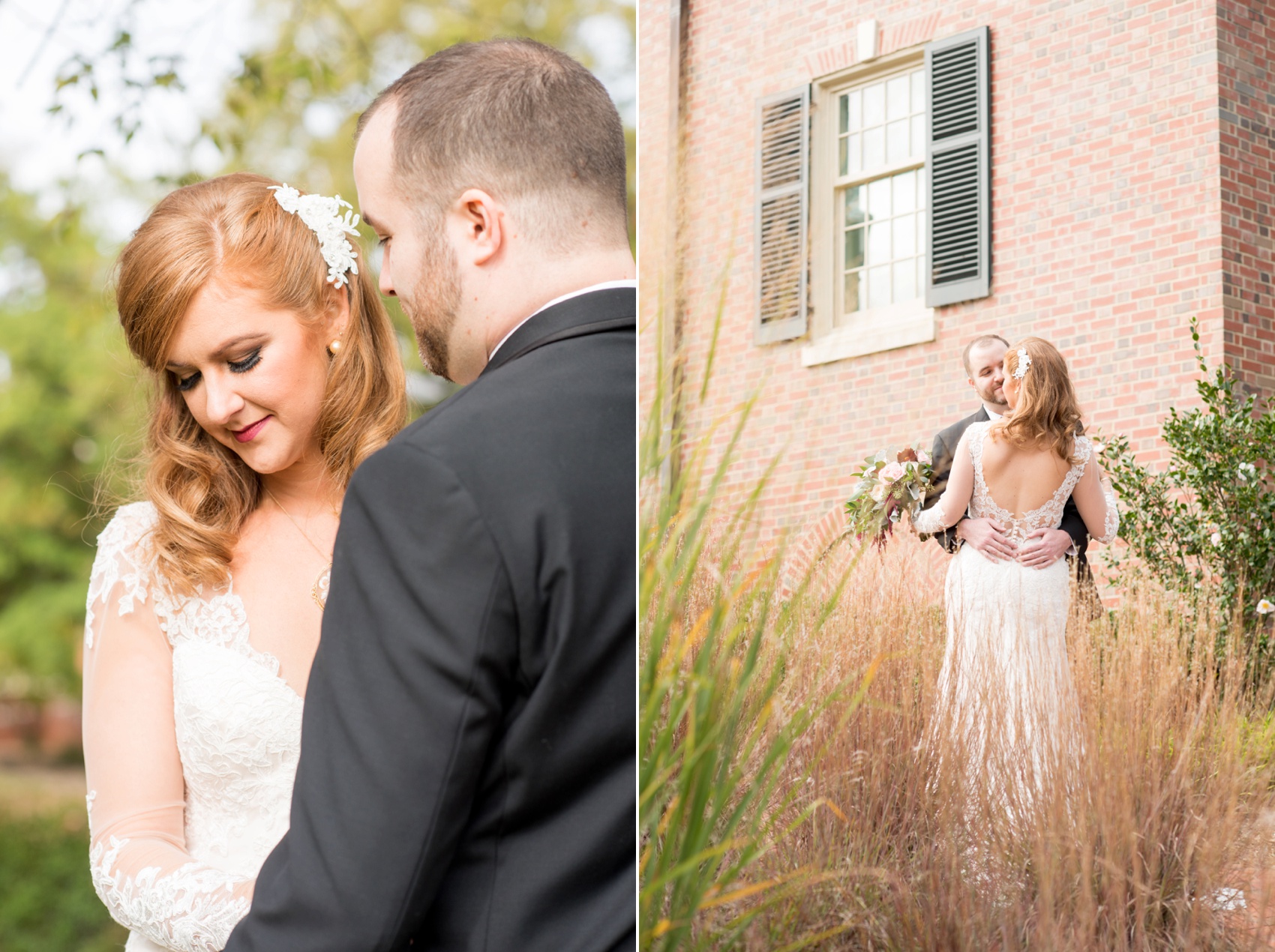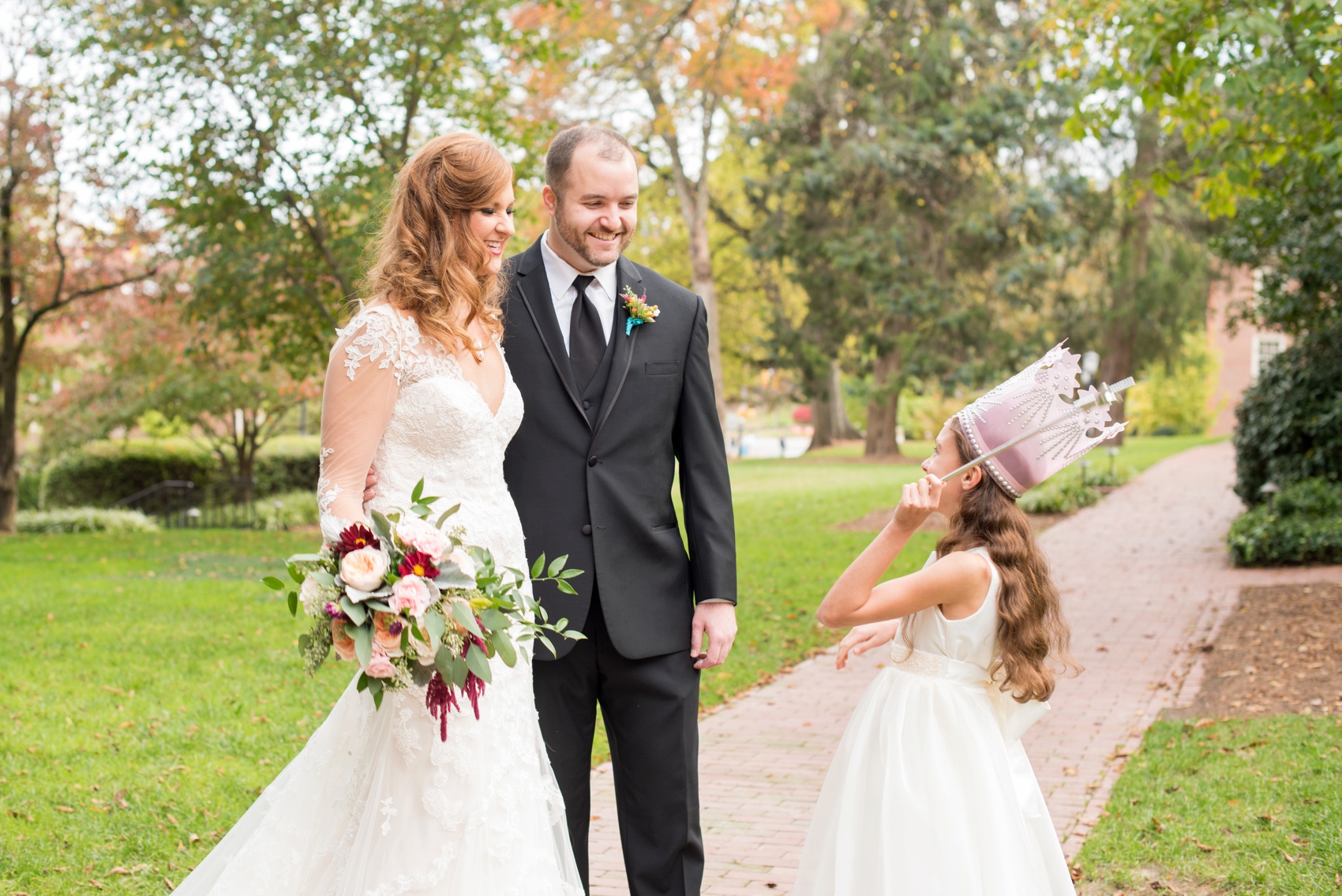 Poof! It's time for wedding party photos! I love a small, intimate wedding party. Their bridesmaids and groomsmen count was almost outnumbered…by the flower girl and ring bearers who trick-or-treated down the aisle for their ceremony.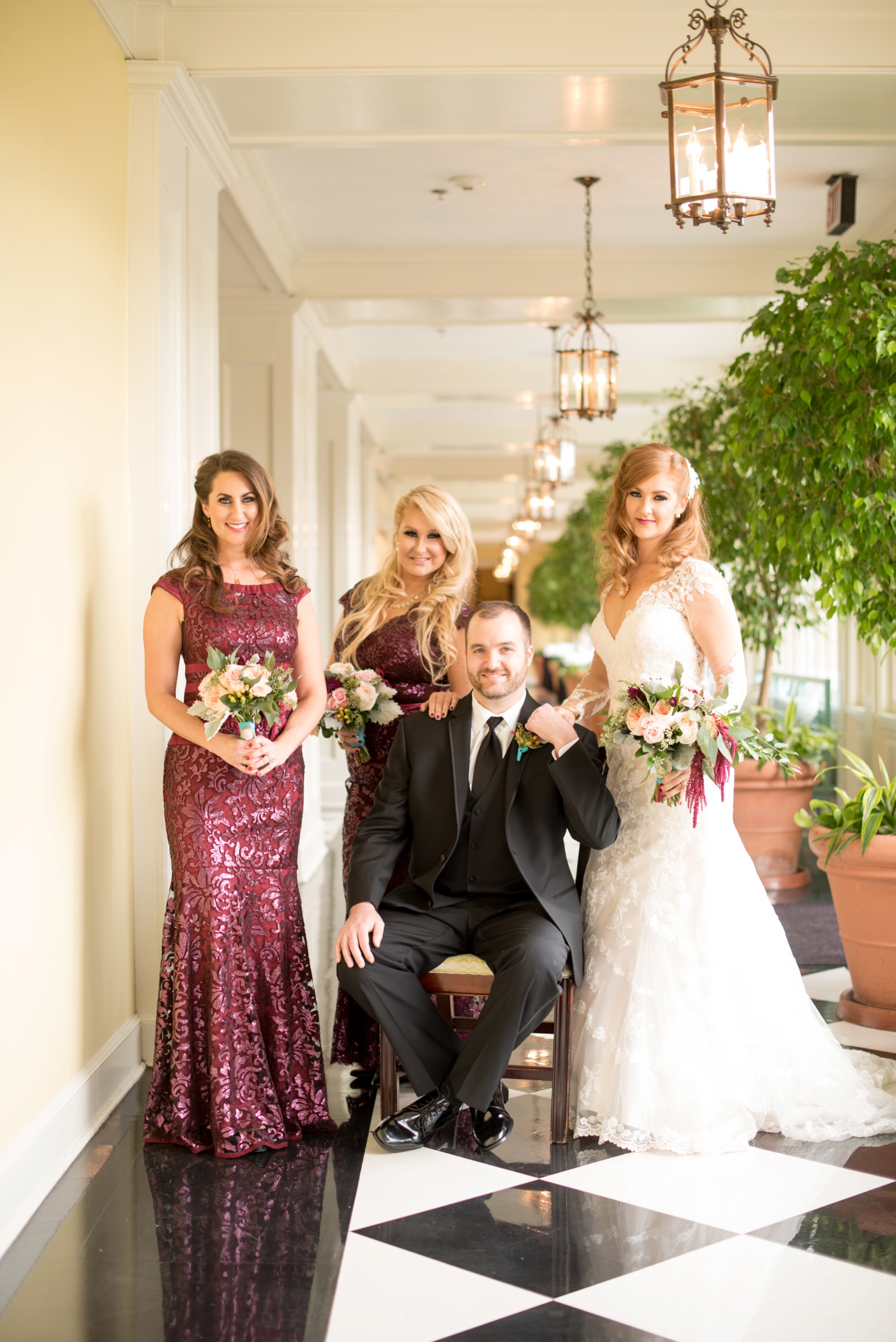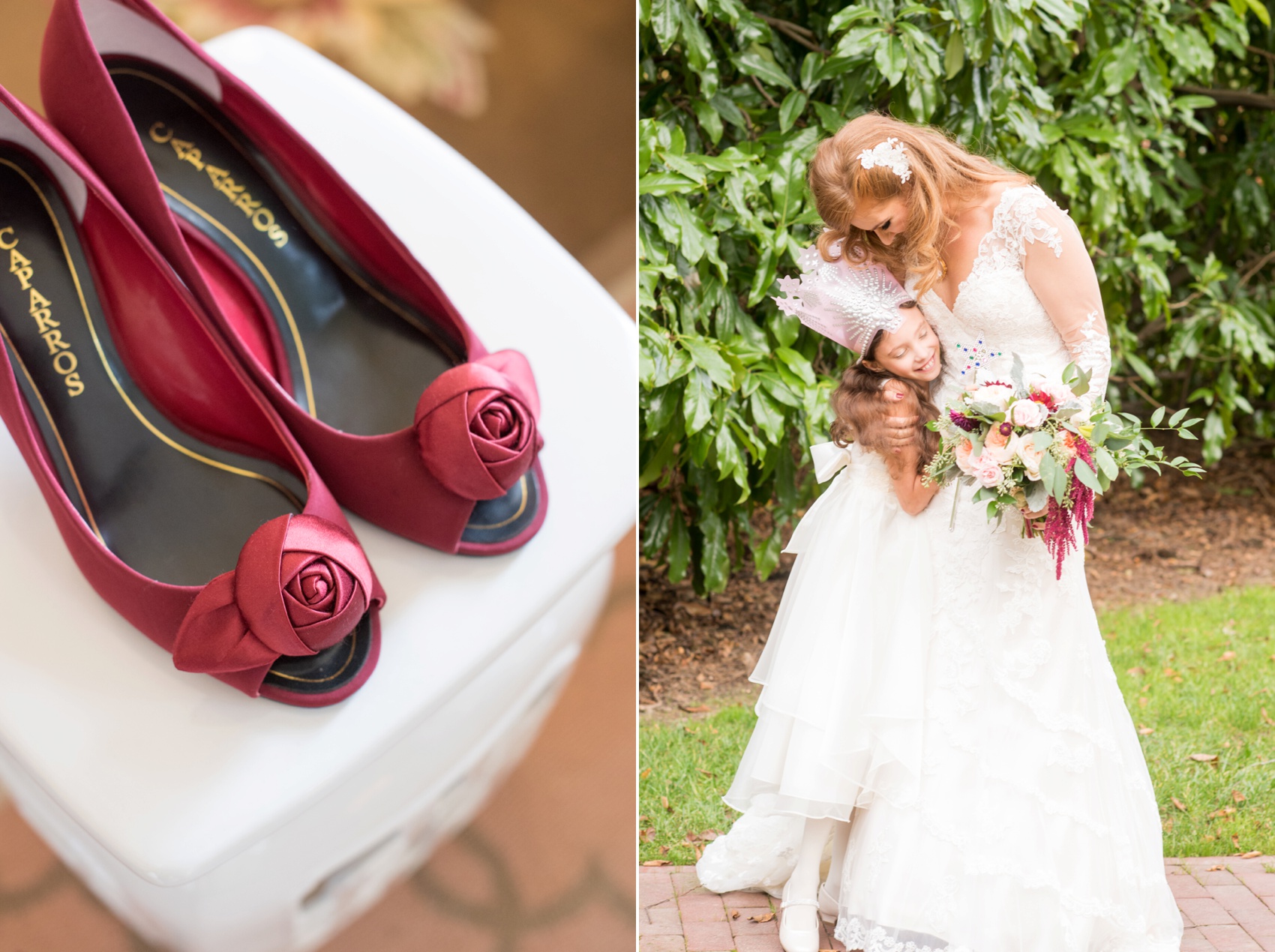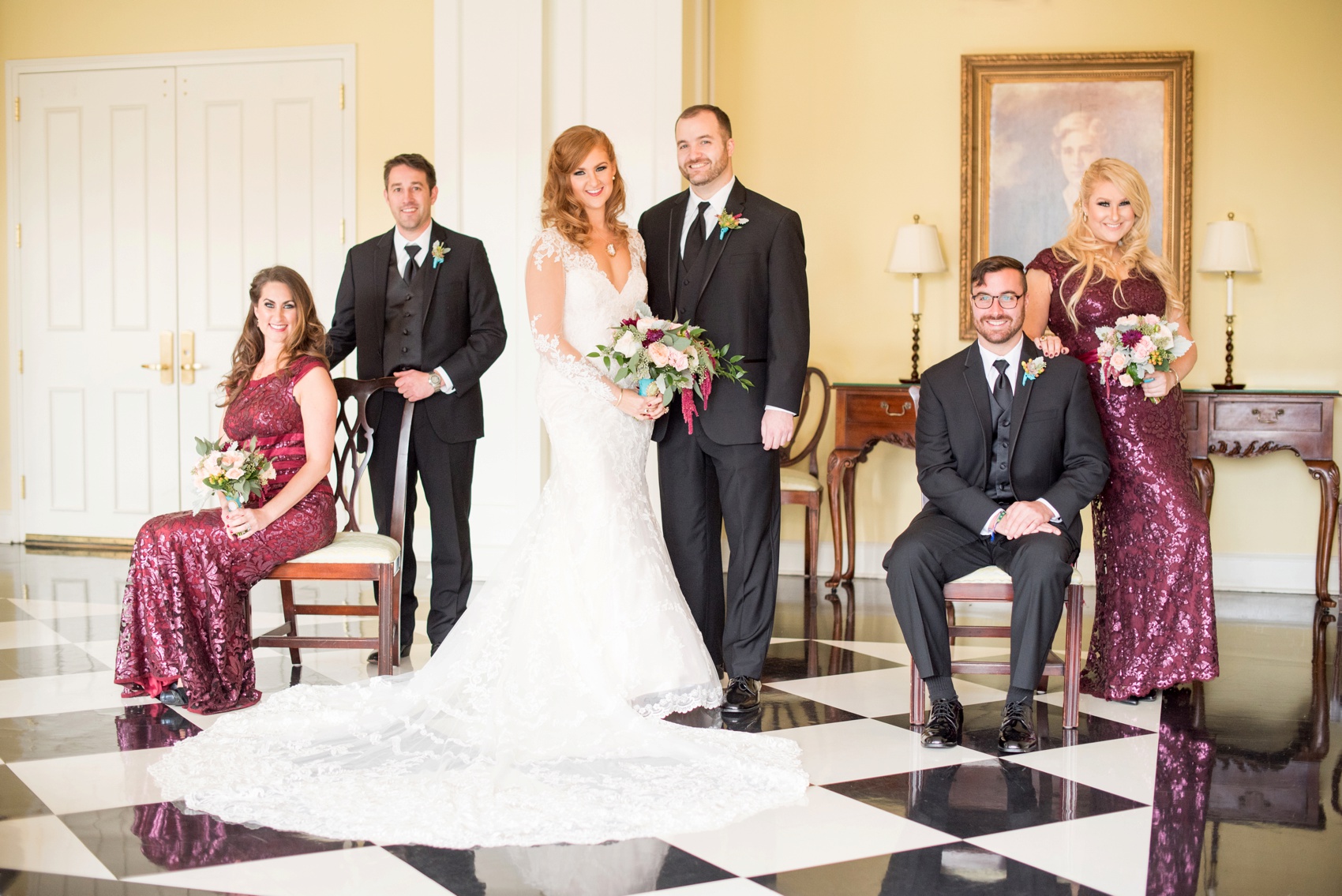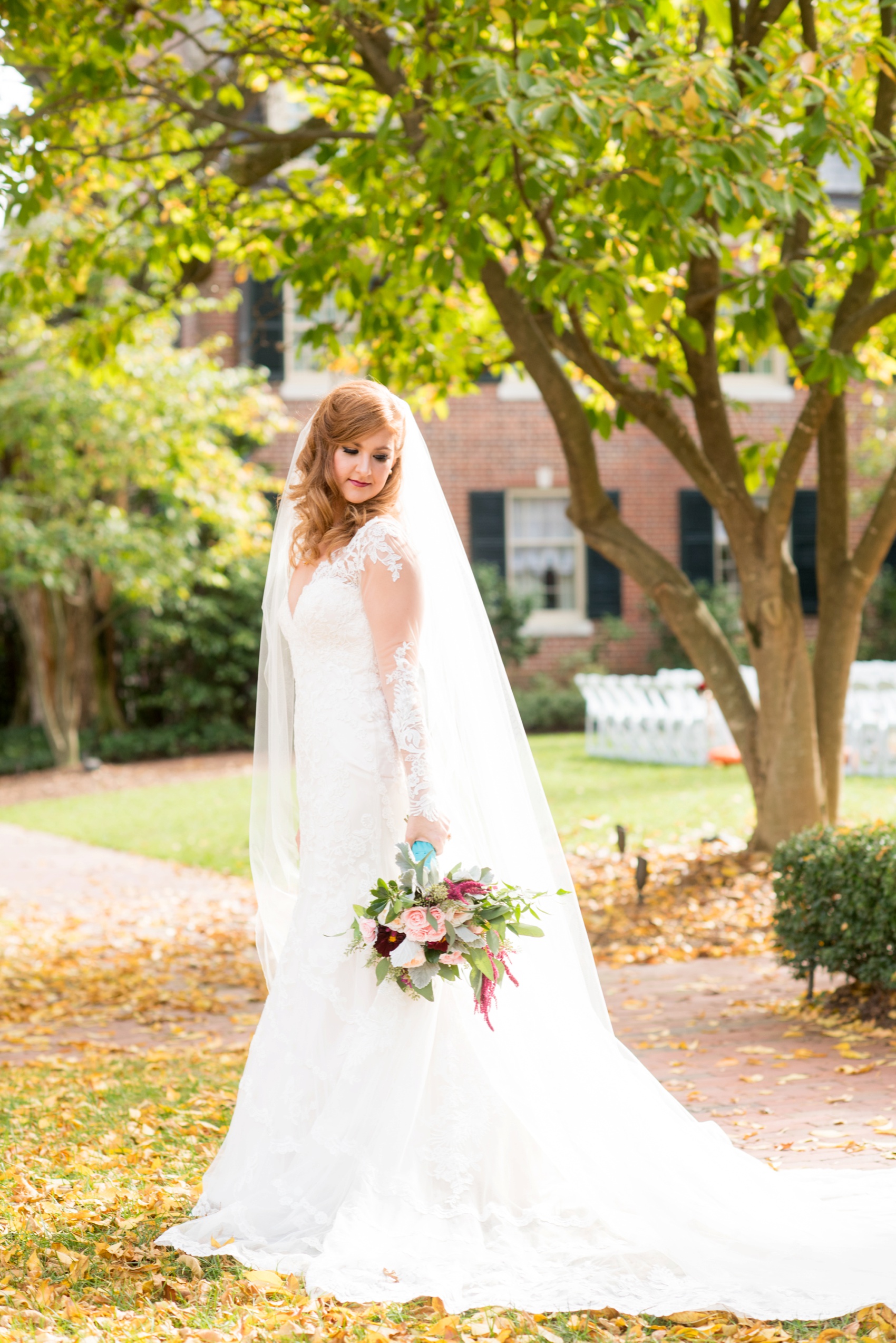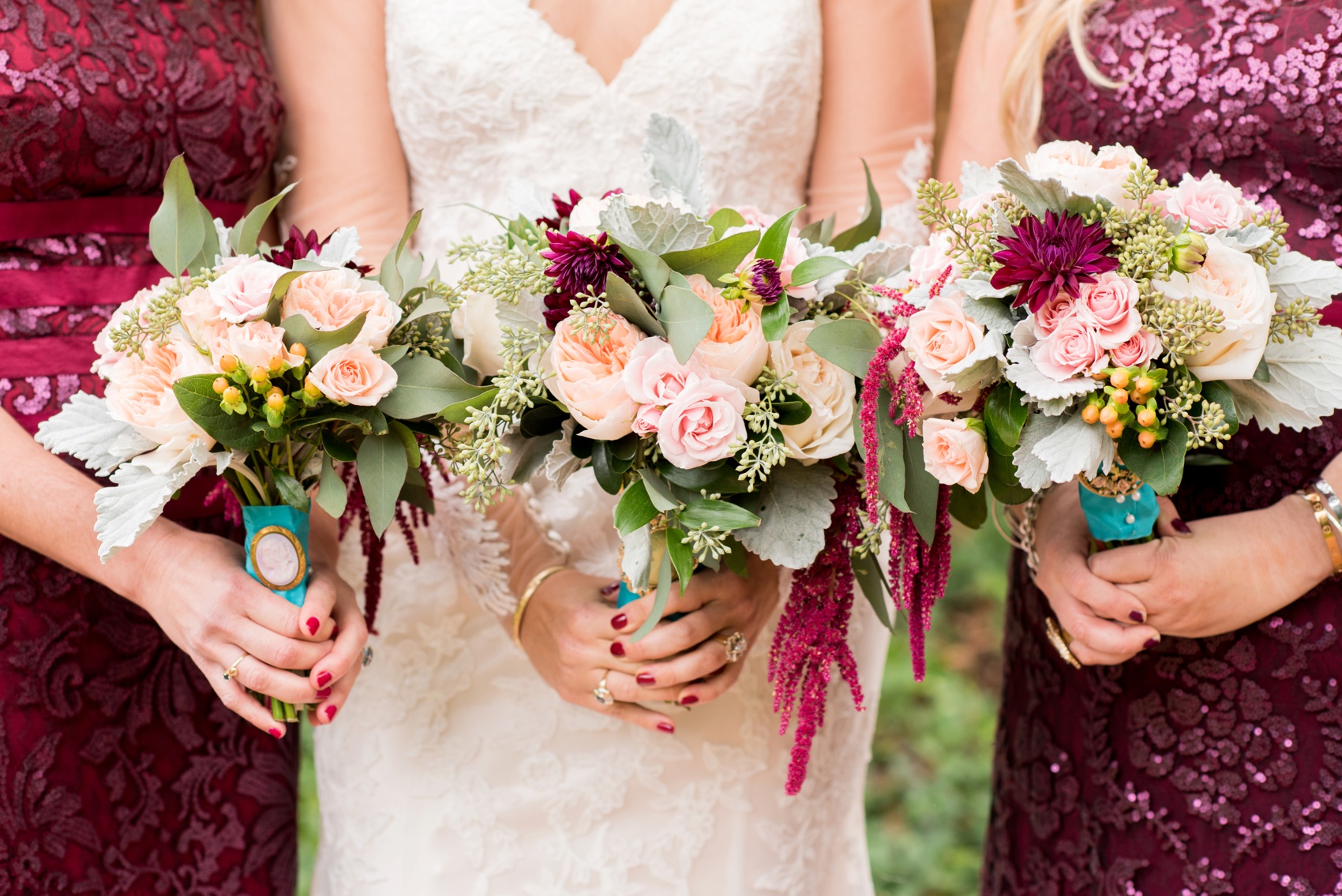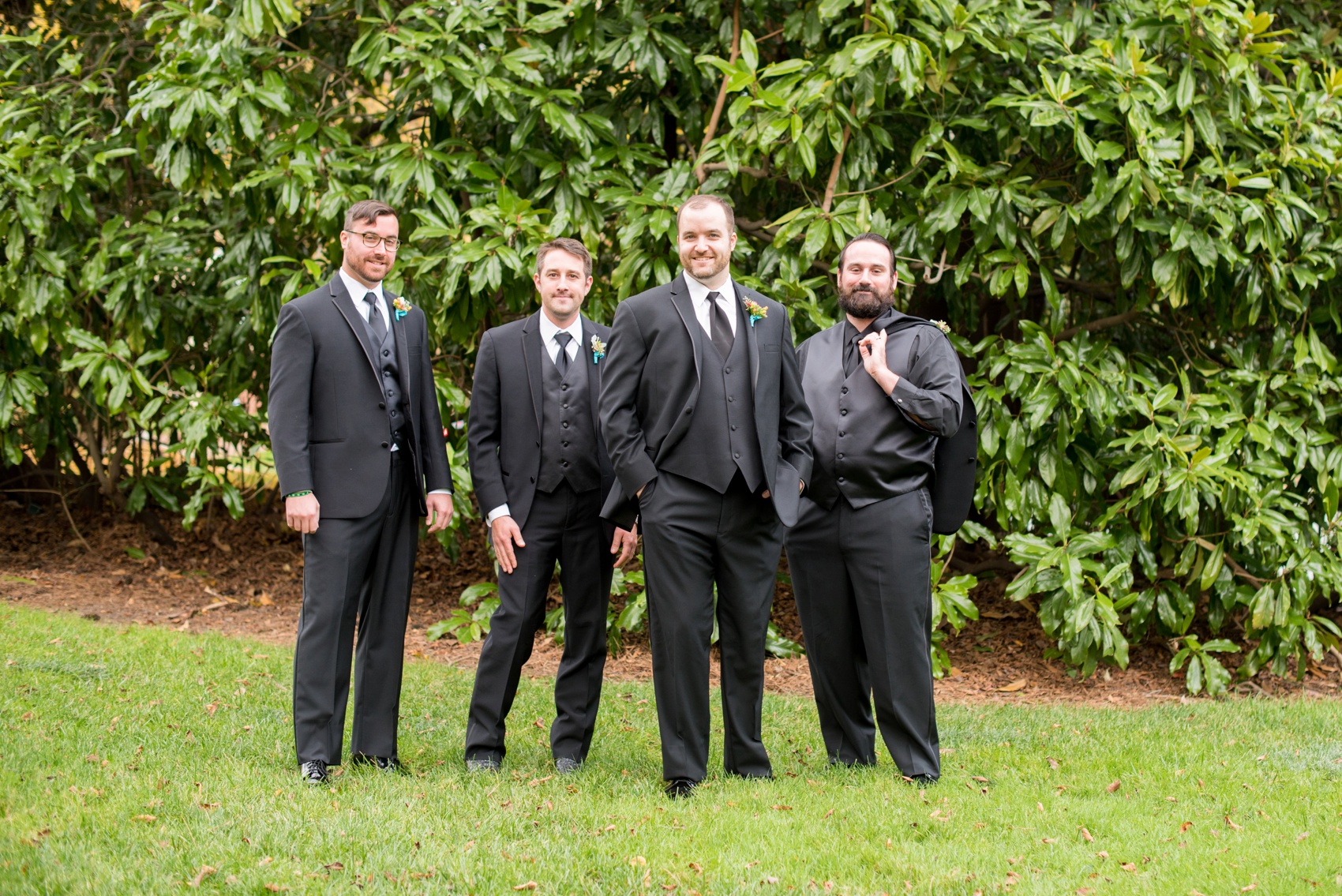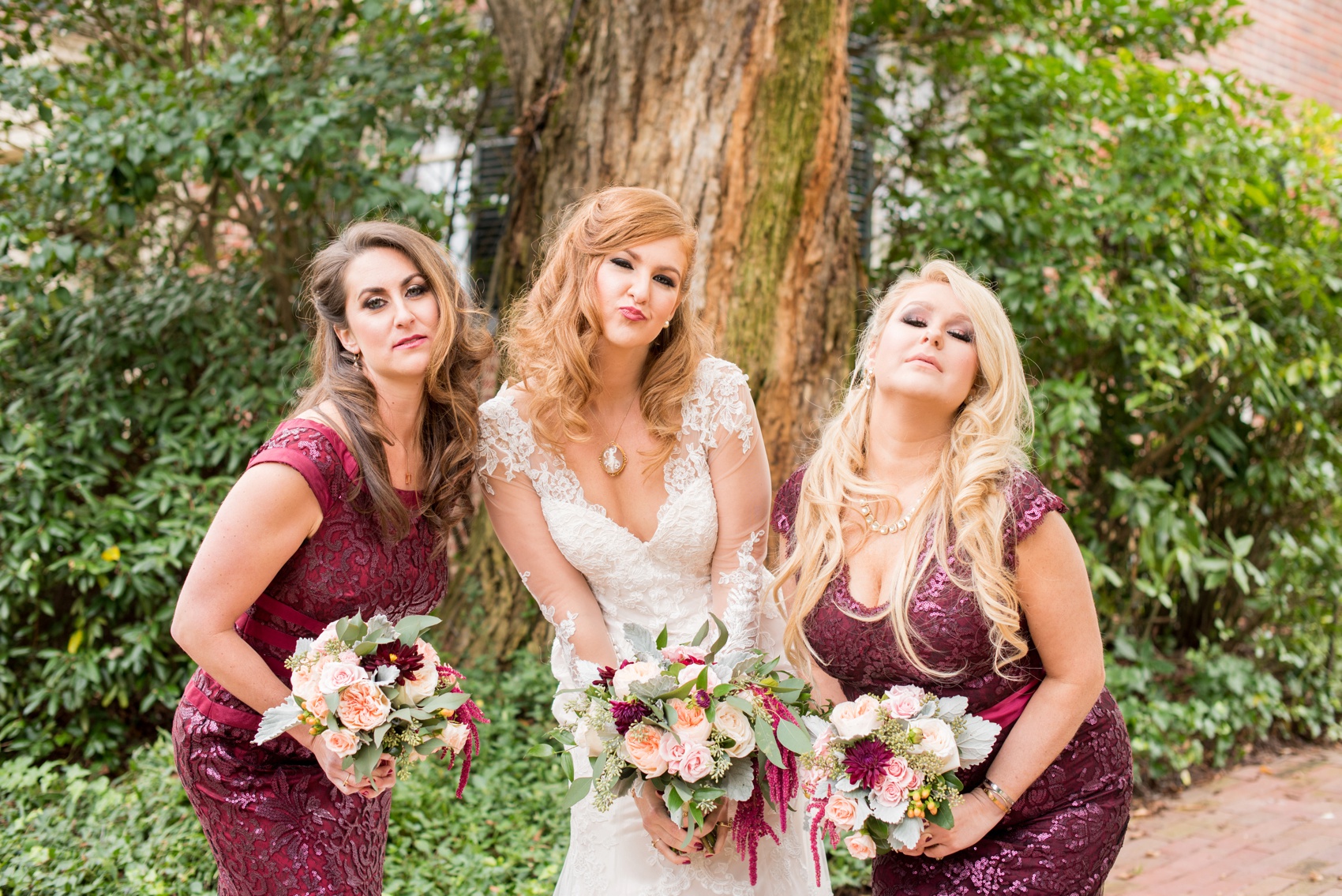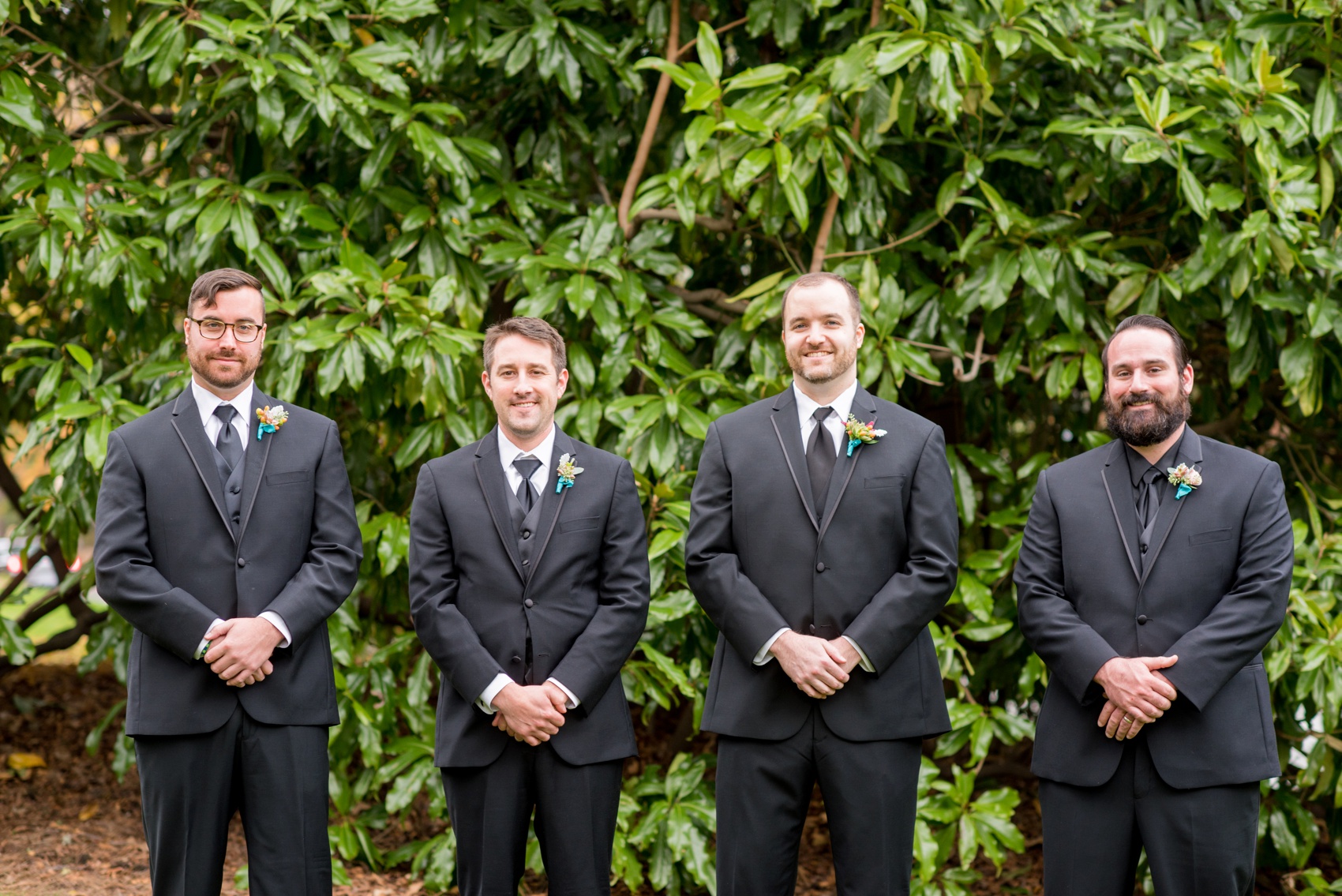 If this doesn't go down in history as one of this family's best photo memories I don't know what will! Their nephews dressed as the Lion, Tin-Man and Scarecrow from The Wizard of Oz. I loved that their mom, Bryan's sister Shannon, wore ruby red slippers for the day!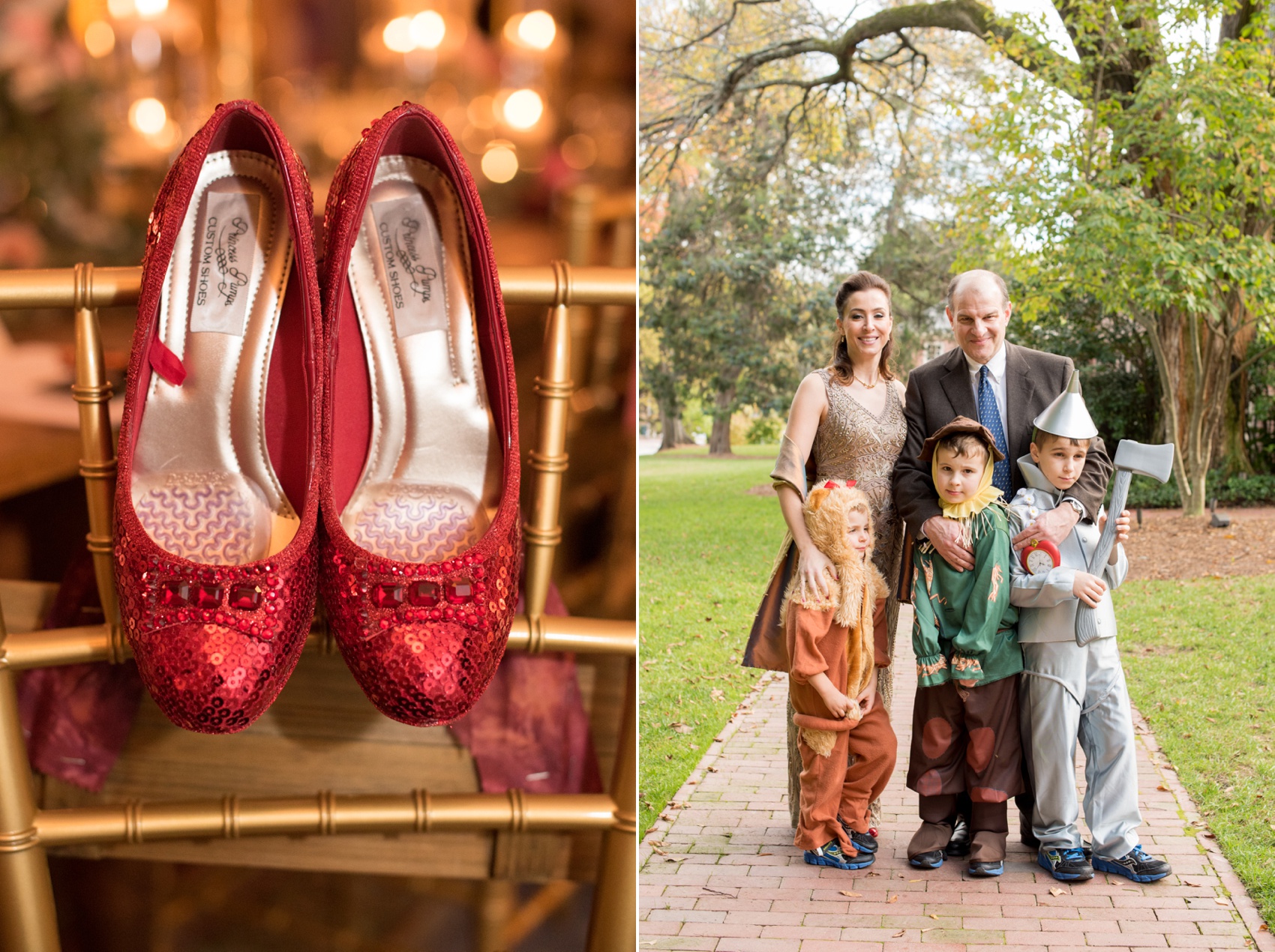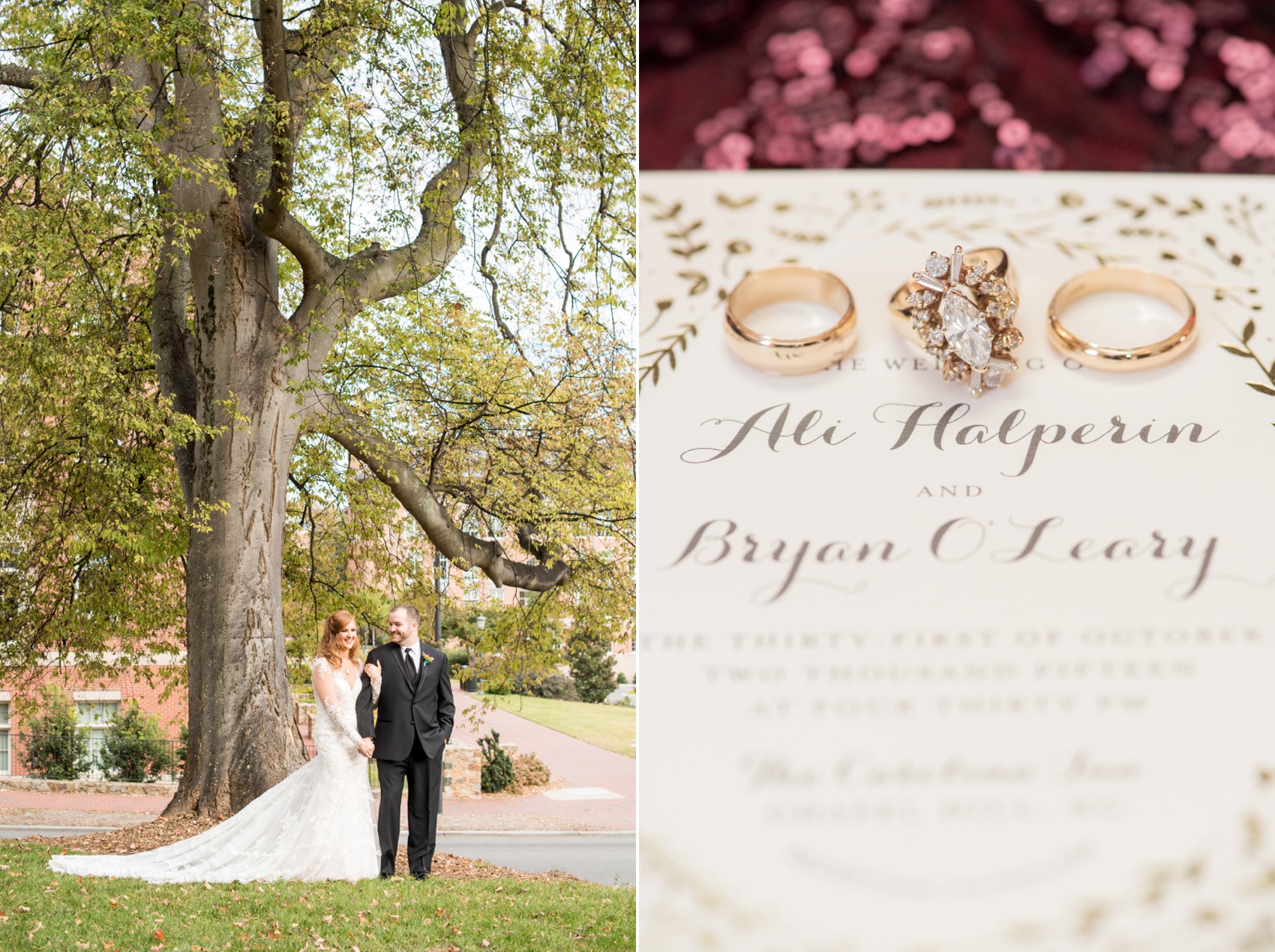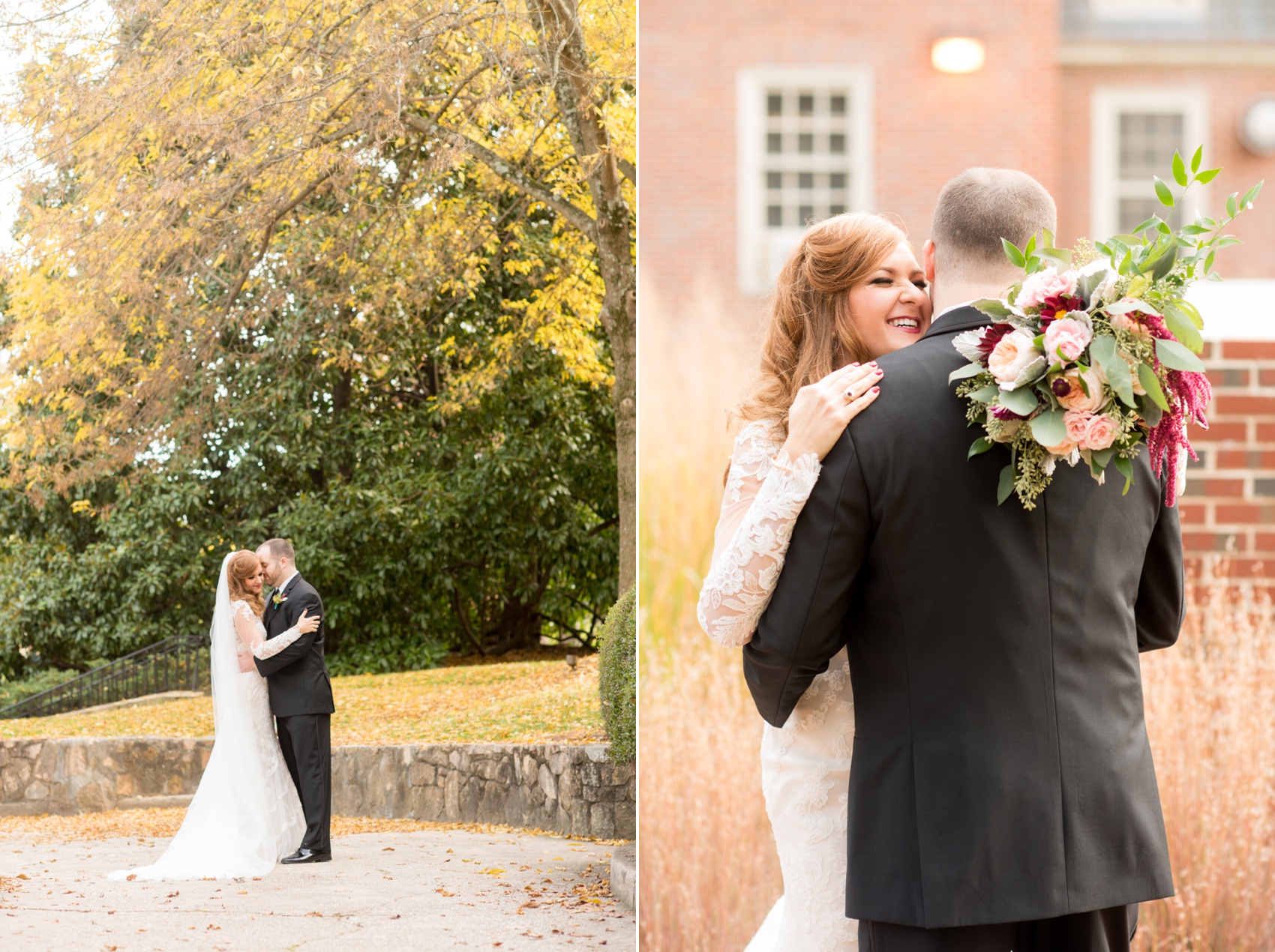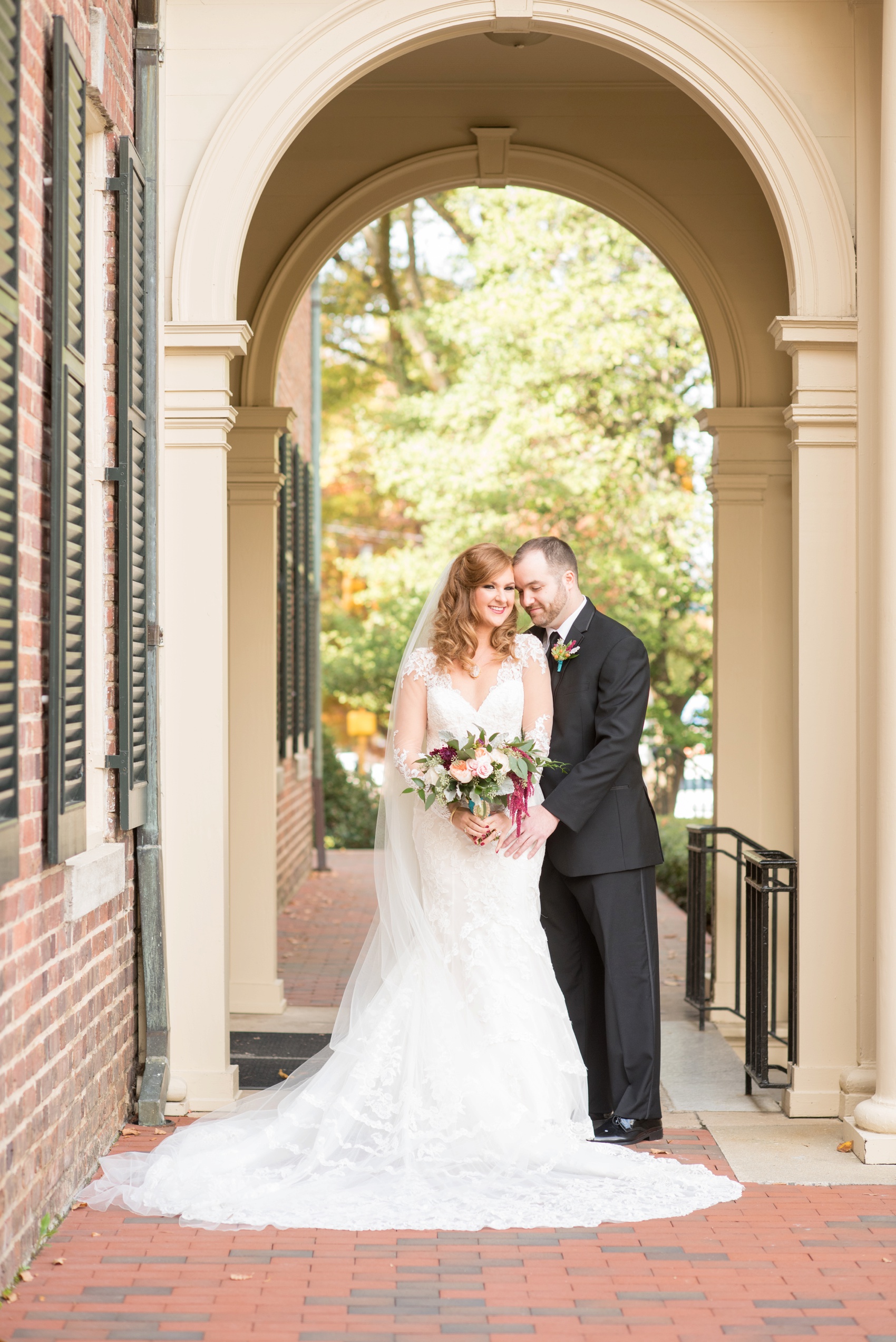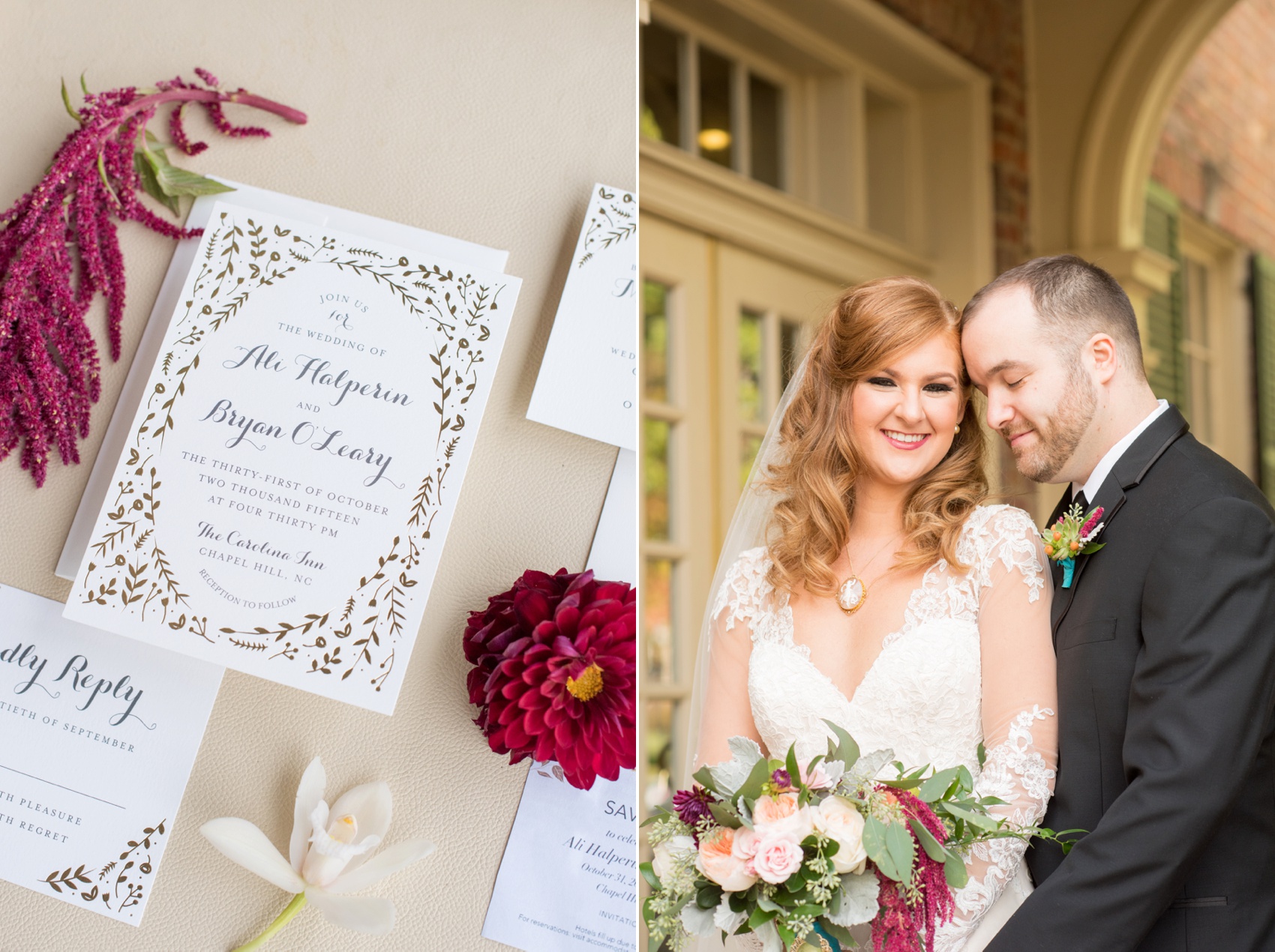 Their ceremony was stunning – the outdoor courtyard of The Carolina Inn looked fall-fabulous with pumpkins and gourds dotting the aisles, leading up to a decorated chuppah that framed the handmade ketubbah Ali's friend created.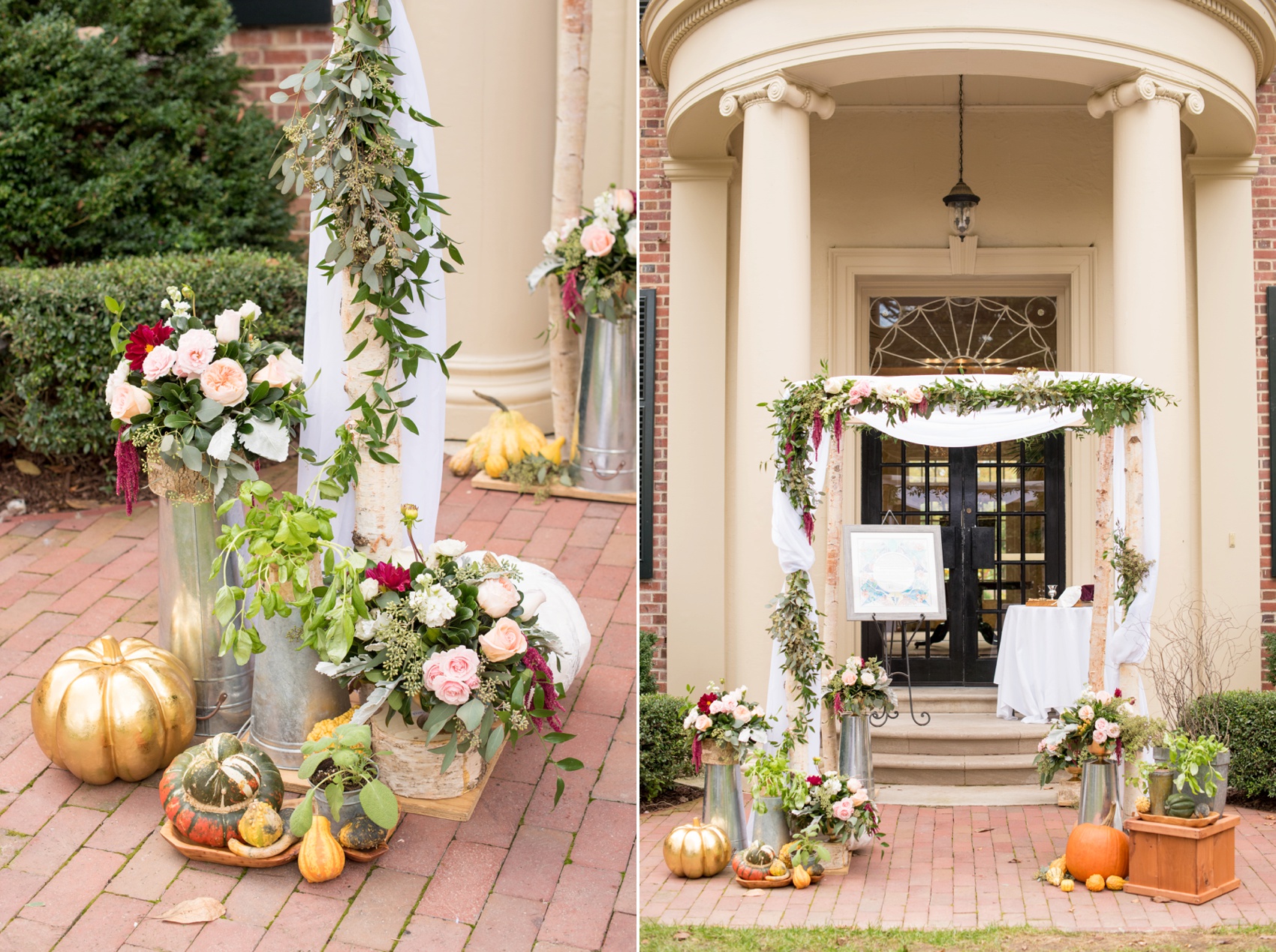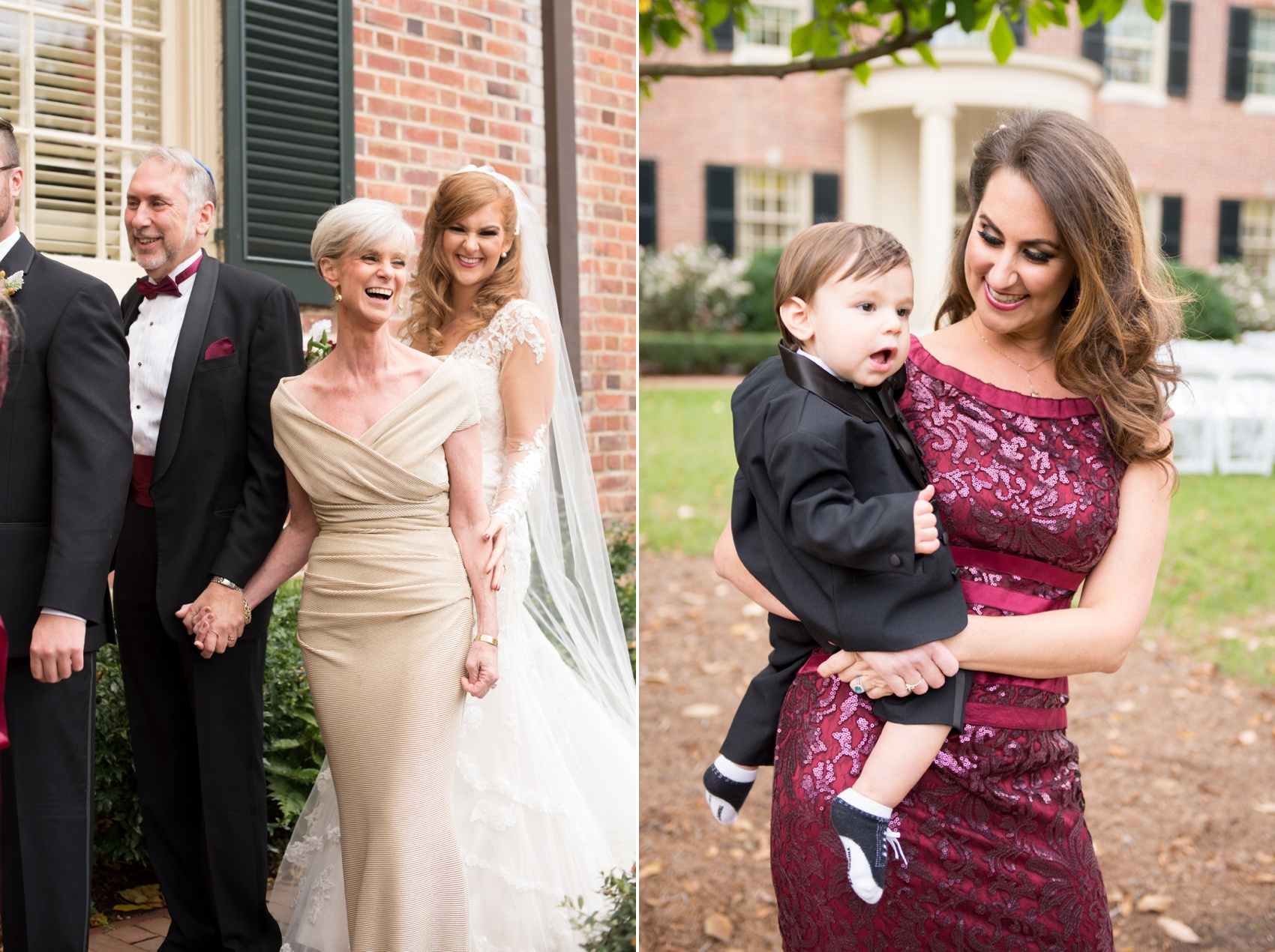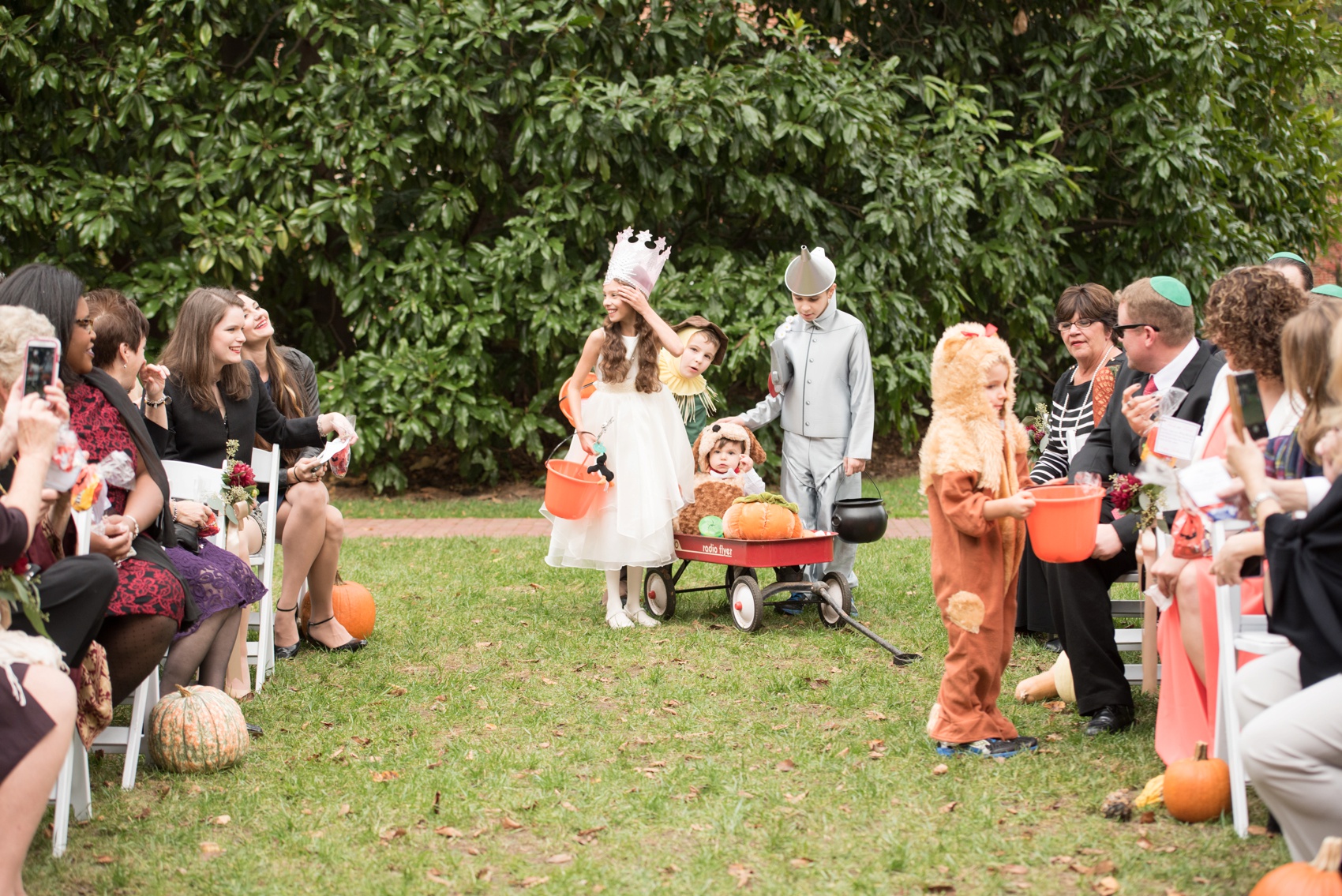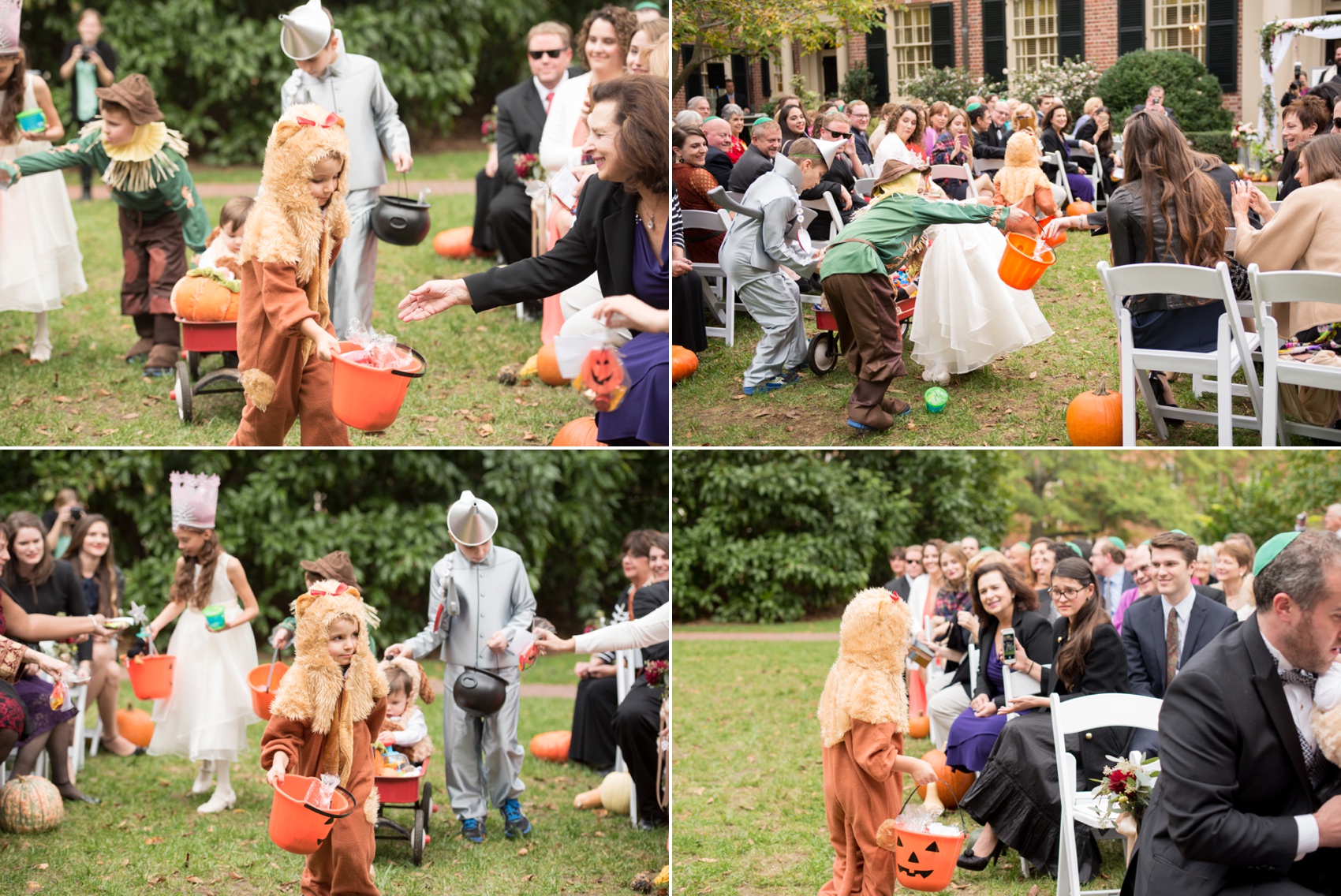 The little Lion, Mark, liked his role sooo much he ended up going back "up" the aisle to get more candy before the bride even stood a chance to begin walking… It was hysterical and he had everyone laughing! His brother, George, ran after him to tell him that he had to go sit with them. When that was unsuccessful, Mark's father picked Mark up and ran him over to the front so Ali could proceed down the aisle with her parents. It was a highlight of any wedding I've ever photographed or attended!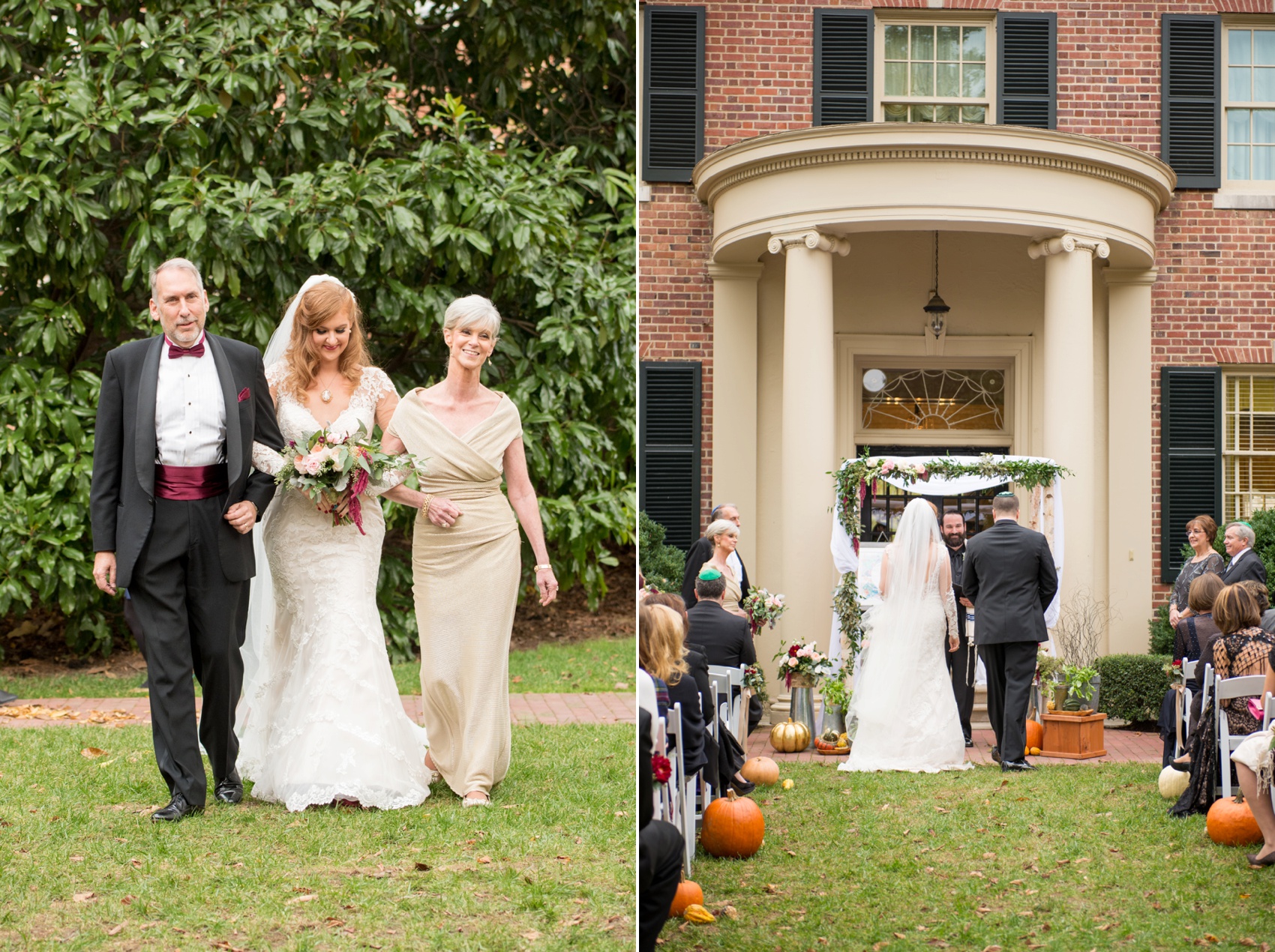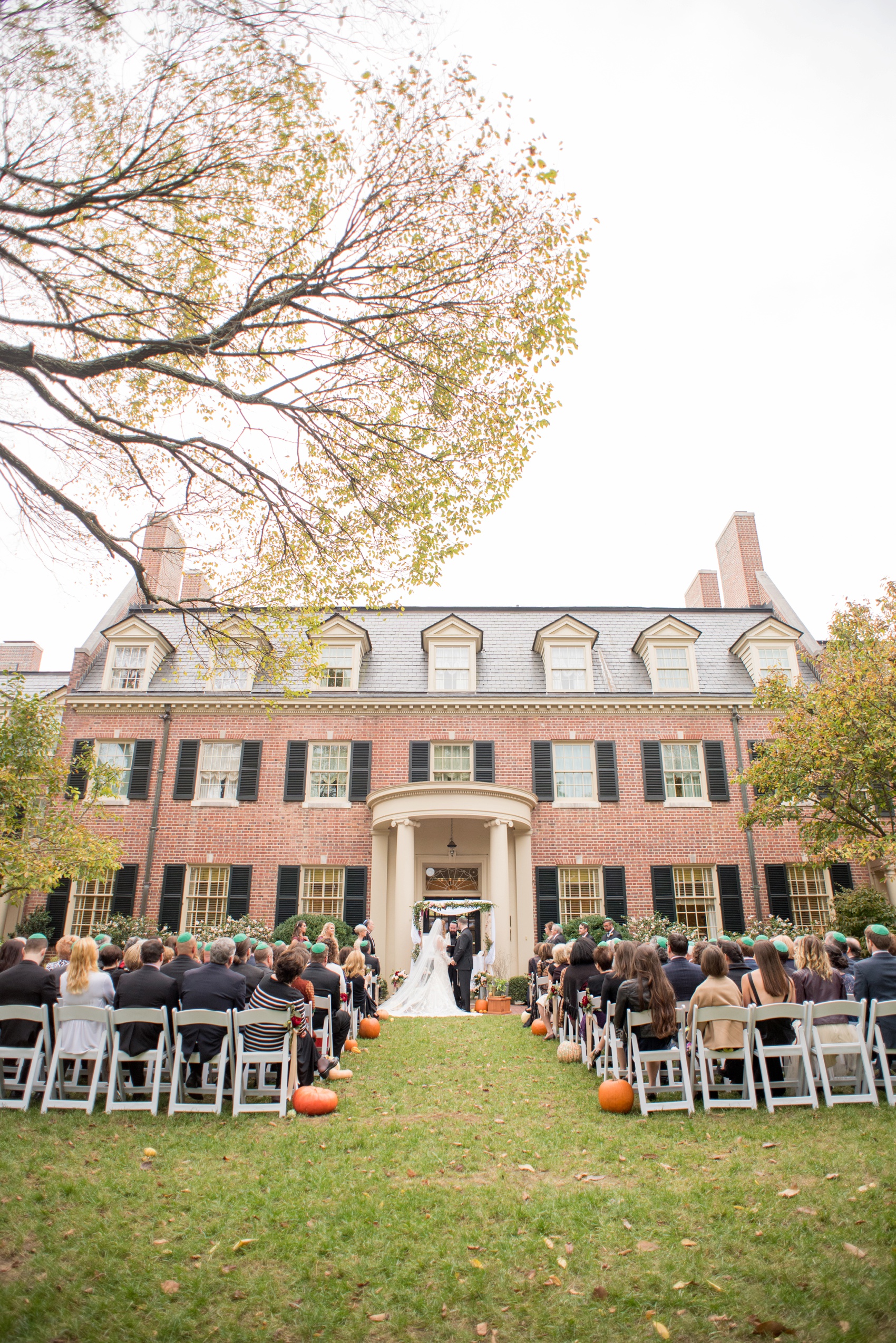 They said their vows in front of their most treasured family and friends from all different times in their lives, up to present day, something they were both really looking forward to. Then…it was time to party with everyone!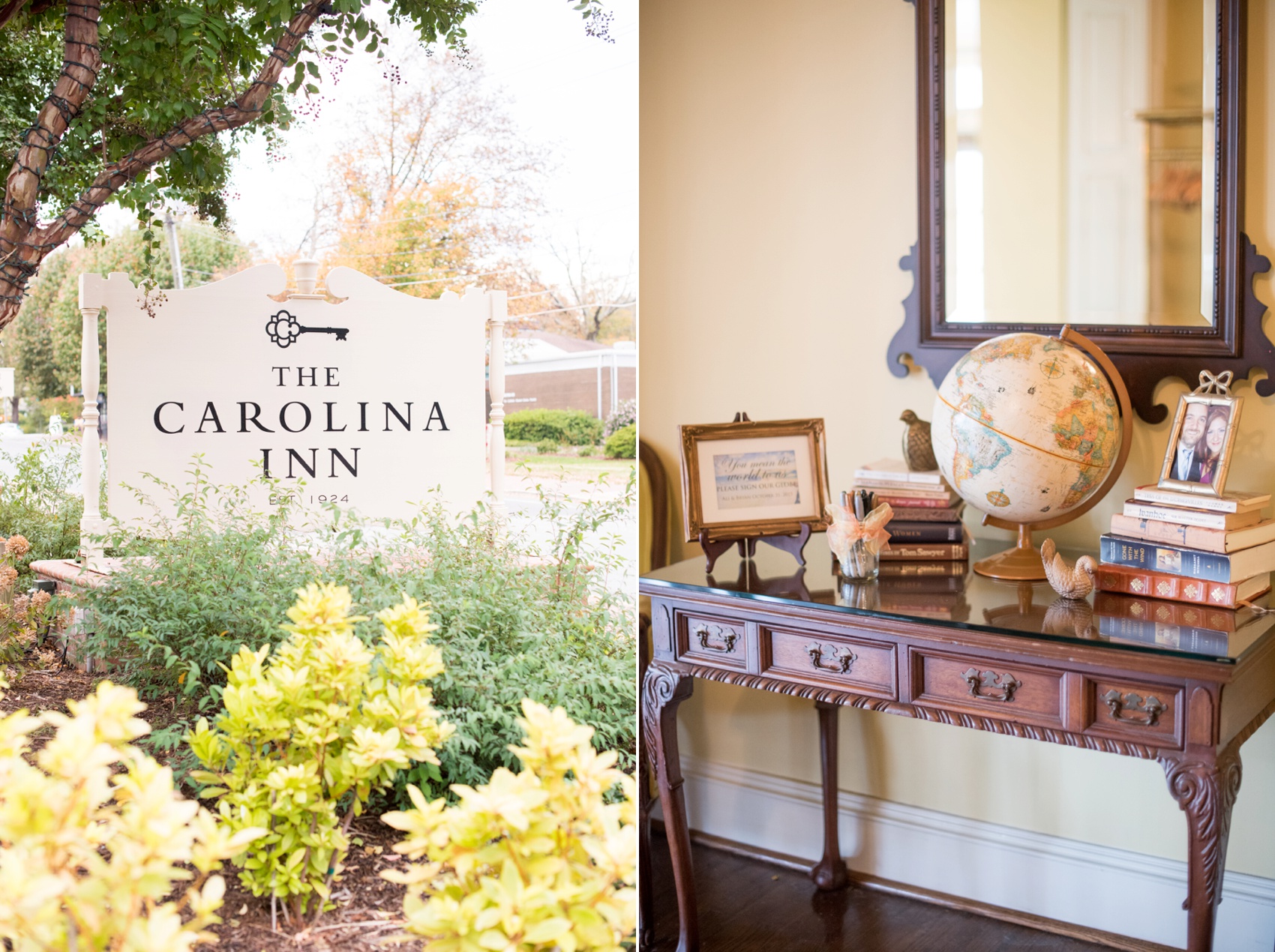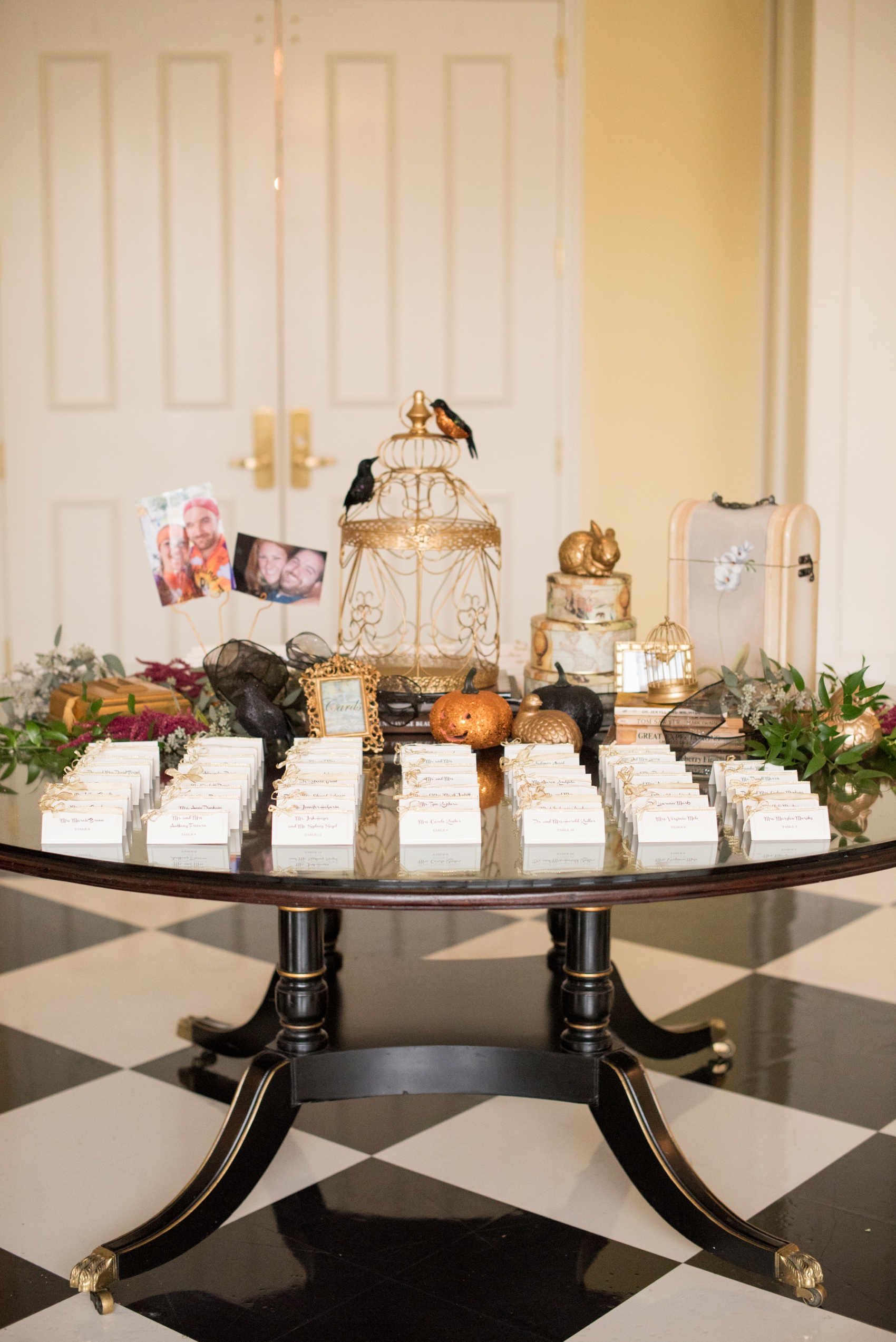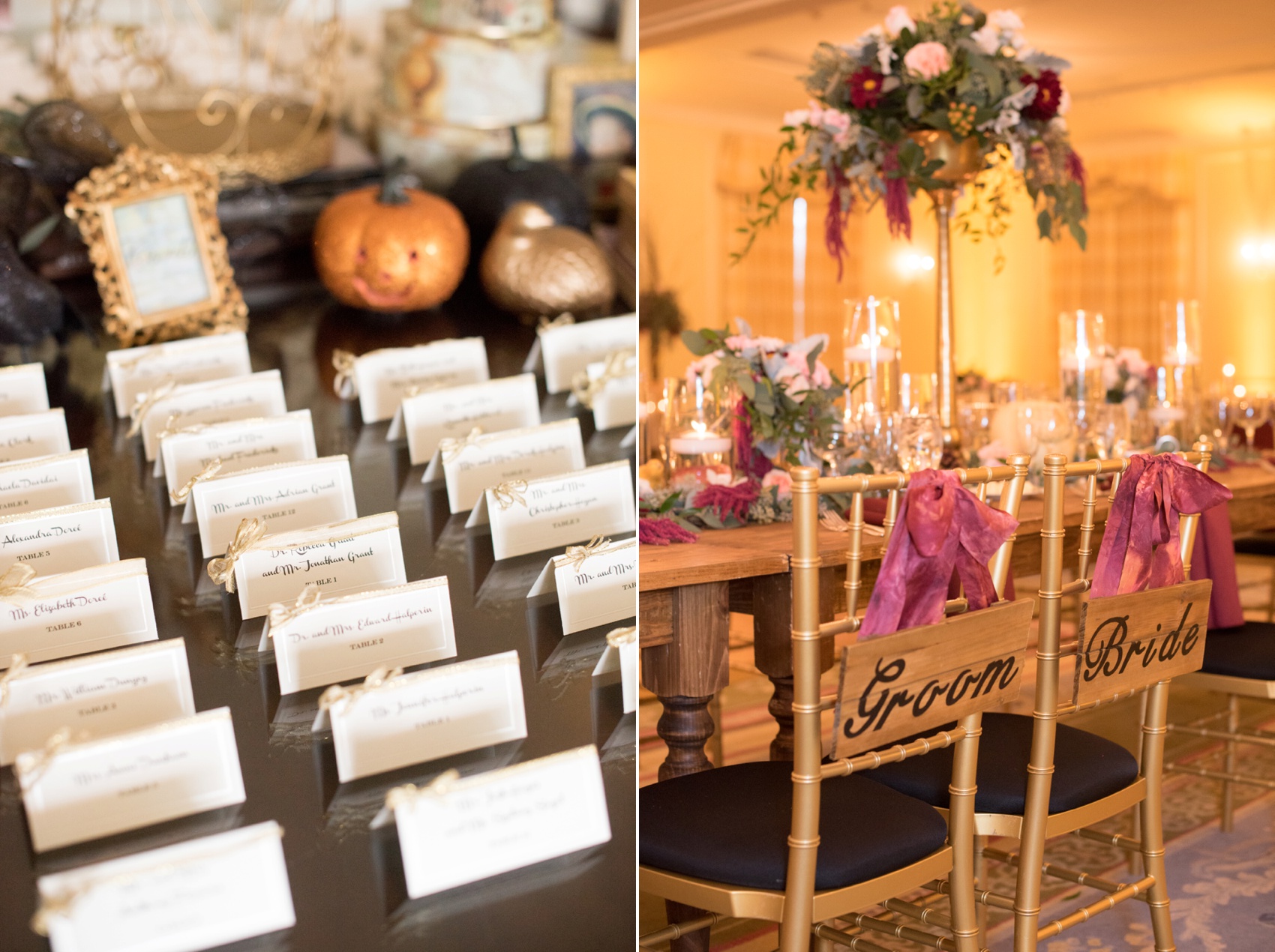 The reception details were tastefully tinted with hints of the holiday weekend like glittered pumpkins at the escort card table with a card cage with black crows, and a tin jack-o-lantern container on the dessert table that the bride made herself.
Time to keep off those heels and get the reception started!
Bryan changed into converse that seemed much more "him" as he is a self-proclaimed goofy guy…and pretty much signaled to their guests they were ready to get down on the dance floor…starting with their first dance to Beyonce's, "Love on Top." They started off slow…then BAM! Double time! 🙂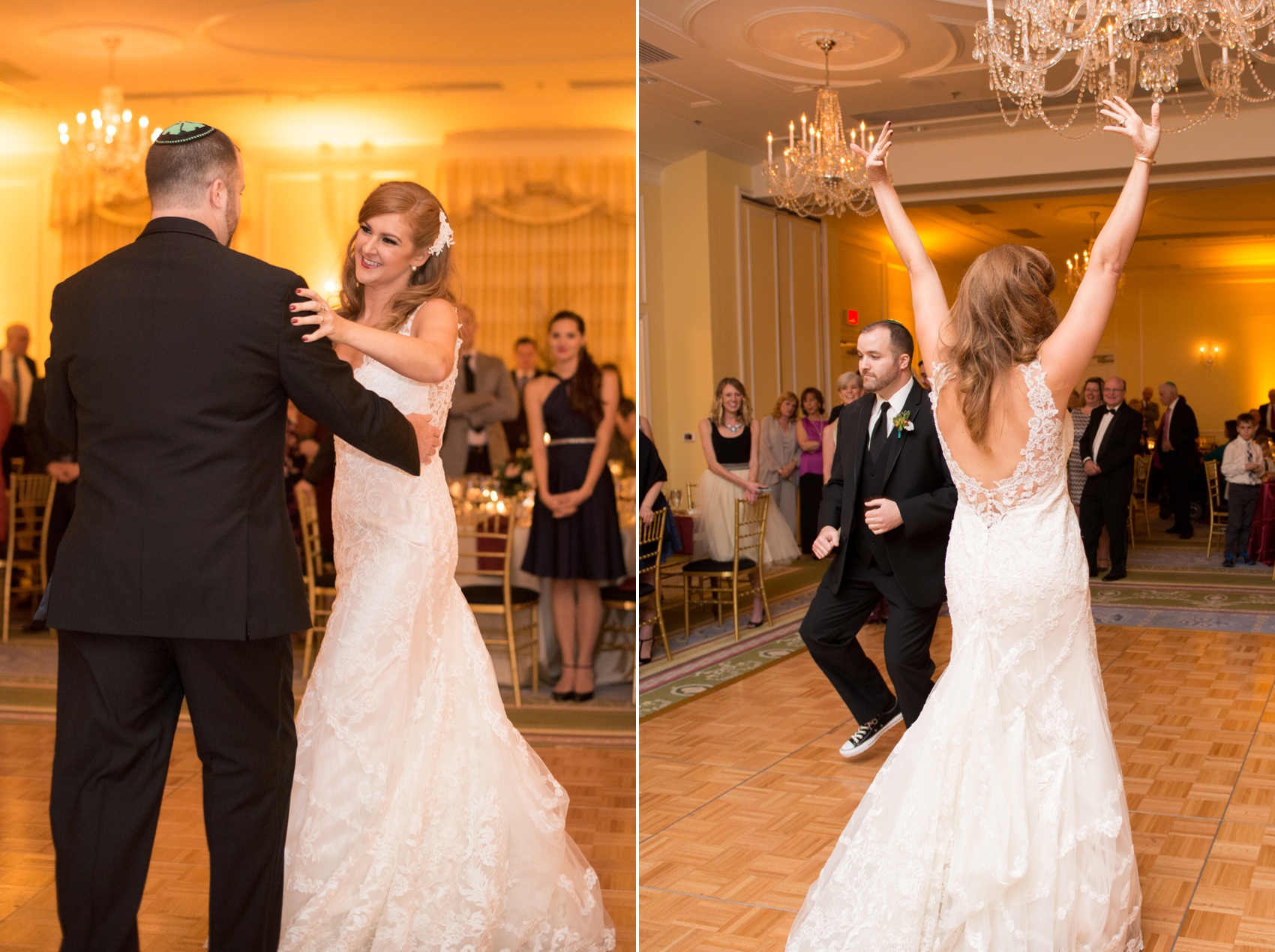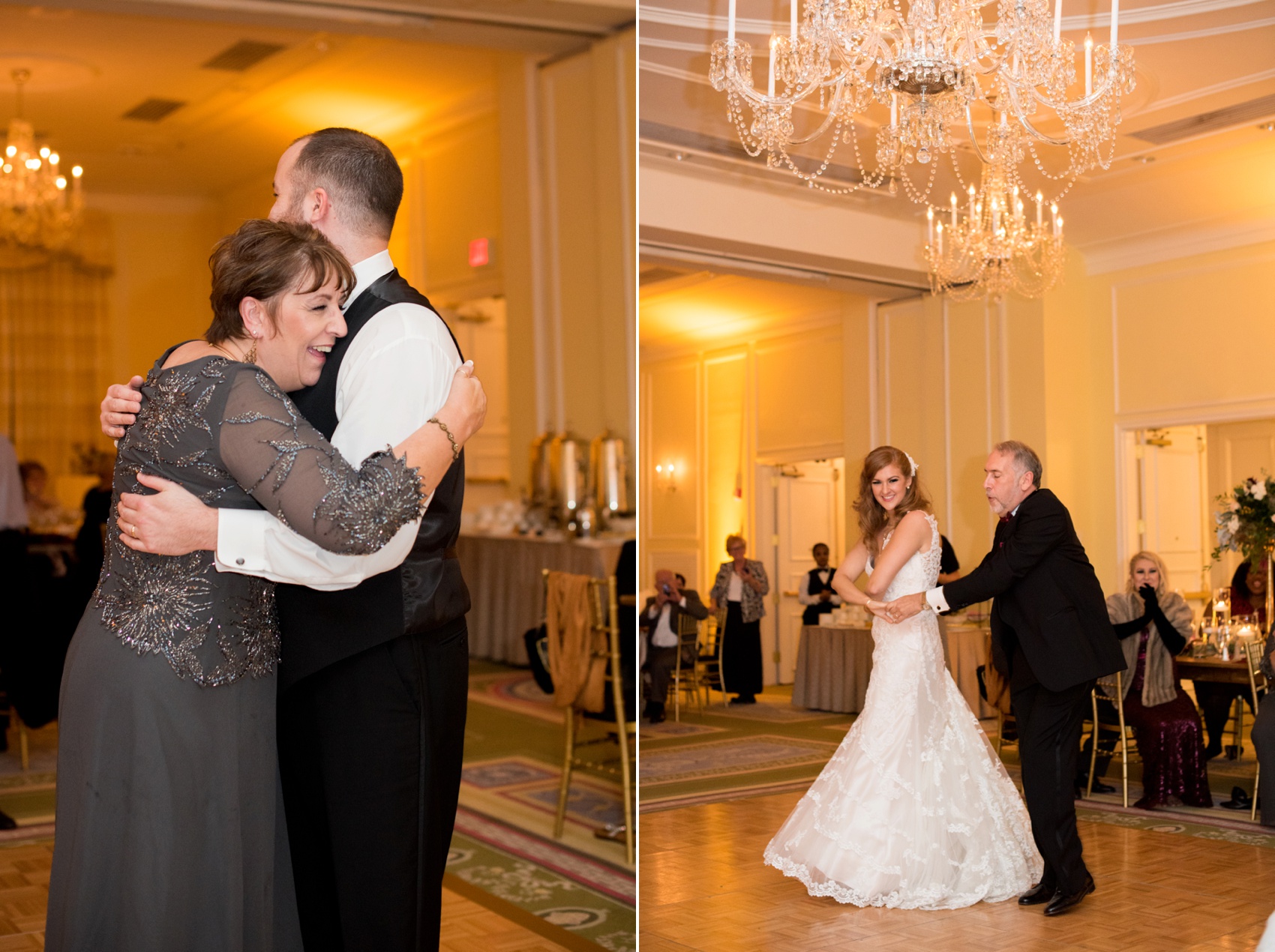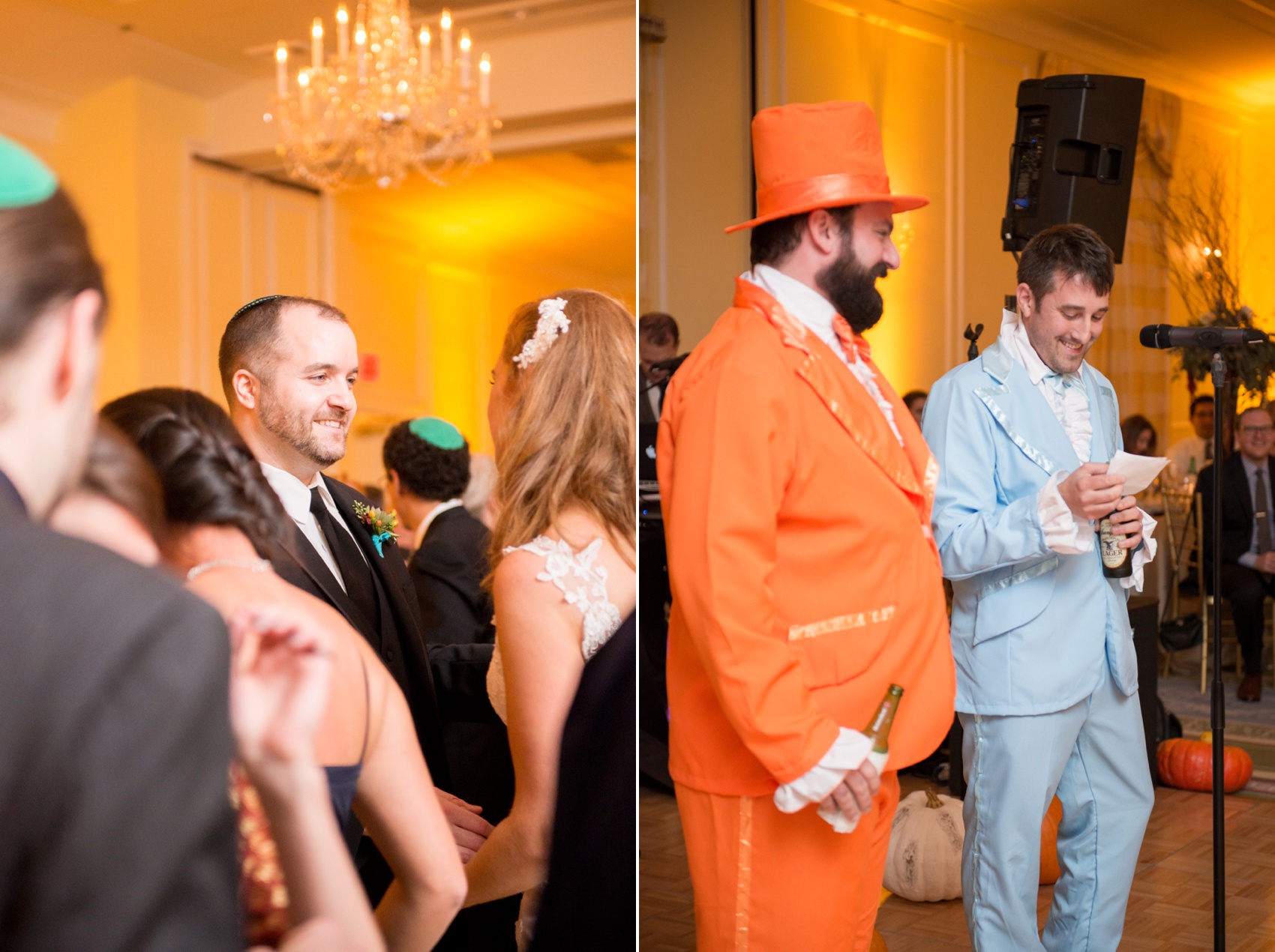 Though I must say I couldn't have imagine a more wonderfully non-themed/themed autumn wedding on Halloween it was really great that they embraced the dress-up aspect later in the evening. Unbeknownst to them, their officiant (good friend Eric) and best man, Zachary, dressed as Lloyd and Harry from Dumb and Dumber. They had the best costumes after the cast of The Wizard of Oz, and everyone else got into the spirit with costume accessories they handed out halfway through the reception dancing, like antennae headbands and witches hats.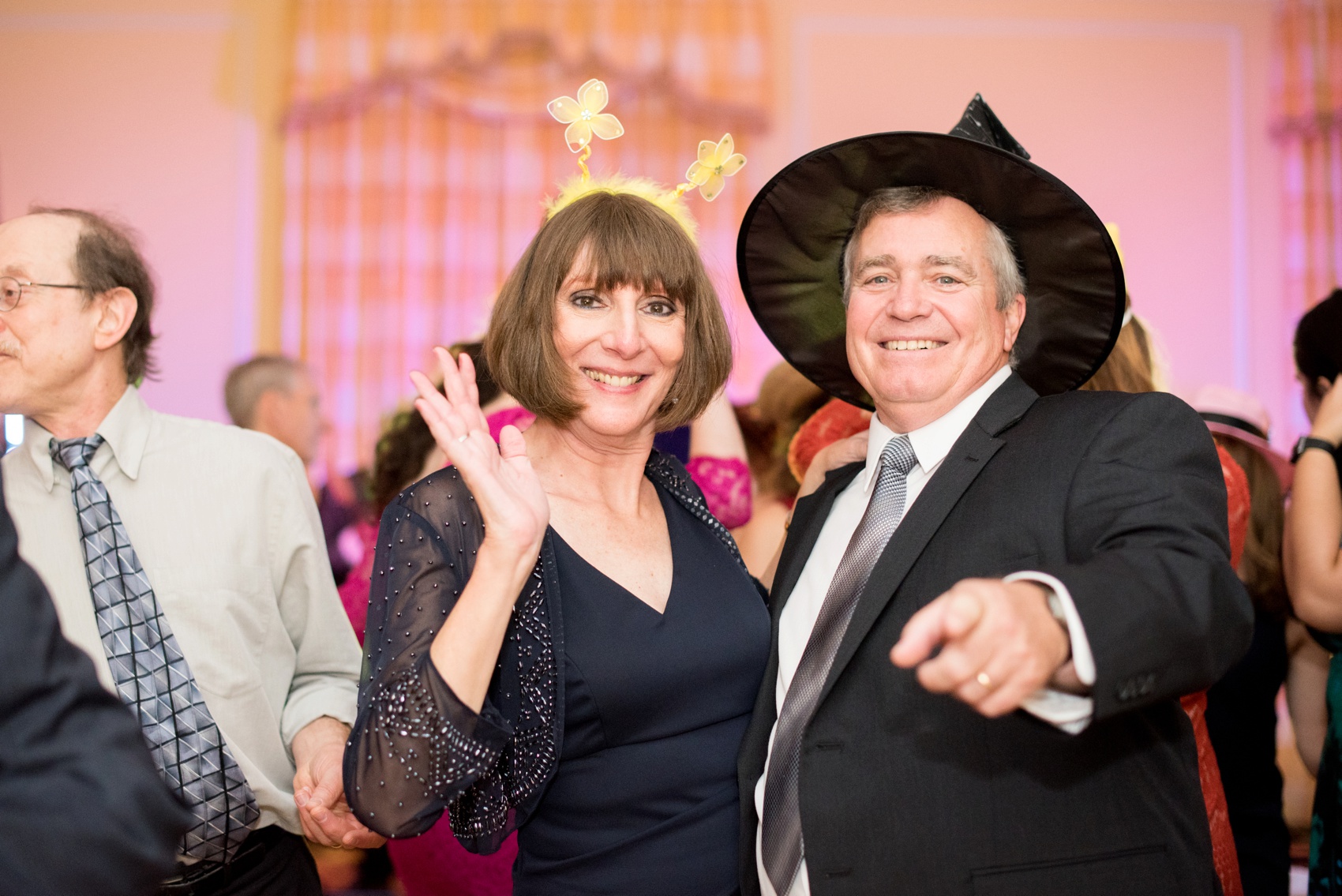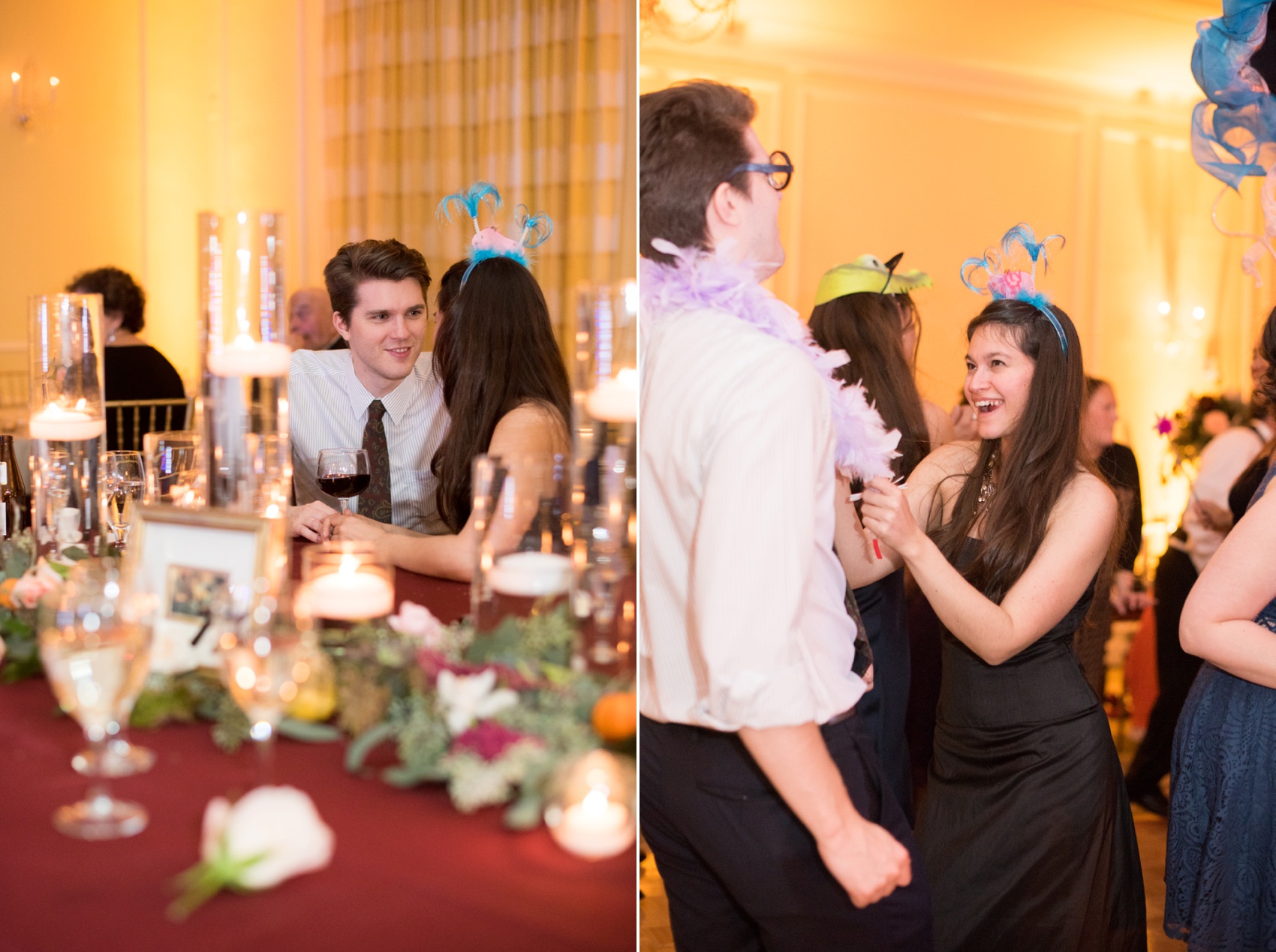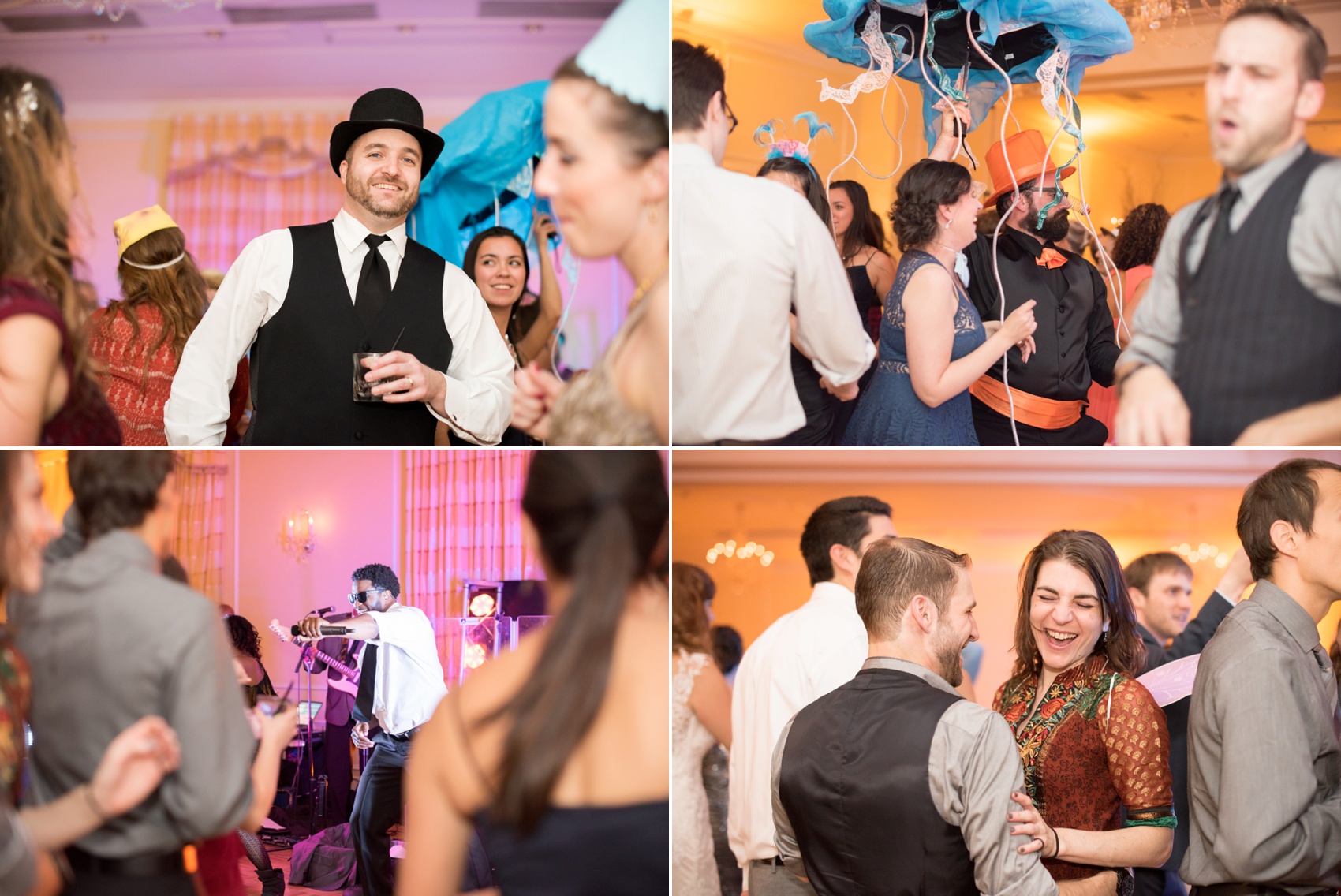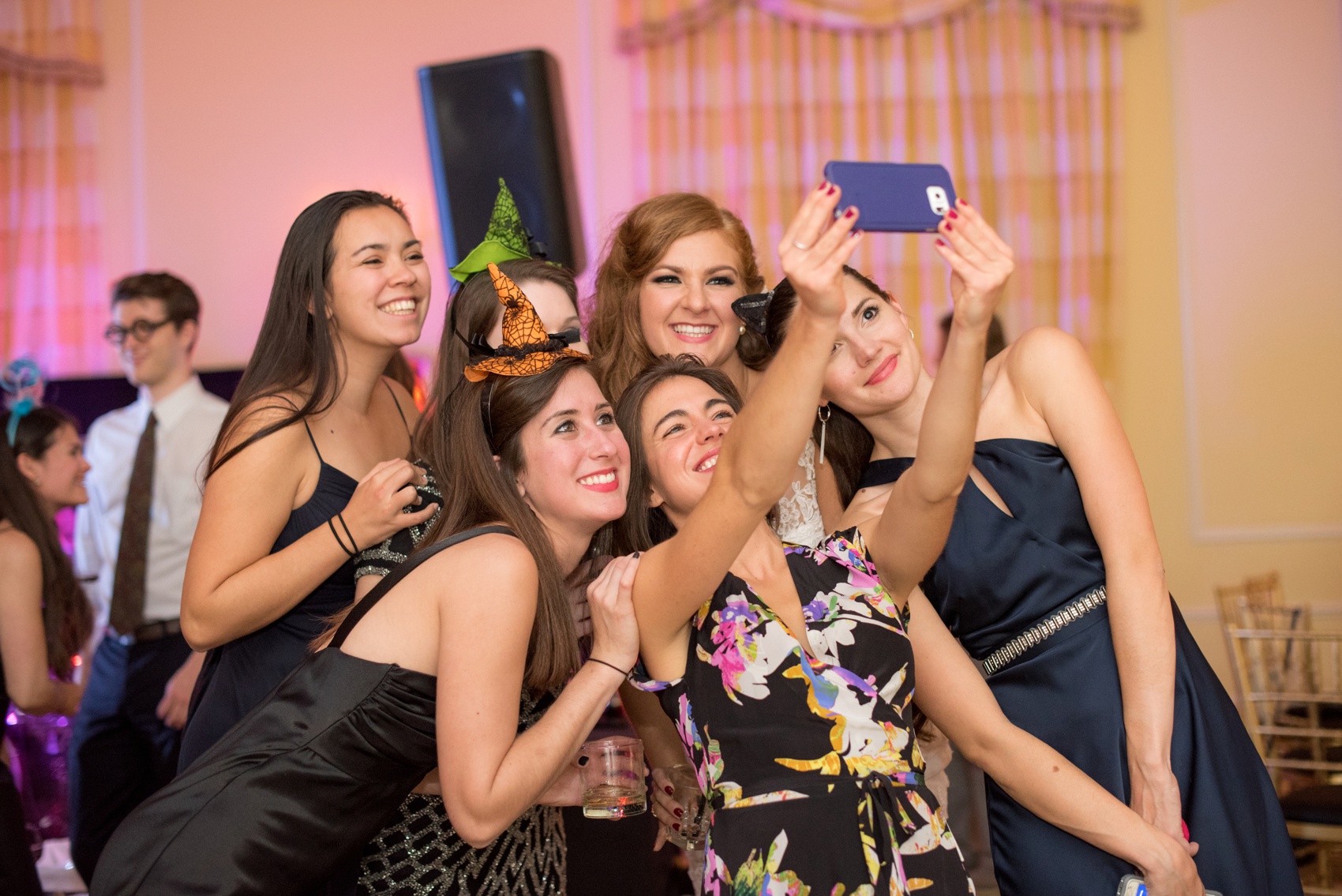 I would say that their wedding not only went off without a hitch (again, they had a fabulous wedding planner and team at The Inn!) but will go down as one of my most memorable with some of my favorite moments and photos…ever!
Congratulations to the newlyweds!
Wedding planner: Amanda, A Swanky Affair / Venue: The Carolina Inn / Flowers: Tre Bella / Wedding invitation: Minted, A Garden Romance Foil-Pressed / Cakes: Details Cake Design and Bakery / Band: Attraction / Makeup: Tiwa Lawrence / Hair: DB Sutton / Wedding gown: Martina Liana / Bridesmaids gowns: Nordstrom, Tadashi Shoji / Groom's suit: Jos A. Bank, Calvin Klein / Lighting: Carey Sound Inc. / Linens: CE Rental / Ceremony DJ: Bunn DJ Company /
If you like what you see don't forget to check out more on Facebook and Instagram!
For more weddings at The Carolina Inn also check out: