Kimberly and AJ were joined by their family and friends in New York, for their winter Sleepy Hollow Country Club wedding.
Their lives had brought them to this beautiful place after meeting over five years earlier in Hoboken, New Jersey. They got engaged when AJ popped the question at an an aquarium in Mystic, Connecticut, where he surprised her with family and friends, who were ready to celebrate afterwards.
They planned to marry in a church and then party all night to the sounds of a live band and by the warmth of candlelight at their Sleepy Hollow Country Club wedding.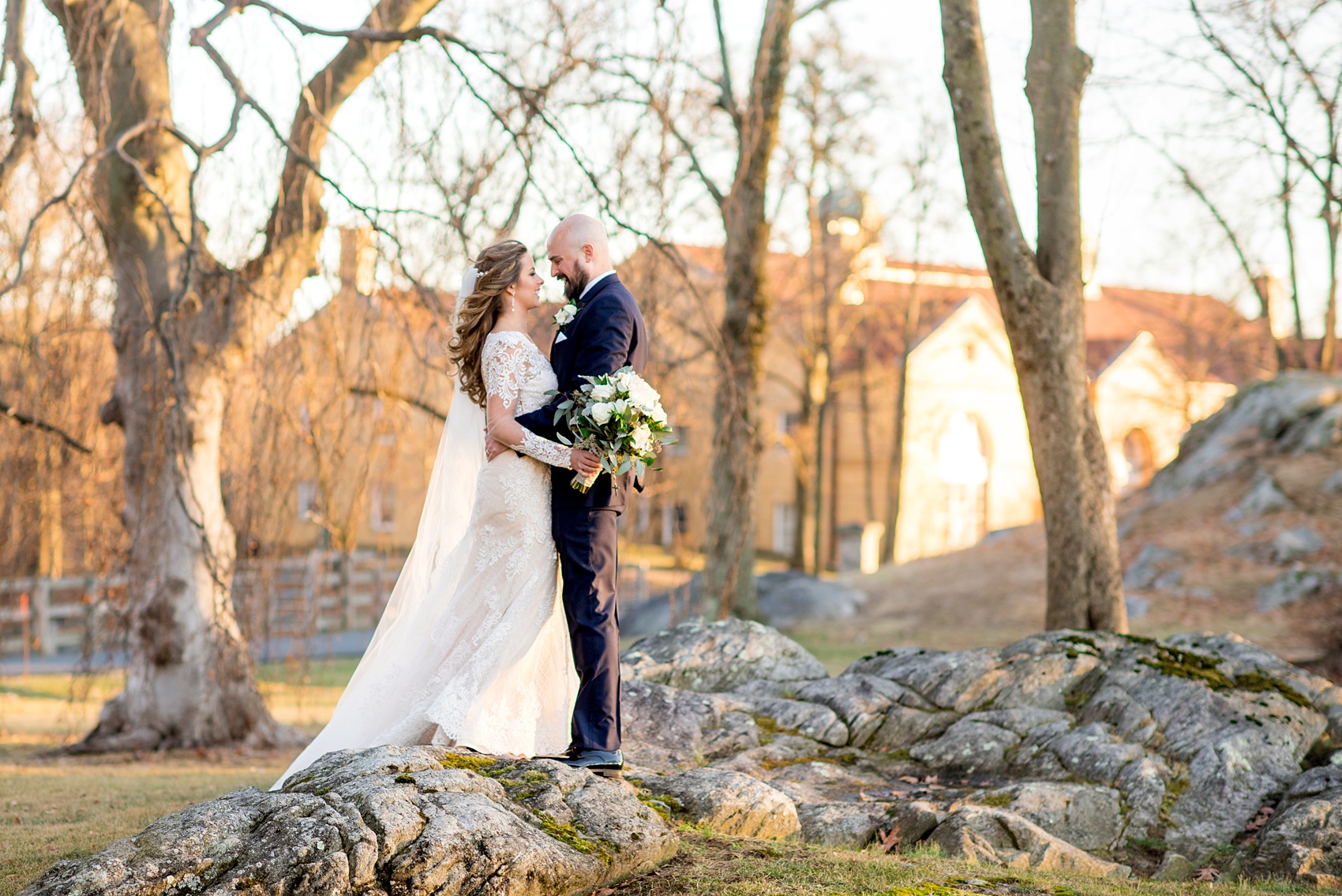 About Sleepy Hollow Country Club in Westchester, New York
The venue had extra special significance for Kim because it's where her aunt had gotten married over fifteen years prior. Kim would marry the love of her life there on a cold winter's day. It was a beautiful event that was warmed by so many glowing details, including the radiance of their love and the happiness of so many guests surrounding them. Never mind the candlelight!
It's a historic structure which was a Vanderbilt mansion in 1892. It changed hands in 1910 after Frank Vanderlip and William Rockefeller purchased it. Through a number of renovations and updates, it remains one of the most beautiful venues on the Hudson River and is one of the top-rated golf courses in New York.
It has gorgeous stained glass details, a sweeping staircase, guest rooms onsite, and beautiful landscapes outside including photo-worthy trees and lawns.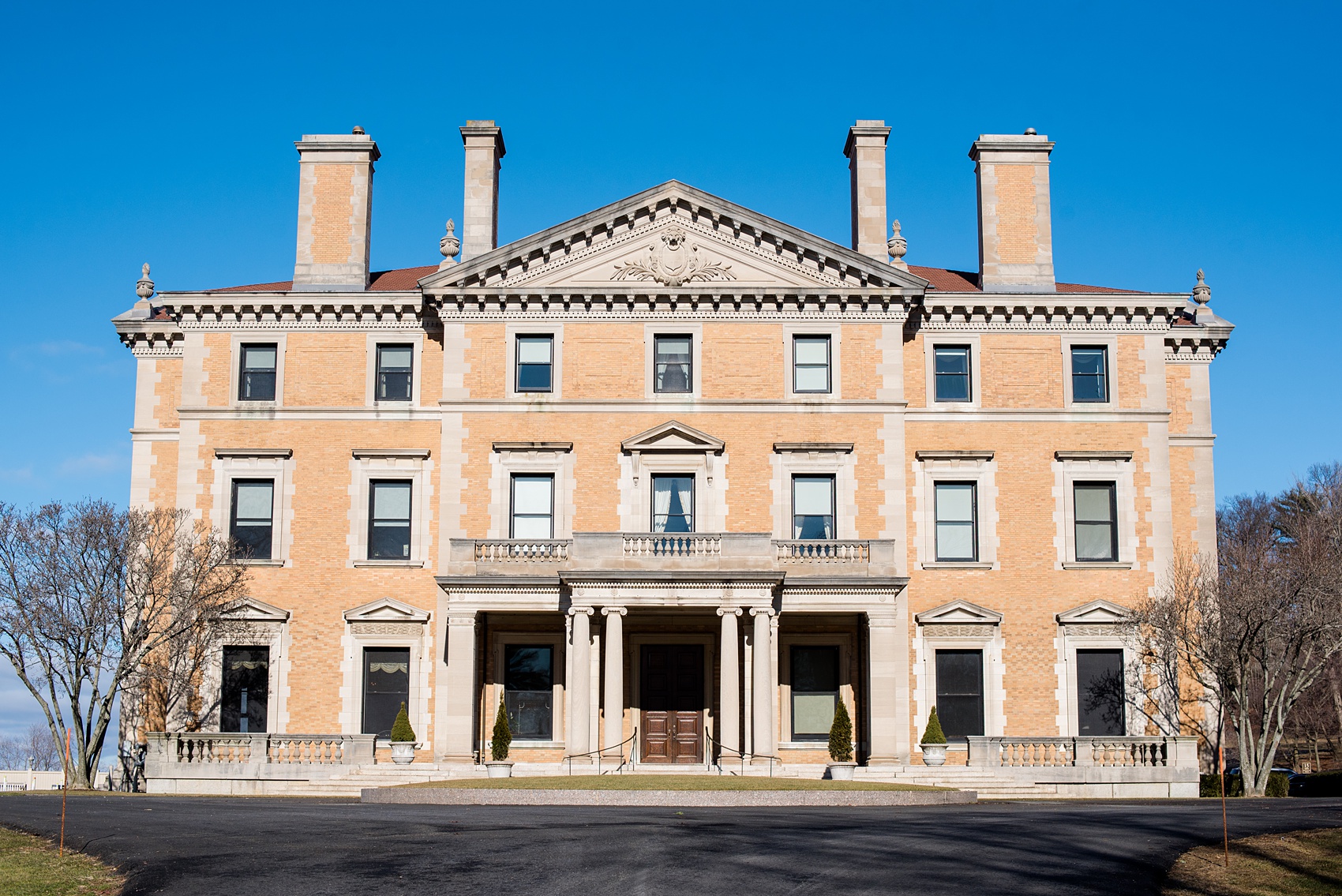 Getting Ready for their Sleepy Hollow Country Club Winter Wedding
Both Kim and AJ got ready at the venue, before jetting off to their offsite (yet nearby) church ceremony. They opted not to do a first look so instead got ready in separate areas of the country club's hotel and waited to see each other for that walk down the aisle.
I absolutely loved Kim's splurge on her Aquazzura Firenze Italian velvet wedding heels. They were PERFECT for a winter wedding! The pajamas she got her bridesmaids were the cutest cozy outfits to prepare hair and makeup for the day in, too.
She read a letter from AJ before she got dressed for the day with the help of her mom and best friends. AJ did the same, reading a letter from Kim, but after he of course put on his superhero socks and classic black bow tie and suspenders, to go with his crisp navy blue suit with black lapel. His mother assisted in pinning on his boutonniere to complete his official "groom" status!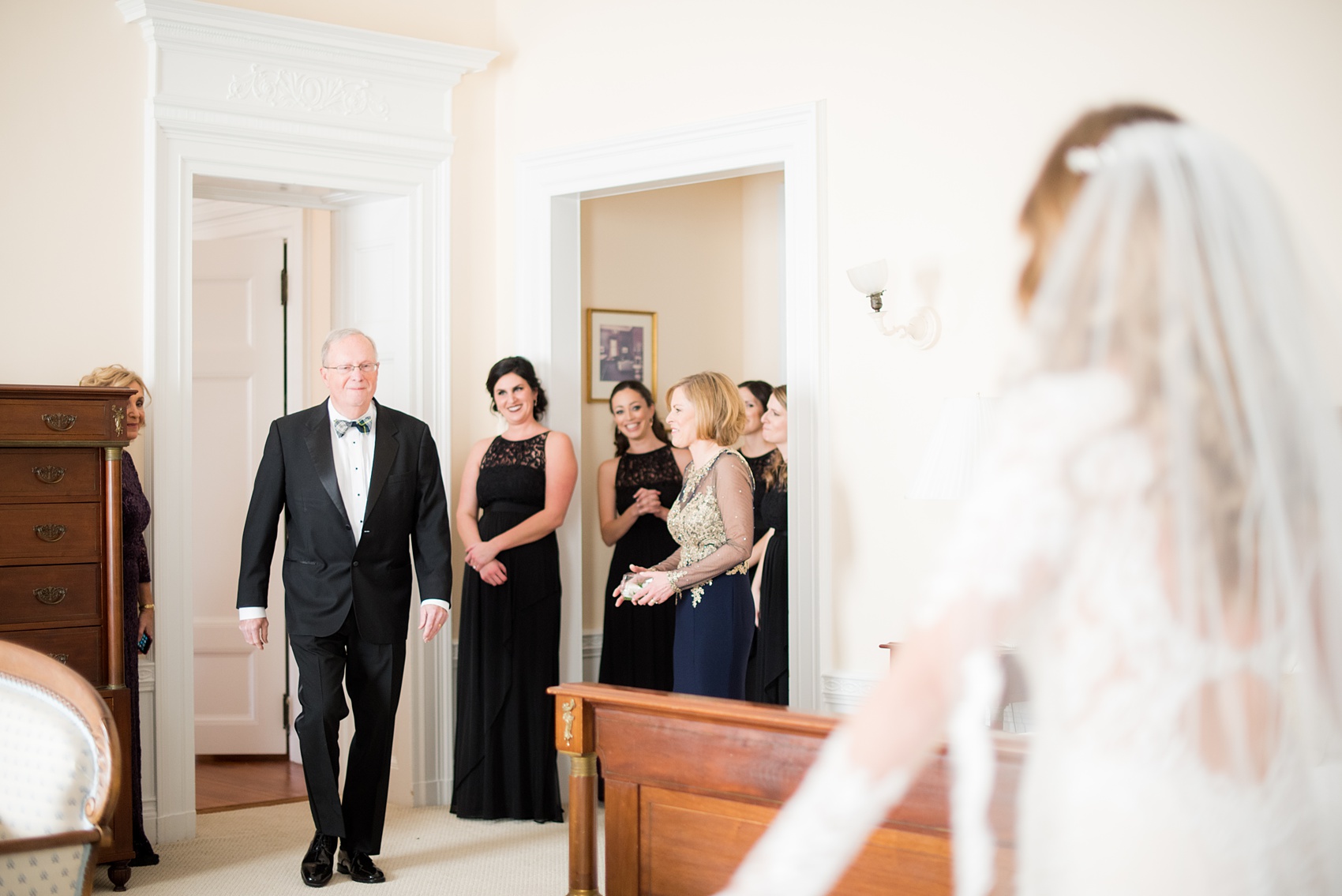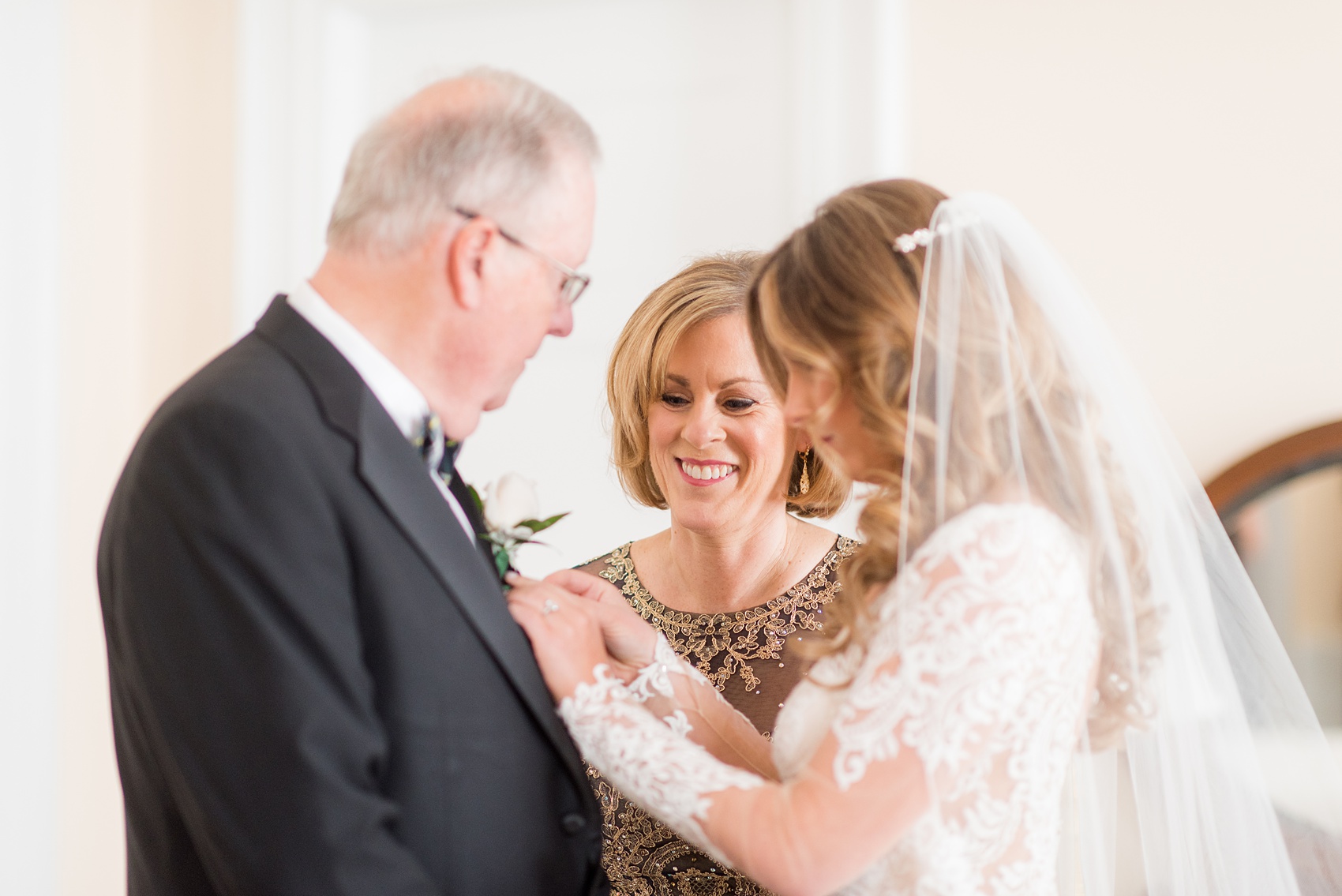 The sweet moments of Kim's dad seeing her all dressed as a bride for the first time that day warms my heart as the bridesmaids lovingly looked on with tearful eyes. Kim helped put his boutonniere on before everyone headed downstairs to meet the groomsmen, and Kim's groom, at the church to get married!
January Church Ceremony in Sleepy Hollow New York
The anticipation was worth the payoff. It may have been a very cold January day, but the sun was shining down on the church during their ceremony. They exchanged vows and rings as the priest performed a beautiful ceremony.
Back to Sleep Hollow Country Club to Celebrate their Winter Wedding
Their happiness from the ceremony continued as they were officially pronounced married and everyone headed back to Sleepy Hollow Country Club for some golden hour photography.
We took photos of the bride and groom around the venue while the wedding party stayed warm inside, then we took Sleepy Hollow Country Club wedding photos of the wedding party as they huddled together for warmth and underneath the pashminas Kim got the girls.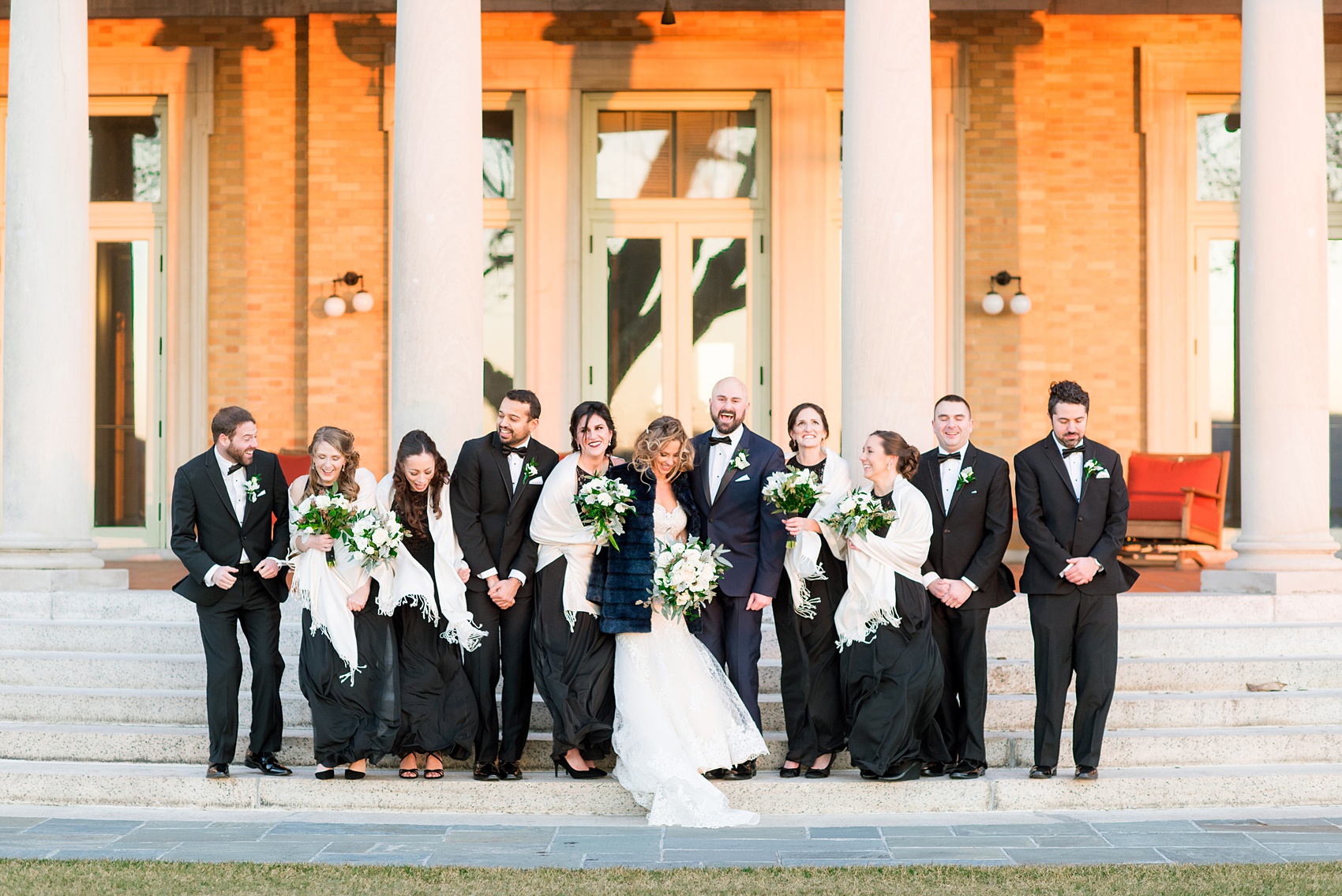 AJ helped keep his wife warm and cozy with extra hugs and kisses around her blue, faux fur coat. It was super cold out (because of the temperature but also the wind chill factor) but their spirits remained upbeat and ready for anything!
Kim carried a beautiful, winter white-inspired bouquet, with anemones, roses, ranunculus, and eucalyptus with dusty miller. It was tied with ivory ribbon and special rosary beads. I love how the white contrasts with her blue fur coat; everything just pops!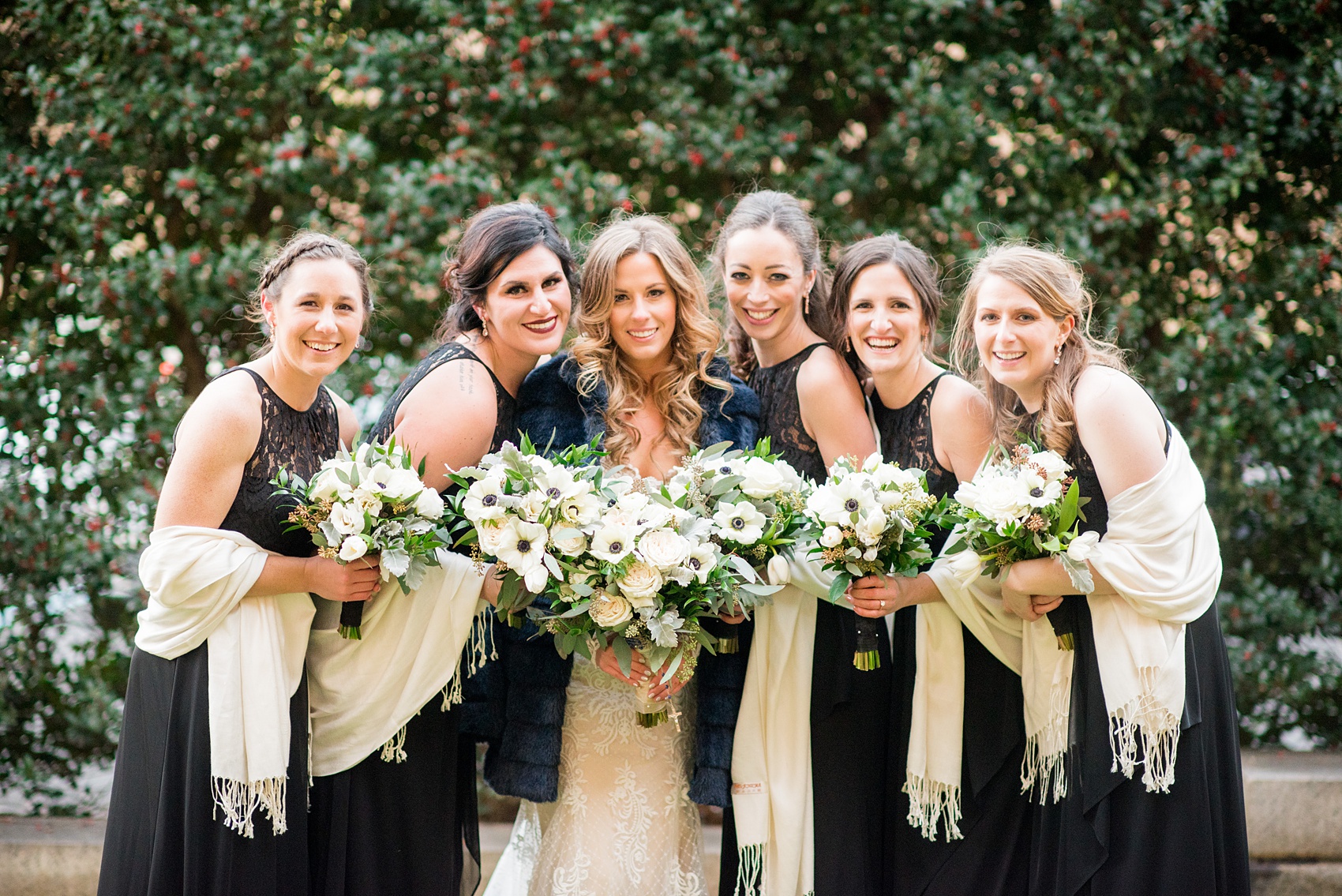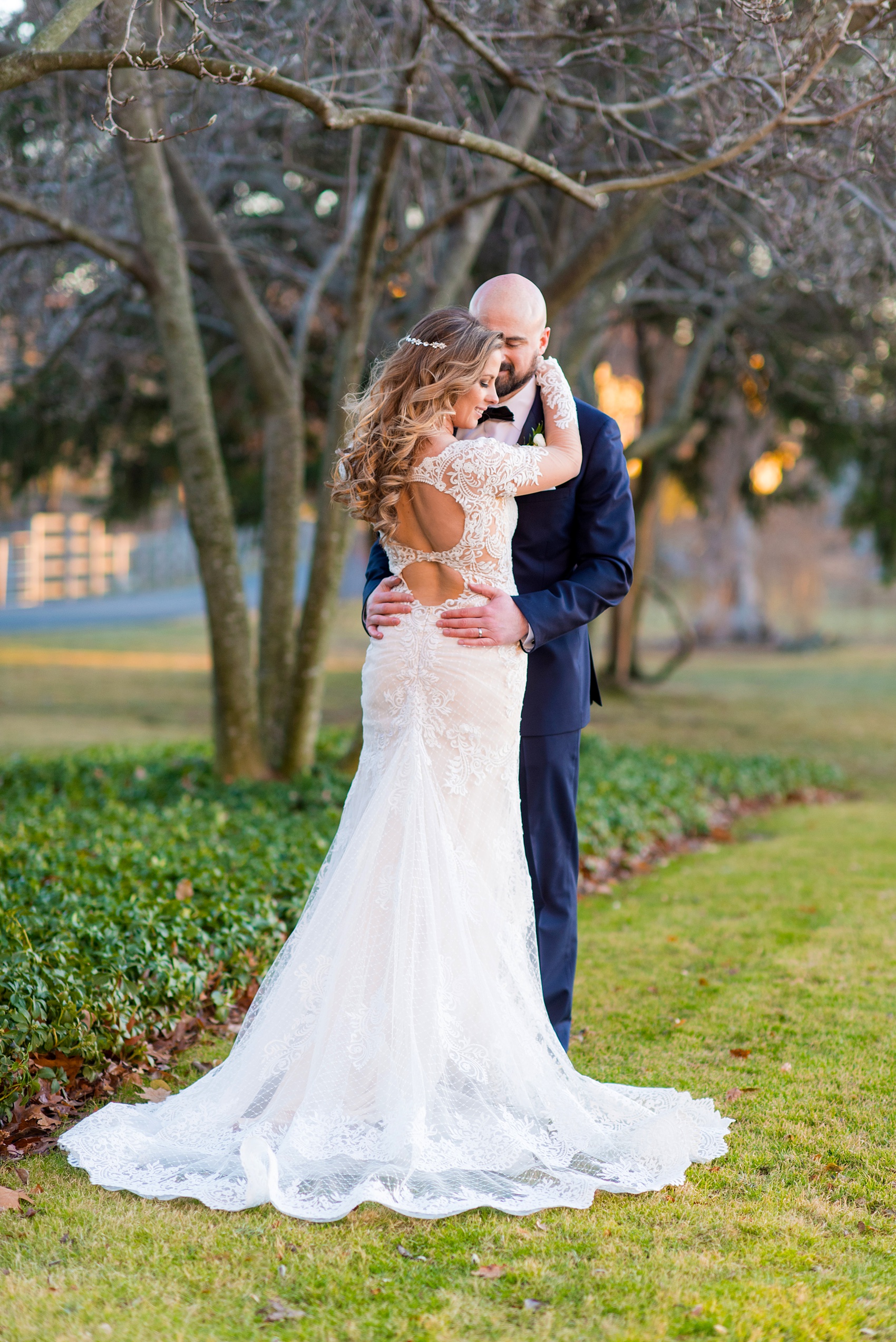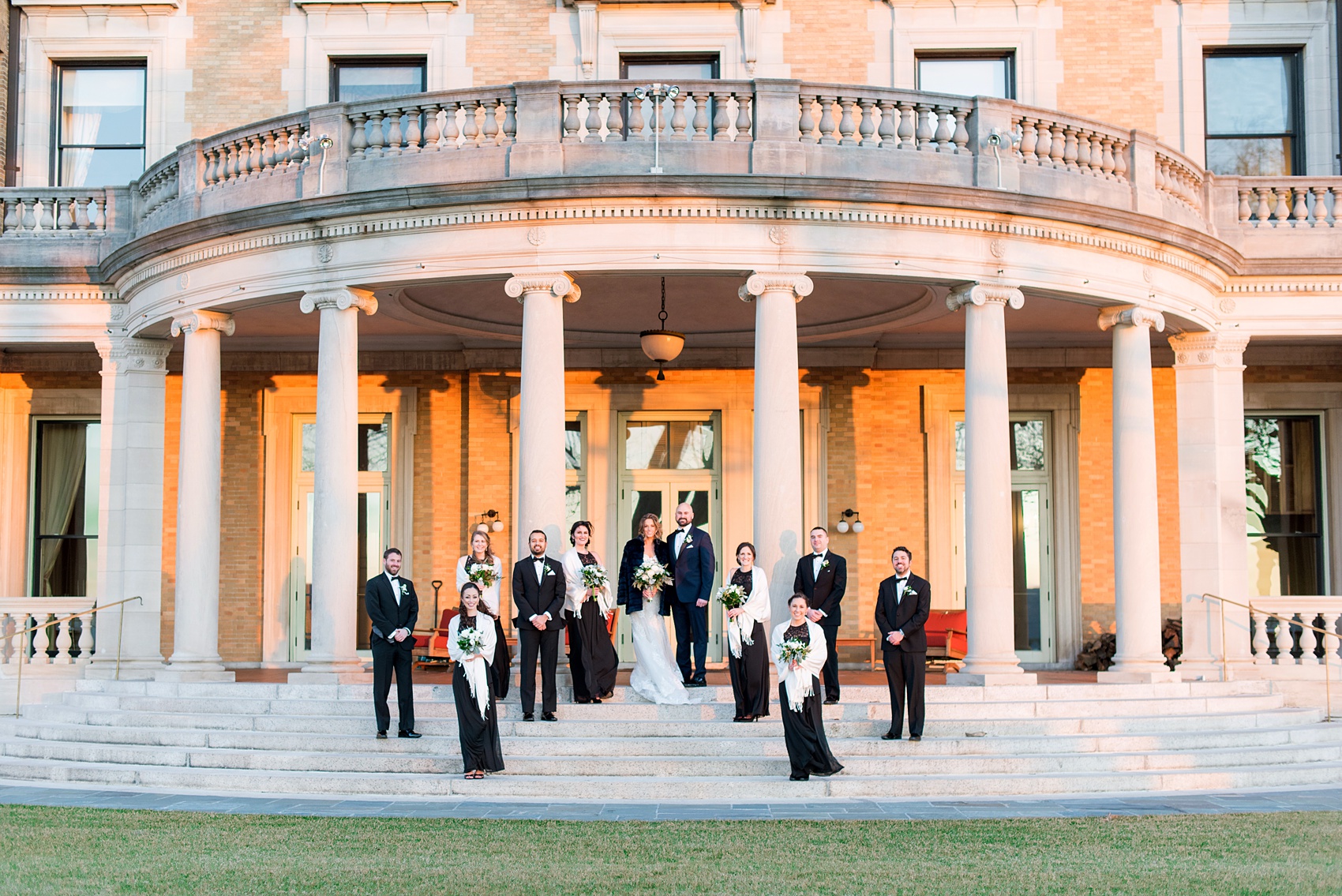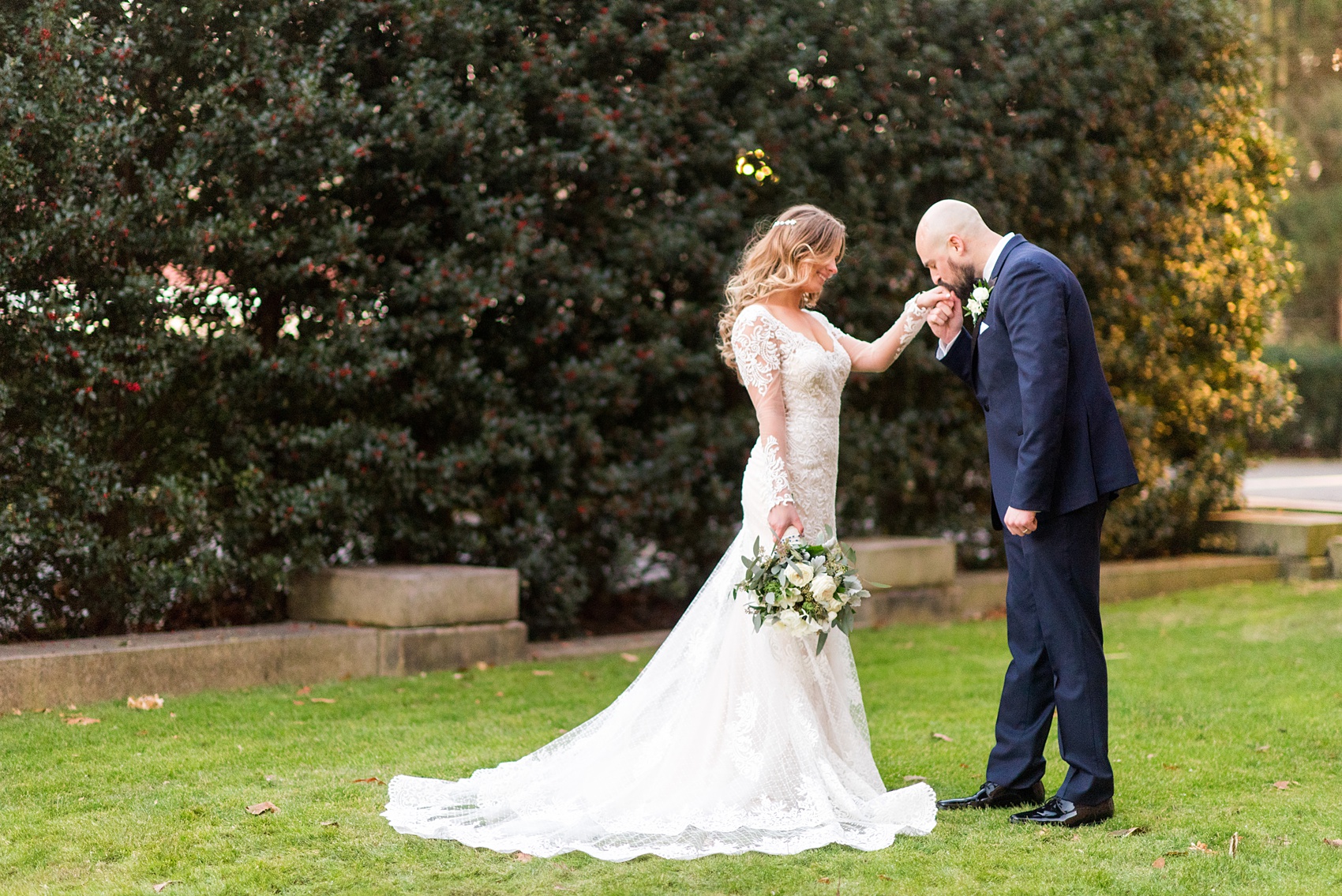 Indoor Winter Sleepy Hollow Country Club Wedding Reception
Back inside the party had begun with cocktail hour's Moscow Mules and a party that spread throughout the club's library and hallways.
We snuck into the reception area before guests were allowed in. We happily captured the rectangular and round tables covered in white linens, greenery and beautiful, warm candlelight you can view in these Sleepy Hollow Country Club wedding photos. One of the rooms at this NY venue even has a fireplace!
The newlyweds were introduced into their reception by their live band and shared one of the best choreographed first dances I've seen, to the song "Better Than Love," by Griffin House. It ended with the crowd in loud applause as AJ lifted his bride up and twirled her around the dance floor! (I'm smiling ear-to-ear again and getting teary-eyed looking at their photos, recalling that moment!)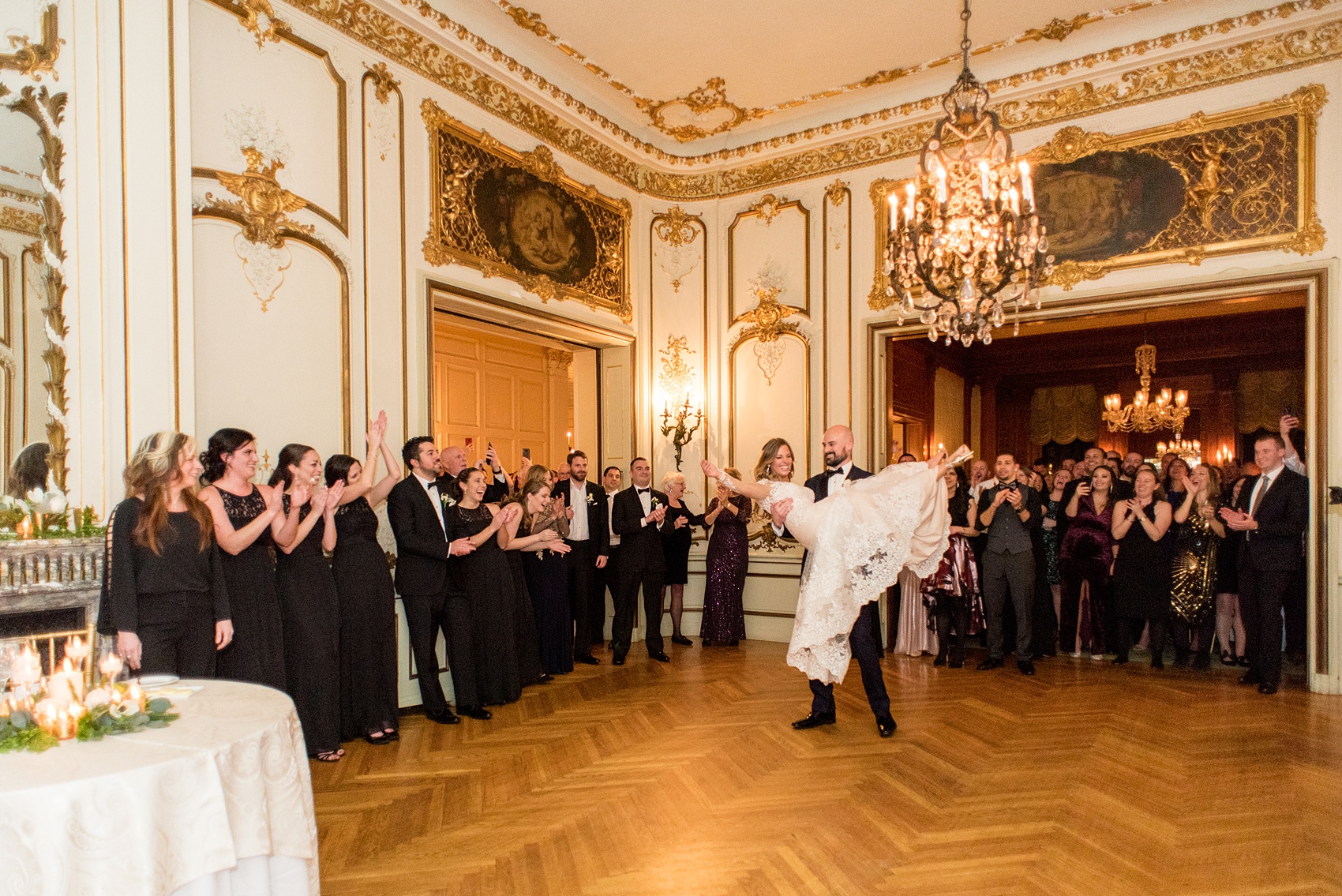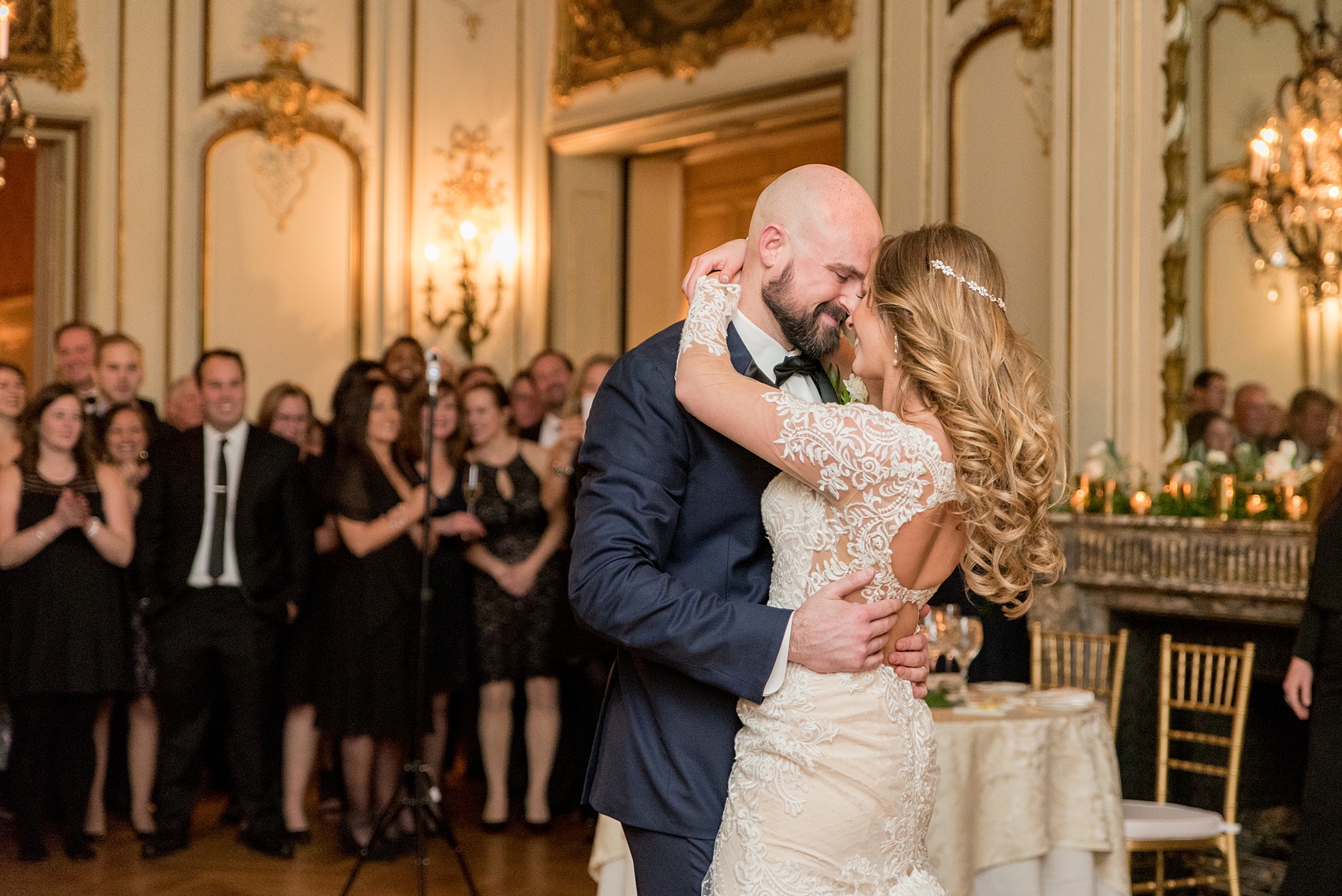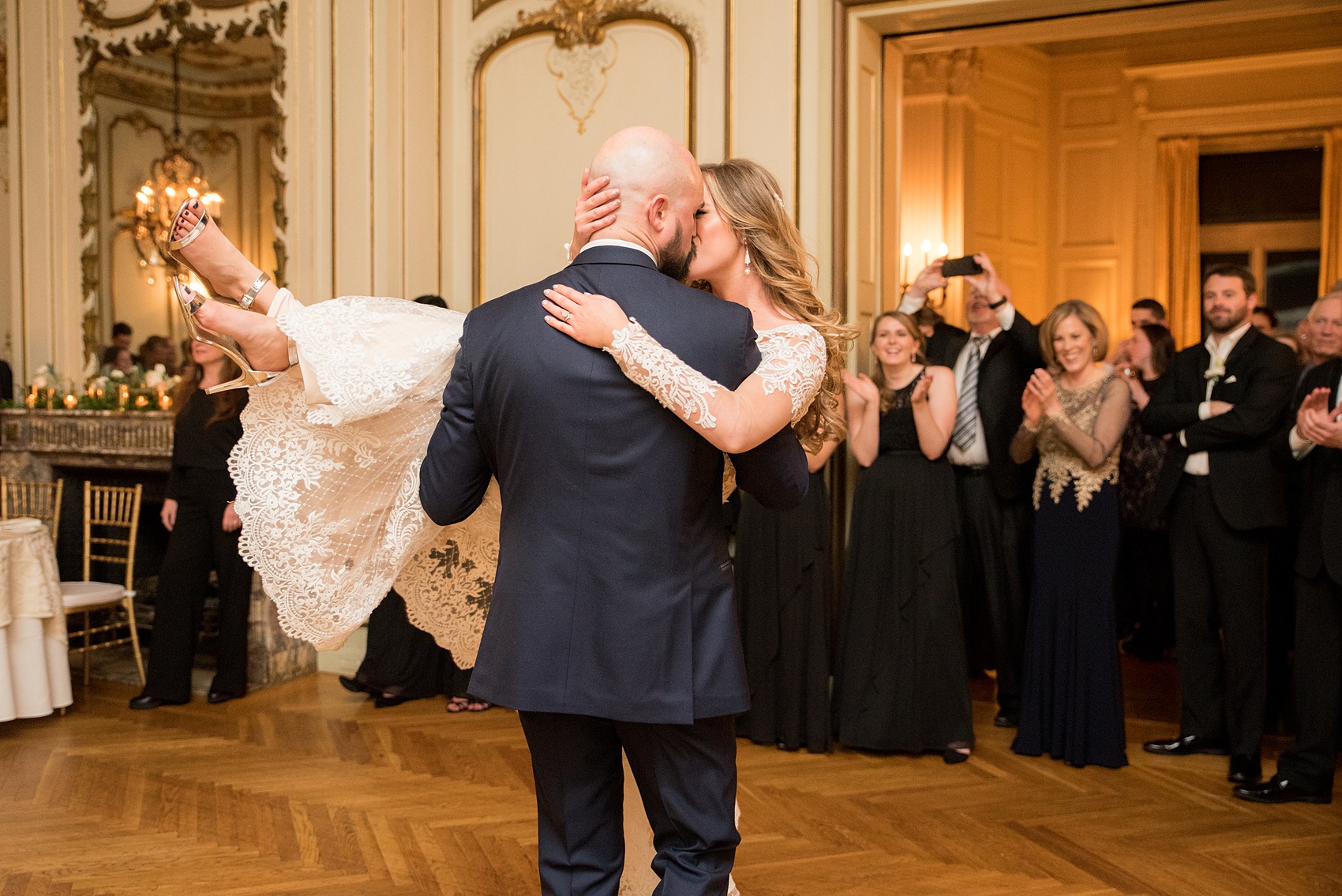 Of course, everyone wanted to join them on the dance floor after that! The dancing persisted all night long surrounding dinner.
Sweet Ending to their Cozy Winter Sleepy Hollow Wedding Day
Their cake was three tiers, covered with horizontally striped buttercream, a custom cake topper with flowers cascading down its sides.
When the cake cutting happened guests were also outside enjoying the traditional Pittsburgh cookie table, washing it down with craft beer their friends specially created for their wedding. (Both an IPA and a stout.) Their cookie table was overwhelming! I've never seen anything like it – there must have been hundreds of dozens of cookies, all made with love by their family and friends. What a wonderful tradition!
I'm certain it was an extra special celebration for Kim's bridesmaid, Kristen, who got engaged not too long before their wedding over the holidays to her boyfriend, John. It's always special to attend a wedding for the first time with your fiance, looking at everything that unfolds from the eyes of a new bride and new groom!
Congratulations, Kim and AJ!
Craving more New York wedding inspiration? Also check out:
Their Wedding Vendor Team
Venue: Sleepy Hollow Country Club / Church: St. John Paul II, Maronite Catholic Church / Videography: 15 Minutes of Frame / Florist: Rubrums Flowershop / Cake: The Pastry Corner / Invitations: Perfectly Invited / Band: Code Bleu / Hair: Kristin Mineo / Makeup: Ally Martrinn / Wedding gown: Kleinfeld Bridal, designer Maggie Sottero / Bridesmaids gowns: Adrianna Papell / Wedding bands: PopGemsIntl, Etsy / Custom tuxedo: Tuxedos by Rocco