The views from this venue are breathtaking. We felt utterly relaxed and welcomed as we sipped wine and admired the view. While I dream of Pippin Hill weddings I wanted to share the pictures I took of this incredible venue until the right couple comes along. (They say what you put into the universe may come back so this is my message to the world: I can't wait to capture a couple's amazing wedding here!)
Charlottesville, Virginia winery wedding venues
One of the reasons I was in the area was to see a bit of Charlottesville surrounding Lucy and Van's wedding weekend. It's filled with wonderful wedding venues that overlook the Blue Ridge Mountains or gorgeous rows of vines. While they got married at The Lodge at Mount Ida Farm (as did Emily and Sam), I happily obliged exploring Pippin Hill Farm. I'd heard so much about from various outlets.
I also checked out Monticello, Michie Tavern and Highland, three amazing historic sites in Charlottesville, which was easy to do it one great pass.
Pippin Hill Farm was definitely a highlight of the weekend.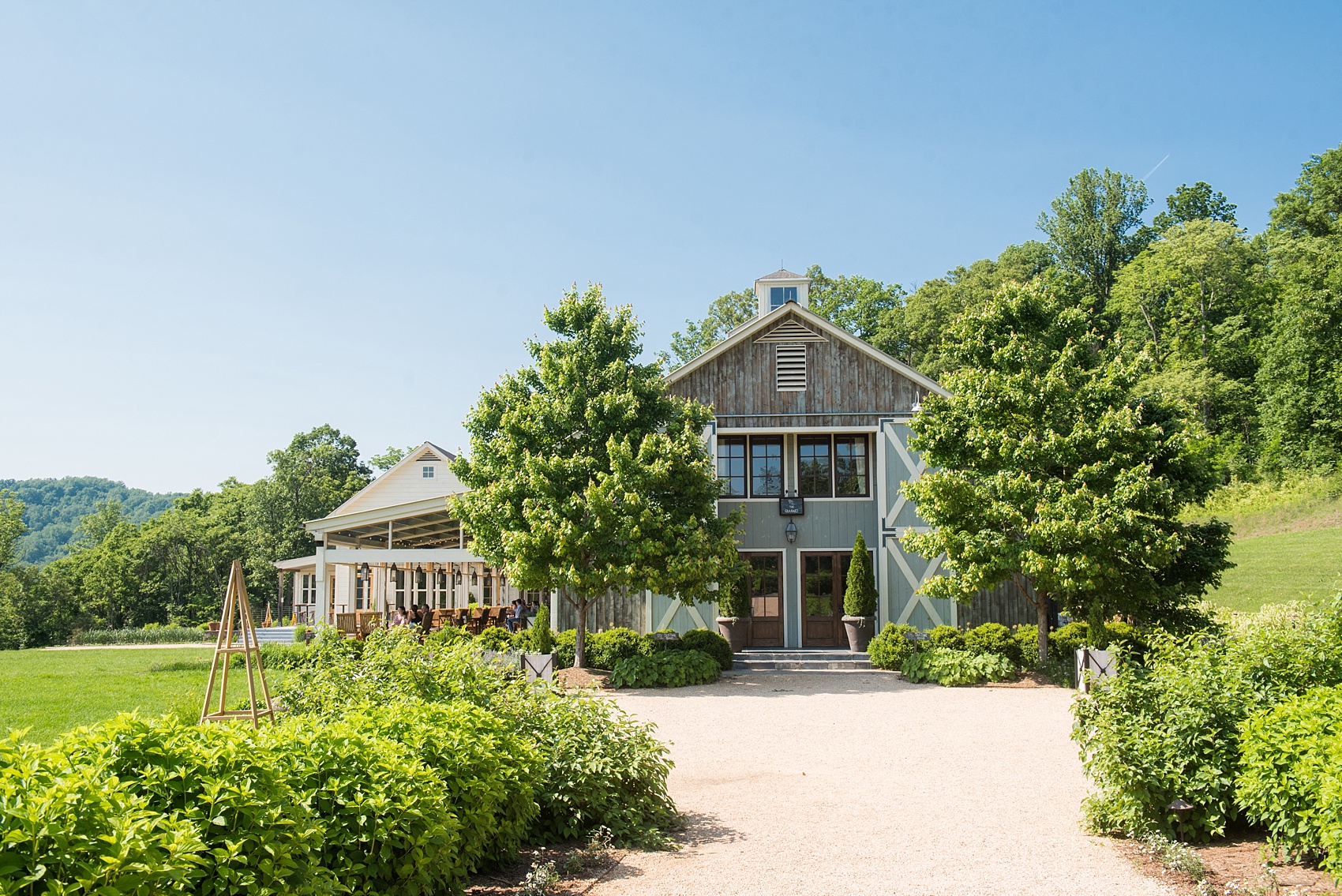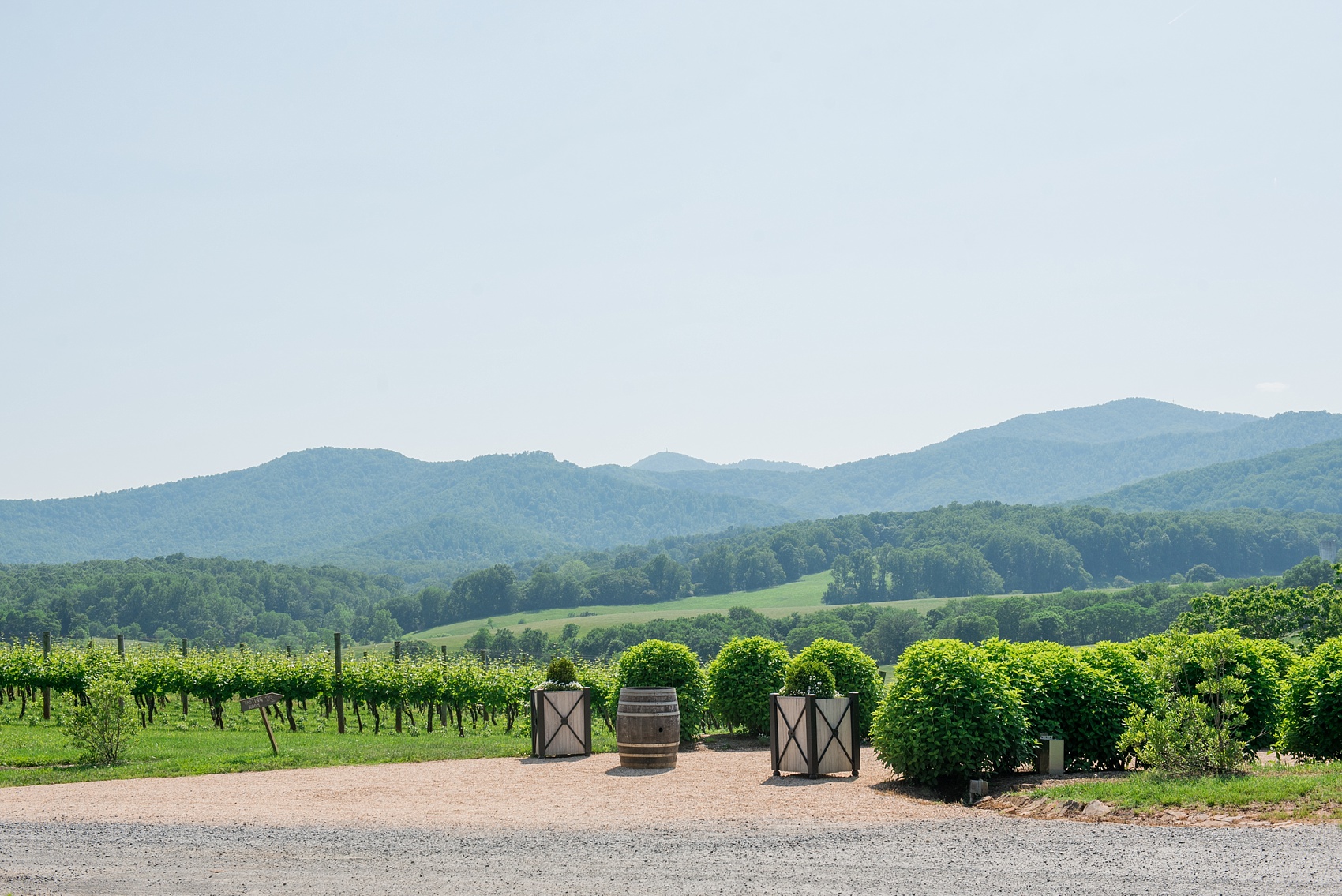 Imagine your Pippin Hill Farm wedding photos here
The views are truly a dreamy. Rolling green vineyards capped by the Blue Ridge Mountains are in the background.  Pippin Hill weddings have a few options depending on wedding size, whether to rent out the entire space and have your ceremony on the rectangular lawn or inside their "barn ballroom." They also have a private dining room available for rent. It's perfect for small weddings in Charlottesville, a rehearsal dinner or day after Sunday brunch.
They have several spaces available for private party reservations. The reception space was set up with market lights while we were there and took my breath away! I love the shutters above the back wall and the curtains and dark wood beams that frame the space.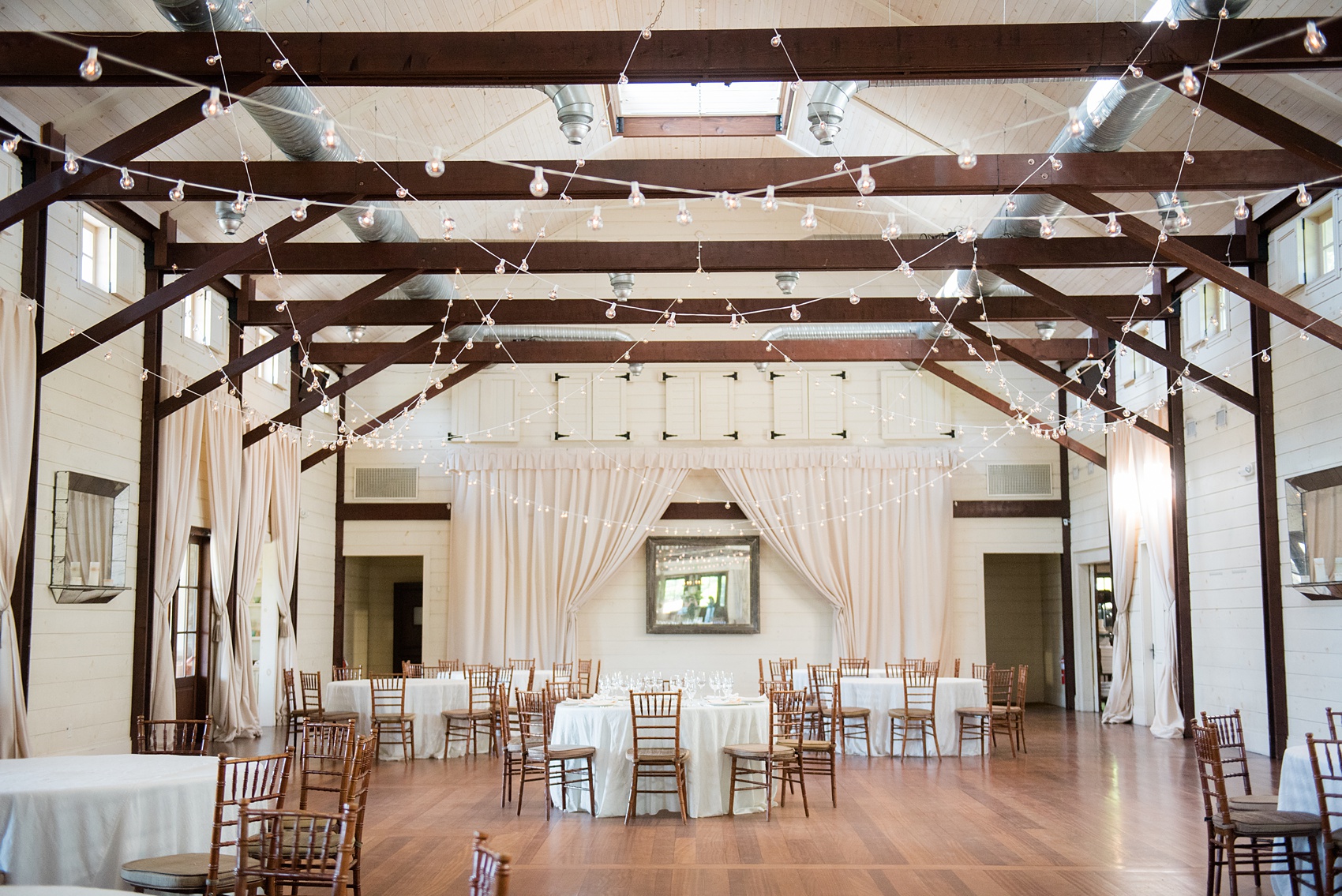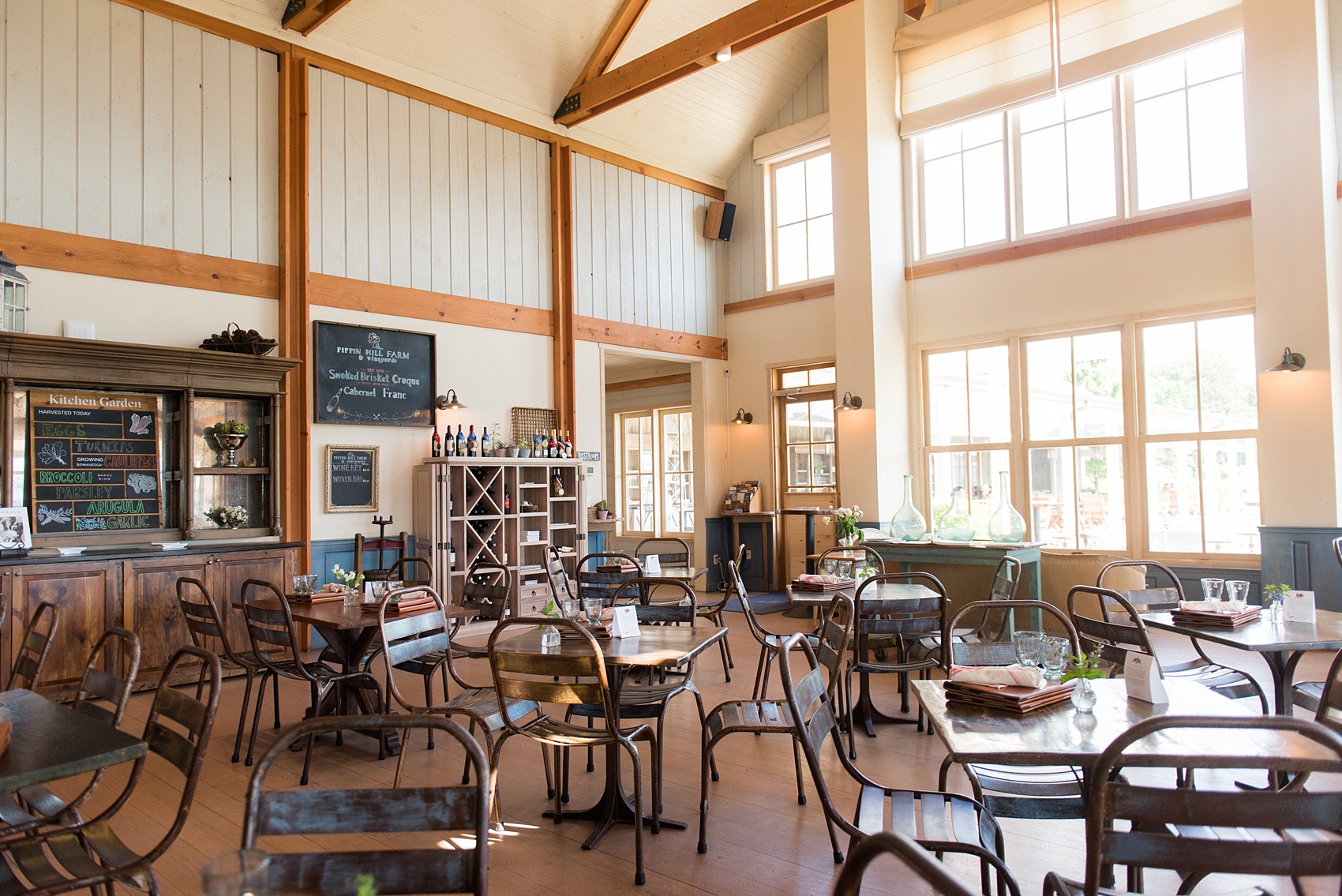 Visiting Pippin Hill for a wedding venue preview
Pippin Hill Farm is open to visitor, nearly daily. (We imagine it's closed for private events when the entire space is rented.)
We sat on the verandah and were served an incredible plate of fresh cheeses and homemade jams; our white wines were a divine crisp accompaniment to such a delectable platter.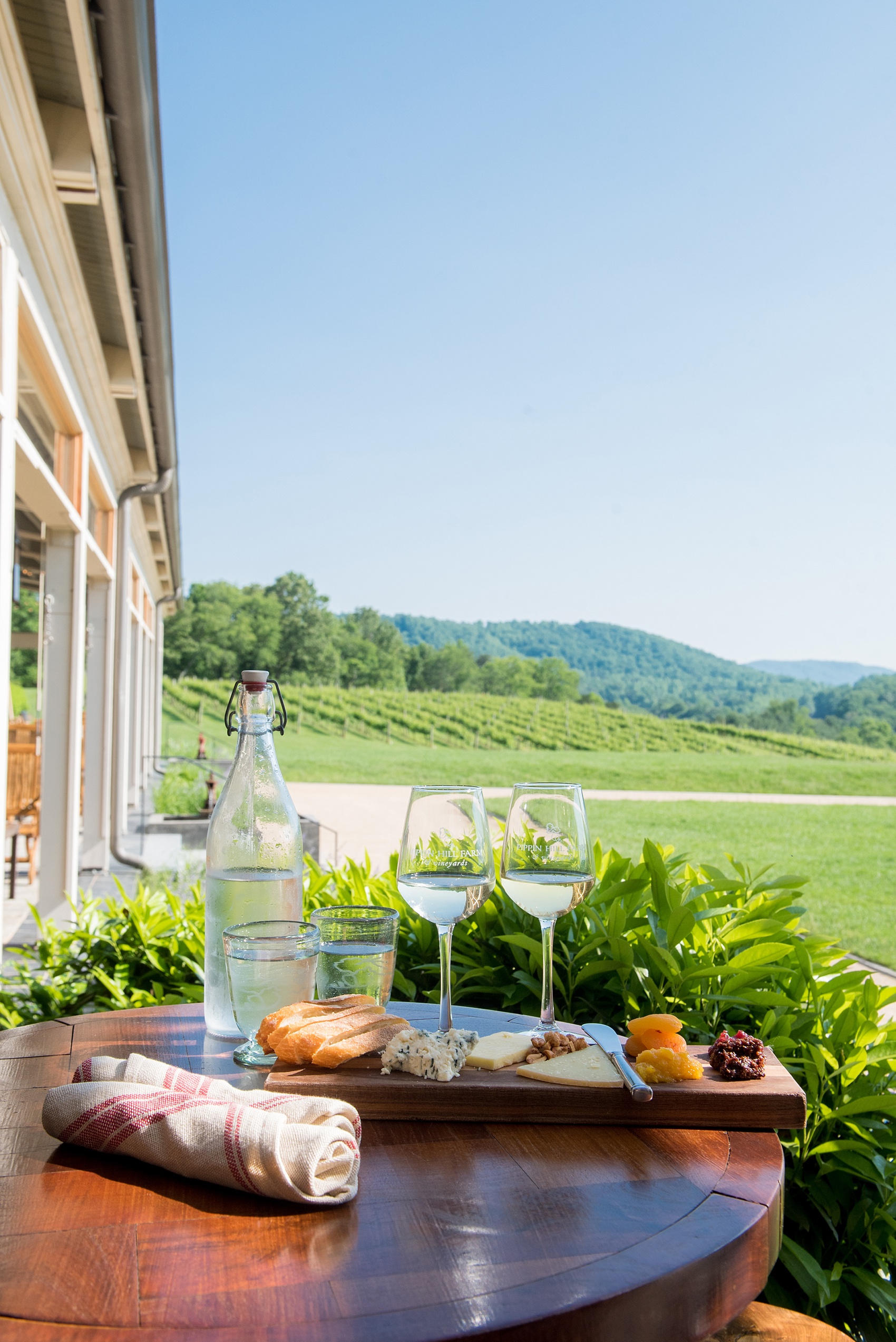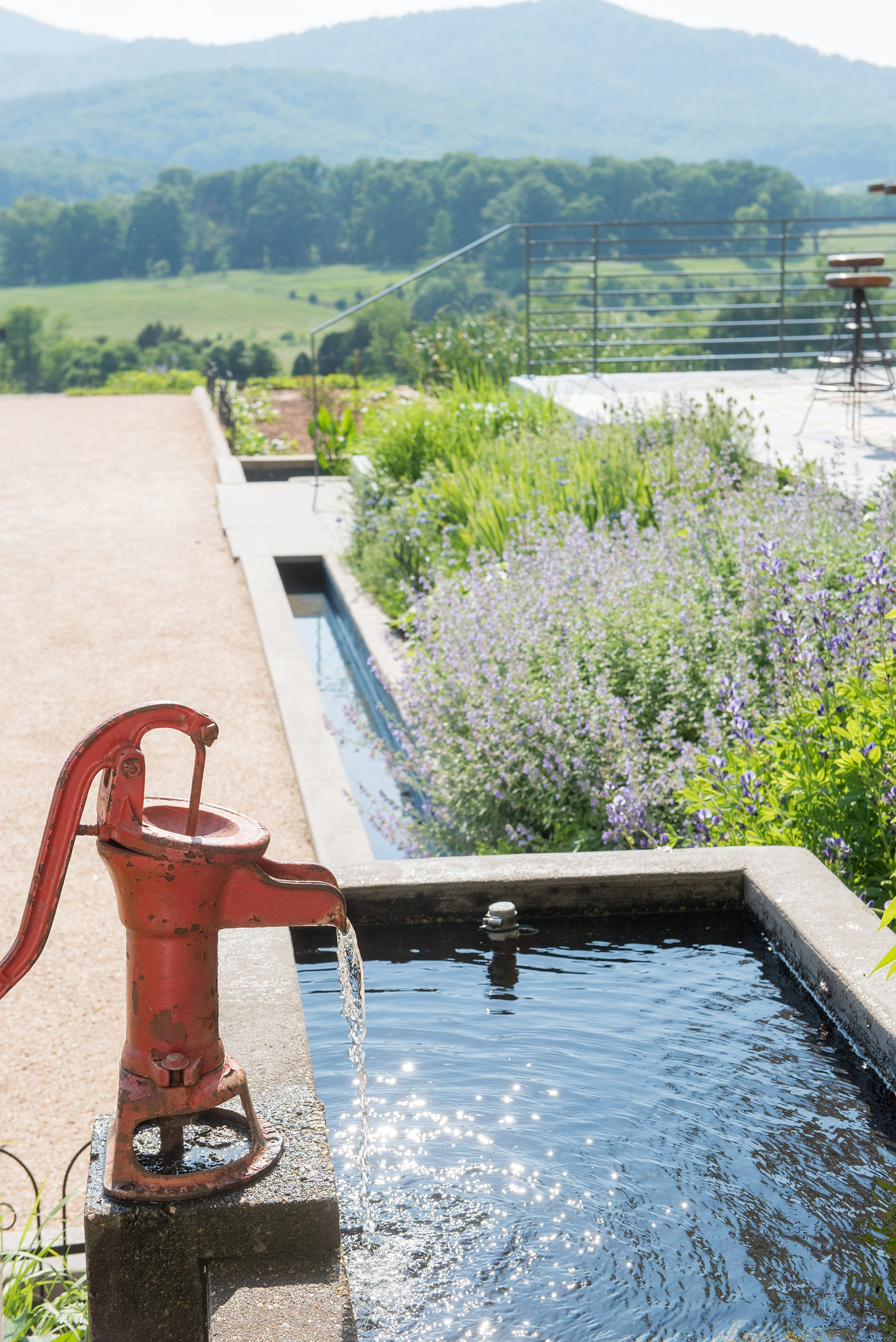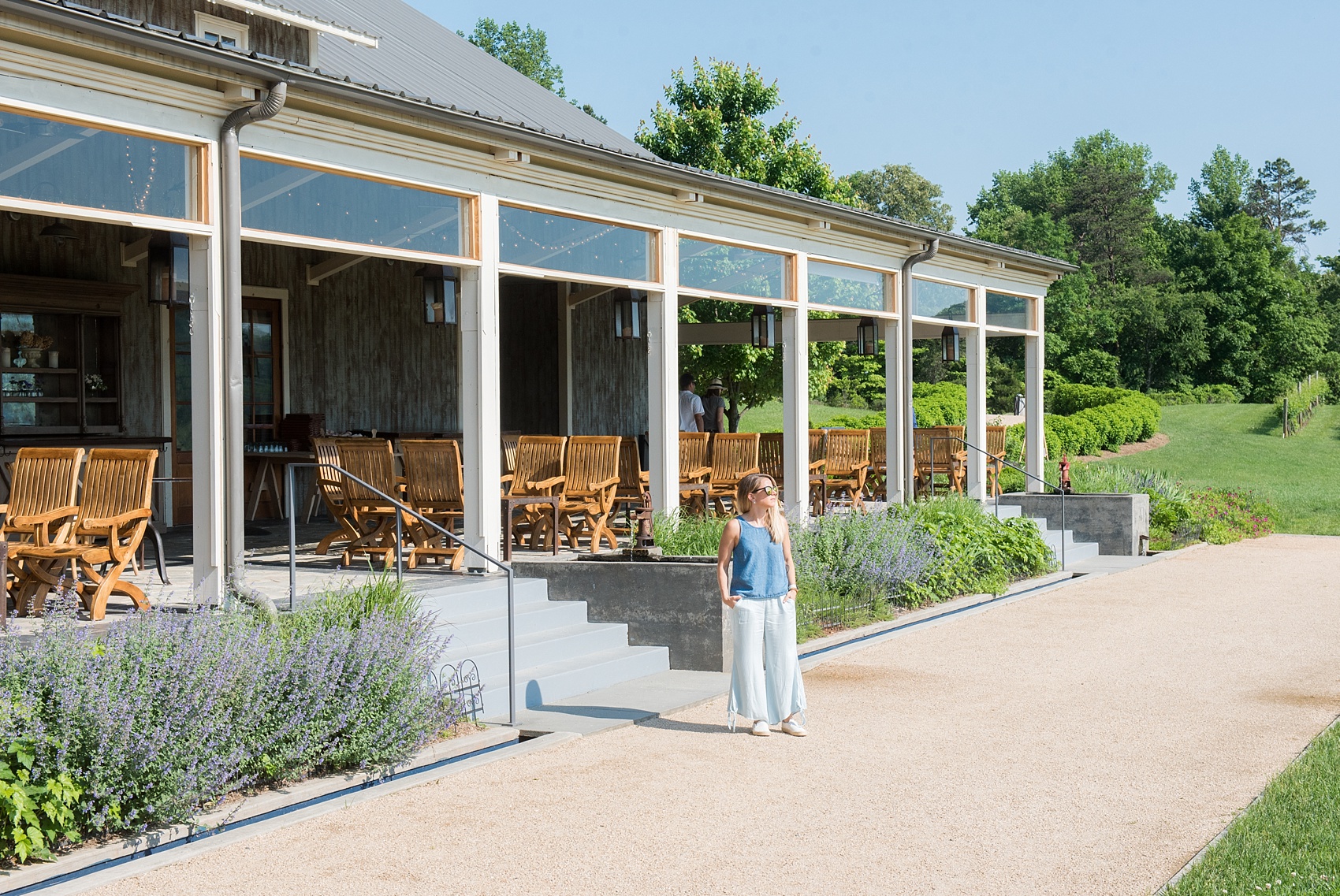 Onsite Pippin Hill weddings photo opps
The smell of fresh lavender surrounded us as trickling water from a nearby water feature added to our serenity. There are really incredible photo opportunities at this Charlottesville wedding property. And the best part is they're all on site, which means no time is wasted traveling between photography spots.
They have a wildflower garden during the summer, of course the vines are in full bloom, and the scenic overlook is not to miss. The barn is also a beautiful option for a backdrop whether for portraits or a small ceremony backdrop.
Inside the gorgeous Bridal Suite
We couldn't resist a peek inside, after we were granted permission from Bailey, one of our favorite former Raleigh wedding pros now turned Charlottesville transplant. She's loving her new role as a Pippin Hill weddings team member; we couldn't be happier for her!
The bridal suite is one of the best I've seen. It has beautiful furniture that looks like it's straight out of Restoration Hardware. I love the light blue sofa and rustic yet chic wood finishes. The folding mirror, chaise and beauty "bar" vanity area were my favorite features.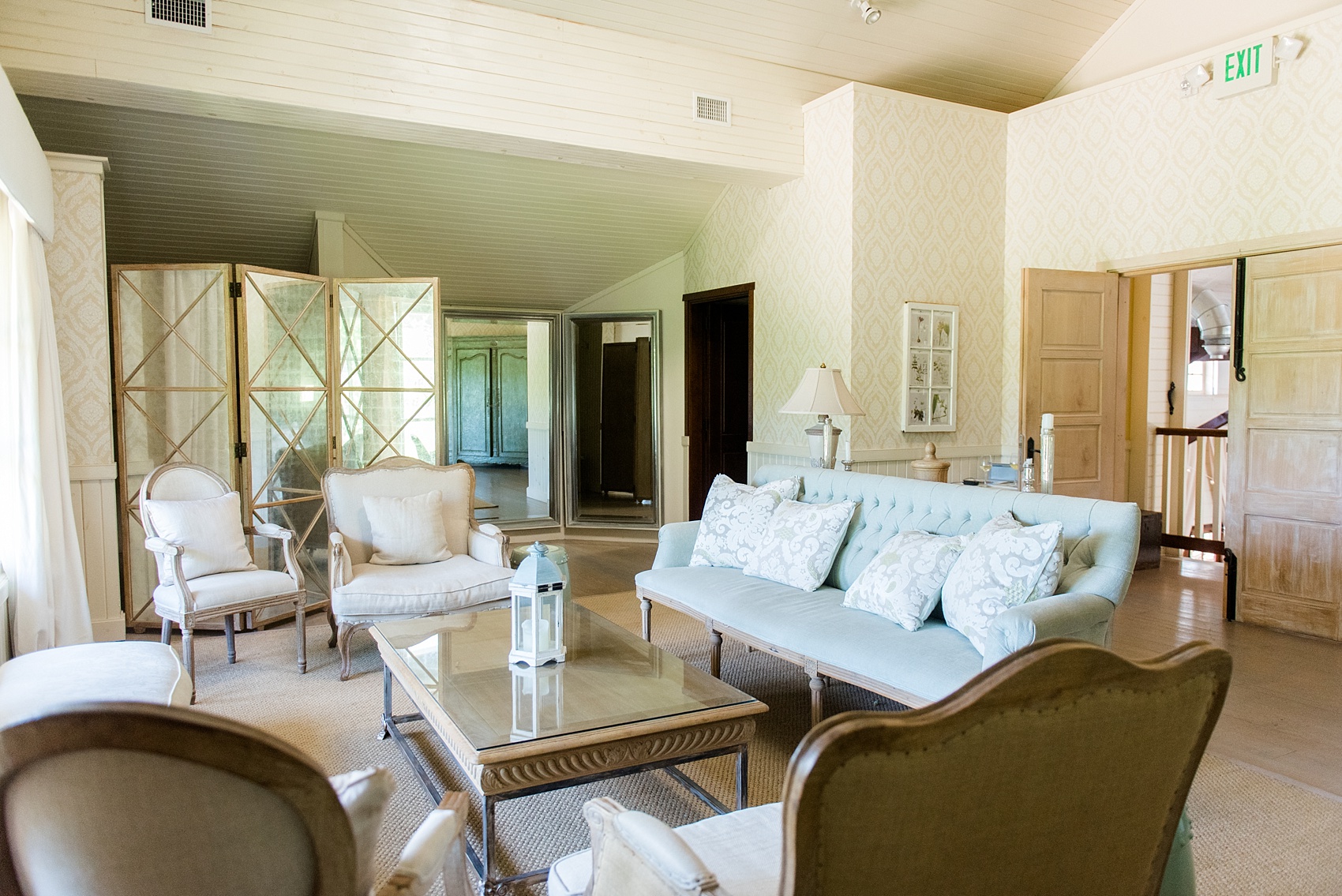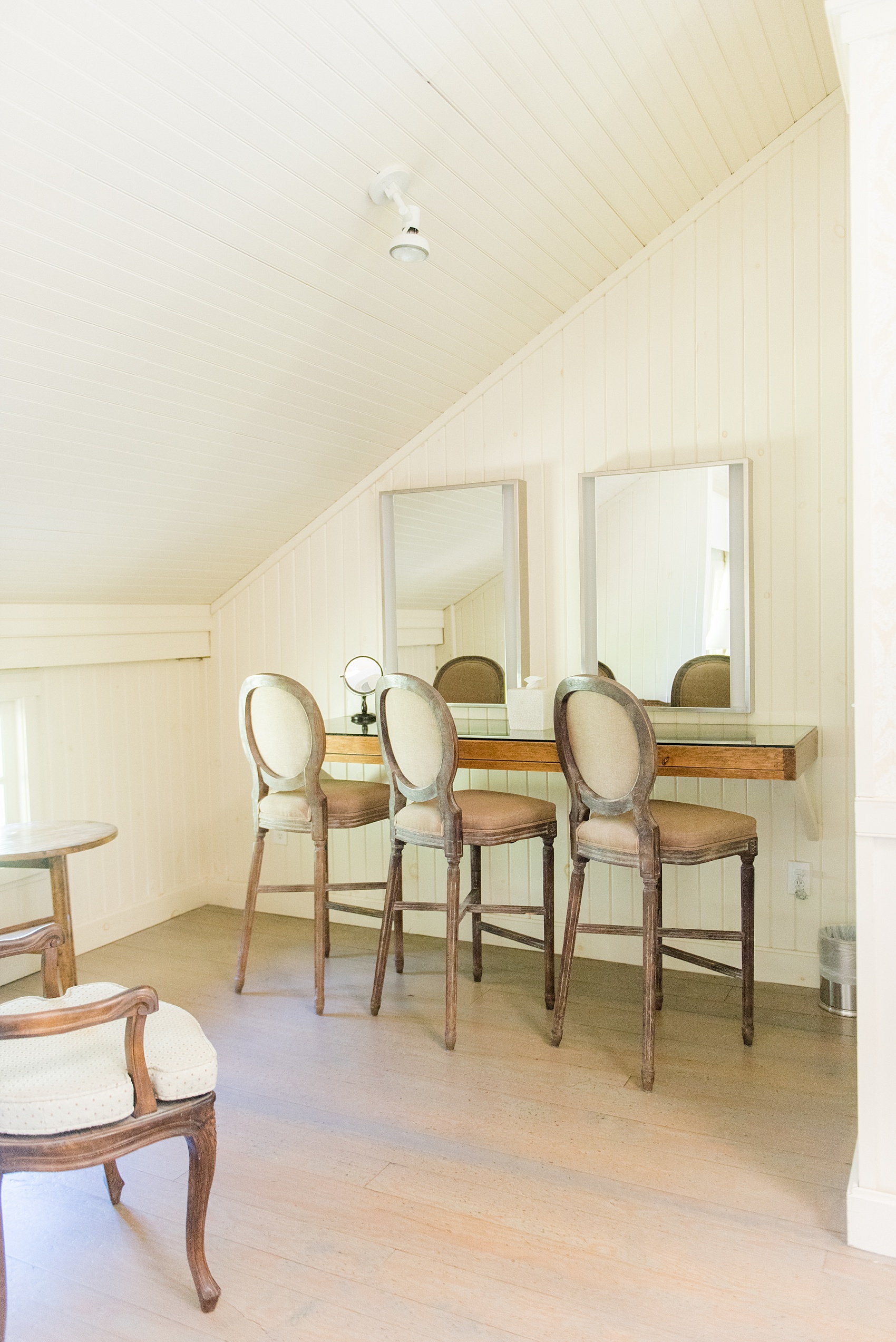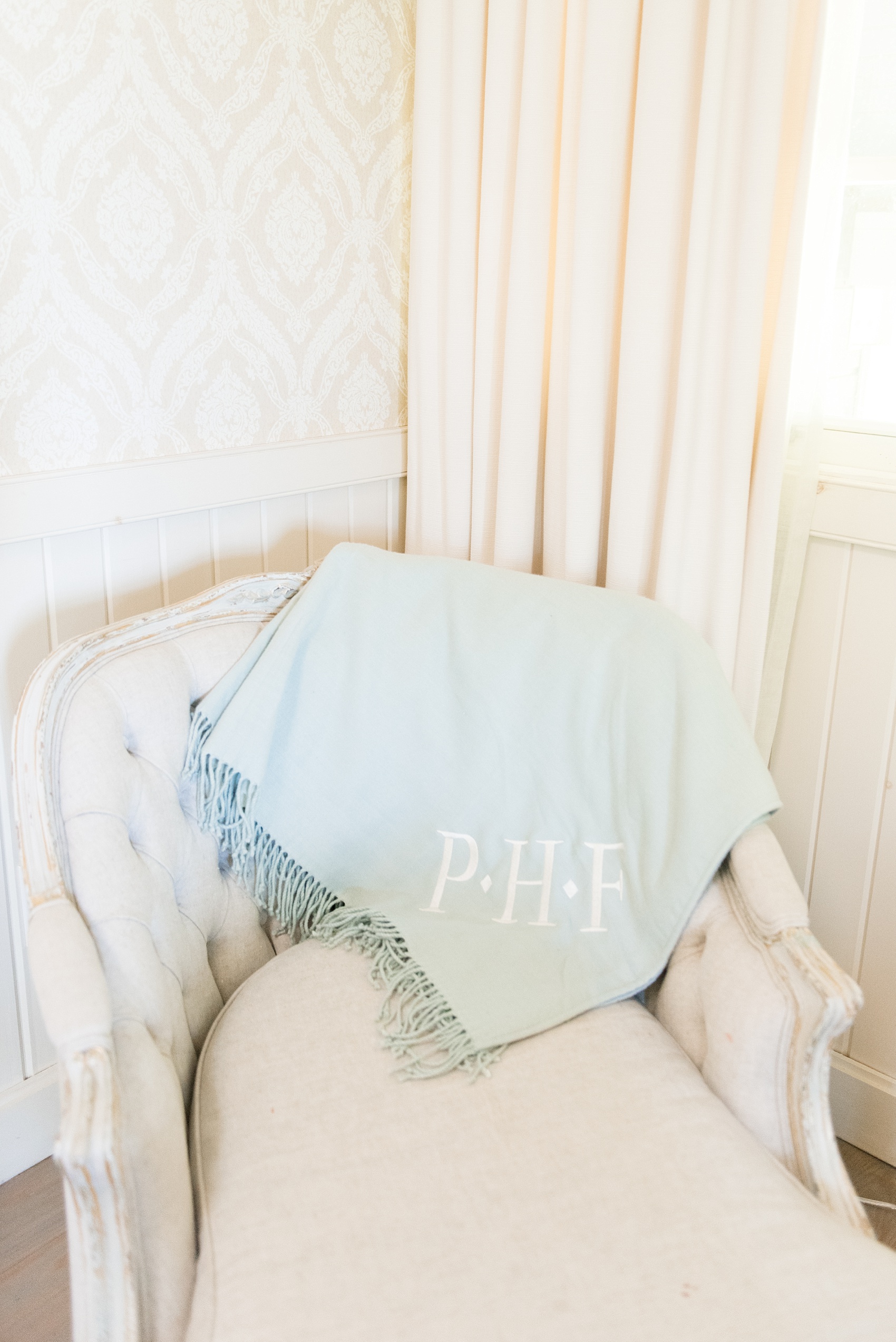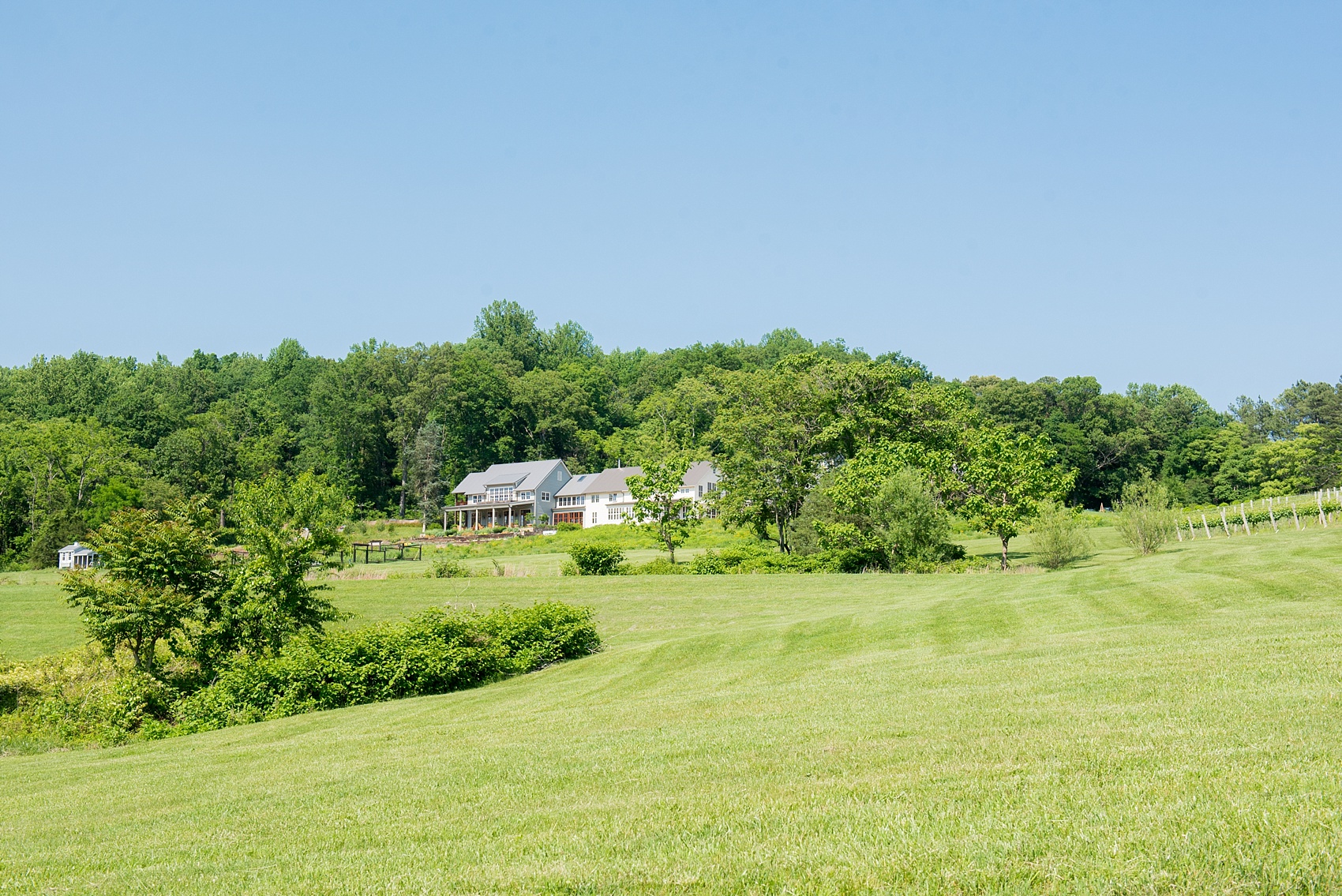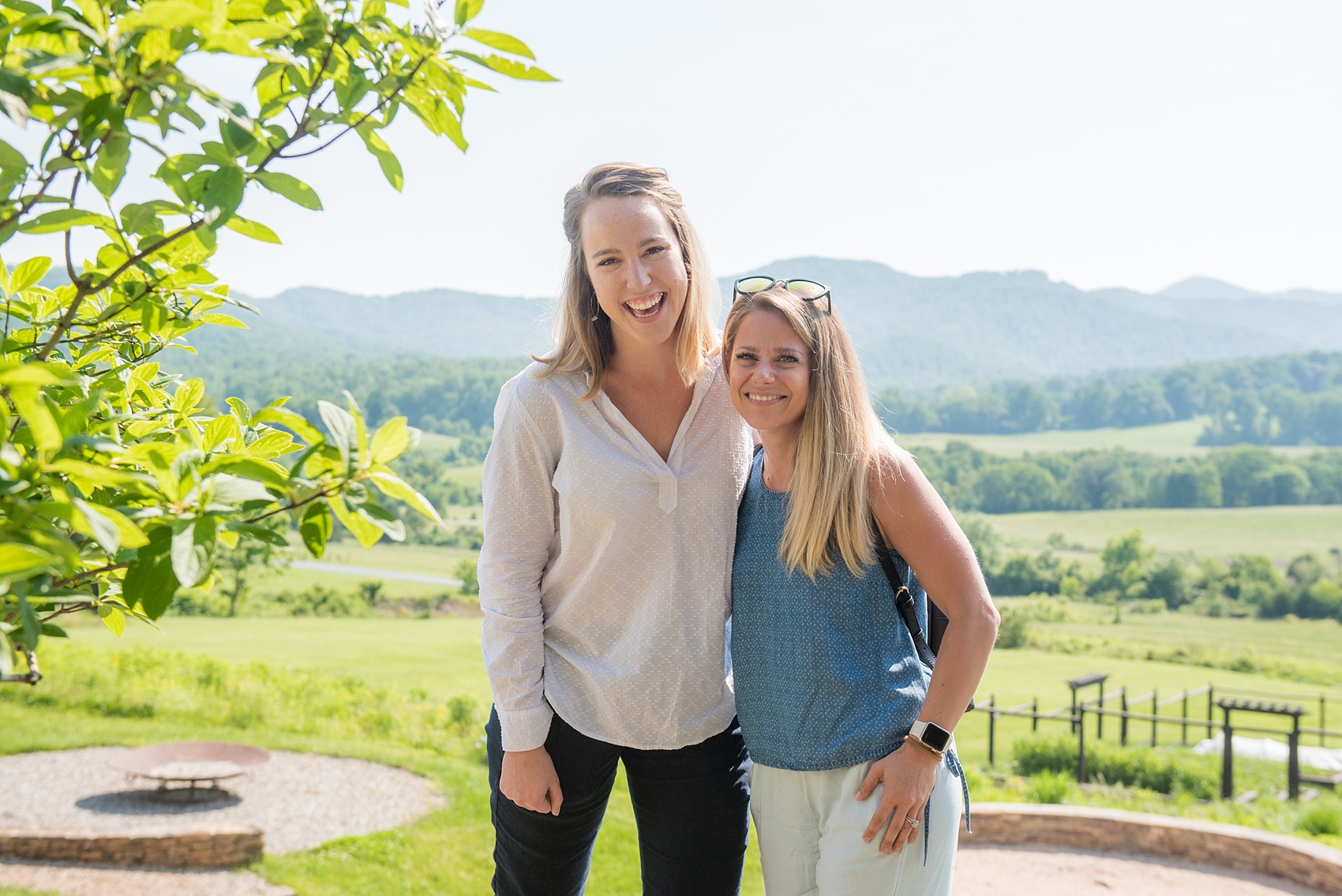 Can't you just imagine a couple here, for their Pippin Hill wedding photos where Bailey and Stephanie stopped for me to capture this photo of them? What an incredible scene!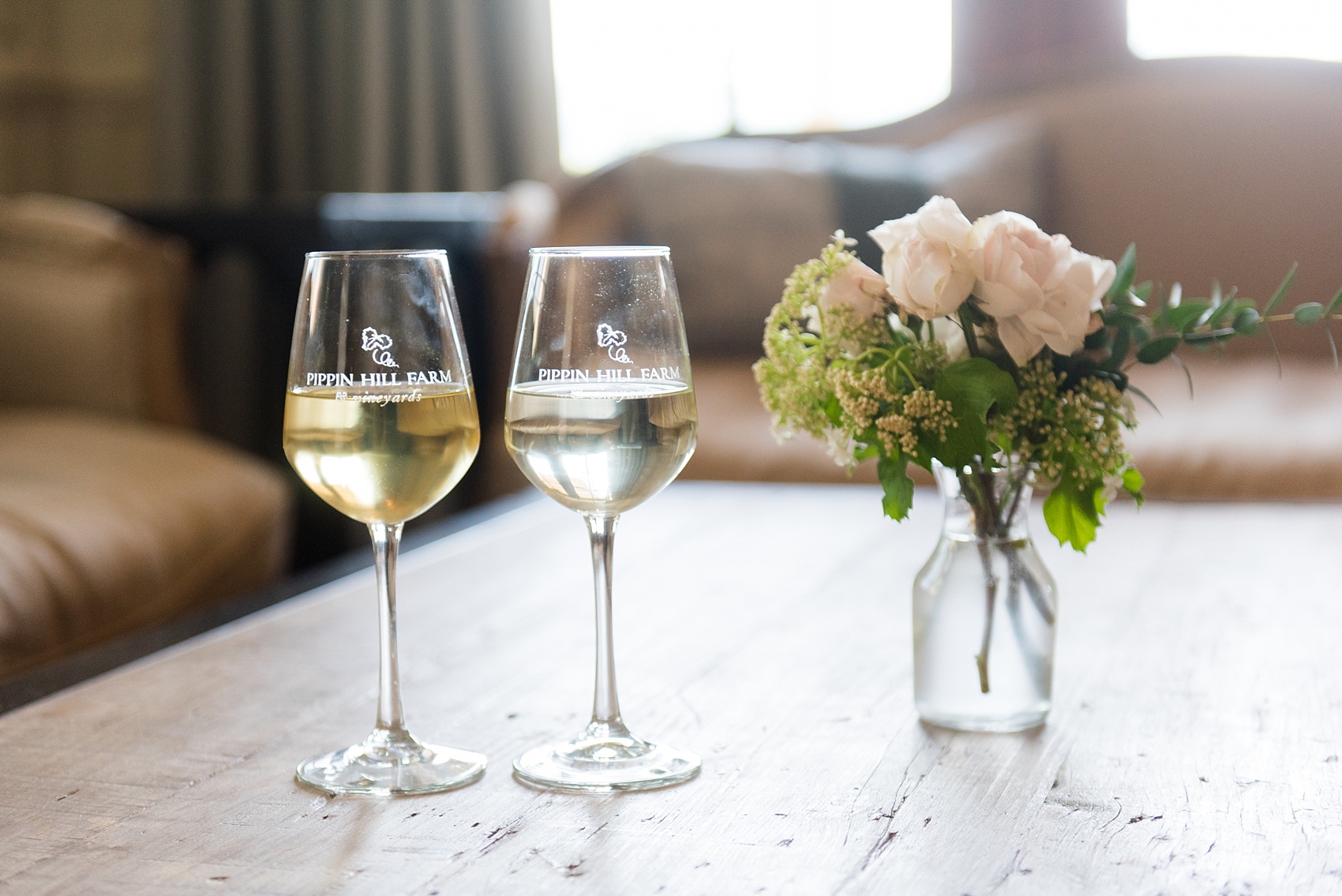 We cannot wait to be back here hopefully sooner than later. And, fingers crossed and the stars align, to capture a wonderful couple's Pippin Hill wedding photos!
Venue: Pippin Hill Farm / Event designer and coordinator who gave me a reason to come to Charlottesville: Viva L'Event
For more vineyard and mountains wedding inspiration visit: