I fondly remember this wedding at Loeb Boathouse in Central Park. Not only was it colorful, but it was filled with smiles, laughter and the coming together of two people and families from two separate cultures and countries.
It's incredibly common for every couple to be happy on their wedding day. But it's rare to have a couple who is truly happy, nearly everyday, in life. Missy and Owen are those kind of people! It's not a surprise they met and felt a pull towards each other while they were abroad in Africa.
How the Bride and Groom, Missy and Owen, Met
They had both joined a running club in Ethiopia (as one does, of course) while she was there for a Harvard internship helping with healthcare and he was there assisting farmers through government programs. The reason they were both there was to help others. And if you know them this wouldn't come as a surprise at all. Both of them also exude radiance and value other cultures. Perhaps that's all a part of what brought a British man and an American woman together on another continent in 2014.
A body of water and several years later Owen proposed on the High Line in Manhattan, where they currently live and work. Their wedding was a coming together of family and friends from all over the world. They were all there to witness the coming together of these two incredible people. And celebrate, drink and dance. There was definitely dancing.
Getting Ready in Manhattan for their Wedding at Loeb Boathouse in Central Park
Their wedding ceremony was on the Upper West Side, close to their home, so the guys prepared for the day at the bride and groom's apartment and the girls prepared at their good friend, Heidi's apartment (who also served as her Maid of Honor along with her sister, Katie).
Katie was SO prepared! I loved that as soon as Missy put on her gorgeous boat-neck, low back gown she sprung into action with a crochet hook to close the buttons.
Missy chose a low heel in a neutral color for the day and classic pearl stud earrings. They were the perfect, simple compliment to her timeless gown. I chose to photograph them on a book highlighting a hot pink "R" because it matched their flowers. But, more importantly, it's the first initial of her maiden last name.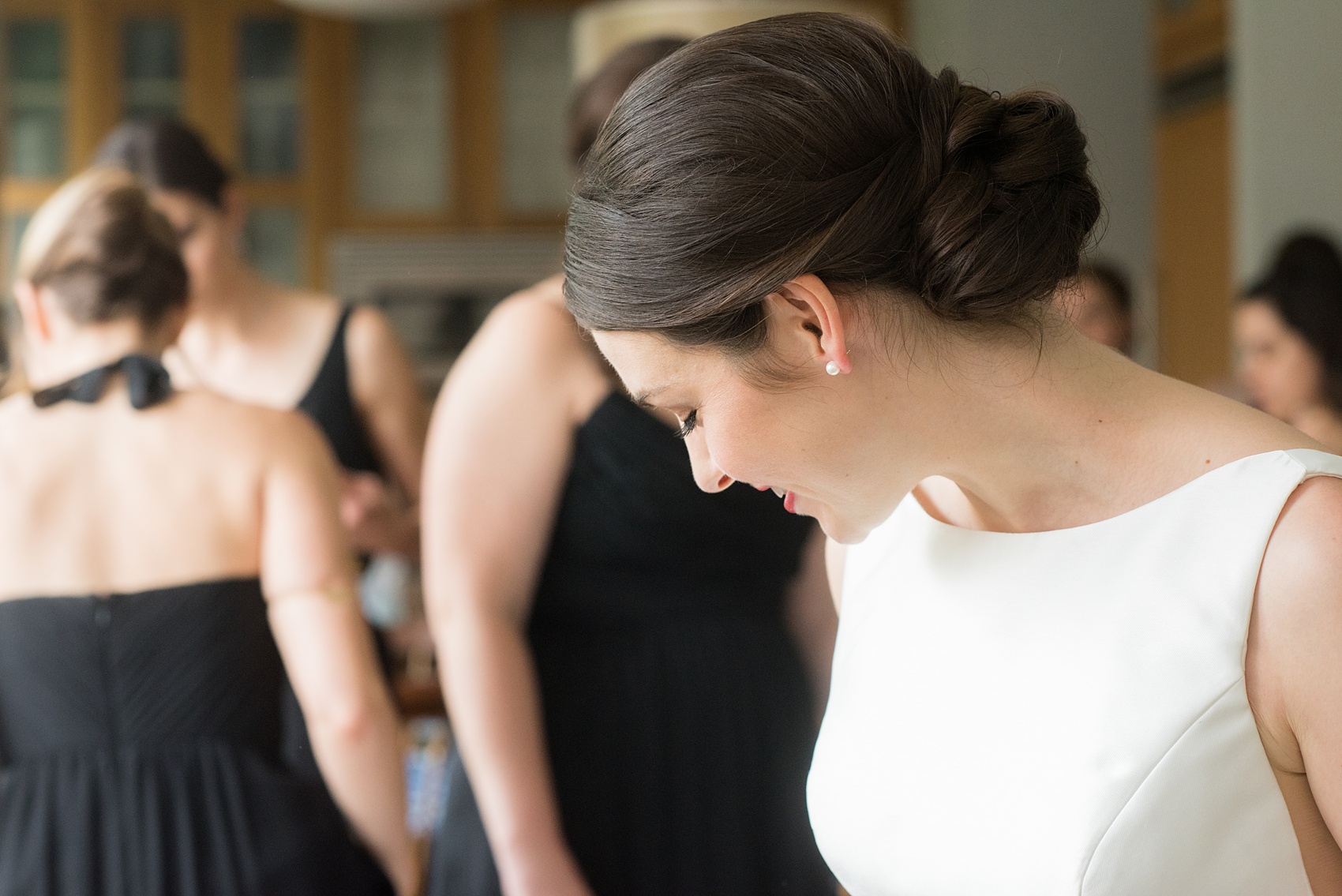 Missy and Owen's wedding day details
They had a few super cute details that were a part of their day that not a lot of people got to see. They included: a bag of fabrics (including beaded lace and silk) from heirloom family wedding gowns, an engraving of the word "Adventure" in Owen's ring, and two books Owen gifted to his groomsmen.
Tears started welling up in my eyes when I saw the engraving on Owen's ring. I started to arrange them for a photograph and, as usual, I looked inside to see if there was engraving to take pictures of. The word "Adventure" stared back at me from inside Owen's ring and it struck just the right chord; I was overwhelmed with emotion. I simply identified with the desire to always have adventure in a relationship. Knowing Missy and Owen value traveling, like I do, enough to engrave it as a silent sort of wedding vow, was like cupid's arrow to my heart. I composed myself after sharing how emotional that made me feel with Missy. Subsequently all the bridesmaids, who were there getting ready as well, had to hold back tears.
Owen also gave his groomsmen some awesome books. As a wedding full of Brits meeting Americans, and Owen's wedding party being a mix of both nationalities, it was the perfect cheeky gift to give to the men…in addition to ties and whiskey from Kings County Distillery!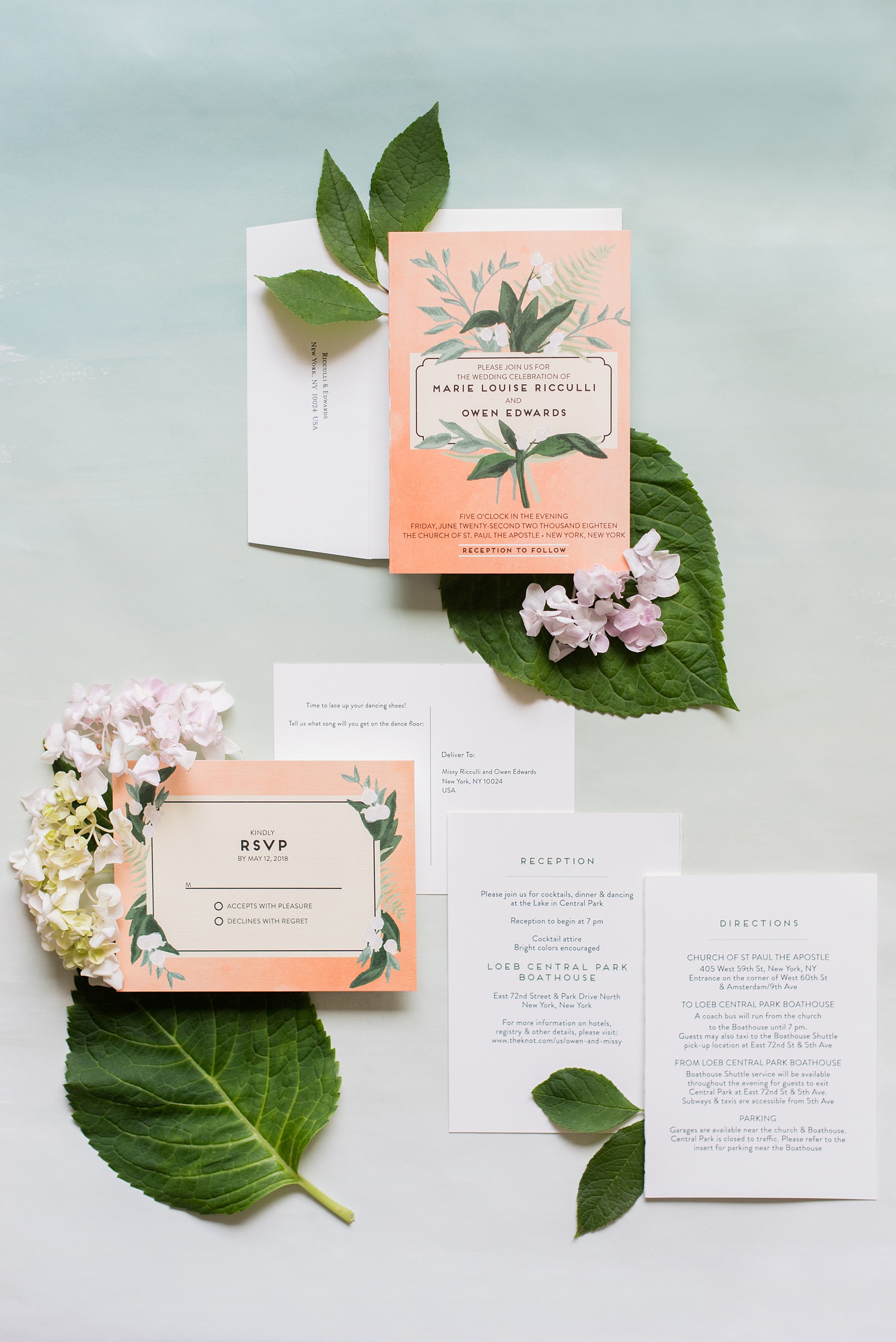 Heading to their first look location and for photos of the wedding party, bride and groom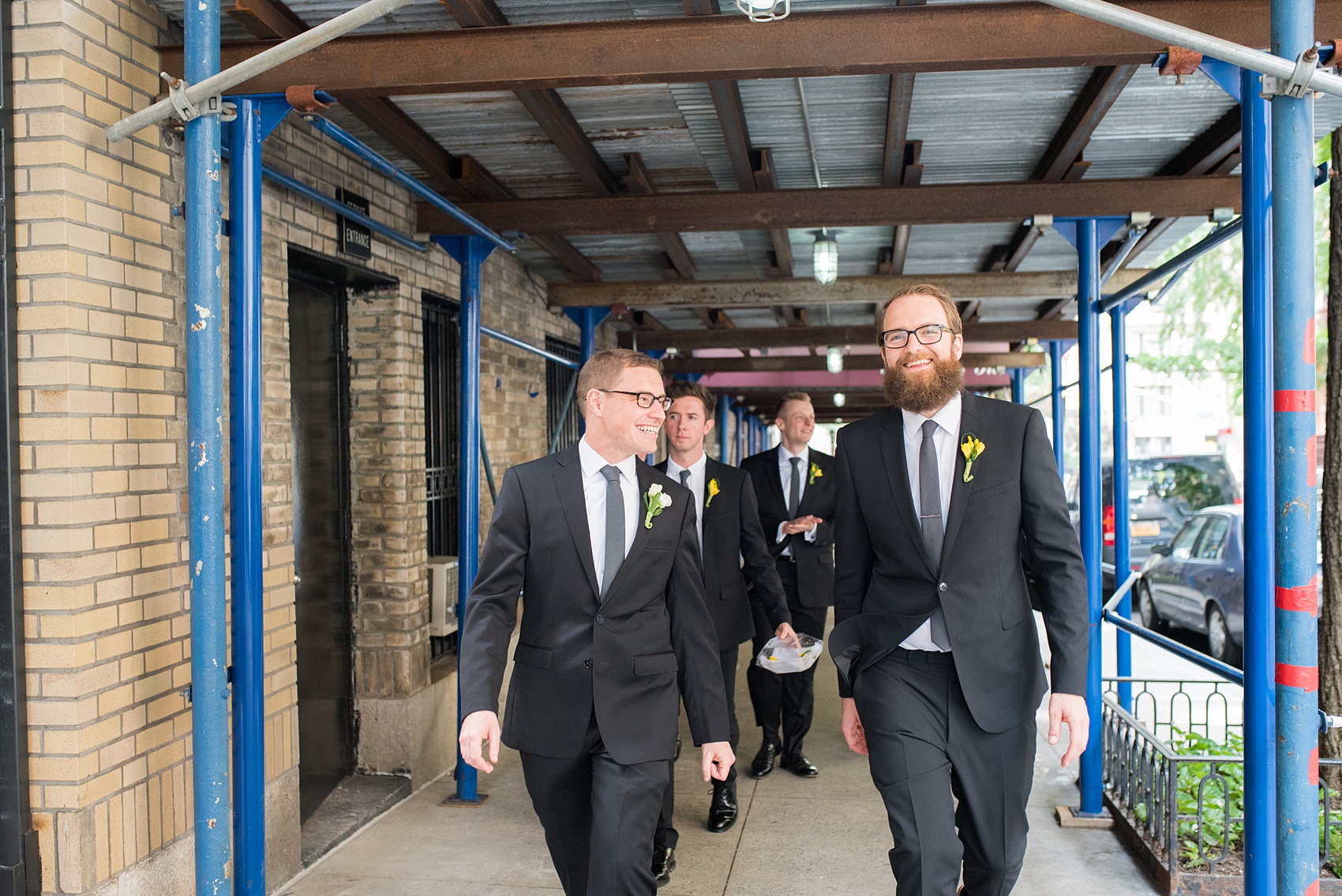 The men transferred just about 10 blocks south to Heidi's apartment building. She was so thoughtful to rent out the common area of the building for wedding photos. It was the perfect central place for the wedding party and family to gather to literally cheer on Owen and Missy for their first look. I LOVE everyone's expressions – theirs, their bridal party…everyone!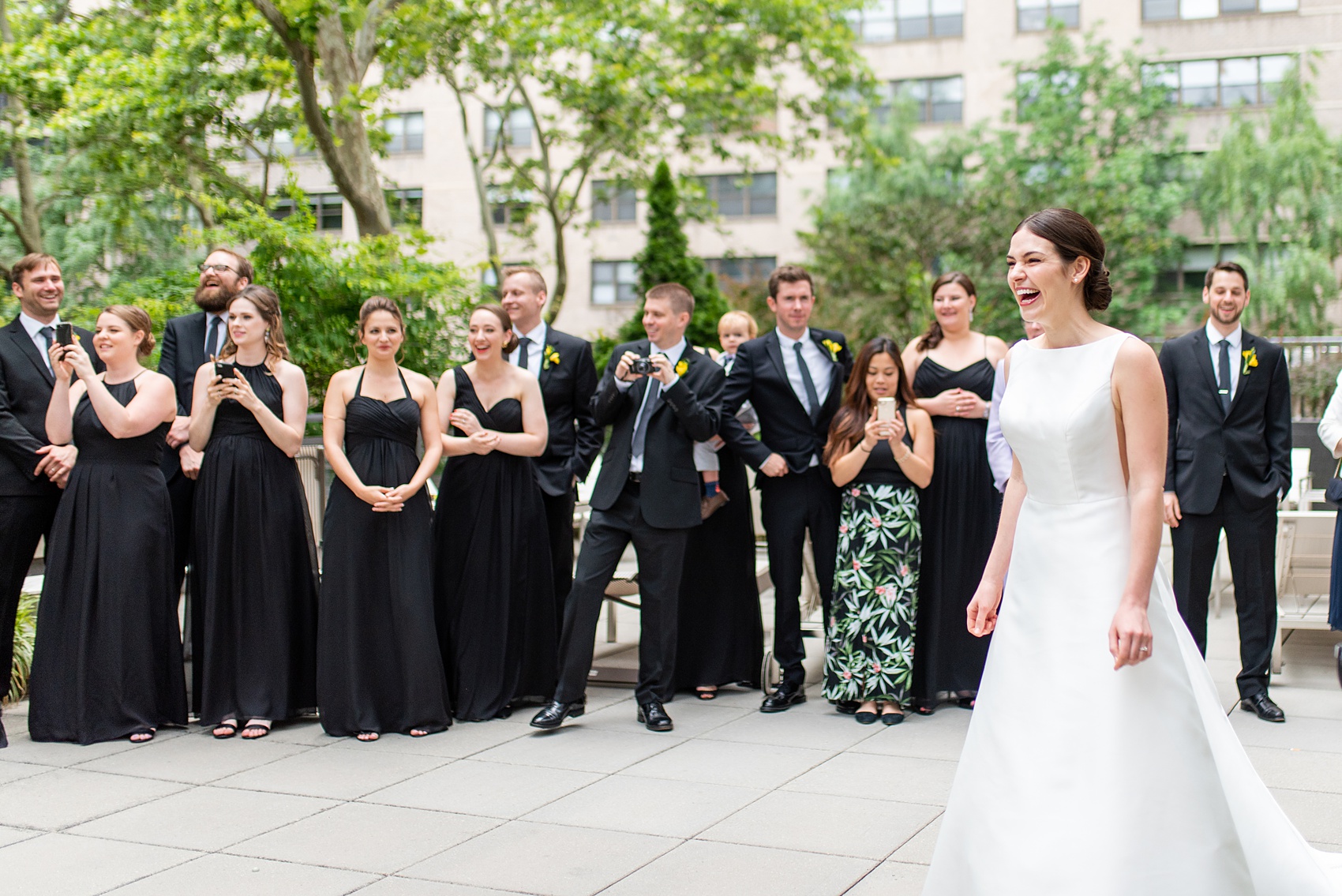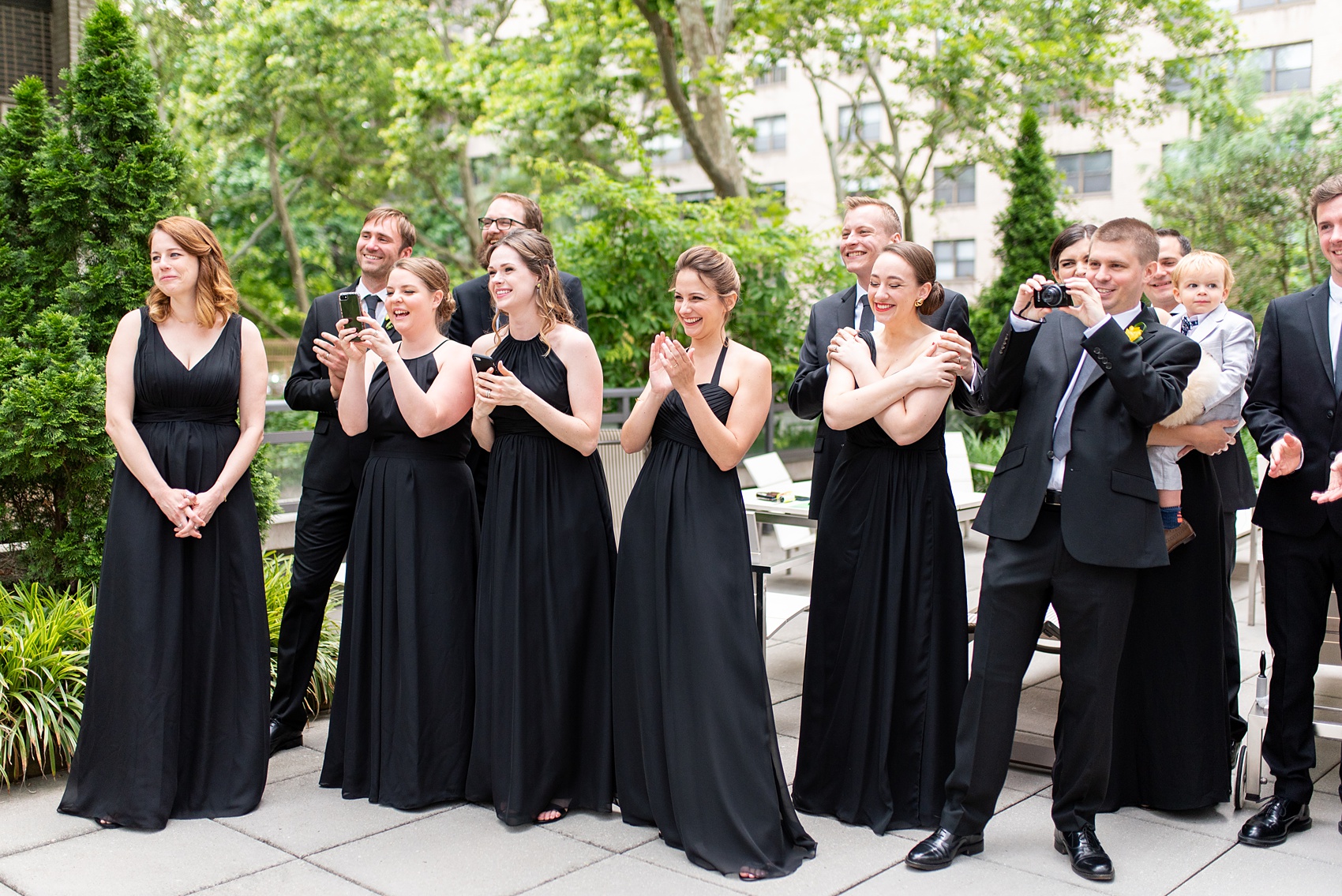 We were lucky enough to get multiple, amazing photo locations that day! I scouted beforehand to find the best spots on the Upper West Side close to where they were getting ready and the first look so no one had to travel far in the heat. Lucky enough there was gorgeous landscaping, including a wall of ivy and colorful trees, nearby.
Later on we commuted a few avenues over to central Manhattan to take wedding photos at Loeb Boathouse in Central Park during their reception. We snuck away just before and during their cocktail hour for more pictures of the bride, groom and their wedding party.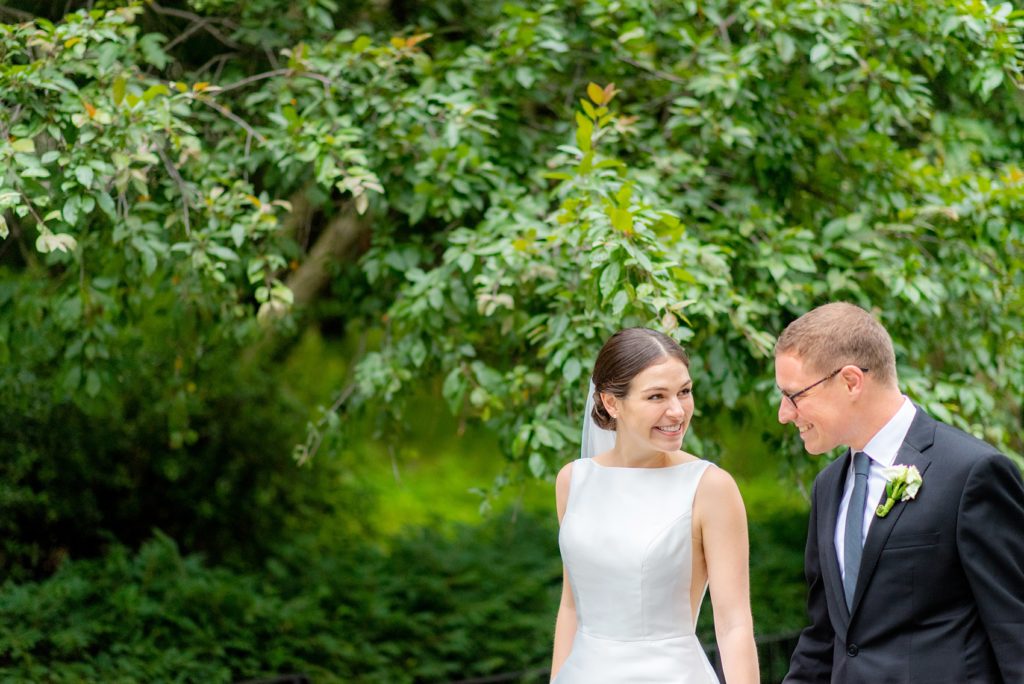 What Everyone Wore for this Summer Wedding in Central Park
By the way – did I mention I LOVED Missy's entire look? She was so stunning, beyond-words, and looked so elegant and classy. Missy wore the look instead of the look wearing her. And, as they said in Annie, you're never fully dressed without a smile! And Missy and Owen had smiles for days. Missy's gown also had pockets, which was such an added bonus!
Missy looked amazing from any angle. Her sweeping up-do ensured she was free to move around all day and her pink peonies and white roses bouquet wasn't too cumbersome or heavy as a companion for photos. It would be hard to upstage the bride and groom but check out their nephew in his light grey suit and blue boat bow tie! He came pretty close! (Might I add his bow tie was perfect for Central Park, where there were motorized sailboats nearby the wedding reception? We took a few photos there with Missy and Owen!)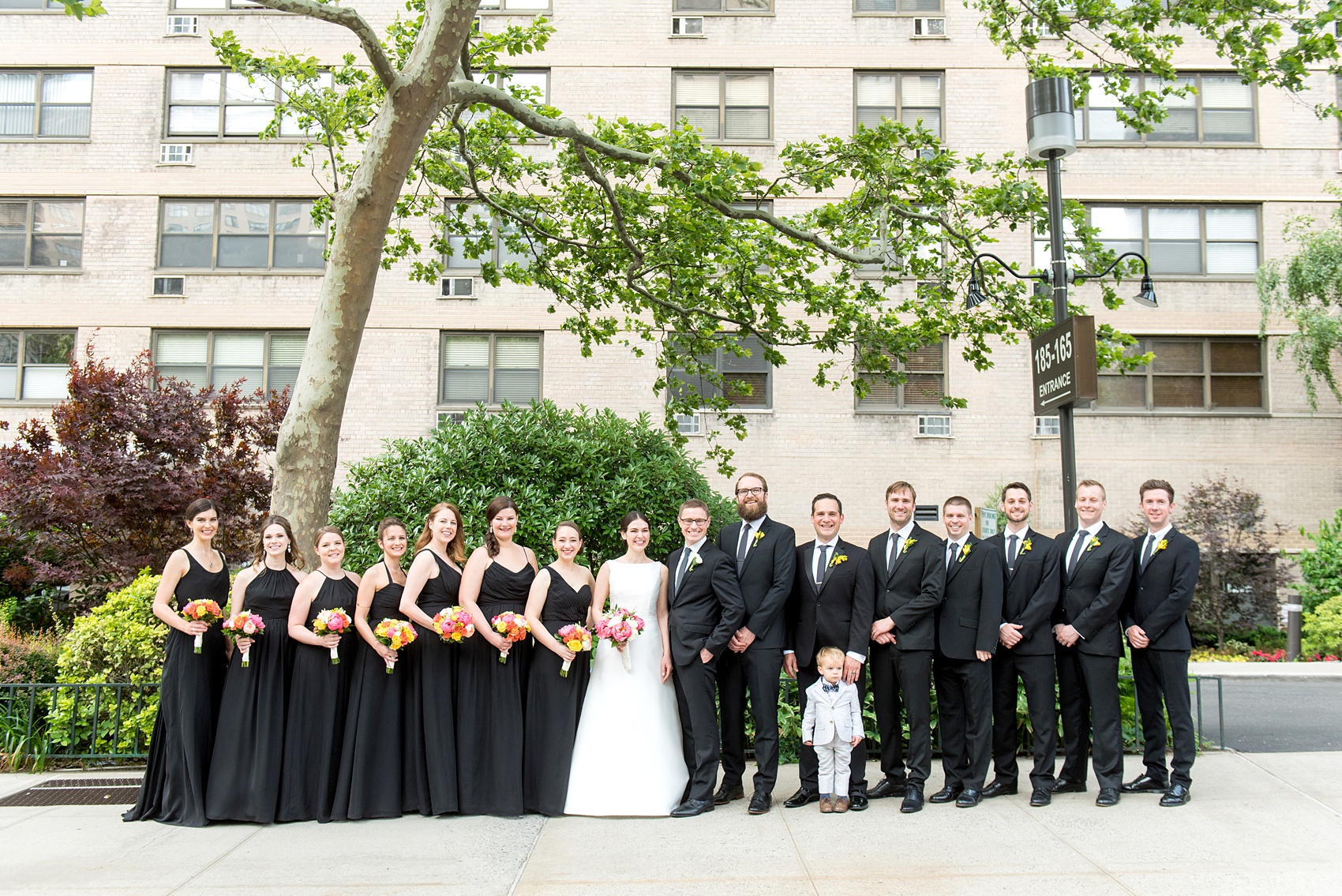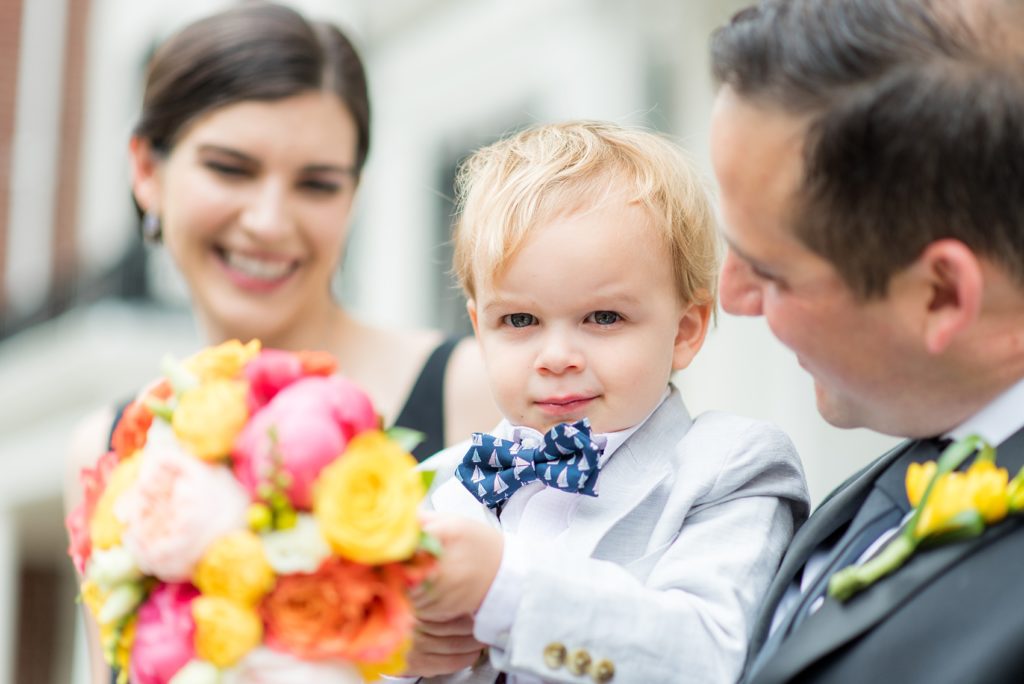 The bridesmaids held colorful bouquets of yellow, orange, pink, peach and coral flowers and groomsmen wore yellow boutonnieres to match. They provided the perfect pop of color against their classic black attire. Missy and Owen requested guests were colorful outfits to the wedding on their peach and green invites. It was a request I completely adored as a color-lover myself.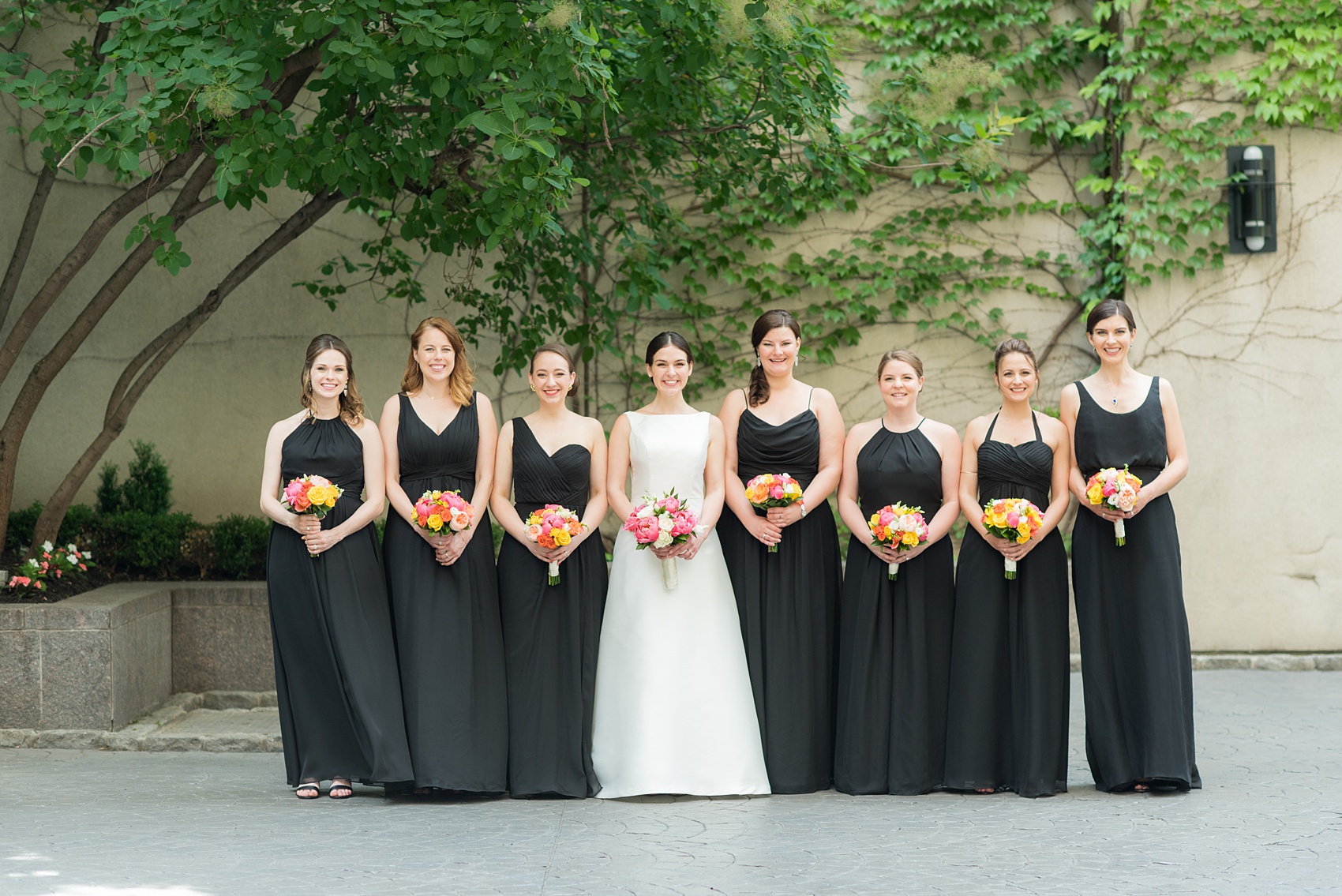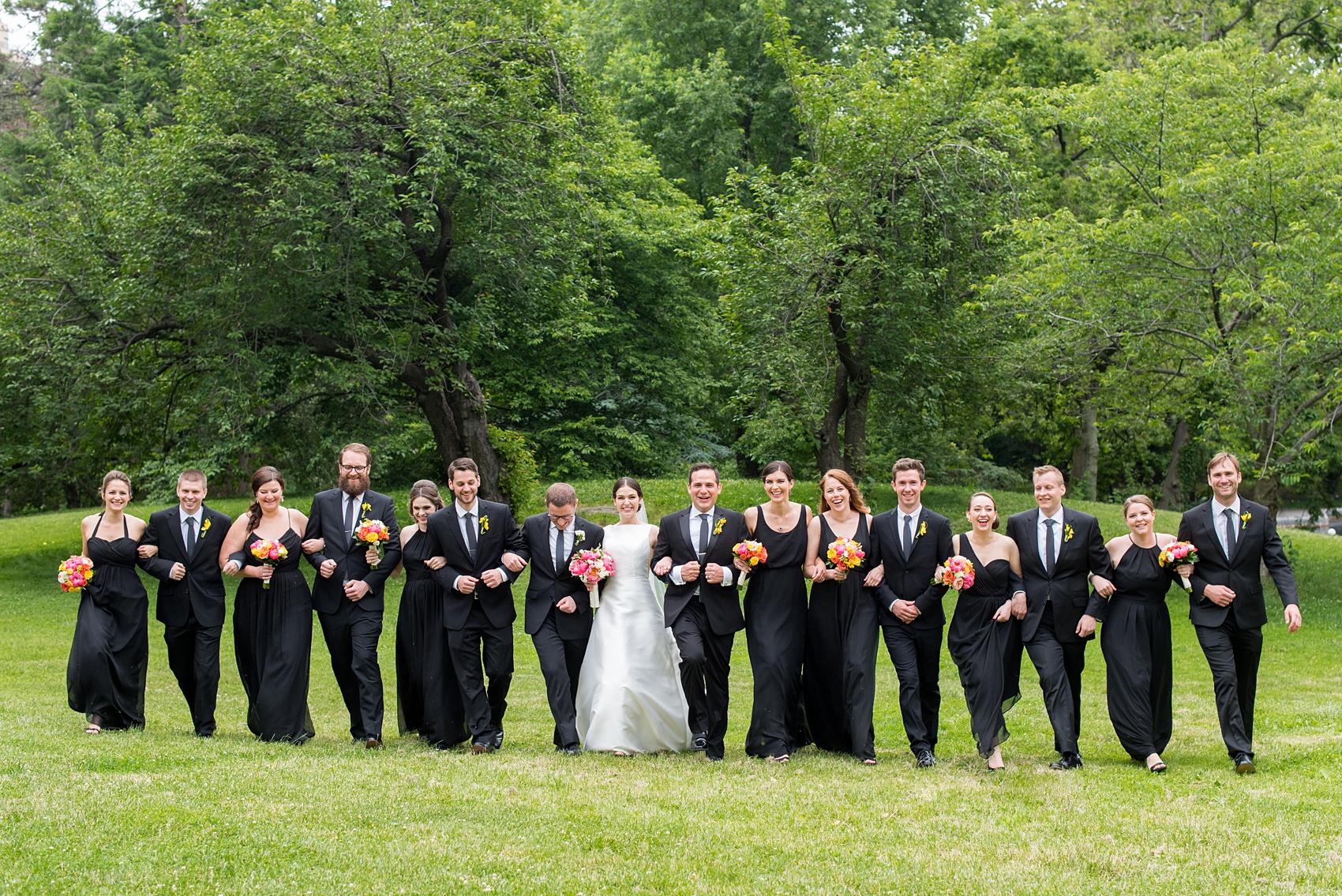 A church ceremony in Manhattan before their Central Park reception at Loeb Boathouse
Their church ceremony was held at St. Paul the Apostle on the Upper West Side. It was a beautiful, iconic church. I loved that it reminded me of European churches because Owen's from Europe! If the wedding wasn't in England at least there could be a hint of Europe in their day in more than one way.
Owen helped his bride out of the limo (which is another reason I support first looks – I wouldn't have gotten this candid photo of them together if they didn't see one another beforehand) into the church. I had to include this beautiful solo photo of Missy's bridesmaid and childhood friend, Emily. Missy and Owen found me through Emily and Matt's wedding. Years later I would capture her bridesmaid, Missy's day, with Emily and Matt expecting a child! I love how the picture highlight's her beautiful cascading waterfall braid half-up hair do.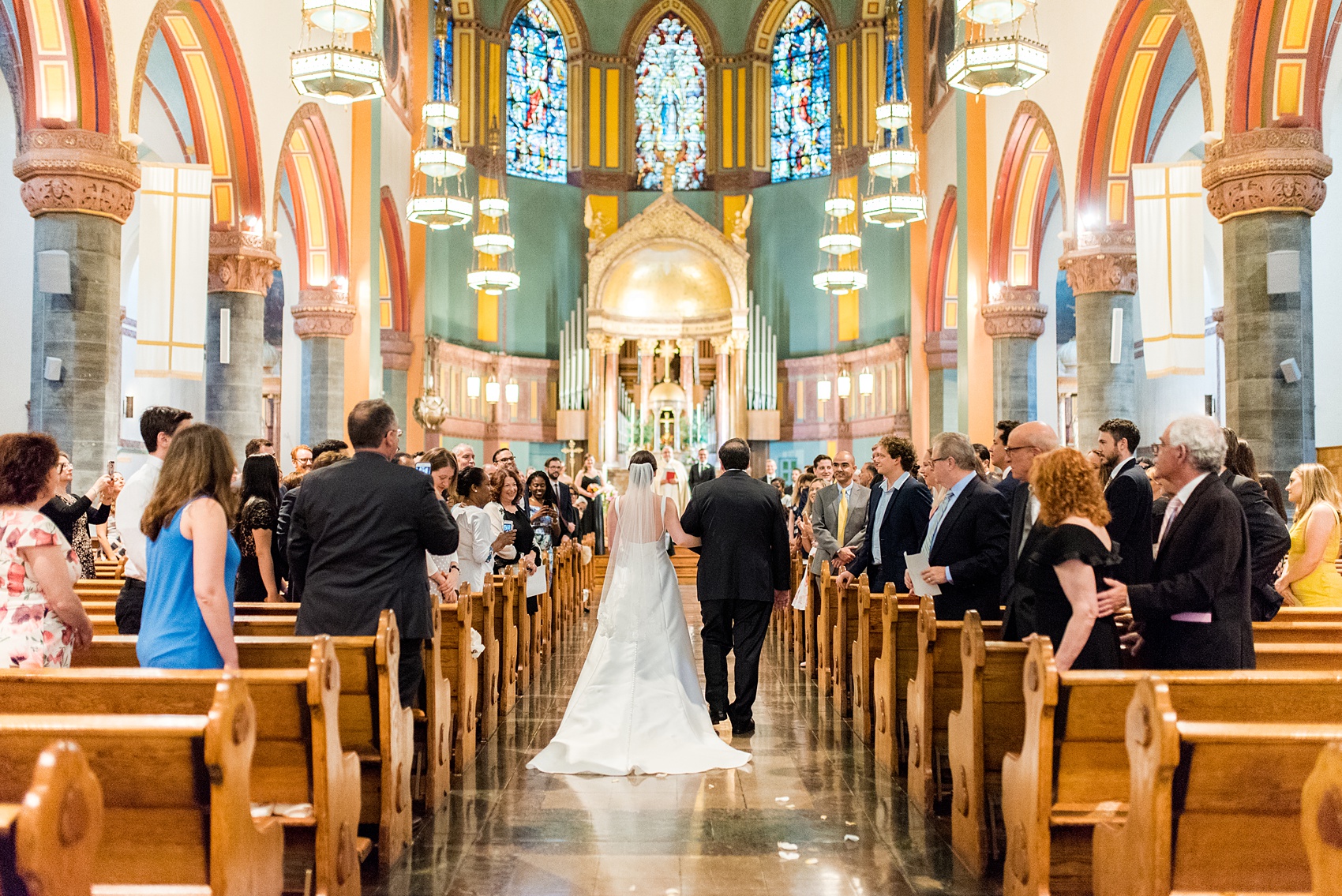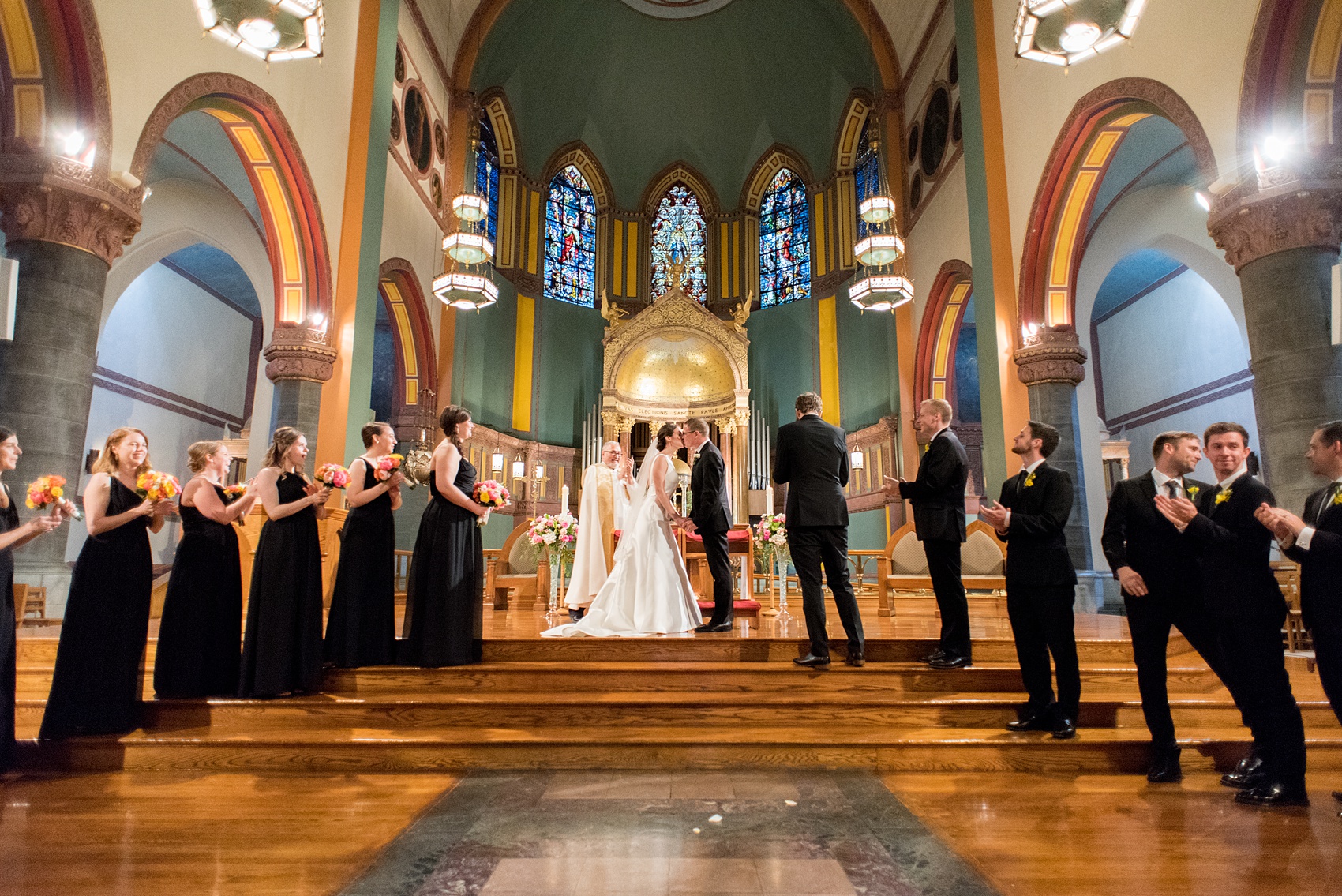 It was heart-warming to capture Missy and Owen glancing into each other's eyes and holding hands during their ceremony. Their smiles after their first kiss was surely indicative of their excitement to officially pronounced as husband and wife by the priest! And there was a party waiting for everyone back at Loeb Boathouse in Central Park to celebrate!
Time to Party at their Reception for their Wedding at Loeb Boathouse in Central Park
Everyone loaded buses to get from their church to their reception at the Loeb Boathouse at Central Park. Missy and Owen requested their guests wear colorful outfits for the celebration. Their guests, and one standout couple in particular, really knocked it out of the park. They wore all sorts of fun hues, and that couple wore a navy blue silk jumpsuit and a red silk suit. AND how fabulous are those shoes?!
As guests enjoyed a outdoor cocktail hour with passed hors d'oeuvres and beverages I captured the reception room. They chose white linens for their round tables and gold Chiavari chairs. Each table had a beautiful floral arrangement in the center with hydrangea and either pink or yellow roses.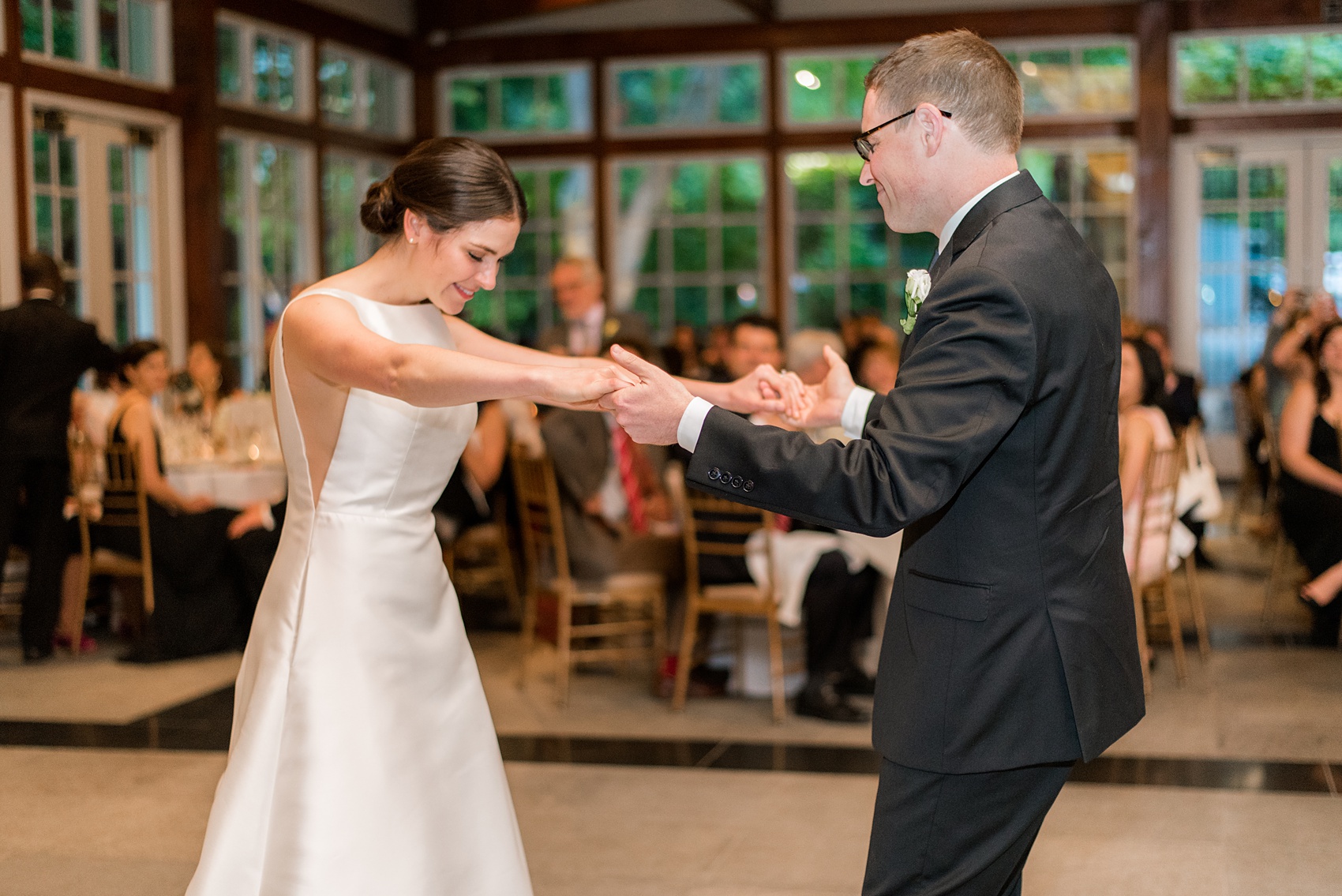 A classy couple chose a classy song for their first dance: Frank Sinatra's, "Fly Me to the Moon." They were adorable and so in love as they spun around the dance floor! They invited their guests to join them for the last verse of the song. Then their DJ, in perhaps the greatest "get the party started" move I've ever witnessed started to play "Jump in the Line." It's a little hit you may know as "Shake Senora." "Shake…shake…shake….Senora!" You know the one! (I'm playing it now as I write this!) Go ahead. I'll let you pause and come back to the rest of this post later so you can find the song and shake those hips to a little Harry Belafonte!
One of my favorite moments from the evening, as is more traditional for European weddings, is when the groom said a few words about his new wife. It was a beautiful moment to hear him gush over Missy and thank family and friends for making the journey to celebrate their day. Everyone inside Loeb Boathouse was blushing with delight.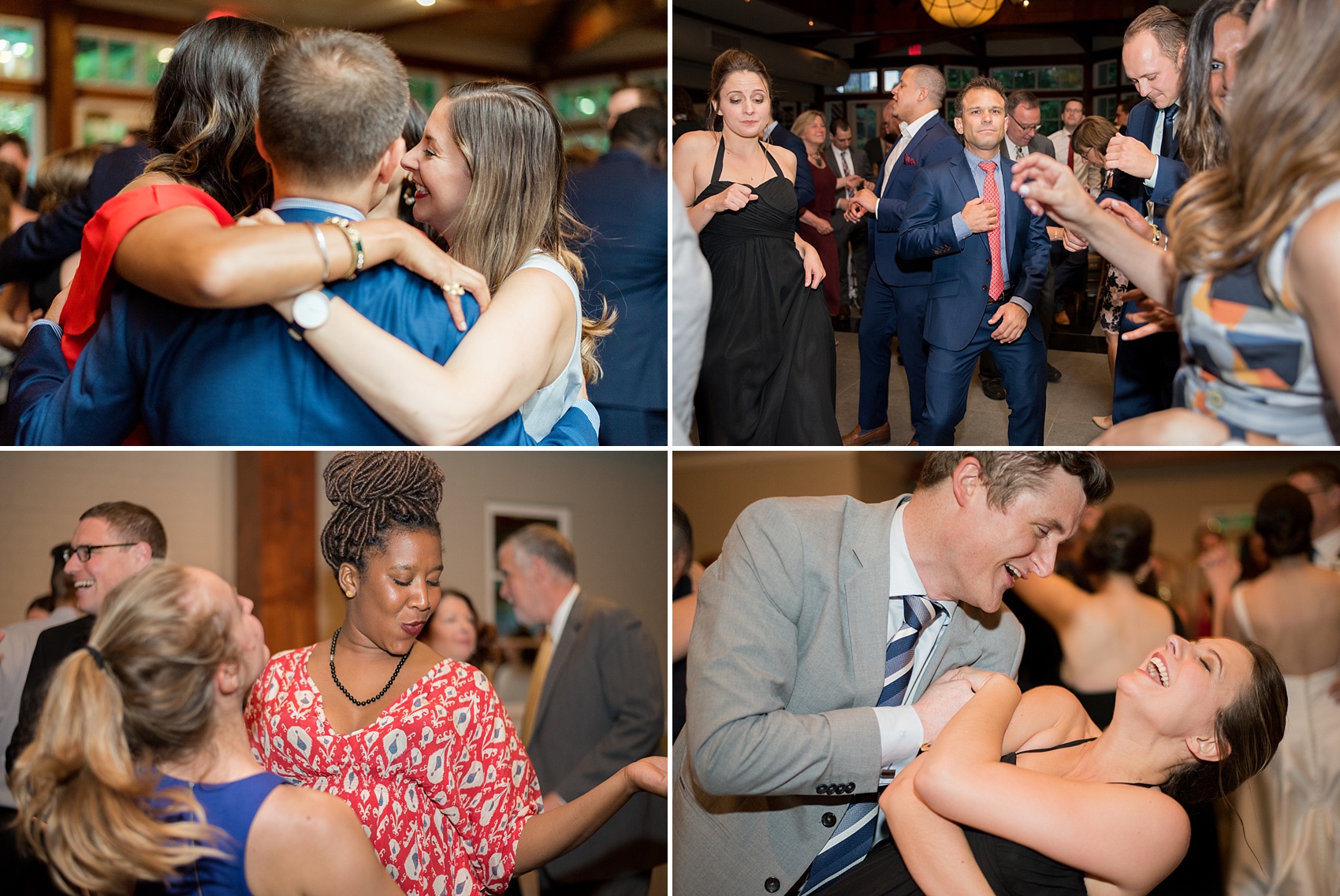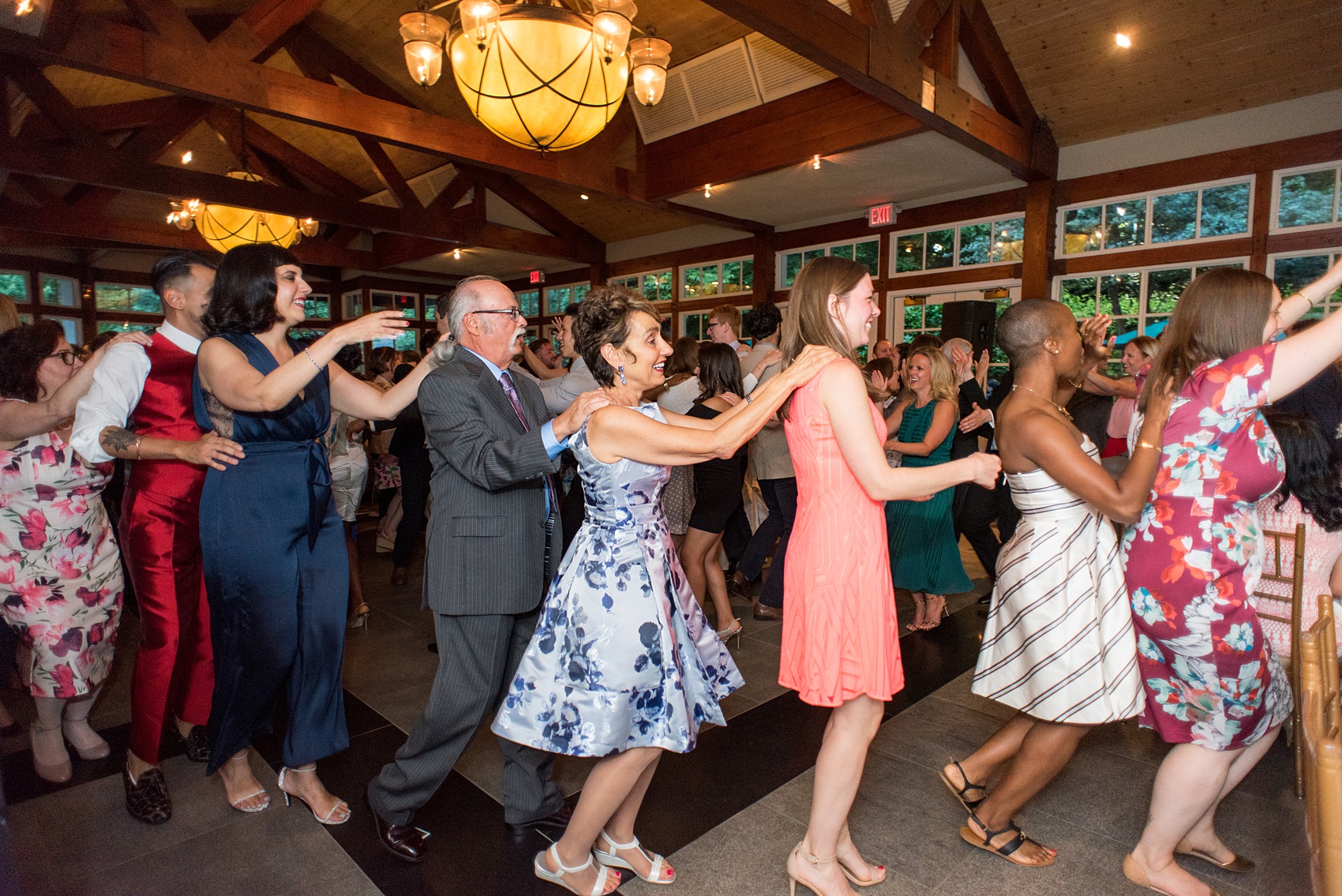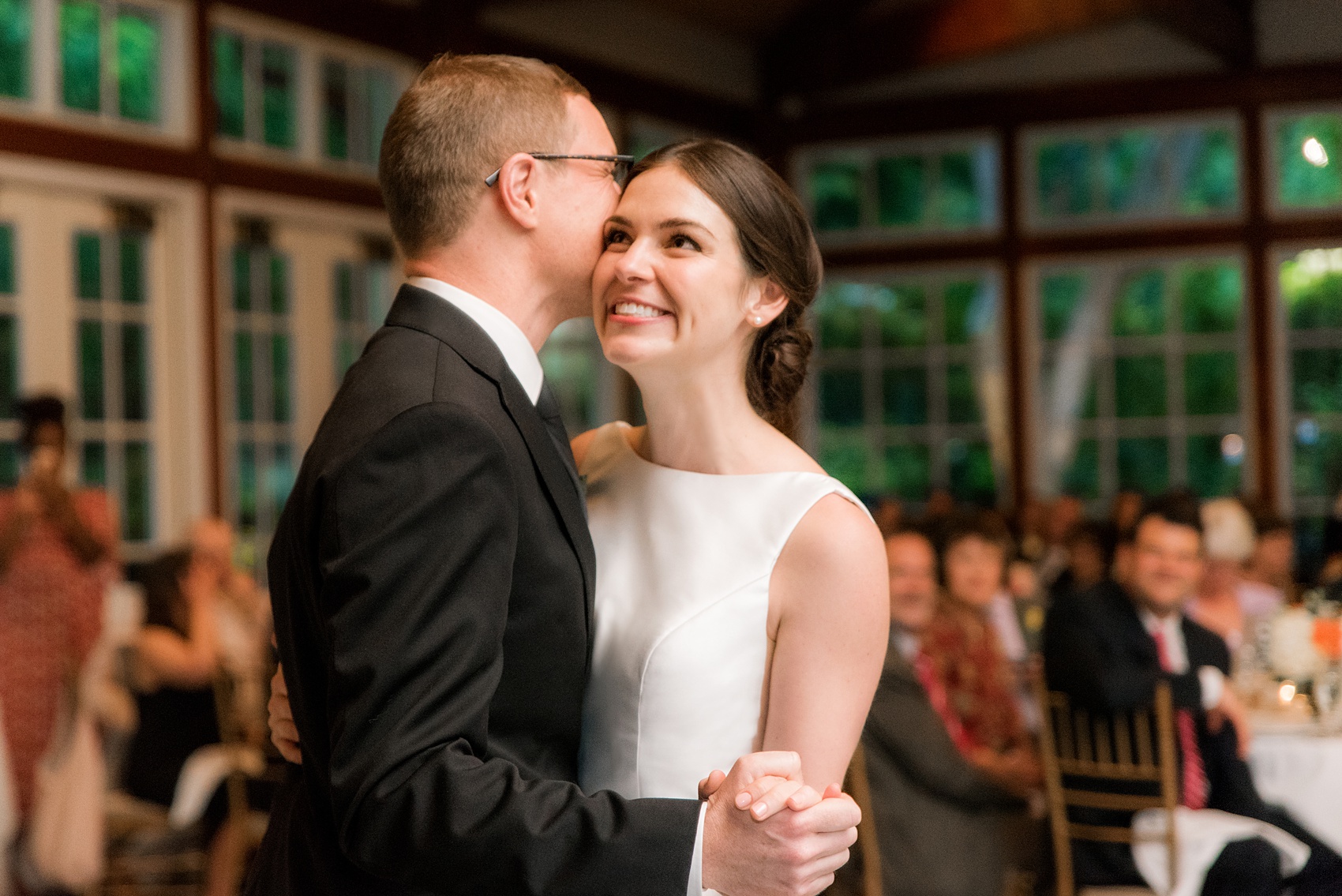 The peace of the evening in Central Park with some Manhattan lights twinkling from skyscrapers in the background calls for a little quiet moment with the bride and groom during the excitement of their day!
Congratulations, Missy and Owen! Thank you so much for letting me be such a special part of your amazing NYC cross-cultural wedding day. 🙂
Team who made their wedding at Loeb Boathouse in Central Park possible
Venue: Loeb Boathouse Central Park / Florist: Lenox Hill Florists / DJ: 74 Events, Sean Marquand / Hair and makeup: Truly Happy Beauty / Ceremony: St. Paul the Apostle / Flowers: Lenox Hill Florists / Wedding dress: I Do I Do, designer Sottero and Midgley / Bridesmaids dresses: Weddington Way / Wedding rings: Mendham Jewelers / Transportation: NYC Exclusive Limos
Diggin' city love? Us too! Also check out:
If you're interested in having us capture your day, don't be shy! Contact us!