Sachi Rose is an incredibly unique and talented florist located in NYC. Not only is her work insane but her personality is oh-so-adorable. I've had the fortune of knowing her and working with her. Like our incredible shoot featured on Ruffled back in April.
I met Sachi back at Love Inc Mag's launch party (funny enough, the night she got engaged!) and after a lunch date in Astoria, we became fast friends. She's one of my favorite people to hang out with and follow on social media, mostly for awesome flower eye candy images she shares. (Links at the end of the post.)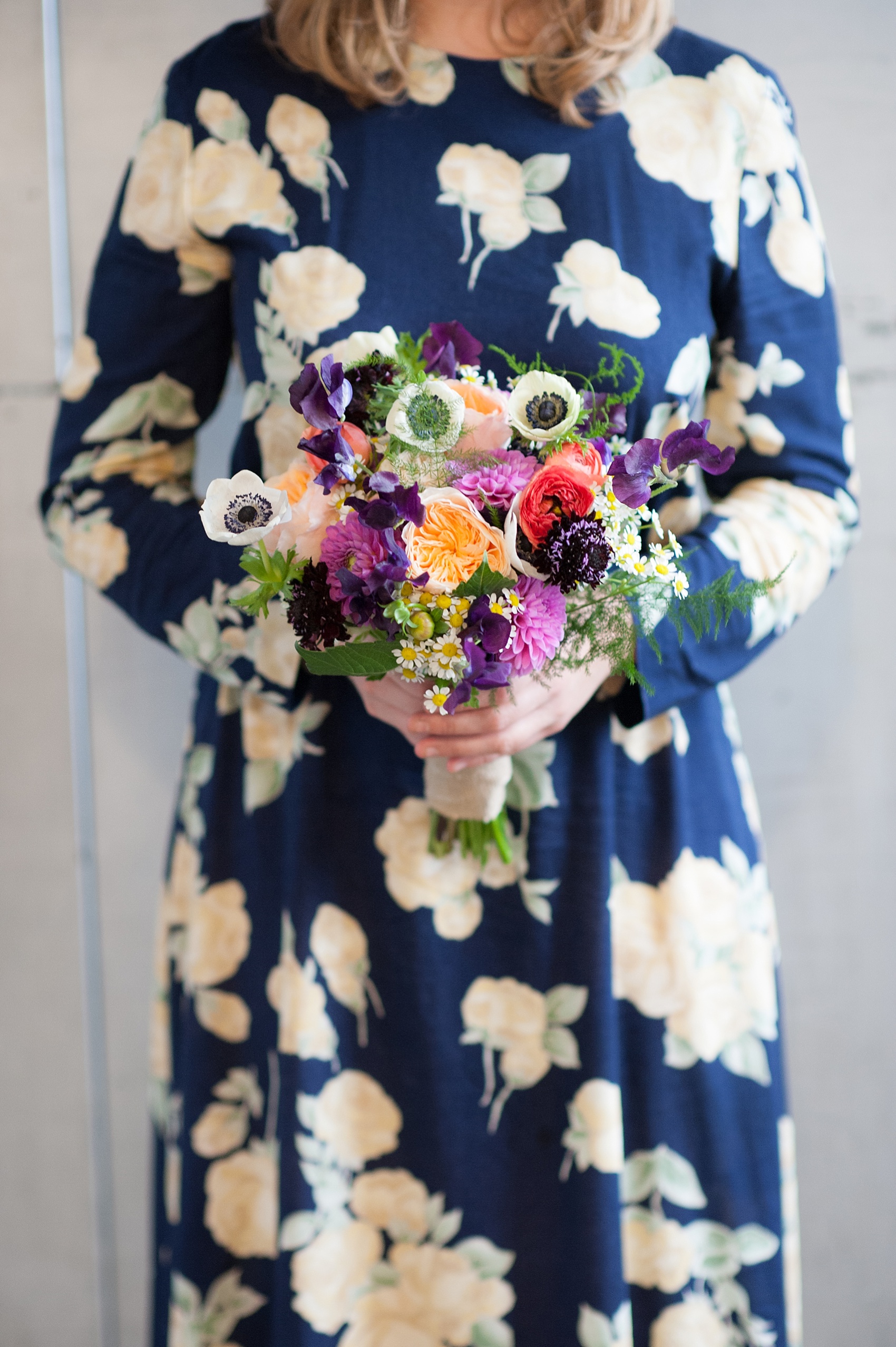 I visited her new studio to photograph her work for a colorful August wedding and pick her brain a bit about the wedding industry. A great addition to my recommended vendors group! Her passion really shines through her answers…and make sure you see the incredibly generous offer Sachi mentions in her last answer. I was floored!
Here's my Q + A with Sachi with her thoughts on all things flora! (Q = M, for Mikkel asking the questions, A = S for Sachi's answers!)
M: What is your advice to those in the market for florist services? 
S: Choose a designer whose aesthetic speaks to you. So many times I have clients who come to me for something sleek and modern, and although I'm more than happy to work with them, I'm really known for my more untamed, lush arrangements. Go to someone who specializes in, and loves, the look you want to achieve. When your floral designer is excited about what they're making, you're bound to get exactly what you wanted and more!​
M: Part of what I LOVE about you is your untamed, lush arrangements. Well, you say untamed but the truth is it takes a lot of skill to make "untamed" look so good and well balanced. 🙂 Like the photos in this post. Totally supports that! So what's the best kept secret about working with a florist?
S: The relationship between florist and client is an interesting balance of give and take. ​ Clients often come to me with a general idea of what they want, like a color scheme or favorite flower. From there, it's my job to come up with the specifics through a proposal that includes a detailed design scheme. In this creative process it's important to TRUST your floral designer to come up with the missing pieces. That's what we're here for!
Pinterest is a great place to start for inspiration, especially for education on flowers, but let it inspire a design, not dictate it, and allow your floral designer to take it from there. That way you'll have a truly unique never-before-seen design, not a copy of someone else's bouquet. When you give up control, the creative process begins and you are bound to get something even more special than you could have imagined. The secret is trust; simple but true.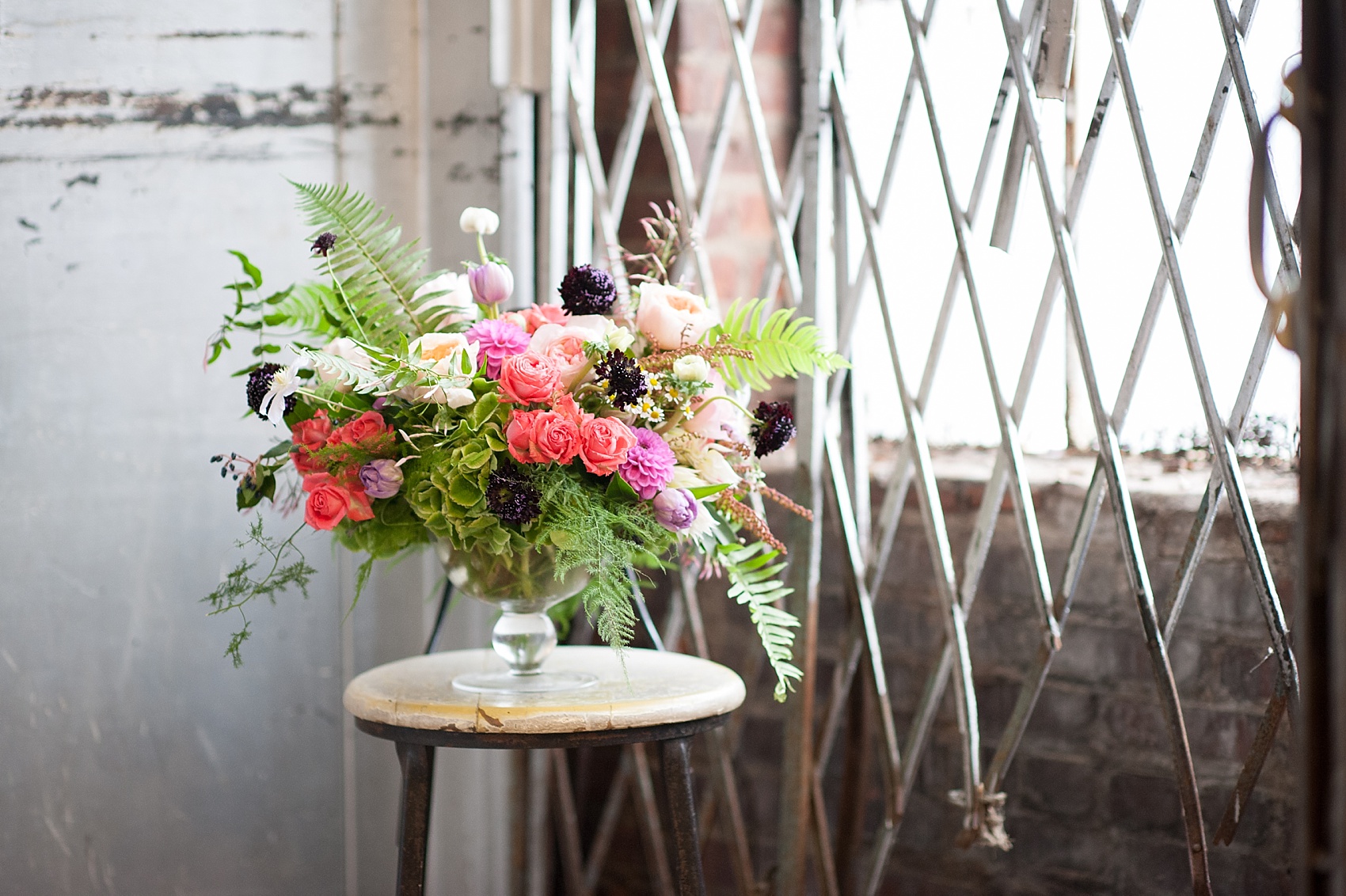 M: As your personal friend I can say with 100% confidence I trust you! And love recommending you. Haha!
On that note – what's the best way for potential clients to get in touch with you?
S: If you're planning a large event, a few weeks notice is ideal. If you're getting hitched (omg! congratulations!) I recommend contacting us a minimum of 6 months ahead to save the date. Shoot us an email at [email protected] and we will do our best to respond within 24 hours.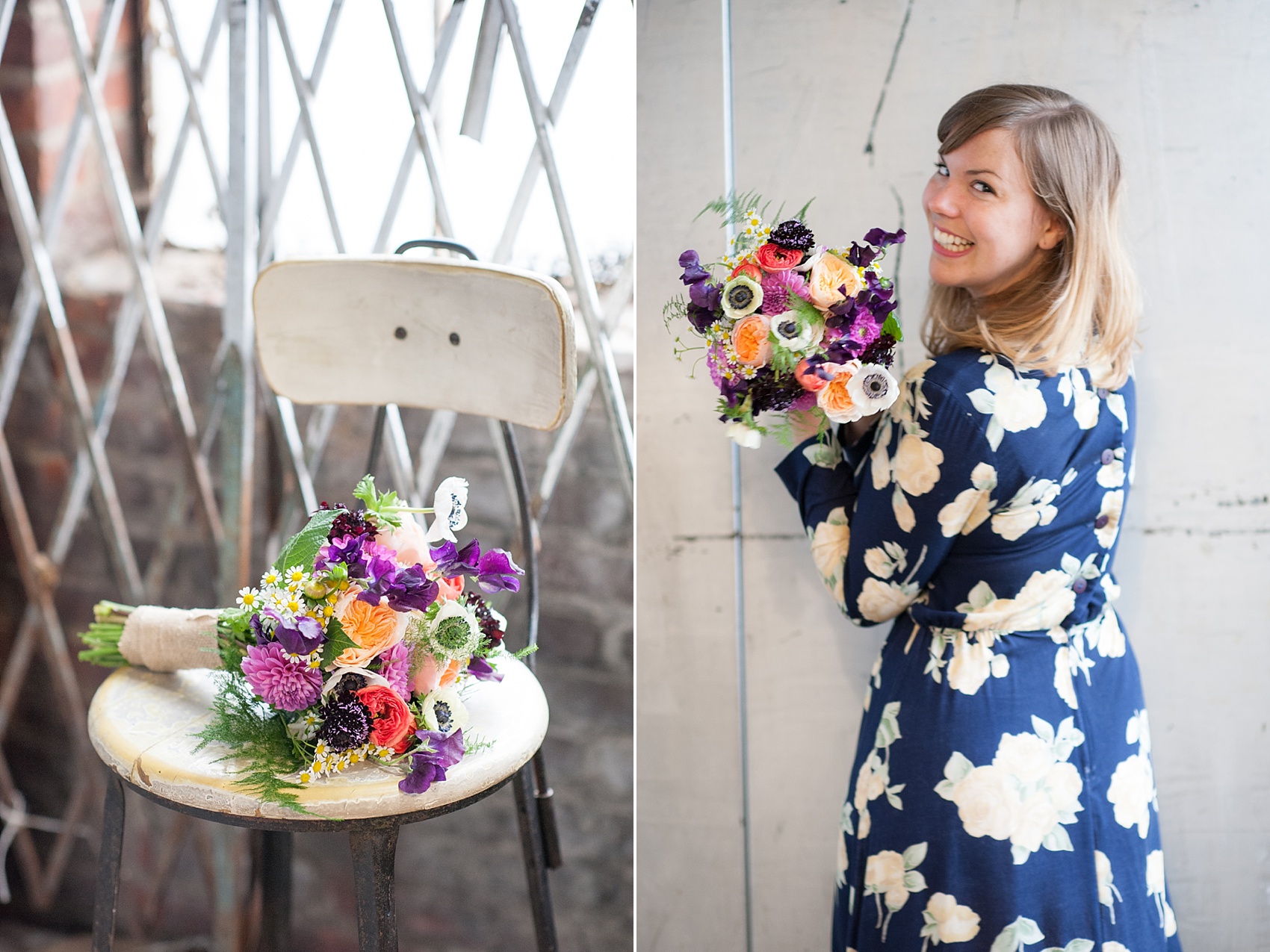 M: Look at that adorable face behind the flowers (figuratively and literally!) above! Sach, you're too cute! Okay next question… What's the biggest misconception about what you do? ​
S: That floral design is easy and we overcharge. Which are both false! We do what we do because we love flowers and love people who appreciate them, not because we make bank. It's a ton of physical labor, research, prep-work, meetings, multiple drafts of proposals, early mornings and late nights. And after we buy all of the flowers and hard goods, and pay the designers and drivers who helped us, we have about enough money left over for a giant cocktail (which we will be sipping happily as you walk down the aisle with your awesome-sauce bouquet).
If you're as excited to work with flowers on a Sunday morning as the day before, after getting home at 2:00am from a wedding dirty and tired, you're in the right business. And I am!
I wish the truth would be known regarding the misconception that luxury flowers are overpriced. Most people are used to the cost of grocery store flowers like red roses mixed with babies breath, as opposed to garden roses mixed with geranium leaves. Luxury flowers are expensive. They cost more on our end too, which is why they cost more for the couple. If you want the good stuff you have to be willing to pay for it. That being said, if you're a bride on a budget don't let this discourage you! There's always a way to get the look you're going for without breaking the bank; it's our job to show you how.
M: I know your passion first hand. You can just tell from conversations with you and how excited you get to discuss the topic. It inspires me, even!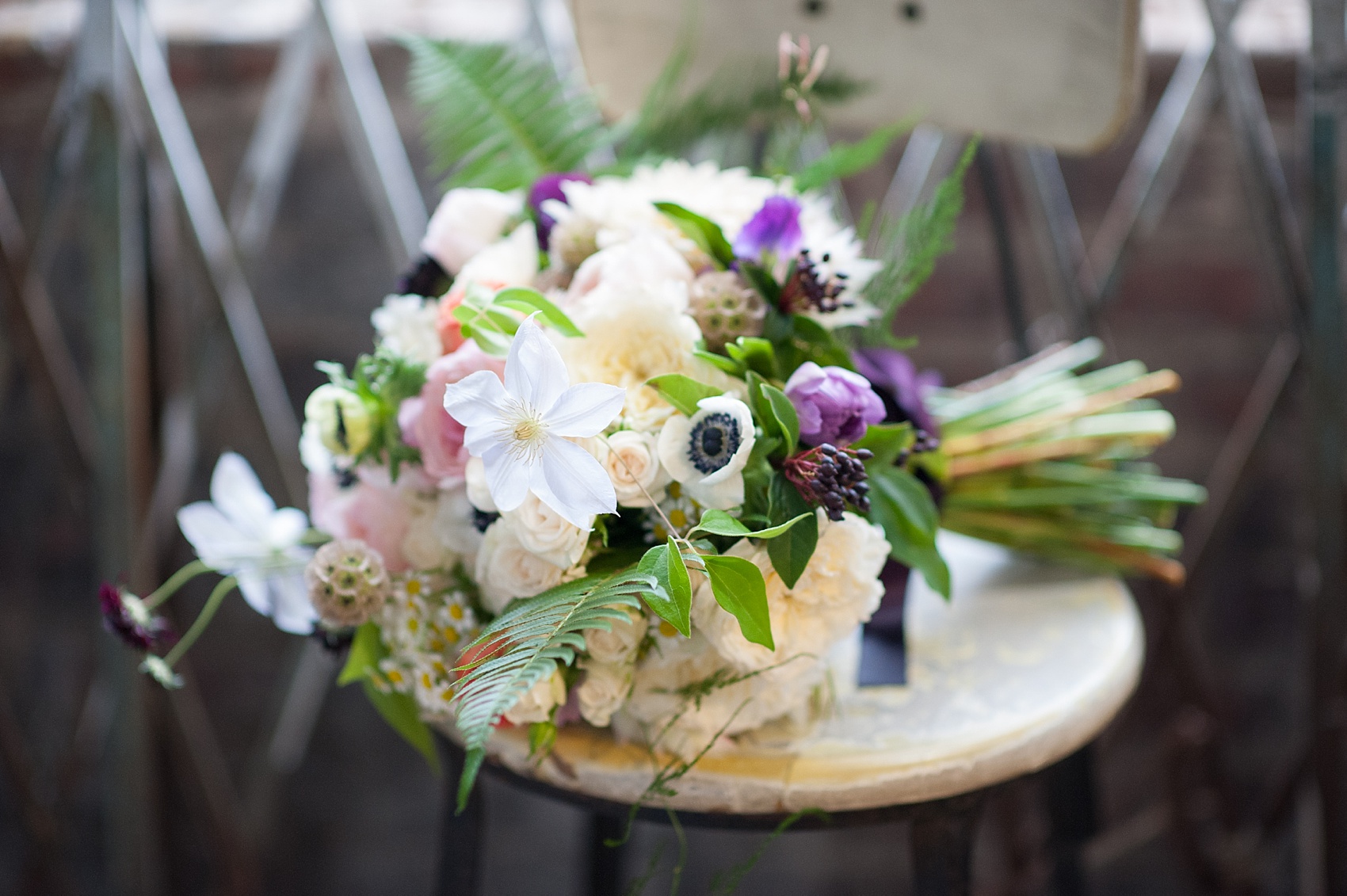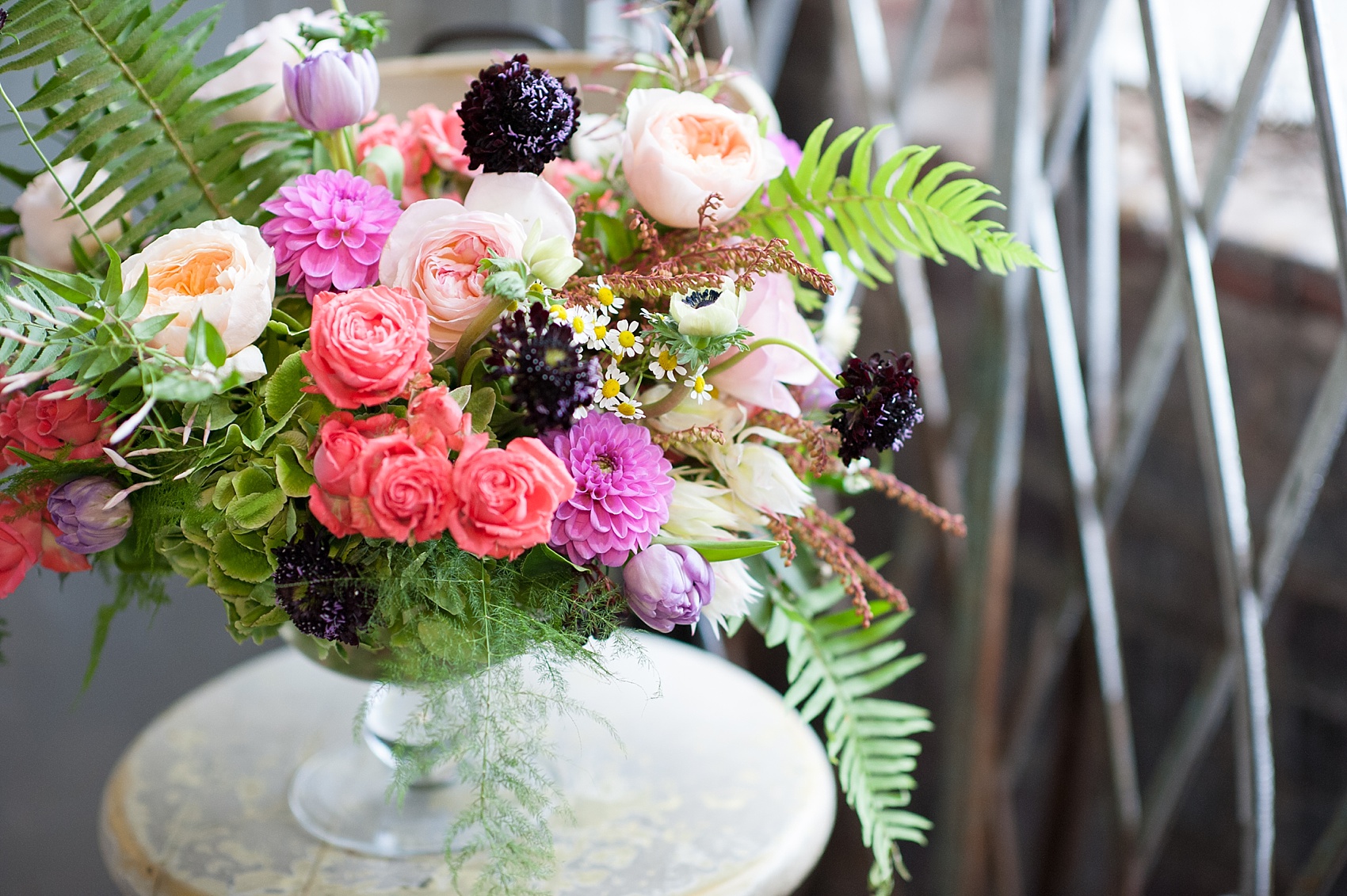 M: Here's a fun question: what is your favorite flower? I know it's hard to pick (no pun intended)!
S: Ranunculus. I don't know if I can eloquently explain why  but I'll try my best! Their stems & buds are strong while still being whimsical and crooked. The color varieties are off the charts. I can't decide which is my favorite — the deep  blood red, or the soft ballet slipper peach? And somehow the circle of petals becomes unpredictable and asymmetrical when you really look close, like a microcosm of controlled chaos — the perfect (or imperfect?) example of nature…whoa.
M: See!!! There's that PASSION! Oh my gosh! Could you just pass out over the beauty of this centerpiece you made?!!!? Dahlias, ferns, hydrangea, tulips, roses – they never looked so darn good together!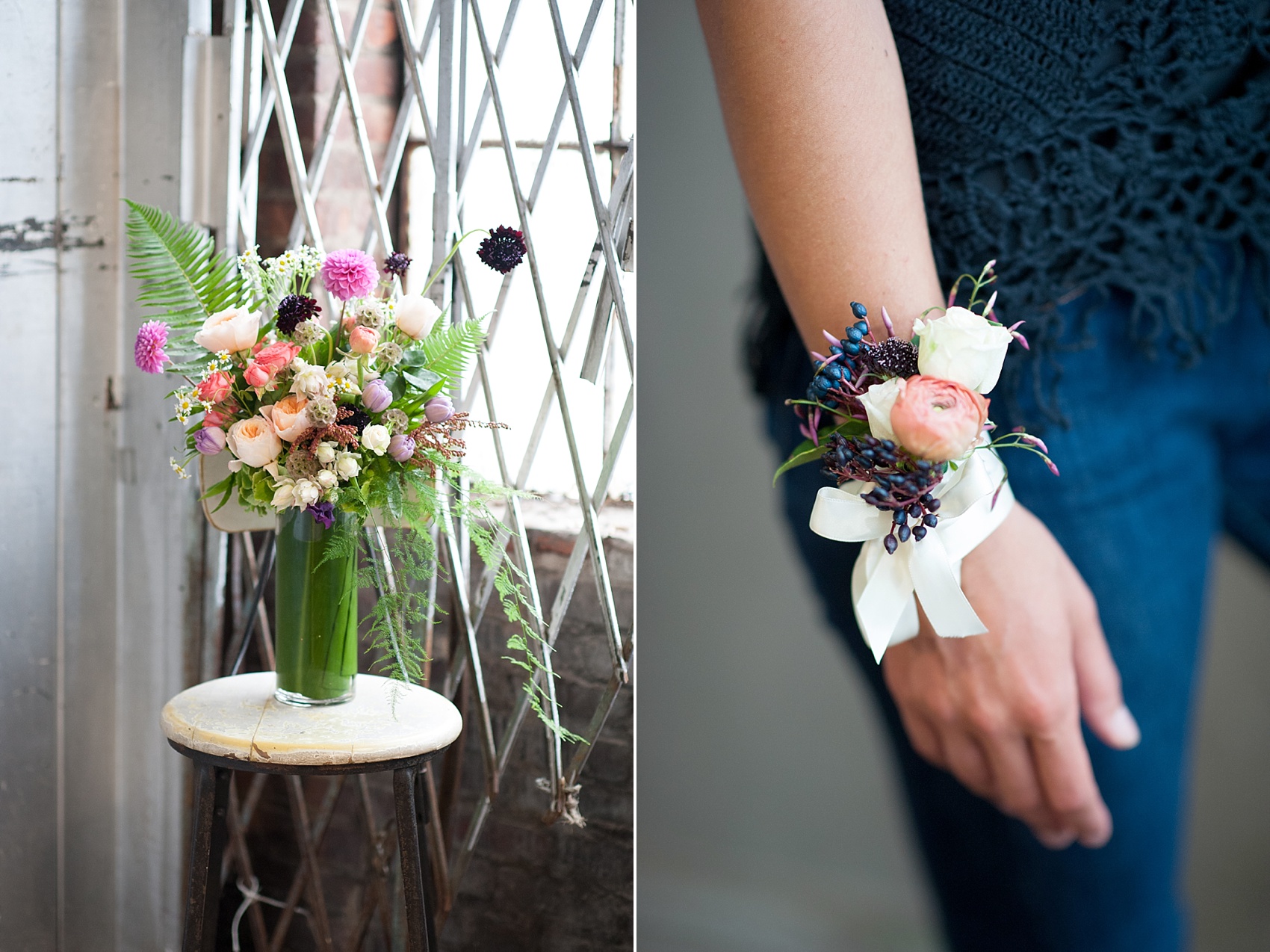 M: Even your corsages are unique. I absolutely love the ribbon that wraps around the wrist, and serves to hid the functional elastic band behind it.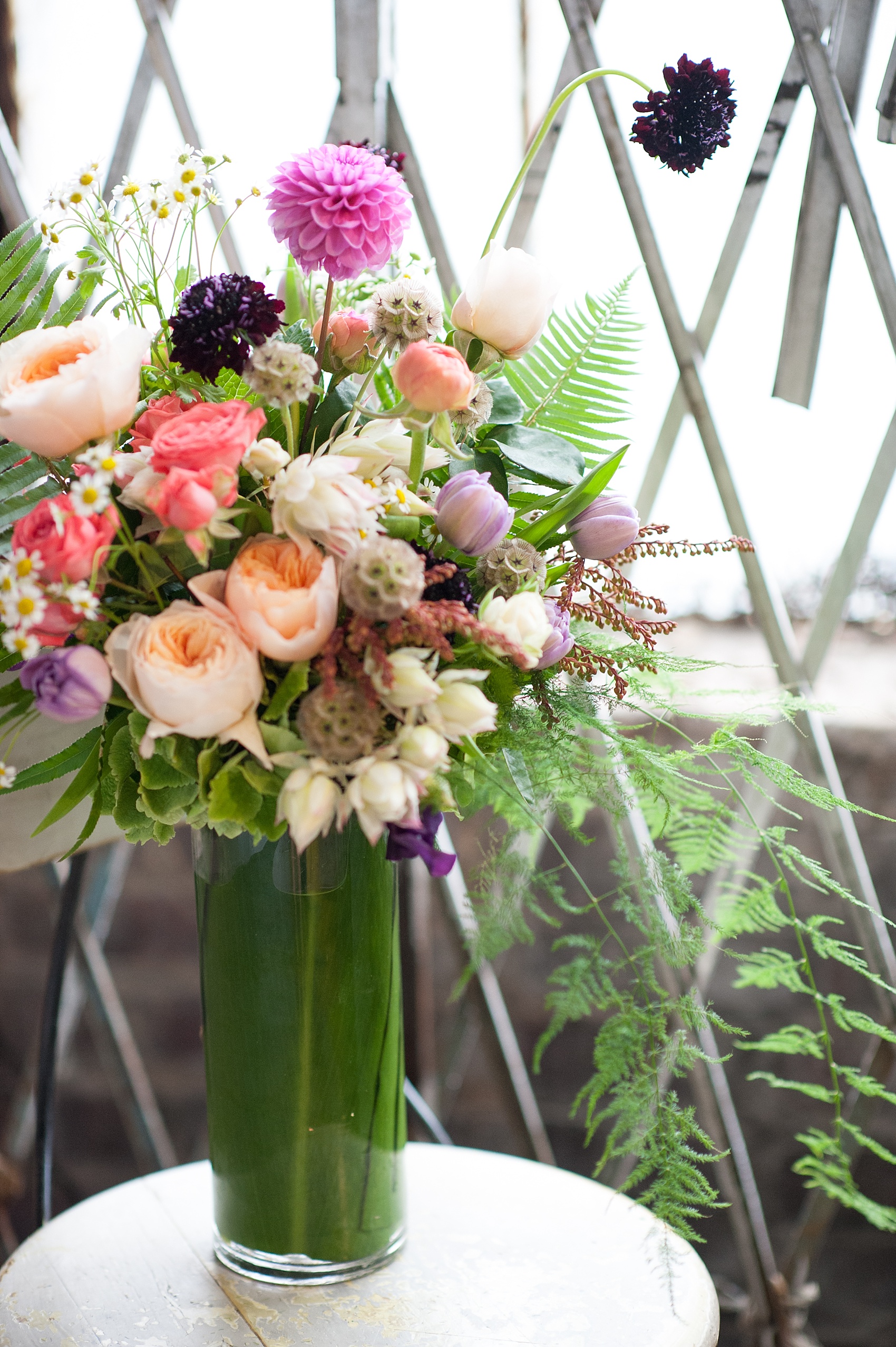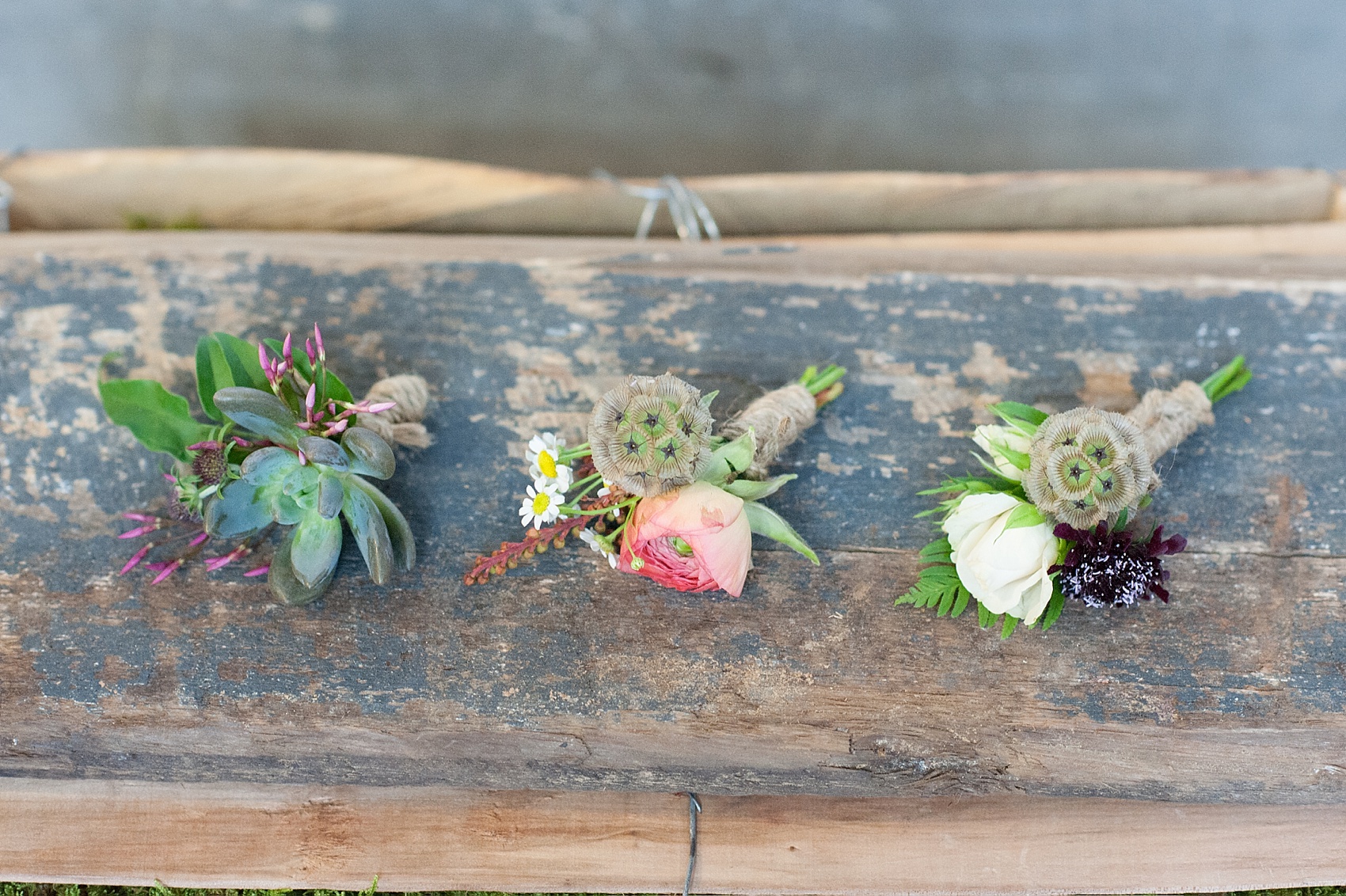 M: I LOVE those boutonnieres. They're all for the same wedding but the variety in each design adds so much interest in such a small, subtle way.
So why do you do what you do?
S: ​I just love flowers and people! I still gasp every time I see the first Cafe au Lait dahlia​s of the season and nearly faint of happiness when I nuzzle my nose into a fragrant Yves Piaget garden rose. I love the way Clematis adds an elegant, care-free nature to any bouquet, and the excitement I feel when I use something I've never used before — like the time I preserved dandelions with hairspray and used them in an arrangement! And then there's the people. I love my brides!
I've been very fortunate to attract brides who get as excited about the flowers as I do, but more importantly, who are lovely, down-to-earth people. Brides often come to me a year in advance, which means by the time their wedding date rolls around we have been friends for a whole year! That moment when I deliver the bridal bouquet to her hotel room…is a moment that I never forget.
M: Okay, I admit I need to Google, "Yves Piaget garden rose." ………OHHH! It's gorgeous! You know your stuff, girl! How stunning…okay, I totally get it.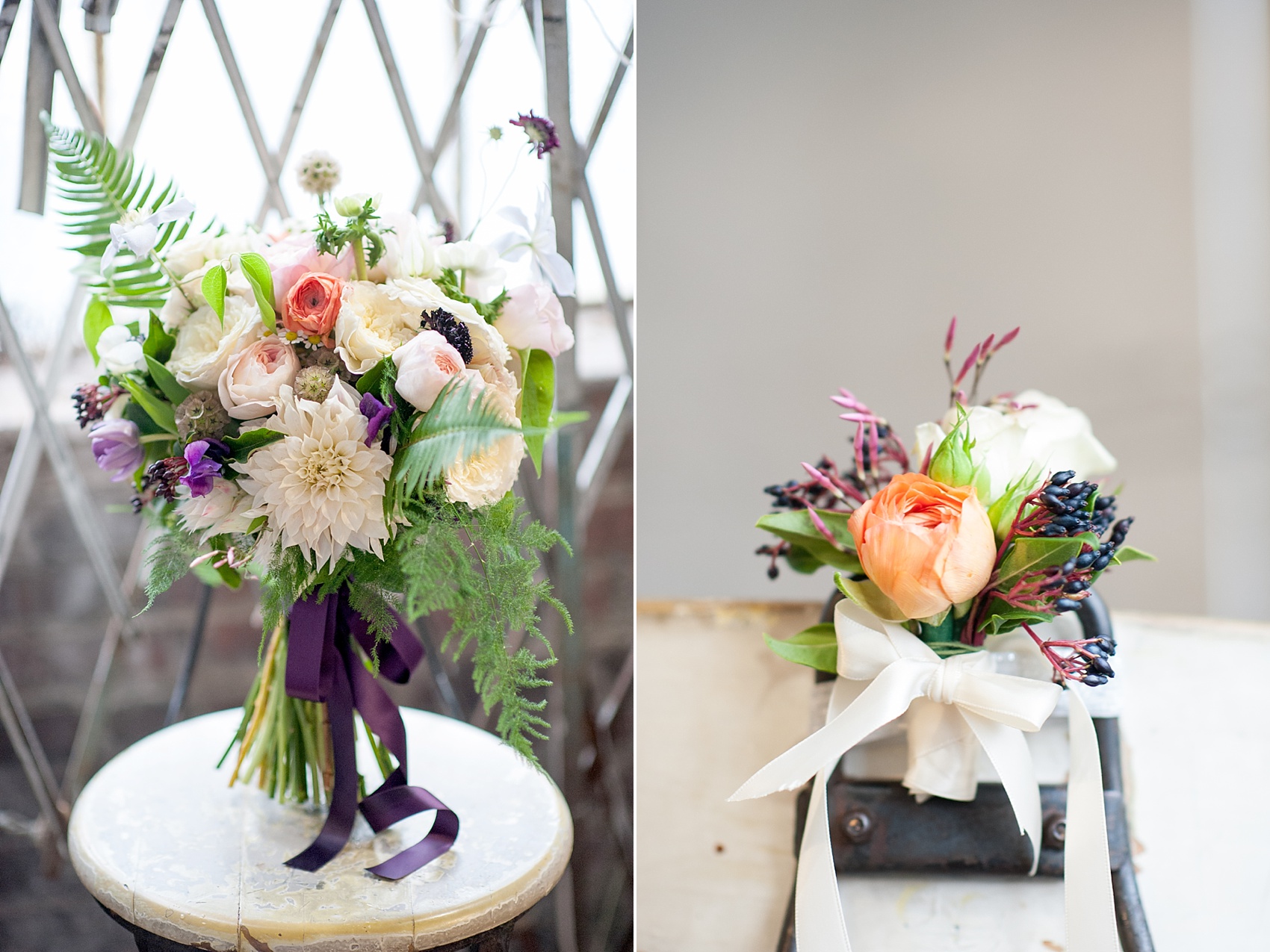 M: Anything else you want to add?
S: Mikkel Paige is hands down my favorite NYC event photographer and I ADORE working with her, so if you book us together for a wedding, you get 1 complimentary bridesmaid bouquet! What? Did I just say that? Yeah. I did.
M: Wait, what? That's AMAZING!!!! Ummm…I'm speechless. That's INCREDIBLE!!! Alright ladies and gents: you heard it here. Book me and Sachi and you get a complimentary bouquet for a bridesmaid. Ahhhh! I am EXCITED for that!!! Thank you, Sachi!!
Don't forget to check out Sachi's website, "like" her on Facebook and follow her on Instagram! (Because who doesn't want amazing flower photos to show up to brighten any day?)
Happy Thursday!