Yesterday I touched on envelope addressing options with the help of stationer Sincerely Jackie. Because her information was so great, it warranted a follow up, Part 2, dedicated to those out shell, pieces of paper that are oh-so-important in ensuring our guests get invited to these amazing events!As promised, keep reading because there's an AMAZING tip she points out that I never would have thought of.
As touched on in Part 1, there are three ways to address envelopes. Here, we expand on each technique:
calligraphy
digital printing
DIY, like handwriting or labels
CALLIGRAPHY
Jackie writes: Hiring a calligrapher to hand write all of your addresses is the epitome of wedding tradition. It's beautiful, classic, and available in hundreds of styles. As with anything done by hand, calligraphy is an investment. You also need to be careful in the style you select – I've found that the post office doesn't love pretty addresses as much as the wedding industry does. When mailing envelopes with calligraphy, the addresses need to be VERY legible and must meet USPS regulations. I've heard a lot of sad stories where brides spend hundreds of dollars on very ornate address calligraphy, only to have every single envelope slapped with a "return to sender" because the post office couldn't read/deliver the envelopes. 
Also, if you can have these HAND CANCELED it's best to do so! Just ask your post office nicely. Actually, I recall hand canceling invitations for my best friend's bridal shower myself once. Yup, no joke. But it was worth it to me because they don't care about pretty as much as I did, and you probably do, in creating these little masterpieces!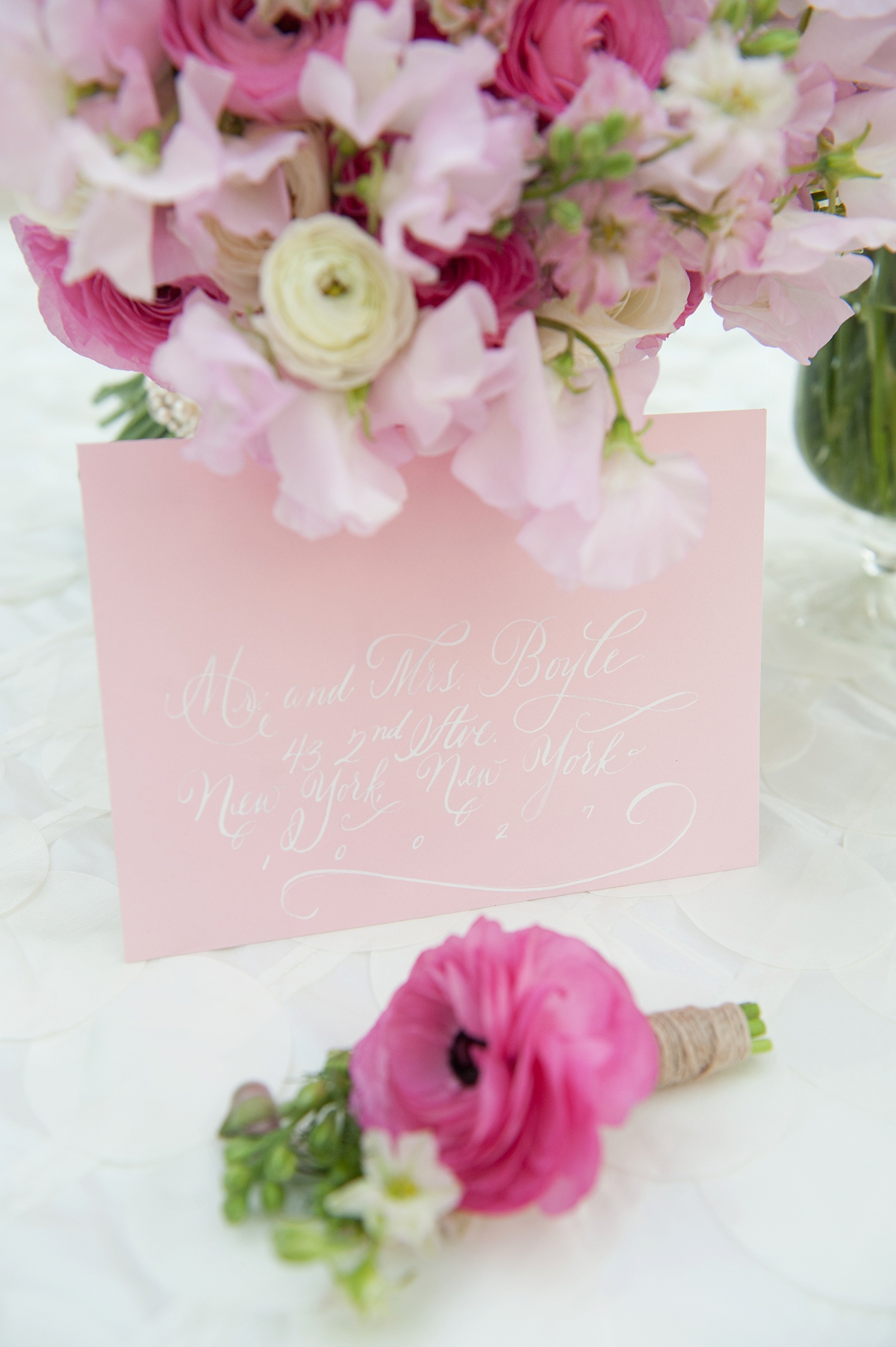 Isn't this envelope dreamy? It's part of a paper suite Jackie and Charmaine, her new partner-in-calligraphy-crime, teamed up to create for one of our styled shoots featured on Burnetts Boards.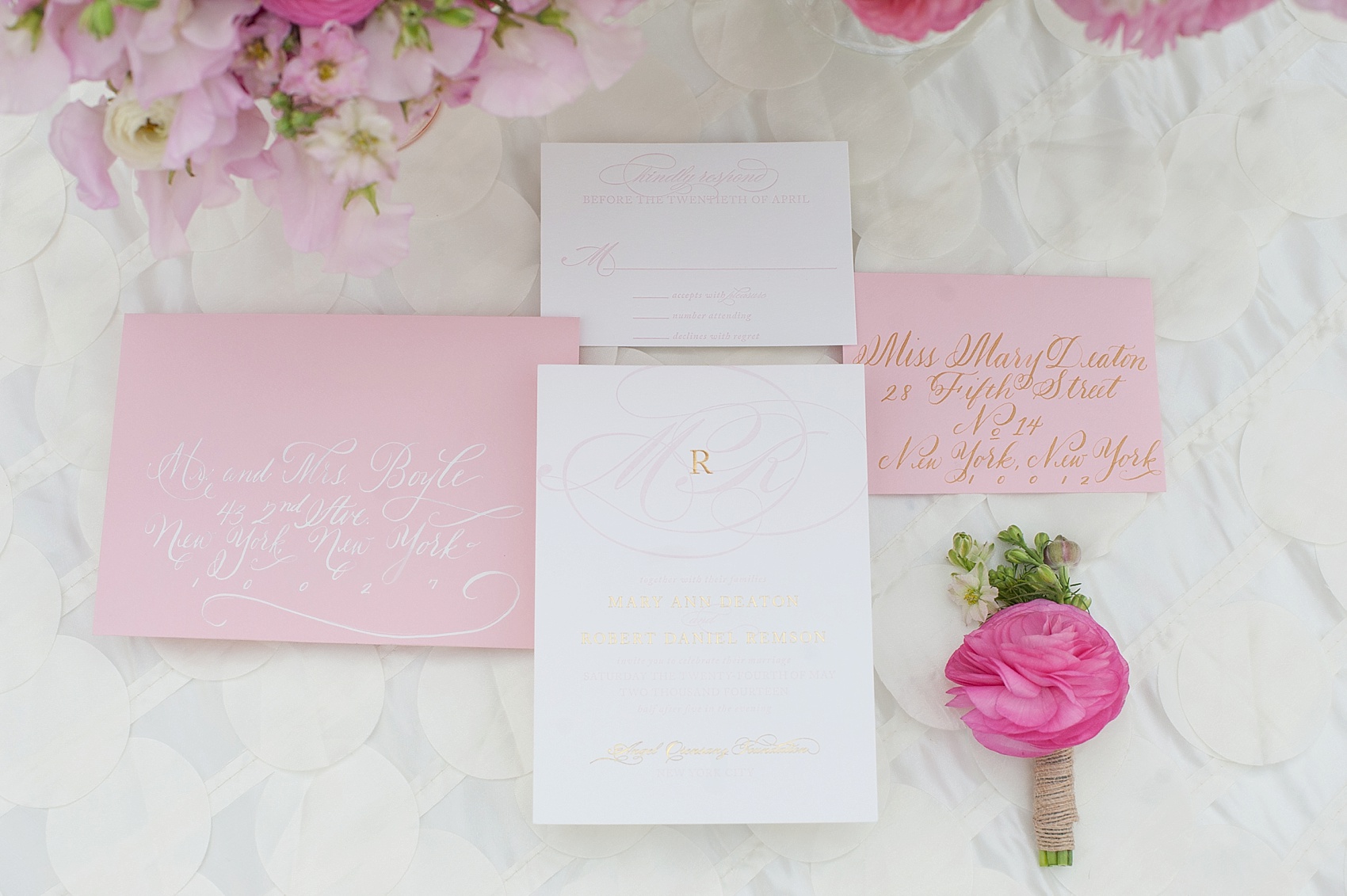 I always love the contrast of super dark envelopes paired with metallic ink or another light color that pops. This "auric" invitations suite features black envelopes with gold writing.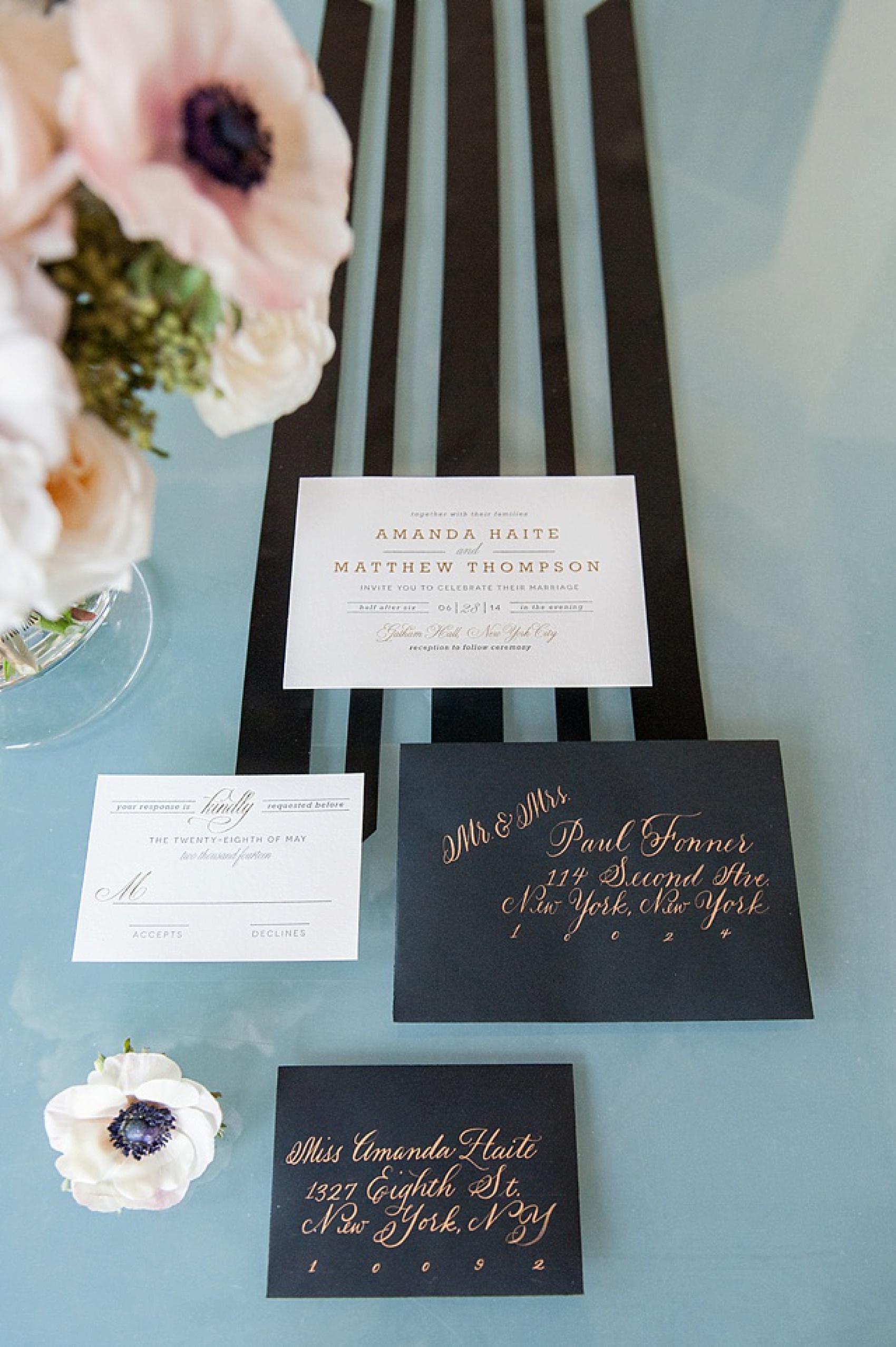 As Jackie noted, calligraphy is an investment, aka not inexpensive. Here is her super awesome tip:
If you don't have the budget to have all of your envelopes done in calligraphy, or if you want a fancy calligraphy style that won't pass USPS requirements, hire a calligrapher to address just two envelopes for the purpose of photos (one invitation envelope and one reply envelope). Have the calligrapher use your address, so that you can keep the envelope as a memento after the wedding. Give the calligraphy envelopes do your photographer to photograph with your suite. So pretty, and so affordable!
Oh my god…could you die? How incredible is that?!!?!?!!?!
DIGITAL PRINTING
Jackie writes: To me, this is the best option for envelope addressing. Digital printing (sometimes called computer calligraphy), is where the addresses are flat/digitally printed on the envelopes. It's usually done with a laser printer (ink jet inks will smudge and run if they get wet) and uses fonts instead of calligraphy. As an invitation designer, I like digital printing for envelopes because I can match the same fonts I use in the invitations, and I can ensure the text is legible and meets USPS requirements. I would leave the digital printing to a professional, though. Printing on envelopes is difficult – they're bulky, oddly shaped, and often jam home printers. 
I recently photographed Jen and Dave's festive New Year's Eve wedding. I loved that their gold metallic envelopes had white addresses and return addresses digitally printed, by Drolet Paperie.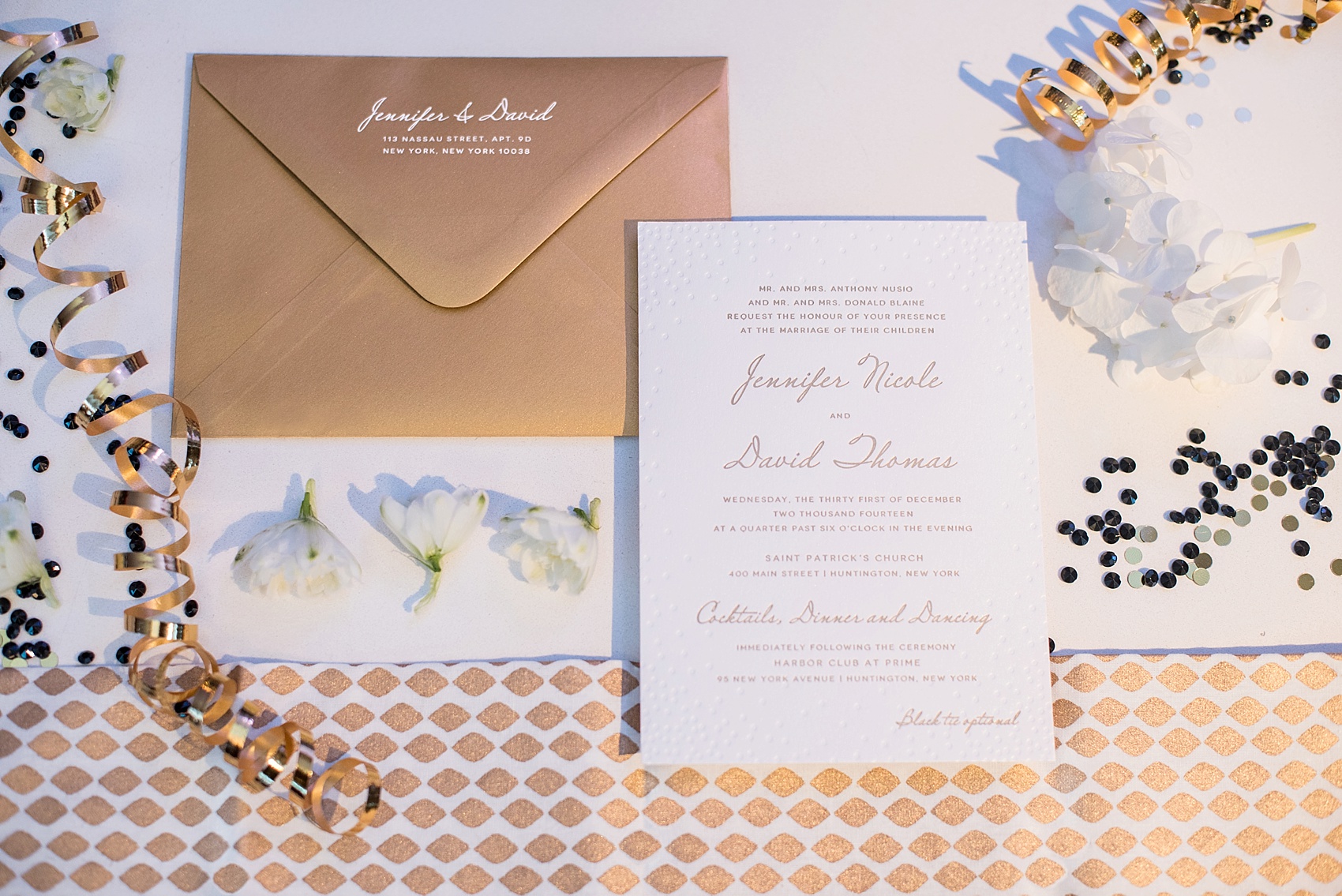 DIY OPTIONS
Jackie writes: As with a lot of DIY things, there's potential to be incredible…or incredibly bad. If you have neat handwriting, you can write each address by hand (and then maybe use a cute return address stamp for the return address and reply envelope). You can also create really lovely address labels (there are lots of options beyond the standard, icky, 1×2 Avery label). Try a pretty label shape, hire your invitation designer to design the labels for you, and print them in a color other than black. As previously mentioned, I wouldn't recommend trying to run envelopes through your home printer. If you want to give it a try, be sure to order at least twice as many envelopes as you need, and be sure to test thoroughly before hand. 
Also, I just wanted to reiterate there's potential for the addresses to run if they get wet and were printed with an ink jet printer, like if it's raining outside. If you use markers to hand address you may want to stick with permanent markers. I took a risk with the below envelopes for my best friend's rehearsal dinner, which I created with a printer at home (I live on the edge!) and a black rose stamp I added for graphic interest.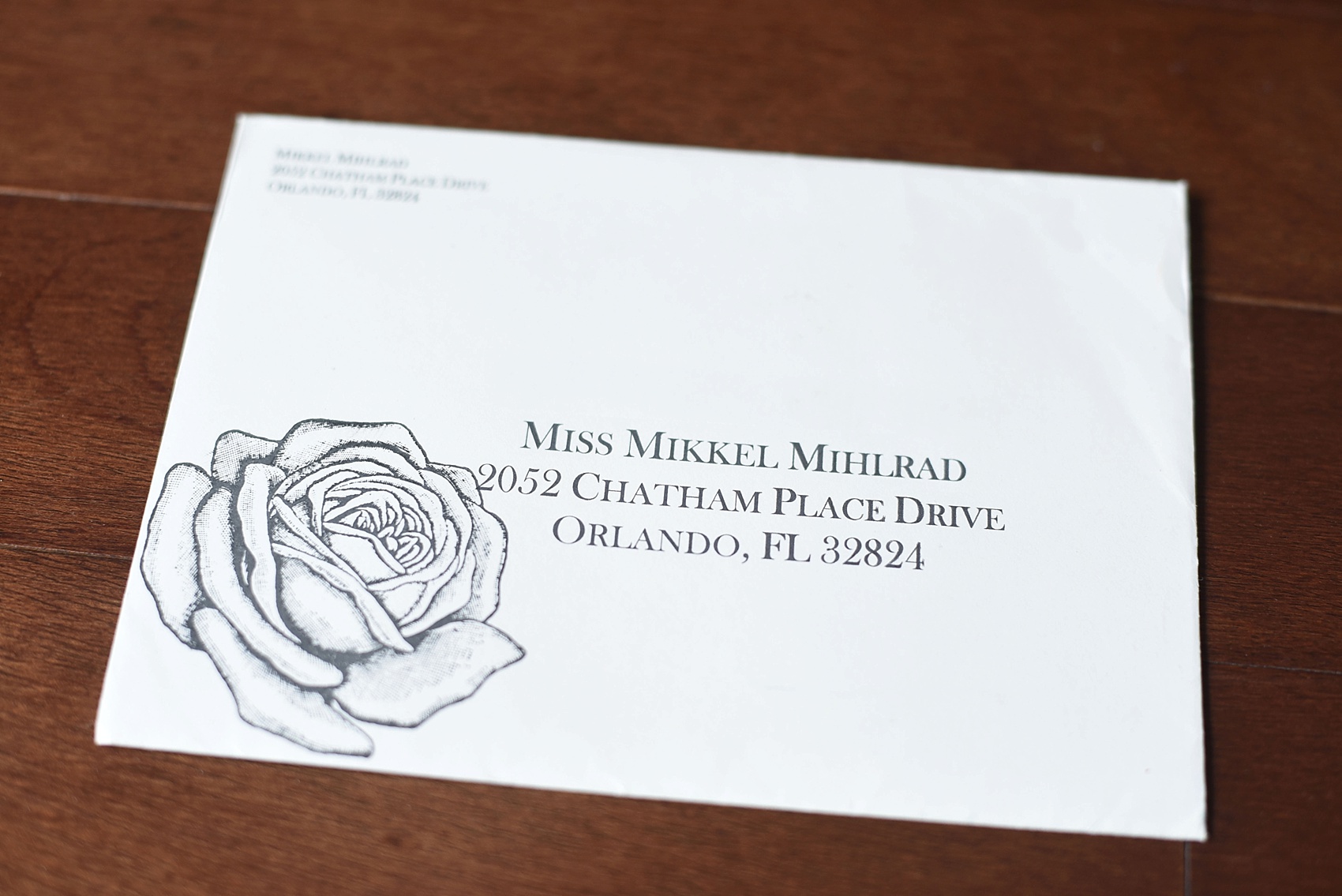 I've seen amazing hand lettering on Pinterest. I save them to my paper goods here. Yup, the photo below was pinned to that board too, from Postman Knocks blog, on 5 ways to address an envelope.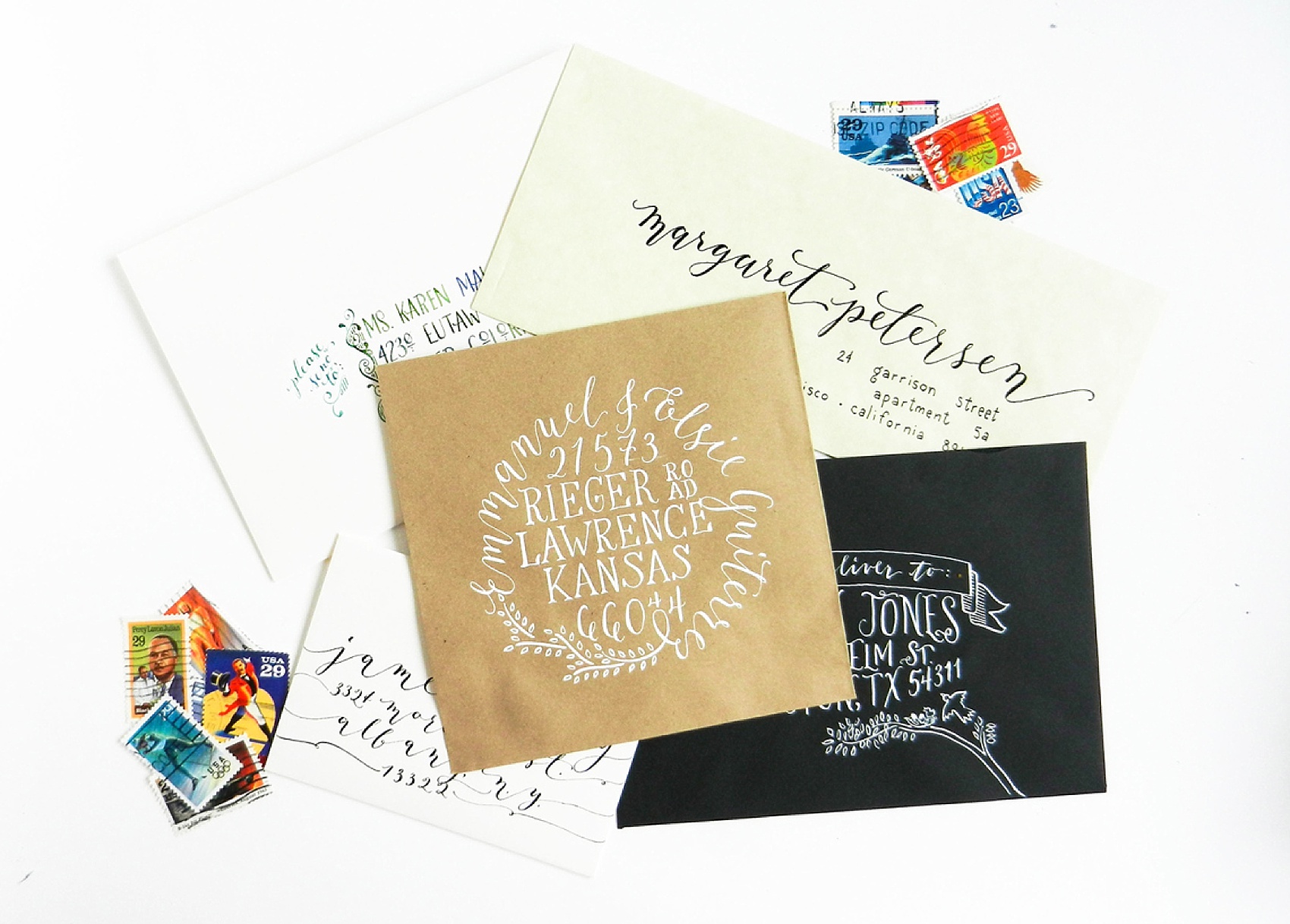 If you have any questions don't hesitate to post in the comments below and I'll make sure they get answered.
Sincerely Jackie is offering her 2014 prices for any couple that books before February 28th! Thank you so much for your amazing expertise, Jackie!
Don't forget to "like" and *follow* Mikkel Paige on Facebook and Instagram! I often post great info like this to help my couples and other brides and grooms, often!
Happy Friday!