Mississippi and Pennsylvania natives, Al and Mary Jo, met in North Carolina, where years later they would tie the knot! They met in one of my favorite modern day ways: online on Match.com! And (no pun intended) it was a perfect match. 😉 One of the things I most loved about Mary Jo and Al's wedding was their venue. Washington Duke Inn, in Durham, has a beautiful golf course. Since one of Al's favorite past times is golfing it was befitting they get married here. It also helped they have a hotel onsite since many guests were coming in from out of town.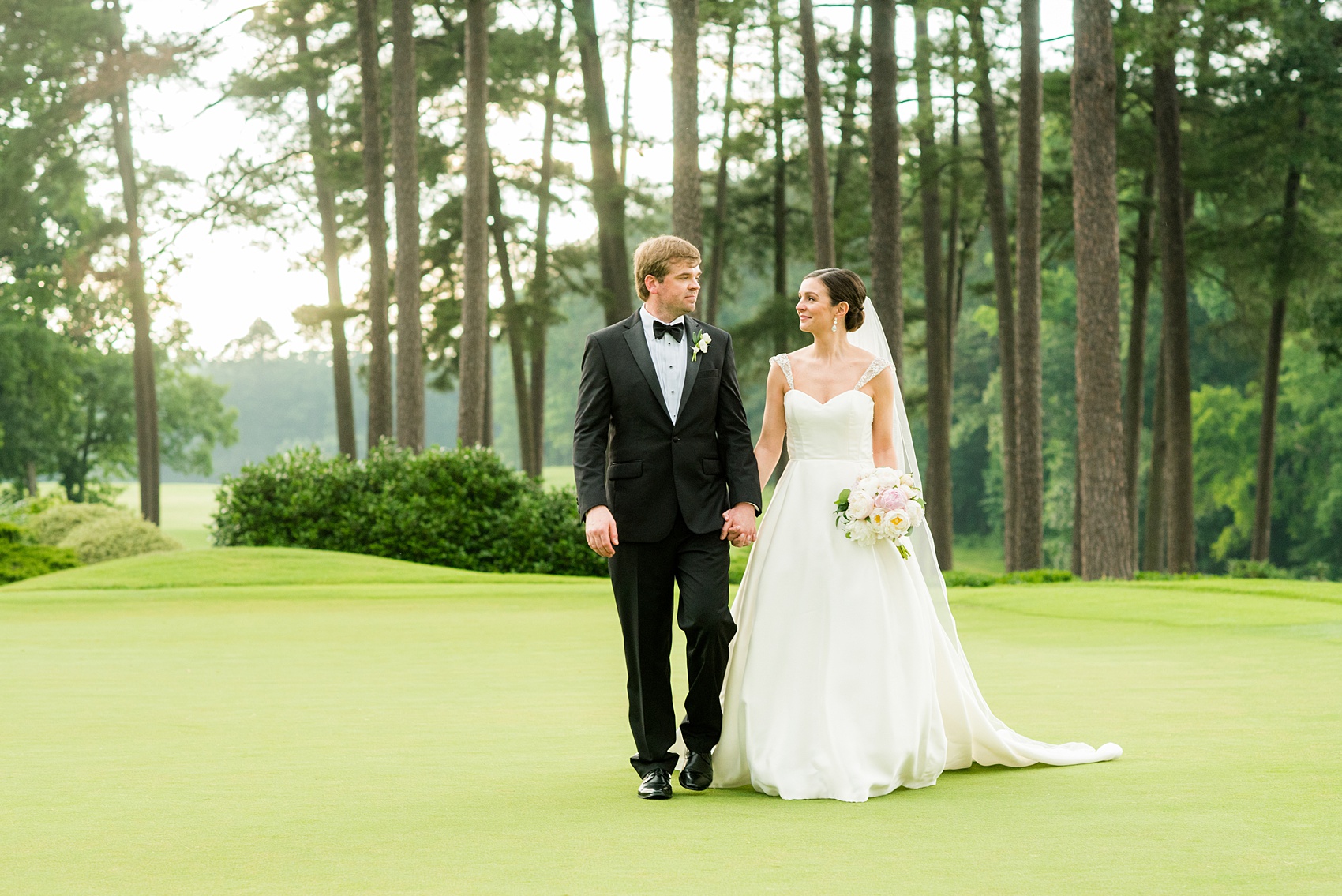 I was beyond thrilled to photograph their very true-blue details and such throughout the afternoon and then capture them, their family and wedding party on the beautiful golf course. They exited their wedding in a very appropriate vehicle for the pair: a golf cart McLean Events decorated with a "Just Married" sign!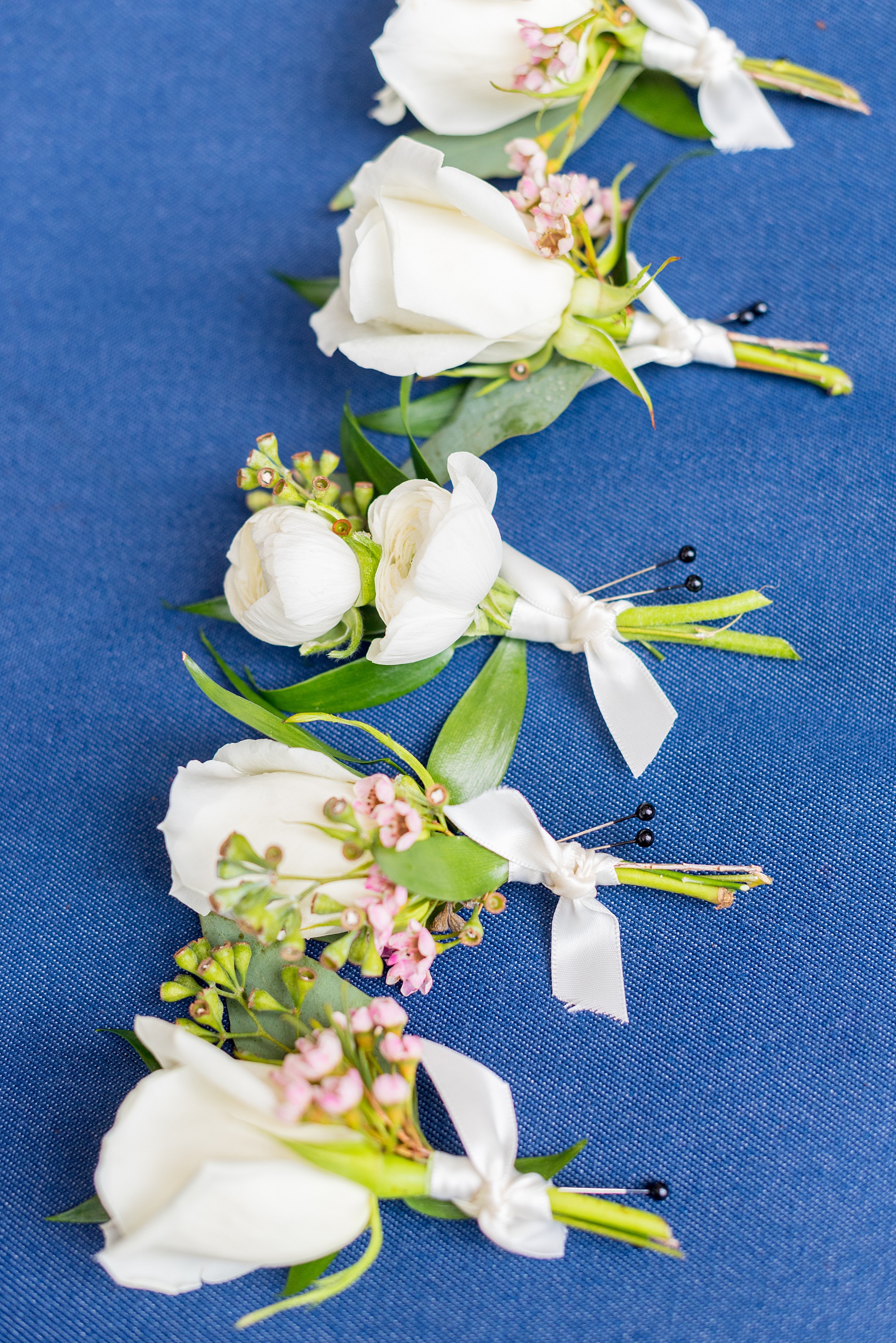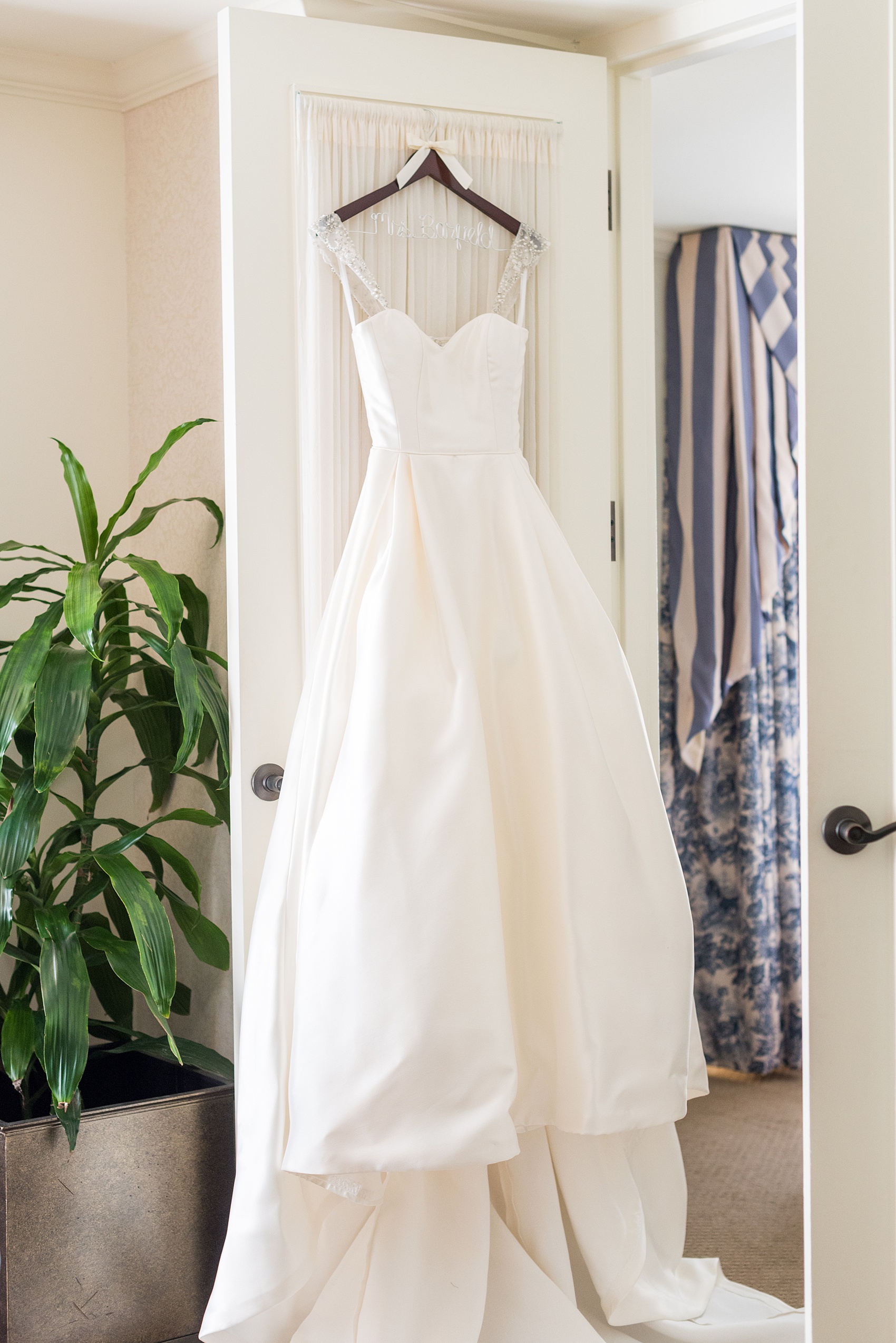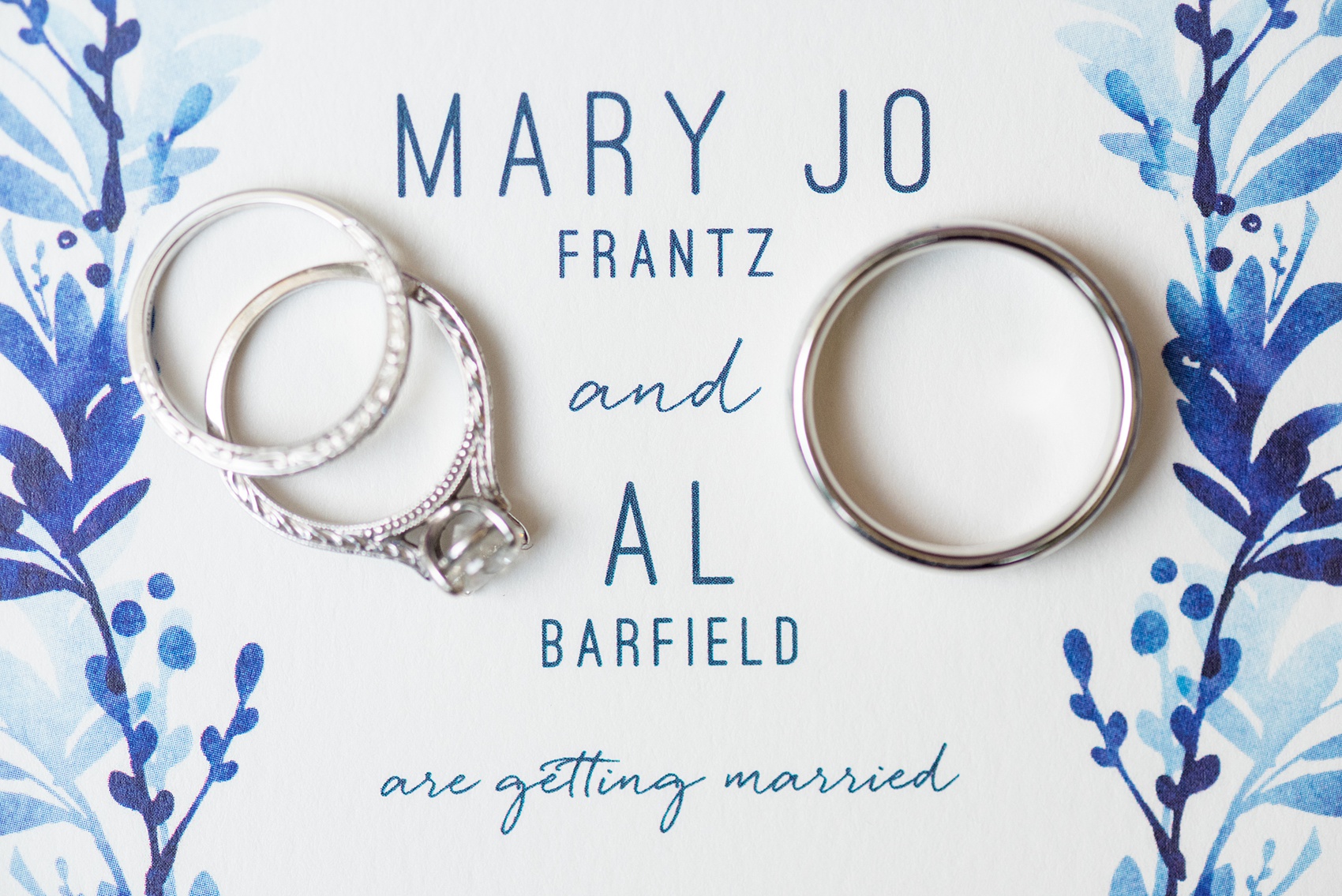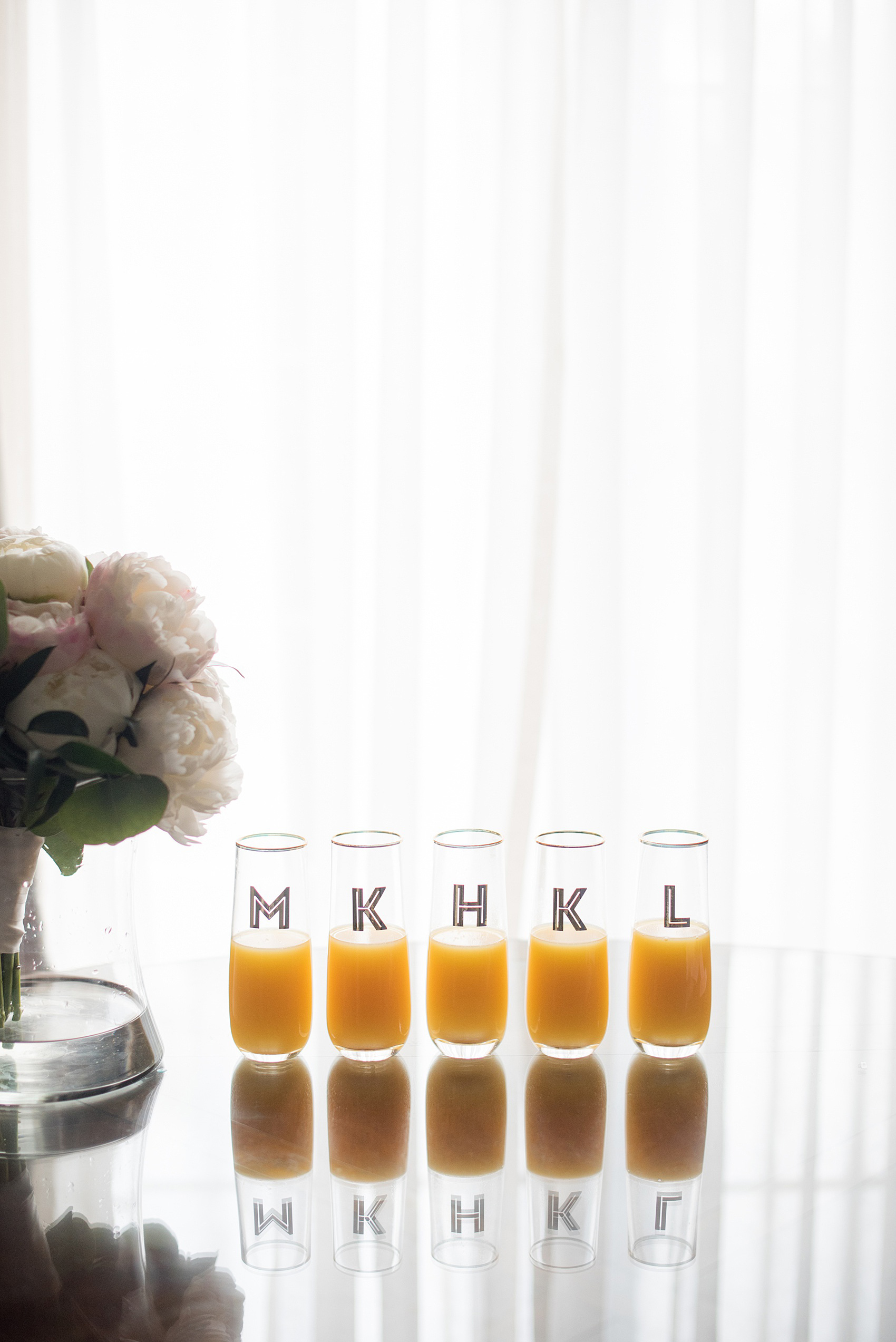 I loved how fresh and floral the robes Mary Jo gifted her bridesmaids were! She wore a pretty white robe with lace detail as I snapped photos of them together in the hotel room. There were mimosas nearby, of course, in stemless letter monogram champagne flutes with gold detail.
As the bridesmaids got dressed in their mismatched long grey chiffon gowns, Mary Jo helped her father fasten his bow tie (it's one of my favorite candid photos from the day). A favorite detail was the special ribbon Mary Jo had under the skirt of her dress for her "something blue," which her sister Annie helped safety pin on her crinoline. Coincidentally, it was the perfect shade to match their beautiful blue watercolored Save the Date!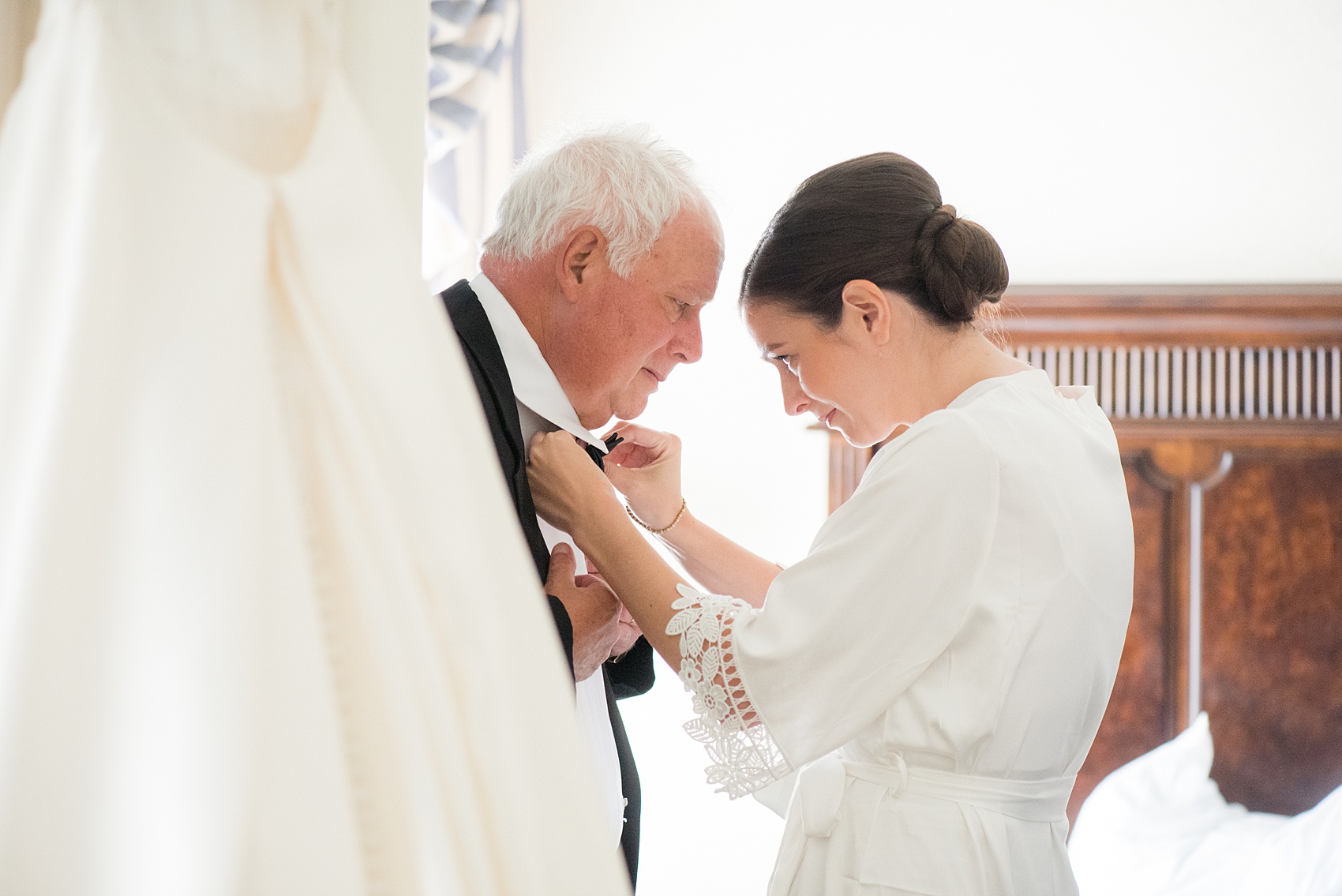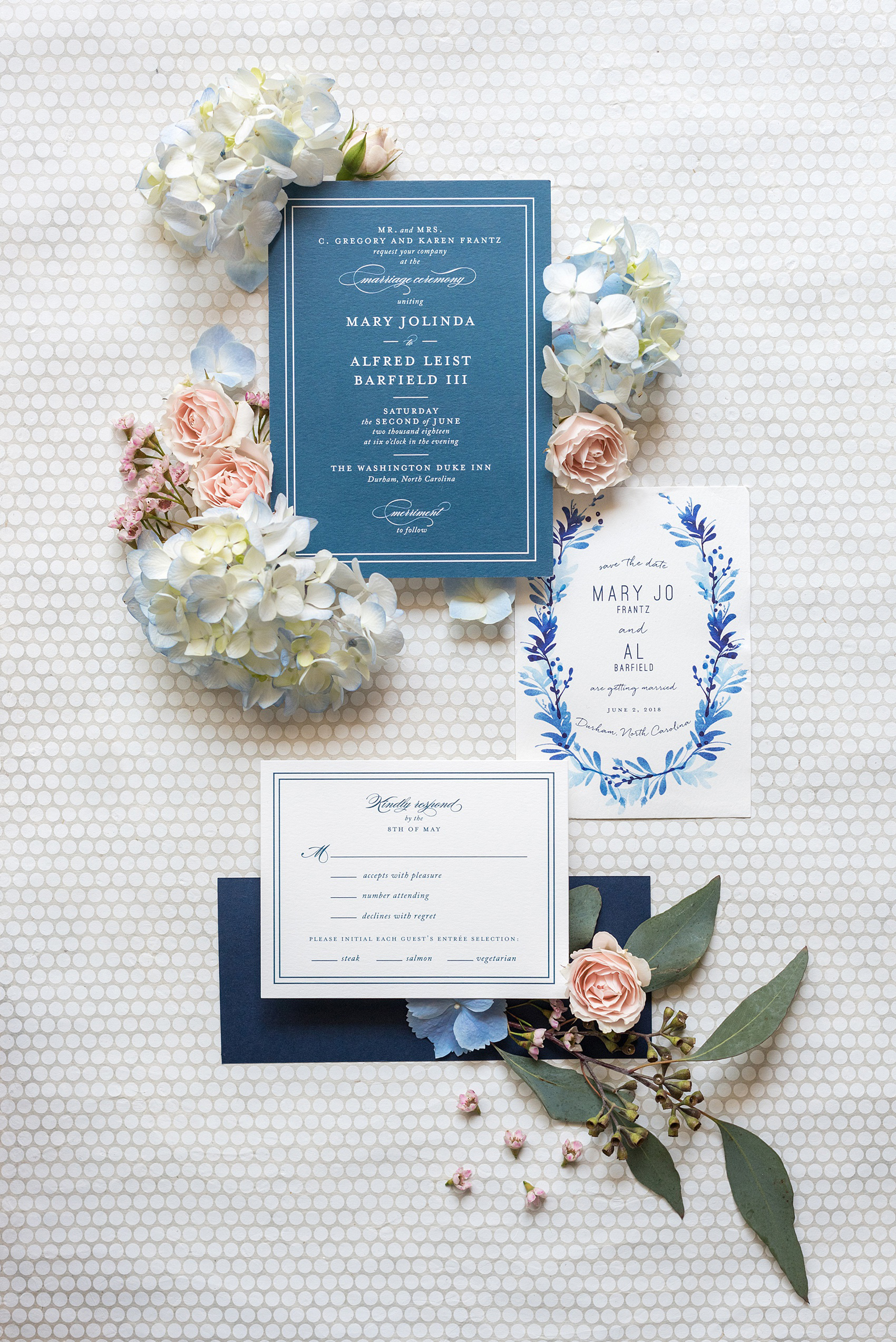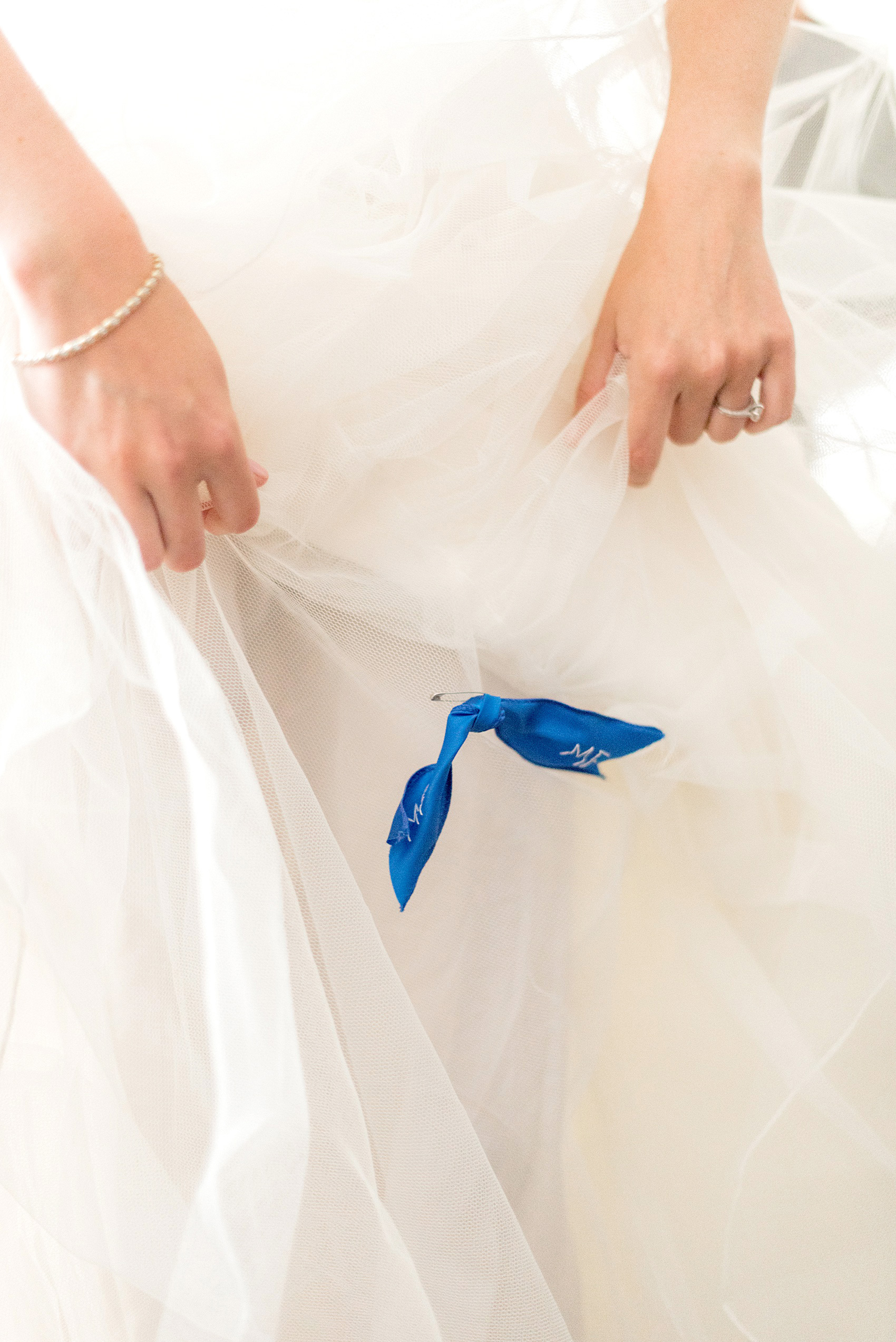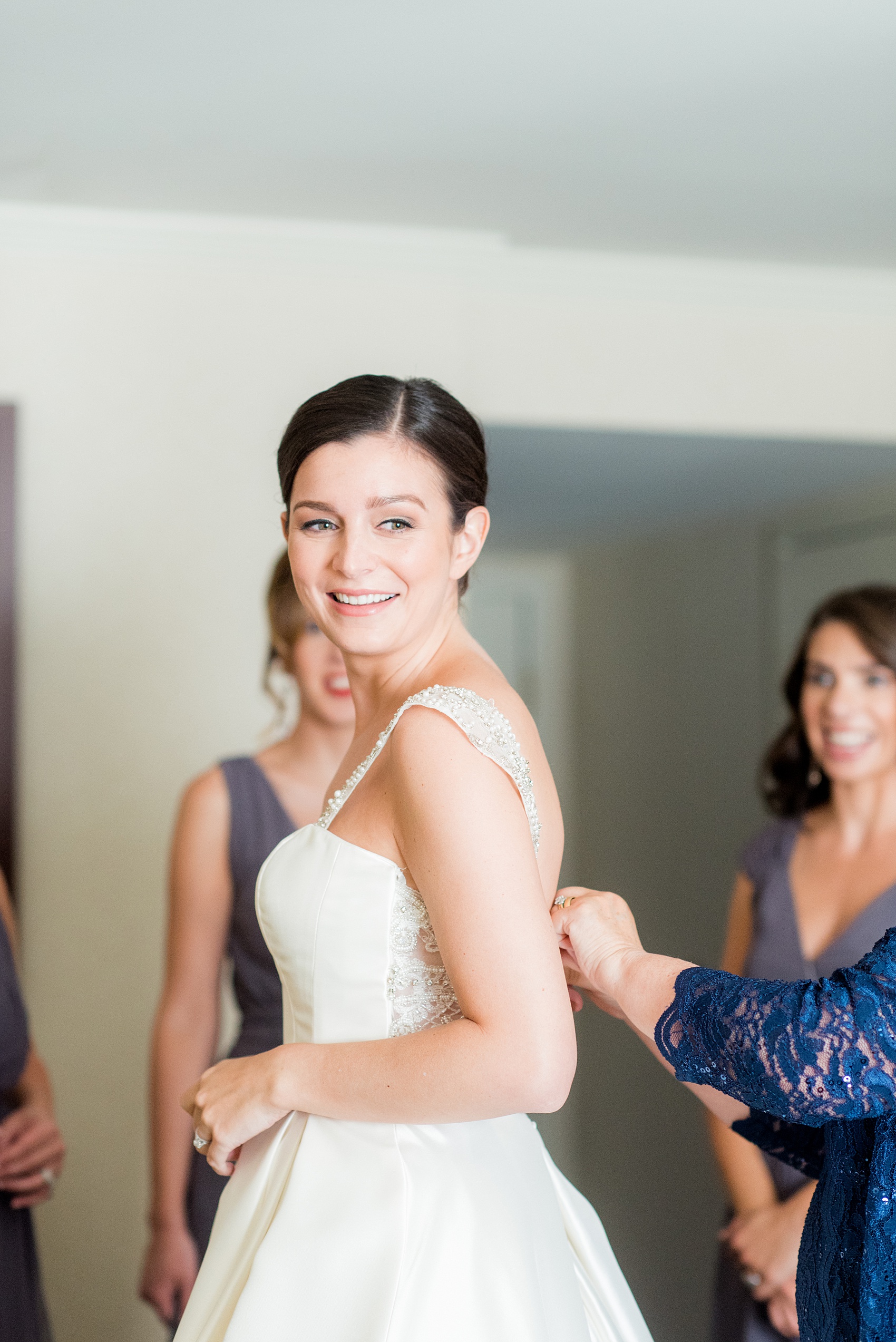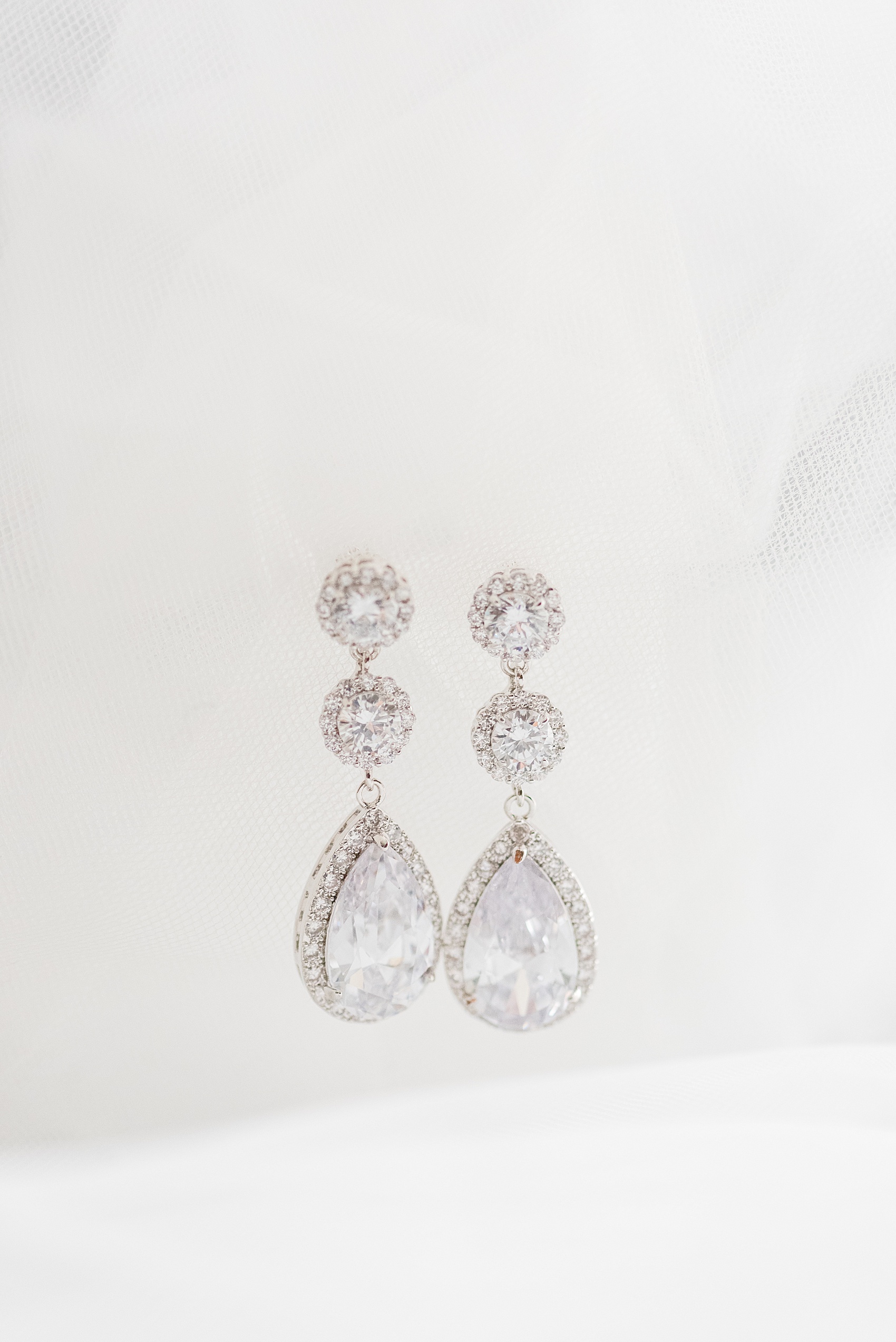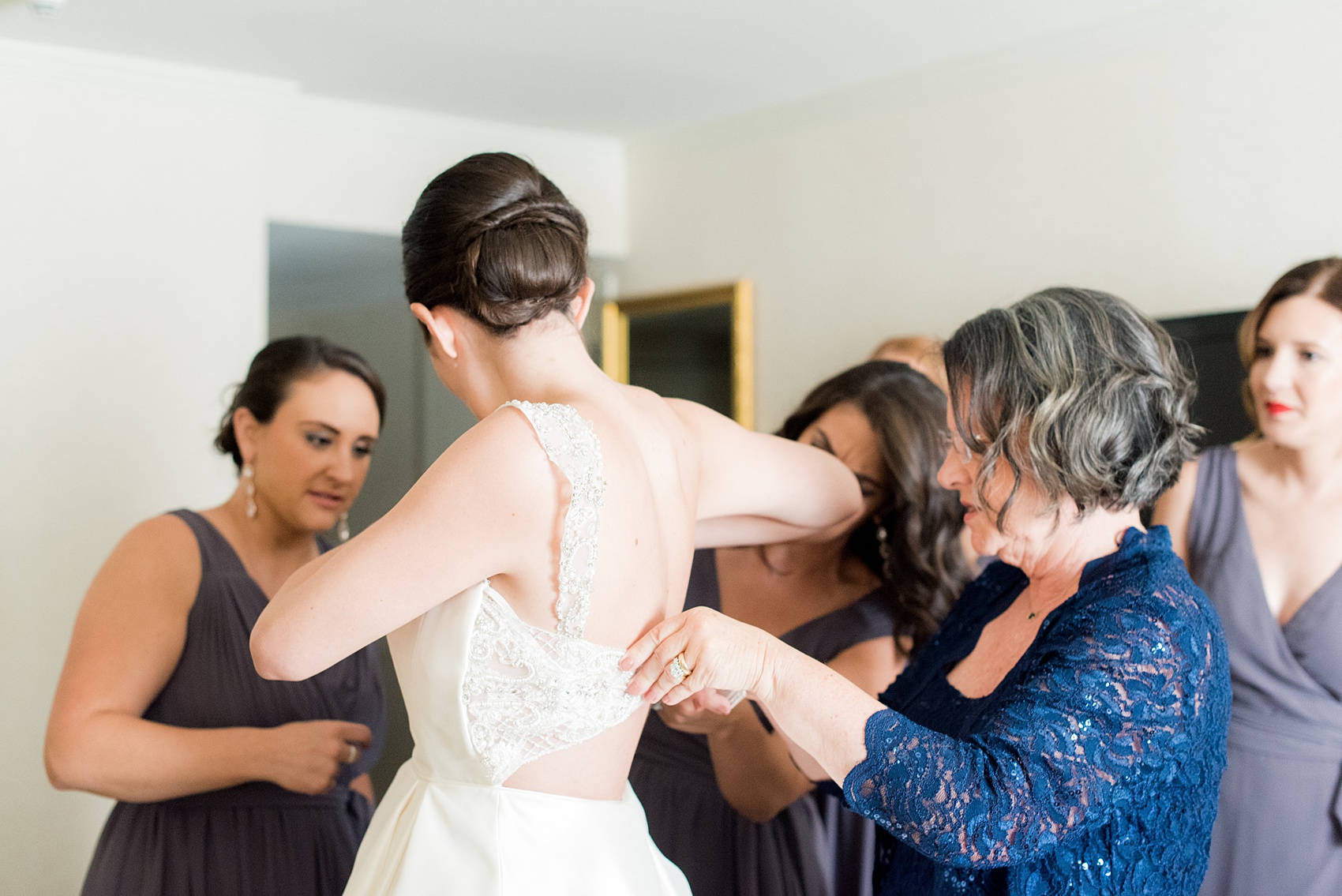 The sparkle in Mary Jo's hanging earrings perfectly complimented her incredible beaded gown. I was in love with Mary Jo's whole look. Her hair do was perfect for the dress and showed off the back detailing, and her delicate veil rested on top.
Al and his groomsmen were down the hall preparing for the day too! They were watching golf, of course, and his brother-in-law, Tyler, was a champ tying all the groomsmen's bow ties. His Best Man, Blake, helped put in his cufflinks. I asked Al if they were special and he said he had simply purchased them for the wedding. I replied, "They're special now! They'll always be your wedding cufflinks!"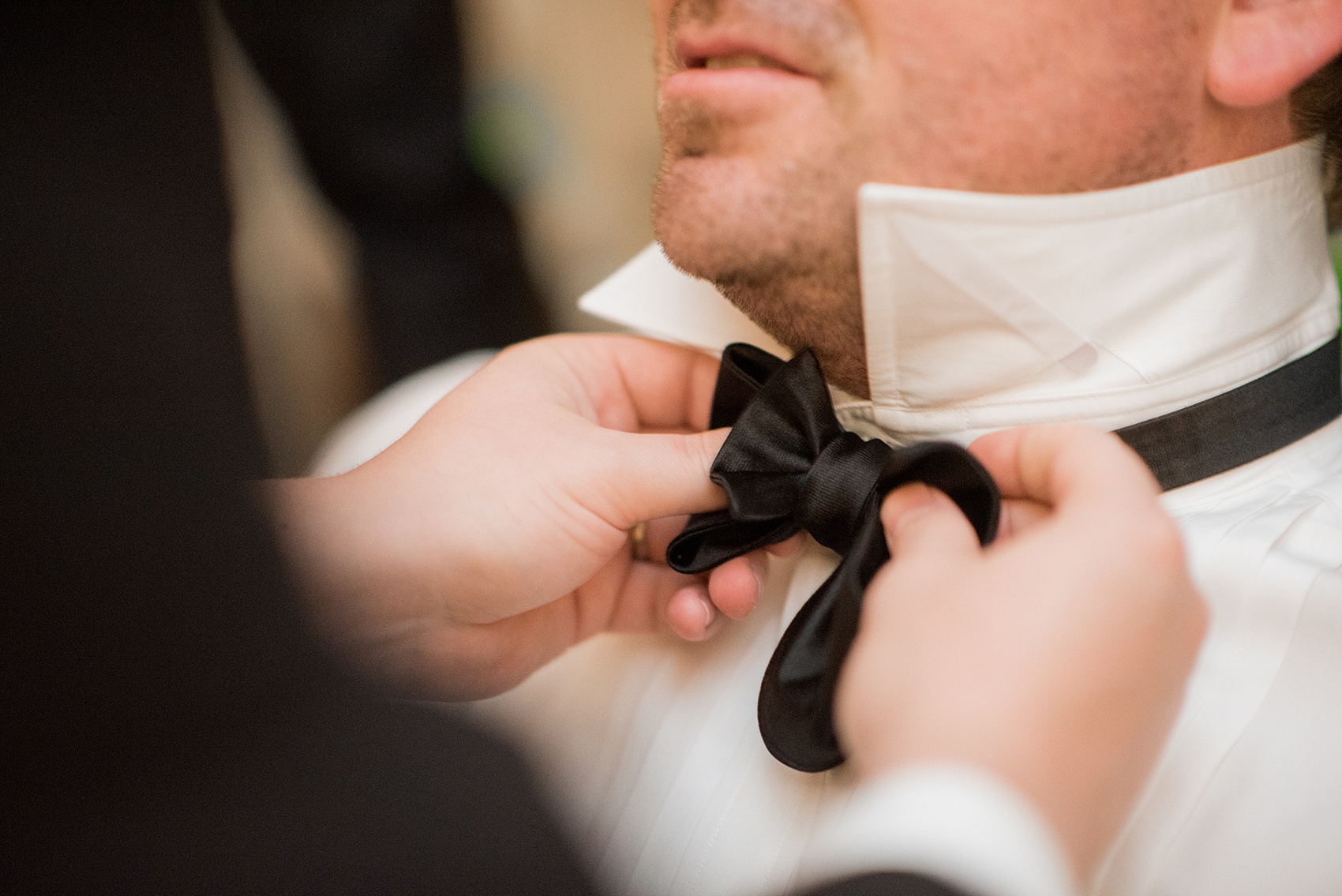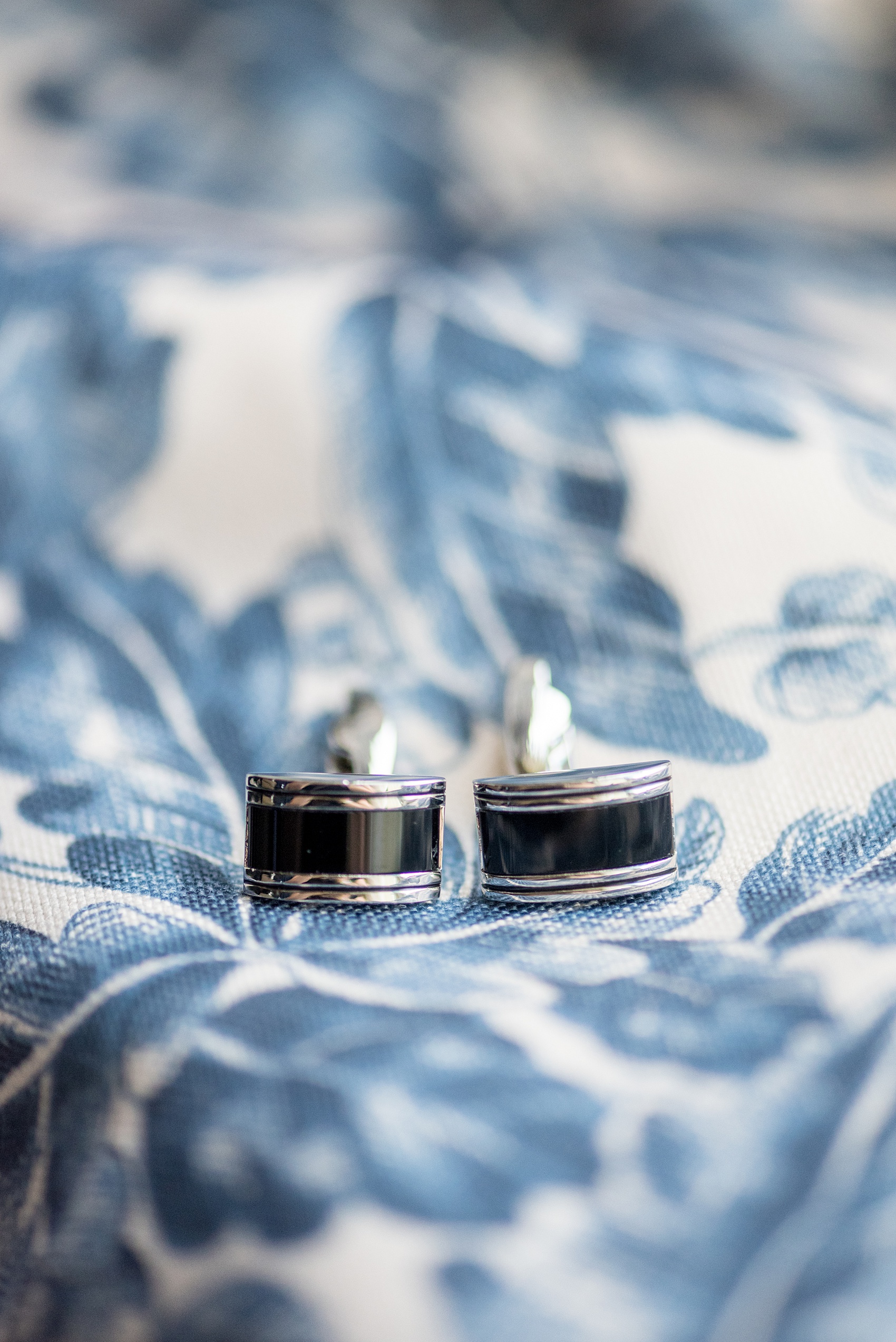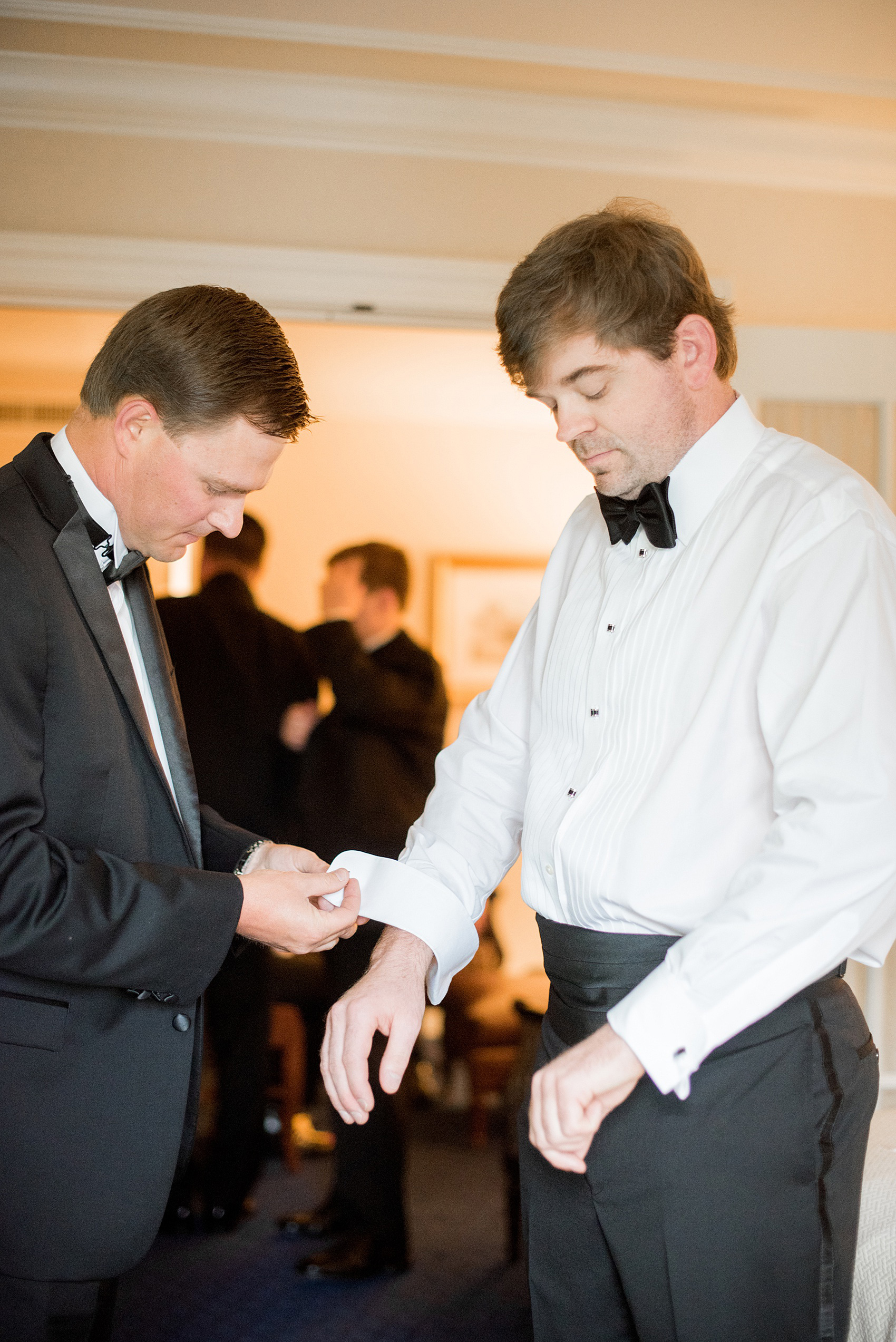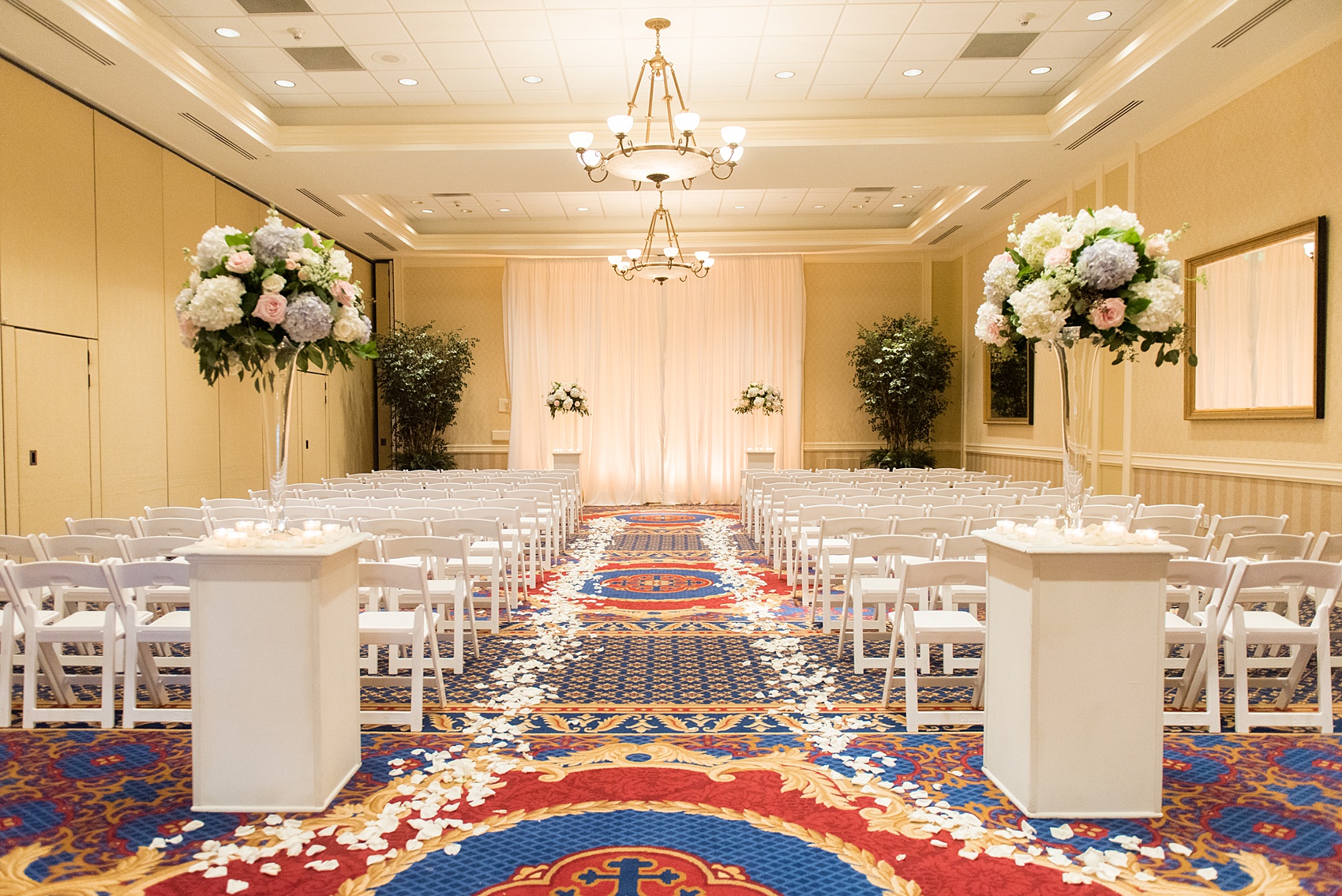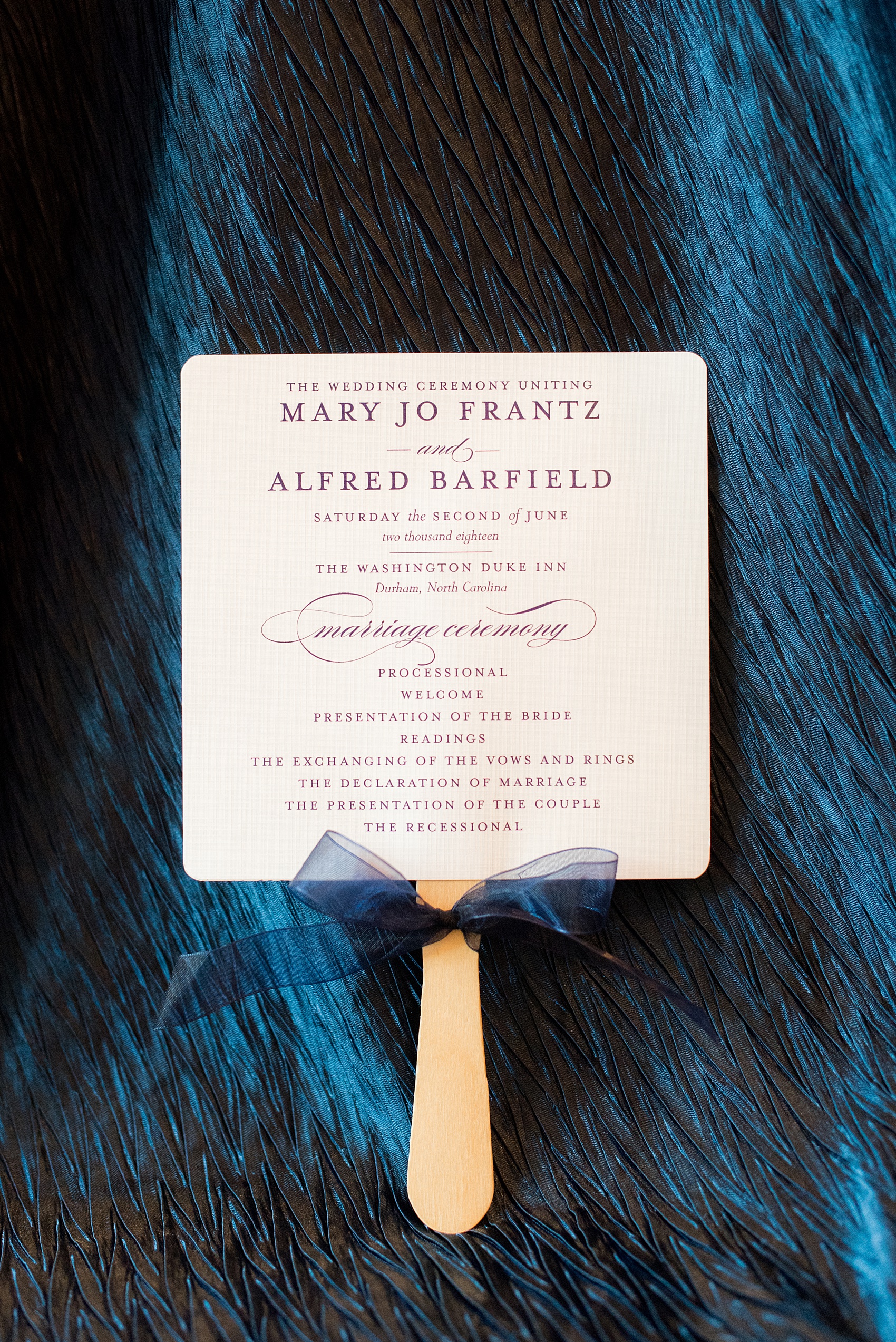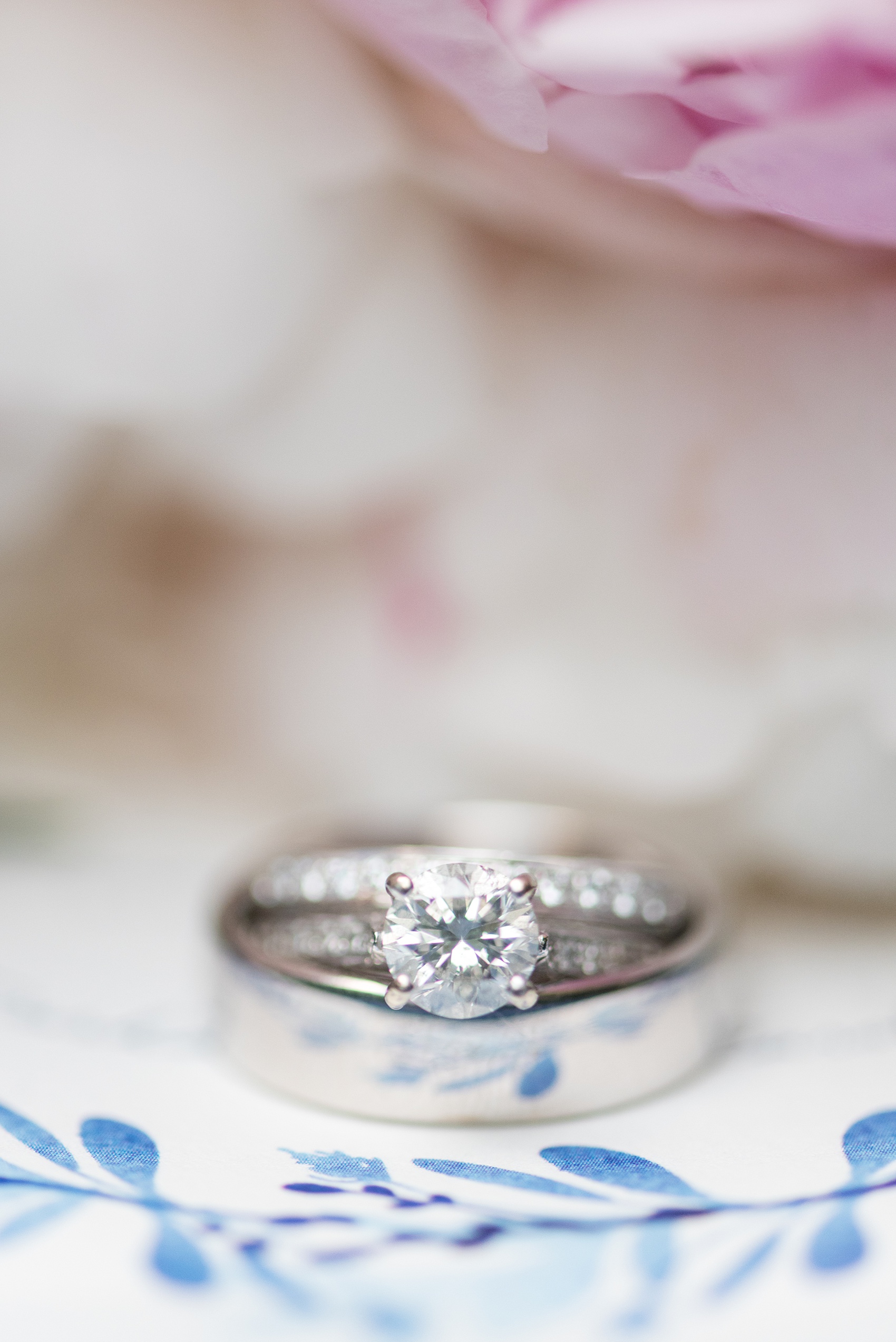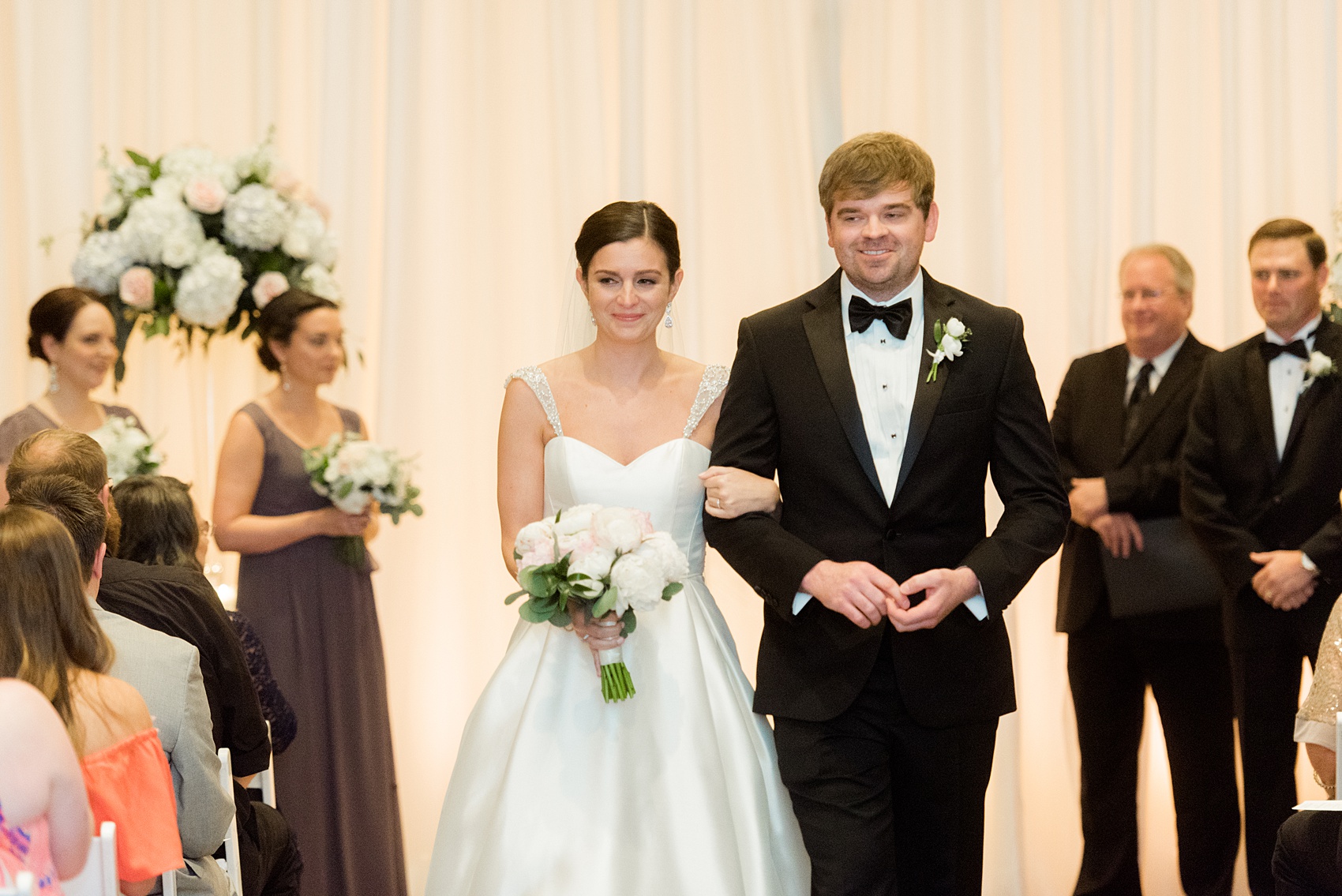 The rain was a bit spotty when they had to make the call for their ceremony (I believe it may have just stopped raining as their ceremony ended!) so luckily we were able to go out to the golf course for stunning photos on the greens.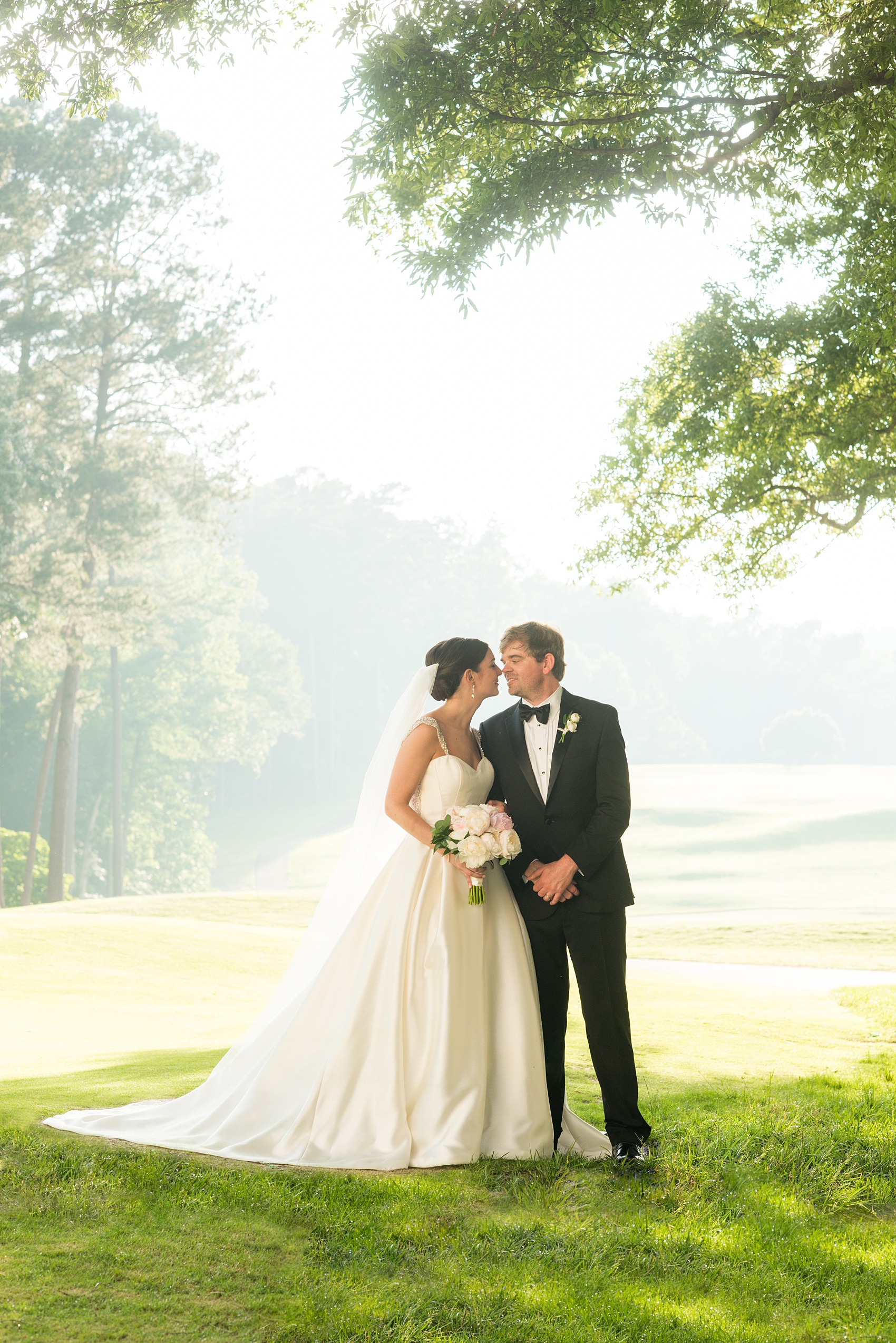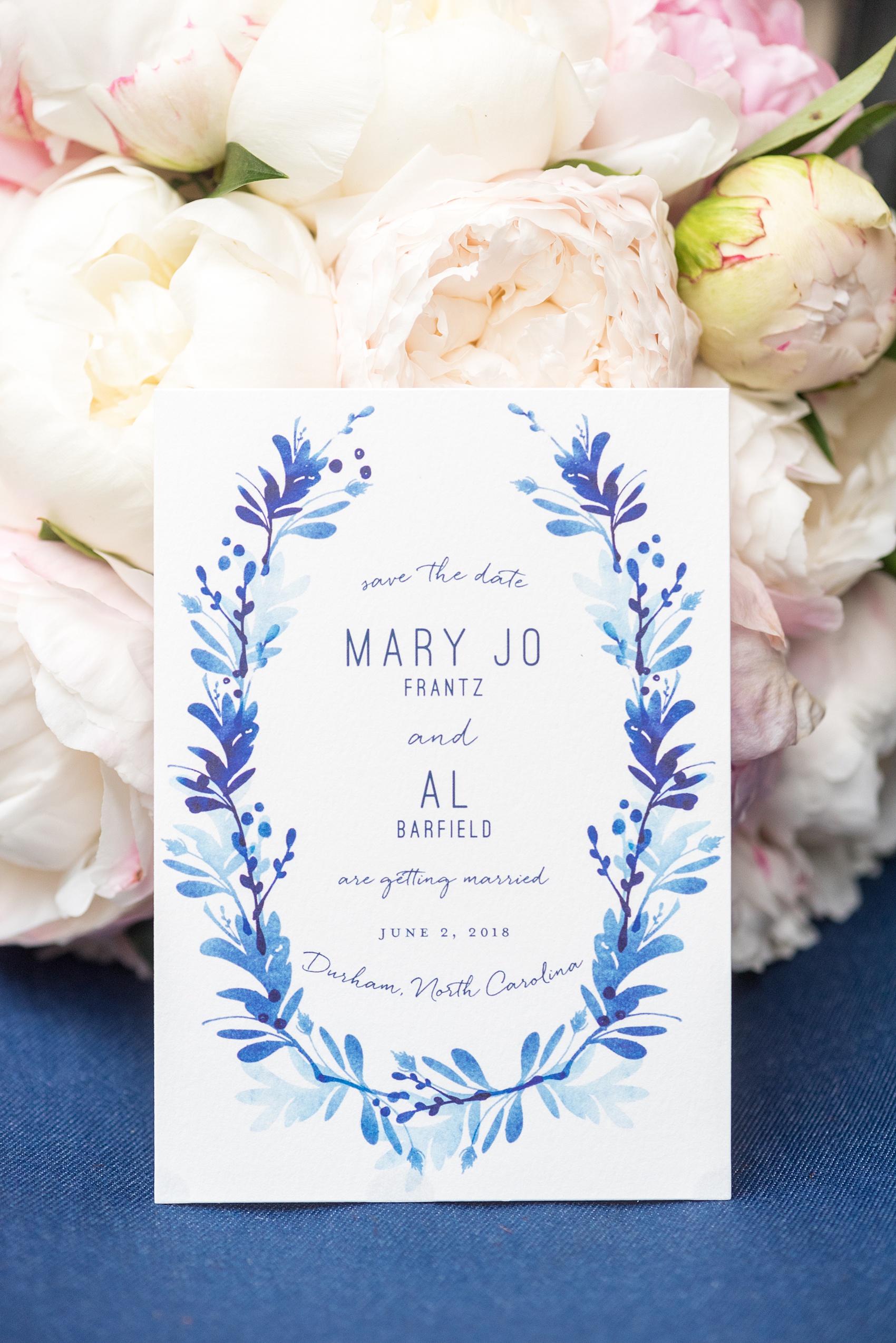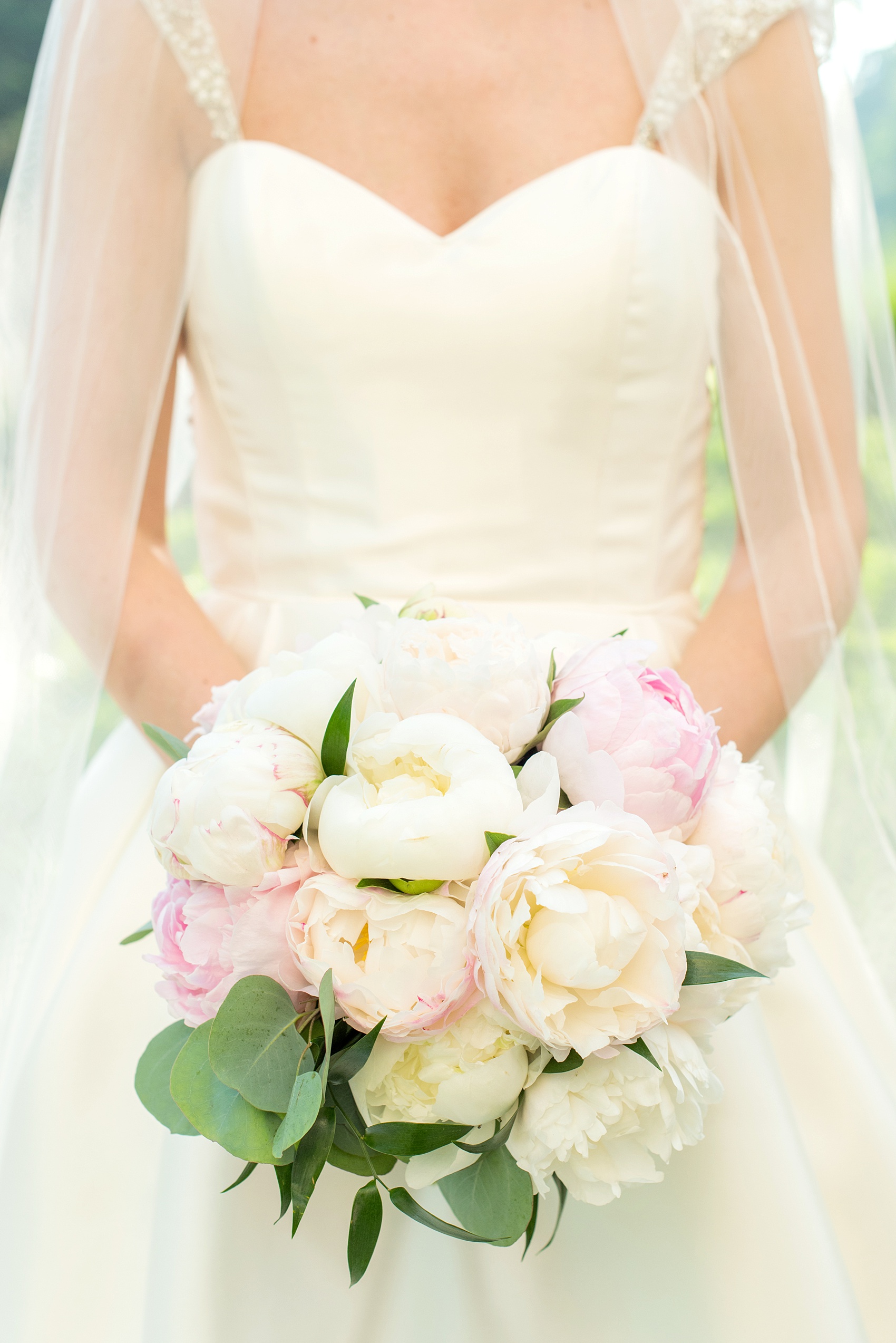 Mary Jo carried a gorgeous, simply bouquet of white and pink peonies and silver dollar eucalyptus. Her bridesmaids carried bouquets that had Queen Anne's lace flowers (a personal favorite), astilbe, roses and eucalyptus as well.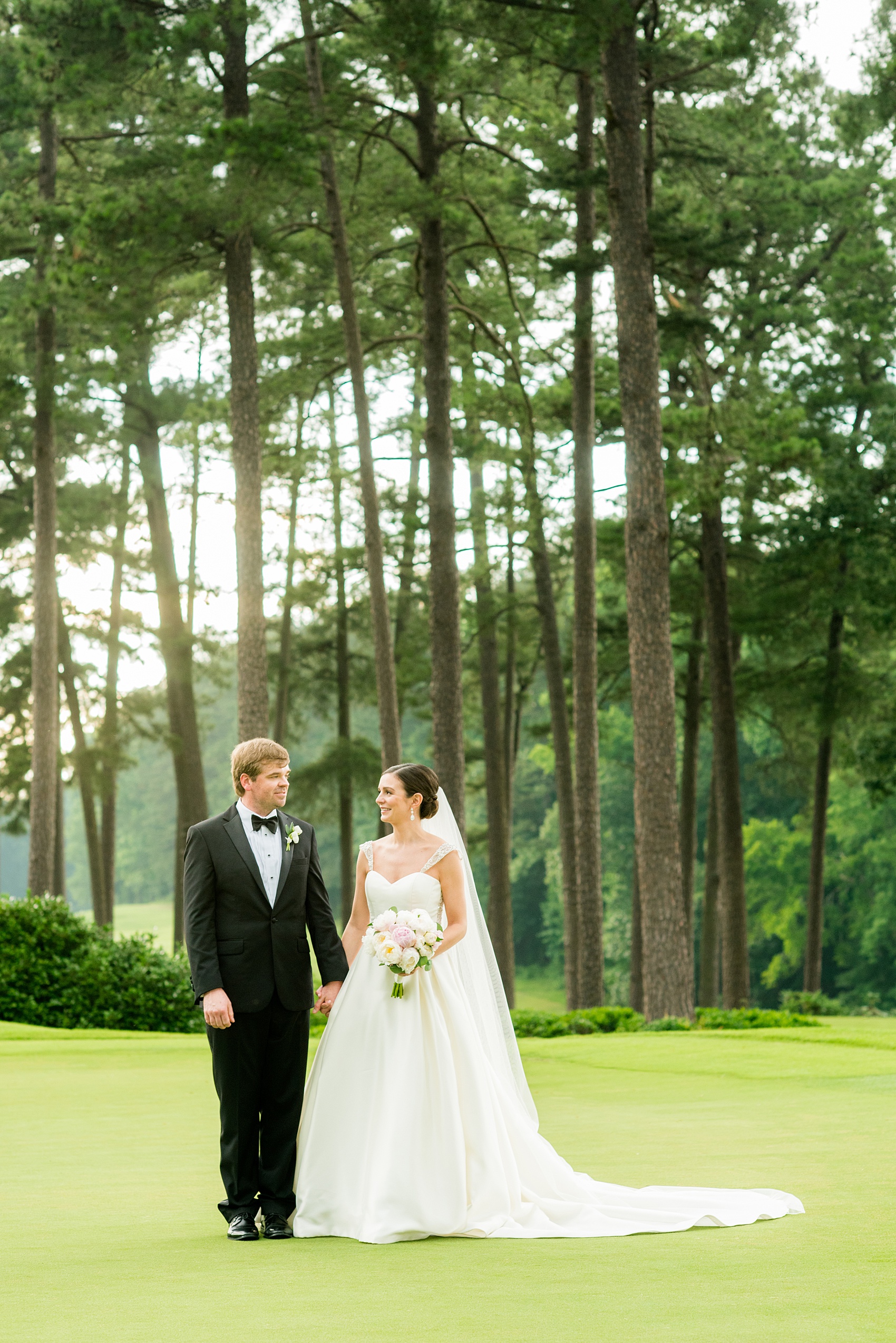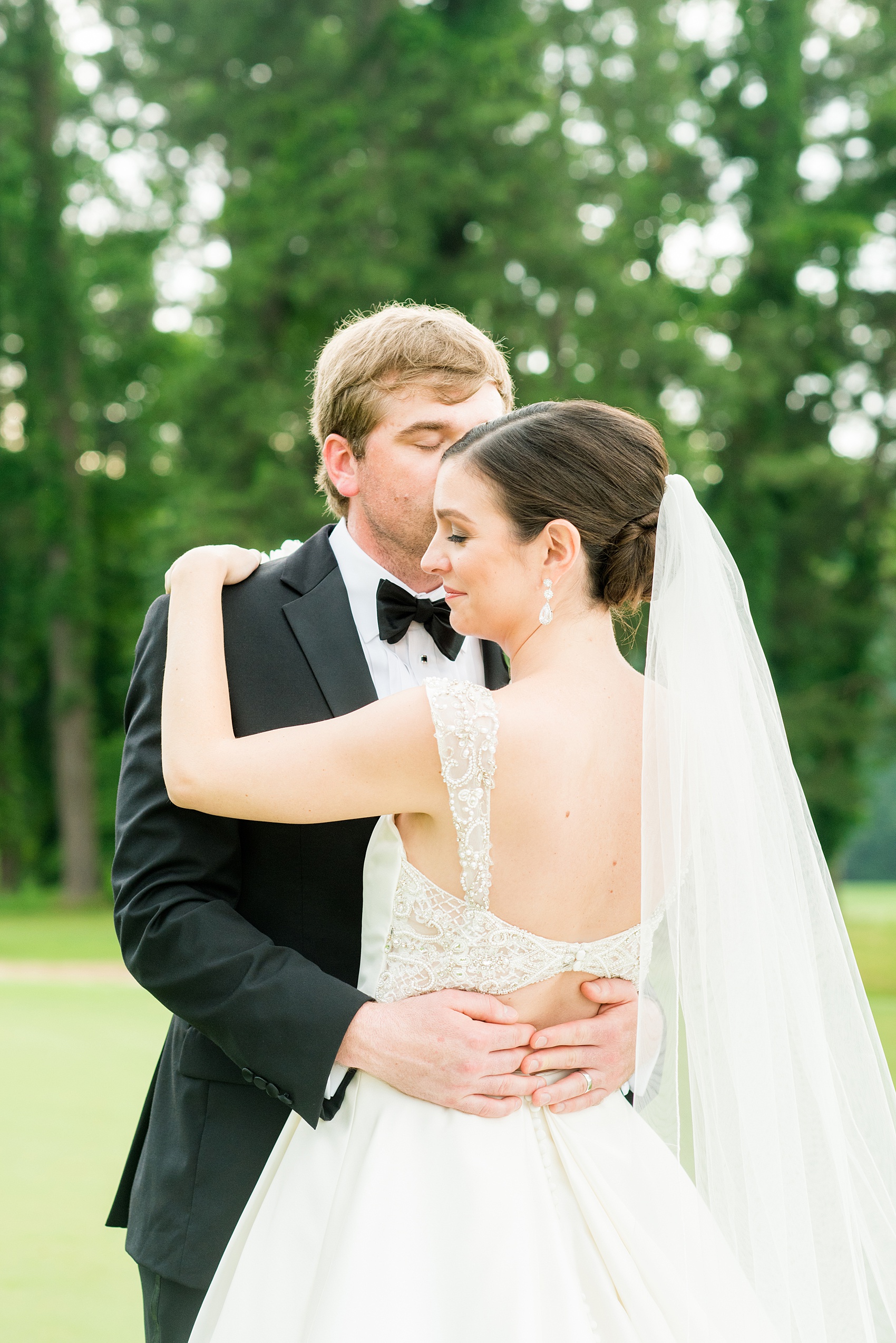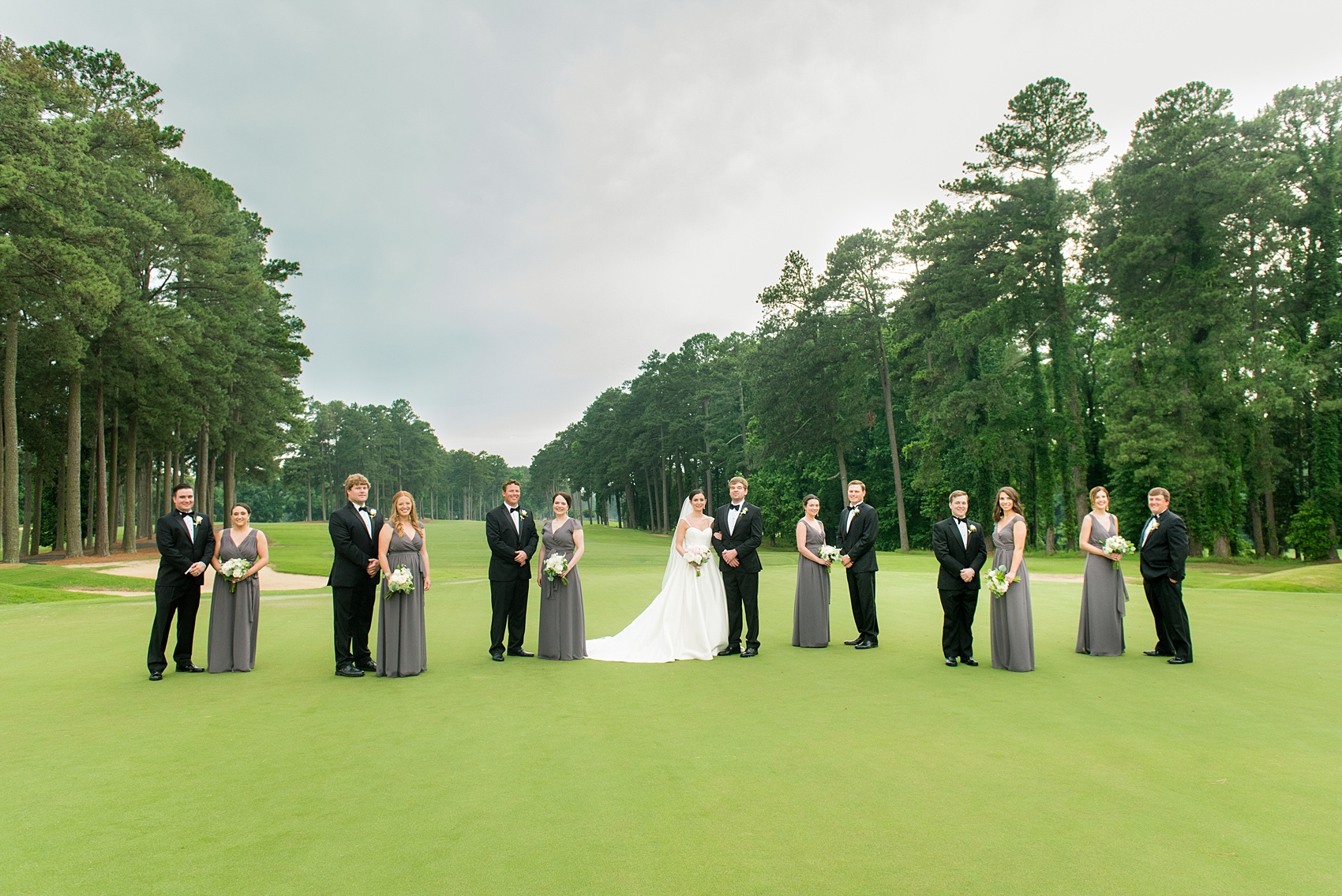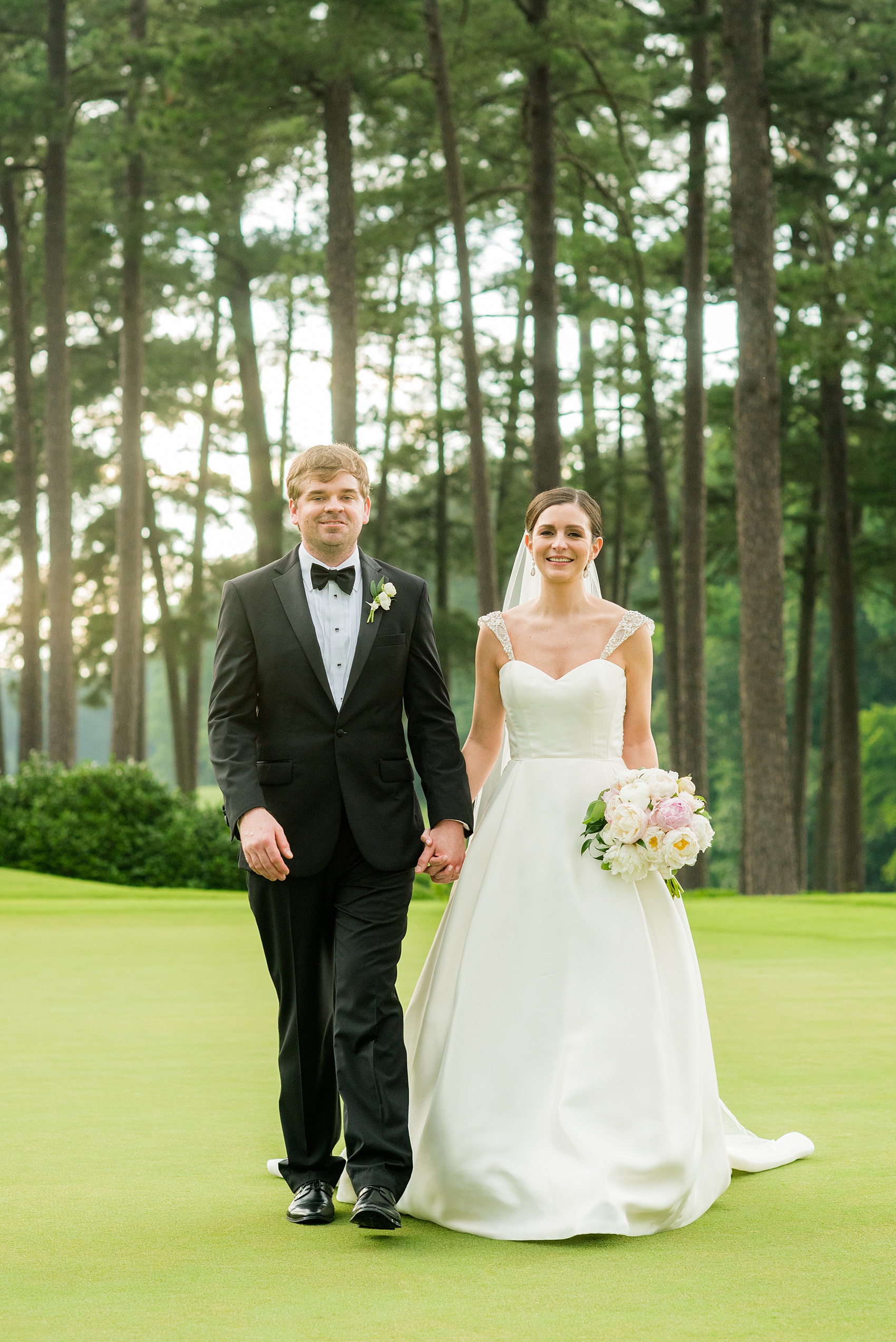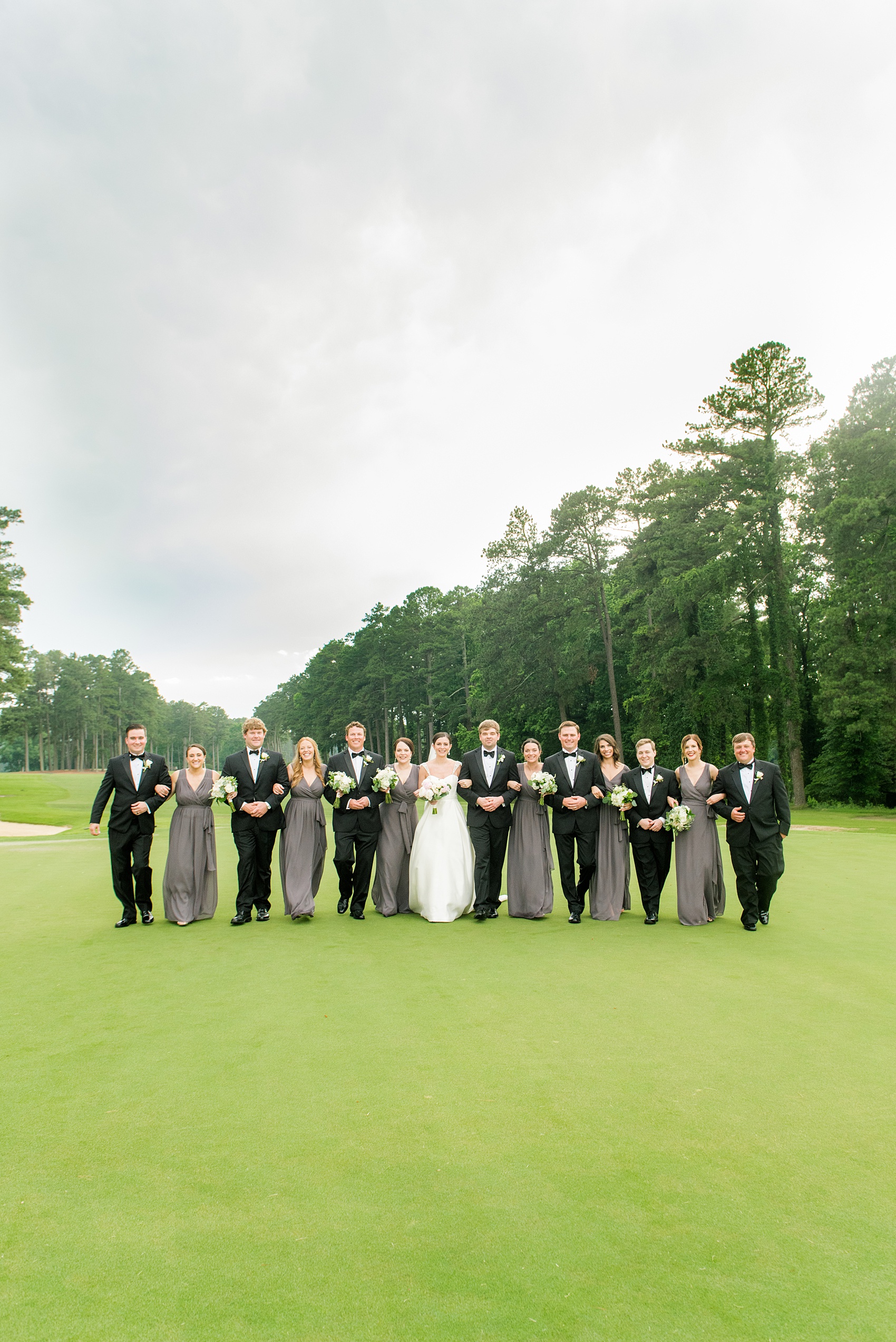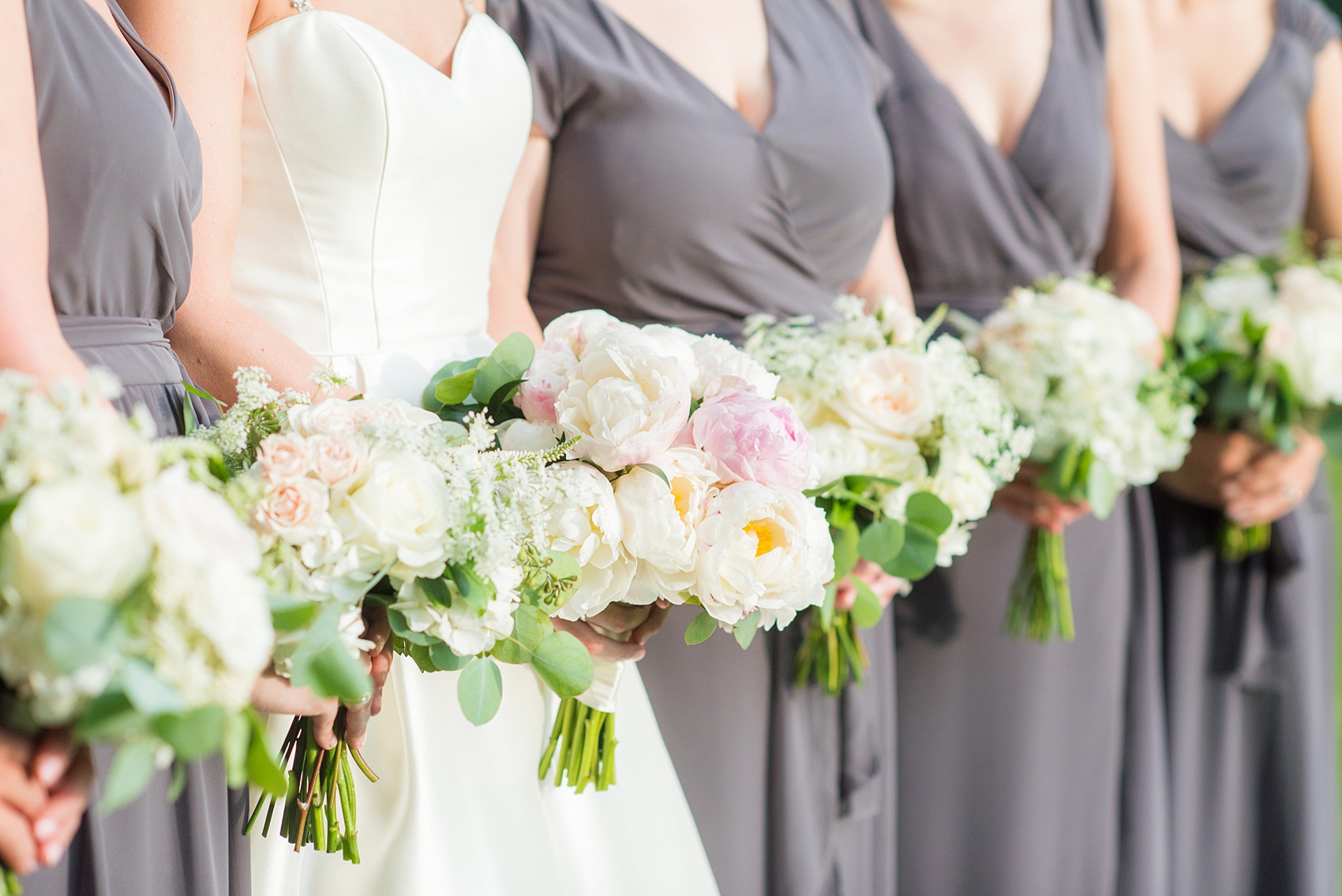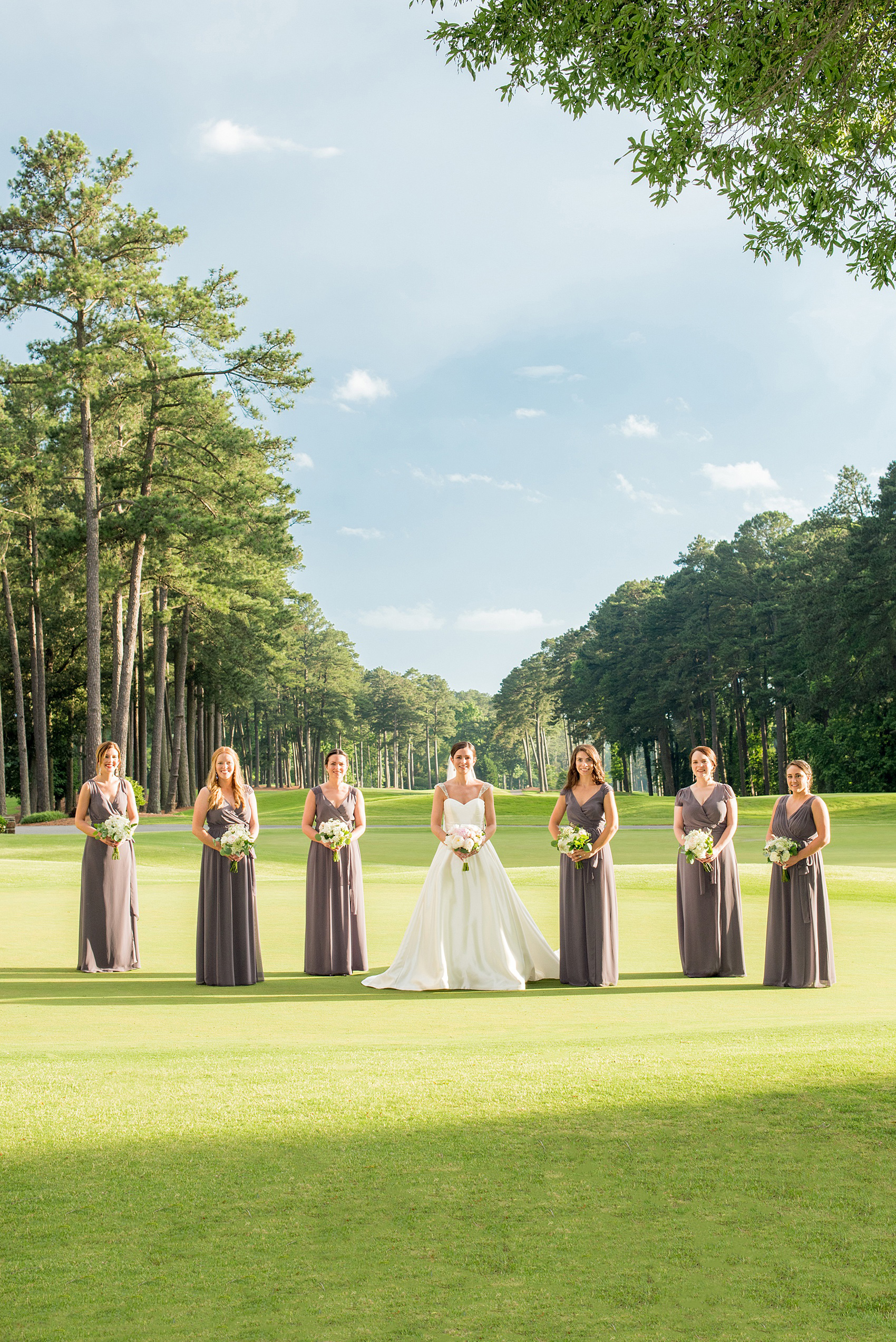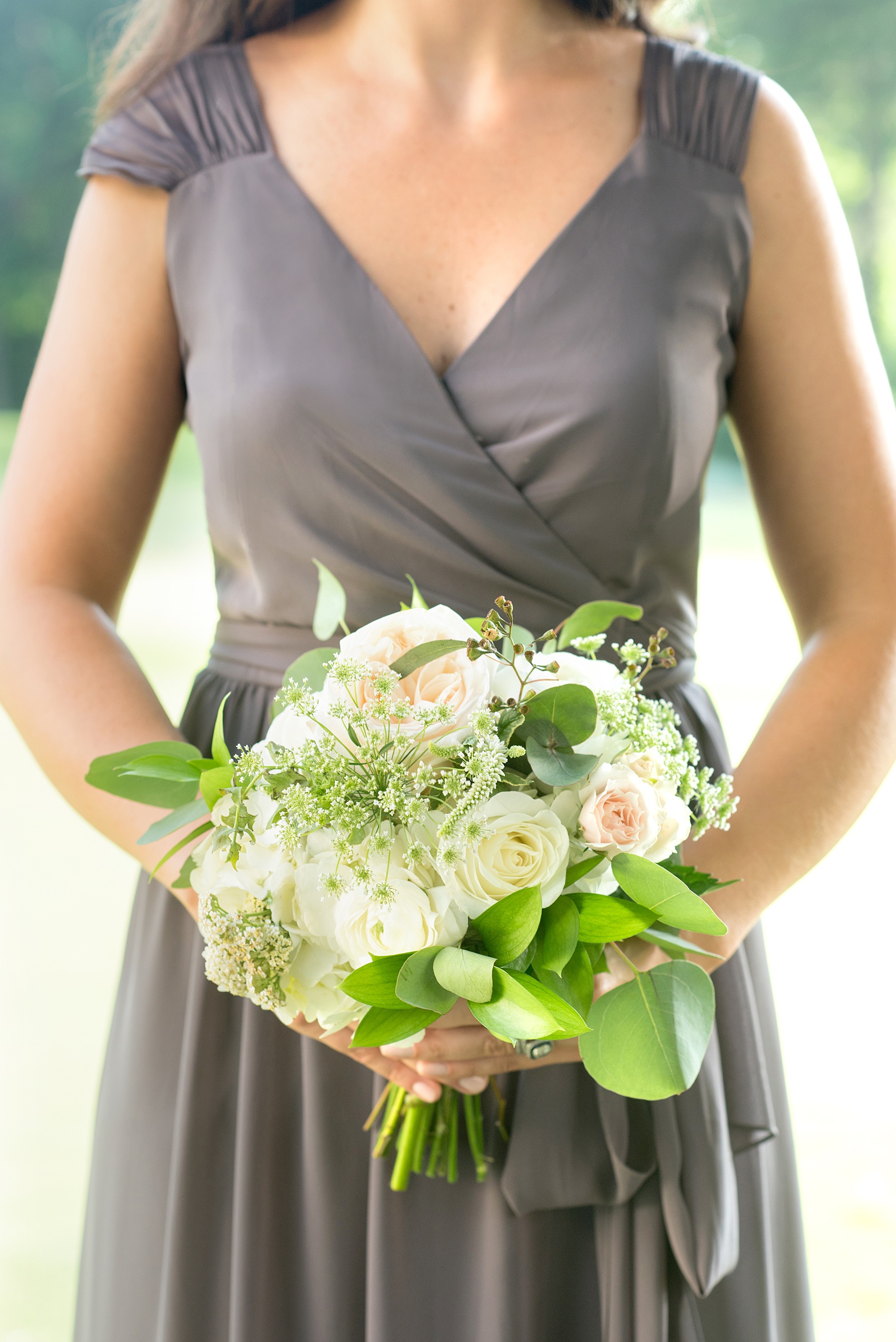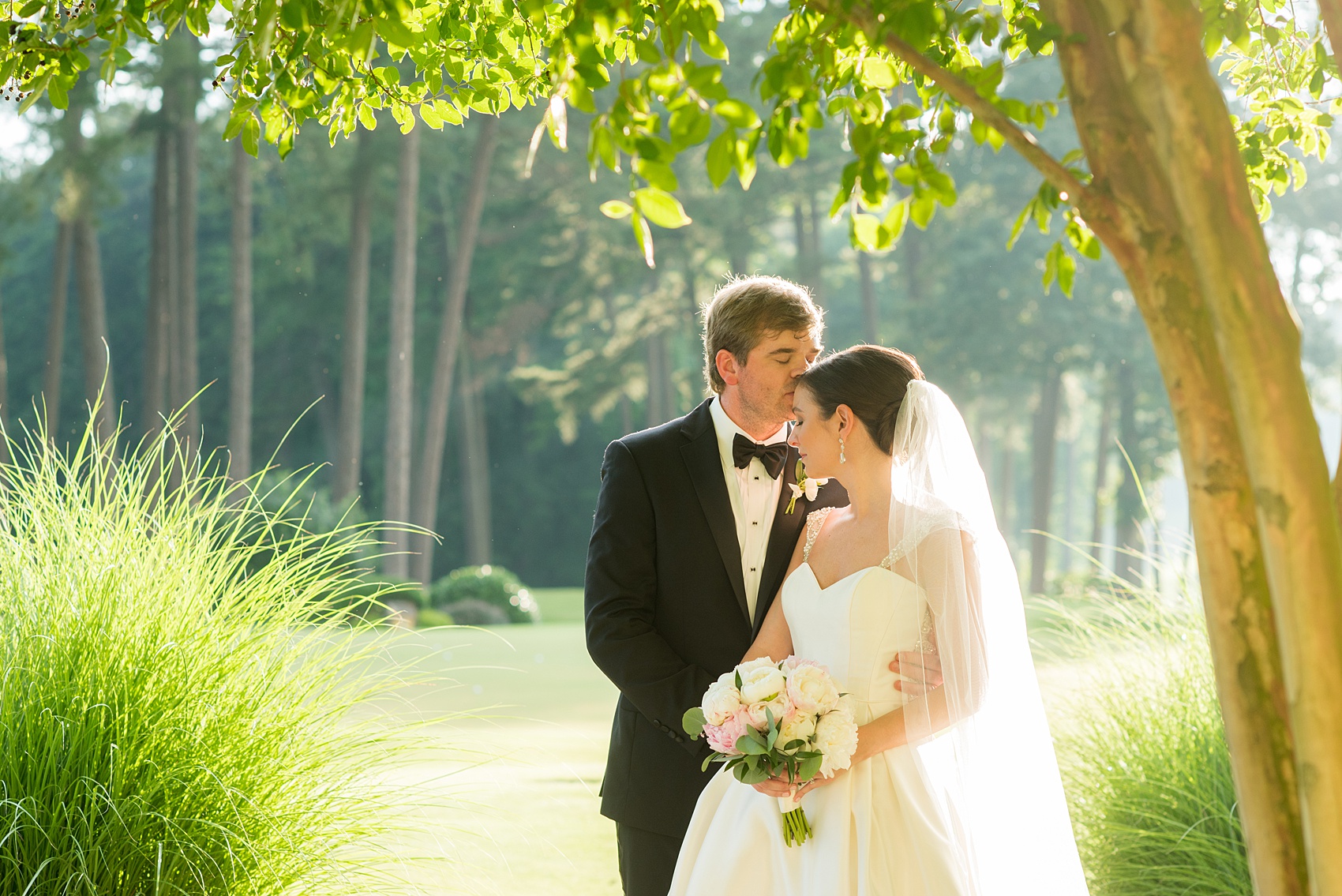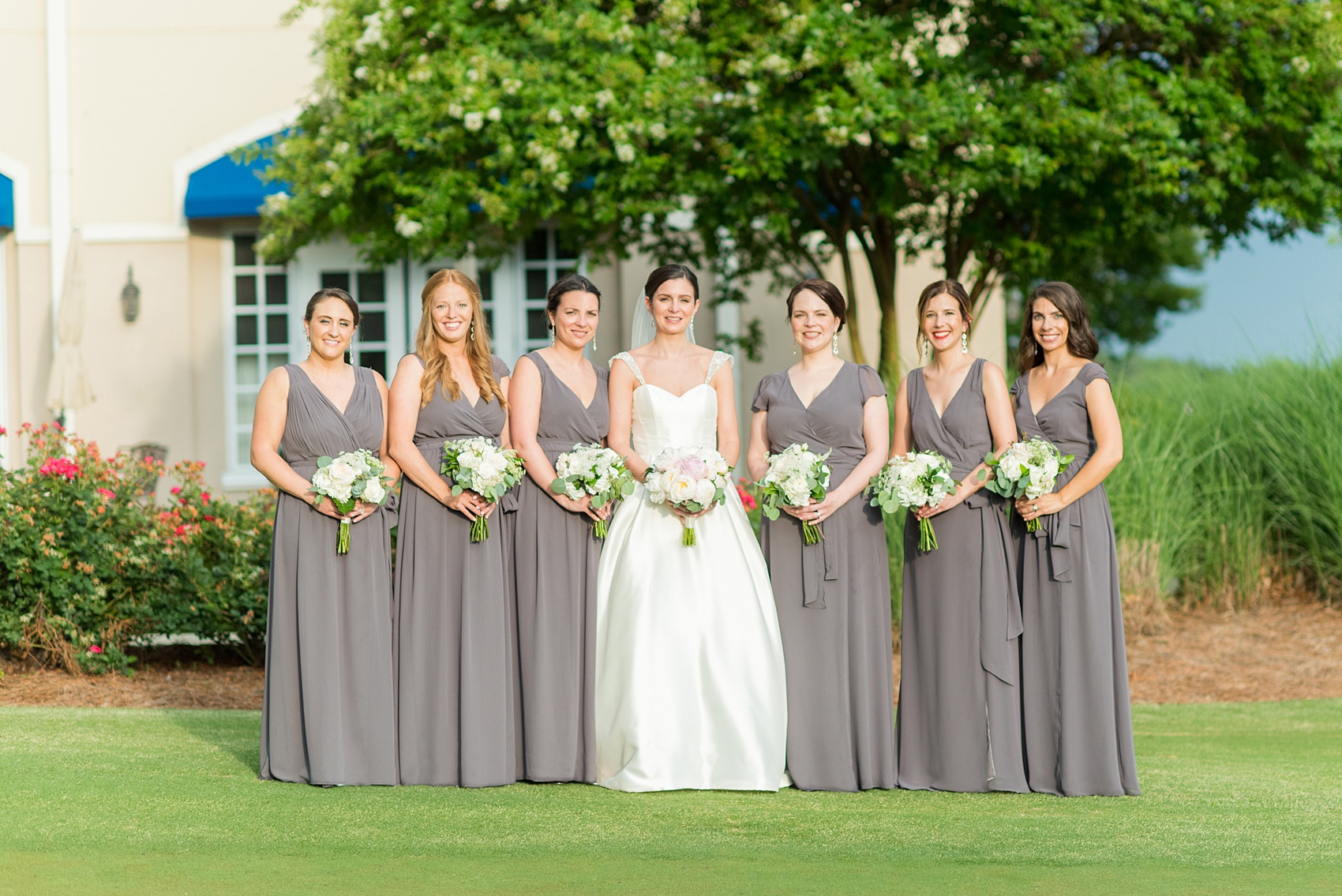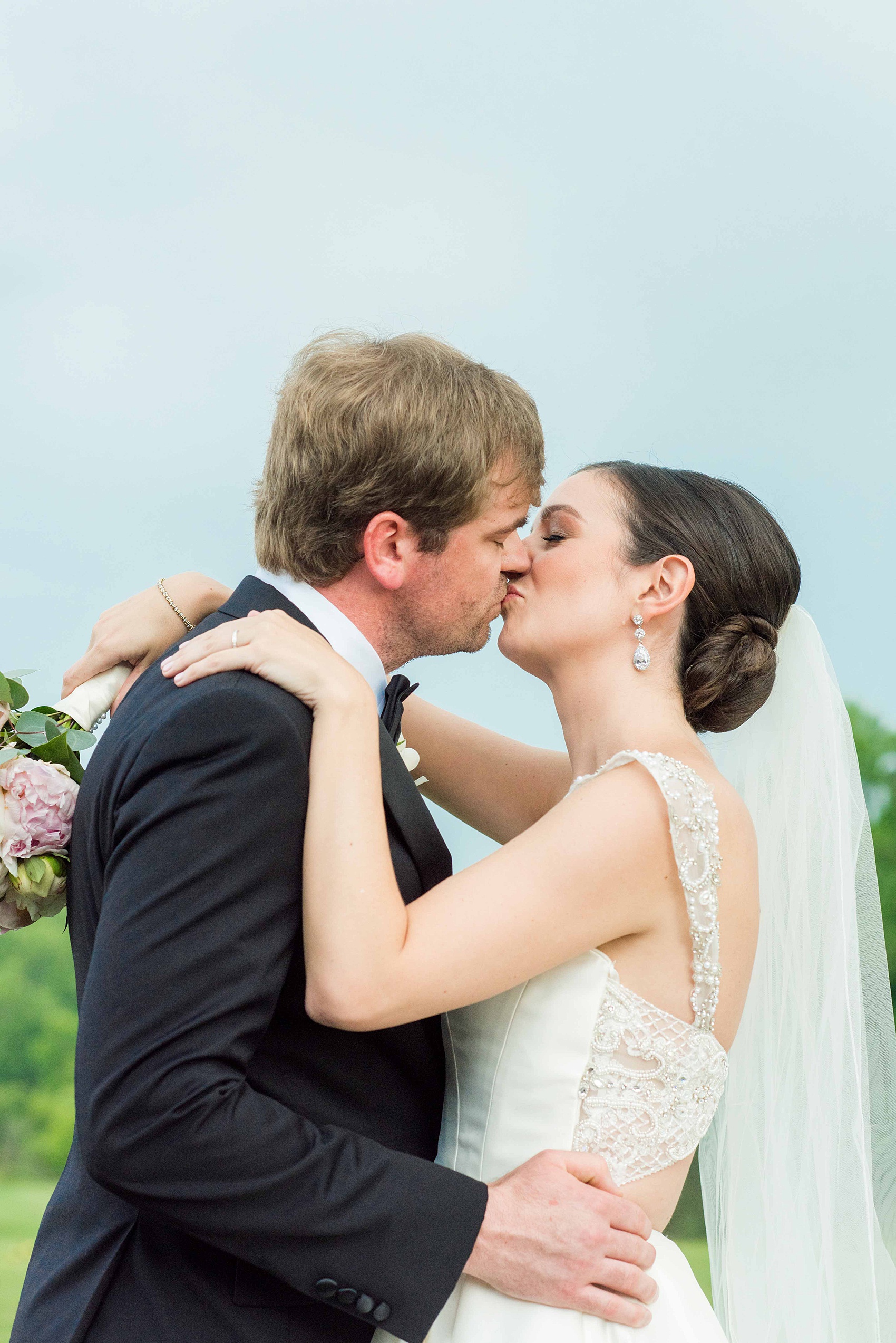 Their reception room opened for guests after cocktail hour. Blue linens brought vibrancy to the ballroom and high and low floral centerpieces created texture. Navy blue menus with white script writing were at each guest's seat, which they found from escort cards topped with a stroke of blue watercolor paint.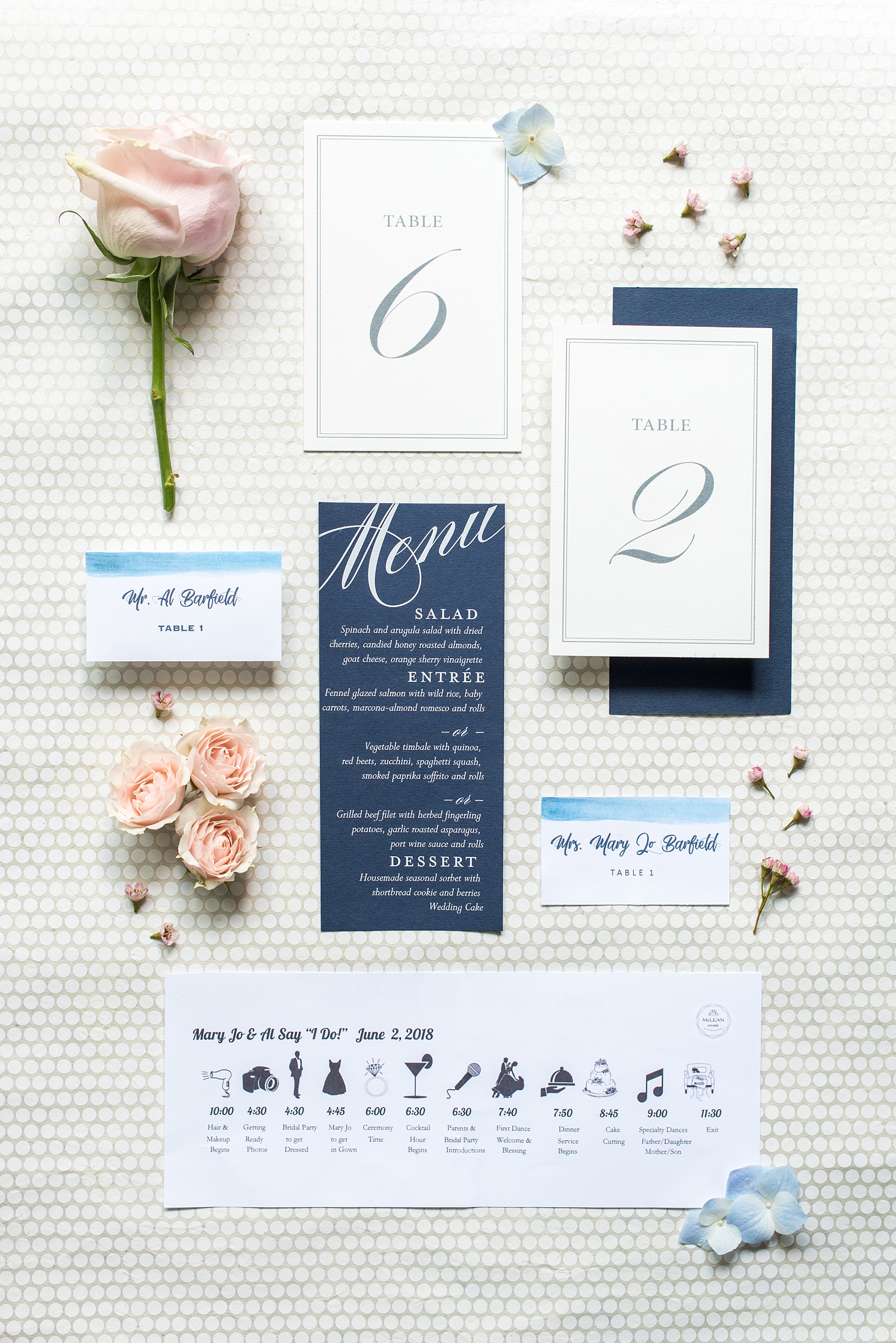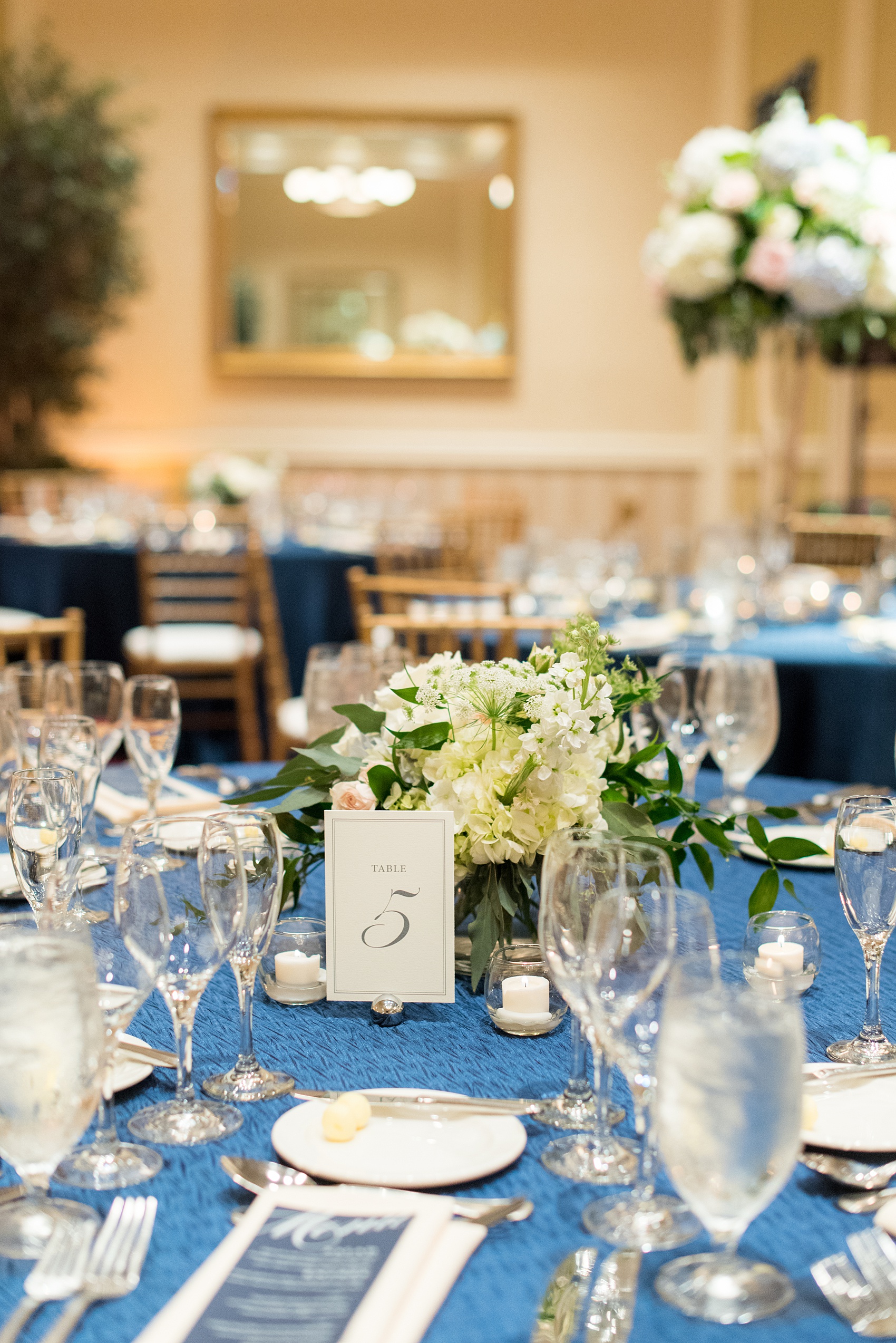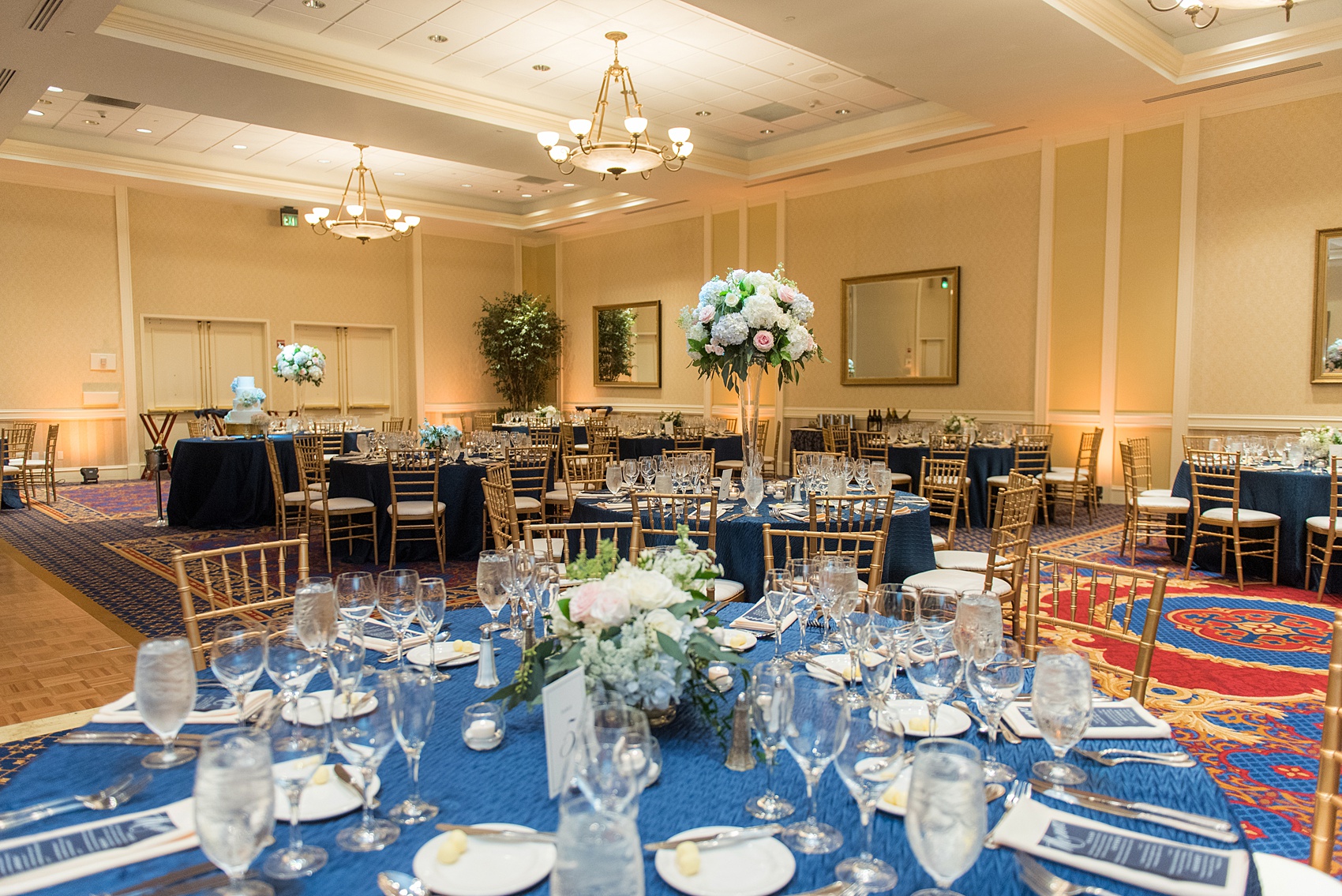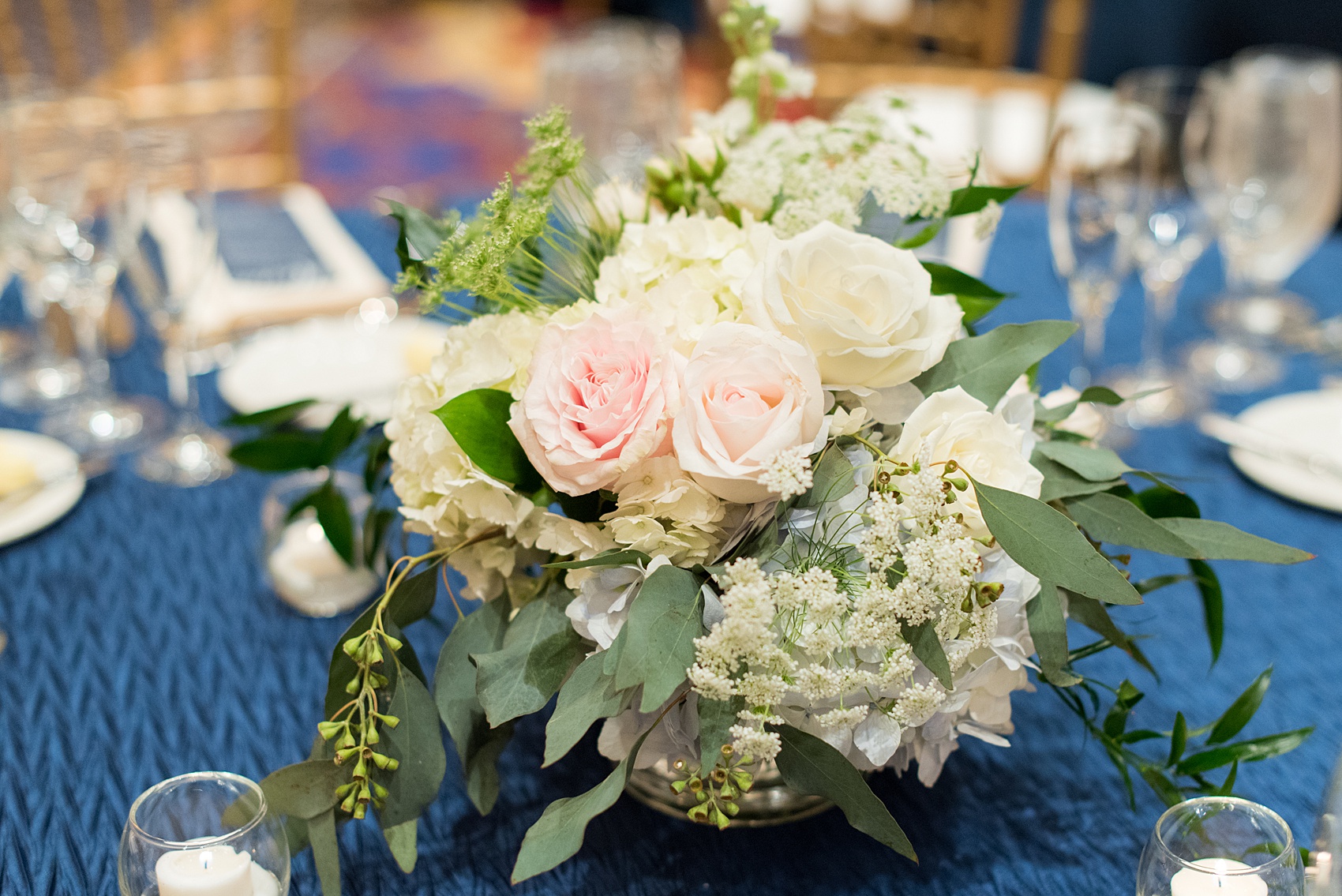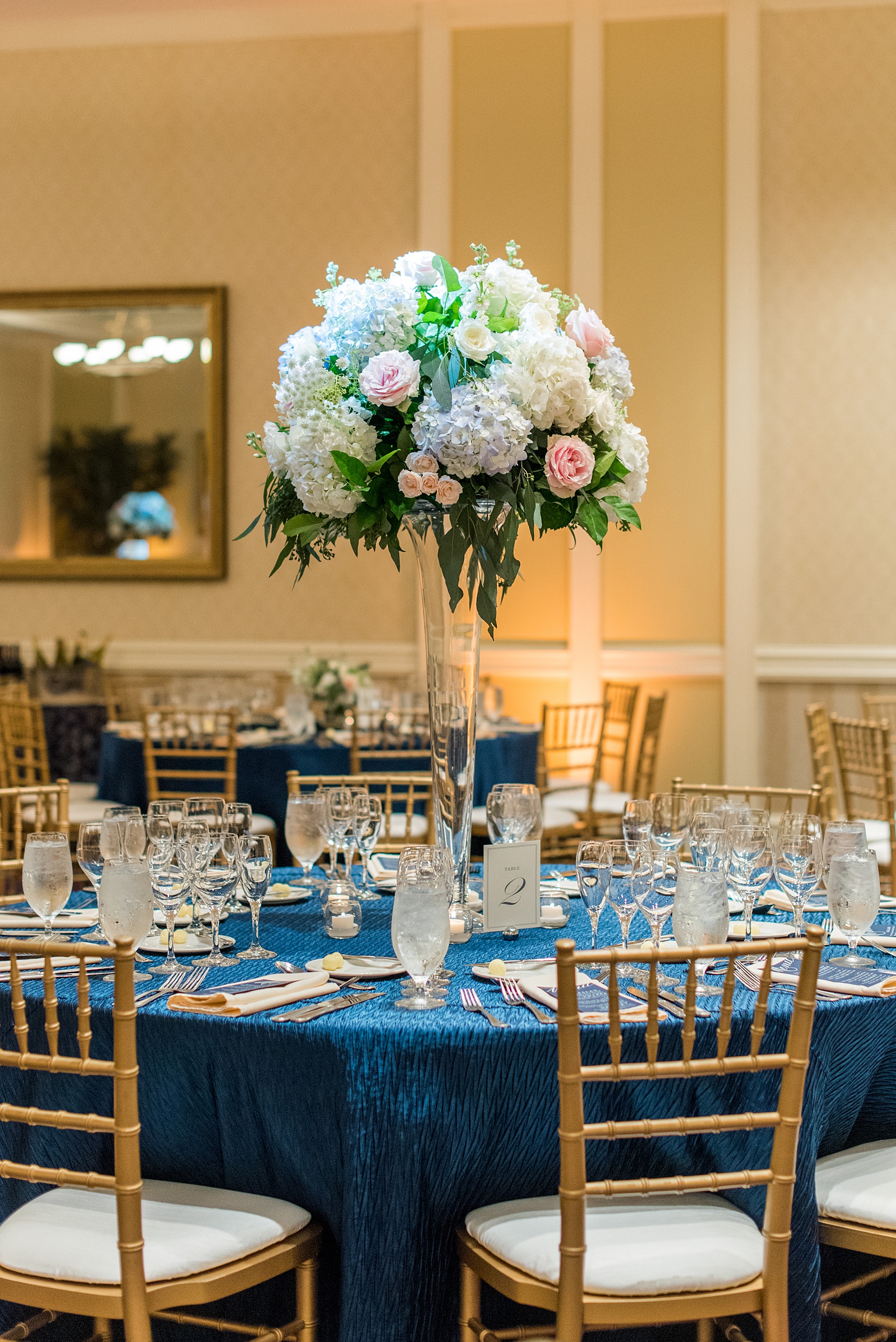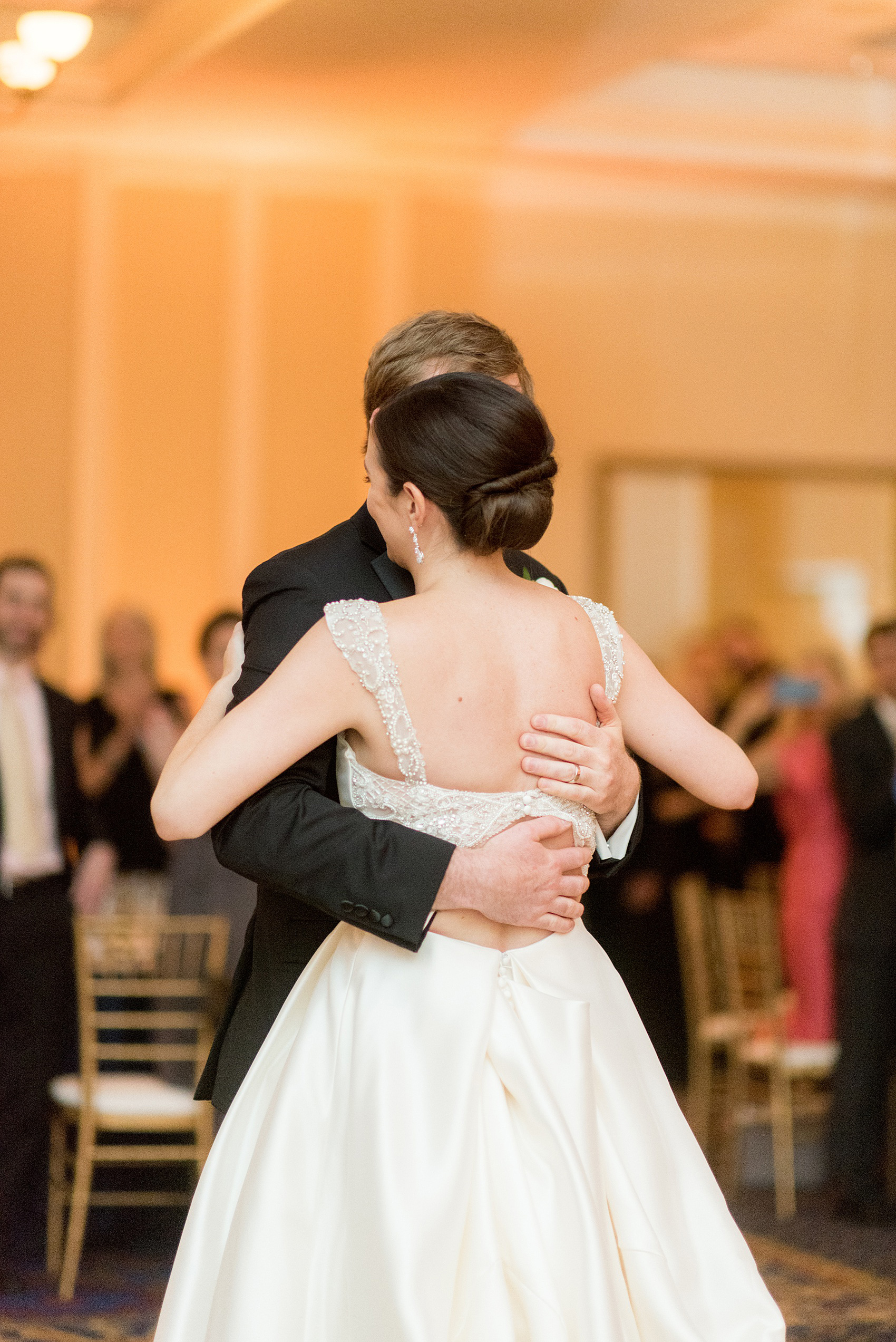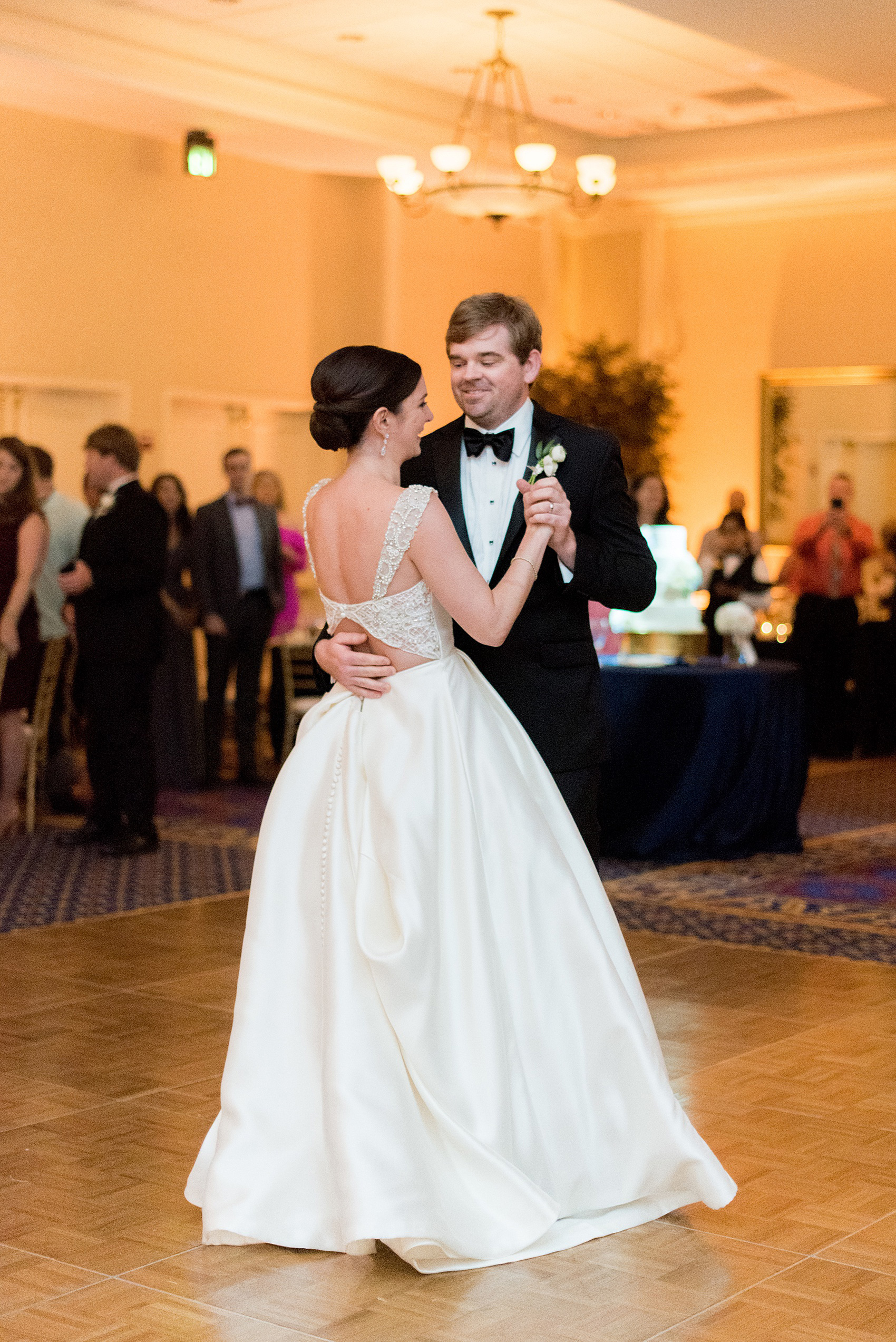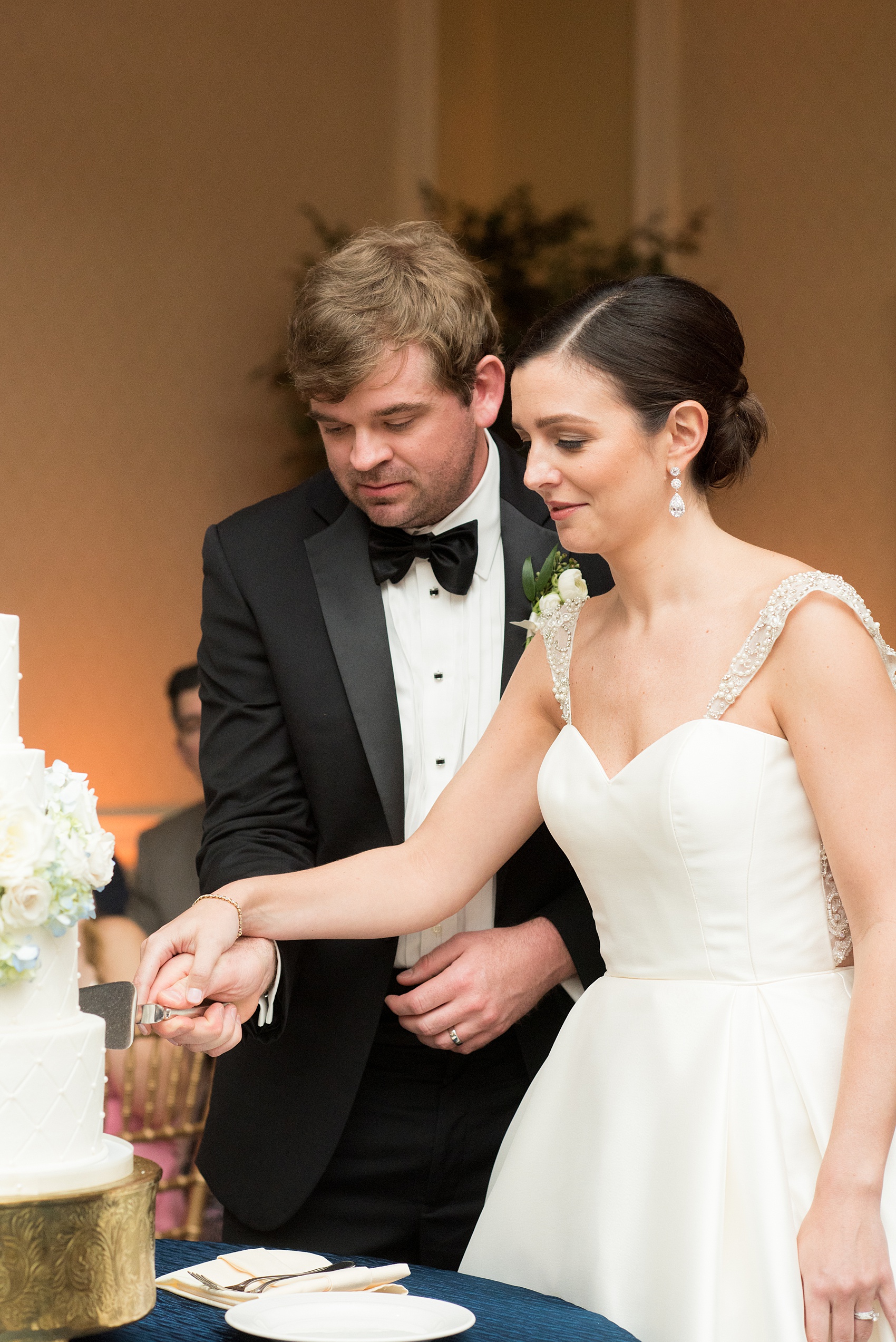 The bride and groom cut their four-tiered white quilted fondant wedding cake soon after their first dance. (They chose Ray LaMontagne's "You Are the Best Thing," for their dance.) This left only one priority for the night: dancing to the live music from the great band and a bubble exit!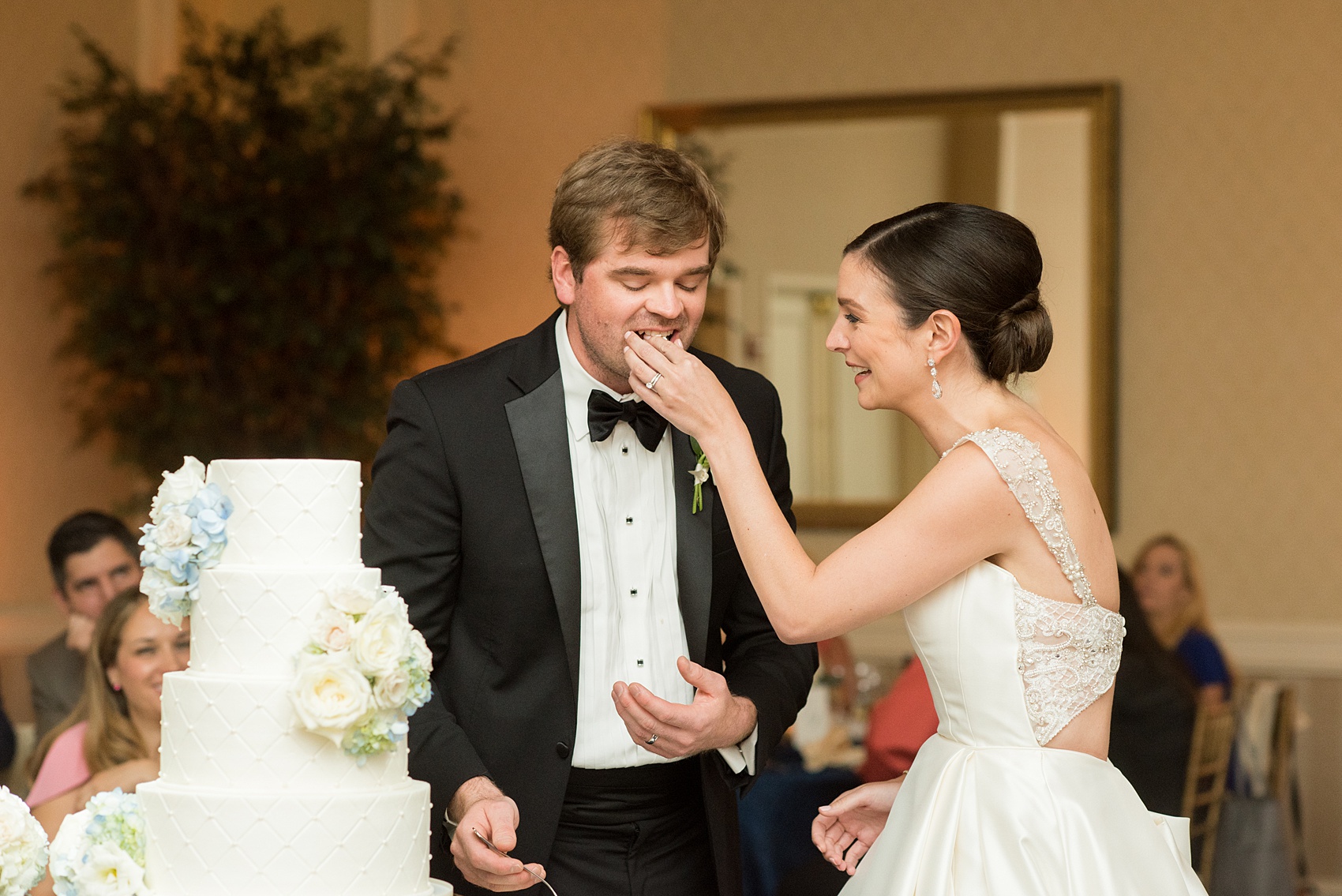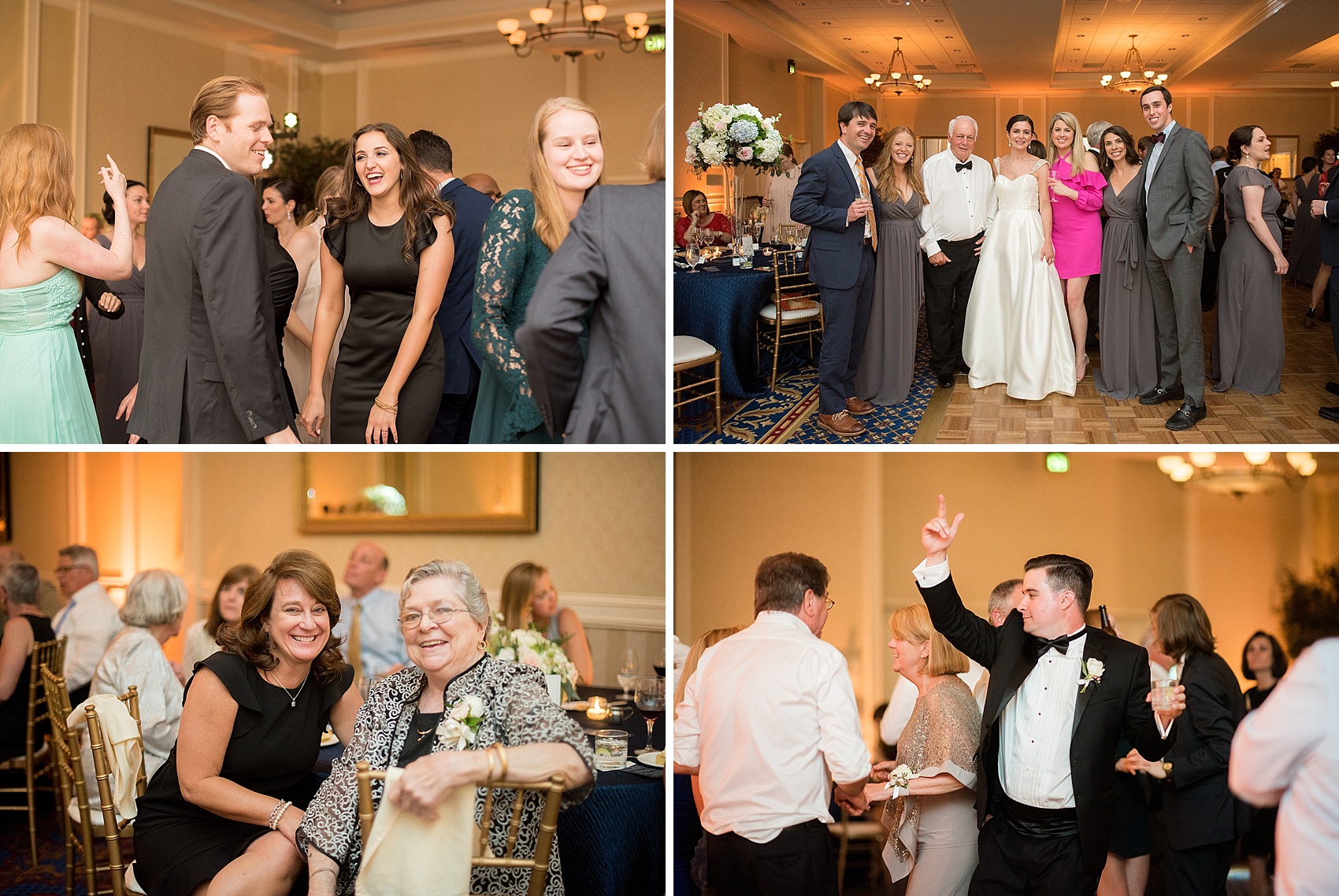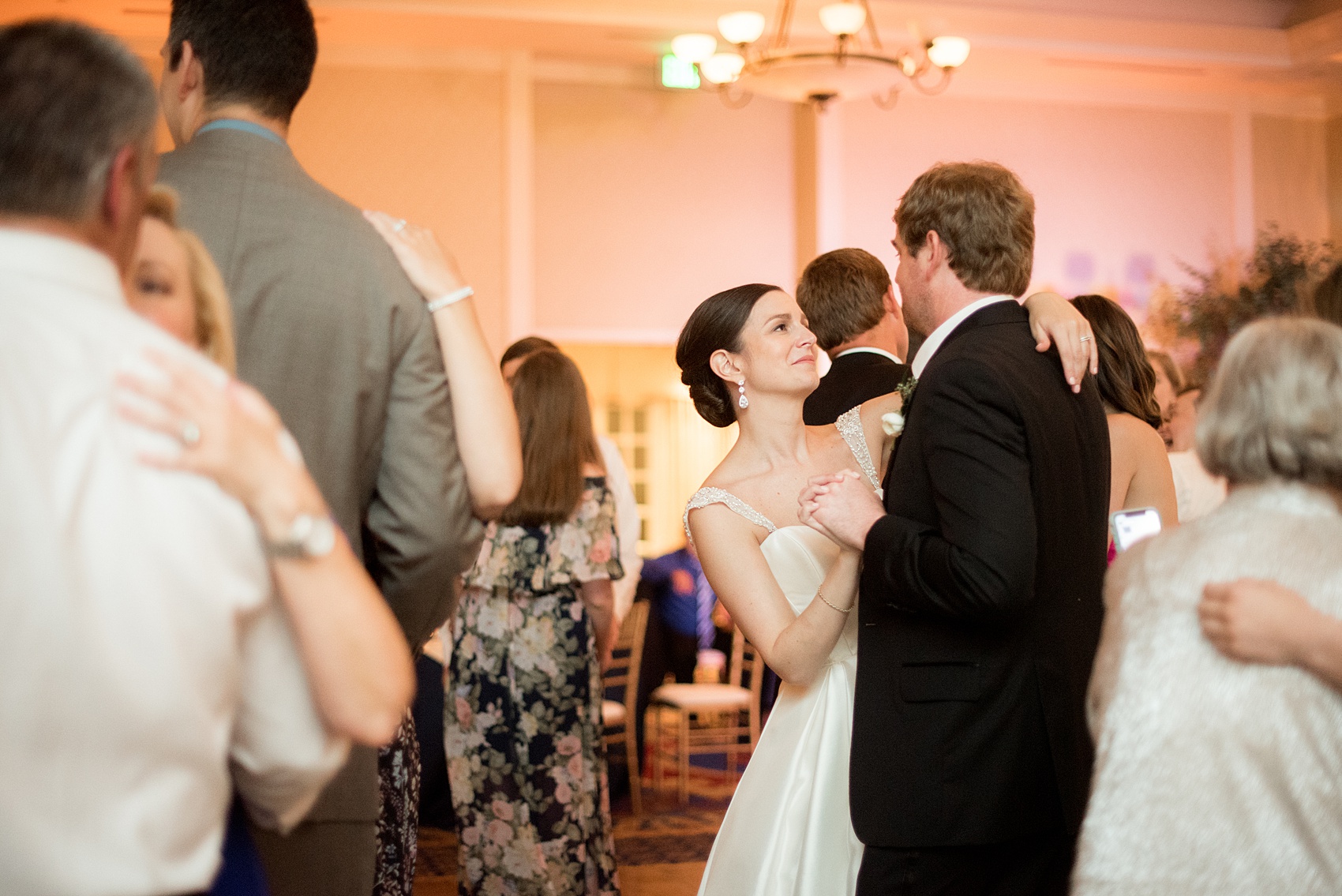 This is one of my favorite photos from their wedding too. Mary Jo and Al opted to have an "Anniversary Dance" at their wedding. This is when all the married couples take to the dance floor. The emcee, or in this case the band leader, then asks couples to take a seat. Thus couples sit if they've been married…one day (Mary Jo and Al!), married 5 years, 10 years…you get the gist! At the end of the song the last couple remaining on the dance floor has been married the longest. This couple's been married over 50 years! Mary Jo gave the former "bride" in lovely lavender a small bouquet, which her husband carried out for her.  I love the juxtaposition of them next to a "Just Married" sign on Mary Jo and Al's getaway golf cart.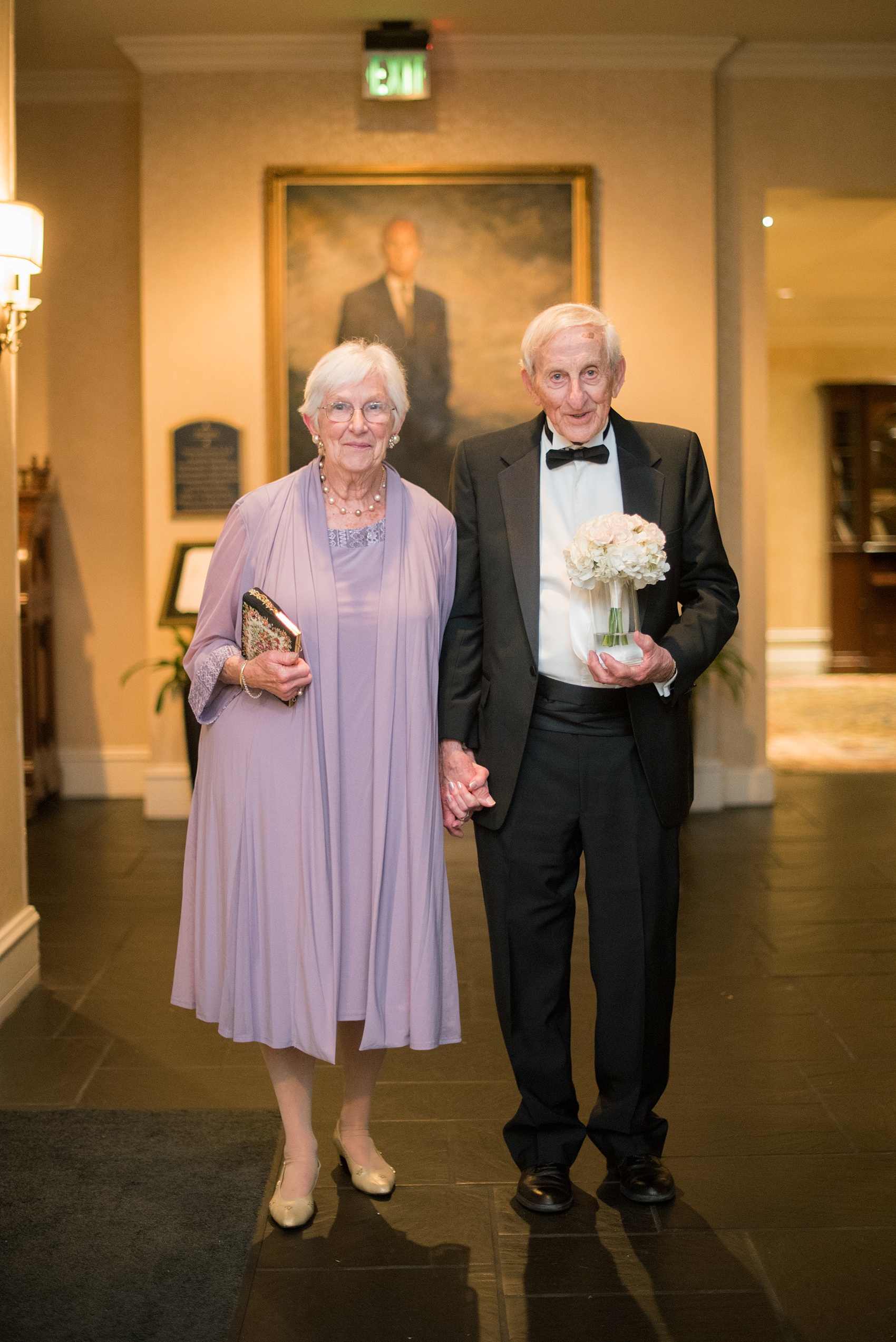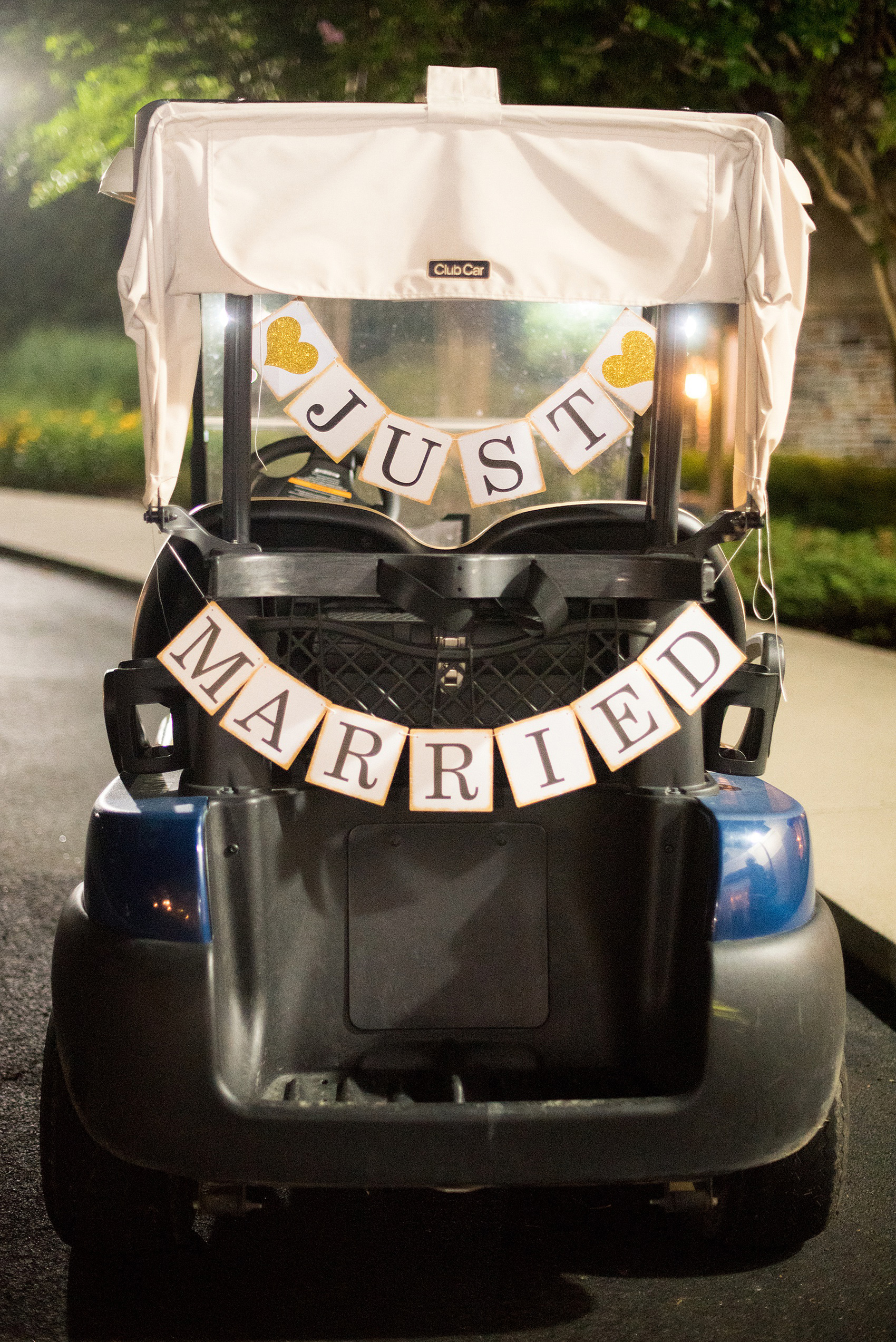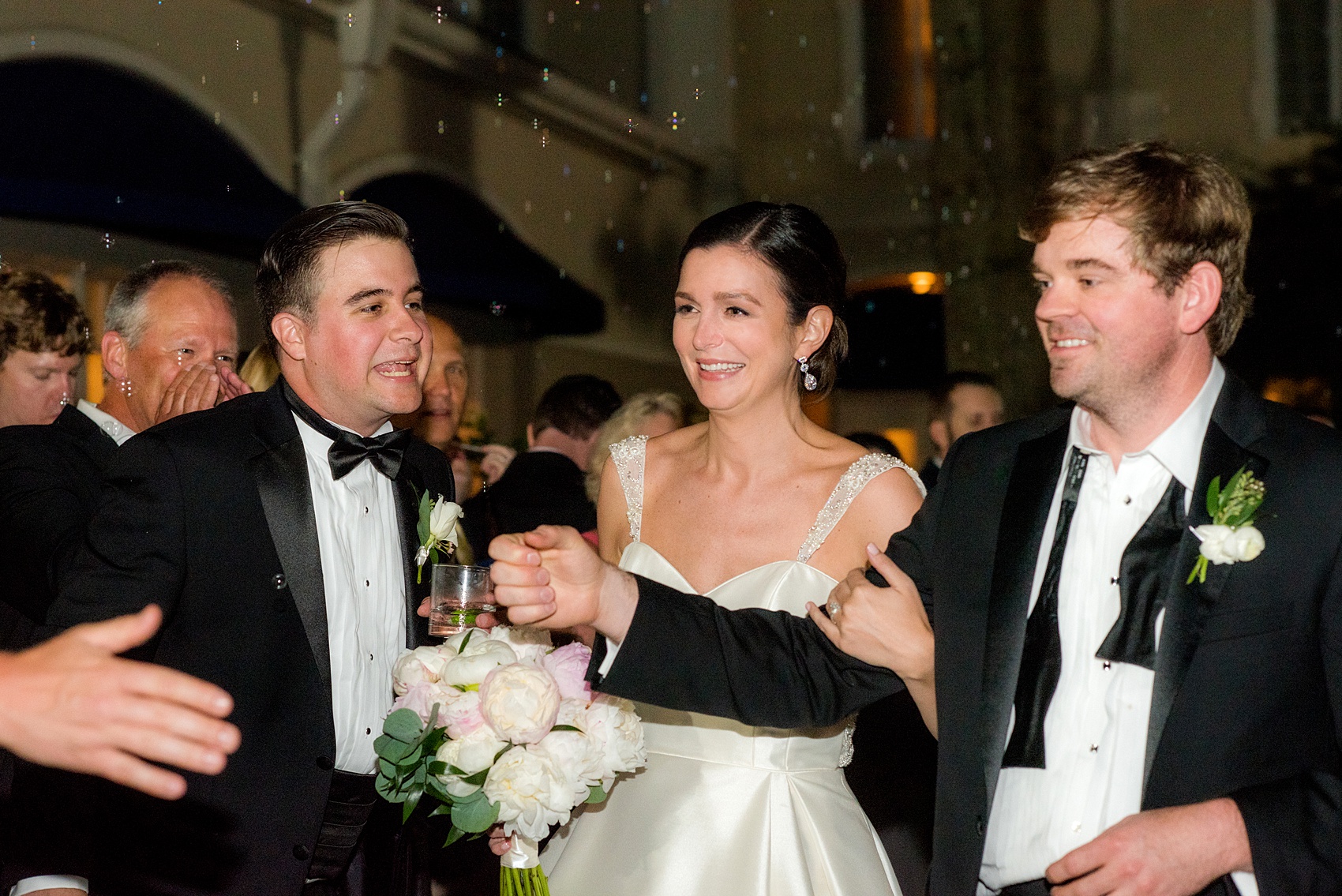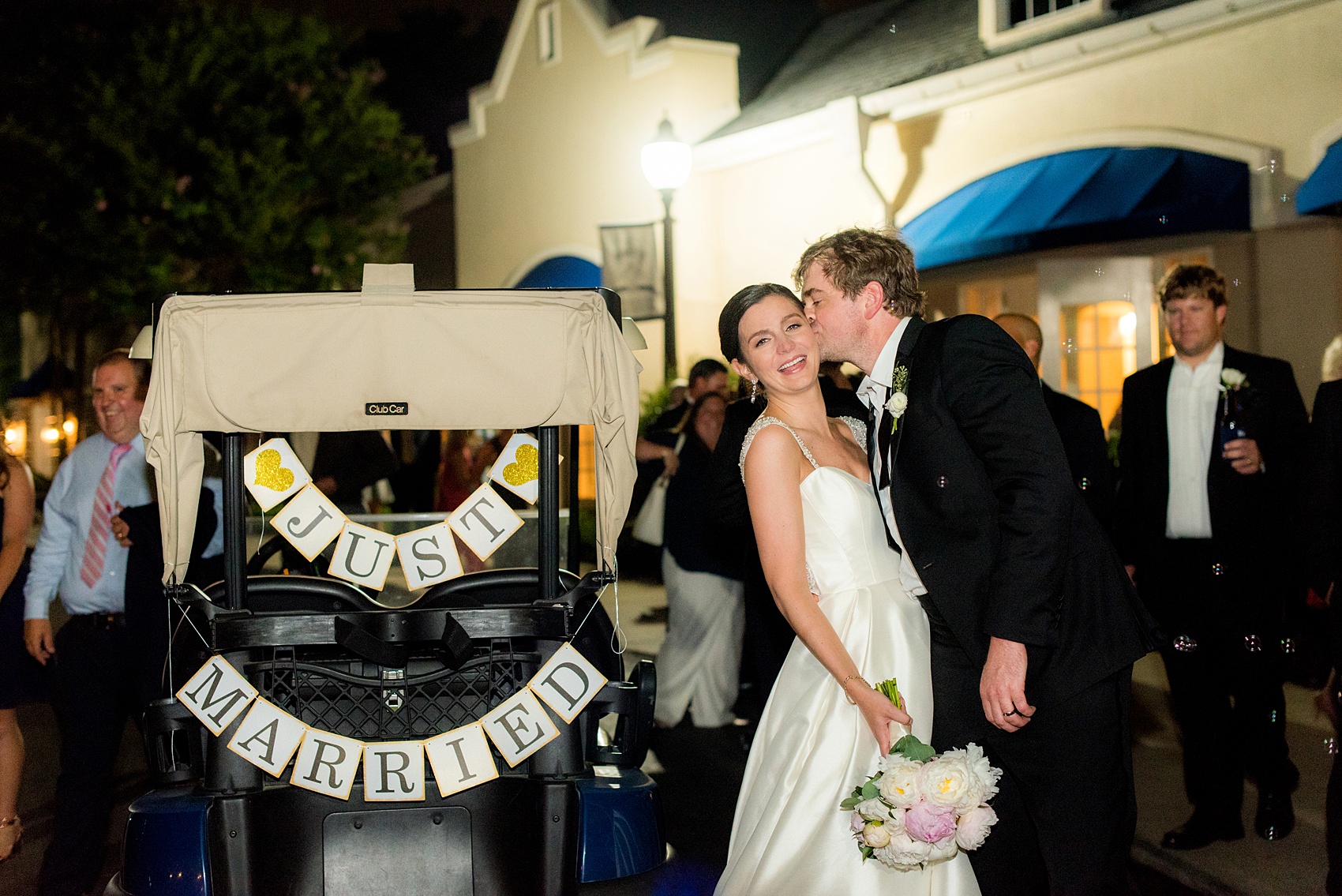 Congratulations Mr. and Mrs. Barfield!
Planner: McLean Events / Venue: Washington Duke Inn / Wedding gown: Maggi Bridal / Bridesmaids dresses: Bella Bridesmaids, designer Joanna August / Hair and makeup: Wink Hair and Makeup / Flowers: English Garden Raleigh / Cake: Ashley Cakes / Band: Oh No Stereo, East Coast Entertainment / Ceremony strings: Arioso / Officiant: Perry Hardison / Stationery: Minted / Linens: CE Rental
For more inspiration from Durham weddings check out:
Interested in having us capture your wedding? Don't be shy – contact us!