Our first call together was via Skype across many miles. It was morning on the east coast in the United States and night time in Australia. I quickly saw how comfortable these two were with each other and communicating what they both envisioned for their wedding day and the cultural differences they were growing to understand between a wedding in the UK and a wedding in the tri-state area. (Cultural and geographical differences in wedding traditions and simply how the schedule of a day goes depending on where you are in the world always amazes me because I photograph weddings all over.) I instantly clicked with these two and felt like we meshed so well, even via Skype, I was excited when they told me they wanted me to capture their wedding day at Tribeca Rooftop in July 2016. Time flew (as it always does!) and before we knew it these two were grounded in the United States from their home in Australia, off to court in New York to obtain their marriage license for their wedding just 5 days away. And then it was here!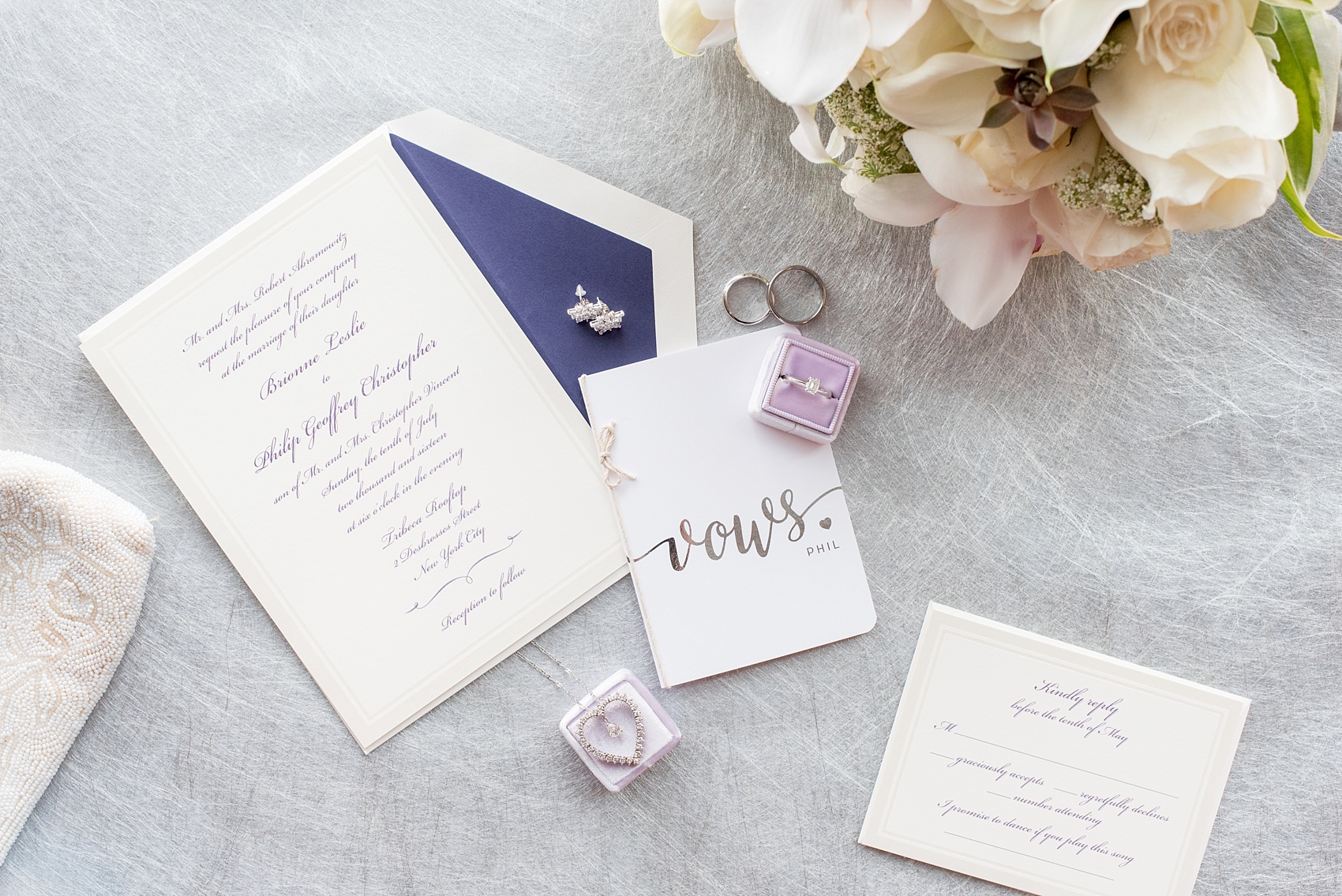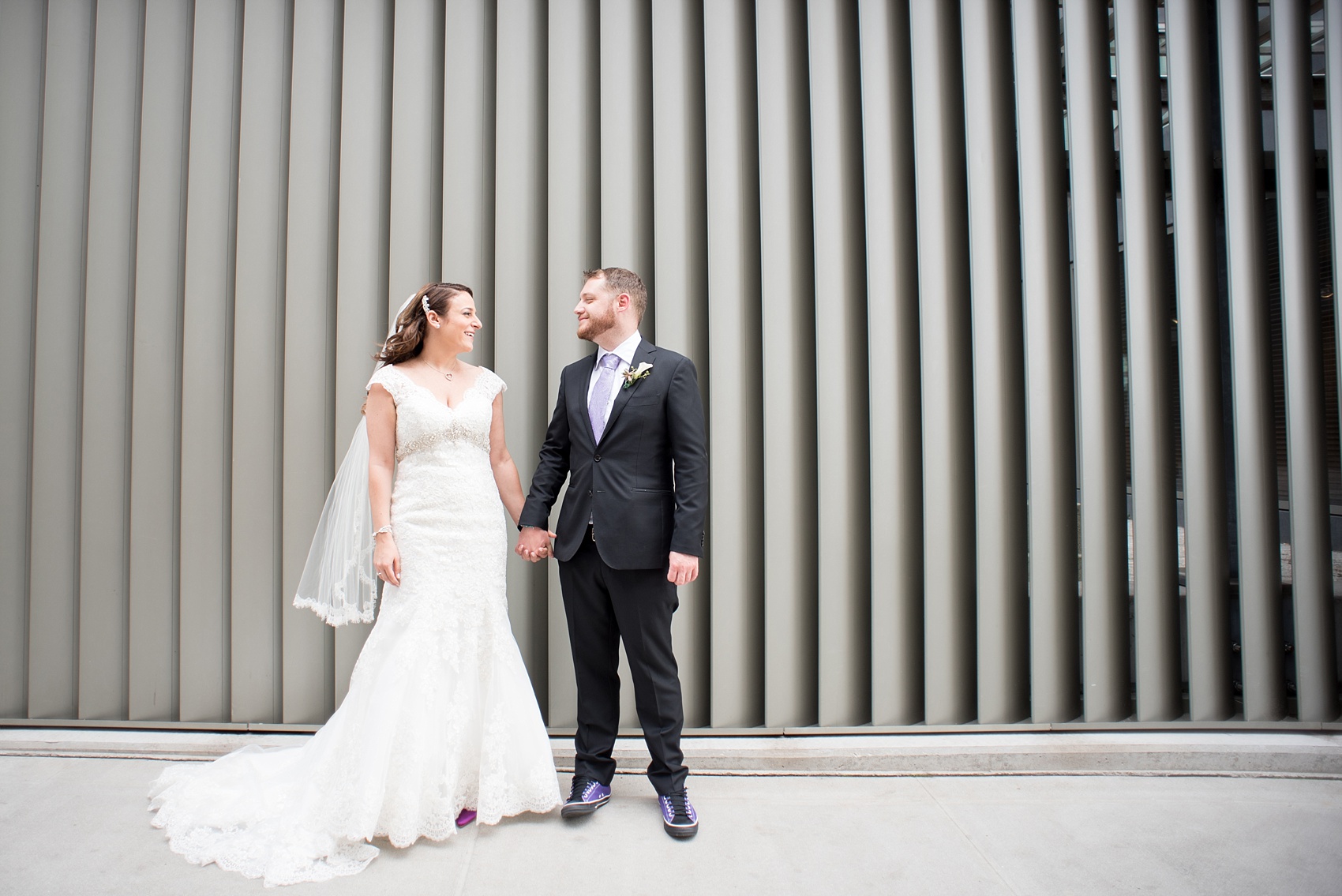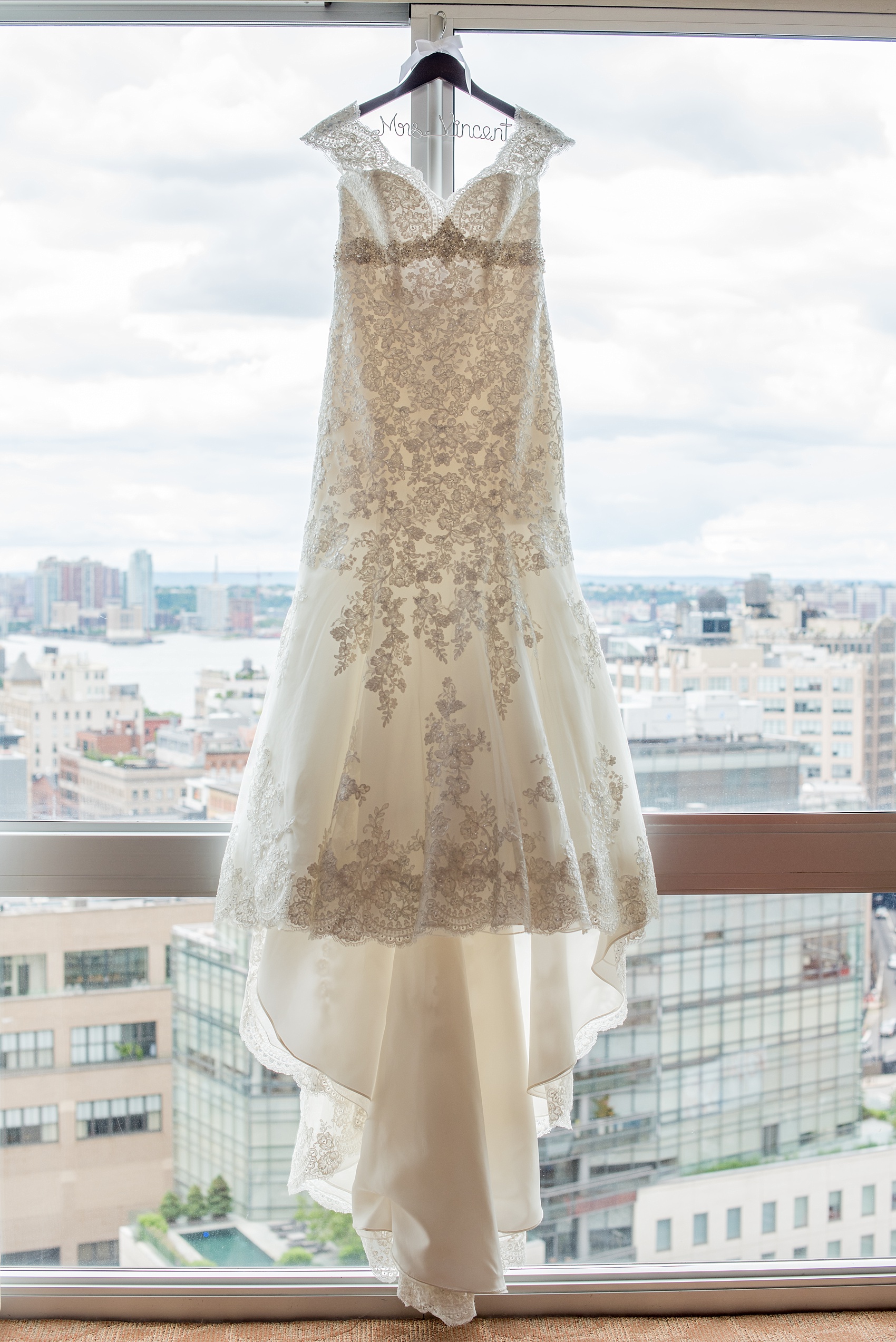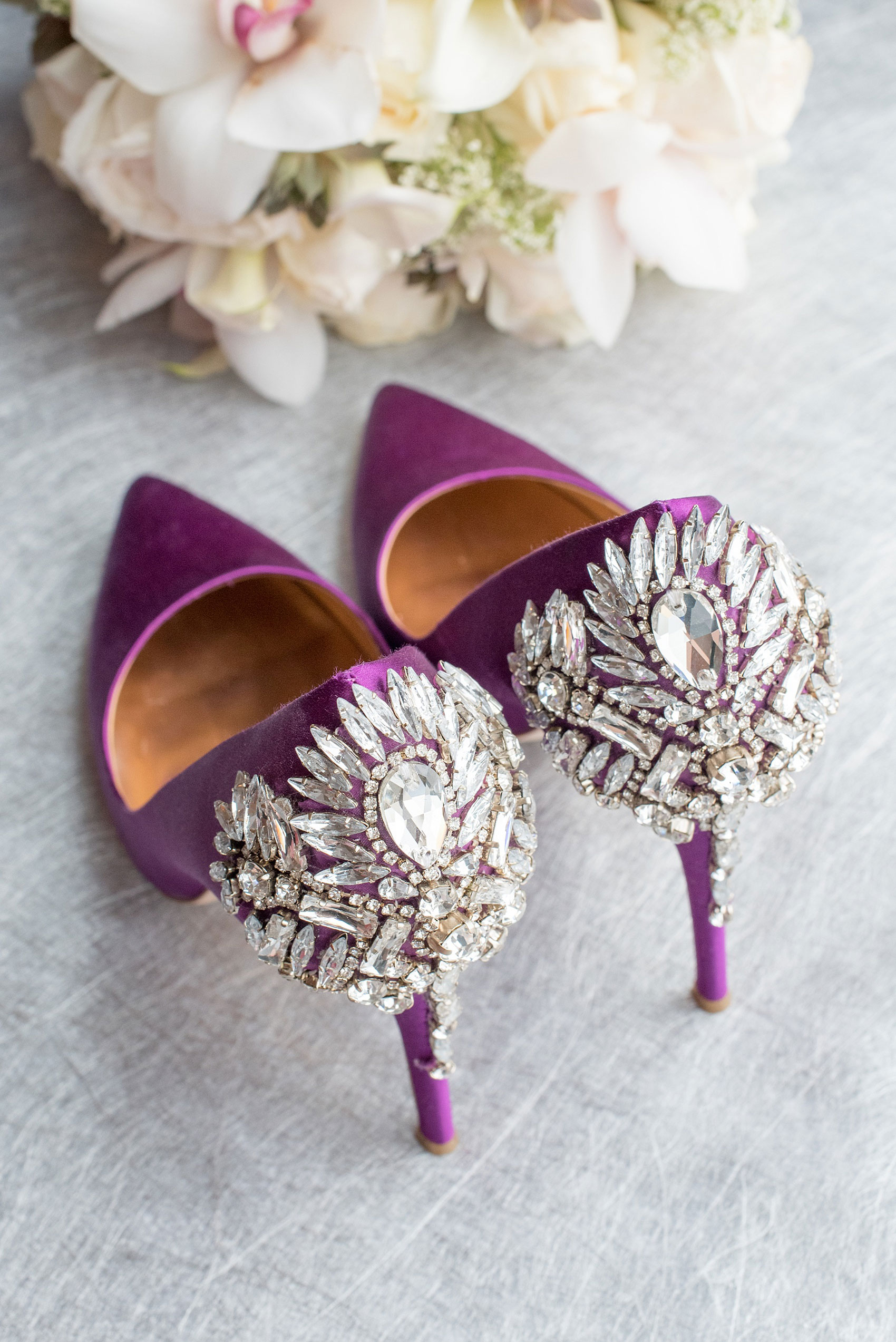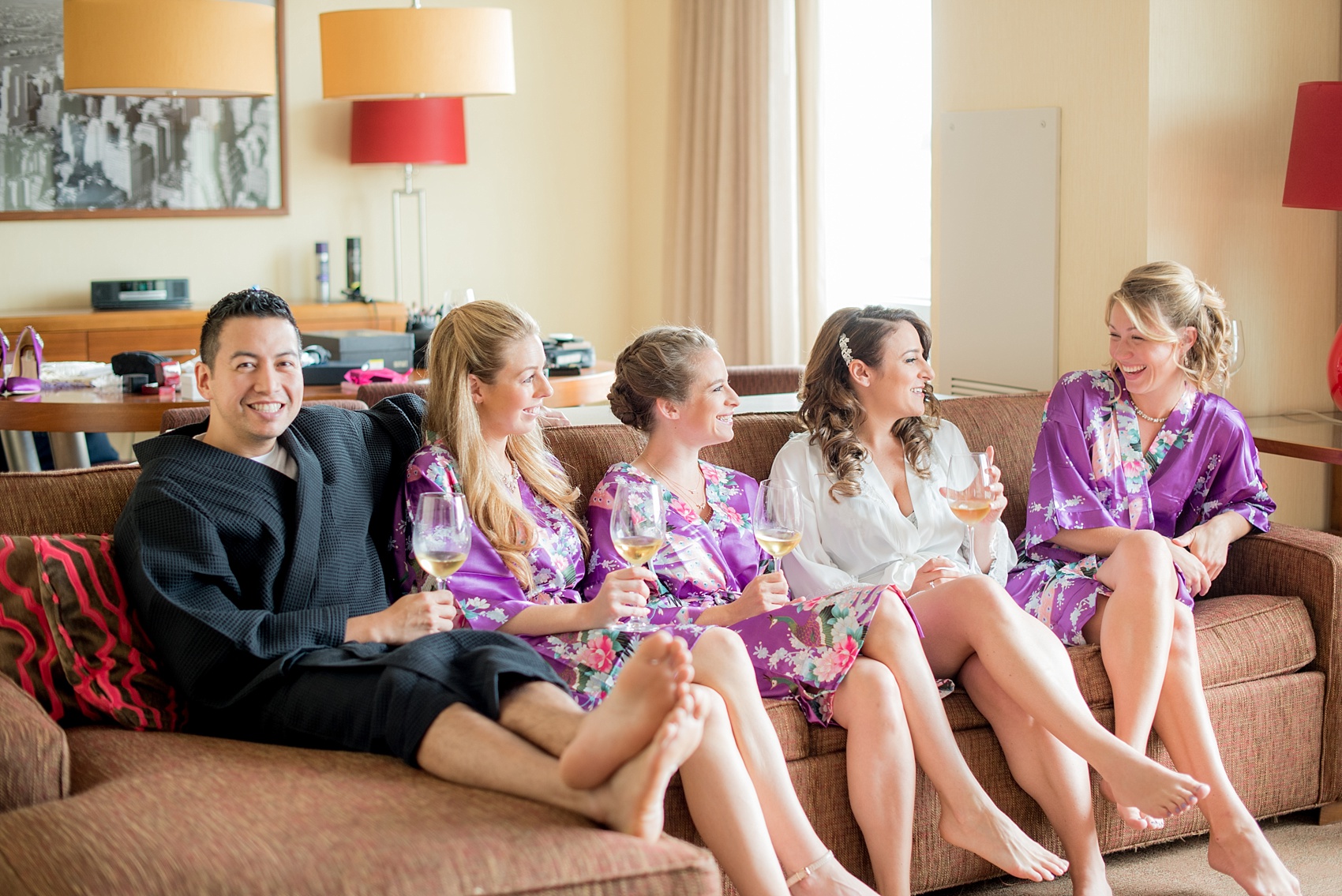 Purple hues were everywhere. I love that she chose the color but had different shades of it all around from her ring box, to invitation liner, to her wedding shoes, ties, bridesmaids dresses…the list continues! She really did a wonderful job of stringing her color palette throughout special details of the day. It cohesively tied everything together very well.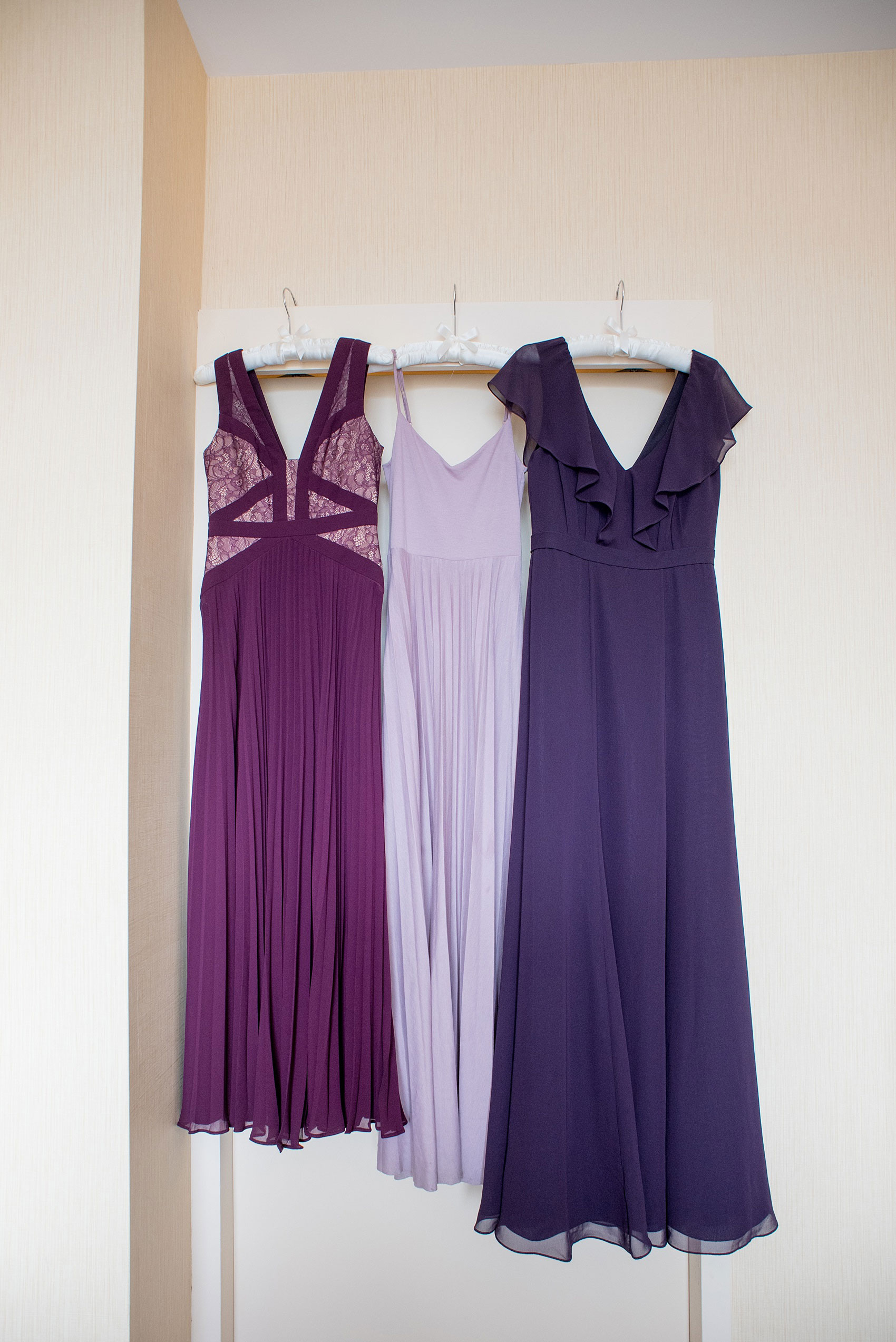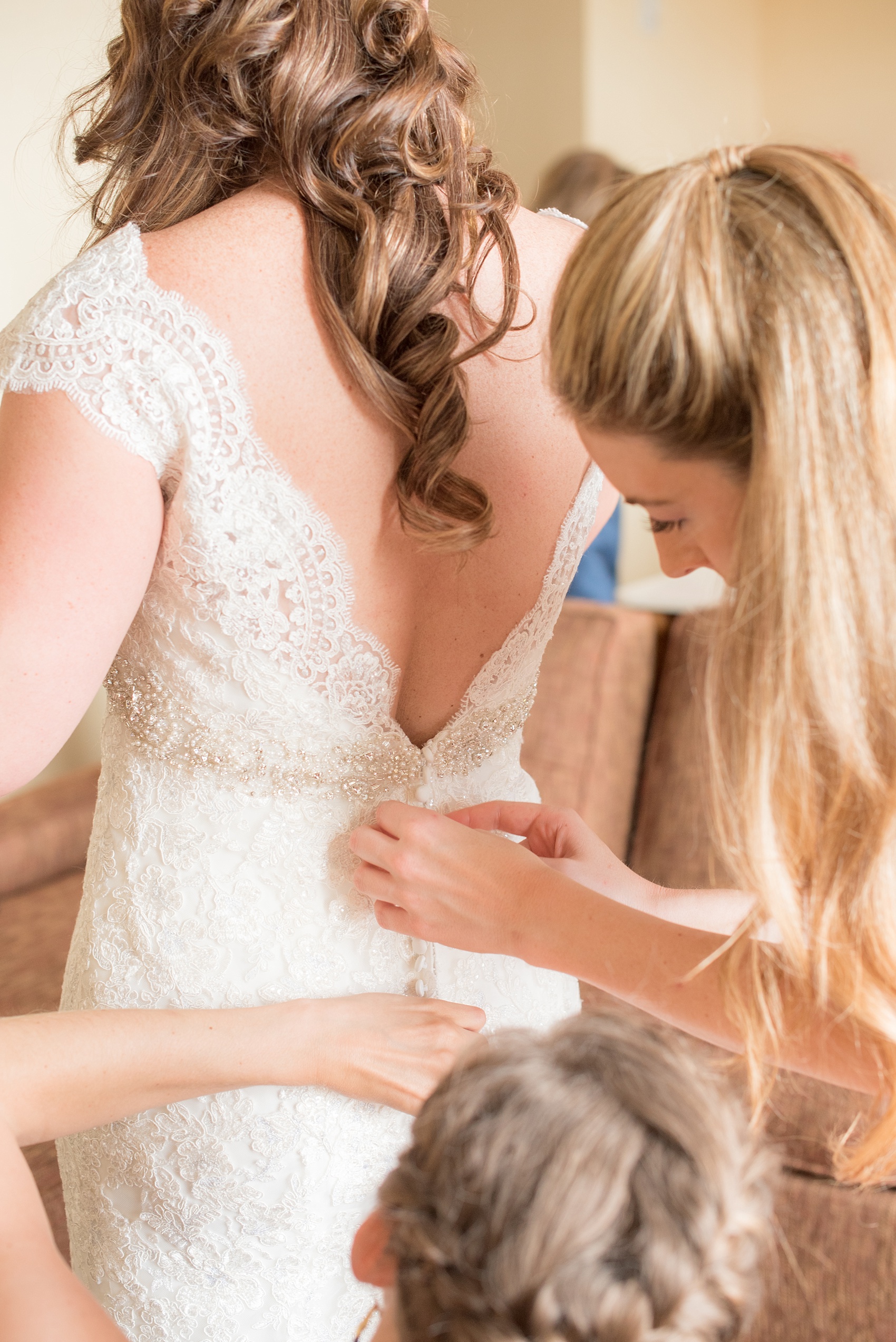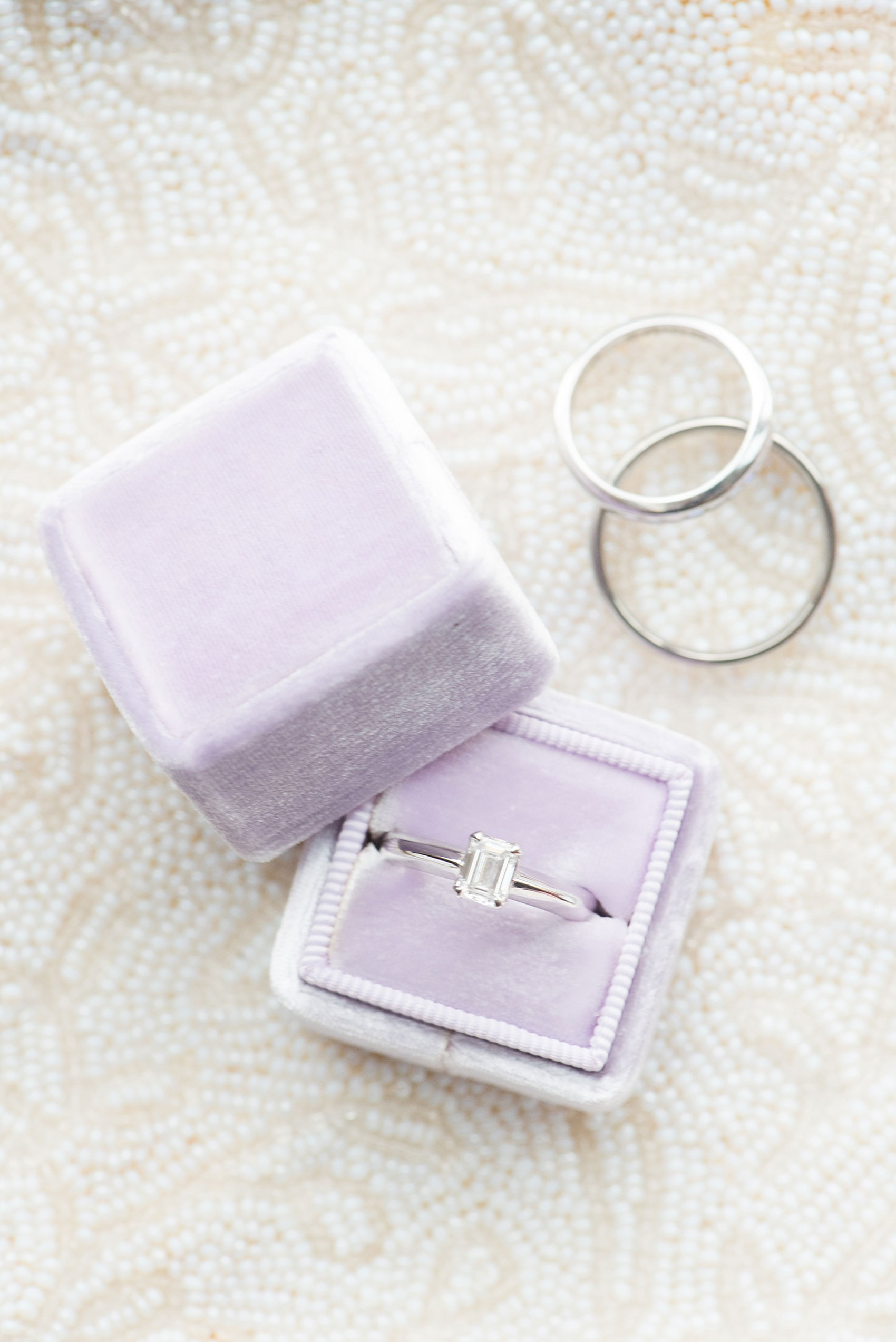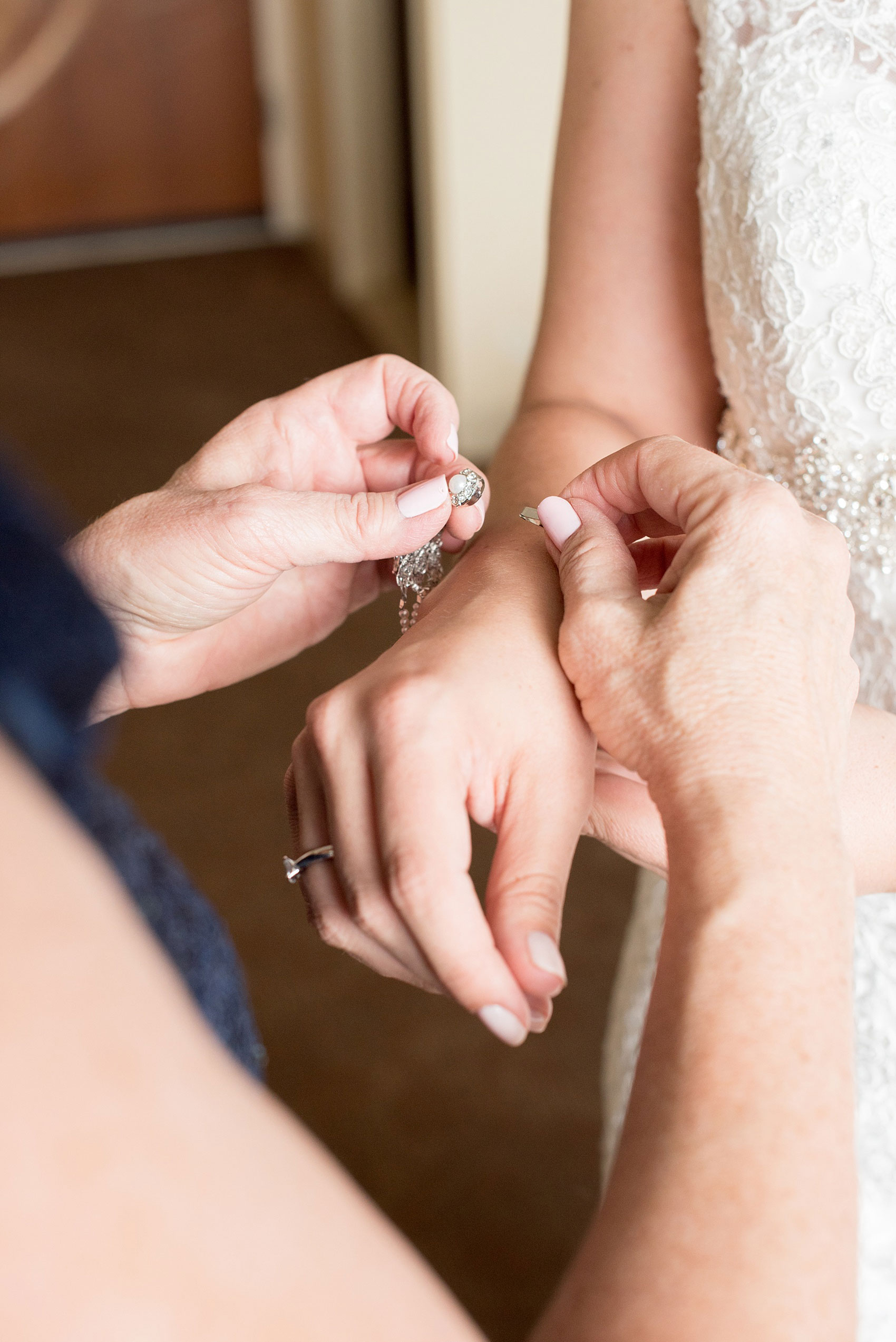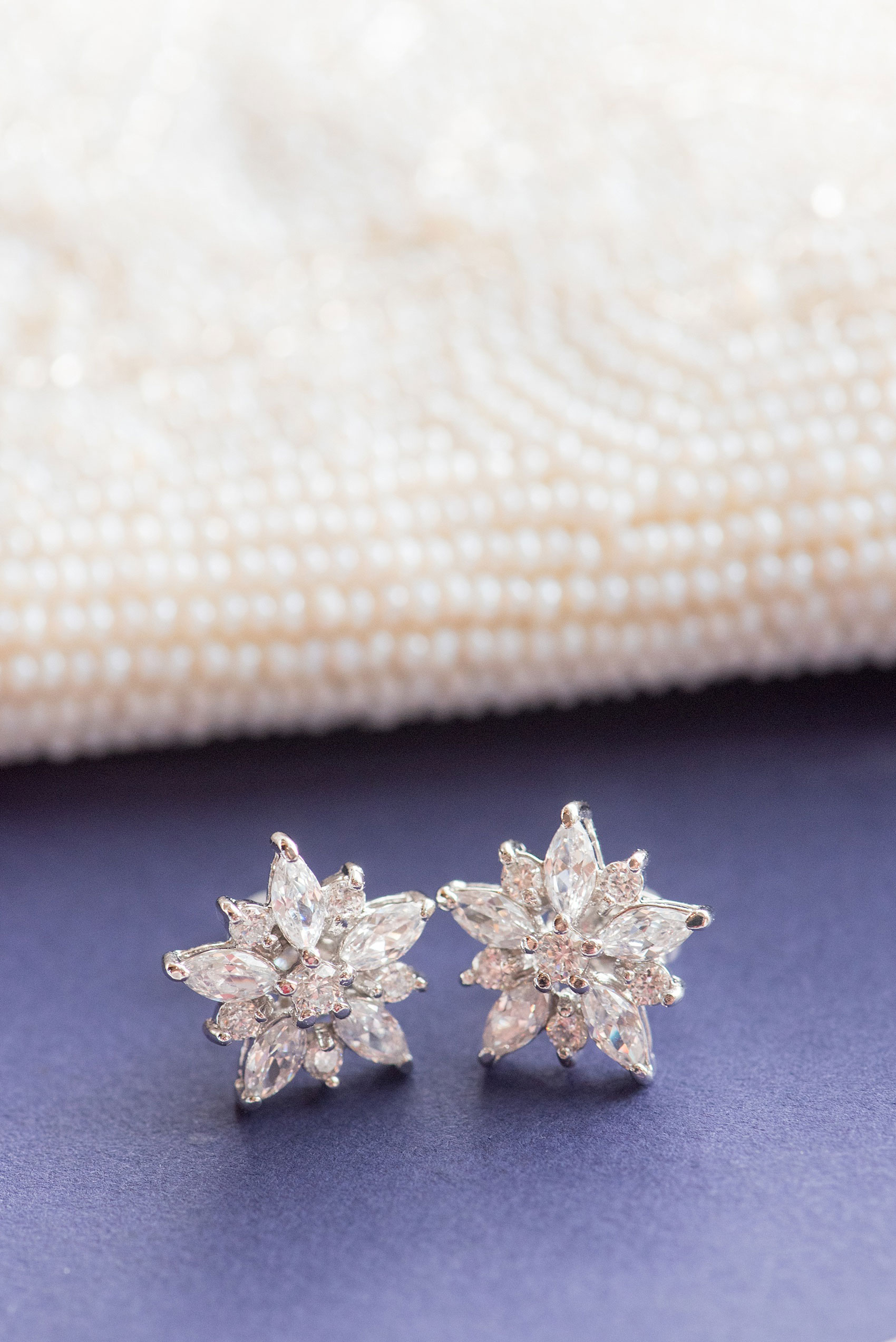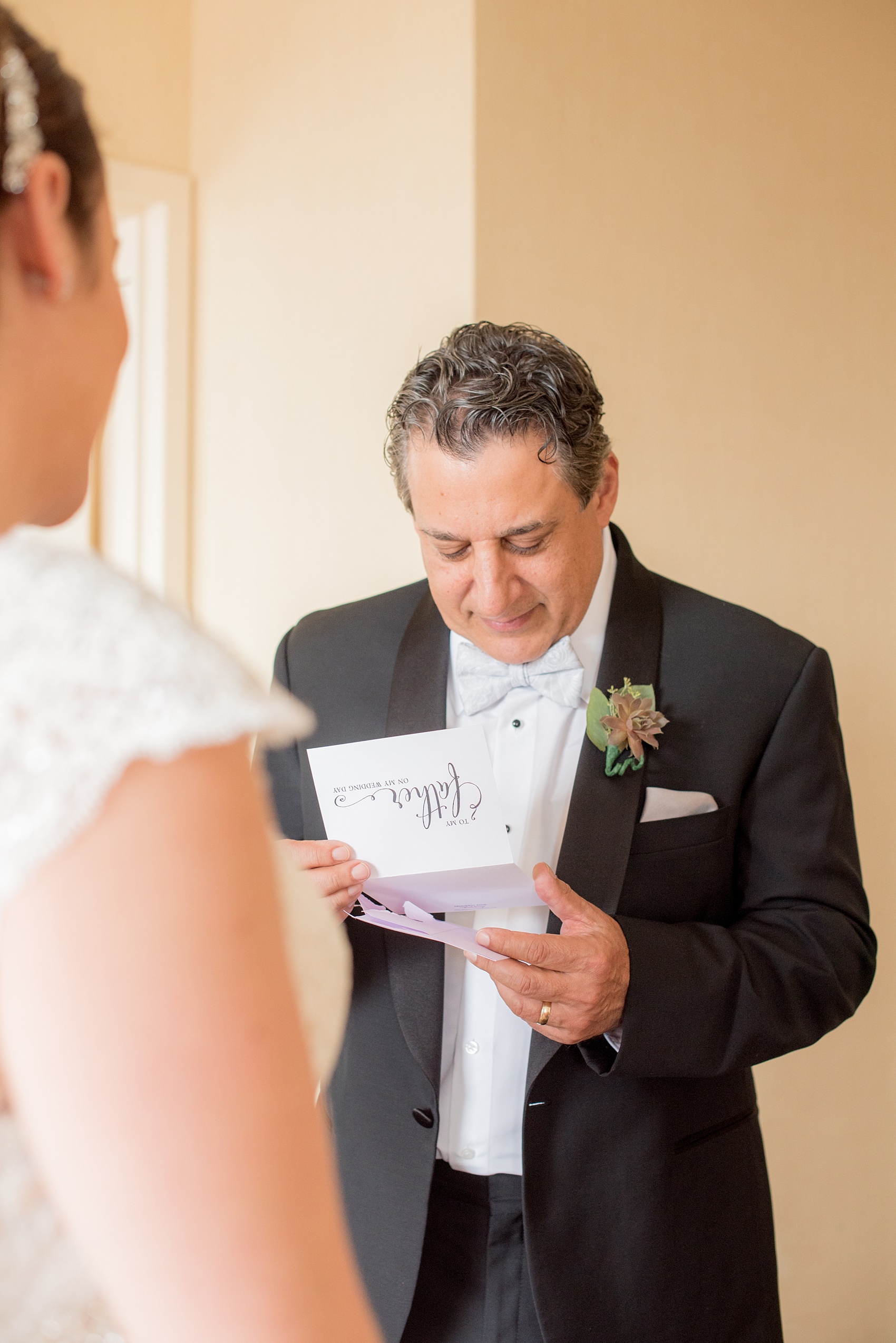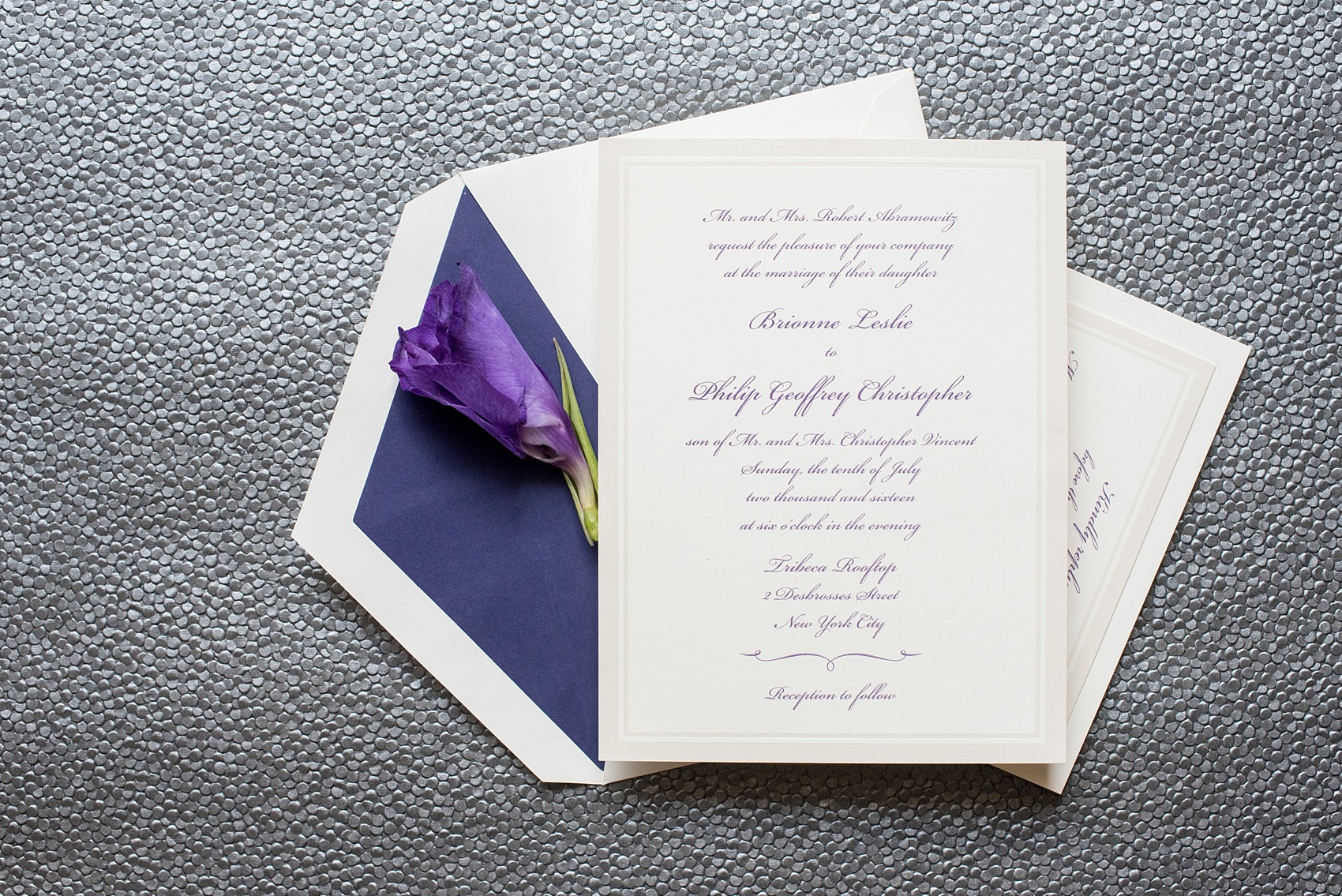 Meanwhile in Phil's small very-Manhattan getting ready hotel room with his guys….don't let this stoic face fool you! These goofballs were having a blast!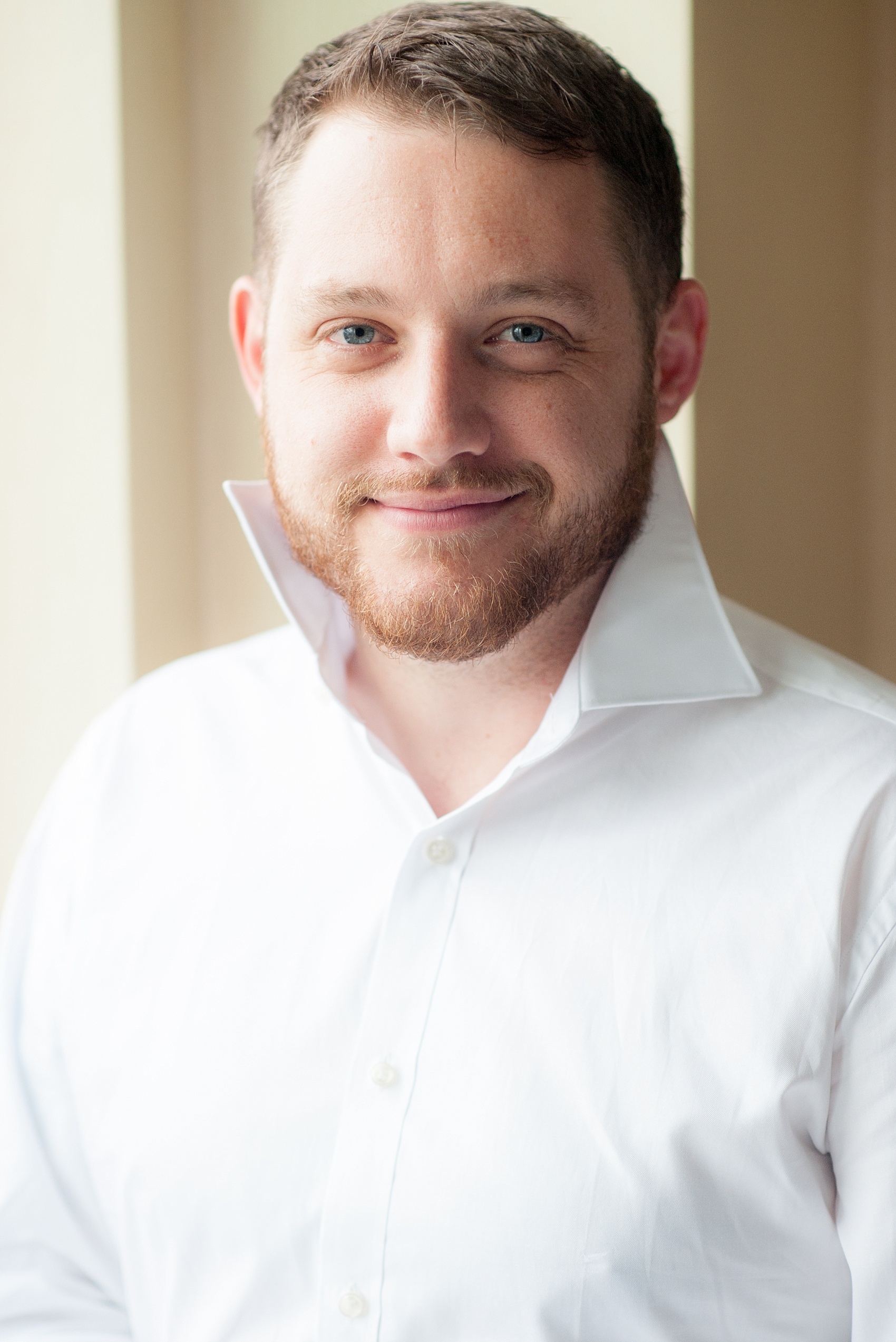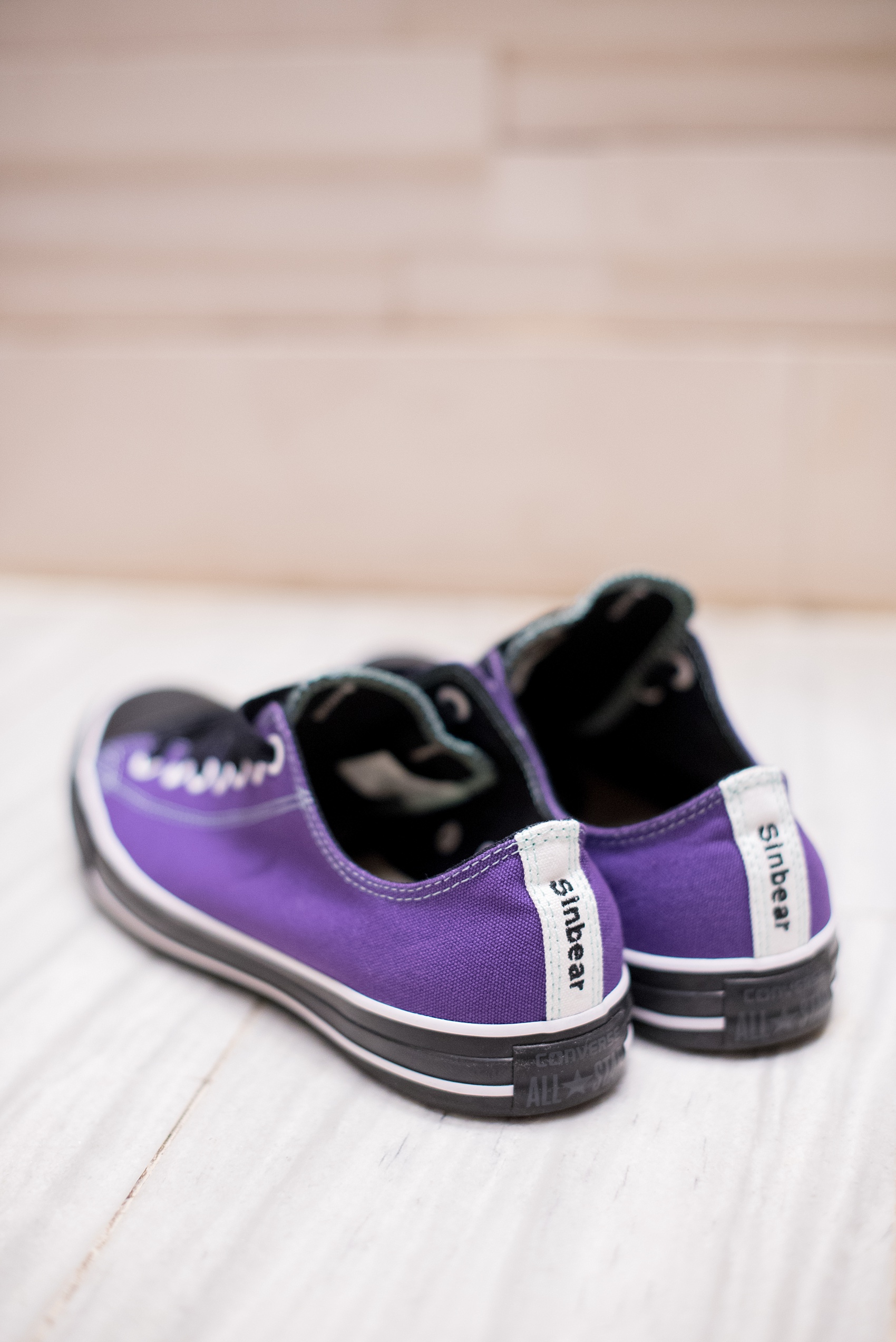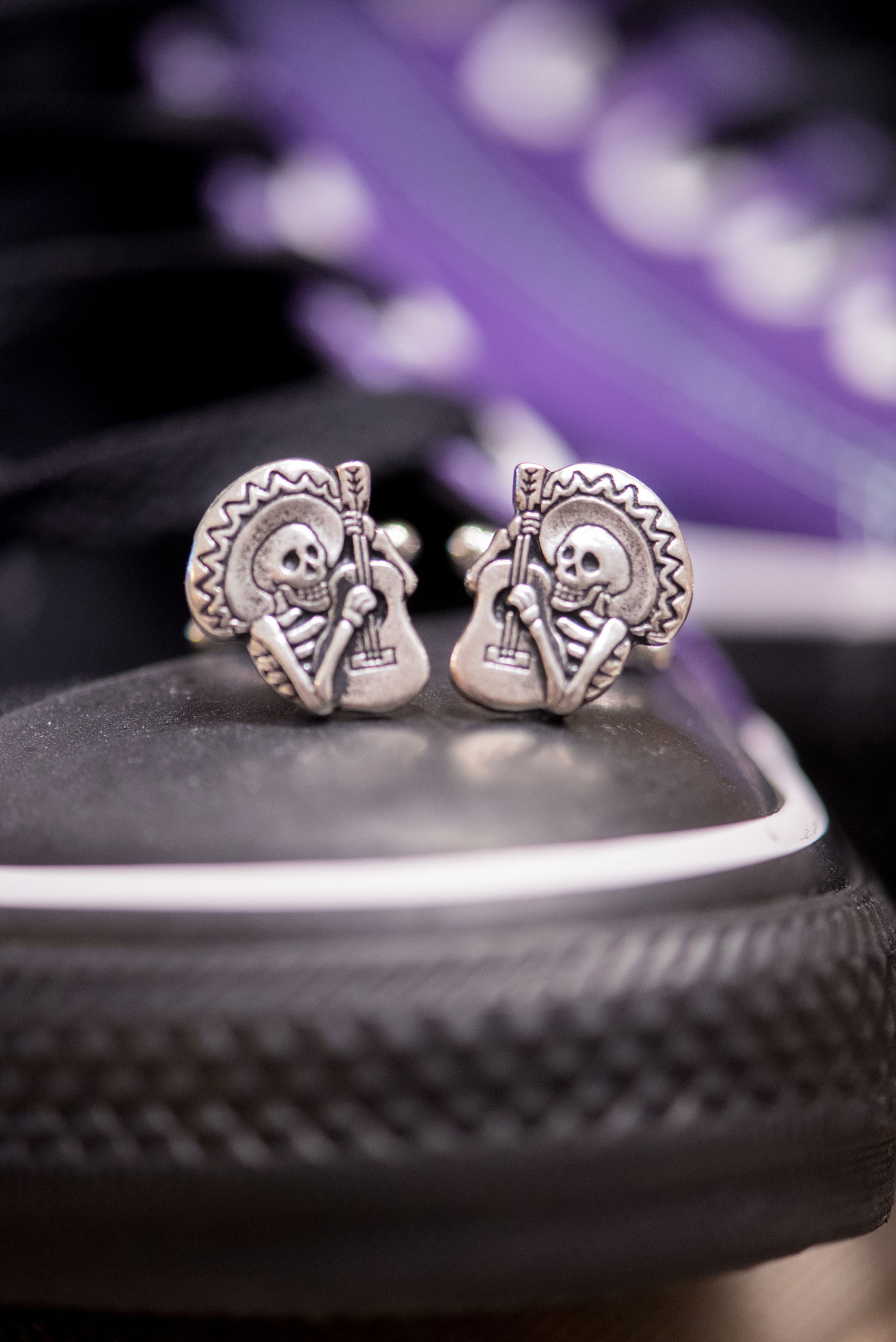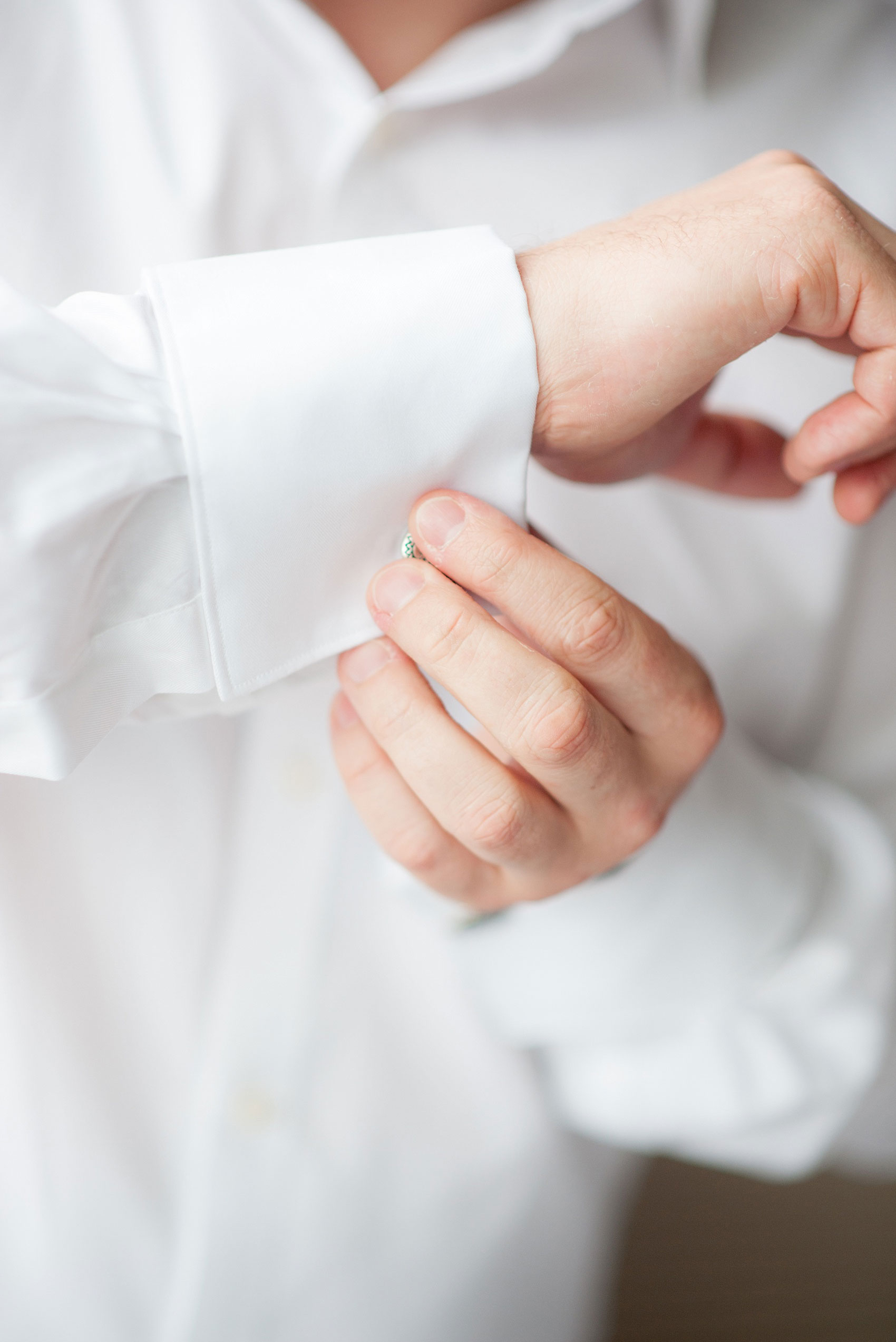 His cufflinks were so cool! And I loved that they had just as much personality as him (isn't it easy to tell?!) and that they had guitars as Phil's been in bands most of his life.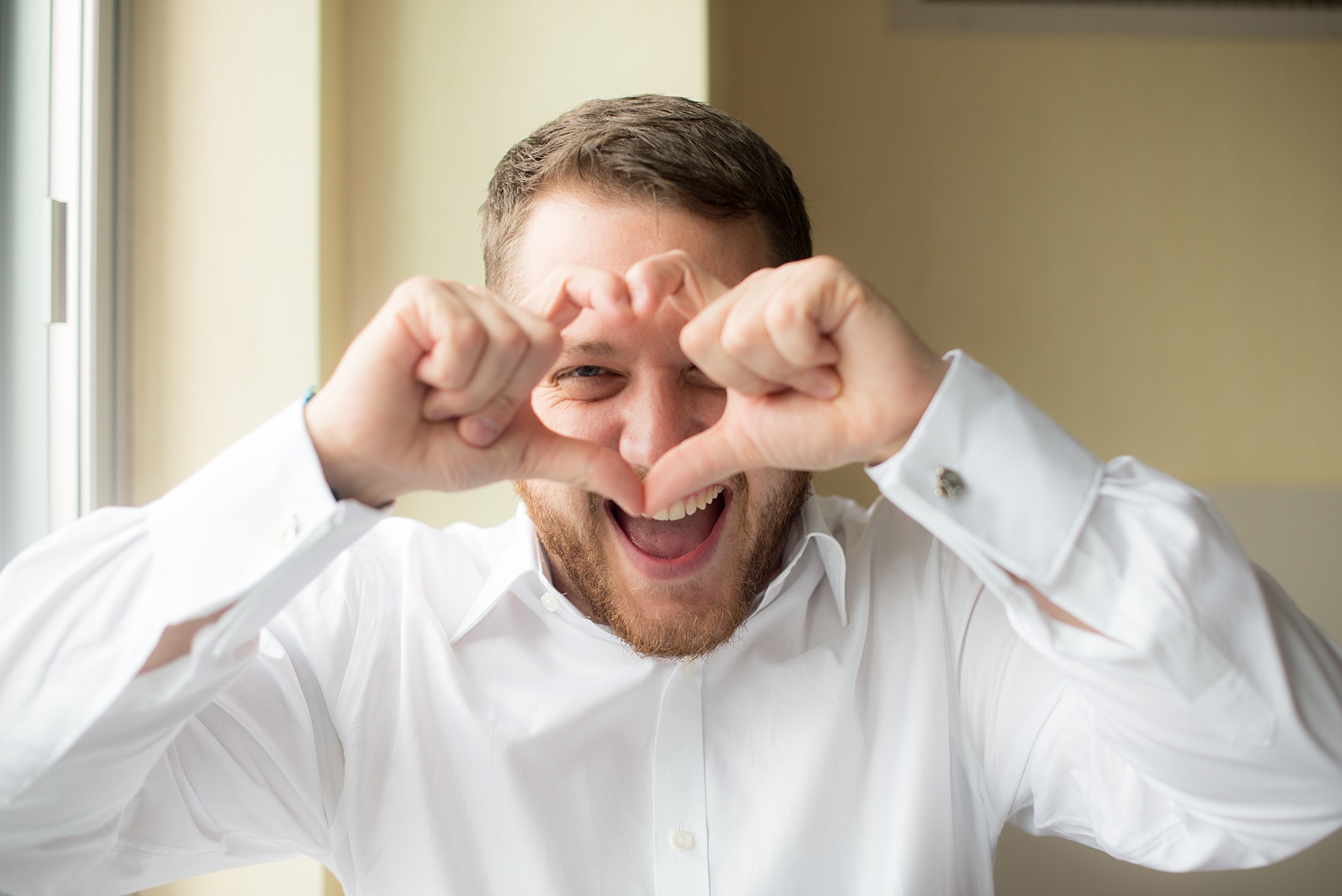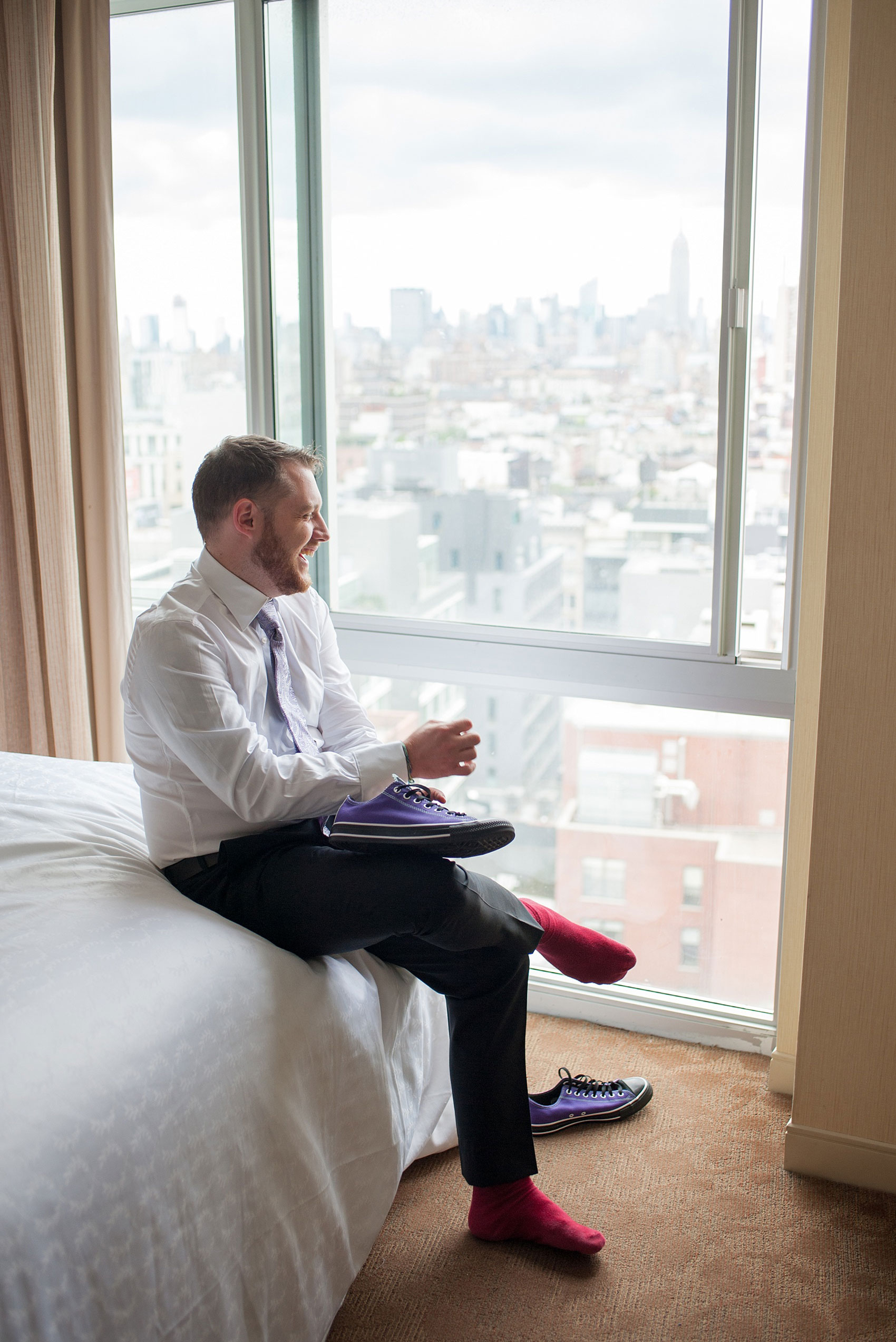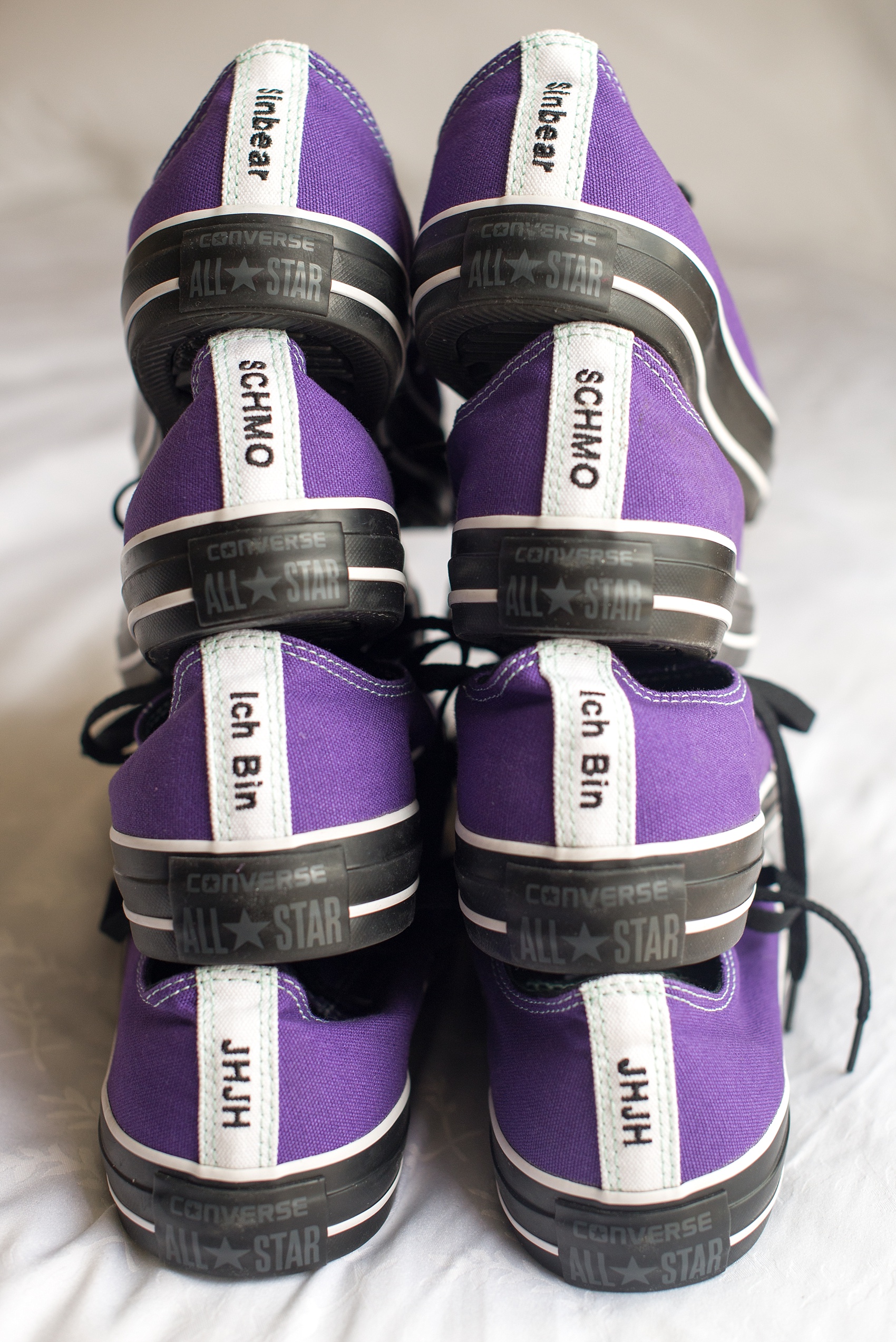 How freaking cool are these custom Converse sneakers all the groomsmen and Phil wore? I bet they thought he was awesome for choosing such comfortable wedding day footwear. I kind of want a pair! Brionne got herself a pair to match too and wore them during the reception.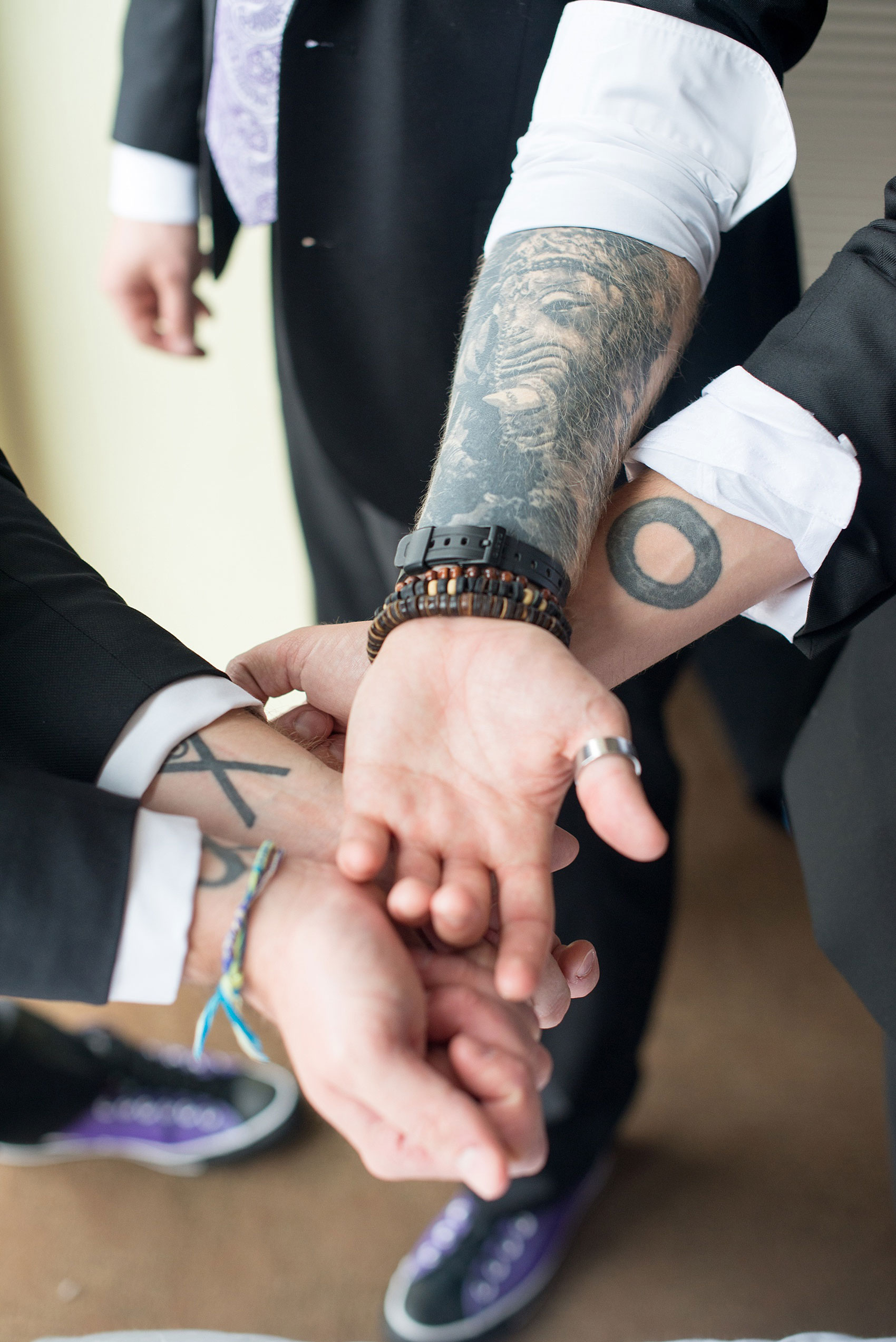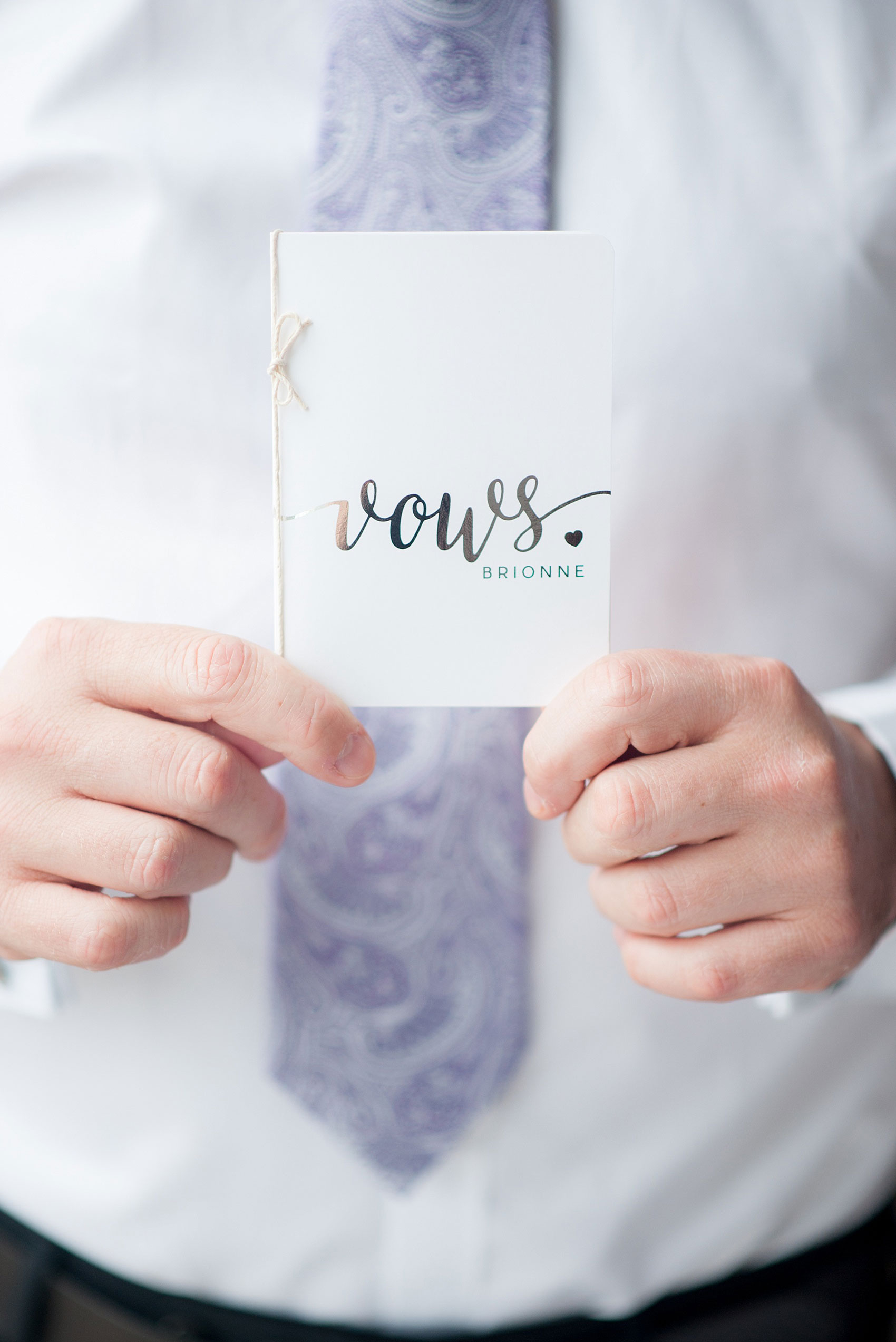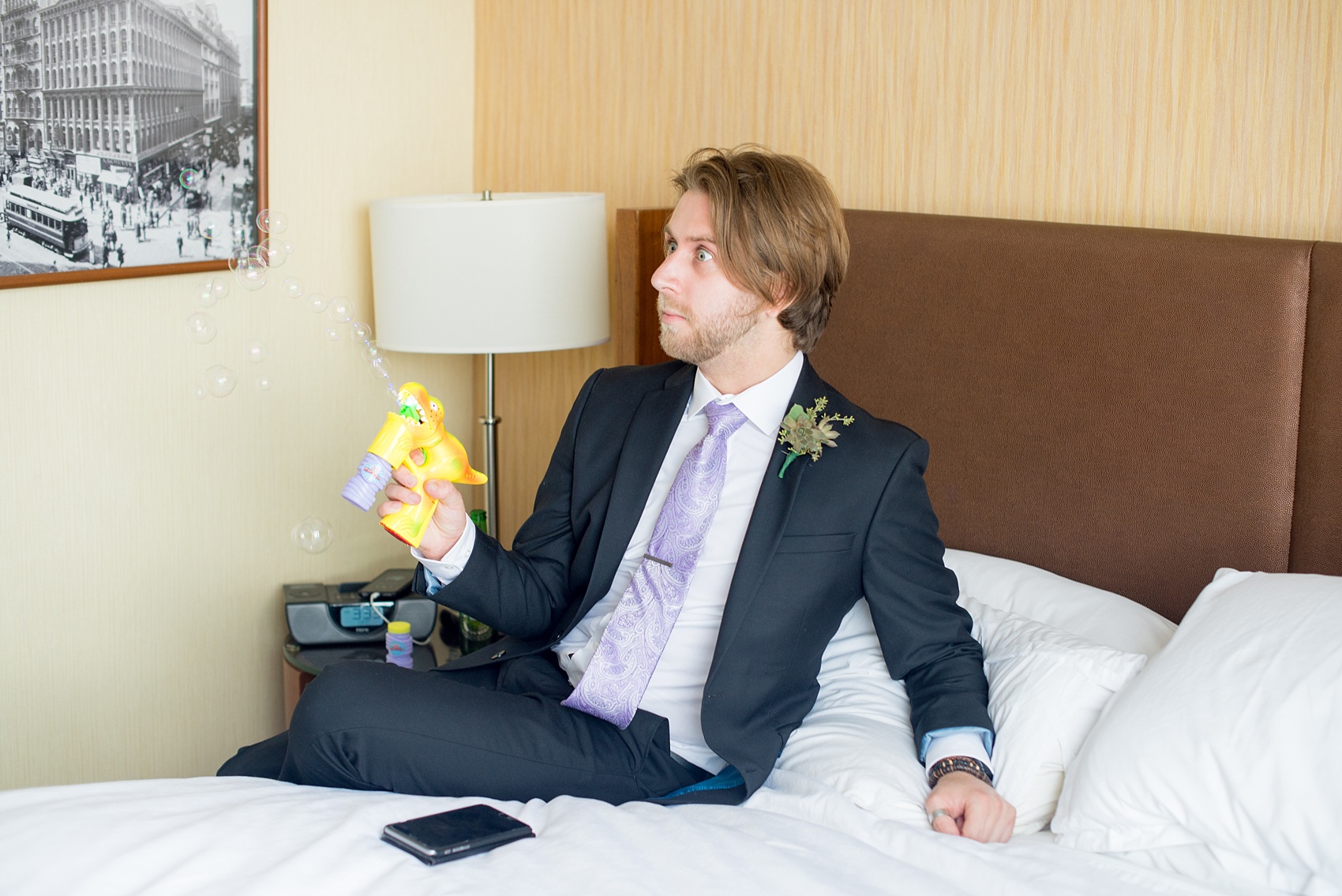 Come on – how funny is his best friend Rowan with this dinosaur bubble machine they picked up on the streets of Manhattan? His face cracks me up every time. And just about all the groomsmen photos had me laughing and smiling…and laughing and smiling…
A detail that was more heartwarming was the watch Phil wore. His parents gifted it to him on his 25th birthday before he left to travel the world; it was the trip he took that brought him to the island in Indonesia where he met Bri.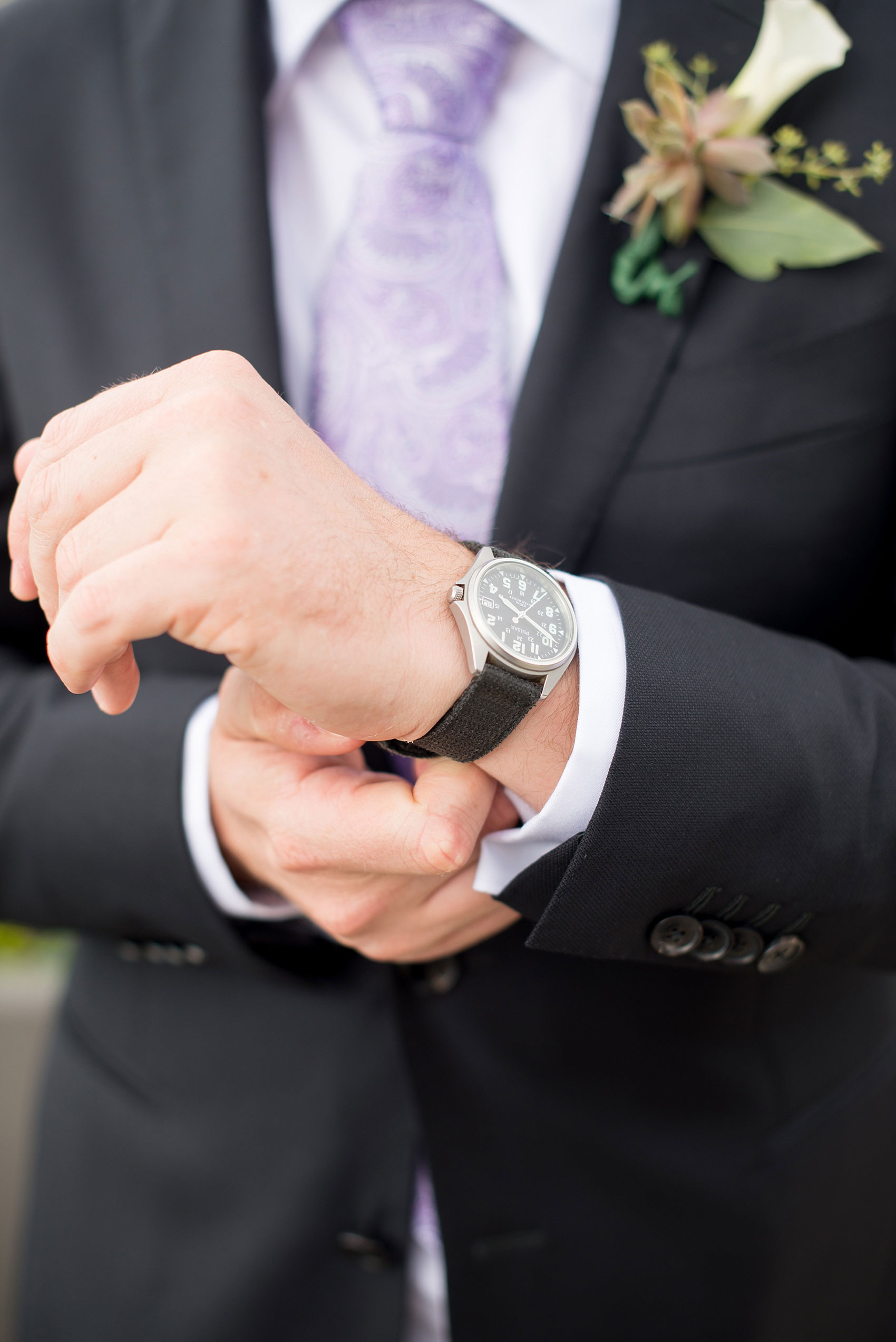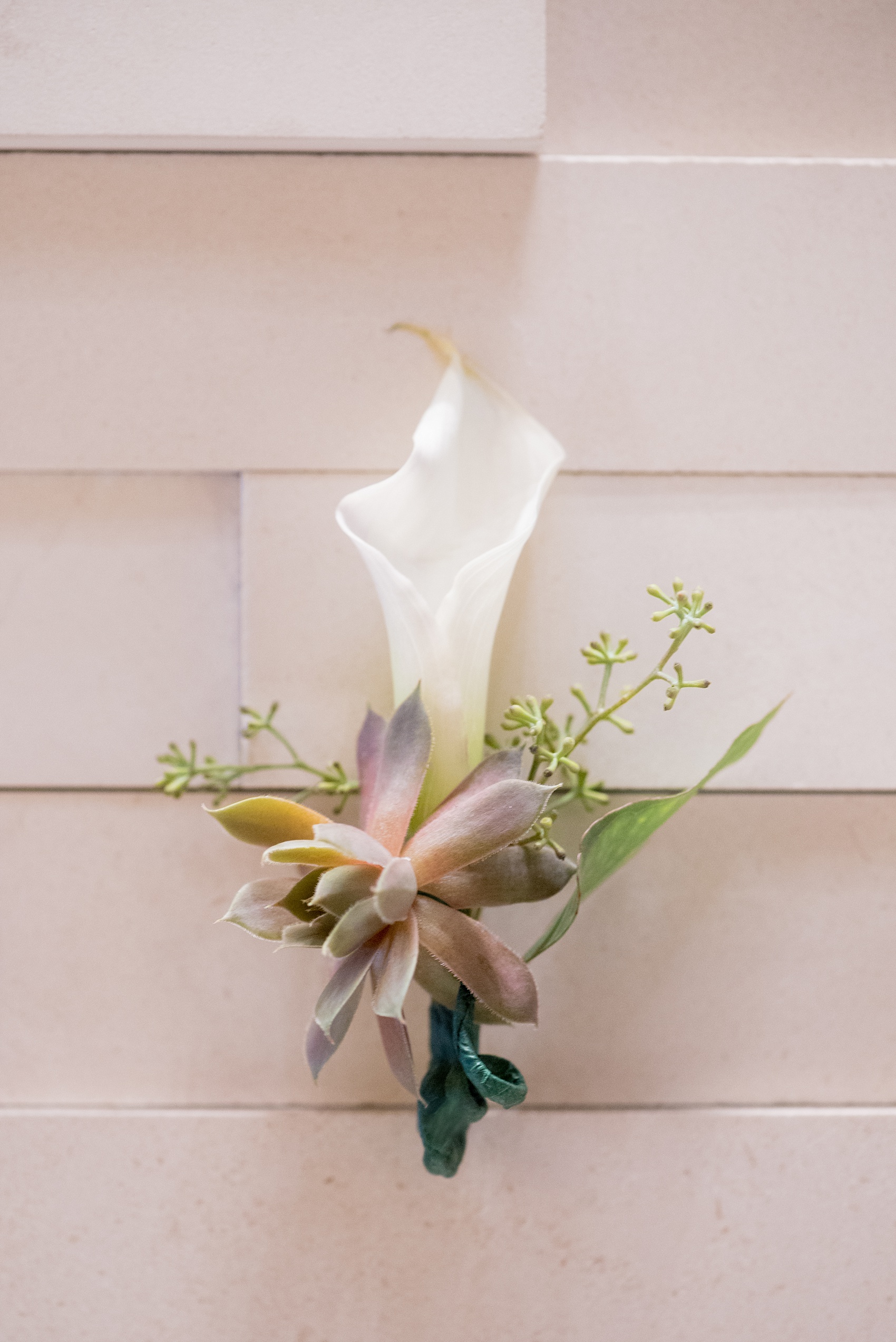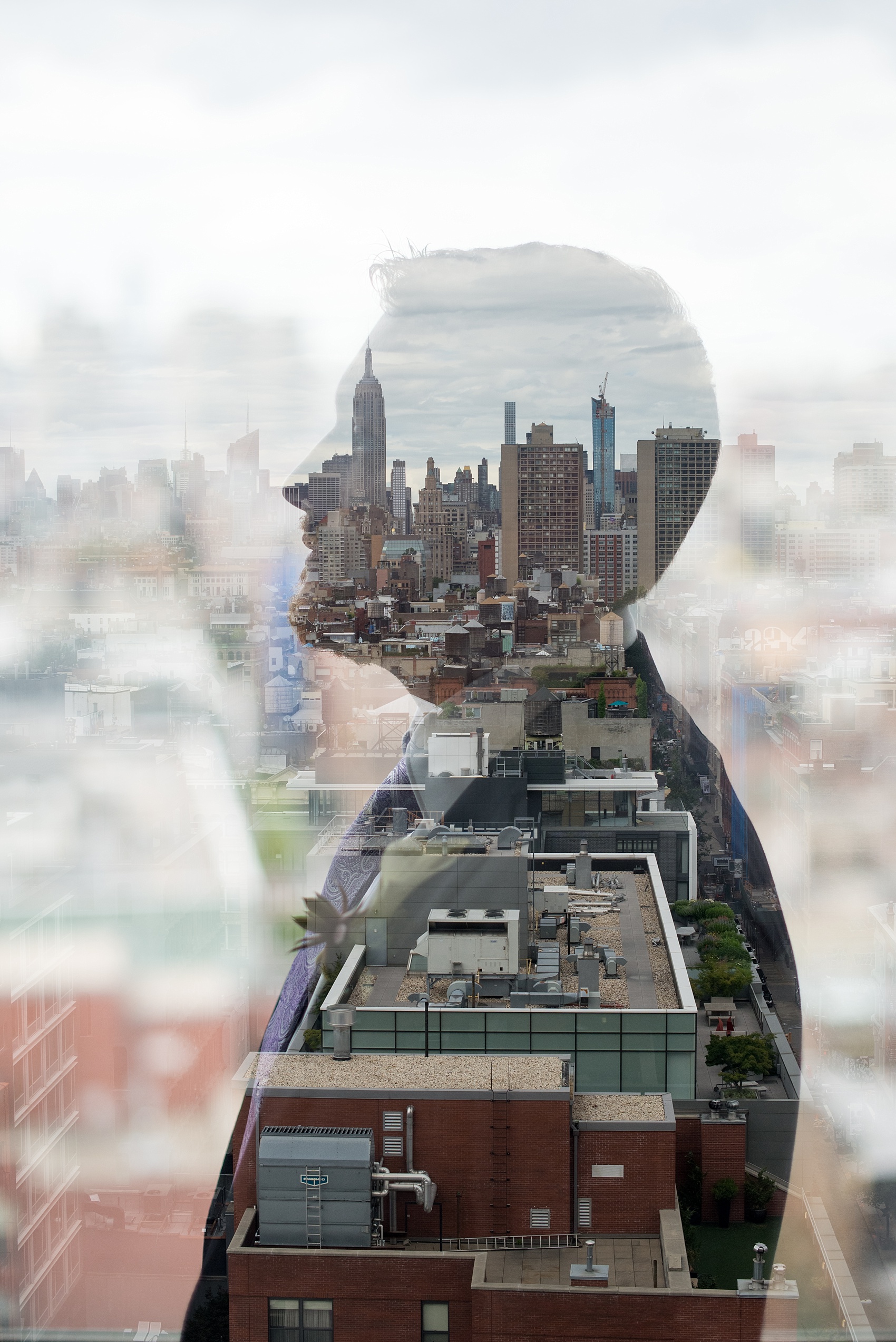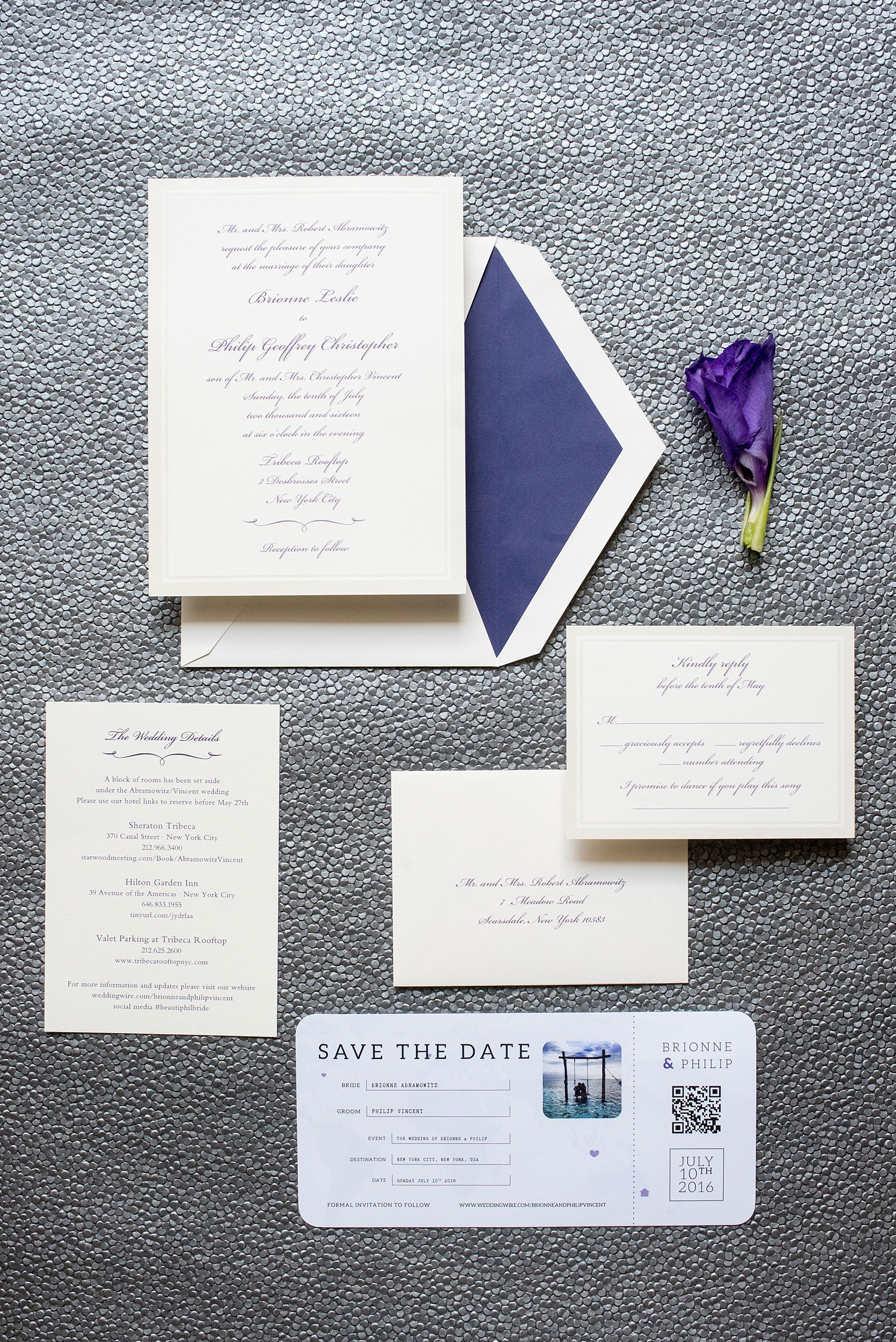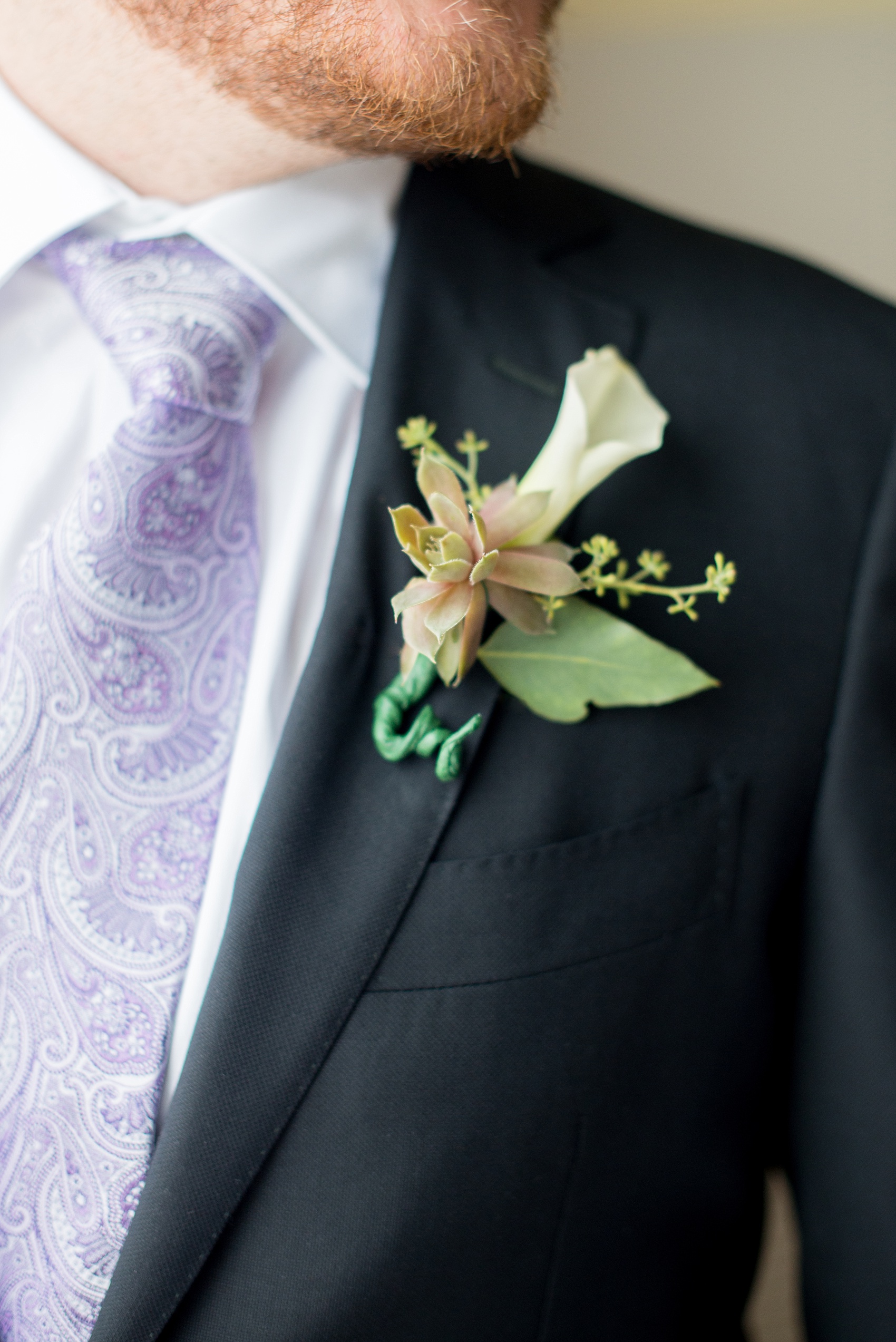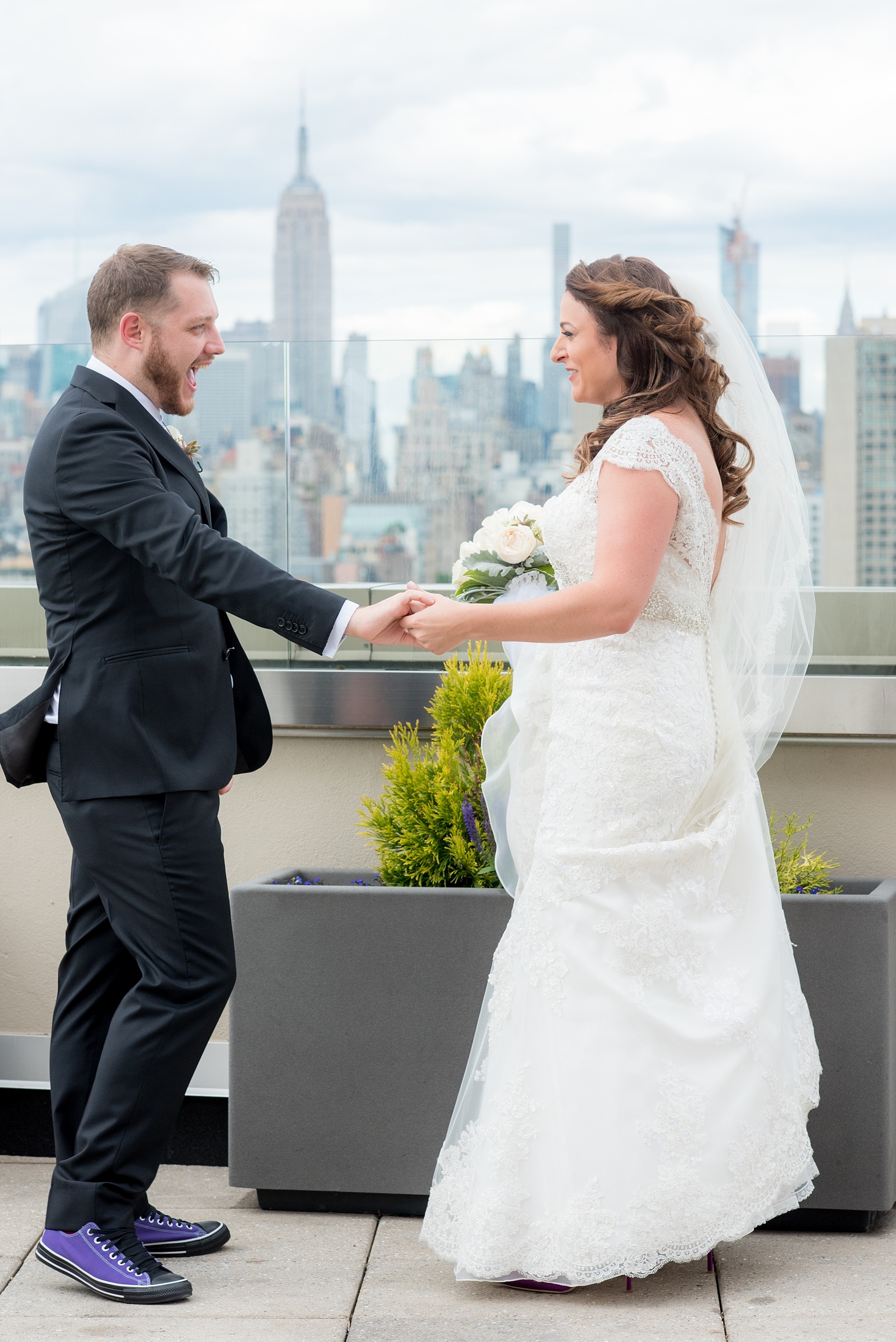 Brionne had an overwhelming moment – she was simply overcome with emotion – before she headed out the door to see Phil for the first time that day. Her bridesmaid Katie quickly came to her side to give her a hug and a kiss and assuring smile everything was going great. And as soon as she saw him I could tell all her nerves were gone.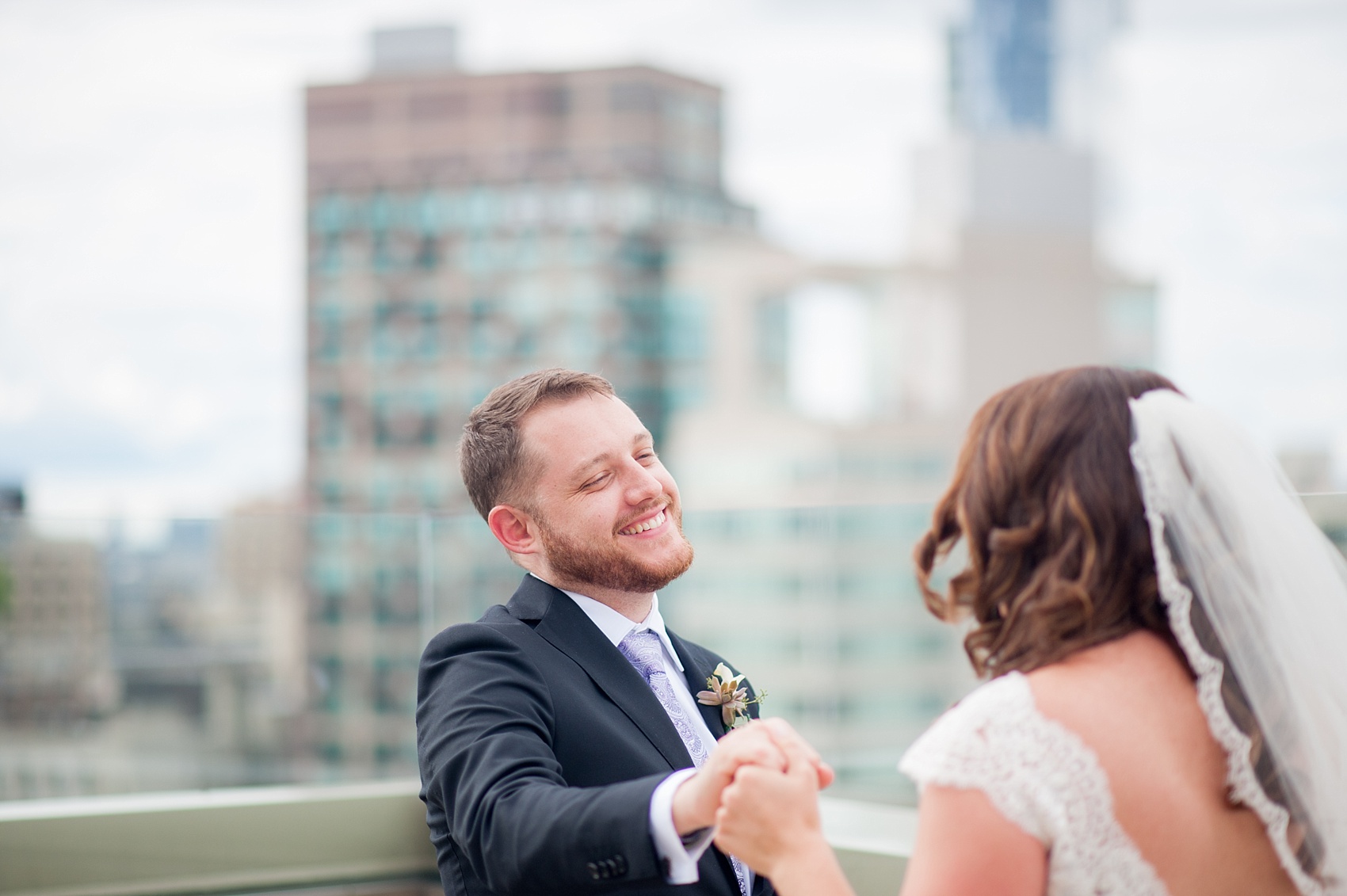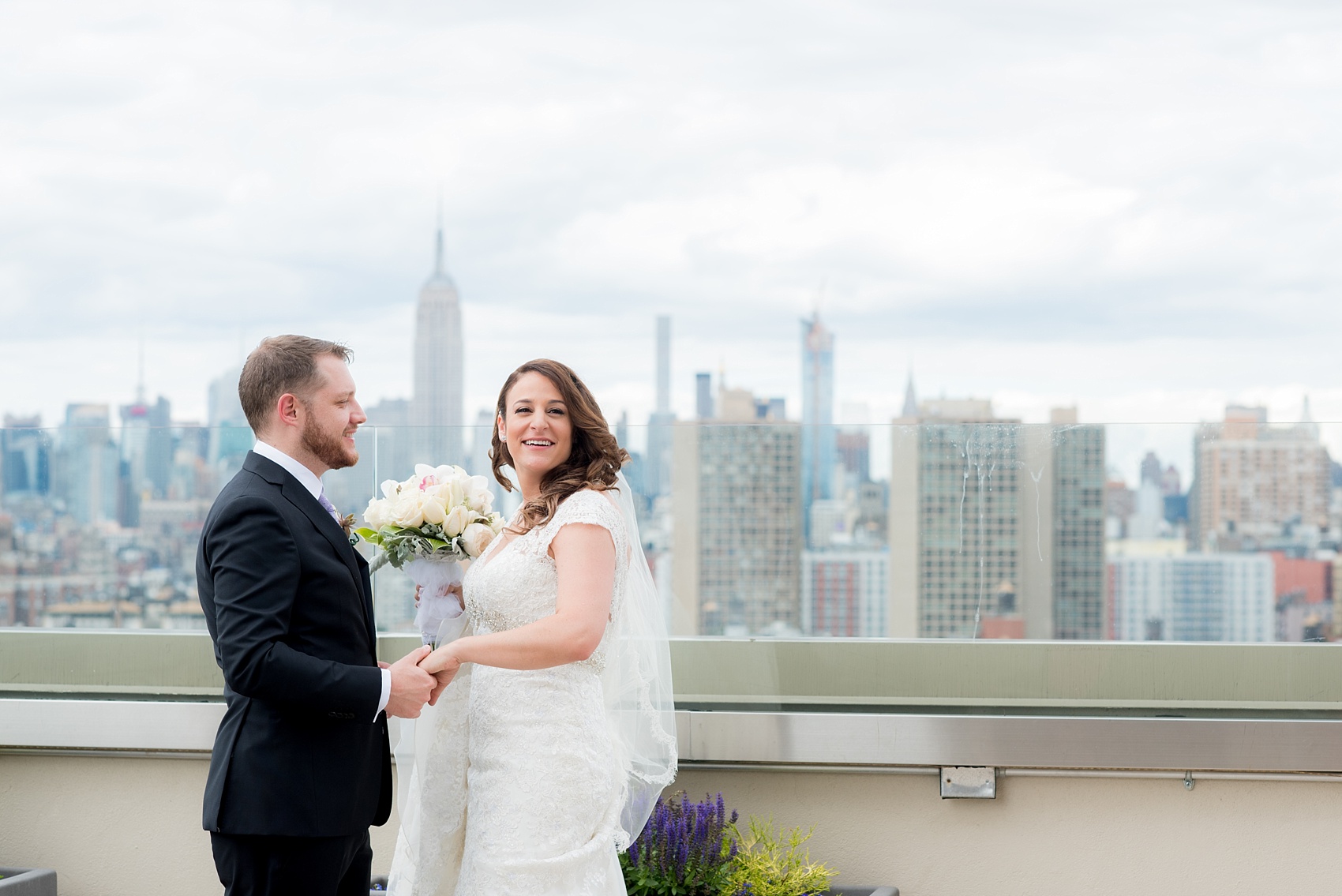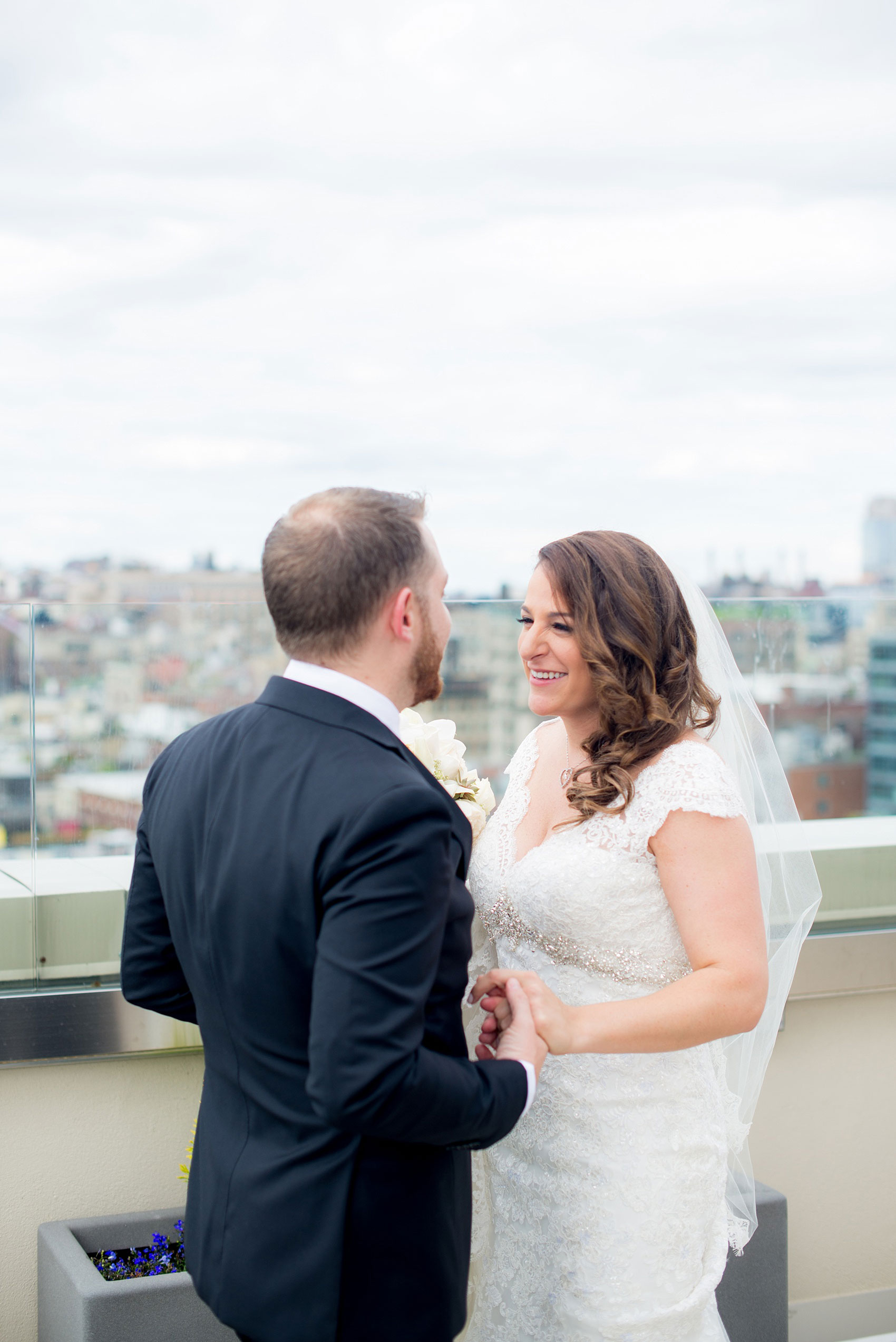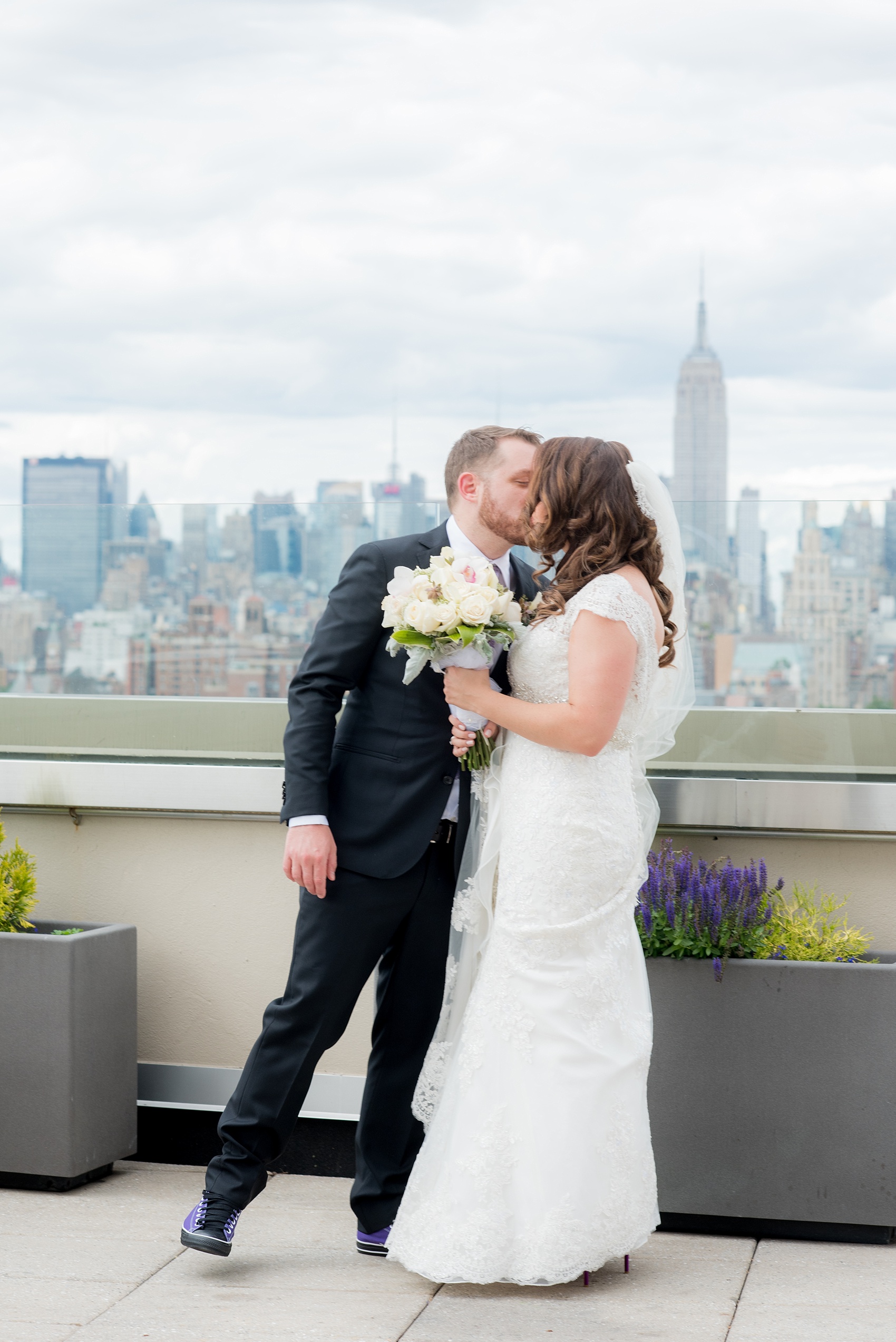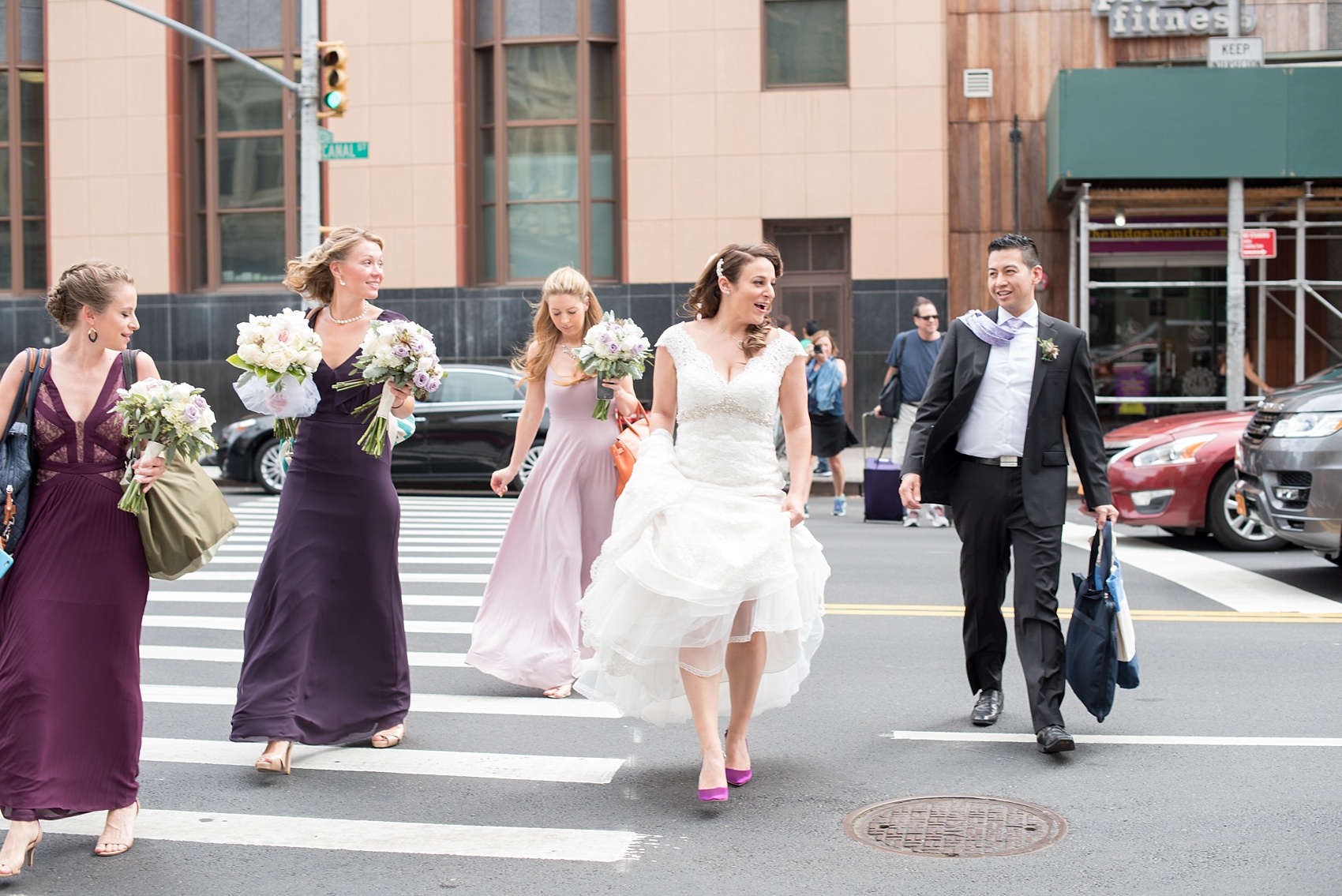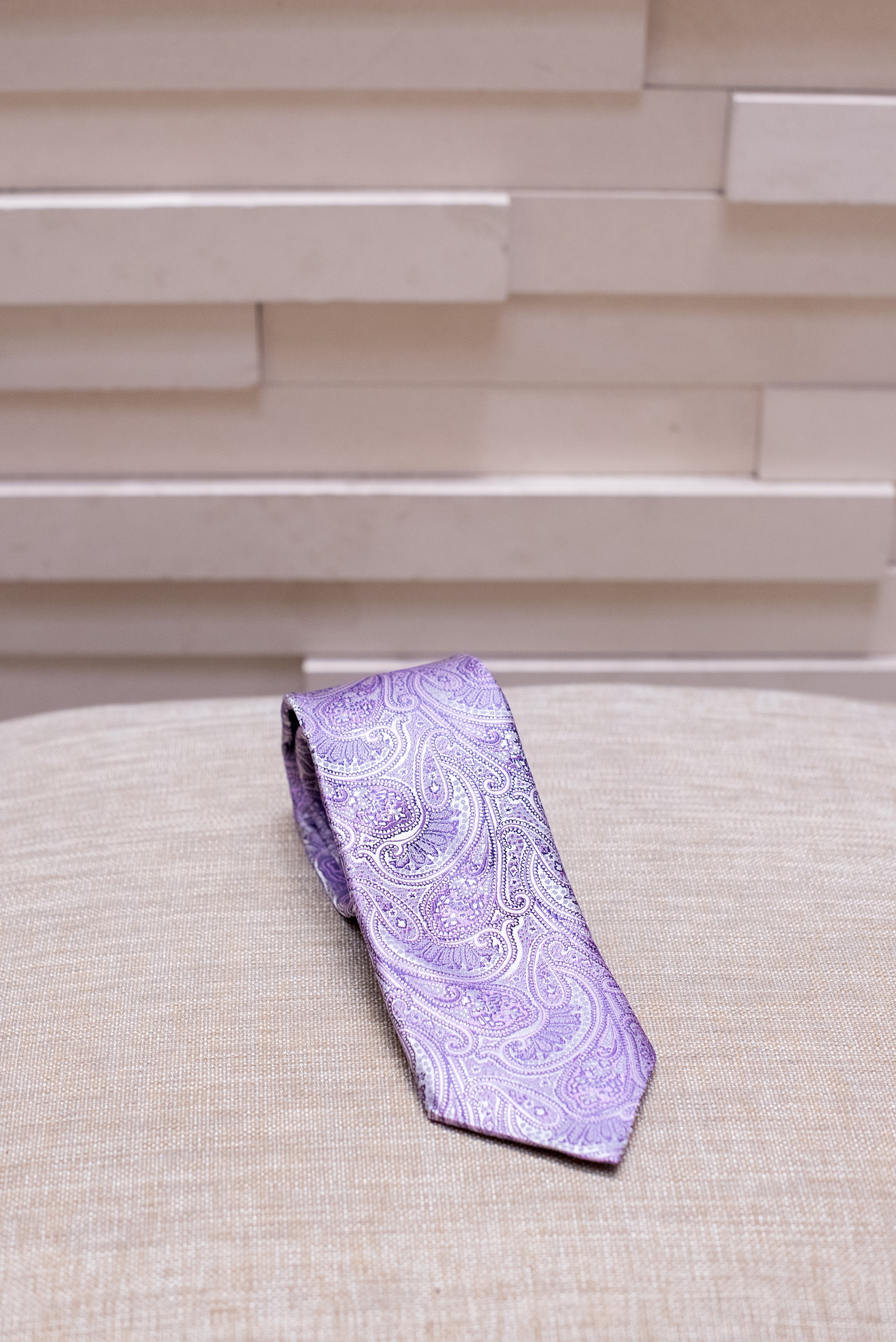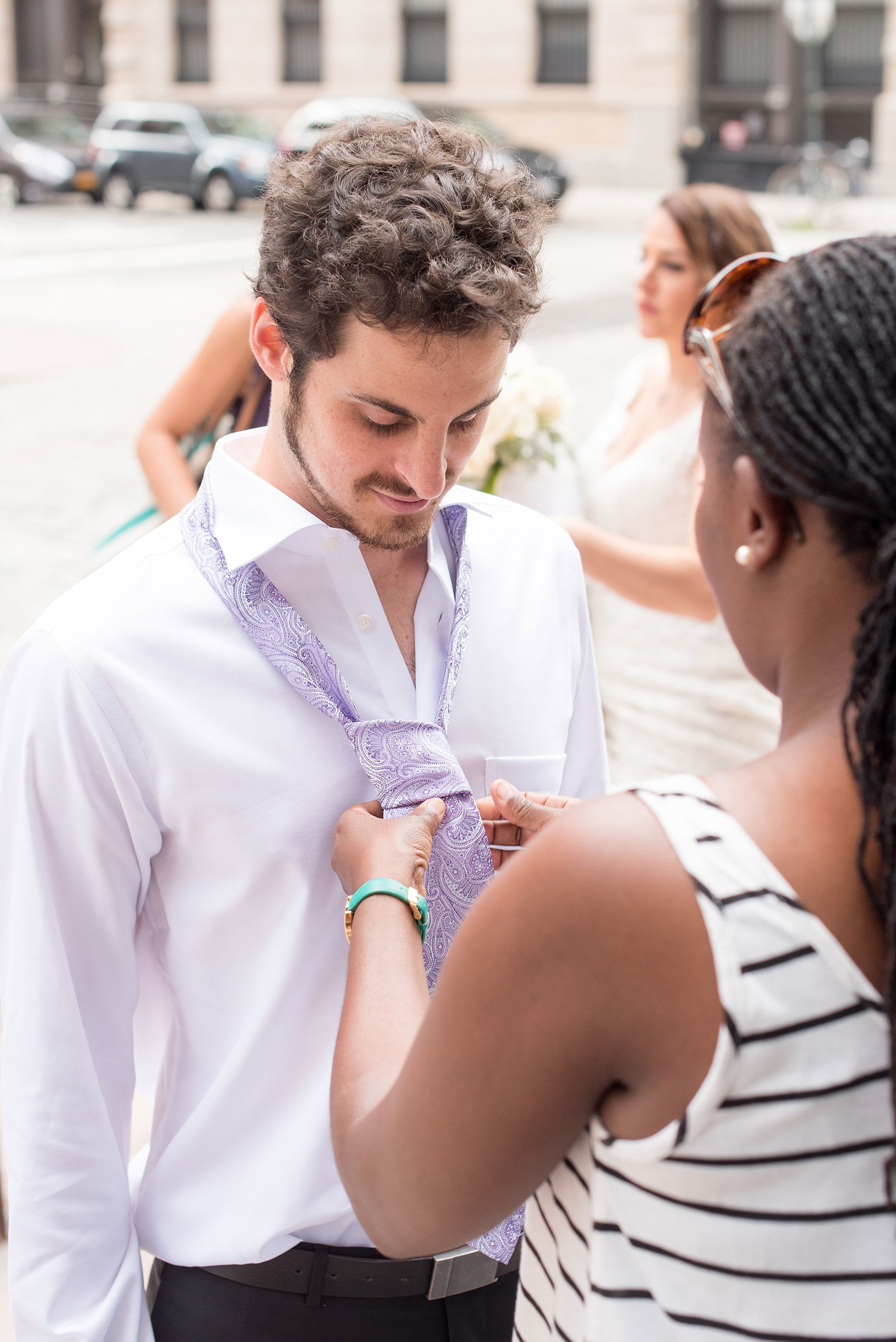 In a very "only in NY moment," a pedestrian sitting on the stairs we were about to take photos on volunteered to help Brionne's brother, Matthew, tie his tie when none of us knew how. It's one of my favorite spontaneous moments from a wedding day, ever.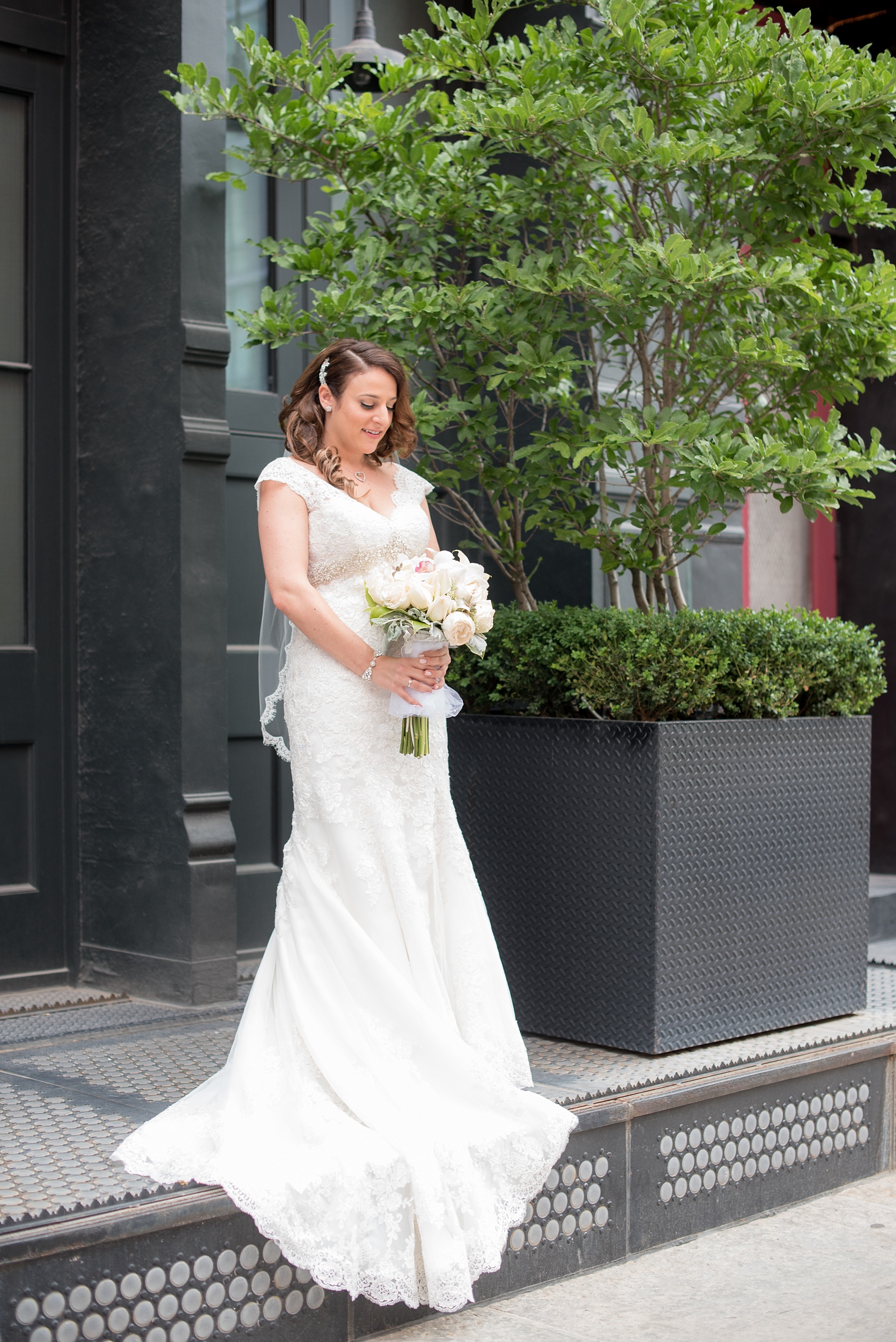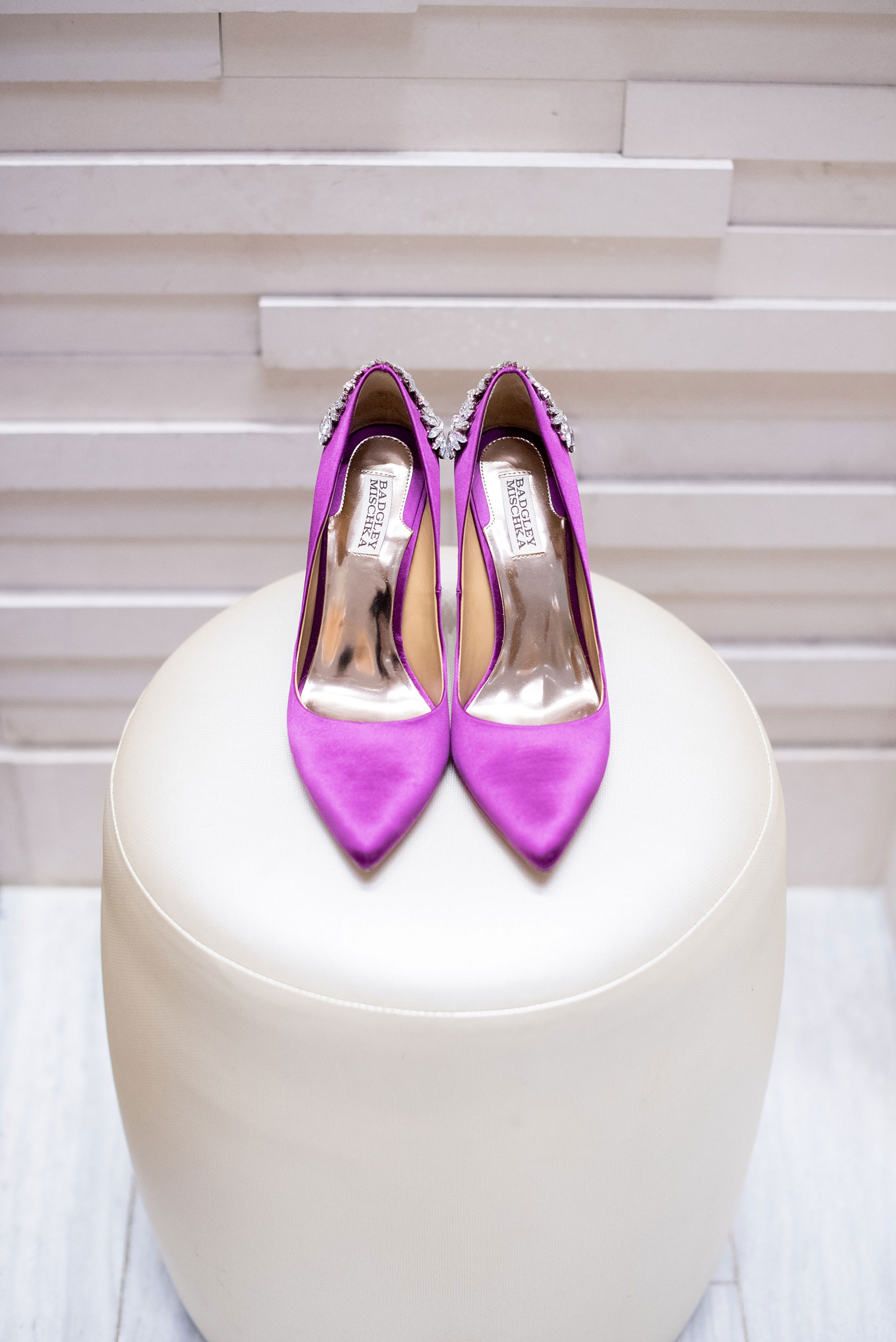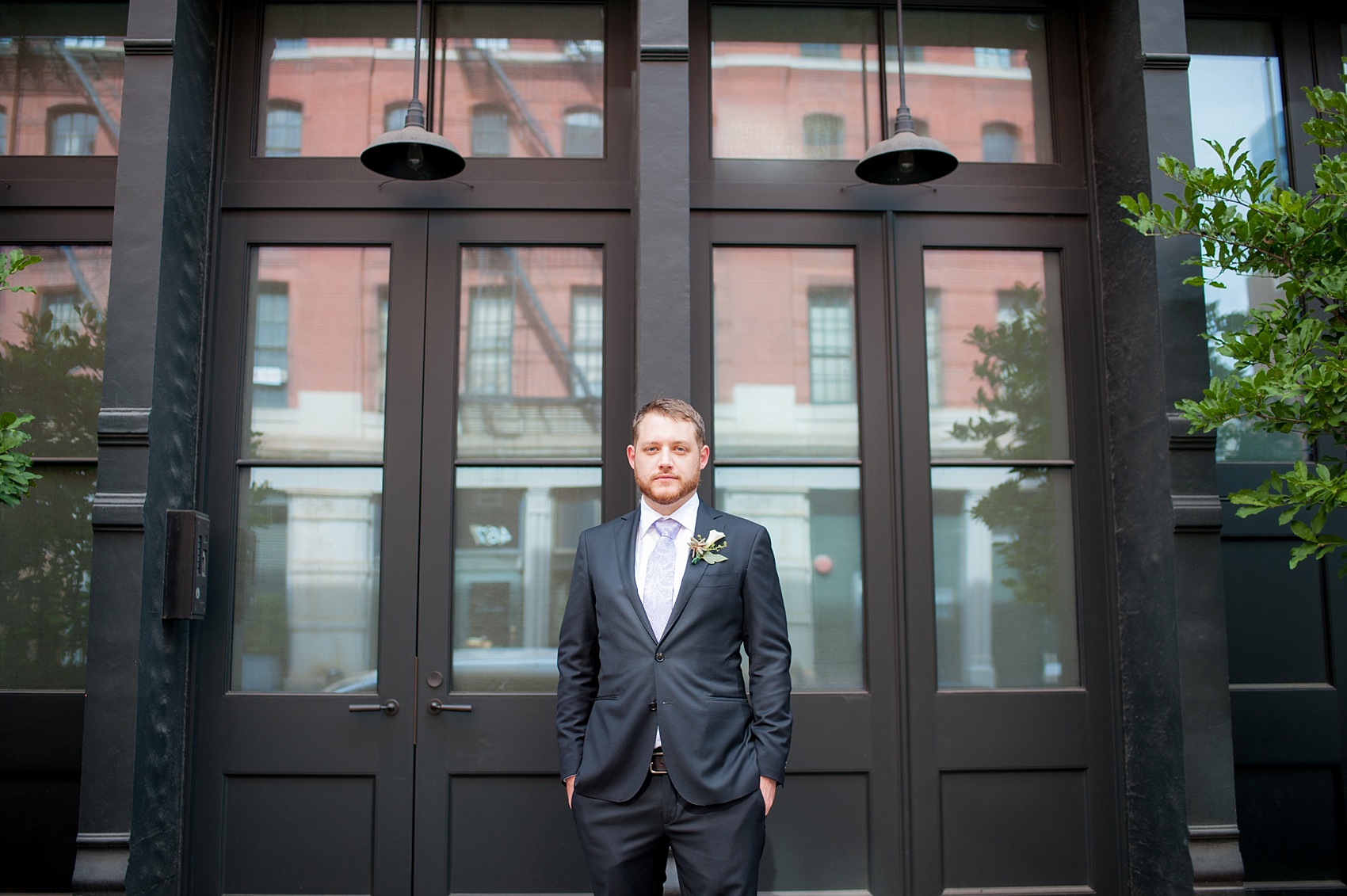 I love that Bri let her bridesmaids select the dress of their choice in a purple hue. They were all so different but looked so great together and especially tied in the purple of the bouquets and Converse sneakers really well. Bri had 2 bridesmen too! Her best friend from work back in the states and her brother.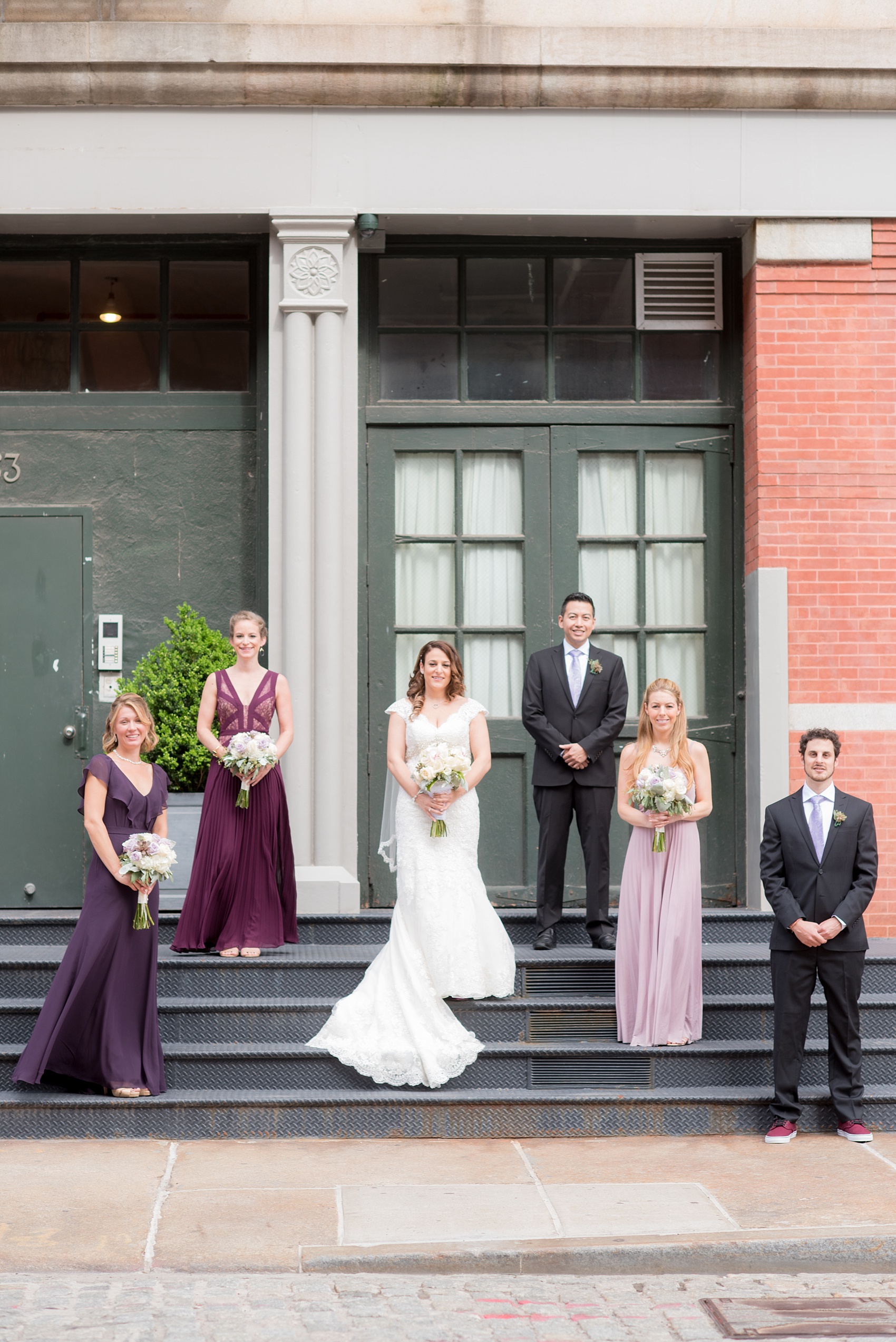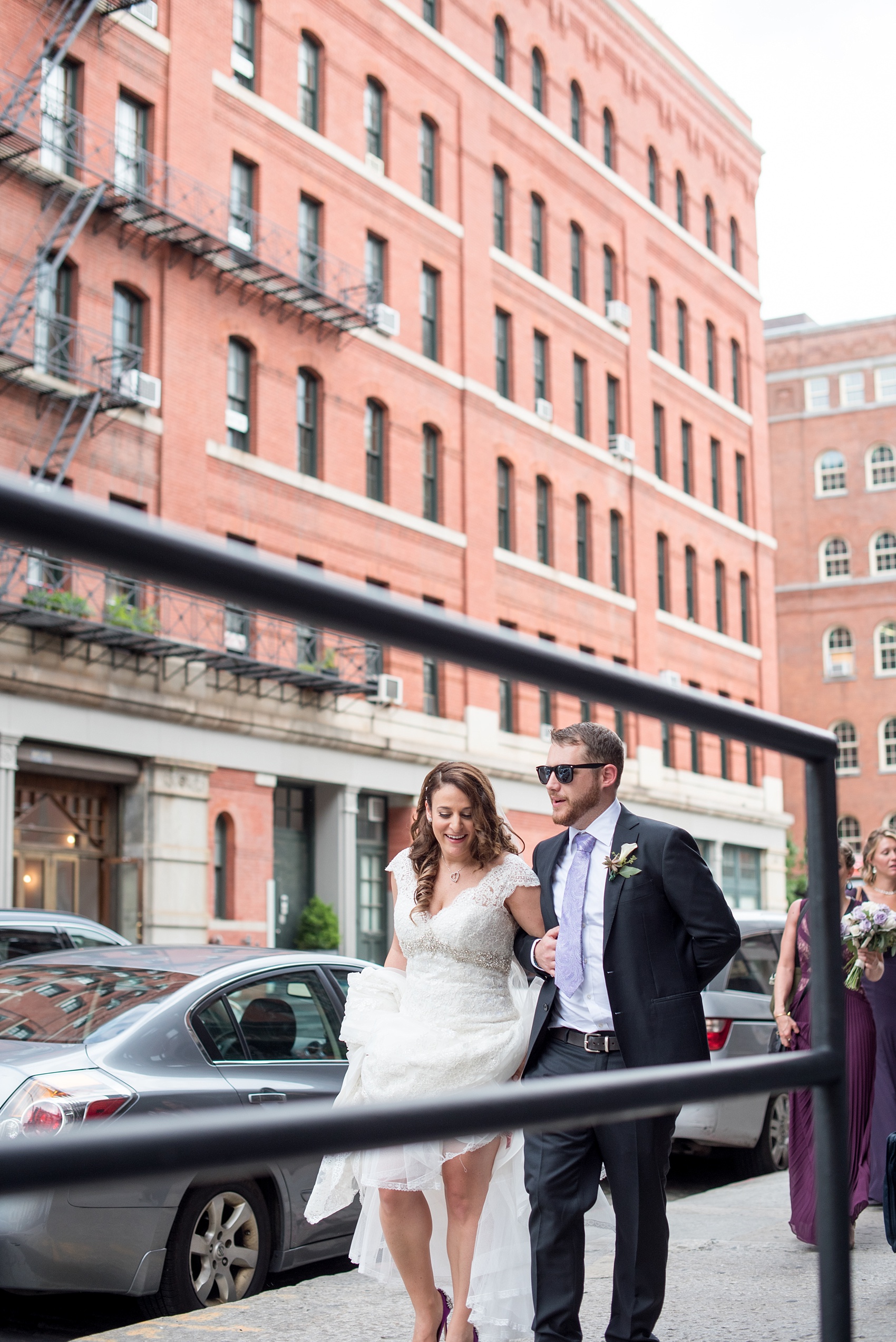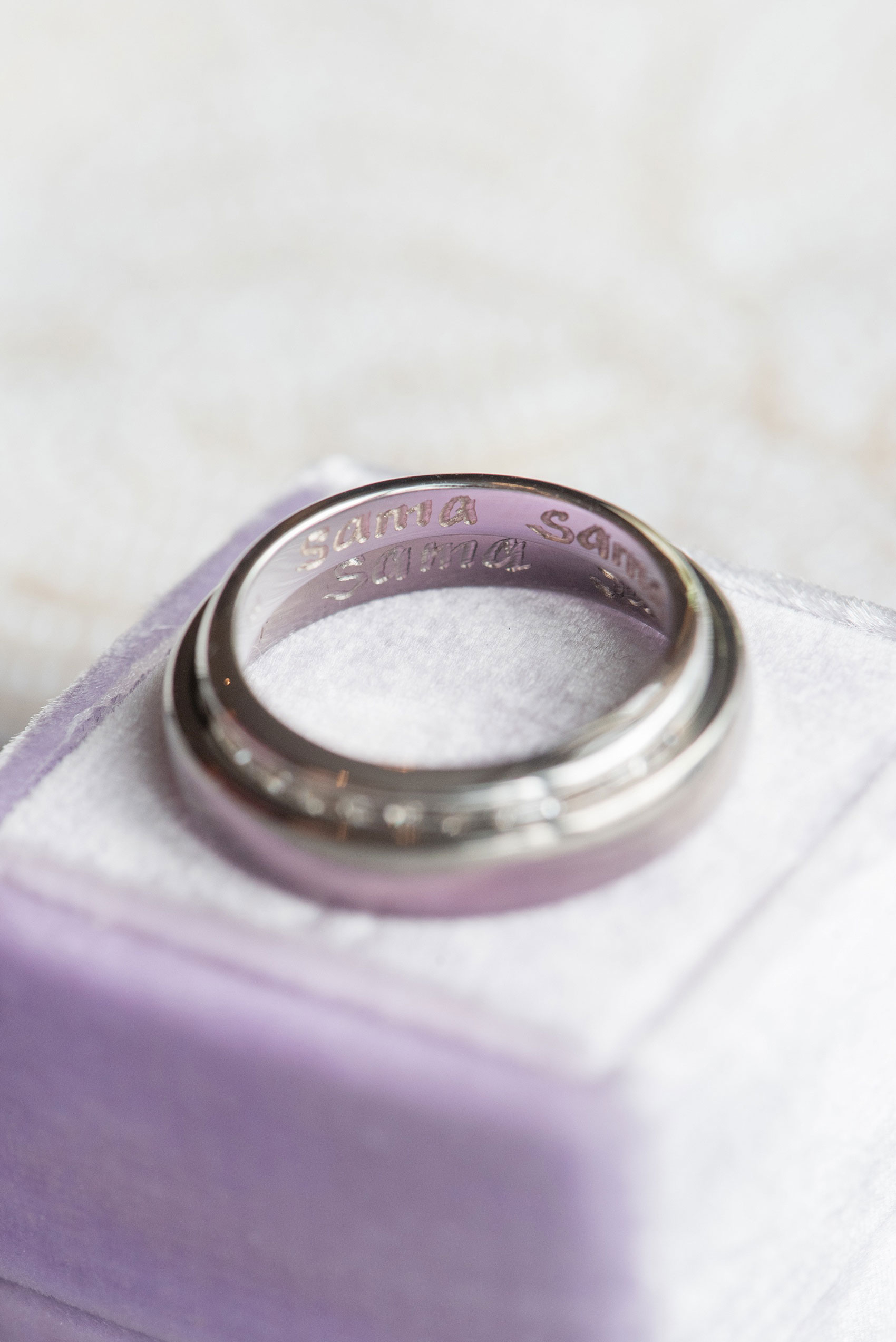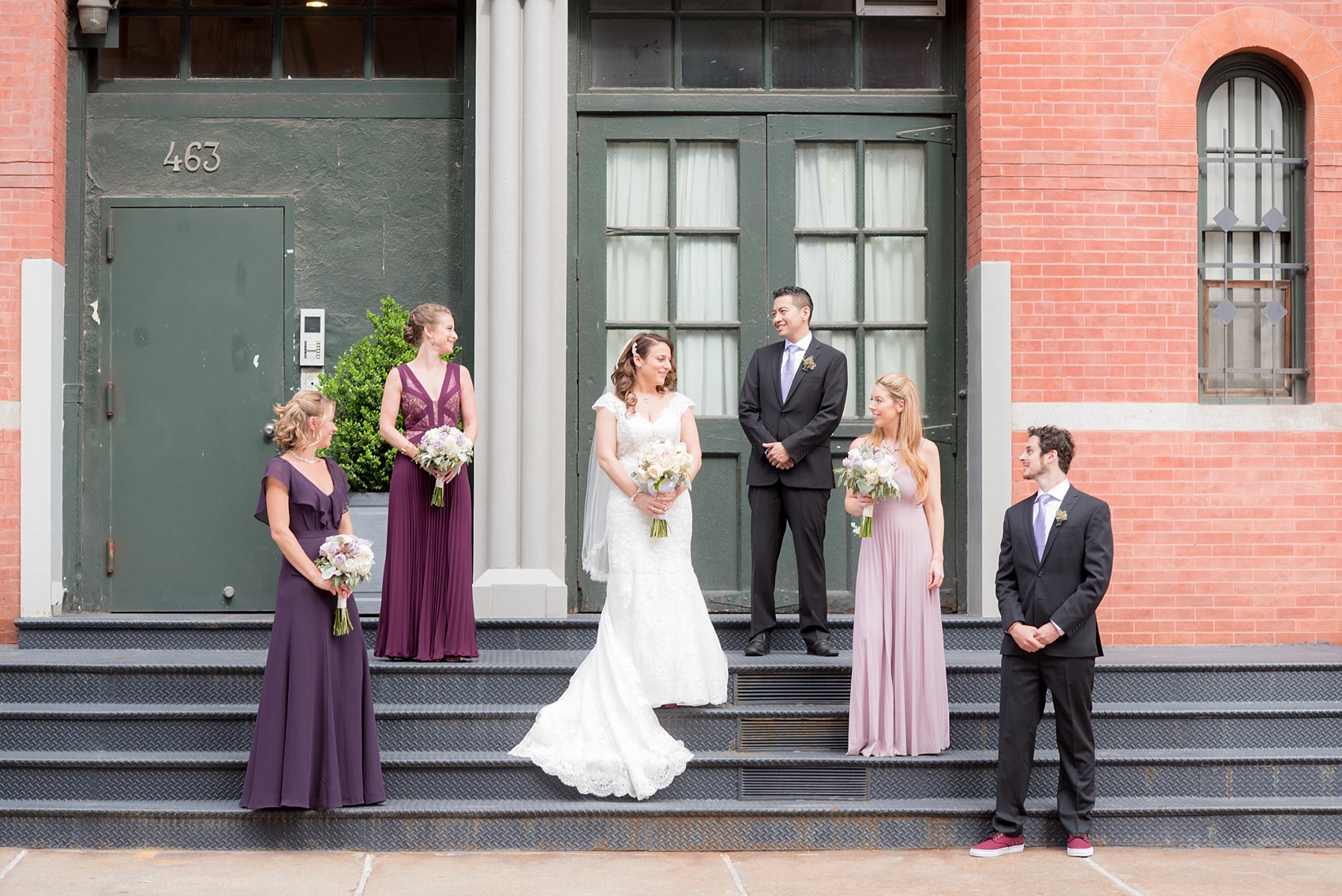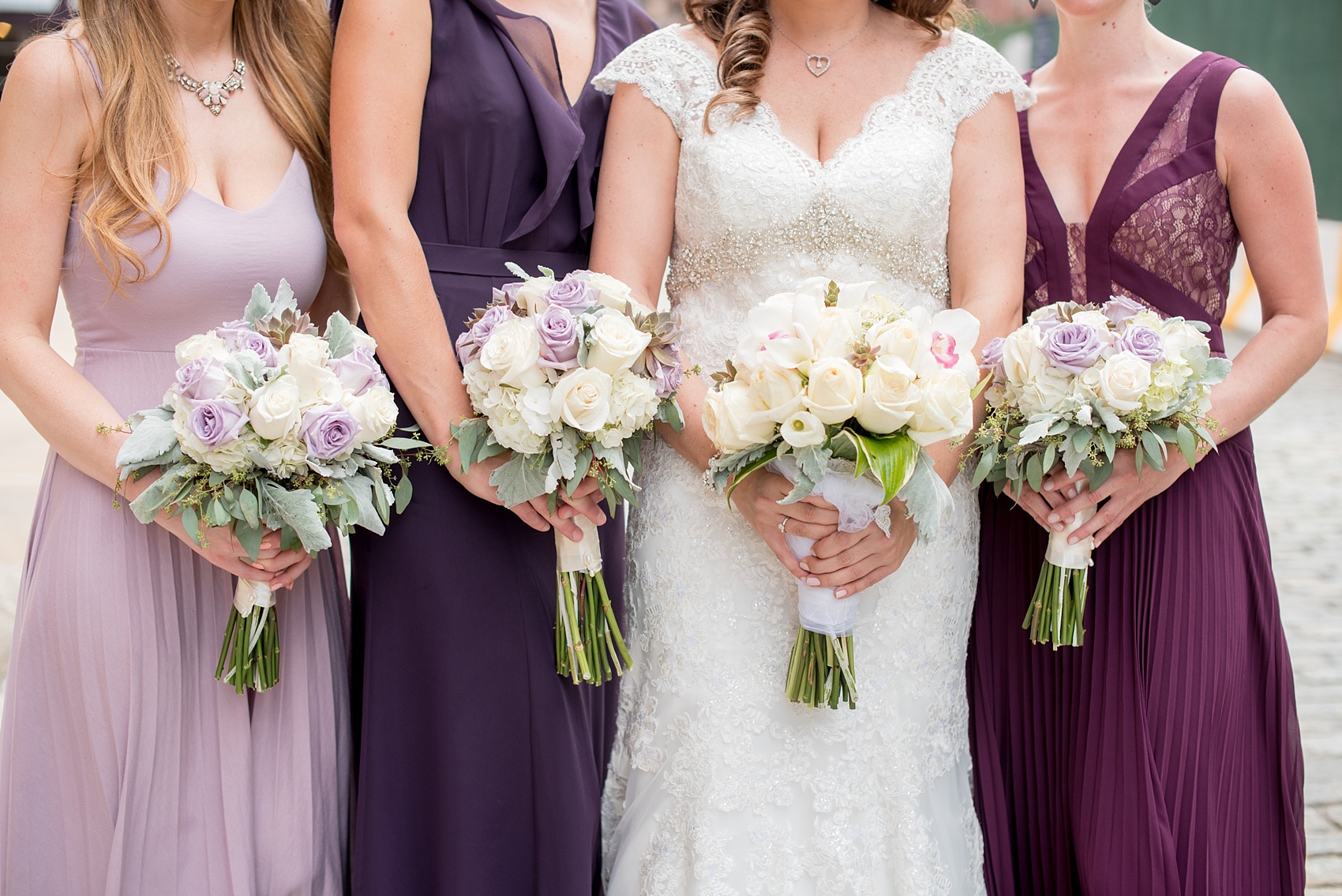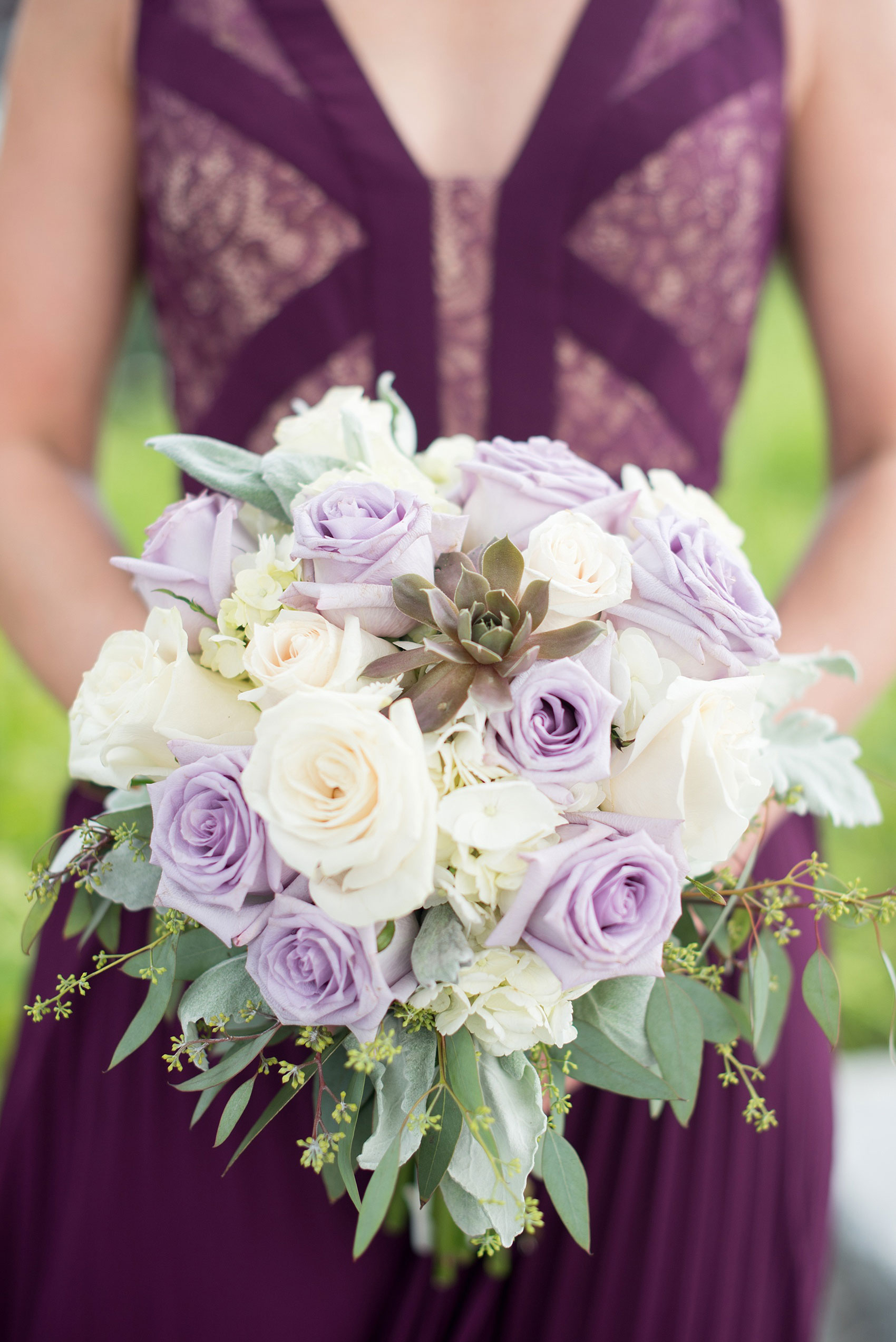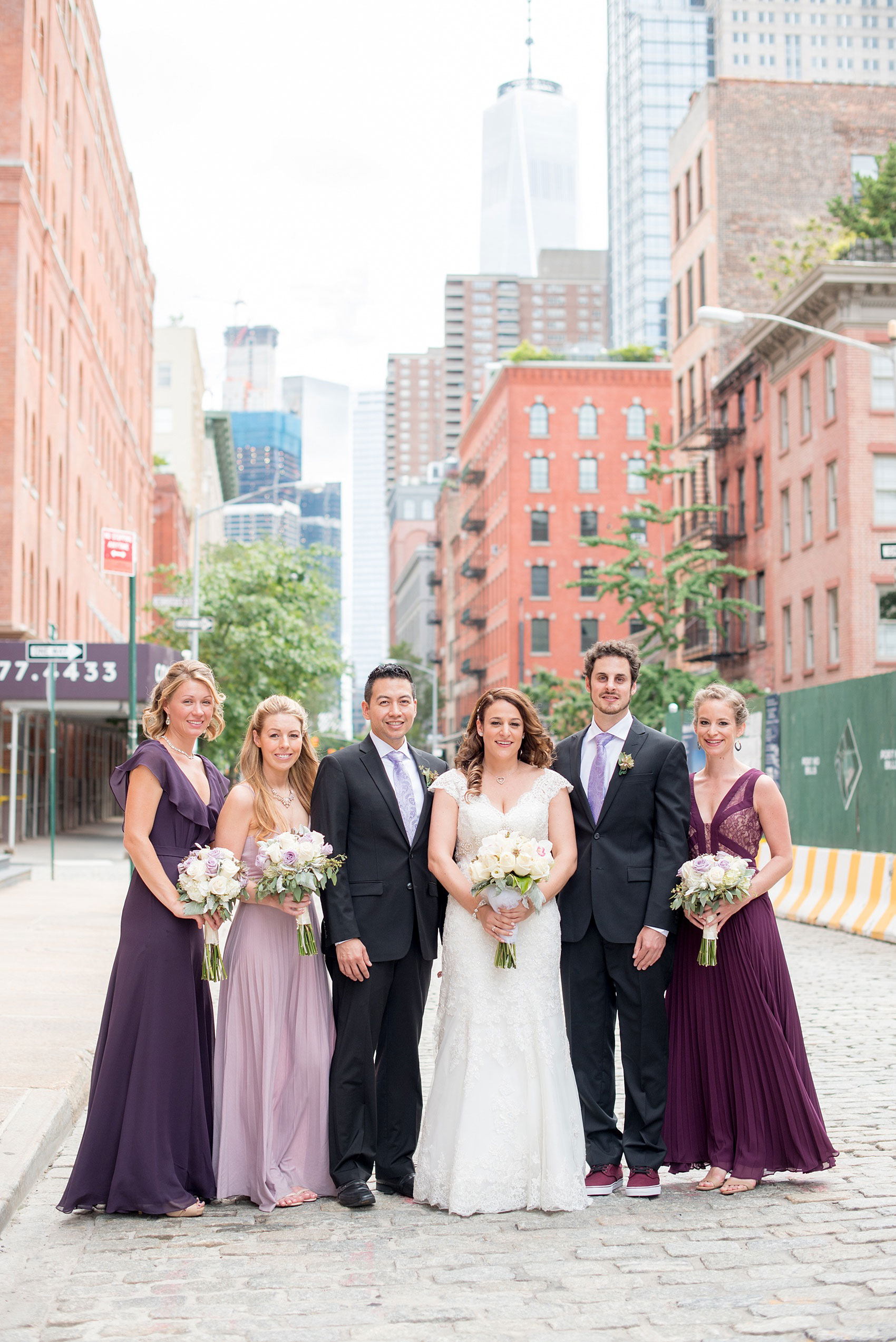 Phil and Bri were very much looking forward to getting photos on the characteristic cobblestone in lower Manhattan and I'm so glad we made all that happen and more, including a walk across West Side Highway to Hudson River Park complete with awesome urban sculptures (kind of reminds me of a roller coaster track) and beautiful summer greenery and perennial flowers.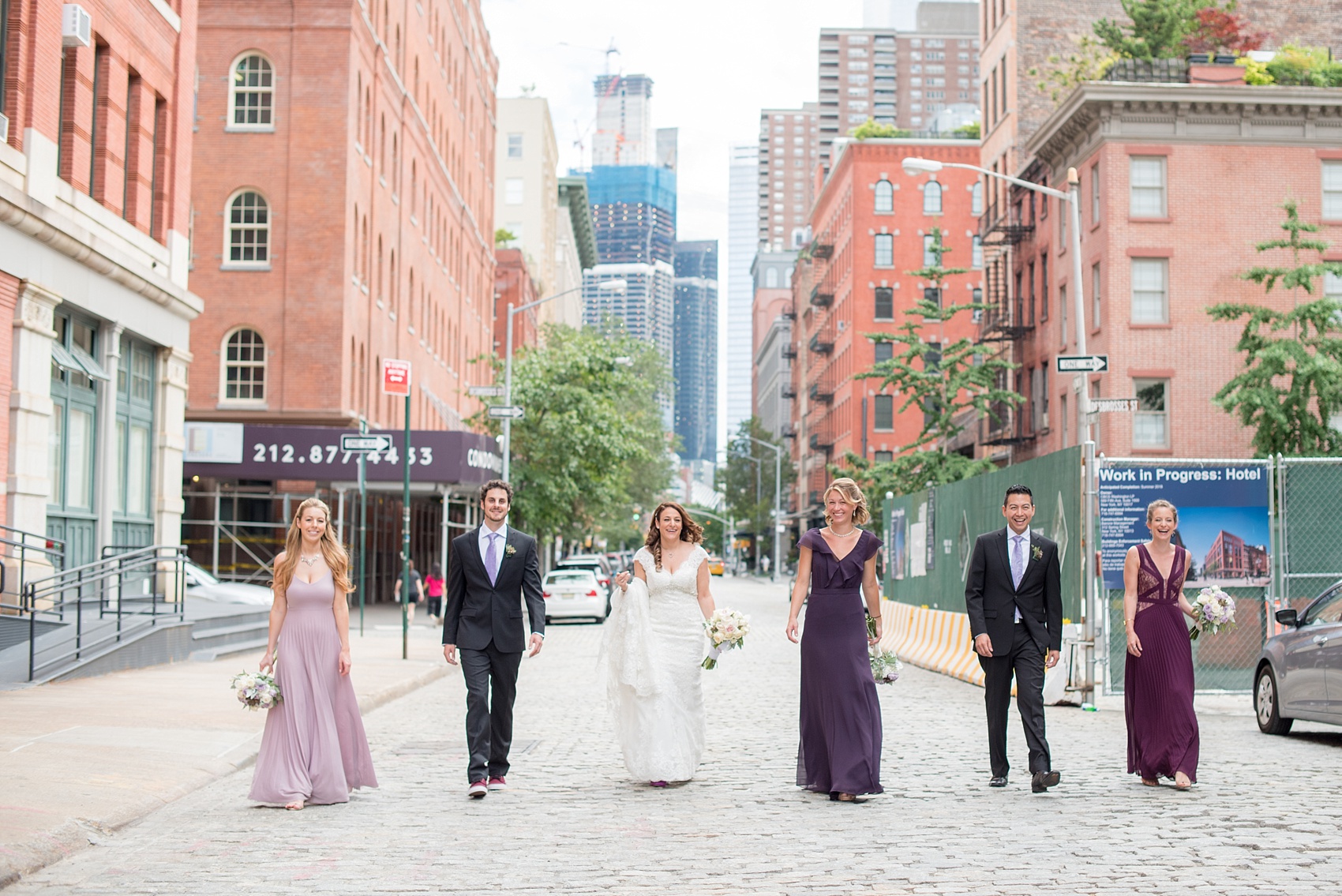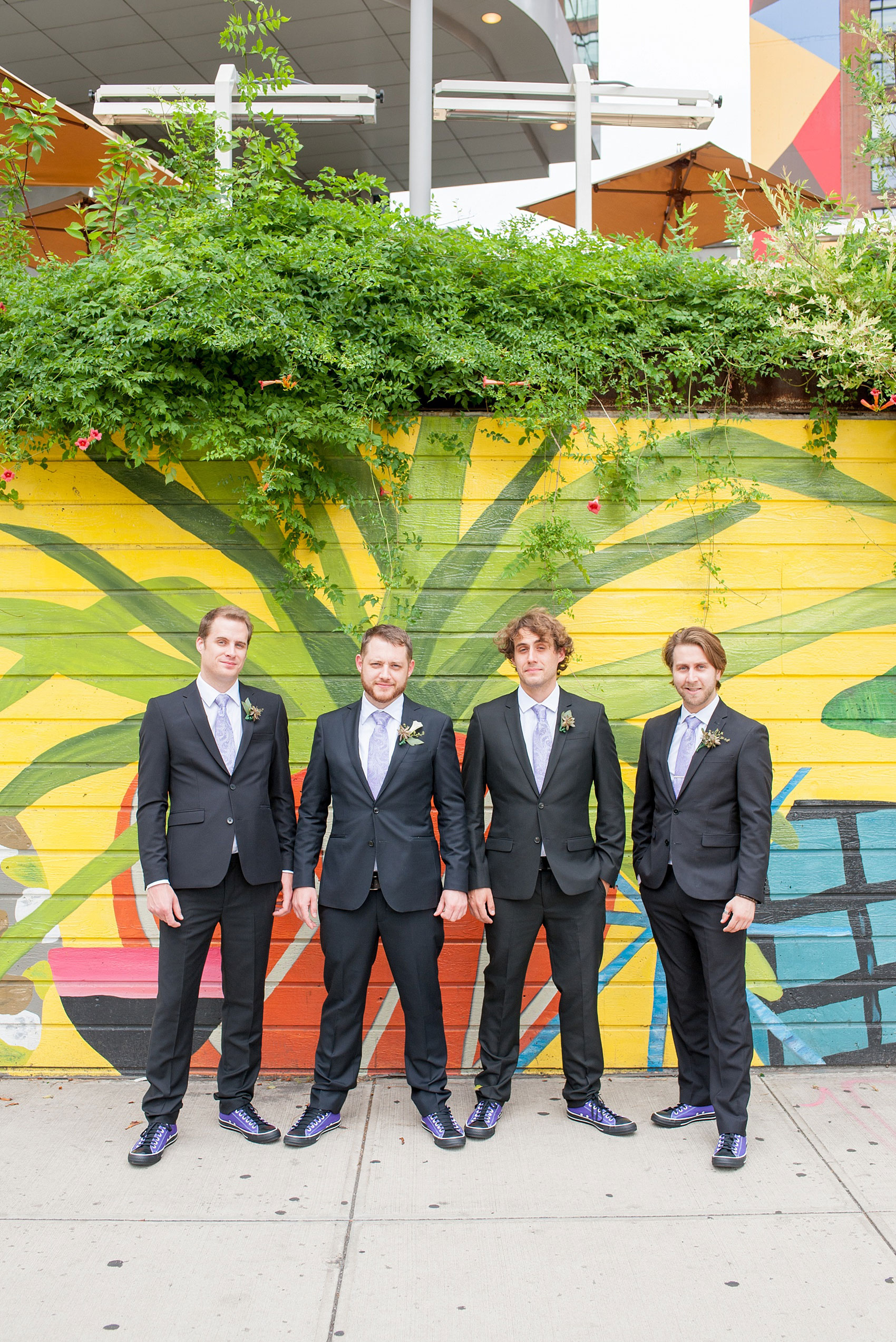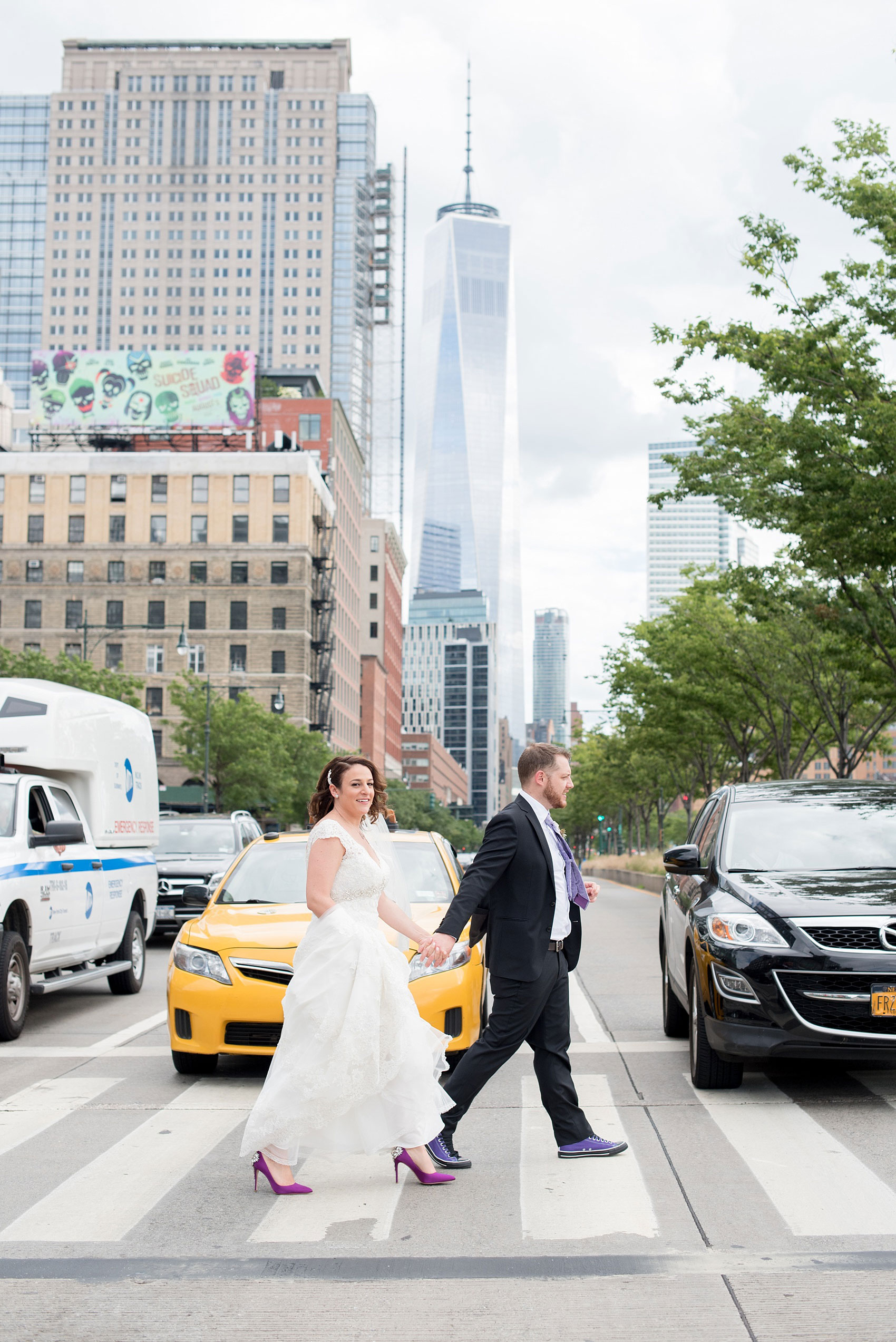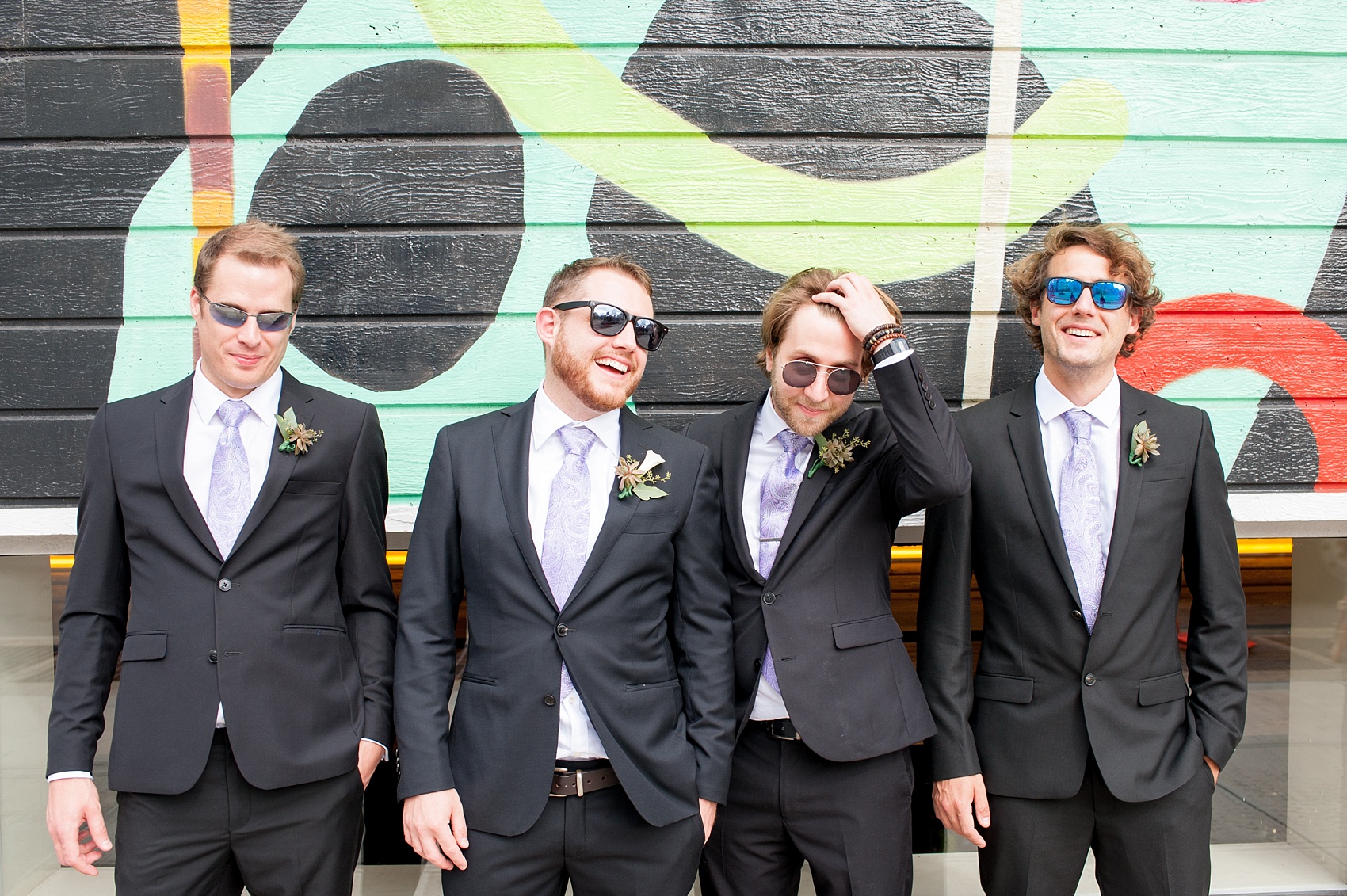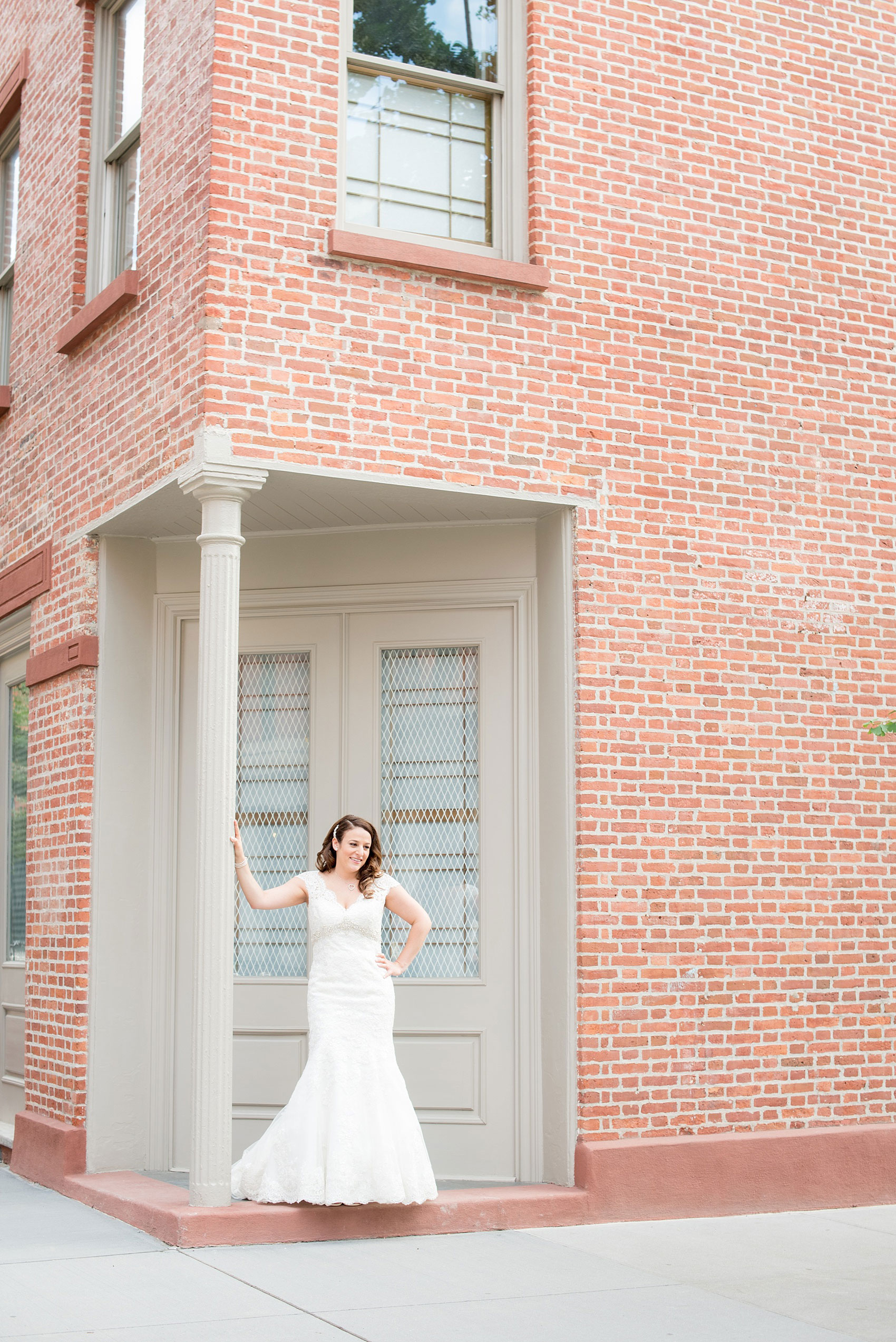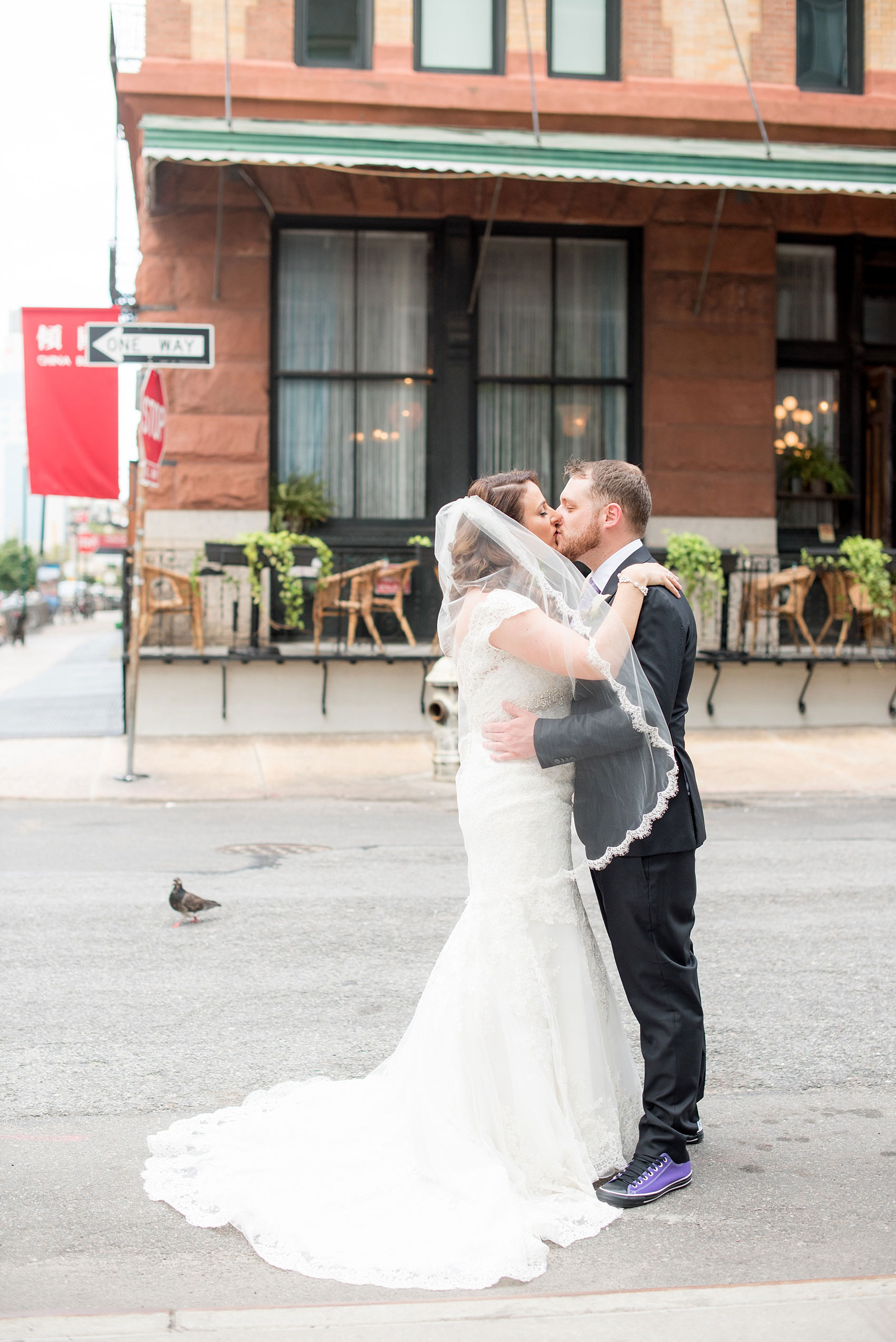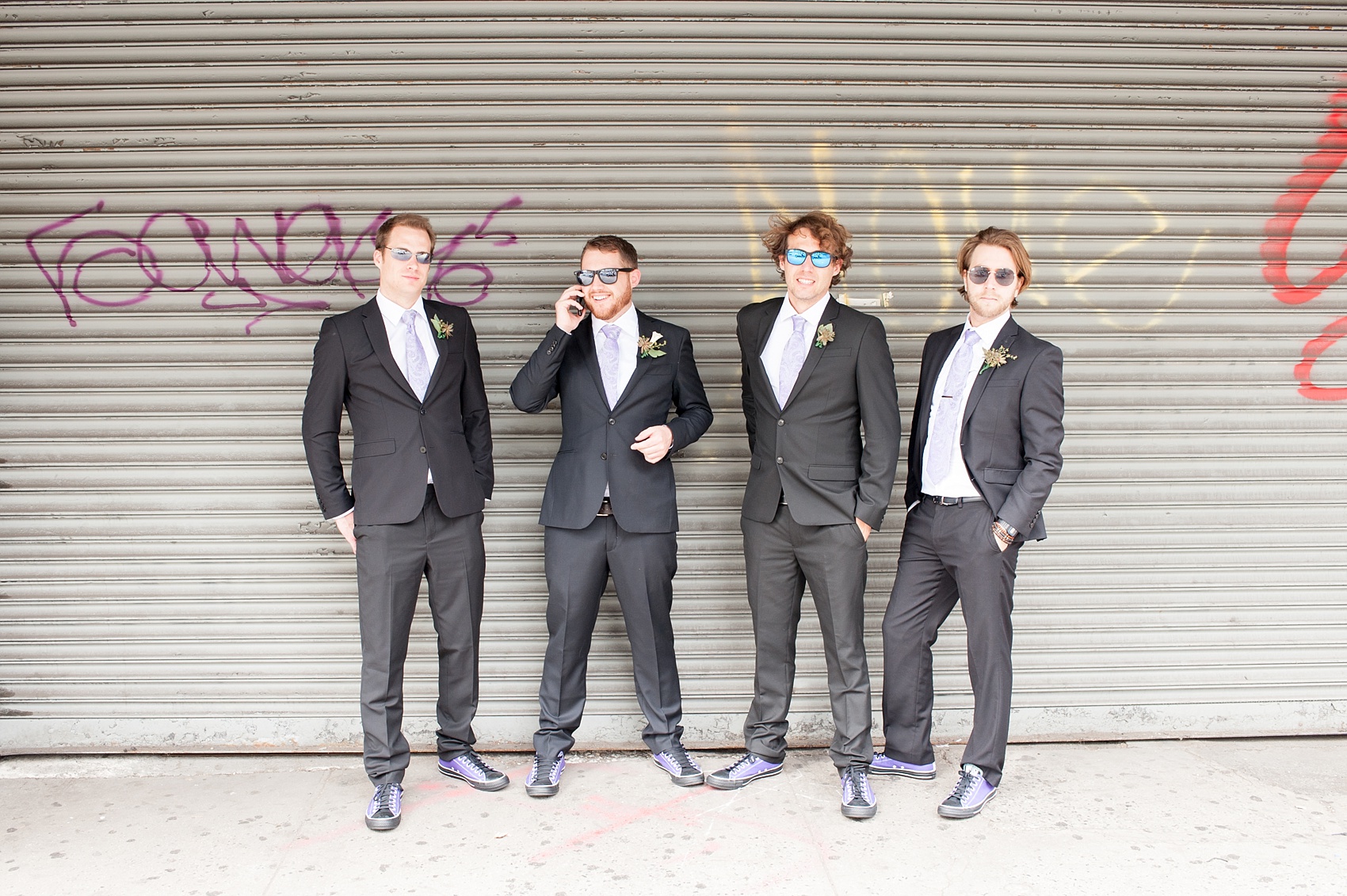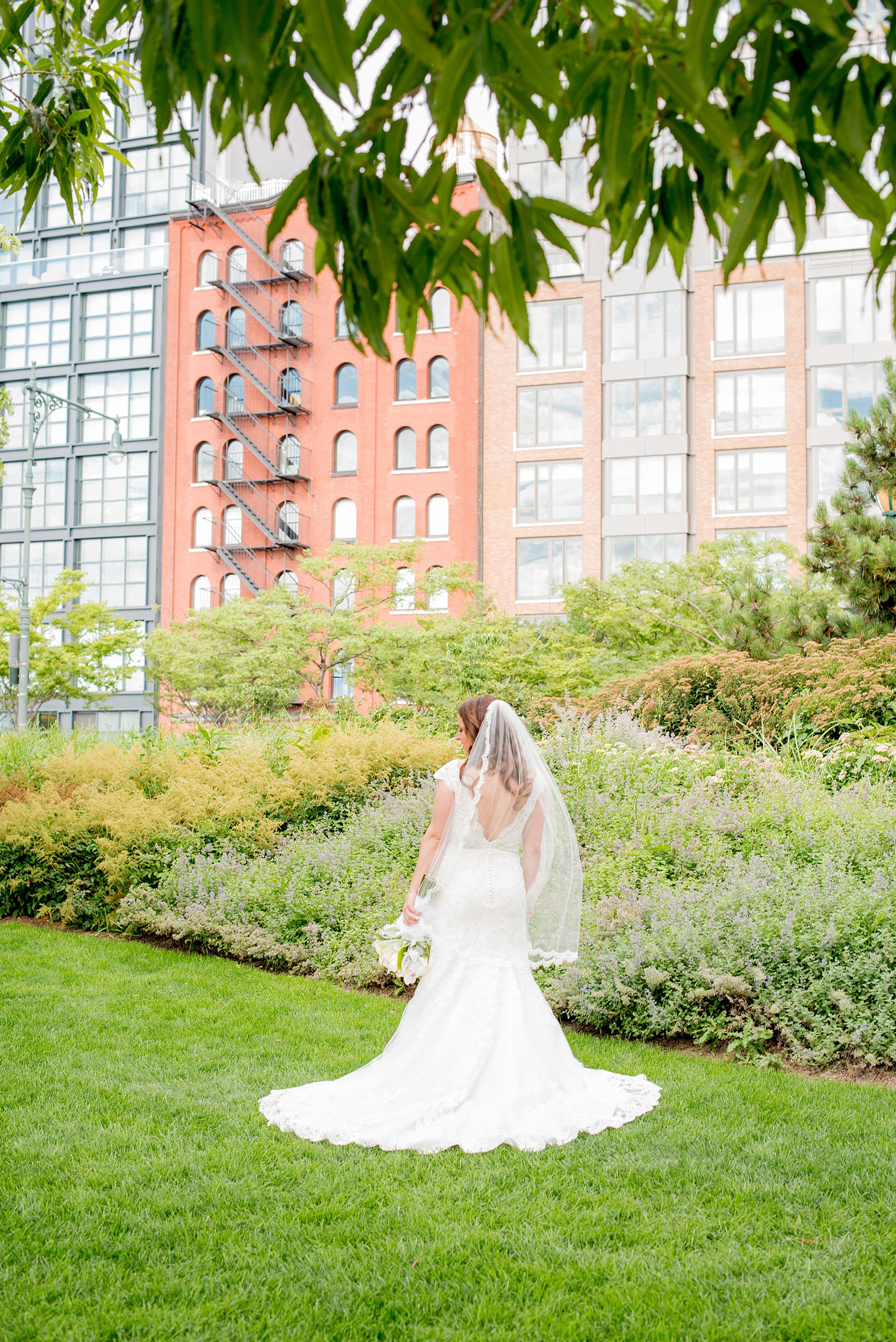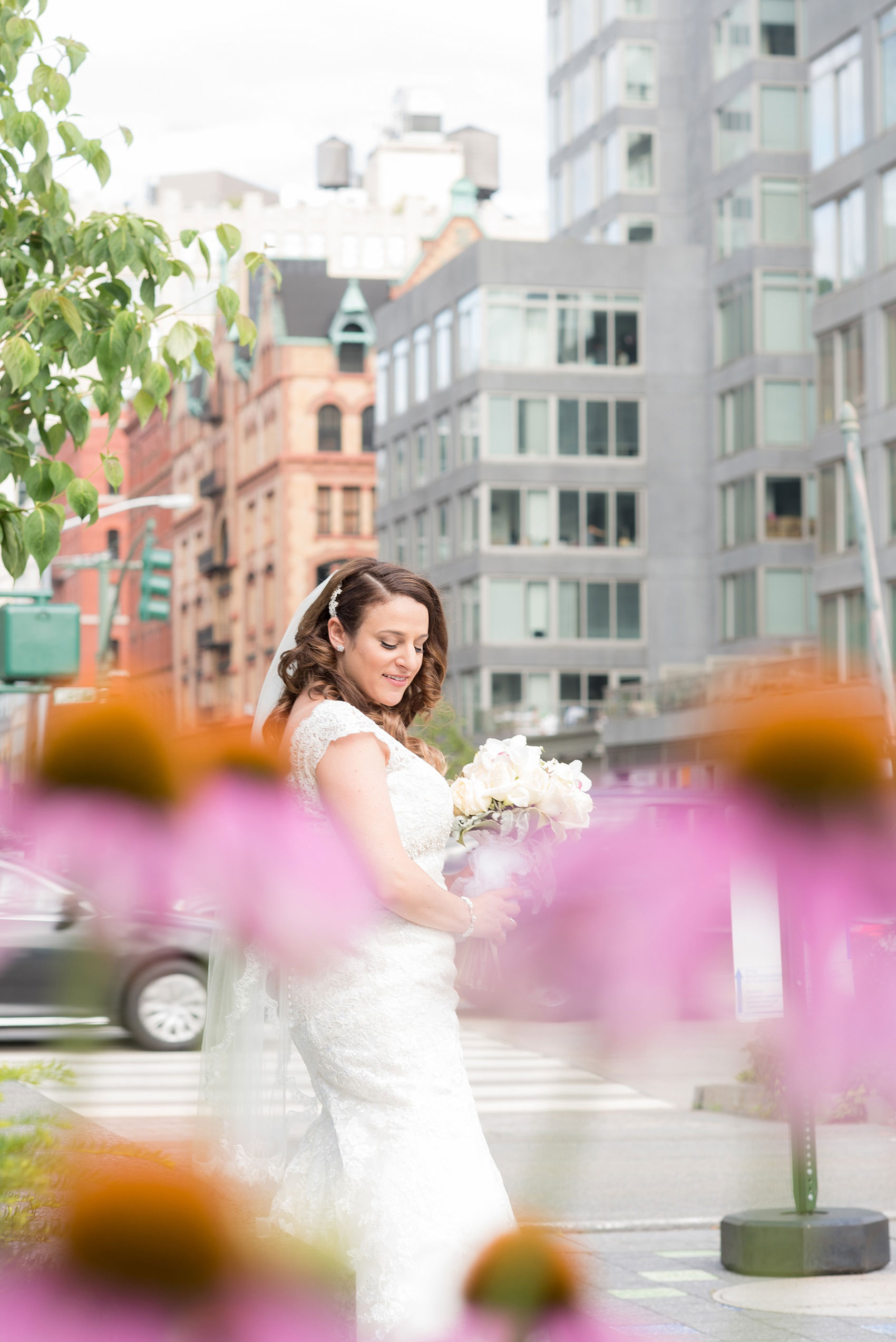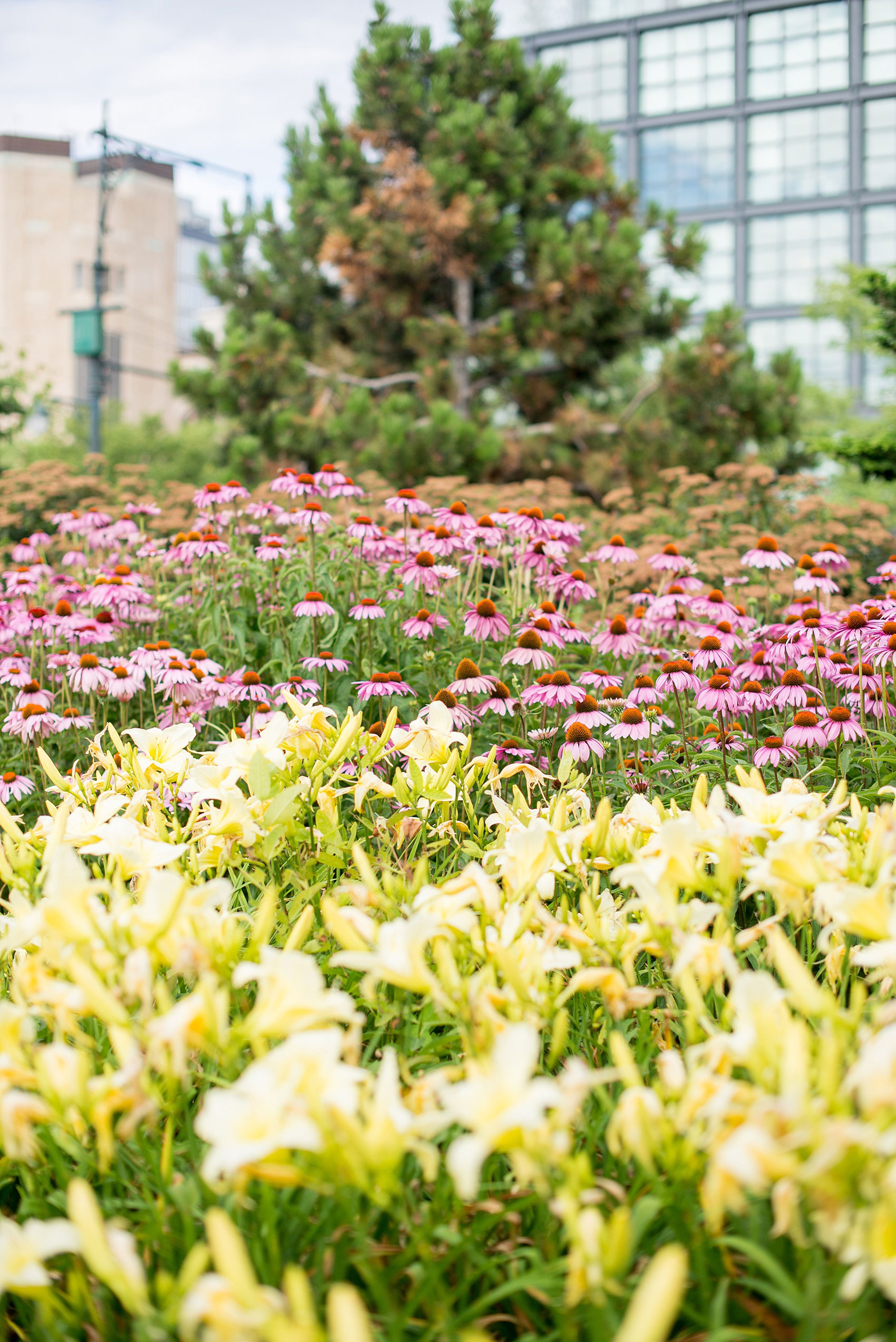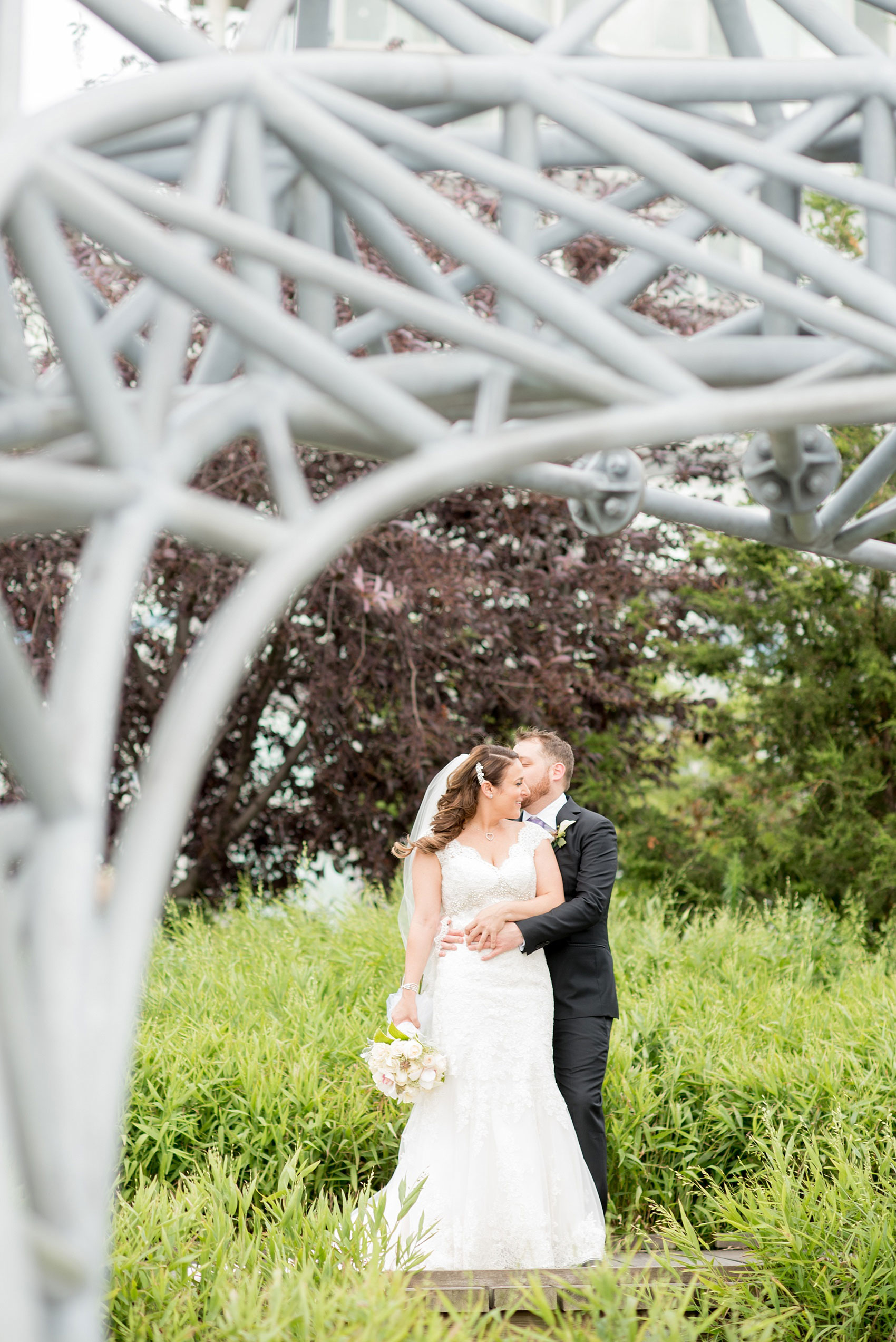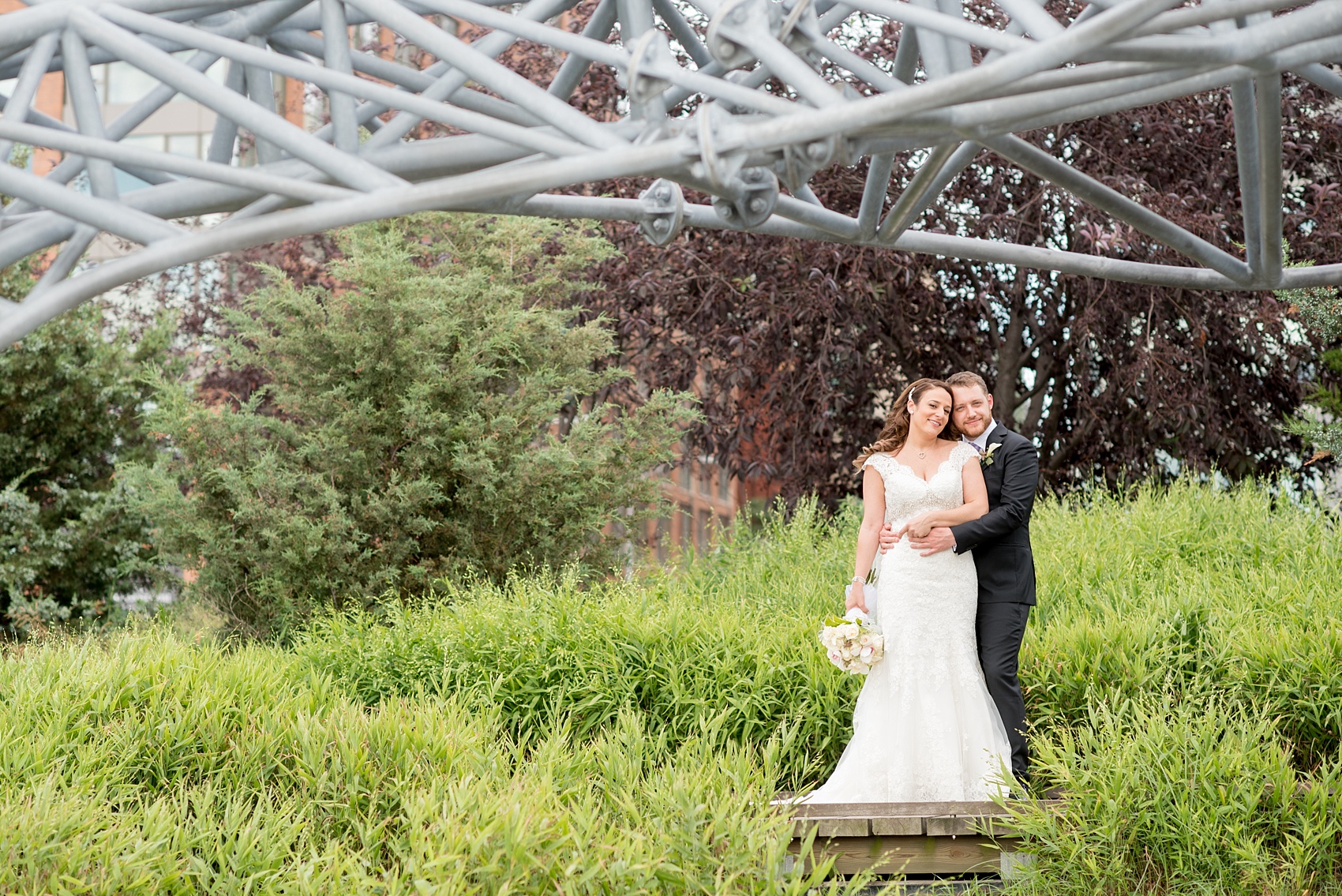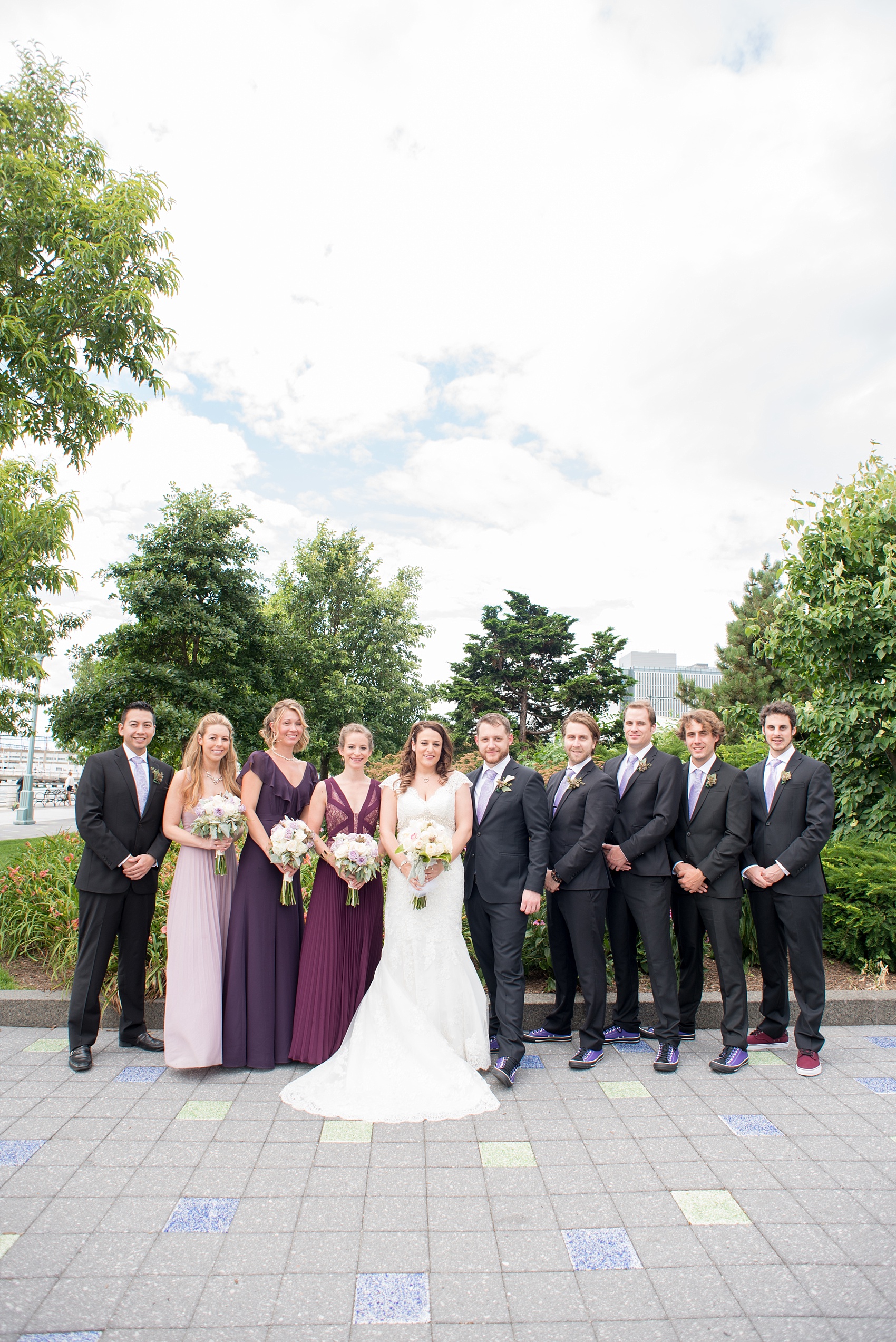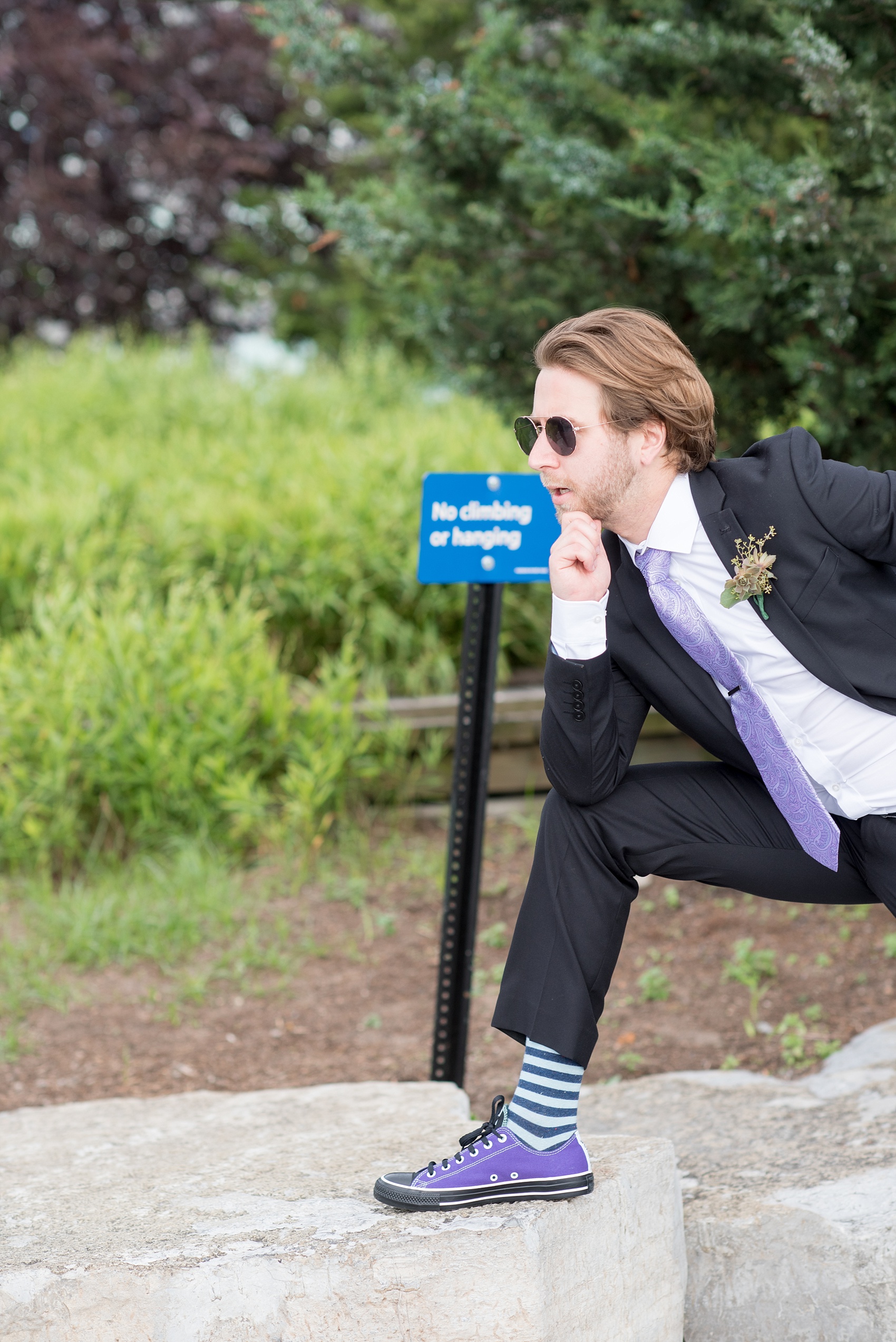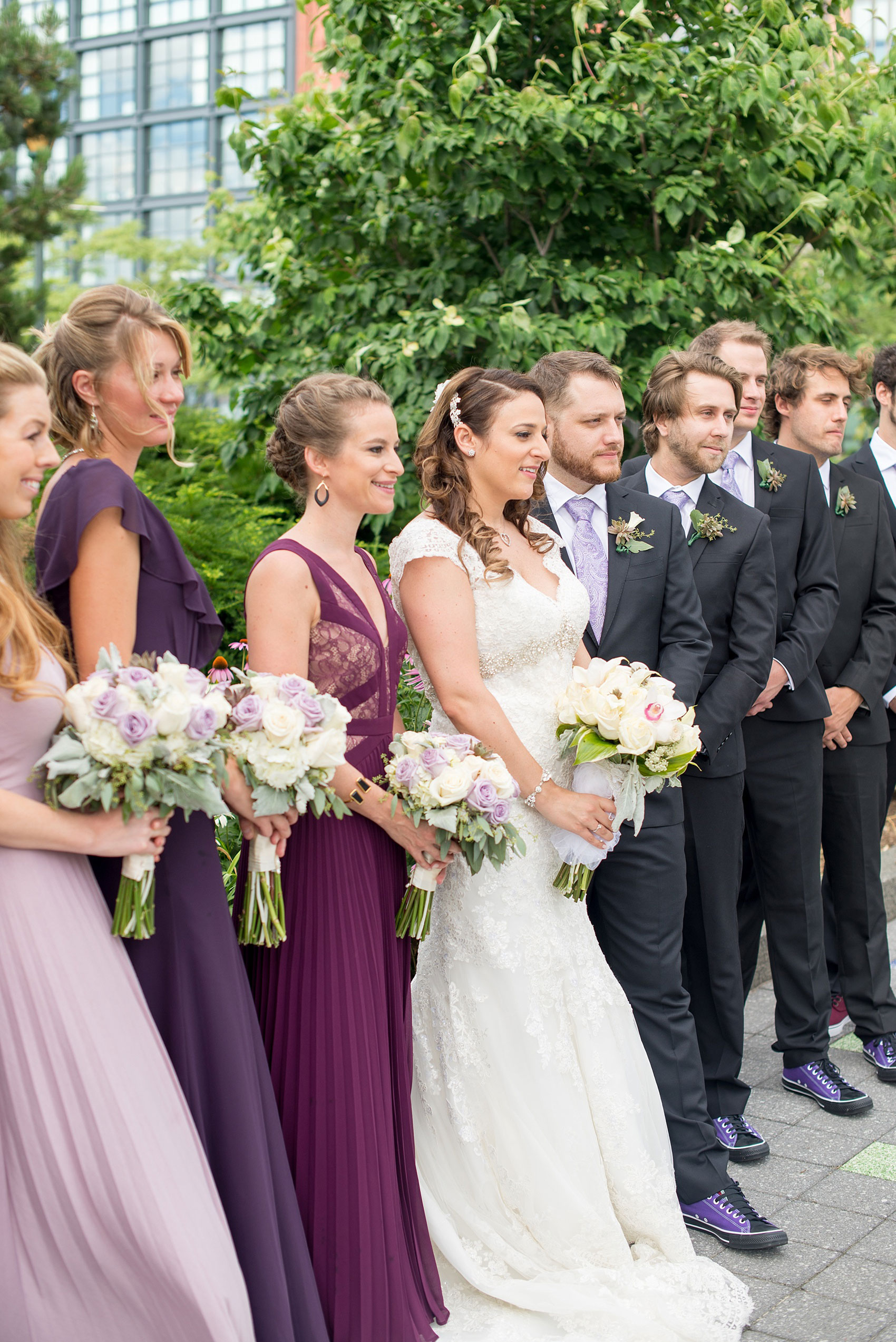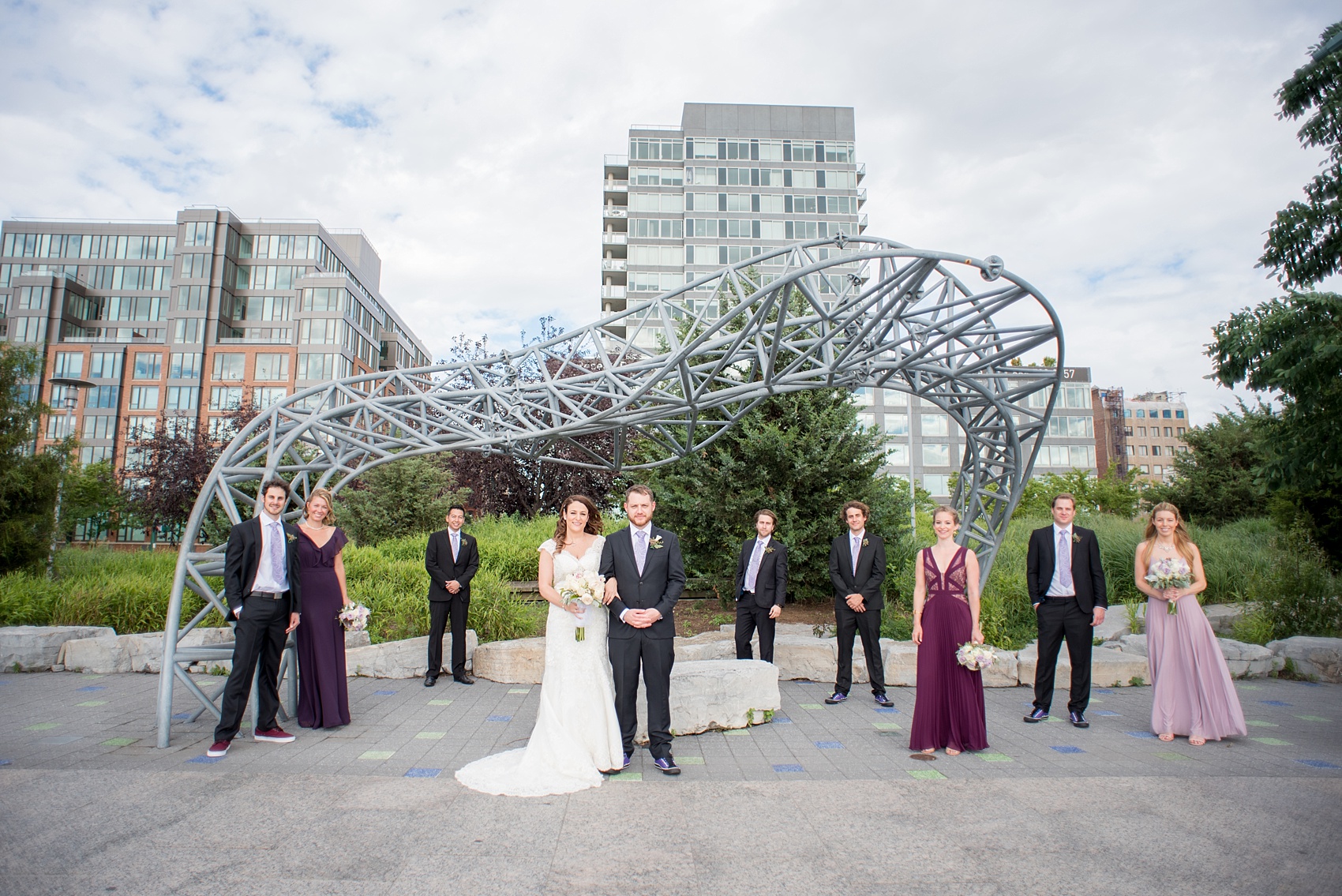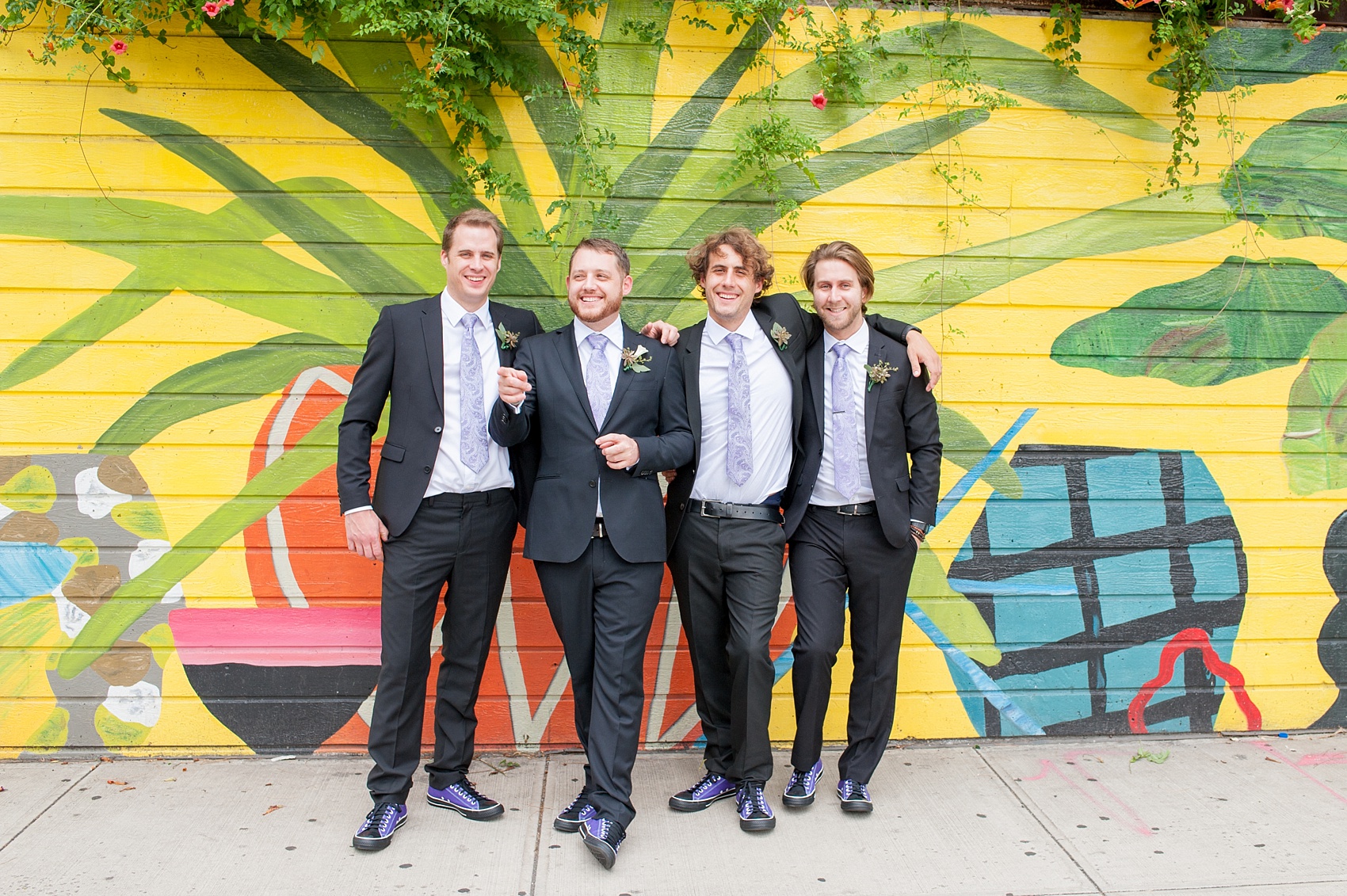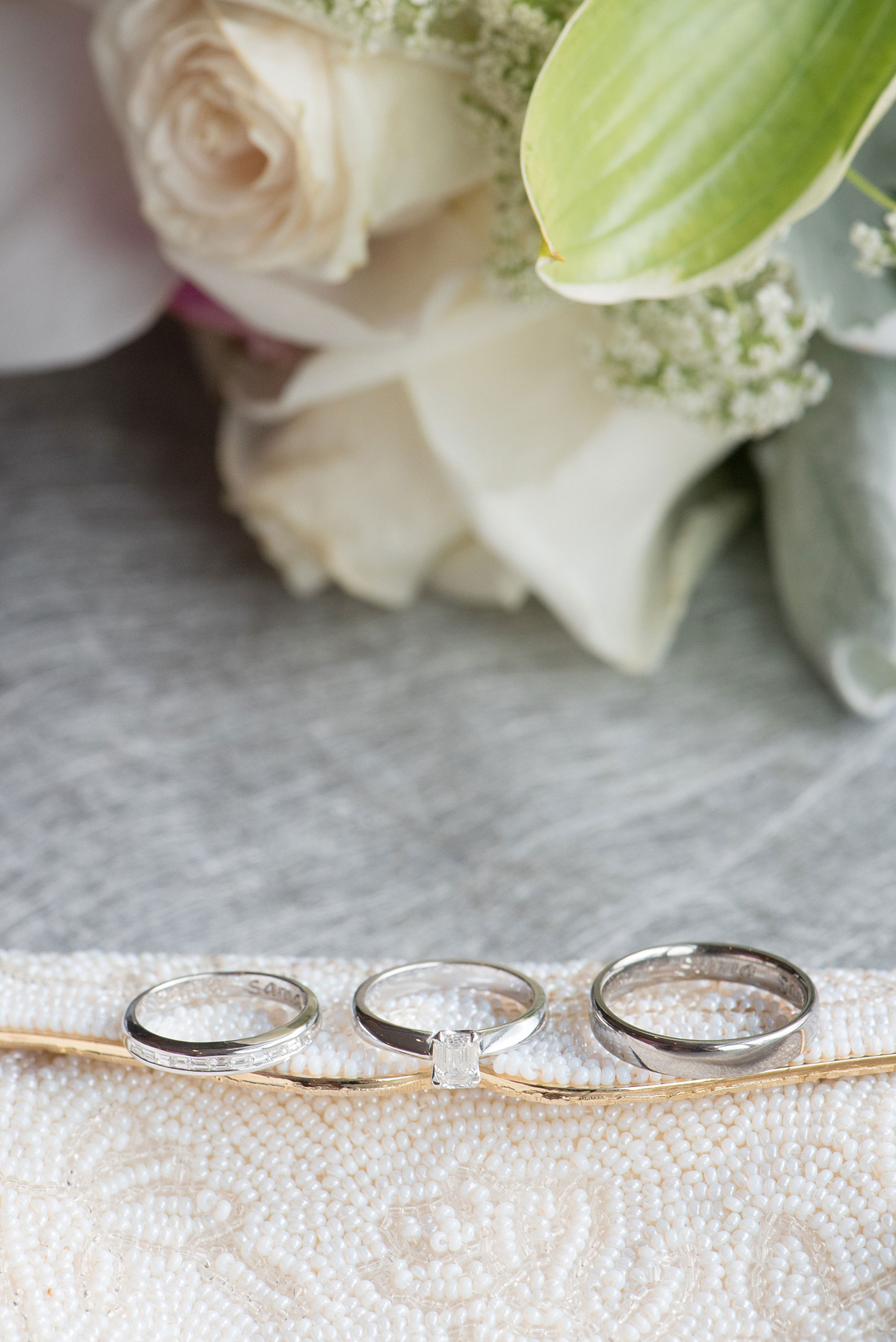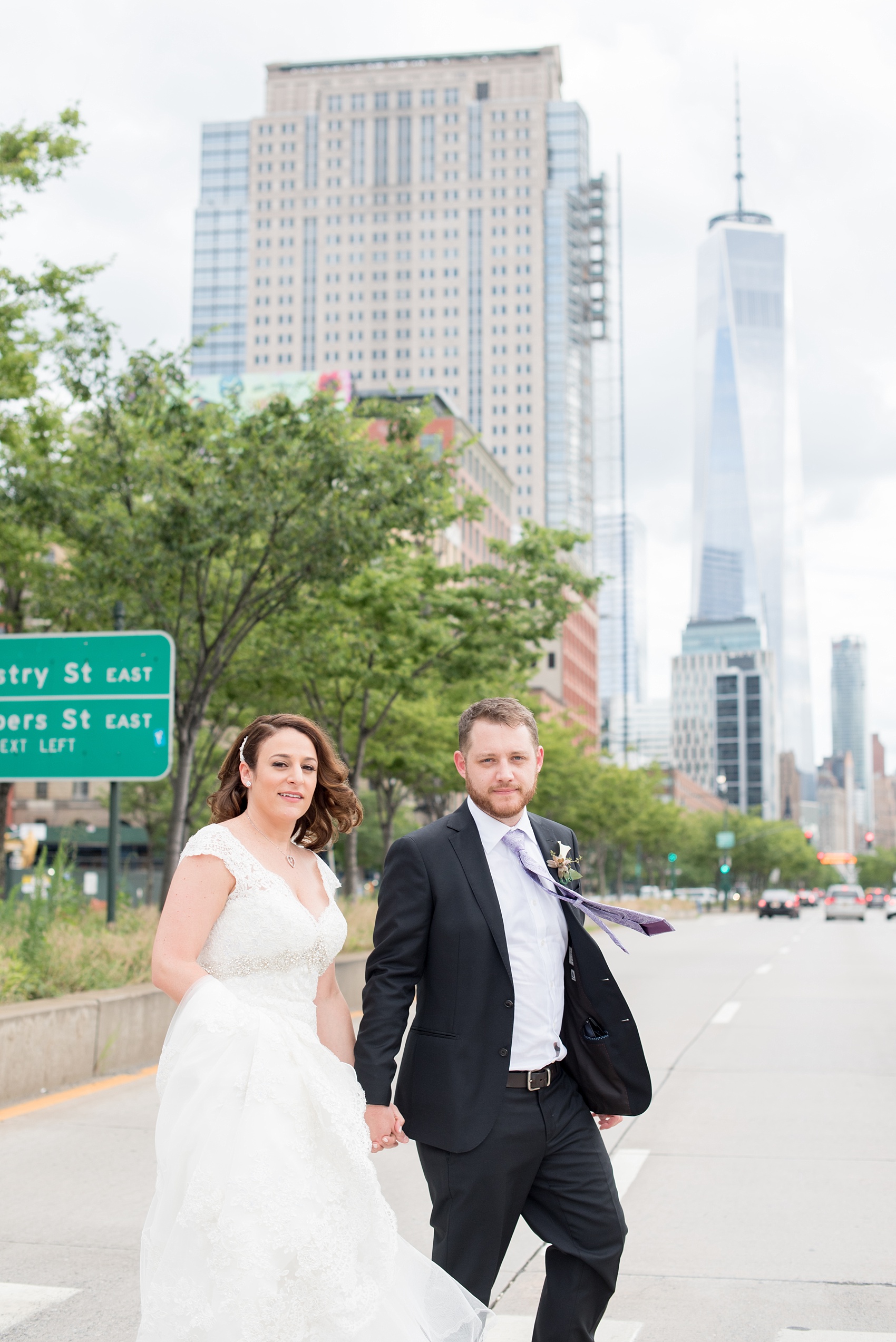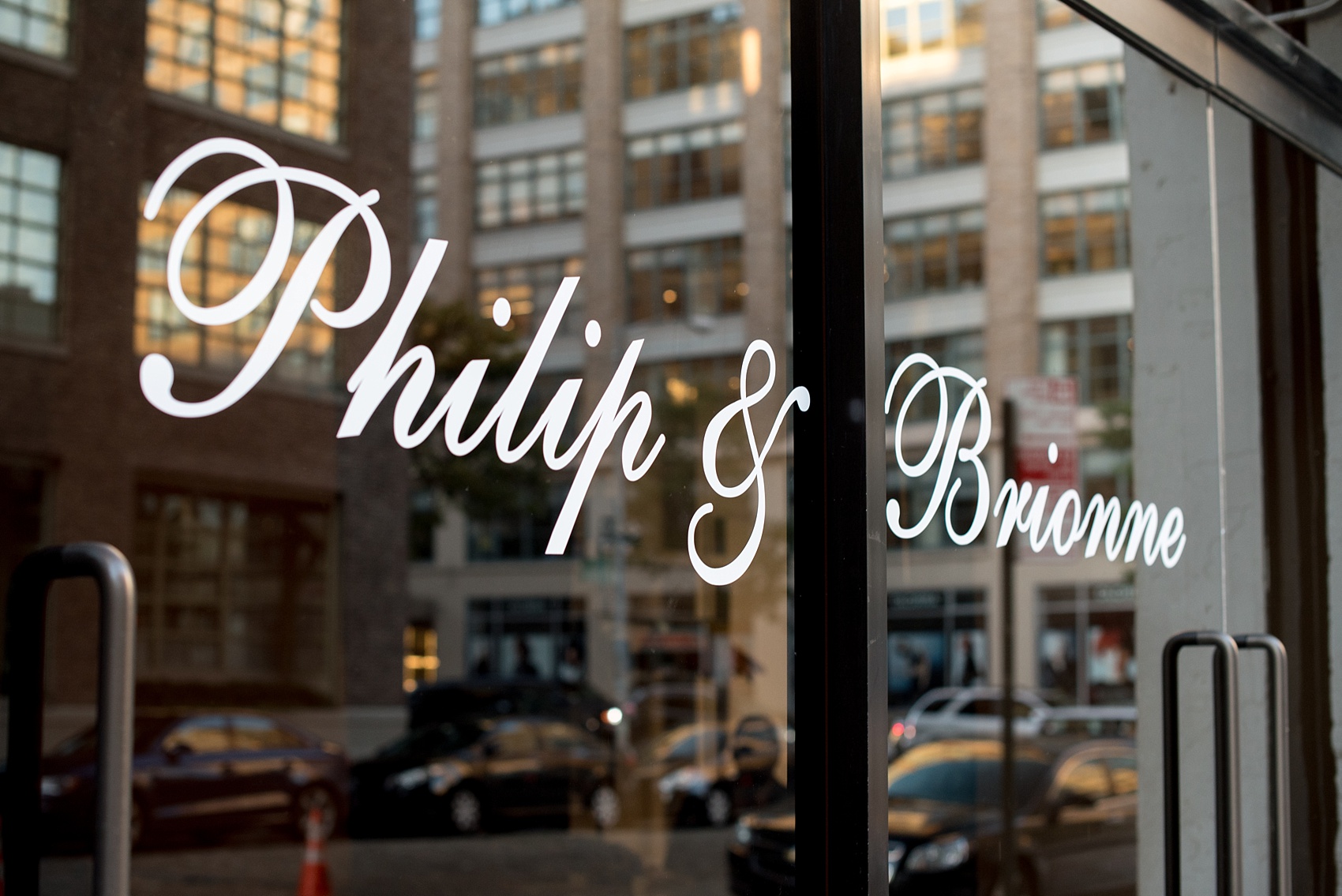 Pretty soon it was time to head back towards Tribeca Rooftop to get these two married! A beautiful script "Philip & Brionne" white decal welcome guests to the venue. Their family was awaiting our arrival for some family pictures before everyone relaxed for a bit before the ceremony; I thought it was perfect her grandmother, Lila, wore purple to match the bridesmaids! After the private ketubah signing with their parents, siblings and aunts and uncles it was time for the full out, gorgeous rooftop ceremony complete with a beautiful fairy tale-like forest feeling chuppah composed of birch branches, hanging white orchids, moss and dried lavender. And of course, the Freedom Tower standing tall behind them.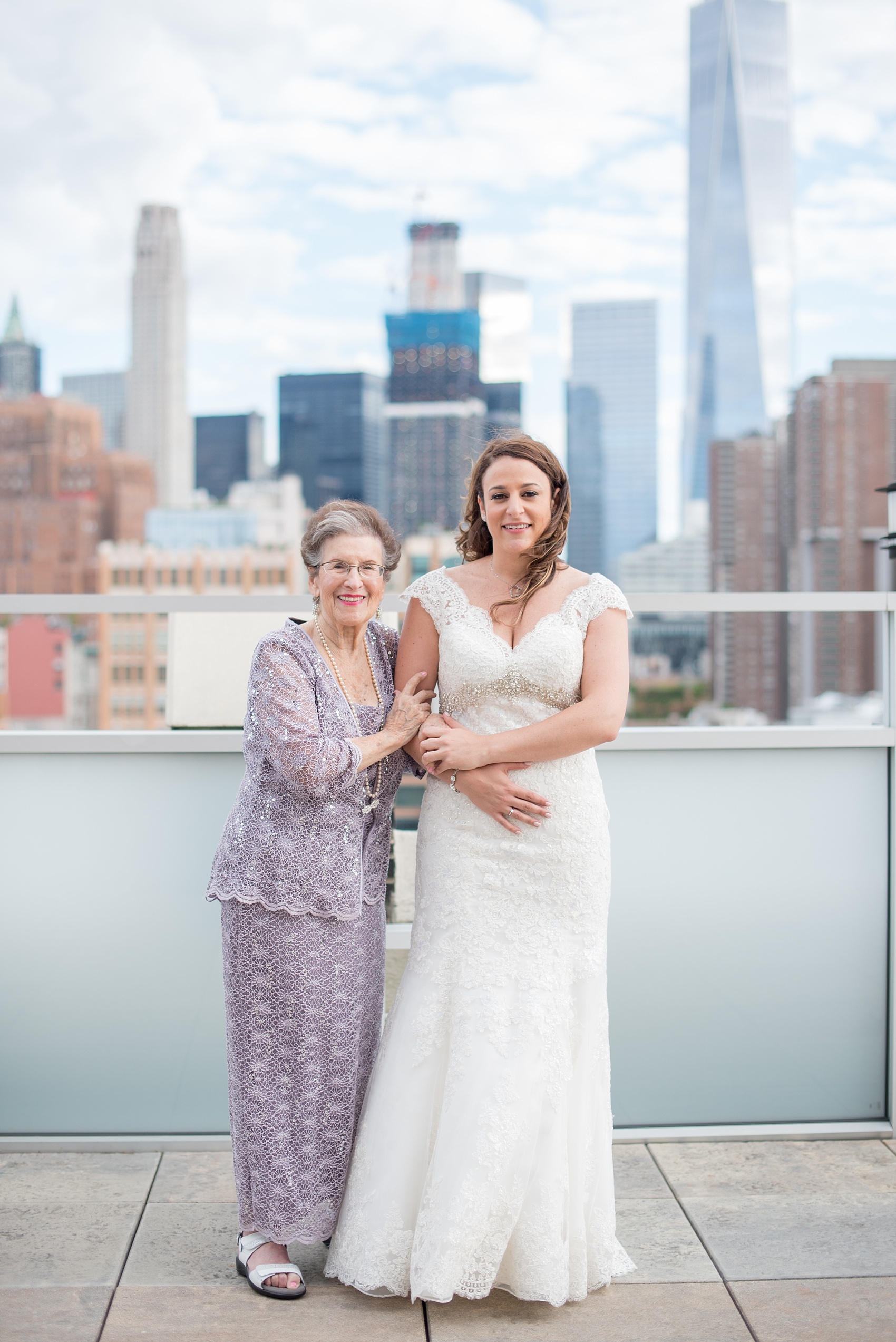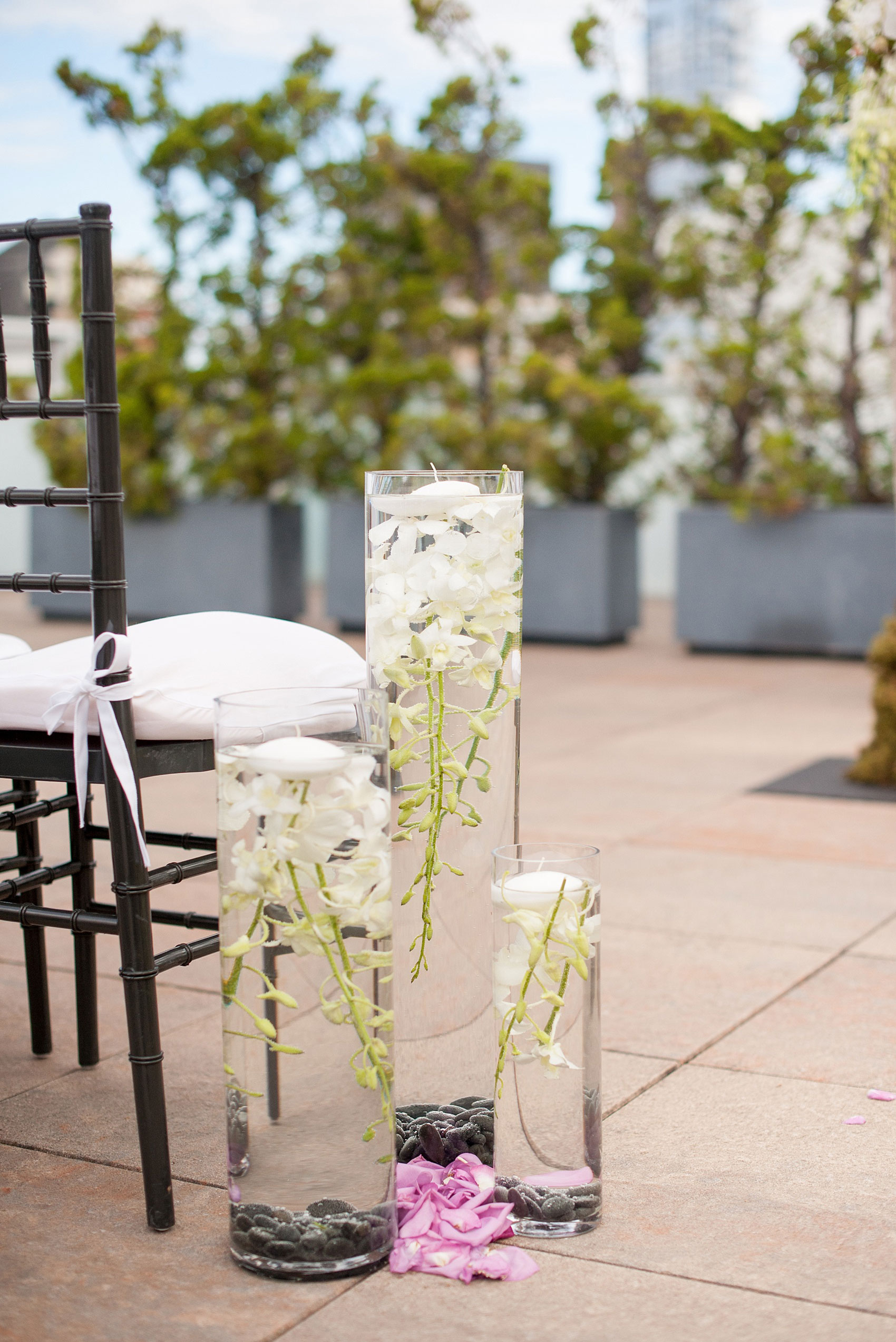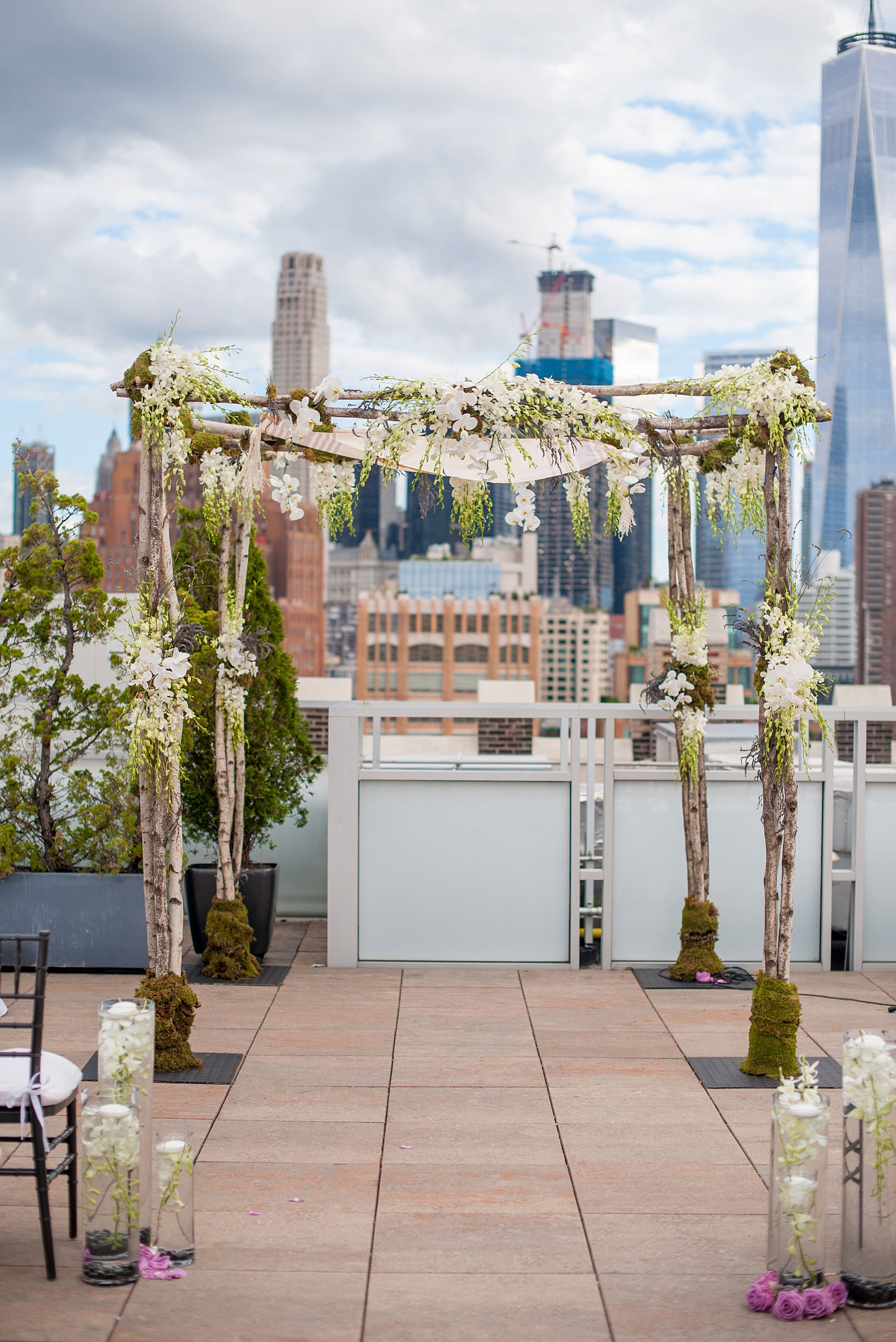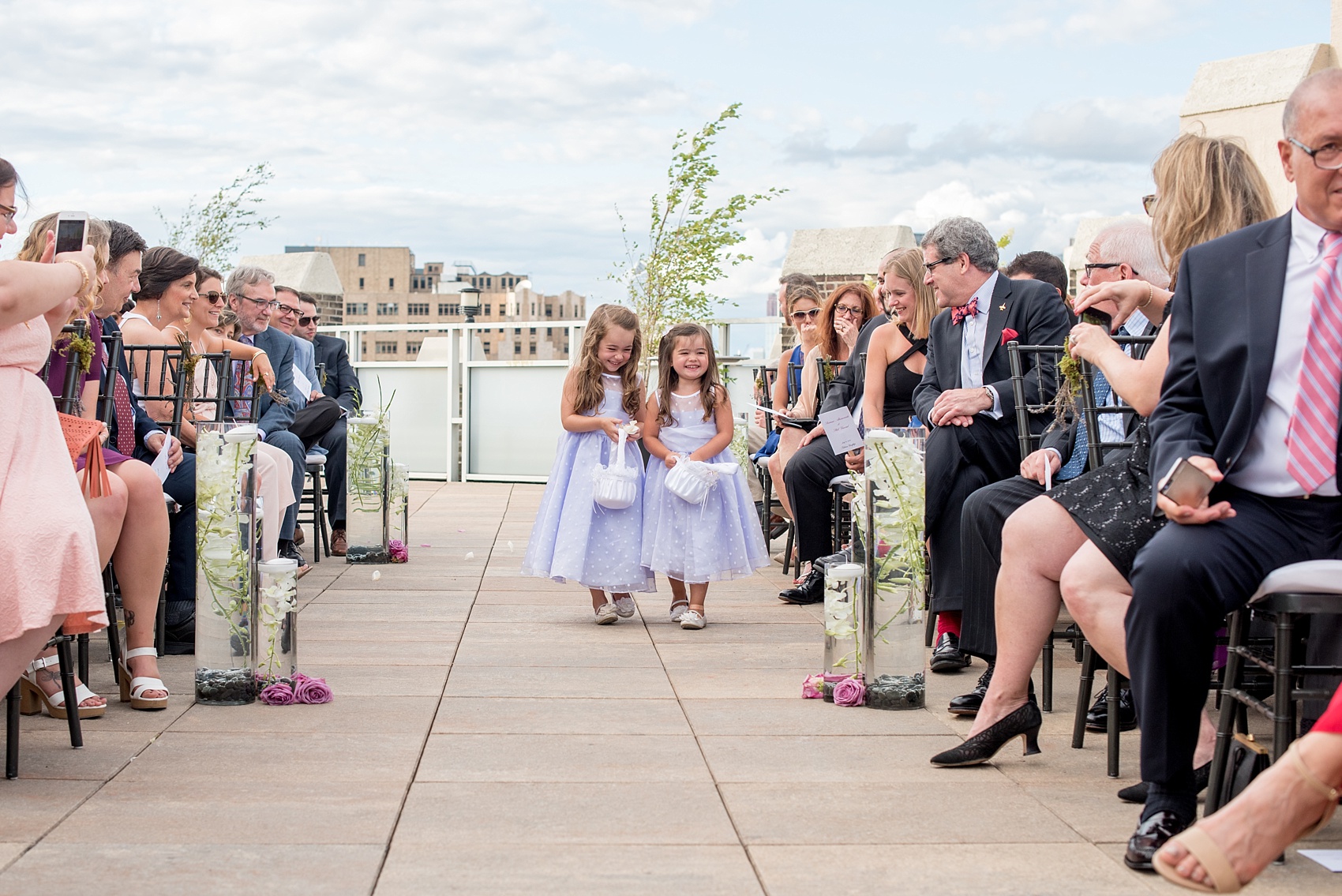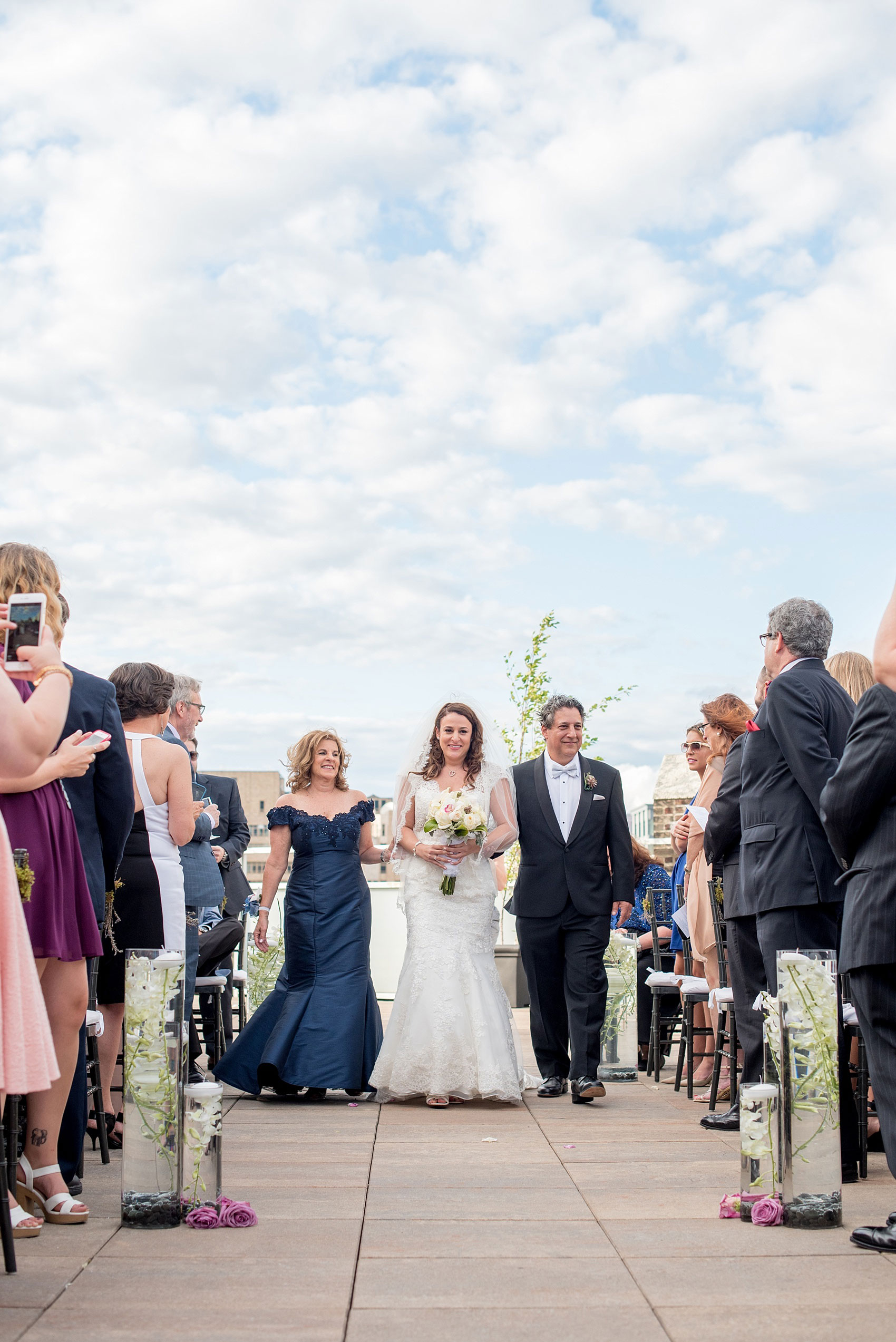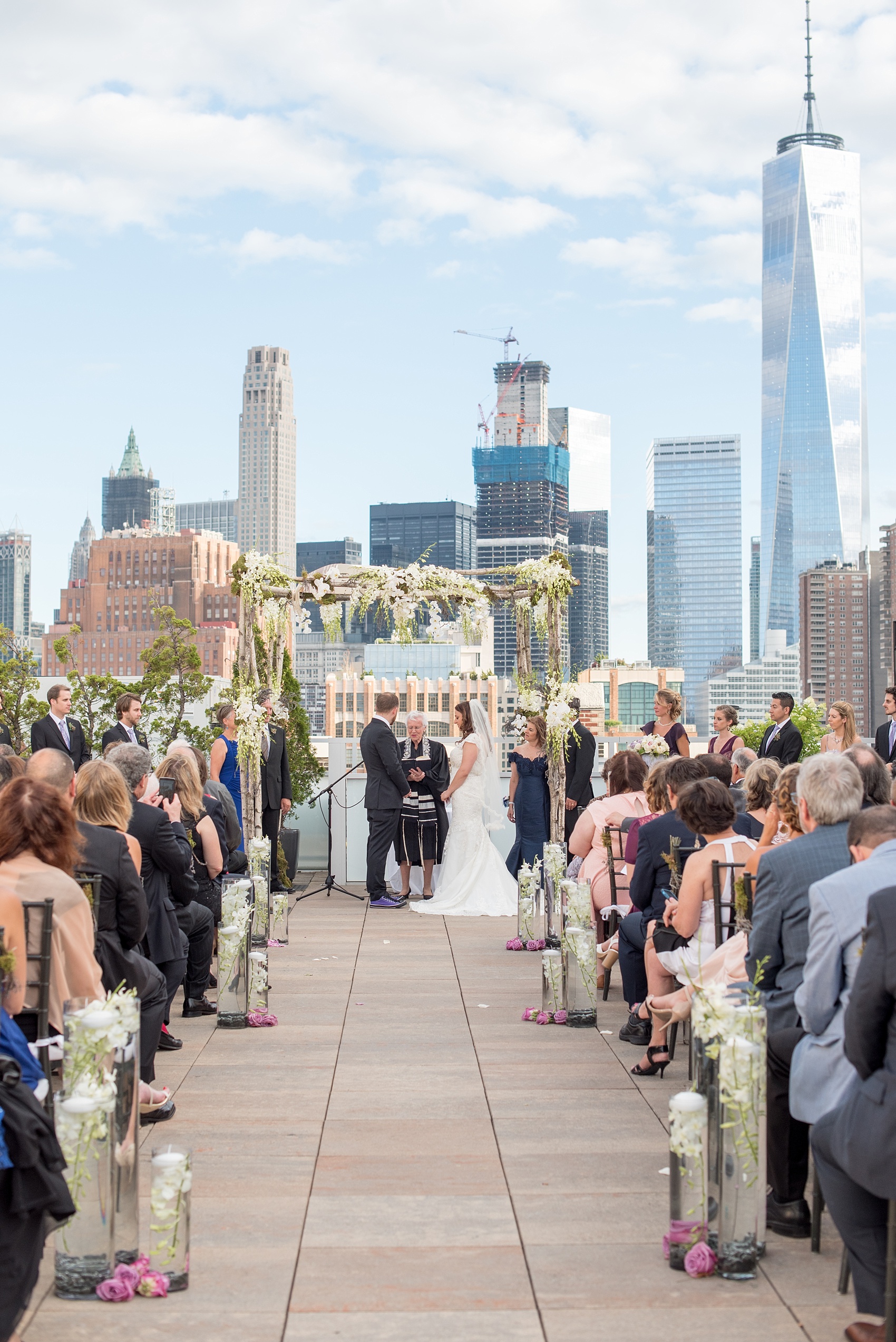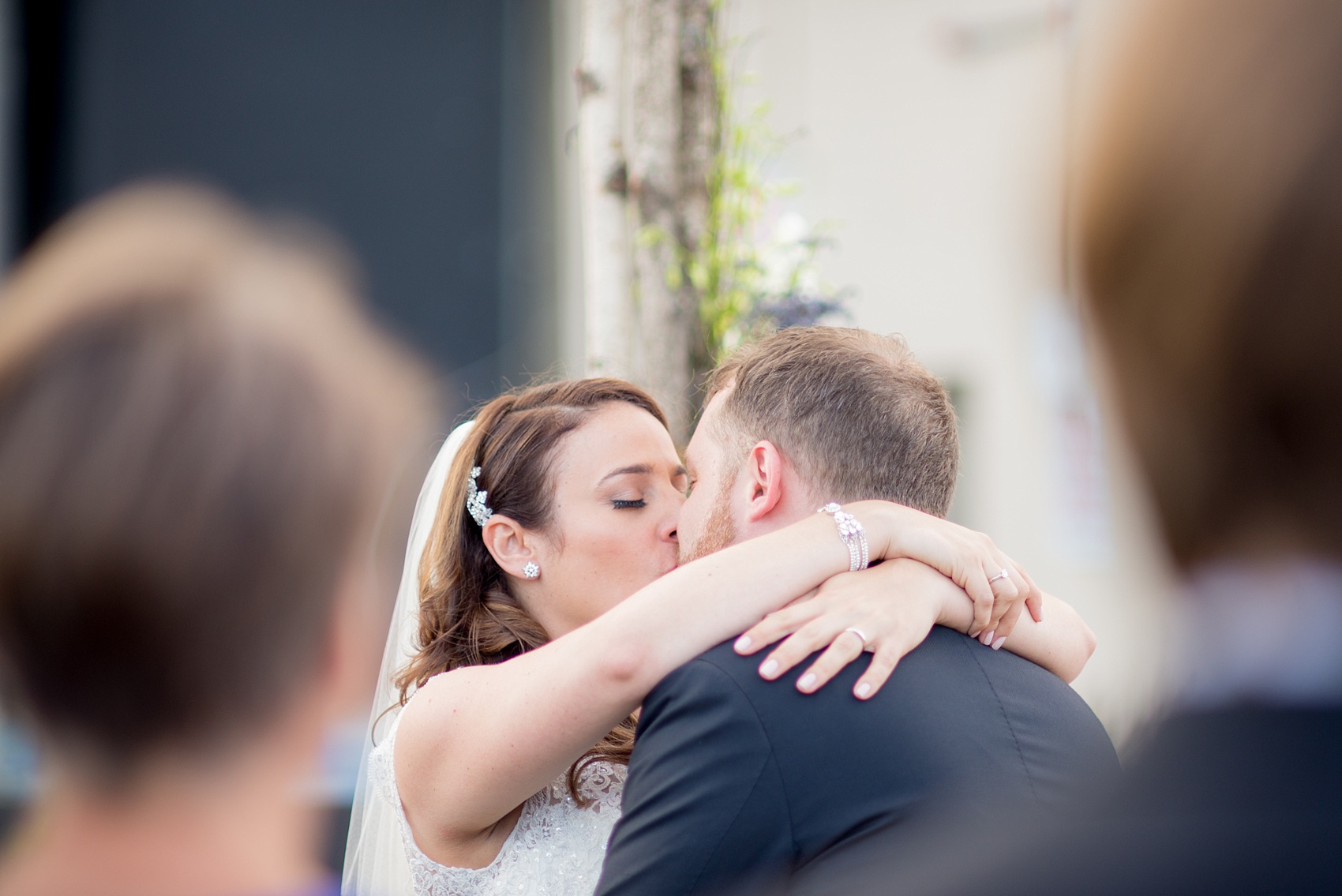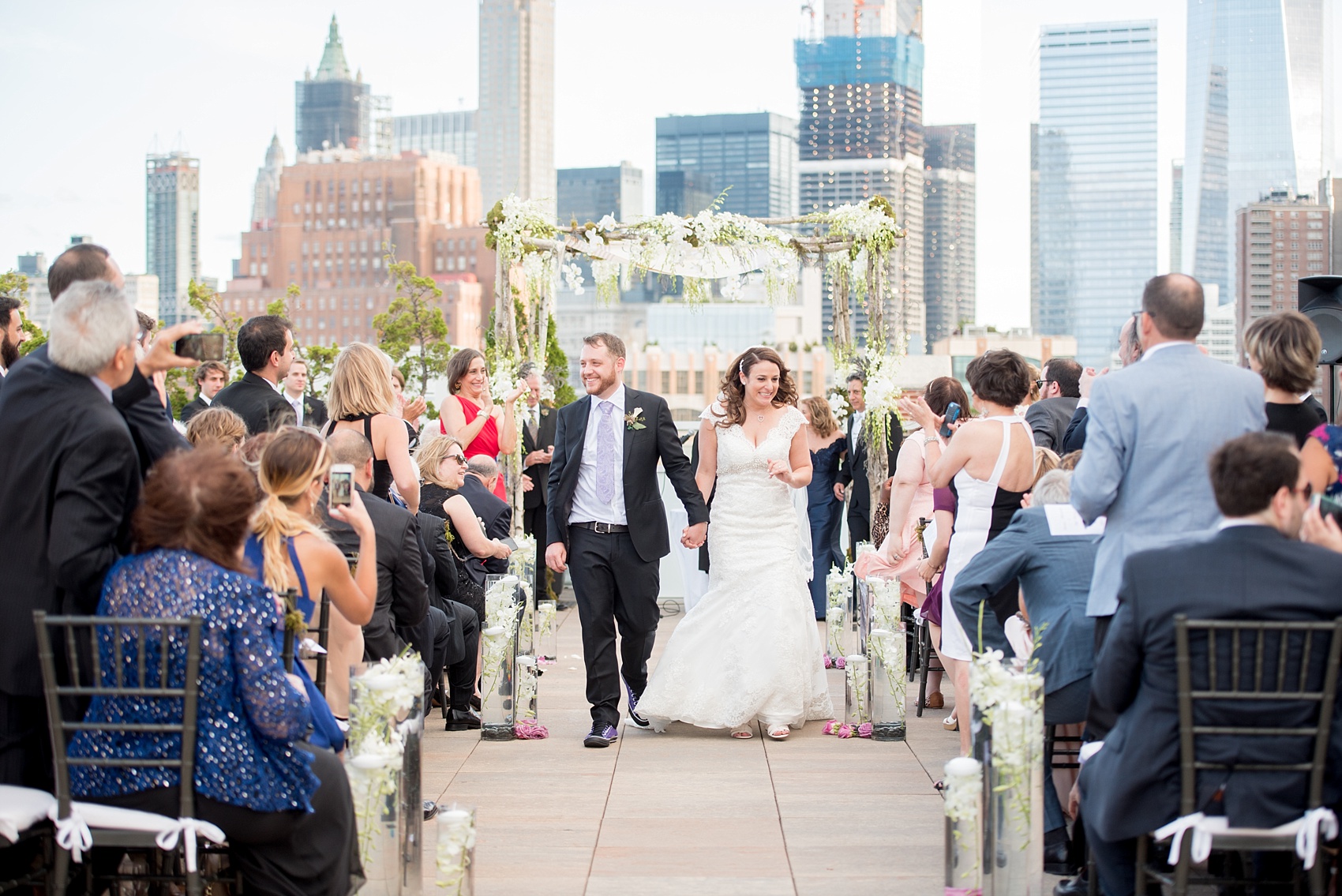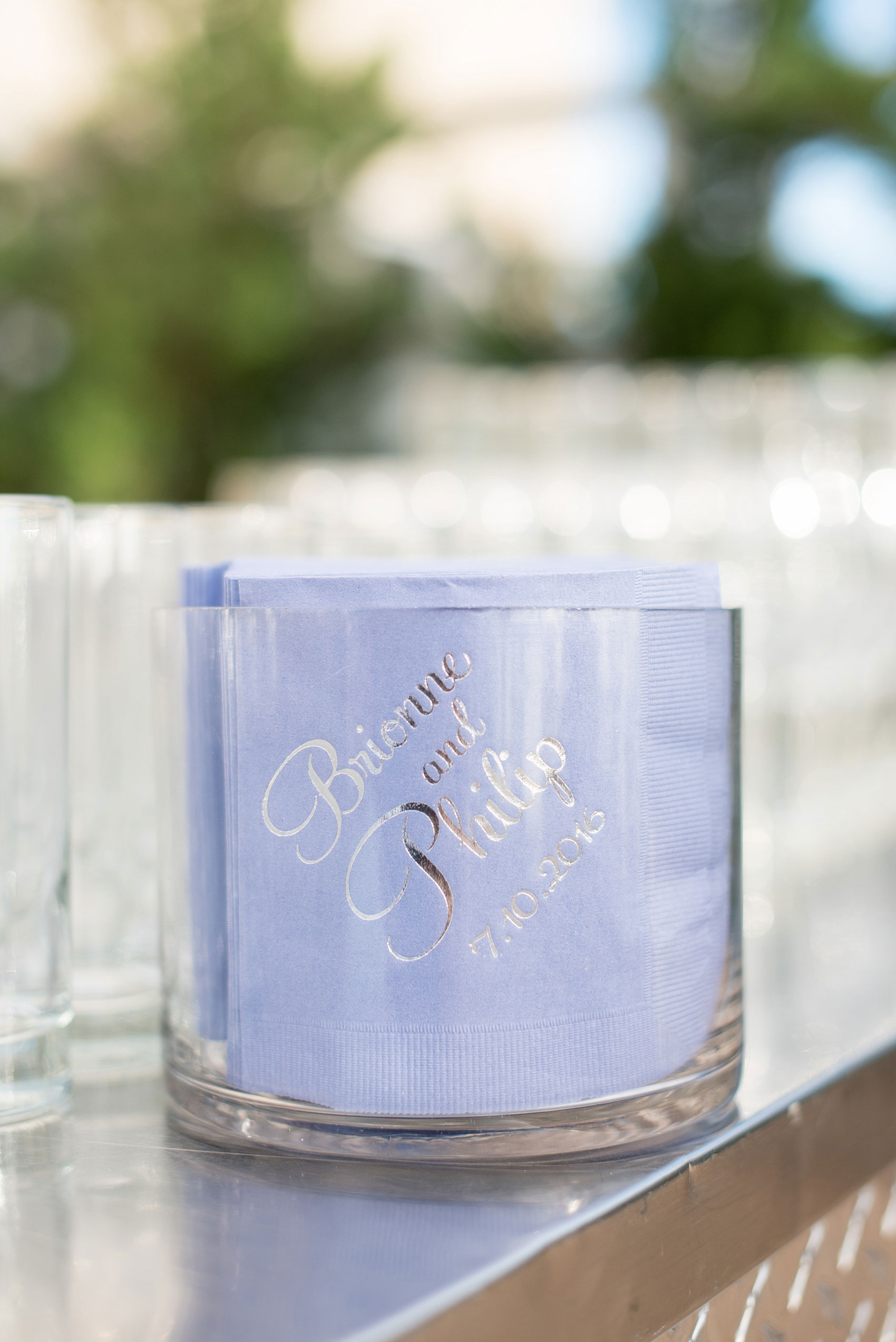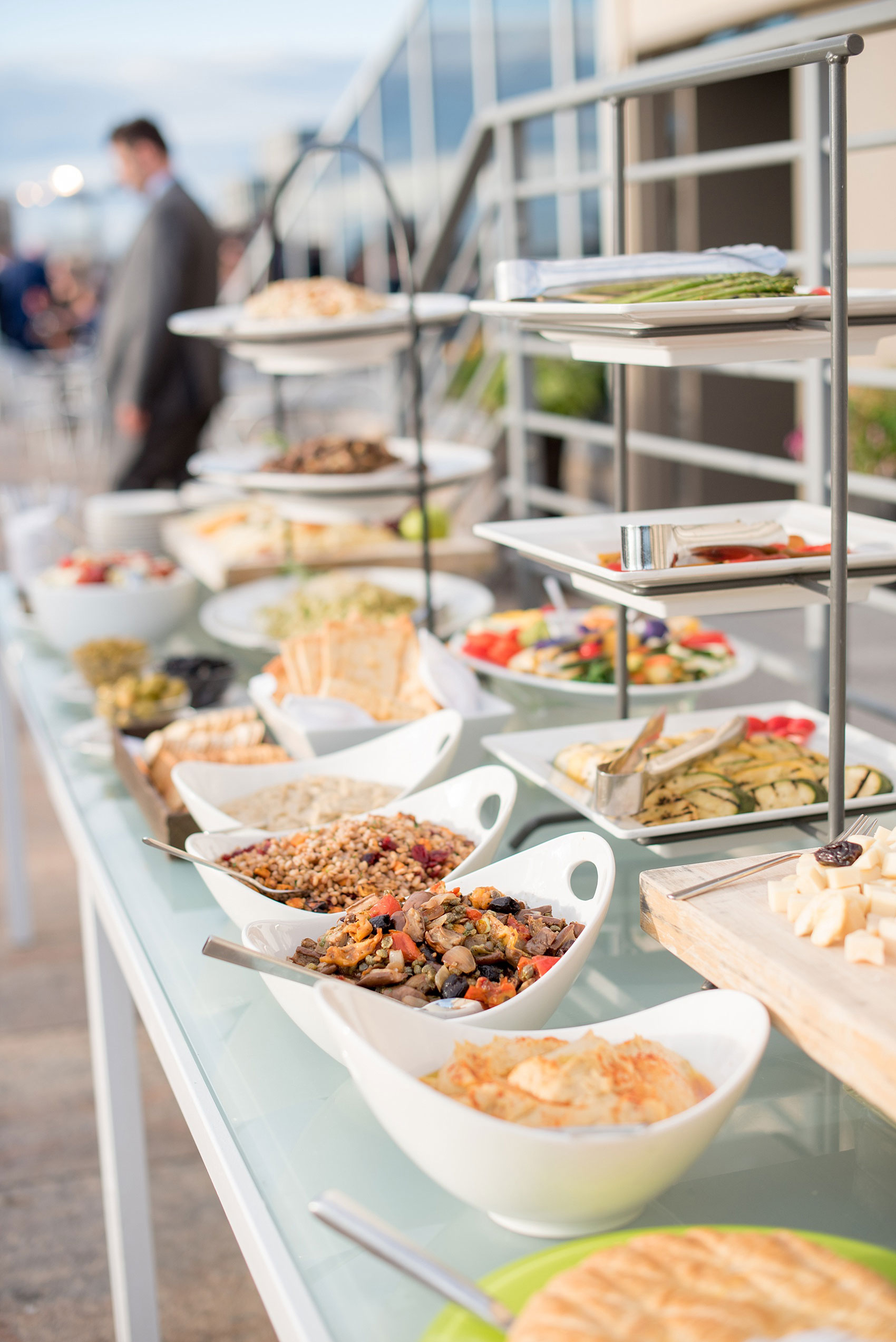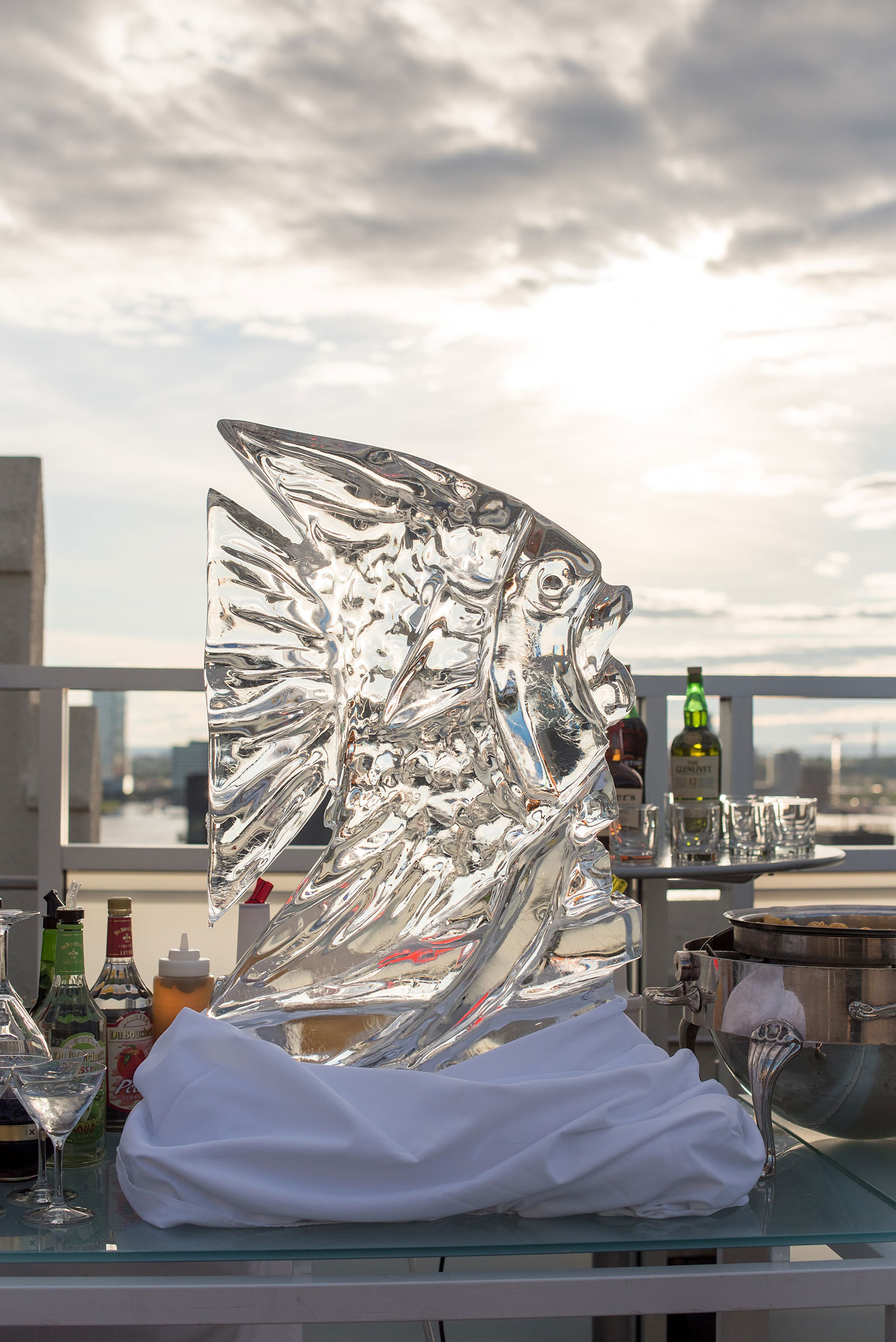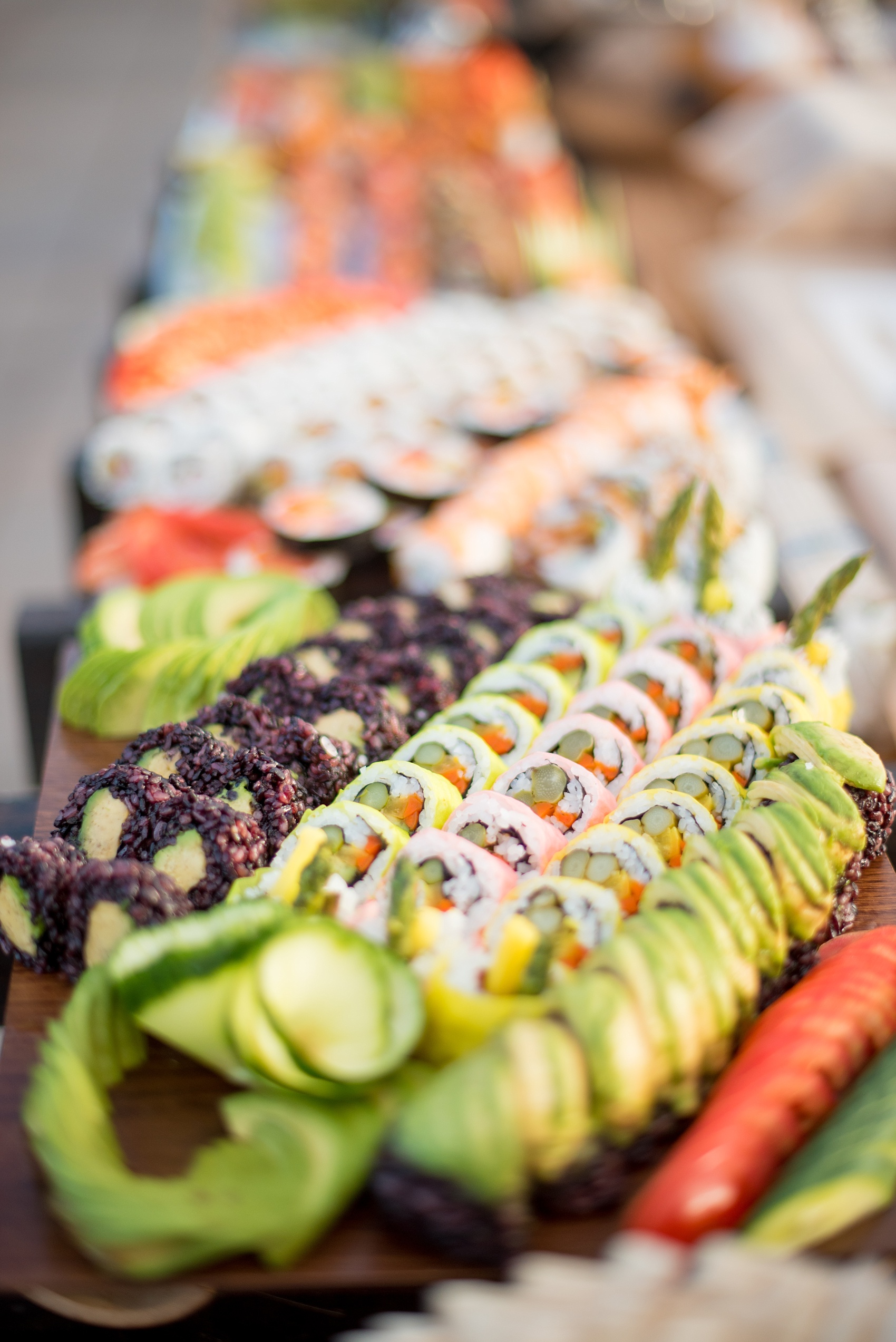 The food was phenomenal! From the sushi and dumpling station, to passed hors d'oeuvres (the rolled Peking Duck rolls were out of this world), to chilled gazpachos in a variety of flavors including spiced strawberry, to the mozzarella and tomato salad at dinner…it was all delicious and plentiful!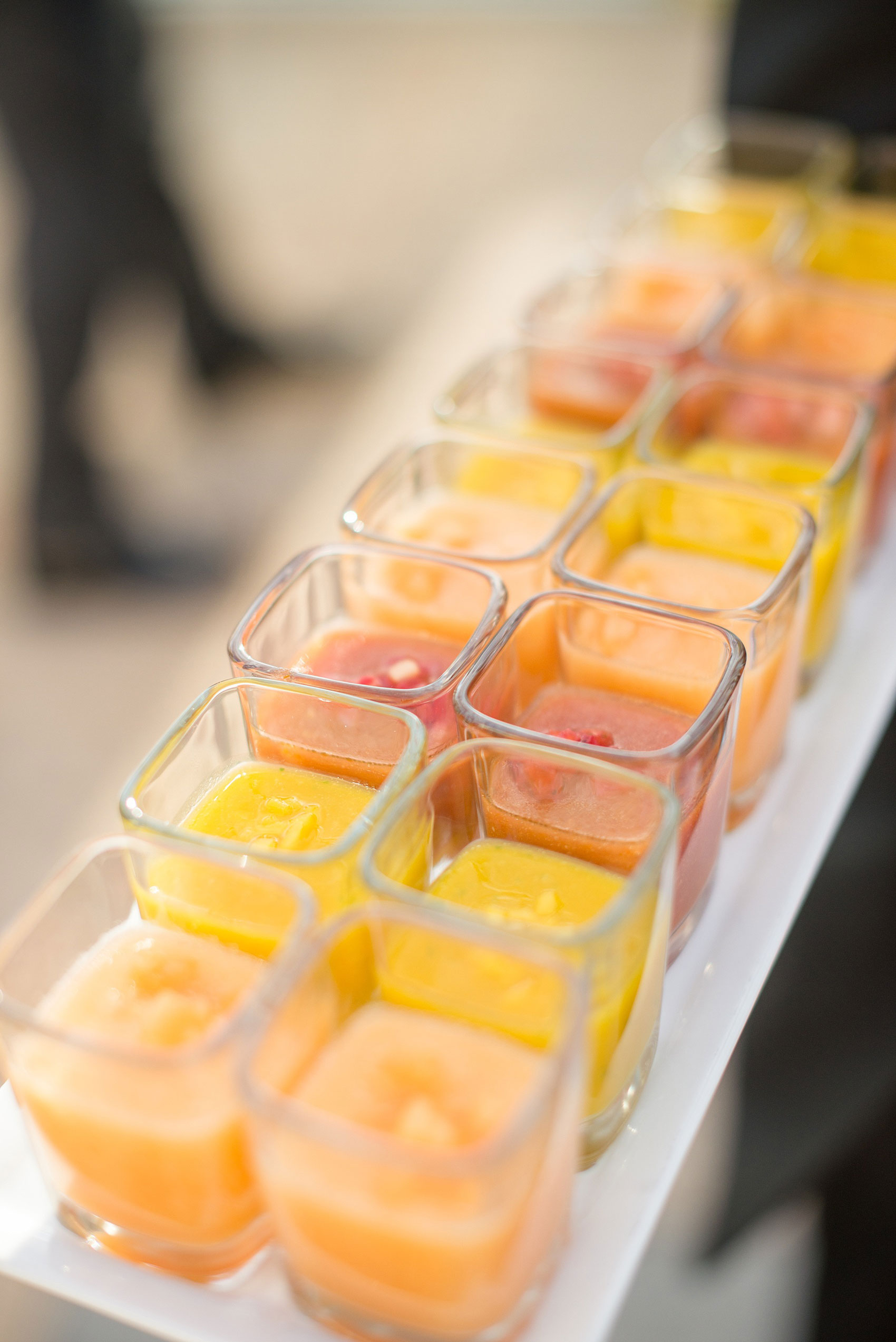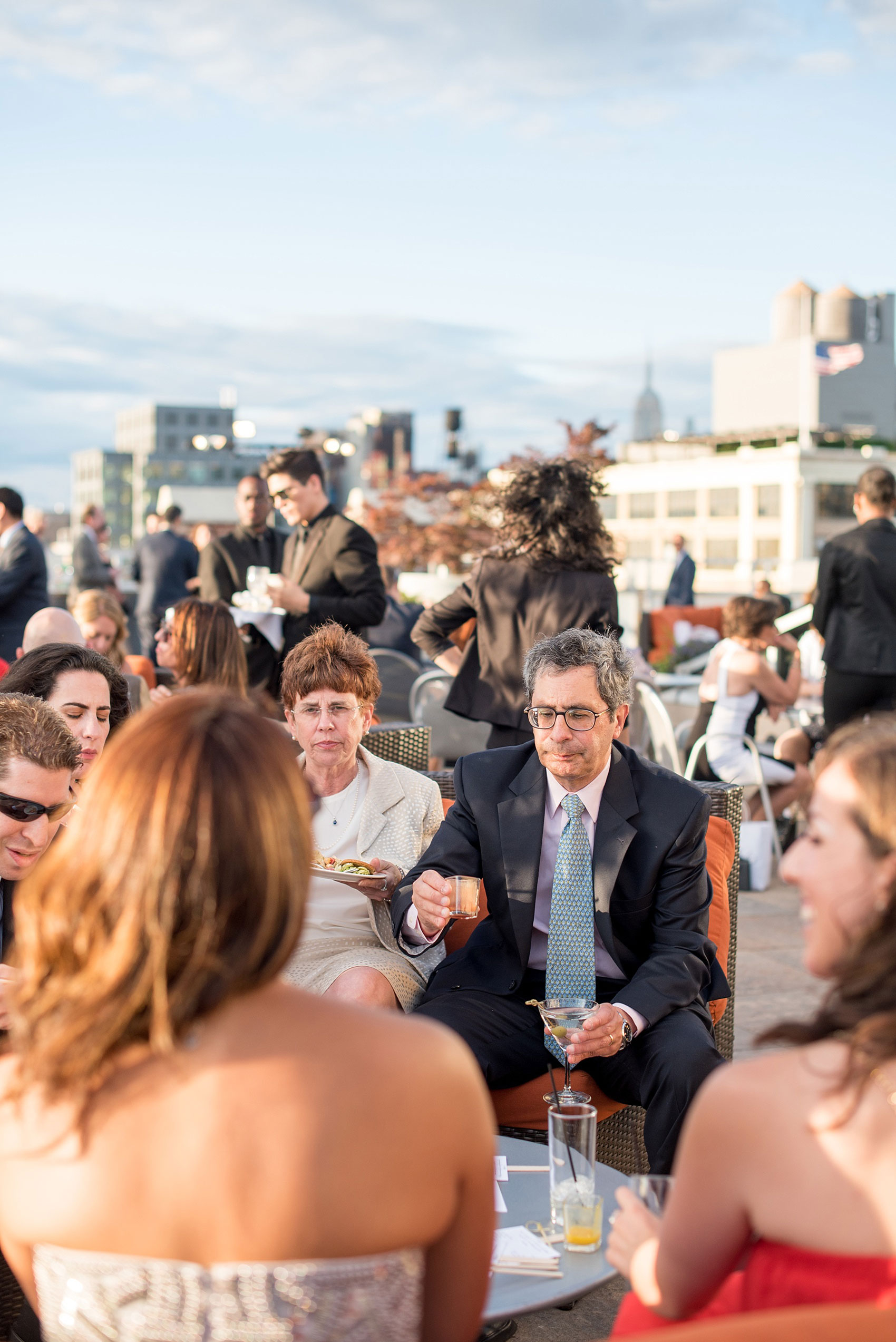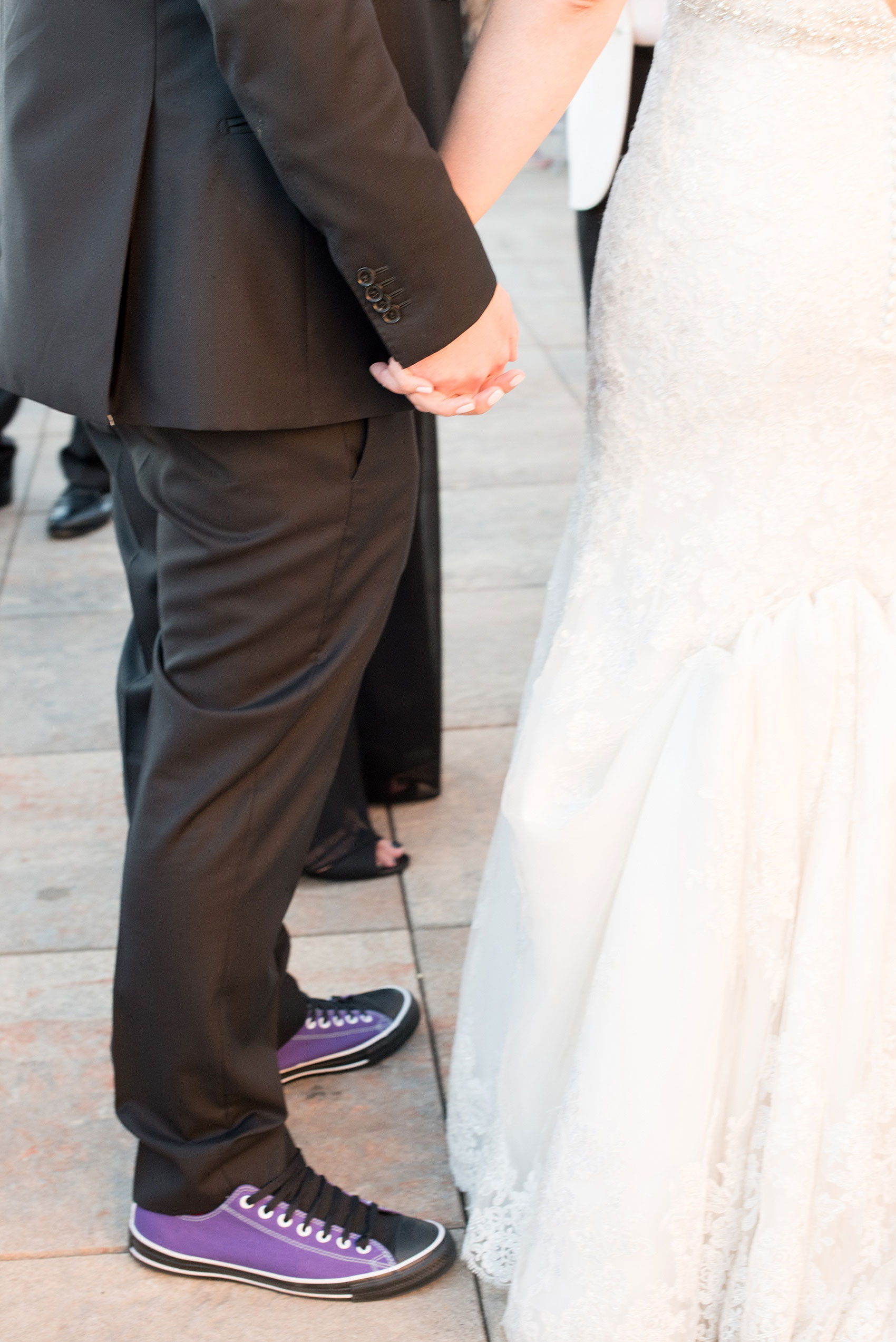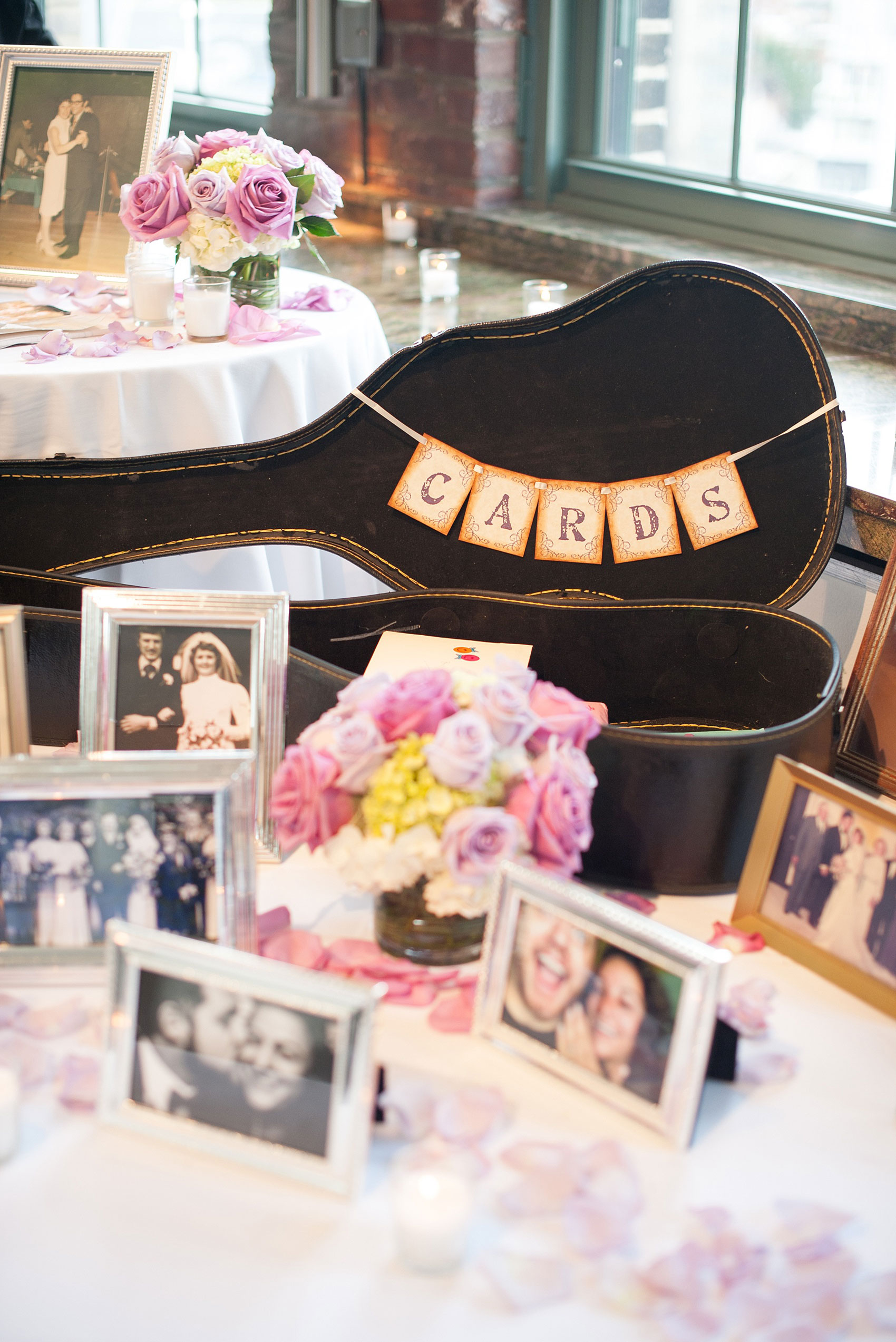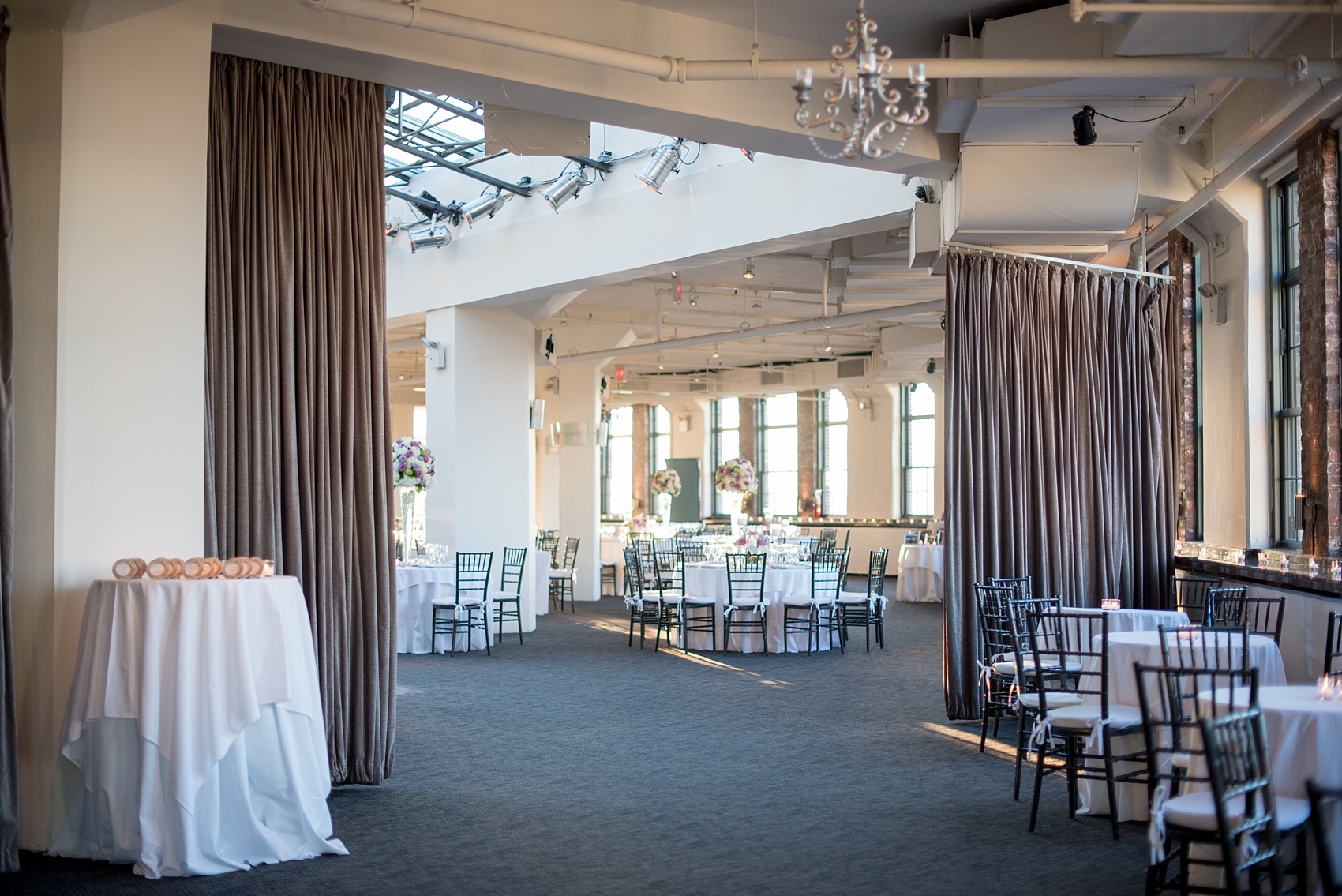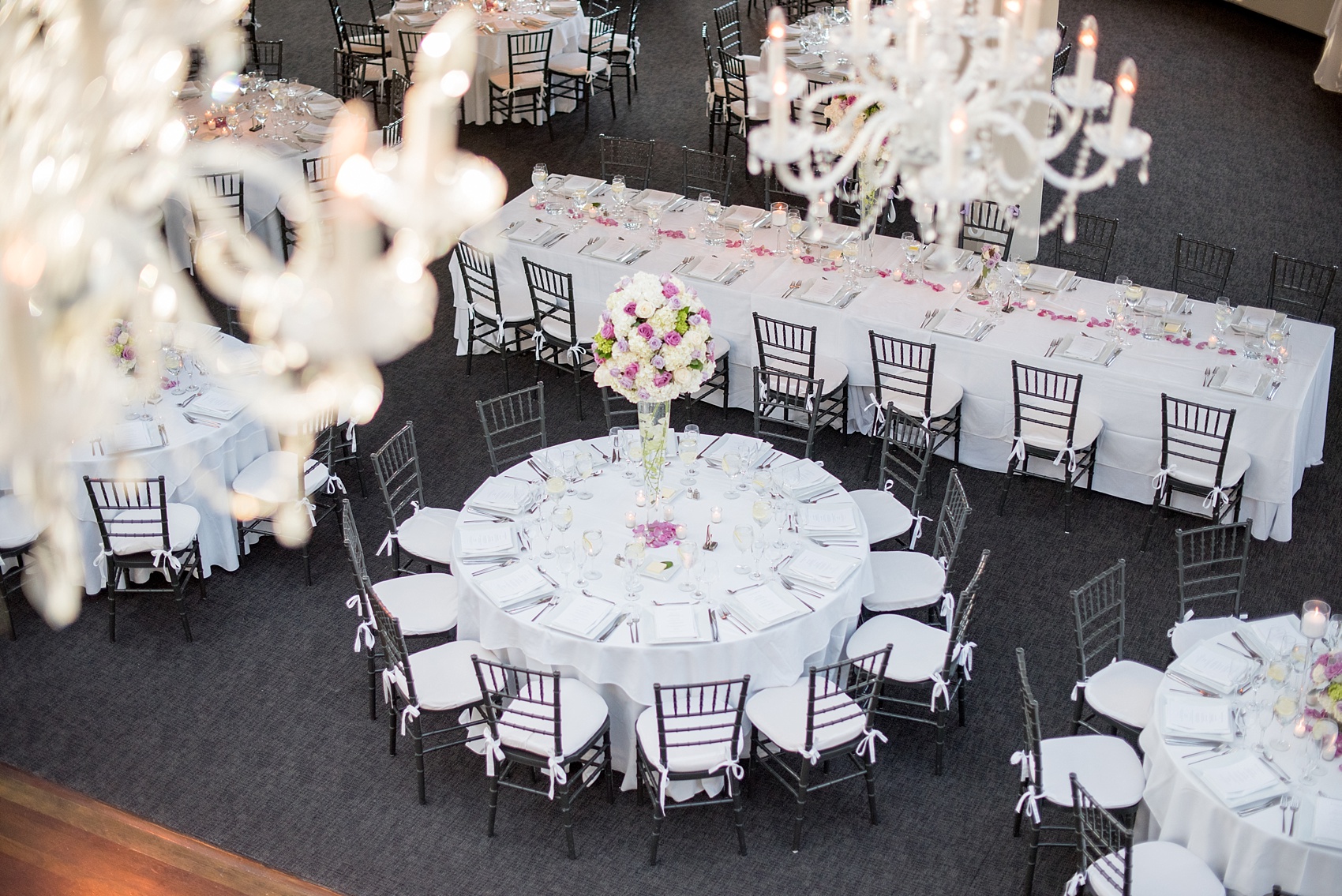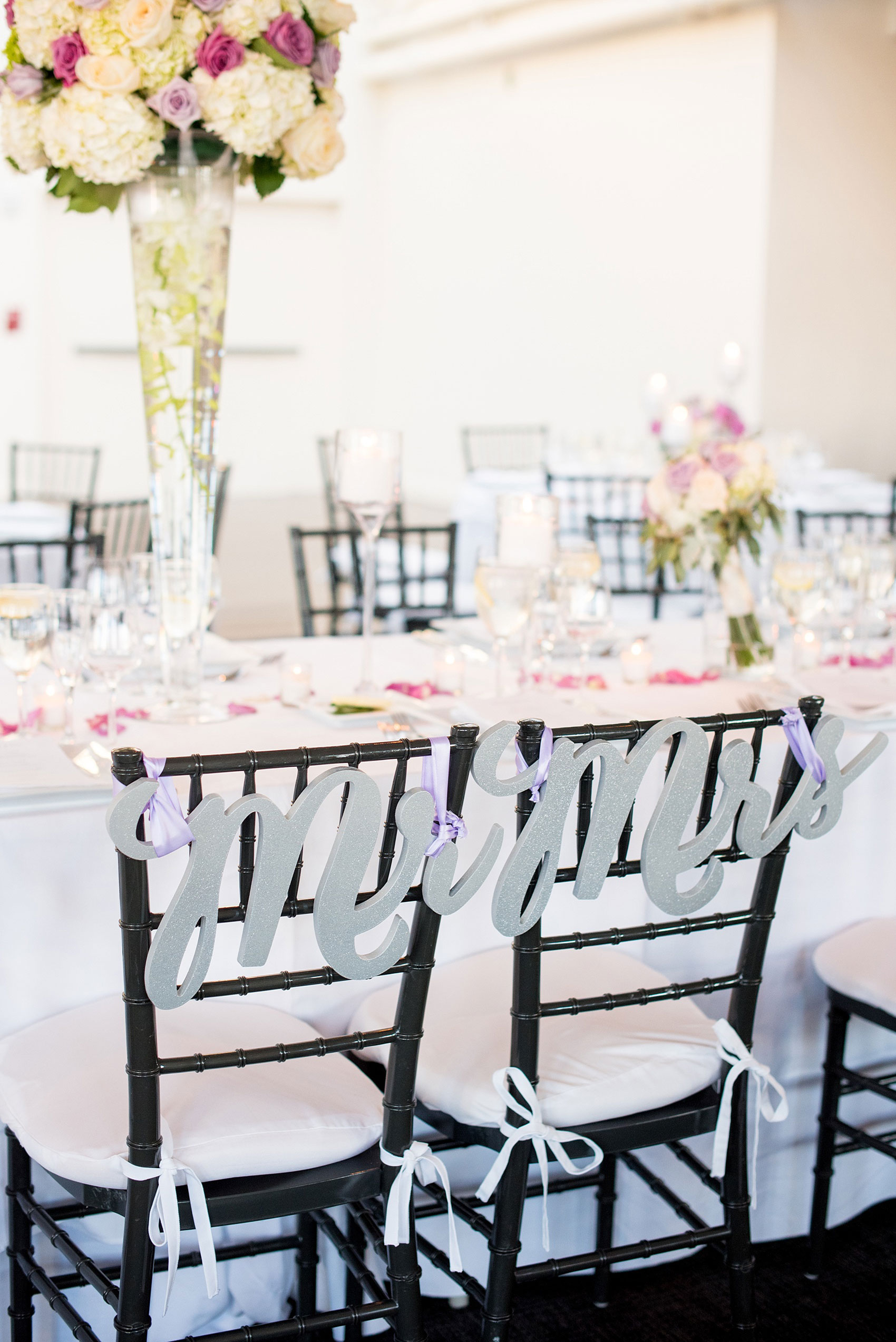 I loved the silver Mr. and Mrs. script cutouts they had tied to their black chiavari chairs. They opted for clean white linens accented by purple and green roses and hydrangeas in both tall and low centerpieces, dressed up by candlelight.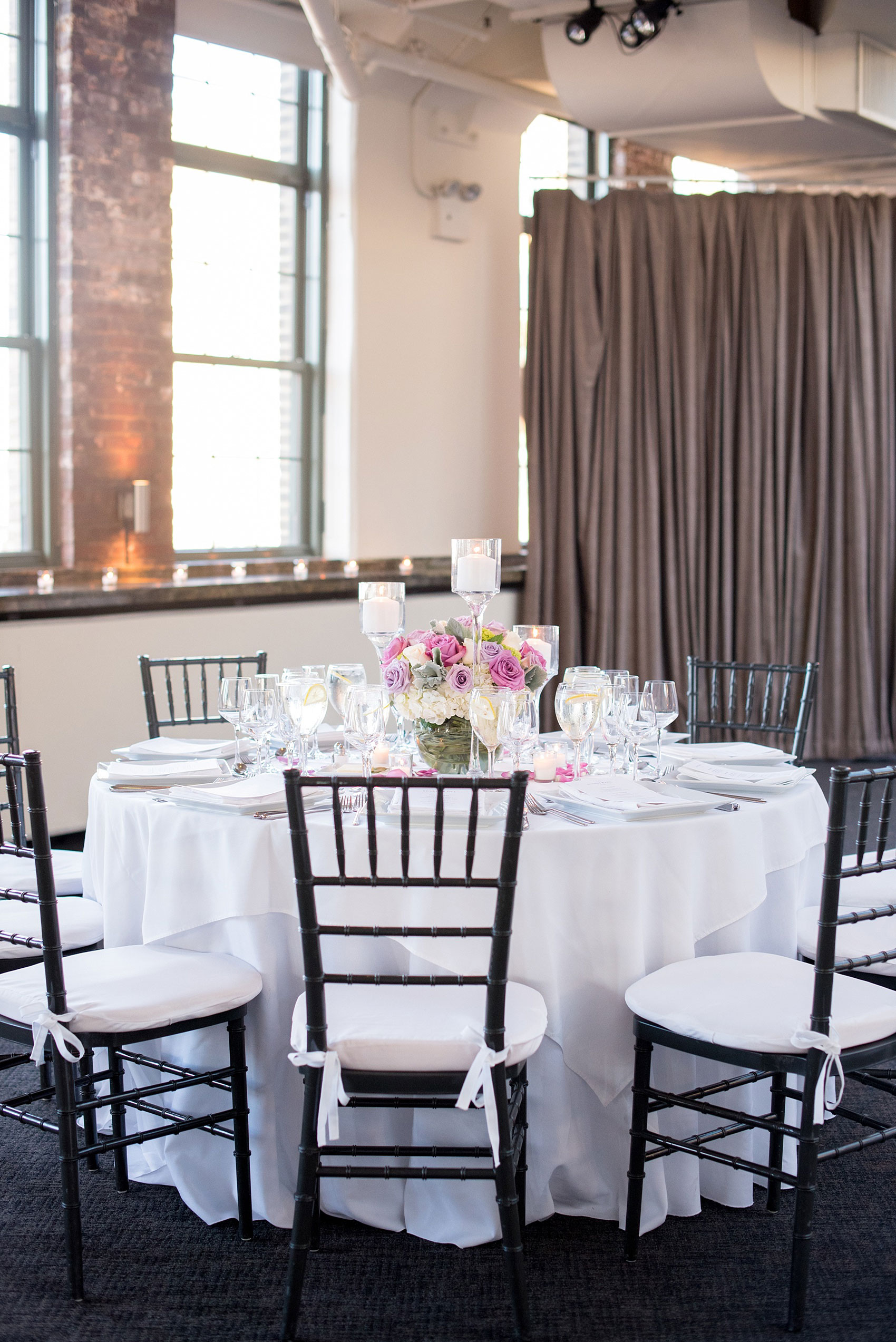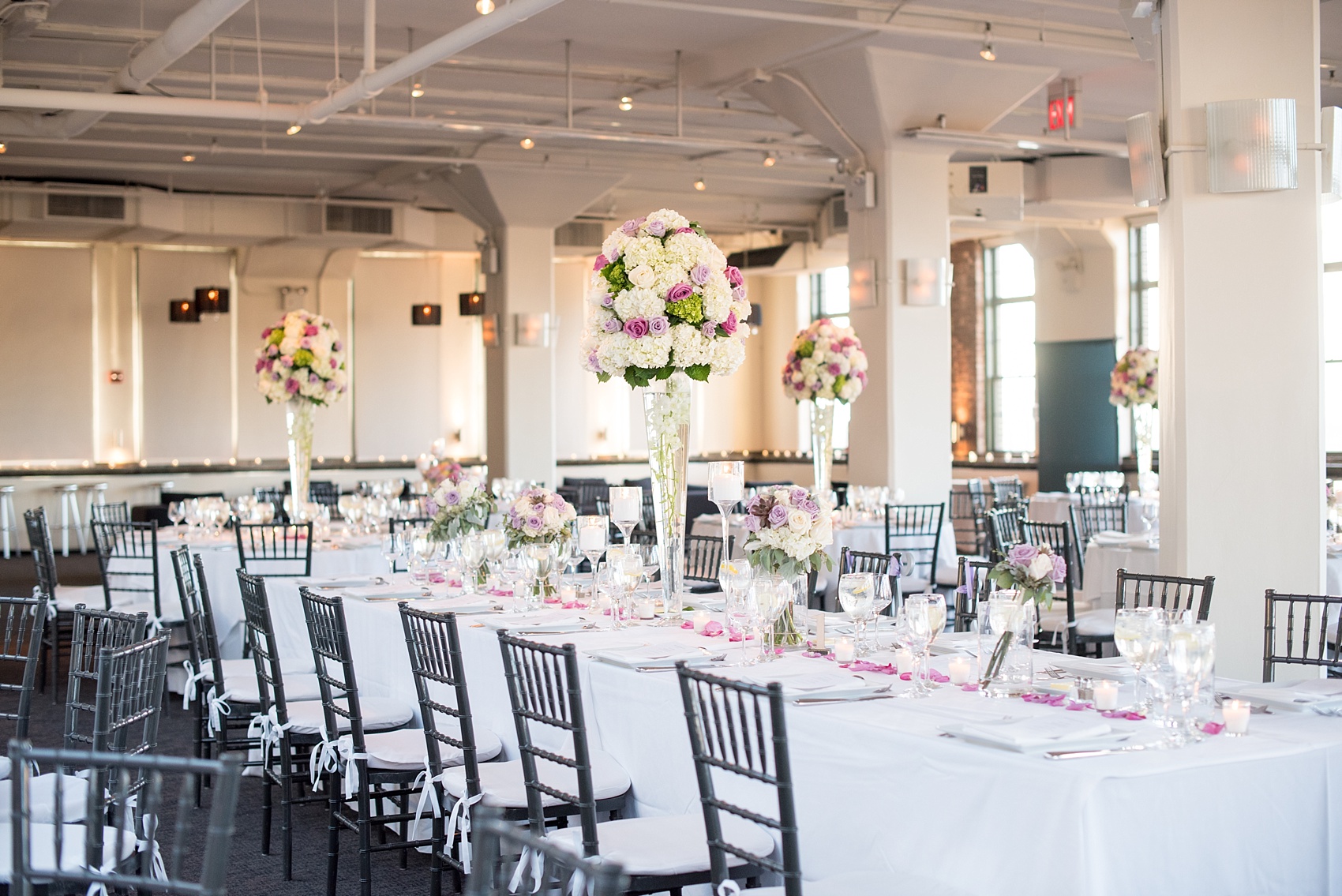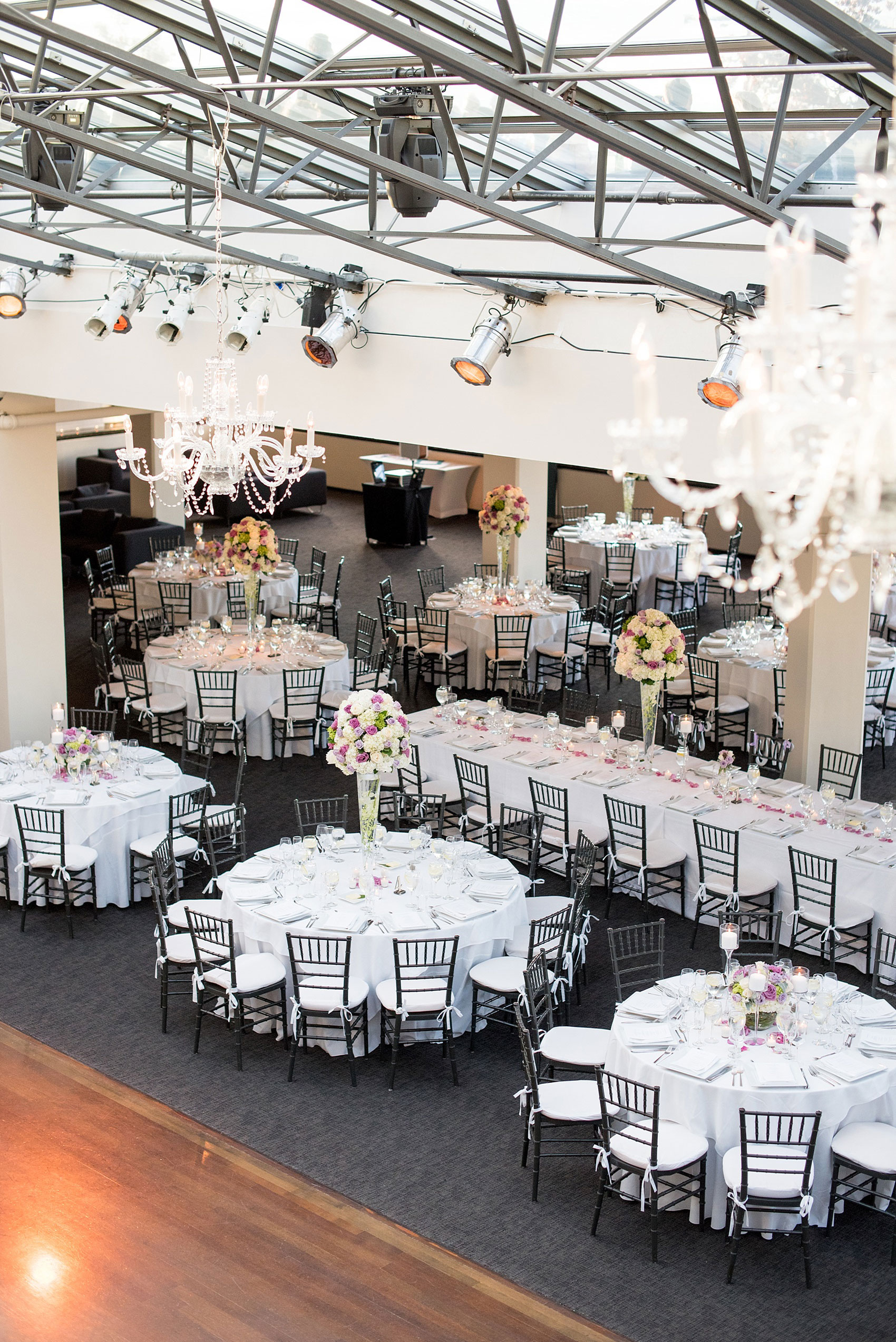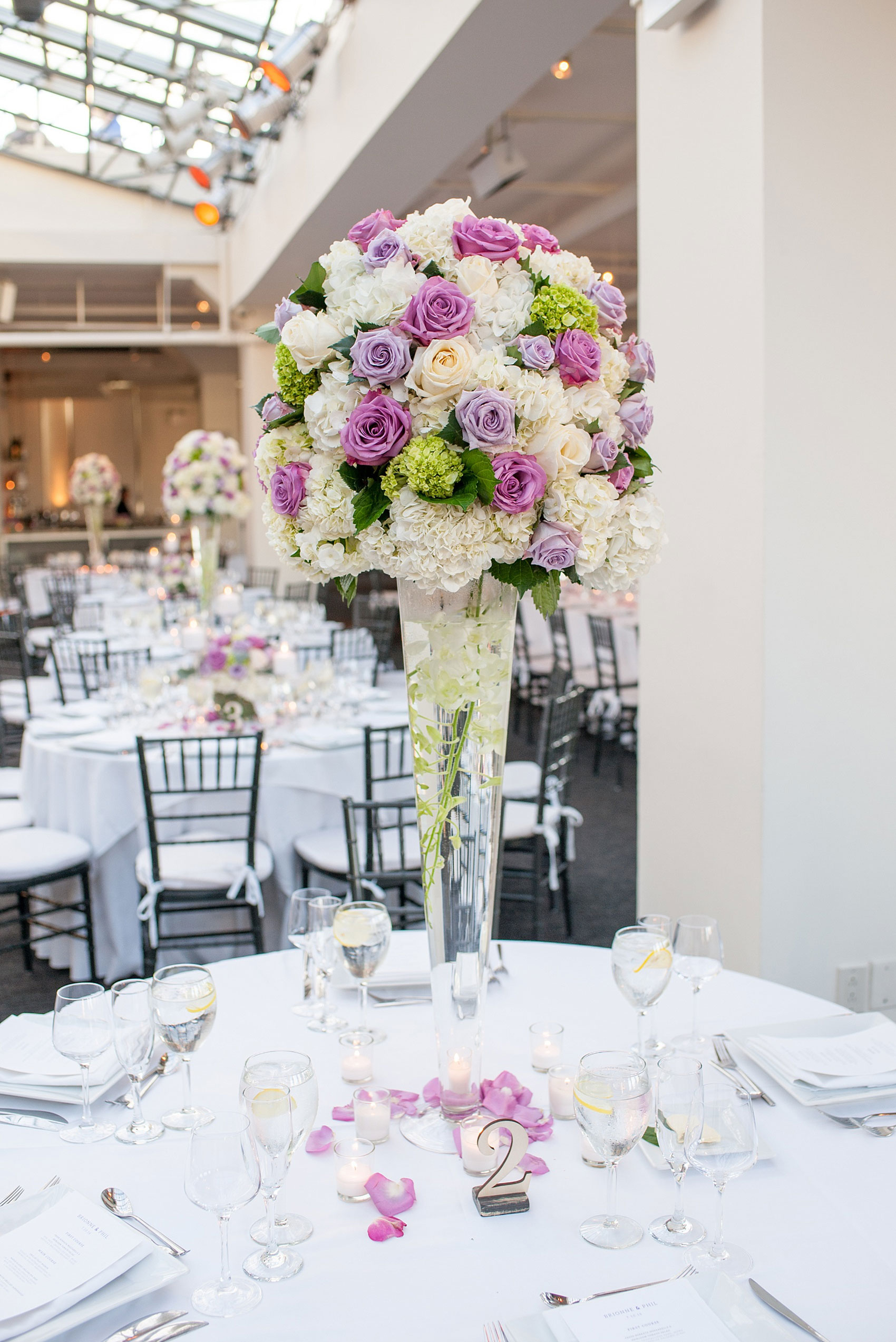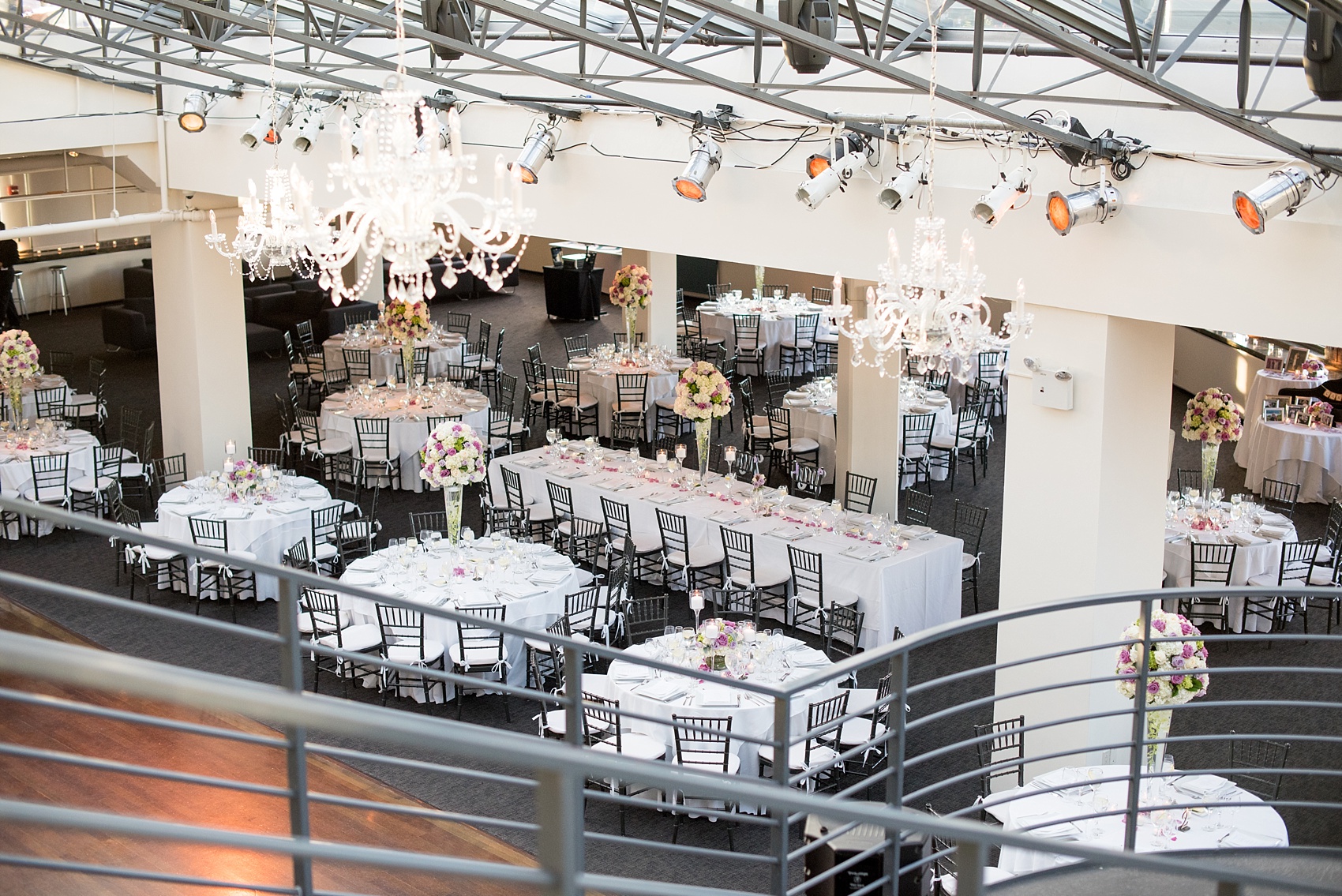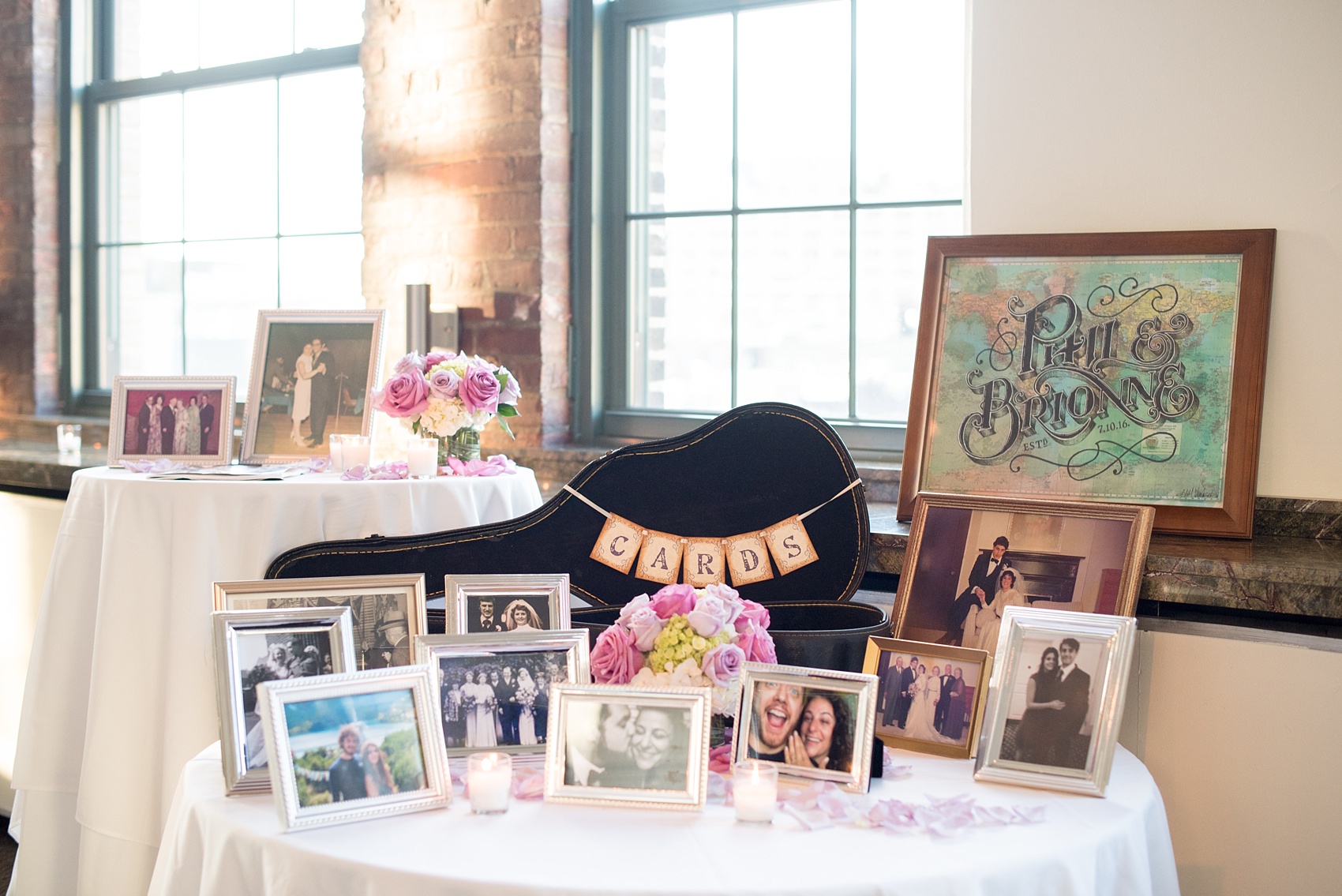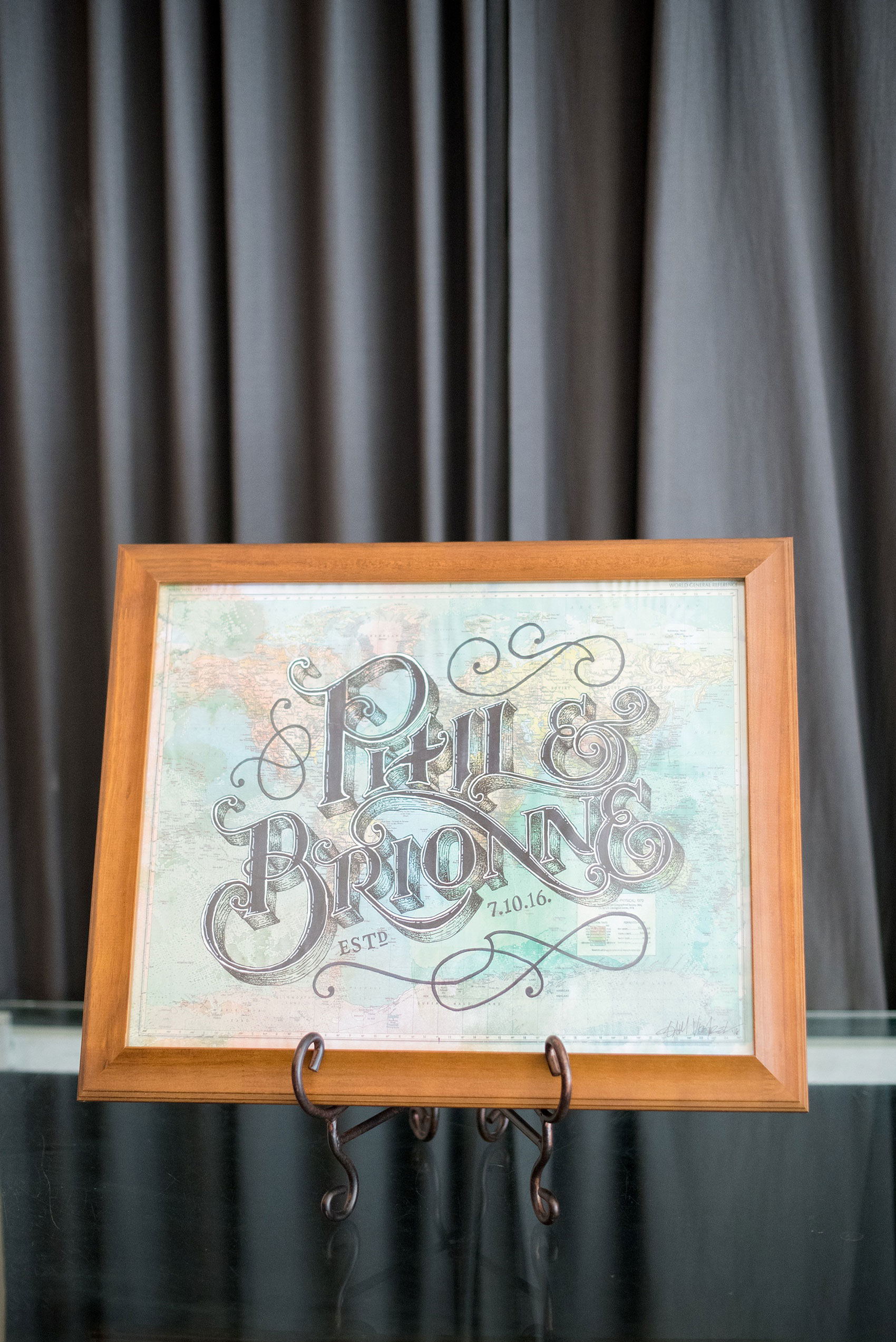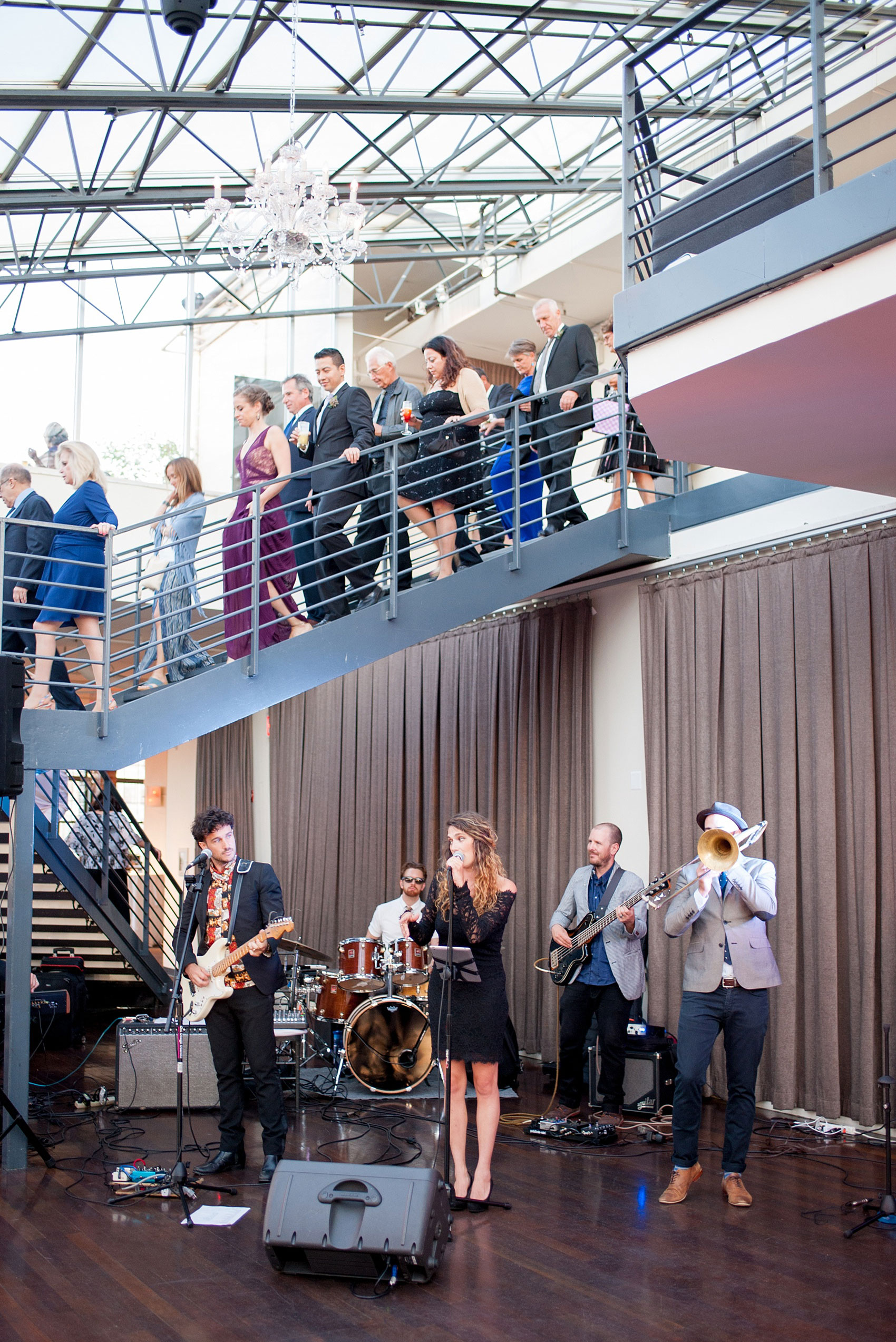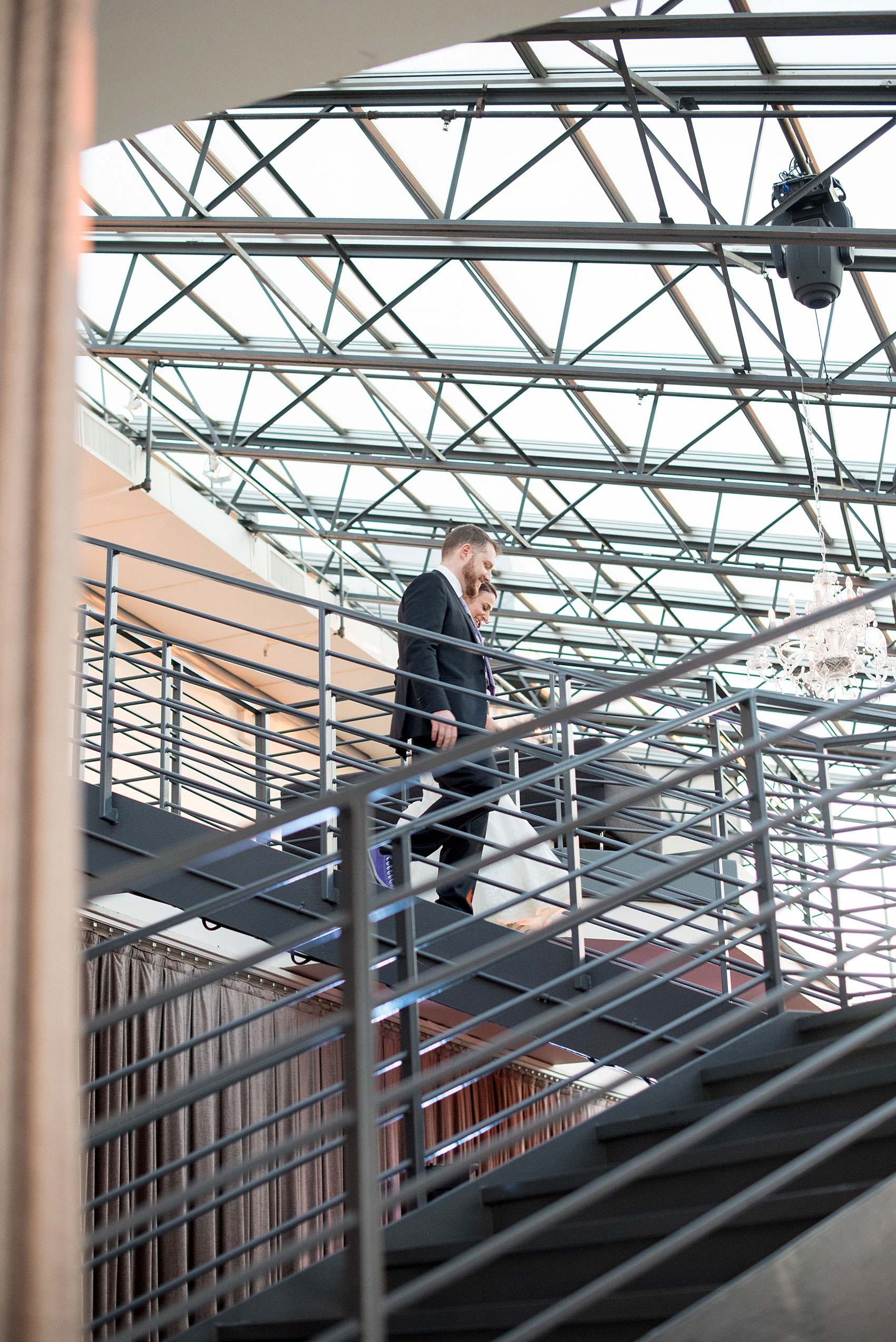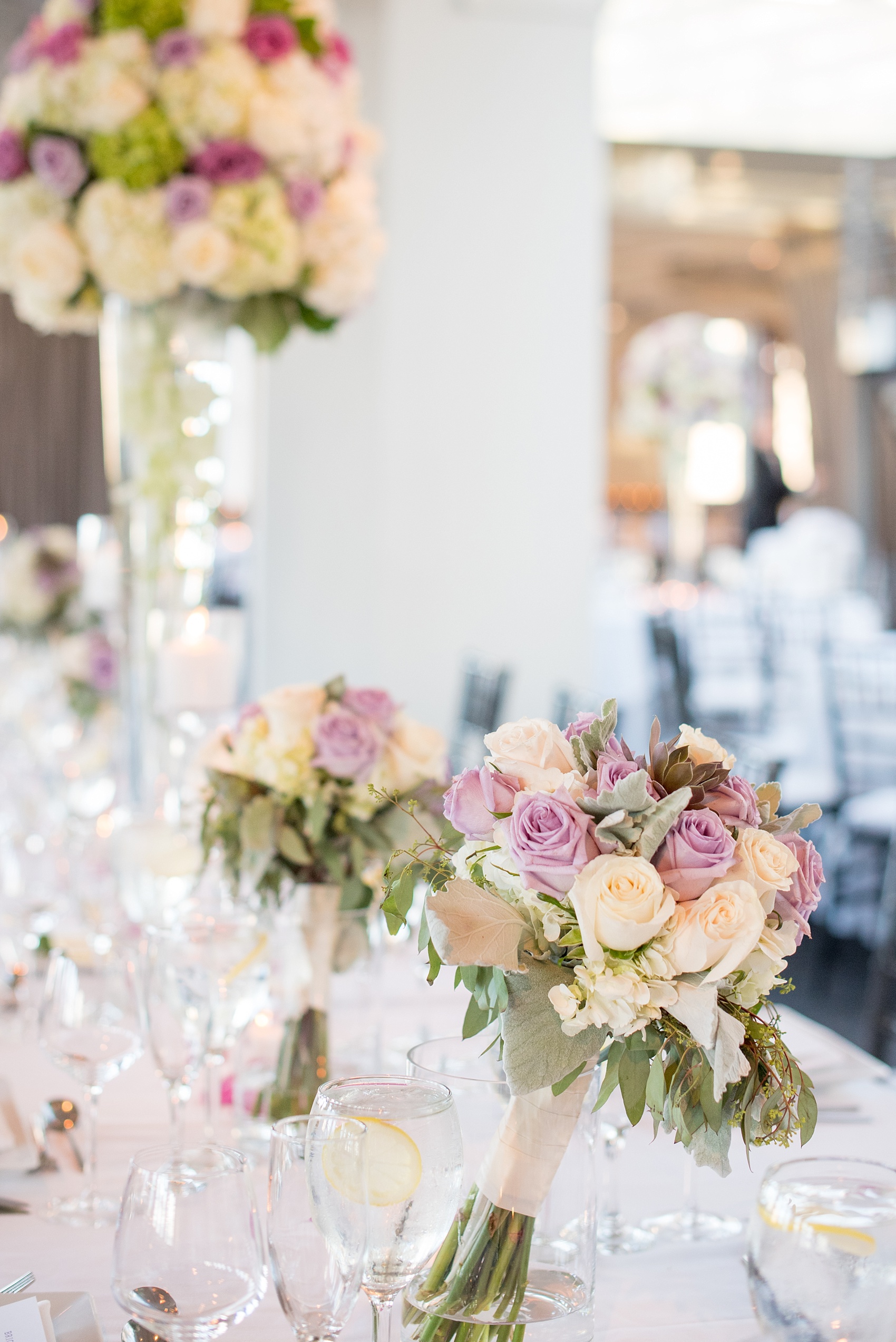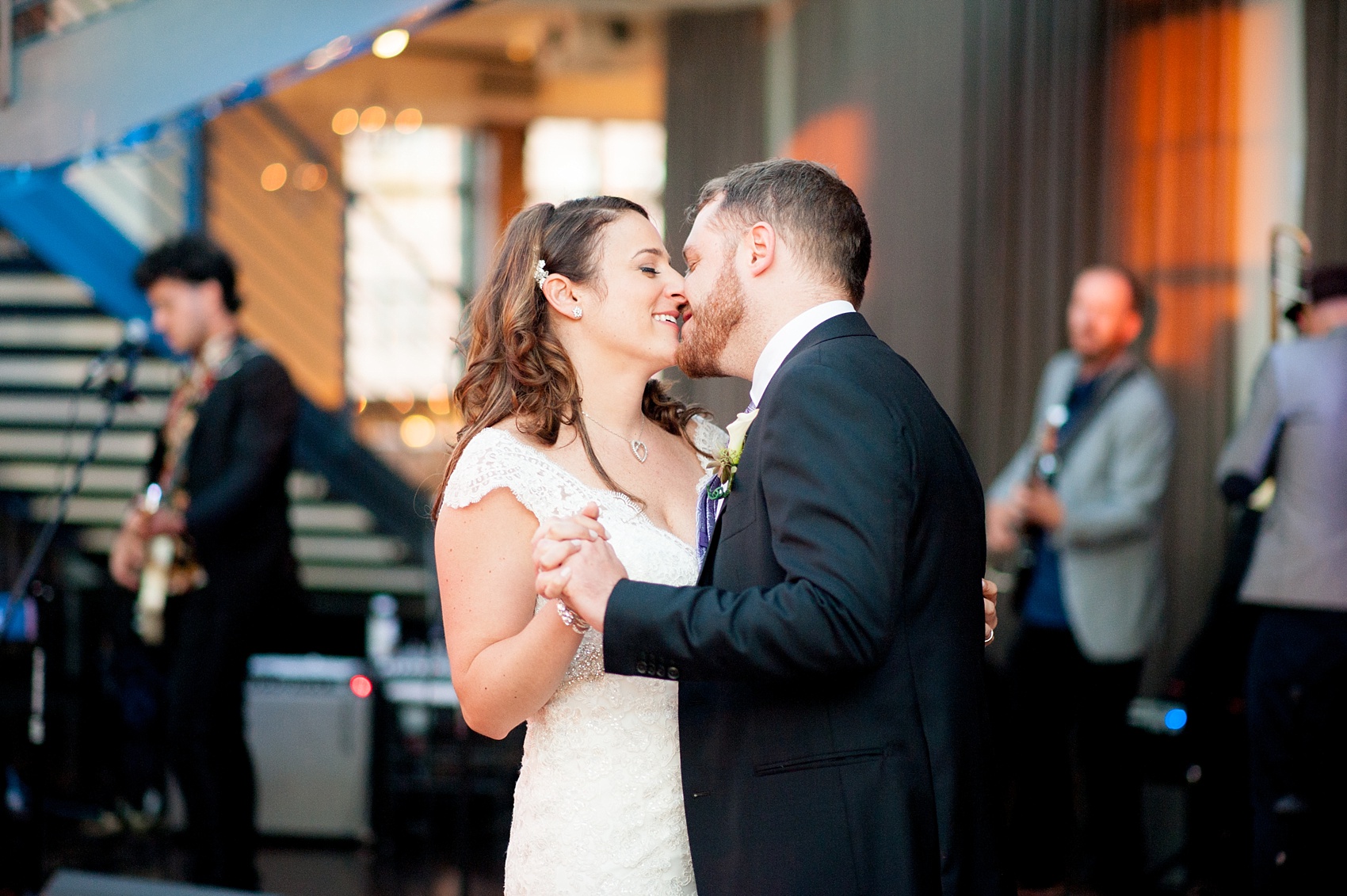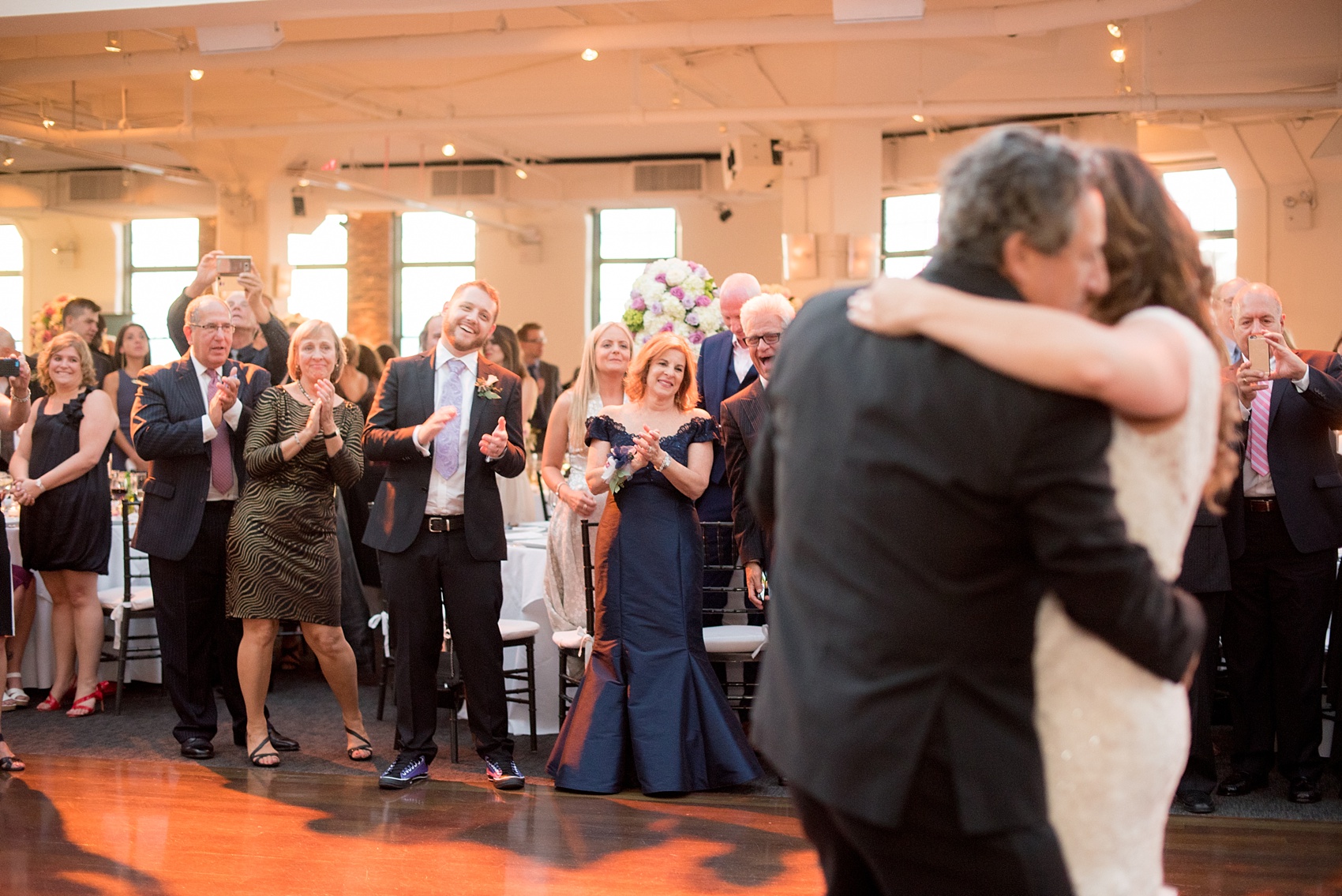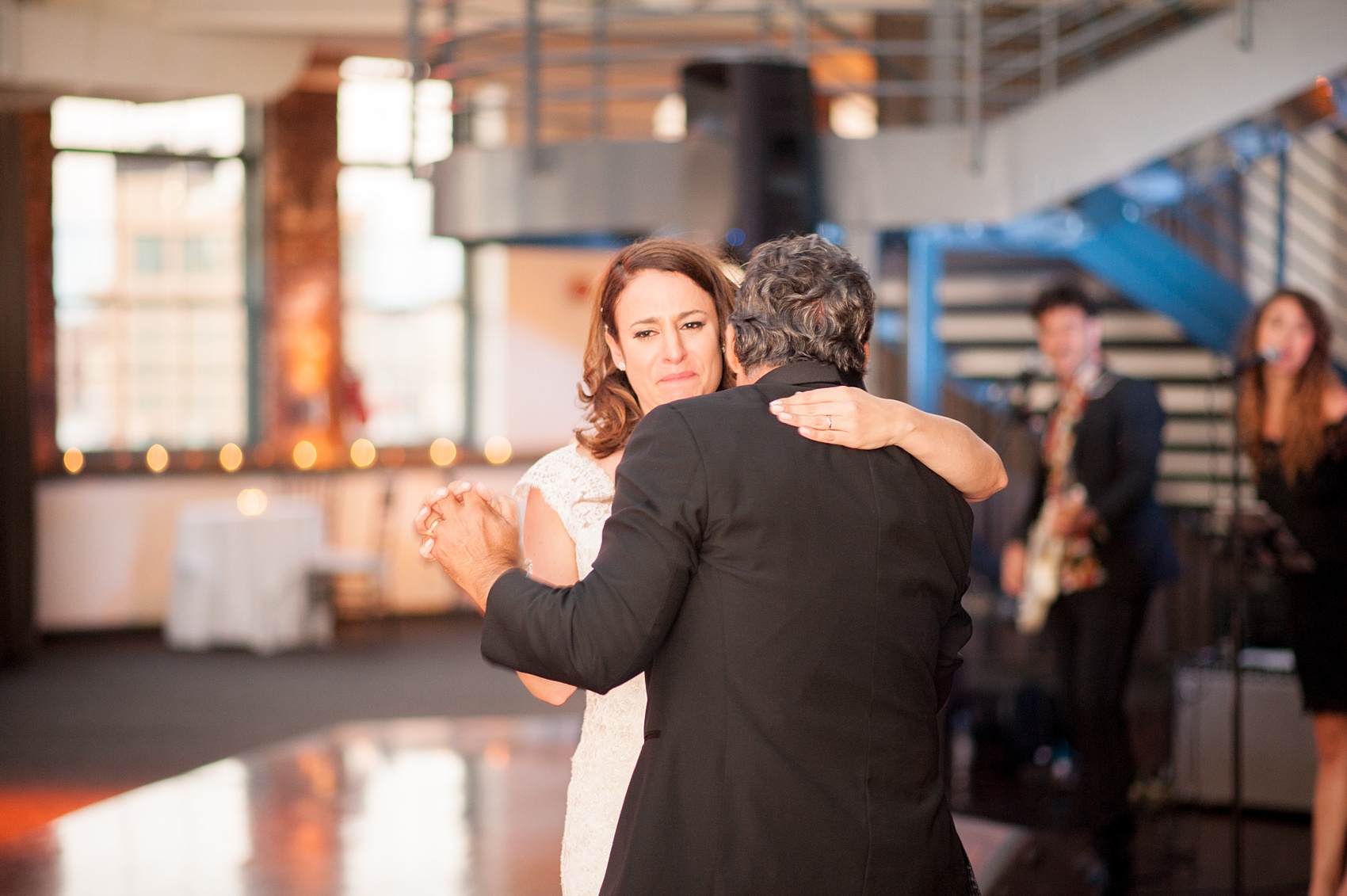 Two of the most touching moments of the evening were Bri's dance with her father to "My Girl," with everyone singing and swaying along watching on the "sidelines" of the dance floor, and Phil's best man Rowan's hysterical speech that had everyone in stitches.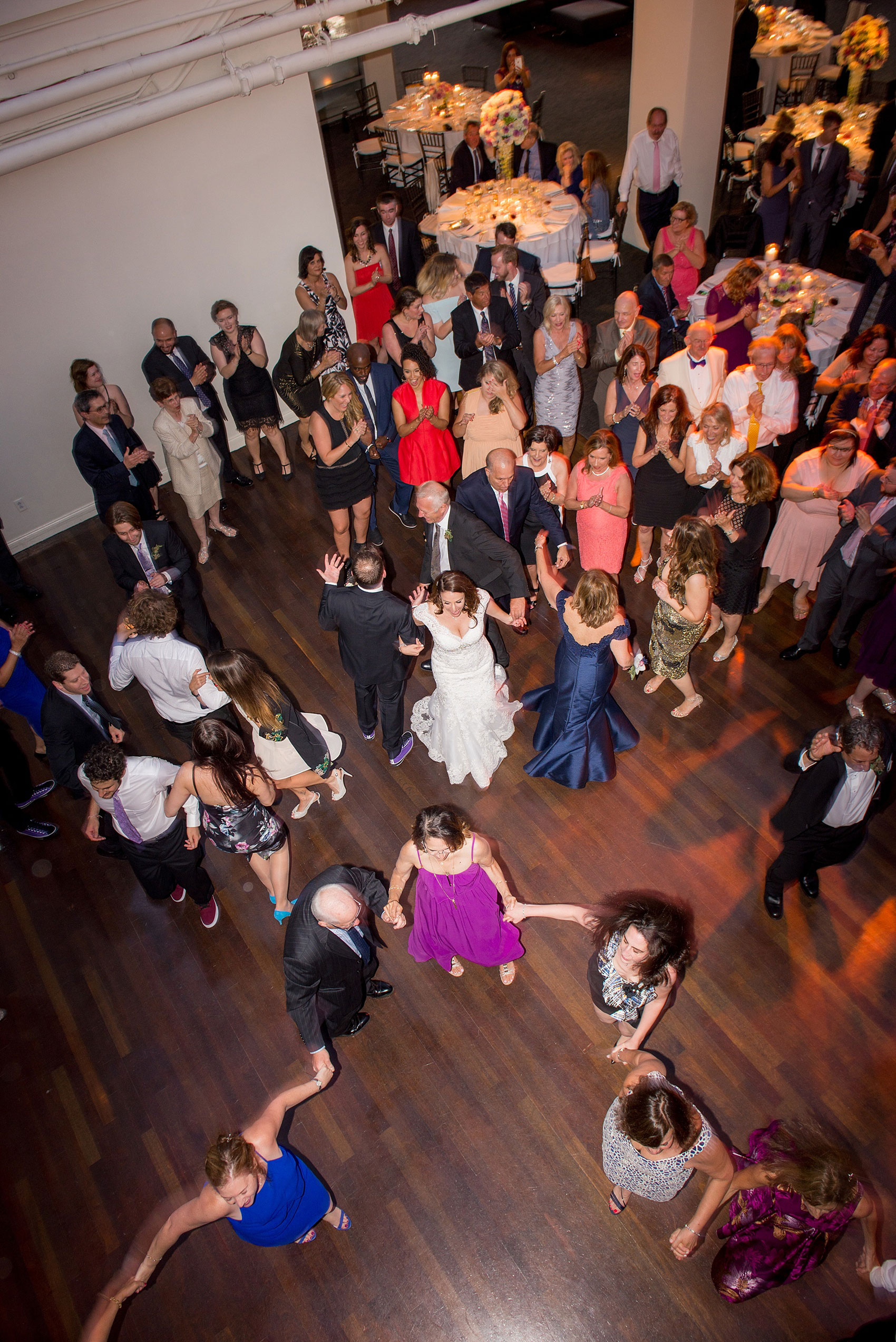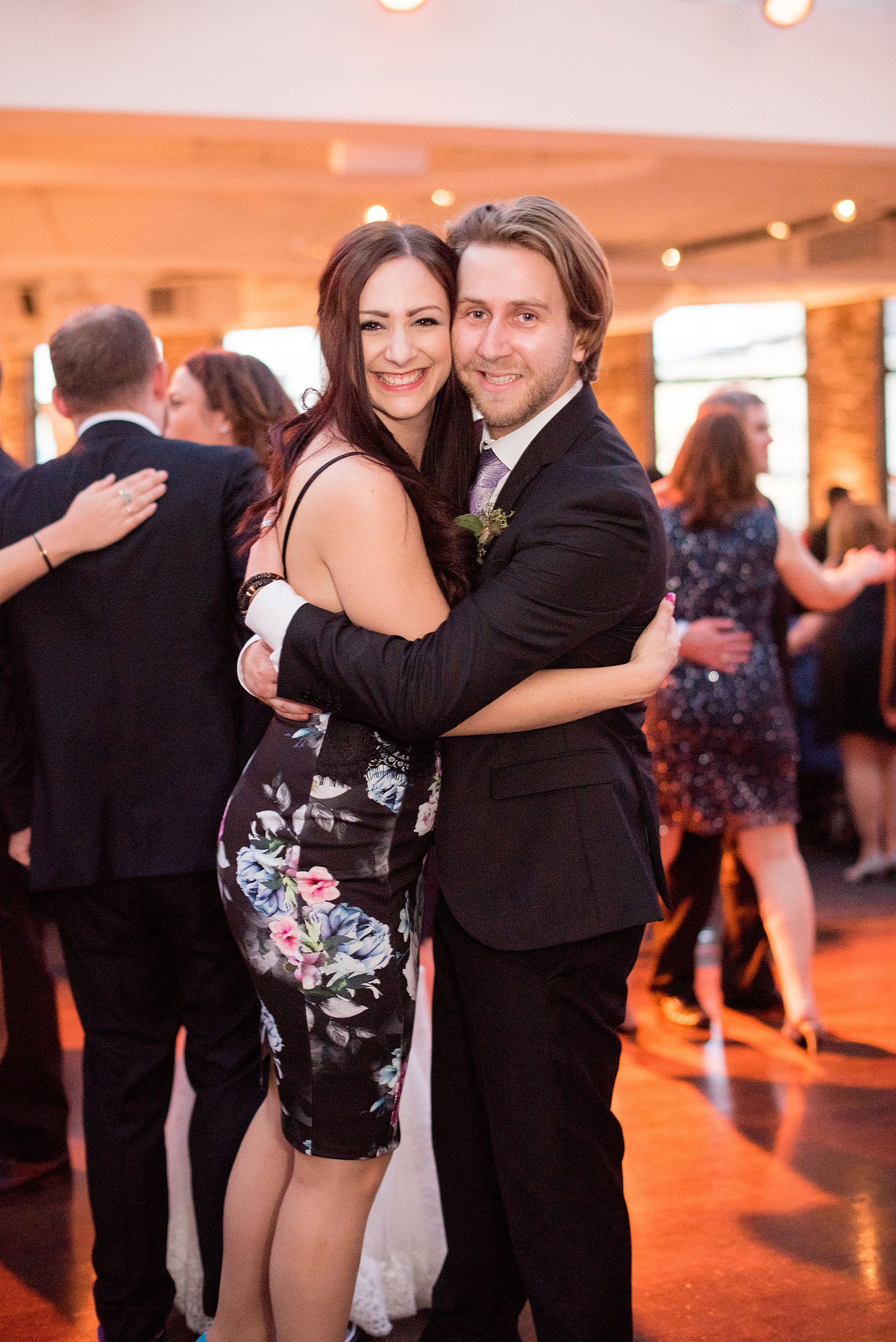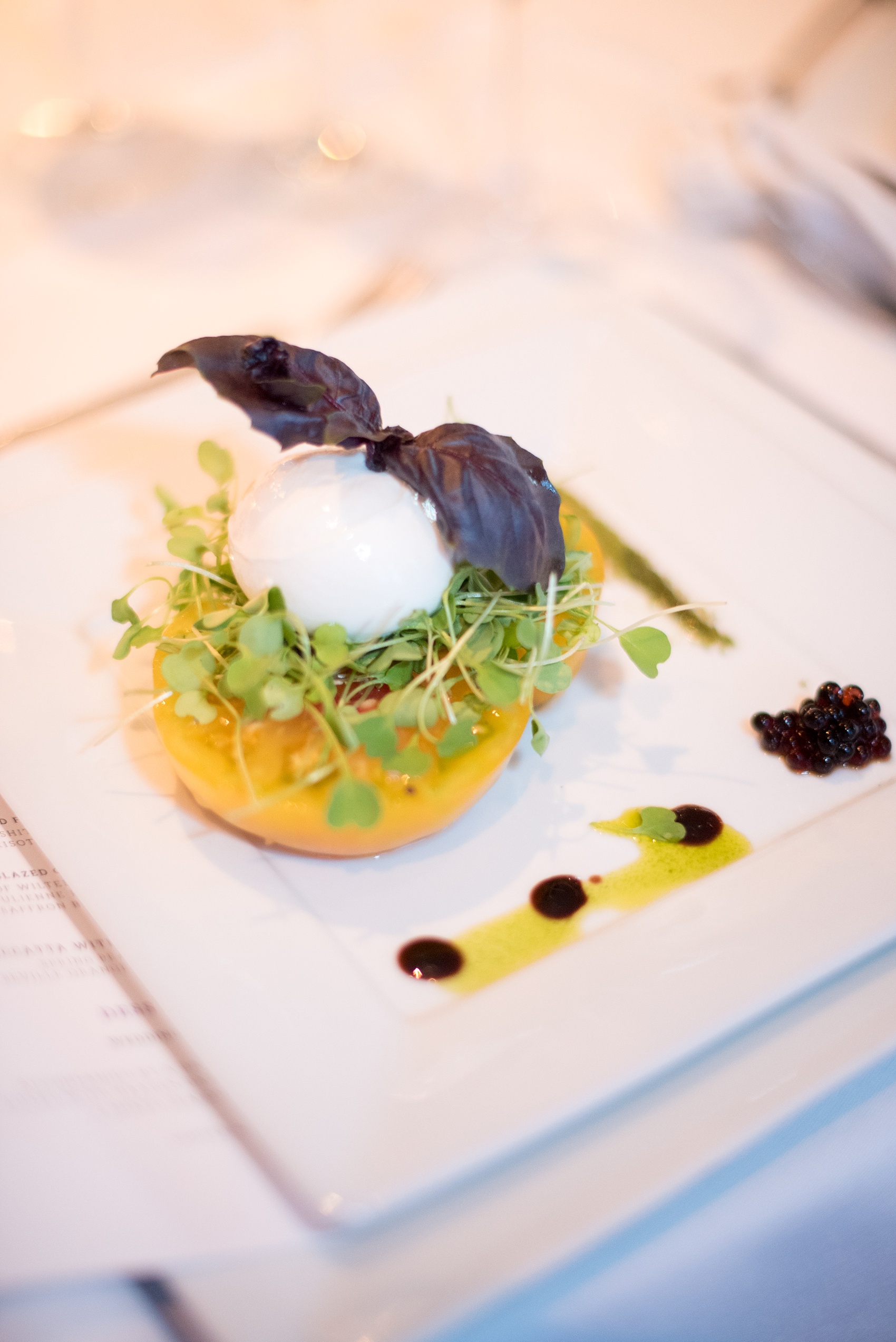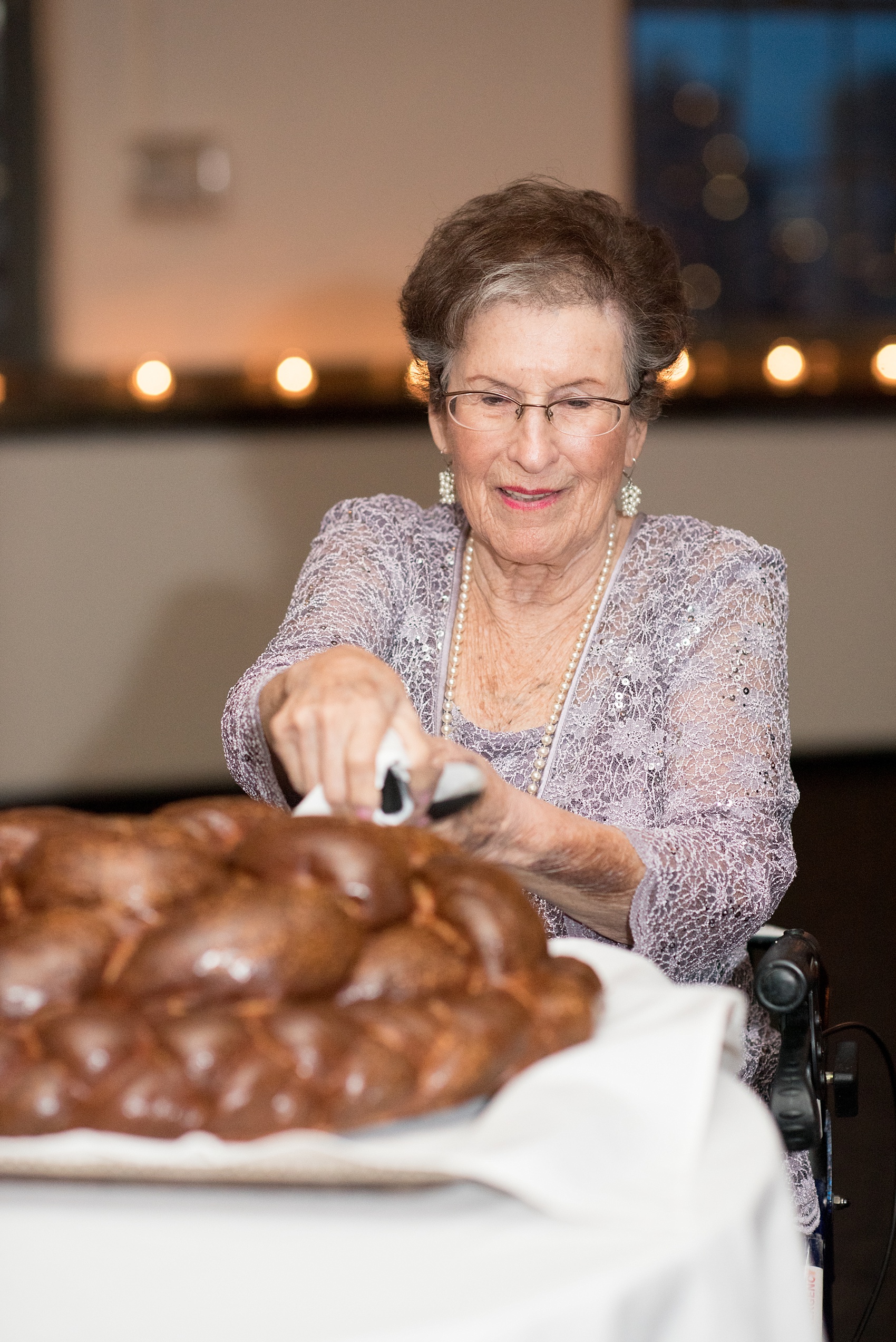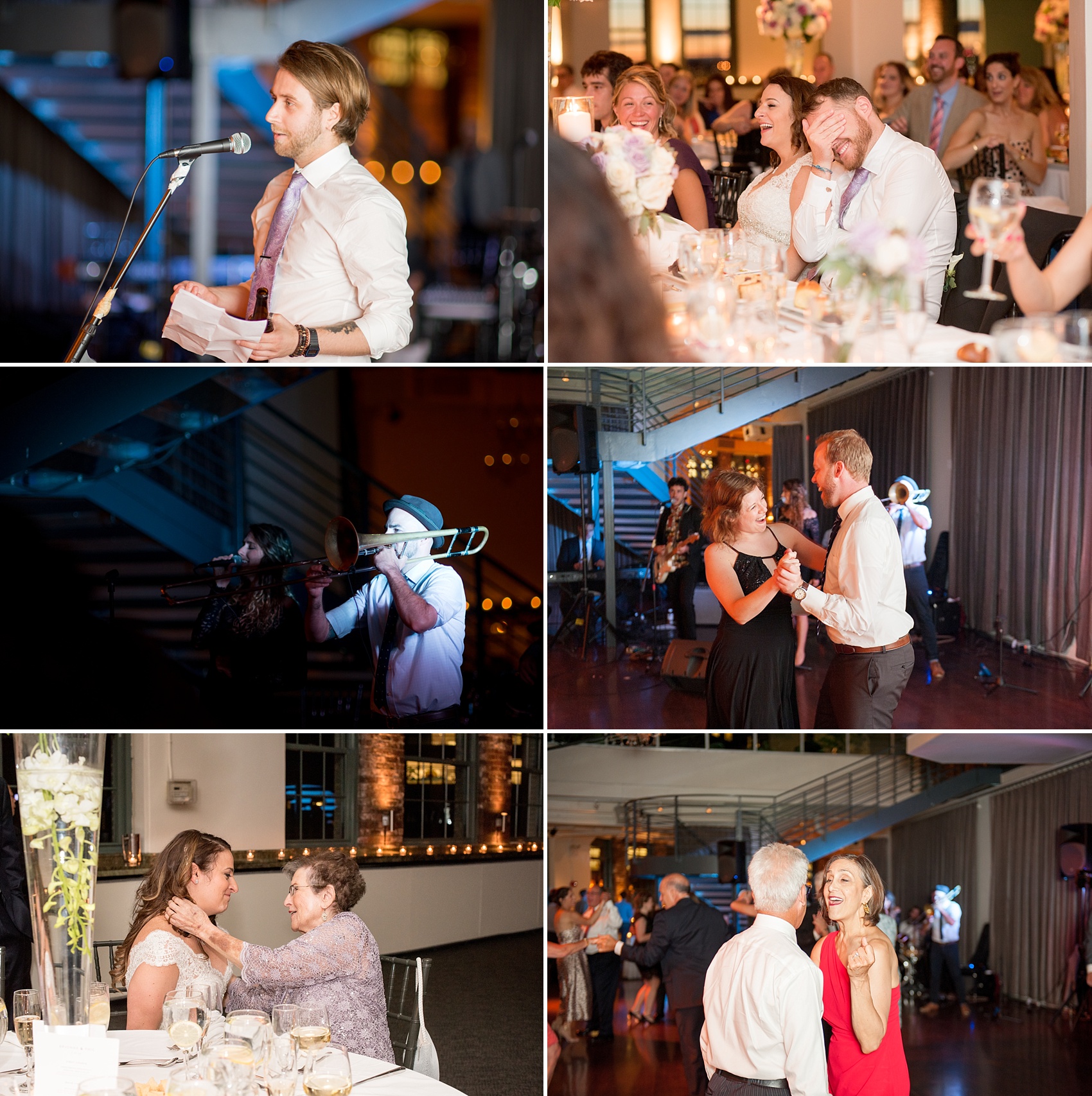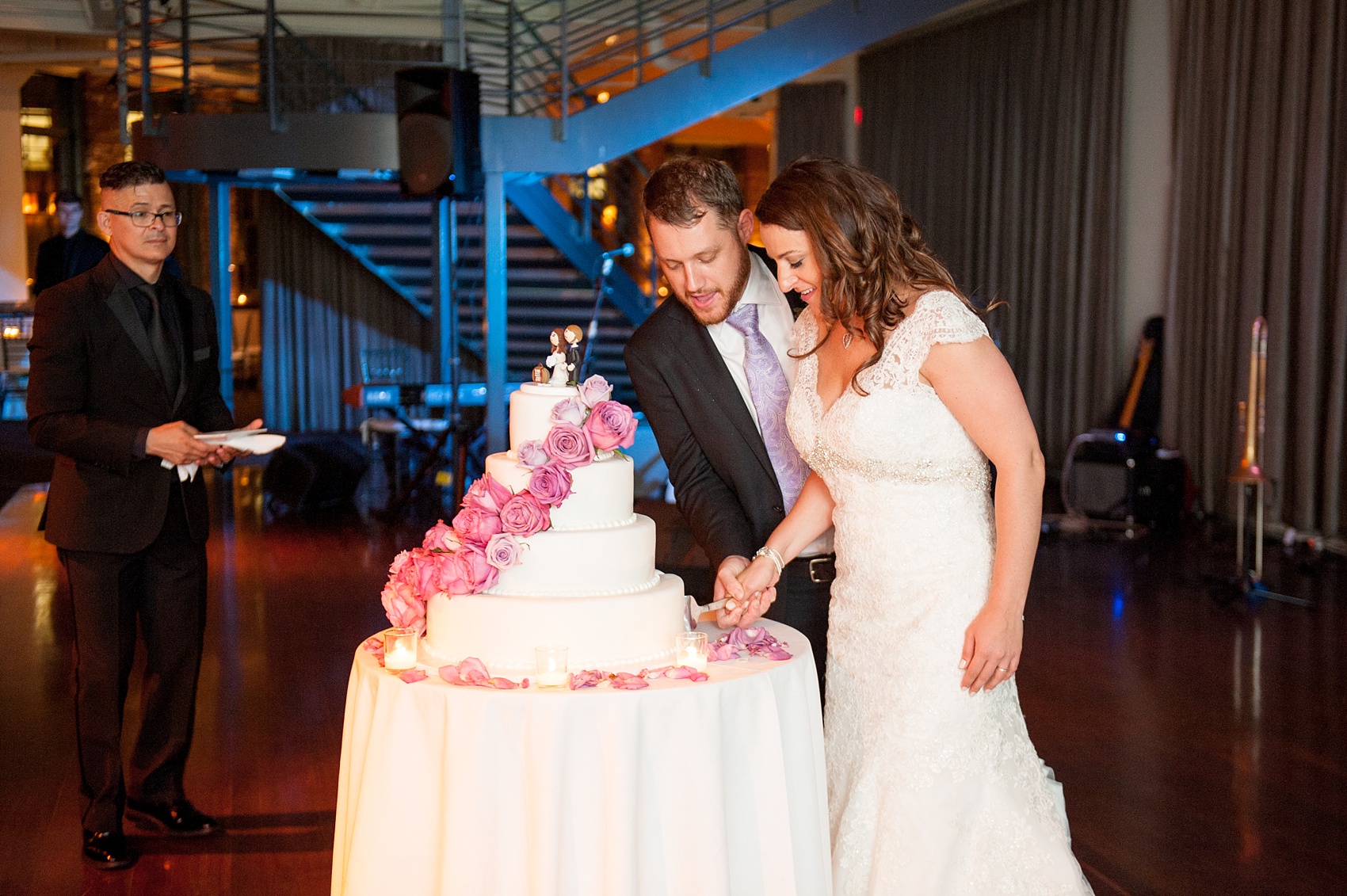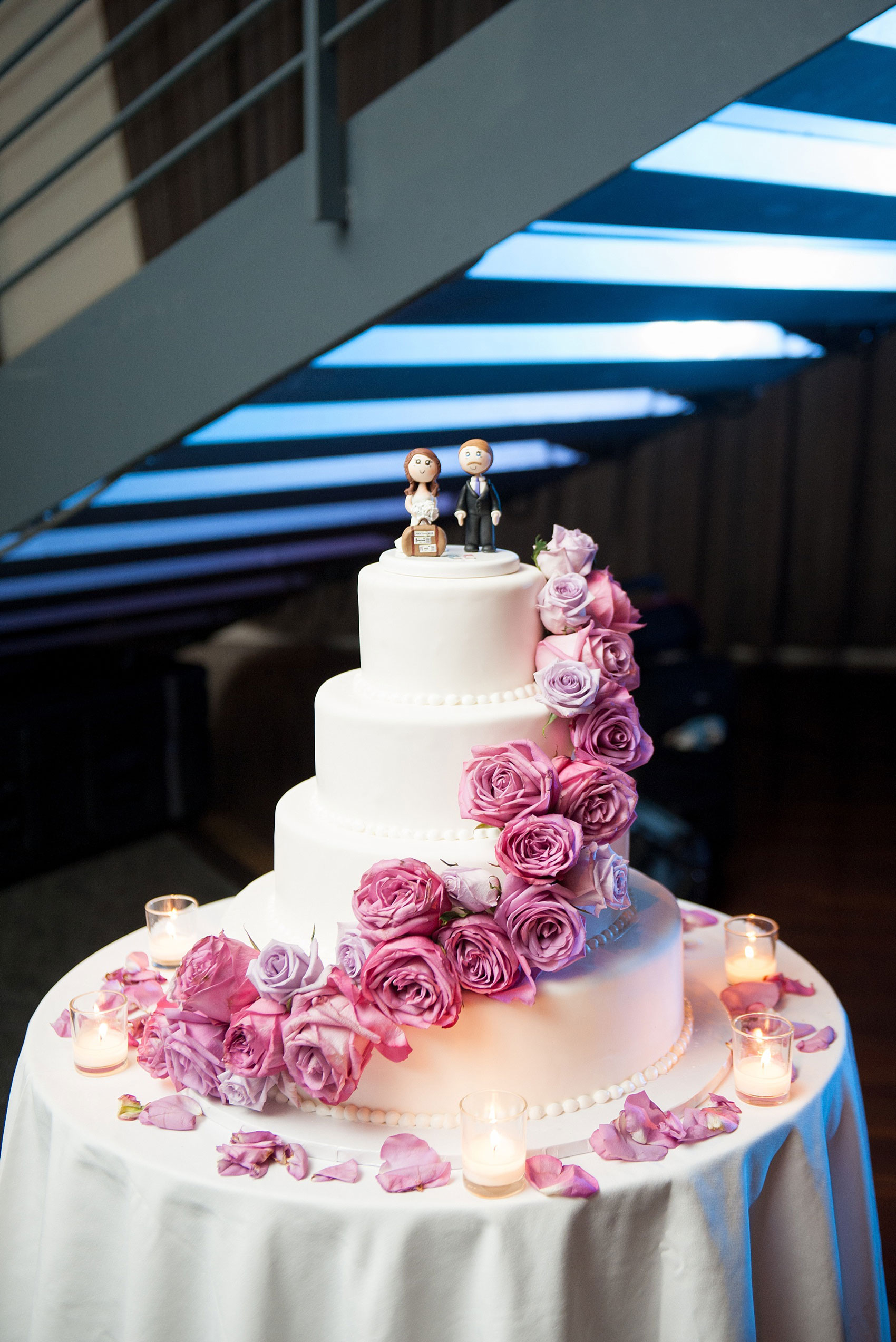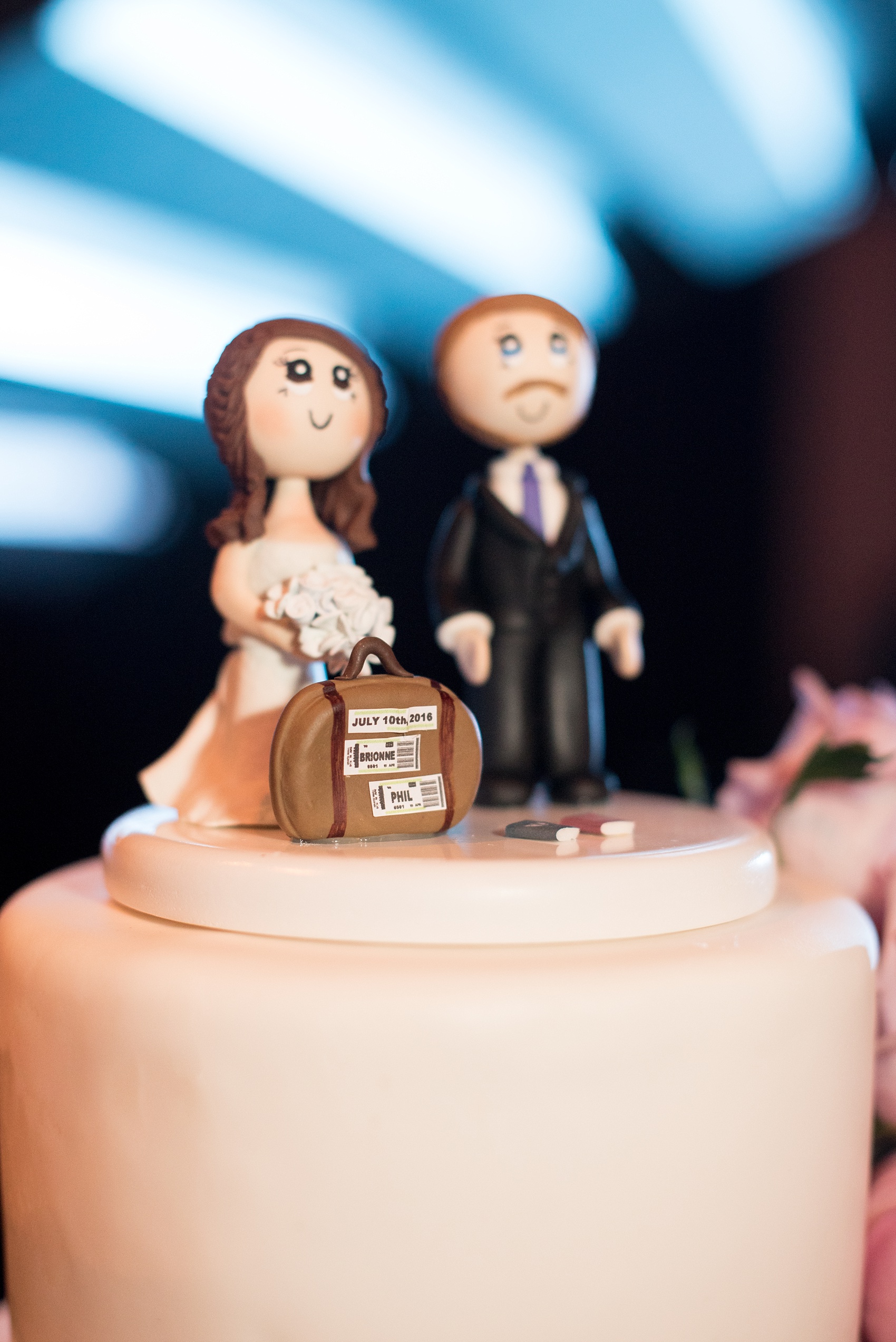 After their wedding, in true Bri and Phil fashion, they were off to travel again! They stopped at Walt Disney World because….well, Disney World! Then continued on to England to celebrate with more of Phil's family and friends. Their journey pressed on to celebrate with a honeymoon, including a stop at Singapore's famous Marina Bay Sands resort (that "boat on top of a hotel" 5-star hotel!). I was SO excited for them! Congratulations Mr. and Mrs. Vincent – may life always be filled with as much wonder and adventure as the time in your life that you met, at Gili Islands.
Venue: Tribeca Rooftop / Getting ready location: Sheraton Tribeca / Wedding dress shop and designer: Kleinfields + Alita Graham / Suit: MJ Bale / Flowers: Sutton Florist / Hair and Makeup: Maria Licari / Officiant: Rabbi Helen Farris / Cake designer: Audrey's Fine Baked Goods / Cake Topper: Etsy- Cute Toppers / Invitations: Wright on Larchmont, Emma Joyce / Band: Silver Arrow Band / Bridesmaid gifts: Noviame Bridesmaids Robes / Men's ties: Men's Wearhouse / Groomsmen gifts: Converse sneakers / Jewelry Designer: Robert White Jewelers / Photo Booth: We Love Photobooths
For more from their day visit Facebook and Instagram, which always has more wedding goodness to enjoy!